Shadow Of The Rockies Trail
(Colorado Portion)
September, 2009
We also ride up thru Wyoming, Idaho
Utah, and back thru Colorado.
A full length DVD video of this ride
is available HERE
Where to go--what to do--all these ideas floating around in my head.
I've ridden all of Sam Correrro's rides---the Trans Am Trail and the Shadow of The Rockies Trail.
Or had I ????????
If you want to read all the mods I did to my WR250R for long distance adventure travel go Here
Seems he's got another one laid out thru Colorado all the way to Wyoming.
This route starts in Southeast Colorado on the New Mexico border right where the Trans Am Trail crosses.
It's a beautiful place right there--heading Northwest climbing out of Long Canyon to the top of the bluff---
We hope to camp there and then ride Northeast--you can see the route on this map of Sam's.
And you can see the Trans Am Trail and Shadow Of The Rockies Trail cross at this point.
This route will cross the famous Continental Divide Trail also----a great ride in which I was inspired
too ride several years ago after a recomendaion of famous world traveler Clement Salvadori.
After traveling all over the world--he said riding The Continental divide route was his
best ride ever-----I had to ride it---and did. This I'm sure will be none the less spectacular.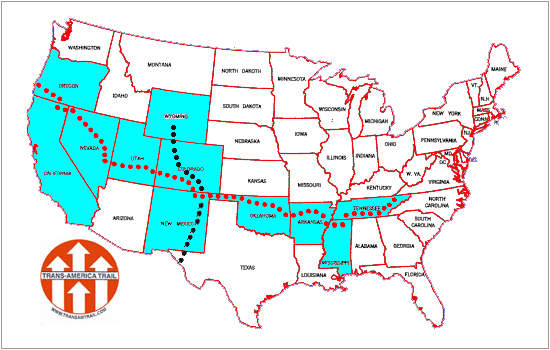 However after getting to Wyoming we plan on continuing on into Wyoming, Utah, Nevado and oh yes....
my favoritie----Idaho. I'll be riding my Yamaha WR250R and Randy on his green mule--the trusty and dusty KLR.
It's OK I guess following someone elses laid out route...........however,
after riding thru Colorado things will change.
Where we going---don't know don't care.
How long will be gone---don't know don't care.
How many miles a day ??--don't know, don't care.
What's our daily destinations---don't know, don't care.
When will we coming thru--wherever ??----don't know, don't care.
A very good plan !!!!
Anyway---I'll be riding this. It now has a tank to give it an over 200 mile range.
I'll have to stop at 26,000 miles and "check" the valves yamaha says--we'll see how that goes.
I was originally headed to Alaska on my KLR before finally deciding on this ride.
A couple things got in the way of that departure date--and now winter is setting in up there.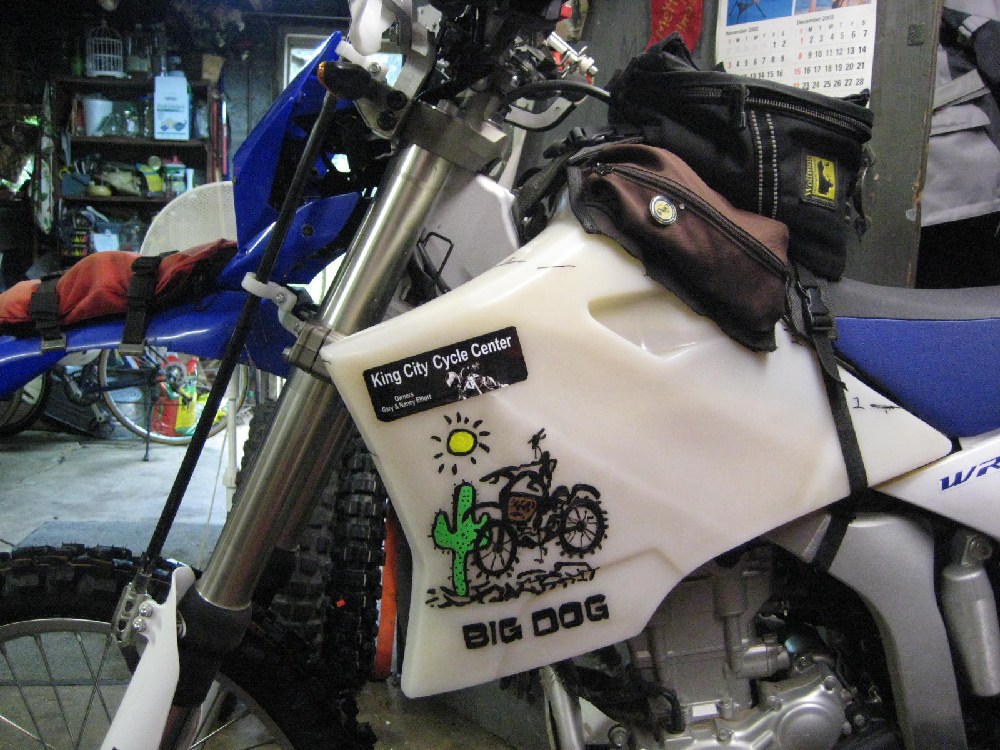 We started riding the bikes in the late afternoon from Kim Colorado (population 42) except it was Sunday and the only store and gas was closed.
This small town is in Southeast Colorado and is about 40 miles Northeast of the New Mexico Colorado border where the ride officially starts for us.
It's where the Trans Am Trail and Shadow of the Rockies Trails cross. I have been thru there twice and always wanted to camp there.
This time--the timing was just right---about a 3hour ride would get us there--just in time to set up camp and watch the sun go down.
We headed straight South of Kim on a dirt road toward Wedding Cake and Battleship Butte---I'd seen pictures of these Buttes--I had to see them.
So we crossed into New Mexico.
Here's is our ride from Kim (Waypoint "Parked Truck") down to the Buttes across the border--up long canyon road and to camp on the high ridge.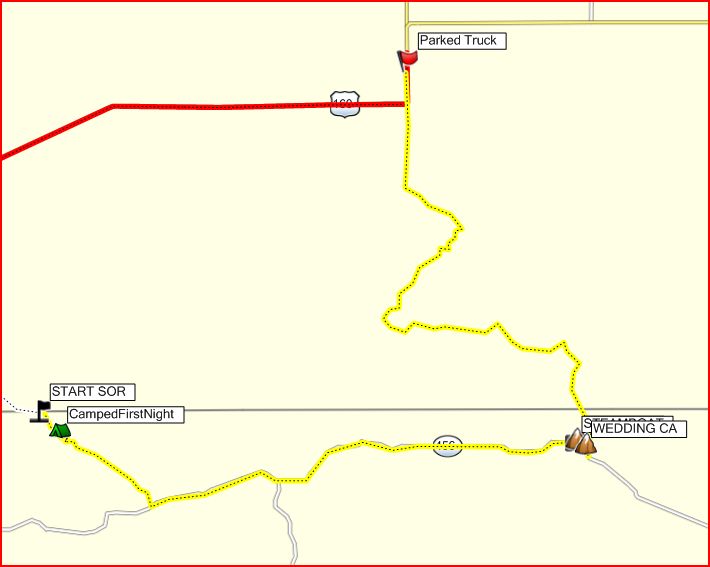 On the way we ran into what I thougth were wild horses.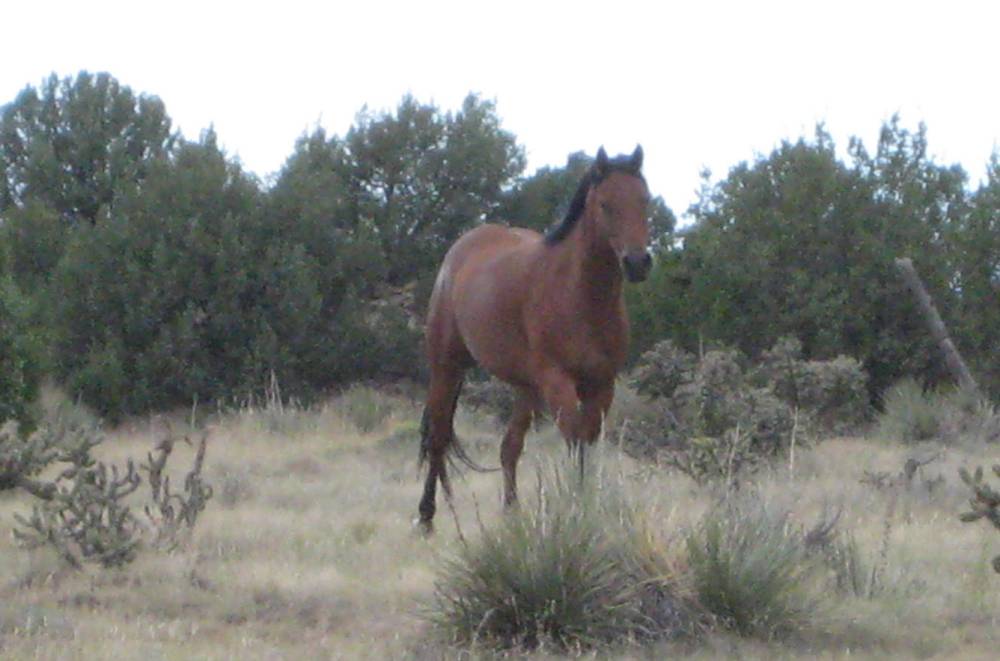 The brown horse came right up to us and wanted something to eat--I was ready to feed Randy to him and he got pretty aggressive.
The white ones---man were they georgeous---kept a 50ft. distance.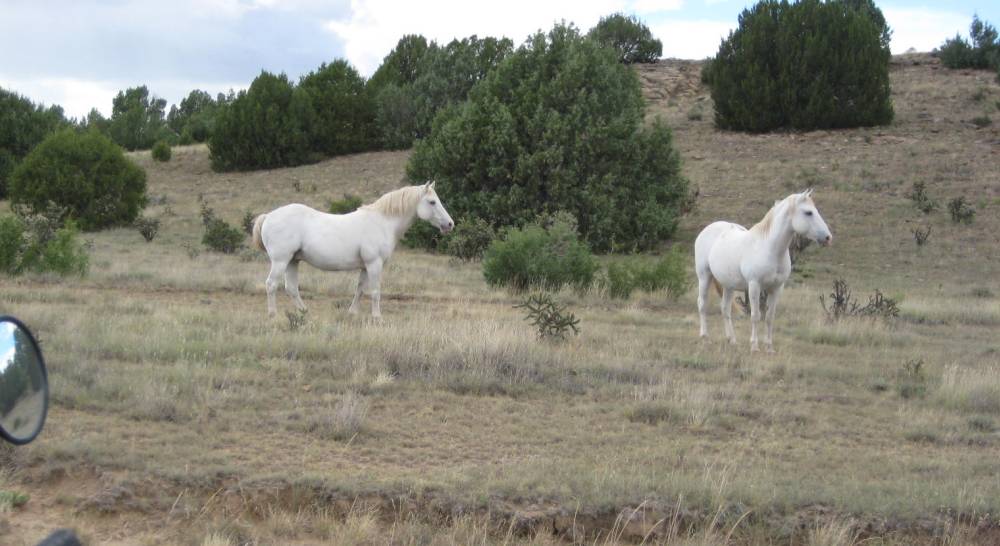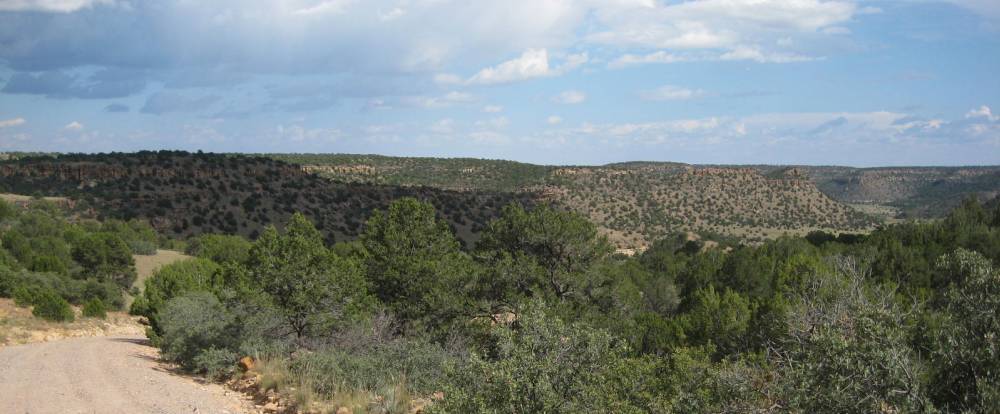 I got to tell you I can almost cry everytime I look at my website logo that might wife so painstakingly painted on my gas tank.
My wife found out about 4 months ago she is going blind--it was hard for me to watch her paint it on there using some strong reading glasses and a magnifying glass also---I told her if I crashed, I'd crash on the right side----and I did !!!!
I asked to help, but she insisted doing it herself and she did a magnificent job.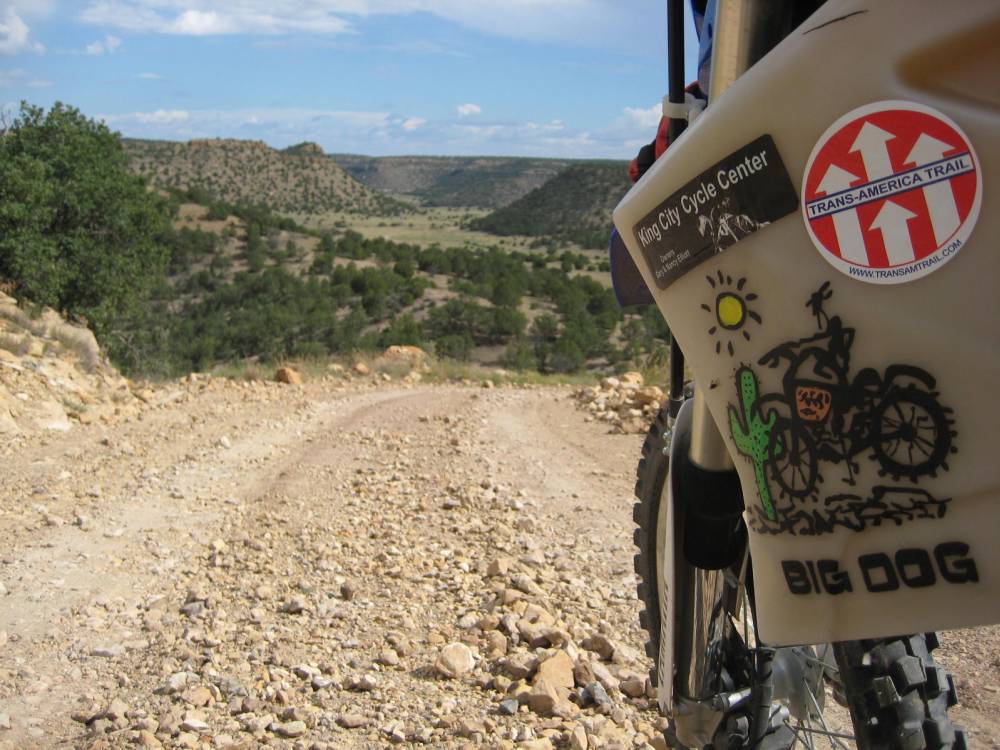 I paused here just long enough----knowing Randy would be the ginny pig--I wasn't sure if they was a bottom to it or not.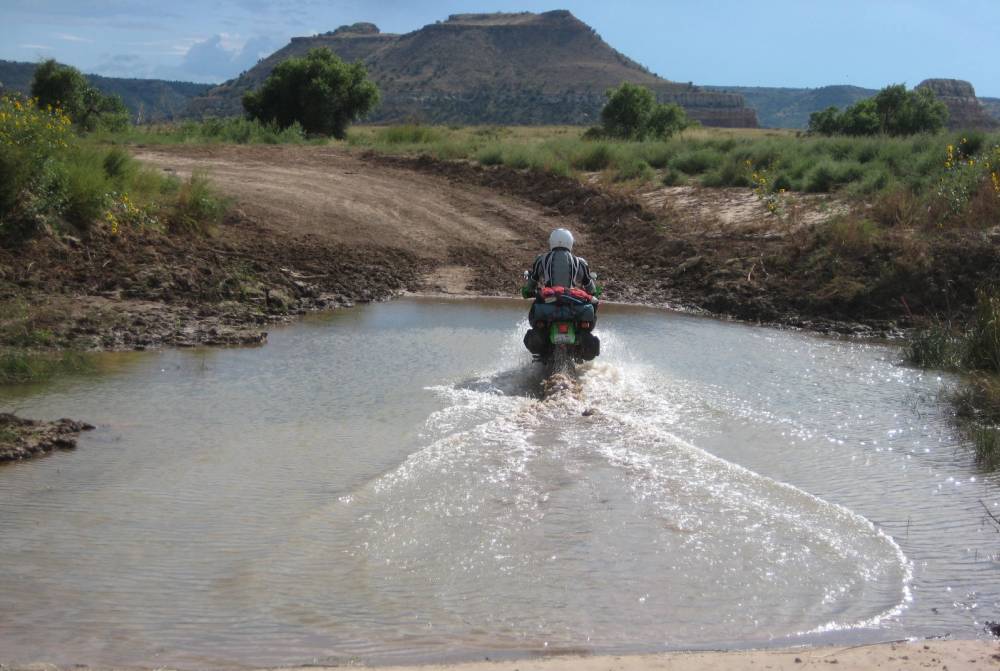 Wedding Cake Butte---no explanation needed !!!!

Battleship Butte---we stared at it in silence for a long time.

Ok here is where it gets good---all the way down at gas stop hauling the bike I would ask Randy if he had topped off his KLR's fuel tank.
"Oh yeah--only got 42 miles on a full tank"---I knew that would get him to gas.
Thing is----he forgot his odometer had quit on a previous trip and he was near pushing the KLR. We figured between the 2 of us we could push it 26ft. on level ground.
It spit and sputtered as he weezed into ole' Fred's ranch. What a friendly guy---filled the tank full for Randy--he was a happy camper.
He was the only rancher we saw for many miles---he said "nice folks out here--the ranchers are good folks and are always glad to lend a hand".
Thanks Fred.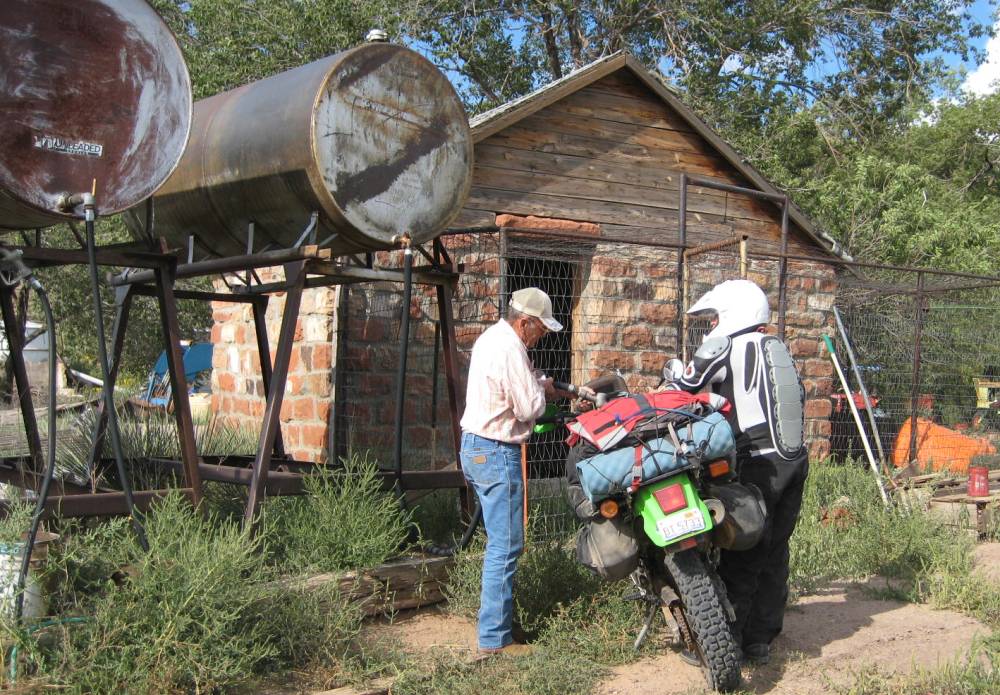 I'm sure lots of you have seen this sign on TAT ride reports or have been there--a few miles up the road and you will be in Colorado---after
climbing and rocky steep climb.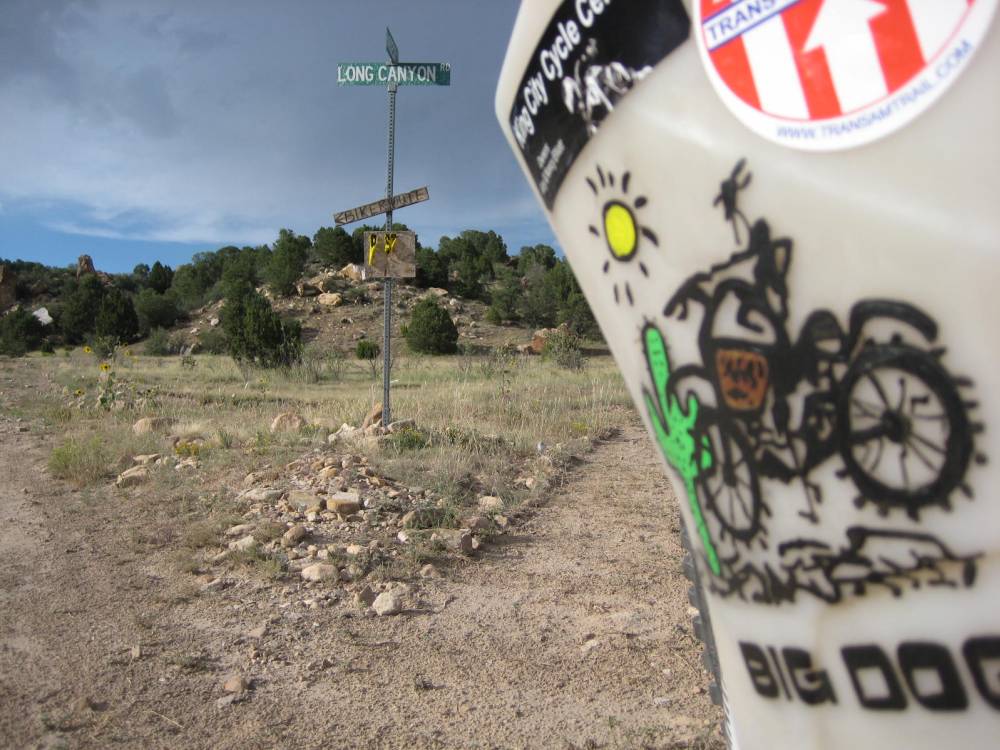 We got tho the top of the ridge and got far enough off the dirt road as to not be seen--and set up camp with a view to die for looking down Long Canyon.
So far perfect !!!!!! A little minor problem getting here---but man what a view.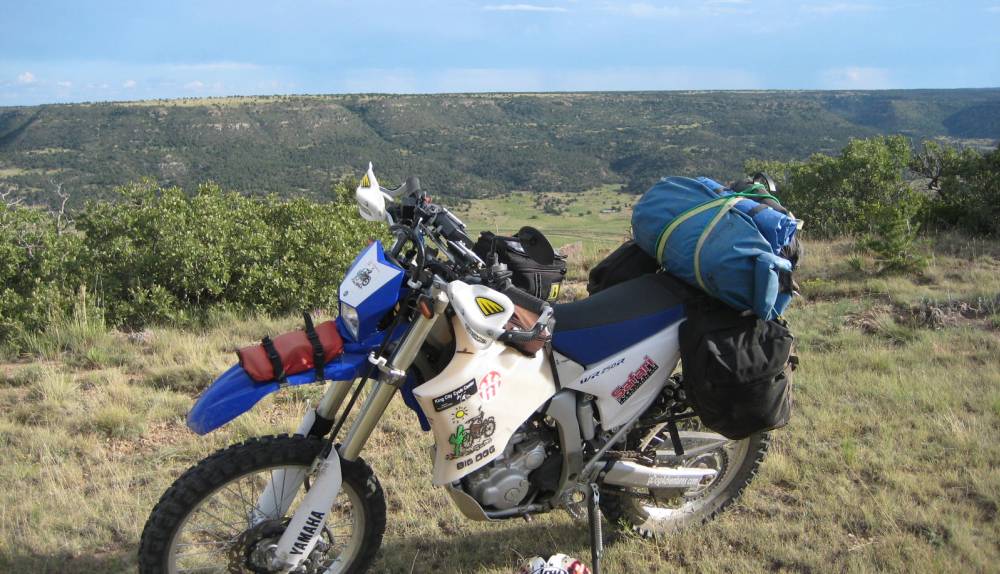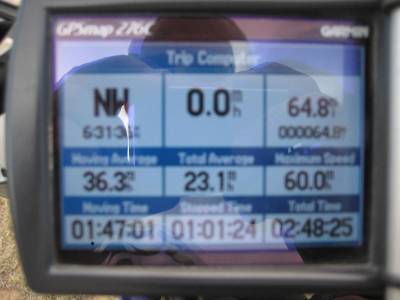 Randy gets out his jammies------I shoot some video with my camera on a cow turd---we fire up the jet boil for dinner--it's 65°--we have no jobs--life is good.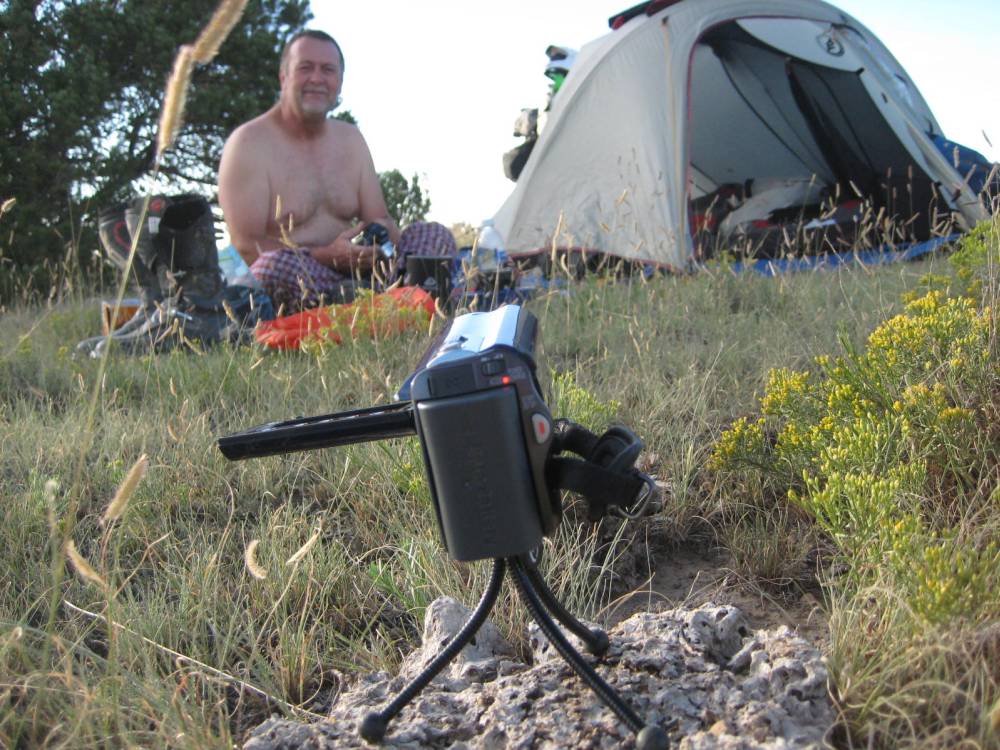 Says remove the moisture absorbent packet ??? What's that ?? Hope we didn't eat it ???
Entree for 2----what's an entree ??? On the tray ????? We ain't got no tray ????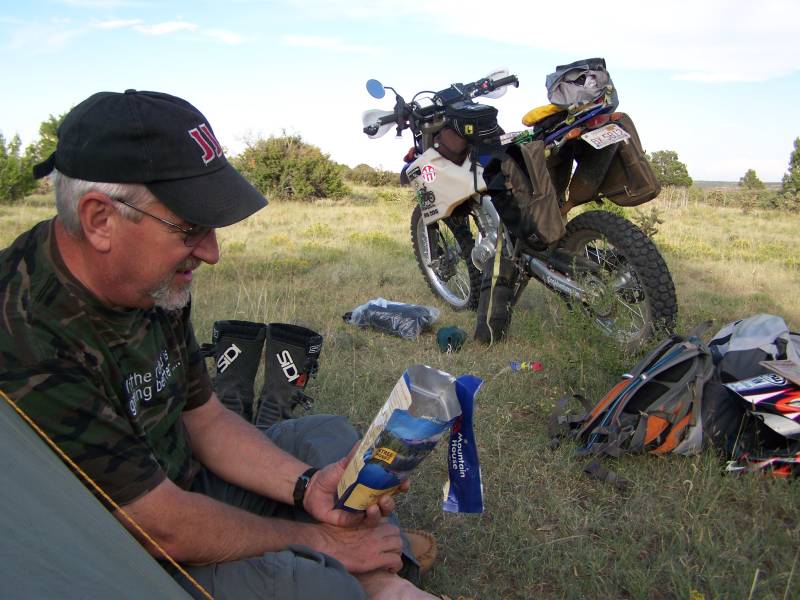 This is the view we suffered thru in the evening and the morning.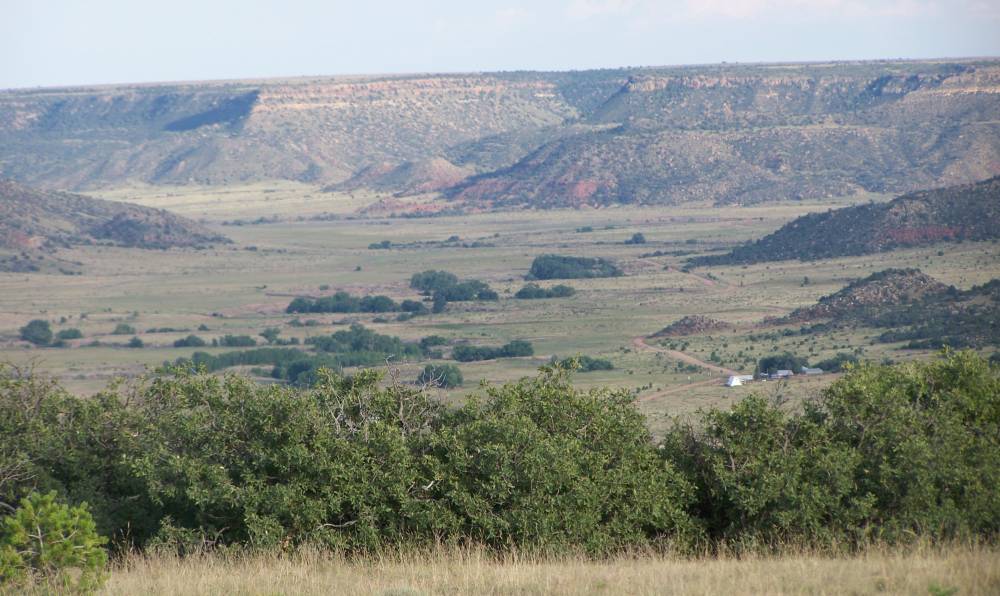 I wish I remembered his name---but a guy sent me this shirt--had it made for himself but decided I needed it.
It's the only casual shirt I took---never did wash it.
He said it was the only one in existence--I promised I'd make good use of it.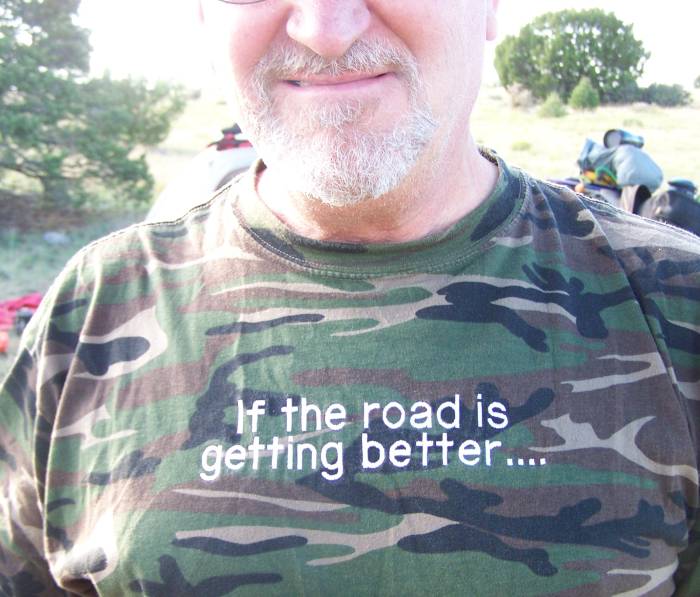 The embroidery work on the bike was magnificent--had to cost him a pretty penny.
My favorite shirt.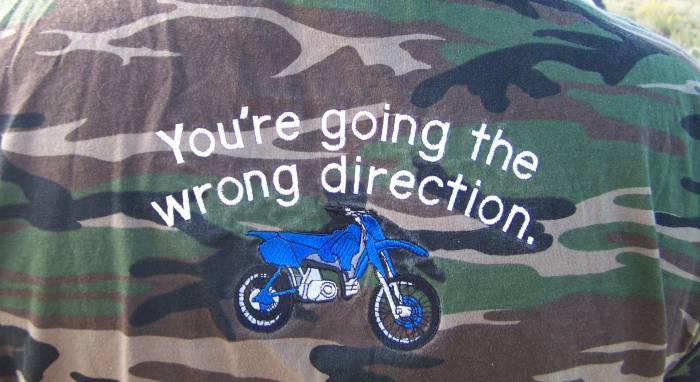 Almost forgot---remember that zero degree sleeping bag I'm packin' ?????
It was so comfy every night ---------except this one.
It was 58°---I crawled in that thing and almost set the tent on fire--spent the night on top of it.
Randy thought it was funny-----later on below freezin'---it wasn't so funny no more !!!!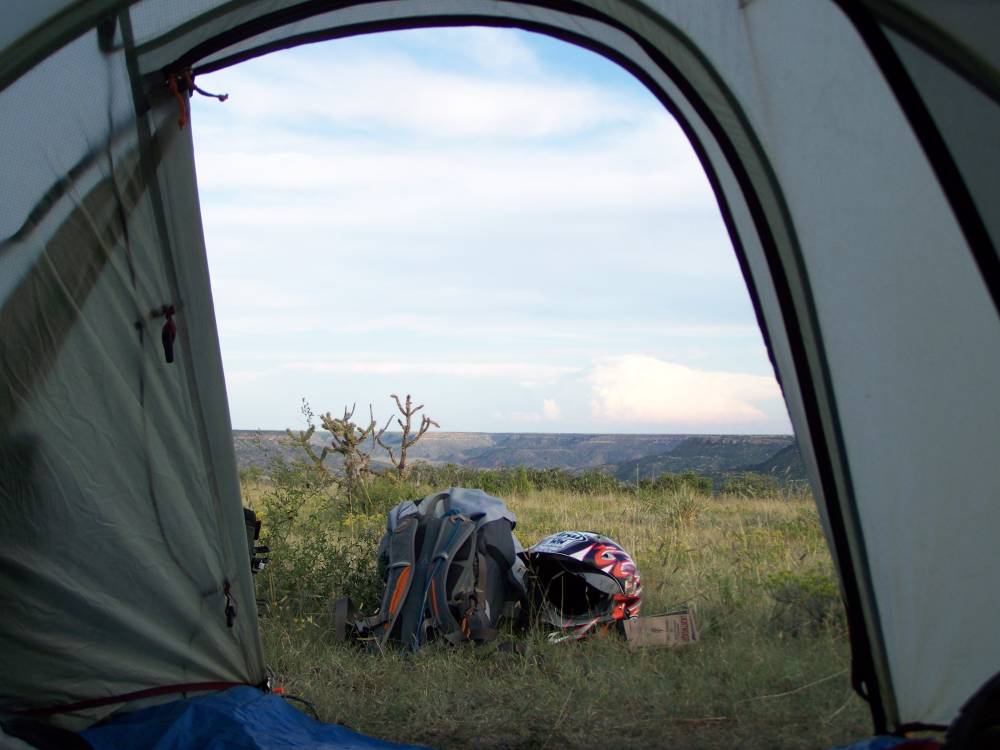 Still first day camp--you can see the Trans Am Trail coming across Long Canyon.
I had dreamed of camping here for a few years---it was a special night.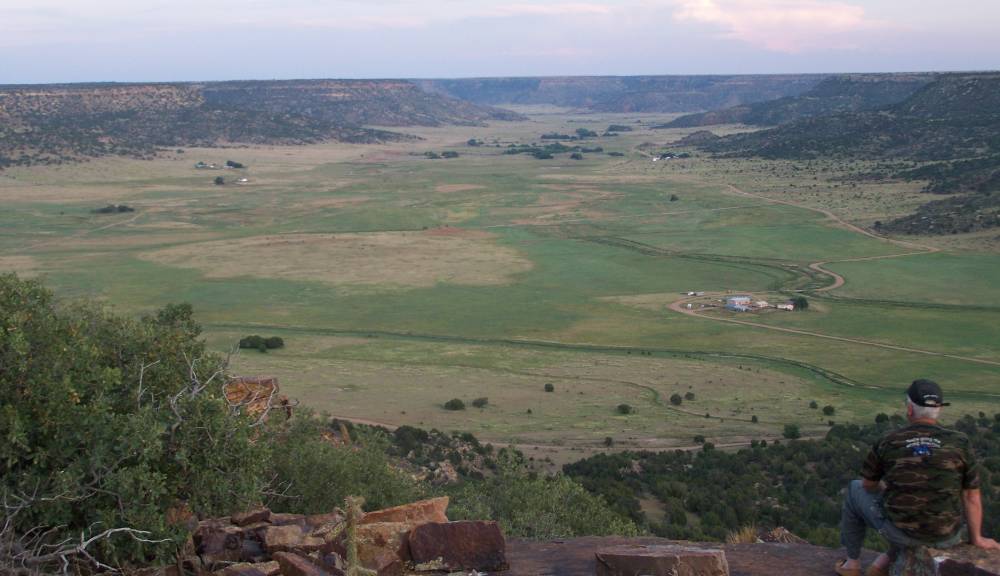 Sunset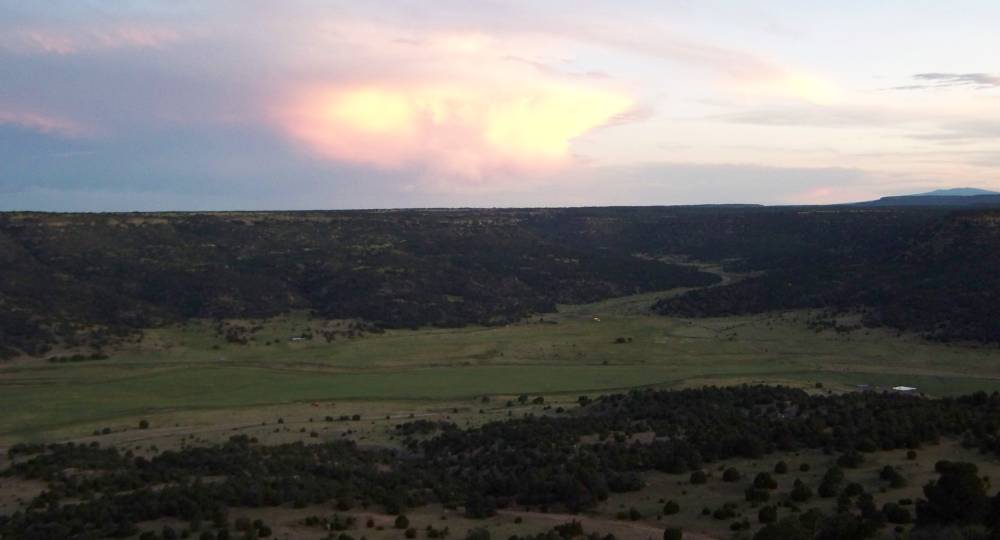 Day one is in the books
Day 2--Camp To Salida, Colorado
We awoke early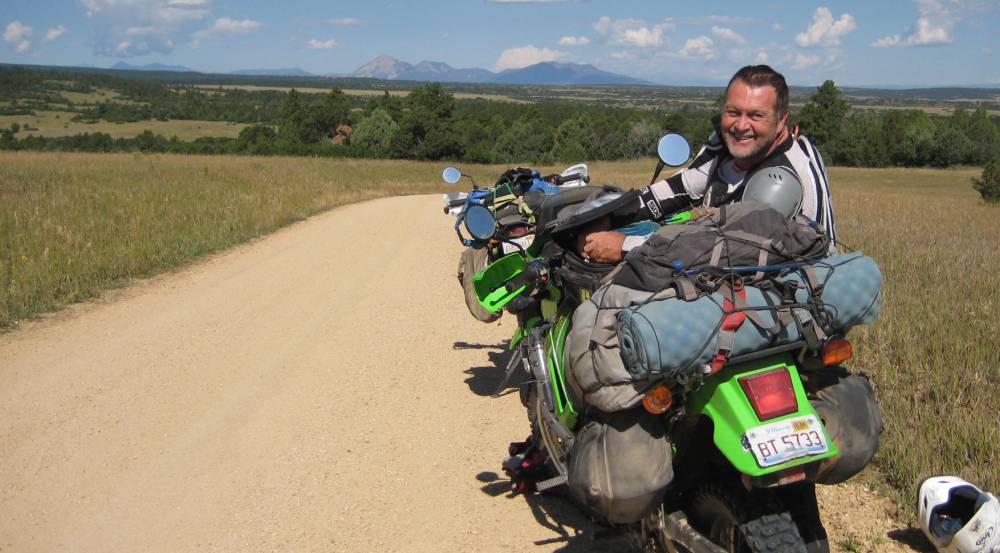 It was a beautiful Fall day------The KLR and WR followed Sam's route to Salida.
Hadn't really planned on staying there at all----it got late---the sun was gong down and there we were.
Here's a few pics on the way.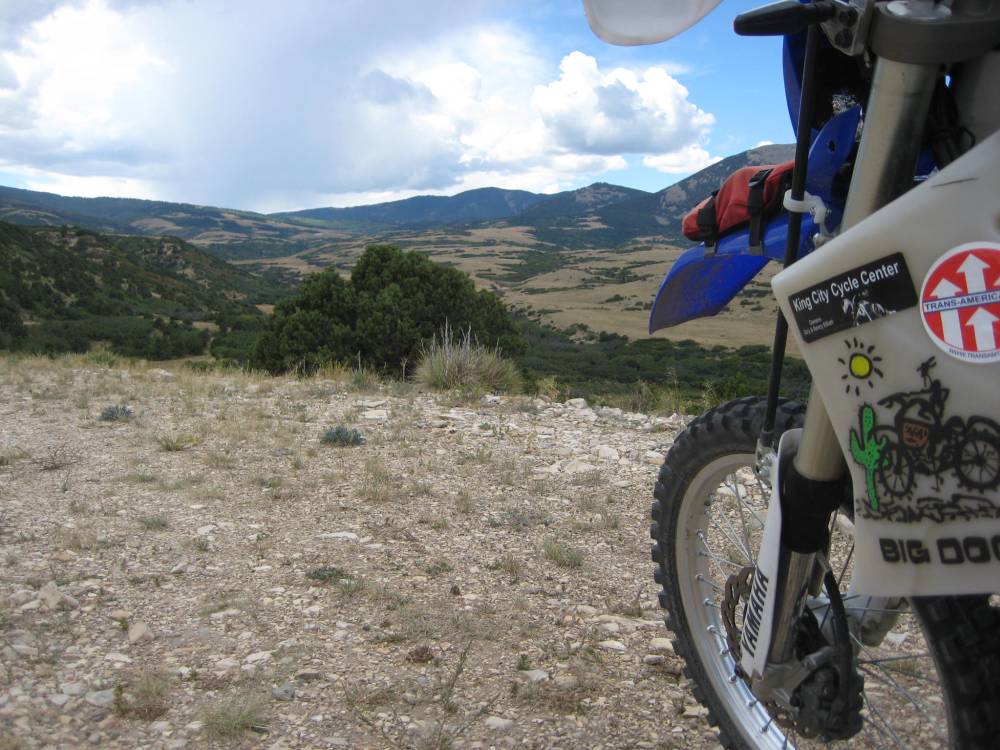 Every moment of everyday--we had blue skies--but then there were these pop up thunderstorms
that seemed to be always around us----like the parting of the red sea--we rode between everyone of them--for days.
Just West of Westcliff---just below the Rainbow Trail.....
This particular nasty one did catch us for a moment now that I think of it----first hail then rain--but it was short and sweet and
on North we went.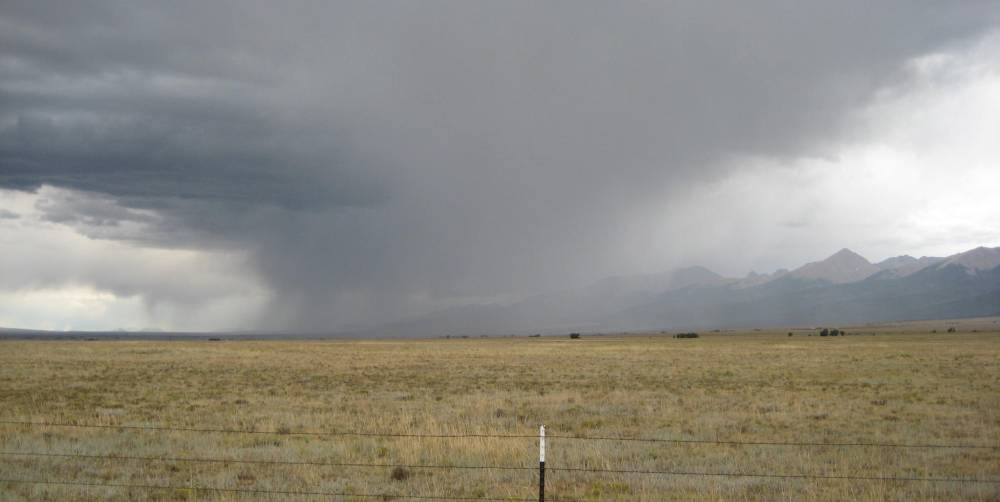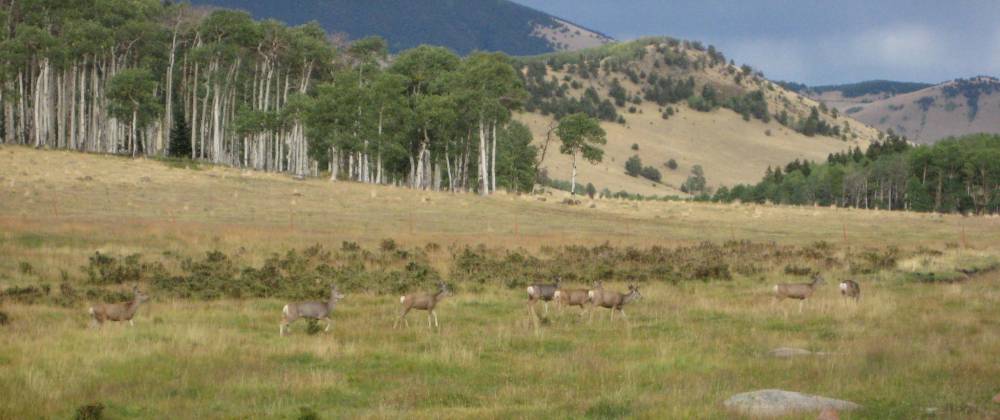 Most all the time the roads were't too dusty---although I always led Randy was able to stay close most of the time.
Randy had the navigation programmed in his 276C just as I had. But he wouldn't wear his glasses so he couldn't see the damn thing anyway.
He's gonna read the owners manual someday he says.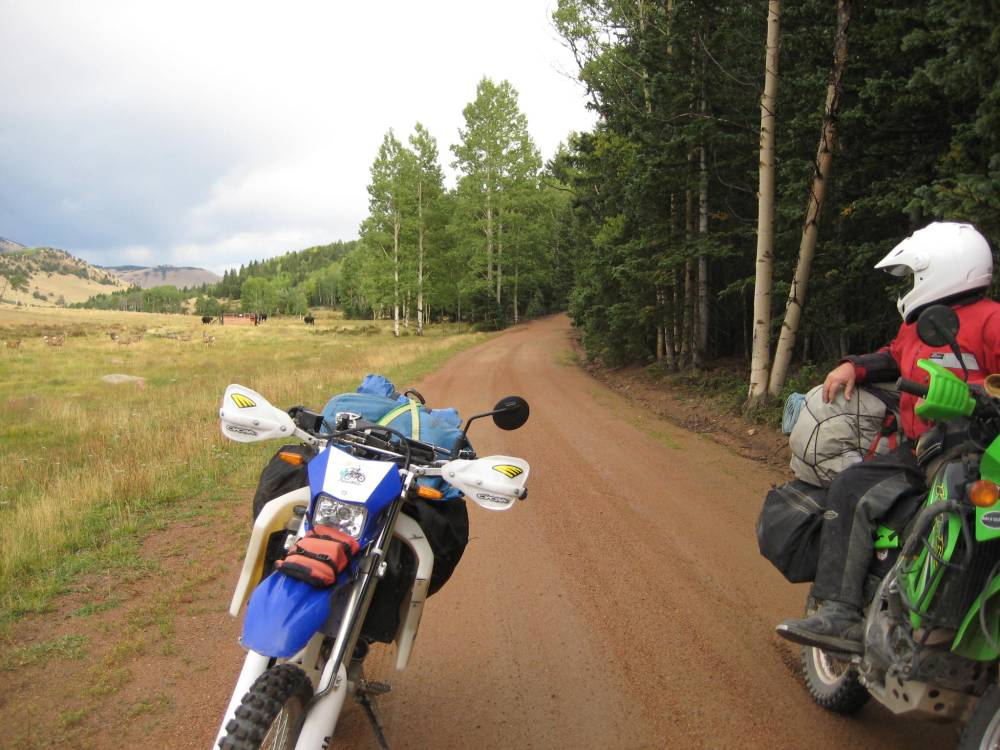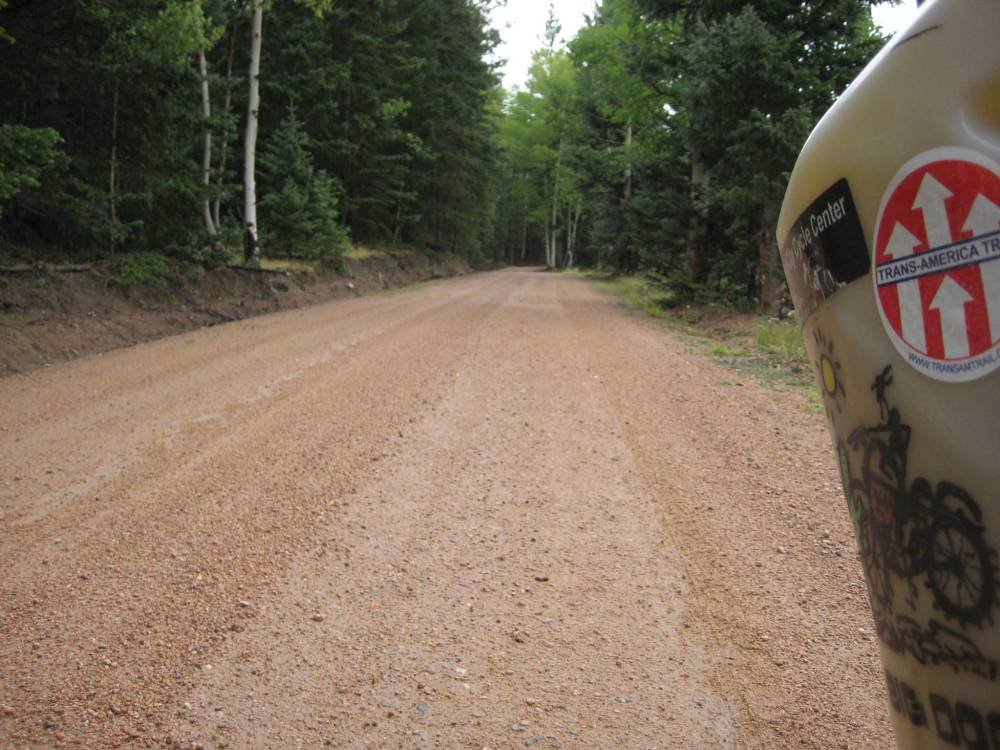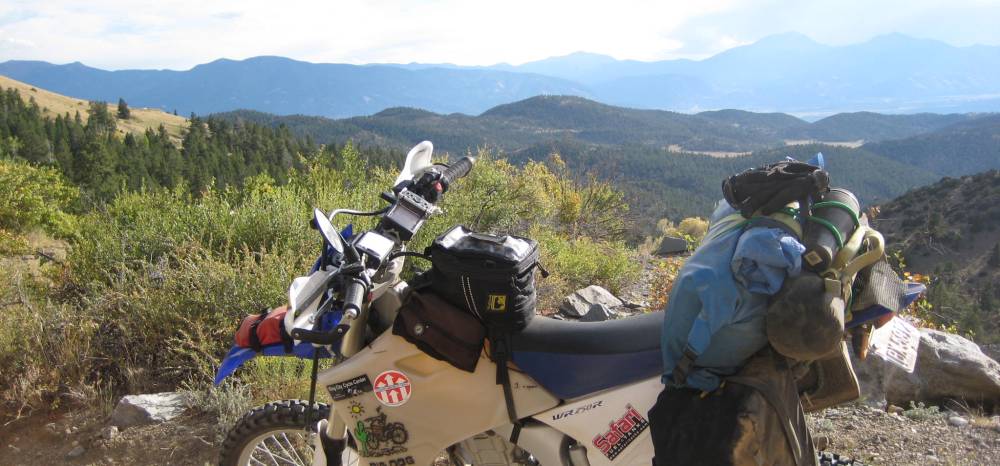 Day 3 Salida To Cow Camp
I didn't really want to go or stay in Salida (hell they got a Wal-Mart) but it just worked out that way and our route coincided with the TAT some.
I was anxious to ride some new territory --which wouldn't actually happen till later on this day.
Randy was packed really heavy----I warned him to pack light and bring a 250---this would bite him in the ass--as he wasn't feeling well anyway.
I was going to ride thru the little old gold mining community of St. Elmo near Buena Vista then over Tincup Pass...down to Taylor Lake.
Sensing Randy wasn't feeling well and was packed heavy I sent him over the very easy Cottonwood Pass--we would meet at Taylor Lake.
That Pass is extremely scenic and I knew he would enjoy it--and he did.
I once rode a full suspension mountain bike down Cottonwood Pass to Taylor Lake---12 miles of downhill---it was a hoot. The guys in
my Truck hauling our single track dirt bikes could in no way keep up with me. They disappeared behind me. And when they approaced Taylor Lake in my diesel
they had completely lost their brakes and slowly coasted around the corner at the tee at Taylor Lake and gravity slowly hauled them to a stop---finally.
On the way---I ran into this guy on the bike Randy should have brought---a KLX250S. He's been wanting one.
We shared the ride and safety of 2 over Tincp Pass and down into Mirror Lake.
I have been over Tincup probably 10 times--but as I was videoing this ride and wanted to include the footage of tincup.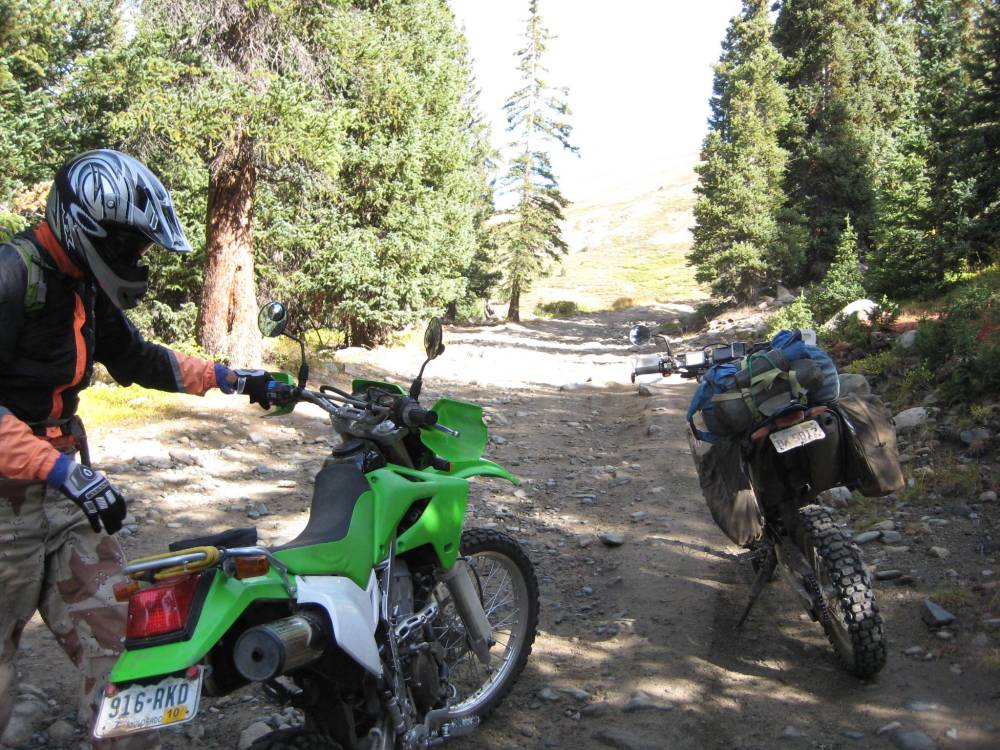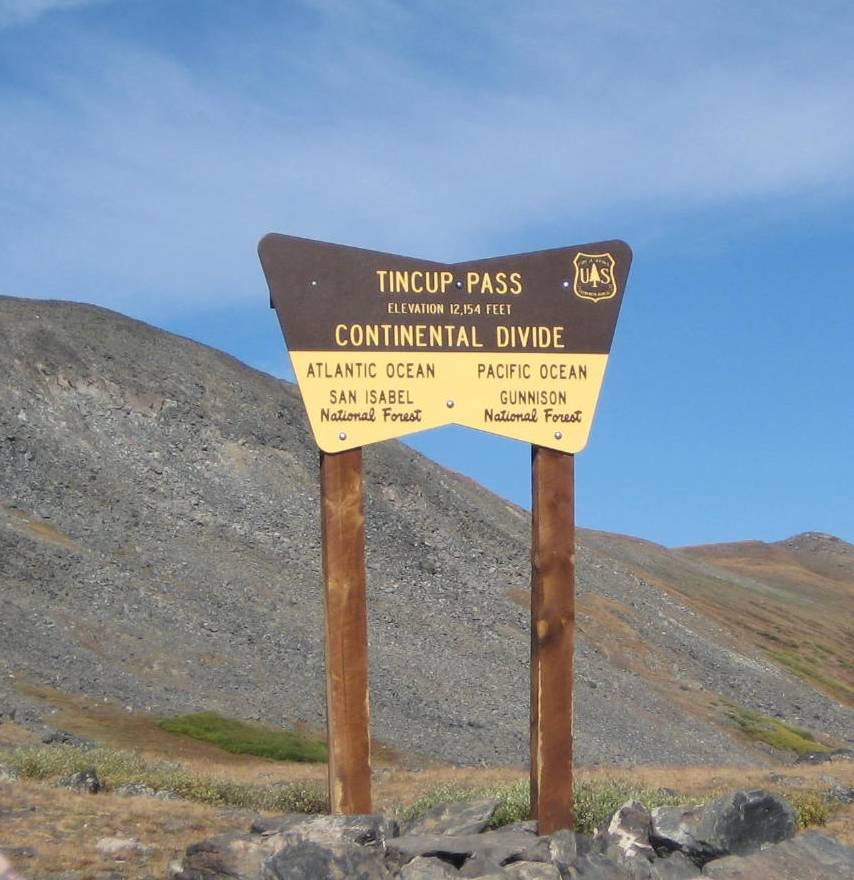 His name was Richard I do believe --a world traveler--nice fellow who rode mountain bikes also.
He was riding the bike Randy wished he had purchased before we left.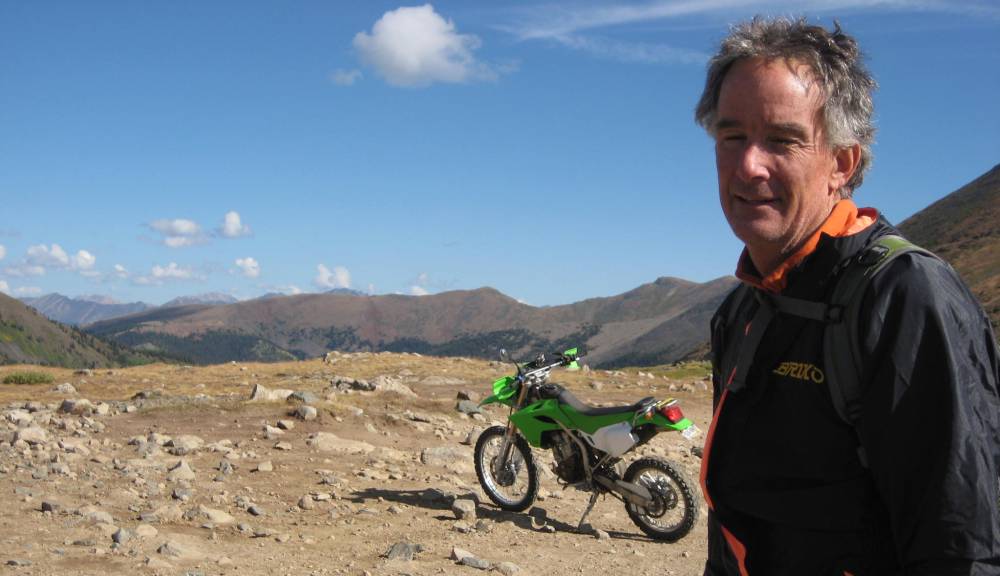 Mirror Lake--the wind was blowing just enough so the Lake wasn't allowed to be a mirror to the mountains.
The view here in calm waters with snow capped mountains in the reflection is one I'll never forget.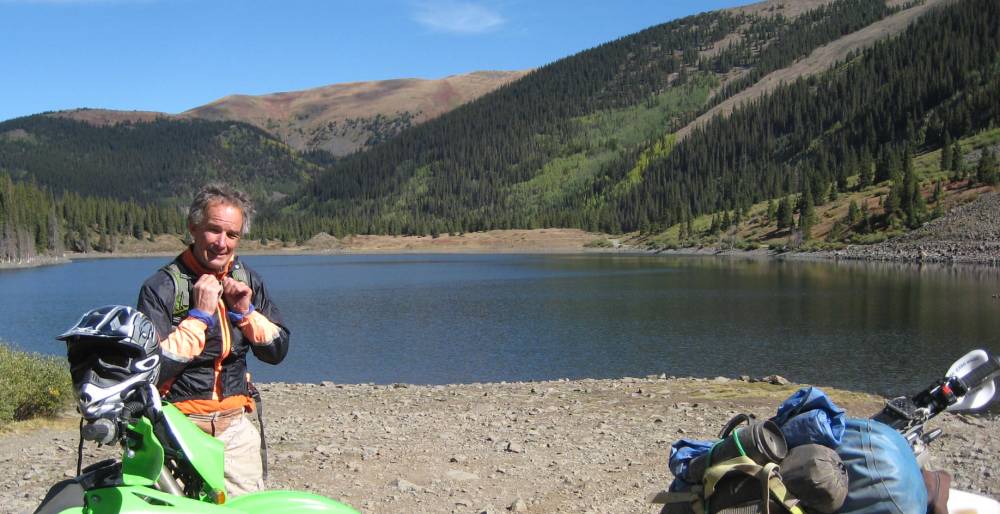 I rode to Taylor Lake and Randy had got there only 1 minute before me.
He said "Dang I was getting readly to fire the jetboil and have a couple of coffee".
I never travel in a hurry---got off the bike and joined him for a half hour.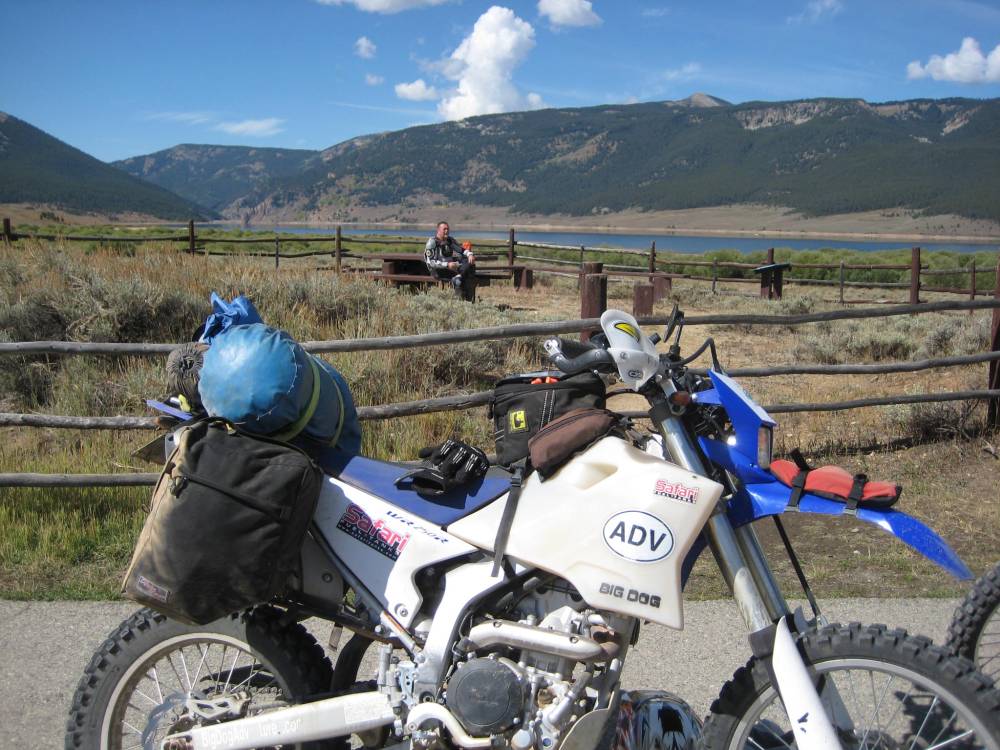 We camped a lot on this ride---the jet boil always cooked our dinner and breakfast--and coffee.
So relaxing here.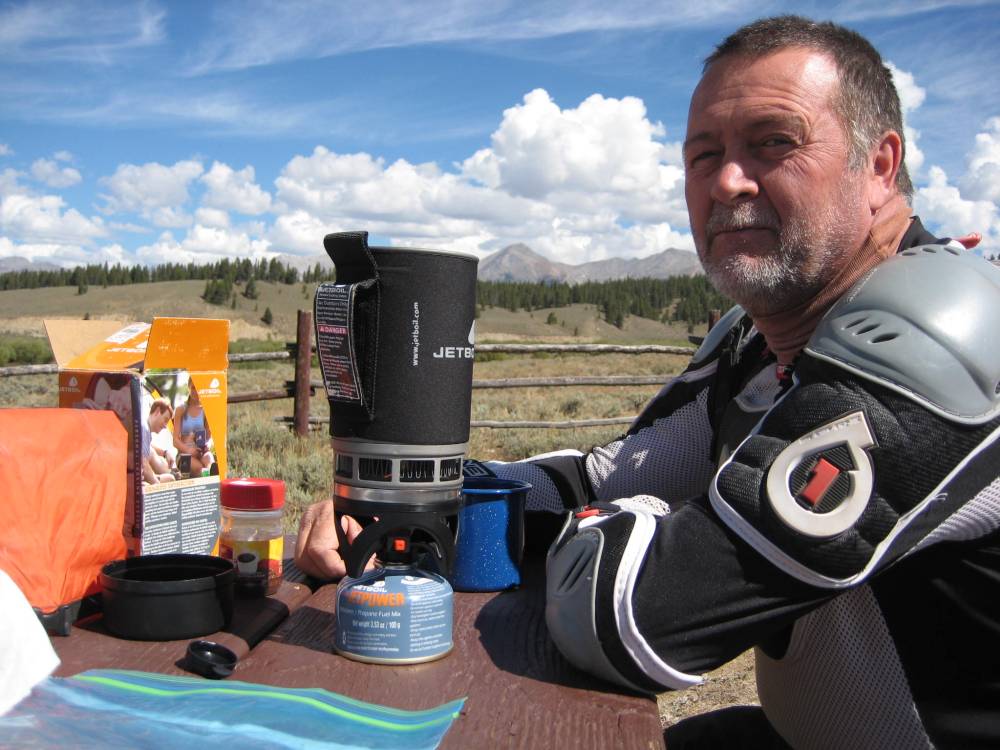 We rode North--then West toward Cement Creek---I've ridden single track dirt bikes thru here and knew the area well.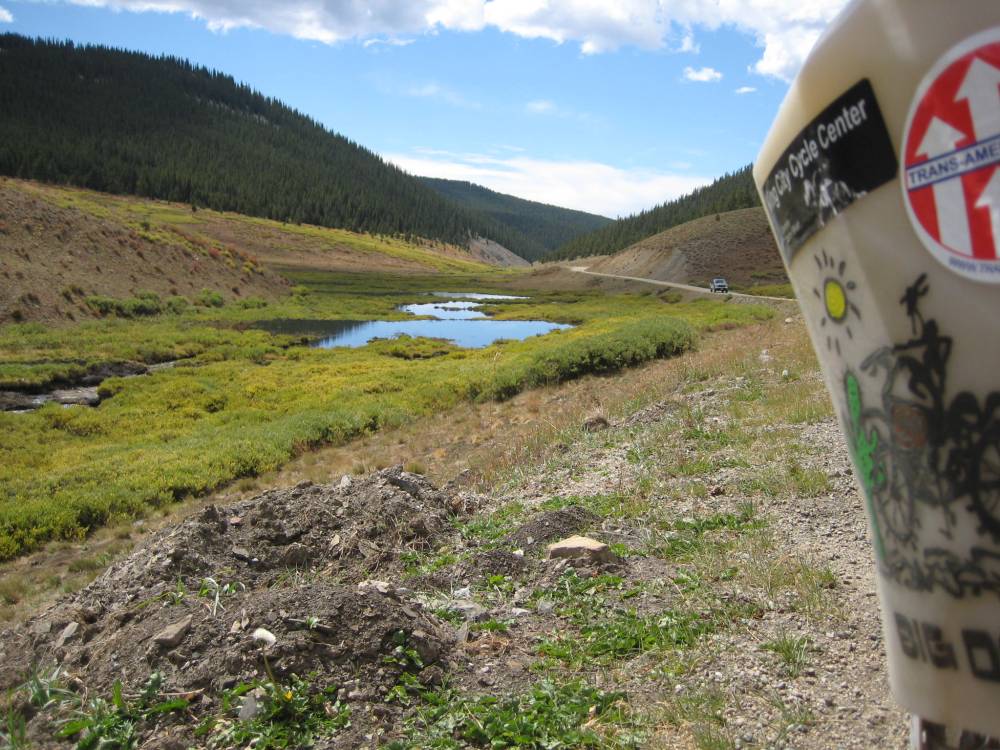 What am I wearing you ask ??? Didn't ask---tough !!!!
My son bought me a Kilimanjaro 5.0 for X-mas. It's for cool and cold weather in my opinion--perfect for this ride as I survived without heated clothing.
The WR has a 350 watt alternator and will run heated stuff better than my KLR and as good as my 950 it seems. I only used my heated grips tho.
My pants are a waterproof shell--Moose Expedition. Camel Back Mule backpack----Sidi discovery boots and an Arai XD helmet.
Underneath I have six six one knee and shin guards--padded lycra shorts with hard impact plastic in the hips. Synthetic socks--I just brought one pair of socks---
that's it---a washing in a motel occasionally made them fresh as a daisy--well almost !!!
Brought 2 pair of gloves--really lite dirt bike gloves--and a pair of warmer and waterproof Moose Expedition glove.
You could have wadded up my casual clothes in one hand--super light synthetic pants and a T-shirt that is very special to me--you already seen that.
I came to ride--not pose at the Holiday Inn.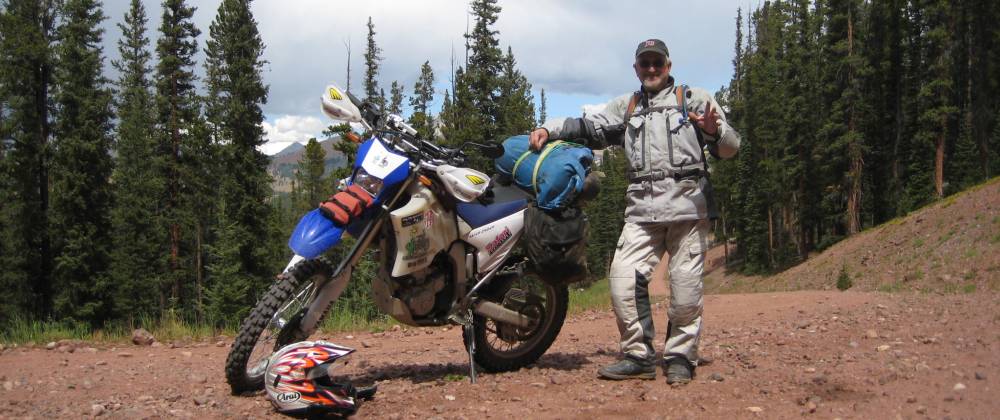 Navigation in here was very tricky----the routes I loaded into my gps from Sam's maps were perfect except here--as the roads in here
were not in the gps and probably weren't on any maps. My knowledge of the area helped out a lot--there was only one way thru and I found it
with just a couple mis-cues.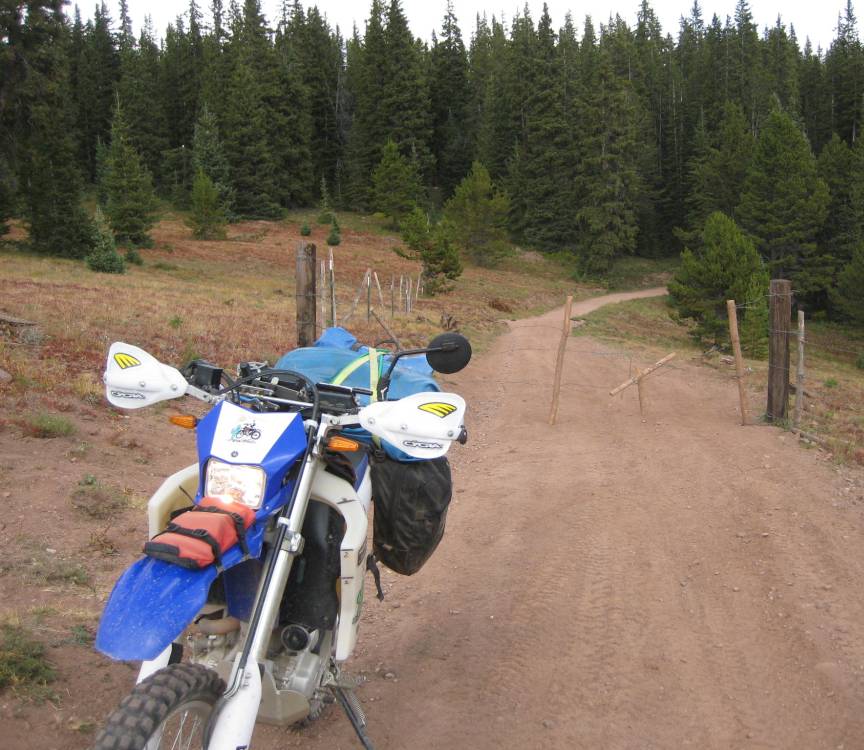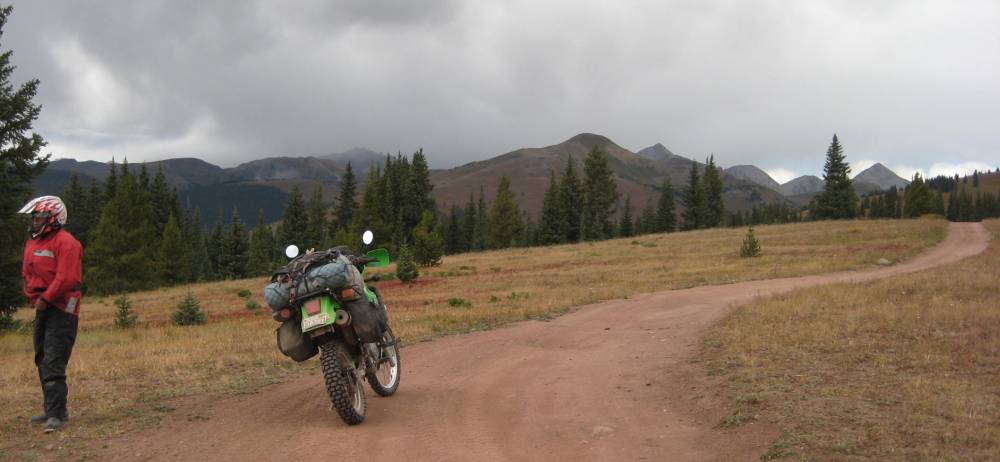 Many gates were opened and closed----this was a spectacular area and again the area overwhelmed Randy's bike in some in places
but he soldiered on.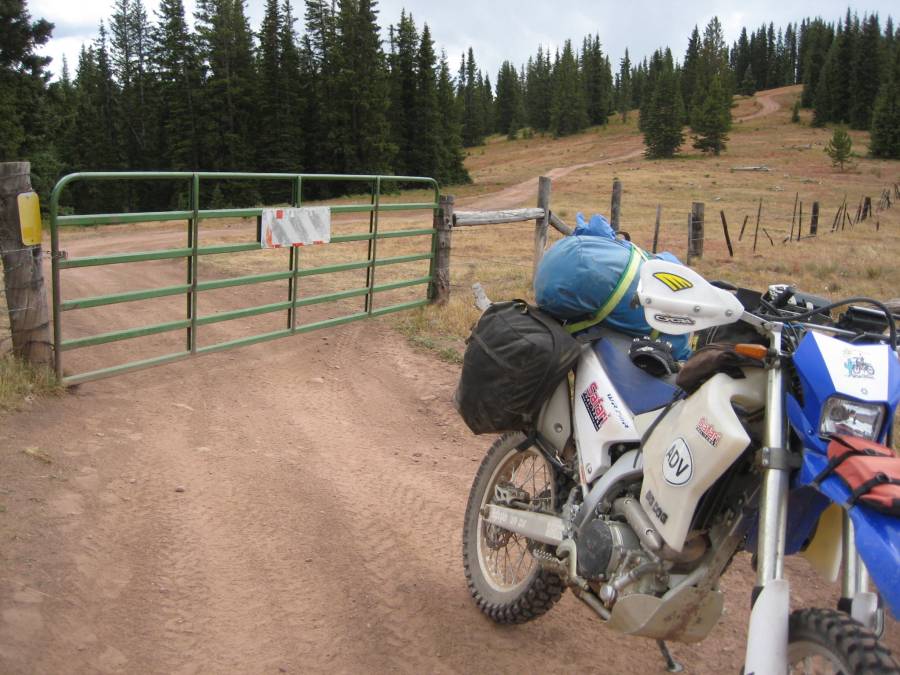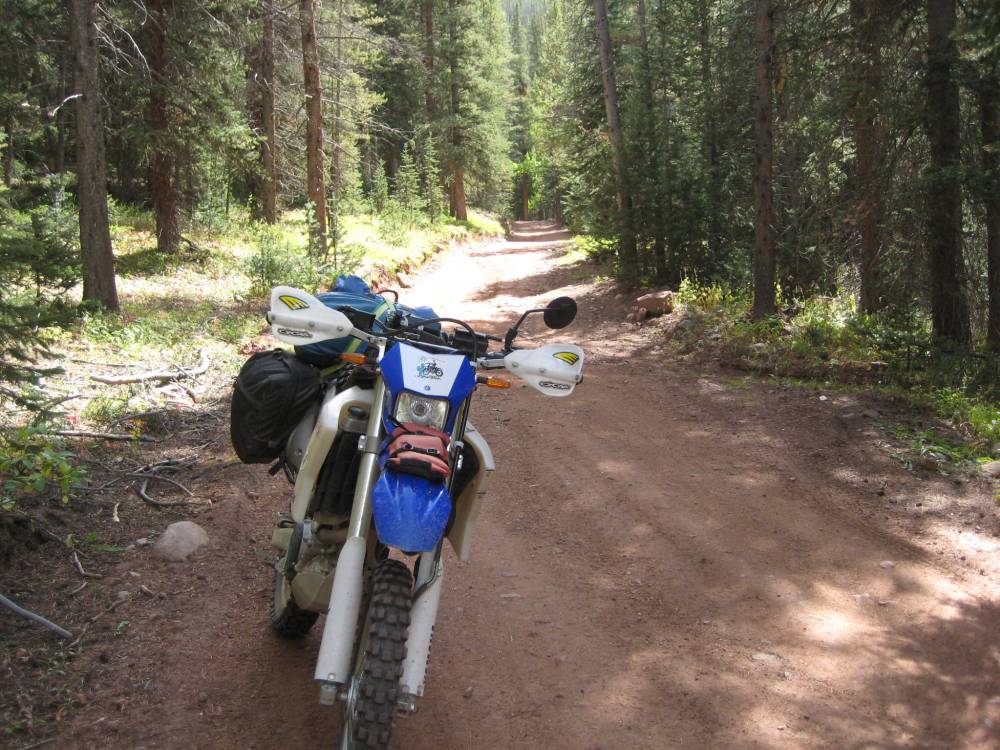 I think this is the end of Cement Creek road and South Crested Butte is in view.
I googled earth for days trying to not have to go thru Crested Butte without going 100 miles out of our way.
I plotted a route straight over those mountain using the route I created with google earth.
Seems the billion-aires had a different plan for me---ended up going thru--hell we might as well eat and get gas.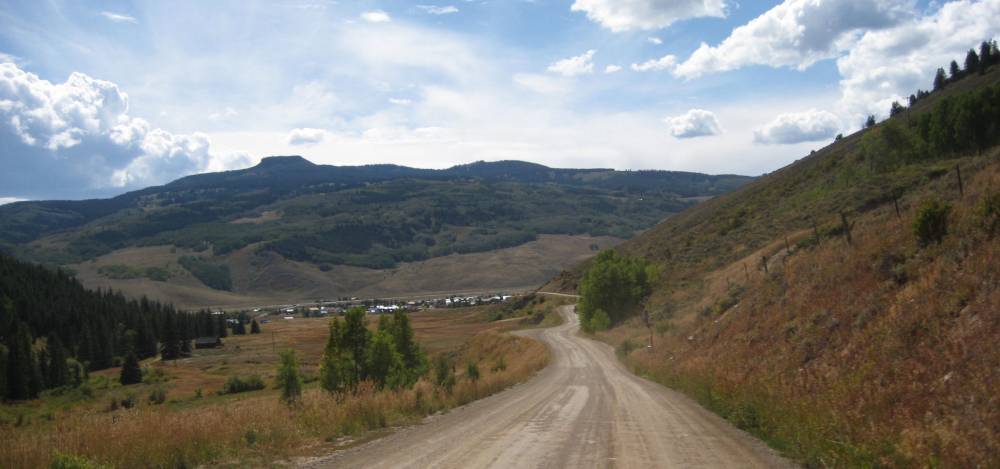 This area is the largest span of Aspen trees in all the world---I'm just full of useless information.
I had intentionally came this time of year to see the fall colors--I was a little early--but got to see some bright yellows.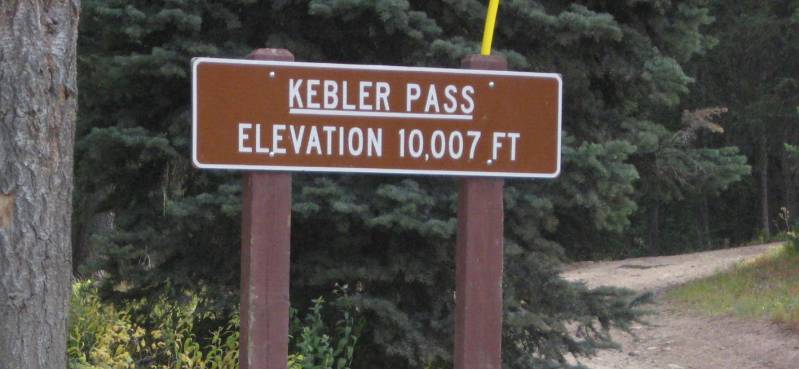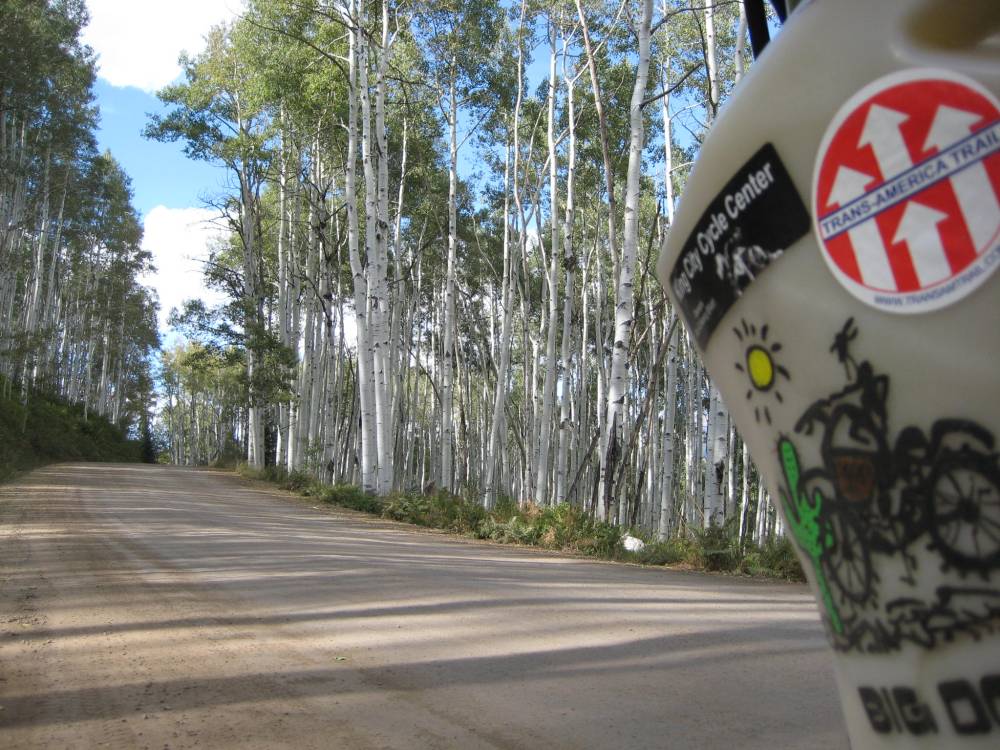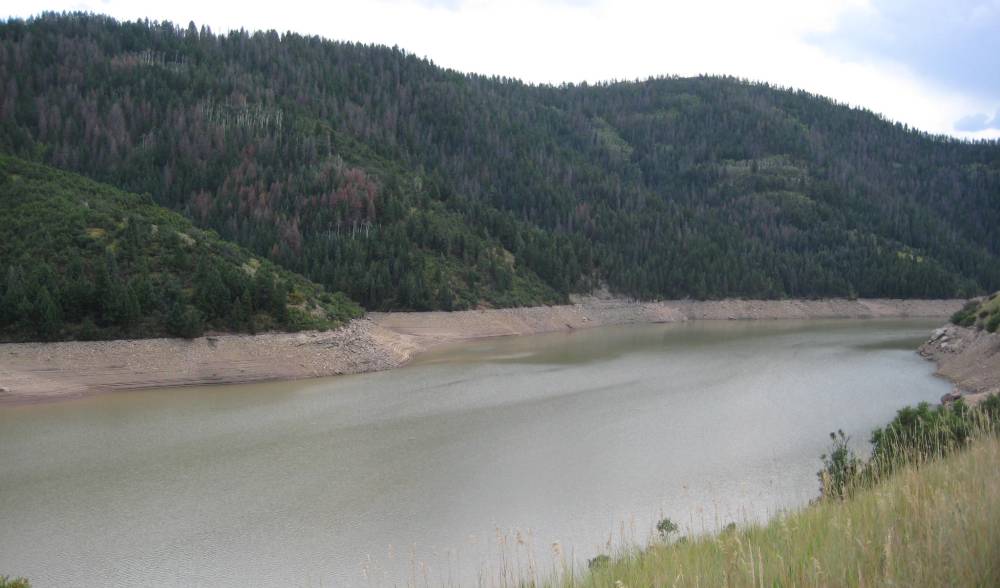 Were tired---and wanting to camp. Lots of hunters out here.
$50,000 diesals-----$45,000 trailers they drug up here--yep---brought the whole house with them--moose didn't have a chance.
We found a great campspot tho.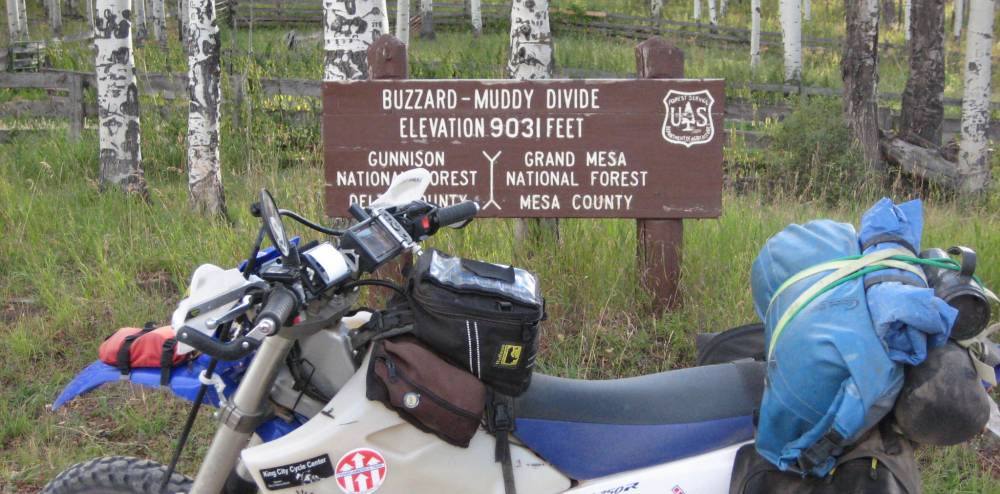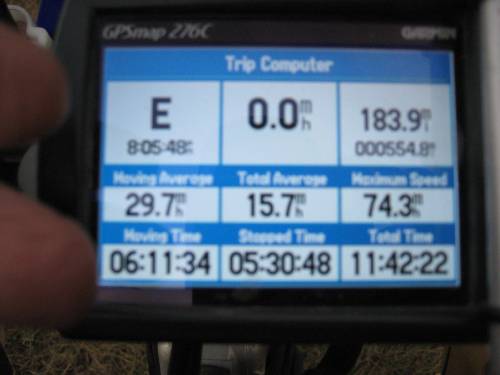 Set the tent up--made a fire and relaxed.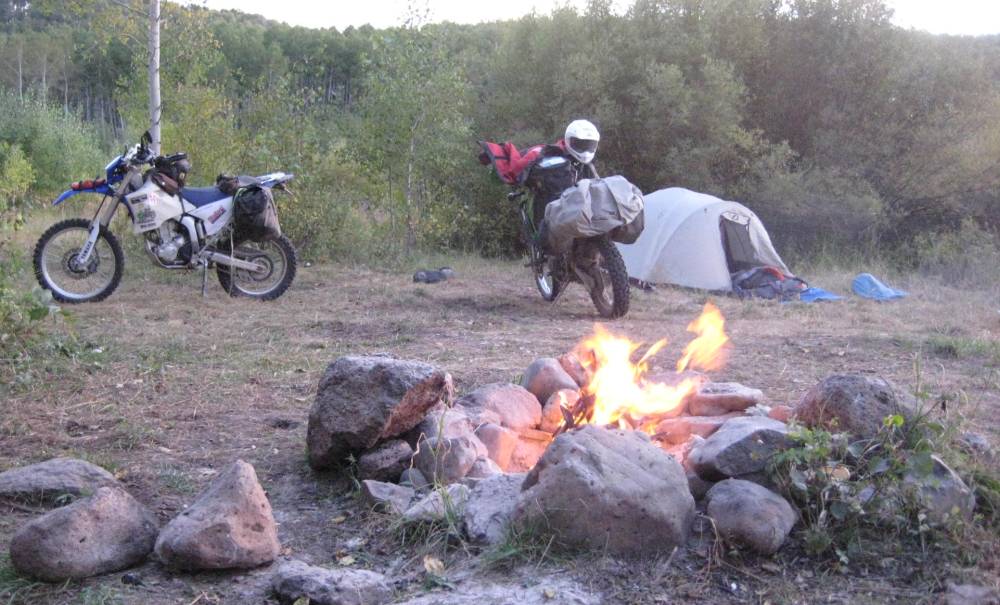 Me and Randy are going to market these chairs.
We are going to call them "Hermit" chairs-----great for the beemer crowd we thought.
Two models will be offered---a low and high back.
I got a tie down--tied the chairs to the back of Randy's KLR--he drug them down the rode for miles
dust a flyin' like you never seen--hell he might as well drag them around he's packin' everything else.
It was a sight to behold.
Damn tie down broke and we lost them---a reward will be given to someone finding them.
They will be more expensive than a "Kermit" chair.
Which brings me to the story when I lost my Kermit chair off the back of my 950 going to a beemer rally.
Mister Kermit was there and heard my story. "What'd you have it tied on with"----"Bungy cords I replied"
"You dumb ass---you could put an eye out with one of those things--what the Hell were you thinkin ??"
All to the amusement of my rally buddies.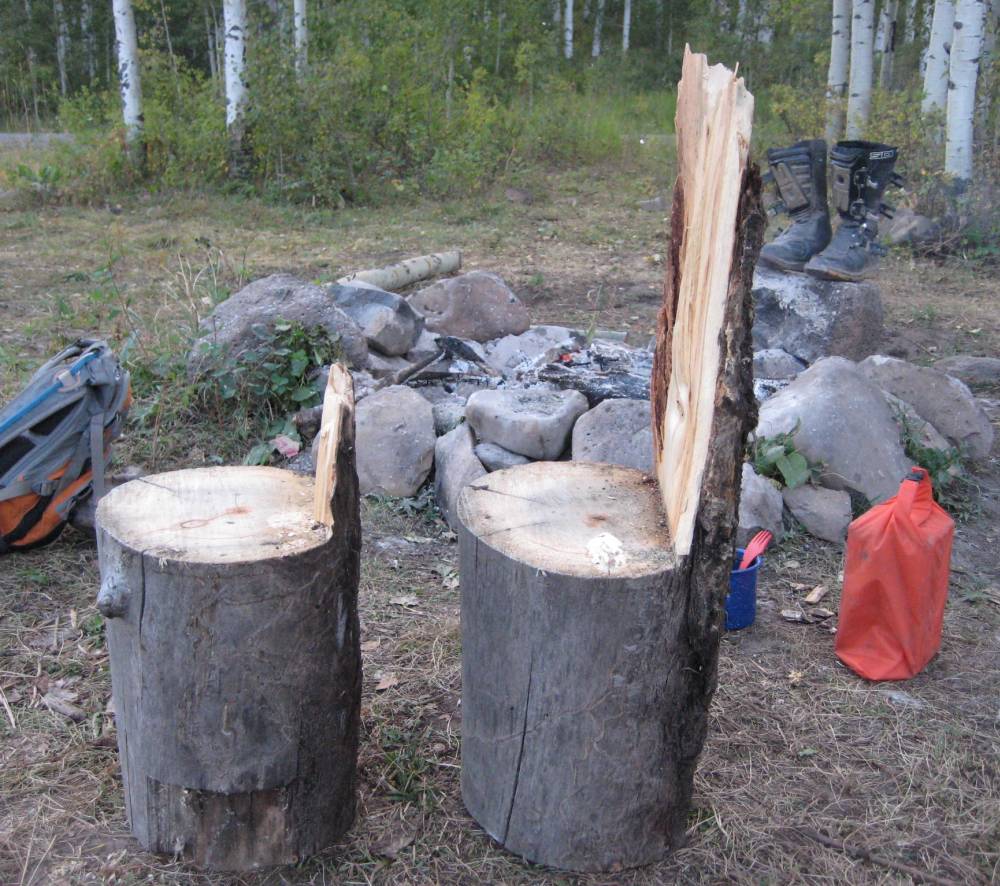 I cooked my dinner---those noodle thingy's with some tuna thrown in---Randy made his coffee.
When he was going to make a bowl of oatmeal---he discovered he was out of water--and I had used all of mine.
He poured the coffee in the oatmeal--you can see it in the bowl--man--looked like someone threw up in the bowl--it was disgusting looking.........
But good he said !!!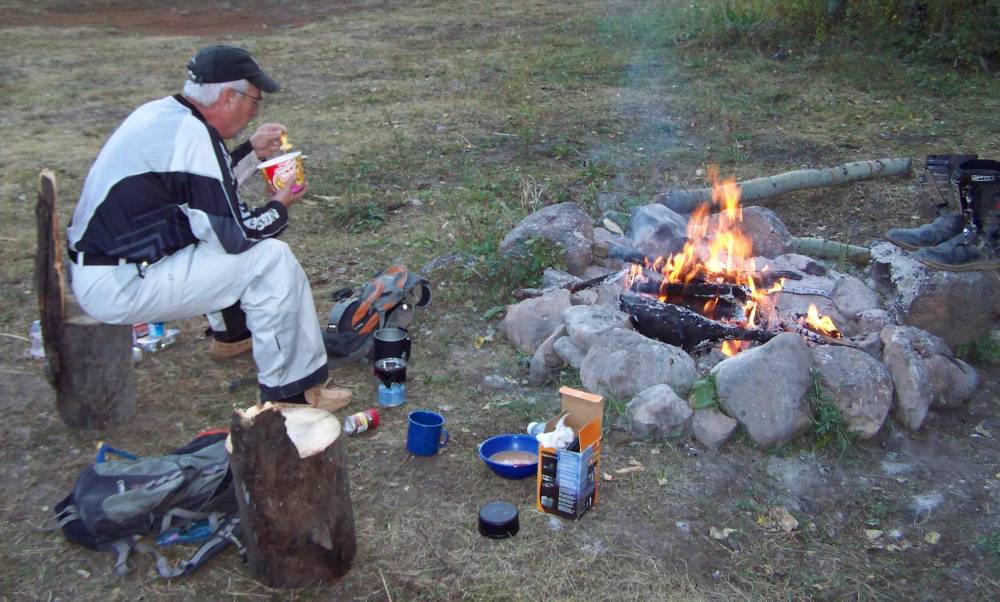 I think I'll take 2 of the high back models.....thank you.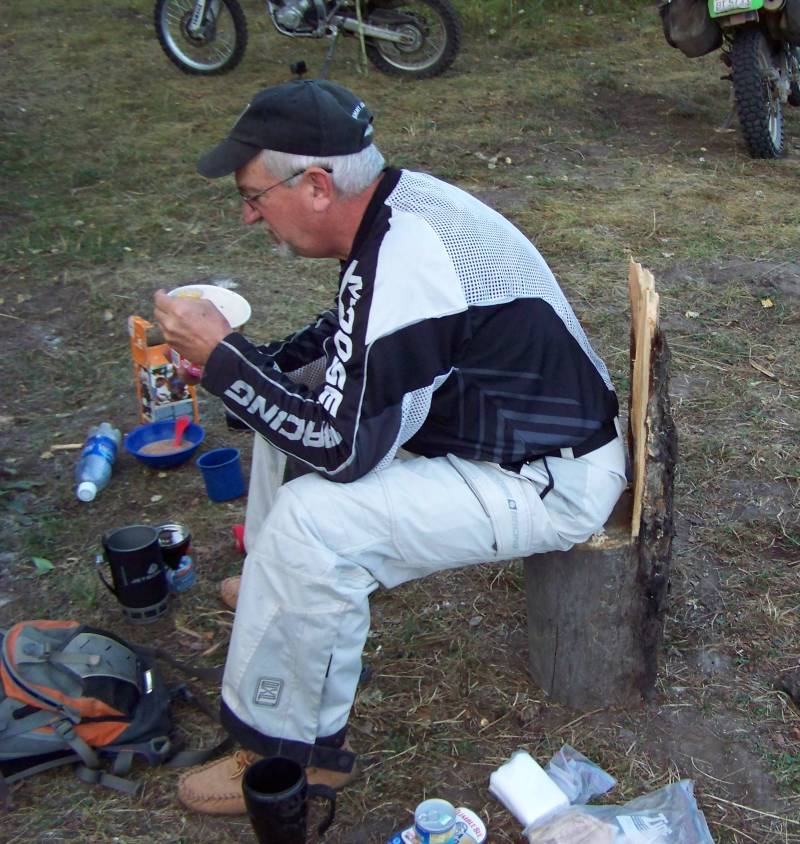 End Day 3
Day 4
9-10-2009
Cow Camp to Craig, Colorado
I got cold at Cow Camp---Randy froze all night long in his wimpy sleeping bag
and I was all cozied up in my zero degree big agnes with insulated core air mattress tuck under it.
He tried to trade me his big agnes tent I had been bragging on for my sleeping bag-----no dice .
After breakfast we rode thru the White River National Forest North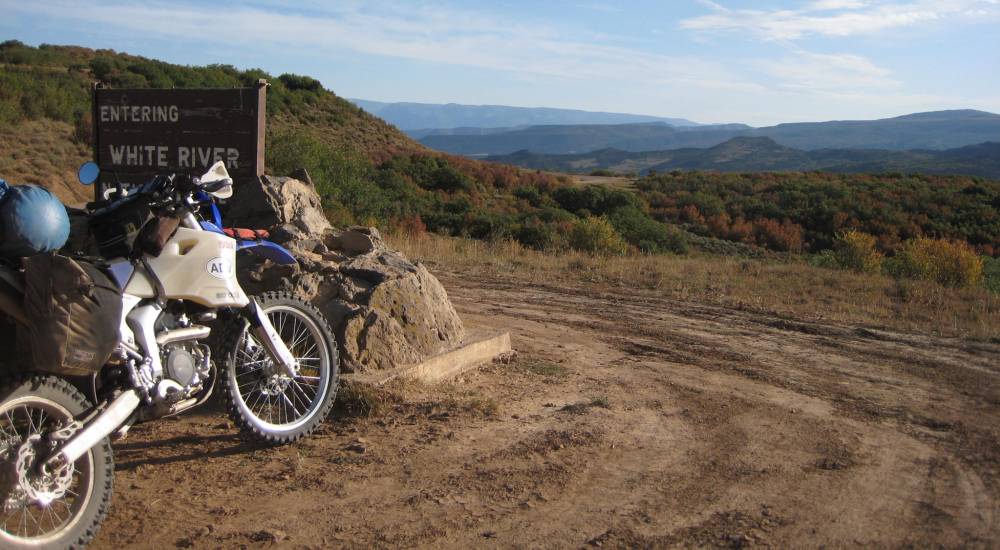 We got gas in Rifle, Wyoming and I had a come-a-part that almost got me whooped I think.
It came about after being in the quiet solitude for days on end--not listening to a TV, loud Harleys, not talking on a cellphone---just relaxing.
It just hit me wrong when we were at the gas station and I was drinking some gatorade and from blocks away I could hear this thumping racket.
Bunch of young boys with a 5,000 watt amp and subwoofer in the car with a bunch of really filthy rap coming out of it--couldn't hear yourself think.
They stepped out--and as Randy stared in astonishment I just really unloaded on them---big time--wasn't like me really. I'm not sayin' what I
said on here but it was bad---thing is they were bad -------and I wasn't. There was this big stare down and I guess luckily for me they went inside
and we went our way.

I was upset for awhile riding thinking about it---but it finally went away as the scenery took over and I forgot all about it.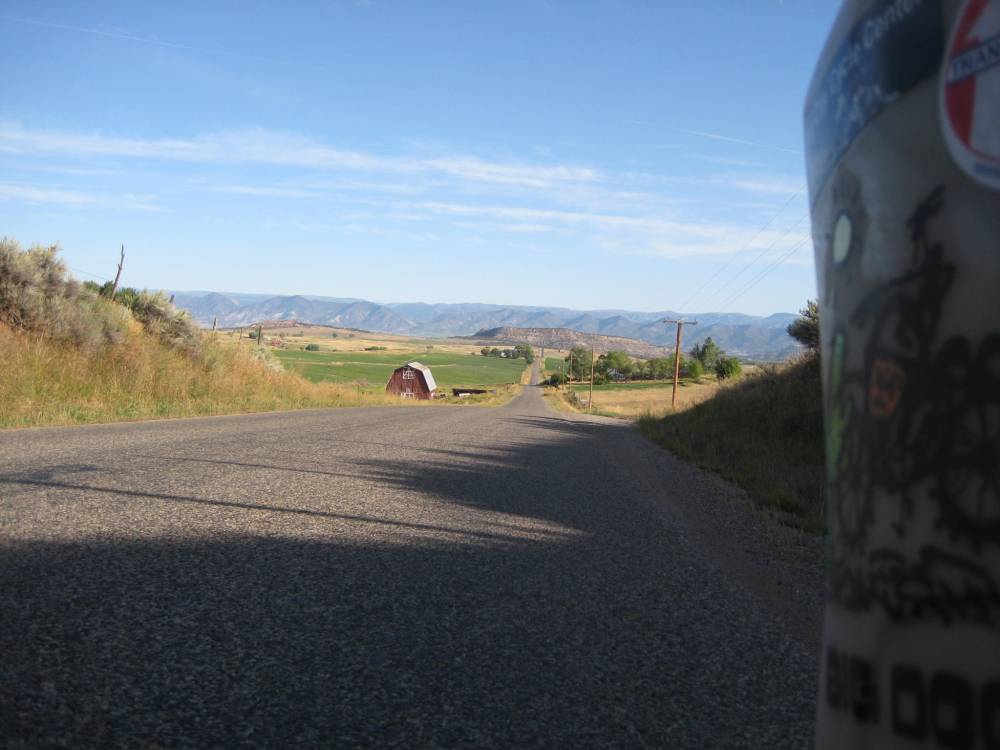 We popped over a hill and the trees in these peoples house were just beautiful.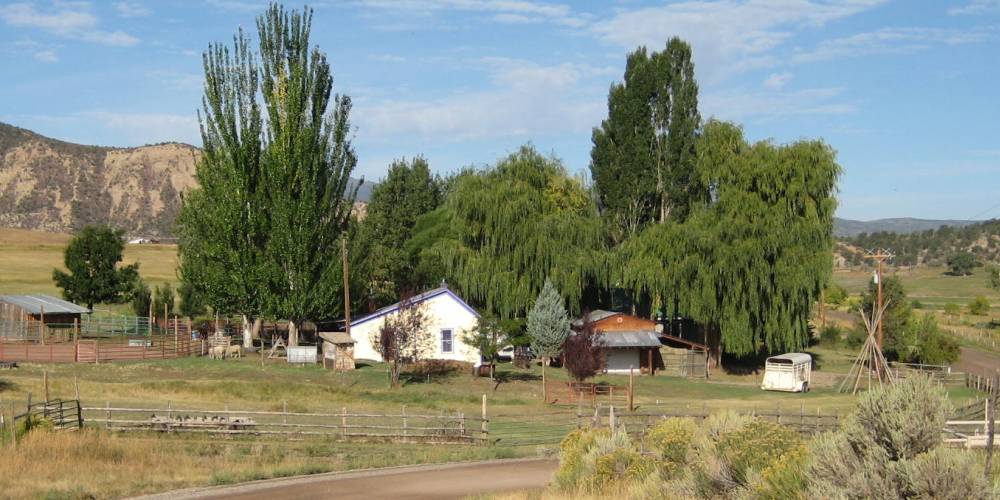 This eagle was keepin' an eye on us---lookin' for his next meal.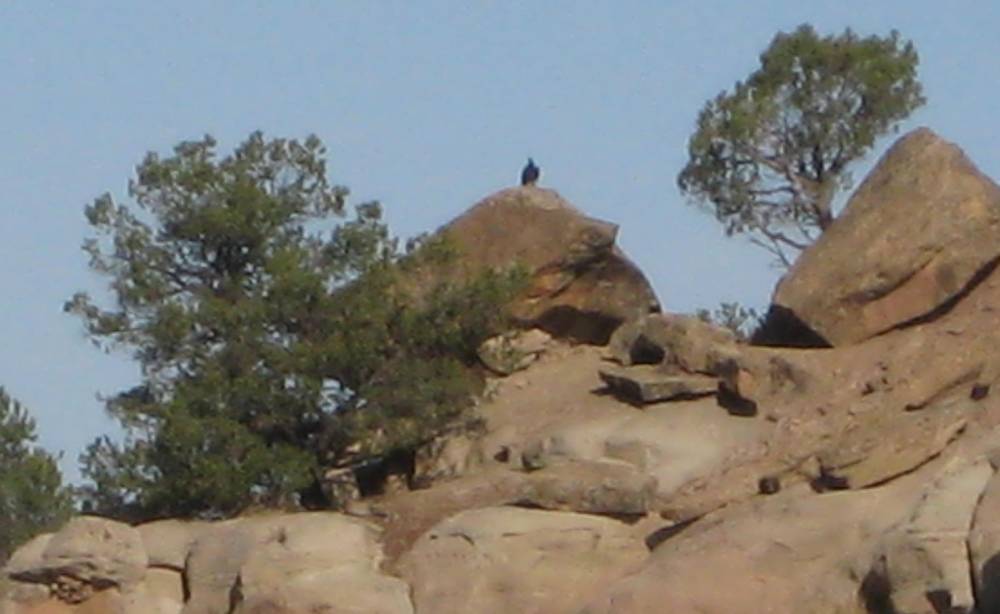 Breakfast had worn off and we stopped in the town of Meeker, Wyoming for lunch.
In pulls in a really nice very young guy riding across country on a really nice brand new BMW800GS.
We had a nice visit---seems he was riding all pavement but was having the time of his life on a great bike.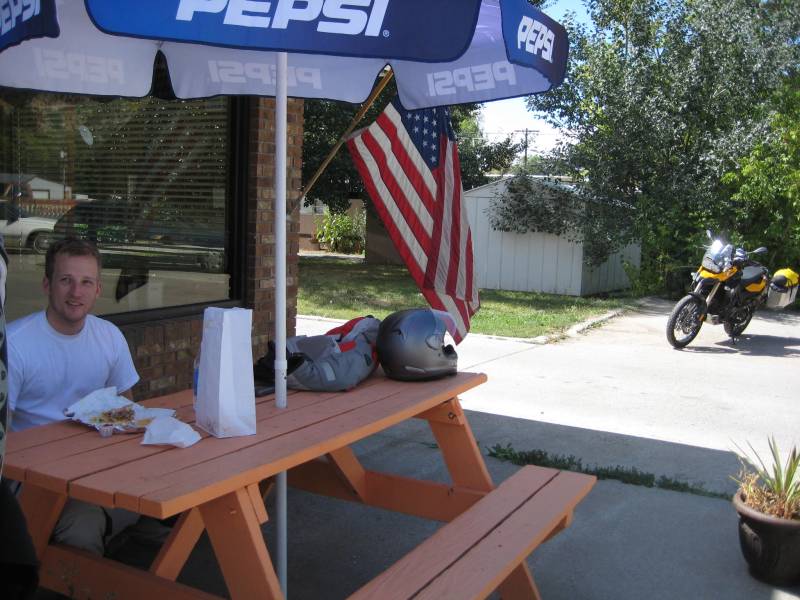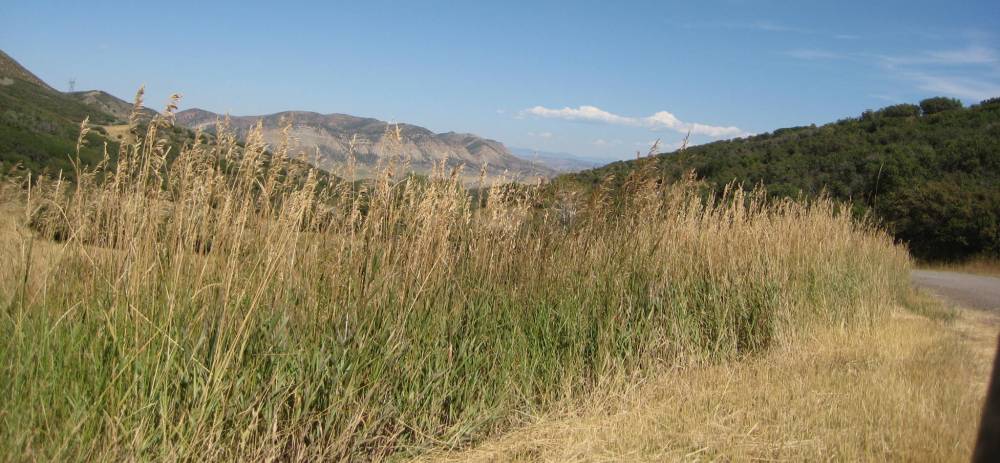 We came to a very historic site in history---site of the Battle of Milk Creek 1879.
September 29 1879,in a rugged, remote valley, in northwestern Colorado.Three companies of U.S cavalry, and 25 civilian teamsters are locked in mortal combat, with an equal number of White river Ute Indians.The cavalry troopers managed to circle their wagons in a classic corral defensive position. The White river Utes took up firing positions in the hills overlooking three sides of the wagon corral.
Thus began THE BATTLE OF MILK CREEK.The battle raged for six days, until cavalry reinforcements arrived and the Utes withdrew from the fight.
It is believed that 13 to 27 White river Utes lost their lives in the battle. United States Army records reveal a total of 10 soldiers and 3 civilians killed in the fight. Only one dead soldier (Major Tipton T Thornburgh), was removed from the battlefield. The other twelve fallen troopers were buried near the battlefield, and forgotten by the march of time.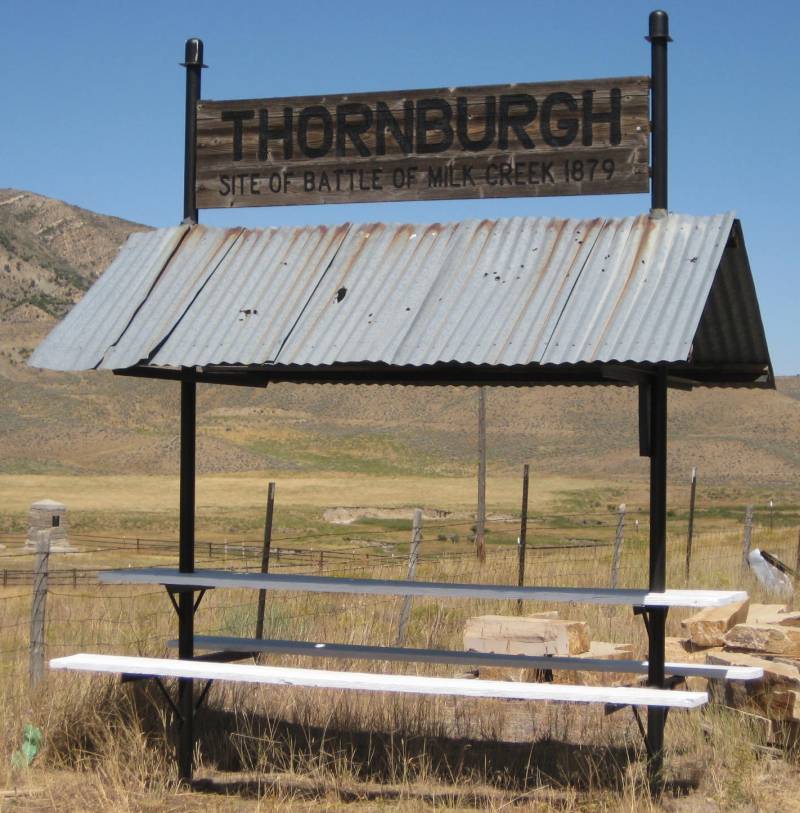 The battle took place in this valley.
This place has been pretty much unmarked since it happend--but a memorial is being built there and should be done soon.
This is about 17 straight line miles Northeast of Meeker, Wyoming on a dirt road CR-15.
N40° 12.287' W107°41.269'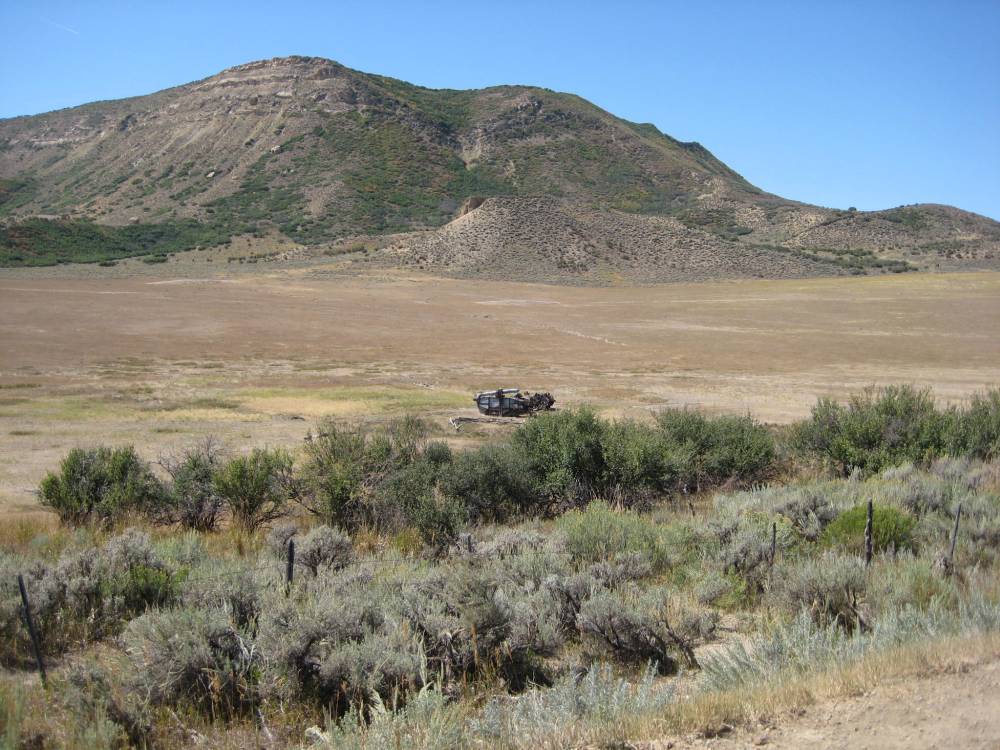 I love these things called Buttes.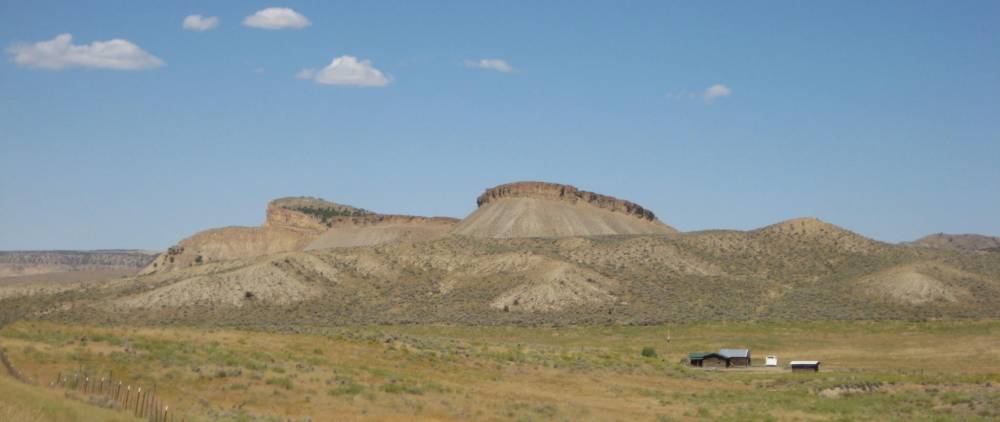 This is called monument Butte--about 6 miles North of the Battlefield.
N40° 17.897' W107° 39.755'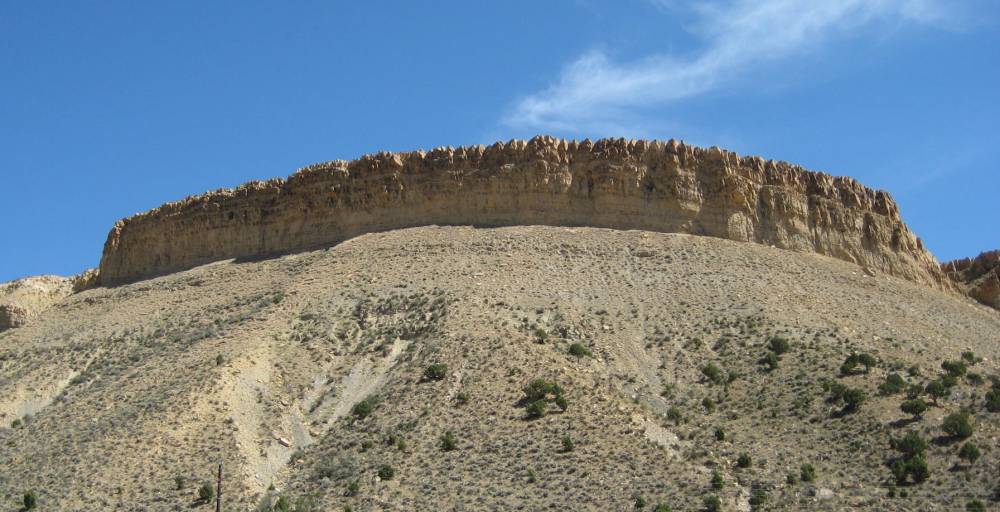 End Day 4
Day 5
Craig, Colorado to Atlantic City Wyoming--not really a city at all.
Great Divide Wyoming---population.........zero, zip, nada
N40° 47.043' W107° 50.274'
Not much left here---the general merchandise store and combo post office and a house across the street with the bold letters GD on the iron gate.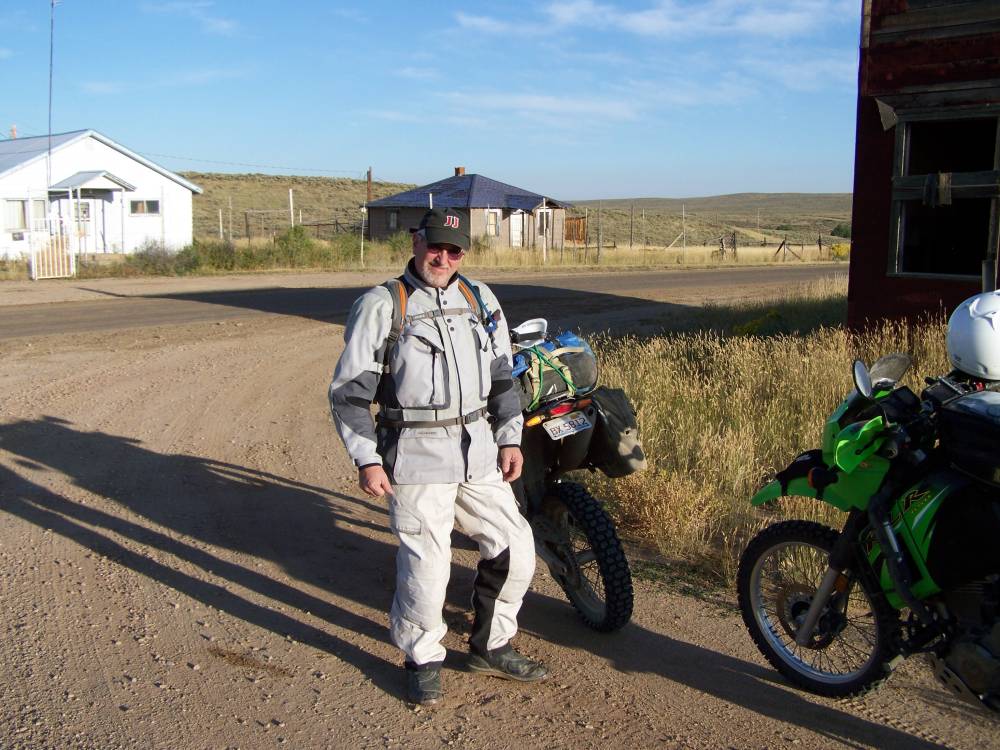 We thought it was obviously a post offiice also.
The town was a boom in 1917 with a few other places of business.
Man....... I researched the net on this place for an hour--and found almost nothing.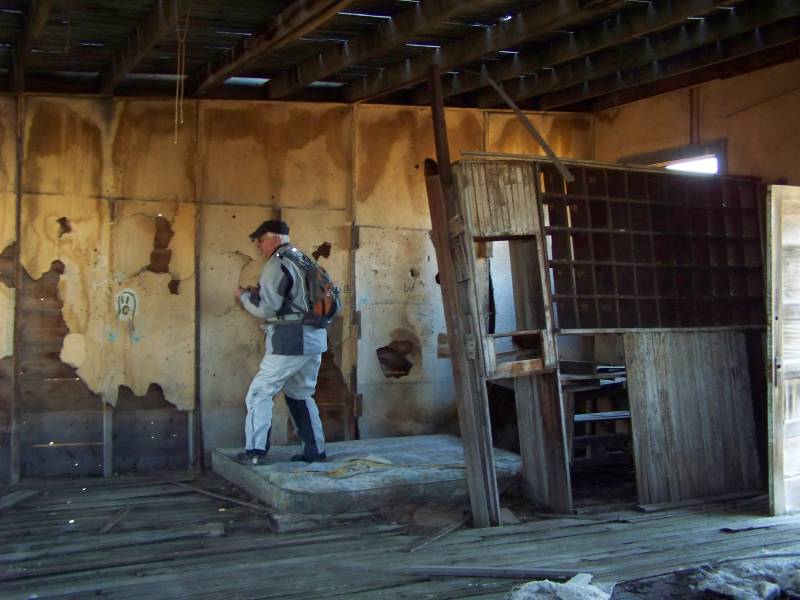 I was neat the asphalt siding was coming off--you could read Great Divide plainly
and not so plainly in this picture it read General Merchandise.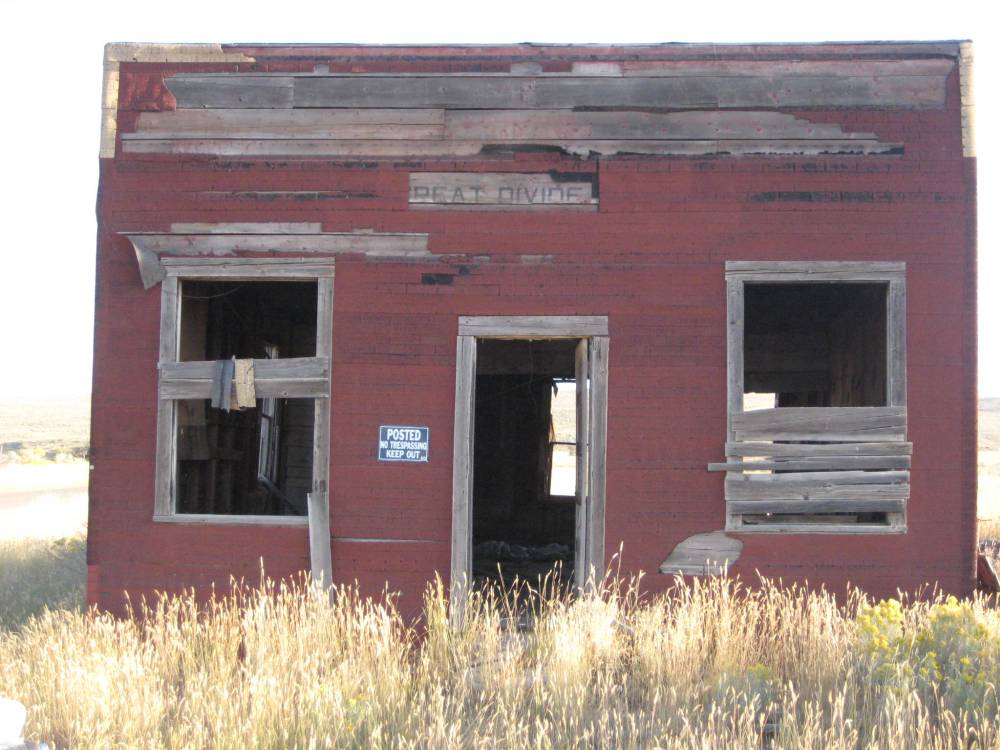 N41° 00.195' W108° 18.023'
We crossed the Wyoming border.
We mingled here long enough to use up all our toilet paper---except one sheet.
And promptly made a proper sign and hung it on a wooden sign there.
We dated and signed our name -----so if you come by----see if you can find it.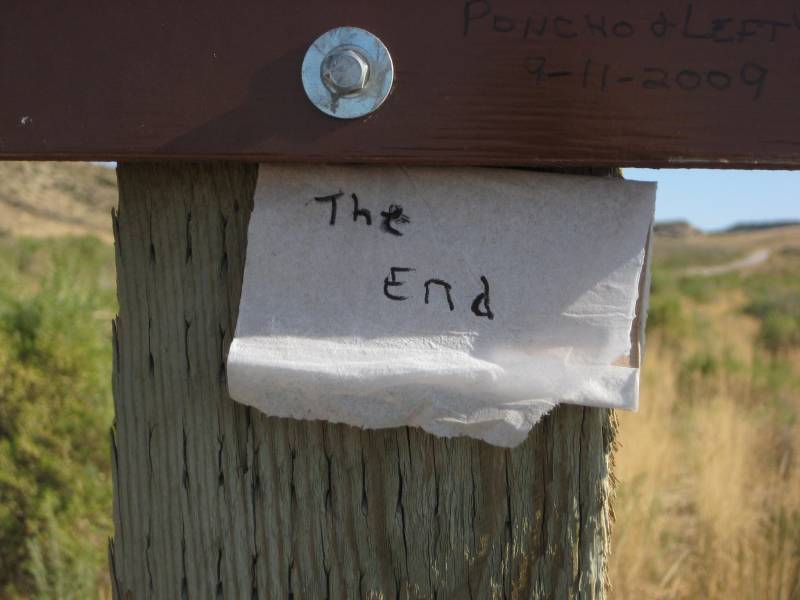 About 50 yds. to the East of the sign--over a fence Randy spotted something wooden--he has an eye for stuff.
A snow wagon--yep. If you stop here--look for it--it's kind of hidden and is really neat to look over.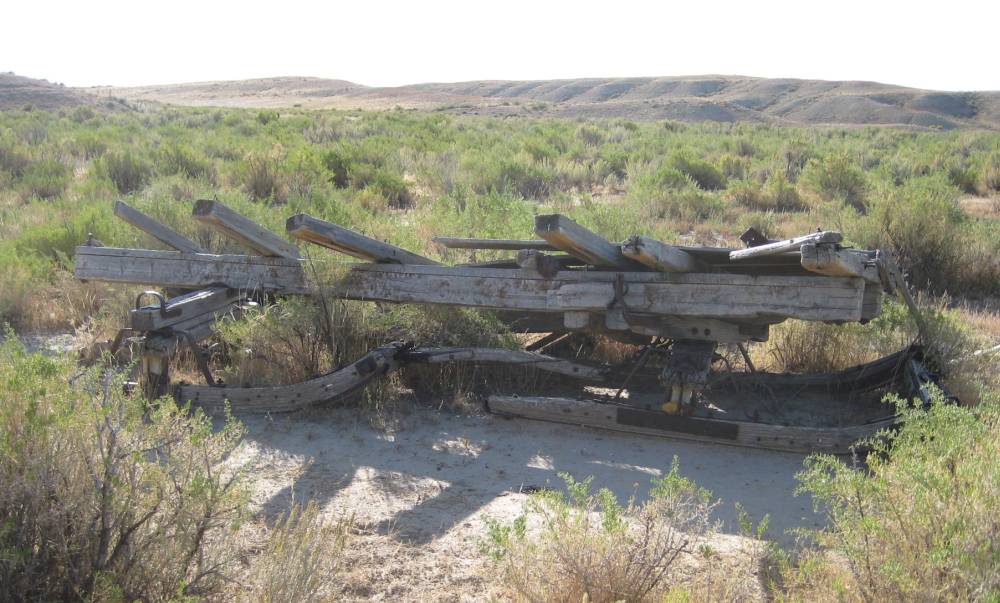 We weren't following a route now at all--just winging it kind of North and West in the comfort we had
plenty of fuel, food and water.. We turned down any dirt road that looked interesting.
I turned down a sandy trail (deep sand) called the Shell Creek Stock Trail-------just a wagon rut really, about 7 miles into Wyoming..
I climbed a hill and had this beautiful view---I never did know if that was rock or dirt or what ???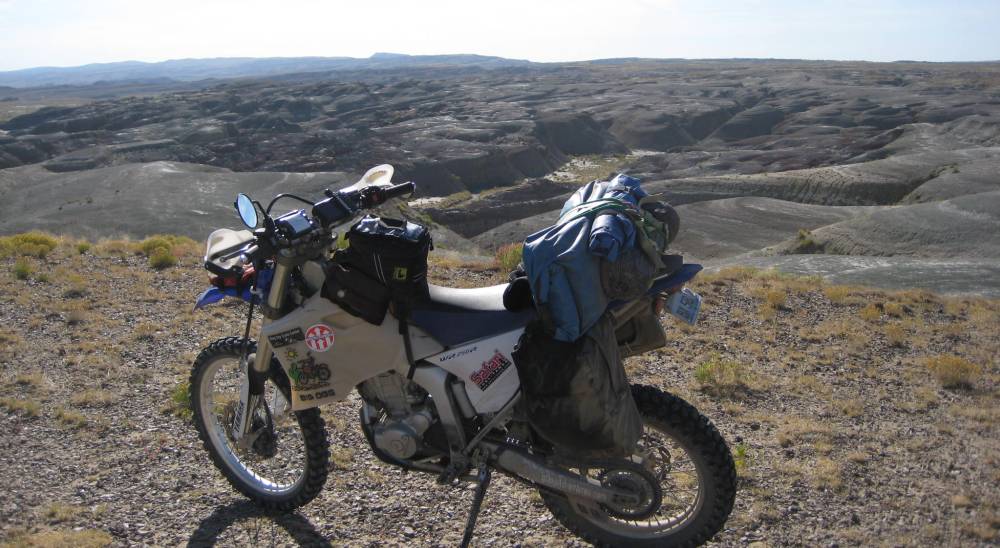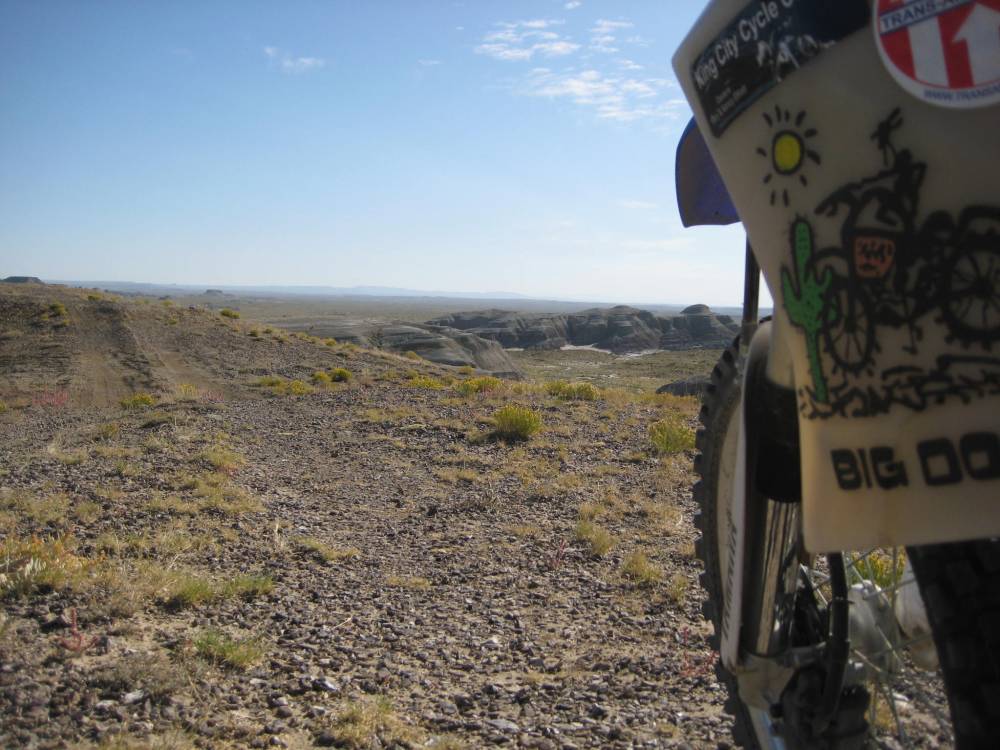 I wound the WR up in 3rd gear and kept it pinned with the bike moving all around under me---I'm comfortable with this--but Randy's
heavily laden KLR was not. I'm sure glad I wasn't on my 950 in here---I just can't do that on it.
Riding dirt bikes all my life in deep mud--and riding in sand in Baja really helped me out here.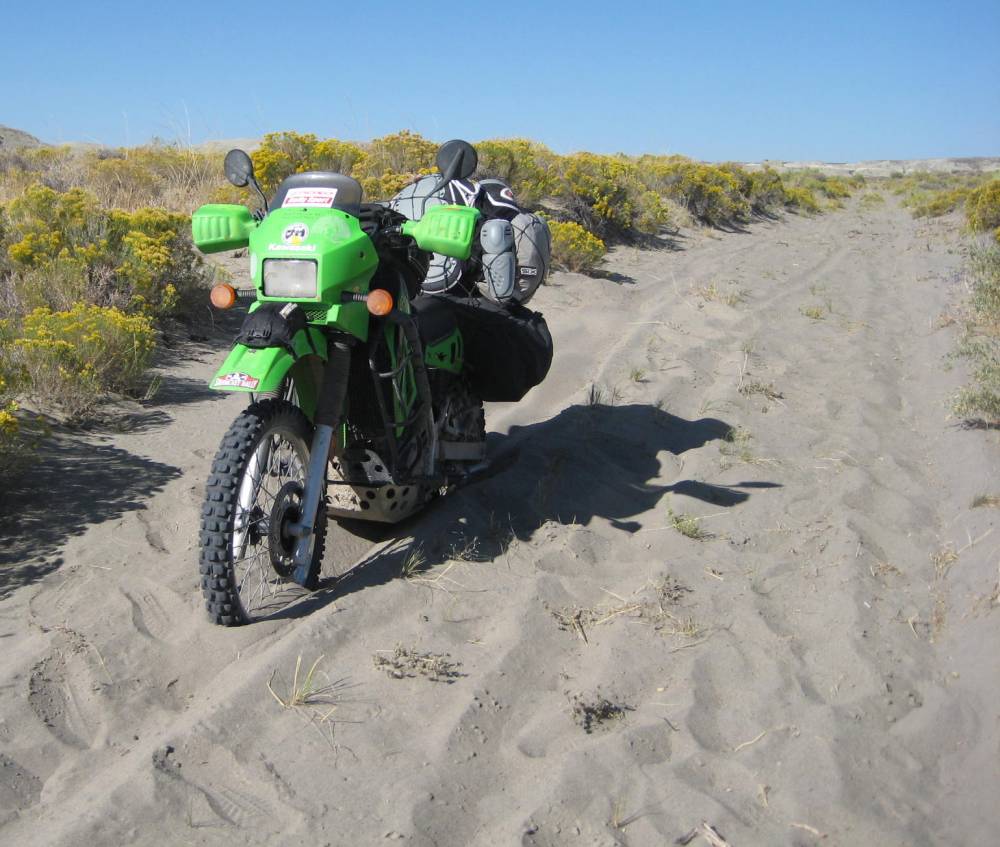 Randy went about 1/2 mile and was done----said "I'm glad my AAA is all paid up--and called for the hook.
Maybe he should have unloaded those Hermit chairs he went back for.
I ran down it for a few more miles but turned back--and both of us went back to the hard pack dirt road.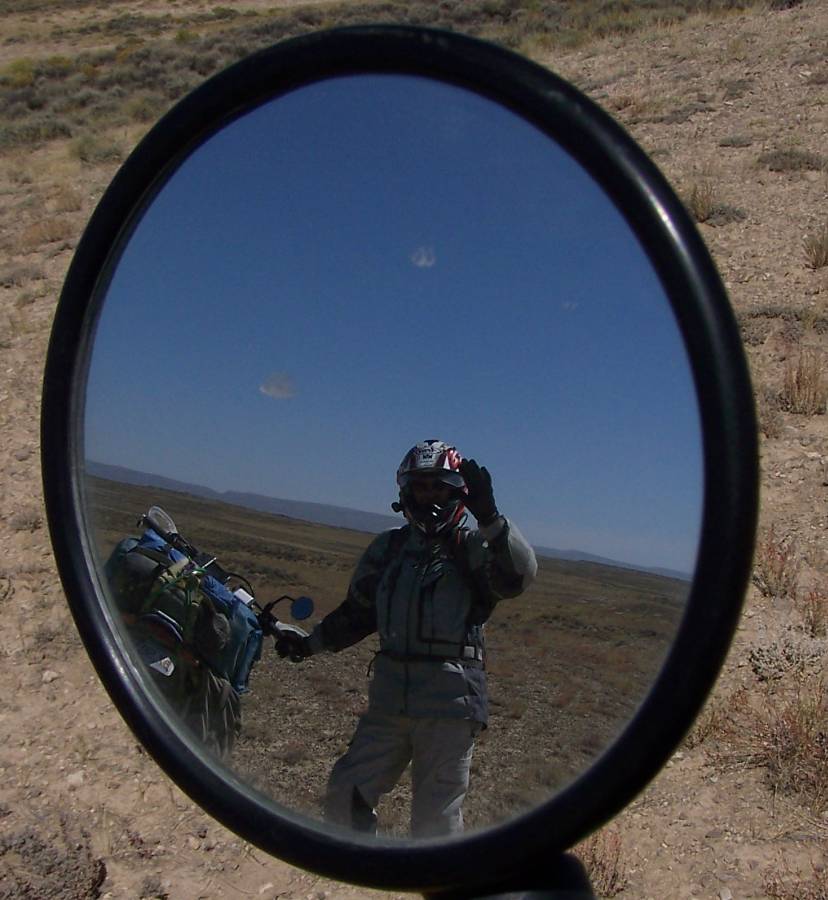 We made lots of turns out here---kept following signs to Ft. Lacleede.
It was great riding with absolutely nothing in sight----it's hard to get away from power lines--but there just weren't any.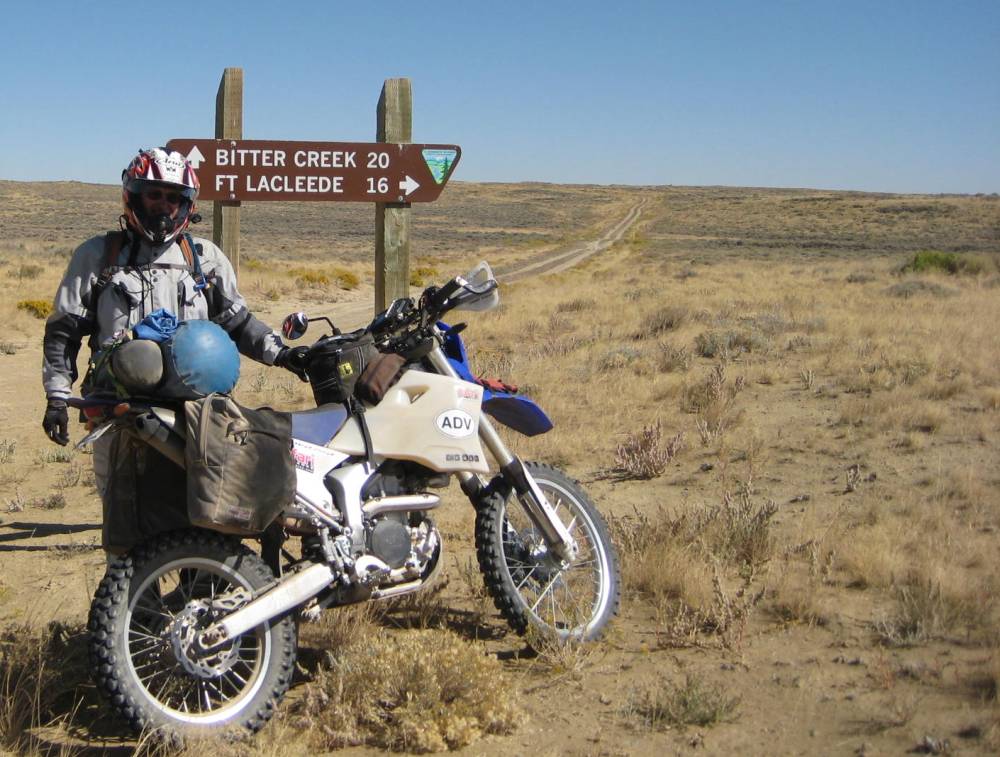 Fort Laclede Stage Station along the Overland Trail
N41° 24.893' W108° 23.418'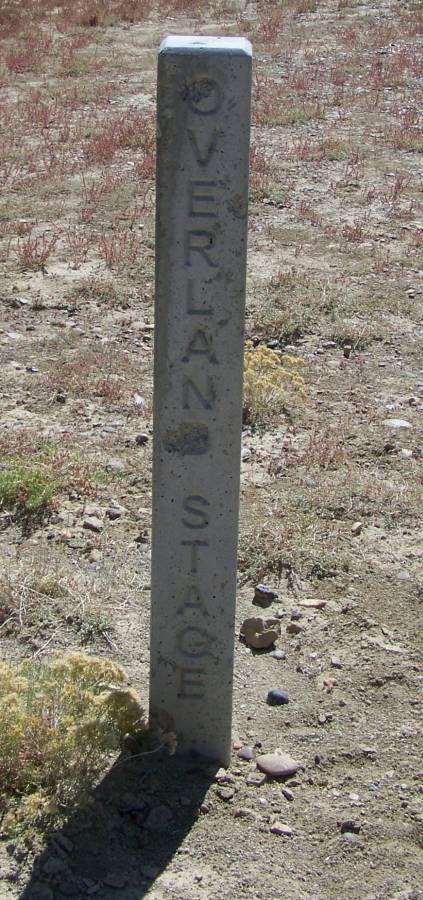 Two sets of ruins remain along Bitter Creek at Fort La Clede; the Stage Station and the Fort itself. About 50 feet to the south of Bitter Creek is the La Clede Stage Station, in operation from 1862 to 1869. The station was constructed of flat slabs of fossilized snail shell sandstone that is prevalent in the near-by hills. The La Clede Stage Station was originally built as a Home Station and later it became a Telegraph Station along the Overland Trail.
La Clede Stage StationOn August 25, 1869 four men and a boy, all masked, stopped the stage just west of the La Clede Station and took $42,000 in gold bars and greenbacks. During the confusion of the holdup and getaway, the boy found himself lost. He eventually wandered into a near-by Union Pacific work camp where he confessed. Soon thereafter he joined the lawmen looking for the bandits, and the stolen gold. They unfortunately lost the trail in lava rock, which is so prevelant in the area. (Photo to the left shows an interior wall of the Stage Station.)
Fort La CledeFort La Clede is the most impressive ruin along Bitter Creek. The post, established in 1863, included barracks, corral and a gun tower. On surrounding hills, gun pits were constructed and maintained. In June 1865 Company B of the 11th Ohio Volunteer Cavalry, then posted to Fort La Clede, skirmished with Indians some two miles east. The soldiers were drawn into an ambush and were rescued by other soldiers, assisted by employees of the Stage Station.
Fort La CledeIt appears that the two buildings of the Fort were several feet apart. The Fort was constructed of the same type of rock as the La Clede Stage Station, called tortilla, the fossilized remains of a lake bed existing here in the Eocene-Tertiary geologic period fifty-five million years ago. The walls of the Fort consist of a double row of this rock.
Fort La CledeLike most forts, this one sits on a higher point of ground so it has a good view of the surrounding country from all sides. The smaller of the two Fort buildings (to the left) appears to have been approximately one-fourth the size of the larger building. Both buildings are now surrounded by a barbed wire fence.
Gun PortsOn all four walls of the remaining buildings at Fort La Clede there are what appear to be gun ports. The openings in the walls are by no means square and were evidently never intended to be fitted with any type of windows. These openings were probably covered with balnkets (or whatever else was handy) to keep out the wind and bitter cold of winter.
Overland Trail MarkerAbout 300 feet away from the remains of the La Clede Stage Station located along the road is an Overland Trail Marker. The ruins of the Fort and the Stage Station are on the south side of Bitter Creek. From the location of the marker, it appears that quite possibly the Overland trail may have been located right between the two building at the Fort.

We had a relaxing lunch here and stayed an hour----no boom boxes thankfully---just the wind.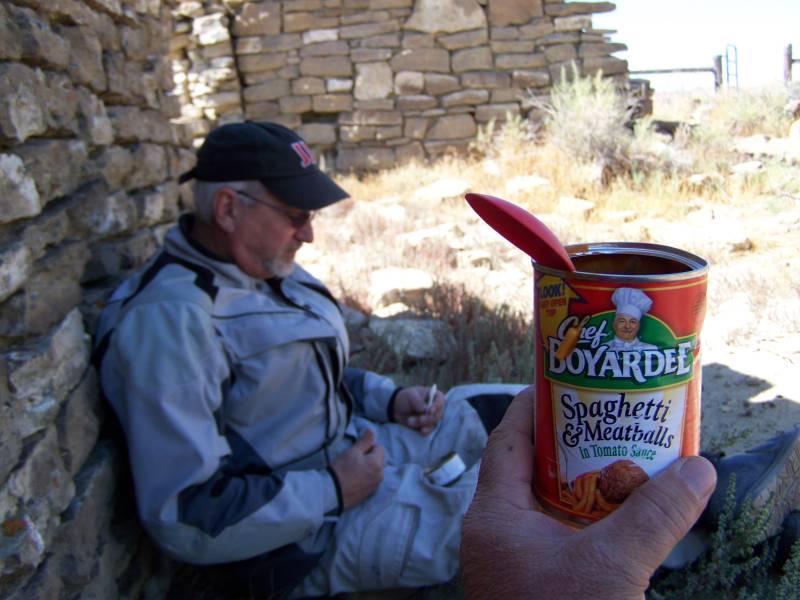 The endless landscape seems to almost swallow me and the WR in this picture.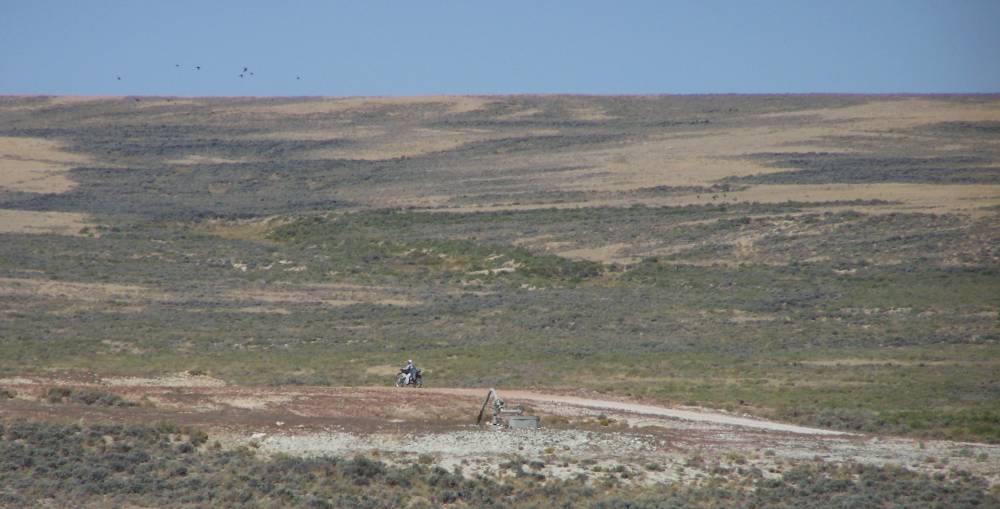 We rode up on a very high mesa and the view was just.........well.............just see for yourself.
Still not a sign of anybody or anything.
We weren't lost-----we still had plenty of gas !!!!!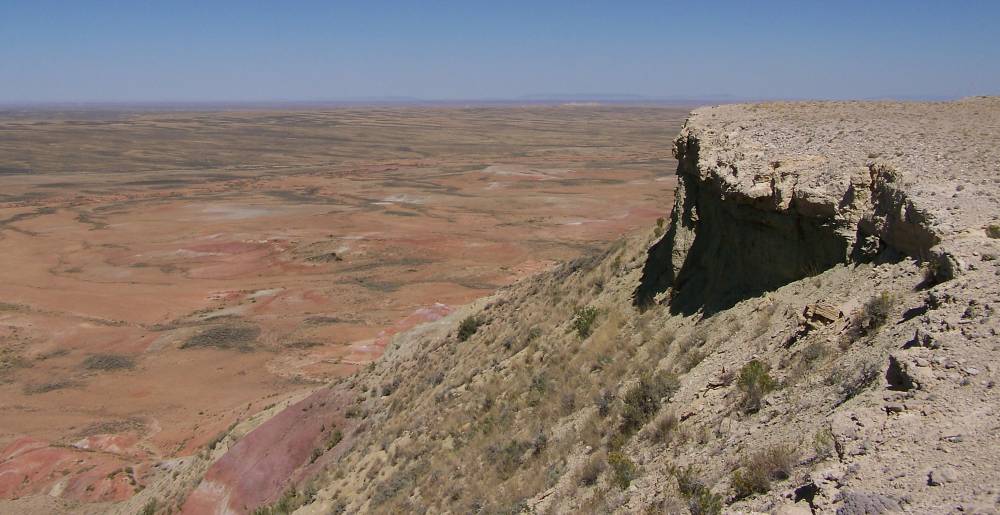 Next thing you know we drop off the mesa onto some very low ground--almost seemed like death valley.
I went a little ways out on this dry lake bed--but realized it was not a good idea--these things can swallow you whole.
AAA didn't have service out here----there would be no hook.
N42° 09.721' W108° 30.521'

Randy's a horseman----owns a few--knows all about them--said they were wild mustangs.
All I knew is they were horses--and didn't want anything to do with us.
They kept their distance--can't believe how Randy's camera pulled them in.
My camera got busted back in the deep sand--I'm without a camera now.
The only thing I salvaged was the SD card with my pictures on it.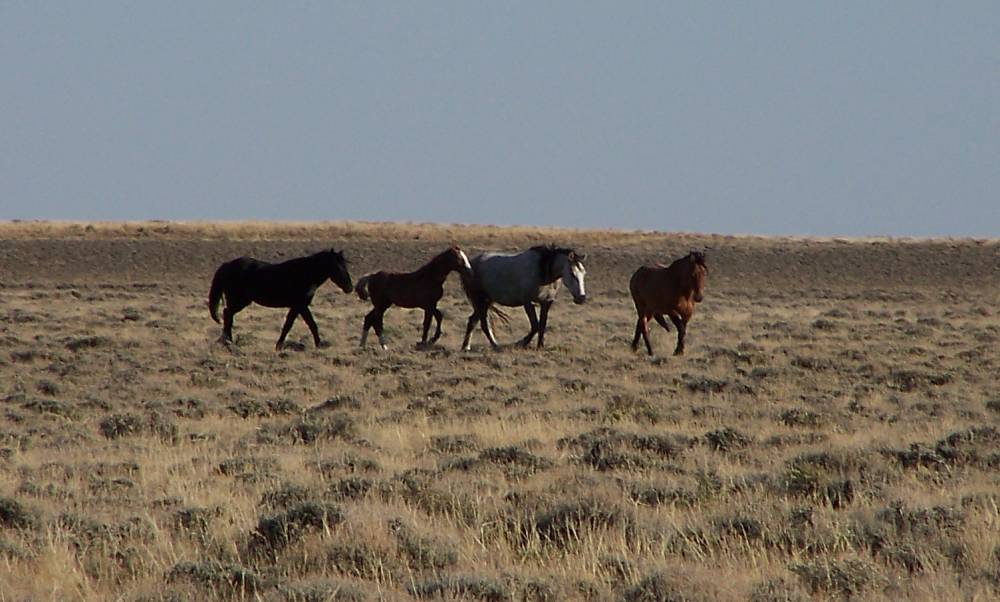 Rolled my WR up over a hill and found this paradise.
Approximately N42° 16.085 W108° 50.538'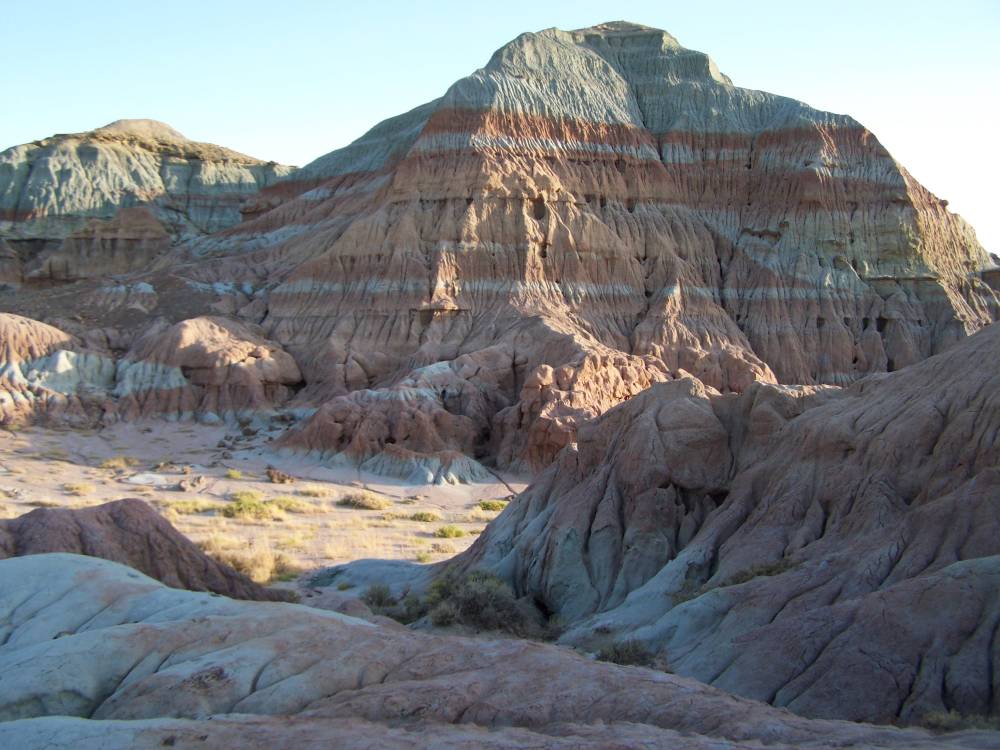 Riding thru here we were skirting a Wilderness area---the signs were a little vague----but we assure ourselves
we were on the legal side of the signs.I think some of the road in here was called "Point Of Rocks S Pass Stage Rd".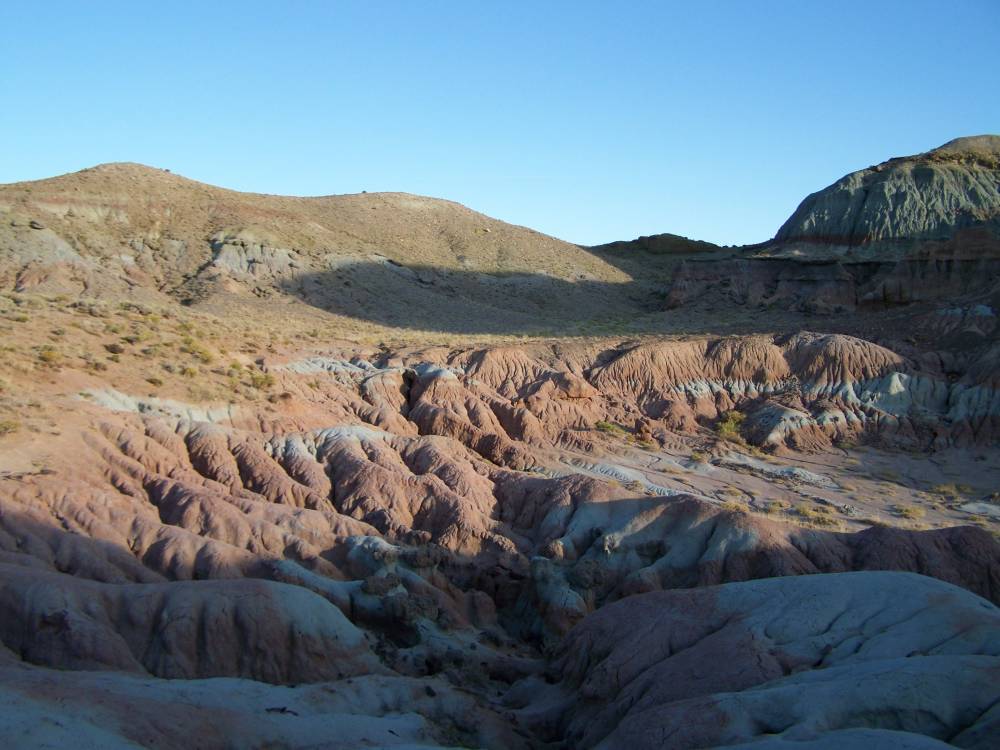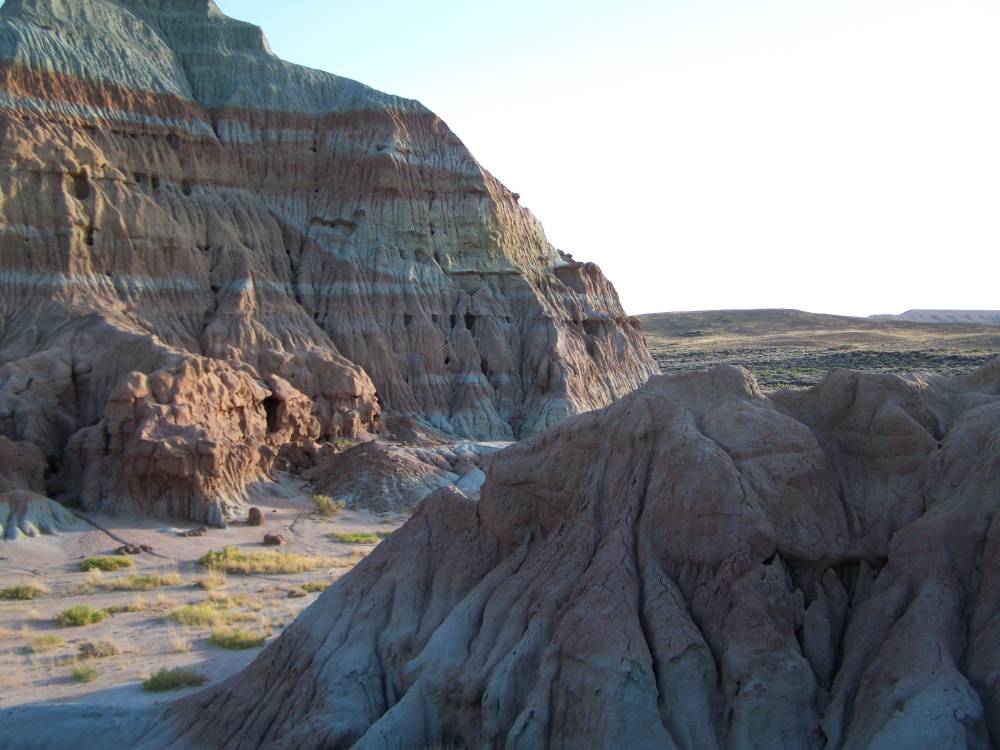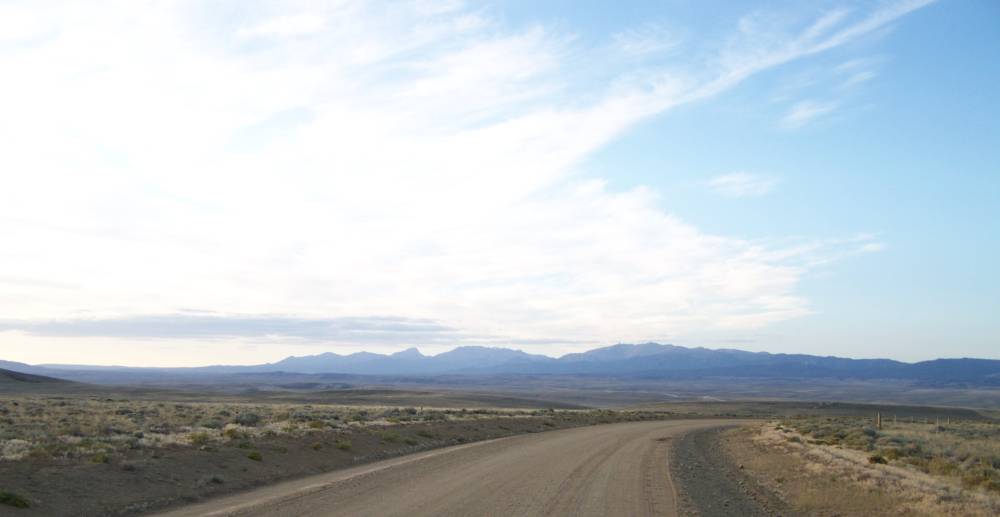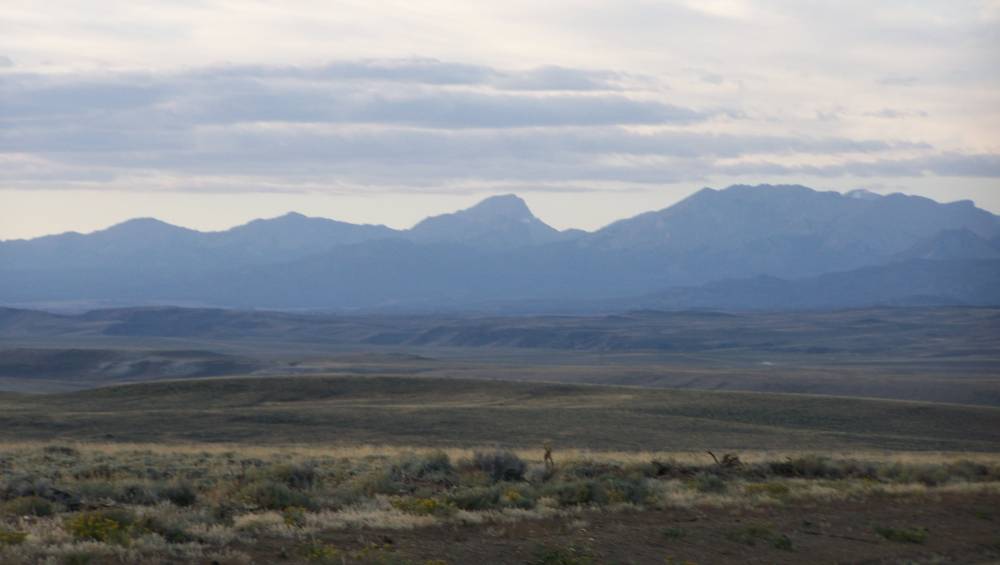 It was a narrow rutted dirt trail getting out of here--we finally hit Hwy 28 right at South Pass.
Then we headed North toward Atlantic City.
It's a very, very small historic town that is right on the Continental Divide Trail route.
I tried to get a cabin at the local Inn and the lady was pretty snotty and told me.........
We don't take "Drop Ins"......Never been told that before.
I had camped here in 2004 doing the Continental Divide ride.
Some Beemer guys doing the CDR ride let us stay in their camp.
Said----"we welcome drop ins".
I've been called a lot of things--but never a "Drop-In" !!!! A Drop Out maybe.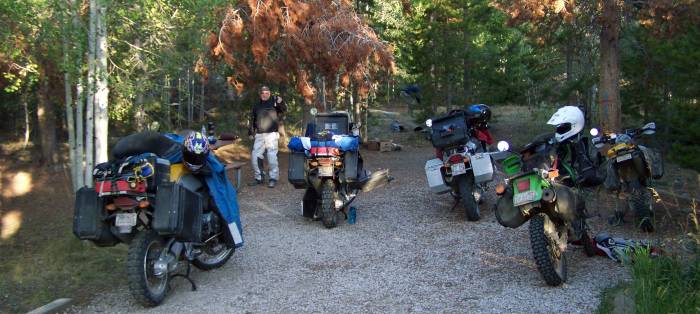 Guess what----Randy froze his ass off again--I was feeling bad for him--he really was suffereing and was getting no sleep.
This would get much worse and culminate into a disaster.
We had watered down oatmeal for breakfast and the beemer guys went to town for a real breakfast at the Inn I think.
Me and Randy laughed and told stories all evening over a camp fire--the Beemer guys were much more serious
trying to get their cellphones to work and get connected.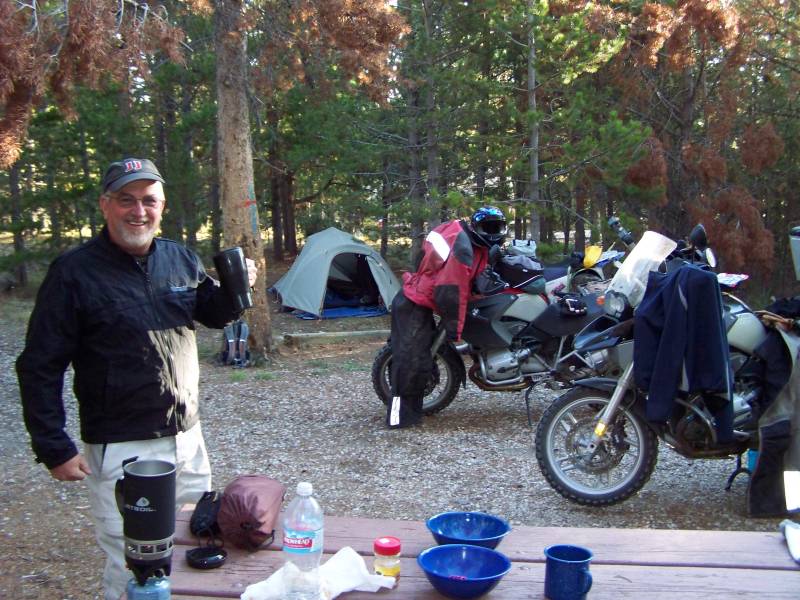 End Day 5
Day 6
9-12-2009
Atlantic City Camp to Camp in Briger Teton National Forest
We rode South on hwy 28 just a little bit when I spied this small dirt road heading off to the West
N42° 25.248' W108° 52.395'
I turned down it and went just a little ways and I started seeing concret posts sticking up designating the Oregon Trail.
I just stumbled upon it by luck----the dirt road went on for miles thru the prairie grass and made a few pretty good creek crossings
and some downhill plunges in big rocks.
Now that I'm home the Lander Pinedale stage route was nearby and we ran in to the lander cut-off road.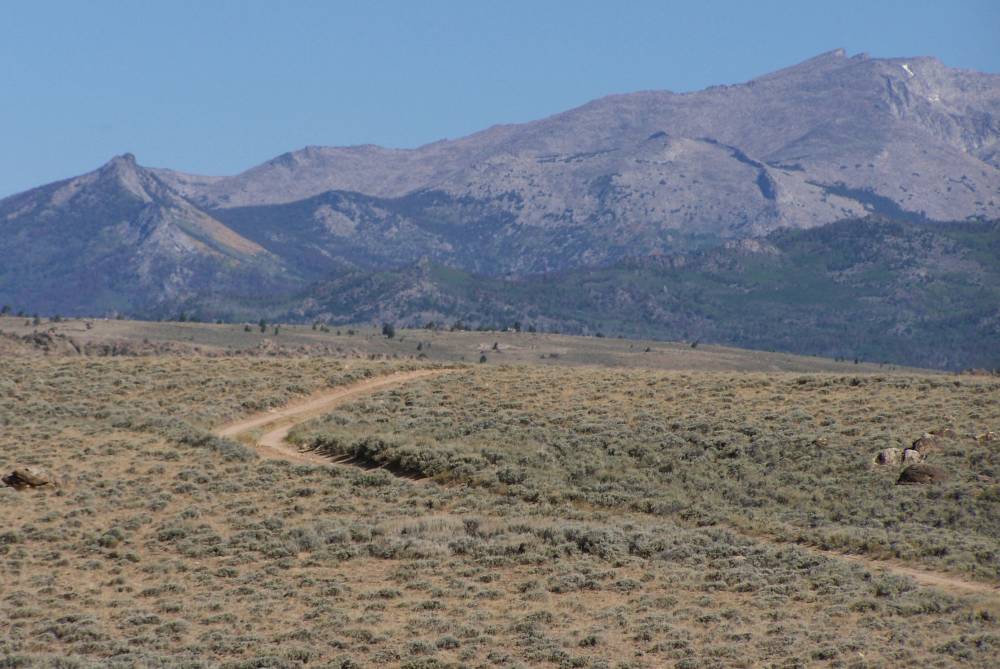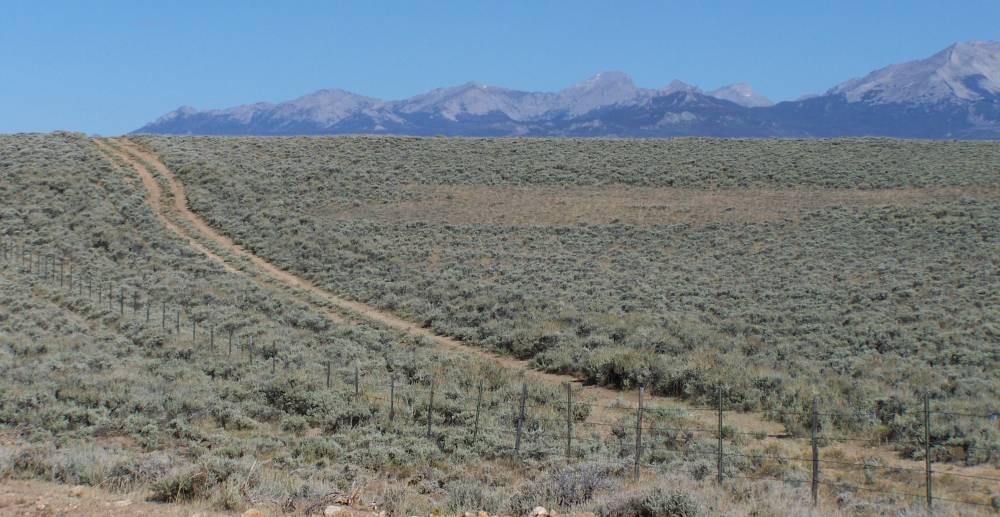 The trail transects the dry desert country of the Upper Green River Valley near Big Piney, crossing the New Fork and Green Rivers before heading into the Wyoming mountain range and on to Idaho. It was surveyed and built in 1857-58 by pioneer engineer Frederick Lander for the Department of the Interior as an improved emigrant wagon road.
Some 13,000 emigrants traveled this route over to Fort Hall, Idaho and on to Oregon country. The route provided access to more water, wood and forage for stock animals than the Sublette Cutoff to the south. Many portions can still be driven today with a high-clearance vehicle, traveled by mountain bike or walked. Wooden posts mark the trail.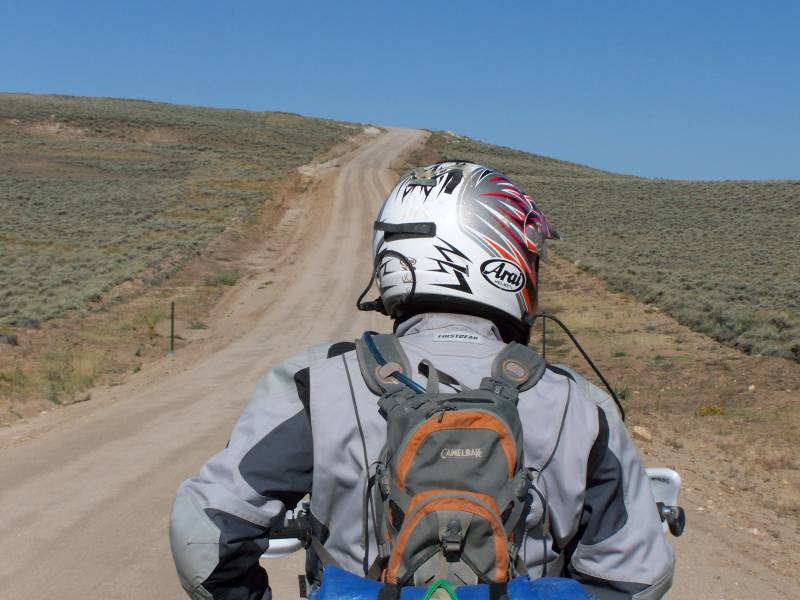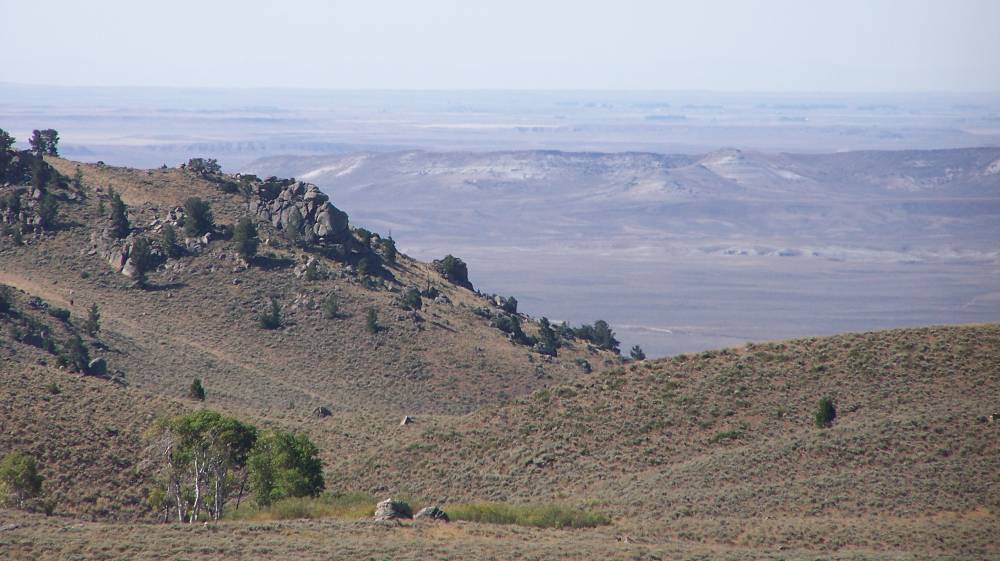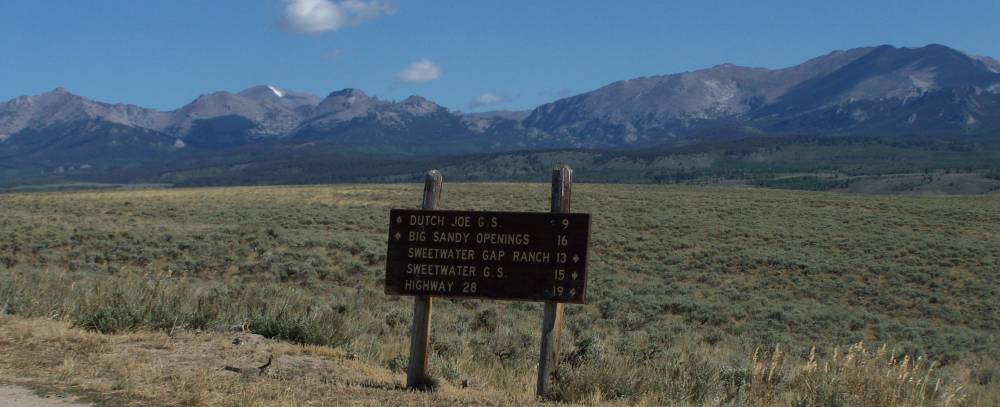 We poked around here for a half hour checking out the wagon ruts and old gravesite.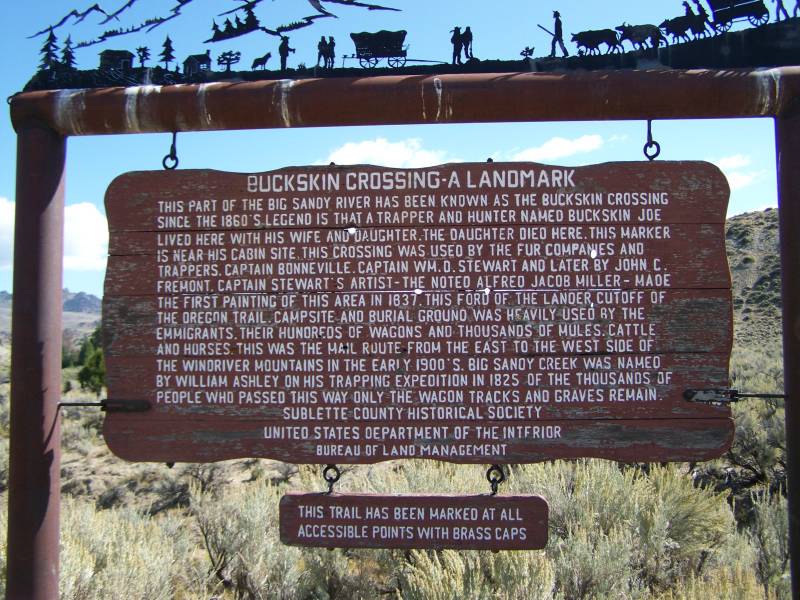 Below is the Big Sandy river spoken about above.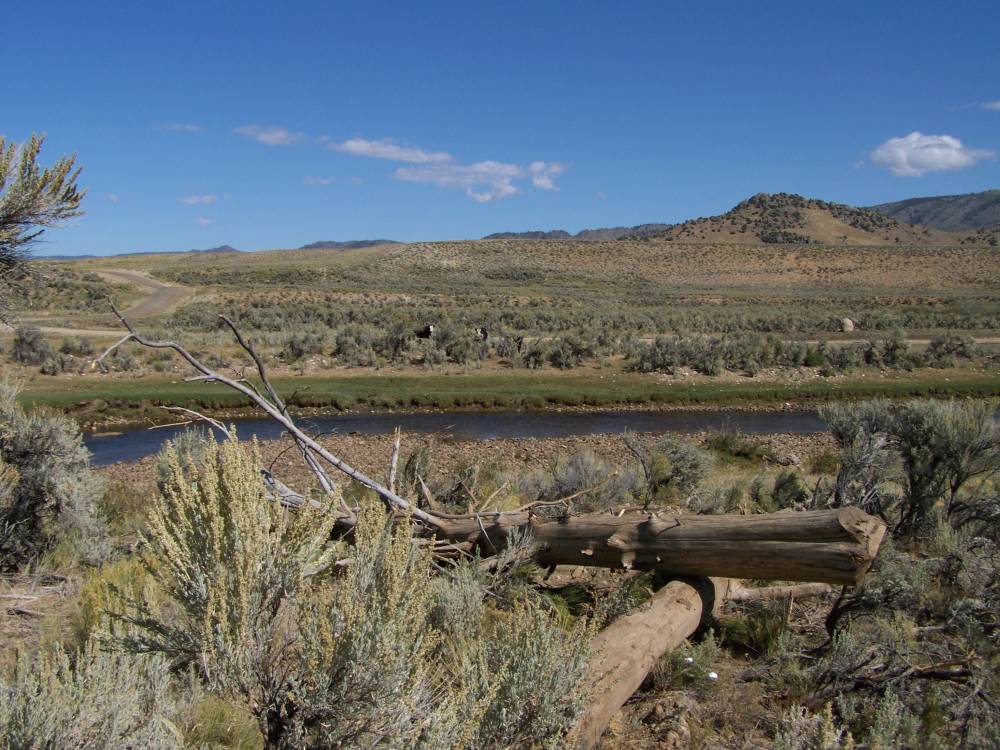 In Boulder we got gas an ate a sandwich and ran into 2 kids that reminded me of days gone by.
2 very friendly brother and sister who hadn't become afraid of strangers and yacked for 10 minutes about dirt bikes and stuff.
Not a foul word came out of their mouths-----obviously well brought up kids where the parents loved them very much
and gave them a spankin' when they needed it-----that's all it takes--very simple.
He told us about a nearby abandoned bridge--and how to get to it by opening a gate.
When we took off they took off very fast following us the best they could and made sure we found the gate down the hill.
Said he had one of them 65cc YZ's--she had a bike too. Really funny--he did all the talkng pretty much while she just looked
you square in the face and smiled.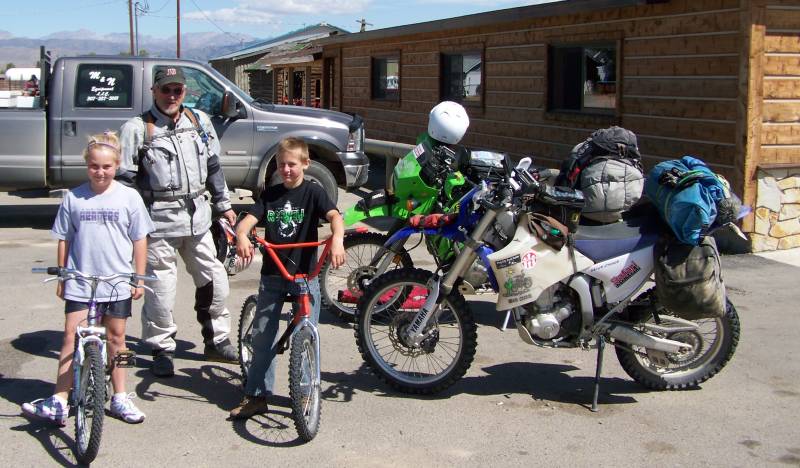 Just about 6 miles West Northwest was what I call bad hill---right on the CDR trail.
Although the CDR trail is not a particular hard trail---this could arguably be the most difficult part of it.
You CD riders that have rode this route came thru hill---or........you chicked out and went around it.
Going Northernly (down) it is a very steep, loose, rutted, washed out piece of trail.
N42° 46.615' W109° 48.975'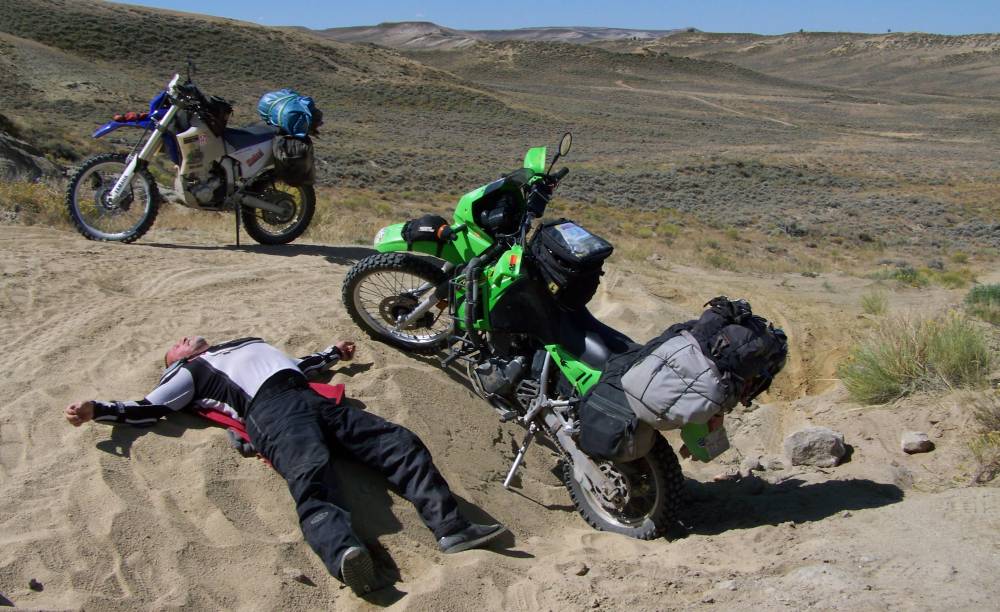 Randy would have been much better off he just accepted the inevitable and simply crashed...but nooooo--he was having none of that.
Tried to save it------back end tried to pass the front, went in a big wash out.
When I came back looking for him he had his boots off--ridnig pants off----trying to get out of his jammies and long underwear he
wore trying without success to keep warm last night. He was hot alright---before he got to here--then he had a melt down.
Freezin' one minute--burning up the next----more events leading up to the upcoming disaster.

And to make matters worse---some smart--ass on one of those little lite 250's was roosting up and down the hill with the video camera on.
A real smart-ass he was----althought he finally stopped to help.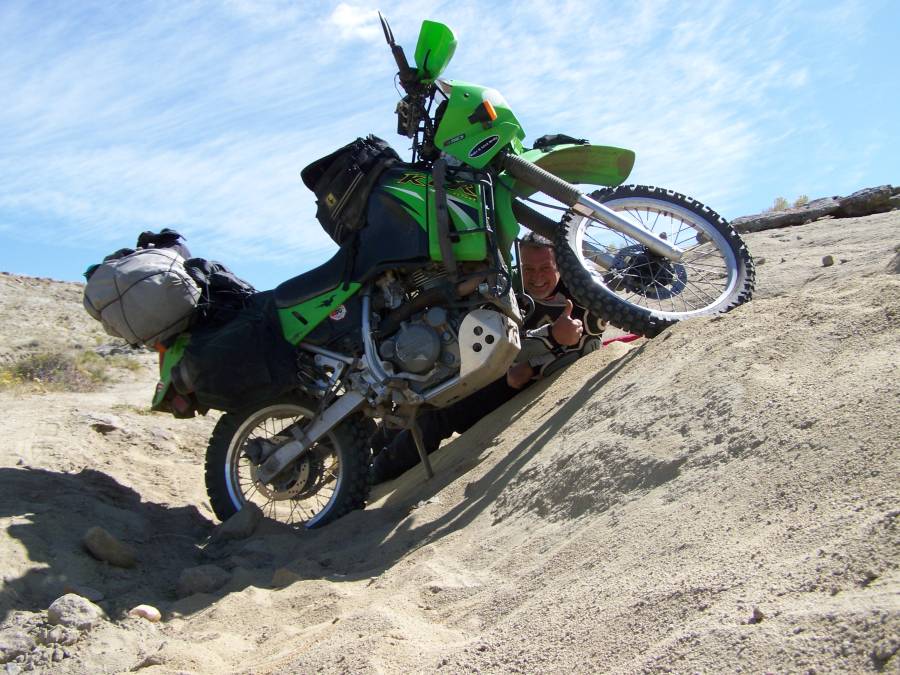 After that meltdown---his underwear, socks and jammies needed airing out.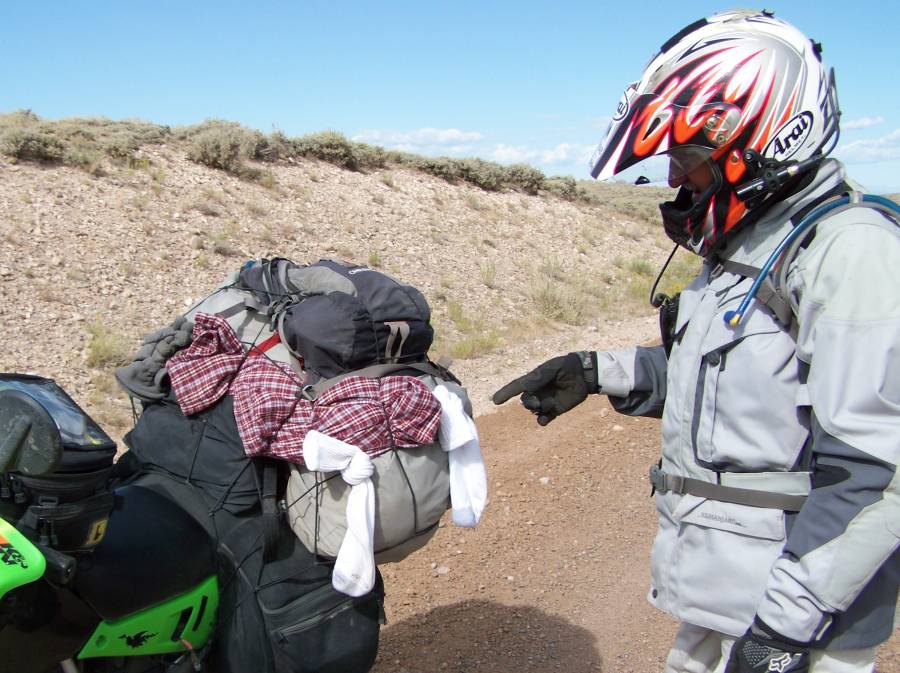 The calm before the storm.
N42° 29.561' W110° 32.403'
We got here about 4 PM---we had just entered the Briger Teton National Forest---I almost tried to route around it figuring we'd have to pay to get in and
find herds of motorhomes in here--------not so. What I found was astounding......dirt roads....yeh, that'd keep em out.
We came in from the Southeast and had to open a gate on top of a cattle guard to even get here.
Randy was extremely exhausted and wanted to camp----why not. It was a great spot with a great view and plenty of firewood and a nice 60°.
We set up the tent and Randy went to bed about 5PM. Remember---Randy was getting no sleep from being
very cold at night.......and all along on this ride I believe his blood sugar
was getting way out of wack as he would suddenly get weak ----he has sugar diabetes--but just early stages of it.

We had been sleeping in the same tent---I knew Randy needed the rest and tried to make it the best possible for him and set up my own tent.
It was a great evening with a big fire and we had gathered enough firewood to last all night and the next morning when we awoke-----at least we thought.
In the night while I was snoring away the temperature went below freezing---I awoke to pee and heard Randy shivering in his tent---loudly.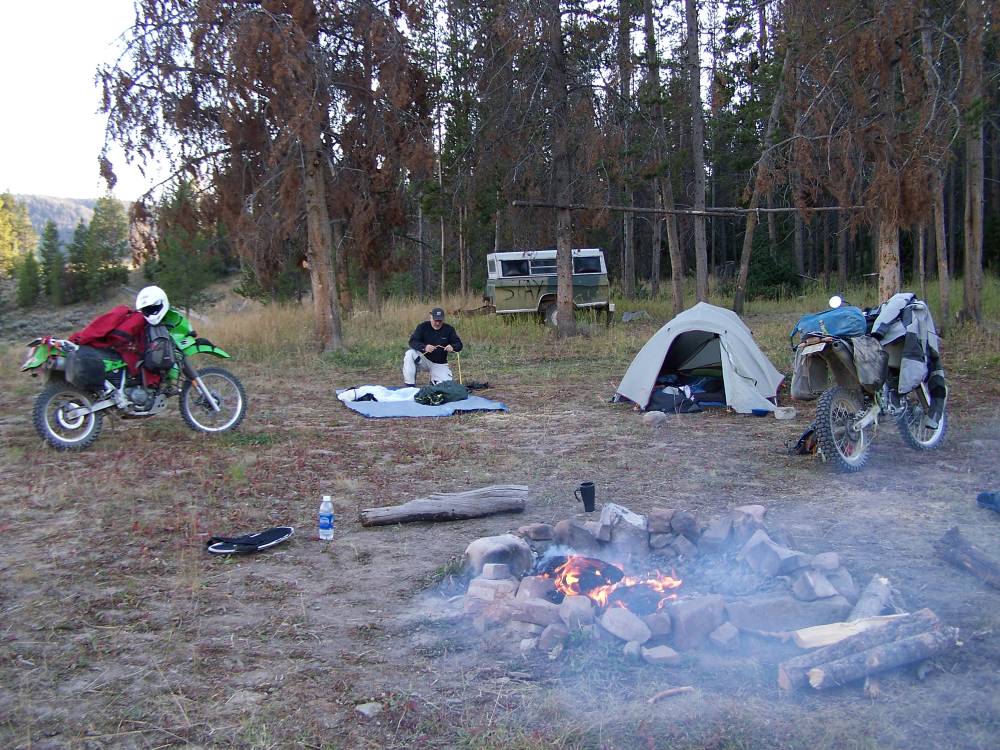 Day 7
9-13-09
Briger Teton camp--to Alpine Junction
I felt badly for him as he shivered in his tent uncontrollably----getting no sleep at all.
He finally gave in and jerked the tarp out from under his tent and took it and his sleeping bag to the fire that had went out.
He had trouble getting it going and spent the rest of the night gathering firewood in the night, staying as close to the fire as he could---and shivering--it never stopped.
I felt sorry for him-----he was miserable. The sun came up and I drifted warmly back to sleep---later I crawled out and poor old Randy had finally
stopped shivering but was hugging the fire still---I quickly gathered more wood--got the fire a blazin' and made him some coffee and oatmeal
as he shared his night with me----I knew what had transpired.
After his tarp and bag was about to catch on fire---he would have liked that I think---somehow he squeezed out a smile with a look
that said----------how can it get worse ???? At that very moment it started hailing on him--what could happen next ???
The hailed peppered the tarp and sounded like popcorn popping.
It warmed up a little and started raining on him-----he was just speechless.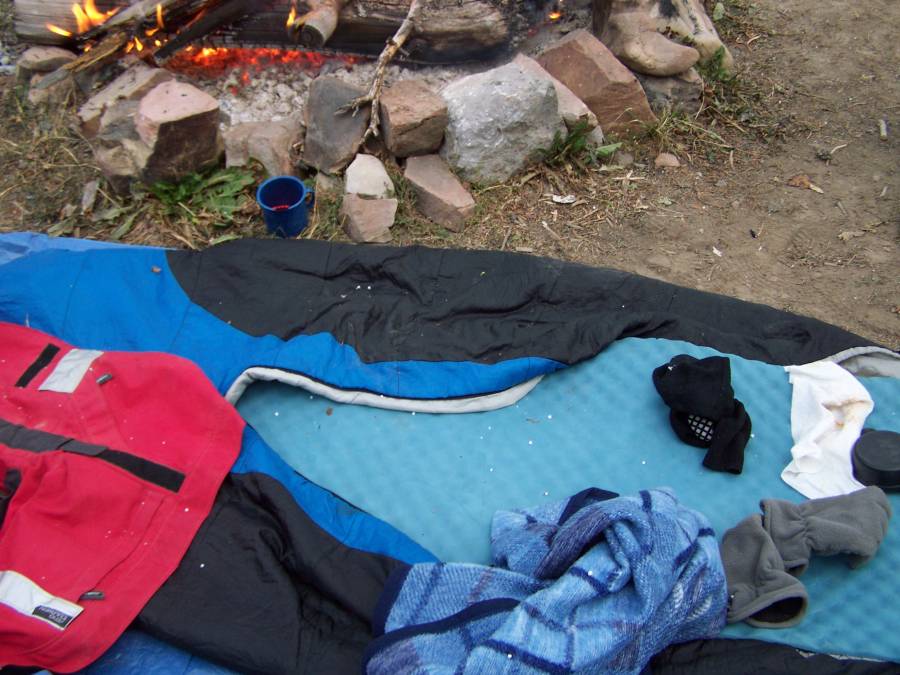 The view out of the tent. The suns coming up and it's got to get warmer.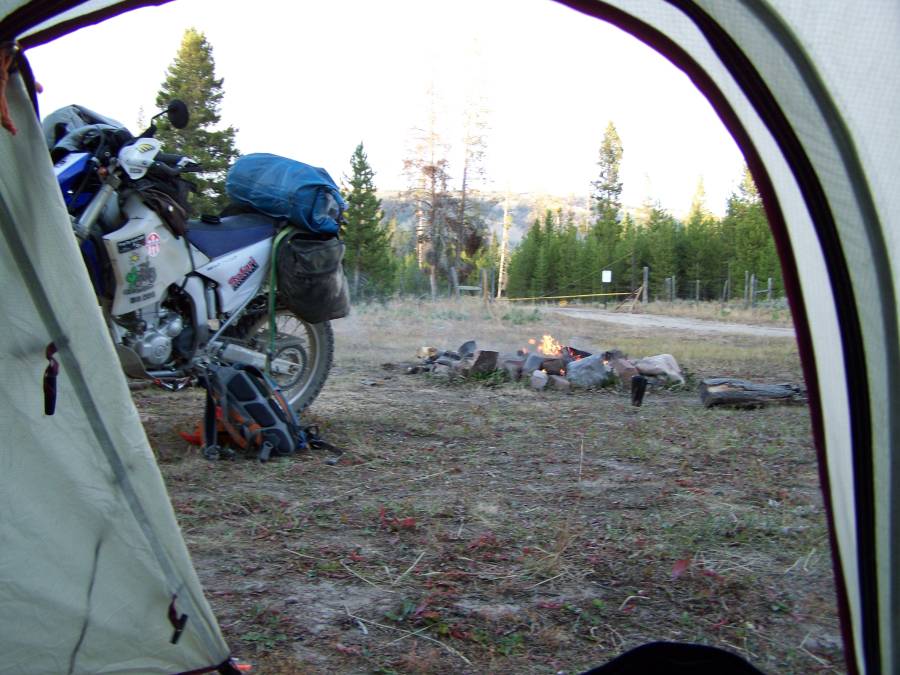 That white stuff on Randy's tarp is hail.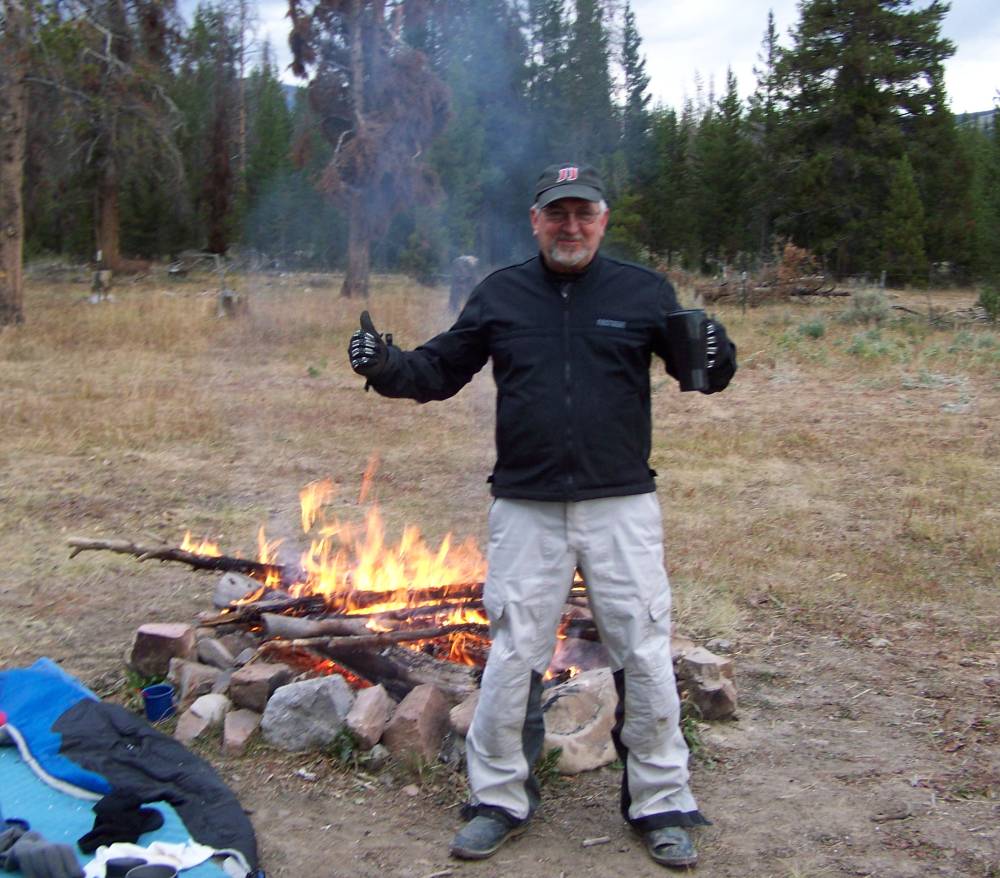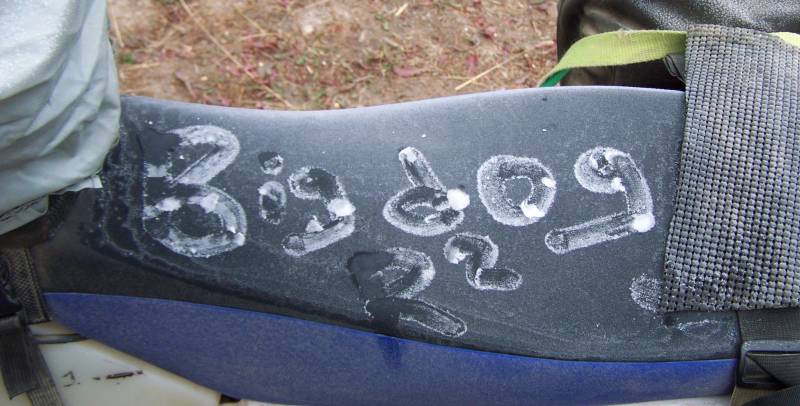 The dirt road leaving our campsite.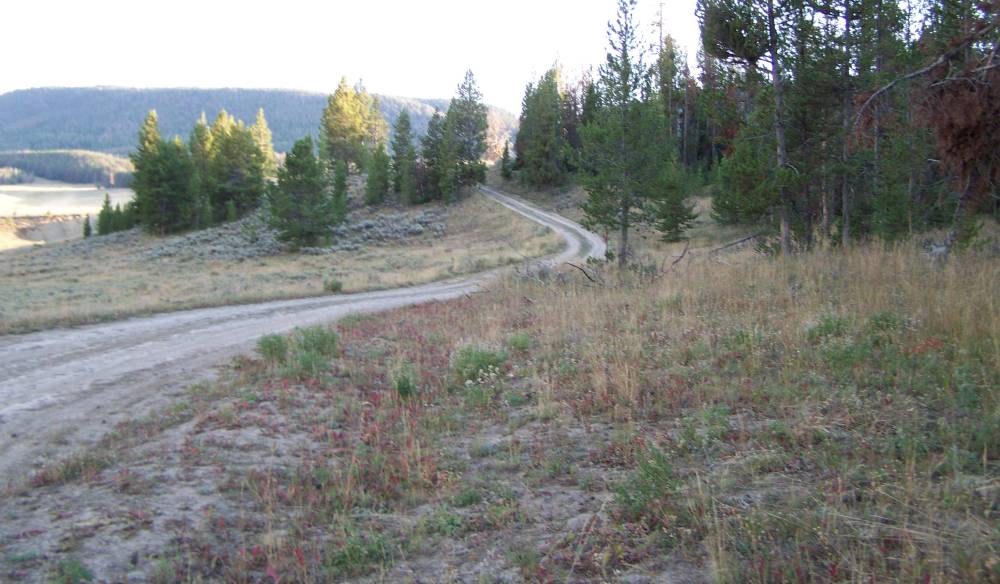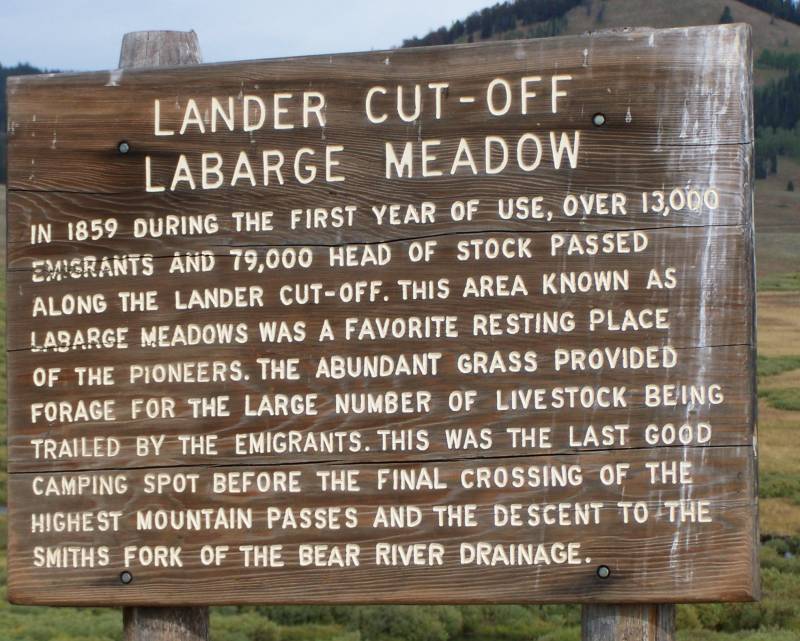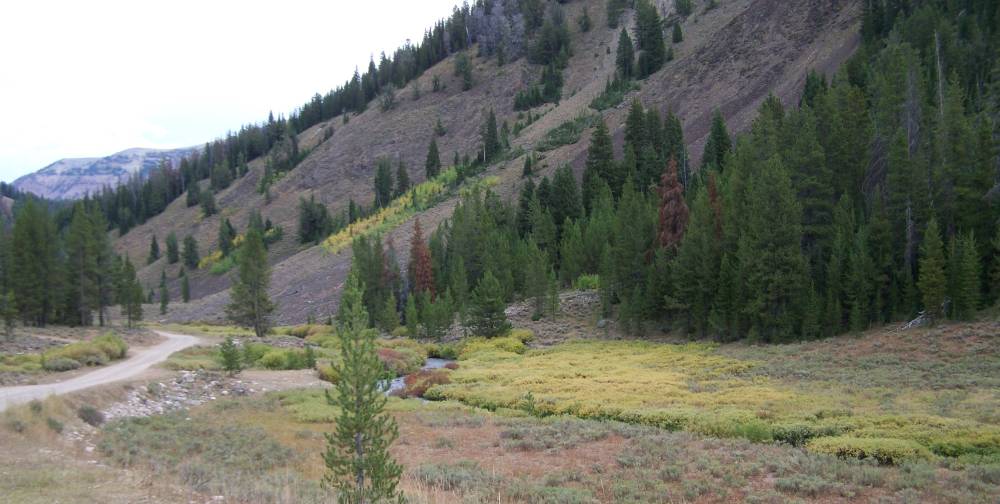 The dirt road North up thru the Briger Teton National forest was breathtaking----75 miles of dirt following the Grays river.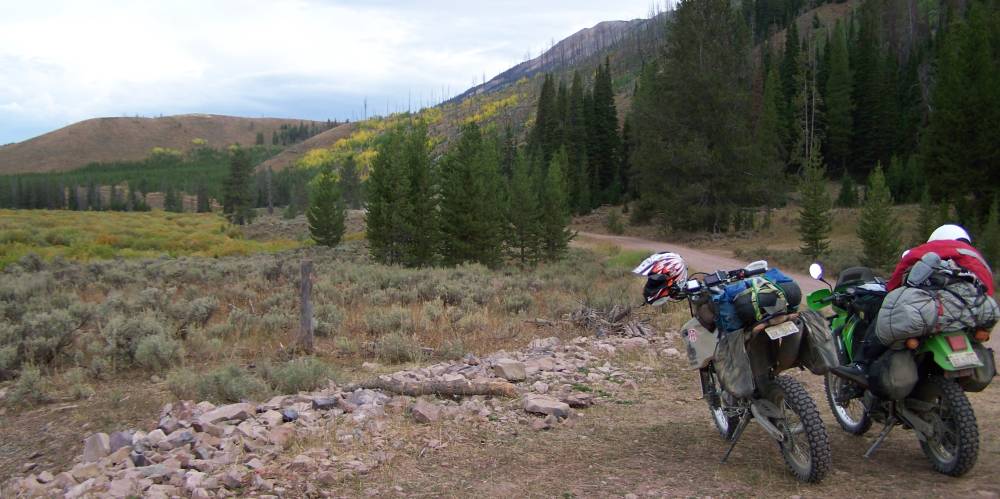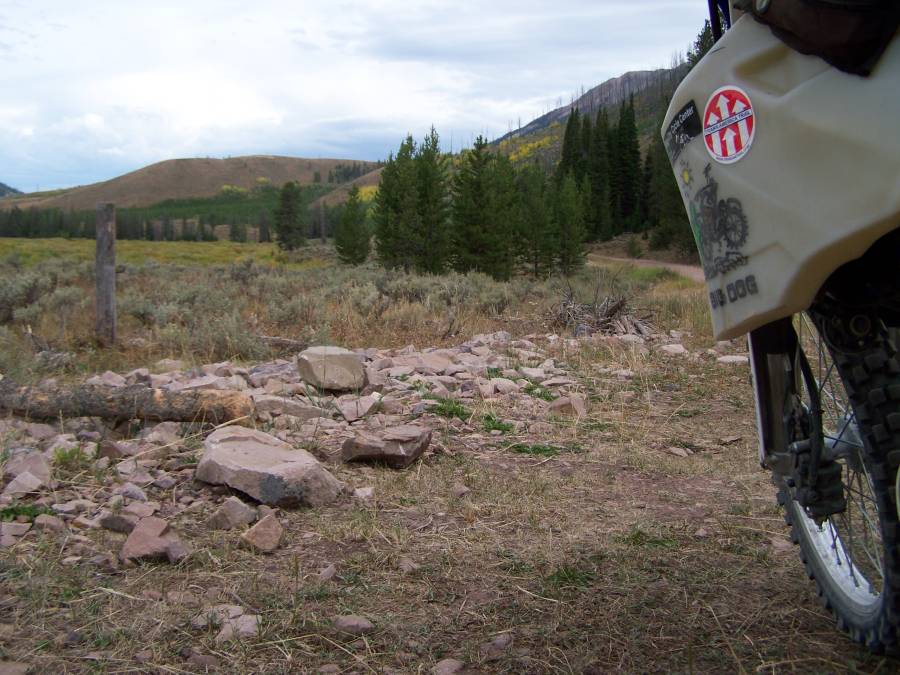 The Grays River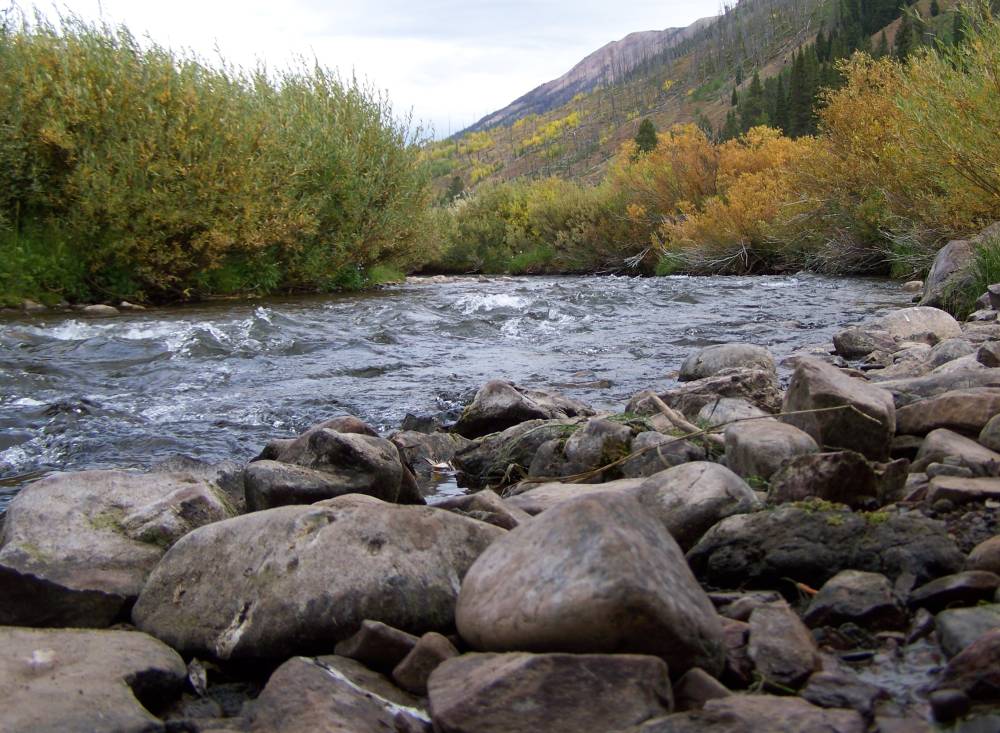 A nice couple in an SUV stopped us and told us of the 2 moose just ahead---we might have missed seeing them way down the meadow.
Momma moose.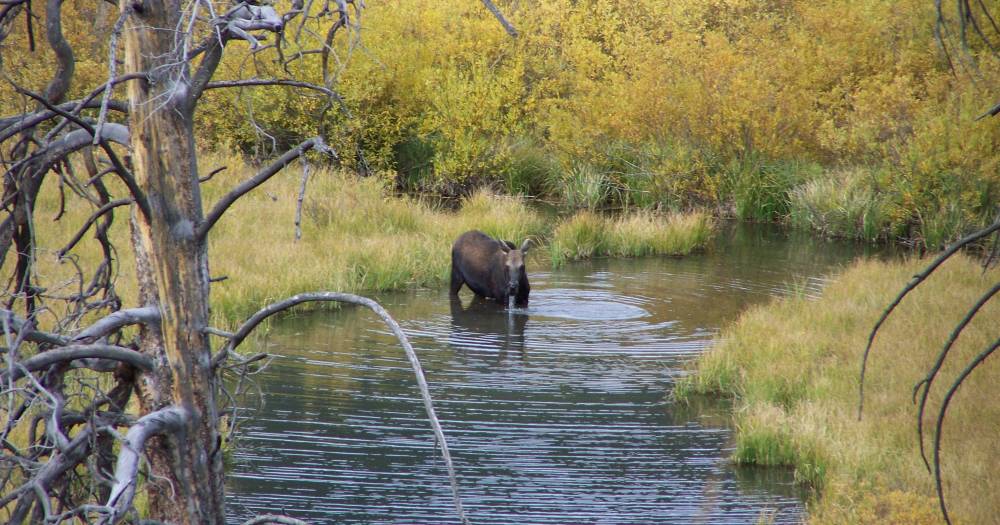 Baby Moose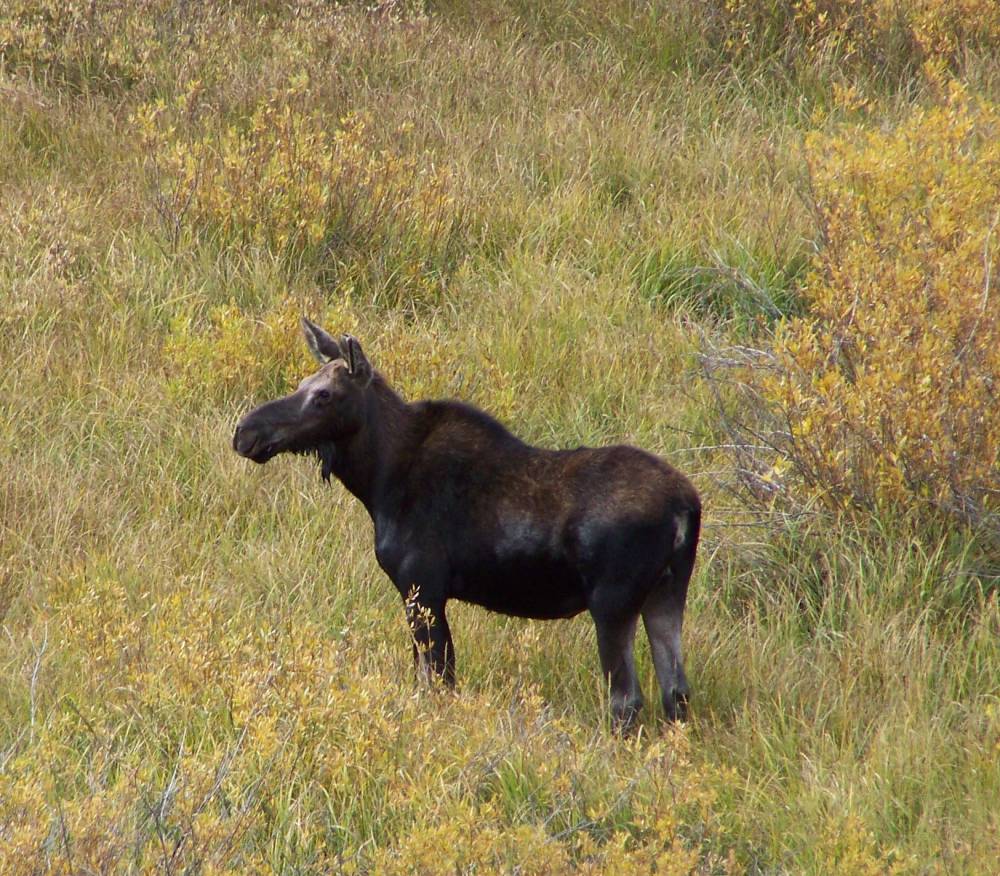 We watched for at least 20 minutes in silence.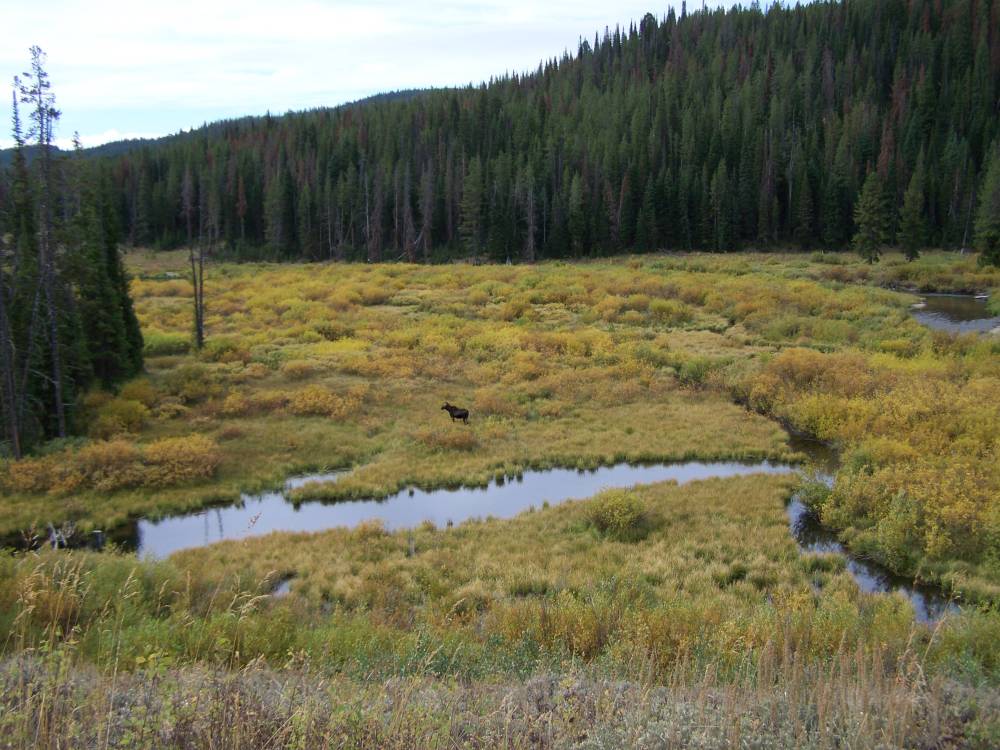 We had taken our sweet little time poking thru here.
Randy somehow seemed to be doing fine---and the beautiful colors, the pretty river and wildlife brought a smile to his face.
We were in no hurry at all---and soaked it all in ending up at a motel in Alpine Junction, Wyoming for the night.
Randy needed a good nights rest --so we took it easy the rest of the evening and watched all the video clips I'd taken
the whole trip----the video of Randy telling me of his misery trying to sleep the night before when it started hailing on him is just priceless.
He was letting his heart out with a tale of woe----and it just started pelting him.
Day 8
9-14-09
Alpine Junction, Wyoming on into Idaho
We skirted West around Palisades Resorvoir near Alpine Junction and crossed into Idaho----the state me and Randy both were looking
forward to the most---and where we would be in the largest wilderness area in the United States----the Frand Church Wilderness......
where soaked my foot in gasoline the year before and had to go home after a visit to the ER.
Heading straight West toward the North shore of Grays Lake when ran across miles of dirt roads where some Peruvians (Spanish speaking) were
driving sheep across the plains. I thought they were Mexicans as they spoke Spanish to me --but they said they were from Peru and told me
there were 2,000 sheep in this herd.

I literally had to drive my way thru the sheep---thought I'd burn up my clutch.
It took about 20 minutes to slowly drive thru them beeping my horn once in awhile.
The sheep parted and let us thru.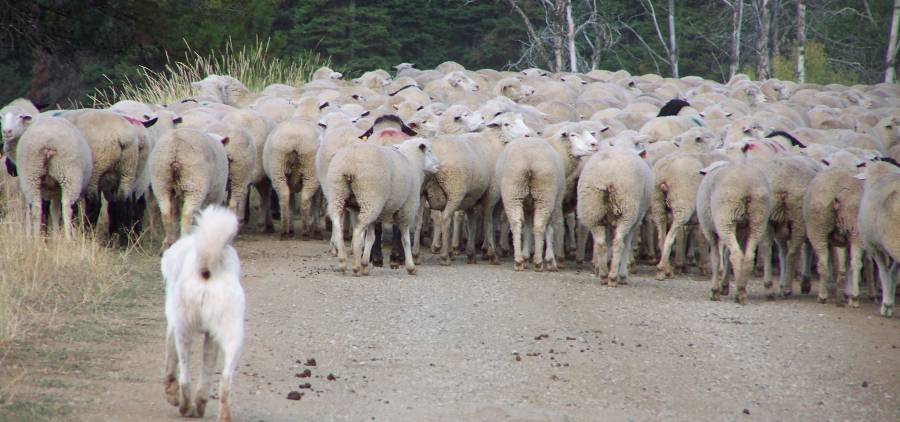 Watching the men, their horses and their dogs was really entertaining.
They had no problem with us passing thru.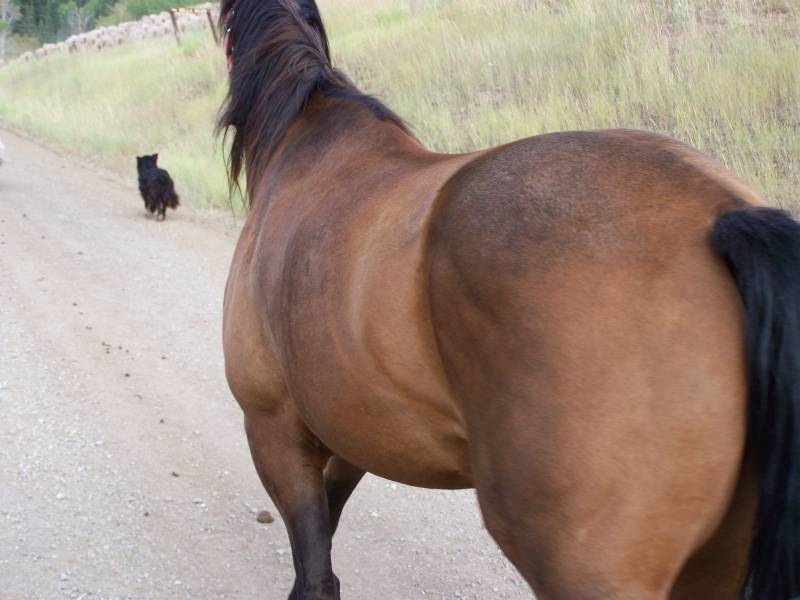 This is Grays Lake---we skirted along the Northern end and headed further West on the dirt road.
All these pictures are Randy's--as remember---my camera was toast.

We pulled off the road to this magnificent spot---it was early--me and Randy new this was the best camp spot ever.
But as time would have it---it was way to early to stop riding.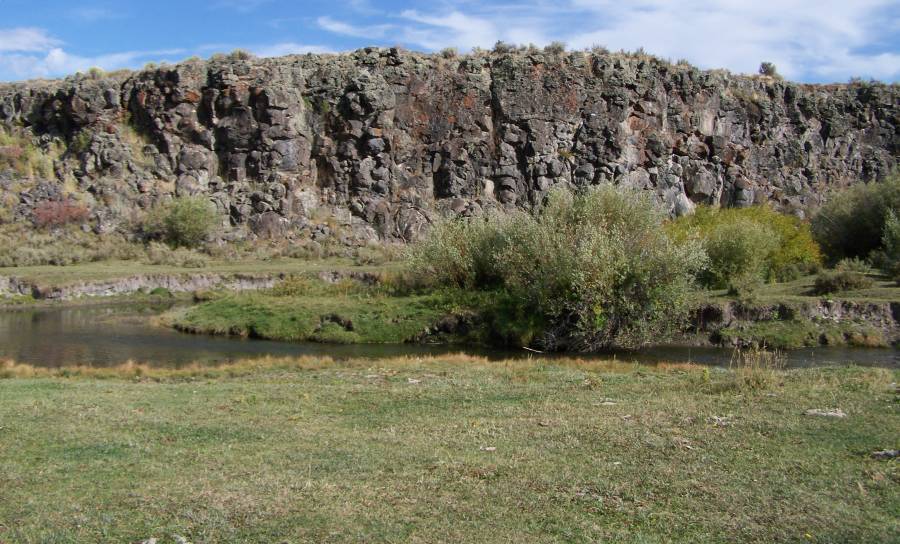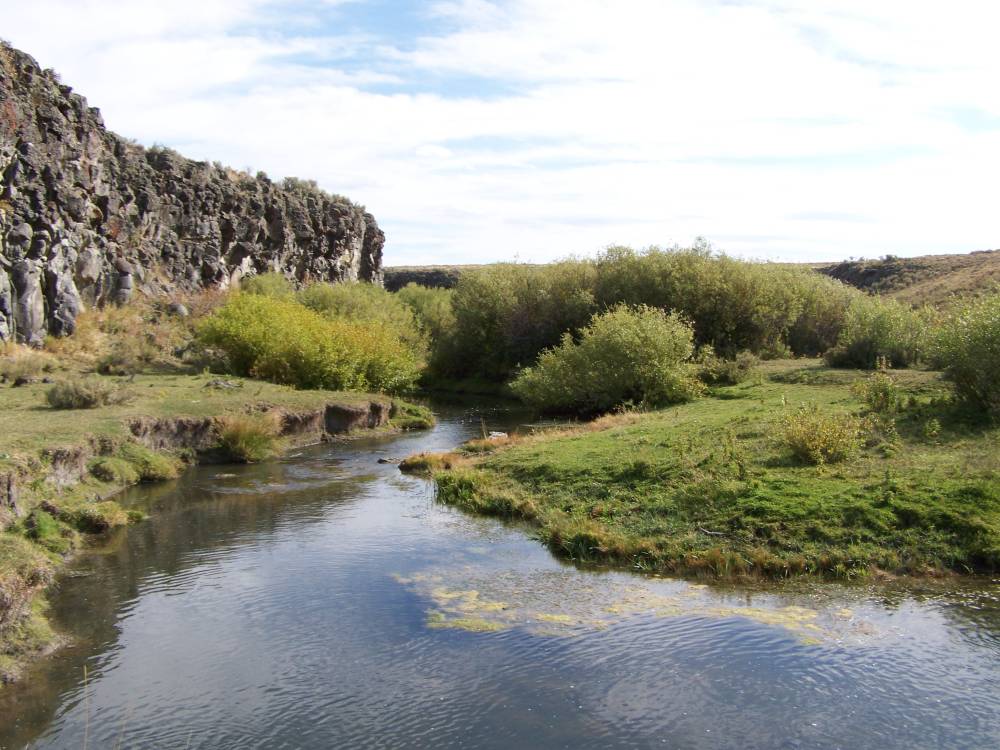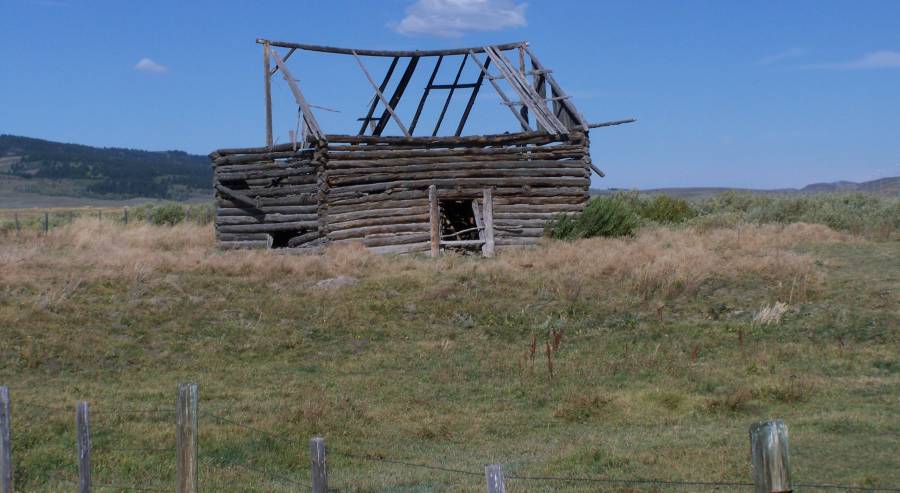 My fuel injected WR250R lost no power and ran cleanly at altitude.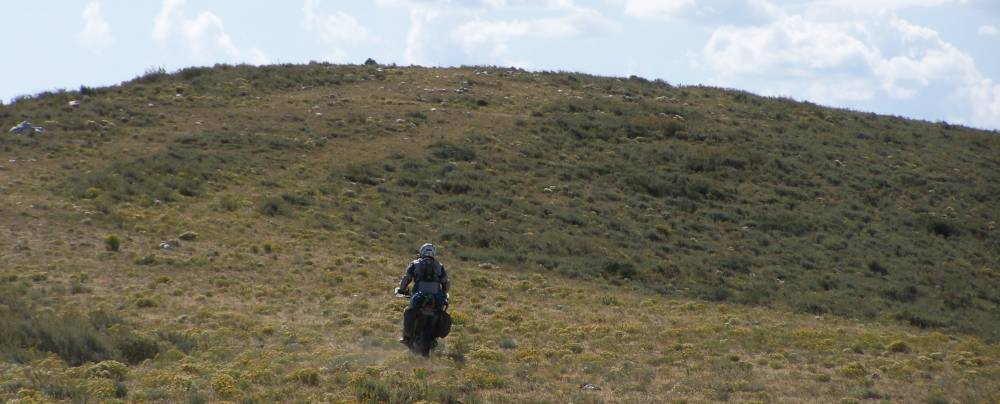 The road led us Southwest now and skirted the Northern edge of Blackfoot Reservoir.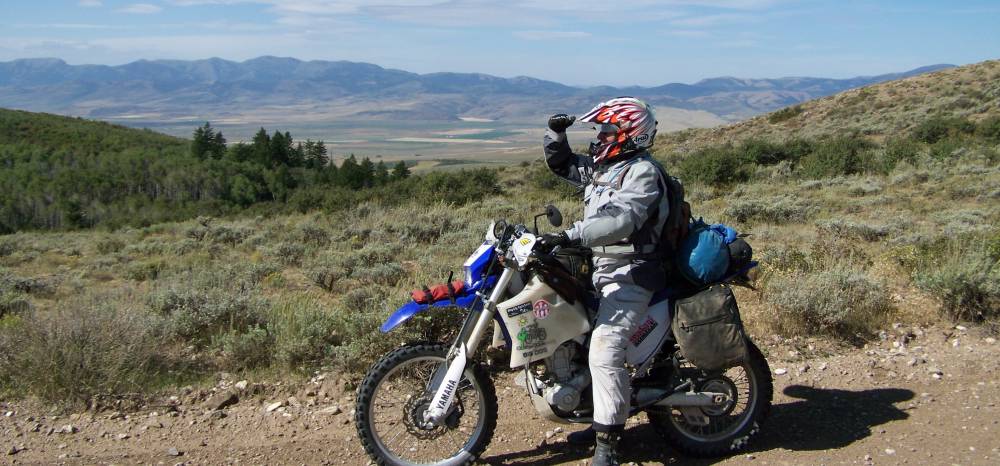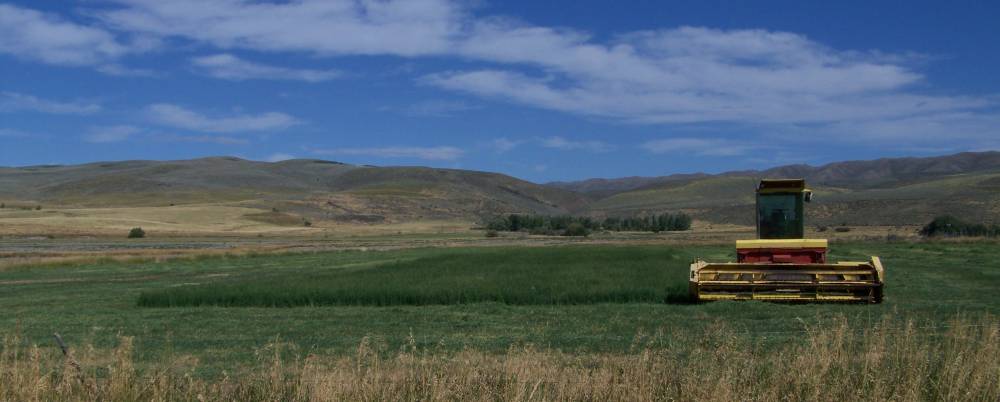 This town probably could have been in a Clint Eastwood movie. Almost a ghost town.
Chesterfield, Idaho.
Quite a few old buildings and house--log cabins--old meeting house and general merchandise store.
Check out this LINK for all the neat pictures of all the old buildings--you'll enjoy them.
Some ghost towns are well known, and grace practically every ghost town book ever written. Others are so obscure that they are only discovered through dogged research and extensive exploration in the field. A third type is the totally unknown kind you accidentally stumble across in the field. Then there are those that may be "well-known" to a specific group of people, yet almost completely unknown to anyone outside their circle and finding them is truly a serendipitous experience.
One of these later types is Chesterfield, Idaho. Despite the fact some 27 buildings still stand, the permanent population is ZERO and it's readily accessible by passenger car, few people ever visit this pioneering community.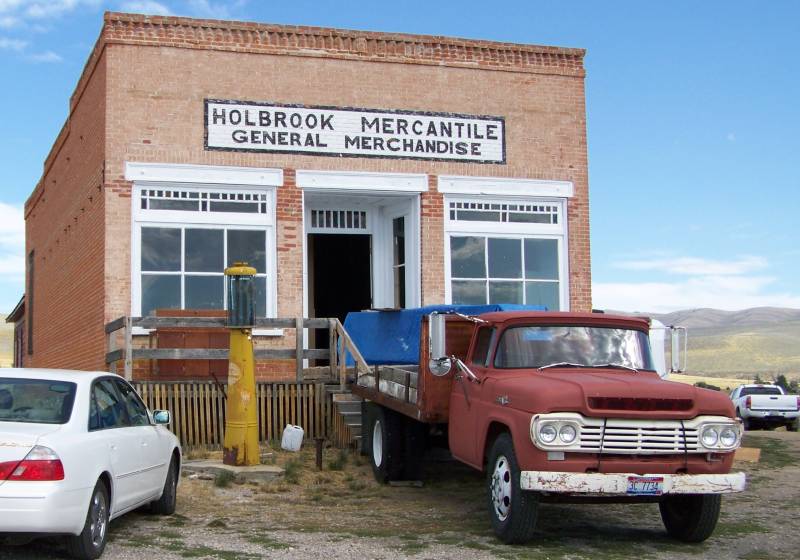 Sadly me and Randy were soon to part. After Chesterfield the dirt road turned to an ATV trail with steep washed out ruts and loose
downhills that tested your riding skill. Somewhere in there Randy jammed his hip and shoulder badly. He's had serious shoulder problems
and has had surgery on them--but is still in constant pain. This was the straw that broke the camels back.
He was feeling badly---hadn't had hardly any good sleep and now the pain in his shoulder and hip forced him to head for the house
and on top of that he thought he was coming down with a fever--probably from being so cold. .
He hated it---the best part of the ride was yet to come we both thought.
We did ease into Pocatello ---Randy bought me a steak and we said goodbye.
Below ---I'm talking to a rancher right where Randy told me he was going home.
The rancher told me the nasty trail in the background was gated---I was going to ride it--but not so.
He was such a nice guy--got to stove-up to ride 2 wheelers so went to 4----good for him.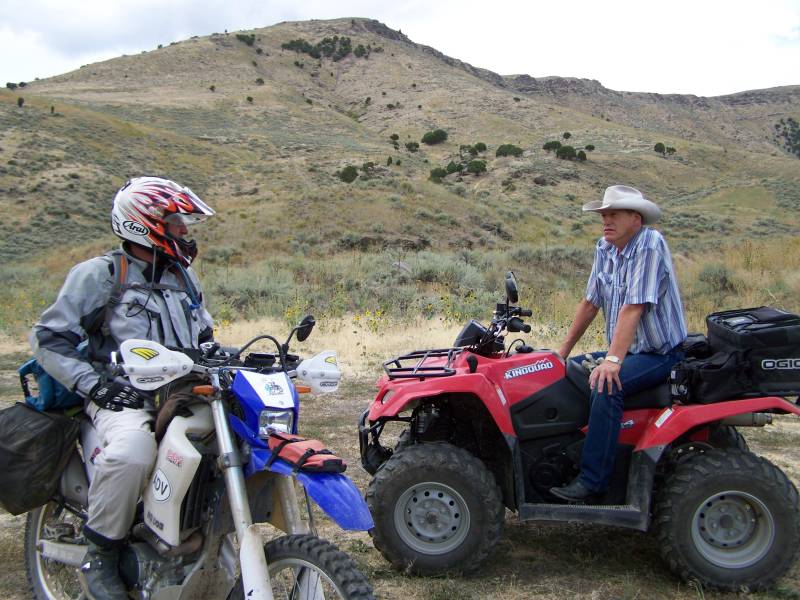 After Randy left----I needed a camera---and fought thru hell to get to a Wal-Mart to buy a new one.
I was forced to abandoned the next few days of riding in Idaho--as I'd be in places if I got hurt or broke down--no one would find me.
I headed South into Utah and would just wing it back to the truck----and rode about 150 miles in a torrential downpour To Coalville, Utah.
Tomorrows riding would be in a part of Utah I had never been to--boy was I to be surprised.
I still had no timeline for getting home---but would try to stay on roads that someone would find me if I had problems--I didn't always stick to this tho.
I figured I'd take a few days to get back to my truck in Kim, Colorado.
Day 9
Coalville, Utah to Fruita Colorado
As I always do----I made a custom rollchart holder for my handlebar crossbar---the paper is on the outside instead of
the inside----I have a handy permanent marker velcro-ed to the holder--and use waterproof paper and make notes as
I ride. It is so handy---if it gets wet no problem it dries out and is a good as new. You just can't write on it when it is
wet. Well...you can see my first note for the day.
I'm alone---and I now have a camera again--can't be without a camera.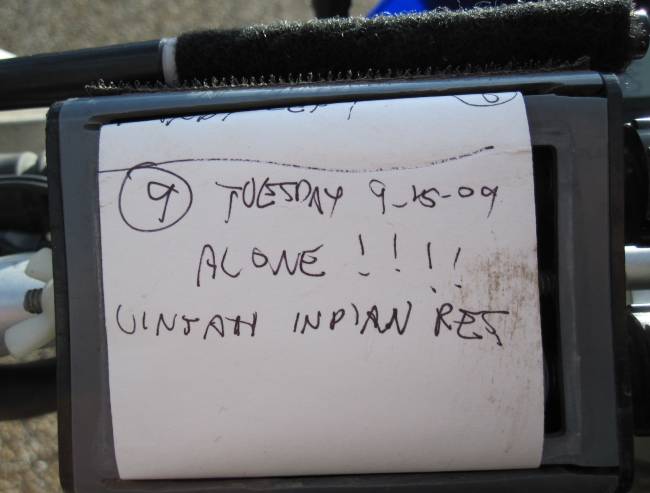 I almost always depart early----I had ridden quite a few miles and the sun still hadn't popped over the mountains.
I stayed in a motel last night--the weatherman said it was a washout for today---the whole state of Utah
was going to get pounded---it was all green on the radar------..
except the little hole that I would ride thru all day. Boy was I lucky.
From Coalville I heade Southeast and skirted Rockport Lake and state park and at the town of Kamas
I hit dirt for most of the rest of the day---and entered the Unitah Indian reservation.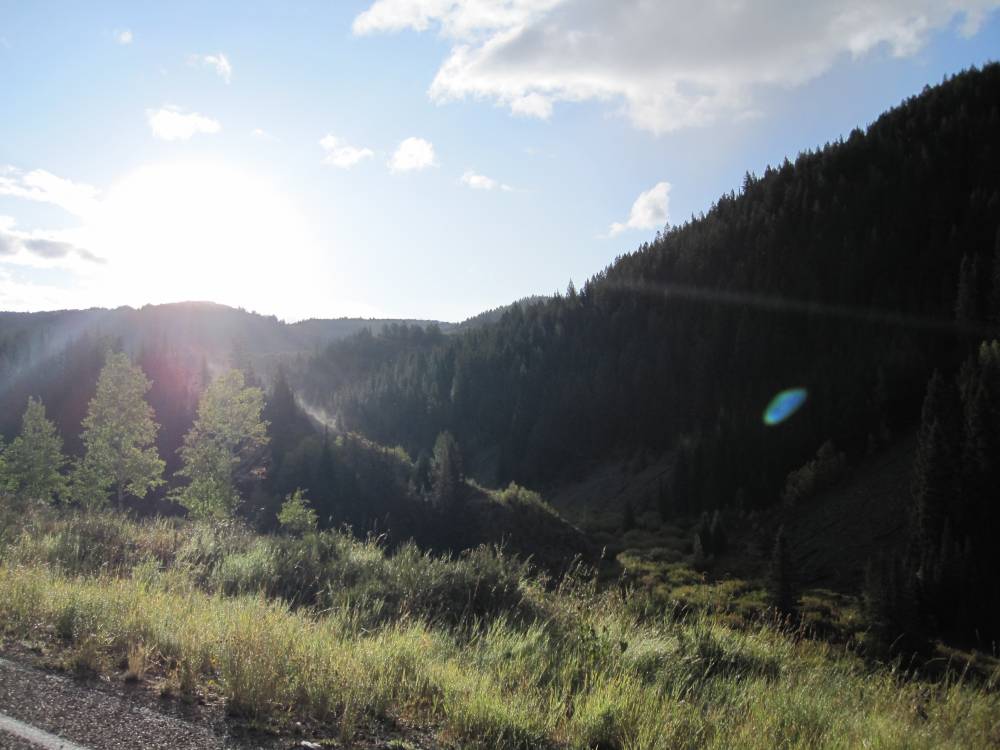 I turned off the main road onto Soapstone basin road and am very near Soapstone pass in this picture.
I had never ridden anywhere near here and didn't know what to expect. I was estatic of the high moutains---cool almost cold air
and the beautiful vistas---it was over 9,000 ft. at soapstone.
It had came a gully washer the day before in the area I would be riding today-----this was great as the road were just awesome.
There were just a few places I had to watch slick stuff and avoid the dreaded---high side.
Soapstone pass N40° 31.863 W111° 01.876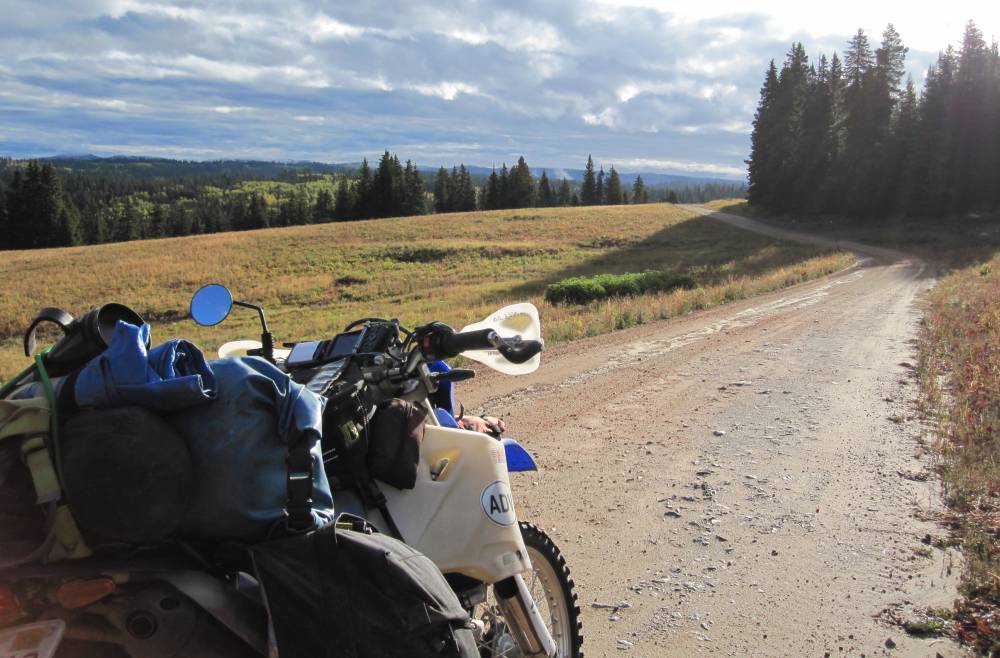 Heading further Southeast I got gas and lunch in Duchesne, Colorado
I love these views of the sprinkler systems with the arid soil above the low lying areas.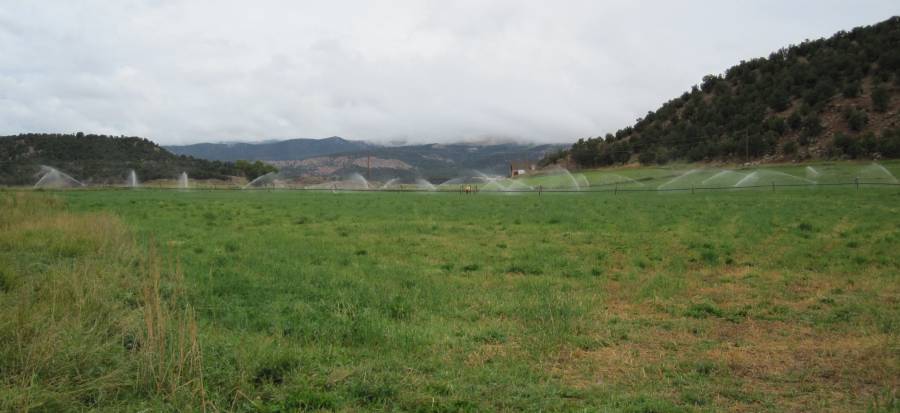 I am riding in the Unitah and Ouray Indian reservation again and some of the roads in here were pretty muddy--but passable.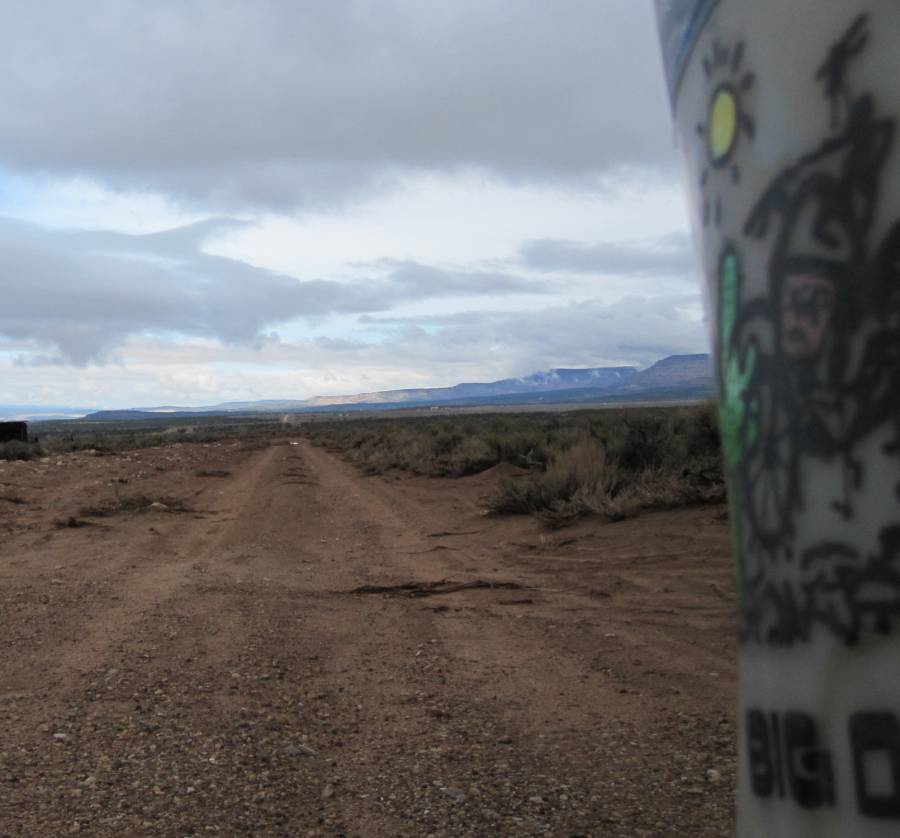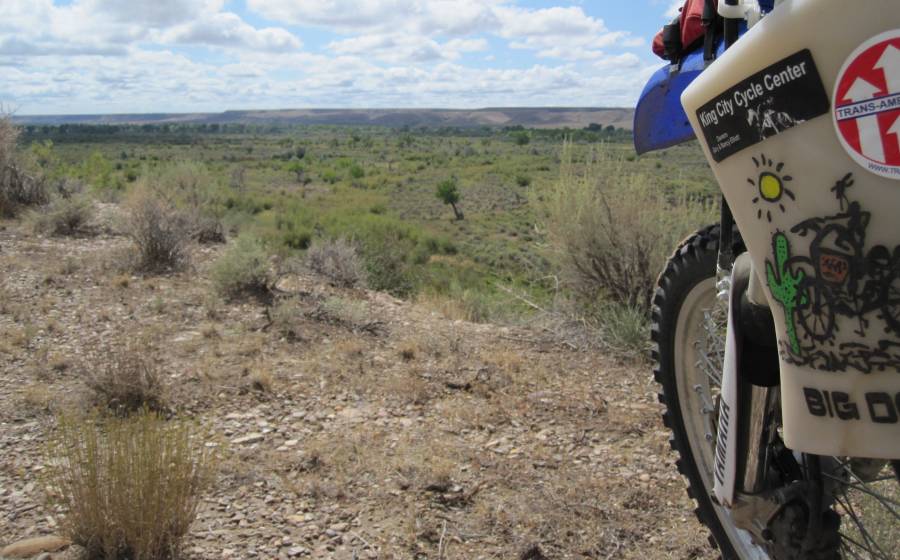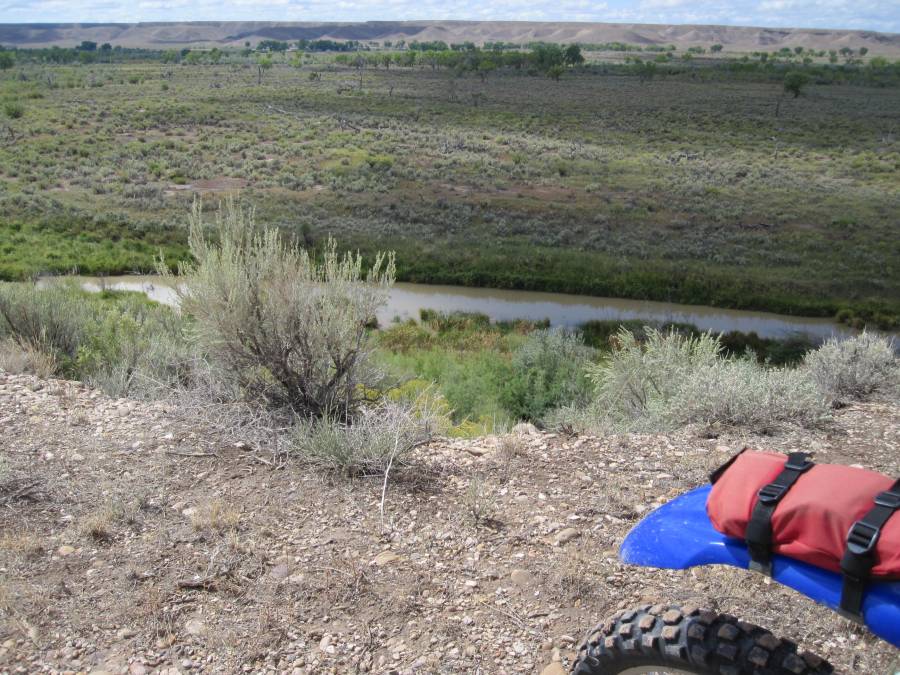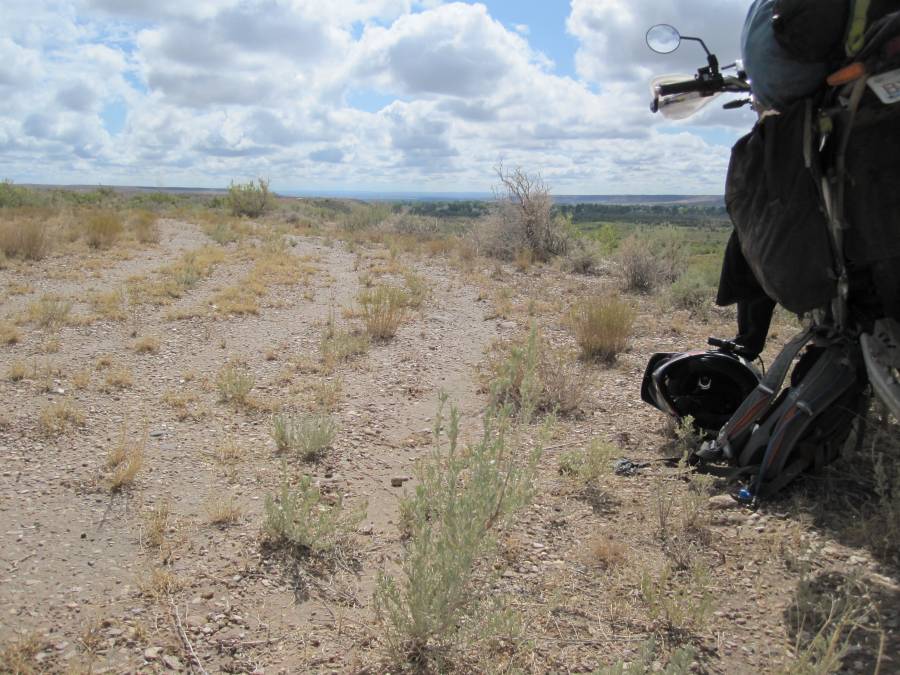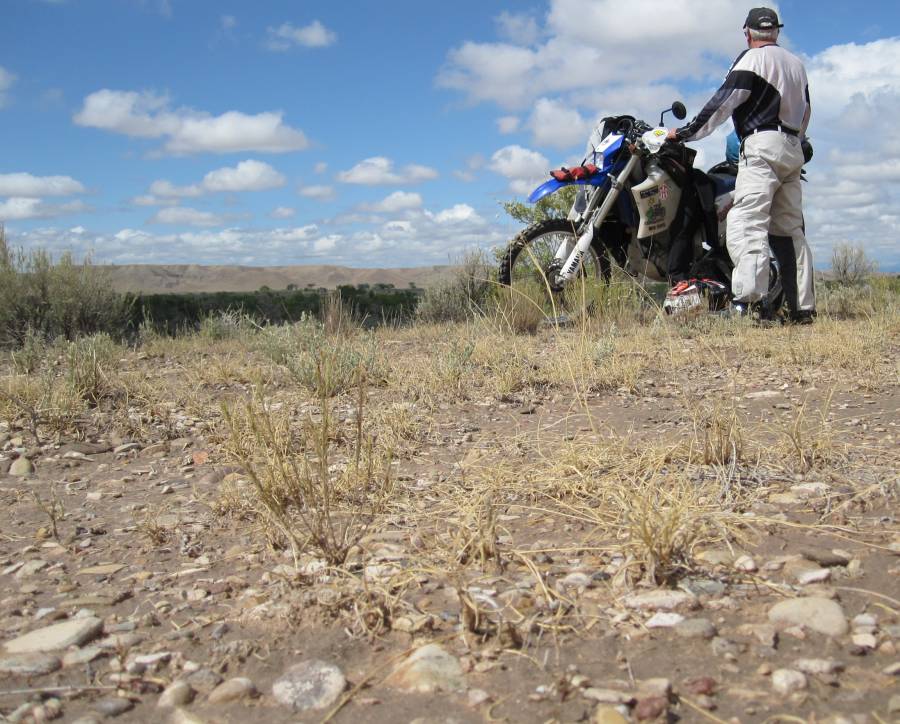 I kept getting quick views of this butte--but never a good one---and I was on Indian Land and found little tiny dirt roads that
might of led me to it---but signs got me worried about that. I finally got a good view of it----really unusual---and looked like something
I had seen--but I couldn't put a finger on it.
Got home and was re-viewing my track logs with topo and the only butte in the area was called....
"Mollys Nipple"
Elevation 4,907 ft. N40° 3.410 W 109° 34.246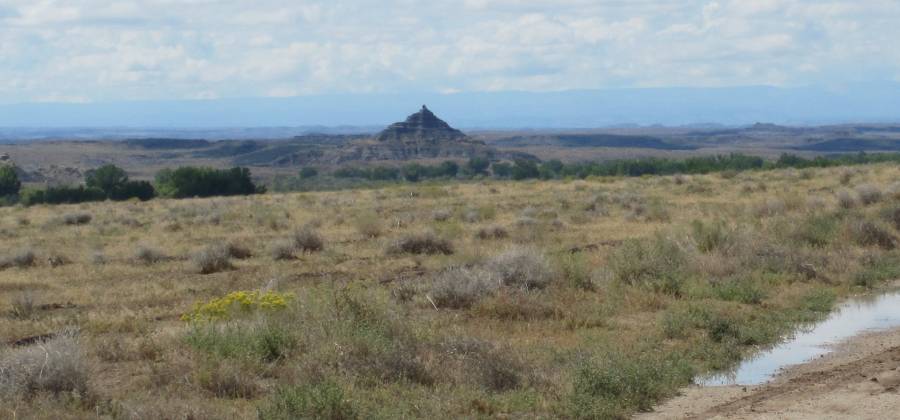 Riding by Mollys Nipple I had been making many turns at little signs that said "Fantasy Canyon"
Had to find it----and find it I did---one of the most unusual things I have ever saw.
It was in the middle of nowhere on the reservation.
N40° 03.402' W109° 23.650'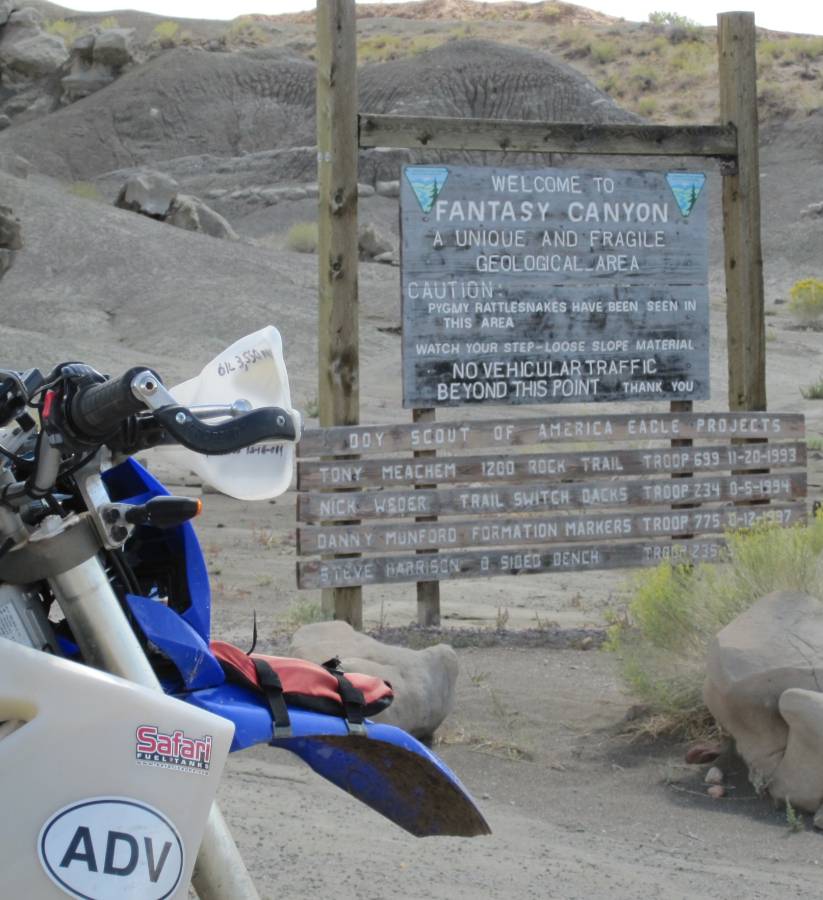 I will shut up as you stroll thru Fantasy Canyon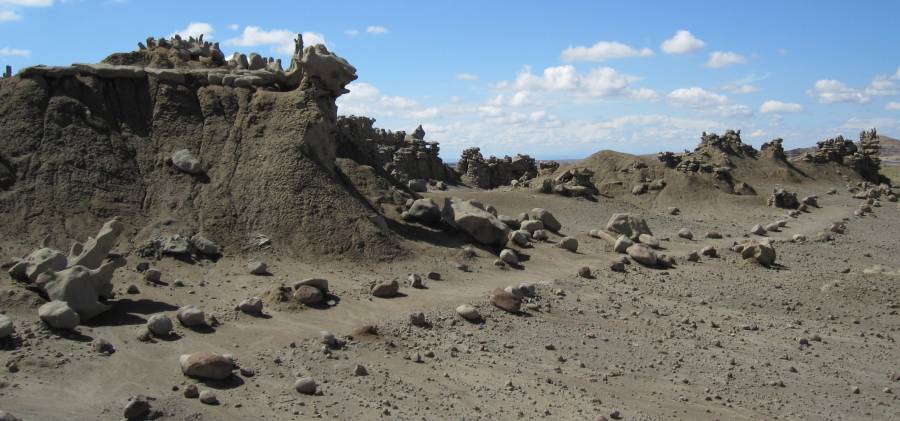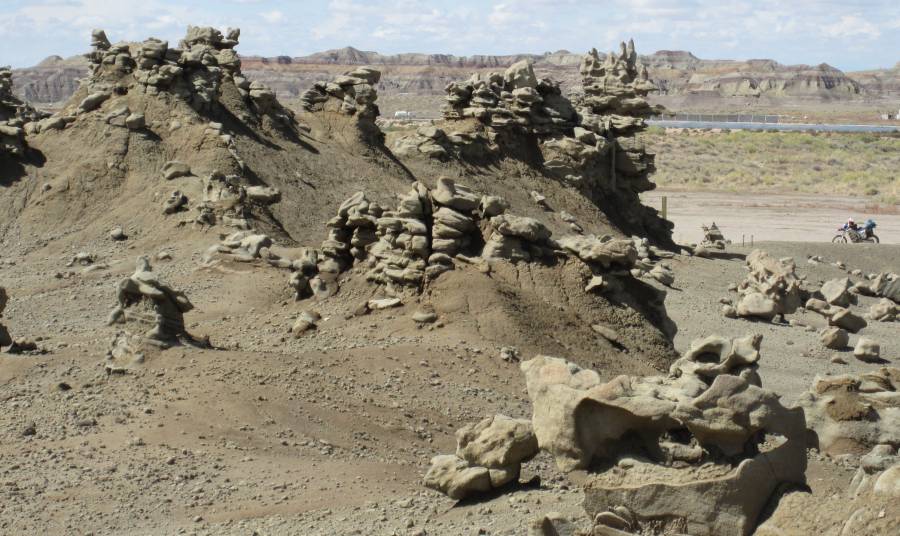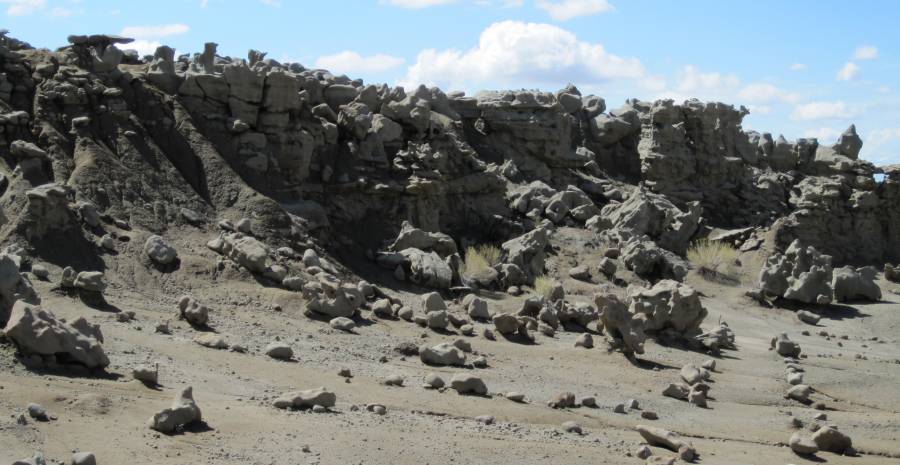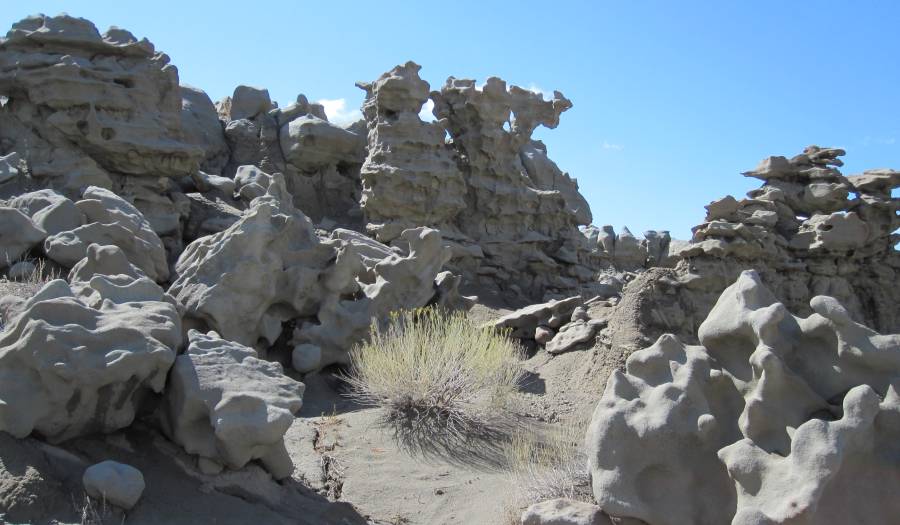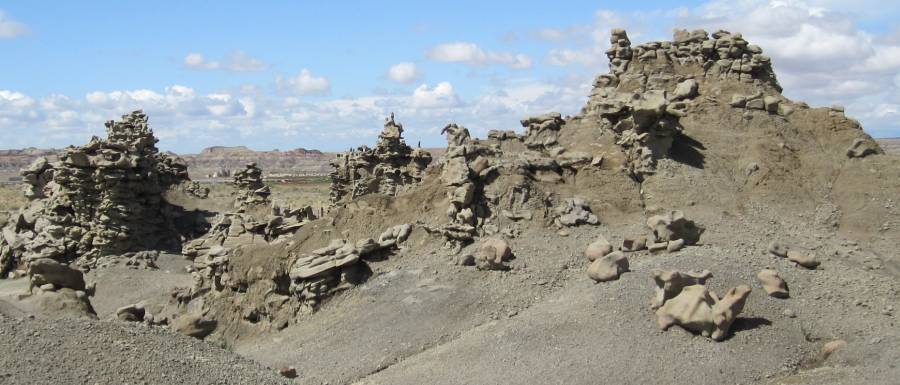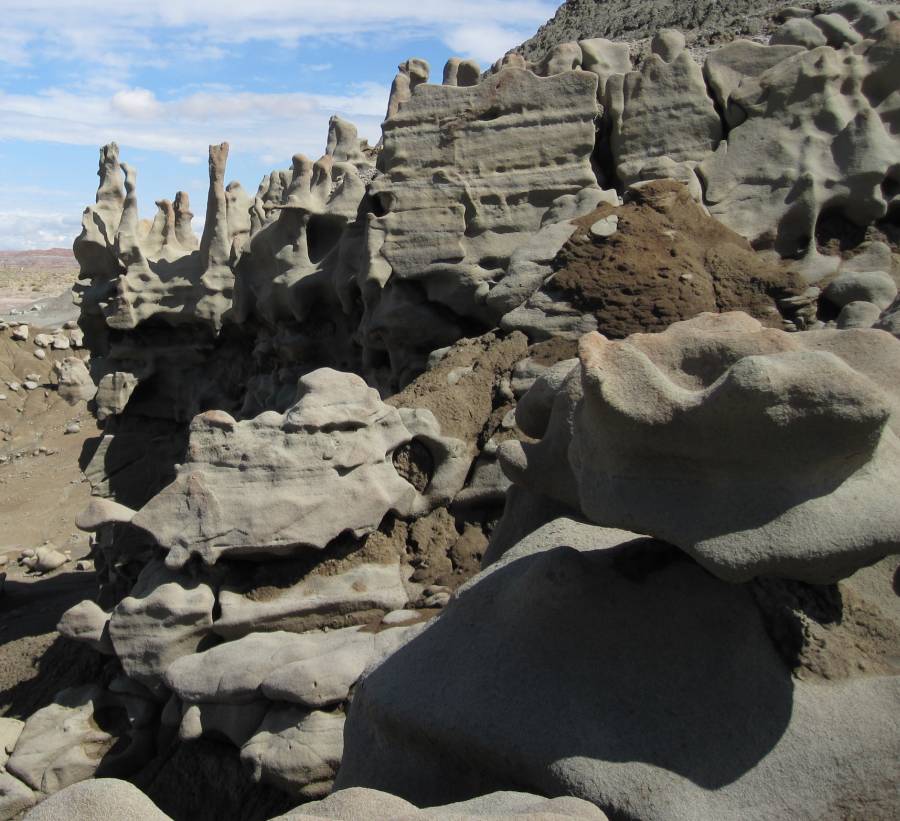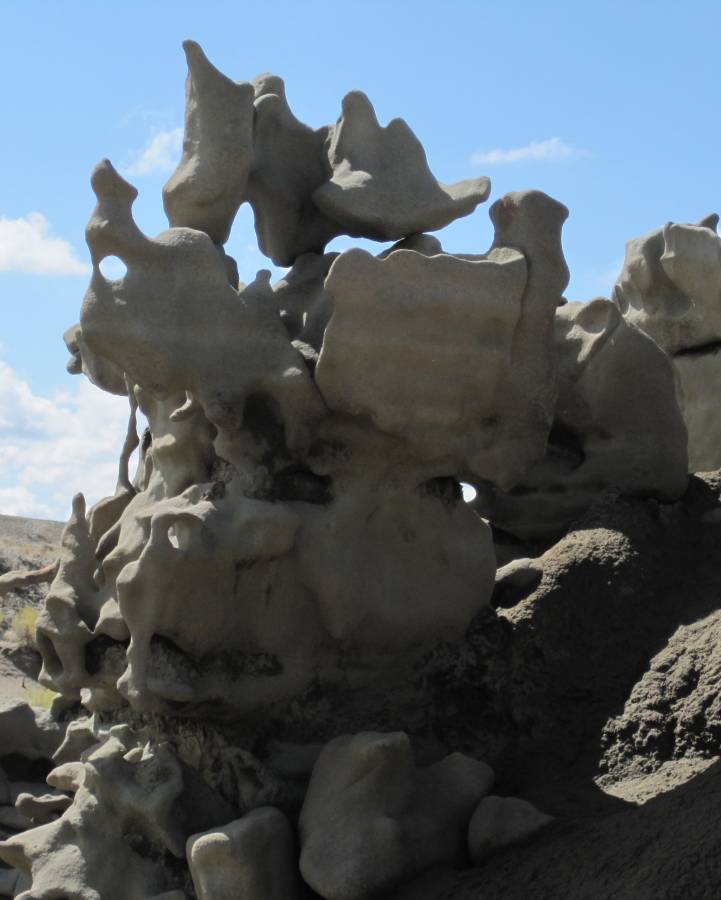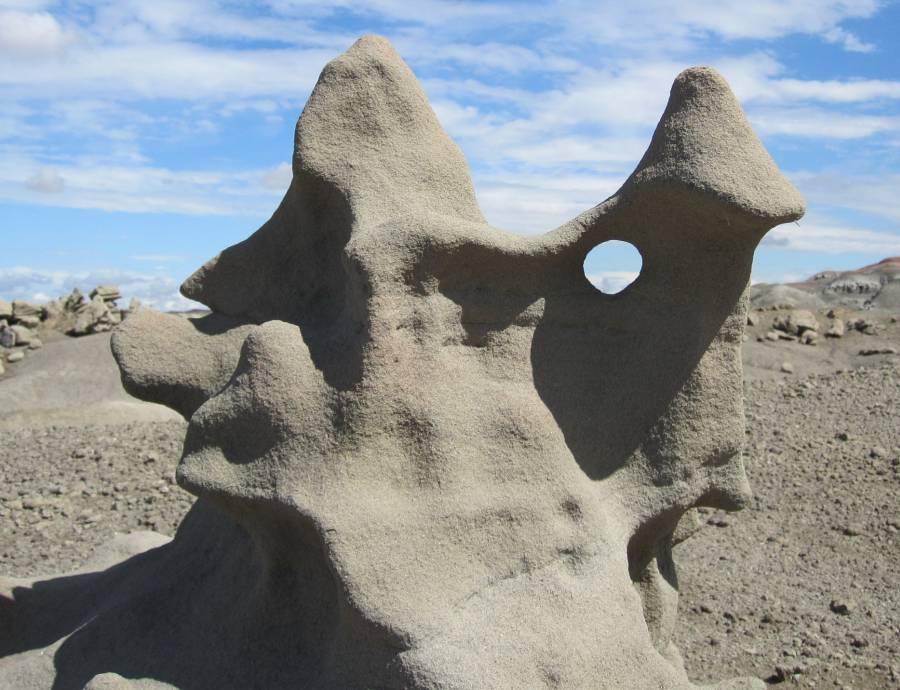 After Fantasy Canyon and was flying along on the dirt road roosting all the way.
The moist dirt road and occasional mud hole was just a hoot--I was having a good time and hoped if I
stuck my femur thru my left ear----someone would find me.
I ran into a T intersection and stared at this for quite awhile--never did figure this road sign out.
I've seen some weird ones--but this one takes the cake.
Which was was I suppose to go ?????
Up--down--sideways--left--back---cockeyed----I dunno.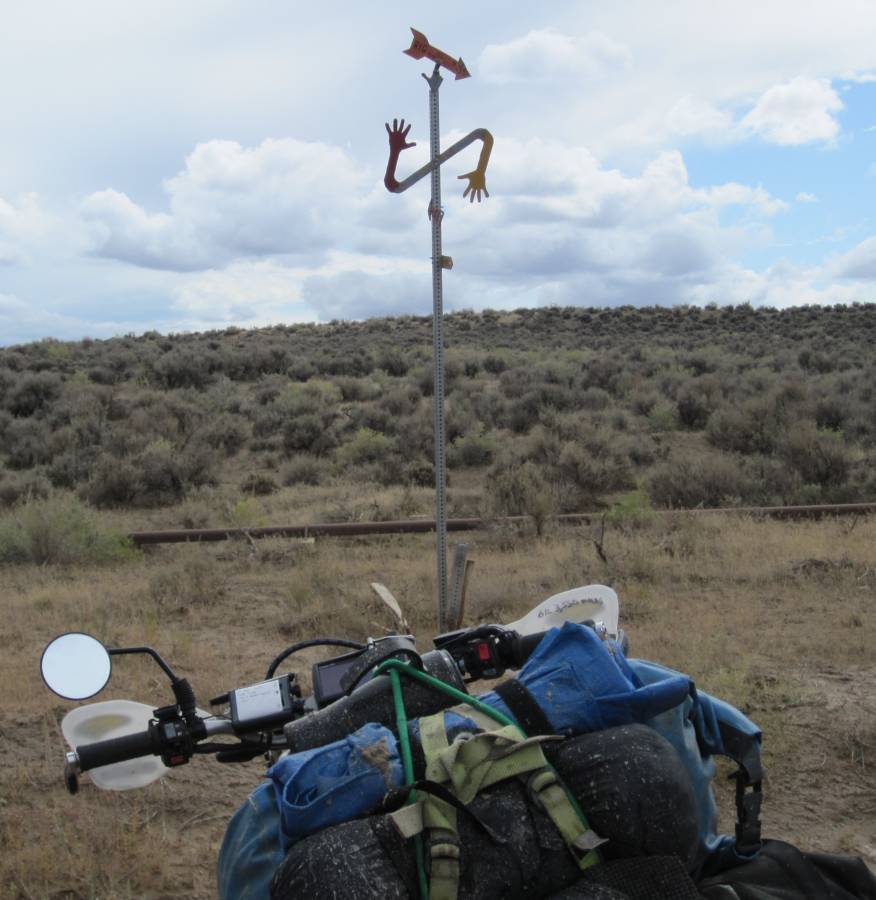 I think this is the tiny town of Bonanza, Colorado
A ghost town in Sequatchee county.
At one time this town boasted - four smelters, nineteen mills, four hotels, forty saloons, a motion picture theater, two schools,
a post office, a 1,200 foot tunnel, a baseball team and of course one house of ill repute on the top of a hill.
In 1865, at the end of the Civil War, quite a few Colorado veterans settled in the Bonanza area on land given them by the Federal Government.
One of these veterans was a "Lt. Kerber" and Kerber Creek and Kerber City were named for him. Life was probably pretty peaceful and
quiet until 1880 when the first silver strike occurred upstream from Kerber City. Supposedly, one of the original miners made a comment
about "this is going to be a bonanza," and that name stuck for the town that grew up there
(but it was no bonanza: no millionaires were created by any of the mining in the district).

Look at the water in this river---the torrential rain I was talking about really had things stirred up.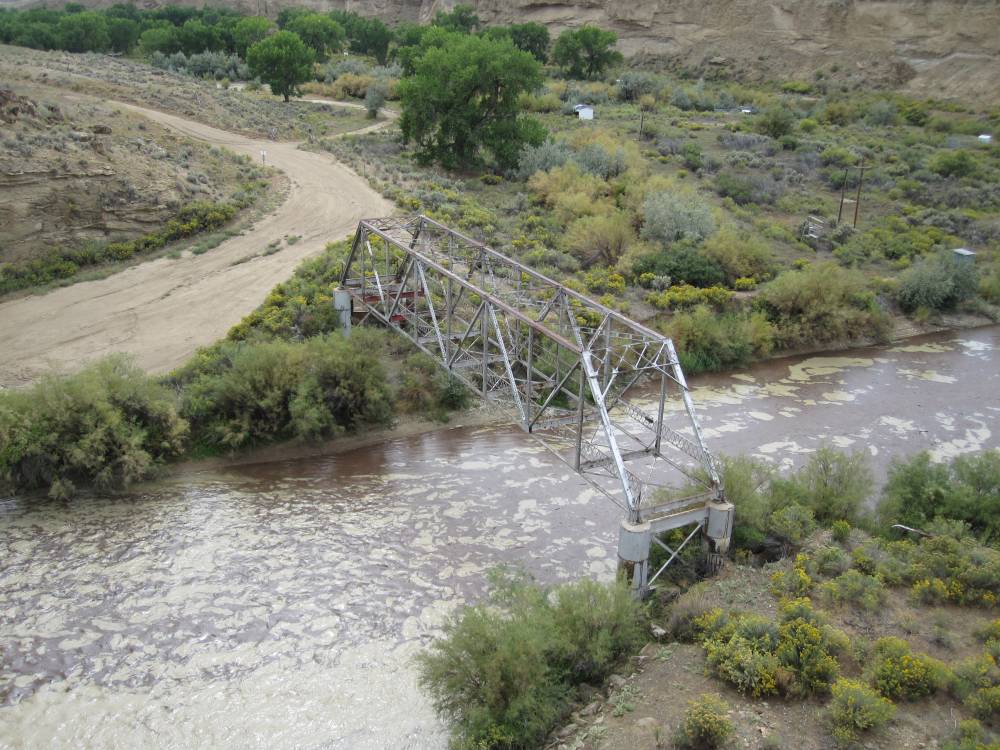 After the weird sign I plotted for what I thought was the unpaved route to Baxter Pass---it was---but the rains
had evacuation creek (below) flooding the road---I met a rancher and he advised not to try and cross it.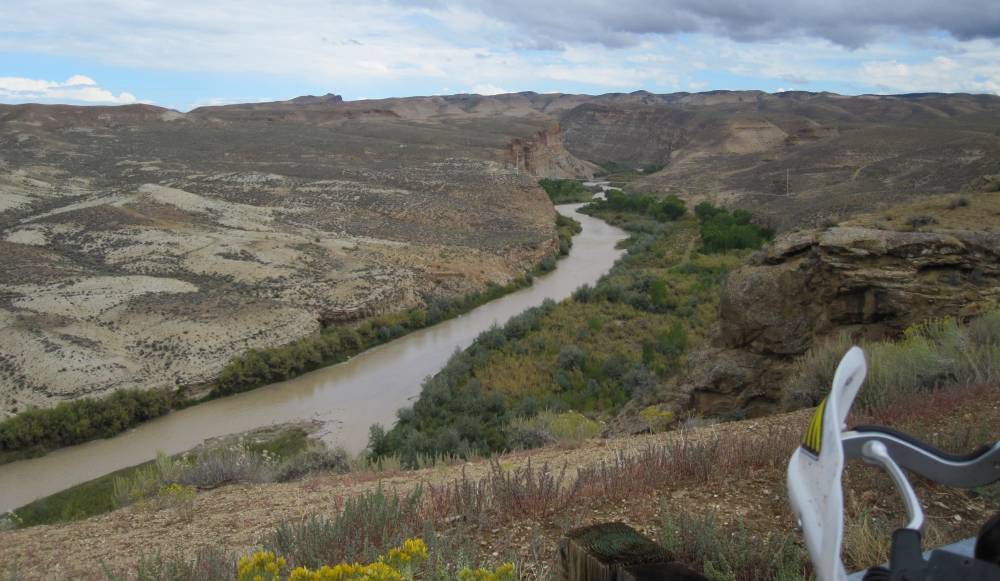 I plotted another route to the town of Grangely-----after many dead ends and locked gates and getting slightly low on fuel.
I had one more route to try but didn't---I was also traveling on roads that I might not be found for awhile if I had trouble.
It was very mucky in places---passable tho.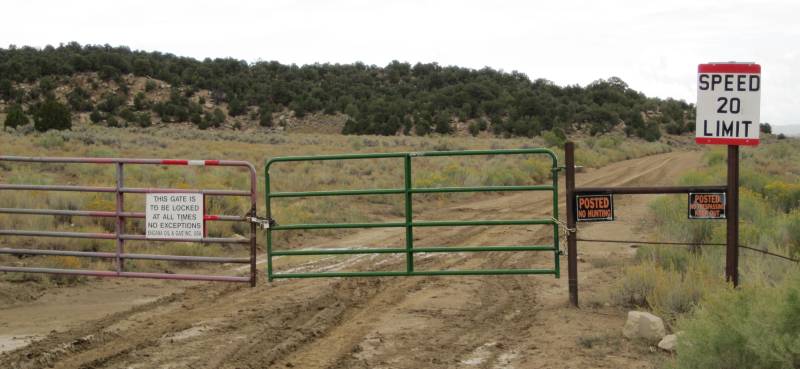 Water was still rushing across the road in places it probably rarely did.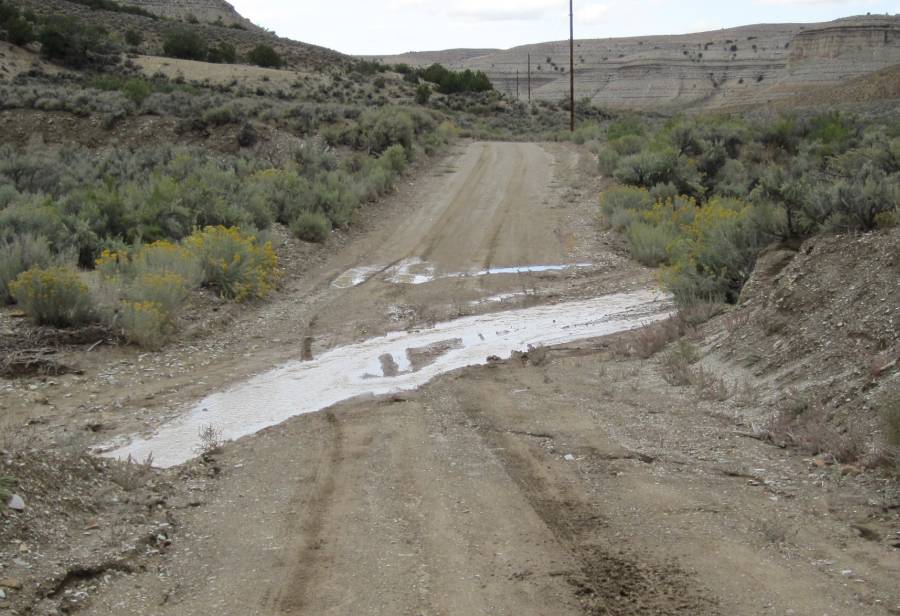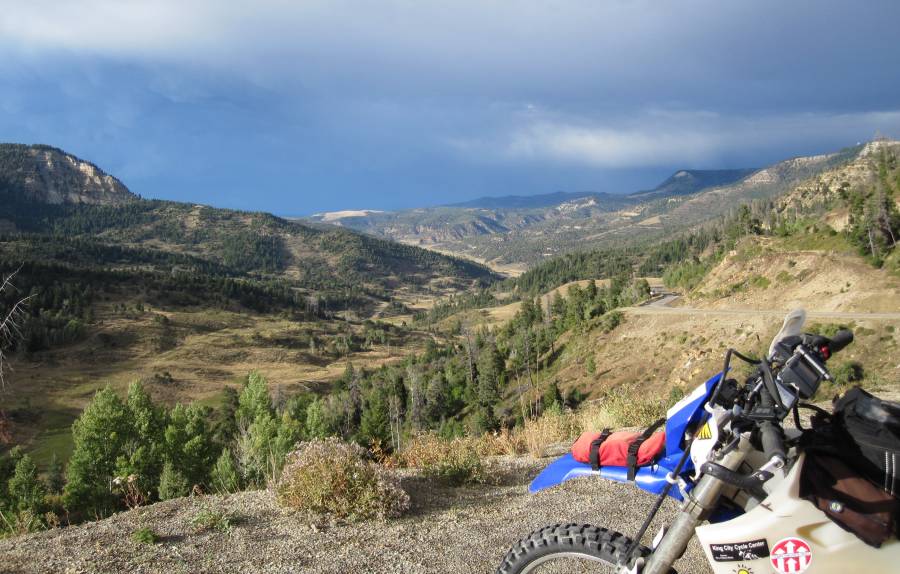 I finally re-routed again to the little town of Grangely.
Nice little town where there was Gas, Food and Lodging.
The sun was going down and I had a great long day and strolled into a little cheap looking mom and pop motel to get a room.
I'm sure I looked tired and and said so---told the guy I was looking for a good nights rest as the day had been very long.
Nobody was staying here---he stared at his computer and I could see what was going on.

Let's see------the room is worth $35---he's tired--add another $10---he's hungry--add another $10
he looks desperate---add another $10-----he needs a bath---add another $10 and so on and son on.
It took him forever to tell me how much a room was----he was the owner and had been forever----why didn't he know the price
of a room ?????? Maybe he thought I kind of looked like one of those rich entrapaneurs (however you spell that)---add another $30.
Anyway he told me $90 and BigDog thougth for just a second and seen what was going on--he was the only motel in town.
BigDog headed down the road---got a nice little place in Fruita, Colorado for $35.
I know I left him with his mouth standing wide open.
I fooled his ass.
Day 10
9-16-09
Fruita to Salida
Right South of Fruita is the Colorado National Monument
The Colorado National Monument, a unit of the national park system, is a spectacular area of twenty-thousand acres of
steep-walled red rock canyons located in western Colorado, near the city of Grand Junction, on the eastern edge of the Colorado Plateau.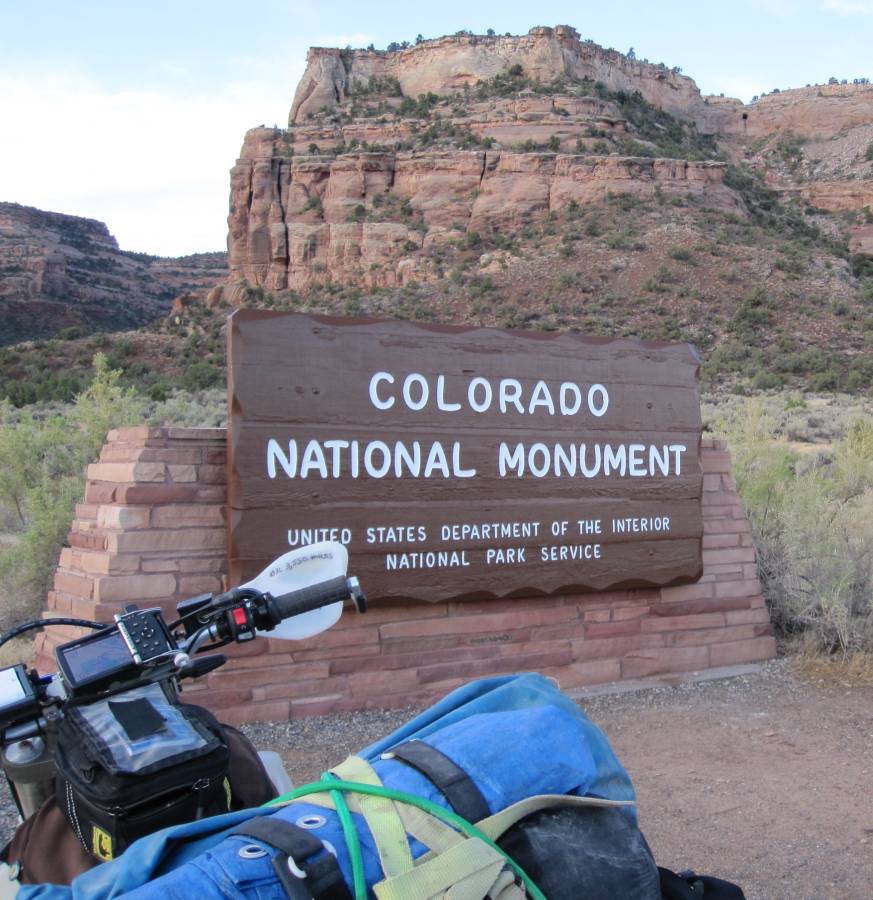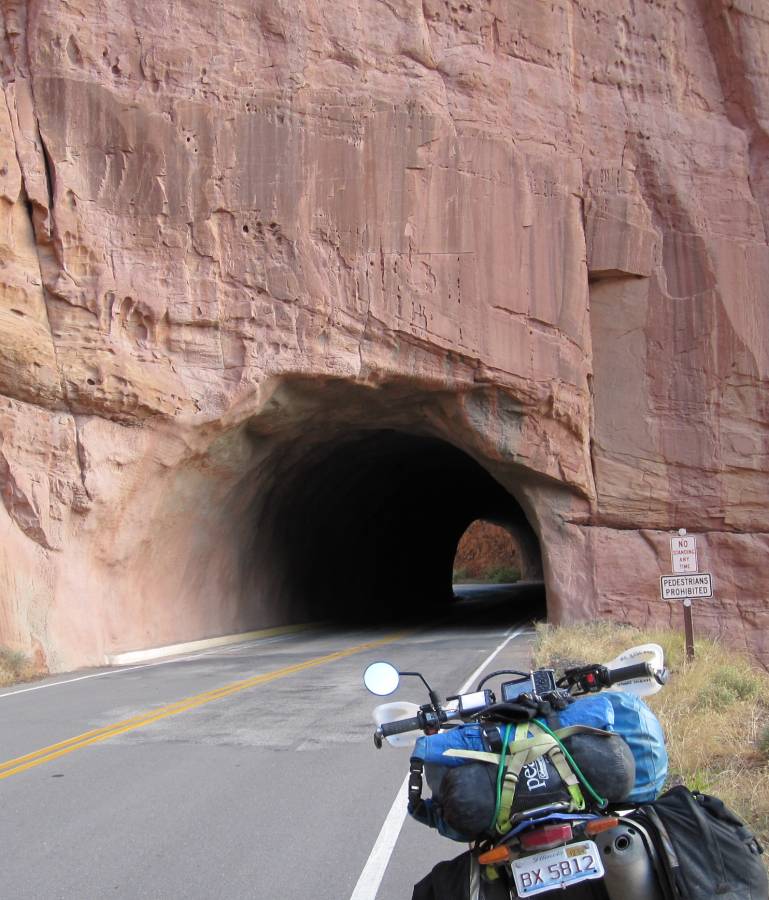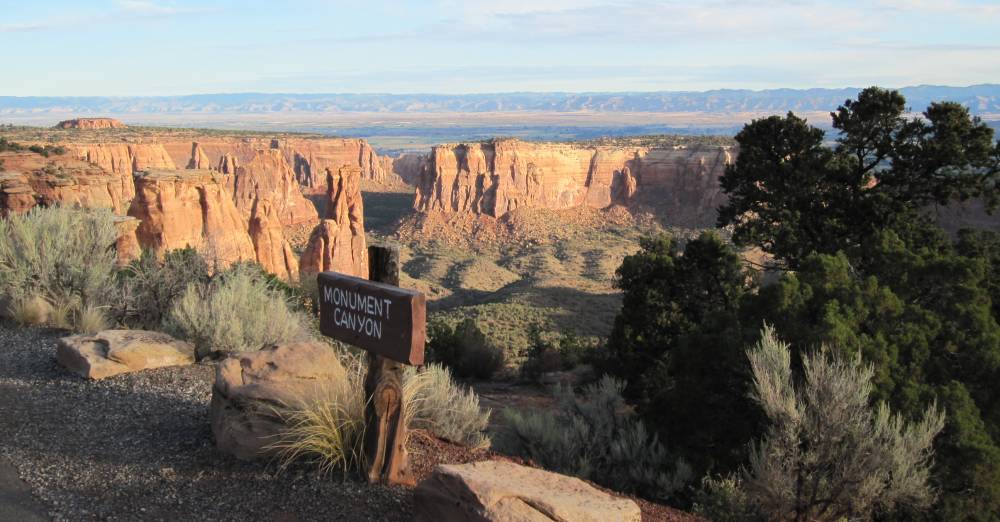 These rock formations here were called
The Kilns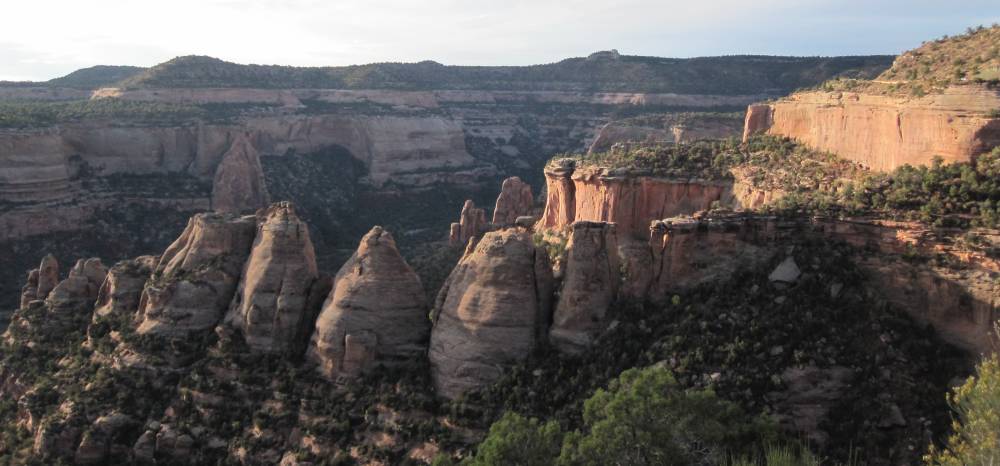 After that spectacular ride I rode South to the little town of Galde Park----population 5 --and one telephone booth.
There was a small store there---I asked "Does the telephone work in the telephone booth".
She crossed her legs---flipped her leg and foot like women do------"sometimes".
I guess what got me about the phone booth is--I don't think I've seen one for 20 years ???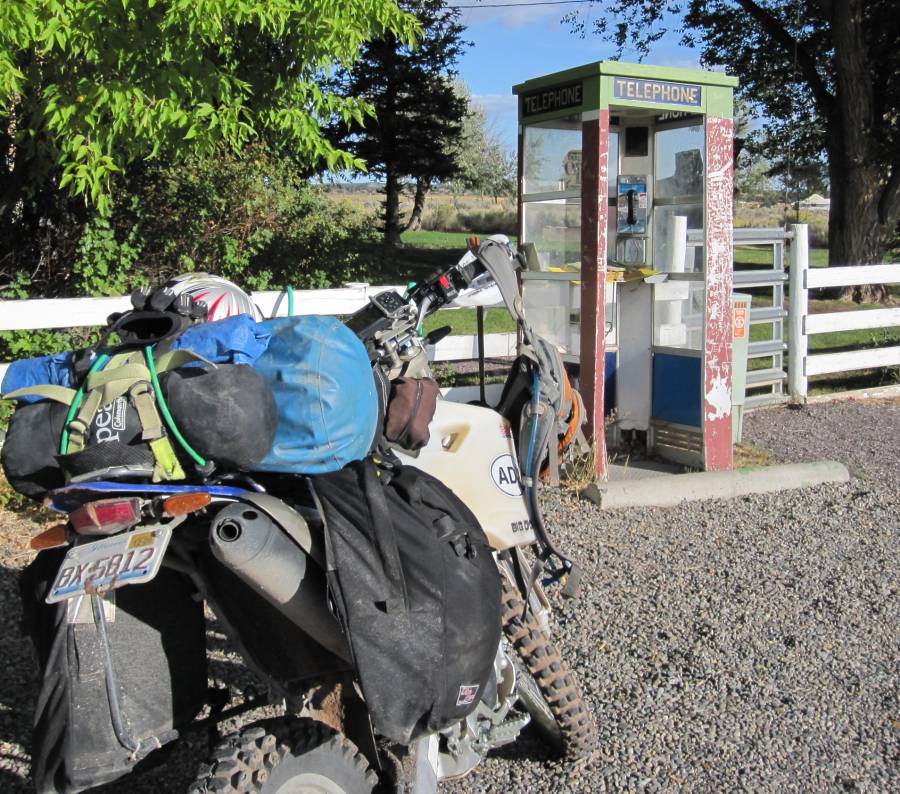 Right across the street was a really neat house--at first I thought it was crudely built.
But after looking it over thoroughly I changed my mind---a beautiful unique structure indeed.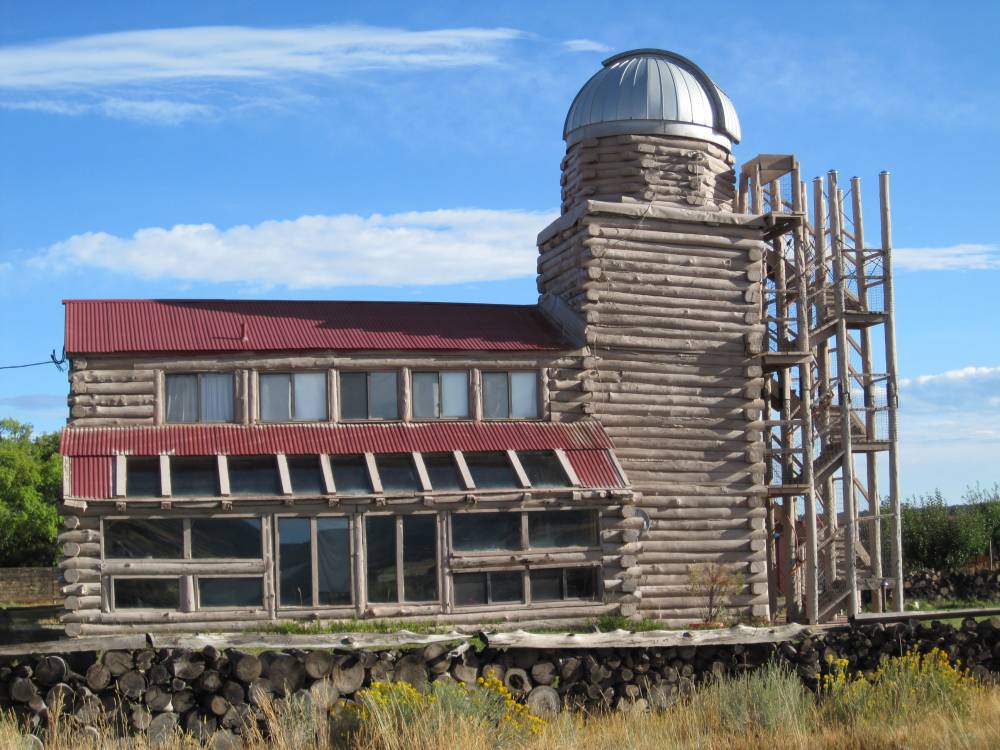 I plotted a course South to Columbine Pass---never been over that one I don't think ???
Couldn't get there from here---there was this huge mesa to the South that nobody ever built a road thru.
I gave up--went East to the Grand Mesa National Forest.
I had hoped the road would take me to the top of the mesa you see right in the middle of this picture----it did.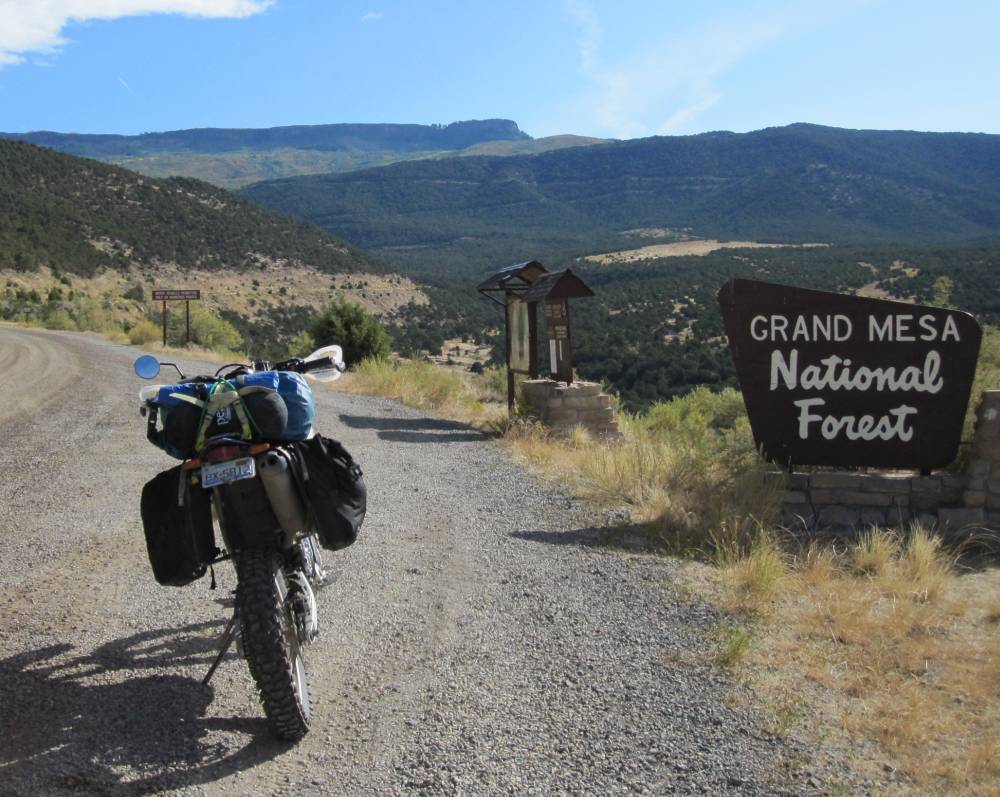 Miles and miles of unpaved switchbacks took me to 10,500 ft.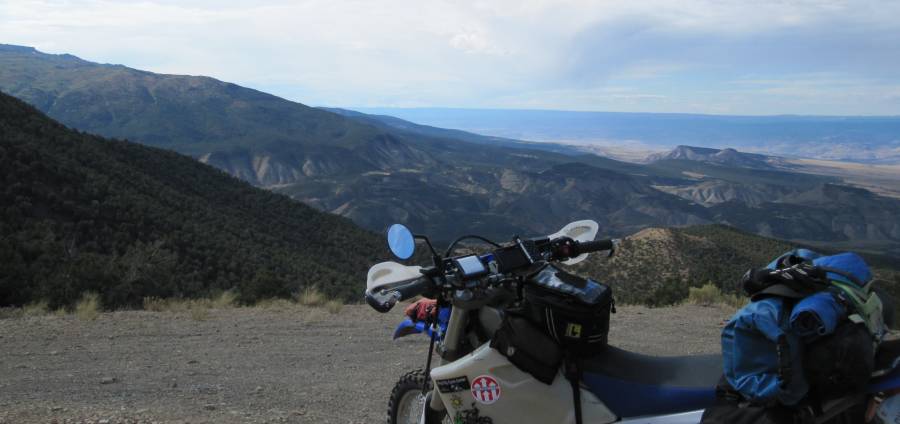 There are 3 pictures on this sign.
The bottom one being the teepees the men stayed in while building this road in 1936-37.
The middle one is the steam shovel that built the road.
The top one is the Lands End Observatory under construction.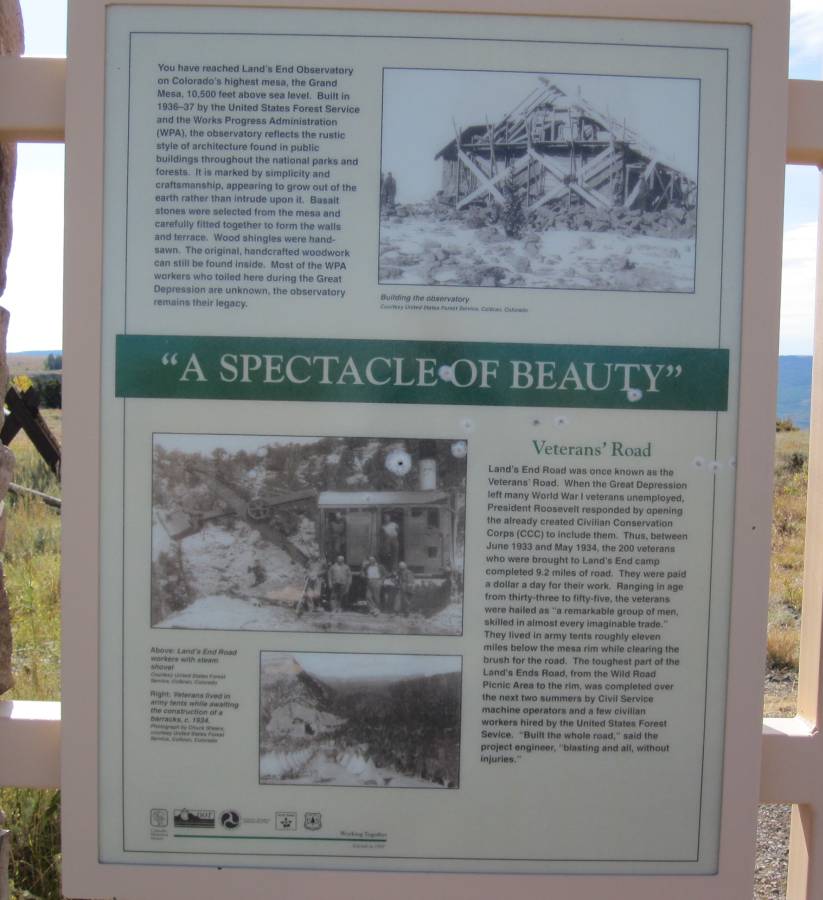 And here is the Lands End Observatory as it stands today---the must have done a pretty good job.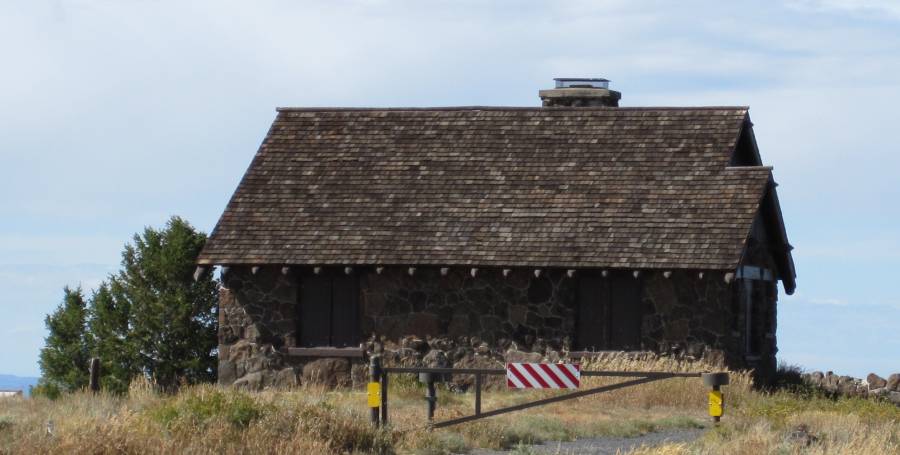 The next 2 pictures are the view from the observatory.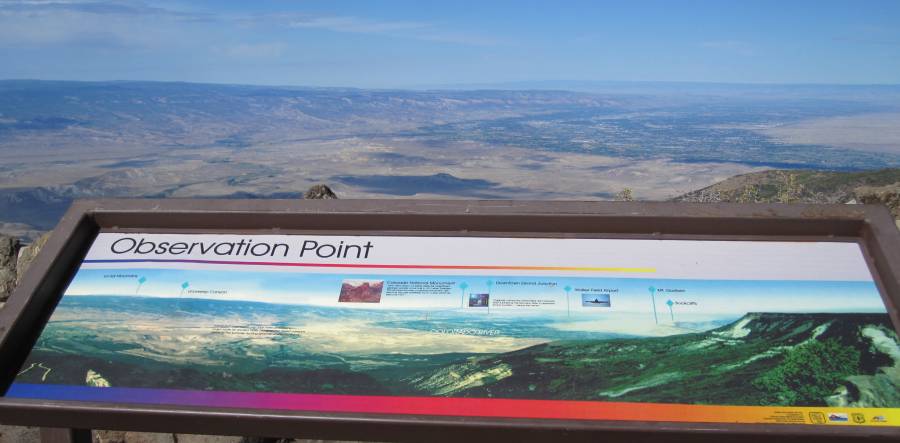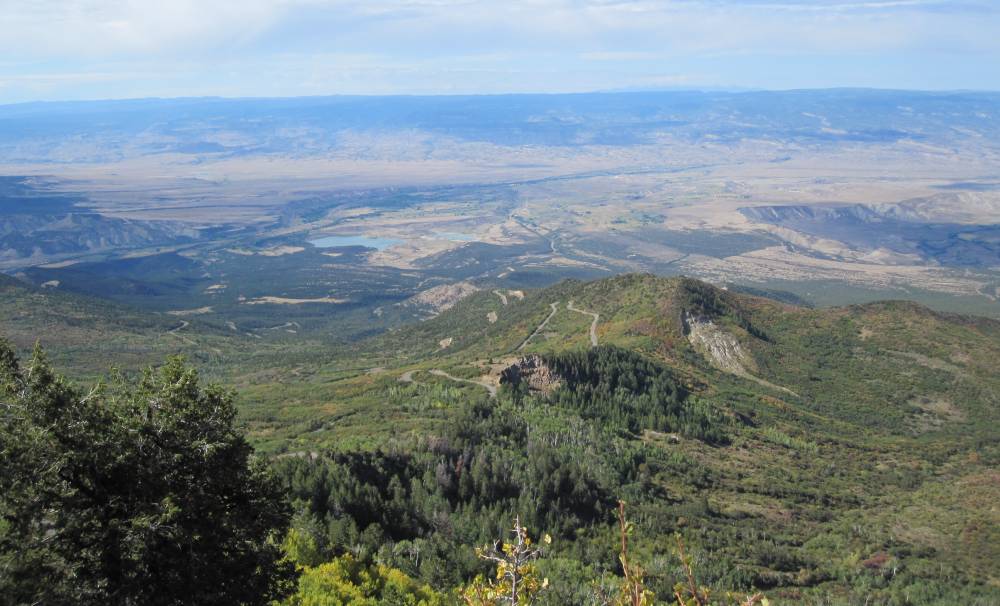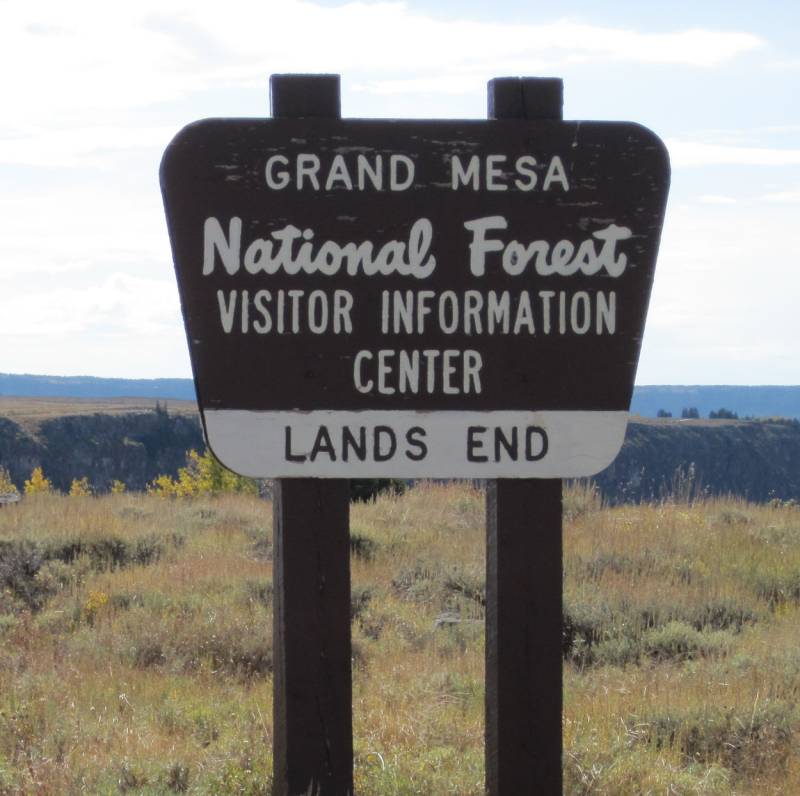 I headed Easgt on Nf-105
Many miles of dirt--with imbedded baby head rocks and some beautiful aspens.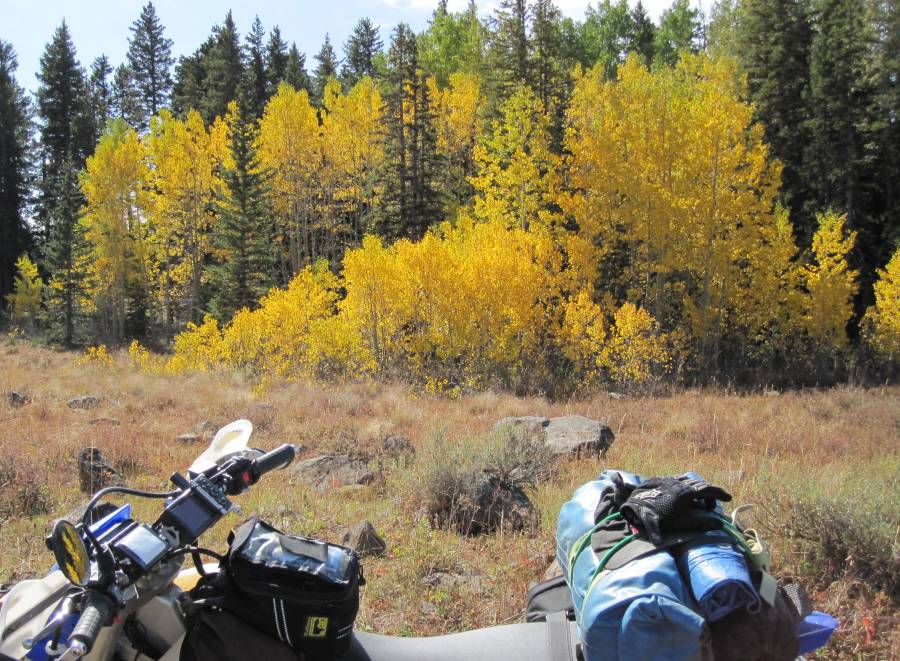 The mesa was so big and flat on top you couldn't tell you were up so high at 10,500ft.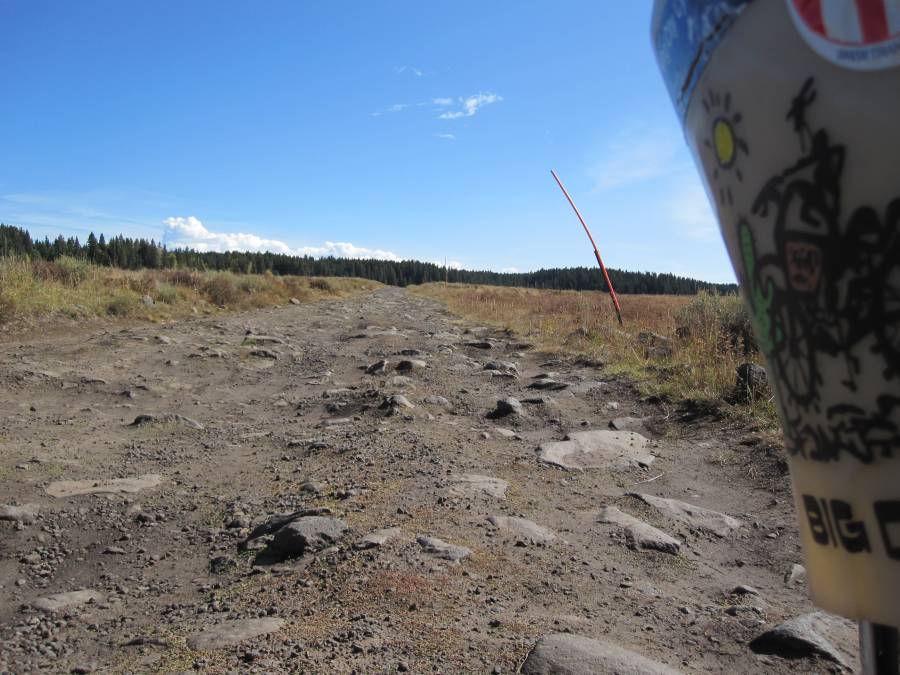 I ran into these 2 adventurers---they were a hoot--quite a bit older than me--they would have been on bikes
but said they just couldn't ride them anymore. They snomobiled mostly now--and said in the winter they would be
running 70mph thru here. They were fun and told me there would be a little store down the road and that his wife Connie
would give me a free cup of coffee.
We both agreed that our FJ's were the finest vehicles we ever owned and would die with them.
Off they went putting up flagpoles to show the snowmobile route.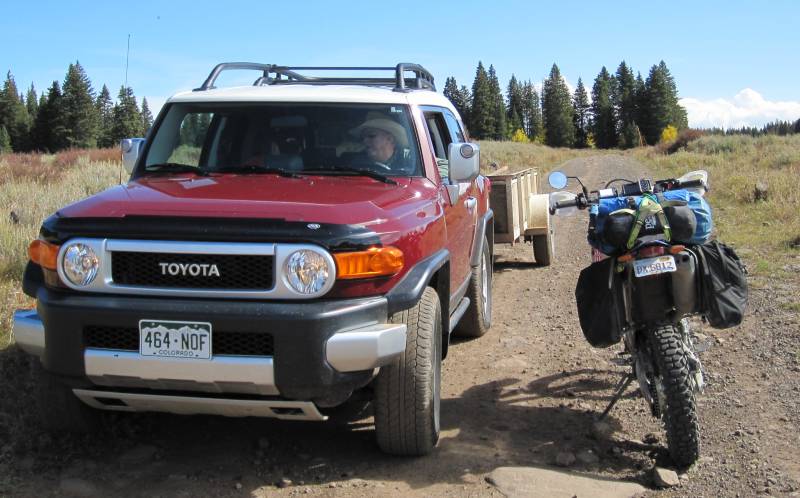 It was here that a rush went over me---a hot flash----I don't know.
I realized I was having the time of my life right here and now---don't waste it--soak it in.
And I didn't mind traveling alone at all.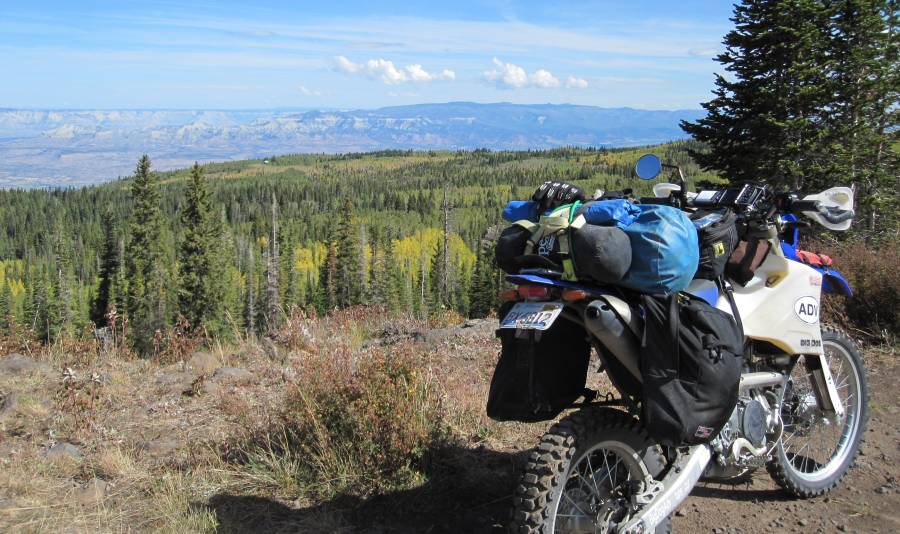 I bolted thru the door here and asked for "Connie"----"why I'm Connie---who the hell are you ???"
"I'm BigDog"---------"who the hell is BigDog"?? -----she cracked back .
She finally warmed up to me and I got my free cup of coffee--after I told her I met her husband out on the trail
"Oh that ole' coot" she said---"he's gonna kill himself out there one of these days"
yeh-------bet he'd like it to be that way---I know I would.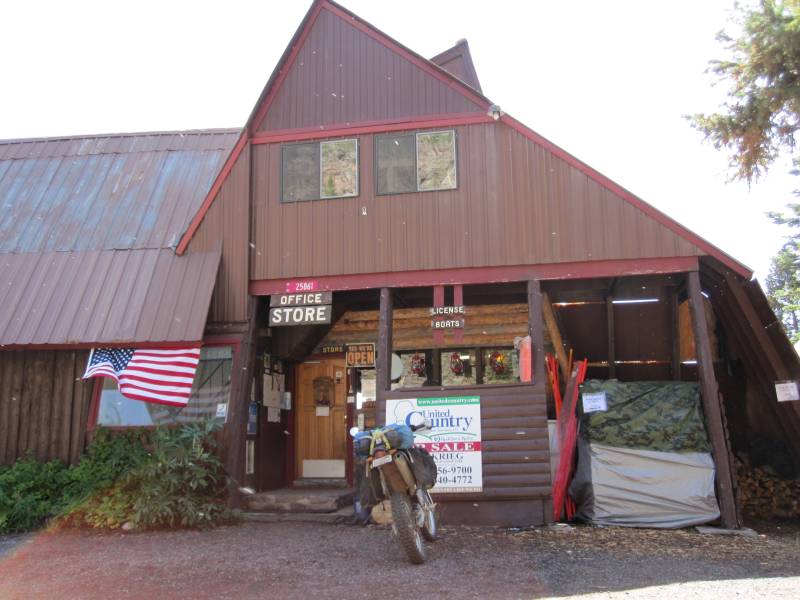 I left before I wore out my welcome and let er' rip down the mountain.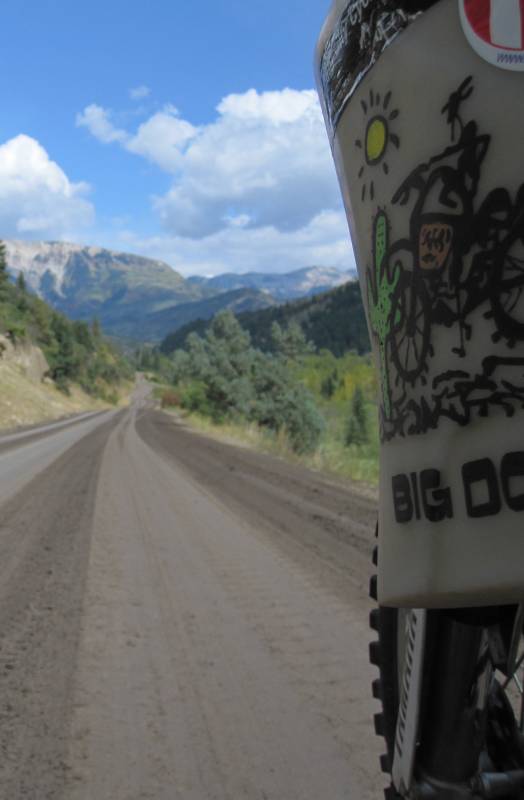 Back on the Kebler pass road---I wanted to head South over Ohio Pass---I'd never been down that road.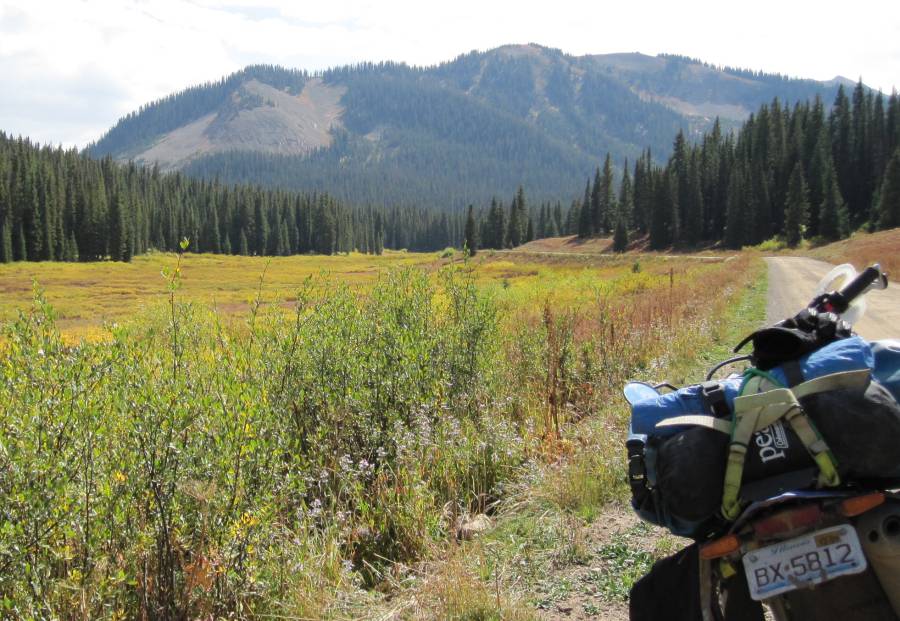 I'm right near the unmarked Ohio Pass here and went down this mountain for miles amongst the pines and aspens.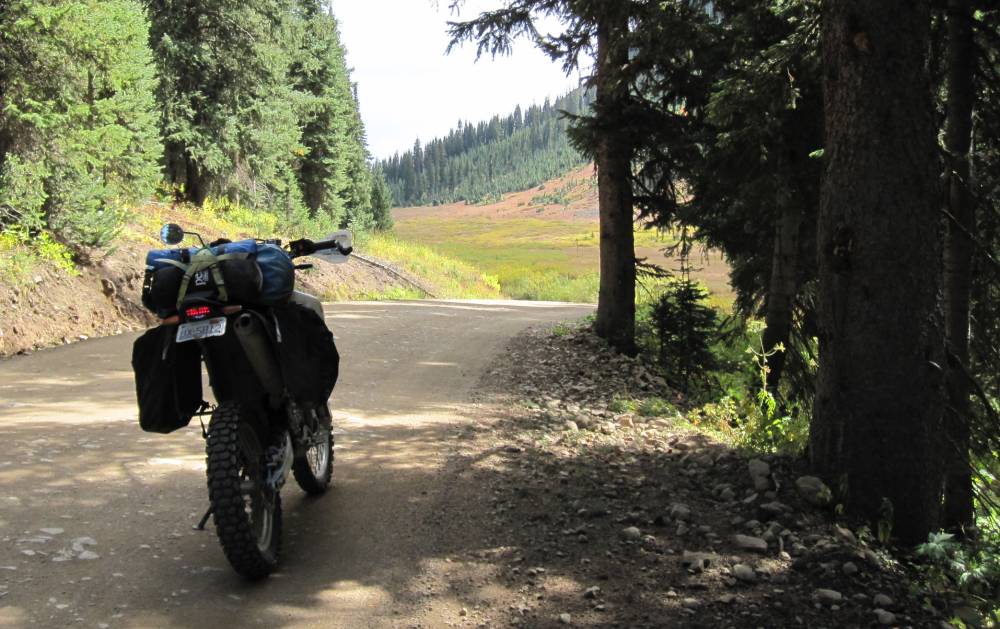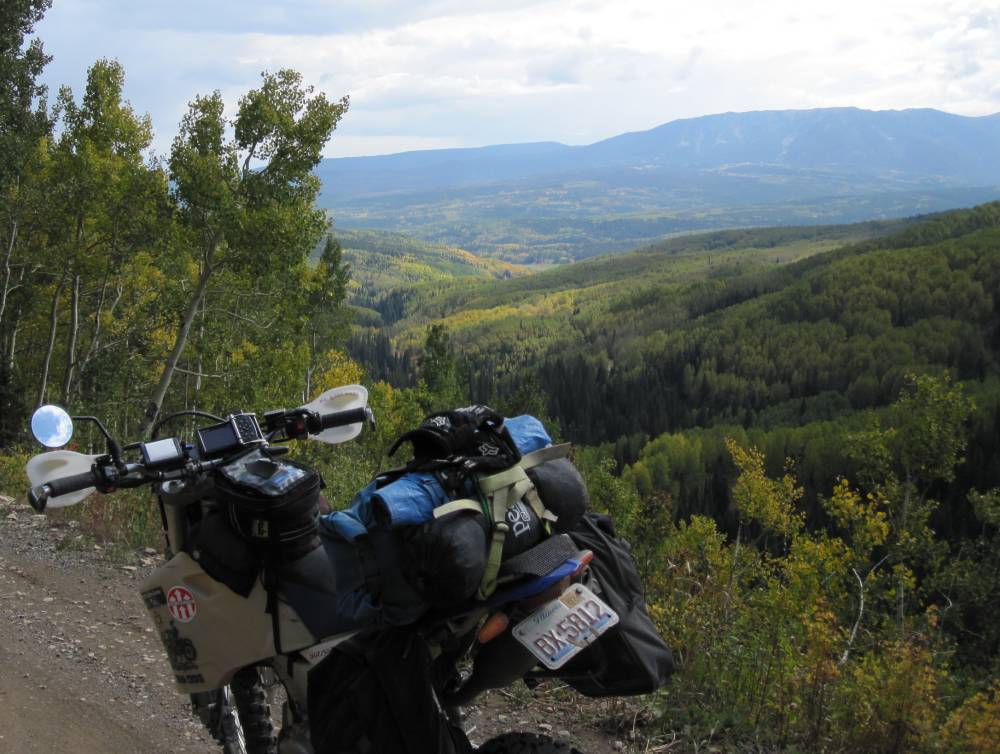 Probably about 10 miles North of Gunnison on the Ohio Pass rode the road widened and the most beautiful golden aspens came into view
with a magnificent house on the hill---and what looked like a ghost town down below.
There was one town shown on my gps---Baldwin--never did see a town--maybe this is it.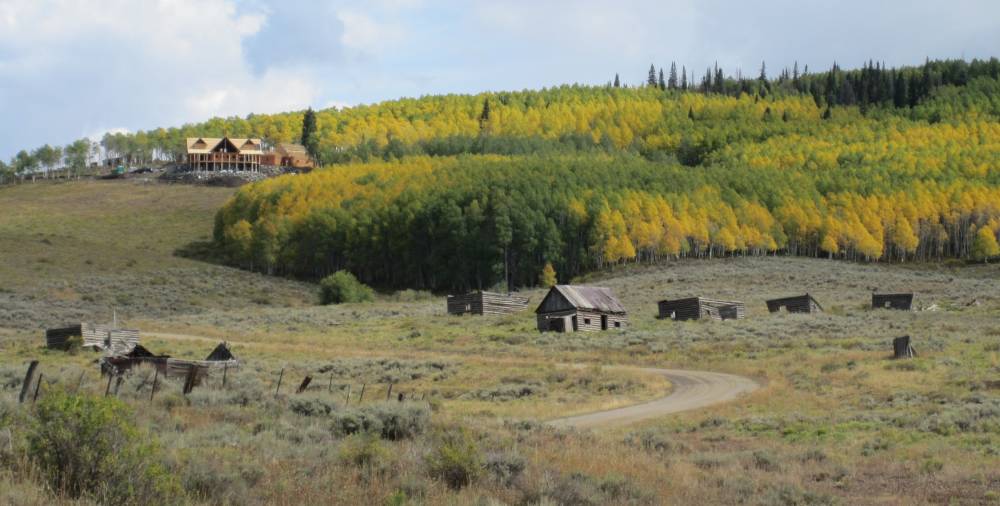 I forgot to tell----this morning I touched base with a good friend of mine that was doing part of the CDR ride----he would be in Salida that night and would be heading to his truck---which is only about 60 miles from my truck.
I told him I try to get to Salida---but no guarantees and don't wait on me.
I did make it and me and Jerry (RoadDad) and his boy Craig went to a restaurant to have a steak.
The very place Vinnie The Snake had recommended and where I had the best steak I ever had on the trip up.
We had a blast--but the steak was un---editable--what's up with that ???

We would ride together to Trinidad, Colorado---where his truck was and I'd decide what I was going to do.
My truck wasn't that far from Trinidad---back in Kim, Colorado.
I really wasn't ready to go home yet.
Day 11
9-17-09
Salida to Kim, Colorado
I met up with my buddy Jerry (RoadDad) and his sone Craig in Salida and we shared a motel room.
We watched some video clips and went to bed pretty early for an early start the next day.
I would end up riding till the sun set in the West--it was going to be a magnificent day.
Below is Craig riding RoadDad's WR250R----he loves his WR but graciously let his son ride it.
They did a big section of the Continental Divide ride on this trip--great a father and son enjoyed doing this together.
I would love for my son to do something like this with me---but he has many other interests now--and no time to do it anyway.
Jerry rode his old beate KLR--very nice of him.
Everybody should have an ole' beater KLR----I think I will !!!!
So we have 2 identical WR's--both with the new big tanks.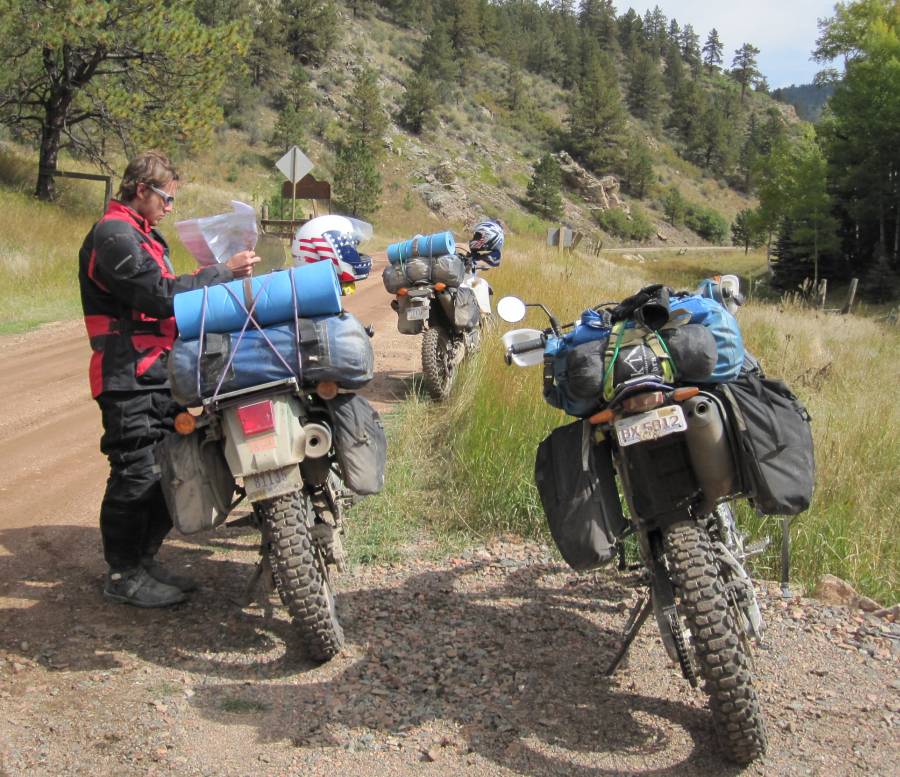 Craig, Jerry Mueller-----Jasper Indiana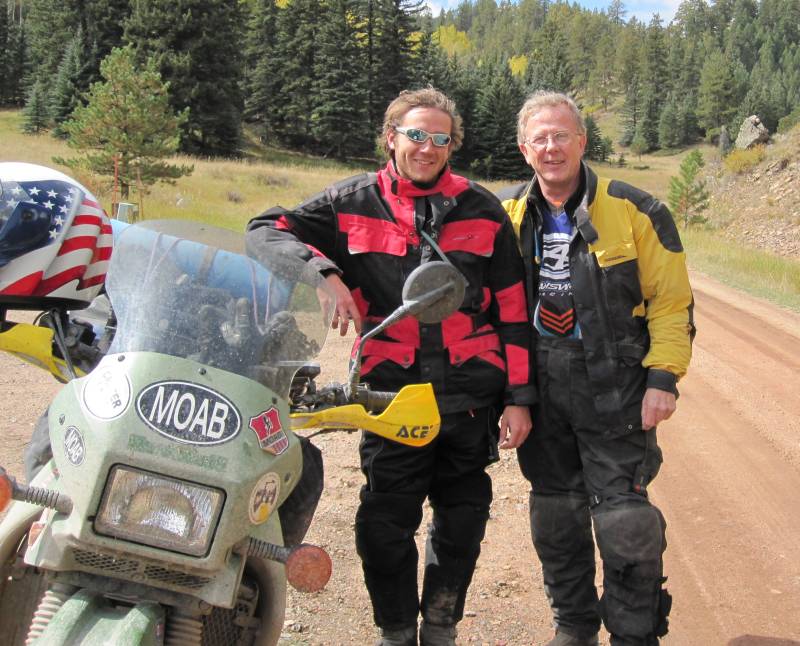 I managed a few pictures riding with these guys---we rode a pace about like mine when I lead--except I stop a lot more
to pee---and take pictures.
I never did figure out this one.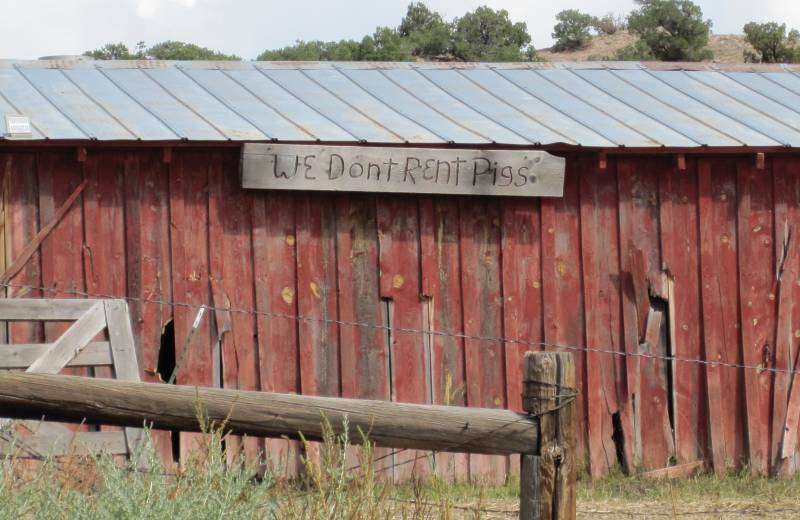 I couldn't take any pictures riding with them------but we got to Trinidad and they loaded up their bikes in their truck
and we went to Wendy's for a booger and chocolate frosty---the way I like to end up a ride---with a frosty.

I left them late in the afternoon with a plan to go to the Capulan Volcano which is about 21 straight line miles Southwest of where this
ride started on the Colorado, New Mexico border.
So I'm riding alone again and took a route I thought would take me to the volcano and avoid riding on interstae 25 South thru Raton, New Mexico.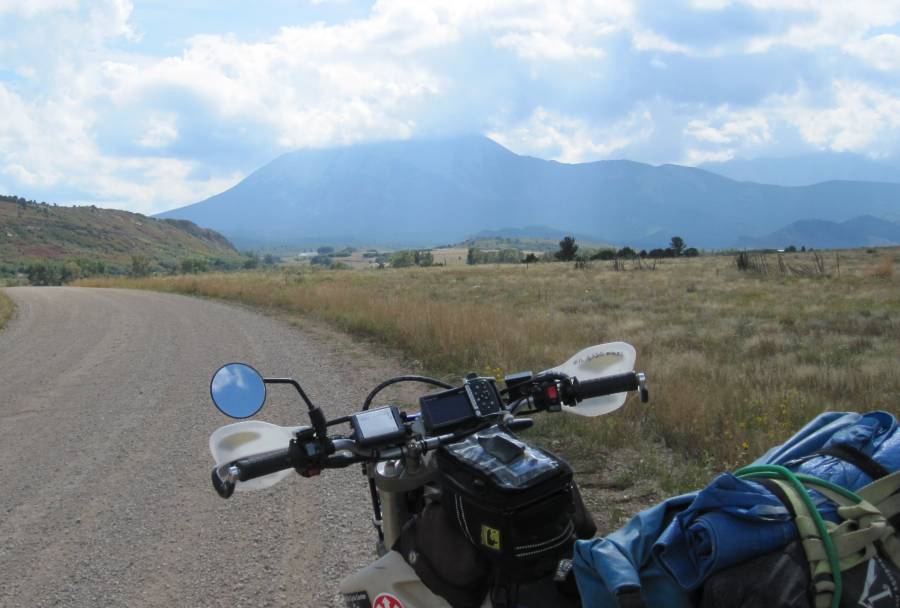 I headed East on 39428 Cr-24.6
The weather was perfect----as I rode alone across the plains with the Buttes always in my view.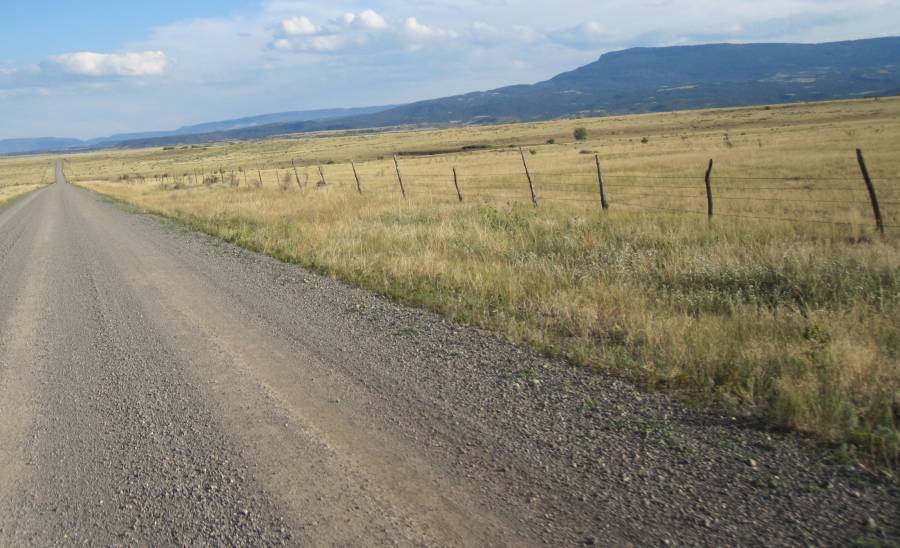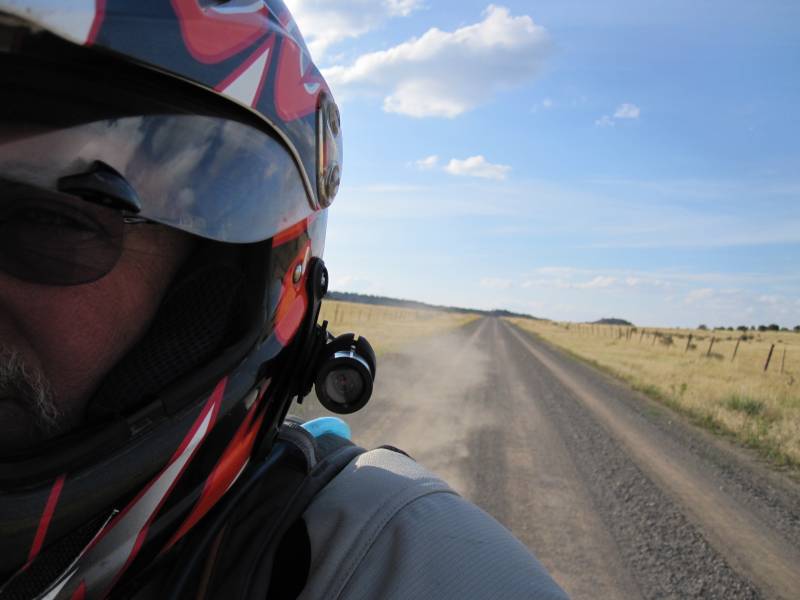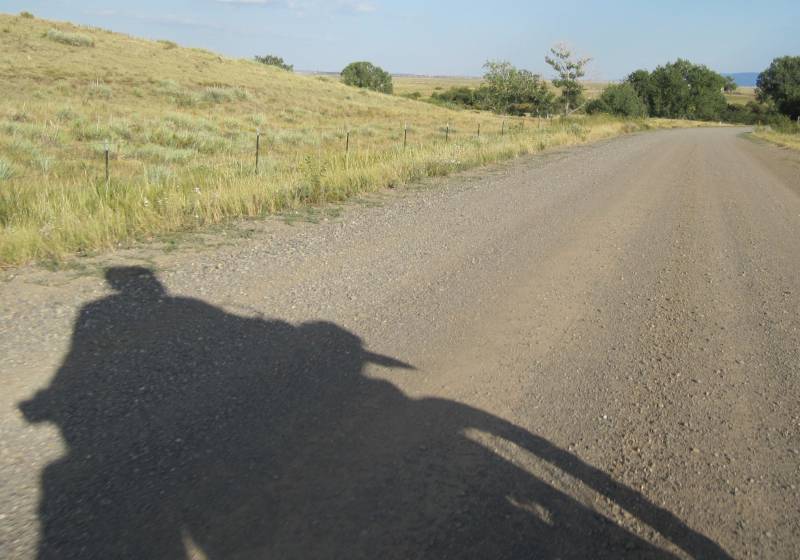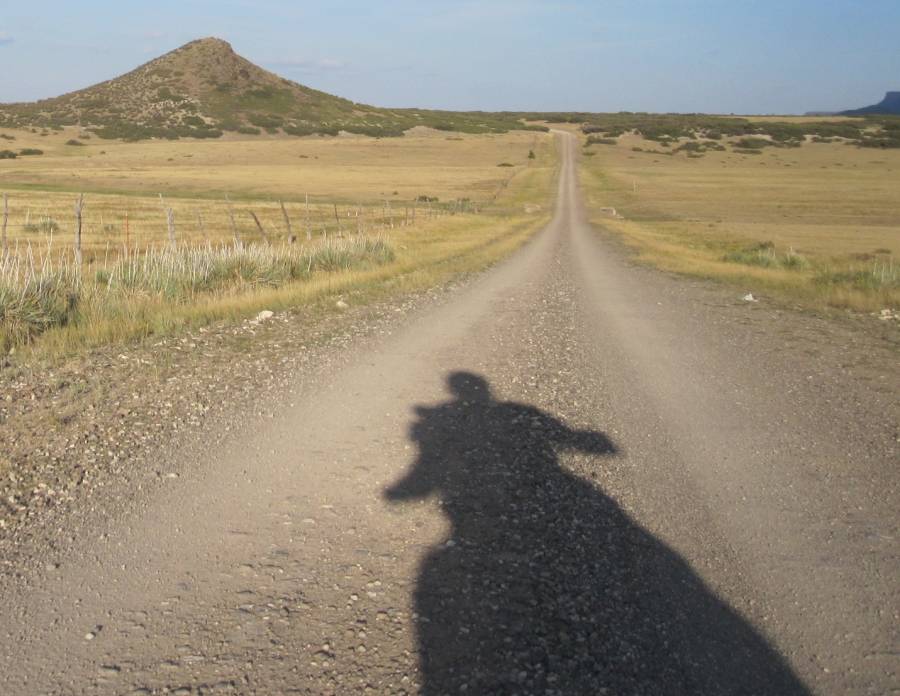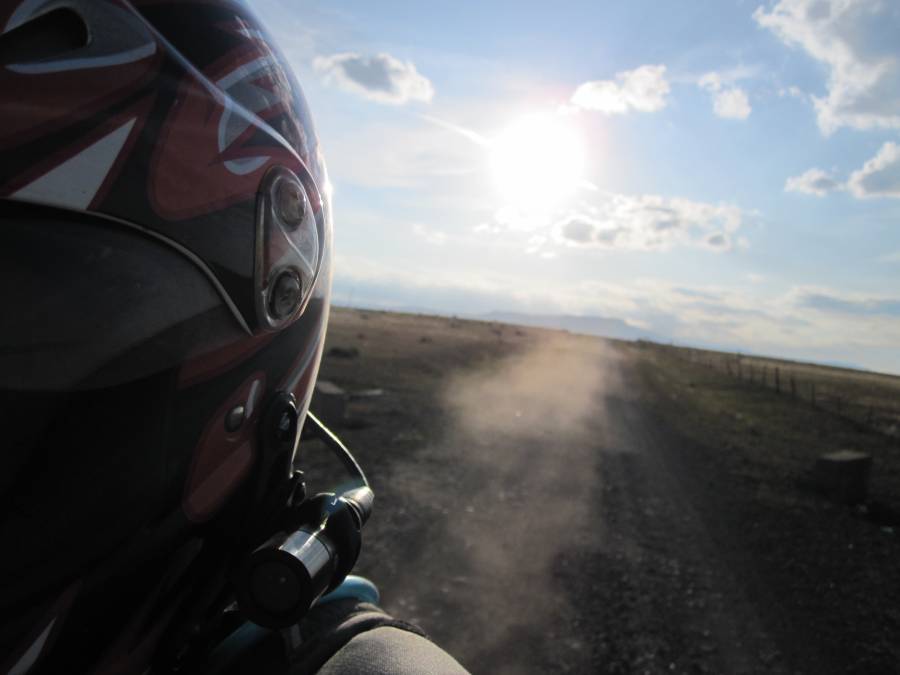 This is the little ghost town of Trinchera, Colorado
Even tho the sun was setting fast I poked around this town for at least a half hour at all the old stuff. A lot of history here.
Below is the old by-passed train station.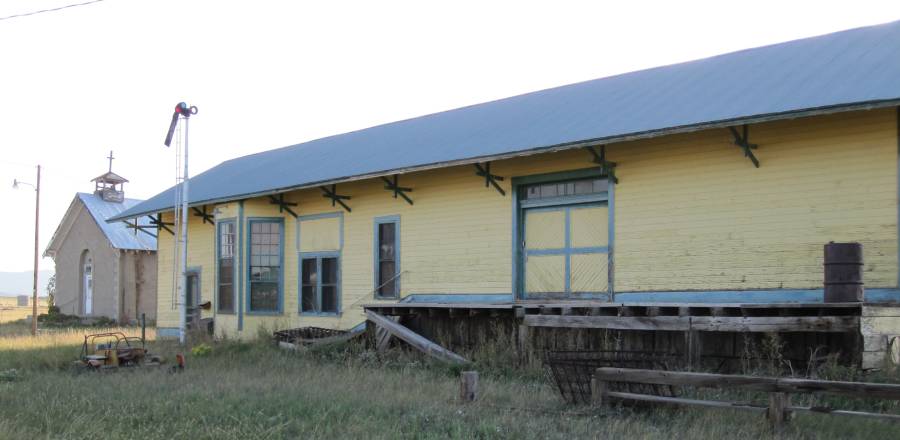 Don't pass this ghost town up--neat old stuff everywhere--couldn't believe all the neat stuff still lyin' round.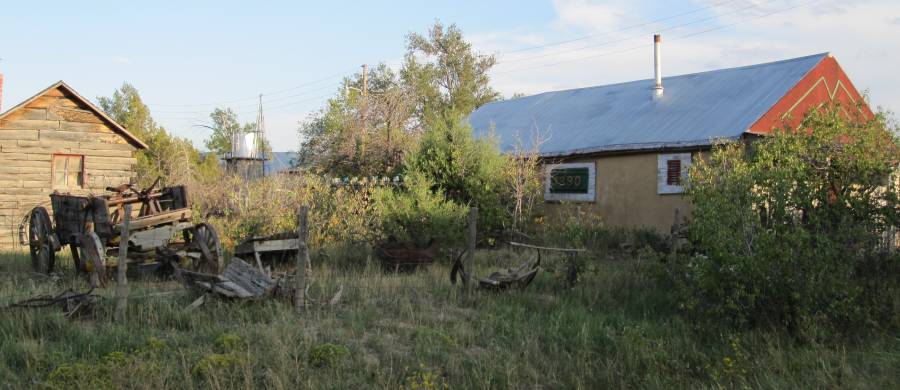 When I was a kid----I was a huge motorhead very early on. I had dreams about these little what I called "Putt Putt" cars.
These were used on the railroads to haul workers down the tracks and had little 2-stroke engines in them that seemed
to hit and miss------putt---putt..............putt--putt----putt-putt. I can still hear them. Man they fascinated me.
I haven't seen one in over 40 years---this one is still pretty much intact and still had the engine and belt on the drive system.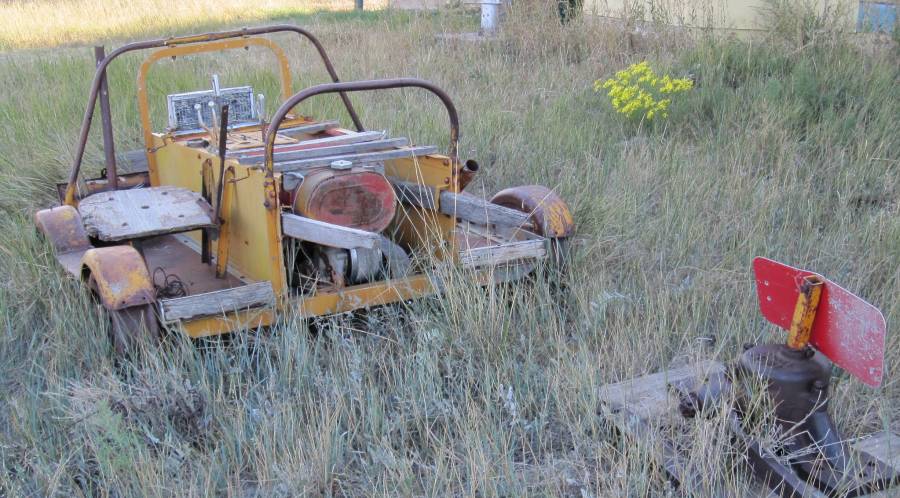 It was called the "Fairmont Railroad Inspection Car"
Originally it had a front with dual windshields and a top.
The 2-stroke engine was water cooled with a radiator and had no reverse as the engine could run backwards or forwards.
I guess I was reading about a different model than the one below--as it shows a reverse---ingenius.
Hell-----I had a Bultaco pursang that would do that on occasion.
It was equipped with a 5 to 8 hp engine and 6-volt electrical system.
The spark was provided by a Pontiac Vibrator Coil.
This car may have been built in the 40's ????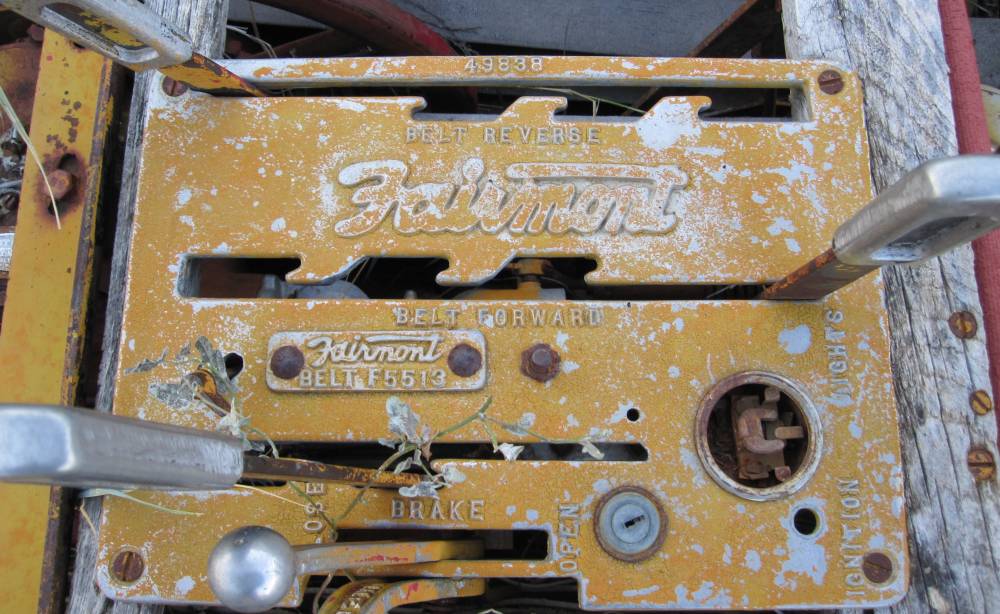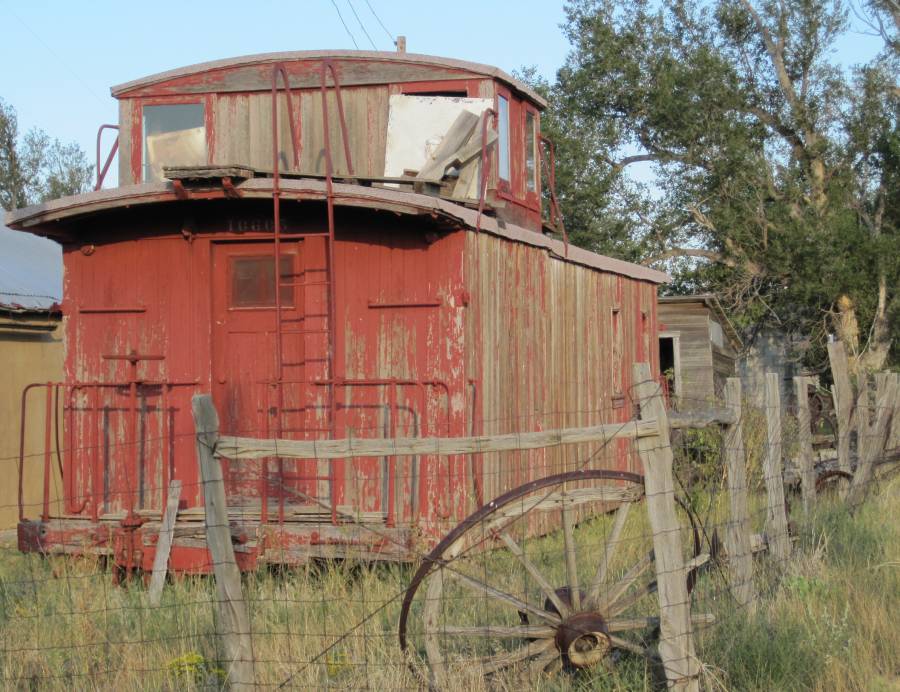 The railroad had to come right thru the town where the station was---but alas I found a new railroad North of town a little ways.
Love to know more about all this.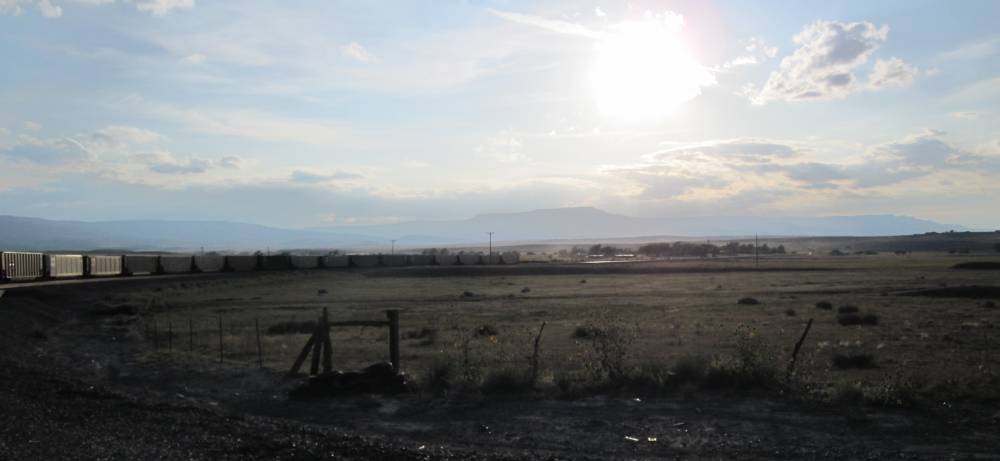 I saw this same sign a lot in Southeast Colorado.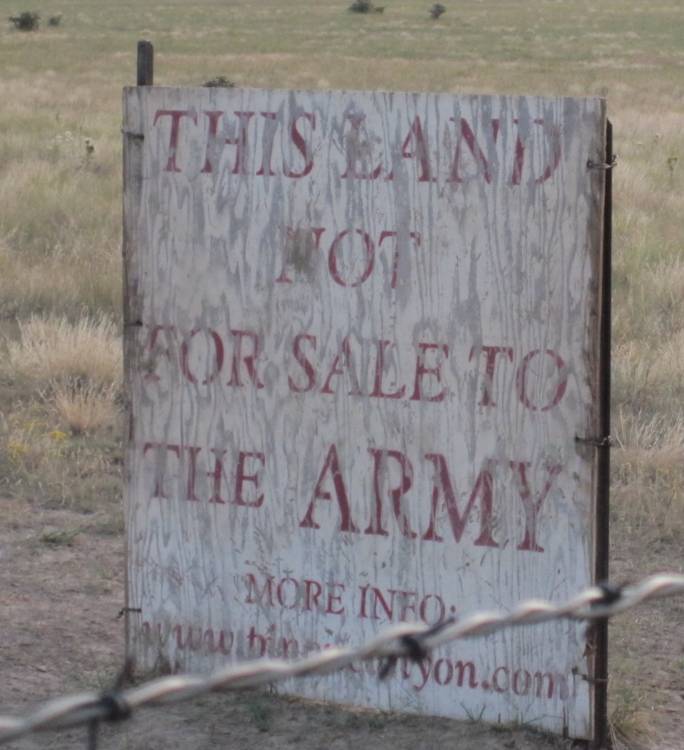 I could make the volcano barely in daylight and decided I was too close to pass it up.
I'd try to stealth camp around there somewhere--and if I could get away with it I would camp on top of that sucker
as I heard you could ride around the rim and look down in it.
There were roads in my gps to take me there---unfortunately right at the New Mexico border the road
ended abruptly----I couldn't get through and had to turn back
Getting to it another way in daylight would be impossible.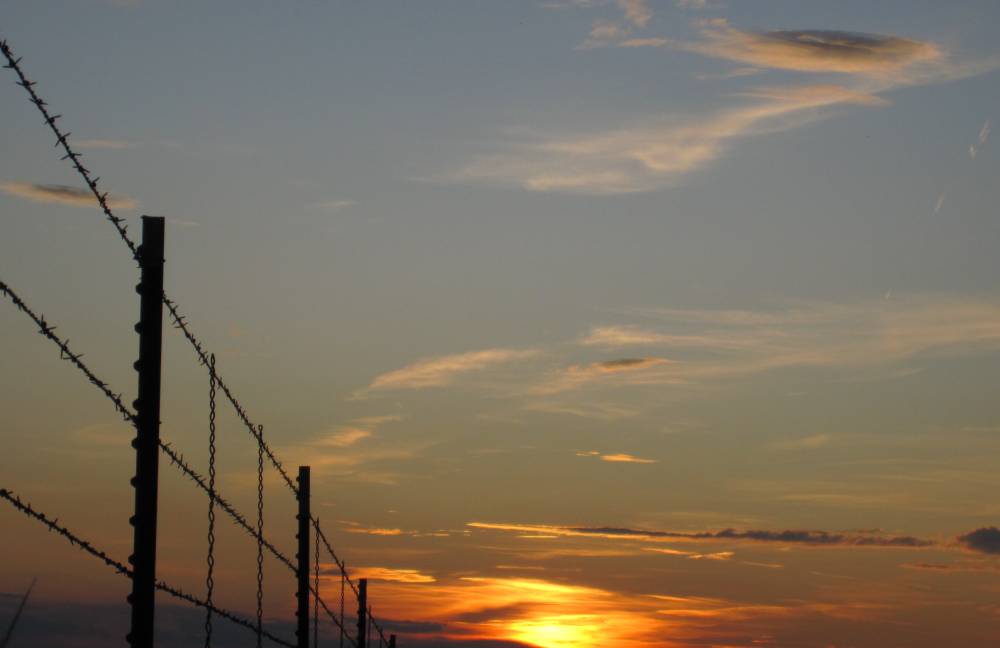 I meandered back to Kim, Colorado slowly almost in tears that my ride was almost over.
It was so lonely out hear--no one would see me cry I suppose.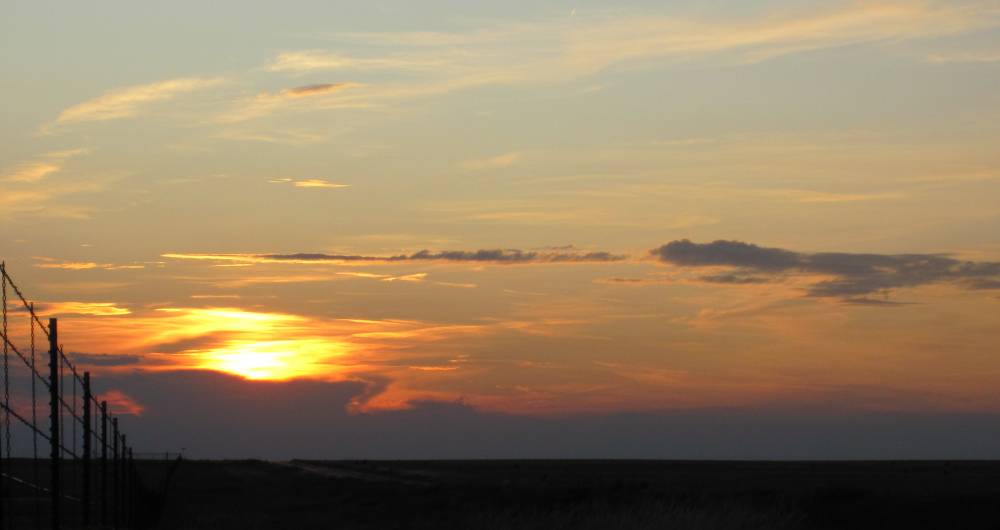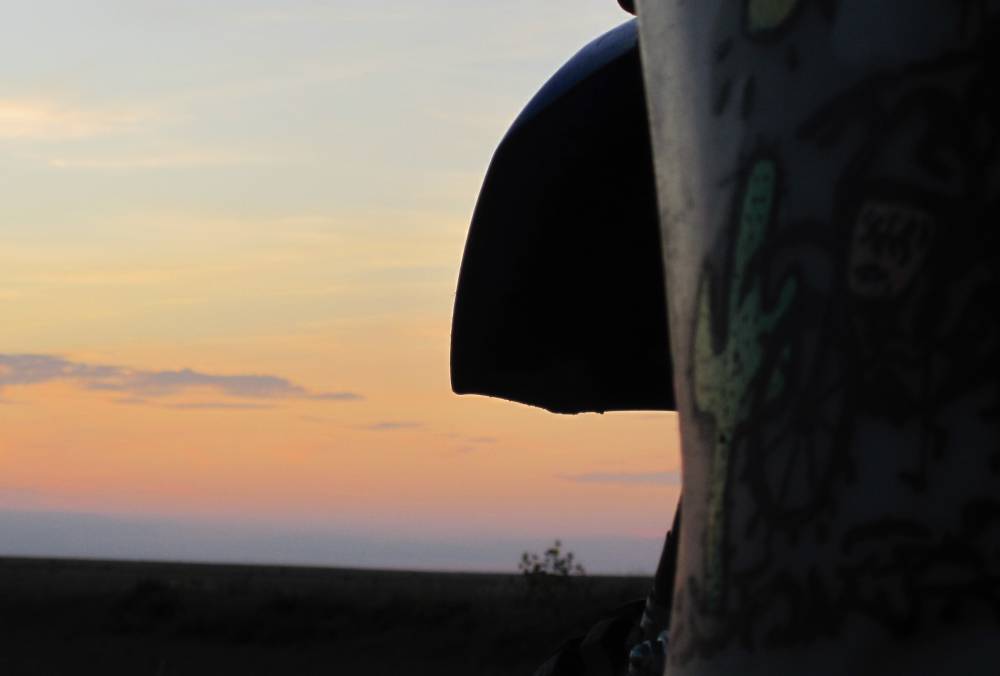 The End
2, 476 miles
Back---to my homepage