Or
How come it took us 4 hours to ride 7 miles ?????
My new knobby is wore out---and were only half way there !!!!!!!!--Is it still under warranty ??
How come we haven't seen anything or anybody for over 100 miles ????
How can we be lost when we have 3 GPS's ?????? Why do you need 3 GPS's ??--Cause 4 wouldn't fit on my handlebars-----Duhhh!!!!!
"Mam----please don't shoot us" !!!
"Kenny-----where is your taillight" ??????? "I don't know--where are your glasses??--"I don't know!!!
It's 80 miles to the nearest gas-----and we have only 65 miles of gas left !!!!!
Why are mountain bikers (on bicycles) riding faster than we are ???
"Kenny-----I think that is a UFO" !!!!
Find about all of this as 2 old farts started the 2nd weekend in April, 2002 and rode their dualsports (street legal dirt bikes) from Moab Utah, to the Grand Canyon over a 10 day trip. Yeh, I know its only 350 miles by the way the crow flies---but we chaulked up over 1,800 miles of great scenic riding thru the trails, washes, canyons, slick rock, backroads, mountain passes, and jeep trails of Southern Utah and Northern Arizona. We rode in below freezing temperatures, and the heat of the desert getting snowed on several times in the process. We rode over and thru deep snow drifts several times and were the first motorized vehicles over 2 mountain passes-----2 others were impassable by us because of extremely deep snow. We rode with no support vehicle at all--and had to be prepared for anything mother nature threw at us. And even tho the North rim of the Grand Canyon was closed for the winter----find out how we got there anyway as there was no way we were going to "Bust".
Here are the two riders below in the Lockhart Basin of Utah by the Green river. Kenny Gibbons is on a highly modified Suzuki DR650 and Mark Sampson on a basically stock Suzuki DRZ400S.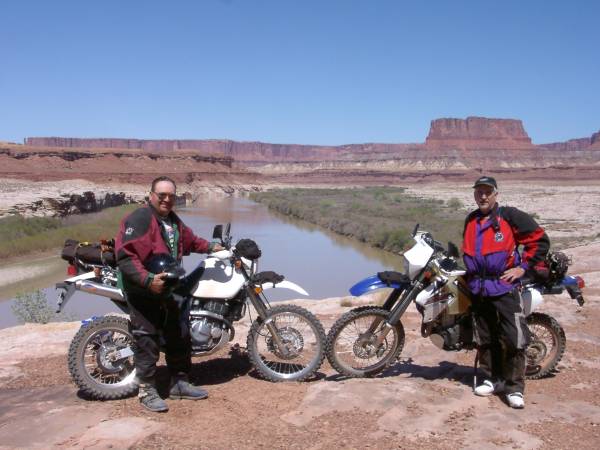 Follow the links below to the 10 full days of riding. Two days were spent day riding the White Rim trail and Lasal Mountain Pass trail around Moab to acquaint us with the terrain.
Day One ---------The Shafer and White Rim Trail near Moab.
Day Two ------Lasal Mountain Loop Trail.
Day Three ----We on our way to the Grand Canyon----Will we make it ?????
Day Four -----Blanding--West across the Colorado--Burr Trail--into Escalante
Day Five ---Escalante--Cannonville--Paradise Canyon--Death Ridge--Grosvenor Arch
Day Six --Down the Paria River Bed--On toward the North rim of the Grand Canyon
Day Seven----The "Ride From Hell"---4 hrs. to go 9 miles !!!!!!!
Day Eight --Cannonville--back to Escalante over some snowy mountain passes
Day Nine ---Lost Creek--Death Box Hollow--Hell's Backbone Bridge--Wolverine Trail
Day Ten ----Cool relaxing ride back to Moab--------"Not"