East TAT Extension
May and June 2015
This is a screen capture off my spotwalla page of the trip.
It gives a very good idea of the whole scope of the ride.
Basically I rode from my house--joined 9 other riders on the way to Jellico, Tennesee the start of the original Tennessee Trans America Trail.
My buddy Steve Fritchly (Loosenut) laid out the route and we rode all the way to the ocean and back to Tellico Plains, Tennessee
which is where the new Tennessee TAT starts----------then home of course---about 3,000 miles. I rode my 2013 Husqvarna 650TR Terra.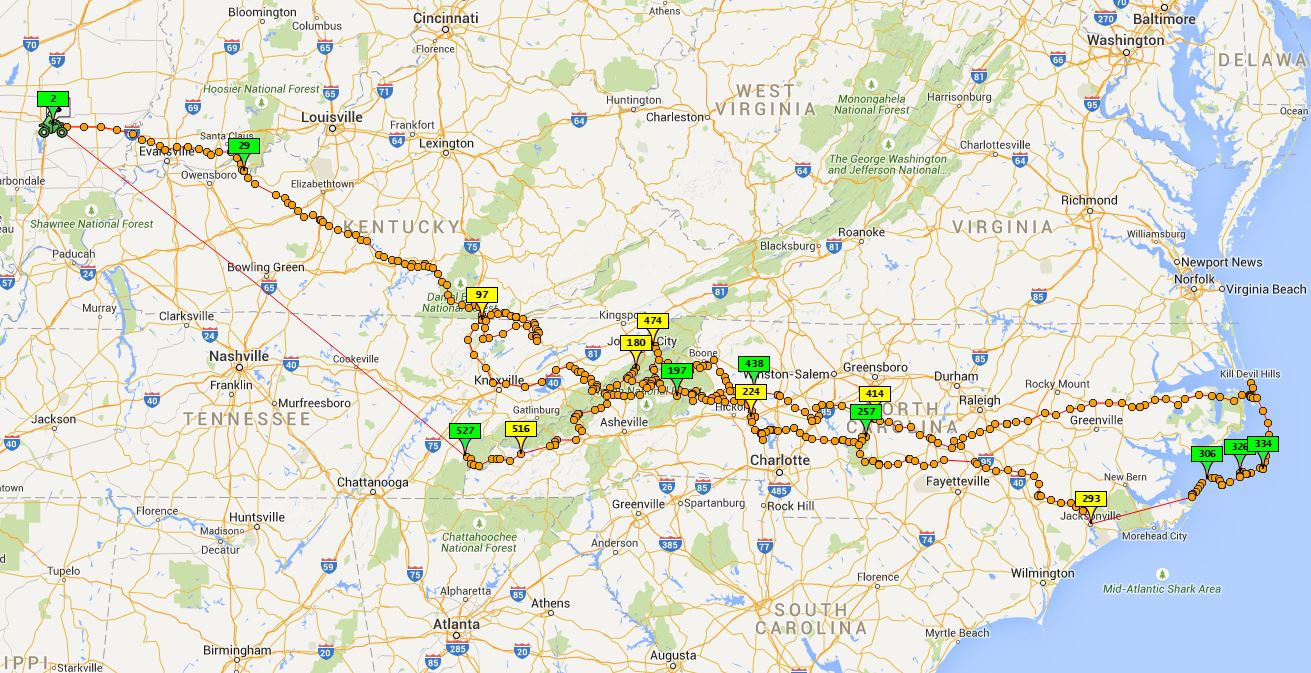 Pictures and the story are below---but here is a short video of the ride.
Be sure and select 720P HD if you have the speed.
On the way quite a few riders met me and Steve for breakfast at the Riverview restaurant near Hawesville, TN.
It sits high above the Ohio river with a beautiful view of the river.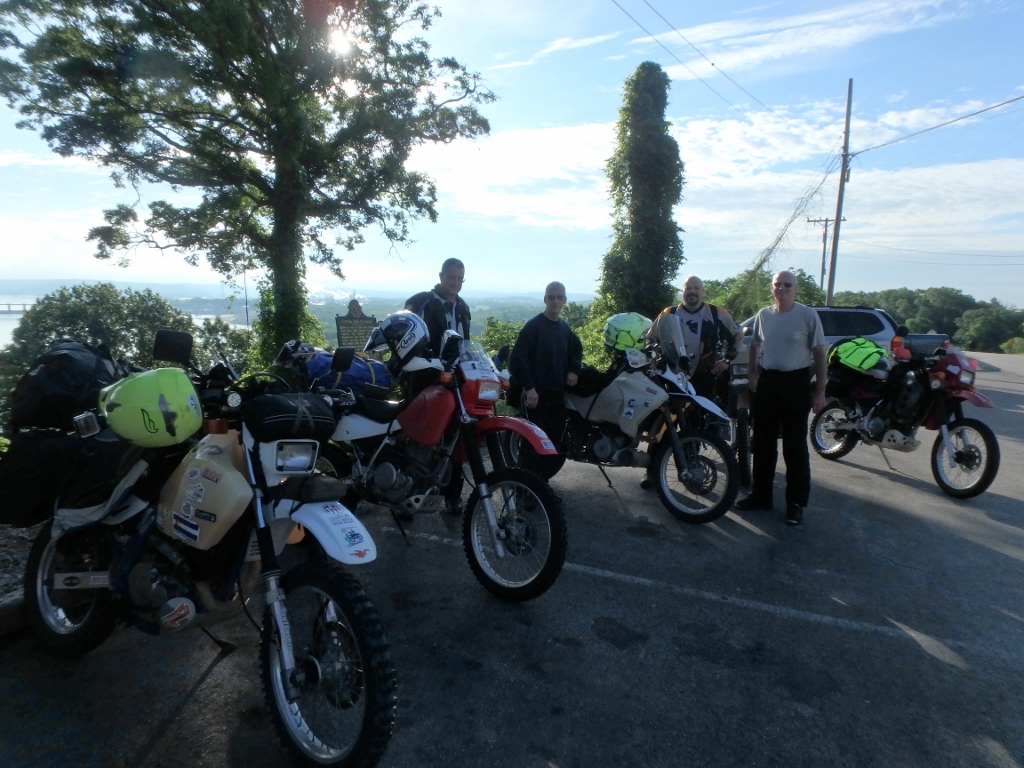 I would be riding my 2013 Husqvarna TR650 Terra (on right).
Steve (Loosenut) was riding his DR650 with close to 50,000 miles on it.
Both of us has gas tanks with about 9 gallons of fuel.
I insisted mine was bigger-----he insisted his was !!!!!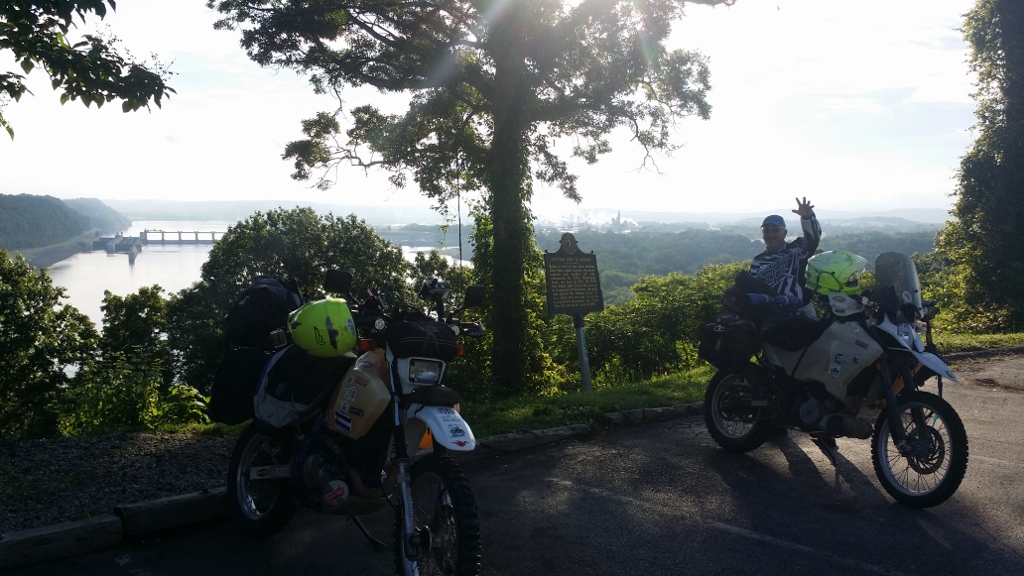 Steve Fritchly Left------Me right.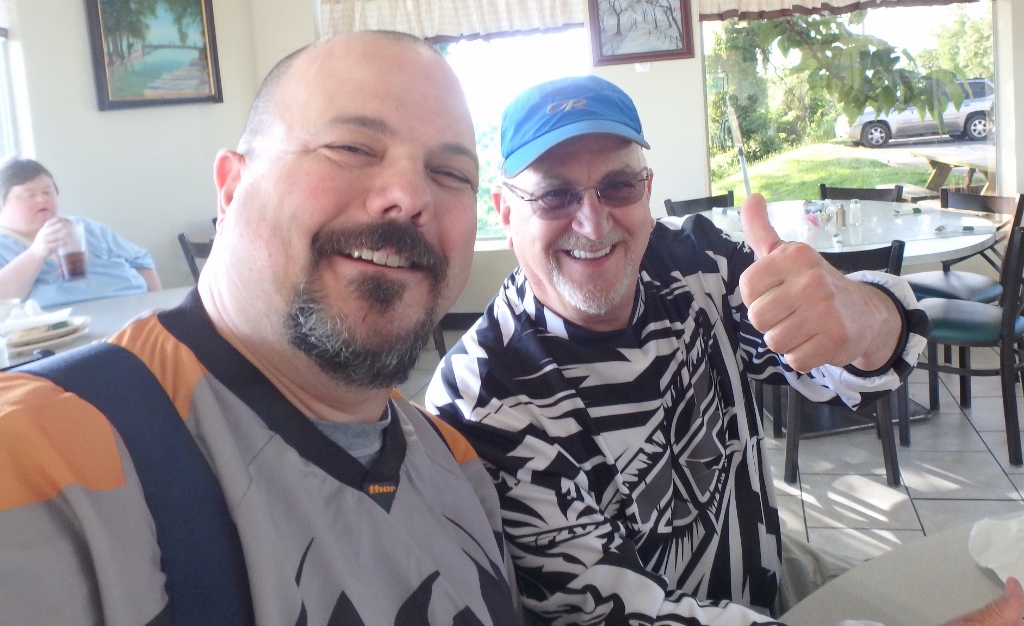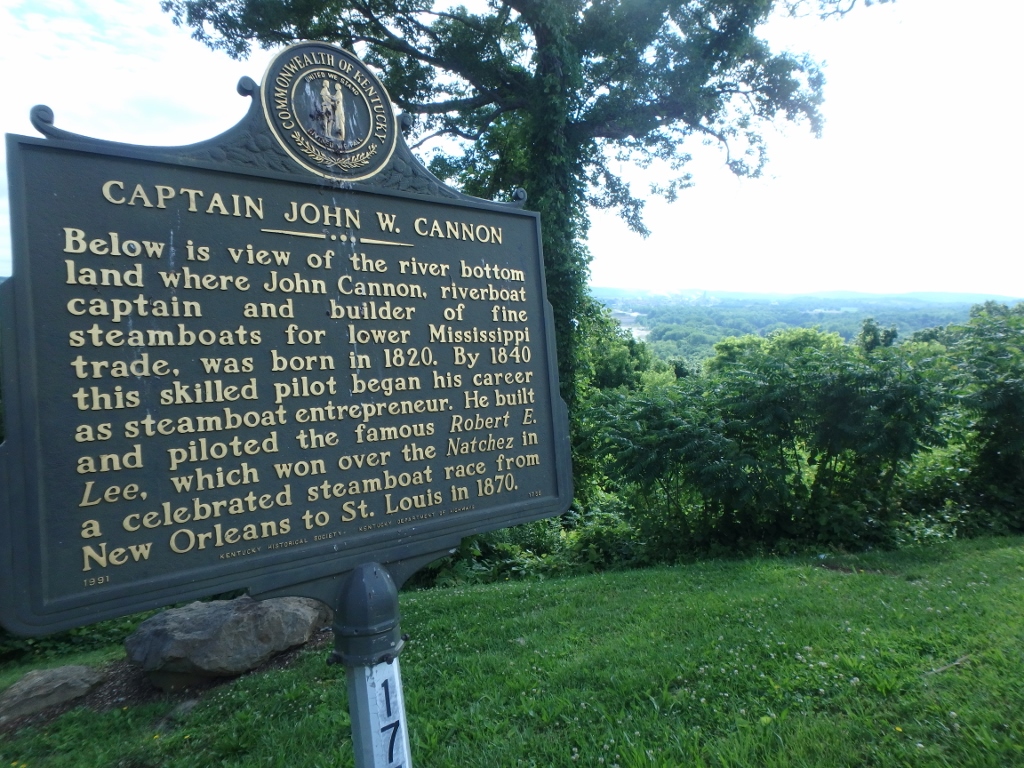 Soon we cross a little creek ------Jerry Mueller (Road Dad) in the picture----he rode his Yamaha WR250R with about 83,000 miles on it.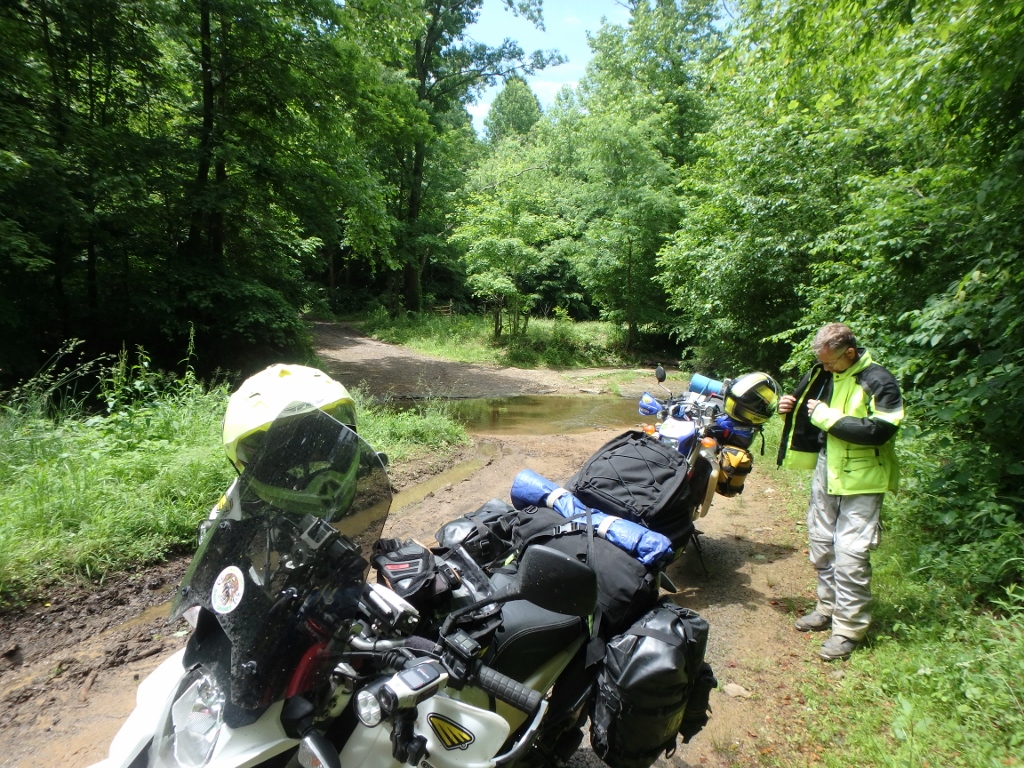 Maybe the only picture I have of all of us as the ride officially started at the Days Inn in Jellico, Tennessee----where the original
Trans America Trail first started years ago---that's all been changed now.
I have ridden both the new and old Tennessee routes----but we would be pioneering a new route on further East.
I can't remember names-----------can't remember my name sometimes. I asked Steve to send me a list of the riders and what they rode.
Here is what I got.

1 - Big Dog: - I think he rides some kind of chainsaw brand high dollar exotic import - you may have heard of him............sorta a
trouble maker, sometimes hangs out with crazy Loose Nut guy - stay clear - noxious vapor trail

2 - Loose Nut: old dependable DR650 another trouble maker - sends routes and tracks that include
areas and trails that no longer exist - maybe never existed

3 - Bill Goedde - ADV: billgo77 - bike #1: Yamaha WR250R
(even though he has WR250F stickers on it - he aint foolin me) - bike #2 Kawasaki Versys

4 - Raaf Stevens - ADV: hackerman - somethimes known as Mr. ZZZZZZtop from his tendancy to grab a
roadside nap and his rockstar beard - BMW R100GS PD

5 - Bill Morgan - ADV: crashalot - KTM 950 Adventure - sometimes known as "High Maintenance" however this trip he
didnt' work on his bike every night or visit every car wash along the way

6 - Rob Rideout - ADV: Rob Rideout - Honda XR650L
XR650L - motocross enduro hare scramble superstar, I can't even begin to keep up with him......

7 - John Knepper - ADV: saddlesor - Suzuki DR350
says he's slow but always turns up way out in front of everyone - if you can break it, he can fix it

8 - Zack Bristow - ADV: zachbristow - Suzuki DRZ400
- always ready to ride his motorsickle........there wasn't a mountain steep enough, a trail long enough or
a road curvy enough.......but, I won't say anything about the deep sand
Famous quote from him: "are we going to ride our motorcycles or what" ??????

9 - Jerry Muller - ADV: Road Dad - Yamaha WR250R
- 'm still laughing that he had me believing that he was the patent holder of the white top red bottle squeeze type
ketchup dispenser........on Road Dad's card----TIT, TAT, TWAT---I RIDE ALOT!!!!!

10 - Kevin Jones - does not have an ADV account, barely has a GPS, must be part indian tracker cause you cant lose him out on the trail
- Kawasaki KLR650 (probably the bike we all should have ridden)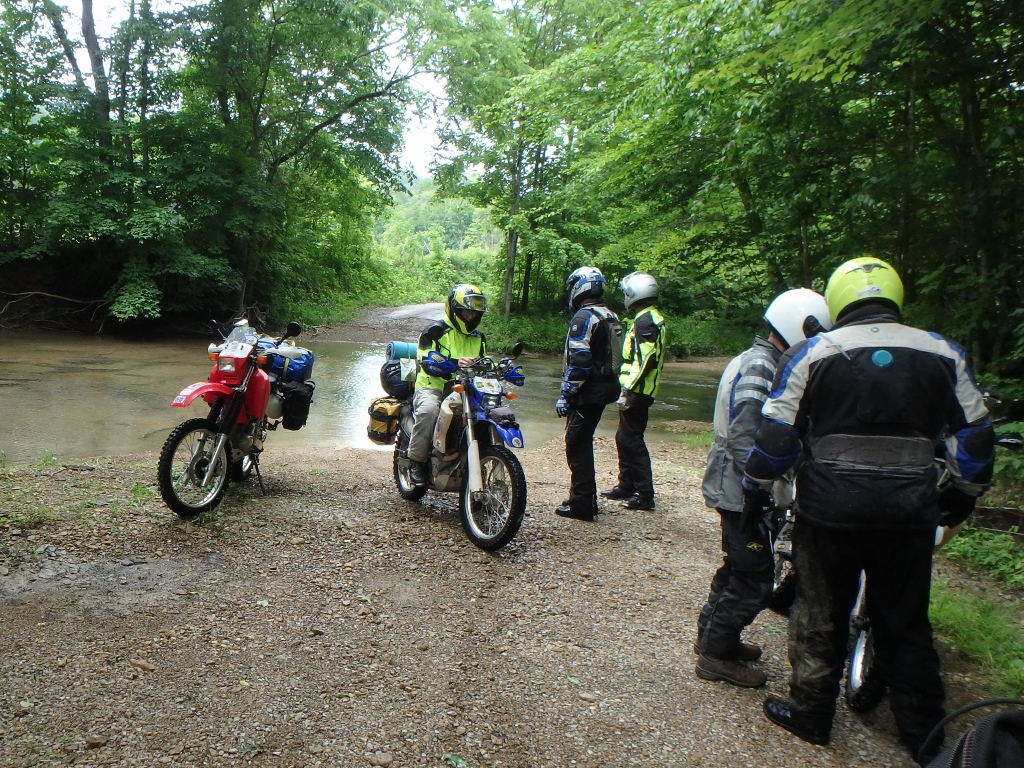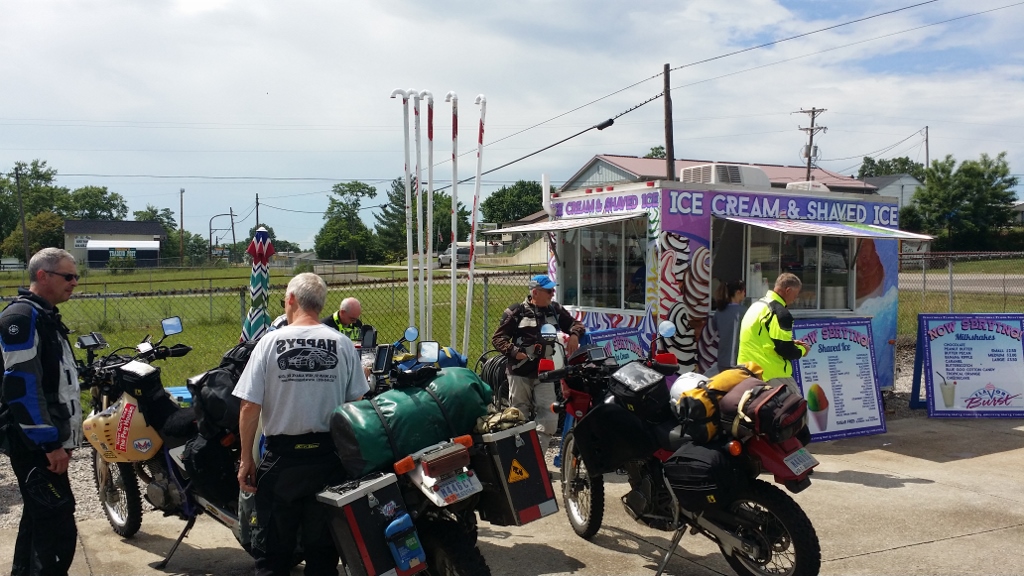 You scream--I scream---we all scream for ice cream.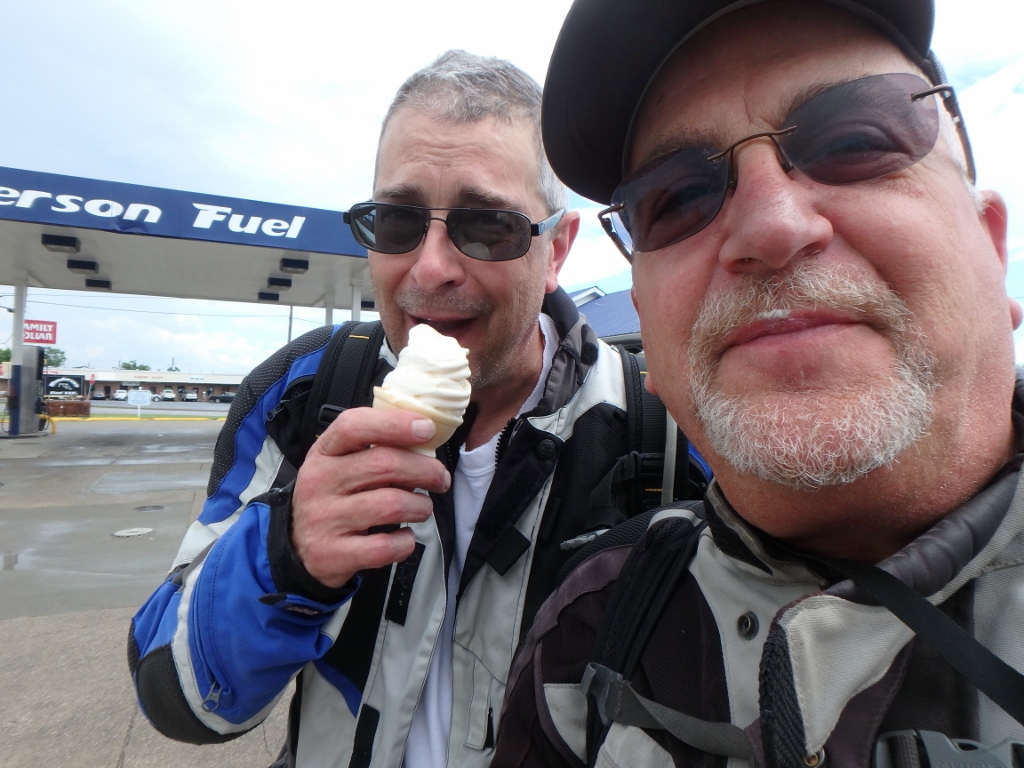 Poor ole Steve's ice cream just fell off the cone and onto the ground before he could even get a lick in.
He didn't waste it.
We all made it to Jellico, TN and before going to the Motel some of us visited this historical site of a famous and horrible train wreck.
It was the troop train wreck of July 6, 1944, the nation's second worse train disaster during World War II.
Over 1,000 troups were on board when the train derailed and plunged 50 ft. into the river it killed many men.
A drunken engineer was blamed for the incident.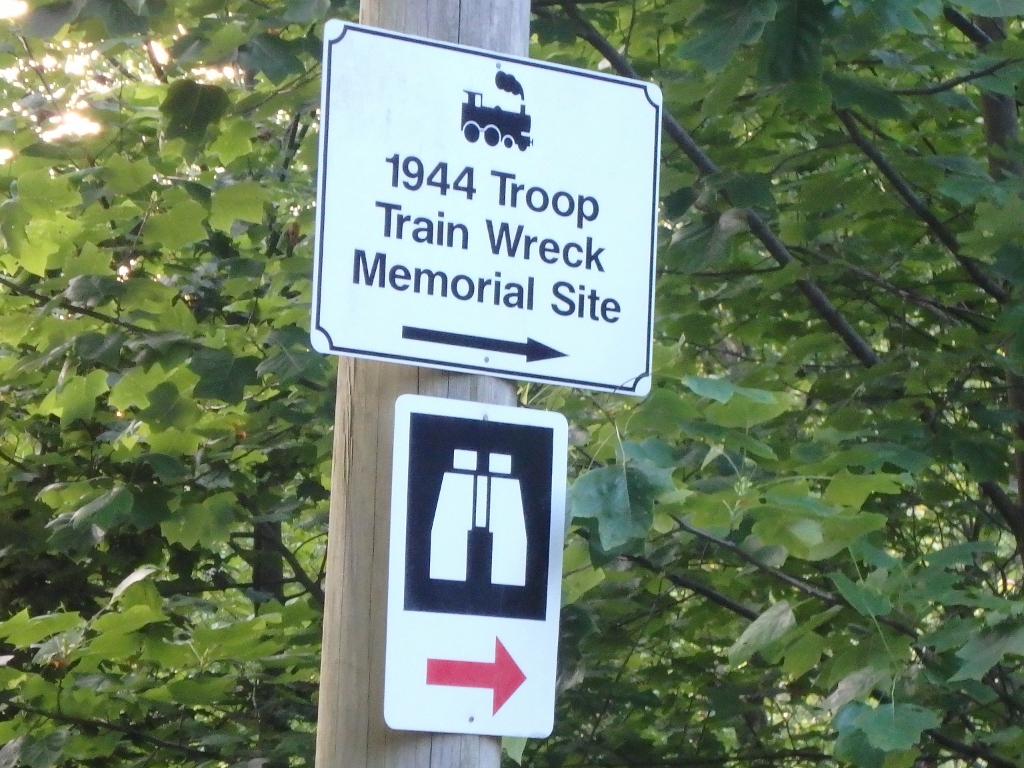 I was sporting a 9.1 gallon gas tank on my Husky---and offered gas to any riders needing it.
At $16.99 per gallon I didn't have many takers.
Is gas heavy---yes--------------not near as heavy as pushing your bike.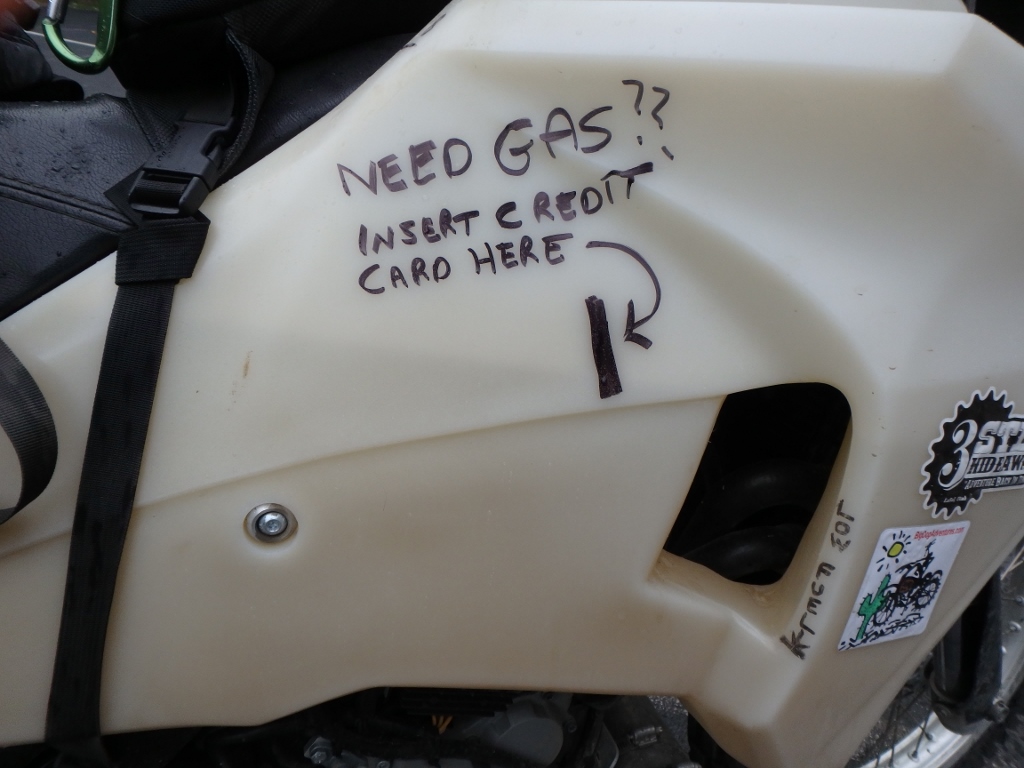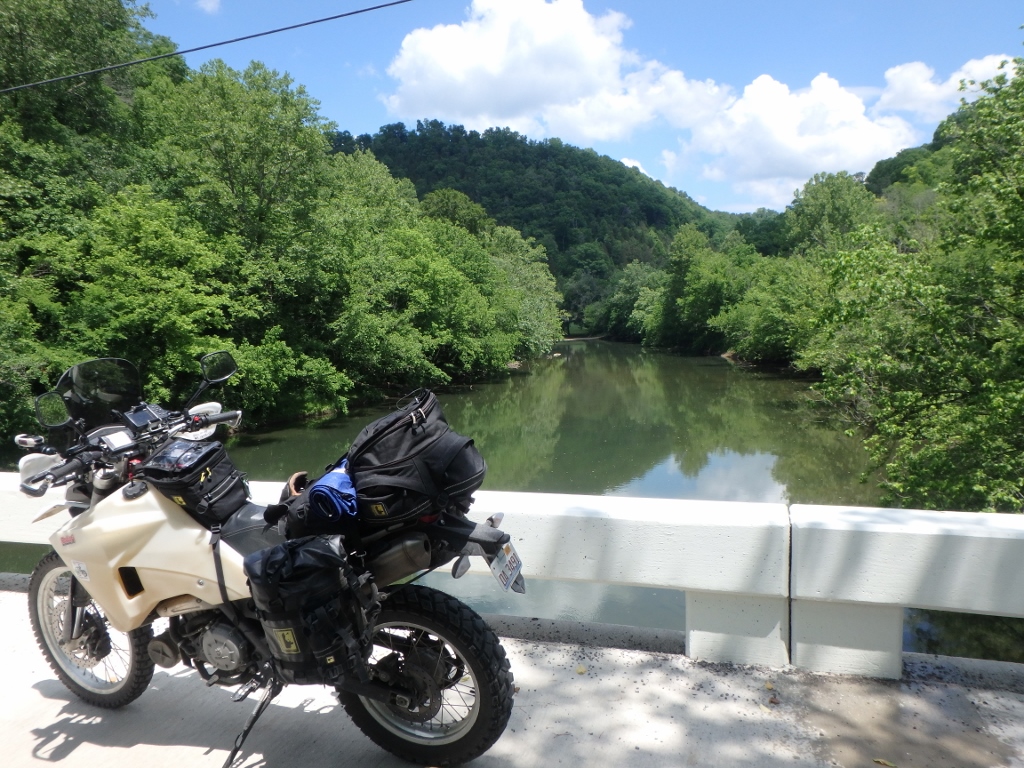 Very early on----a nasty loose rock trail was beside the road---it was where our route went.
I admit I was the first to bow out of this trail--------it was very rough and this 950 rider got down on the hill right off the bat.
Most riders went up the hill-----------but most of them came back--------it was bad.
A couple riders made it thru with many navigation challenges thru the nasty terrain.
The rest of us "ordinary" riders waited for 2 hours in the next town for them to get through this.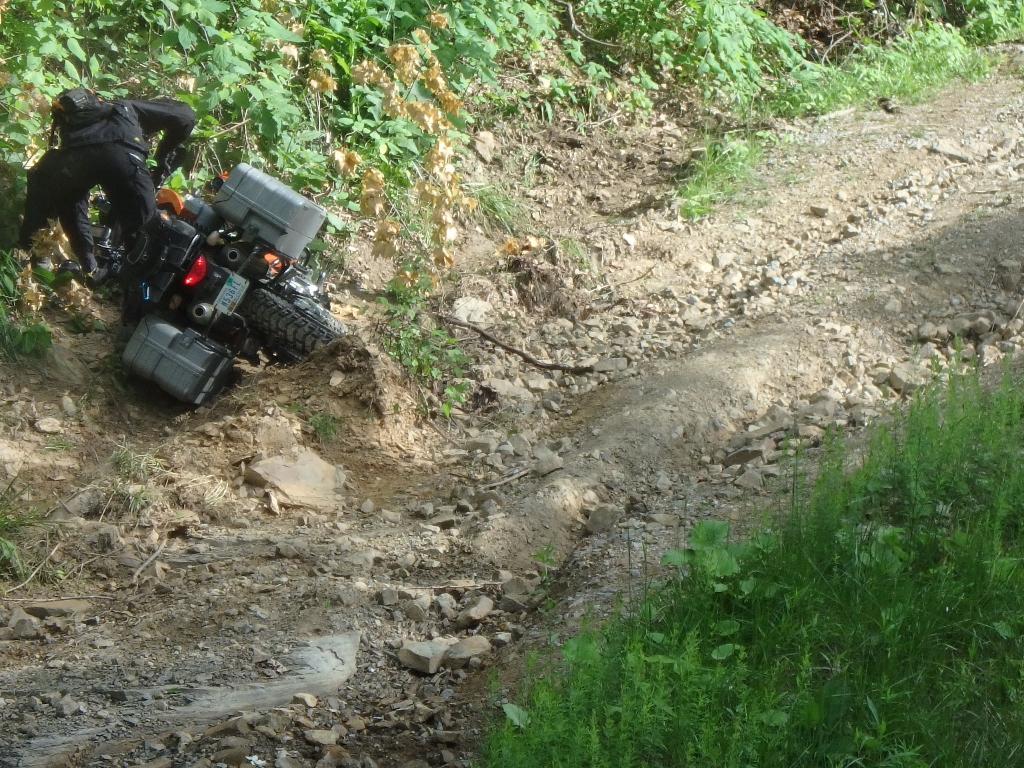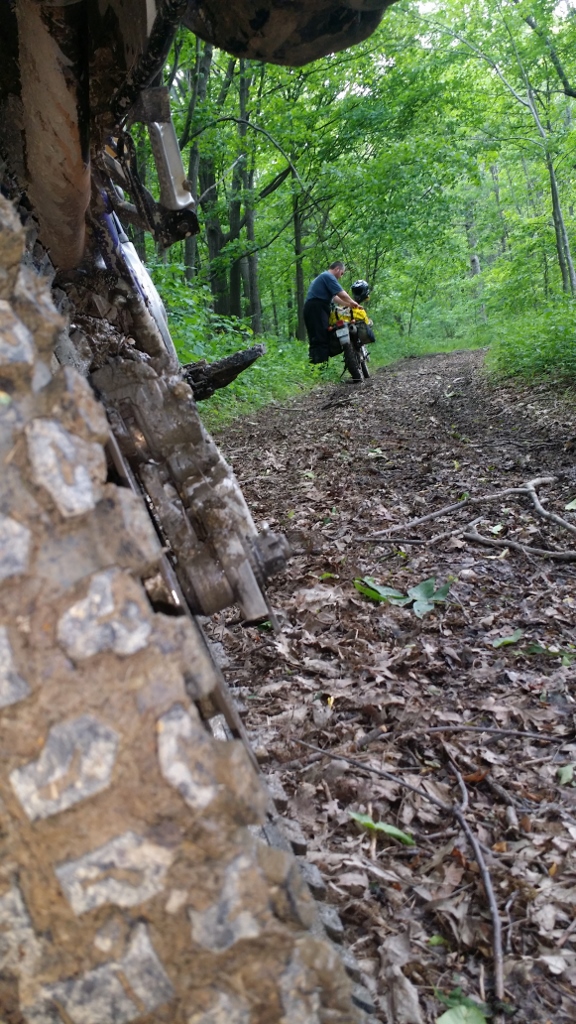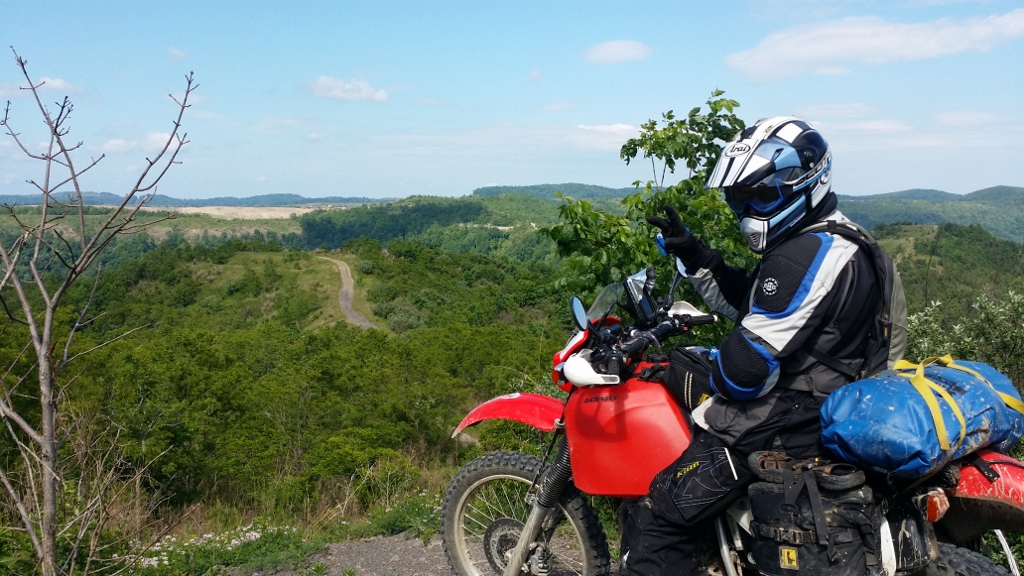 Unfortunately Bill Goedde on his WR250R had poked a hole in his engine on that trail and he was losing oil fast--but didn't know it.
It blew up about 30 miles later------we found the piston was no longer connected to the crankshaft---a broken rod at the very least.
JB weld and more oil didn't fix it.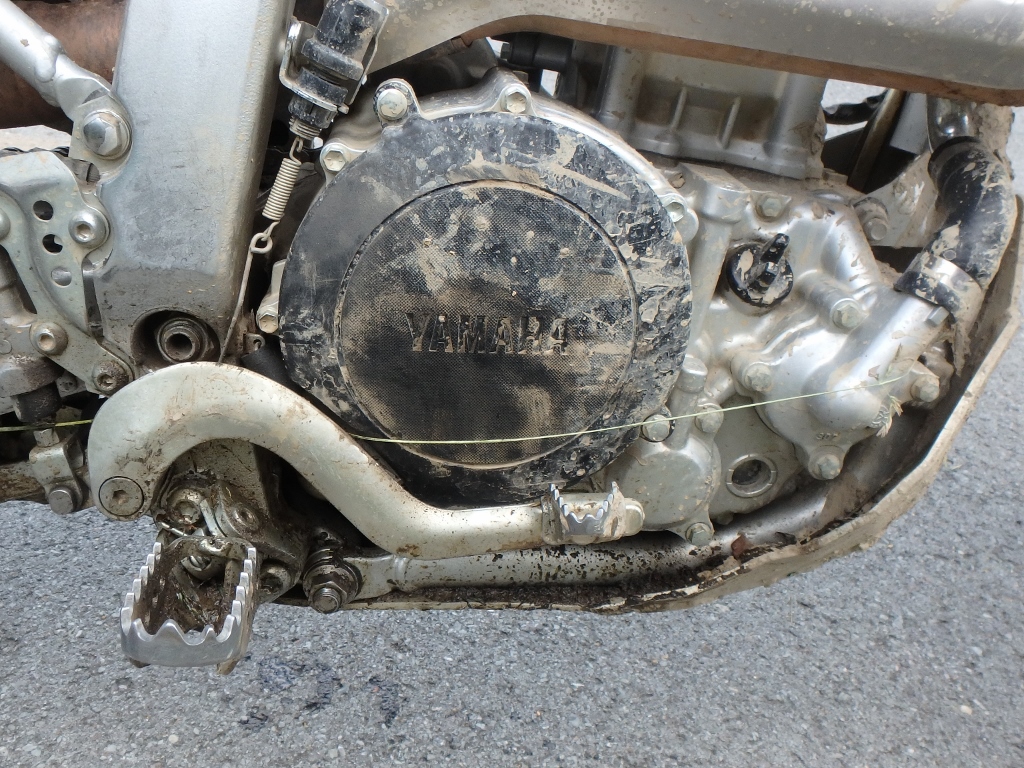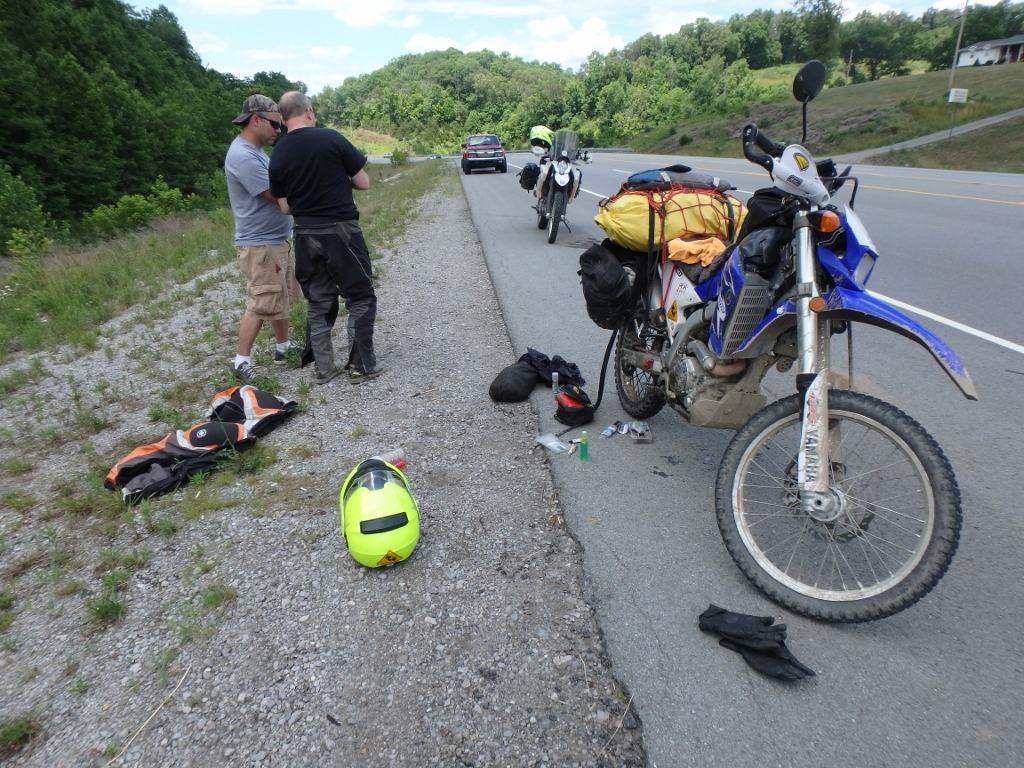 I had the bike best suited for 2-up travel------------no matter---all the other riders were long gone and I hauled Bill back to his truck.
He picked up the broken WR and went home-------got on his Kawasaki Versys and would join us 3 days later---one tough dude.
I had to do some hard riding to catch up with the riders and rode way into the nite on some hairy mountain switchbacks alone.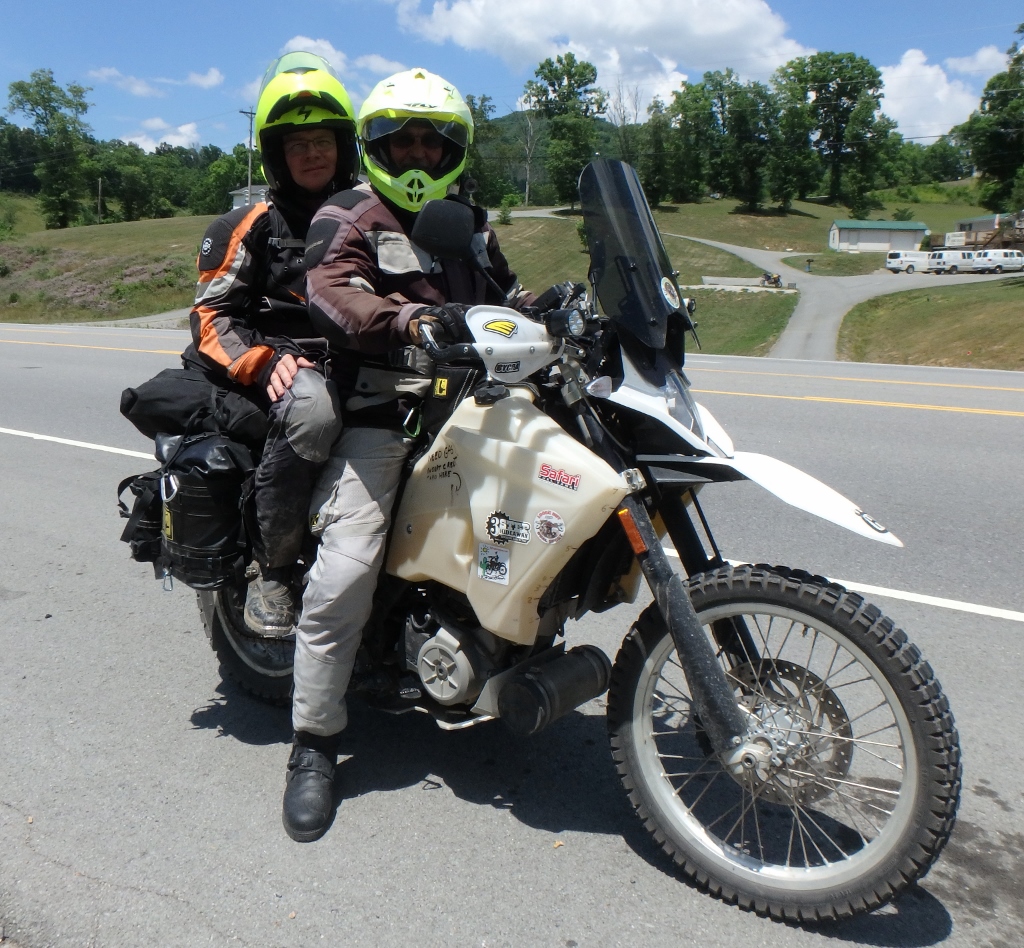 On the way I passed this cool little covered bridge.
I had been at this bridge many years ago and it was falling down and I didn't expect it to even be there.
Thankfully they restored it. Some nice lady's there took my picture.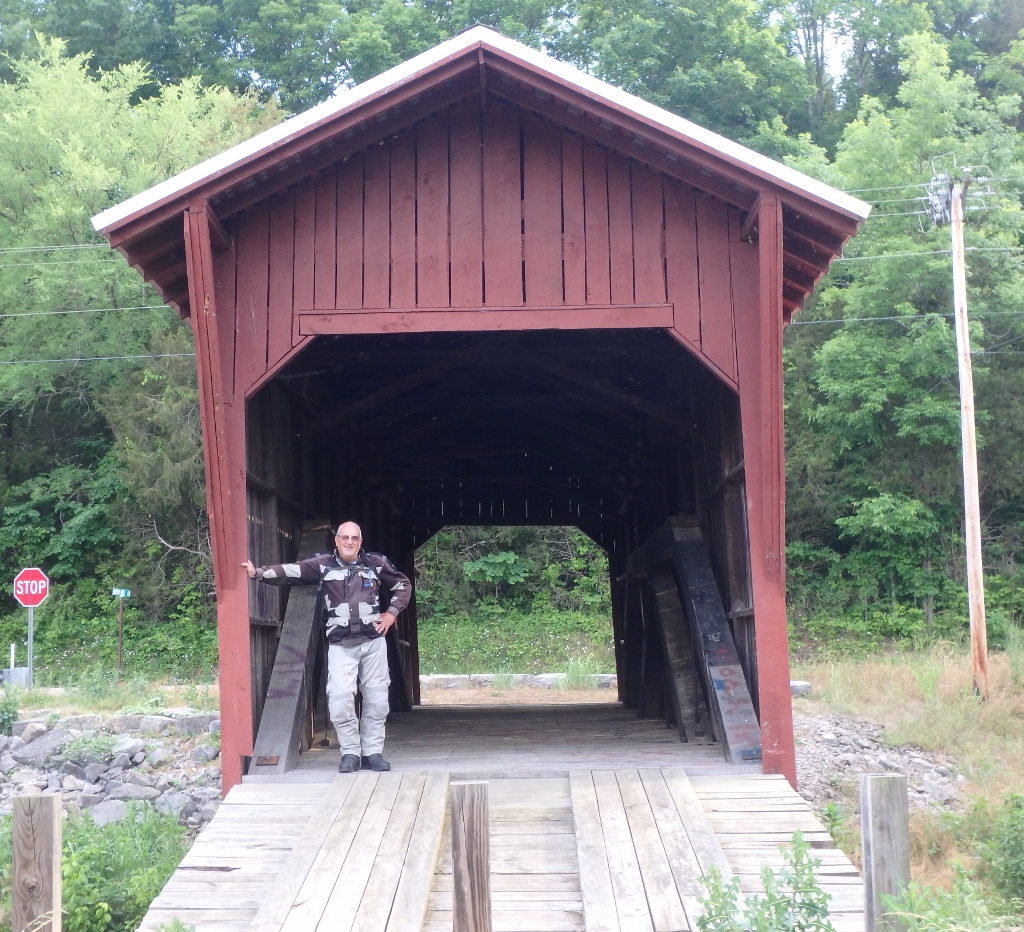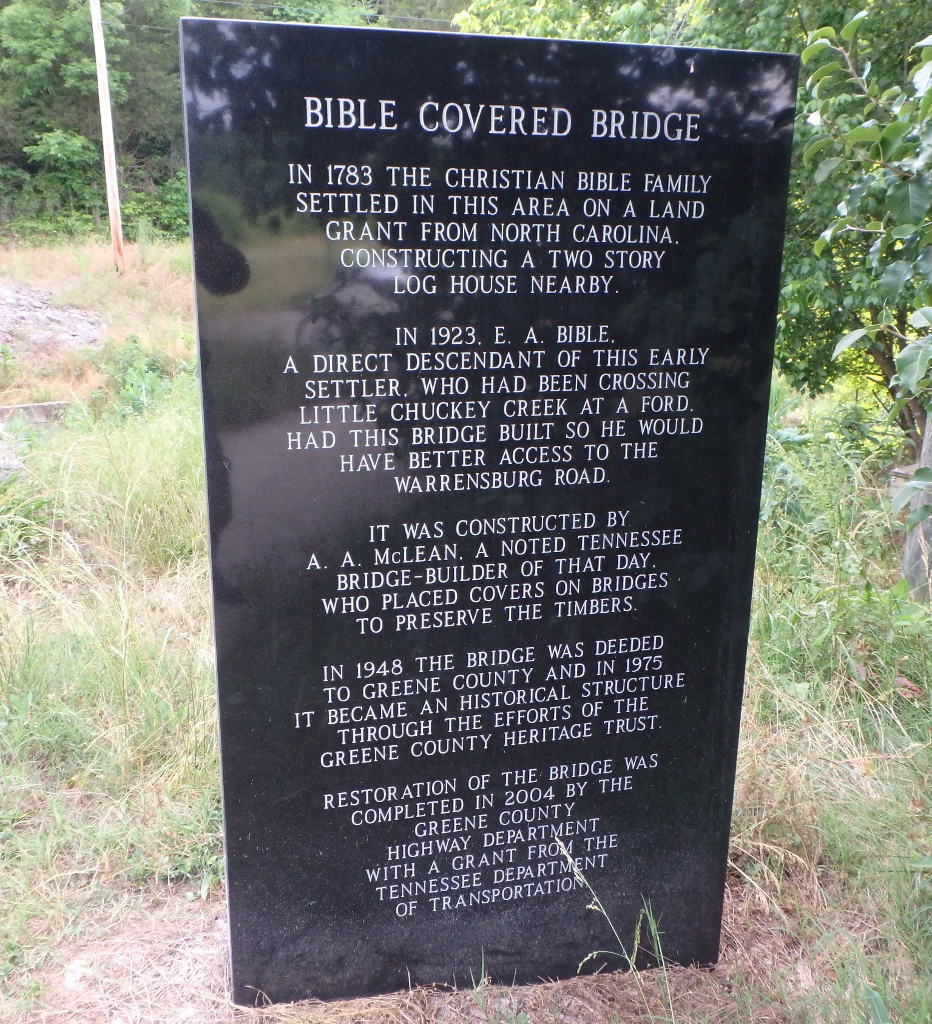 I had to ride quite a few interstate miles to try and catch up with the group----but got sick of that and bailed onto our
designated route.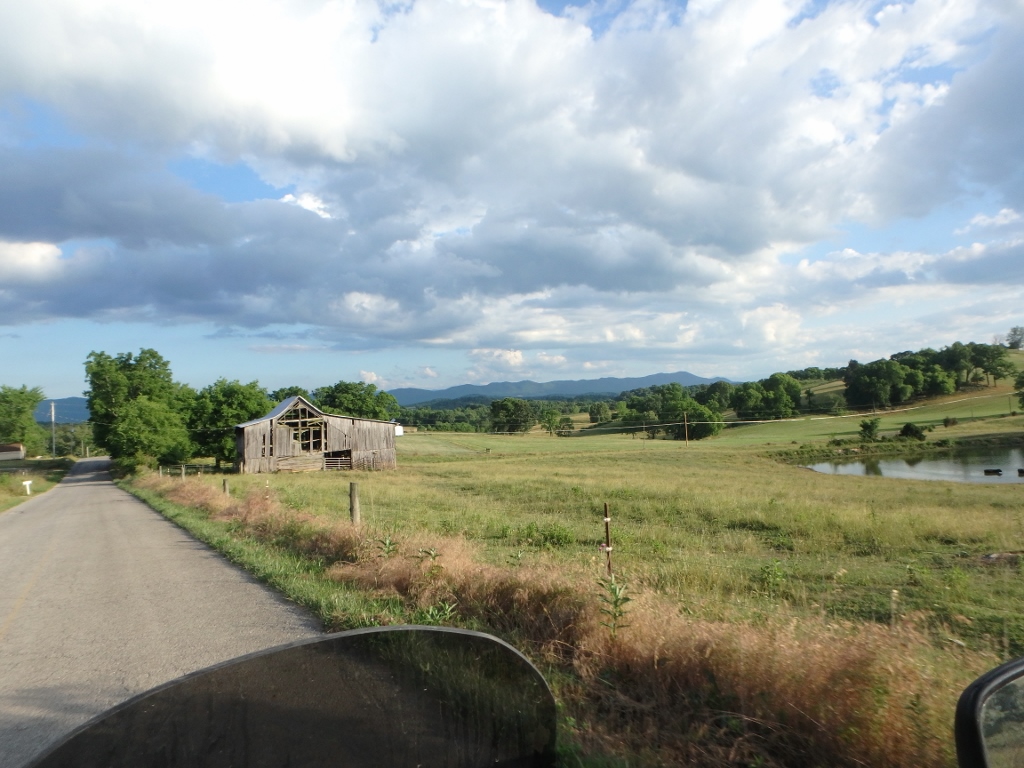 Just some stuff and scenery I saw--that's what it's all about for me.
I could care less about a destination. Every inch was my destination.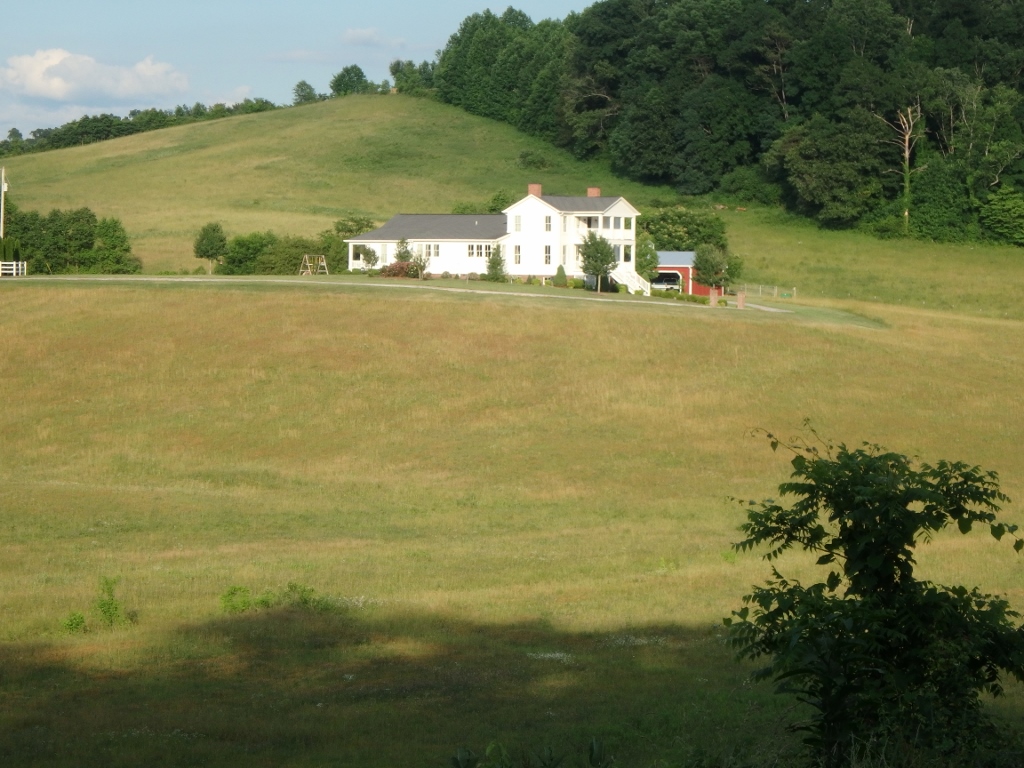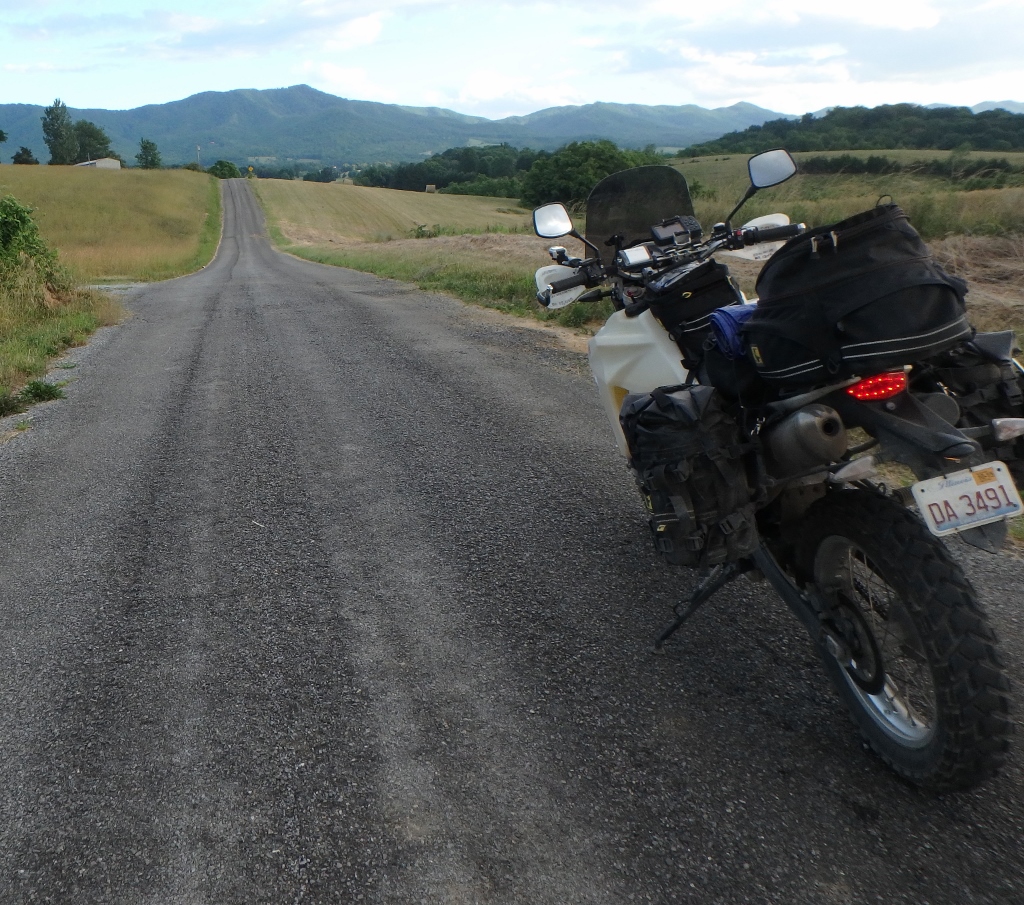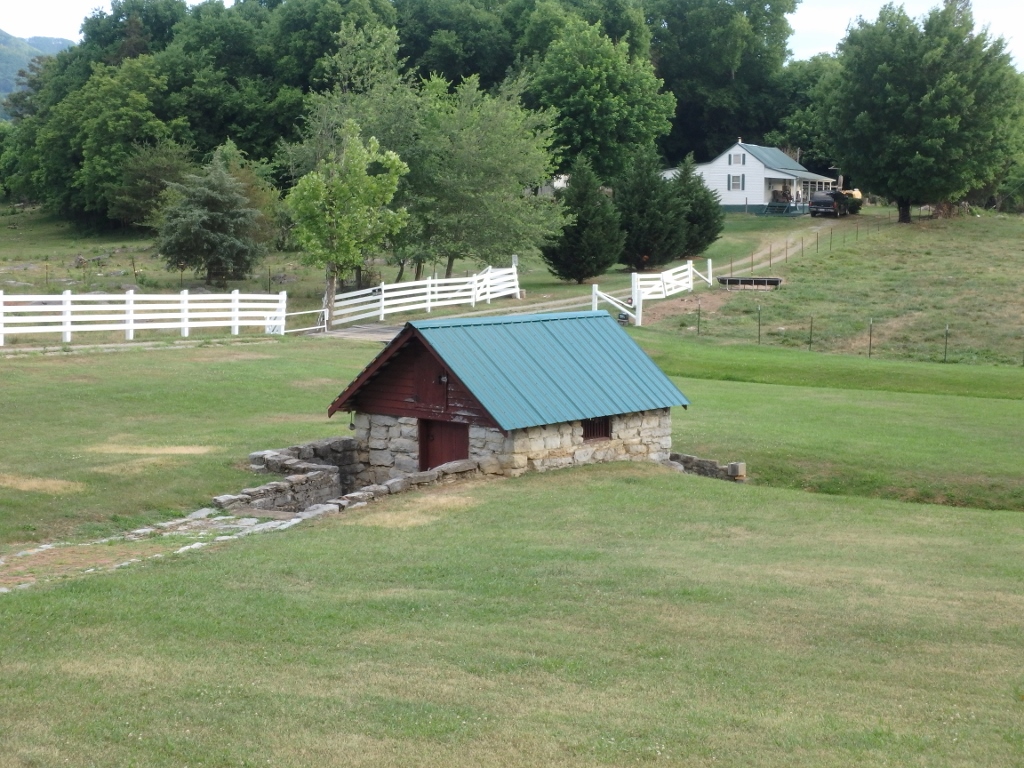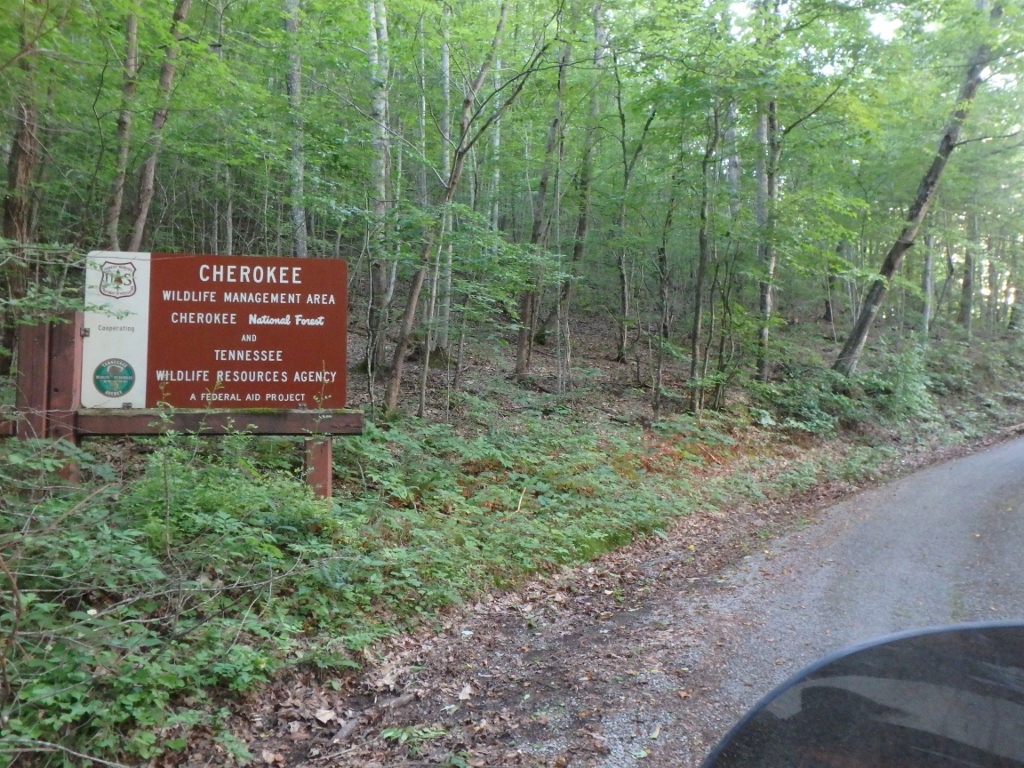 All of this good mountain riding was only about 30 miles Northeast of the Smokey Mountain National Park.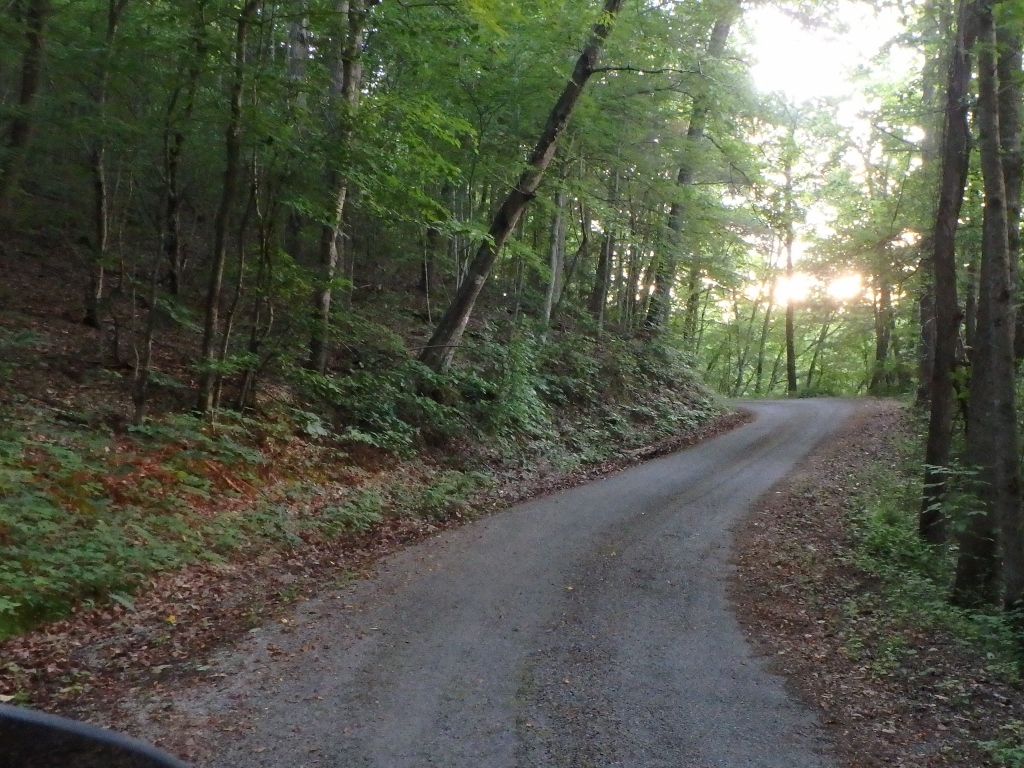 After this----I rode late into the night in the dark before meeting up with every one in Erwin, Tennessee at a Motel.
The motel we were suppose to meet at wasn't there. We had a waypoint for it---------but it was in the middle of nowhere--there was
absolutely nothing there---never did figure that out.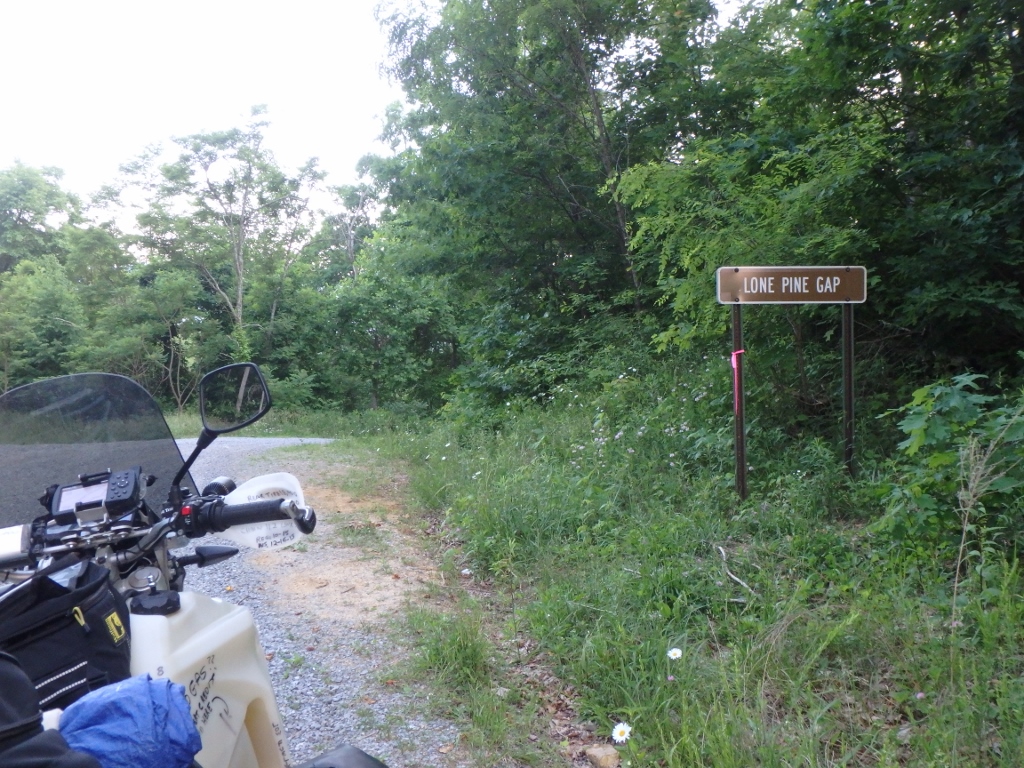 Starting our 3rd day of routing I remember Steve declaring----"Let the re-routing begin" !!!
A recurring theme during the ride------or any ride like this for that matter.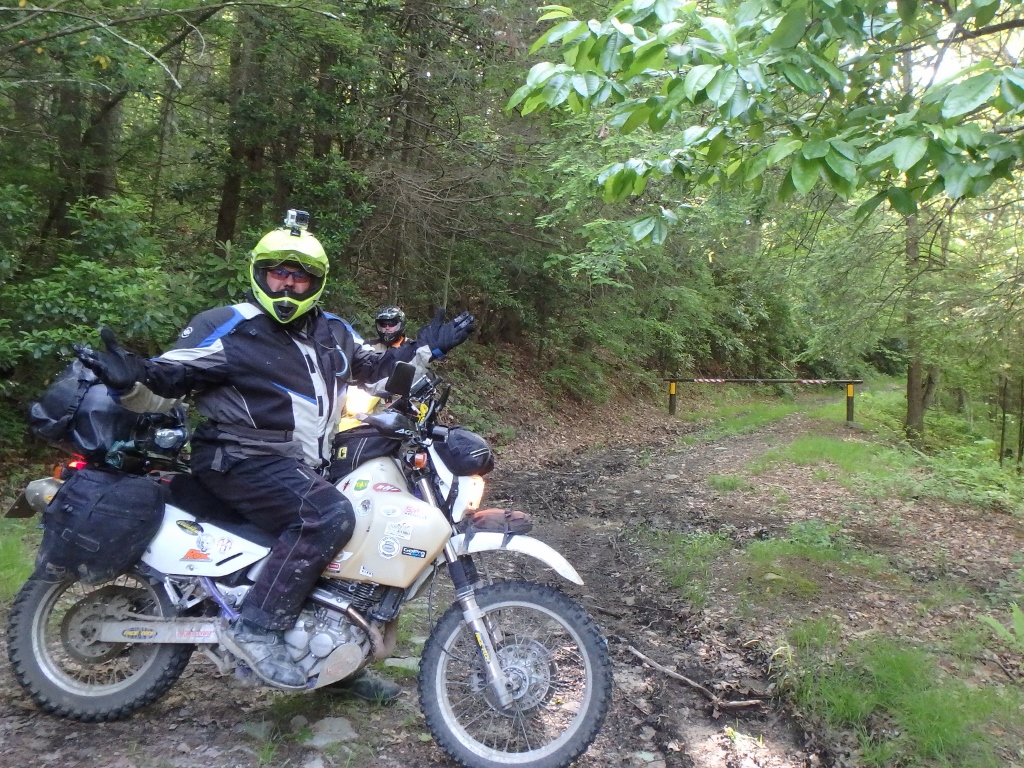 Steve had picked up some of my bad habits---as he was also armed with a super sharpie !!!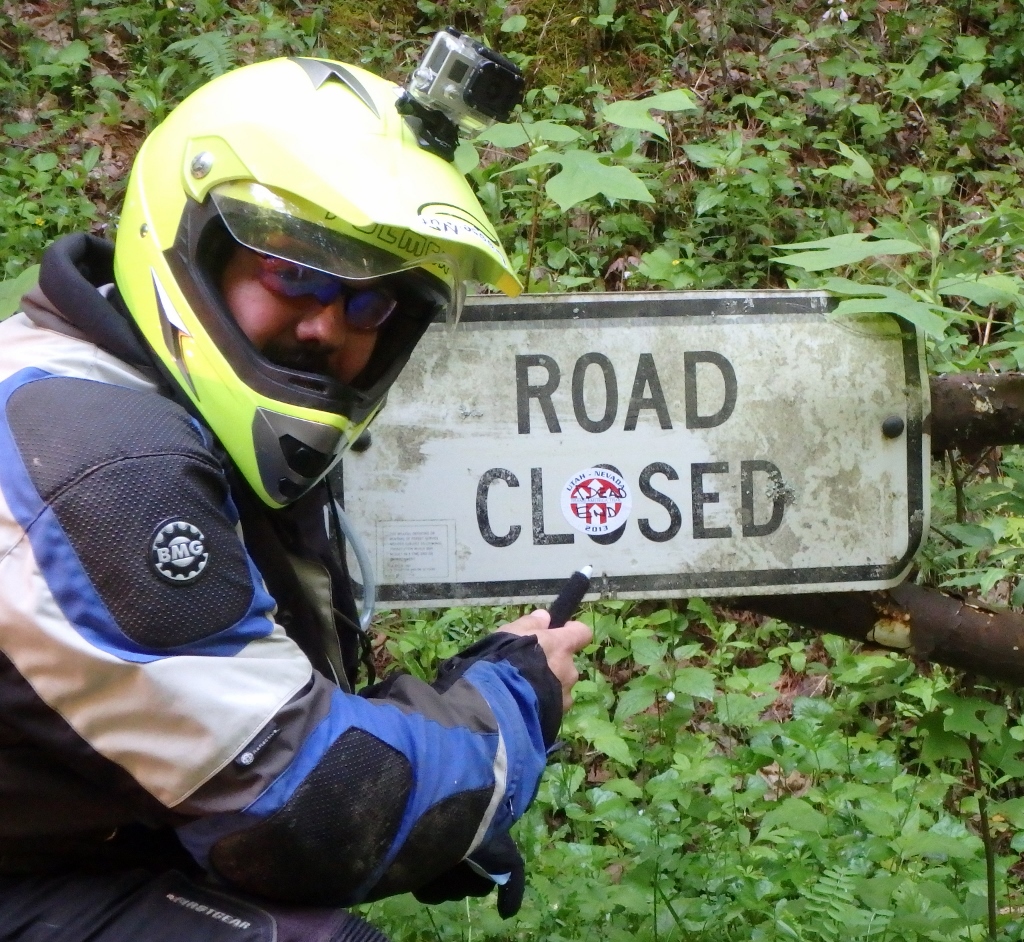 We so wanted to get thru here---but the ditch was way too deep.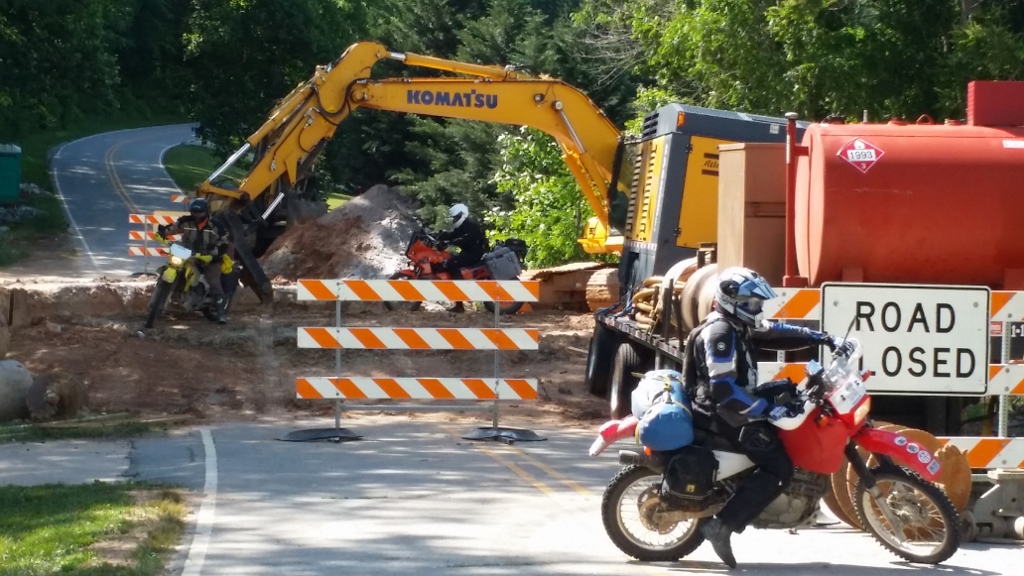 The scenery and things we saw today were just spectacular.
This was the only way to get to that little house on the other side of the river.
The bridge had new flooring and I'm sure was still being used.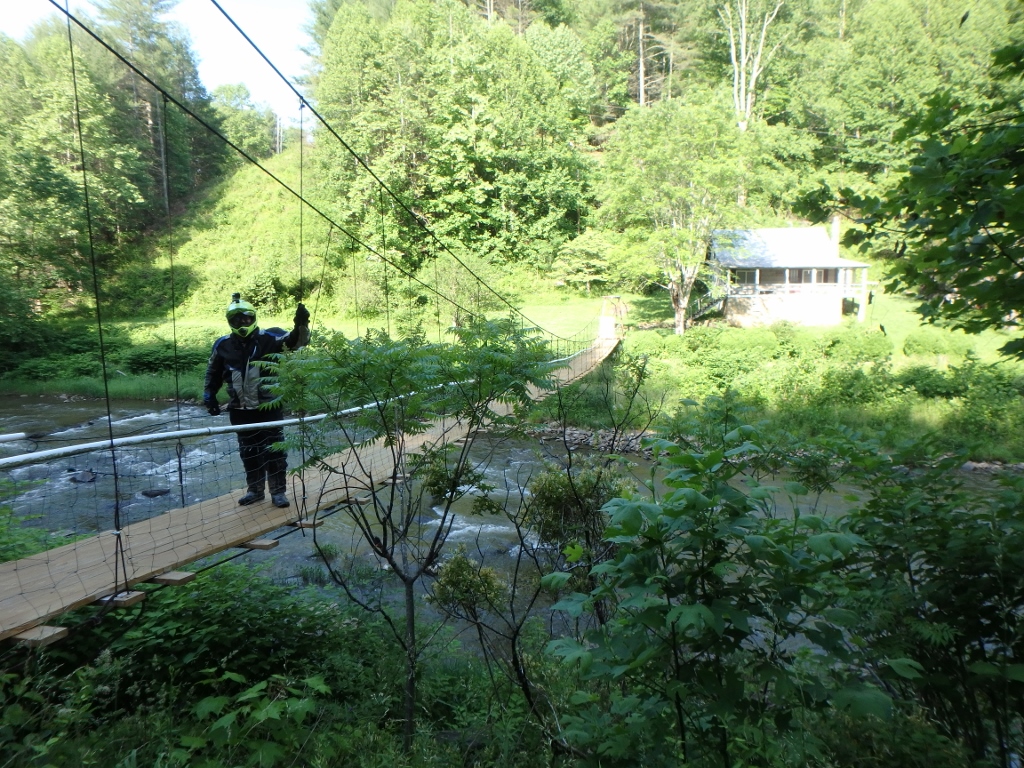 This bridge was just a bit down the road---and the house on the other side hadn't been used in years.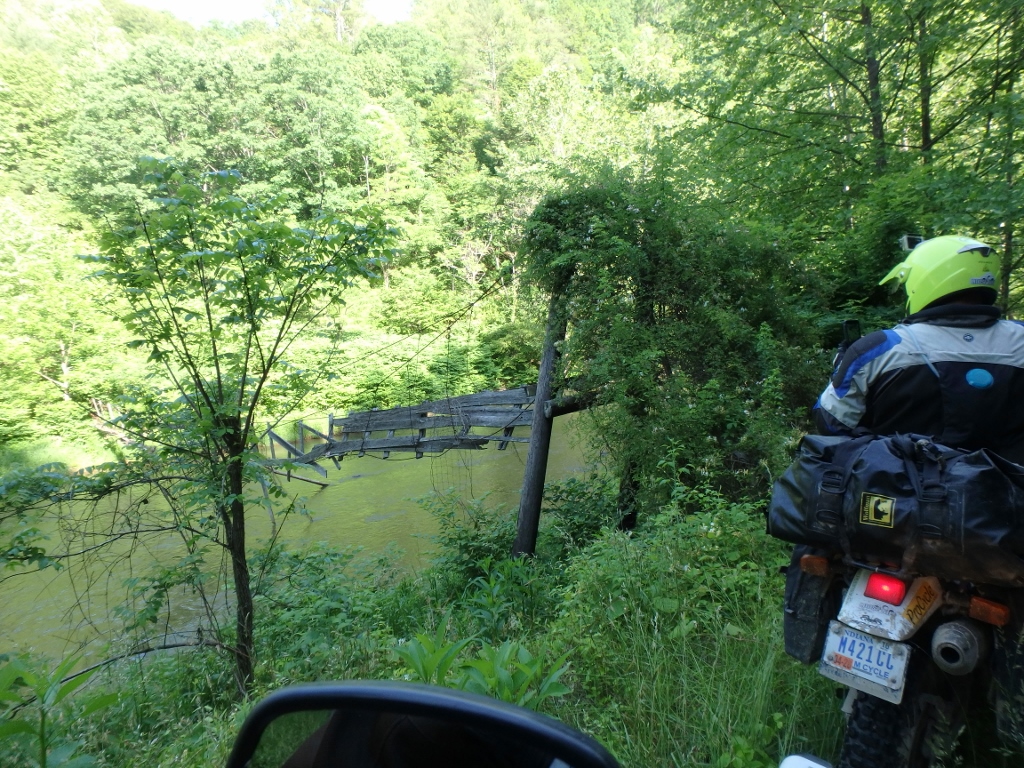 More Fun.
The weather was just right---we did ride a full day in the rain later on.
None of us had a clue about this old sawmill---but there it was and it needed "looked" at.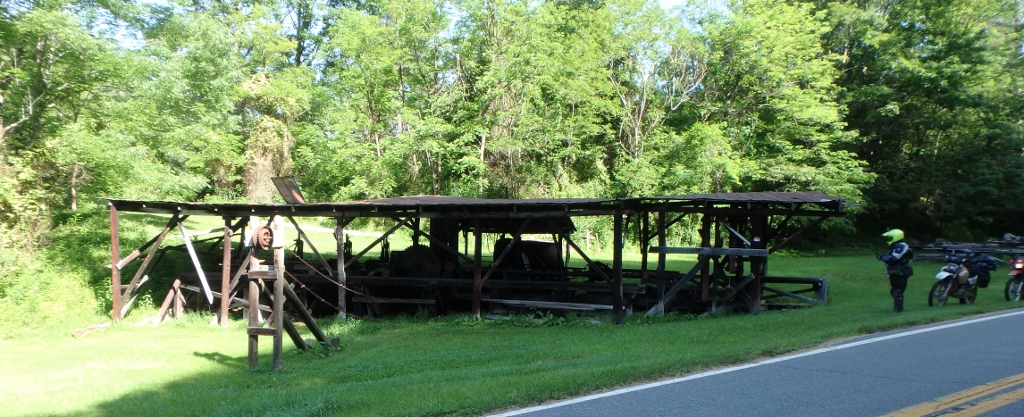 Everything was still there.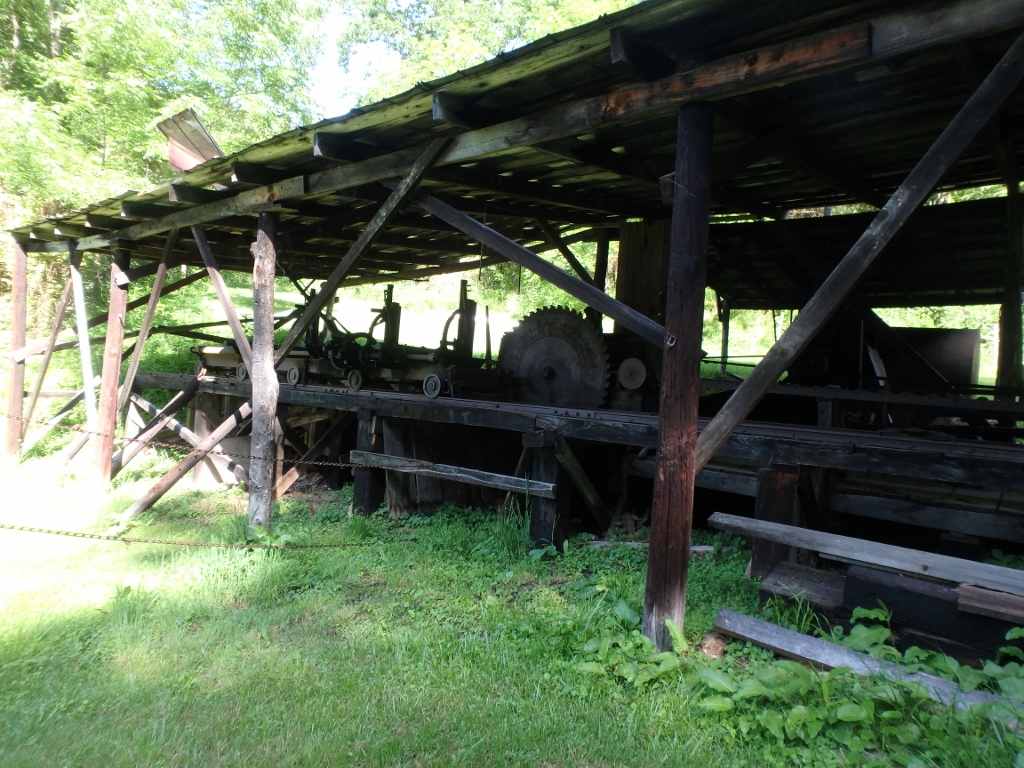 This saw was pivoting on a long arm---and you just pulled it to you to cut a board---it still moved.
No need for any kind of a guard.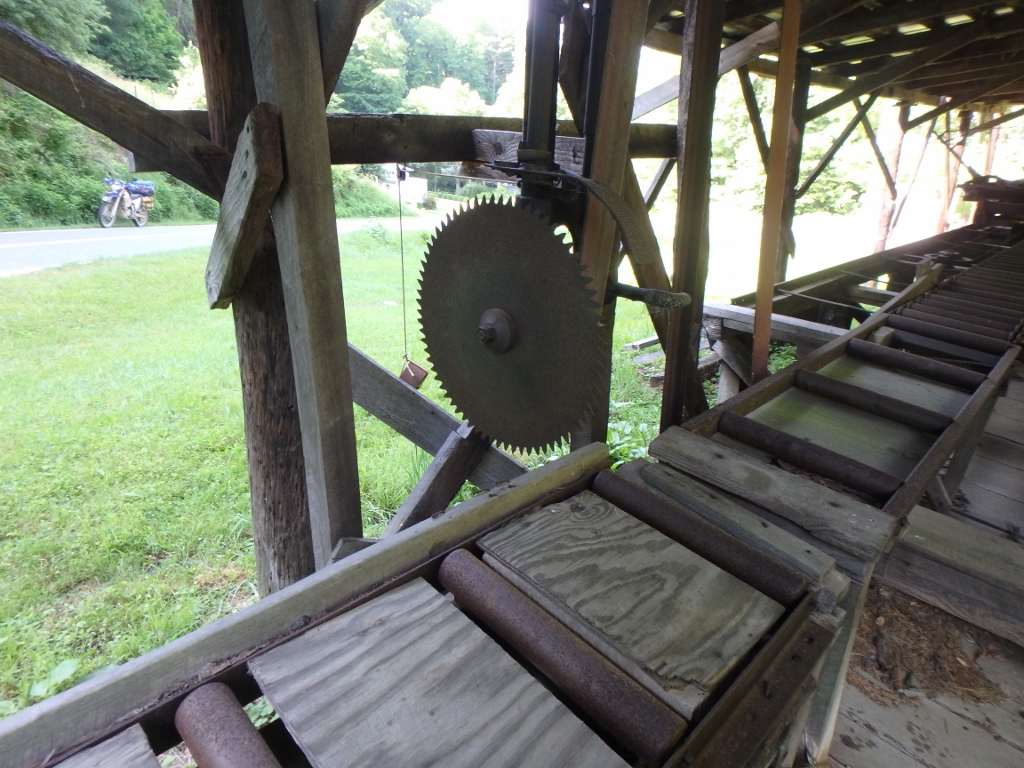 This motor was amazing-----a 3 cylinder 2-stroke--------yes I said 2-stroke diesel engine made by General Motors.
A few over the road truck motors had 2-stroke diesel motors in them years ago---not to many people know that.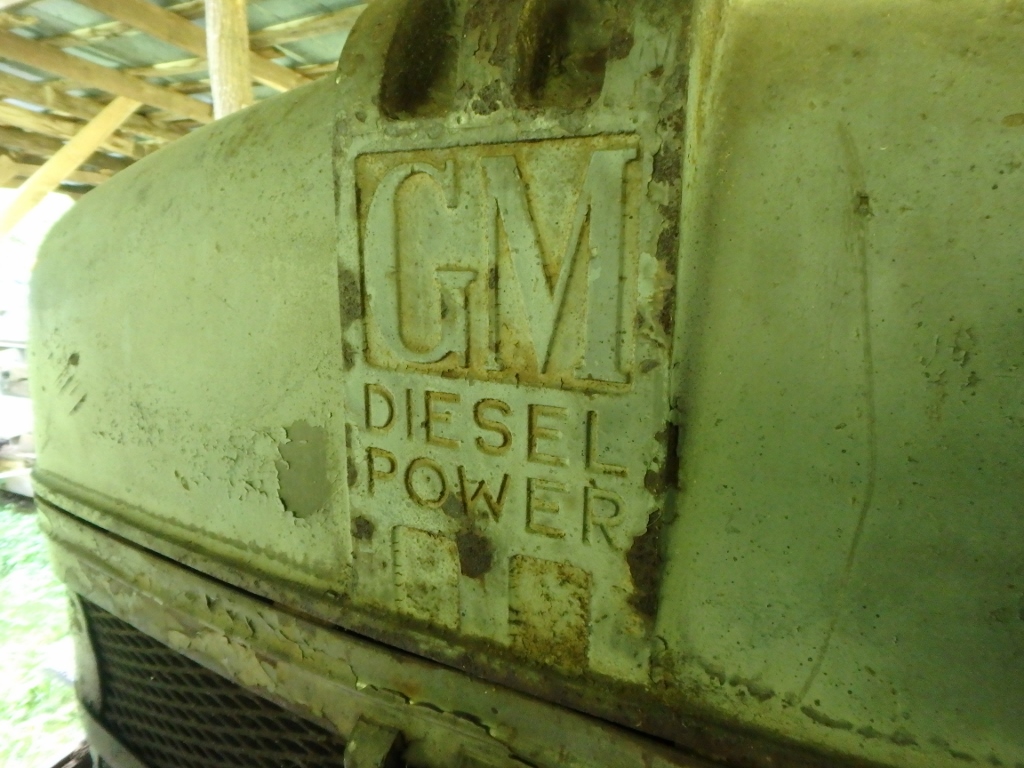 Here is Zack on is Suzuki DR400S----a preacher near here tried to corral us in for Sunday services..
He was a hoot.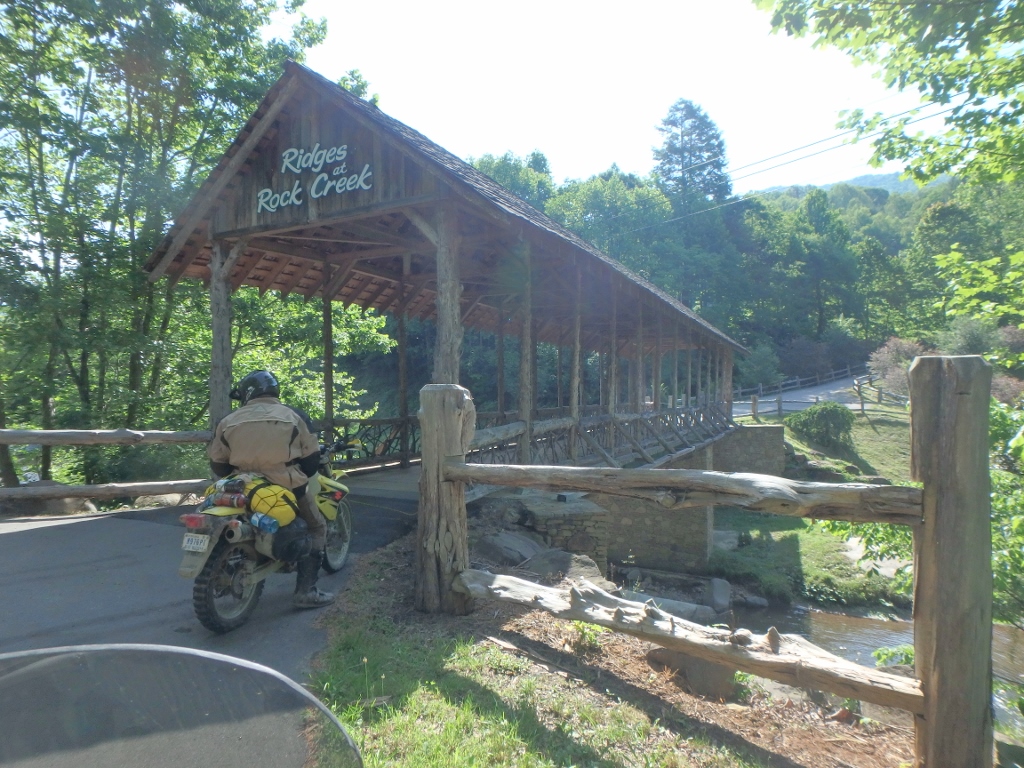 Me and my buddy Jerry Mueller (Road Dad).
We've ridden a lot together.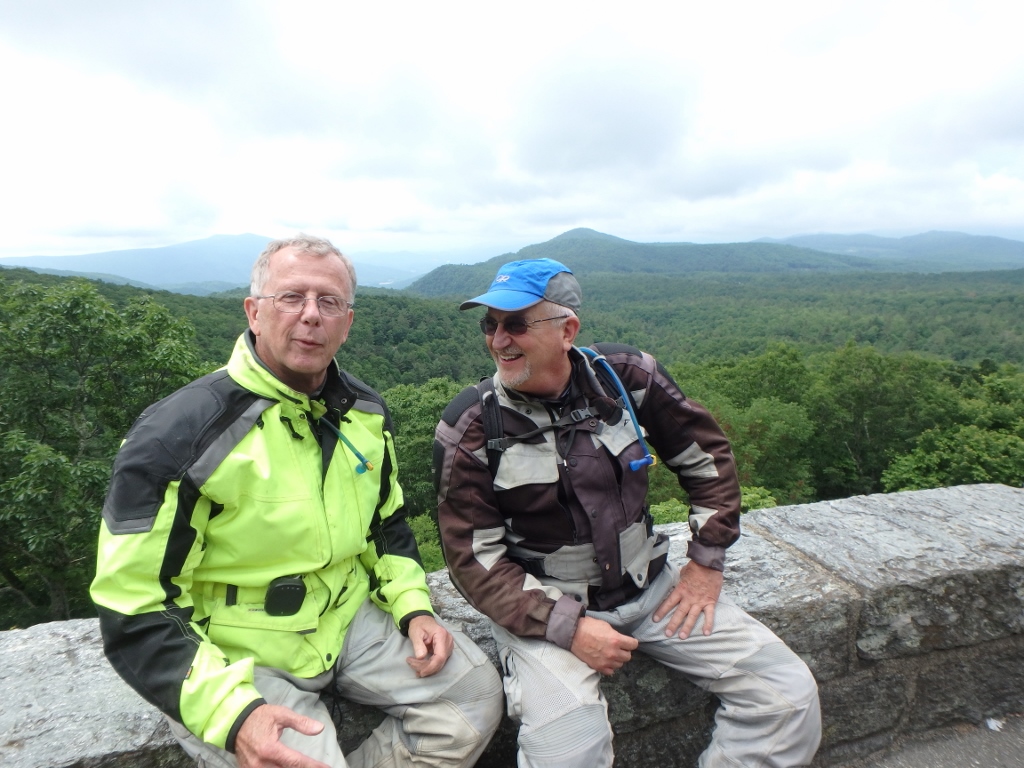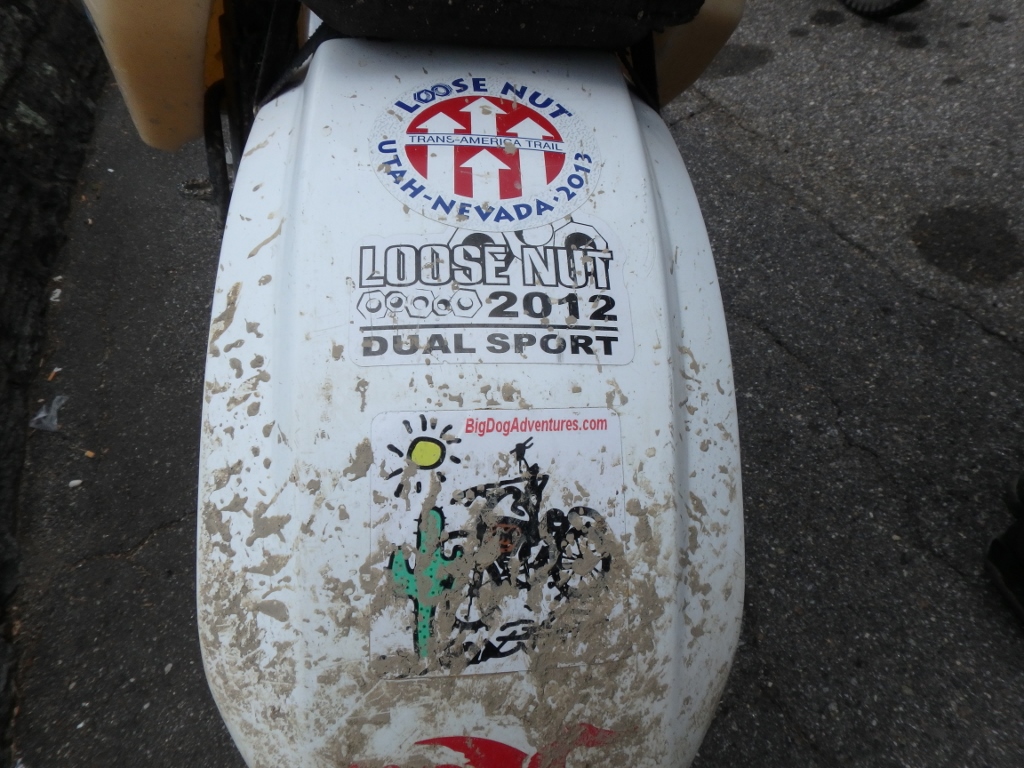 We'll never grow up.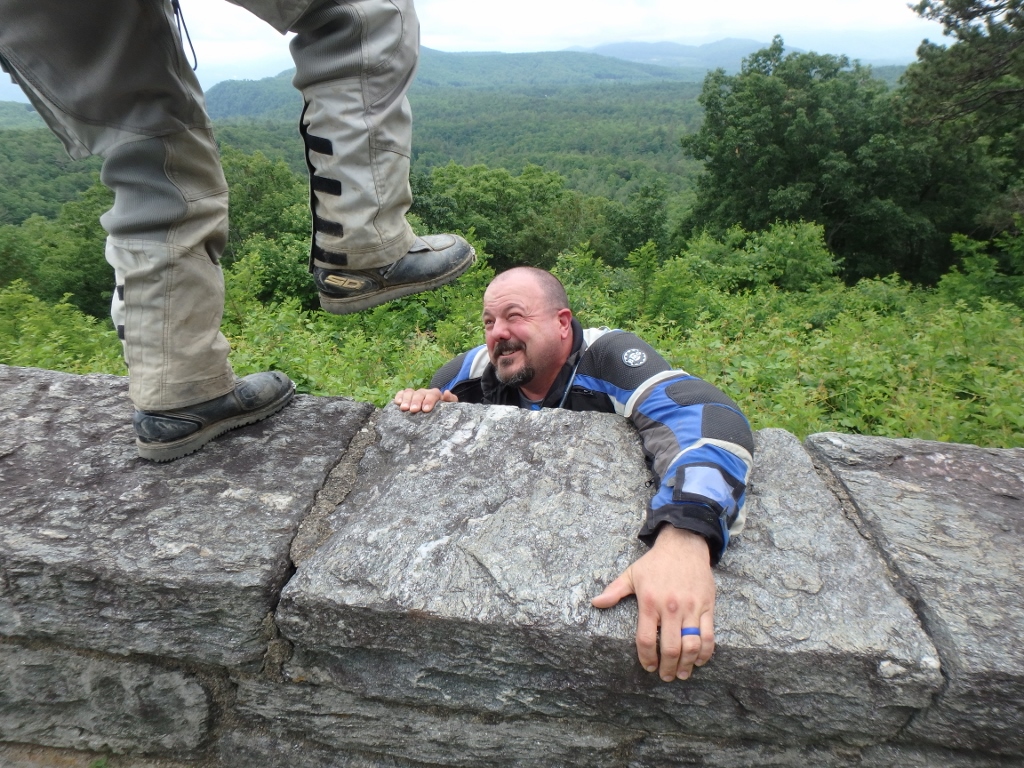 Bald Mountain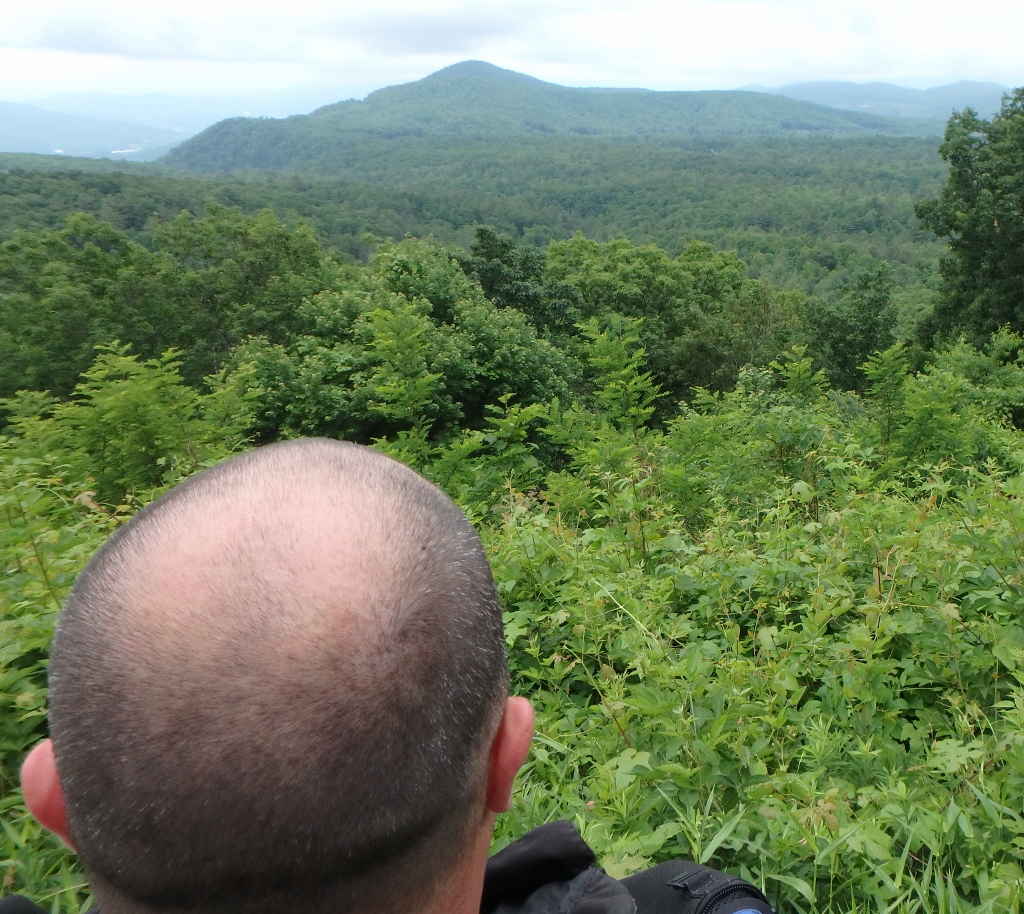 Steve had a 9 gallon gas tank too---and was always willing to share.
Especially to a very thirsty KTM 950.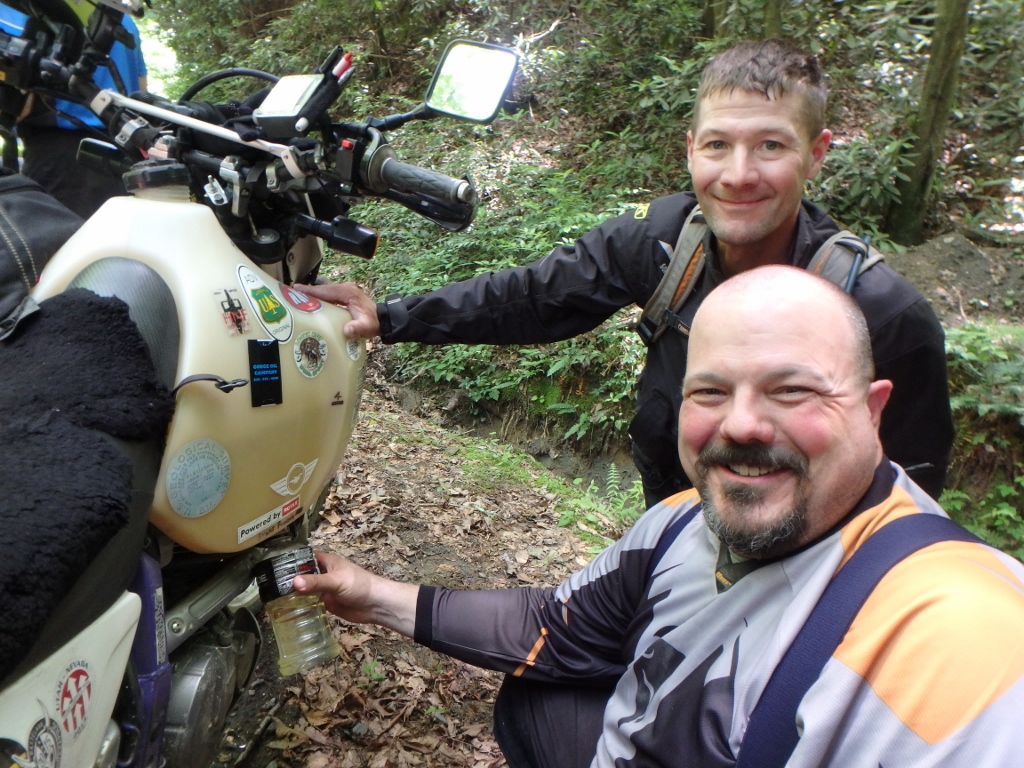 Sucking air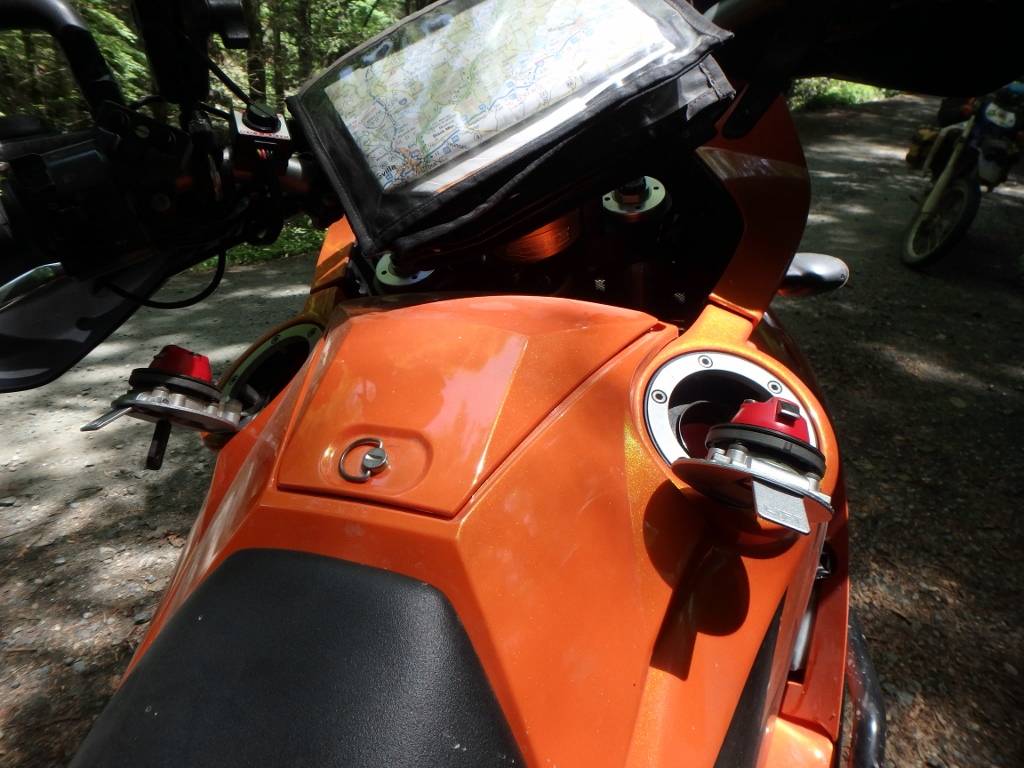 As usual-----I had noted the waypoint for this bridge probably 15 years ago-----and lo and behold it came upon my gps screen
and here we are--------you had to hike to see it. Only 4 of us got to see it-----seems the group got seperated, which was an extremely
re-curring theme on this ride. It's hard to keep 10 riders in check. And most days were spent texting each other to see
just where in the hell riders were at--------------------a new experience for me.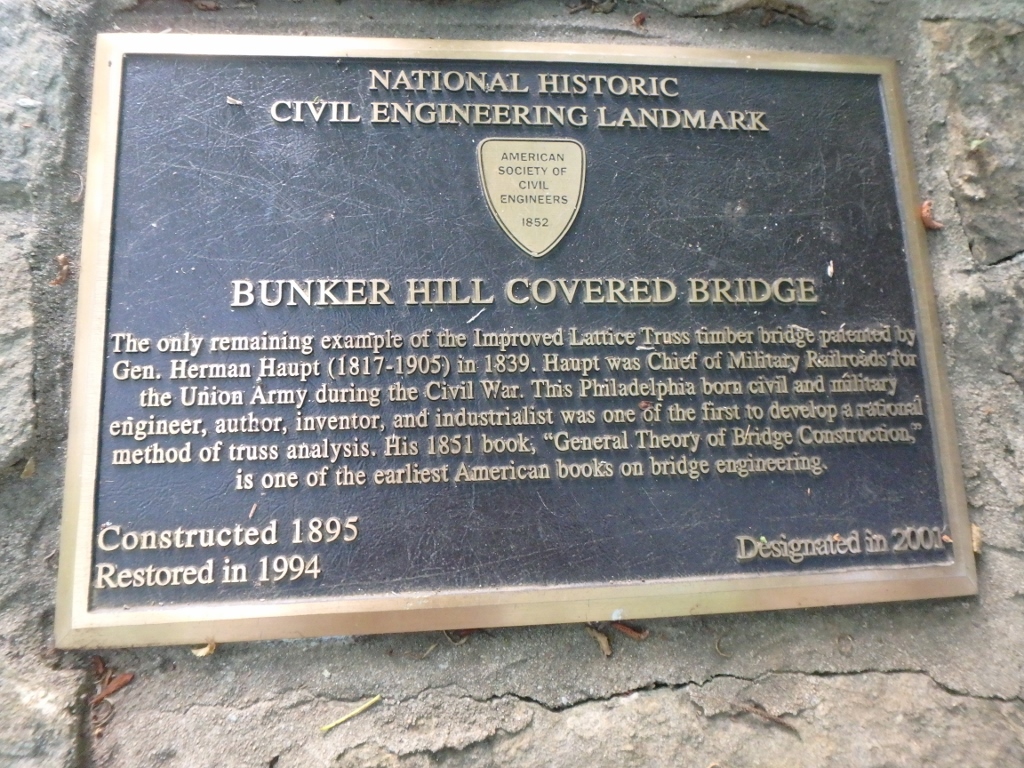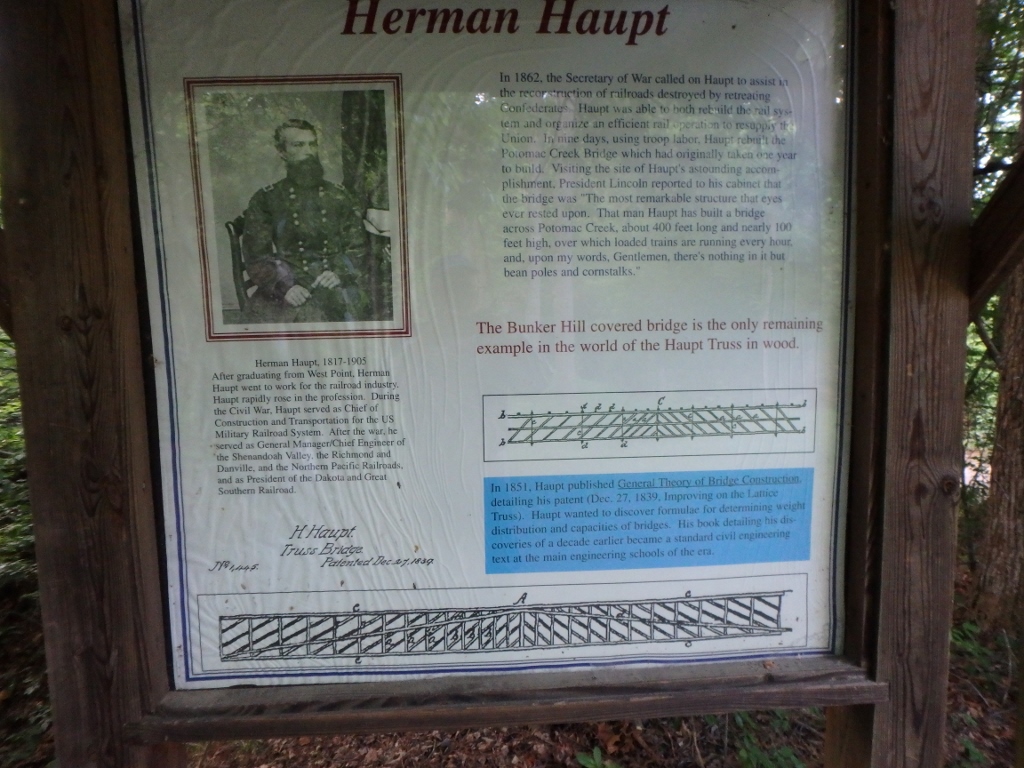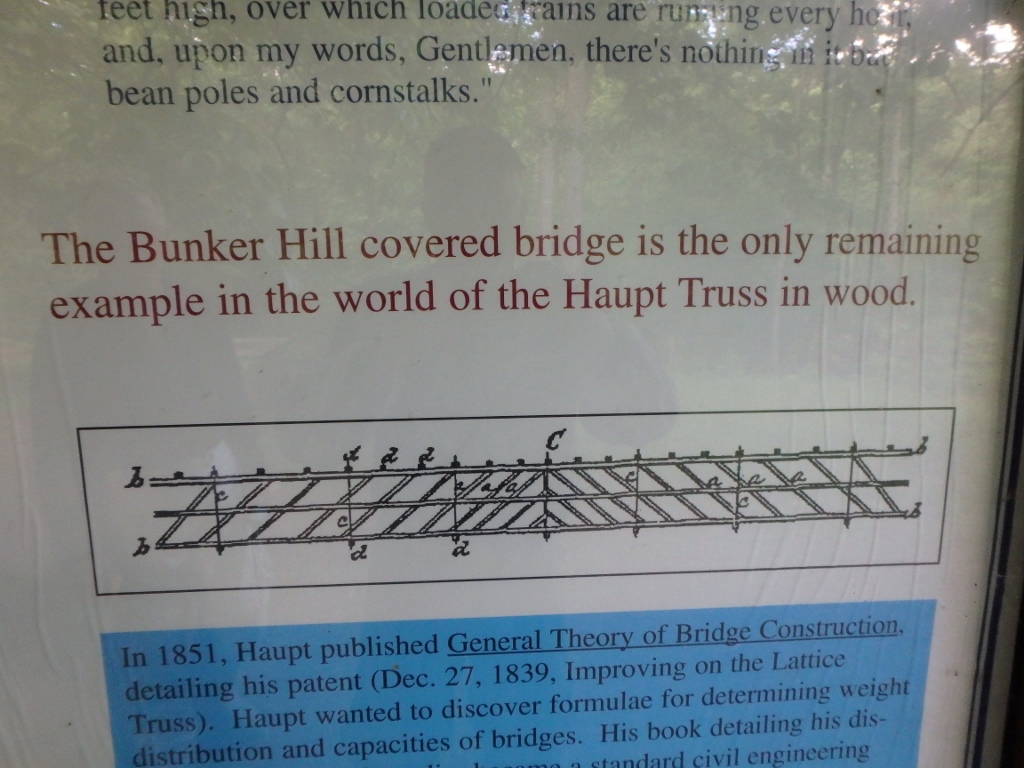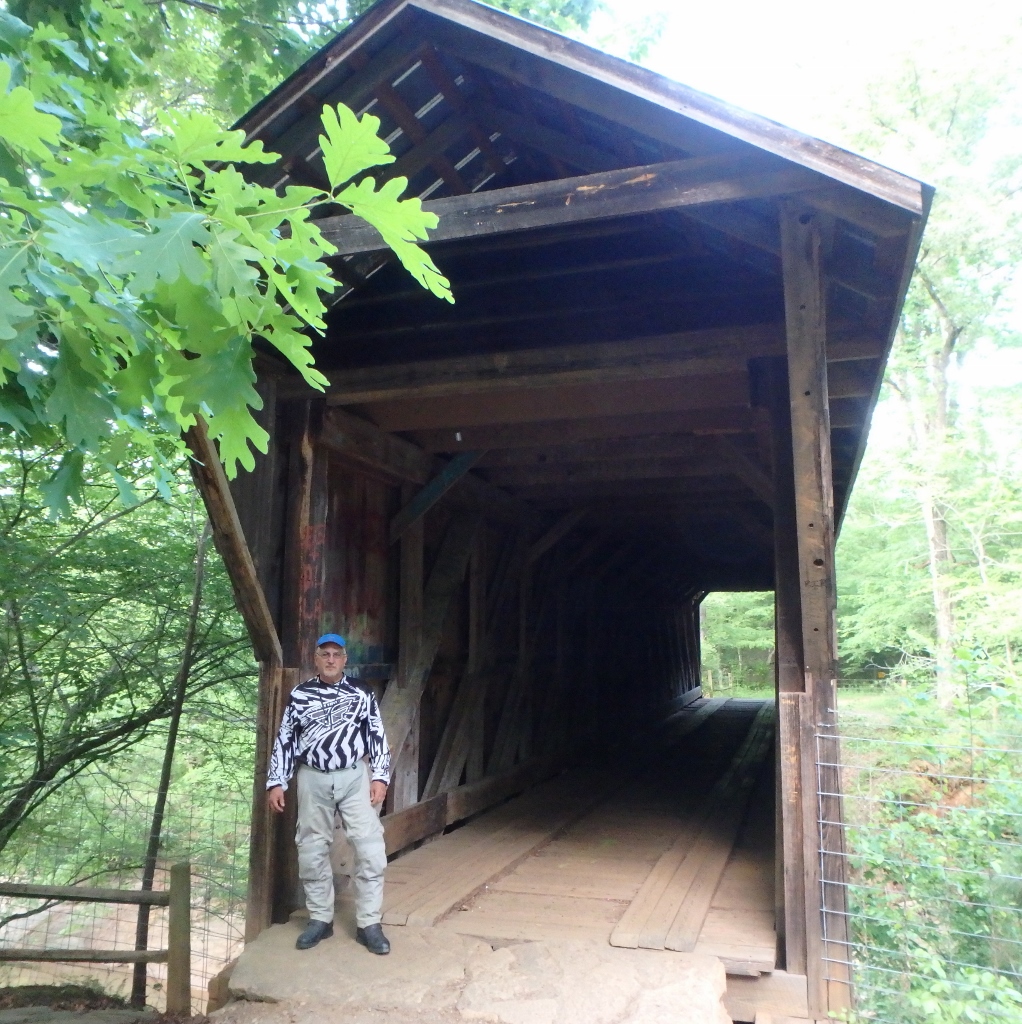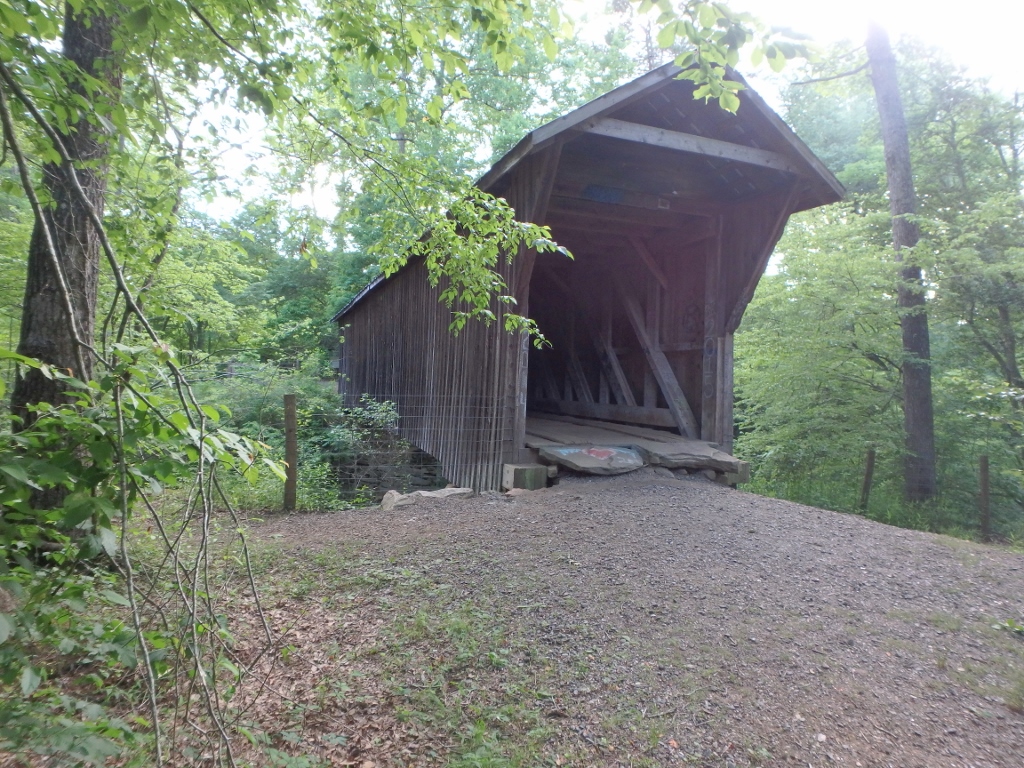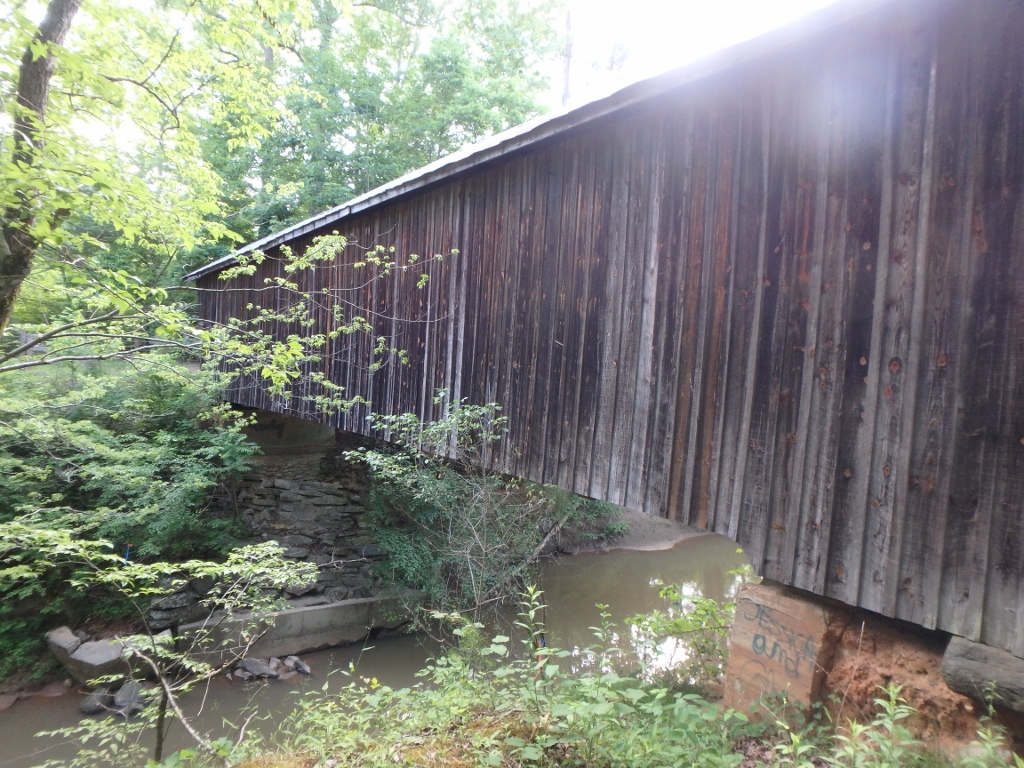 "Oh My God"
Jerry---you were trespassing.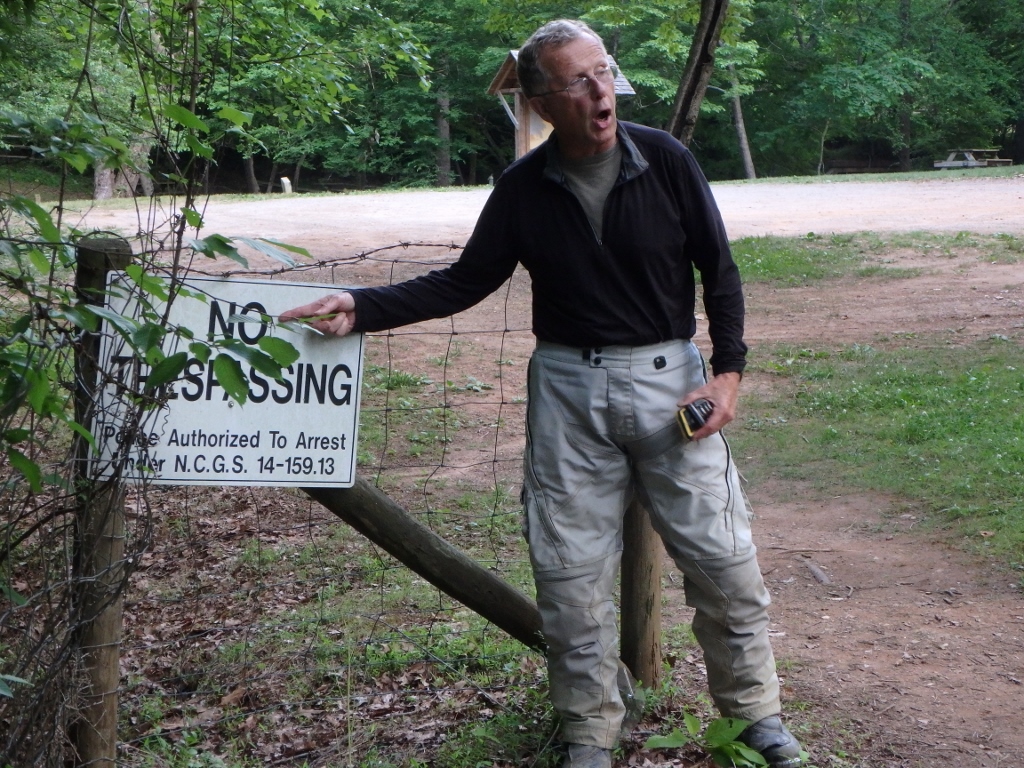 After text's were flyhing all over the place---seems all the riders were camped in a commercial campground.
It was hot out-----really humid and me and Jerry hit a motel and would meet the rest in the morning.
Since me and Jerry got seperated from the group----------we missed seeing this---but Steve gave me a picture of it.
I would have loved to check this out.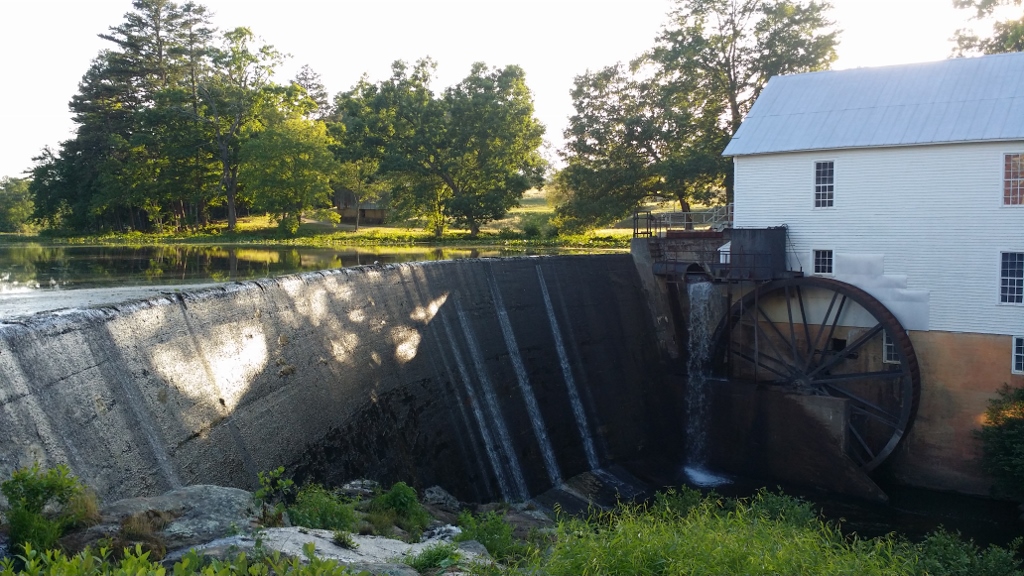 The 4th day me and Jerry went to their campsite and we all road to the neatest resaurant on lake Norman--and I guess we
had crossed into North Carolina now.
The restaurant was full of fisherman--and all kins of fishing stuff was hanging on the walls and from the ceiling--even a bunch
of antique boat motors.
Of course I got a laugh out of the bathroom signs.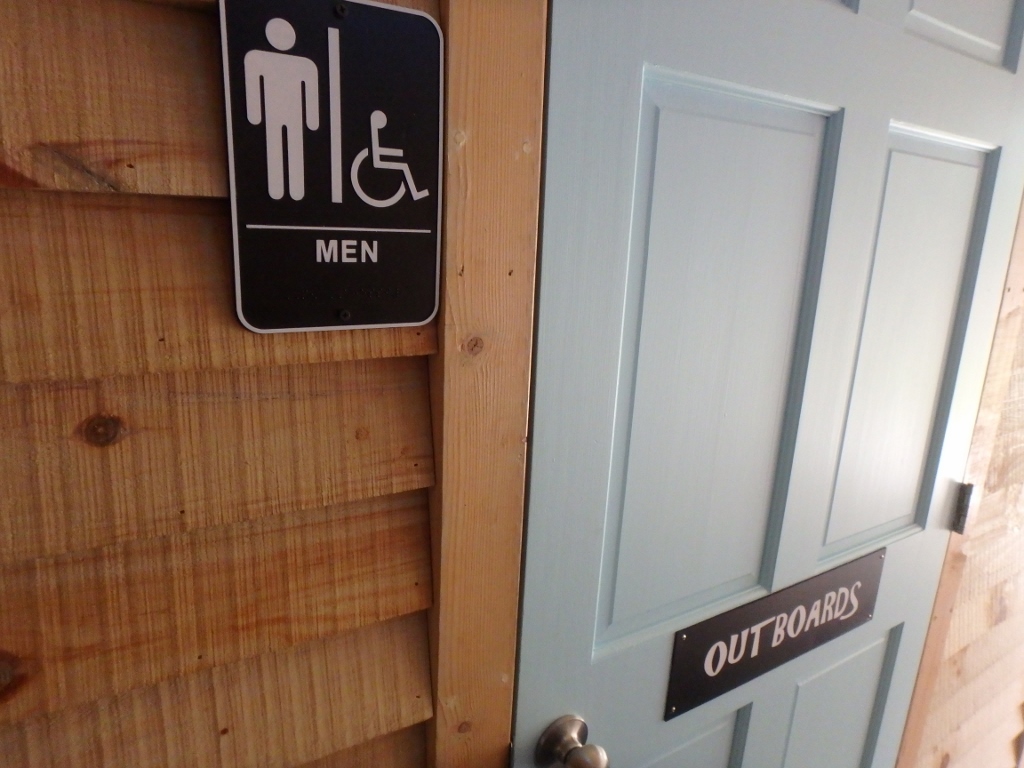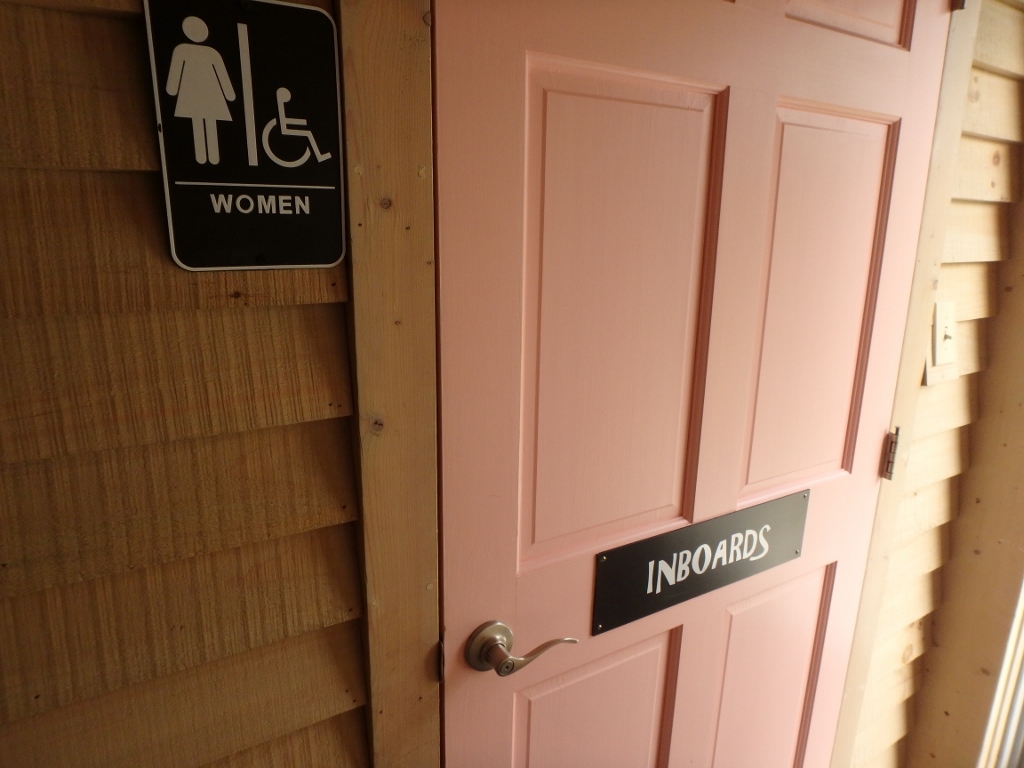 Out front of the restaurant we all suited up.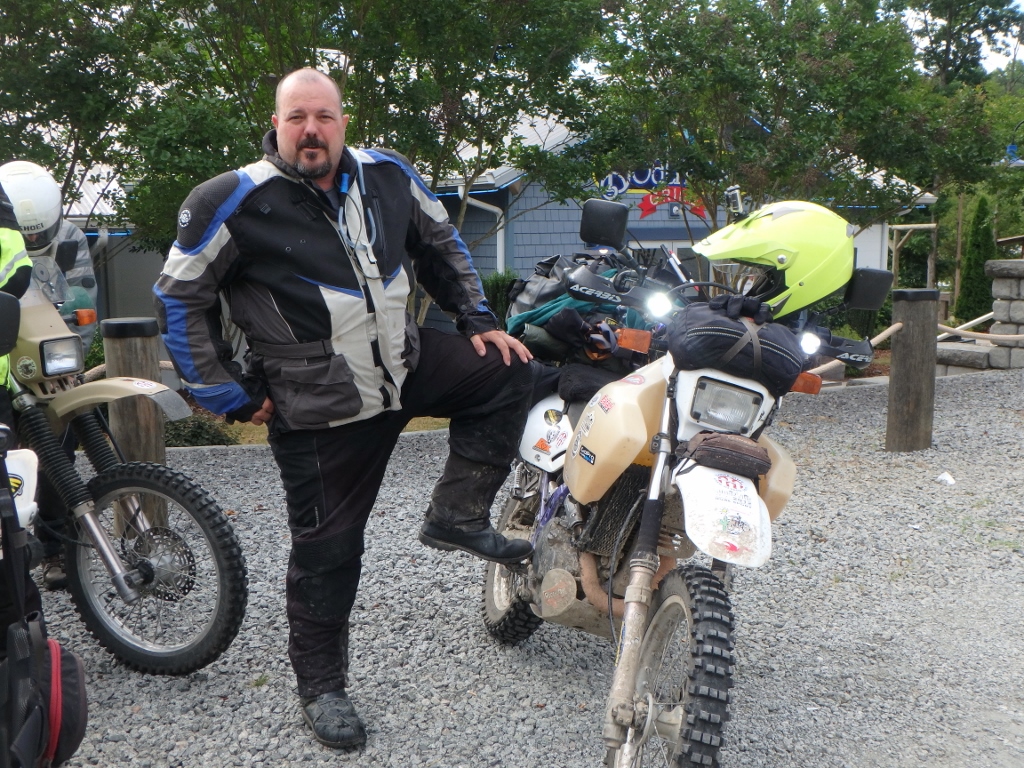 We were running fast---and all of a sudden Steve pulls a "Crazy Norman"-------------a U-turn.
And we scatter all over the side of the road wondering what the heck ???????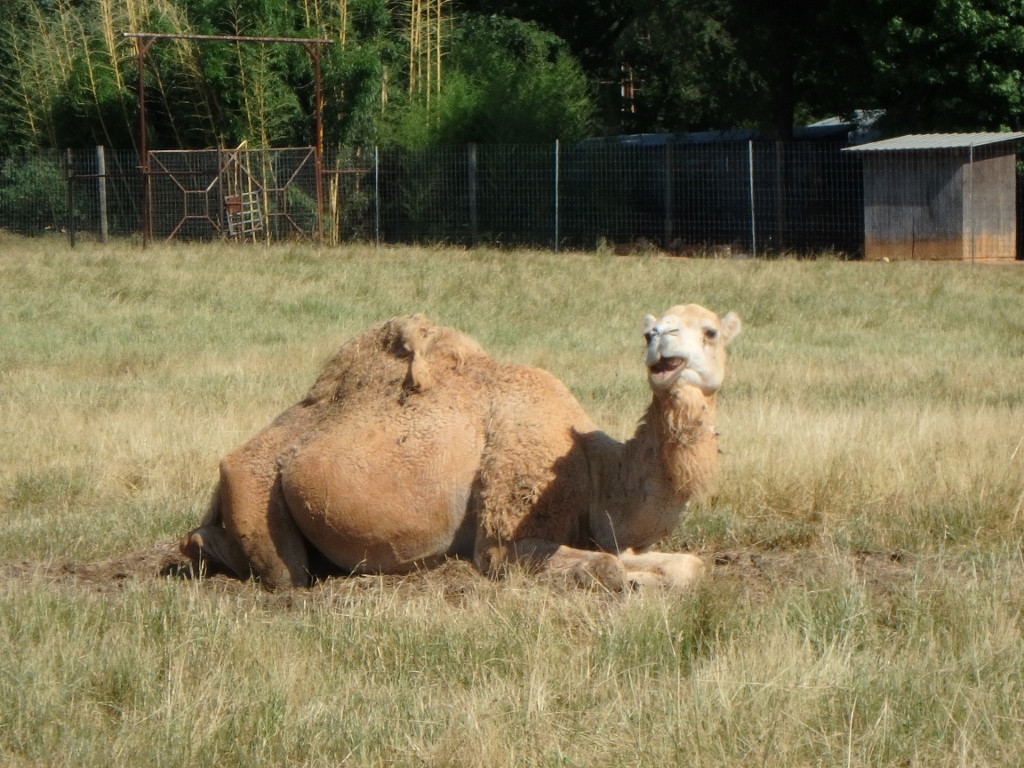 The backroads were awesome and we headed for another waypoint of a covered bridge that I had shared with Steve.
He routed our route right to it--------but first this low water bridge.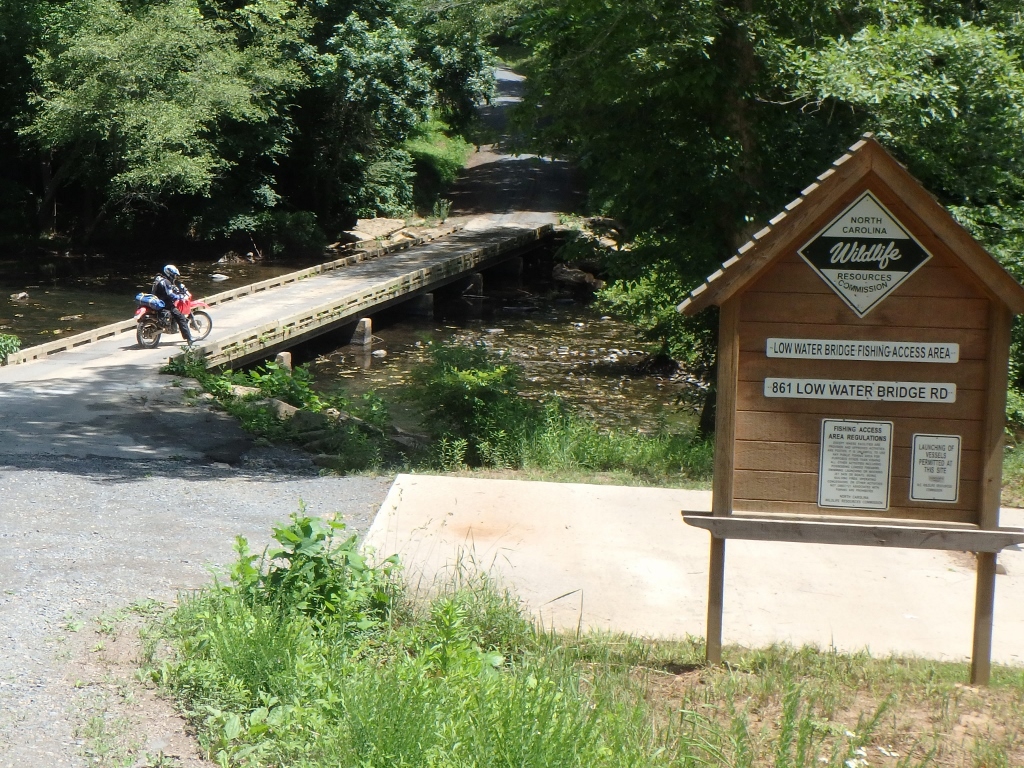 Raalf Stevens-------BMW 1000 GS/PD.
I had one just like it years ago and that is where I got my name "BigDog"---as those bikes were called BigDogs by some.
My son gave me that nickname.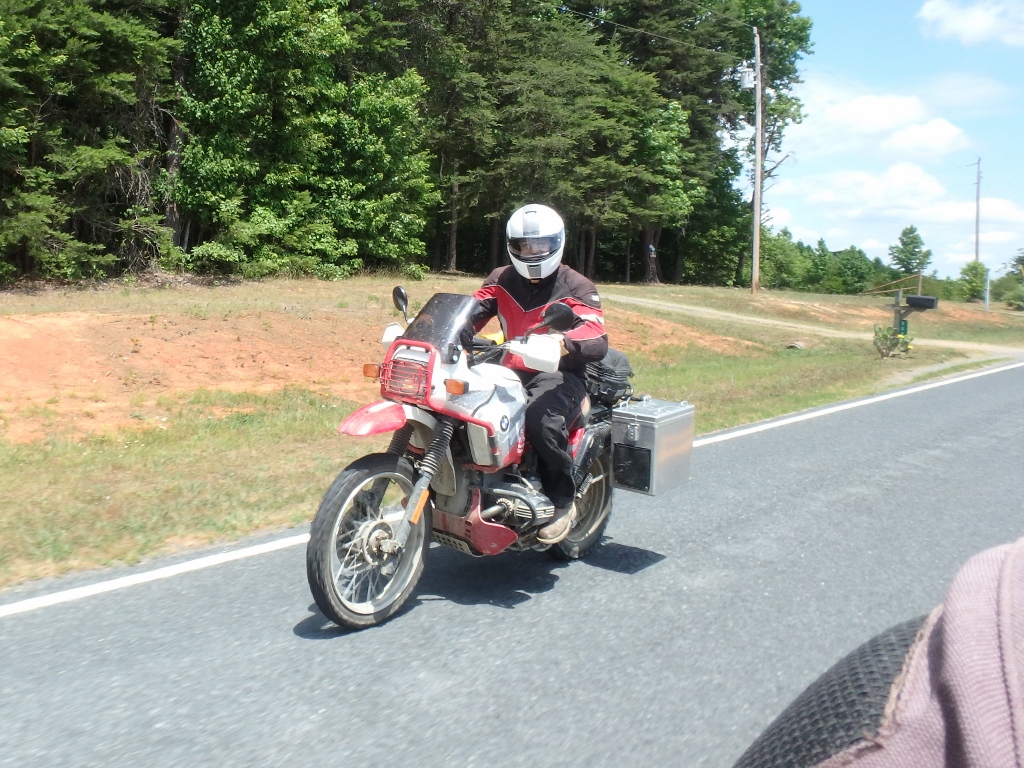 Bill had caught up to us on his Versys after his WR blew up.
It did fine on the whole ride. We really never rode any tuff terrain-----except that one spot where a rock holed Bills engine.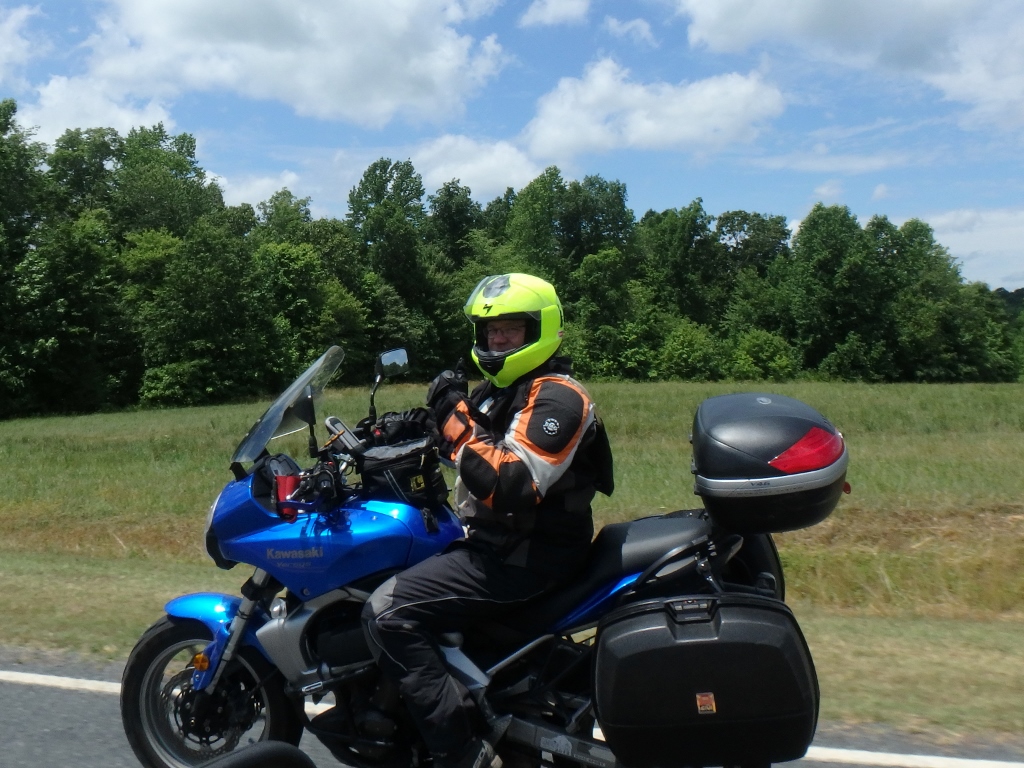 Pisgah covered bridge
Middle of Nowhere--North Carolina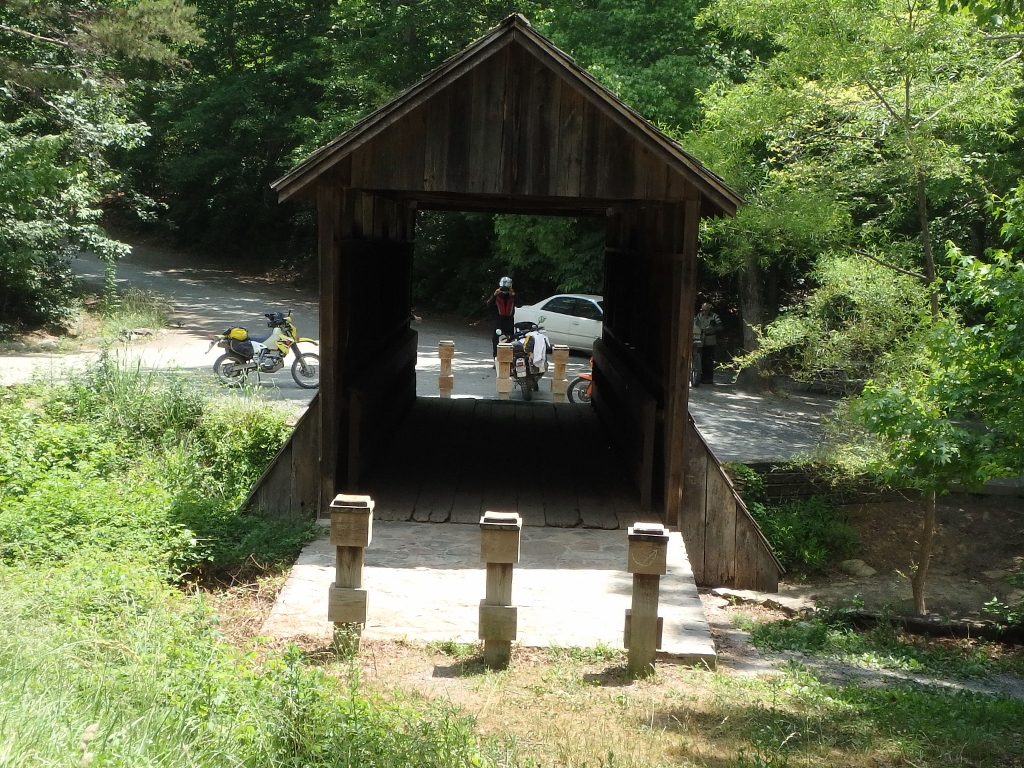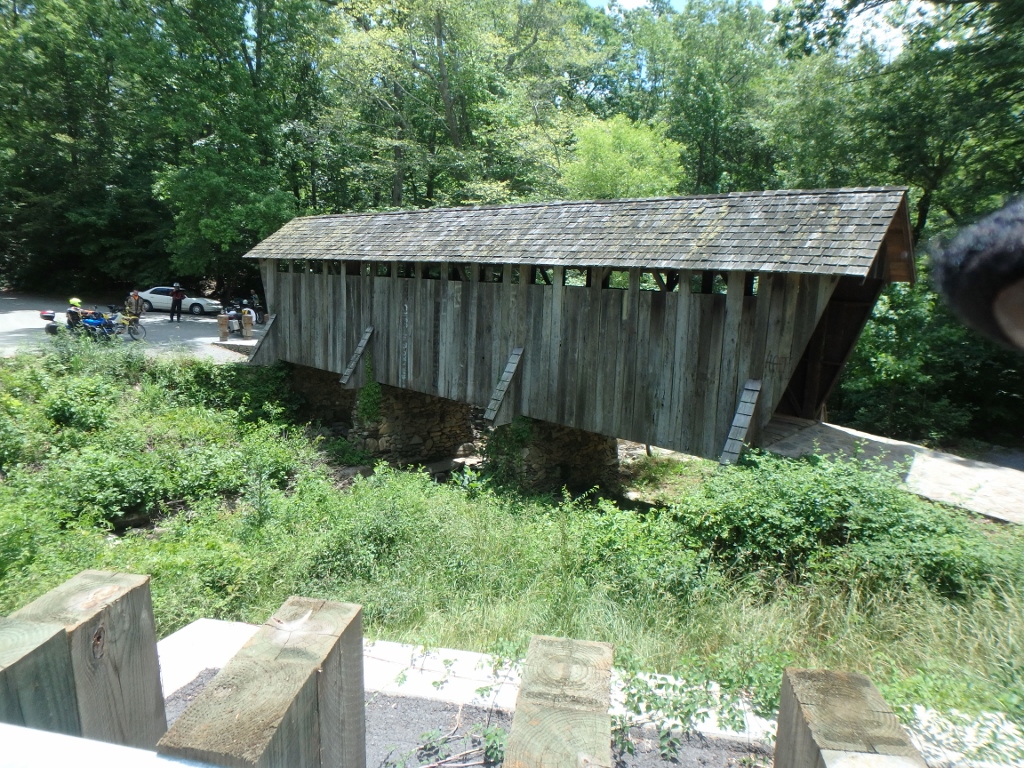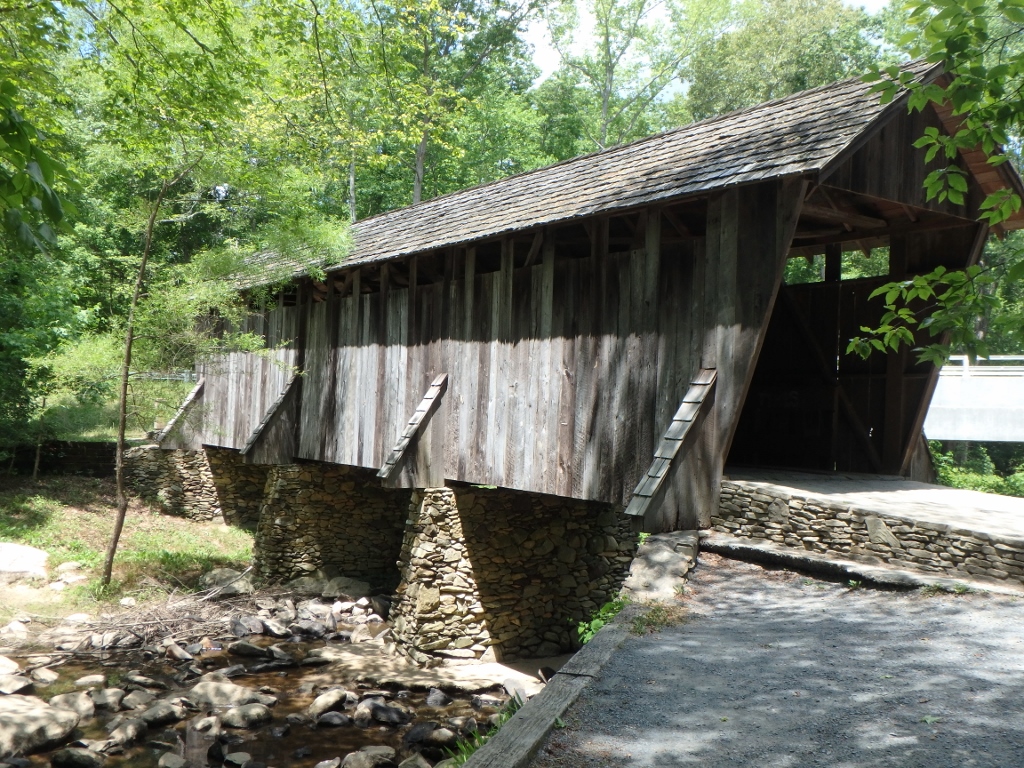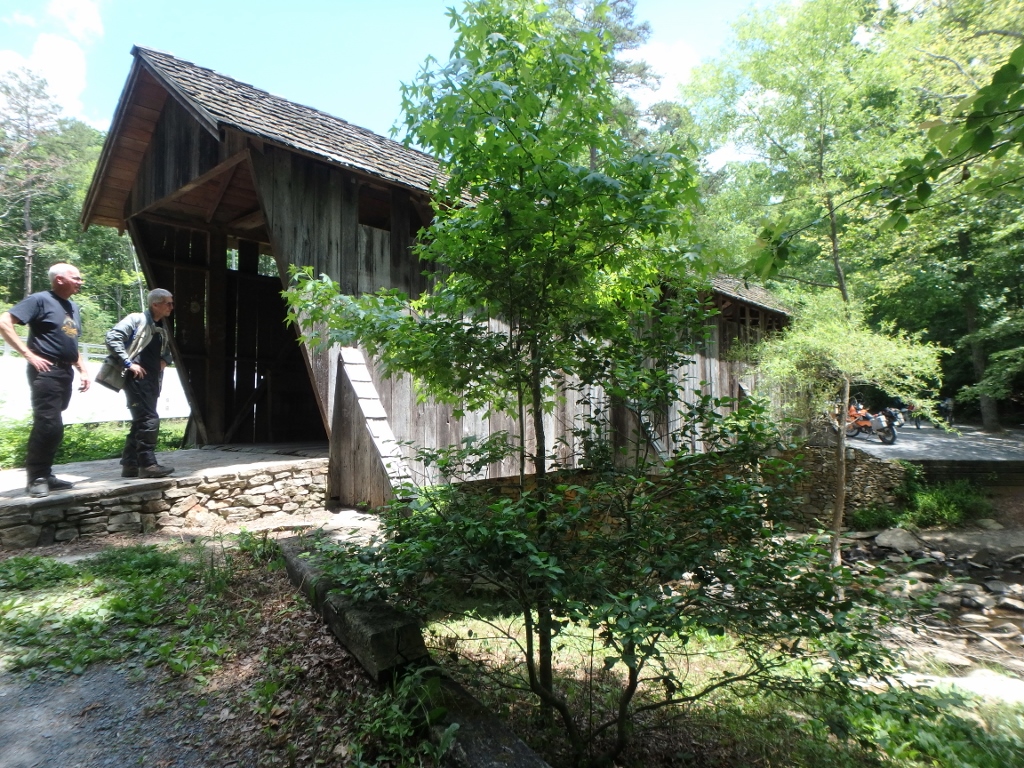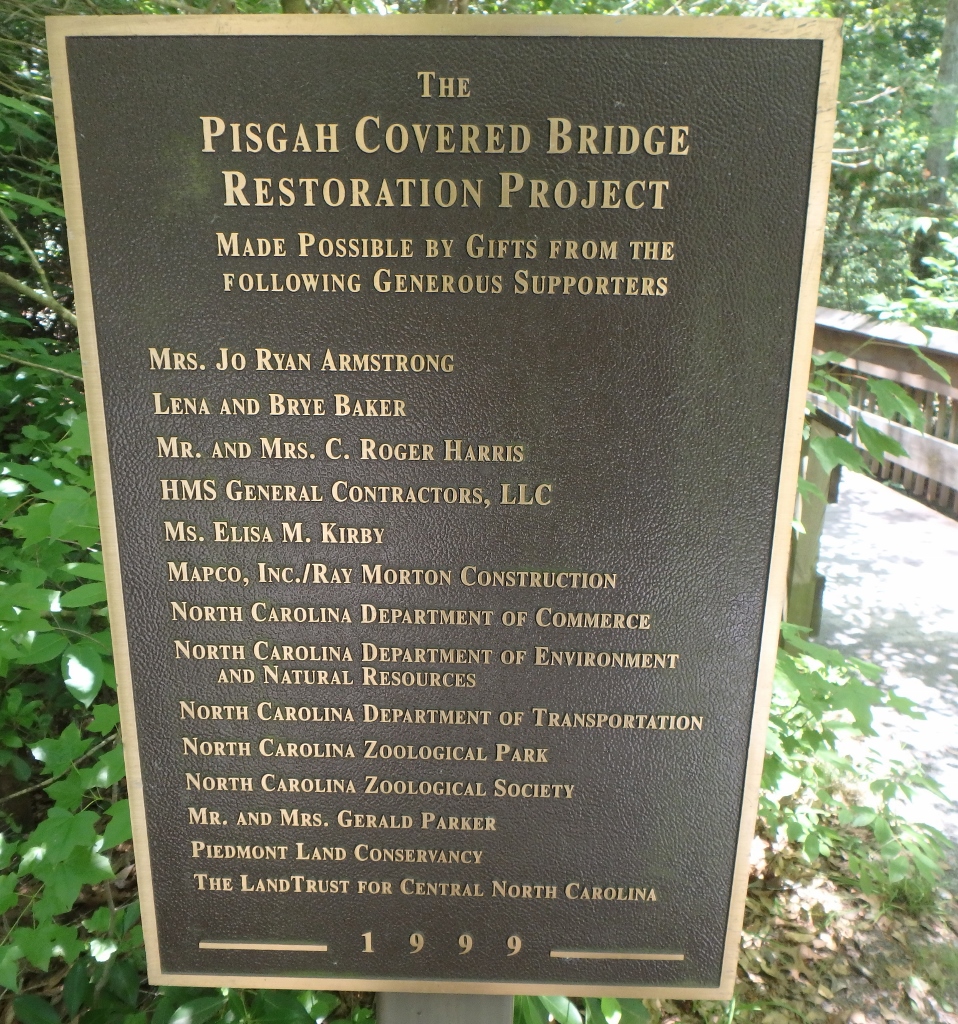 Seems Bill was a little HOT.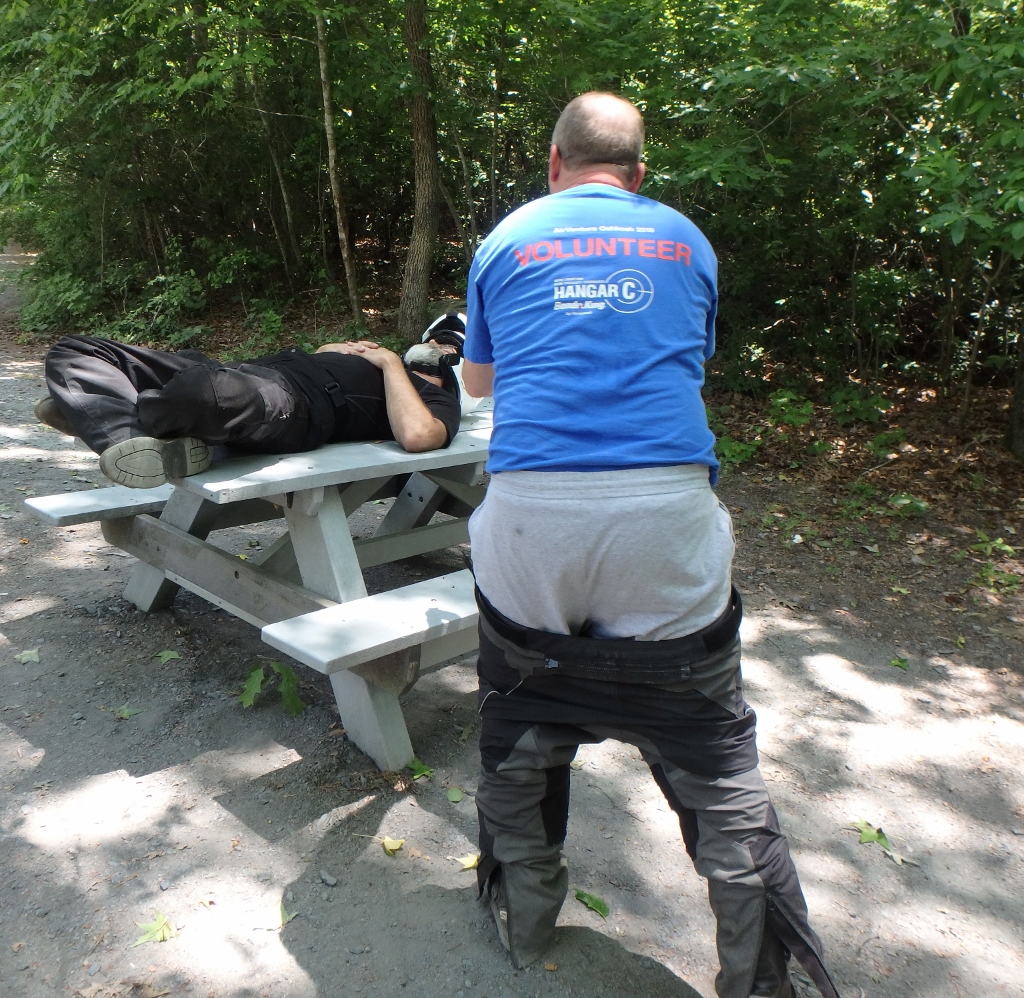 I had boiled my brake fluid a couple days before I finally found some DOT4.
I replaced it here-----It was unnerving to ride my bike trying not to use the rear brake.
If I hit the rear brake with the bad brake fluid about 3 times----------it would just be gone.
So glad to get it changed---especially riding those unpaved mountain swichbacks.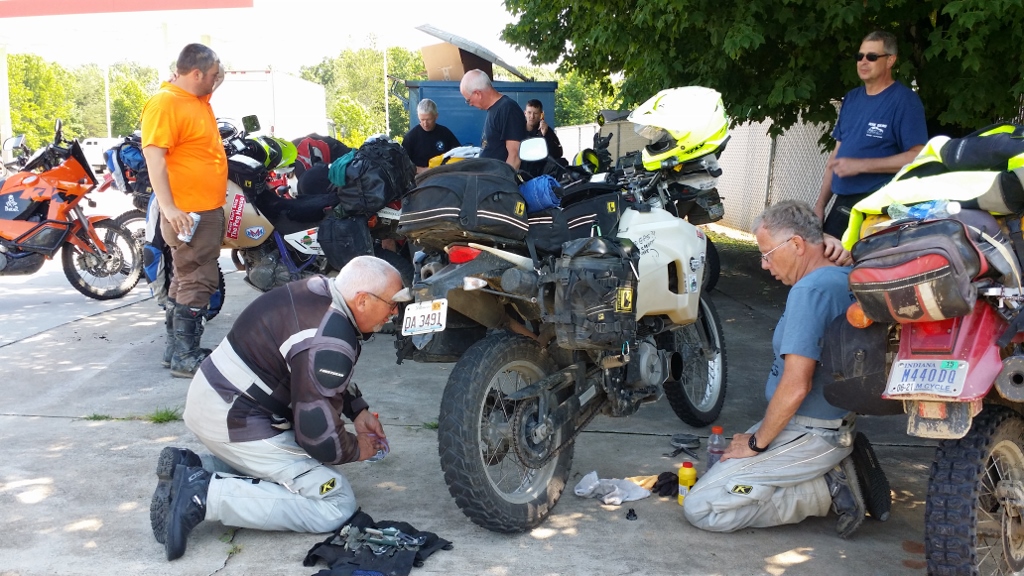 It was at that same gas station we saw this couple pull in.
She was a tall gal----and rode the most modified Yamaha TW200 I have ever seen.
We paid no attention to her husbands DR650.
It had an Ohlins shock, cam, flat slide carburator, modified exhaust and would pull 80 mph with gearing that was taller than stock.
Here husband had rode the same bike on the complete trans america trail. It sounded like a racing engine when she pulled
in blipping the throttle.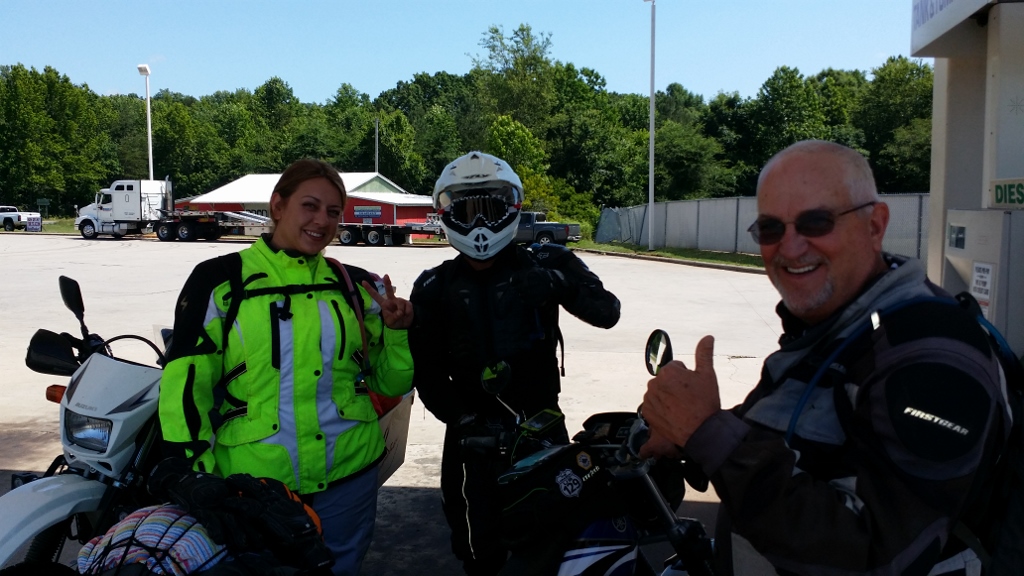 Always some Jack Asses show up.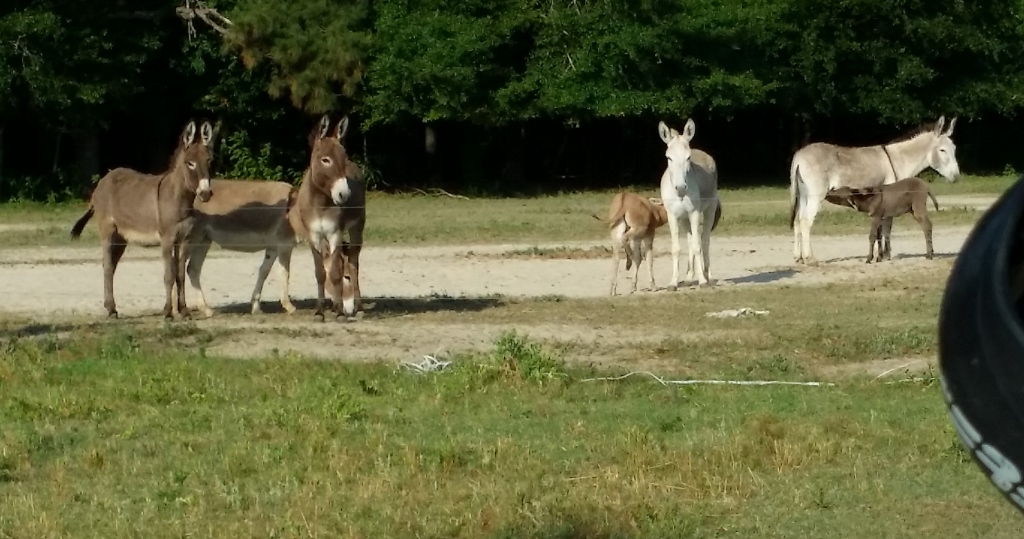 These guys were pracitcing an ambush.
And they scared the crap out of me when we rode passed as they hid behind their trucks with AK-47's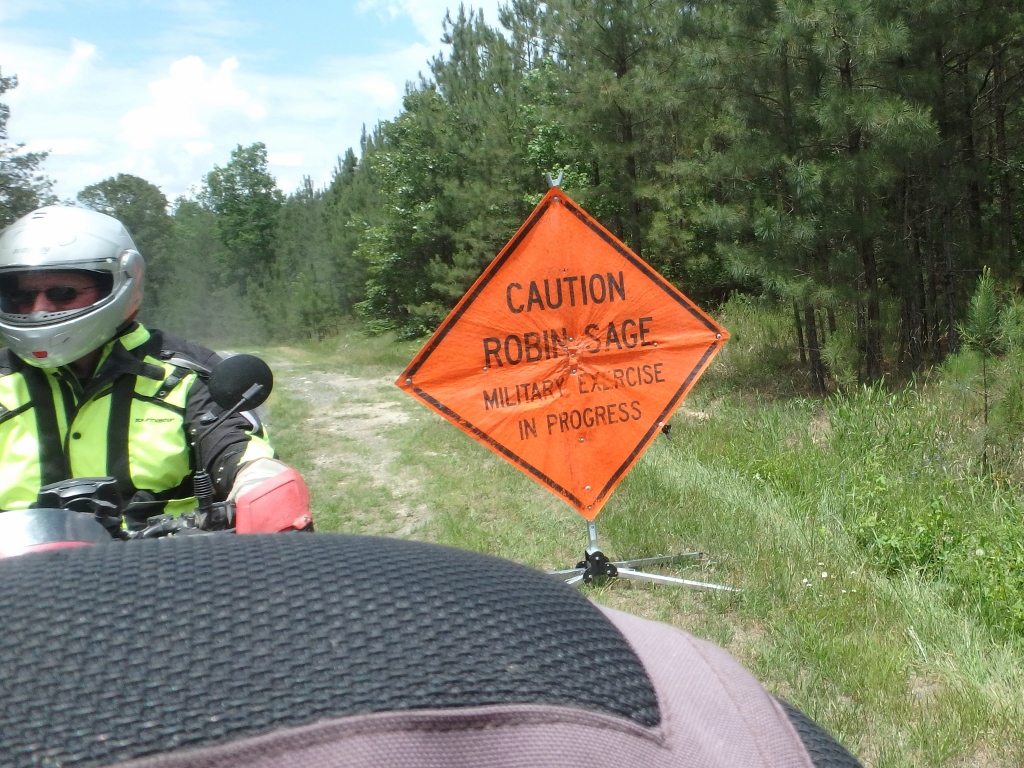 Day 5 had us nearing the ocean---and we rode some neat roads with nothing but the ocean on either side of us.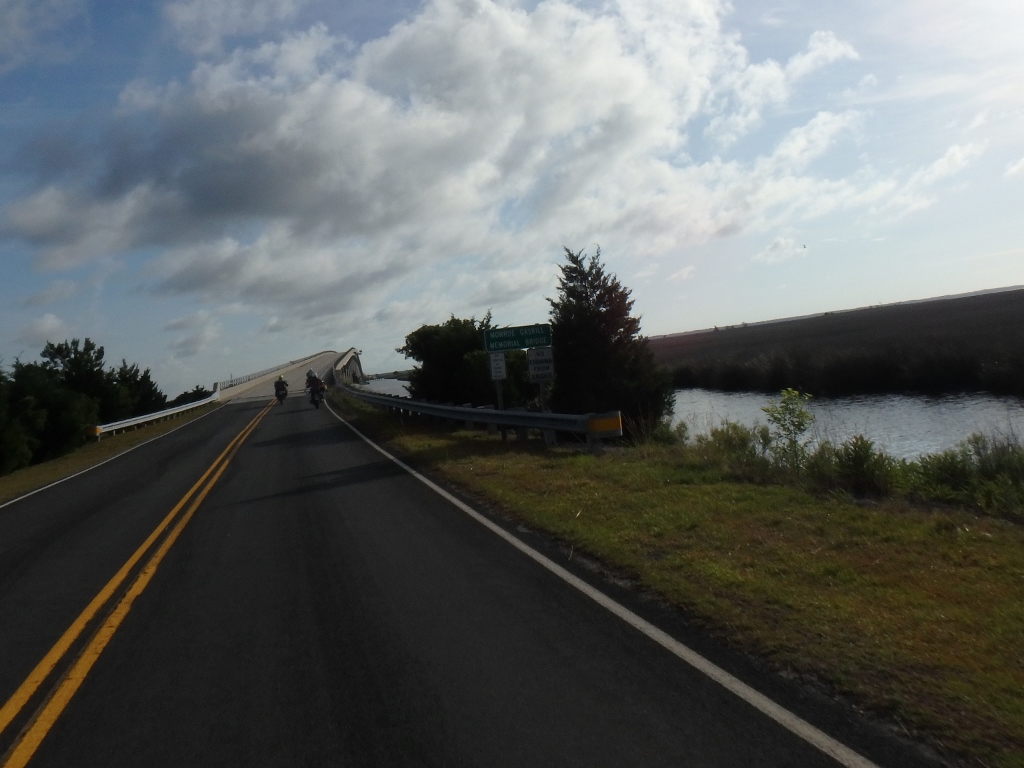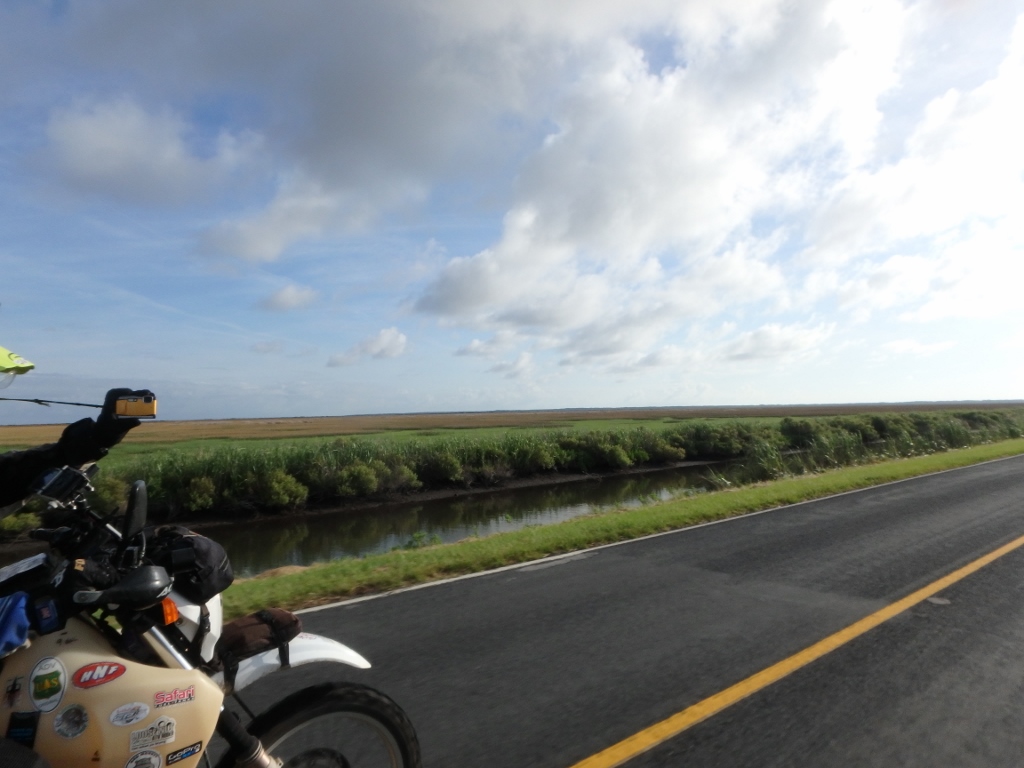 We approched the loading ramp for the 2 1/2 hour ferry ride from Cedar Island to Hatteras Island.
We arrive early and bought our tickets--then went back to town to a little store for a snack which was the only thing in the town.
A very tiny quiet town---no stop lights--the people there loved the quietness and would have it no other way.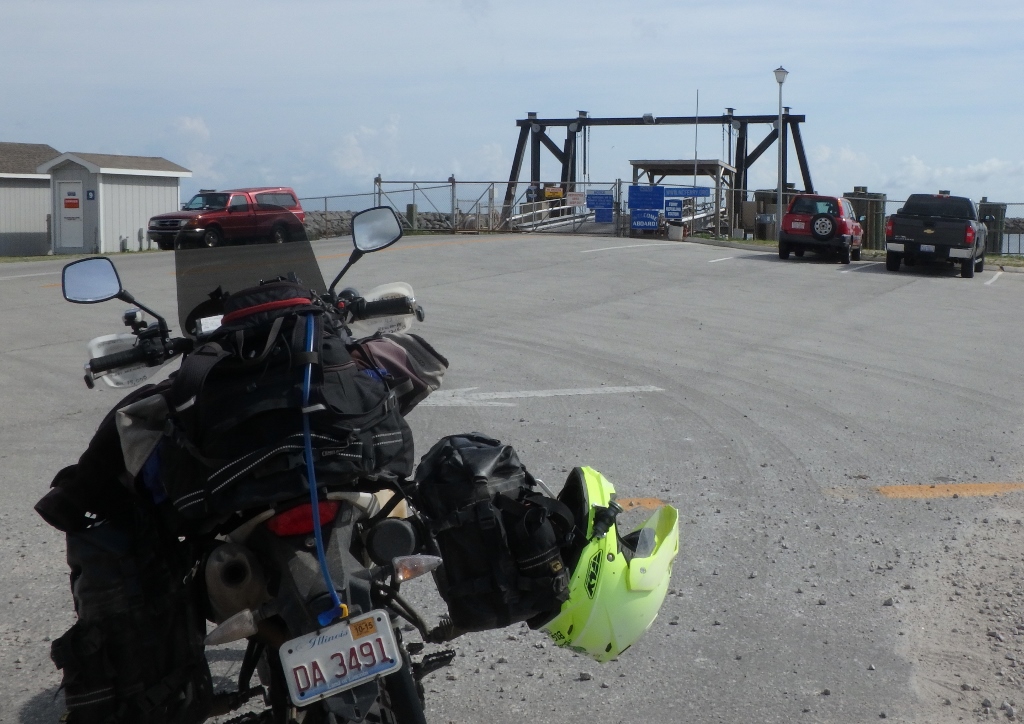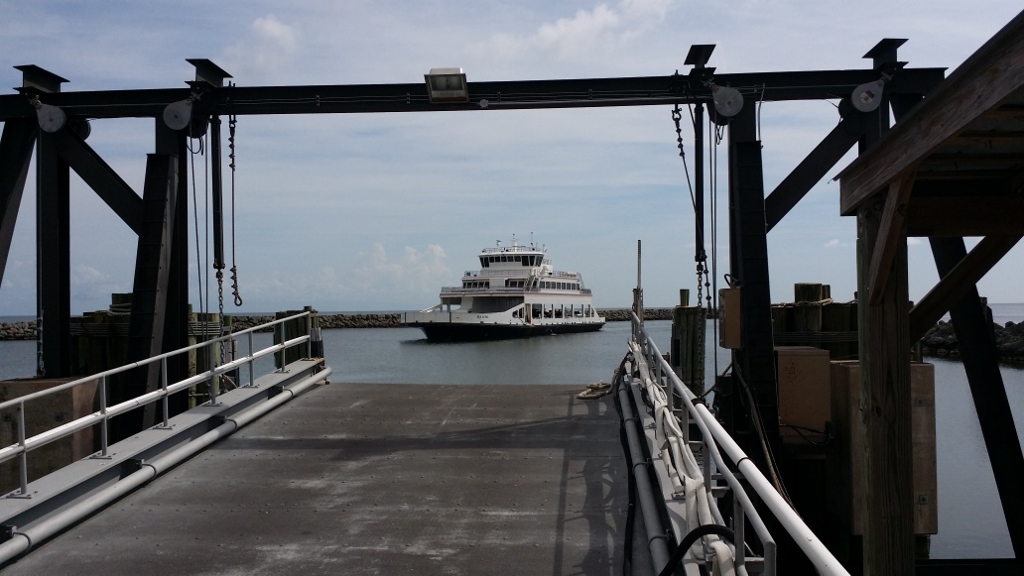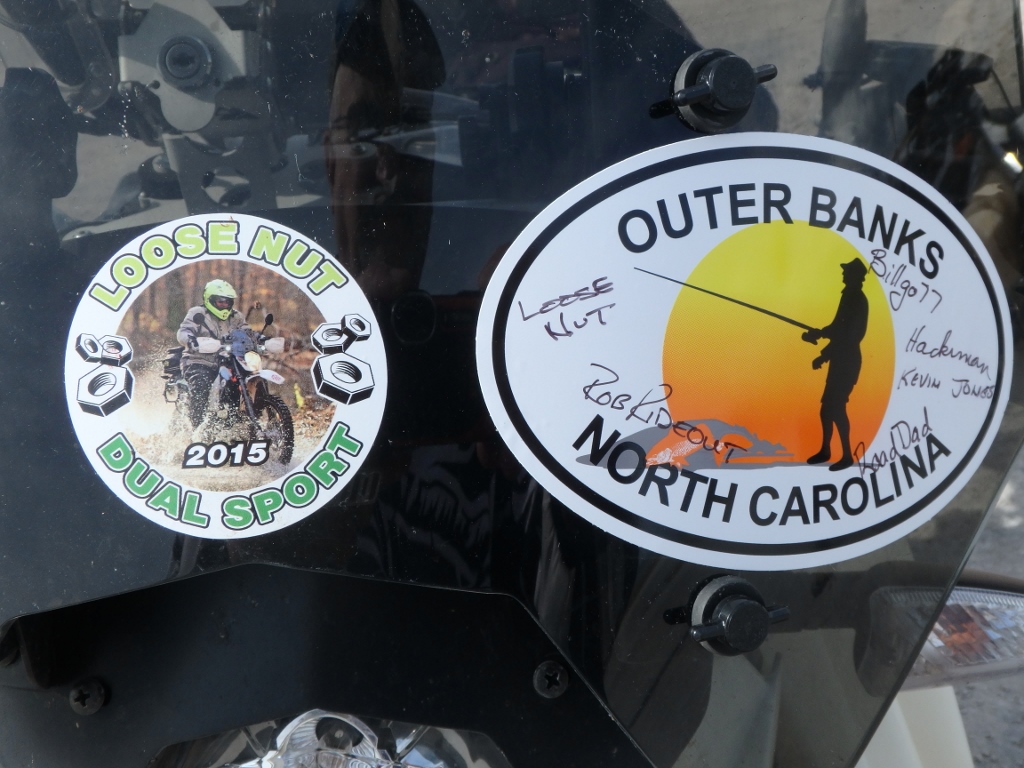 As we waited for the ferry to arrive we were told there was a problem with the ferry and when it arrived the coast guard would
have to check out the repairs before they would allow it to depart-----------so we had some waiting to do.
Mr. ZZ Top didn't care----------he was on vacation.
Everybody was on vacation except me and Jerry--------we'd be on vacation (retired) for quite some time.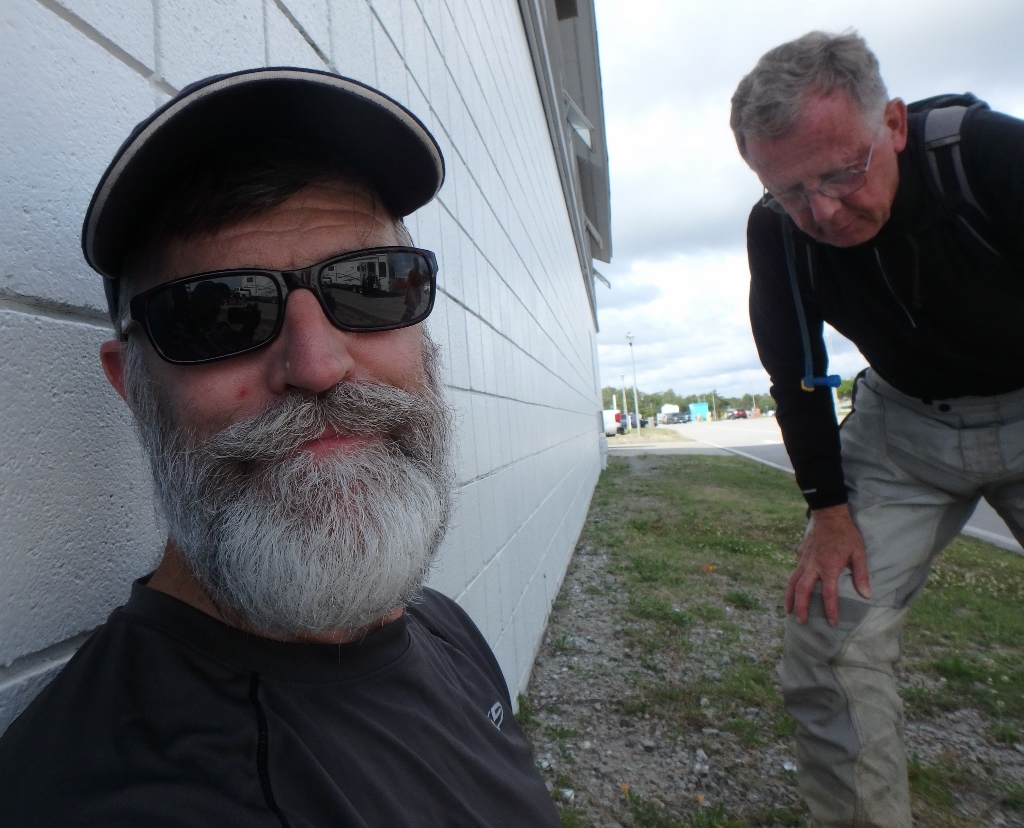 It was nice and warm----it was a 2 1/2 hour ride---so why not get comfy.
Steve bought me a coke and I stayed here the whole ride.
We all had red faces from the sun after today---as we rode 2 ferries.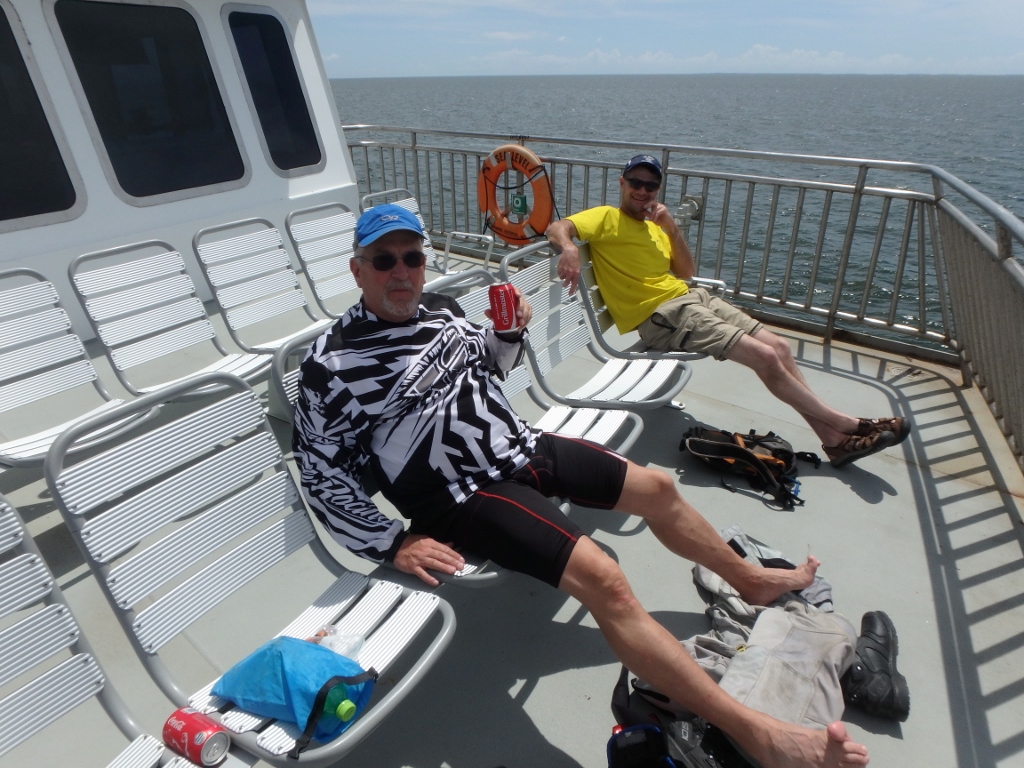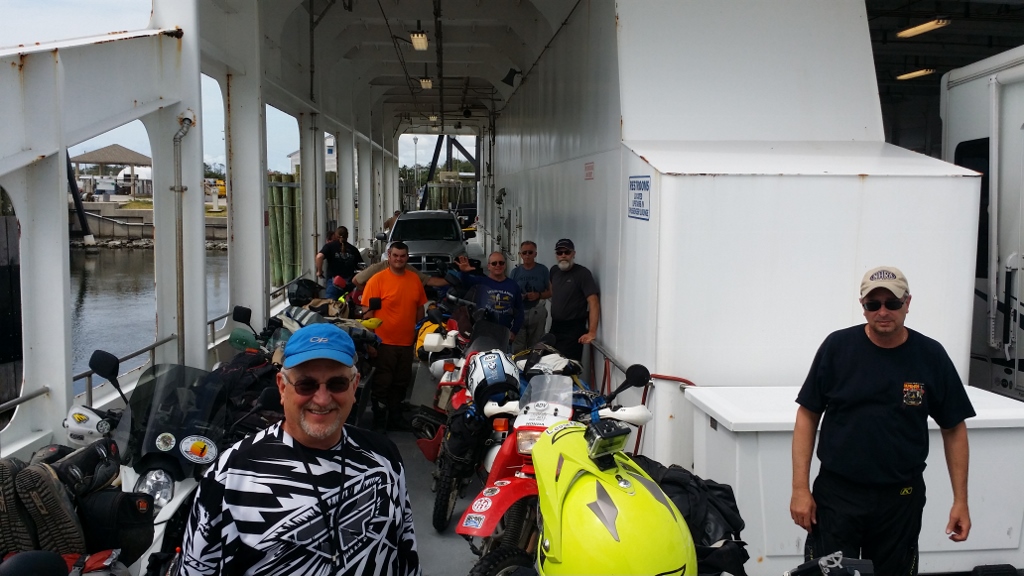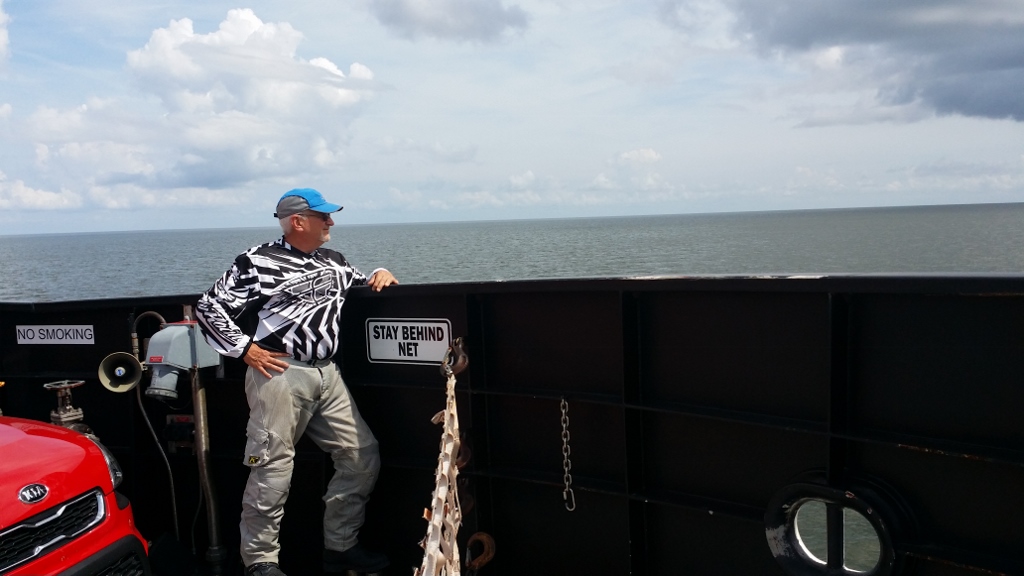 It was really a fun and relaxing ride.
Not something you get to do everyday.
Me and my wife had rode this ferry in 1992 on our BMW K75S.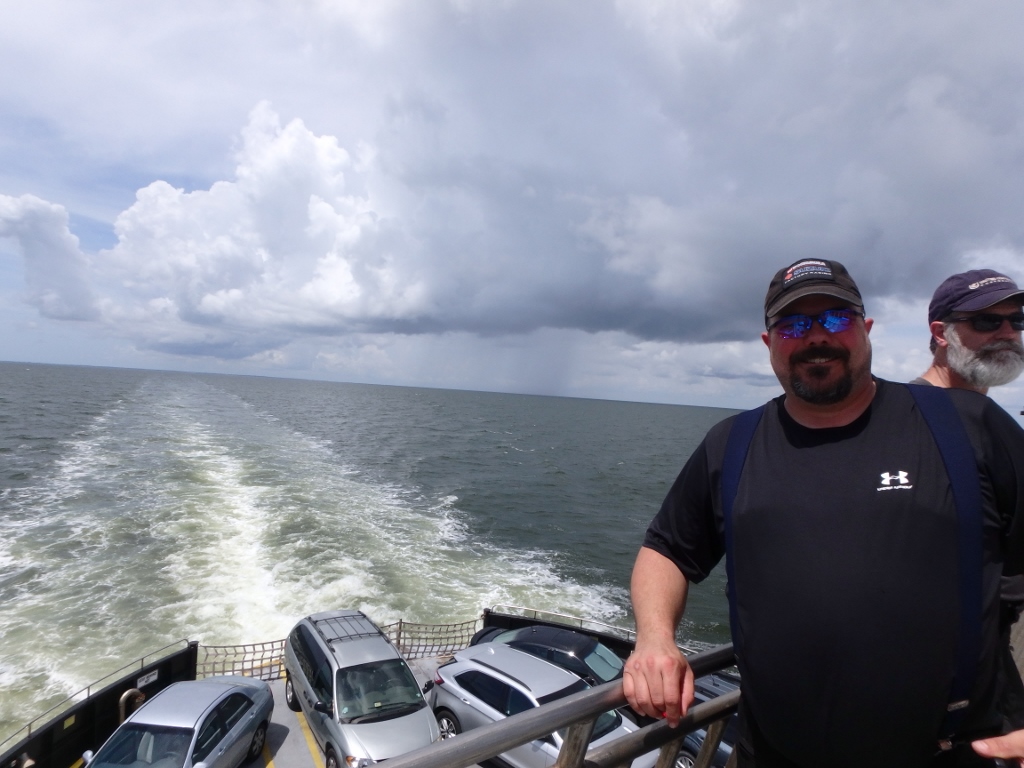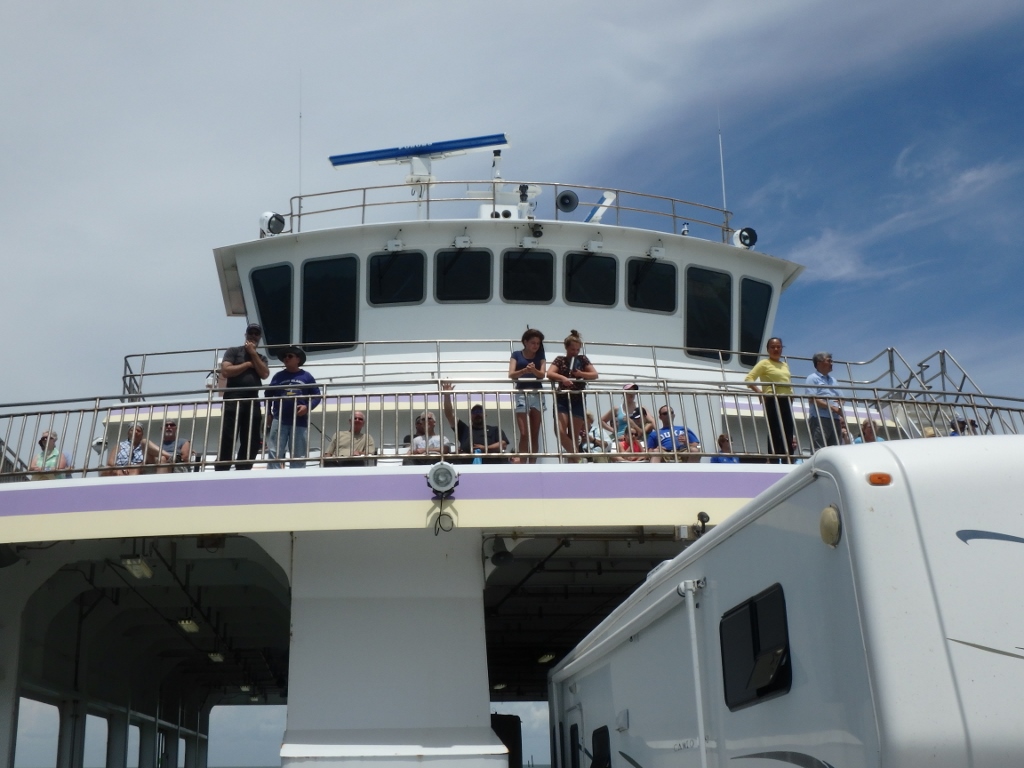 Here are a few pictures from back in 1992 when me and my lovely wife Debi were here.
I sure miss riding with her---she can no longer ride.
Waiting on the ferry in the dark.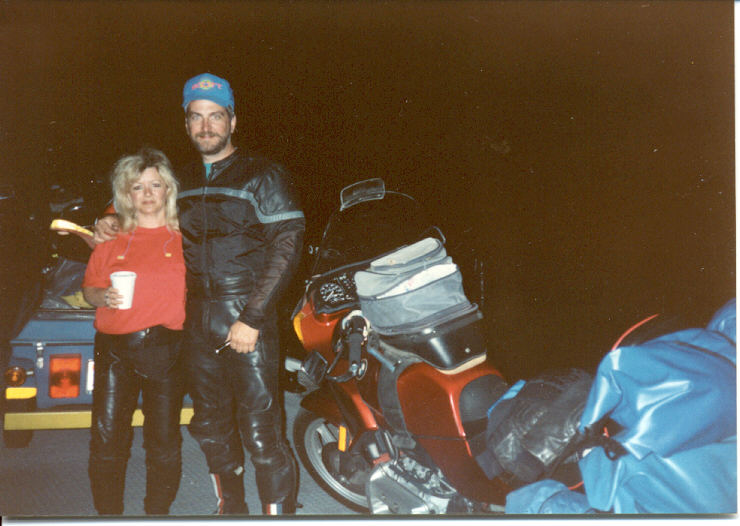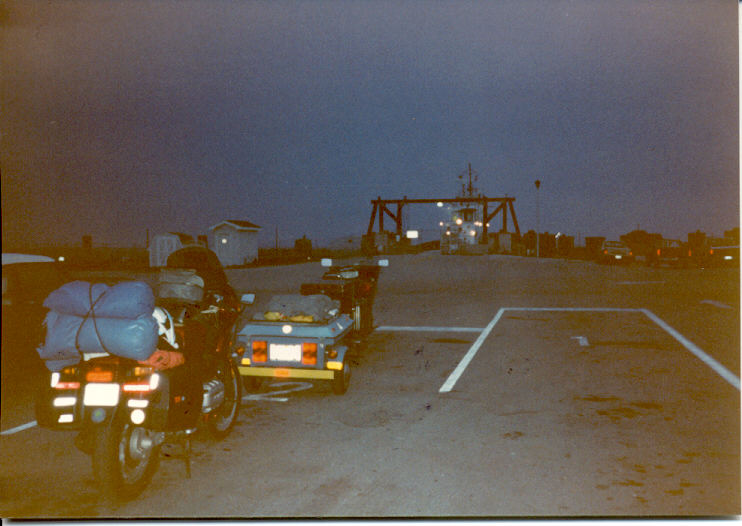 My wife Debi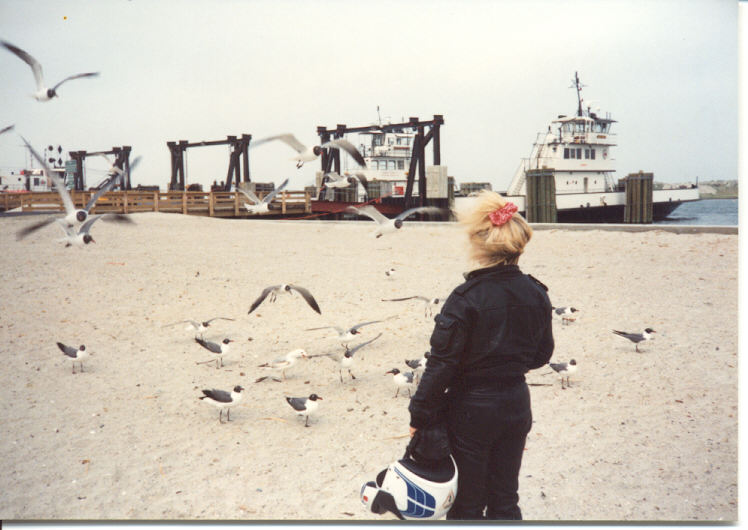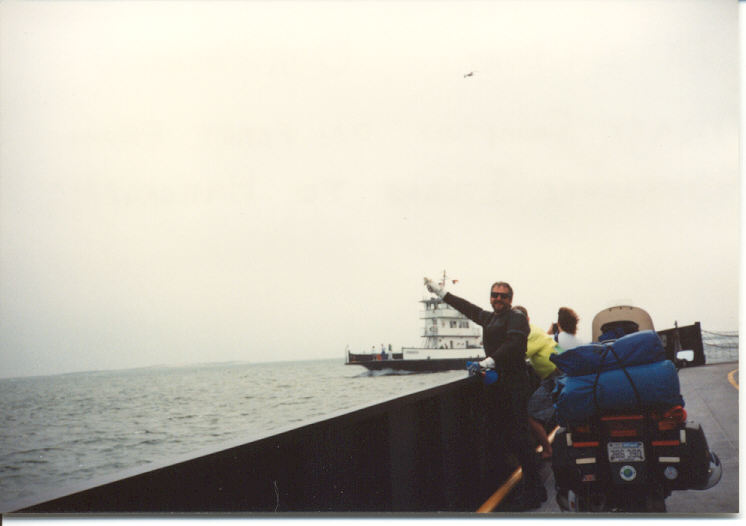 Yep----that's me----23 years ago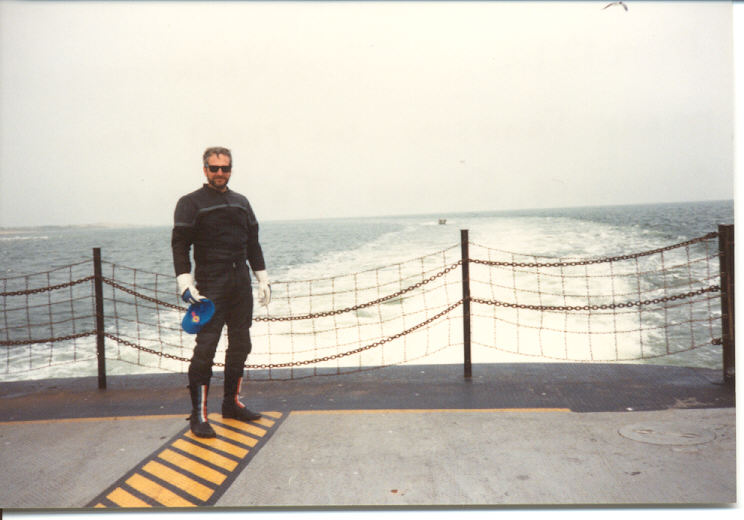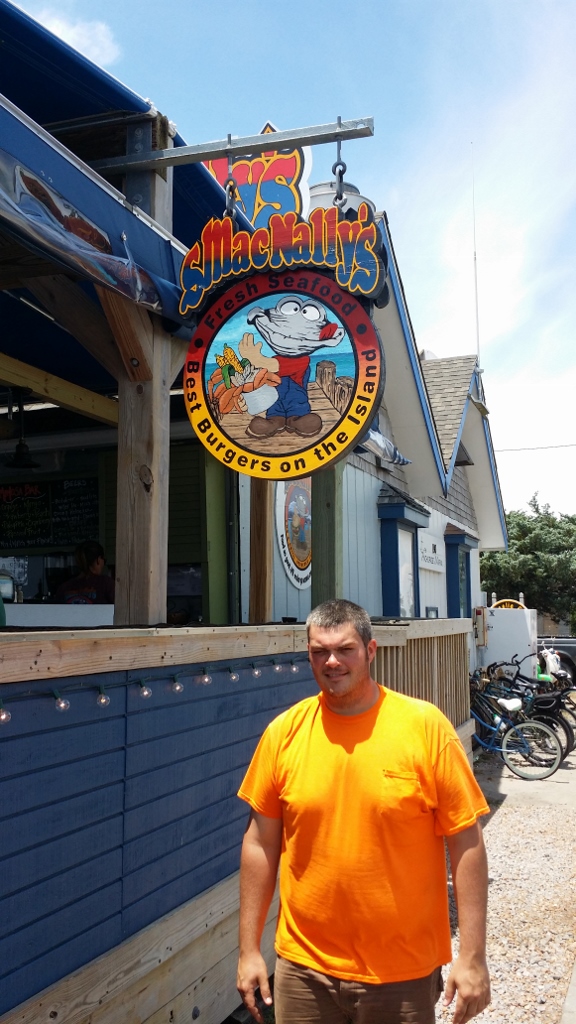 So now we are on an island-----Ocraoke Island---and we were hungry.
We ate at a neat little restaurant right on the ocean with many docks all around us. Most of the boats were for hire.
Fishing expeditions I suppose. The waitress tried to tell us we had to catch our own fish---then she'd cook it !!!!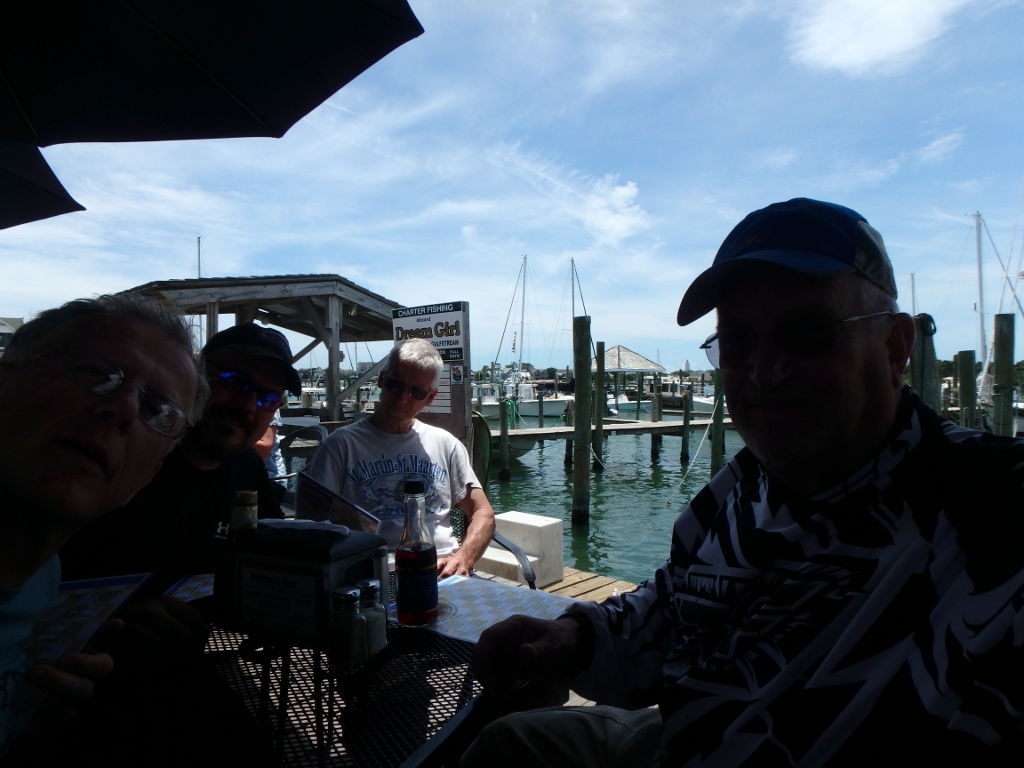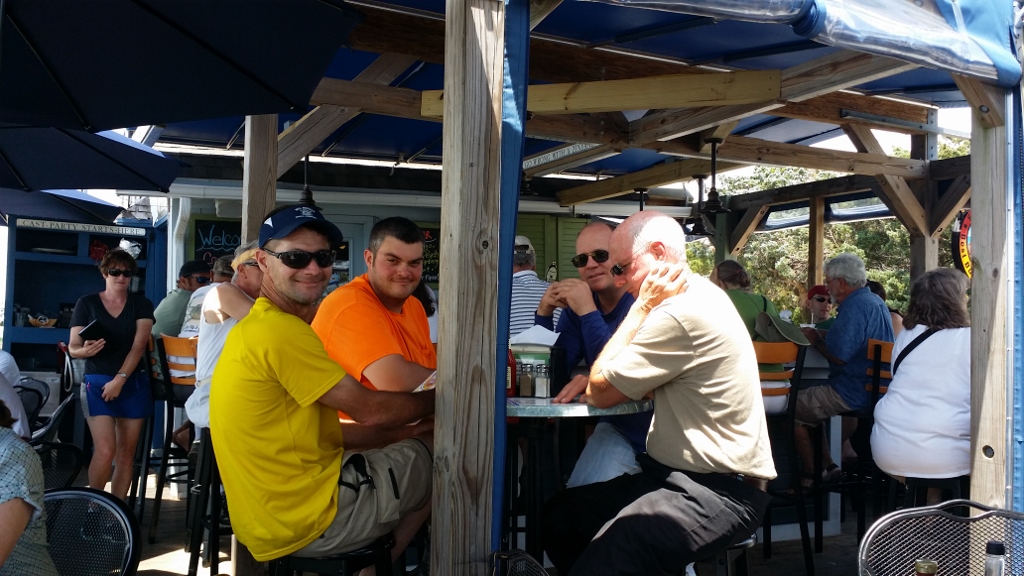 Going Norteast on the only road on Ocracoke Island the Island is only about 200 yds. wide for a good 30 miles.
The ocean is on both sides of the road but because of the high sand you don't get to see it too often.
What a scary place this would be if you were in a hurricane.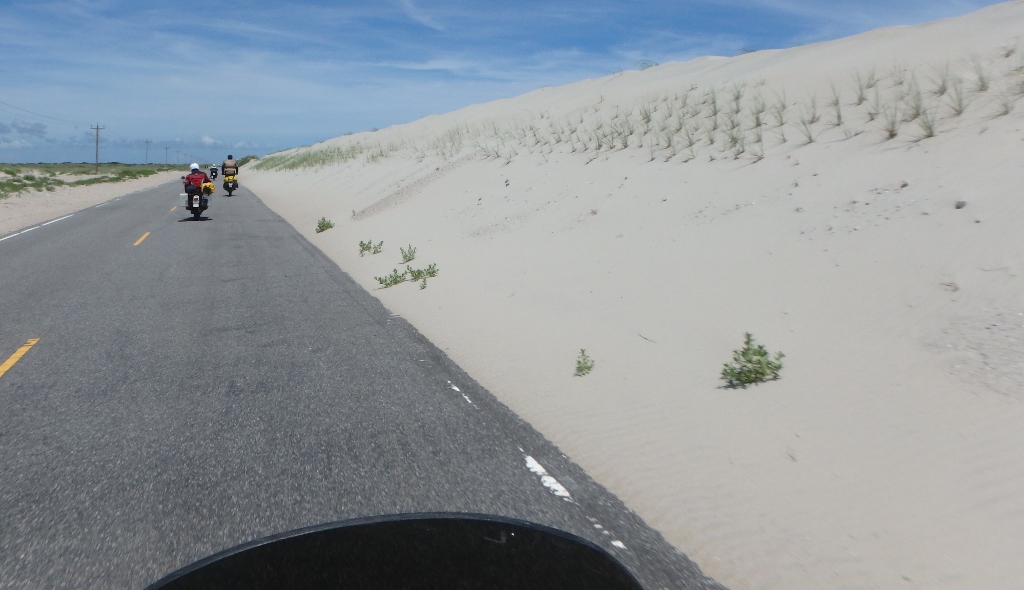 Steve at the ocean---none of the rest of us dared go thru the deep sand to get here.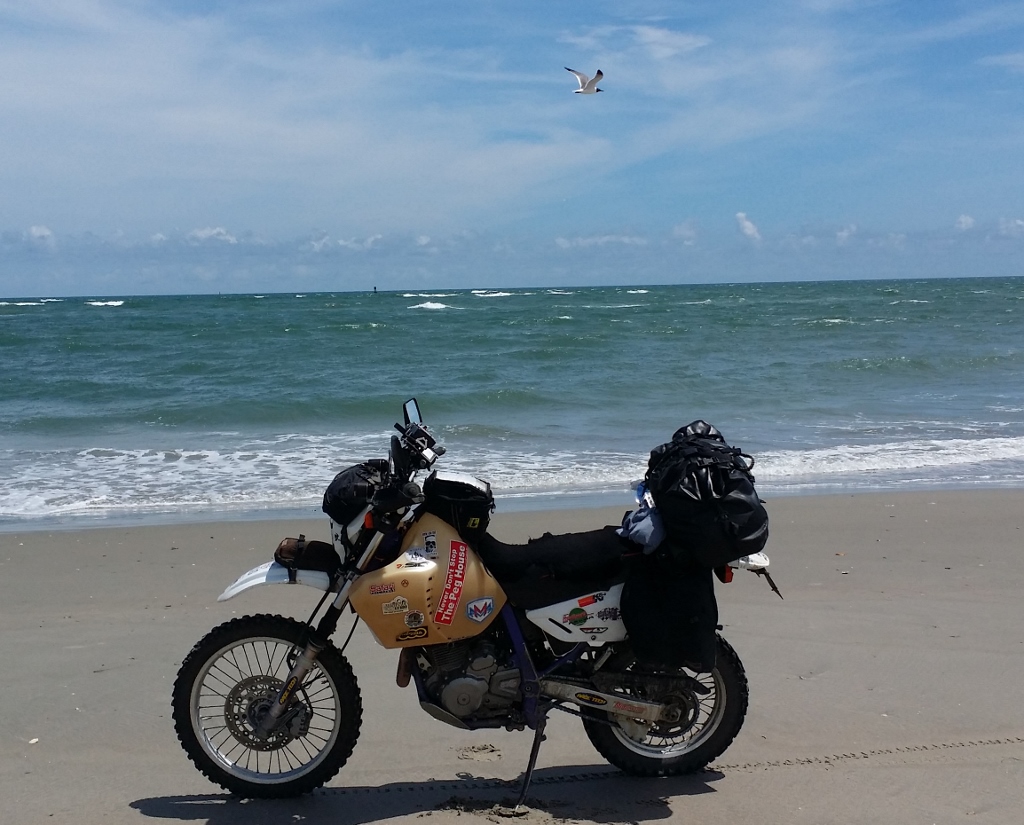 My gps says we are 9ft. below sea level---------hard to breathe !!!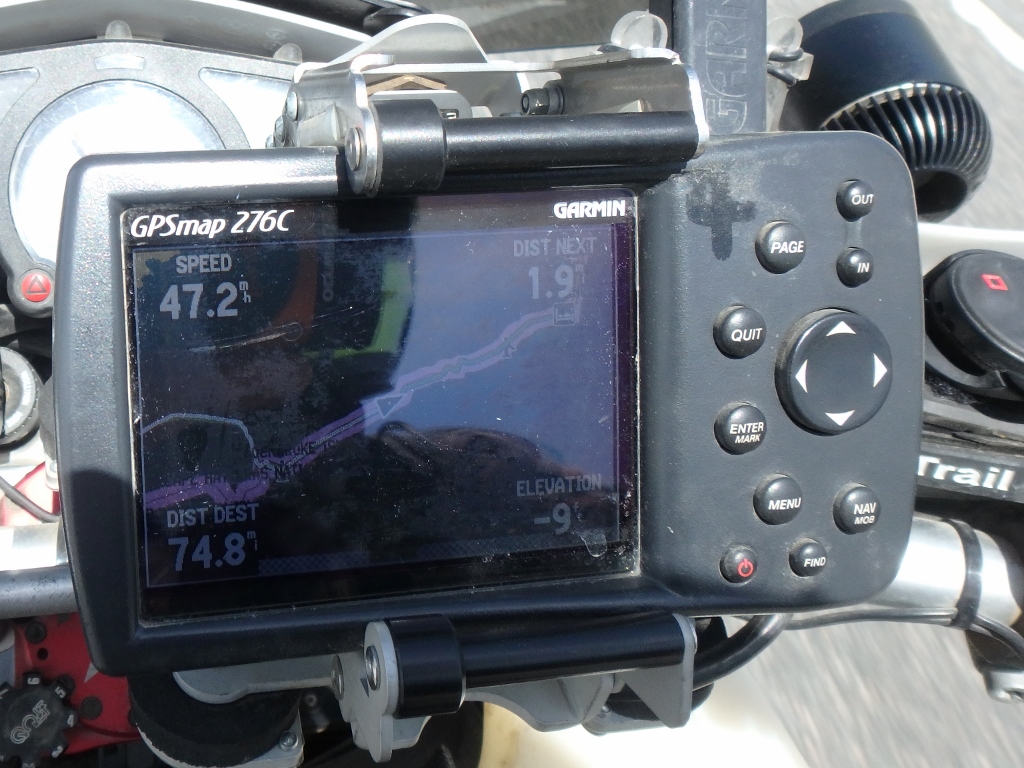 There were many little turnouts along this road where you could play on the sand.
The sand is very deep---and what riders in our group that tried this pretty much regretted it.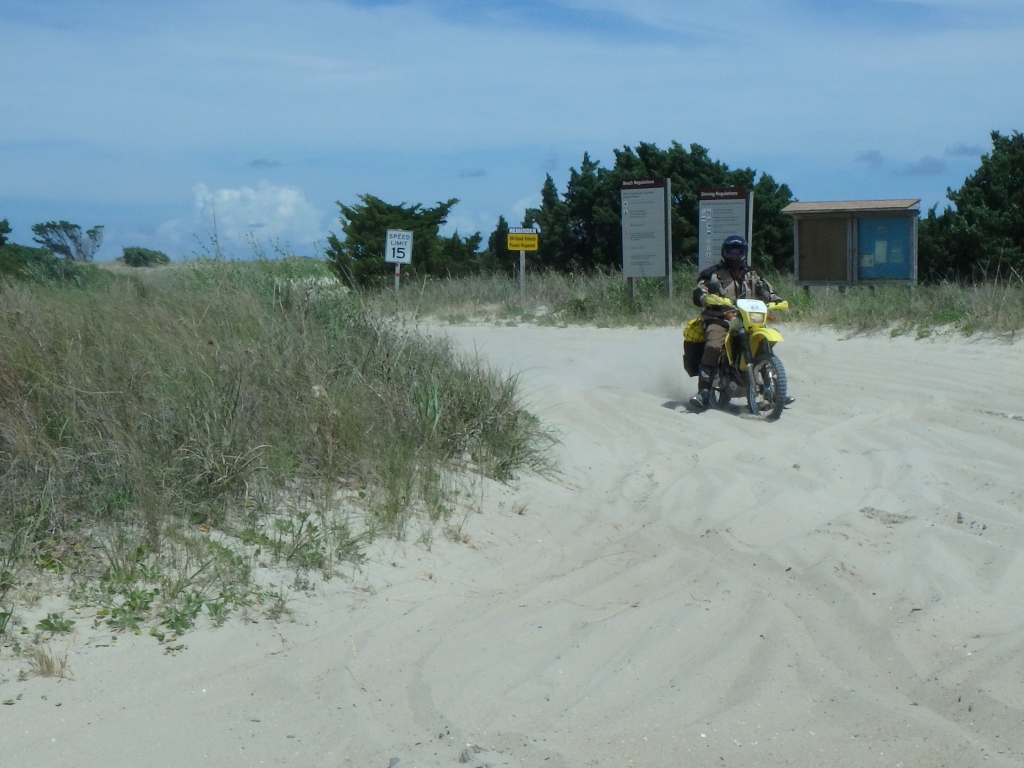 The next few pics we are waiting for our next ferry ride to Hatteras Island.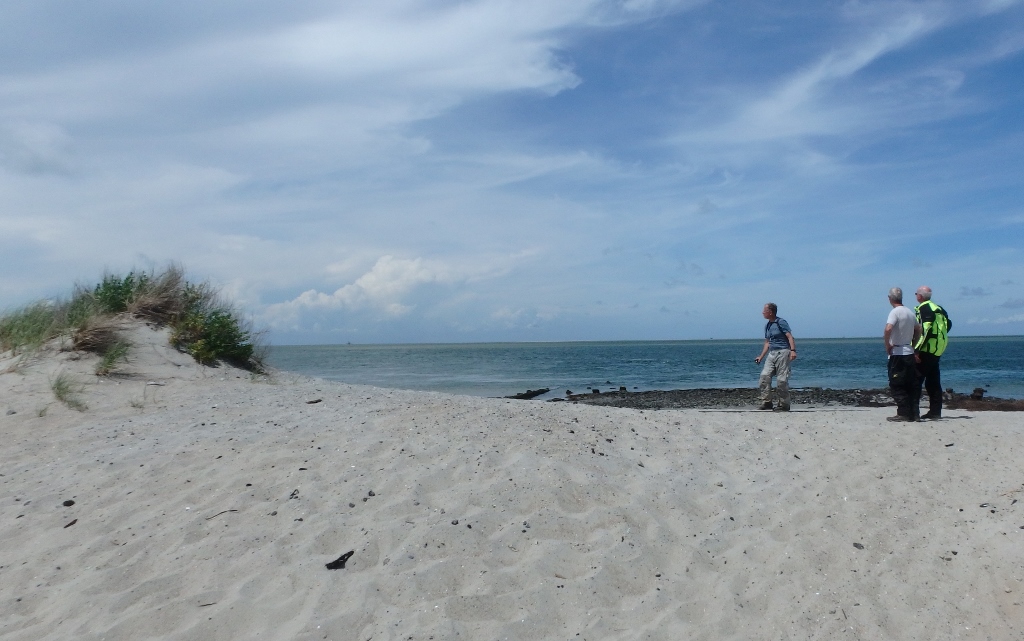 ZZZZZZZZZZzzzzzzzZZZZZ-----top.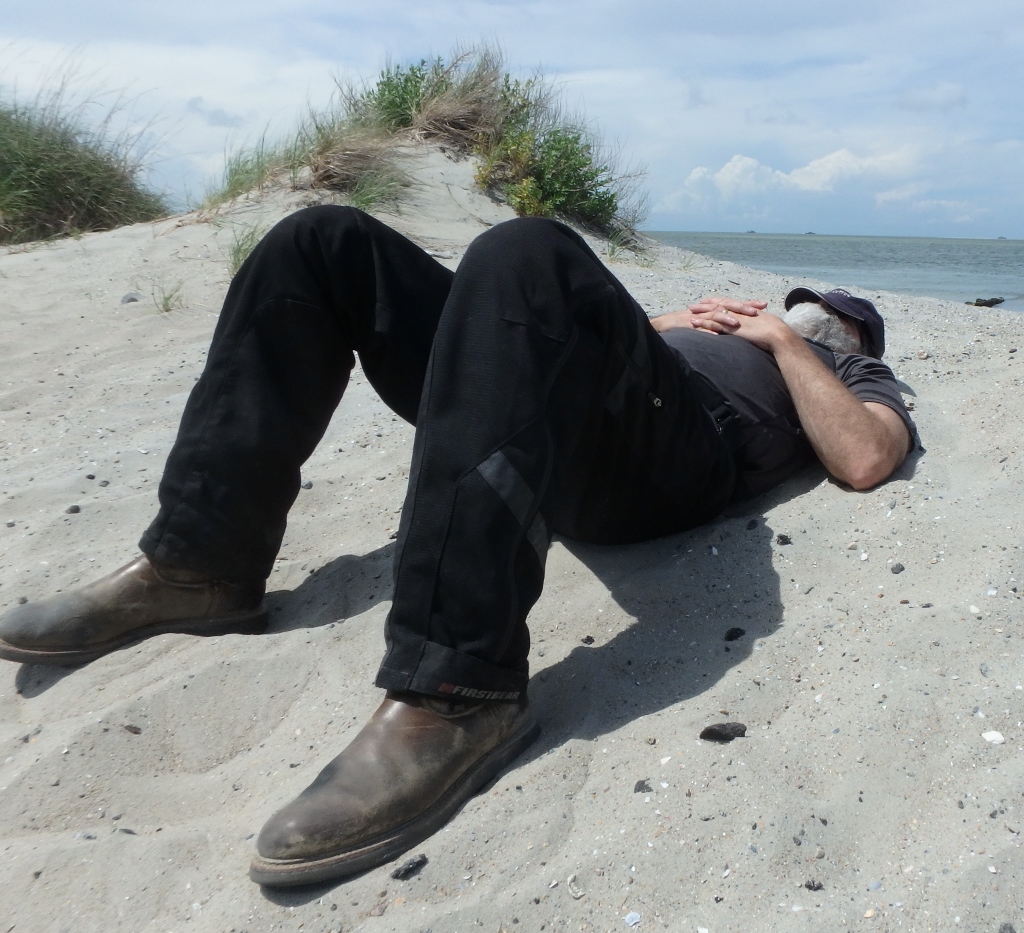 This ferry ride was an hour long---and could not go in a straight line as the ferry had to navigate around very shallow
water which was plainly visible. They crammed all our bikes at the last minute on this ferry and we settled in for another ride.
This ferry was free---the first one was $10 for bikes.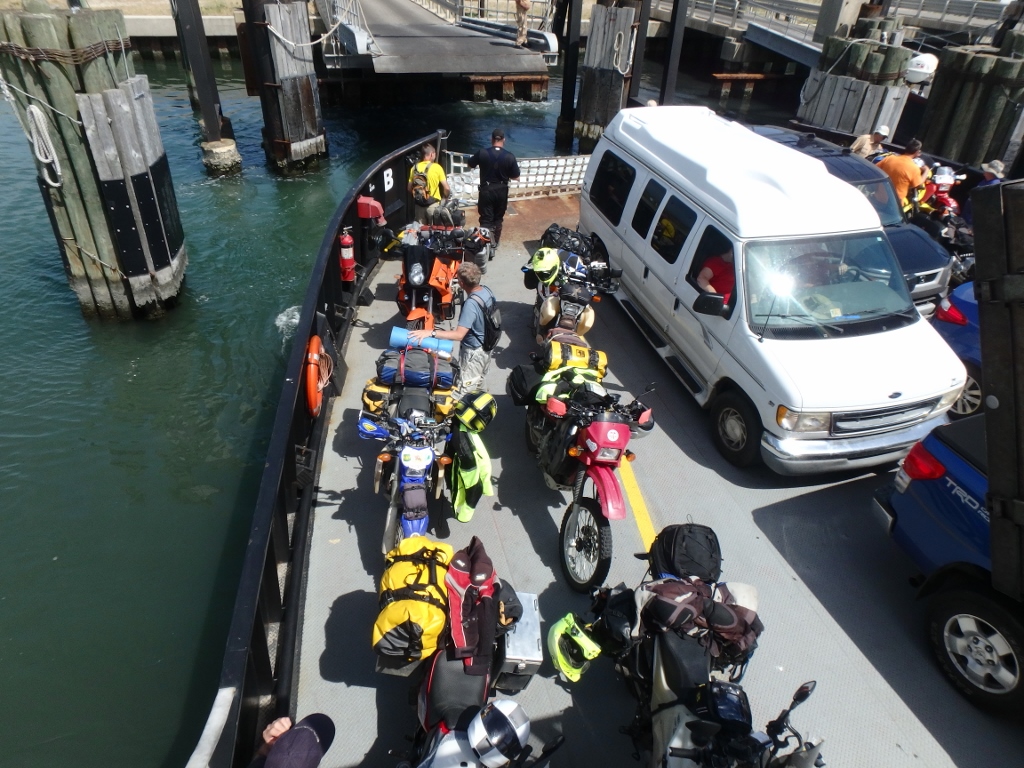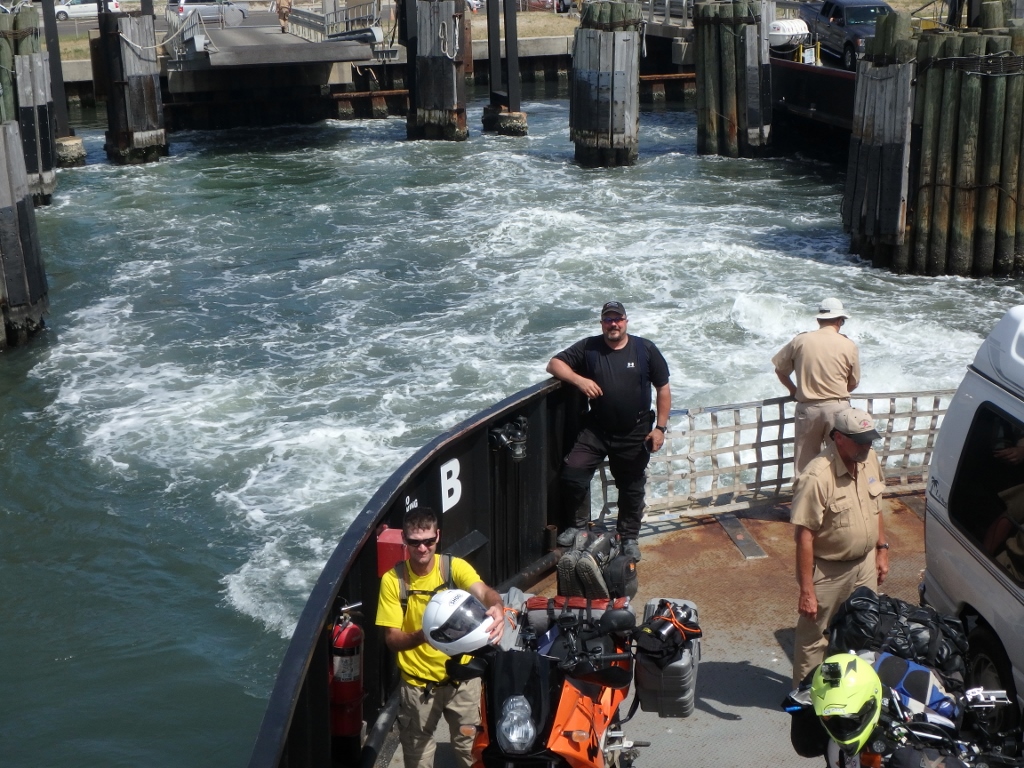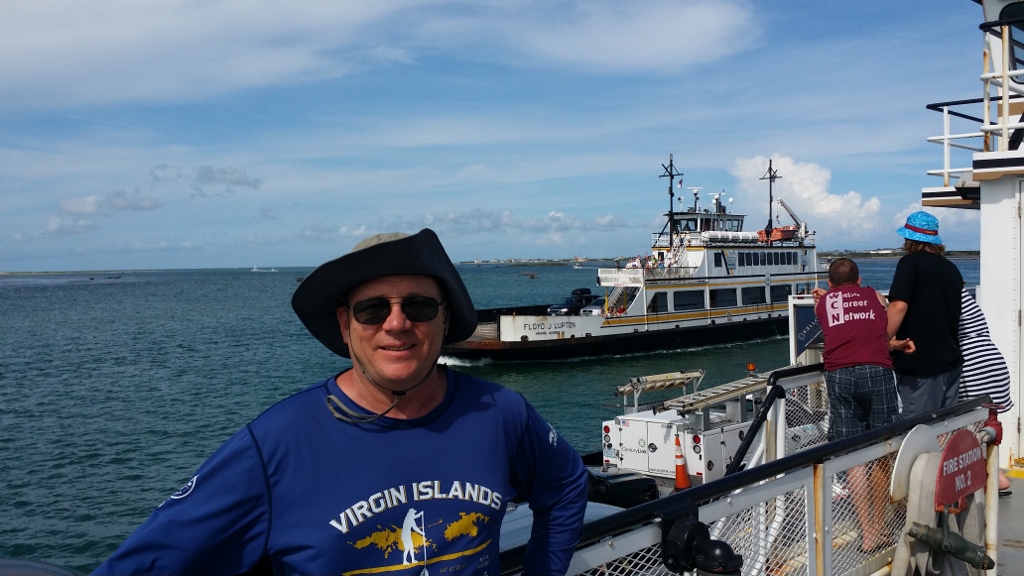 One of the many boats that passed us on the way---our ferry went about 12mph.