On With The Story
Jerry seems to be very concentrated on something-----it's not like Jerry to waste money on such a frivolous thing ???
What was he looking at ????? A big fish ???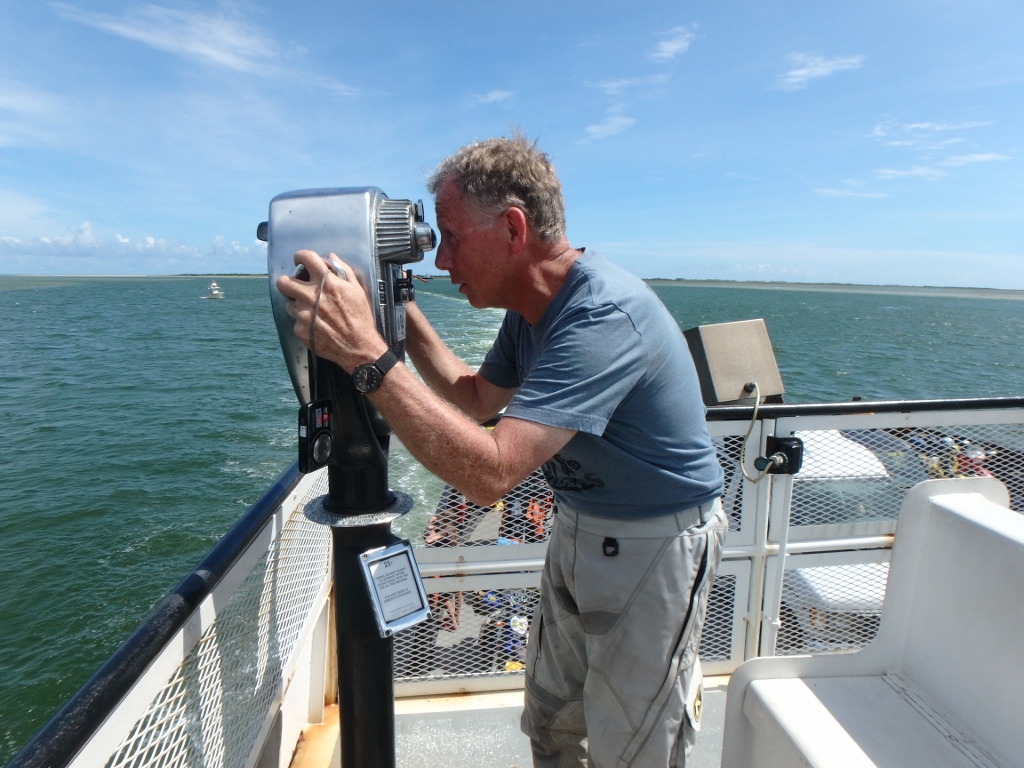 Something is in view---but is very far away.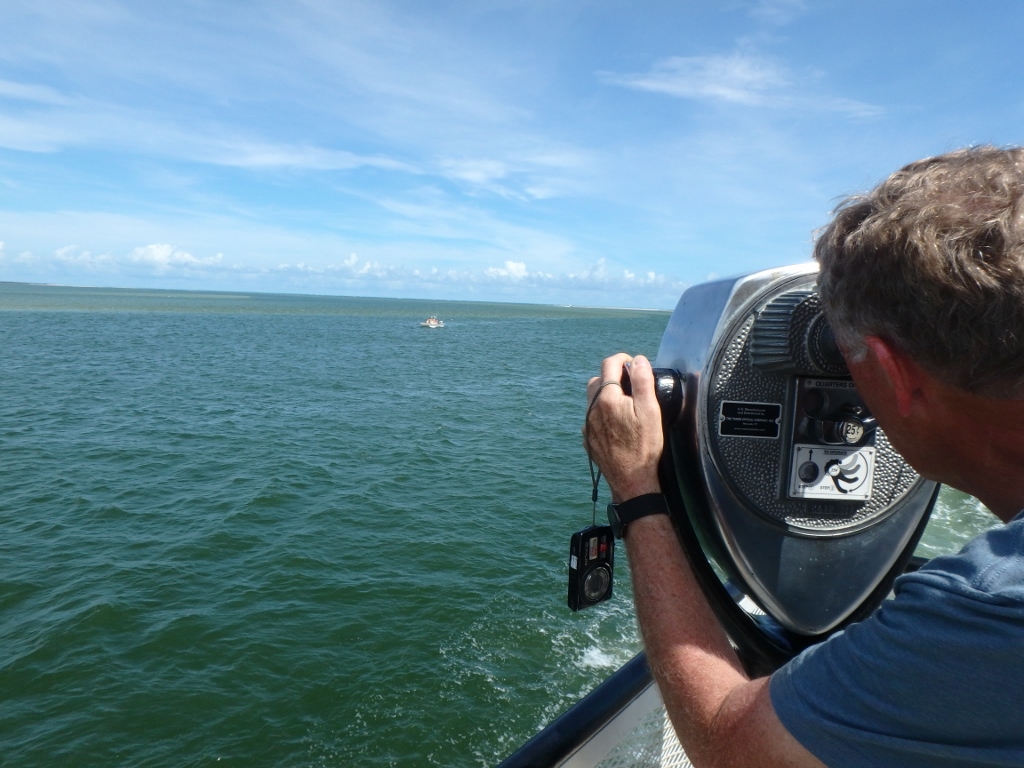 Ok now I get it !!!! I suppose he even had a closer view than I did with my camera.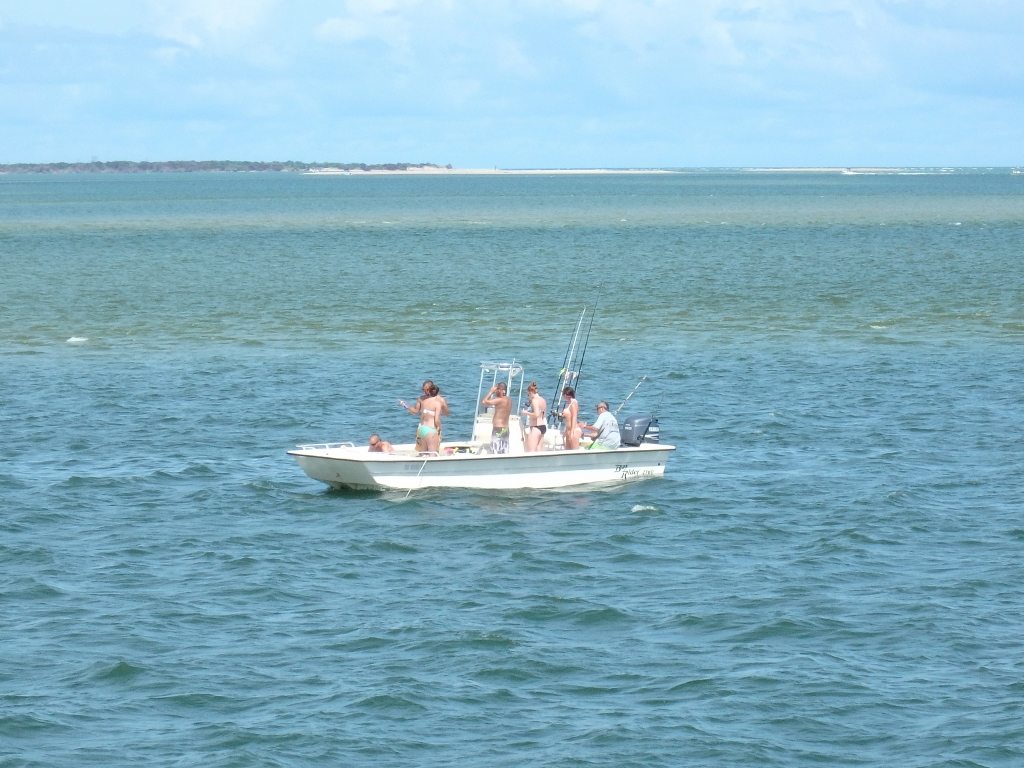 This was so cool-----a guy walked from shore in the very shallow waters out to his favorite fishing hole.
Looks like he is floating on the water.
Like I said----much of the water around here is very shallow.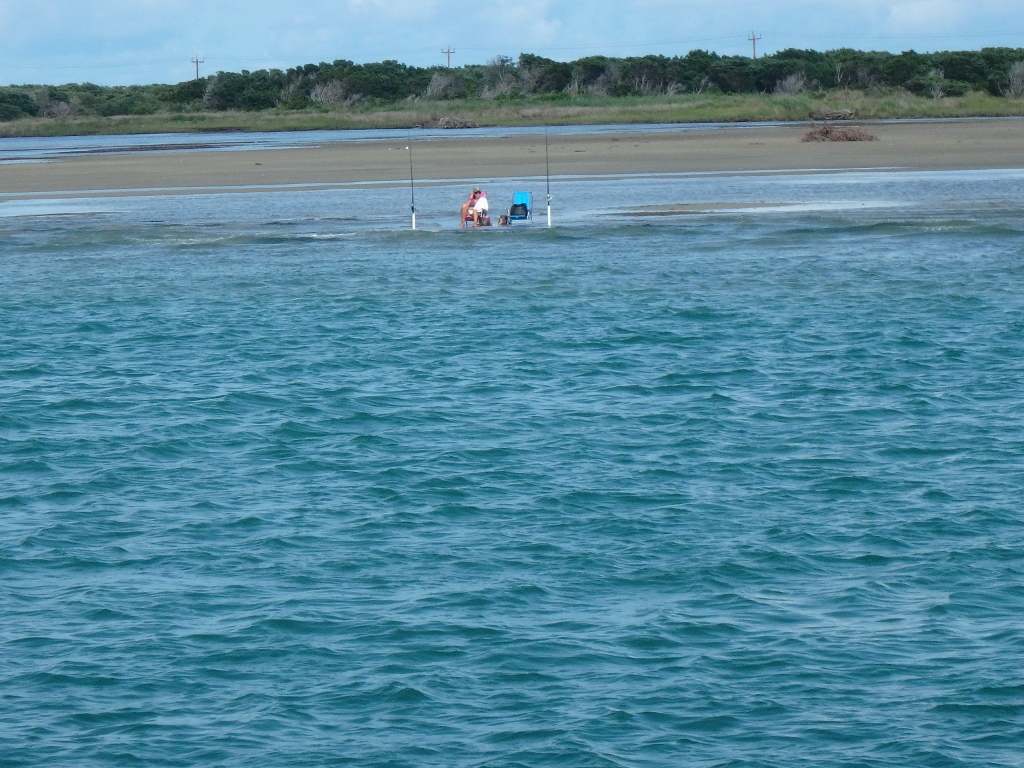 On the Island the lighthouse was hard to miss.
Many wanted to buy a permit to ride on the beaches.
Seemed they wanted your drivers license, registration, insurance card and sign a waiver------plus fees.
Too much trouble--------I guess they wanted it that way---then nobody would ride on them.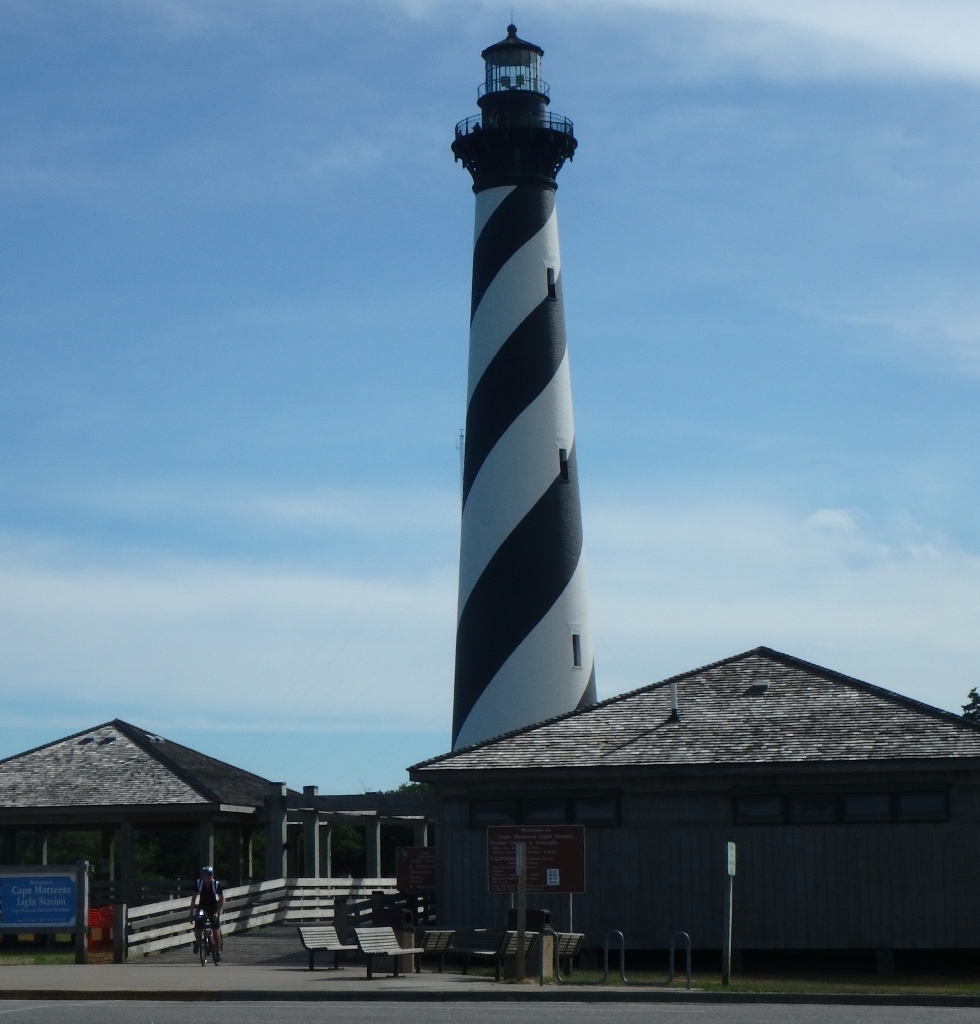 Maybe the best picture I took.
It seemed none of us could ride in this stuff except Steve.
He wasn't going home till he stuck his front wheel in the ocean.
I knew better than to try it------------I know how that would have ended up.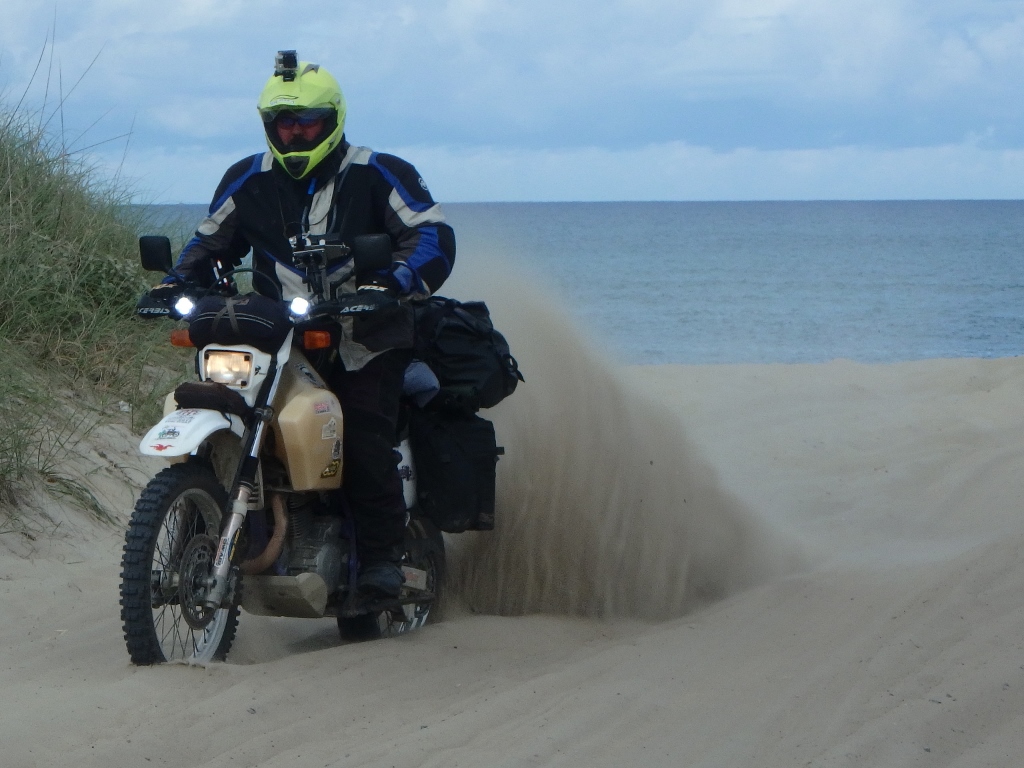 Like This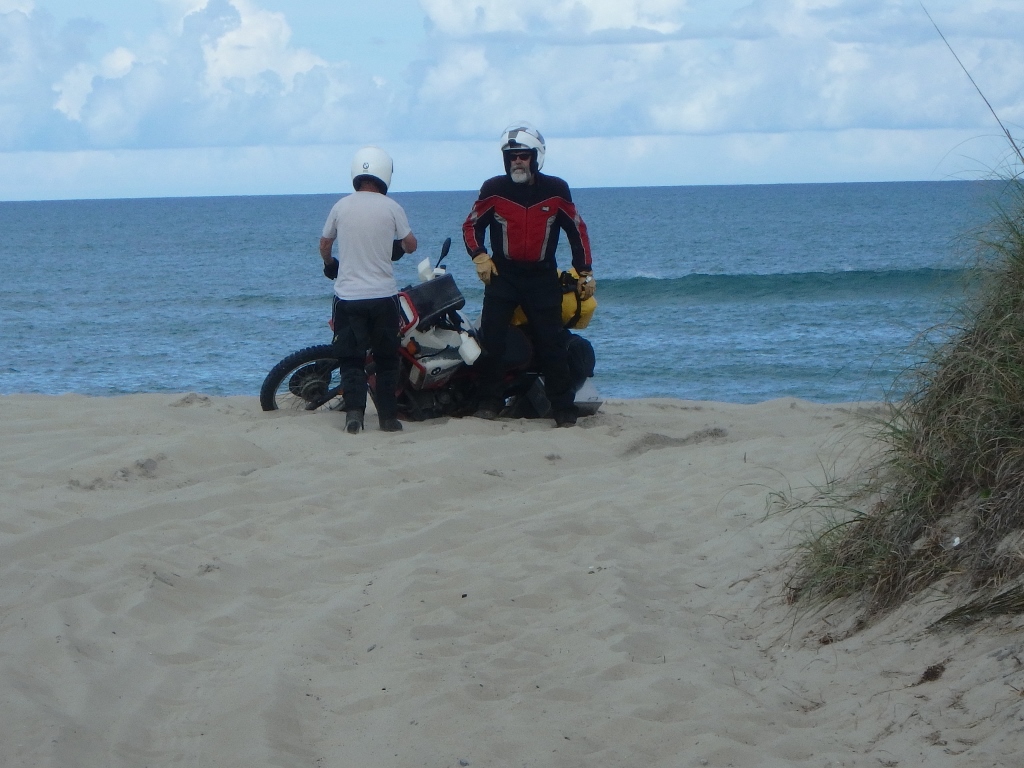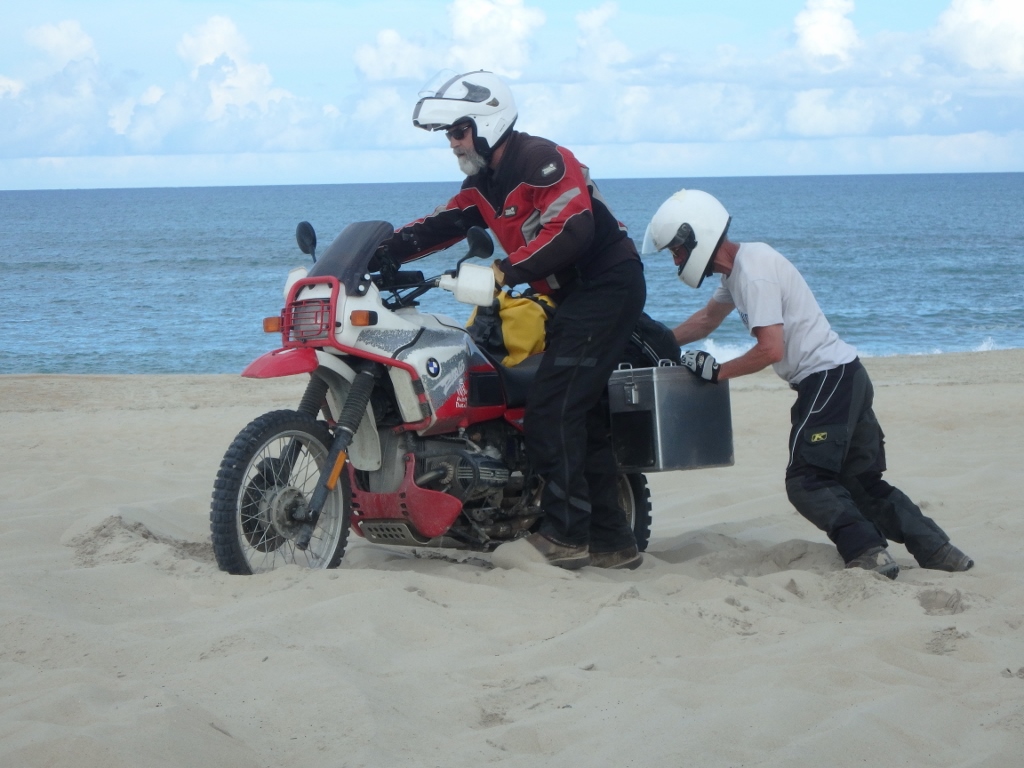 And This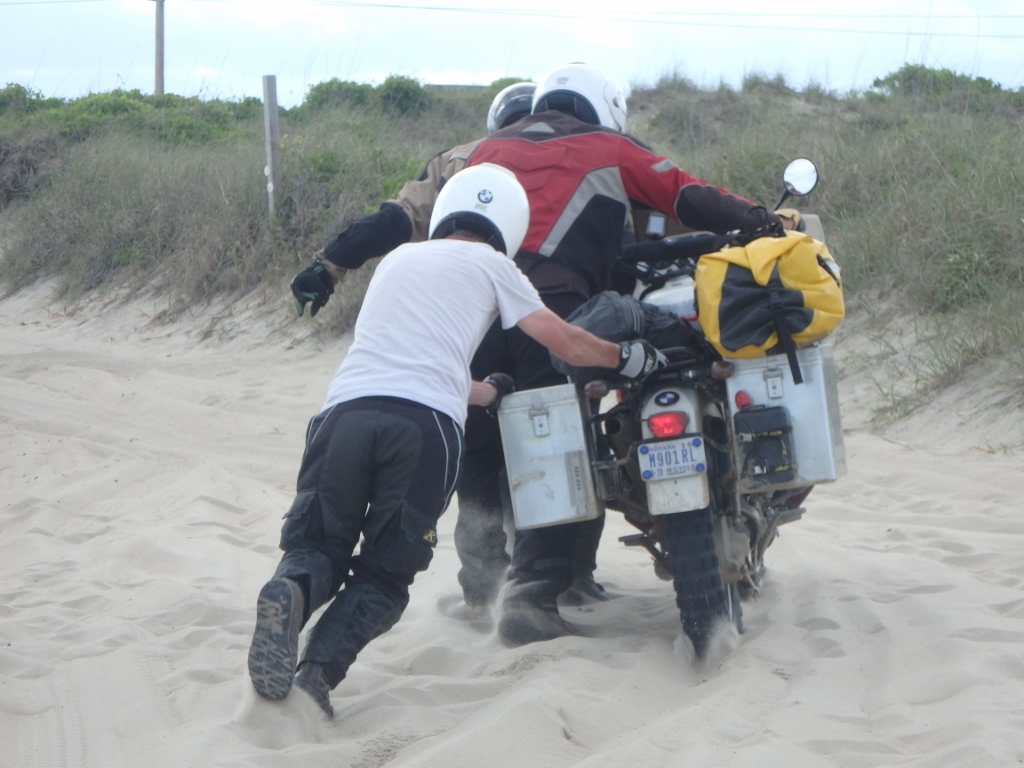 I've been to the Wright Brothers Memorial 3 times.
All 3 times it was late in the day and it was closed.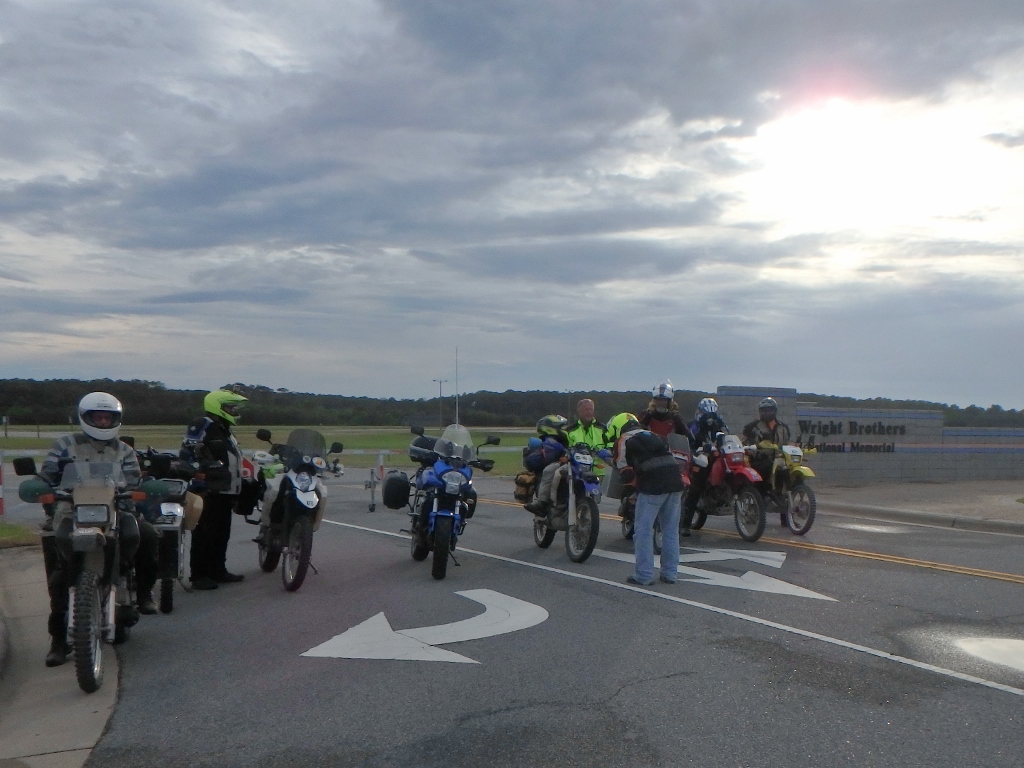 We were headed to the Dare Haven motel------but made a stop at a great little restaurant where we ate dinner
and breakfast the next morning.
Seems when I got home there were hundreds of selfy pictures on my pone that I did not take ????
Who would do such a thing ??????? A nut---that's who. A "Loosenut".
Well it is a pretty smiling face.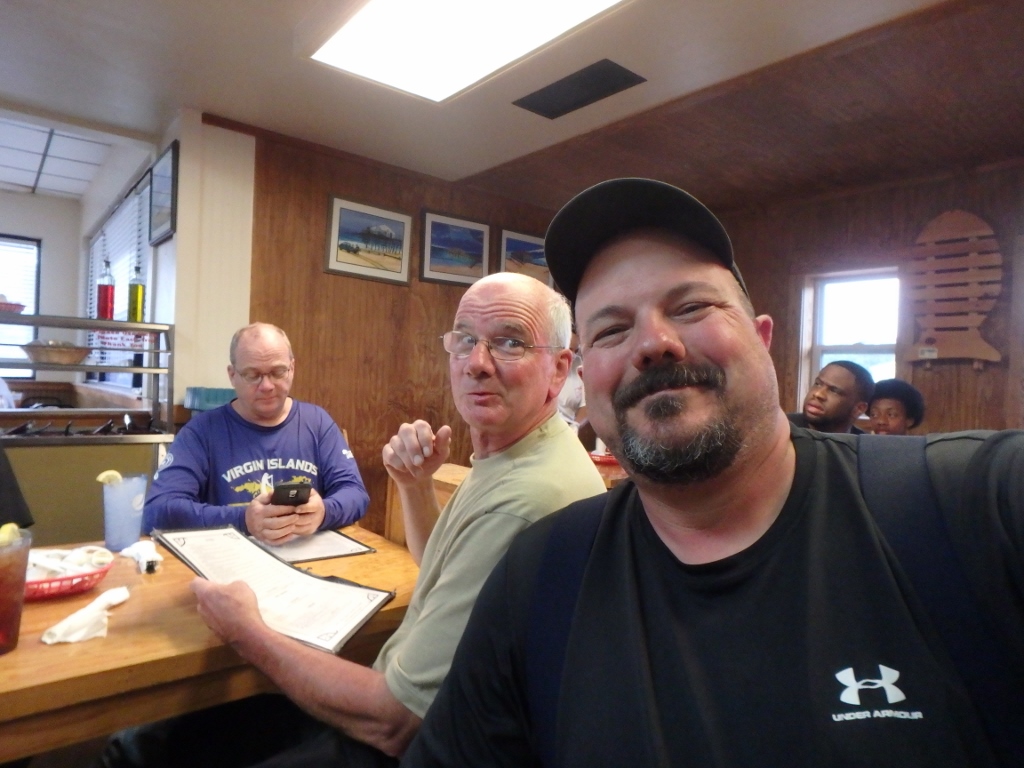 Was $42 when I was here years ago---------now $142.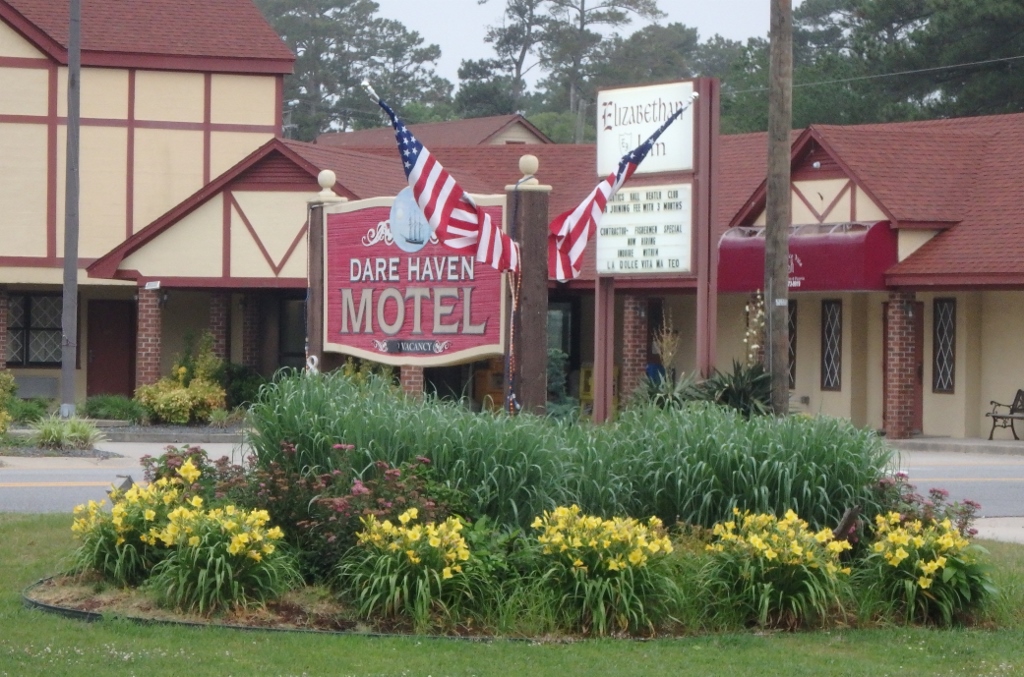 It was time to head back West now---after all you couldn't go East----you'd get wet.
We rode over a bridge in Groatian Sound---then ran into this rotating bridge which had to rotate out of the way to
let boats thru----in this picture is is a full 90° to our rosd so a sailboat could go thru.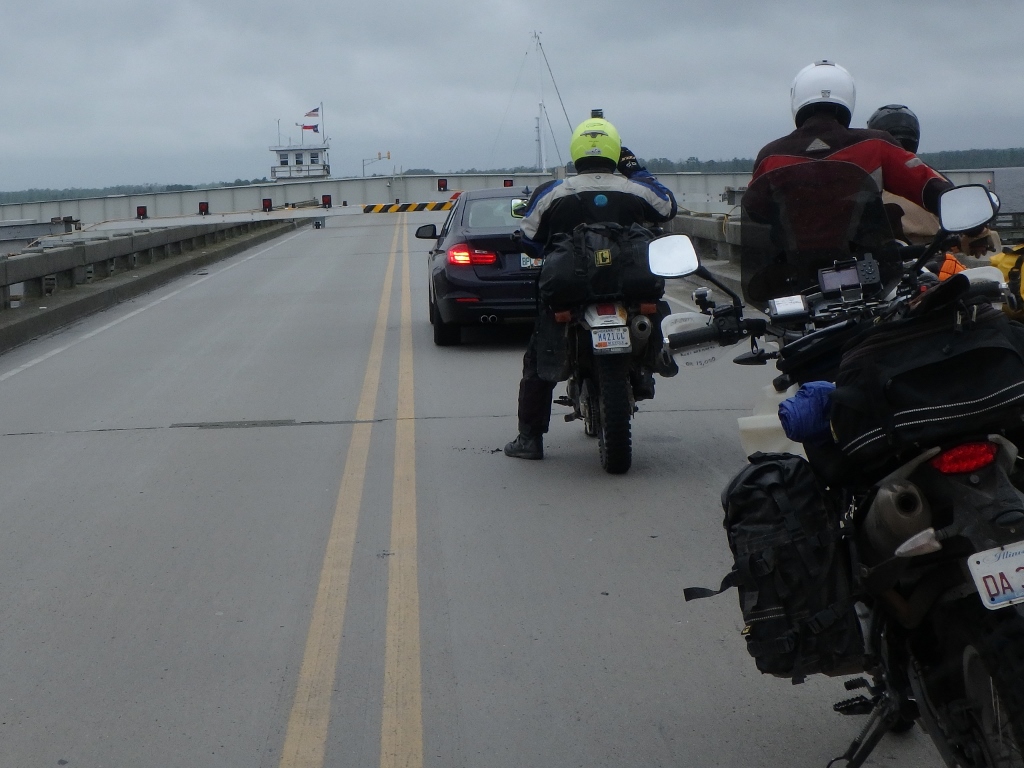 Now it's coming back our way.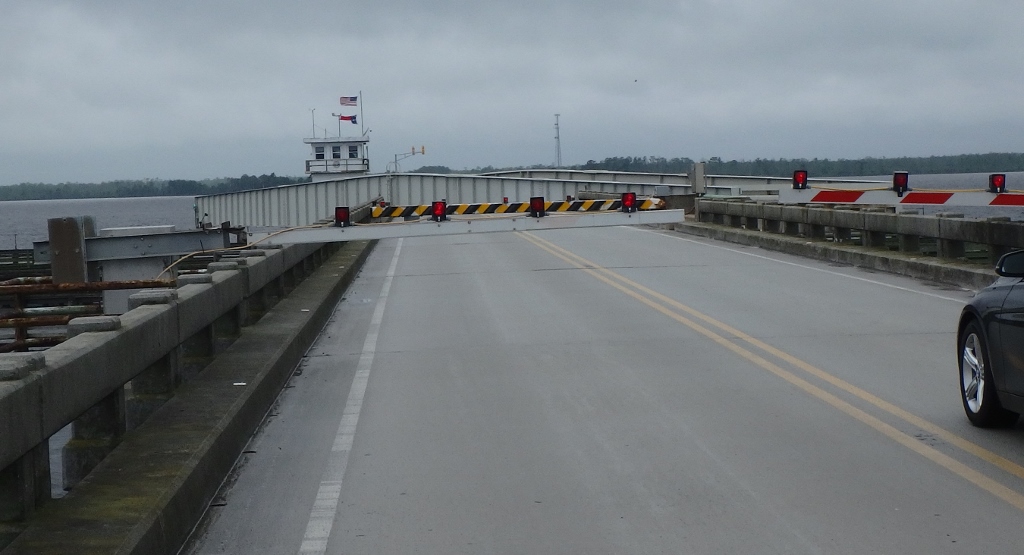 And almost all the way back to allow traffic thru. Pretty neat.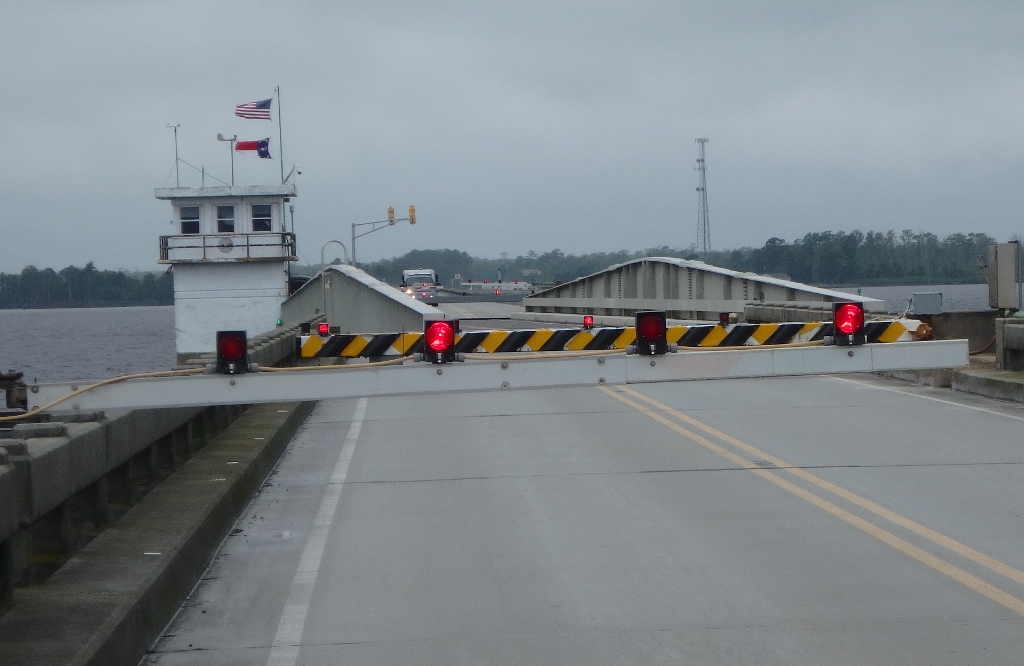 Our 6th day on this ride---and we saw some neat stuff on our way back West.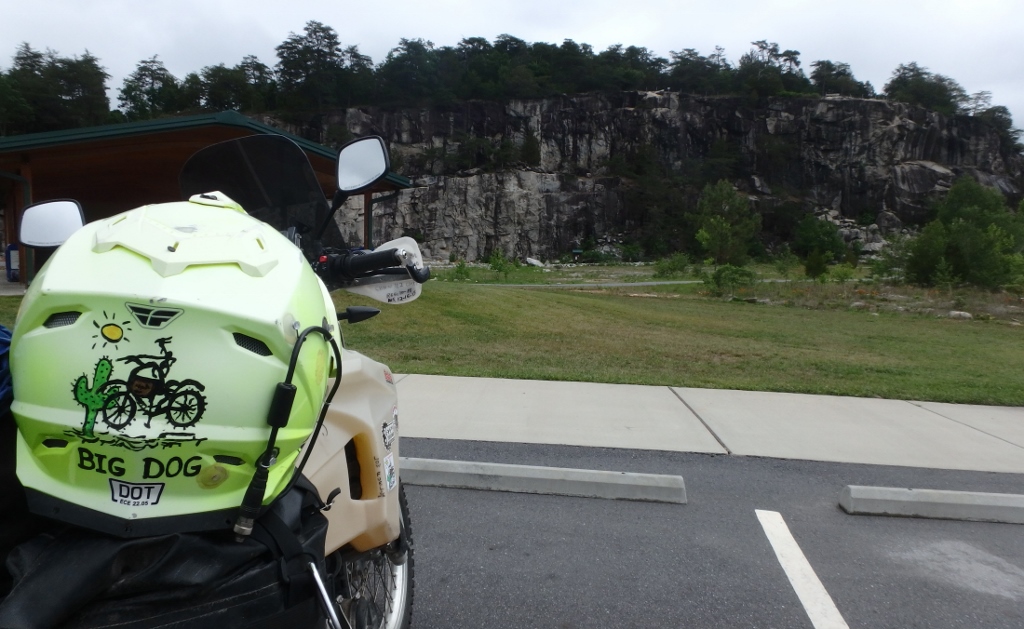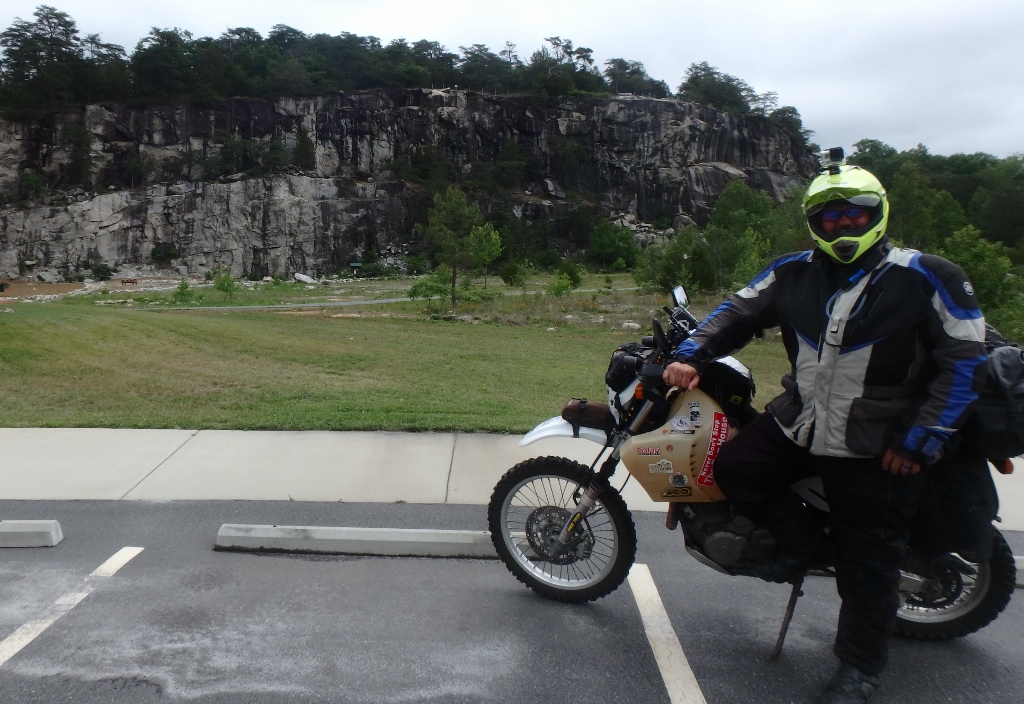 Maybe Day 7 ????
I think this was on the Blue Ridge parkway.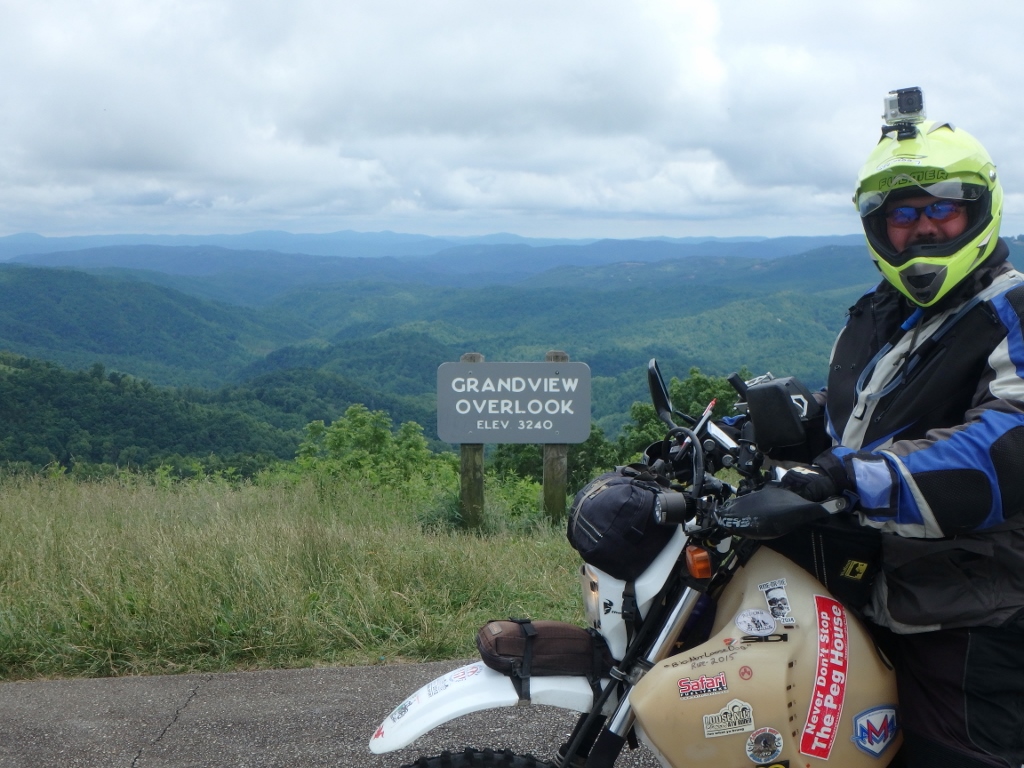 Thru text messages------------yes we were all seperated again--it was determined we'd camp in Roan Mountain state Park in Tennessee.
Me and Jerry were alone---------it was raining cats, dogs and camels-----heavy fog---it was getting dark---visibility was terrible and I
thought we going to spend the nite in the mountains lost under a tarp.
But me and Jerry headed for a motel in Elizabethton, TN.
The next morning we got up and had breakfast at a mom and pop that had a sign out front that said "Home Cooking".
I spotted another covered bridge on my gps and it was in this town------off we went. None of the others got to see this one.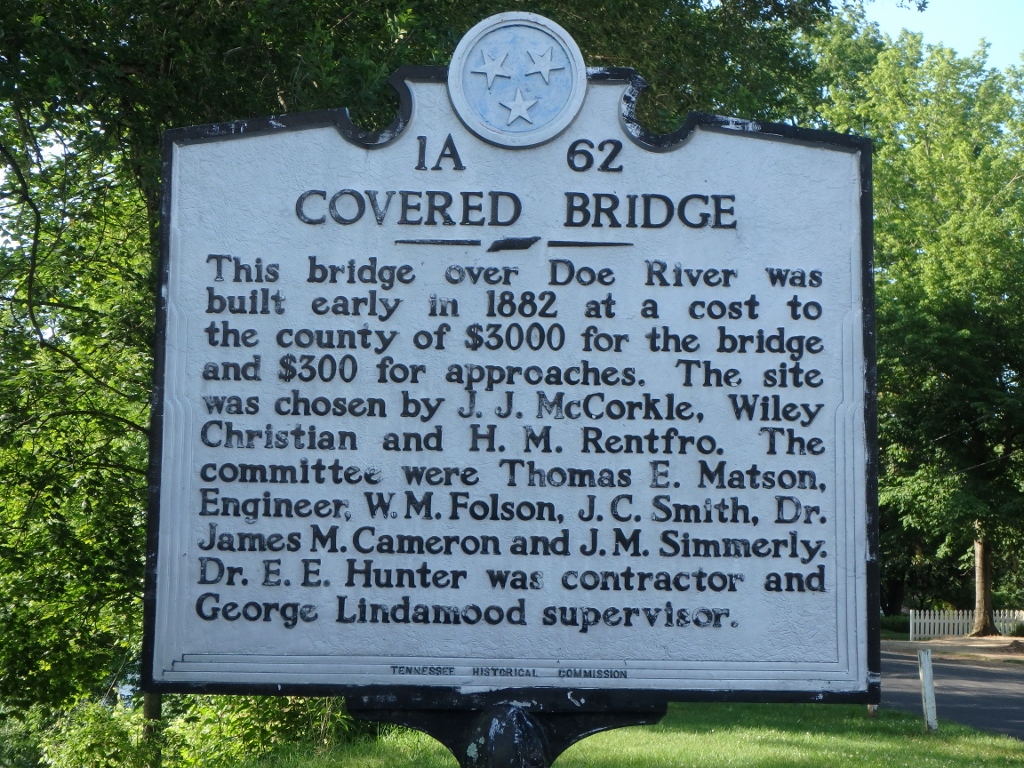 A very small town where there was no crime. As the parents still whipped their kids fanny inthis town when they were bad.
There was absolutely no grafitti on this bridge----------the only one in existence with no grafitti. See how stupid you are for not
whipping your kids be-hinds.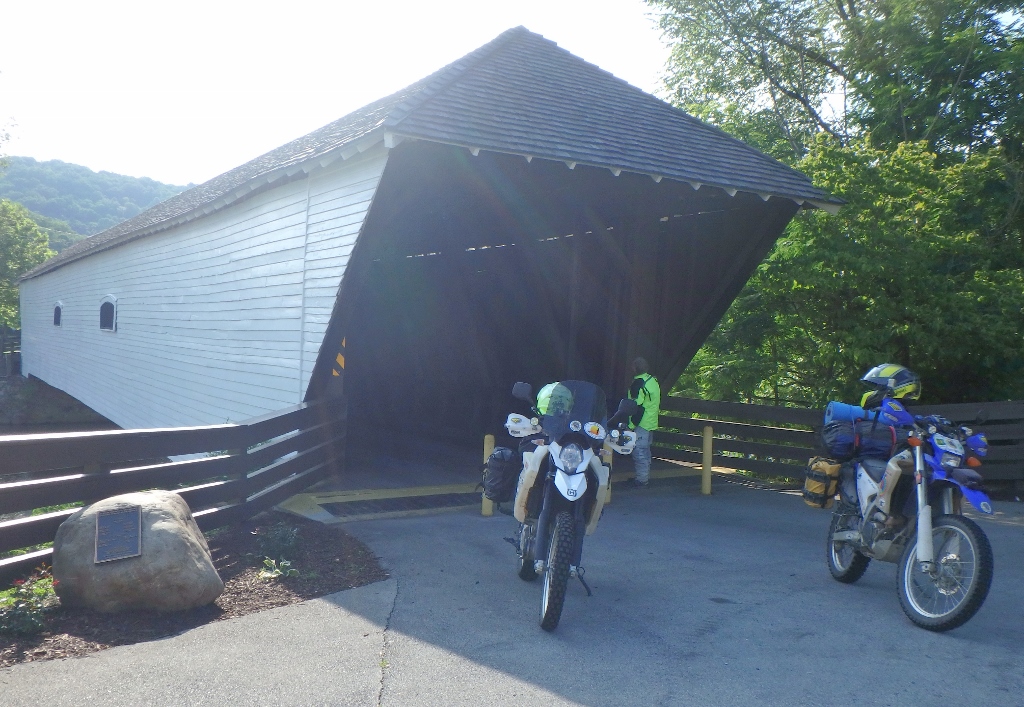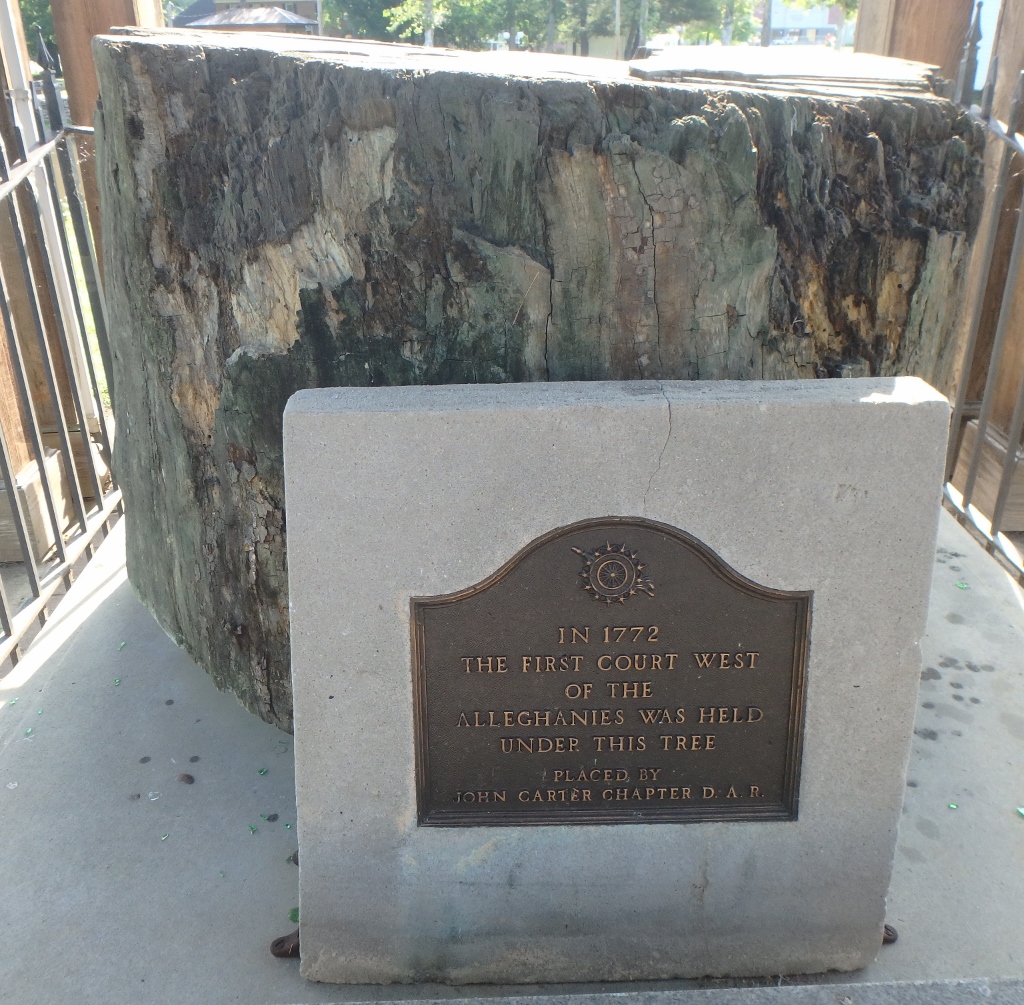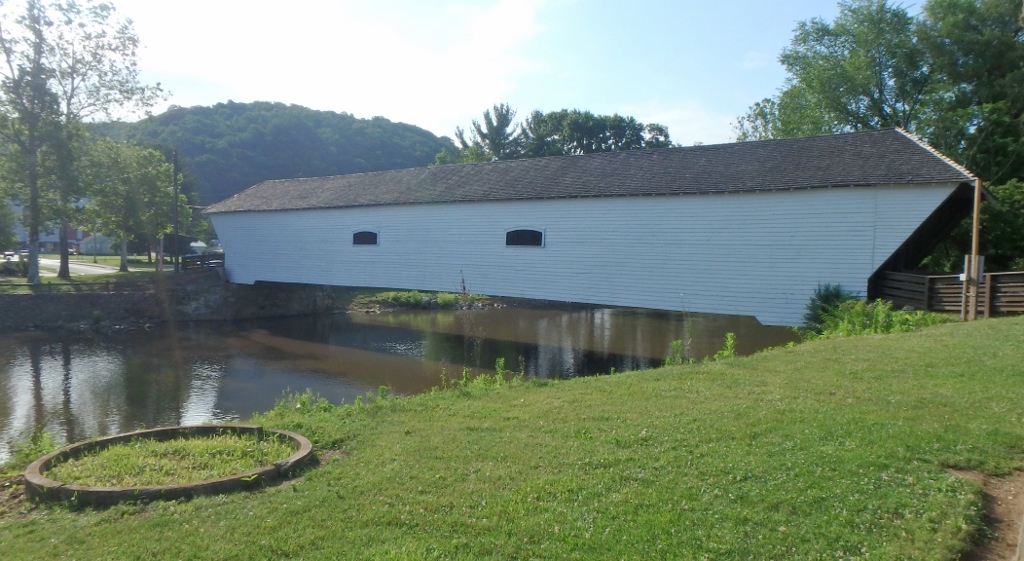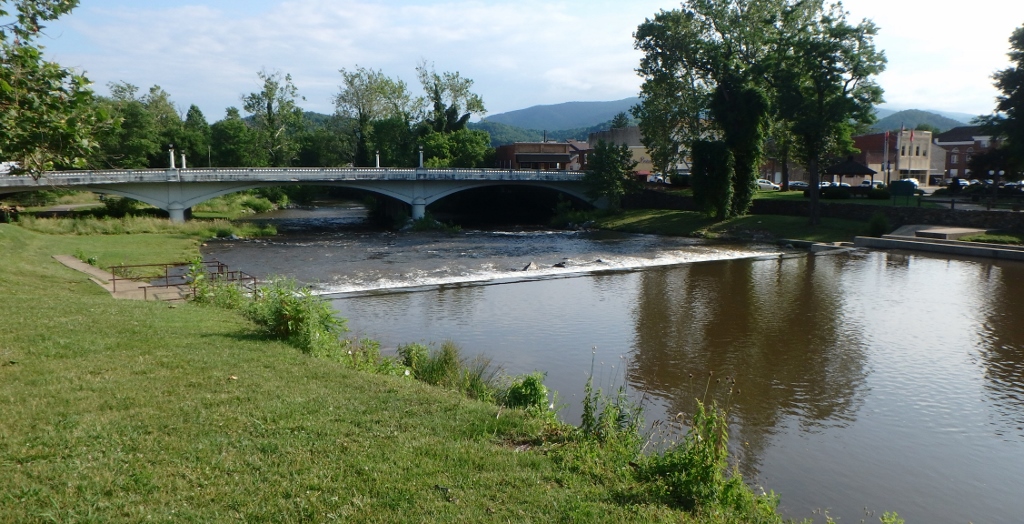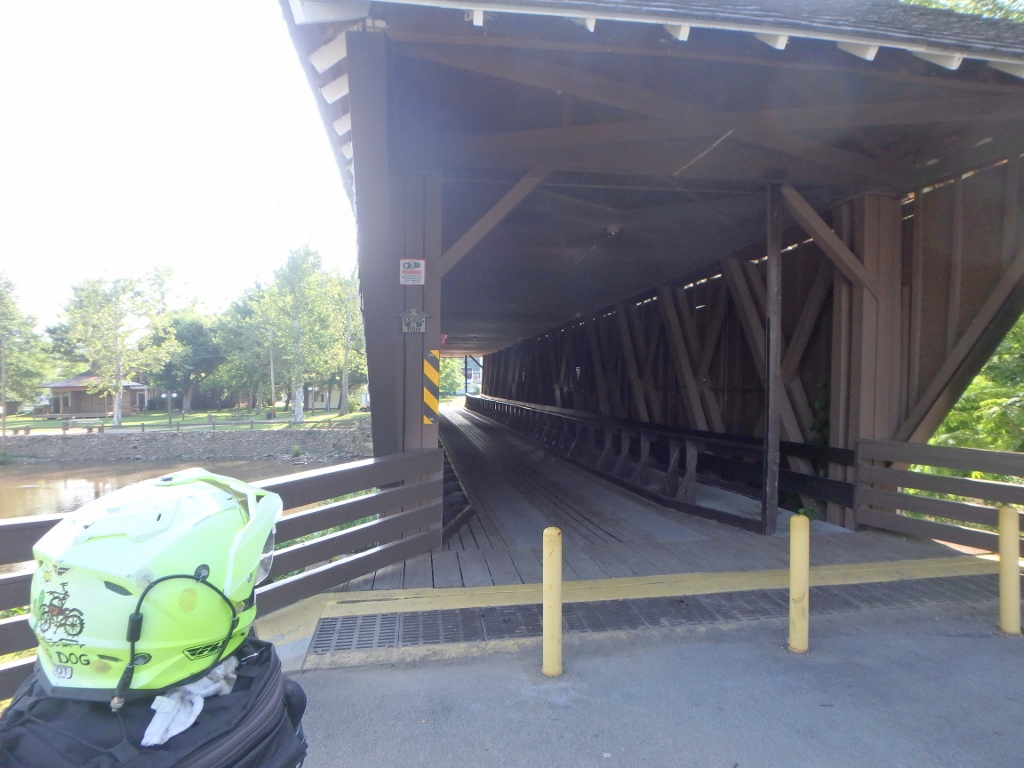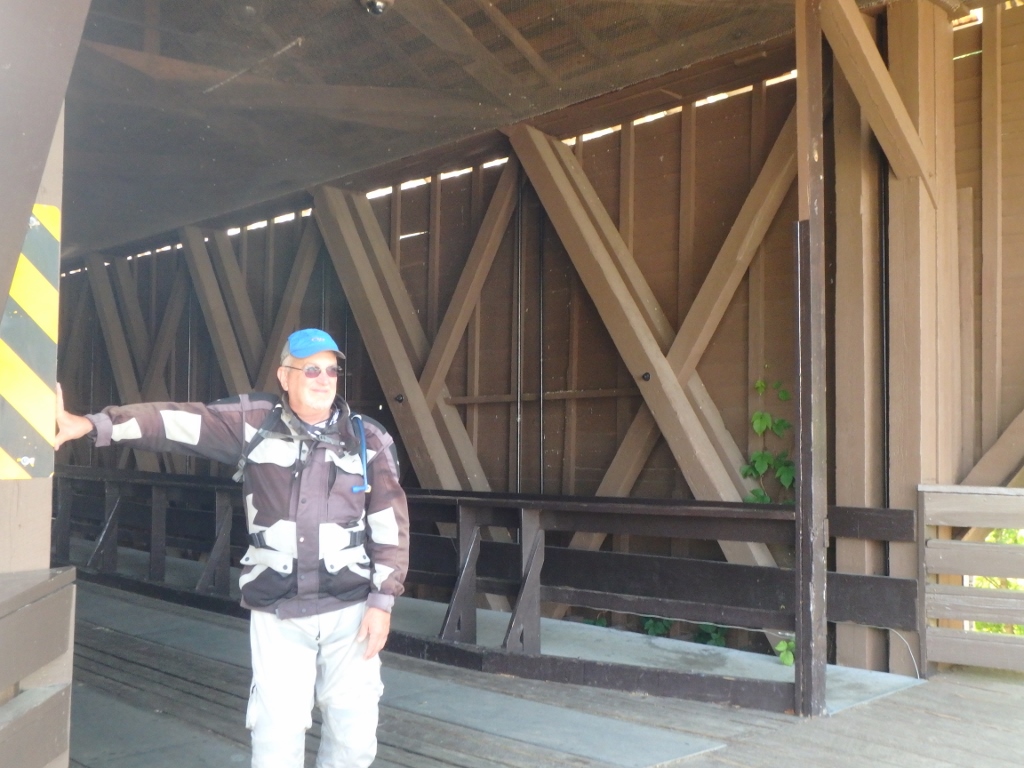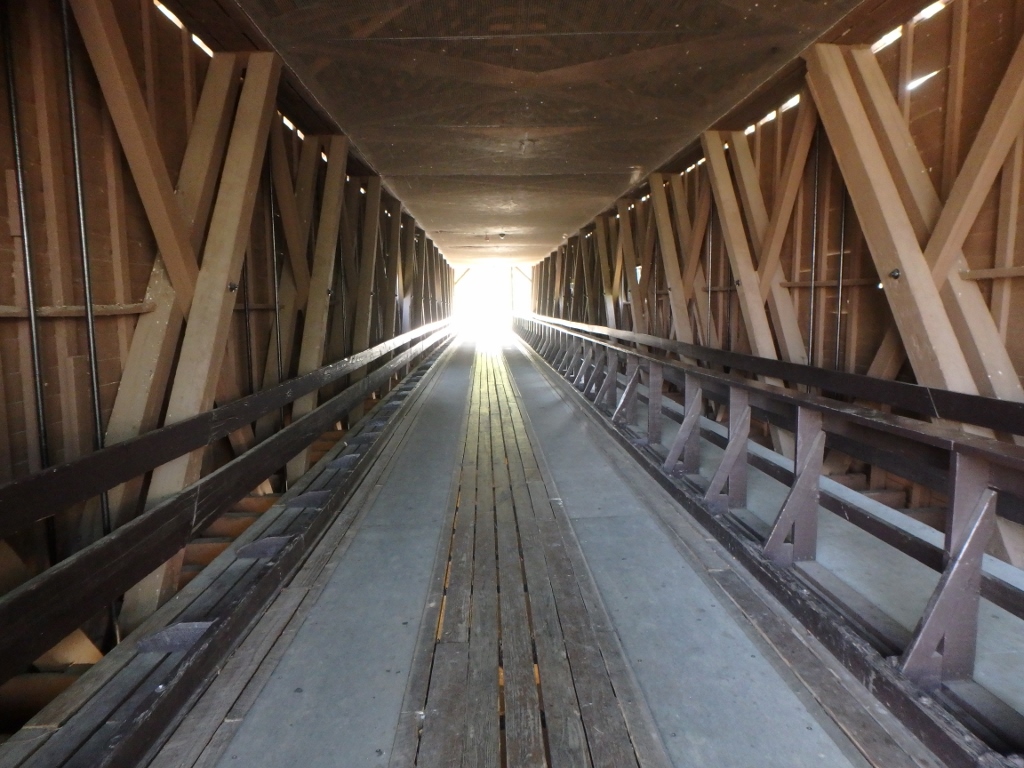 This local gentleman here gave us the history of the town and we talked to him for an hour.
He said "If anybody de-faced this bridge or messed with the ducks in the river they would be hung"
So nobody did---so why not bring back hangin ??? I just don't see why ????
He never lit that cigar----been chewing on it for a week.
Chewed on them all his life---but never did light one up. A real gem this guy was.
He ought to be president. He'd straighten things out real quick.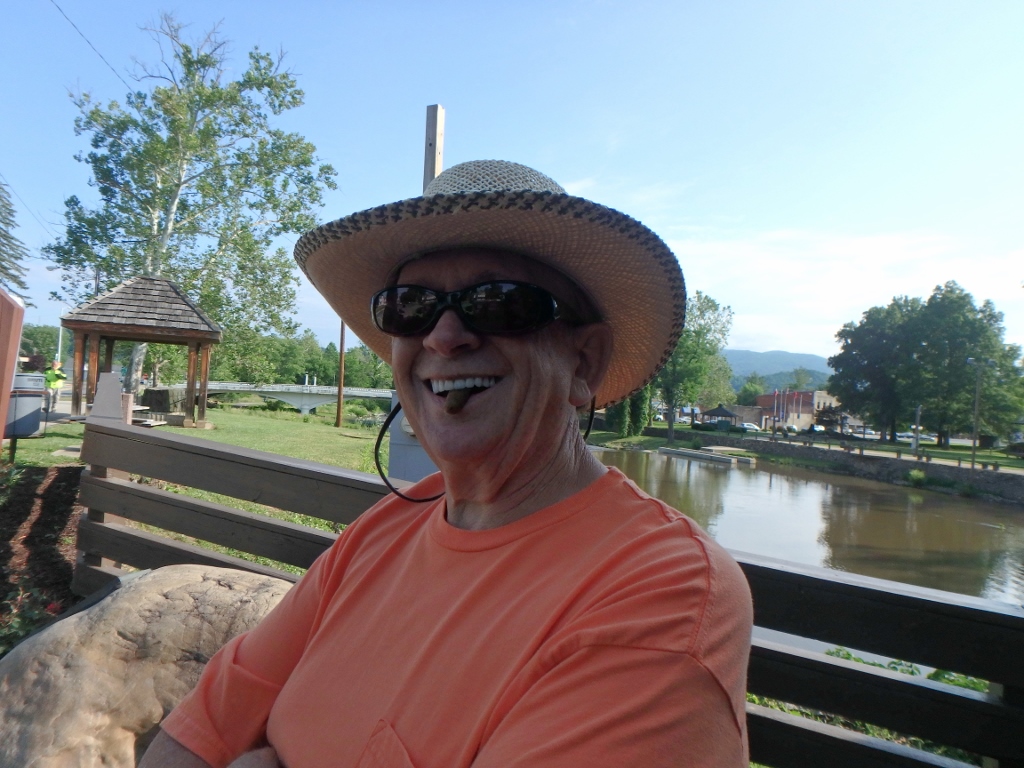 This house was across the street--------how'd you like to live in it and step out on the viranda and have the bridge just
across the street. There was a ballroom on the top floor---and our new found friend had dnnced on it years ago.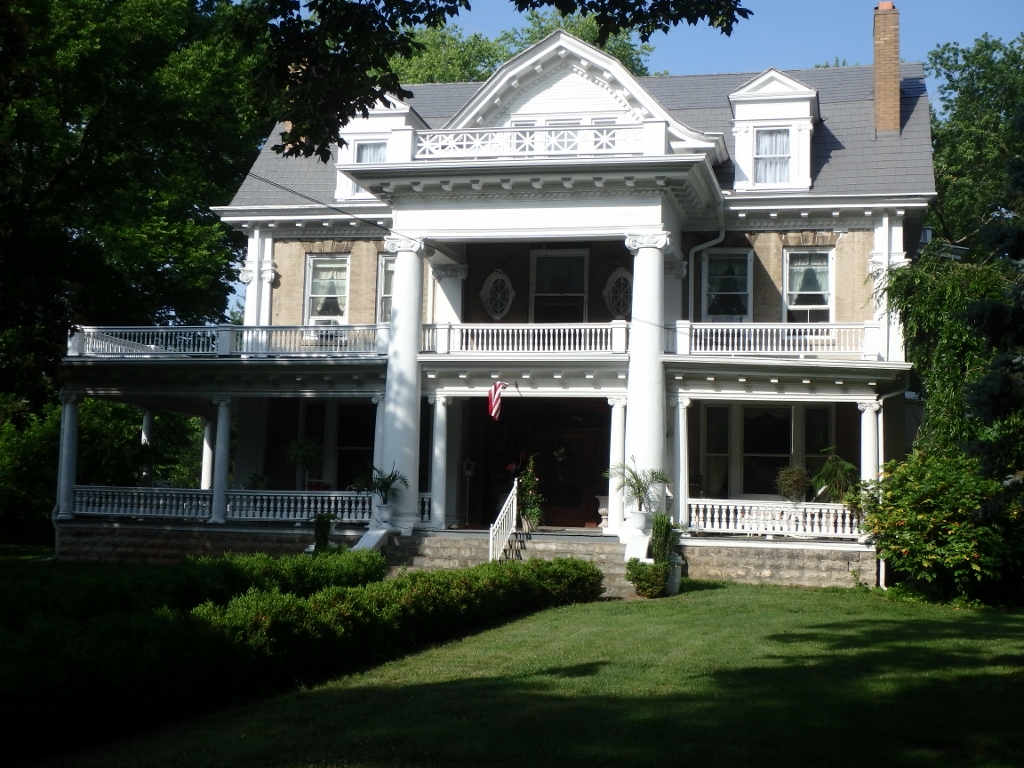 It was just me an Jerry now as we followed the route Stever laid out.
We knew we were way behind them---but didn't care-------as we were re-tired you know !!!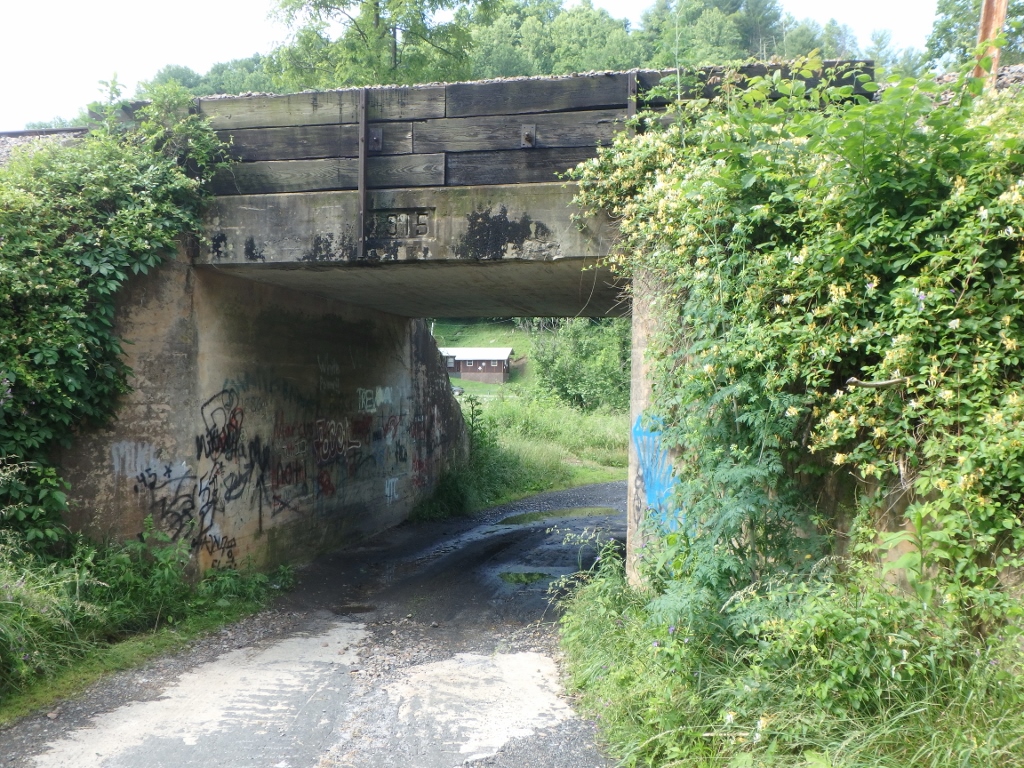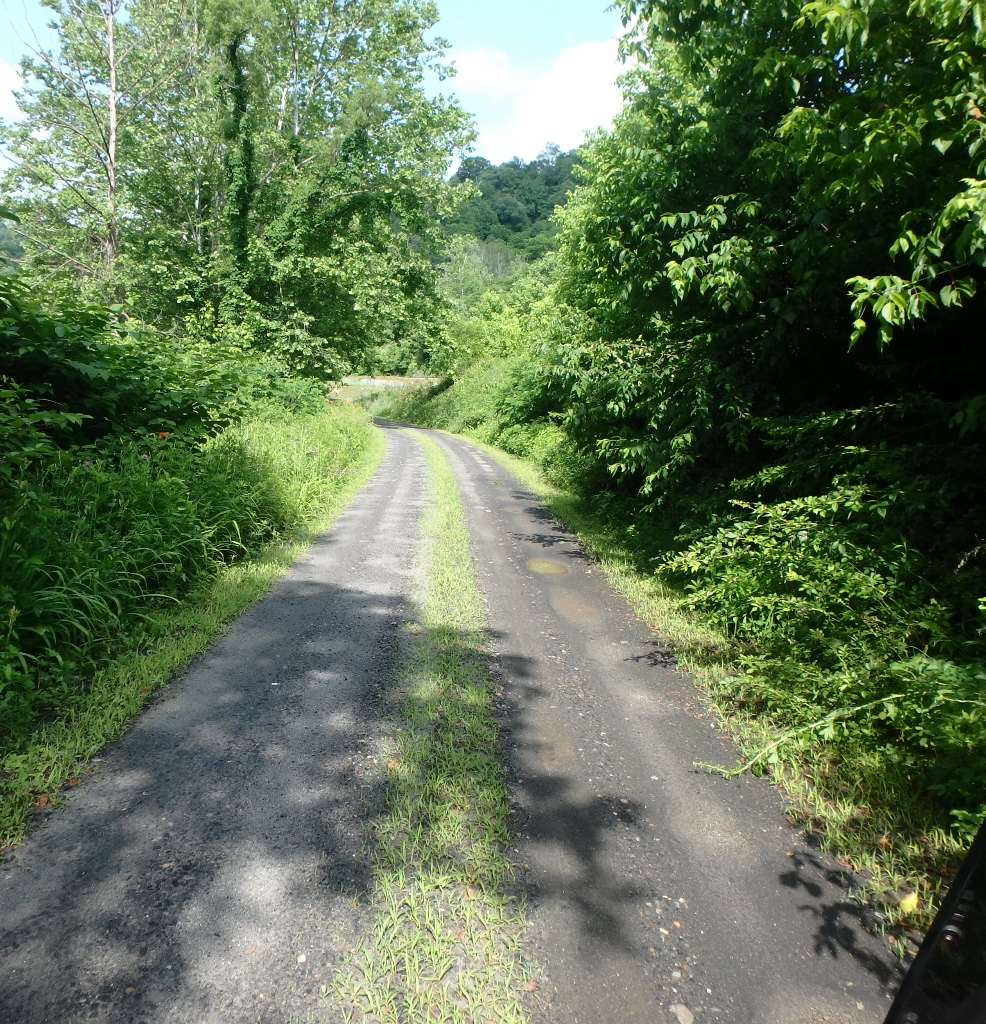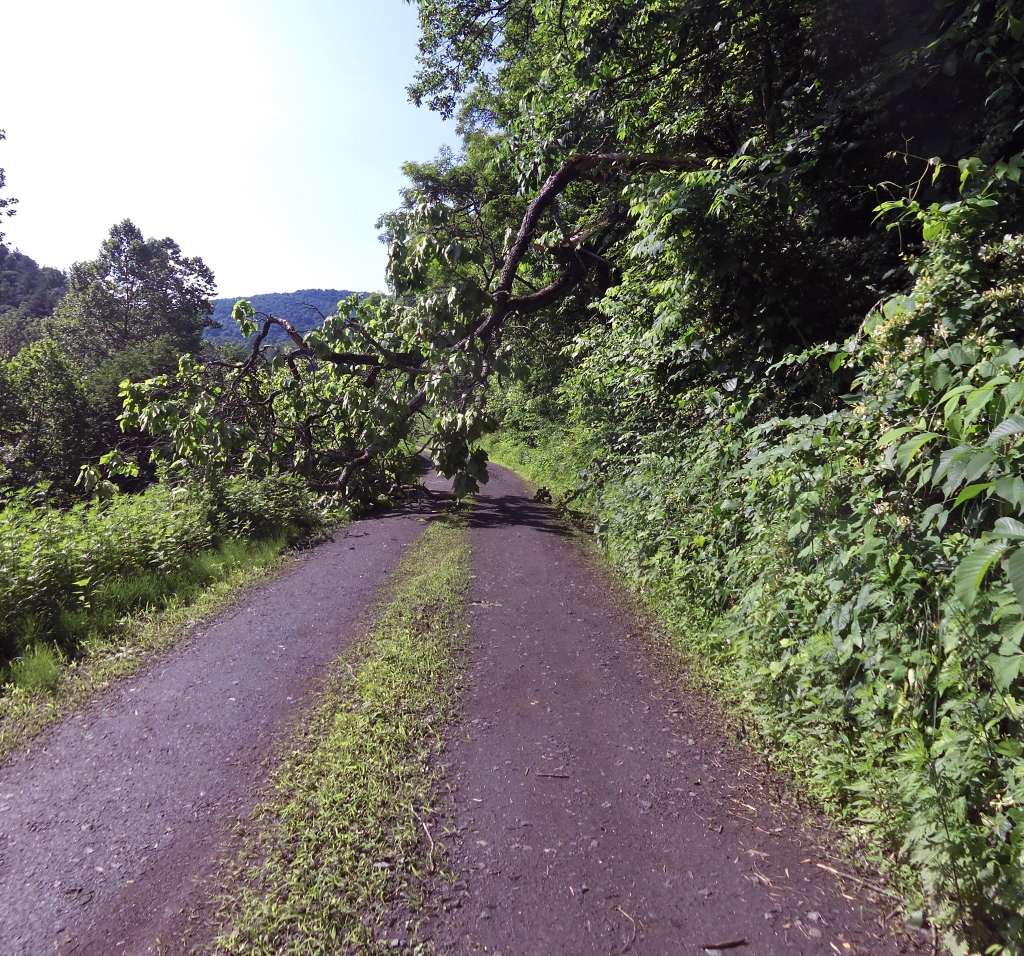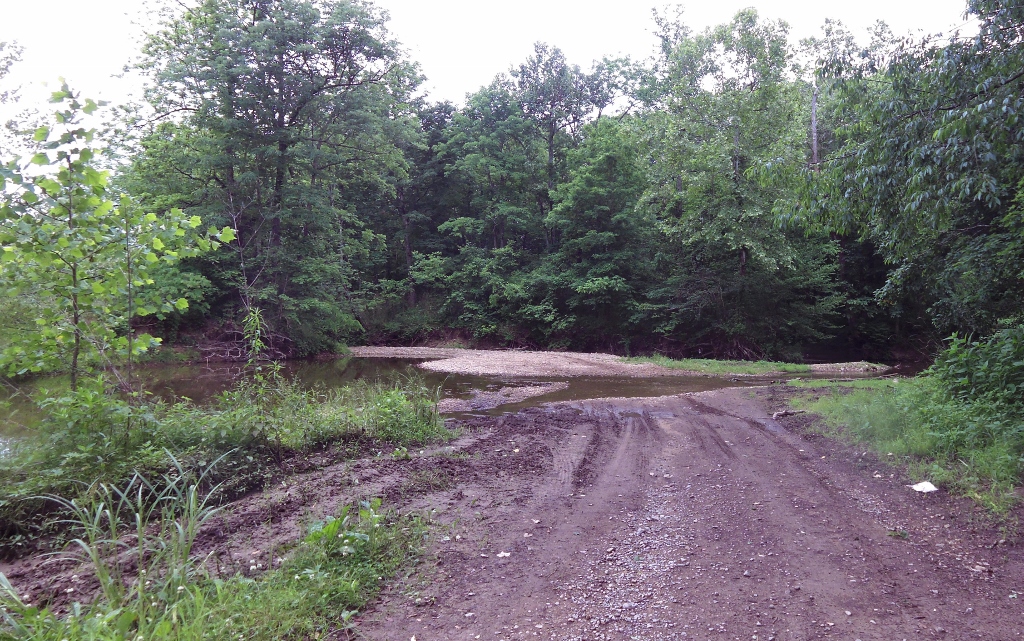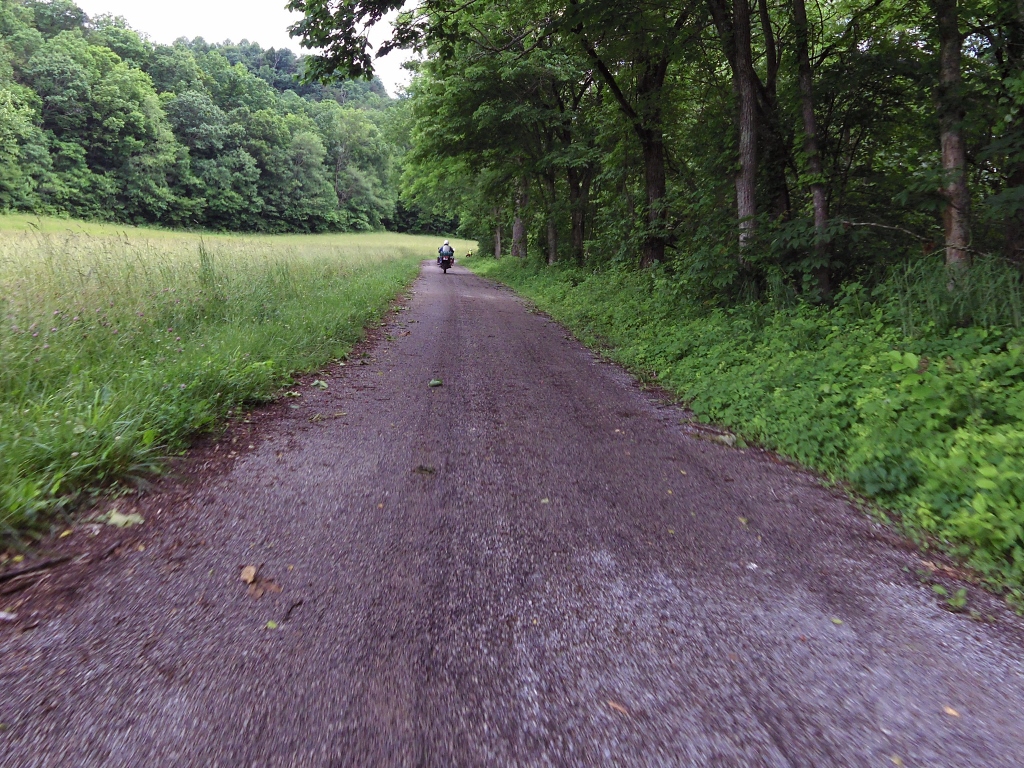 One evening Steve's cousin came to visit us at a pizza joint--------she's a "nut" just like Steve-----see the comparison ???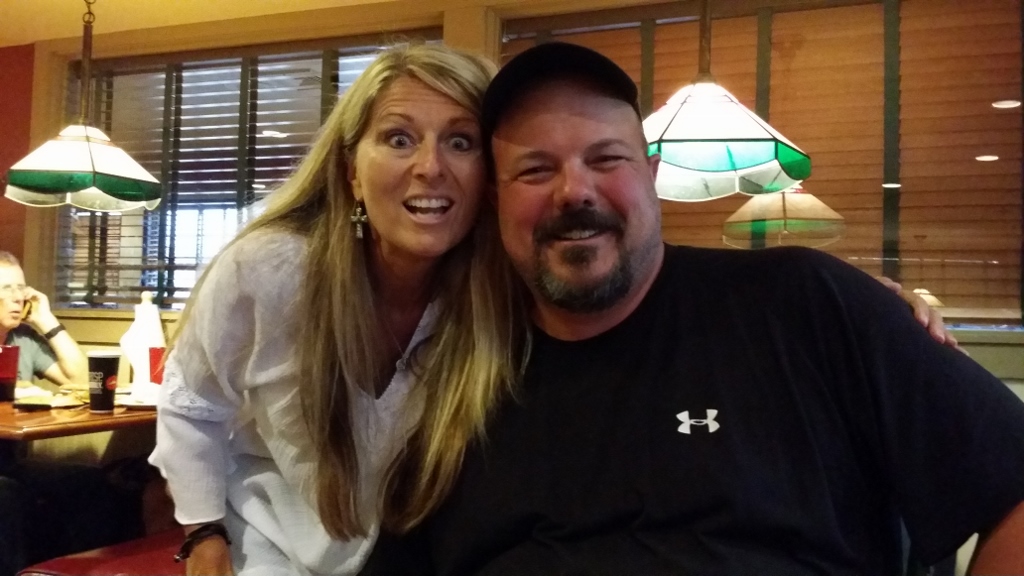 I might as well post up this picture---it will be on the net anyway from somebody----I think there is even a video.
Jerry paid for that too-----he's getting pretty loose with his quarters.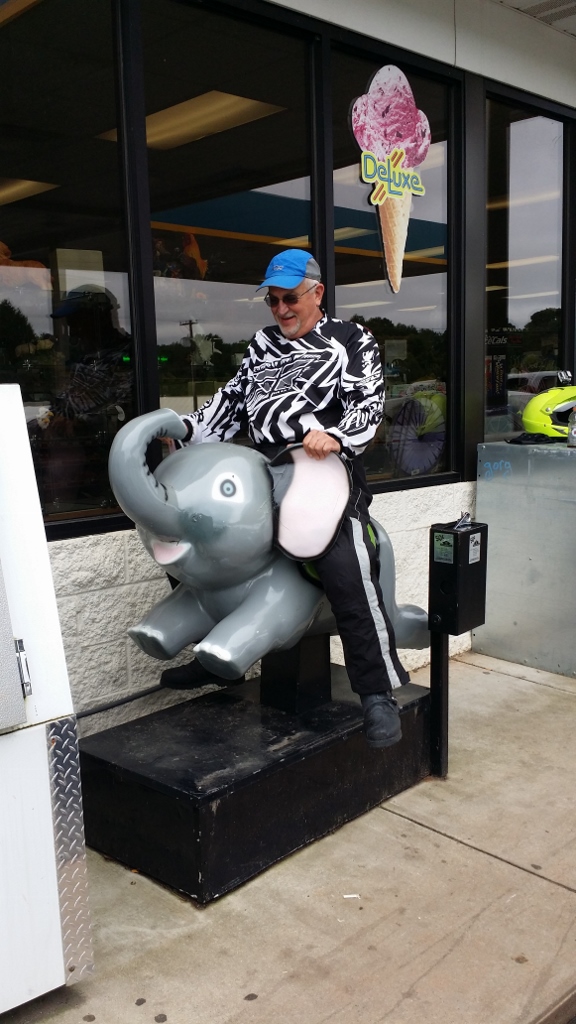 For a few miles we followed this dirt road along the tracks and the river---maybe my favorite part of the ride.
We could see the tracks of our hooligan riding partners who had gone thru here long before us.
I did not want this road to end.
The clouds were heavy most of the time on this trip.
Lot's of rain all around us all the time.

I don't know who did this----but I have an idea !!!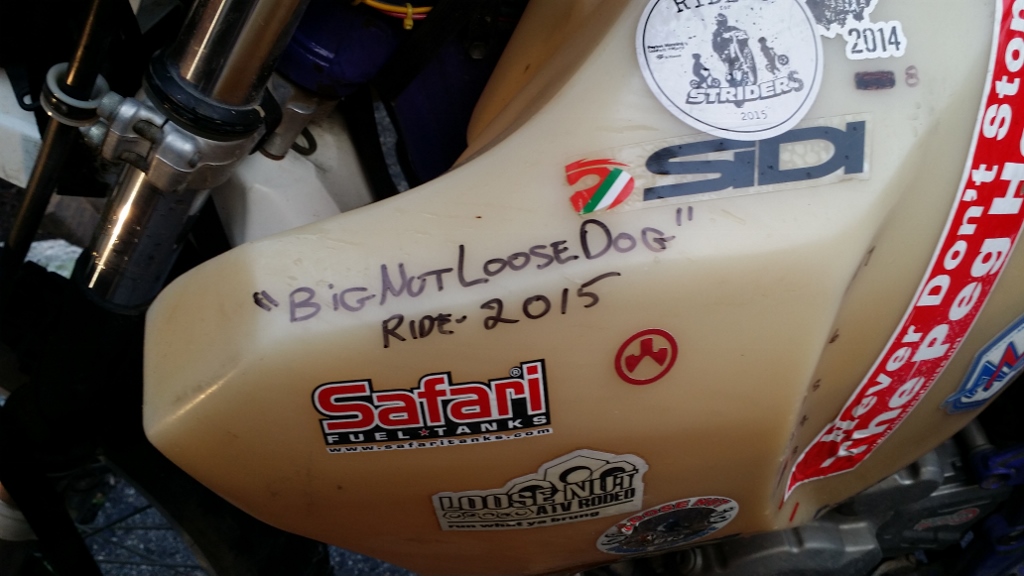 Just as we got off the dirt road we spotted these old timers.
I'm mad I didn't stop and talk to them.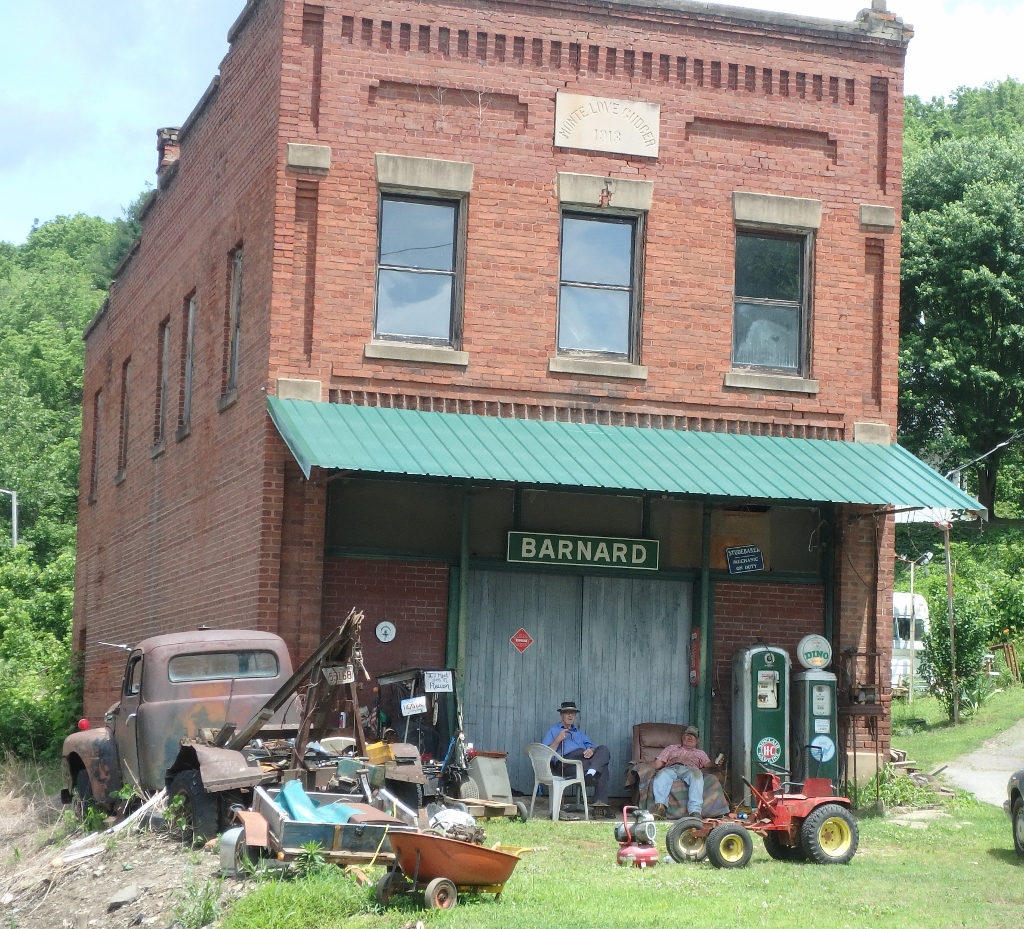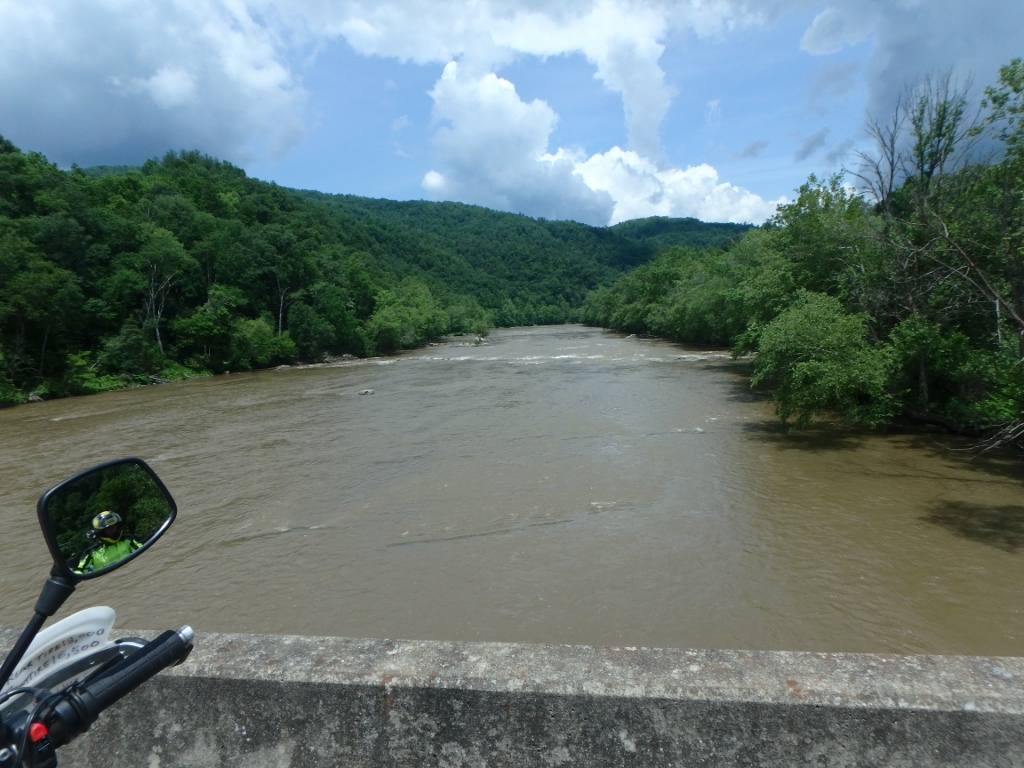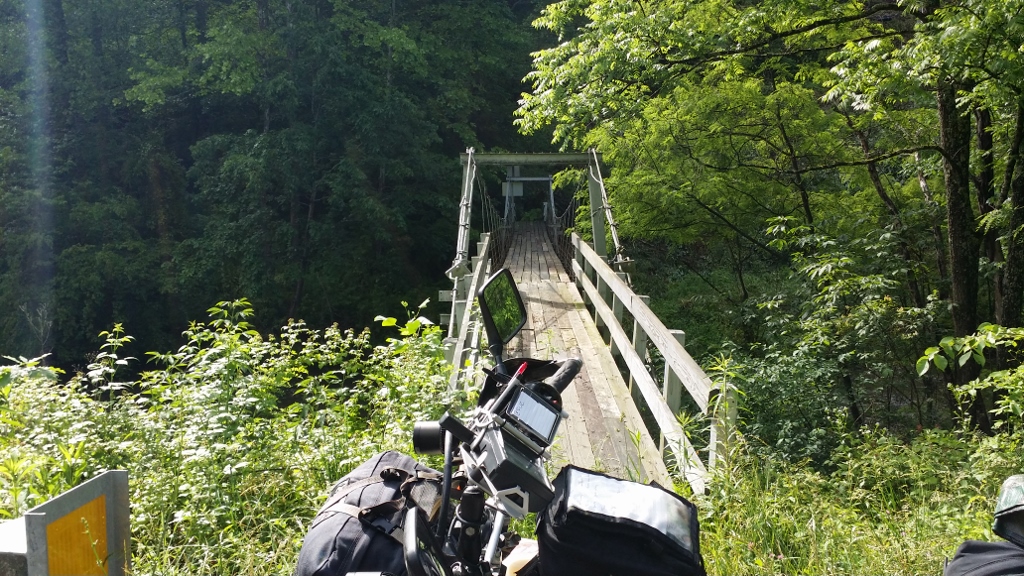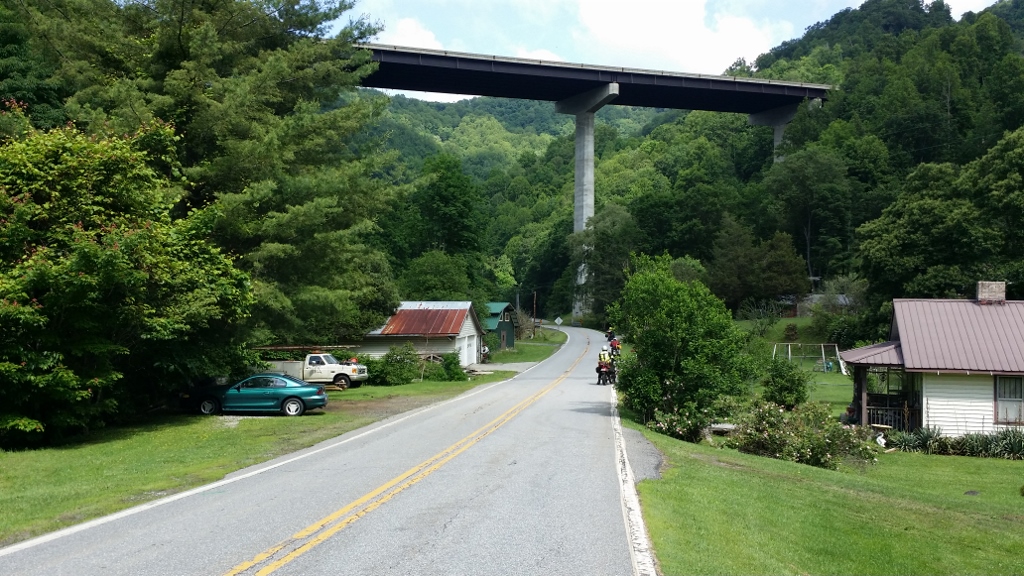 Still alone--------me and Jerry were still following the route which came to this private property---we turned away
and quickly found our way around it.
I suppose texts were flying all over cyber space about where we were ???
Heck ------------we had our phones off.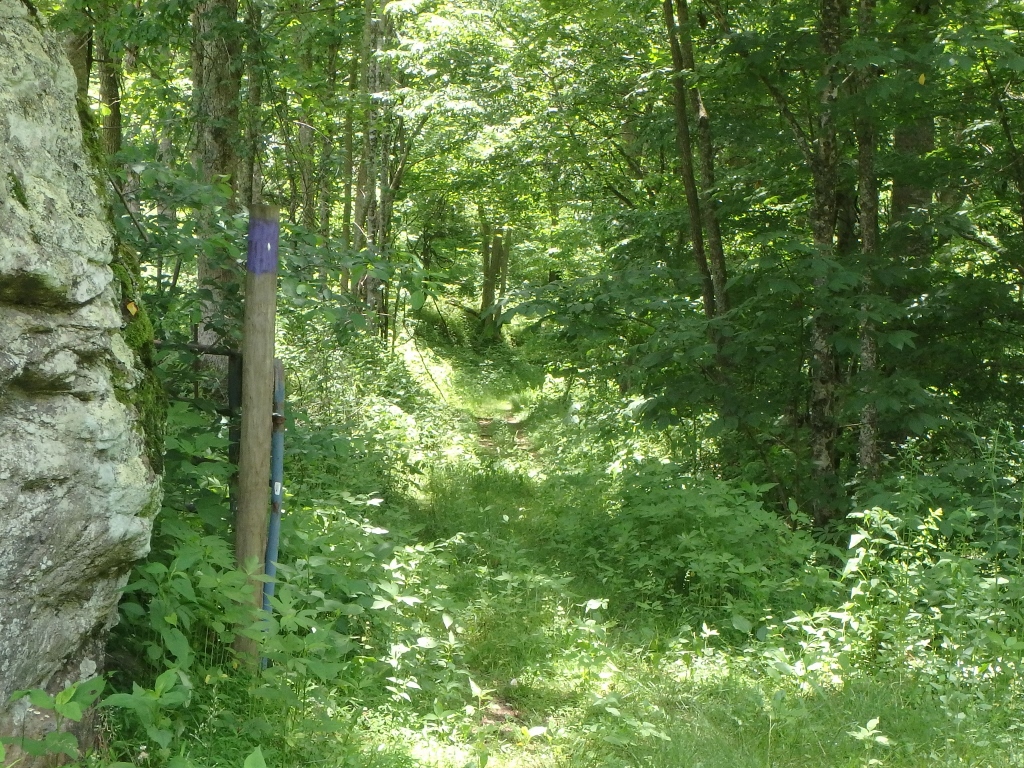 Getting very close to the dirt road on the East side of Smokey Mountain National Park Jerry came up behind me and started
honking his horn. What had he found ????? He'd been here before---------I'd a never saw it.
A steep dirt path down to an awesome overlook---I wish all riders could have seen this---but Jerry was the only one
that knew it was there----------it was very obscure to find.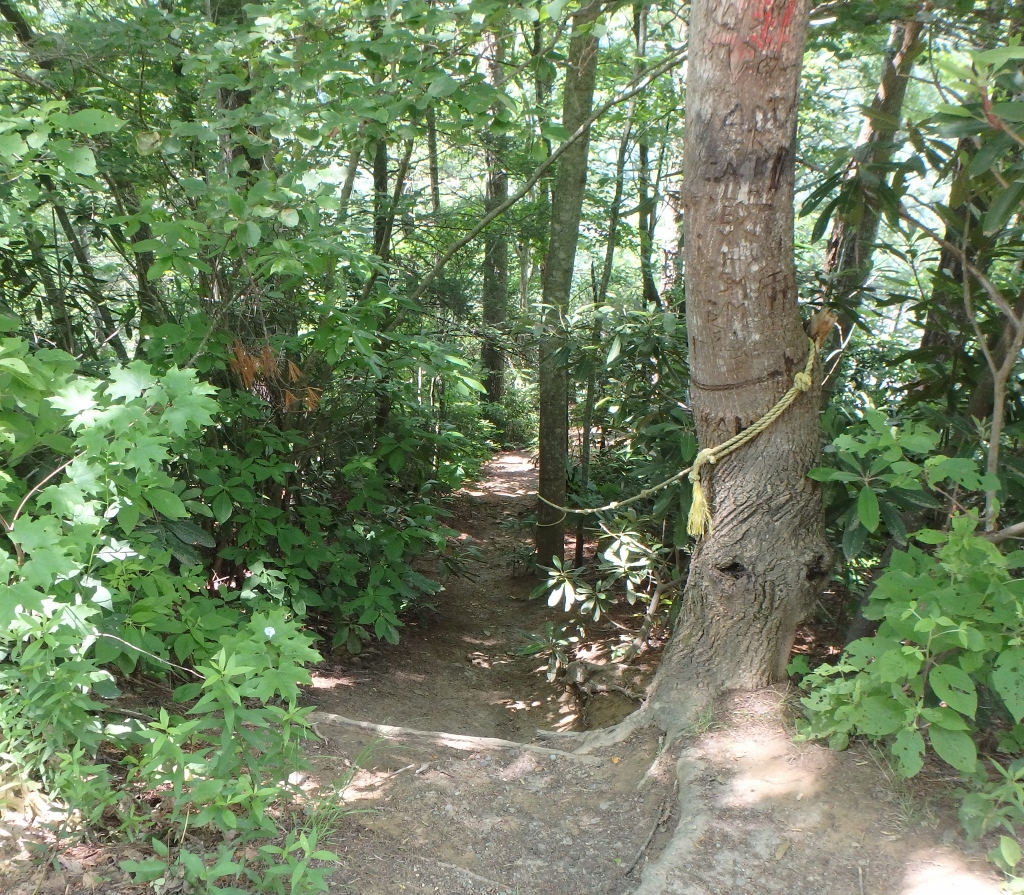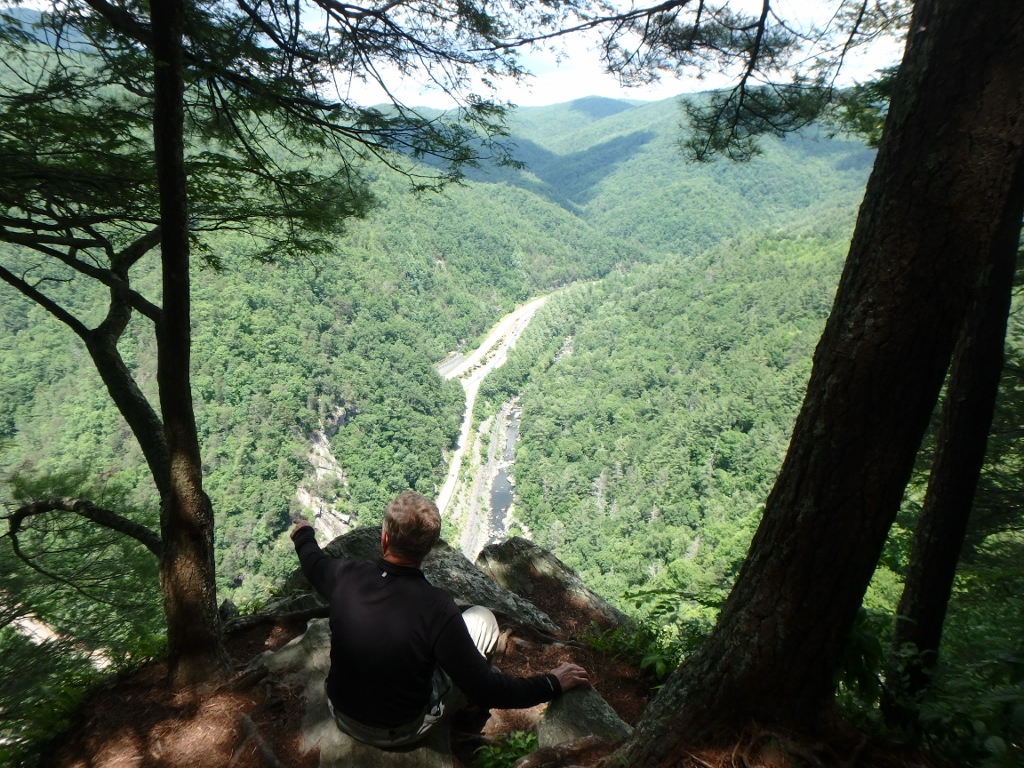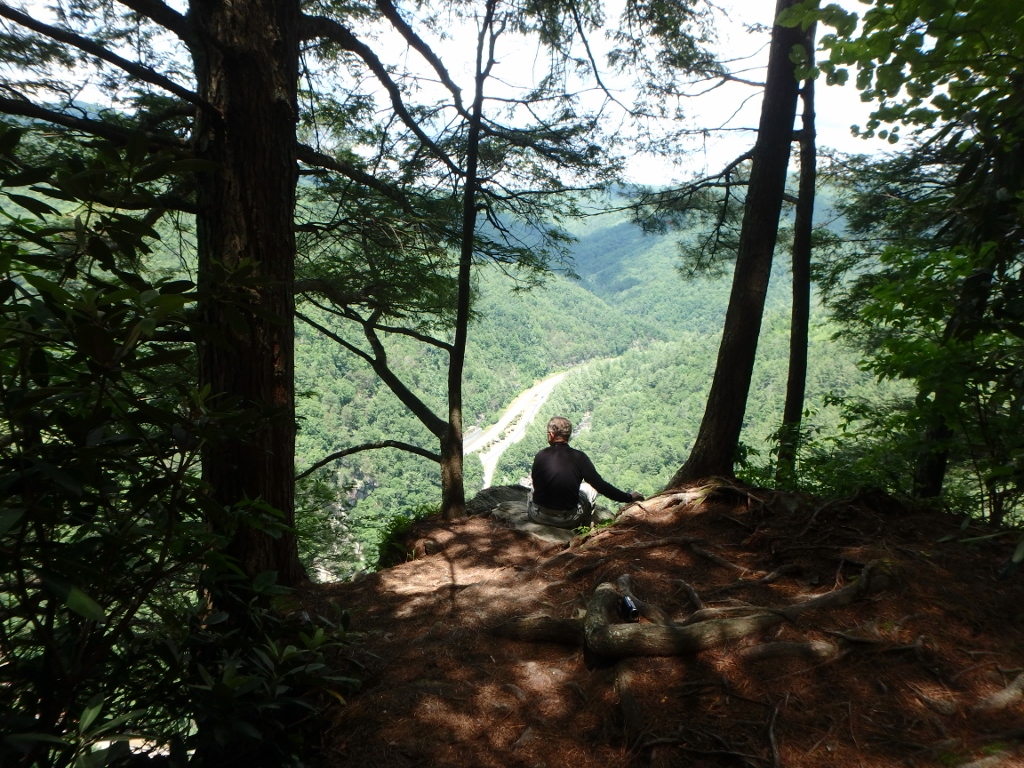 Neat old bridge-----I fell over on this bridge.
Don't know why ???? Just did. Maybe I forgot to put my feet down.
Jerry helped me get upright and all was fine-------except my pride !!!!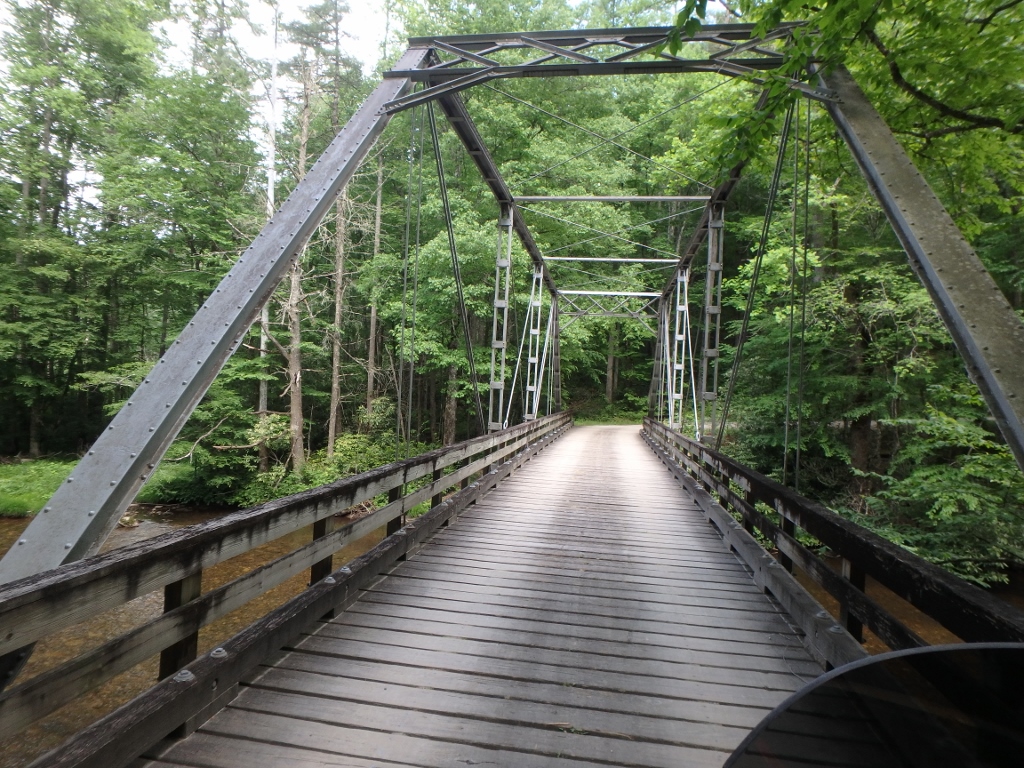 Were on the blue ridge again trying to find the other riders---texts flying everywhere---maybe we should have turned on our phones ????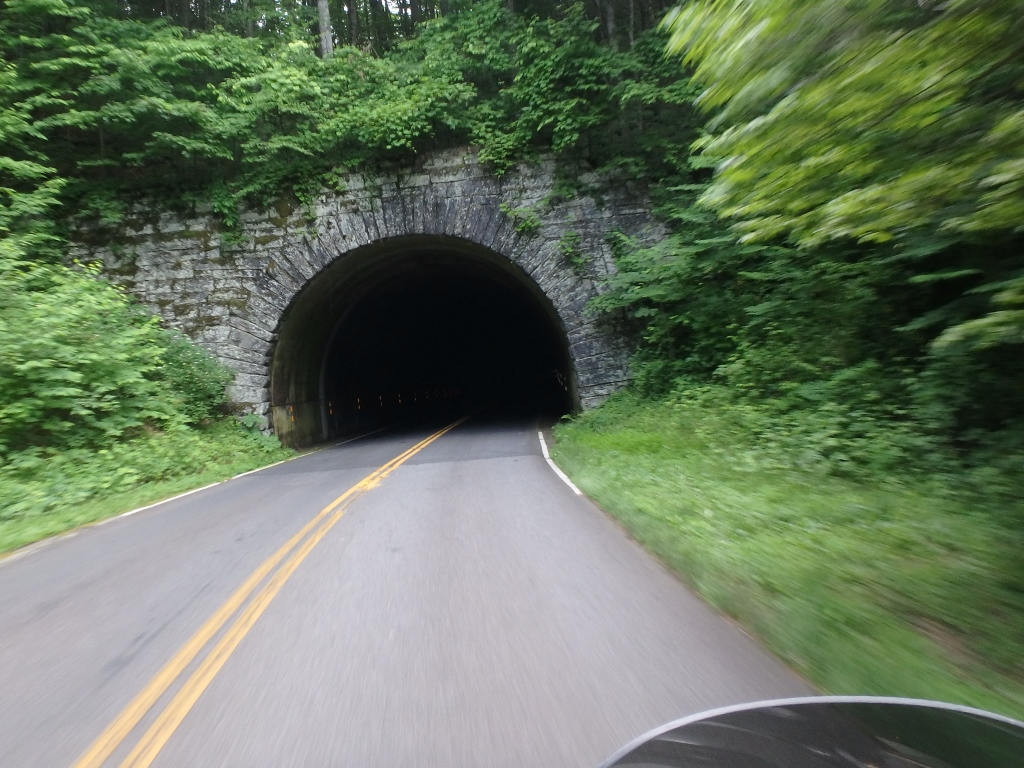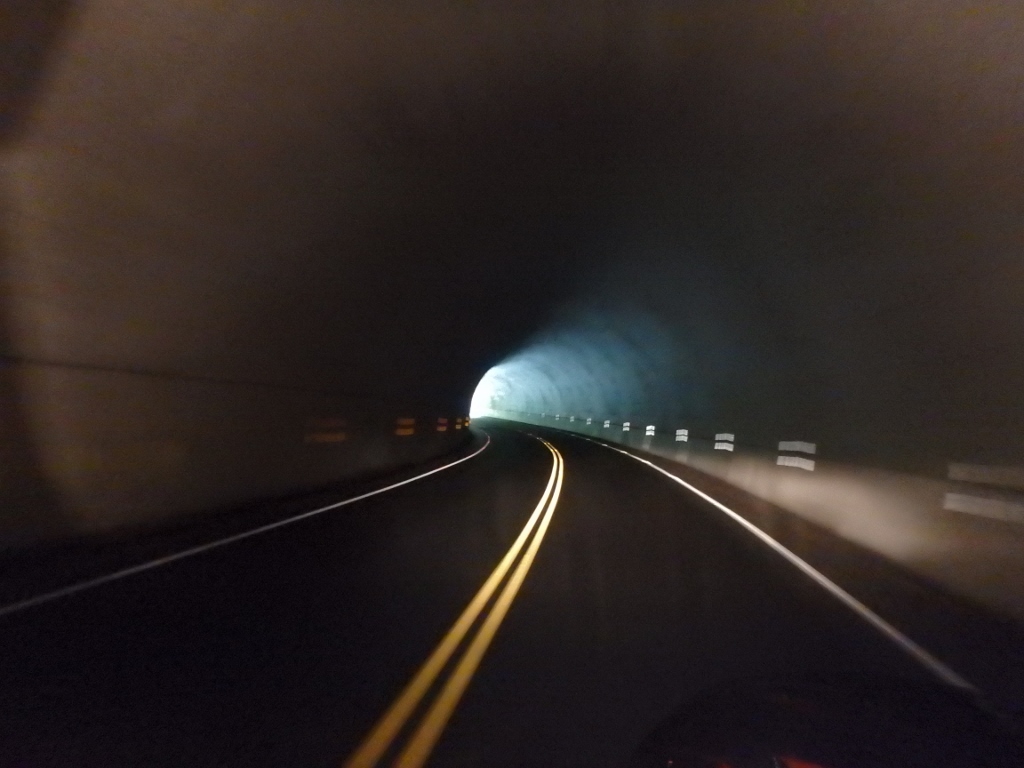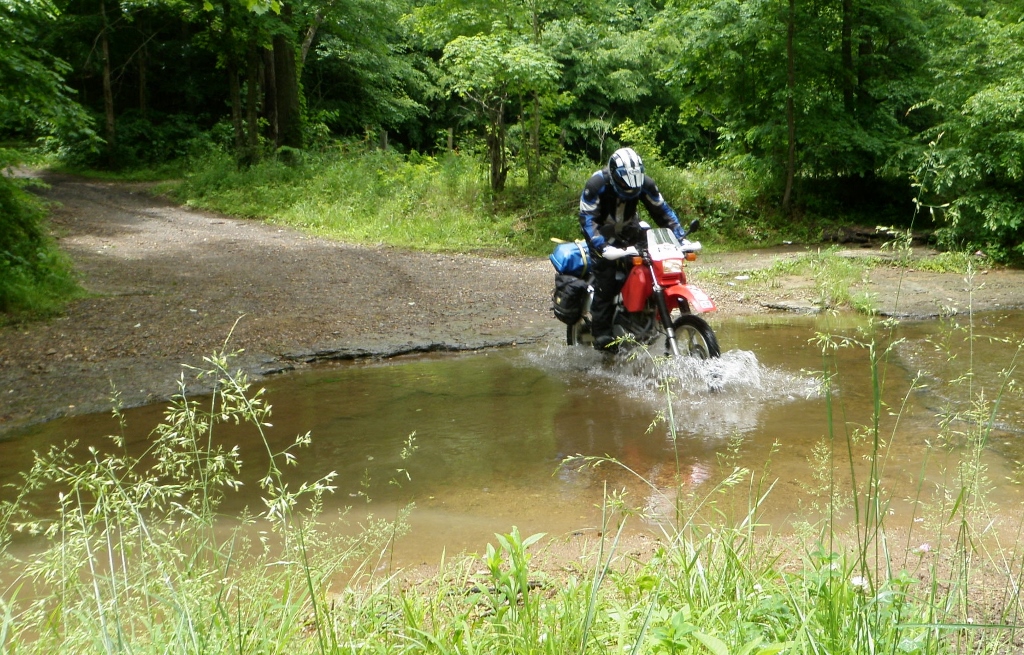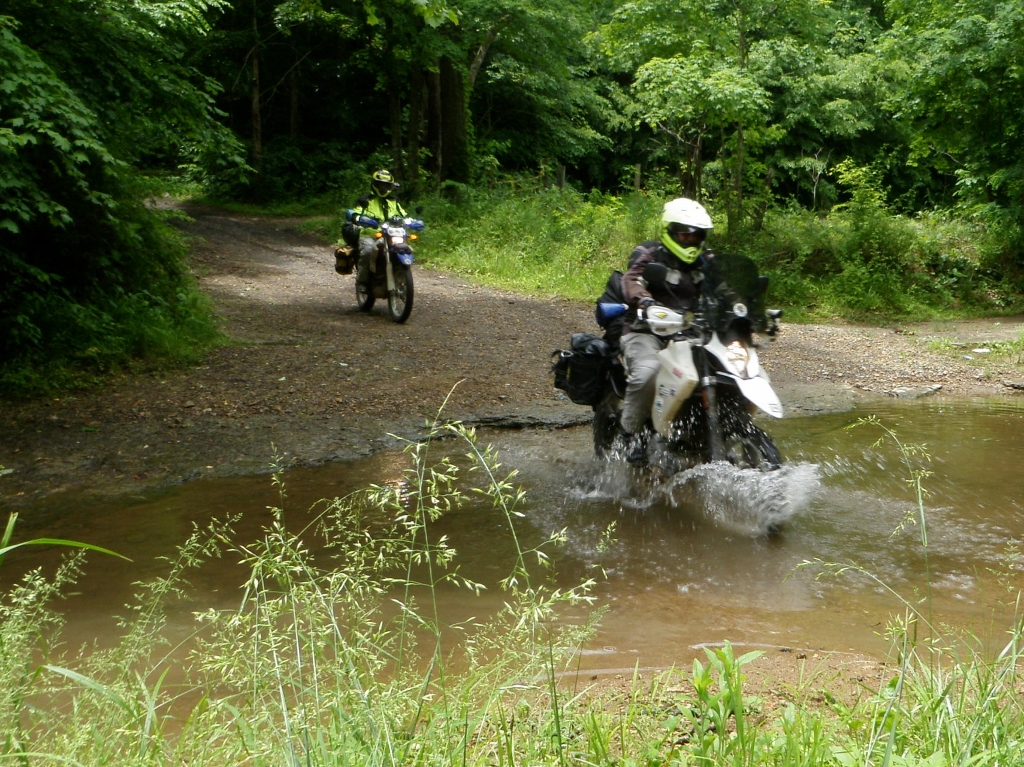 The dirt road turned into this creek---and this made me really nervous.
It was that green slick slime we all dread-----I don't think anybody fell in it tho.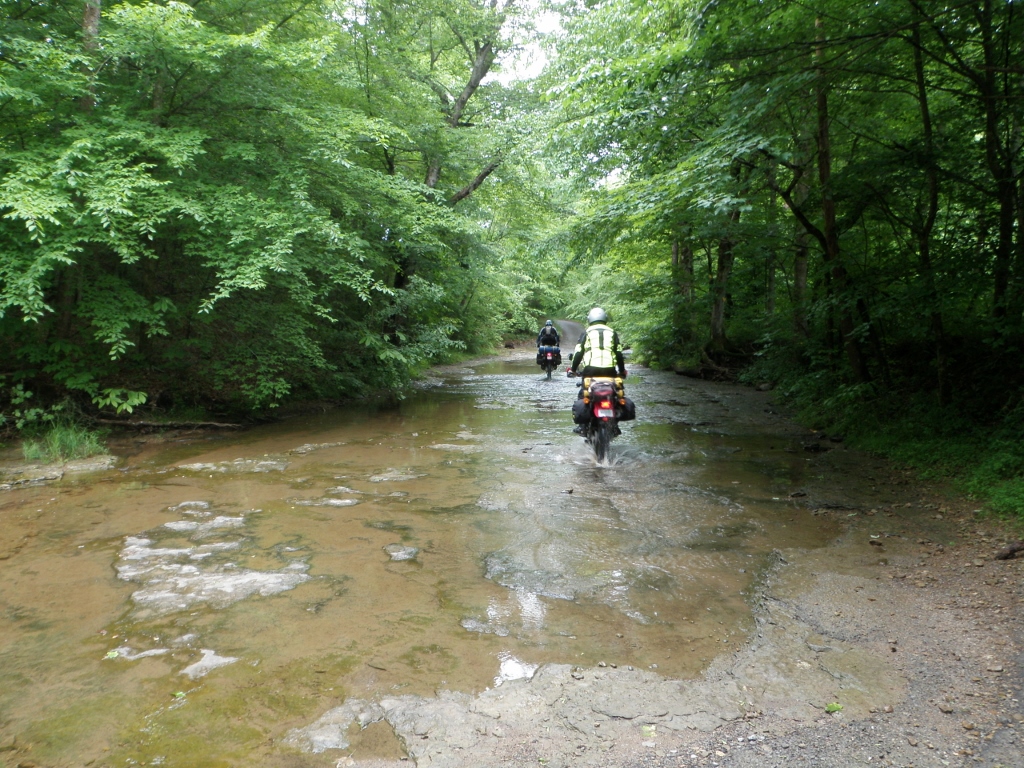 Zach's happy.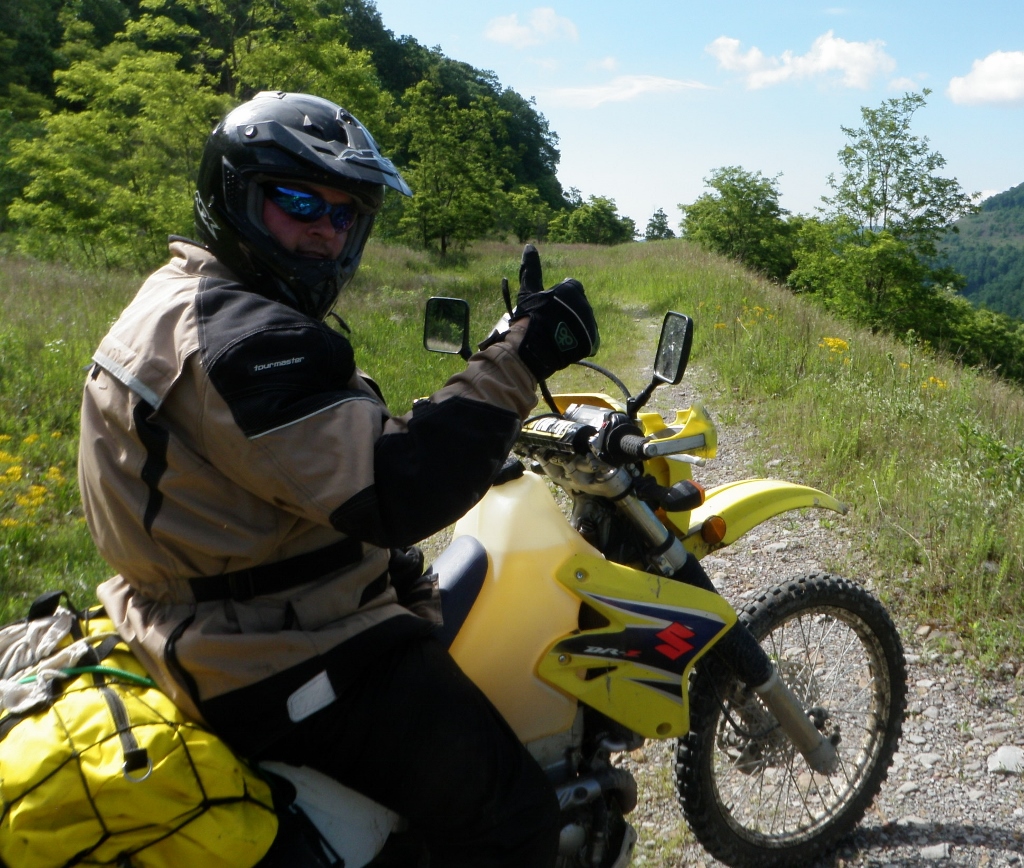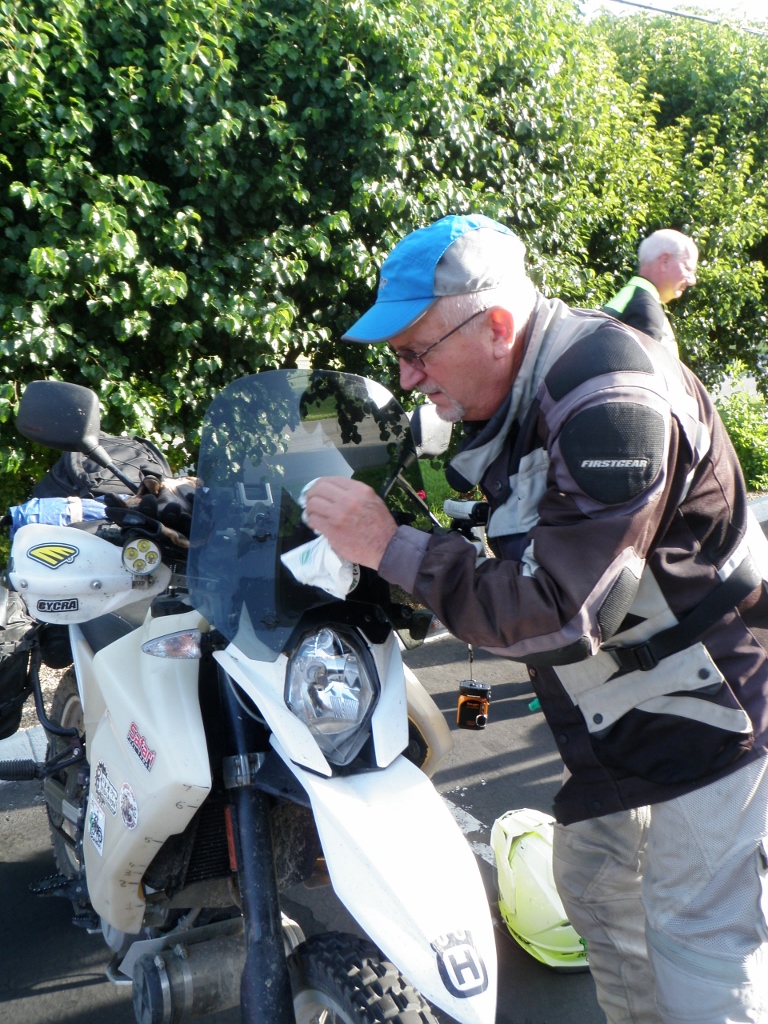 Me and Steve always took a lot of pictures on the fly---------really fun stuff.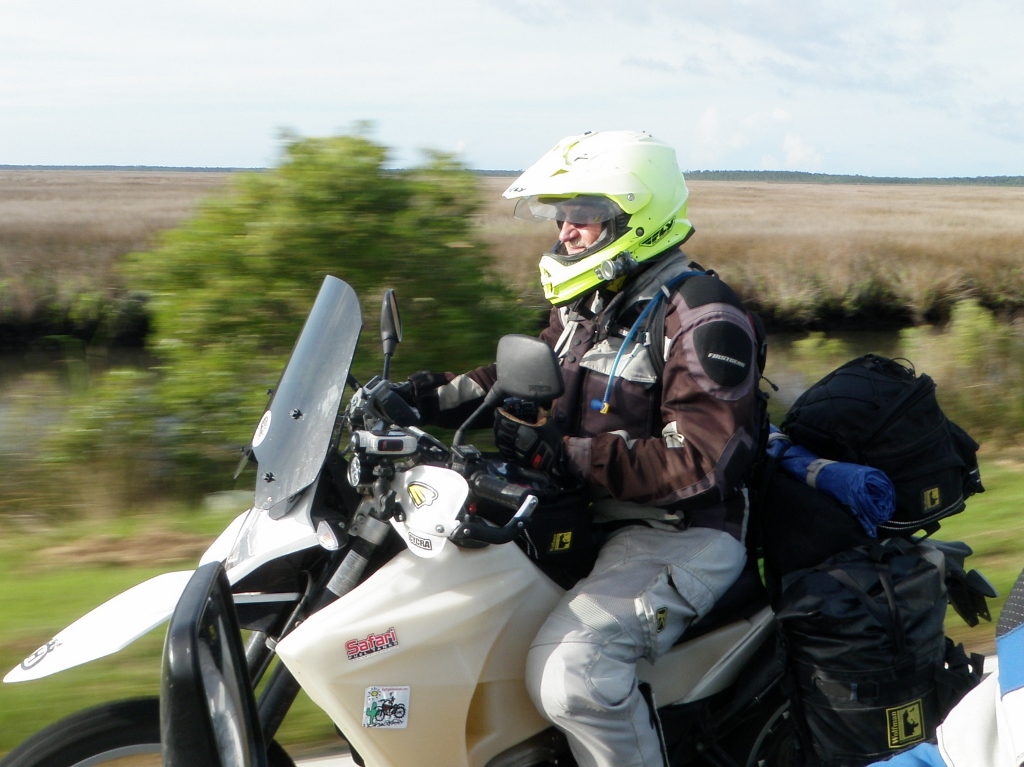 After many texts---and then a phone call---who a thought doing that ???
We all found each other------------well not all of us. But we had ice cream.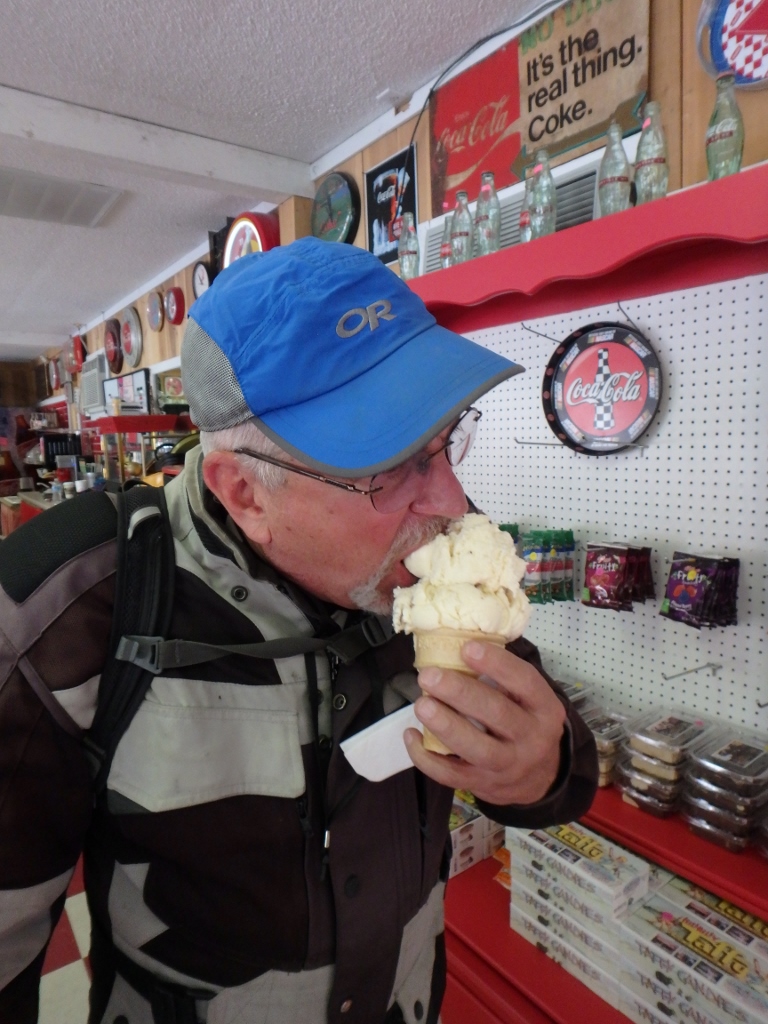 I should have ordered just one dip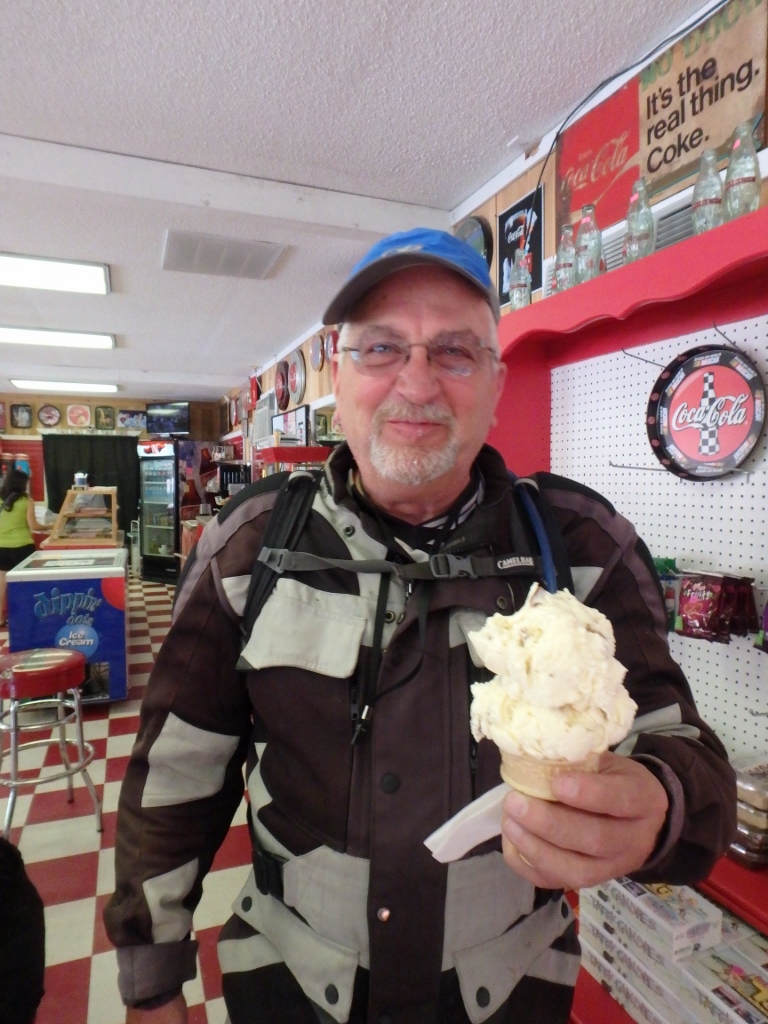 Navigation really went screwy later on and I find myself alone---it's getting late and I fast track it to
Iron Horse motorcycle lodge and campground. $15 to camp and a hot shower.
I was by a babbling brook and it was a nice night---the others had found each other and got a motel in
Robbinsville, TN I think ???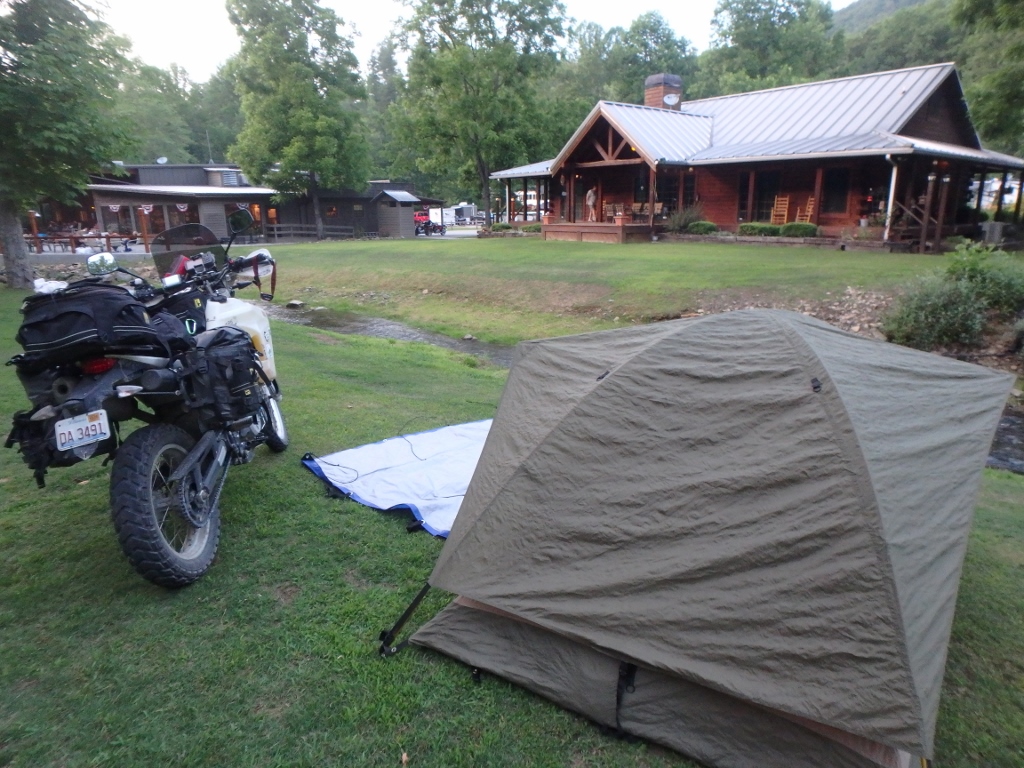 The owners lived here---but were in the process of building a mansion top of the mountain and would later on
rent this one out------------there were many really nice pricey cabins to rent.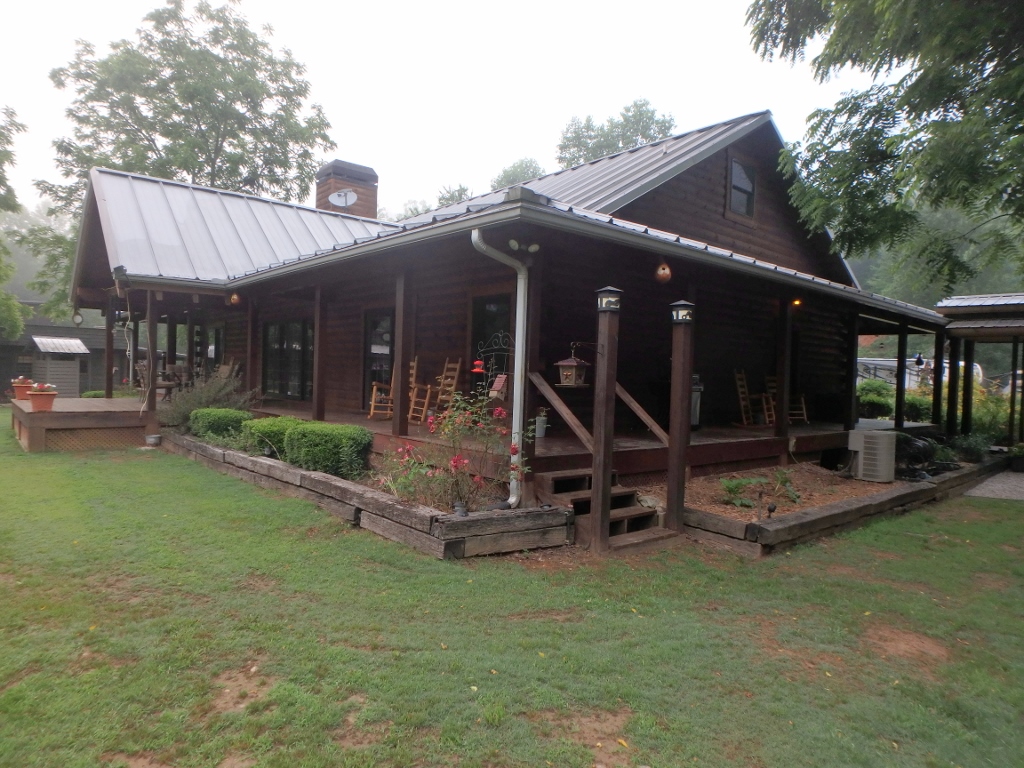 This was where you checked in---there were also bathrooms, showers, gift shop and a place to eat.
But you just ate when they served food------you couldn't just order anytime--which is a smart way to do it for them.
Mostly harleys were here.
There were RV spots too, and the whole place is booked a year in advance during riding season------well...... riding season for the harley riders.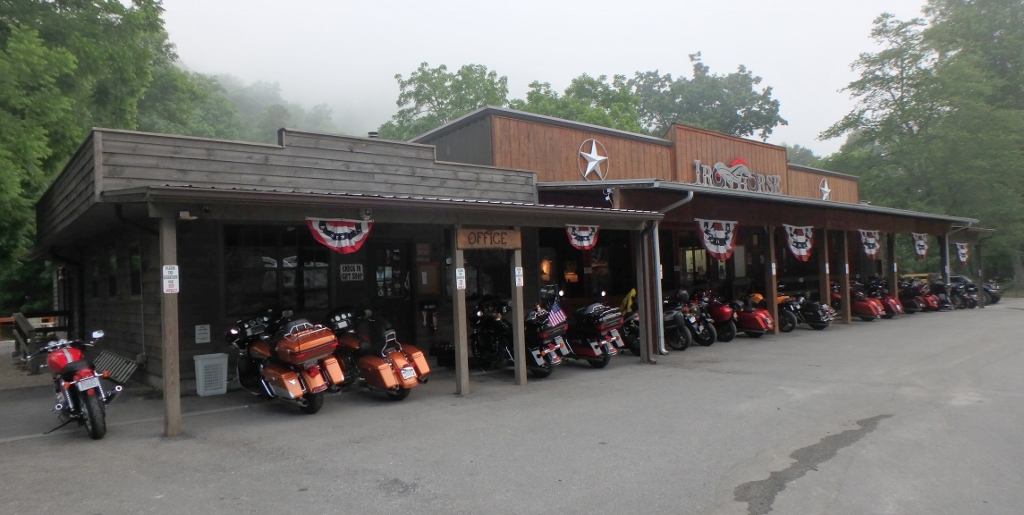 You had to order breakfast the day before---I knew that and didn't as I thought I'd be way down the road
at 7:30 AM------but it was so foggy I wasn't. They felt sorry for me and served me anyway.
The food was about what you'd get in a Hardee's--------not very good for the high price.
Coffee was great tho and the food made a turd.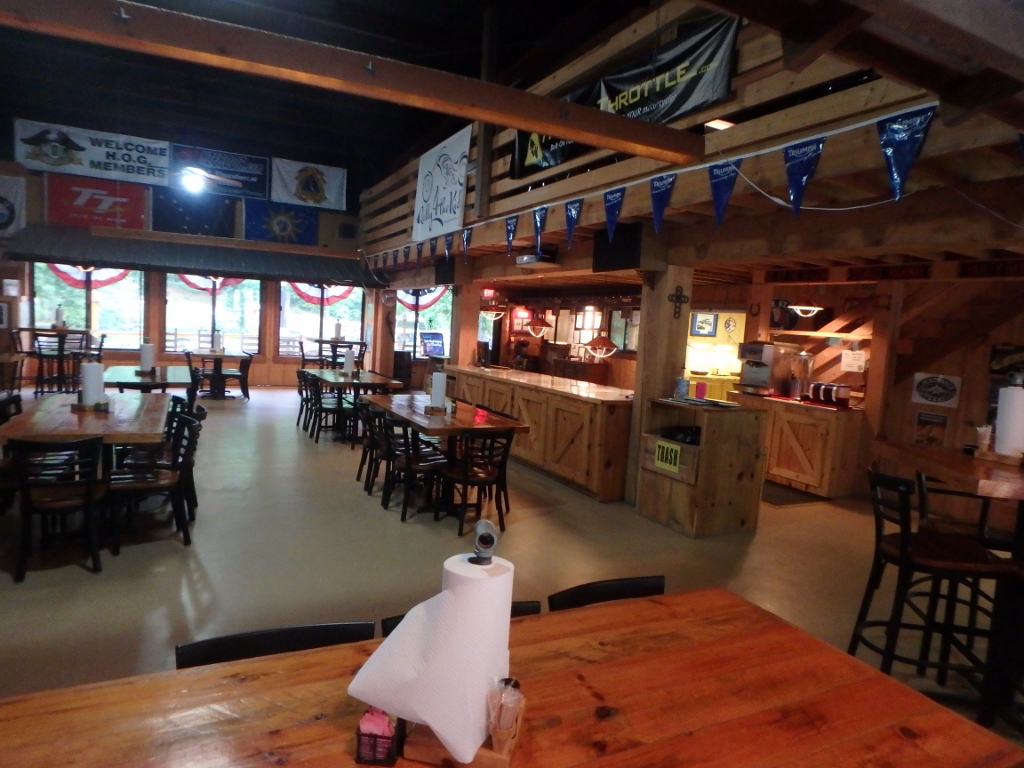 I took off from the camground after breakfast and headed straight for the route everyone was following.
I knew I'd run into everyone eventually as we all headed for Tellico Plains TN. But I didn't and rode all day alone.
I was fine with that---the riding wasn't hard and I just rode easy.
Well---except on this really neat paved curvy mountanous rode---------I was riding way over my head when this crotch
rocket blew by me like I was standing still !!!!! It was a 125cc Honda Grom------highly modified of course.
Check out that Ohlins shock on the back---the guy riding it was 68 years old.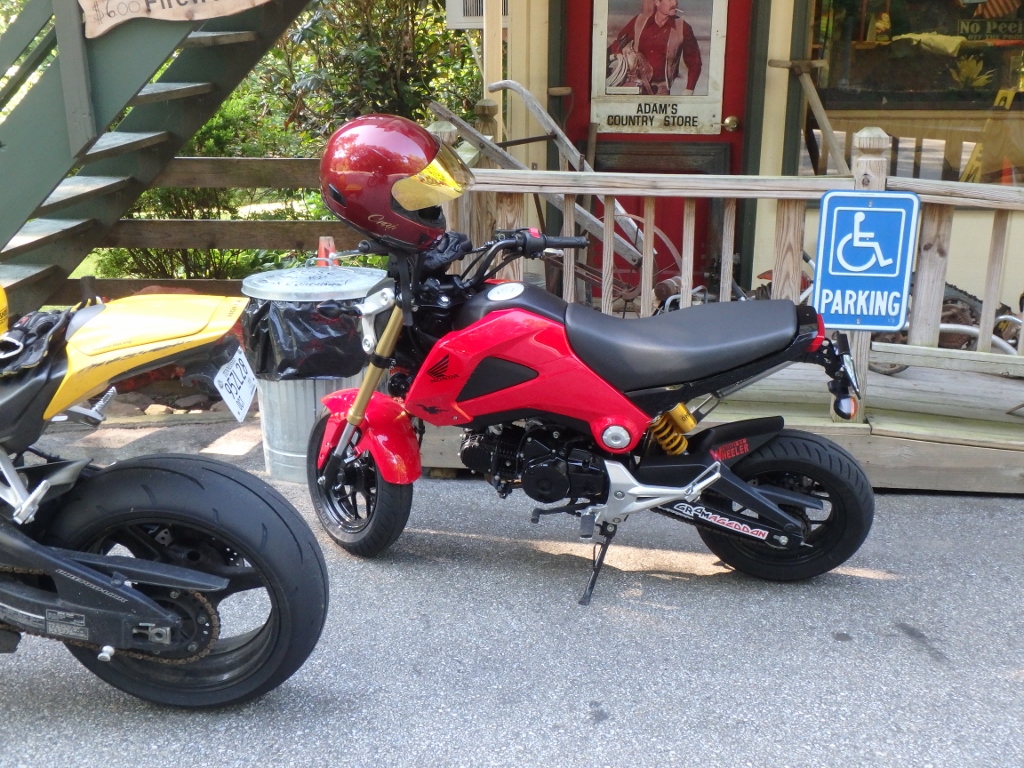 The rest of the day towards Tellico Plains TN was a beautiful ride thru the mountains.
The ride was winding down and I rode slow enjoying all of it ------I knew the others were in front of me------------they weren't.
Seems they had trouble on some gap road----the Beemer quit charging and went home--one guy was getting sick and had
went home---others seem to head towards the house as they had to be to work Monday.
I think is was just me, Steve and Jerry left ??? I got to Tellico Plains and found I was 2 hours ahead of Steve and Jerry.
Not sure how that happened ??? Guess I'm not so slow ???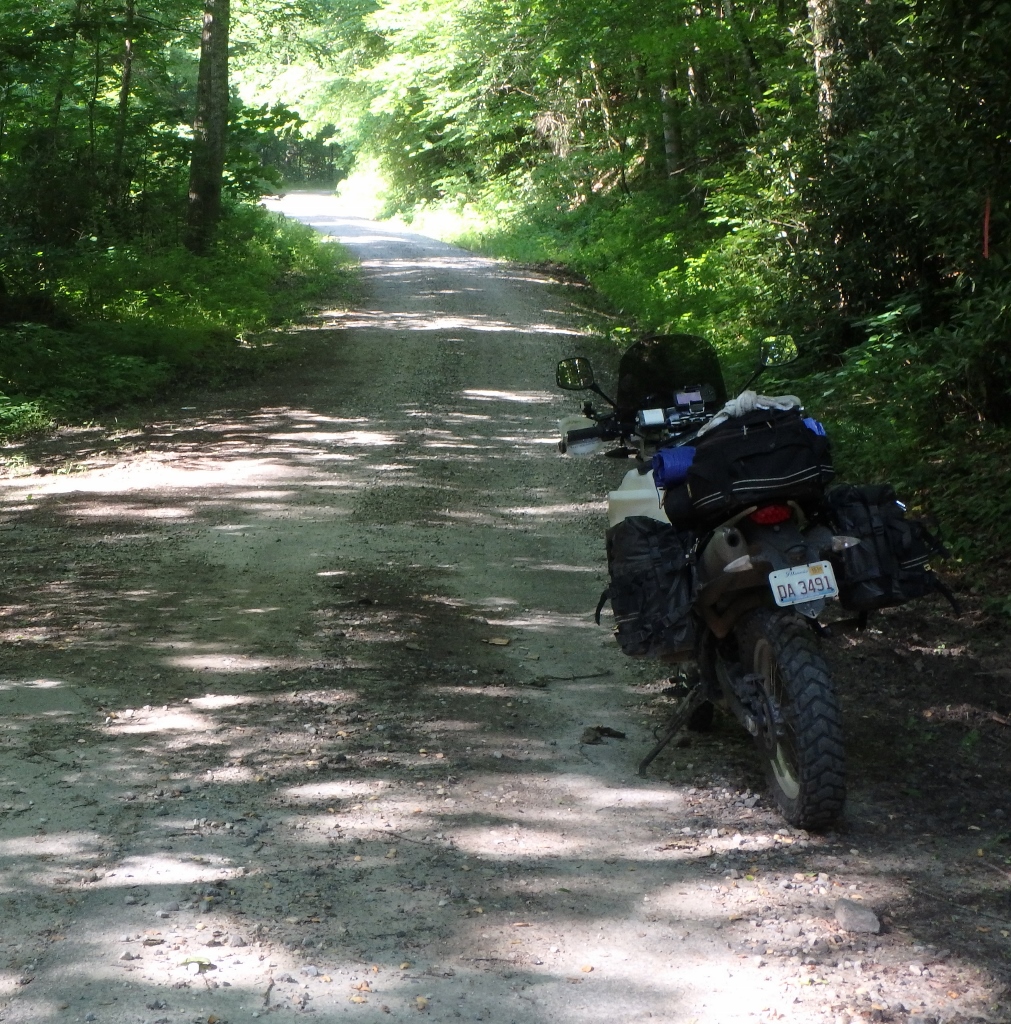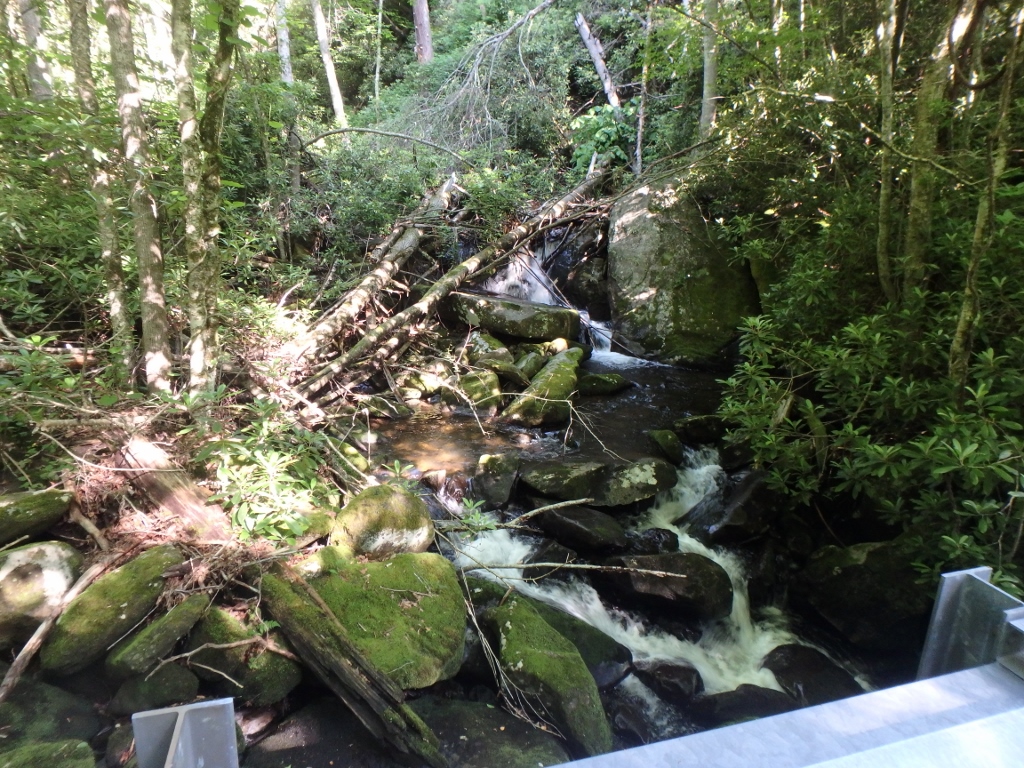 It was about noon and I can't believe I made it home before dark that day.
I wound the Husky up and rode about 450 miles to the house.
It was nice following someone elses route and plan for a change.
It was a great ride and time and I thank you Steve for inviting me------or did I invite myself ????
I want to be sure and say how I enjoyed the company of all the riders that came on this ride.
We all got along very well and never a cross word from anybody.
I have many new friends now !!!!
I was the slowest and worst rider of the bunch---but they let me ride with them anyway.