Best Of Montana
1,600 Miles of Montana, Idaho and Wyoming
On My 690 KTM


This was a 9 day camping ride---the route was created and shared by my friend Ron Harseth of
Stevensville, Montana---it started and ended there making a huge 1,600 mile loop mostly offroad.

We headed South then East straight up into the Bitteroot and Beaverhead National Forest.
Our first day was July 15th, 2017 and the whole ride was predicted to be extremely hot this year
but only the first day was a bit warm---------the rest was super nice.
I was riding my 2014 KTM690 Enduro and am sporting my new Scorpion 950 Modular helmet.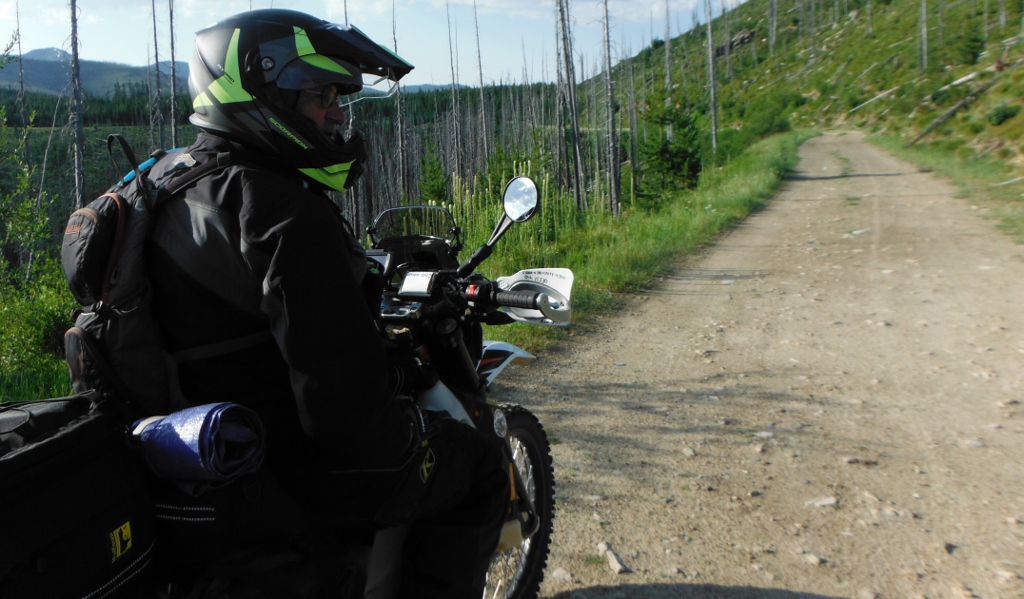 Best friend Scott Williams (High Five) was riding his Husqvarna 650 Terra.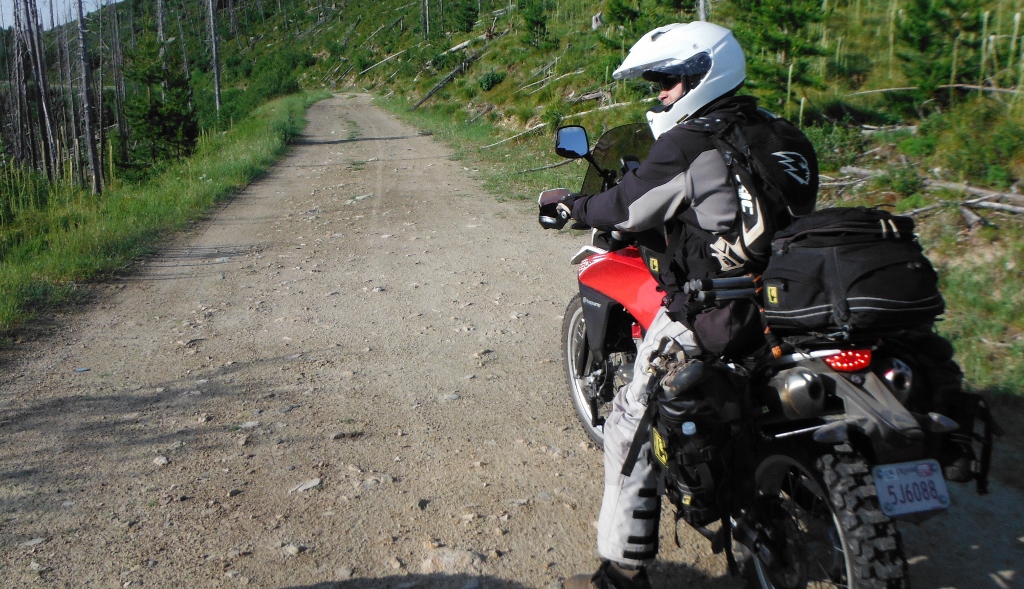 The route thru here you don't hear people talk or write about---and undescovered gem.
It rivals the LoLo motorway and goes up over 7,000 ft. in places.
The fire damage looks recent ----------but it was many years ago this happened.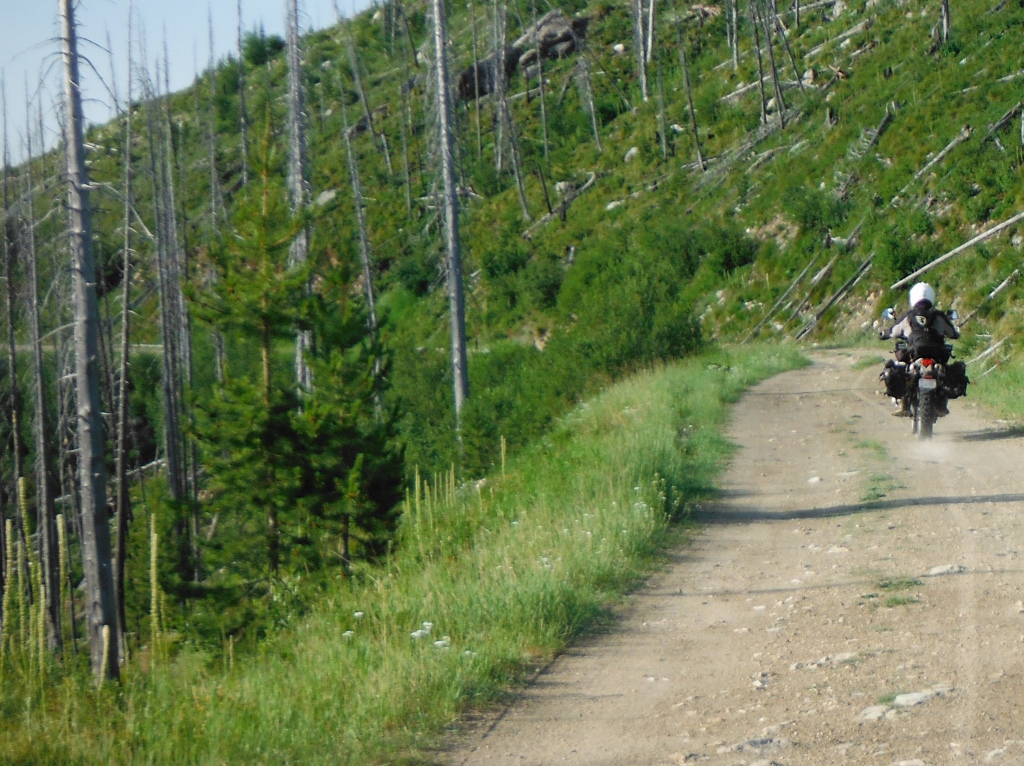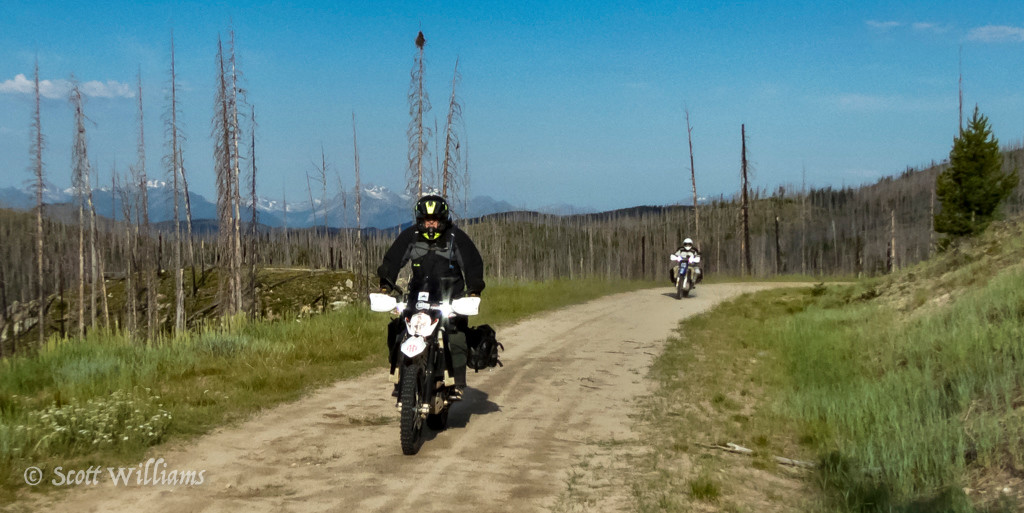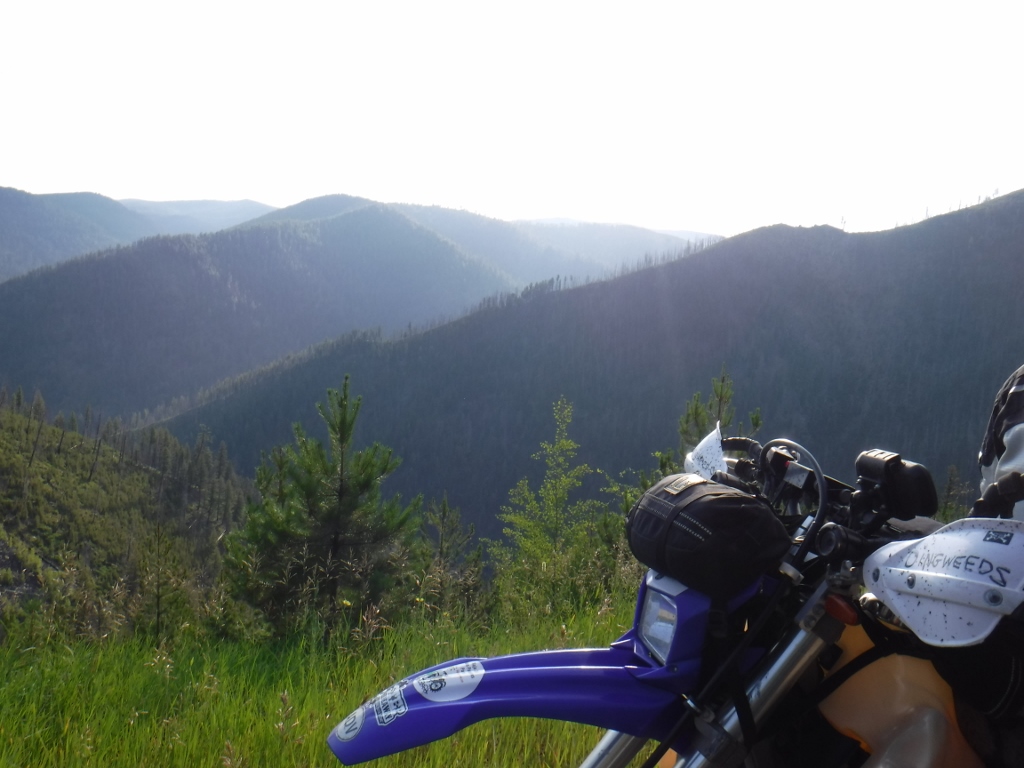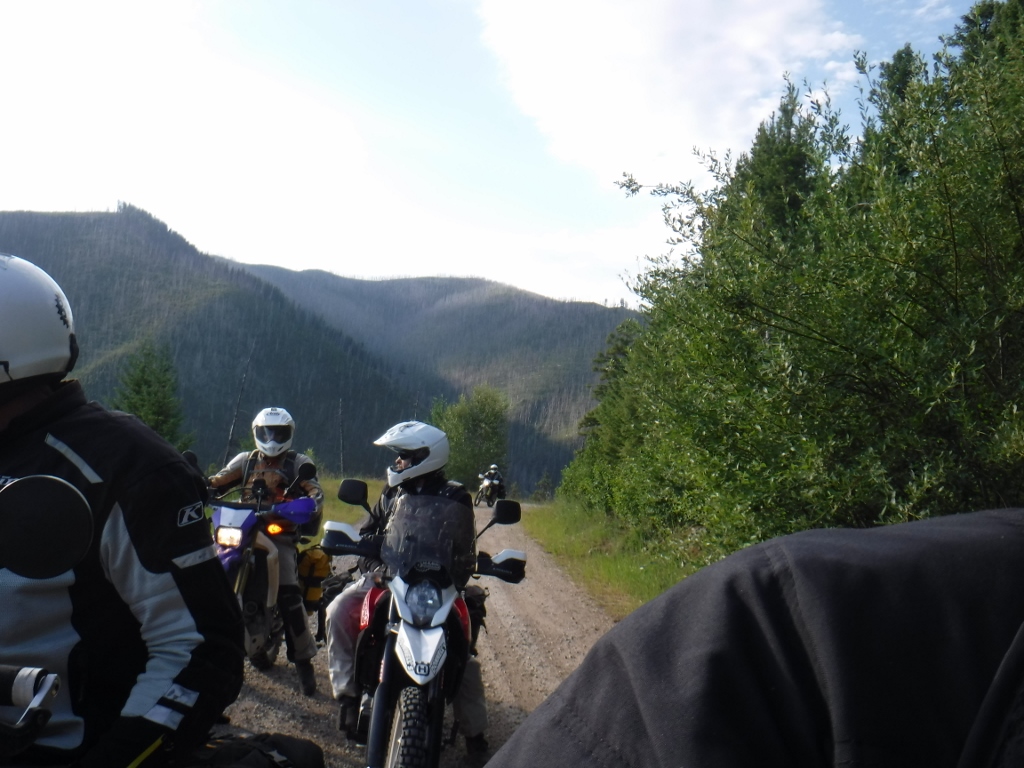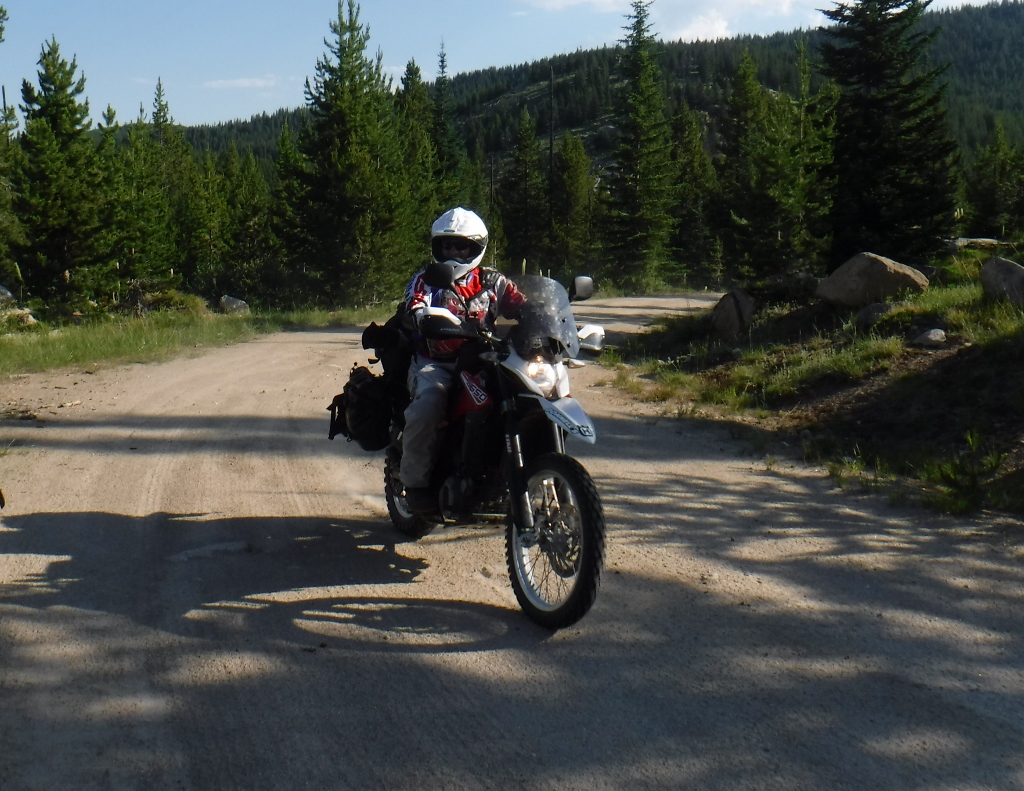 Later on after riding past the Bighorn Battlefield monument we had a early lunch in Wisdom
at the local cafe------------Wisdom Population 32.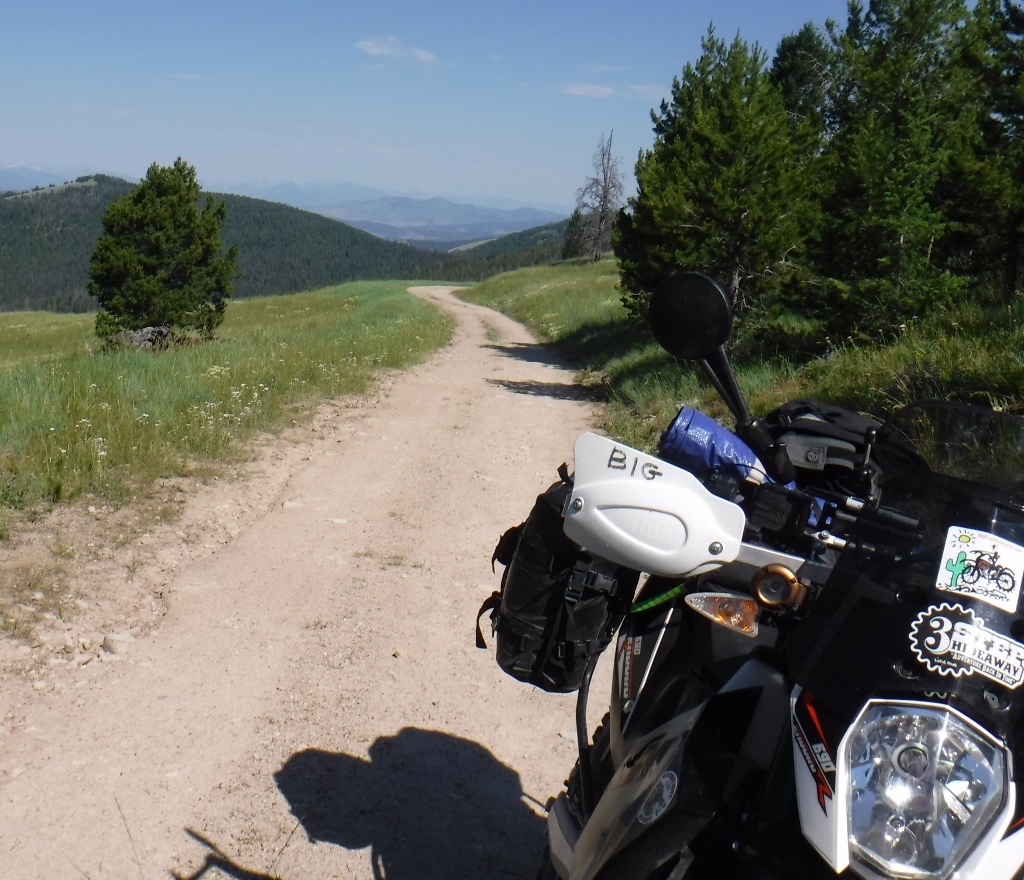 Will on the left rode with us last year riding his 690 KTM.
He seemed to like riding with us old folks as we took no chances and like to stop once in a while
and were never in a hurry. Being in a hurry is a total waste of time.
I think he just farted !!!!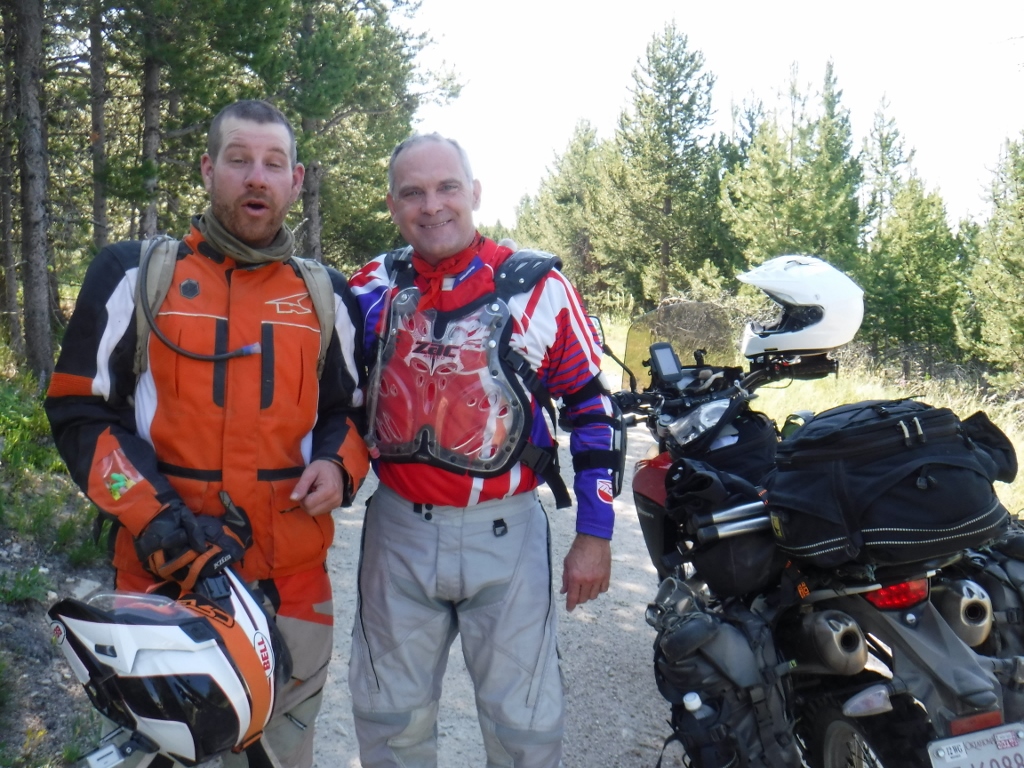 We were hoping to have our full Baja ride group with us on this ride.
But 2 are missing here--------and there was no "Adios Pantelones"
Allan and Kaysee on the left rode with us last year and spent most of this ride with us.
We are at Elkhorn Hotsprings in this picture----------a tiny town.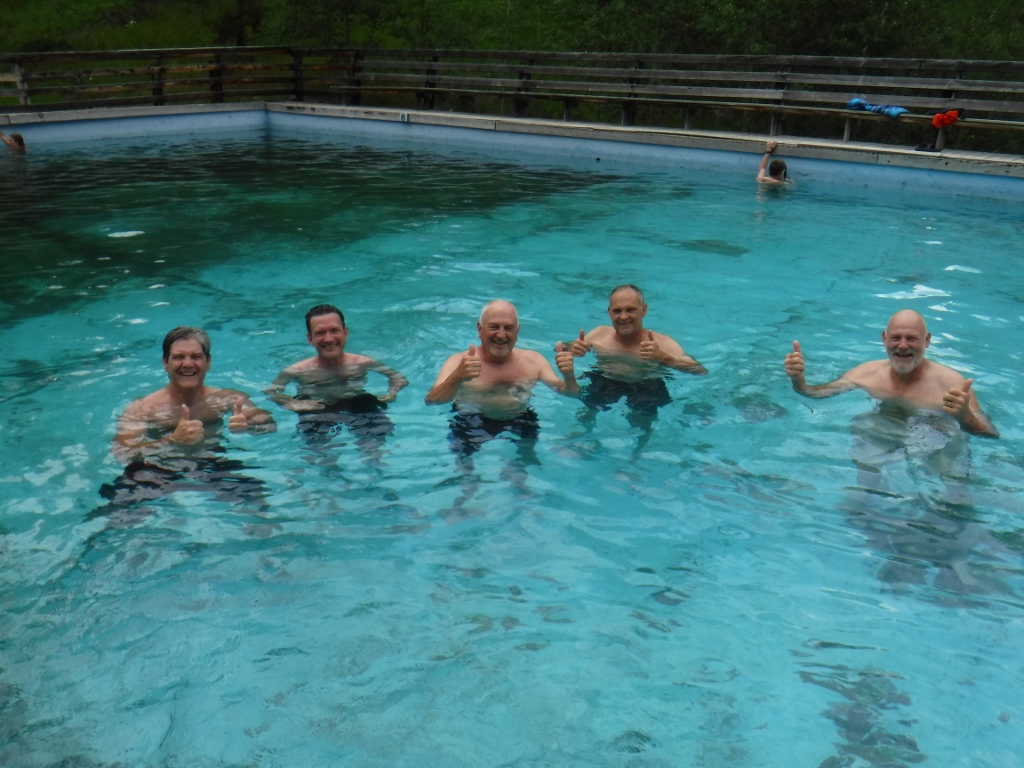 Some riders camped--------but I secured a room for me and Scott Williams in the lodge.
We had a great dinner here that night.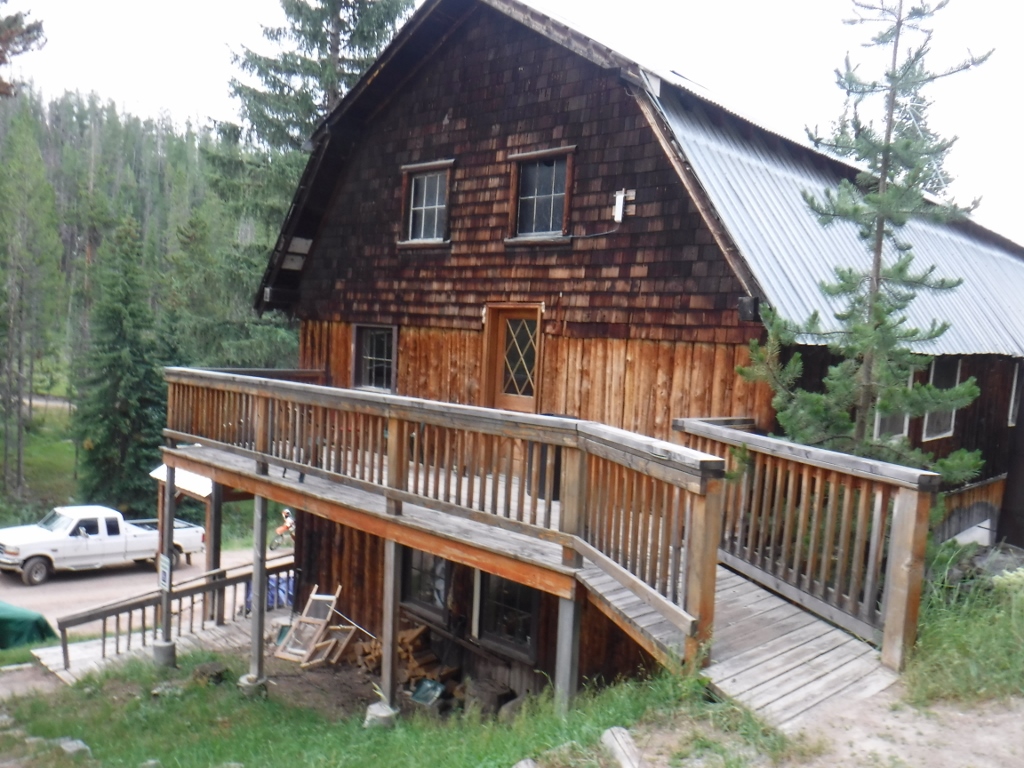 The next morning the steam from the hot spring was rising out of the pool.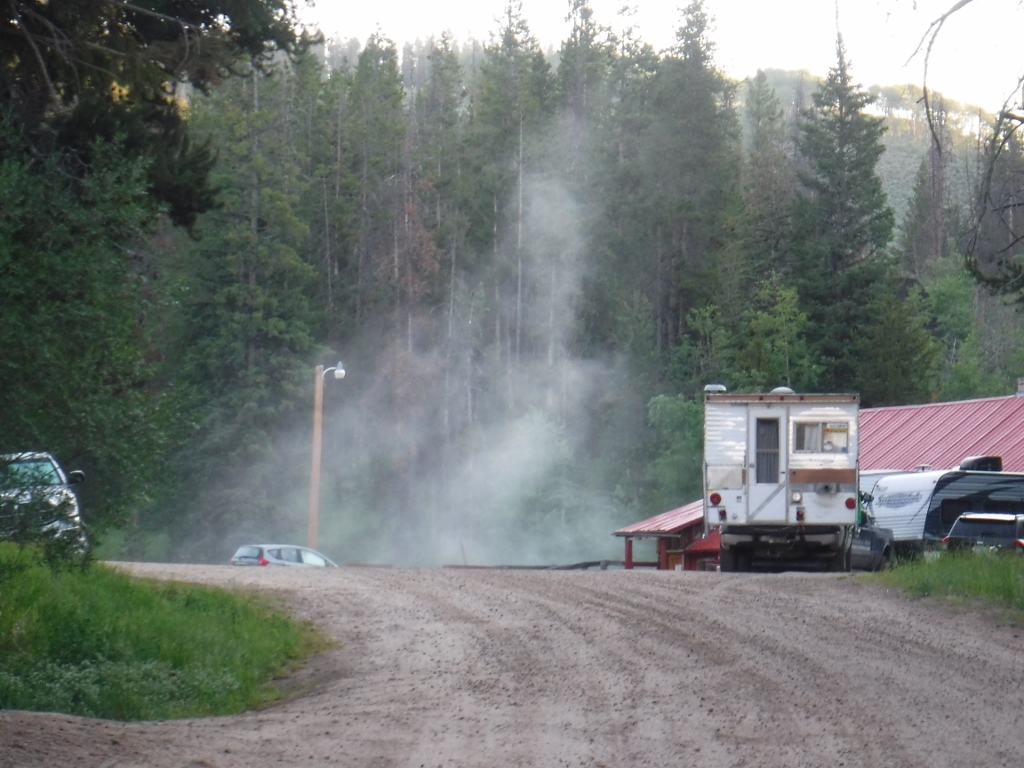 The lodge-------really rustic.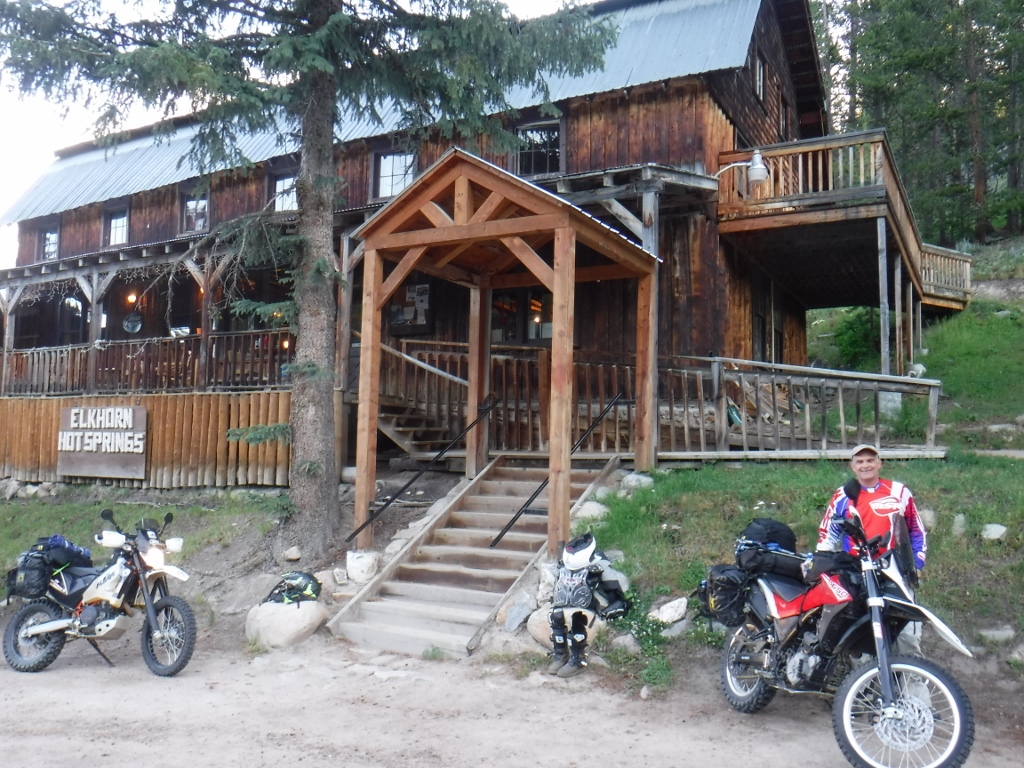 A very short video of our ride today.
A rough map of our ride today.
The yellow line was the track my gps recorded.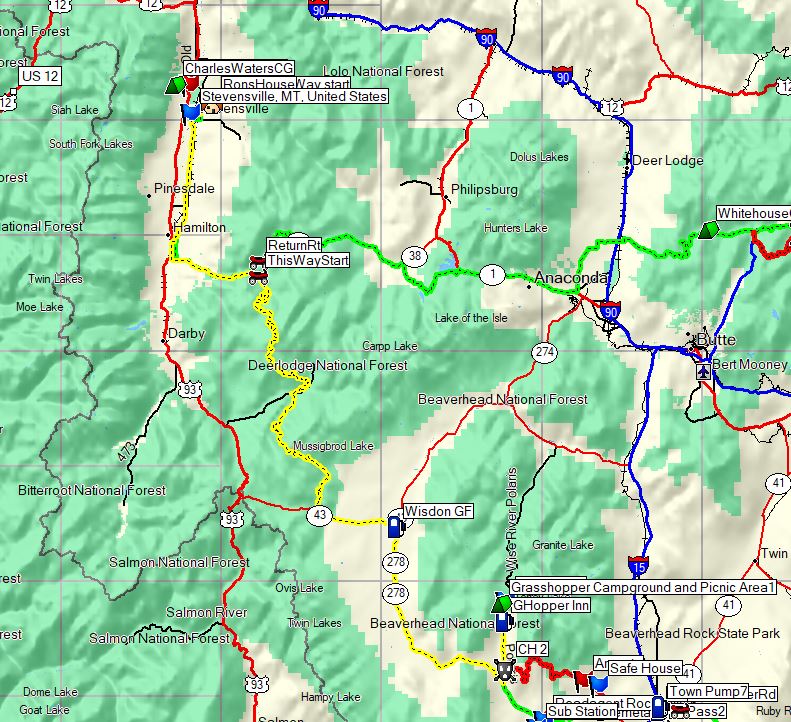 Day 2
July 16th, 2017
South out of Elkhorn Hotsprings we went early in the morning after and early breakfast
cooked in Allan and Kaysees cabin----oatmeal by Jet-Boil---------------and coffee.
What a beautiful day as we started with our jackets on.
And we watched the Beaverhead National forest disappear in our rear view mirrors.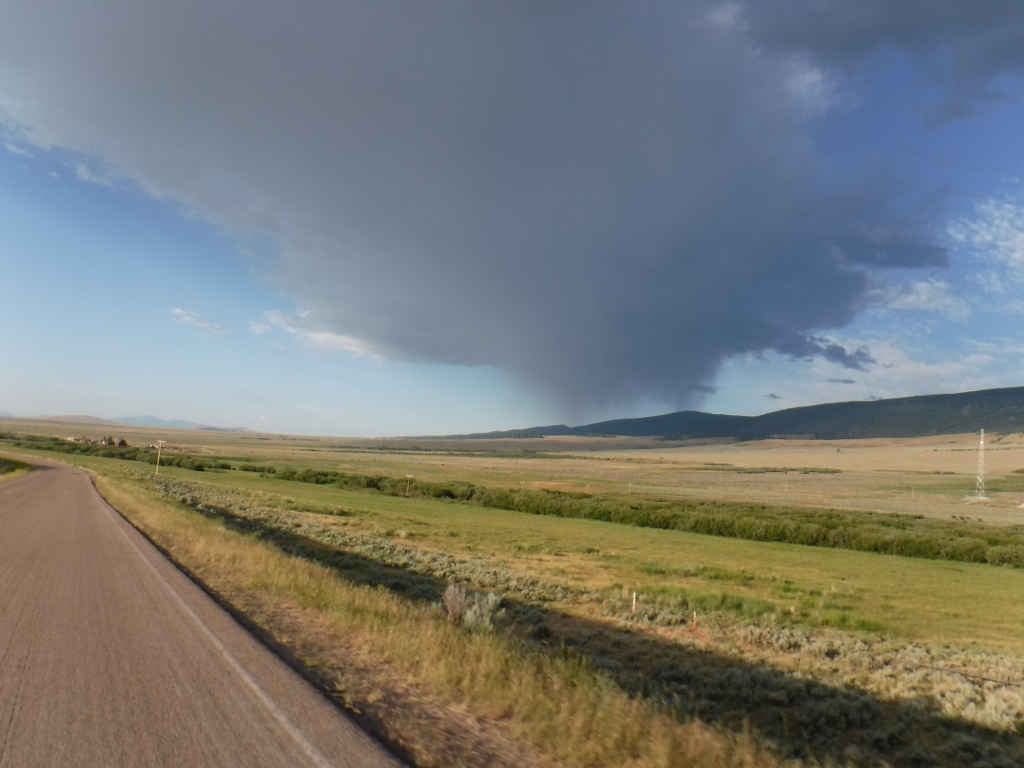 My best friend Sott Stevenson (left) on his Yamaha WR250R.
He wouldn't ride anything else.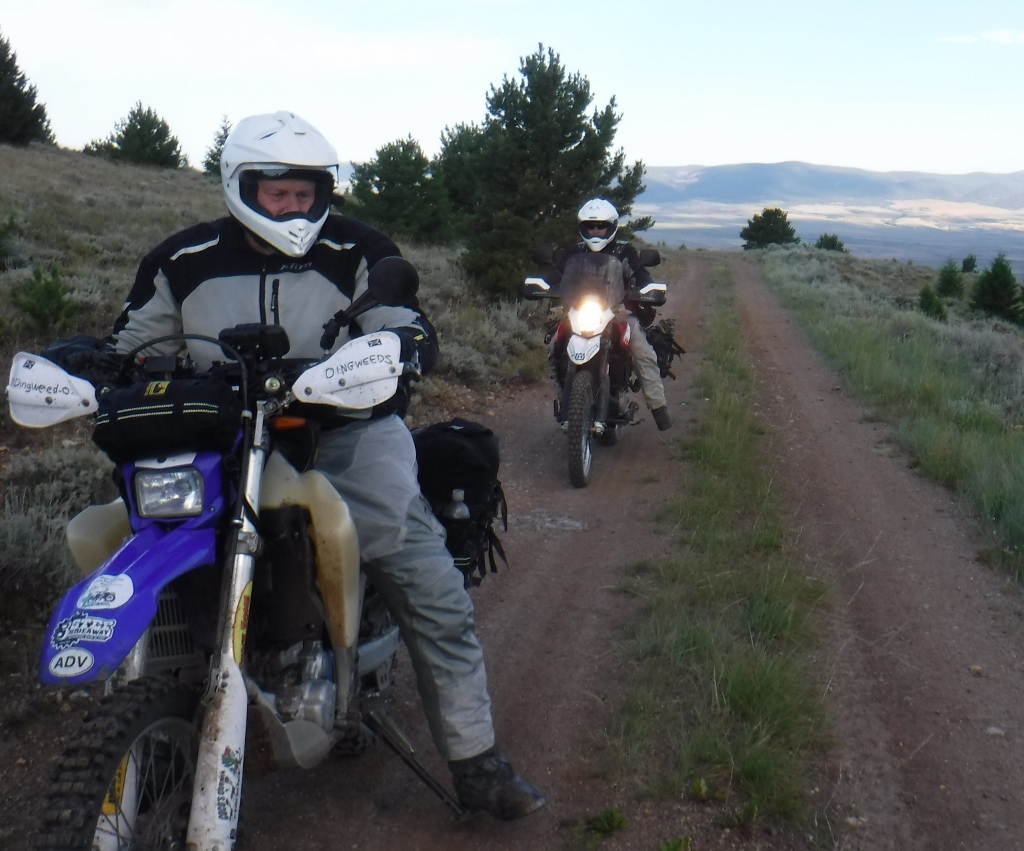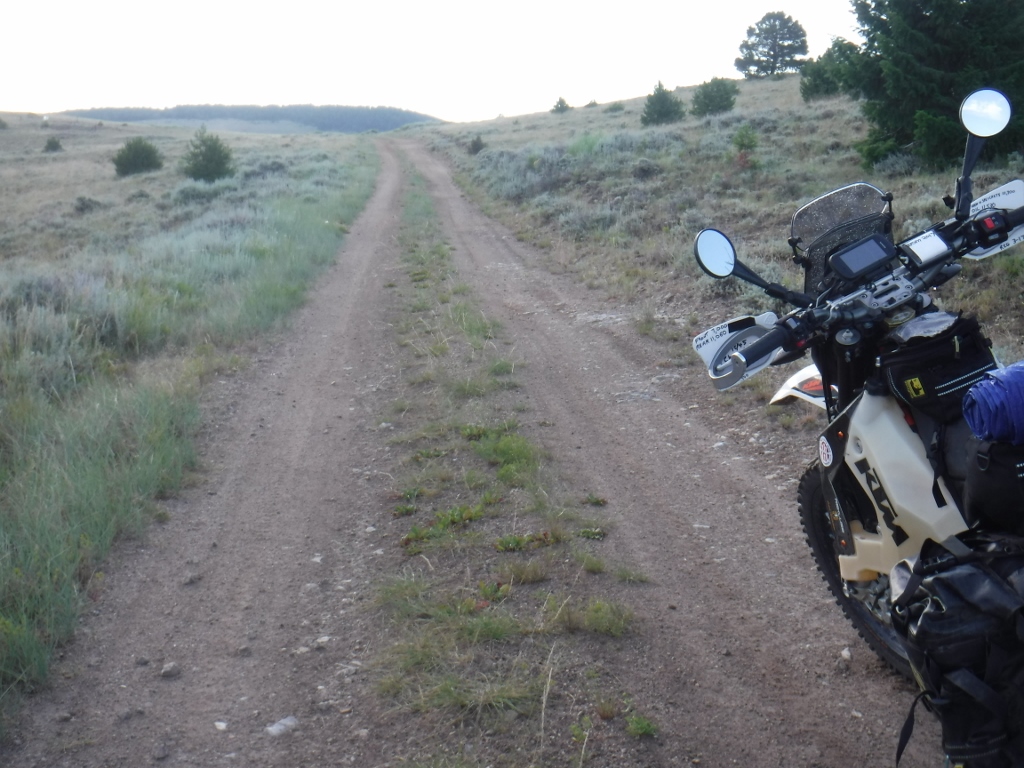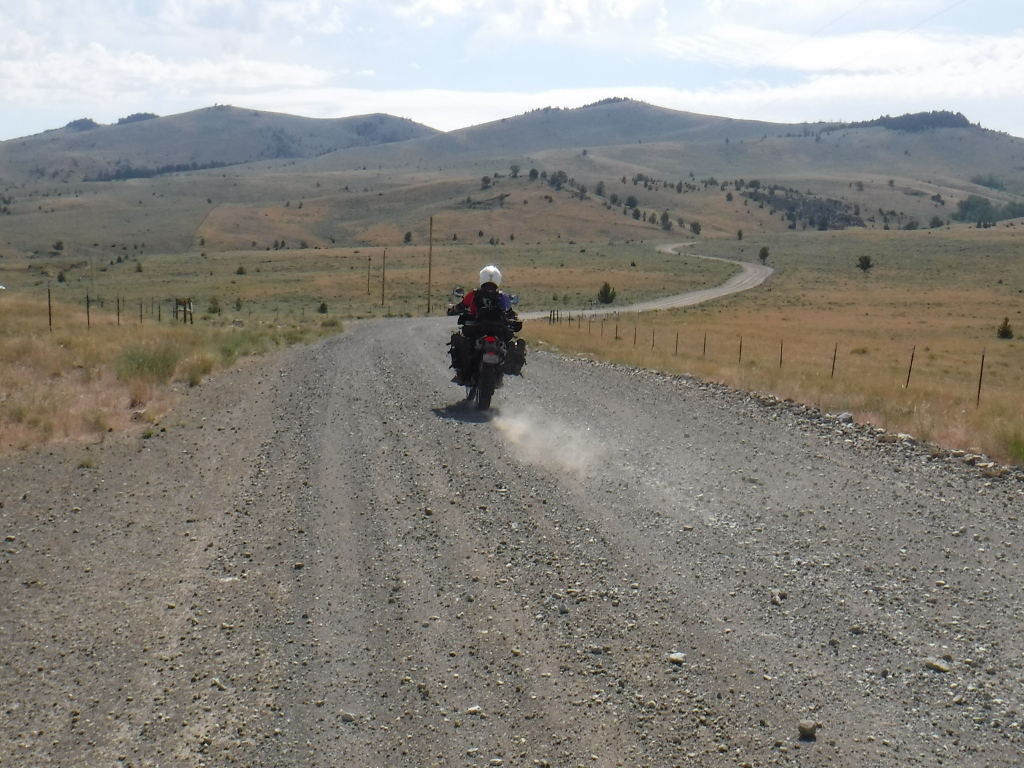 Many gates were opened and closed on this ride.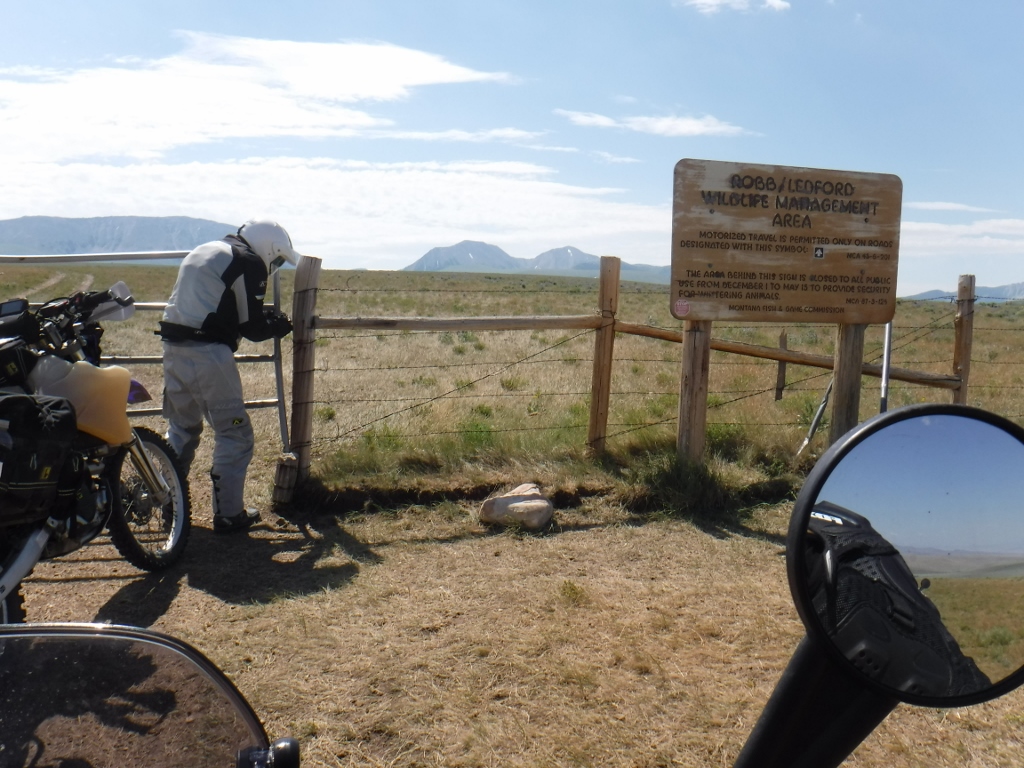 The riding was going to be spectacular today as we all anticipated riding the gravelly range.
No yet tho----down this mountain we went first.
My favorite picture of High Five---after this ride he claimed this was the best ride of his life
and believe you me this man has done some riding.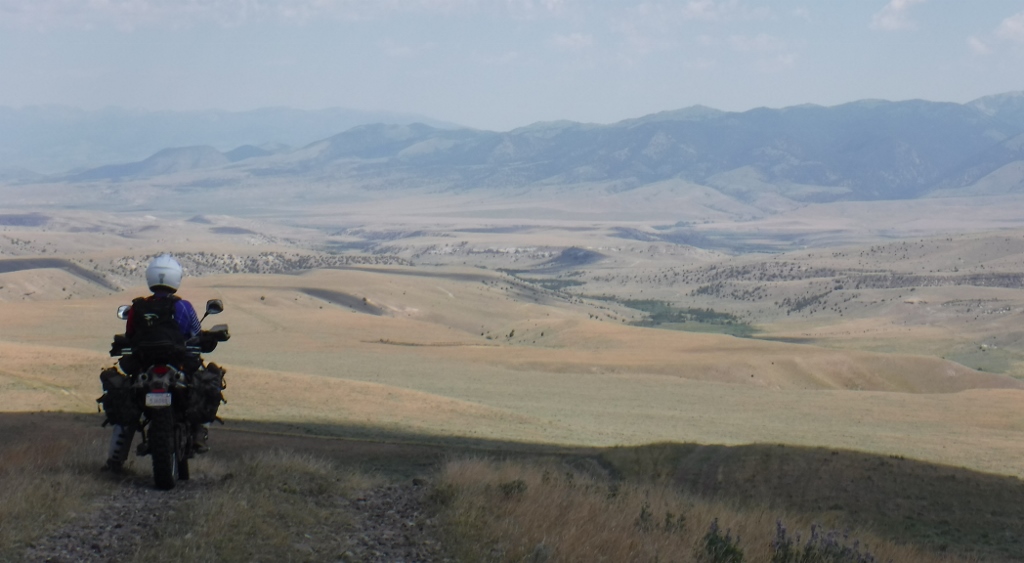 Here is Todd on his Husqvarna 701--it was brand new and on it's first voyage.
He let me ride it for a bit----------thanks for that ride Todd.
Todd stuck right with us most of the ride-----and would never pass ice cream------never.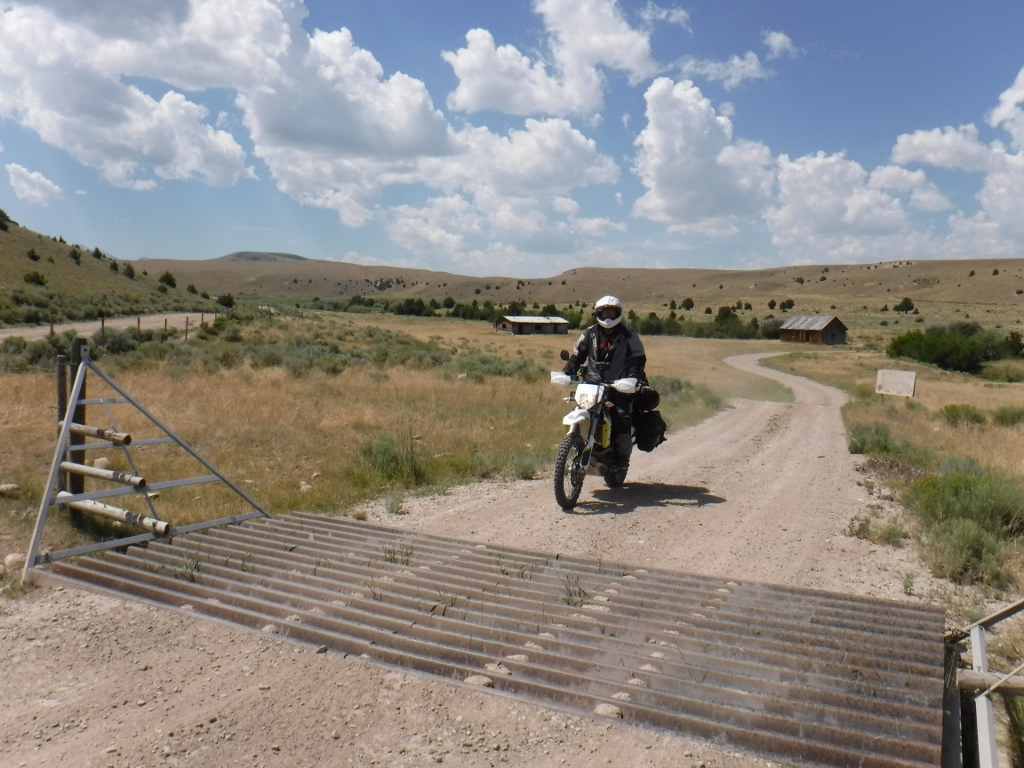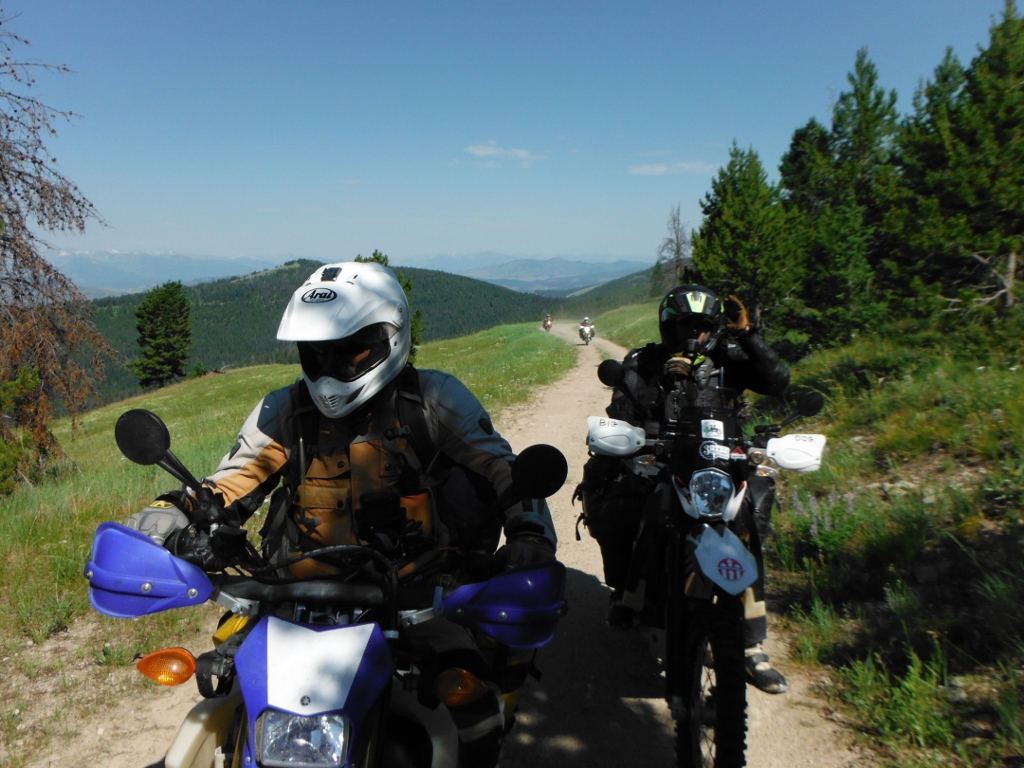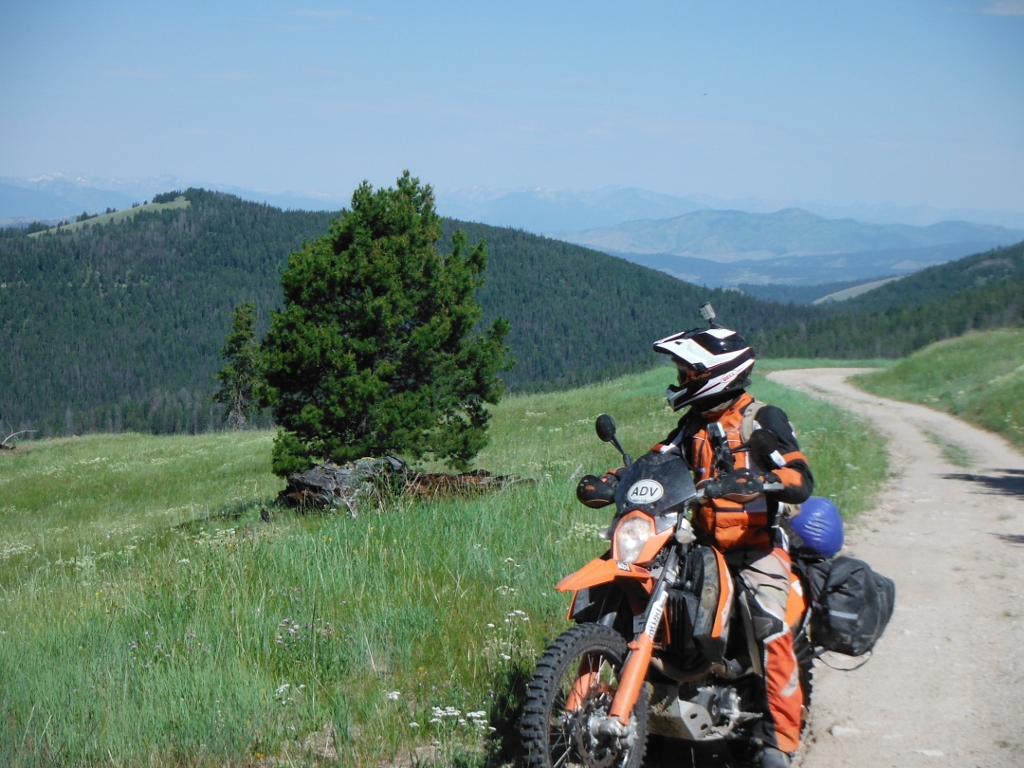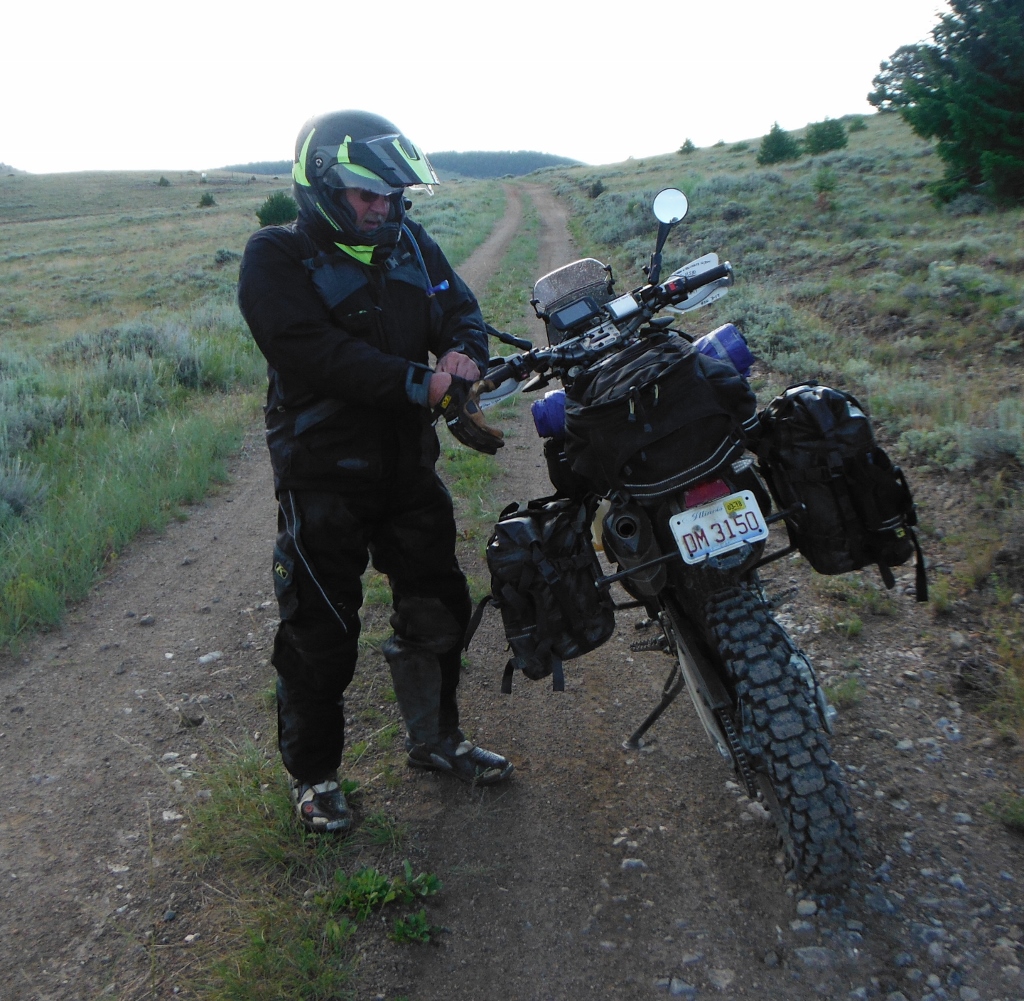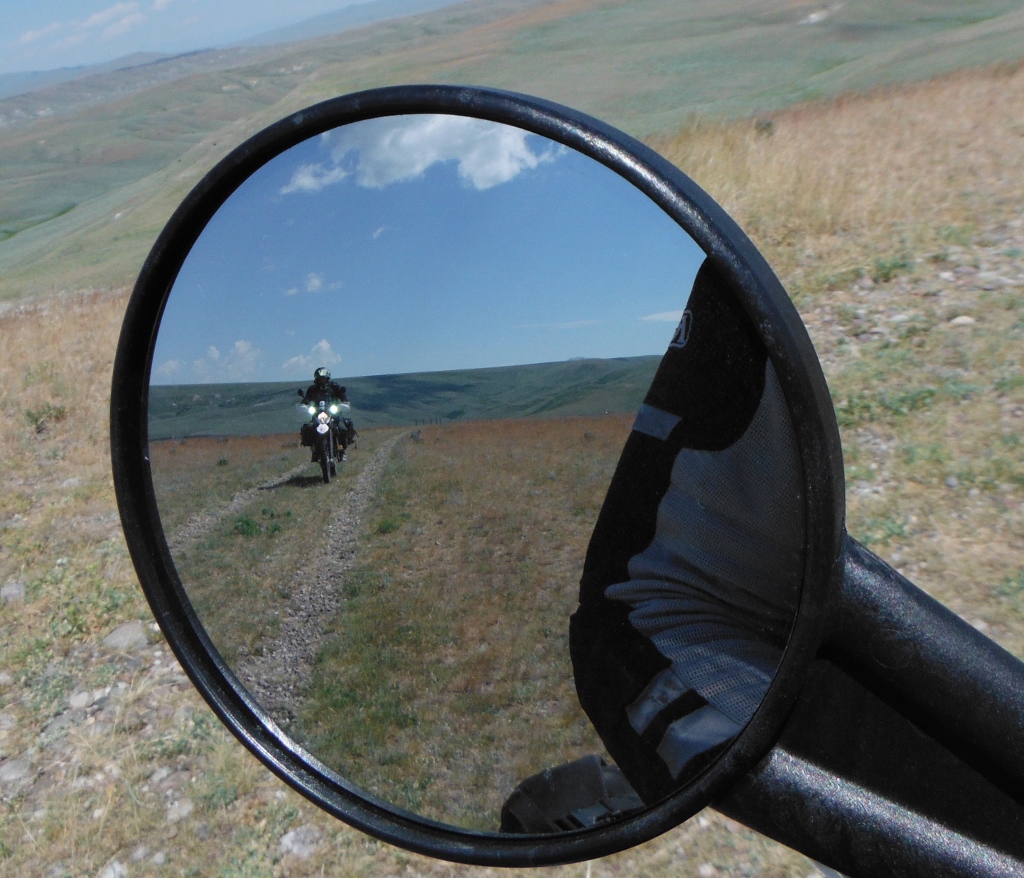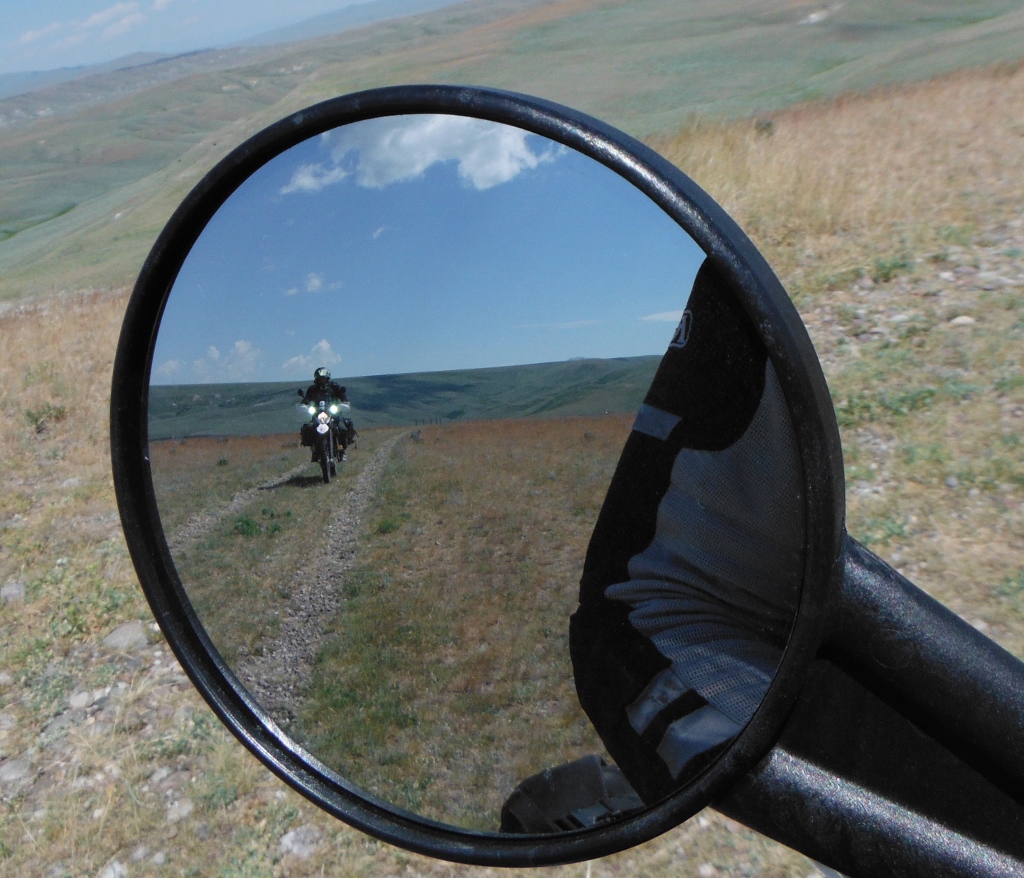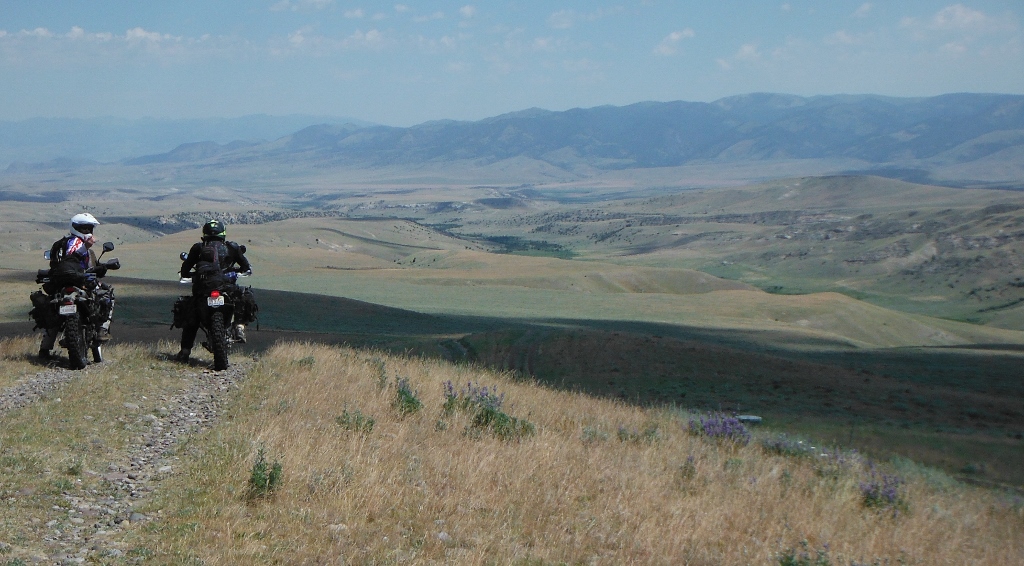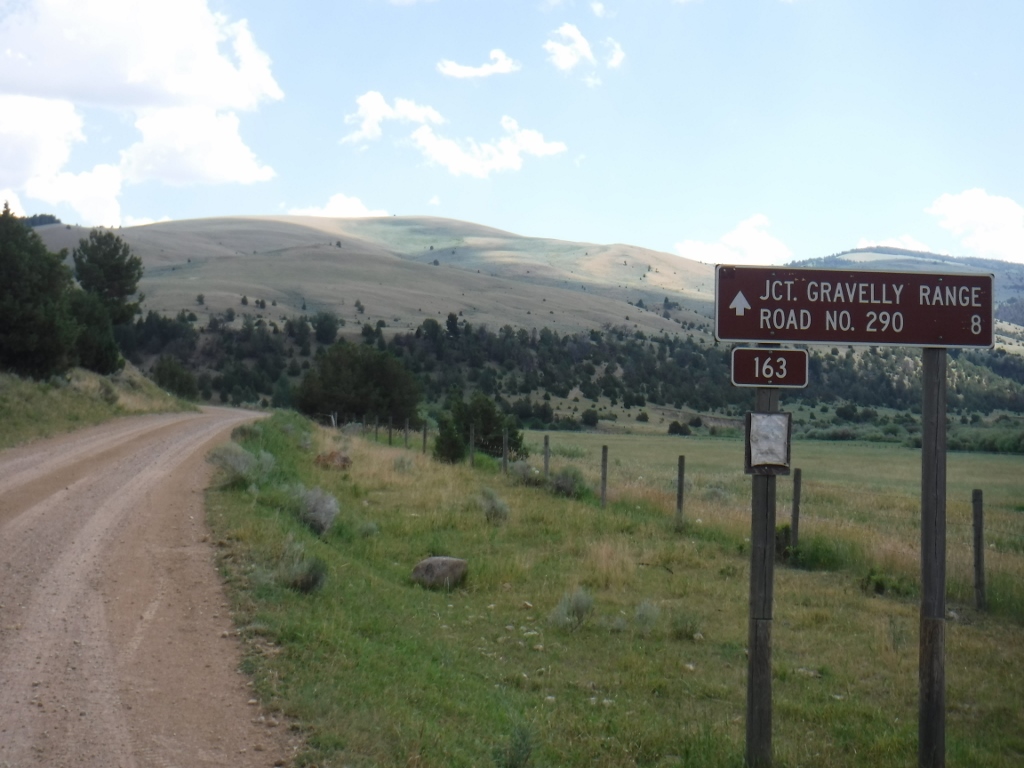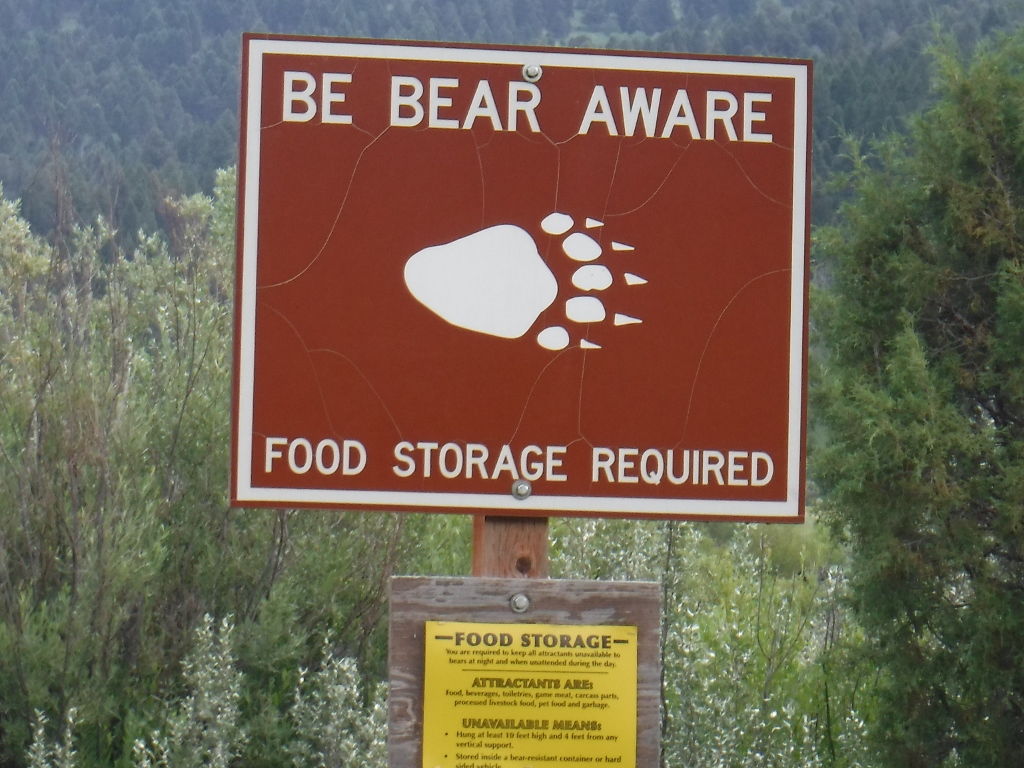 We are on the Gravelly range now---this is one of the best rides in the country and
most people riding the Continental Divide ride divert the route a little bit to ride this.
It is thick in grizzlies up here and they have been trappin them lately.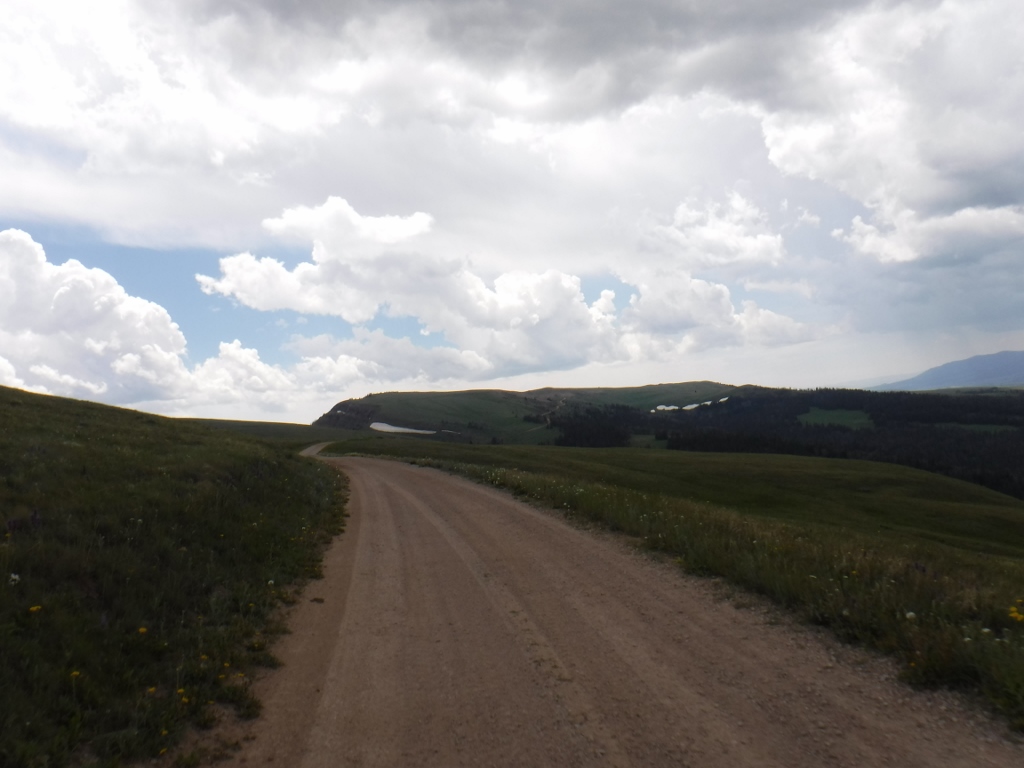 This is at least my 3rd time up here and there is a beautiful butte up here called "Black Butte".
There is an impassable when wet road up ahead and I dreaded coming to it.
But it was in pretty good shape this time.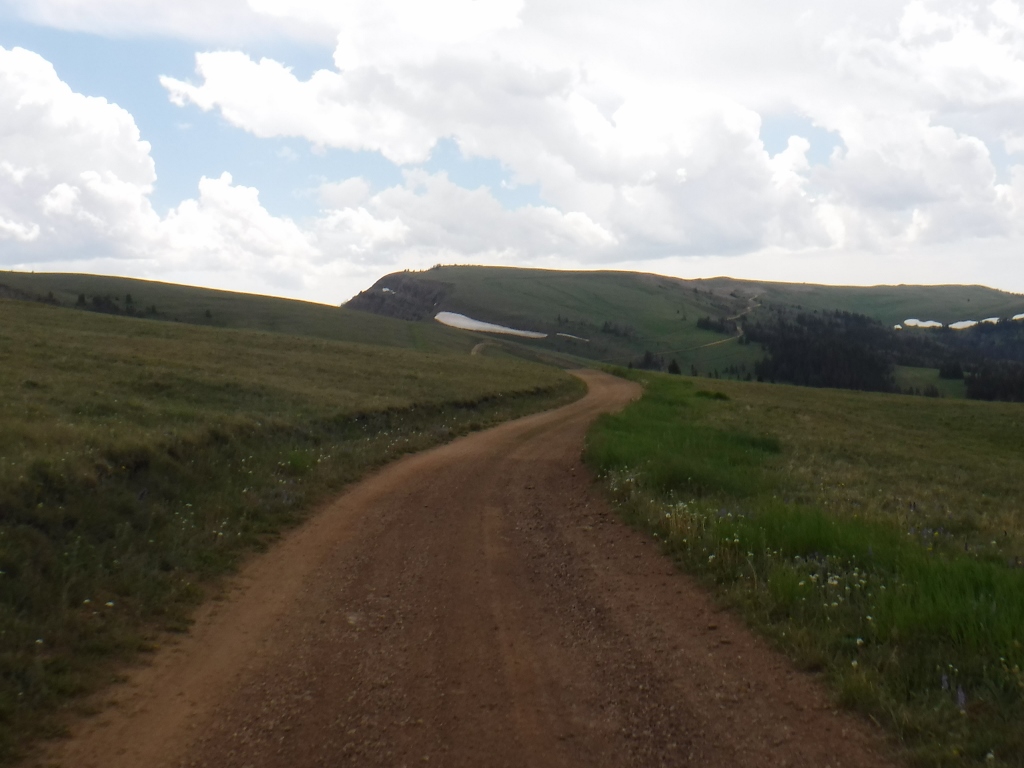 It was very cold up here but marvelous and I ran my heated grips the whole time.
Then it started hailing on us and it was hurting my knuckles.
It was just awesome.
The elevation up here approaches 10,000 ft.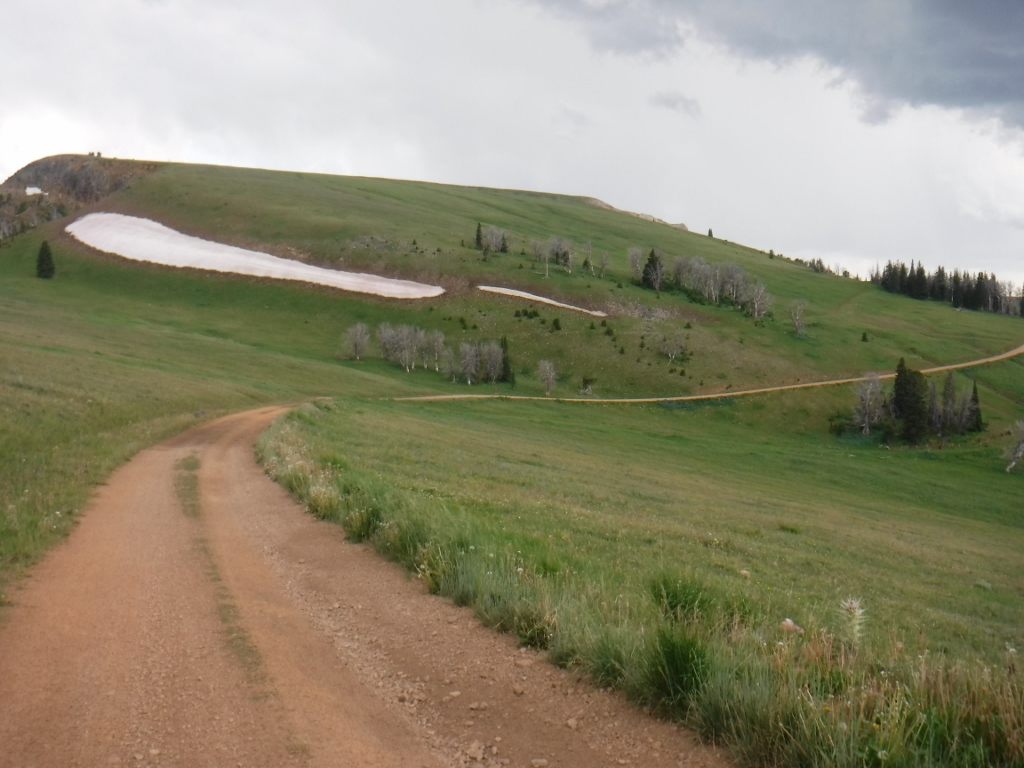 We ended up at a group camping area at the BigSprings Campground East of Macks Inn.
I was carrying some leftover pizza from lunch and we were advised to tie up our food in the trees---OK
I've done this drill before----------so I gave Will my 3 pieces of pizza---the one piece he didn't eat I tied
it up on a tree limb above Wills tent-------for safety.
He walked right into it a couple times bumping it and spinning it around while we watched and
cackled.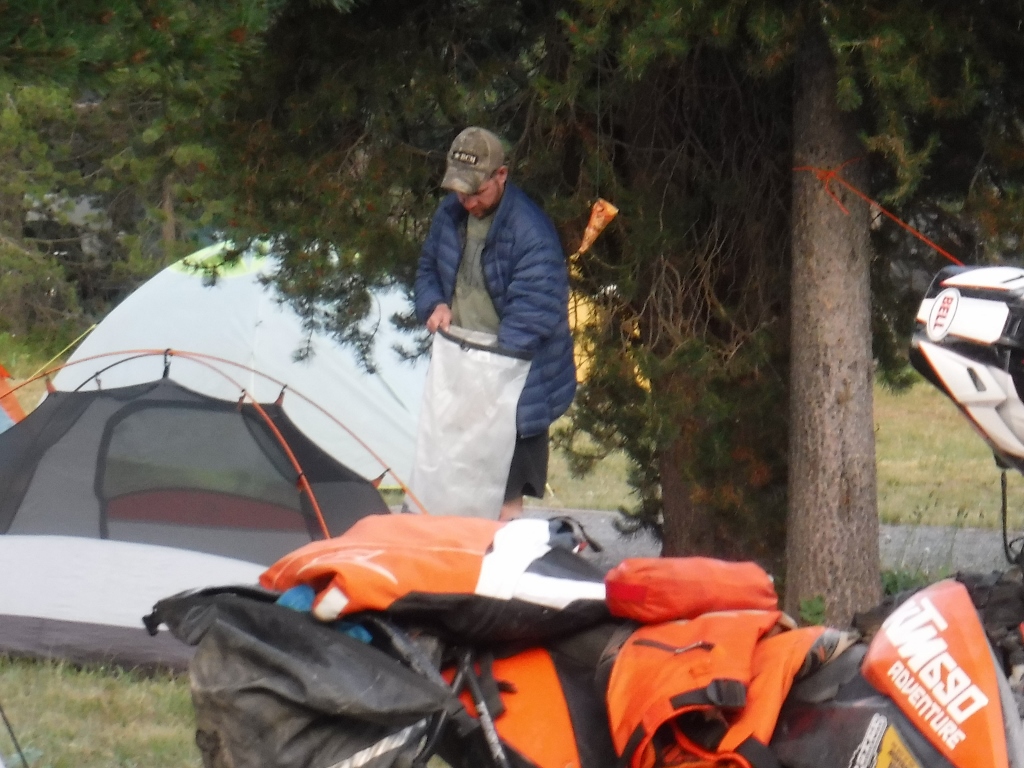 But Will beat the poor starving grizzlie to a free meal.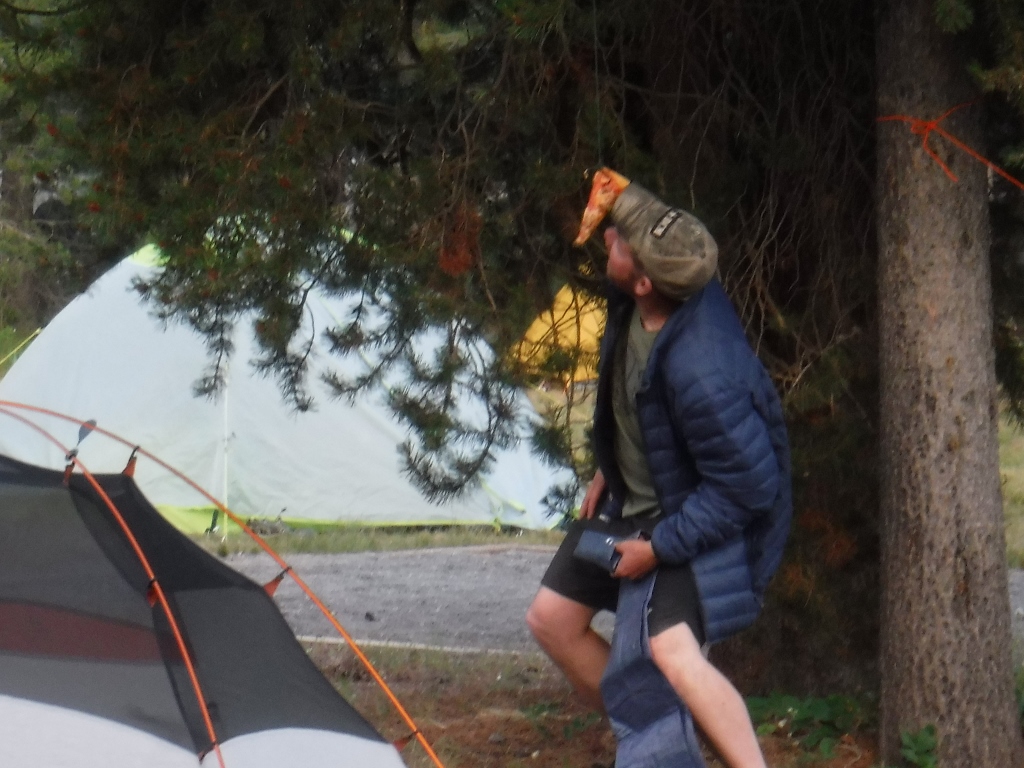 Before dark we all went for a walk to the "BigSpring".
I had no idea how big it was and that it was the headwaters of Henry's Fork river.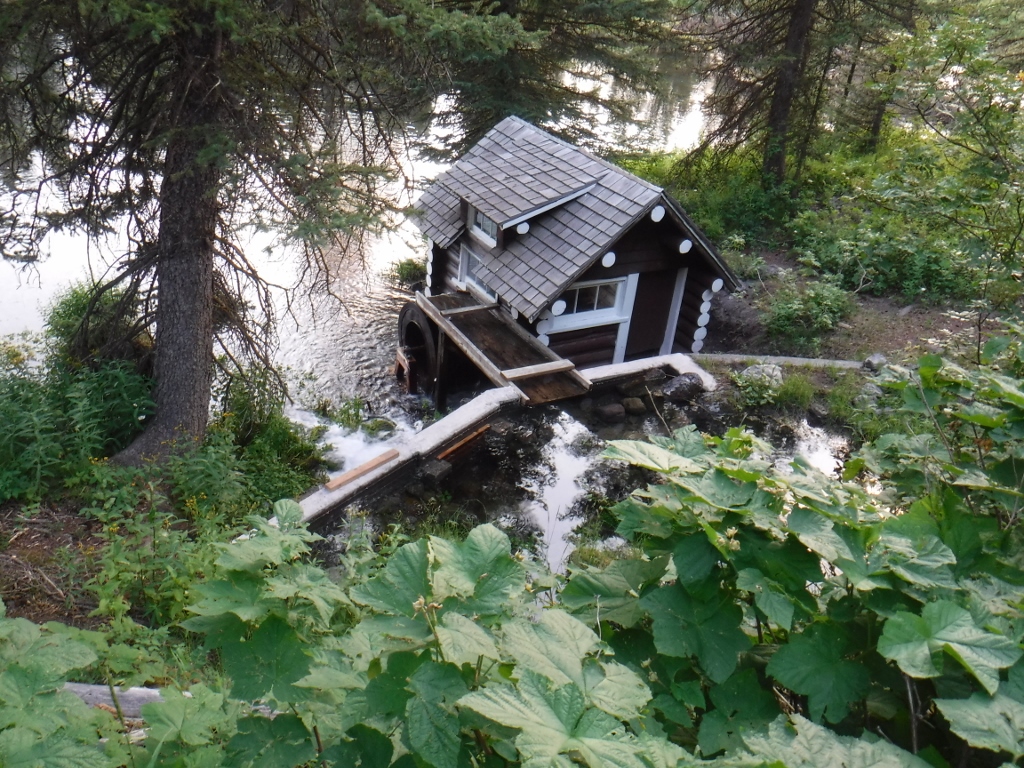 All the picture you see are the spring.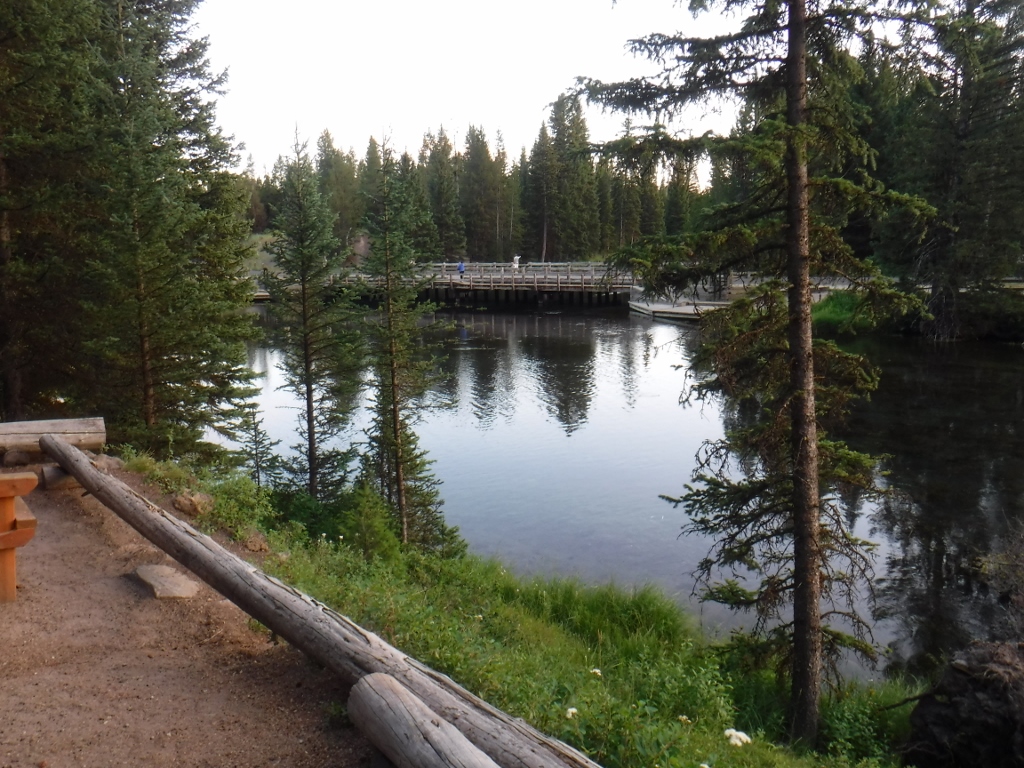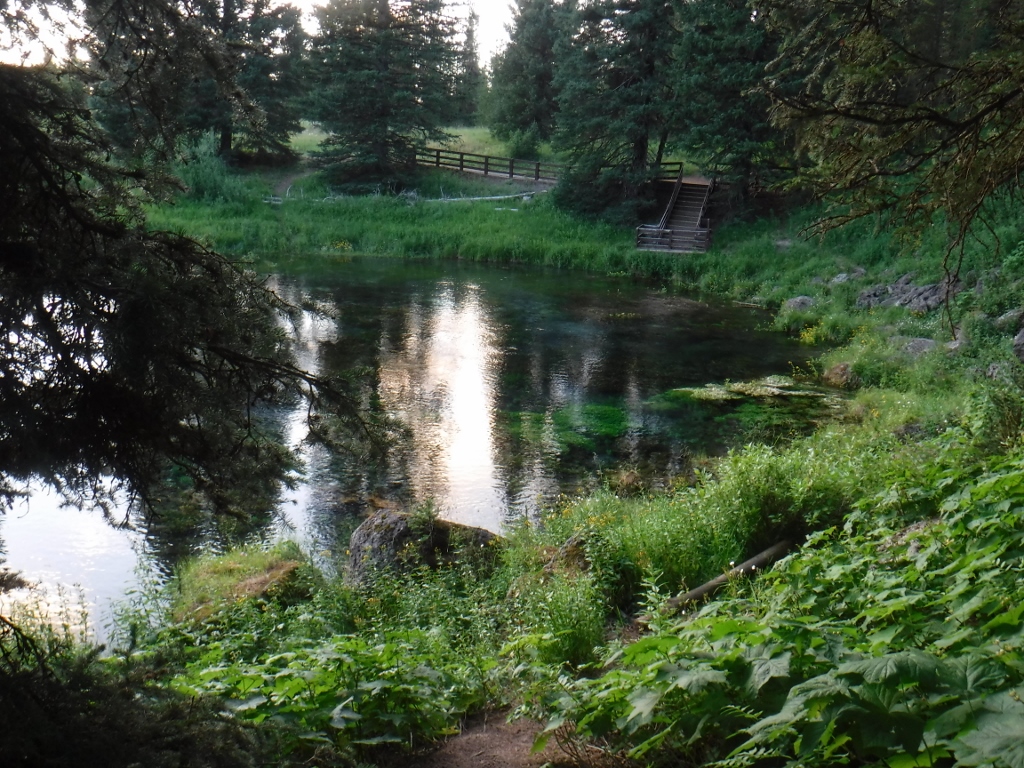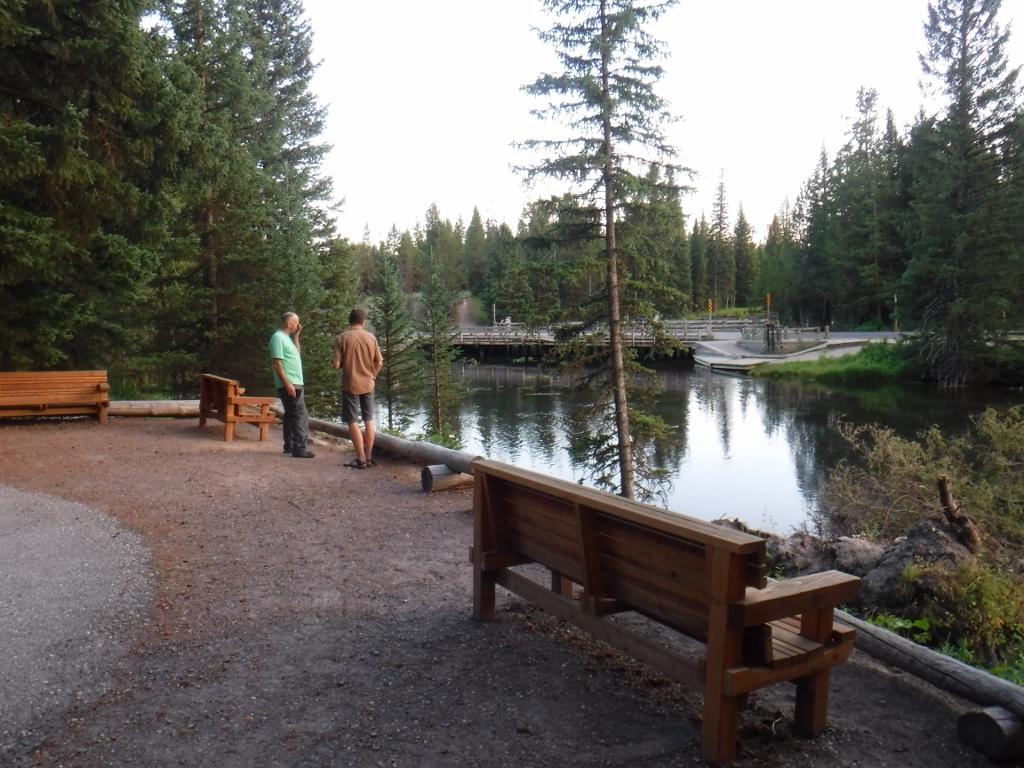 Left to Right my riding buddies---or some of them anyway.
Scott Williams (HighFive), Scott Stevenson (Dingweeds), BobBob (Bob), Mark Sampson (BigDog) and
Allan Anderson. Allan and his friend Kaysee both rode KTM 350EXC's.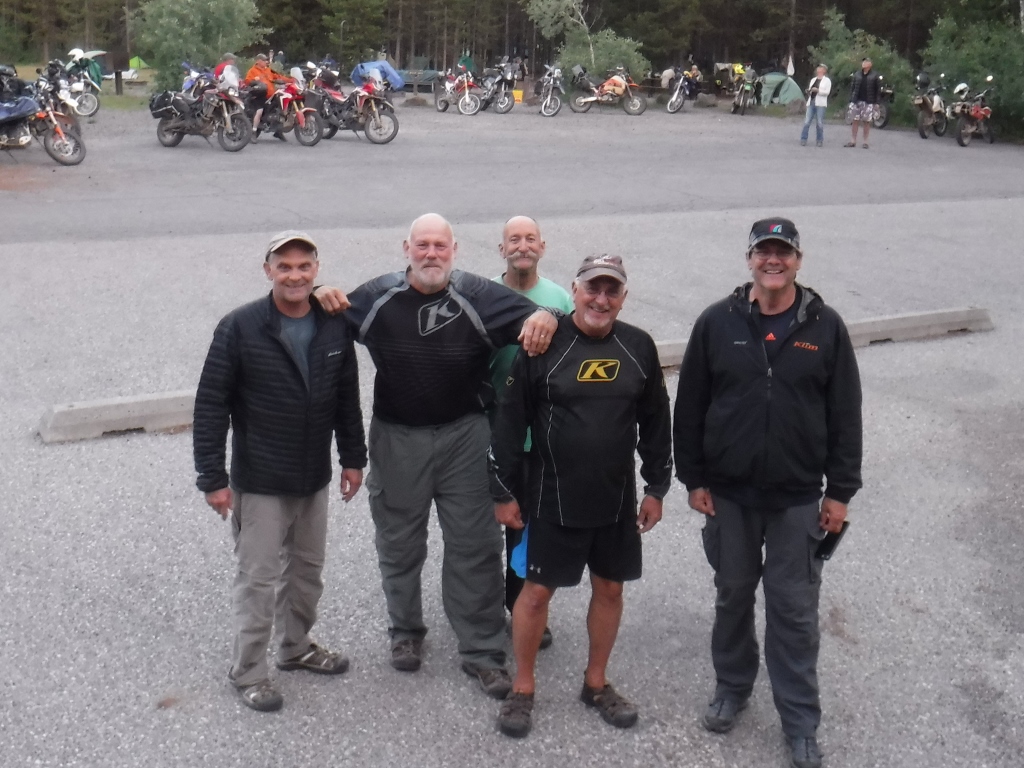 A short video of todays ride
Here's is a rough map or our ride today.
By the way our campground was just South of Yellowstone National Park.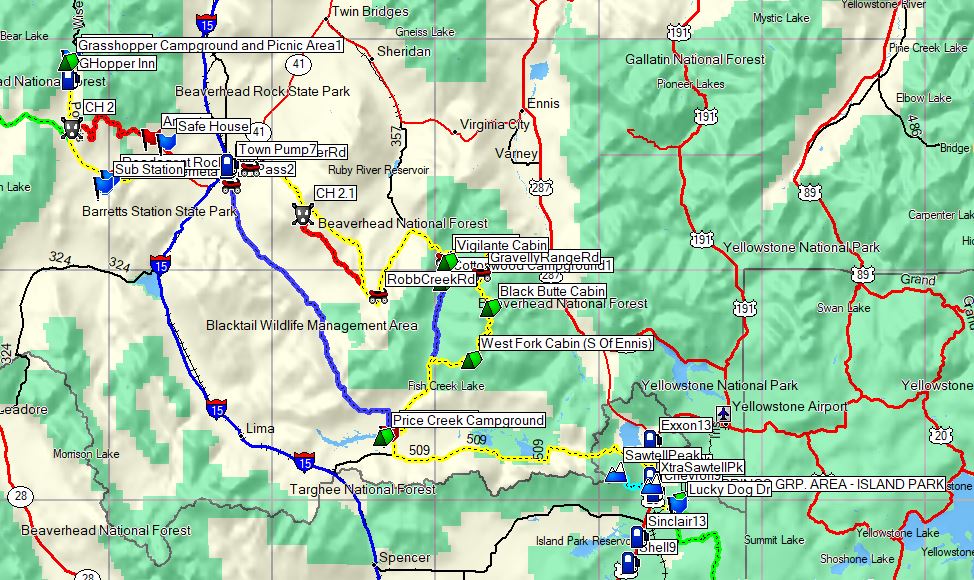 Day 3
July 17th, 2017
South we went thru the Targhee National Forest and the Grans Tetons came into our view to the East.
Miles of the route today at first followed the current Continental Divide Ride.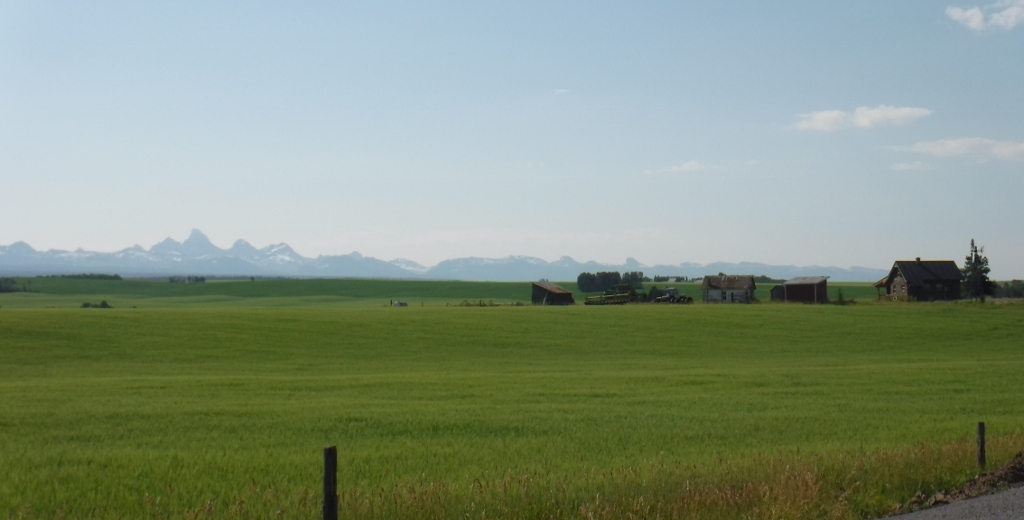 Not fond of National Parks no more than I am of big city traffic.
But I was on the "Safe" side.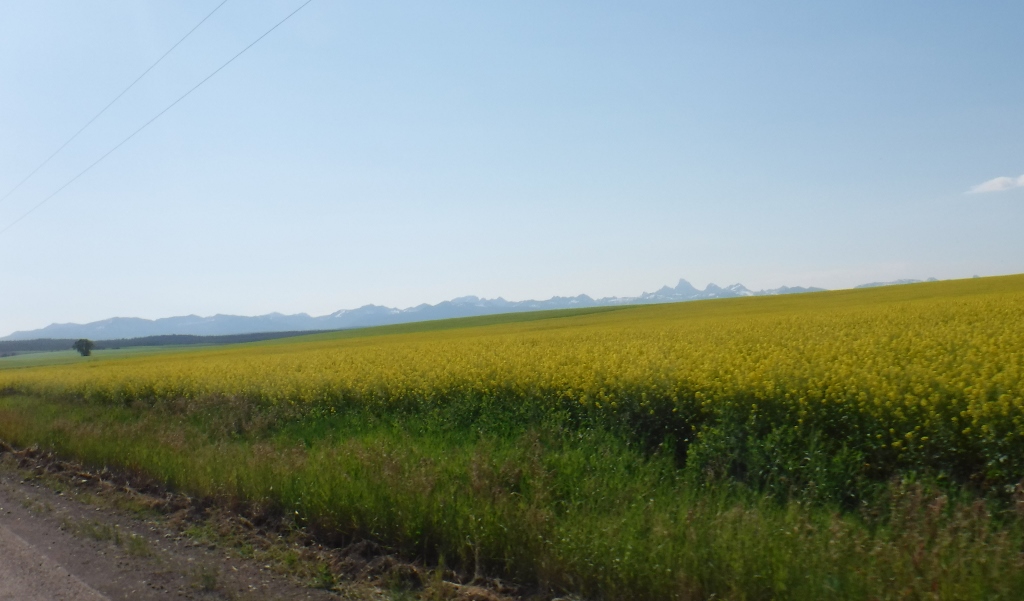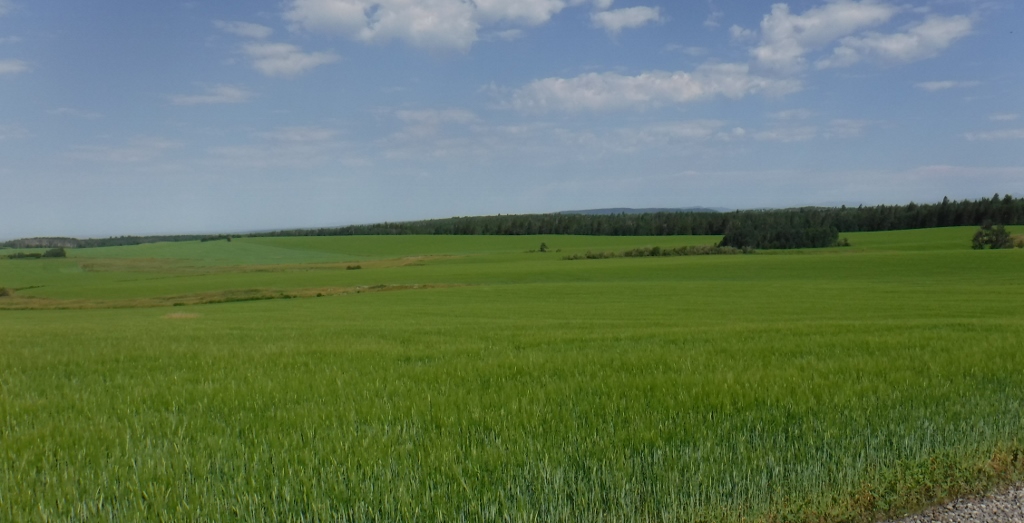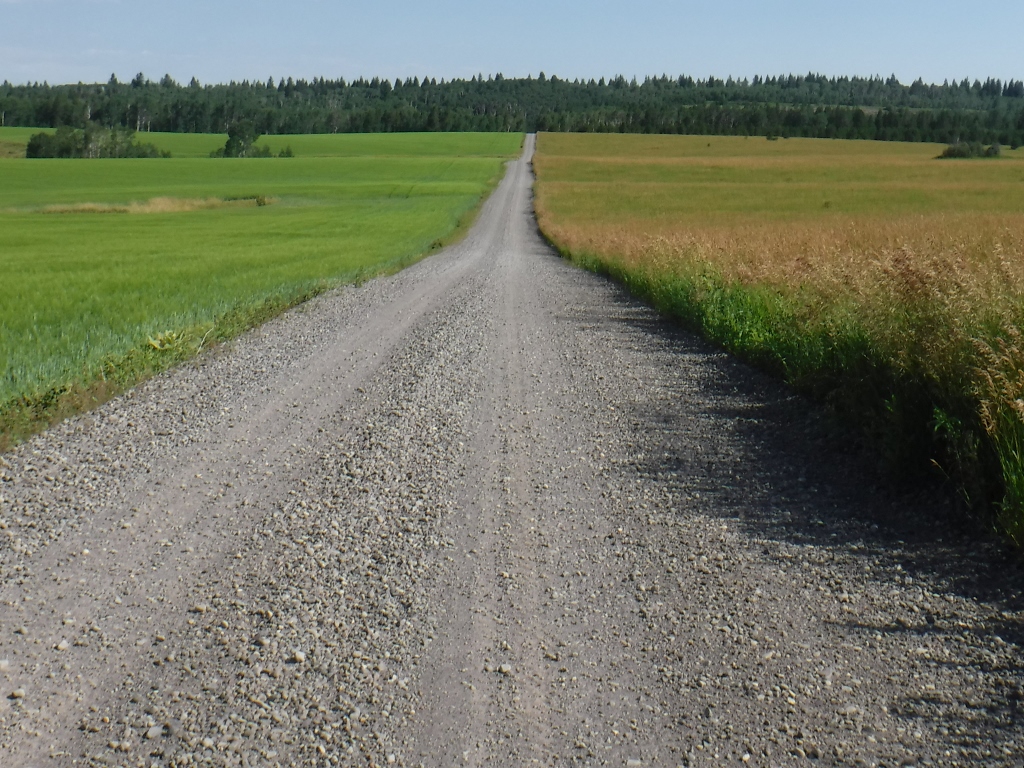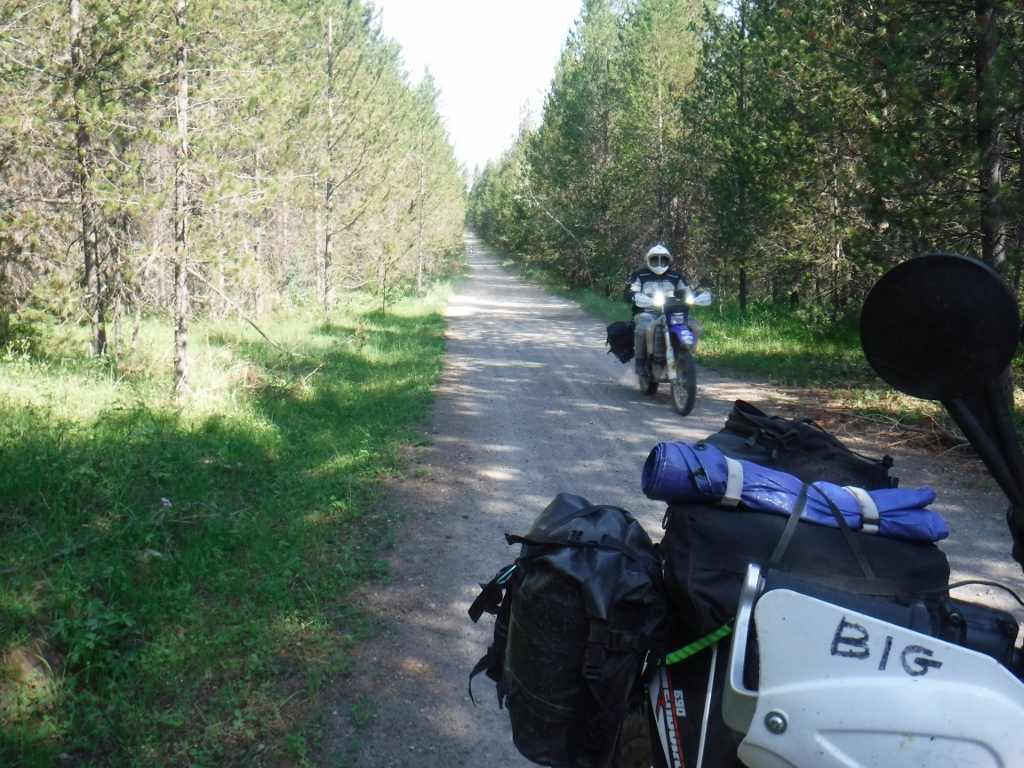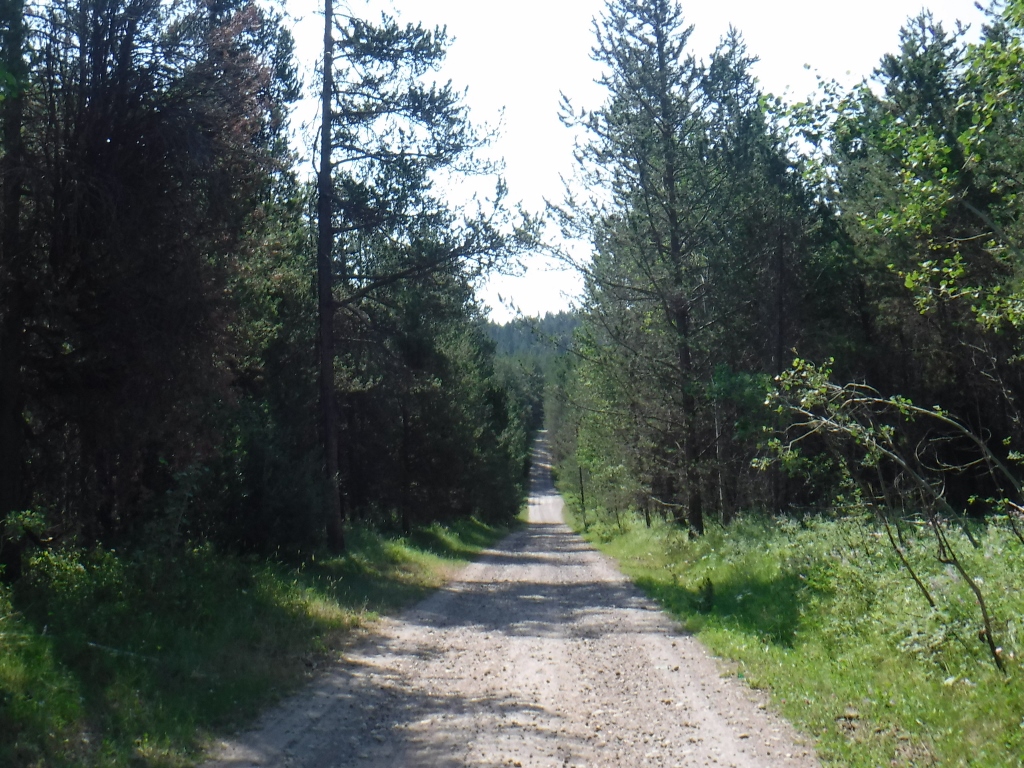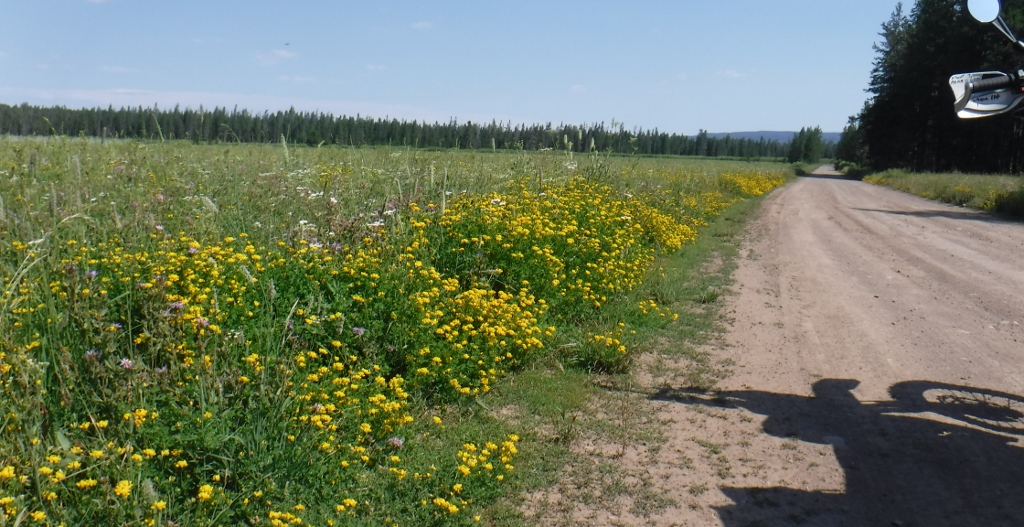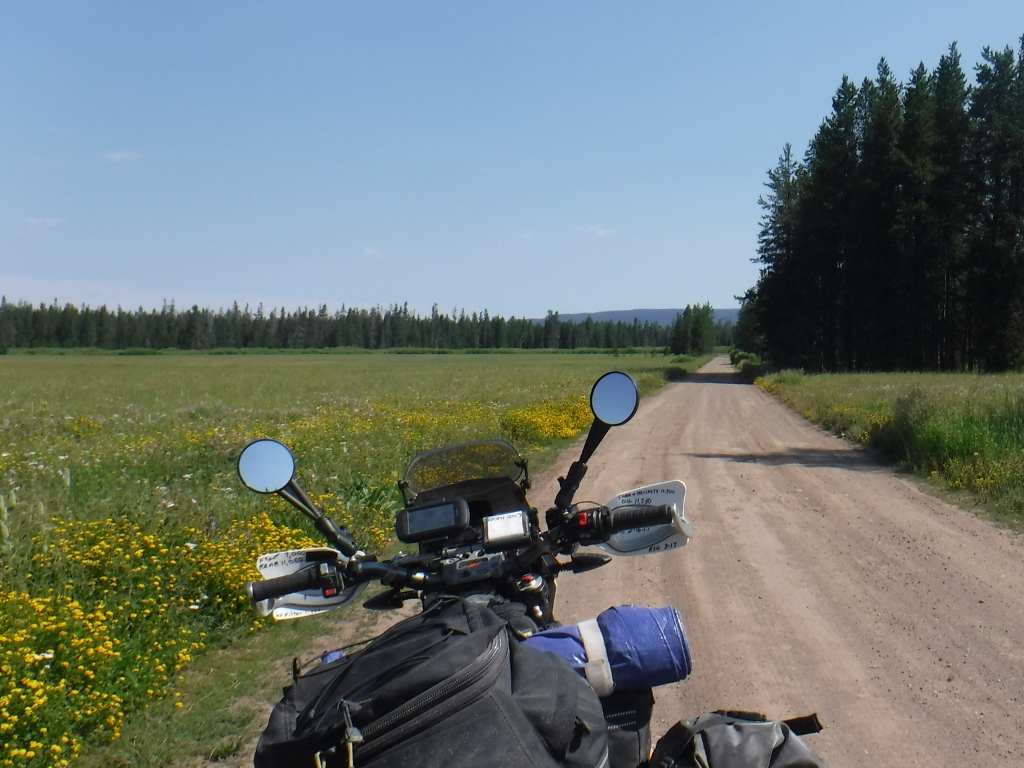 Todd is loving his new Husky 701 and for good reason.
He was a very good rider and good riding companion and has very good riding skills,
but never boasted about them.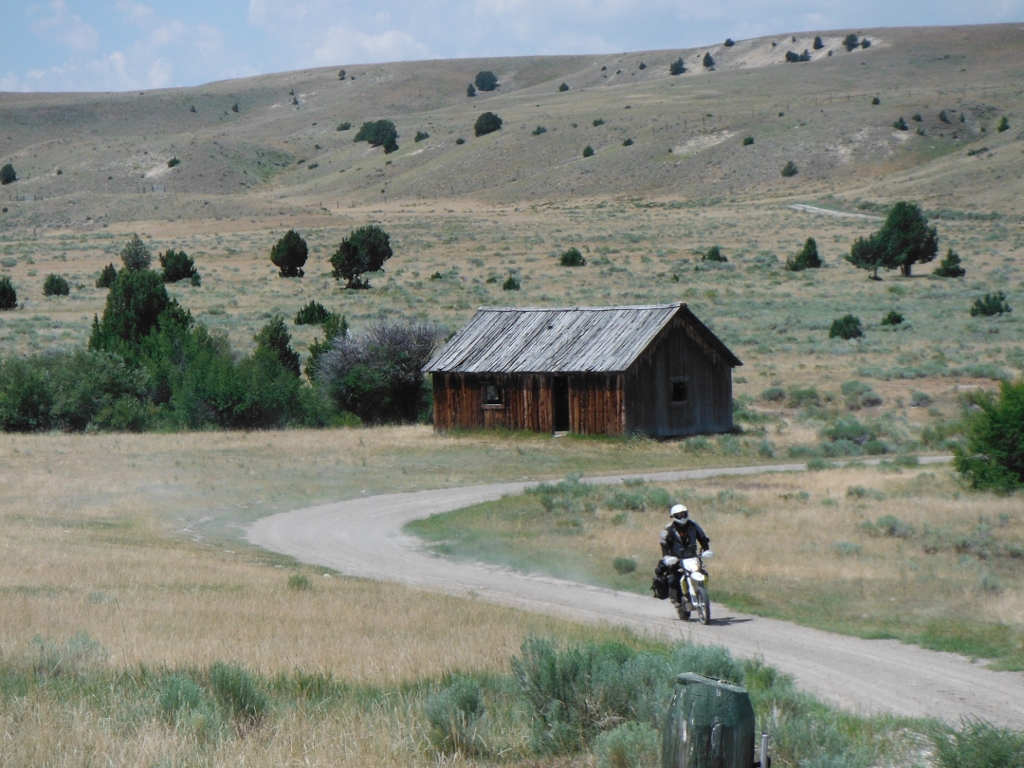 Drug deal caught on camera.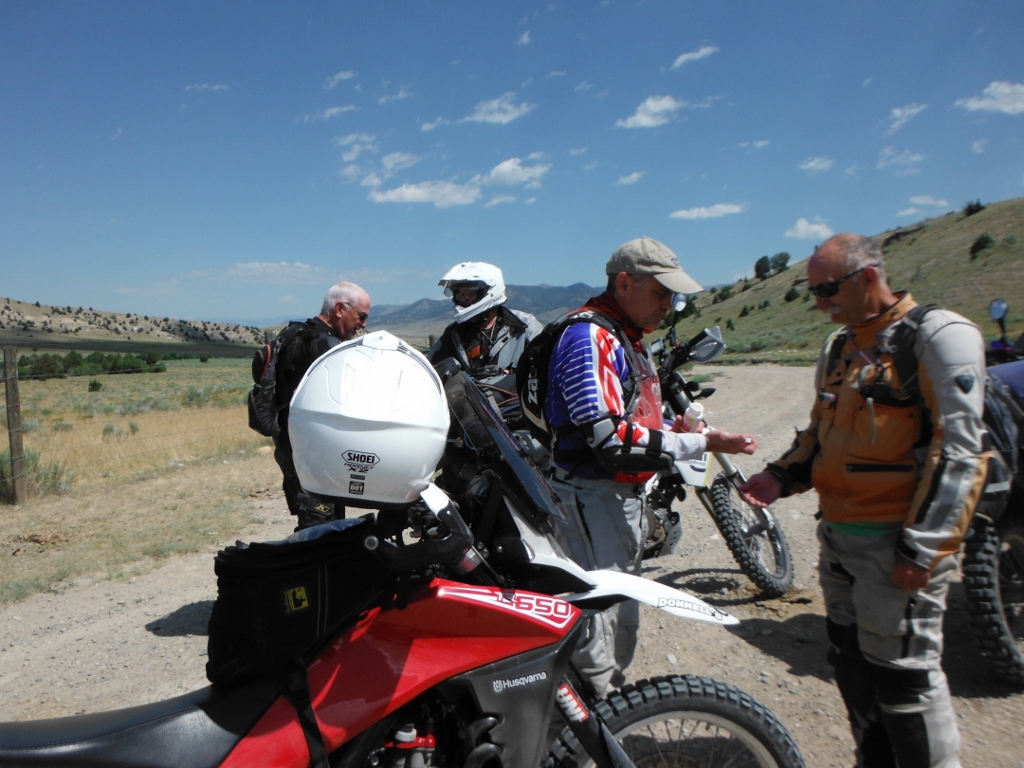 I kind of thinking from the looks of the growth in the creek that this is spring fed ?????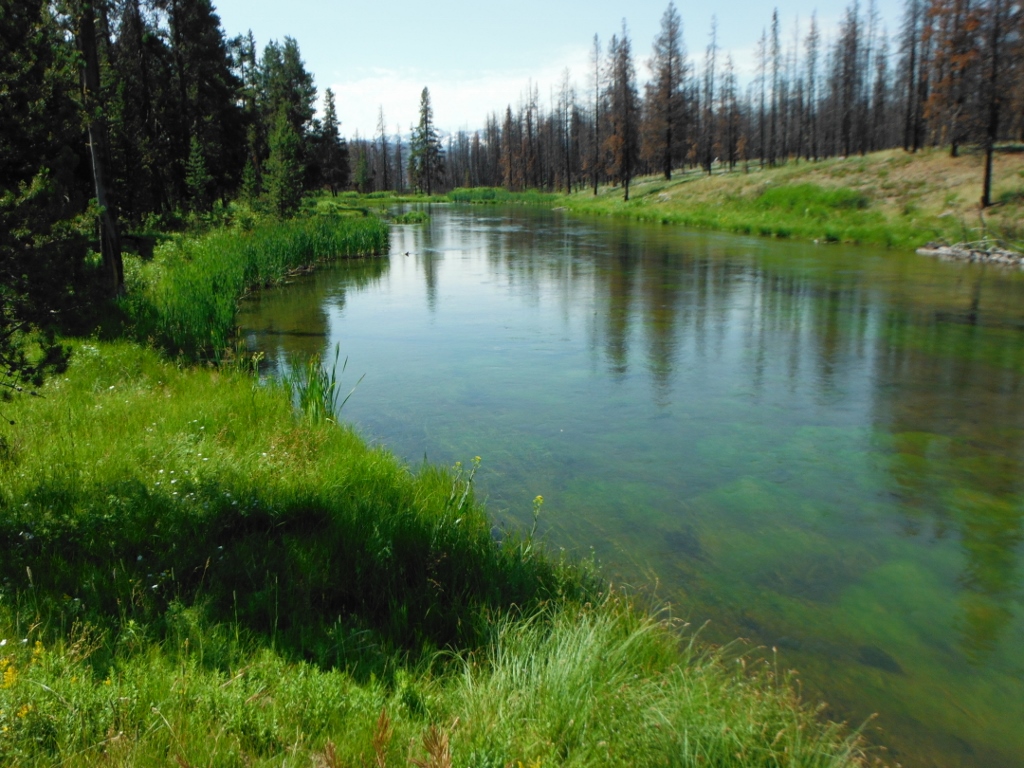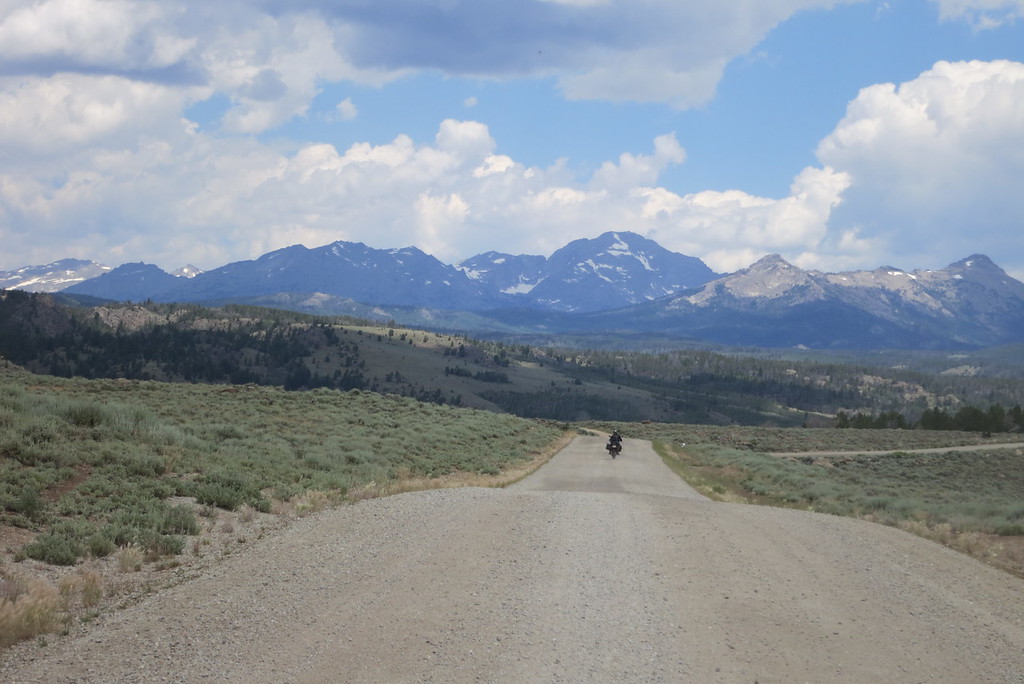 The money shot of the tetons and Jackson Lake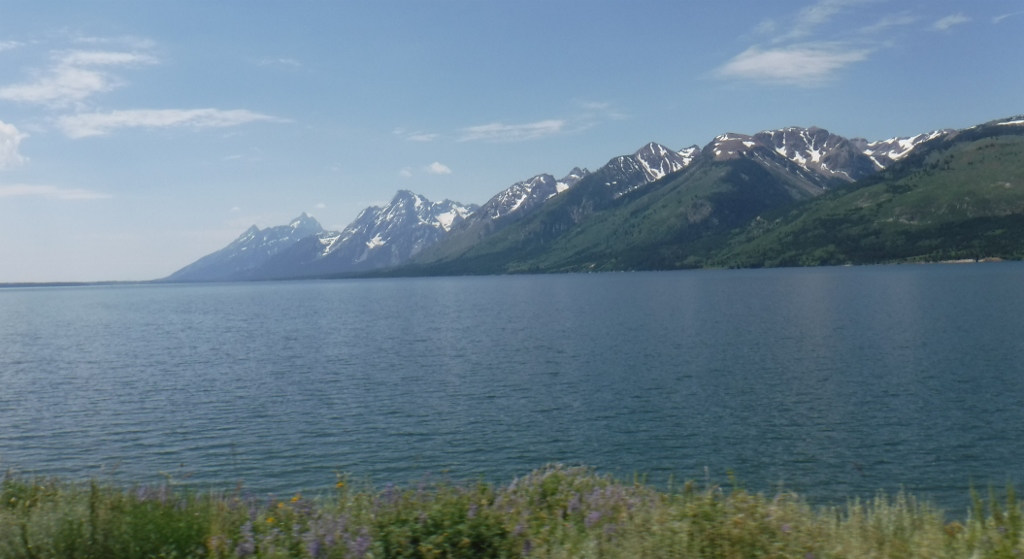 And here his something the other guys got to see and I didn't----------but they gave me the picture and
the story to go with it.

Mr. Grizzly bear--------minding his own business--------in charging distance---I was told bikes were
kept running while watching this big guy.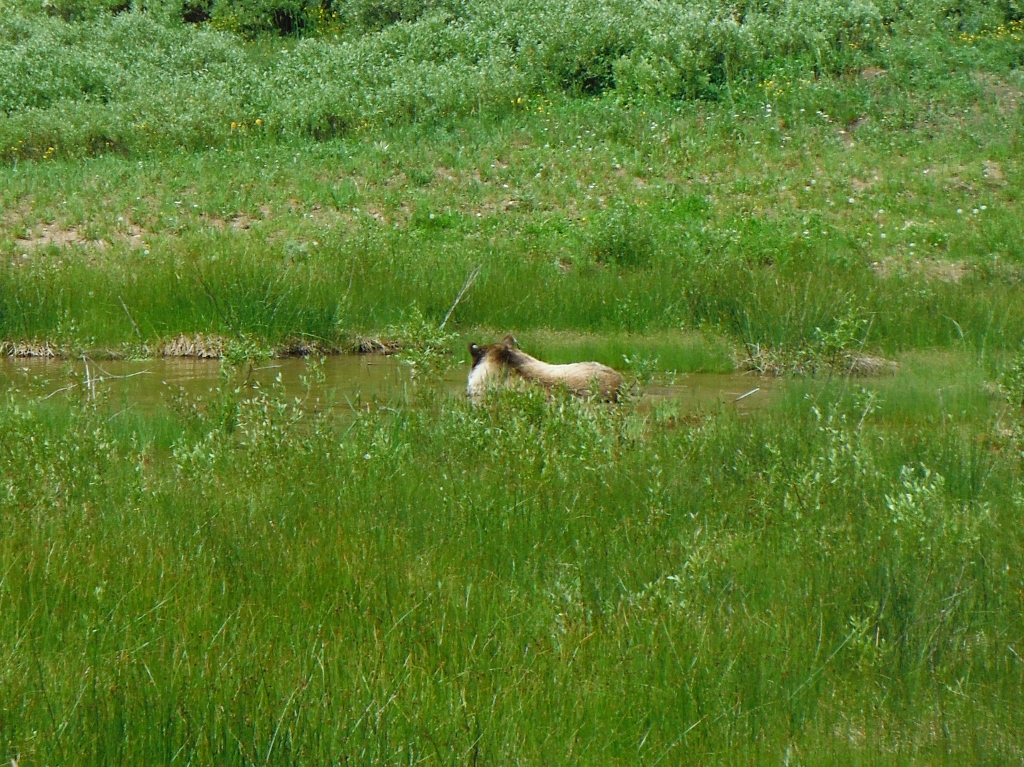 So up on the highway car and motorhome traffic comes to a halt and dumb---ass number one
turns sideways in the road to get a look see blocking traffic. Dumb asses 2,3,4,5,6 and 7 get out and creep close with
their cameras.
Dumb ass number 8 gets real close and the bear could have had her in a second as the dirt bikers
can't watch no more and click in gear and are off.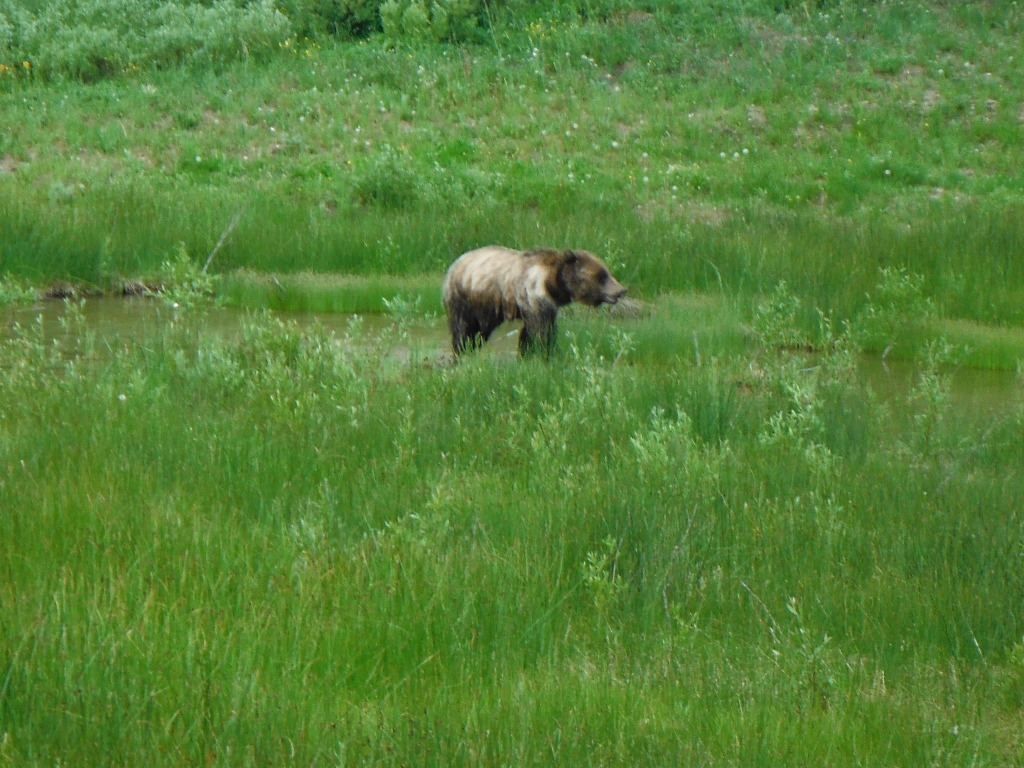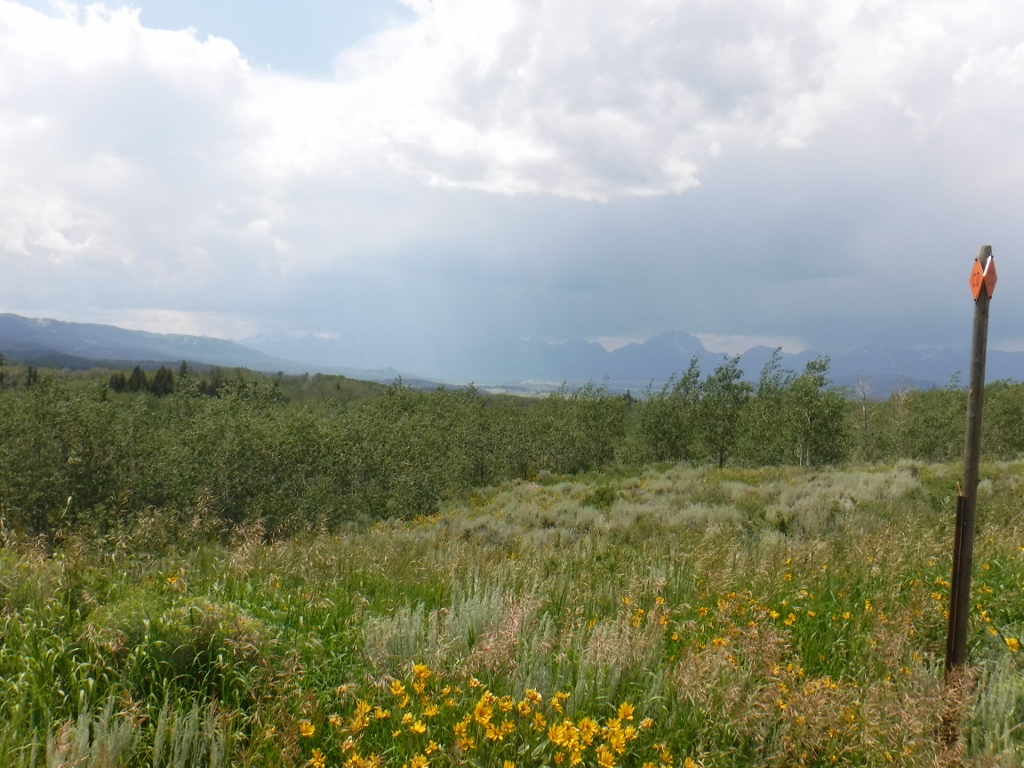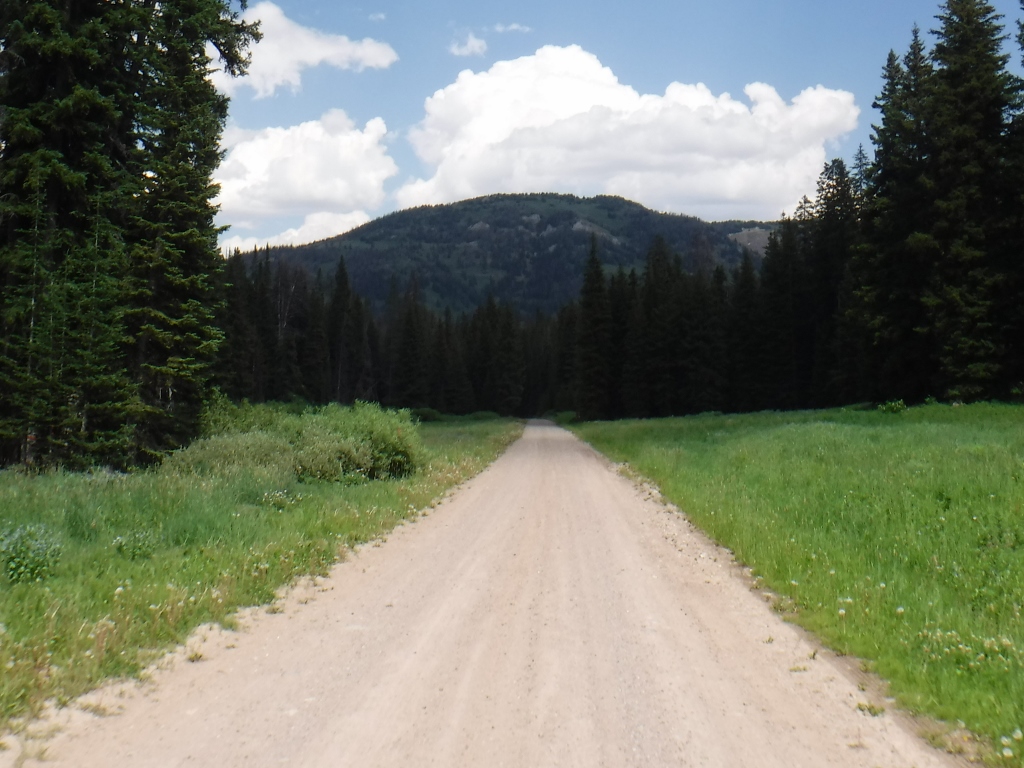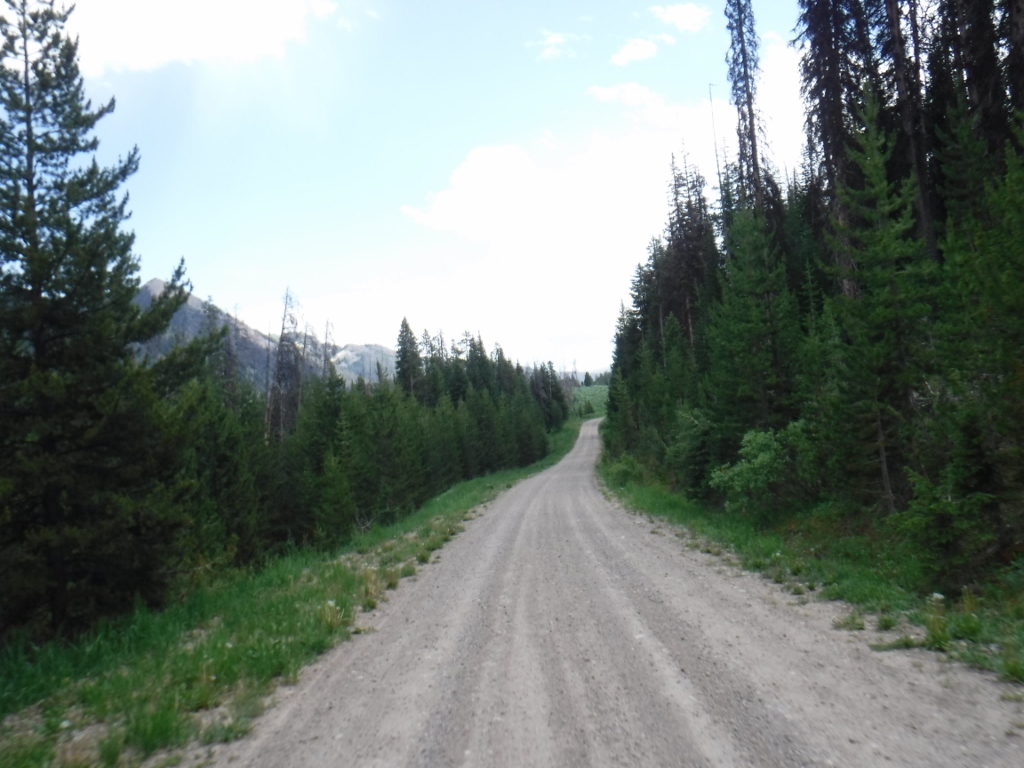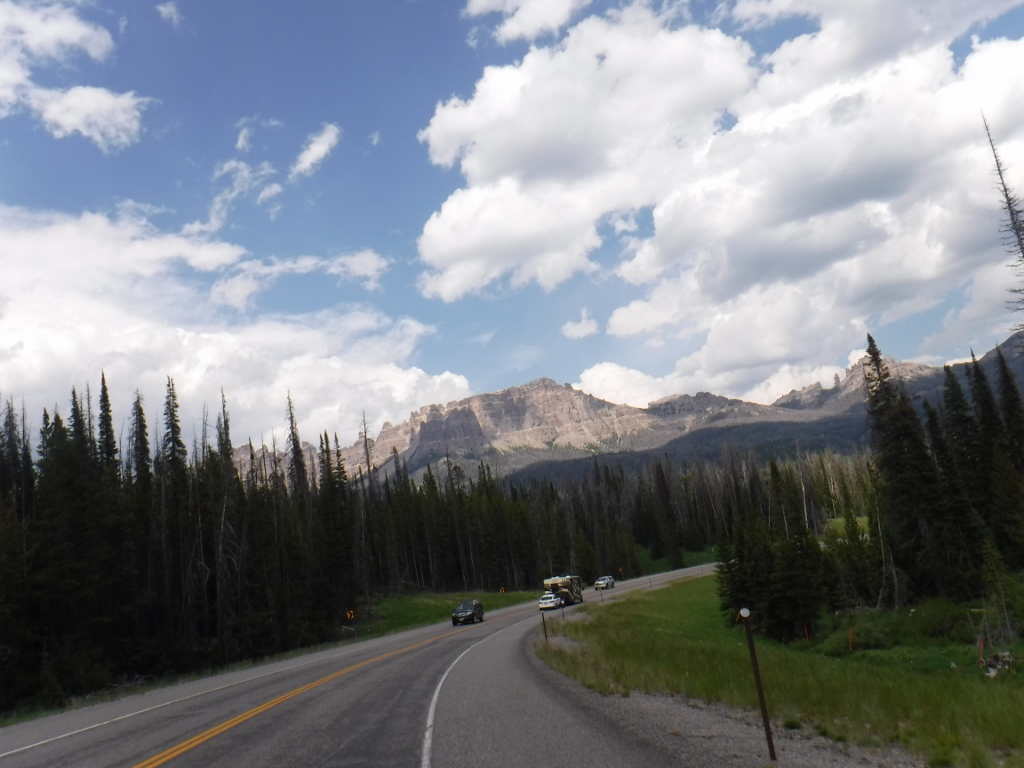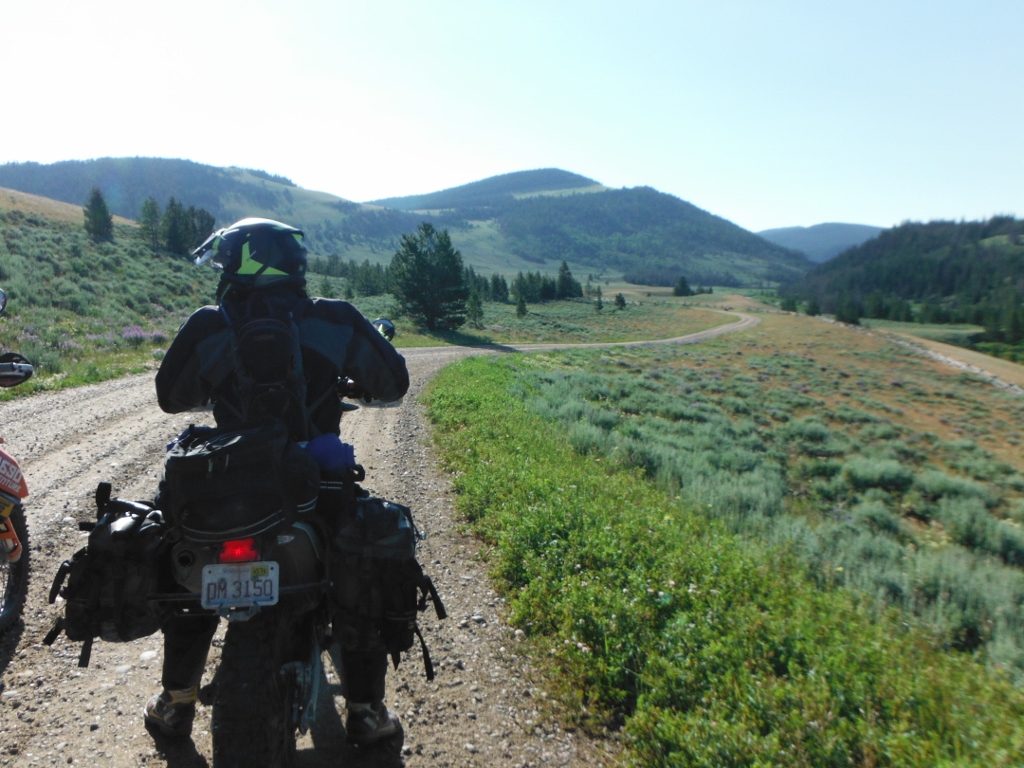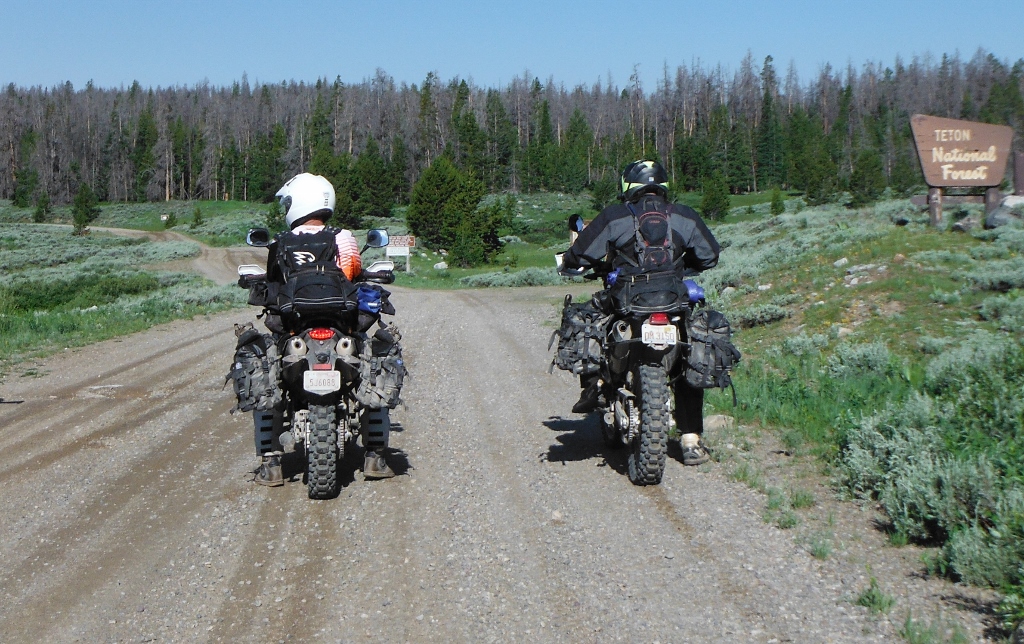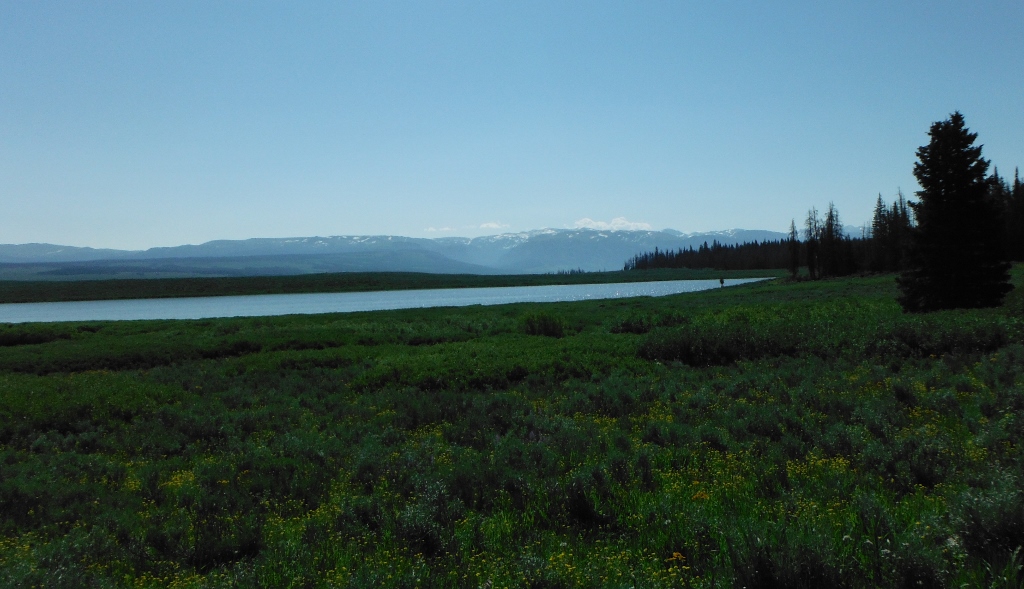 Tonight we are going to camp at an as yet undetermined "dispersed" camping spot.
That is--------we don't know where we are going to camp------but our Famous Baja
"Adios Pantelones" riding partner of 2017 "Tragic Overlander" is going to meet us at camp tonight.
Looks like somebody pulled my finger---and Todd is choking.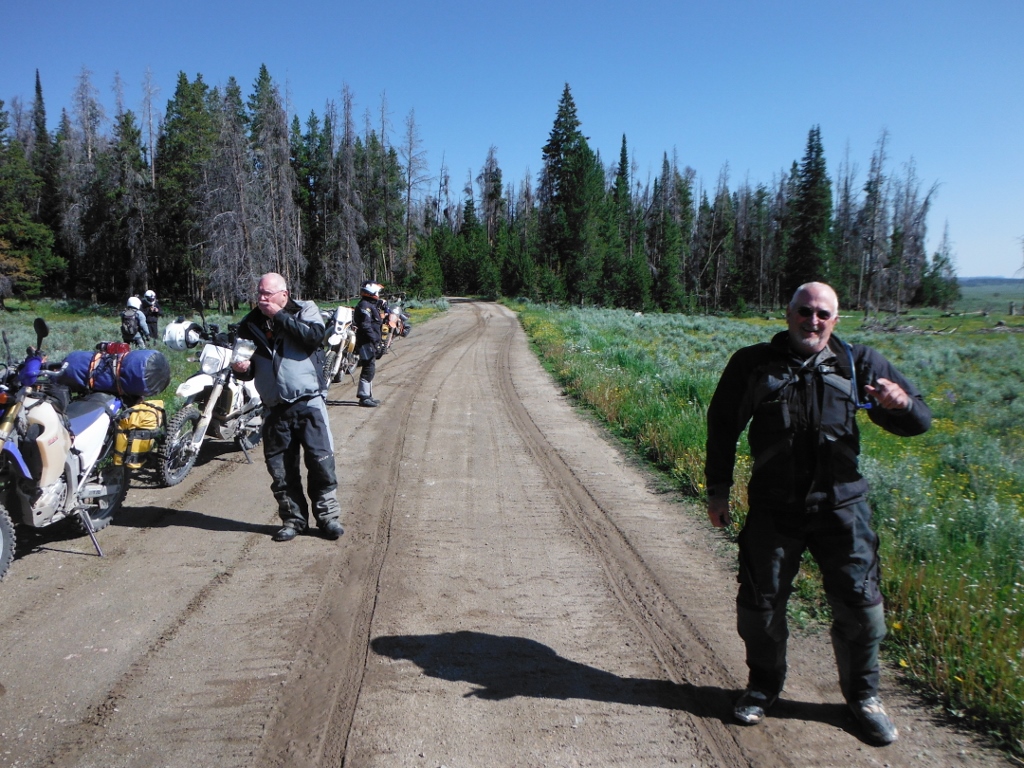 Some pretty serious thought going on here.
Let's see------is it one down and 5 up--------or .......................
This rekluse clutch confused me.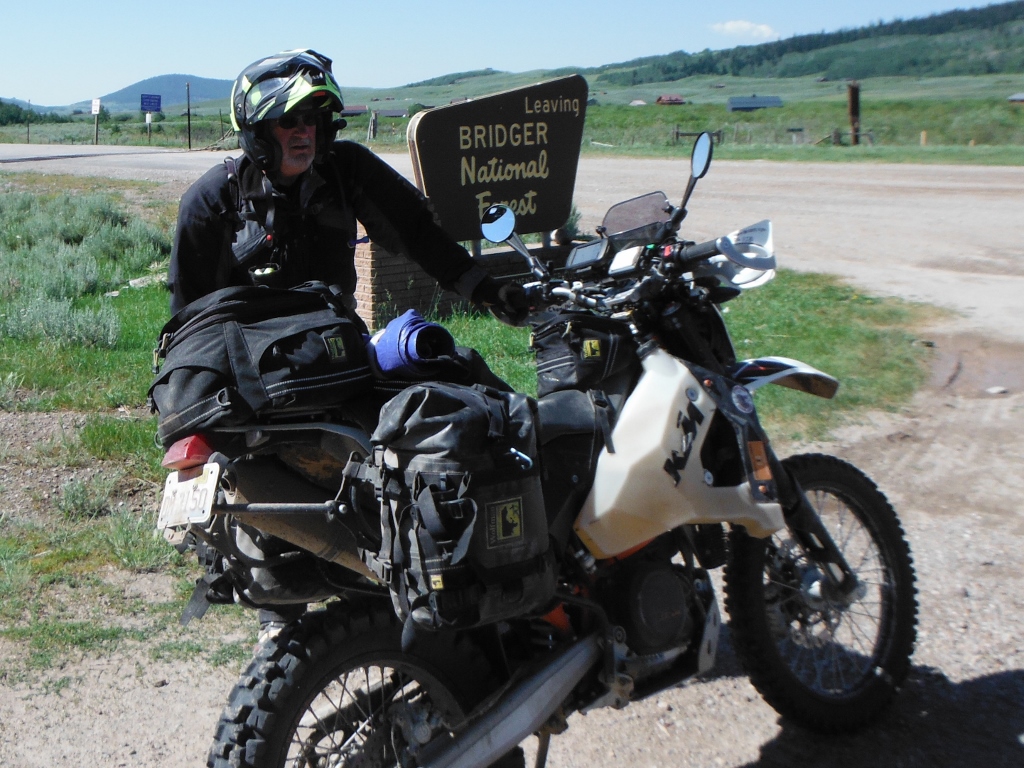 Dingleweeds WR250R---------"The Chuckwagon"
He has All the food----and we never let him leave our sight.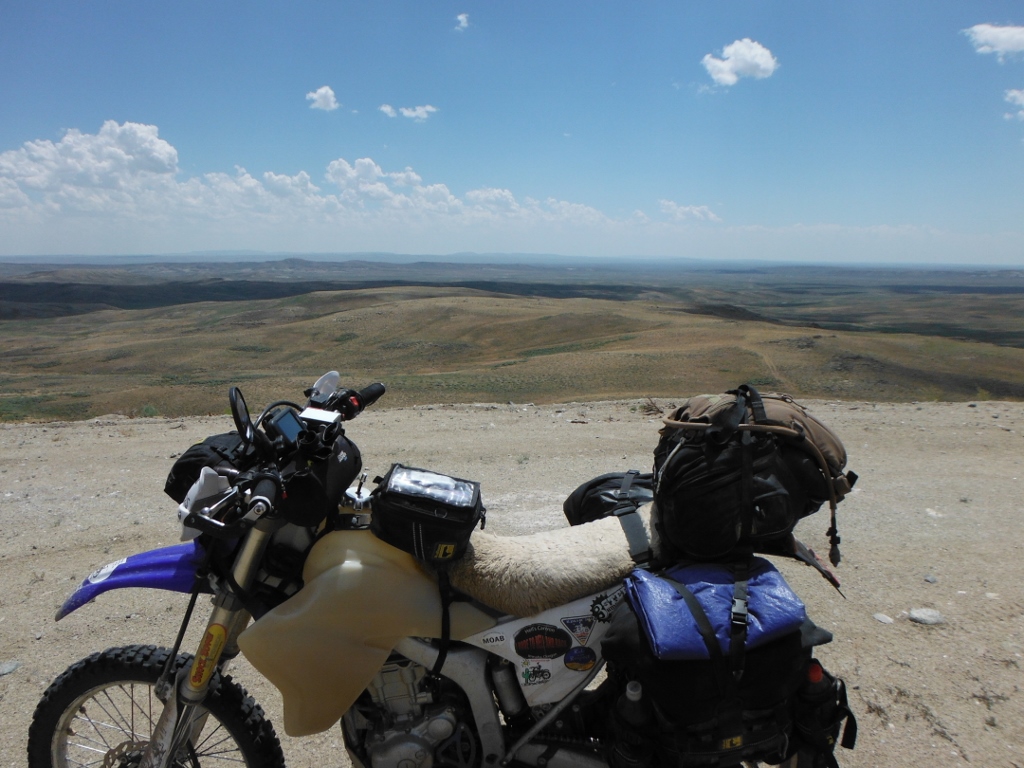 You owe Dingweeds for this picture----it's a wall hangar.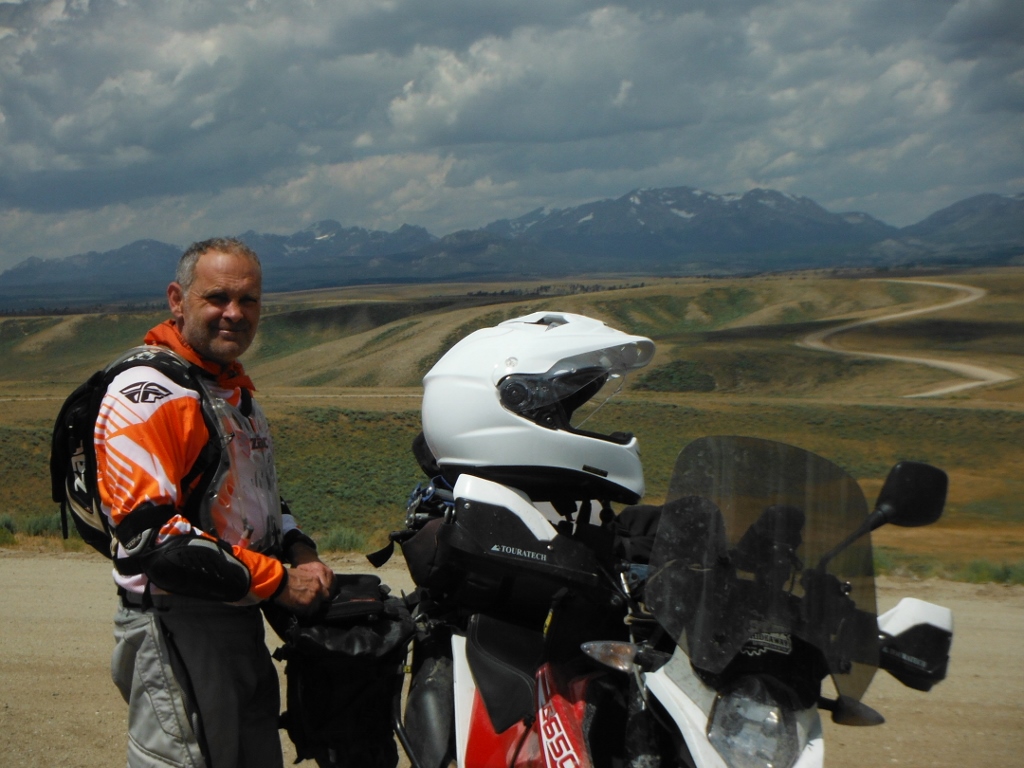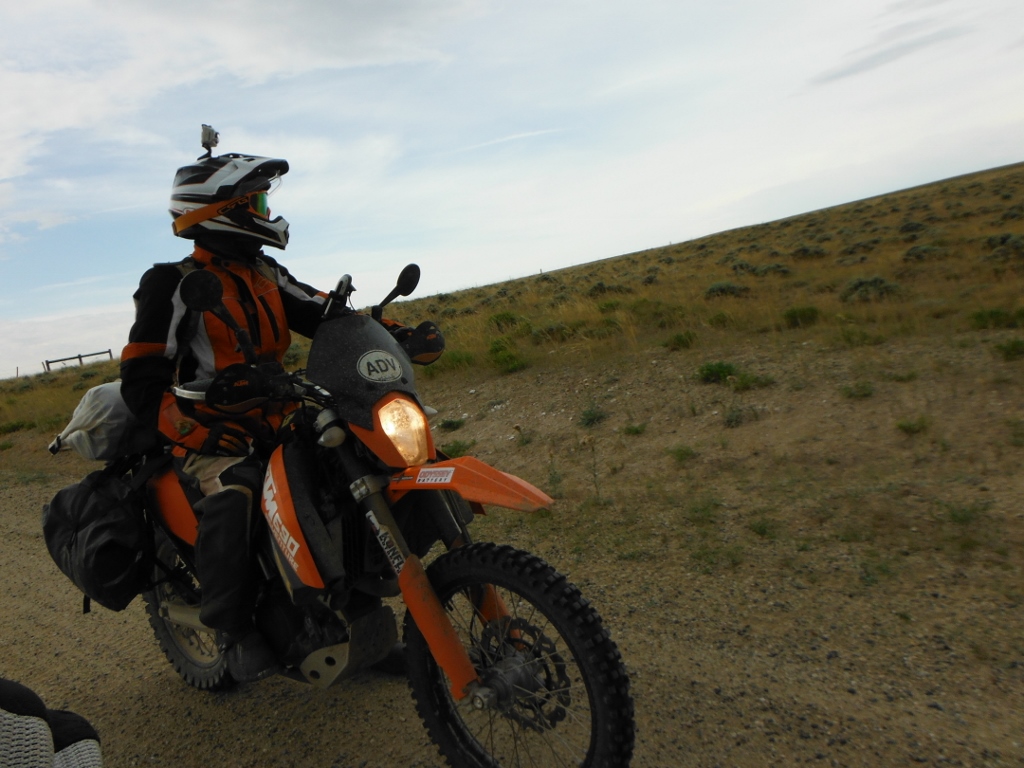 It was too crowded at the first campspot we came to where everybody was at and we sought out
another one---------with firewood--------Tragic Overland (Dave) show up on his 1190 KTM and has rode a
jillion miles from his home in Aspen to spend one nite camping with us------that's how much he likes us----------
I think ????? It was a spooky nite this nite it was. Frickin' bears sneakin' around everywhere----peekin' at
us behind trees--------I didn't sleep very good. I wanted to go out and pee in the nite------but thank god I had a pee bottle.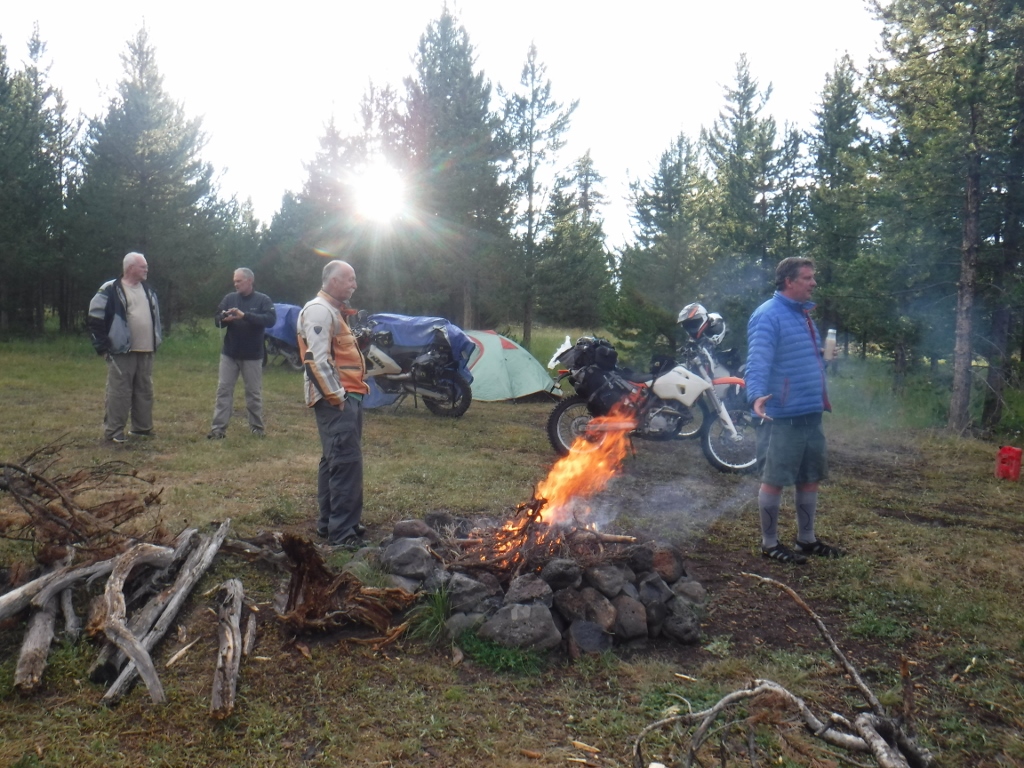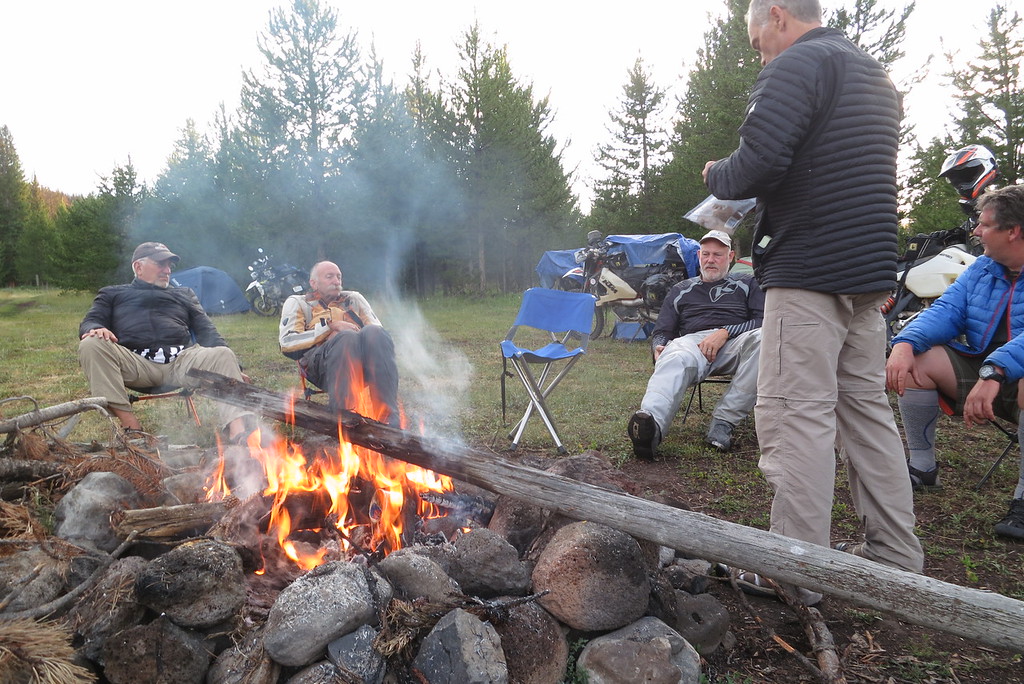 Dave is hilarious to be around and I try to charge $20 per person for the nites entertainment.
But Allan and Casey are having 2nd thoughts.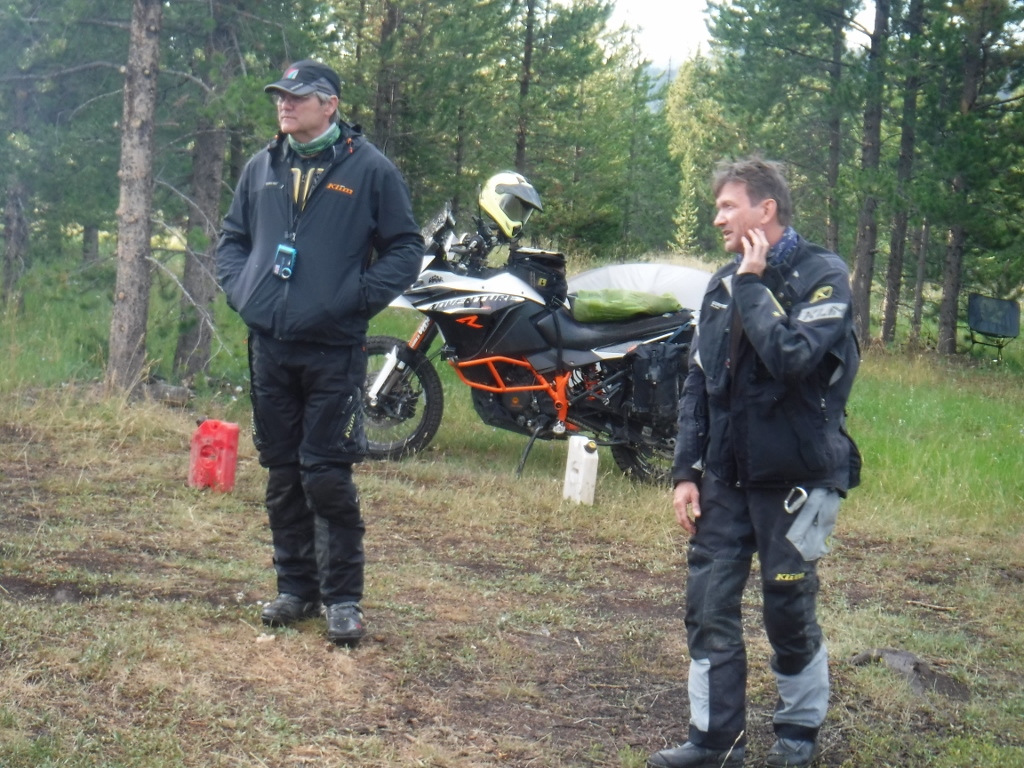 If one more guy were in this picture...................Road Dad.
It would be the entire crew of our epic "Adios Pantelones" 3,000 mile Baja ride this year.
Or better known as "The Sand Fleas From Hell Ride"
It was so great to see Dave again----we met him in Baja last year in San Ignacio.
There were a lot of stories told that night---many with some very obvious in-consistencies !!!!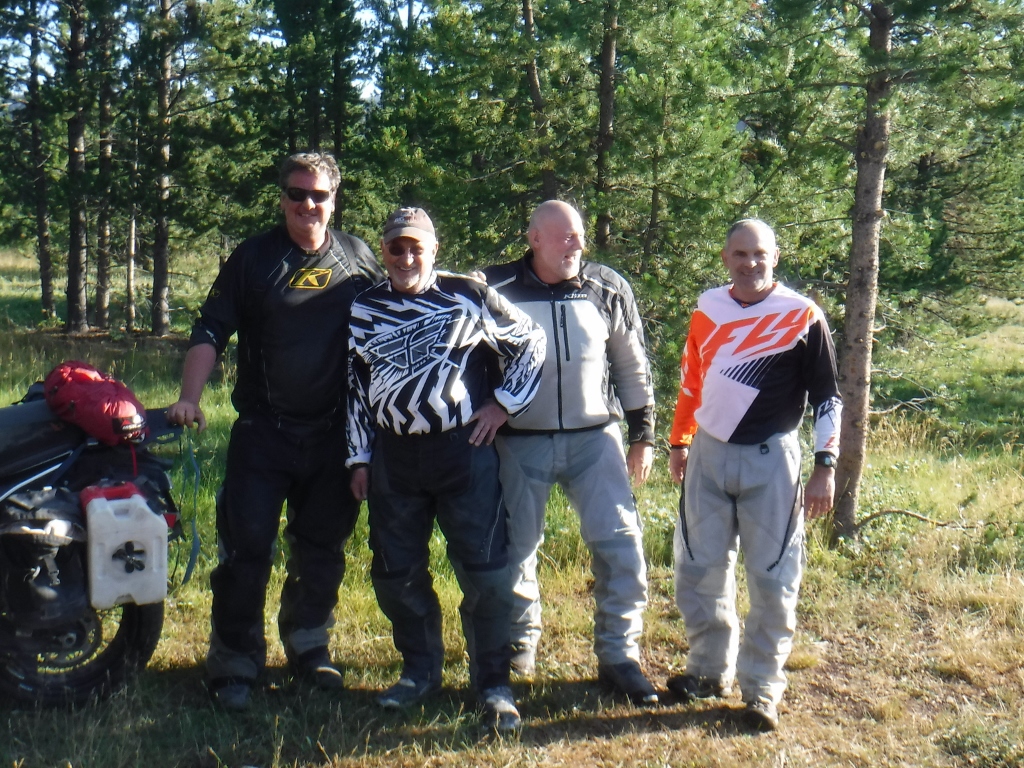 Dave and his 1190 if you didn't know rode last year (2016).
1. The CDR
2. The TAT
3. All the BDR's-------yes all of them.
4. Prudhoe Bay Alaska
5. Baja--where we met him
43,000 miles.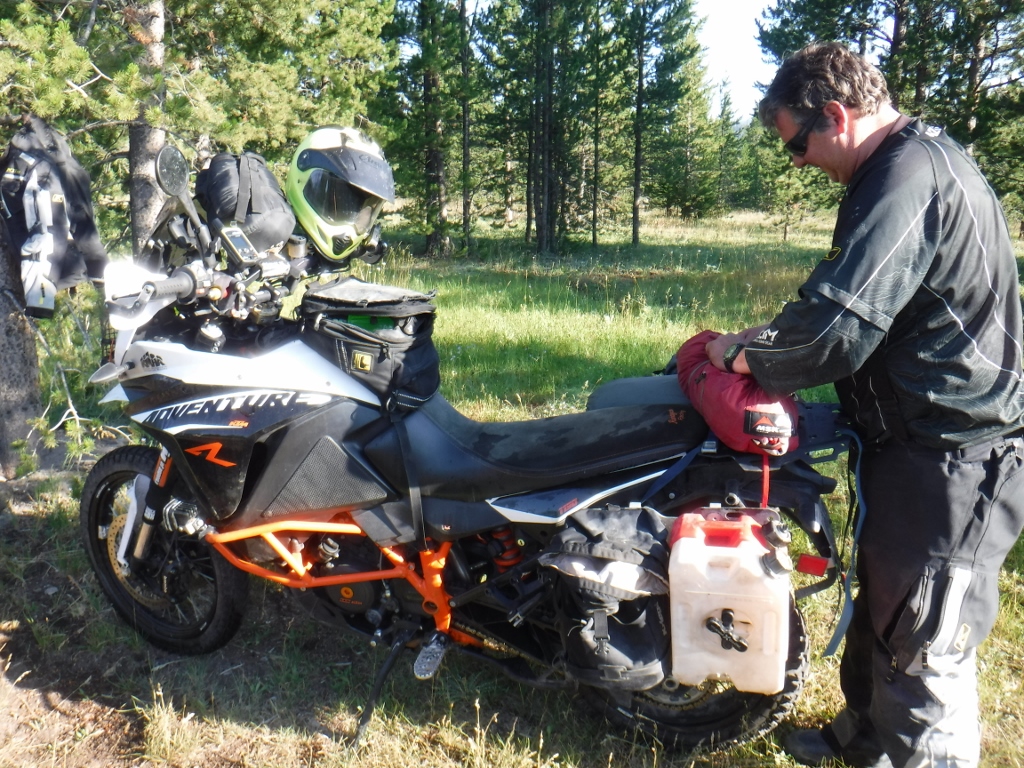 A map of our ride today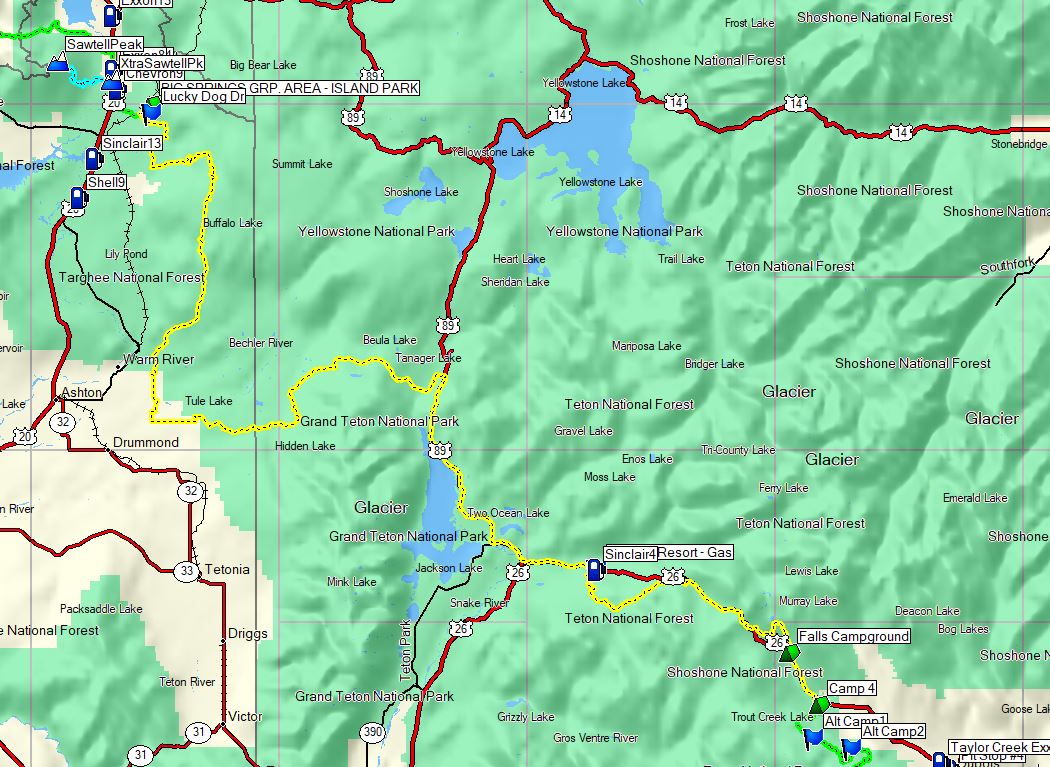 A Short Video of Day 3
Day 4
July 18th, 2017
Today we would ride from our campground to Atlantic City and a campground there.
Atlantic city is no city by today's standards------------it's very small.
A place to eat------and if you want gas you better hope the guy is home that will sell you some out
of a can in his garage.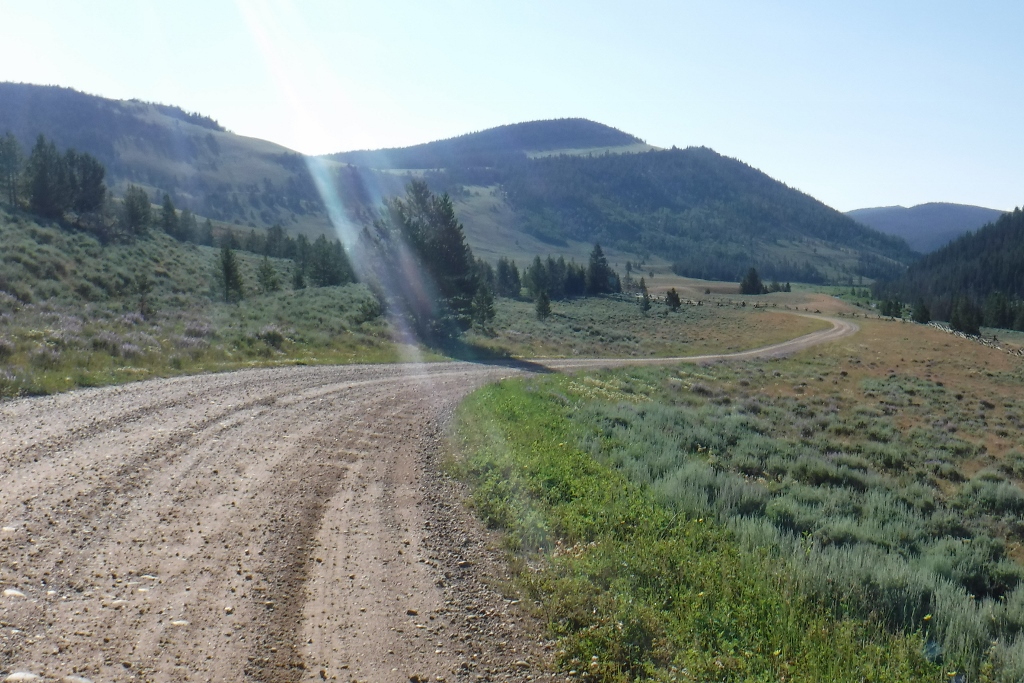 Seems the rain never really touched the ground that day.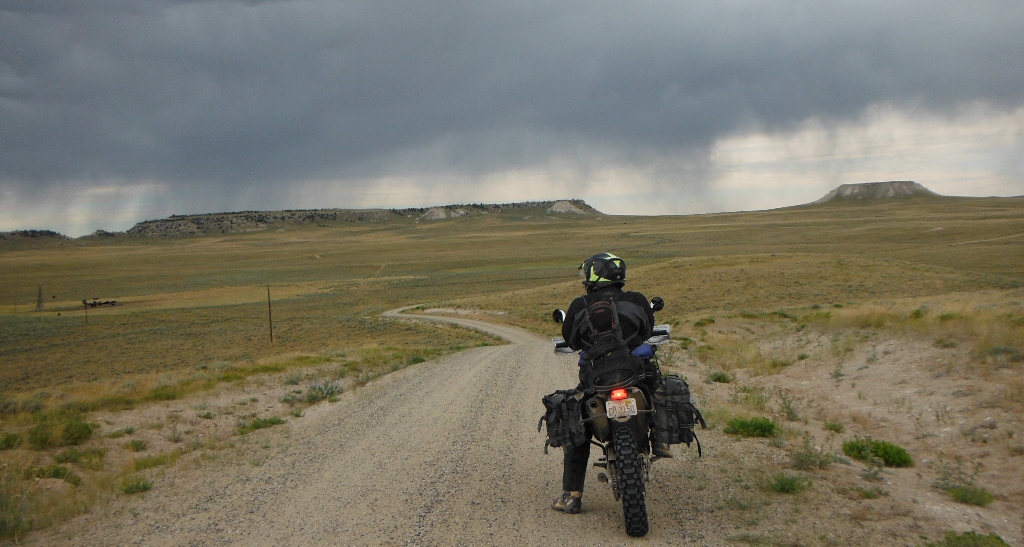 My buddy Will-----------------I think he's under there somewhere.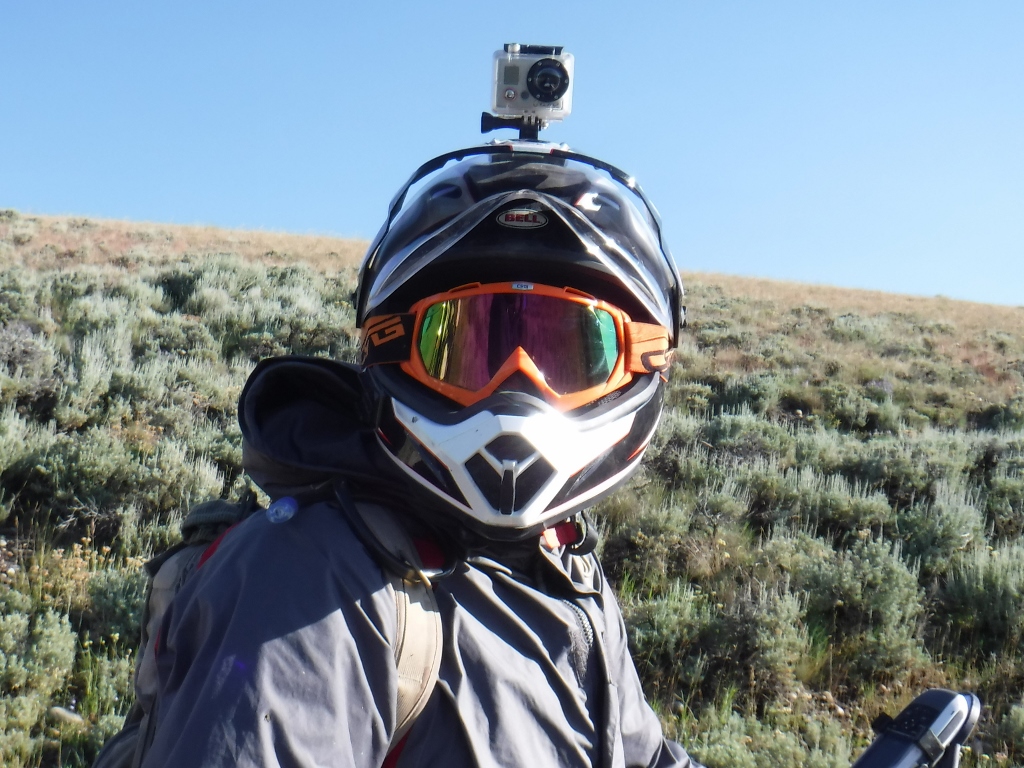 BigDog is on it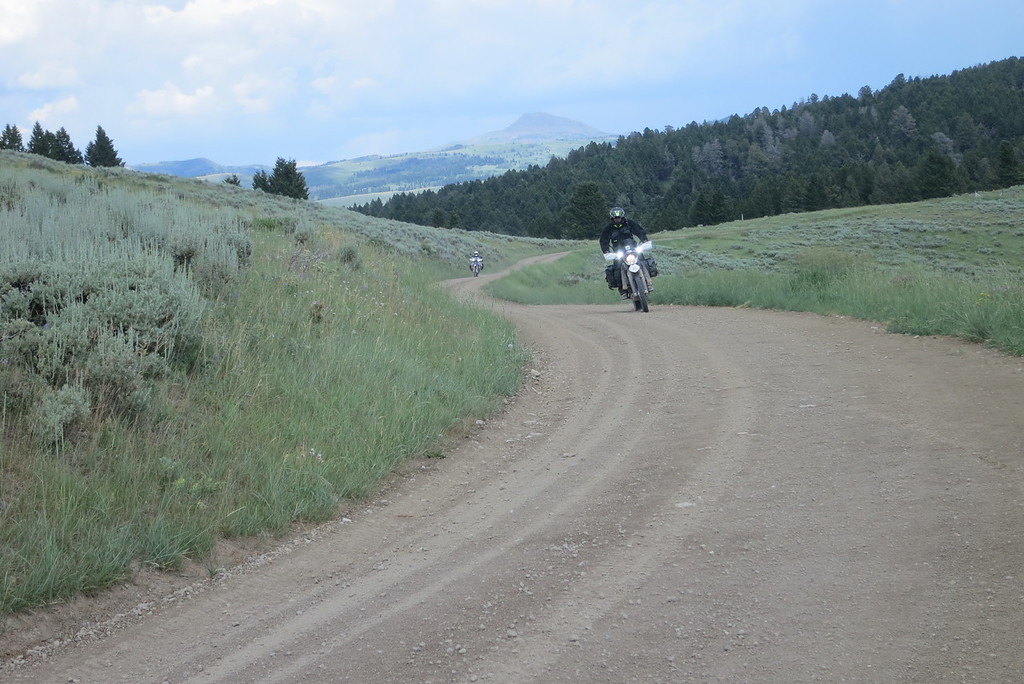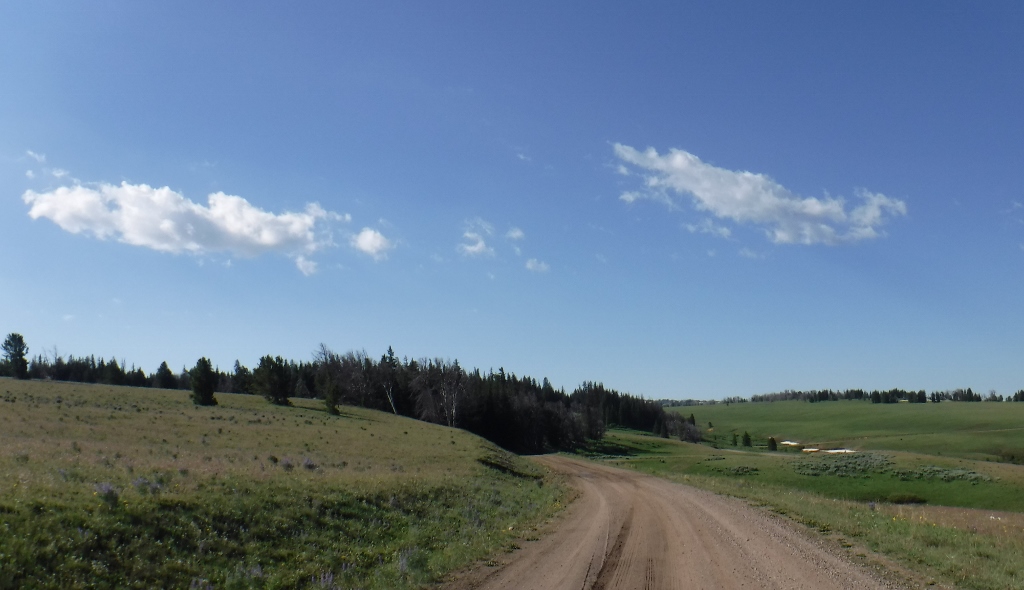 At some point today as we headed South we go over Union Pass.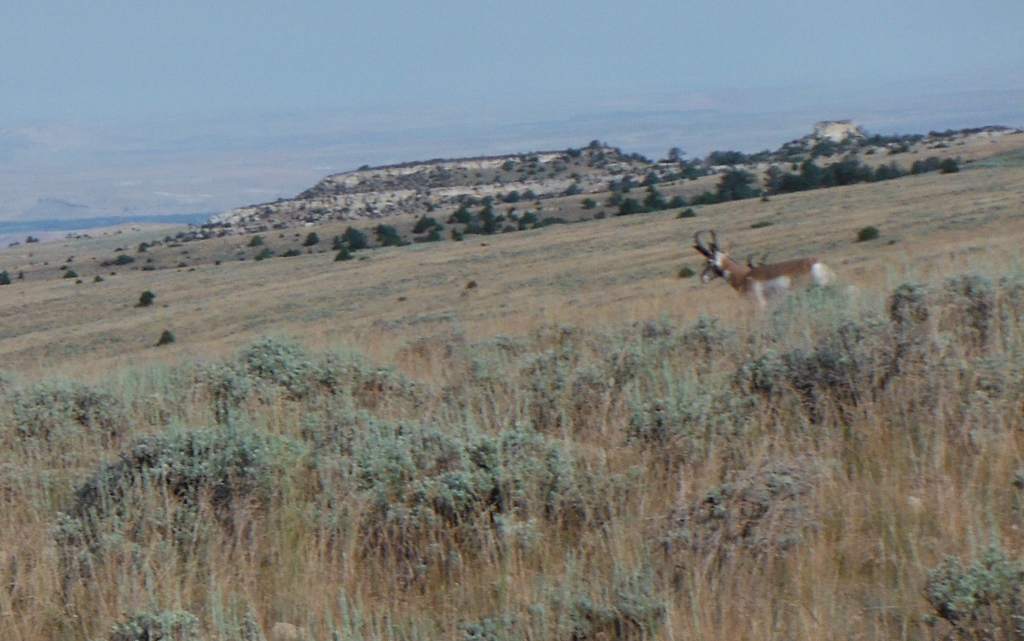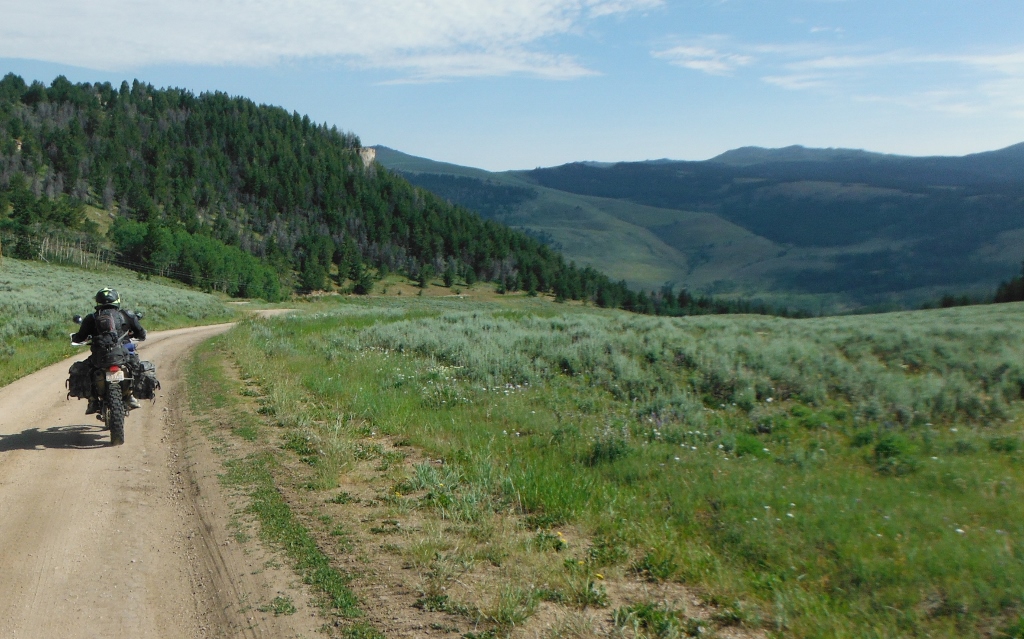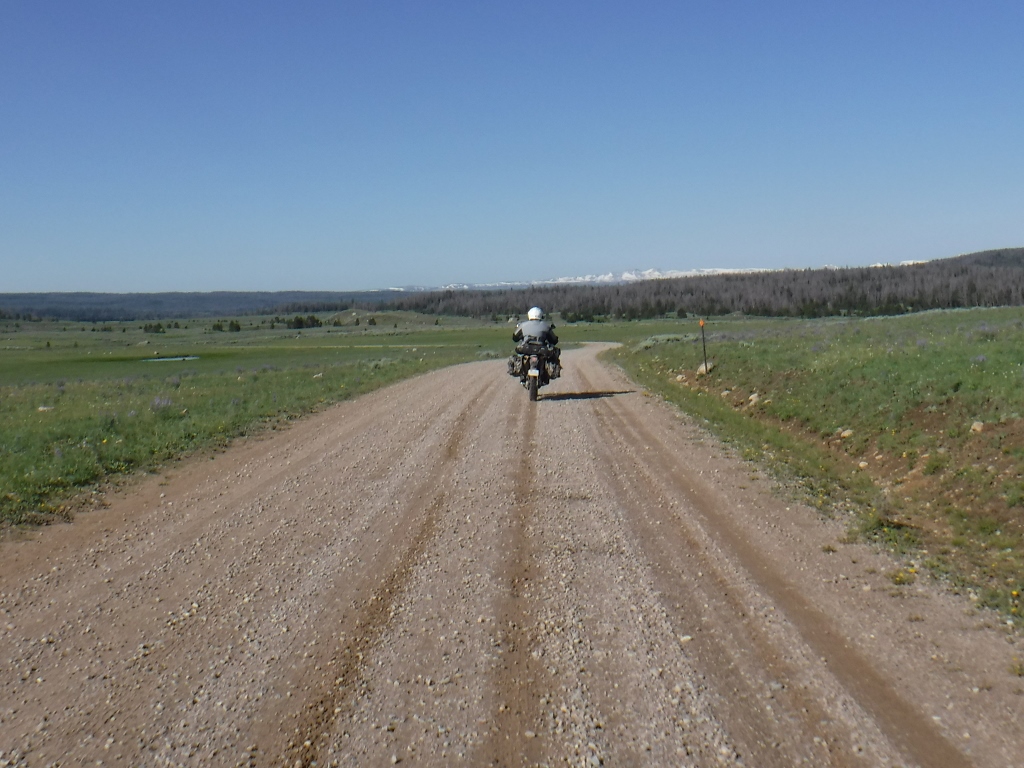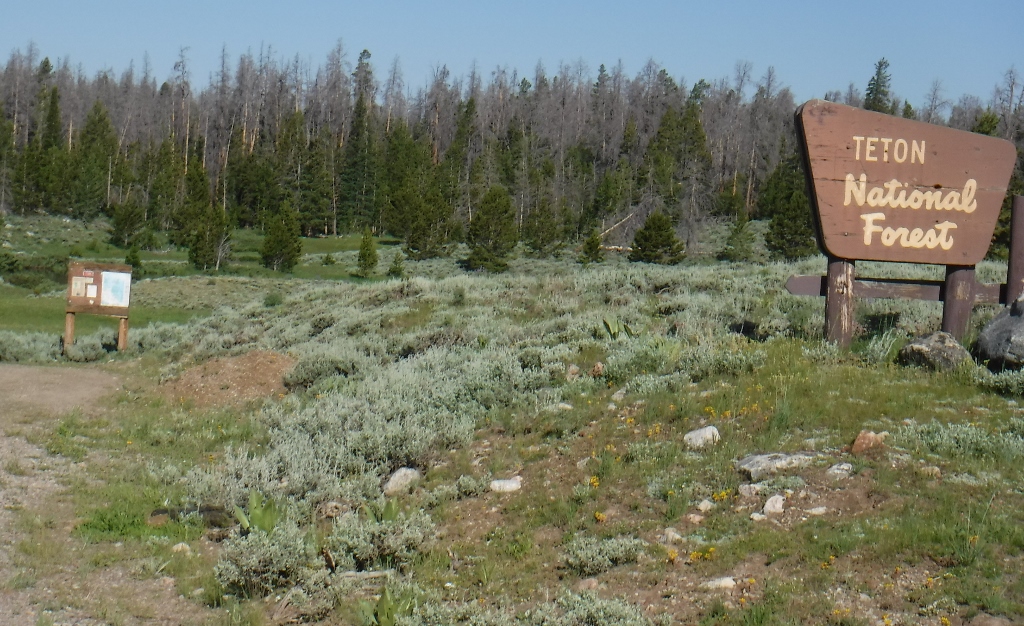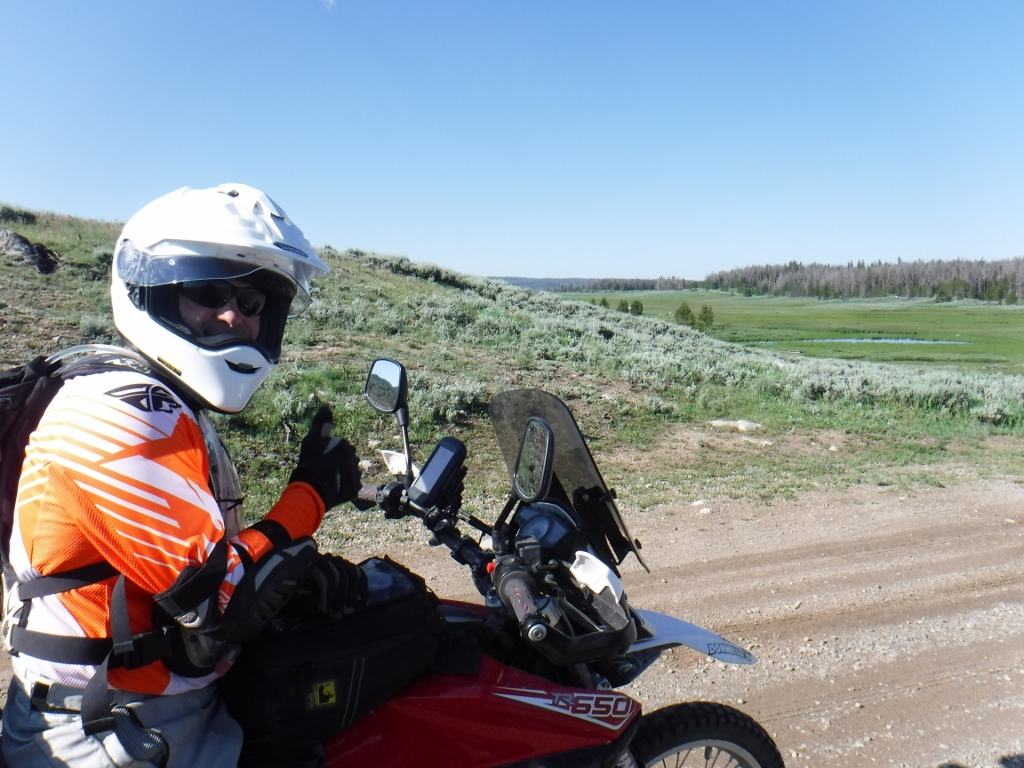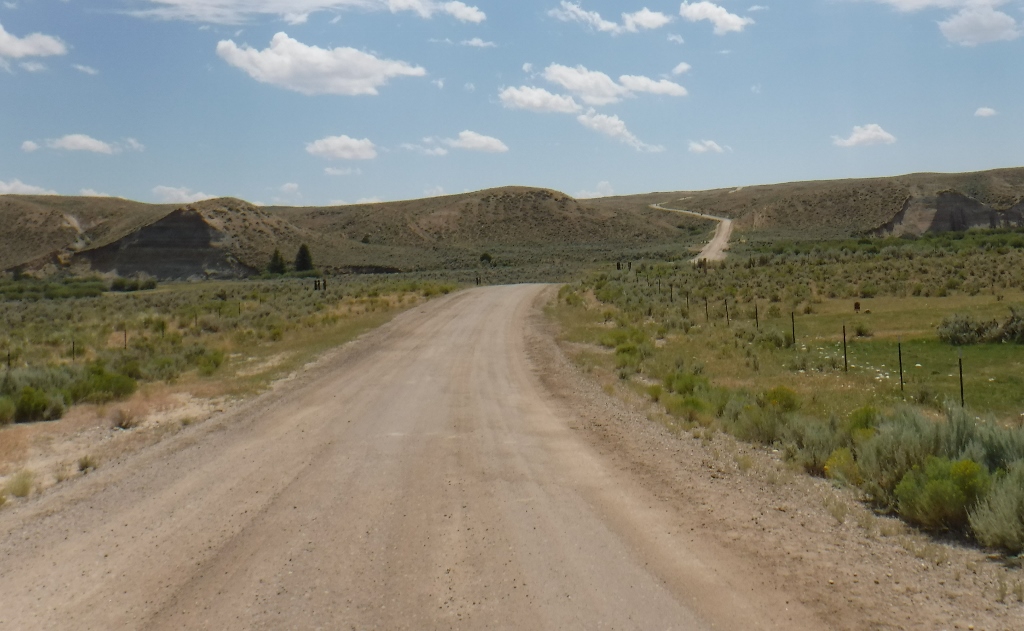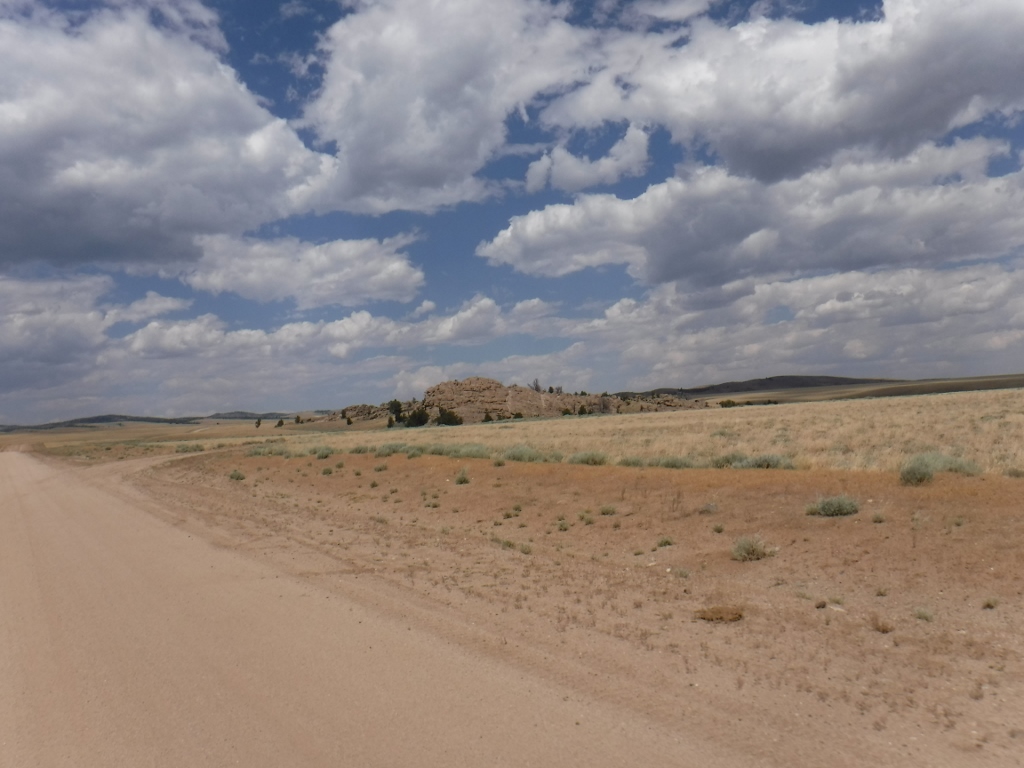 This is South Pass City----again very small---------probably a handful of people live here.
But google the town and the mine you see in the picture----a very historic place.
I prefer to not get into long elaborations of history in my stories-----it's so much easier
for you to google these things and read about them all day long if you like------or not.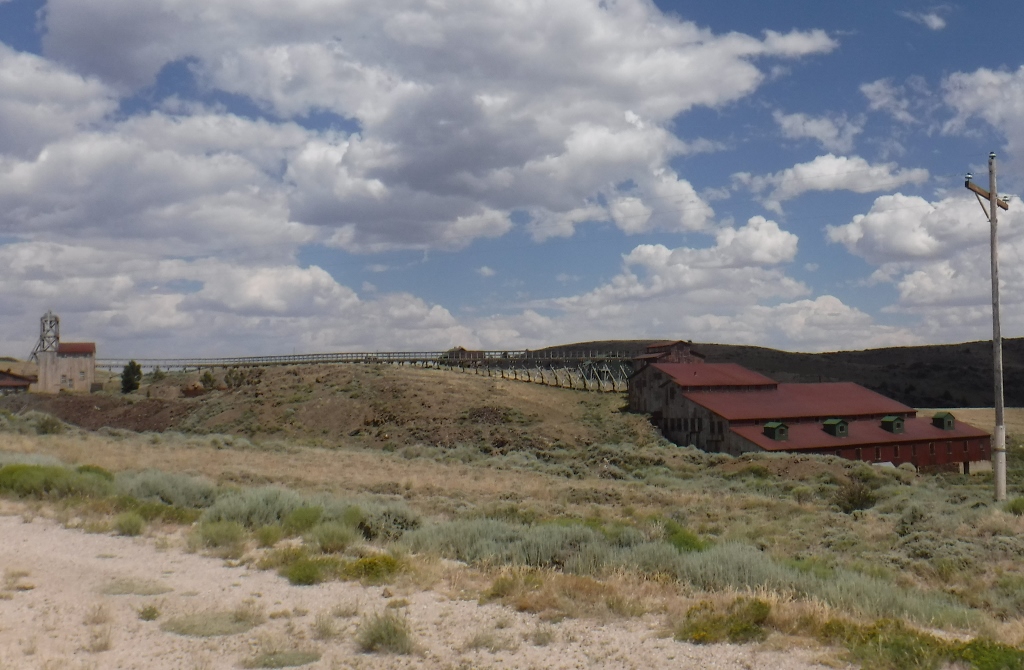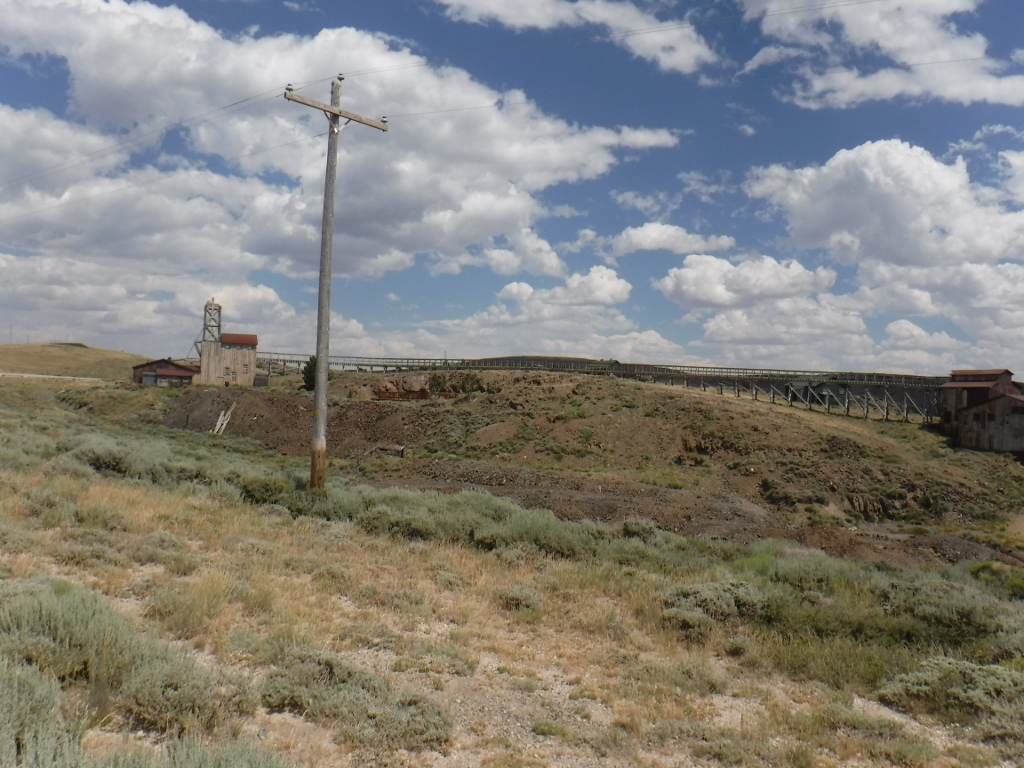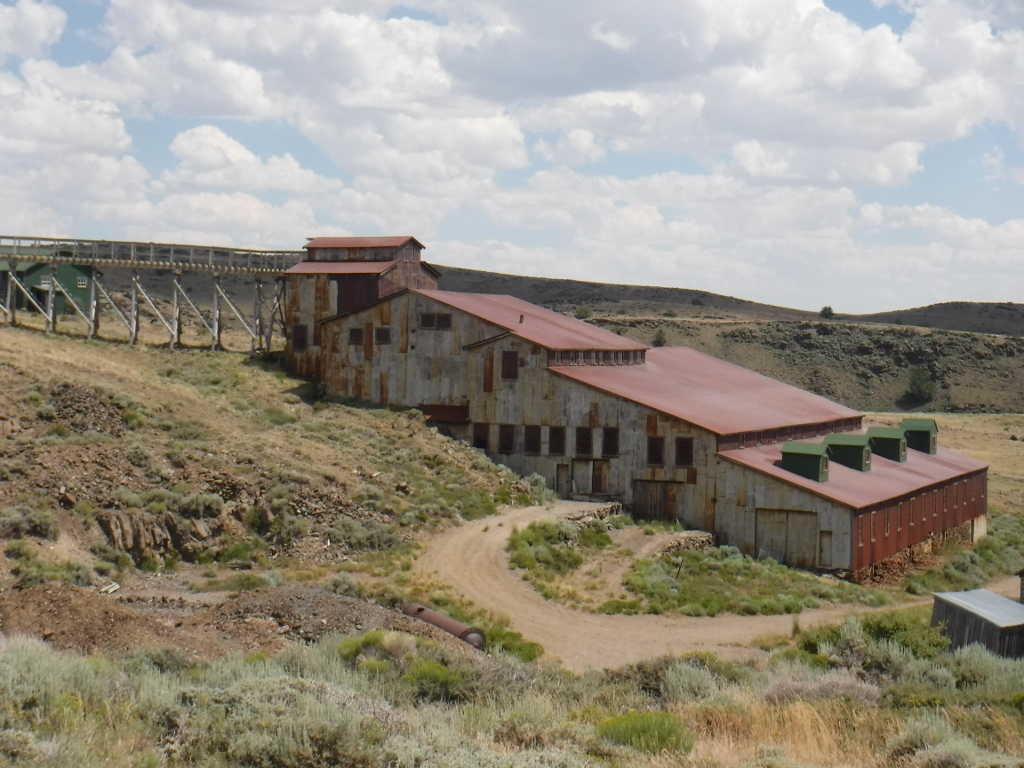 We were about 1.5 miles from Camp when dingweeds faithful WR250R's fuel pump decides it's had
enough of this crap------and it will barely run. And High Five draws a line in the dirt------as we've had to
do before on rides.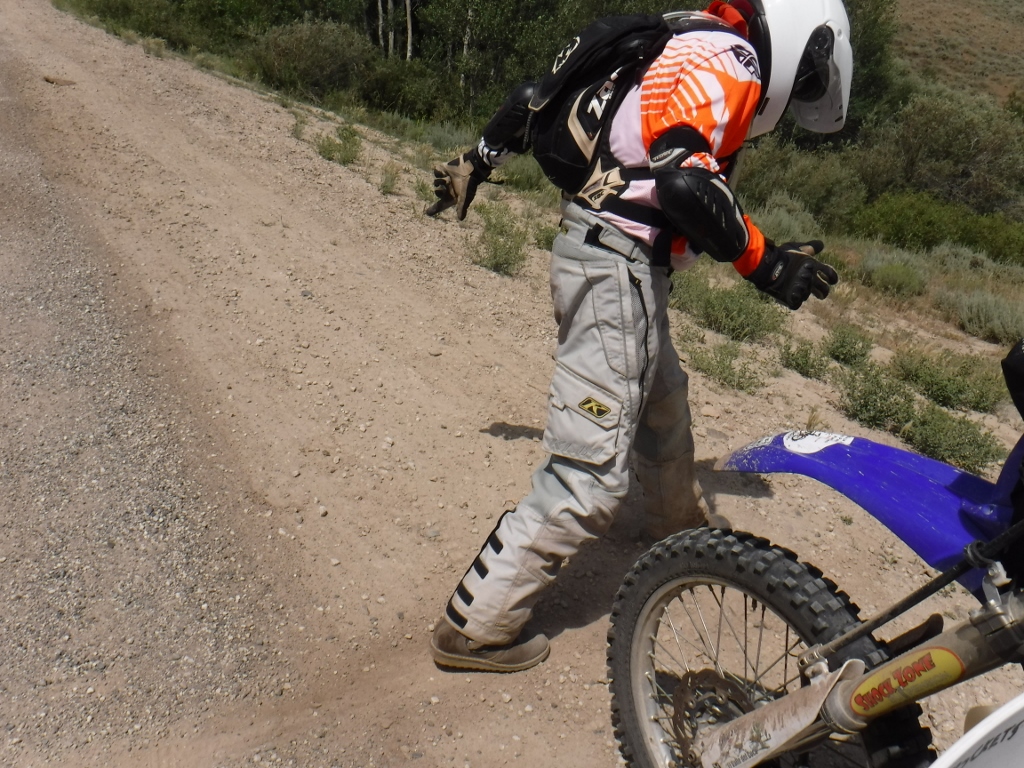 It was hilarious watching dingweed limp the thing into camp.
It was like you were turning the ignition switch on and off-------which made it like riding
a bucking bronco. We've both been thru this before and knew exactly what to do to replace the failing pump.
Any good WR rider carries an extra one. And we replaced it at camp with a pretty full tank of gas......something
we wasn't sure could be done. In about one hour it was done.
If you've never done this before and know exactly what to do and how to take the pump apart-------you'll
never do it even if you have the parts.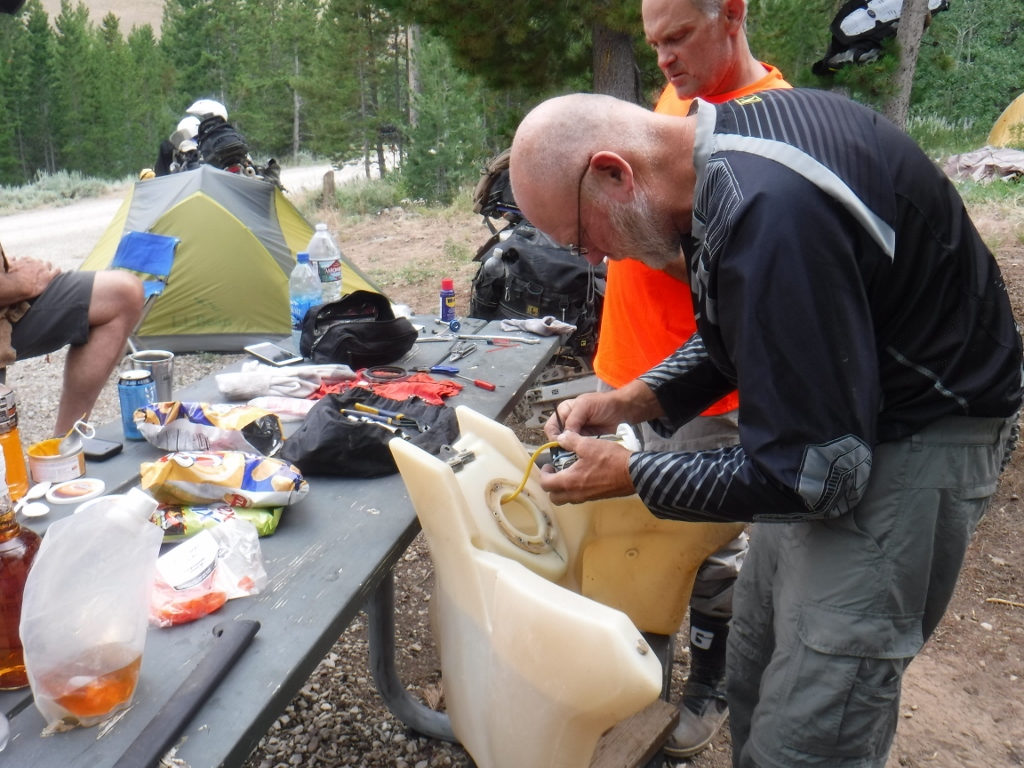 I've read about this gal for years------she's the infamous "Lady Bug"-------don't know her real name.
She probably doesn't know mine---------but she's a hugger and I was glad to finally meet her.
She rides a DR250 all over like any adventure ride does. She rides alone and if you ask to ride with her
she's really not wanting you to. She does her own thing---and goes here own way---------I like that.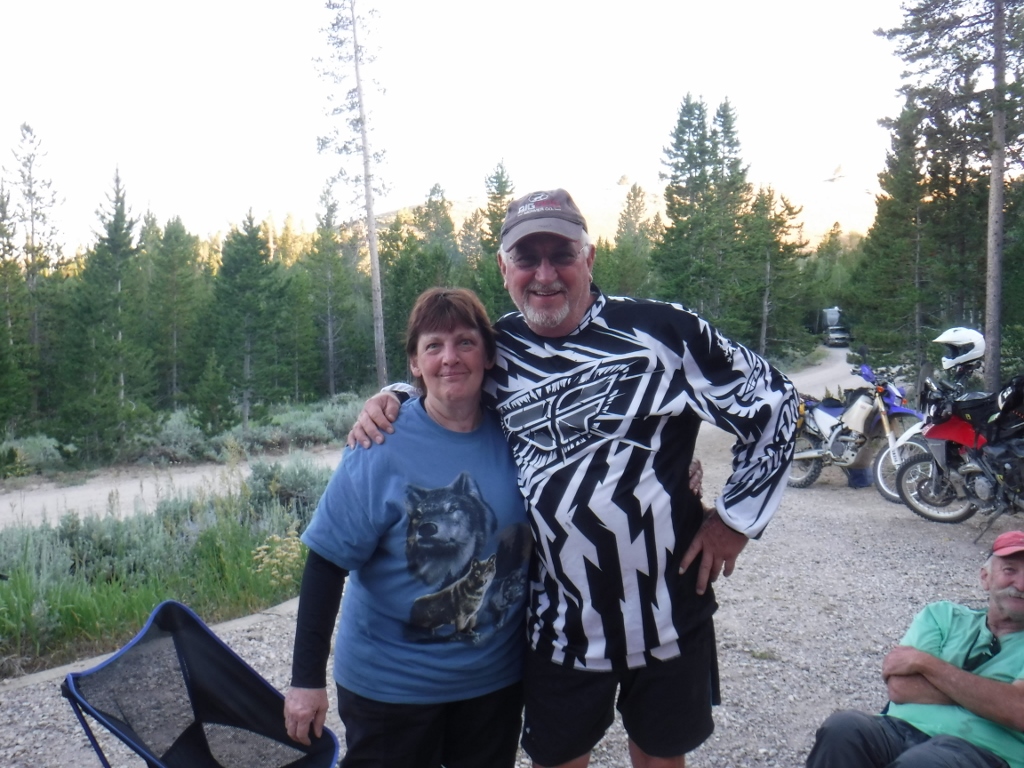 You can't camp without a campfire----------it's illegal in most states.
Todd in the brown t-shirt (Mr. Ice Cream)------goes to town and brings us back..............you got it.
Ice cream !!!!! I couldn't believe it.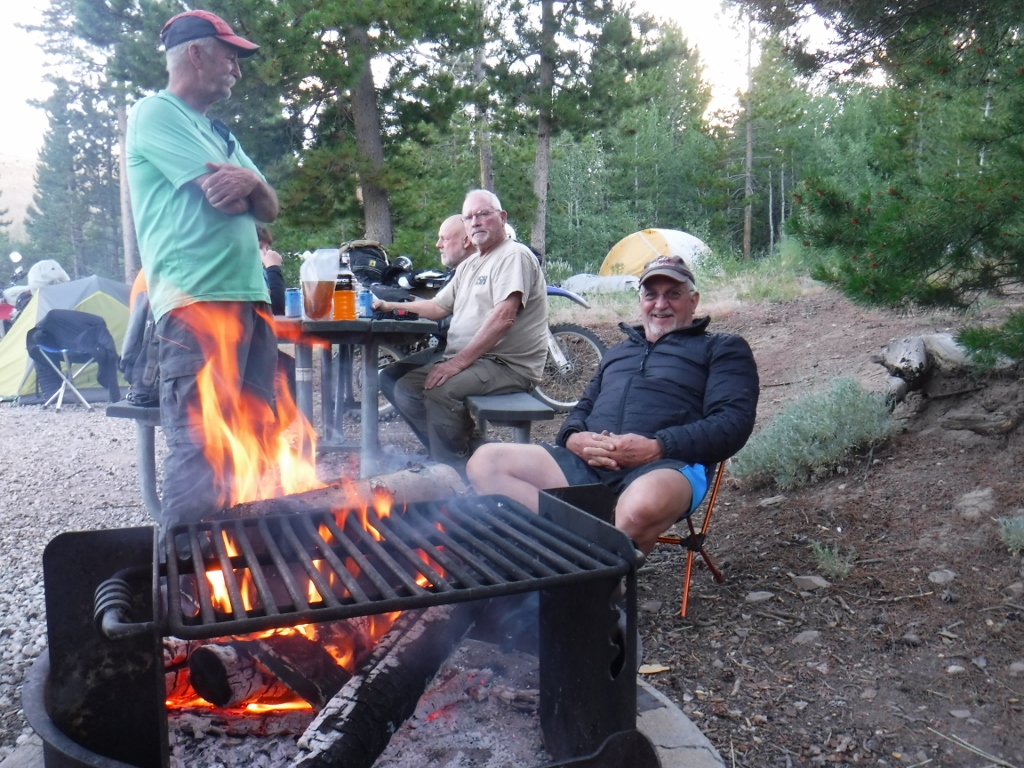 I've camped here about 3 times------- with Dingweeds twice------the last time I got no sleep.
Frickin' bears were sniffin' all around my tent making scary noises.
First time I camped here was when I rode the Continental Divide ride----what year was that ???
1890 something or other !!!!!
Todd had a little folding wood saw---and me and him worked together to cut up some firewood.
Took a pee bottle to my tent-----------I ain't gettin' out.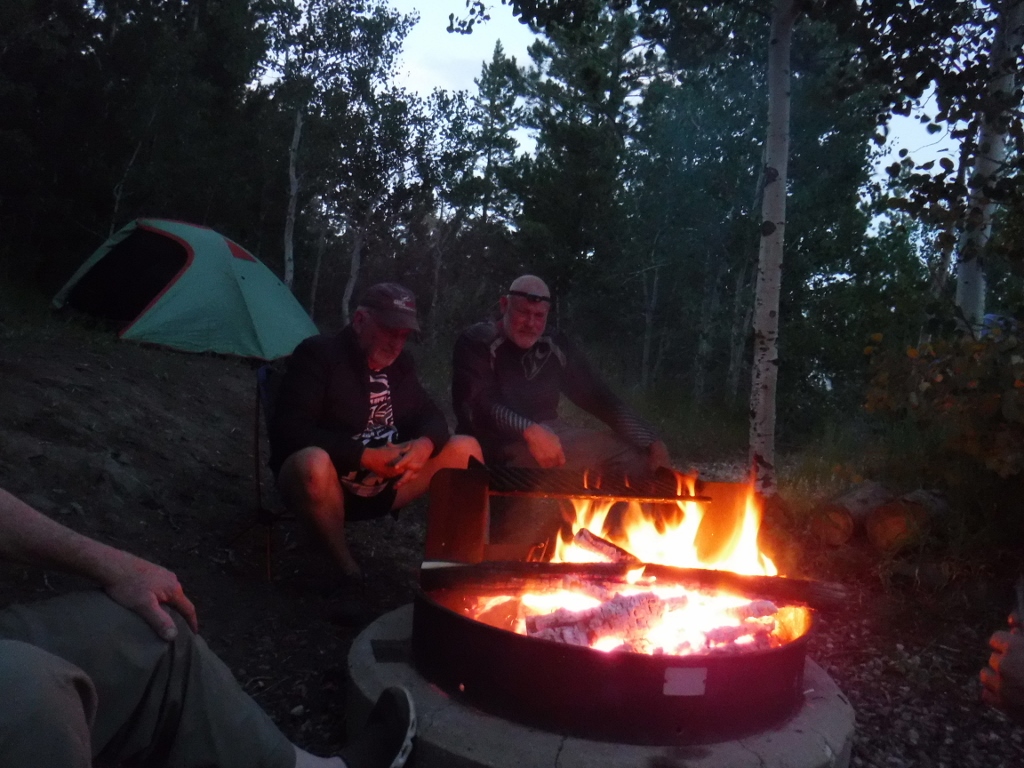 A short Video of Day 4
A map of our ride today.
Most days we rode between 180 to 220 miles------which allowed everyone to get to camp
without hurrying..
Day 5
July 19th, 2017
Atlantic City campground to camp and cabins in Tensleep Wyoming.
A wall of water was approaching our camp as we packed up.
And I encouraged our group to get moving and get out of town and I knew we wouldn't make it.
Me and Dingweeds blew out a bit before our buddies and the route turned East---the same direction
the storm was going------and going fast. It blew and blew----and lightning dropping all around us
with a lot of thunder-------the scary kind.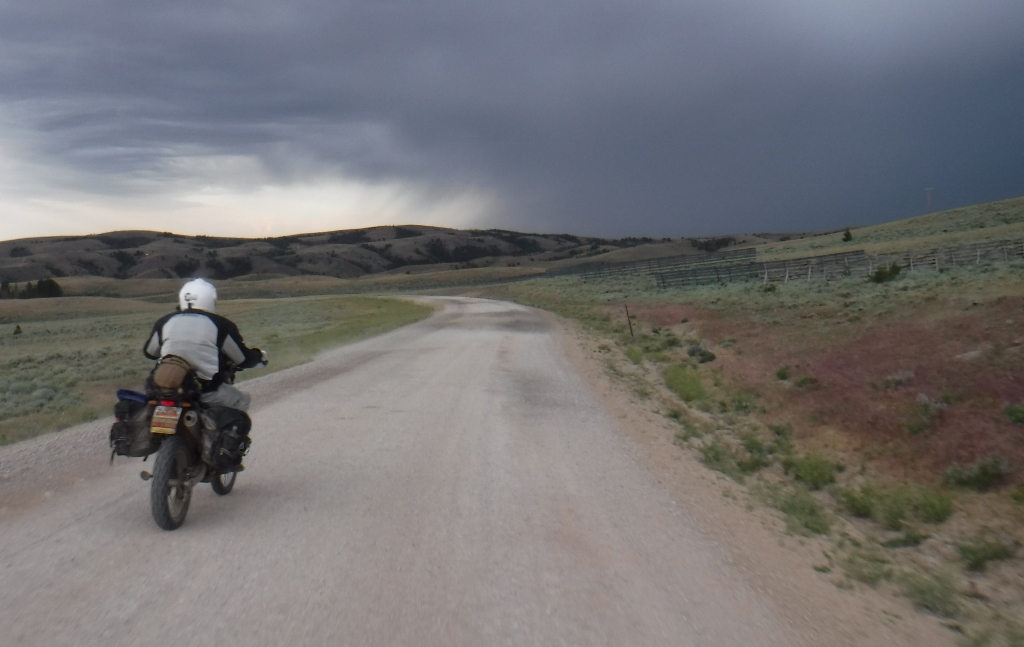 It wasn't long before the storm turned away from us and I just stopped to wait for our small group.
It was over.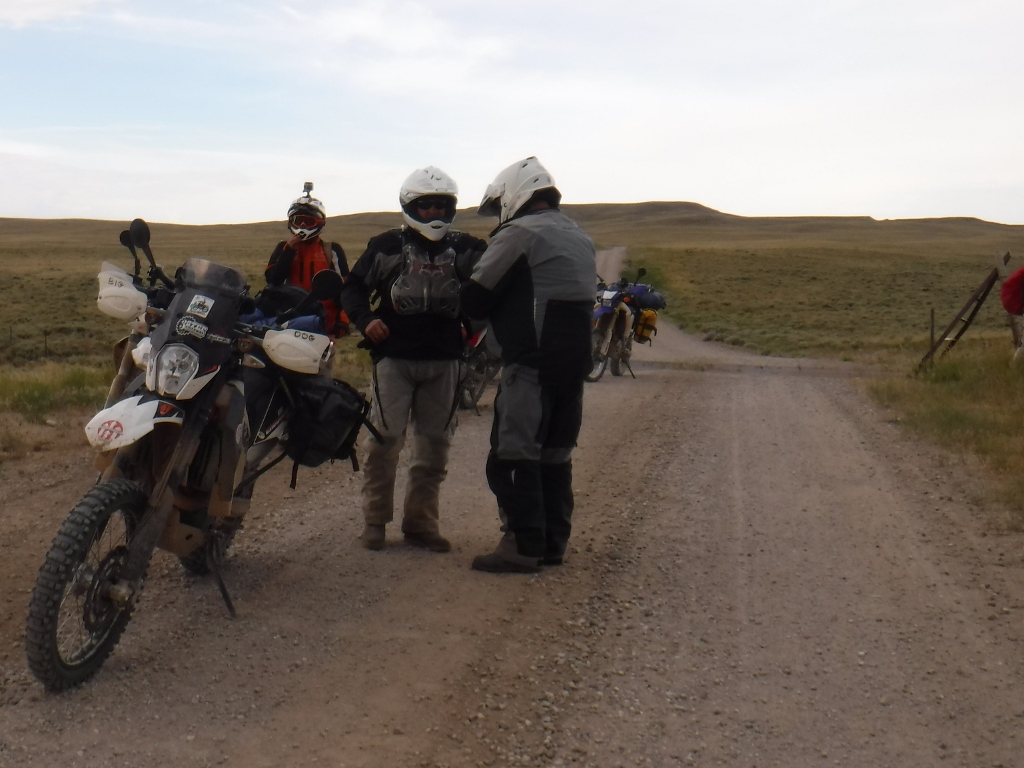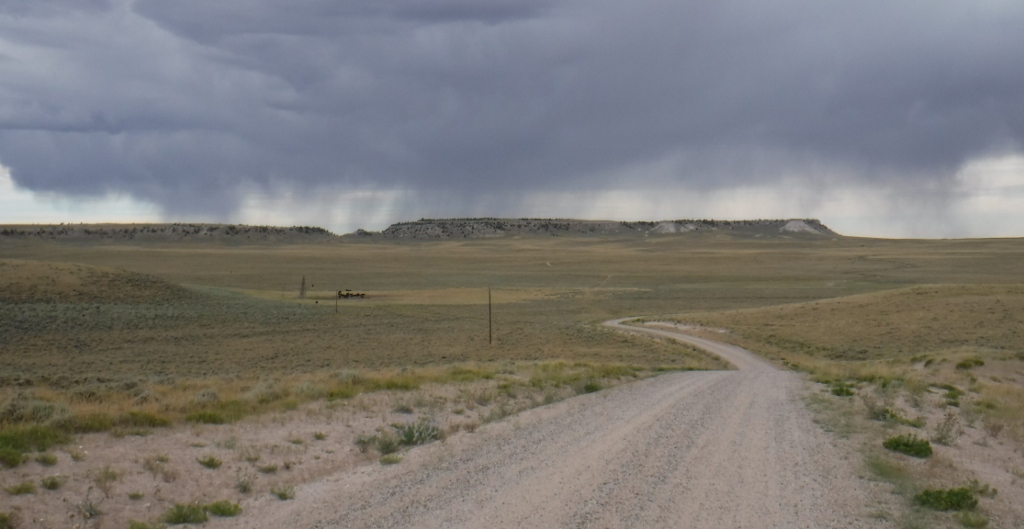 Will didn't sleep good....................I think-------thinkin' about all those bears and the food we hung over his tent.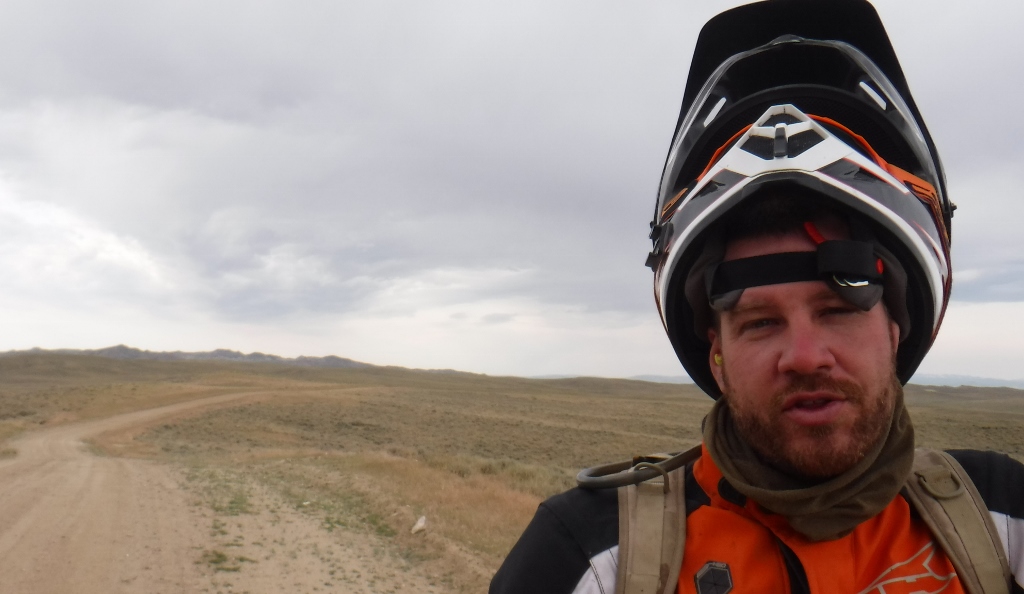 Wolfman check has never arrived in the mail
Allan and Kaysee on their 350's had left even before us----and beat the storm too and said they were
going to lay down some quick miles and get a late breakfast in Shoshoni at a nice cafe.
(there is no cafe in Shoshoni)-------but they do have gas and a little lunch thingy.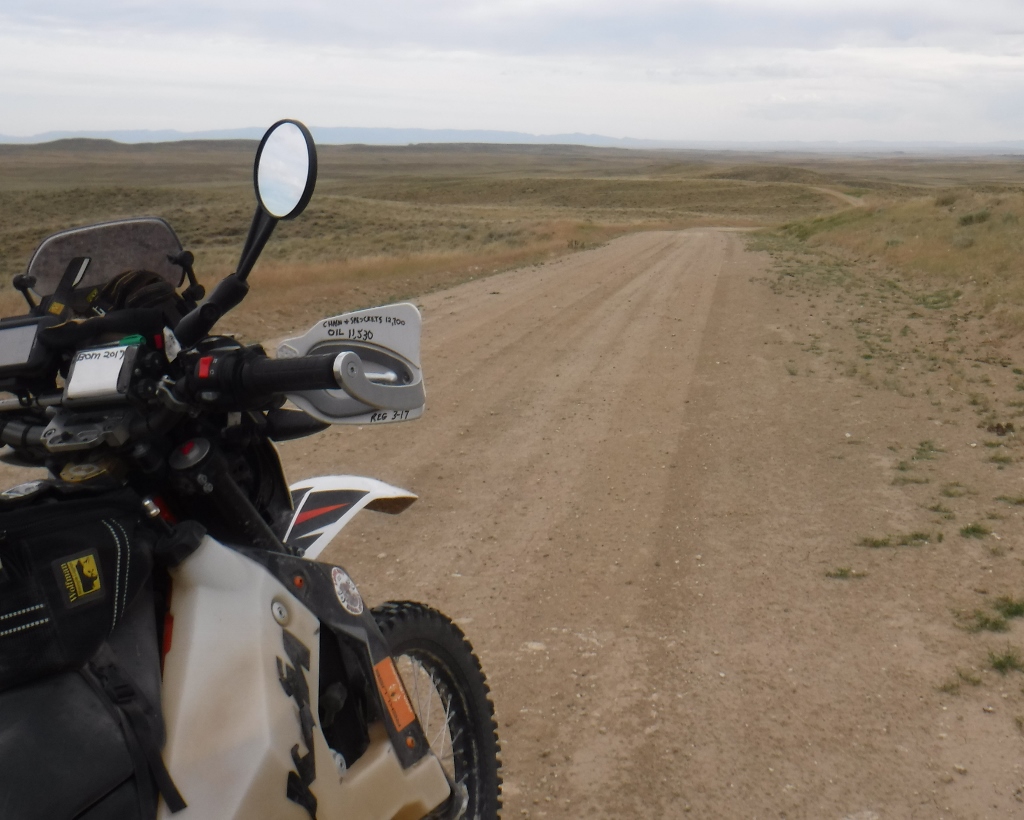 We did have a nice burger at this little place in Shoshoni------the only place besides gas station food.
The people were so nice and appreciative of our business.
And pointed us to bathrooms in the city park---and a nice shaded picnic table to eat our early lunch.
So Allan and Kaysee rode hard a fast to get here and found nothing but gas station food and I paid a little trick on them.
When we caught up to them later I told them we had the nicest breakfast at the "Barbed Wire Cafe" in Shoshoni.
There is no "Barbed Wire Cafe" in Shoshoni.
They were mortified they didn't find it as their mouths dropped. Well at first------ but they saw I was lyin'.
I can't get away with anything anymore it seems.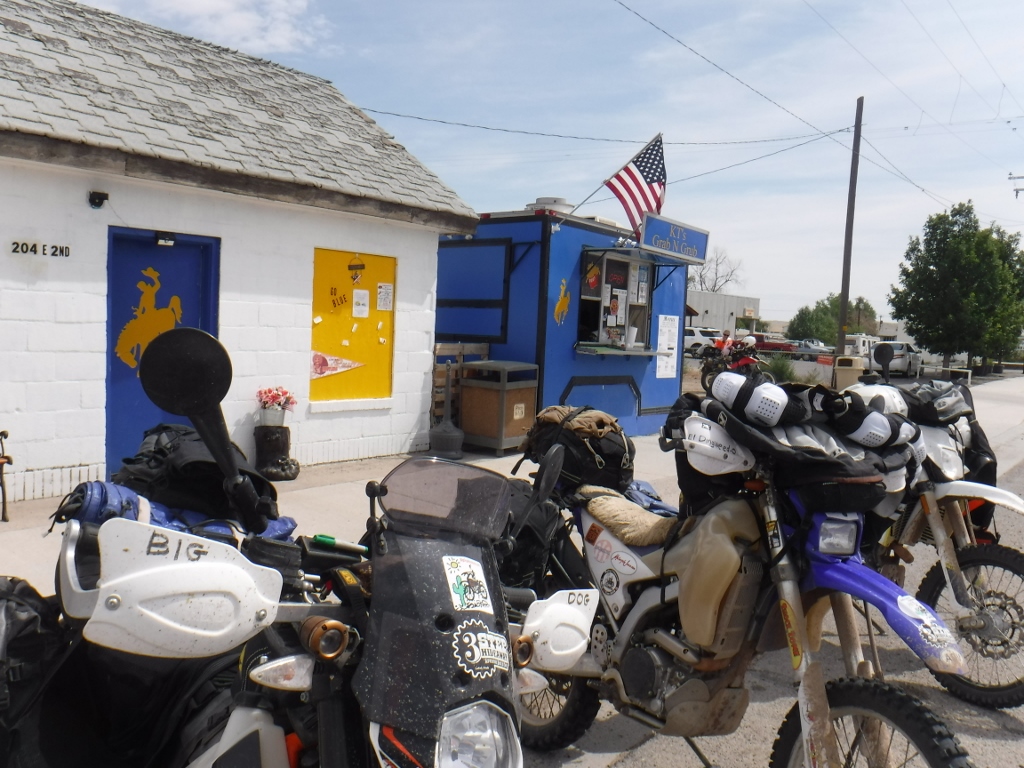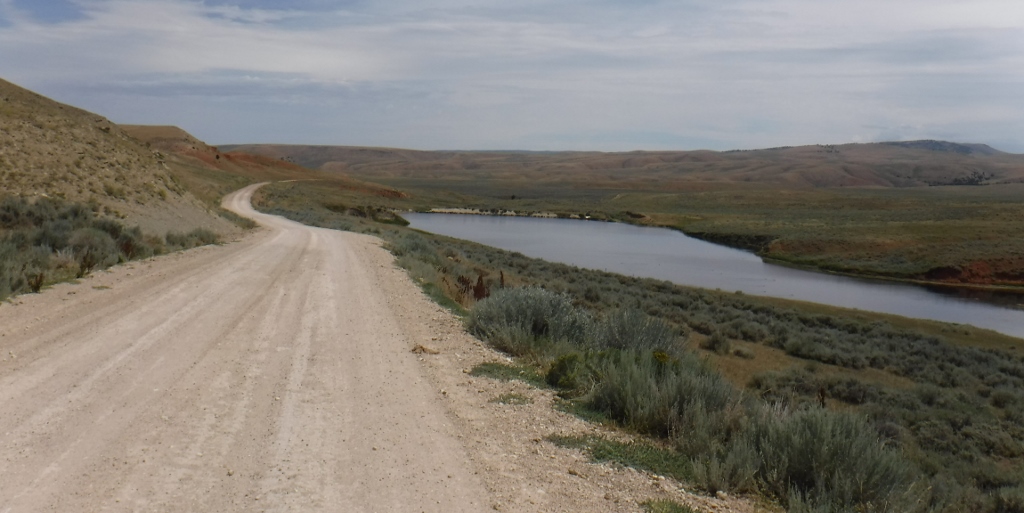 Northwest we rode and it was awesome--------we skipped the short cut given us to Ten Sleep.
And the riding was amazing and desolate.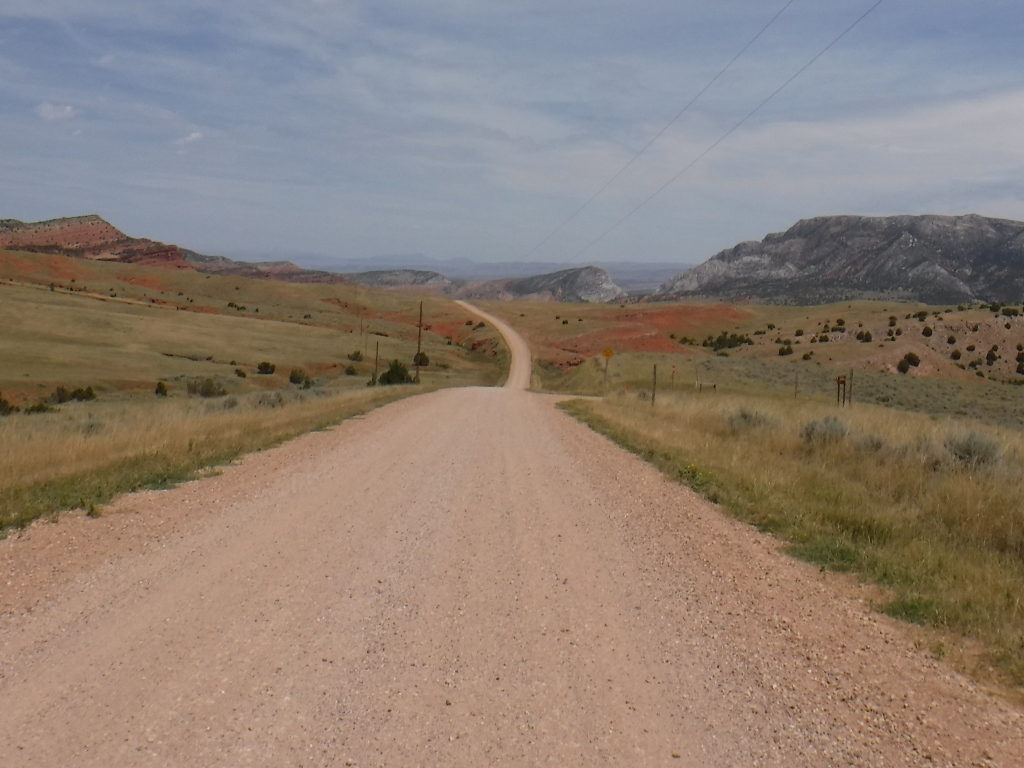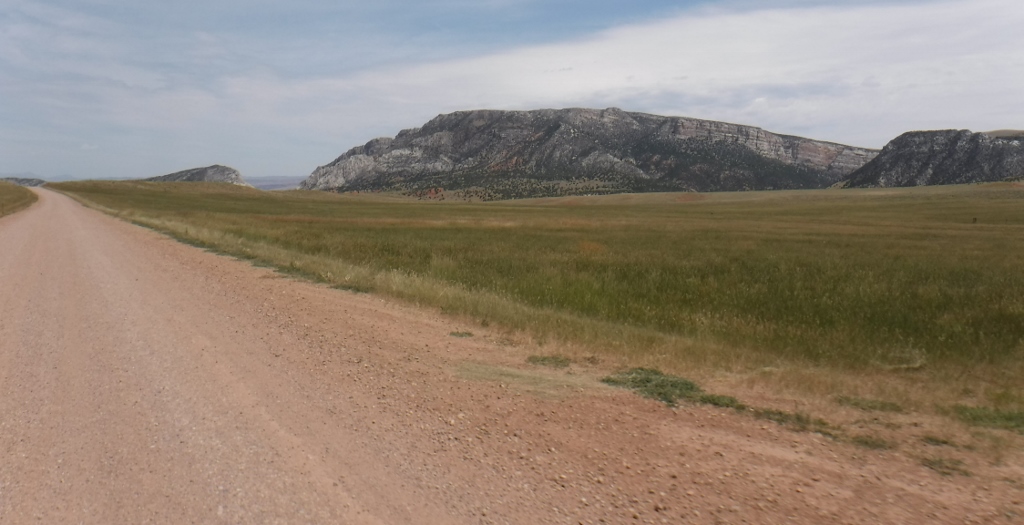 Looks like Utah in some of these pictures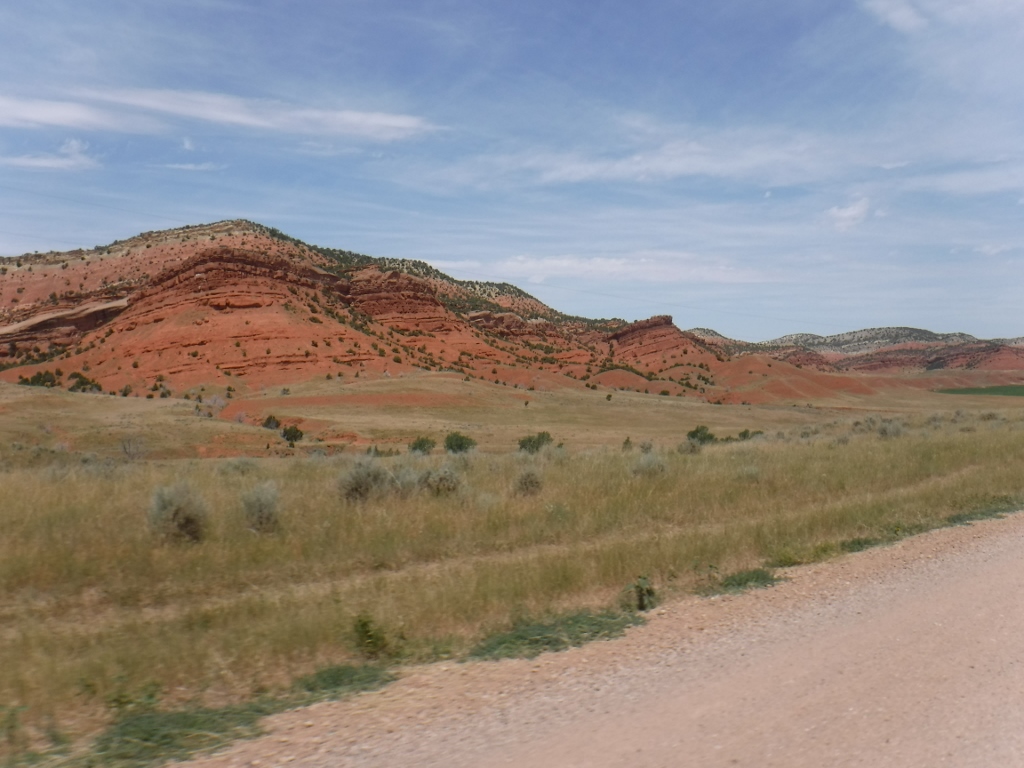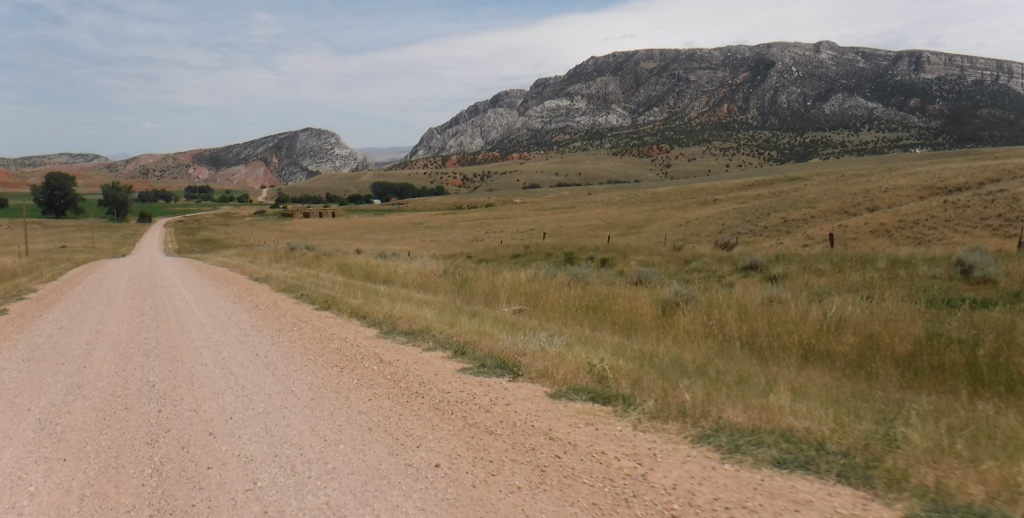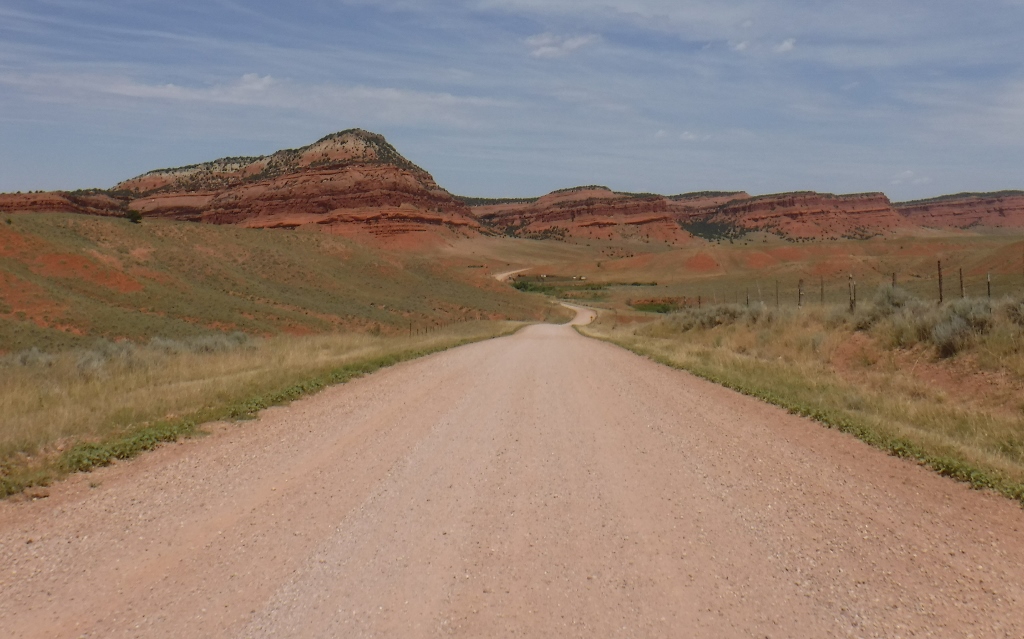 We rode for a good 100 miles with not one shade tree.
I don't stop at every turn------I find that annoying for a ride leader to do that---get out there and keep
the guys behind you out of the dust and gather them up every 15-20 miles or so under a shade tree.
This is the only shade tree on our route today--------and boy it was a good one. I made a waypoint.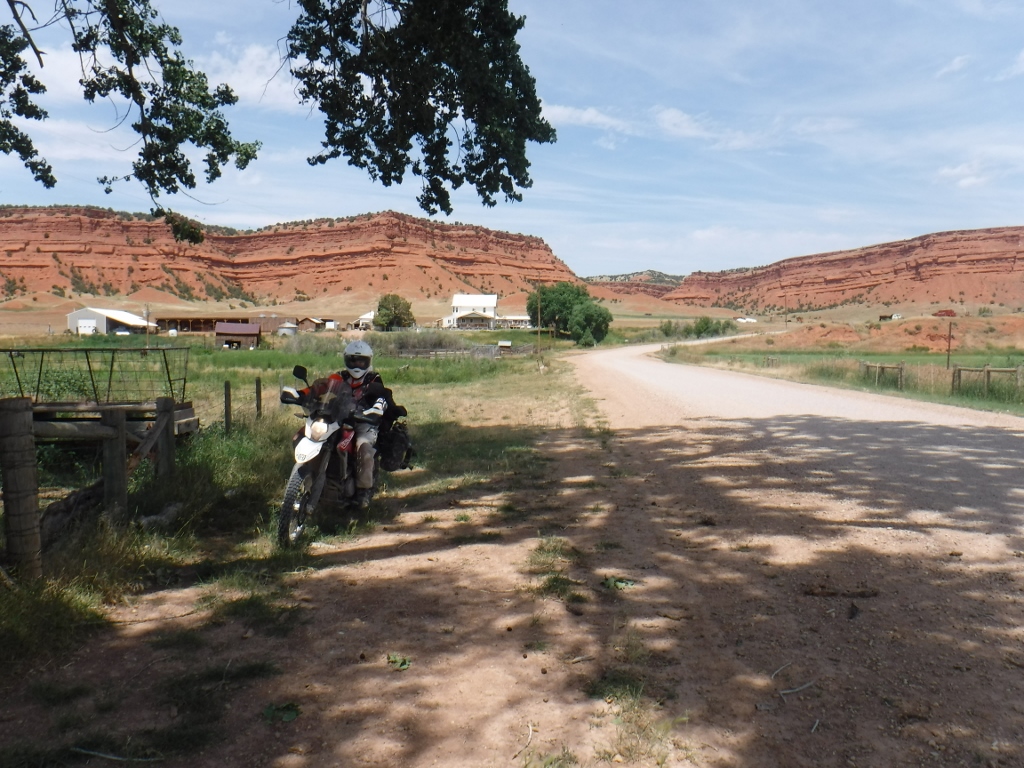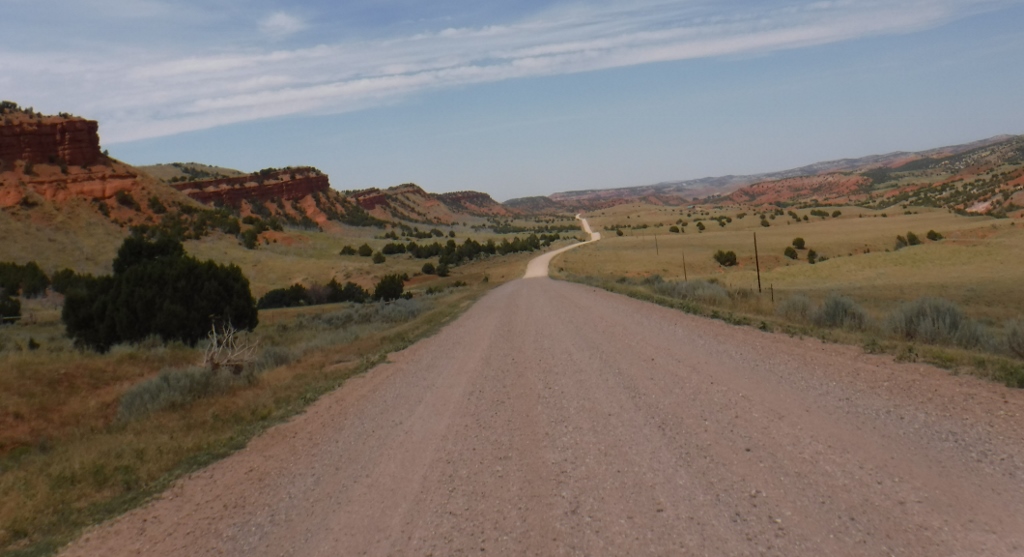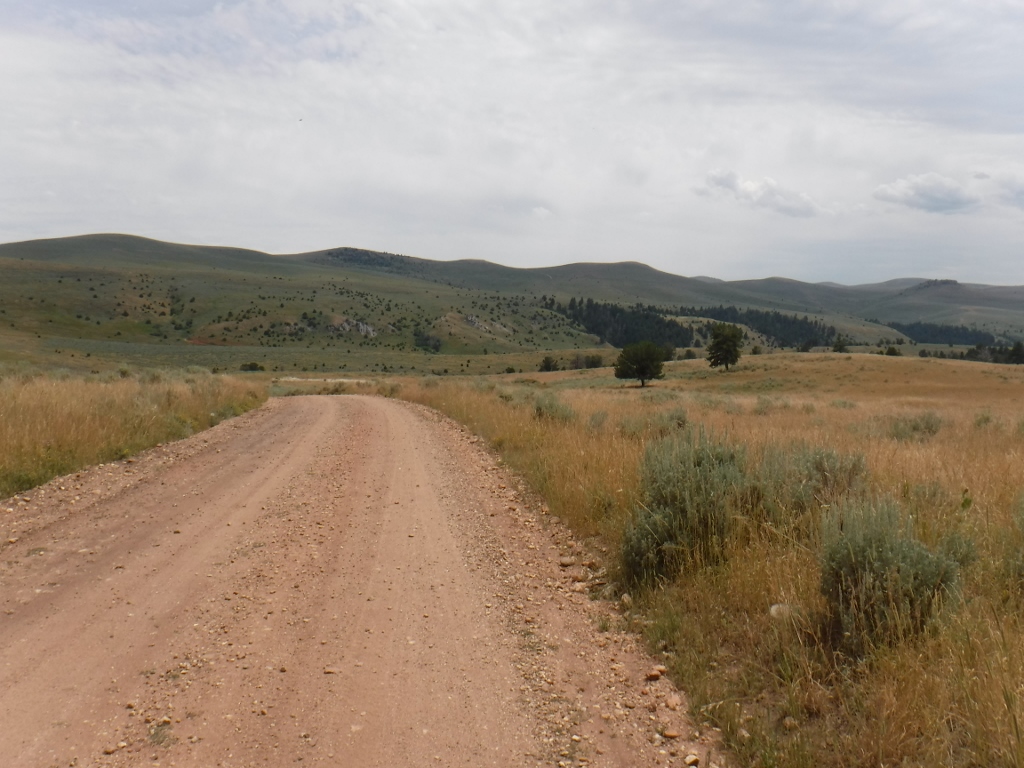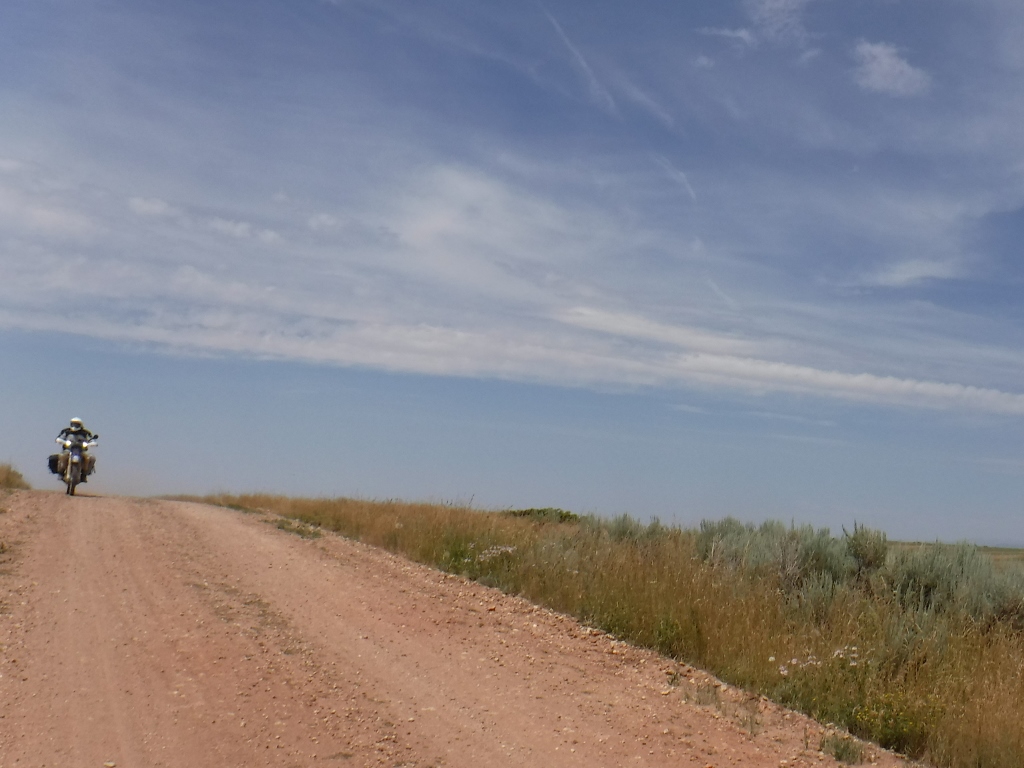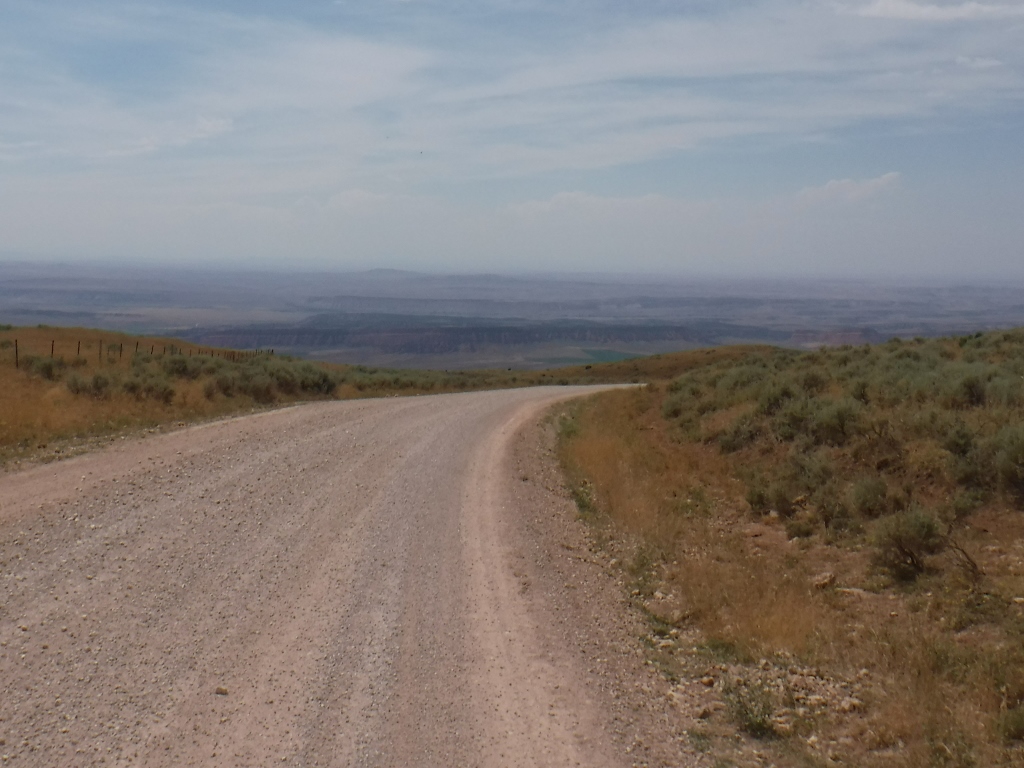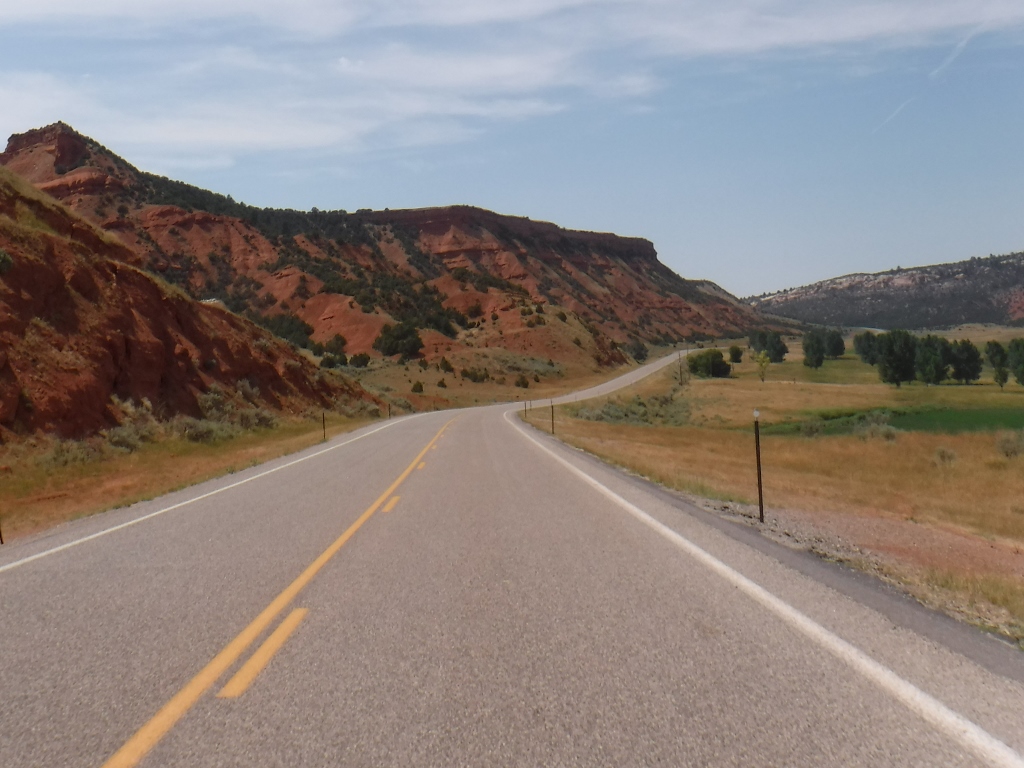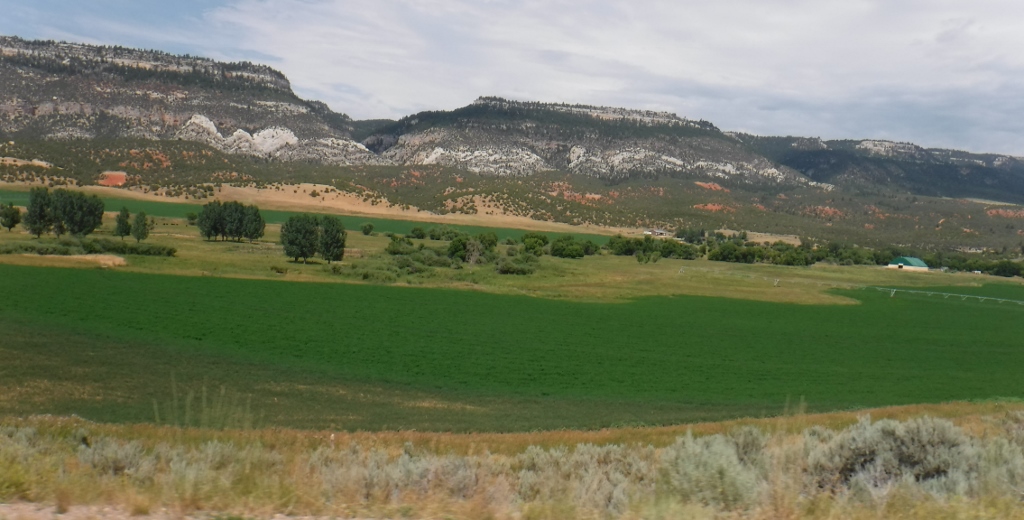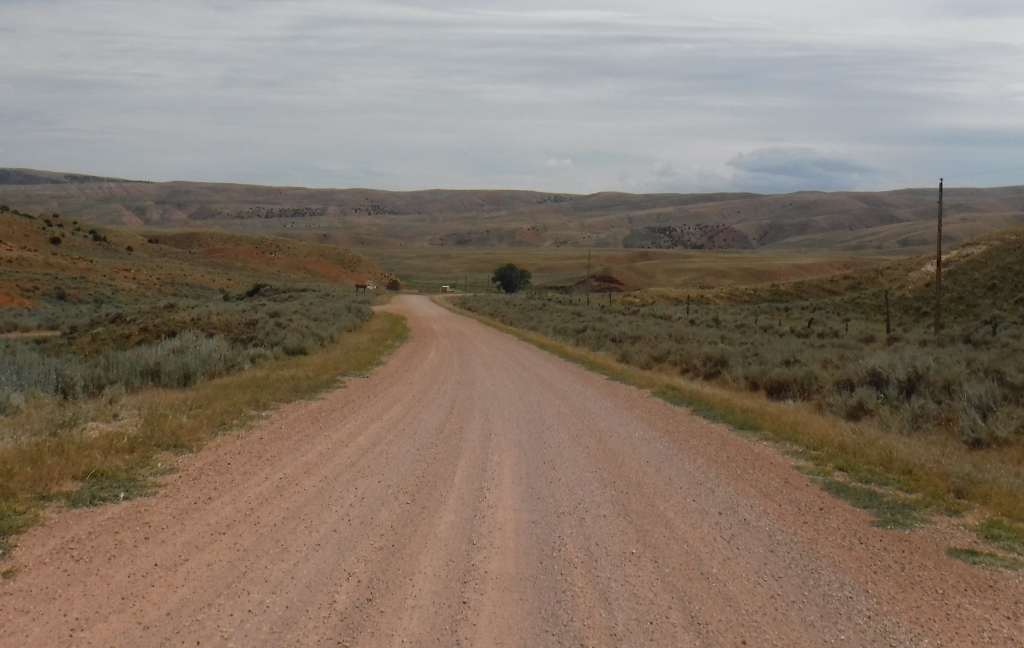 It was a bit warm today and I snagged the last little cabin in Tensleep.
4 bunks in there and 3 of us slept in it. You had to provide your own bedding.
We walked to a great meal in town. Most riders camped.
Me and Dingweeds had rode thru Tensleep years ago with the Mobius crew----neat to be back.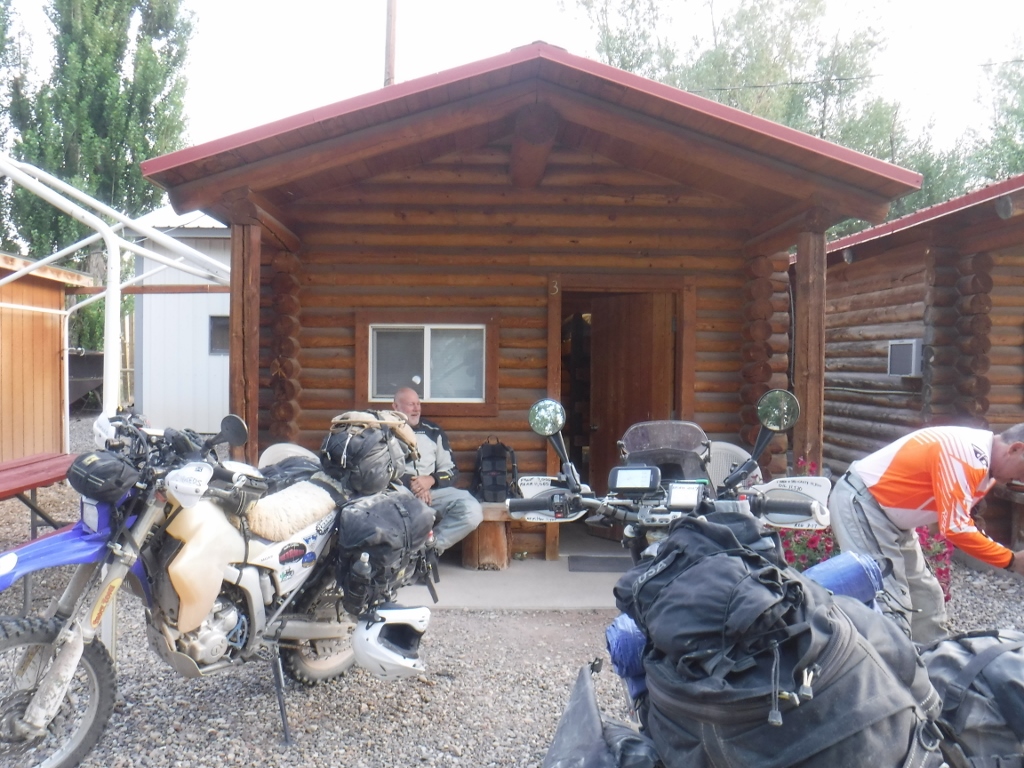 This is dingweeds famous "Chuck Wagon"
It's been our chuck wagon for many rides and years. We would have never survived Baja
without the Chuck Wagon. There is enough food in there to feed 5 riders for days on end.
And......................it's always open.
Even a bear helped himself to the Chuck Wagon in Colorado at Lake City a few years ago.
Then the next night---------mice crawled in there thru holes the bear clawed into the bag.
It's fed a lot of people and critters.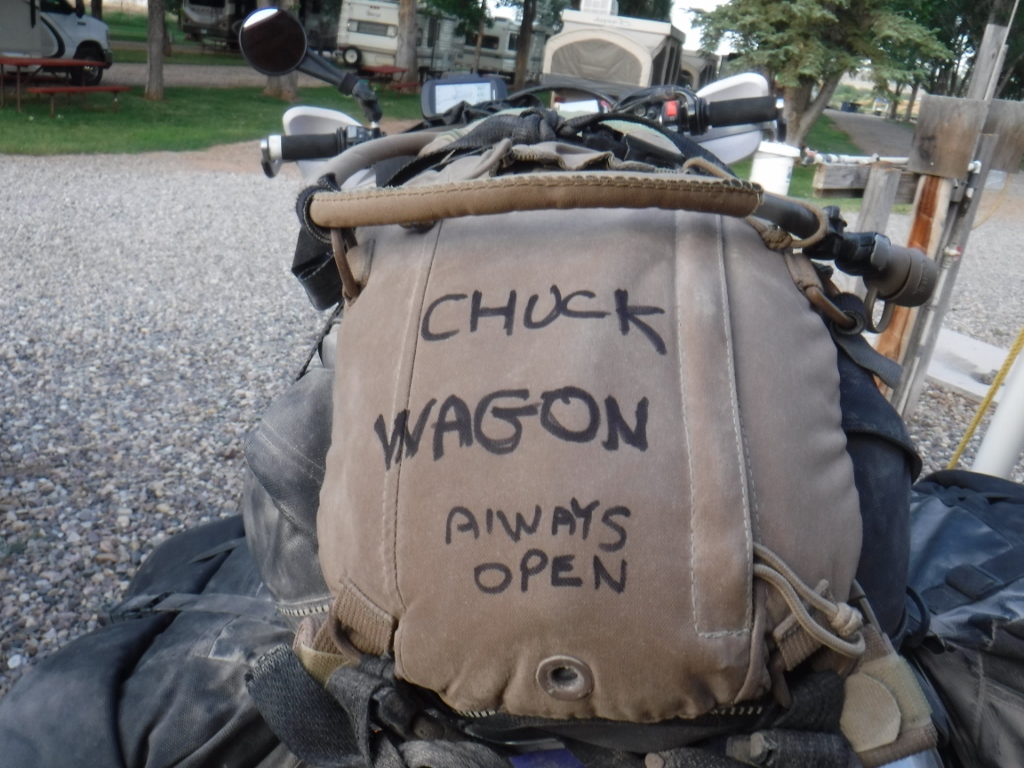 Awesome dinner and breakfast the next morning.
Oh..............and Todd found some ice cream. He seemed to manage that everyday.
I bought dinner-----hell I had been mooching off everybody and the Chuck Wagon for days.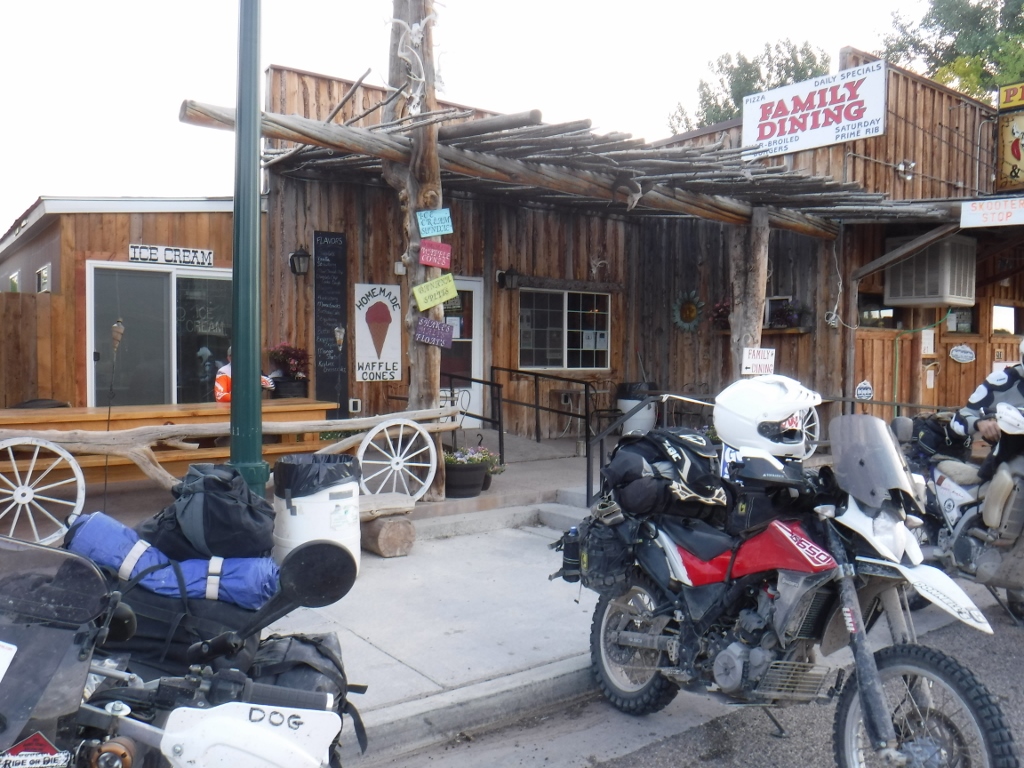 A short video of our ride today
A map of our ride today.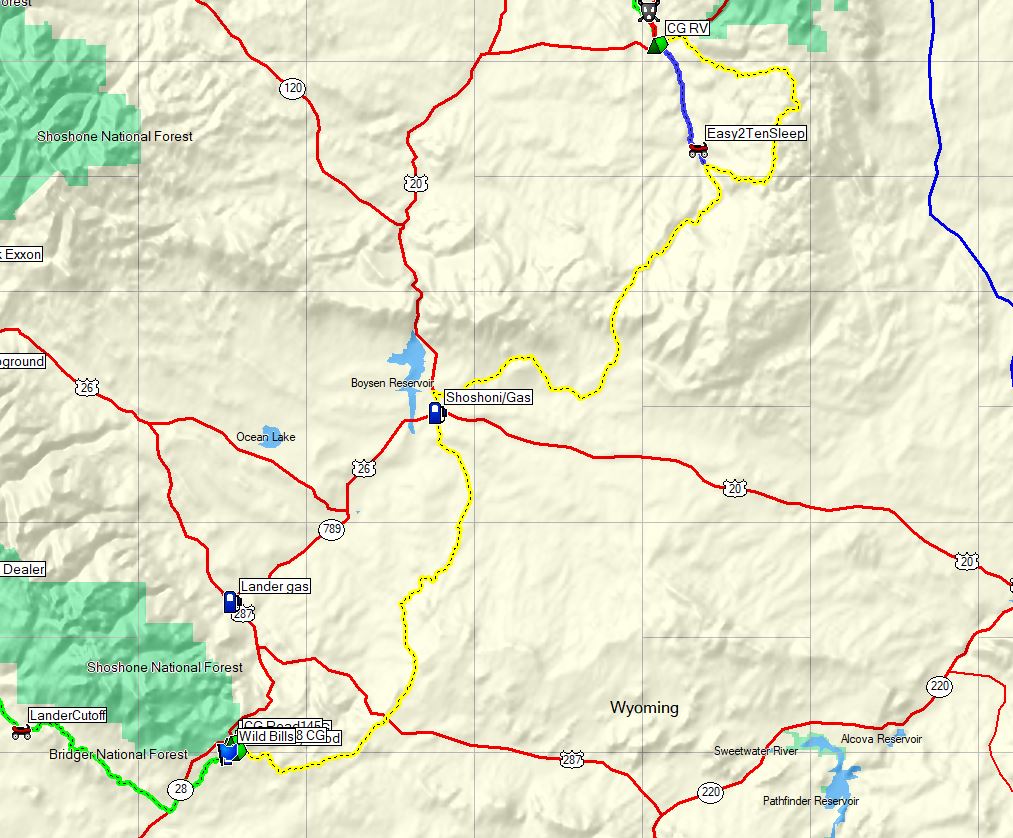 On to Day 6
Click HERE