Day 6
July 20th, 2017
Tensleep to Cody, Wyoming
We head North on what the map says is "Tenspeed-Hyateville" road which turns into CR49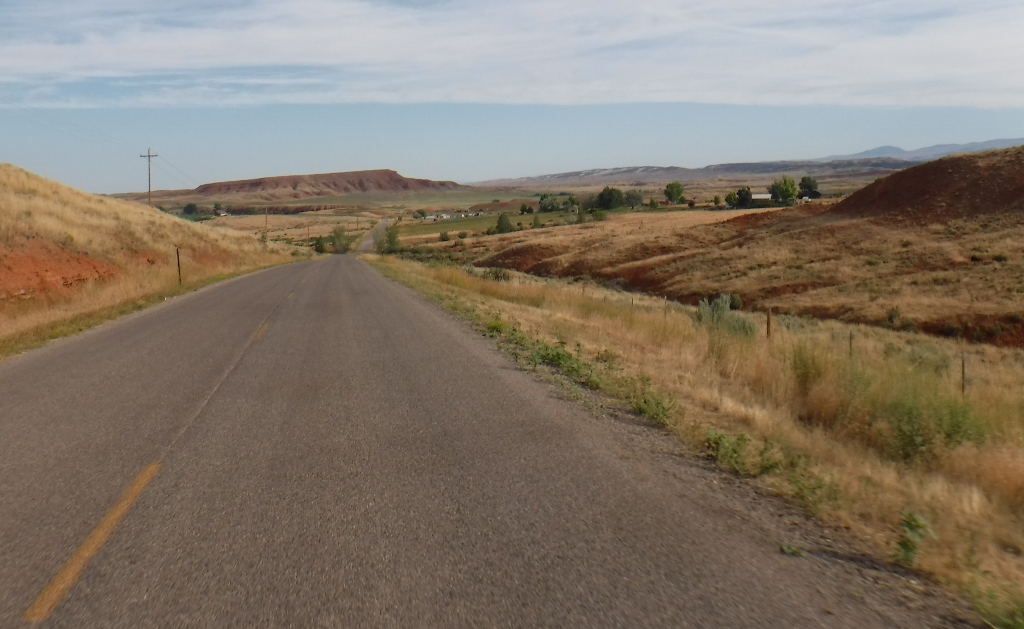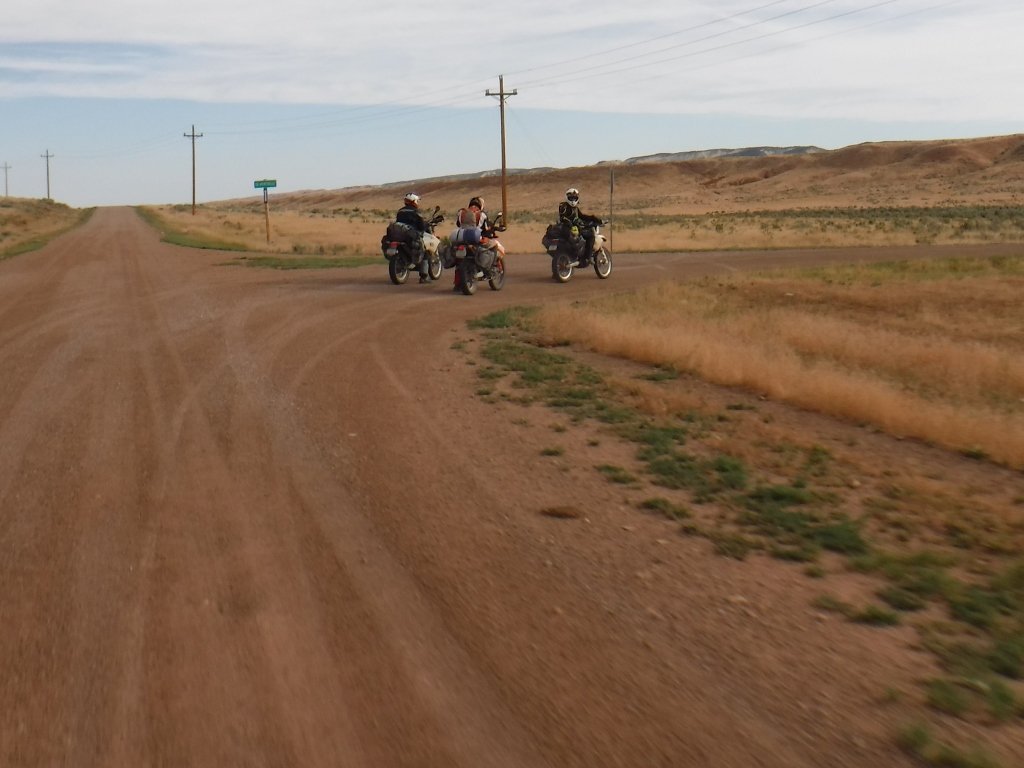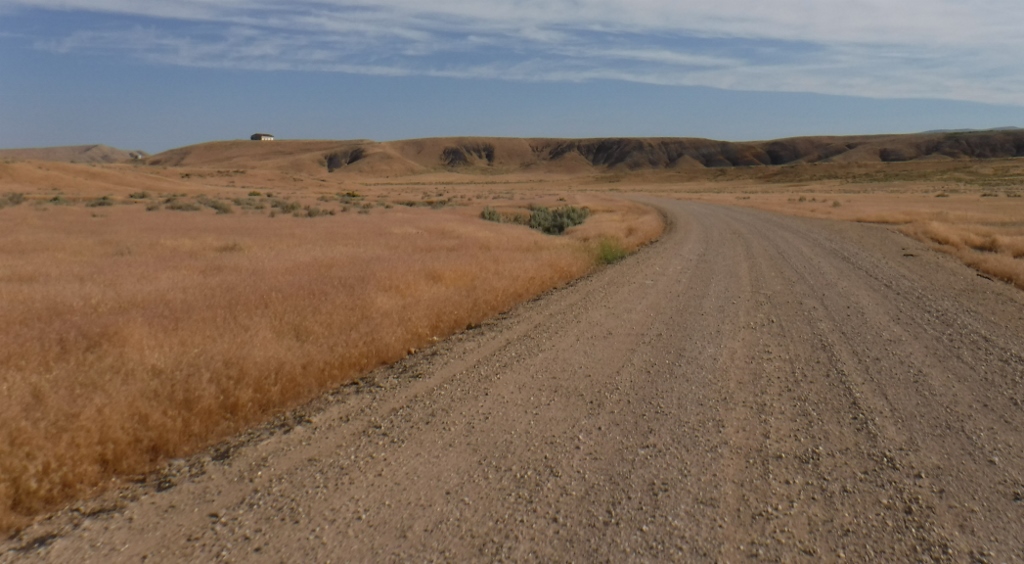 Good thing we ate breakfast in Tensleep----the Hyatteville cafe had been closed for years.
Population 53 and declining.
We actually planned on eating breakfast here but found the phone number and the nice lady
said they had to shut it down years ago.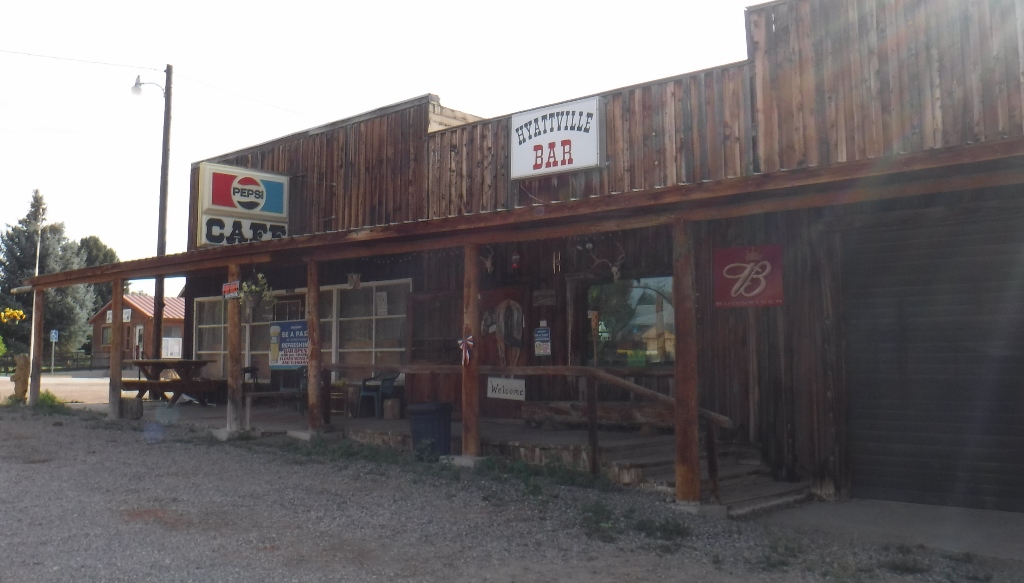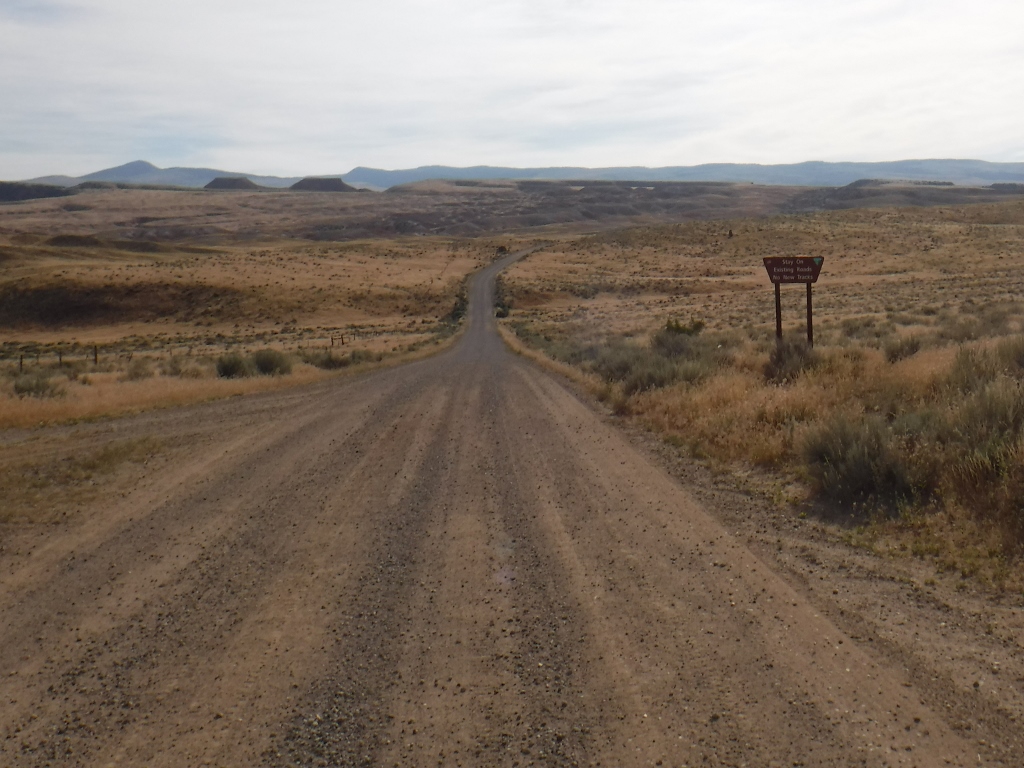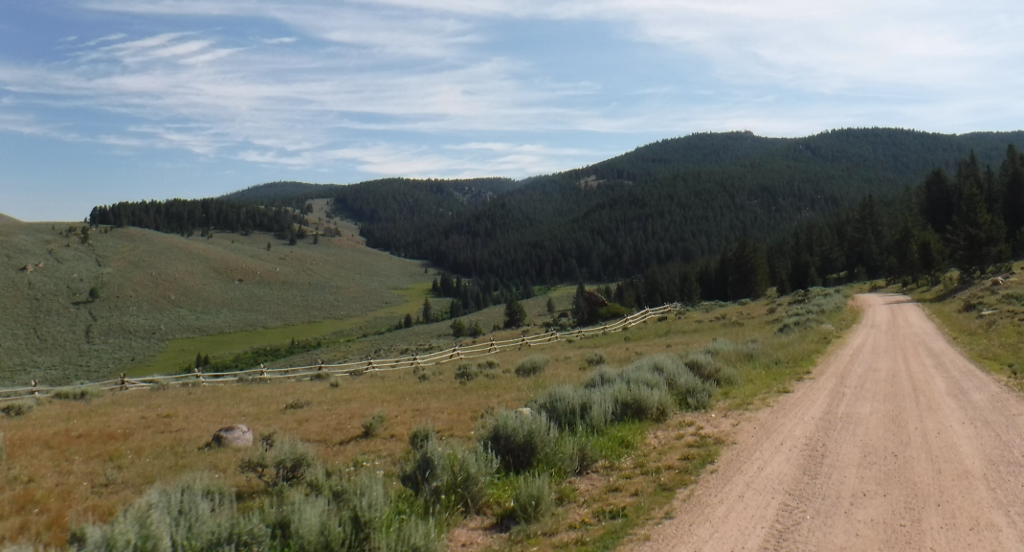 I'm thinkin' it was on this road I came across an ole' codger sitting on the tailgate of his pickup truck
holding a cane. He was high on a hill and there was nobody around.
He puffed on his pipe and if you know me---------I had to stop and talk to him and find out his story and it was hilarious.

Me-----"You Local ????"
Him............"Yep-----where you from???"
Me................"Uhhhhh.....Illinois.......... but I hate it there"
Him...................."I ain't never been to Illinois and I hate Illinois"
I like this guy-----tells it like it is.
He like me------wasn't in no hurry to do nothin'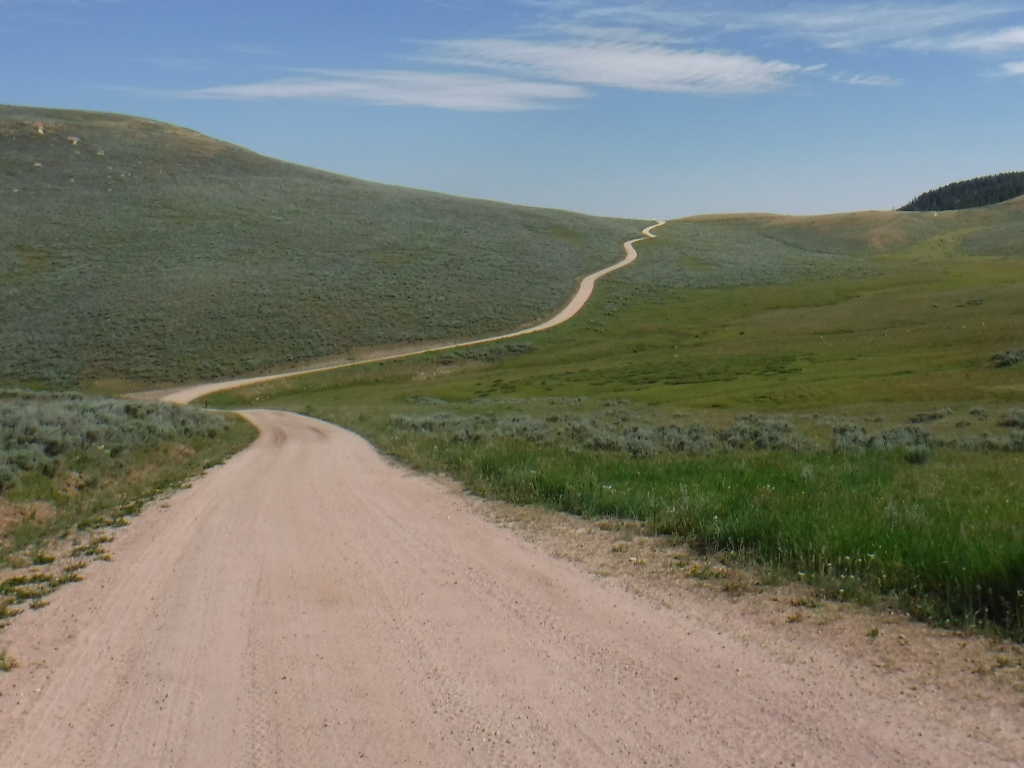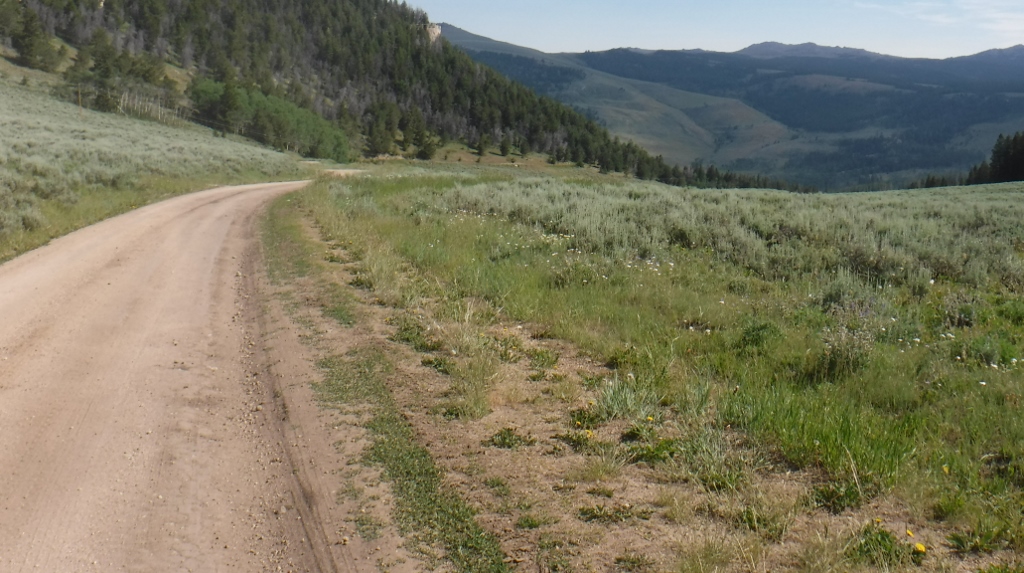 And now we are in the middle of nowhere it seems.
No cell phone texting drivers out here.
No road construction----------I like it.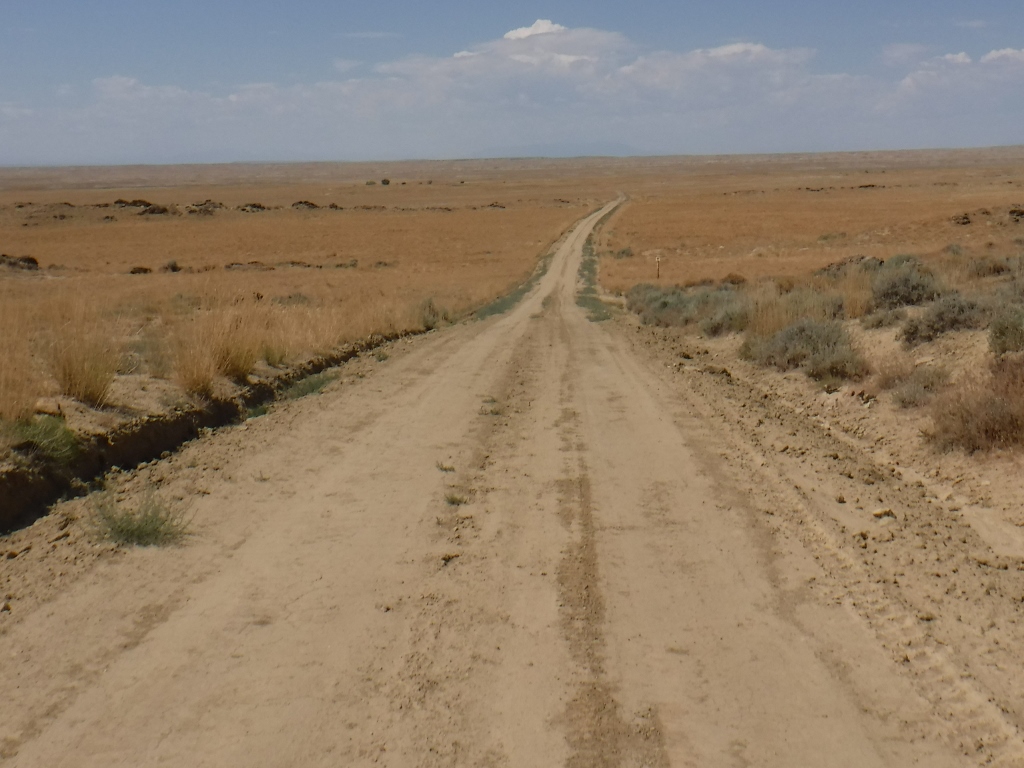 And we go from the middle of nowhere-----------to really middle of nowhere.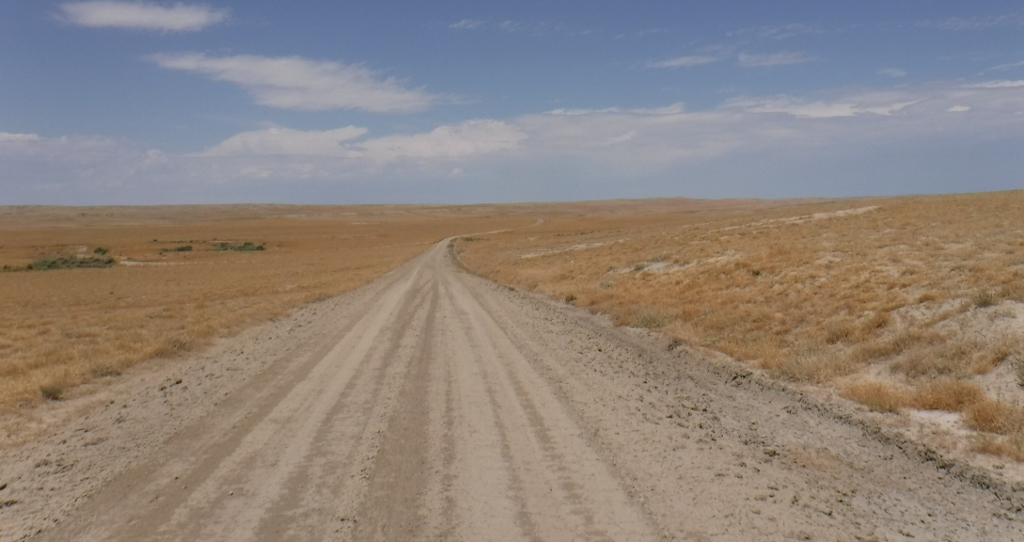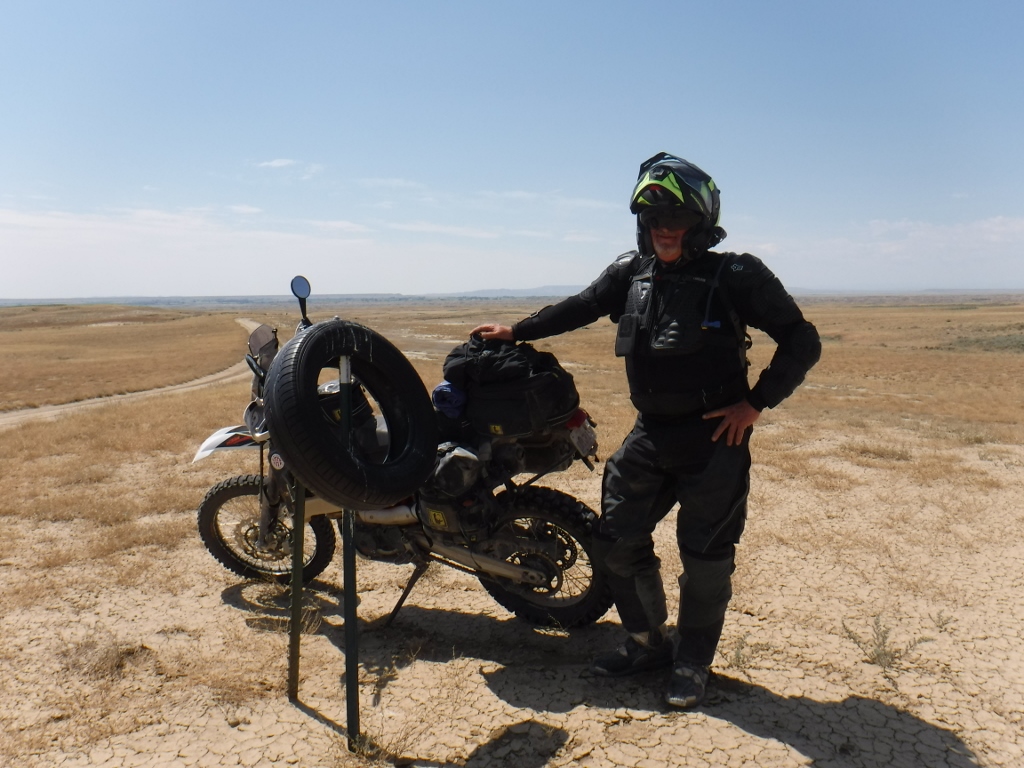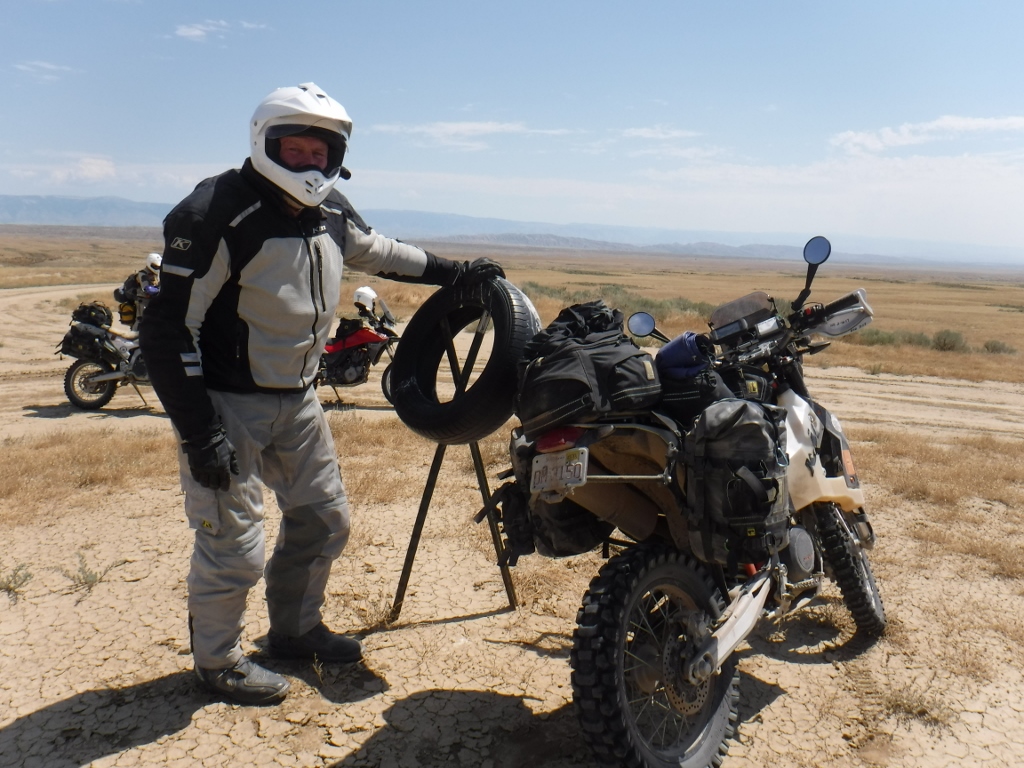 Not sure the significent of this tire--------but it had my name on it.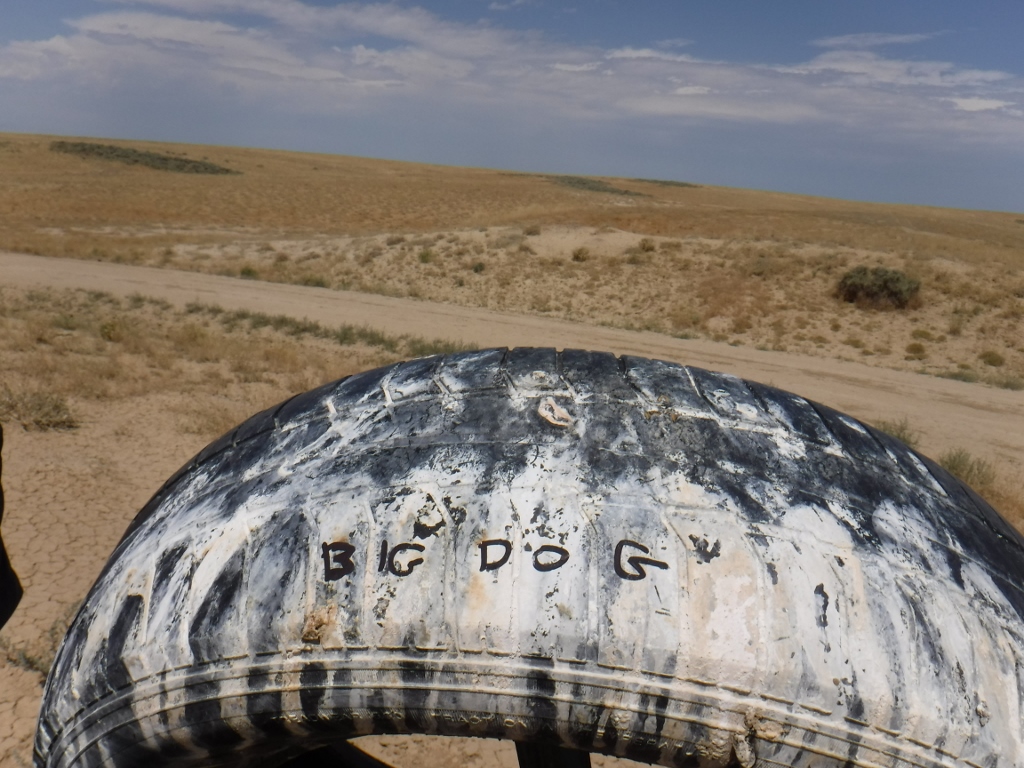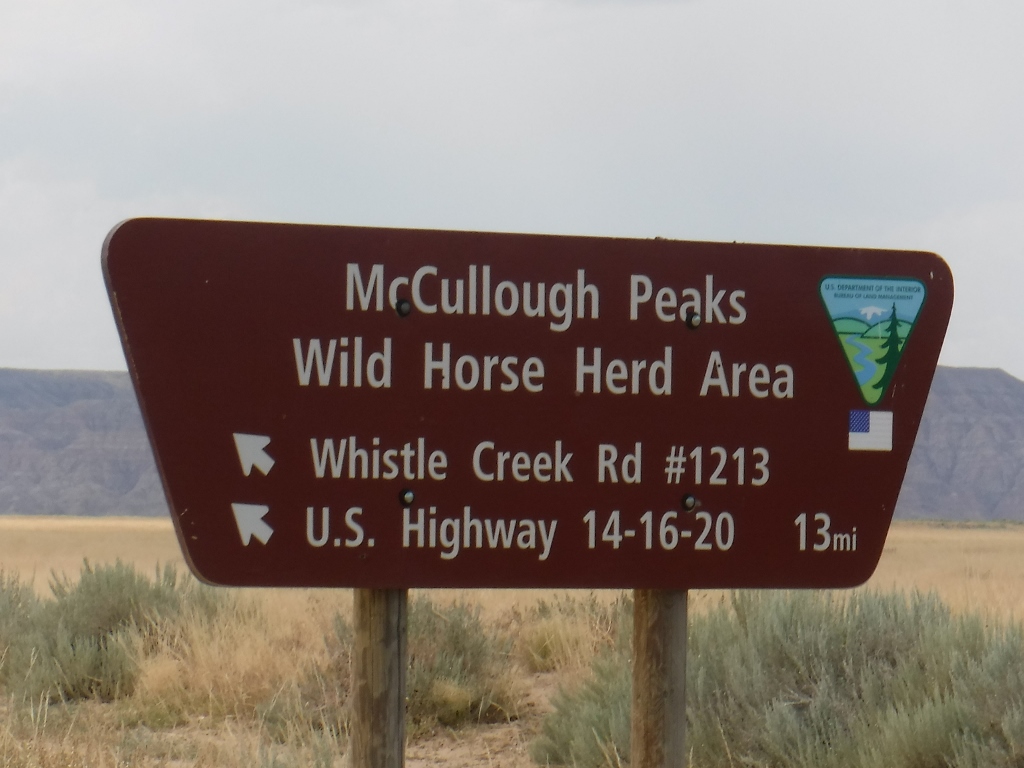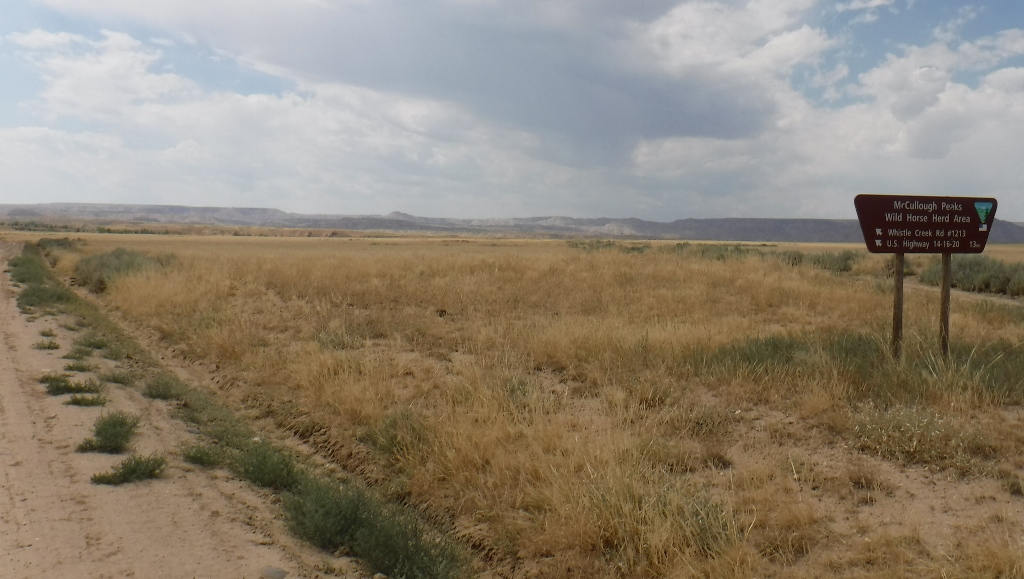 Up and up and up we go to about 7,000 ft. on the top of McCullough Peaks
Hi Five is wishing he had his Husaburg to climb that hill.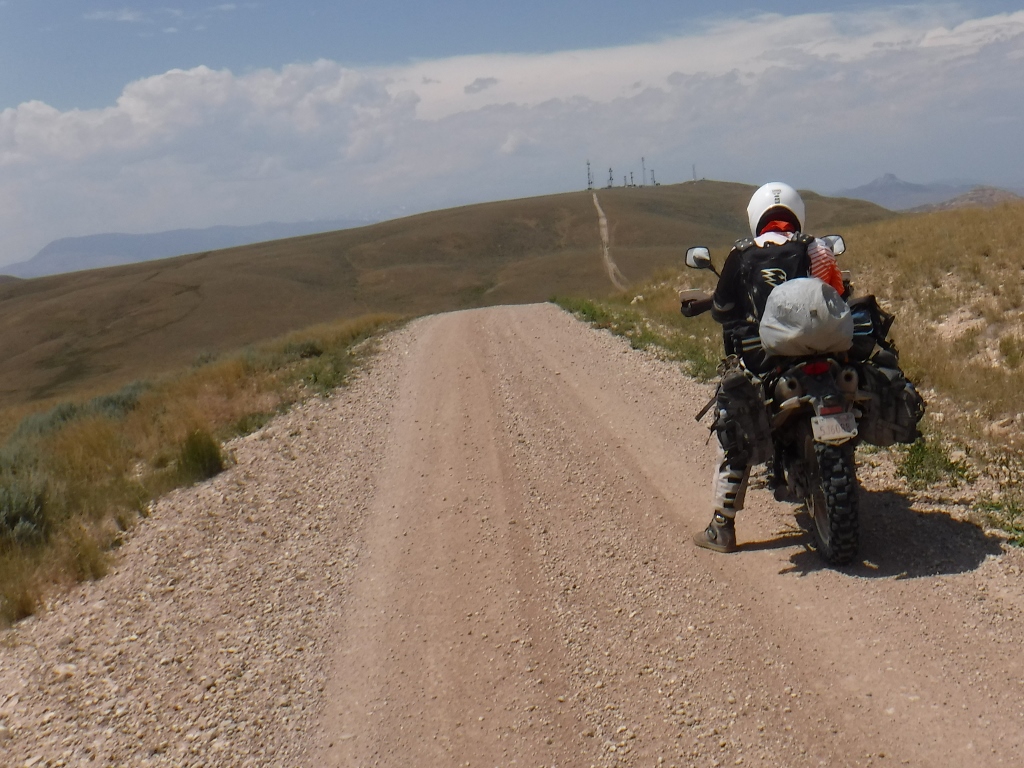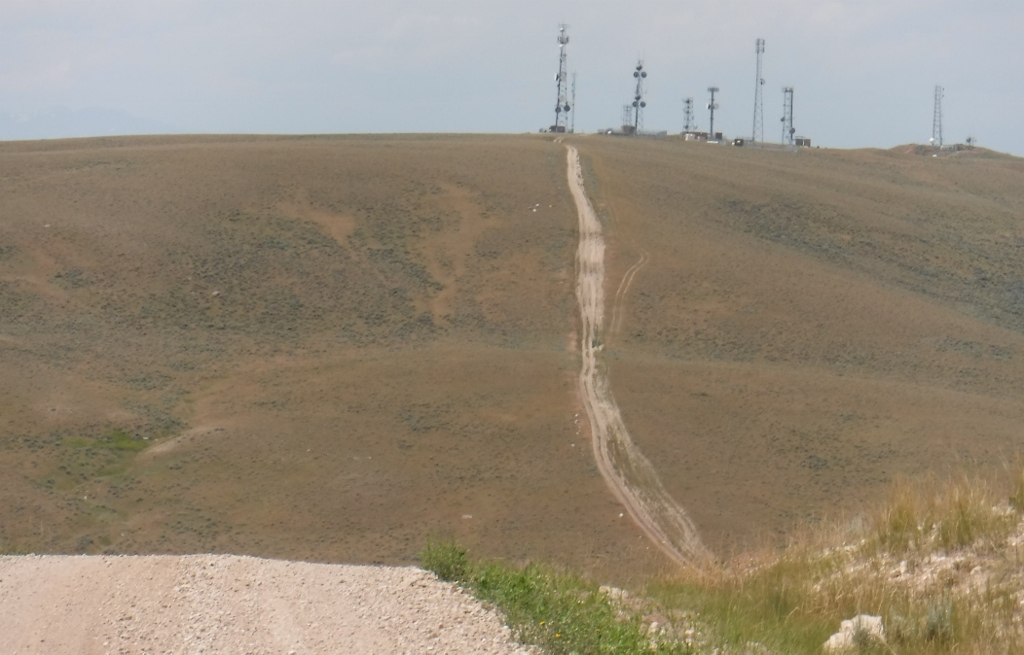 Big Dog says............"Aw go ahead you can make it"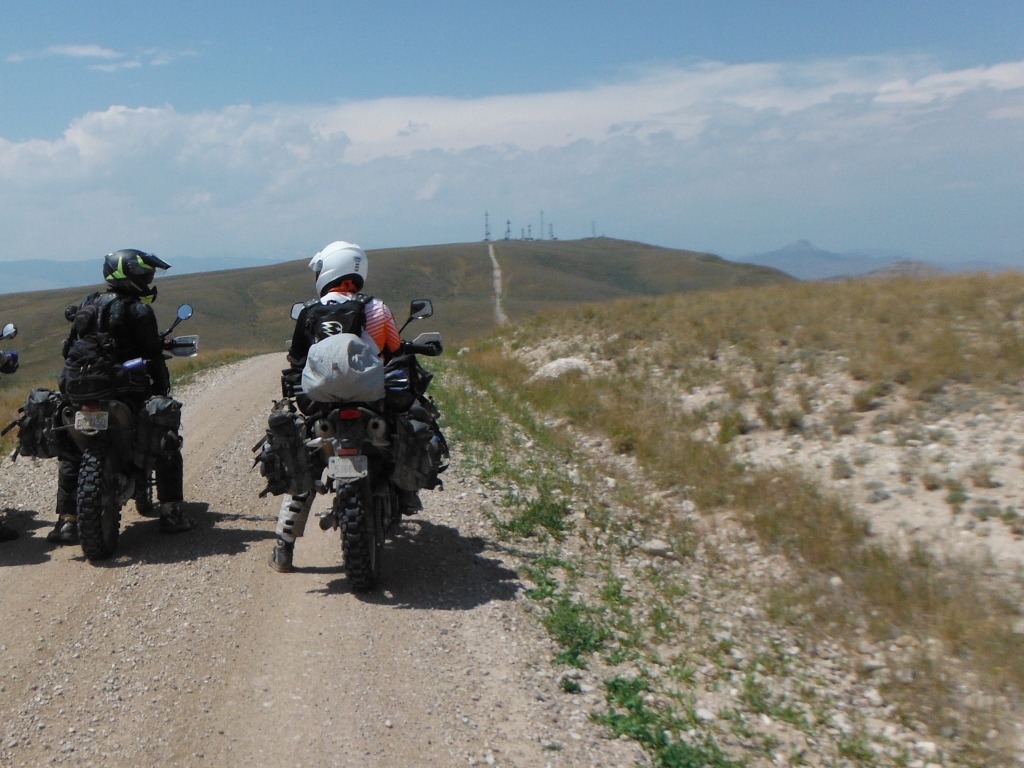 An overlook before we drop way down into Cody, Wyoming.
For this ride when it was warm or hot---------I wore a Fox Armor Pressure suit and would put a gortex shell over
it if it got nasty or cold. And vented KLIM Dakar pants-----same as what I use in Baja. Sidi offroad boots.
Don't need no stinkin' waterproof boots for a ride like this. Your feet will dry out soon enough in the dry climate.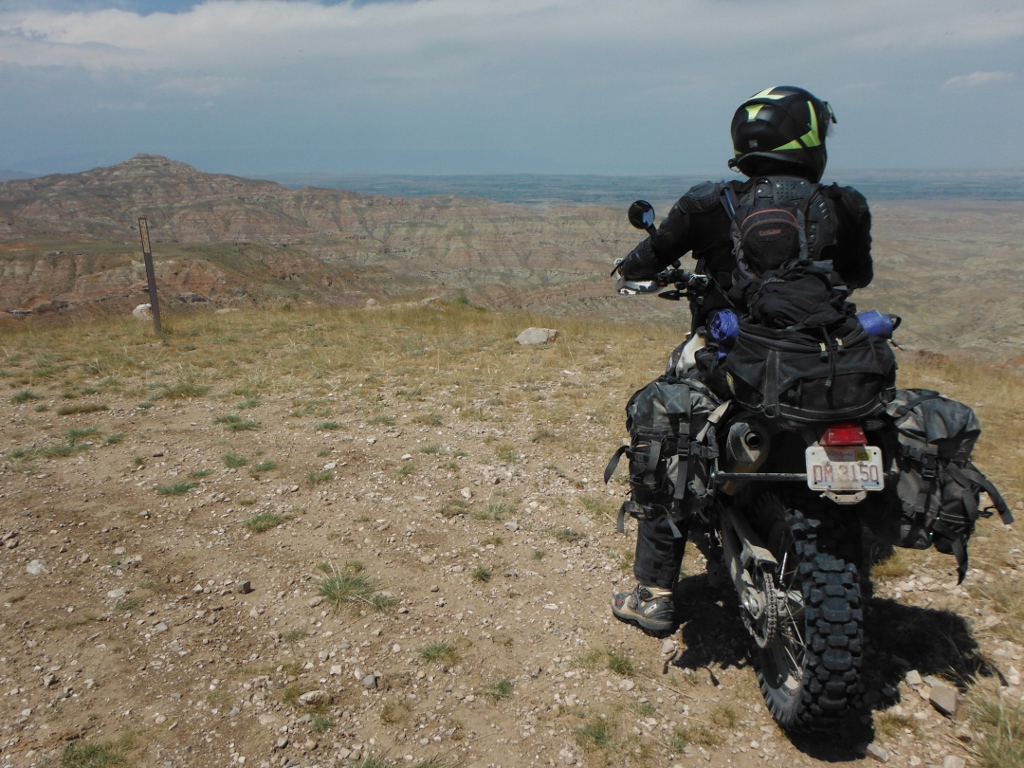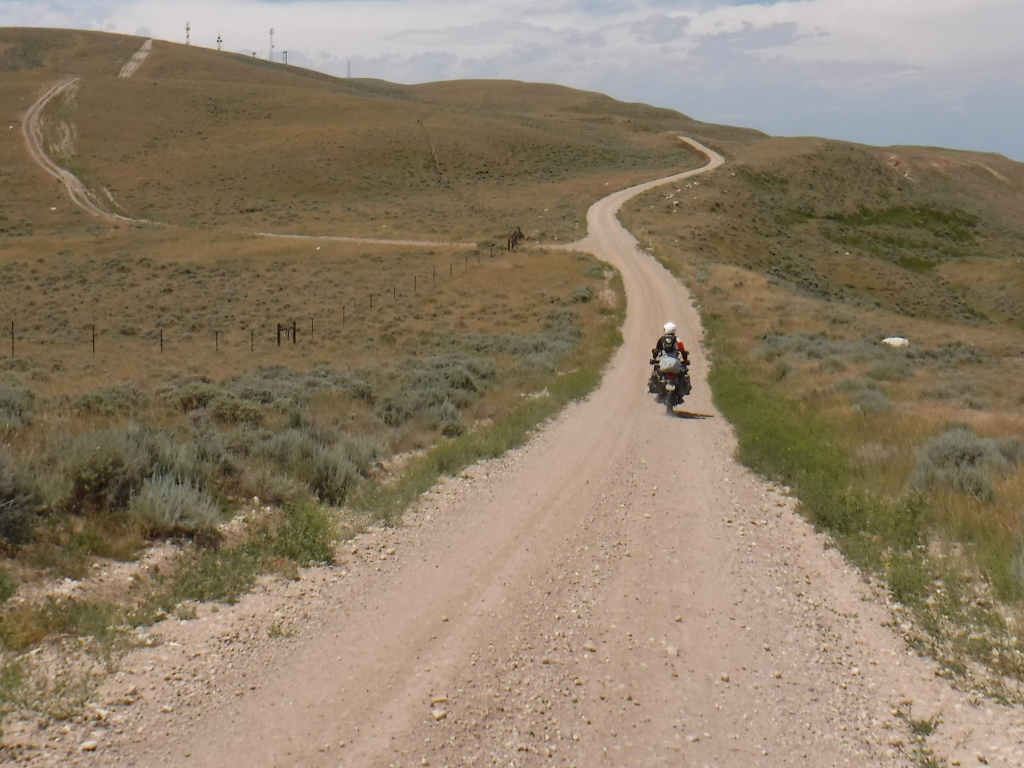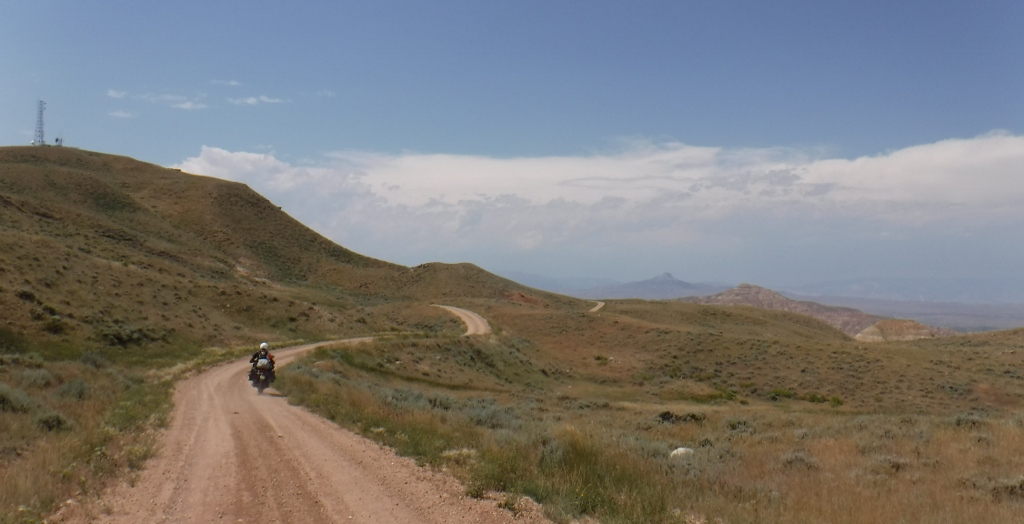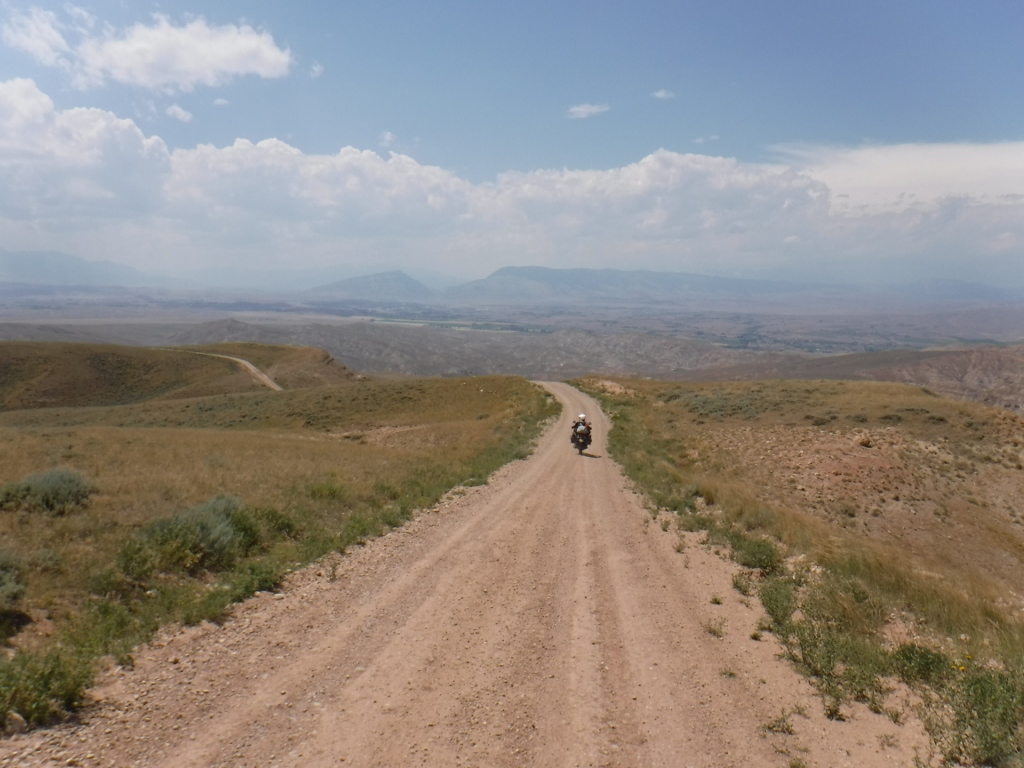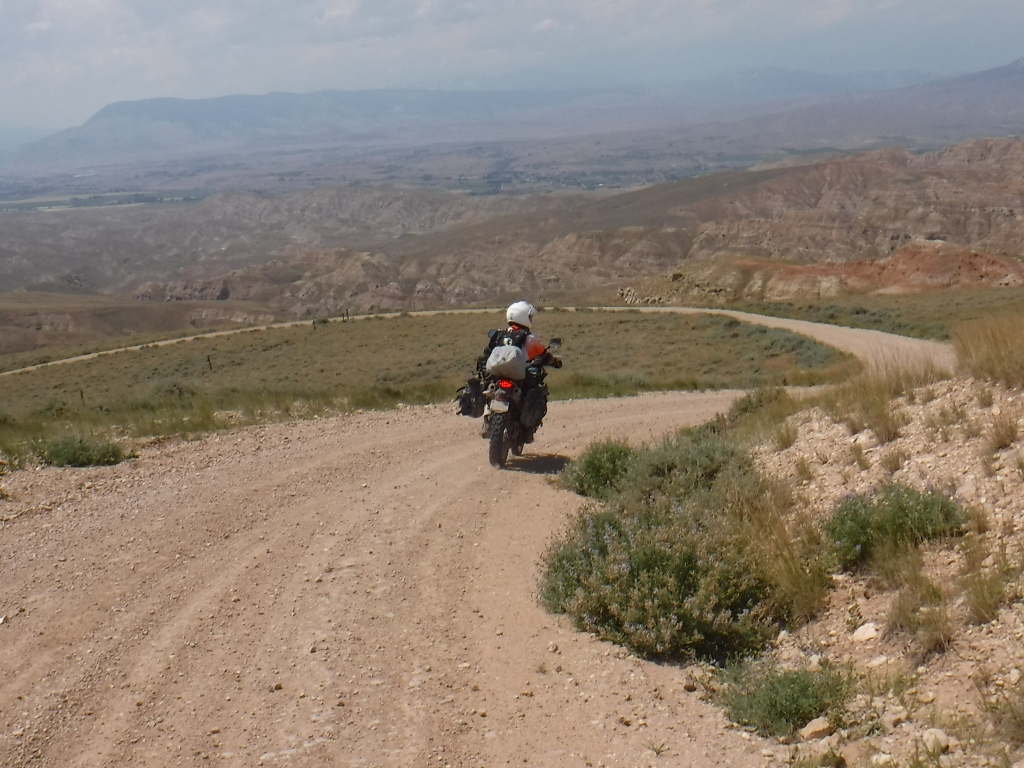 Again-------we never got truly rained on -----on this ride. Damp once.......but that was it.
Sure is neat to watch these storms from such a distance.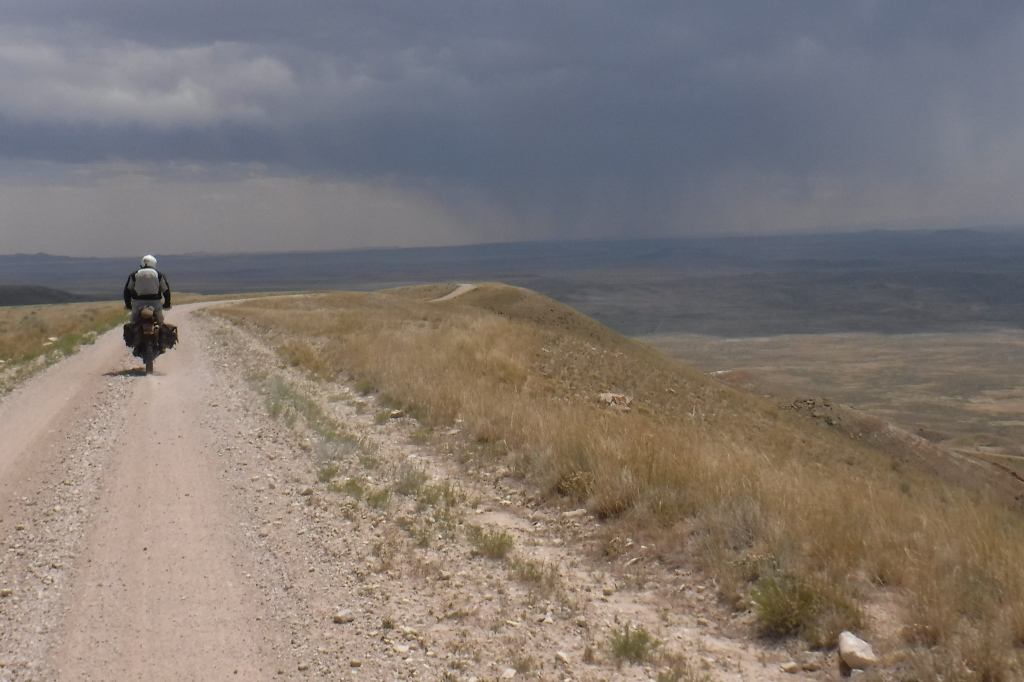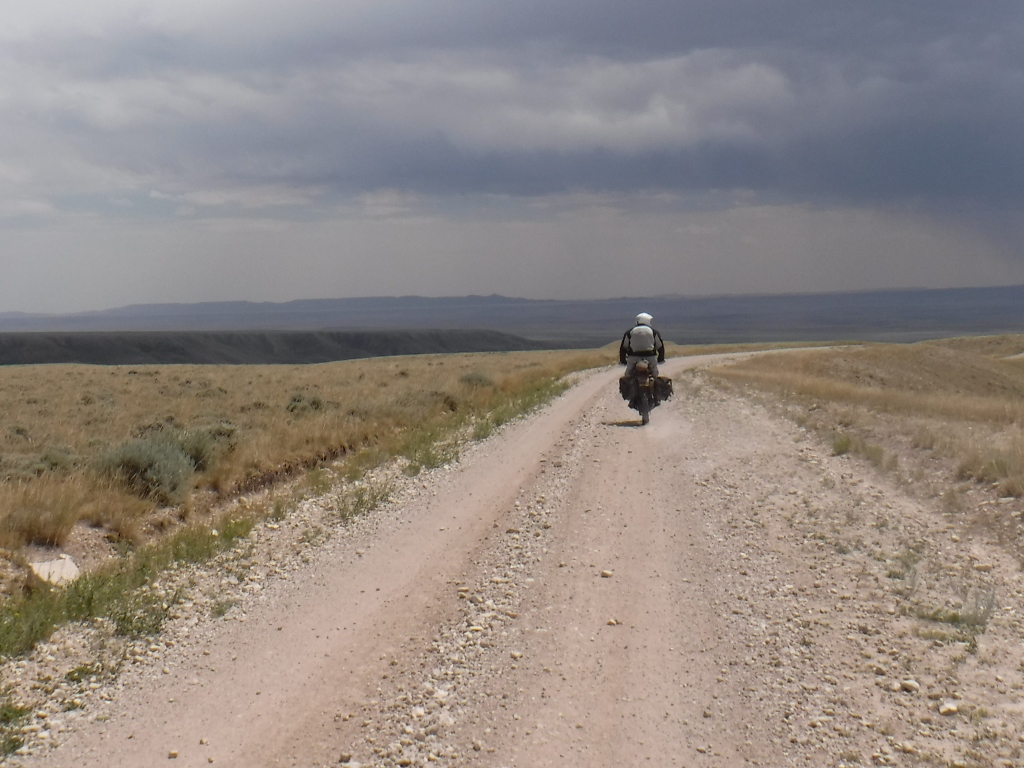 The RV campground in Cody thru us down in a hole away from all the fuss.
You couldn't even see the big RV's from where we were at.
Some slept in the teepees.
I set up my tent-----crawled in it and it rained for quite awhile but finally quit.
Later on the campground catered a really nice dinner down to us. It was awesome.
A nice lady in a pickup truck brought it down to us.........that was so nice.
A shower house was up the hill and most got all cleaned up.
All this had been pre-arranged by Ron who organized the ride and routes.
GPS file were handed out and you followed the little line-------a no brainer.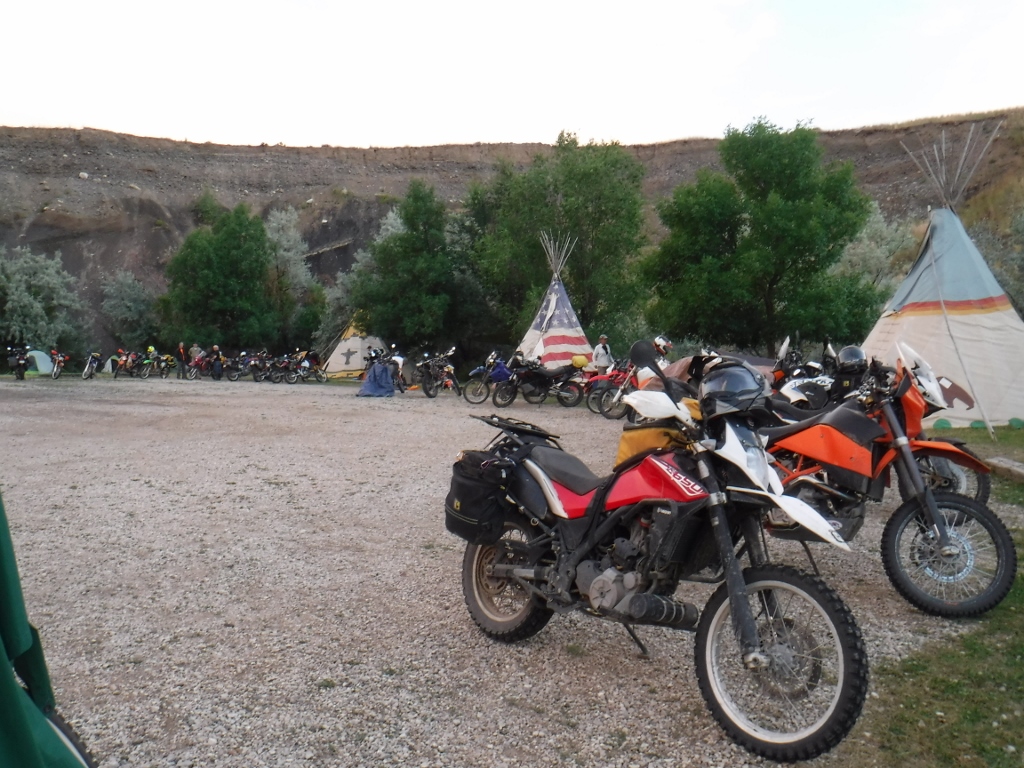 A short video of todays ride
A map of our ride today.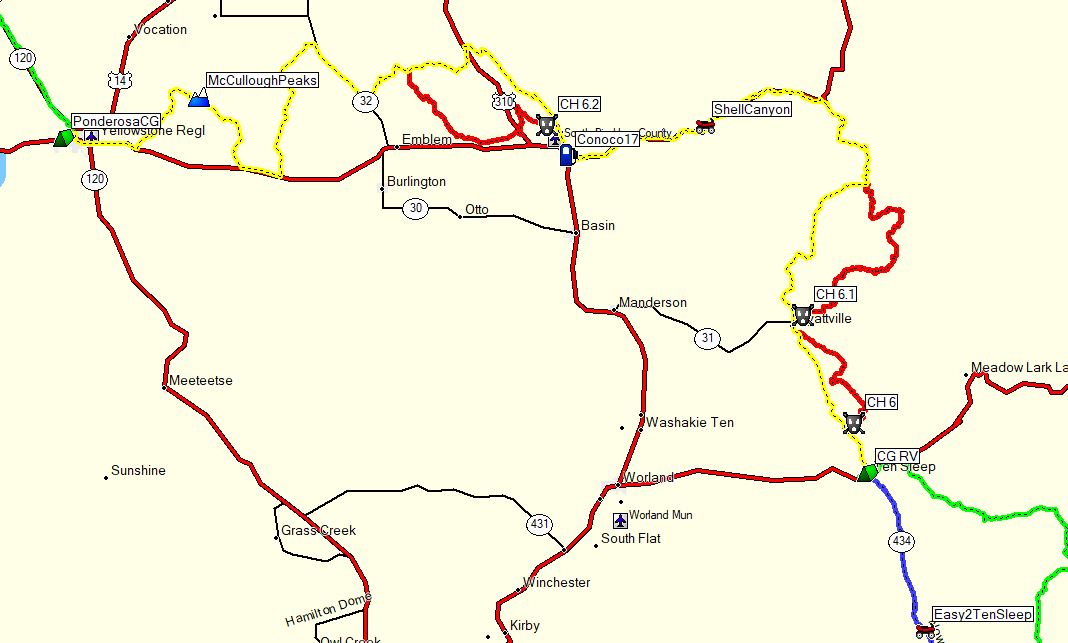 Day 7
July 21st, 2017
Cody to BigTimber, Wyoming
Again-------Big Timber is not big-----a very small town, with a campground.
That first rider in front of me was LadyBug. She rides alone and don't want anybody following her.
So she pulled off at the scenic view.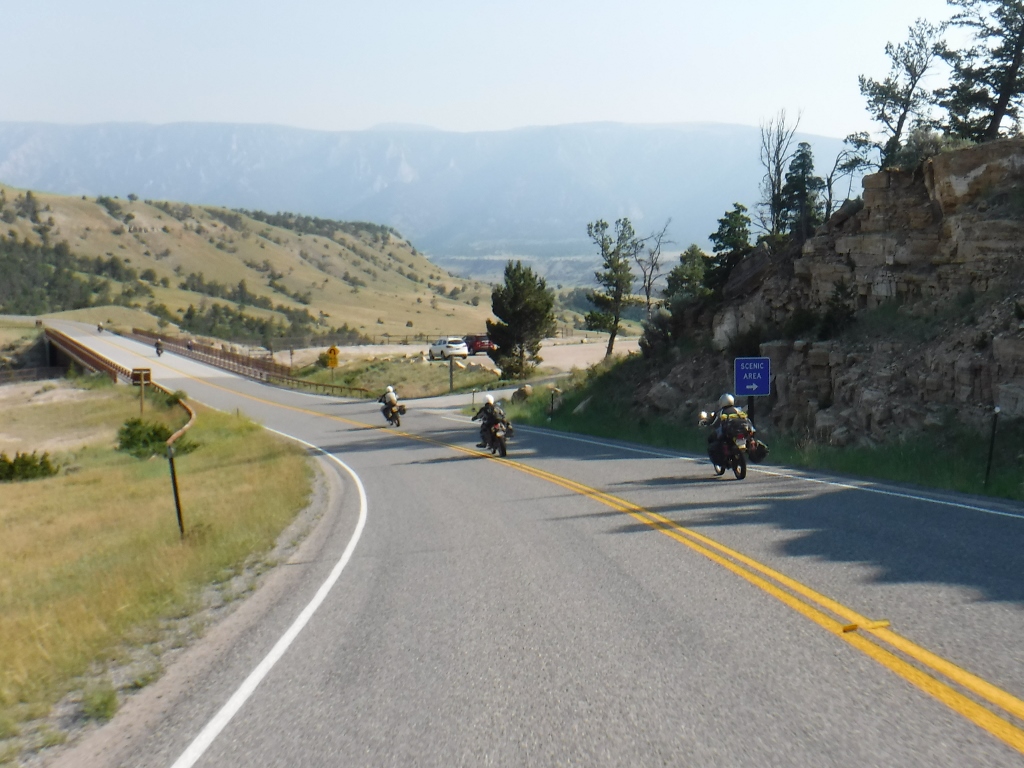 We rode a lot of pavement today.
At least it was the best pavement in the country---------Bear Tooth Pass at about 11,000 ft.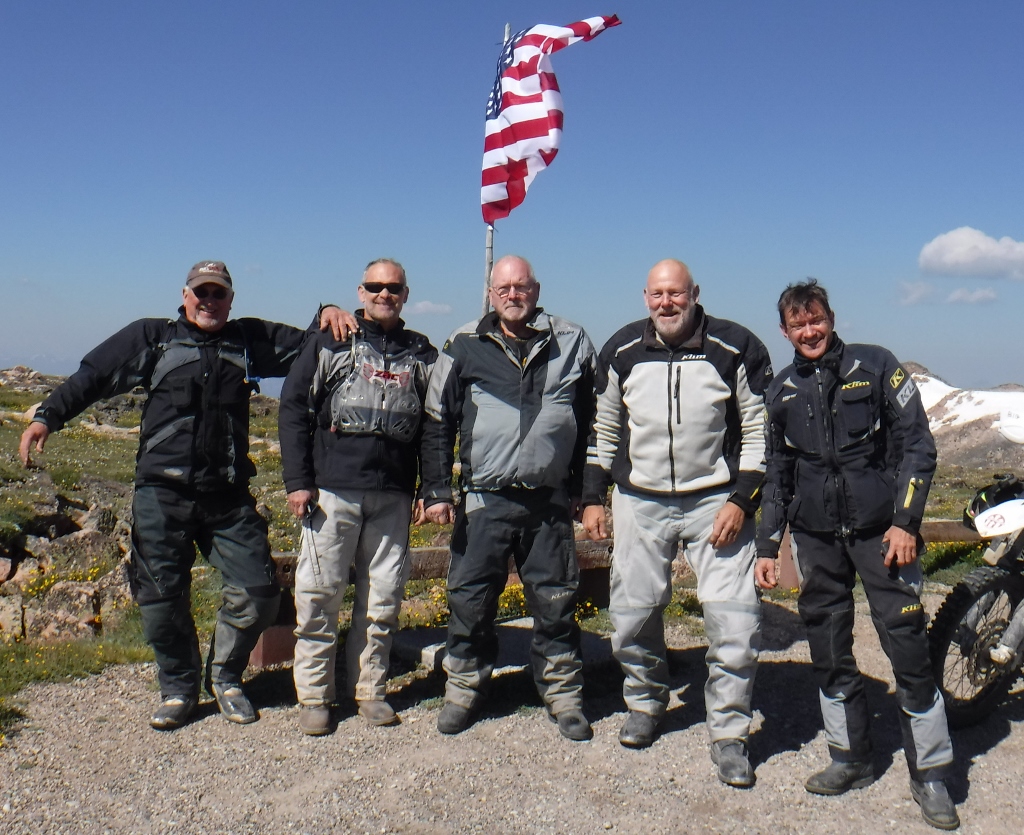 A guy had rented this Indian and I went over it so much he offered for me to sit on it.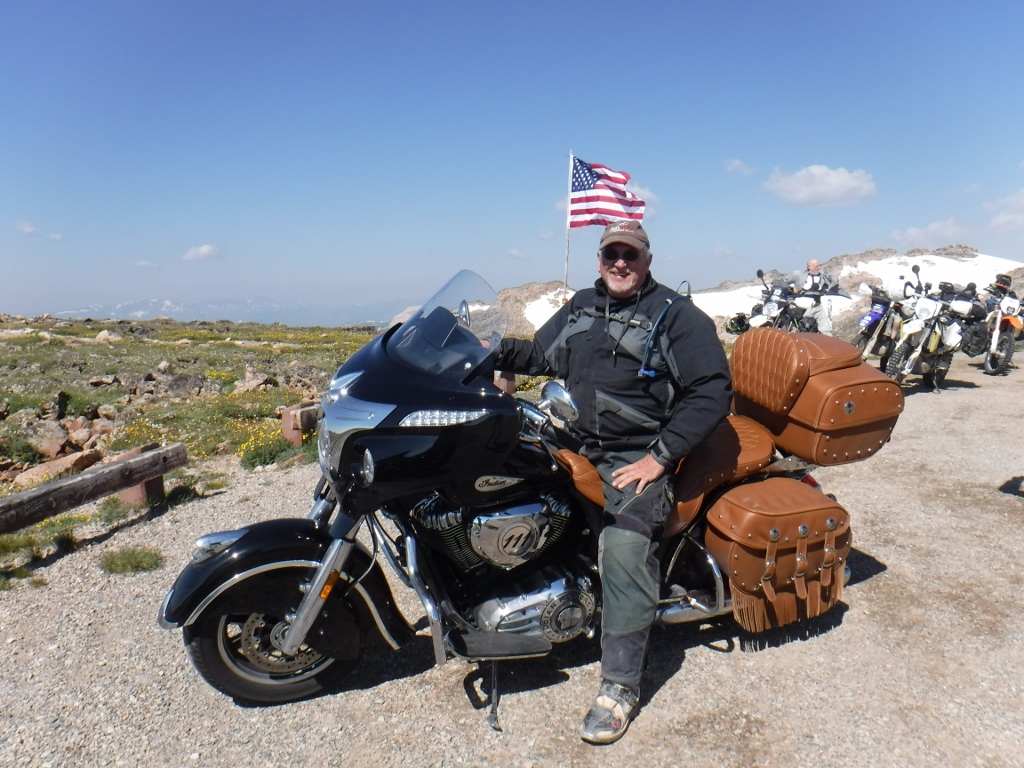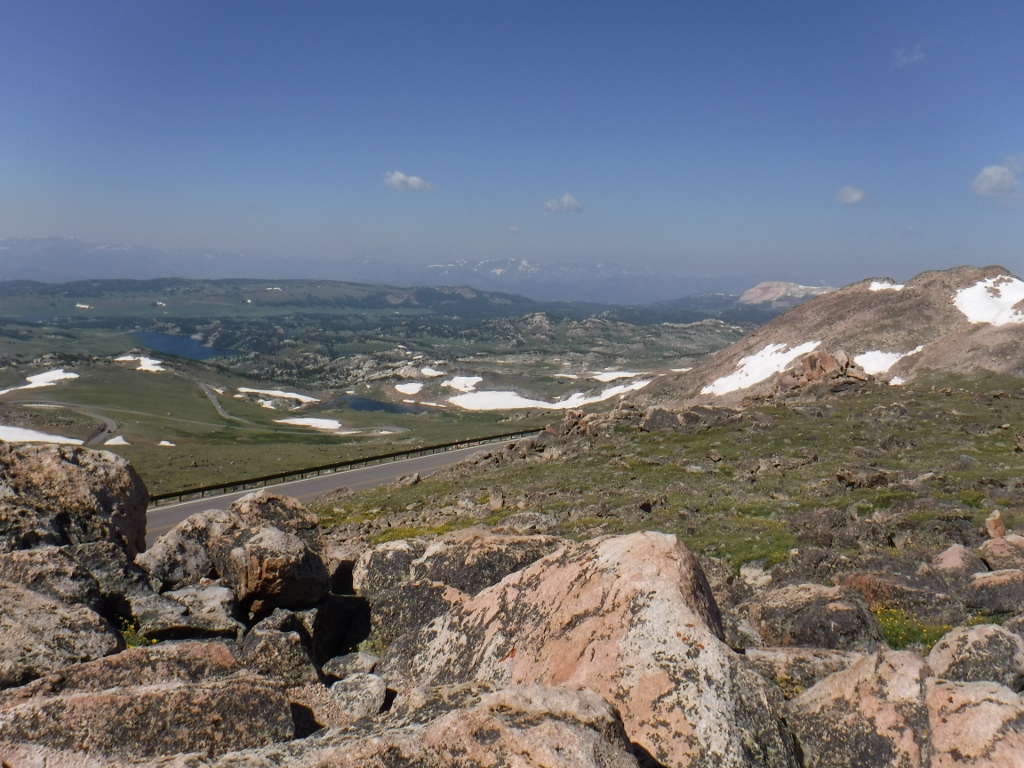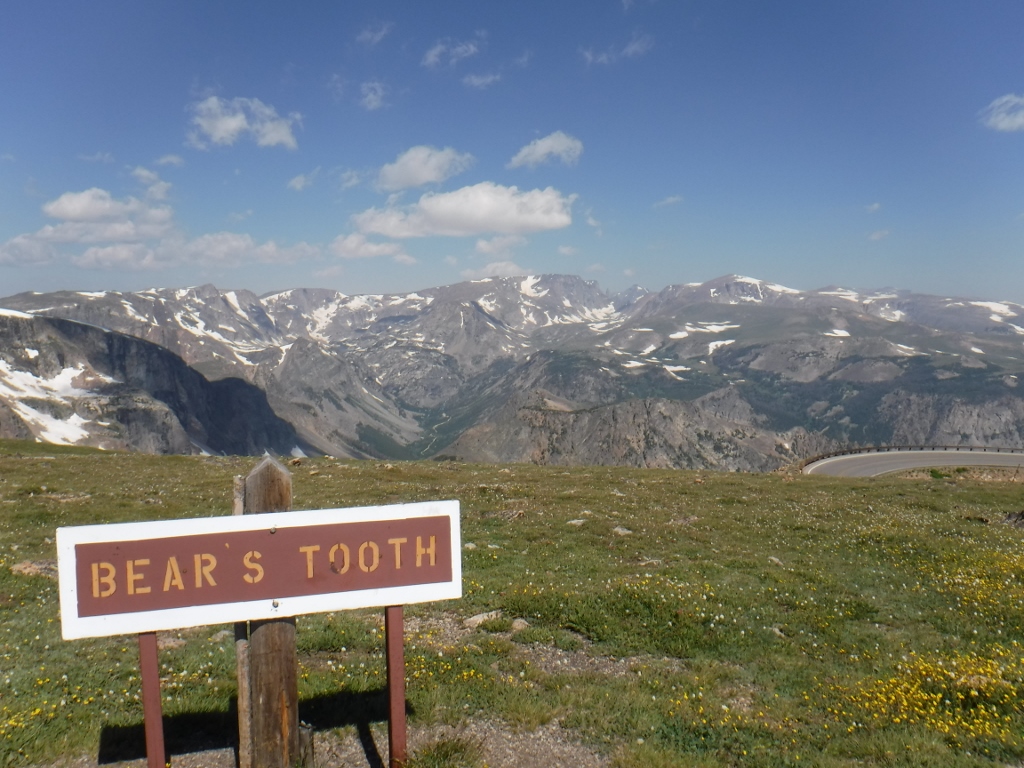 Somewhere coming down off of Beartooth pass High Five had to leave us.
Oh he didn't want to.
I sure enjoyed his company on this ride.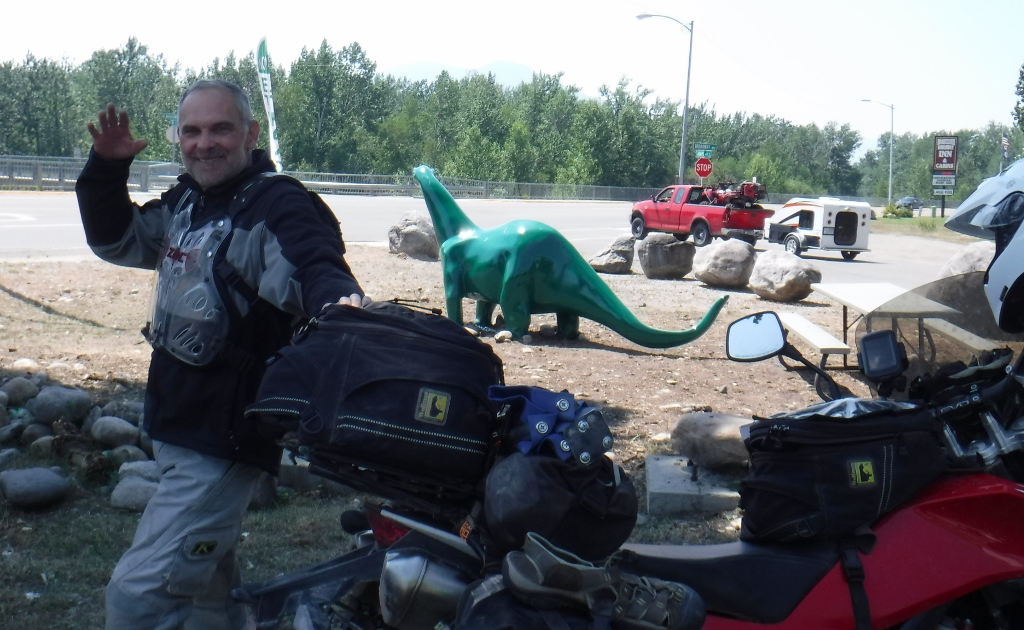 He's imitating the "Harley Wave"
We saw lots of that.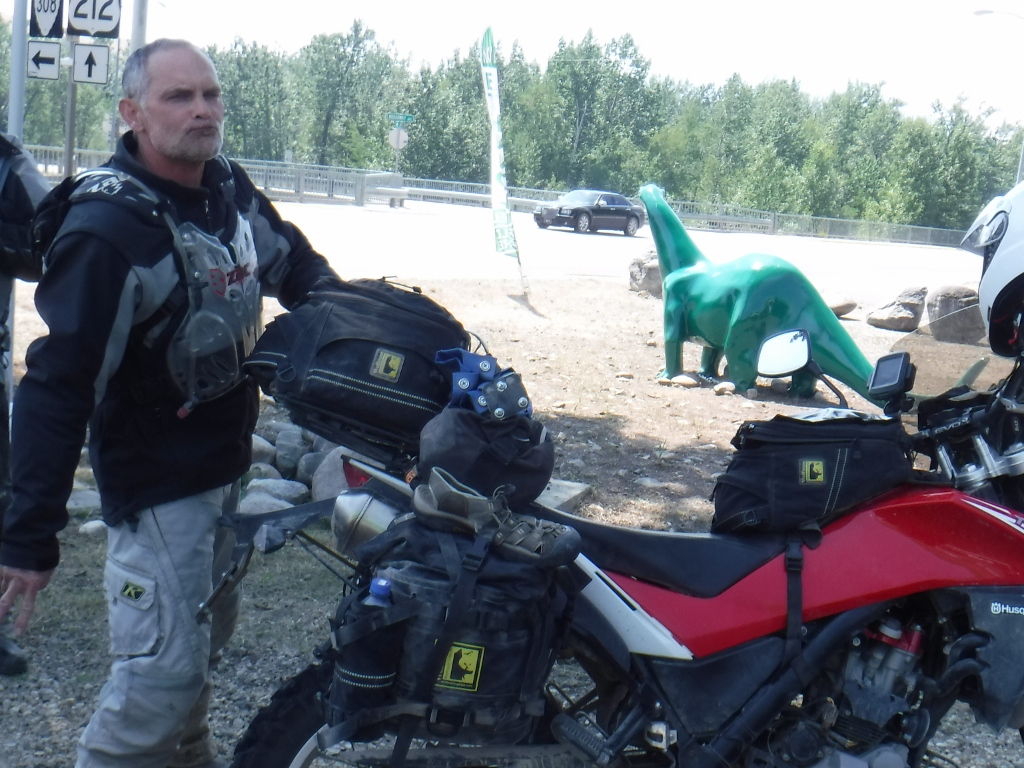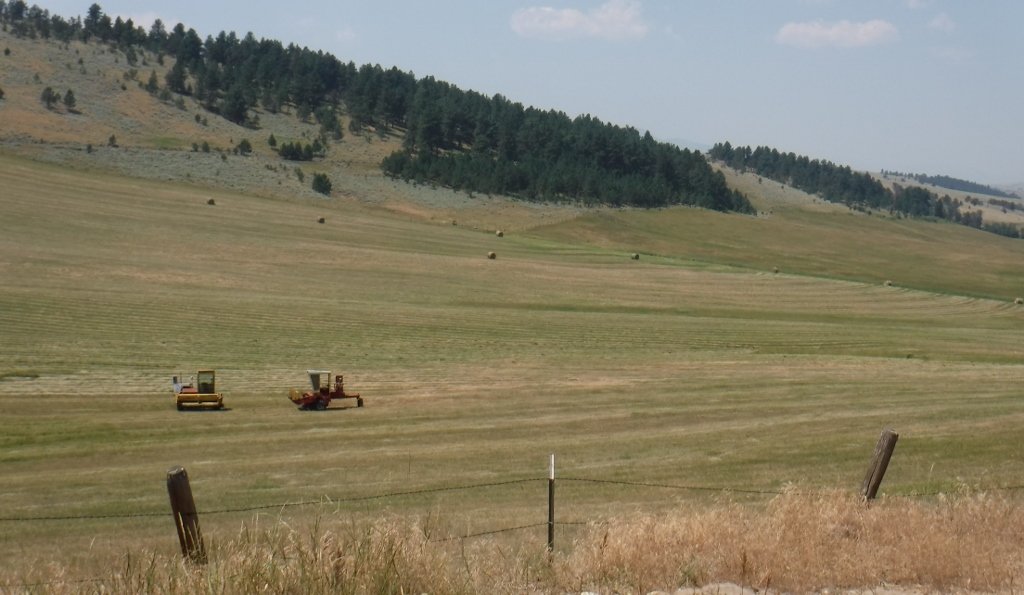 Ron who laid out this ride asked for help laying the route out.
I had sent him some tracks last year that he used and I had sent him the track thru here.
He didn't use it as such--------but somebody else had the same idea I guess.
I had ridden thru here last year on my Africa Twin.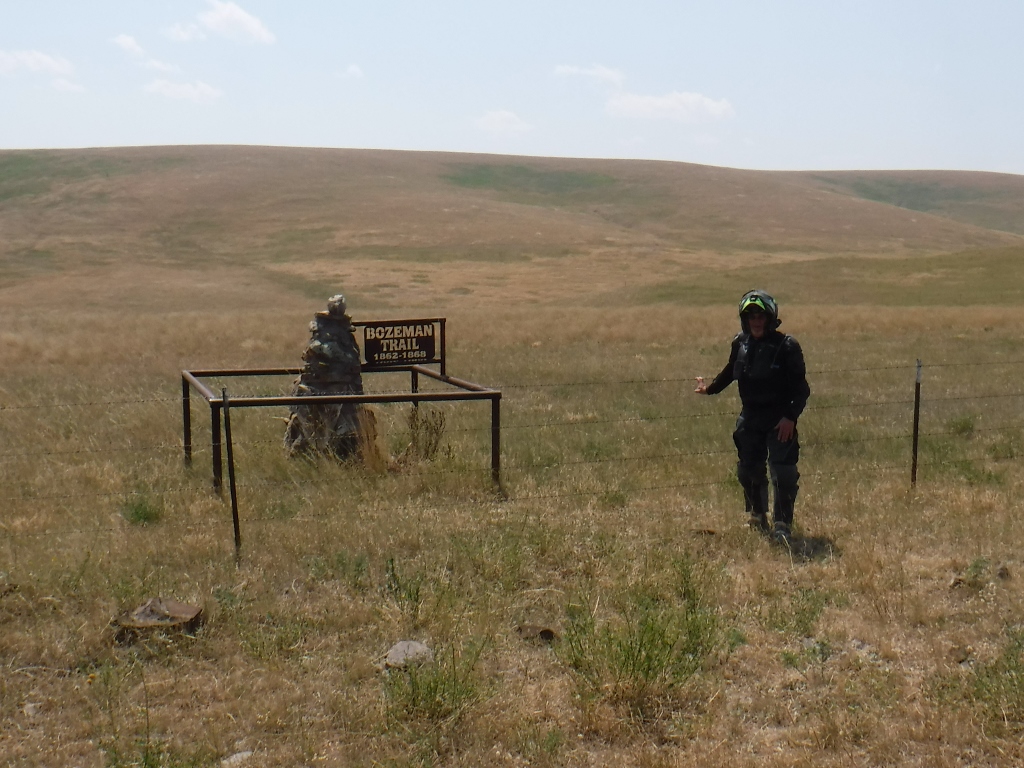 Google it-------I ain't typing for hours about it.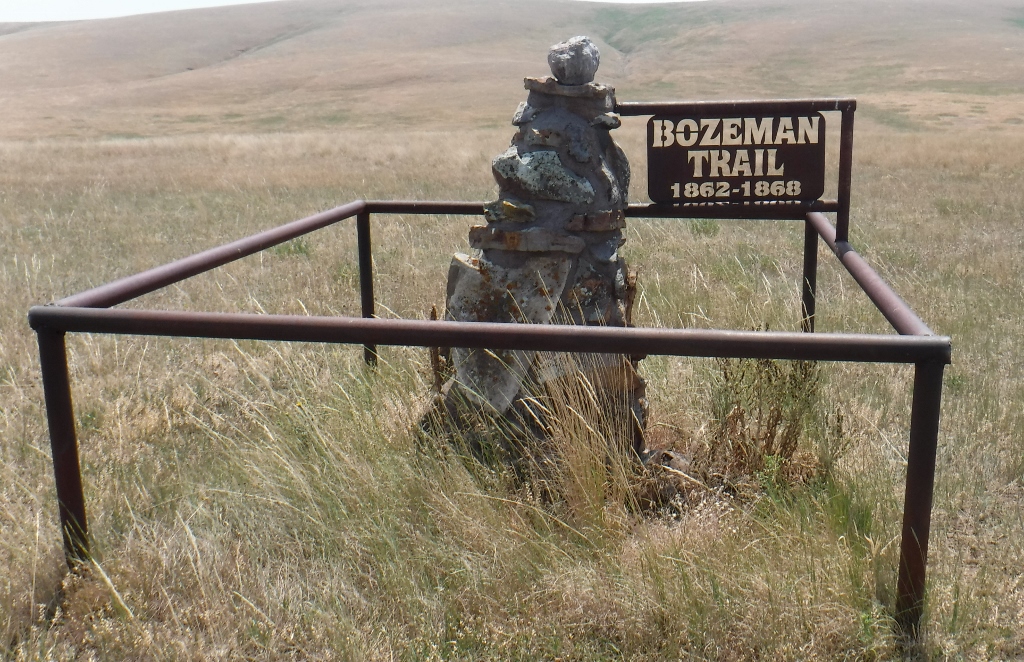 These were nearby.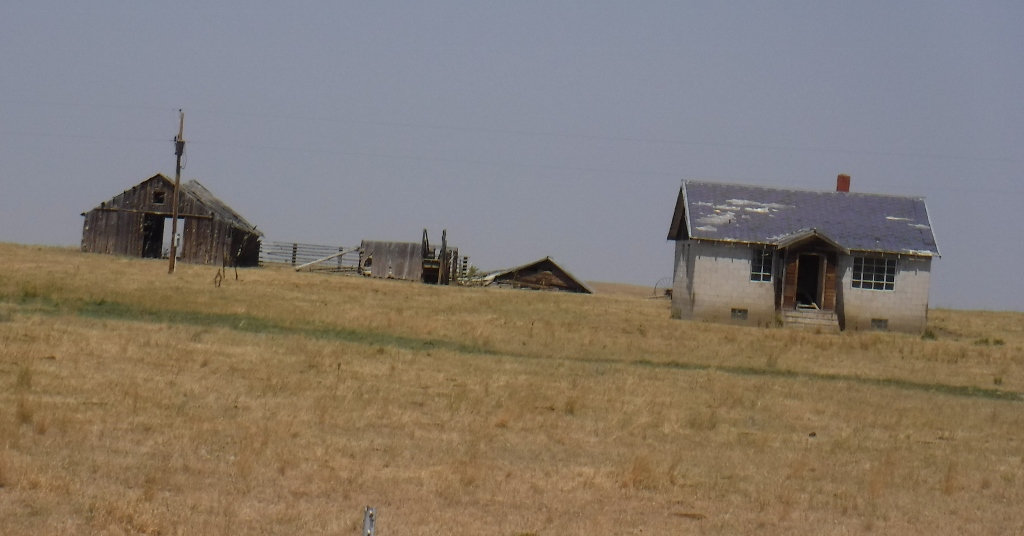 Todd checked out some old farming equipment left to rot.
His Husky 701 was perfect on this ride as was my KTM690.
We swapped bikes for a bit-------and decided they were about the same.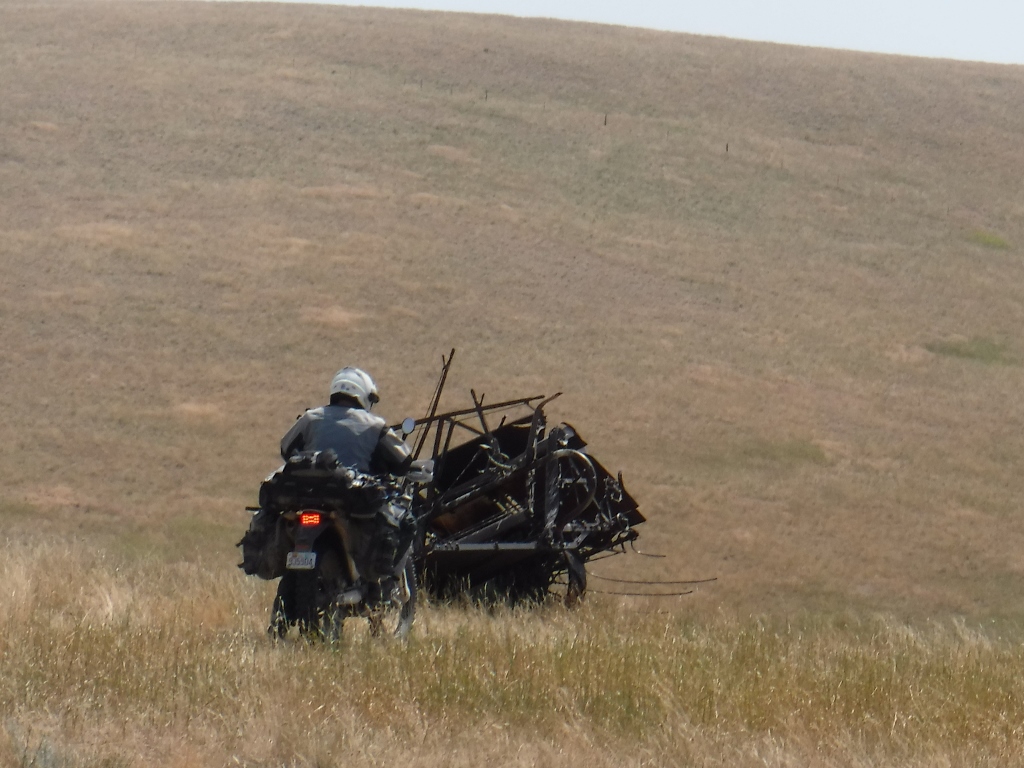 In Big Timber we ate at a local cafe then went to our designated campground and did a little laundry
in the Boulder river.
You don't want to soak in it--------you'd be gone in a second.
We set up tents as close to the roaring river as we could and it lulled us to sleep when the time came.
And....................drowned out Dingweeds snoring.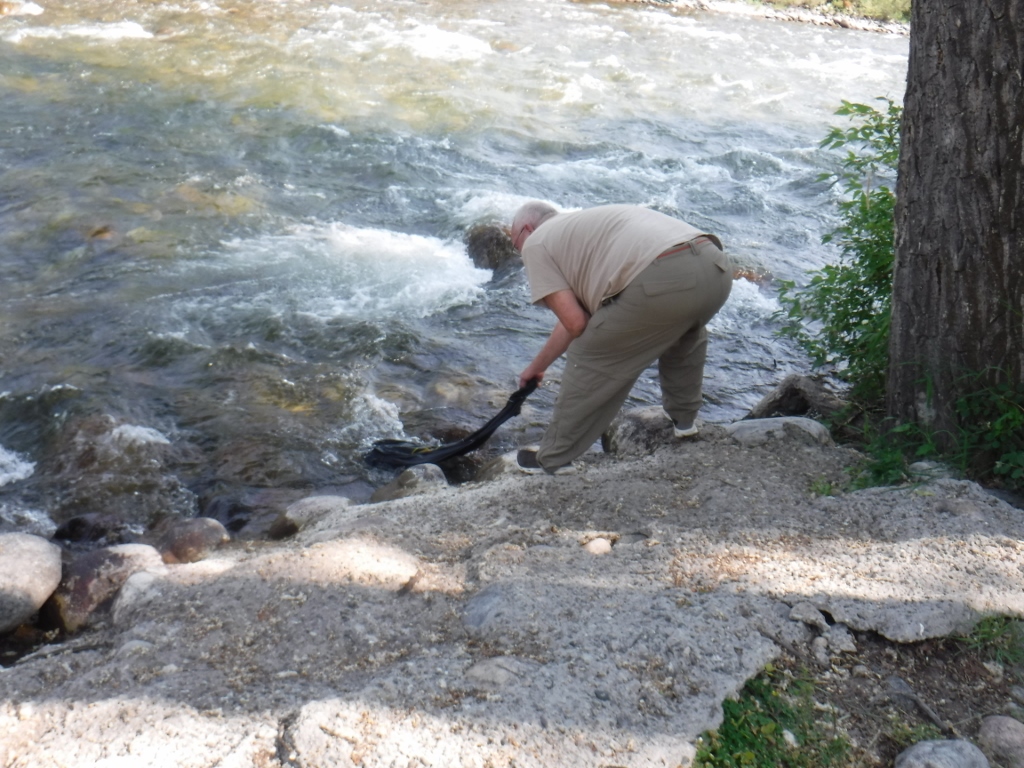 A Short Video of Day 7
A map of our ride today.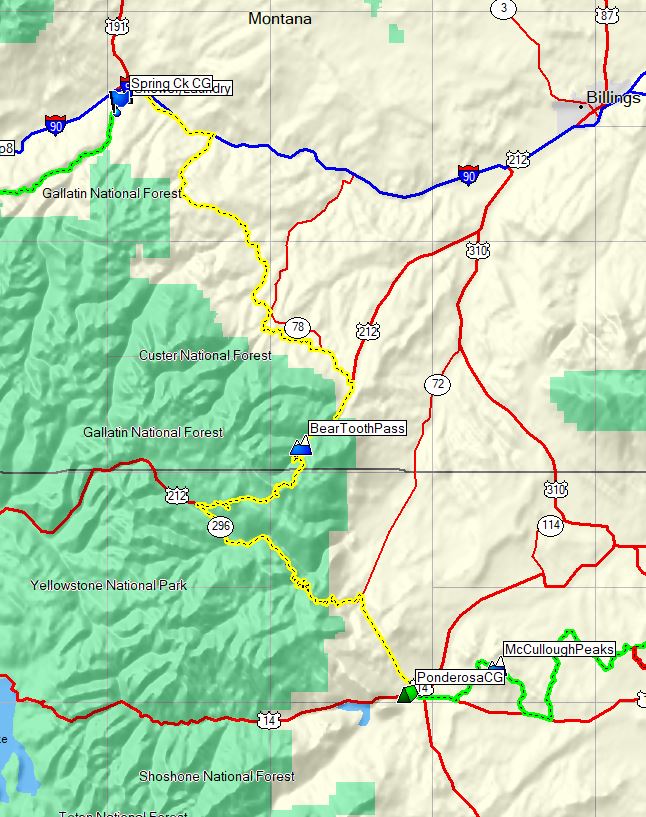 Day 8
July 22nd, 2017
BigTimber to Whitehouse Campground------------err..........motel in Boulder.
This is my buddy Kaysee---------he's a happy guy and it shows.
He's Allan's best friend and they came to the ride together and have actually rode all over---even Europe.

Anyway------------I started calling him Lyle and he'd been called that before.
He favors a favorite musician of mine "Lyle Lovett".
Especially when he first takes his helmet off and his hair sticks straight up.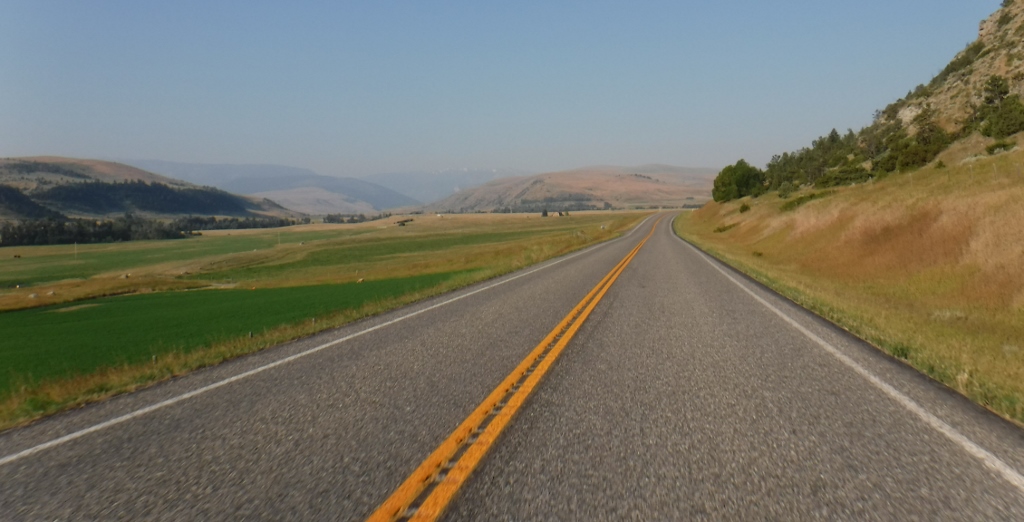 A bit of pavement and into the Gallatin National Forest we went-------it's not over yet.
I look down...........I'm being followed.
Descending Flathead Pass
After this picture the road went what seemed like straight down----and we all slid down in loose rocks.
Myself-----I knew I couldn't climb back up this on my 690---------on my 350 yes.
It was the hardest part of the whole ride and when we got to the bottom all of us had severe arm pump.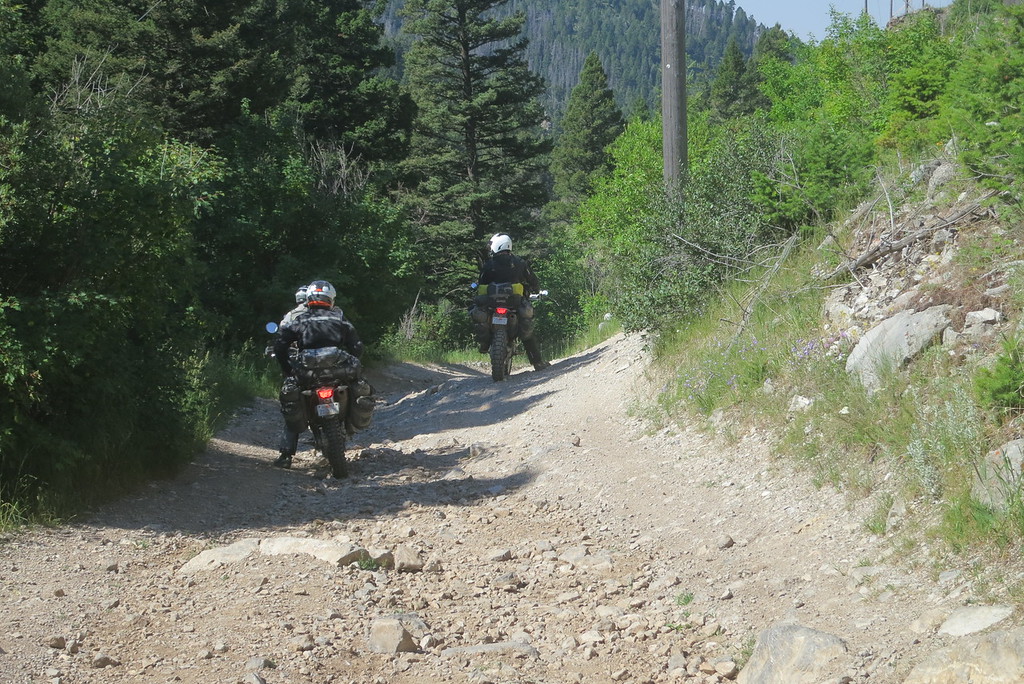 He can't hang with me when the big 690 hits 6th gear.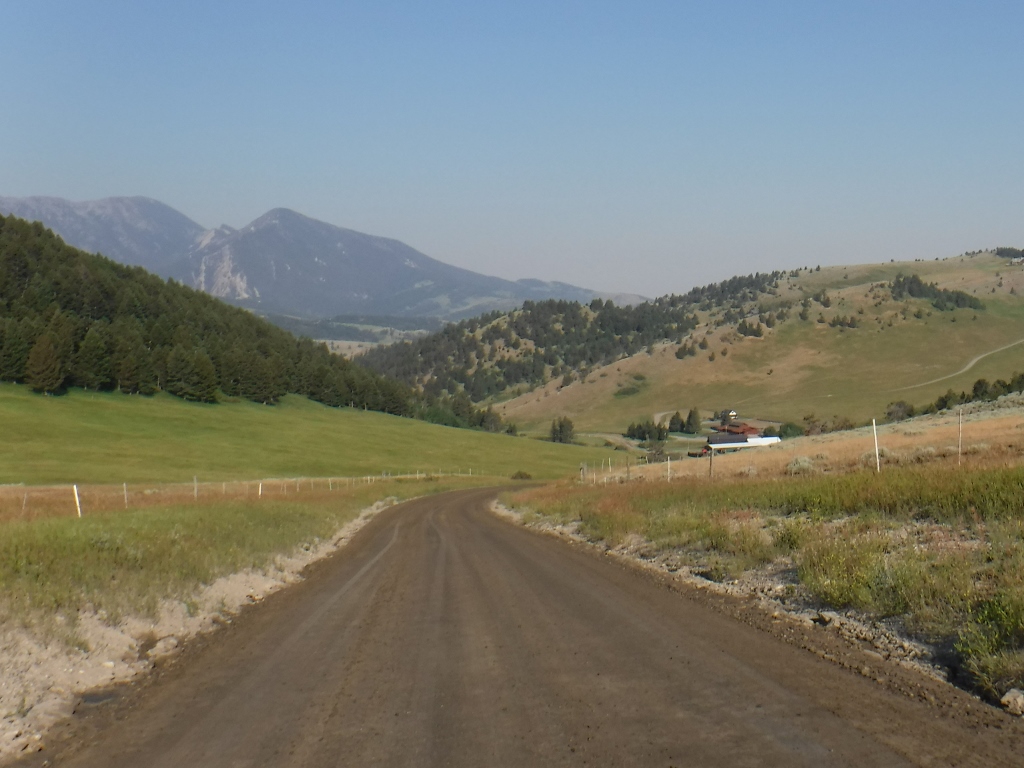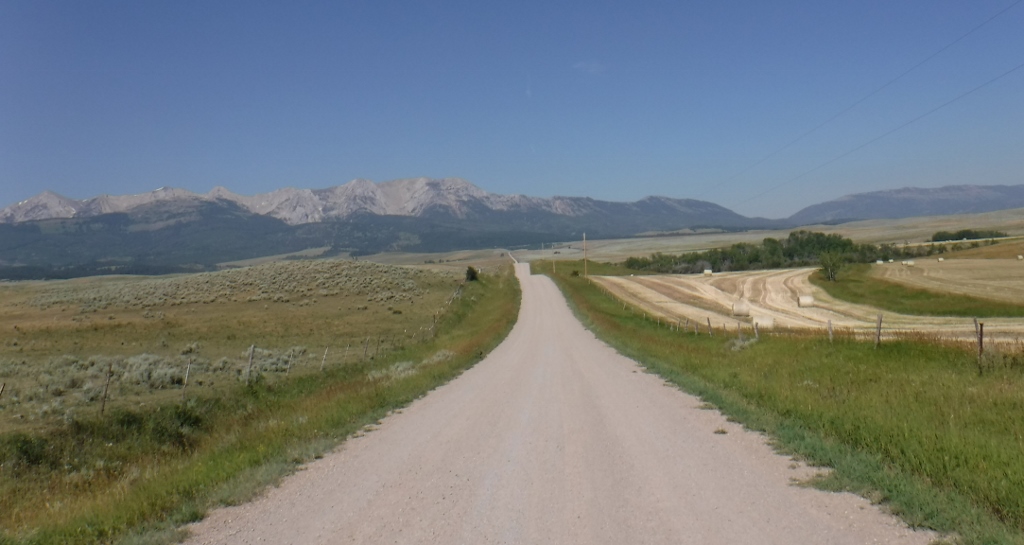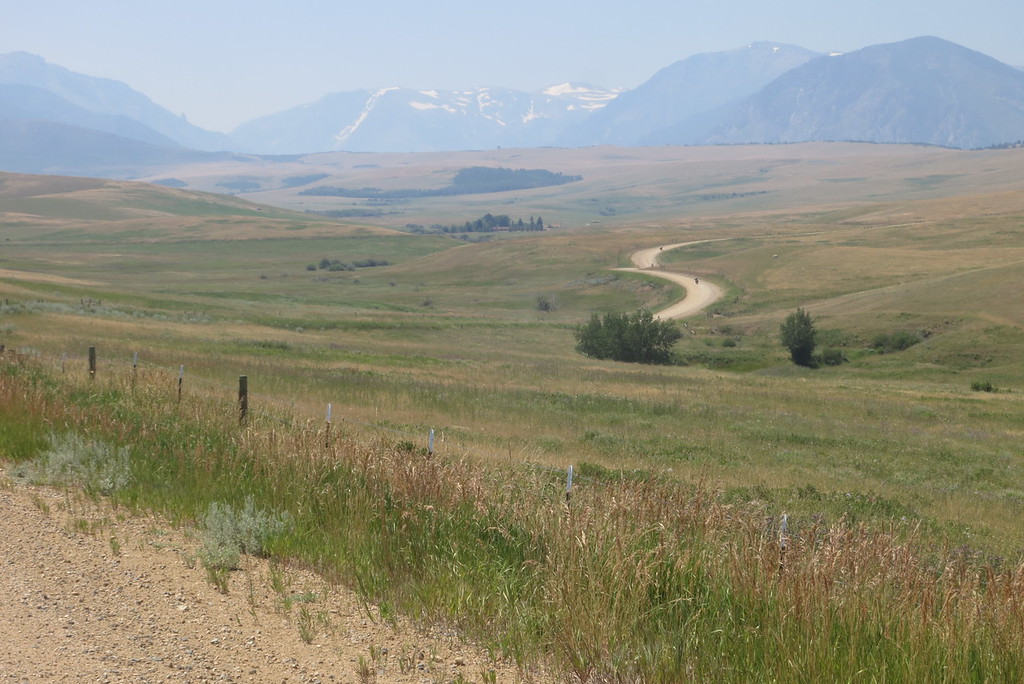 Seems I don't have many pictures of today-----------but we rode this desolate road for I bet 70 miles.
I love this old house still standing.
At times we road between fences-----the only way thru the private ranch land.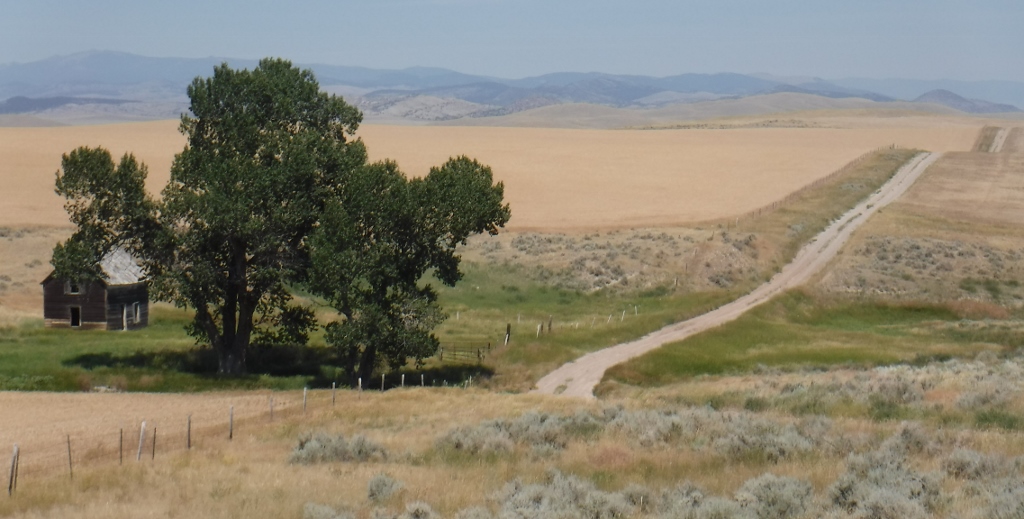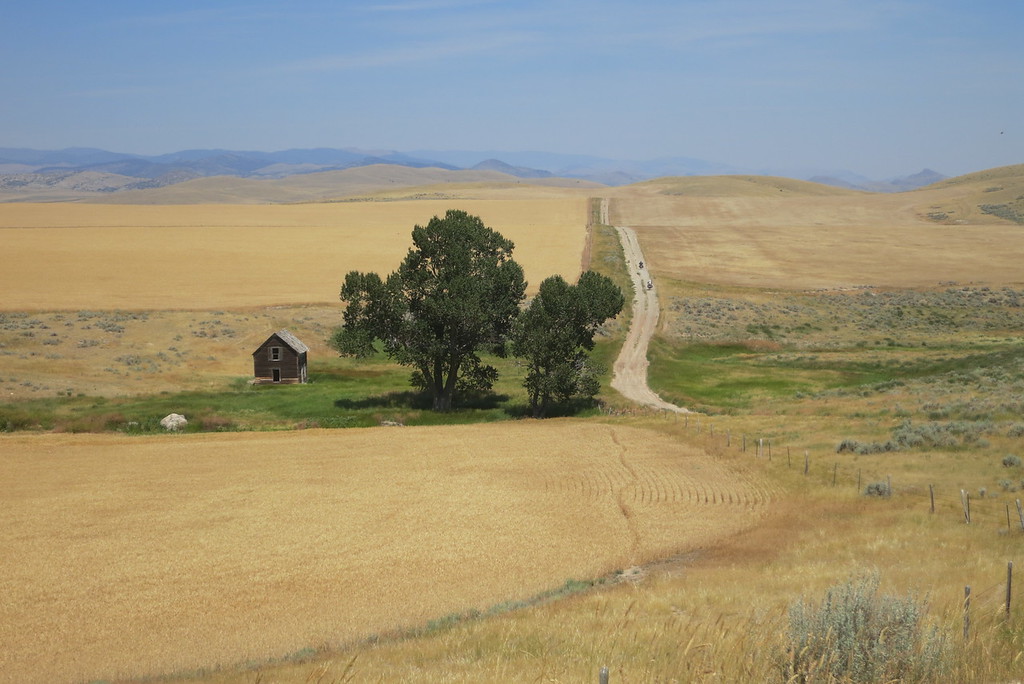 Not sure where we stopped to eat------but Will snagged a burger that would choke a horse.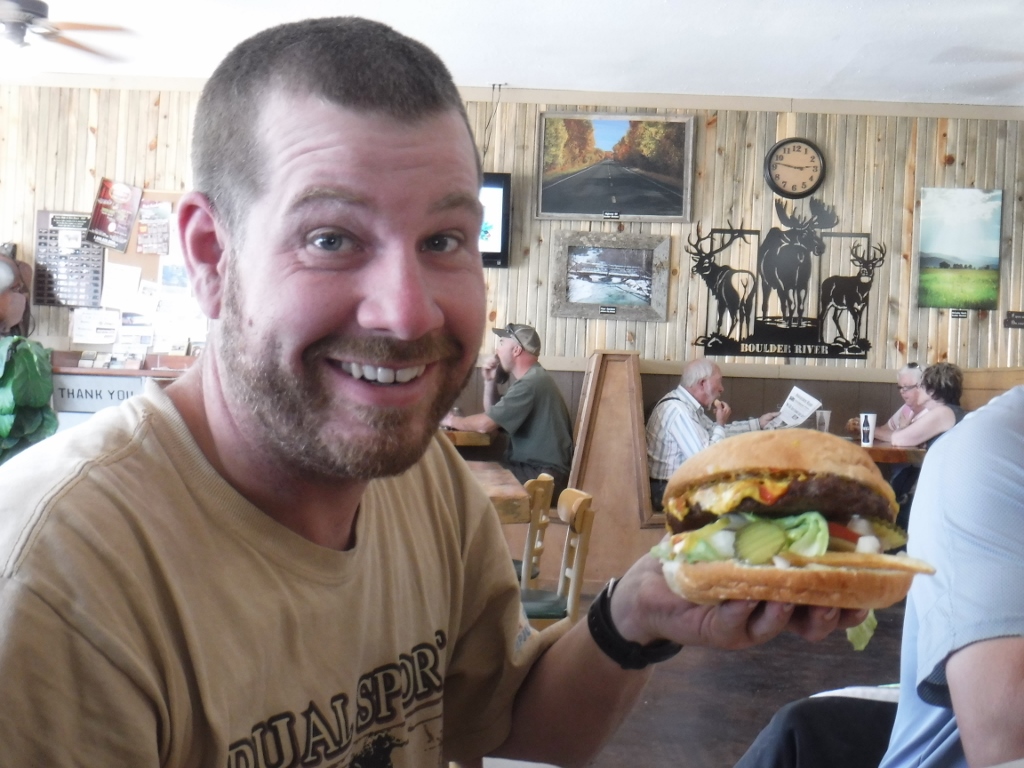 And as Todd (Mr. Ice Cream) walked in I stuck this 5 gallon bucket of ice cream under his arm.
He was in heaven.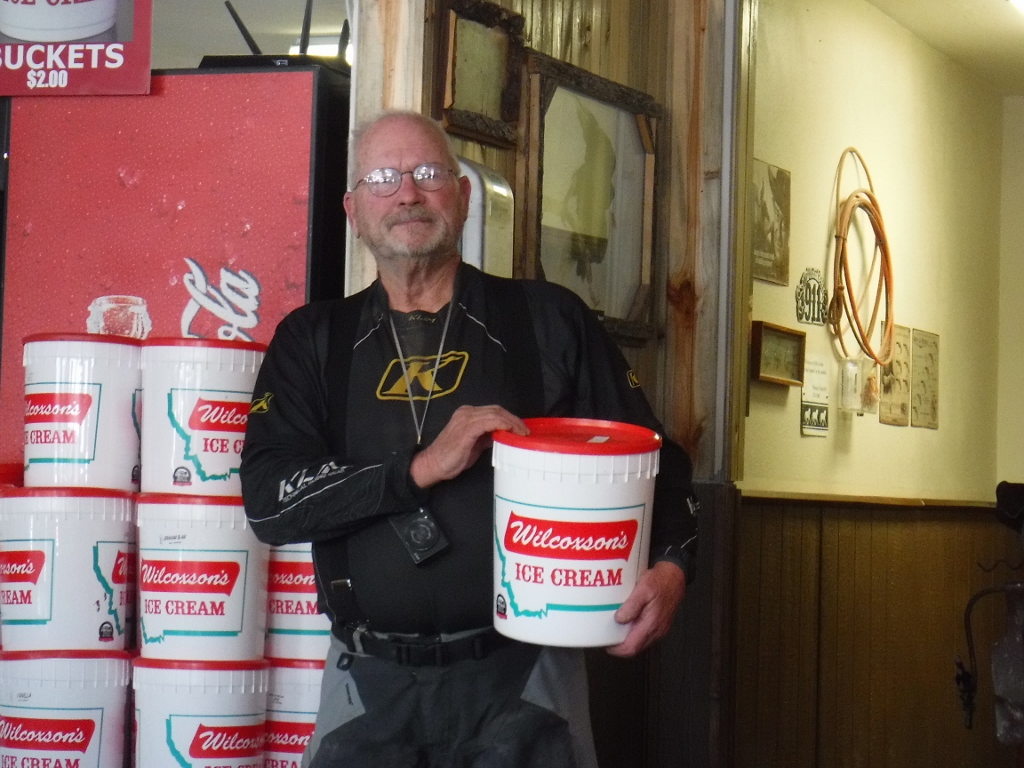 There's some food on top of the Chuck Wagon----------just in case.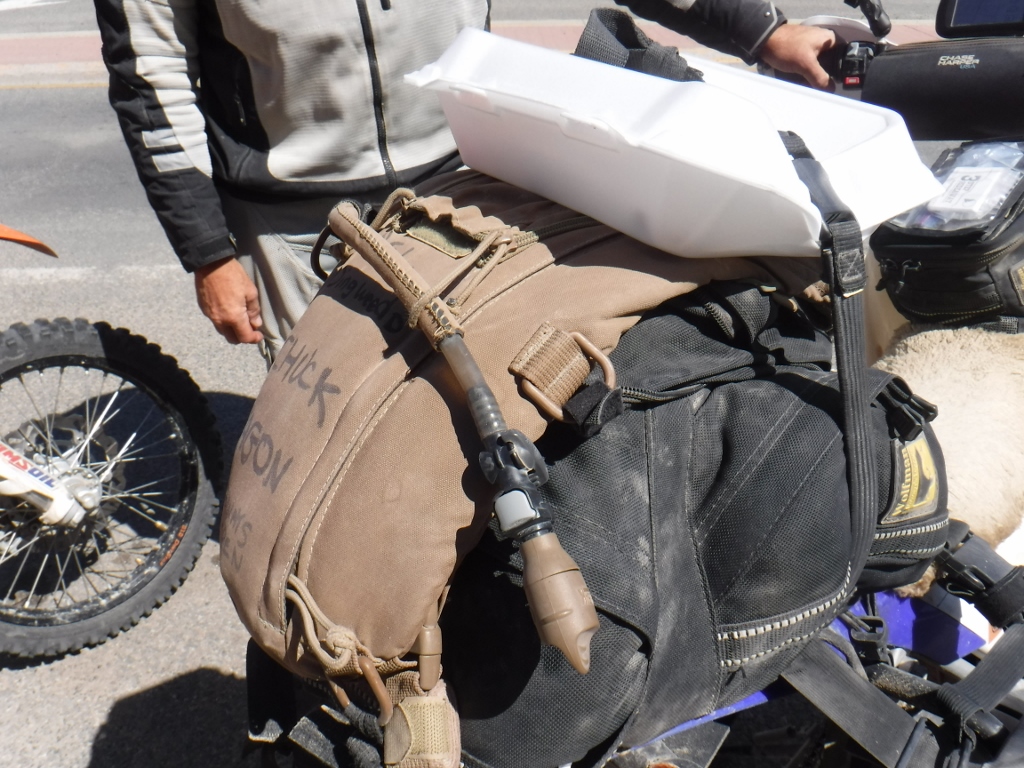 Me Dingweed and Todd got us a motel and a much needed bath and shave here in Boulder.
20 miles short of the designated campspot for the nite at Whitehorse.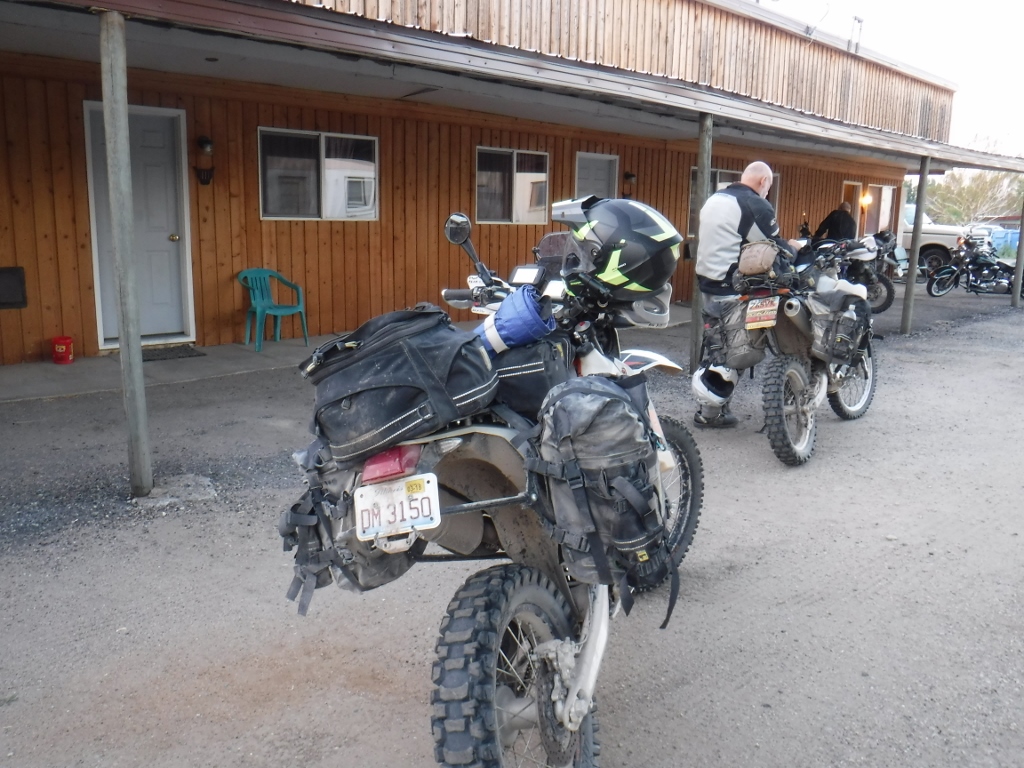 A Short Video of Day 8......
Day 9
The last day of our ride July 23rd, 2017
Whitehouse Campground (actually our motel in Boulder) to the finish back in Stevensville, Montana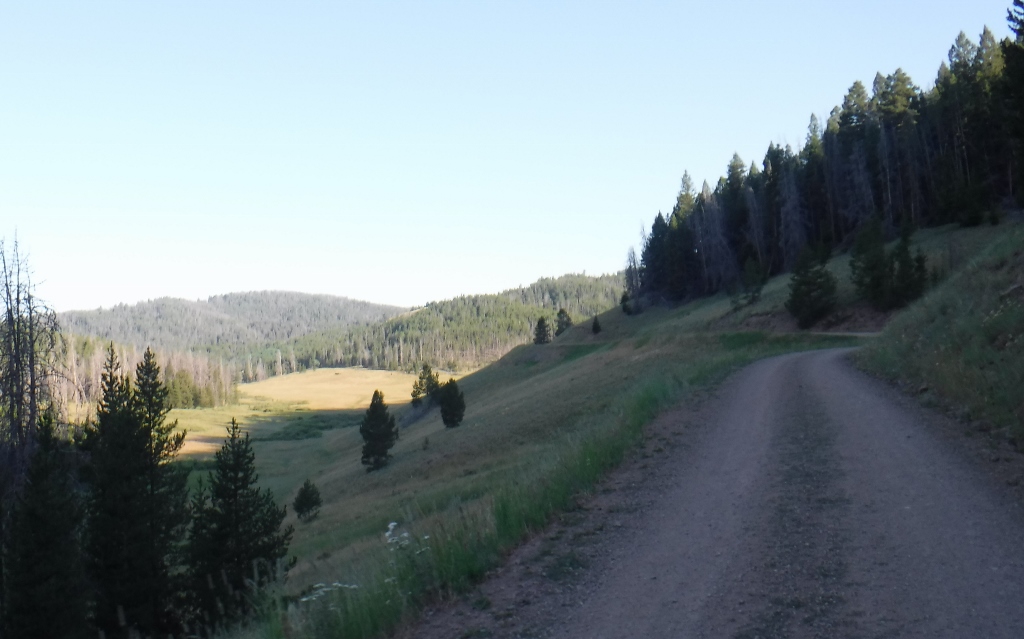 Not this picture but at some point our route ran thru Boulder under the interstate which is the exact route
of the Continental Divide Trail.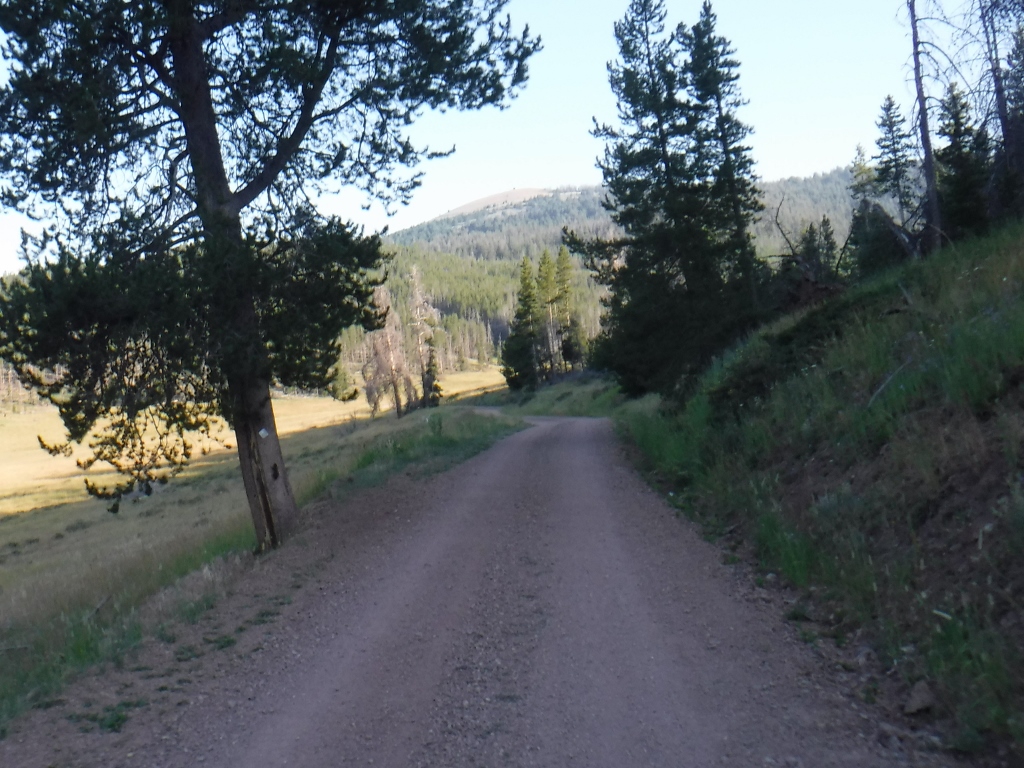 On Skalkaho Pass and Falls road I came around a corner and stopped as soon as I could to watch
Mama a baby Moose----------I've never been this close. I sat there with my motor off patiently and just watched.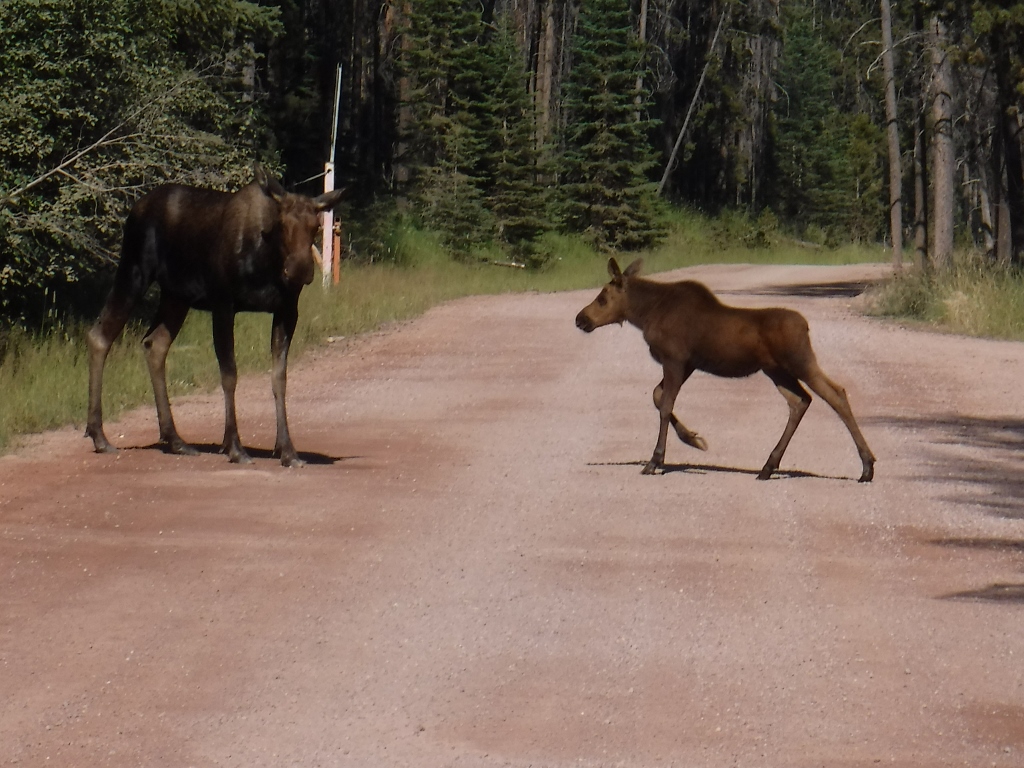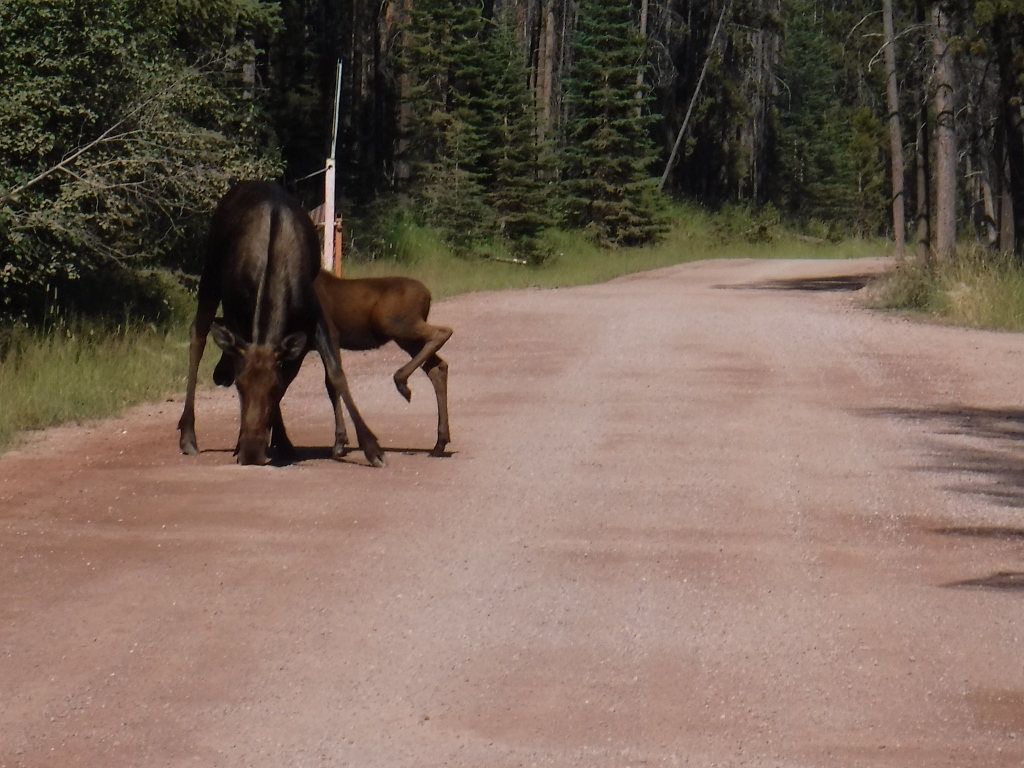 I know mama moose can and will stomp you in the dirt if you agitate her.
Fact---------more people are killed in Alaska by Moose than bears.
I was happy where I was at..................I think.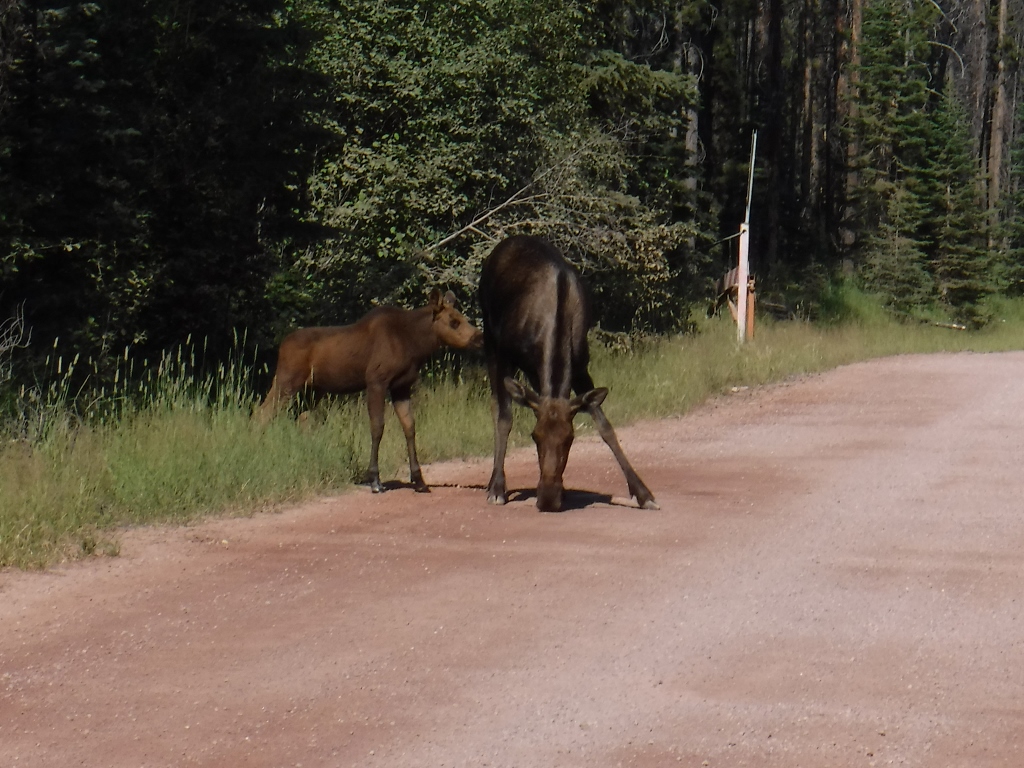 A lot of people lined up on both sides of her----some riders, some trucks to watch.
Everyone stood still to savor the moment.
Except one rider who showed up and was in a hurry and had no patience for this or anybody else.
He revved his motor and and rode right by------I was stunned as she stepped out of the way.
Well that ended that for all the rest of us.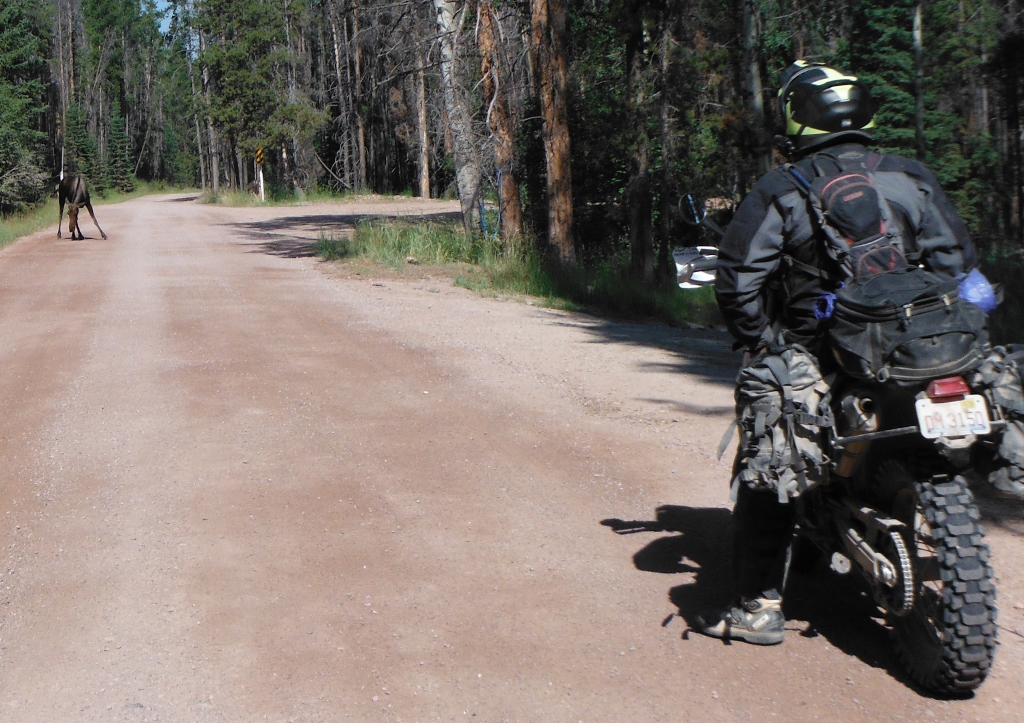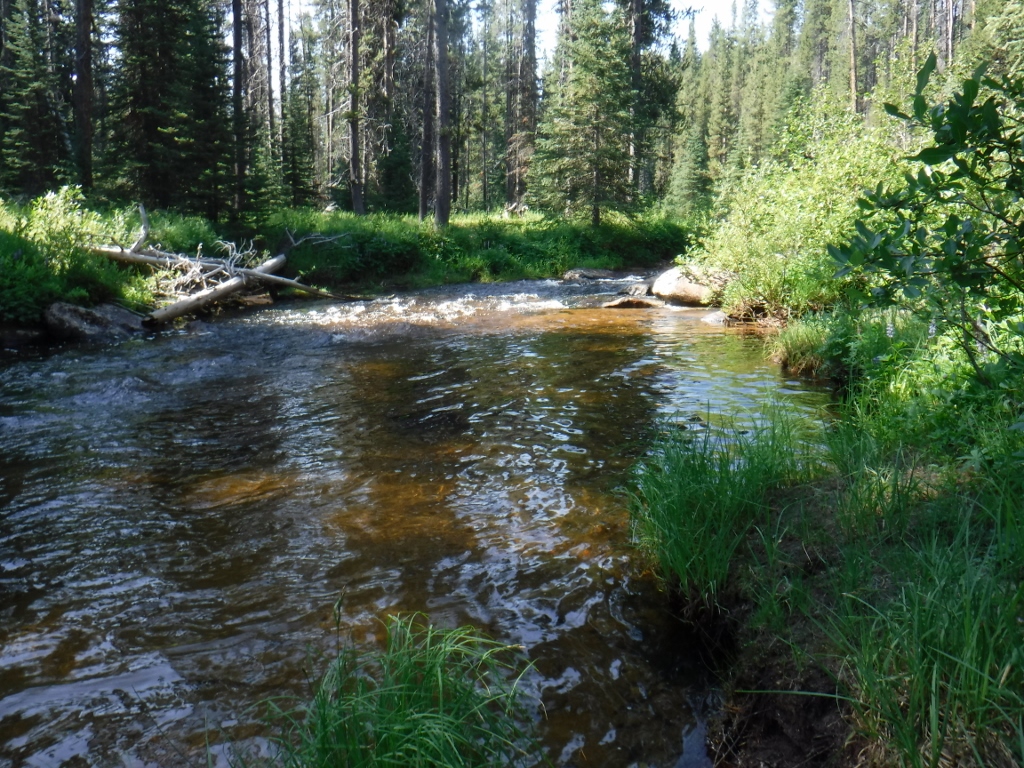 Skalkaho falls was around the corner-------I've been here a few times.
The falls go under the road and down the mountain.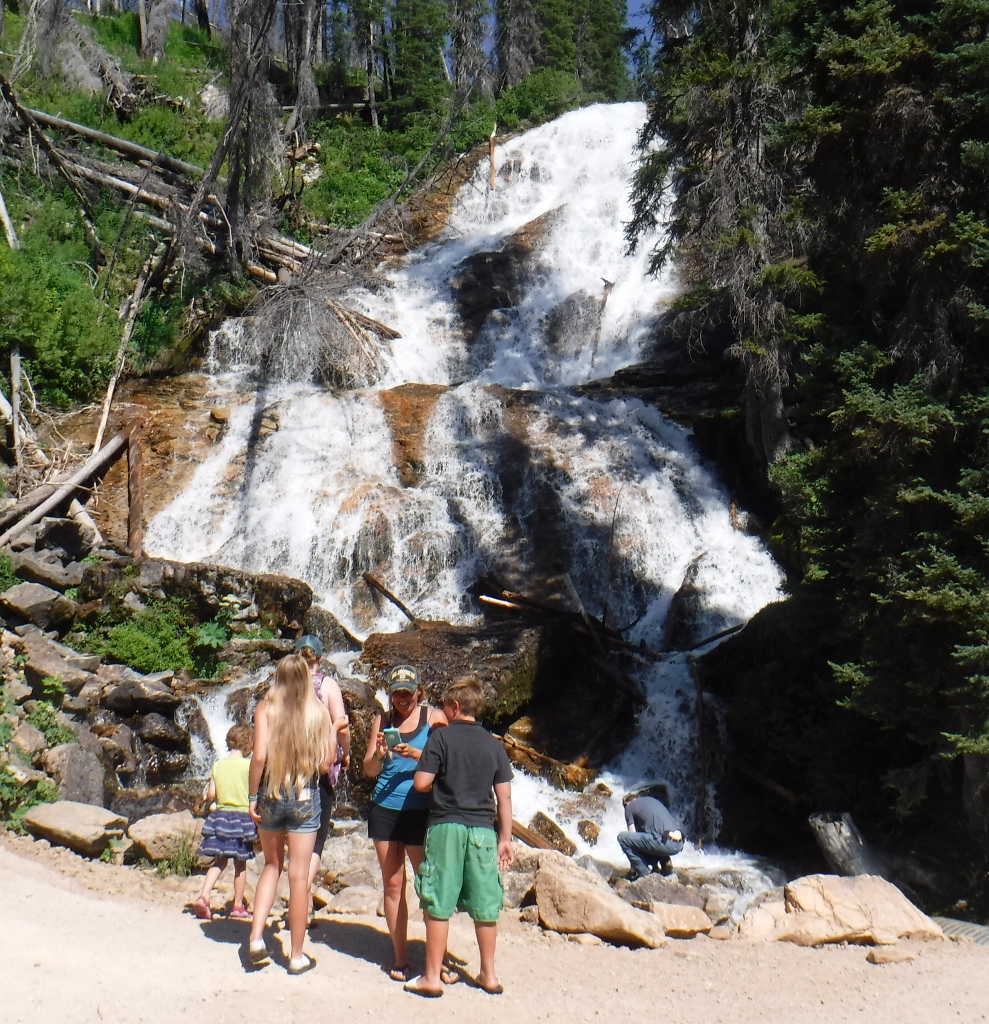 At the end of the ride it didn't end------at least for a few.
Mark, his wife and a few other folks had steaks and drinks ready for us.
It was just about 1 PM and we were in no hurry and ate till we popped.
Most riders missed out on this as when they got close to their trucks they headed home
missing this good food and time.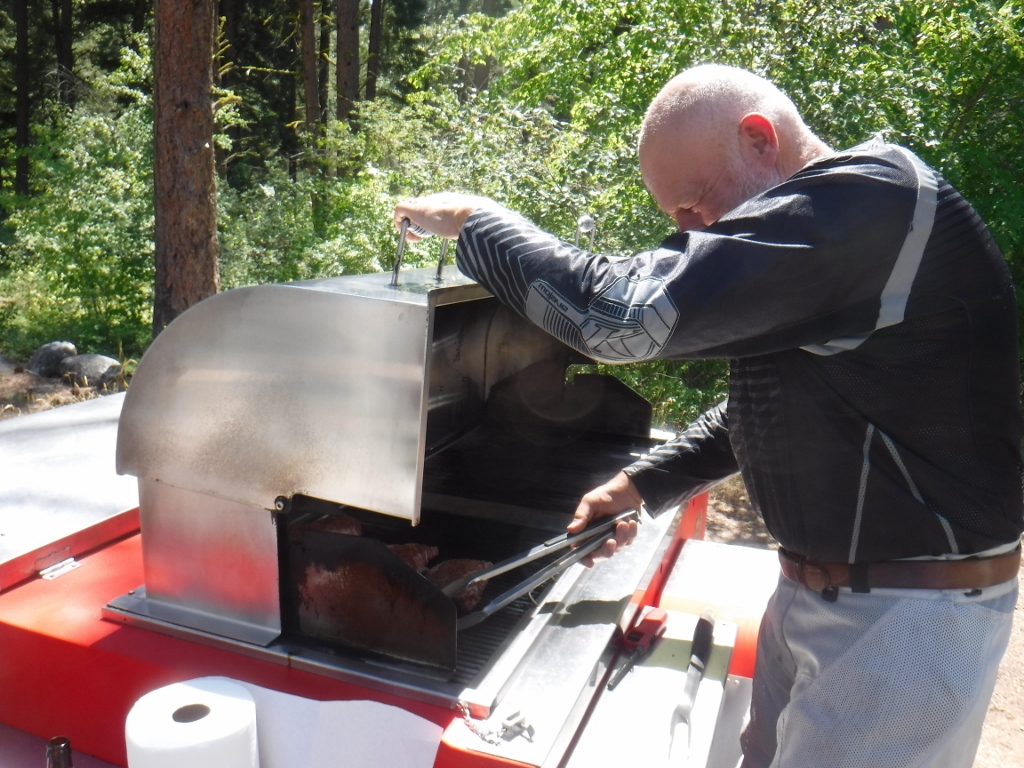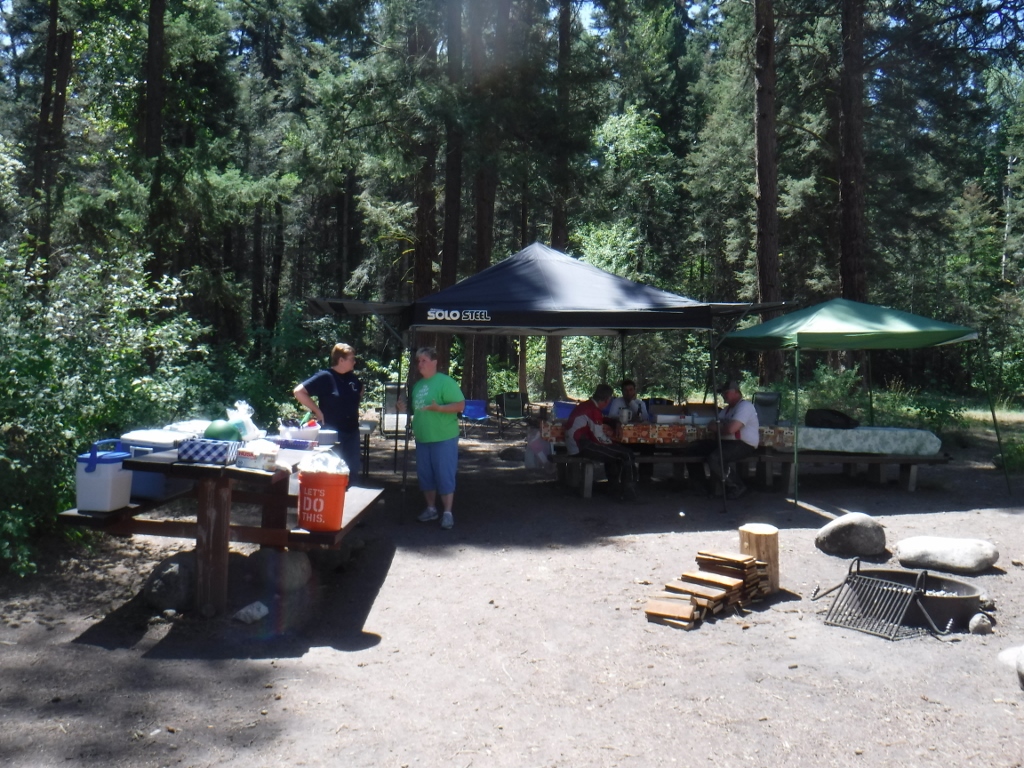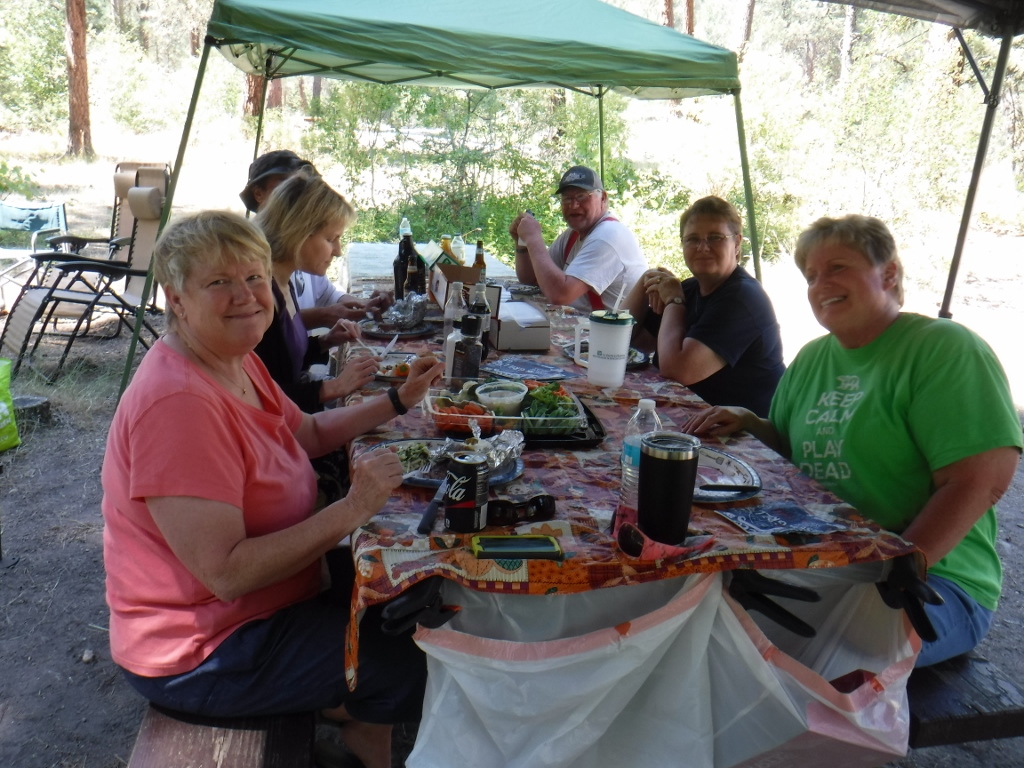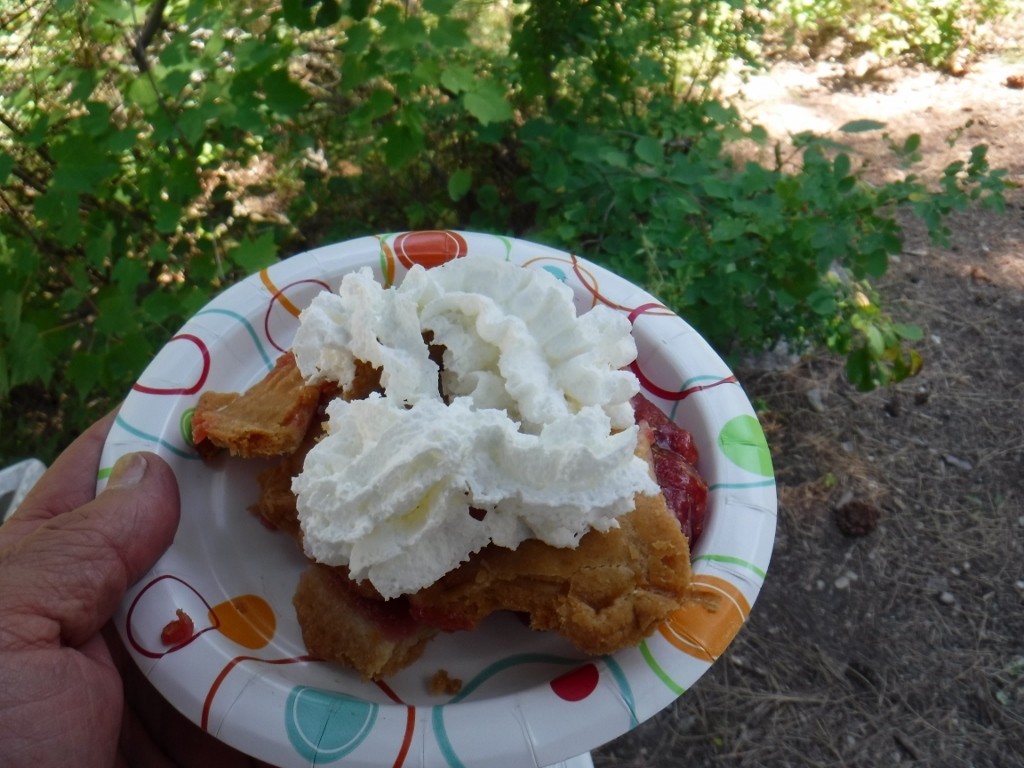 A couple people couldn't take it no more.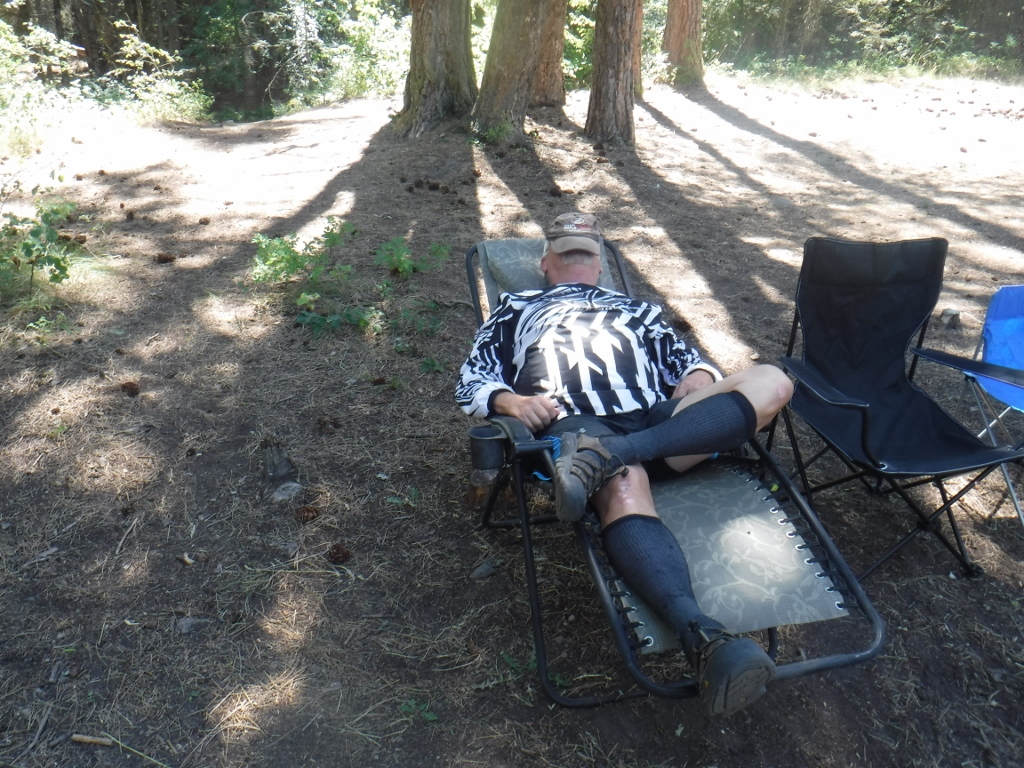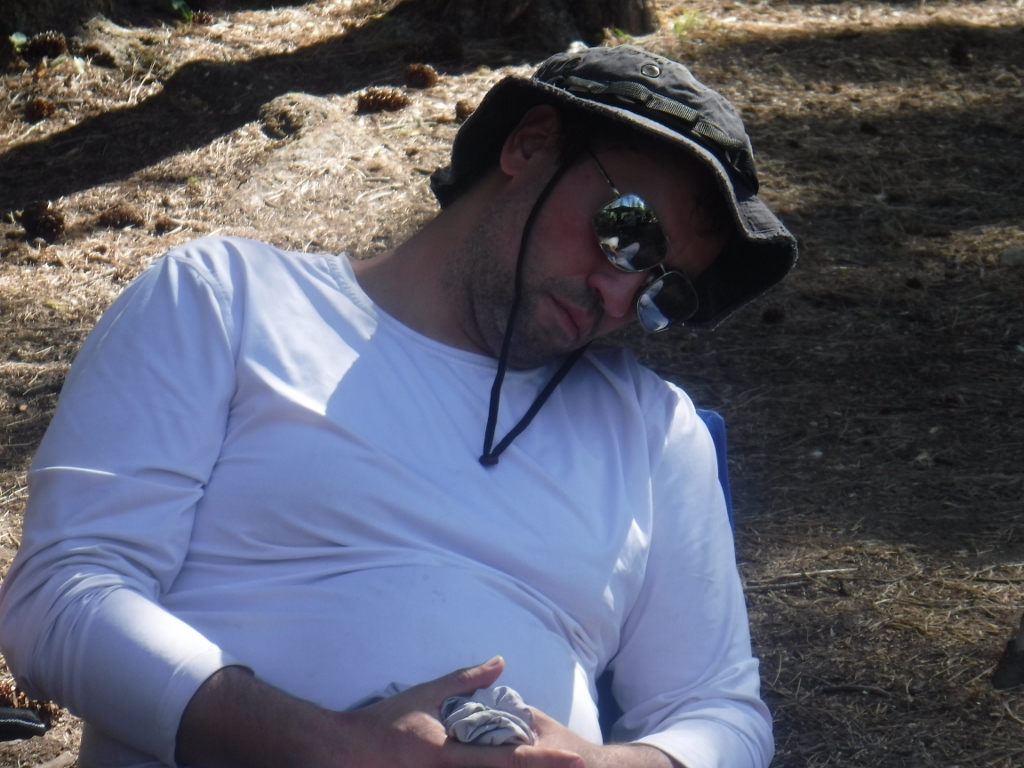 A short video of Day 9
Late in the day I headed south towards home----------took me 3 days to drive home.
But caught this shot of the huge forest fire going on North of us.
If the wind had been blowing different that smoke would have been on us.
At one point on the ride it did about smoke us out----but the wind changed and it cleared out.
What a great ride------thanks to everybody who made it happen.
Word is this is the last year for the ride.
It's an enormous task to be responsible for providing all the riders with such a great route.
It's always been a new route each year.
Thanks again............Ron.