Baja 2017

Adios Pantelones Part II
or
Oh NO !!! Not the Sand Fleas from Hell again!!!!


Day 1
February 6th, 2017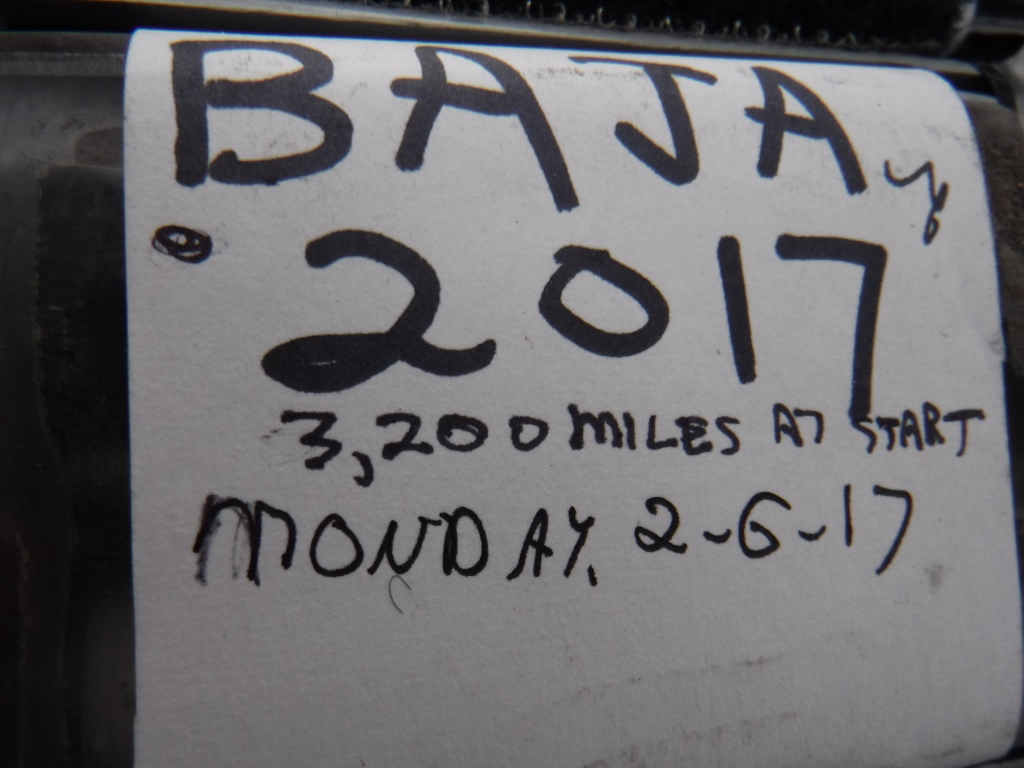 Well this Yamaha KTM conversion deserves some explanation.
If you read our ride report from last year-----Jerry (pictured) started bad mouthing the orange KTM's before
the ride even got started and went so far as to seperate the bikes that would make it and the bikes that wouldn't for a picture.
Well-------that bit him squarely in the ass as his bike broke down on the 2nd day and had to be hauled back
to the USA in the back of a pick truck by this nice Mexican guy. His ride was over.
So---------he shows up on this and said "I love KTM's.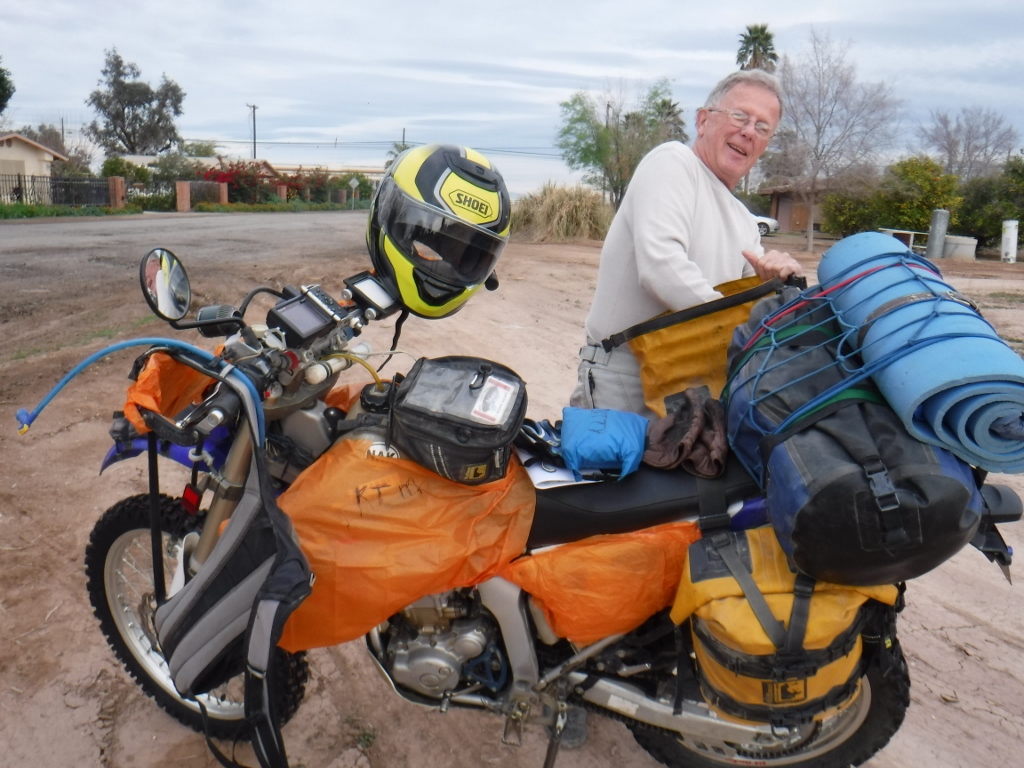 I wish they'd make this bike-----a KTM that would go 127,000 miles.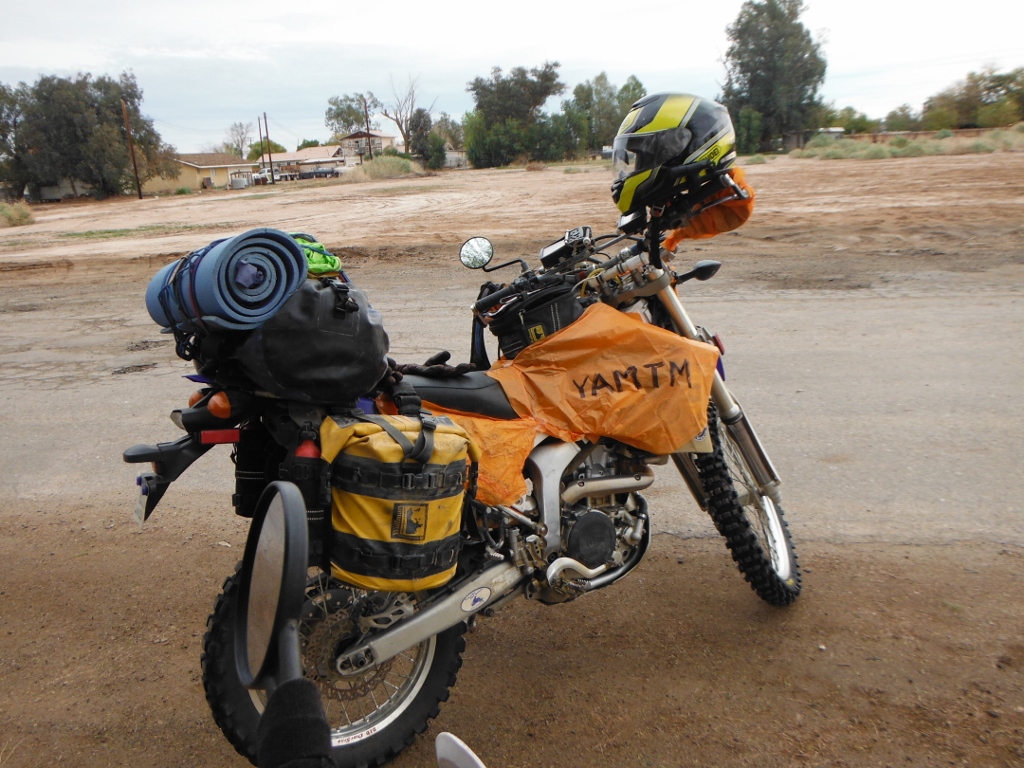 We parked our tow vehicles at a friend of mines house-----and off we went.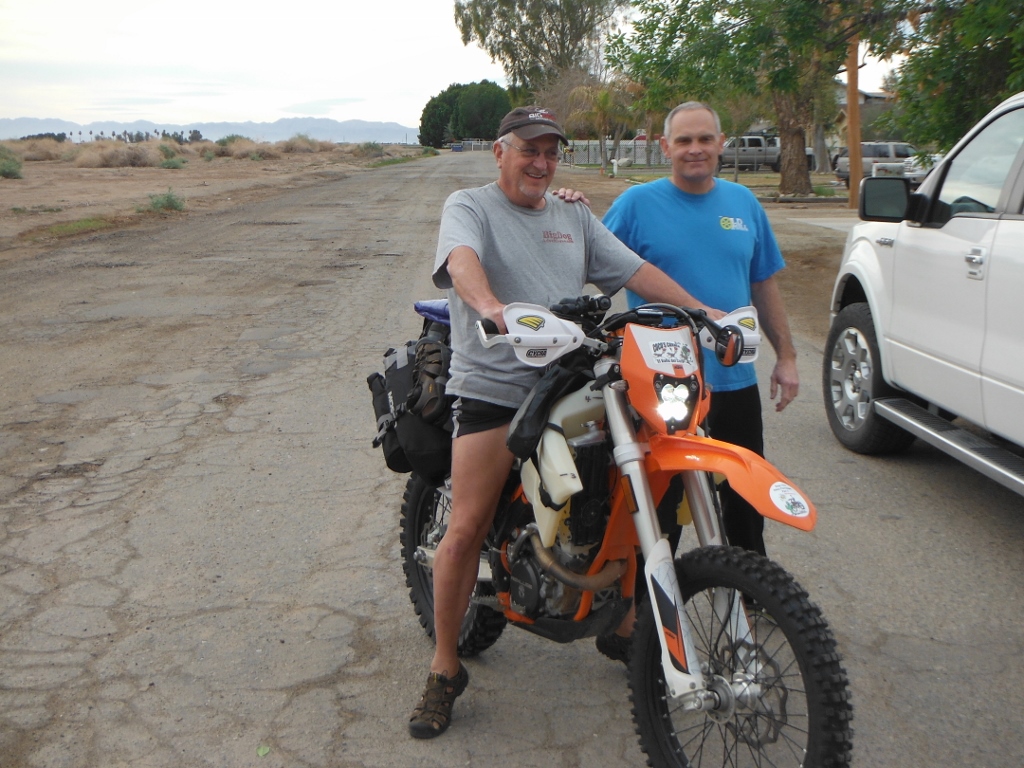 So it was off to the money changer. We crossed at the Clexico/Mexicali border and there are many money
changers before you cross. Easy Peazy--give him your dollars and he give's you moocho peso's.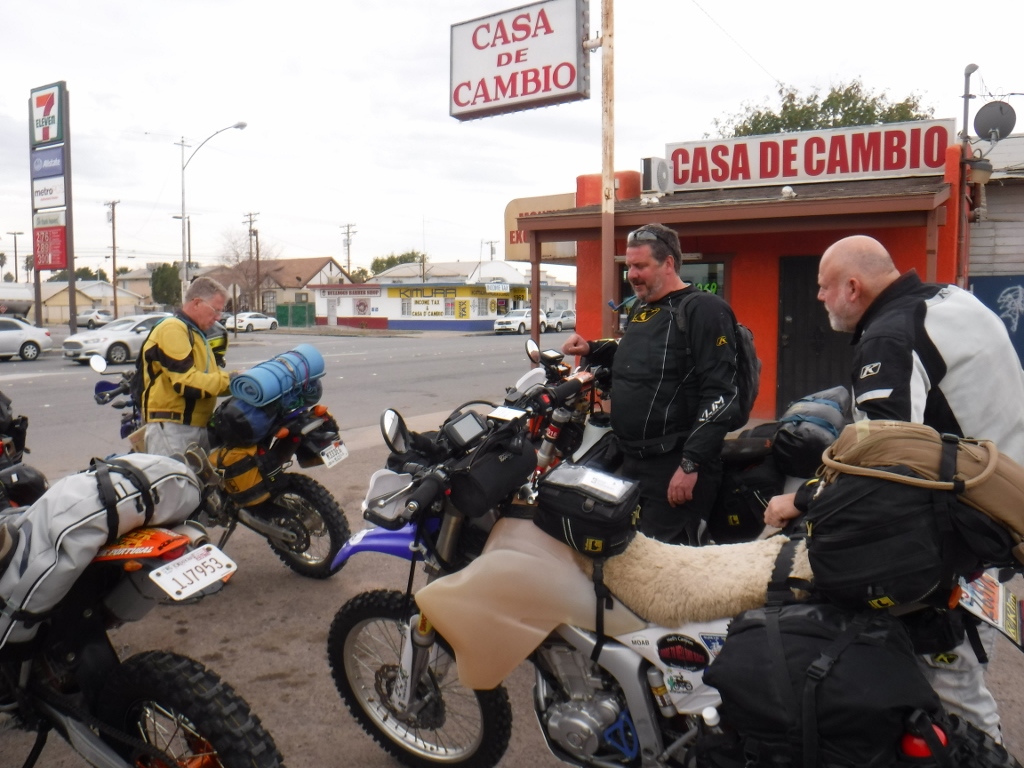 Dave Reeves (Tragic Overlander) left and Scott Stevenson (Dingweeds) right.
We rode down hwy 5 this time as we'd all been to the Gualupe hot springs many times and this trip would concentrate on Baja Sur (South).
We stopped here where the trail and race course come across the dry lake bed and intersect Rt. 5.

We looked at the horrible mud across the dry (muddy) lake bed and Dave is saying ................
"No Bueno"----plus some other Aussie stuff.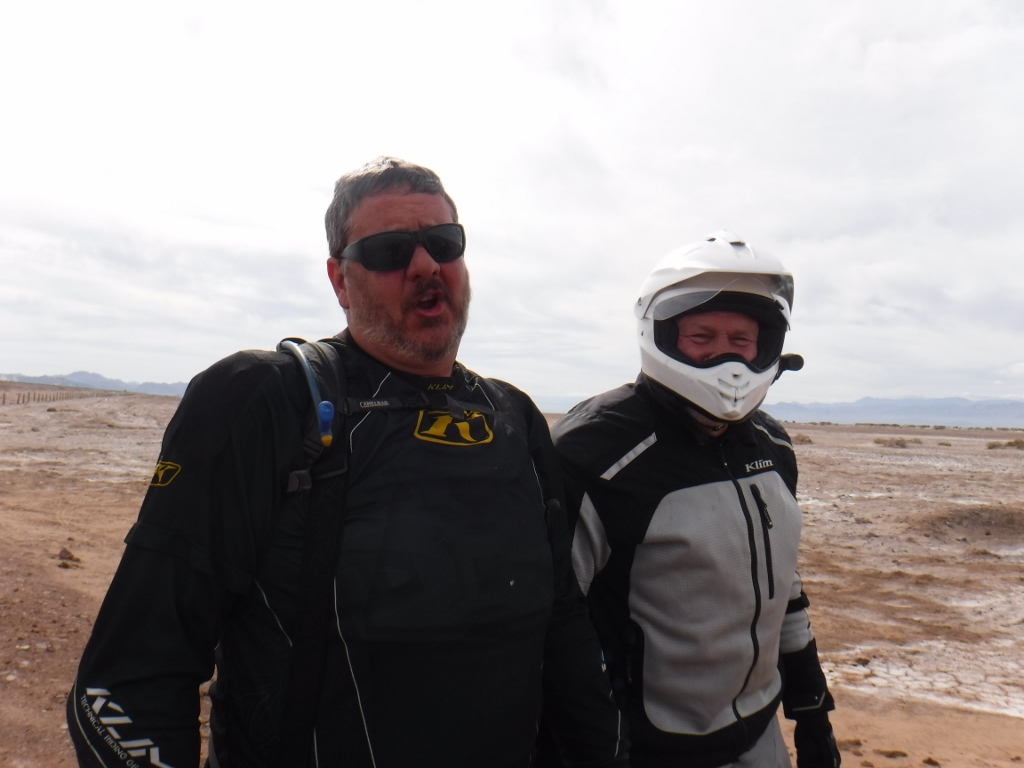 Looking West across the Muddy lake bed------we did not go that way-----just stopped to pee and check it out.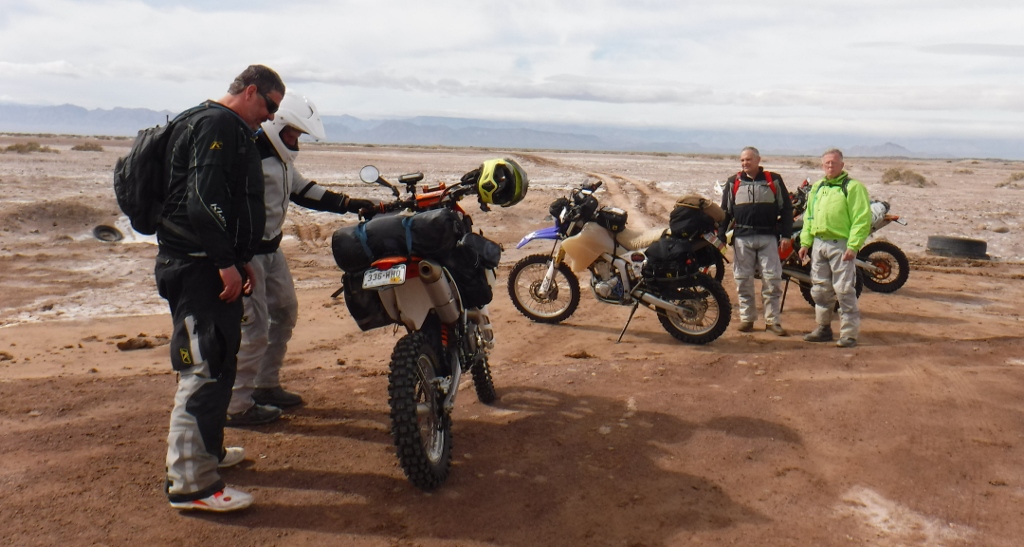 I had laid out the route for this ride and plotted a course heading South that missed Mike's Sky Ranch as we'd
been there before and I wanted to try something new and stay at the El Coyote ranch we just passed thru last year.
It looked awesome and I thought we'd get there before dark-------------NOT !!!!
We had gotten gas at Colonia Lazaro Cardenas which has a Pemex and small motel---nice little town.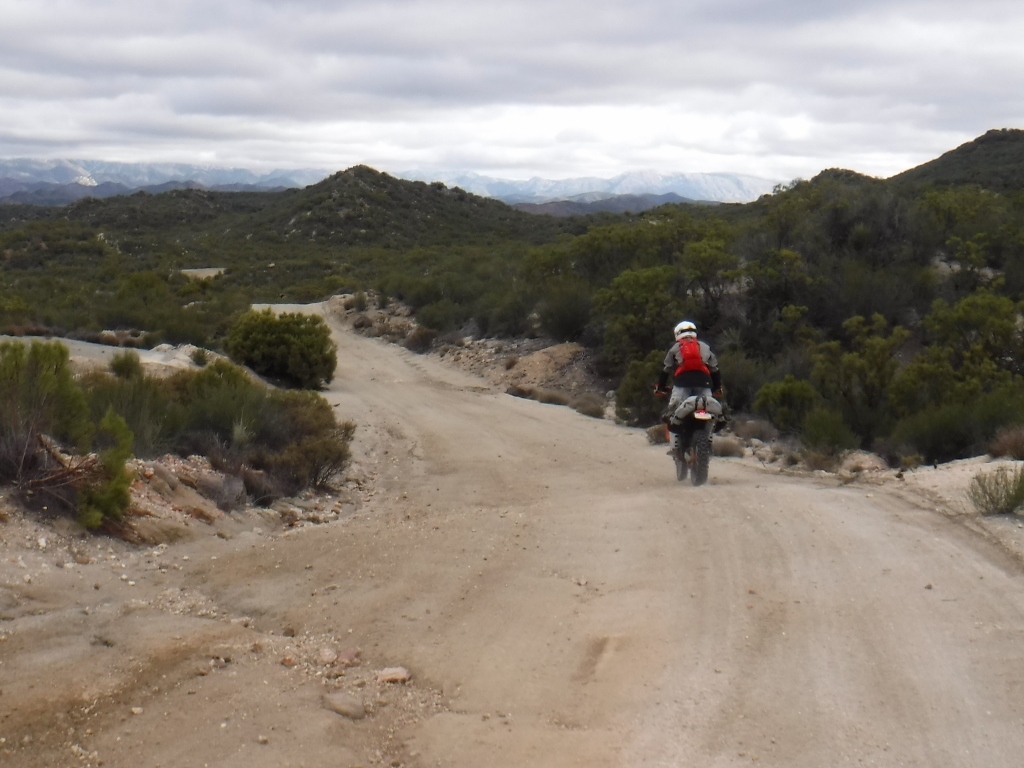 I had a whole new route plotted and it was awesome.
Nothing like going where you've never been.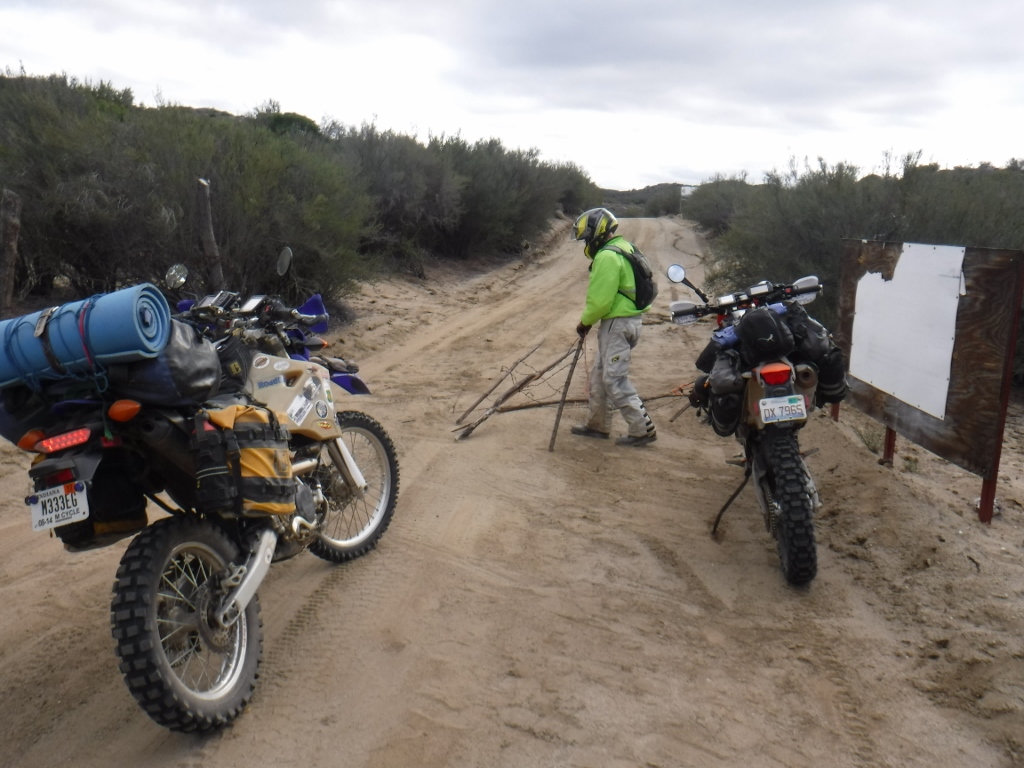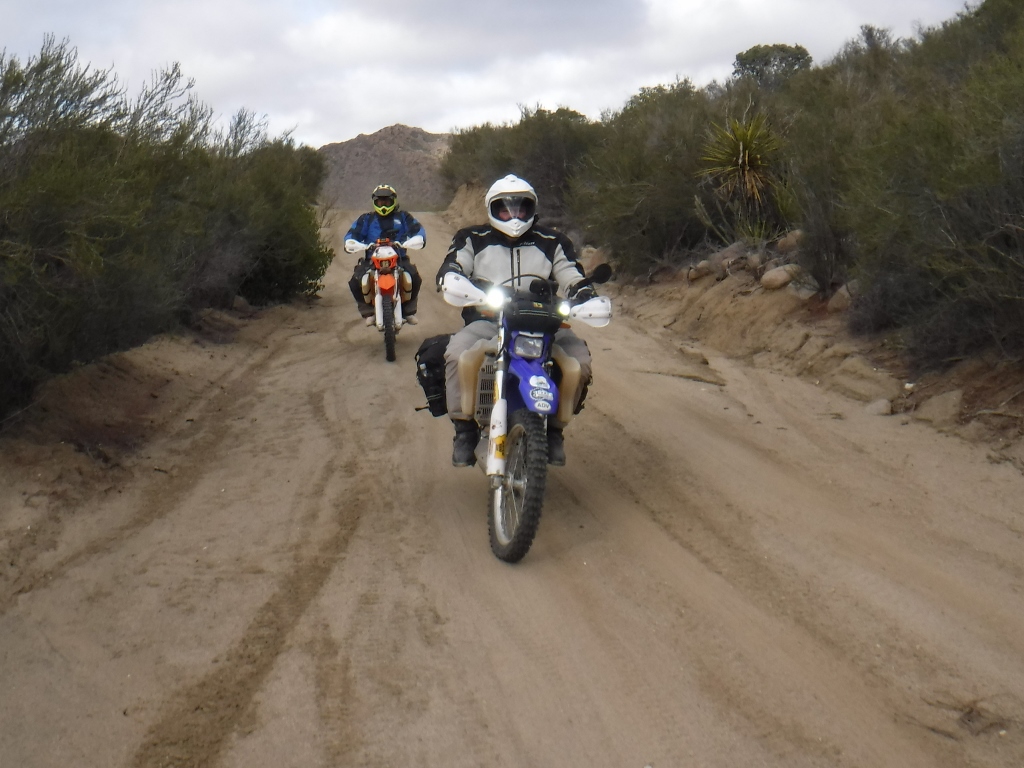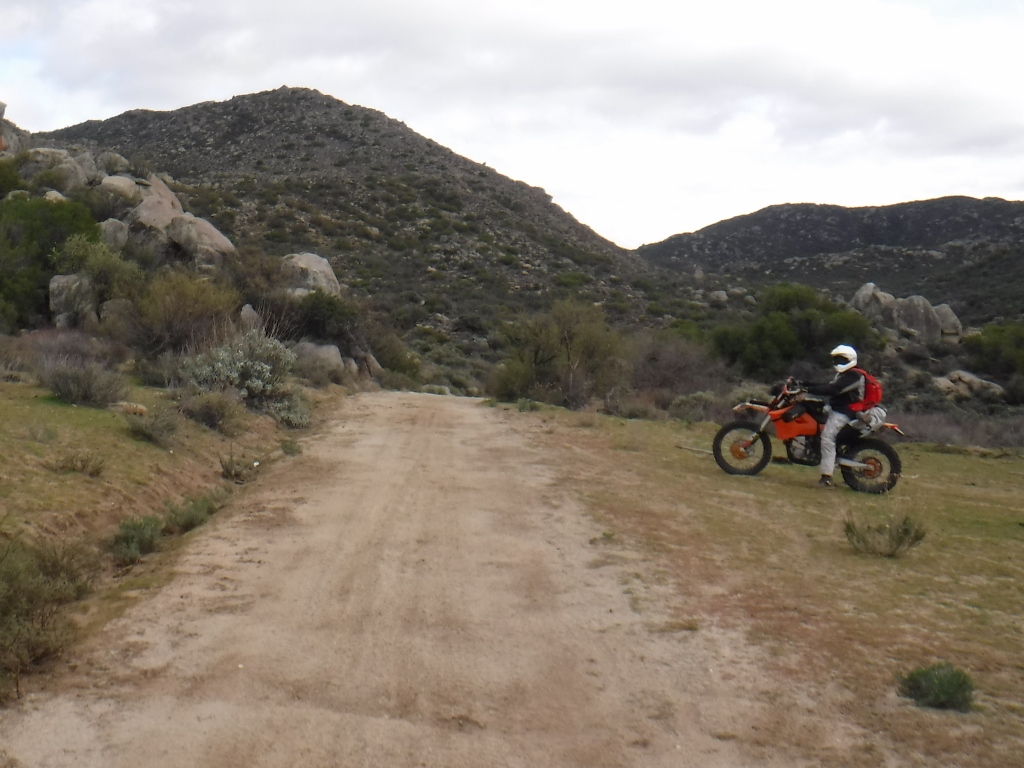 I rode my 2016 KTM 350EXCF on this ride.
I've only ridden it twice---------but it has almost 6,000 miles on it after this ride.
There is a link on my website of how I've modified this bike---but new for this year was the
Mosko Moto Reckless 40 luggage system.
Talk about traveling lite.
You can't travel much lighter than this and carry camping gear------we carried no cooking gear.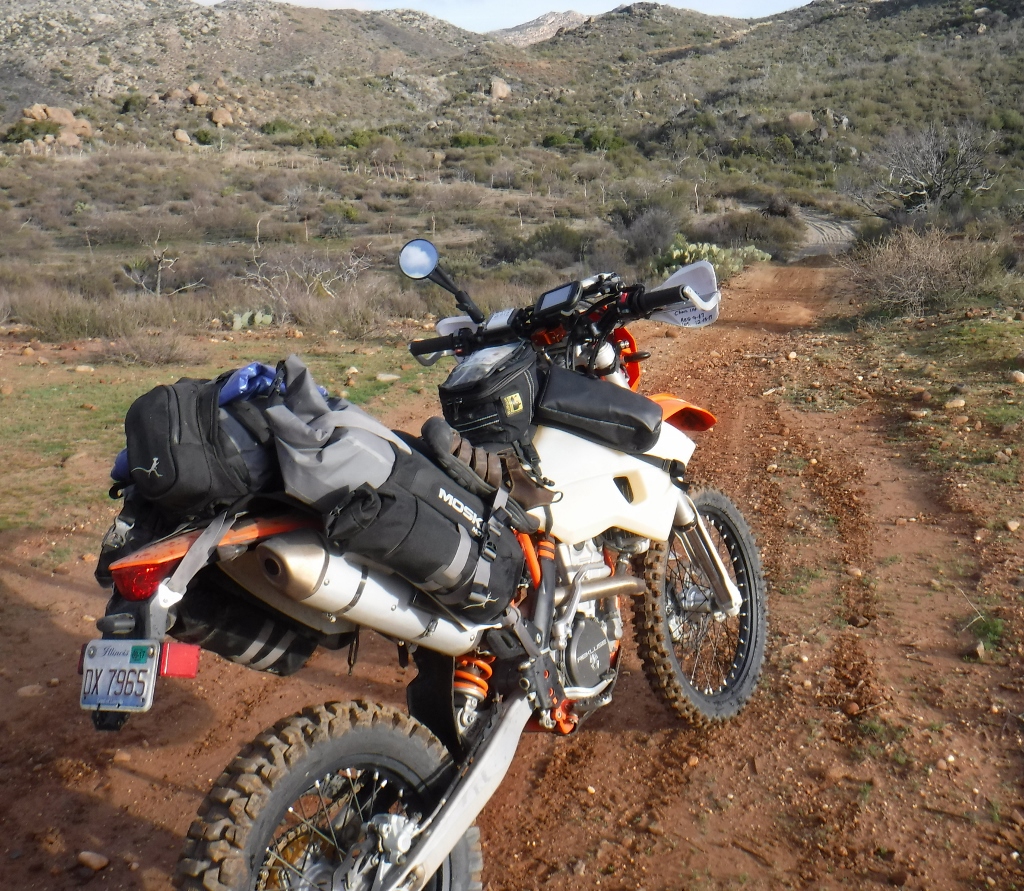 There was a bit of a quandry here.
Me and Road Dad blasted up a hill that turned so ugly and stopped at a wye.
We motioned for other riders to go left as we "thought" it was the only way to go.
The left turned into a AA trials section and High Five (a pro trials riders) and Dave "almost" had to dab.
Me and the rest went another way which turned into the route we wanted and was easy peezy.
We got jokingly chastised for this at the top--------and they said I tried to kill them and has sent them onto
the trail of doom. They promised to get me back !!!!!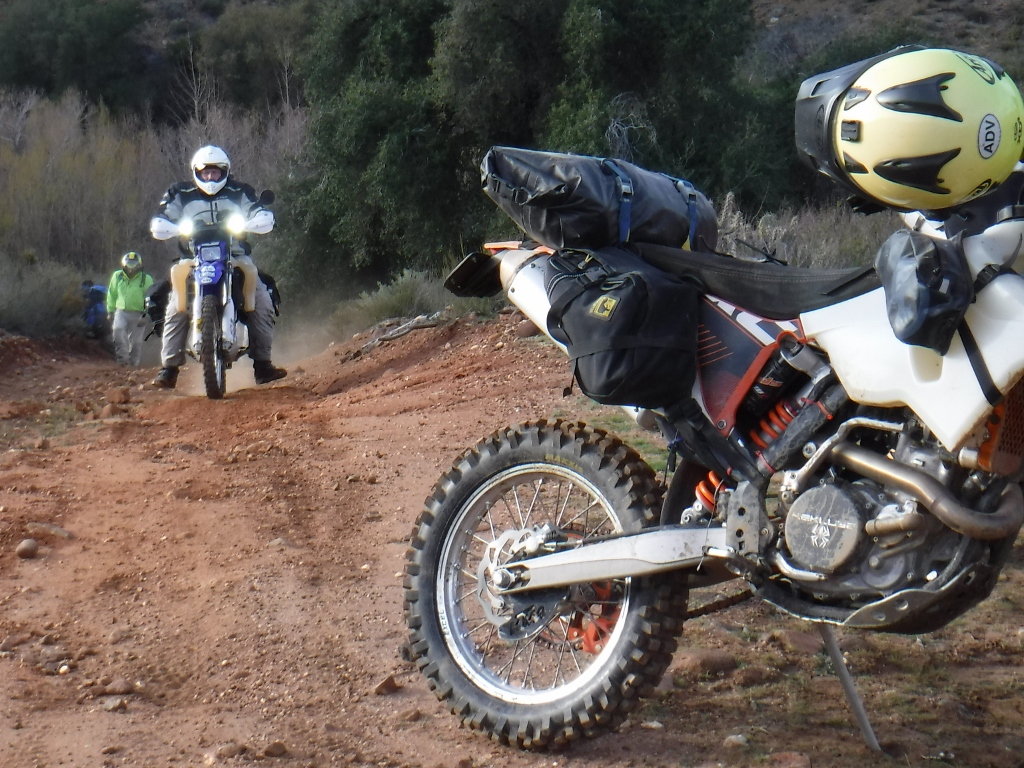 Awesome, Awesome, Awesome !!!!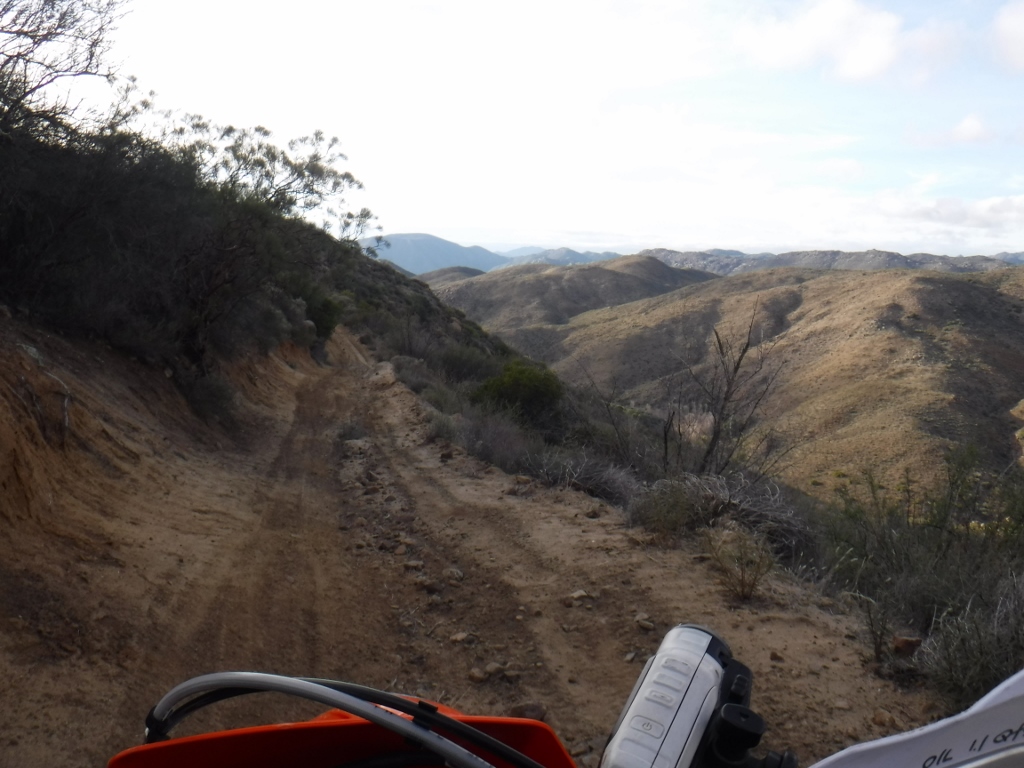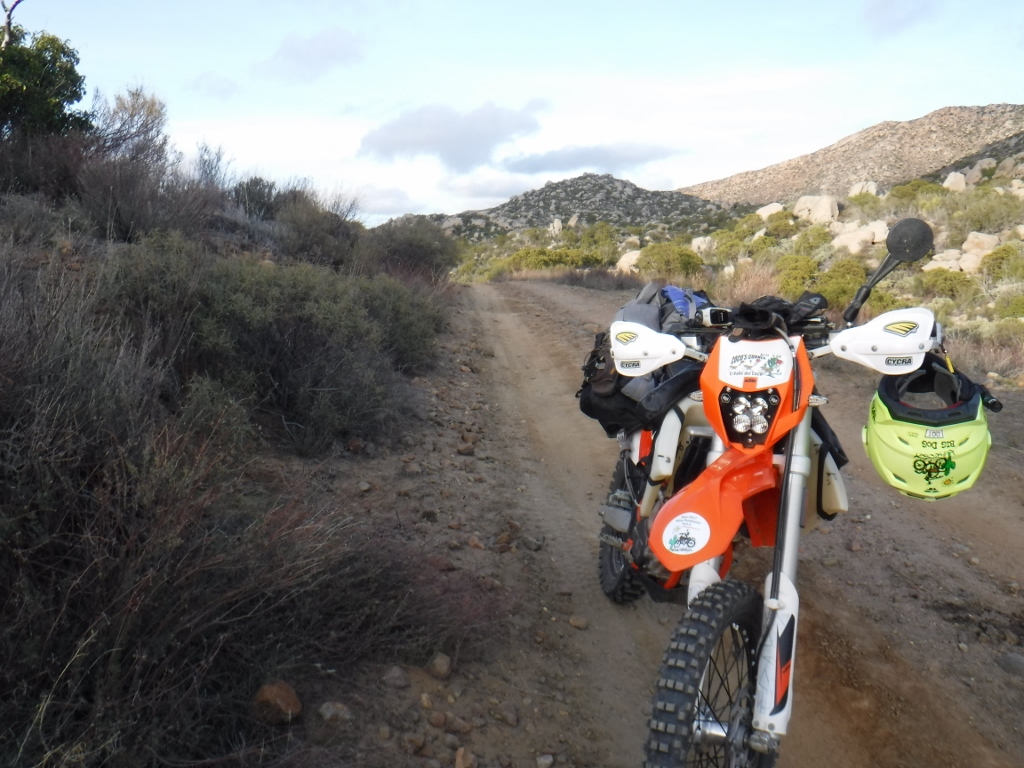 High Five on his KTM 450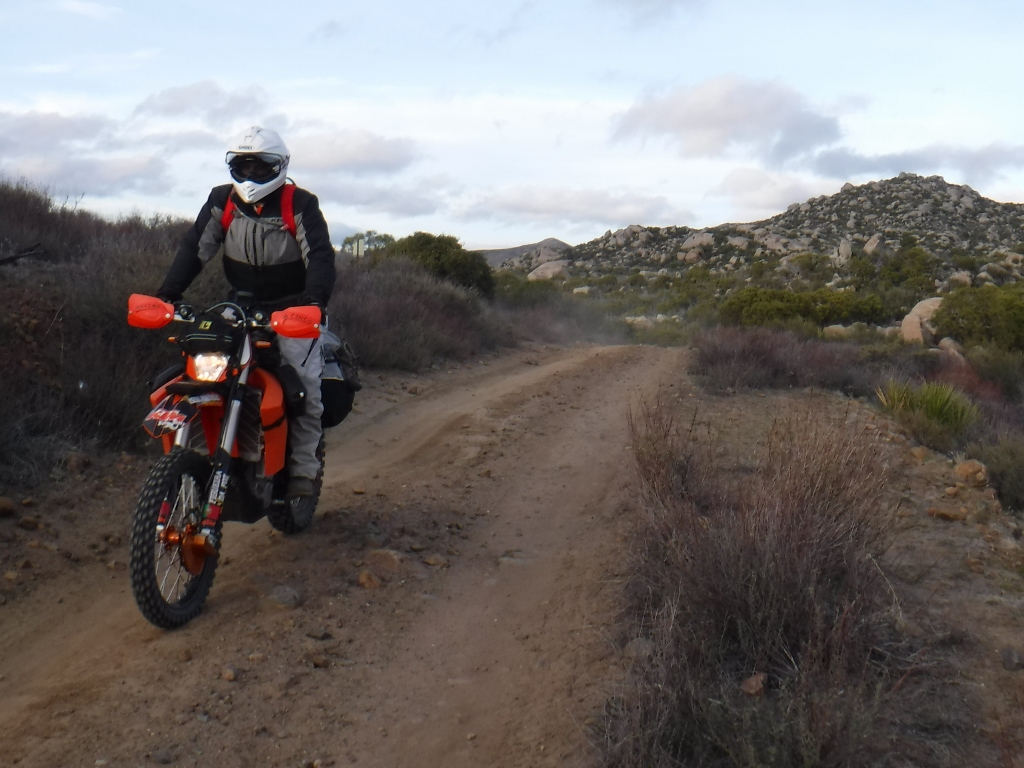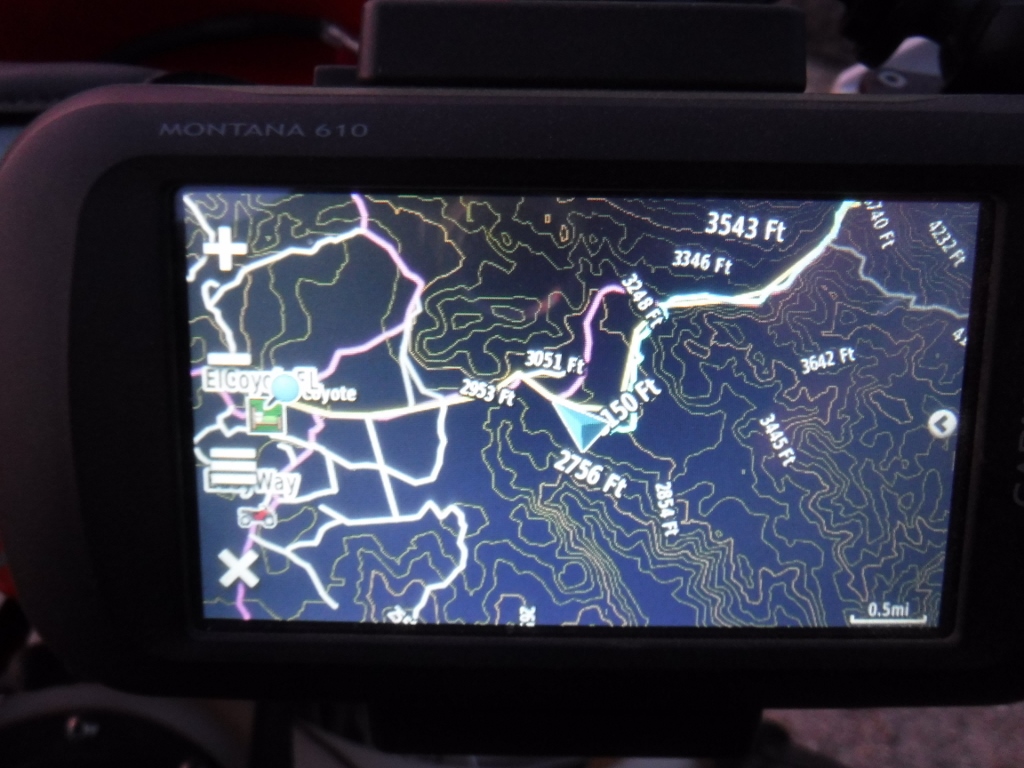 We never made it to the Coyote Ranch in the daylight.
In fact when we got there they couldn't accomodate us in a cabin and recommended we go to the "Meling Ranch" six miles away and
owned by the same family. A couple guys wanted to camp for free at the Coyote Ranch but it had been a long hard day---it was dark
and the other 3 of us wanted a cabin and shower--------so off I went to the Melling Ranch and the others followed blindly in the dark.
The dust was awful (or so I heard) and it was hard following me in the dark.
I had just but a Baja Designs Squadron LED lite on my bike before this ride and it was awesome.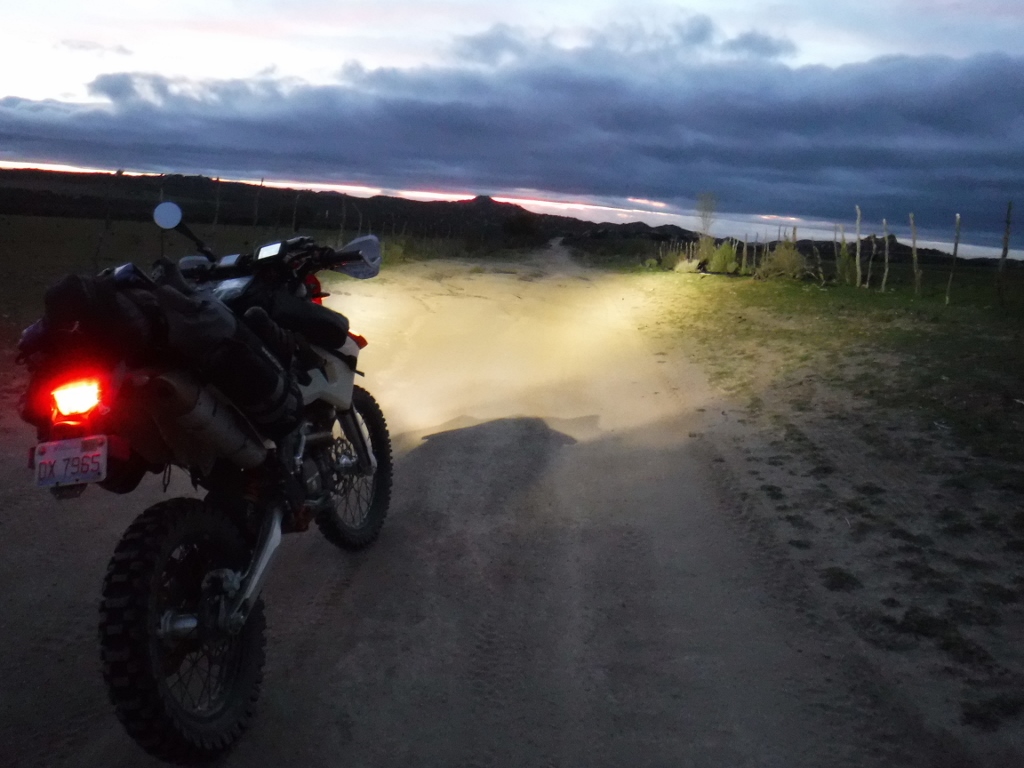 Dave had one of those stock KTM EXC kickstands-------you know---the ones that break off as you unload your brand new bike
out of your pickup truck. These were made for a 49cc Chinese scooter and the Chinese made 47 million of them.
But soon they reallized they were not up to standard for a 49cc scooter,
and KTM bought all of them-----saving weight--that's why the KTM's are so lite.
So Dave embarrassingly broke his here and hit the ground---------he's got one of those LED lites too.
I fell too getting to the ranch------a truck came at me and his headlights blinded me and into the ditch I went.
It was hilarious as the poof dust flew in the air when I crashed.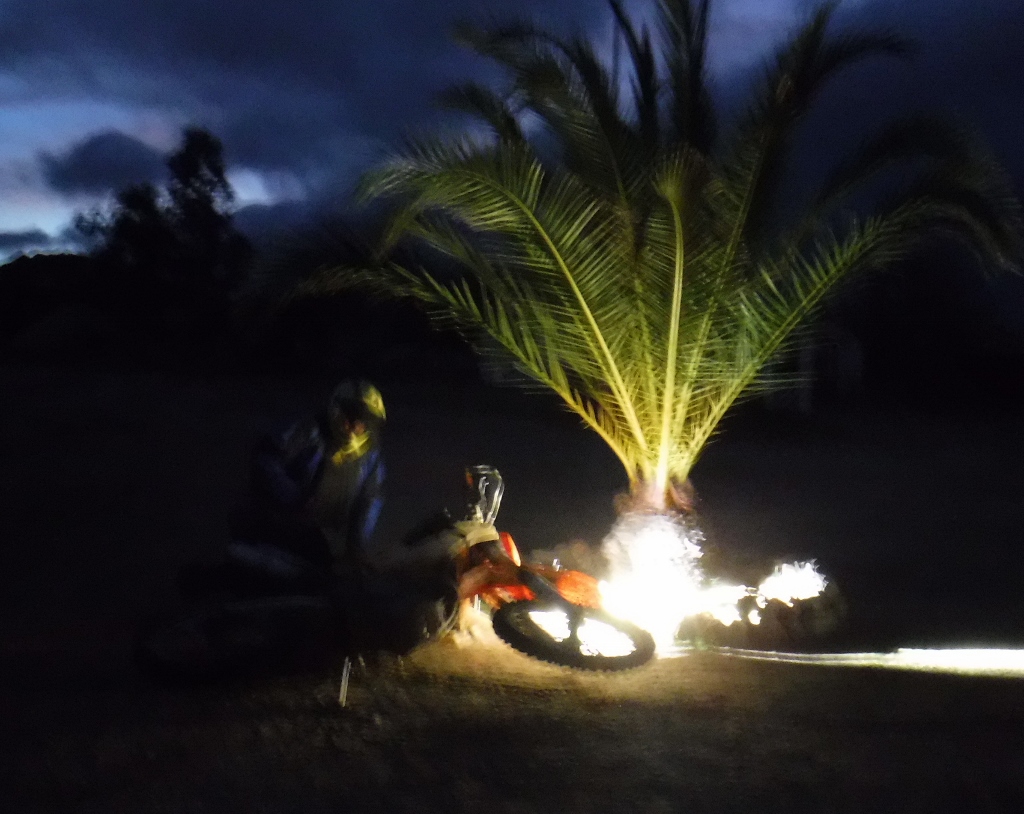 On our arrival we were treated like kings.
And a nice Mexican ranch hand lit a warm fire for us and served us beverages of our choice
as we waited for our dinner to be cooked.
What a nice place------Mikes Sky Ranch is so cool but we all liked this much better.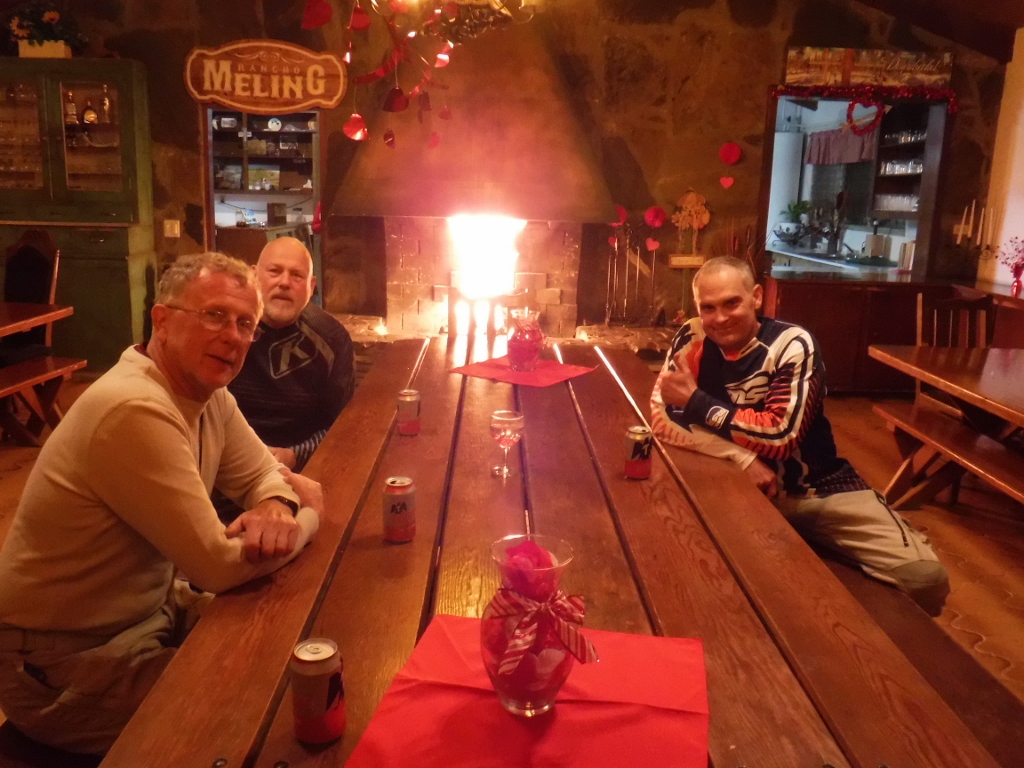 At 9PM the generator was turned off and we resorted to an old fashioned lamp---------I loved it.
Our room had a hot shower too. I'm thinkin' it was about $35 for the room which me and Scott split.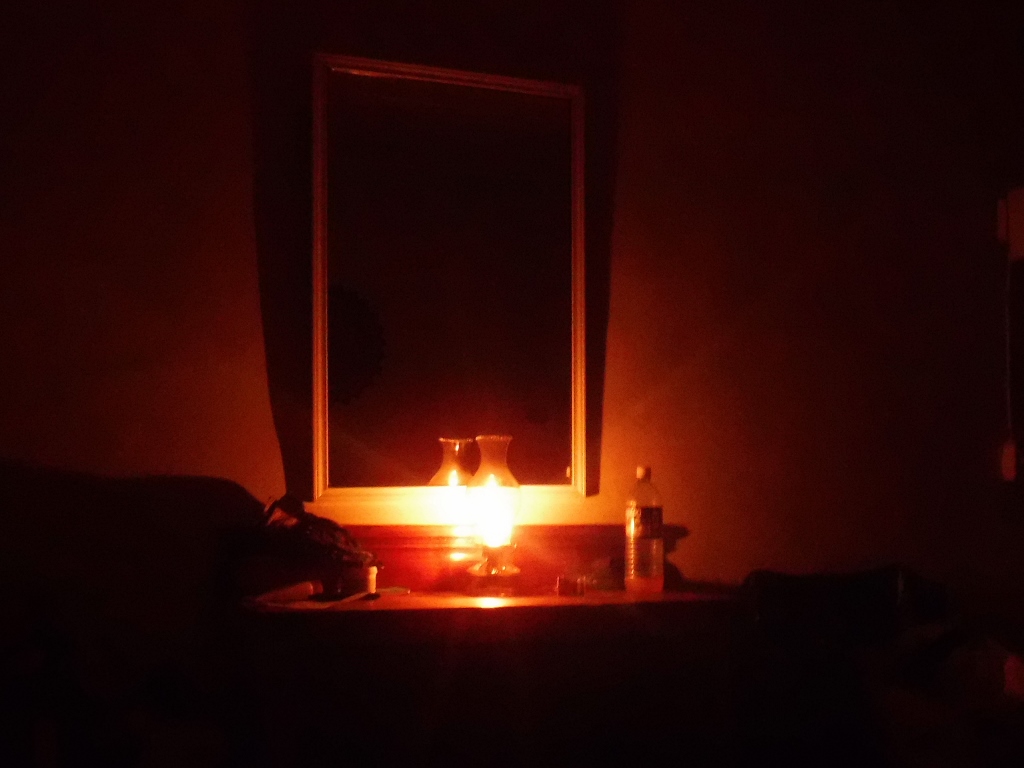 In the corner was and old Sears and Roebuck warm morning woodstove.
On the porch was a wood box full of wood, some lamp oil and matches for starting the fire---so we
were nice and comfy. We guessed the wood stove to be maybe 100 years old ????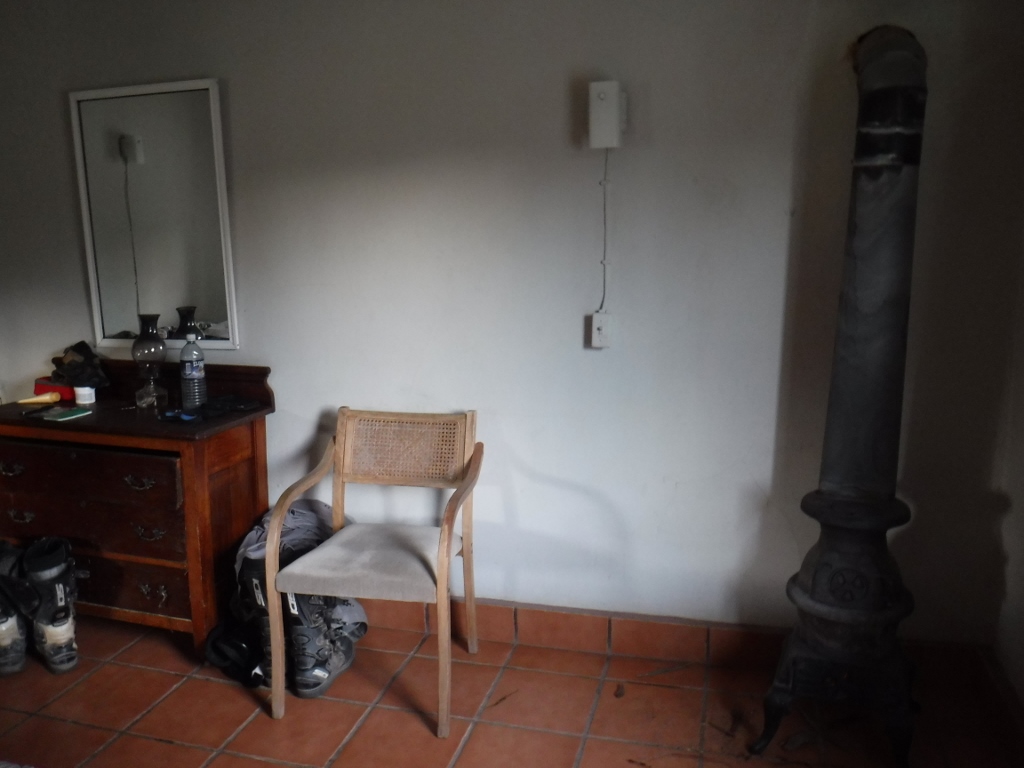 A short video of our ride today
A map of our ride today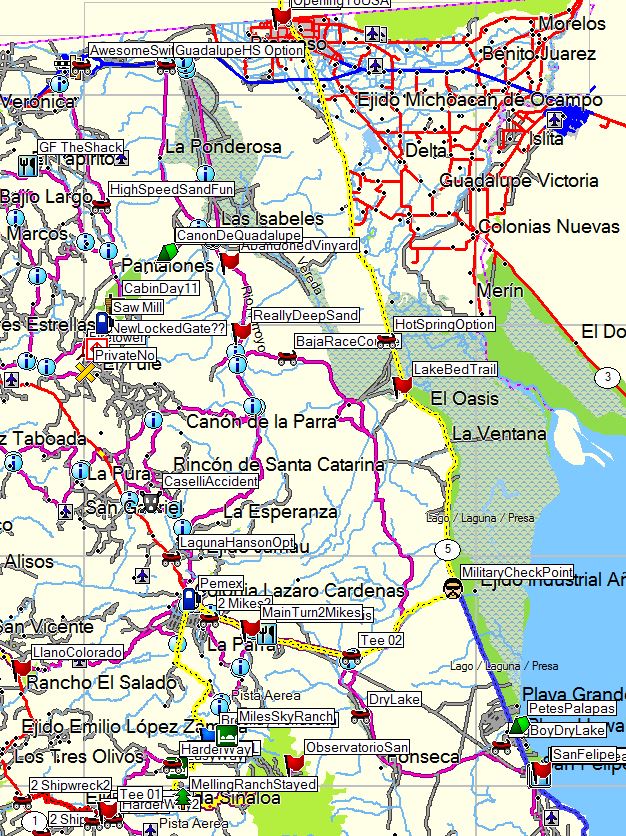 Day 2
February 7th, 2017
The next morning we waited for breakfast and coffee and poked around and took some pictures of the place.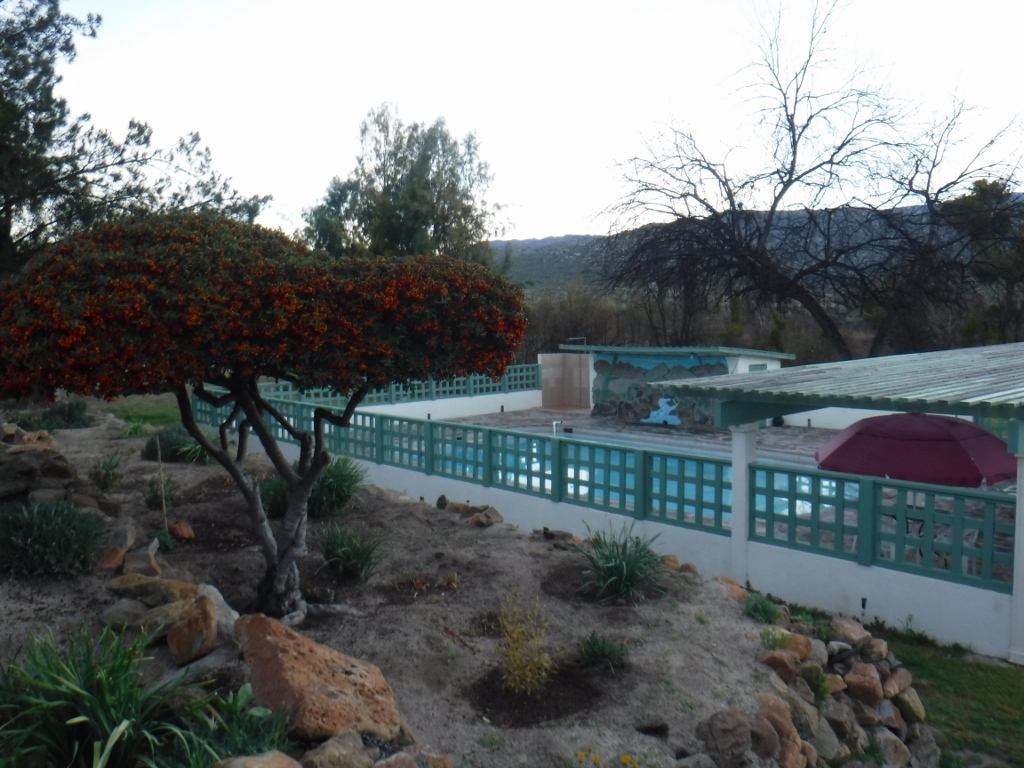 You can see thru the window that the ranch hand had already started a fire for us.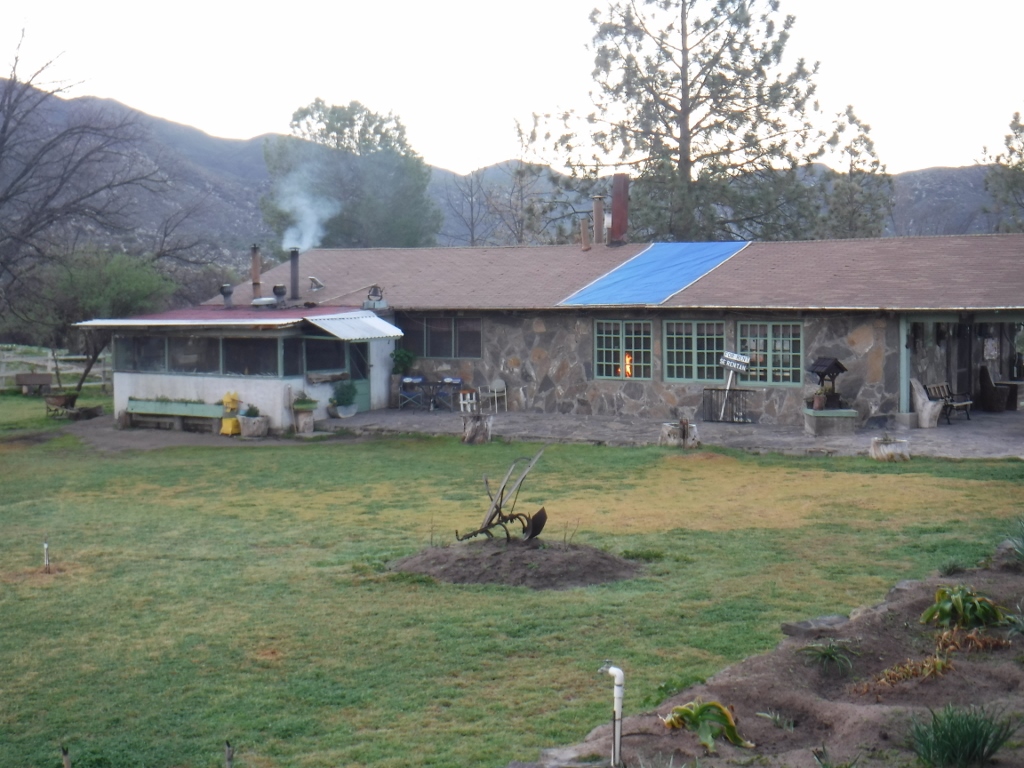 Our Cabins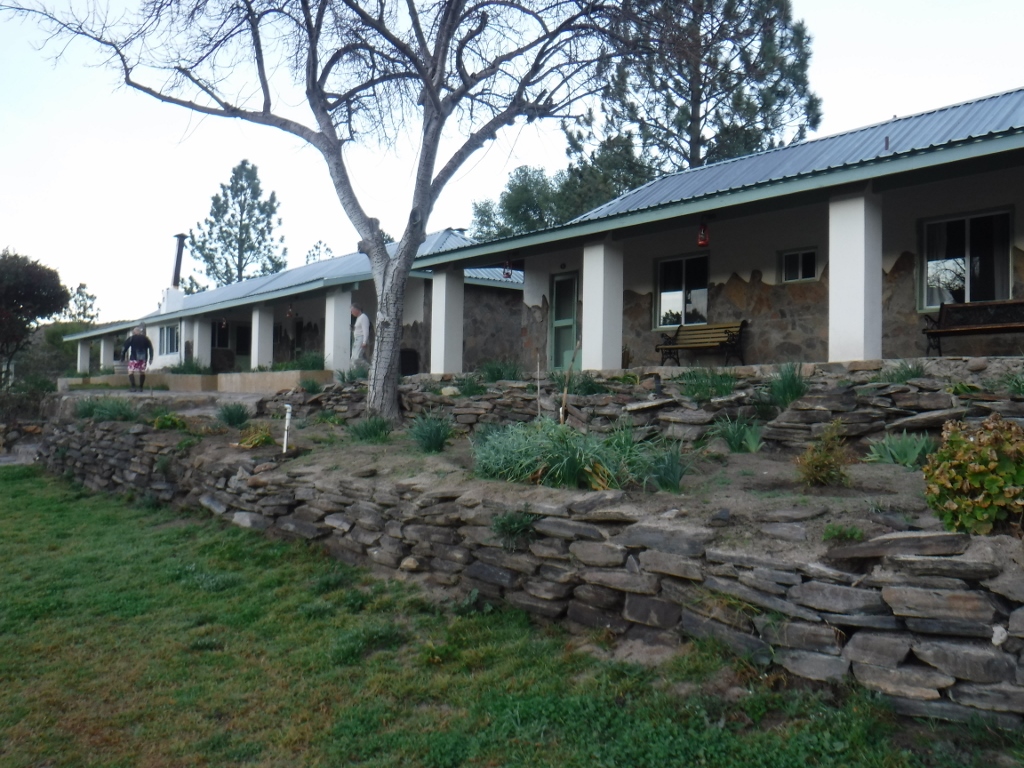 Later on when Dave joins me in farting at every opportunity-----this might be dangerous.
But he was being polite (not his usual self) having not really figuring me out yet.
And lord knows I didn't have him figured out.
When he talked it was like "Truth"-----------or "Lie"---never knowing which ????
The smirk I learned to detect later on told the story-------it wasn't a lie at all-------but a lot of bullshit.
Hilarious Bullshit.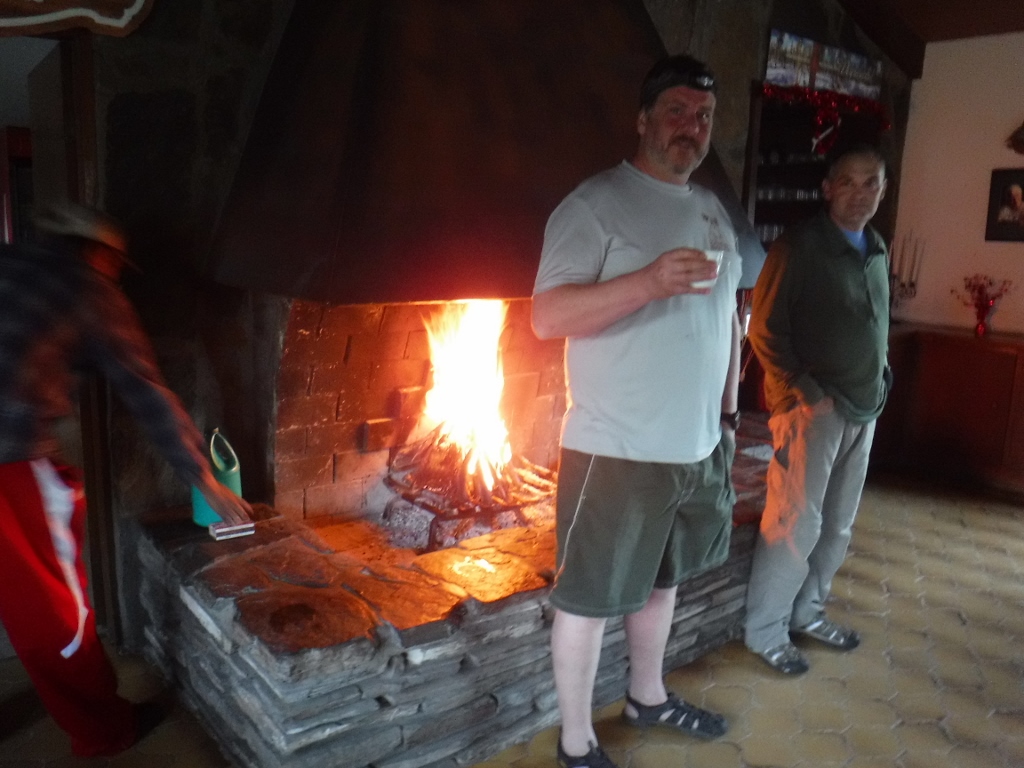 The thinnest flapjacks in all of Mexico I exclaimed !!!!
I don't know how they get them so thin-------doesn't take much Aunt Jemima.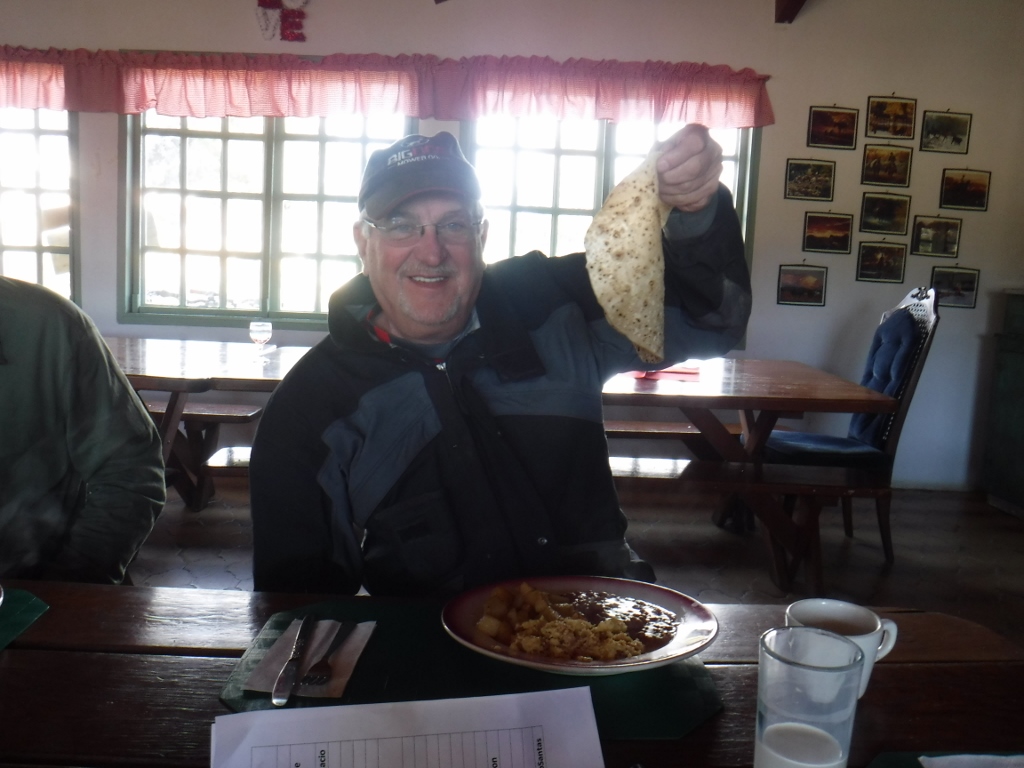 Getting ready to leave------if memory serves me right Daves battery on his KTM 500EXC was dead
and he had to kick it---------it was a re-occuring theme until I figured out what was causing it.
I couldn't make fun of him ----------he had to kick mine to get it started the first day-----I had never used
the damn thing and pretended not to know what it was for !!!!!!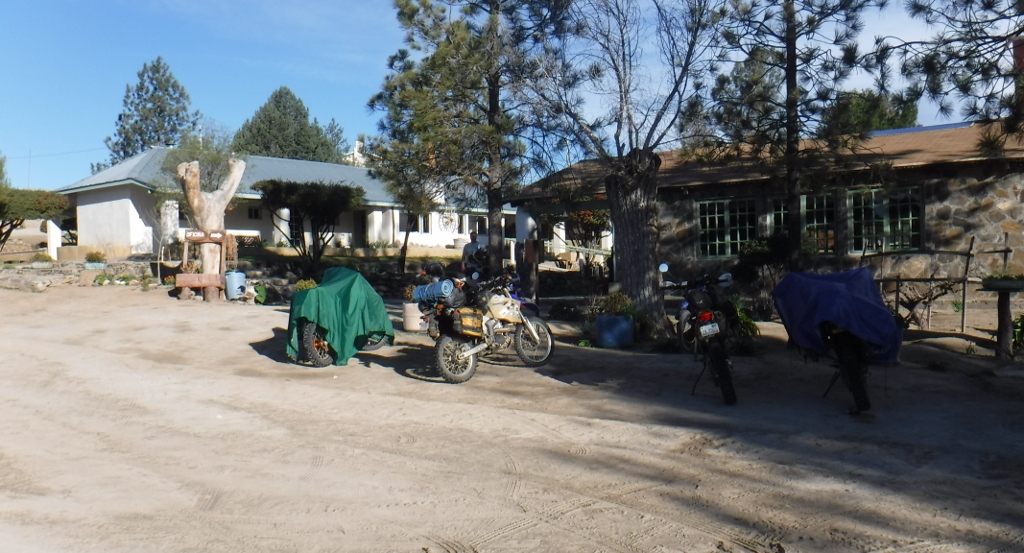 Stuff around the ranch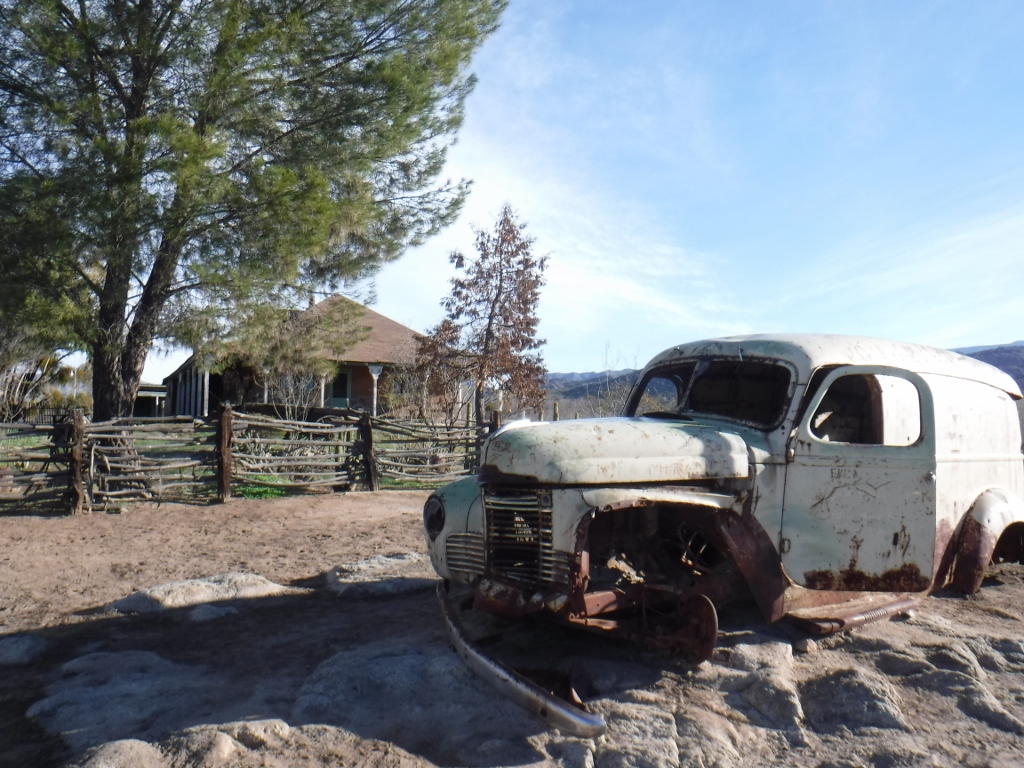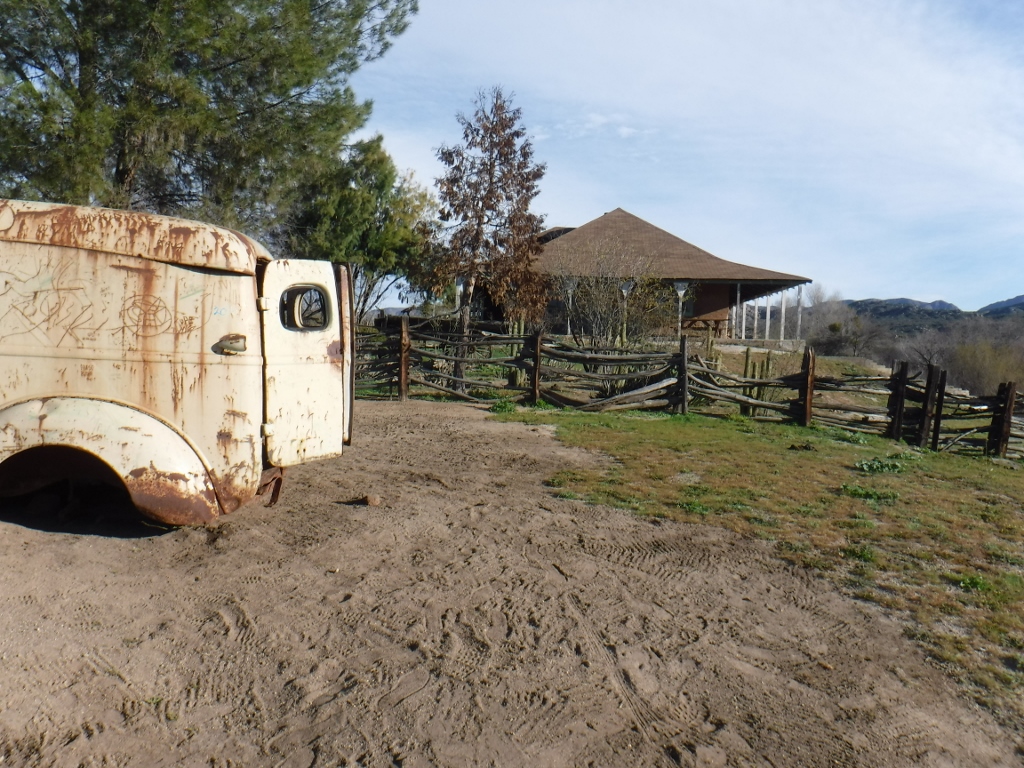 A rough map of our ride that first day.
The yellow line is our gps track.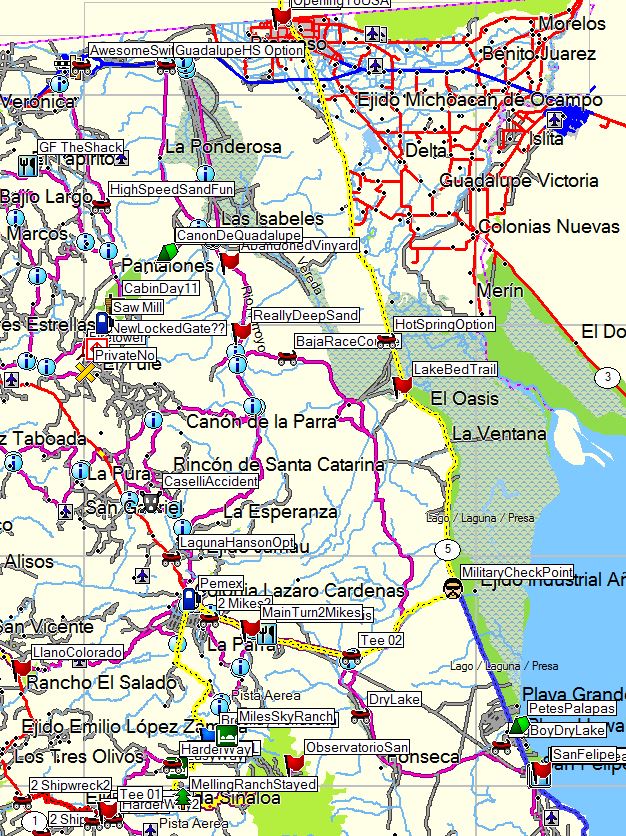 Day 2
February 7th, 2017
Dingweeds leading the way out of the ranch---we passed the spot where I hit the dirt in the dark the night before.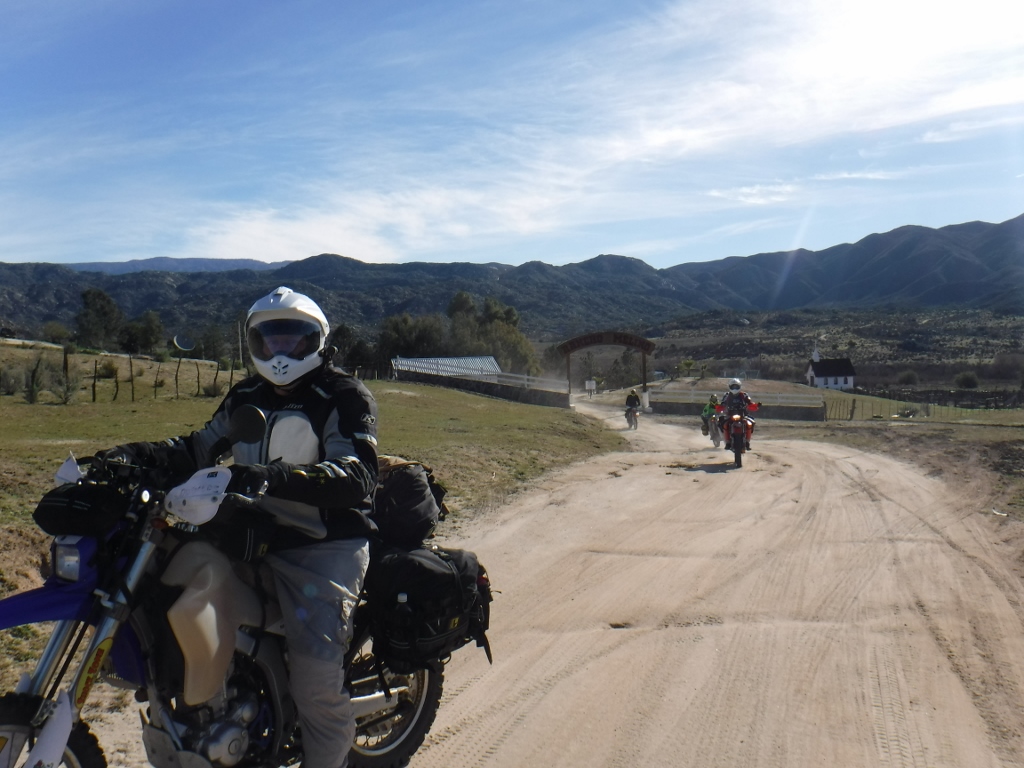 We took the pave highway West towards the ocean and even on a dirt bike this was fun.
Going East would take you up to a very high elevation to an observatory--------never been there---but didn't really interest any of us.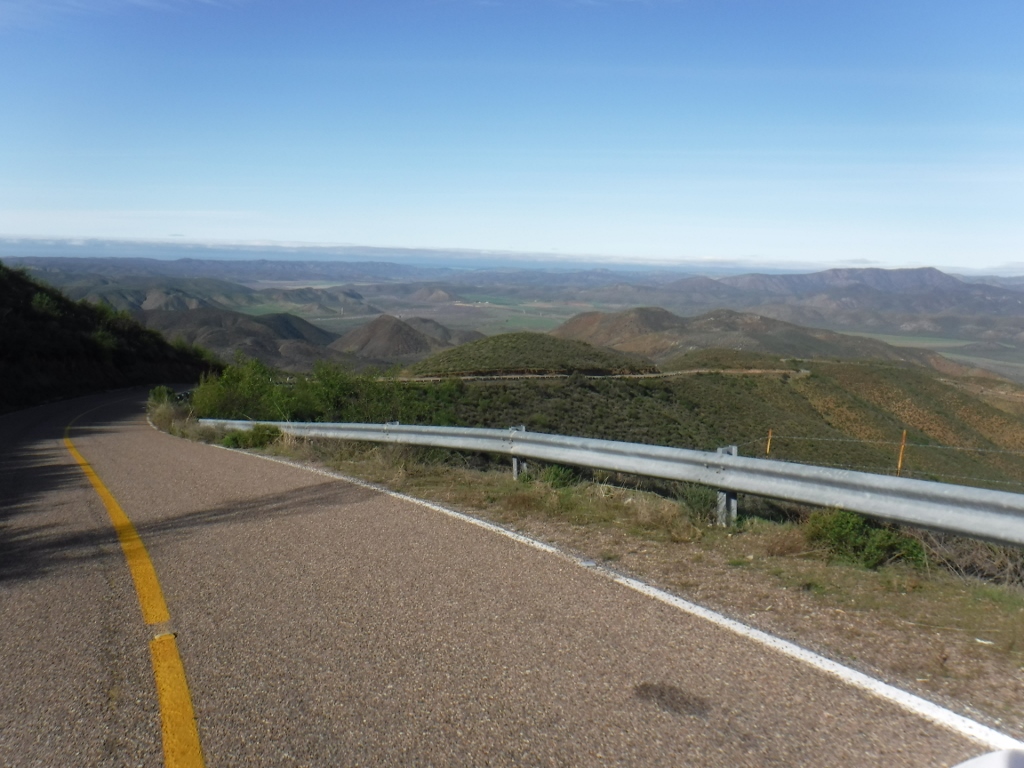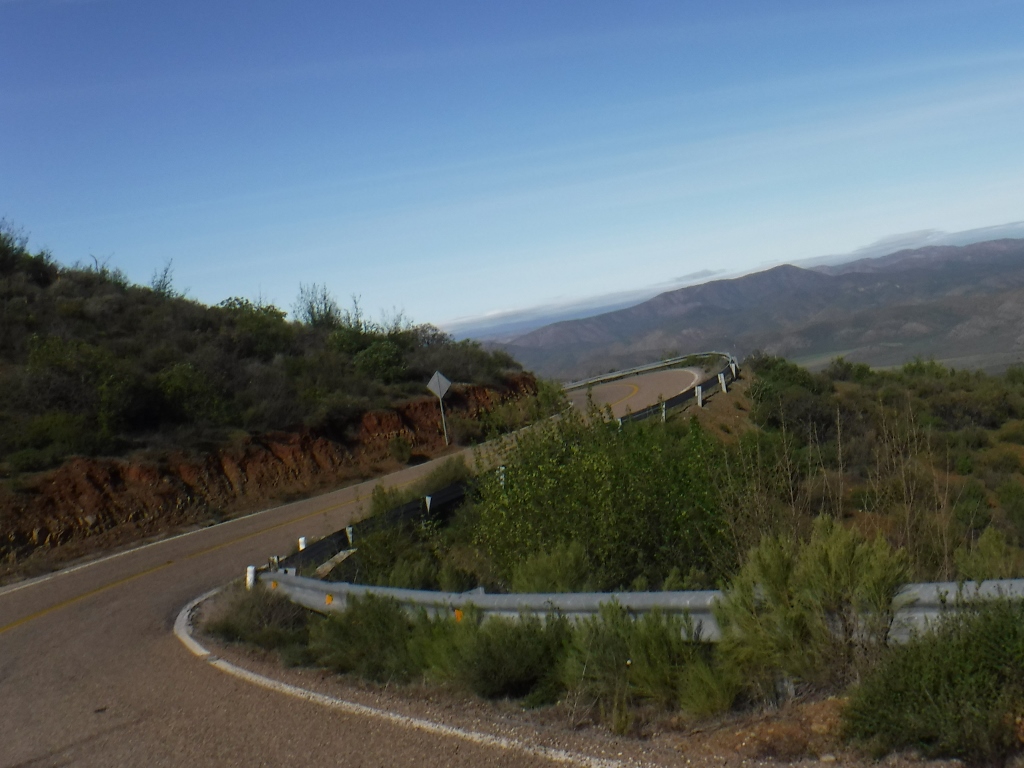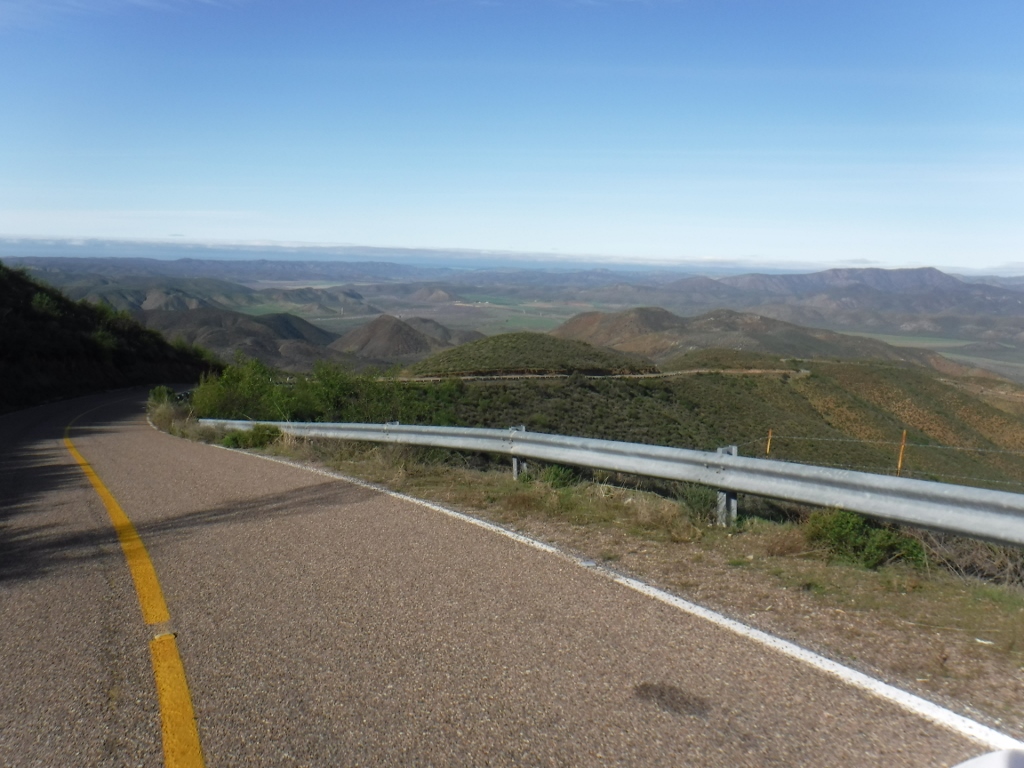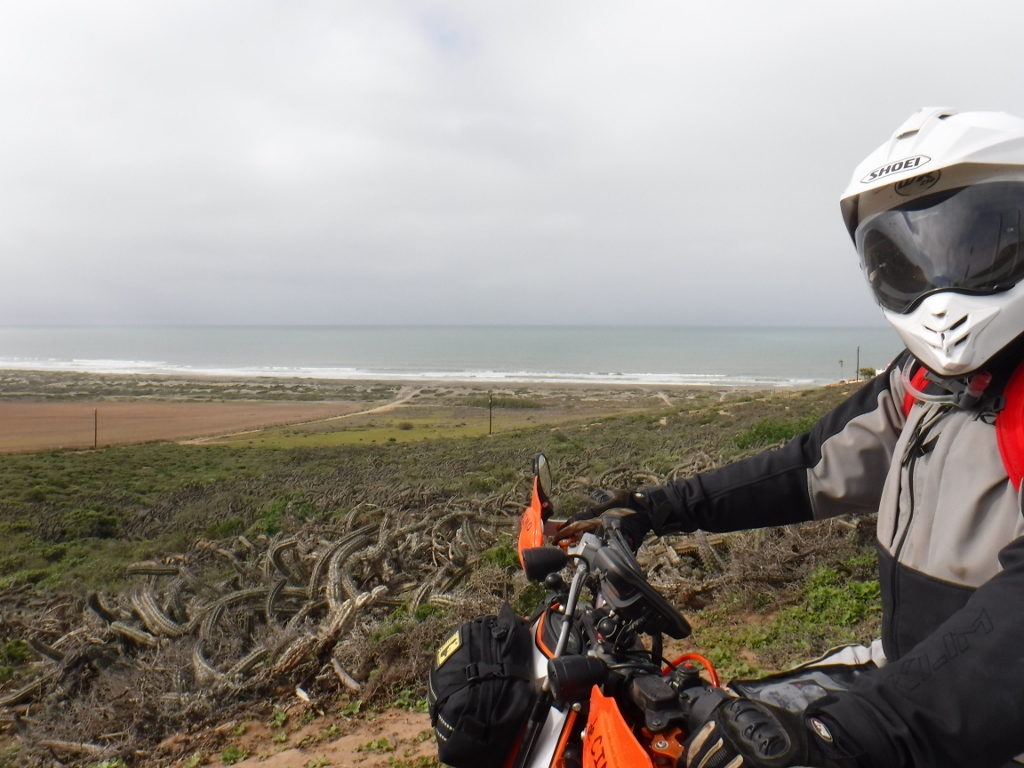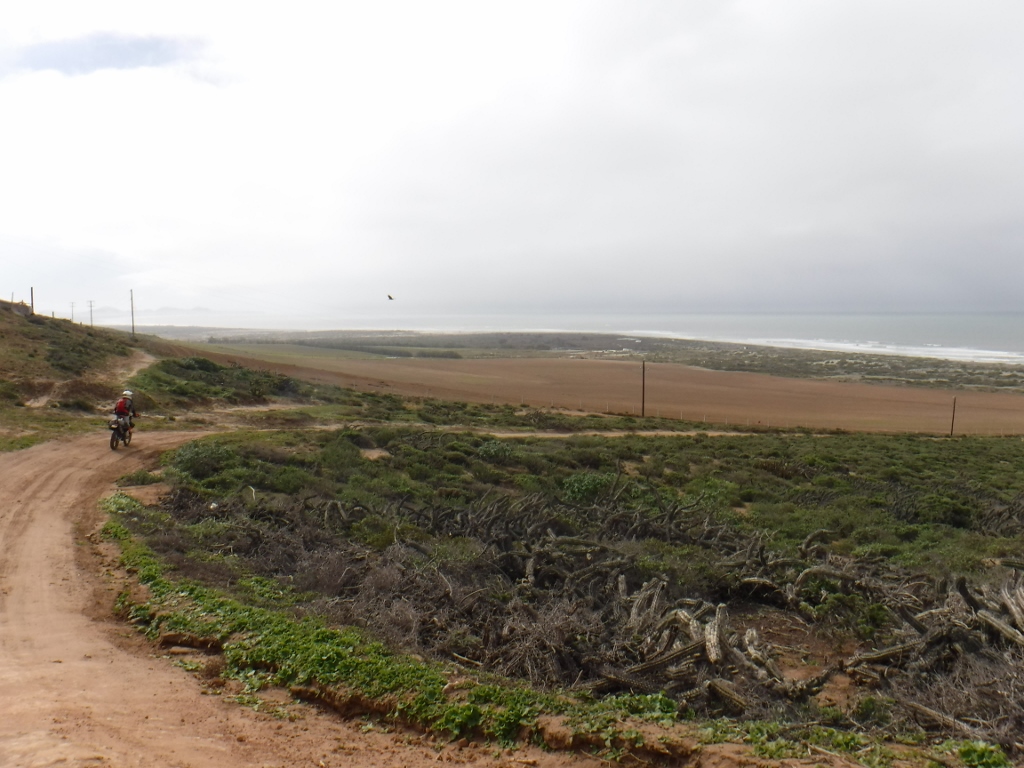 I had laid out a route from this point that was about 18 miles North of the "Old Mill".
It would have meant 18 miles of riding on the beach all the way to the mill.
But the high tide prevented that-------I knew it had been done by others--but it was no bueno.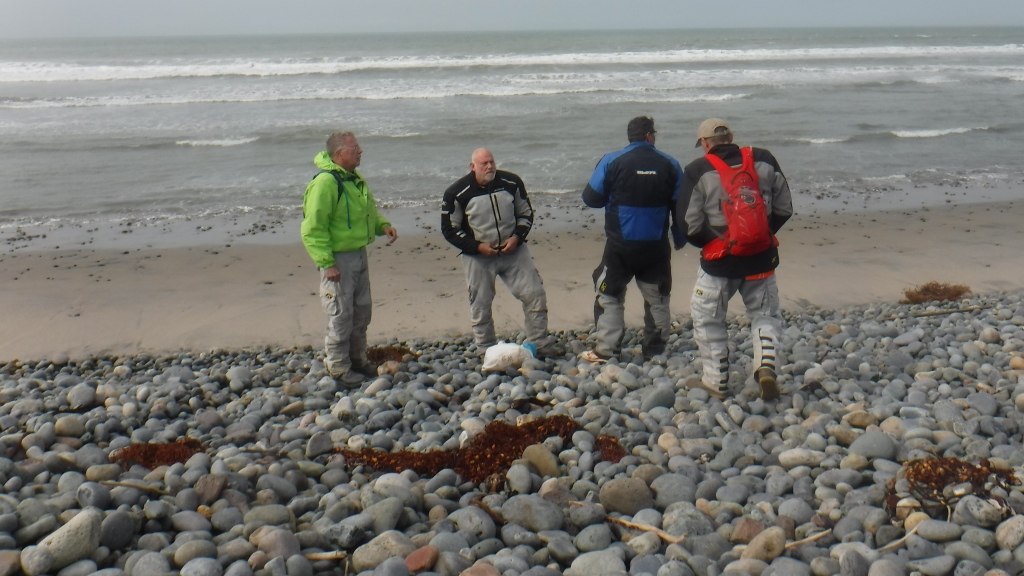 South down the beach you can see the water reached the rocks.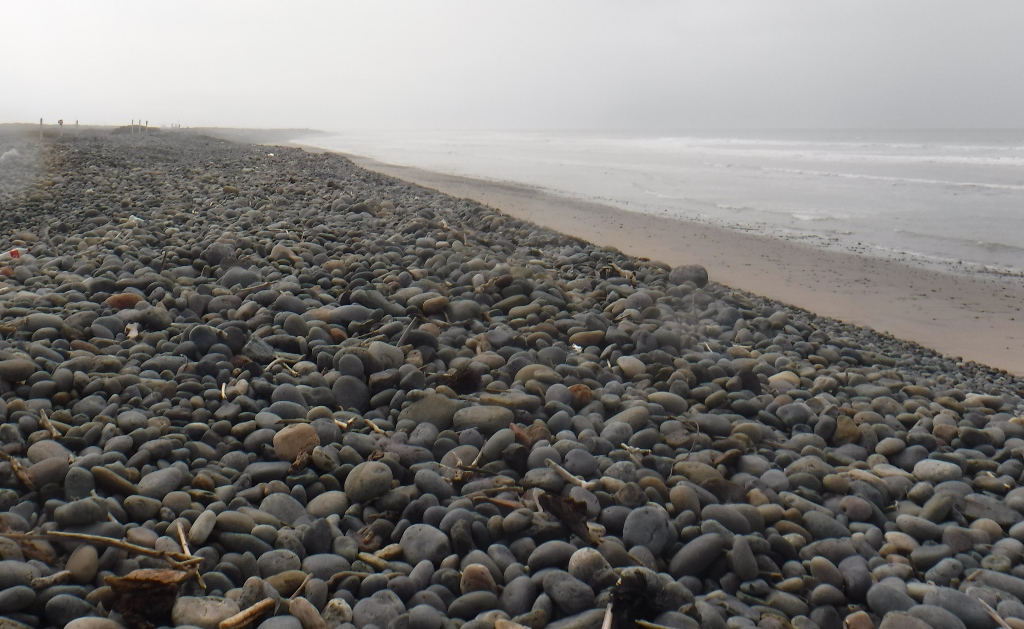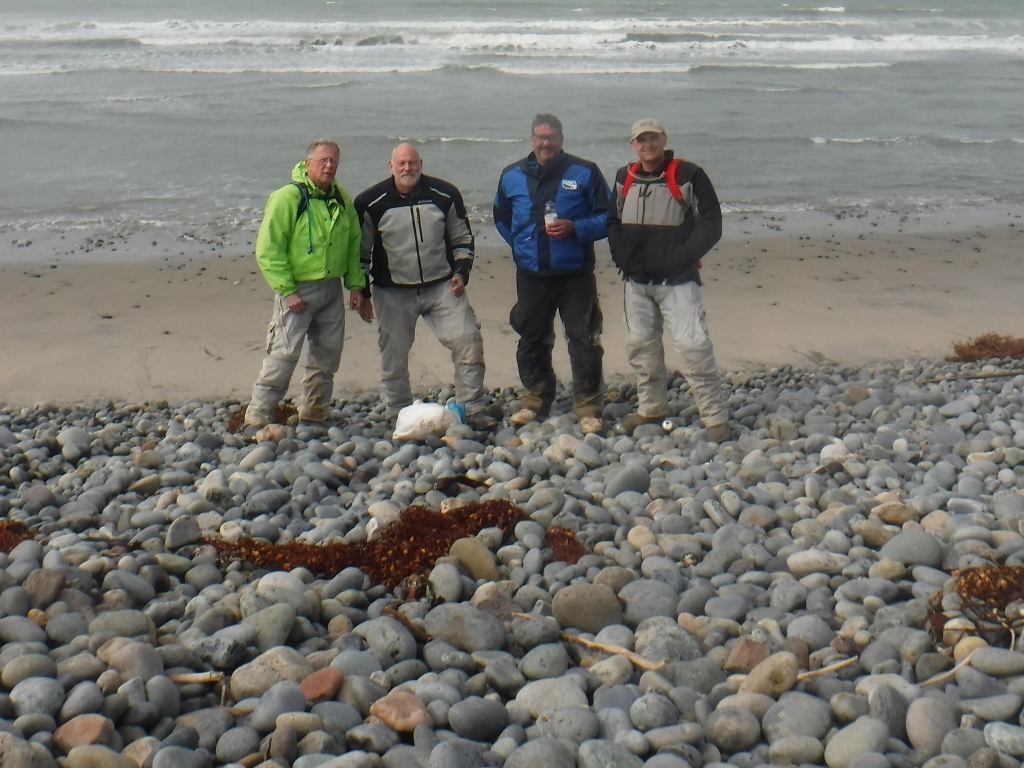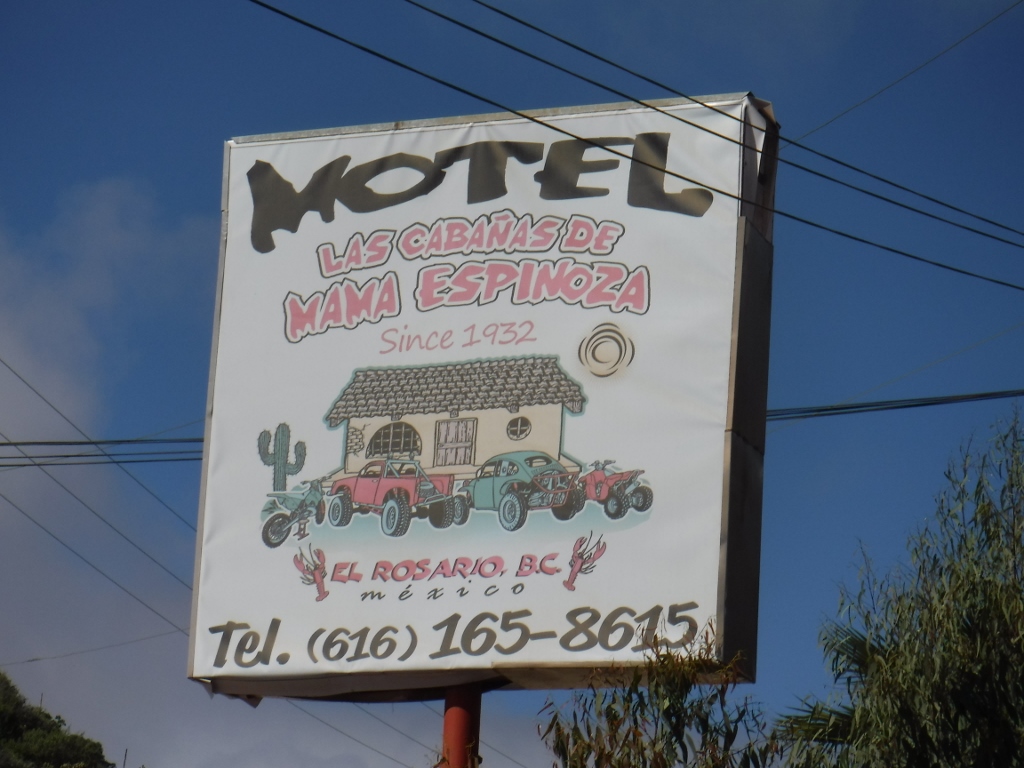 I do believe we ate lunch here at Mama-Espinoza's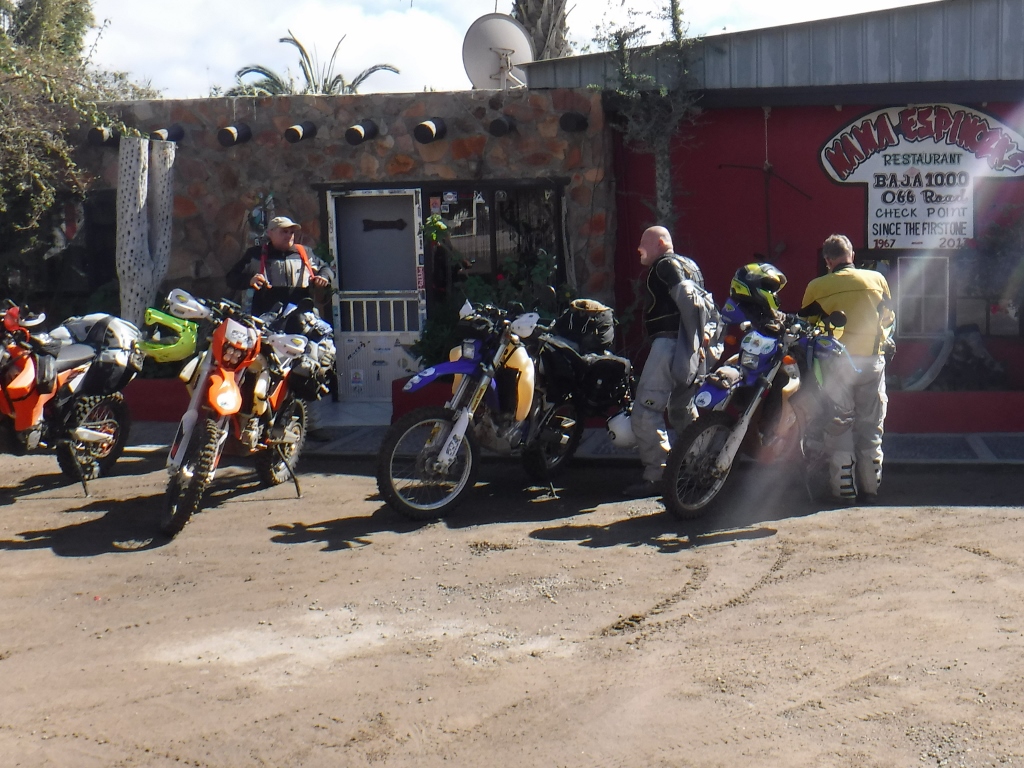 Dave's kickstand was no where to be found-----a re-occurring theme.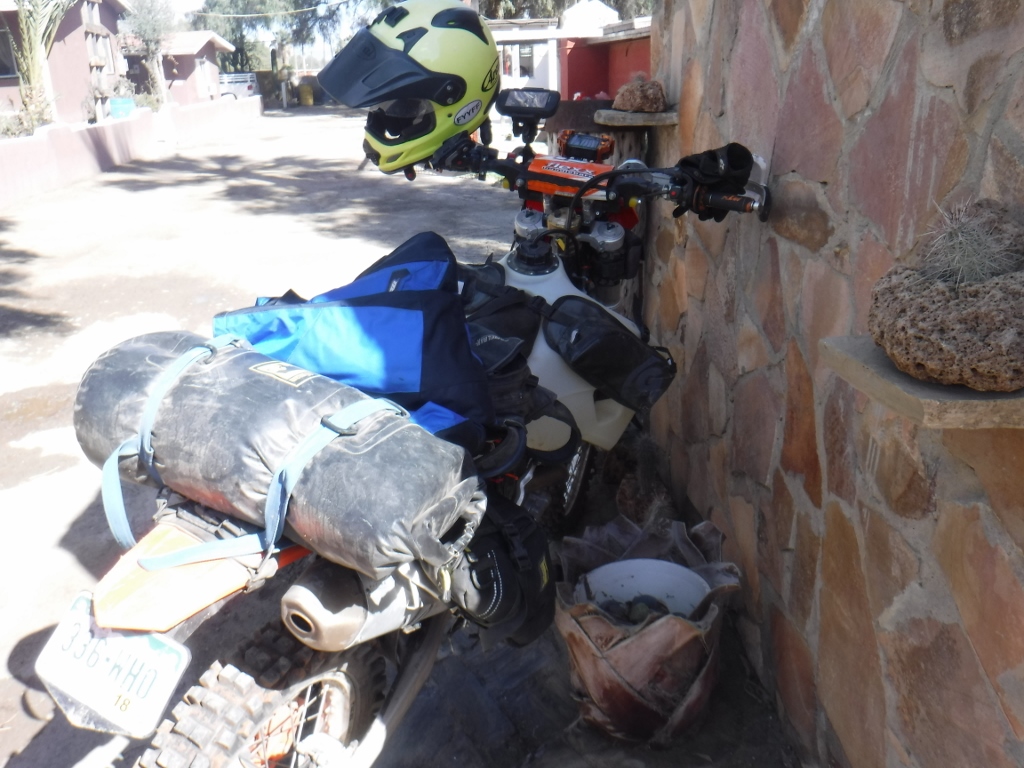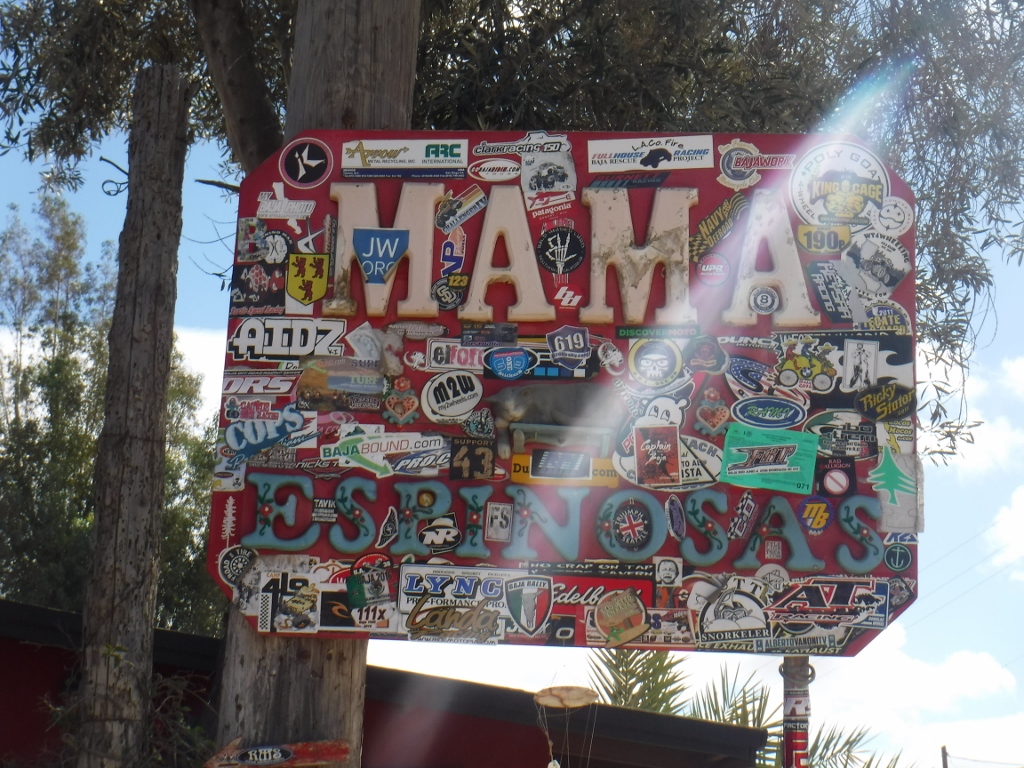 As leader------it was my responsibility to find a tree to lean Daves bike on when we stopped to pee.
But that didn't always work out.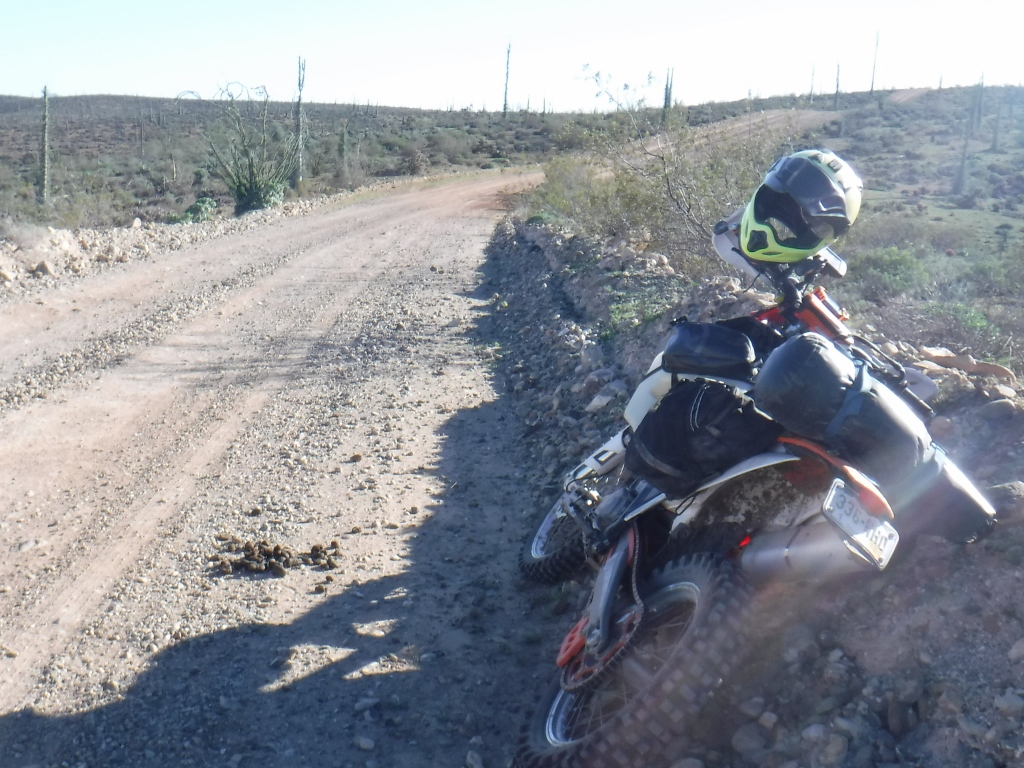 Leaving El Rosario and Mama Espinozas we rode paved route 1 for many miles and turned Southwest on a dirt and sand road towards the ocean.
This road was just before the little town of Catarina where most riders topped off their tanks with barrel gas.
I've done that here several times but we risked not doing it-------------and lived.
This road was 45 miles of awesome all the way to the ocean.
It was a new way for all of us.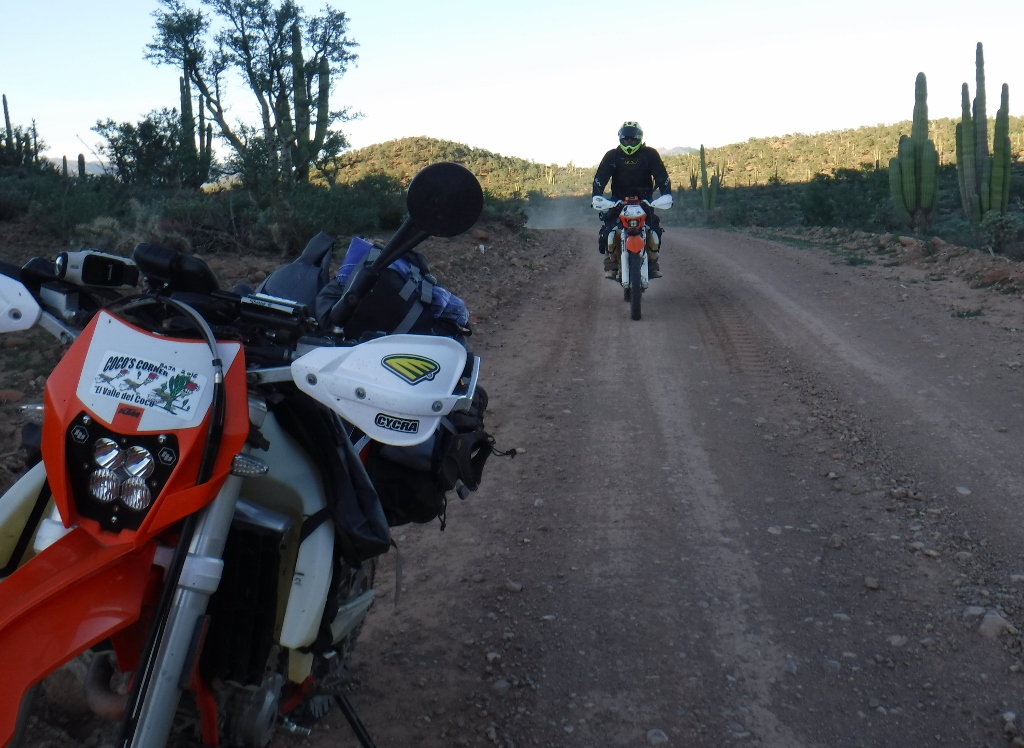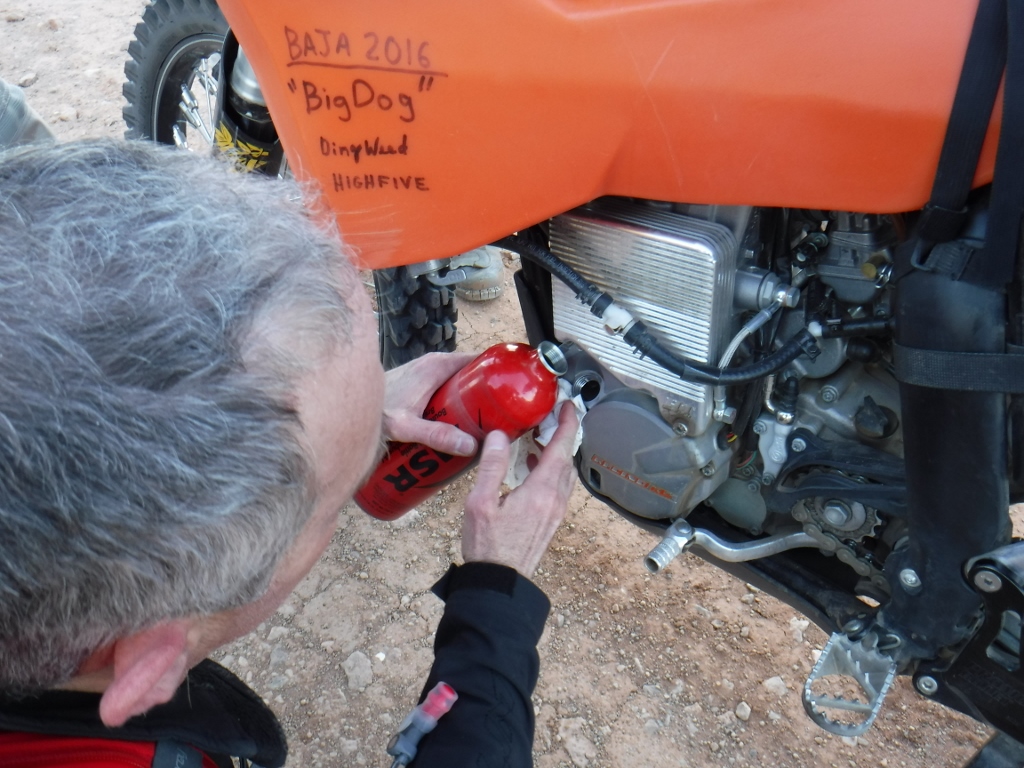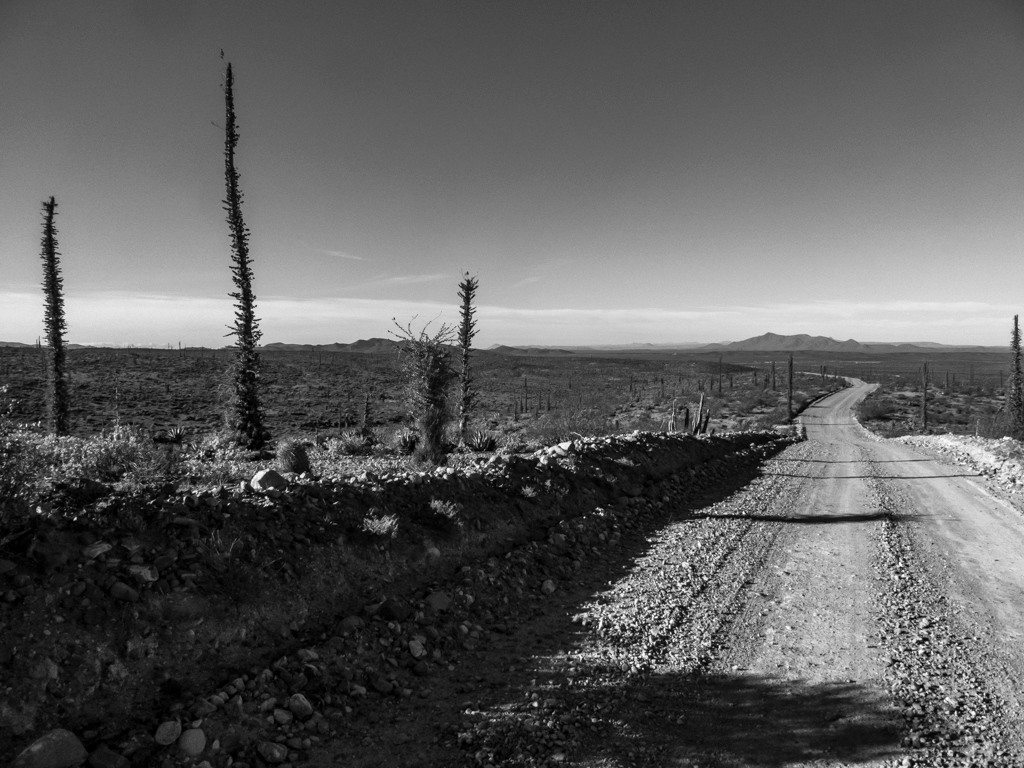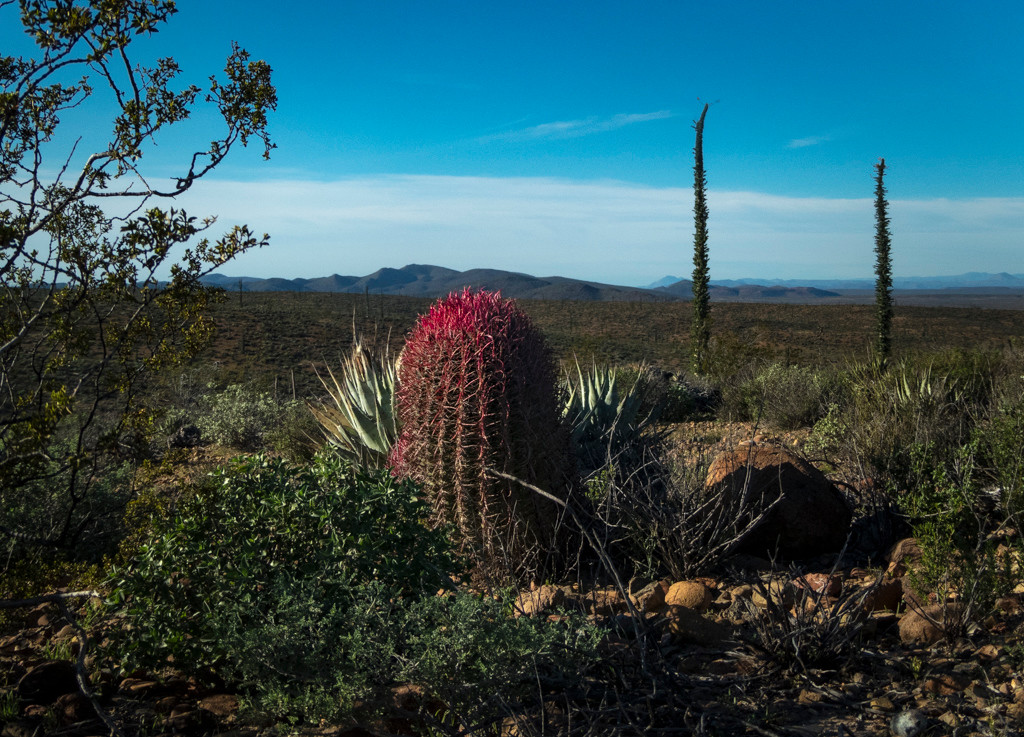 Pee stop-----------no tree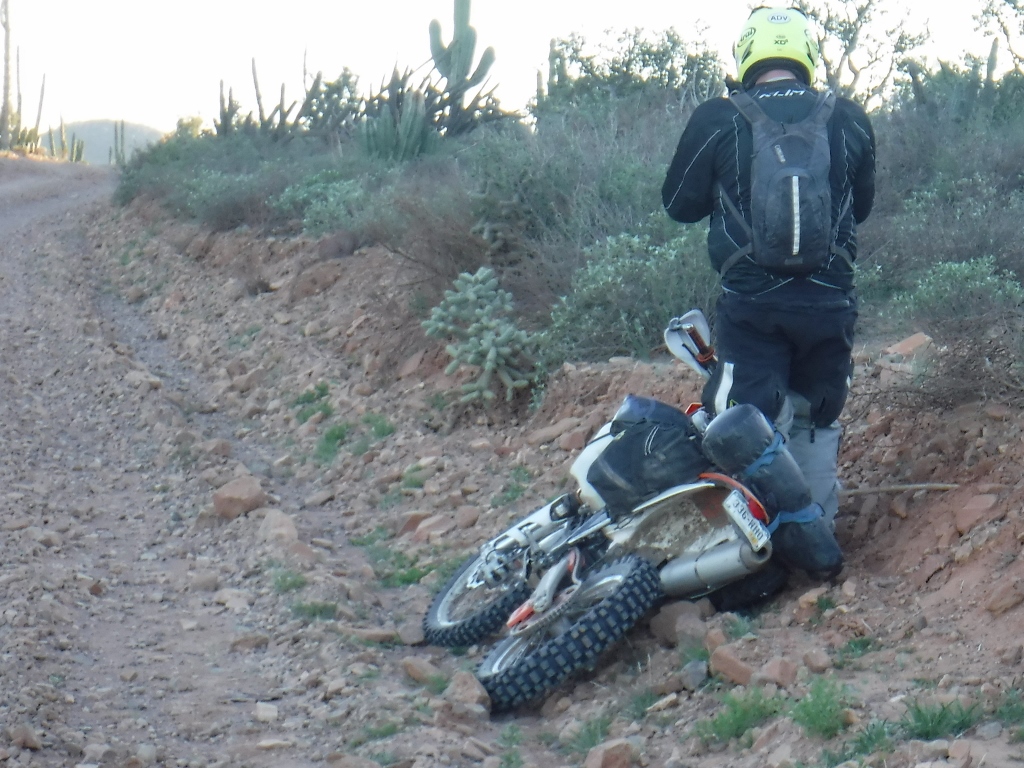 The sun was going down very fast and we weren't to the ocean yet------which is where I wanted to camp----somewhere on the ocean.
I finally had to bail off the route and head straight West on the nastiest impassasable when wet road---with huge ruts.
It was dry but I couldn't help but think all night if it rained we weren't gong anywhere for awhile.
We didn't want to camp just anywhere-----we wanted on the ocean and got it.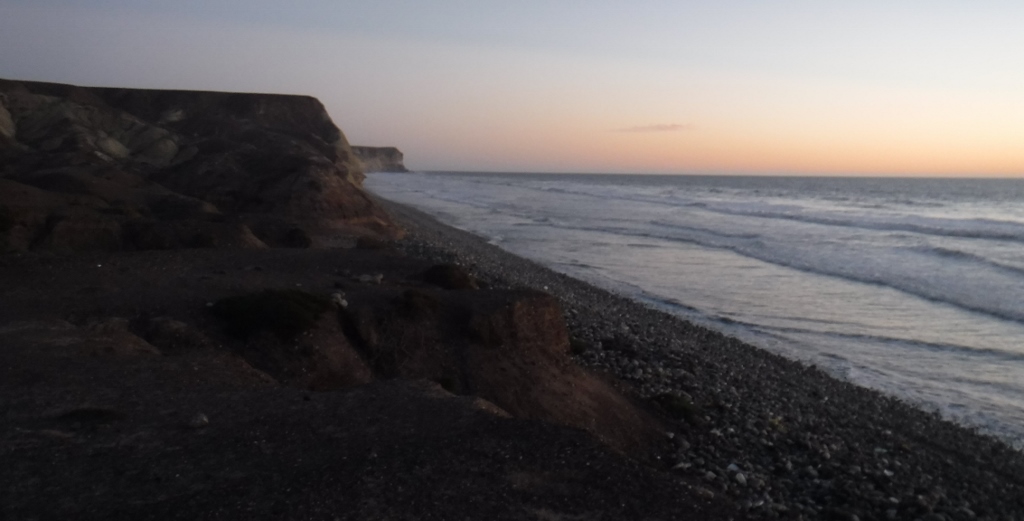 Dave's bike on right was tired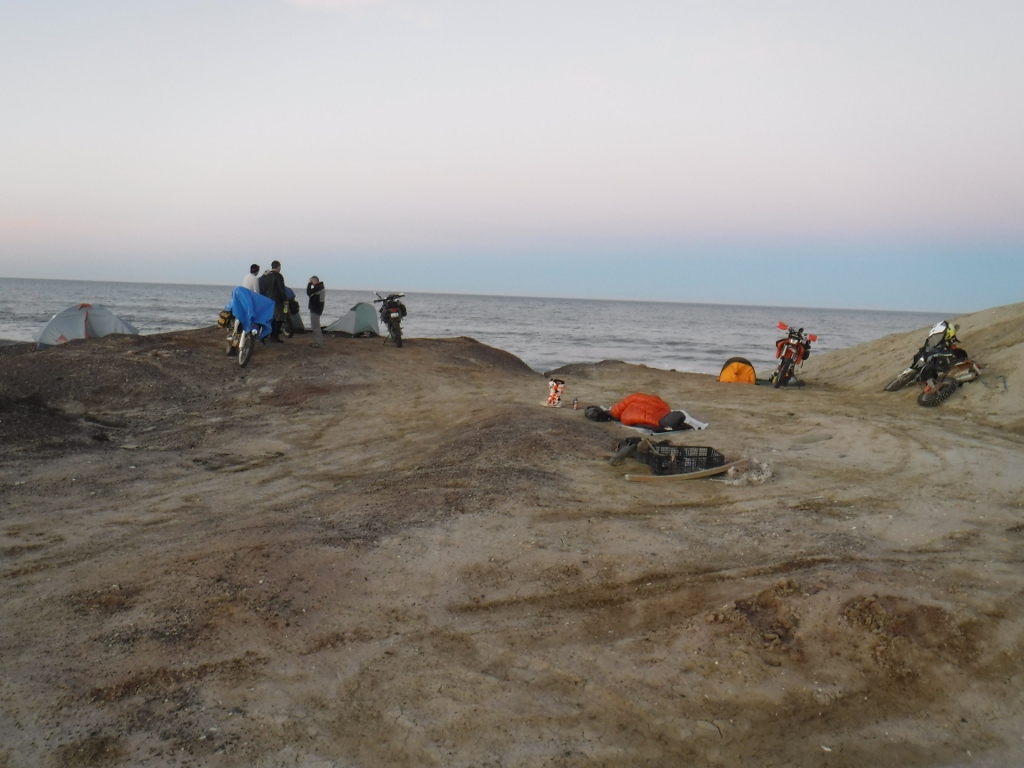 Dave's camp-------he out did us and our tarps we used some.
He had visqueen--------the real deal--------an Aussie thing I guess.
And then there were his gay boots-----not that there's anything wrong with that.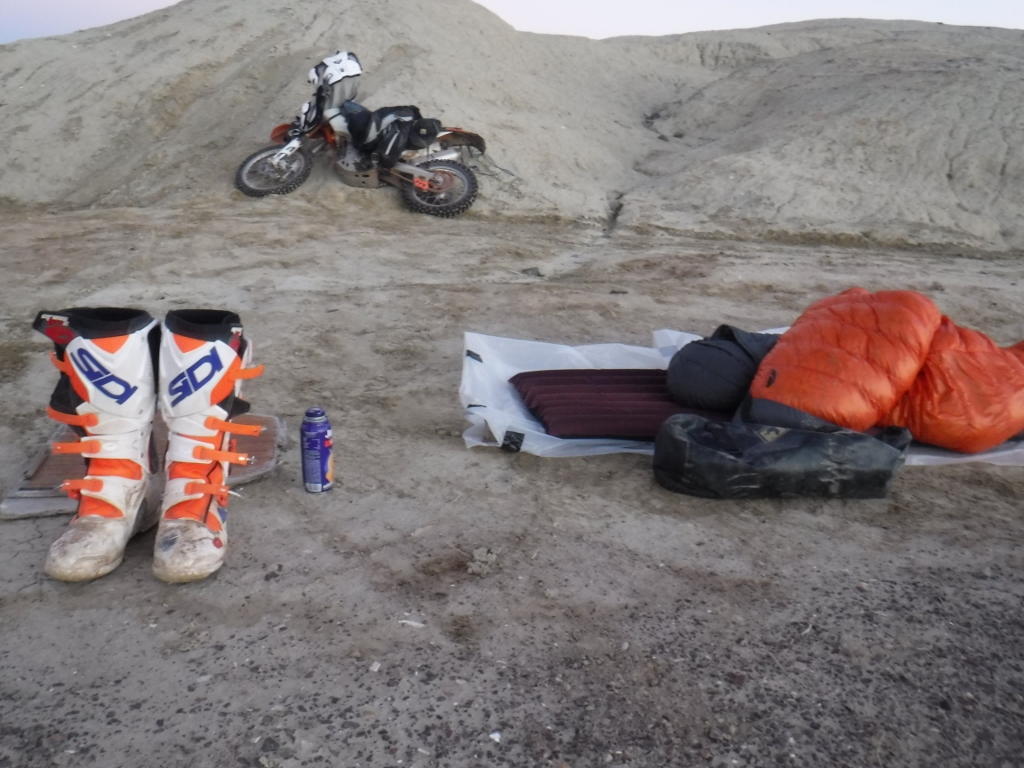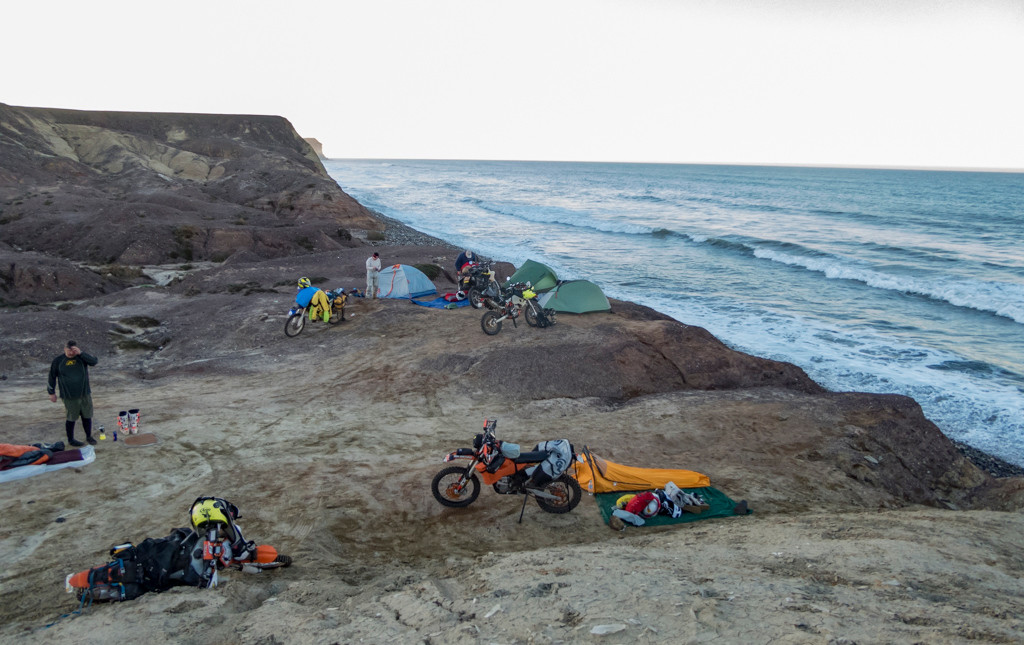 If a stiff wind had blown up from the West-------our tents with us in them would be gonners.
I think Dingweeds fed us out of the "Chuck Wagon".
He had enough food in his rear bag to feed all of us for 3 weeks and we helped him out by
lightnin' his load a couple times a day.
The ocean tide lulled us to sleep.
And Dave's tarp--------flap, flap, flap, flap, flap, flapped all nite long !!!!!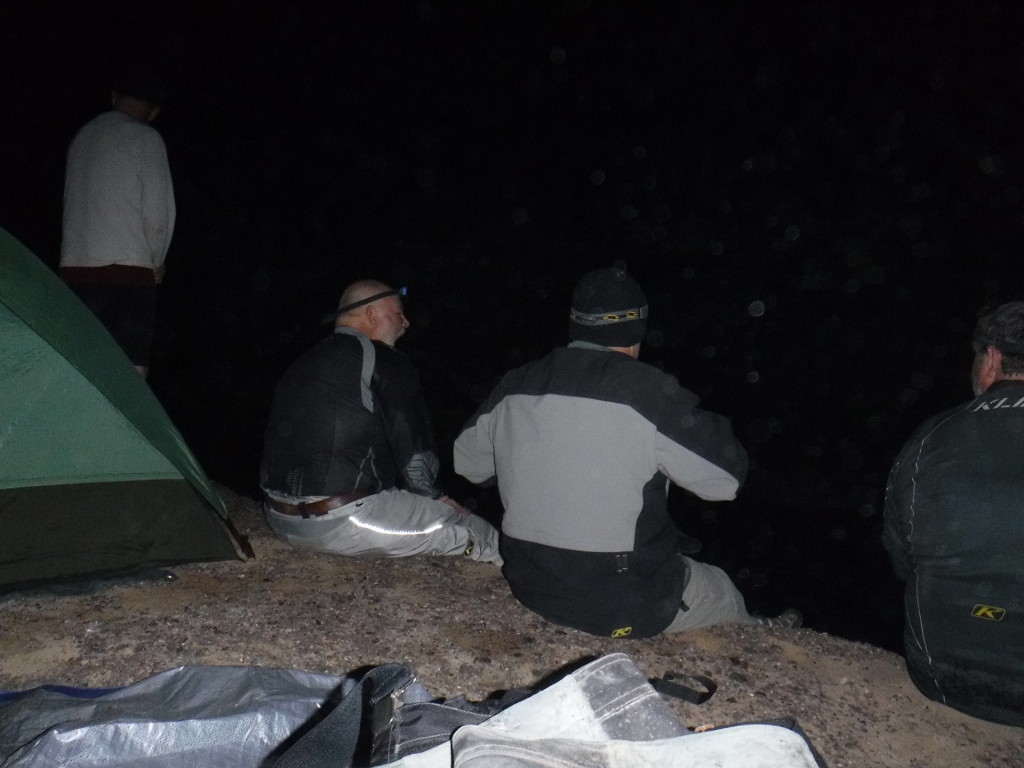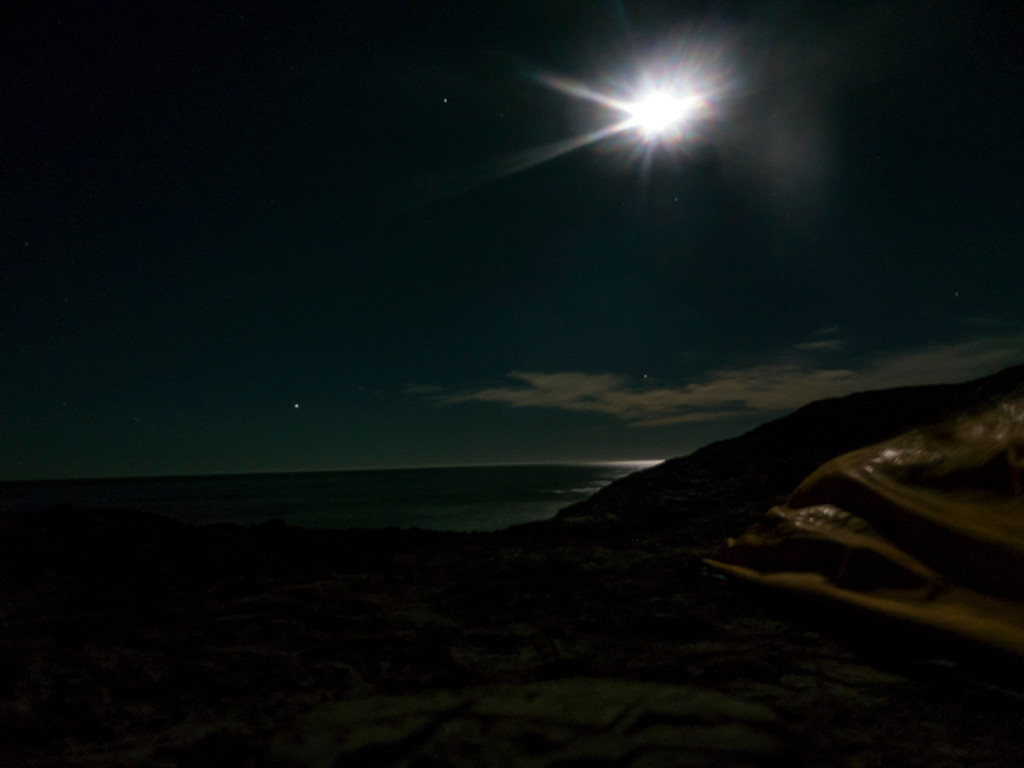 Short Day 2 Video
A map of our 2nd day in Baja
The yellow line is our track.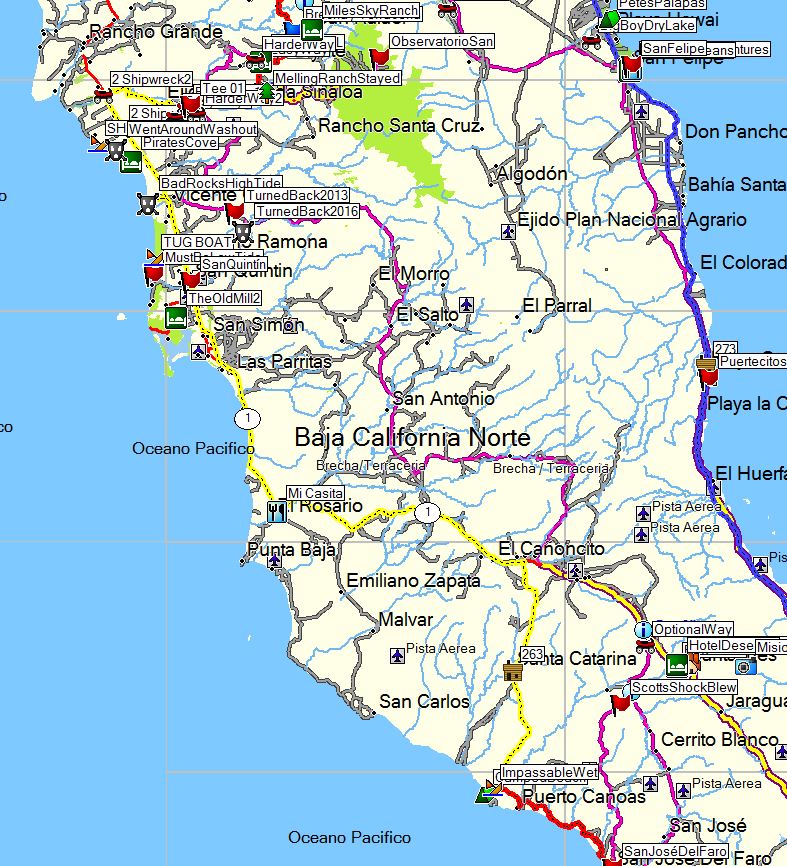 Day 3
February 8th
I keep a homemade rollchart on my bike for making notes on the fly.
Comes in real handy------and makes keeping pictures I take in order.
Waterproof paper---------permant marker.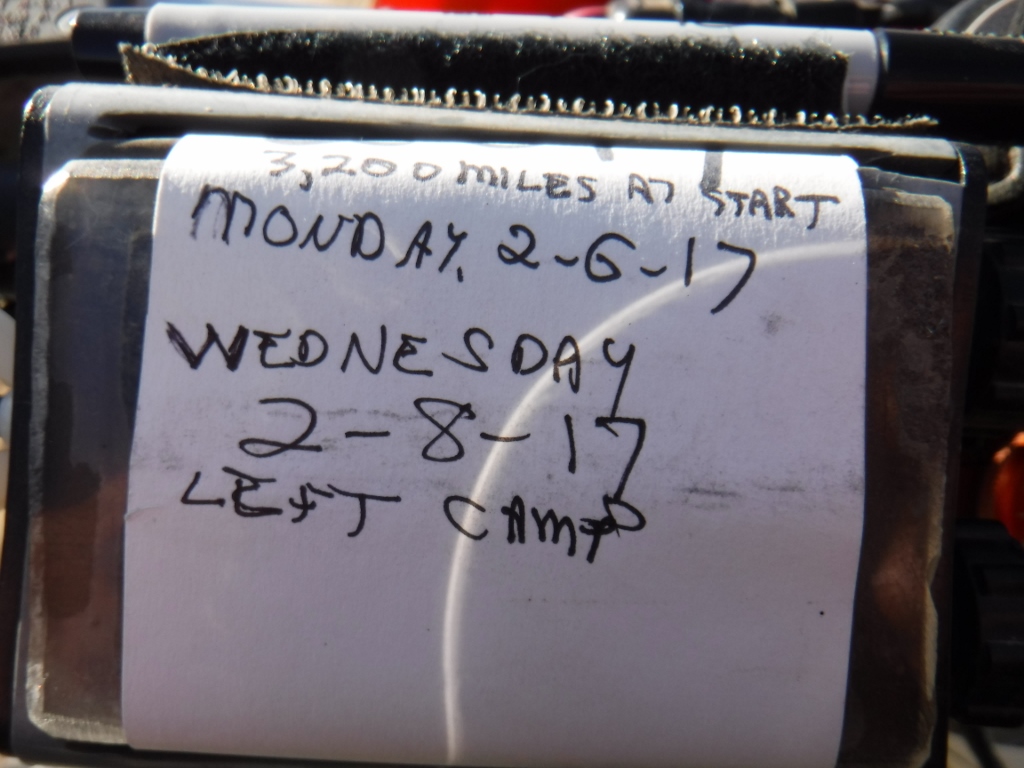 We broke camp at first light on the ocean and headed Southeast very close to the ocean, with
many views of it along the way.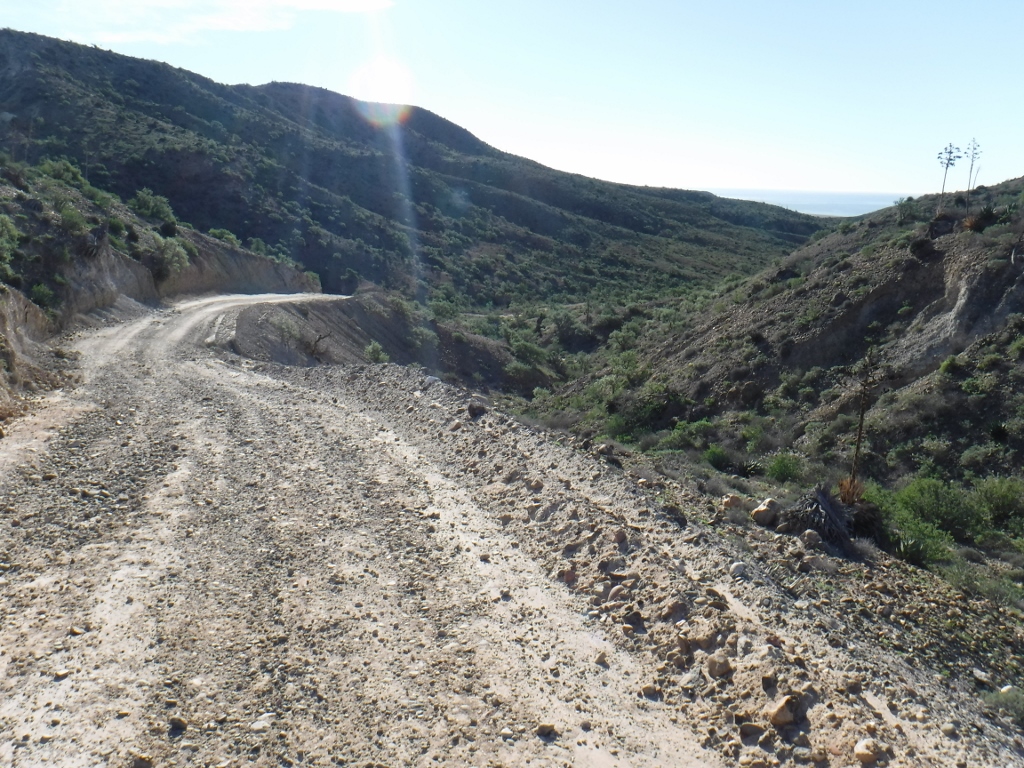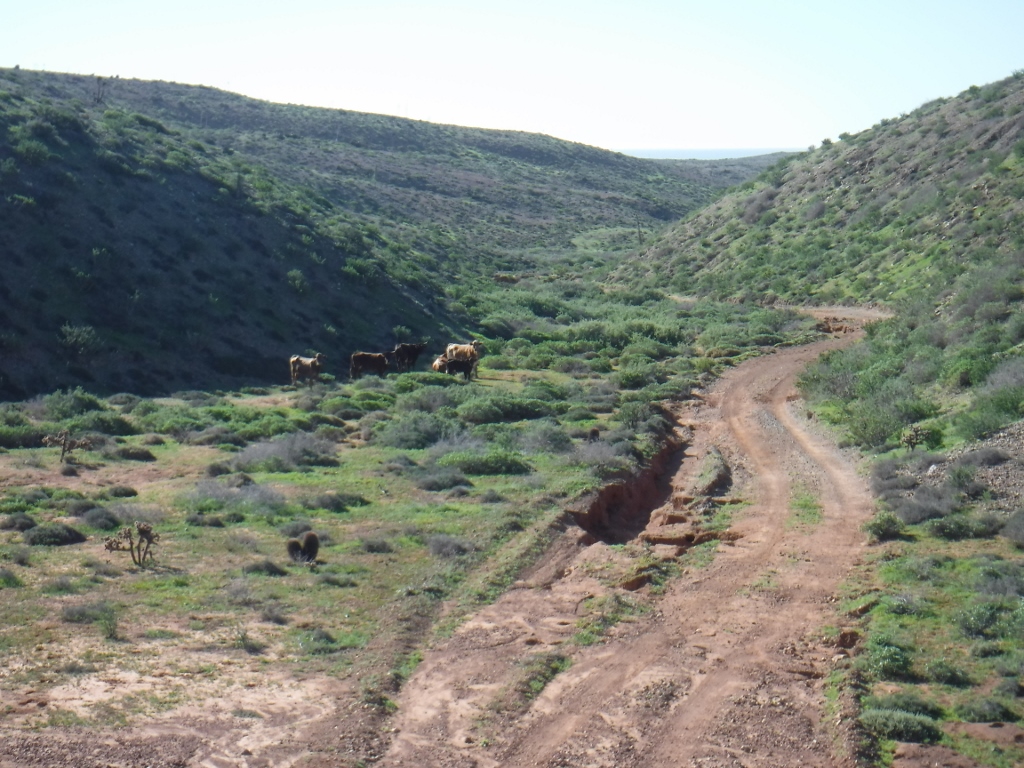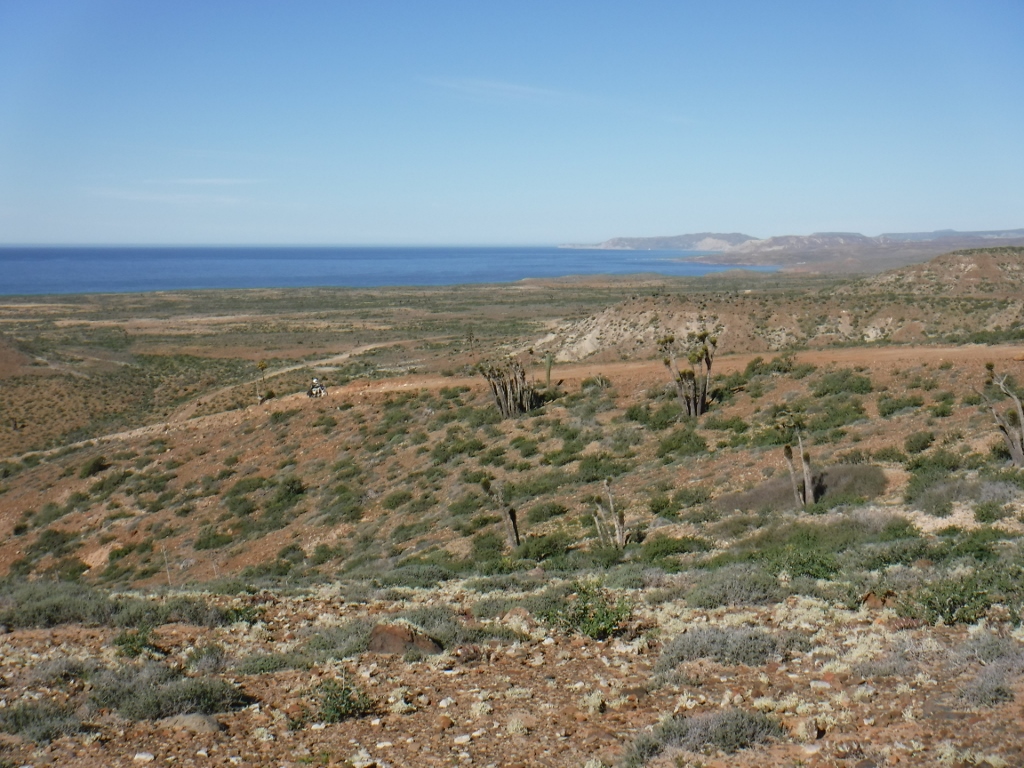 Beautiful but easy riding all the way.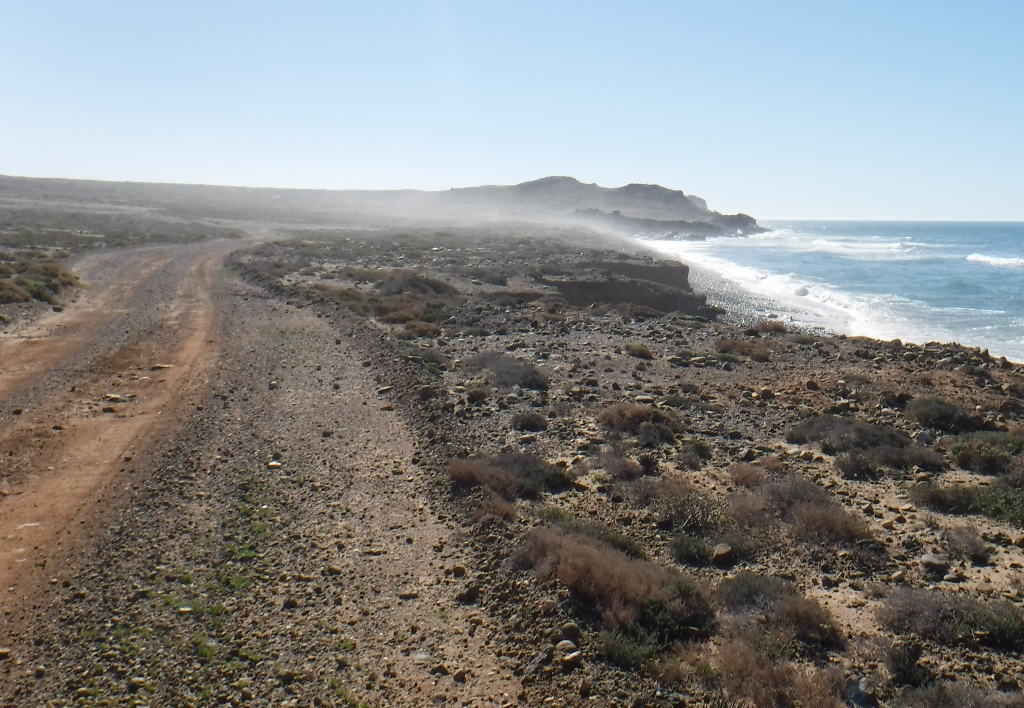 We's all get hungry and dingweeds opens up the "Chuck Wagon".
Spam on a Mexican tortilla-----awesome on the trail.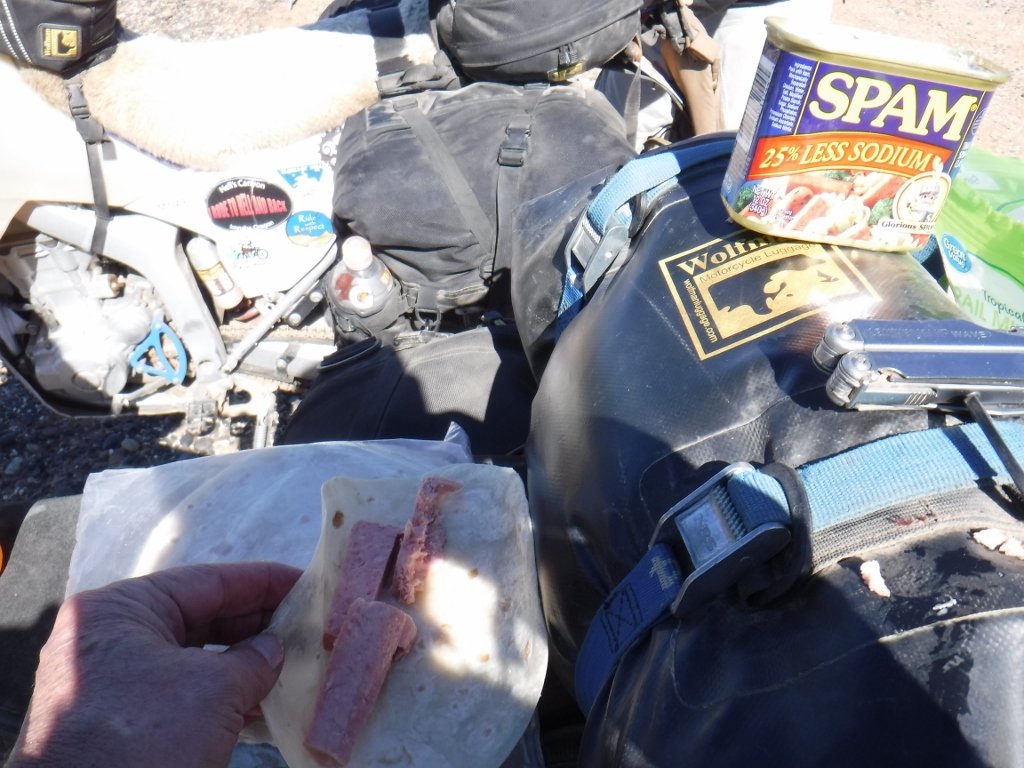 After a couple hours of riding we hit a road along the ocean we traveled on last year and
this is where we camped last year-----a nite to remember that was.
The surf was deafening.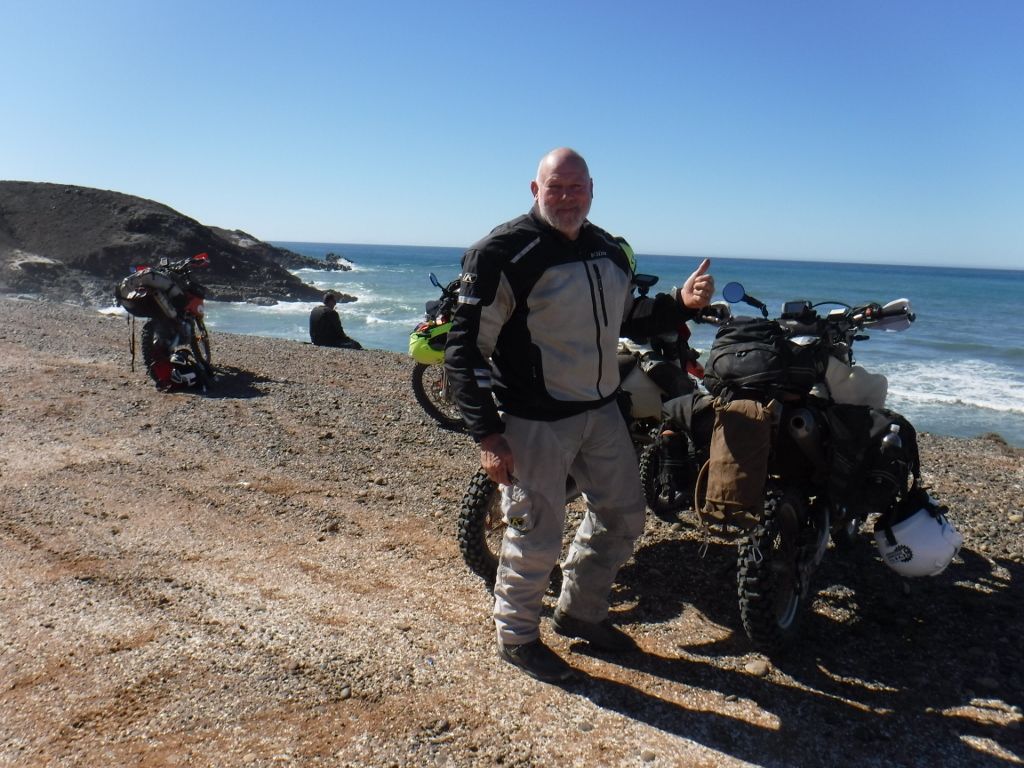 Right before this stop we had ridden miles of terrain that beat on you pretty good----lot's of rocks.
I embarassingly had to stop for a rest I told the guys.
And found out that they too were ready for a stop and maybe dingweeds should open up the Chuck Wagon again !!!!
Dave probably threw his kickstand-less KTM on the ground.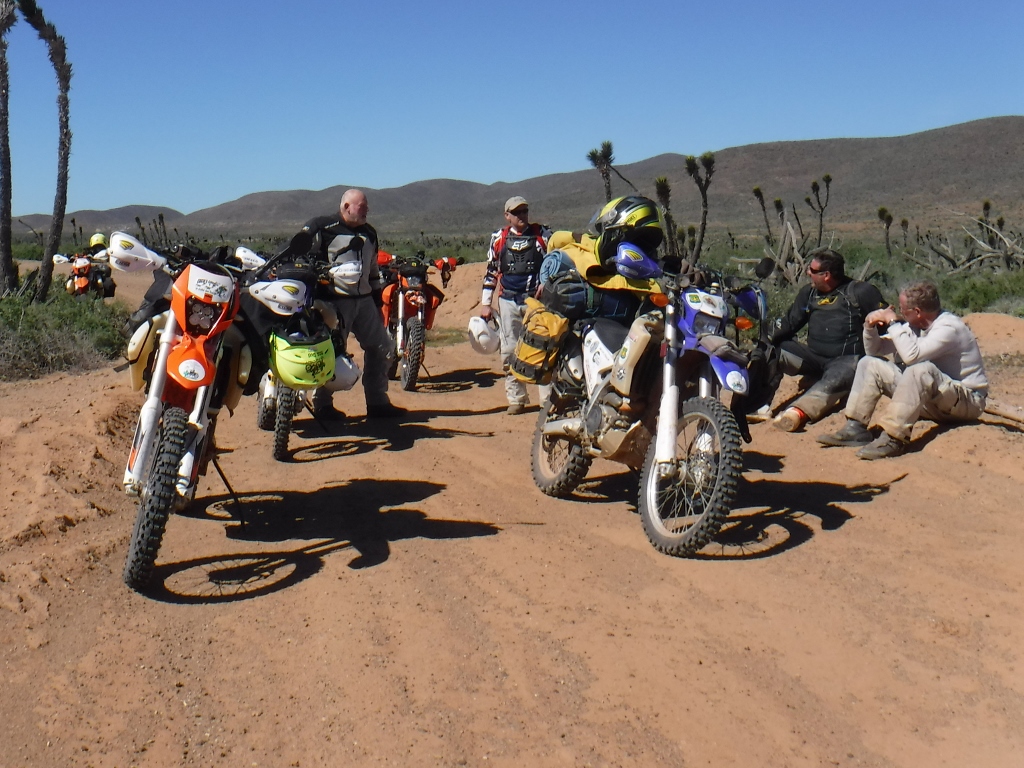 Riding into Guerro Negro we found this handy dandy motel right on the main road and didn't have to go into town.
Cheap, cheap, cheap and we had an emotional moment here with the Restaurant owner "Francisco".
I will never forget this man.
He was the nicest man and spoke good English and looked right at me and asked "Why do you come to Baja" ????
The answer flew out of my mounth almost before he finished the question----and I said..............
"Because of the nice people" I said.
And he started crying------you just had to be there-----a moment of silence from all of us.
Notice Daves use of the stairs on the right.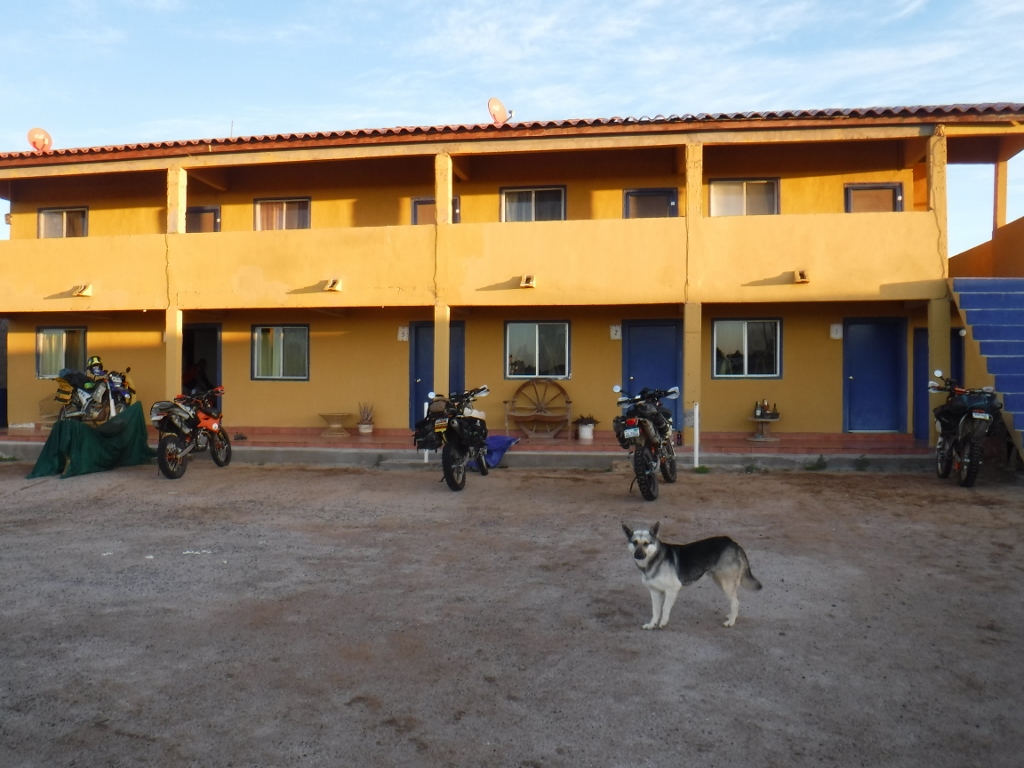 And in the morning we were very close to a military installation and were treated to some bugel---ling.
It was awesome.
Here's a short video of day 3
A map of our Day 3 in Baja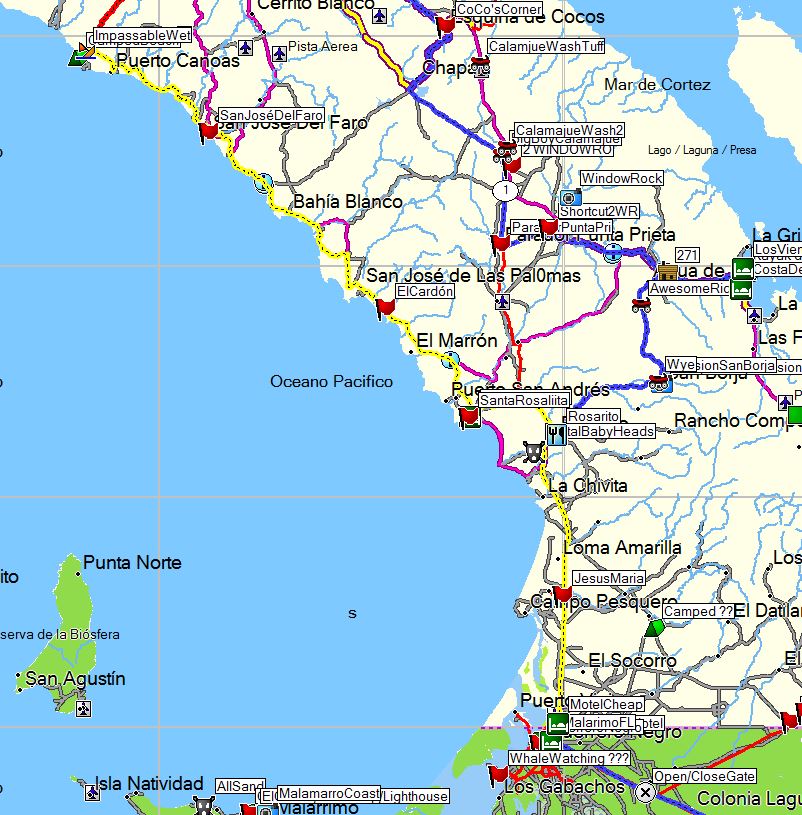 Day 4
February 9th, 2017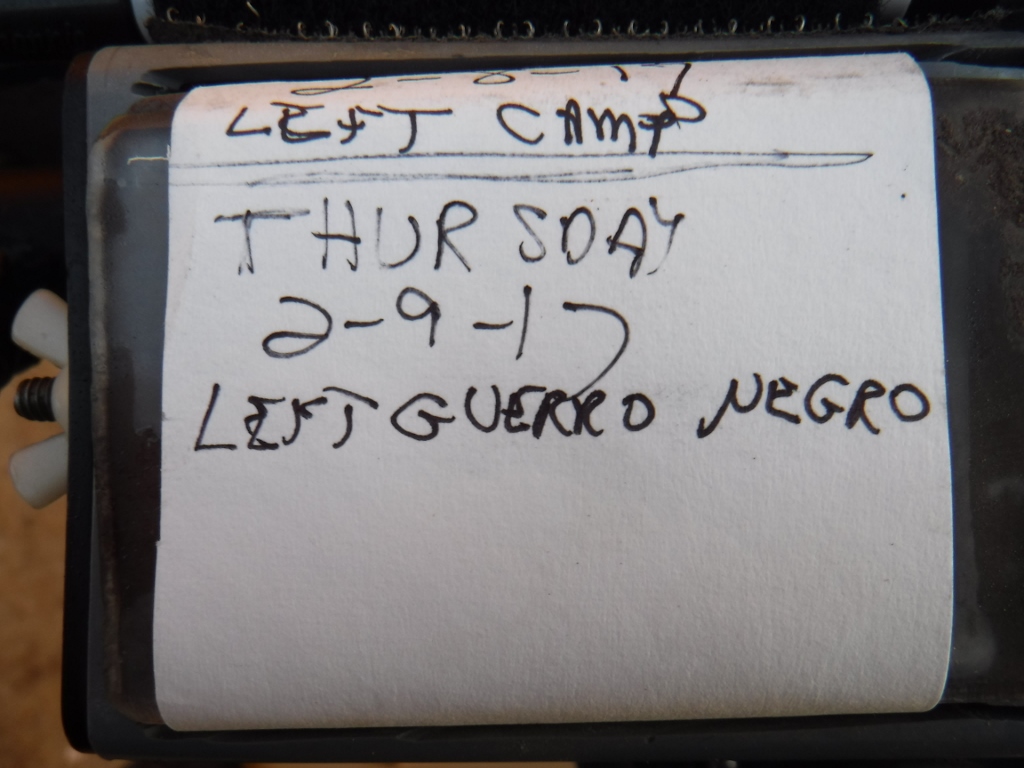 Today was a very short day---rode all pavement to San Ignacio and entered Baja Sur (South)
and had the benefit of a military escort part way.
Thanks guys !!!!!
The Mexicans loved us--------and we certainly loved them.
High Fives KTM 450 EXC is the "6 Days" model.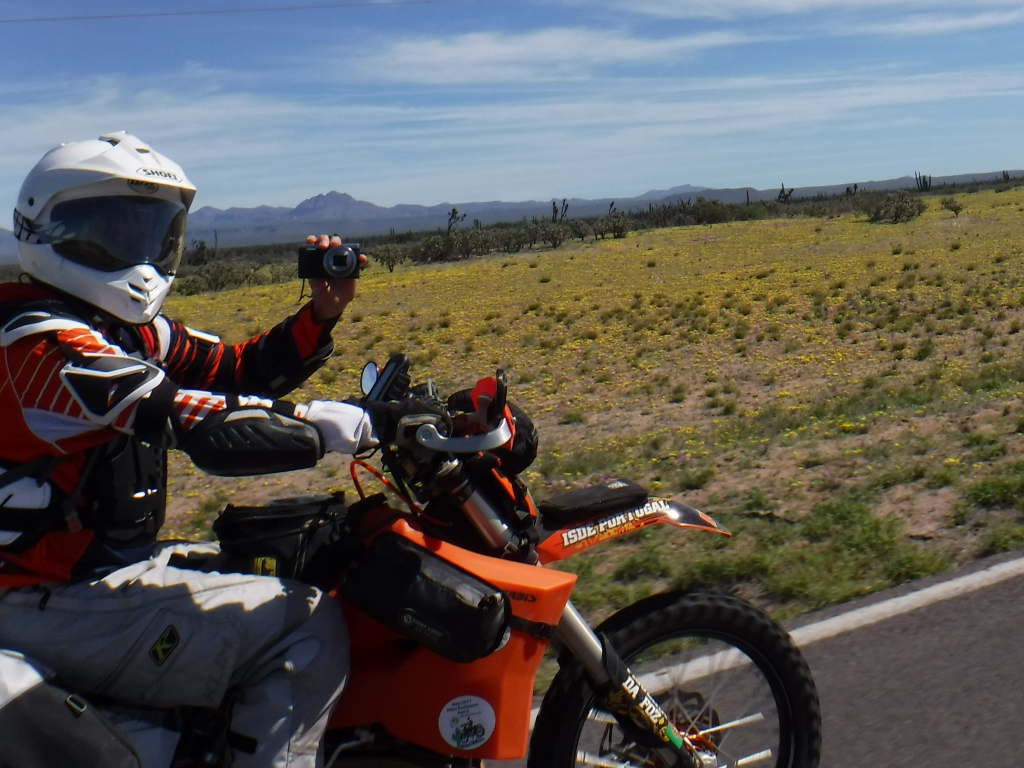 And Dingweeds WR is the "8 Year and 80,000 Mile Model"
Daves KTM 500 EXC is the "Aussie" Model
These don't come with a kickstand to save weight !!!!!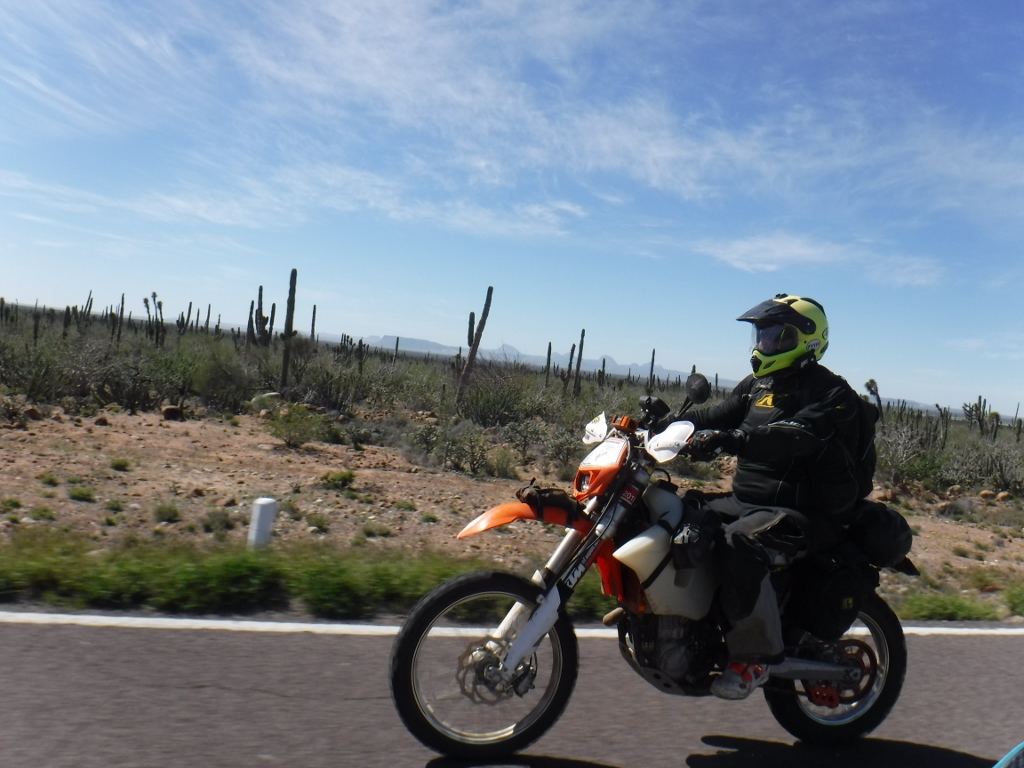 We ended up at the Desert Inn-----not our first choice of the La Huerta---but they were all booked up.
It was first class here--------considering we had no class--it was nice they let us stay.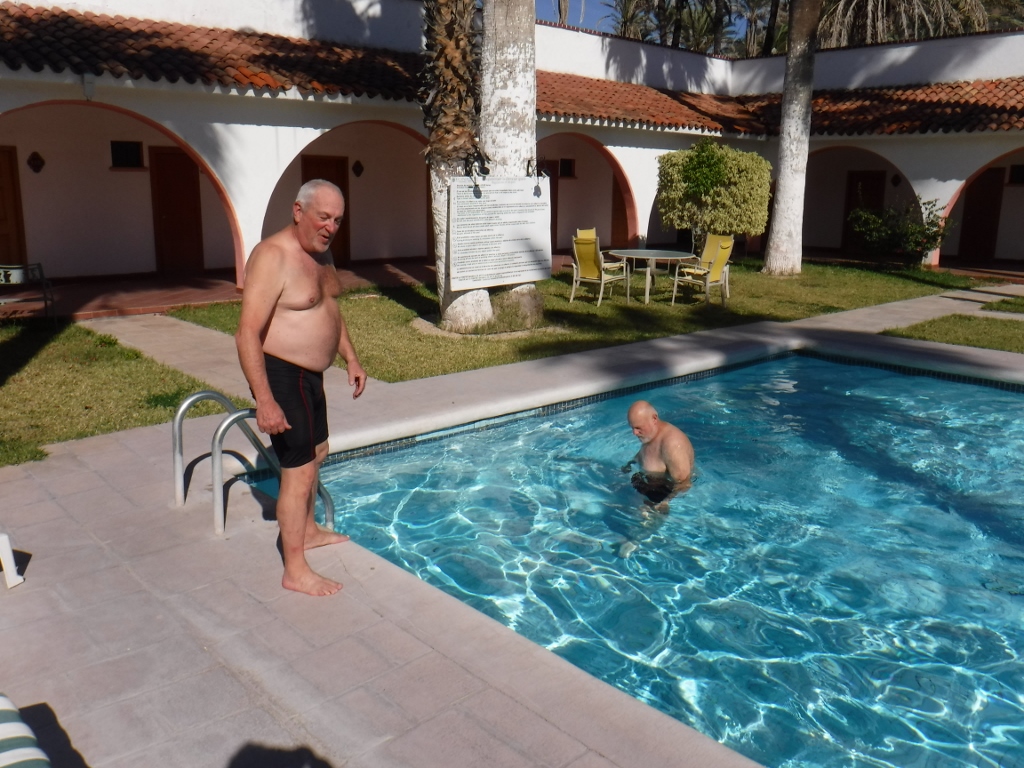 If memory serves me correctly (not likely) we cut the day short as sort of a 1/2 day rest day.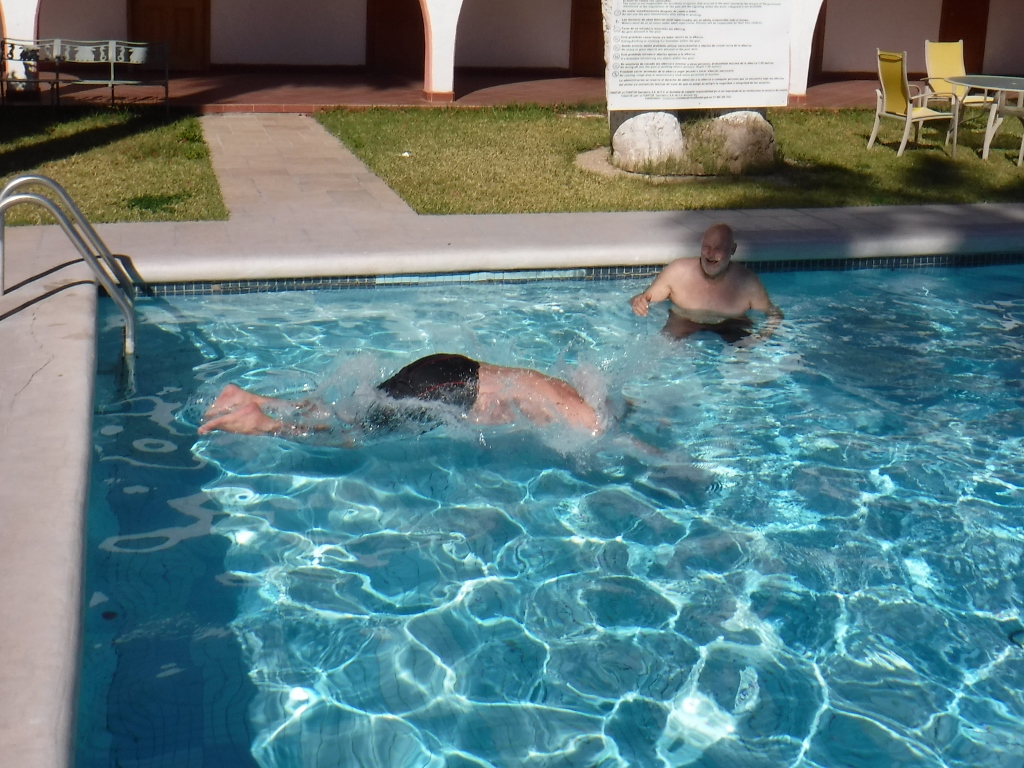 The water was too cold to swim in, but we had a mission.
A big Mission.

Yes-------------Adios Pantelones II

See that pool rules sign in the background ?? We weren't satisfied till we broke all of them.
Adios Pantelones being one of them.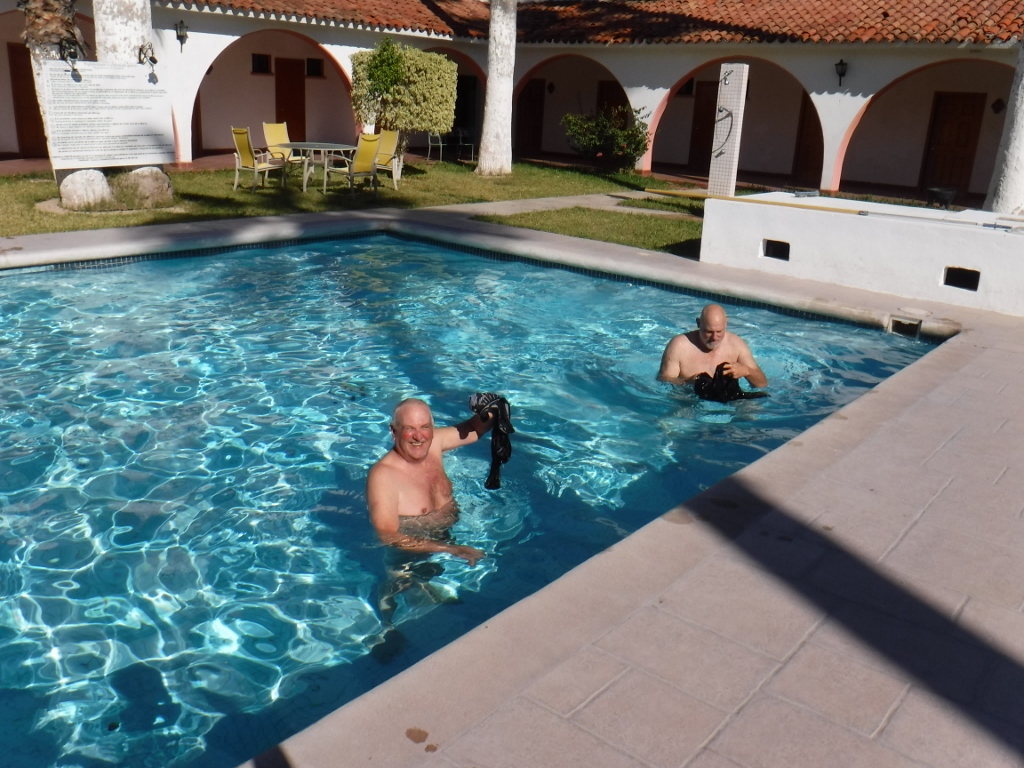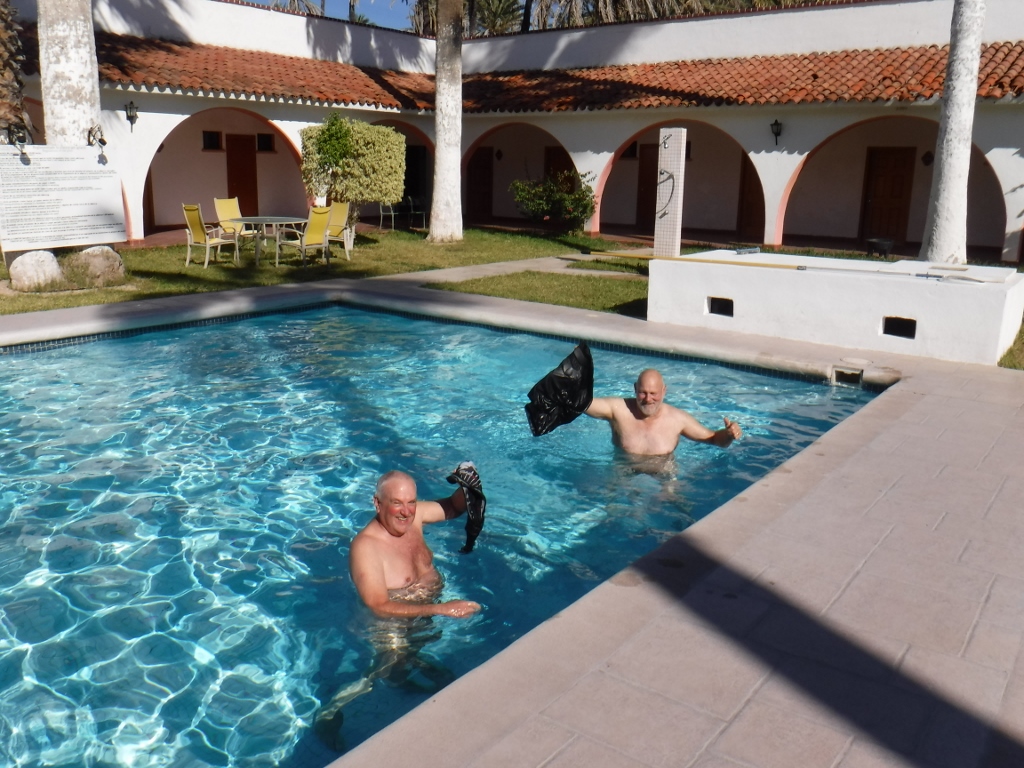 Think about it-------you'll figure out what's going on.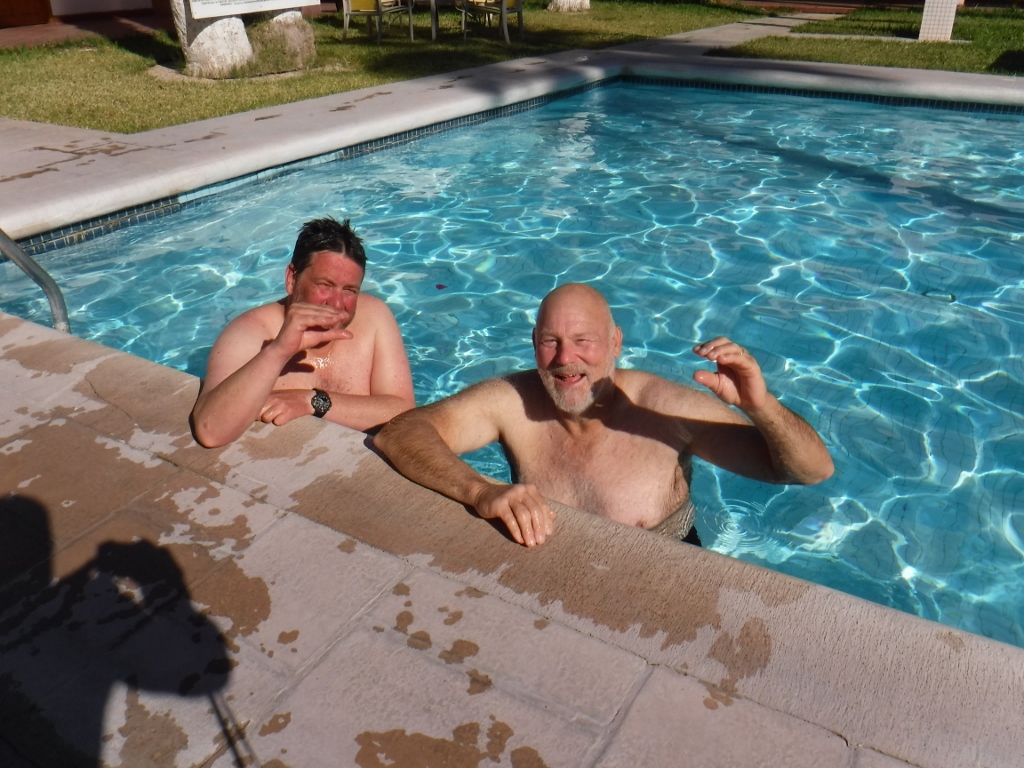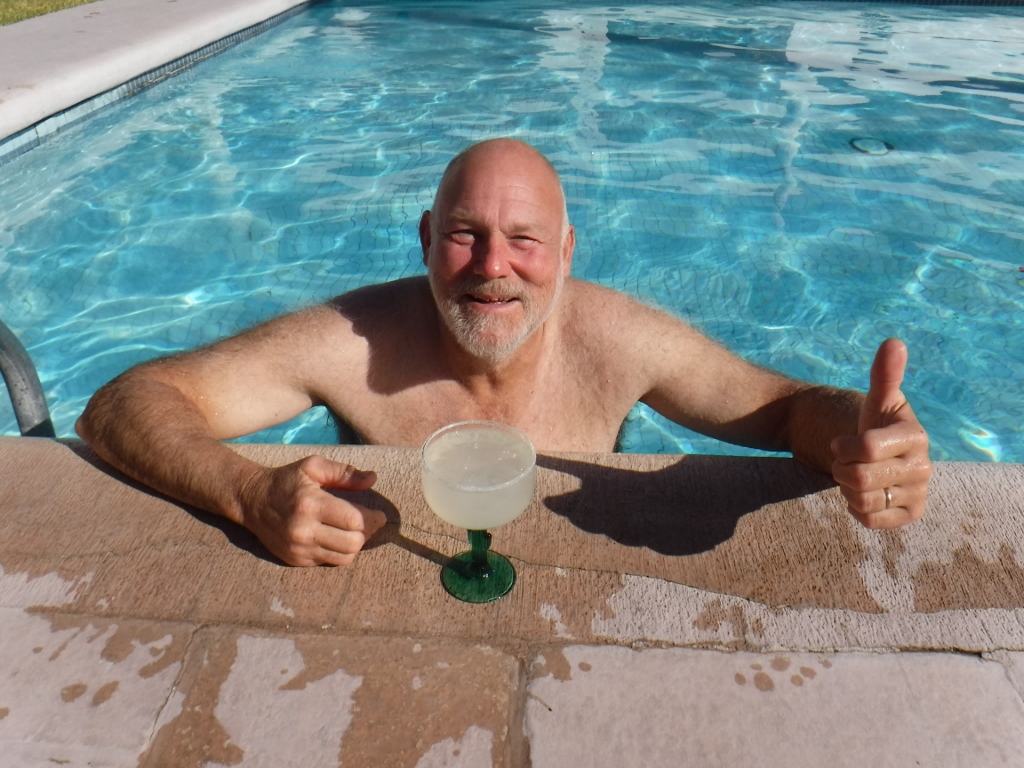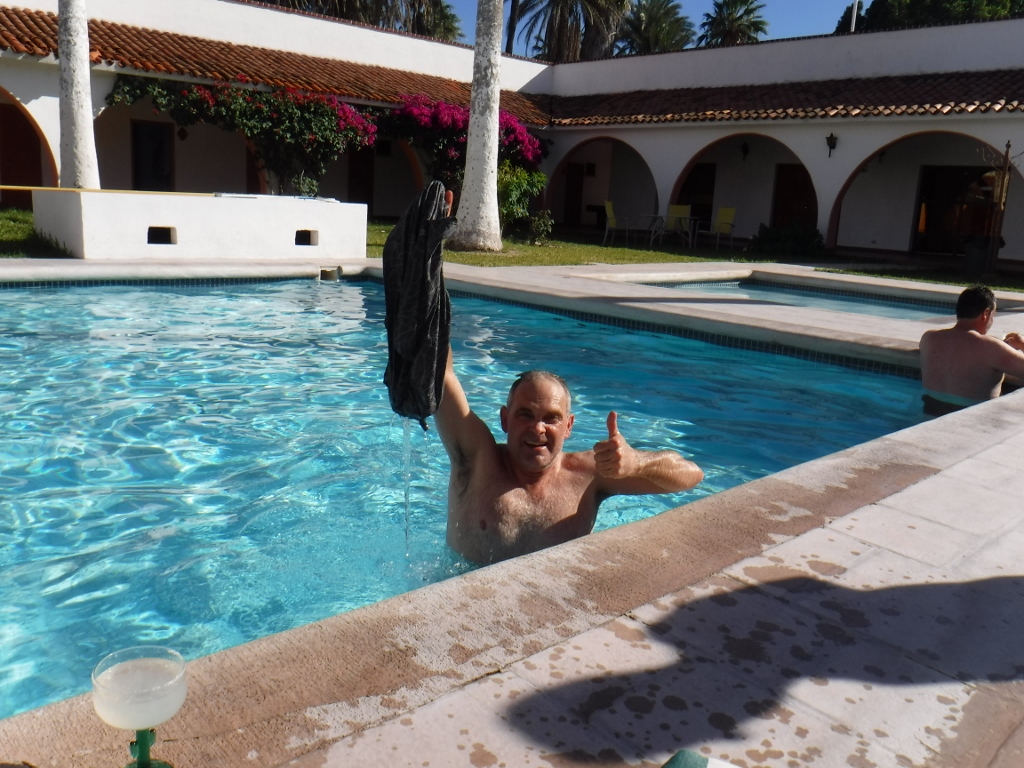 Dave
"I was running 83 mph trying to catch the "Chuck Wagon" as I was might thirsty and hungry.
I grabbed high gear and in a bit of over-exuberance tried to wheelie----and did the dreaded high side flip flop
of death---------ripping off my sturdy KTM kickstand in the process and had to exercise all of my riding
expertise to finally get my KTM under control"
Told with a heavy Aussie accent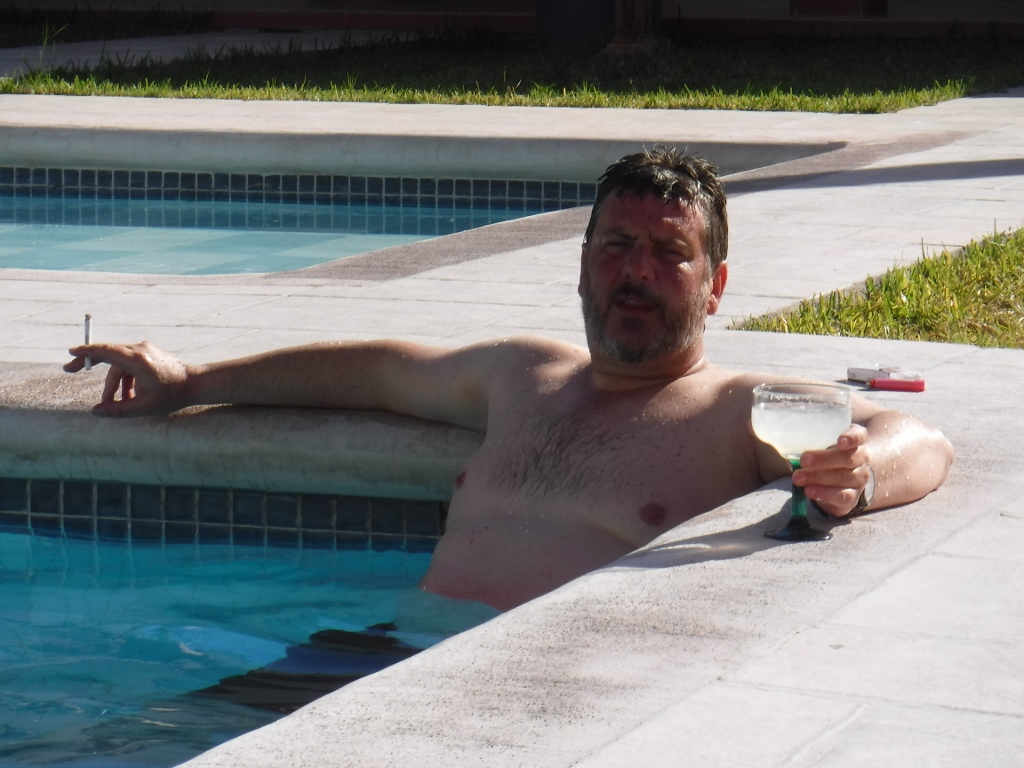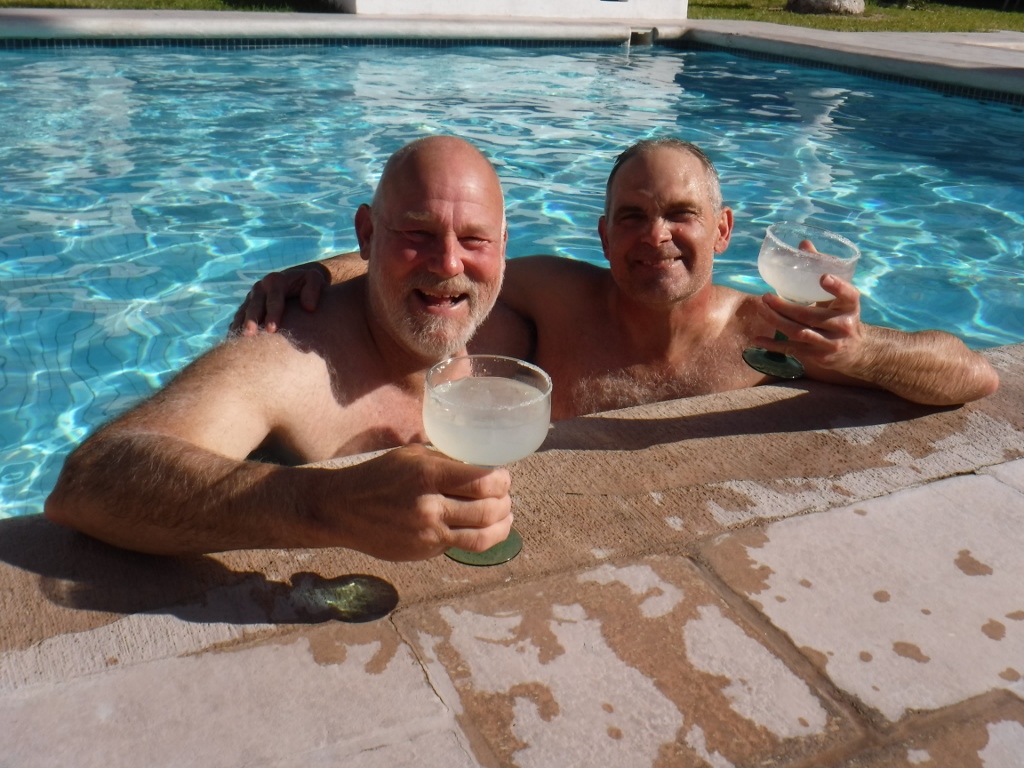 Loved those cactus stems on the Marquiritas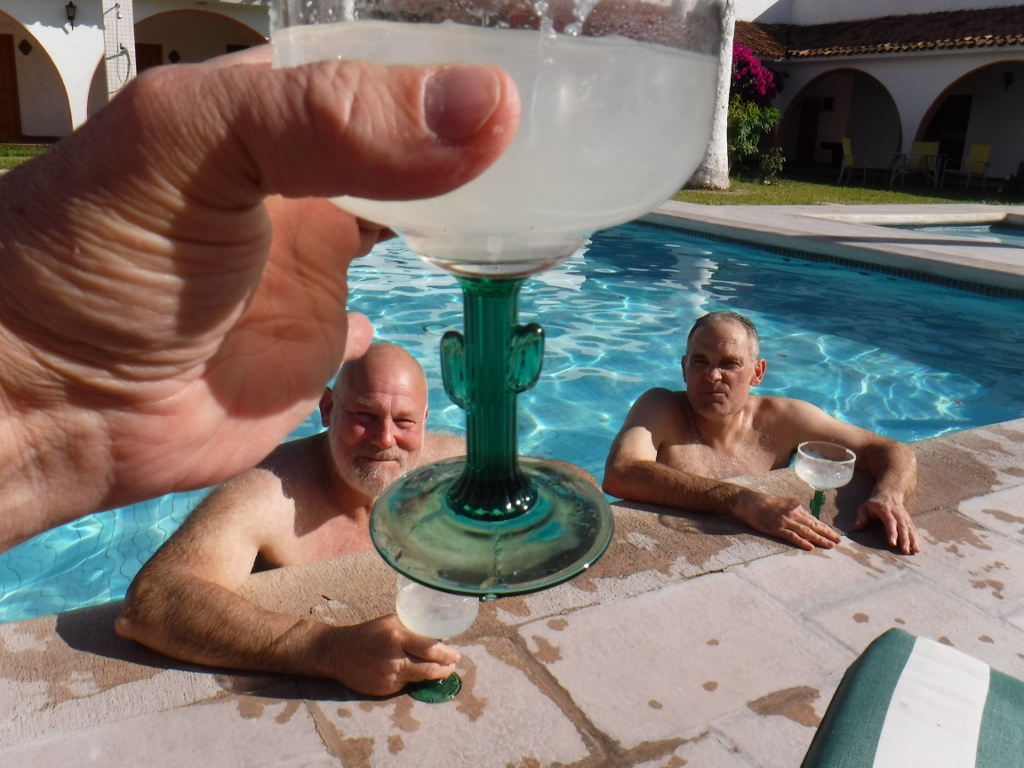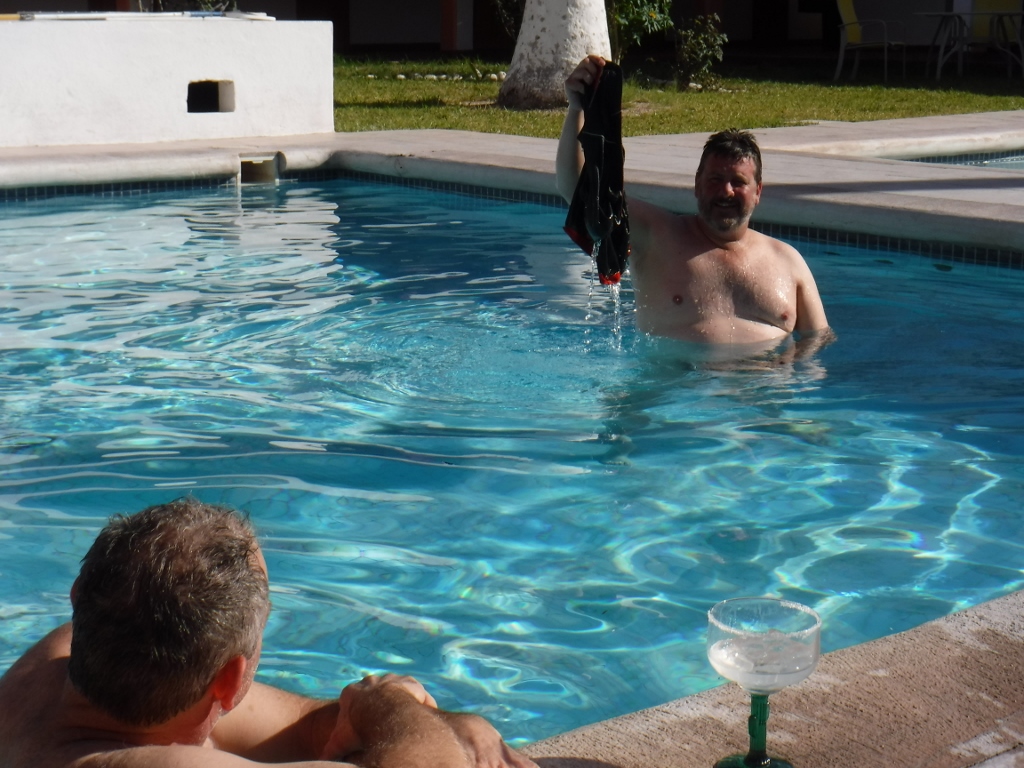 I've never been around Road Dad when he was loopy or sans pants.
But it was all of 1 and 1/4 marquiritas to do it.
His voice become much higher and he turned into another person.
Man was it funny.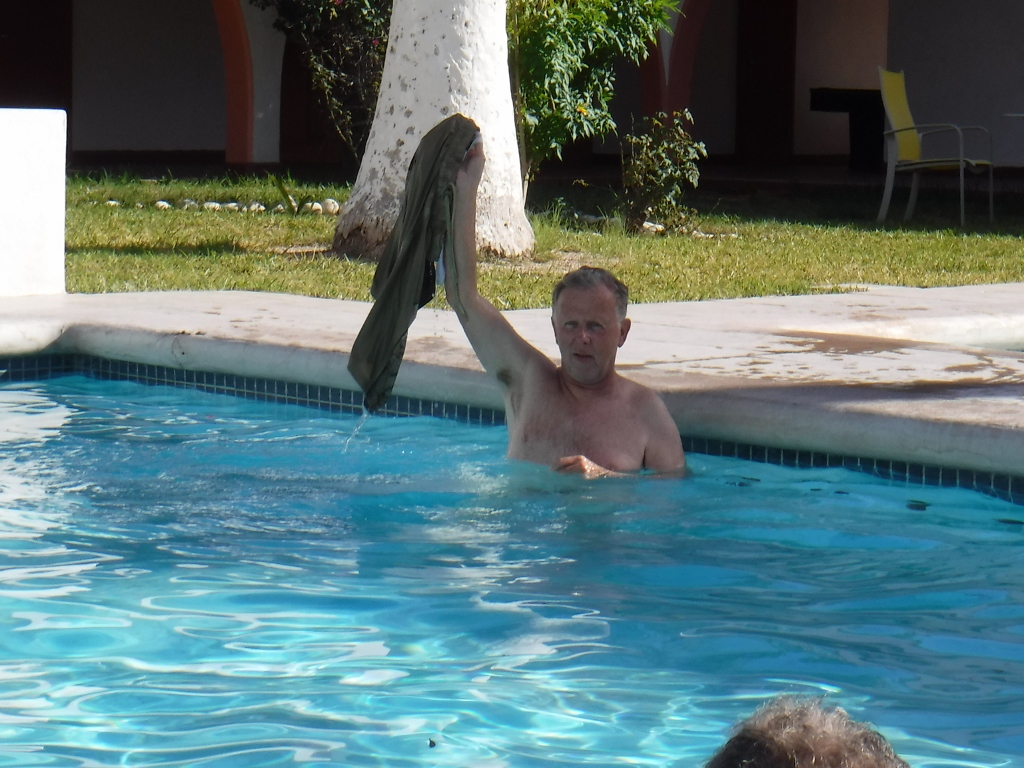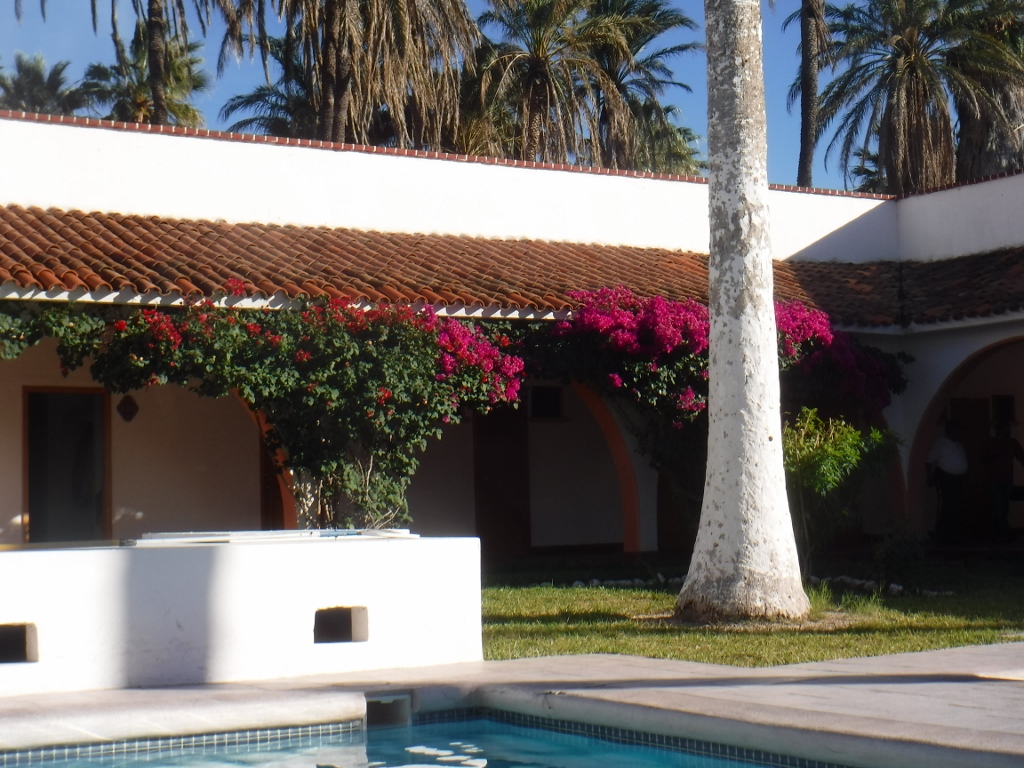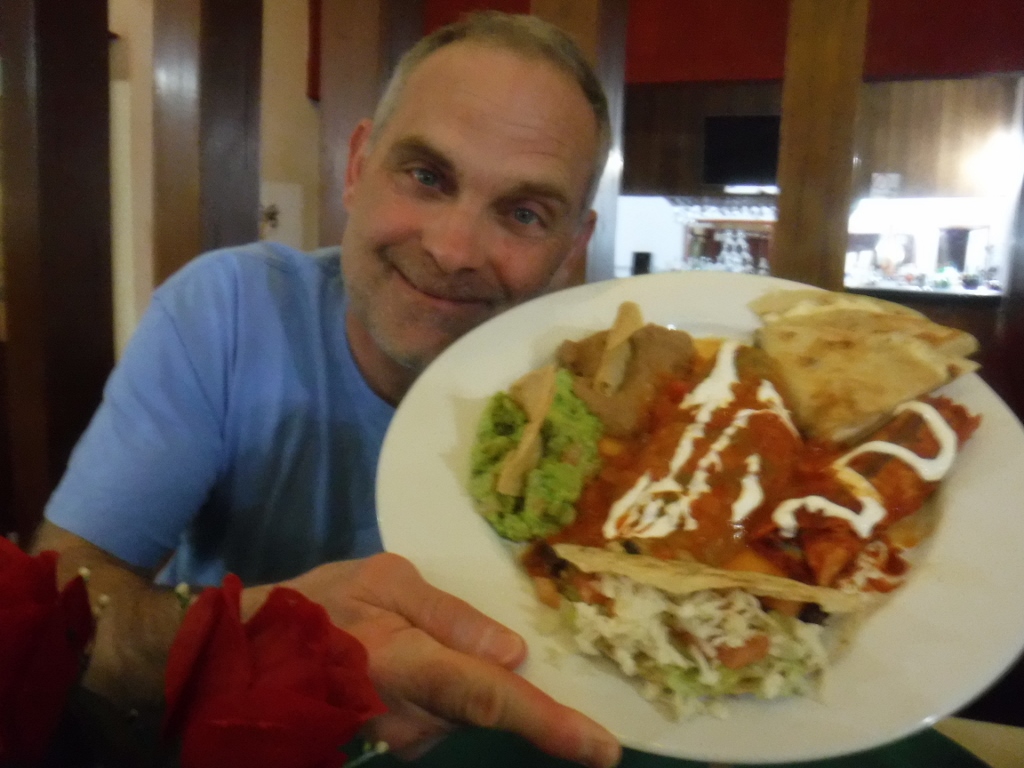 But---all good things must come to an end-------and we all ended up with the dreaded "Sand Fleas From Hell"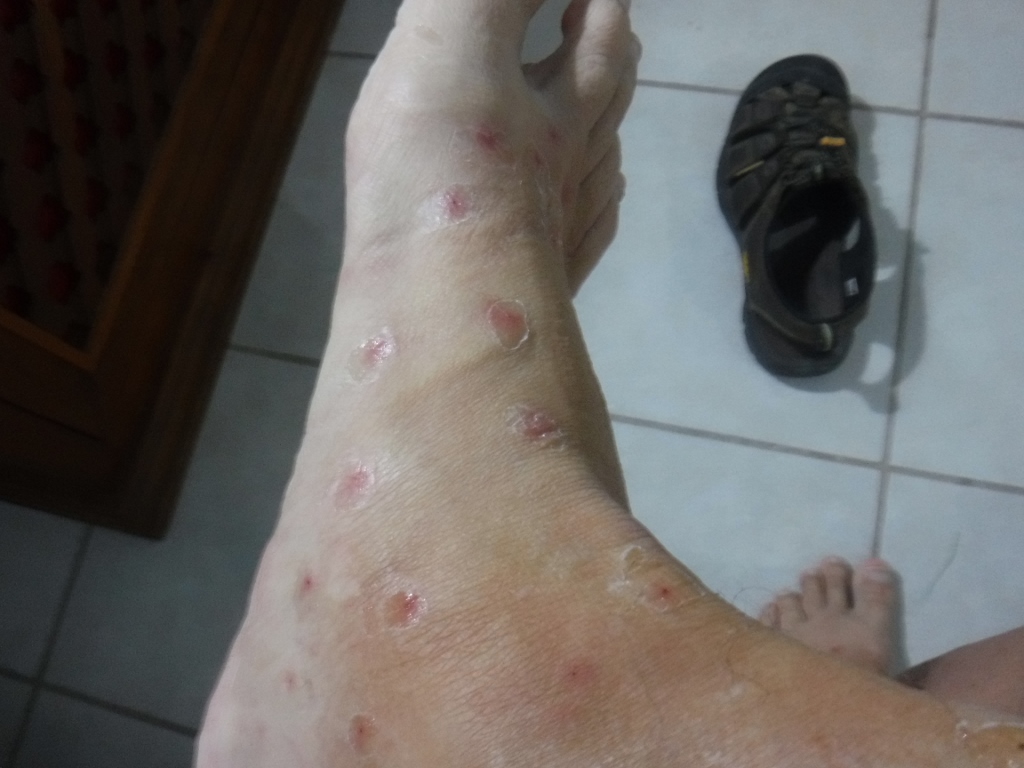 A map of our ride that day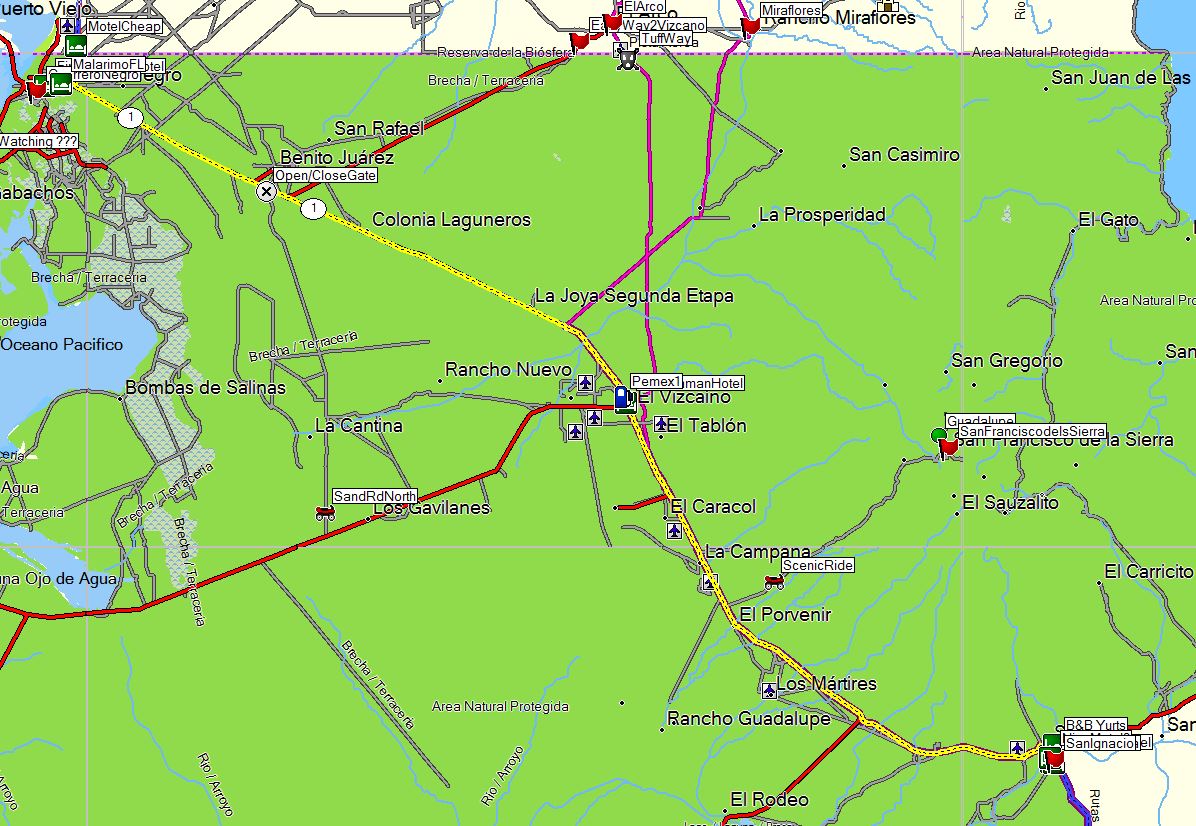 And a short video of Day 4
Day 5
February 10th, 2017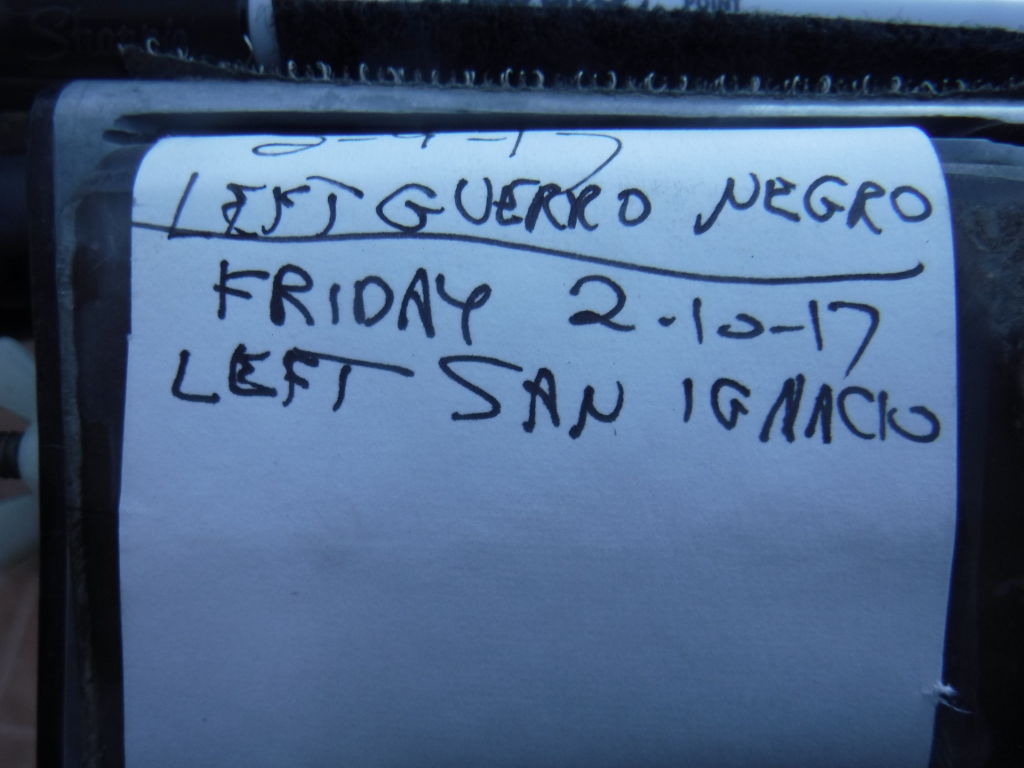 Today would take us from San Ignacio Southwest to the ocean where we'd ride for 40 miles on flat salt flats.
Me and Dave had ridden this before (not together) and did not want to deprive our riding buddies of one of the most
exhilerating rides you can do in Baja. It had been exactly 10 years since me Jonz and Gaspipe rode across it
and I couldn't wait. Just a bit of pavement to get there.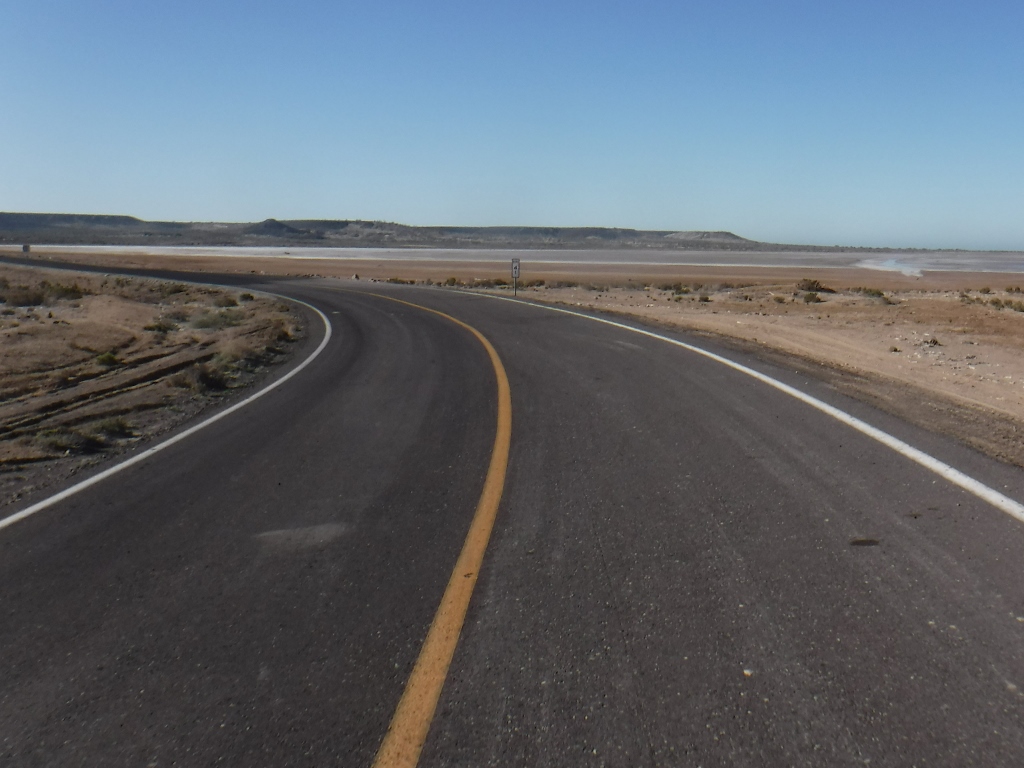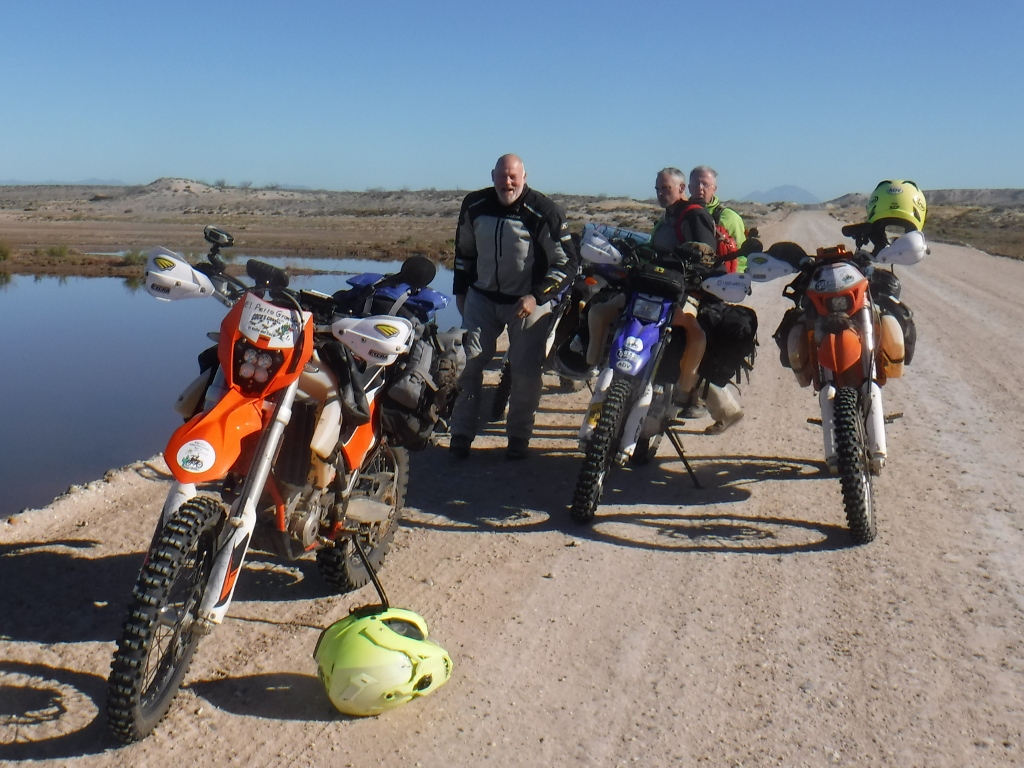 Bang your dead-----------no your dead---------got you first.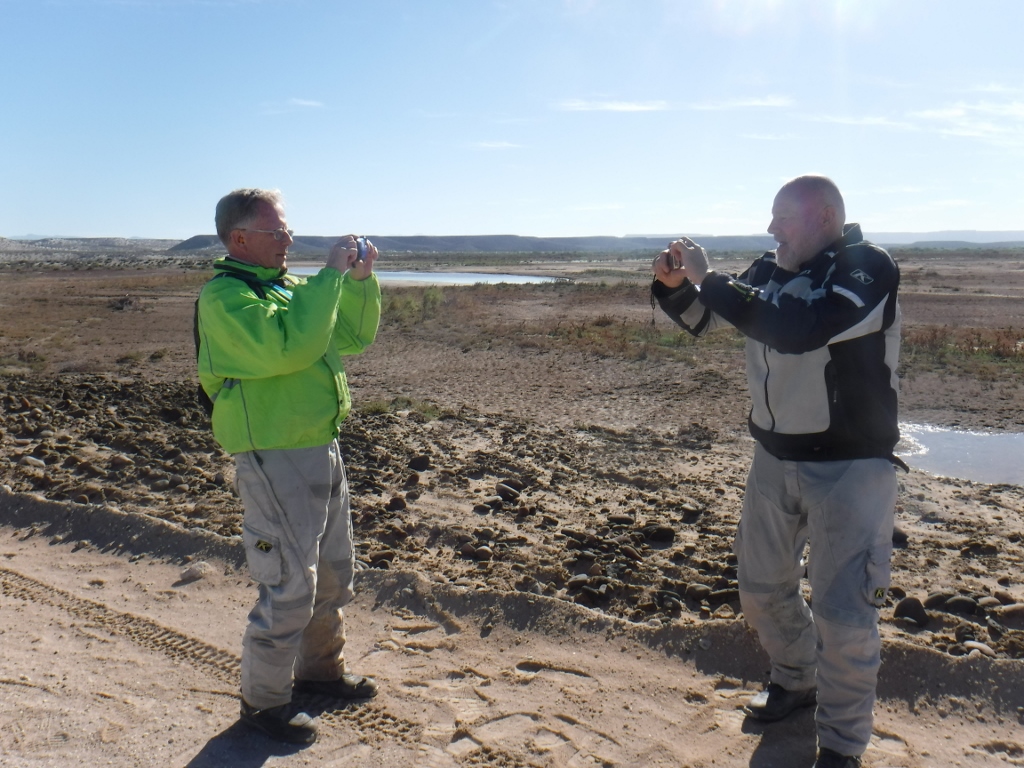 Somewhere near here me and Dave both cautioned all the riders the dangers of this area.
The area looks so innocent to go very fast---it's flat and you can do just that.
But---there are places the salt is slick as ice---and more often are areas that may swallow you up whole.
I've heard many a stories of guys running 80 mph out hear---hit the slick salt and end up being air lifted out of here
with multiple broken bones. I'm too old for that.
One of the Big Wan's crew did just that not long ago.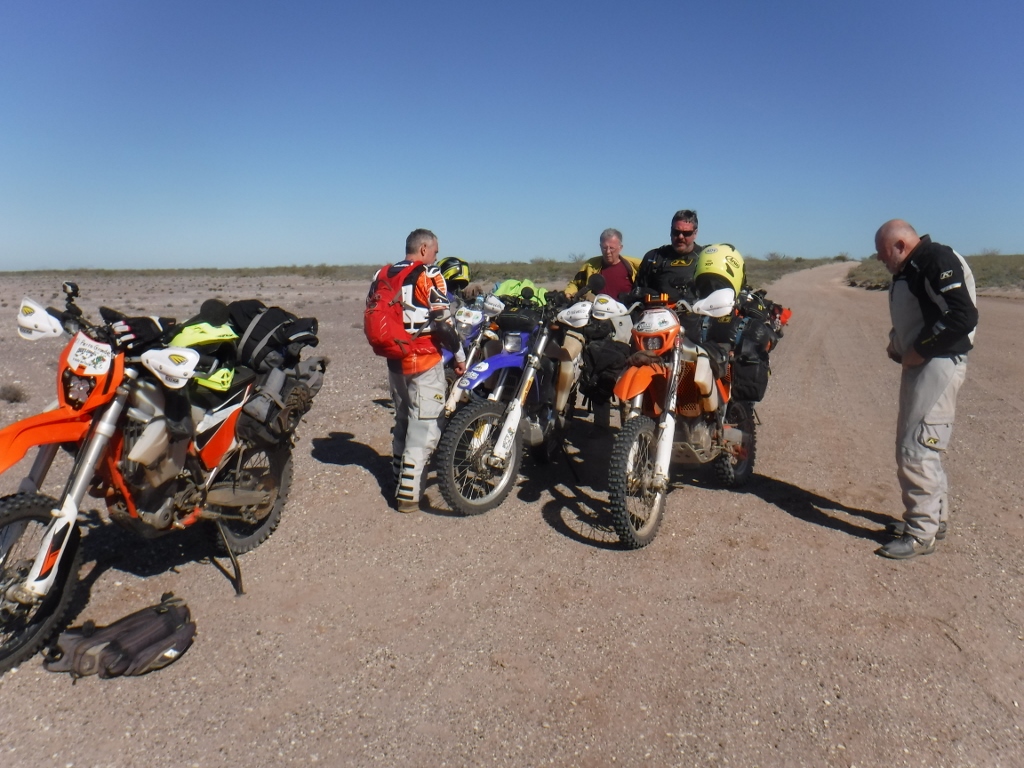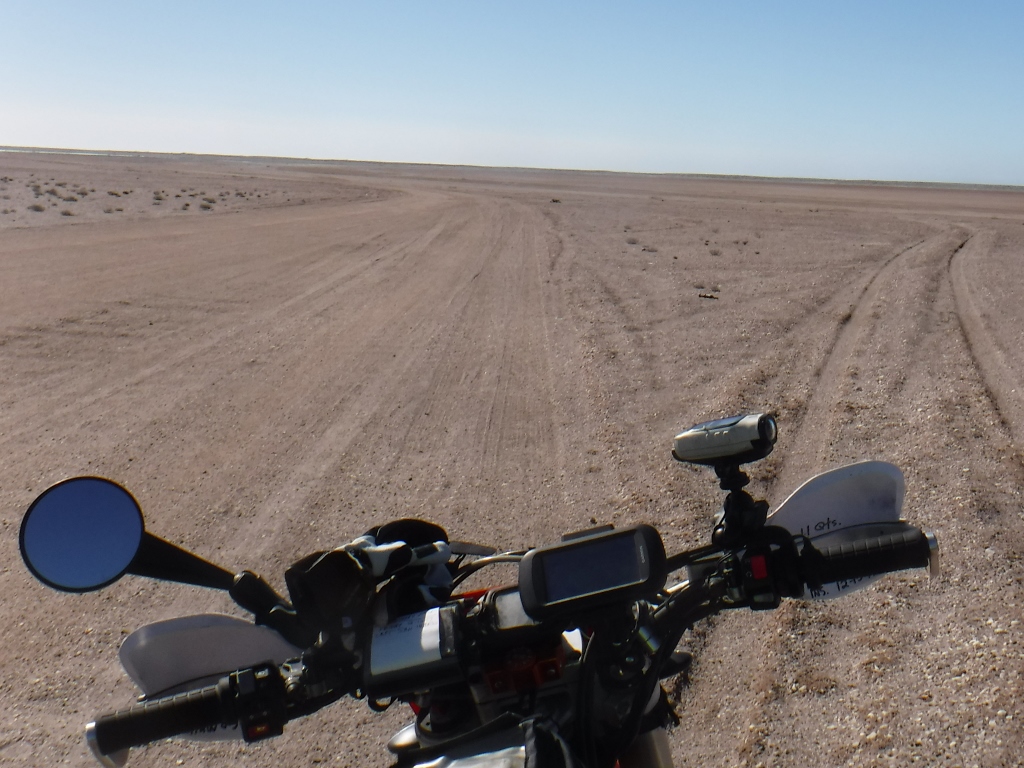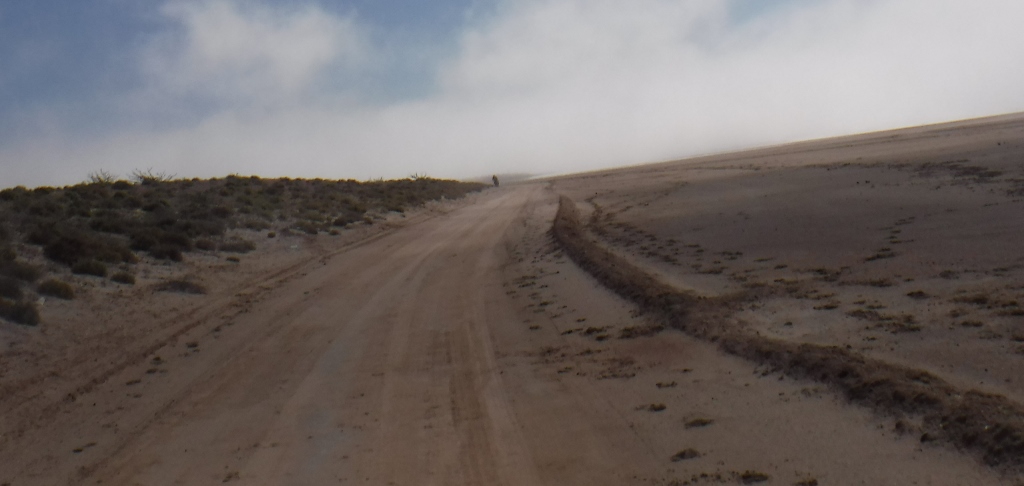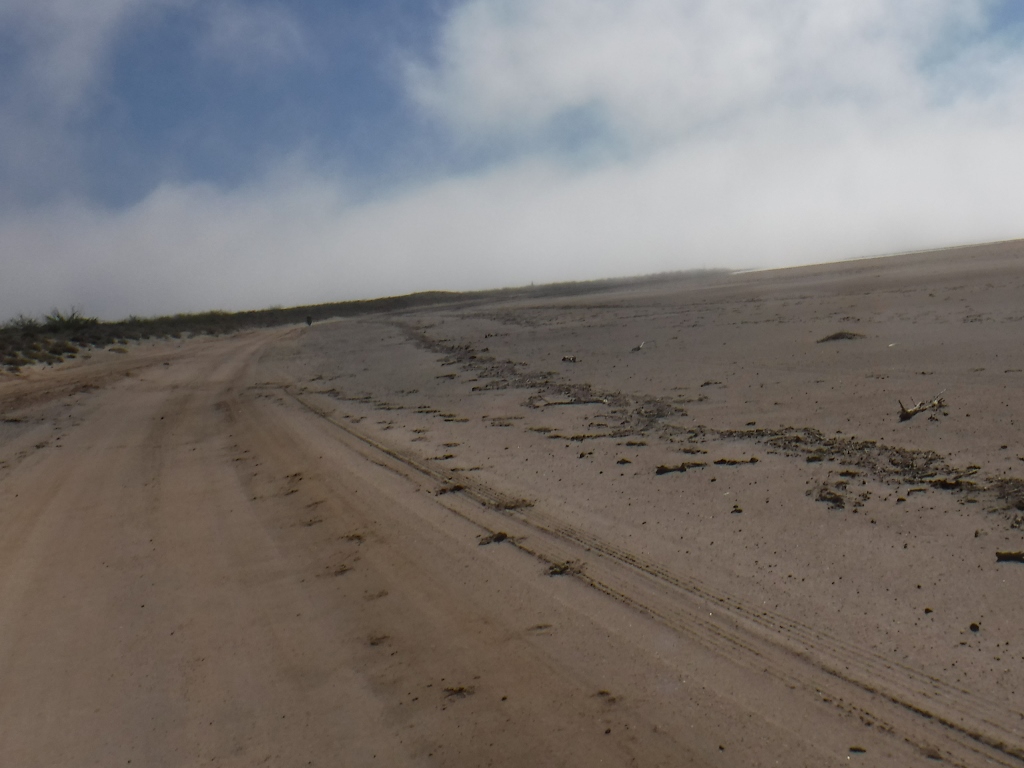 I never pushed myself out here--and when the sand turned white (salt) I was super careful.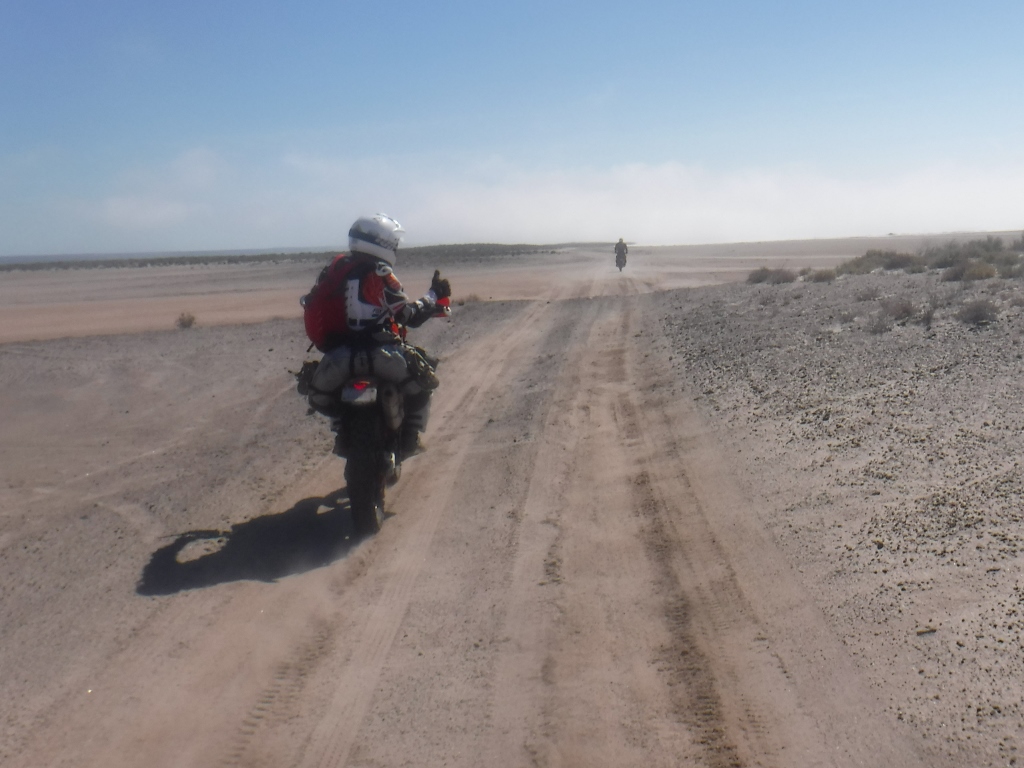 Out here you'll come across the little fishing village of Datil and the little kids come scurrying out for Steekers.
Good thing they didn't find the Chuck Wagon or we would have all starved to death.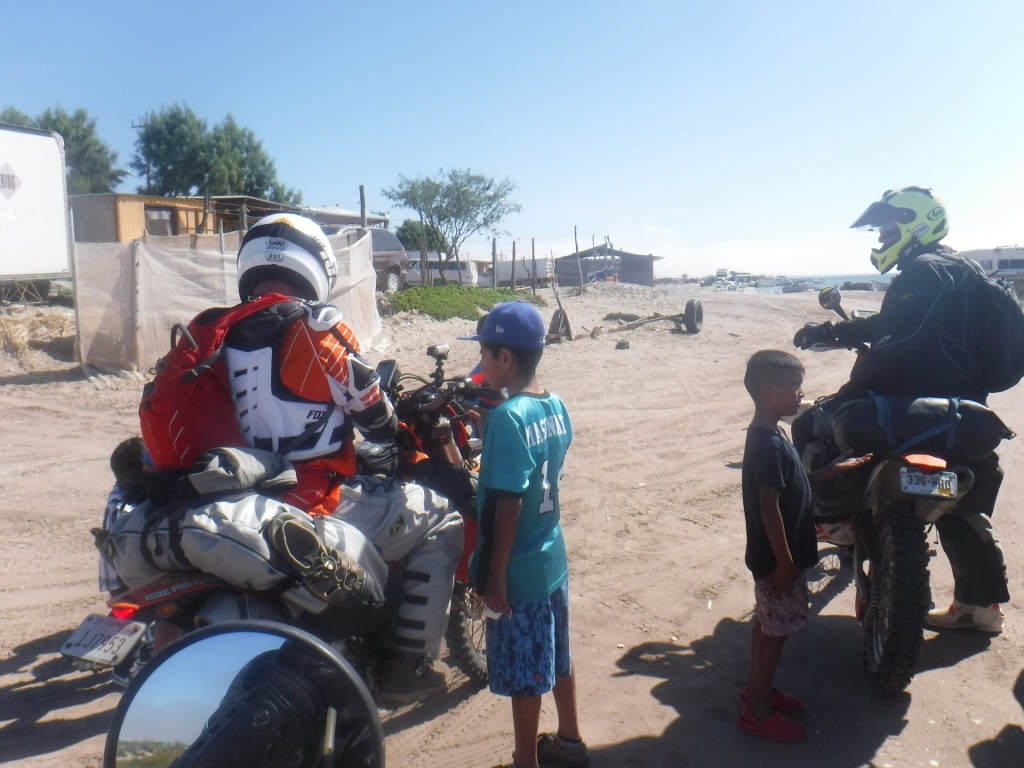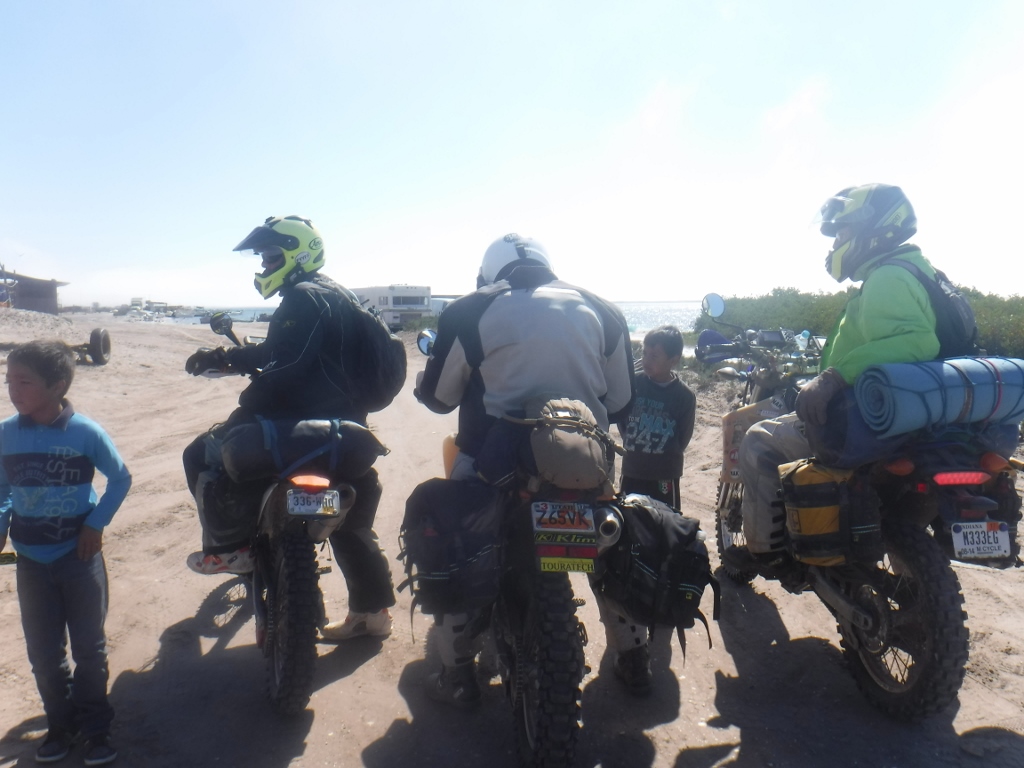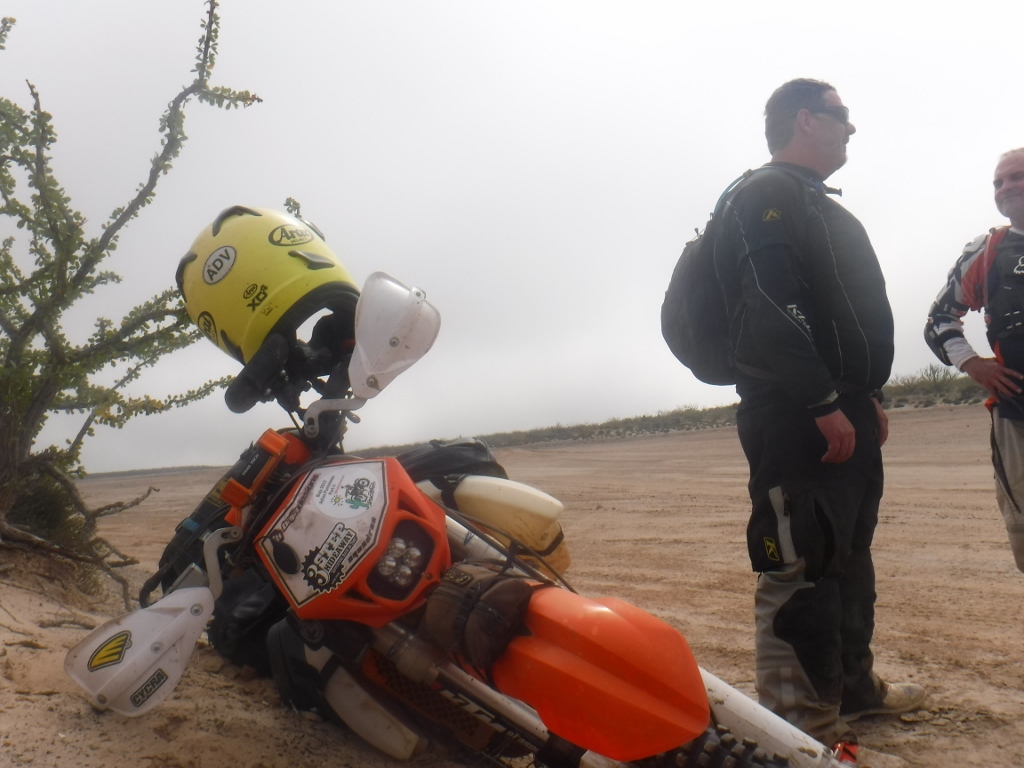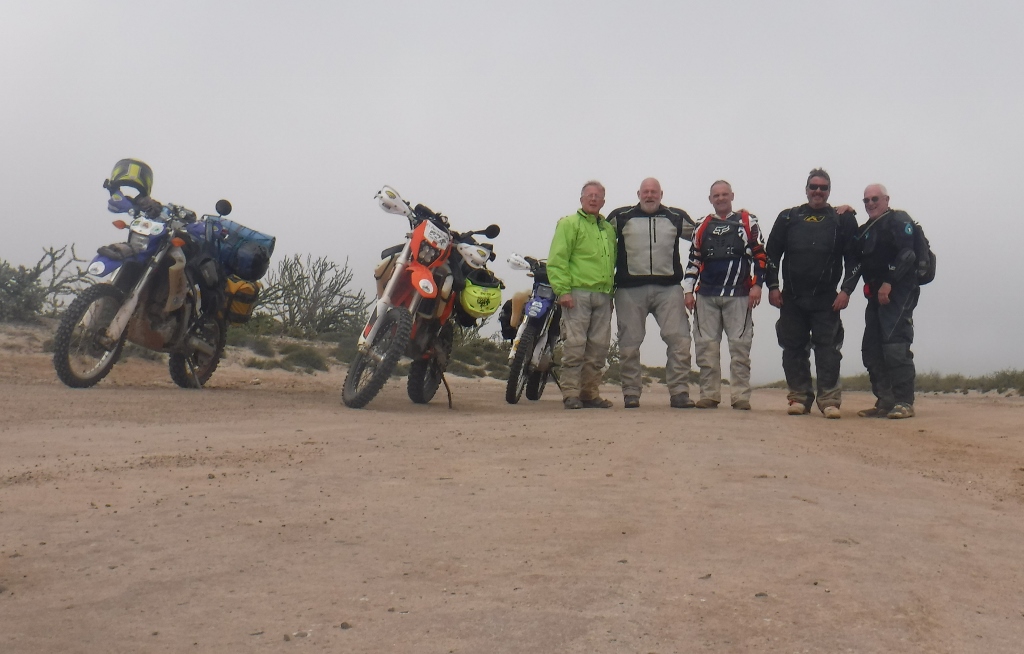 Out of the flats there was still some great riding to be had on our way to Scorpion Bay.
We passed the little trail we would take tomorrow and I thought it looked kind of nasty--but that's tomorrow.
I run into this quite often------racism I say.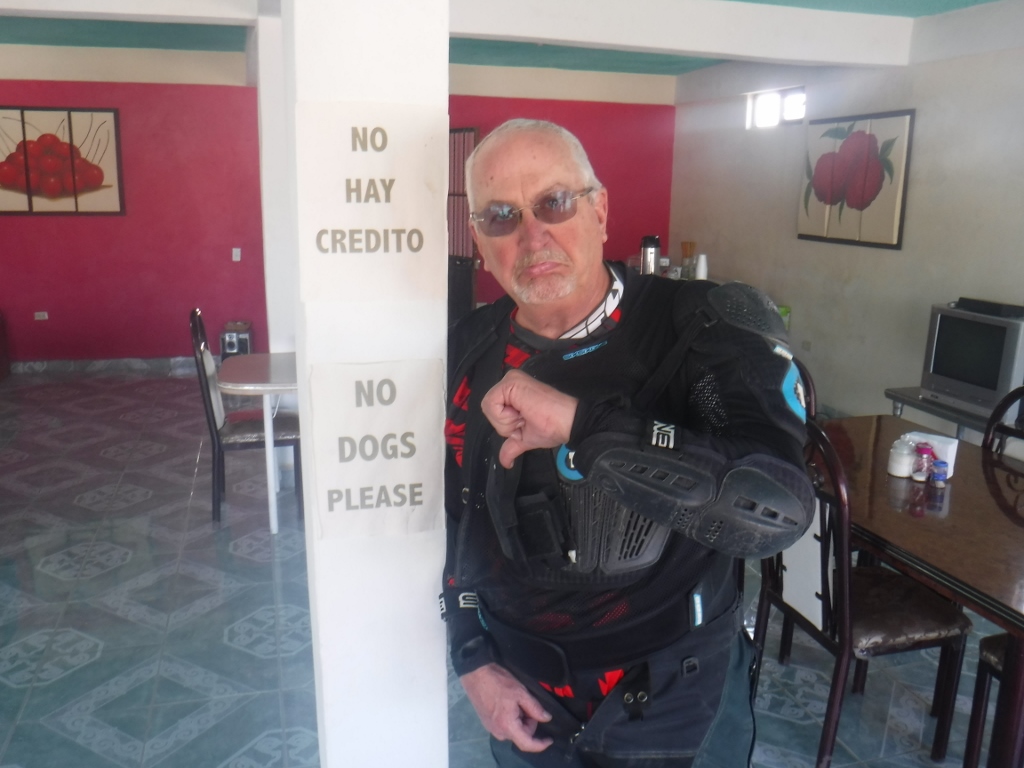 And it was here we spent the nite in Scorpion Bay.
Very nice place to stay and it was here I saw the sign that said..............

"My Life Is Better Than Your Vacation"
This is the Cowabunga Motel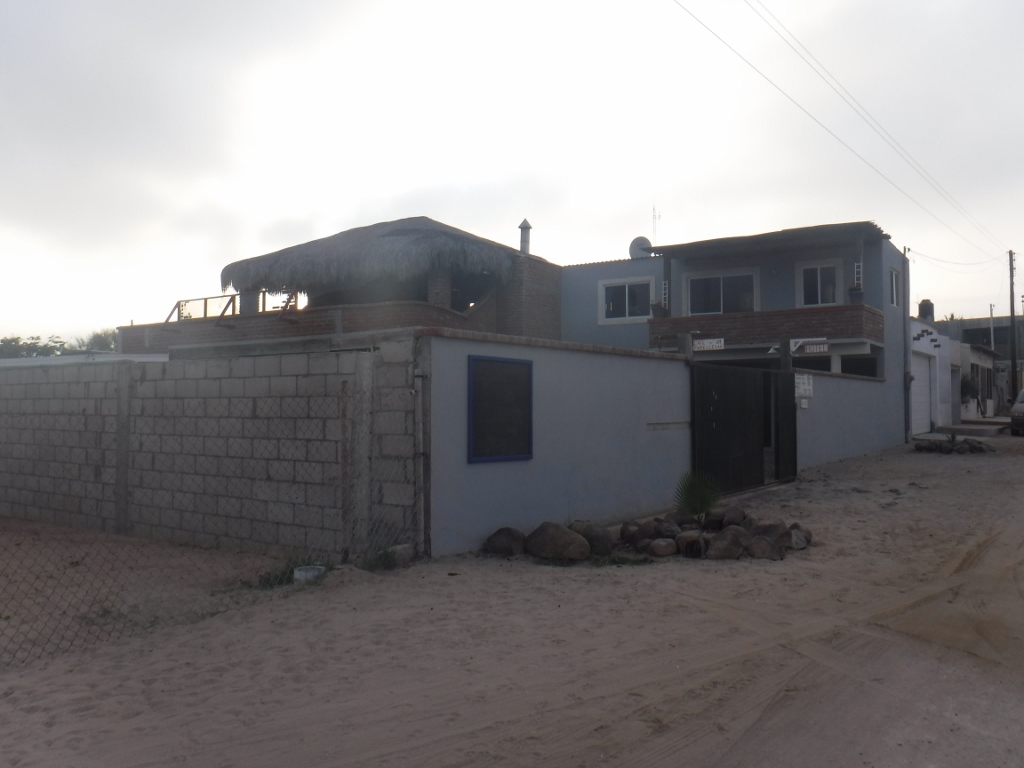 The beach was not the same one me and Jonz (Jeff Jones) chased each other around on our bikes---------broad sliding
all over the beach------me on my Husky TE610 way back in 2007------10 years ago.
The hurricanes and stinky sea weed had devastated the beach------made the whole town smell like a stopped up sewer.
And this guy was having a ball----------until he wasn't.
They got it out.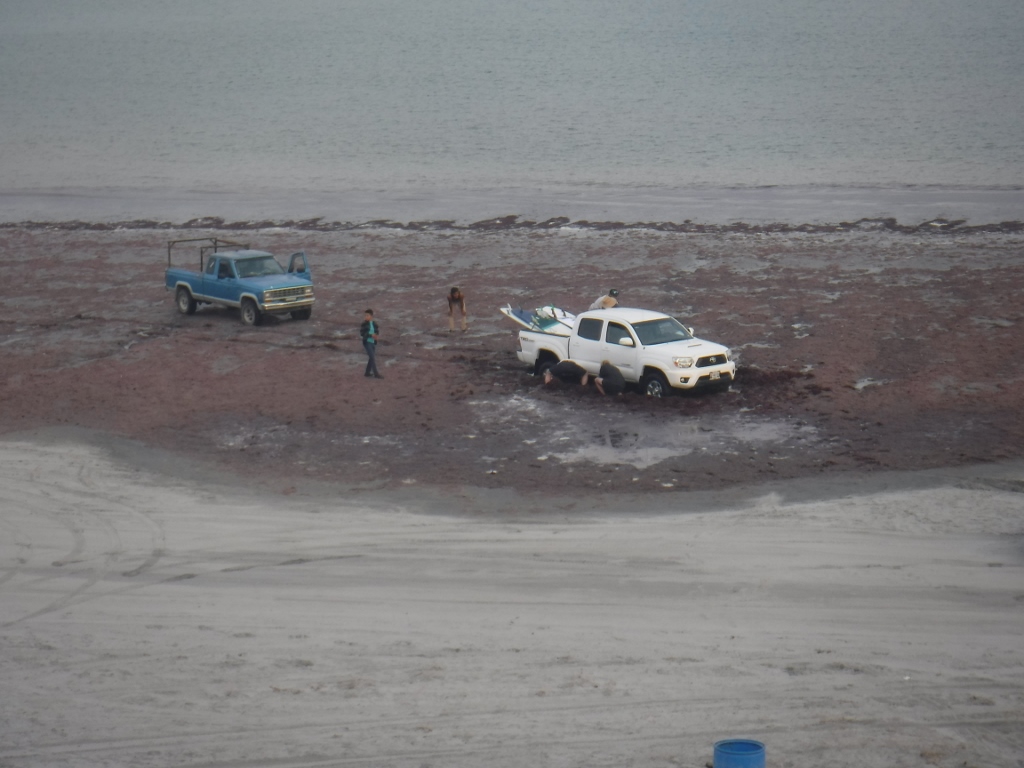 Super nice very tiny rooms------had all you needed.
Me and Dave razzed each other the whole trip and had a ball doing so.
I told him he should use the dumb ass potty.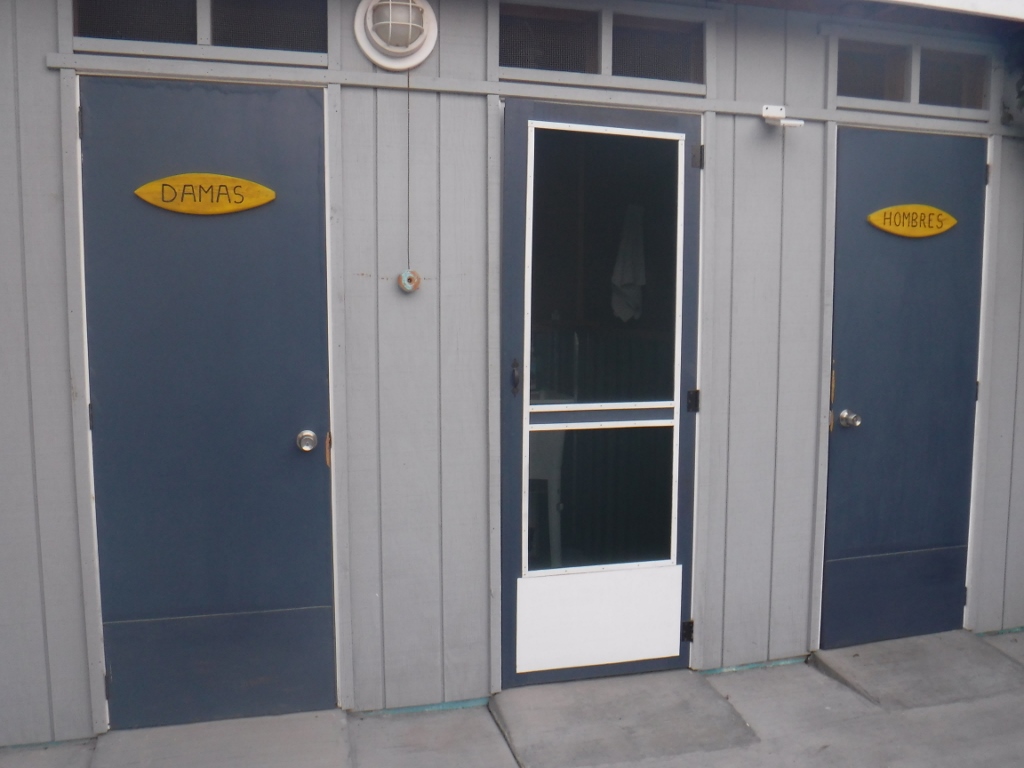 Breakfast in Scorpion Bay
There was a parrot on the other side of the wall that was going "Ola" very loudly-------constantly and he wouldn't let up.
Got kind of annoying but everybody got a laugh cause I thought it was a young boy at first.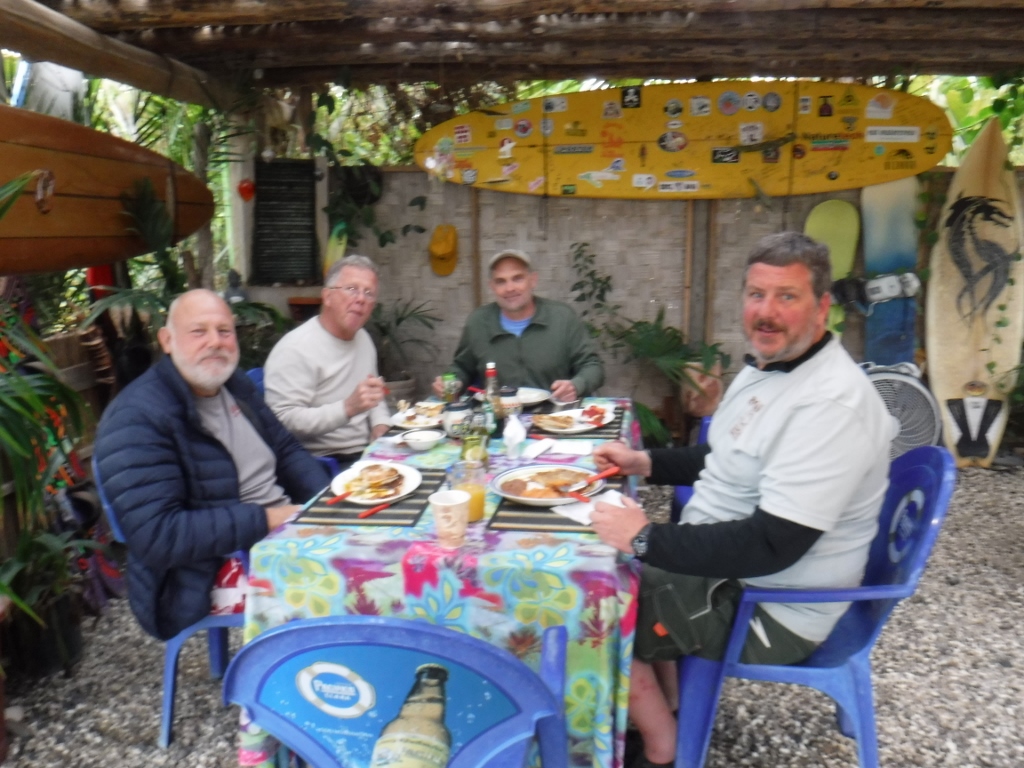 I had much to teach the Aussie---and finally got him convinced these were not tortillas.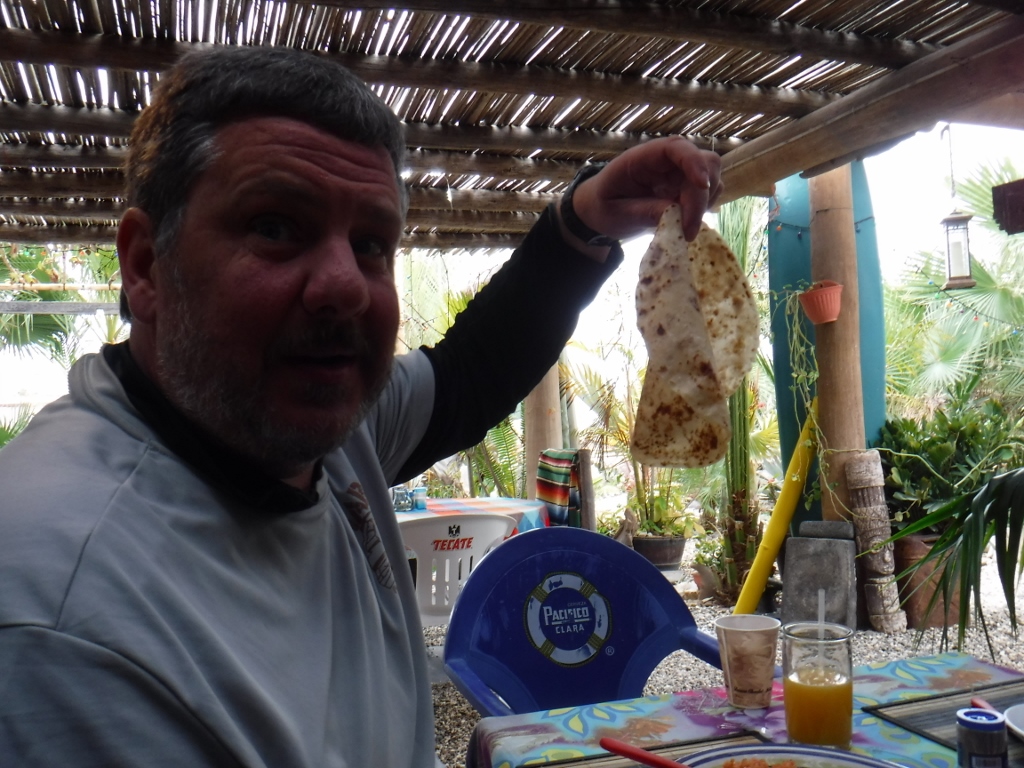 Dave tore up the tri-sickle on the right and stomped off in frustration.
So we put him the detention chair and made him stay off the slide.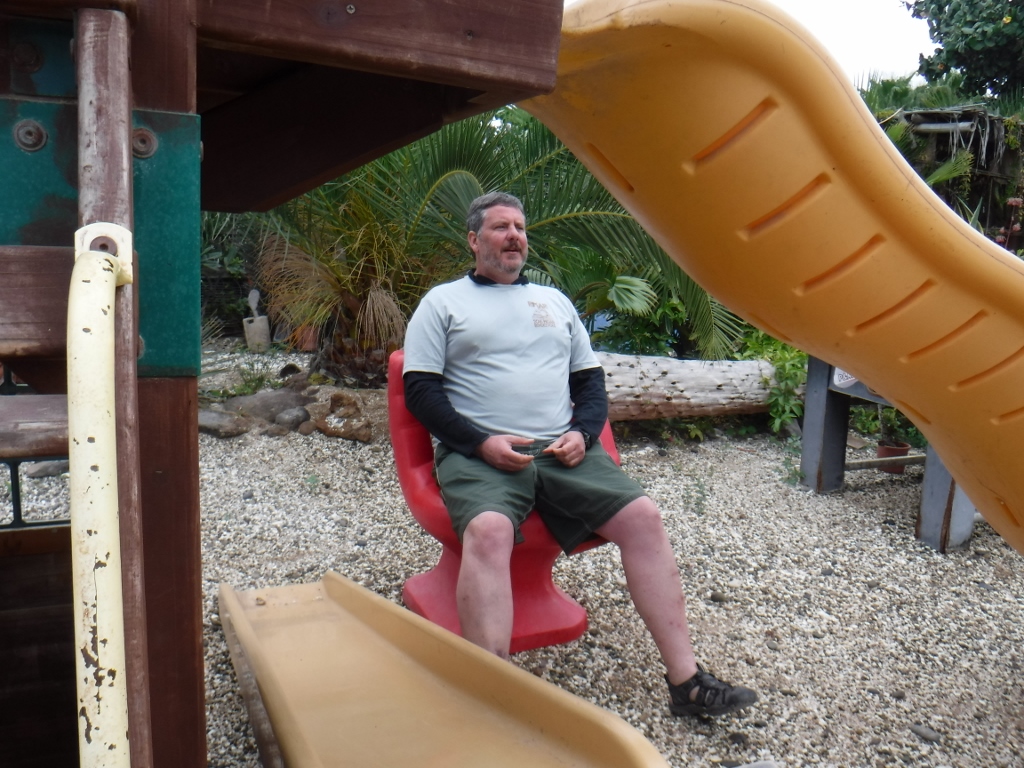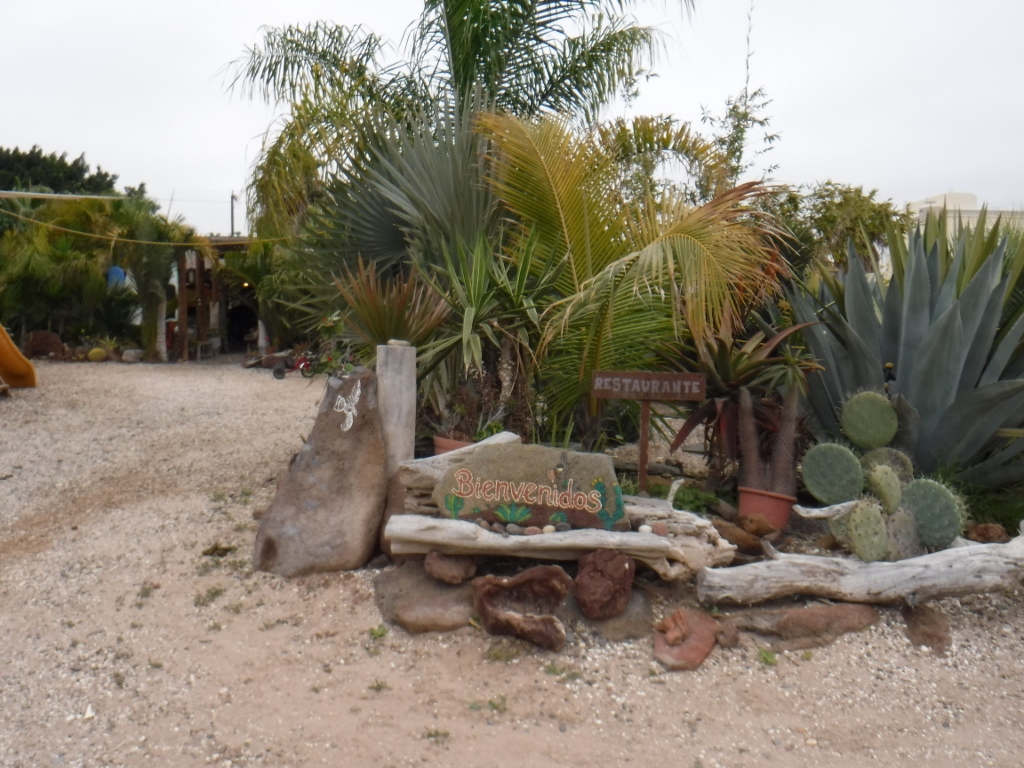 A map of our ride today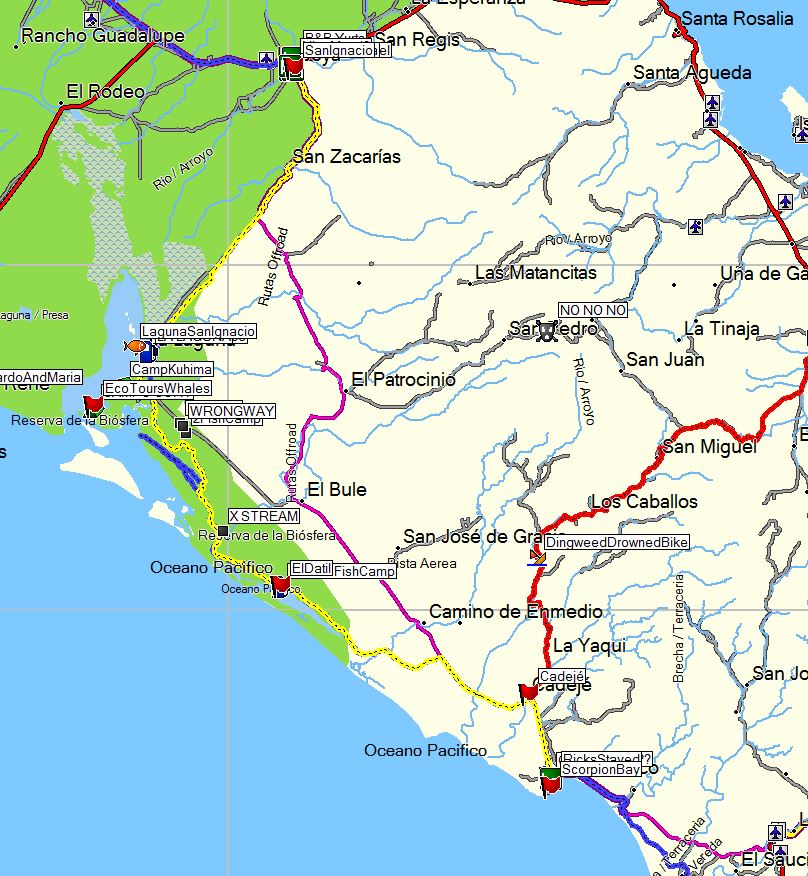 A short video of our ride today
On to Day 6
Click HERE