Baja 2017 Continued
Adios Pantelones Part II
Day 6
February, 11th, 2017
Scorpion Bay to Mulege---the hard way.
Today may have been the best day of Baja or have I said that before.
It was tuff and we had a serious calamity we over came.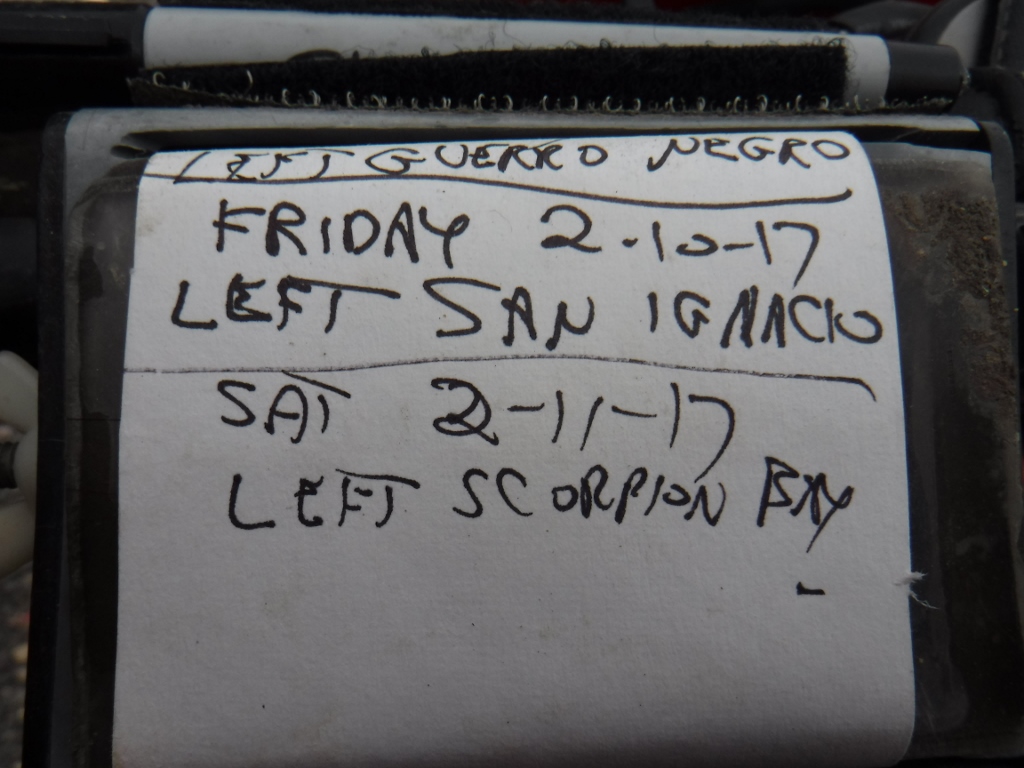 We left Scorpion Bay and headed North from the way we came yesterday---but turned Northeast at the little town of Cadeje.
I had a talk yesterday with some ranchers there about if the road leading out of there would go to Mulege.
I can't speak Spanish and they couldn't speak English and to the amazement of me and my compadre's
there ended up being about 7 Mexican men drawing a route for me in the middle of the dirt road with a stick.
Belive it or not they helped and made dang sure I took a left and not a right just out of town---they were right.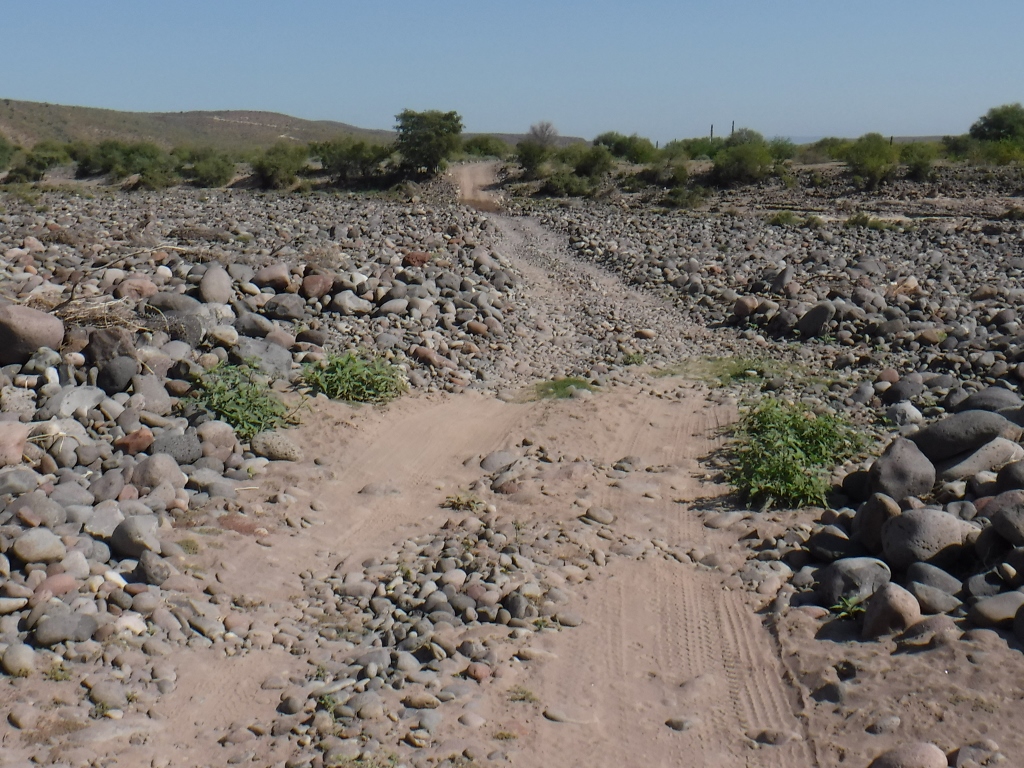 Dave thanked me here----stopping to pee where there was a nice tree to lean his KTM on.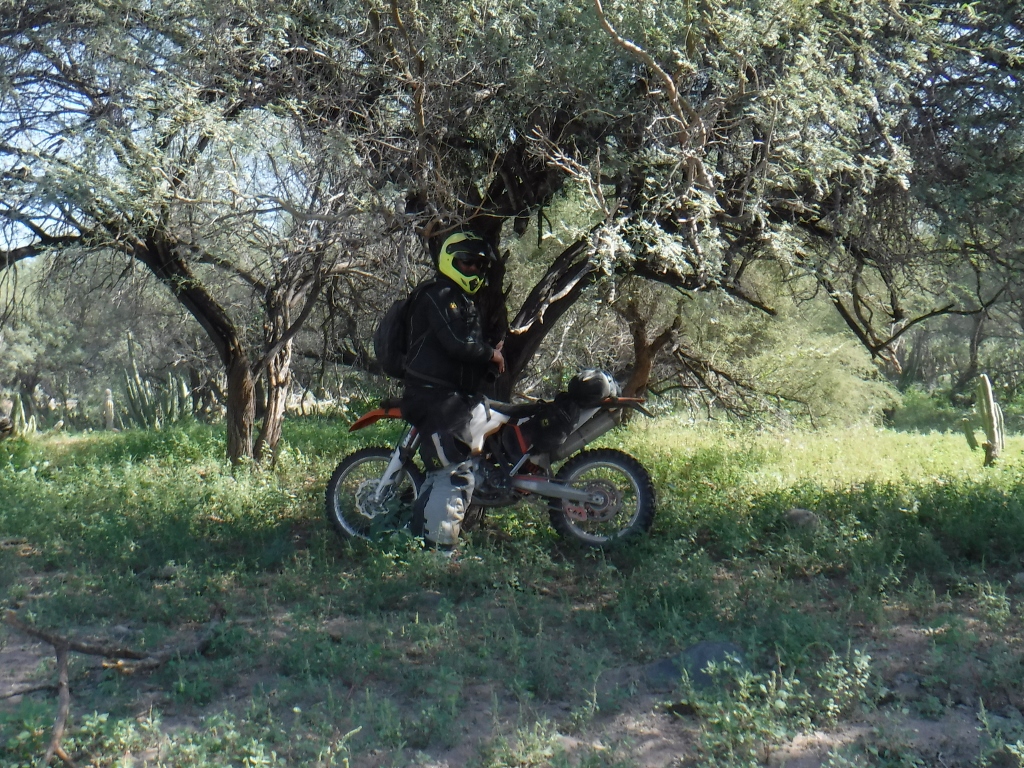 Yeah---------good boys------stay behind me so my air filter doesn't get all clogged up.
All these guys can blow me in the weeds-------but pretty much followed me the whole trip----felt sorry for me I guess.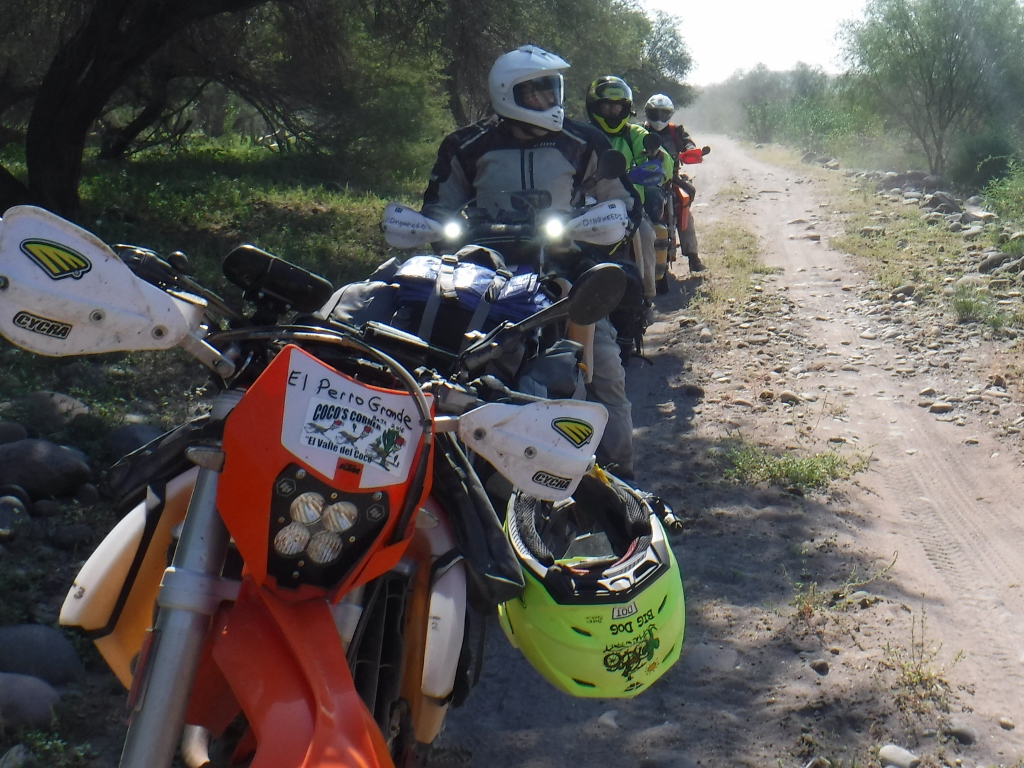 "Ah----Perro Grande----thanks for the tree mate"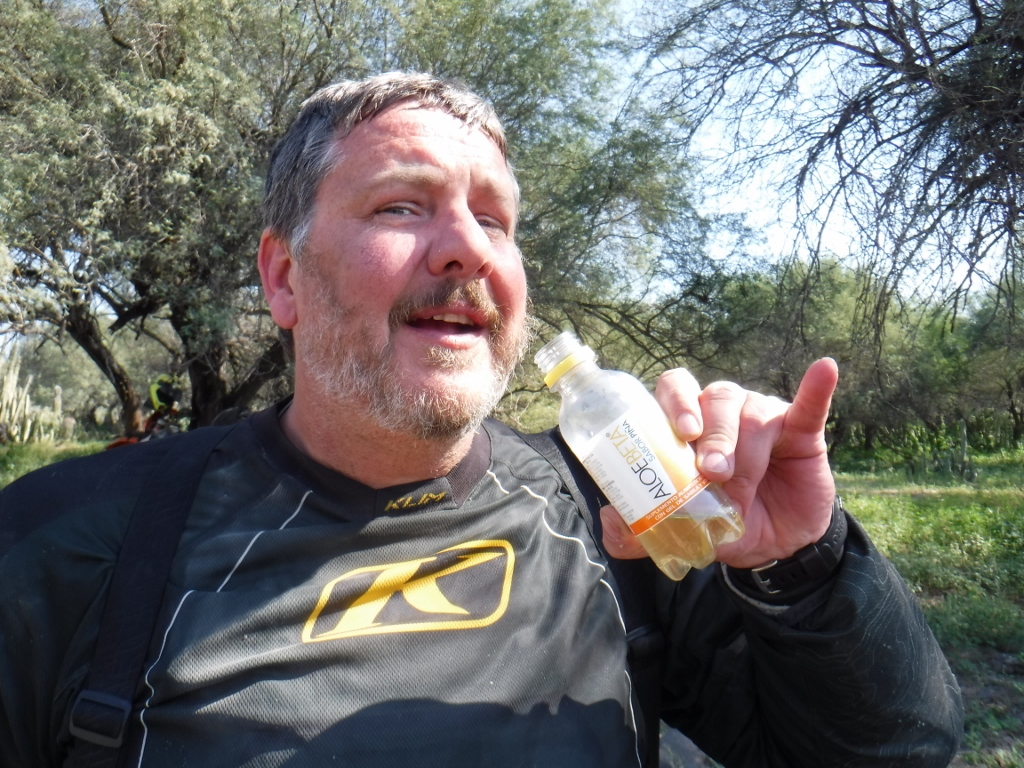 You think your alone---------but your not.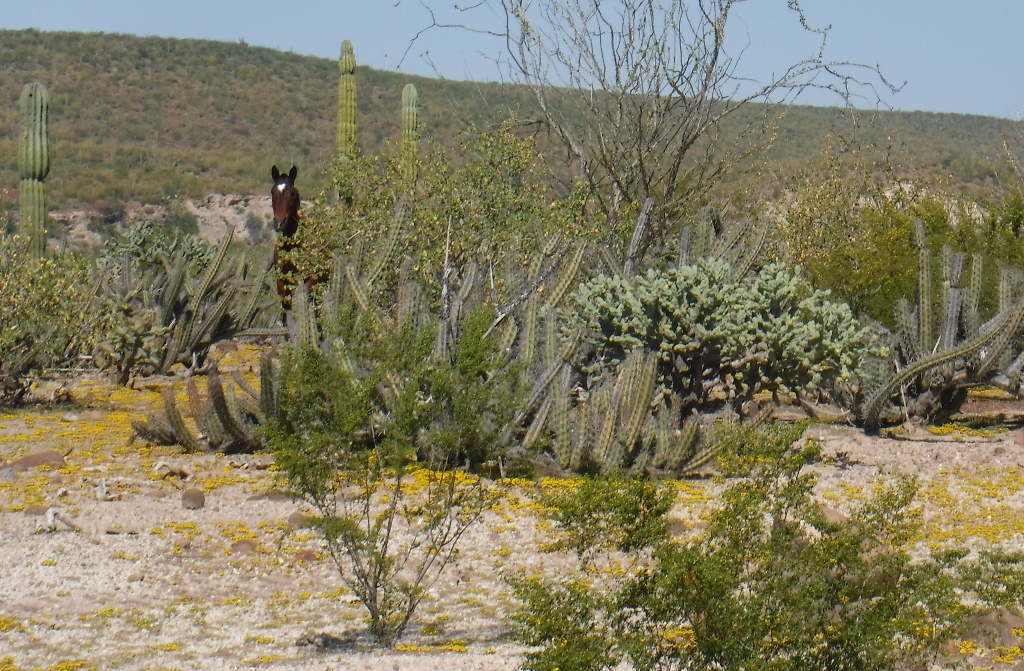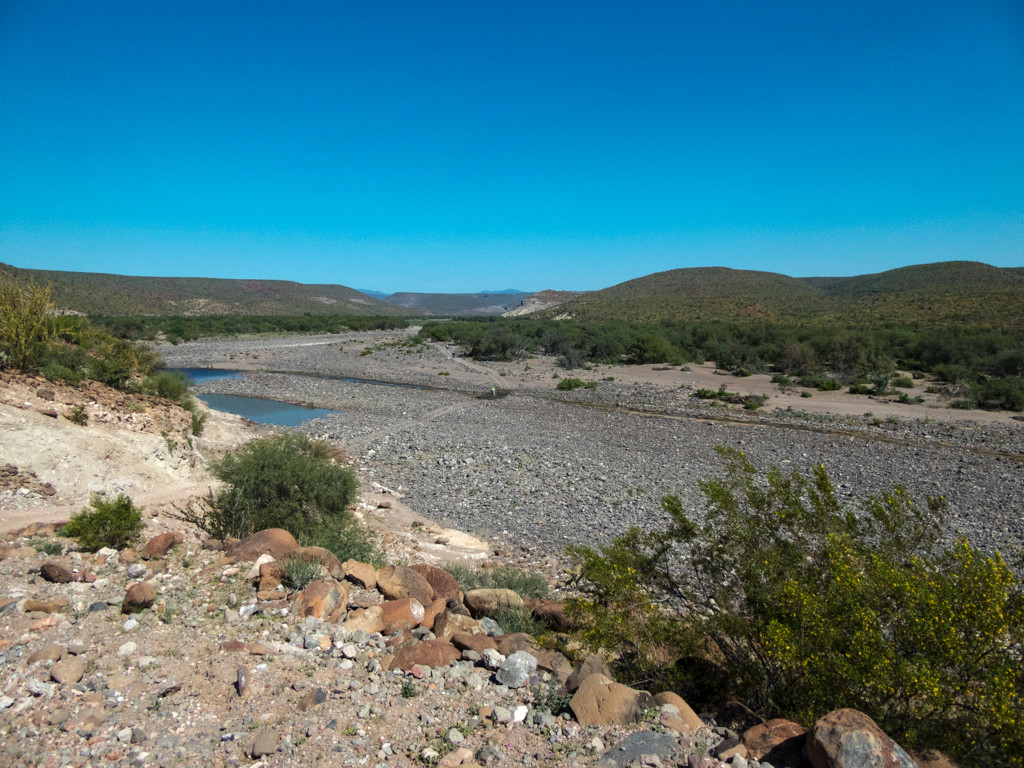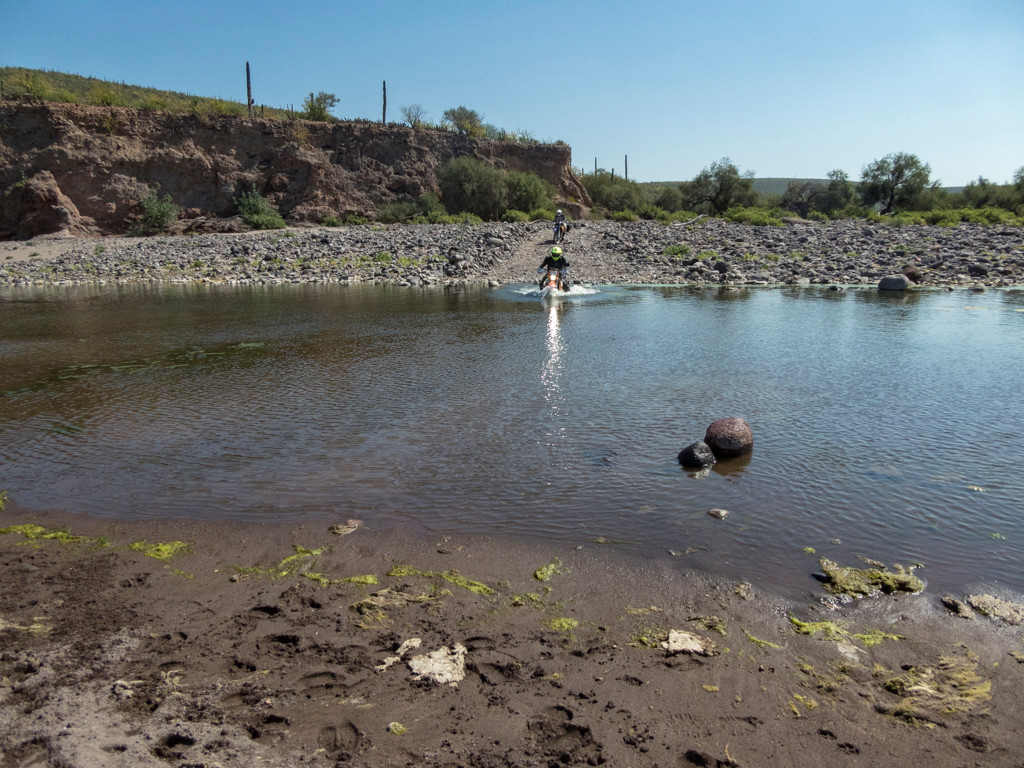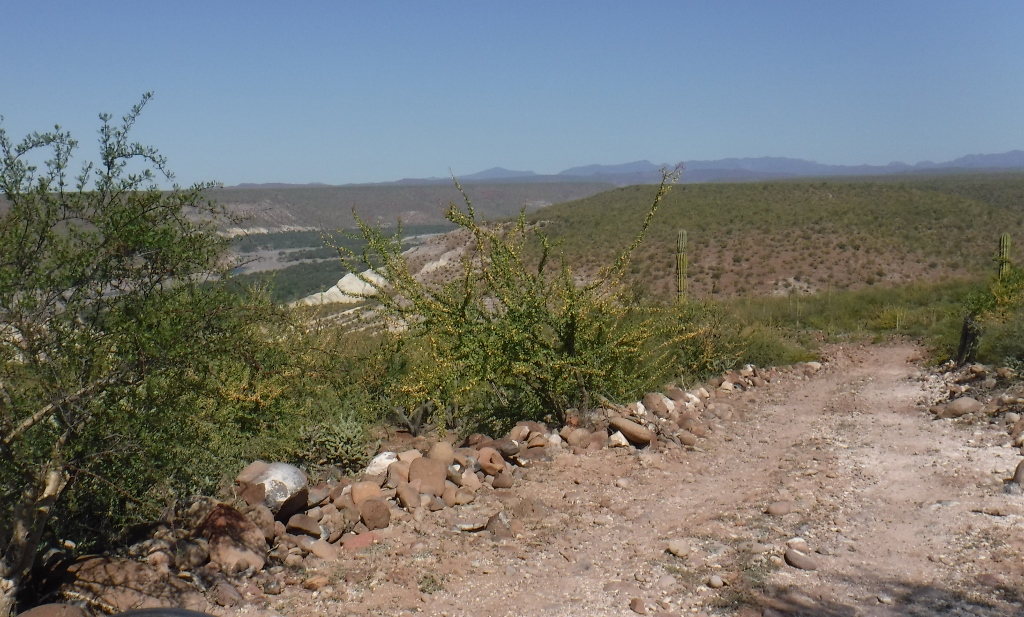 We crossed this river 53 times-------I was counting.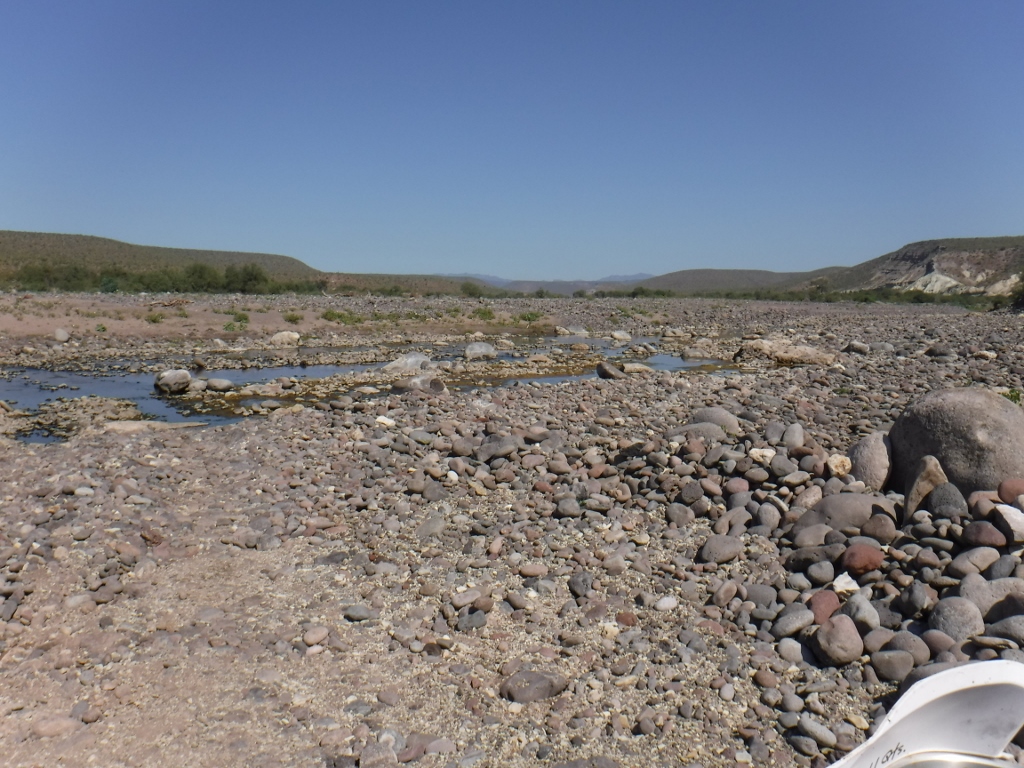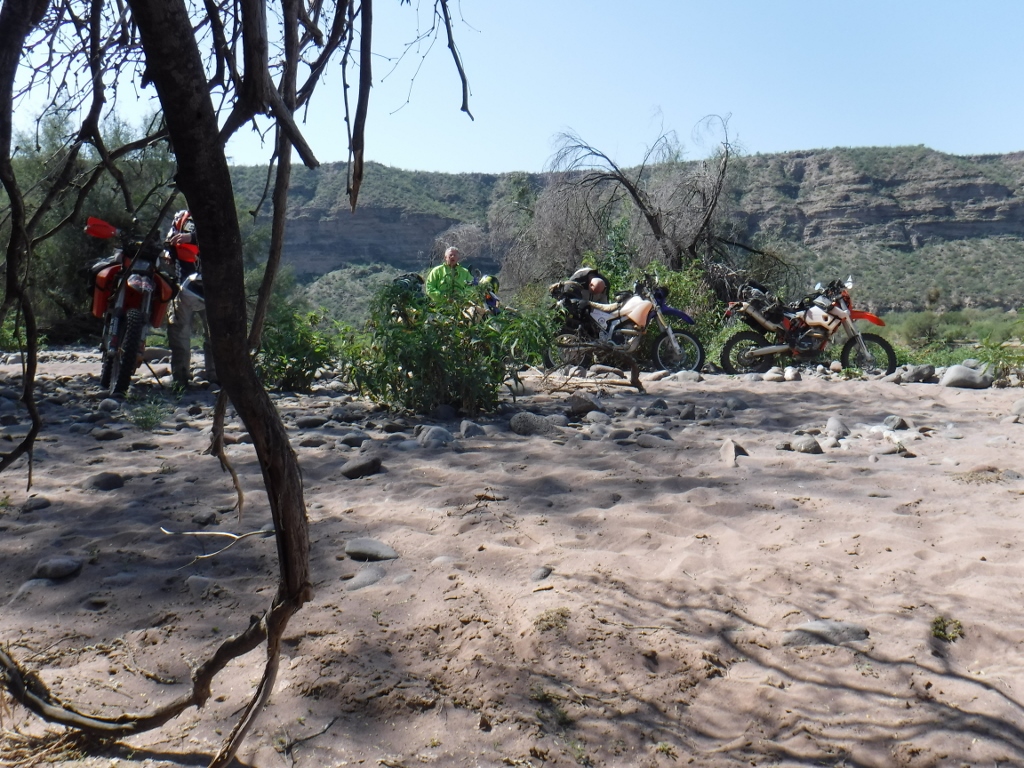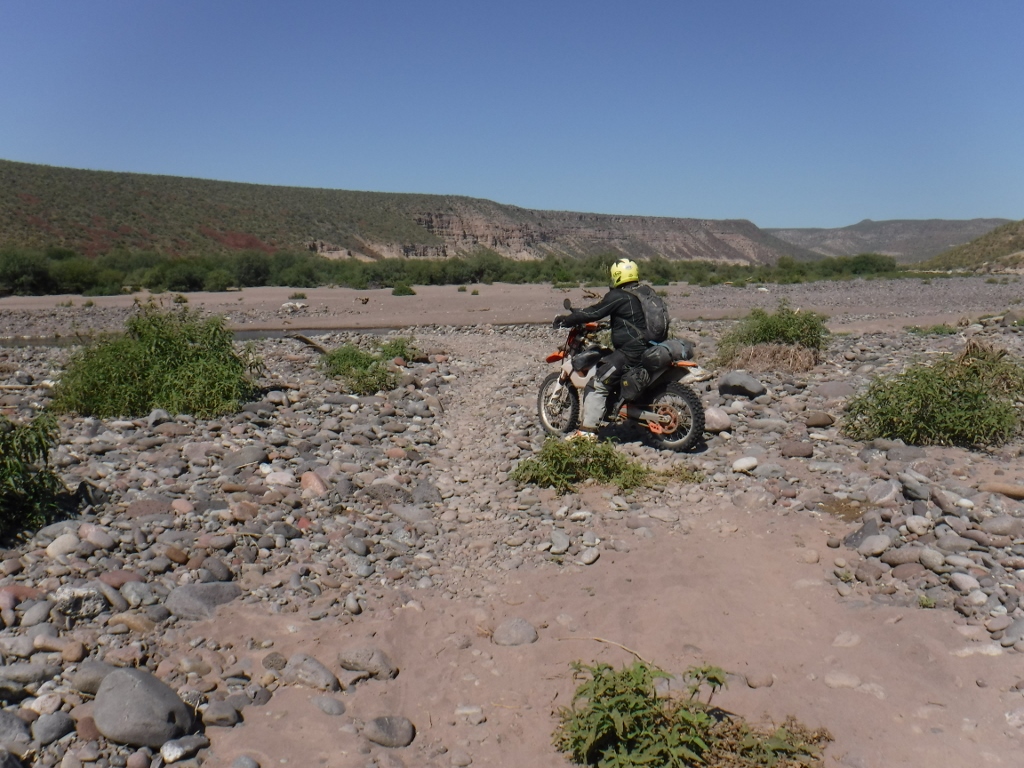 Dave hadn't really got me figured out----------and me not him.
But I have this little trick where if a crossing looks bad---------I hesitate------and the younger
testerone filled Aussie would hopefully take the bait and go across first.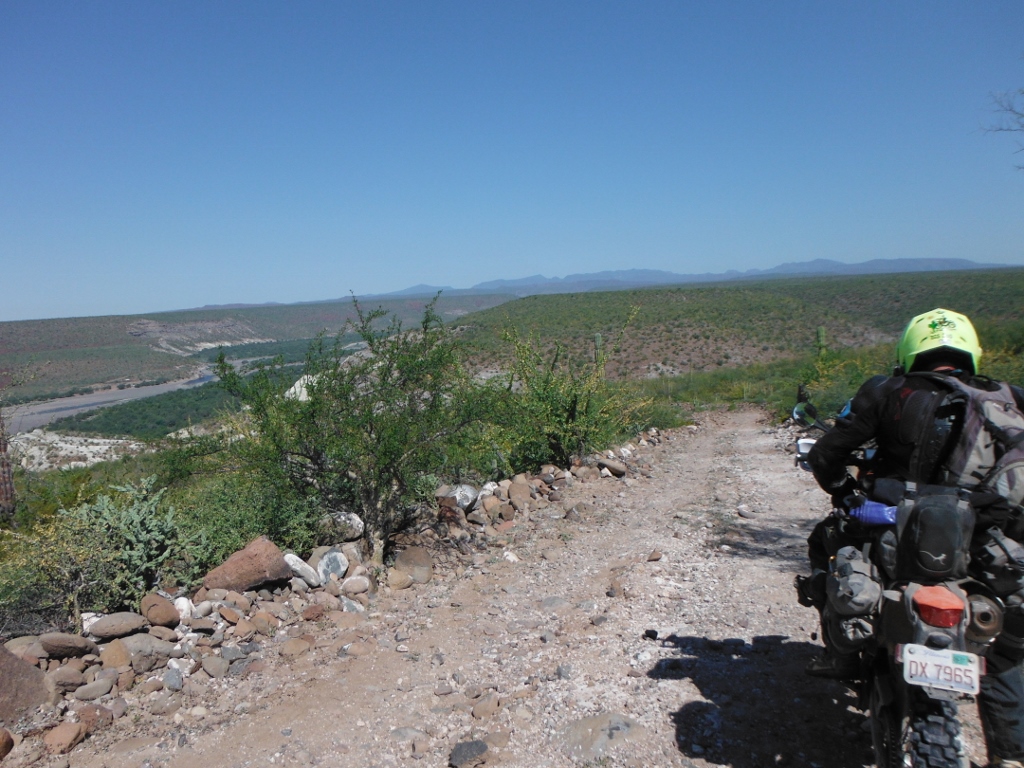 And he did-------and the water flew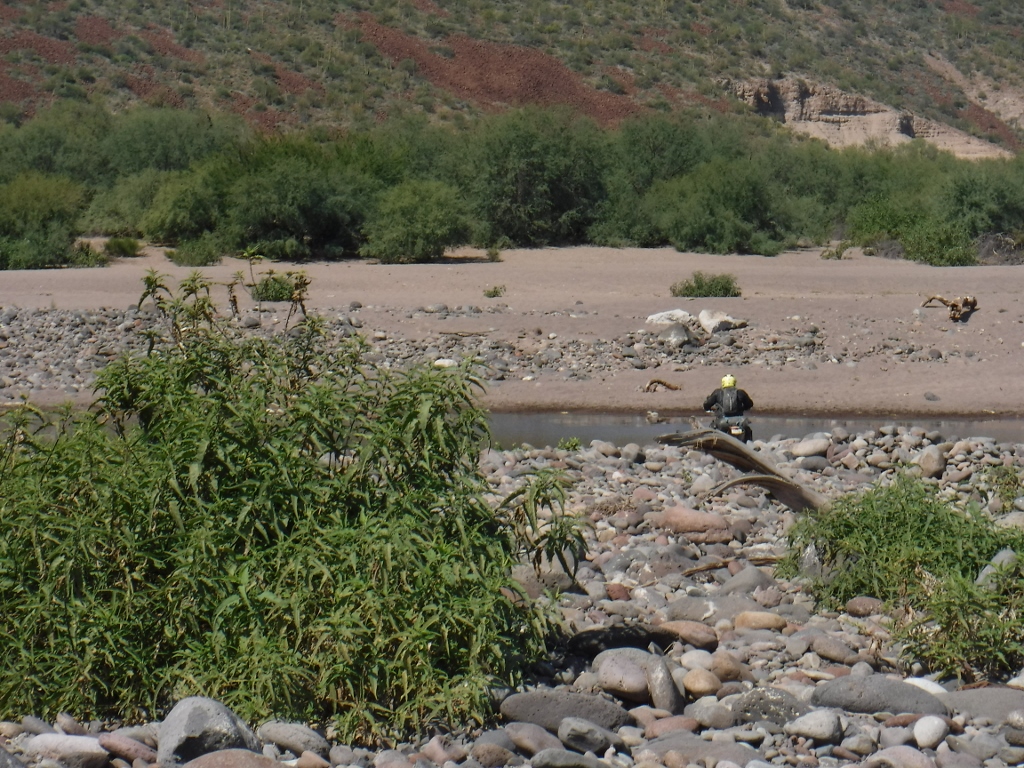 On this side I saw the water go over his wheel and knew if I fell over my motor would fill very quickly.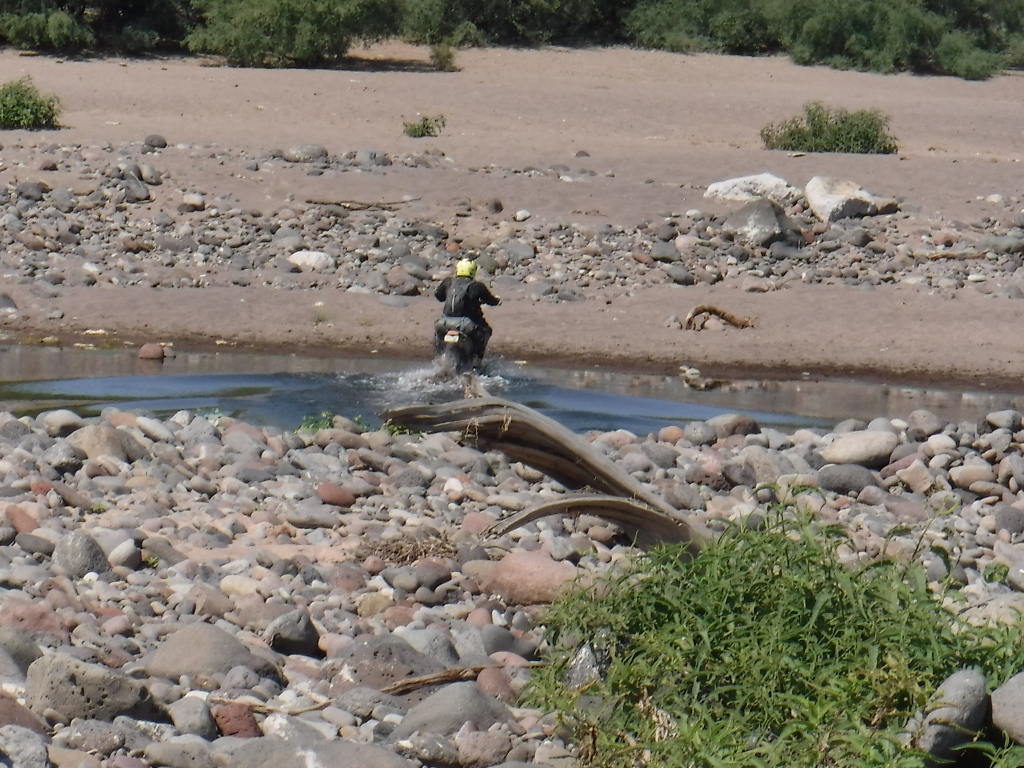 Well I barely made it and everybody else did except Dingweeds-------he doesn't like water crossings at all.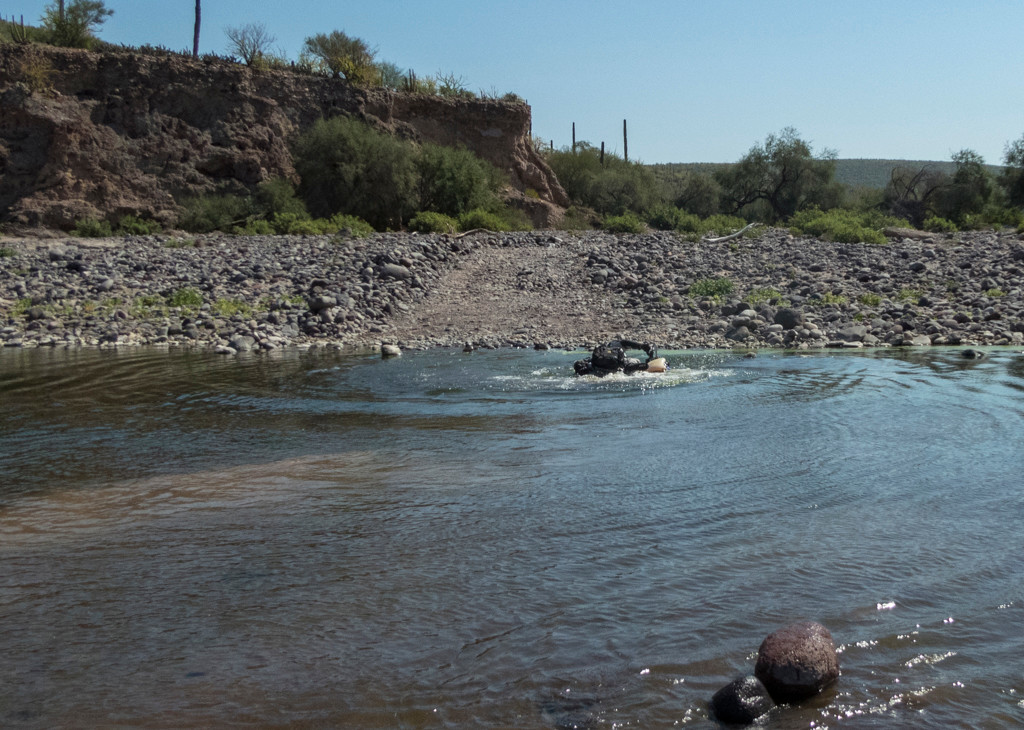 He got it picked up and pushed out of the creek.
We were here another hour and ended up doing the safest thing.
Stand the bike on it's rear wheel and drain the exhaust---drain the air box and most importantly pull the spark plug
to pump the water out------water shot 5 ft. in the air--------but no water in the oil.
With all of us helping we had it going in an hour and all was good----------the motor was fine.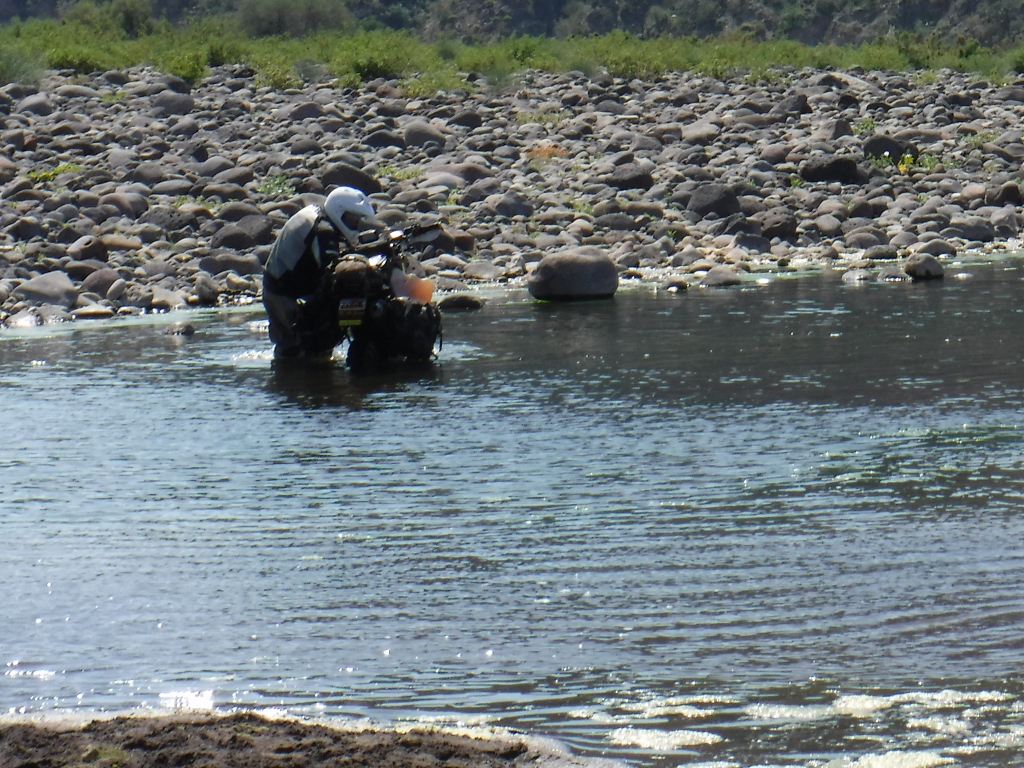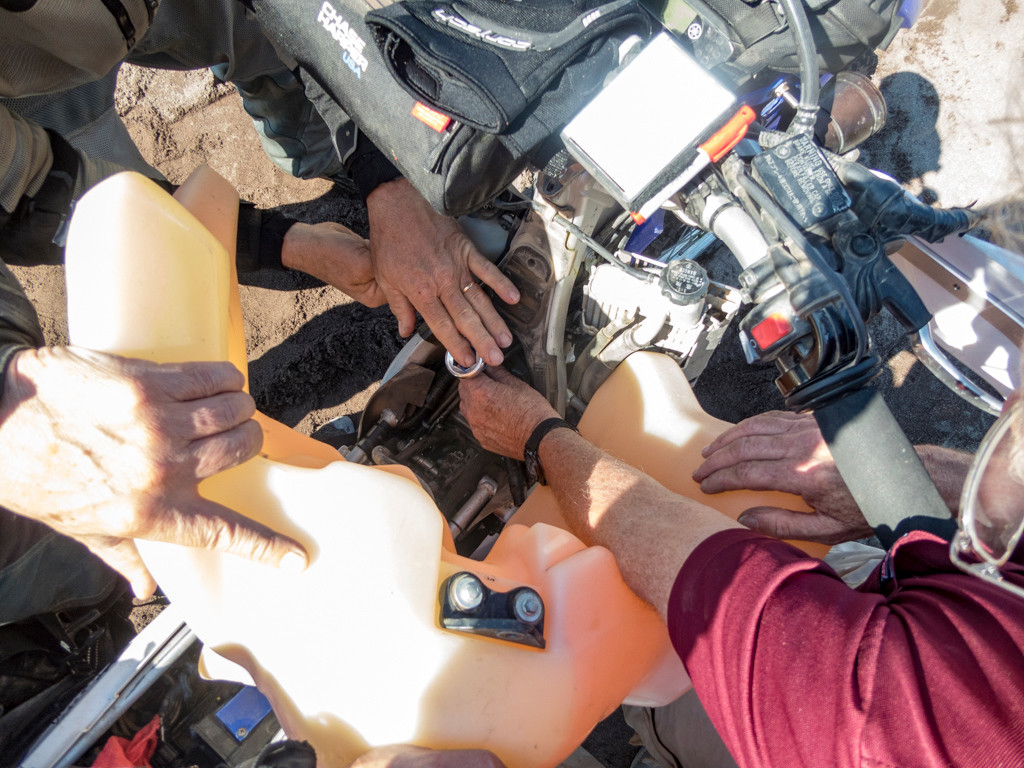 This was a very intense deal here----getting Dingweeds started again.
If we failed------we might have has to leave the bike and retreive it later somehow-----I don't know.
We were a long way from anywhere and it was difficult enough riding the bikes-------fun but technical.
So--------only so many people can fix the bike---to many hands and sometimes it makes it harder.
So High Five and Dave watched a lot----and even tho tensions were high----Dave could stand it no longer.
And Dave decided to lighten up the situation here a bit----and this crossing would now be called............
Moon River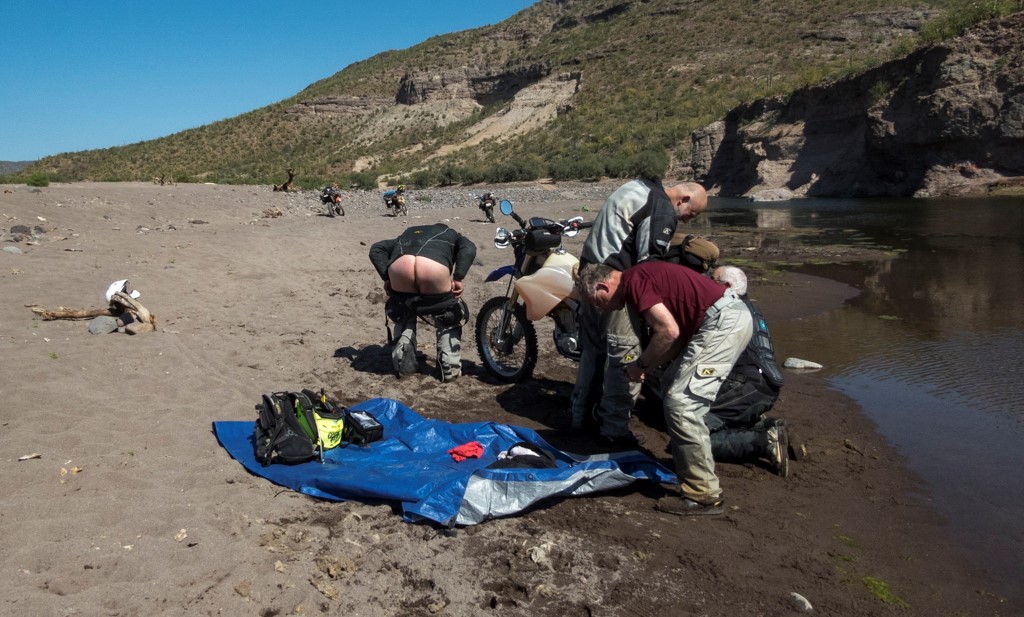 Dave said----what else could I do ????
High Five took that "Moon River" photo but never showed it to us right away.
And we all giggled like school kids after seeing it.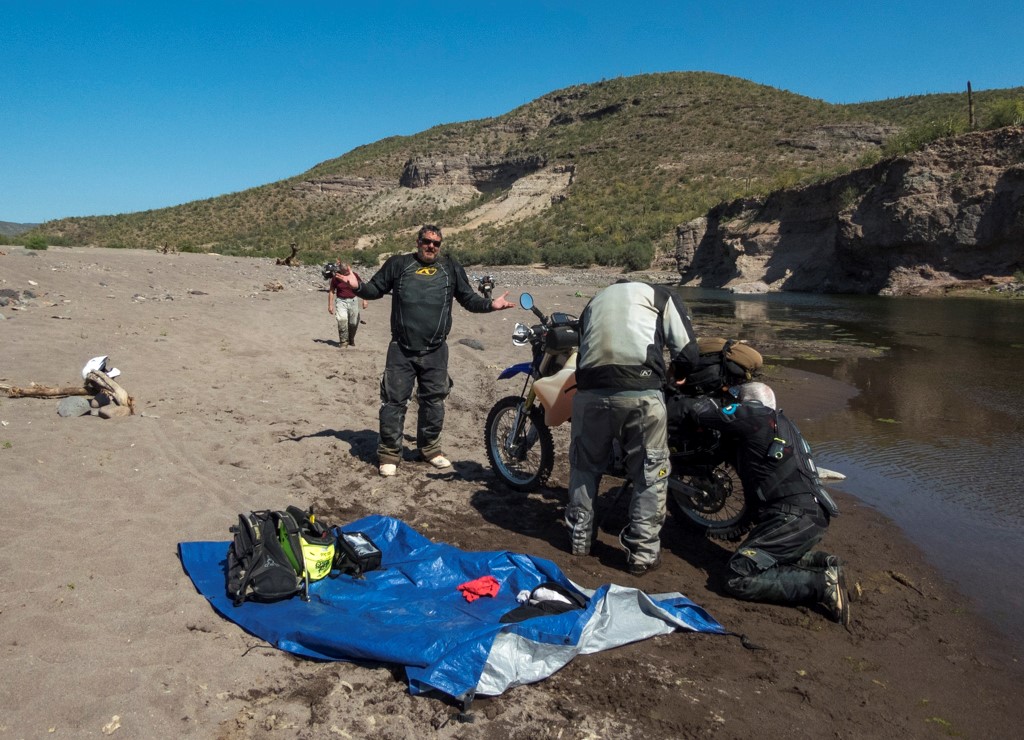 Only 48 more water crossing to go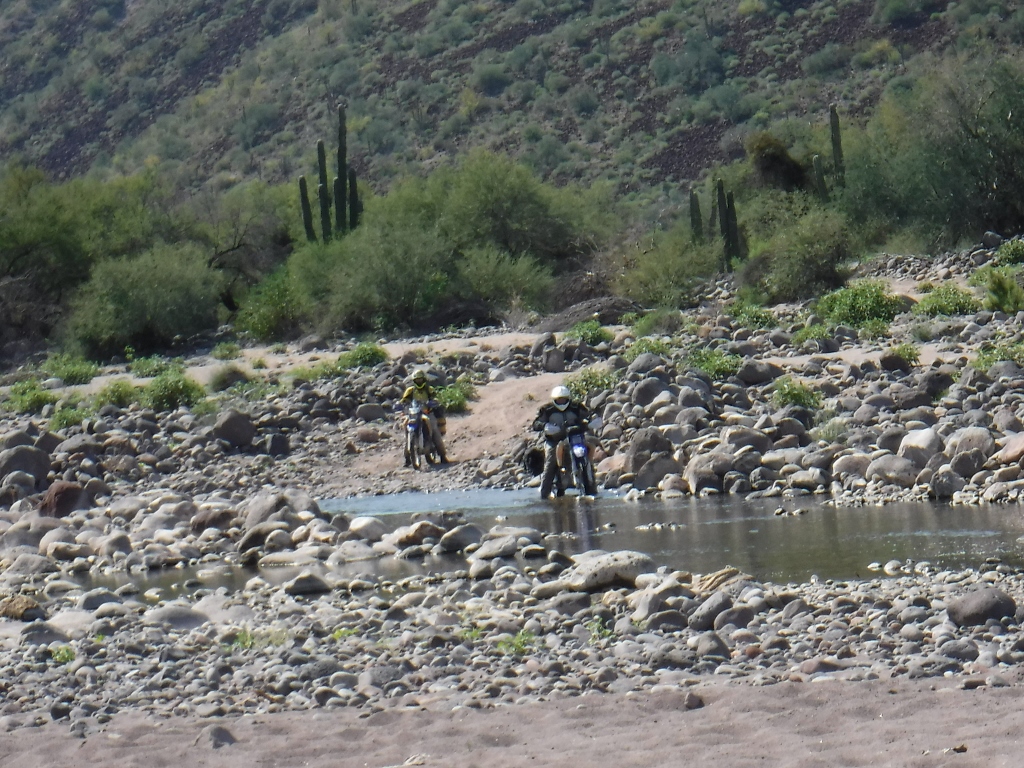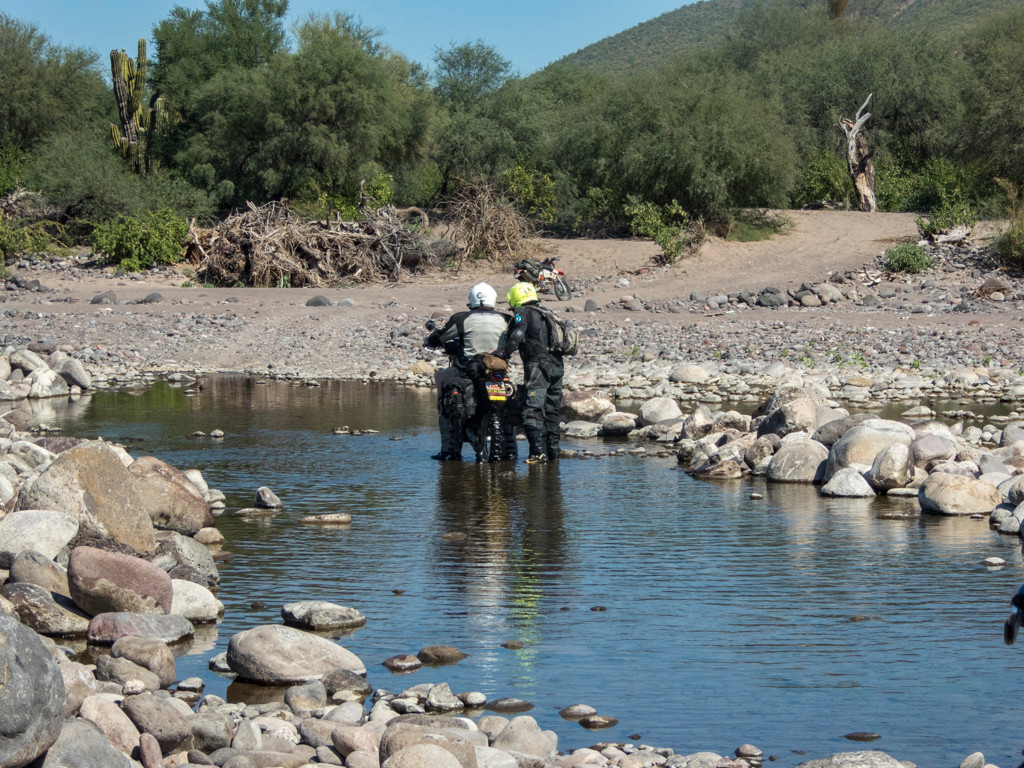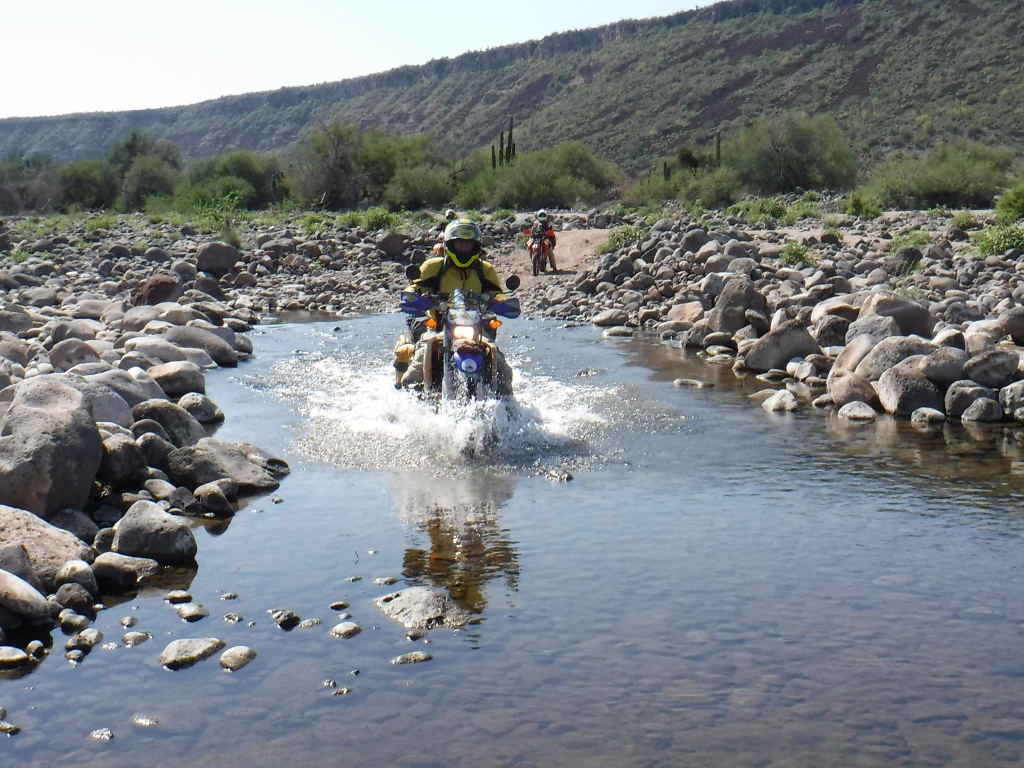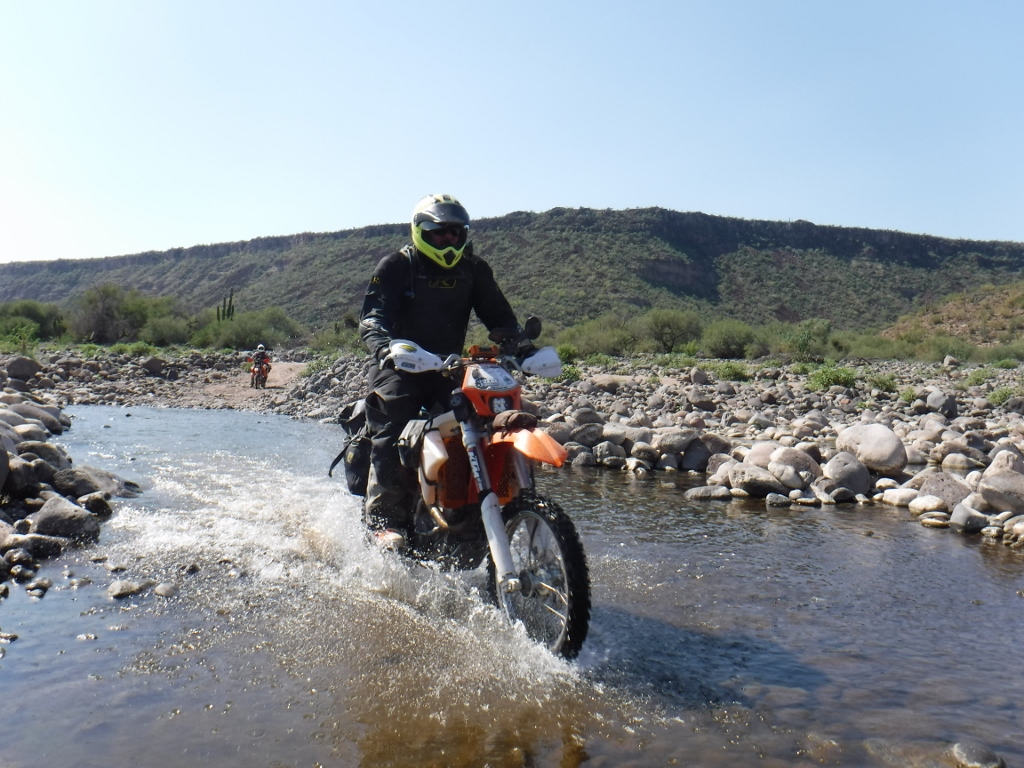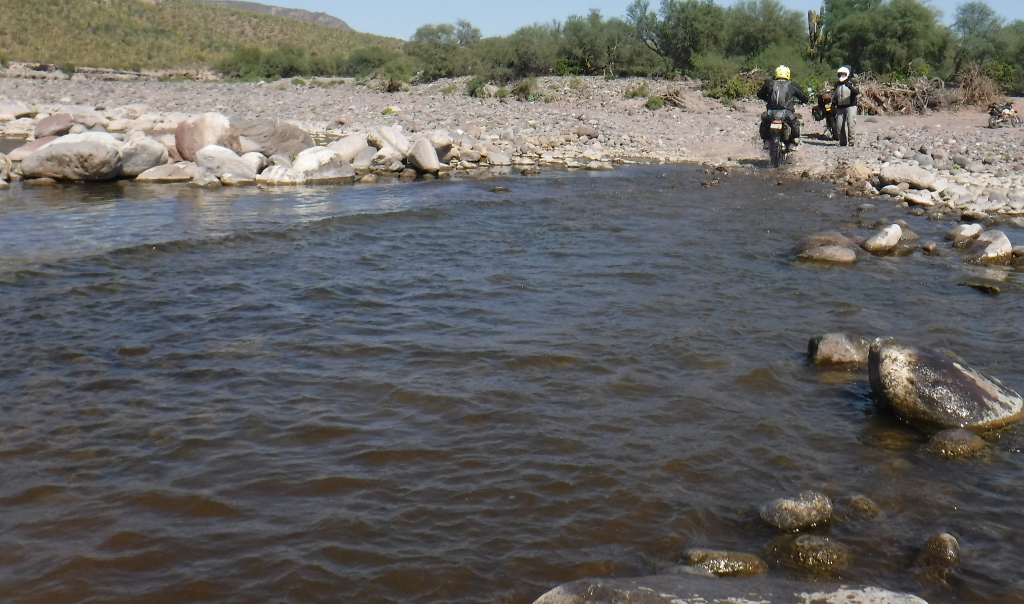 High Five is like a ballerina on a motorcycle-------I've only seen him on the ground once-----but no picture.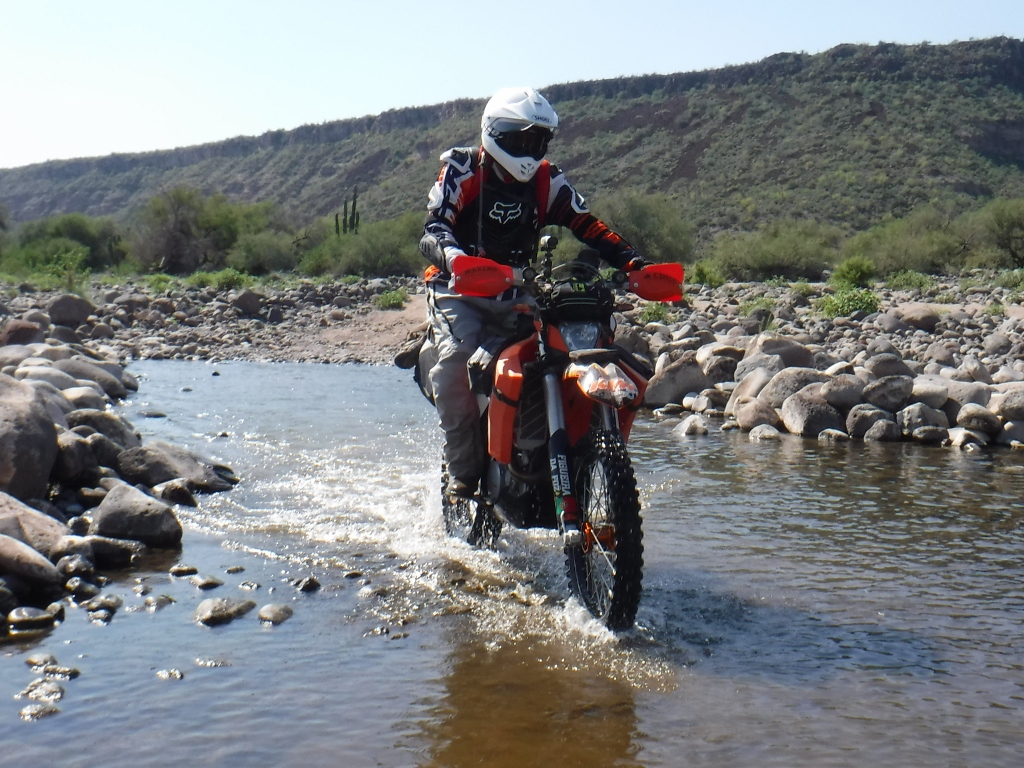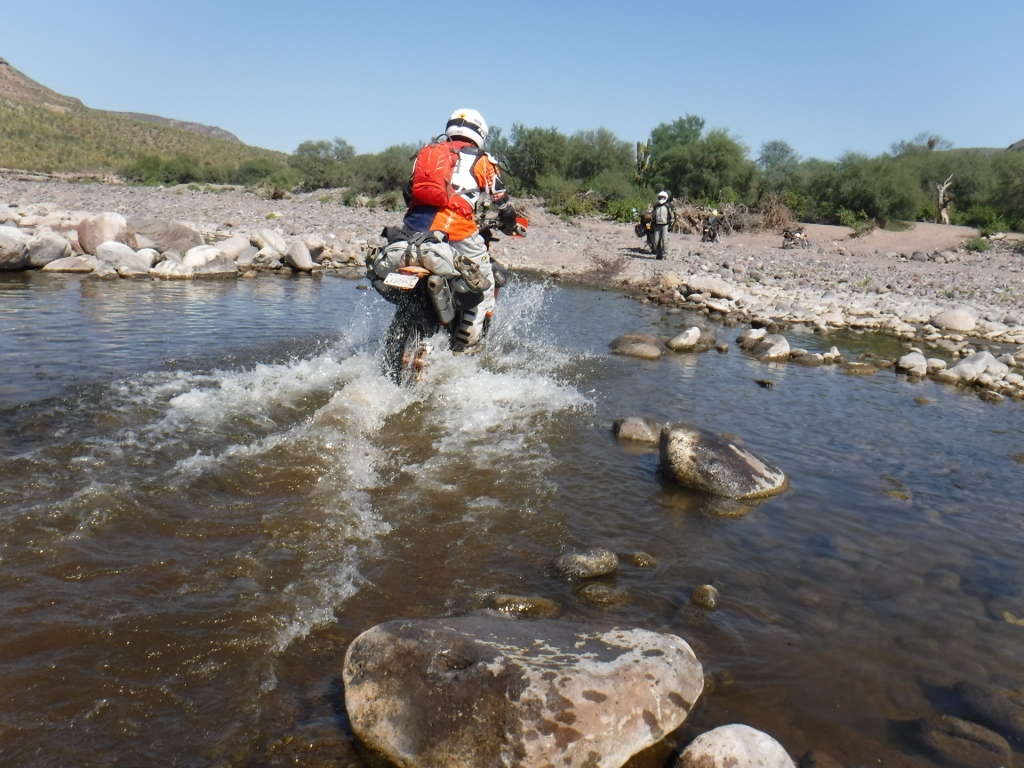 Have you ever just lost your mojo---------we've all had this happen-----happens to me all the time.
Dingweed had lost his and the crossings didn't always work out for him----and the stinkin' rocks in the creek were about
10" in diameter and covered with green slime.
He was 15' to the left ----but the green slime played a trick on him.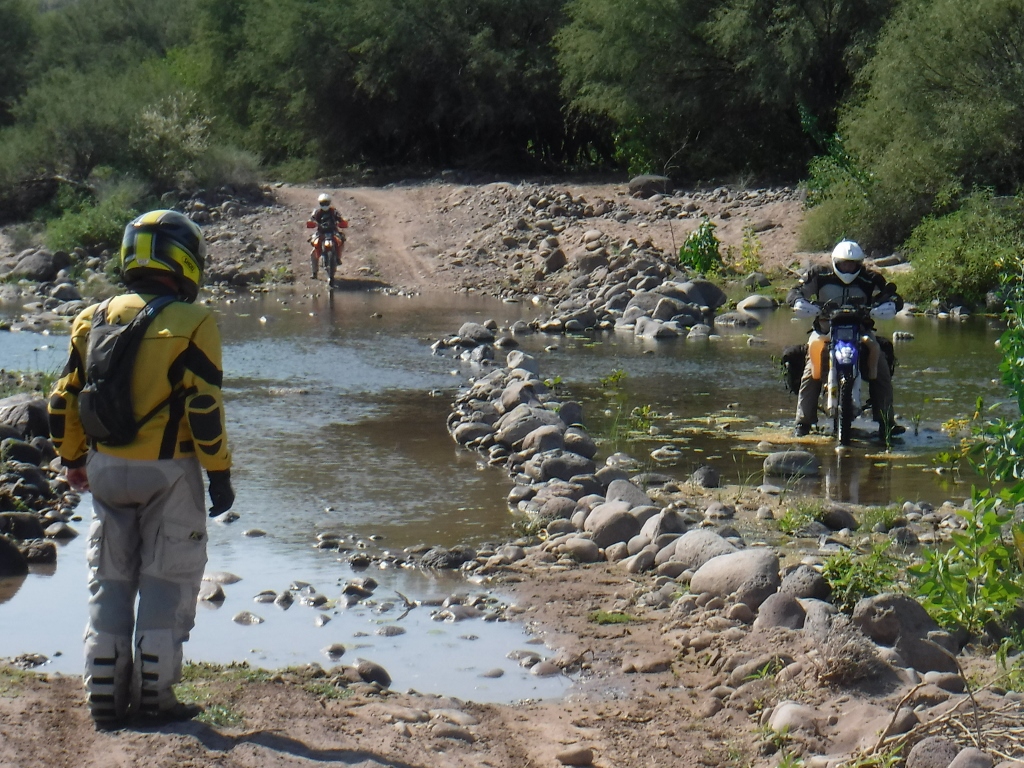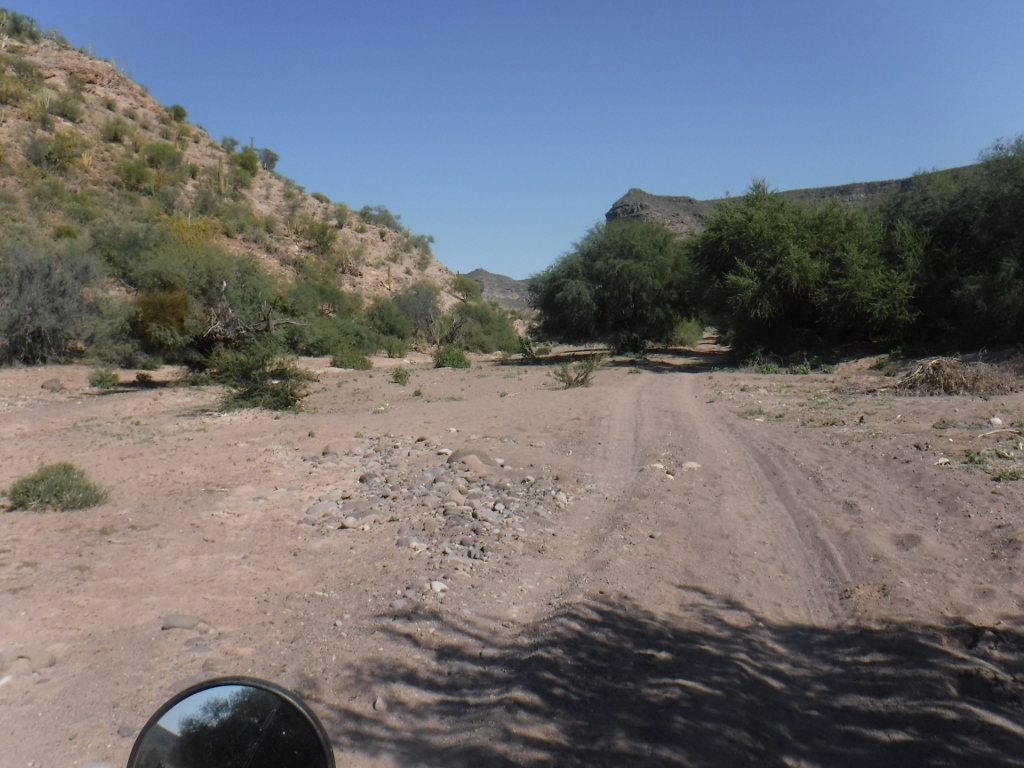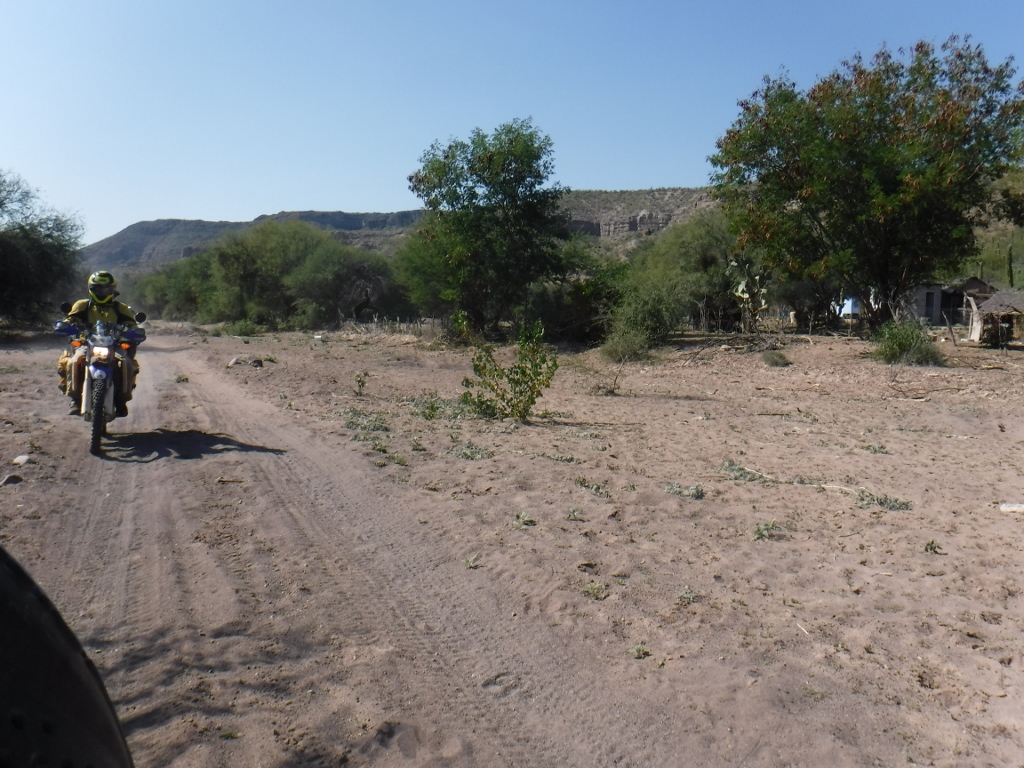 KTM twins----hard to tell us apart------cept I'm better lookin'
And one of us is bigger than the other.
And one of us talks funny !!!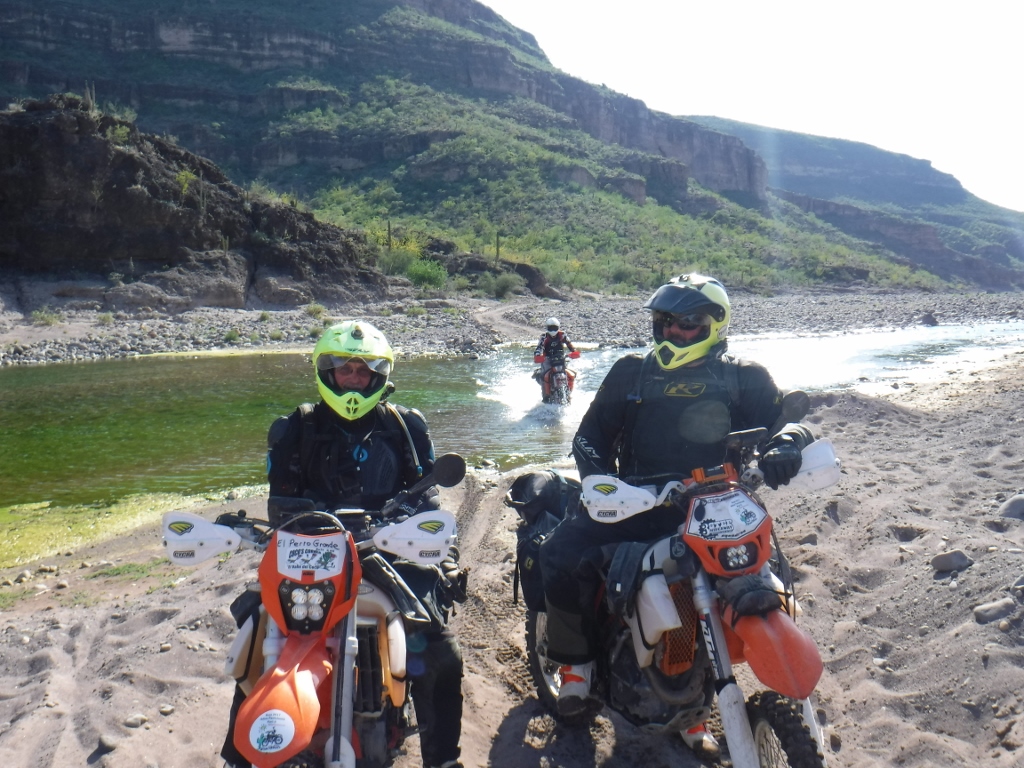 This is where the ride got even better as into the mountains before Mulege we went.
Can't believe I didn't take more pictures thru here.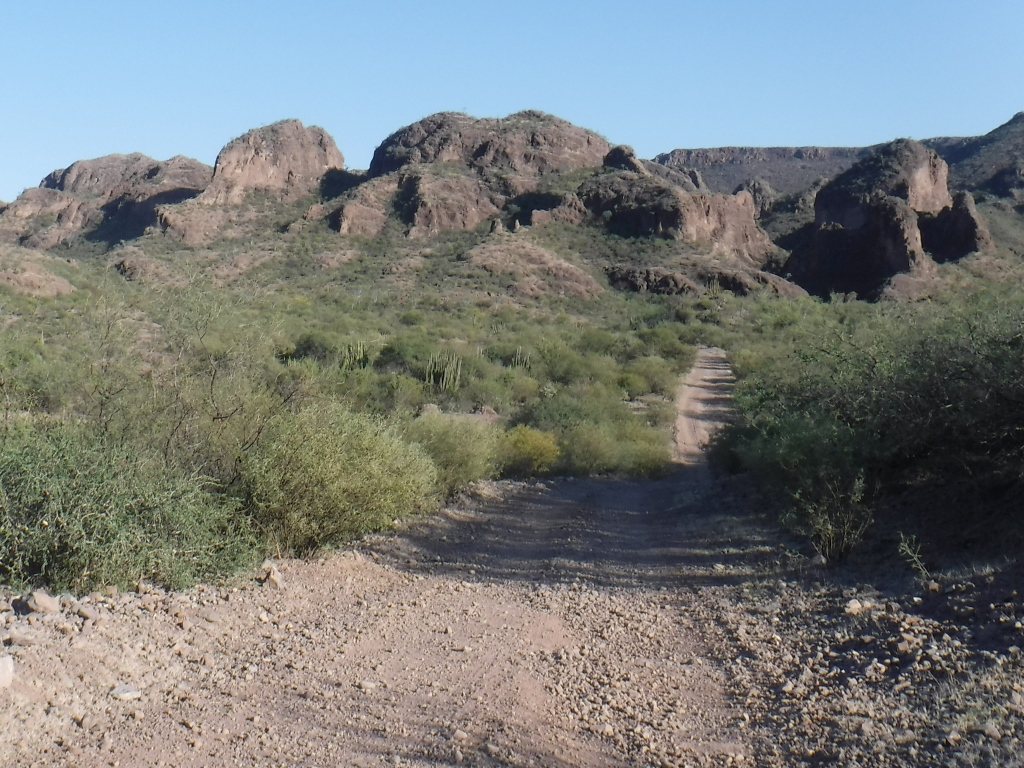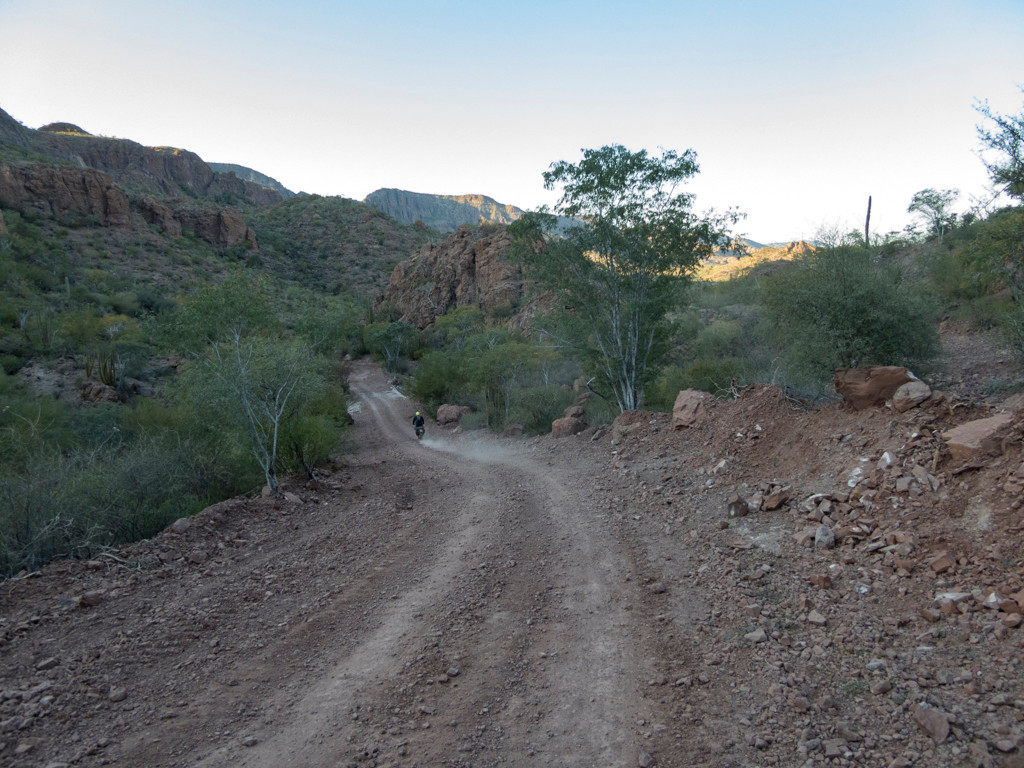 Parts of this road were so steep I skidded down each one and could barely get traction going up.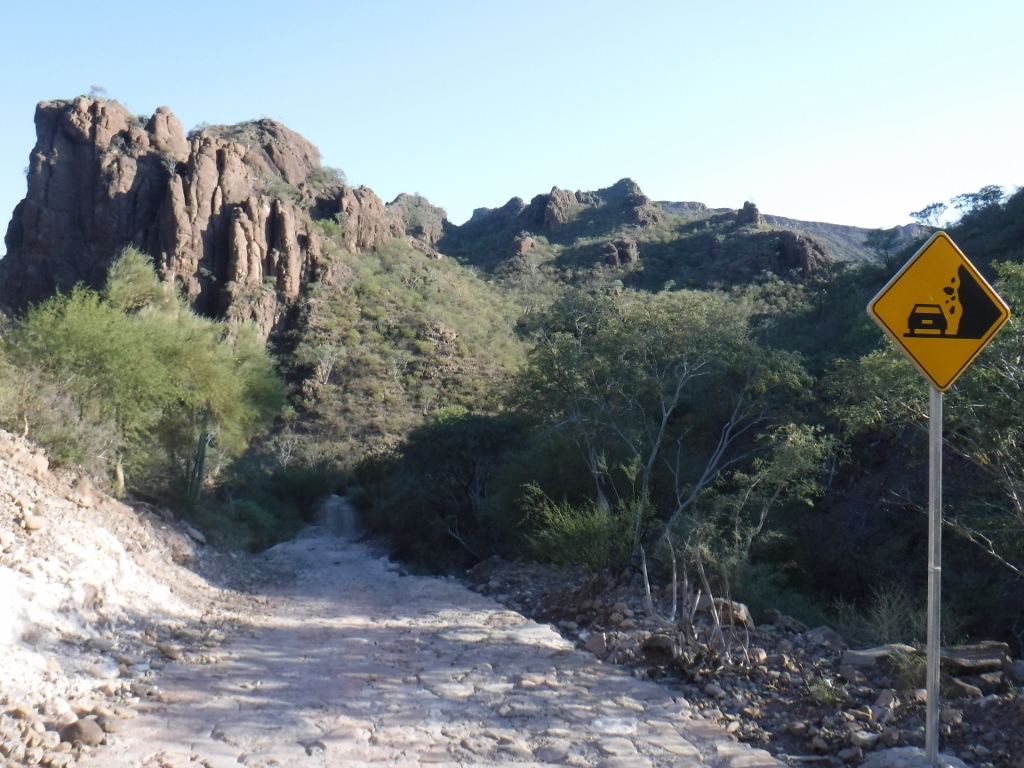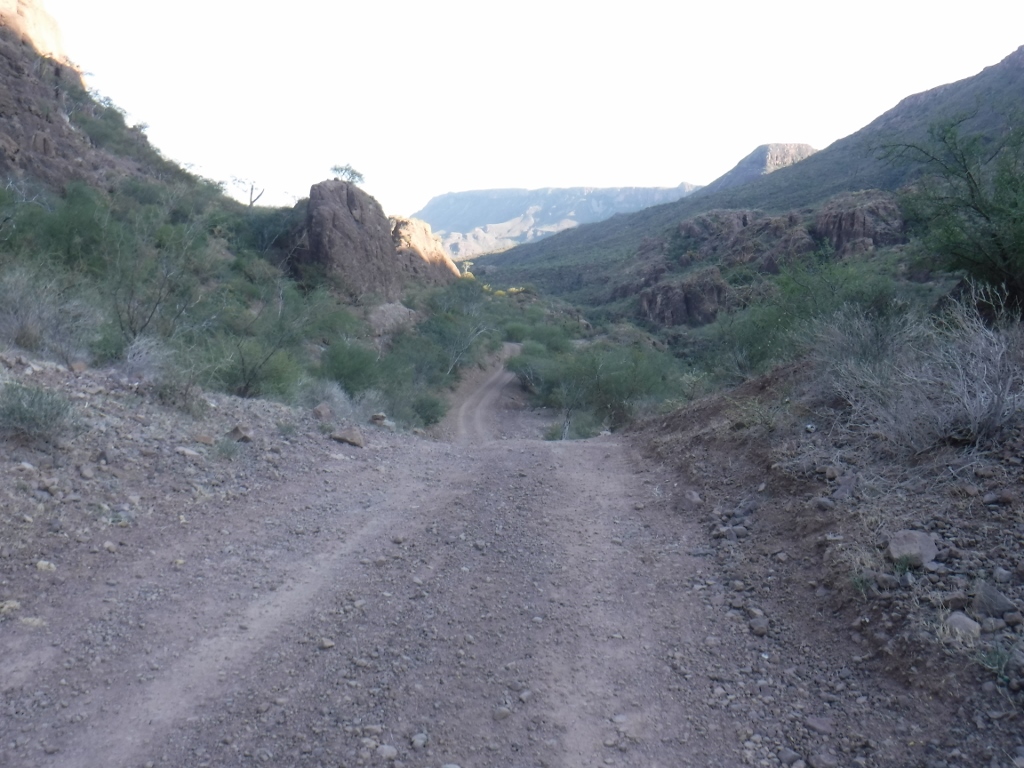 Hotel Serenidad in Mulege----------one happy aussie------this is what you look like following me.
I bet a marquarita will wash that off------might take 3 or 4 ????
And here is where Dave tells me he has been riding on flat tires for 3 days ??????
"Flat tires"-----------"why didn't you air them up" ?????
"Cause they are mousse tubes" he says"
I say---------"mousse tubes-----who runs mousse tubes in Baja" ?????
"Your kiddin' me right"--------I thought he was kidding me as this is all he does.
But no----- he has mousse tubes alright and declares they've got to come out as they are worn out.
But enjoyed them as they "enhanced his riding experience"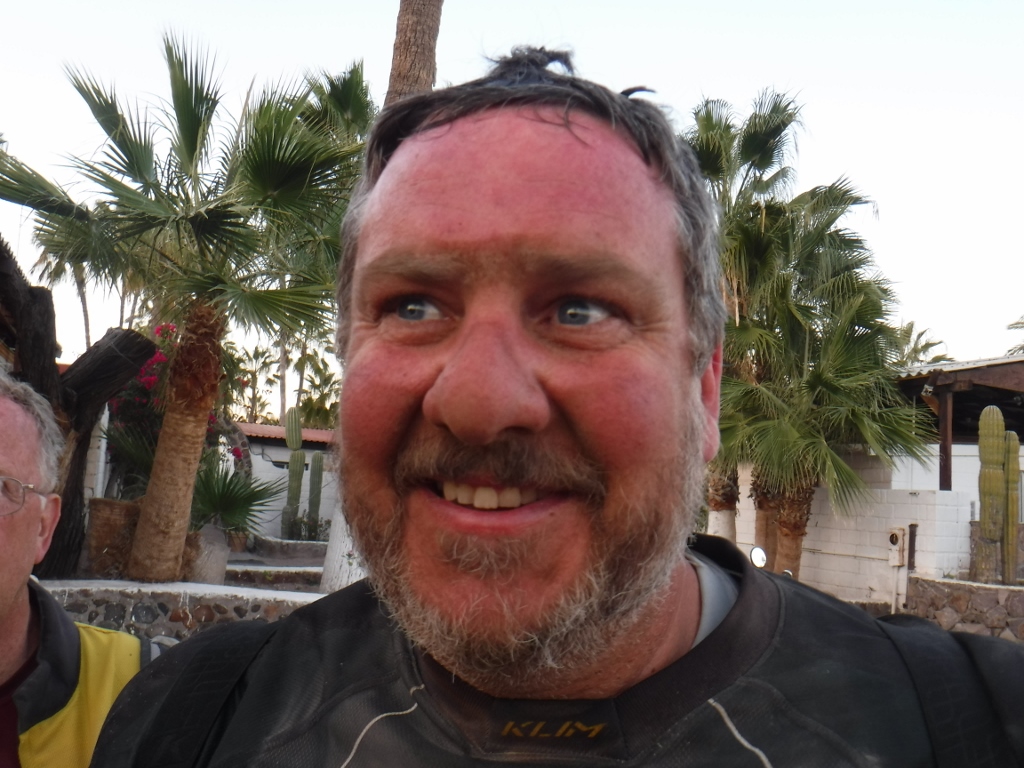 Your Welcome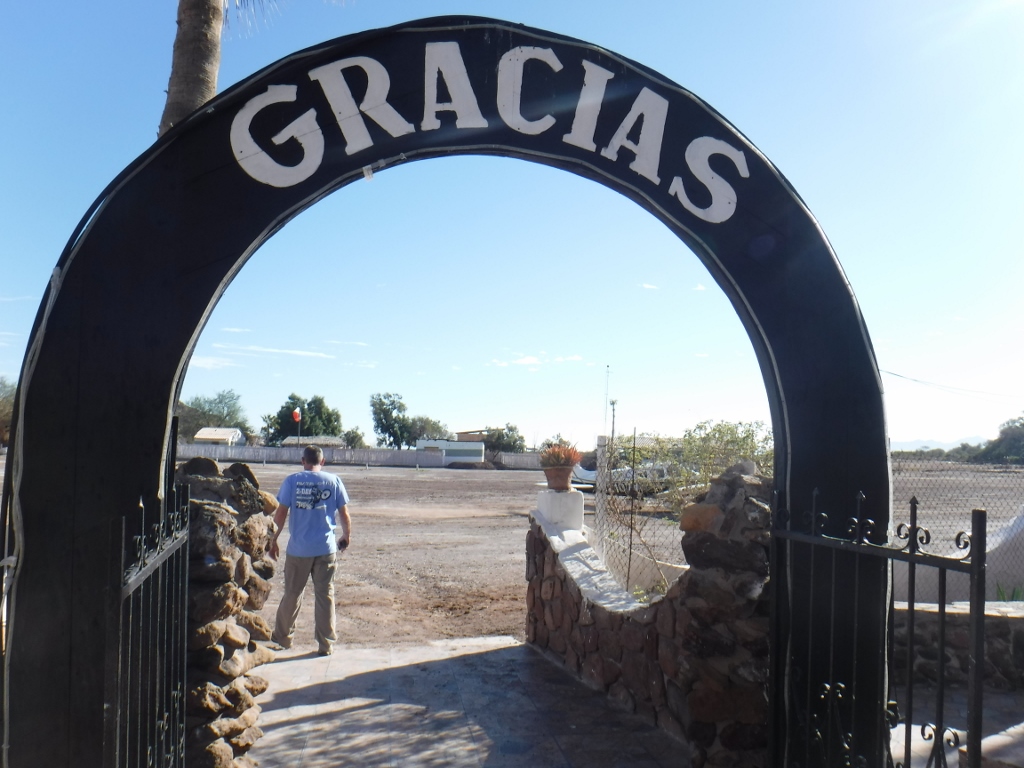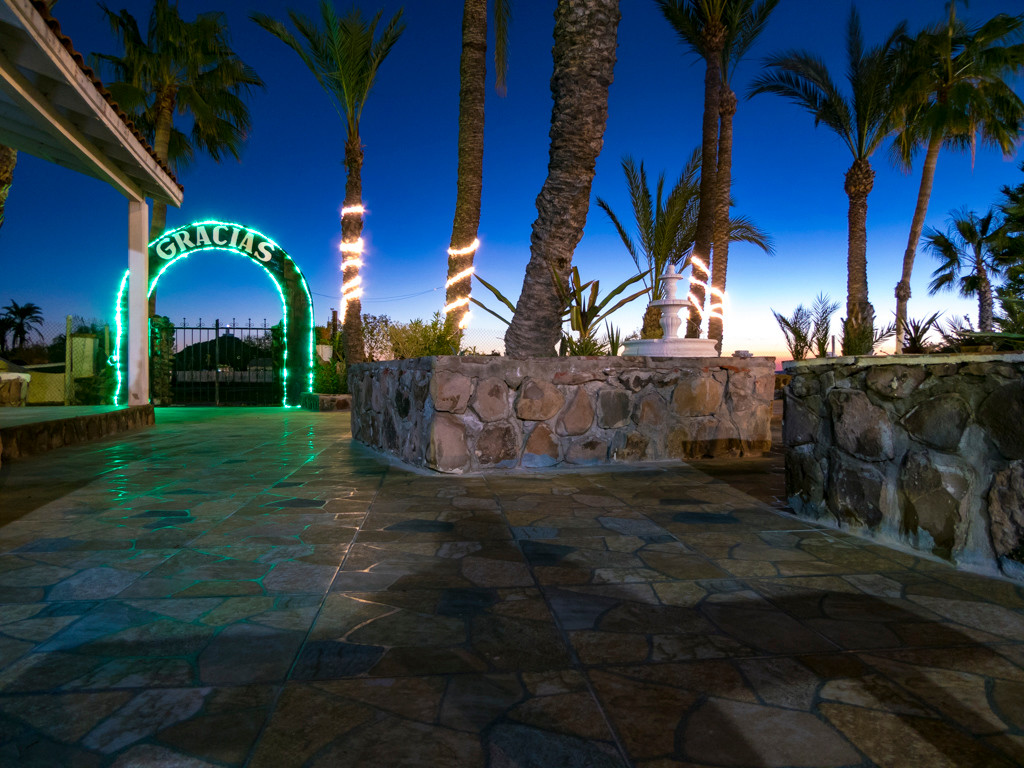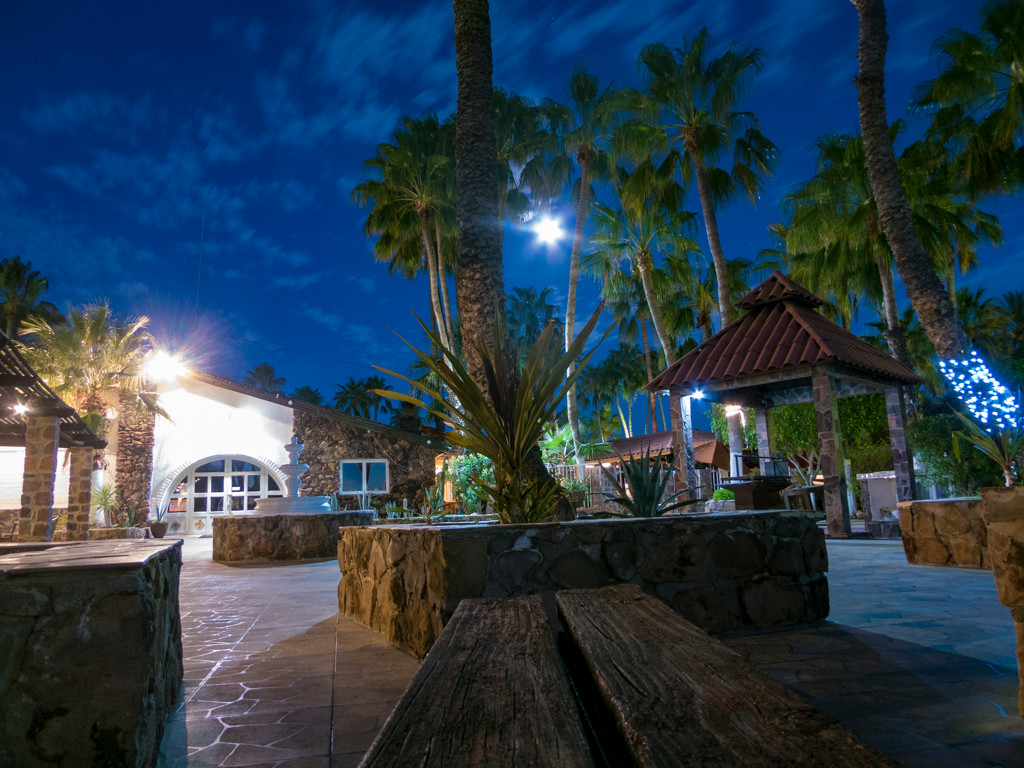 So we declare a rest day-----the marquaritas and laundry all come out but we have no time
for frolicking in the pool.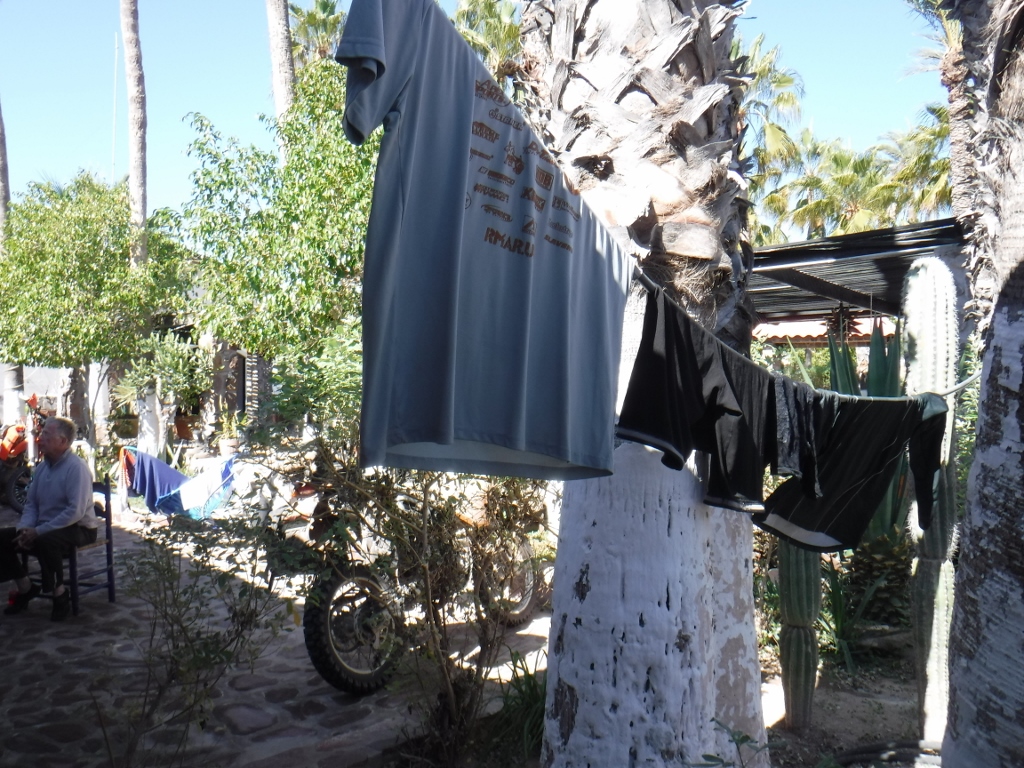 Let's see-------bike maintencance----yeh----wiped the dust off my headlight----that ought to do it.
And Jerry (on the right) is ponderin'------how in the hell did that orange bike make it this far ???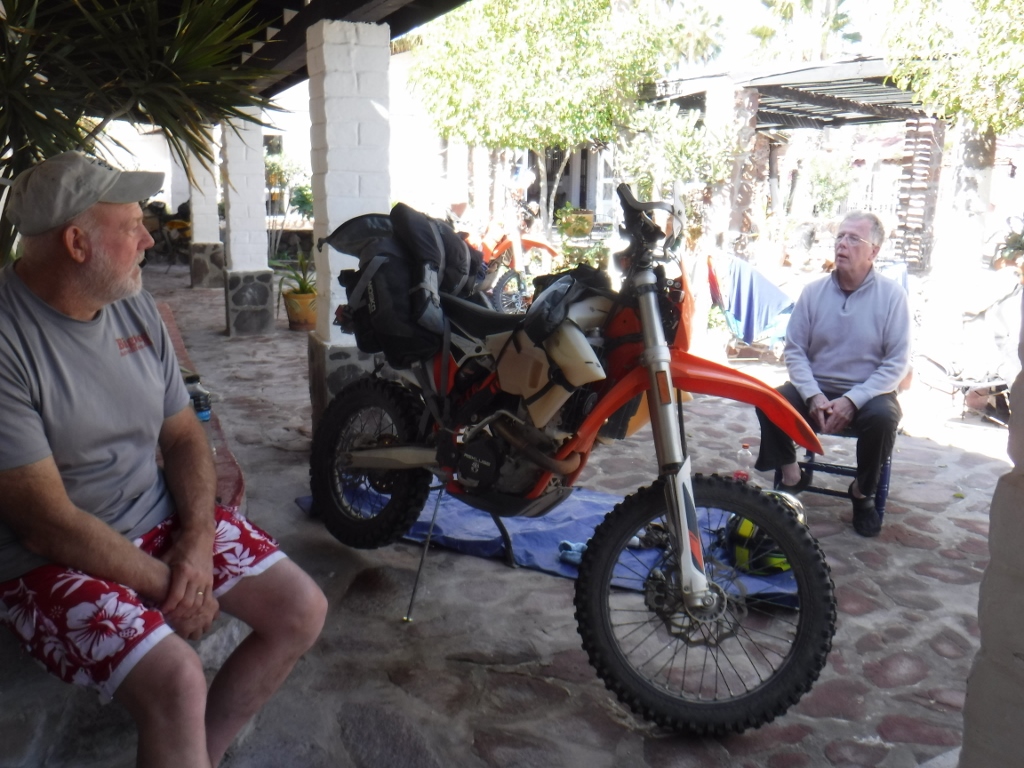 High Five's bike didn't need anything but a slight chain adjustment-----you'll not find a better prepared bike than his.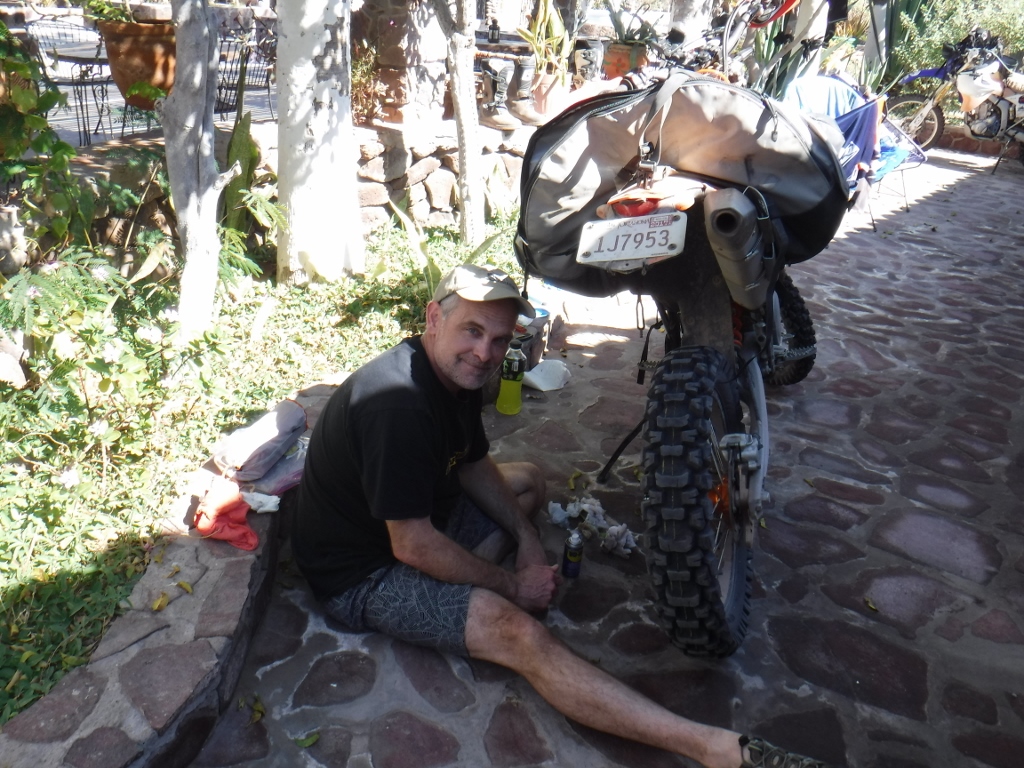 Nice Place this hotel Serinidad
Dave has been here before and I knew we'd get denied a room or thrown out before it was over with.
The escapades that went on his last time here I'll not get in to.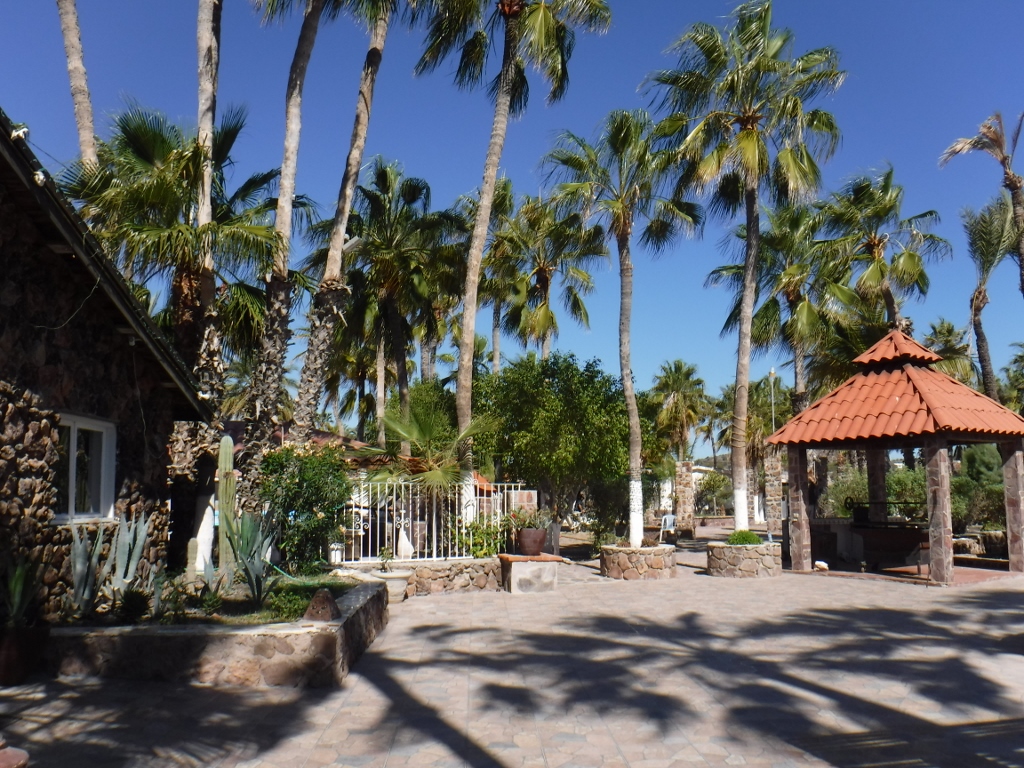 But the scene of the crime was right here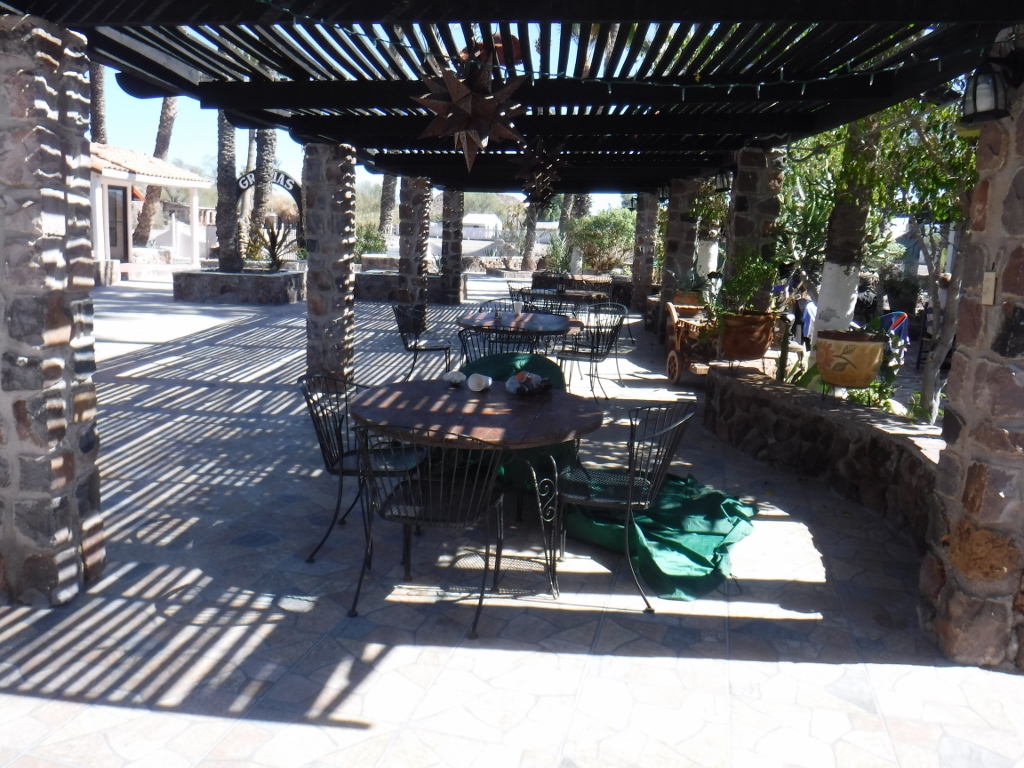 So I figured we'd have to have a forklift, backhoe, pick axe, a gallon of WD40 and an excavator to get those mousse tubes out.
We talked how it had never been done with ordinary tire tools-------but we tackled the job.
I figured we'd have to cut the tires off with a saw-zall.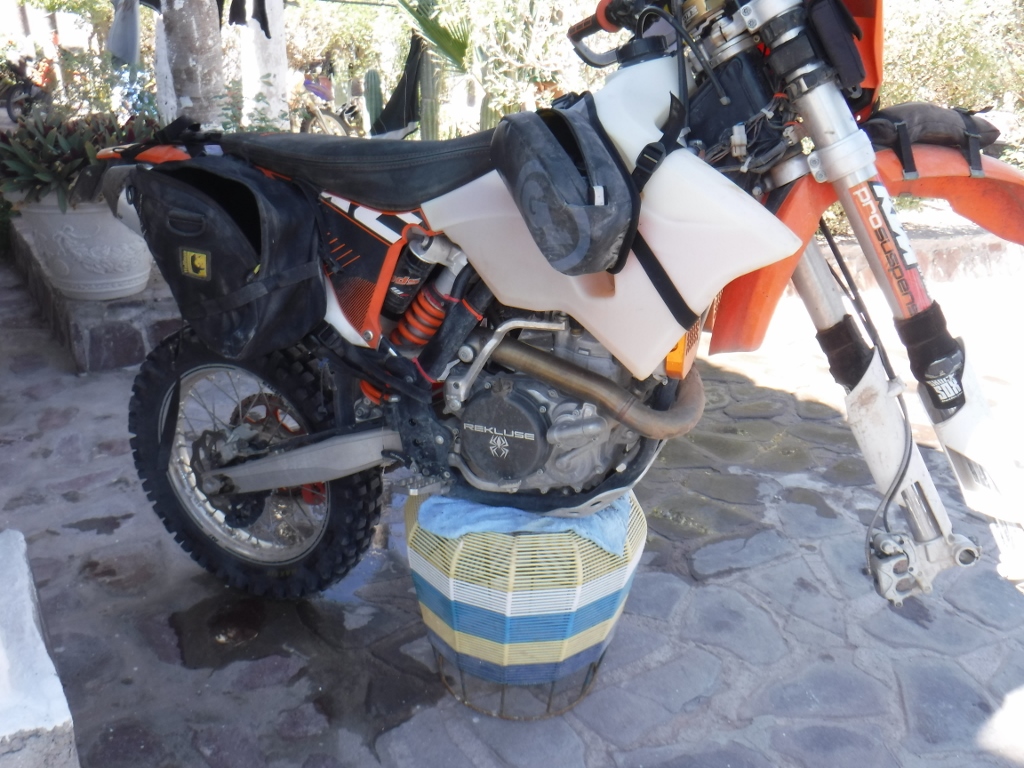 I kind of thought the 21" tire might be do-able-----------------but certainly not the rear.
And I stood cautiously to the side in amazement as tools occasionally went flying by me.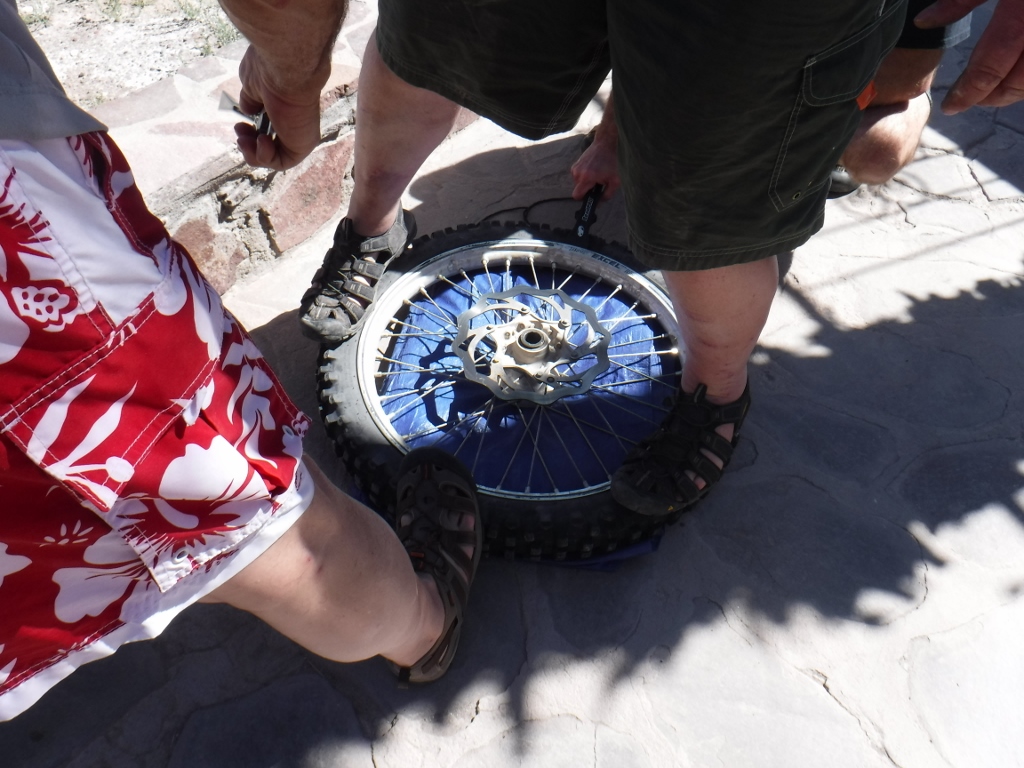 You have to cuss a lot to fix a flat-------everybody knows that.
But to get a mousse tube out---------you have to cuss, fart, jerk, pull, pull some more, drink several marquaritas
and have some buddies to help
and give encouragement to not tap-out-------you must not tap-out.
Aussie cusswords flew out of this aussies mouth like water down a waterfall.
Words I'd never heard before.
And that was for the front tire------the rear was much worse.
Dave wanted to torcher and burn that sucker---but we were under the watchful eye of the management.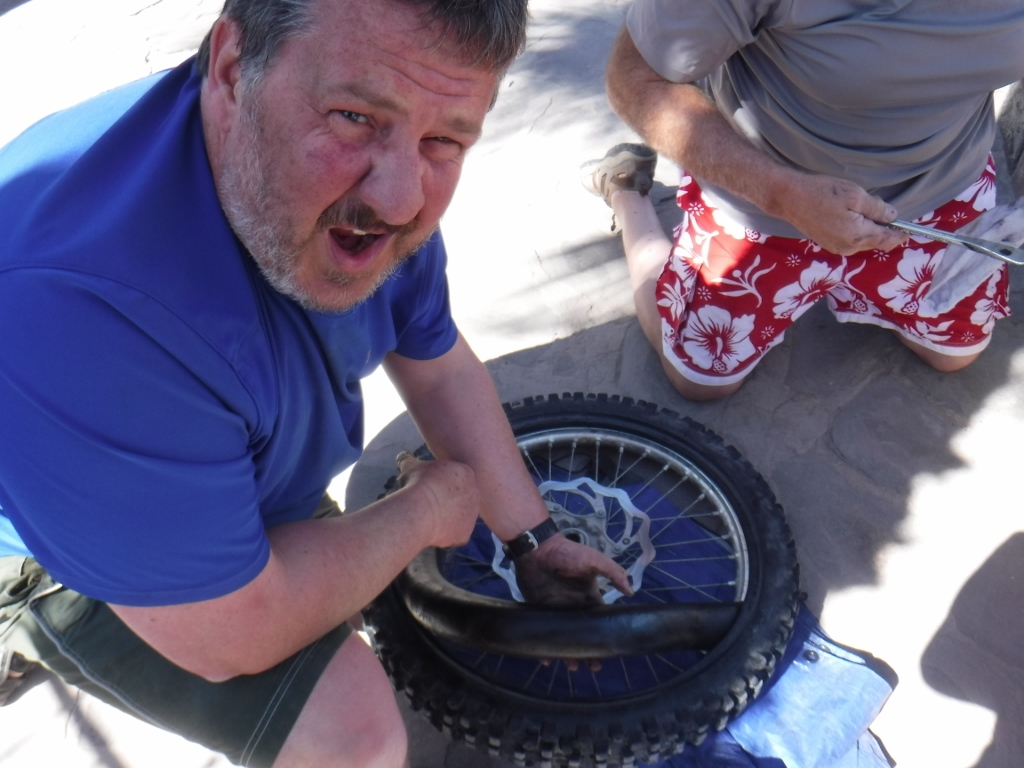 Dingweeds was the chuck wagon----but now it was decided we load him up even more so he could haul some chairs
a cooler and cold drinks. We came up with a real wagon.
These chairs would be handy at camp-----a cold drink would be nice on the trail
and a flower pot to decorate our lovely campsites-------how nice.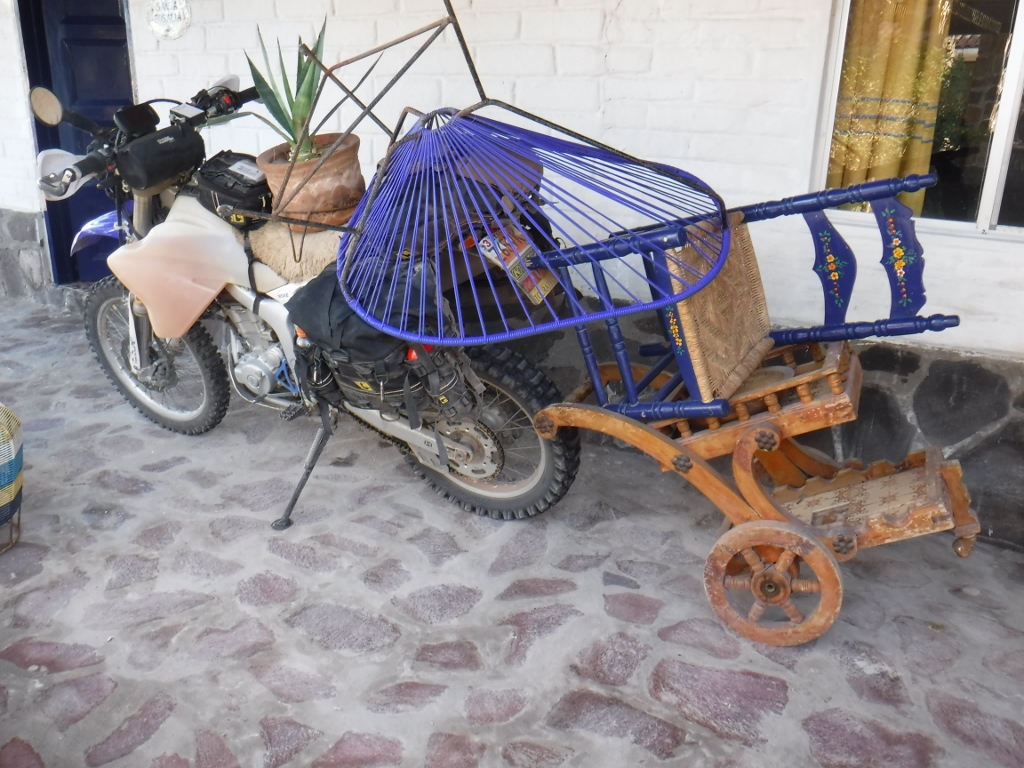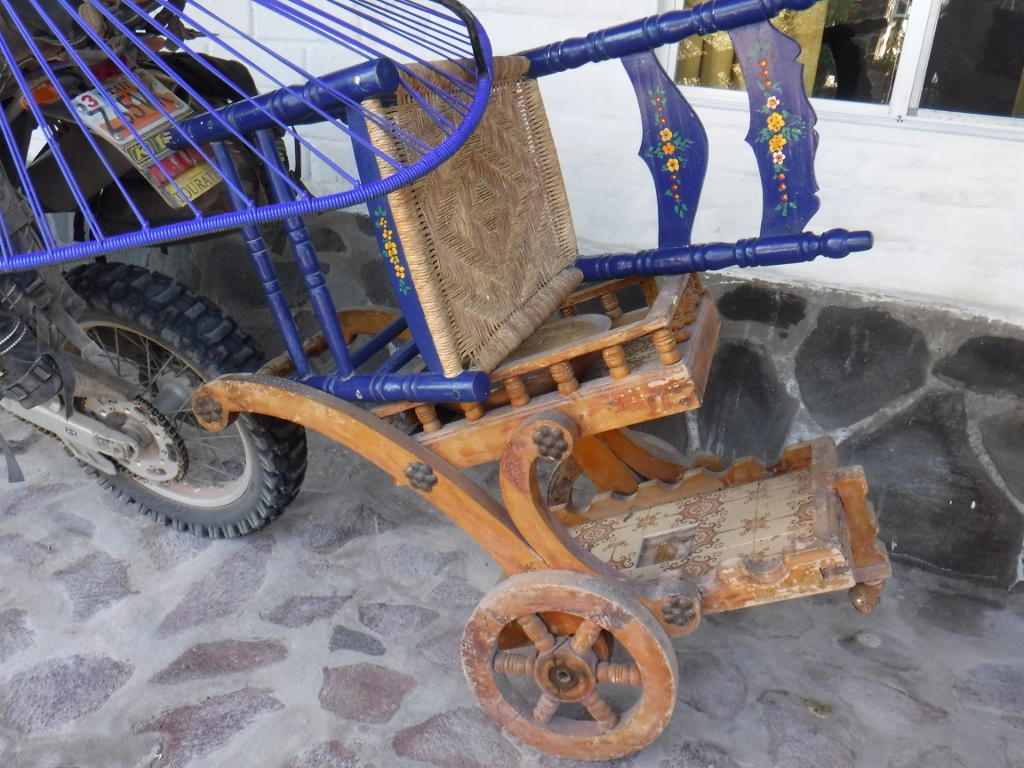 All of us had our Mexican names mysteriously appear on our handguards.
Road Dad was now "Papa De Camino"
The tubes got put in------we did all this the next day, so we spent 2 nites here
and were treated like kings.
A map of our ride today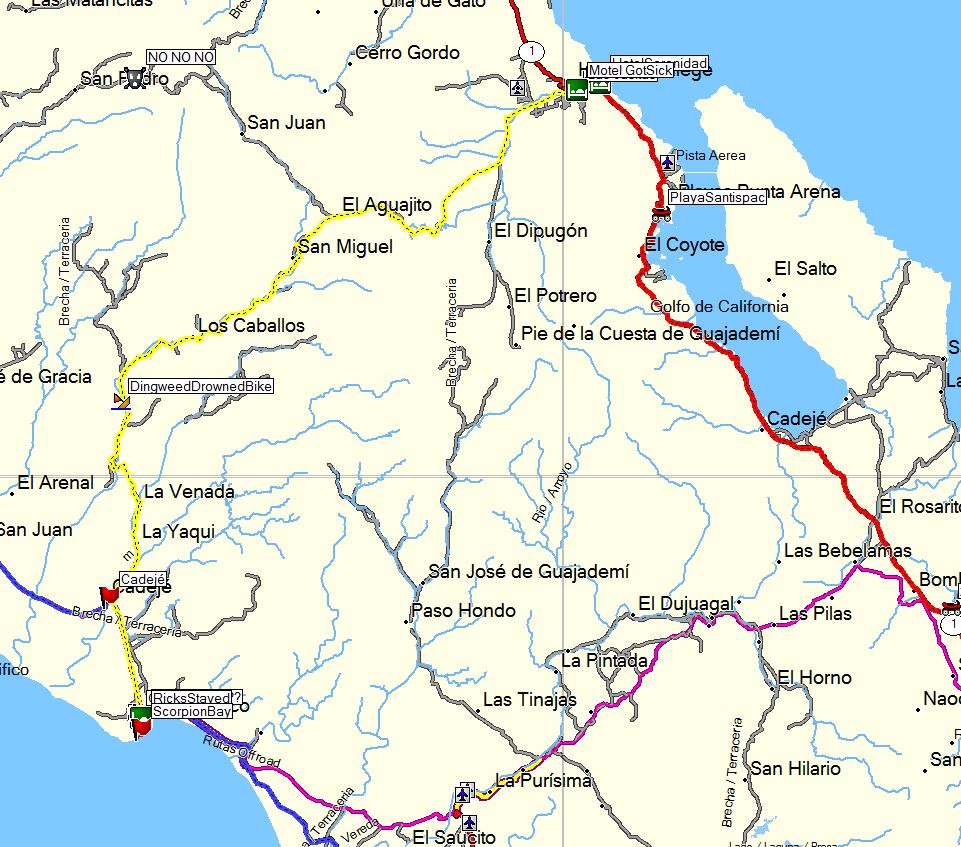 A short video of the ride to Mulege
Day 8
February 13th, 2017
Mulege-----to Whale Watching
We left Hotel Serenidad------and Dave had air in his tires---what a novel idea.
I took them to the old part of town in Mulege for a neat place I knew for breakfast.
I think it was called the Las Casitas---and they have rooms there too.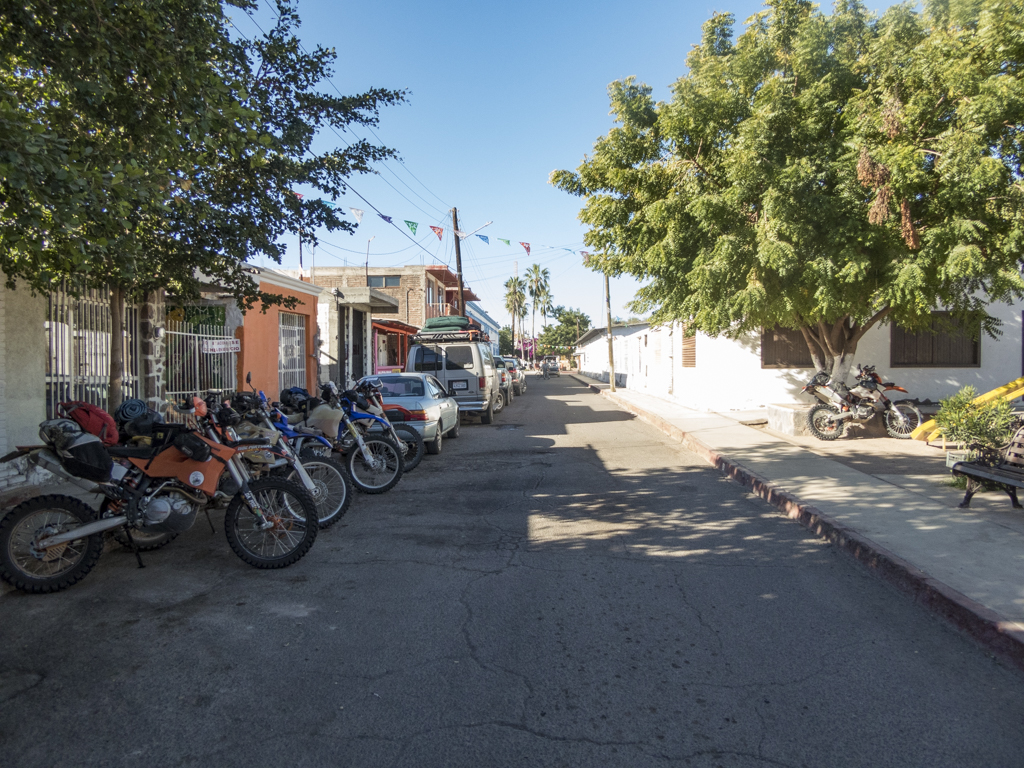 It was a neat place to eat in the open air of Mulege.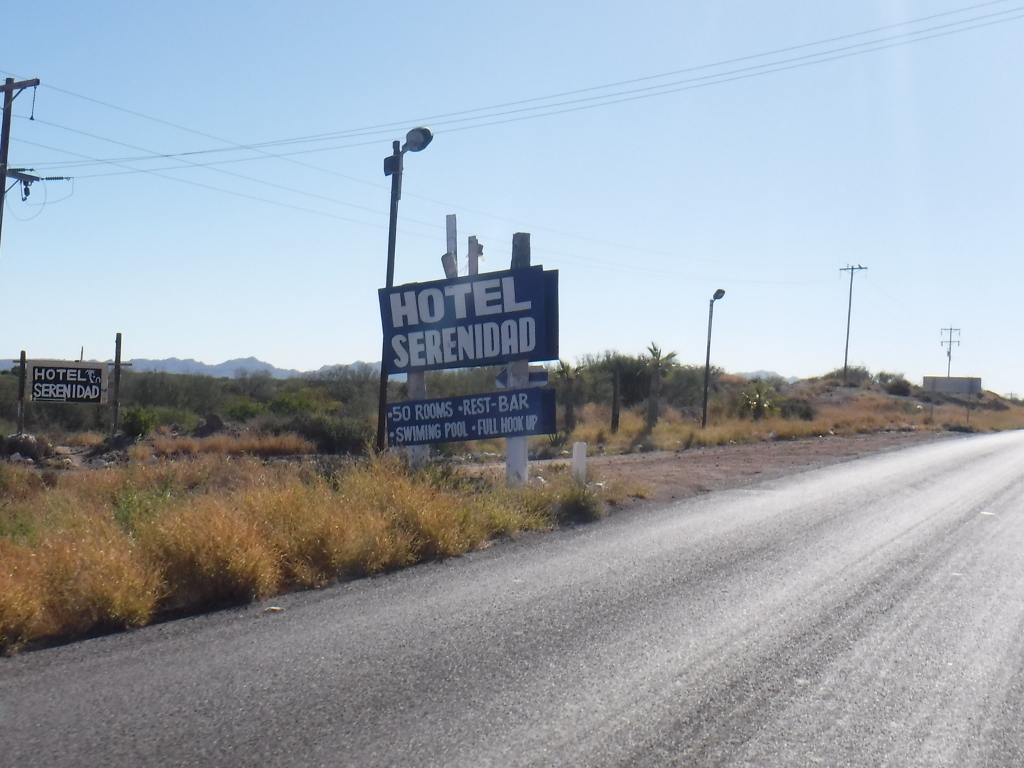 It was Hwy 1 south for miles to Loreto--------then Southwest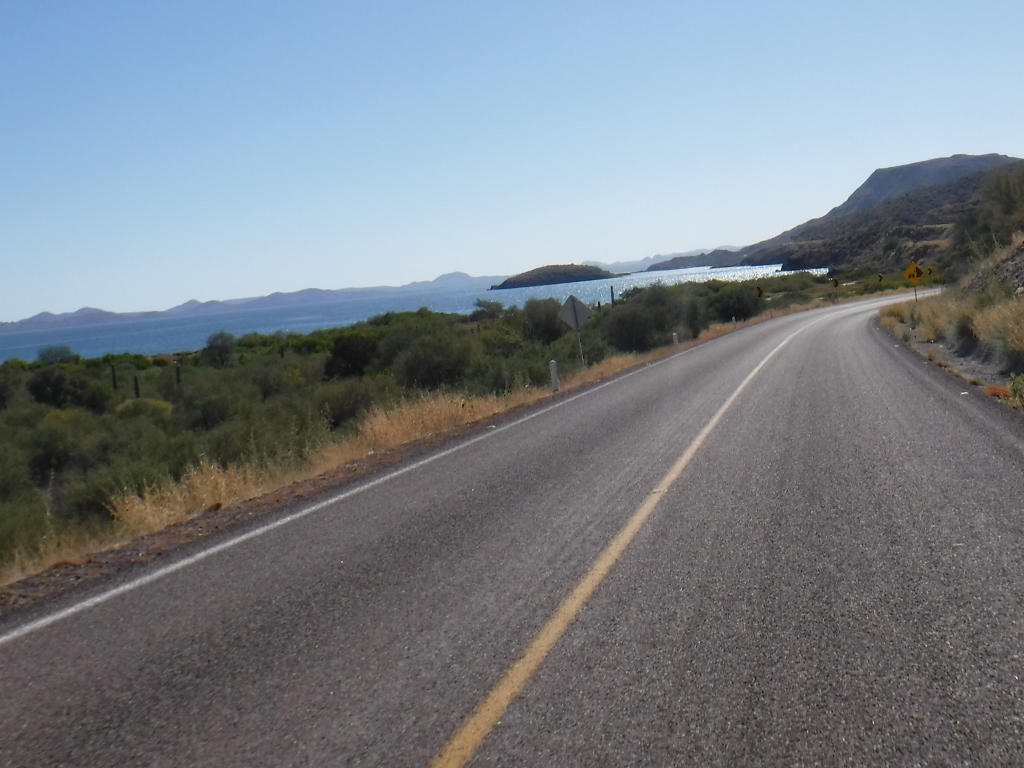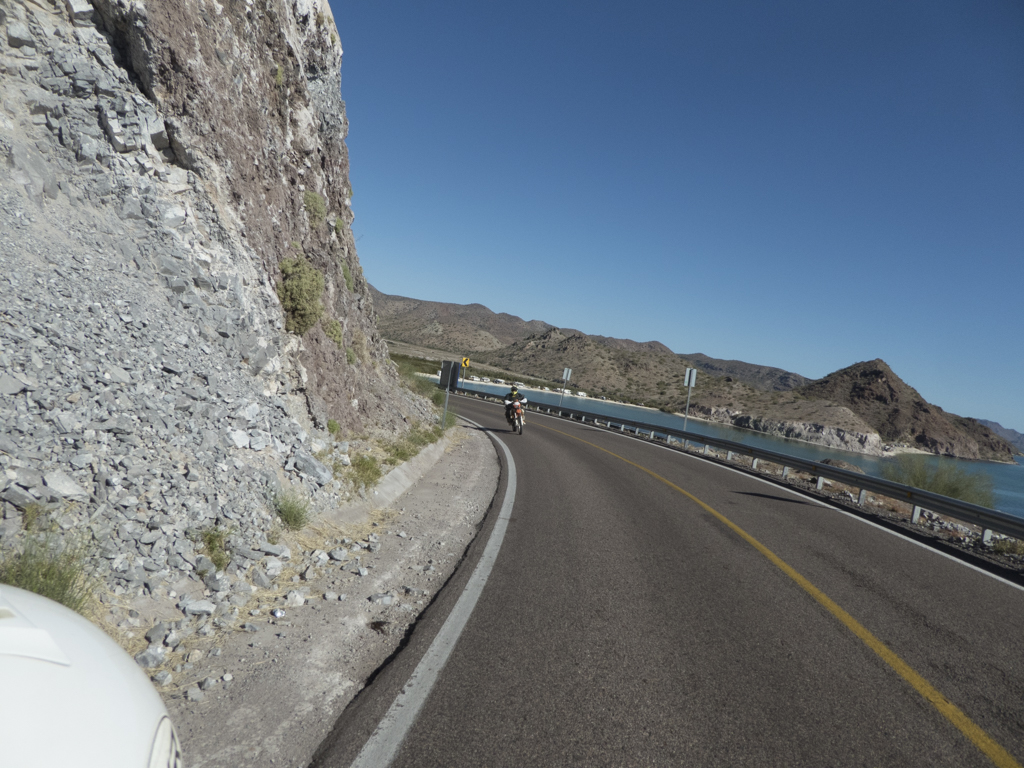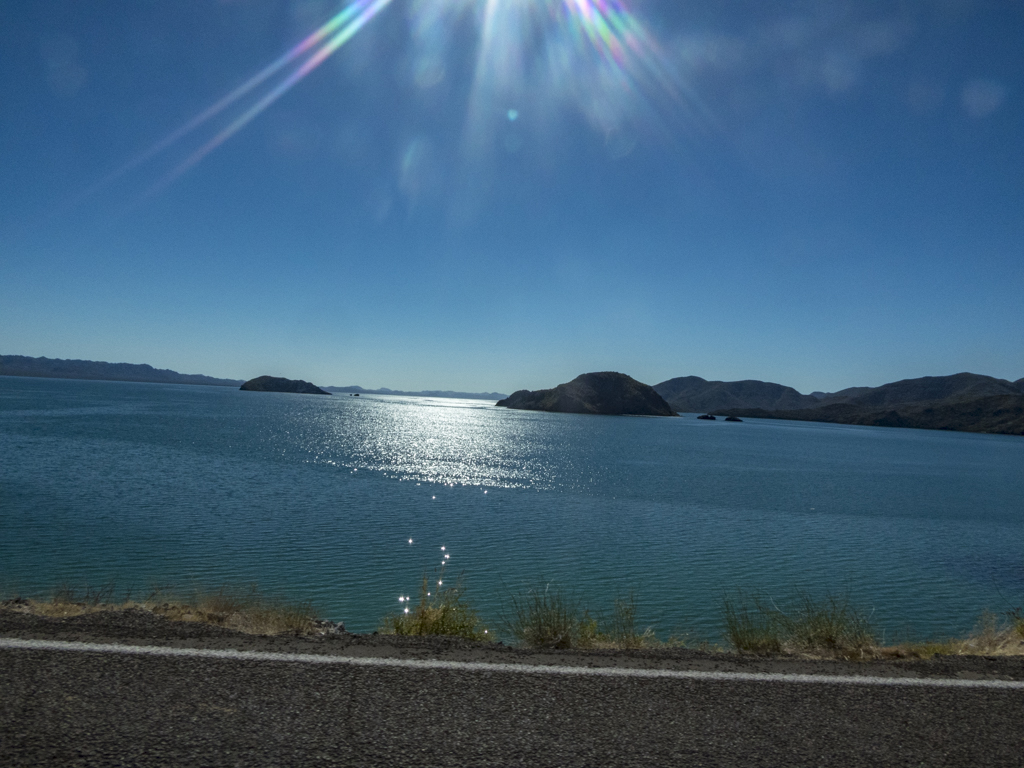 I found a neat place to pull off and take a break right on the ocean.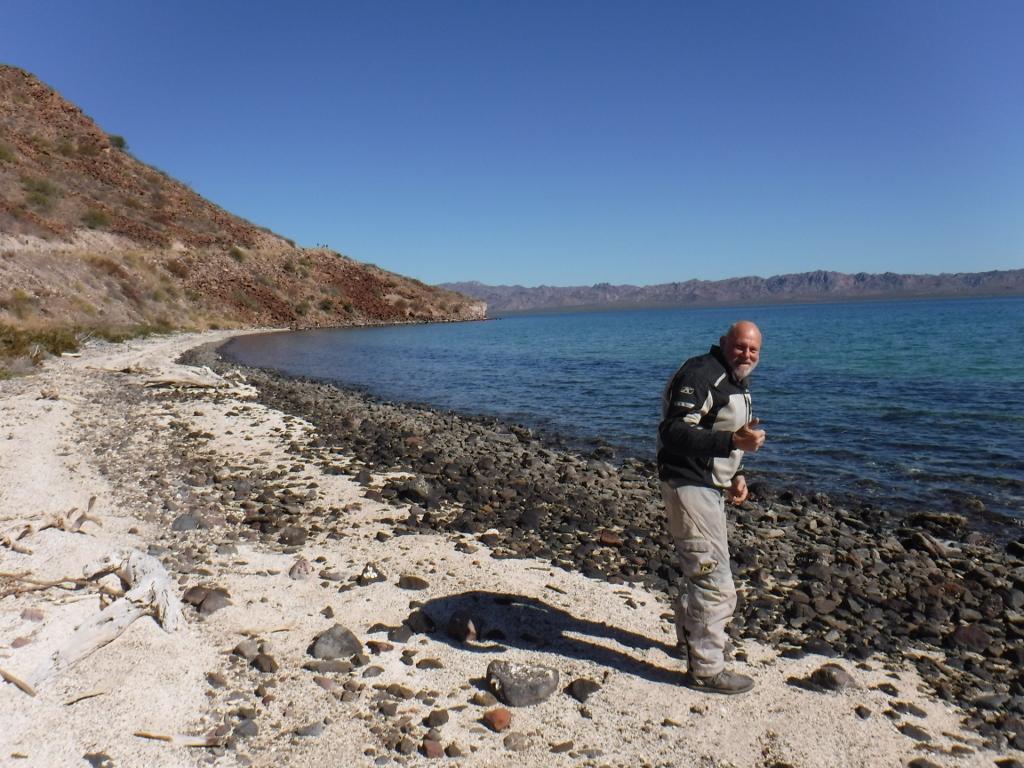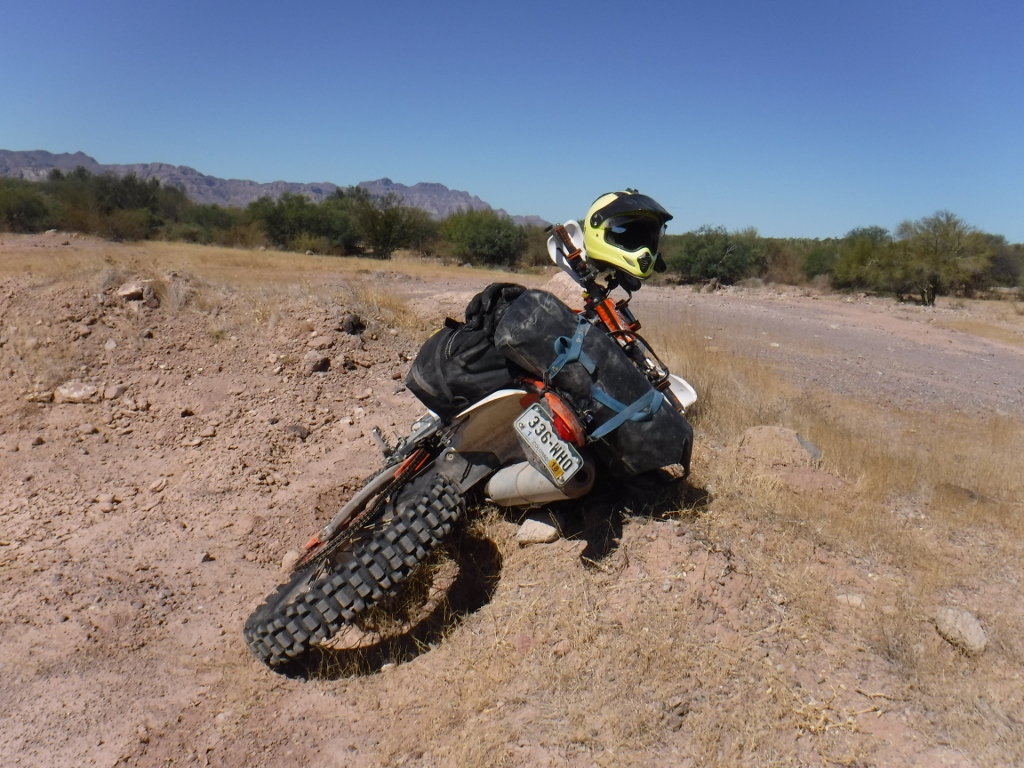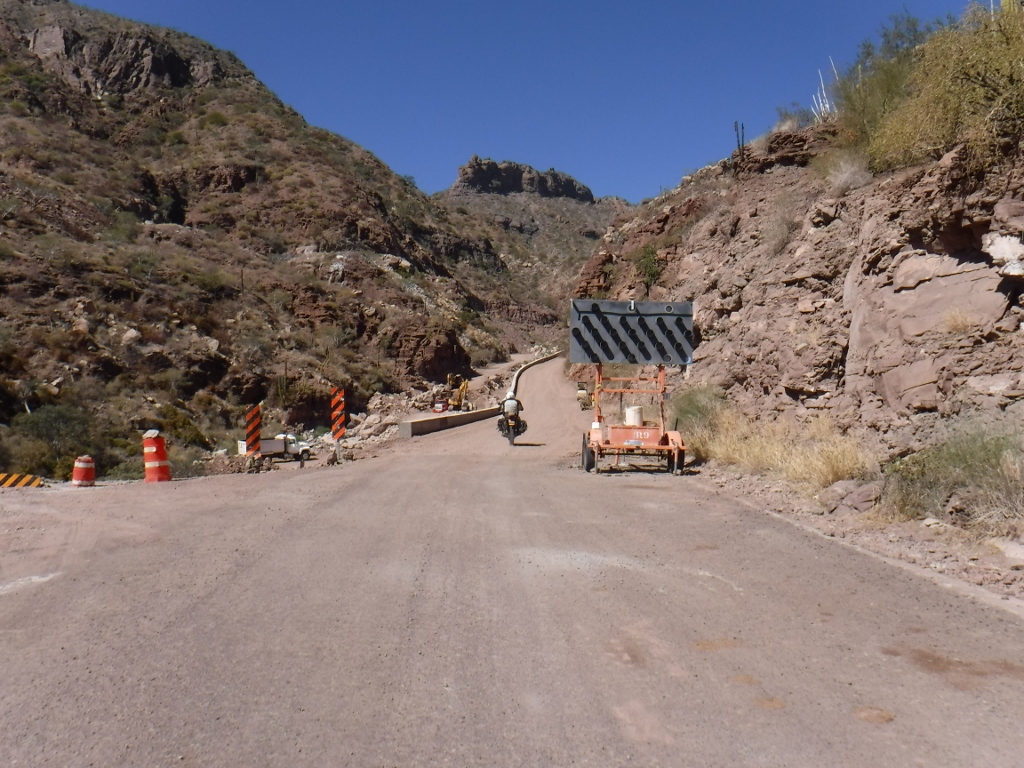 And we all poked around the San Javier Mission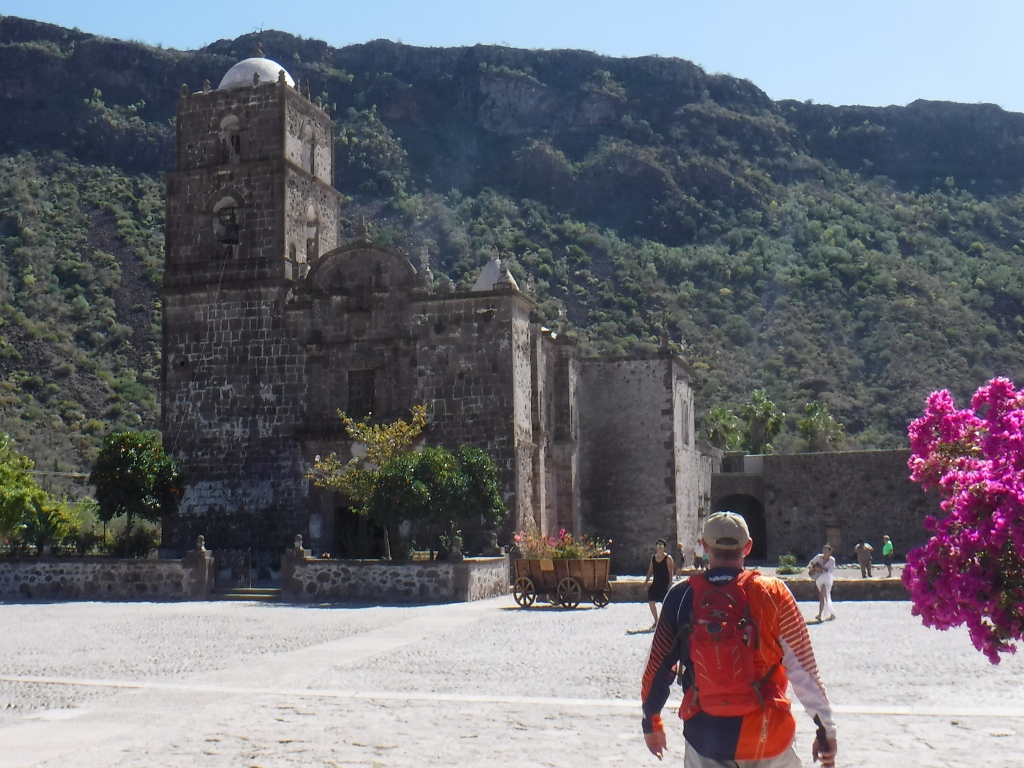 The cobblestone street and blossoms were beautiful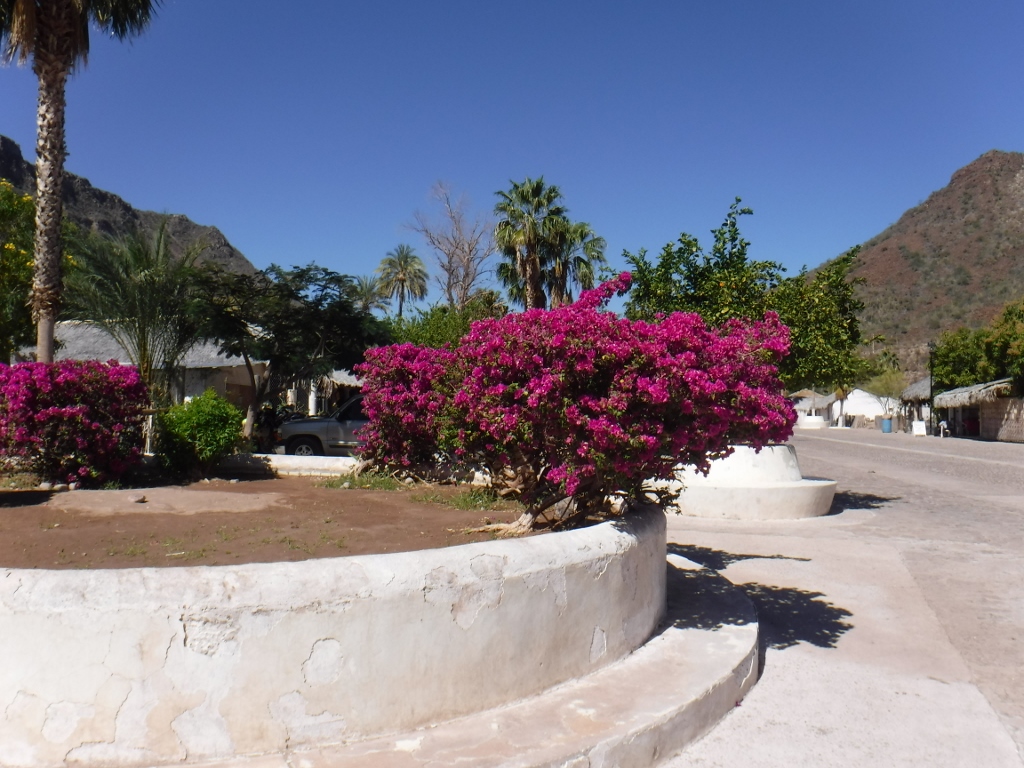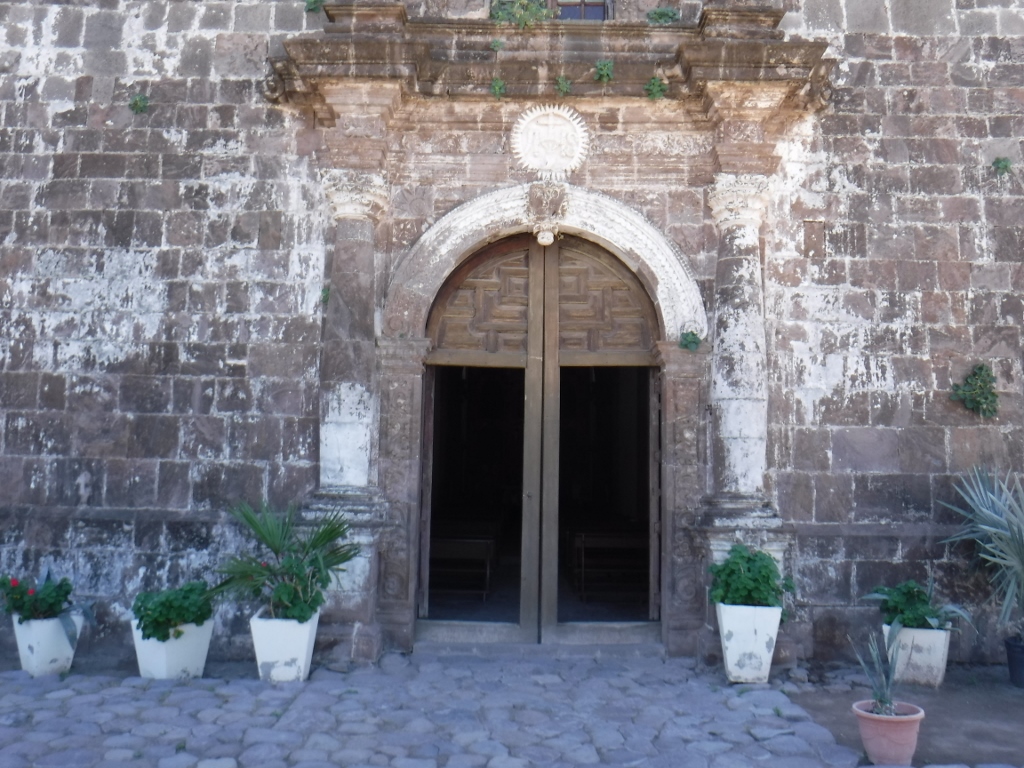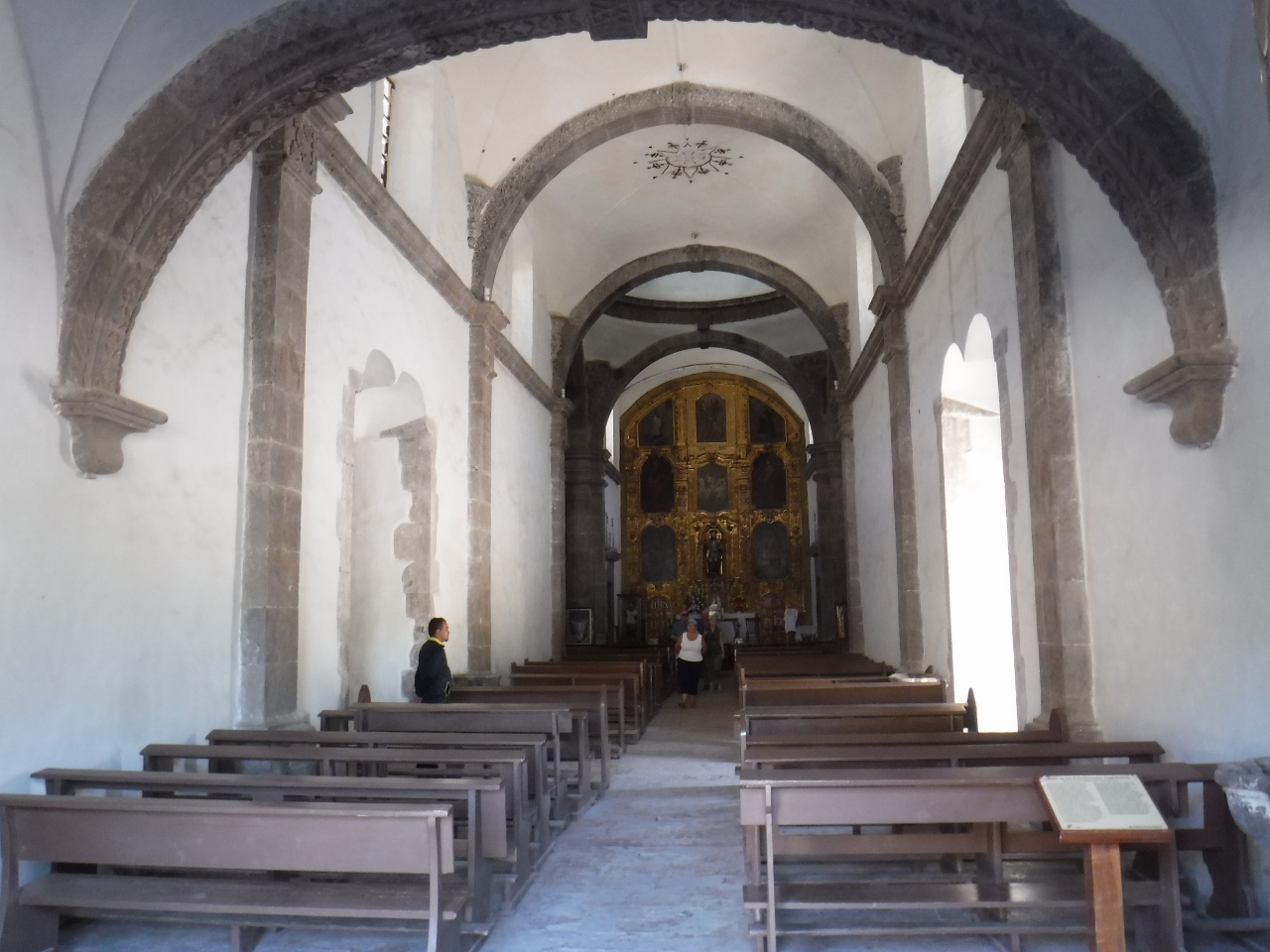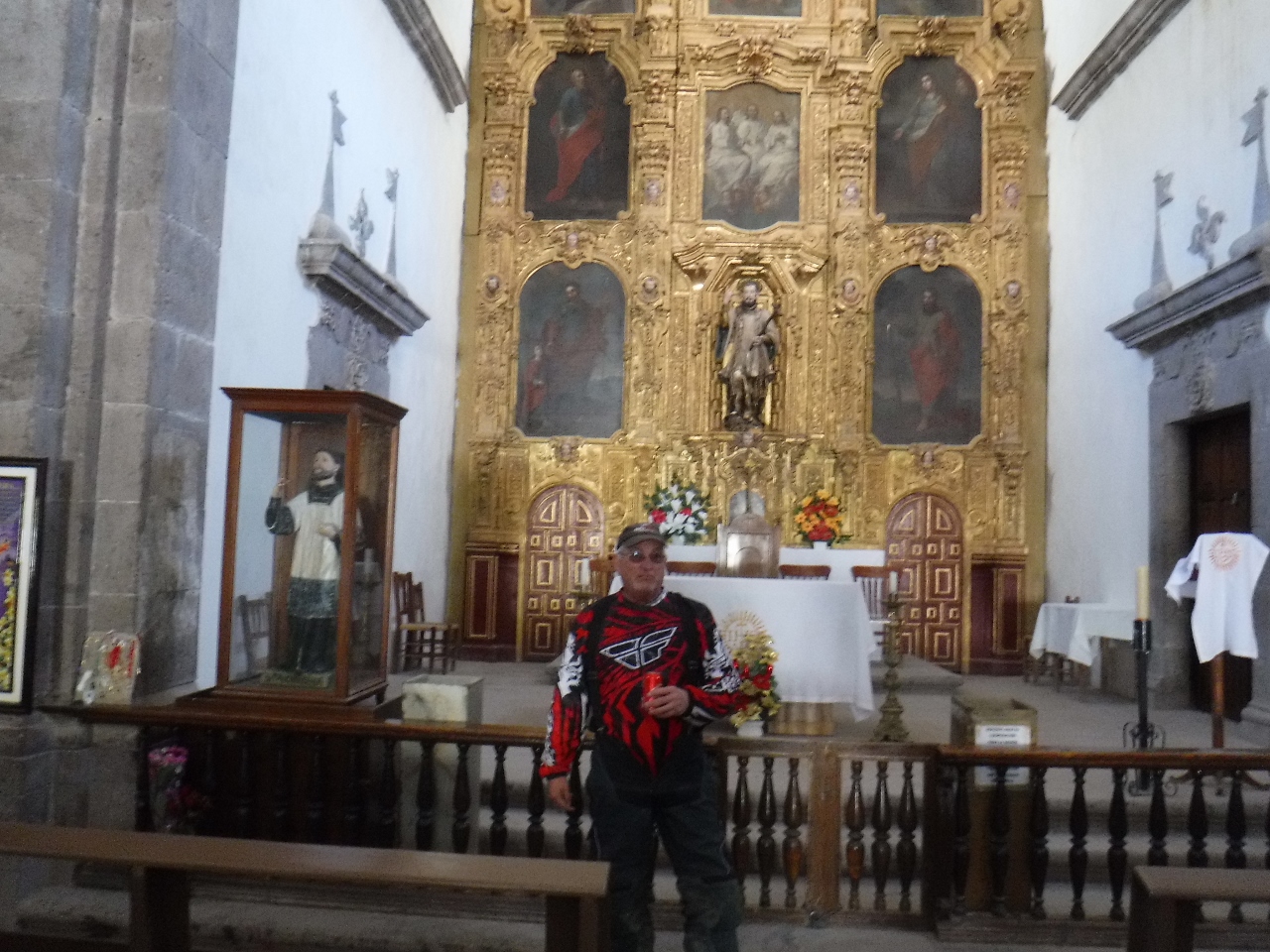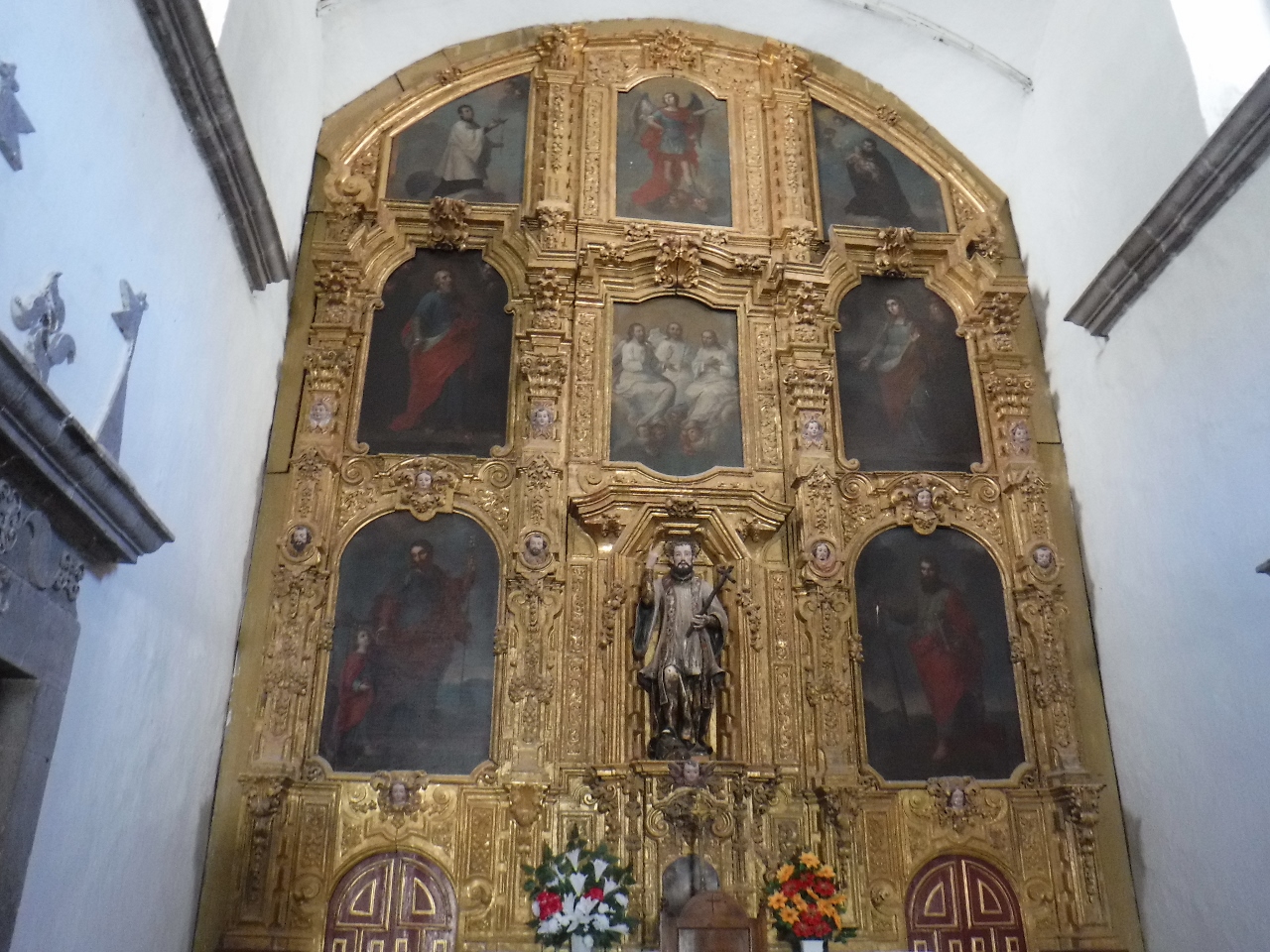 Dingweeds a retired bricklayer---------really gave the stone work some scrutiny.
Being they didn't have a foklift, excavator, powered cement mixer or scaffolds they did a pretty good job he said.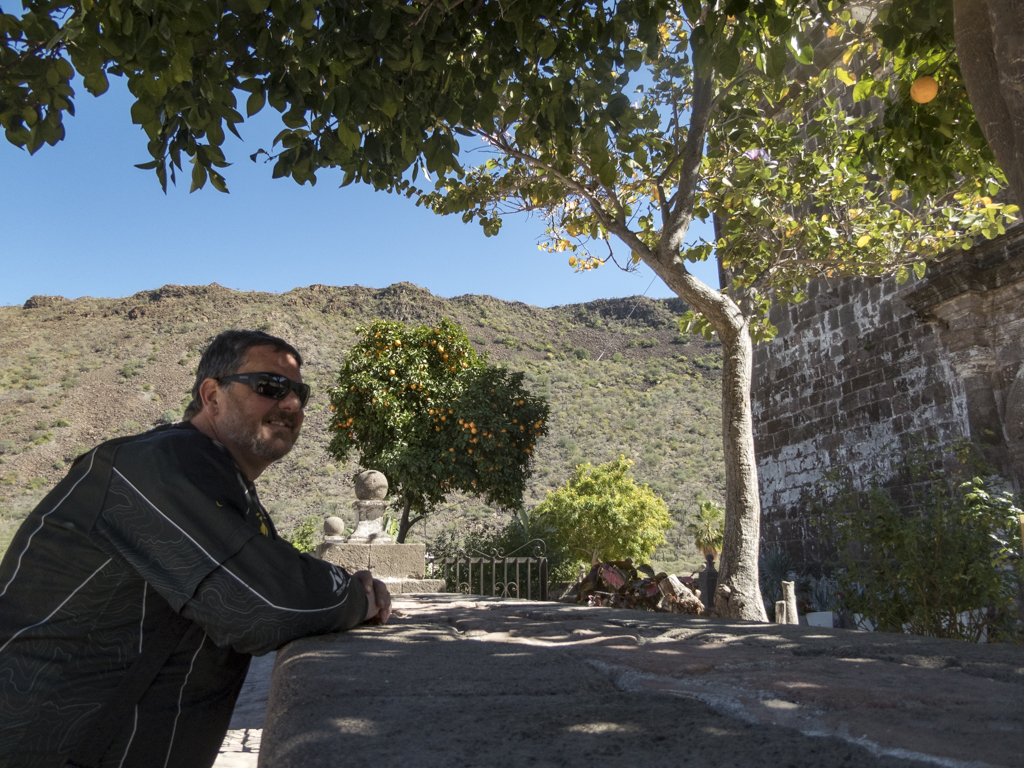 We had a snack and a cold drink while here.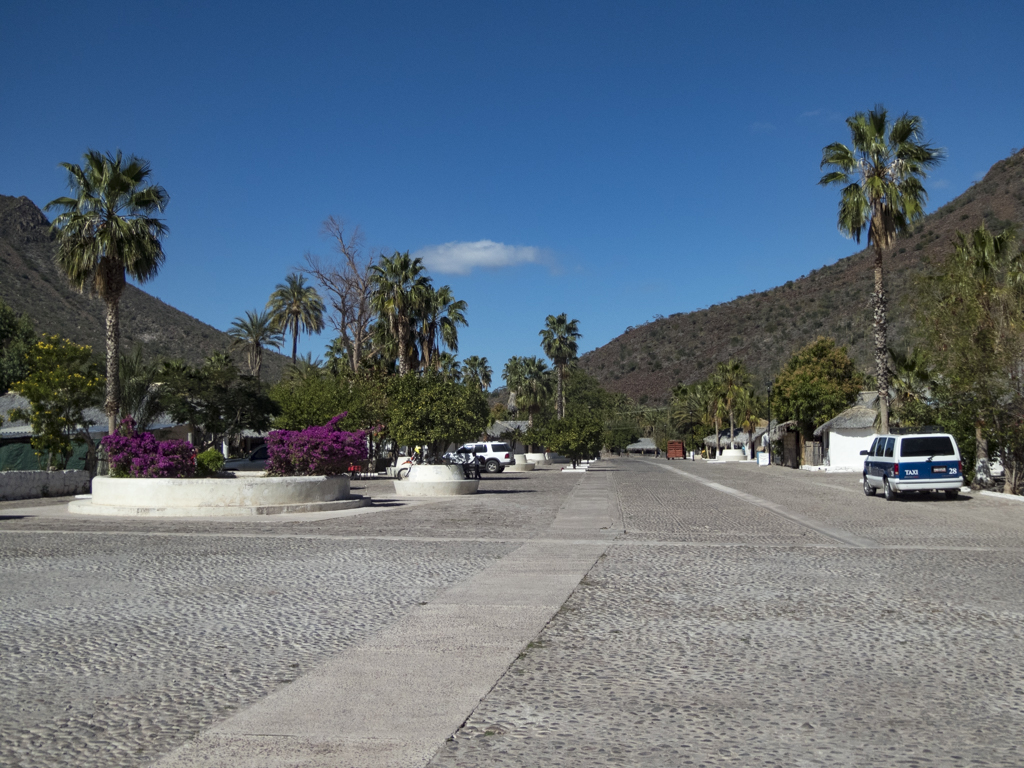 We got gas at Villa Insurgence and went West to the ocean at Puerto Adolfo Lopez Mateos to hopefully comadere a boat to go
watch, pet, kiss and even watch some whales---------gray whales.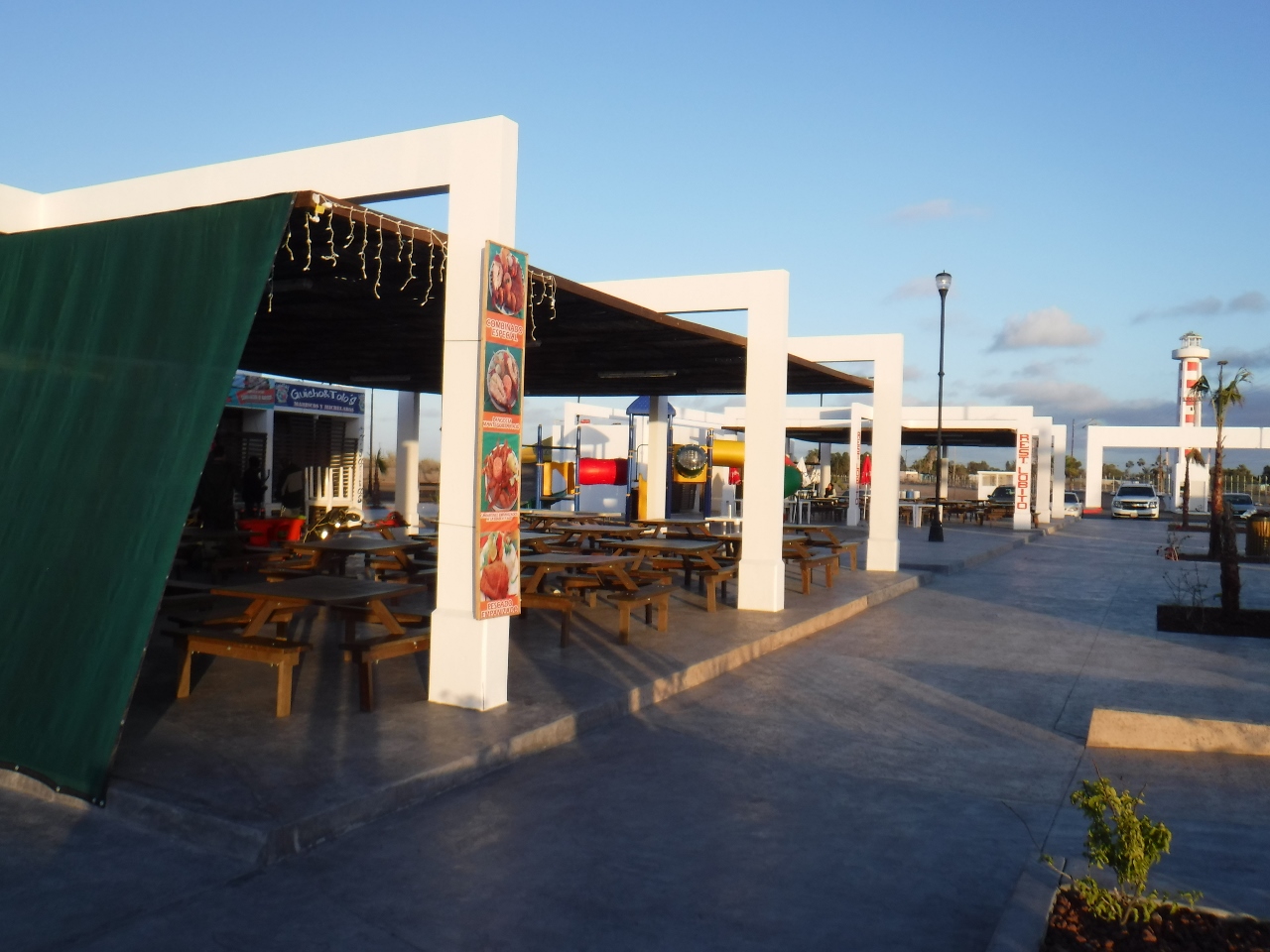 The entire facility you see here was not here last year Dave says--------a lot of work was done.
If not for Dave--------this would have never happened as none of us new where to go to do this
at such a remote less touristy place as this.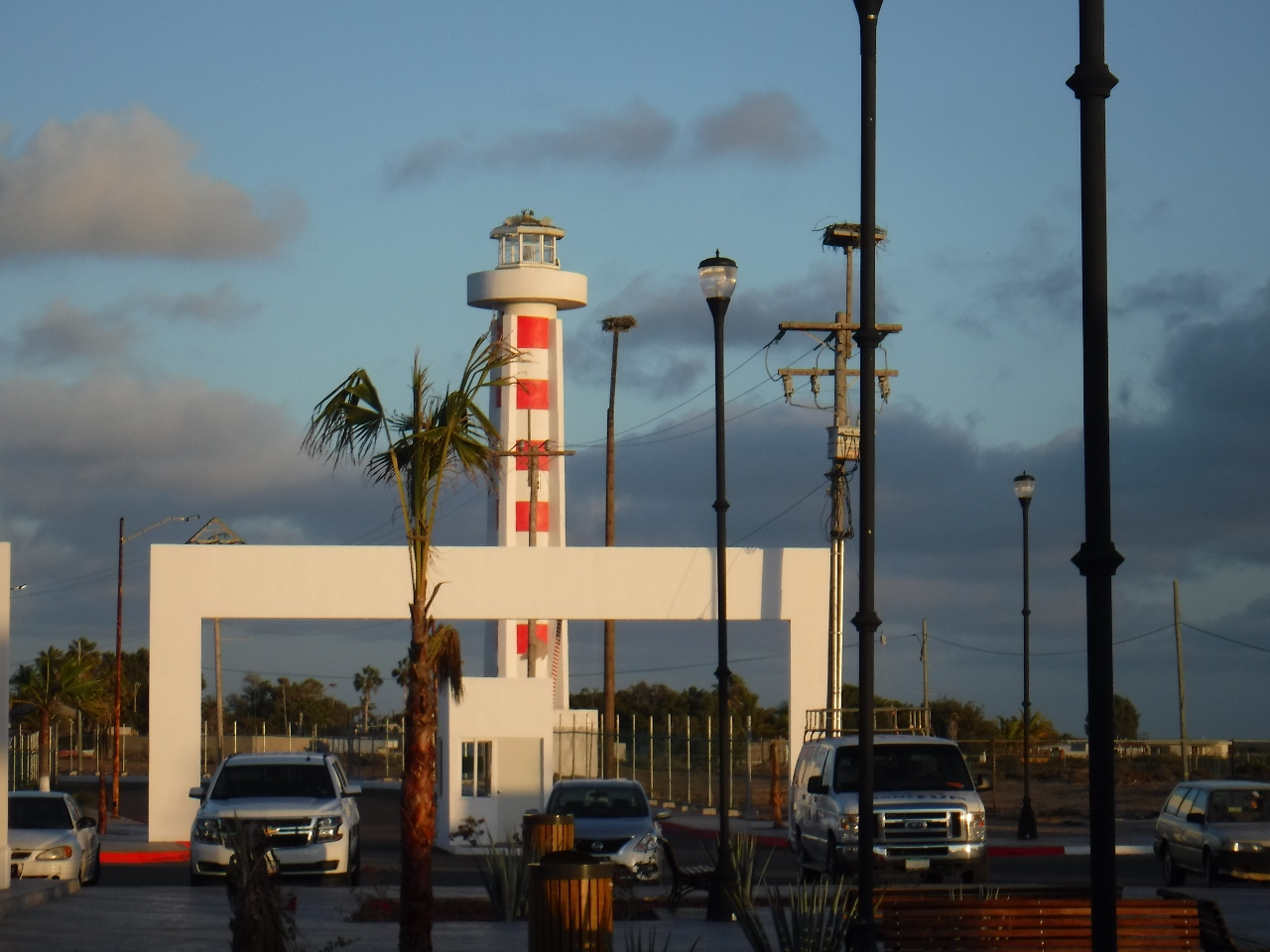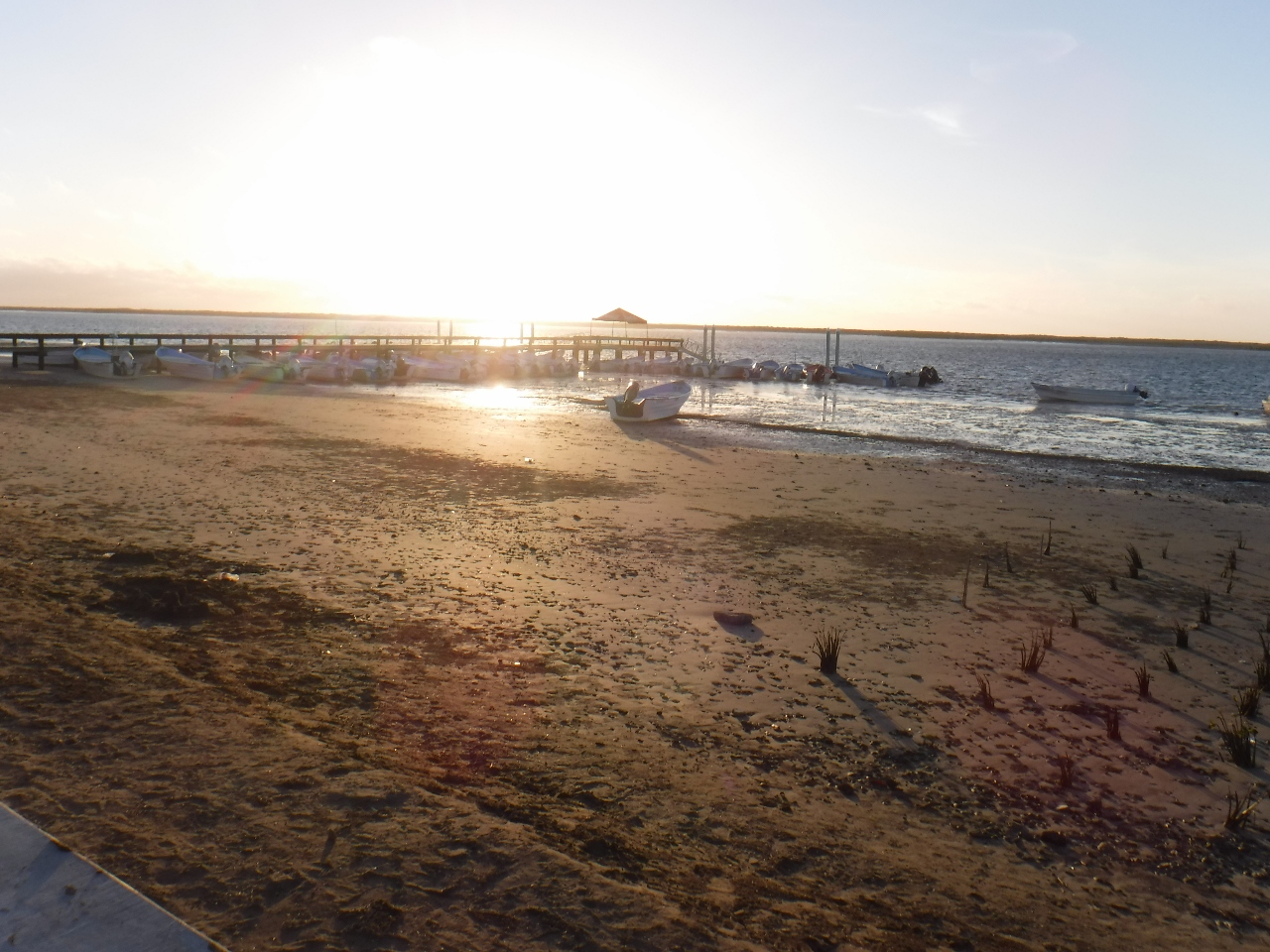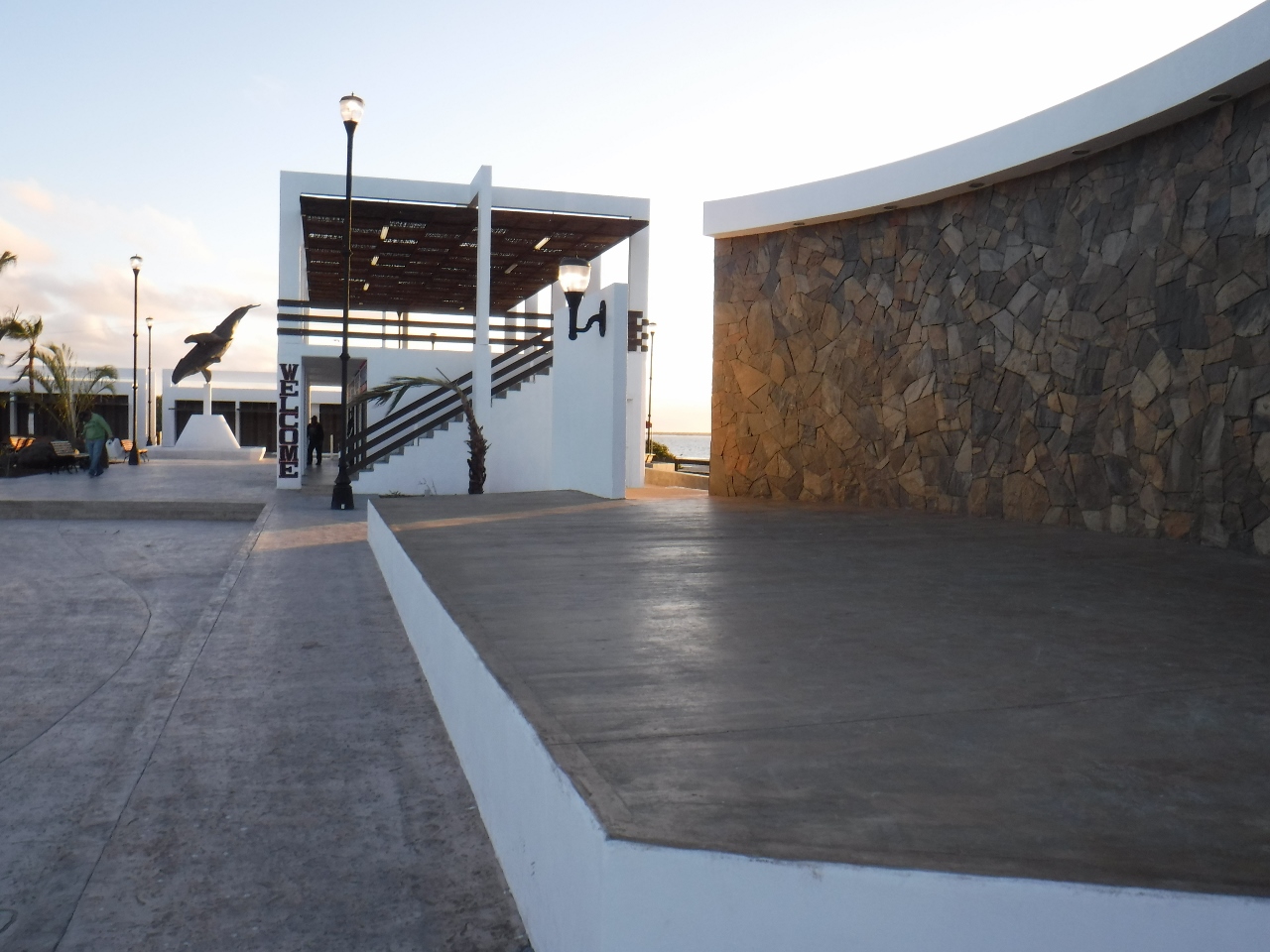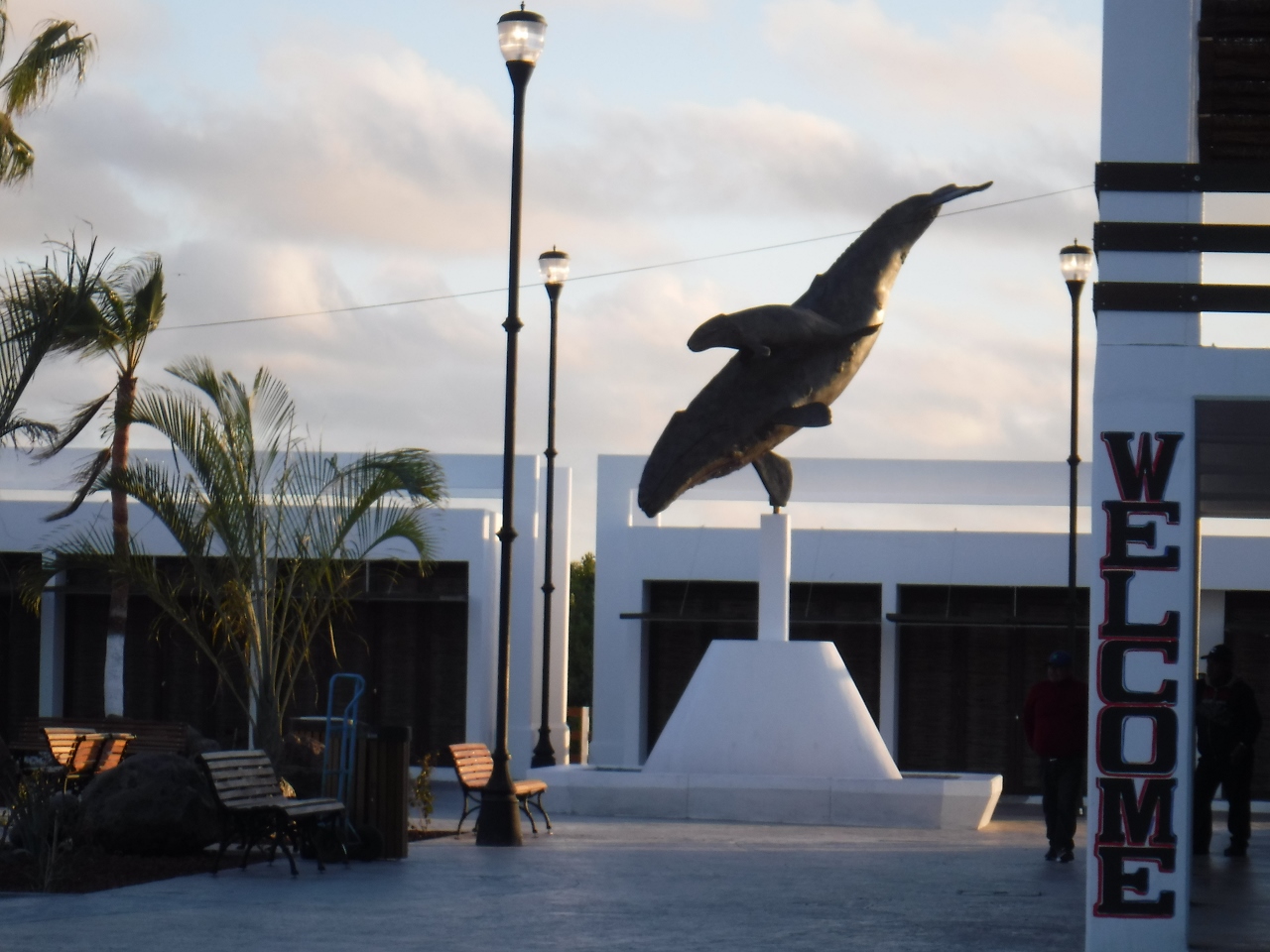 Dave and High Five slept on the beach and listened to whales blowing all nite---while the rest of us went to a cheap motel not far away.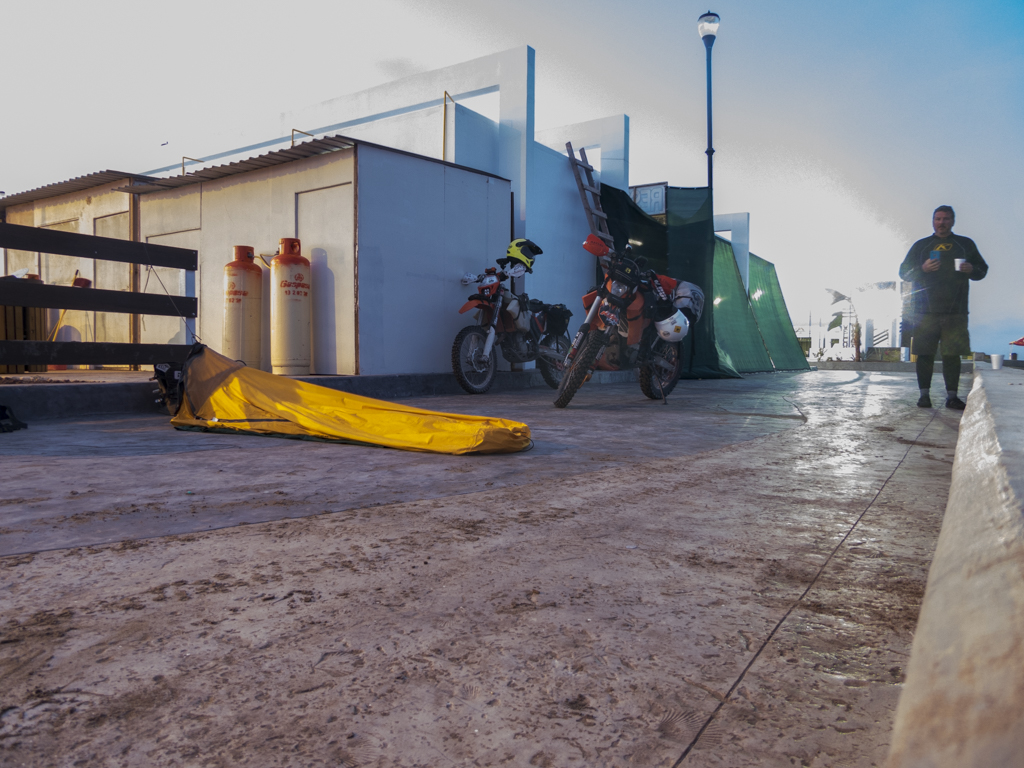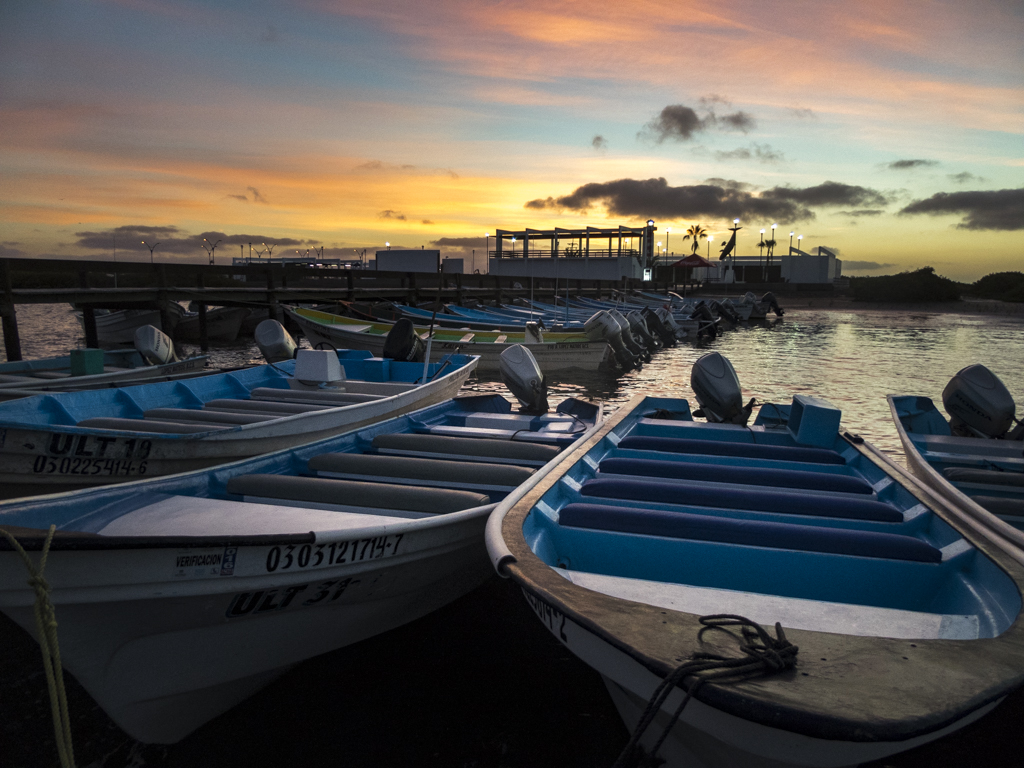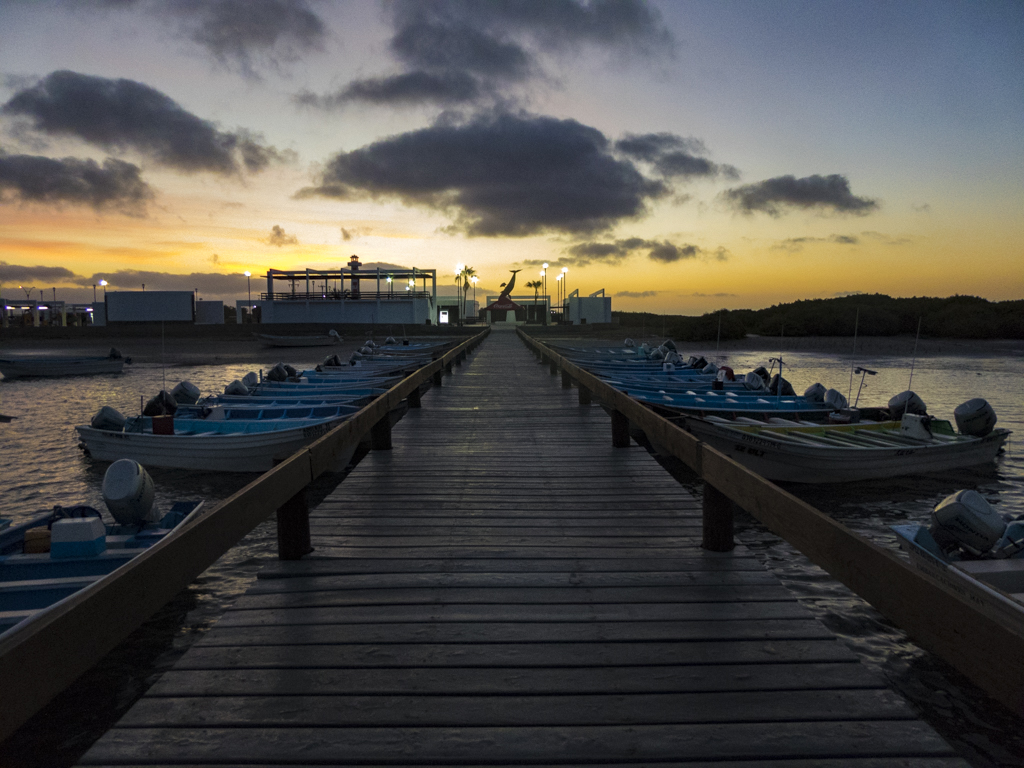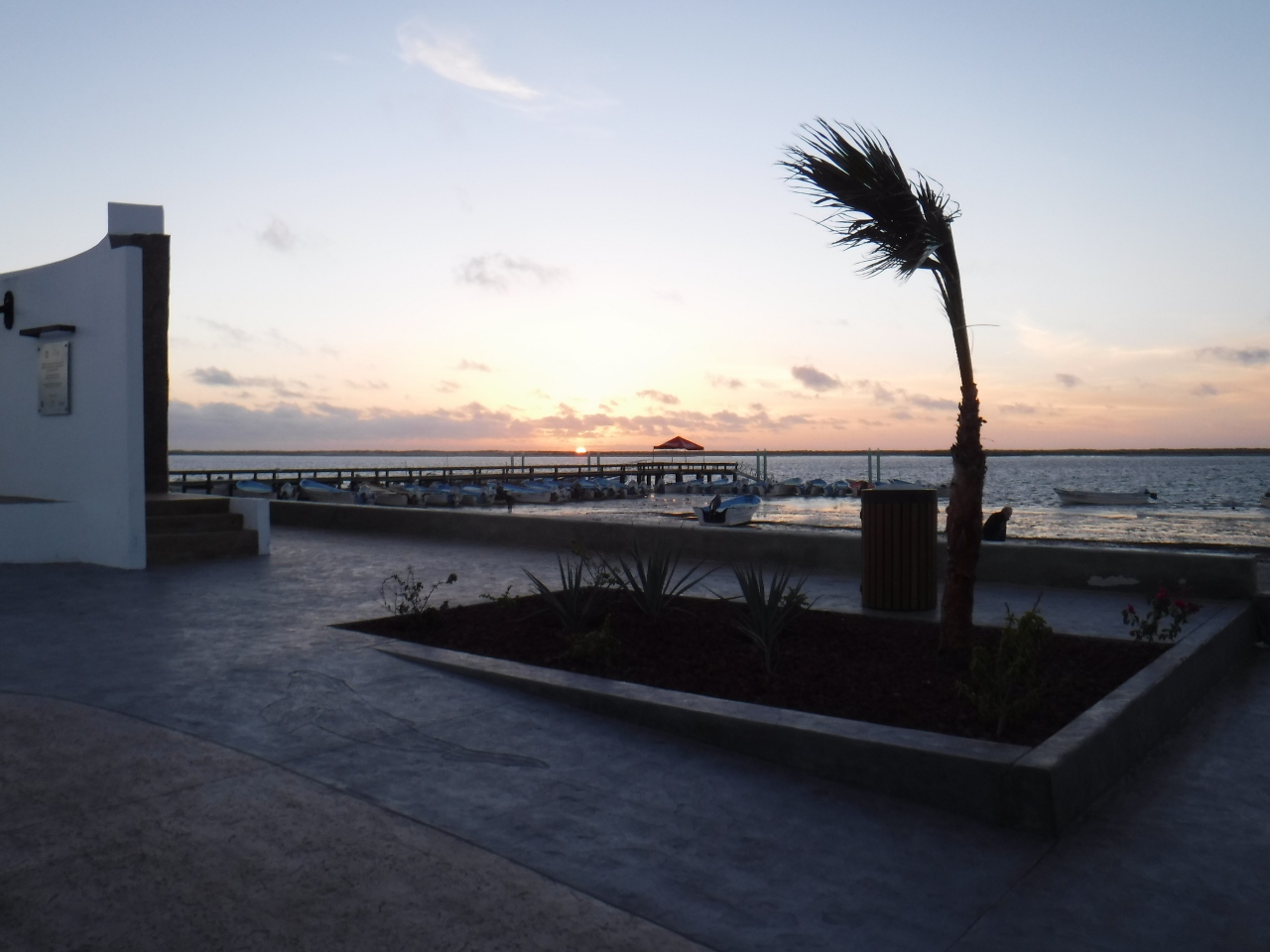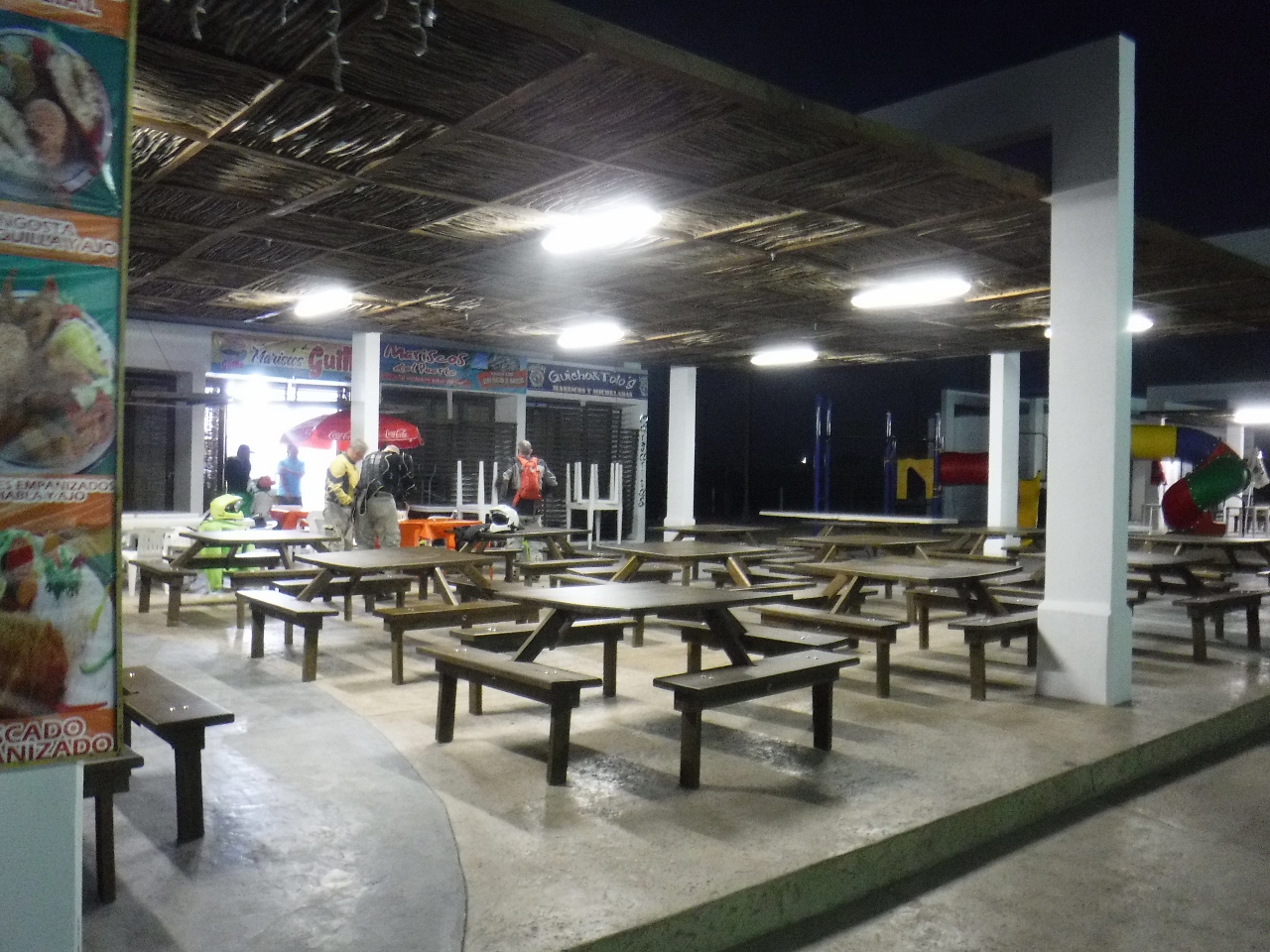 A map of our days ride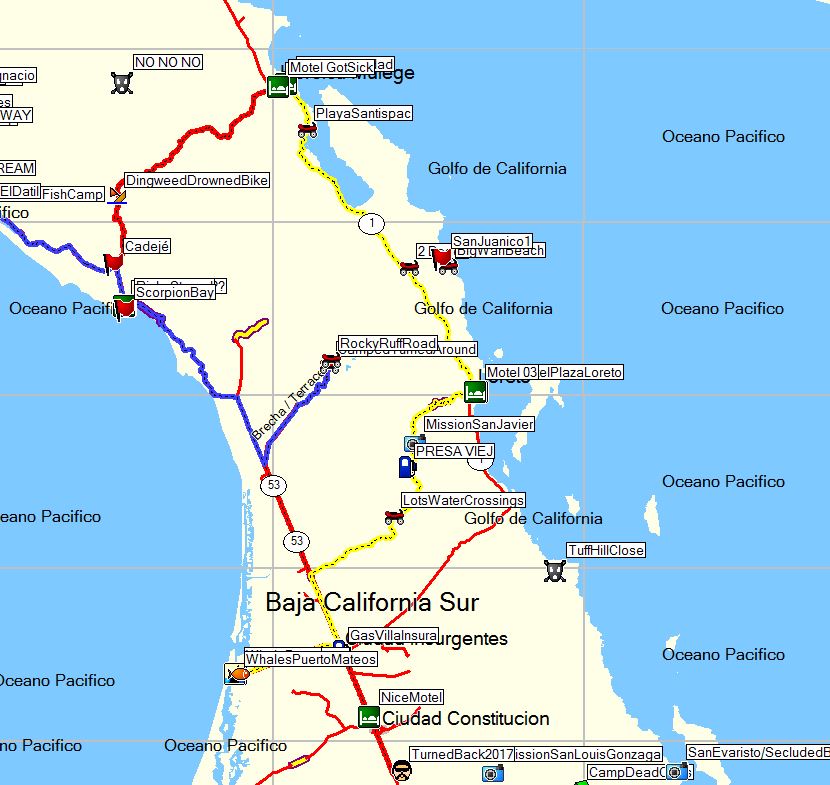 A Short Video of the days ride

Day 9
February 14th, 2017
We were up early and so excited about going out on the ocean.
Like I said-------if it hadn't been for Dave none of this would have happened. He had done this here before
and hooked us up with the best boat captain you could have asked for. We had no reservations----Dave had the guys
phone number and called him and made it happen----thank you Dave.
It was $60 an hour for the boat and 2 men------one to run the boat and one to tell us all about the whales.
This guy was so good and enthusiastic it made all of us feel this was his first time taking people out and was constantly talking
to us about the whales----how they would react to us---and how to react to them.
Gray whales want to interact-----he told us that and when it was all over I believe it.
They wanted to play-------no other whale species will do this.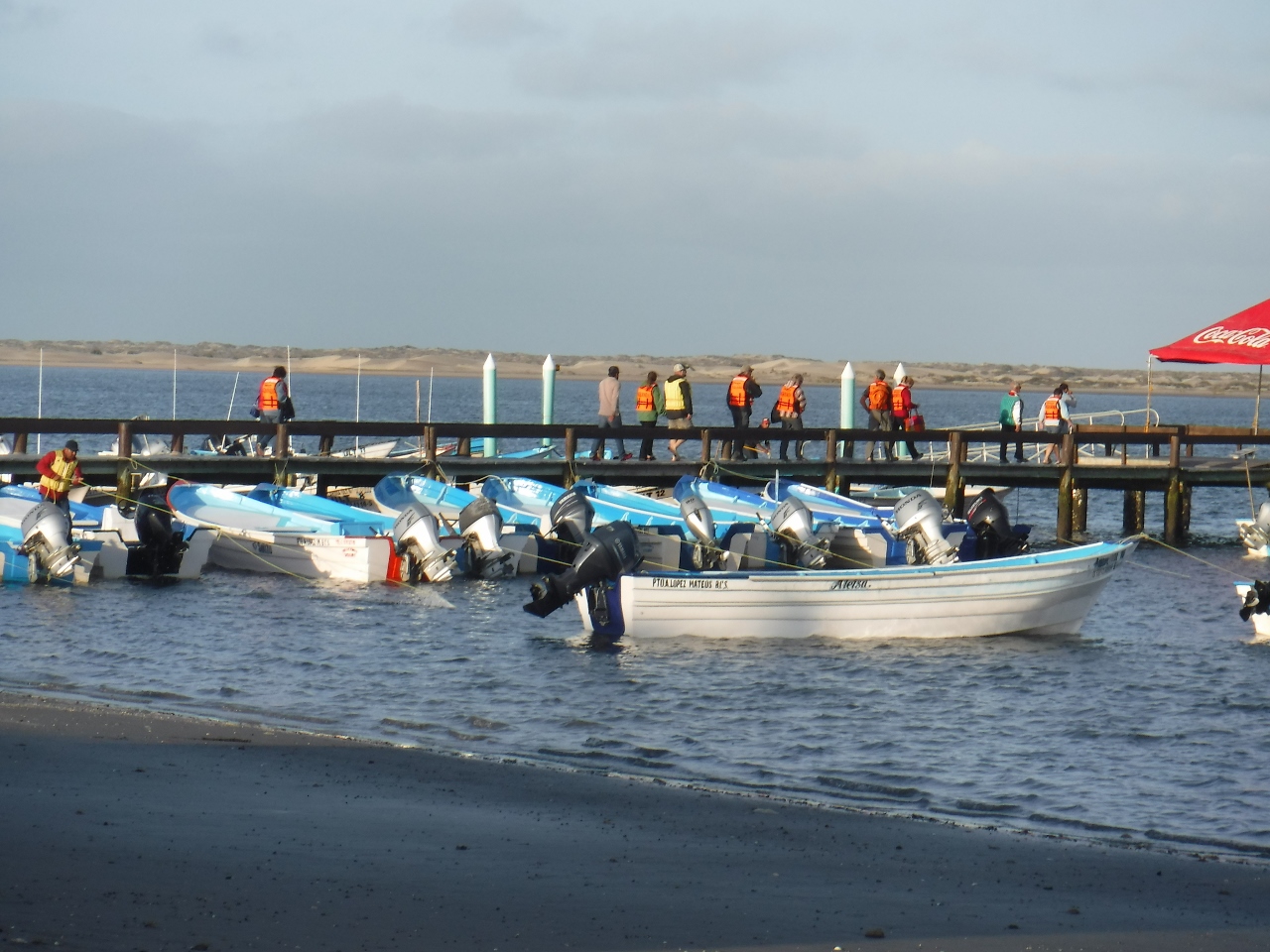 So out we go----------splitting the cost it cost each of us $12 per hour------I think we were out 3 hours-----not sure ???
I've never been so excited in my life.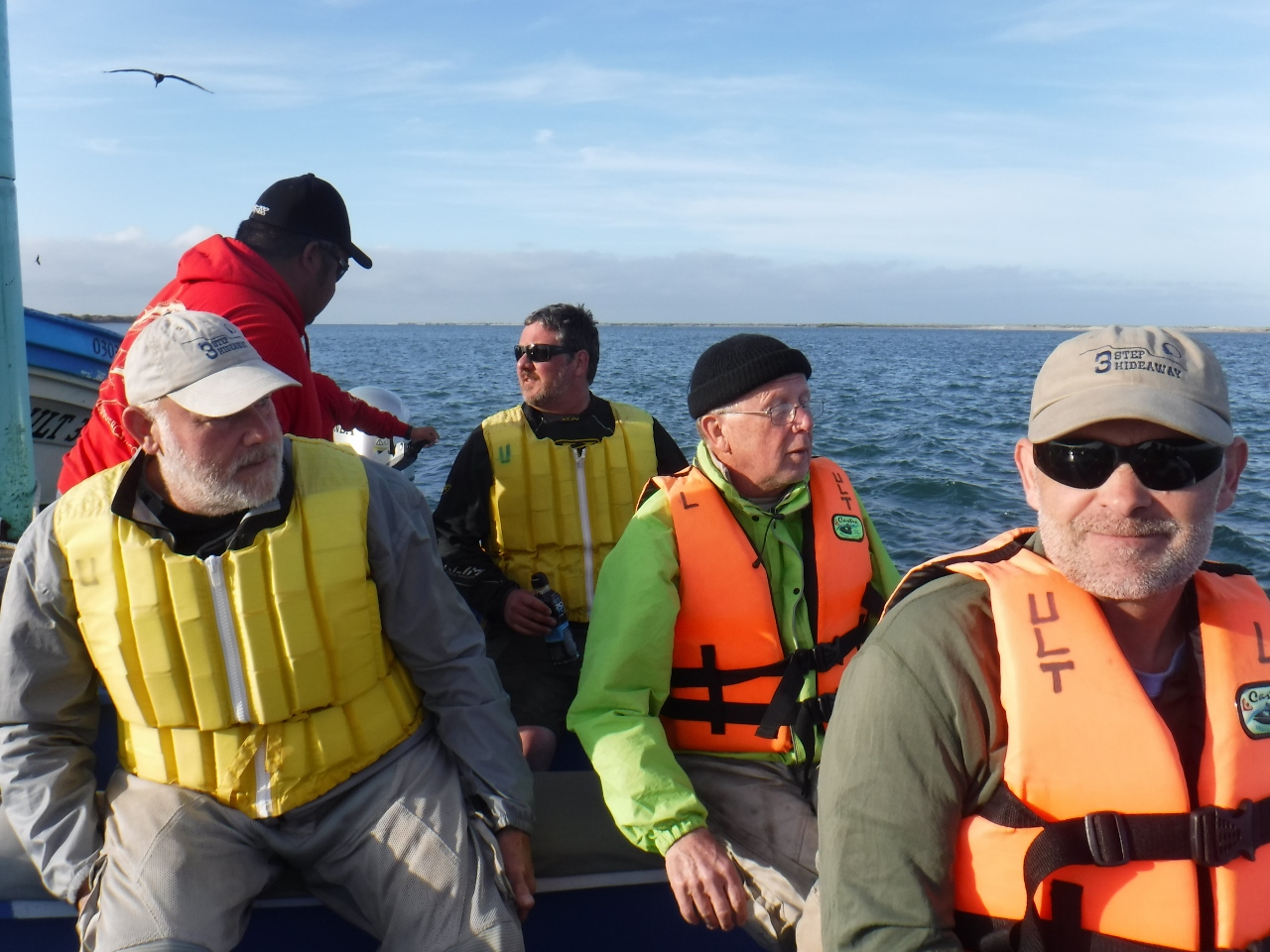 You are going to see 2 whales in these pictures-----a mama and her baby.
He told us the baby was just a few weeks old and momma had migrated down from Alaska and would be here
only for a short while......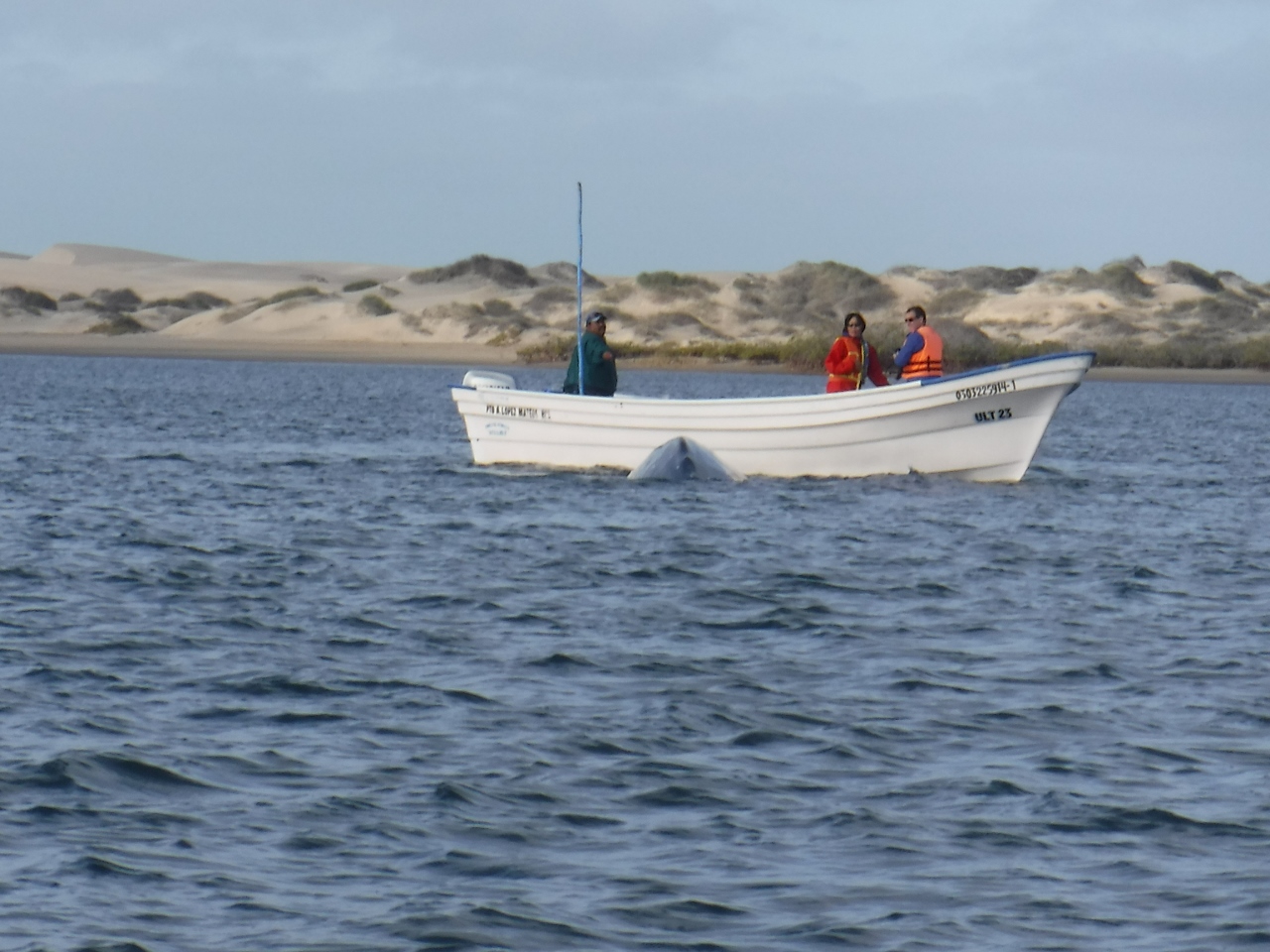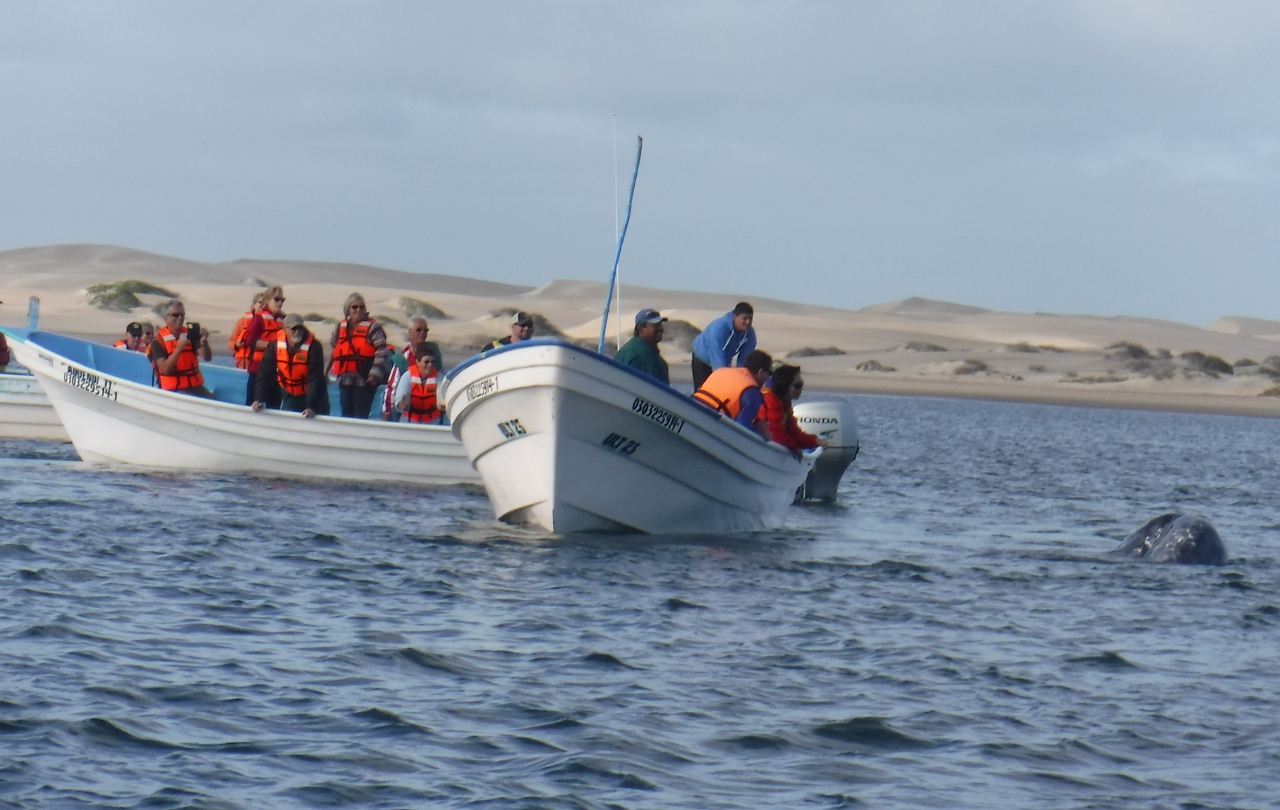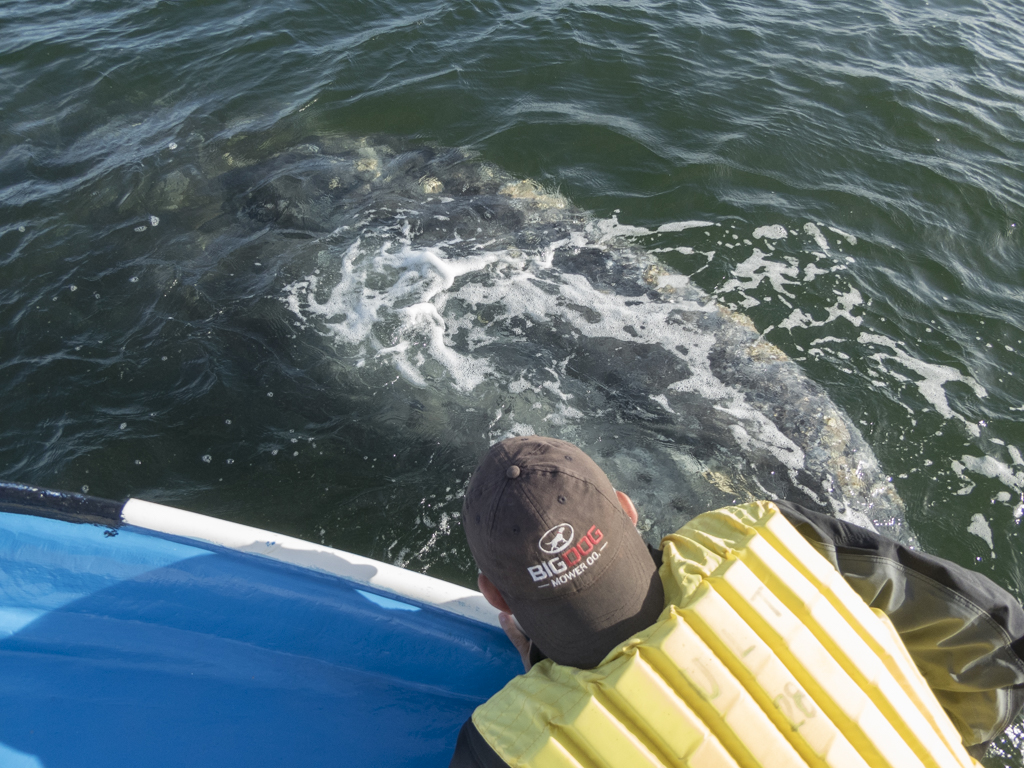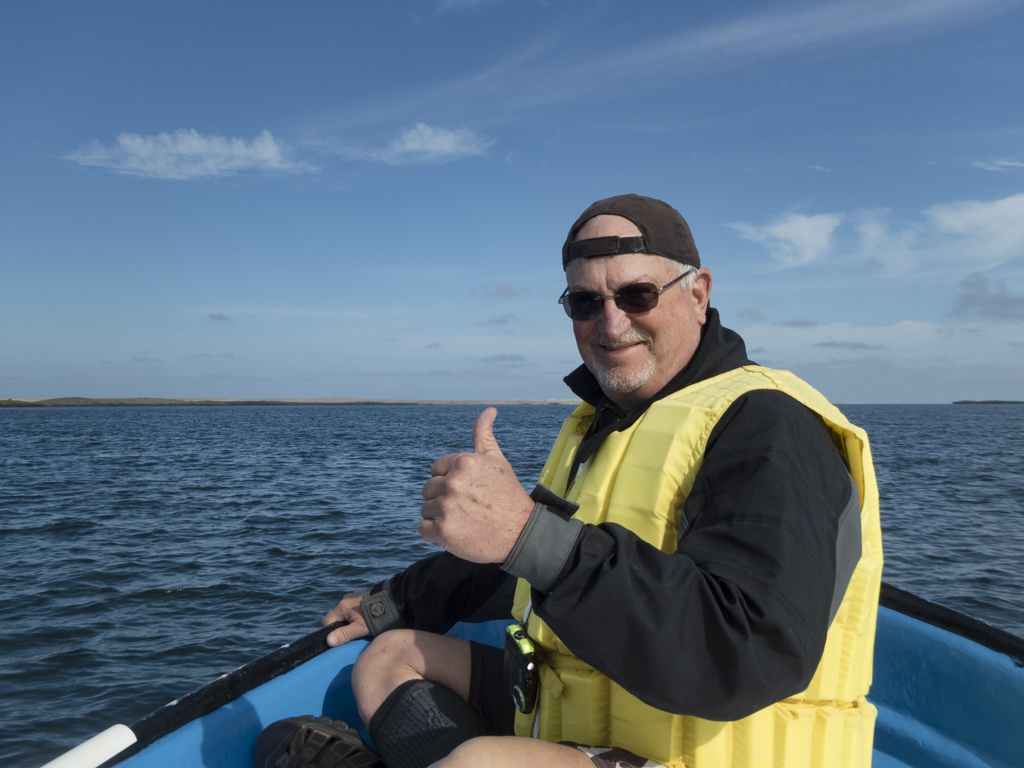 And Ta--Daaaaaa
Dave got a 3 Step Hideaway hat on the whales forehead and retreived it just in time before he went under.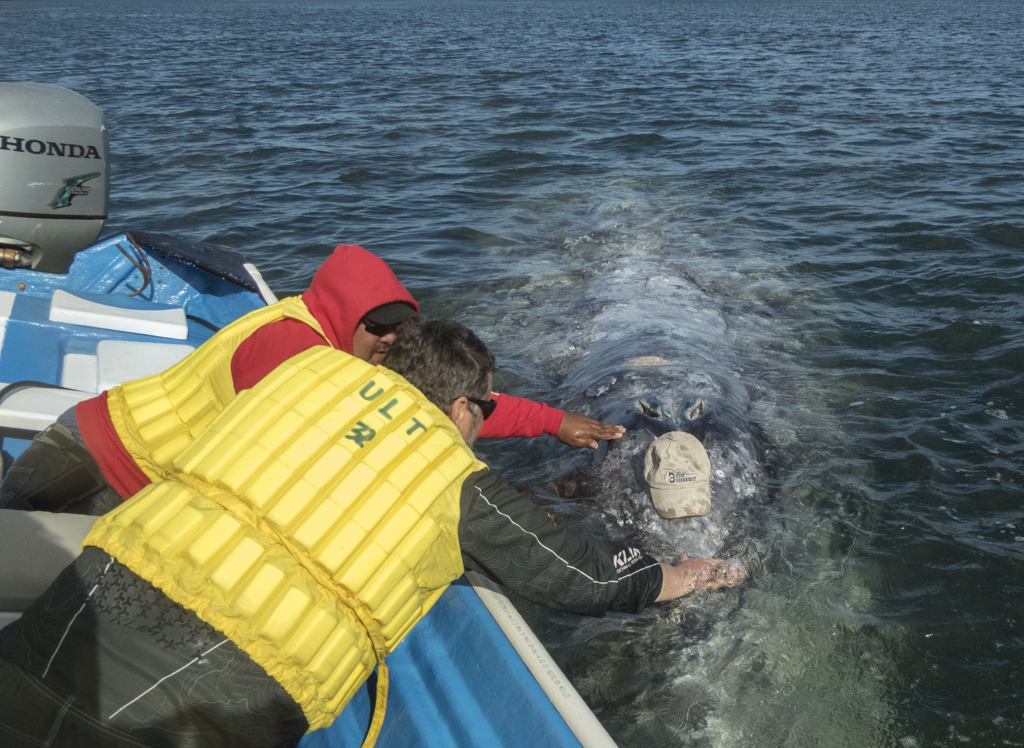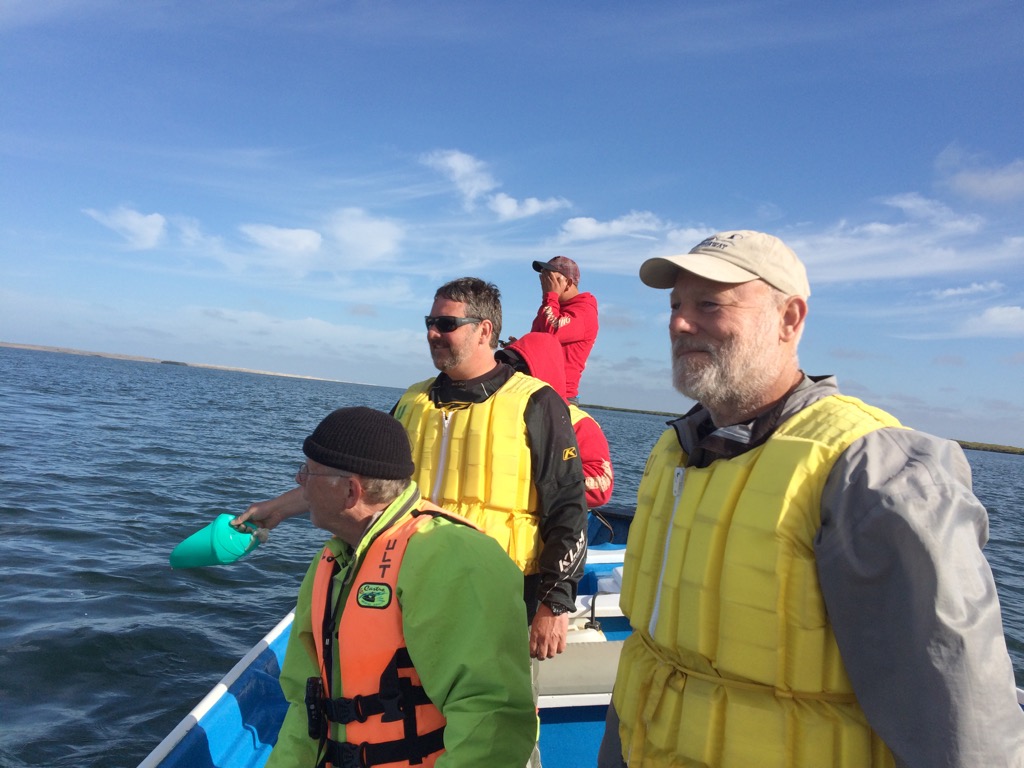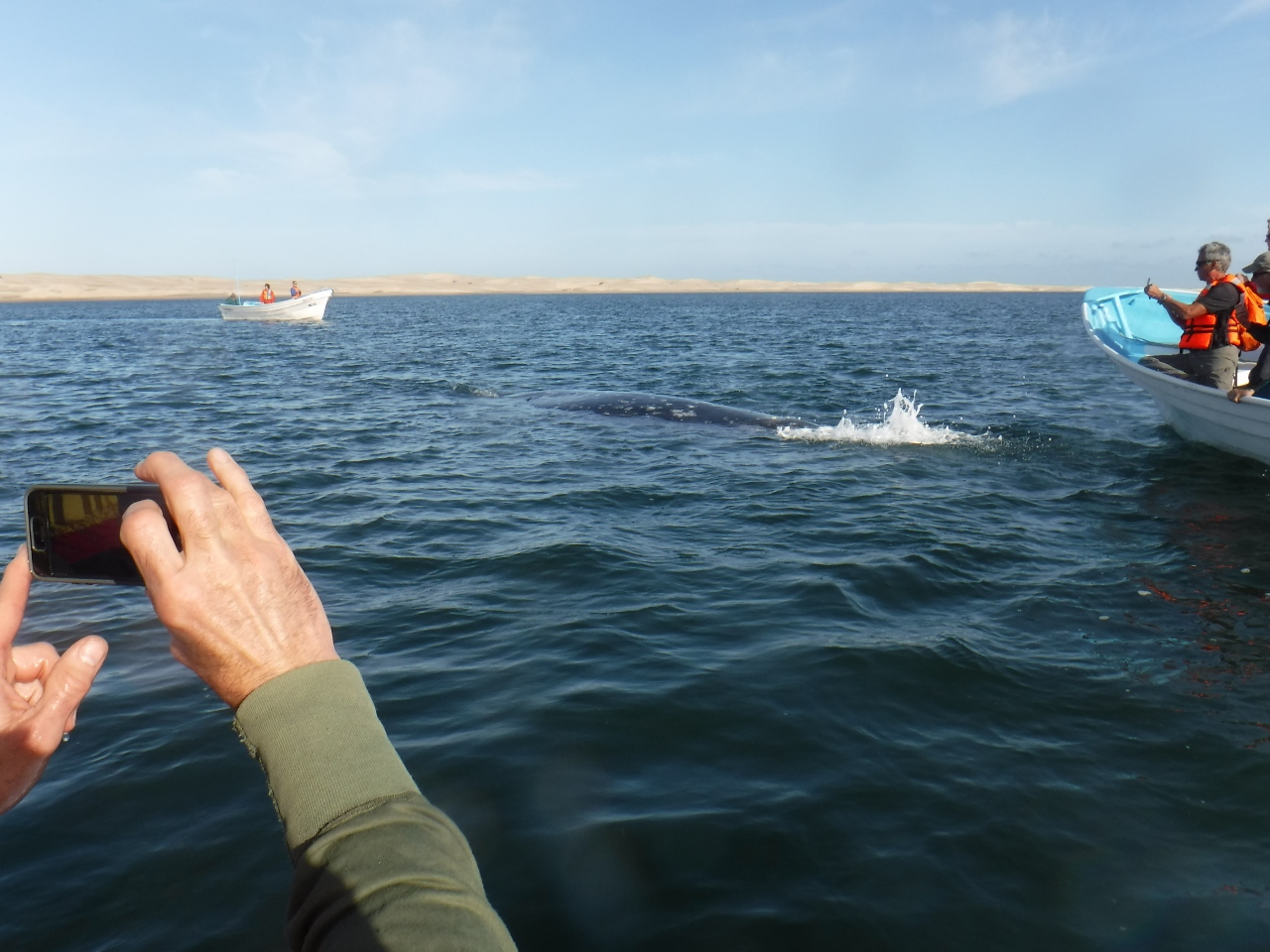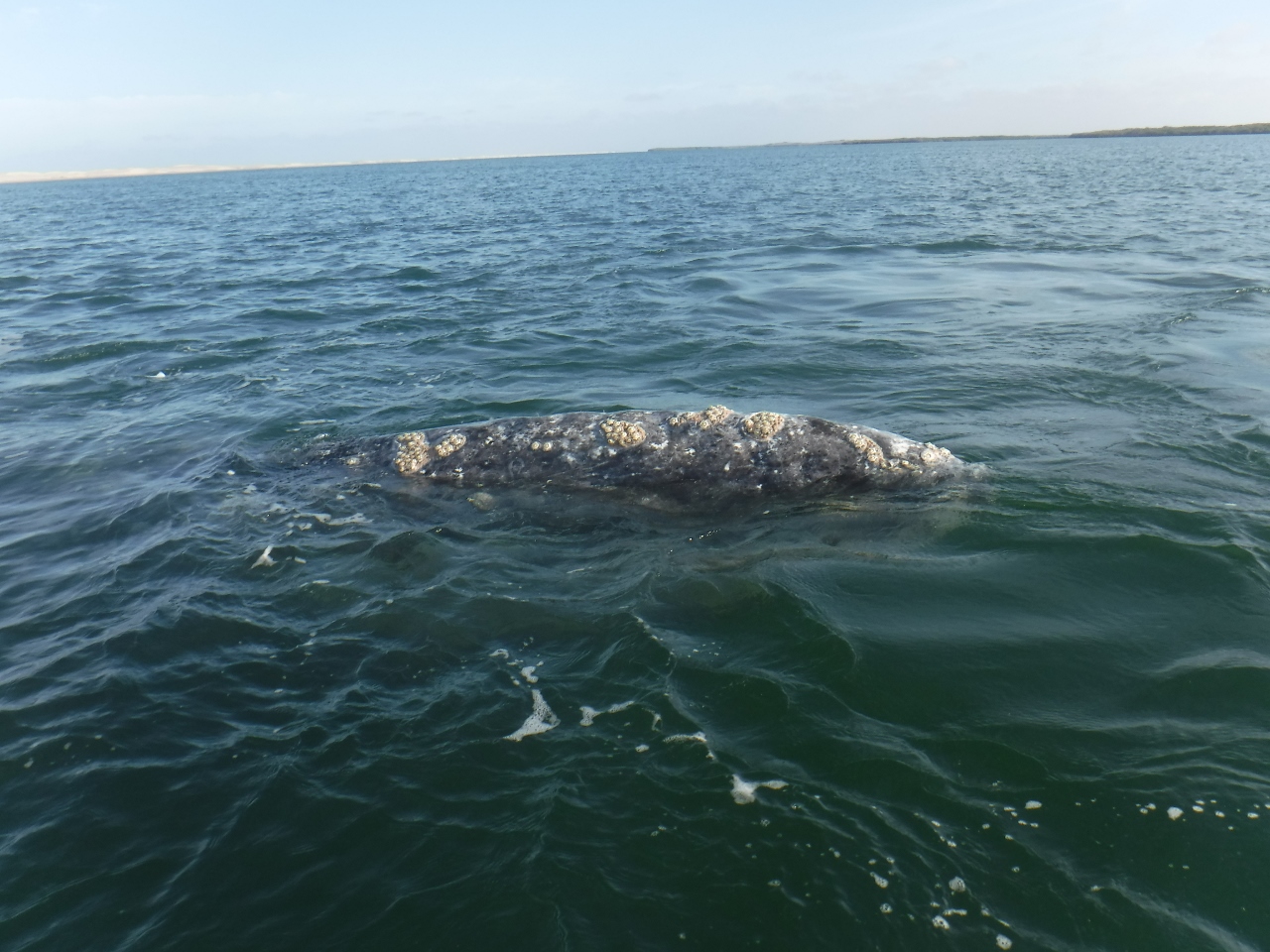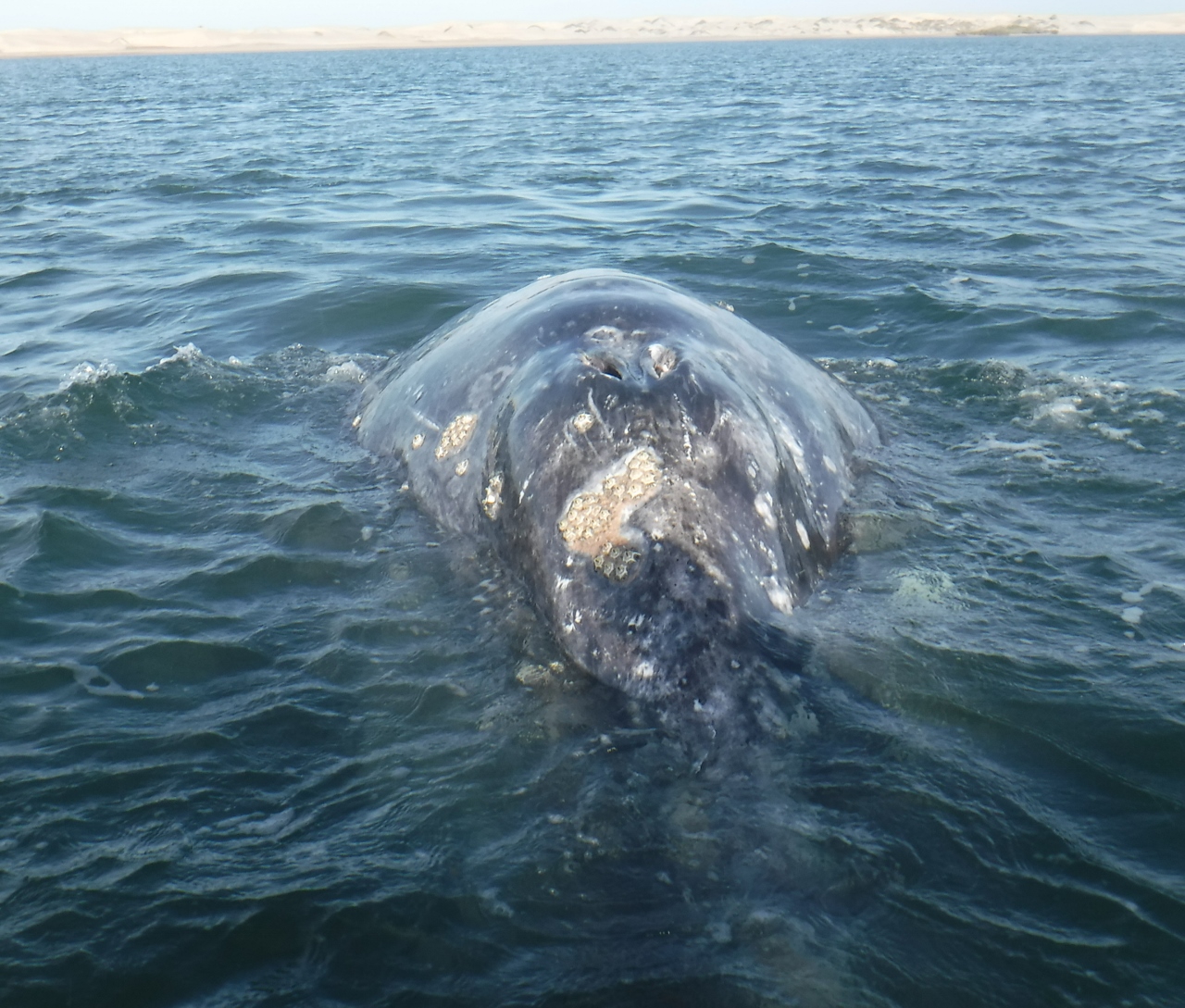 A video High five shot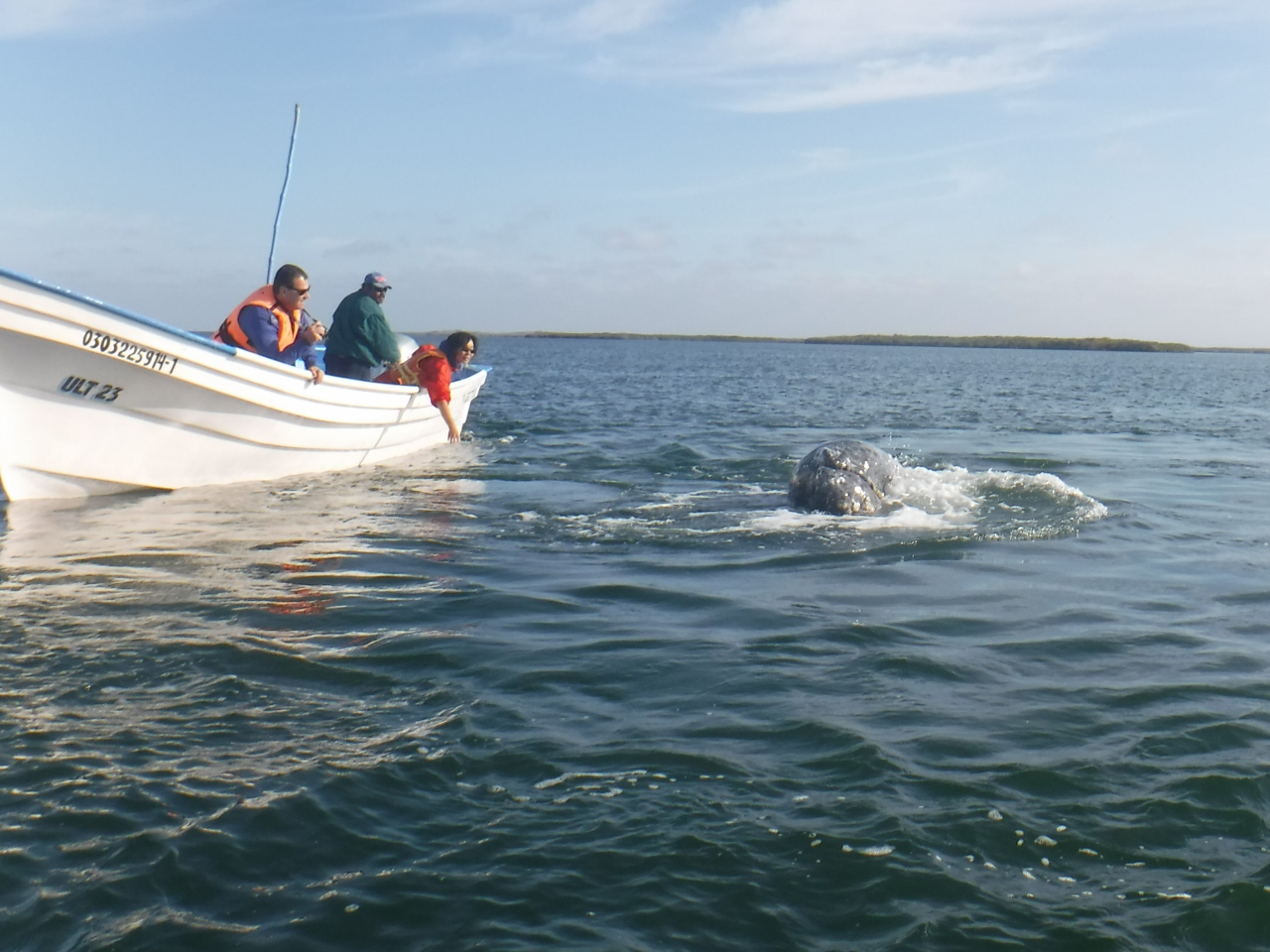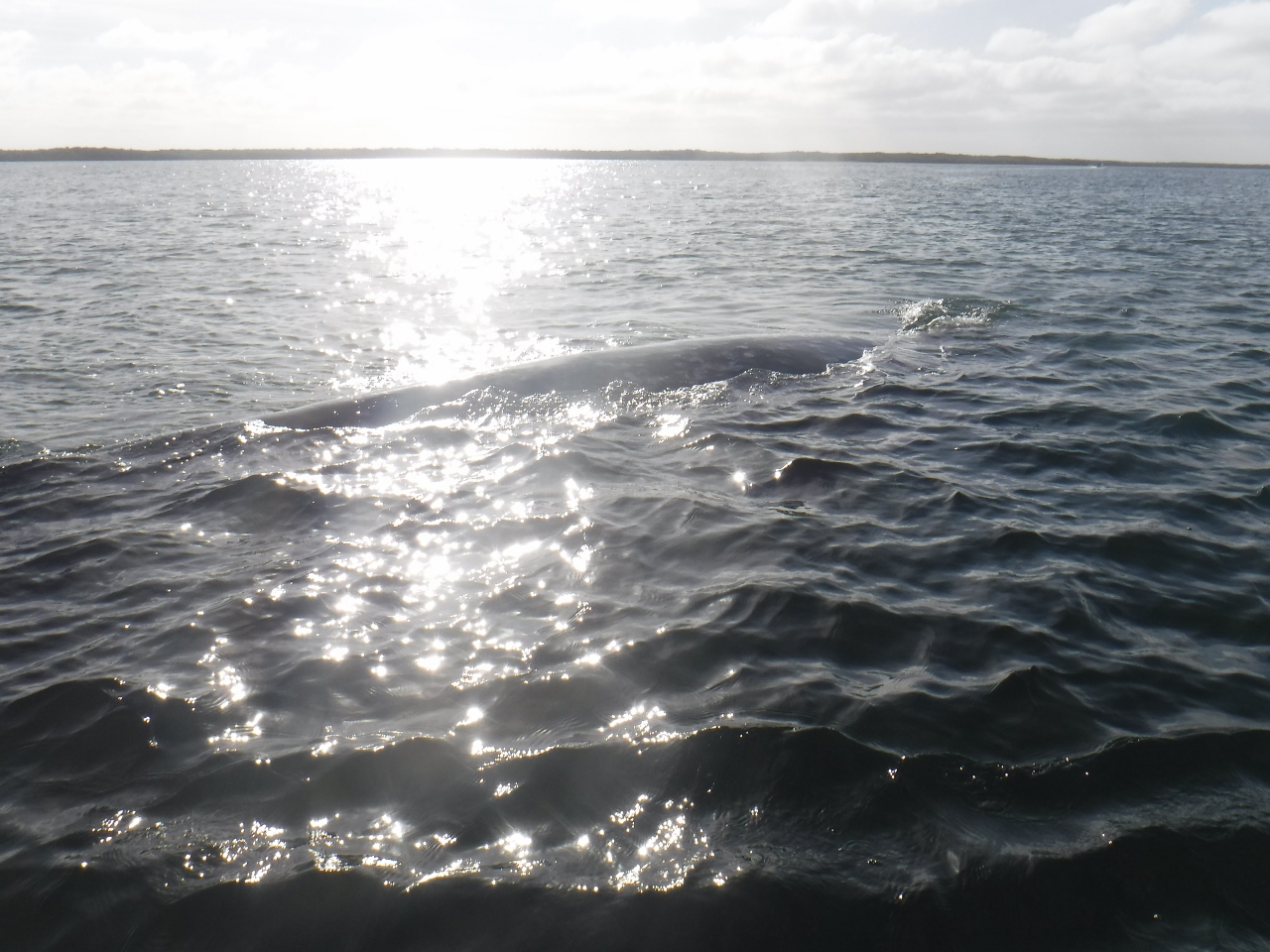 This was the baby------she was most playful---and we played with her for at least an hour.
She loved having water splashed on her.
And our boat captain would holler-------splash water--splash water--splash water like you mean it.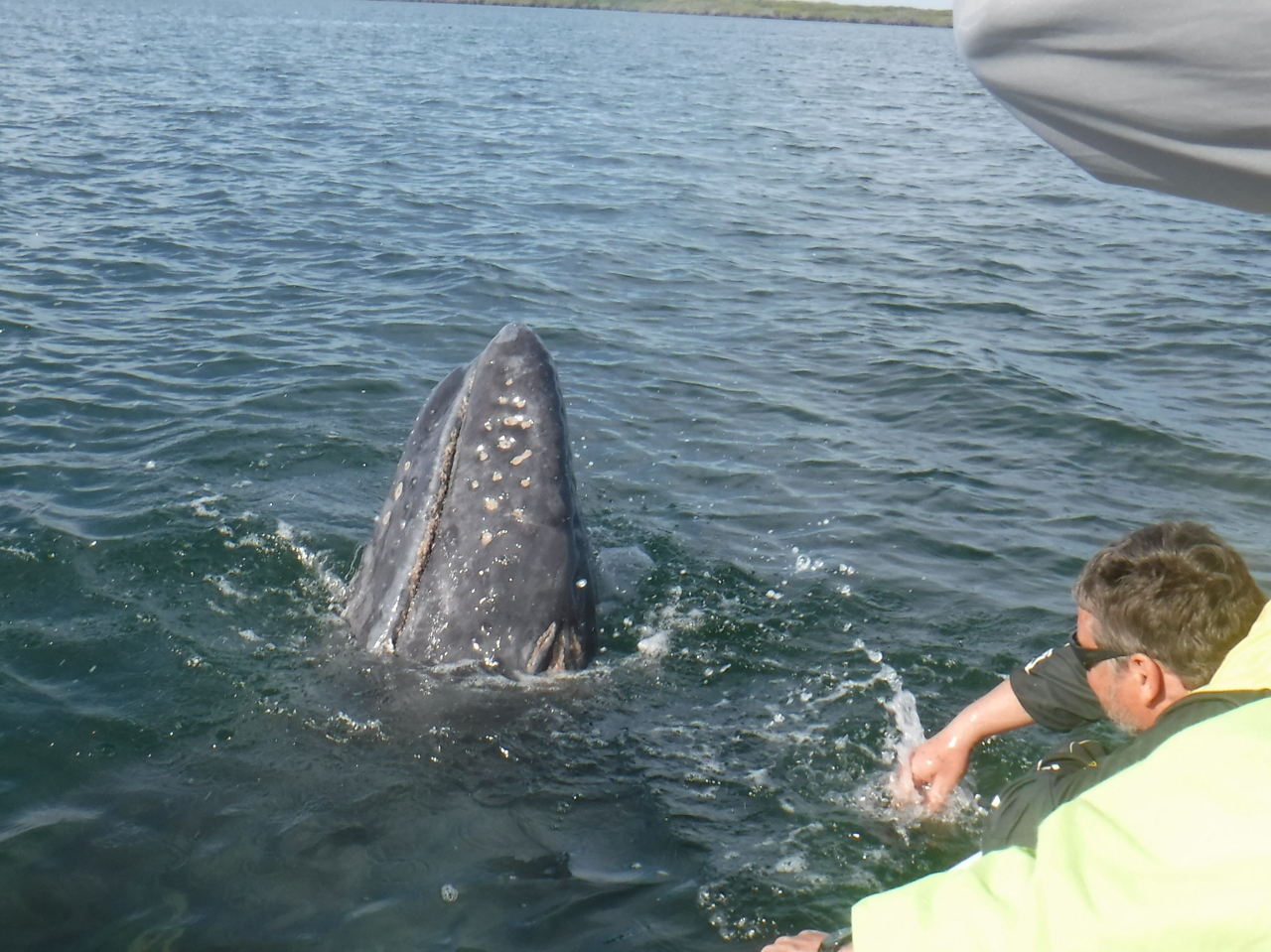 We got to touch the whales--------felt like an aired up bike inner tube-------soft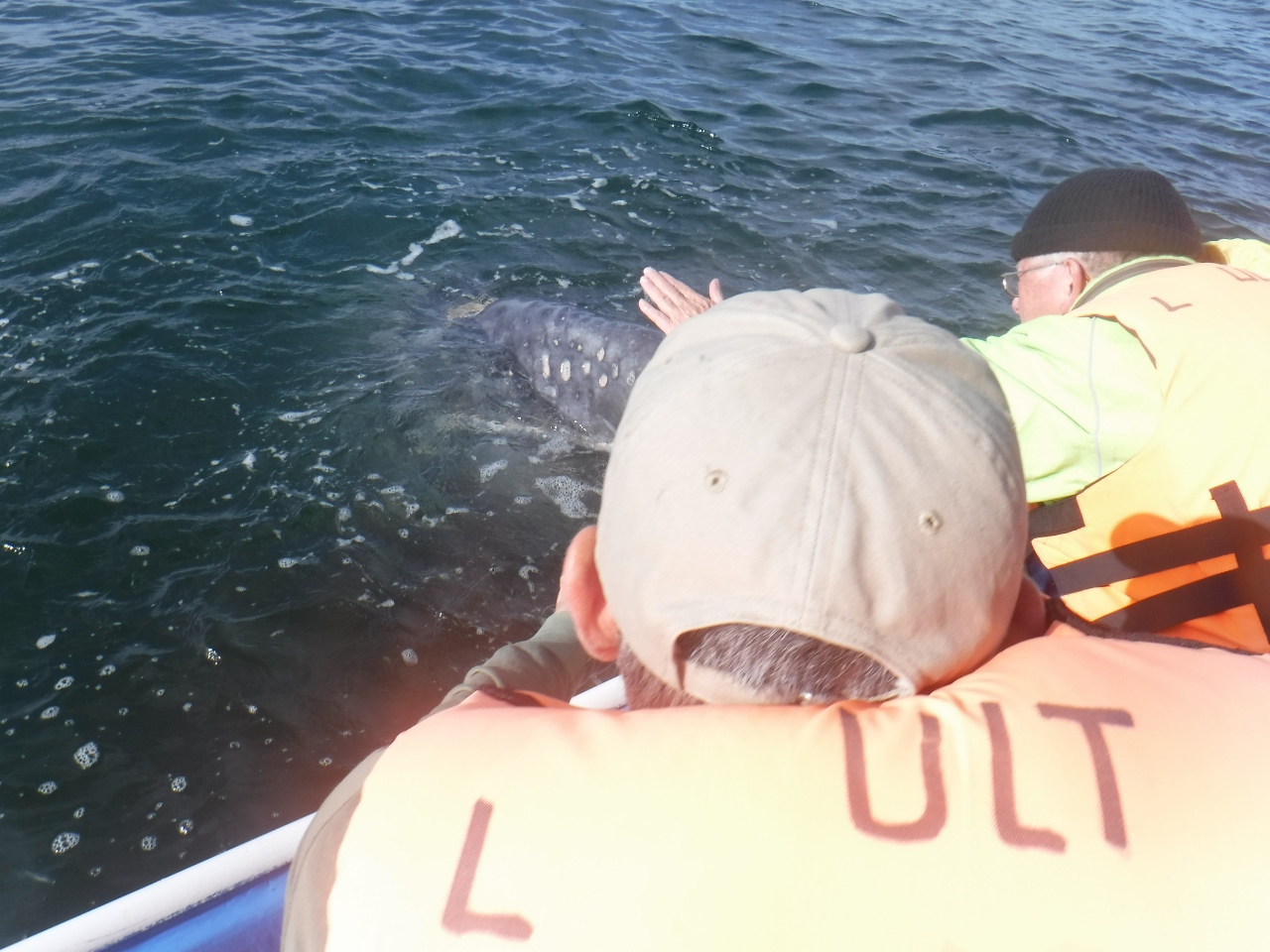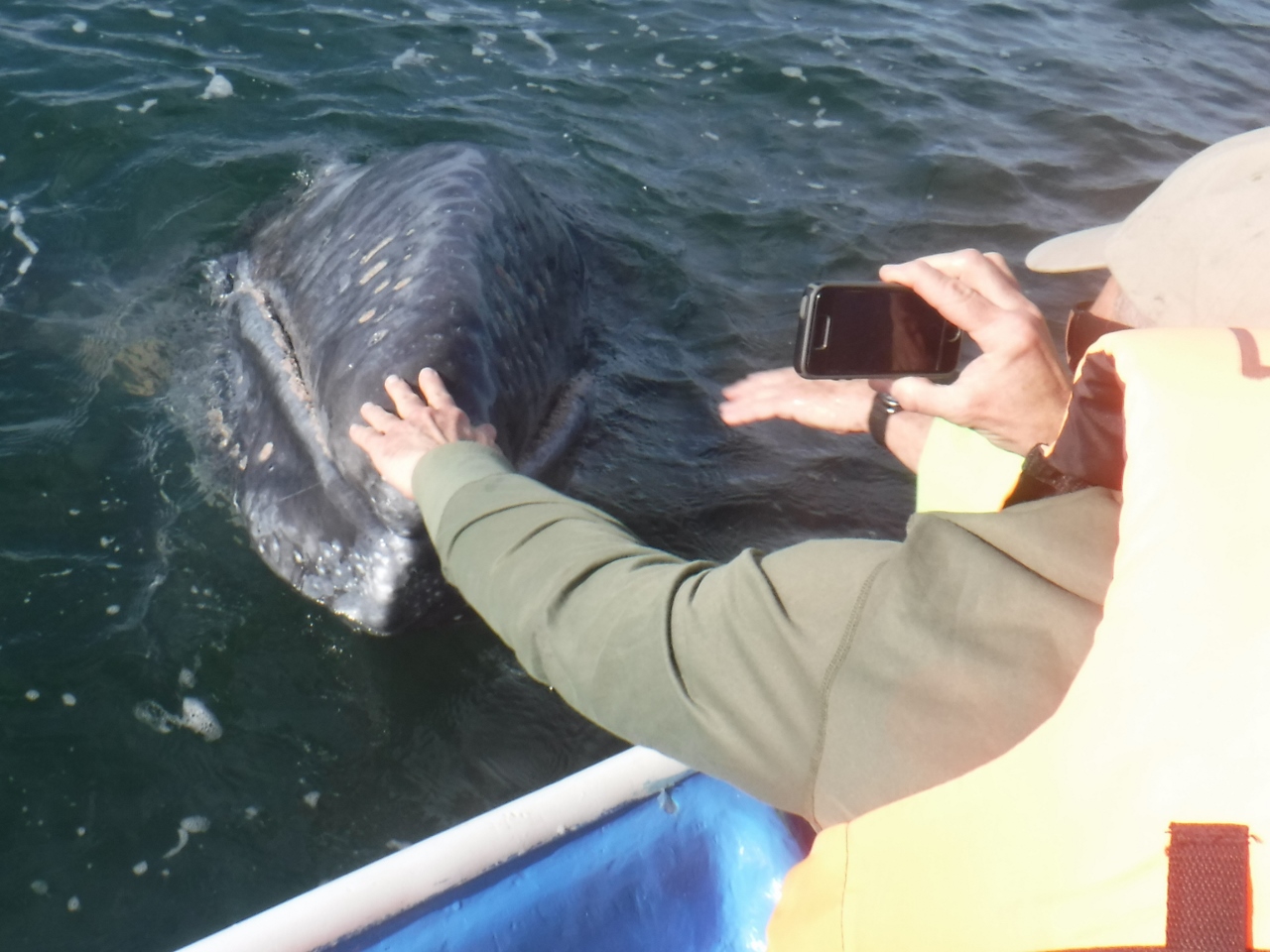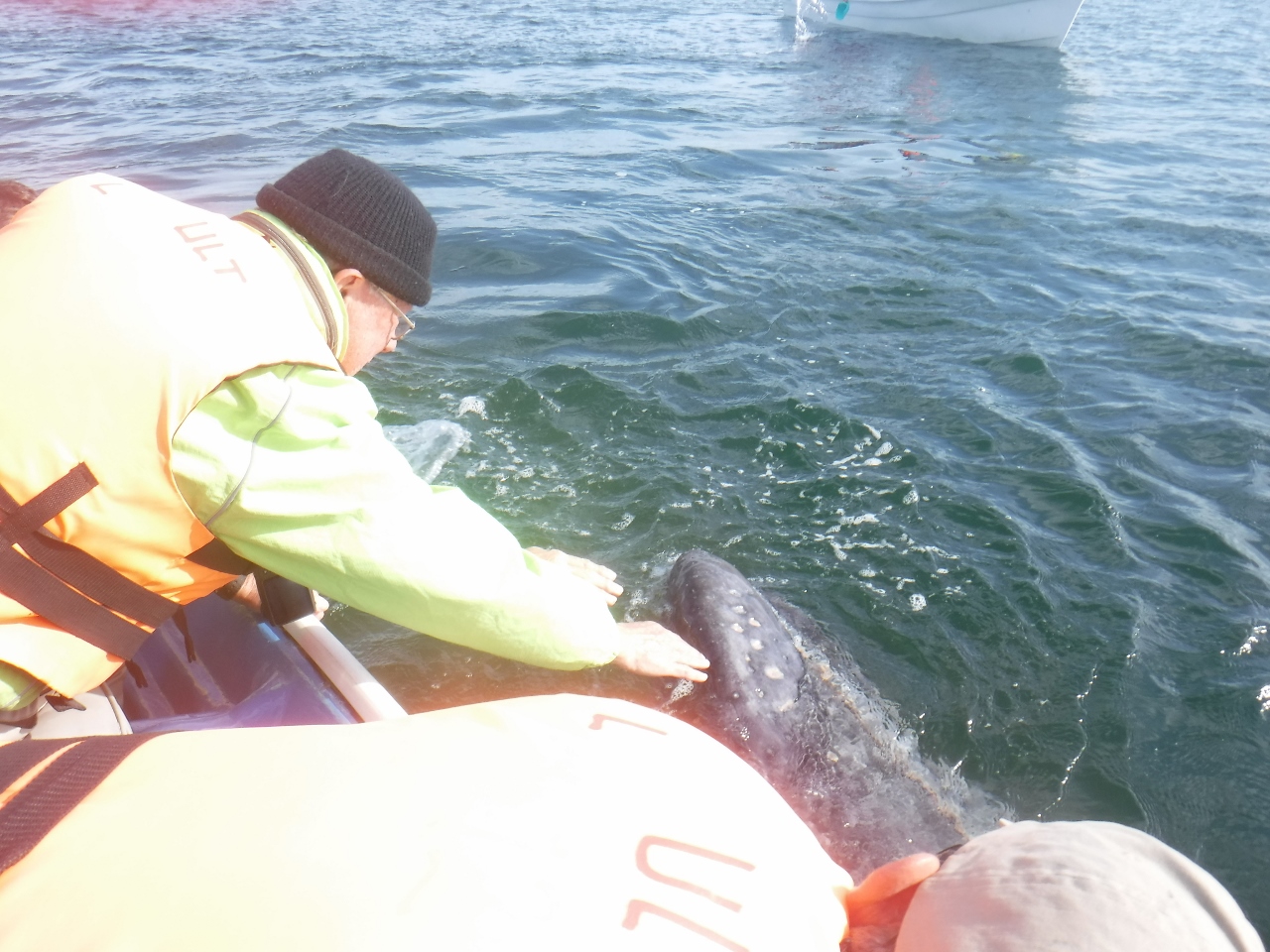 You can plainly see both whales here.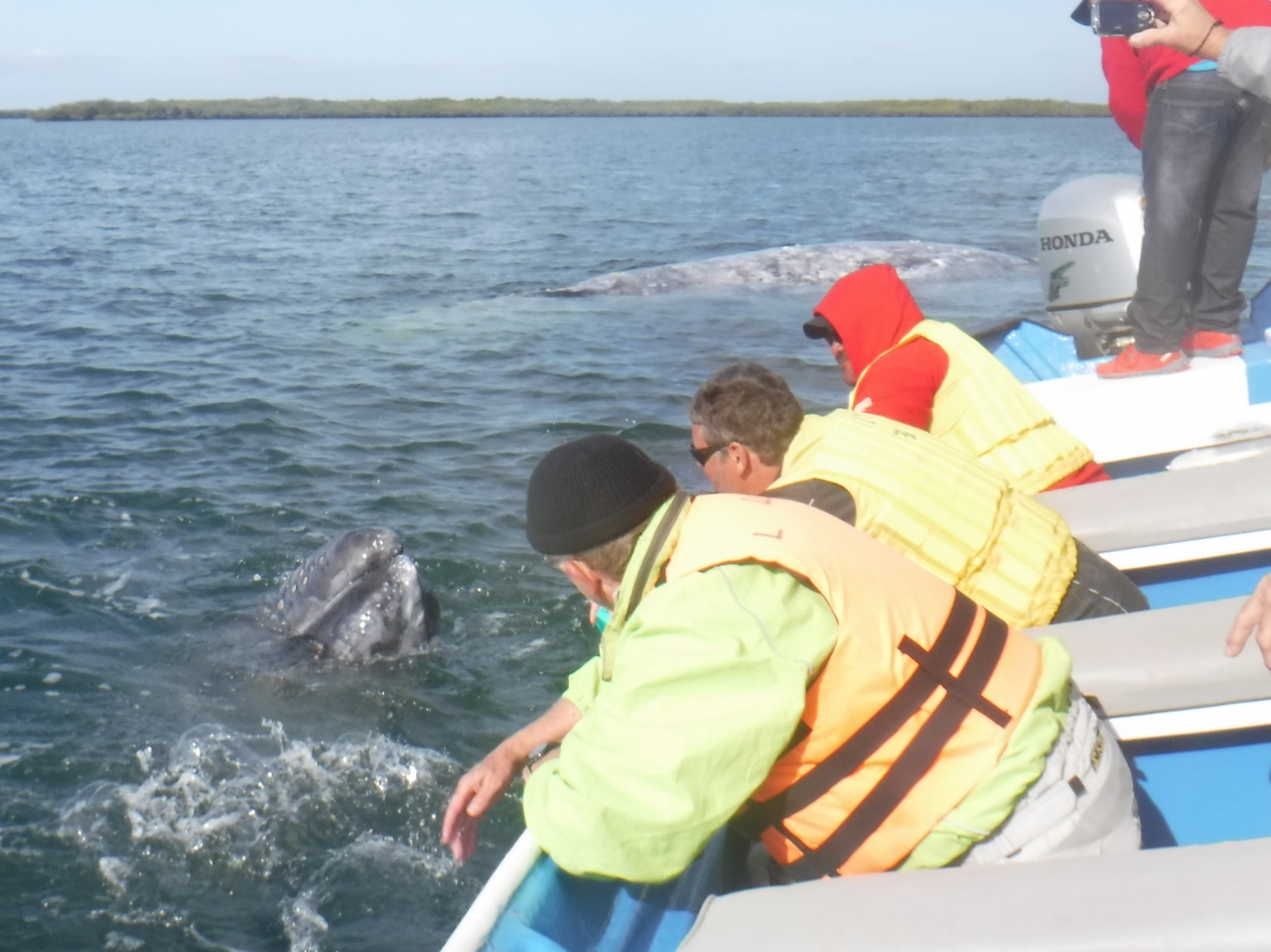 I asked questions
Is it possible for them to flip us over???? No he said-----it has never happened and they never touch the boat or propeller.
What if you got in the water ??? Not recommended he said---the whale wouldn't attack you but something aweful could happen..
I got something off my bucket list that wasn't even on it----one of the best experiences of my life.
I'm sure everyone felt the same.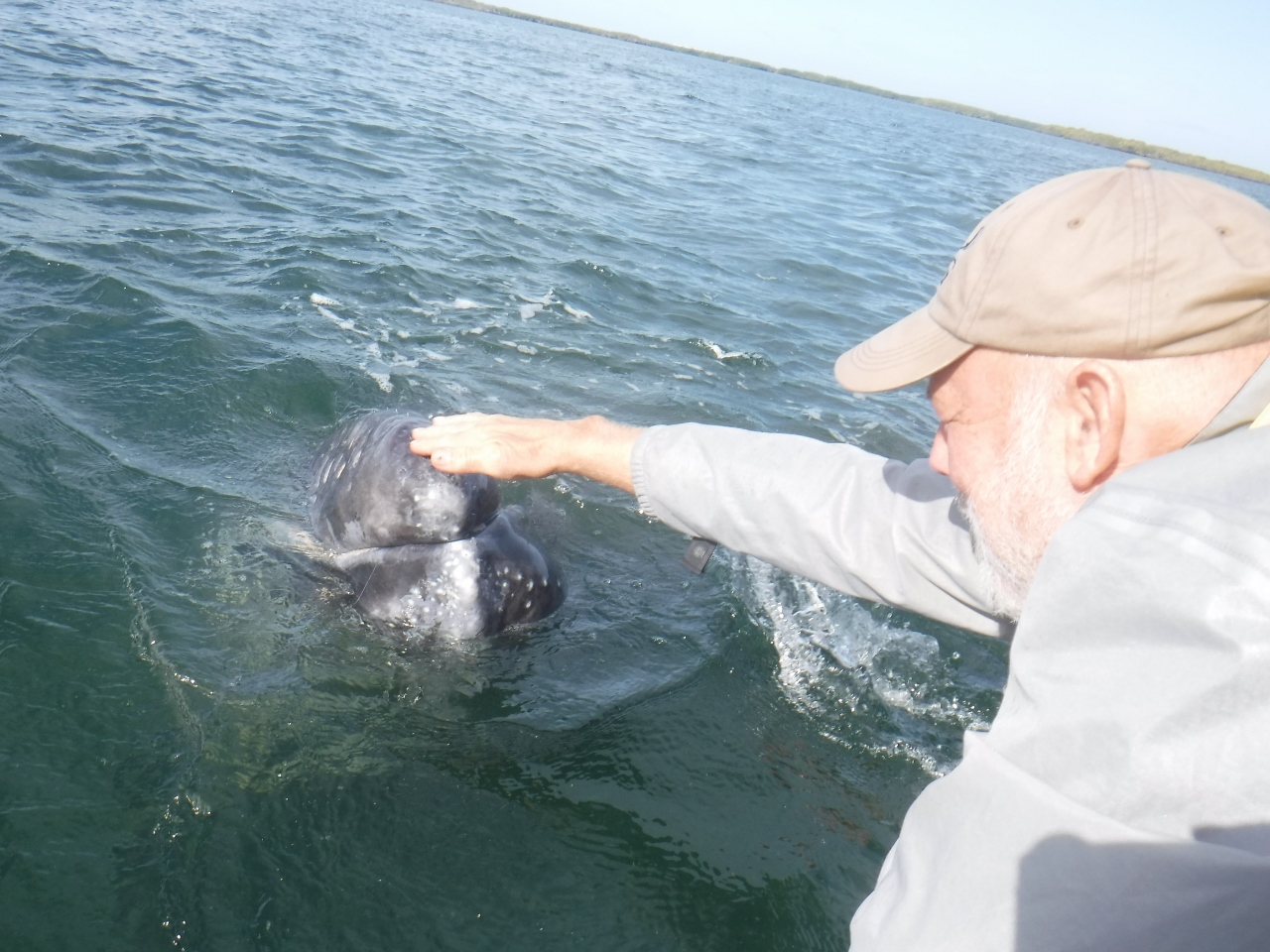 A Little Whale Video
We didn't leave the ocean till about noon I think---and ate lunch there before we left I think.
We had ate breakfast there too.
I had lot's more riding laid out but in the end we got here and poor ole' Dingweeds hip was really bothering him.
And he had lost his mojo in the sand. Hell I done that before.
The trail ahead I knew was a lot of deep sand----and rocks and a long way threw---with other routes I had laid out
that would probably be the same.
He had fell on it once and really aggravated it on this ride-----not his new hip------his old one. We talked of splitting up
and I thought that not a good idea-------------------so in the end.
We drew a line in the sand-------and all agreed....................
We had a good ride to this point------let's not seperate and go different ways---------we are all the best of friends
and we turned back North---more good riding would be had as we were a very long way from the border.
Everyone was happy with that. And later we would divide up for a bit and get back together.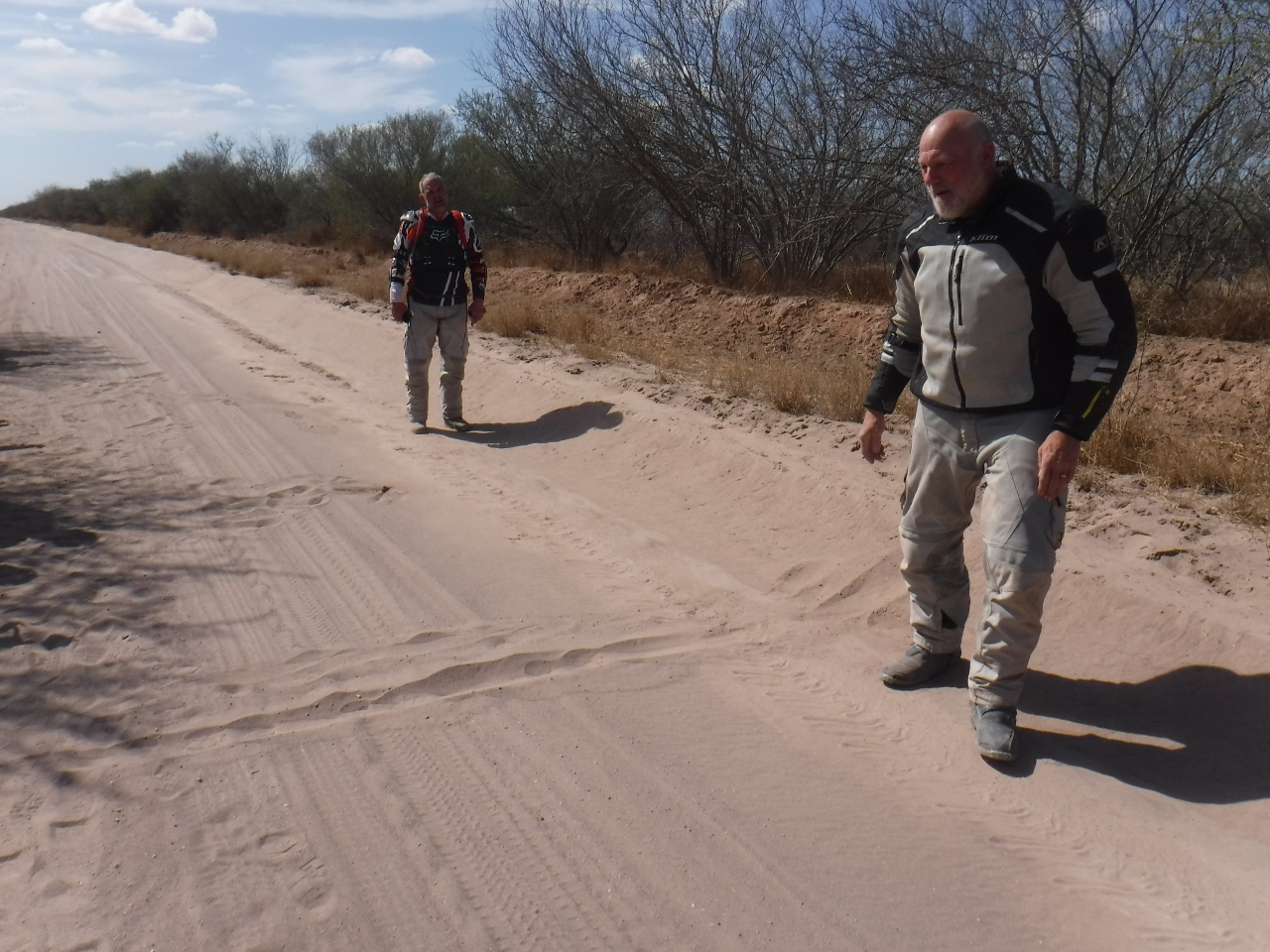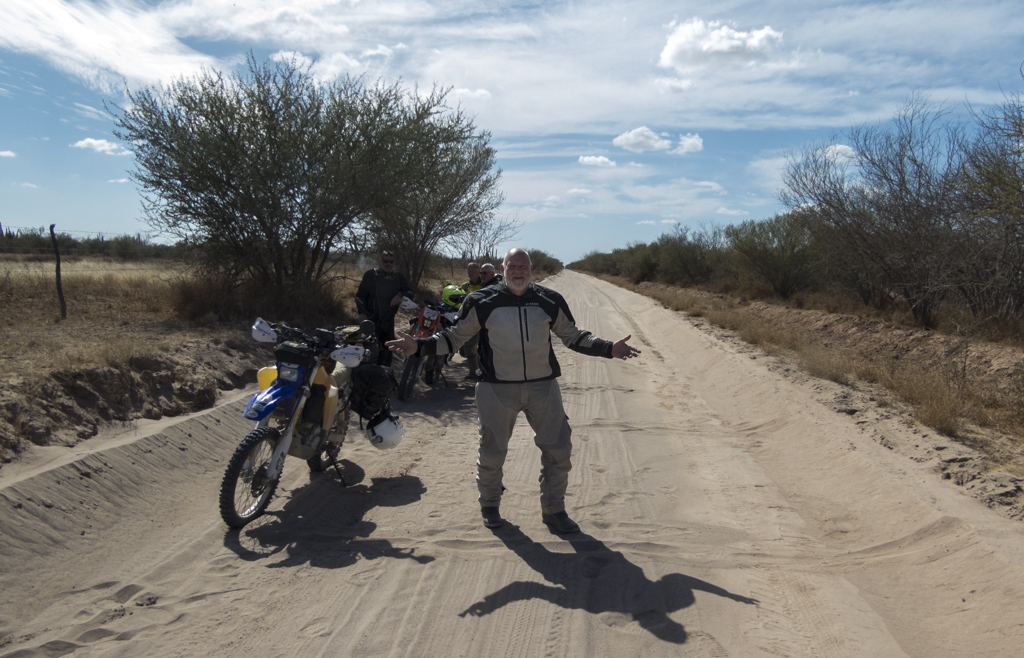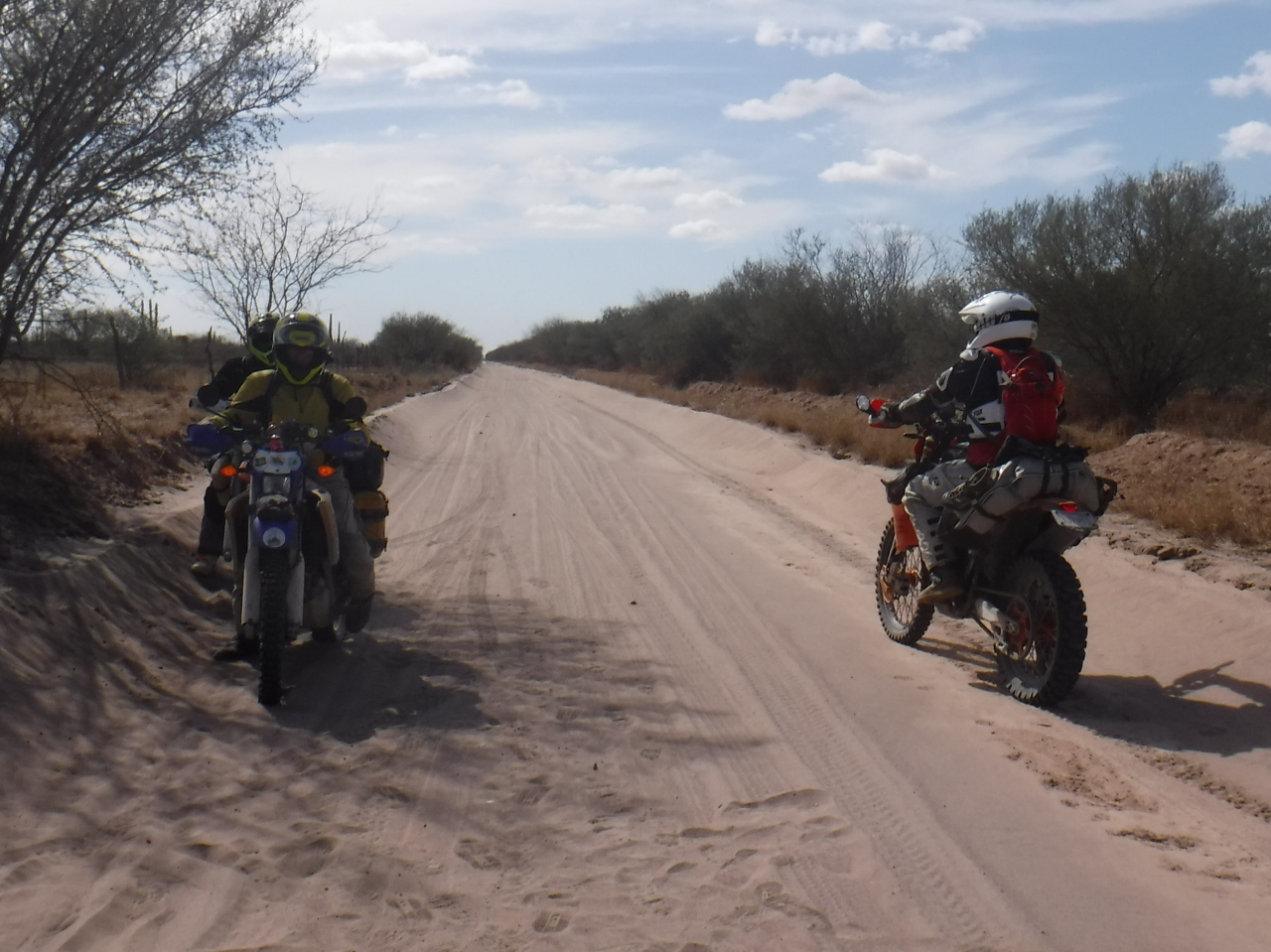 We headed back North and I turned us Northeast on a track that went to the Comondu Mission.
And Dave finally found his kickstand.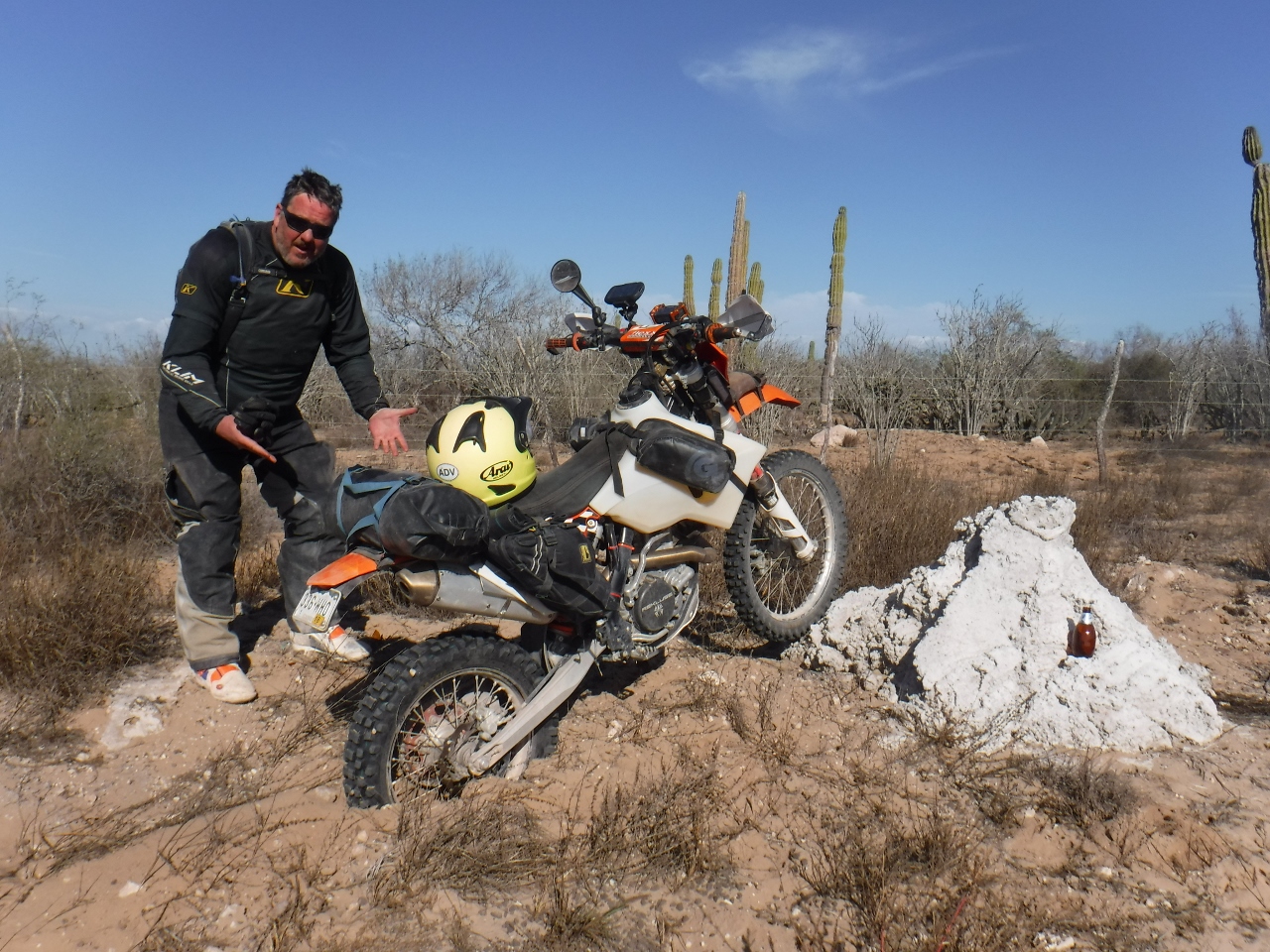 But something is still missing from here ????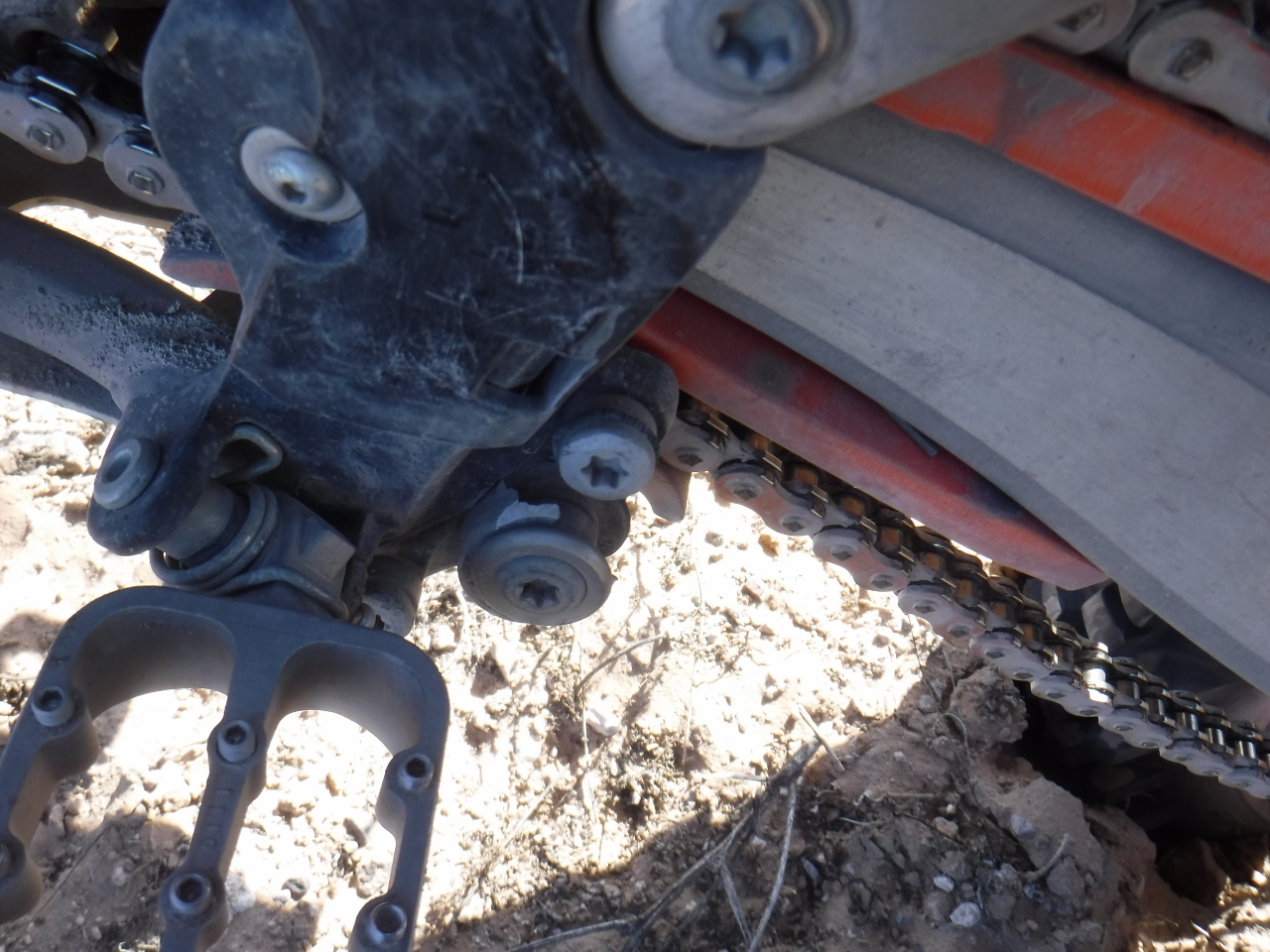 Son of a gun--------some of this was paved before Comondu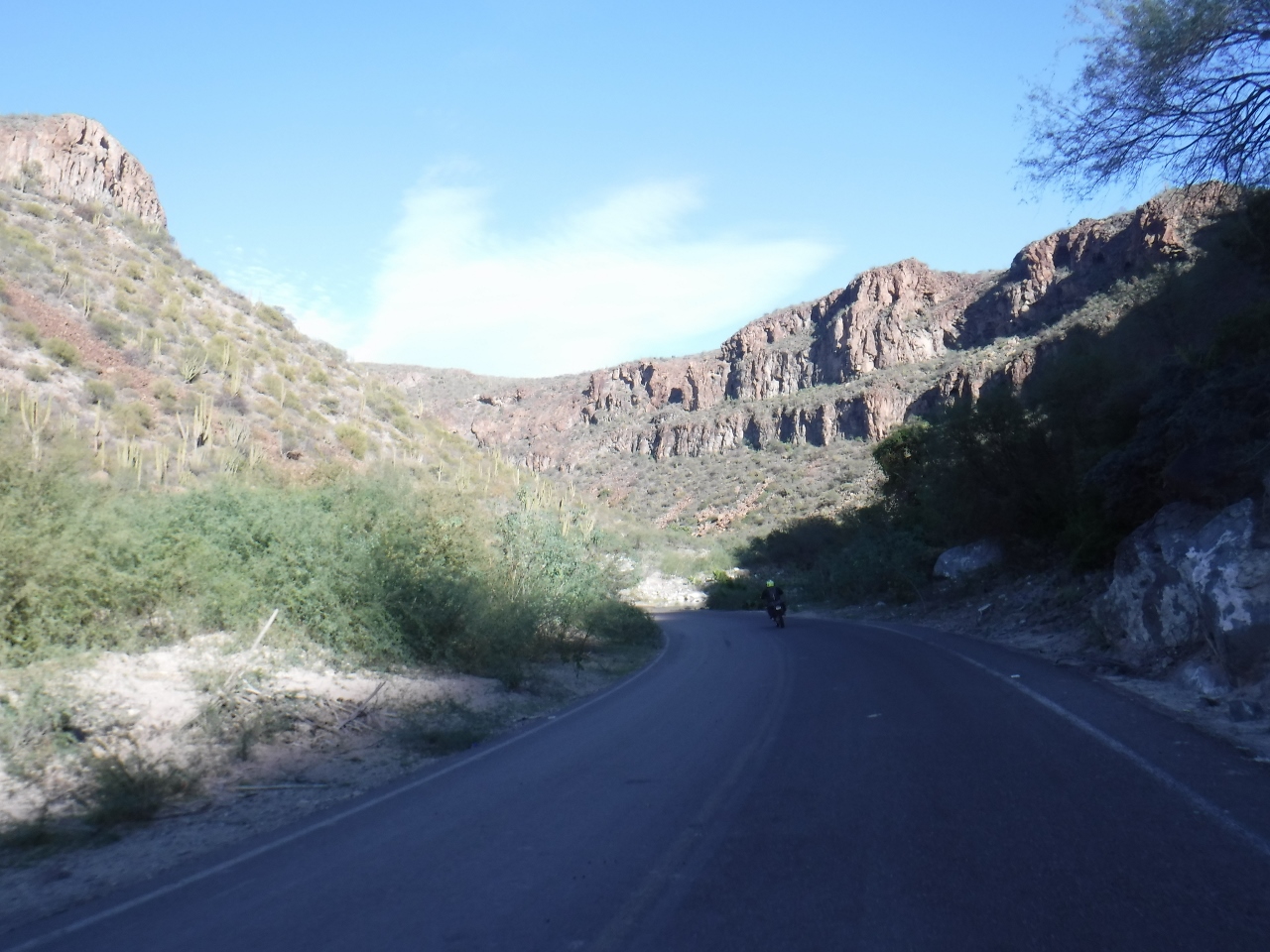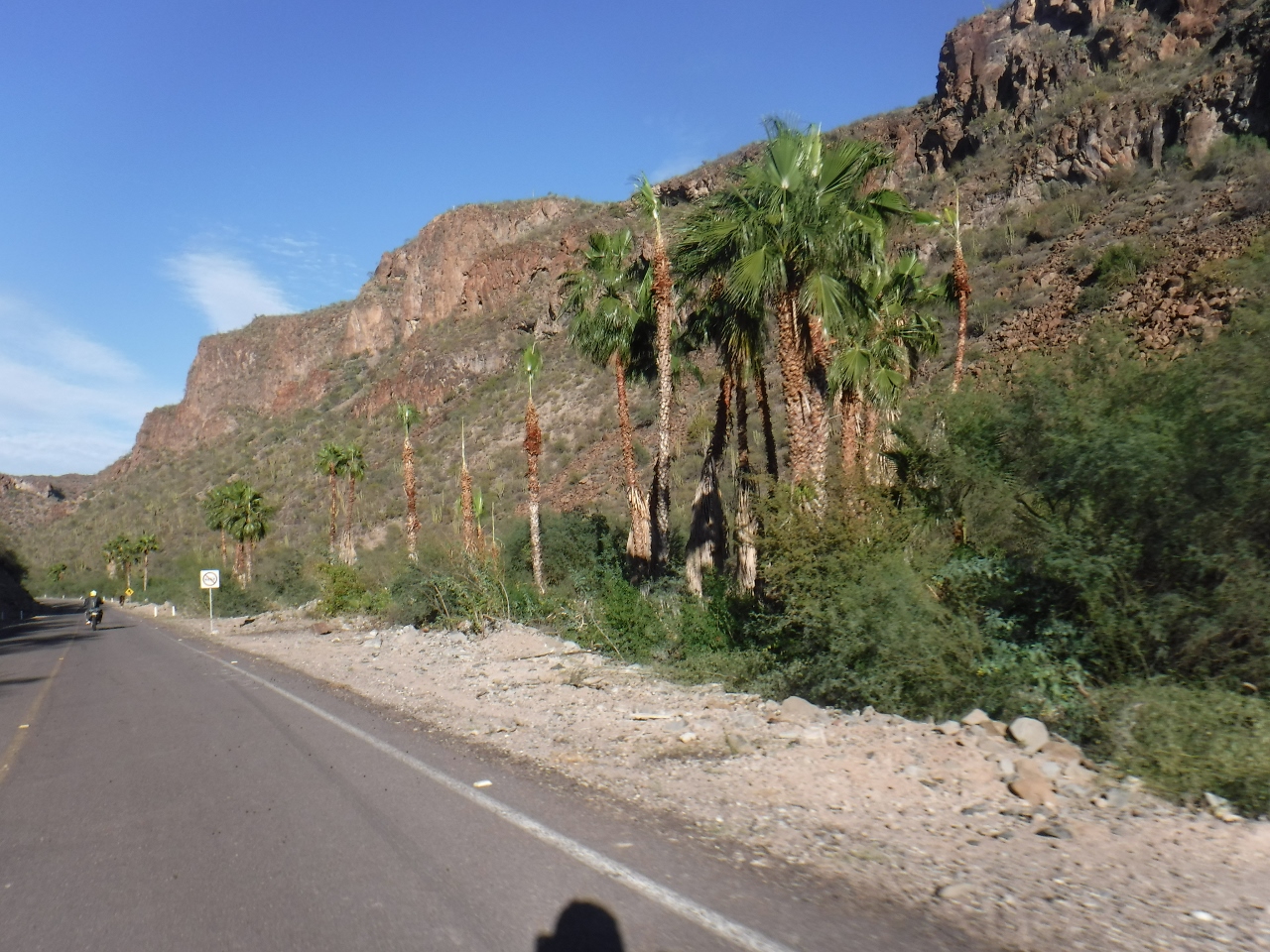 2 horses asses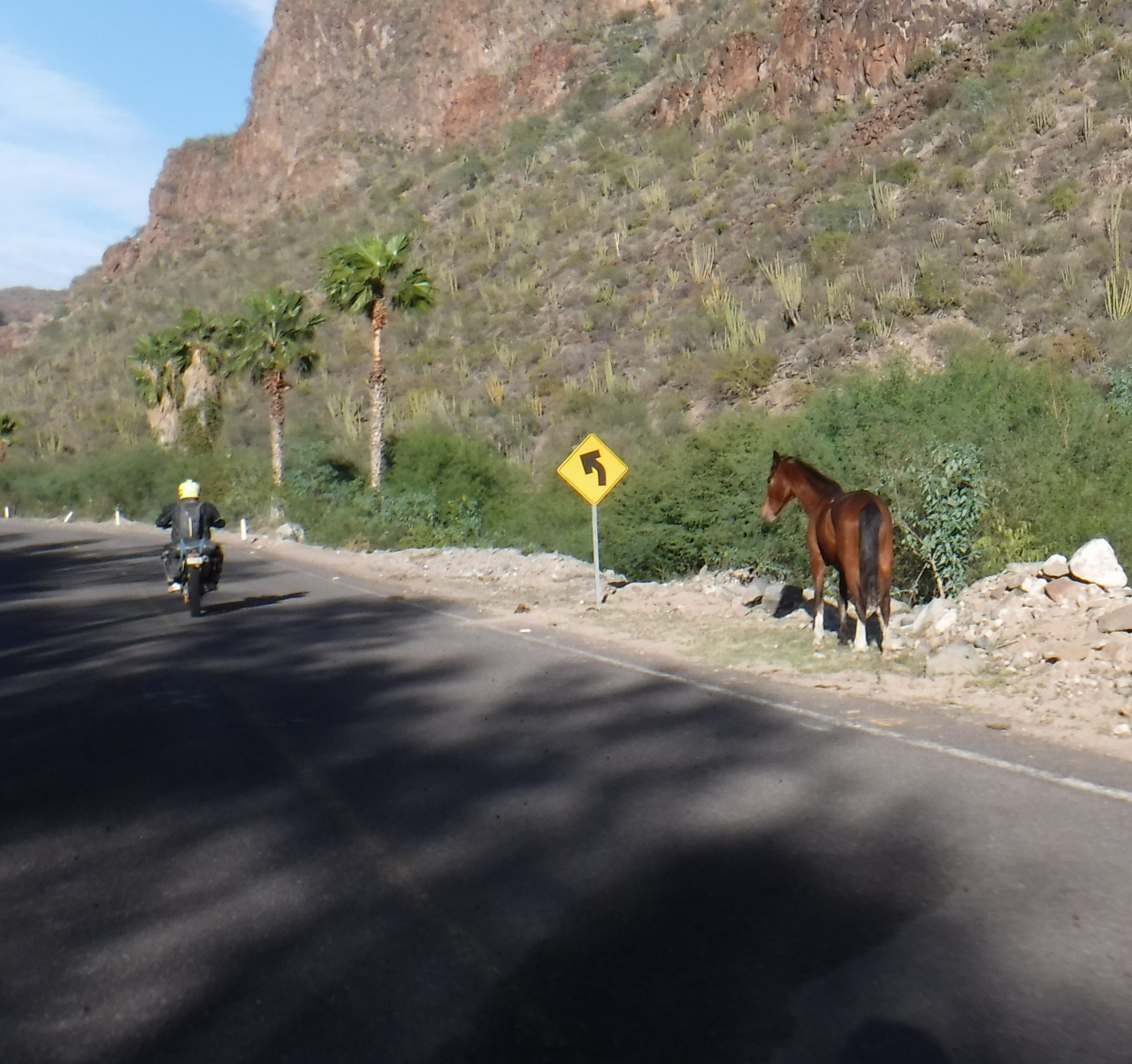 We got to the little town of San Jose' de Comondu and there was a nice motel there.
Man this was remote---but the lady kept changing the rates she wanted for the room about every 30 seconds.
We couldn't believe what was going on and were in dis-belief.
It was so frustrating after handing her the money she wanted---taking us to the room and then wanting more money.
It happened about 3-4 times and we'd had enough.
We finally left with her standing there staring at us-----and empty rooms.
She would have made a lot of money and we would have ate dinner and breakfast there and we always tip very well.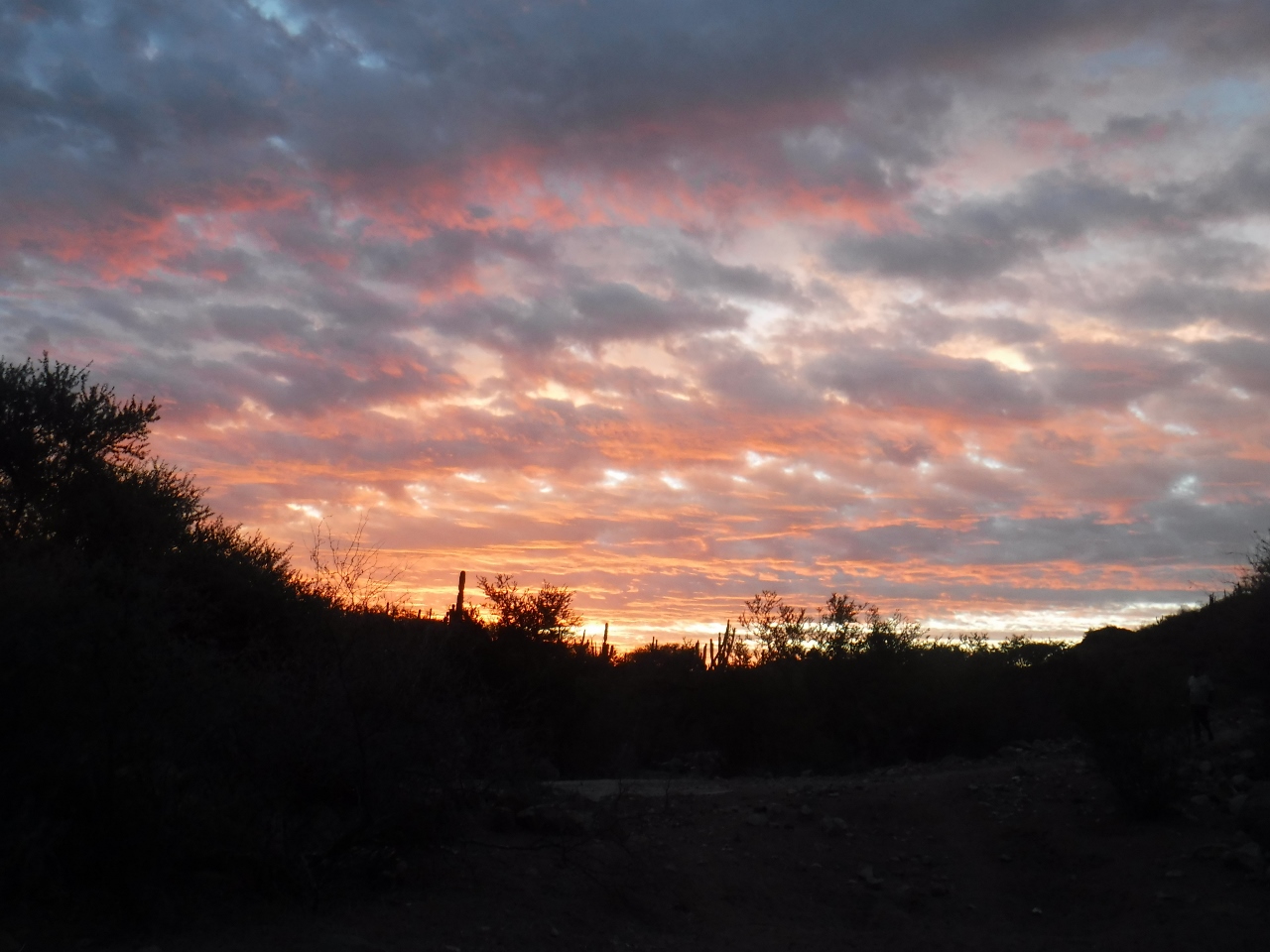 So we left town going East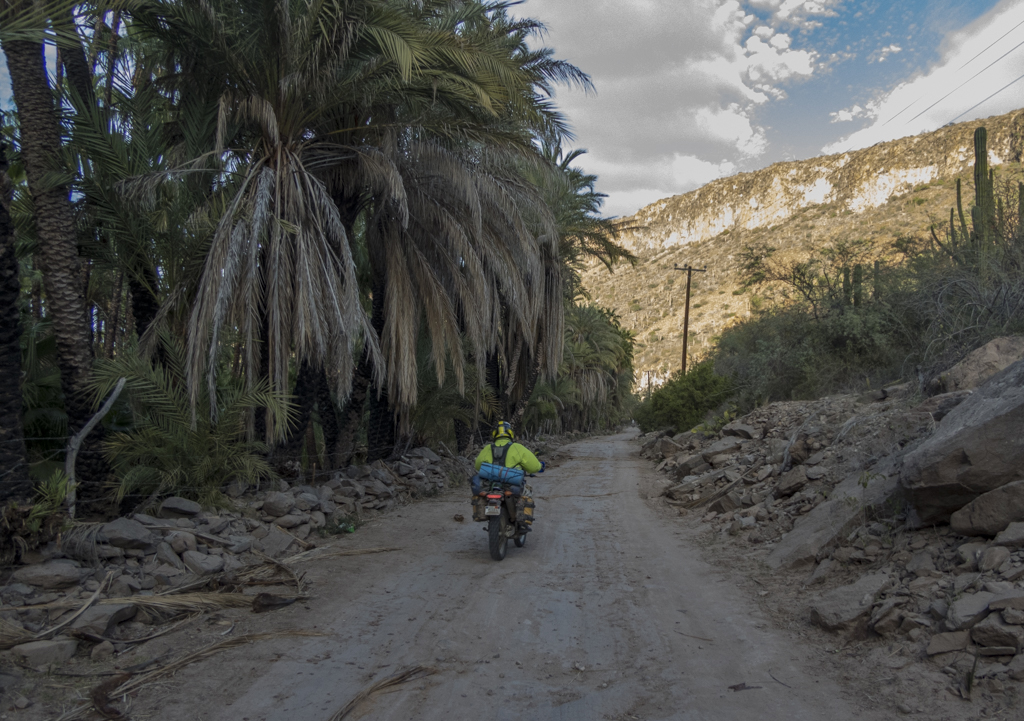 The terrain turned pretty brutal after the town and Dingweeds had--had enough and put down camp right where he stopped.
Hi hip was killing him and the terrain was only good for a dirt bike in my opinion.
We would turn back the next morning.
The terrain and rocks were so bad there was no place to set up all our tents in one spot.
So me Dave and Road Dad camped here---and Scott and Scott back about a mile.
We'd pick them up on the way back in the morning.
My camp--------the weather was so nice I just thru a tarp on the ground and slept under the stars.
It was awesome.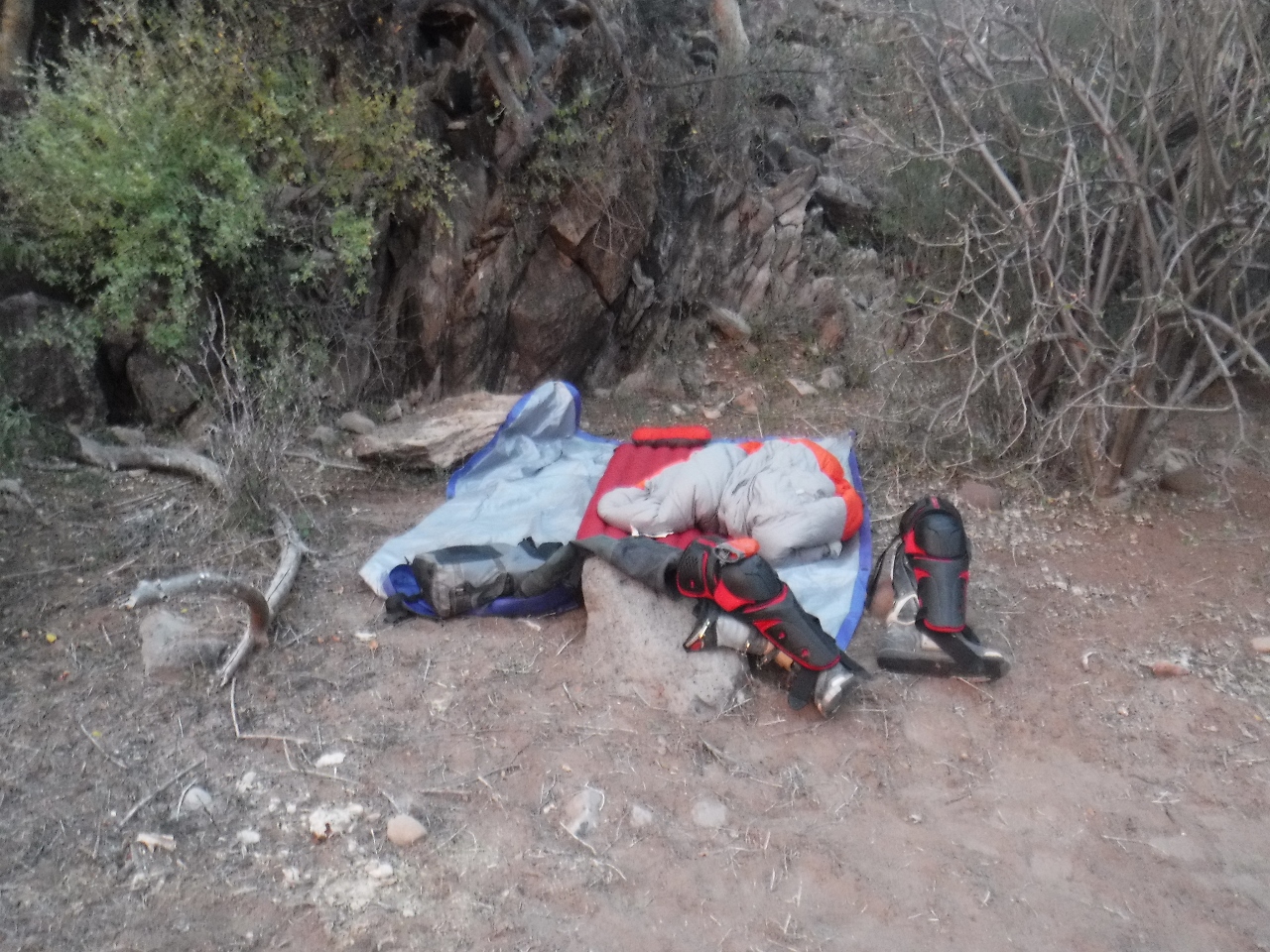 Dave's camp was just a few feet from mine and looked so inviting.
2 young ranchers had heard us and walked down to check on us and gave us permission to camp on their property.
We did not speak each other's language at all but I got er' done.
While negotiating our camp spot I did recongnize one word he said.
He said "Trump" and some other words---and I'm not going to tell you what hand jestures I used.
But they both laughed and walked off-------------Pheeeewwww !!!!! I said the right thing I guess.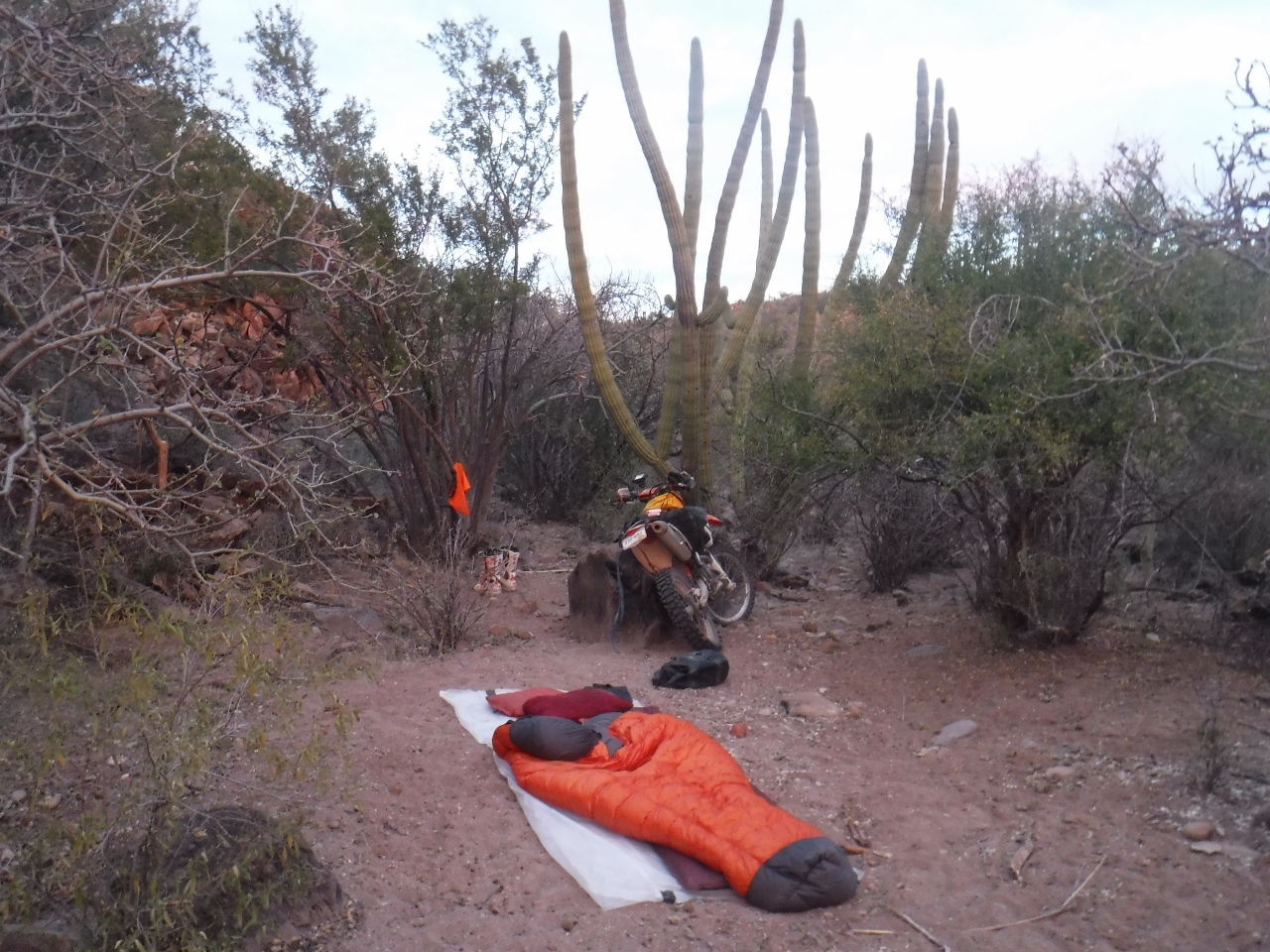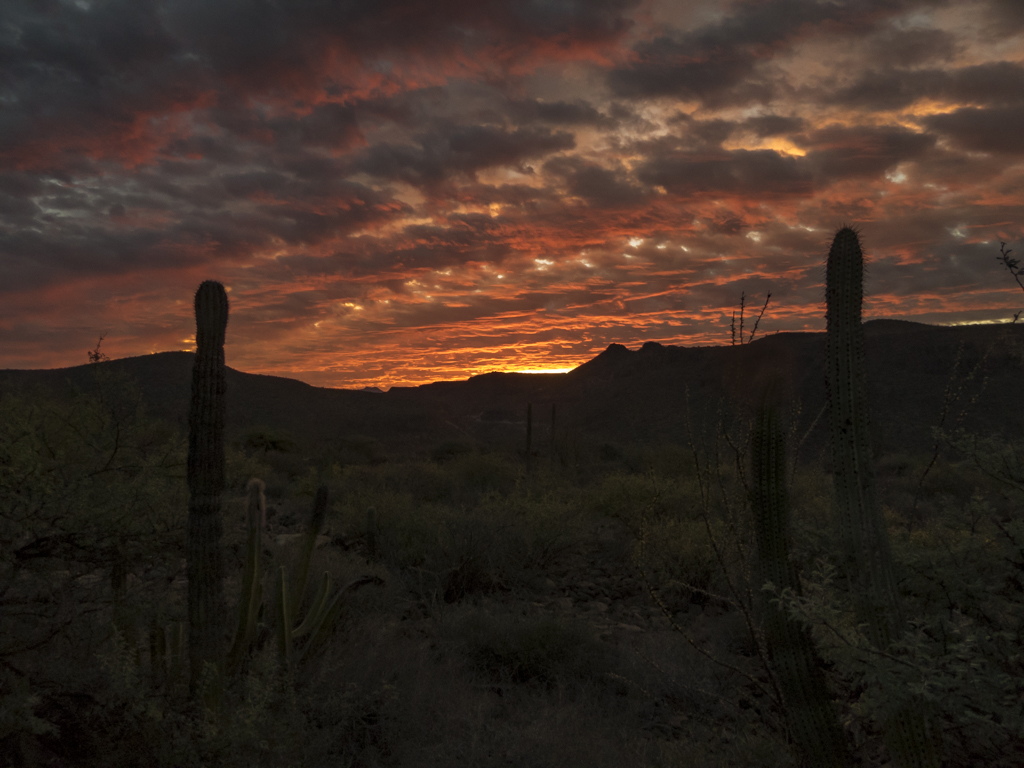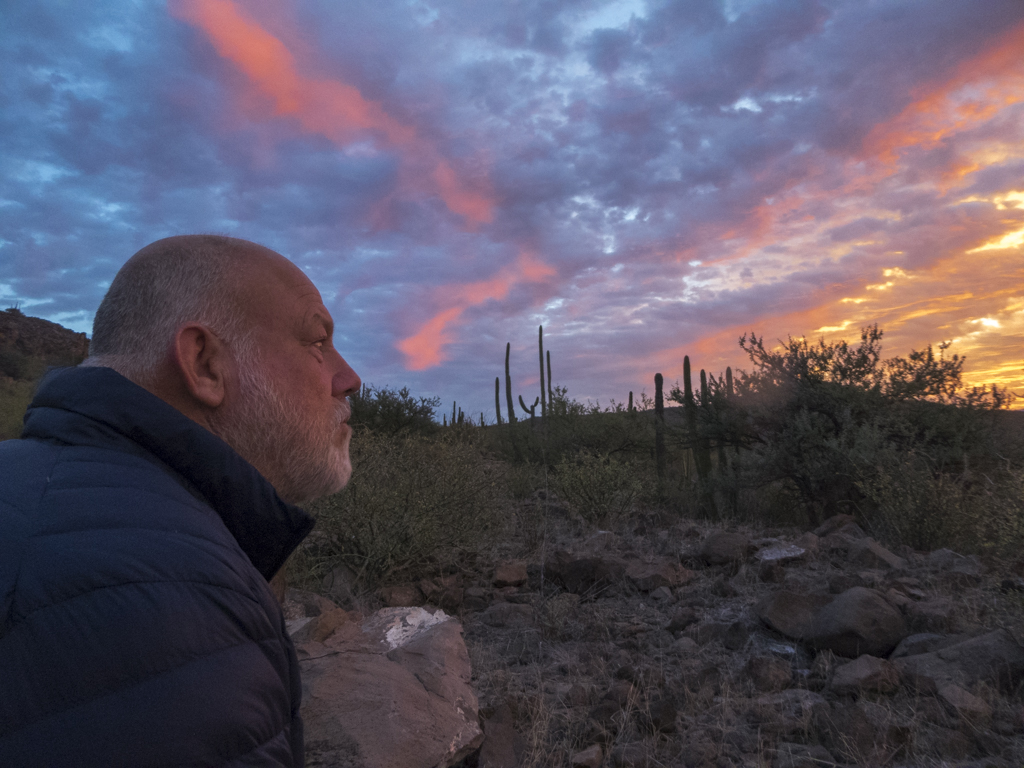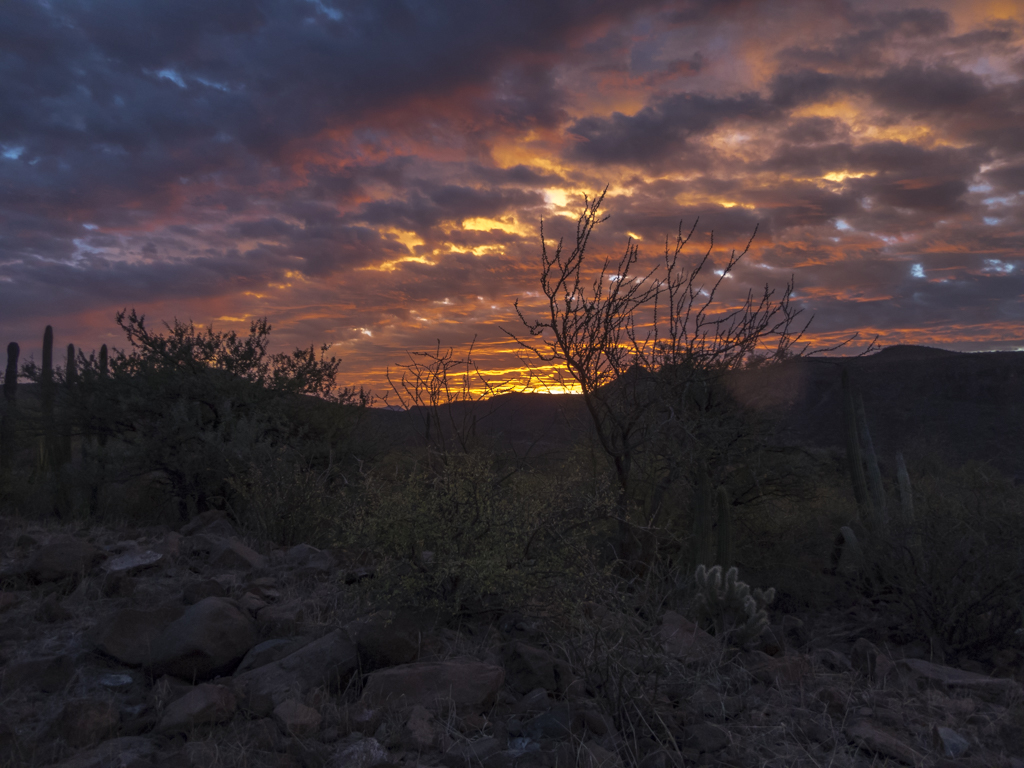 A Map of our ride today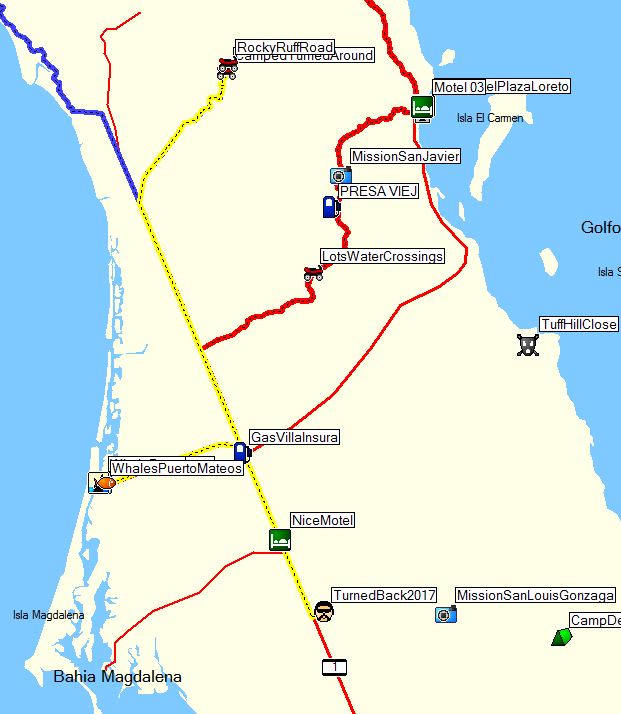 A short video of the riding on Day 9

Day 10
February 15th, 2017
Me Dave and Jerry packed up very early to ride back to High Five and Dingweeds camp so we could ride back West together.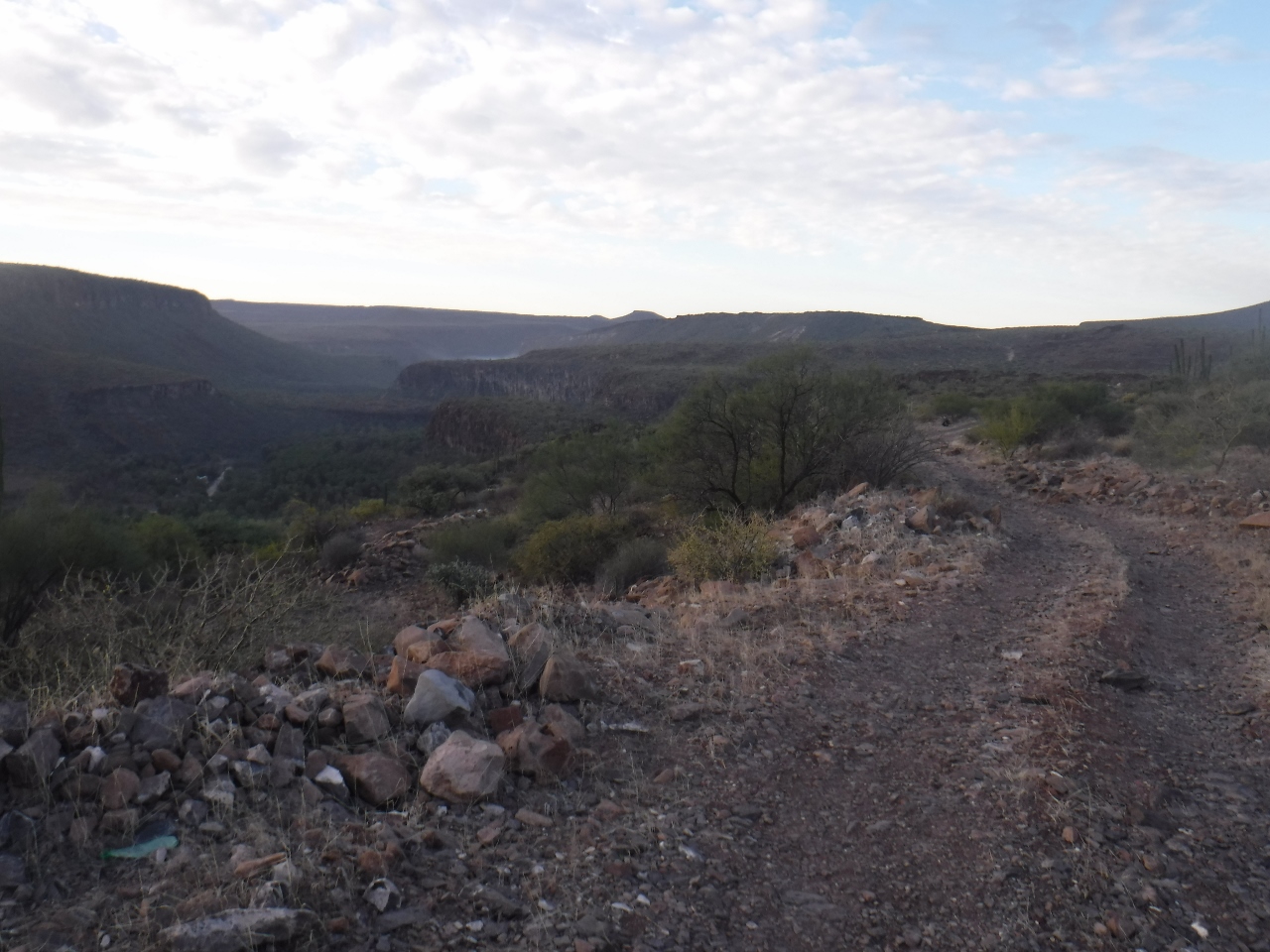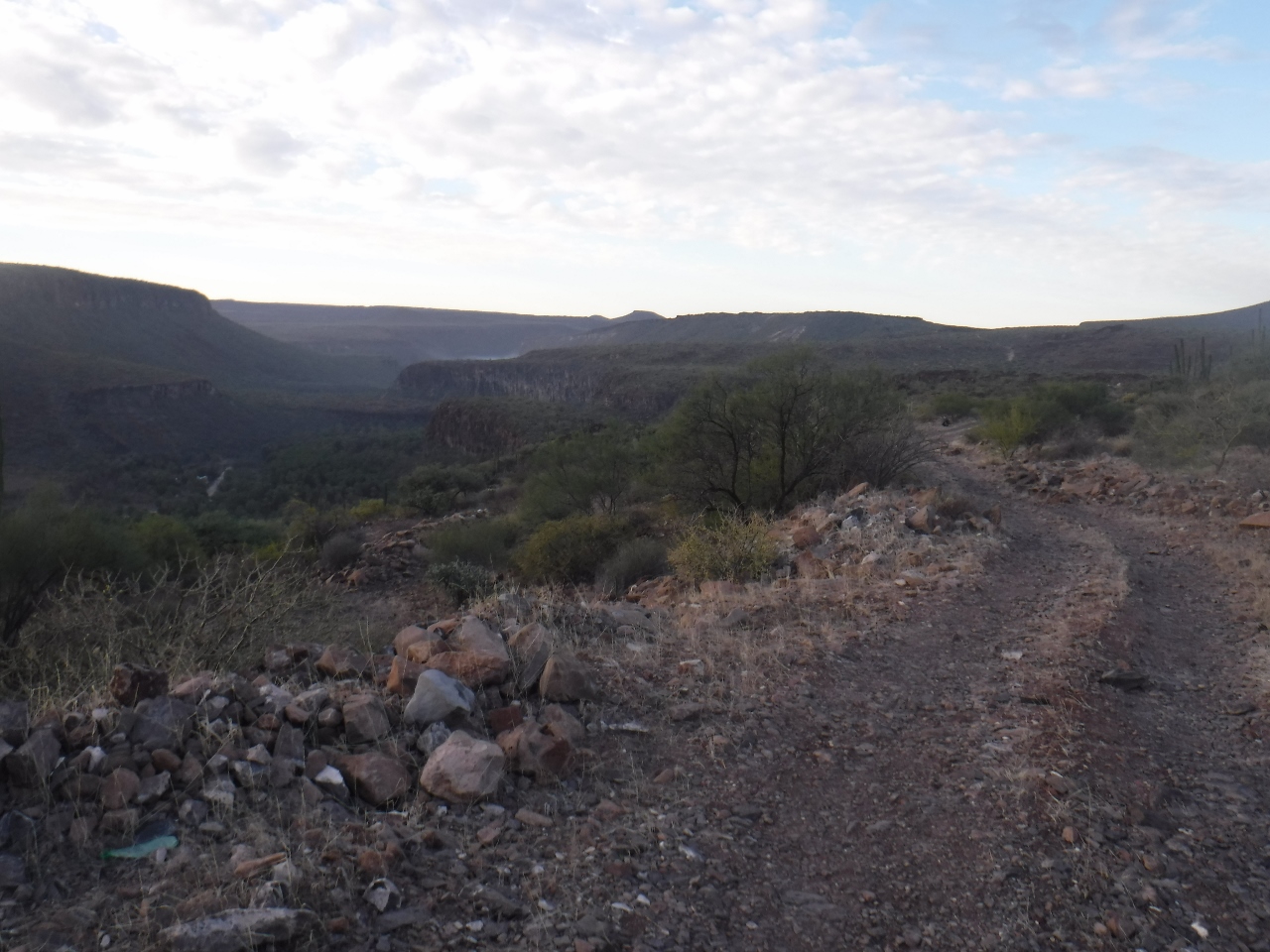 They were just finishing up and Dingweeds was feeling much better.
Little did we know what calamity laid ahead for both him and Road Dad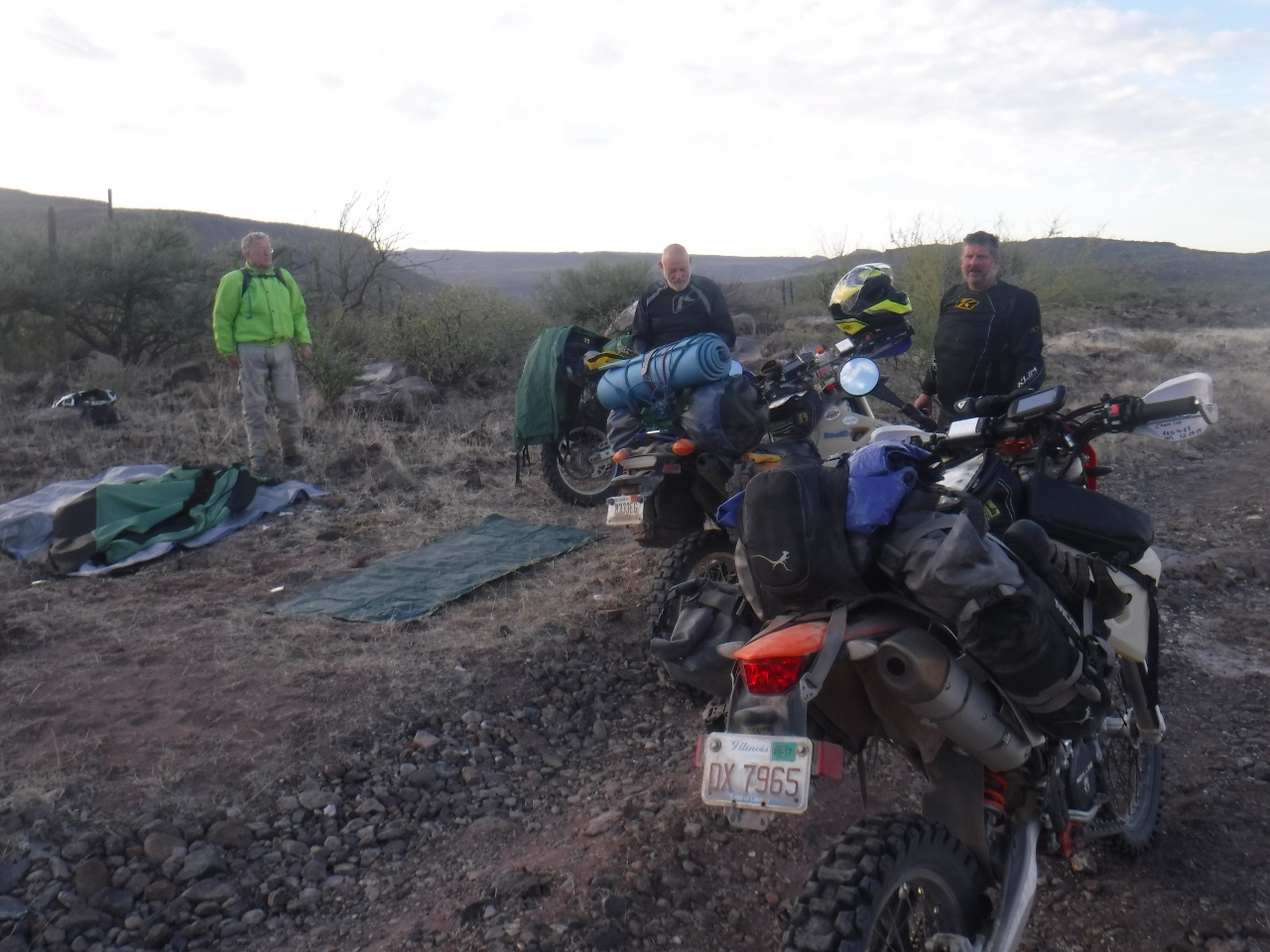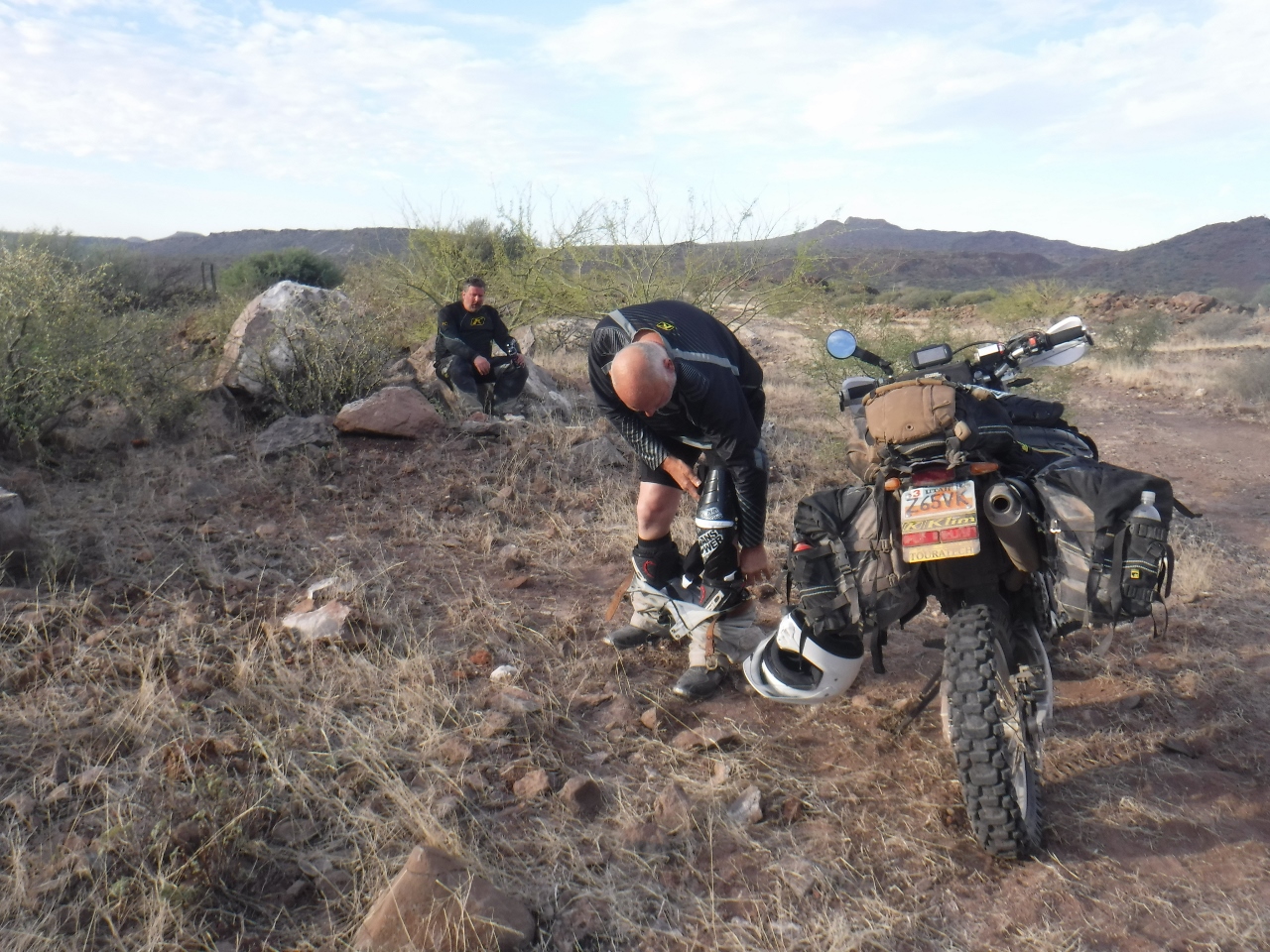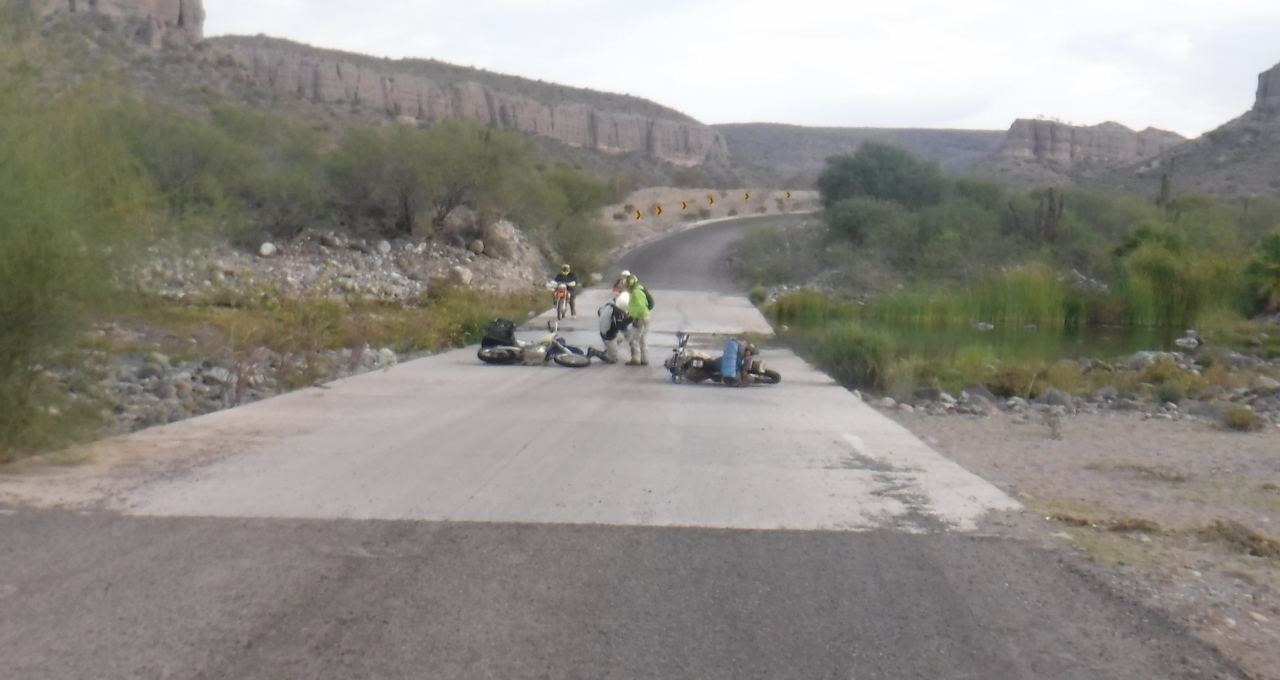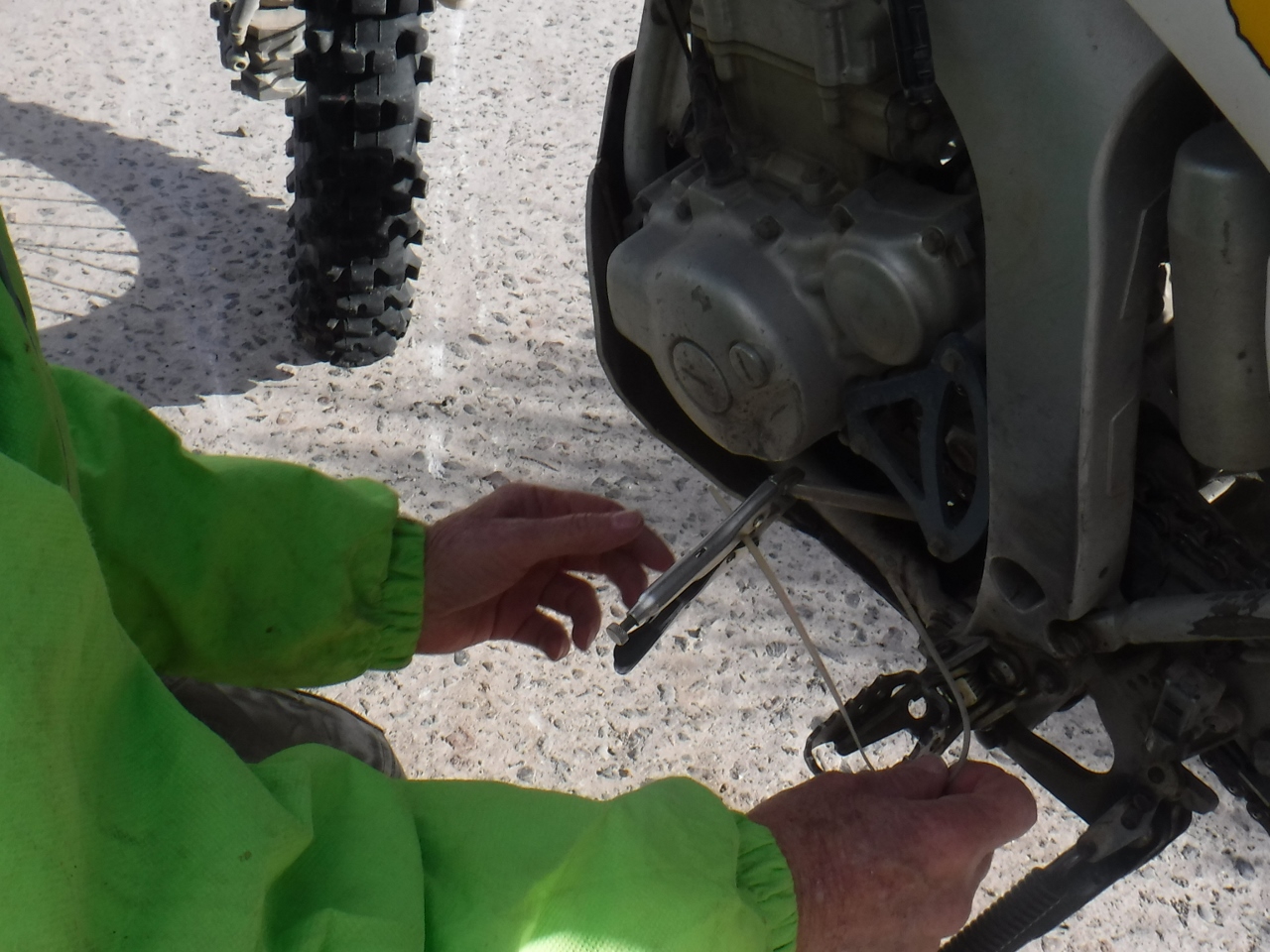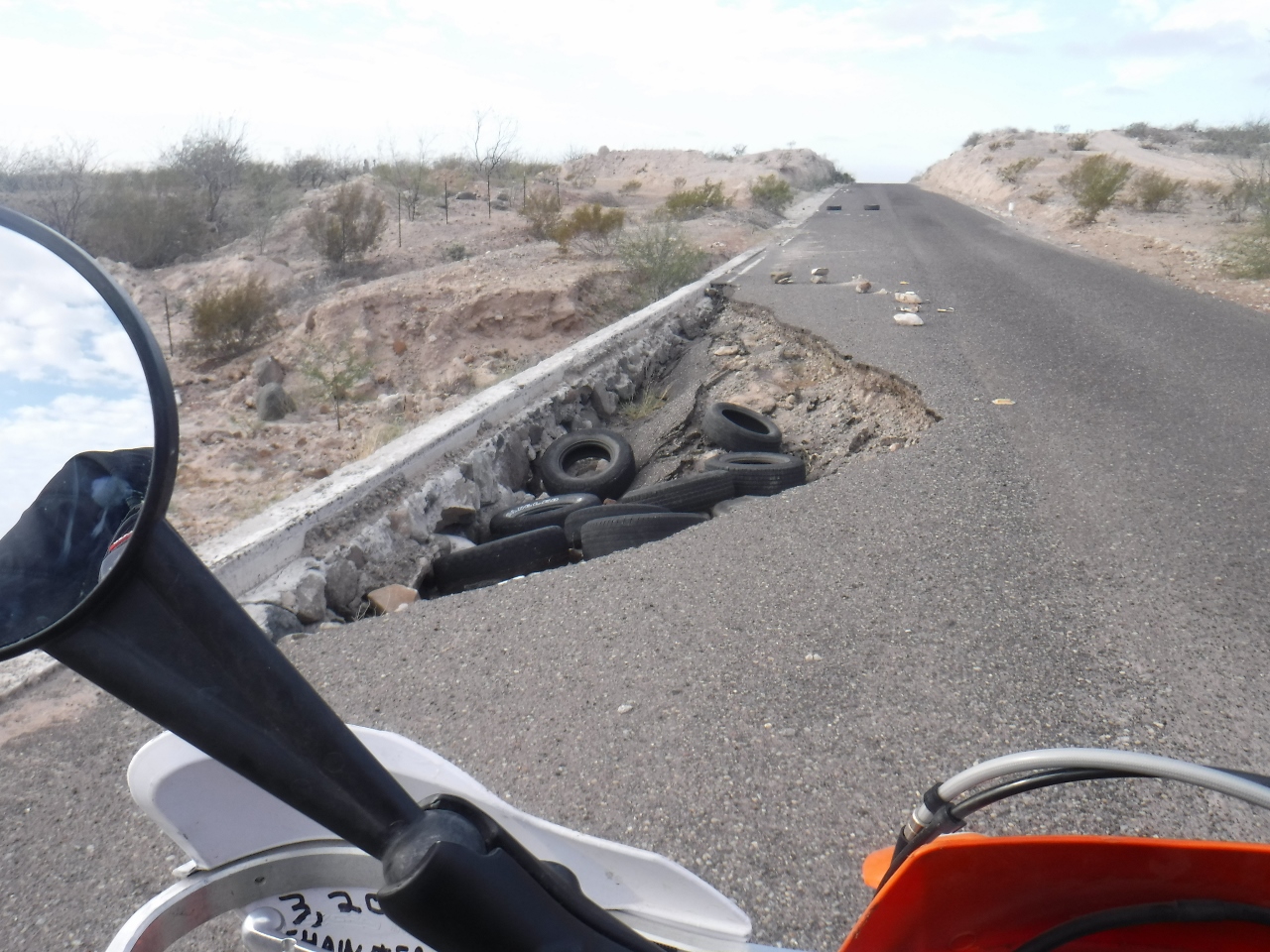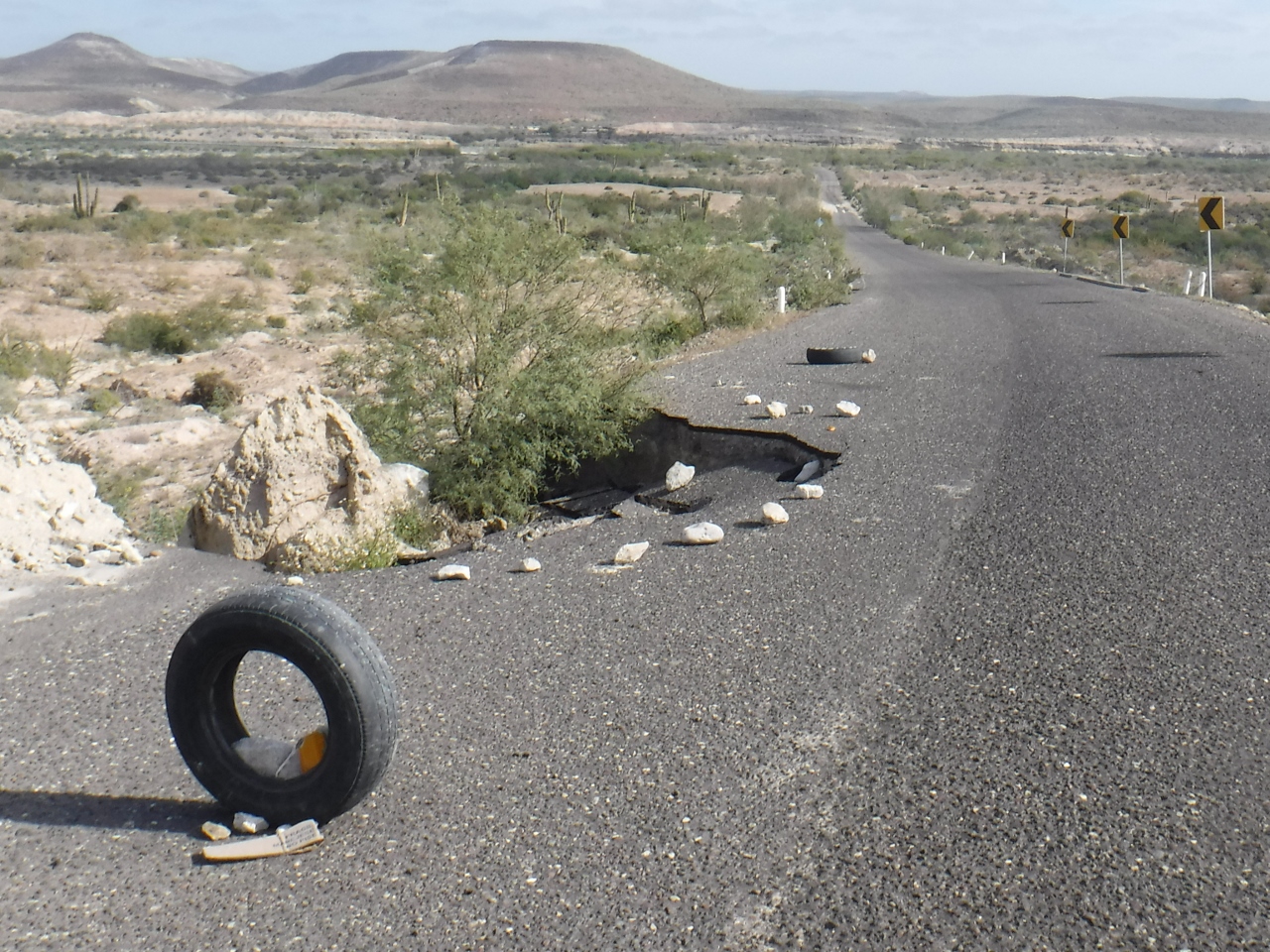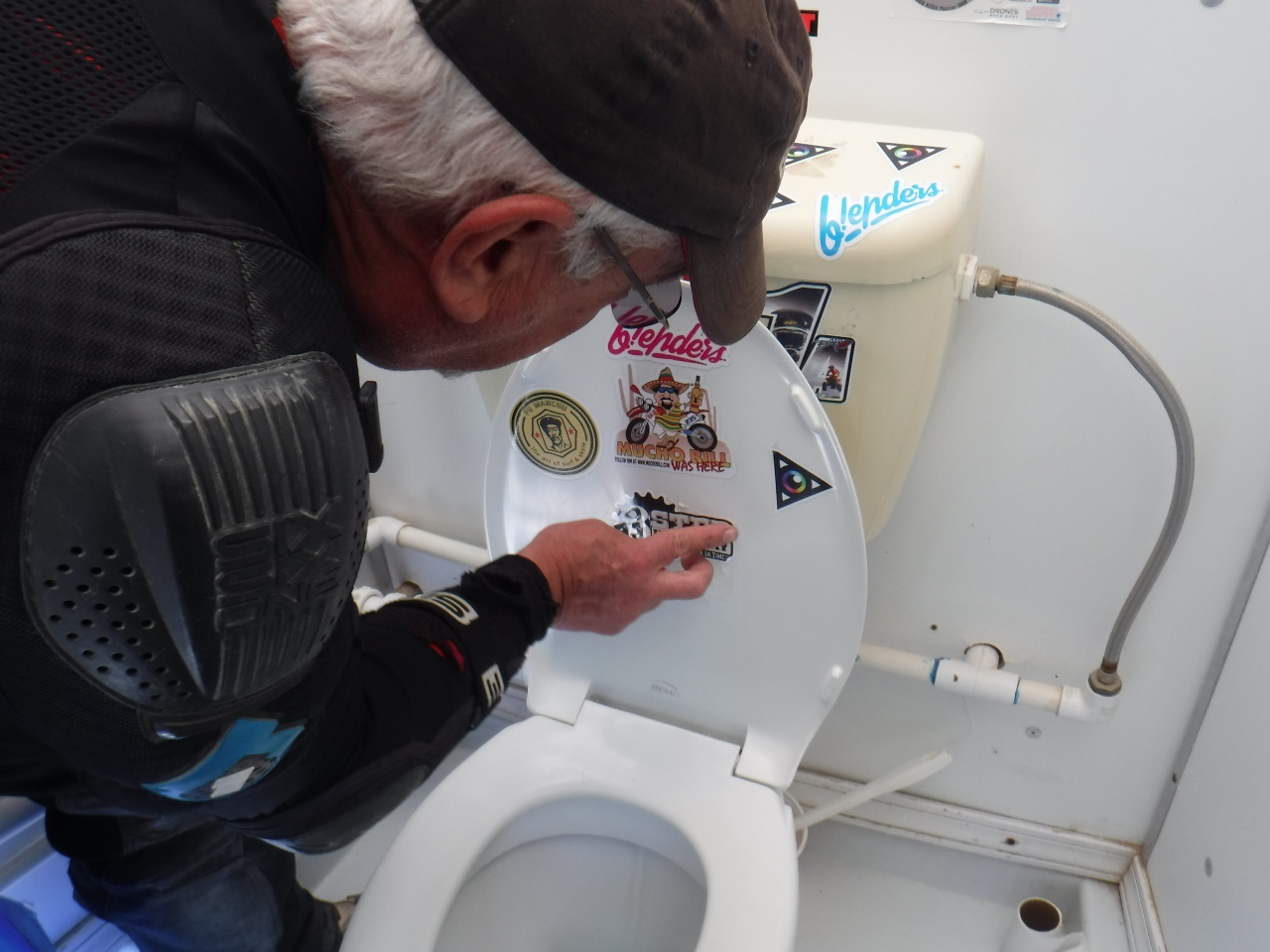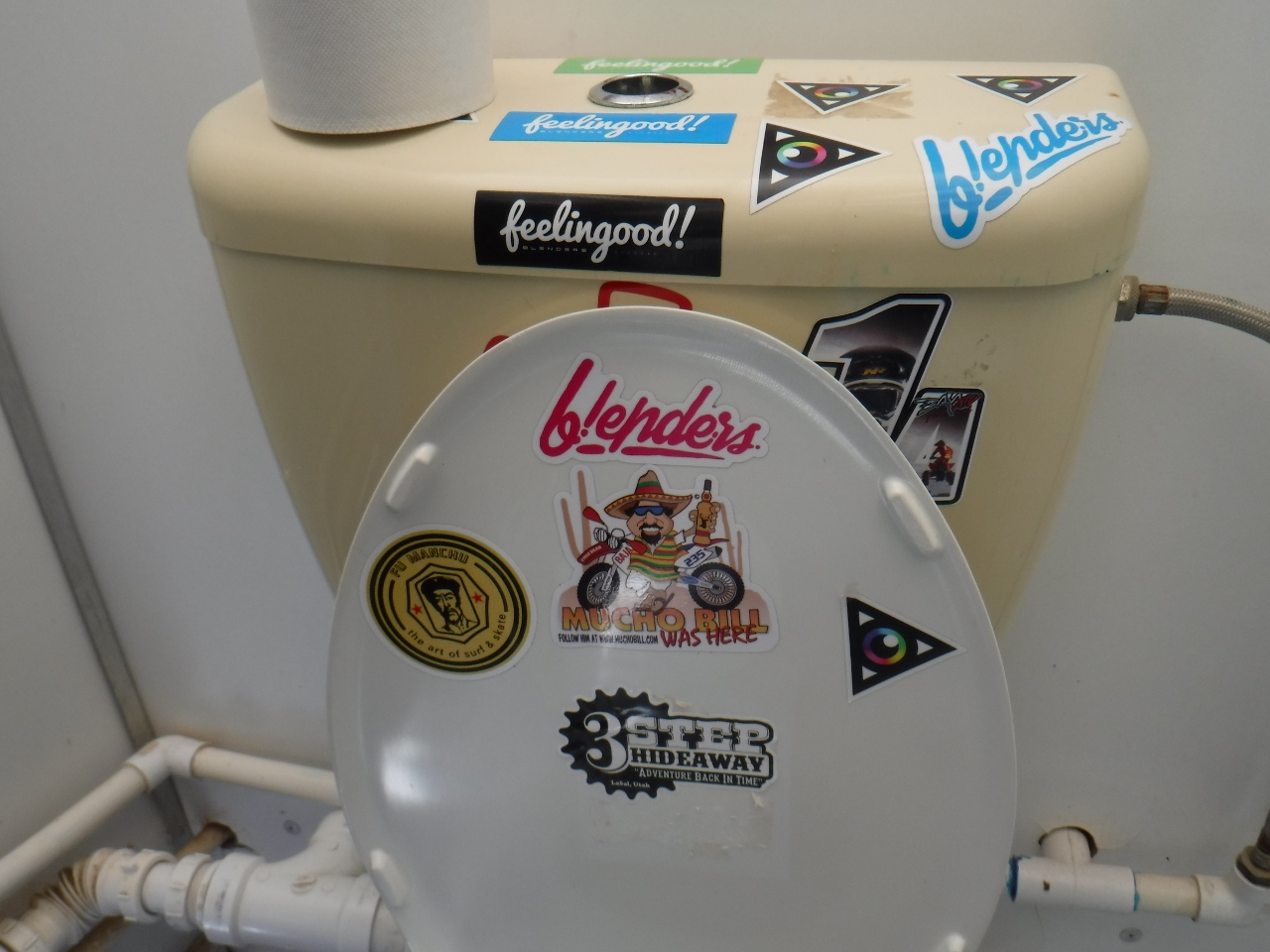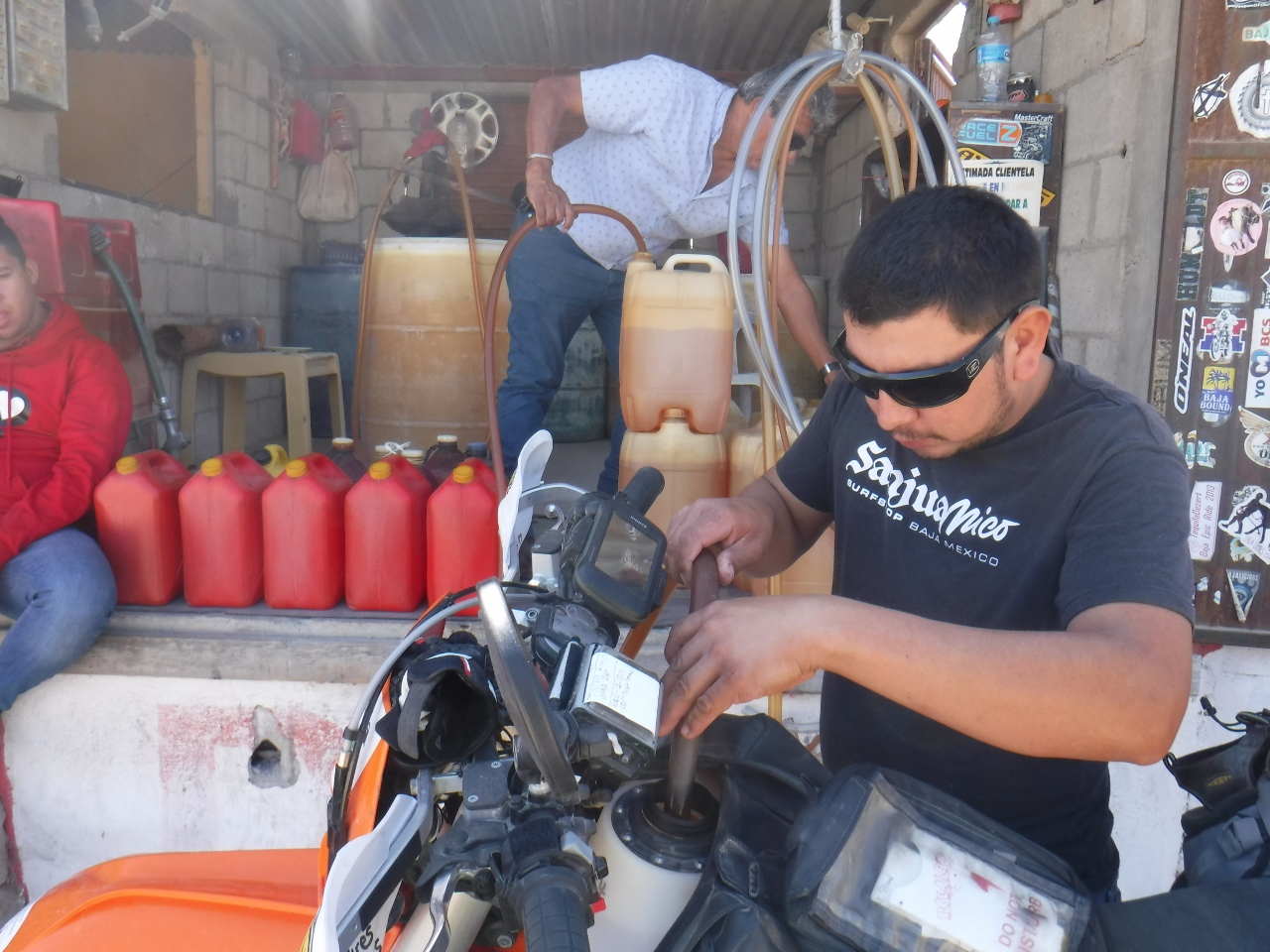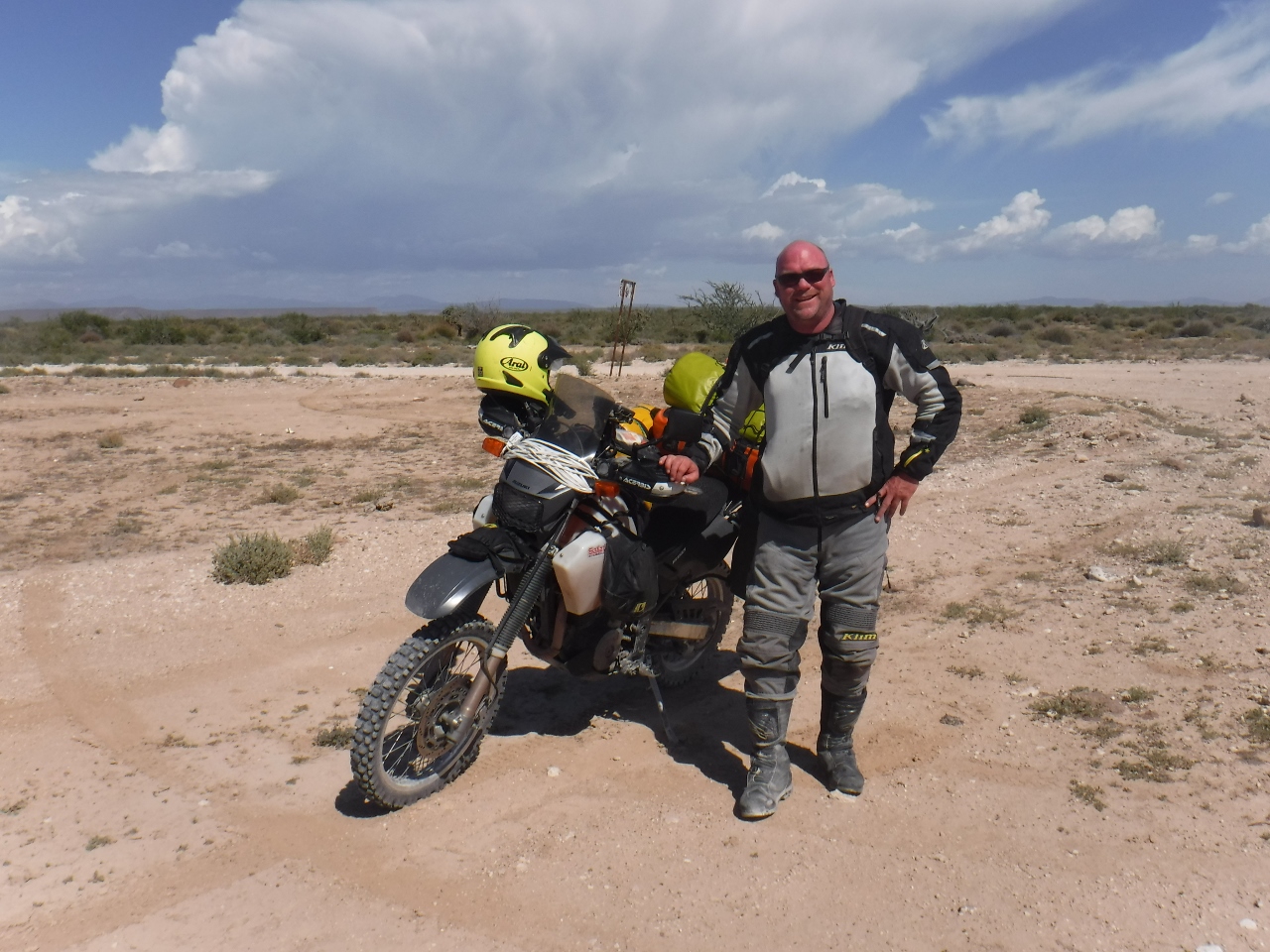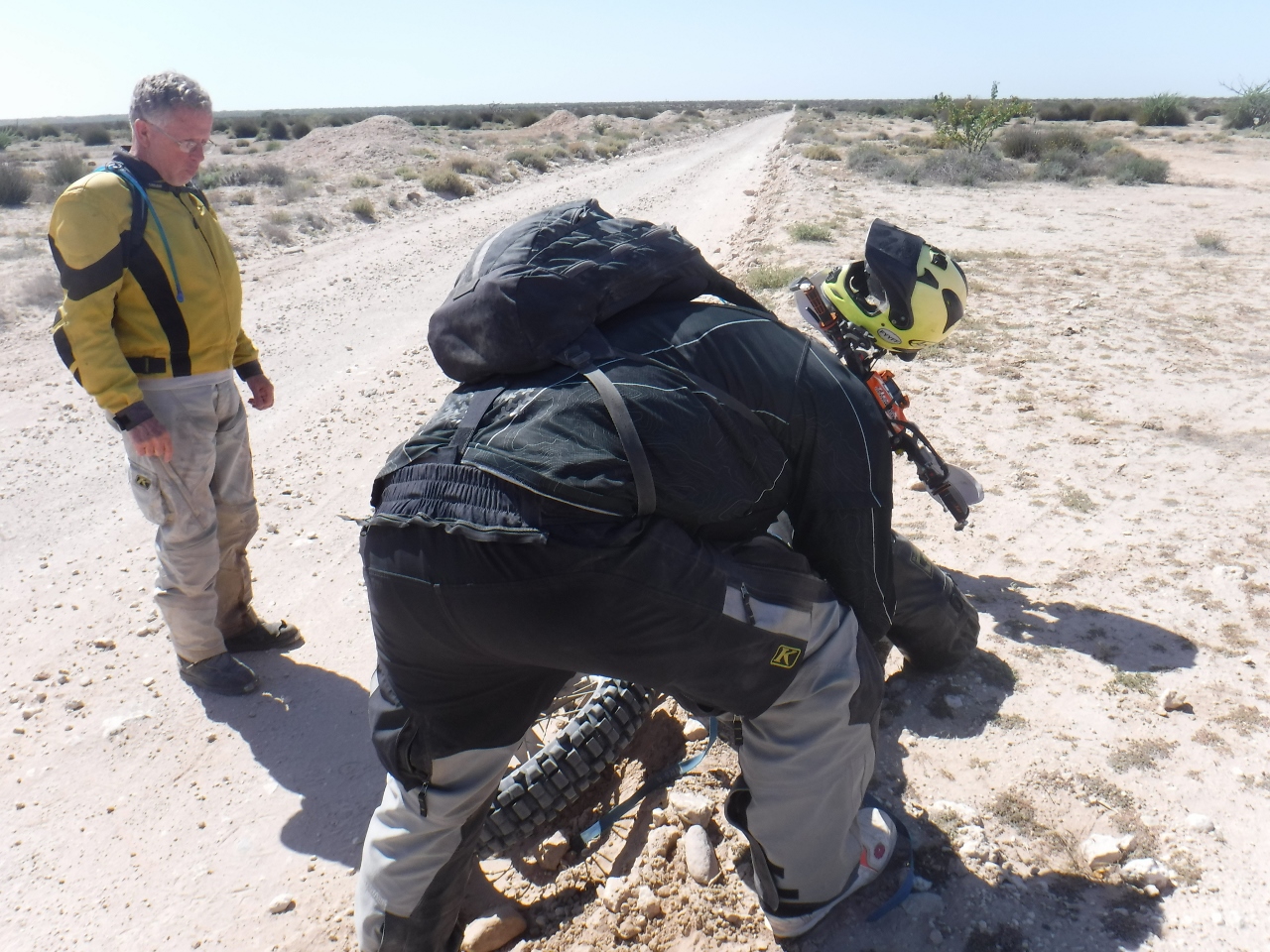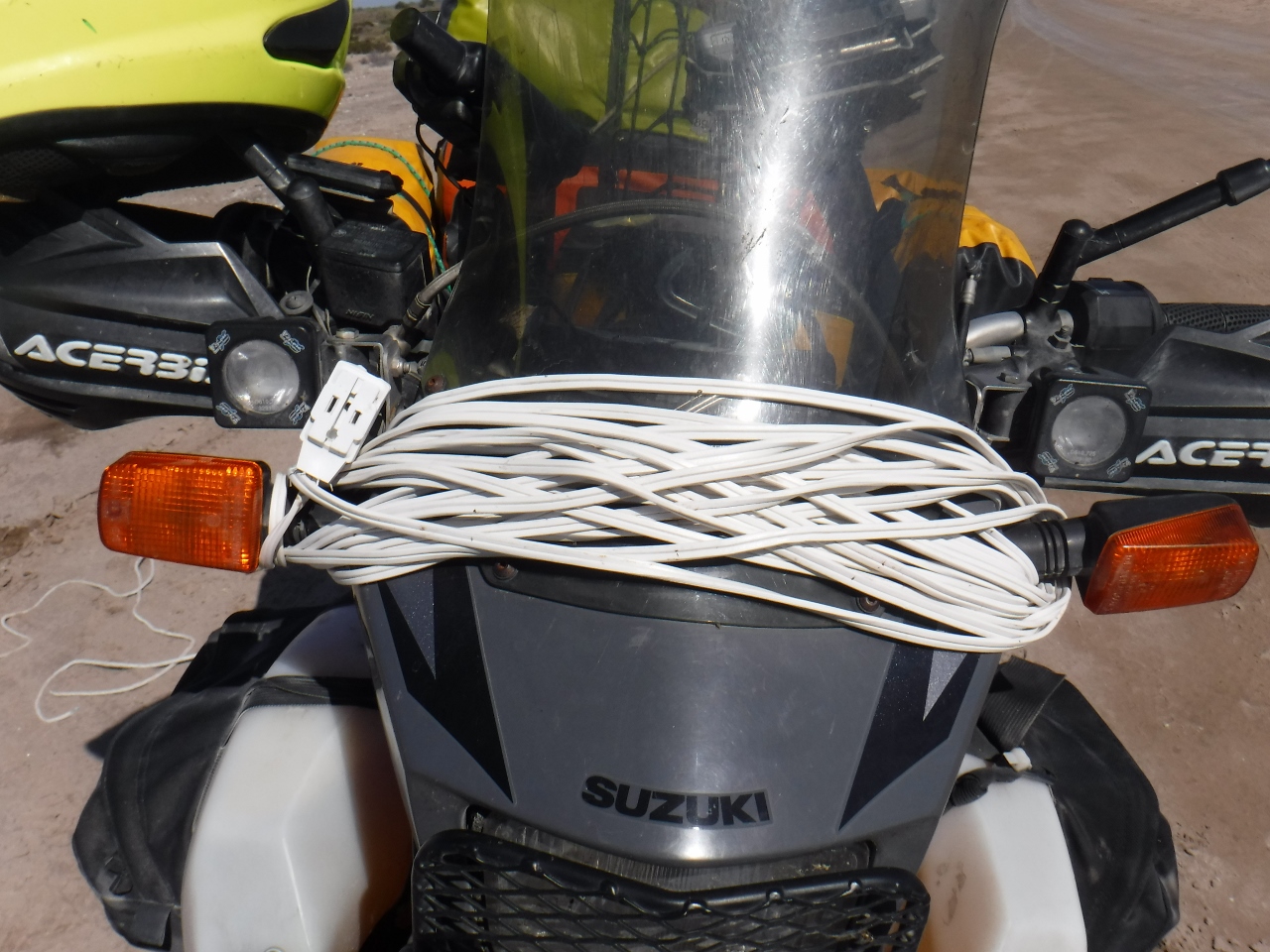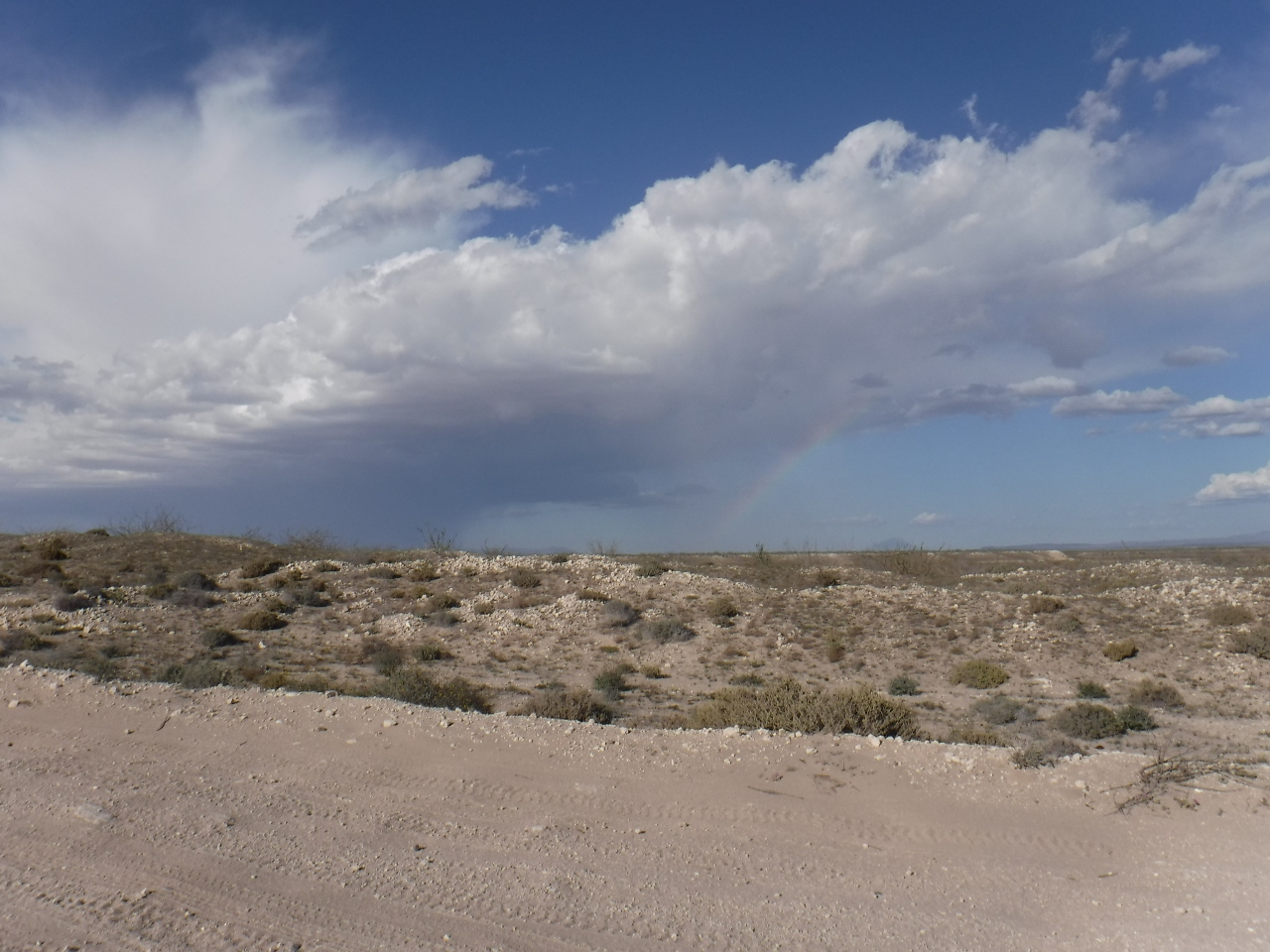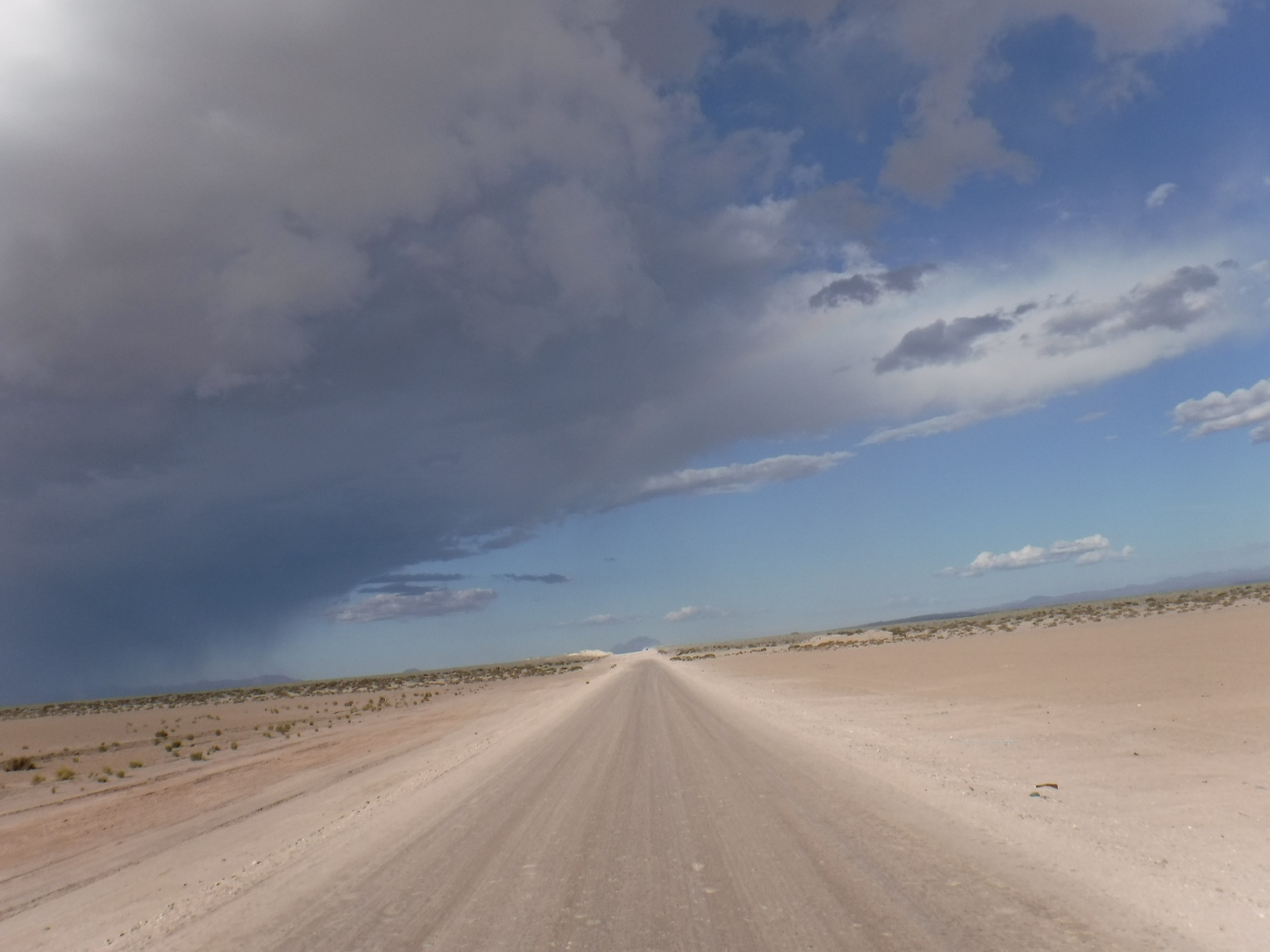 A Map Of Our Ride Today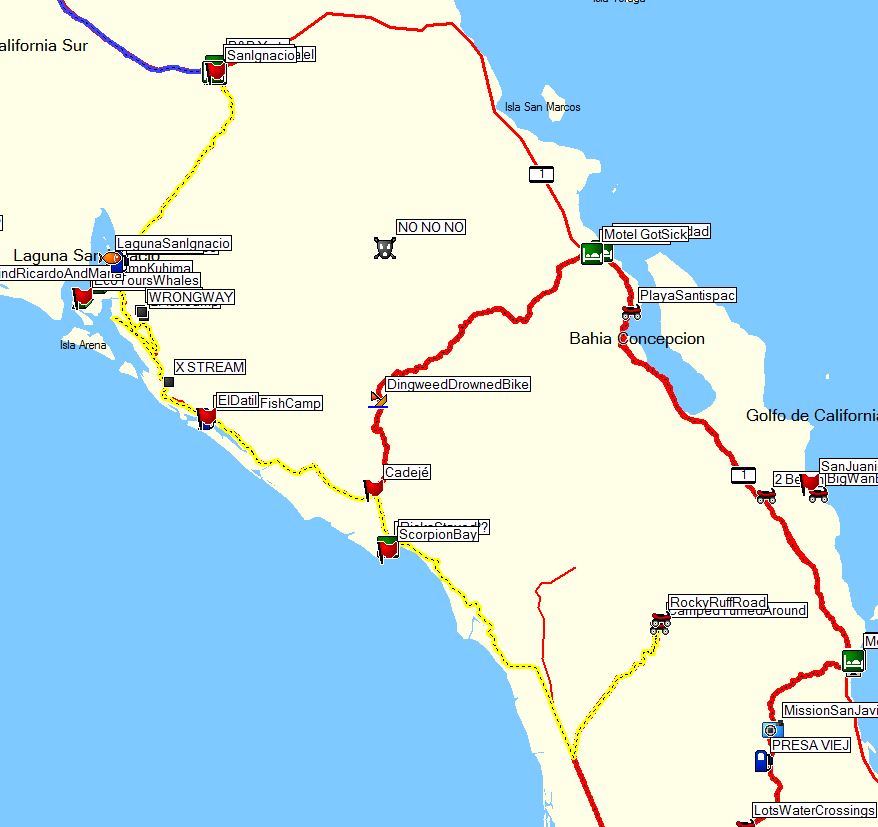 A short Video of Day 10
Day 11
February 16th, 2017
San Ignacio to Bay Of LA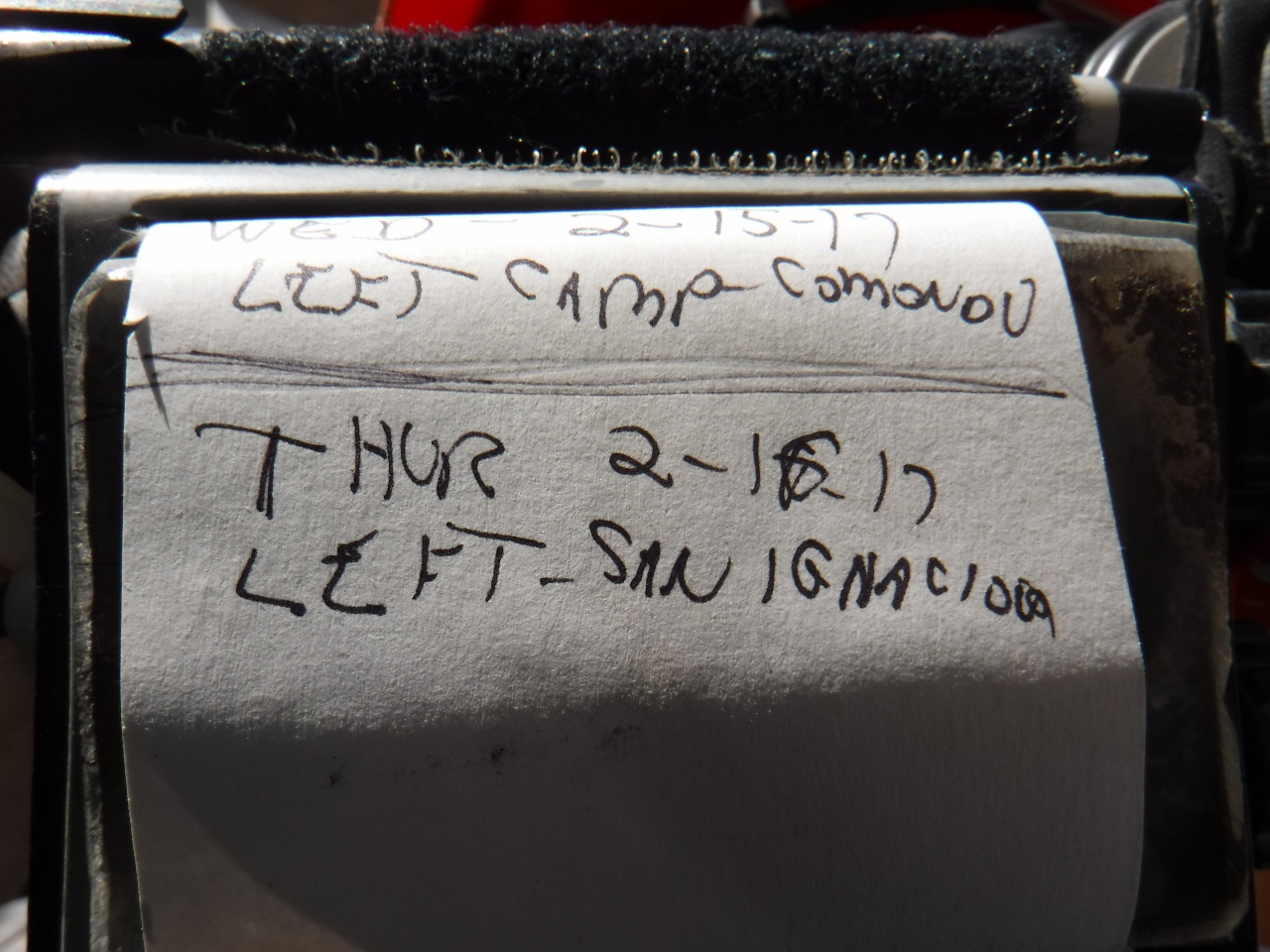 Today we split up as High Five and Dave wanted to ride all dirt to Bay Of LA
And Dingweeds was not looking forward to that at all. Pretty tuff deep sand----and we had ridden it last year.
But Dave and High Five added some flavor to their ride as they rode to San Franisquito and camped---then rode the Green Door
trail which is mighty tuff riding----they also hit the Calamajue wash in the process. I hadn't rode that since 2007 and
remember it being spectacular.
They had a blast but came in pretty whipped after all that.
Mean time me, Dingweeds and Road Dad take the easy way and rode a lot of pavement.
But would eventually take a dirt route East to Bay Of LA which was really good------some of it I'd never been on.
Thru Guerro Negro
w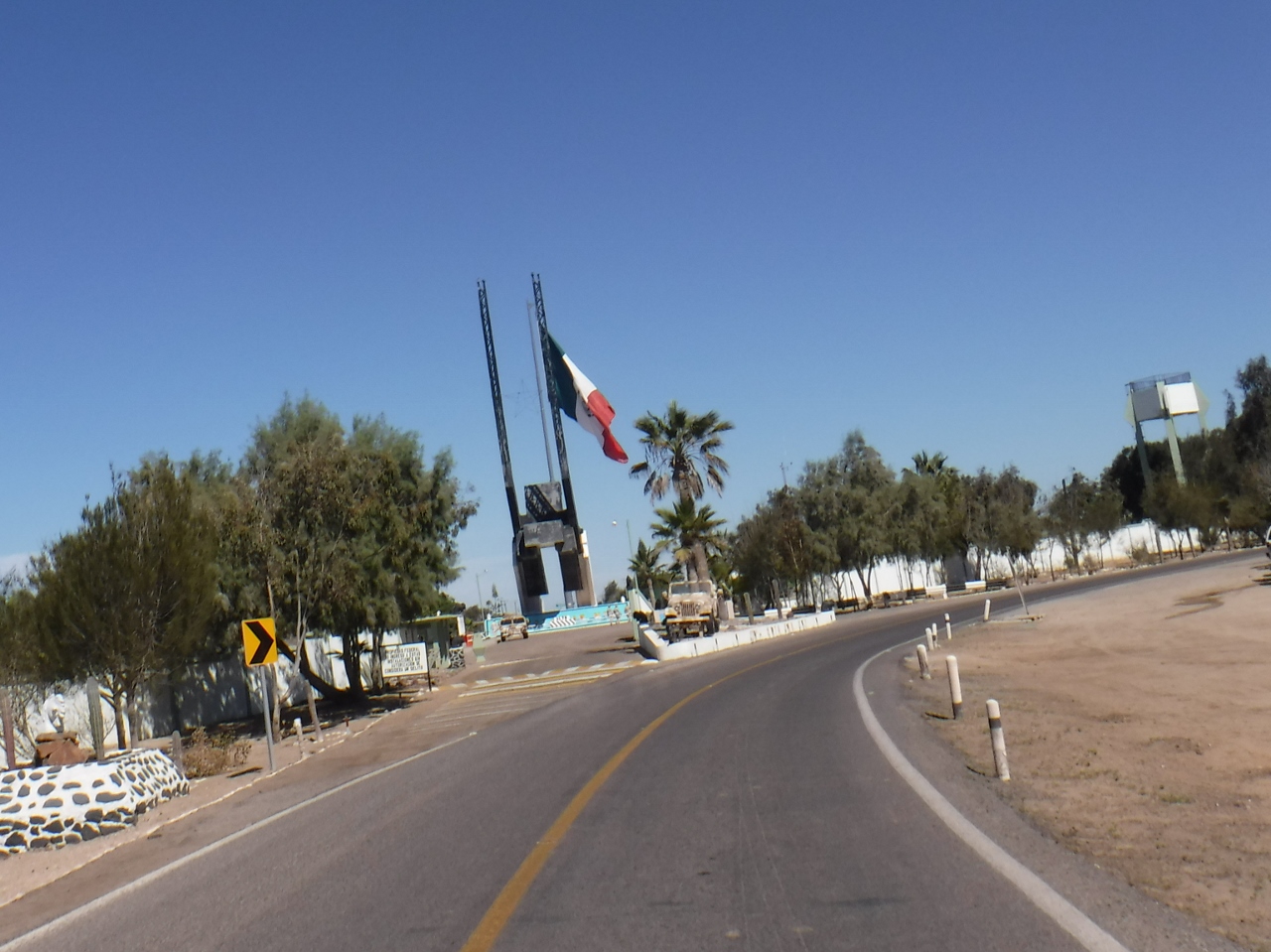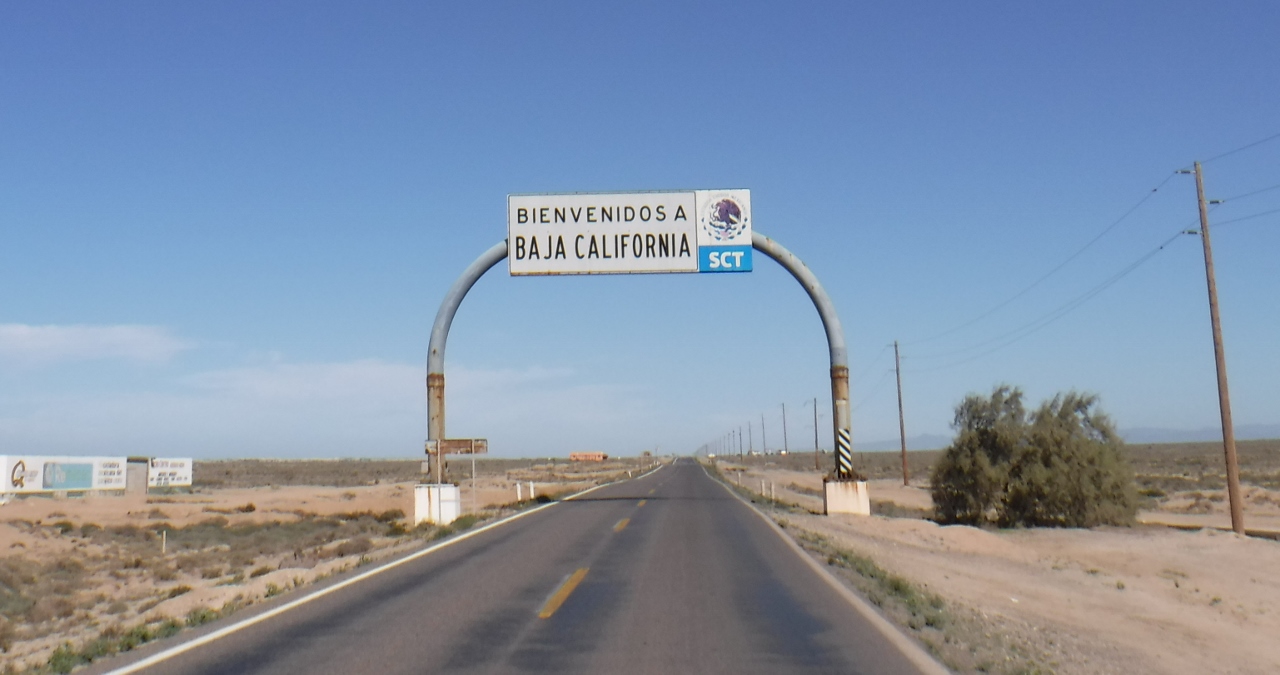 Eventually we turned East on a dirt ad sand road towards the Borja Mission.
Me and Dingweeds had been there but I did not want to deprive Jerry of visiting this beautiful and historic site
as the route I took would take us very near it.
The ride thru here all the way to Bay of LA is spectacular.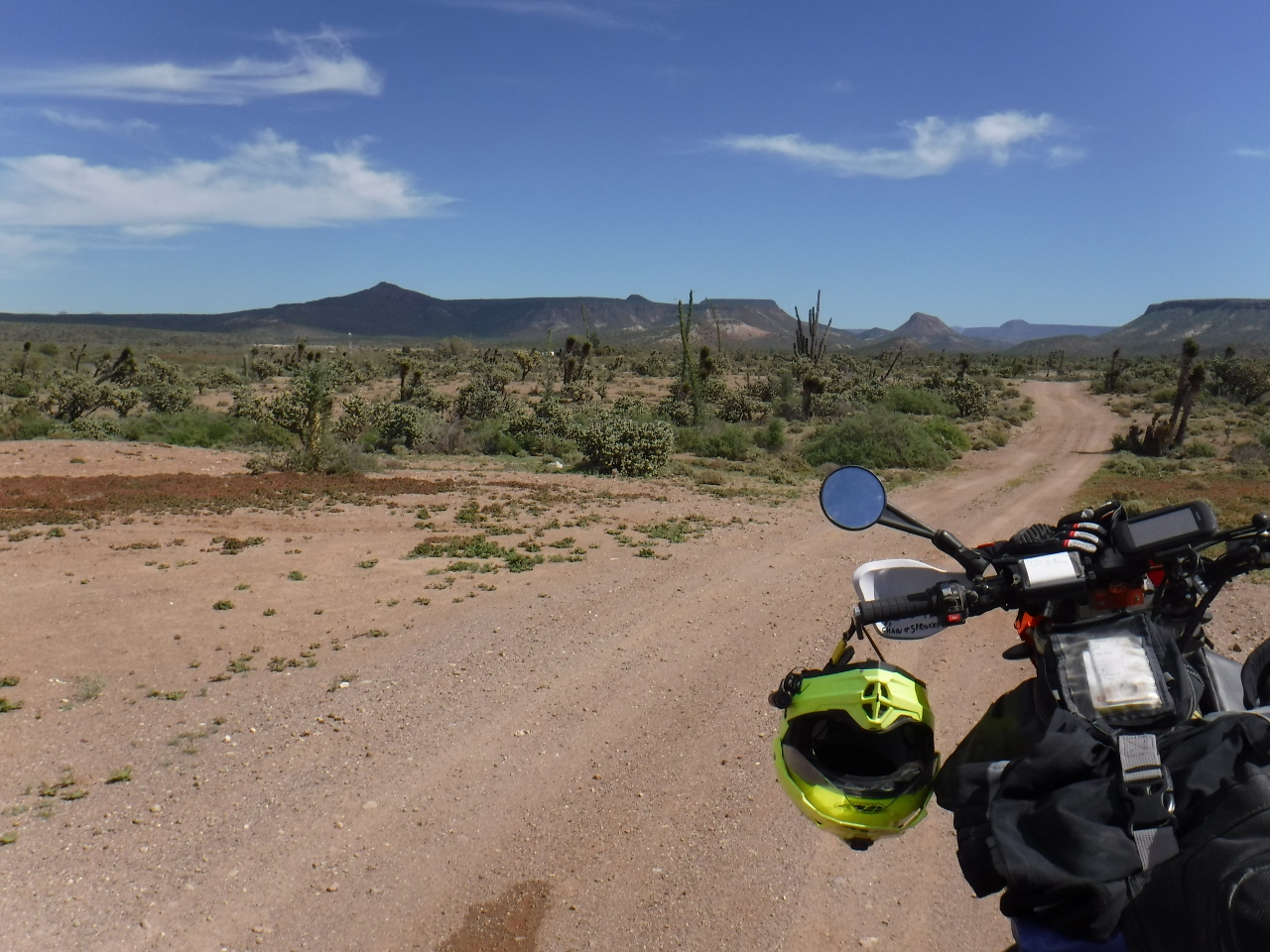 This appeared to be a water tank and trough for watering cattle ???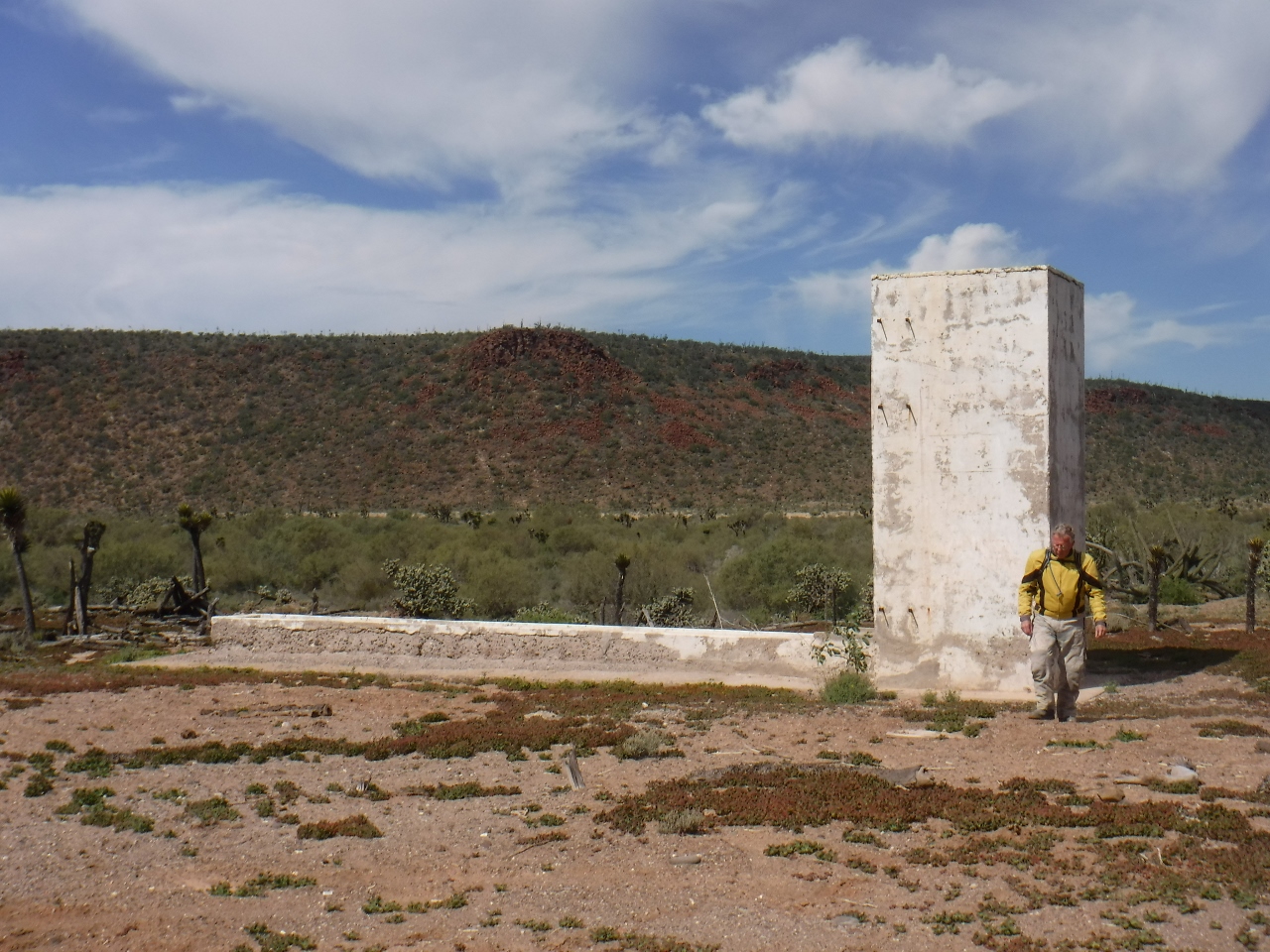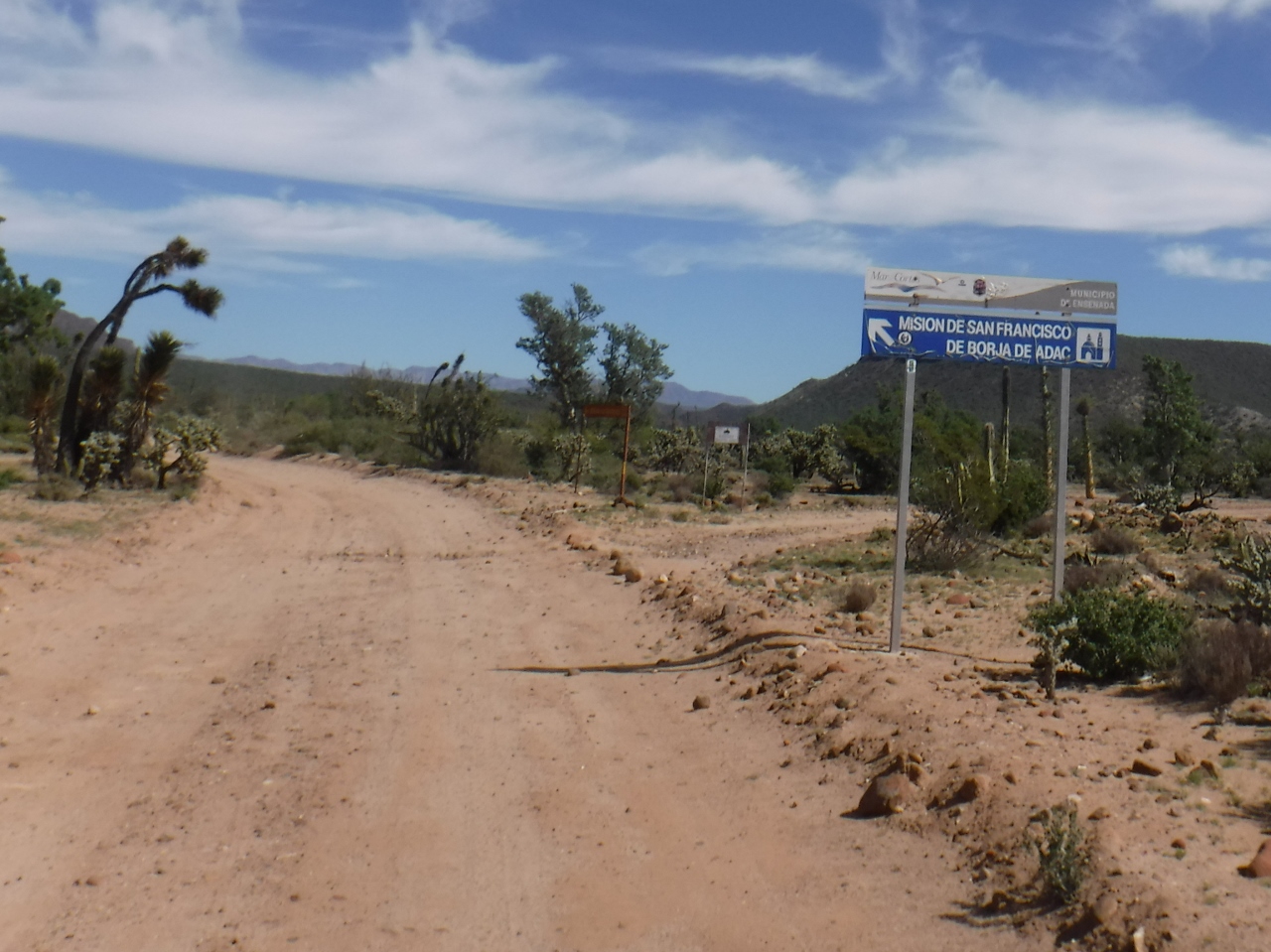 Here is the point you either go right to the Mission or Left to Bay Of LA.
We did both.

At the Mission we met our old friend "Paco"
His real name was "Lucky" but High Five named him Paco when we camped here last year.
Paco runs the place---he paces around guarding making sure there are no shenanigans going on.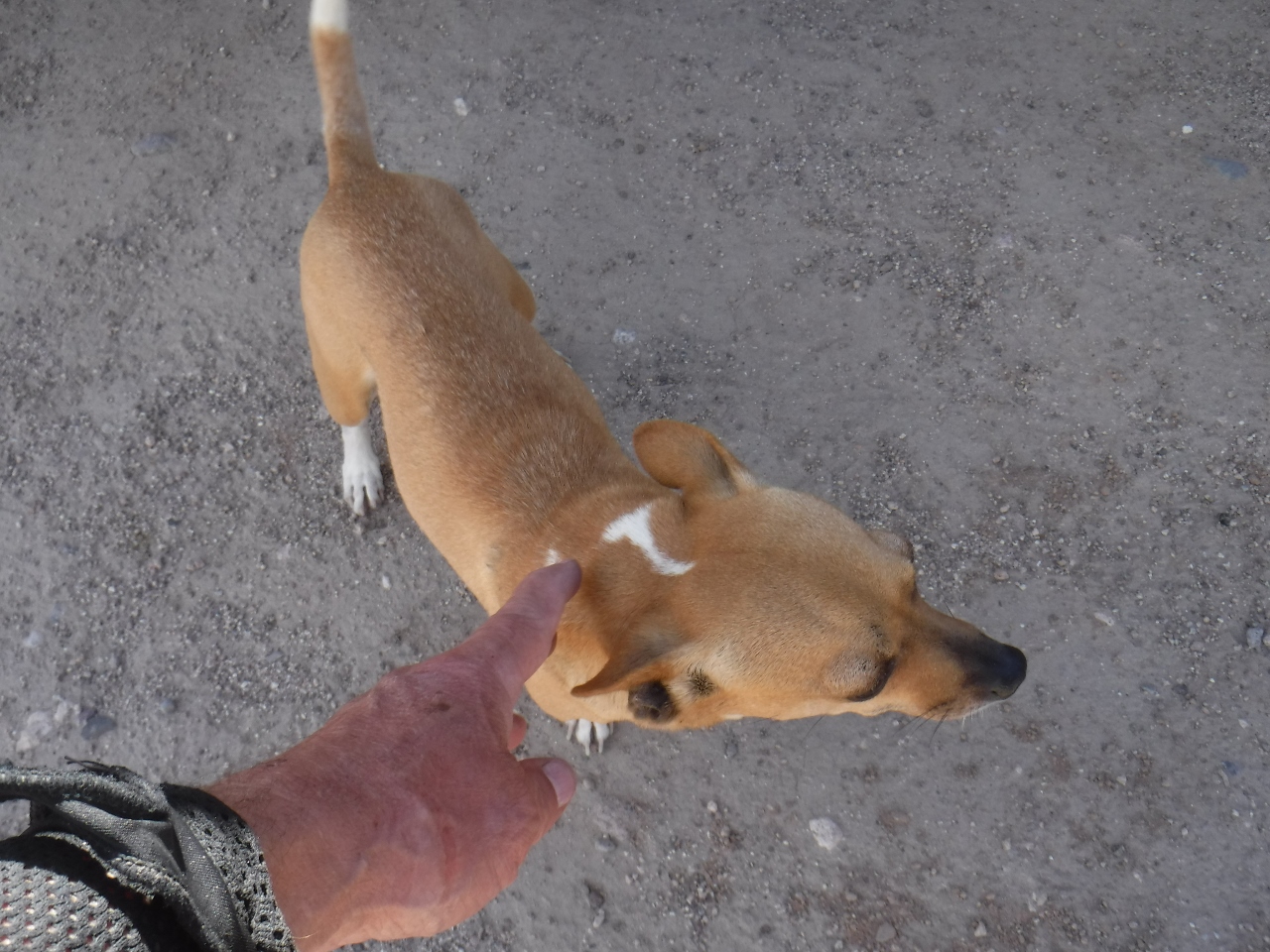 Me and Dingweeds just relaxed and gave Jerry all the time he wanted to full look the mission over.
After all---------he'd come all this way and who knew when you'd get back here ???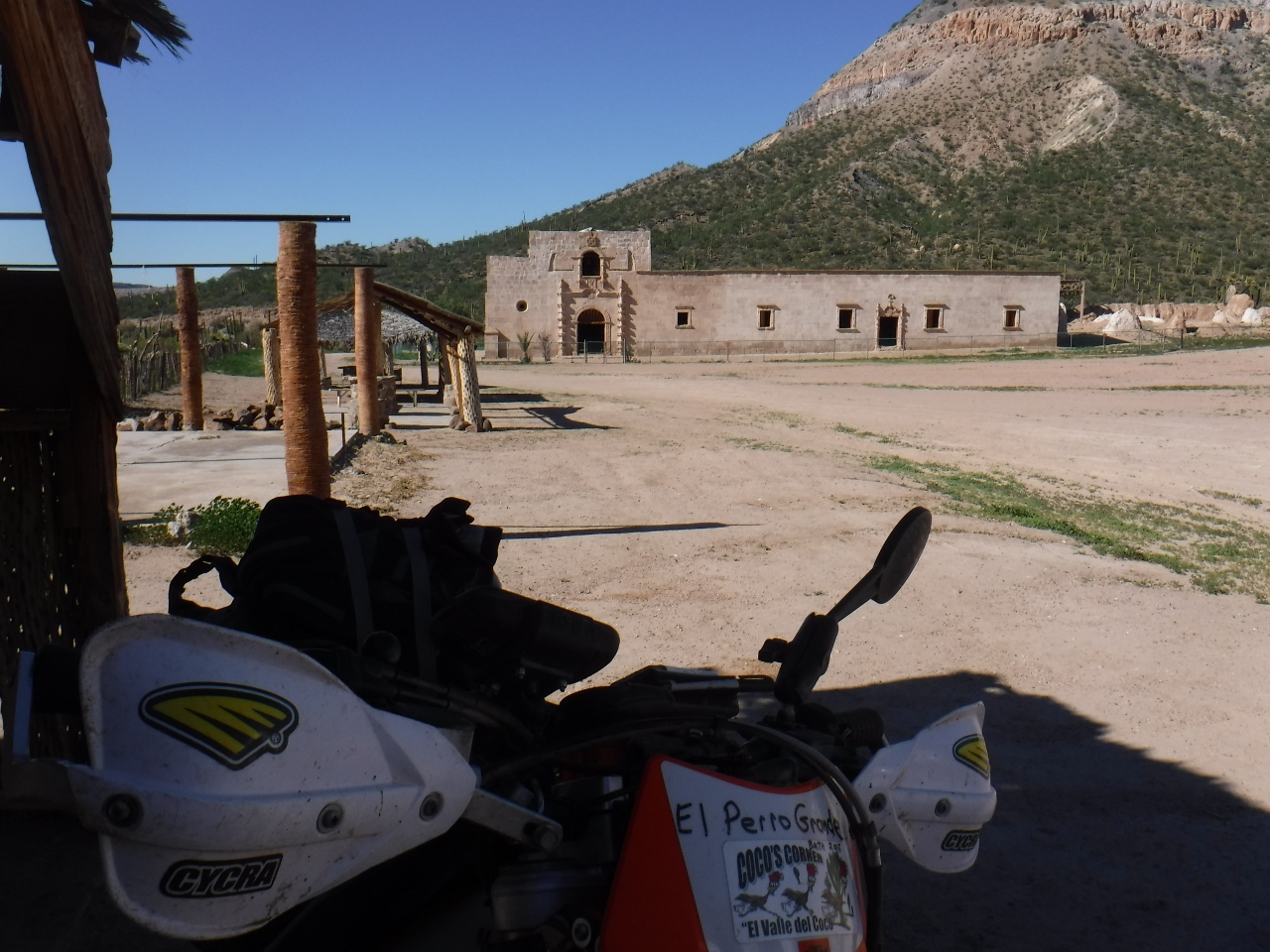 After leaving the Mission we headed East on a road I'd never been on ----------and it was fabulous.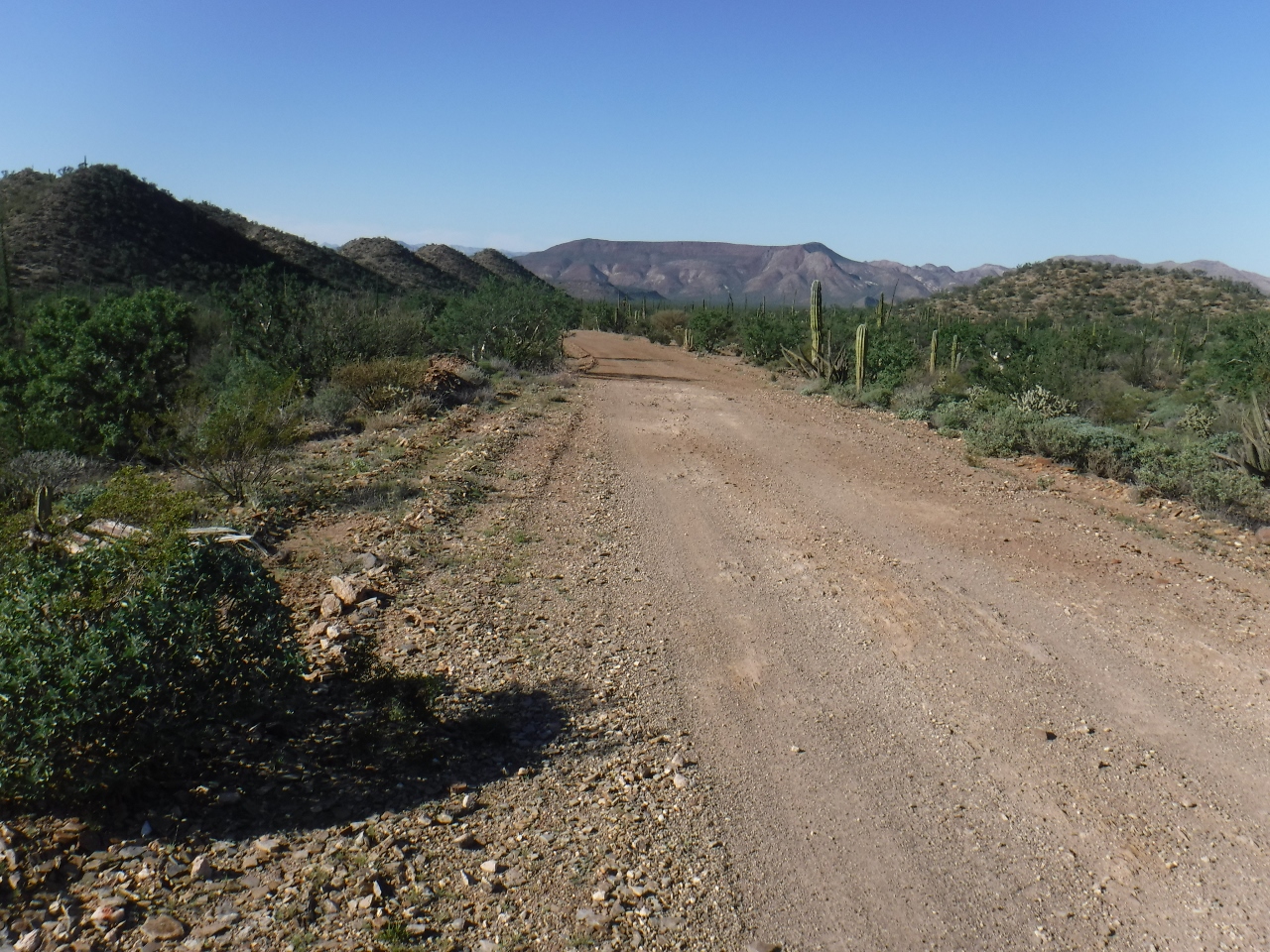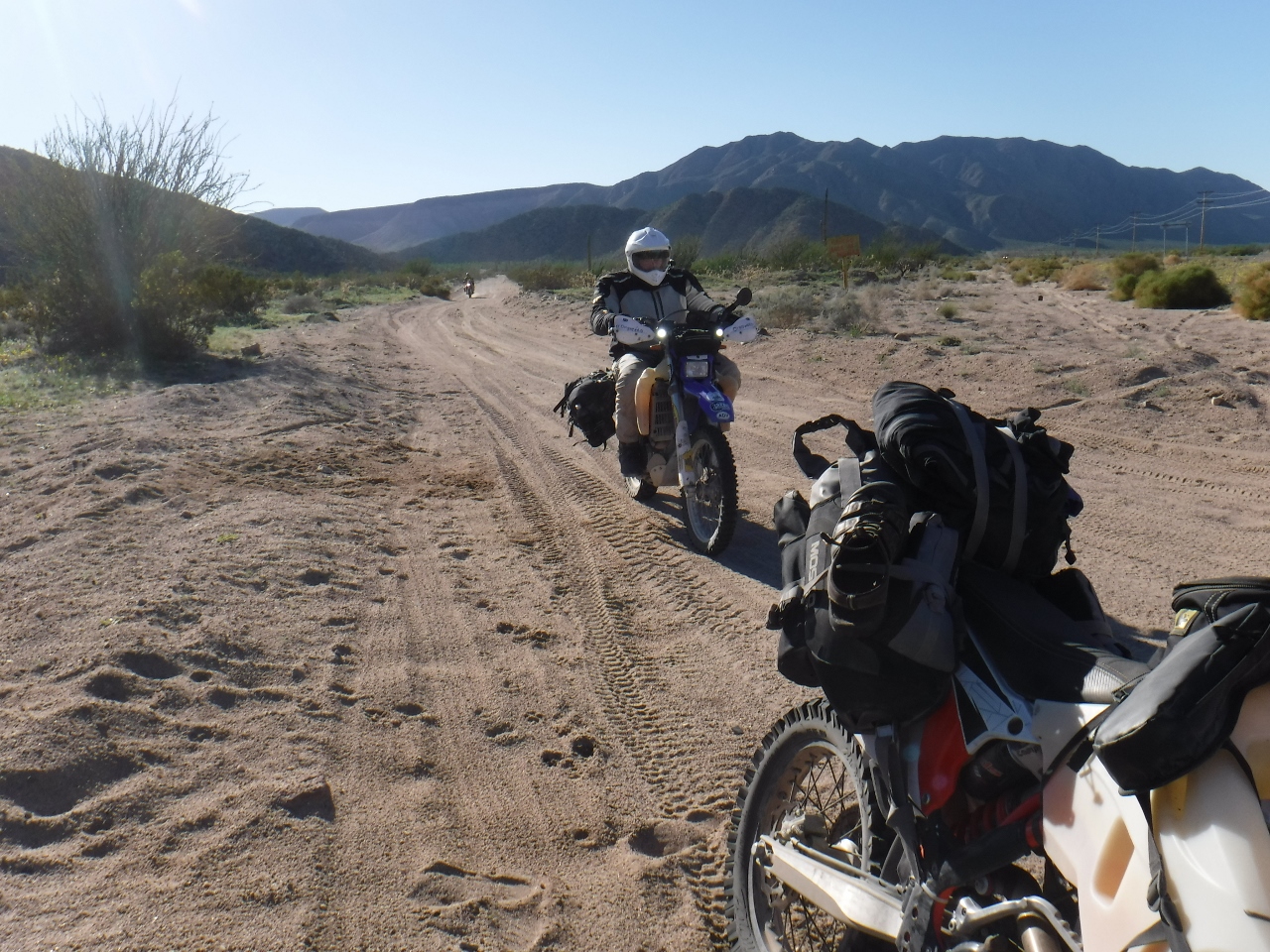 Getting to the Los Vientos Motel finally----we checked in and greeted our hosts
and found this huge hole that wasn't here last year.
A young man dug this hole in one day---as we lay around the pool watching his body disappear deeper and deeper
into this hole.
We kept offering him water or a coke but he just kept digging.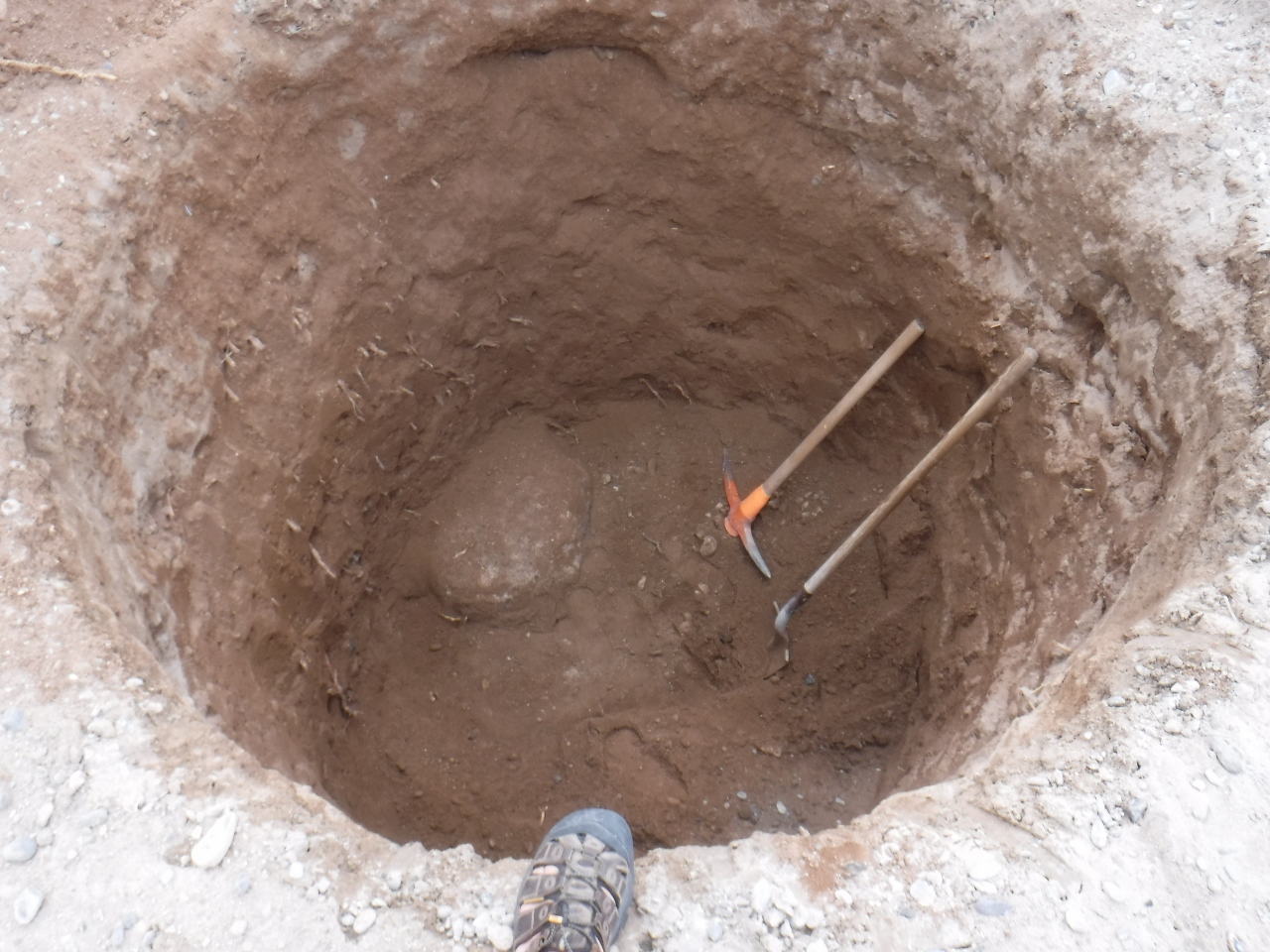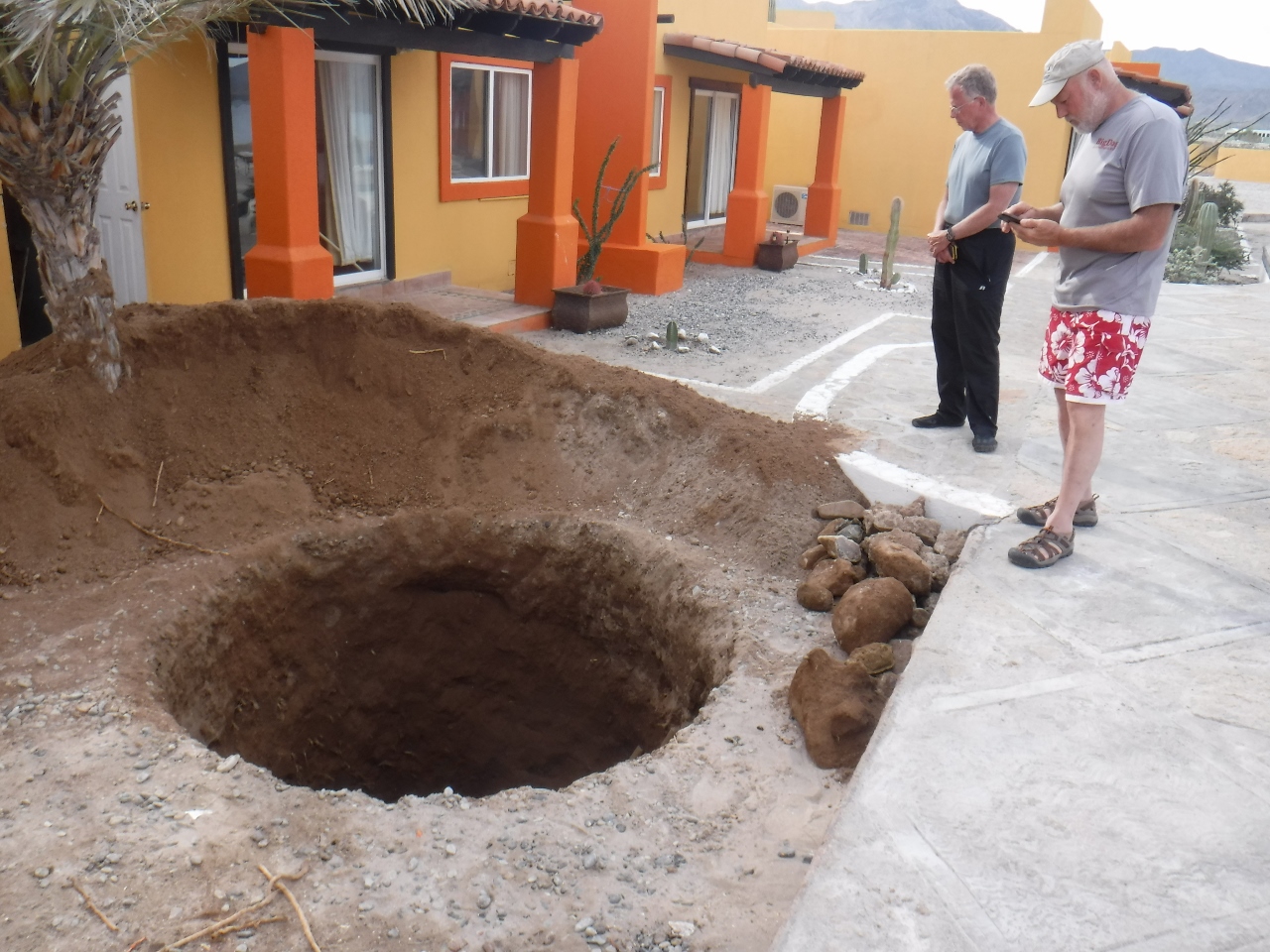 Rosa and her husband the owners were still here and treated us like kings the whole time
We spend 3 nites here just relaxing-----------to of those HF and Dave were riding the hard way here------and we waited for them.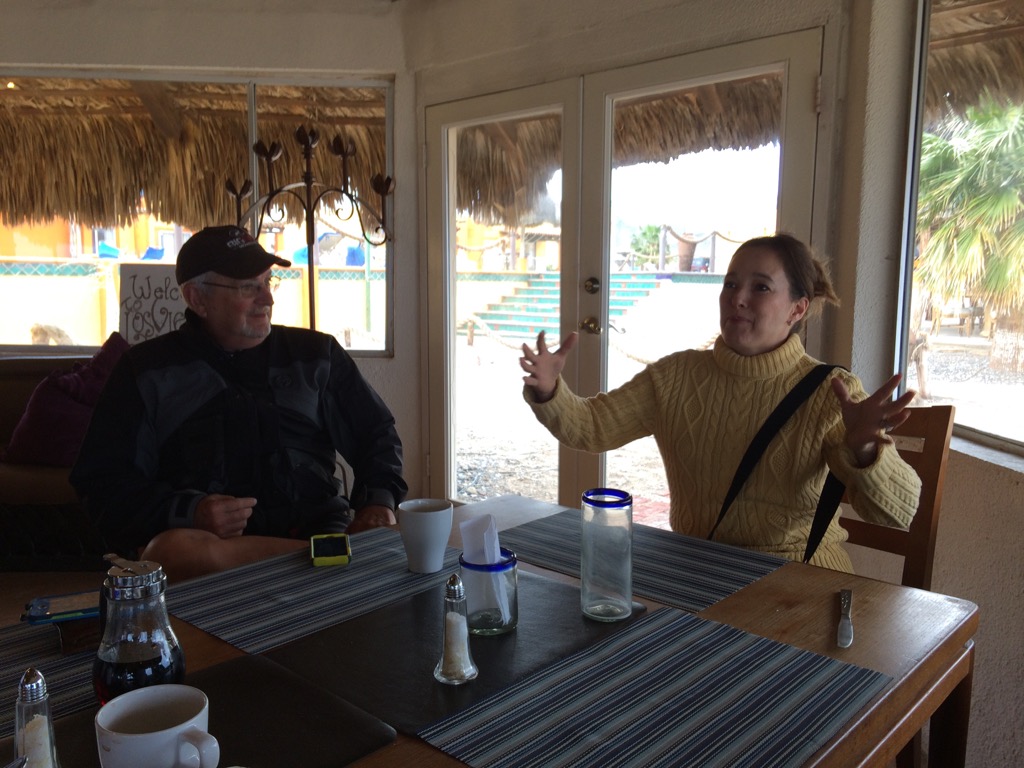 You not going to catch any fish in those shorts.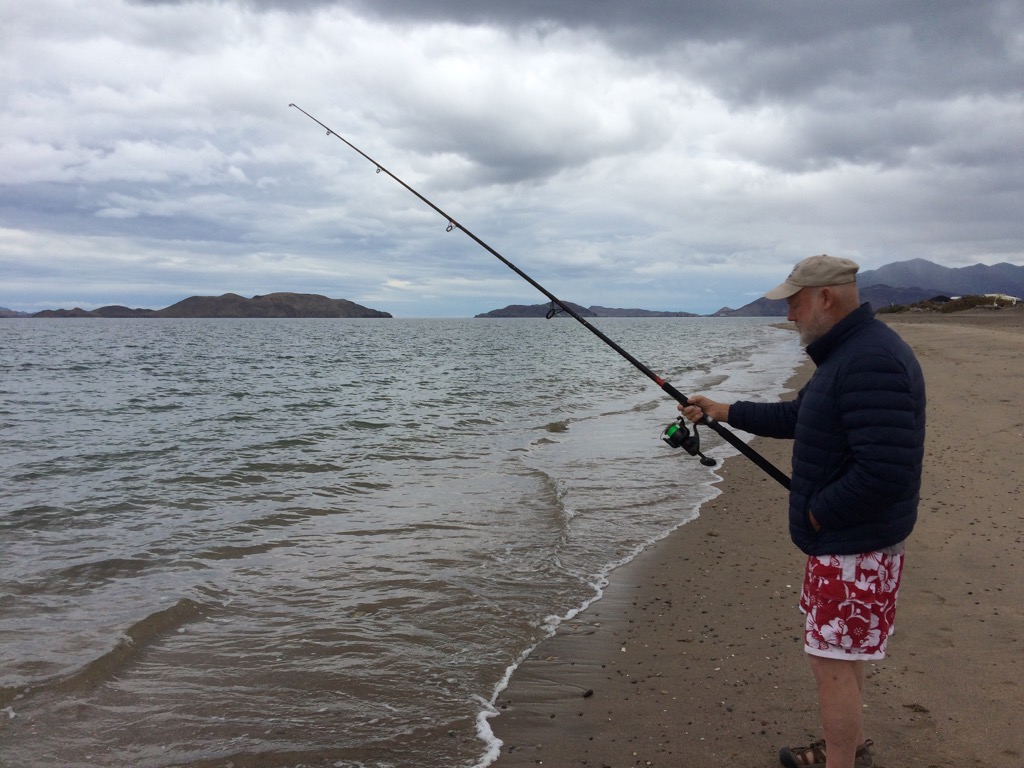 We played a trick on Dave and High Five here--------we watched their spot trackers and knew they were coming in and we
knew for sure they would be beat, tired, thirsty, hungry, needing a bath and just worn out.
So we hid-----and I coaxed the owner to meet them we thry rode in and give them a hard time. I didn't know if he would do it---but he did.
So they ride up and the owner asks real serious "you have reservations" ???? "Uh No" !!!!
"We have no rooms for you and are out of food" and just stares at them with a very serious look.
He lets this go on for a long time and they are devastated. You should have seen the look on these guys faces.
Anyway we had a huge laugh and it was on to more serious things.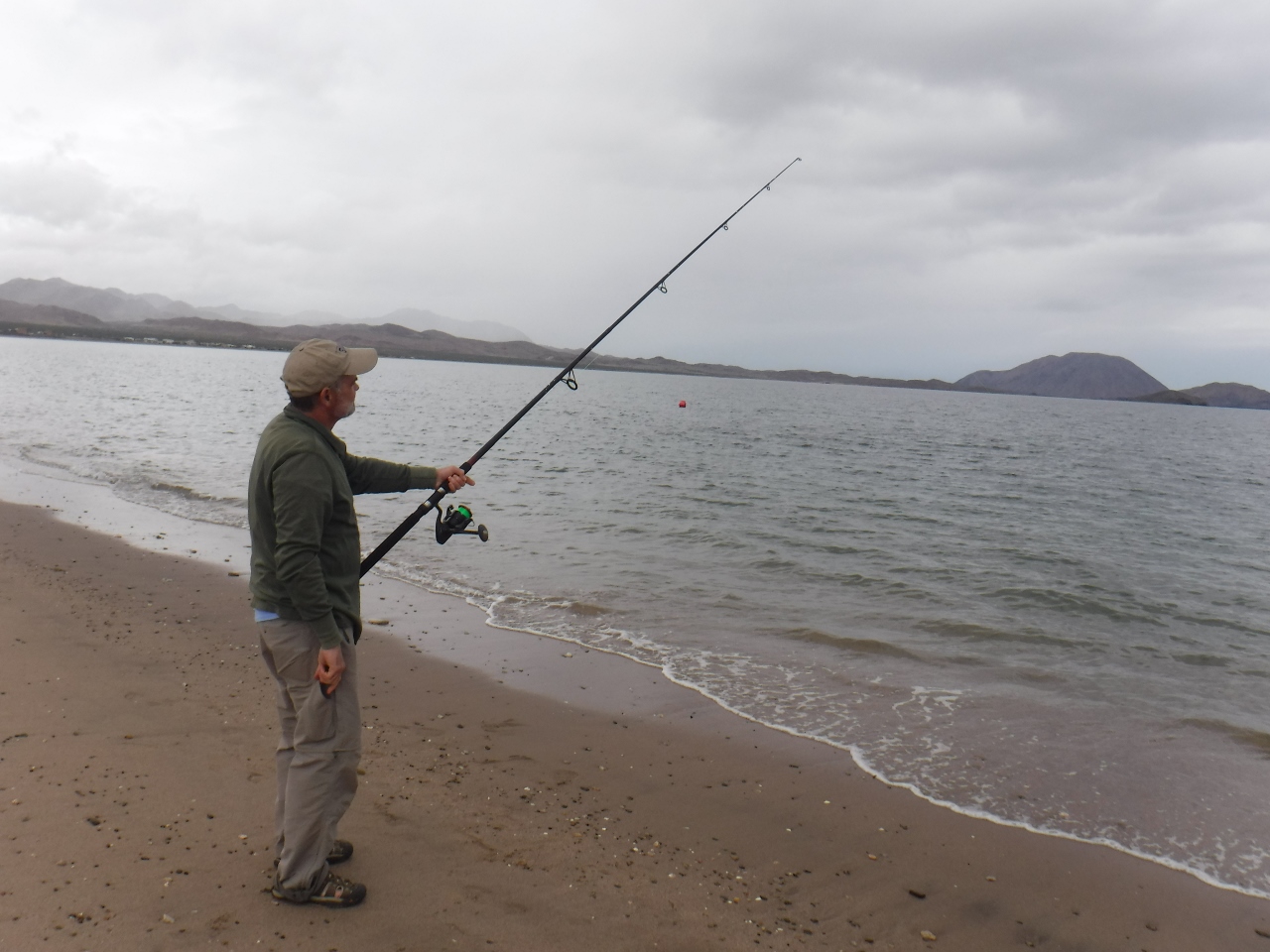 We met some nice people and they had great stories which paled terribly with the ones Dave told.
And I'm sure after a bit they were thinking-------"who is this guy" ????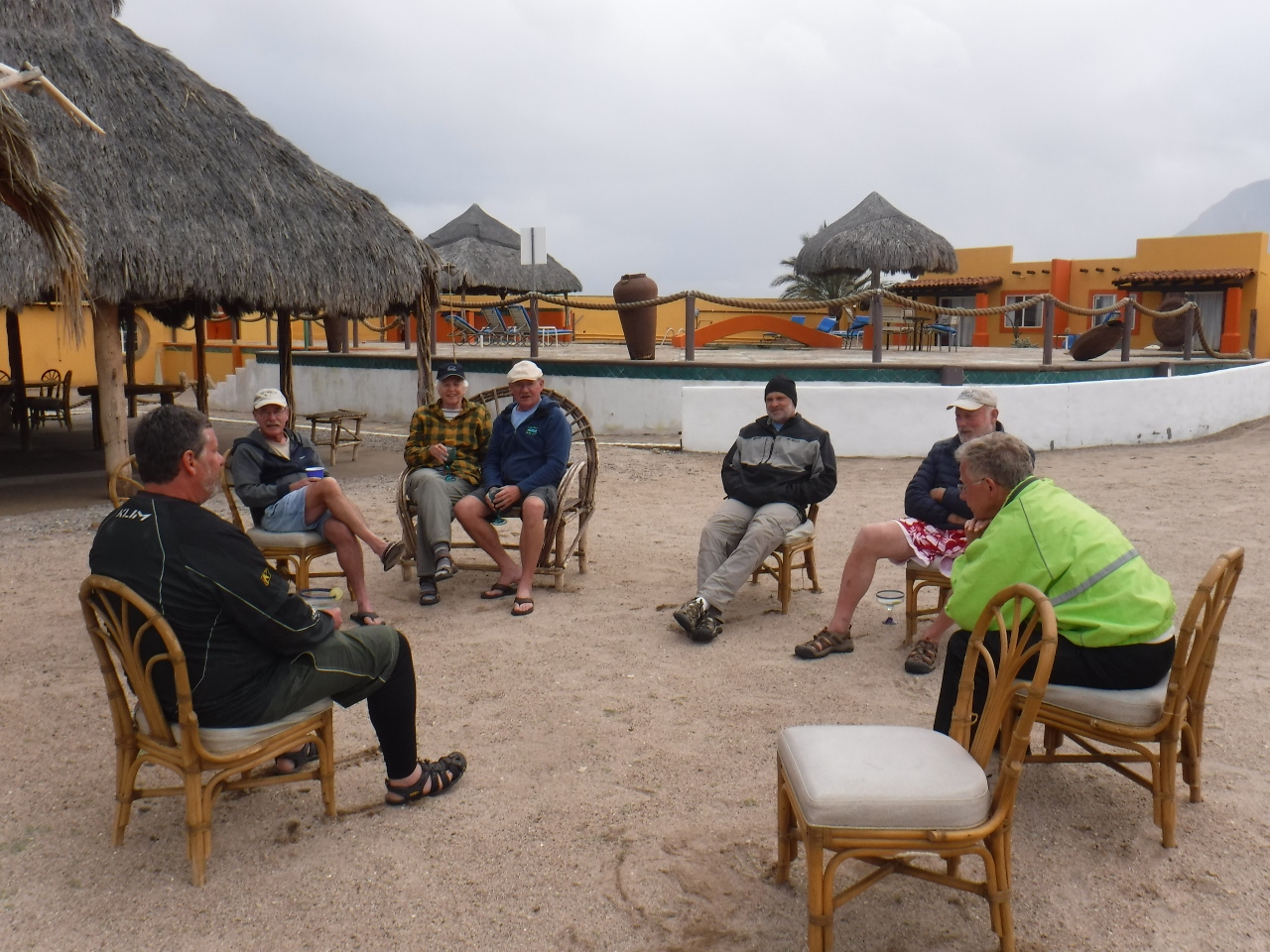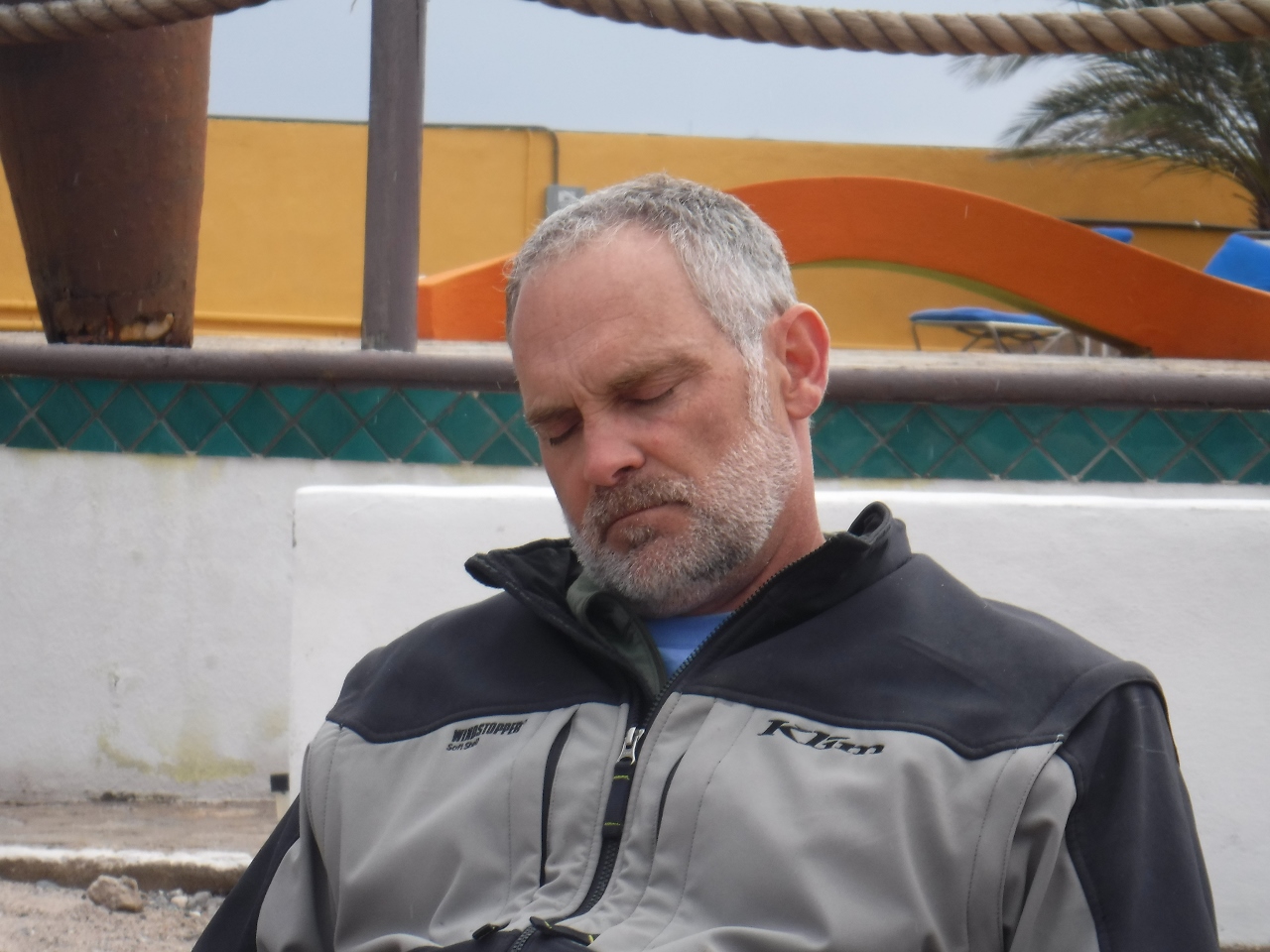 You just can't make this stuff up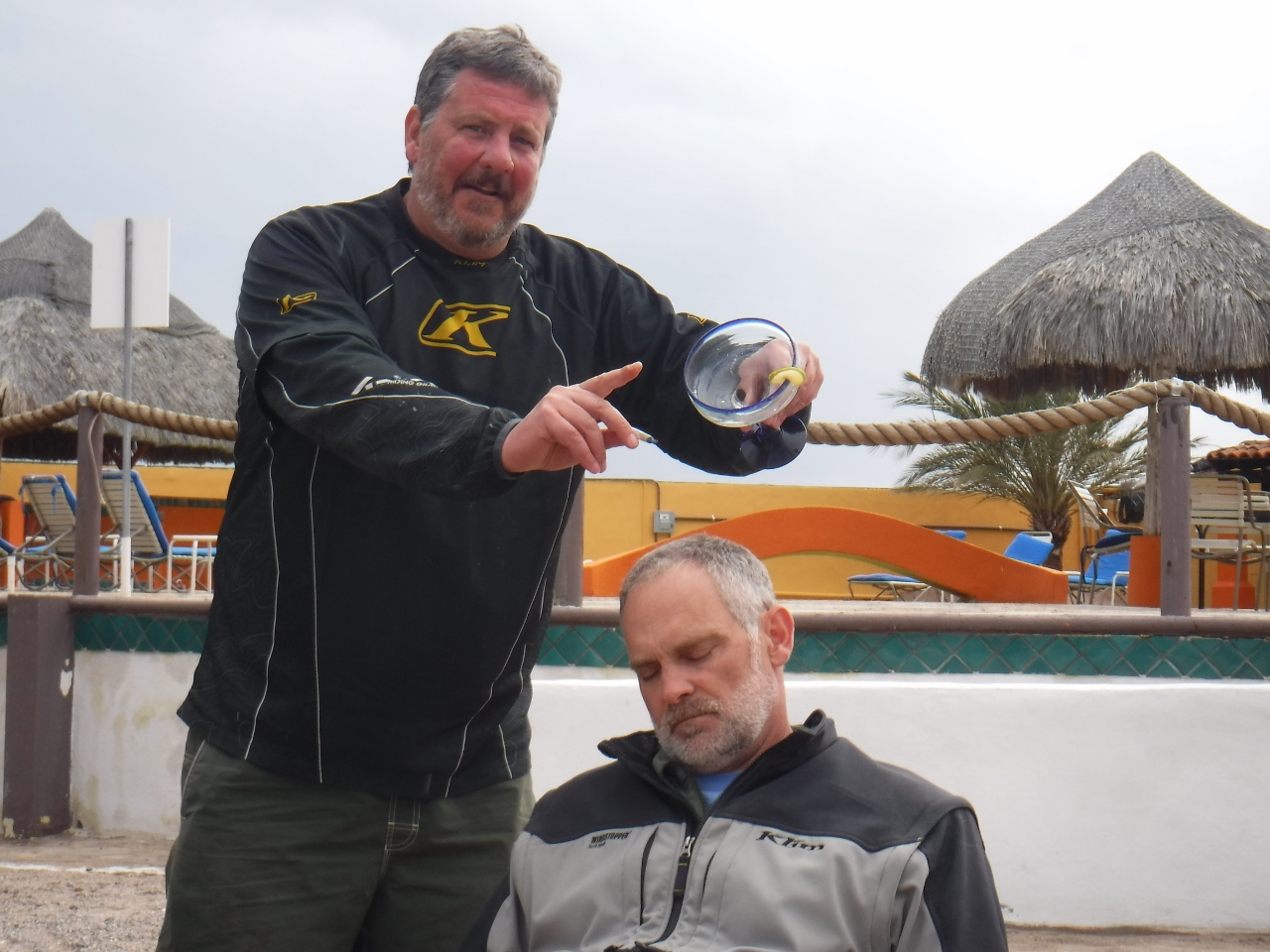 Last time we were here------seas were calm and it was nice and warm and it was Adios Pantelones.
This time it was kind of cold------a stiff wind was blowing---but I went kayaking anyway with a stern word from Rosa to
not go out to far.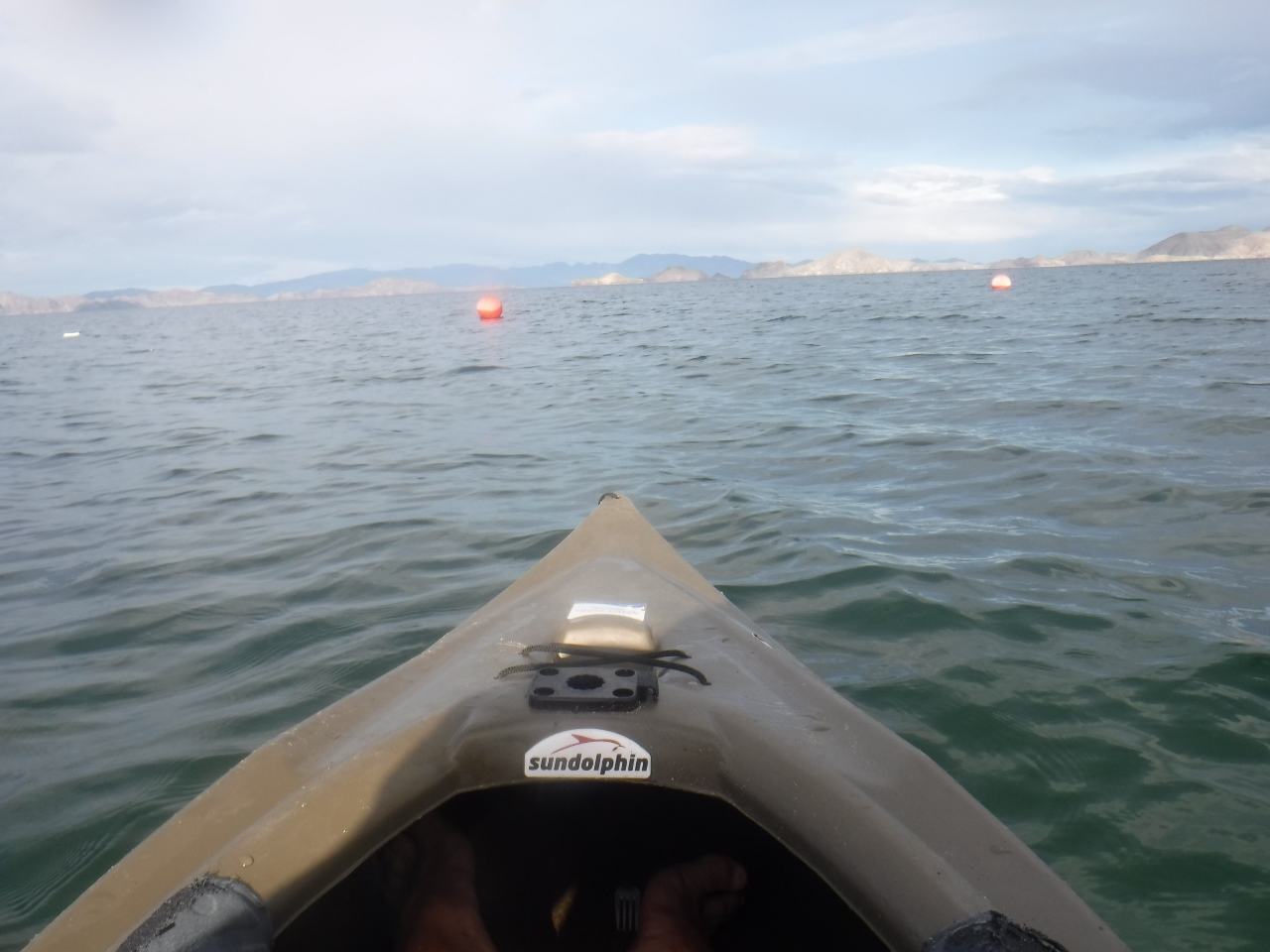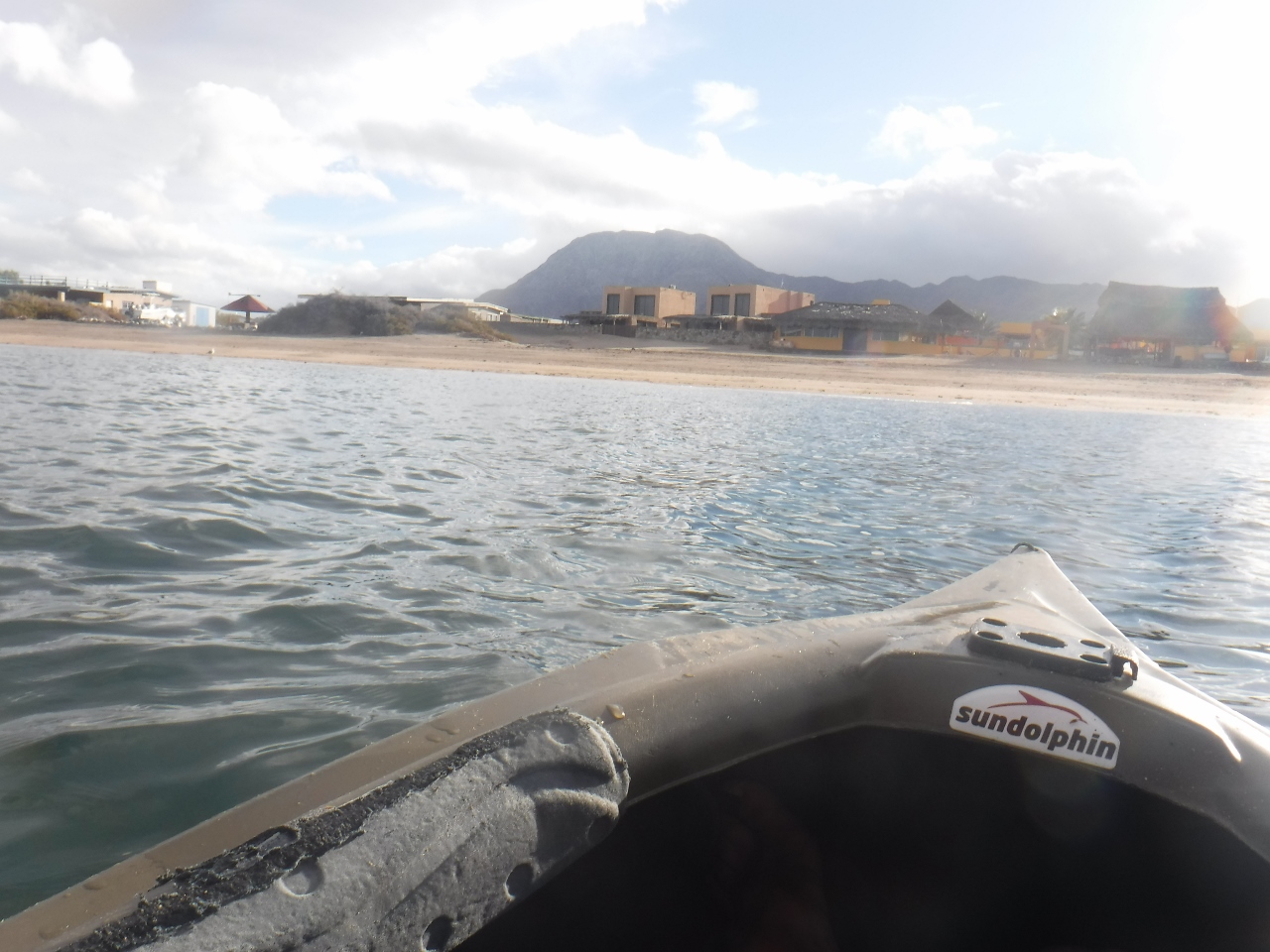 A storm was brewing and it rained like it has never rained in Baja all nite long.
They got a years worth of rain in a short time.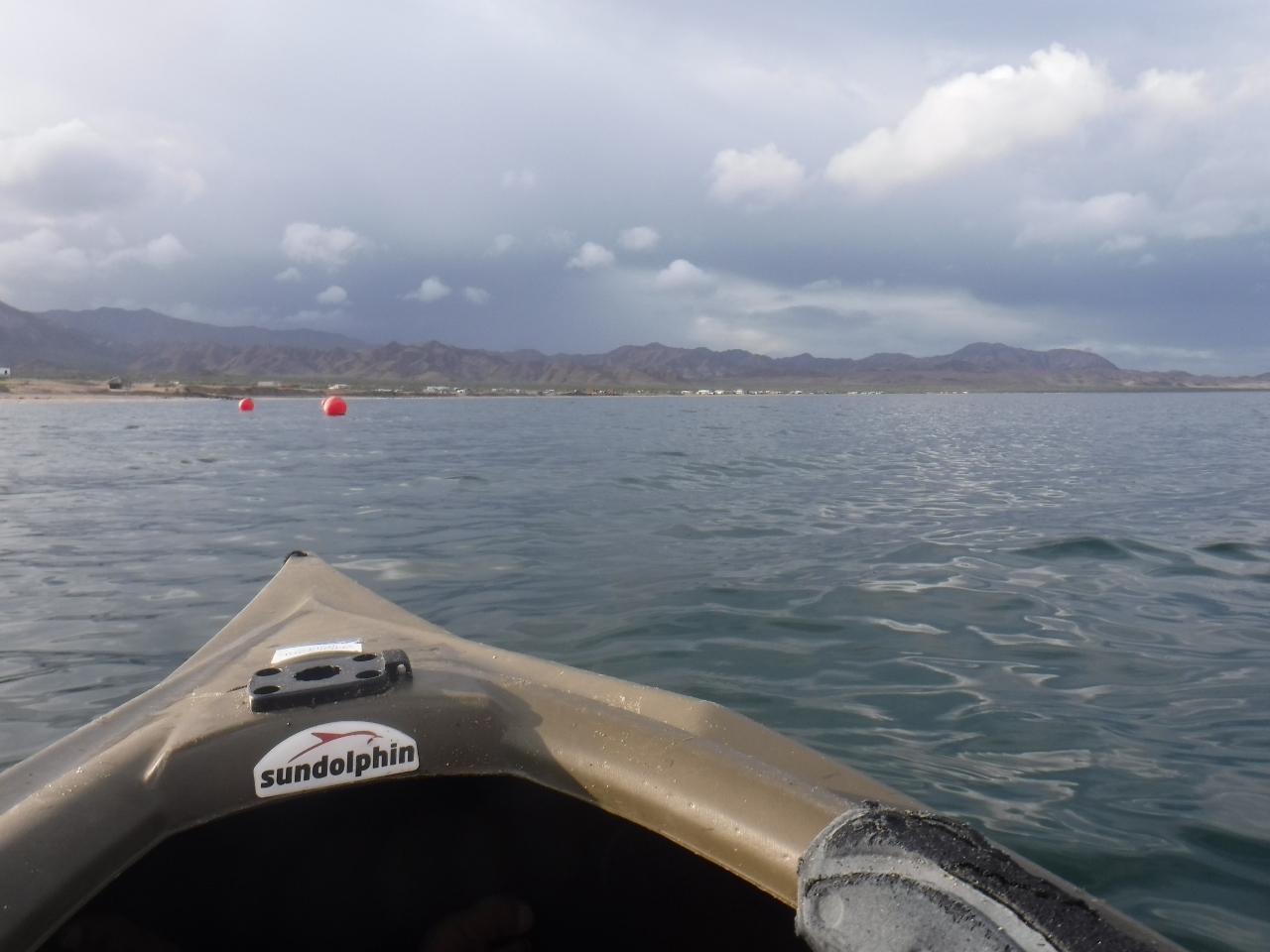 Day 14
February 19th, 2017
Bay If LA to Pete's Camp North of San Felipe

So the moved out and it was nice and warm and sunny again !!!!
And when the rain moved out---------so did we.
Dave's right side kickstand is working nicely.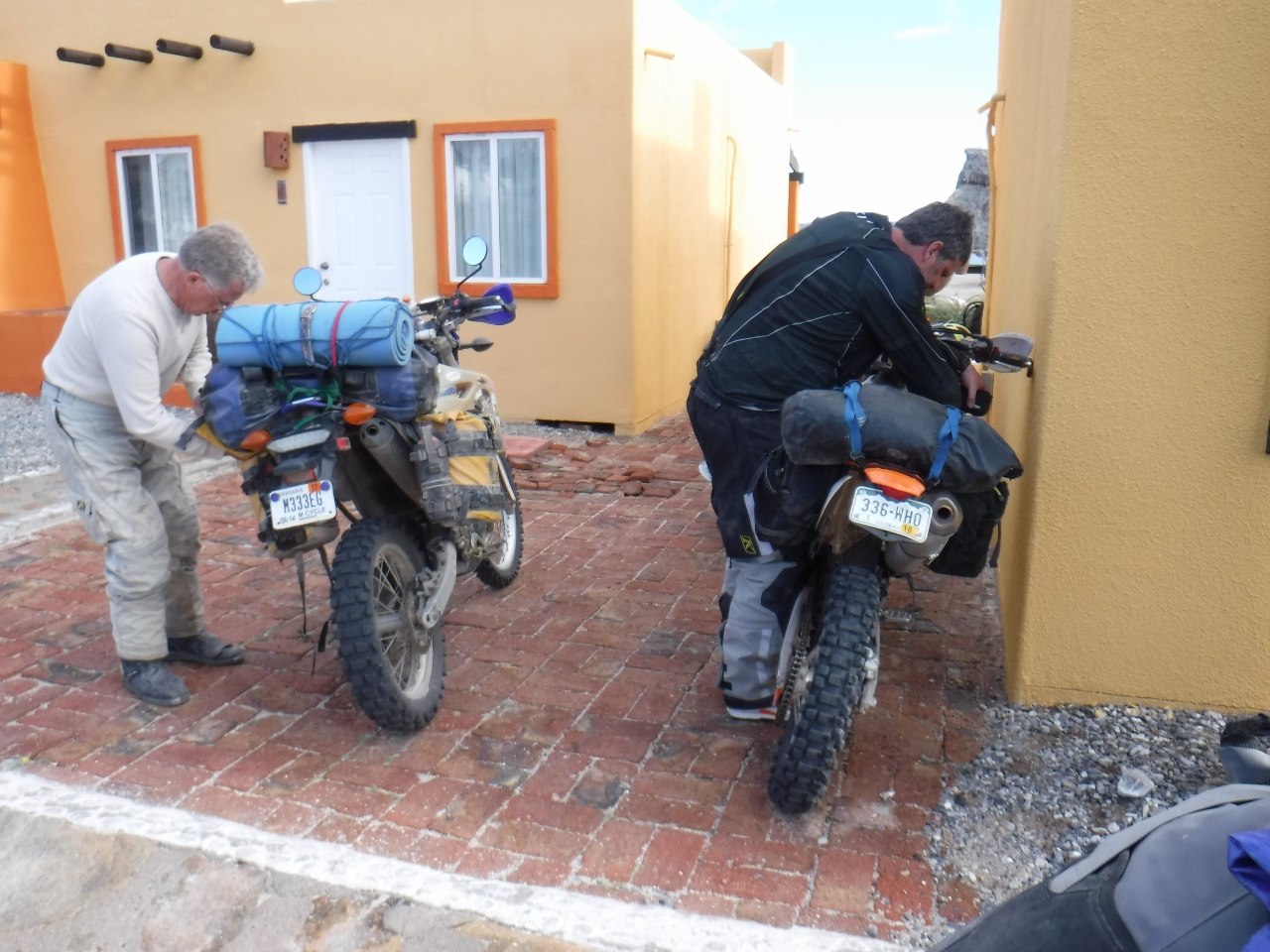 So we left together and when we came to the turn off for the Calemajue Wash I stopped and new High Five and Dave
would want to ride that to Coco's Corner----------we'd meet there. I've ridden this and new Dingweed didn't want anything to
do with it. And I wondered it might be bad after all that rain ??? But they made it thru.
I flagged the 2 of them off like a pro motocross race and the dirt and sand flew.
I really wanted to go with them------but didn't--kind of thinking it might be flooded.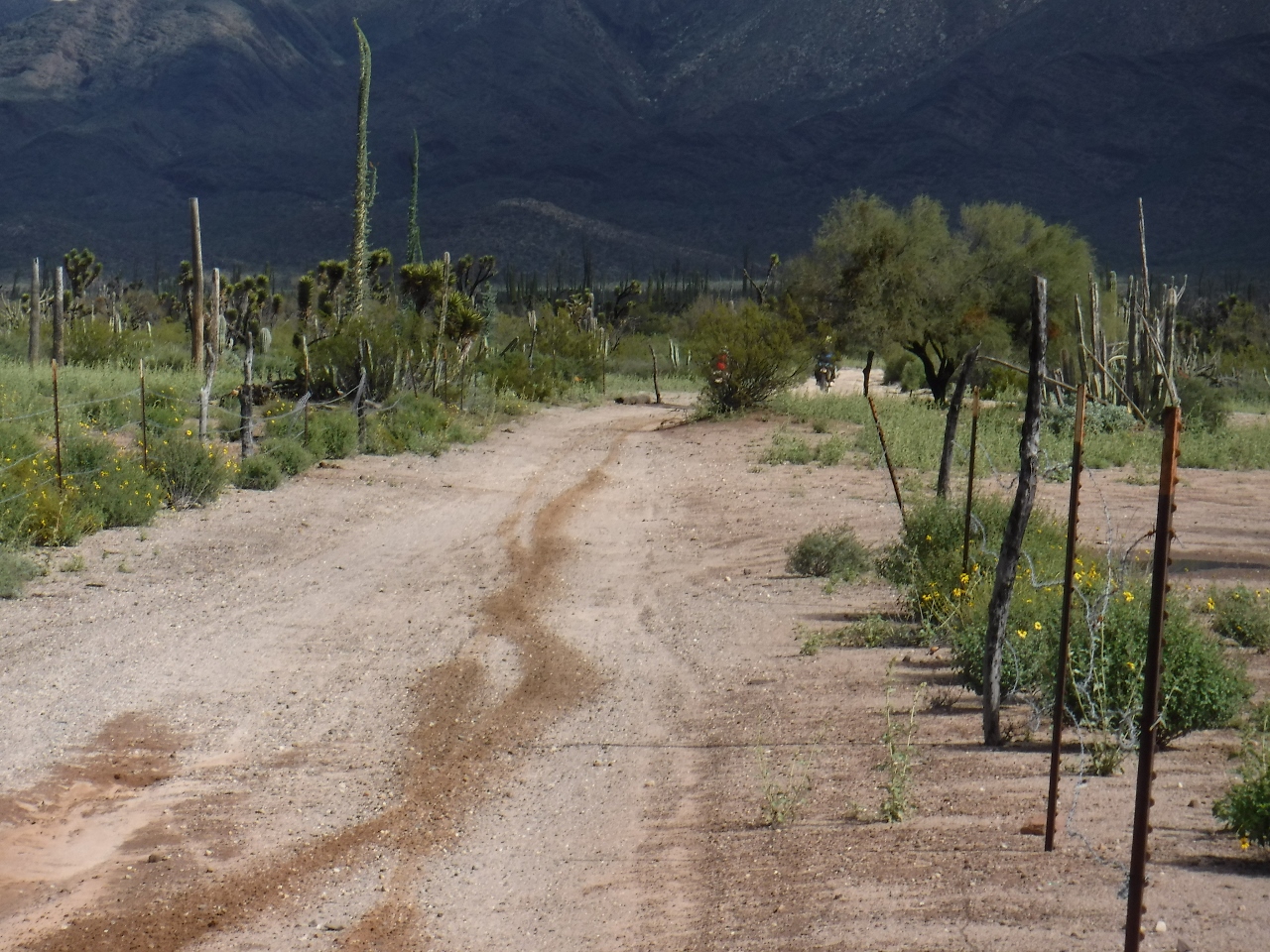 A video of us riding thru here last year-------2016
We took the pavement all the way till we had to turn East to Coco's and the pavement had been under water.
It was here I thought mayb it was a good decision to had not gone with those guys ??????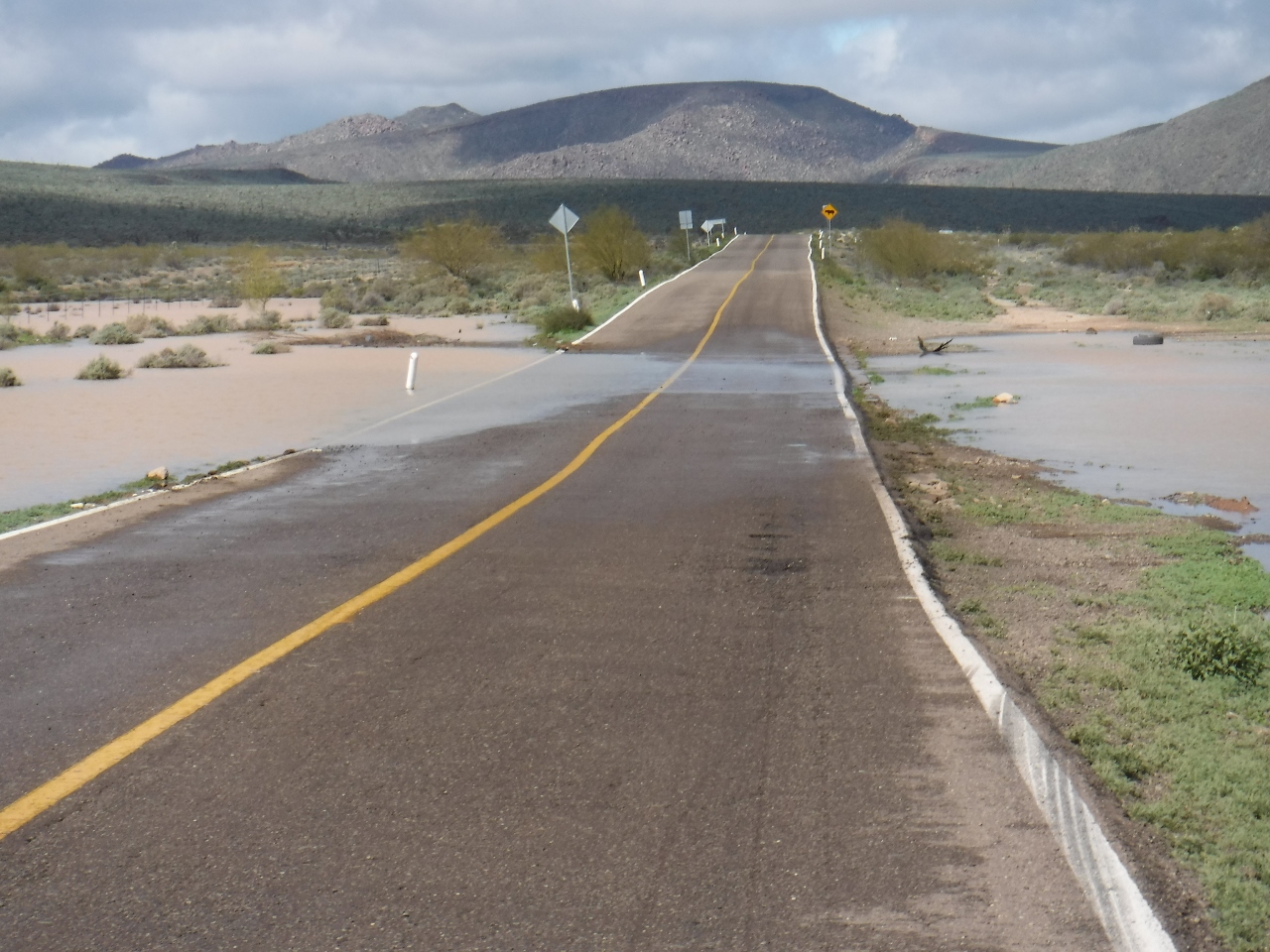 We turned East towards Coco's Corner and rode in this 3" deep mud all the way.
I guess money running out is the only explanation.
They've been workin' on this road for 10 years----and I swear it was better back in 2007.
We saw one cat out there working-------and lot's of broken down excavating equipment that looked like it broke
down and they just left it there.
What I'm saying is--------there is no progress-----the road is deteriorating faster than they are trying to improve it.
That's OK with me------------I'm on a dirt bike.
I was going 50 mph threw this stuff and was blowing by semi's and big diesel pickups pulling huge fift wheel motor homes.
They are were travling a snails pace-----------it was really ruff in many places.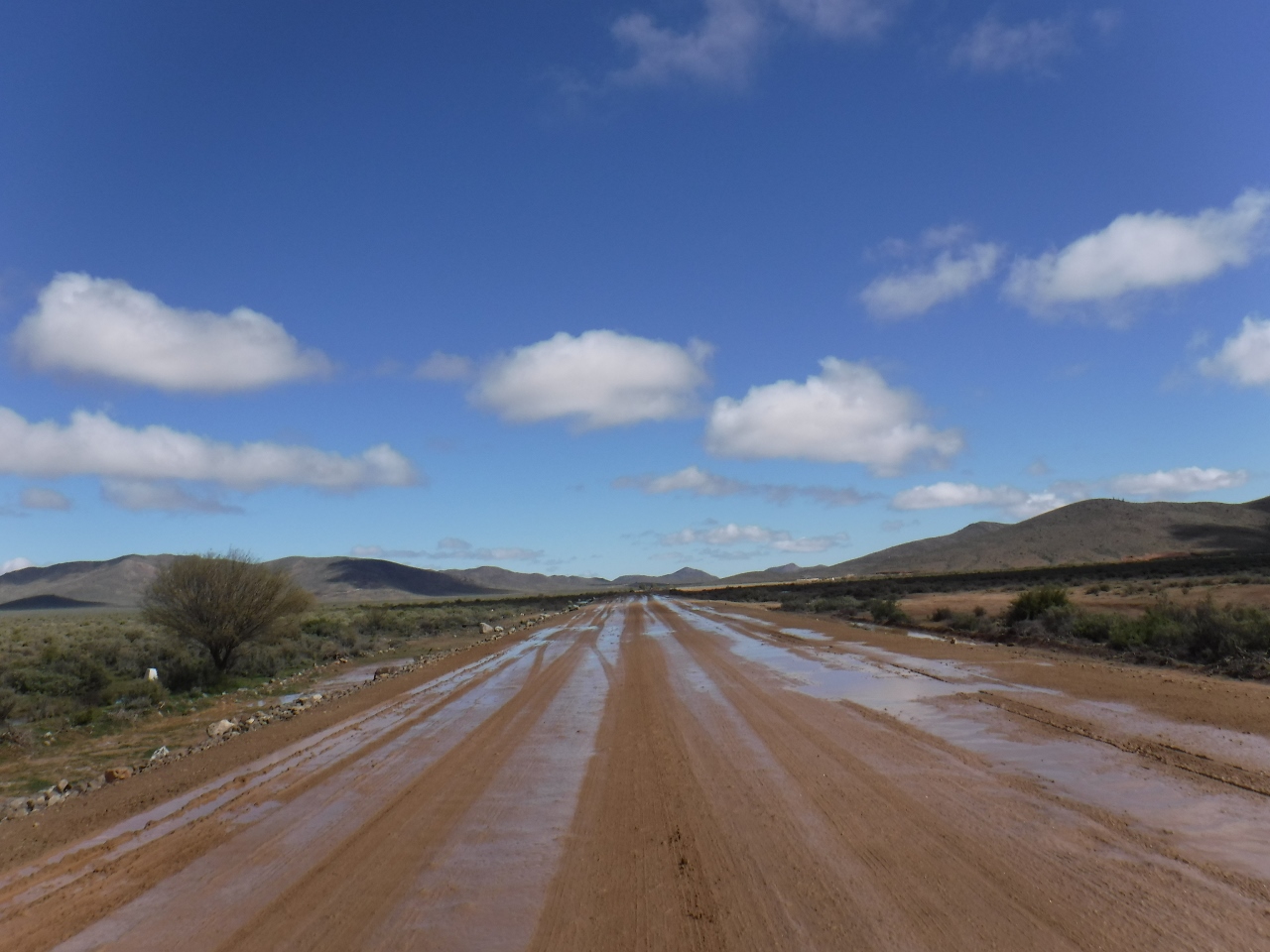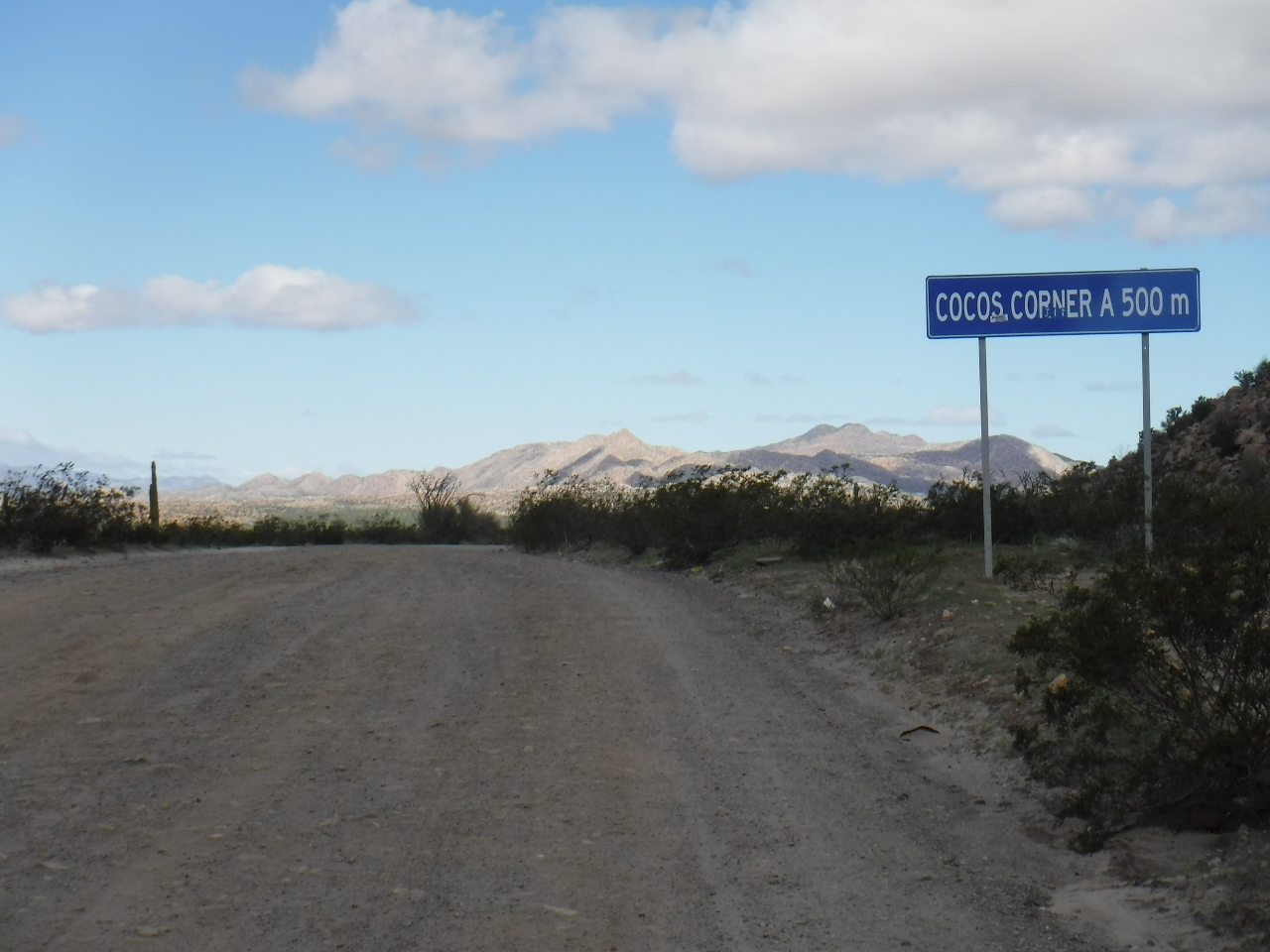 Lot's of people at CoCo's-------and our 2 riding buddies showed up with tales of the trail.
High Five's story was believable----------Dave's not so much !!!! But it was funny.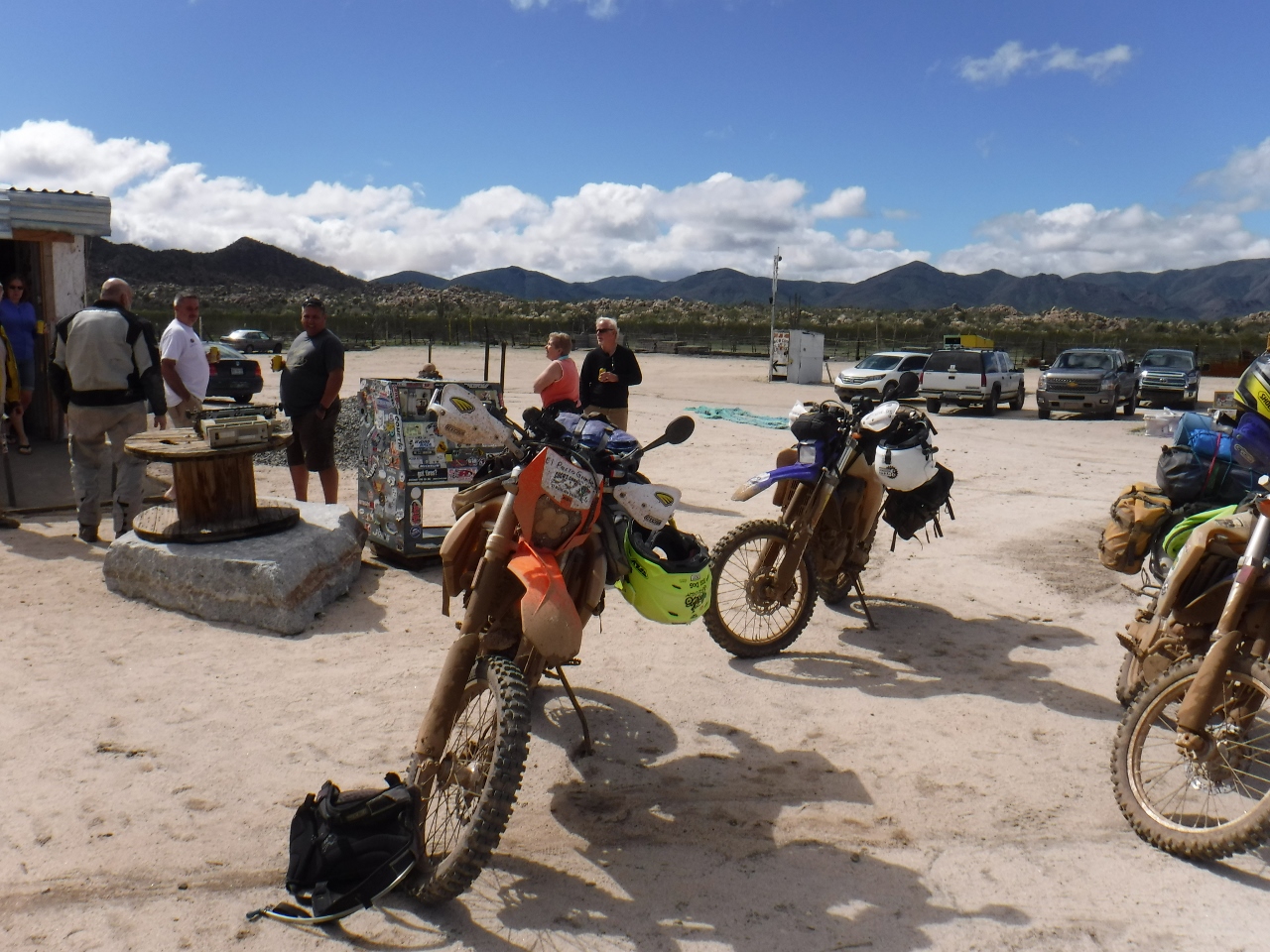 We would make it North of San Felipe and camp at Pete's Camp and had the best meal------I could only eat 1/2 of this.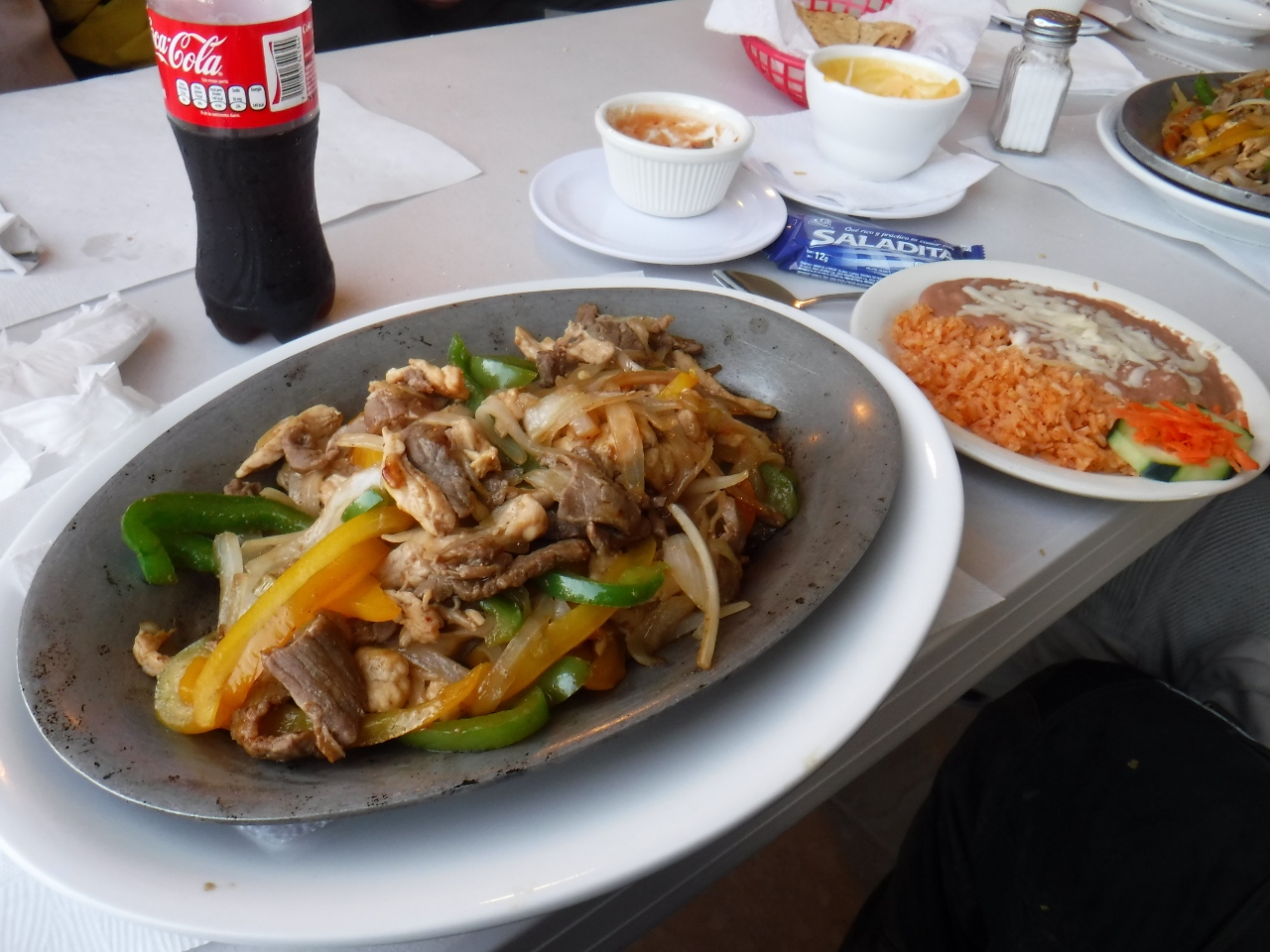 Pete's Camp had by far the thinnest flapjacks in all of Mexico
Look at Dave's face------he couldn't believe it either !!!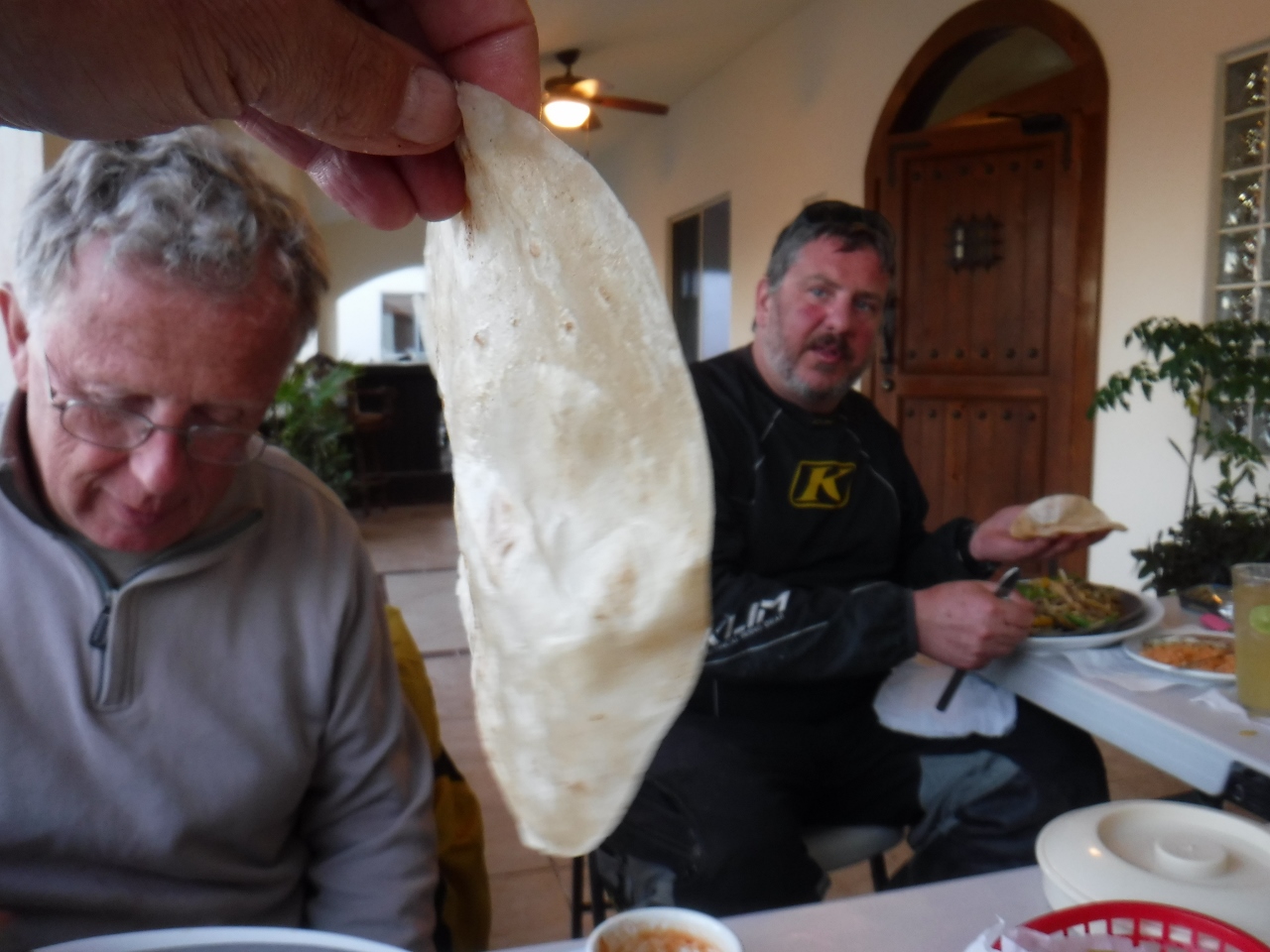 We camped here knowing it was our last nite in Baja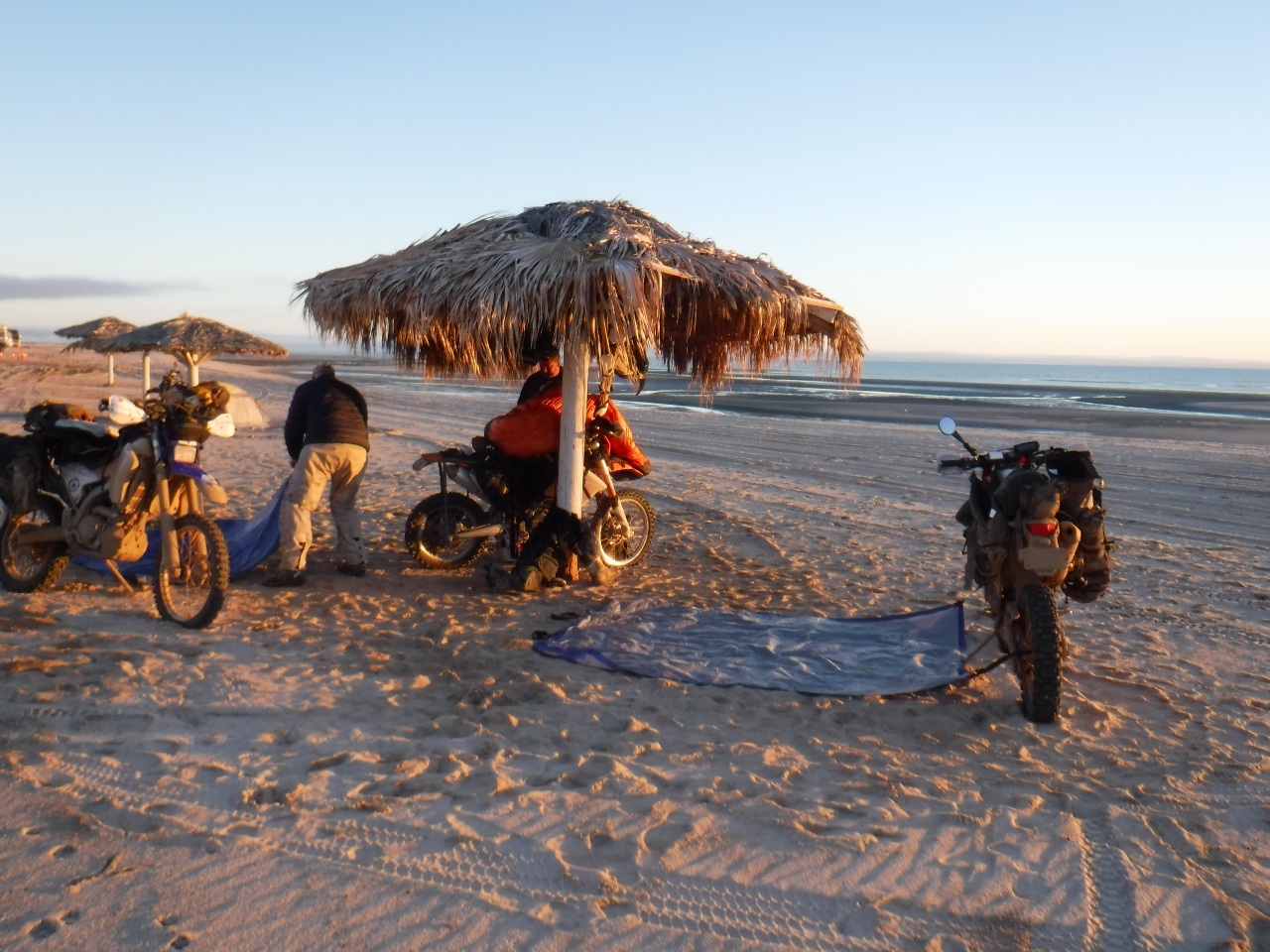 The 5 Amigo's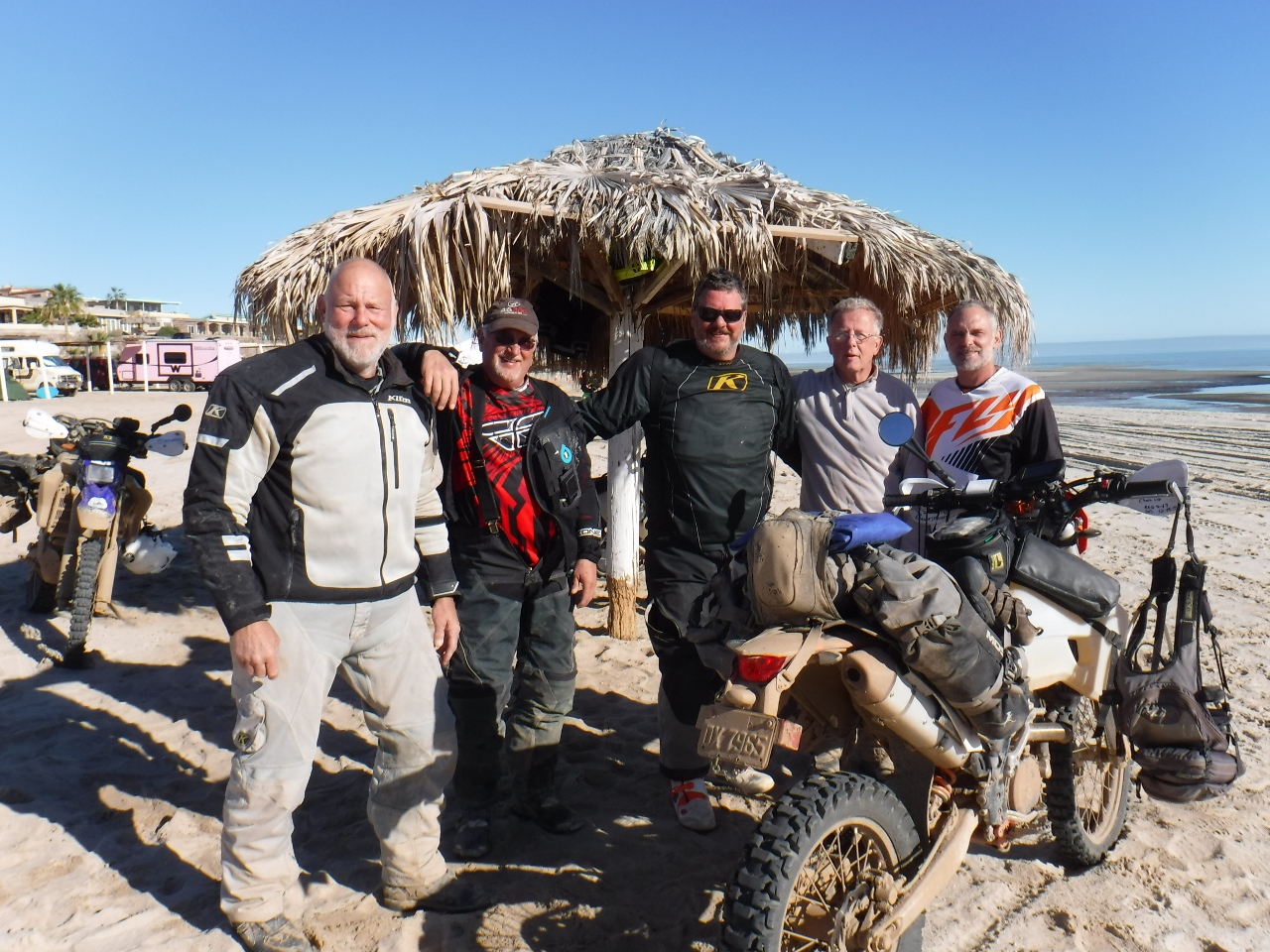 Our Last picture together.
Who knows when we would ever see each other or ride together again.
You have to enjoy each ride to it's fullest.

And as me and Road Dad rubbed it in the whole trip-----being retired.
"My Life Is Better Than Your Vacation"