2015 Ford Transit
Last Updated 3-1-2017
34,000 Miles On My Transit Now
Purchased November 2014
Long Wheelbase---Extended Body---High Roof---2500 (3/4 ton) Power Stroke Diesel
6 speed automatic that can be shifted manually.
Power windows---Power locks--AC--Remote key entry--Cruise--Intermittent Wipers---Tilt and Telescoping Steering Wheel
Radio (nothing fancy)----complete tow package with reciever, trailer brake controller and a Tow Haul mode in the transmission.
The Transit has been a few places.

Here was the criteria for my van purchase----the transit I bought filled this bill perfectly.
6' of room for a simple camper------I did not want it to look like a camper ---(for stealth camping)'
8' of cargo space to haul 2 motorcycles and my bicycle.
A diesel engine.
A vehicle that would get over 20mpg. Turns out I get over 23mpg usually and a high of 28 sometimes with a tailwind.
I wanted to stand up in it.
I wanted a dealership in most every little town in case I needed it worked on.
I did not want a 4-wheel drive----I wouldn't want that option if it was free. That's what I have my dirt bikes for.
I wanted it to be white---to reflect the heat of the sun. Other colors are prettier I guess---but I want white.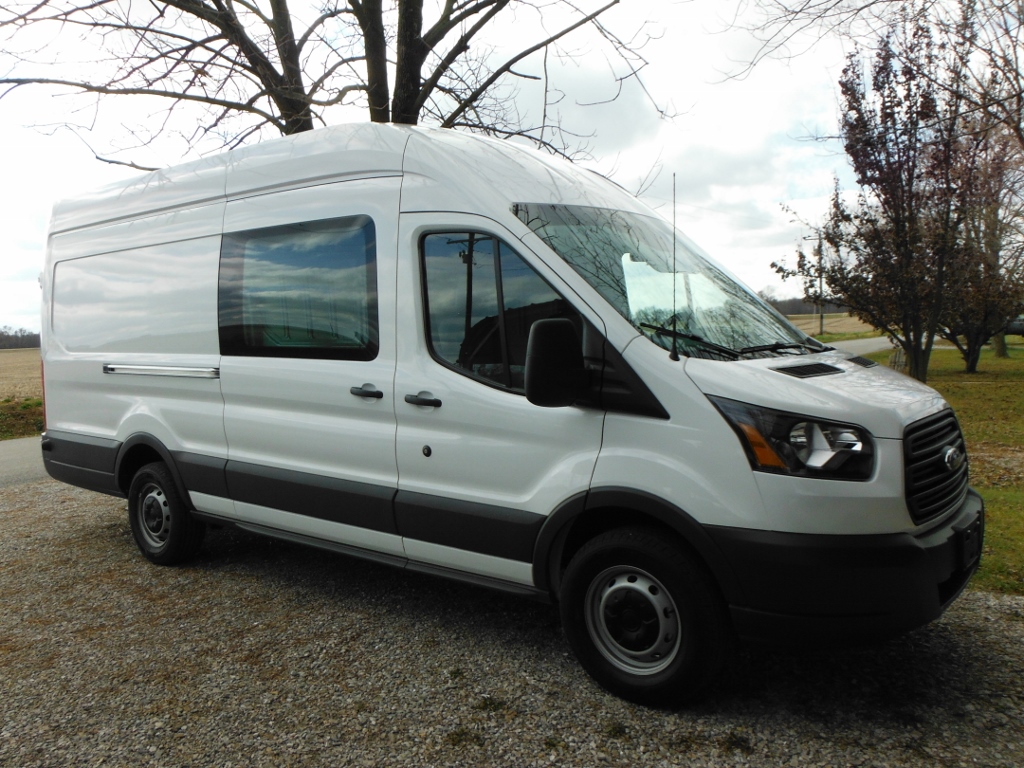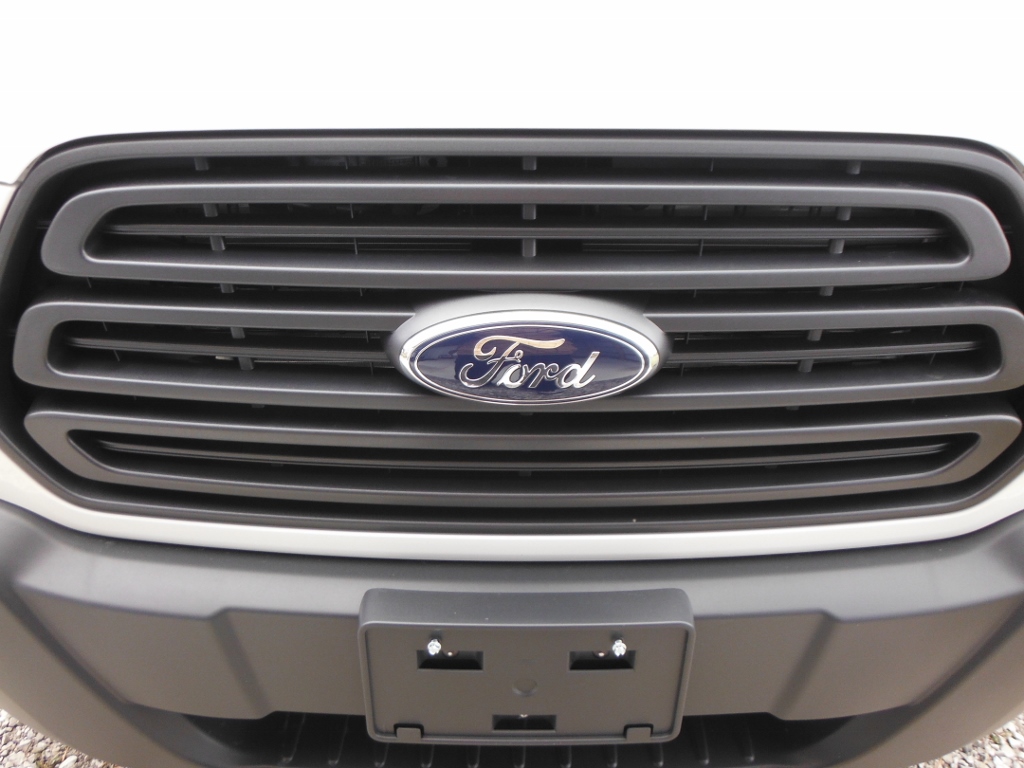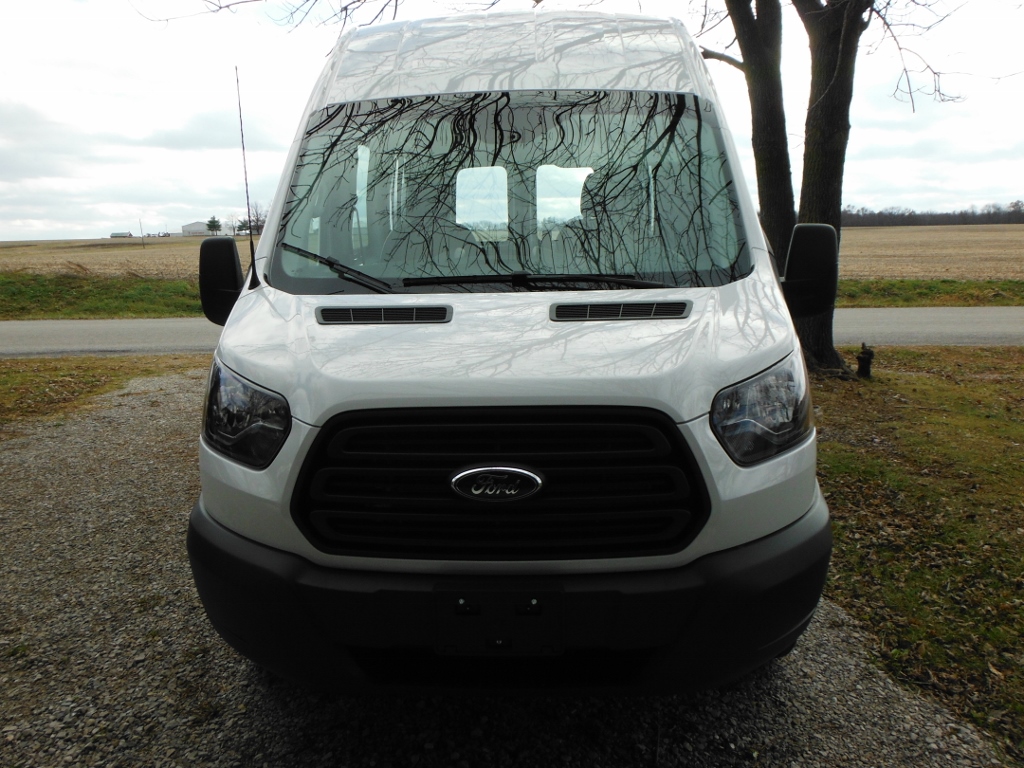 I could have bought a really nice motorhome for the money I spent on this vehicle---but I don't want one----I've had several.
This is so much easier and comfy to travel in---and I can pretty much camp anywhere along the way.
With my Sprinter I spent many a nites free camping in little towns just along the street or in a little gas station quick mart parking lot.
I don't look like a camper and can get away with a lot more.
I don't have to look for a "Campground".
Motorhomes get horrible fuel mileage of course---and are very maitenance intensive--something is always broke--the roof
is always leaking and I don't want to worry about water freezing up in a plumbing system when I travel over cold mountain passes.
My bed in here will be just as comfy.
Also---the main reason I bought my sprinter was so I wouldn't have to pull a trailer--with a motorhome I'd be forced into doing that.
Yes---I could put one on a hitch hauler on a motorhome--------but couldn't haul 2 bikes.
All of this wouldn't fly with most wives---but my wife doesn't want to travel and is as happy as can be staying home and doing
all her crafty things and diddling in the yard---she loves it. She has a lot of family at home to------I have none.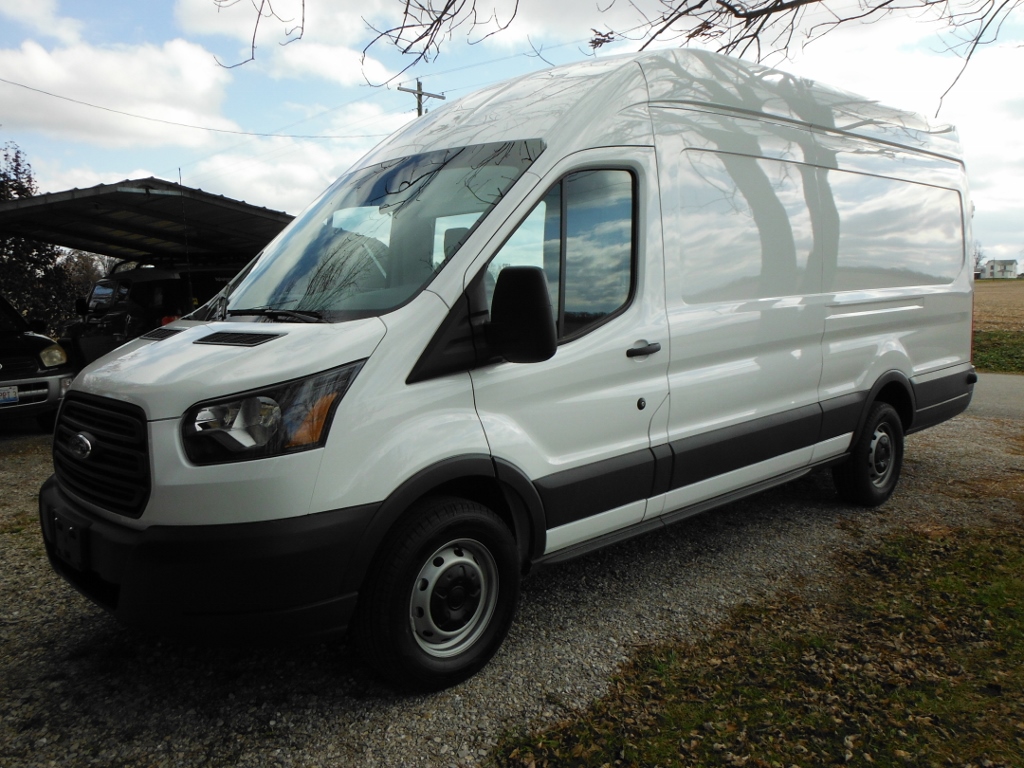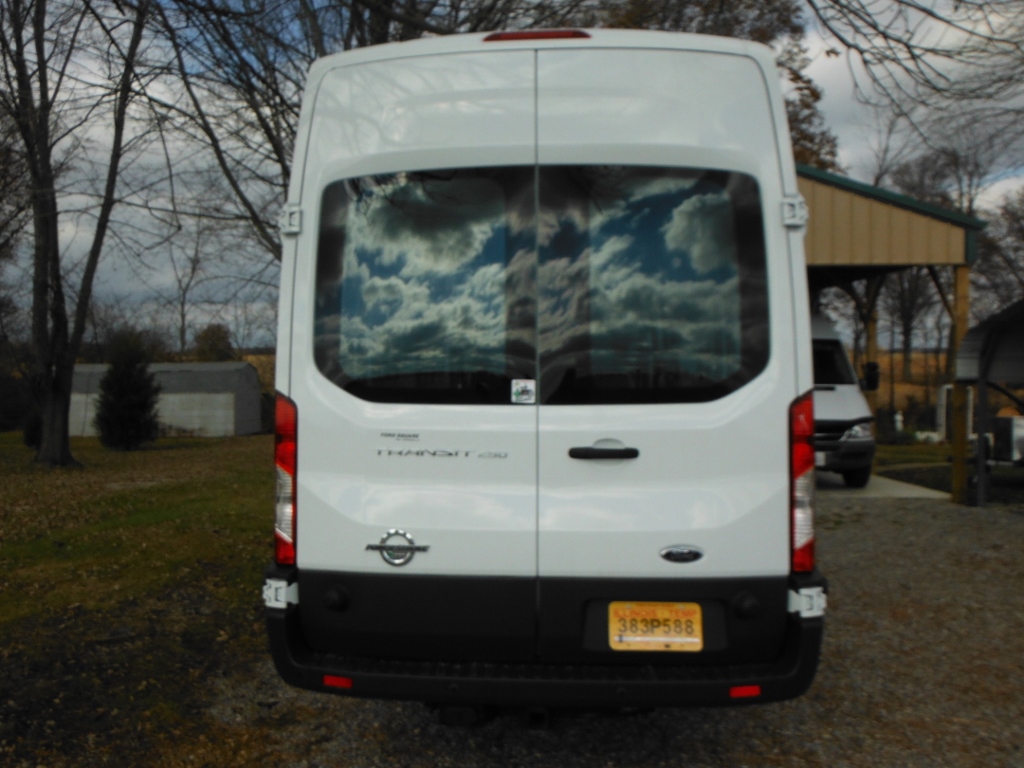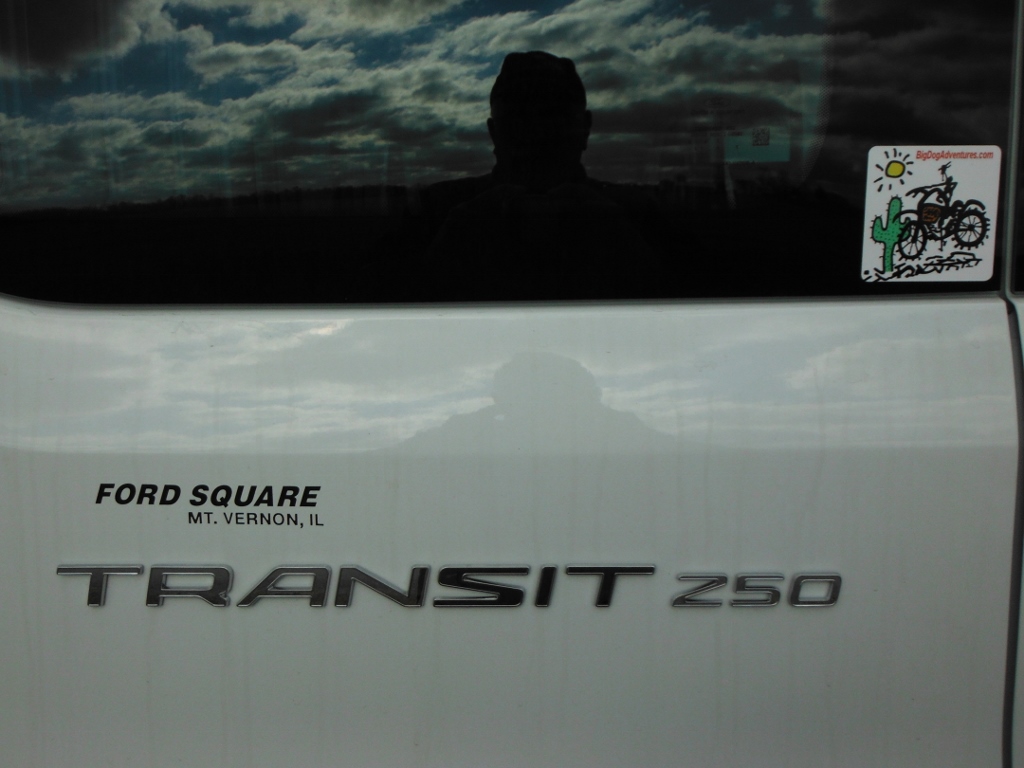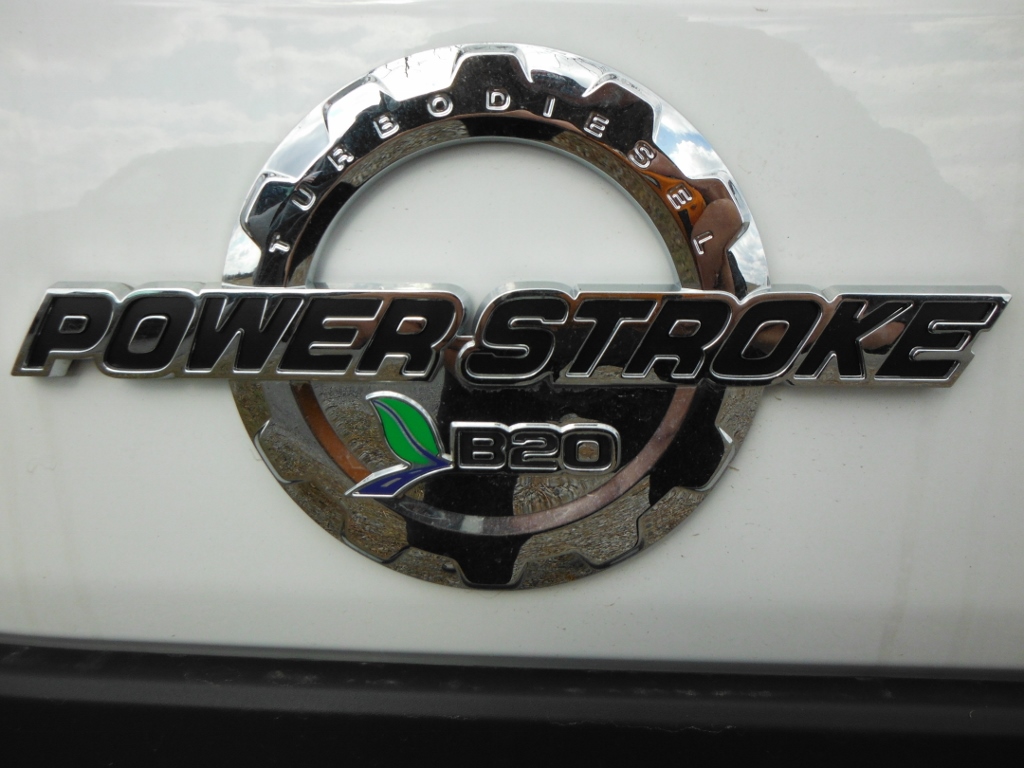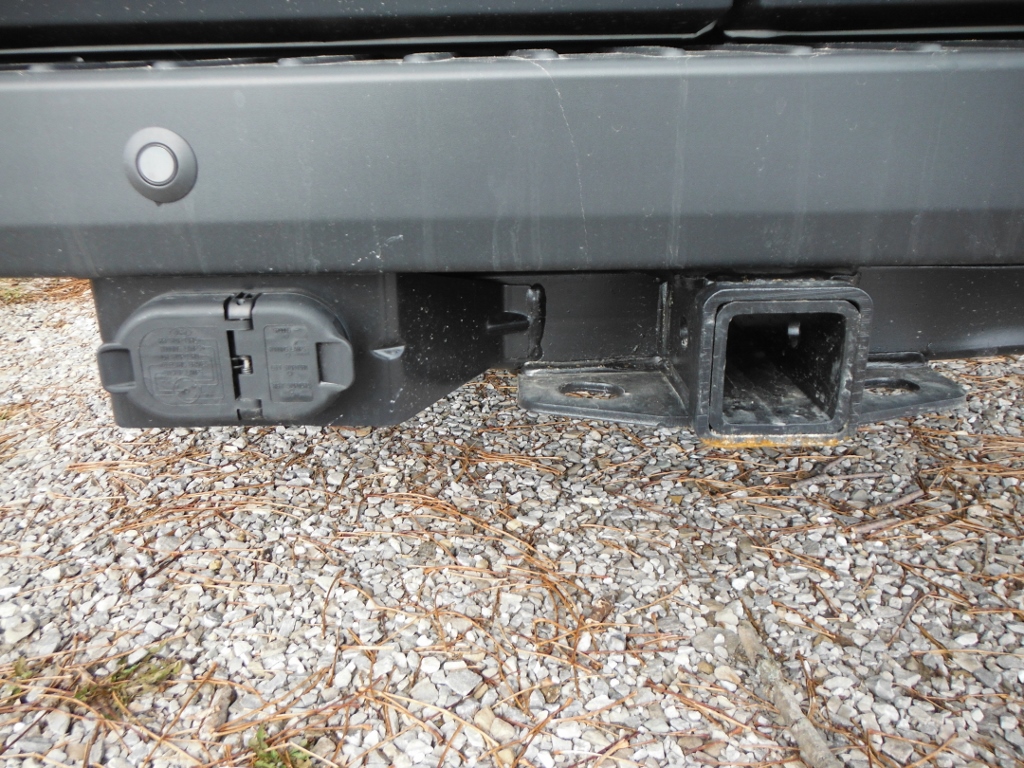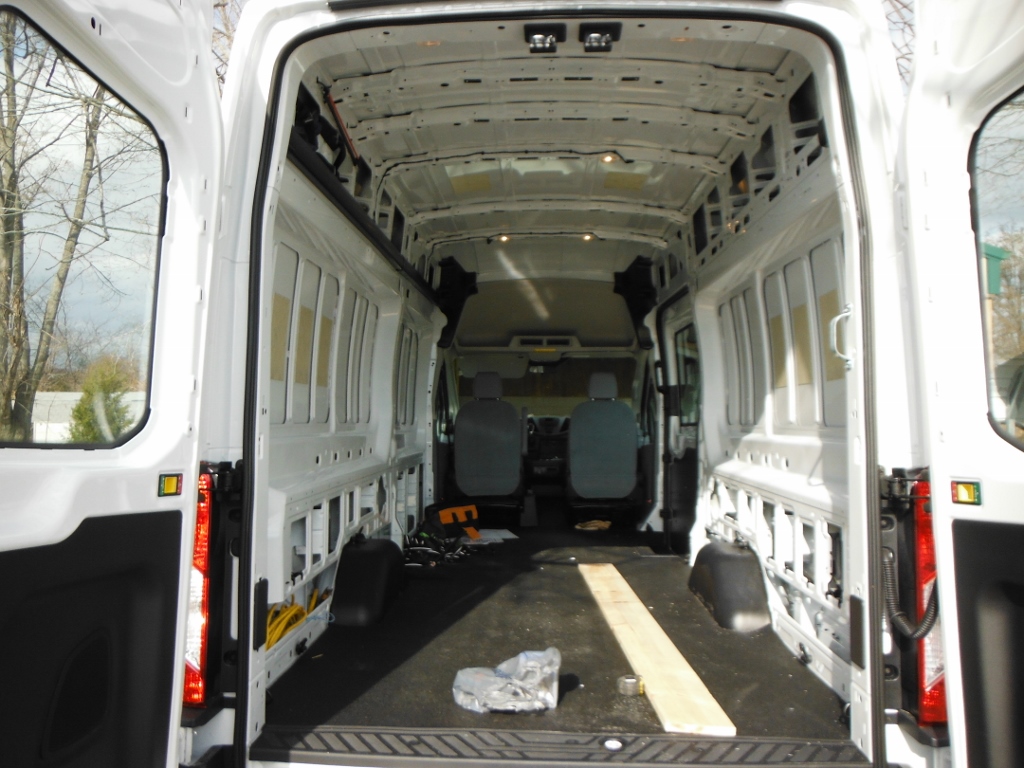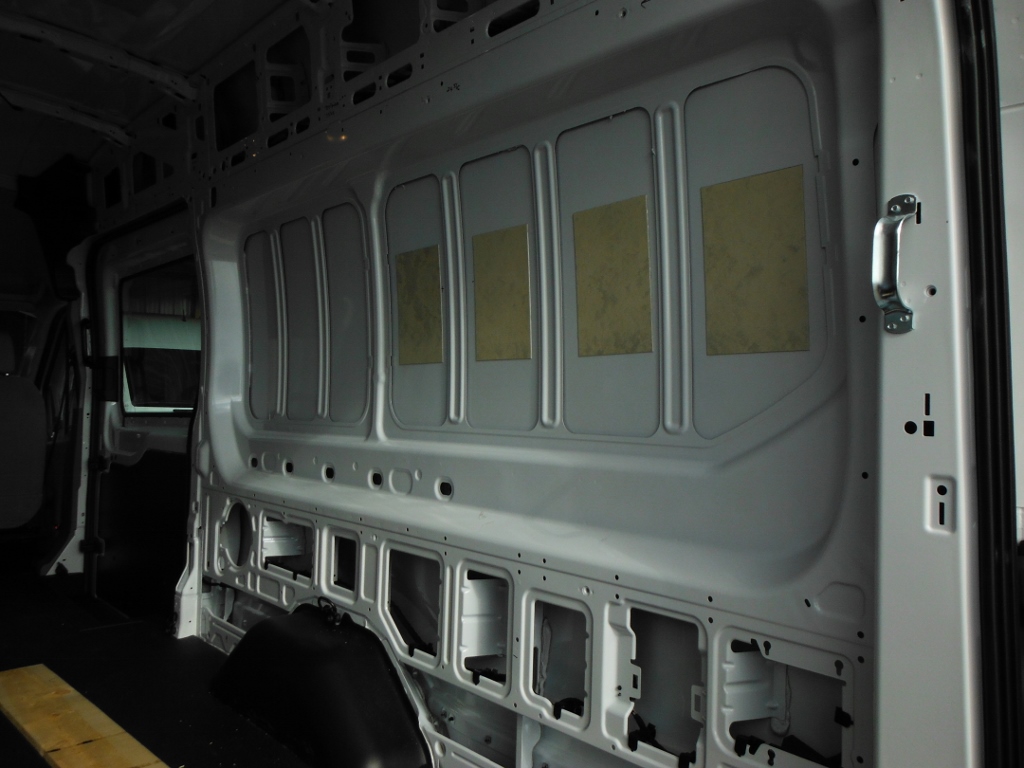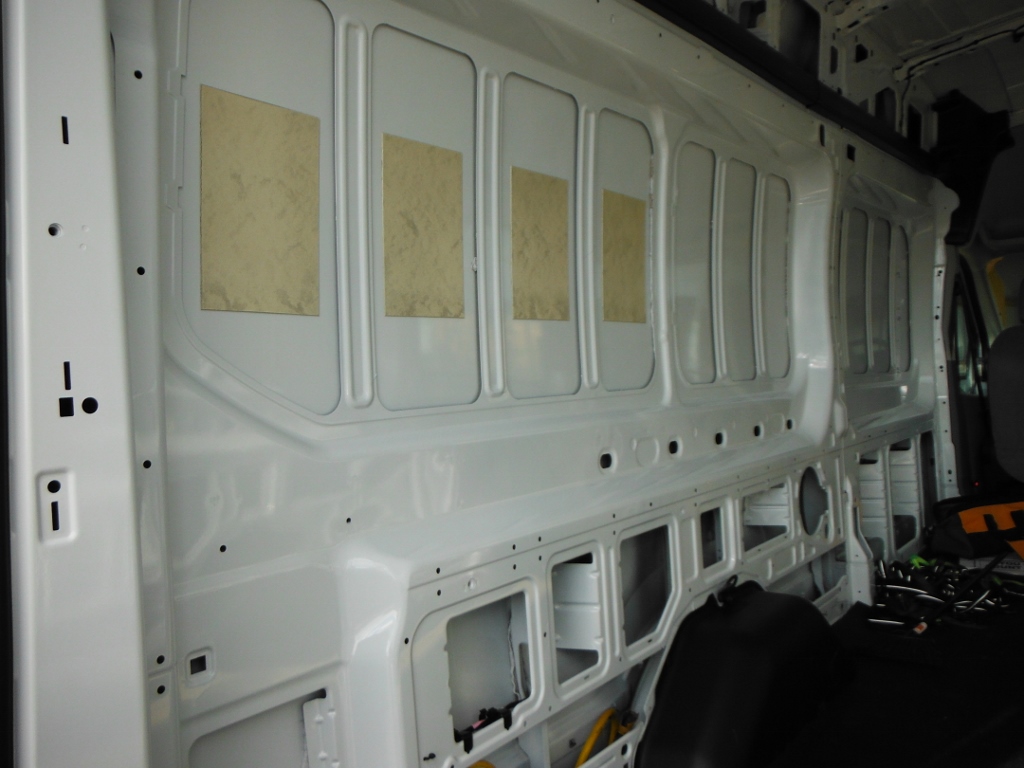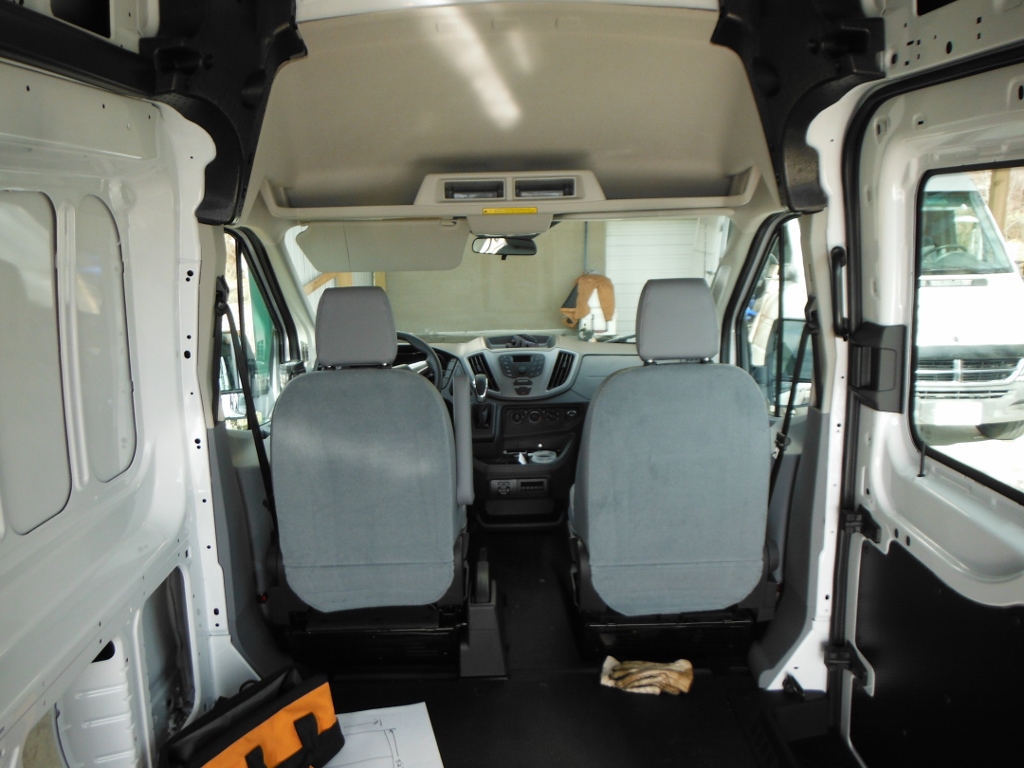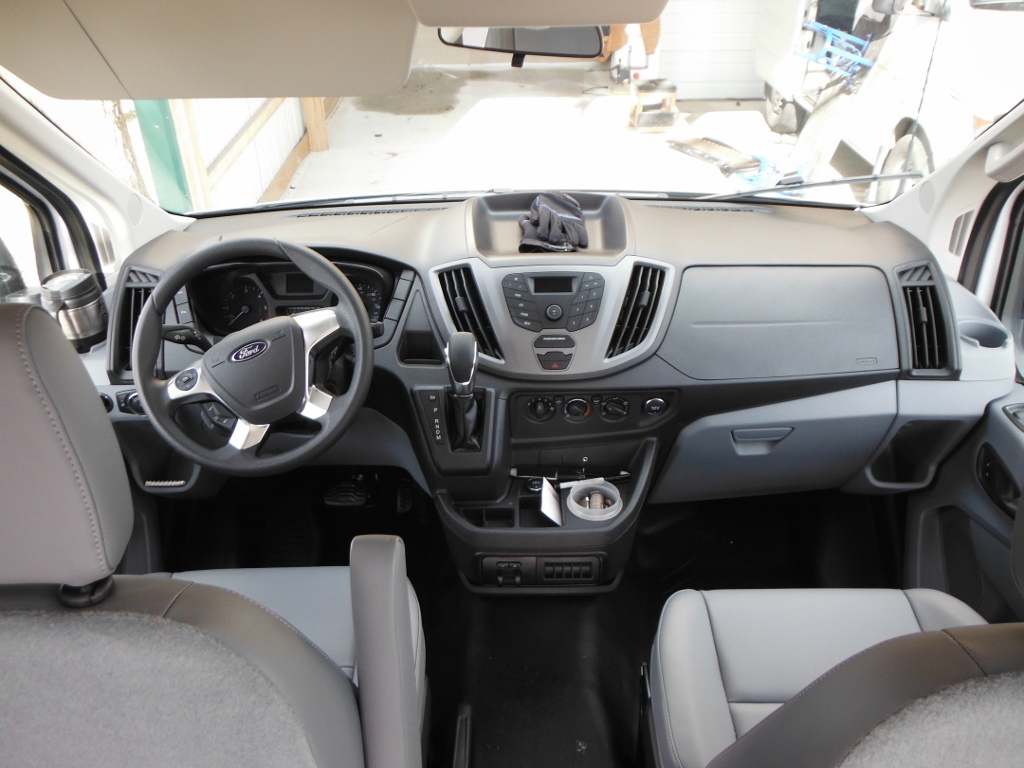 Really nice storage above the front seats.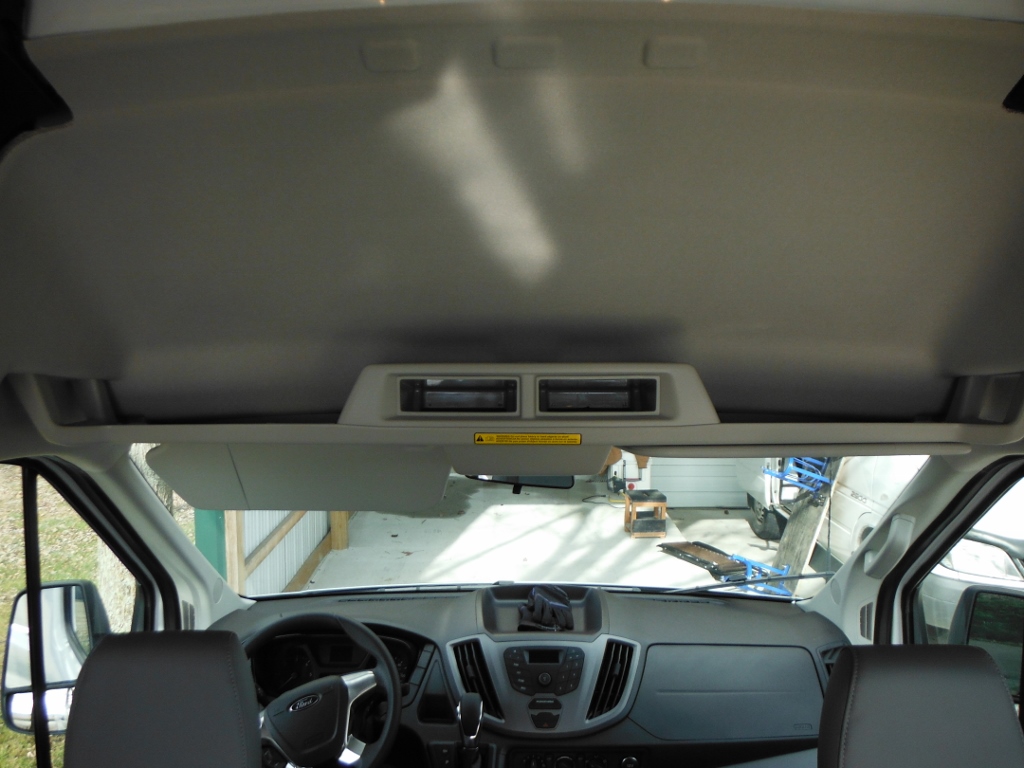 It won't look like this long.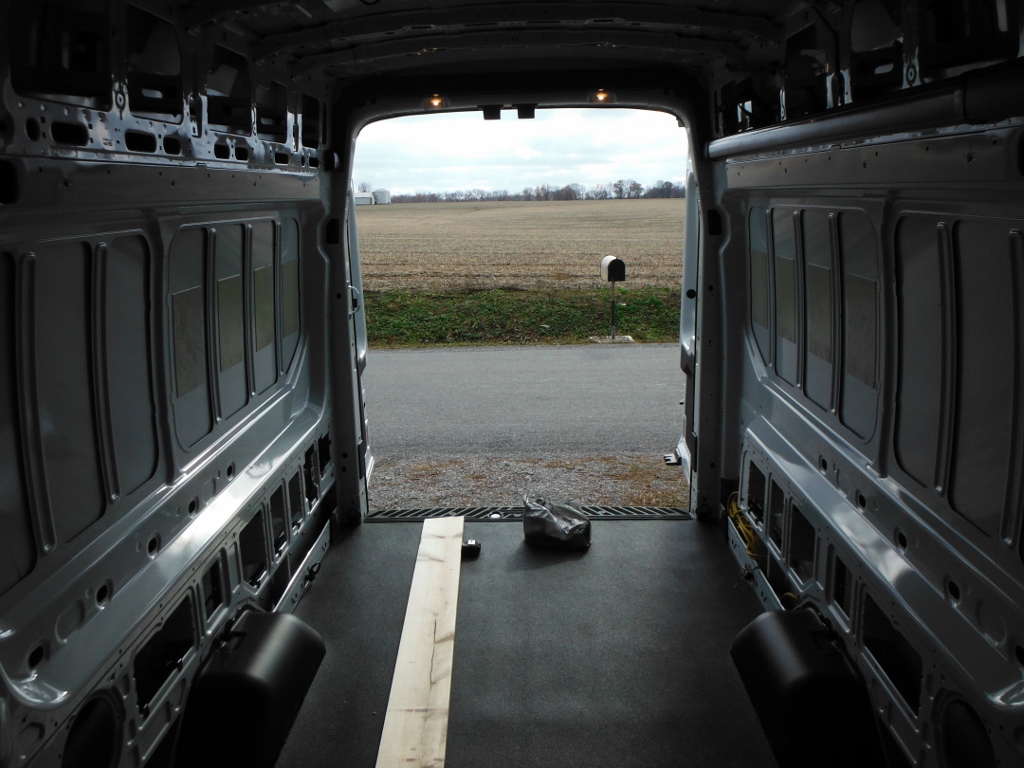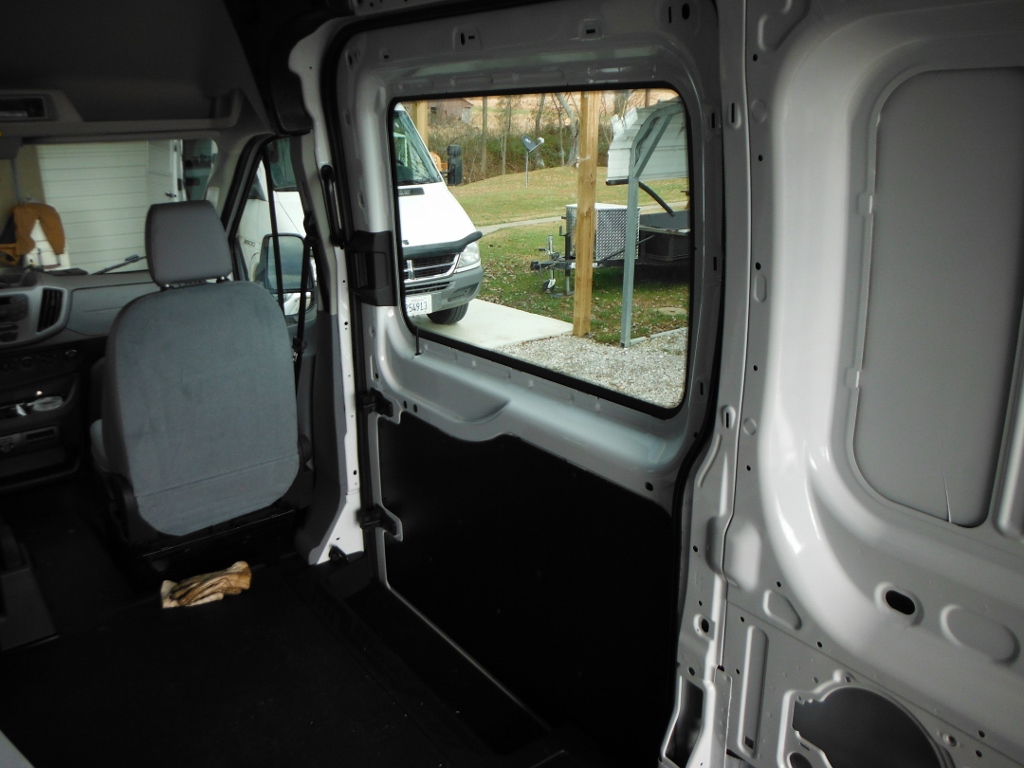 The cargo area is 14' long------the back 8' will be for my bikes and I'll build a wall with a door to isolate the toy area.
The front 6' will be my camping and sleeping area. It will be comfy---but I will not put in a toilet, fridge, or shower.
I will be keeping it simple---but want a couch which makes into a bed very quickly in there.
I'm building this cabinet to go in the rear for riding gear and such.
I used 3/4" plywood---screwed everything together with sheet rock screws---but used wood glue also---the glue
makes it a lot stronger.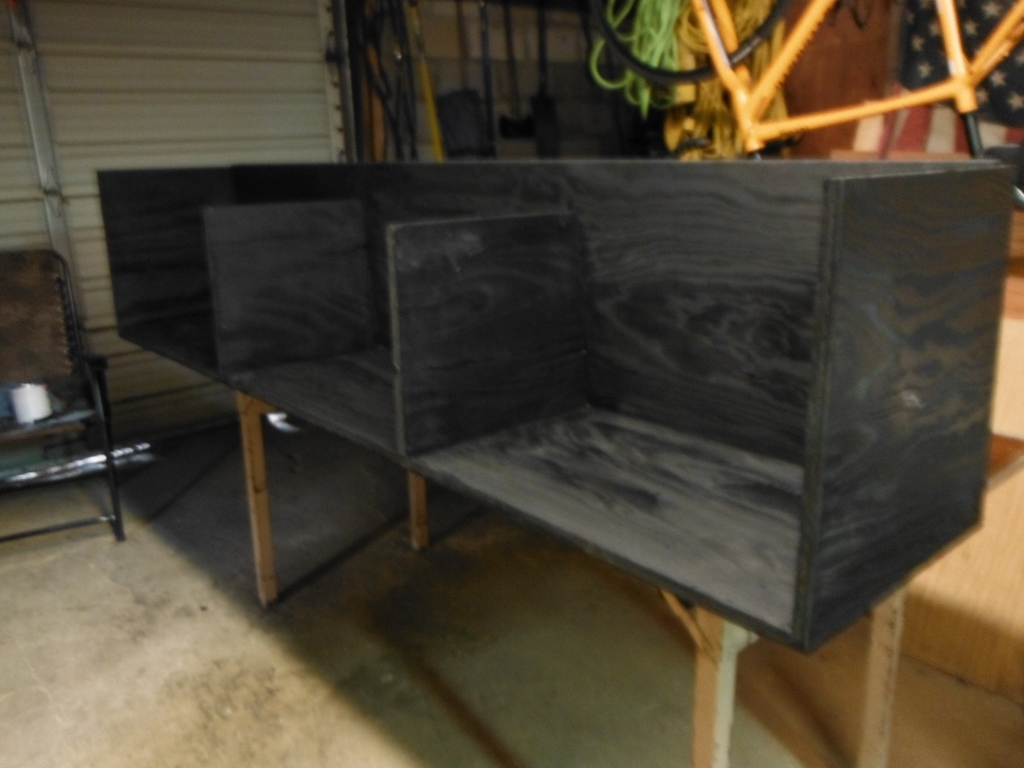 Got it hung up.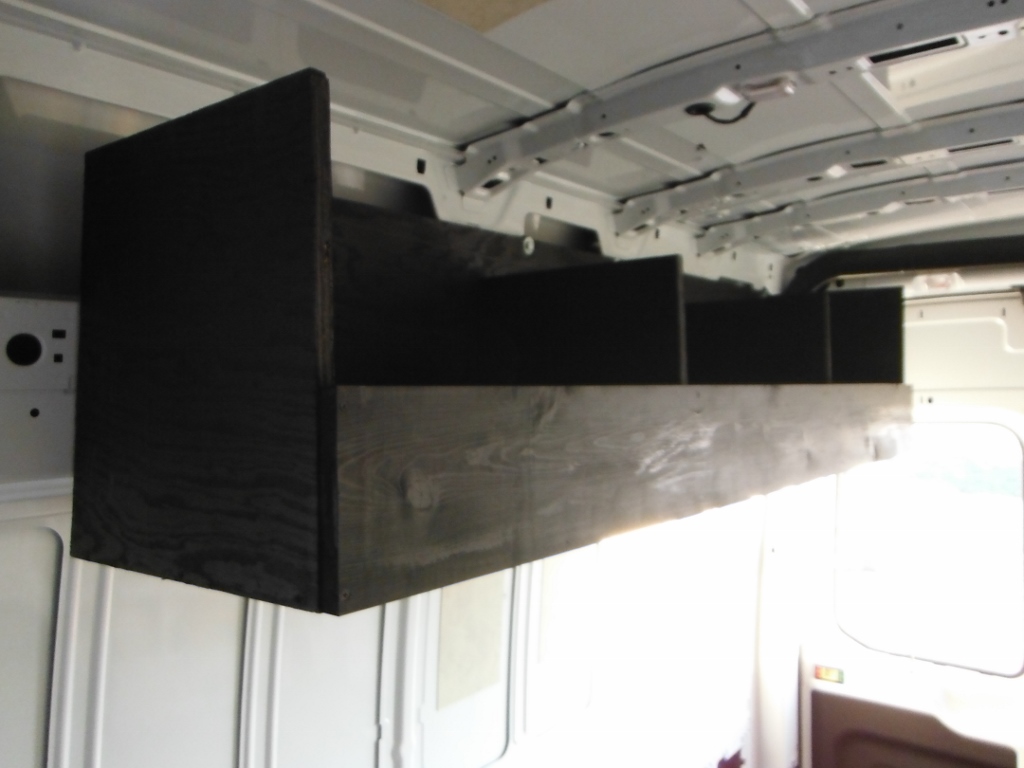 There is enough storage hear to hold all my riding gear---and lots of other stuff too.
A bike will go under it just fine.
I can haul 2 bikes.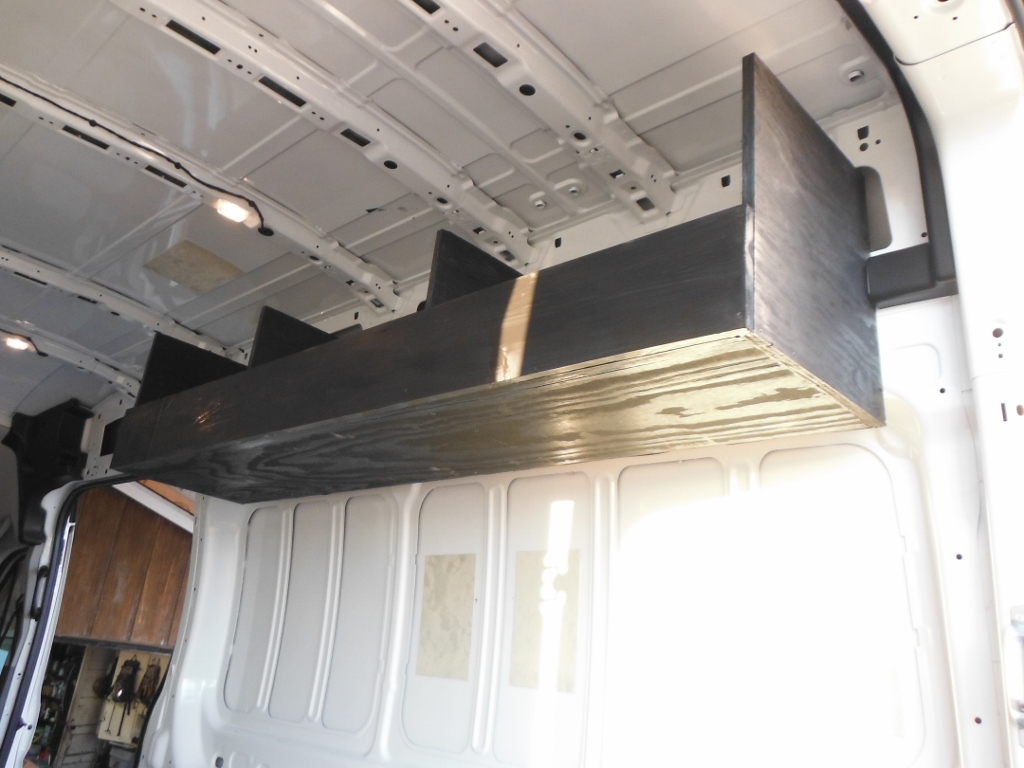 I will build a wall right in front of the cabinet.
The 2 bikes will go in those 2 bike shoes.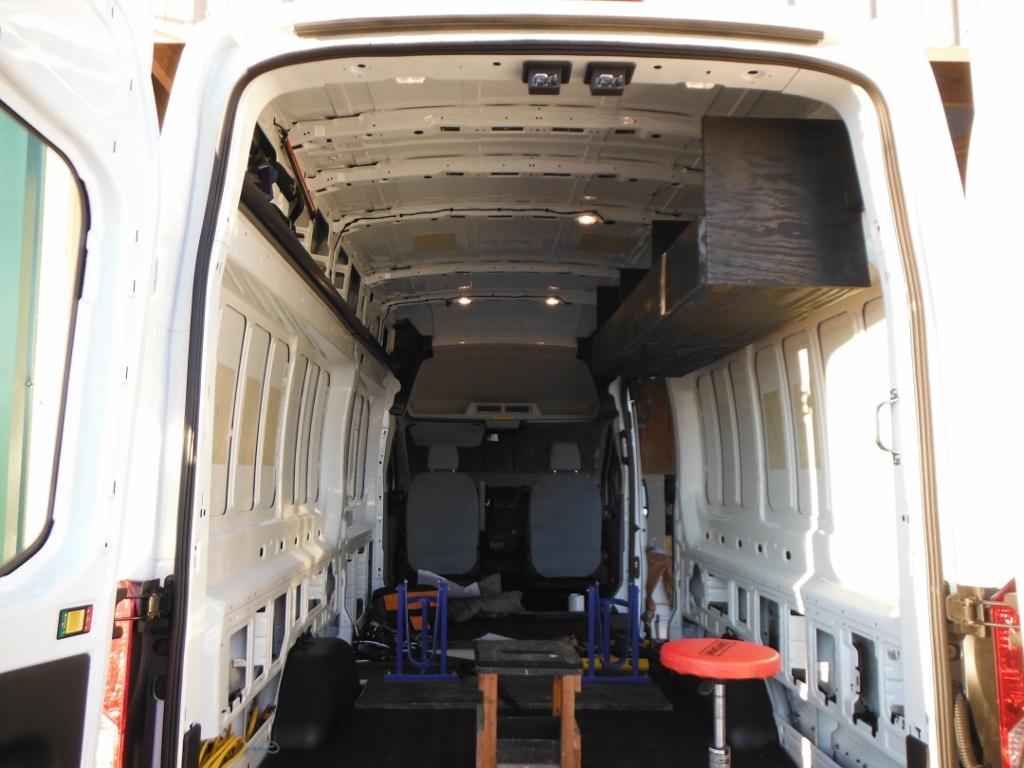 I got the steel part of the wall done-----I made it out of 1 5/8" uni-strut and welded the joints with my mig welder.
The Sides I bolted to the wall using 8mm bolts and fender washers. I made sure and used locking nuts so they don't work loose.
The 16" space in the middle will be a door. This will make easy access to things in the rear portion of the van.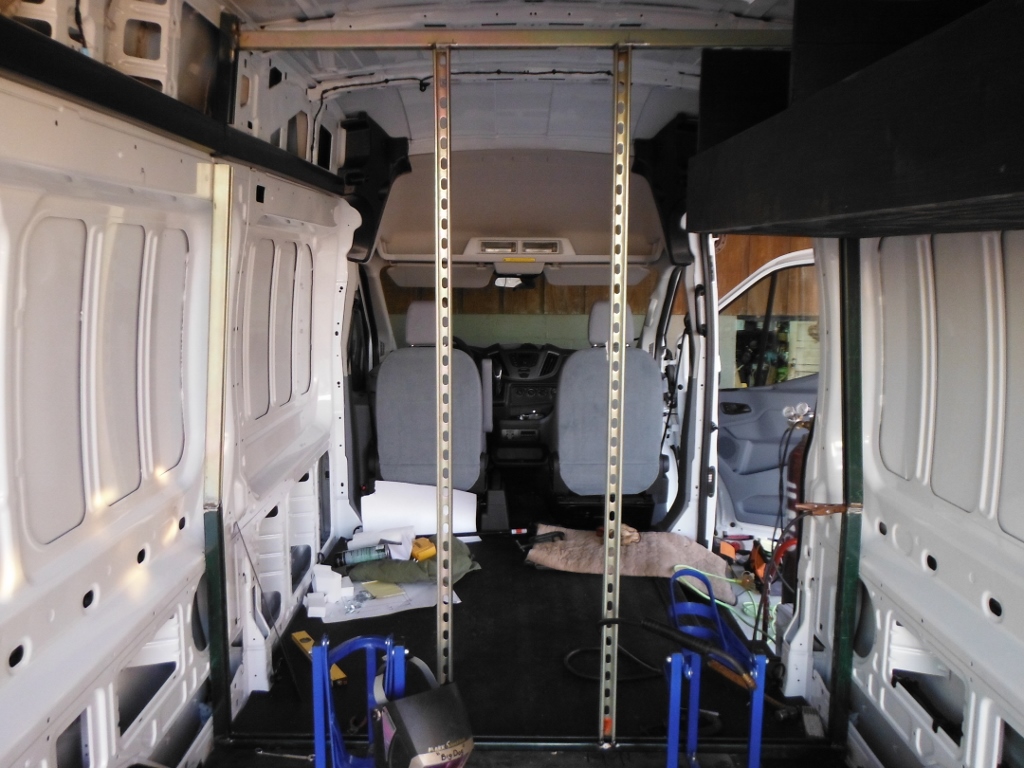 Of course the blue bike shoes will hold the front wheel of my bikes.
I love these ----they are called ATK bike shoes and don't put any stress on the suspension on long hauls.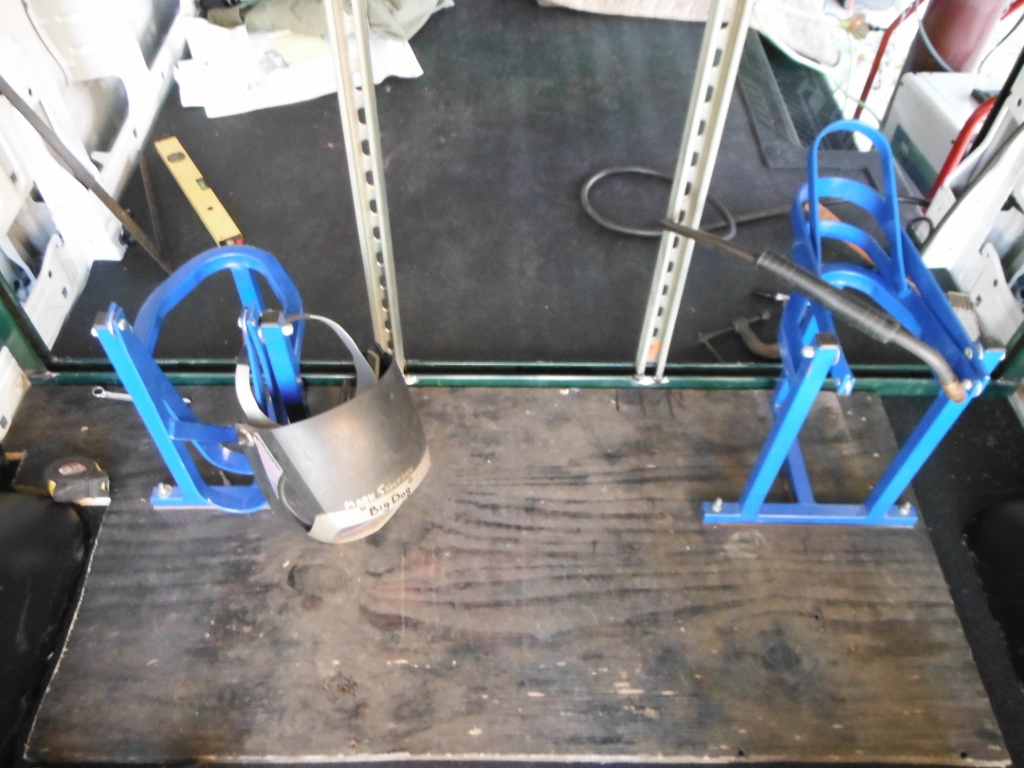 I've just never been fully happy with my mig welding-----I put some smaller wire in it today----------.024".
Wish I had done that long ago-------on this small stuff it made a perfect weld.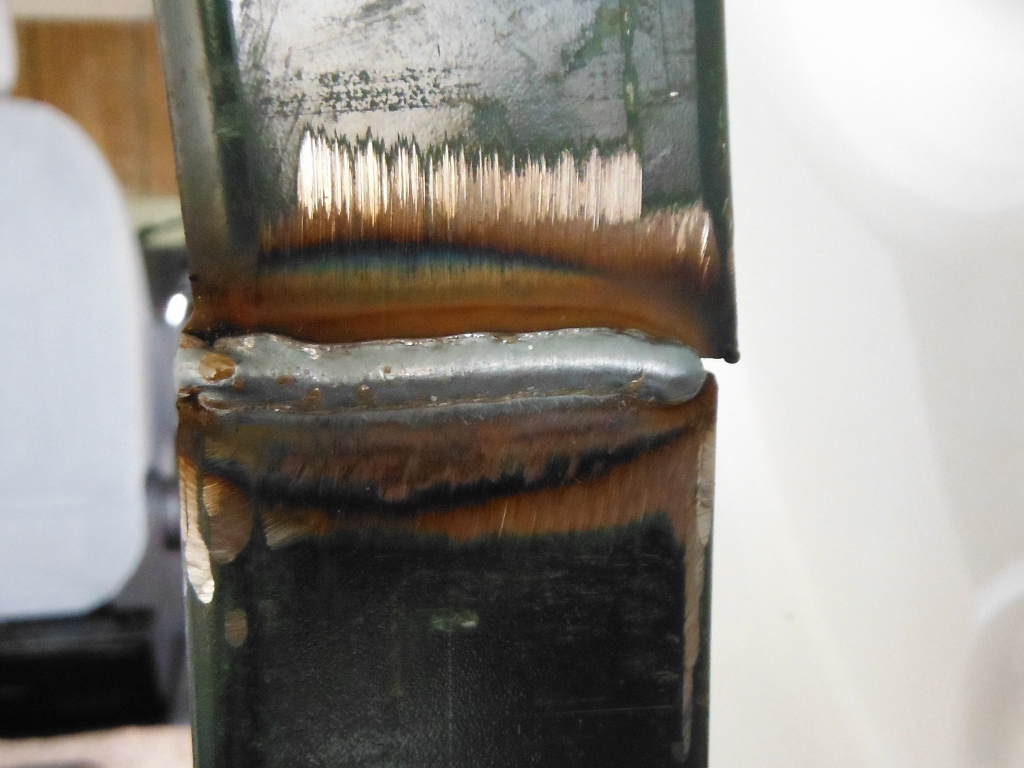 Got the wall door finished for my wall----it's covered with some thin gray carpet from Lowes--and has the hinges and door handle installed.
It is about 6' tall I think.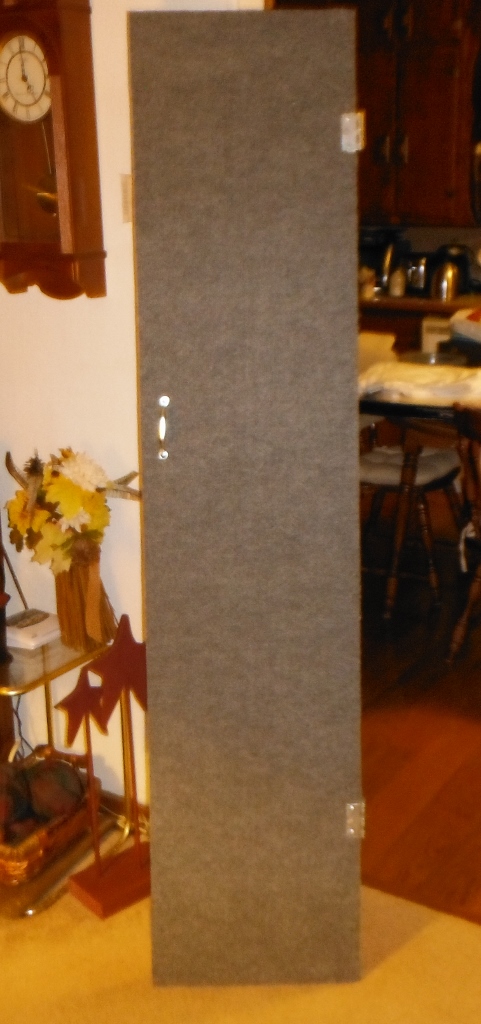 The door fit absolutely perfect.
I used 2 magnets to hold the door closed---they are to weak---I'll have to do something else.
I used 1/2" plywood here---didn't need 3/4" and didn't want to use anything to thin as I may want to fasten
some things to the wall---maybe a cabinet ?????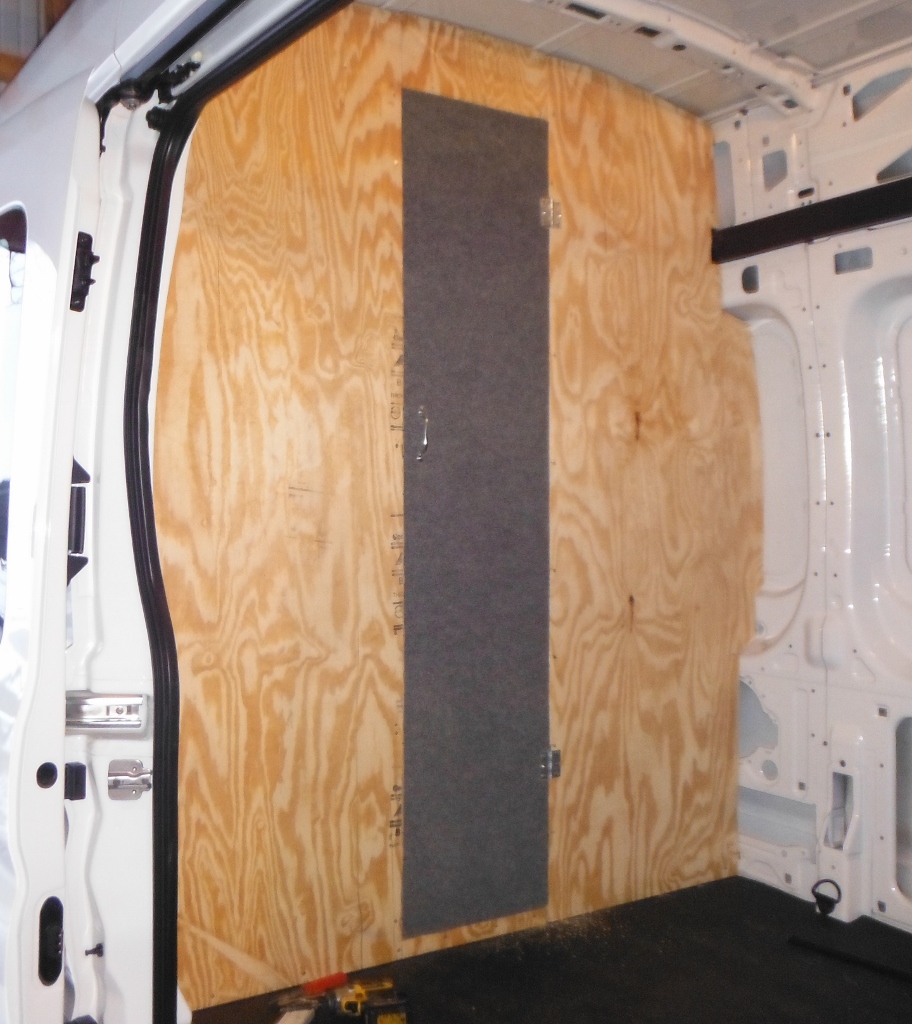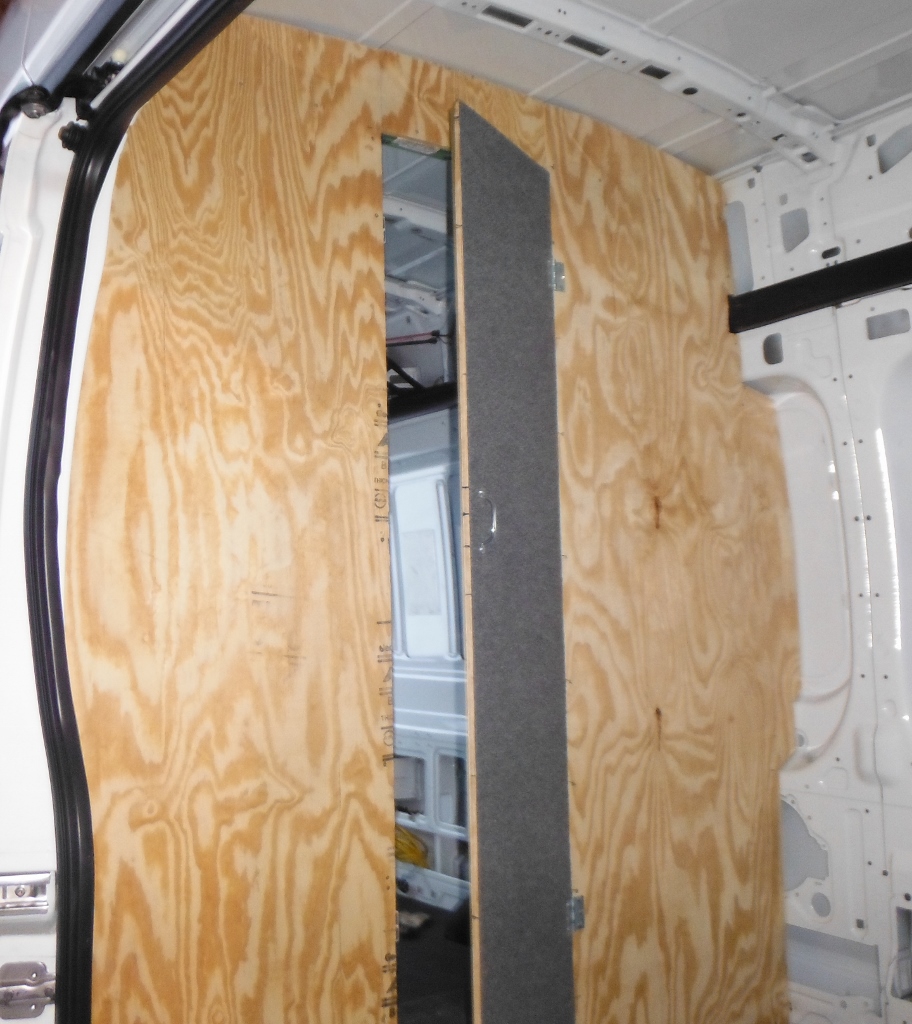 A view from the rear----I'm pretty much done back here.
Maybe some paint on the back of the wall---a paper towel holder for sure.
A place to strap up my ramps---maybe strap them to the roof ????
Maybe a little easy to get to storage rack for WD-40, change lube--stuff like that.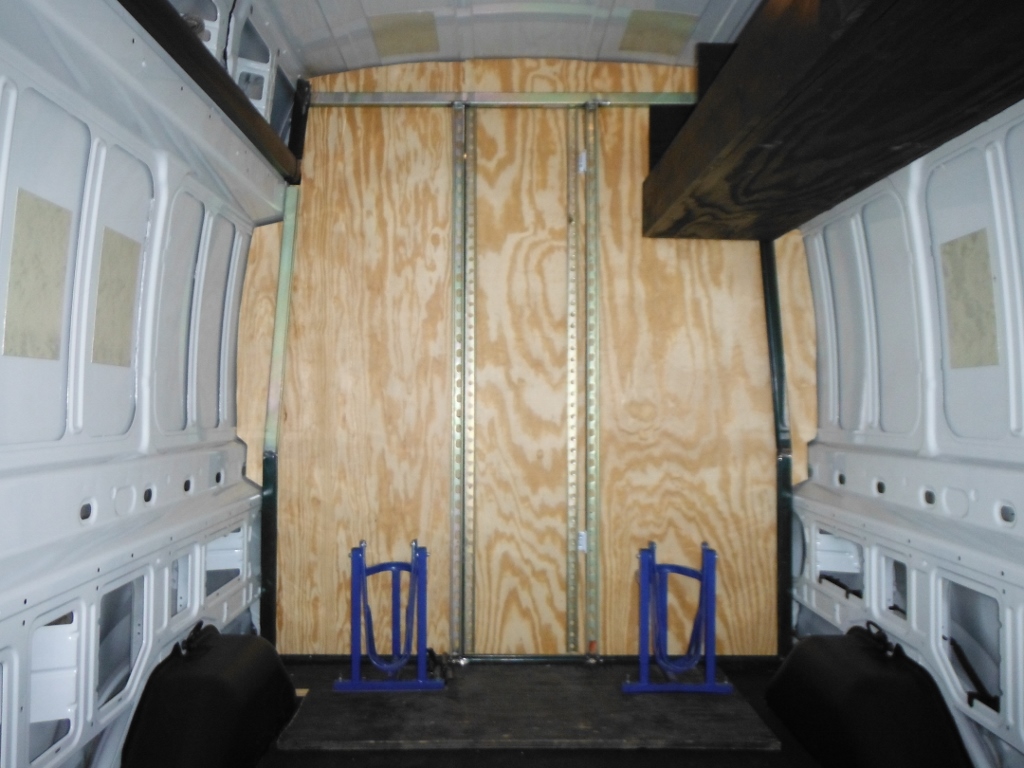 Got all the carpet on the wall glued on----I used 3M Super 90 aerosal spray adhesive------Lowes $13 a can-ouch.
You can see I've started to put thin paneling on the wall on the left---then I can carpet it.
My Lovely wife came out and helped me line things up---nice to have an extra hand.
You can also see the latch I put on the door-----the magnets just weren't going to cut it.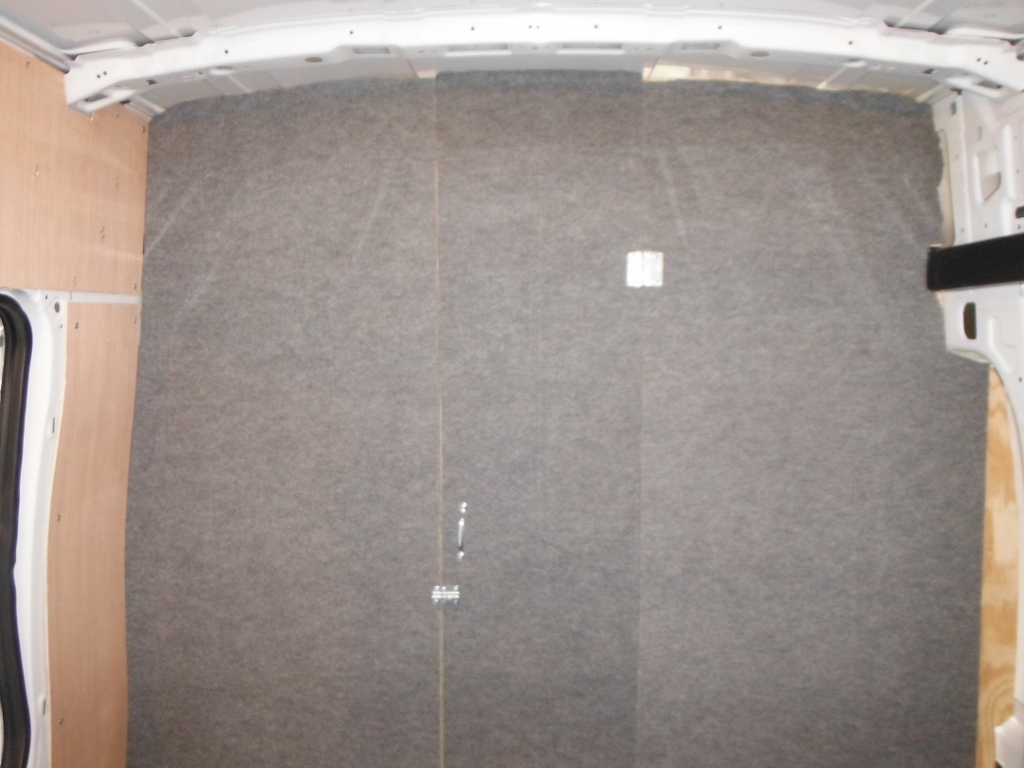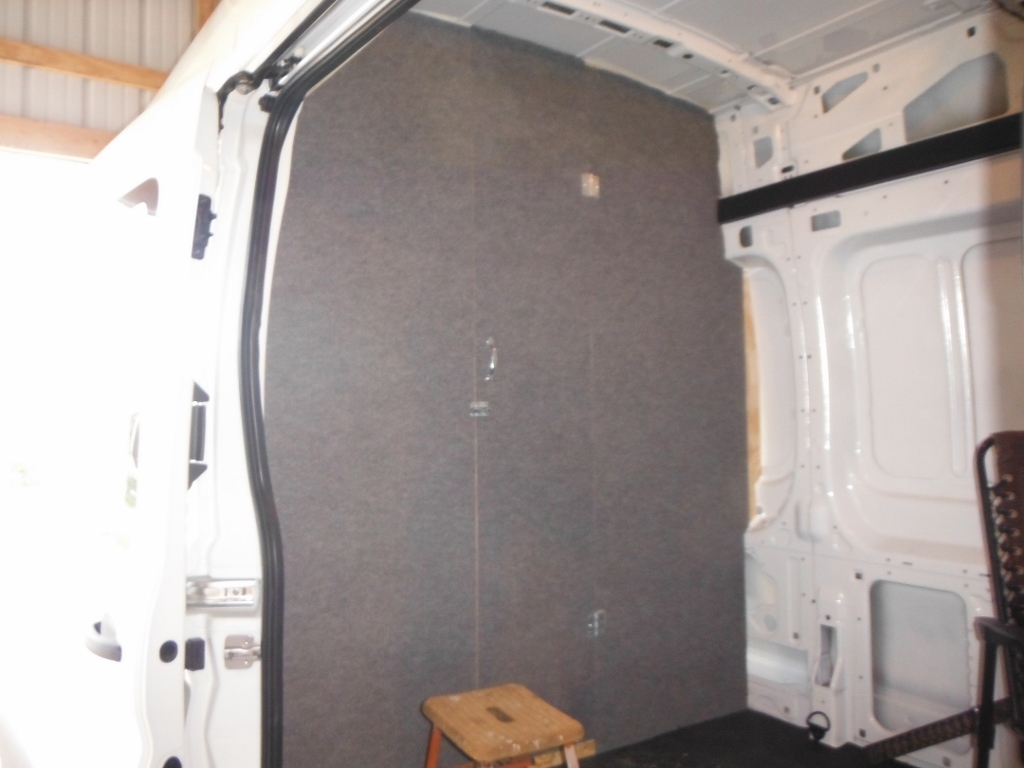 Things are going well and fast-----this part here I was just bumfuzzled to what to do.
All of a sudden a lite went off in my head and I got my wire welder out and cut up some uni-strut and my combo couch and bed is in the making.
Most of this strut is 1 5/8".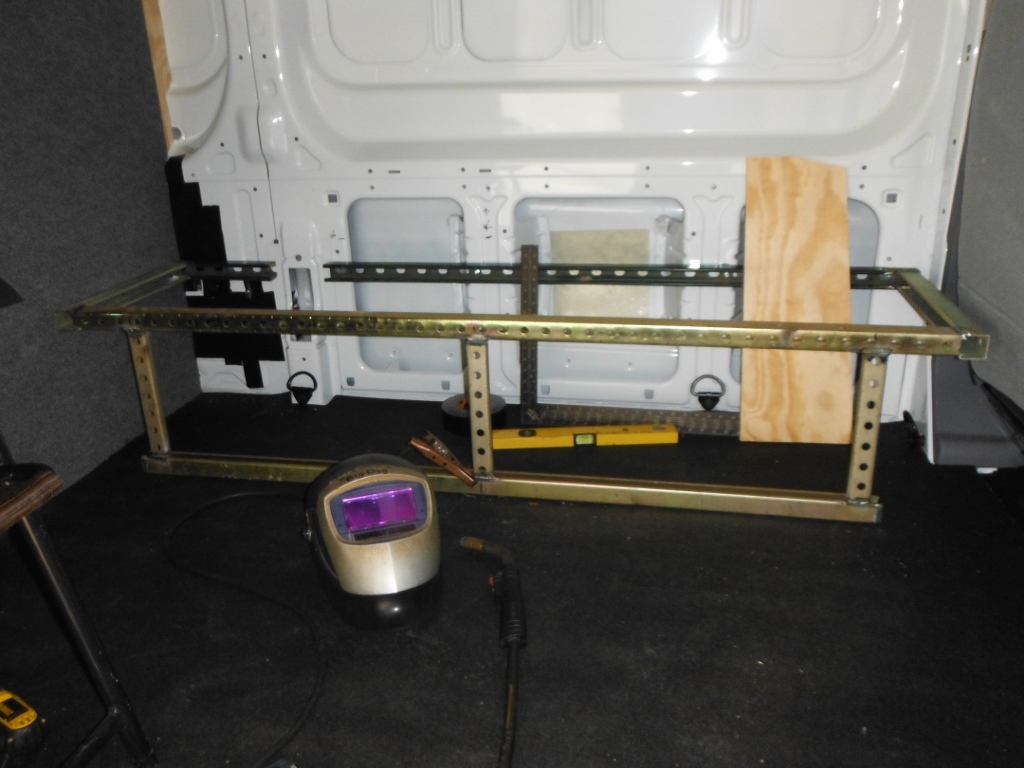 This is in couch mode---not totally finished yet---need to cover the wall and make some cushions.
The side is hinged and will swing up when I want to make a bed.
I fastened the back hinges for the top---to the top of the plywood and then the uni-strut on the wall.
The hinges for the fold down part I put underneath---so when it's folded up you won't even see them--and they
won't protrude up into your bed.
I used 3/4" plywood for the couch/bed.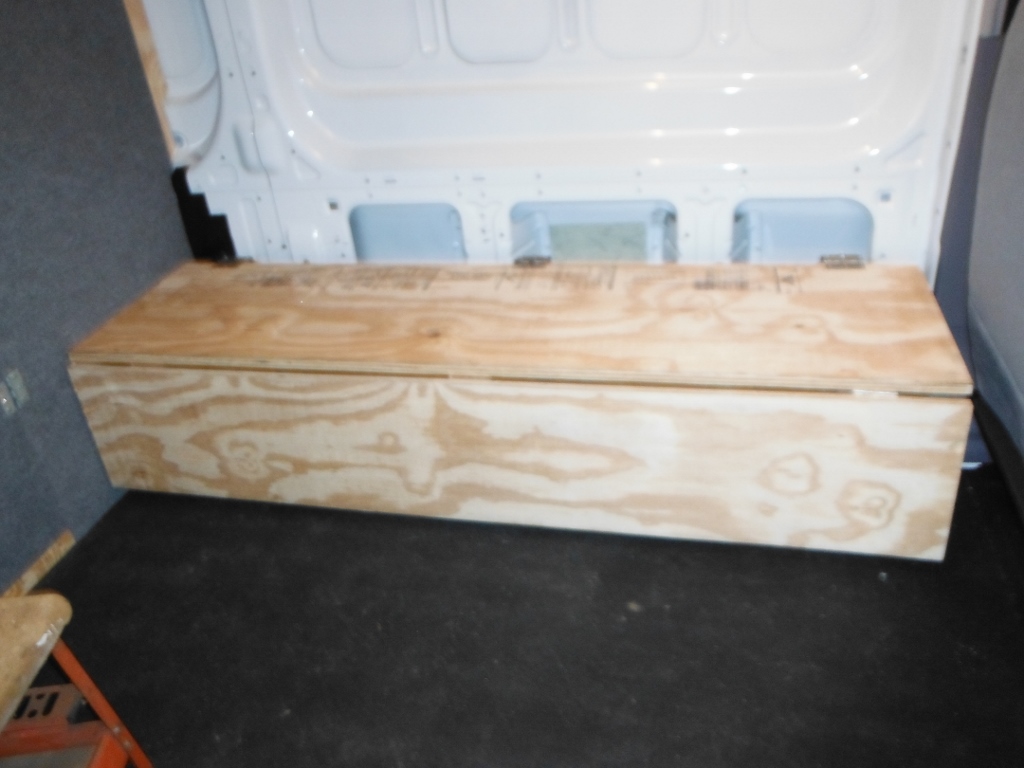 Just like this---------I'll make some supports to hold it up.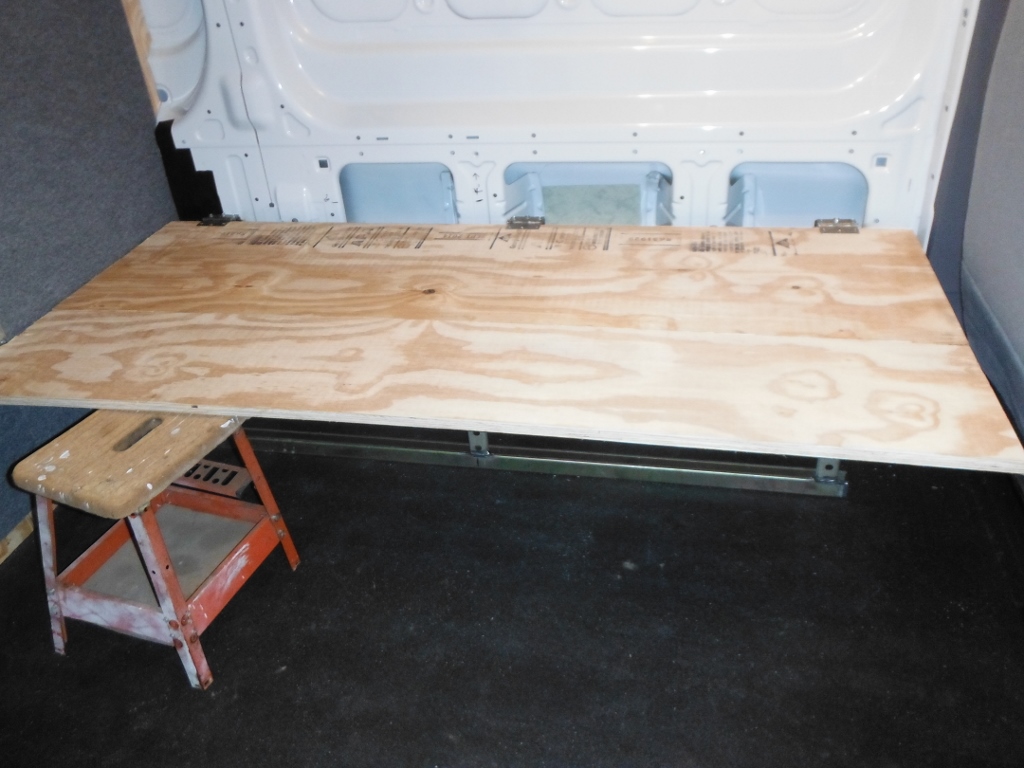 Looking down under the couch---look at all the storage I got.
And in this picture you can see the hinges I put underneath on the fold down part.
I used 3 hinges on each piece of plywood---totaling 6 hinges----I used 3" hinges from Lowes.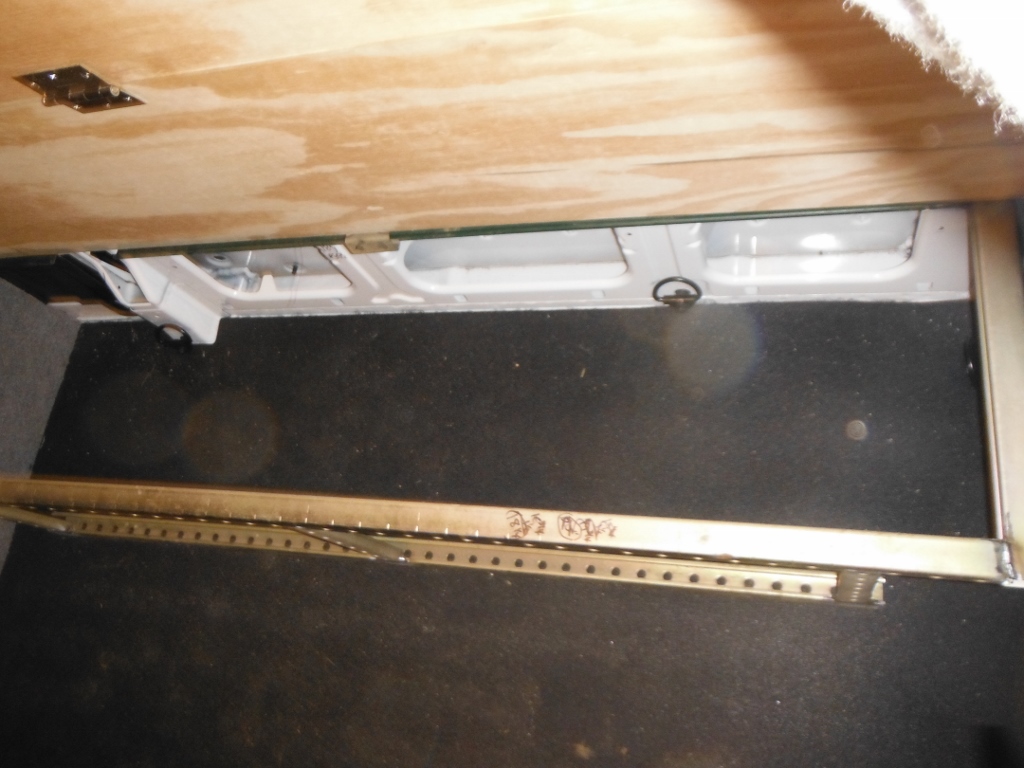 Got the wall behind the couch/bed covered with plywood--I used 5mm thick plywood--------it's ready for carpet.
The plywood on the wall here needed to be really thin as there is a pretty good curve in that wall.
I don't think 1/2" plywood would have made the curve.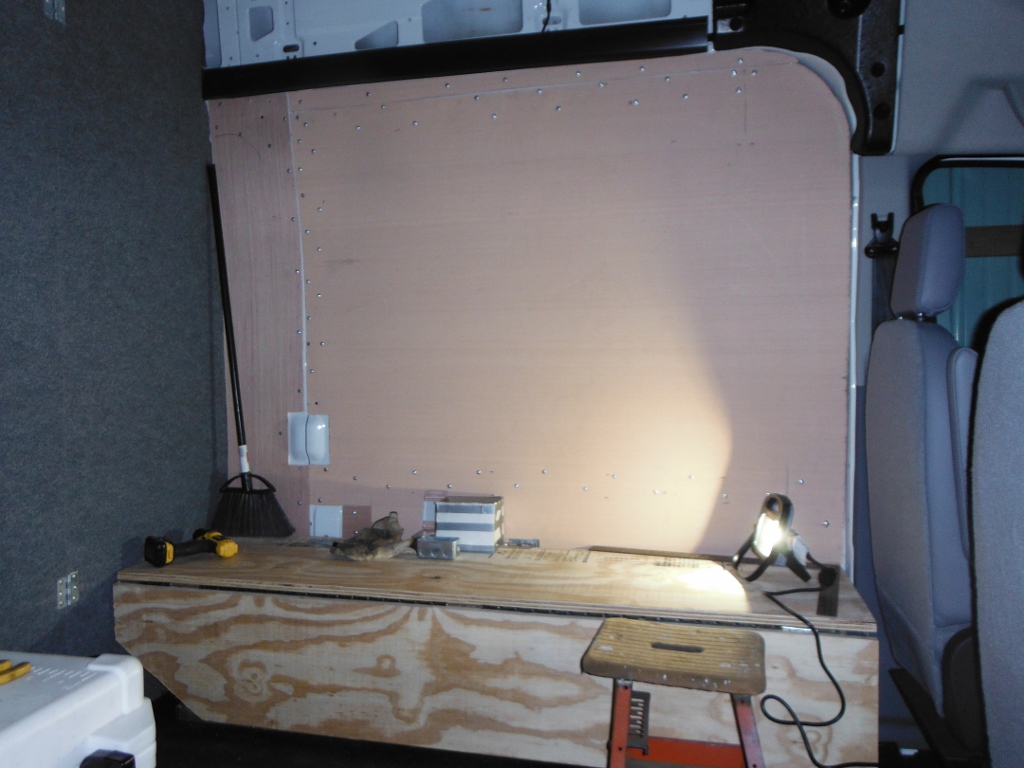 From the get go--------I new I didn't want a refrigerator.
I've had this Pelican ice chest for a while now---it's suppose to keep ice for 10 days----it won't.
But is 500% better than an ordinary ice cooler.
I think it's going to stay there---but if I want when at camp I can just take it out---or put it on the back.
I think I'll dream up somethint to hold it in place in case I stop suddenly.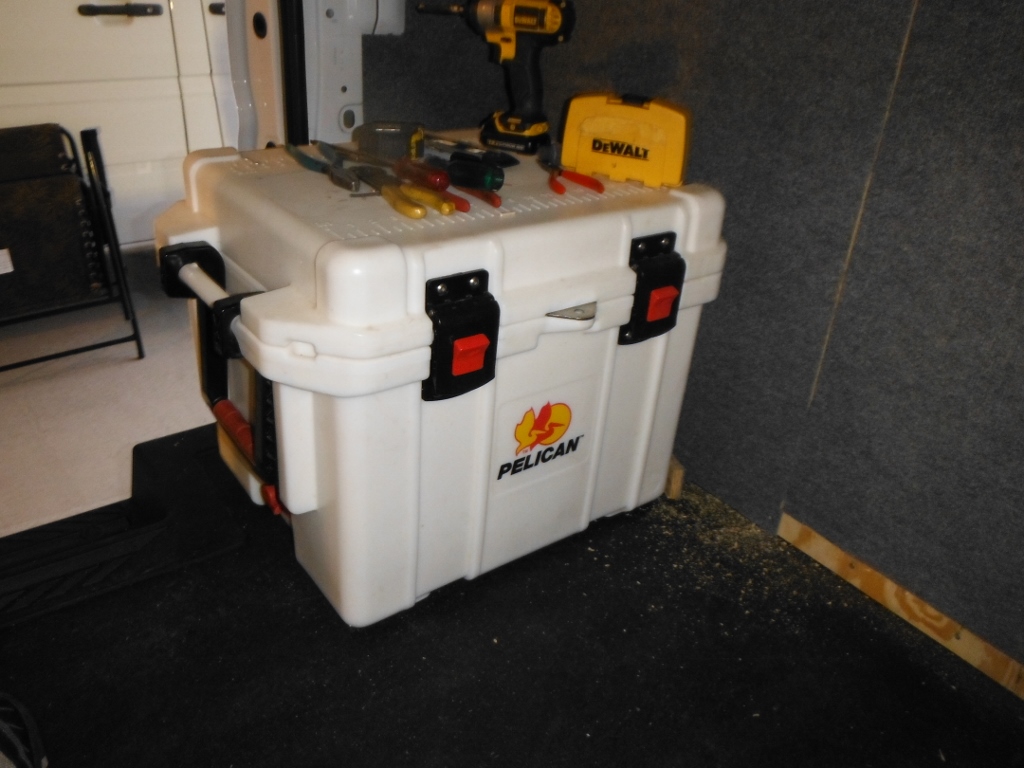 Right above the ice cooler I put this light switch and power outlet.
This is the only power outlet I'll need----and it even has USB charging ports.
When charging stuff I can just set them on top of the ice chest.
The ice chest is extremely sturdy----it can do double duty as a place to sit.
I still plan on putting a cabinet above the cooler----I will buy one ready built.
The switch ??? What does it do ??????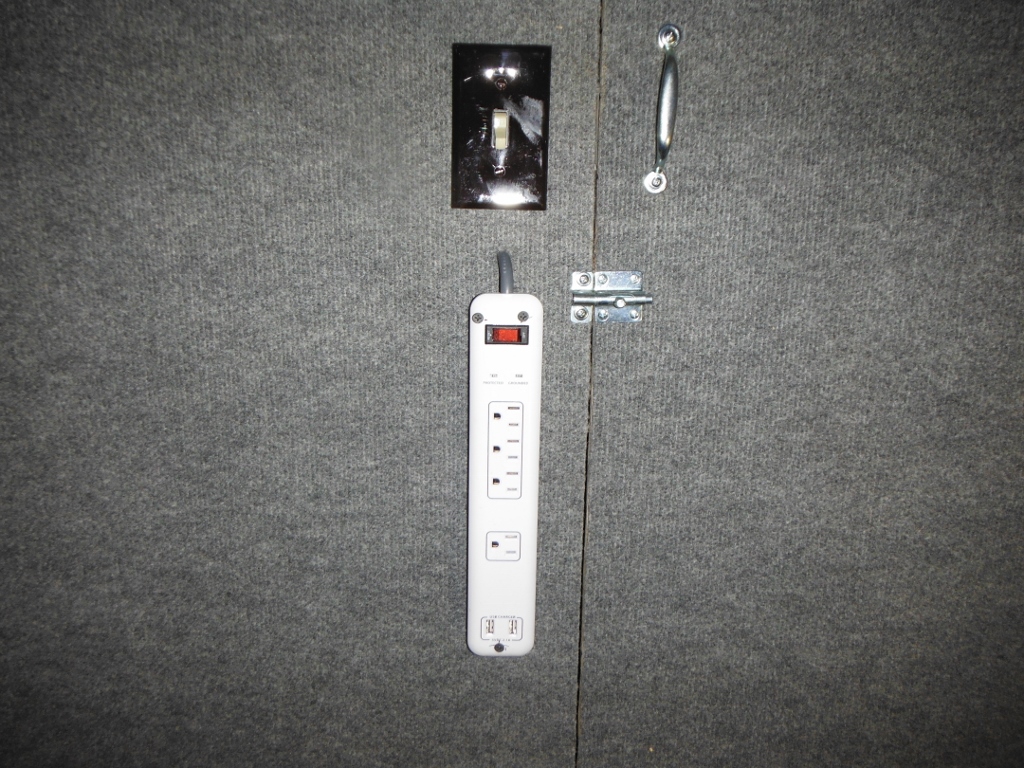 It turns on my LED 110 volt ceiling lite.
Later I'll have a 12 volt too.
Maybe down the road I'll have 3 ways to have 110 volt--I'm still thinking about all this---lot's of options to accomplish
power out in the boonies-----I may go all out----------may not ??????.
1. shore power
2. my 2000 watt Honda inverter
3. And inverter.
And then there's the solar panels------I doubt very seriously I do that.
This is my traveling machine---not like I'm going to live in it.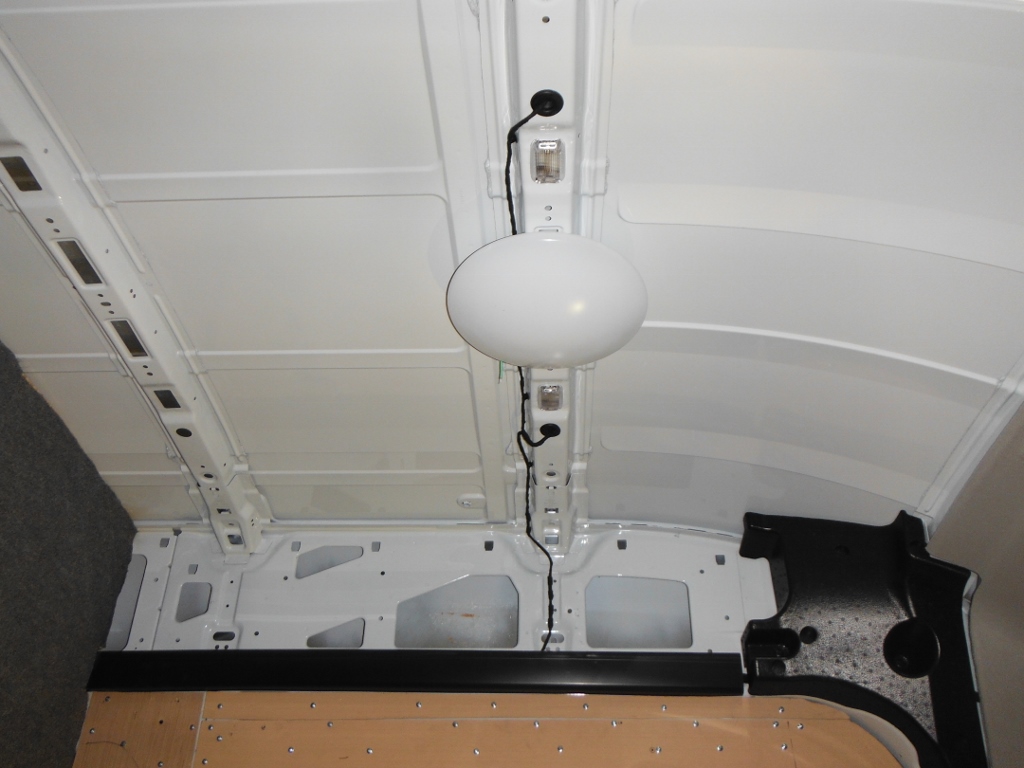 I'm getting the camping part of the van almost totally done.
Got the carpet glued to the wall.
The couch/bed combo is folded out in this picture for sleeping.
For the 3 legs------I used 1/2" thin wall conduit.
I took 3 thin wall couplings--welded them to a 3" square plate---and screwed that to the bottom of the swing out part of the bed.
Then when I want to make bed----I just slip those legs into the couplings---takes just 15 seconds to set up the bed.
Again----I used 1/2" plywood on the seperator wall------5mm on the side walls where there were curves---and 3/4" for the bed
and cabinet in the rear.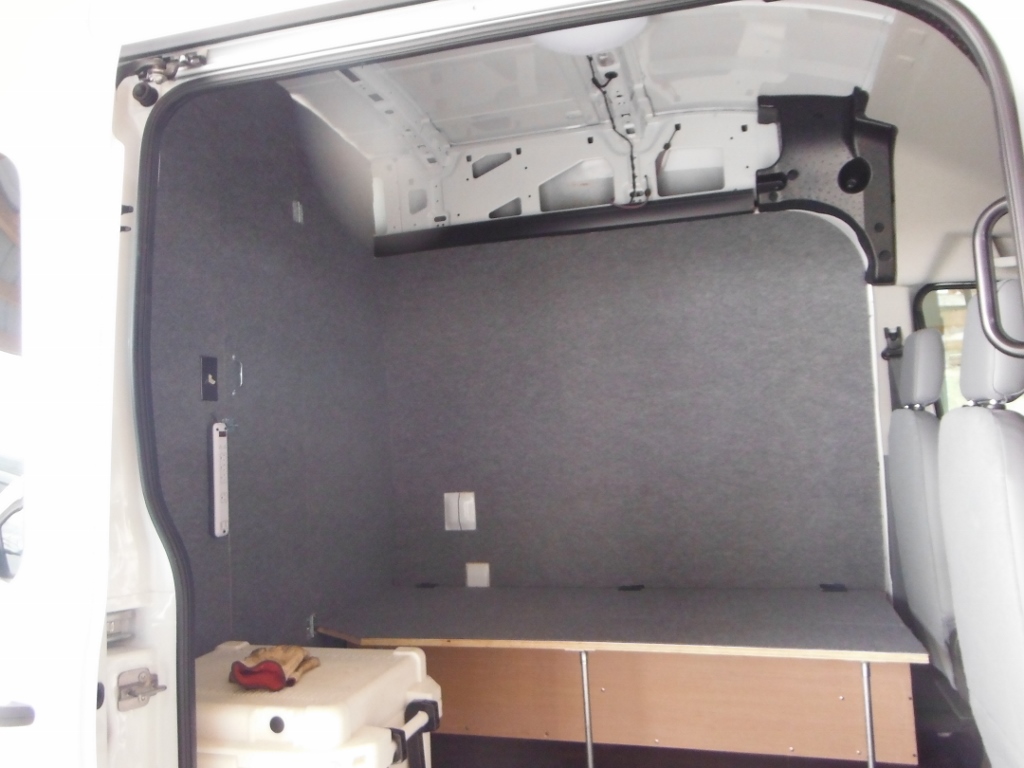 And here it is folded down.
If you look close you can see I cut a 45 degree slice out of the folded down part---that is so I can still open the door to get to the back
and not have to tear down the bed.

I bought a black piece of carpet at Big Lots last night---I'll get in in there when I quit making messes.
I'm pretty good at making messes. My initial are MES.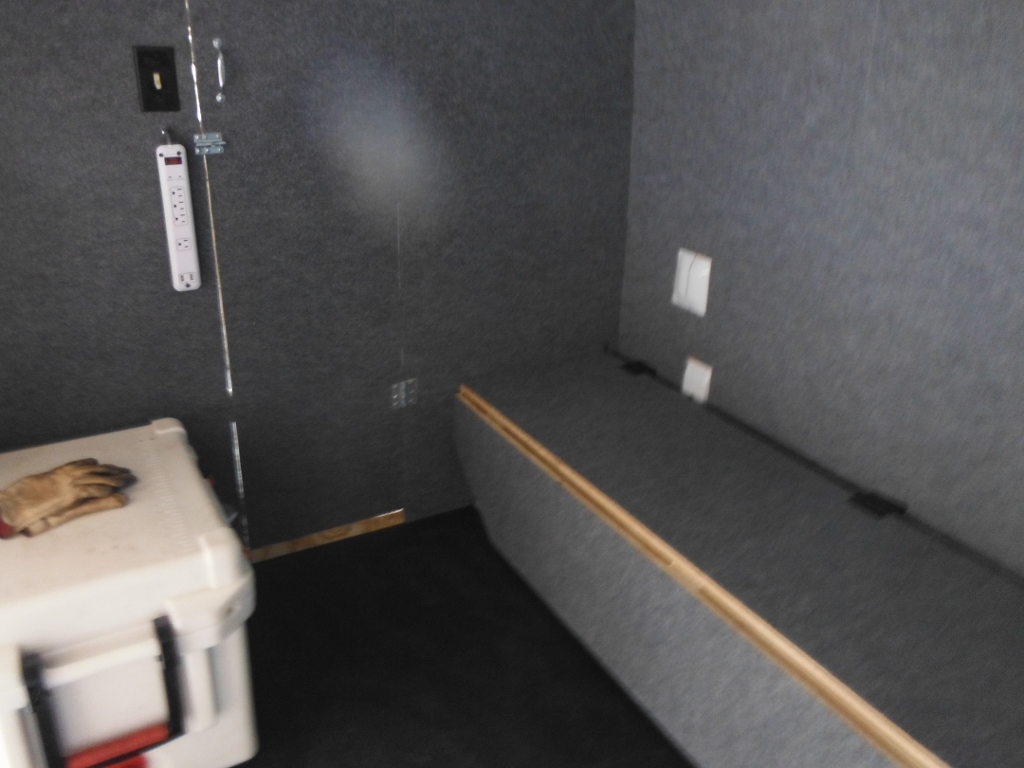 Got my outside shore power RV type receptacle installed.
I can use shore power or my 2000 watt Honda generator.
Mounted these 2 drawers in the back---got my propane stove (Jet-Boil), trail mix---fire starter, camping cookware ----stuff like that in the top one.
Ratchet straps keep the bike from rocking and putting stress on the spokes and wheel.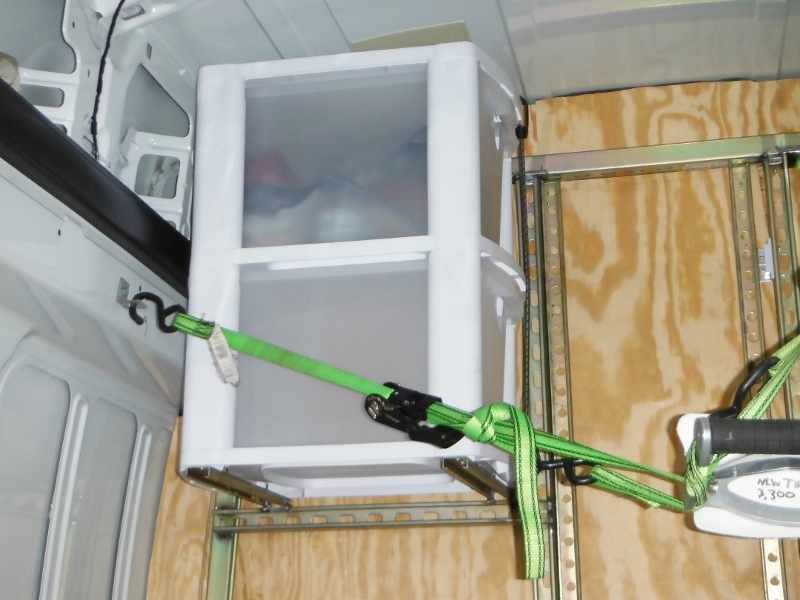 Mounted this handy dany aluminum storage tray for aerosol stuff----and has a towel holder that holds the roll from spinning.
Attached my multi-too and razor knife to the side of it.
It also has a fold down work tray---------which I doubt I use.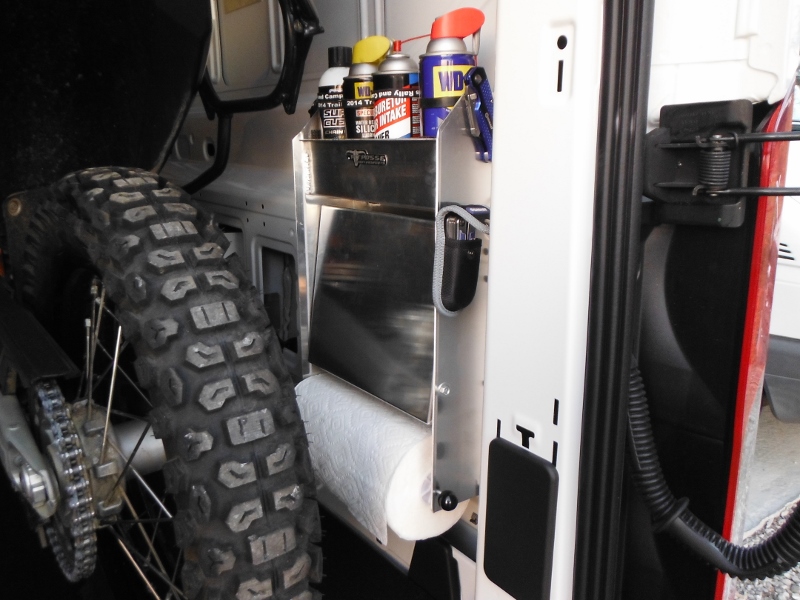 Bike loaded and ready to go----That brown thing on the end of the black shelving is my Gerber LMFII survival knife.
With my old "short" sprinter I still had to camp back in there-----not no more.
I can still put another bike in there of course.
I have a bike with a windshield------it will have to go on the left side.
Now I don't have to worry about how much stuff I cram into the back as I don't have to leave space for sleeping.
When I travel----I'll probably carry 2 motorcycles and my bicycle.
These next few pictures show the huge difference in lengh---and height of the 2 vans I have.
The sprinter lives in Idaho now----the guy that bought it is a high country mountain guide and is going to live in it.
No house, No mortgage, No water bill, No utilitiy bills--awesome.
The Transit clears my carport by 1/2" on top.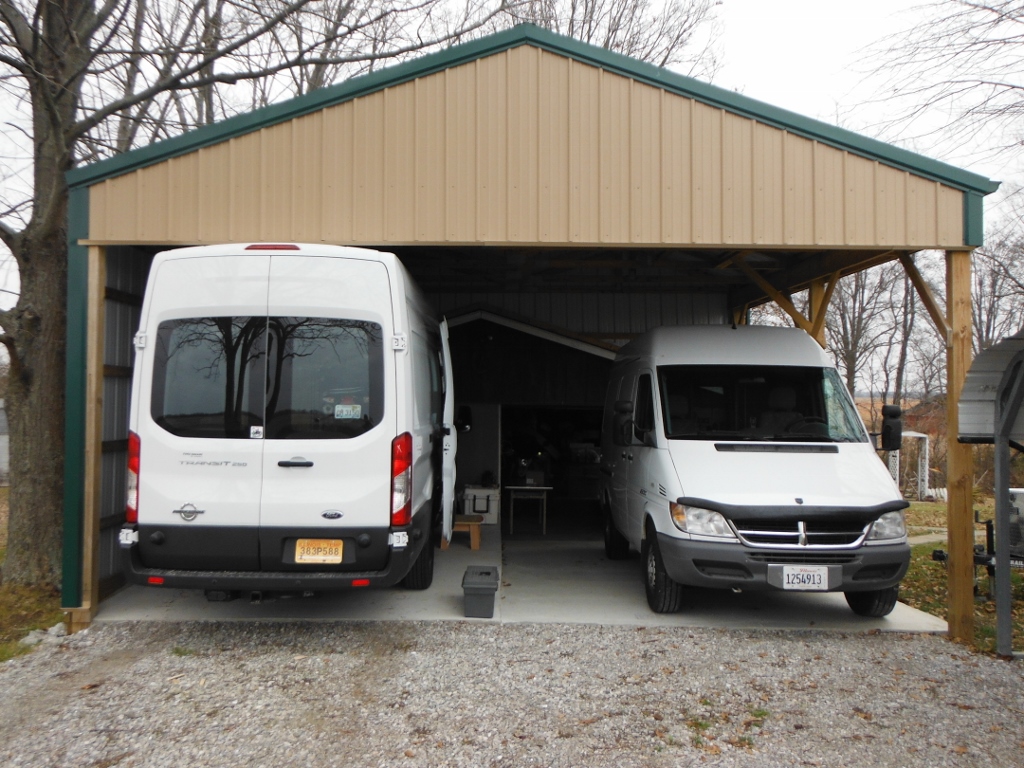 But doesn't clear it lengthwise---that's just the way it's going to be I guess.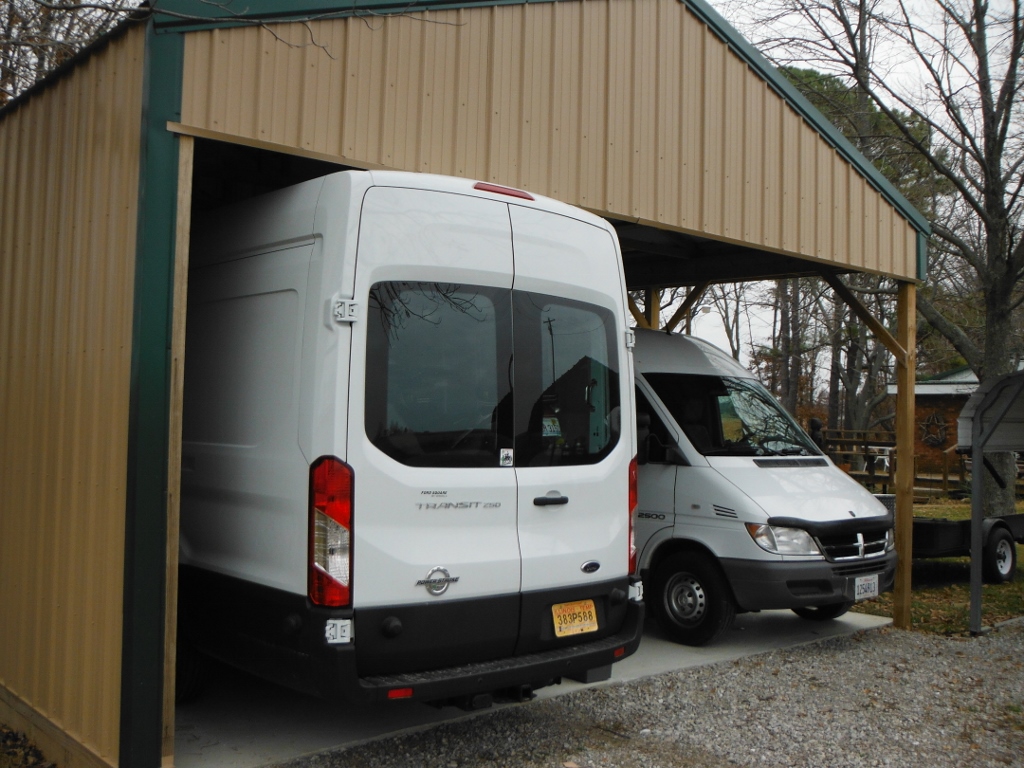 My wife finished making the couch/bed cushions------nice !!!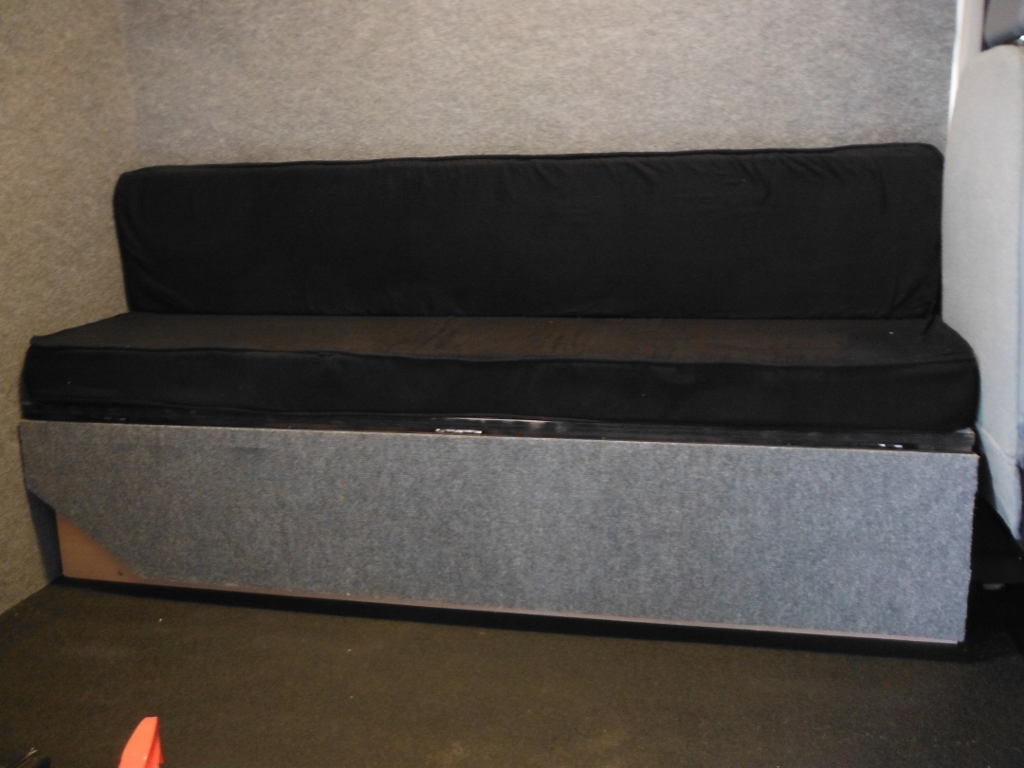 Put this handy dandy step in my hitch receiver---nice for an ole' geezer like me to help me from busting my butt.
This is the model D360B Dominator in black-----from Go Rhino----about $92.
Got mine on Amazon with free shipping----actually free everything---my son bought it for me.
Merry X-mas Dad !!!!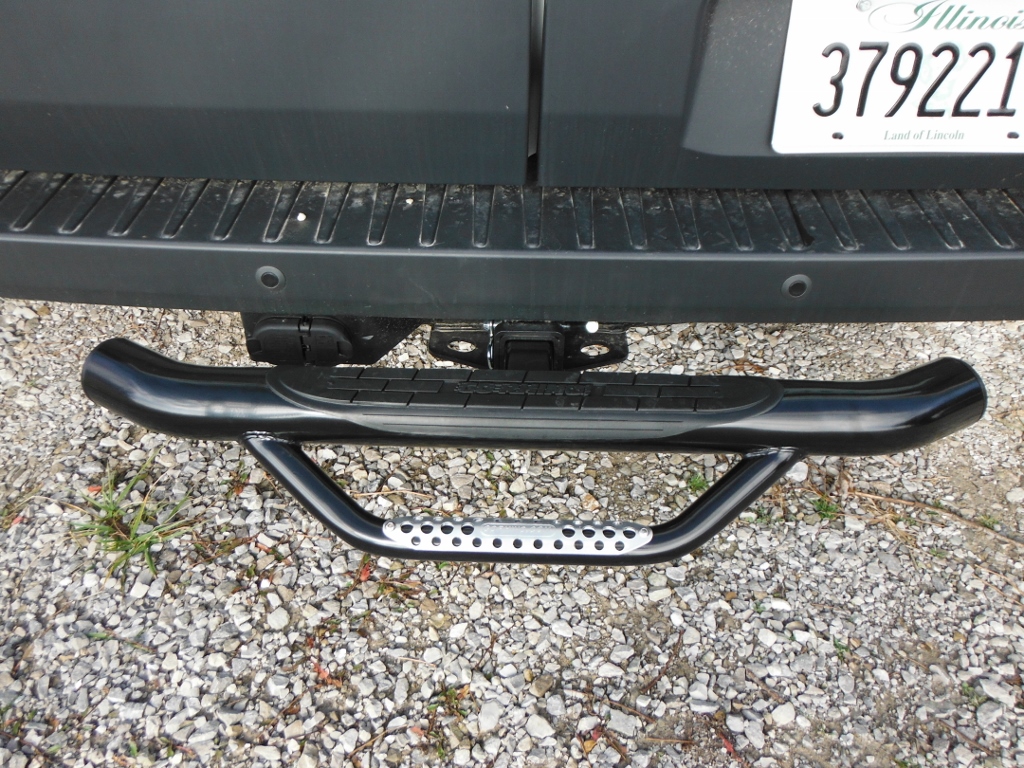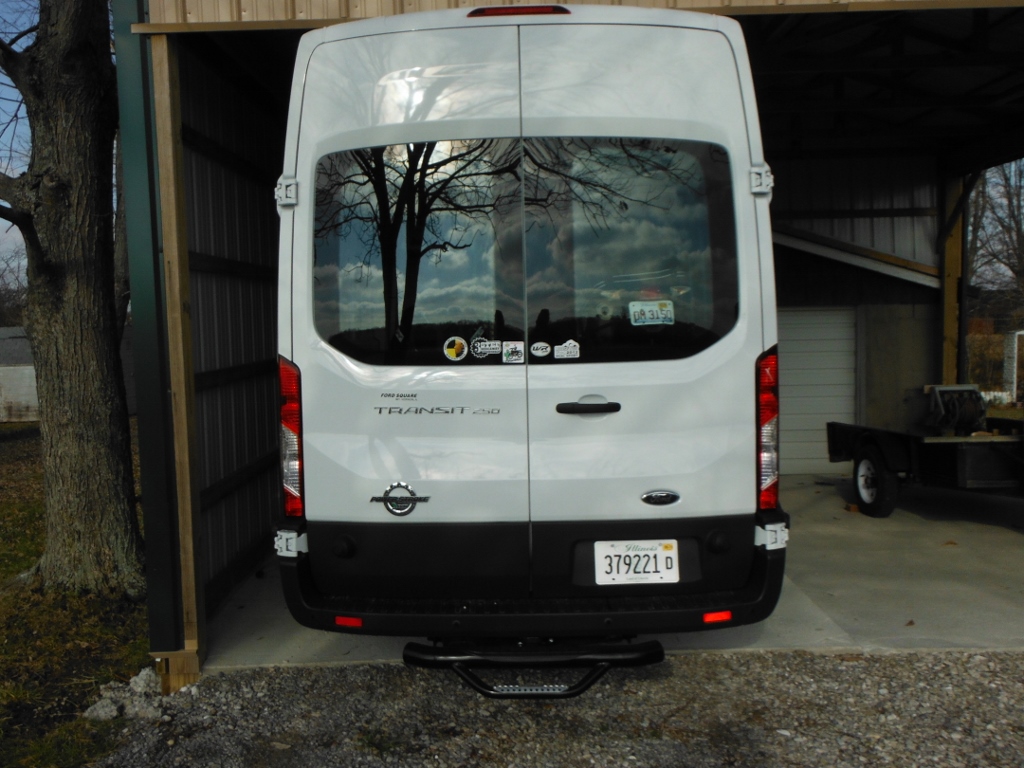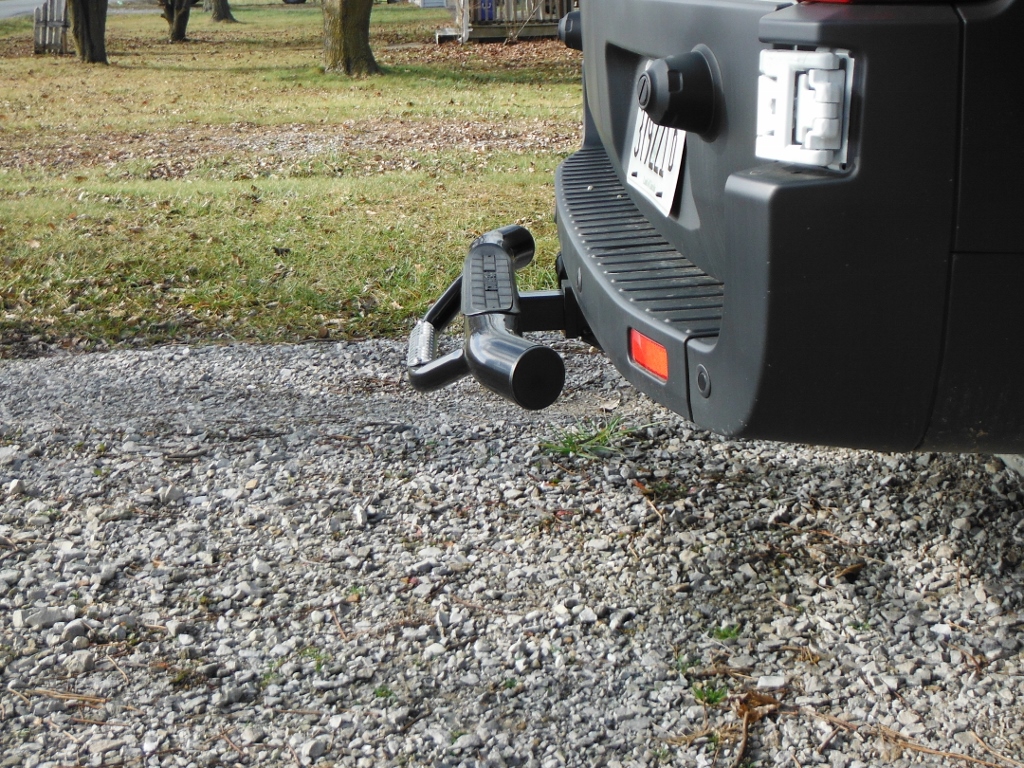 I made this for getting in and out of the side door.
Made it nice a wide so even if I step on the edge of it it won't flip.
If you're a young feller--------you don't need this.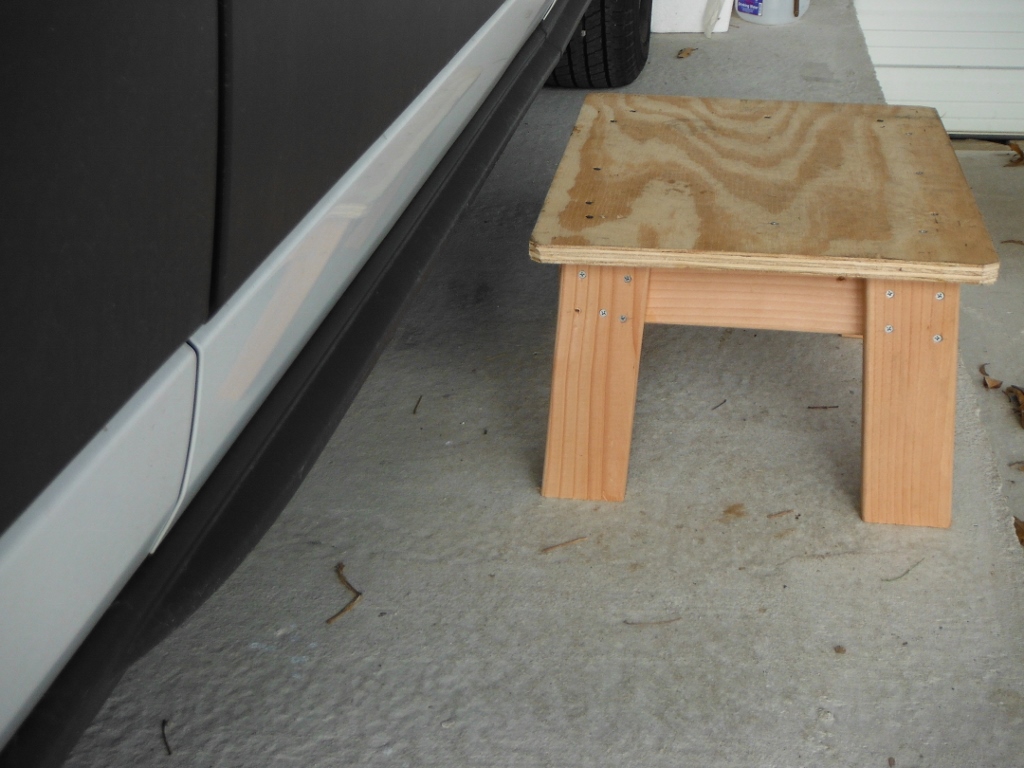 1-8-15
I had all the glass except the windshield tinted--------the rear doors glass and the side door glass got the extreme dark tint--some call
it the "Limousine" tint-------you can't see in---but you can see out----this may eliminate the need for a curtain on the side sliding door when camping
and keeps people from seeing whats in the cargo area.
The front doors got the legal limit tint.
I've been driving it in zero degree weather lately--------starts right up.
The motor and heater warm up quickly after you start driving it---but like my sprinter it doesn't warm up hardly at all
if you leave it idle on a very cold start.
The cab and camping area gets plenty warm and after a bit I have to turn it down-------awesome.
I'm assuming the AC will work as well.

Bought me a "Camp Chef" propane cook stove that has an accessory griddle for breakfast stuff.
Works on the 1lb. propane bottles or I have a hose to use a 20lb. bottle if I want.
Also bought a cookset from GSI that has all the cooking pans I will need in a nice little kit.
But--now-------------------------I need to learn how to cook ???????
1-14-15
Still less than 1,000 miles
In my old sprinter---I never did find a neat out of the way place to store my aluminum folding ramp.
Where I kept it was a pain to get to.
So..........I have a bit of extra headroom in the transit and mounted it here---totally out of the way and easy to get to.
I bolted 2 hooks that I made to the wall---now I just stick one side of the ramp into the hooks and fasten the other side with an adjustable strap.
The top of my head still fits under the ramp.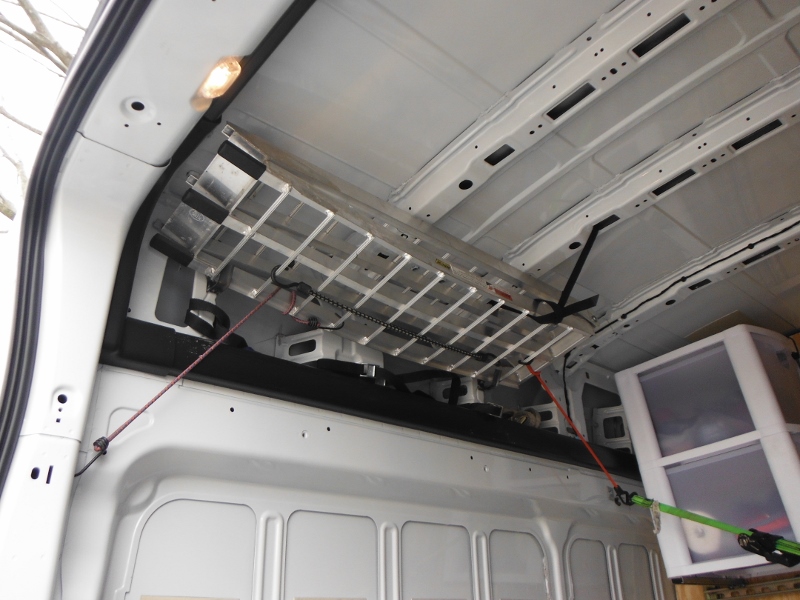 A total view.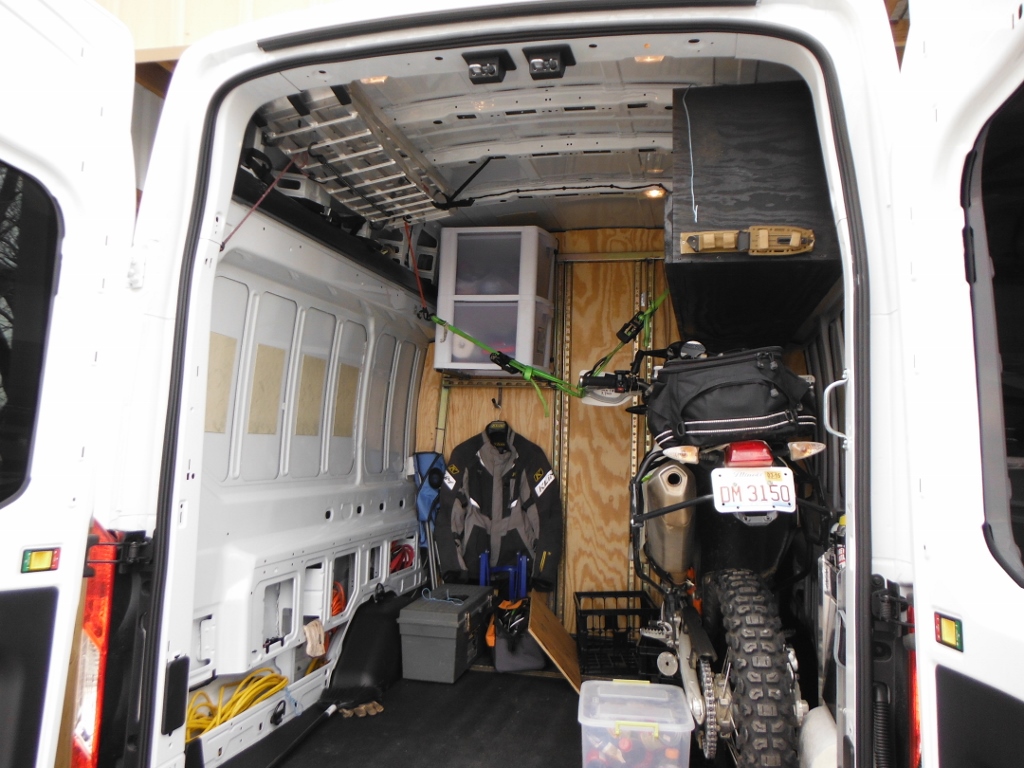 What do I think of it after 17,500 miles ???????
Awesome----so smooth and quiet---no rattles, sqeaks, nothing.
Transmission shifts perfect.
Computer says I'm gettin' 23 mpg average around town---all stop and go and some idling.
I've gotten 26 mpg once driving in the high mountains at altitude.
Mostly get about 23-24 though.
Motor is awesome but is no more powerful than my 2006 Mercedes Sprinter--but that's OK-----it was very powerful.
I truly can't belive how it rides---like a cadillac--------I did not expect that at all----a pleasant surprise.
Me and my wife can talk in it in our normal voices--------no shouting.
Uses about 2 3/4 gallons of DEF fluid in 5,000 miles.
The only problem I've had with it---the big rubber gasket around the rear doors kept coming loose.
The dealer replaced it under warranty.
Did the last oil and filter change myself---had to roll the front wheels up onto some 2X4's so I could get under it.
Very straight forward. Then had to reset the oil change monitor.
Had the TSB done at the dealer for the water pouring down the windshield and getting into
some people's airbox---hadn't happened to me--but got it done anyway.
Wasn't sure I'd ever put a microwave in my van---but saw one at Wal-Mart for $29 and got it installed today 8-15-15.
I can run it off of shore power or my Honda 2000 generator---and if I ever do it-----an inverter.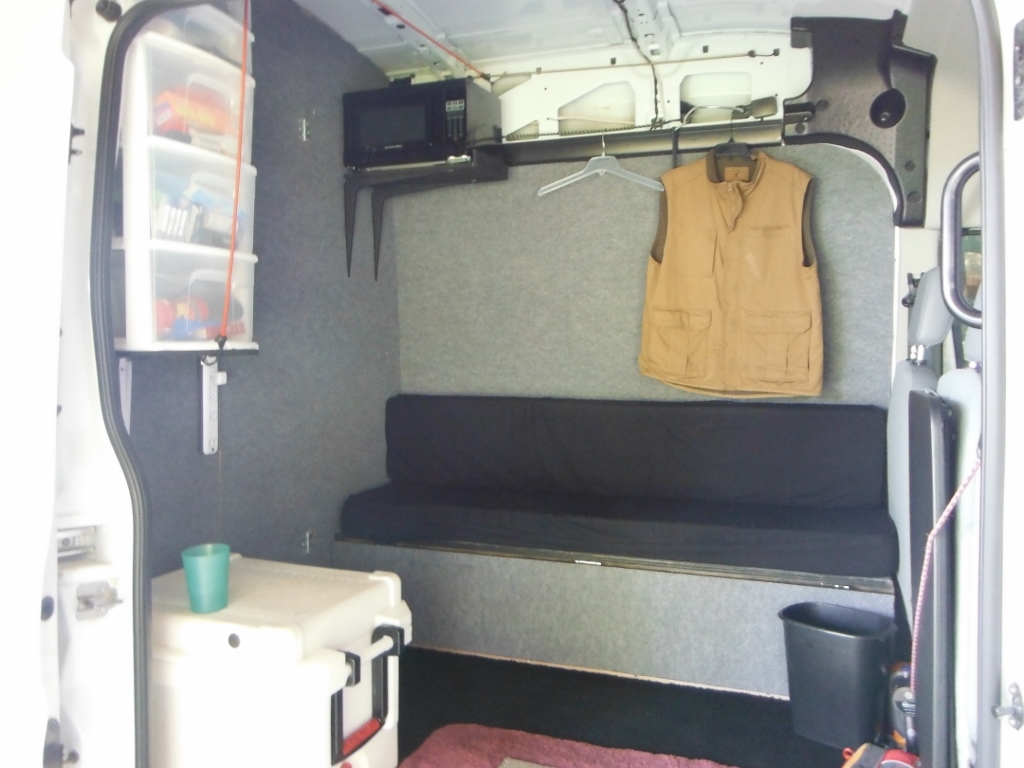 I hung a first aid kit on the wall-----I think I need to get a fire extinguisher just in case.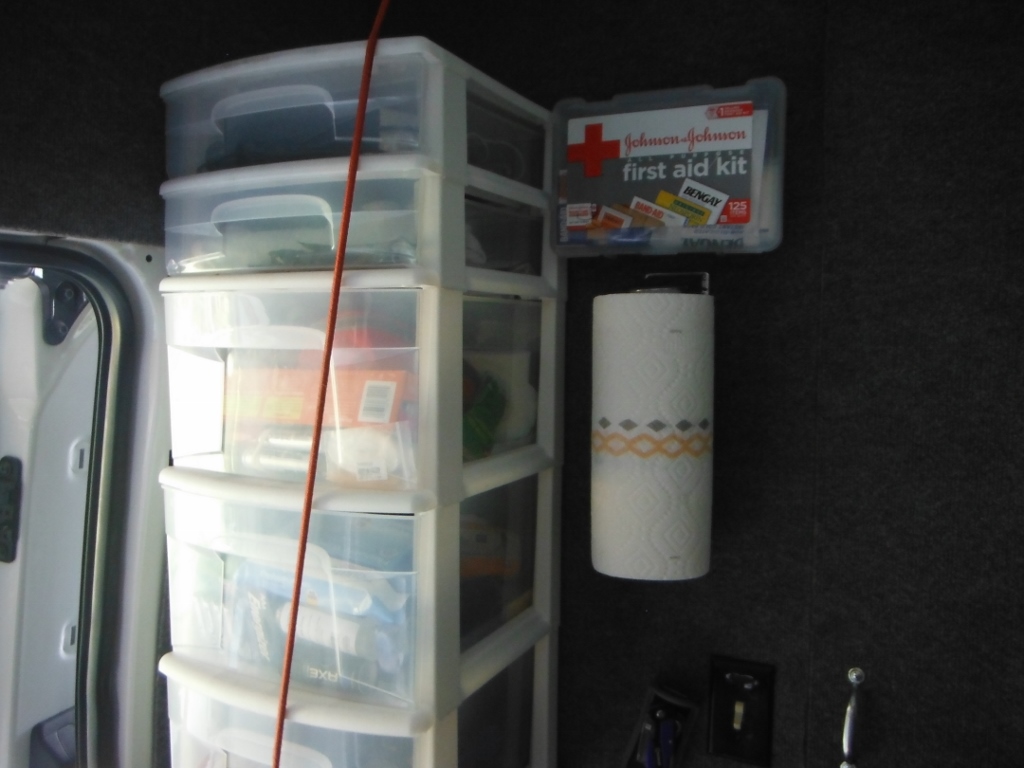 12-7-15
Swivel seat install for passenger seat.
Man I wanted a swivel seat in my van. Be so neat when camping to have a really nice full chair to sit in.
But $350 was a lot change for this------------thank goodness Santa stepped in.
I got it here, click the link: : Swivel Seats Are Us
So this is what it looked like after I un-boxed it.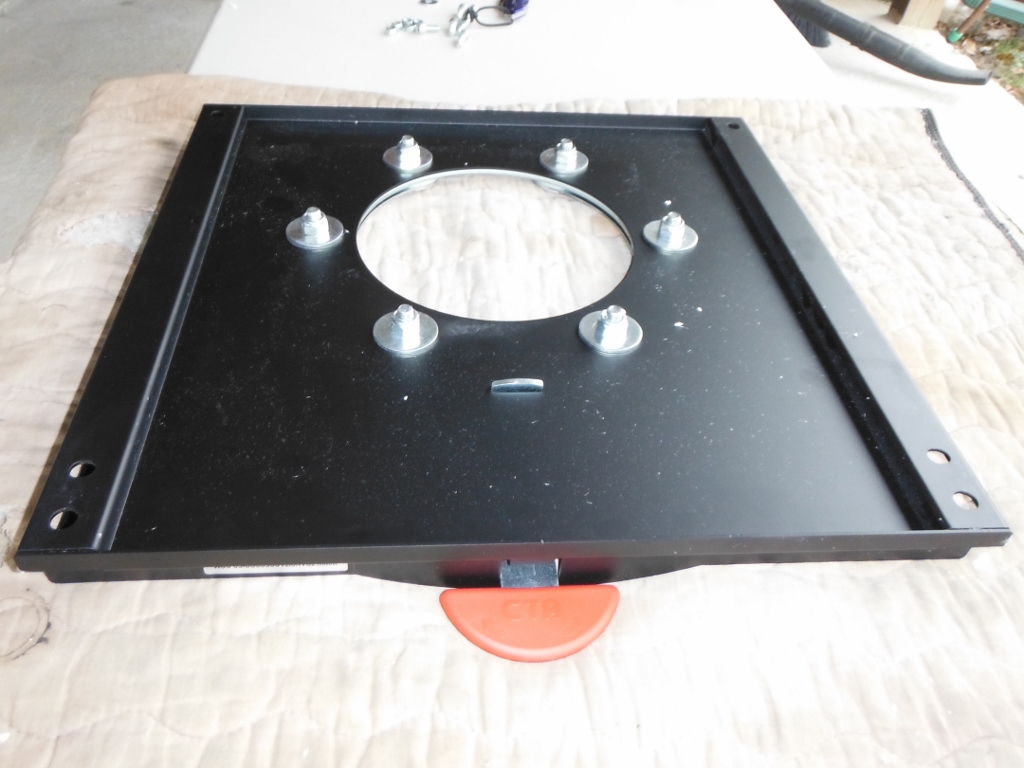 Very simple install took about an hour.
1/2 that time was dealing with the styrophoam packing nuts---they were crammed into places I could hardly get them out of.
Remove these 4 torx screws and the whole seat just lifts off and I set it behind where it was---as the seat belt is attached to it.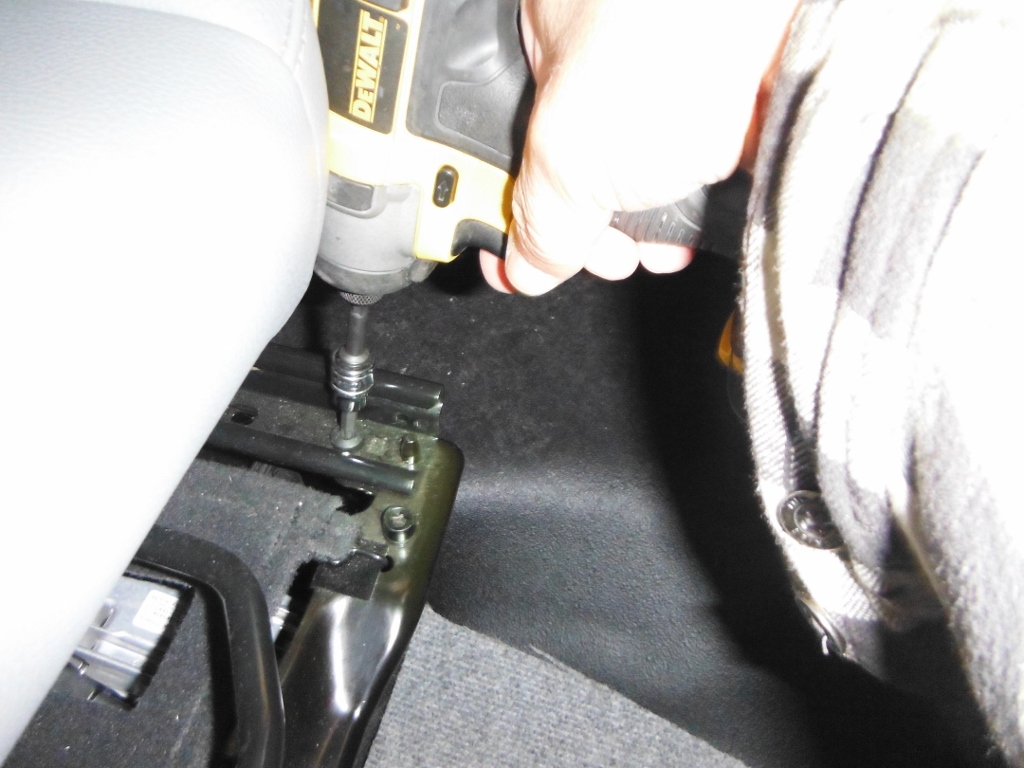 Here is what your left with.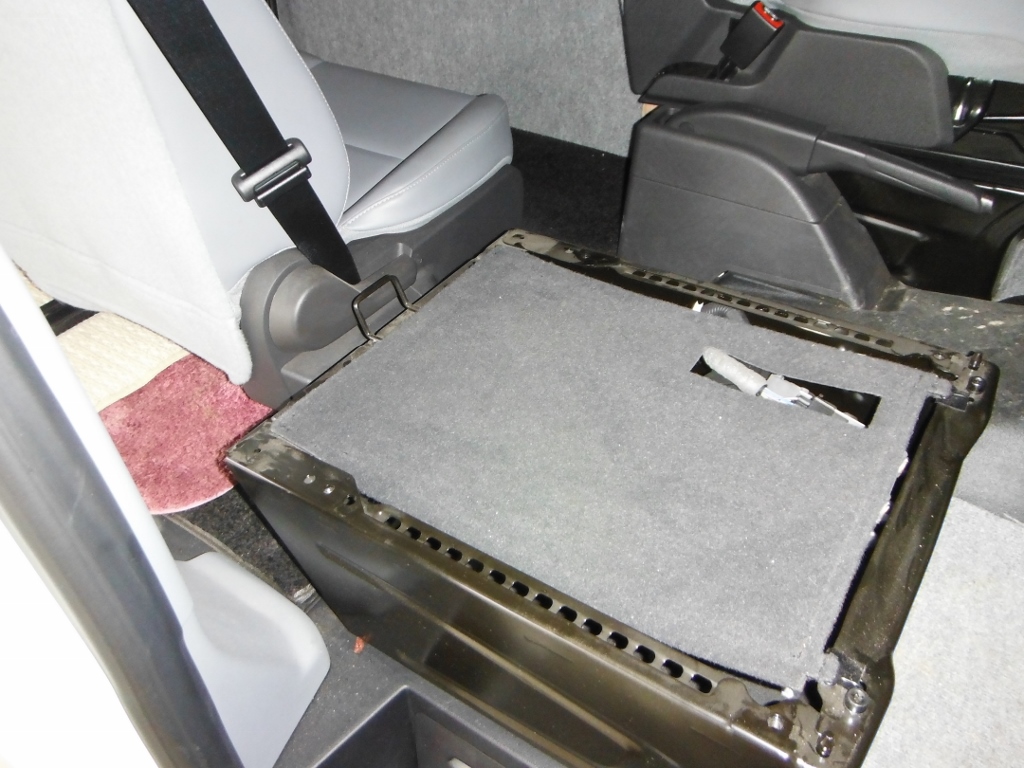 See that really nice huge jack under the seat--------------well take it out.
After putting in the swivel you no longer have access to this area----swivels are us didn't say anything about that.
By the way-------I didn't get any instructions-------I wouldn't have read them anyway.
I don't know what that electric gizmo is there ?????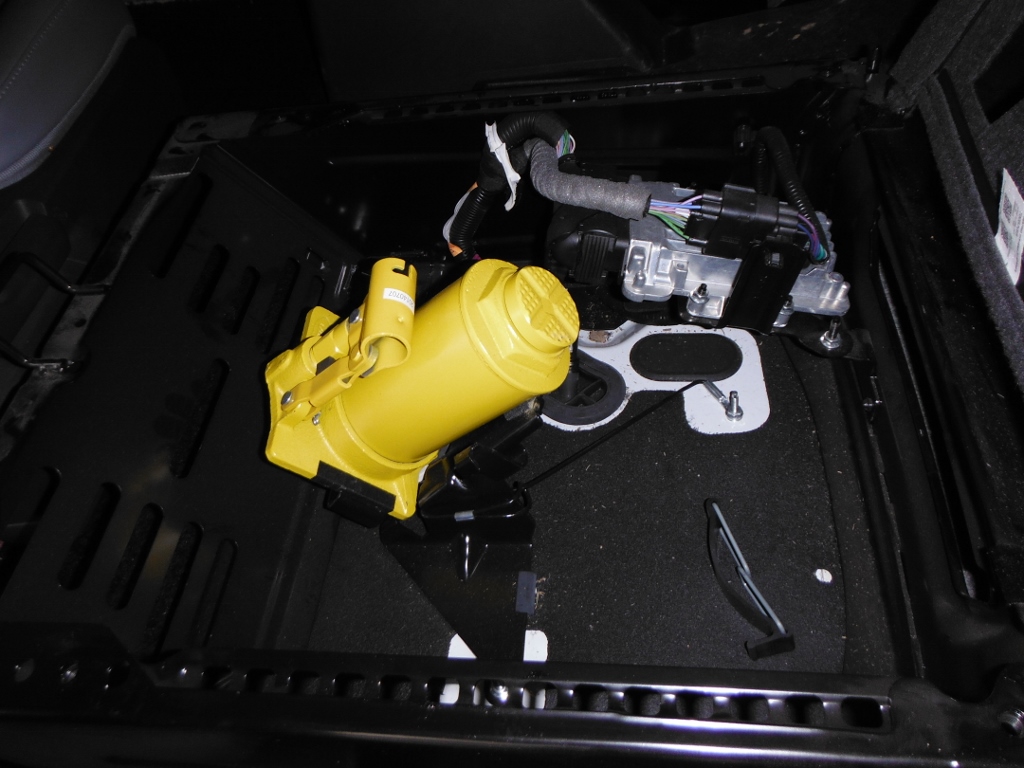 See that little U shaped bracket--------not sure what it's for but I had to cut it off completely so the swivel could swivel.
Swivels are us didn't say anything about that either.
You can see it hitting the bracket in this picture.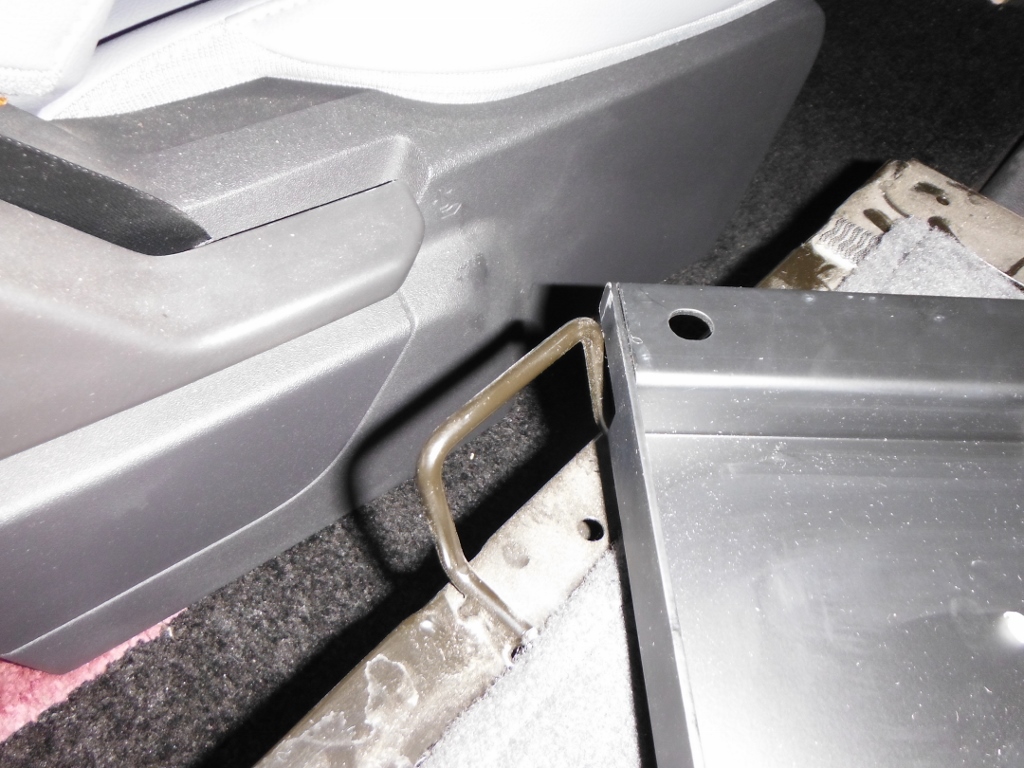 Install complete----here's what it looks like behind the seat with the seat slid all the way forward.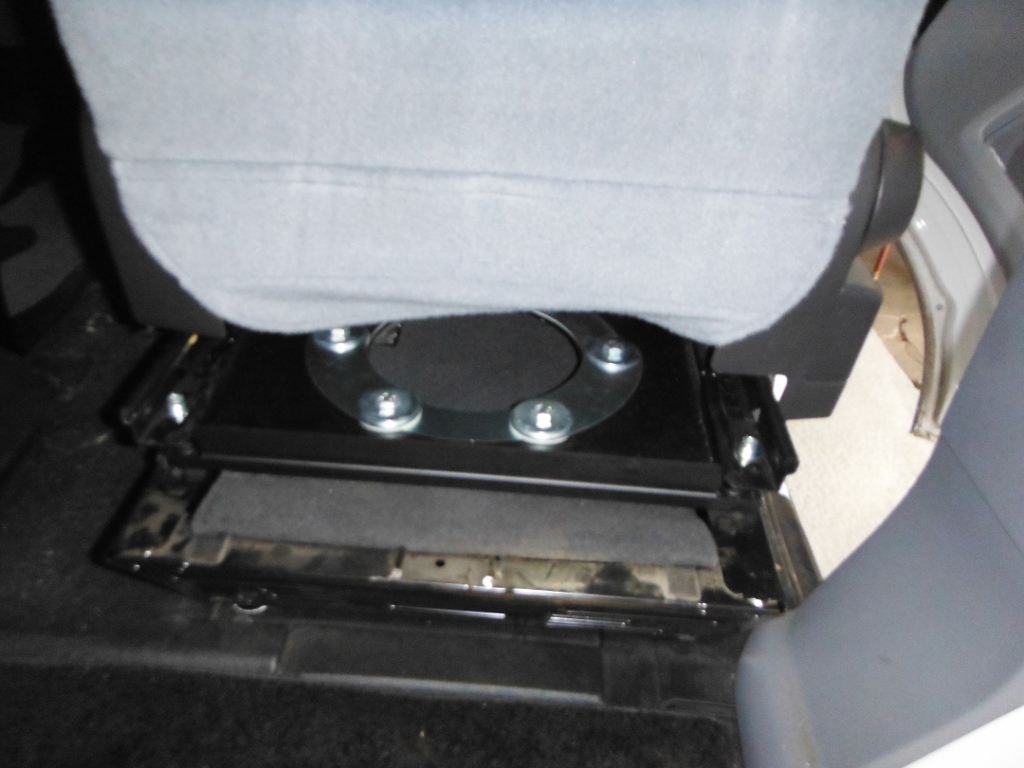 I love this thing----just push down on the red lever---rotate the seat wherever you want it.
When you rotate it back to where it's suppose to be it locks in place.
The seat belt is no problem-----I thought it would be.
My seat had no wires under it---I thought it would for the seat belt alarm--but there was none.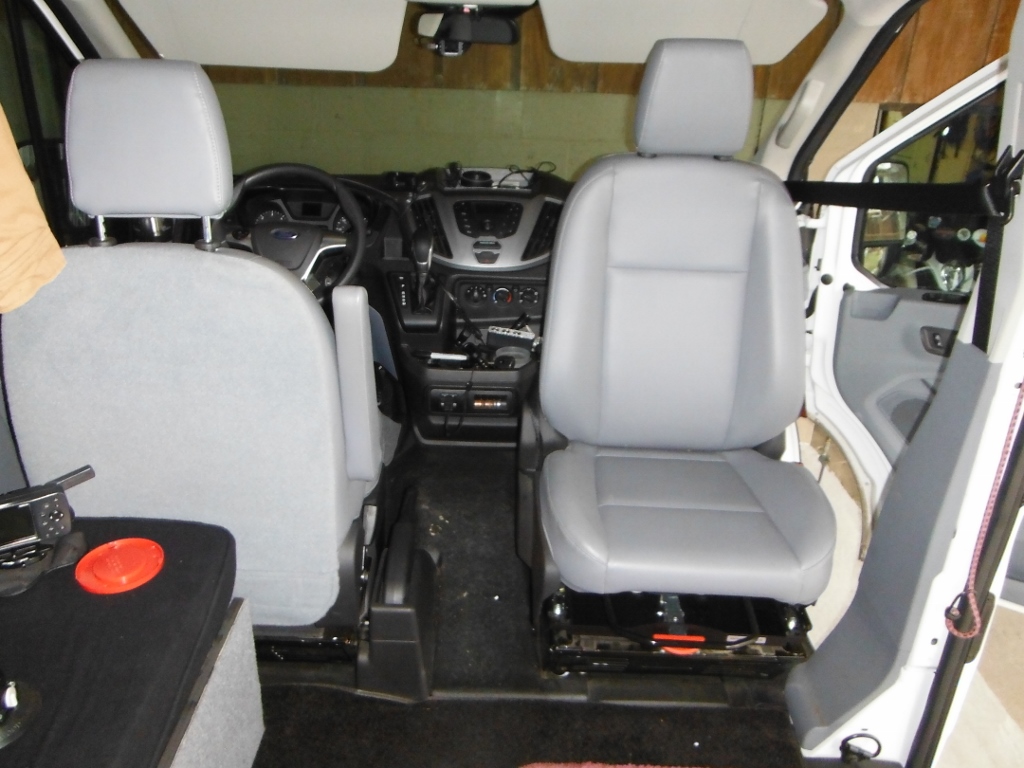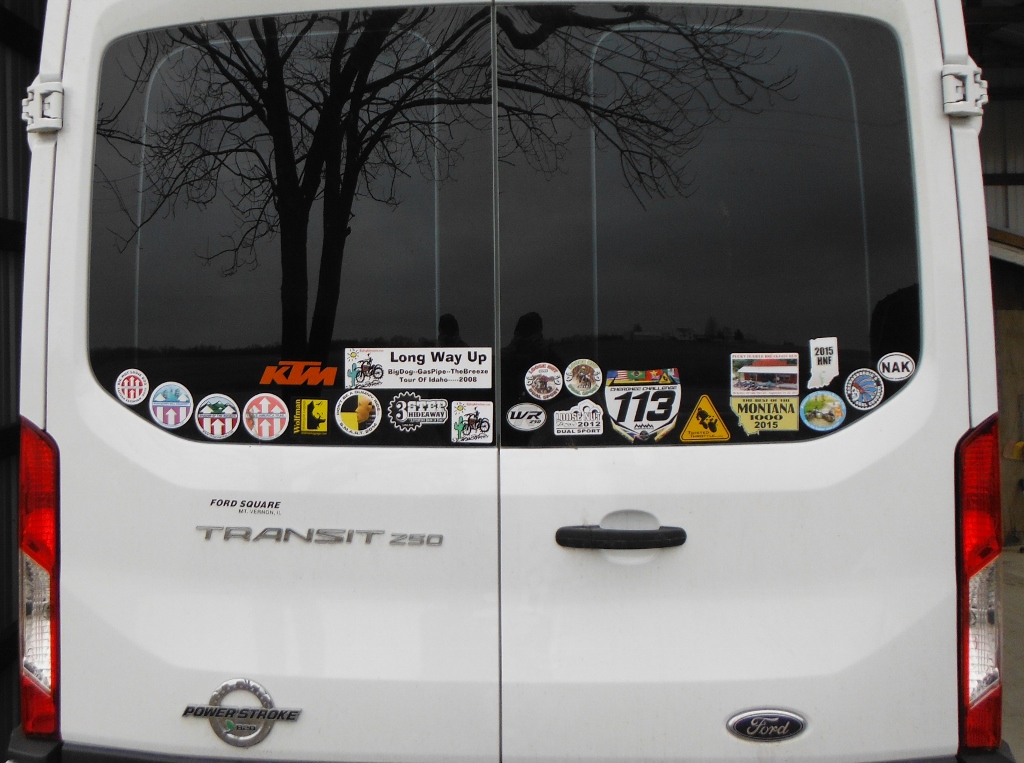 More to come.