The Bridge
Just how far would I ride my bike to see a bridge ???
I heard about it---I saw some pictures--looks pretty old--it's in the middle of nowhere down 70 miles of dirt.
Google earth showed it still there--but how old was that picture ????
Would it still be there when I got there ????
To start with I'm in Durango, Colorado---that's about 1,500 miles so far--how much farther would I ride
to see this bridge ?????
I said goodbye to my son Marty in Durangoand headed North on route 550 which is called the million
dollar highway--I forget why---but maybe because it's one of the most beautiful paved roads
in the world. I hadn't been on it since 1987 and rode out West by myself on my then brand new
1987 BMW K75S. Man what a great bike that was--I put 128,000 miles on that bike in 4 years.
That bike cost me $4.60 worth of repairs in 4 years.
Yes---BigDog used to beat the pavement--sometimes. Nobody told me you couldn't ride a bike
on that highway in March-----where was the internet ??????
March 1987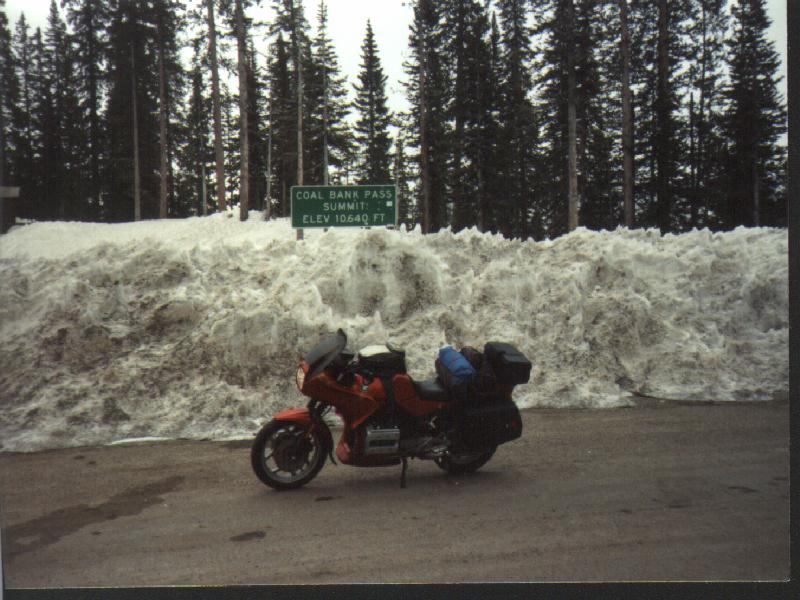 June 21st, 2010
So as I headed North and went over Coal Bank Pass in late June of 2010----minus the snow----
and remembered vividly that pass on that cold day in 1987 with my Widder heated vest cranked
up on high as I headed farther North into Silverton. A stop at the Brown Bear Cafe was in order for some breakfast.
The snow had melted thankfully and I remembered that me and my wife had been here some 12 years ago
when I drug her 2-up over Cinnamon Pass on my BMWF650 with full camping gear----but that's another story.
Like I've said---no wonder she won't ride with me anymore !!!!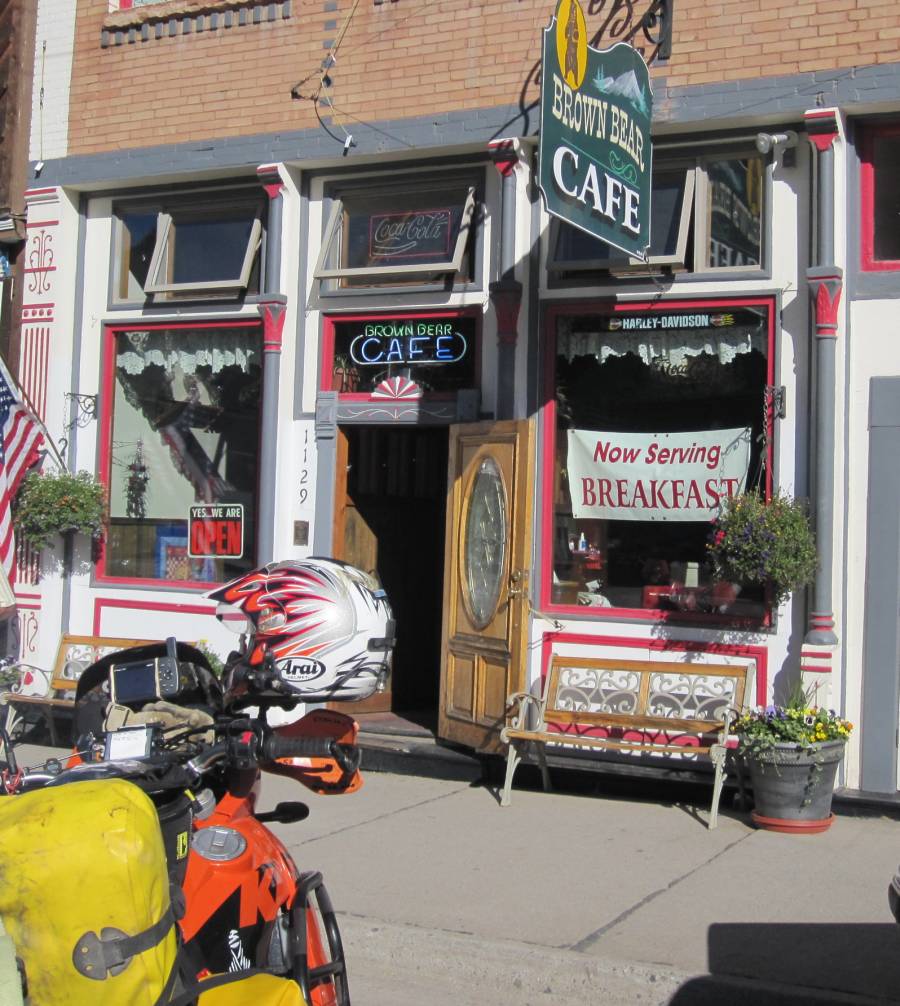 I continued on thru Ouray and rememberd another tale of 1987......I walked into a cafe to get warm and eat and
the guy that owned the restaurant hollered out at me......"I didn't expect you for another 2 months" !!!!!!
I was appalled at his statement---as I had never been to Ouray and certainly didn't know this guy.
What he meant was----nobody on a motorcycle was so stupid as to try to come to Ouray in March.
Well--BigDog did---and lived to tell about it------but that's another story.
After passing thru Ridgeway, Colorado---some miles later I somehow found myself on a dirt road as I headed
West------imagine that !!!!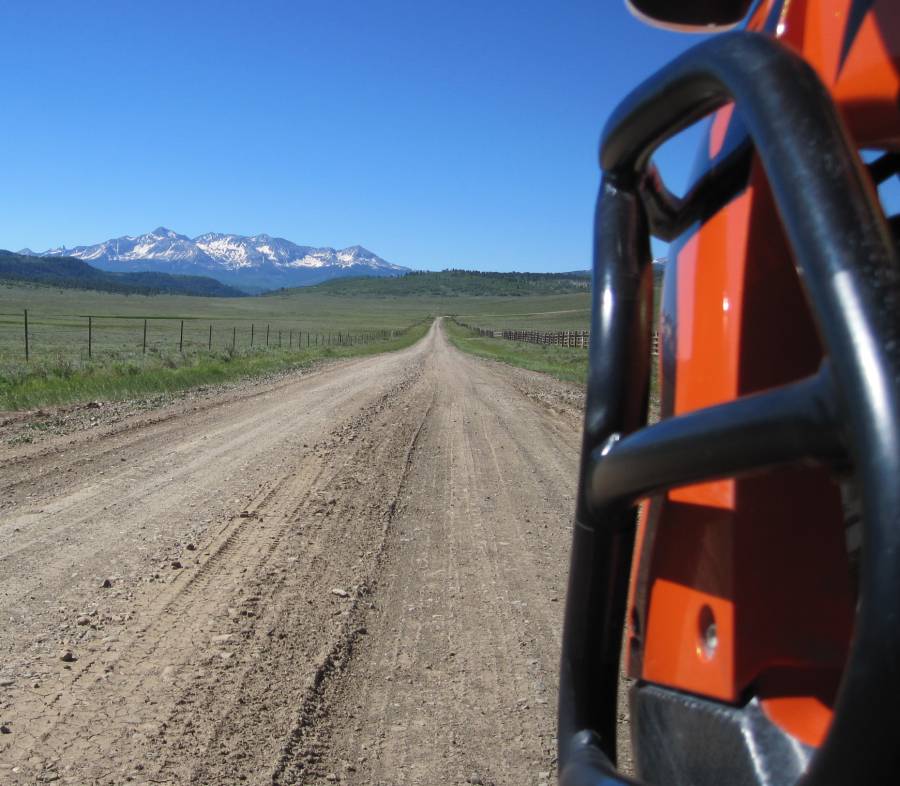 \
\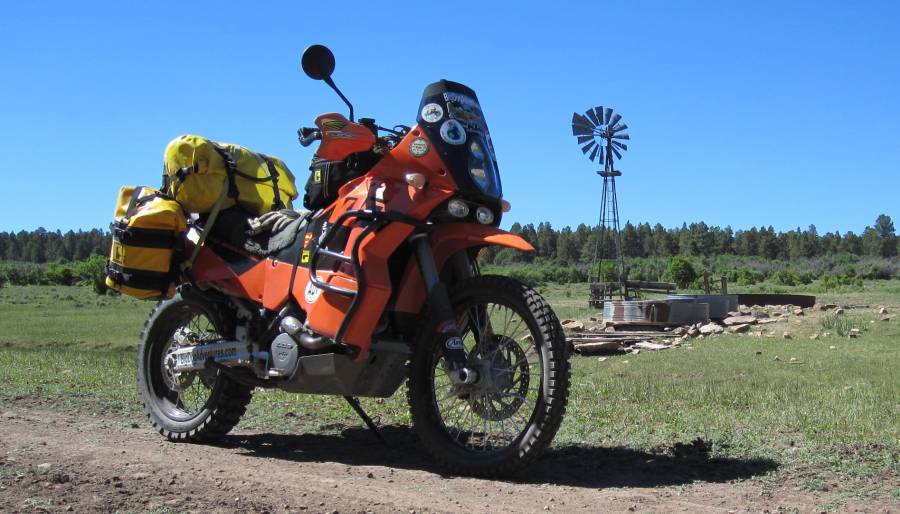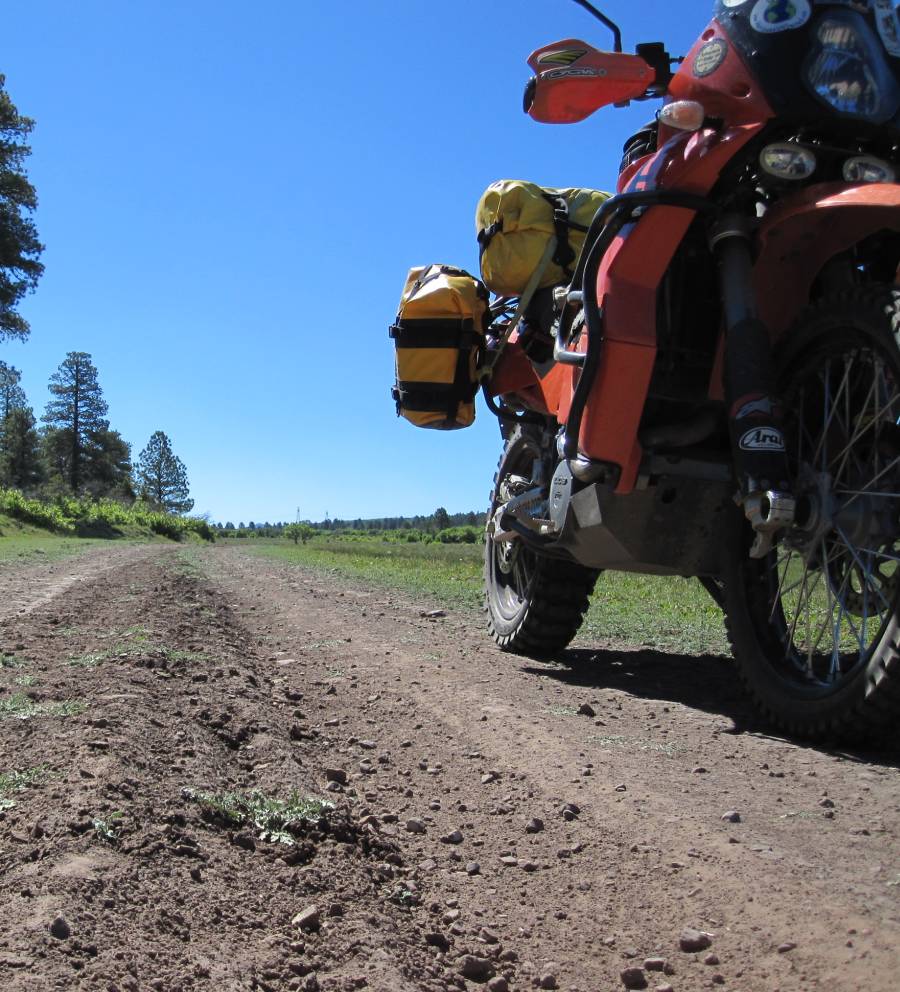 I had to wait here for 2 hours for a cow to open and close the gate.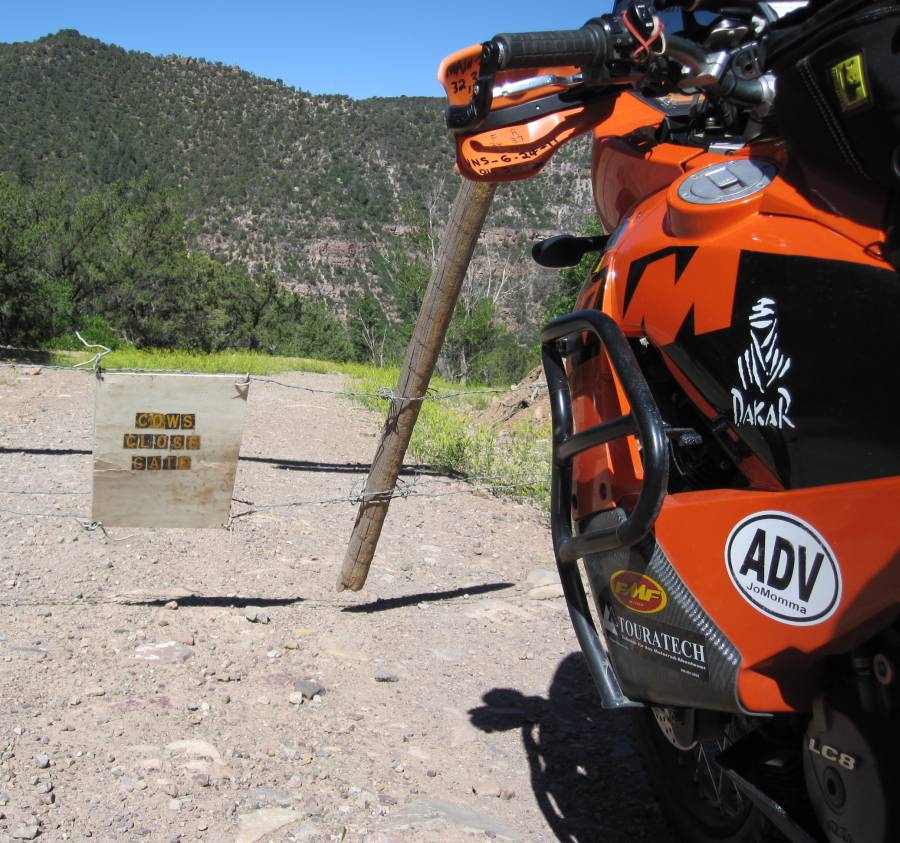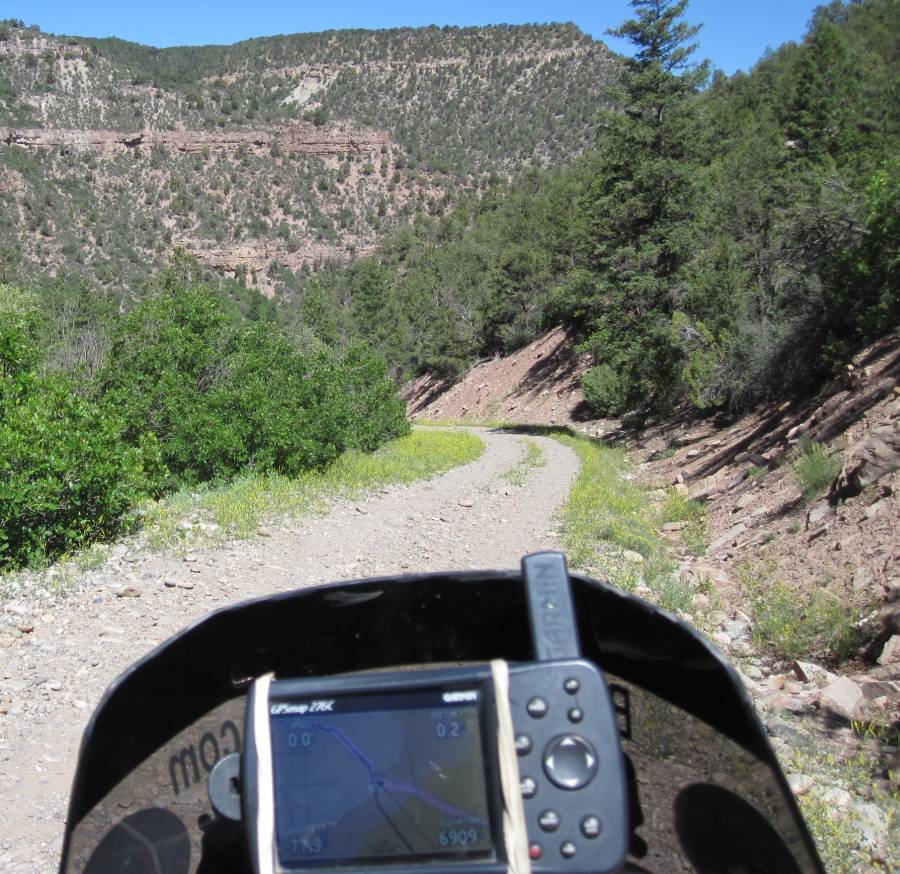 Northeast on 141 I made a U-turn to see all the neat stuff this guy had in his front yard. Amazing.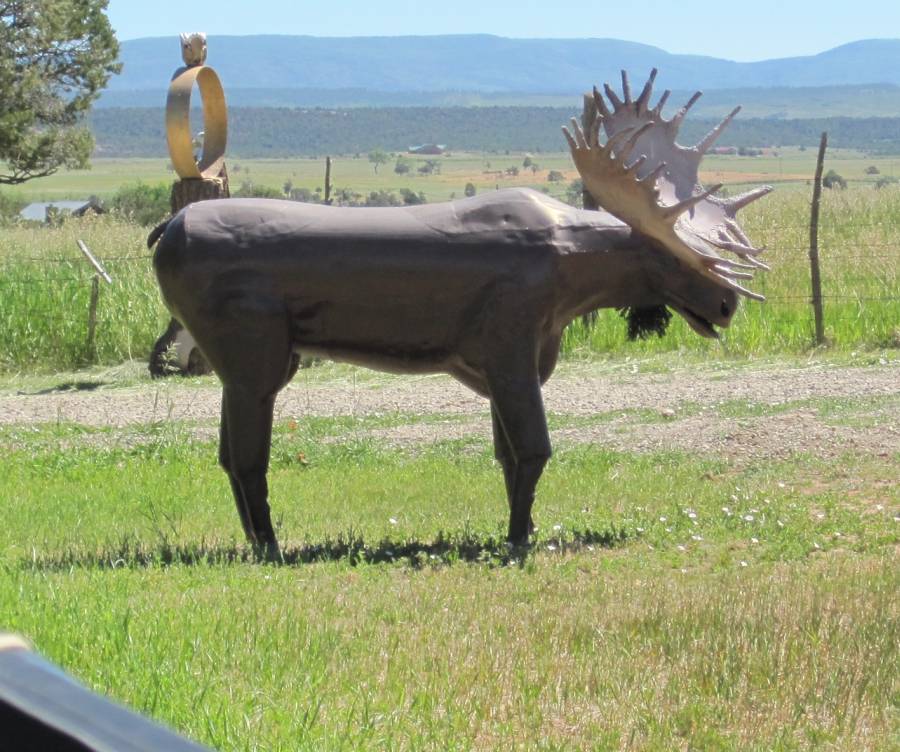 He made this locomotive out of old parts he had hanging around---notice the motorcycle piston.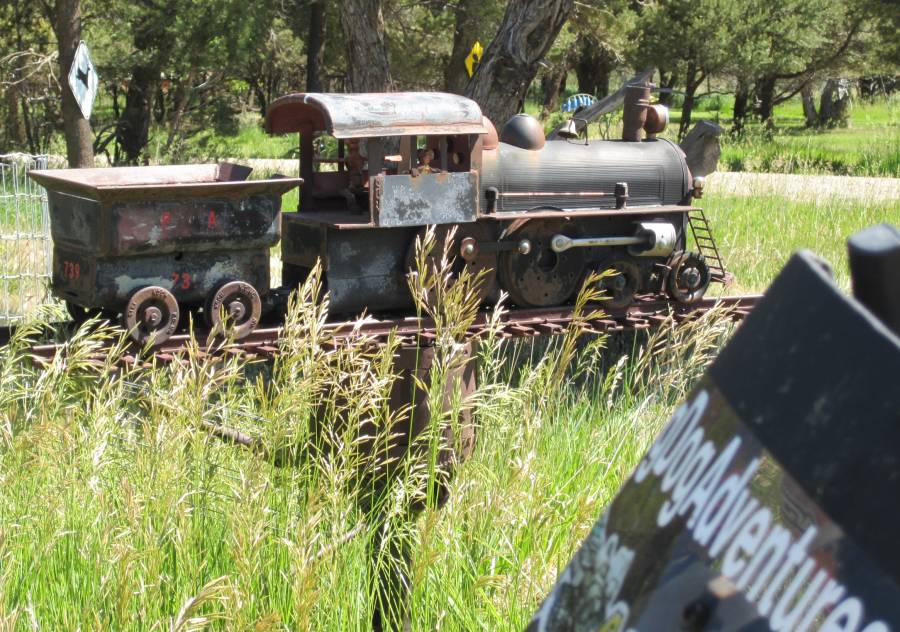 I loved this thing-----I thought to myself---this guy must ride a motorcycle.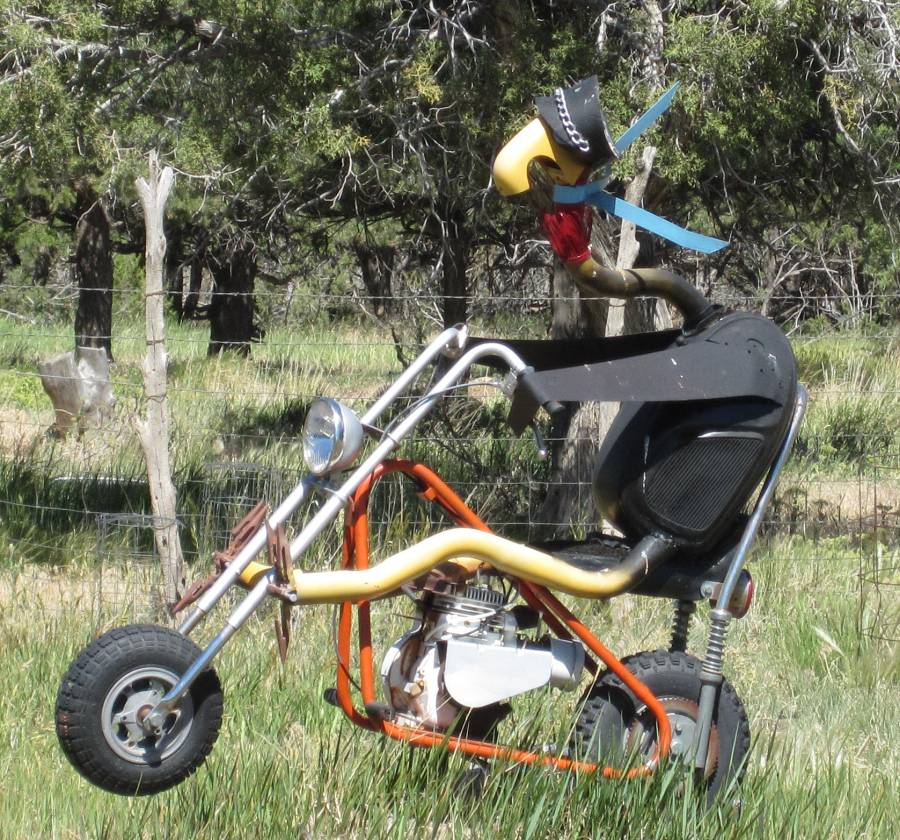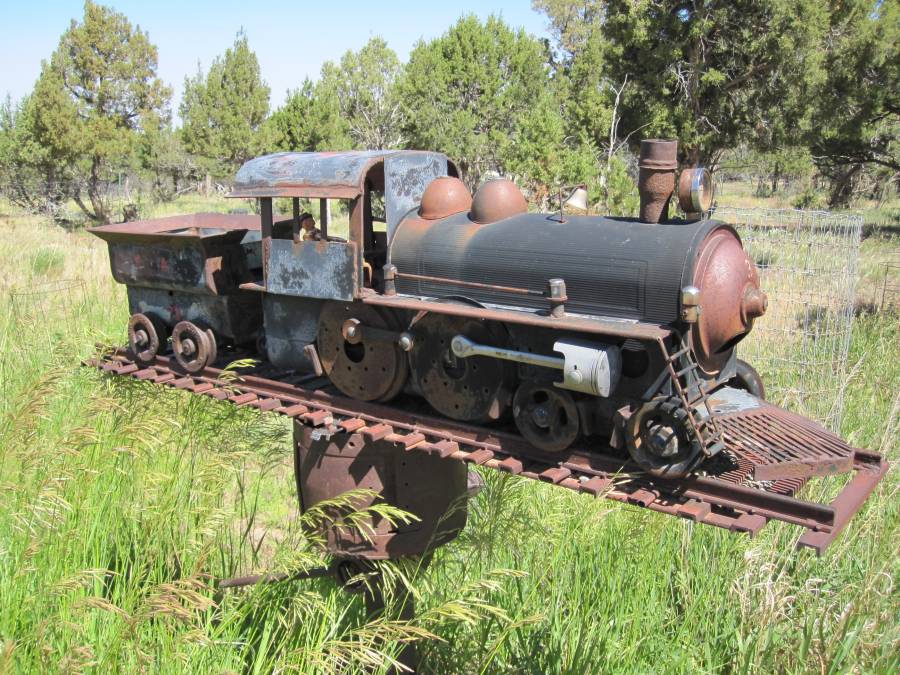 As I was admiring all the stuff in that guys yard 2 bikes blew by me---a Triumph tiger and a Suzuki V-strom.
I tied in after them.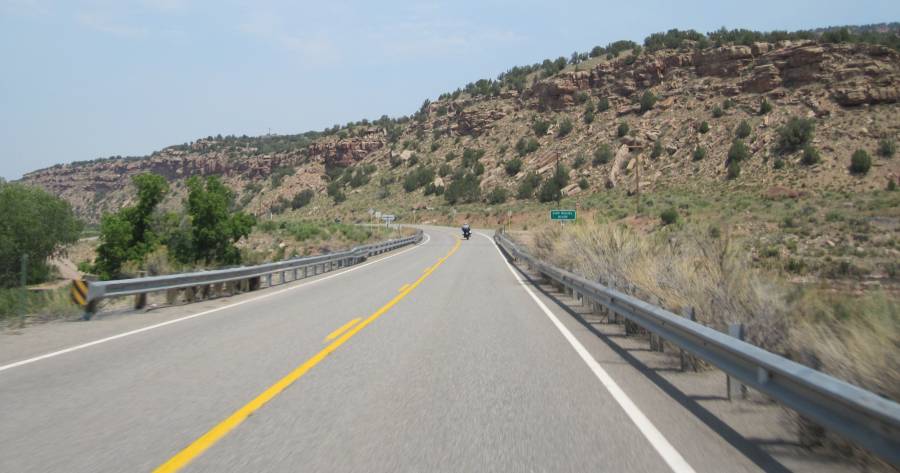 I had forgotten all about the bridge I was going to see--no it's not this one.
I followed these guys for I bet 100 miles----I kept a very safe distance--but I'm sure they knew I was there--and they did.
It was a beautiful road and we were having too much fun riding to stop and talk.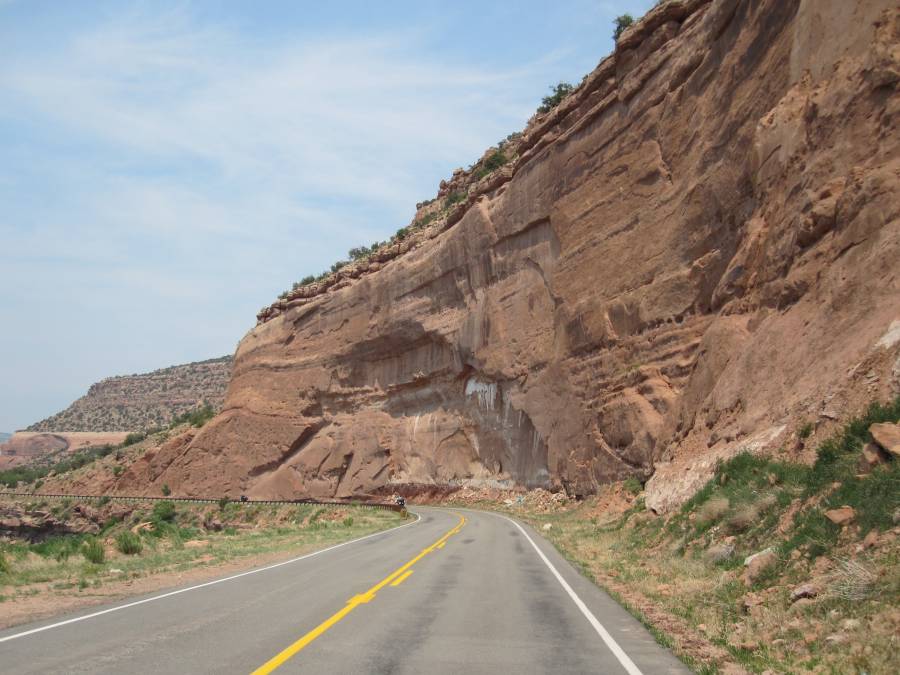 In Gateway---all of us pulled in for a break, some gas and a snack. We chatted for quite a while about bikes and stuff
and I remember telling them I really liked the Tigers and 650 V-strom----but didn't care for the 1,000cc V-strom.
He said his was the 1000---and I immediately asked him to remove my left foot from my mouth and he
graciously did-----nice guys------I would run into them many miles later on.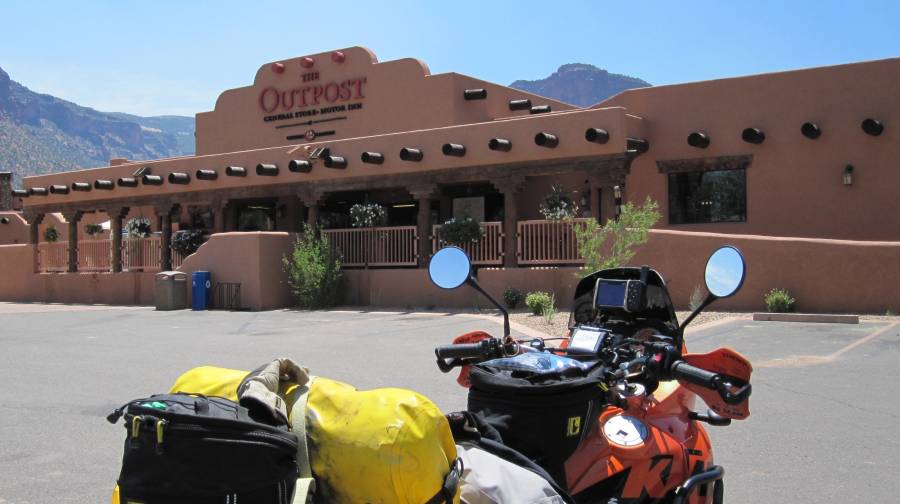 I met this guy here at Gateway too---he was riding a Kawasaki Versys---me and this guy hit it off really well.
We seemed to be 2 pees in a pod and really enjoyed each otheres company.
I can't remeber his name, but he was a local and had ridden all over this area and helped me out a great deal.
A route I was going to take around that mesa in the background wasn't do-able he said.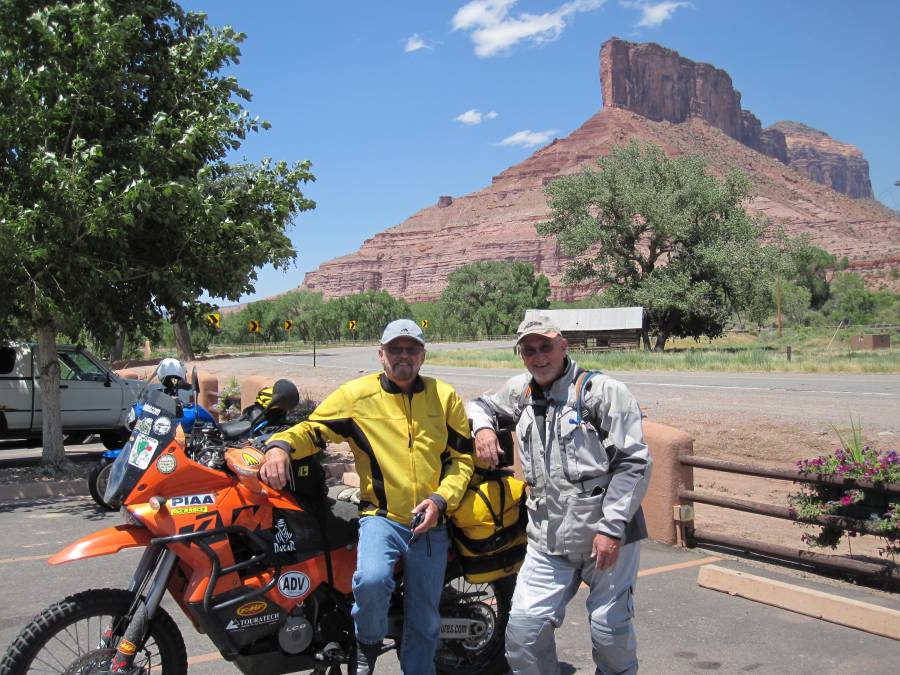 We yacked for an hour over stuff----all riding of course and then he graciously led me towards Grand Junction
at a nice easy pace pointing to all kinds of neat stuff along the highway--stuff I may have missed.
Me and him both realized we were perfect riding partners and I invited him to join me to the bridge.
Remember the bridge ??? Oh--yeah.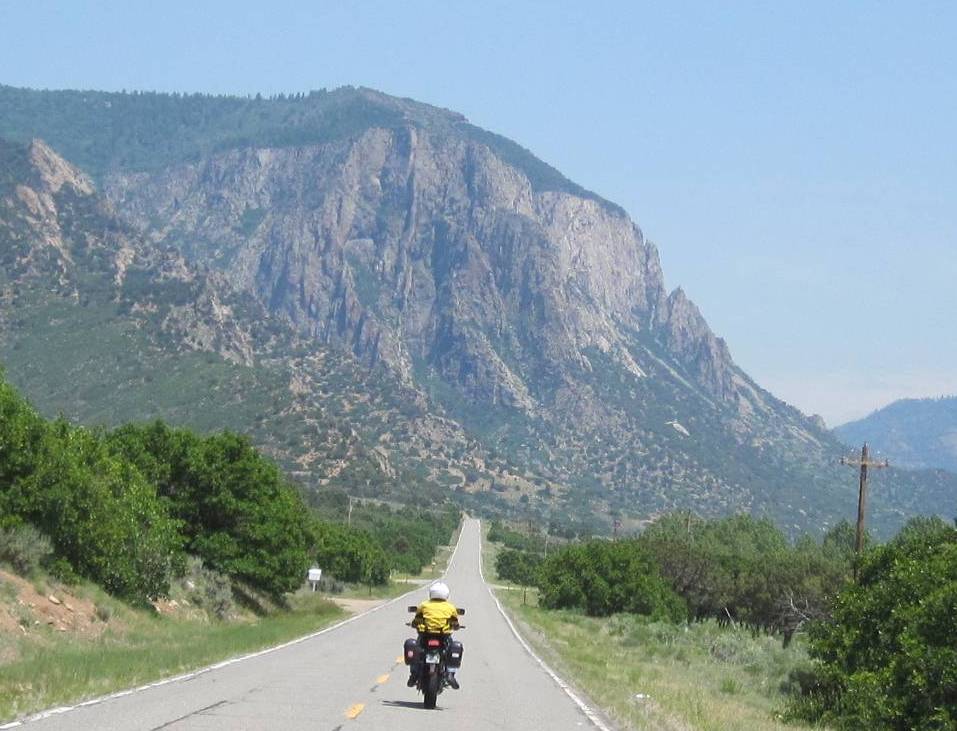 He was retired but had obligated himself to something and had to go home--I wish he could have stayed with me.
As we could have wandered all over the place on our way to "The Bridge".
I zipped over I-70 as fast as I could and hoped all my friends and loved ones watching me from my Spot tracker
wouldn't think I was on the interstate !!!! I was carrying a gps device that tracks me as I ride--my wife, son and
who-ever I want can see where I am---and send a helicopter to me to stop the bleeding if necessary.
Now is when I completely forgot about "The Bridge" and remembered last year when I tried to get over Baxter Pass
and failed. I was by myself on my WR250R and was North of the pass after a huge rain and I stopped a guy in a
pick-up truck and asked for some info about Baxter Pass----he told me I'd never make it---a guy closes a gate
way back in there-----and besides--you'll never get across Evacuation creek.
He scared me away--and I was low on fuel and never tried it---but nows my chance to conquer this pass
from the South side.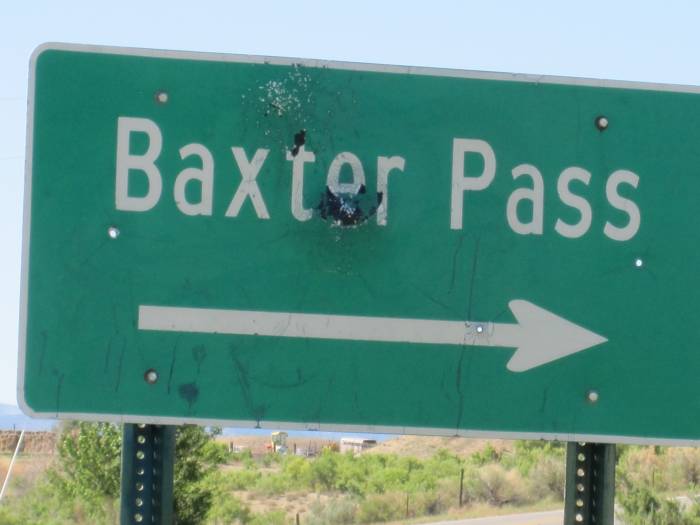 I headed North on dirt-----navigation was tricky--I had the pass marked with a waypoint but there were many roads, tees and wyes
to make navigation tricky.
Did I mention the weather was perfect !!!
This was the only structure I found all the way to the pass.
No houses--no people--no nothing.
I started climbing in earnest---and the road below is looking South from where I came.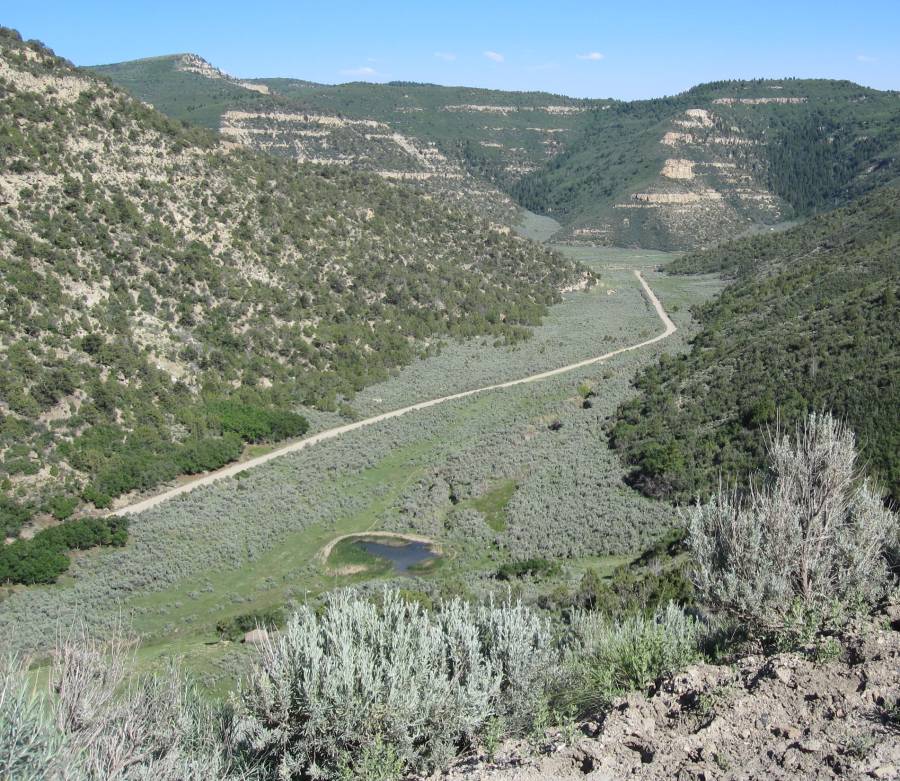 I have intentionally included this photo to aggravate my good friend Randy Stewart----- AKA "Lefty"
Randy can't stand riding on these ledges and hugs the mountain side like a newborn clinging to his momma's tit.
In fact it drives him nuts to see me riding on the edge. And I have been scourned for doing so.
Looking at this photo will make him quiver !!!
Hi Randy !!!!!!!!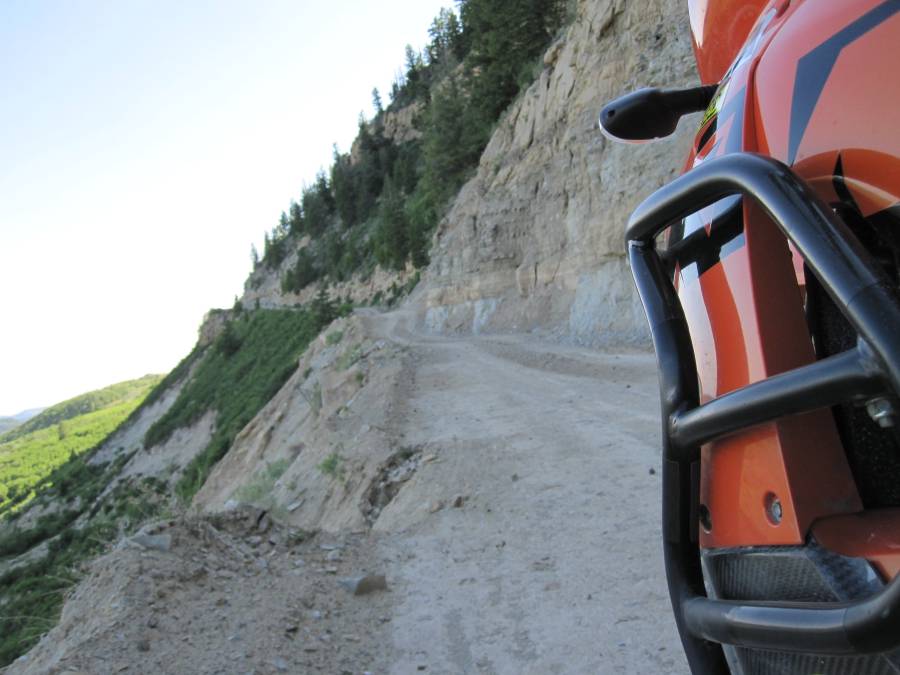 As I climb higher and higher the road I came from gets smaller and smaller.
Where am I going---oh yeah--------"The Bridge"--almost forgot.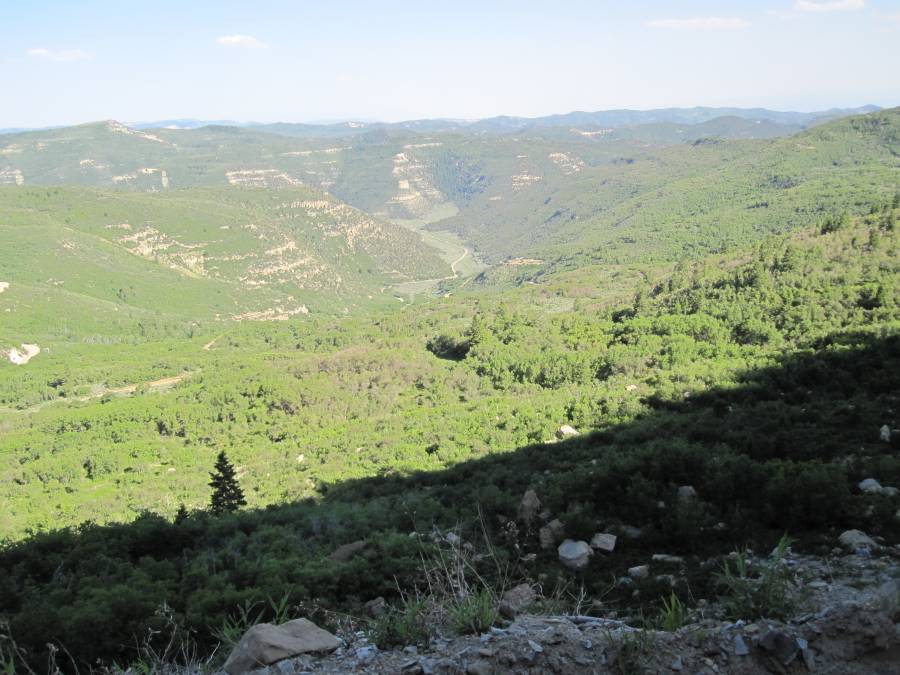 Been there done that.
Check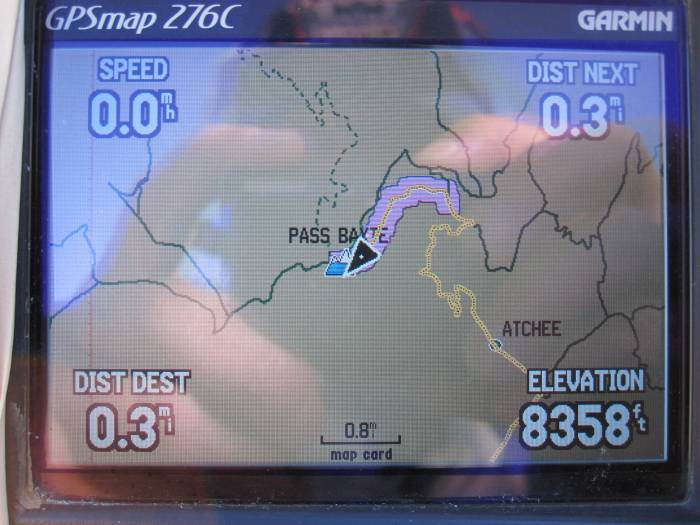 I don't let a gps tell me where to go----but use it constantly to tell me where I'm at and maybe give suggestions.
Most of the time I dis-approve.
As to right now--when it told me too ride left right off the mountain ledge !!!!!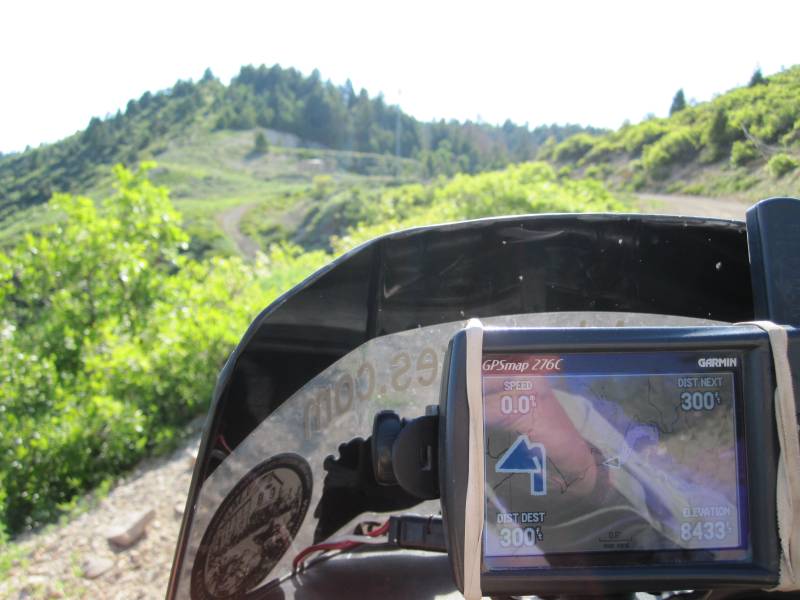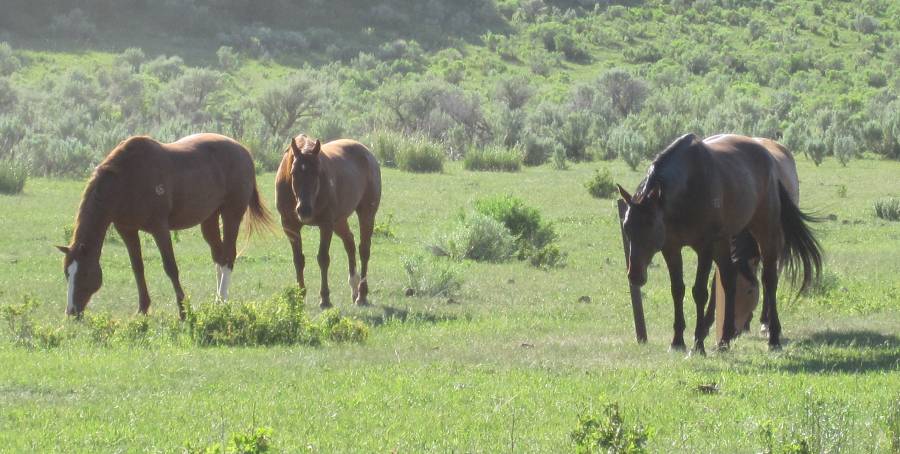 Cows weren't required to open and close this gate---so I helped myself.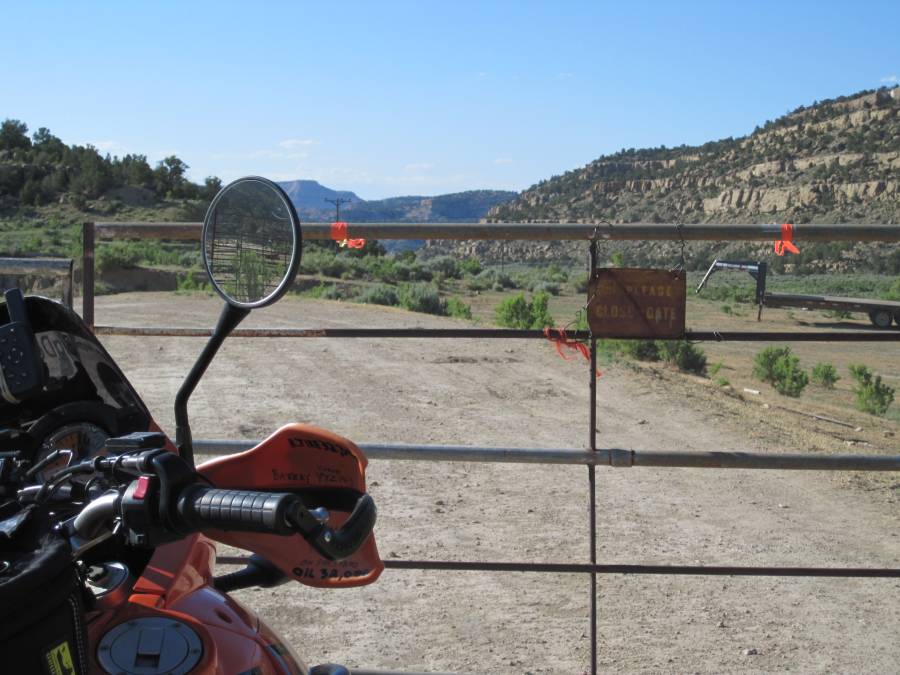 Dragon, Utah------population--------"ME".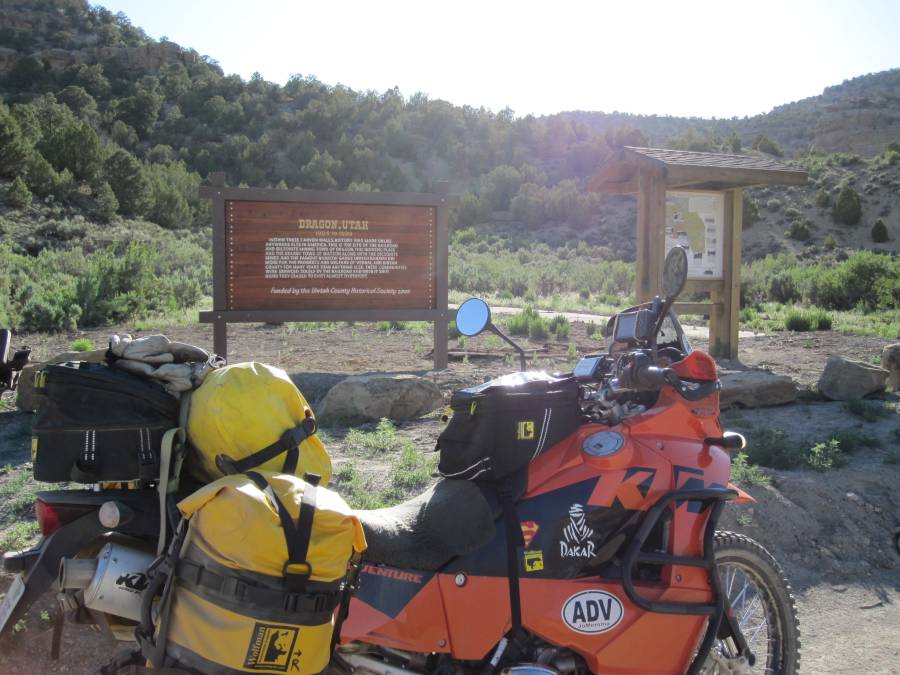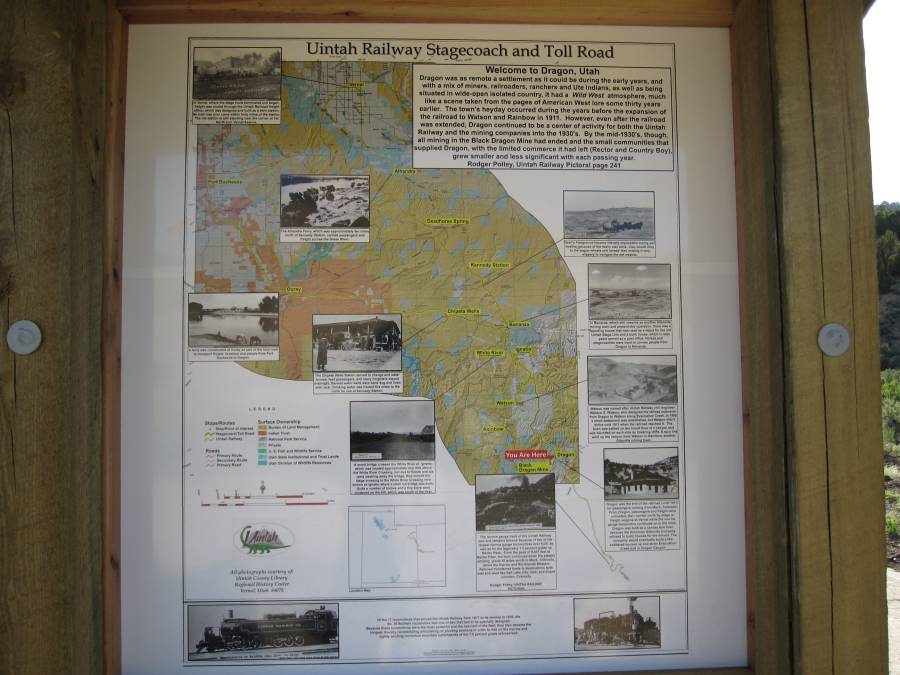 This is all that's left of Dragon, Utah
Oh--by the way---I'd crossed into Utah after Baxter Pass.
I know--------"The Bridge" ain't in Utah !!!!!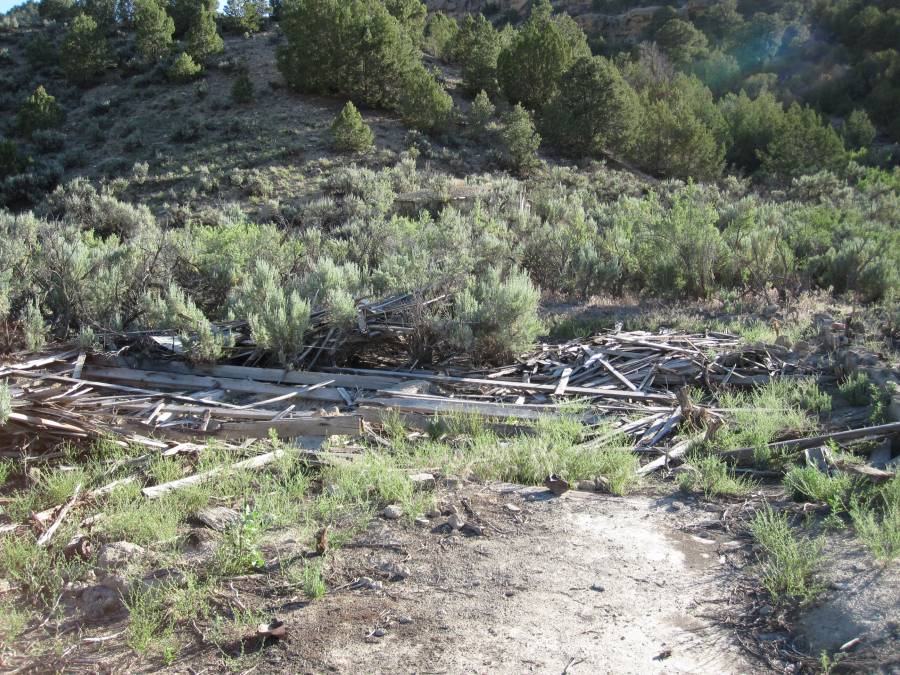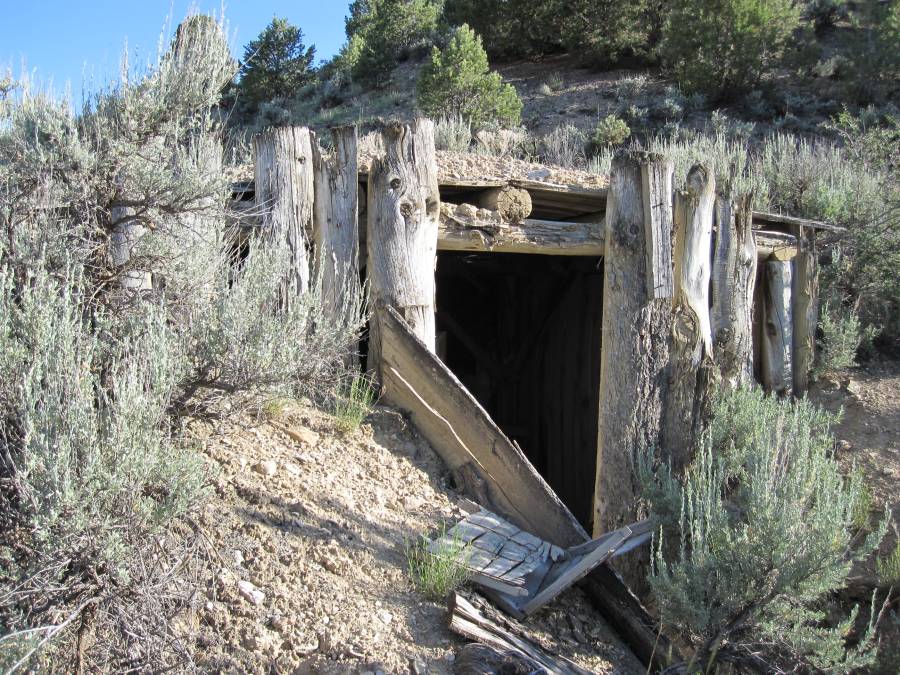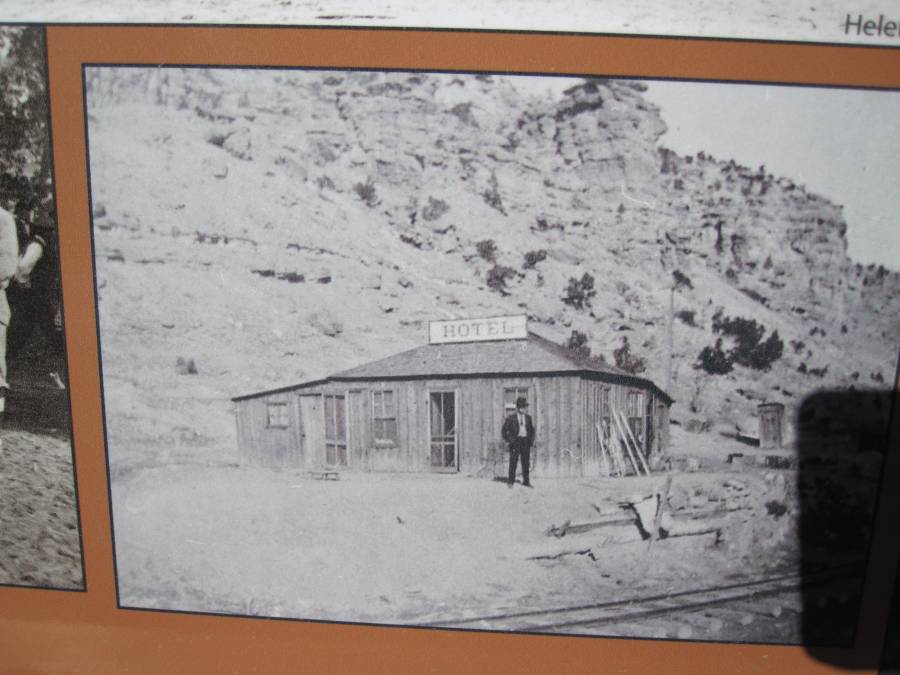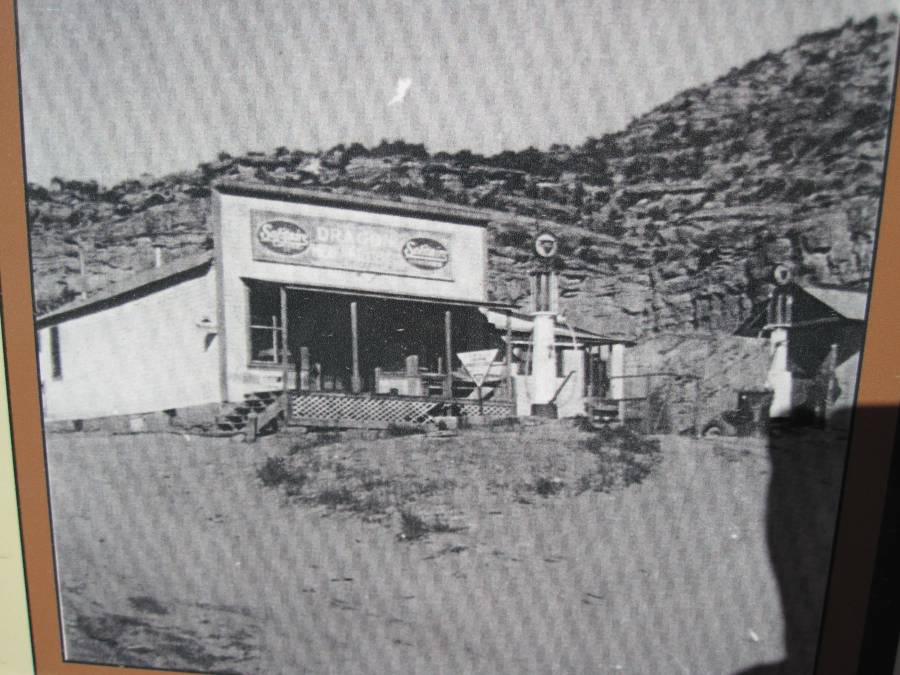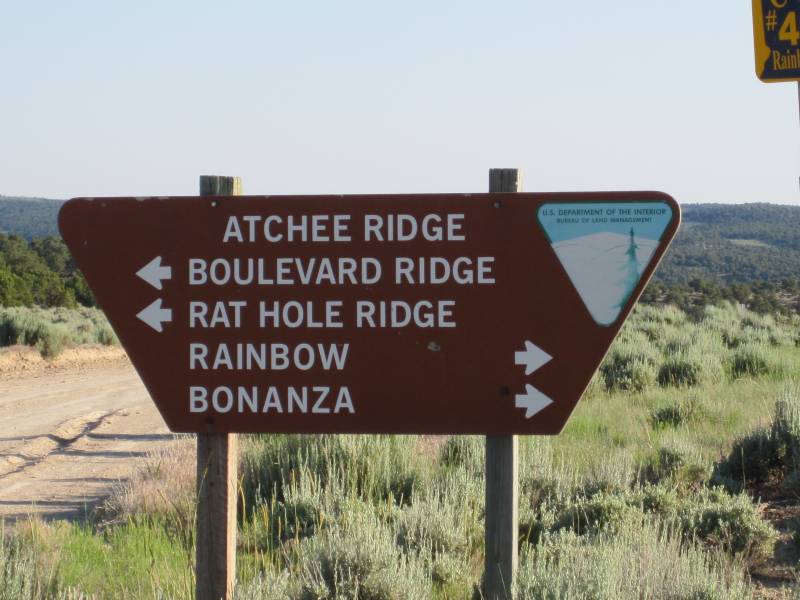 I had 3 ghost towns I marked years ago here in Utah----today was the day to see them all.
All 3 were very close to each other.
Rainbow----population "ME".
There is nothing left of Rainbow Utah.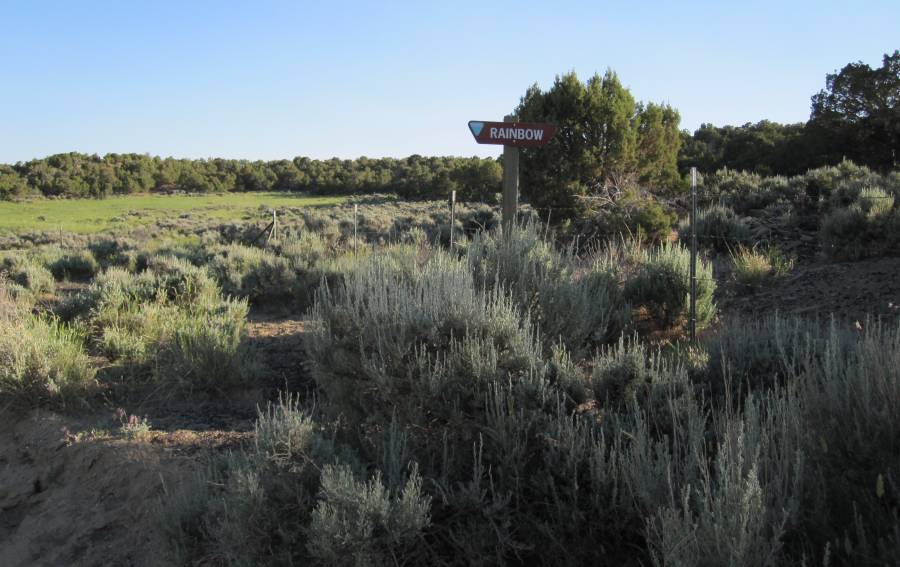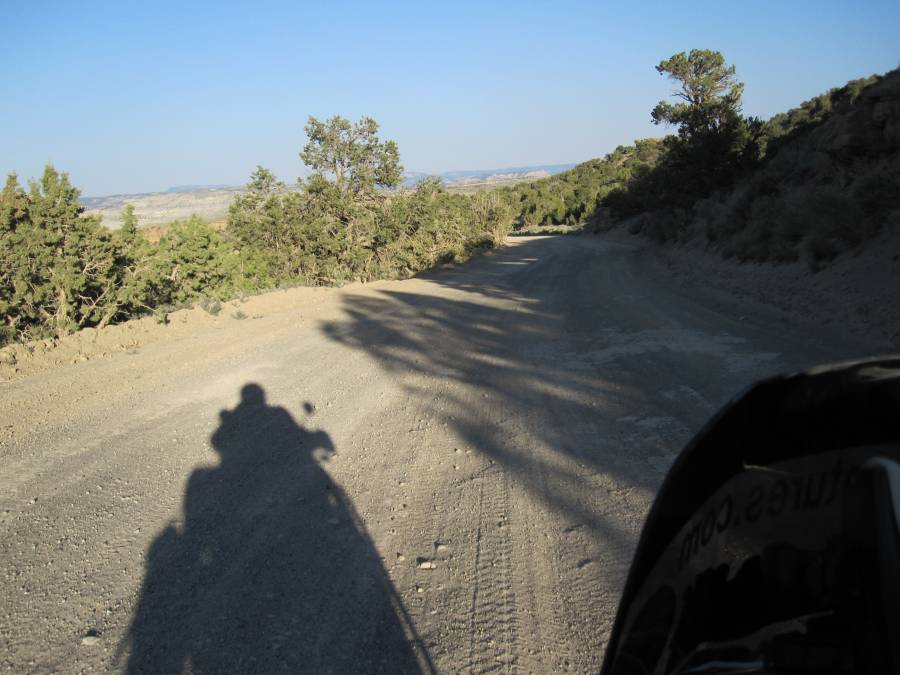 Watson Utah---population "ME"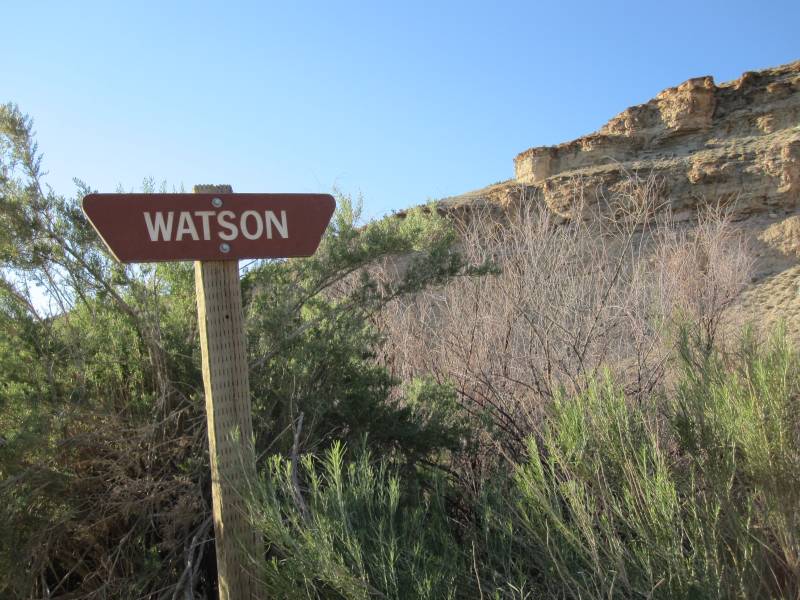 Here's all that's left of Watson, Utah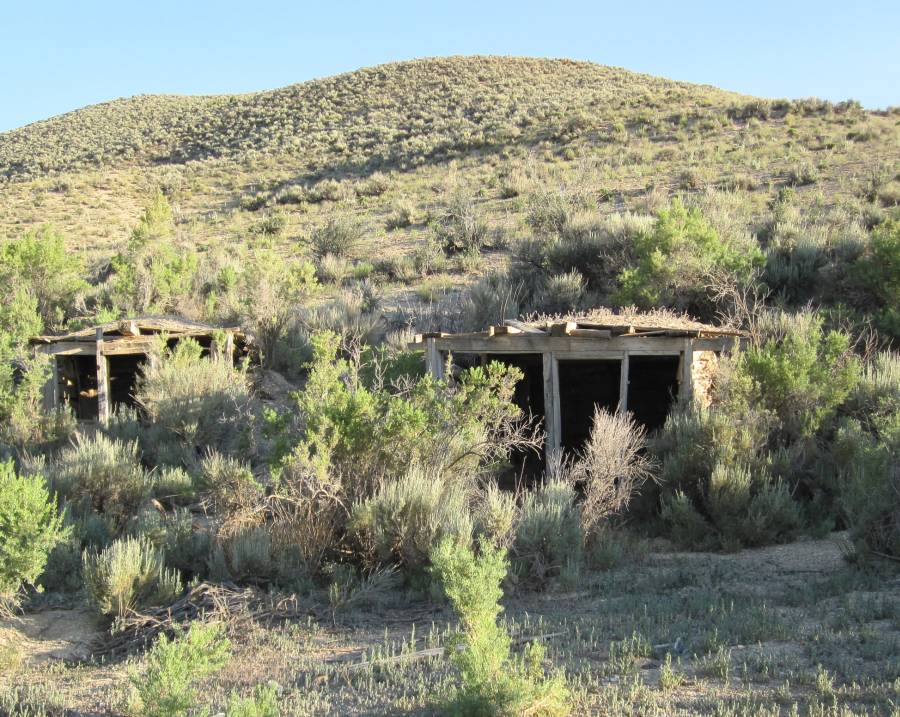 I passed thru Bonanza, Utah and ended up in Dinosaur, Colorado for the night.
Oh yeah---"The Bridge" is in Colorado--------all---right !!!!!! I'm getting closer.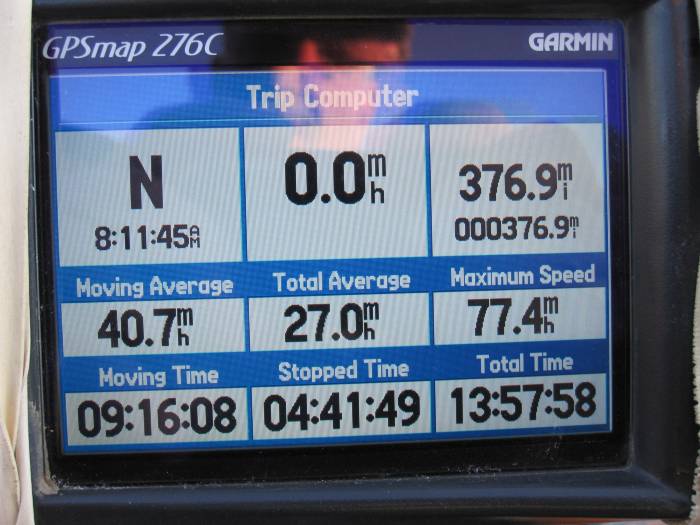 June 22, 2010

I'll shut up and let the pictures of my ride thru here speak for themselves.
It was free--and the weather was perfect.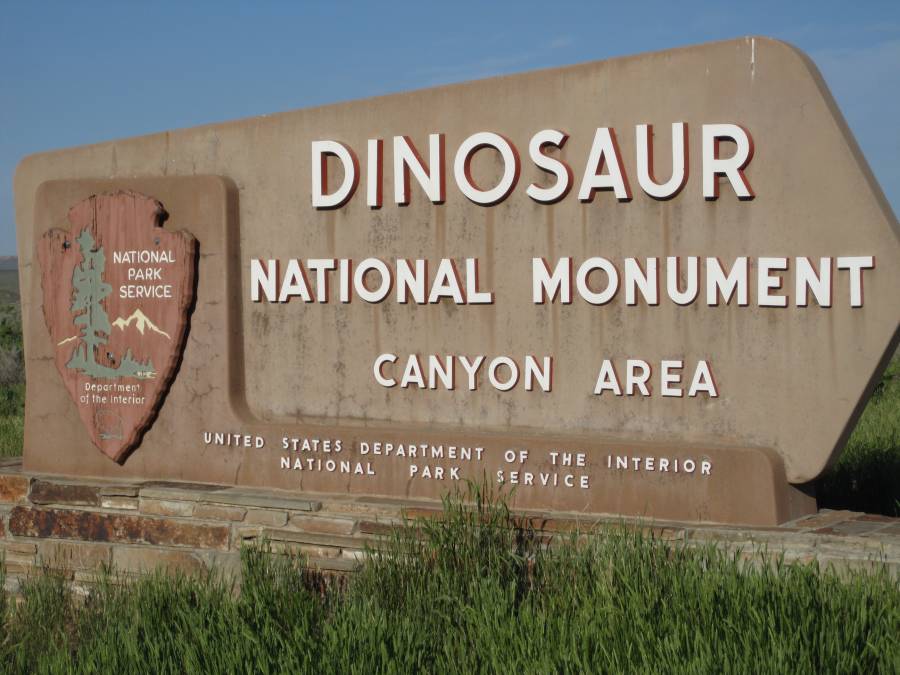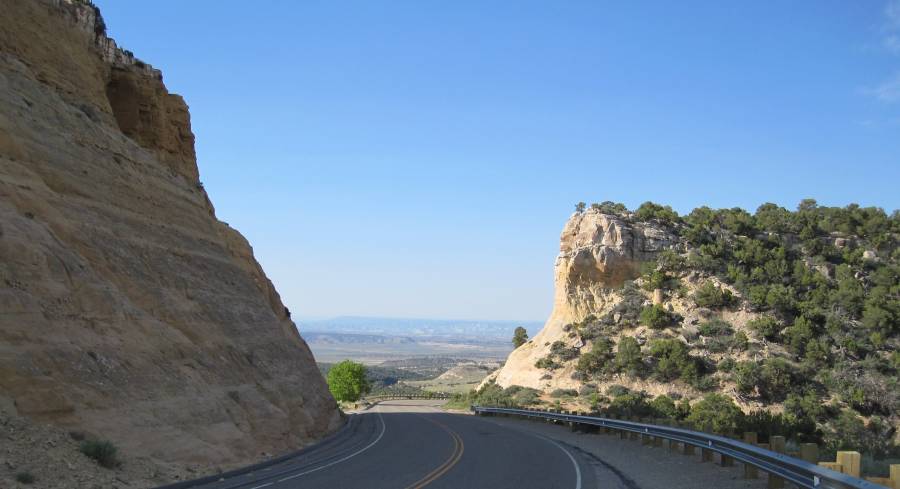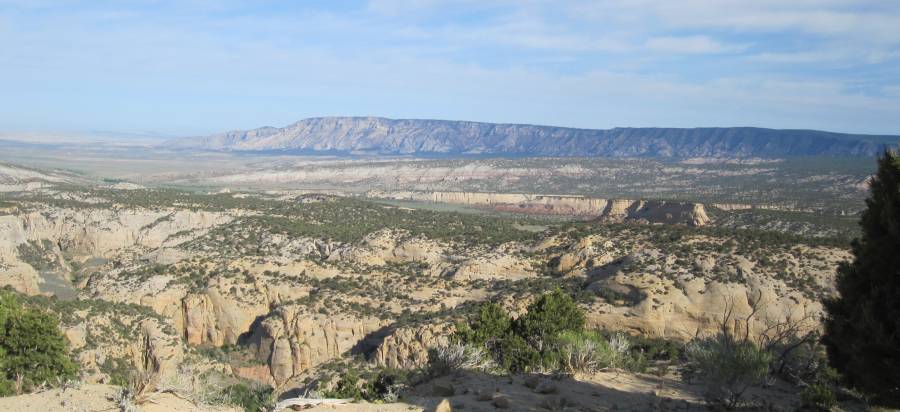 "The Bridge" was kinda North-----so I headed West out of Bonanza, Colorado and crossed the Green River on a bridge.......
No--not "The Bridge"---but a bridge none the less. It was the way to the dirt road North to "The Bridge".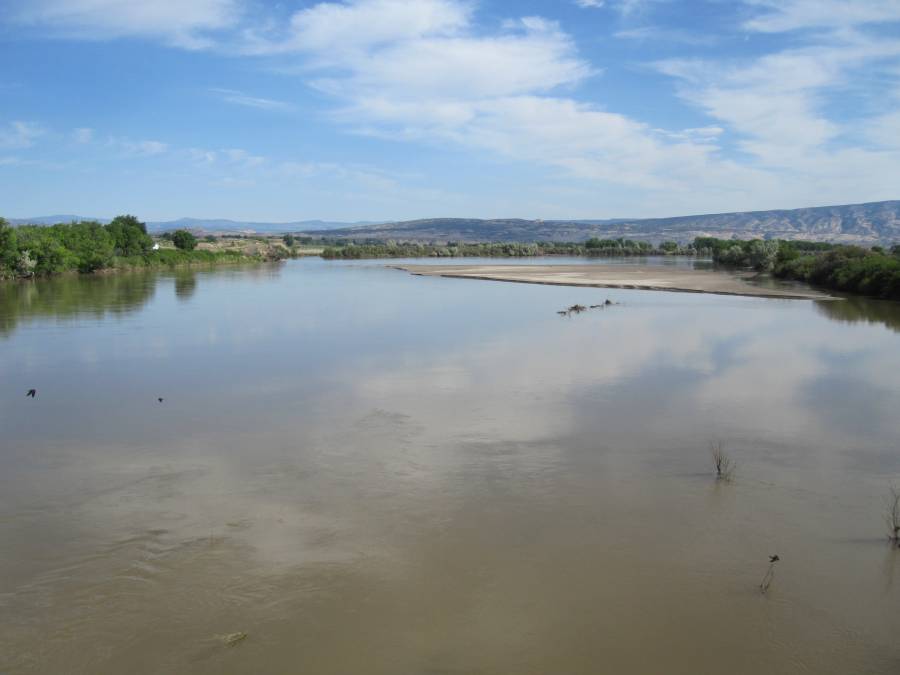 The cows out here are very big--and strange looking.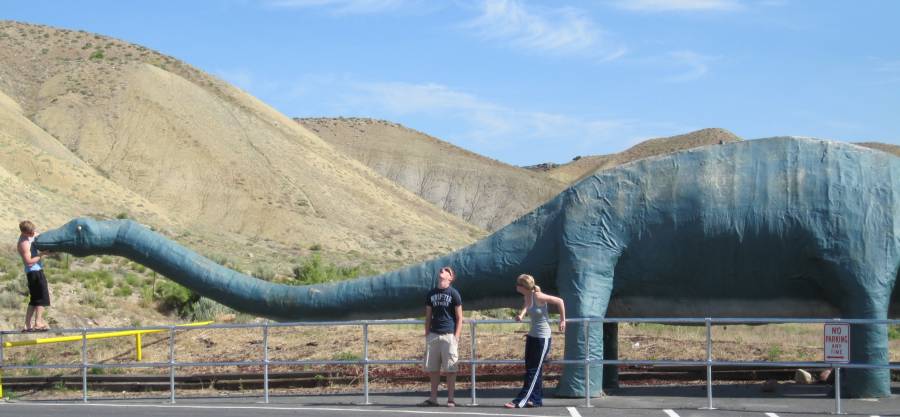 On my way.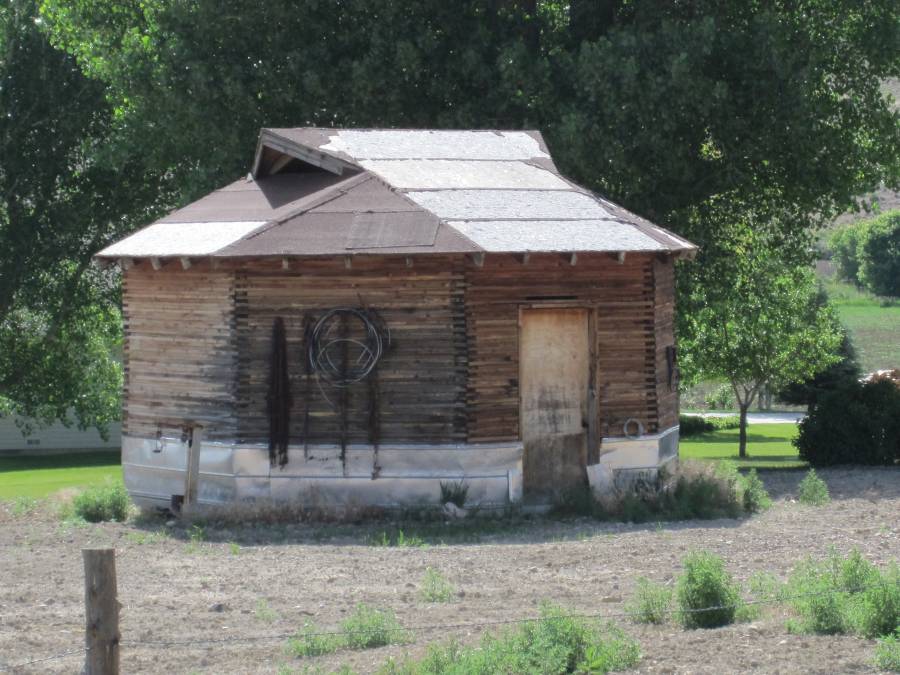 "The Bridge" was in a place called Browns Park---I think.
So maybe I'm headed the right way.
It was to be 70 miles to a dead end at "The Bridge"---but I didn't know it at the time.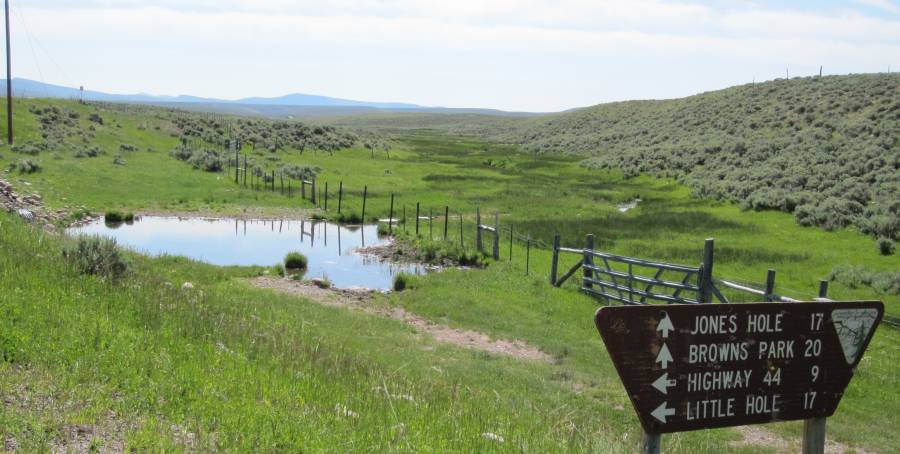 About 30 miles before my waypoint of "The Bridge" I saw this sign.
My heart sank for a moment---what I was really afraid of was that the bridge was no longer there.
Notice it says--------"Swinging Bridge" Not just any bridge----a swinging bridge--my personal favorite.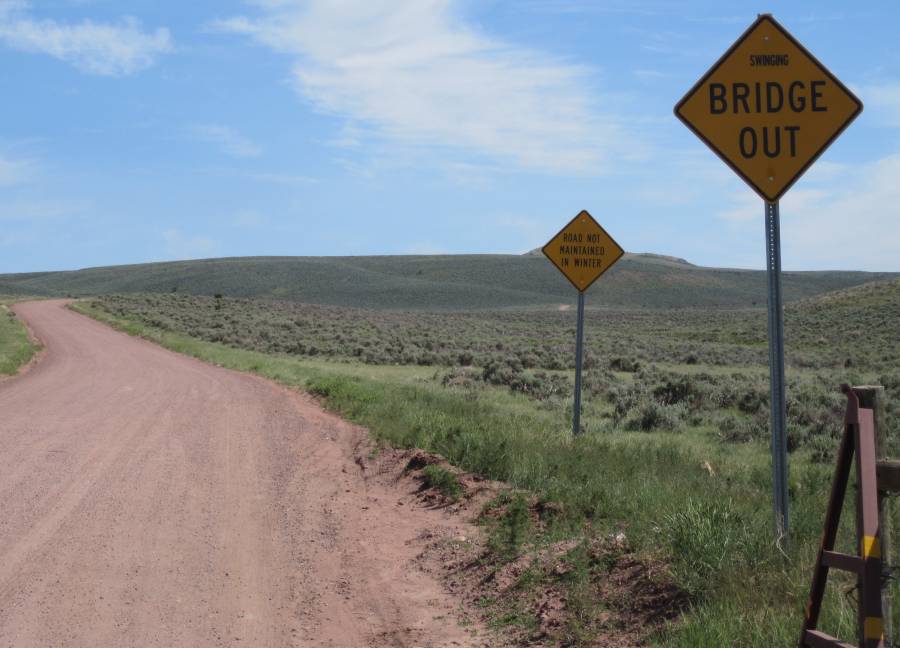 I went thru a very narrow canyon---a deep canyon in which the walls just swallowed me and thick trees hanging
into the road----it would have been very easy to hit someone head on thru the narrow turns-----but alas---
I was the only one out here-------I thought.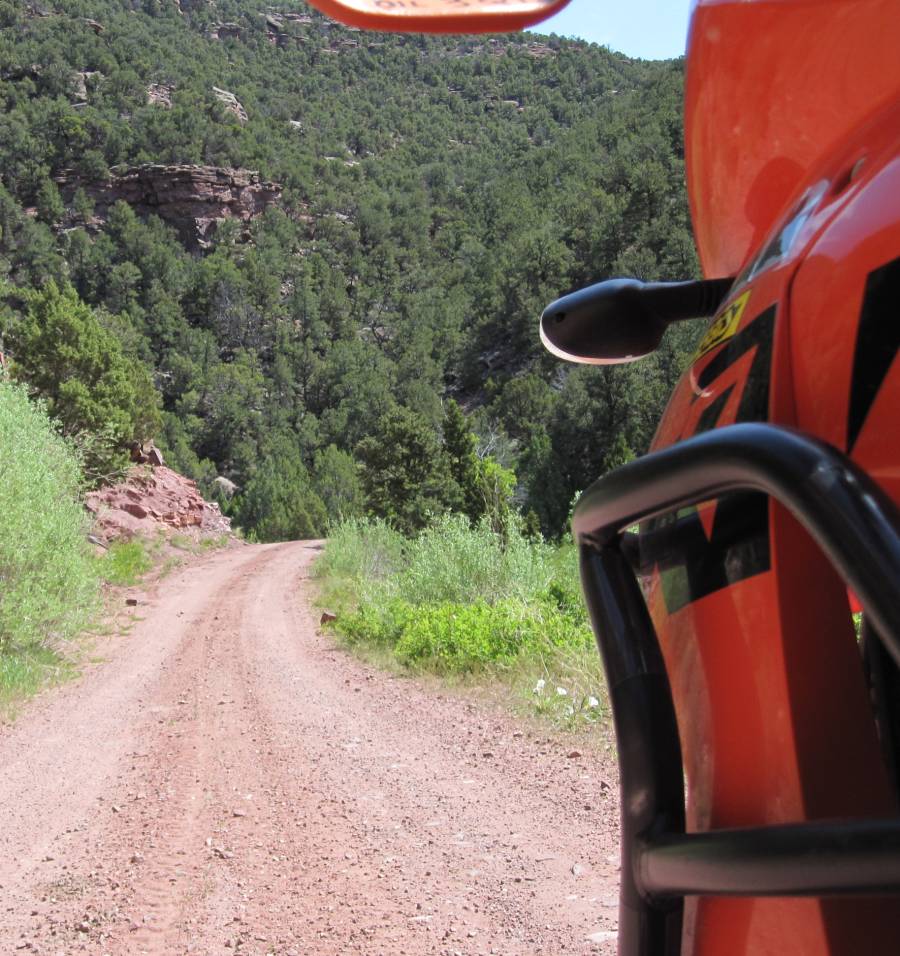 Some of this road was hard dried mud----with ruts a foot deep------impassable when wet for sure.
Then after many more miles----another sign. I didn't take the detour. I was amazed they even had a detour sign out here.
I was still 10 miles from "The Bridge".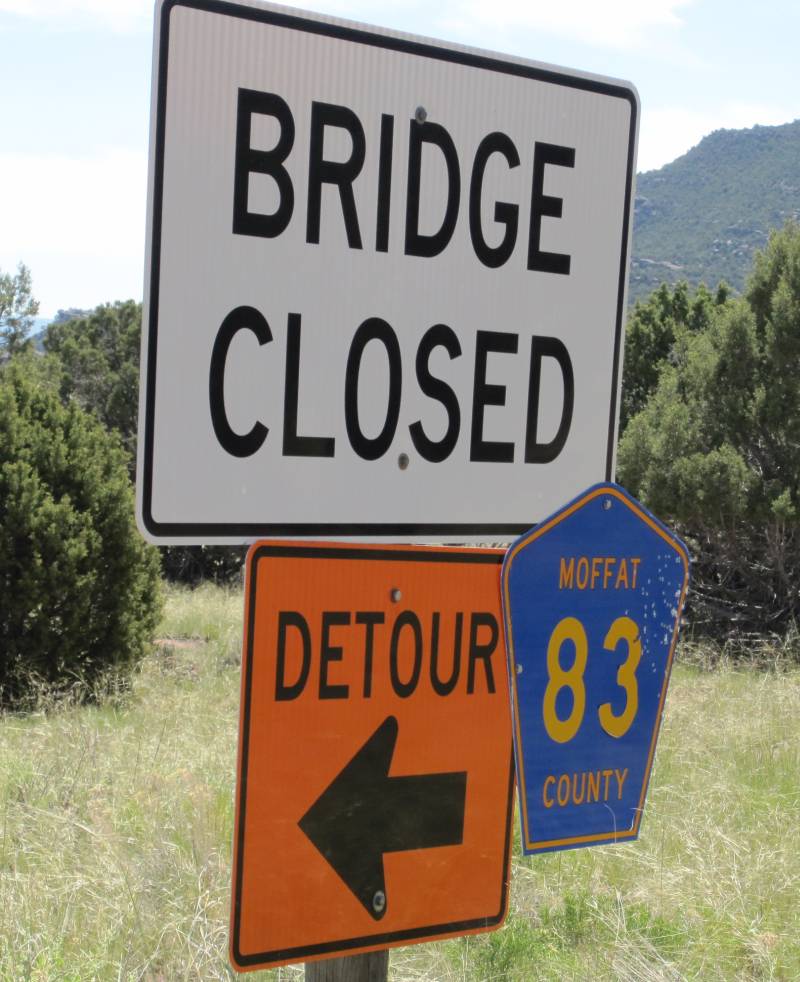 The bridge was restricted to 3 tons----so the sign said.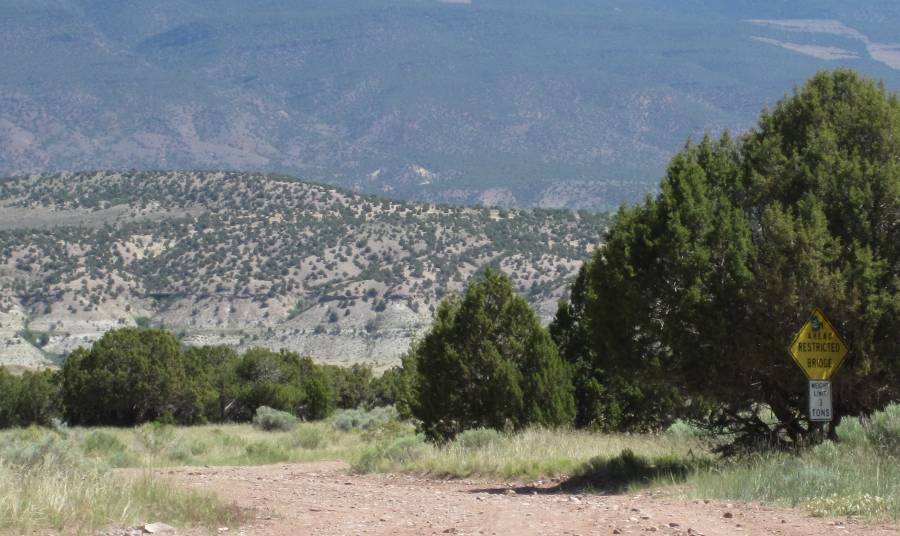 I caught my first glimpse of the bridge in this picture---it's to the very right but hard to see in this picture.
It was still there-------I was estatic.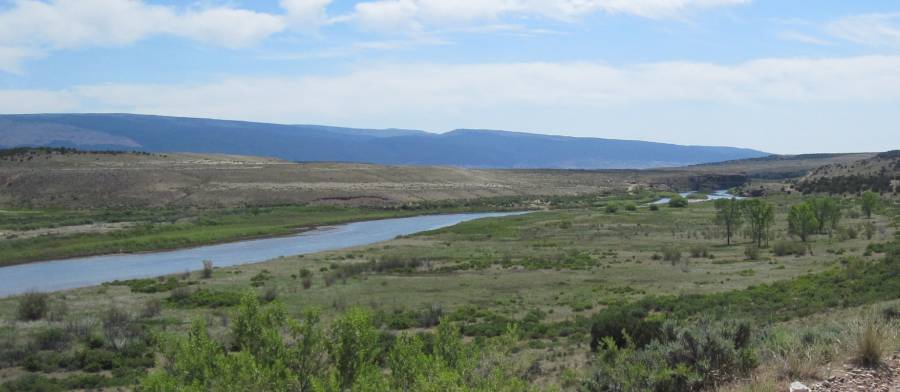 As I got closer I could see a track hoe on each side of the bridge--obviously it was under construction and I knew
crossing over it would be not advisable----so I made a plan.
Plan 1: when I got there just wizz over it--there were just construction guys out there and why would they really care ???
Plan 2: ask them nicely to turn their heads.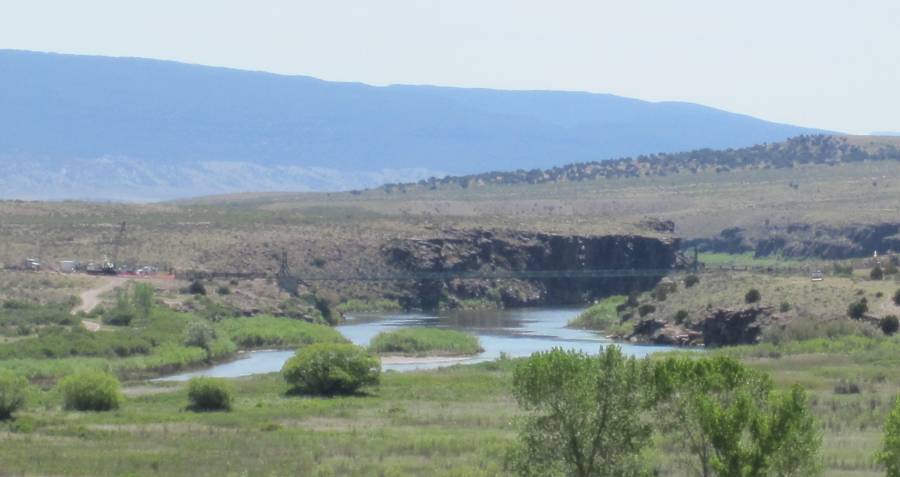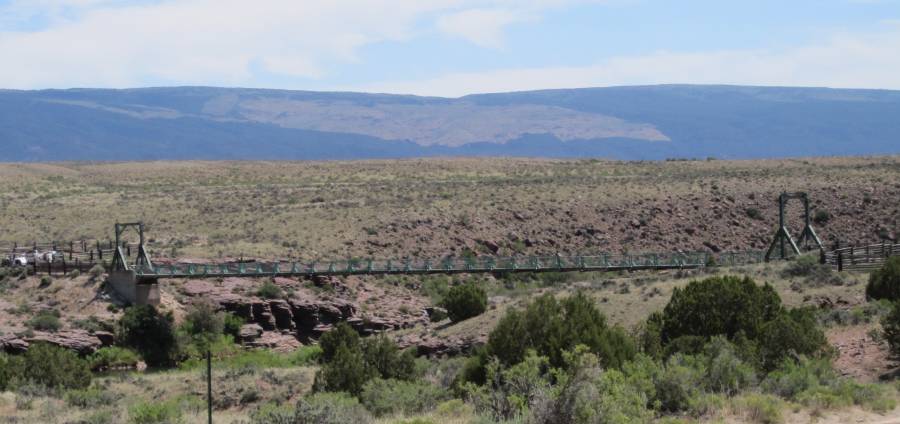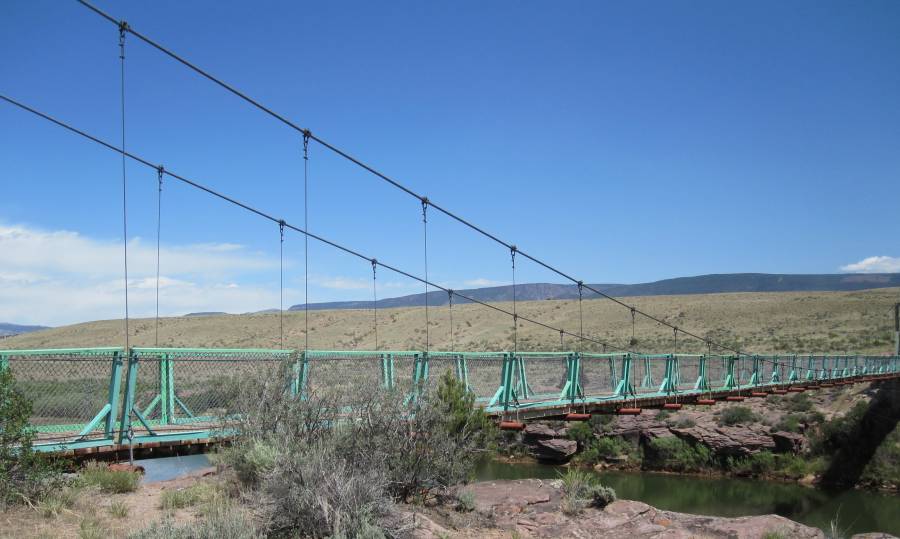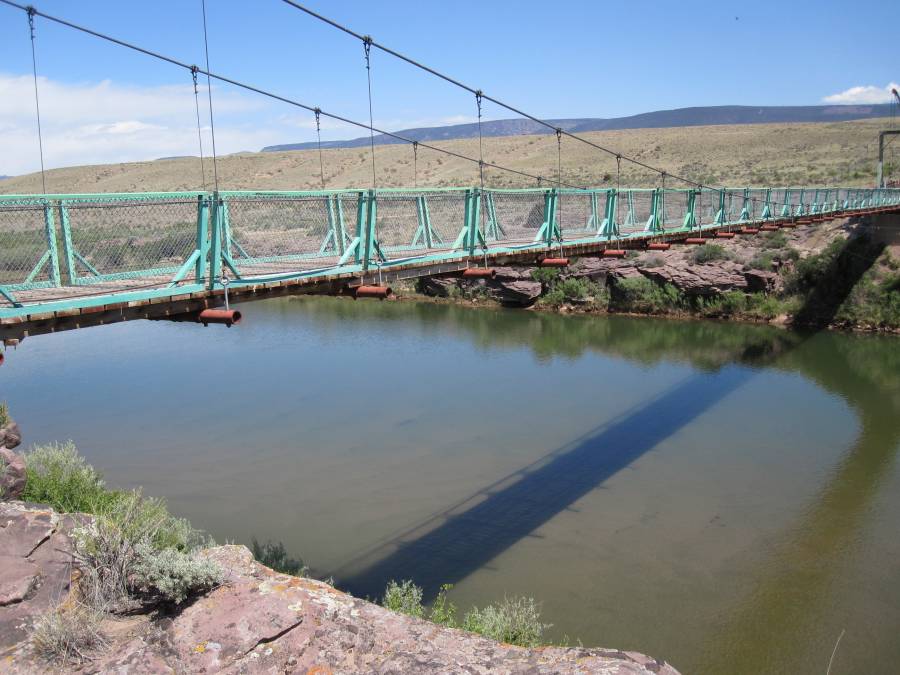 I met this man there---his name is Mont-----not Monty----just Mont.
Me and Mont hit is off right off the start----we talked about the amazing bridge----how it was in perfect shape and how our government
was wasting so much money on a bridge that didn't need fixed (they do that a lot)--and would would surely ruin it.
Then we go into a long converstion about all the people that needed hangin'---but I'll not get into that here.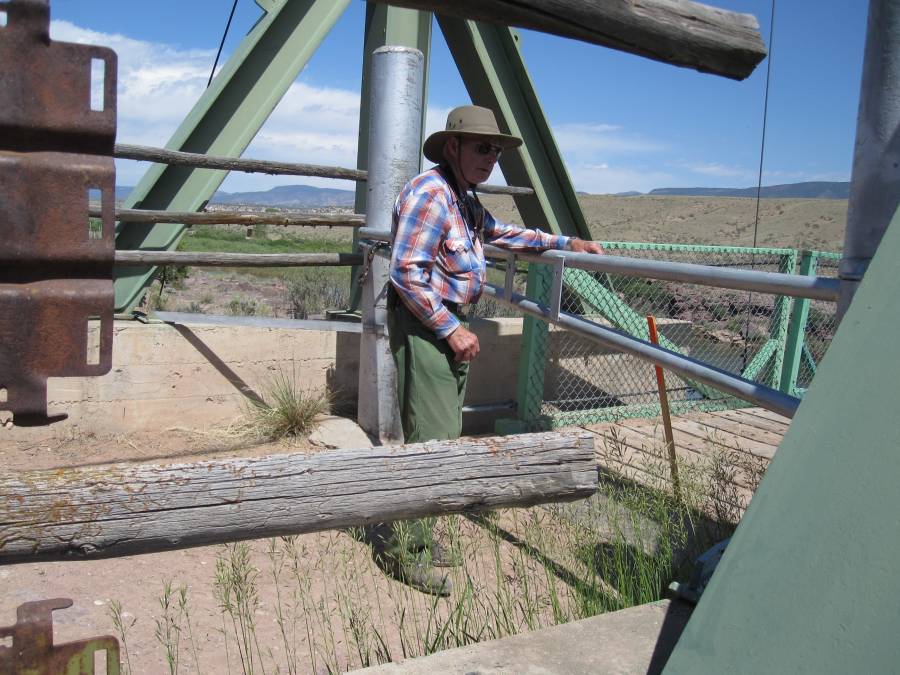 Mont wasn't a digital guy------but managed to get my picture------thanks Mont.
He said--"what in the hell happened to the good ole' days when a camera went "click" ??
Yeh---I know Mont
Well-----as you can see the friggin' gate was locked.
I wasn't dissappointed------I got to see it---walk on it and talk to a neat guy who knew all about it.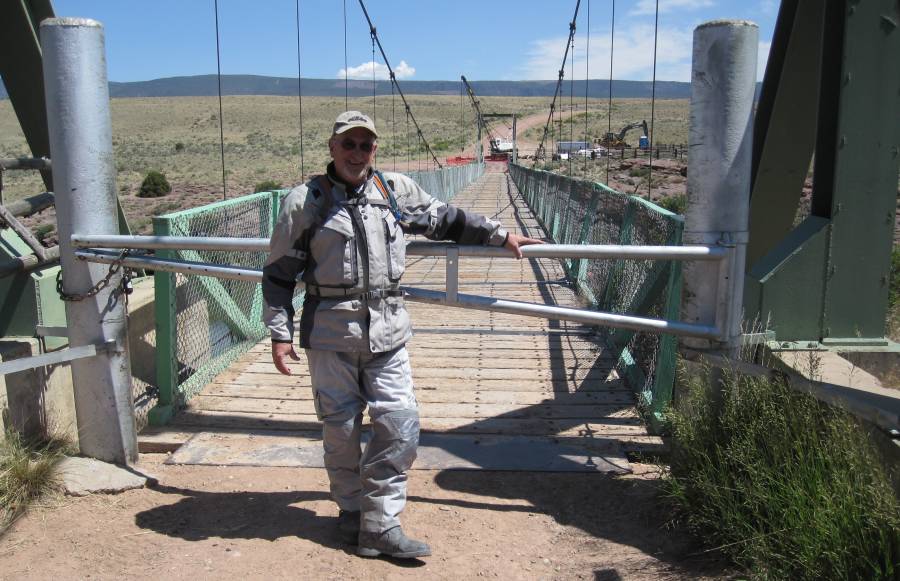 I took 37 million dollars and a room full of idiots and computers to decide this bridge needing some work.
It to no money and 15 seconds for an old man with some common sense to determine it was fine.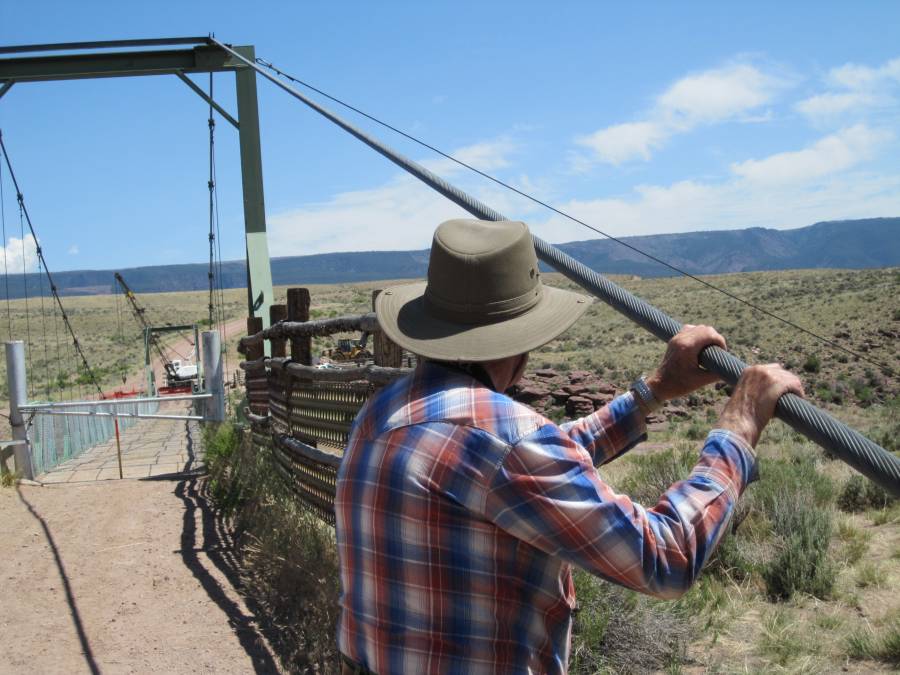 We pondered the big hole---figured they were going to re-anchor the cables.
We wanted to hang a bunch of peope and put them in the hole---we grinned on that one.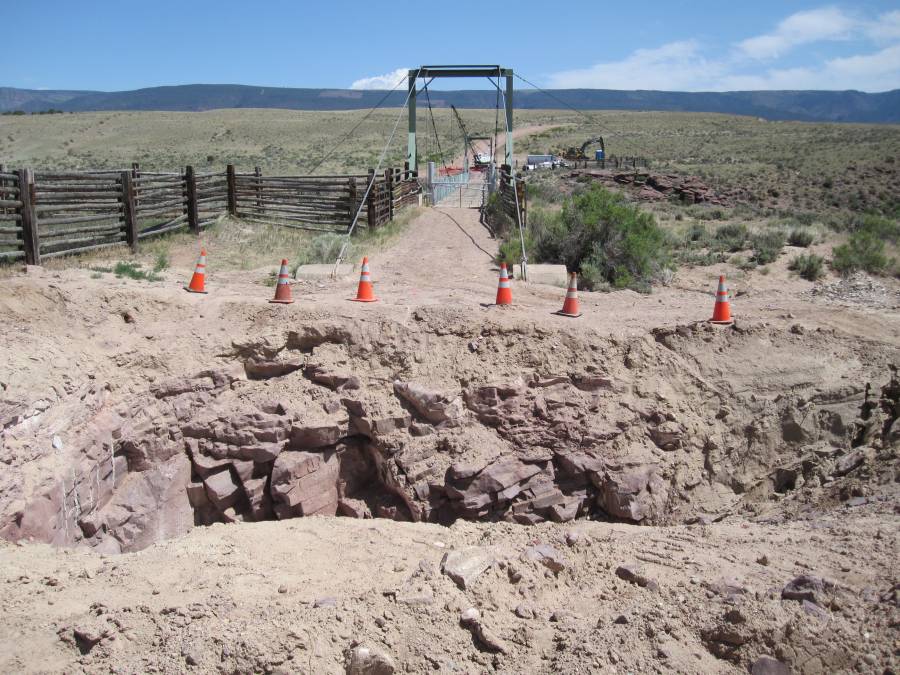 My new best friends.
83 years young and still out doing it---they have a hard time getting around but still can have some fun and see
things on their 4-wheeler.
Now get this -----they've been married 60 years------I loved these people---wish I could take them home.......
naw--I'd just hold the back---they were out for adventure.
Heck--they rode a Yamaha---they had to be good people !!!!!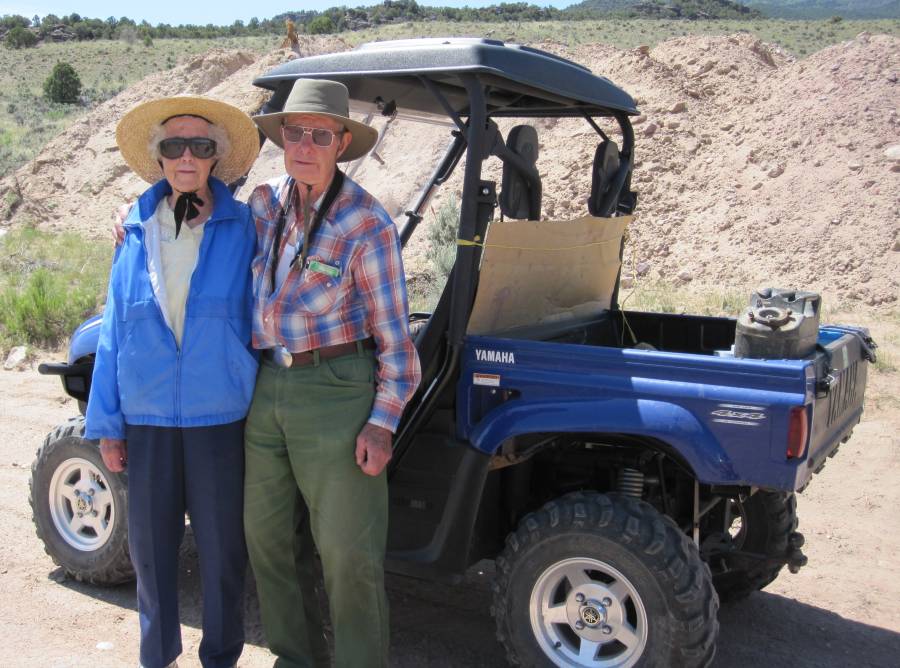 Now here's some money wasted--you can bet on that.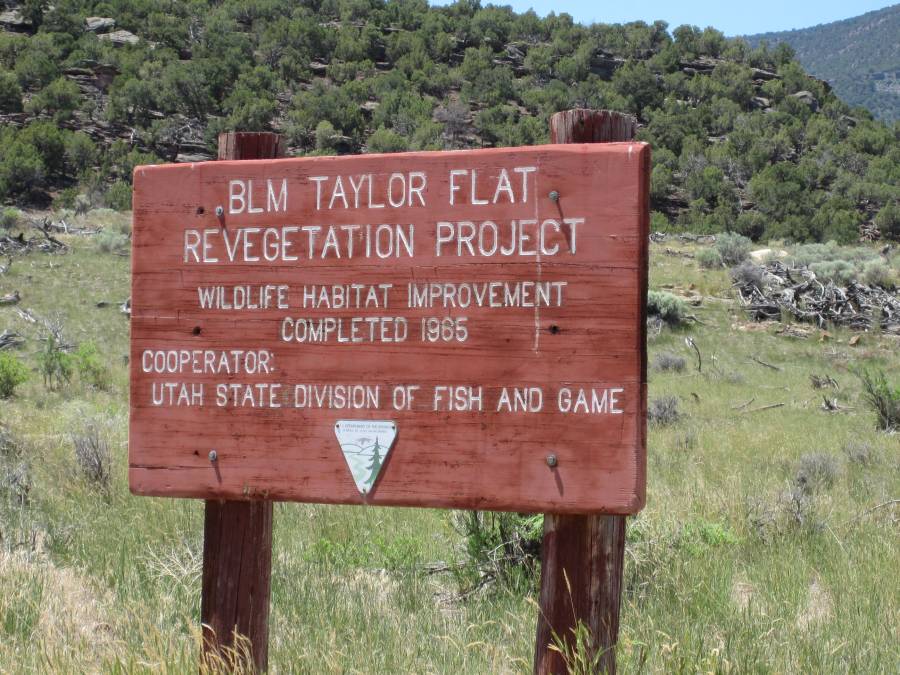 I did not want to leave "The Bridge"
I had spent an hour there with my new friends.
Remember the detour sign ???? Well ----I rode back to it as Mont assured me that route would take me over
Green river on the "New Bridge"----------I hate new bridges.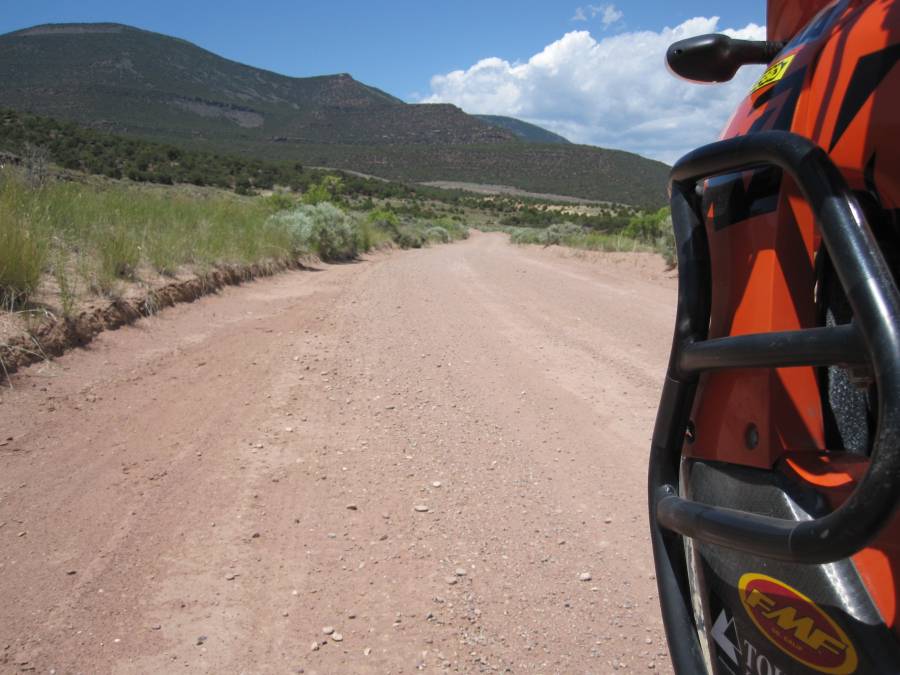 Yeah---there it is.
If I were 19 years old----and my name was Travis Prastran---I could by-pass the new bridge.
All it would take was 97 horsepower ------97 mph and --------Travis Prastrana.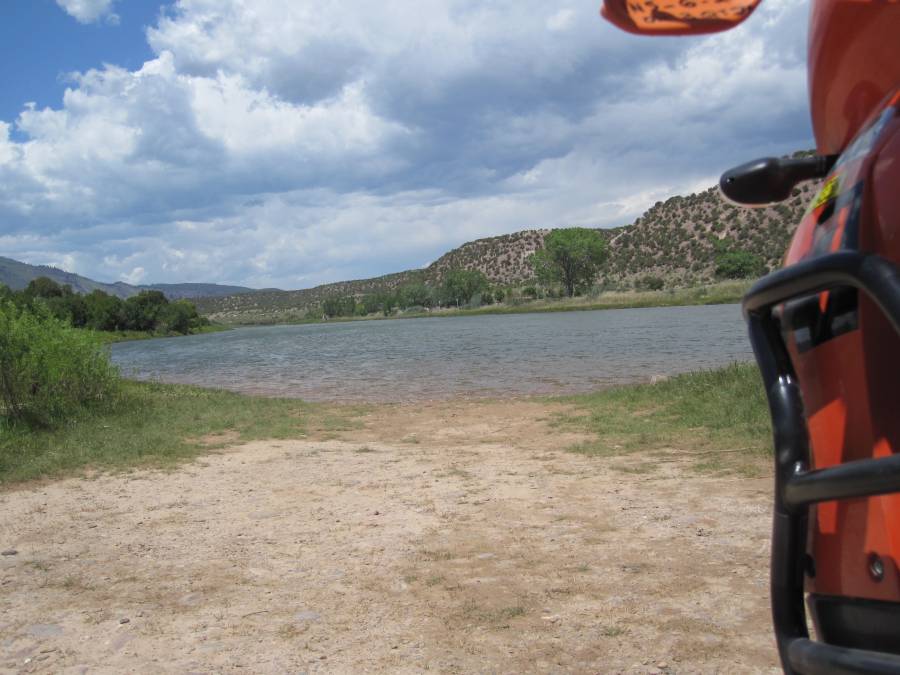 The Green River was pretty here--shallow and clear----and blue.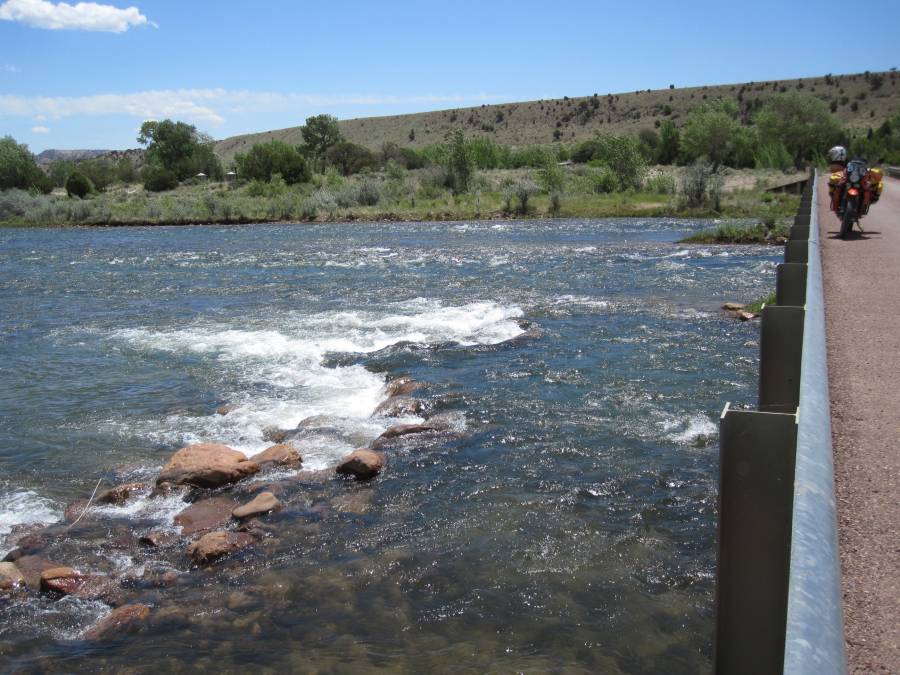 It is perfectly clear if you are rafting down the Green River---but no---we got to have a sign.

"Here's Your Sign"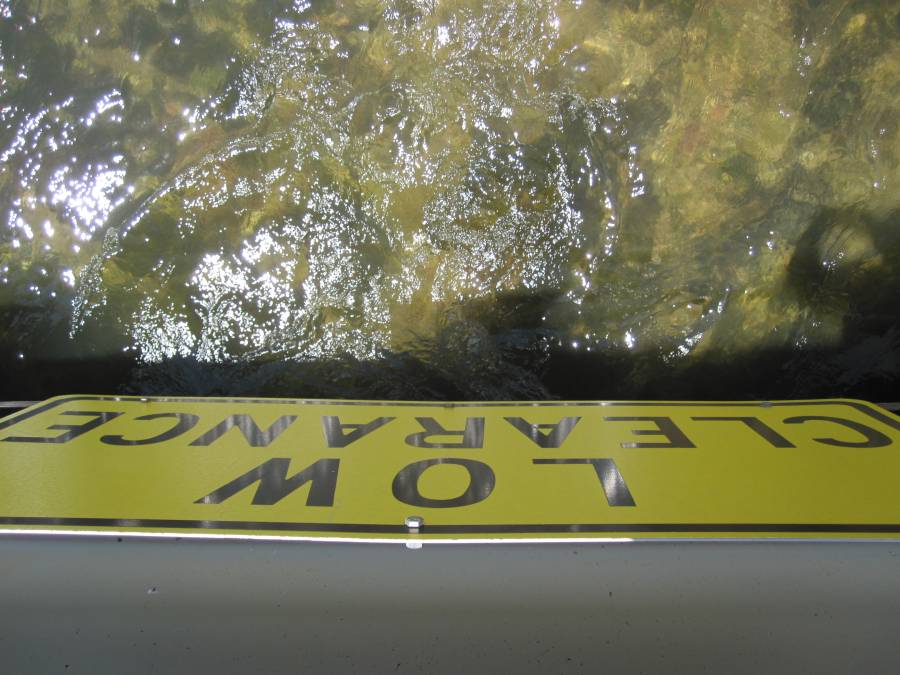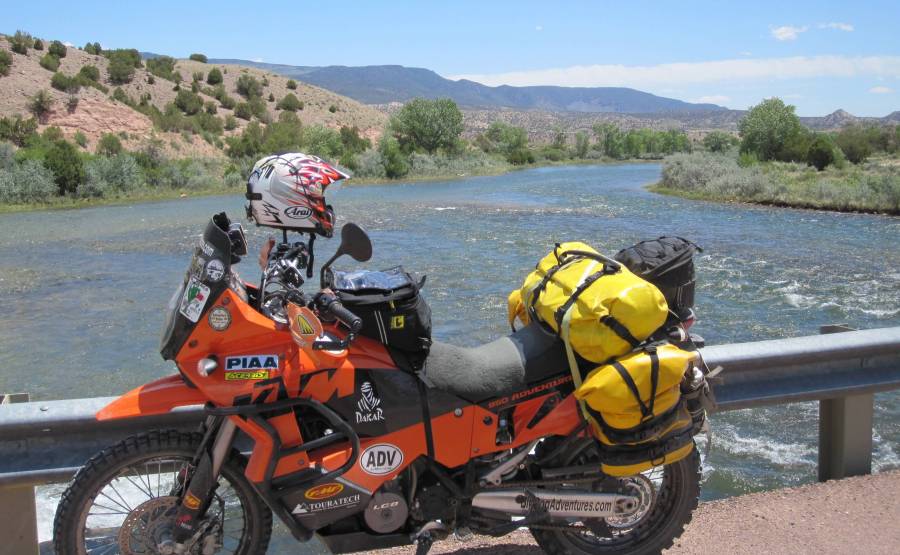 The new bridge did lead me to the historic John Jarvie Ranch--now this is cool.
The ranch is just about 1/4 mile West of the new bridge down a dead end dirt road.
This historic property built in 1880 provides a glimpse of turn-of-the-century frontier life in Brown's Park. John Jarvie, a business man
from Scotland, chose this particular one because of the naturally occurring river crossing. For years it had been used by Indians,
fur trappers, travelers, and local residents. Jarvie figured it would be an excellent spot to establish a business. At its height, the Jarvie ranch
operation included a store, post office, river ferry, and cemetery.
At the historic ranch, you'll find the stone house, which is a one-room, rectangular building. It was built by outlaw Jack Bennett,
using masonry skills he learned in prison. This is also the museum where displays decorate the walls and a video of the history of the ranch
can be viewed. You'll also get to duck inside the two-room dugout where John and his wife Nellie first lived. It is build into a hillside
with a south-facing entrance overlooking the Green River. You can stroll over to the blacksmith shop and corral, which were
constructed using hand-hewn railroad ties which drifted down from Green River, Wyoming, during high water. Finally, you get
to pretend shop at the general store where Mr. Jarvie sold goods, which is a replica of the original which was built in 1881. It is furnished
with many artifacts from the Jarvie period and also contains the original safe which was robbed from the men that murdered John Jarvie.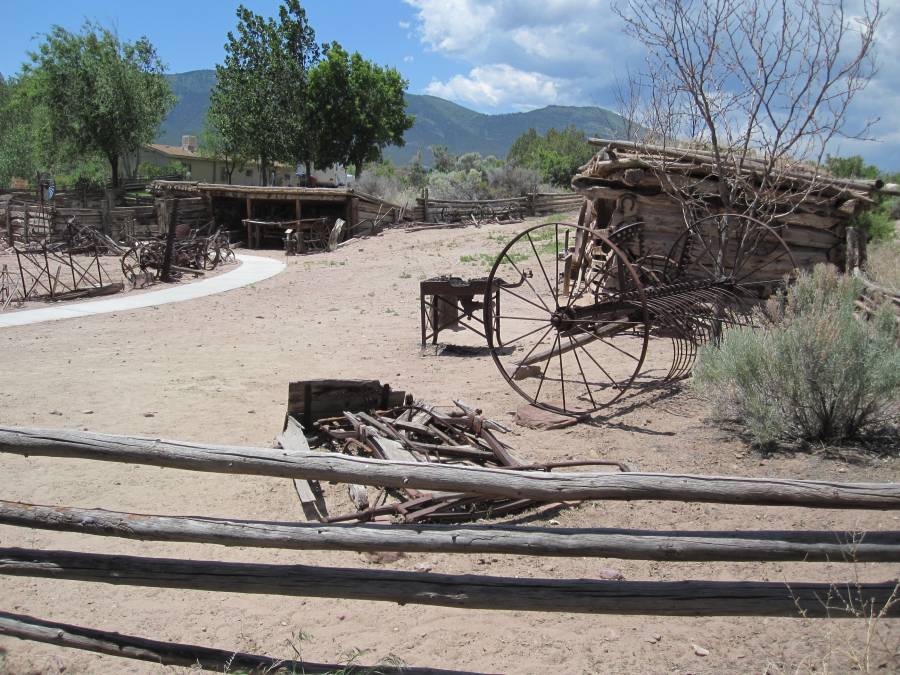 And oh yeah-----------
Butch Cassidy and the Sundance Kid hid out here.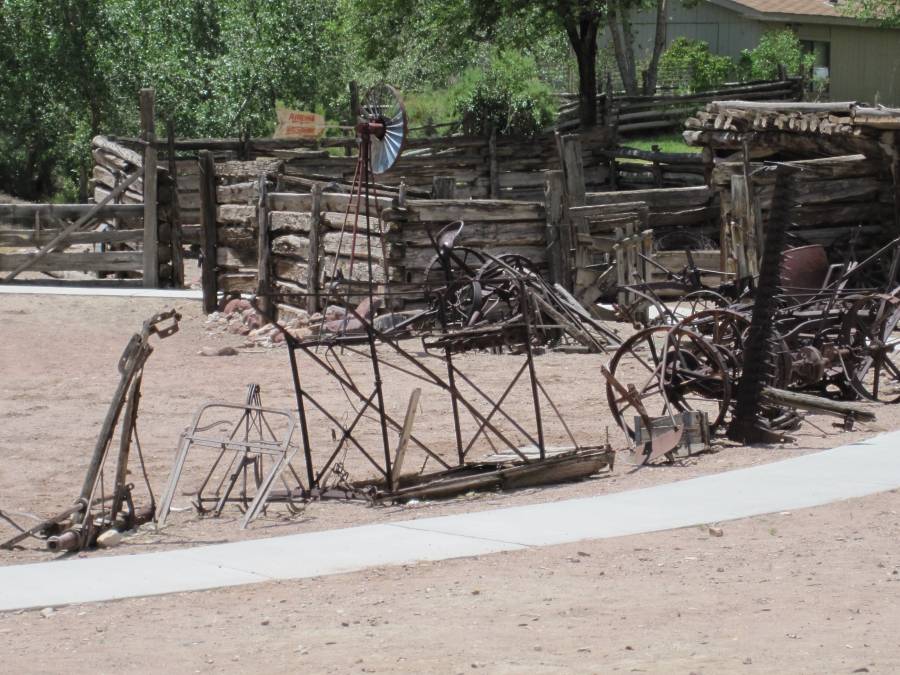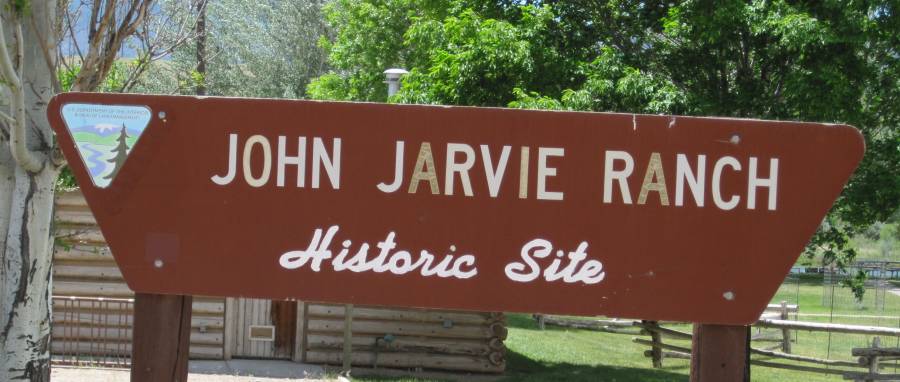 I left the ranch---and guess what---I run into the same 2 guys I met hundreds of miles ago.
They were on the Triumph tiger and the V-strom.
Can't remember their names---nice fellows.They were having a great time.
And yes------the weather was perfect we agreed.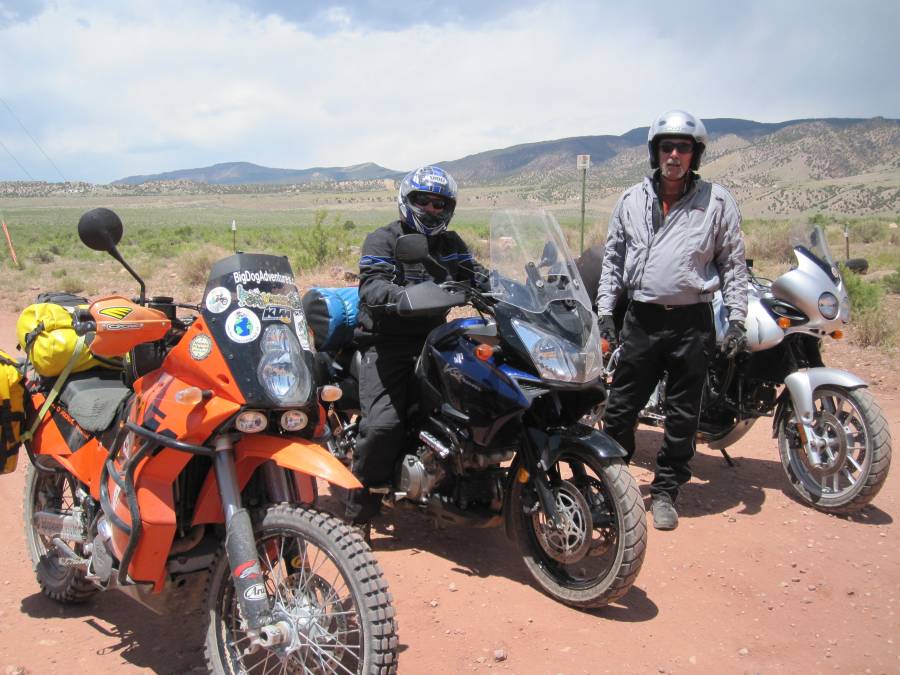 From Northwest Colorado I decided to make a circumference of the really high mountains in Northeast Utah.
You can't ride across them----there are no roads--it is impassable.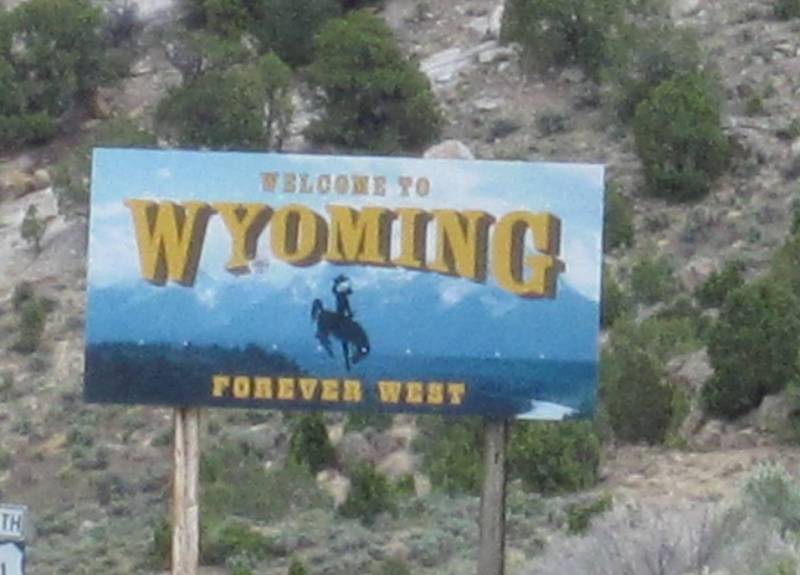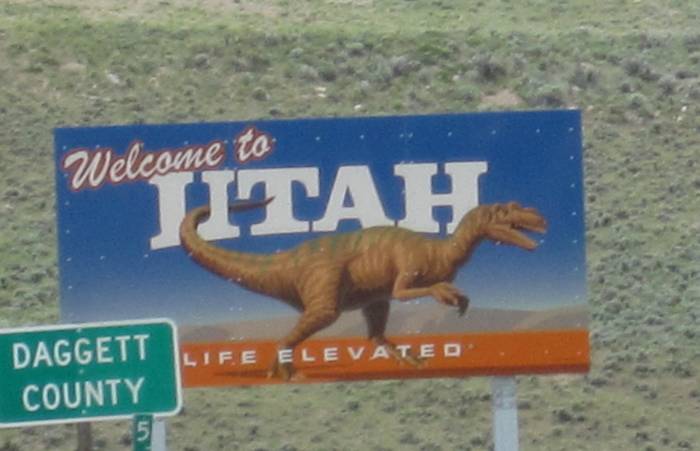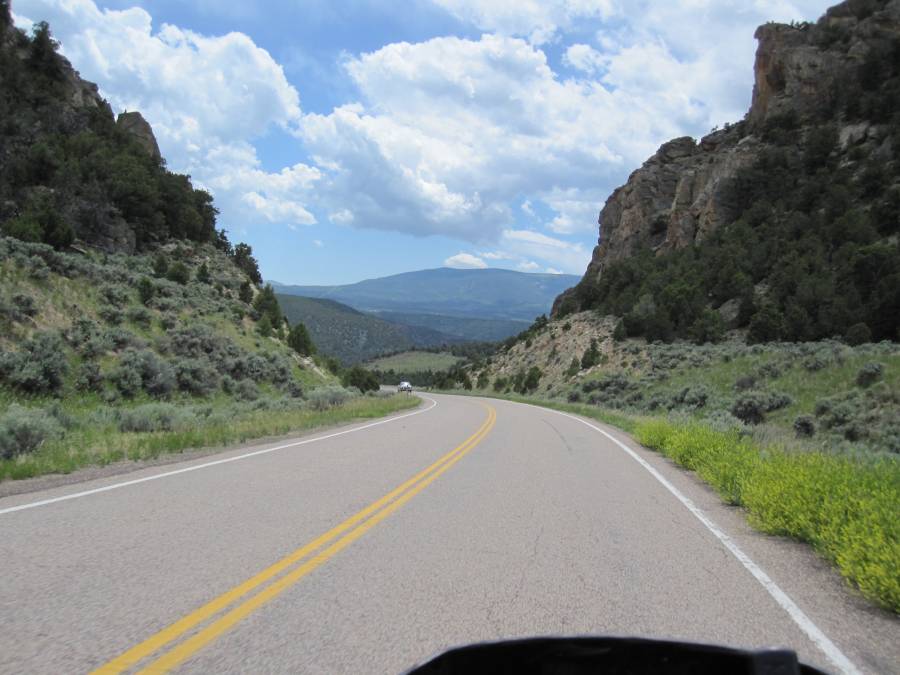 On the way this sent me thru Flaming Gorge National Park.
Here is the huge lake and dam. My route took me over the dam.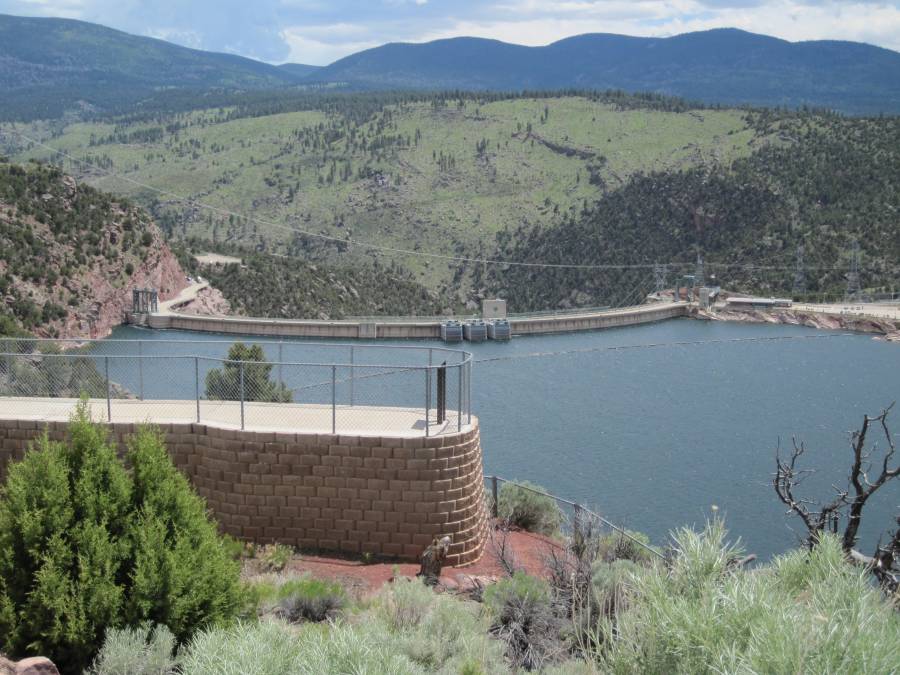 And then over the bridge in the left of this picture.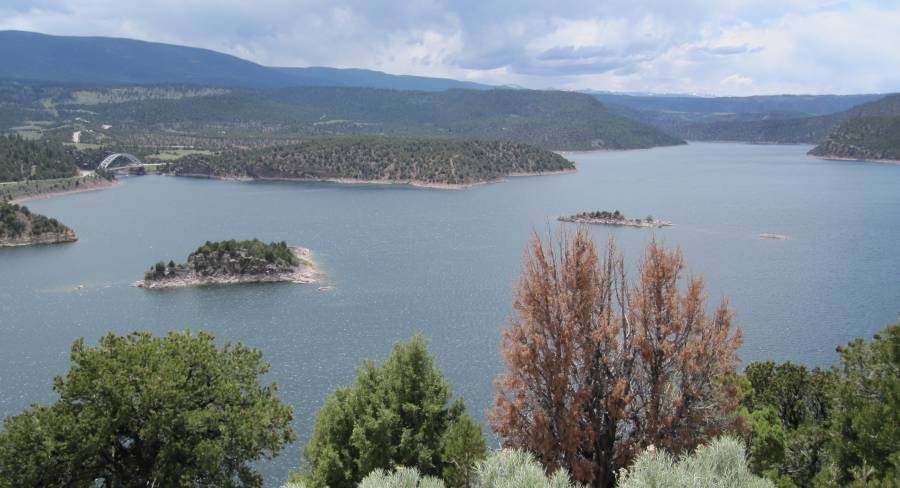 If you've read my ride reports-----you might remember a picture of "Little Dog" riding on this bridge.
I'd been thru here before.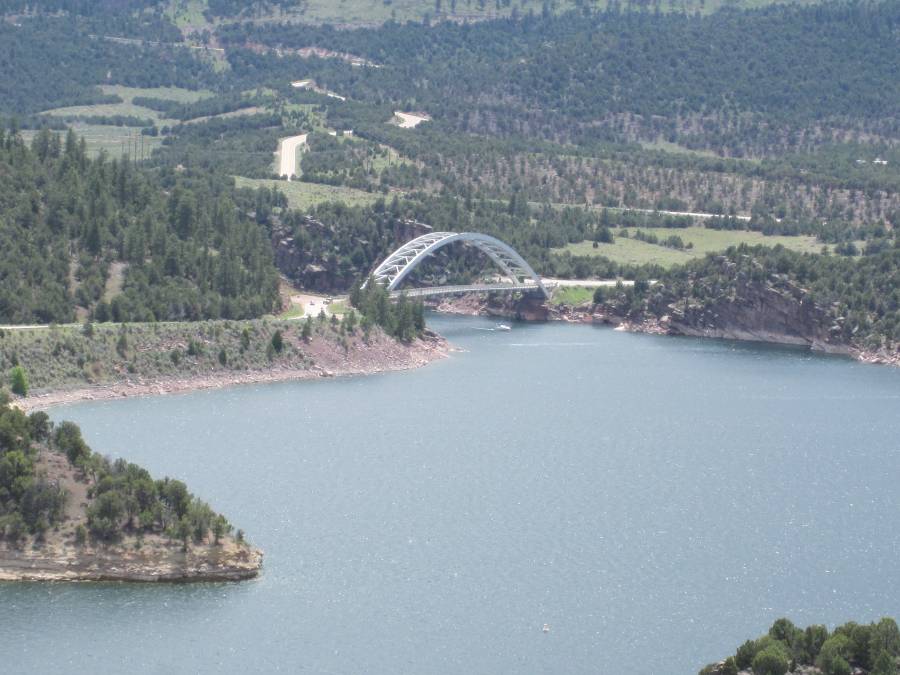 The high peaks to my South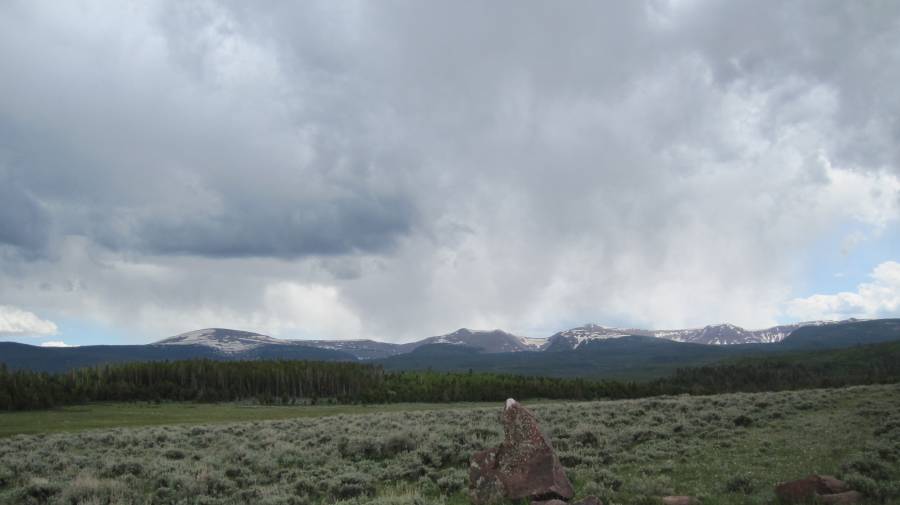 13,528 ft. high------Kings Peak--the highest point in Utah.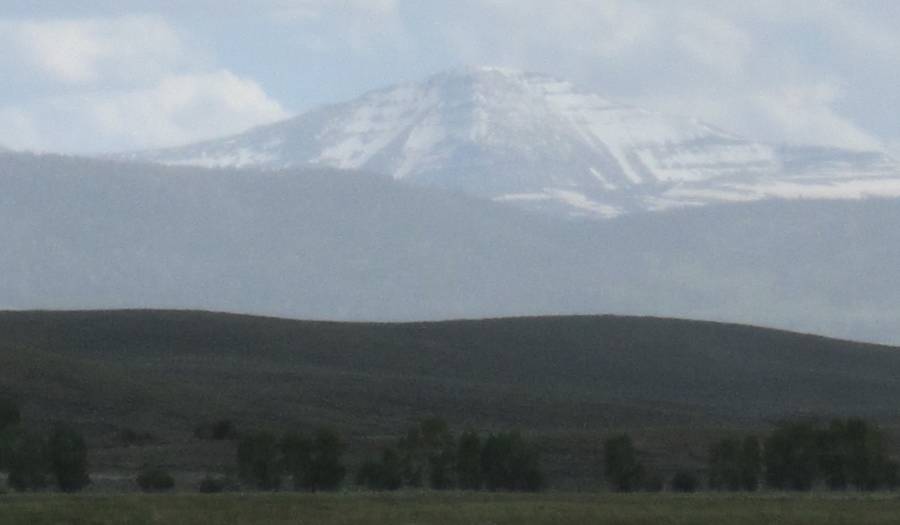 It was out here on a wet dirt road my glasses fell apart------couldn't see my gps---couldn't see my glasses to fix them.
It took me about a half hour---but I finally got them held together with a very small wire tie----the last item I stuck
on my bike before leaving for "The Bridge". Don't go anywhere without wire ties, JB weld, tape, wire--etc. and
an extra pair of glasses. You learn from your mistakes---how come I am continually learning ?????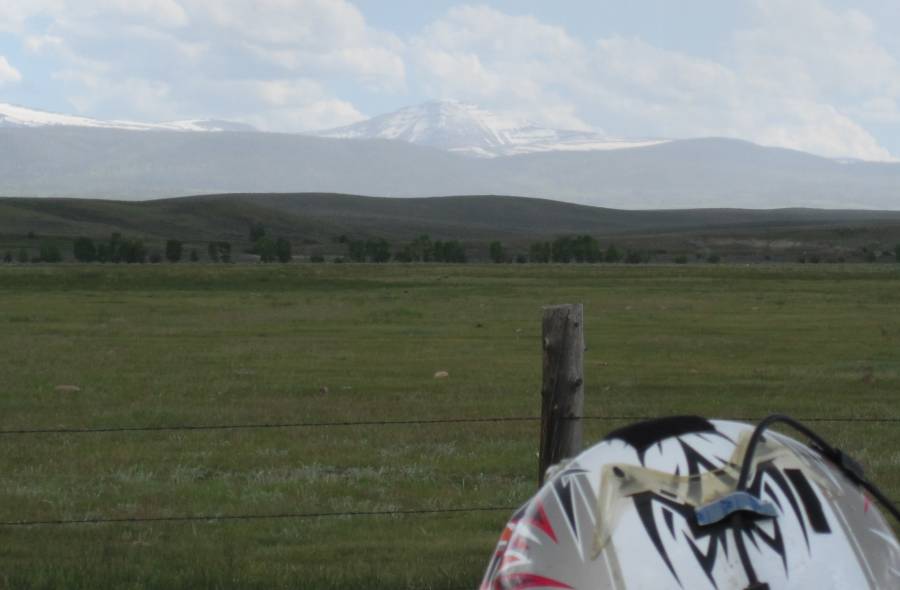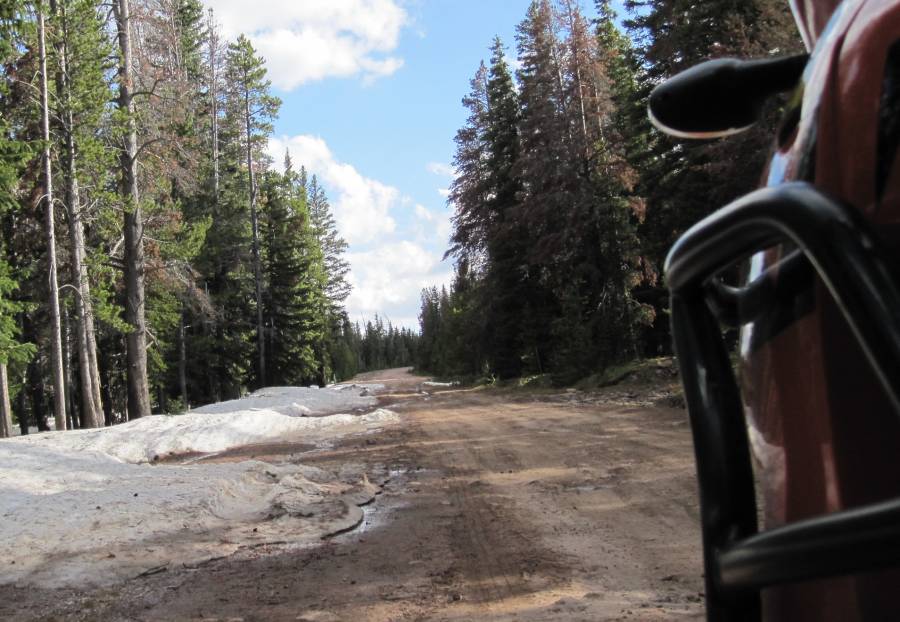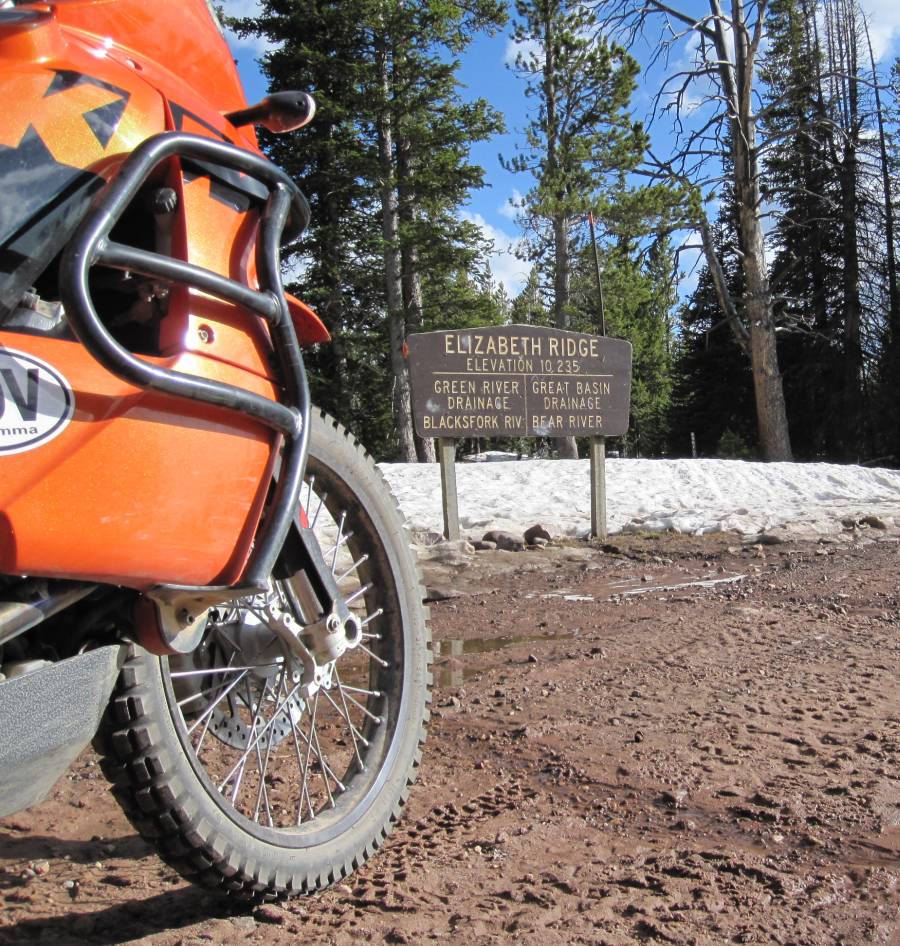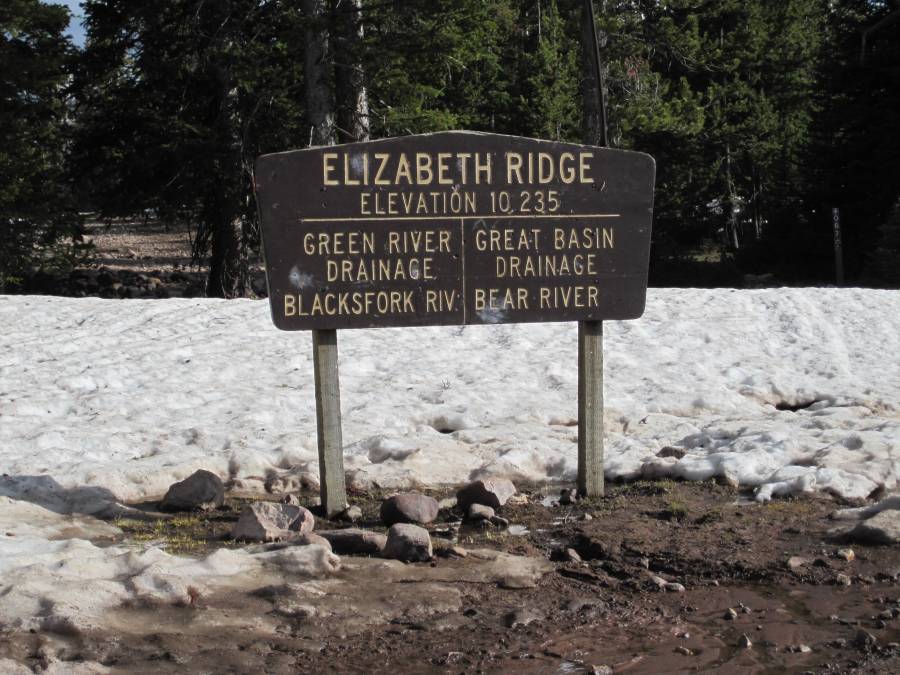 As I headed South on the paved route 150---it was high--and it was very cold--and littered with campsites.
Nice ones---really nice ones----I figured it would take me a co;uple of hours understanding all the rules entering these campgrounds.
It was mind boggling--I couldn't get them all in the view of one picture ------so included 2.

The one that caught my eye tho was the one that said--"All parked vehicles must display a recreation permit".
A what ????????----just to stop and pee ??? to admire a view--pick my nose ?????
Yes--even if paying a camping fee--remember---you vehilce will be stopped--and you must pay this fee also.
Well-----where do you get this sticker---don't know ??? guess I can't camp huh ????
Better get moving before the ranger sees me stopped.
It was like this for 100 miles---better not stop--------I didn't---well maybe once to pee--well--3 times.
You tax dollars at work--where is my hangin' rope ????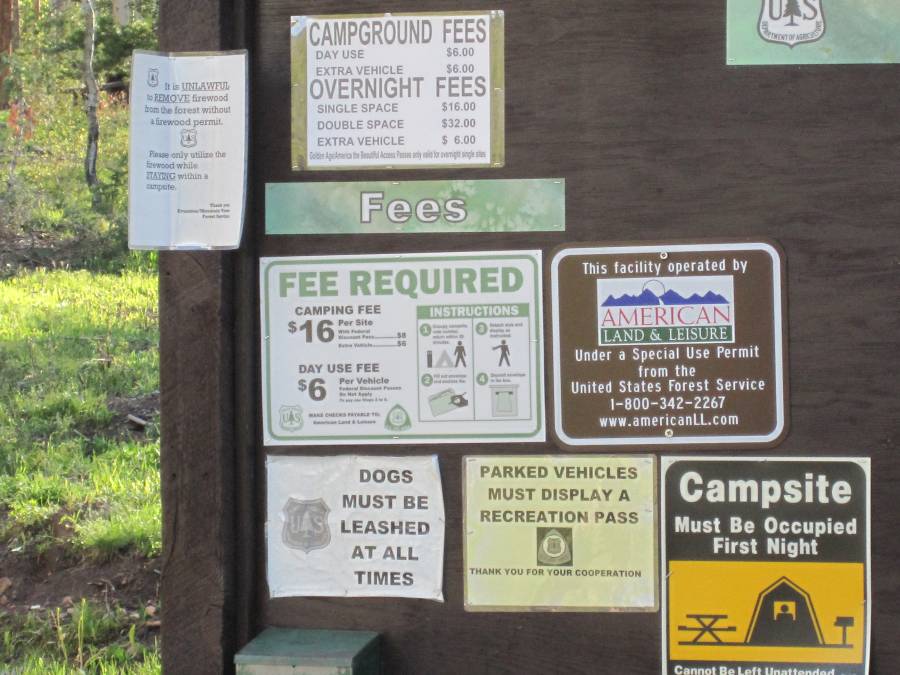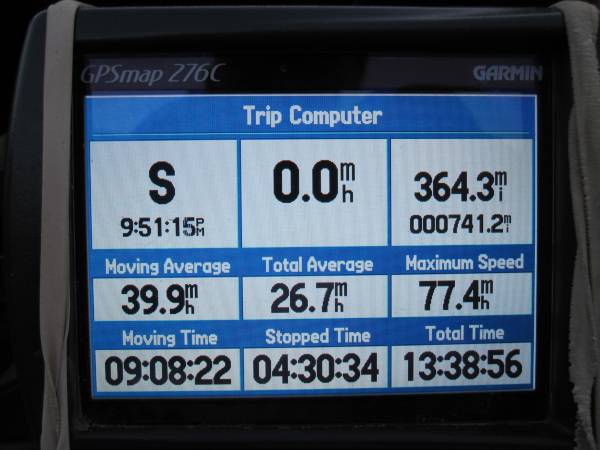 June 23, 2010
I ended up in Heber City, Utah for the night--and the next morning got my glasses professionally fixed.
I did not want the zip tie holding them together to fail me.

Heading West---I was going to stop and pee--but had no "Recreation Stop To Pee" permit.
So----I pissed by the road---sorry ladies.
I pondered which fine would cost me more---peeing beside the road--or peeing without a permit ???
Good questions needing an answer. Bet #2 would get you hanged !!!!!!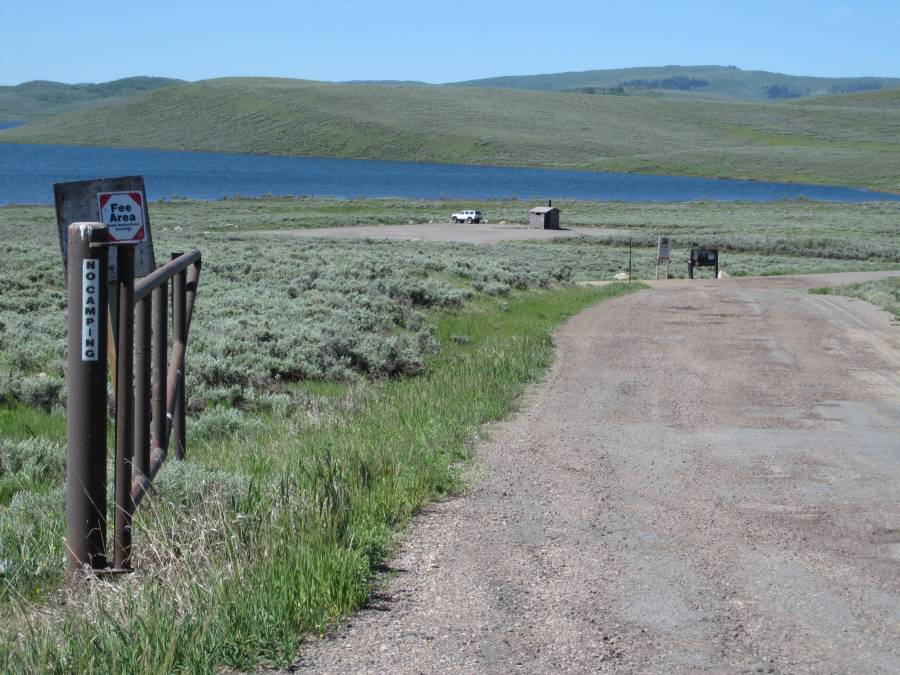 A view to pee by.

Summit-----what summit ???-----hell I don't know---just a summit.
The ole' carbed 950 did the high elevations---I could afford to give away lots of horsepower--and did.
My fuel injected WR250R doesn't give any away at altitude------good thing.
Down, down down I go.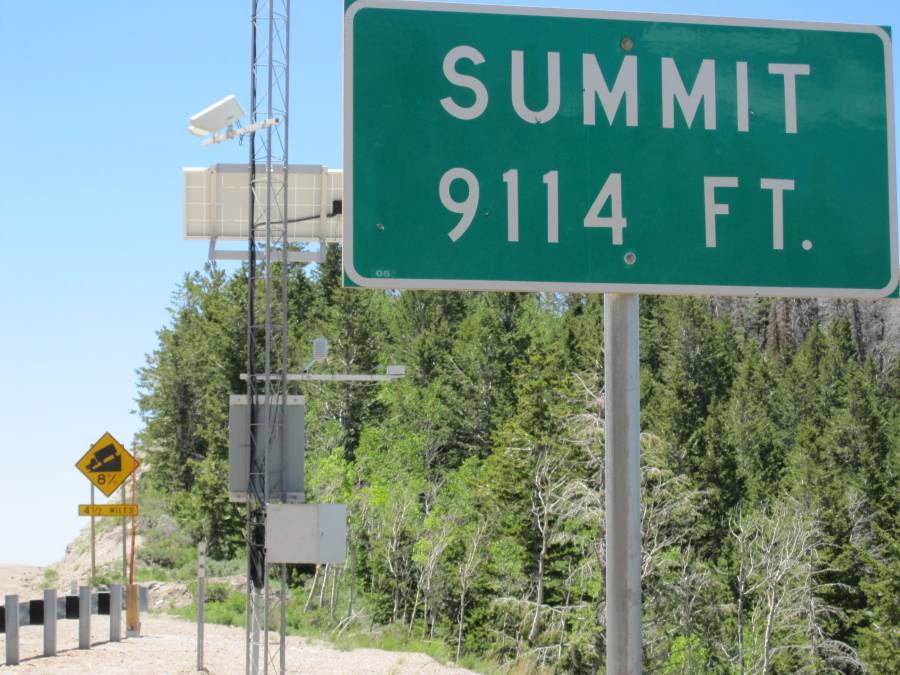 I think I am heade Southeast on route 40 here.
A waypoint I dropped 15 years ago scoping out maps called "Desolation Canyon" loomed ahead in my magical guidance box.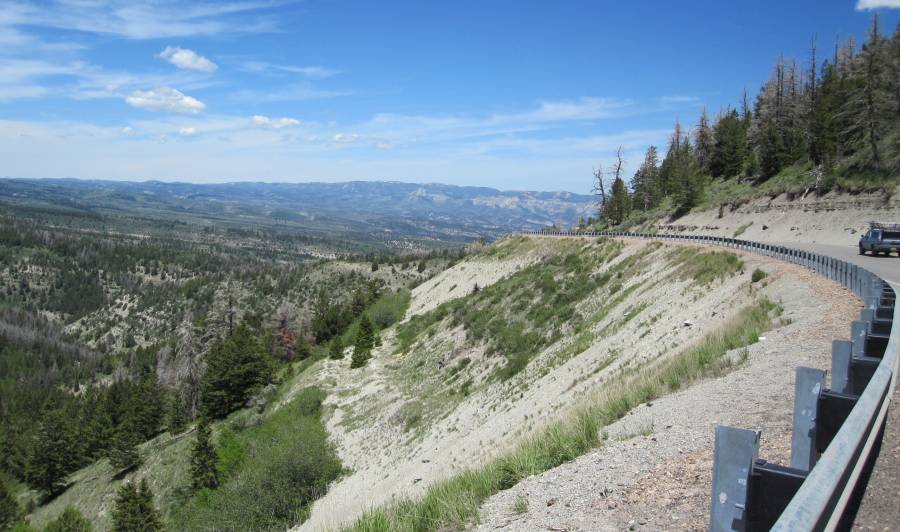 I have ridden on nine mile canyon road before---but this road led to it. Miles of dirt in which I'd cross Nine Mile
canyon road on my way to Desolation Canyon--what was that to be ????--it was 40 miles of dirt down a dead end
road at the Green River to get there--------could I find it ???? what was there ???? Would it be "spectacular" ?????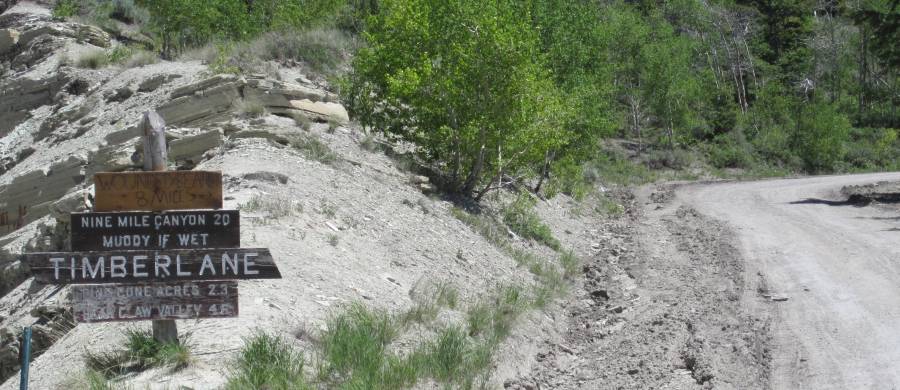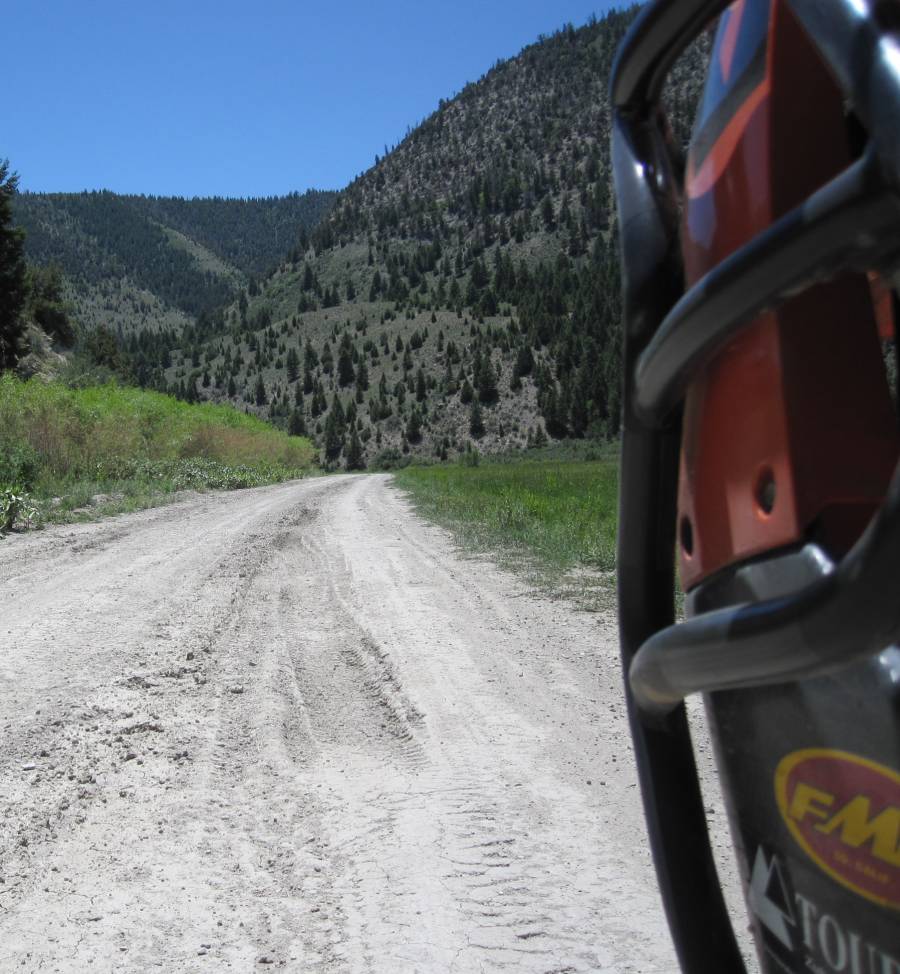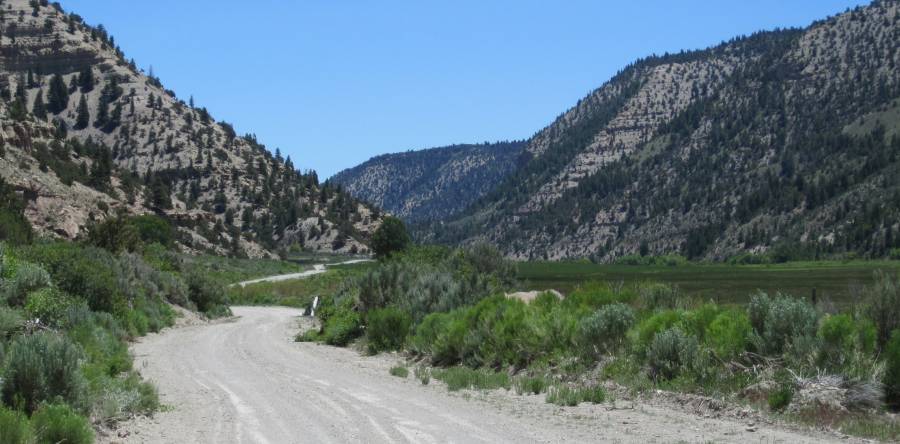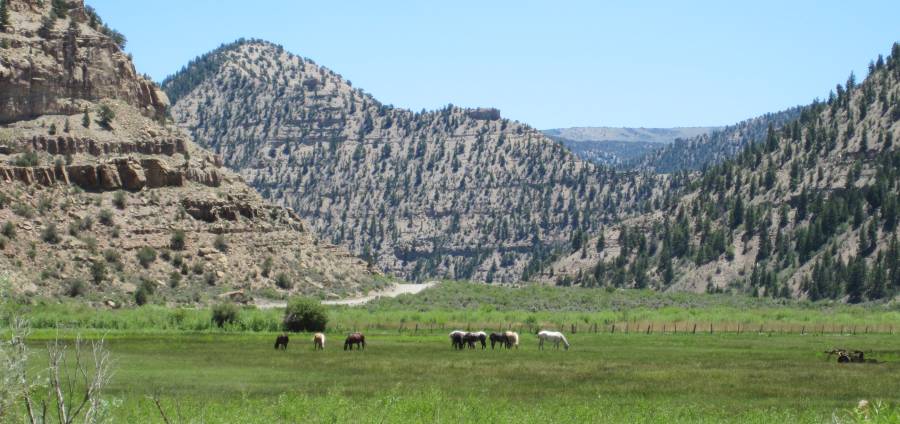 I truly was afraid to park my 950 any closer------truly.
I wet my finger and held it up to make sure the wind was blowing away away from my bike and toward the rock.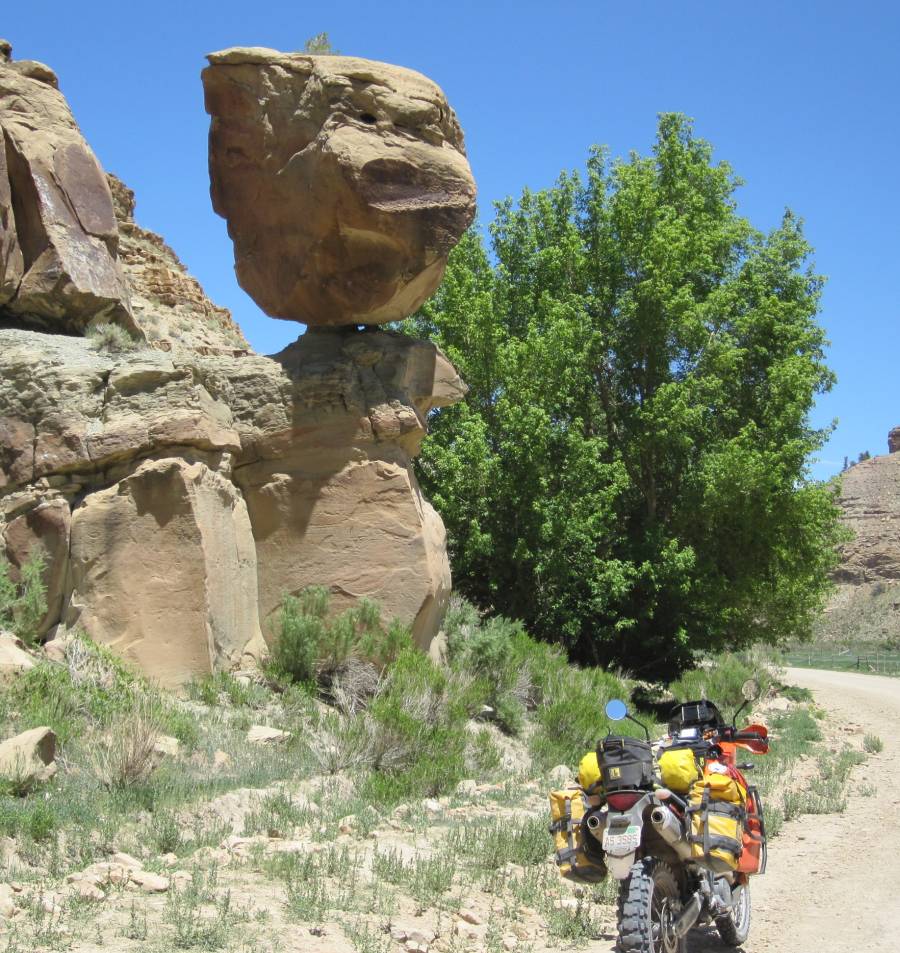 I stared at this thing for awhile----and imagined me as a little kid.
Climbing up there with a long chisel and hammer------yeh---I was onery and stupid enough to do just that.
But I wasn't so stupid to know this was Balance Rock.
For those that are-----------"Here's Your Sign".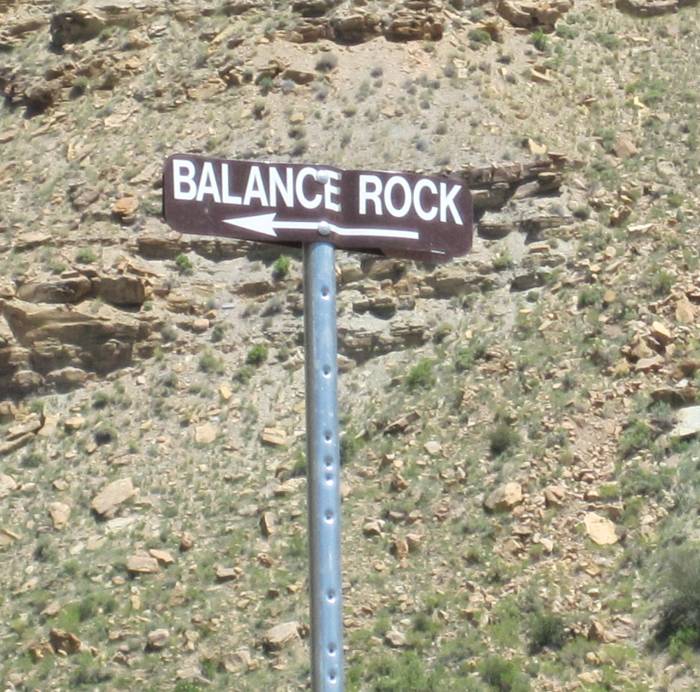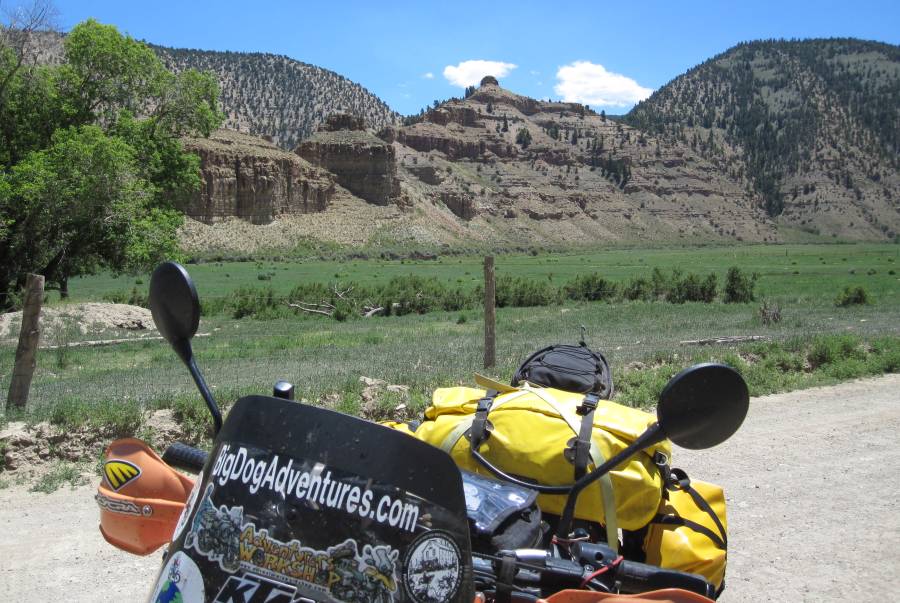 Still riding along Argyle Canyon Road before I got to nine mile canyon road I spied all this neat stuff along the road.
What the heck is this thing---there were 2 of them there--help me out Vinnie the Snake.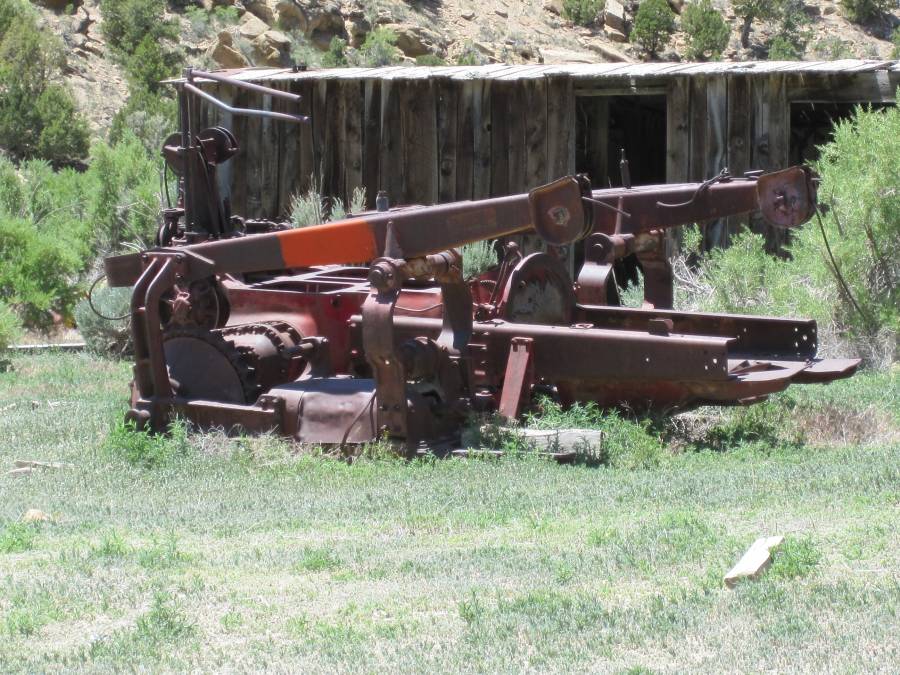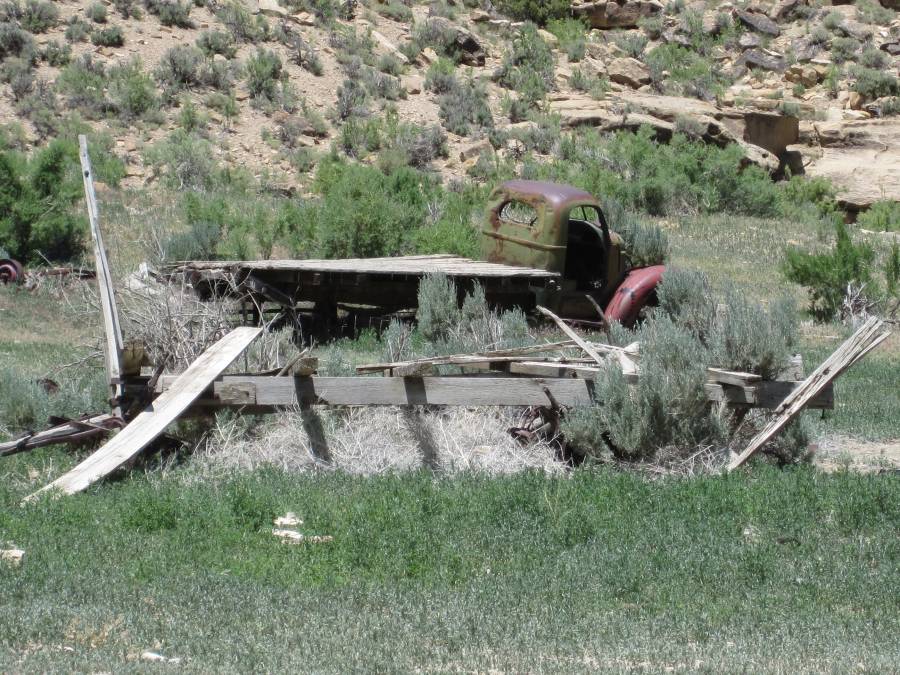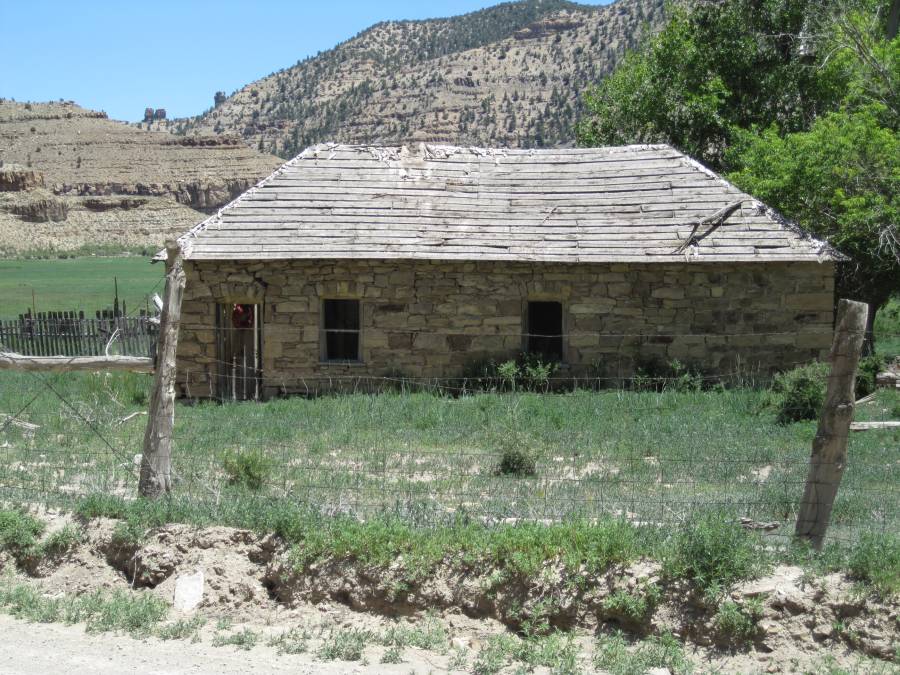 I guess you've figured out I hate signs---but can live with this one.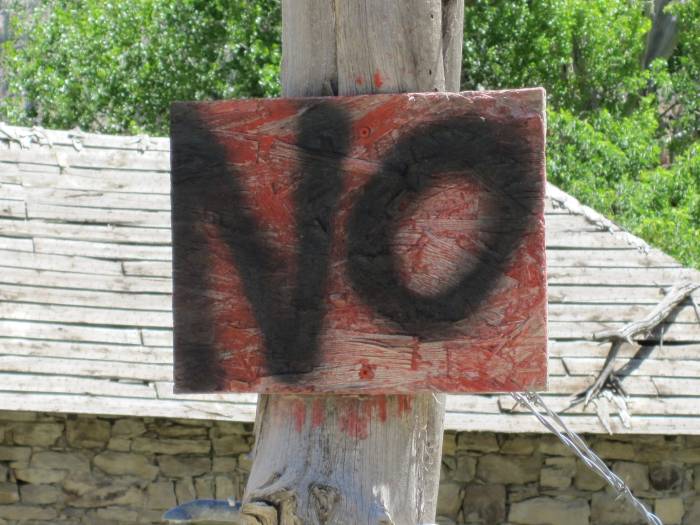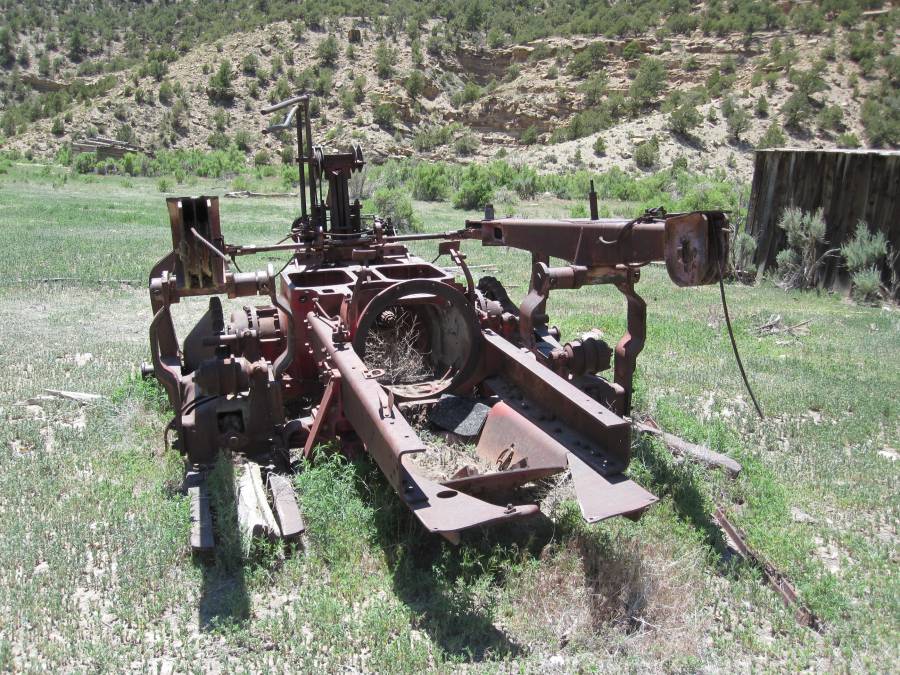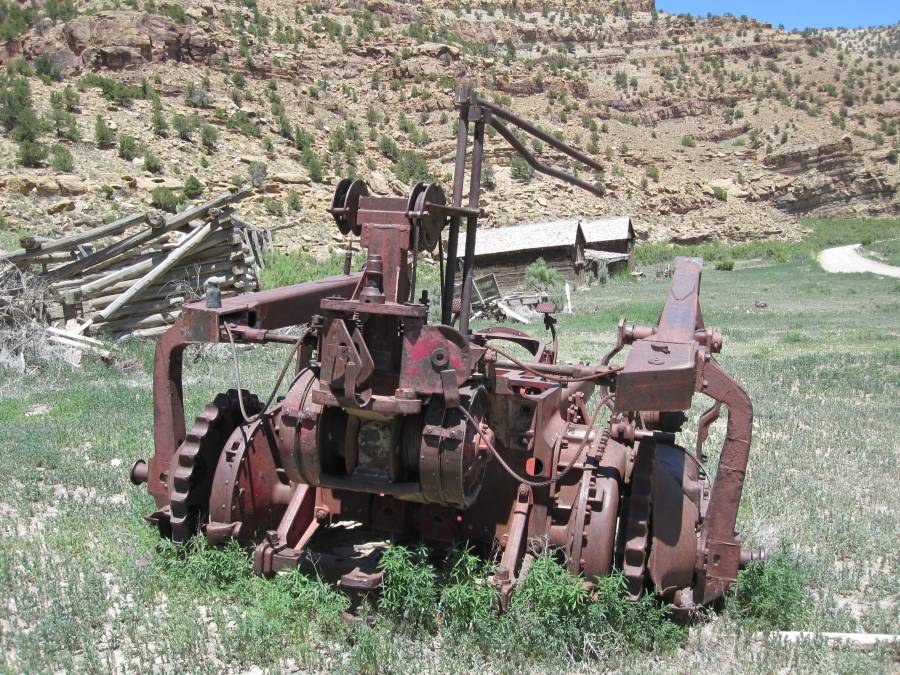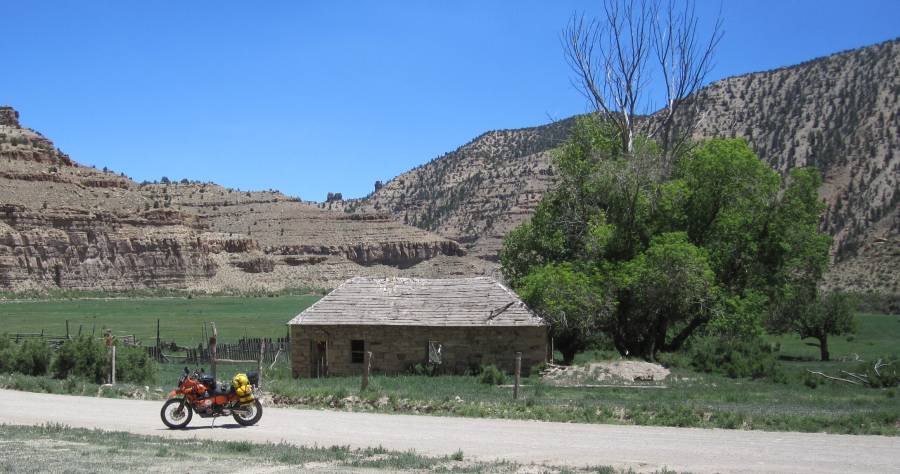 If trying to find Desolation Canyon---signs say Sand Wash----which leads to Desolation Canyon.
You won't see a Desolation Canyon sign till you get there---again---where my hangin' rope.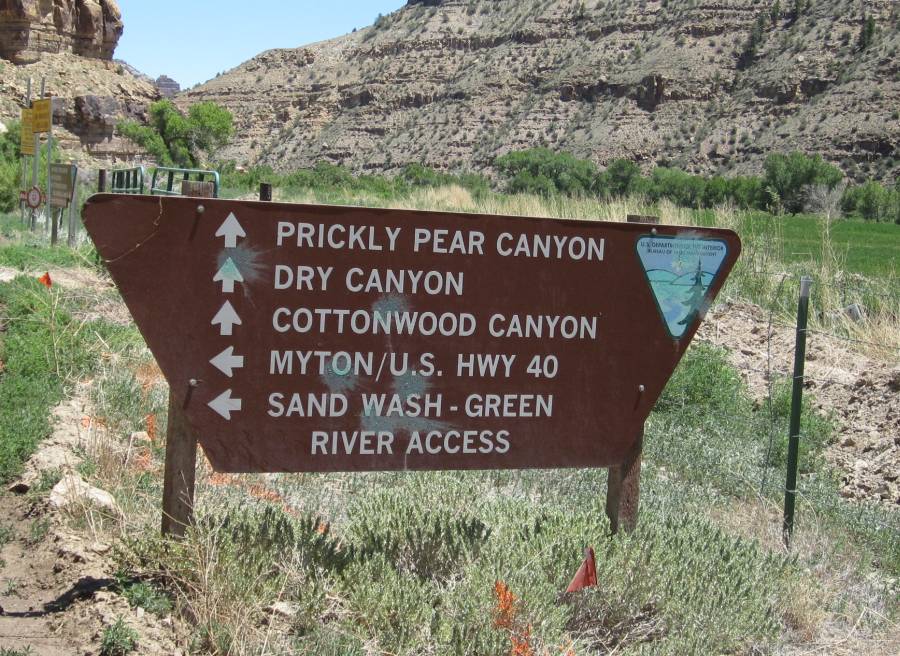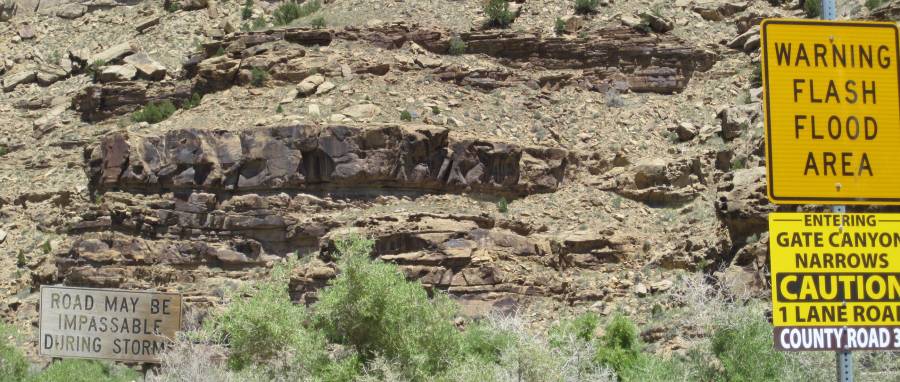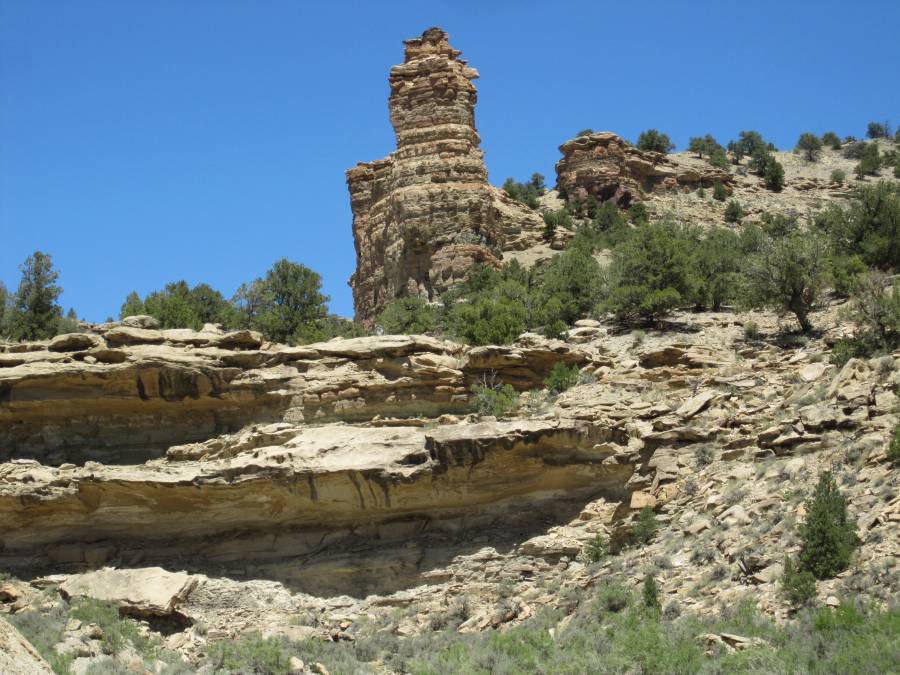 After crossing nine mile canyon road and heading down the dead end dirt road to Desolation Canyon the views were
beyond outstanding----I'm talkin' Grand Canyon and Copper Canyon views---without the people.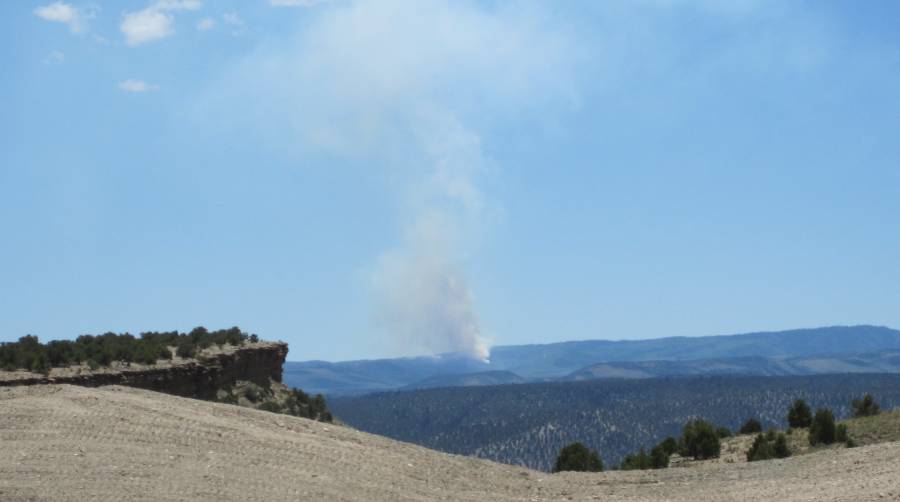 Vinnie The Snake could save a lot of money if he didn't bury all his pipelines.

The anticipation is killing me---the canyon is about 18 miles away--the views are outstanding---
it's over 6,000 ft.in elevation---the weather is perfect-----
"I'm in Heaven Man"----as they said in Woodstock.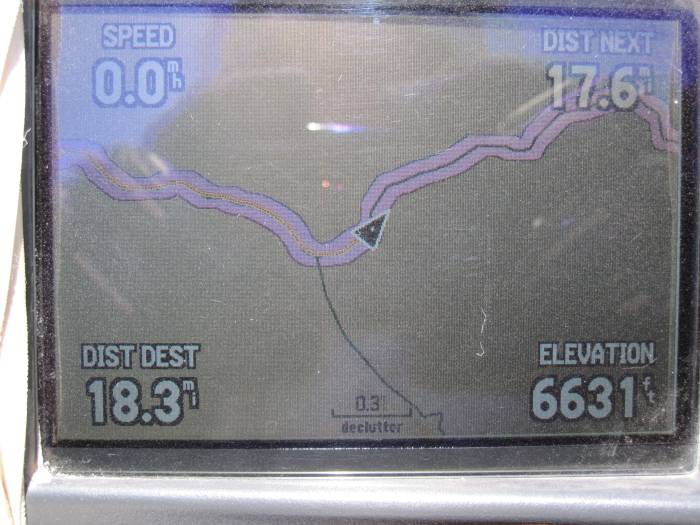 Right at the turn off down toward the Green River I talked to a guy in a pickup---he didn't say much, as I told him where I was headed.
He spit a chew on the ground just like ole' Josey Wales did on that dogs forehead and asked............
"How much gas you got in that there motorsickle son" ??????
I thought about that question right here.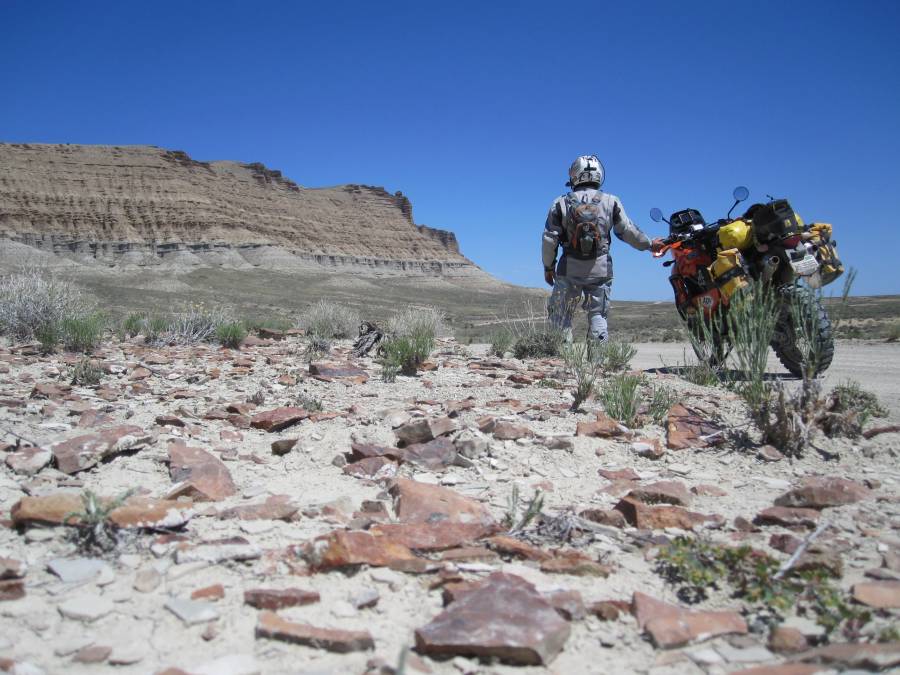 "Now remember, things look bad and it looks like you're not gonna make it, then you gotta get mean.
I mean plumb, mad-dog mean.
'Cause if you lose your head and you give up then you neither live nor win. That's just the way it is." ----Josey Wales

This is sand wash going down to the Green River.
If a big thunderstorm hit while in here you would have no trouble finding a quick way to the river.
It was steep downill sand all the way to the river----with no way out.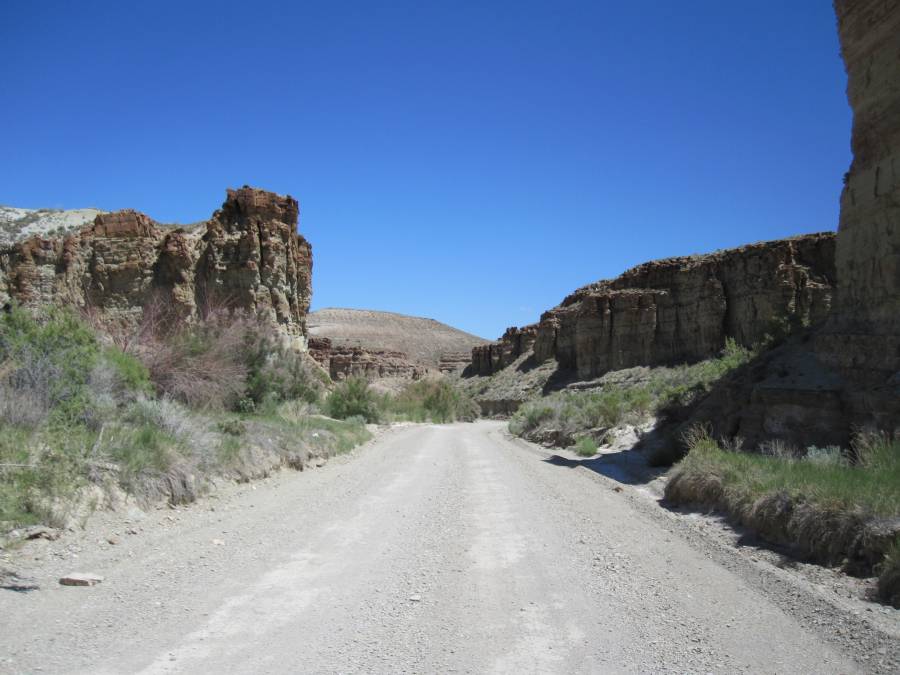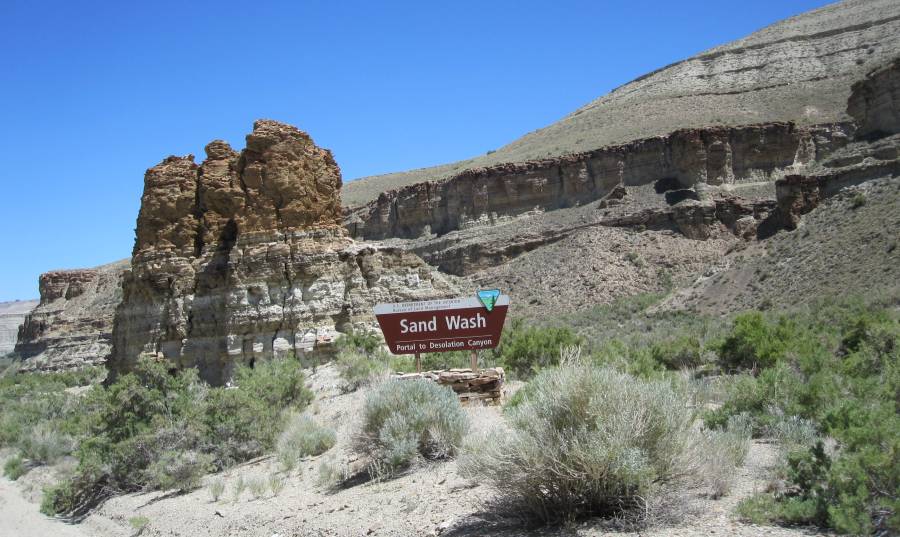 OK--you can forget all the drama----I made it.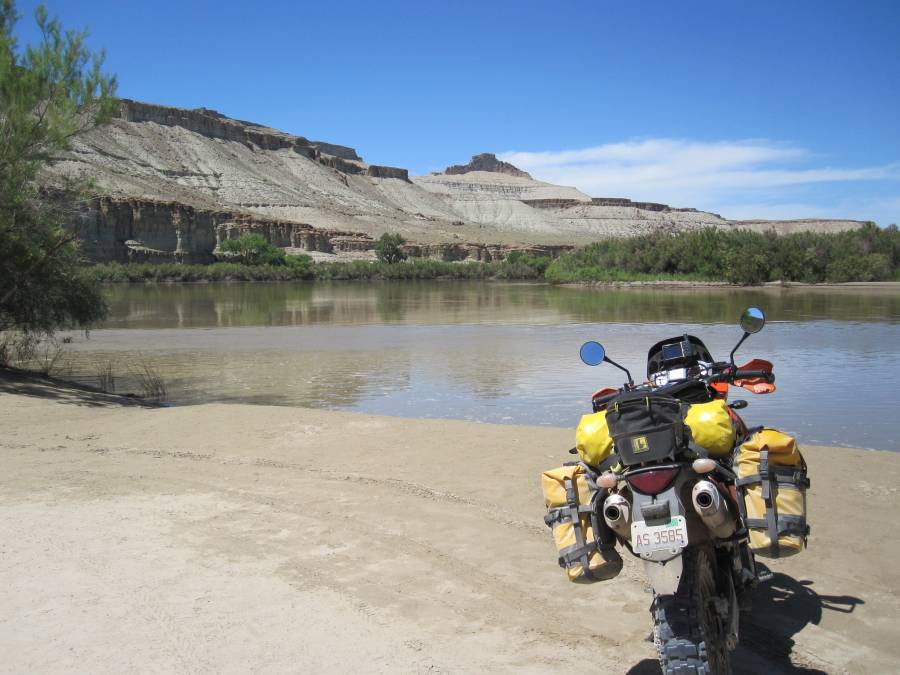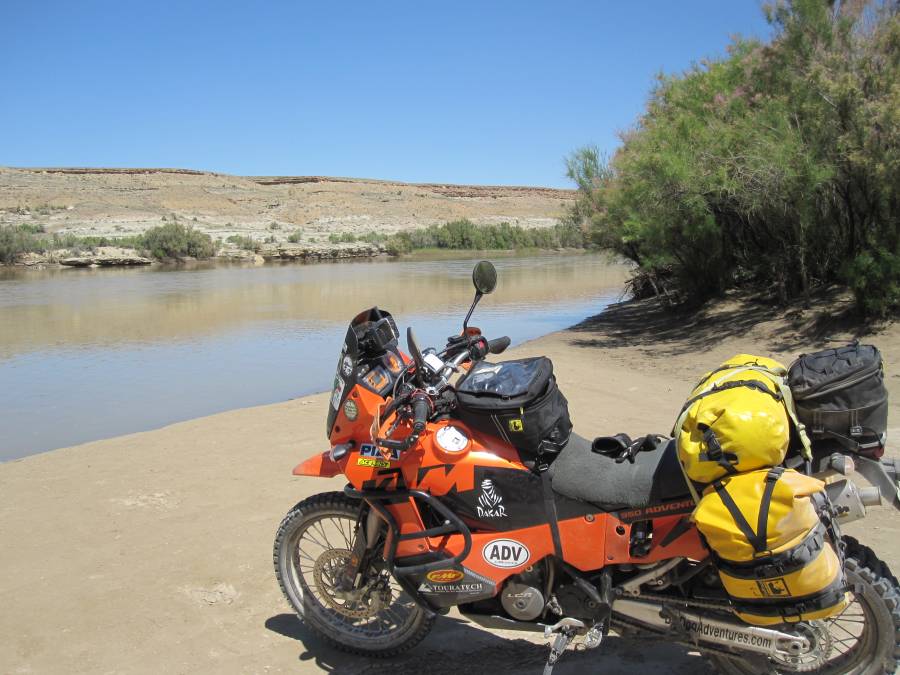 Let's see-------I got 3 gallons of gas--this gas pig spits out a gallon of gas every 35 miles--probably 30 in this sand.....
it's 35 miles back to nine mile canyon road---then another 45 to a town--yes---I may live thru this.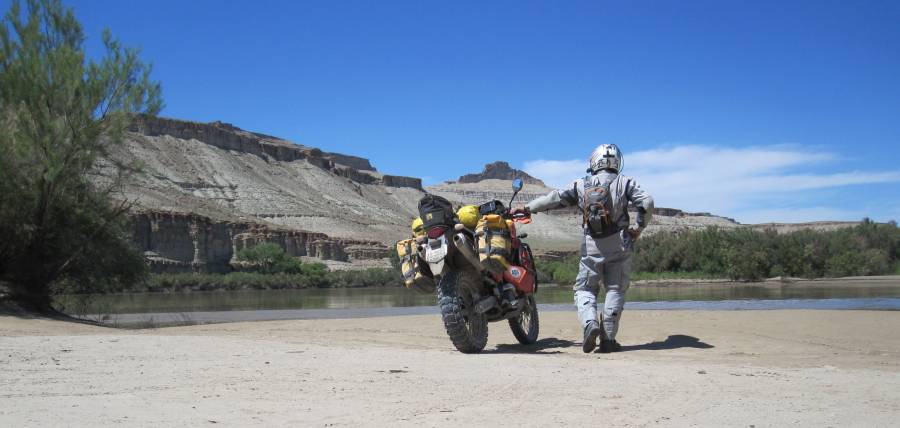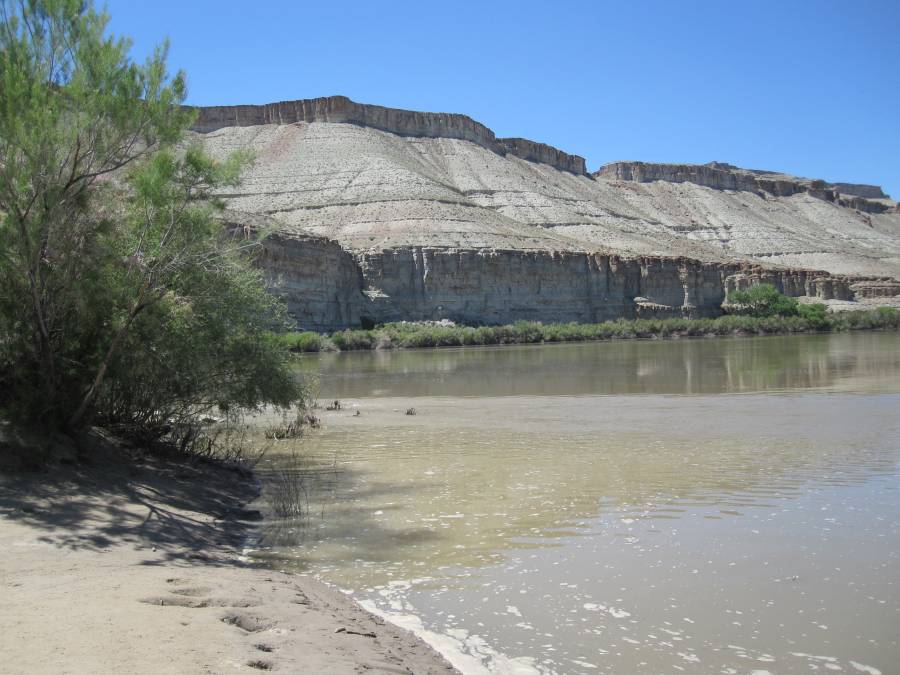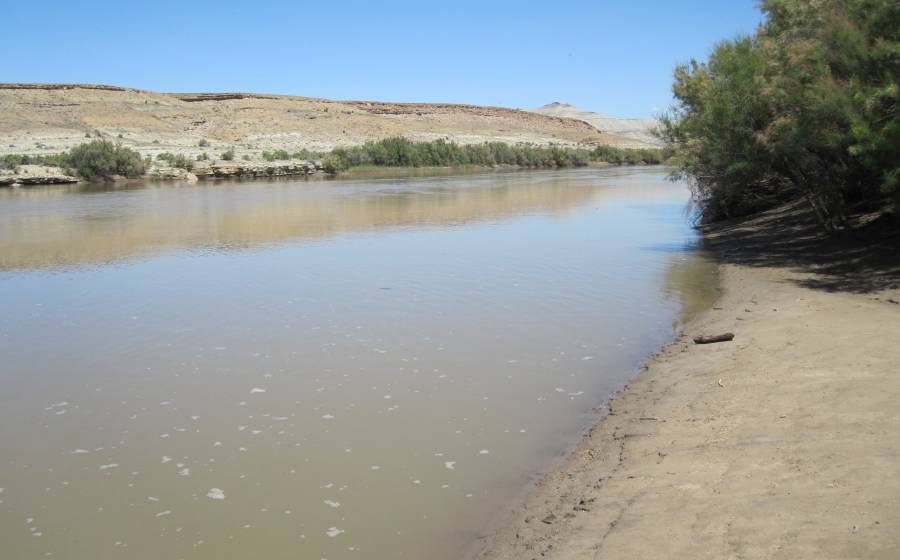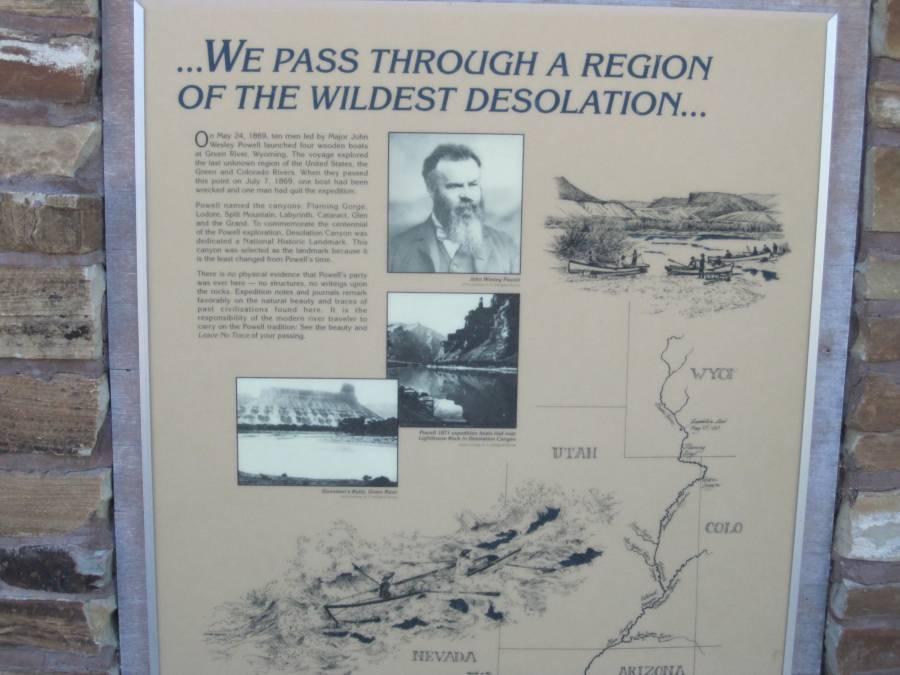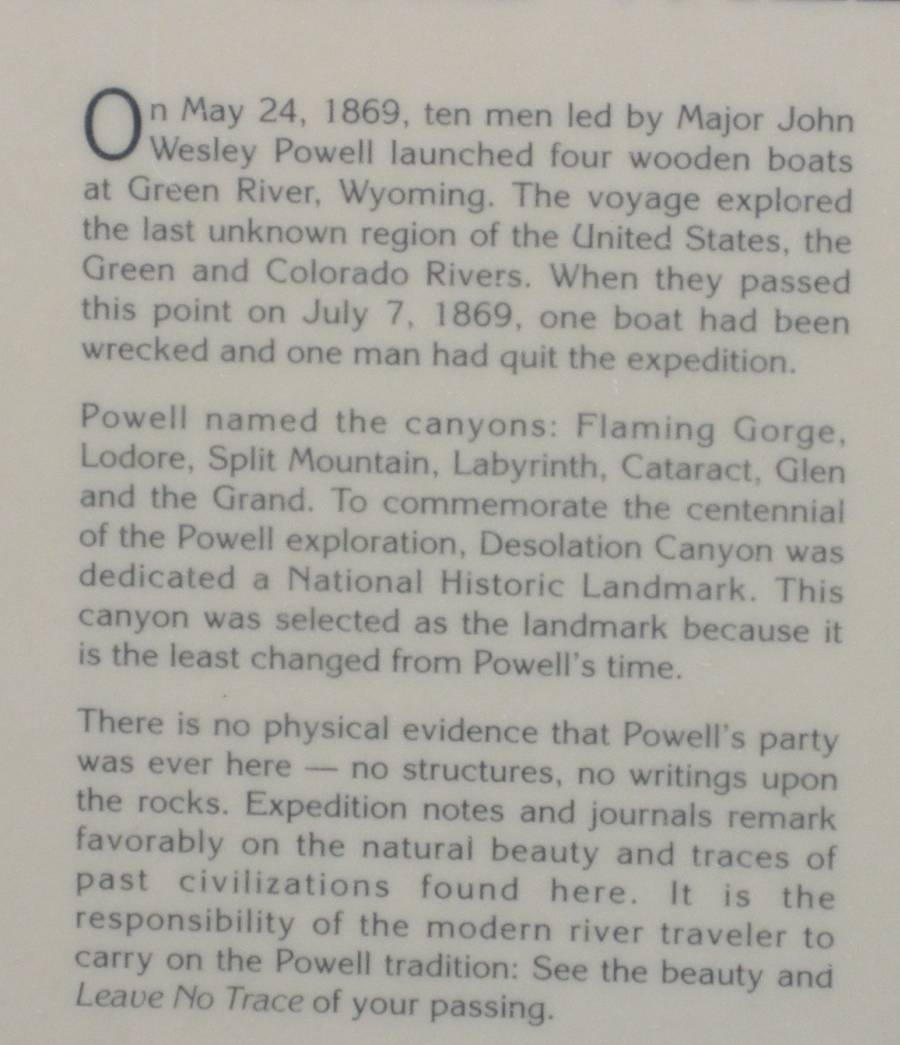 These old dwellings were at the river.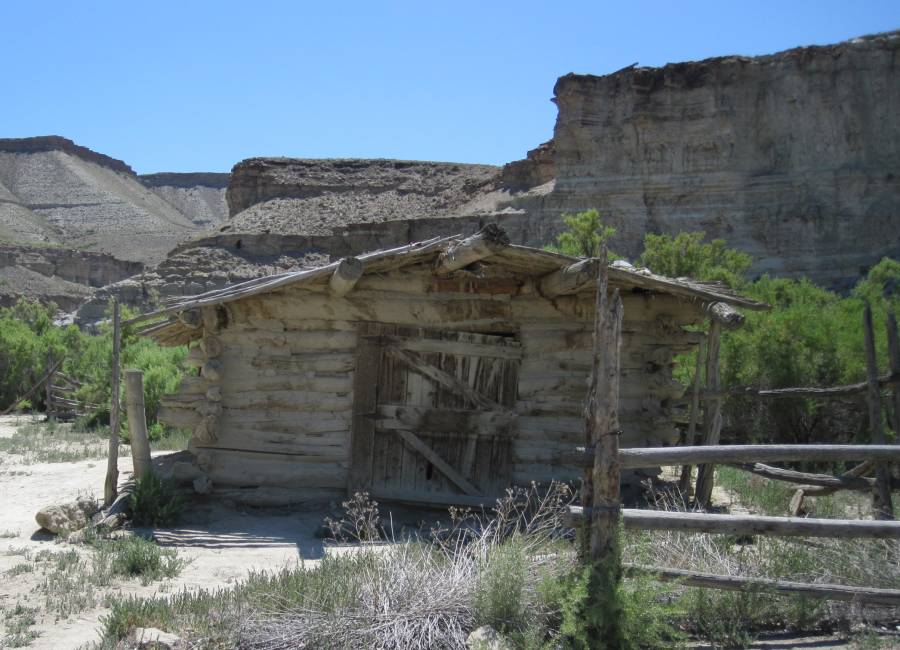 I don't know what happend to this one-------you tell me ????
Did I mention the mosquito's here???? I didn't ????
45 bazillion--I took my gloves off and they drained a pint out of me before I could get them back on.
I calculated if I had to pee I'd have 15 seconds before I was dead----so........I didn't.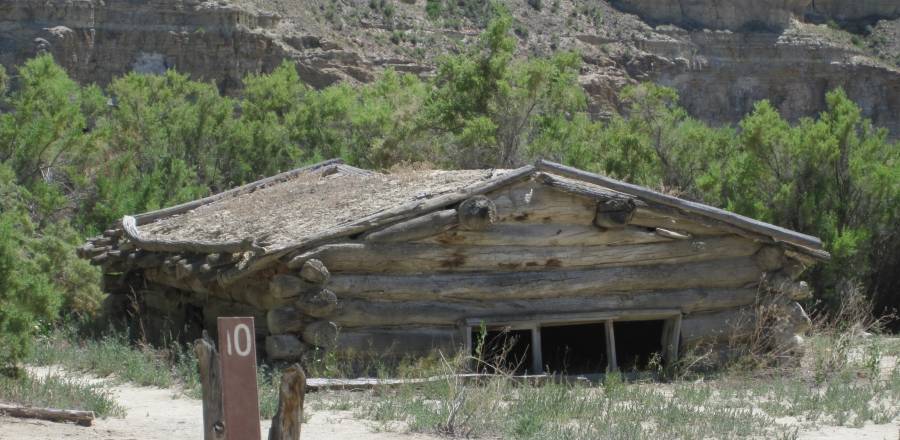 Riding on a high mesa back to civilization.

"Poor pilgrims didn't have a chance"-----Josey Wales
I needed a bath.
Wiley's resort will do.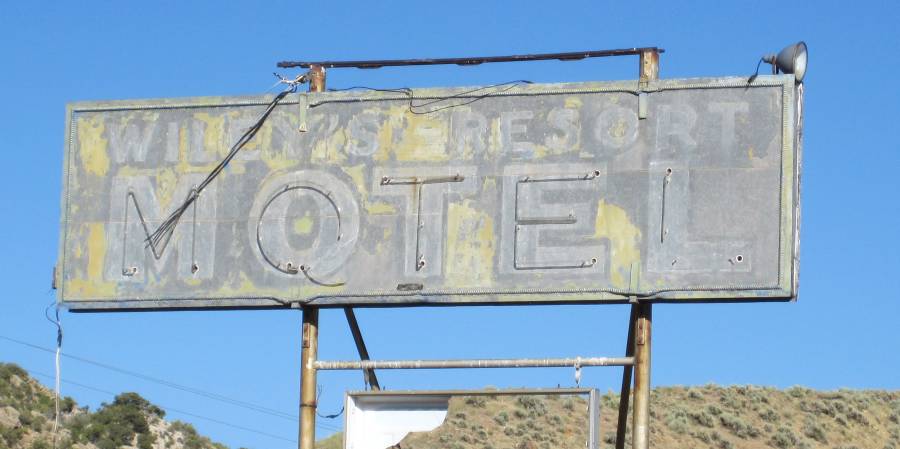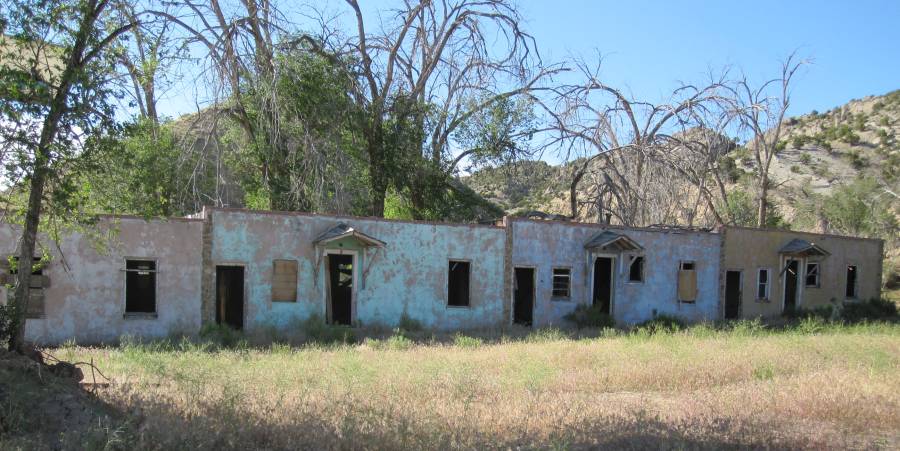 Even had a canteena across the street.
"Hell----the buzzards got to eat too"------Josey Wales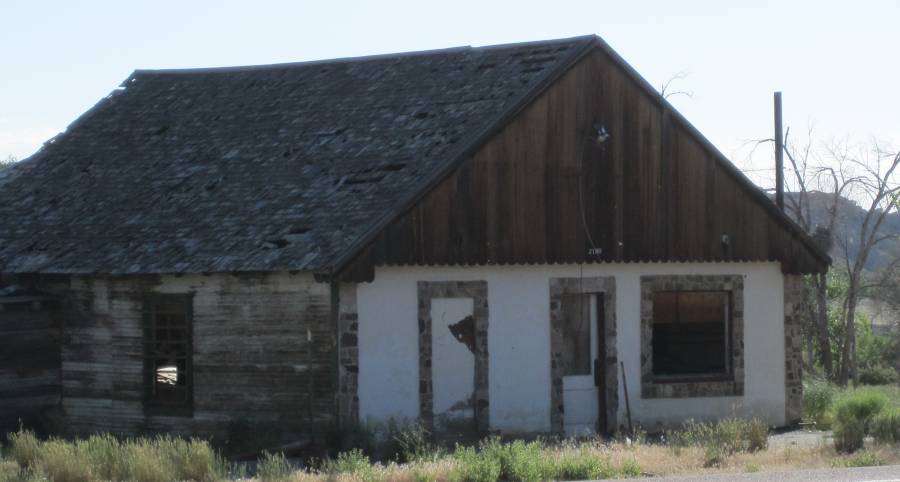 June 24th, 2010
First things first----highly recommended. Meeker, Colorado.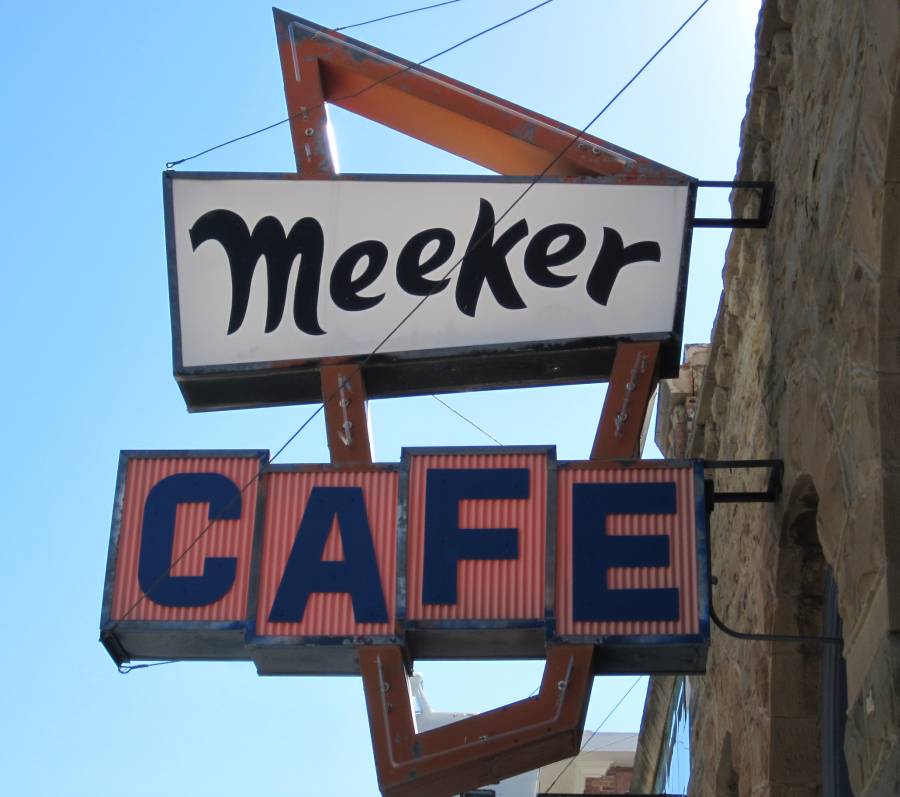 Southeast of Meeker, Colorado I spied a neat looking road heading South---I didn't have a destination or time line and
took off on it as it looked very promising.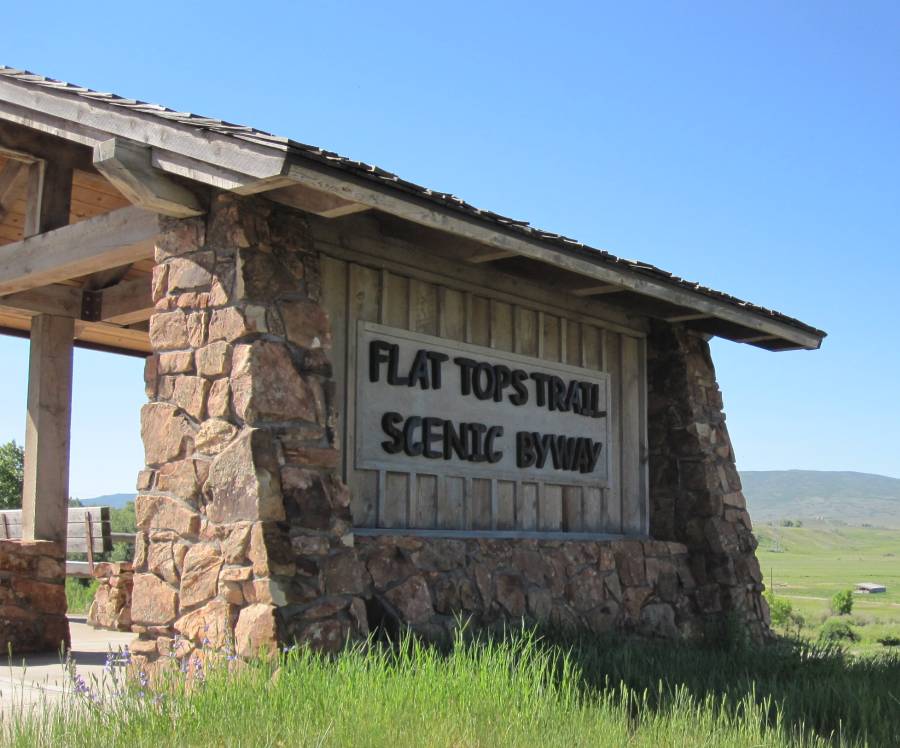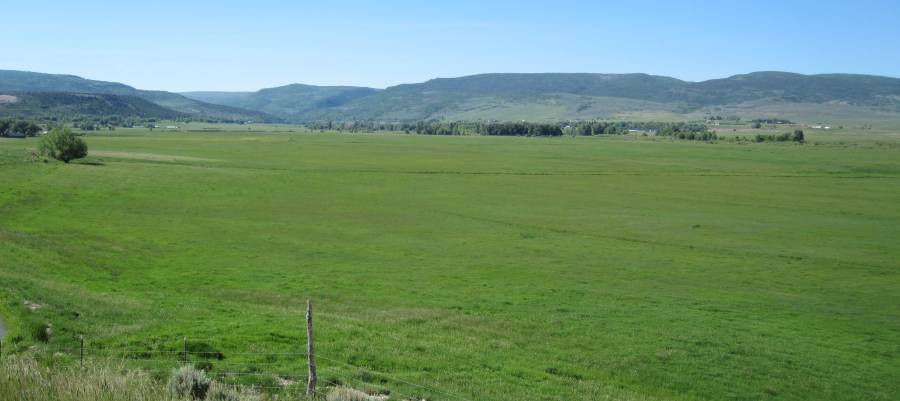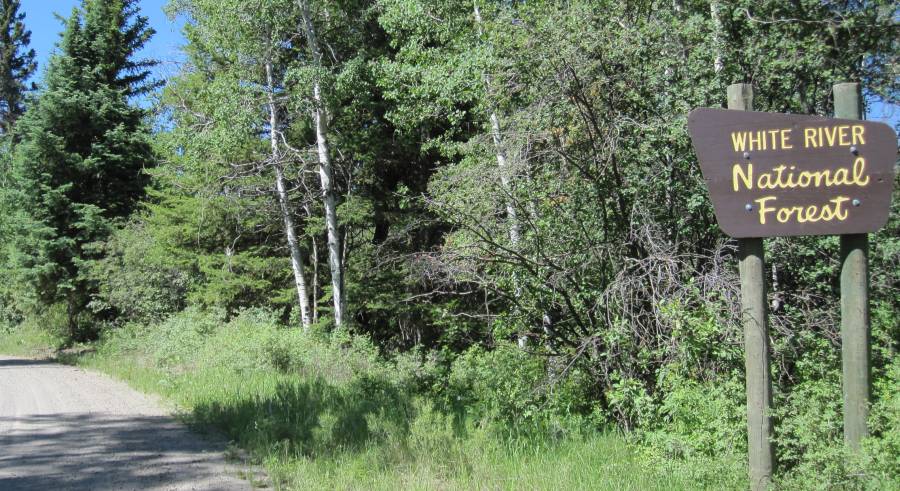 This road was all dirt and climbed to over 10,000 ft. and I entered a pine forest on top of the climb.
Another perfect weather day for me.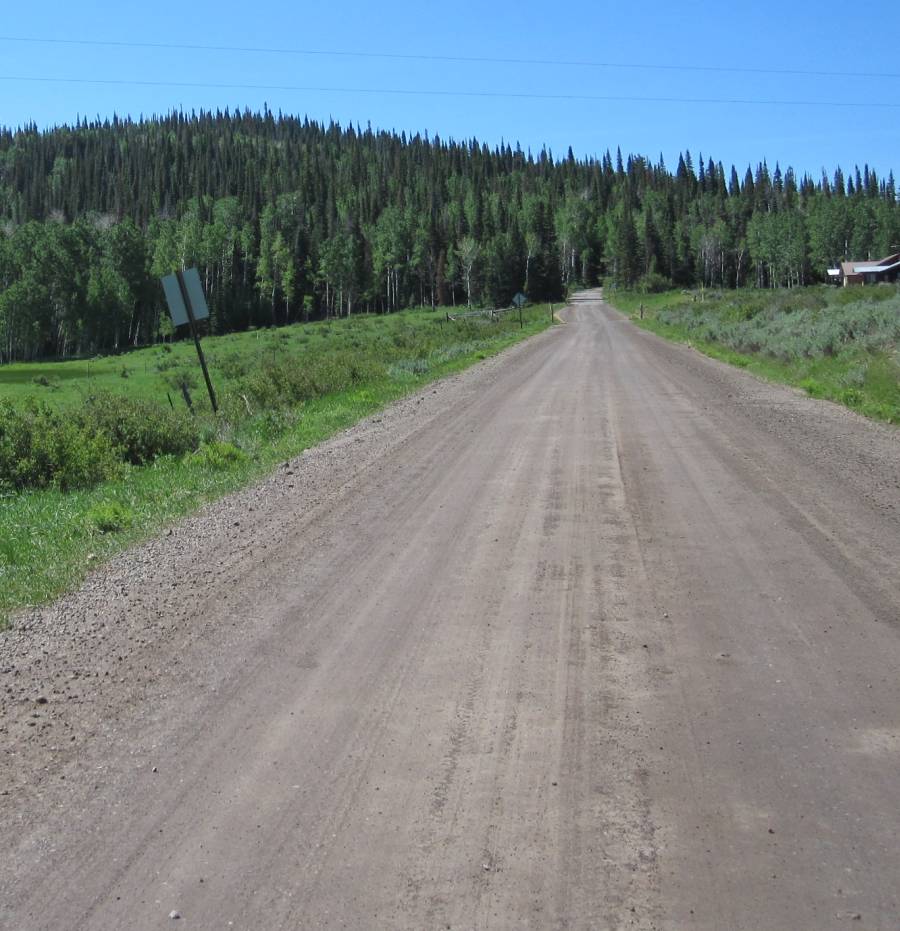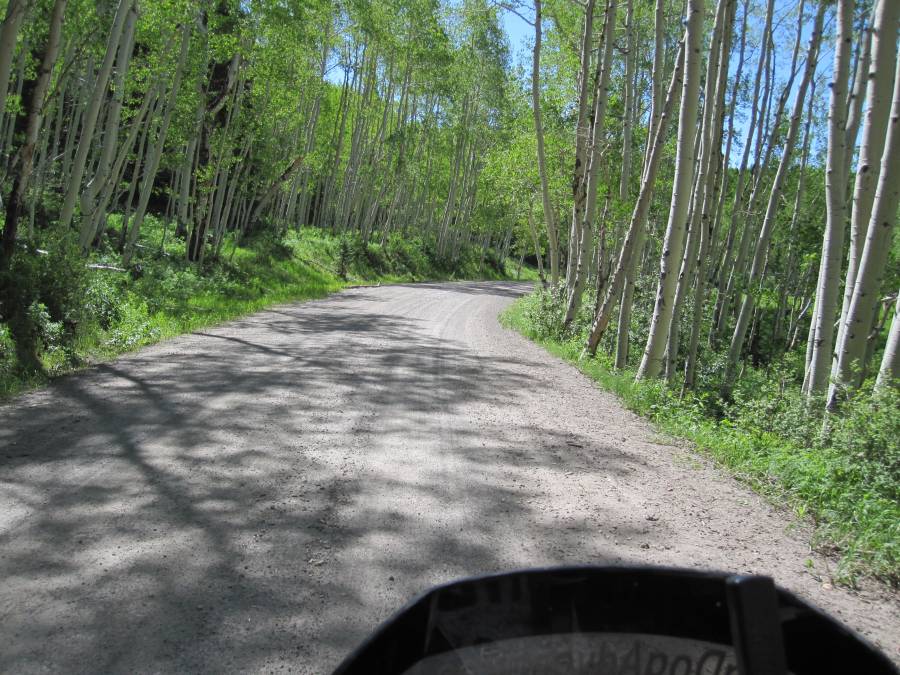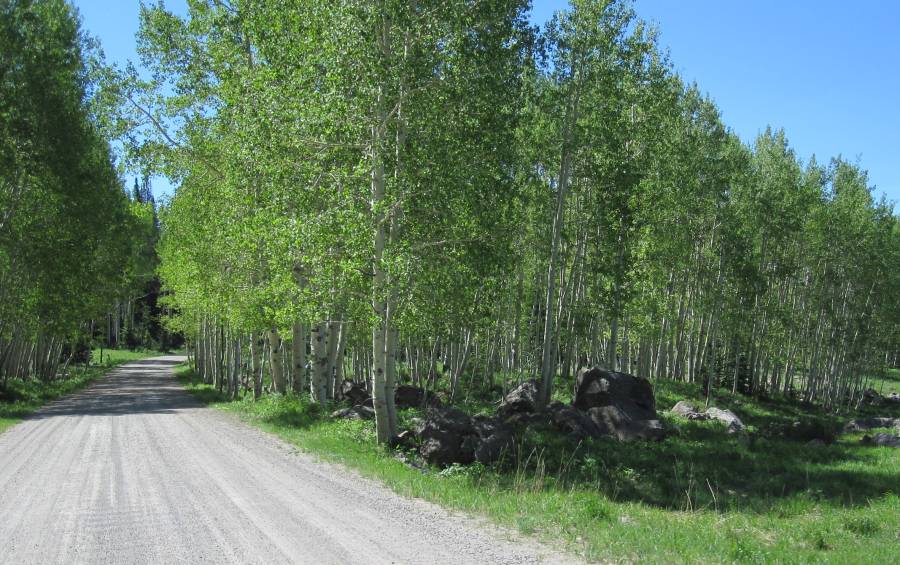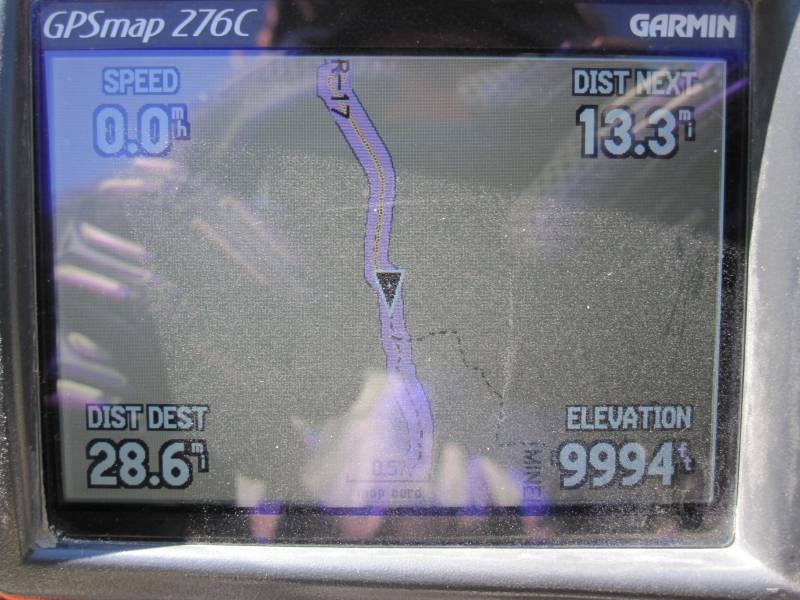 I love getting on top of these Coloado mountains and having miles of pines and beautiful meadows,
with a small pond or lake thrown in.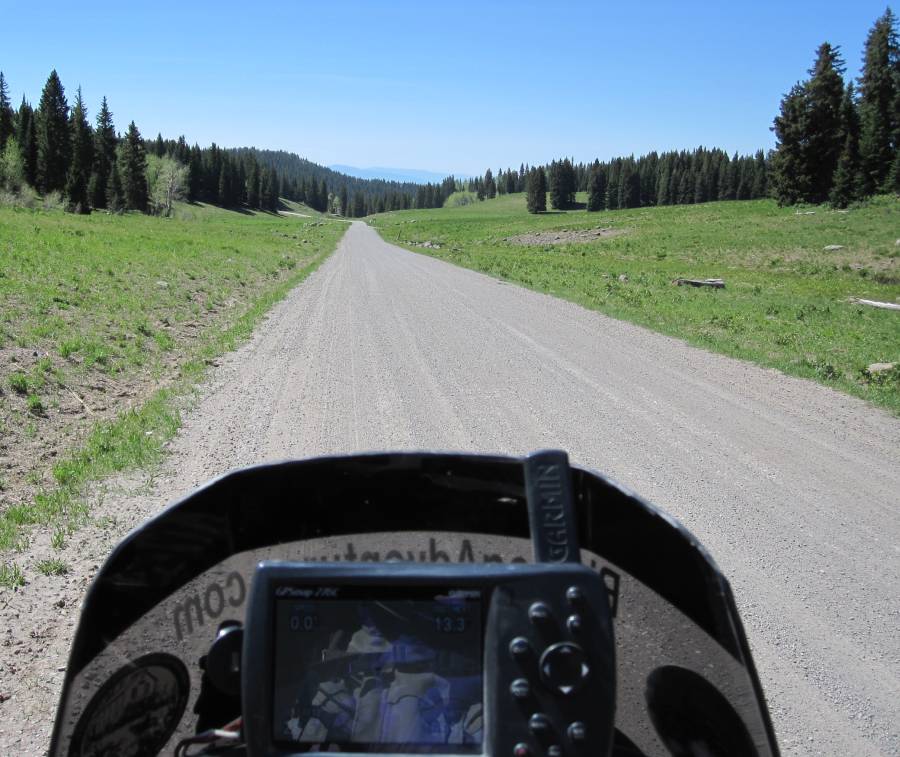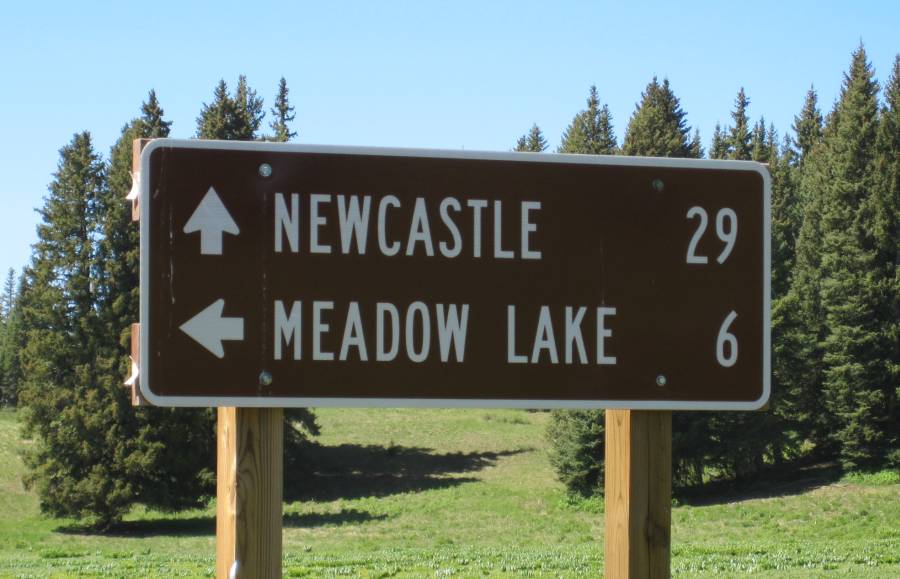 I am coming down the mountain to New Castle, Colorado in this picture.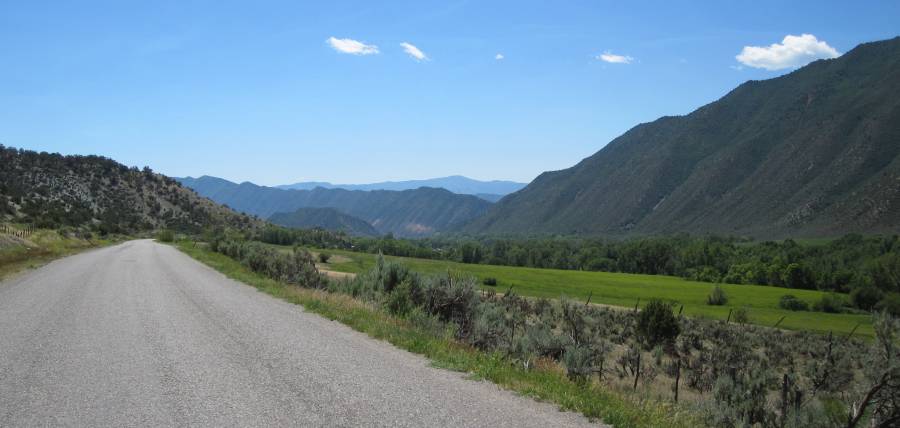 I never saw a soul on that mountain ride and wondered where everybody was----on the interstate.
God I love those interstates------thanks !!!!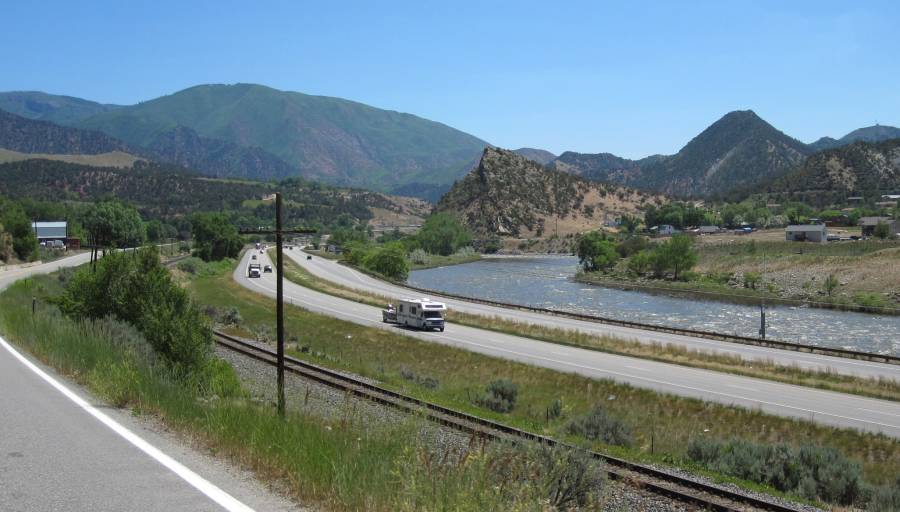 I then headed East again toward Leadville----this would take me over Hagerman Pass.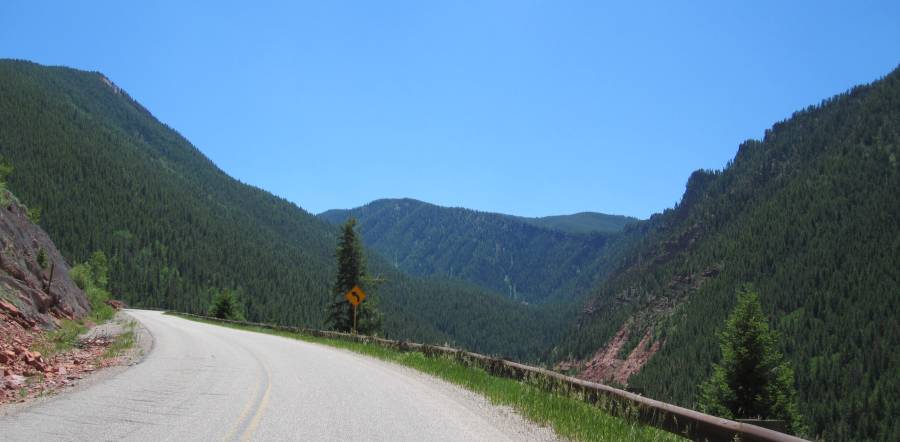 It was miles of nice pavement out of Basalt, Colorado and then it turned to dirt and I was certain I was riding
on an old railroad bed as the climb was a constant slight grade which went thru many rock cuts.
Super nice riding and I could still smell the coal that had been deposited in the railbed over the years.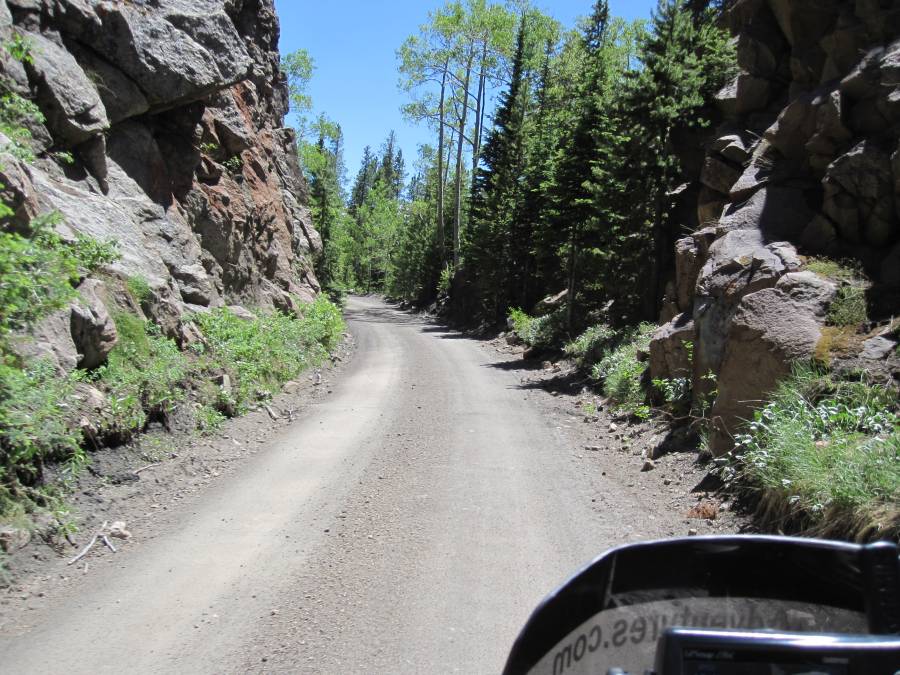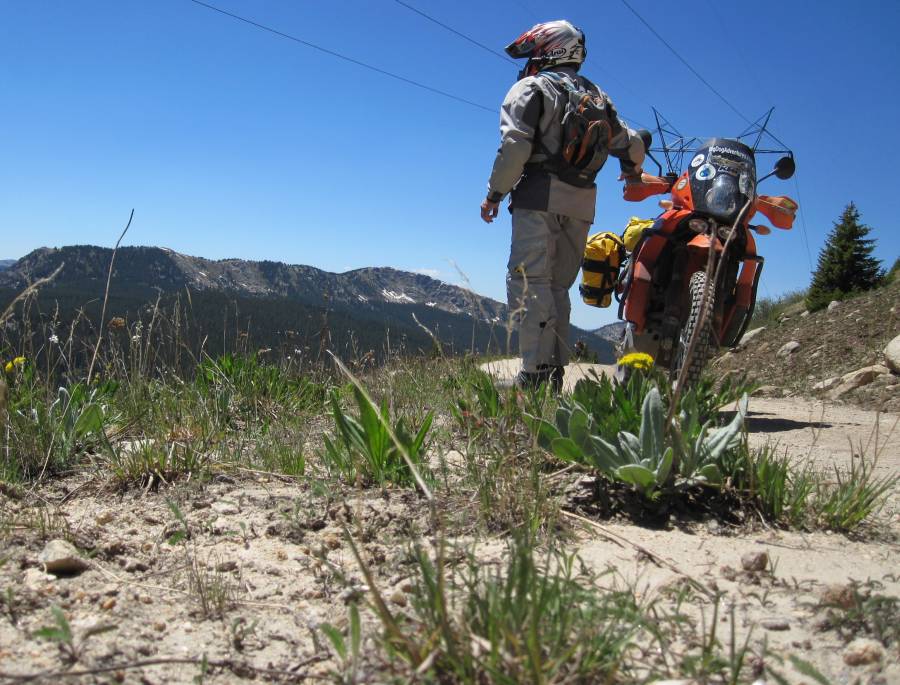 I had been over this pass back in 2000 on a DRZ400S and couldn't remember how difficult this pass was.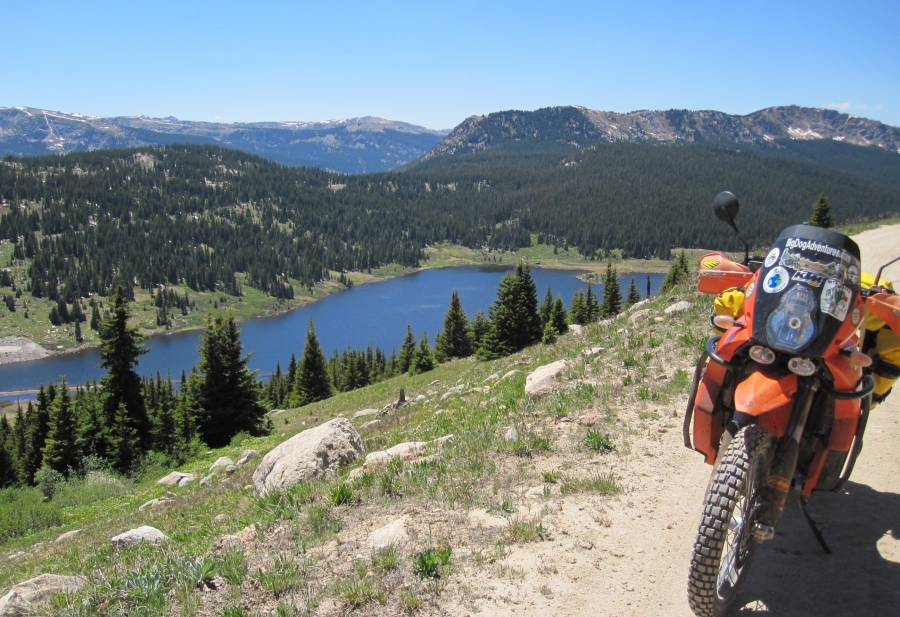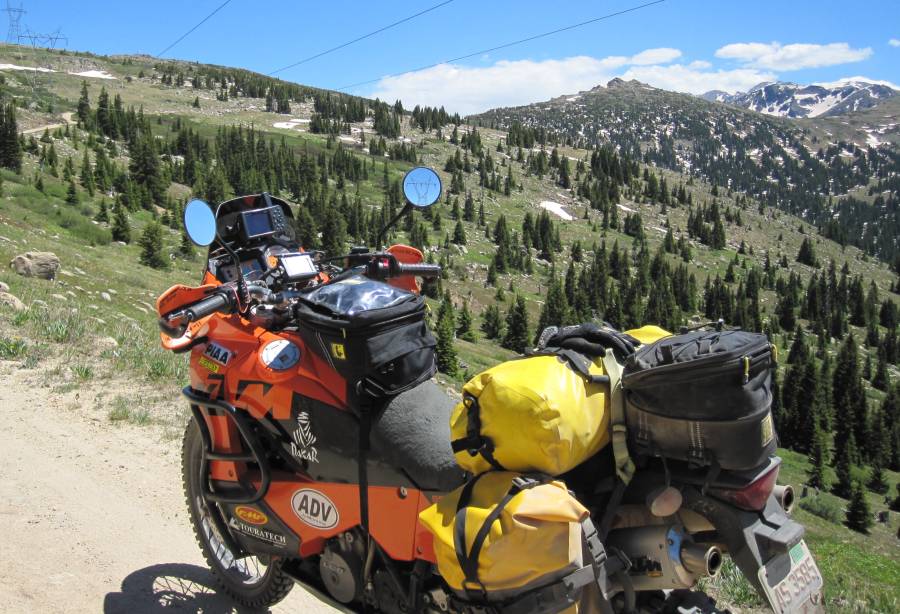 Before and after the pass I hit some pretty gnarly stuff----stuff that would have been a breeze on my WR250R.
With a little bit of muscle I kept the big twin moving over the baby head rock fields and finally
got to the summit. It was a beautiful ride.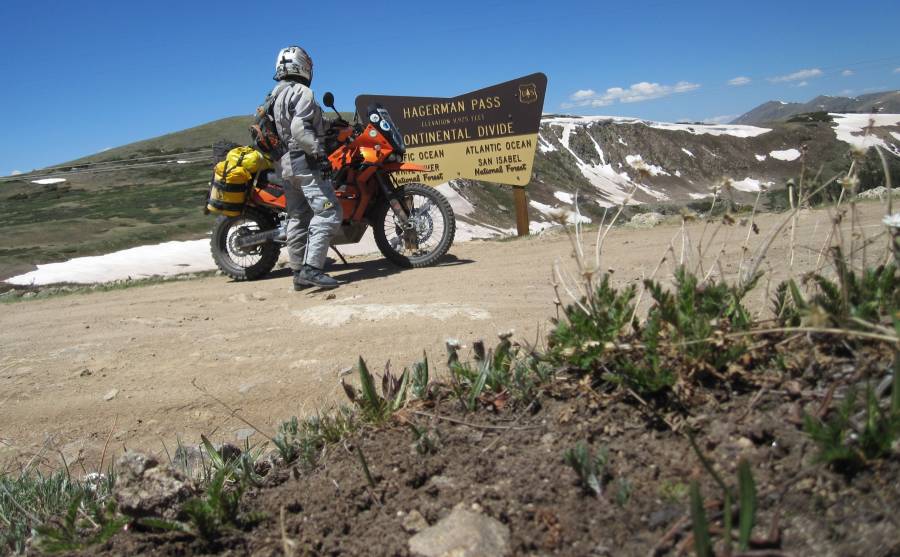 I didin't expect this up there---but the snow plow had just plowed it's way thru and the snow
was no problem.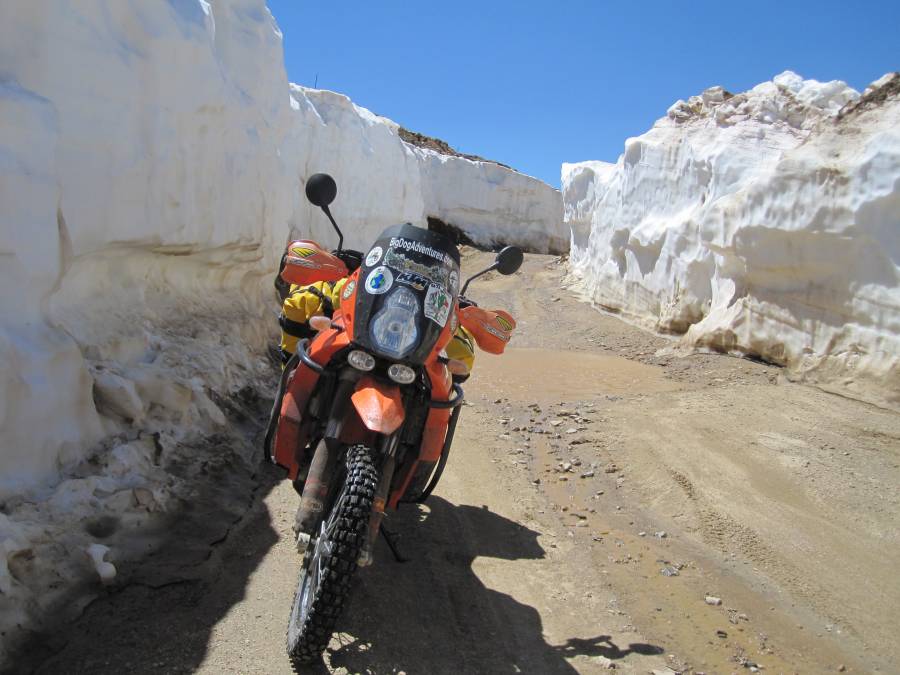 The pass road from Basalt lead me to Leadville, Colorado where I spied a KLR out in front of a Mexican restaurant.
I sauntered in looking for some company for lunch and finsished lunch with my new friend Randy.
Randy was camping at Twin Lakes campground---about 16 miles Southwest of Leadville and I asked if he
minded if I join him at his campsite---I had been having really bad luck finding campsites late in the day.
He wanted to explore a lake and I went on to the campsite and set up my Eureka Backcountry II tent,
Big Agnes zero degree sleeping bag with integral insulated air mattress and pillow. My big Agnes sleeping bag
has taken me to a new level of comfort---man I love that thing---and now truly look forward to and prefer
camping out. I had spent many years freezing my butt off in 40 degree cheap sleeping bags.
Randy is a Colorado local and is the man behind Chicane Motorcycle luggage.
He was a very smart guy and looked over every stich, seam, and zipper on my new Wolfman expedition luggage.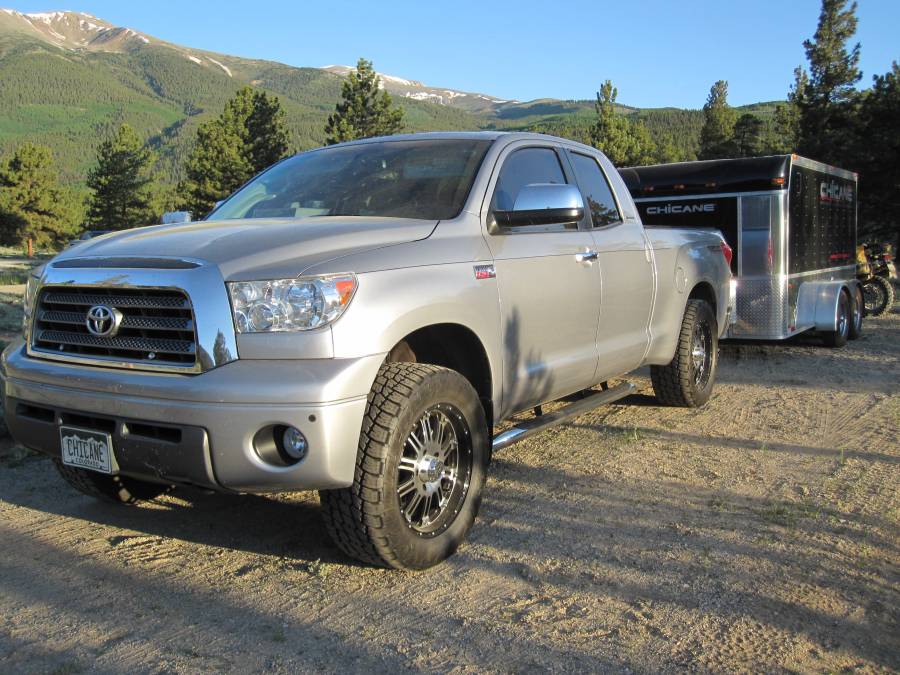 Over looking the lake at Twin Lakes.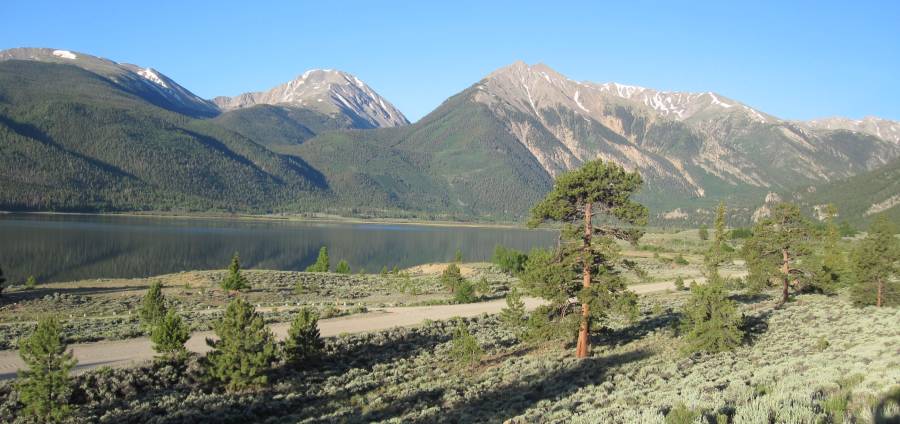 Me and Randy scratched over every inch of my Colorado map for places we'd been and places
we hadn't been---and places we'd never get close to.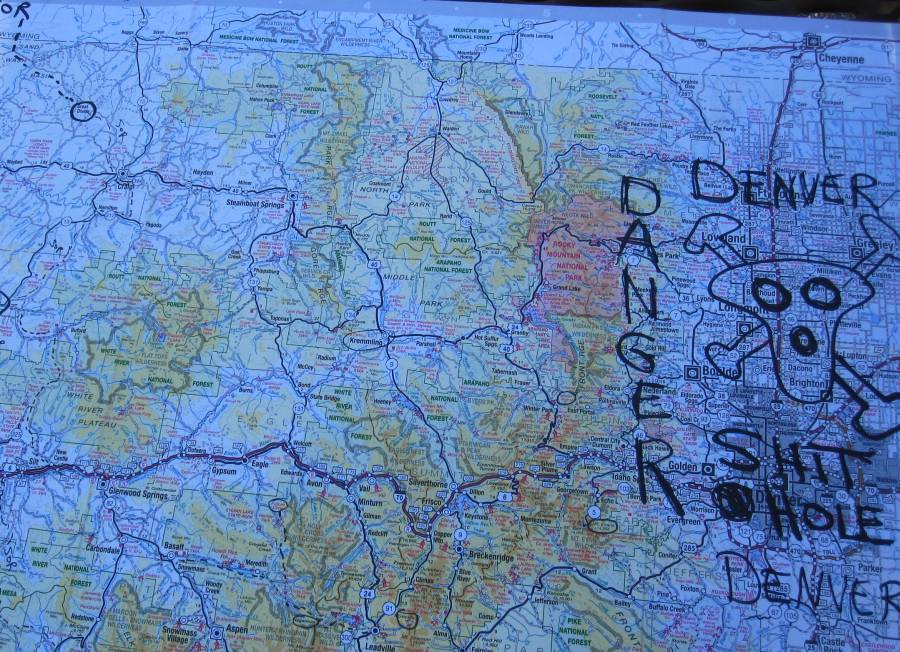 My new buddy Randy---we really hit it off---he had hauled his brand new KLR out here and was having a great time.
He owns many bikes and has another KLR and a Beemer-----really nice guy.
He did slobber on my 950 tho---and swore he'd get one---he was very serious about that and I
wouldn't be surprised if he already bought one. He was estatic when the throaty V-twin rumbled out of
the campsite the next morning.
I'll never forget the evening with Randy---over an open fire and the moon lit up the whole sky almost like daylight
and shown on the mountain tops making the snowcaps glow--it was awesome and we didn't want to waste it
and get in our tents. Thanks Randy for a great evening. It got really cool that night and my Big Agnes sleeping bag
had me snoring in just a minute or two.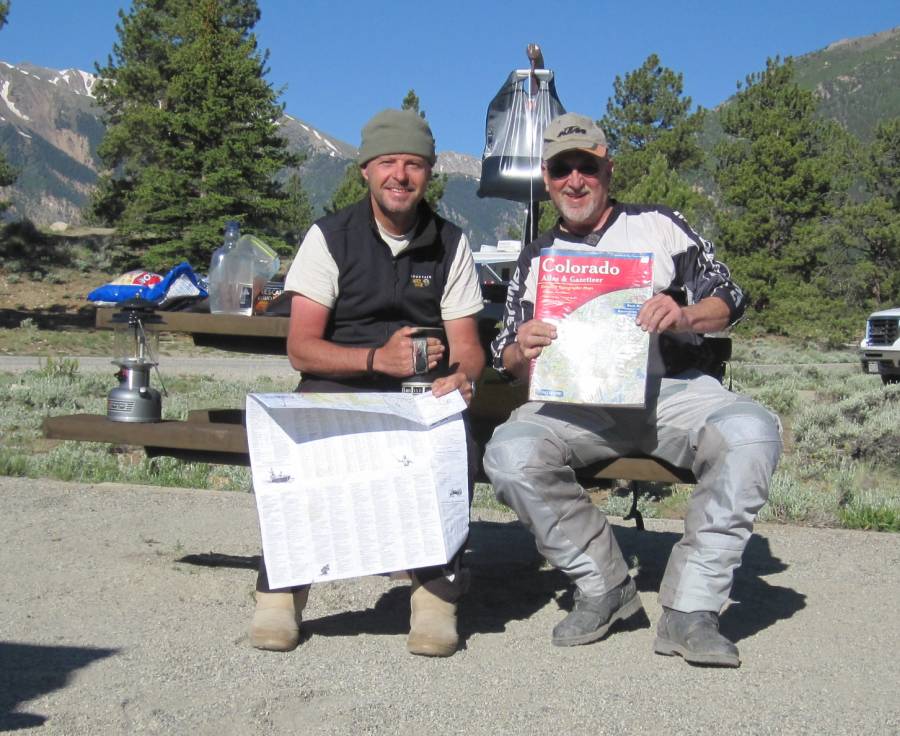 June 25th, 2010
The next morning I was up before the sun came over the mountains and made me some oatmeat and coffee
with my Jet-Boil and walked up over the hill to view the lake one more time--letting Randy sleep in a
little longer.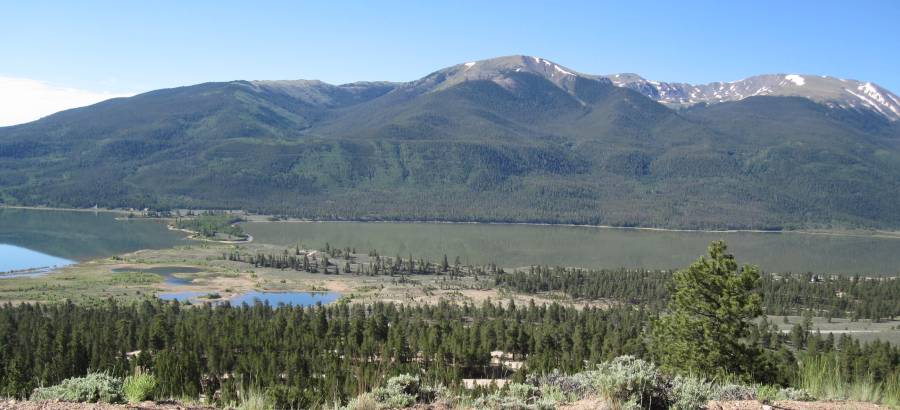 I had talked to my Buddy Scott Stevenson (DingWeeds) on the phone---Scott was coming to Durango for
a few days with his family and would take me back to his home in Tuscon so we could ride our WR250's from Mexico to
Canada---pioneering a new route on the way.
We talked of Weston Pass---a pass I didn't think I'd been over. He had and said it was beautiful and that was
all it took as I headed East over the pass---it didn't dissapoint me.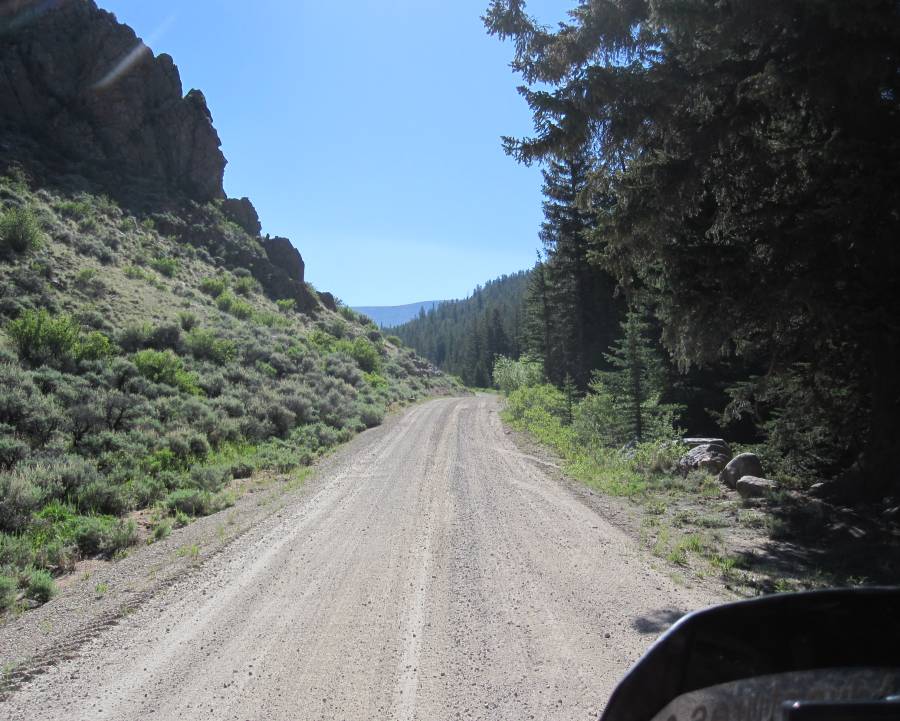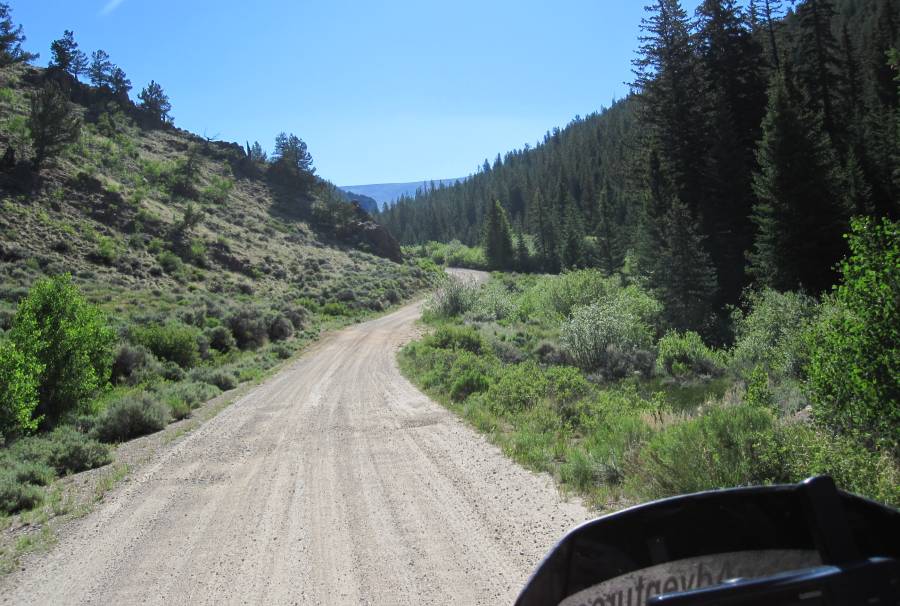 There were a few places worse than this one that had me gripping the bars over the big rocks--but again
I kept the 950 moving and it wasn't a problem. When riding a big bike over rocks---I use a method that works for me. I keep
the bike moving--never going too slow----if you get going to slow on a big bike it can easily fall over. This isn't
such a problem with a small bike----not for me anyway. Just keep enough momentum up to keep the bike
upright--but not to fast so as to get a pinch flat or bend a rim on the buried rocks.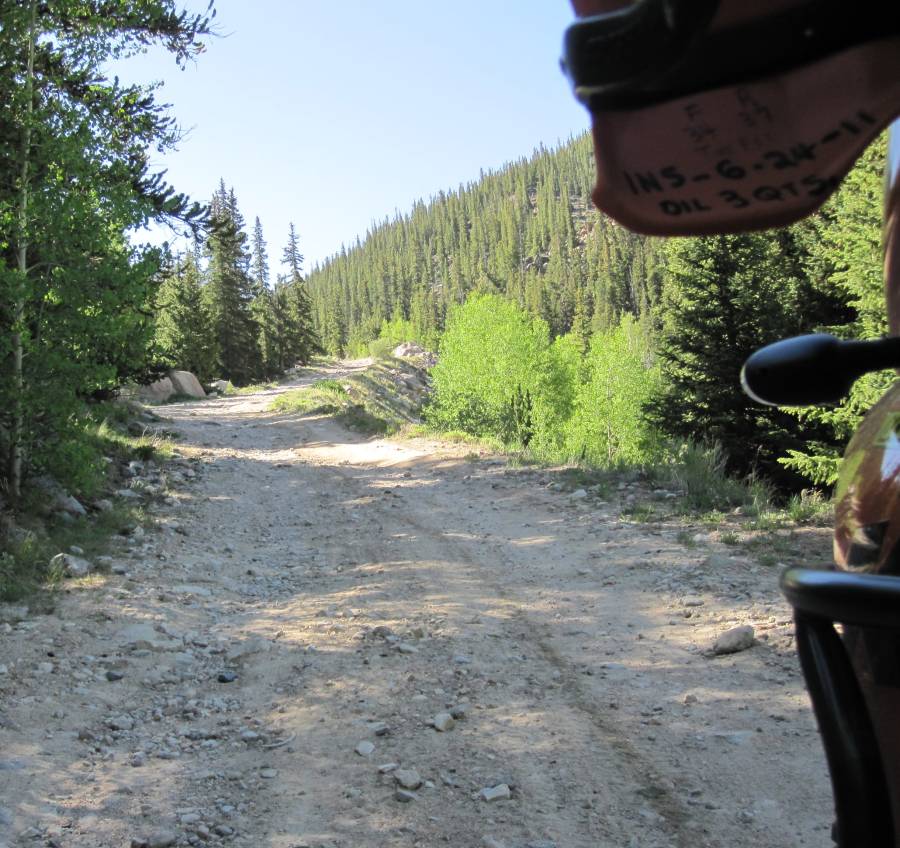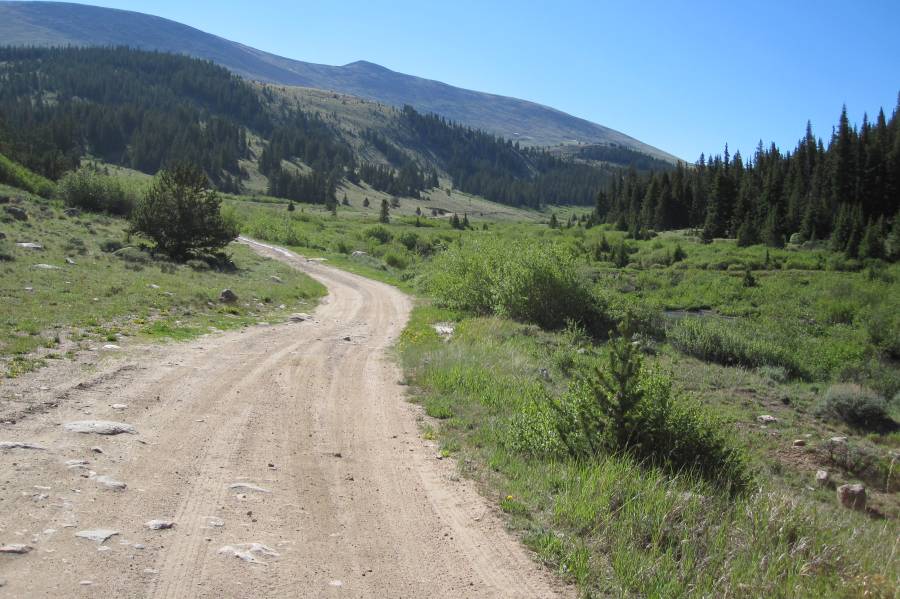 Almost 12,000 ft. the carbed 950 ran great--just had to raise the idle a wee-bit.
I had no problems with my bike on this ride---it always responded to every
input I put into it.
My prep work preparing a bike for a big ride is extremely intense--and that
has always paid off for me.
All of the big rides I have done---Mexico several times--Baja--TAT--continental divide ride
and so many others---I've never had a ride stopping problem.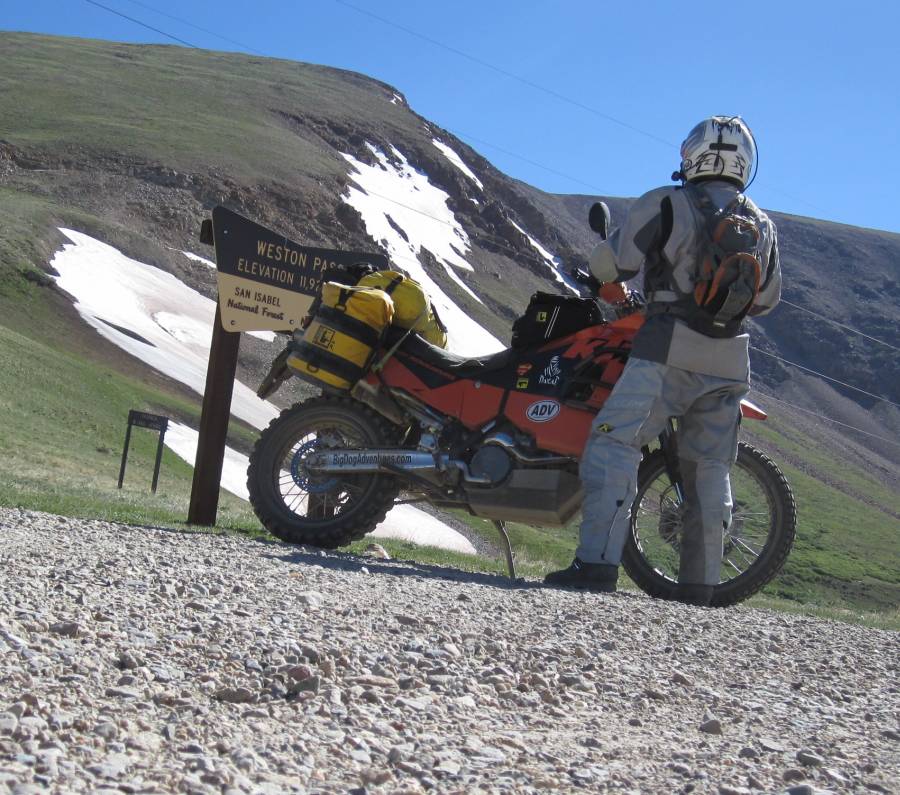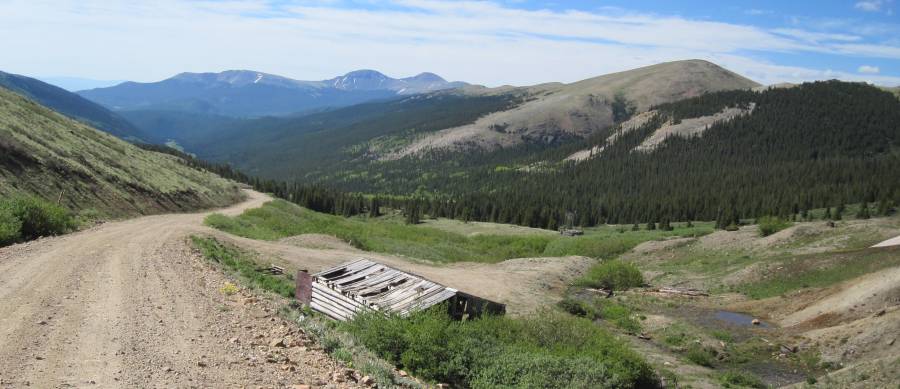 After Weston pass I meandered back towards Durango over Cottonwood Pass, Taylor Park,
thru Gunnison, West to Montrose where I knew there was a V-stom rally going on.
I didn't see the motel it was going to be at and just cruised on thru as it was just a bit
big of a town for me anyway. So---it was South on 550 back to Durango.

And it was there I got the call from home that I have been expecting for years.
The one that my mother had died. I had always feared I'd be in Mexico somewhere and not even
be able to get that call.
Someday people will get the same call about me---just the way it is.
Me and my son packed up and headed home to do what we must do.
I will always cherish the time me and my son spent together. I know someday he'll get going
on another business adventure, and I hope we can spend more time together than
his last business adventure. He decided to stay home on this ride--but we had just done
2 good rides before this one.

Someday he'll make the run home to my funeral and I hope he remembers all those good times---
I just wish there could be more of them.
Mark Sampson---AKA BigDog