Trans Wisconsin America Trail
or
BigDog Barely Dodges The Bullet
June 2008
To order a DVD video of this ride with an included gps file
Click Here
This ride started from my hometown in Southern Illinois.
I would be following a dirt route from the Illinois Wisconsin border to an overlook on the south shore of Lake Superior.
The route was courtesy of Chad Berger (Rokklym on AdvRider) a good friend of mine.
Of course I have to get there---then I have to get home--and that's where the Adventure really came about.
You'll see later in this tale that I faced some horrific weather and missed a National weather disaster
that was on nationwide TV by hours---------I was lucky. More of that later.
I made the best of traveling thru the flat grass and farmland of central and Northern Illinois,
on the Road Less Traveled of course. I did make a day stop at my Sons house in Champaign, Illinois.
Me and him are very close, but sadly don't get to see each other very often.
You can see I was packed heavy----I would be camping and cooking all I could on this ride.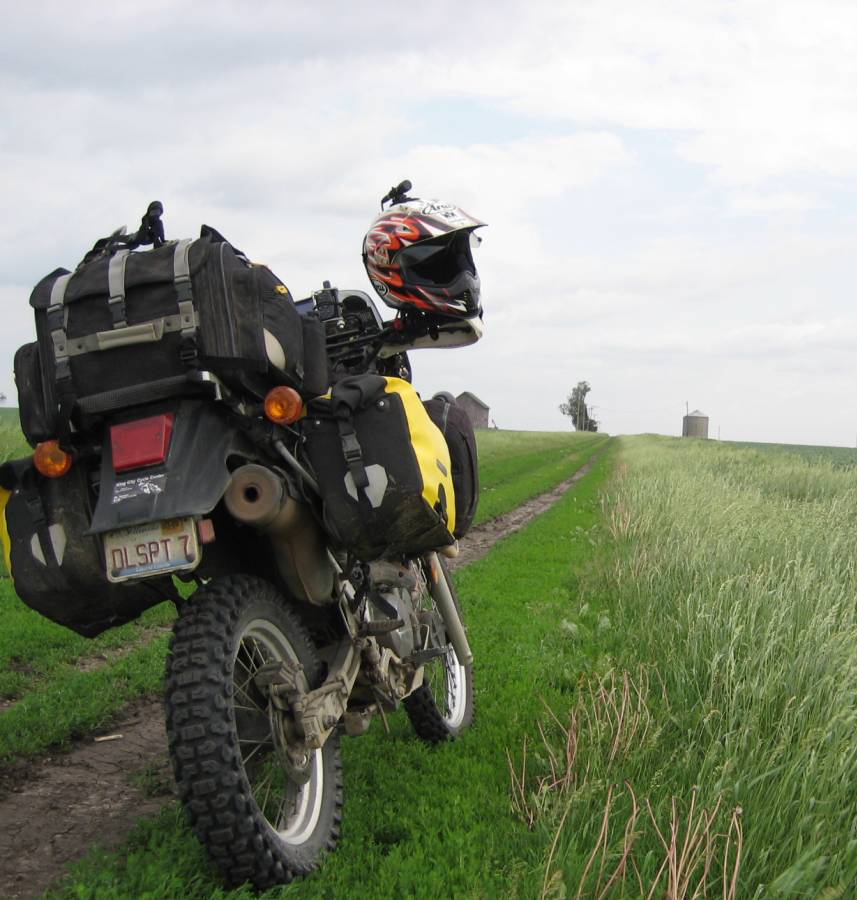 People who know me know that I have thousands of gps waypoints in my computer all over the US
and Mexico. A lot I been to of course---but a lot of them are places I've heard or read about.
I'll find out where it's at and mark it. This is one of them I just happened to get close to.
Approaching the Illinois town of Amboy I saw the waypoint on my screen "Carvings".
What the heck could that be ??? I probably made that waypoint 10 years ago--and here I was !!!
Welcome to the city park of Amboy, Illinois.
By the way, most of these are about 10ft. tall.
Enjoy !!!!!!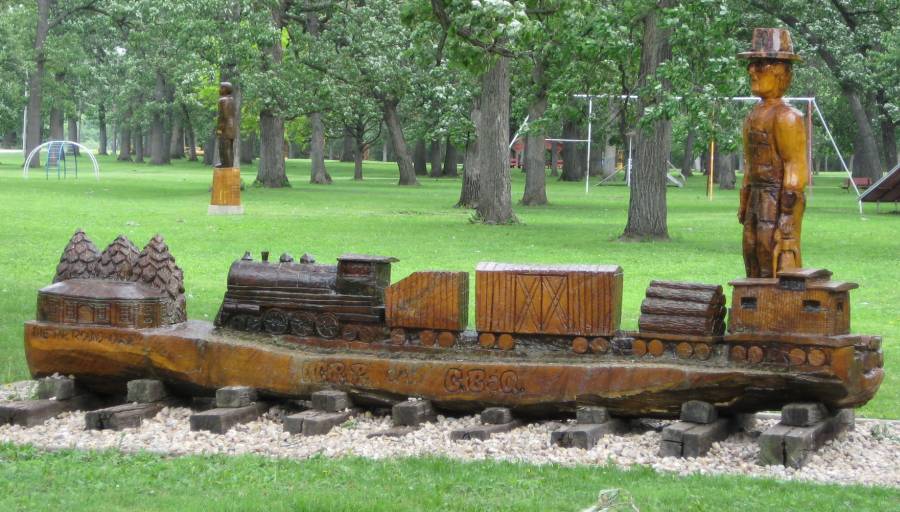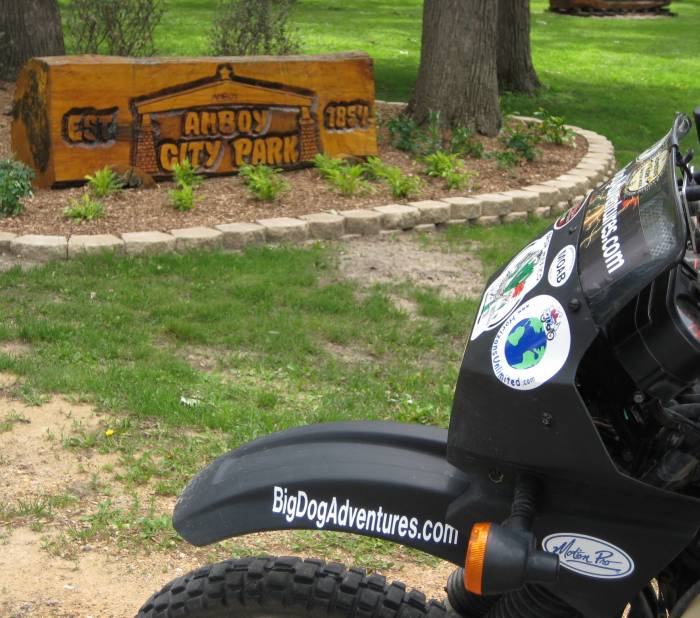 On North
It was very warm and very humid---so much green from the tremendous and relentless rains
the midwest has been having. It would get worse------much worse.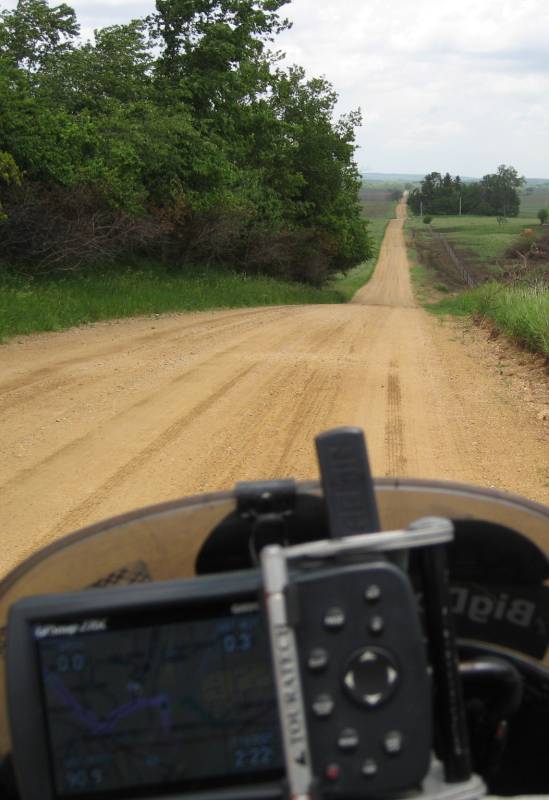 I was truly overwhelmed with the rolllings hills and greenery Northern Illinois provided.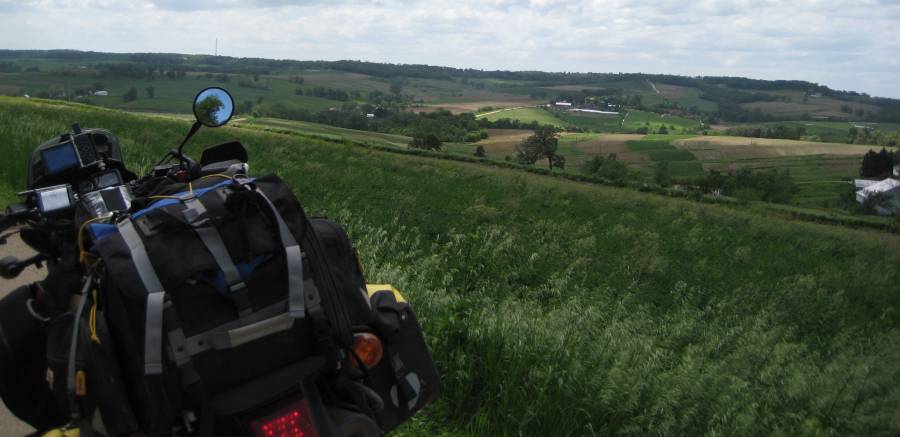 This is the starting point of the Trans Wisconsin America Trail.
It was at this point I just realized GasPipe wasn't behind me.
He was suppose to be ???? Where was he??
Oh--now I remember---poor guy got hung up on a job.
They just wouldn't let go of him....so alas......he couldn't make it.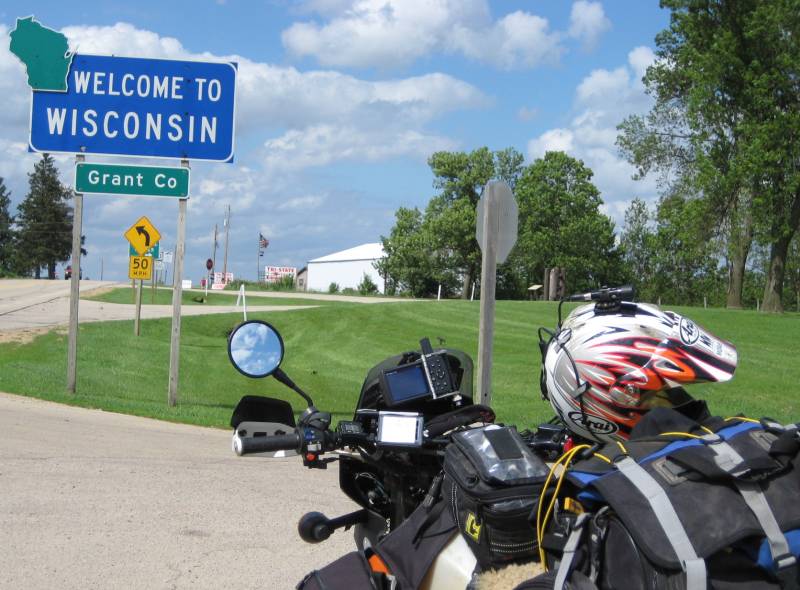 The next day in Soldiers Grove, Wisconsin I met up with Mr. Rokklym........err..Chad Berger.
Great.........I was going to get to ride with a guy who knows these backroads like the back of his hand.
Chadd is riding a DR650 well set up for adventure travel. So down the road we go---this is going to be great !!
Me and Chadd have ridden together before and have talked a lot about riding but have never really gotten to know each other
that well. I was hoping this would be the opportunity. At least we got to spend most of the day together.
A call to his house was all it took for him to meet me here to ride together some.
The weather looked soupy (rainy)---but we took off in the dry.
I guess me and Chadd know each other best by reading each others travels on the net. I think we both felt like
we knew each other pretty good. This was obvious to me right off as Chadd pulls over for me to eyeball one
of my favorite things !!
An old bridge----------thanks Chadd !!!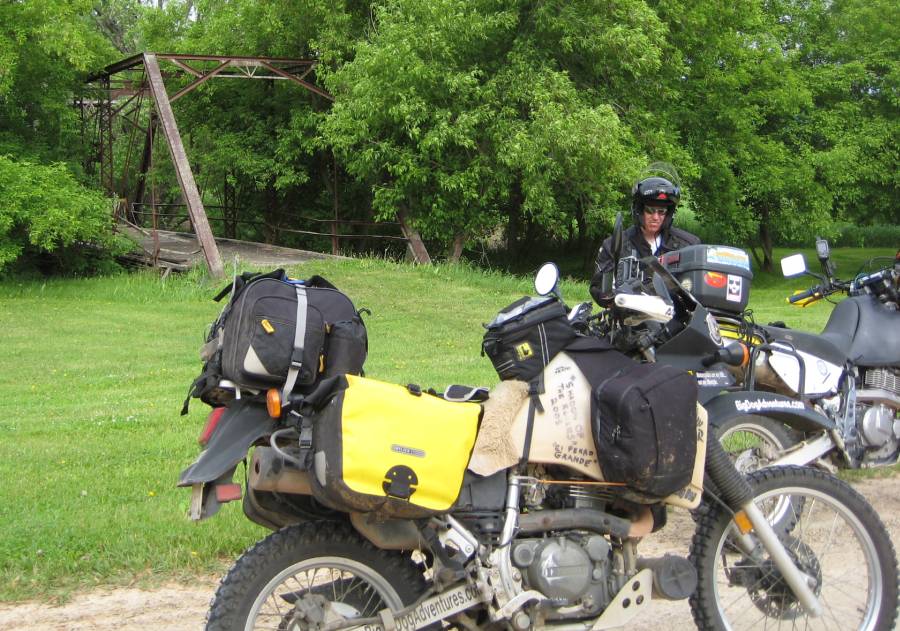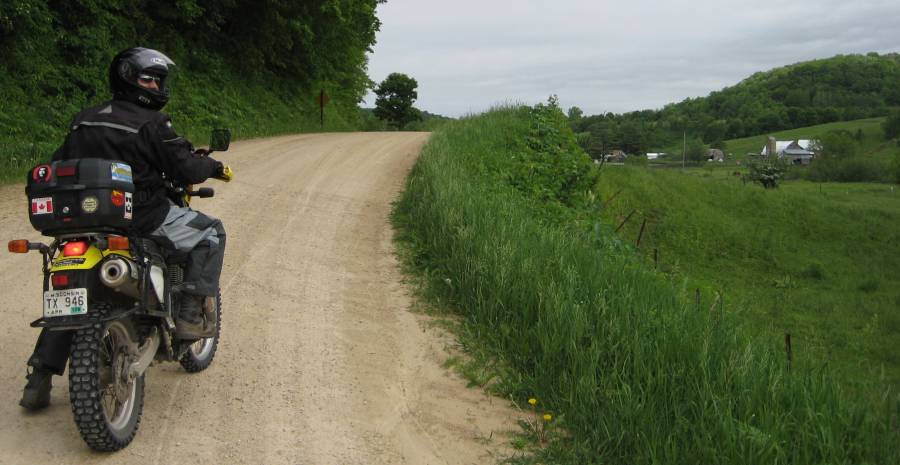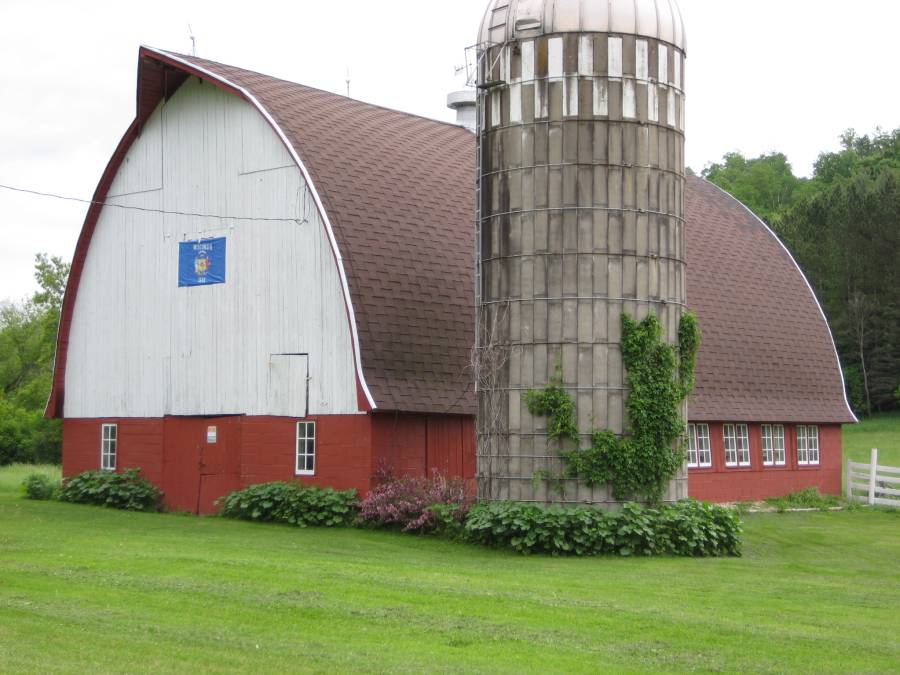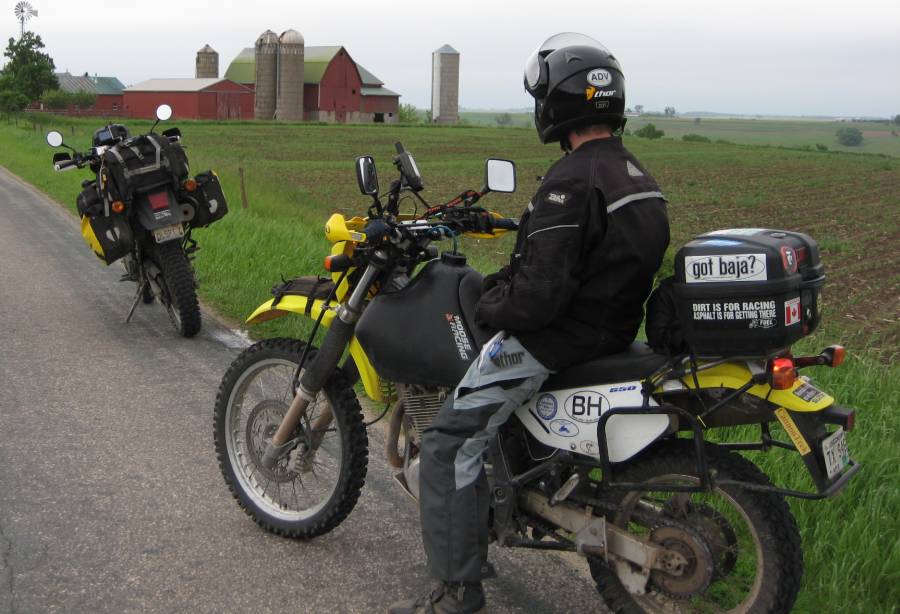 It started raining---not to bad---then got harder and harder. I was eyeballin' every old barn for a place to
get under and prepare for the worst. We finally came into the nice little town of Cataract and I found
a nice little shelter in the town park. I bet we spent and hour and a half here relaxing to the pitter patter
of the rain on the metal roof and enjoyed lunch cooked up on my Jet-Boil cook stove.
The rain finally subsided some and me and Chadd went our seperate ways.
I headed into nice dry weather on damp dirt and gravel roads and poor ole'
Chadd got pounded on all the way home. Thanks for joining me Chadd, and
thanks for providing me with a great scenic route to follow.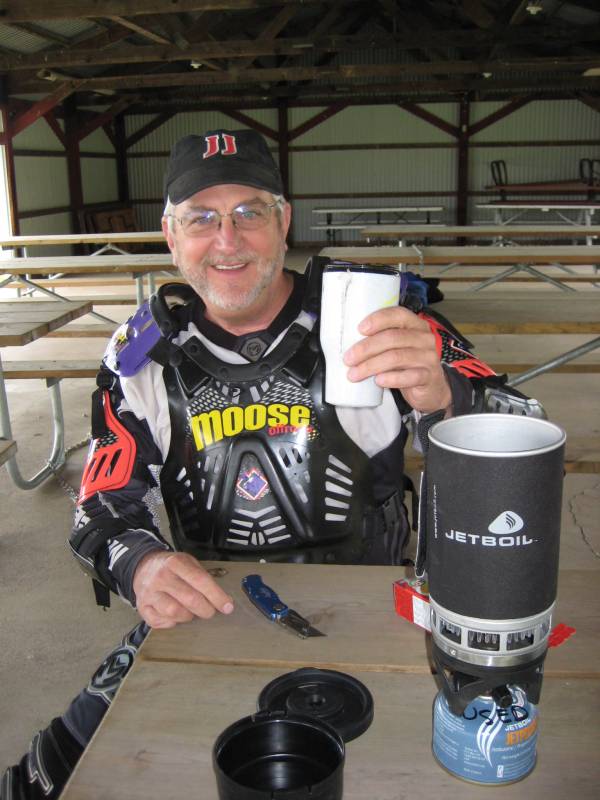 I think this is Hatfield, Wisconsin. Snowmobiling and ATV riding were the big thing in this area.
I couldn't believe all the marked trails to accomodate most everybody's offroad riding skills.
I rode on many ATV and snowmobile trails--usually one and the same. It was very wet out
but there is no mud up here. It's mostly sand with a few rocks thrown in here and there.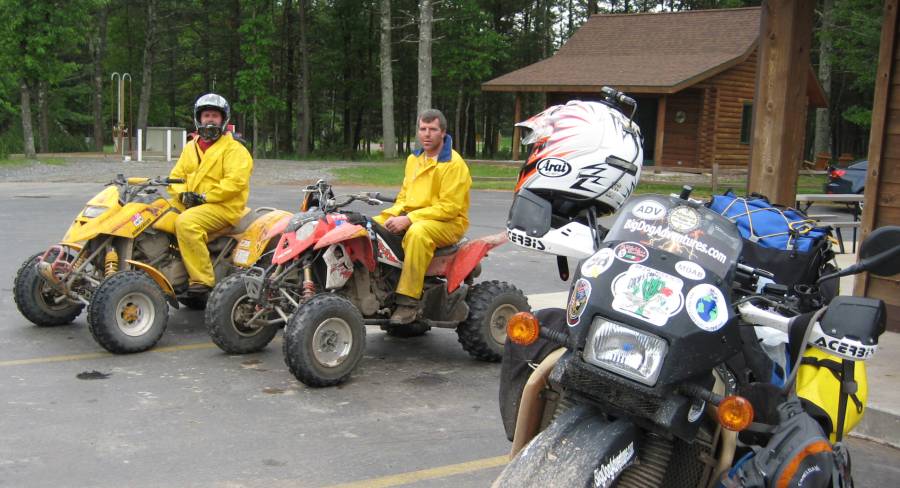 Usually the sand wasn't too deep---I think it being wet made it easier riding for me--it packed down nicely.
Sand doesn't freak me out at all---after riding in Mainland Mexico, Baja, Arizona and New Mexico as of
lately---------I have pretty much gotten used to it. Granted I could have gone much better
on my KTM 520EXC--well maybe not better---just faster !!! My new rear Kenda K270 was hooking up
nicely---but my chain and sprockets were fading fast.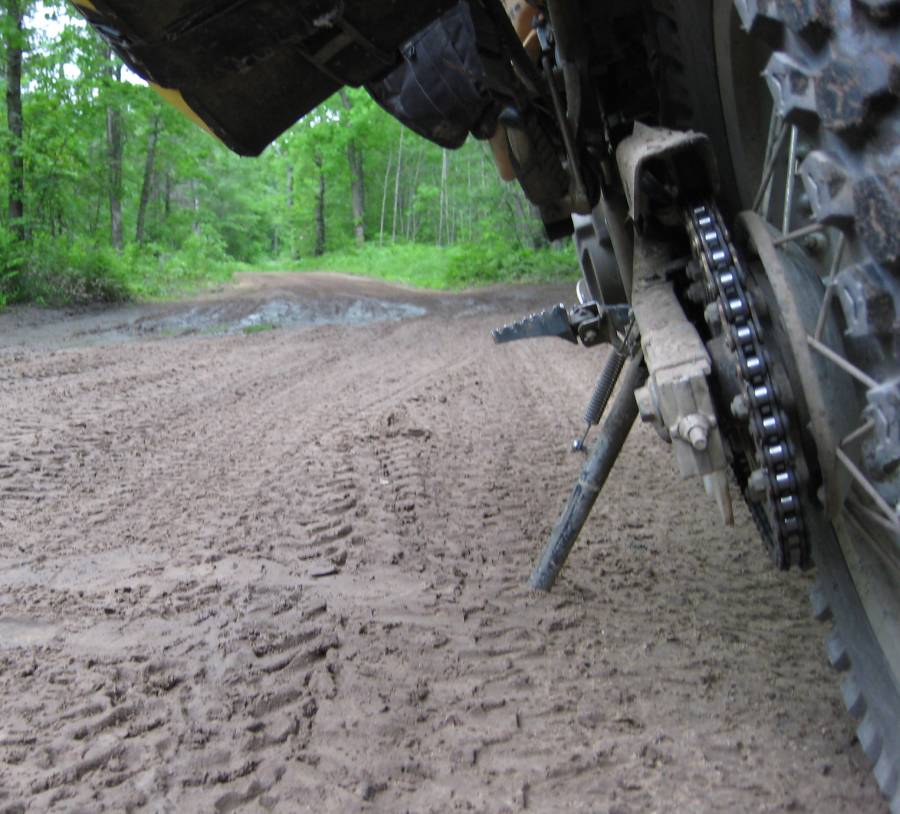 I was confused by this sign---I guess cause I've never rode in an area that would allow ATV's
but not a motorcycle. I didn't go past the sign even tho there was nobody out here.
The weather forecast was bad---and the weather had been really bad the last few days........
I think everybody was at home on the couch.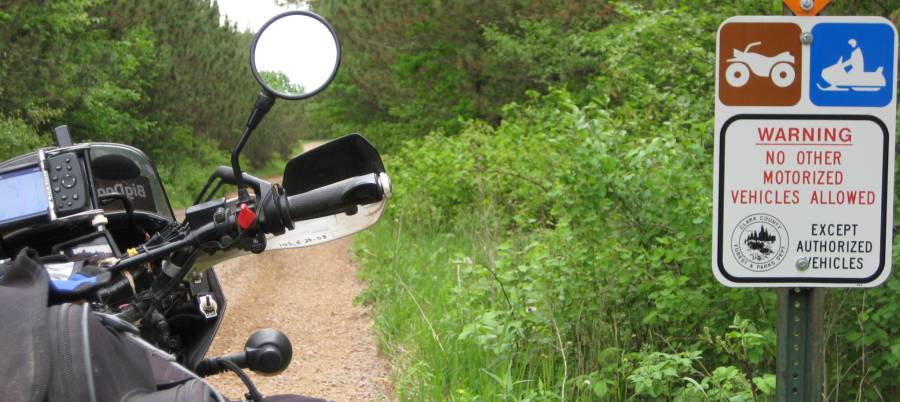 The route went thru here and crossed this creek. I bet the creek was an easy crossing on a normal day.
This wasn't a normal day---the area had been barraged with rain lately and the ground was saturated
and the creeks and rivers were flowing heavily. It looked to be about 5 ft. deep. I saw a vehicle track
that came right to the edge---but they must have backed out as there were no tracks on the other side.
I wasn't going to risk this at all.
Thorpe, Wisconsin
Gotta love the small towns----one firetruck and one ambulance and you have a parade !!!
I stayed here in a motel and it rained very hard all night long up till about 9AM the
next morning. They had a nice old fashioned carnival going on in town, but the
weather washed it out. It had been raining heavy for a month and there was
no end in sight.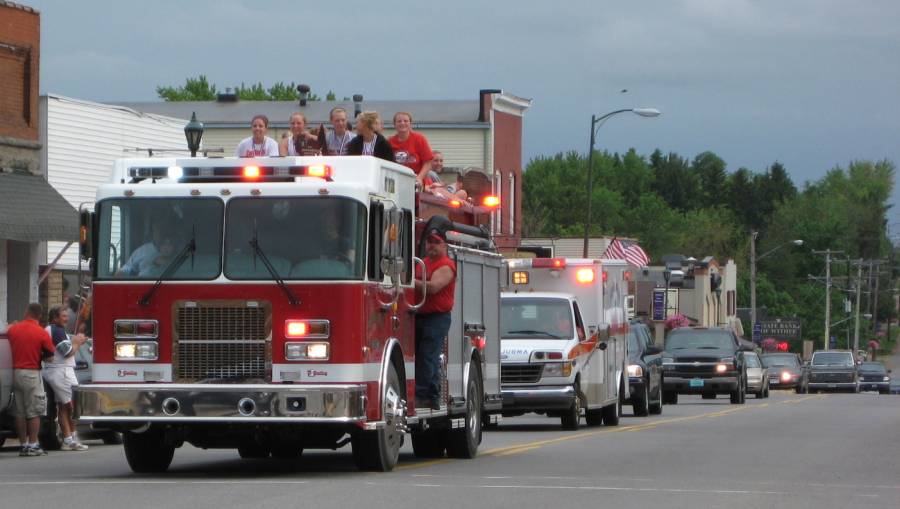 I took out the next morning after breakfast at the "Dairy Bar Cafe".
Breakfast was good that Sunday morning---as the nicely dressed older Christian woman
going to church that morning were getting their faces all scrunched up at the young waitress
with her but crack showing and her red G-string sticking out---or so someone said.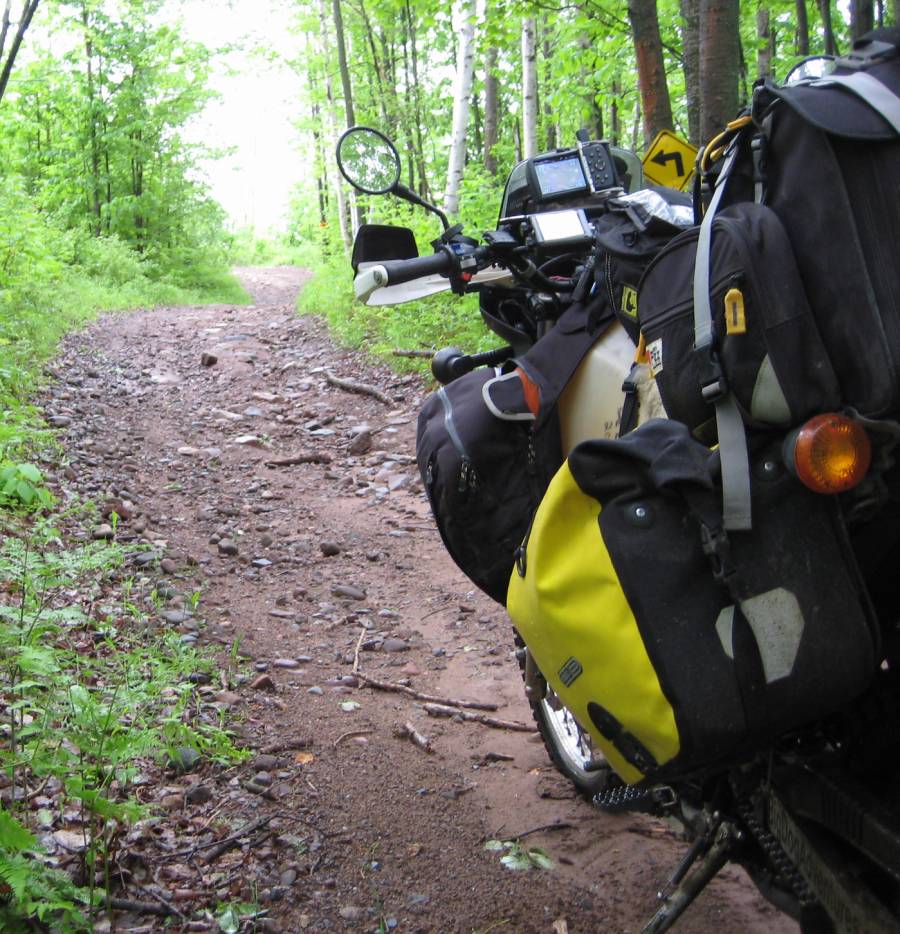 Big Falls county park-----the skeeters here bout' carried me away !!!!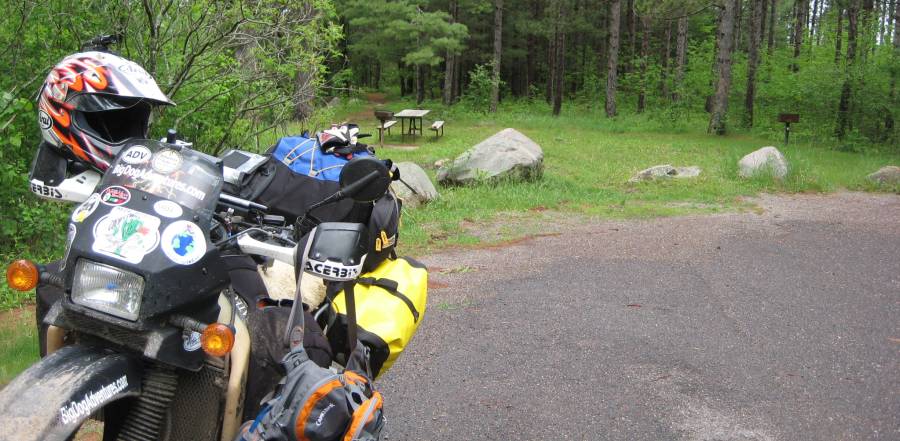 Logging is one of the man business in Wisconsin.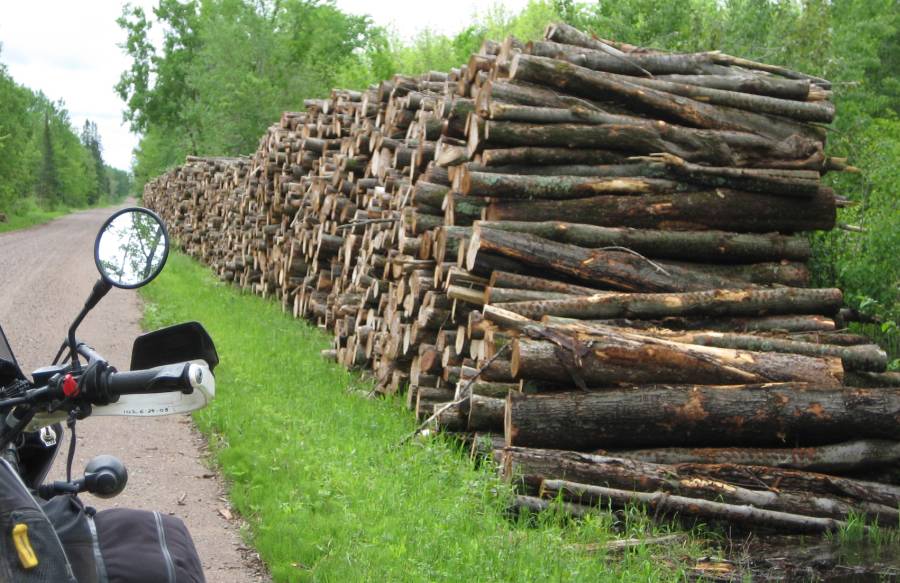 Most everywhere I road the land beside the road was a virtual swamp.
I was really surprised I wasn't stopped constantly with water over the roads.
Oh---that comes later.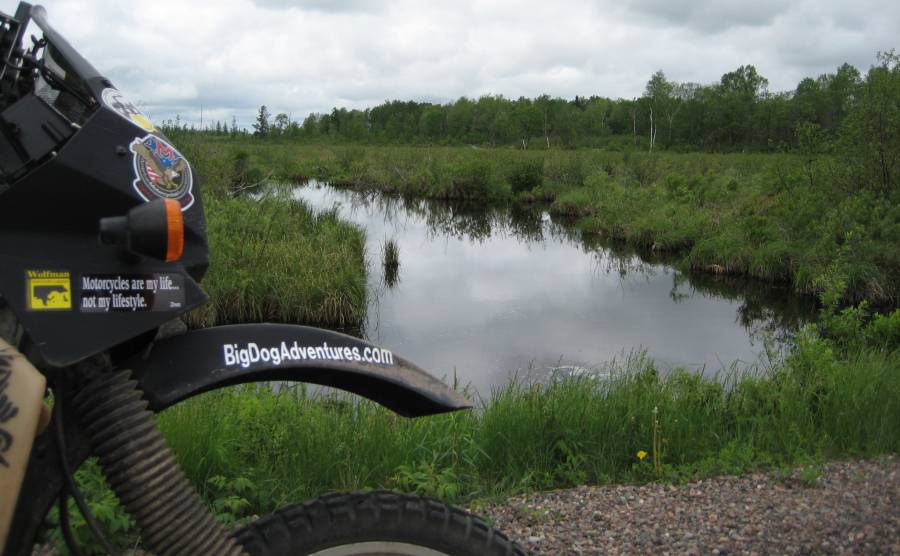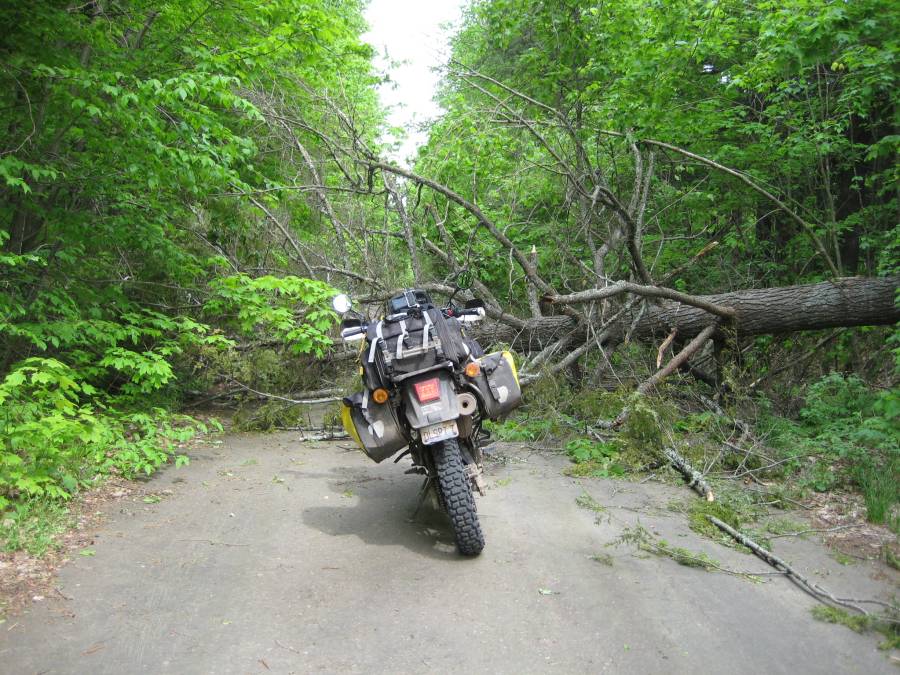 | | |
| --- | --- |
| It'd probably be safer to not be in town when this was going on. I'm sure there would be lots of blood spilled---and beer !!!!! | |
Yep---nother one of those places I've had a waypoint marked for a lot of years---it was very near my route
so I stopped by and they wereClosed. This is a 1940's rebuilt diner near Delta, Wisconsin. It's only
open Wednesday thru Saturday. I was going to eat here whether I was hungry or not.
Just because.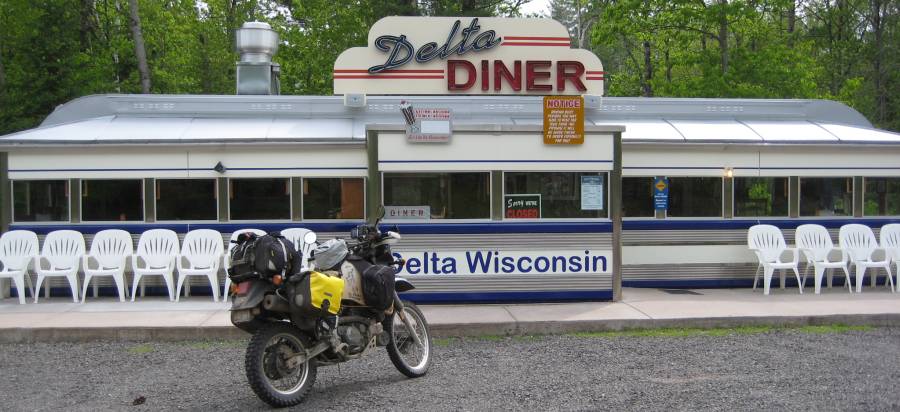 I passed a bazillion of these signs.

Never did see a snowmobile.
My first glimpse of Lake Superior.
I felt Lake Superior way before I saw it. You riders know how it is with temperature changes, as you can
feel the slightest change. This however was a slap in the face and almost scared me.
I came over a rise and in one second-----yes one second the temperature dropped 25 degrees.
I had never felt anything like that in my life. It was absolutely amazing.
I found out later the water temperature on Lake Superior was 40 degrees.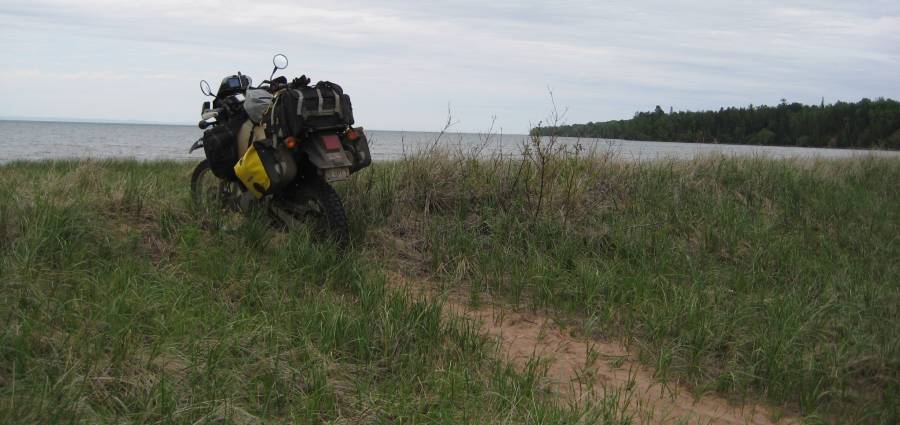 There was some neat old wooden boats nearby that were really interesting.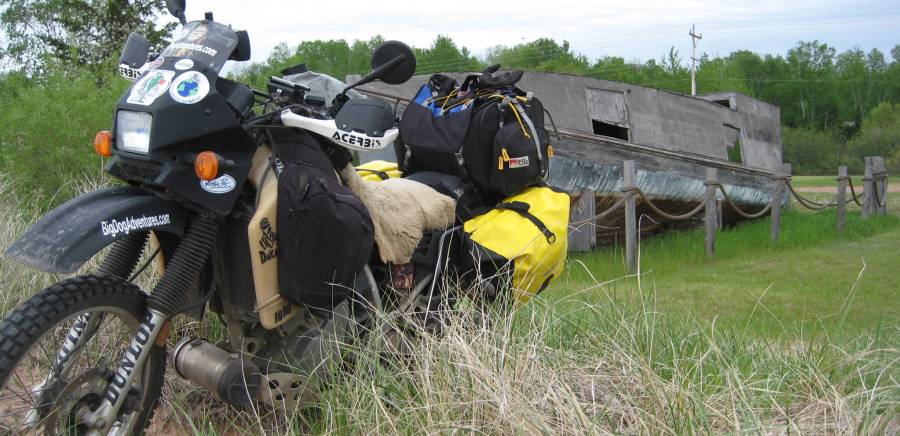 This is actually the end of Chadd's Trans Wisconsin America Trail.
A dead end sandy road----with a bluff overlook of Lake Superior.
It was fun blasting down the wet packed sand--you could go as fast as you wanted.
It's not the end of my ride------so hold on !!!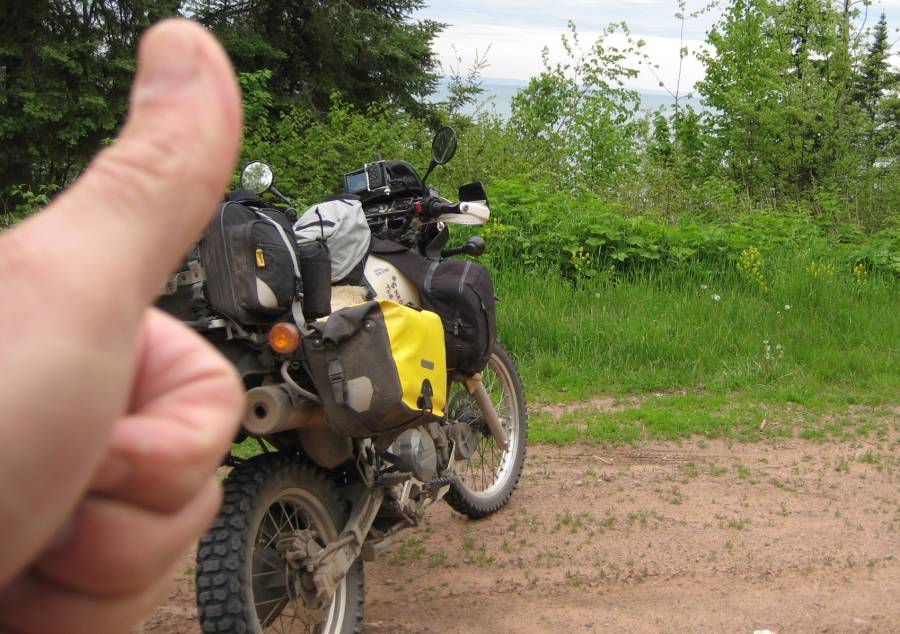 Just back up the road a ways was a turnoff to "Detour" campground.
I was the only one there and had the only fit campsite in the whole campground.
The other primitive sites were grown up with weeds with many fallen trees laying everywhere.
Obviously not being used much--maybe it was early in the season.
I thought I might freese to death with the cold wind coming off the lake.
A nice walk to the North of my camp for the night took me too a high bluff overlooking the Lake.
I would hear many a ship in the night blowing their horns. A really deep sound that was unmistakeable.
My wife told me Lake Superior was the deepest lake in the world ?? While I travel she gets maps out
and follows where I go sometimes---and does her own little research into the areas I go. She'll find out
more stuff than I do. I wish I could remember what I was holding in my hand--man this gettin' old
is pretty scary stuff.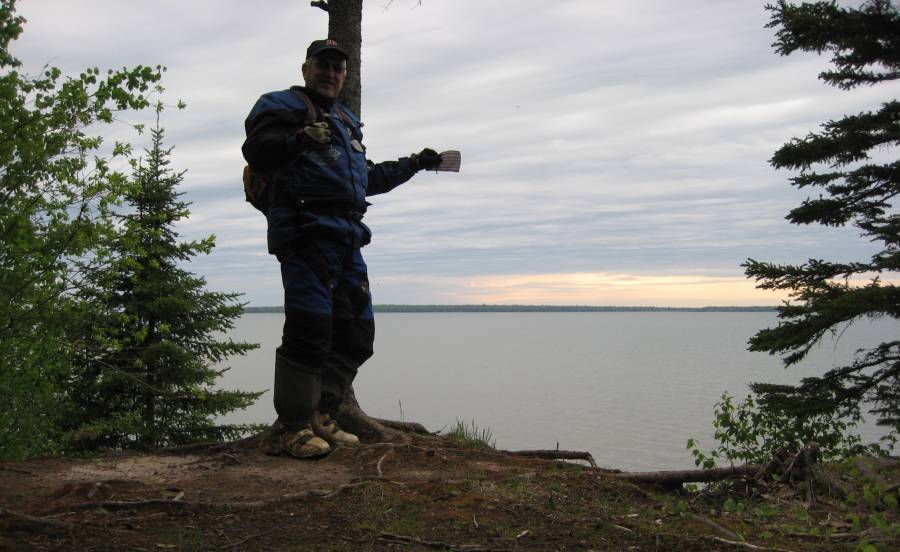 The wind shifted and it warmed up a bunch---the skeeters were out in force so some smoke was in order.
Fire wood was abundant and as I just relaxed and was thinking about cooking dinner when it started raining.
Time to throw up the tent fast !!!
Little Dog joined me at the camfire---see him sitting on the rock.
Good thing he didn't have any beer to drink or he'd a fell in the fire and melted !!
It quit raining long enough for me to eat and get settled in.
I knew I wouldn't have any company for the night so it was a very relaxing nights sleep.
I guess I was tired---I bet I slept for 10 hours....that's not like me.
Oh yeah------it rained cats and dogs all night---pretty hard.....and it got a little damp in the tent.
I guess the pitter patter just lulled me to sleep.
Little Dog was face down in the cold fire coals in the morning.
The next morning I cooked breakfast and had coffee---I love my Jet-Boil.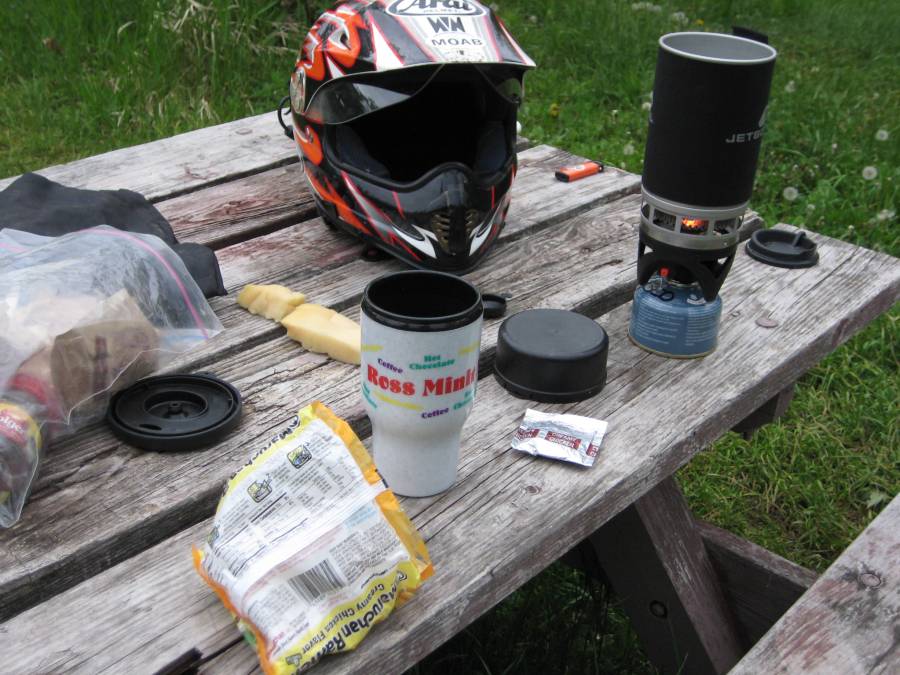 I'd gone to bed early and got up early. After breakfast I packed up my wet tent and headed back to
an artesian well I'd found on the lake shore the day before.
It may be hard to see--but there's water coming out of that 3/4" pipe for filling you water jug.
I filled my camelback to the brim---you can see another 2" pipe spillling water out in the sand
if you look close---this just ran into the lake. Pretty neat little place. I stayed awhile and pondered
where I'd go next---I decided to ride West around the Western tip of Lake Superior and then East
along the Northern shore to the Canada border. I'd heard there was some beautiful sights along
the soreline and an old lighthouse or 2.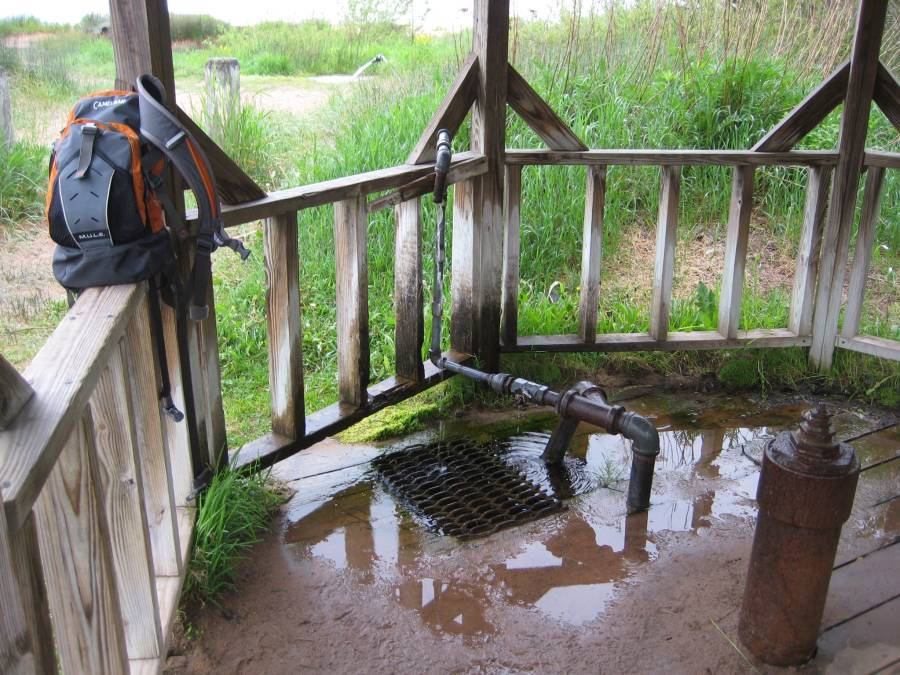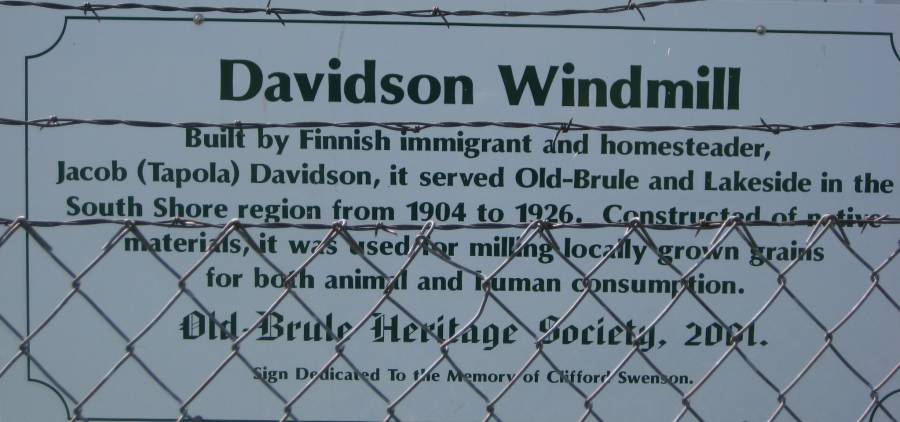 I kind of was forced to ride thru the city of Duluth---it was actually a pleasure. There just seemed to be no traffic at all
and I was treated to many neat sights of ships and old bridges---like this one--never did figure this out.
Looked like and old railroad bridge to me. I just saw so many things that I'd never seen before.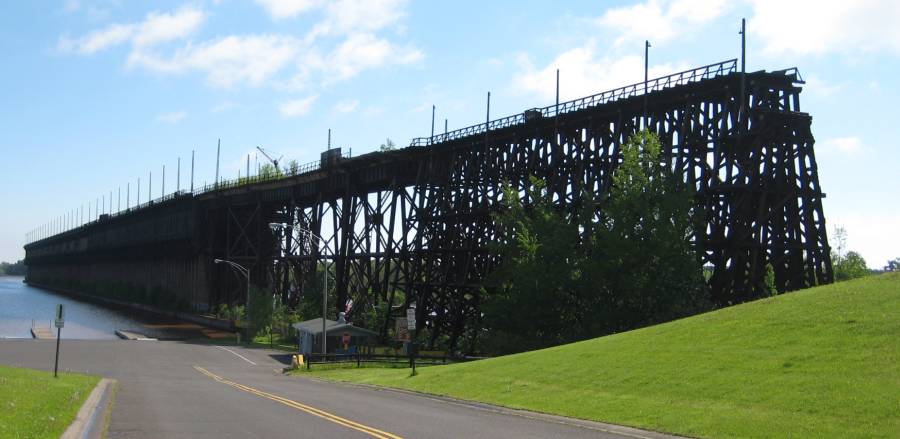 Oh my god this was beautiful---a cold brisk wind drifted off the lake making a spooky fog on it's way over the lake.
The contrast of the blue sky, the water, the green trees and white fog was breathtaking.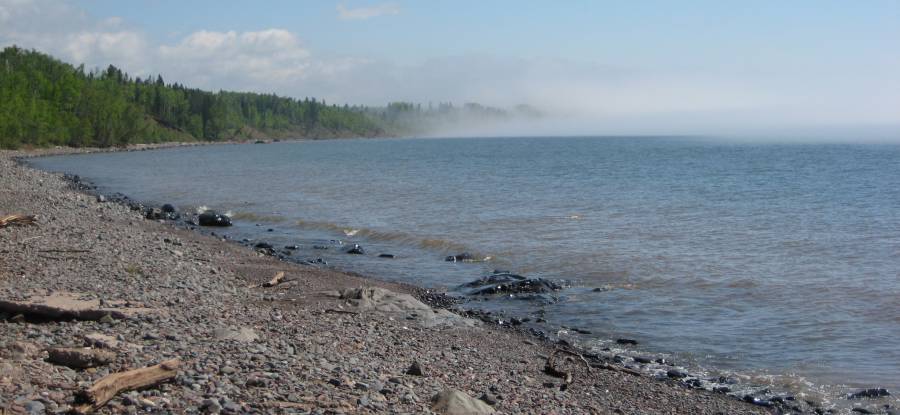 Splitrock Lighthouse
I am cheap guy it seems anymore. I wouldn't pay the 8 bucks for he lighthouse tour. They had cleverly planted trees so
you would never get a good glimpse of the lighthouse without paying. I fooled them and got this great view....although from a great distance. It was very old. I'd give you my rant about state park fees---but I'm sure you've
heard that from me before---I'll not drag you thru it again. I think they are trying to keep out the
riff raff (me). It works.
Shipwrecks from a mighty 1905 November gale prompted this rugged landmark's construction. Completed by the U.S. Lighthouse Service in 1910, Split Rock Light Station was soon one of Minnesota's best known landmarks. Restored to its 1920s appearance, the lighthouse offers a glimpse of lighthouse life in this remote and spectacular setting.
Oh yeah------I'm in Minnesota now---it took me awhile to figure that out too !!!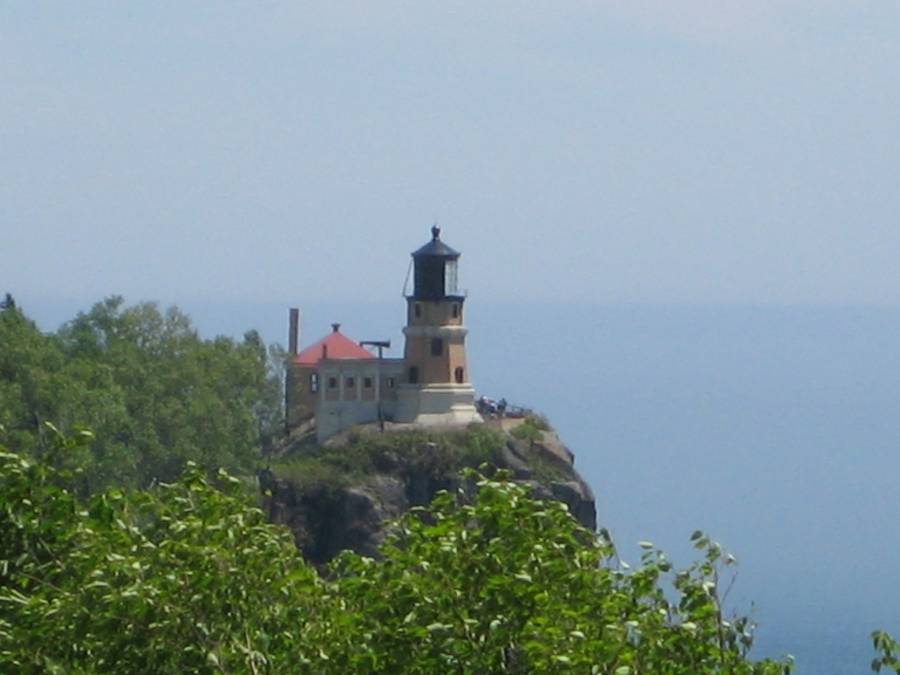 Here's an interesting website to tell you more about the lighthouse--very interesting.
http://www.terrypepper.com/Lights/superior/splitrock/splitrock.htm
This is Gooseberry Falls-----in Gooseberry state park.
Yep---the ordinary traveler has to pay to see this. I wouldn't pay.
I illegally parked on a bridge to the scornful eye of a park ranger who was pondering making me pay for my crime.
My wife had scourned me not to get arrested while gone--as I always seem to be on the edge somehow.
I got a better view of the falls from up there.
These falls were huge---look closely at the people standing on the rocks and you'll get a perspective of how big they were.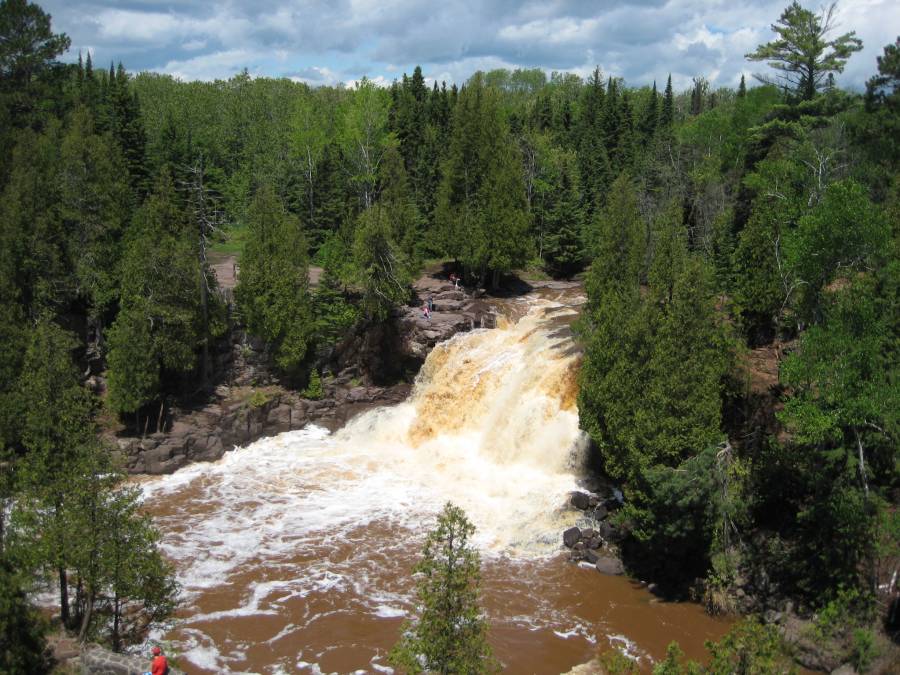 This big old tired ship was harbored up in the dirt---poor guy---grounded--how miserable a life for him.
I bet he'd rather be rusting on the ocean floor than to be humiliated like this.
I wanted to take the boat tour--always did want to go on board a big ship and check it out.
I'd probably wander off to the boiler room (my profession) and get arrested.
It was 15 bucks for the tour------I wouldn't pay and took my own outside tour--BigDog style.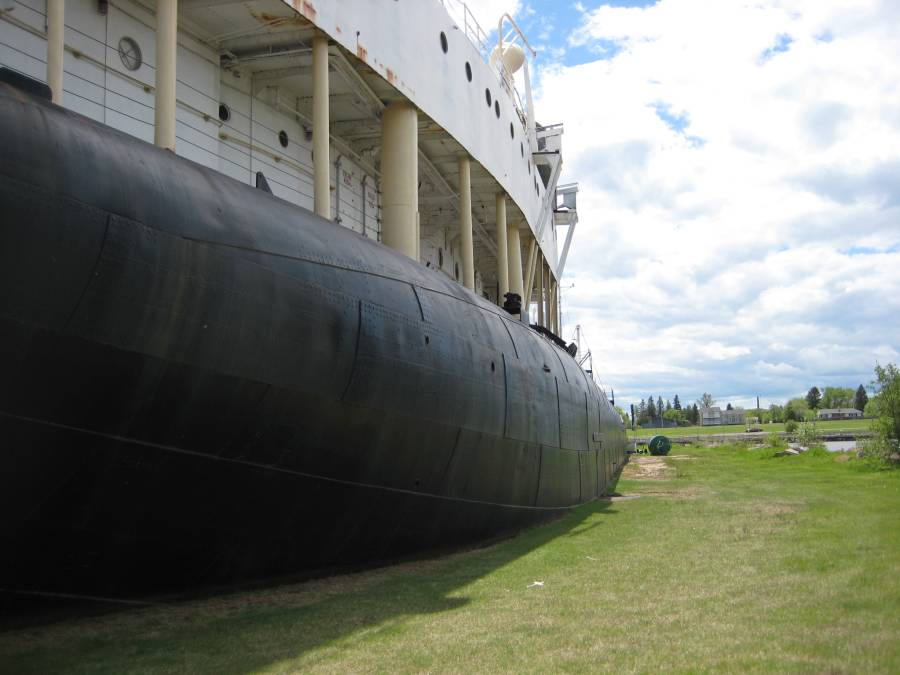 I turned back South down thru Wisconsin a different way--just picking my way around.
After I barely slipped thru Wisconsin going North the worst weather Wisconsin had ever experienced
followed in my wake.
It rained and rained and rained---the ground, rivers and lakes were already saturated. I heard from
a local at breakfast about
Lake Delton (near the Wisconsin Dells) draining instantly after the dirt
washed away around the dam from the overflowing water. I had to go see it. I figured the law would have
the whole area all blocked off so you couldn't see it. They did---but the mighty KLR was too
much for their barracades. Again I was under the watchful eye of the local deputies as I
jocky'd for a look see. So here you can plainly see a big overview of the drained lake.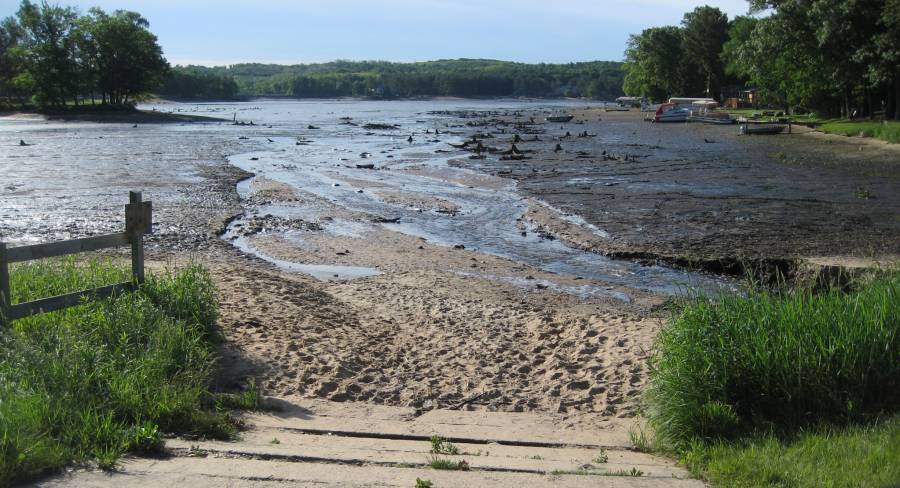 I got there just hours after the disaster-----it was all over National TV which showed a huge new house
fall into the Wisconsin river that was near the dam. That house was just across the lake from where I
took the picture above.
It was so sad watching these huge 2ft. long fish flopping around in the mud.
I guess there was nothing anybody could do.

As sad as the whole situation was---I kind of got a chuckle out of this.
I zoomed way in with my BigDog camera and caught this fish struggling for his life.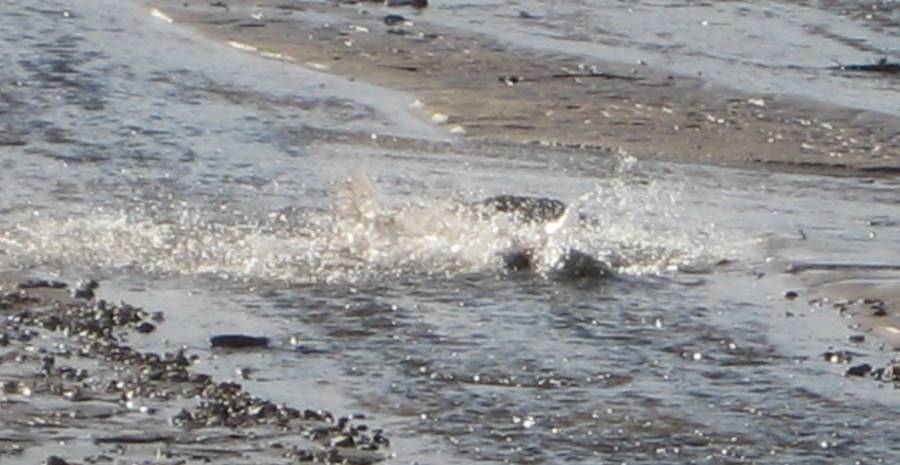 Momma Duck wasn't too happy about the situation either.
I watched her march her ducklings across the mud--up the bank---across the road
and on to another little nearby pond that still had water in it. .
I think they are 106 Rustic Roads in Wisconsin. Lonely one lane country roads that take you back in time.
Yep---BigDog has everyone maked with gps waypoints. I hadn't been to Wisconsin in a long time and it
seemed to me the state was bent on paving these things---what the heck for ???
My god---is nothing sacred---I expect toll booths on my next visit.
God I'm glad I wasn't born later than I was---I just can't stand what's going on in this world.
What's the matter with people anyway--watchin' too much stinking filthy TV---that's what !!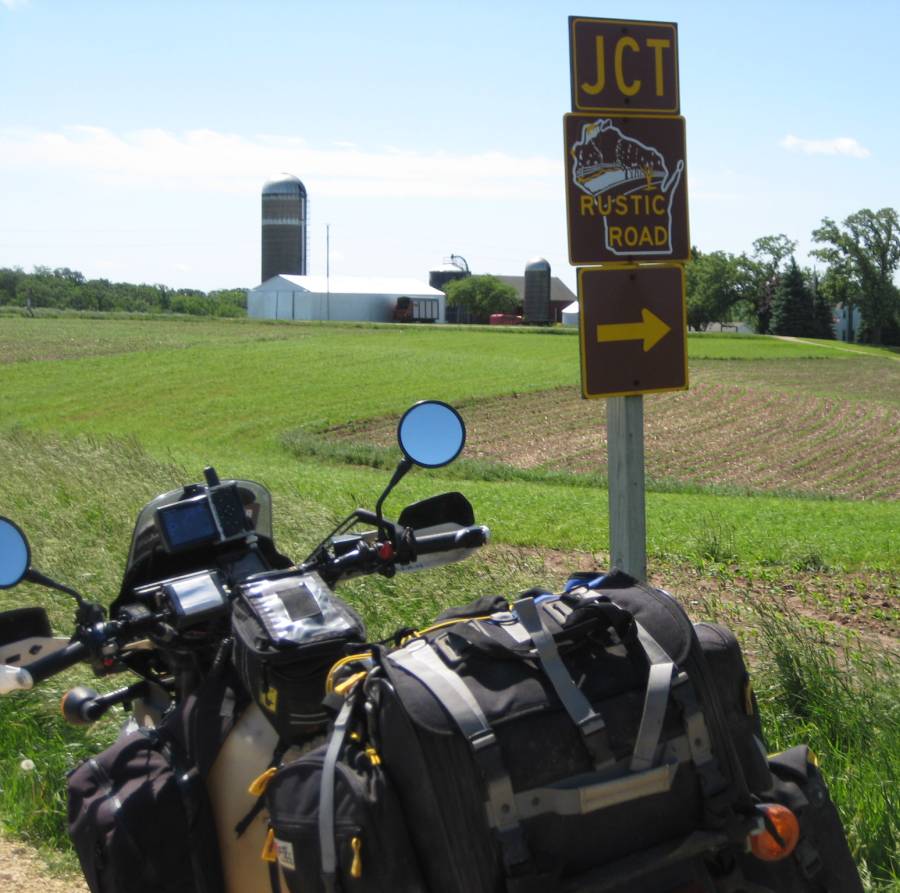 The weather on my trip South thru Wisconsin had turned perfect------I mean perfect.
Cool temps---no humidity, no wind and a big blue sky.
Surely there's a fee for this ???? What I had endured so far was forgotten !!!
Oh my god look at my GPS screen---another Big Dog waypoint ????
What in the heck could "Wheel Tower" be ???? It was so long ago I forgot putting that waypoint in my gps.
It was in the front yard of this nice farm. Why ??? I have no clue.
But it sure was neat---beautiful actually--and I didn't have to pay.
Better go see it quick before the state buys it and then comes the tour bus parking
lot and of course a "FEE".
1.5 miles south of Durand, Illinois--just South of route 75.
Tell em' BigDog sent you. That'll get you run oft for sure.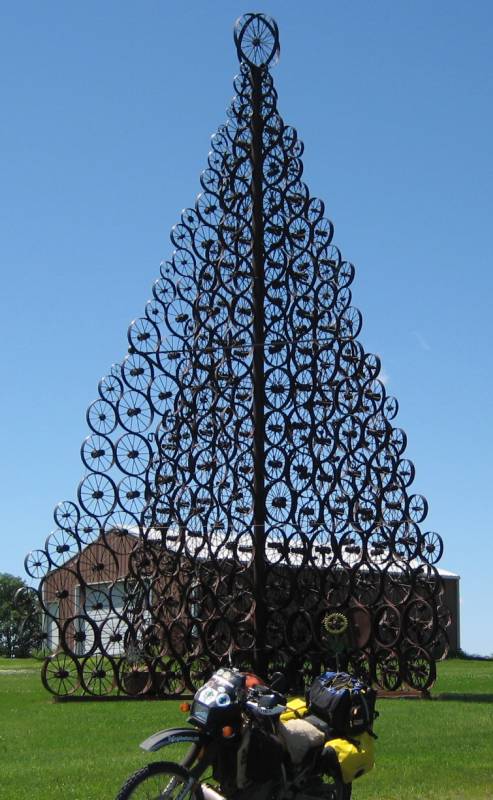 Another gps waypoint---Nuclear Power House.
I had this one marked as I've worked there before--did a lot of welding there years ago.
That's kind of scary--maybe I better get away from that thing---far away.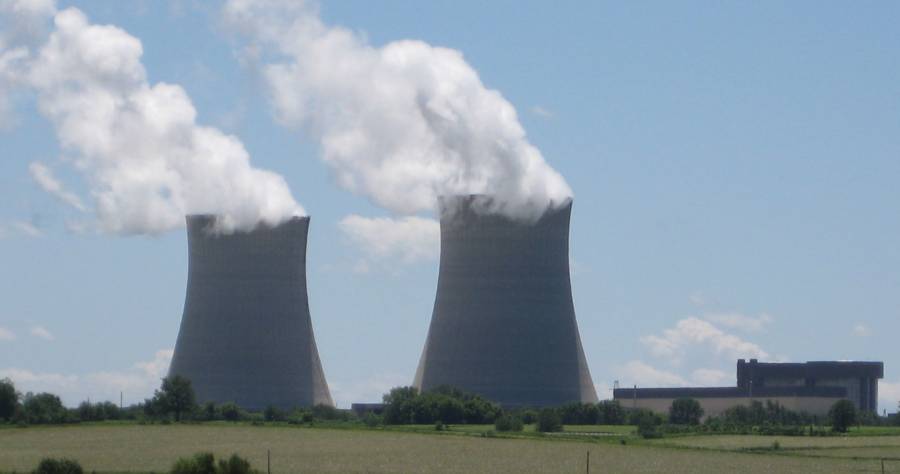 The Barn, The Car, My KLR
Probably the same design year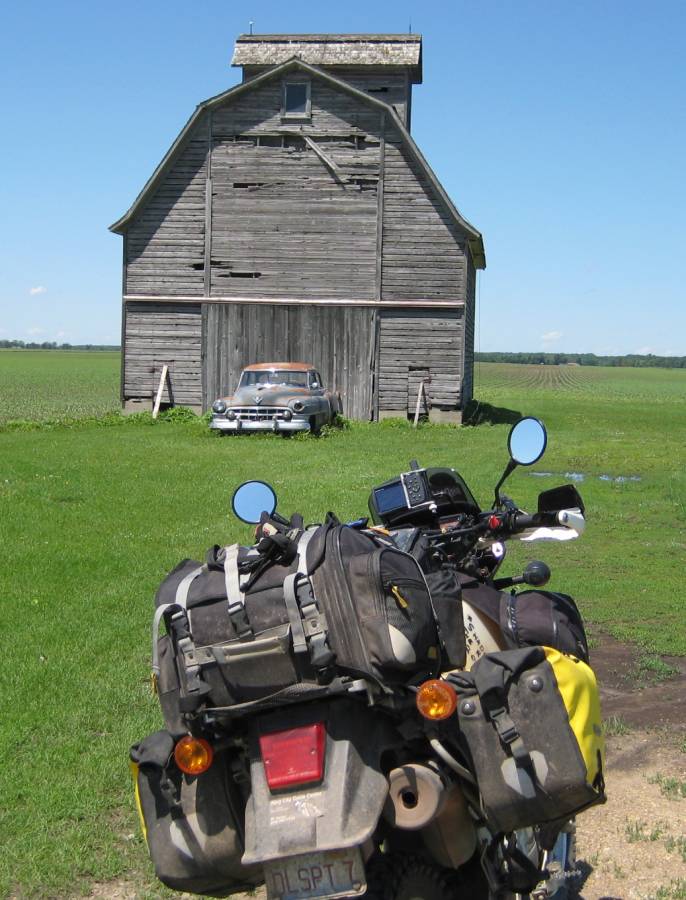 Park this in front of the local Harley Shop and stand back and watch the peoples looks.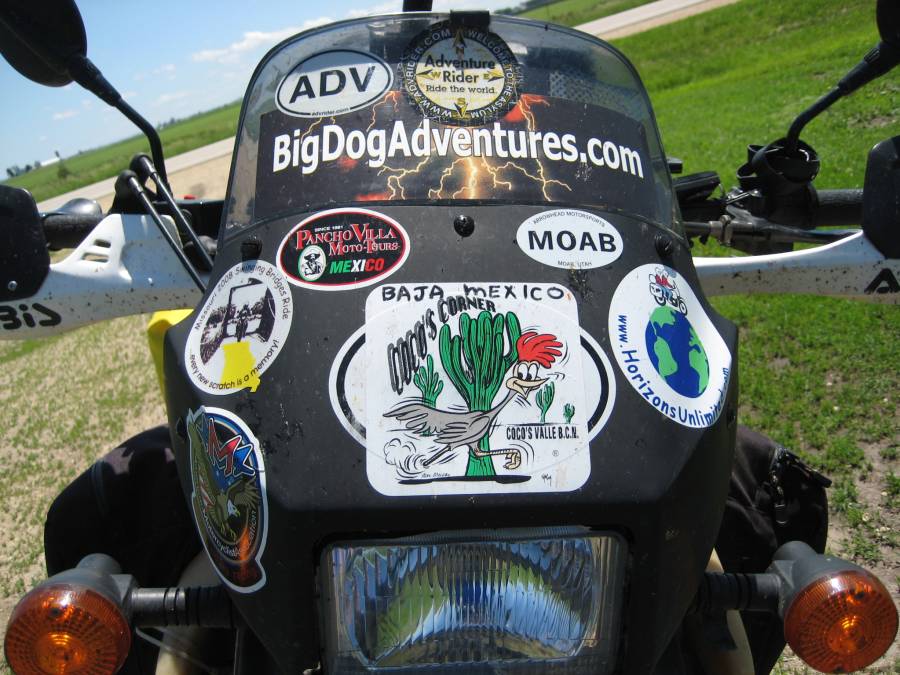 Now you can see just how big these things are--as usually they only are visible by the ordinary traveler
from far away---but with a little sneaky trespassing I got right up to one.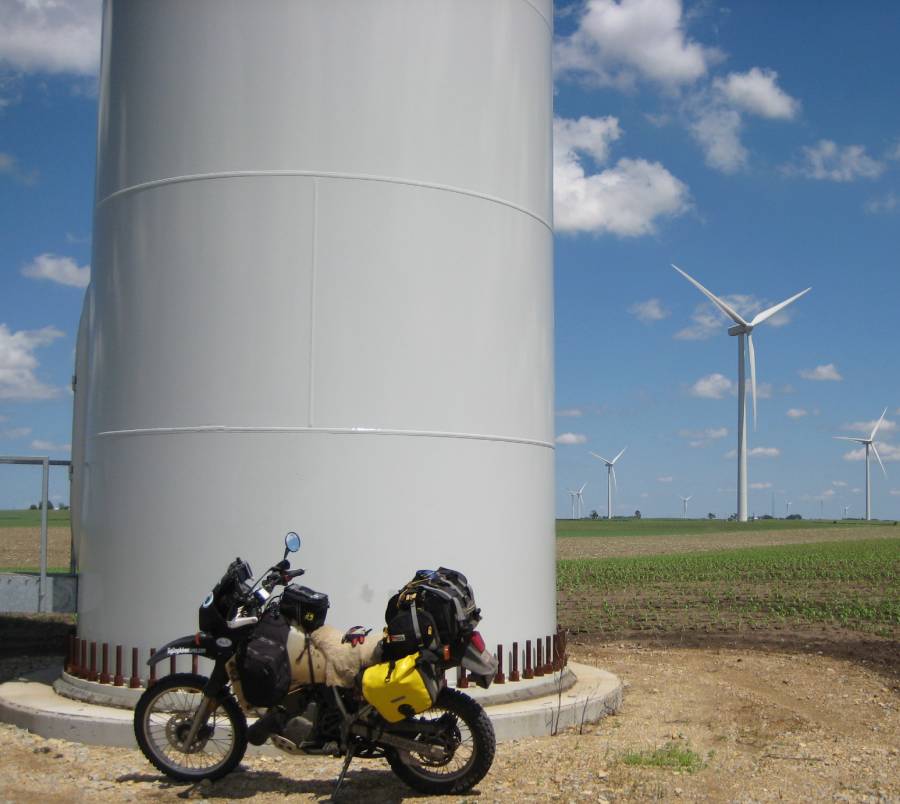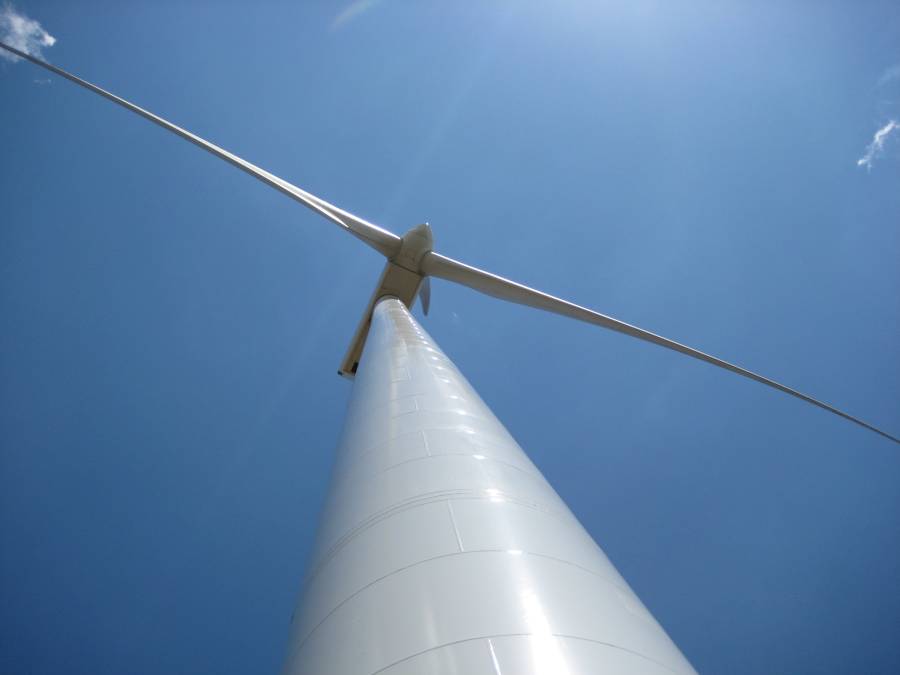 "Honey---Don't keep breakfast warm for me--it'll be awhile before I get home"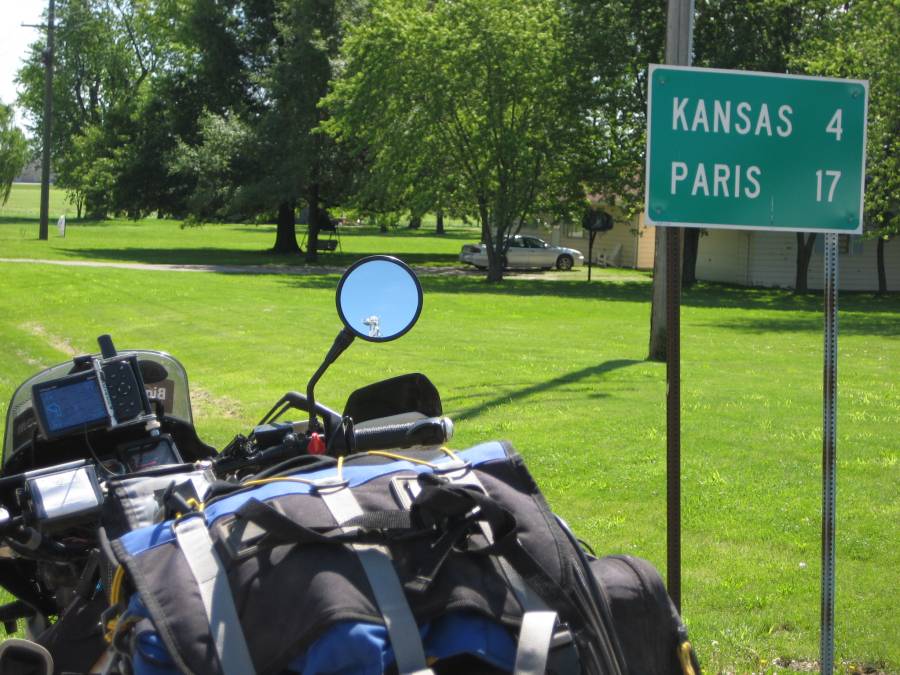 OK---pay attention. Maybe the neatest place I've ever ate in my life.
Before you die----do whatever you got to do to get to the town of Moonshine, Illinois
(population 2) before the old couple dies. It's hard to find---no it's very hard to find, for the ordinary
traveler anyway.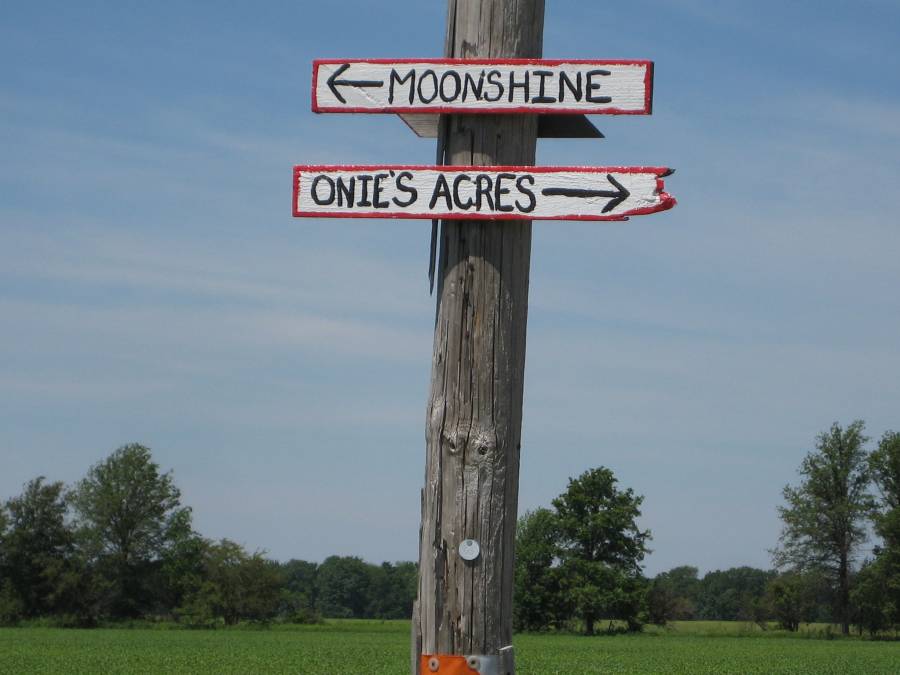 You will drive for many miles thru nothing but wide open spaces and farmland to get to Moonshine.
You'll think you've been given bad directions--and many a people have drove around in circles looking
for this place and never found it. Mainly because they think they have gotten bad directions as
there is absolutely nothing around the old store and the town of Moonshine.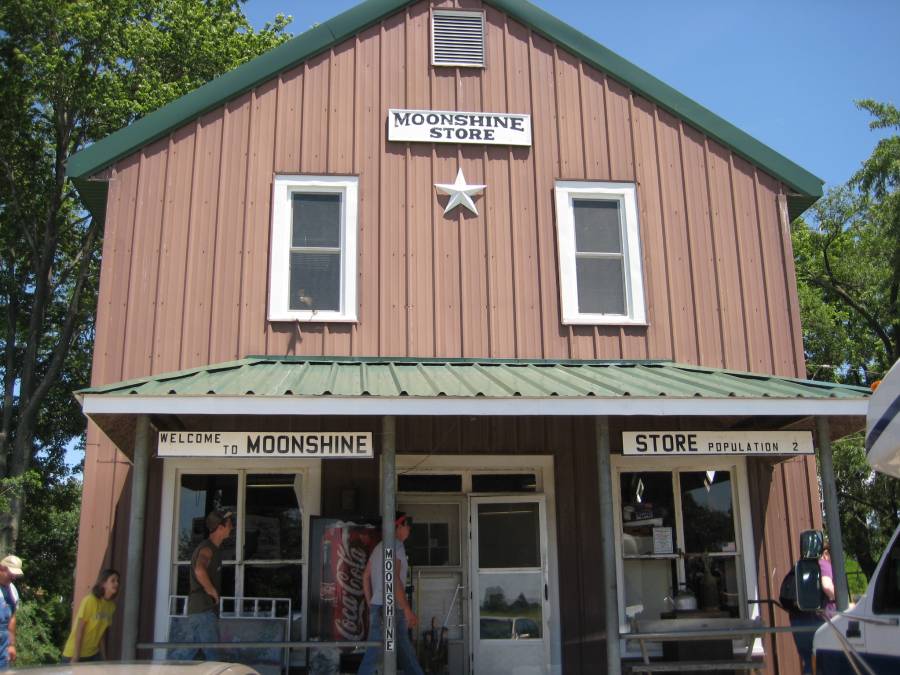 A wide spot in the road in the SW corner of Clark County, Moonshine is the in spot for the elite to meet. You'll need a compass, plat map and a little luck to find it, but she's worth the trip....and it's a heck of a lot cheaper than going to St Barth's for a cheeseburger in paradise.
Roy Lee and Helen Tuttle bought the old-time (circa 1912) country store in 1982 and promptly made it the best eating house in town - heck, it's the only building in town, unless you count the outhouse - and you had better count it.. Aside from cold cut deli-style sandwiches, drinks and snacks, Moonshine is the home of the world-famous Moonburger. You can get a double beef cheese Moonburger, you can get a bacon Moonburger, shoot, you can get a Moonburger just about any old way y'all want it.
I strolled in and spotted Helen at the cash drawer and asked "you the owner of this store"
She gave me a dirty stern look and snapped back "who's askin" ???
I trembled in my motocross boots as she seemed as serious as a heart attack---and caught me off guard.
A big ole' smile finally came over her face as she introduced herself to me and gave me a big hug.
Told me to order a hamburger and sit down and shut up till they hollered my name--then go outside
as we don't like nobody hangin' roun the store.
She was having a lot of fun with me----so I ordered a burger and told them what I wanted on it.
Seems they just hand you the burger and bun--it's up to you to dress it up how you like it.
Then you wander roun' the store pickin' up whatever you want to go with it----you know--
chips and soda or maybe ice cream---then pay Helen---she's the money taker while her husband
slaves over the gas grill.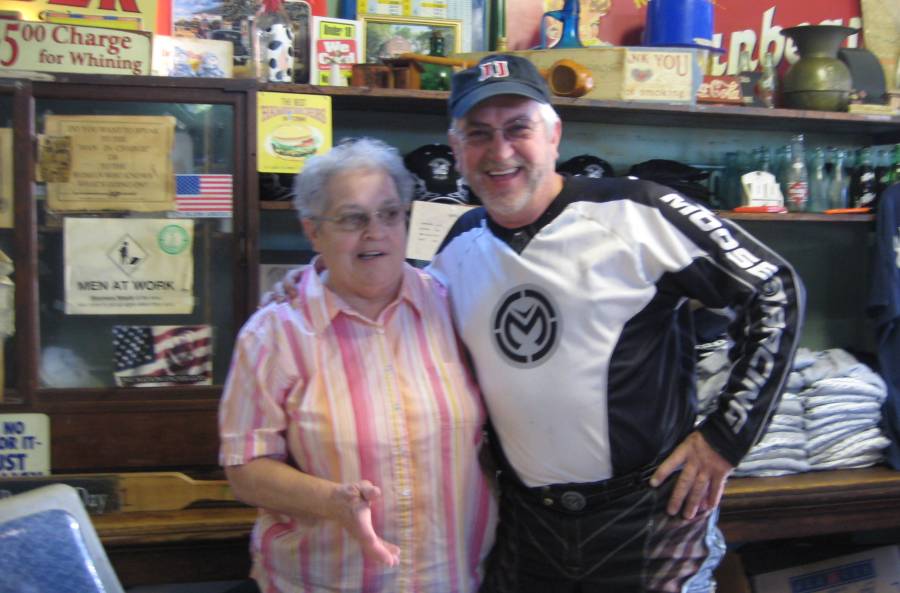 Then you go outside and eat your burger on one of the picnic tables outside.
Only nice friendly country folk come to Moonshine---everybody's your friend.
Of course I was the odd duck there and everybody wanted to know where I'd been.
I had to give them the short story as I'm not sure they had the time for the whole story,
or maybe they did. Everybody had a smile on their face and I think I ended up talking to everyone there.
Whatever you do---don't make the mistake of getting there after 12:30PM. Helen shuts the grill down
then---and it don't matter how hungry you are or how far you've come---you ain't gettin' a hamburger.
To find Moonshine get on the net and find directions--for you more advanced travelers
N39°11.436'
W87°53.734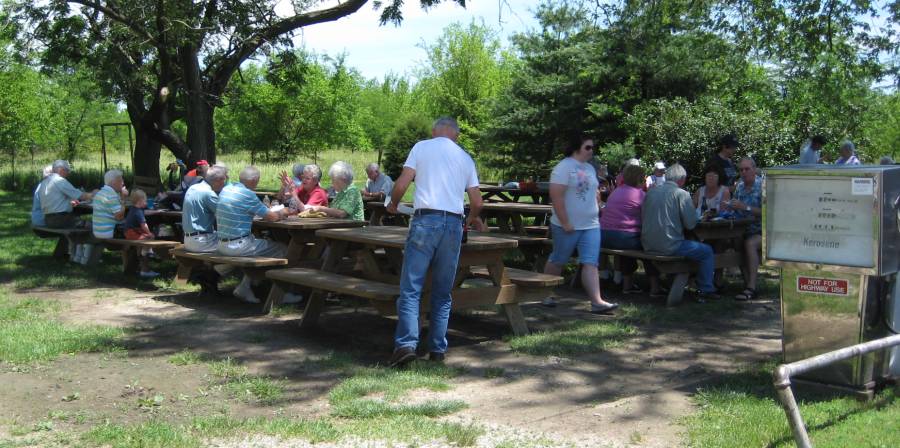 A major TV camera crew showed up here and made a special TV presentation of Helen's store.
When they called her to ask if that was alright she thought it was a prank.
But they showed up with the TV crews and cameras to her amazement.
It was aired on TV some time back.
Like I said--you haven't lived till you had a Moonburger.
Below is what I had to go thru--and detour around to get here after all the flooding.
I guess there was a easier way--but I didn't like that way.
There was a big Hog (Harley) chapter get together here a while back Helen told me.
Several hundred Hogs were going to ascend on Helen's store.
Seems a little water was over the road and they never arrived.
I can only imagine how much relentless rain it took to do this--I barely missed
the bad weather.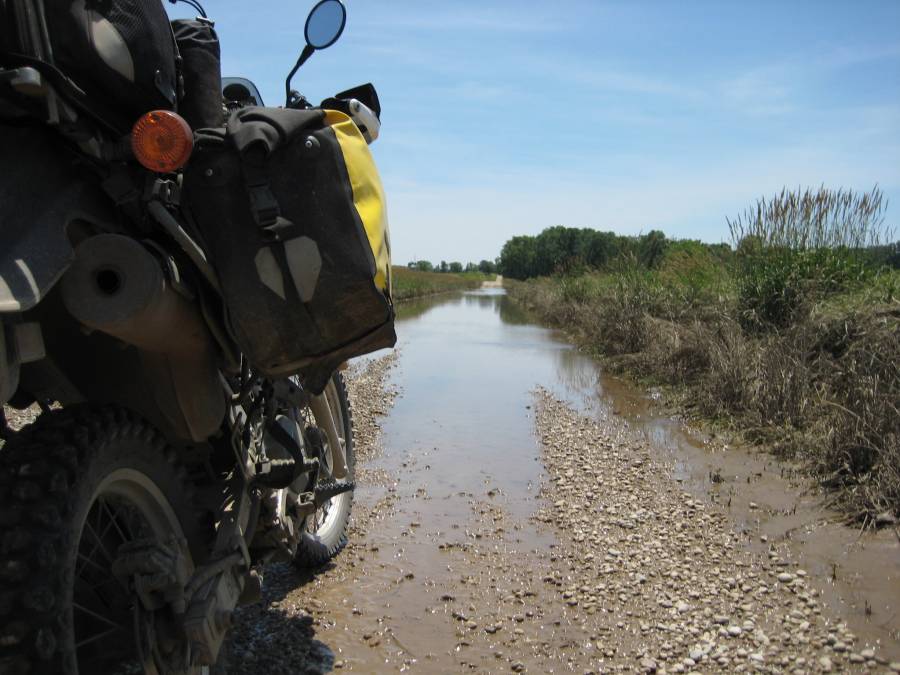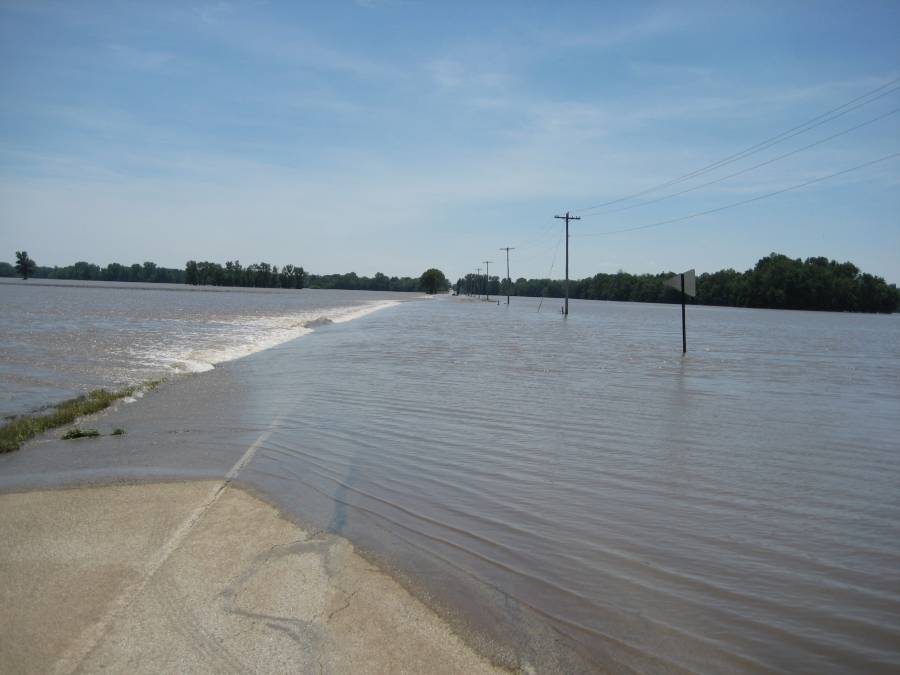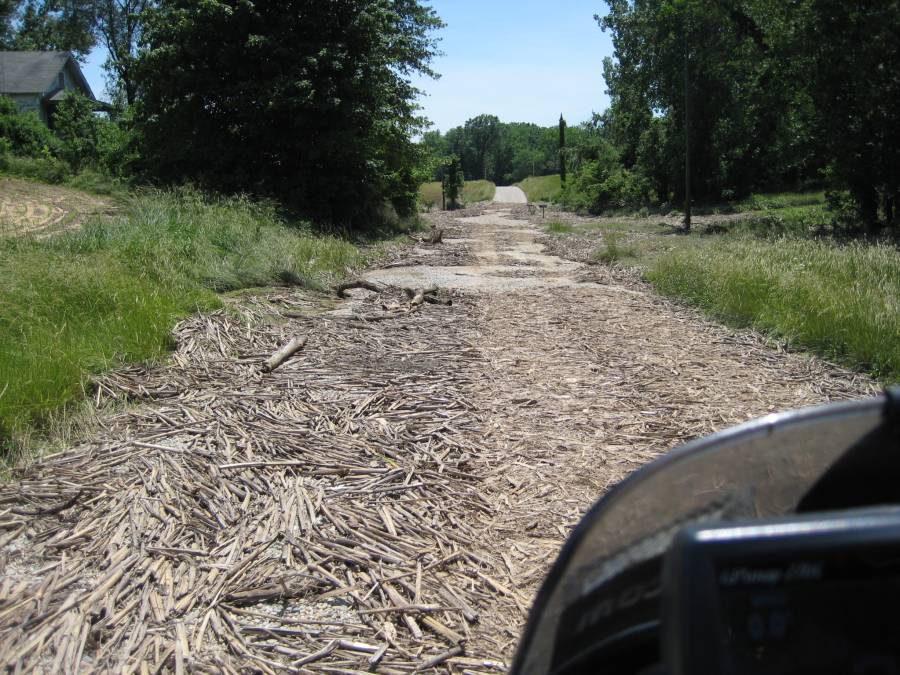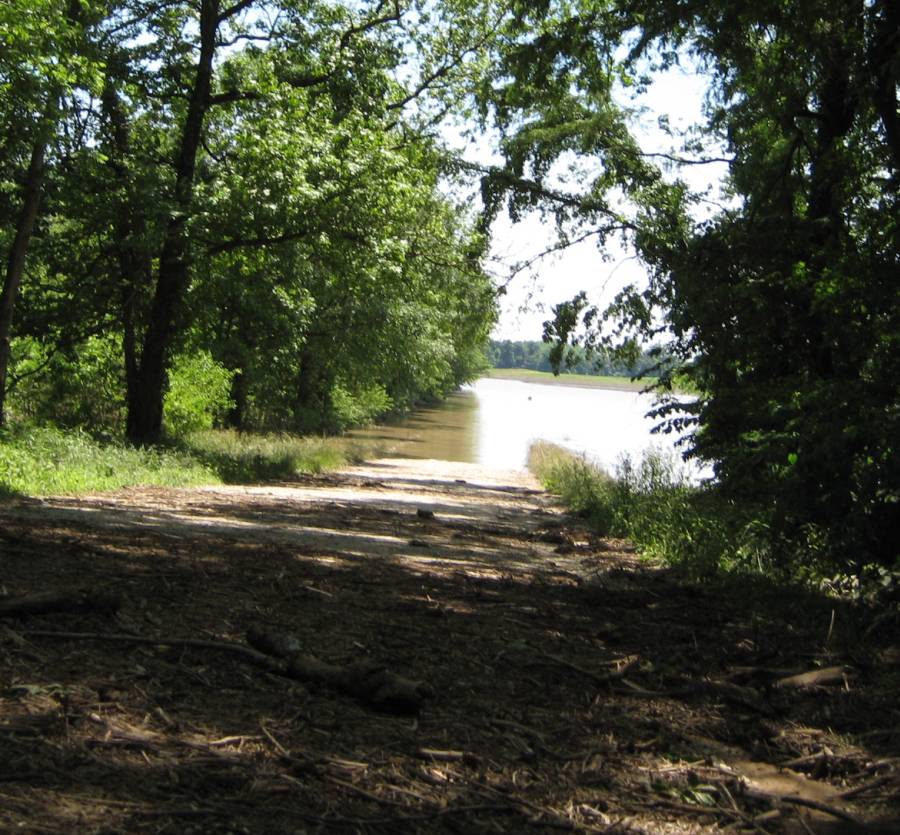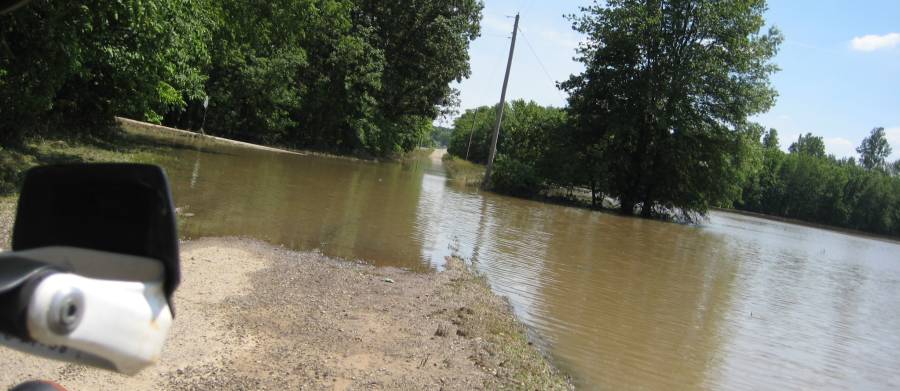 Moonshine is only about 110 miles form my house---took me about 5 hours to get home.
More water--and more things to see--things so close to my house
on the Road Less Traveled.
Route 50 in Illinois
You can see the new highway to the left of the old in this picture.
I rode the old highway as much as I could--it was falling apart and had grass growing up
between the cracks. I puttered along about 40 mph in honor of the "ole' road".
Wishing I could click the heels of my Alpinstars together and go back in time to relish
travel on the old road waving at each oncoming vehicle and stopping to help anyone that
needed it.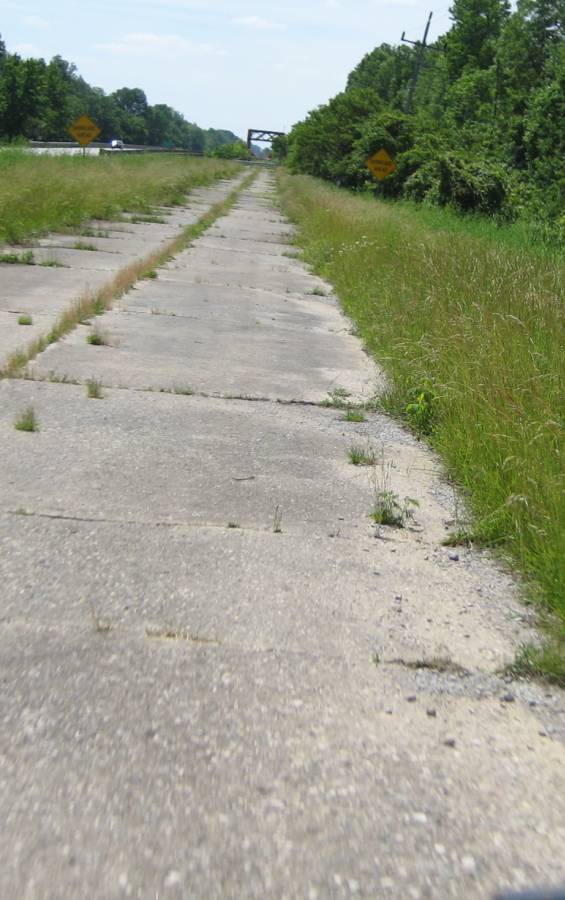 I knew it was coming--the end of the road---and the end of an era.
A time when life was much less hectic--when you only needed 40 horsepower to get from
one place to another. This was a beautiful old bridge--there was nothing wrong with the bridge,
as I'm sure it would hold up 3 freight trains. It was built with union labor---skilled men working hard
and making enough money to support their family while their wives took care of things at home and
watched after all their kids------feeding them when they were hungry--and whipping their tales when they
were bad. They worked an 8 hour shift and then sent home to be with their families.
The new bridge in contrast was an ugly thing--no character at all--built from some far away out of state
contractor working their men for 12 hours or more a day---with wages that will only support 1/3 of
the money needed to support their families. Mom is working too----nobody to watch after the little ones
and spank their tales when they were bad---or hug them when they needed a hug.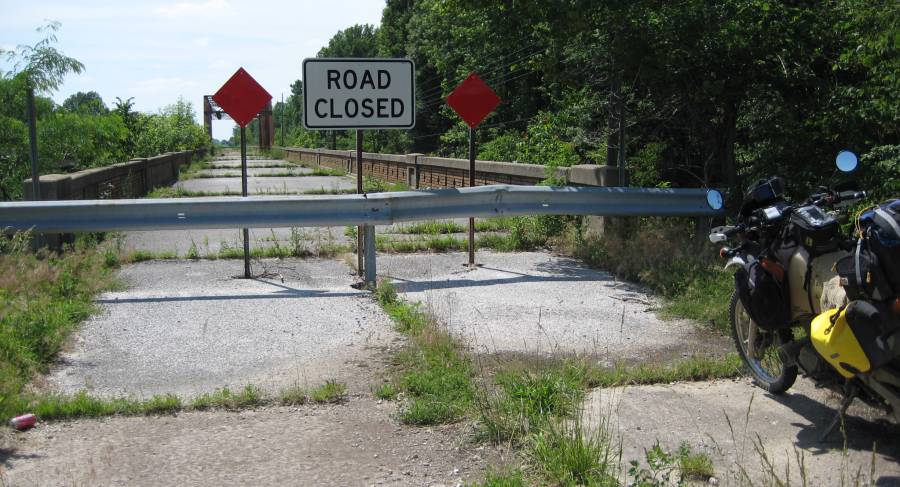 That's what's wrong with the world today---the kids aren't getting spanked---nor loved.
Things were different in the day of this old bridge---on........
"The Road Less Traveled"
Back--to my homepage