New Mexico/Colorado
Yes---the New Mexico scenery was looking better all the time
I love New Mexico and it was my favorite state while riding the Continental Divide Trail last year.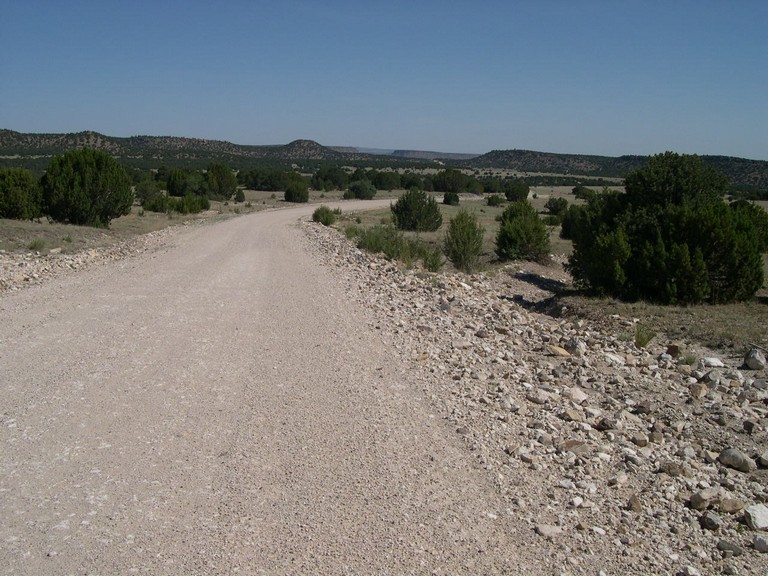 We climbed up the mountains and were surprised to find a little pavement down the other side down into the basin. It was 2nd and 3rd gear switchbacks all the way down.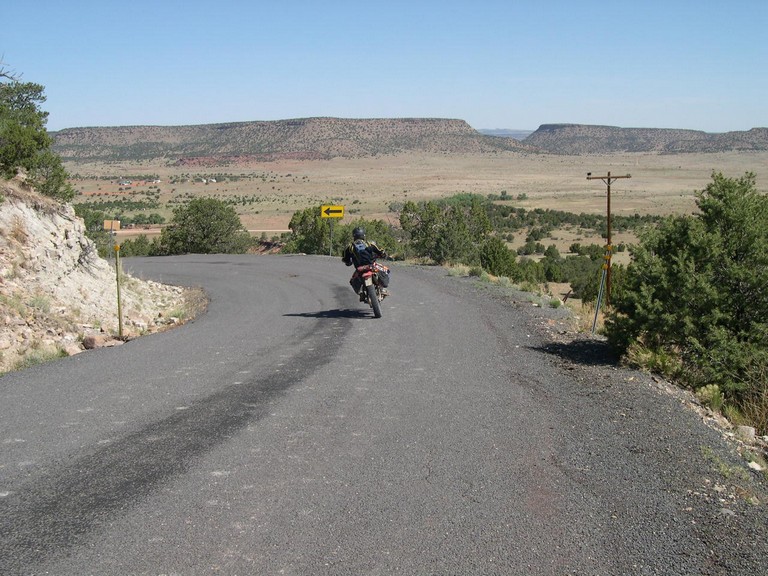 Before entering Colorado we ran up Long Canyon road. Just up the road it turned into a steep climb into the mountains with large loose rocks. Momentum was your friend and you needed to try and keep into no lower than 2nd gear. If you slowed down you would spin out and have to go down and start all over. Me and GasPipe both said we could have not made the clilmb on a big bike. It was nothing but fun for the big singles. My "Terror Flex" tire was flinging baseball size rocks everywhere. I would of hated to be behind me.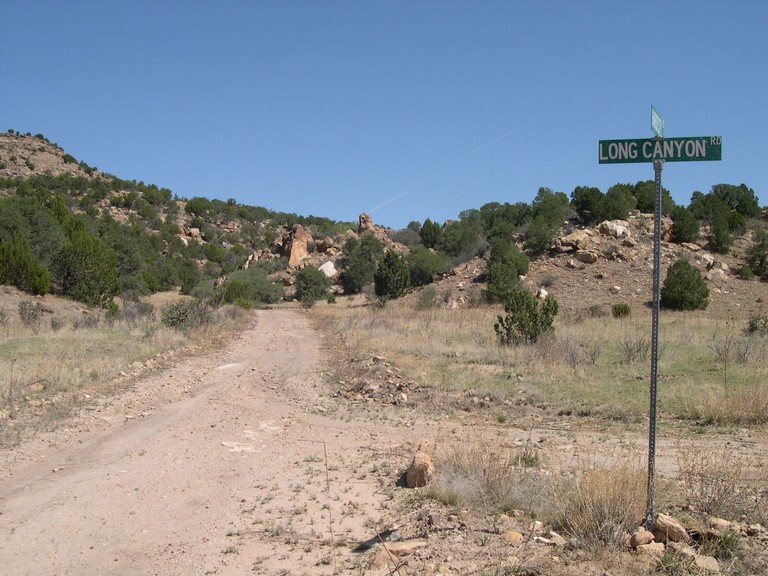 Just passed the Colorado border we came into the little town of Branson, Colorado--Population 78.
I was low on gas and didn't know if I could make it to the next gas. We poked around town for 10 minutes and finally found some nice guys who sold me about 1/2 gallon of chain saw gas---I was glad to get it. 3 times on this ride we would put chain saw gas in our bikes.
Here we have the local jail. We better move on as we heard the Oklahoma posse was hot on our trail for running those stop signs.
How many you ask ?????????? All of them.
Branson sits to where the plains to the North meet the Mesas of the South. Branson was a bustling farming and ranching community once upon a time---but never recovered from the dust bowl era.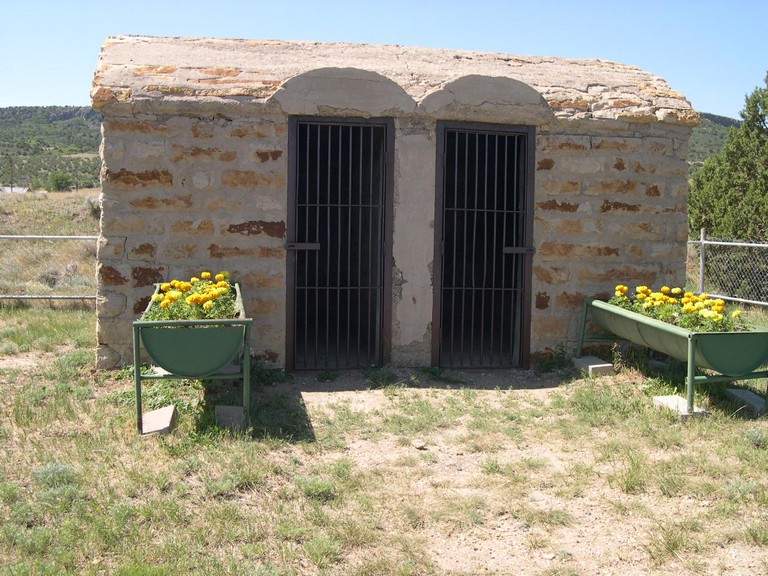 We made it to Trinidad, Colorado for gas and continued on as the interstate was just too close for comfort. We finally rolled into Laveta, Colorado and got a room at the Wagon Wheel Resort.
Out of Laveta the next morning we rode farther up into the mountains just East of Laveta Pass on a dirt road where a 50 year old nail was waiting for GasPipe.
Everybody has there own method for fixing flats and I found GasPipes method included lots of those really bad words---lots of them........seemed to make things go easier for him----I kind of stood my distance and dove into help when I thought it was safe.
Flat Number one---------I think. We would need more than one hand to count the times we pulled a tube out.
We patched it--------which would haunt us later on--not much later on.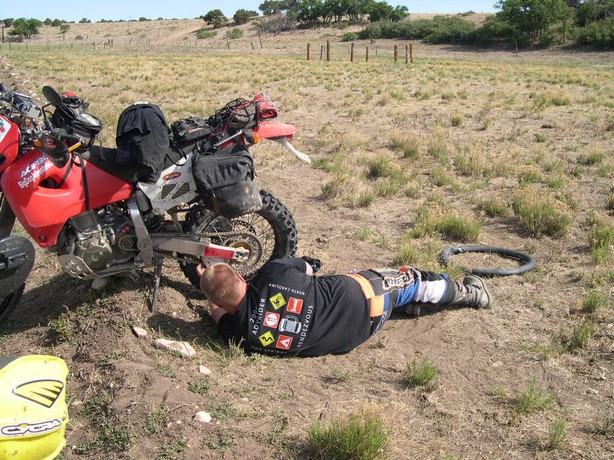 The Honda was tuned for horsepower---lots of it. However this was a little rich for the 8 to 10,000 ft. altitudes we were in.
It finally fouled a plug going down hill with the throttle off.
This took some extra cursing but worked really well.
GasPipes high dollar carb was externally adjustable. A little turn of the screw and his jetting was no longer a problem the rest of the trip.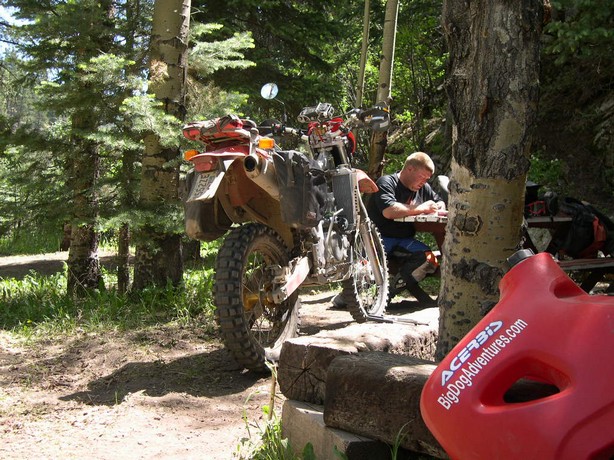 Well you don't want to hear what he had to say here.
When he came up missing I went back looking for him and he already had the tire off without tire irons (I had them) and was buffing the failed patch spot with a rock.
I think he was getting use to this---he better--there was more to come.
Bike lifts were available everywhere.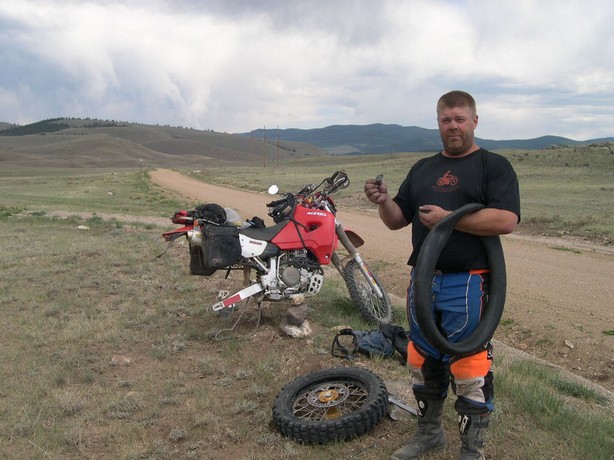 My God it was getting beautiful. We've road Colorado a lot and were to ride some different areas neither of us had been to.
It was so nice and cool with no humidity---we were happy campers.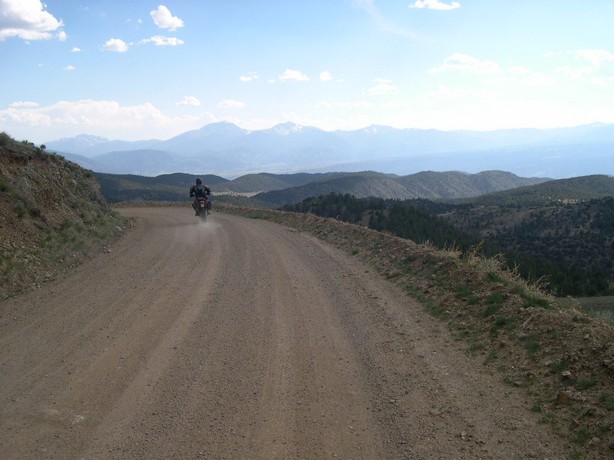 Into Salida, Colorado for the night. Gaspipe was running out of tubes and I was out of rear tire. My front non DOT Dunlop held up for the whole ride and wasn't completely wore out after over 3,000 miles. We cleaned the local ATV dealer out of tubes as GasPipe put a new tube in his rear tire having to take it off again.
But first we had to get the "Tera-Flex" off my bike. We worked together and it was the hardest tire me or him had ever removed. The sun was on us early in the morning and we were getting hot-----I mean hot. It would have been a good video of us wrestlng the "Terror Flex"----------however it just wasn't funny. I will never ever use another Terror Flex----I would have never got it off by myself in the bush---this tire is for the locals boys--not for adventure riders--although it was fun while it lasted.
See that farm tool--if not for that we would have never got it off the rim. I had to put on a cheesy cheap Cheng Shen but it was all they had. The gal at the shop said the local boys loved this tire----yeah it'd be fine if you never got over 300 ft. from your pickup riding around in circles all day..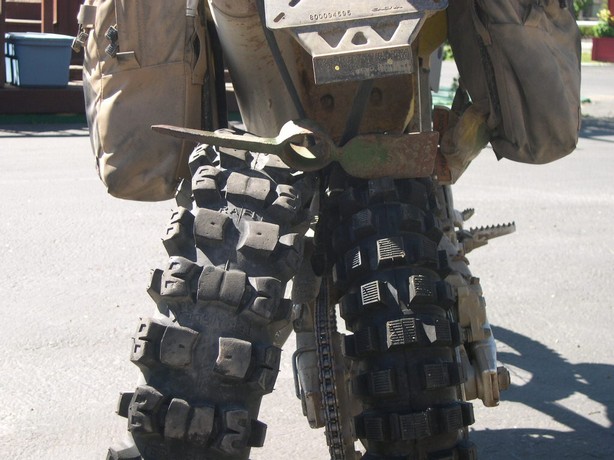 We failed several Colorado passes today-----Hancock and Tomichi which were both on our routes were snowed in. We had to backtrack to Cottonwood pass which is an easy pass and rode 12 miles straight down the switch backs into Taylor Park where we conjured up a cabin for the night. It was off season or we would have never got a cabin as they are spoken for a year or two in advance.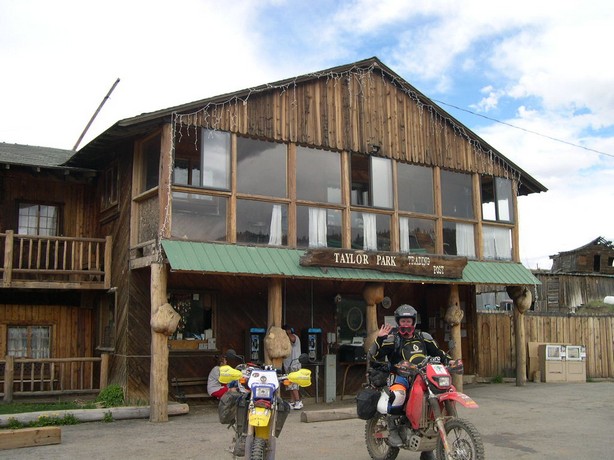 It was way to early to quit riding----we dumped some gear and headed up towards Tincup Pass which we heard was closed from the East--but we headed up the West side just to check it out. On the way we passed beautiful Mirror Lake.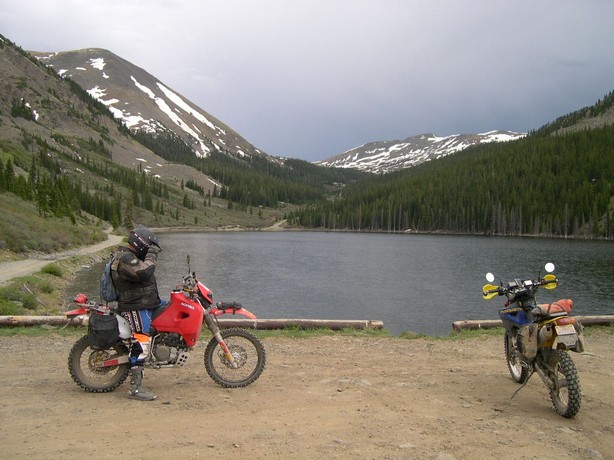 Yep----Tincup is snowed in. We never listen.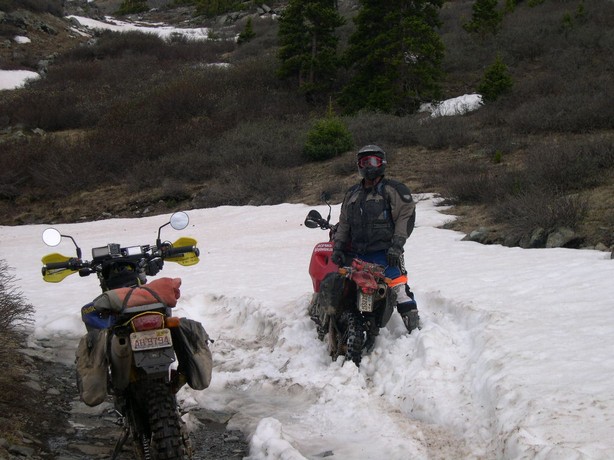 It was a fun ride up there---big bikes need not apply--the rocks were brutal. Here GasPipe is riding thru the creek flowing into Mirror Lake.
I have been here several times but GasPipe hadn't and he was having a ball.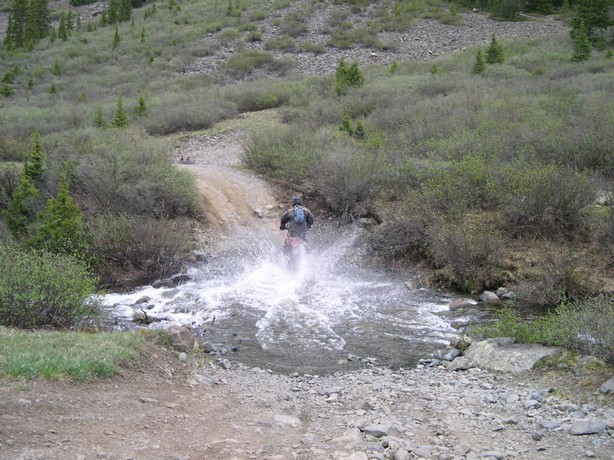 Tincup, Colorado
It wasn't untill the 1850's that prospectors settle in this area searching for gold.
All the old cabins in the town have been restored to their original condition and the town has the look and feel of 1850.
Only 2 residents stary here for the winter. They must be very hearty individuals as thru most of the winter you will be in complete isolation.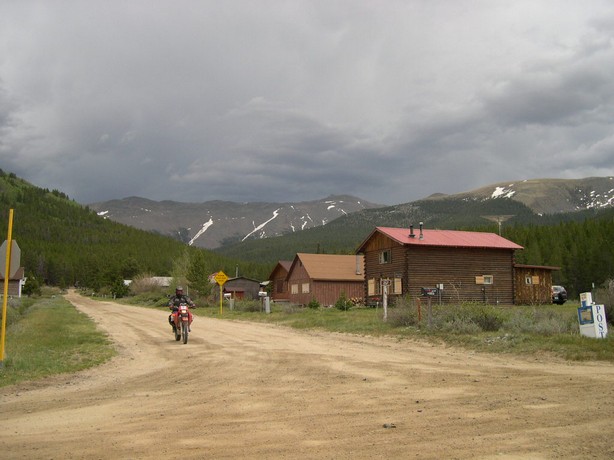 Besides being so darn good looking (when he has his teeth in--all 2 of them) GasPipe is an very good cook and went to the store, returning with a bag of groceries and whipped us up a Mexican delight while I laid on the bed ---"Is it ready yet" ????
"No----don't ask again--and get me a beer"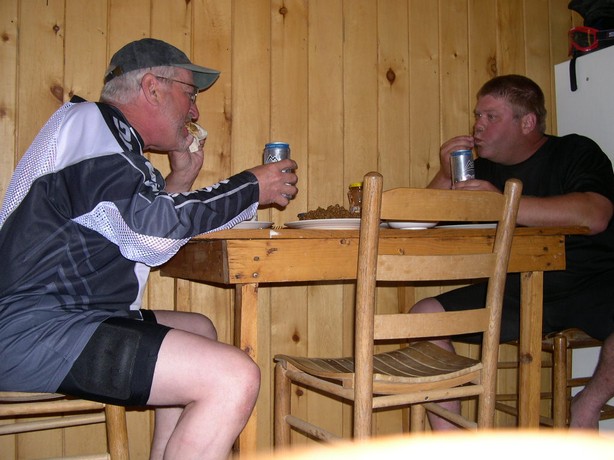 It would be 38°in the morning--but would warm up nicely.
We are way off the trail---forced by impassable snow.
We head South thru Gunnison for breakfast on a very chilly morning and head off further South and pick a really nice route to get back to the trail and ride over LosPinos Pass. Man was that a great ride--we never saw a soul out there.
It was over Slugmullon Pass then which drops us into Lake City for gas.
We are back on route now (as if we cared) and went over Cinnamon Pass which was open for business. Lots of snow up there but no problem for us.
Dropping down into Animas Forks we walk around one of the most well kept old mine sites I have ever seen.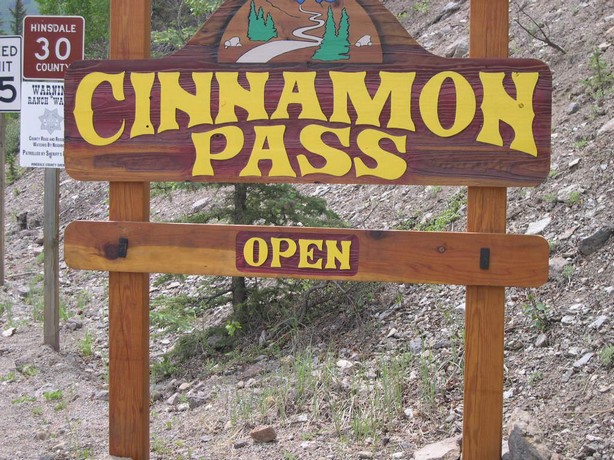 What a beautiful climb up toward California and Hurricane passes.
I was doubting by now that we could get thru.
We actually got over the saddle in this view.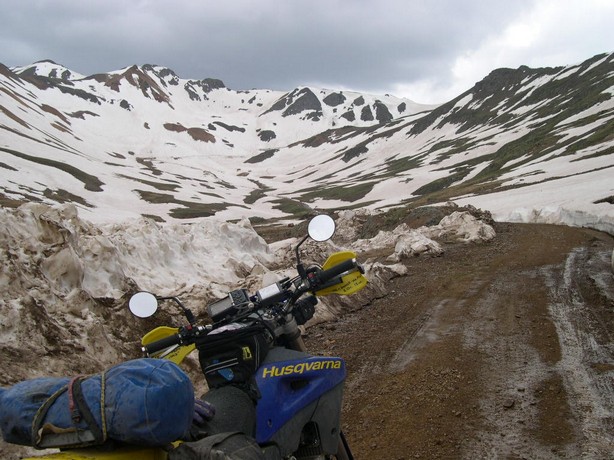 A Jeep came by us and told us there was a piece of equipment working just ahead plowing out the pass.
Snow was 10ft.deep here. He also said that he didn't think he would finish the Western downside of the pass today.
We rode down hill on some snow, slush and ice and I was afraid if we had to turn back we couldn't get enough traction to climb the grade.
We turned back----never seeing the machine clearing the pass.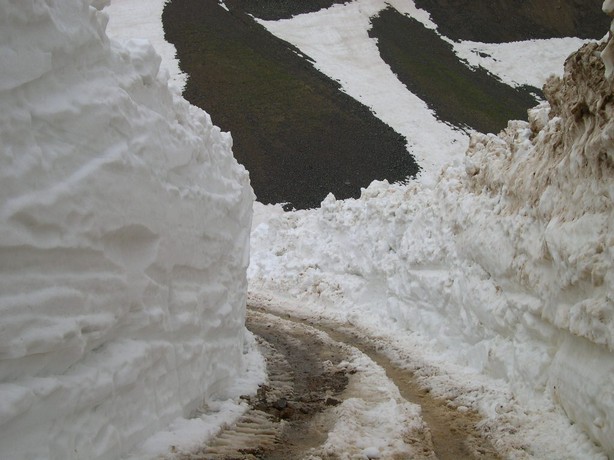 I had some 4-wheelers ask me if Poughkeepsie Gulch road was open
I don't think so.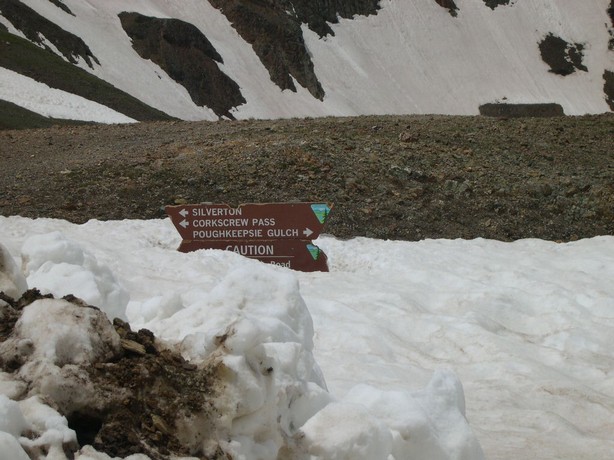 A little re-routing and we were over Ophir Pass and down into the little town of Ophir, Colorado.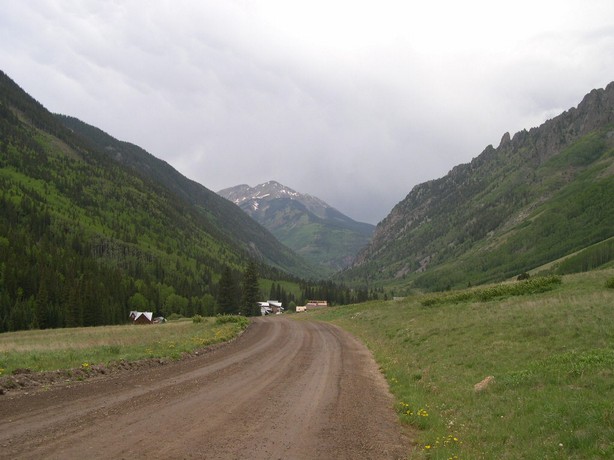 GasPipe saw a bear today--ran across his path---don't remember where---but it looks like a good place for one here.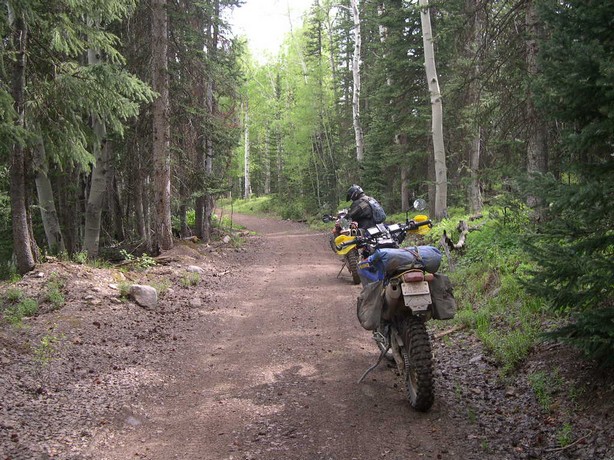 It was onward West around a few obstacles as the Utah border wasn't that far away.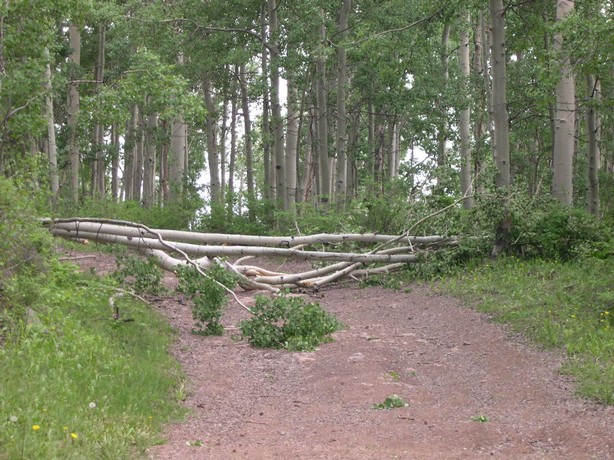 The smoke is a forest fire----off in Utah I think.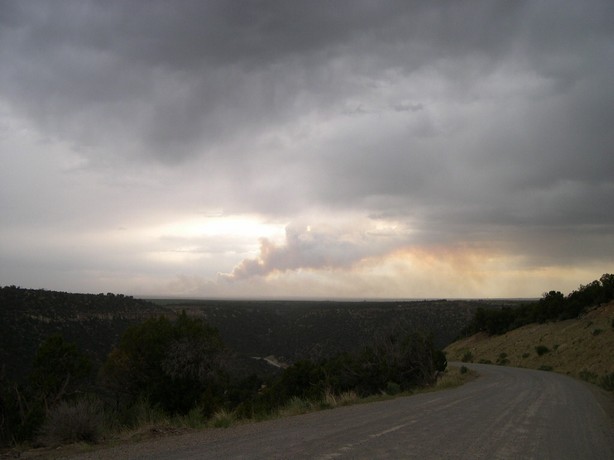 We ended the day in Dove Creek Colorado
293 miles for the day
Back to Homepage