Trans America Trail
Western Sections
2006

Tahlequah
An Indian word meaning--"Two Is Enough"




You can see our proposed route on the map. We will start on the Arkansas Oklahoma border and will ride 3,452 offroad miles to the Oregon Coast to Port Orford. You can obviously see the states we go thru and it also barely clips the corners of New Mexico and California. Me and my riding partner Bruce Crawford (GasPipe) are hitting the trail about the last weekend in May and may be gone as long as a month.
It has been a dream of both of ours to ride the whole trail which starts in Kentucky and ends in Oregon. Me and Bruce have already ridden the Eastern states and will now hope to finish the Western states on this ride.
It's possible we are going to hit impassable snow in not only Colorado but Oregon this time of year----we will either barge on thru or find a way around.
I'm sure we'll take a few side trips---but one that is gong to be really fun is finding Bruce's property in the remote mountains of New Mexico that he bought 20 years ago and hasn't seen since. It will be a 250 mile offroad excursion not that far off the trail.
Note I have made a GPS waypoint "Stop"--so we don't run right off in the ocean !!!!
This is where we will start and is where the ride ended for me in 2004 at the Arkansas Oklahoma border.
6 riders started on that ride--but only 4 made it to here.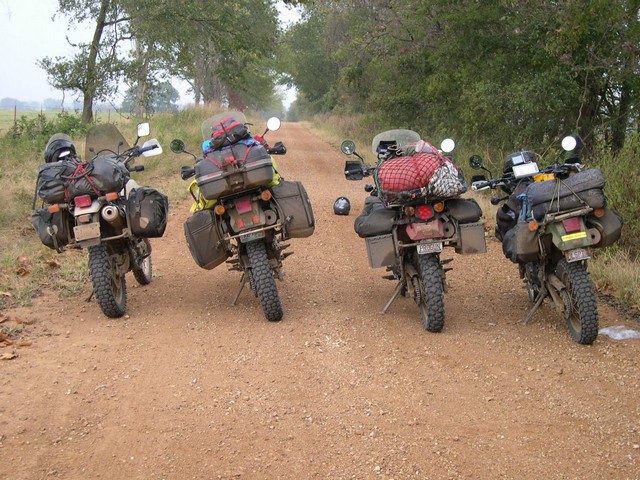 Bruce Crawford--AKA(GasPipe)----AKA(Stovepipe)....(what my wife calls him)
Bruce is to be my riding partner for this ride---he is as an experienced adventure traveler as you will ever find. If he doesn't change his mind he will be riding this tricked out XR650R---nothing is stock. This man claims to not use or need "Anti-Monkey Butt Powder". Bruces last 2 adventures have resulted in broken bones--we are having none of that on this ride.
Hmmmmmm---The TAT in 3-D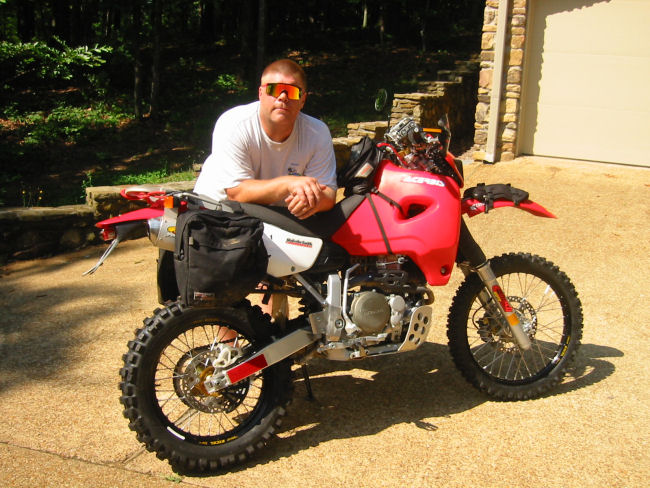 Our rear tires will be toast by the time we hit Moab, Utah. Our plan is to have Fred at Arrowhead motorsports waiting there--tire irons in hand with our tires of choice for a quick tire change and maybe an oil change and filter cleaning. GasPipe owns a tent---I've heard, but I don't expect him to bring it as he will be traveling extremely light.
The Husky is all packed too. This was an exercise in not what to take--but what "not" to take.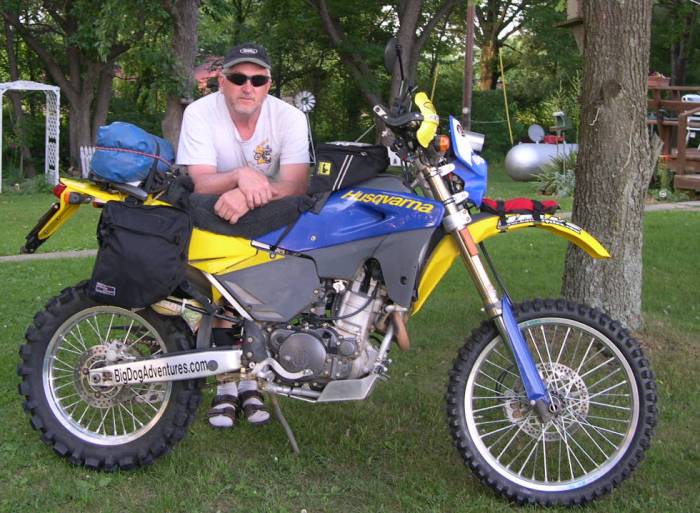 As me and the Pipe are traveling extremely light--bulk and weight are our enemy.
Reducing Sam Correro's wonderful maps to navigate the trail to a mere fraction of the weight and size they were has become a simple operation for me after years of development---I present to you....Patent Pending 9374021-42-56-1347
The 5" Buffalo--- "Map Condenser"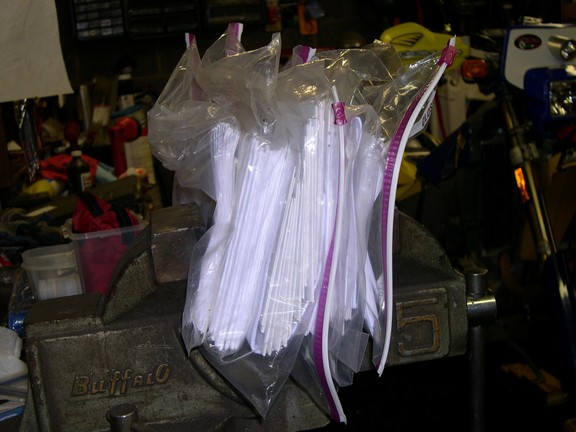 It was years in development---I made it from simple items purchased at the local "Dobbs Bargain Town" and "Big Lots"---I tried using 110volts, but had to upgrade to 220--no internet connection required.
The final results.....sorry for the blurry thumbnail image.
It weighs a fraction of the original and is 1,500th of it's previous size.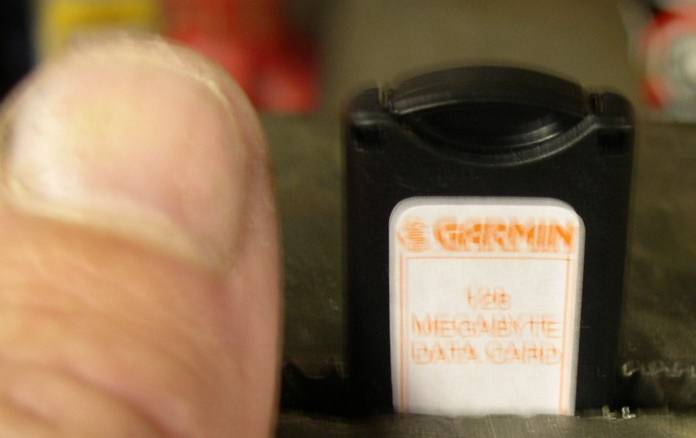 Navigation for this ride was Oh----so.......simple.
One quick glance down at my front fender kept us on track.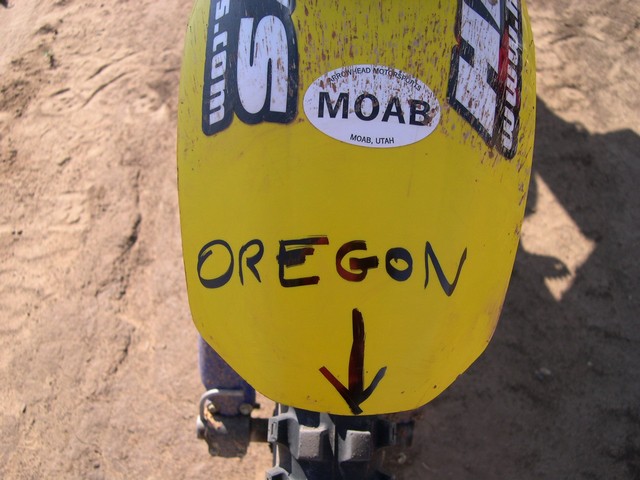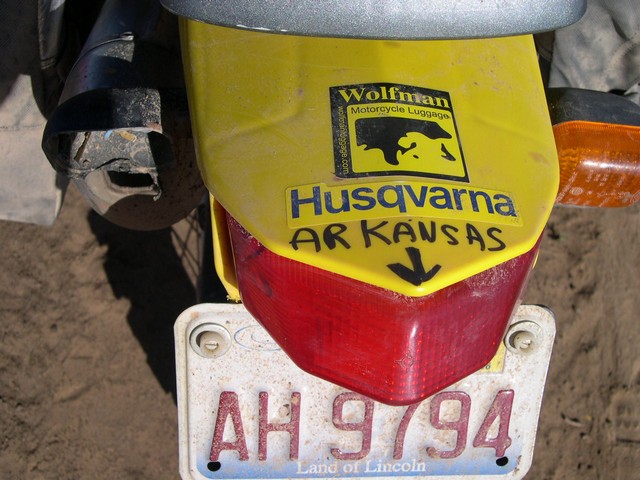 We would cross at least 400 cattle guards on this ride.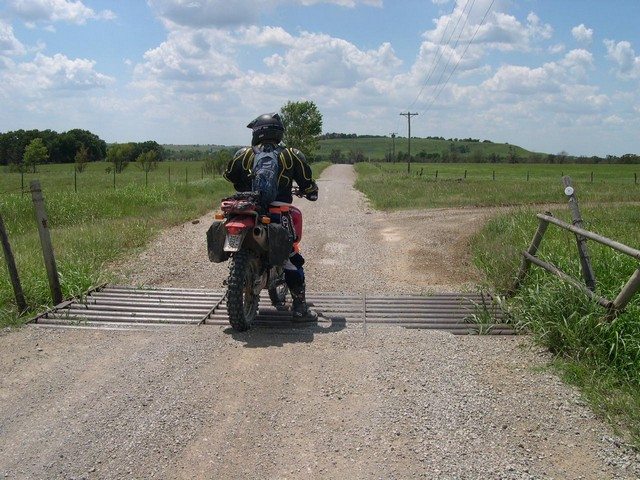 I truly enjoyed Okhahoma----they have been having some enormous rains and it made for some great greenery.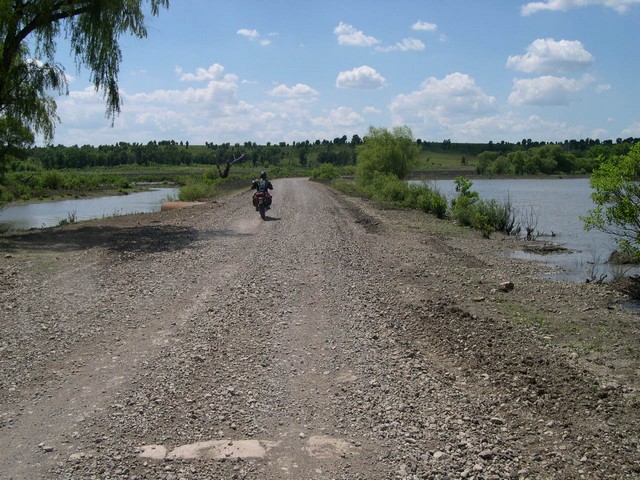 Quite a few neat old bridges out there.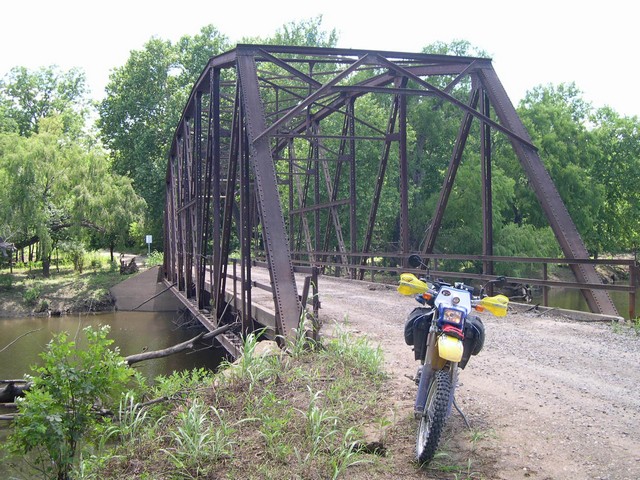 Was the Missouri Green Slime in there--we took no chances.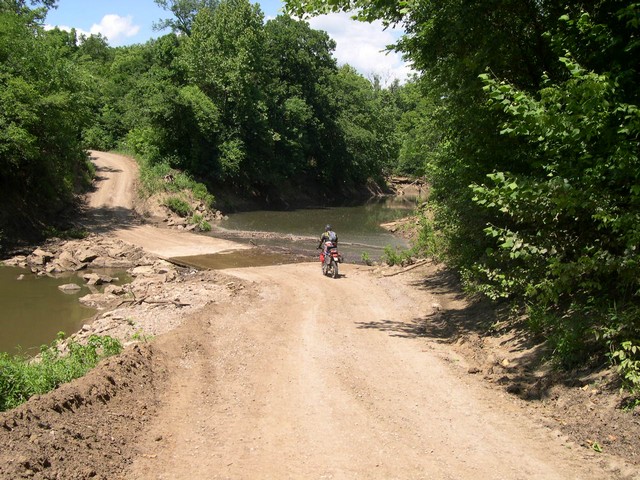 We got very good at herding cows---this ornery cow took a little extra persuasion.
However,,,,,we were too find we weren't good at herding wild horses, bears, sheep.....nor antelope.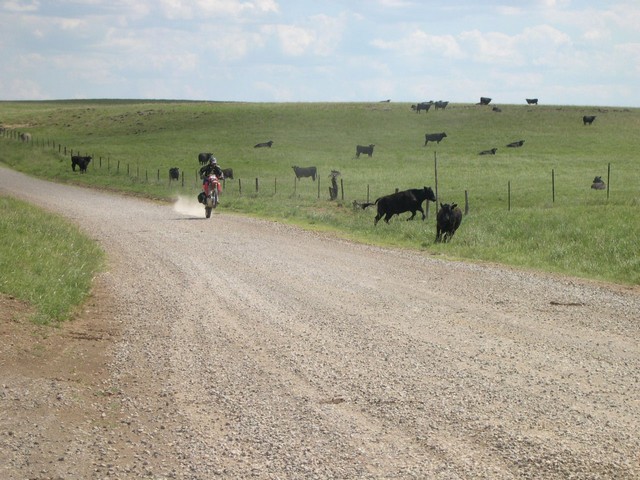 We could ride very fast on some of these old roads thru cattle country. It was great with very good traction.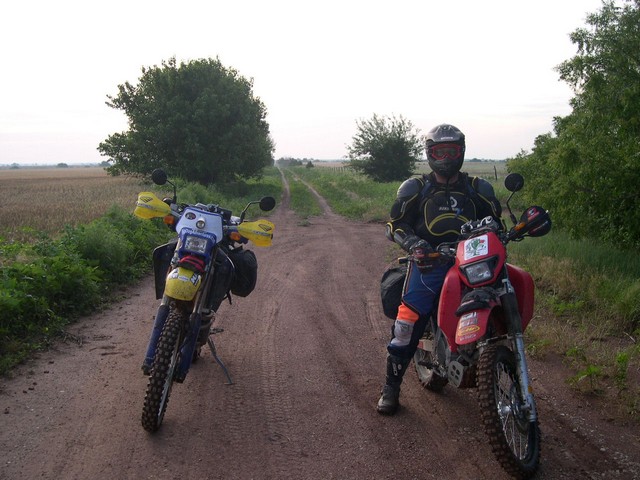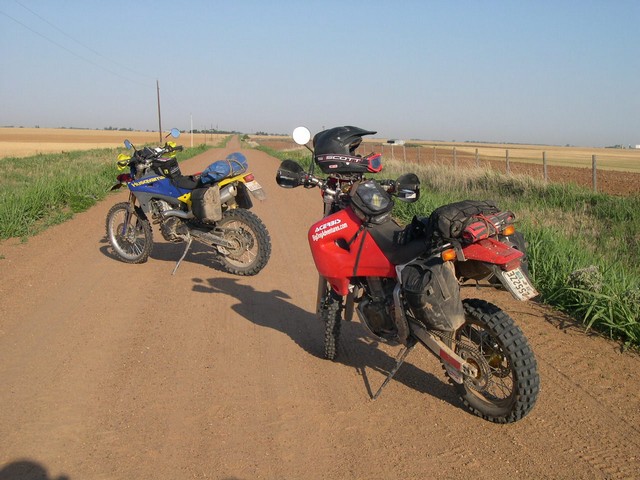 Some of the old roads were very sandy----and our choice of bikes for this ride started to pay off.
We didn't know how good our choice of bikes would be.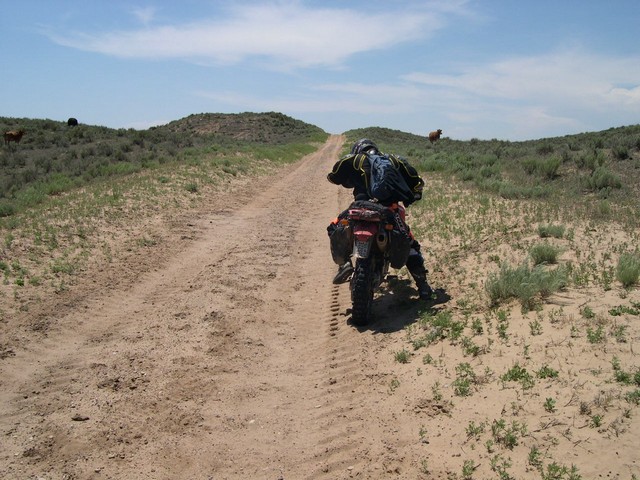 I wasn't sure my 55 year old butt could hold up with the stock 2x4 seat on my Husky.
The "Oklahoma Turd Seat"
Patent pending.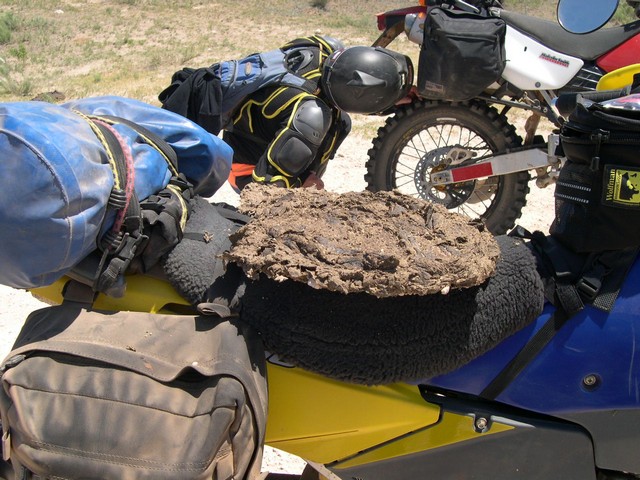 Boise, Oklahoma--GasPipe found some Meheeeecan Tecate beer of course.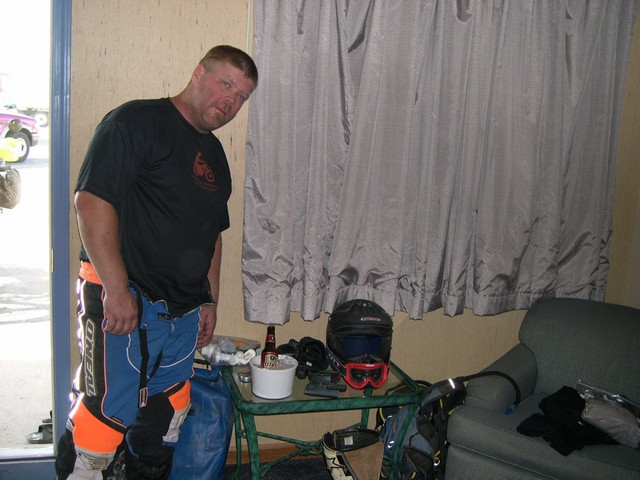 Met these nice cowboys on the trail----errrrrr......Motel
Rodeo cowboys they were, competing in the local rodeo----I so hoped I didn't have to get out my almost empty can of "Whip--Ass" to keep these boys in line.
The big guy had a bloody lip where a cow stepped on him.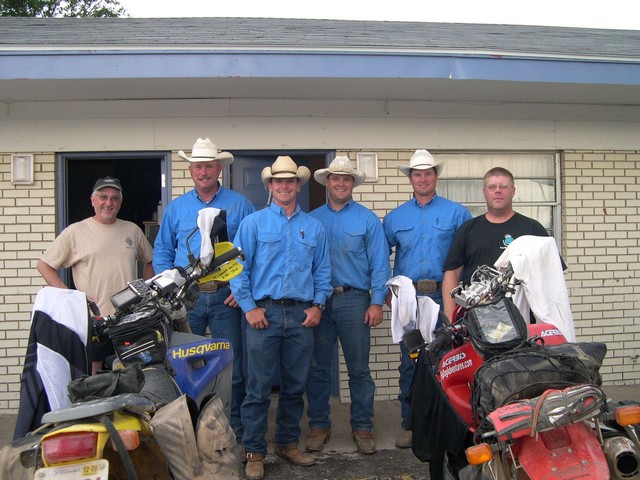 The motels were full because of the rodeo--------we got the last room in town with one bed.
They would be no "Spooning" on this ride. We flipped a coin and GasPipe lost....so you see here....
Camp GasPipe---tarp and all !!!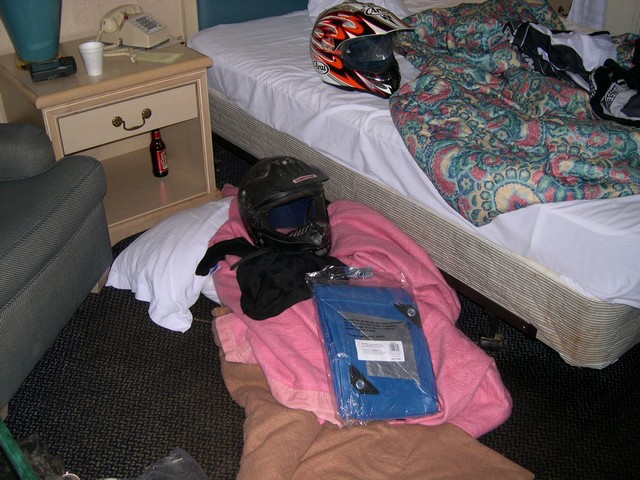 I was leading and running 60mph down a dirt and sandy narrow road across Oklahoma when I spied a golf cart up ahead.
I tried to run with him---he caught sight of me and put the pedal to the medal---his battery finally ran dead and I caught him.
Said he was an Adventure rider. It was a very cool crisp morning and the puppy was shivering. This guy was a hoot and was enjoying life to the fullest. He told us some really neat and interesting stuff about the area and where some dinosaur tracks were. The people of Oklahoma were so nice and friendly--never met such friendly people in my life.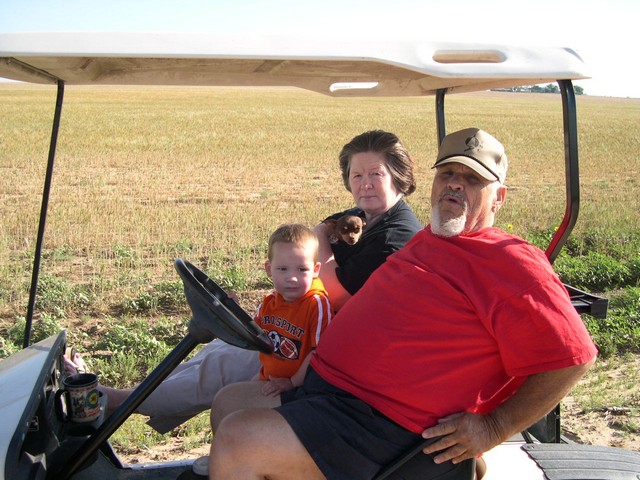 Camp GasPipe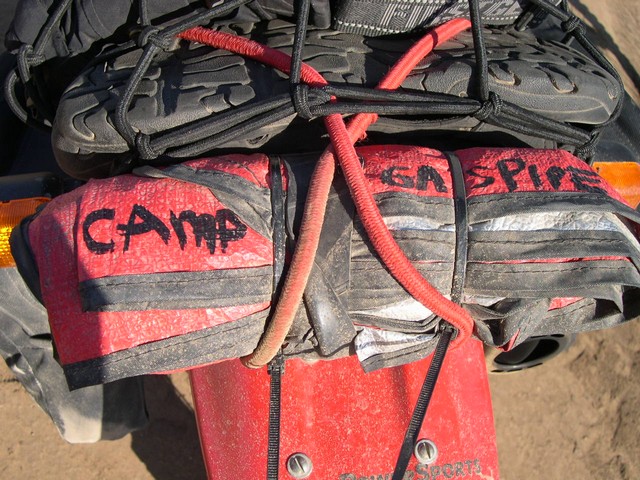 Dumb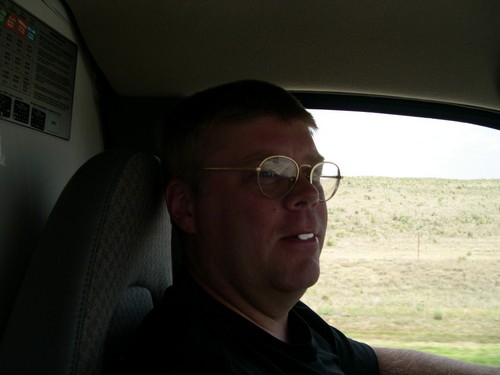 Dumber---would you ride with these 2 guys ?????????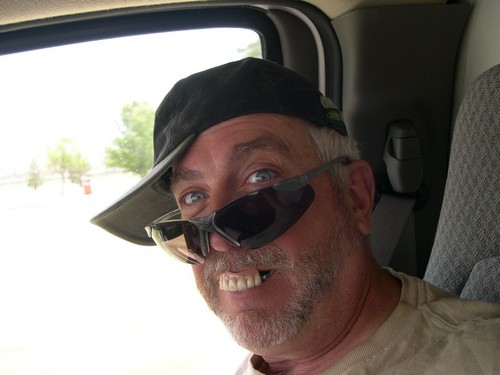 Back To Homepage