Slap Rally in Northwest Arkansas Mountains
Kiamichi Mountains in Eastern Oklahoma
May 2014
Years ago I had been to the very first SLAP (Squeal Like A Pig) rally----it was at the Dawt grist mill in Southwest Missouri.
They've had the rally ever since----but I hadn't been to any of them.
I had several things in mind---enjoying the rally---meeting people that I knew pretty well---but had never met--you know
how the internet is !!!
This ADV banner travels from rally to rally and gets many signatures on the back.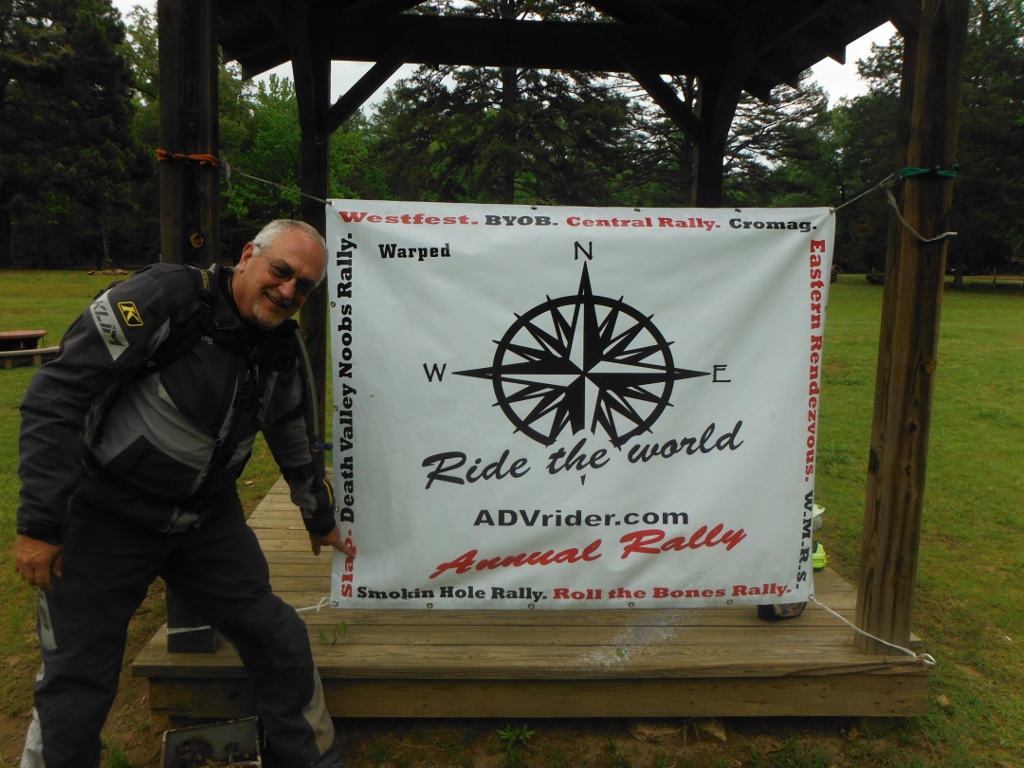 My main partners in crime this weekend would be these guys.
TRZ Charlie (left) and HIgh Five (right)
Charlie (I don't know who) and Scott Willaims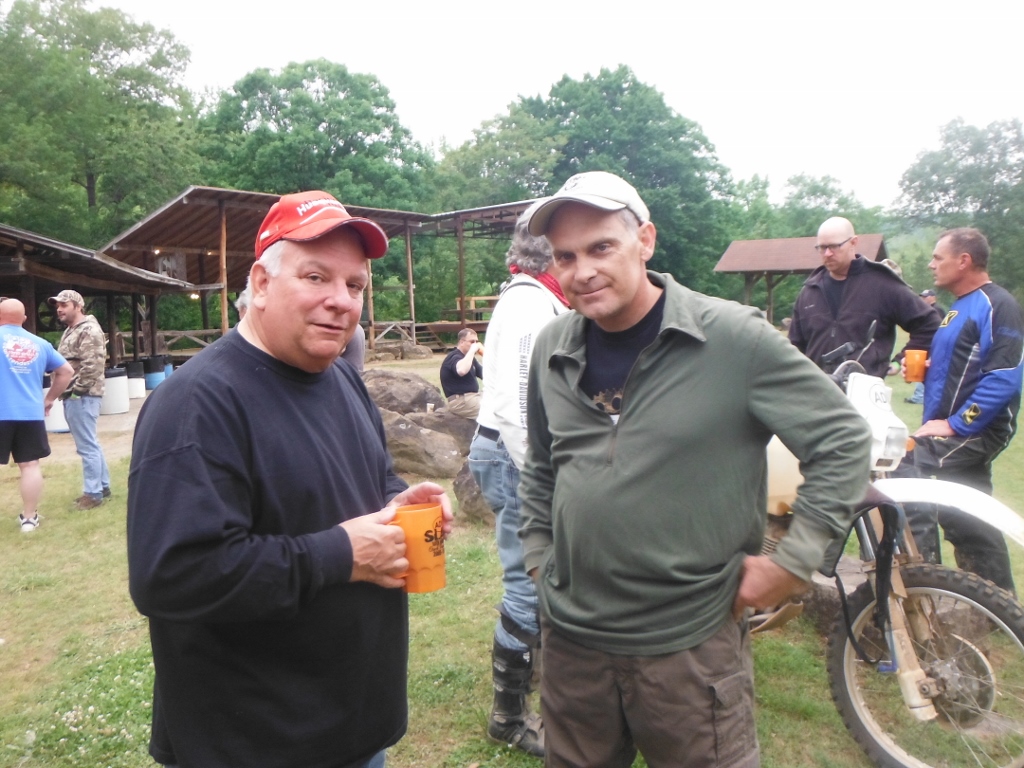 Camp "Run-A-Muck-A" was all setup when I got there.
I knew this was going to be a good time.
Obey the signs tho---or the "camground Nazi" as she was called would be on you like stink on shit.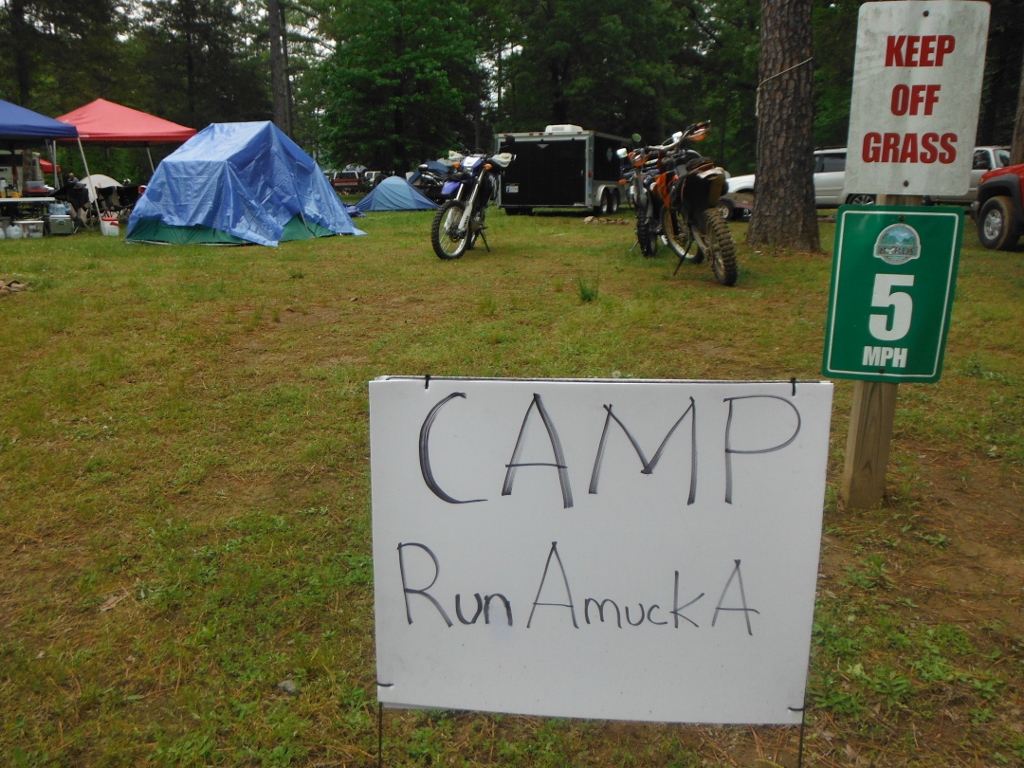 All the Arkansas guys welcomed me to their campsite and really took care of me.
They cooked several meals and I was honored to be invited.
We all chipped in for food costs.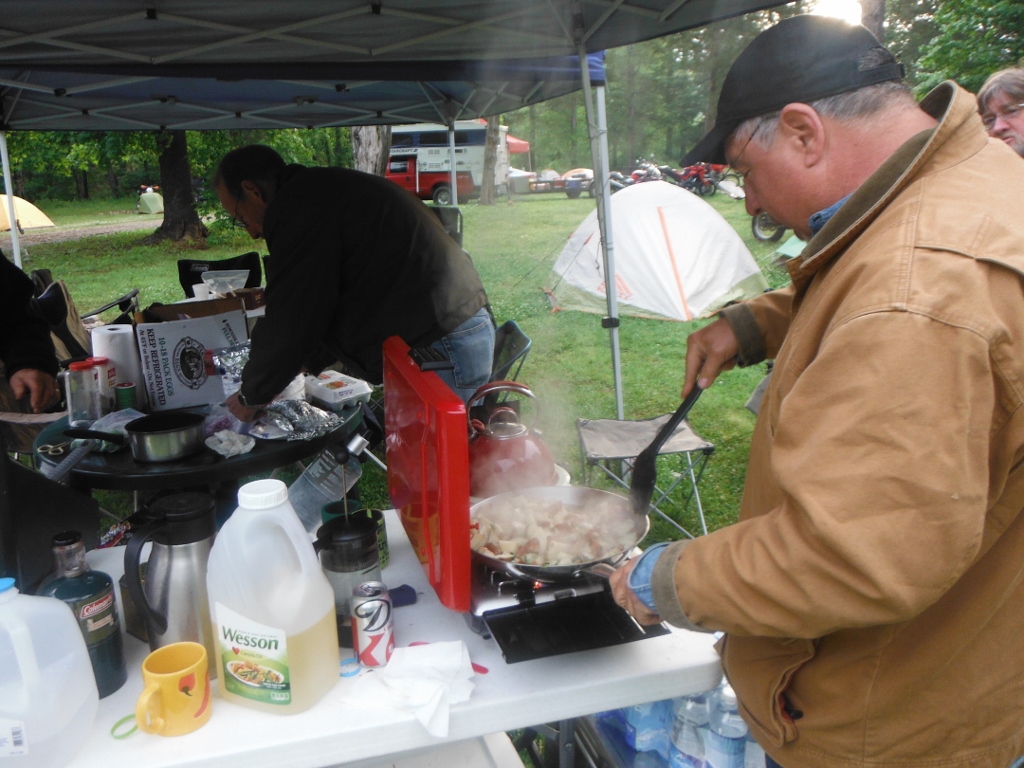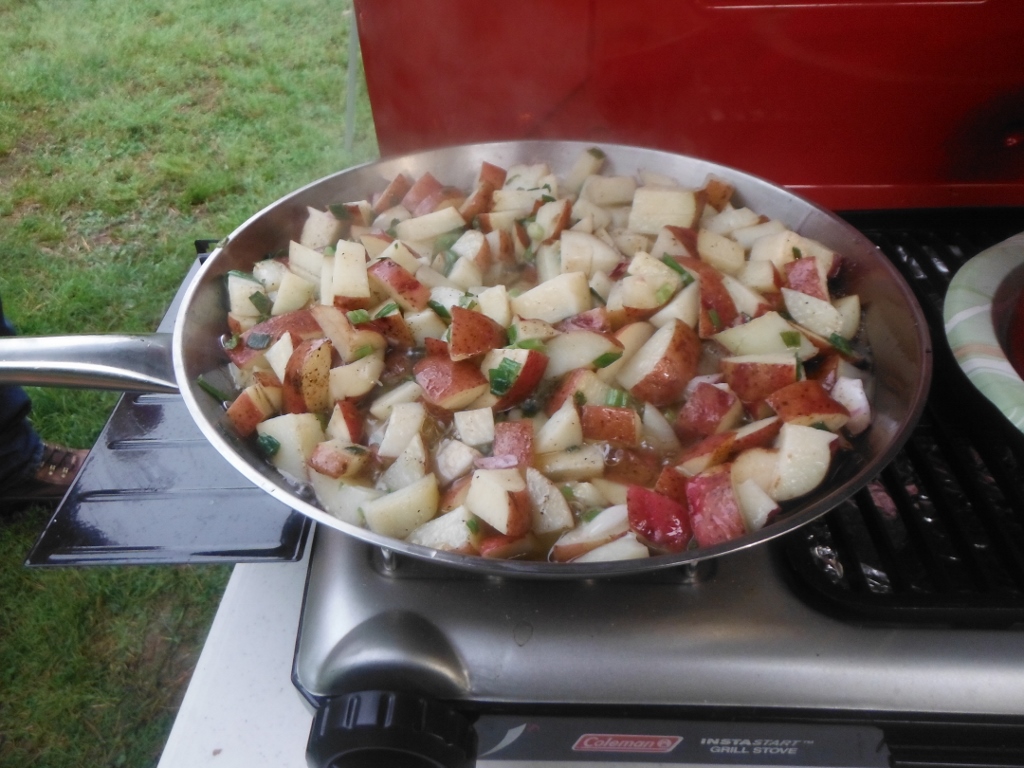 One of the guys has hauled in a whole bunch of firewood---when the weekend was over we even had some left.
It rained all night on us one night---but we still went riding everyday. I got there on Thursday afternoon and didn't leave till Sunday morning.
One night "Krabill" had brought a really nice acoustic guitar and me and him switched off playing for about 3 hours.
It was a hoot----but neither me or Krabil could sing. But as the night went on we had a few volunteers.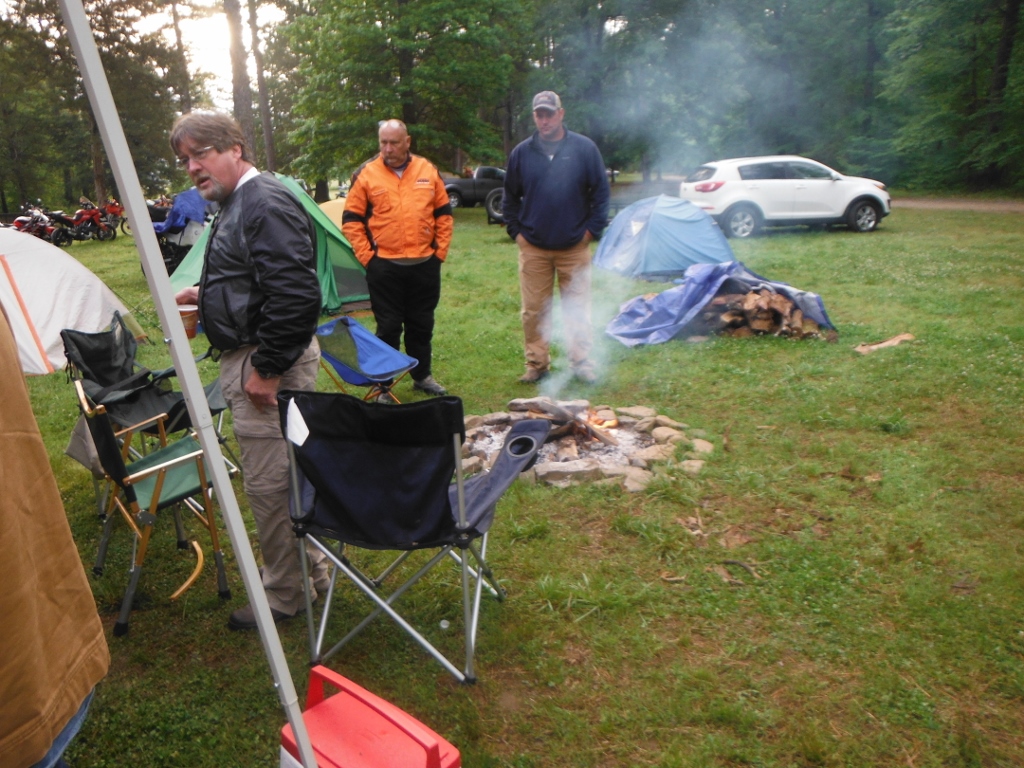 Northwest Arkansas is Charlies playground and he knows every inch of it.
He took us for a ride and we found all kinds of neat things.
Here we are at the "spoke plant"---where way back in the civil war days there was a plant here that made spokes for
the wagons---for the war. There were over 2,000 people living here and Charlie is pointing to a hidden 2 story schoolhouse
in the woods that is still standing and has the original chalkboard and desks in it. The bridge to it was gone or I'd have
went in it---but the creek was raging.
There was also a cog railway to haul the spokes up the mountain.
No one live here now and only 2 buildings remain.
If you didn't have a gps to show you exactly where this is-------you'd ride right on by it.
Which is exactly what I did about 3 years ago when I rode thru here by myself riding the
"Trans Arkansas Trail"
Which Charlie laid out.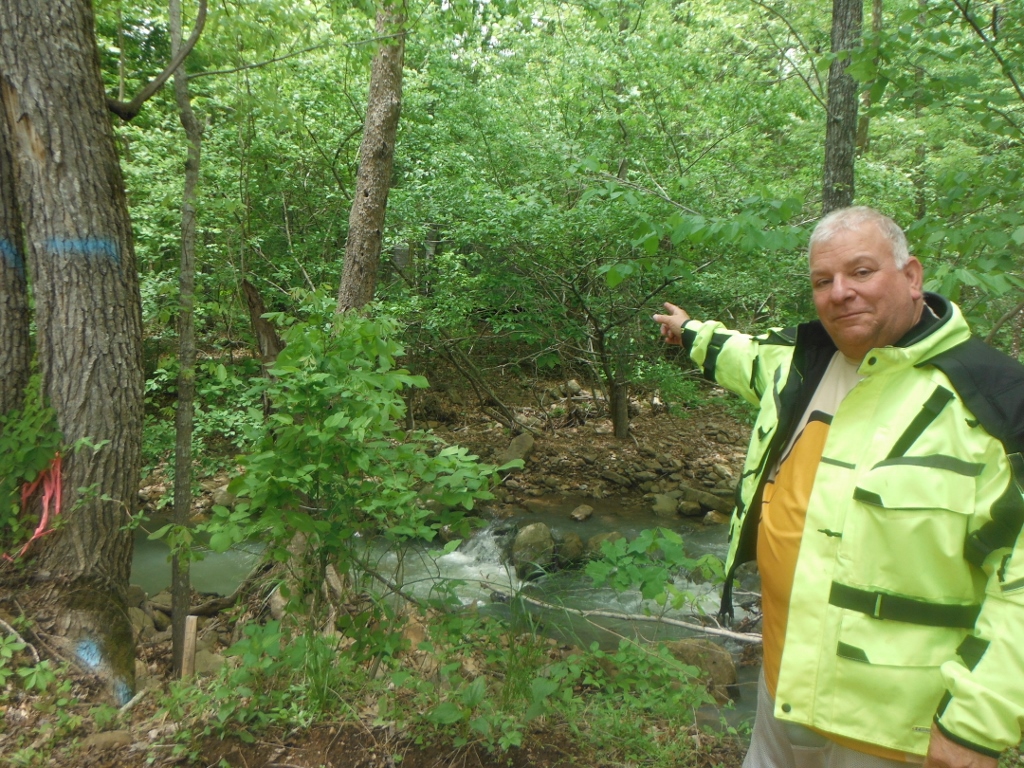 We rode stuff like this all day---after the big rain there was no dust.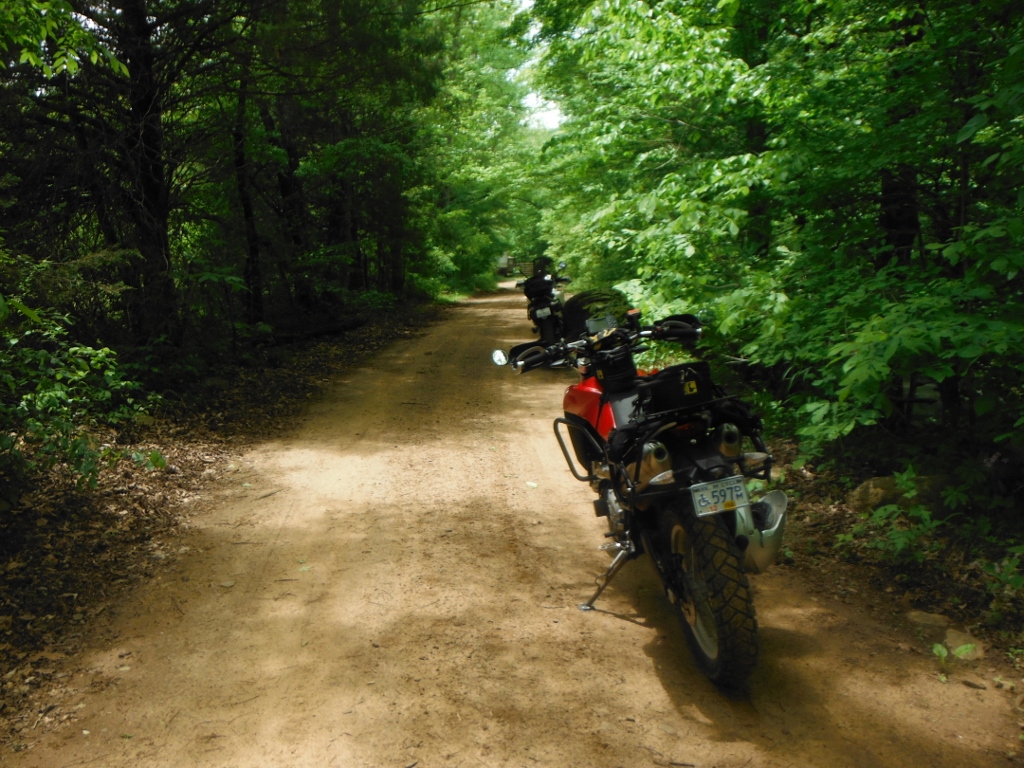 All the rivers were way up.
Fact is---before the rally it was rumored the Mulberry river might come out of it's banks and we might have to evacuate the campground.
The rally was at Byrds Adventure campground by the way---which is about 12 miles straight West of Oark, Arkansas---a stop
off on the Trans America Trail which I've been to many times.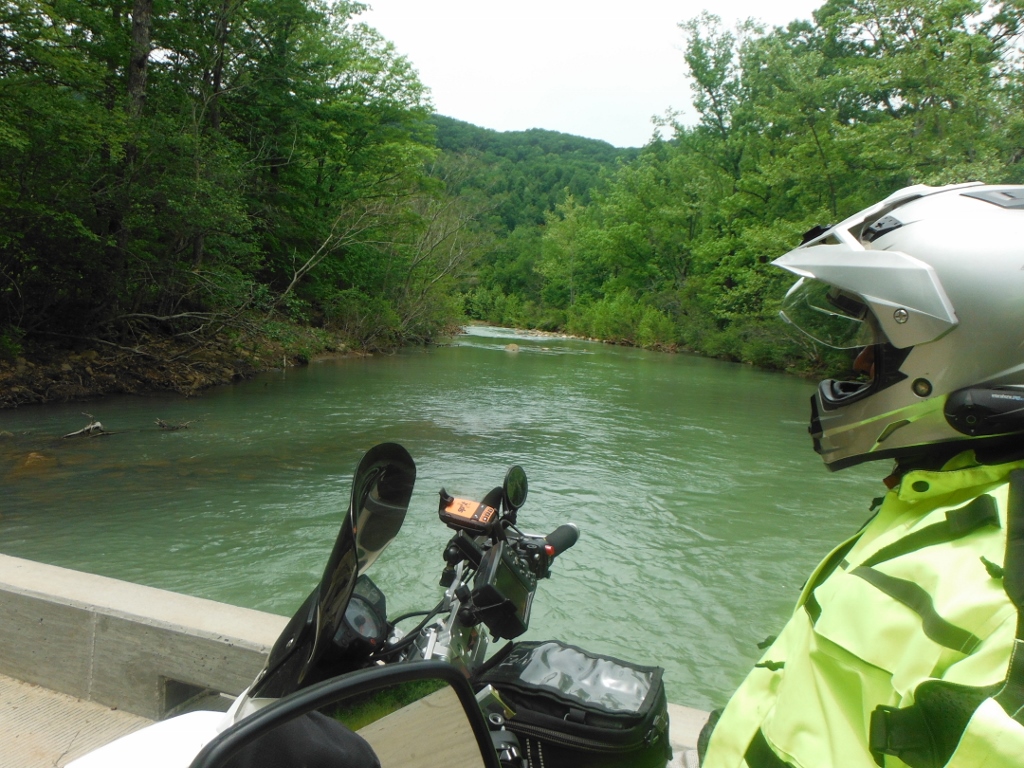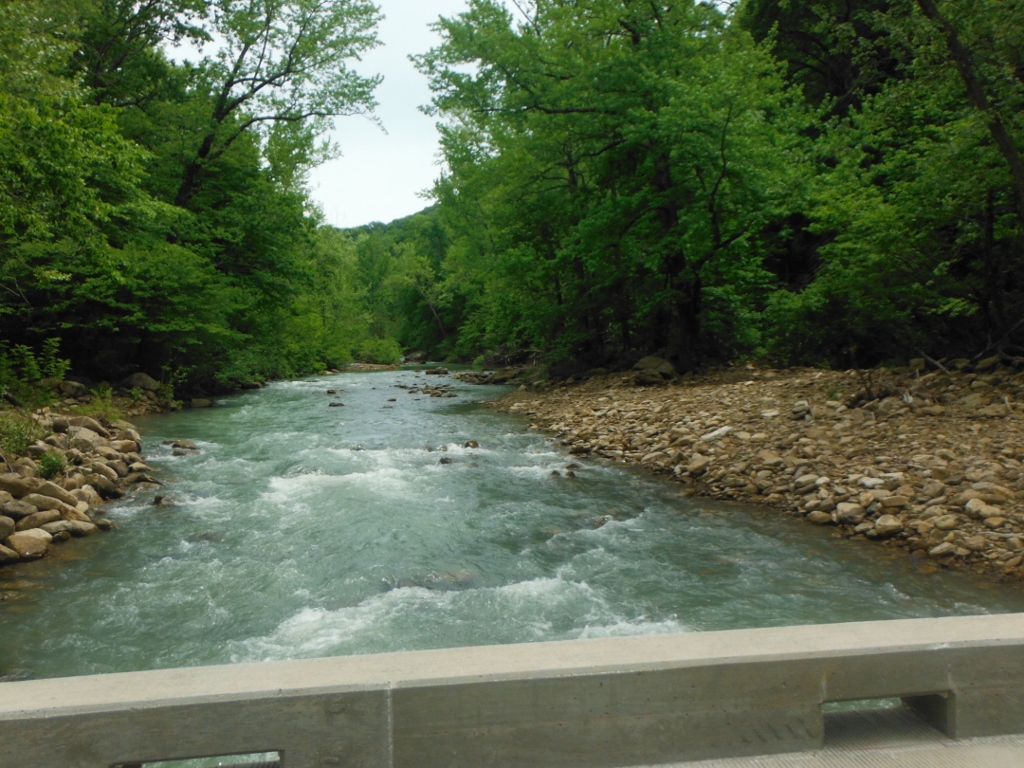 I signed the ADV banner.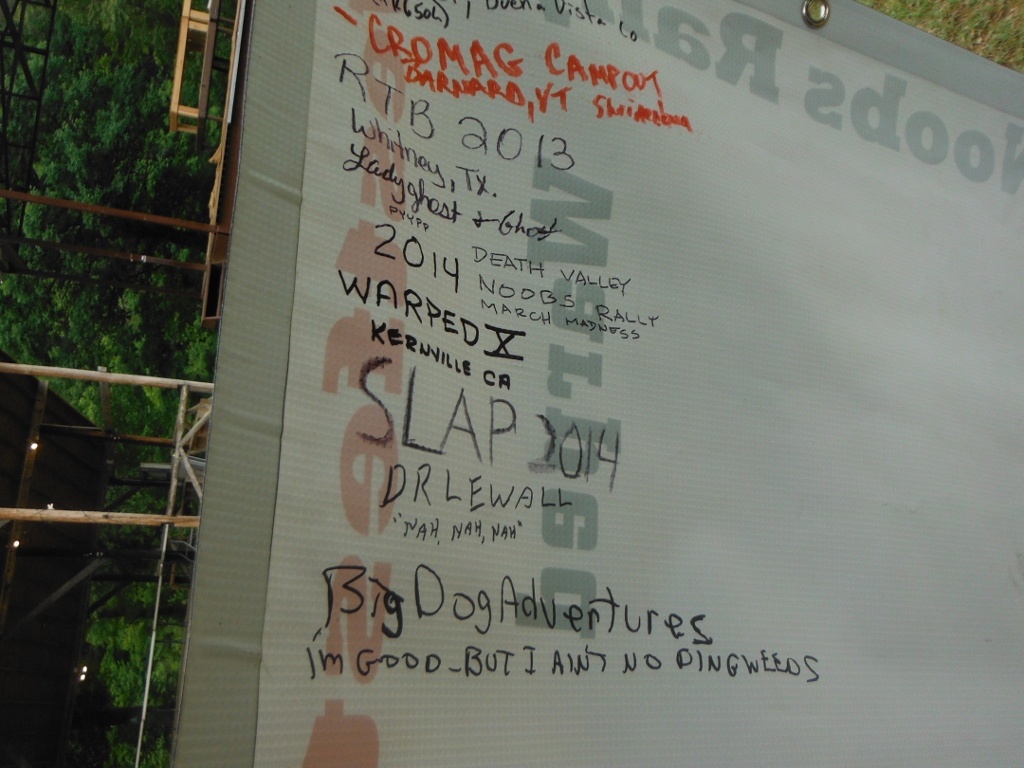 This is "Dr. Lewall"
The human GPS they tell me.
He's helped me out in the past with gps track logs.
He looks like a wild and crazy guy----------cause he is--that's why !!!!!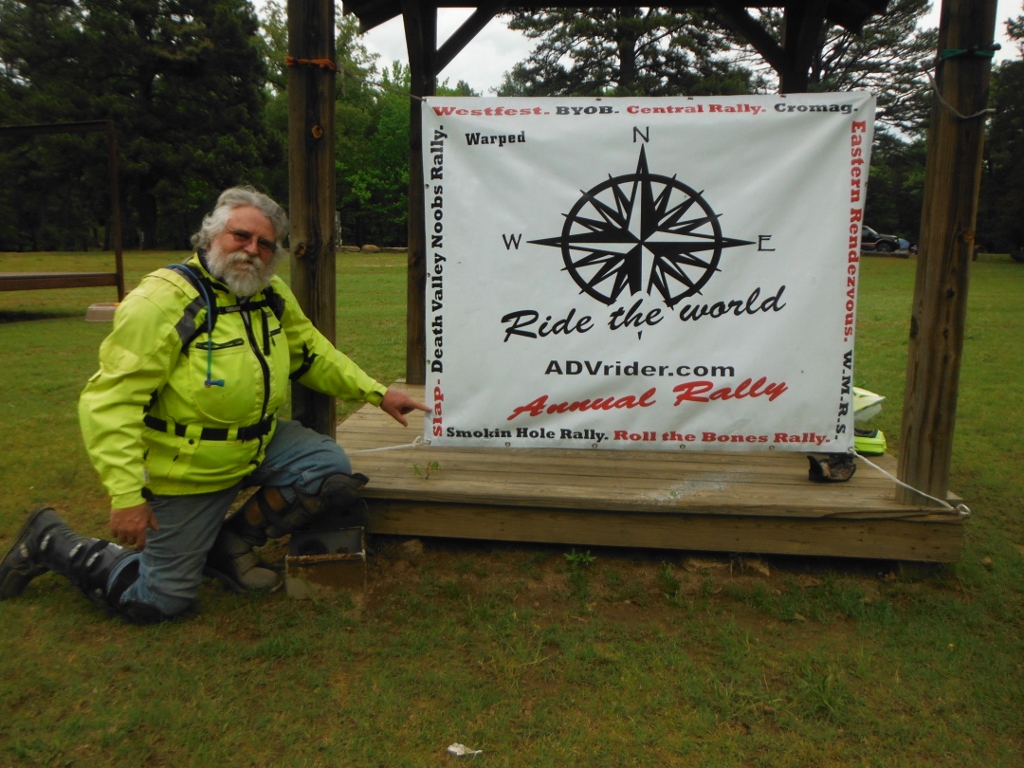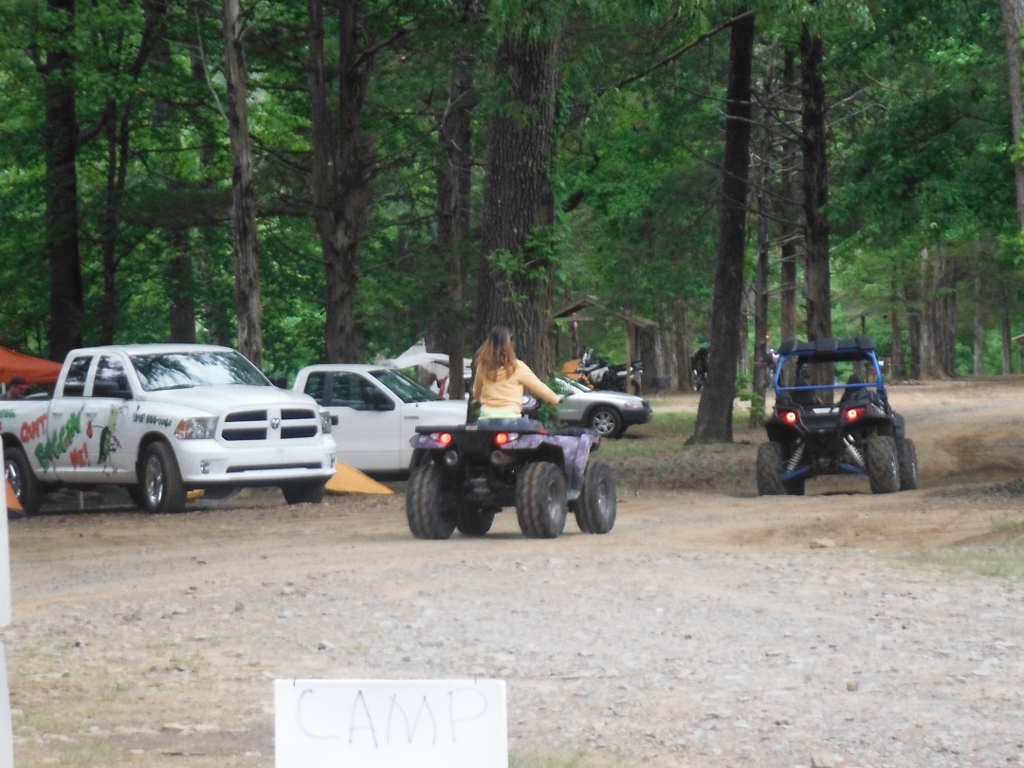 Most everybody at our camp were riding Husqvarna 650 TR Terra's.
Probably the largest gathering of them ever.
And since they quit making them---maybe the last time you see so many in one place.
Mine's the ugly one.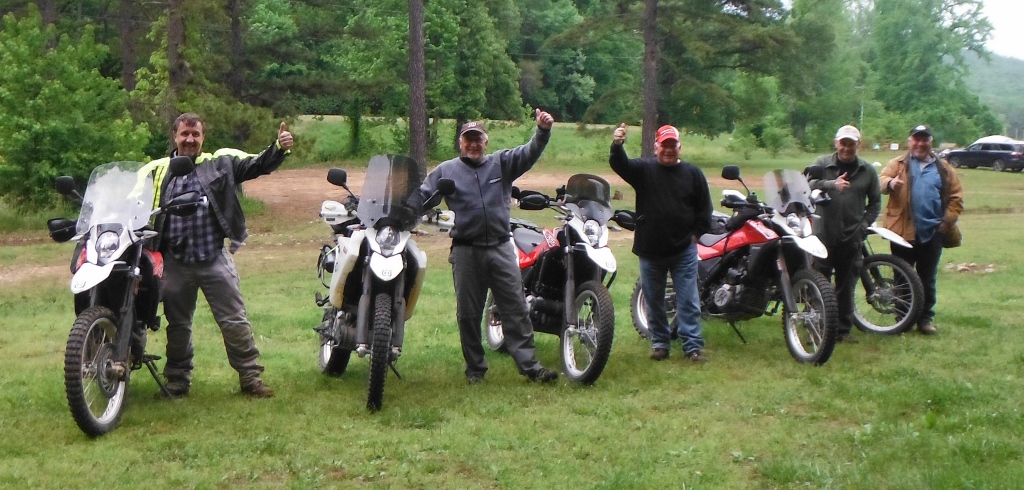 I watched this guy all weekend-----and ate his cookin'.
You couldn't pry that smile off his face with a pitchfork.
Good people I was camping with.
HIgh Five and his highly modified Terra.
Charlies's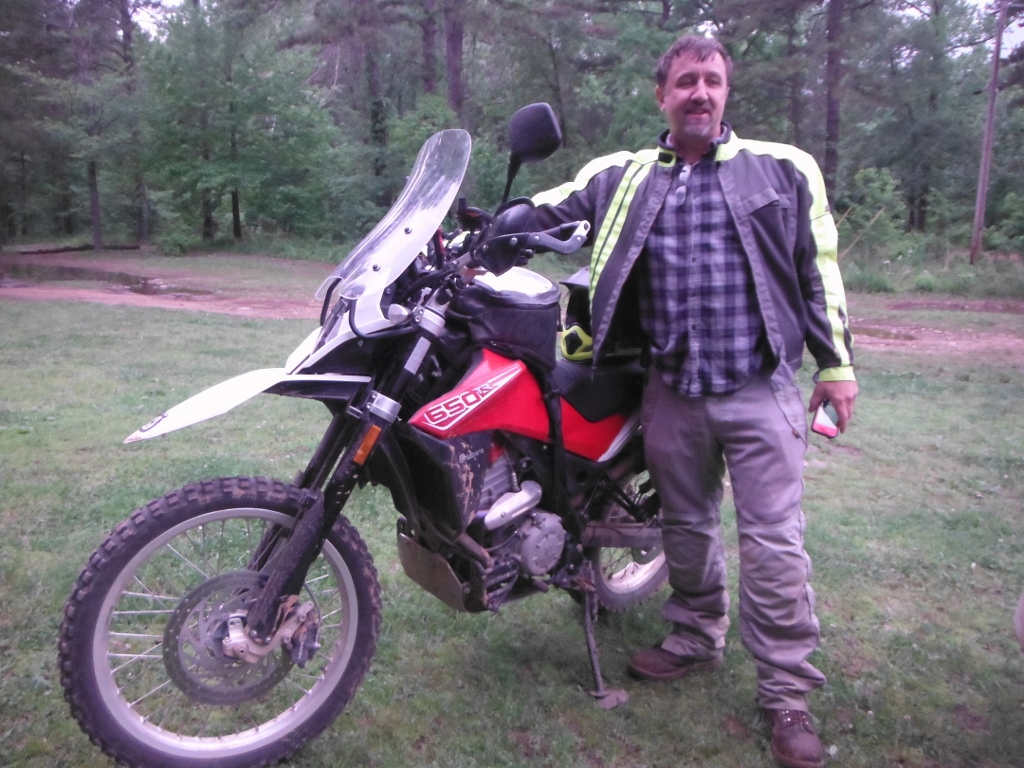 And yours truly.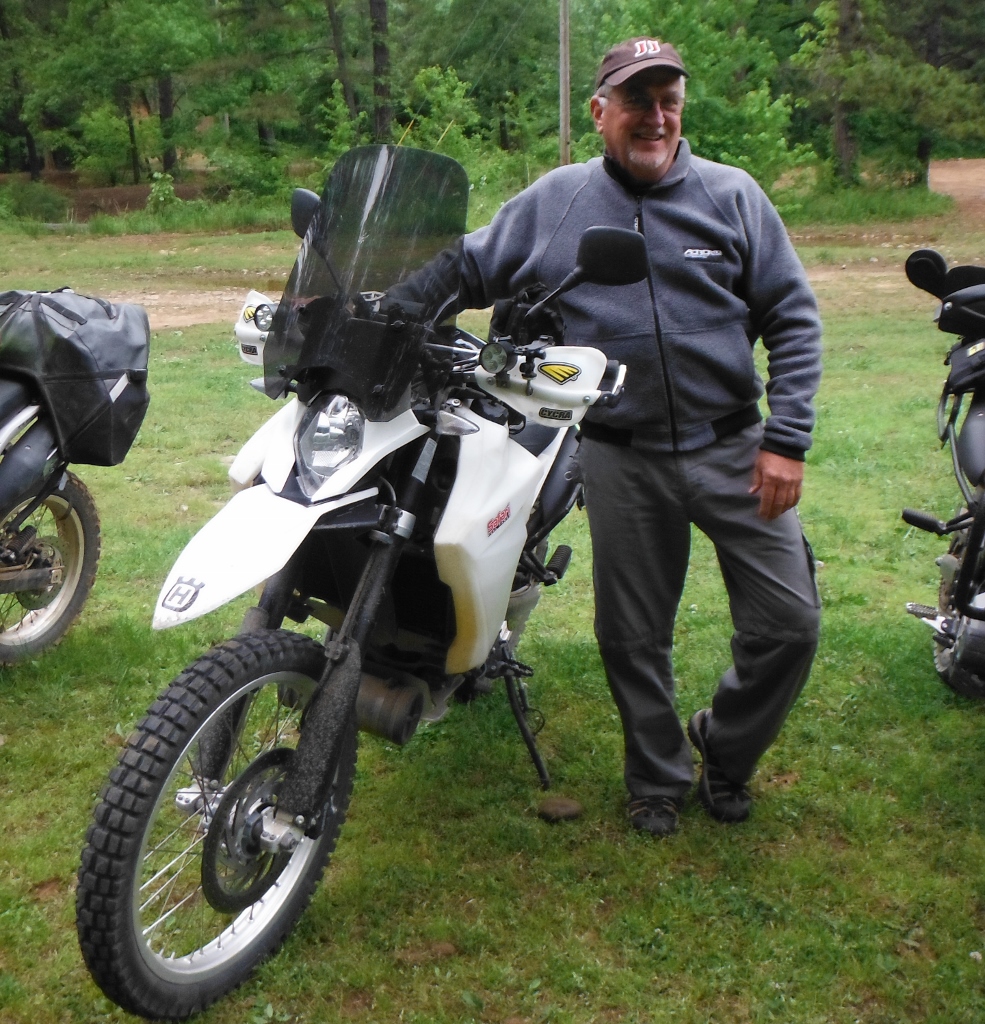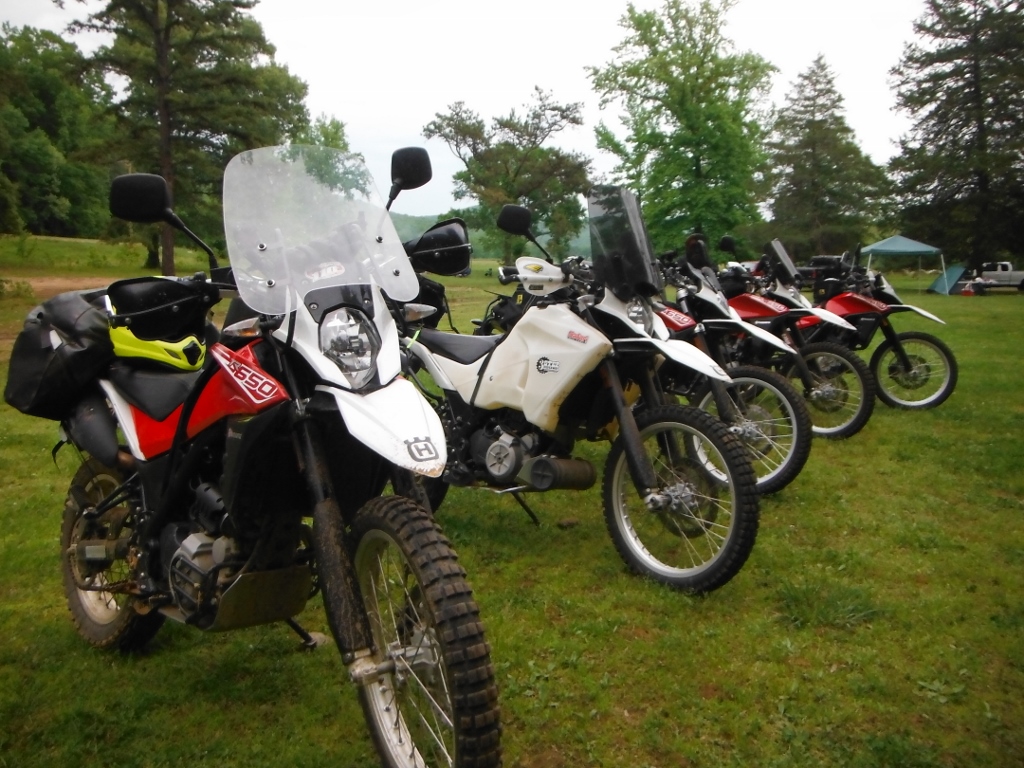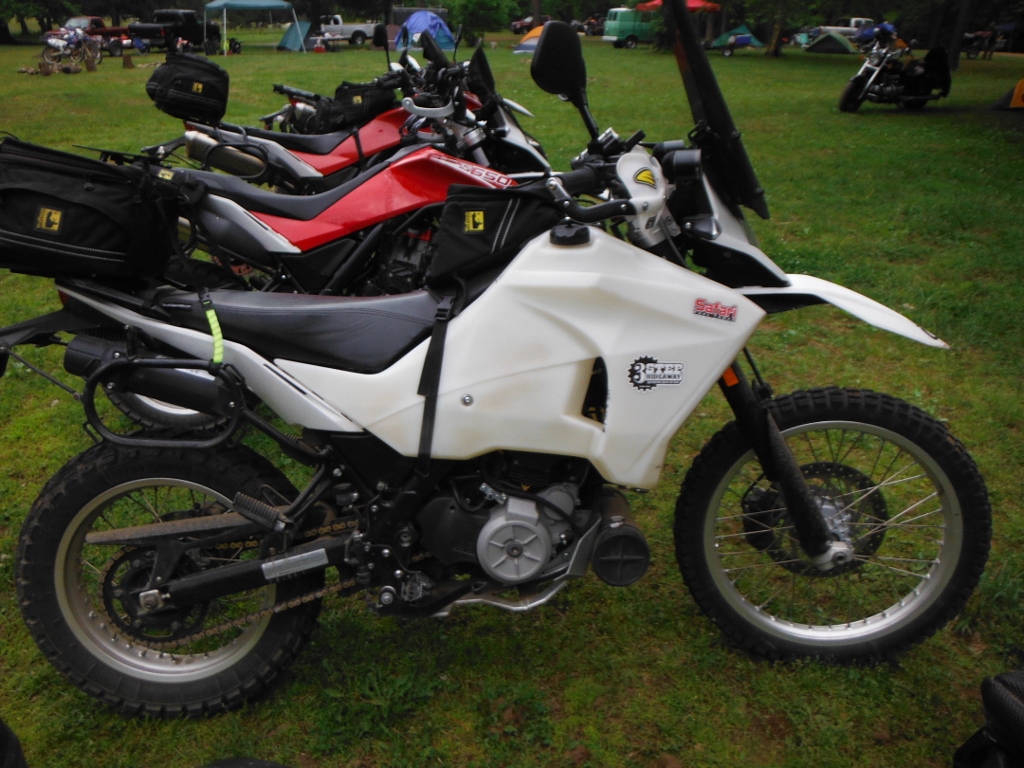 More riding Saturday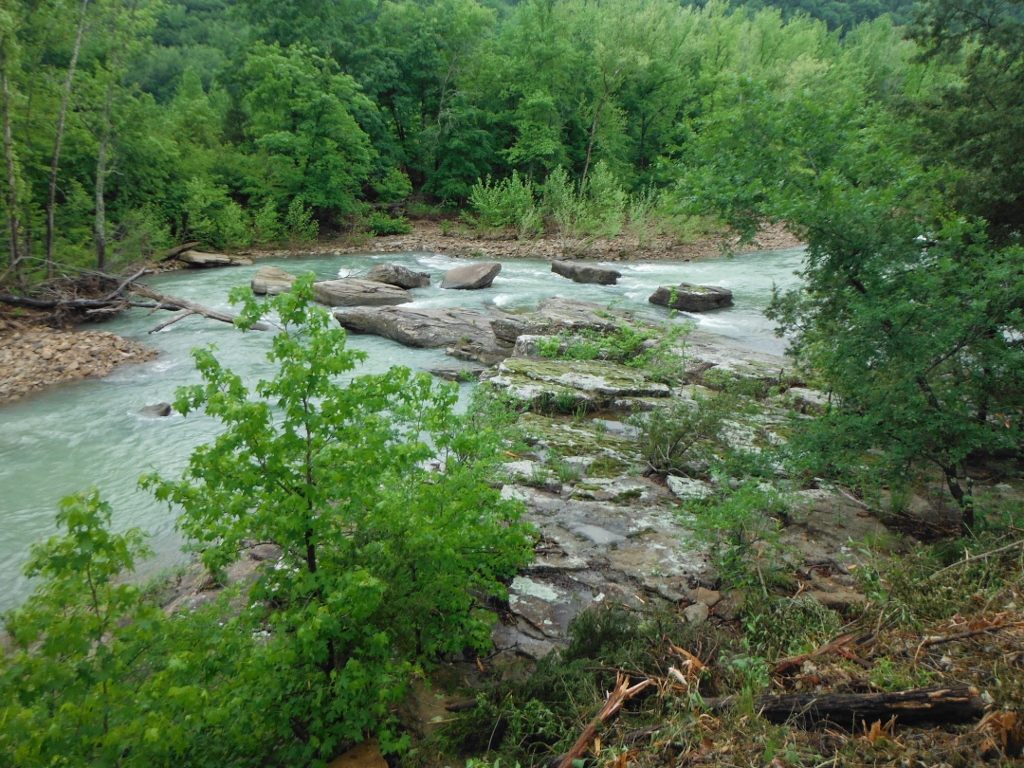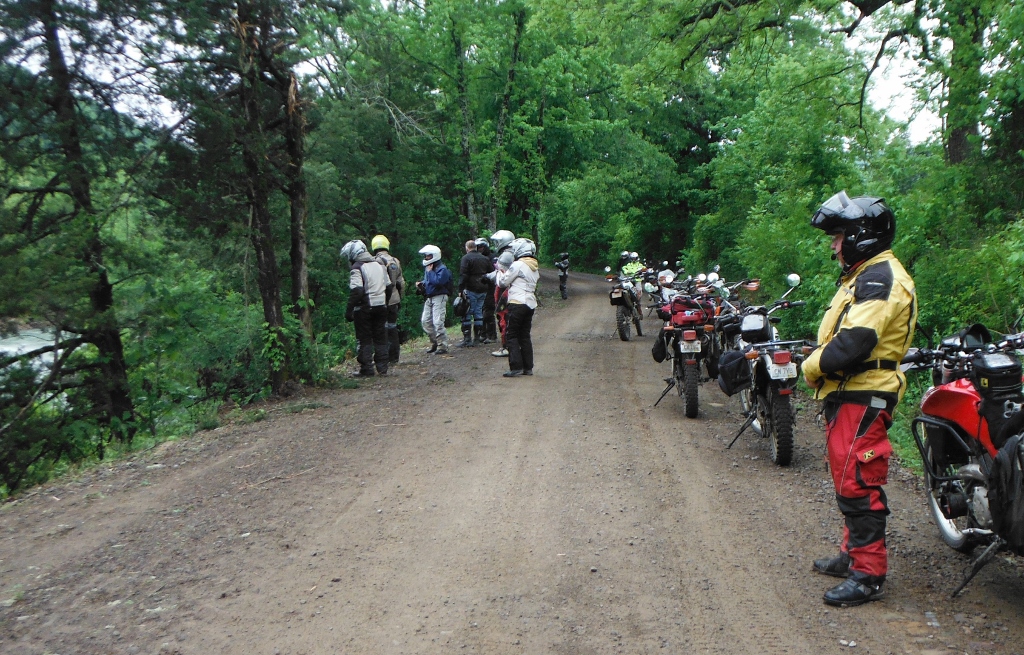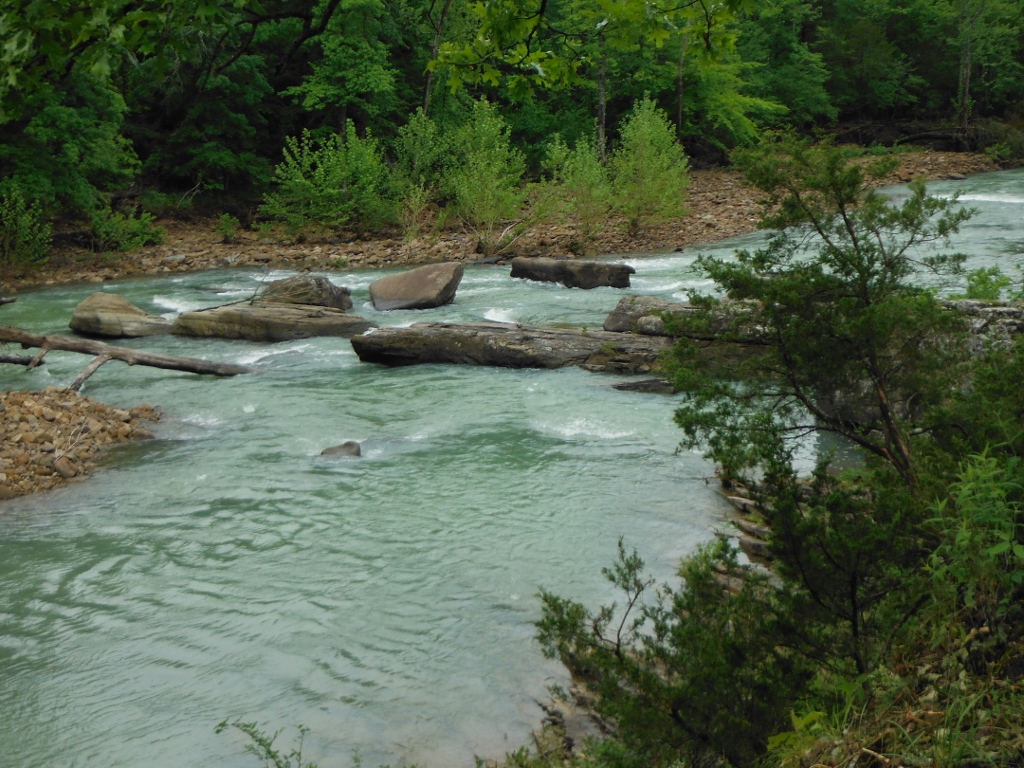 My bike seemed to be handling funny---and I thought it was my rear tire.
When I finally stopped ---------it was my front. It was a tiny thorn.
I put in a new tube---but patched the old one for a spare.
I put on all my new tires by hand---and of course fix all my flats.
Why you ask ??? So when I have to------I can.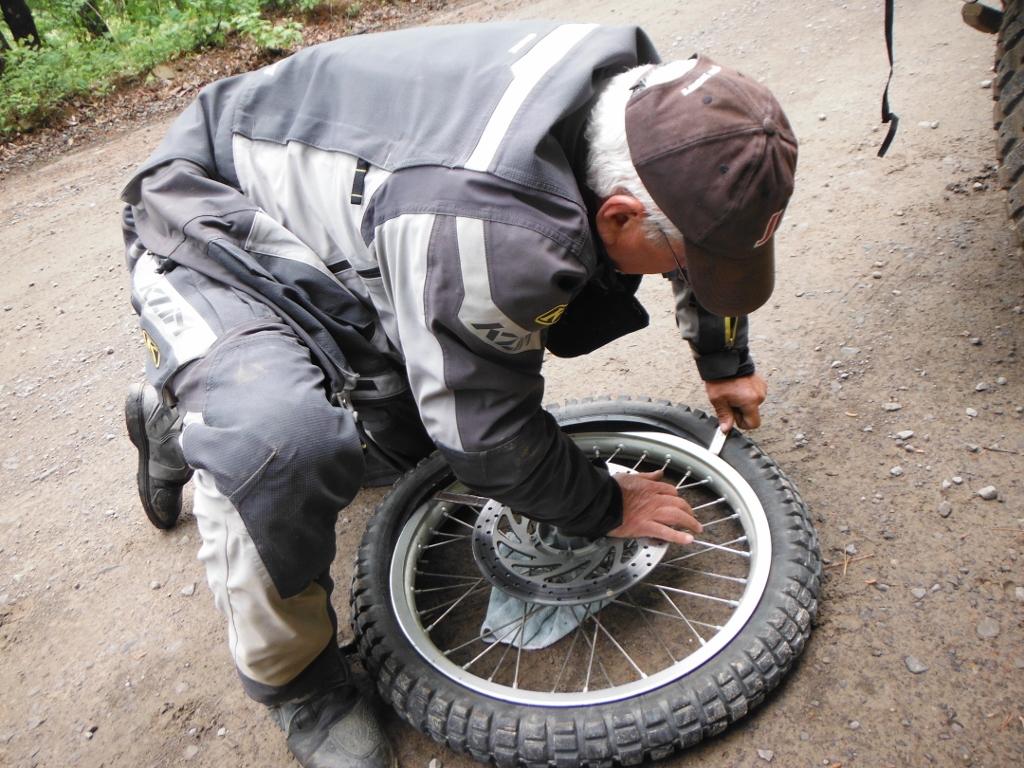 See that little stand holding my bike up.
I think it's called a trail stand--------don't leave home without one.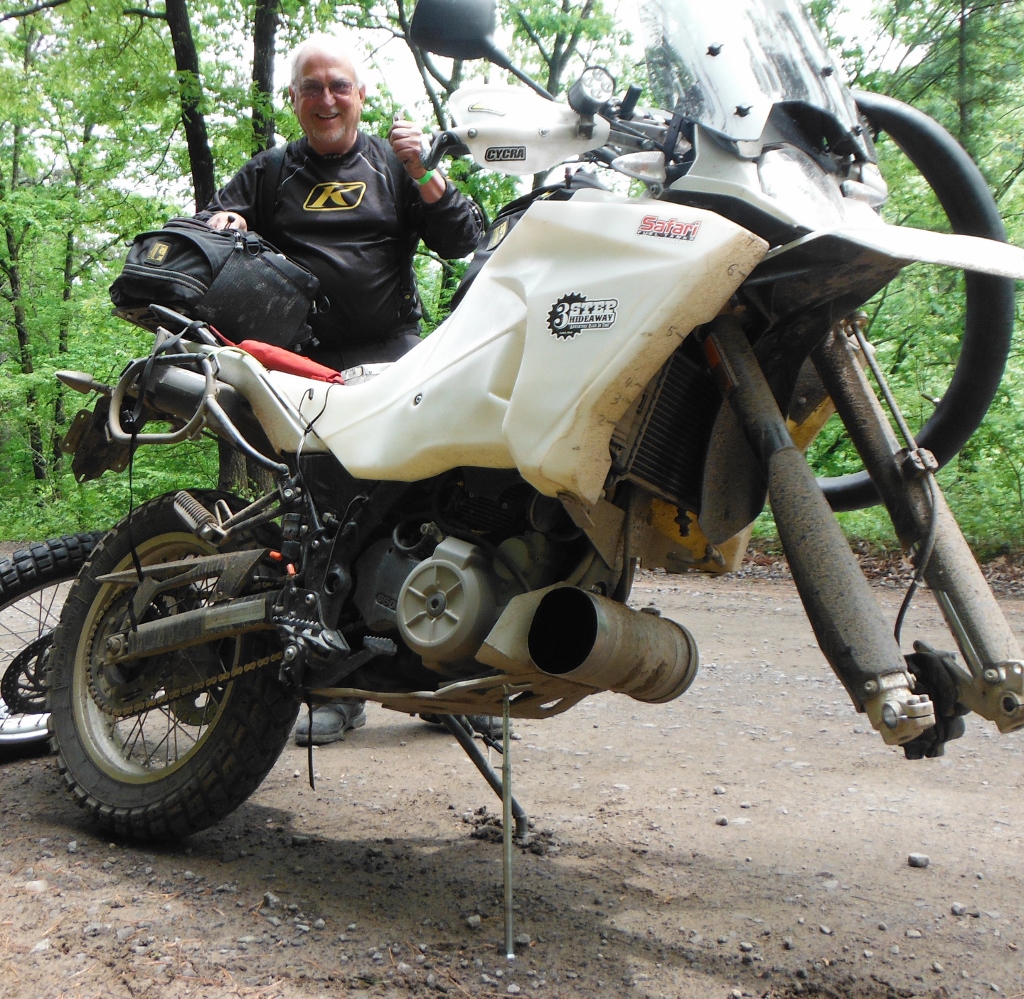 I had found this old very long concrete bridge over the Mulberry river back in 1999.
I had marked it "Bridge Neat"-------yes it was.
I marked it with my gps back then----and it was still there. Me and High Five both agreed the little dirt road to it
was the best part of the day.
The Mulberry was still raging.
Probably good canoing. But I wondered what a canoer would do going under the bridge.
There wasn't much clearance and the water was really swift.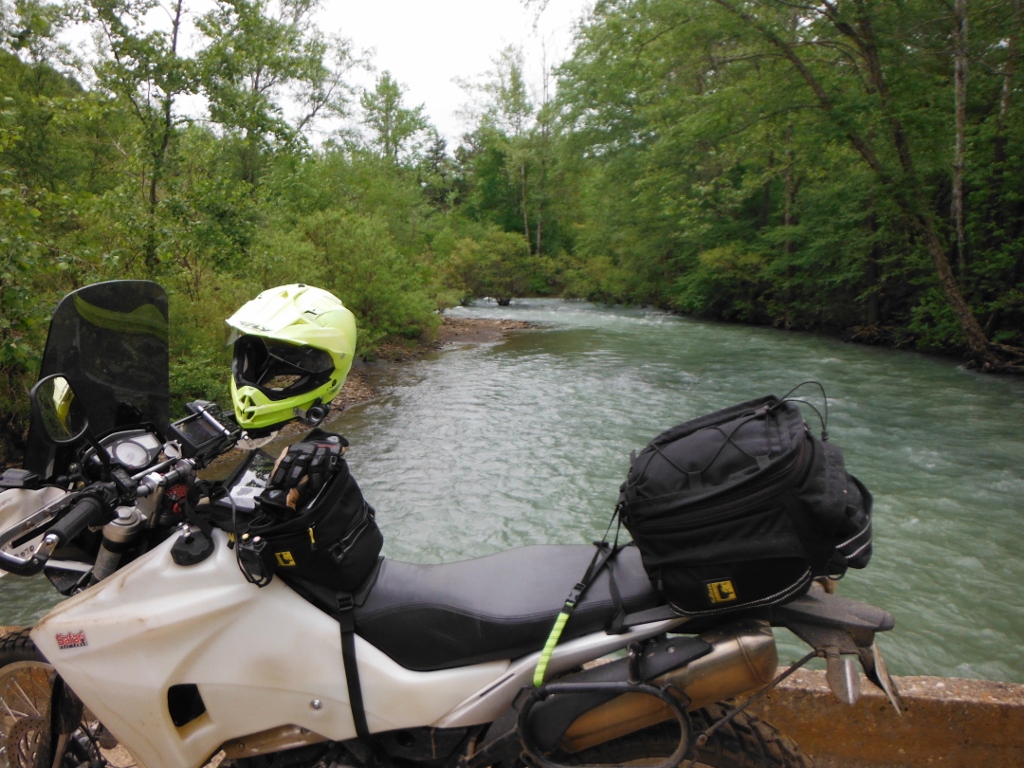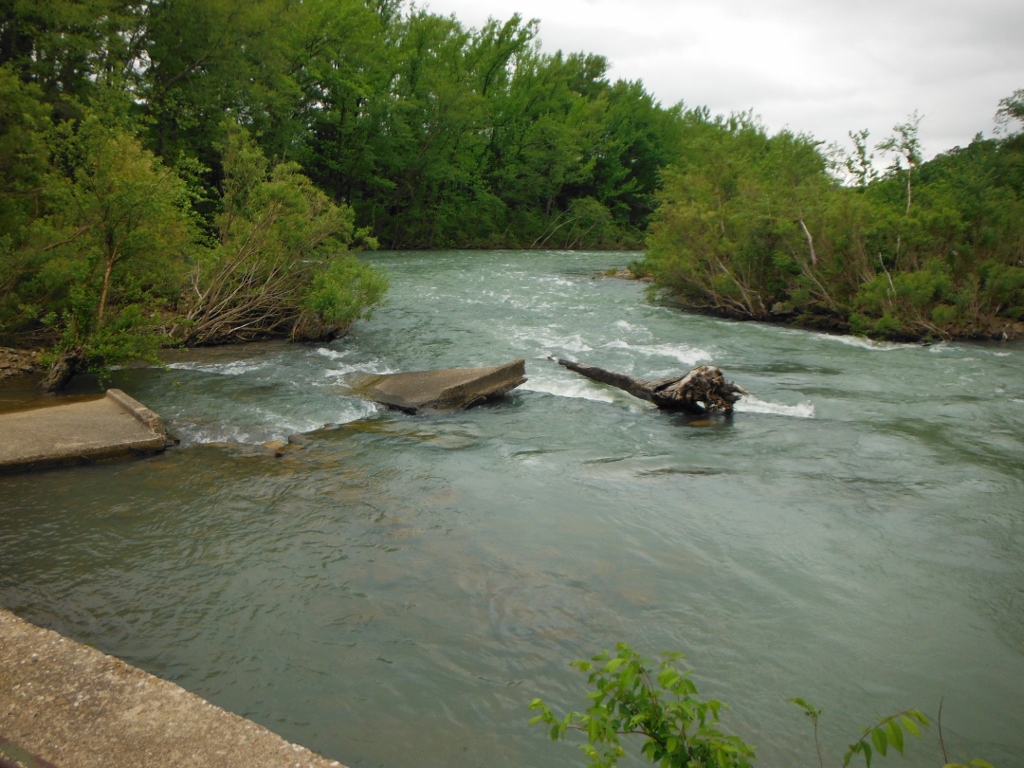 Mr. High Five with his "game face" on.
He is a much better rider than me and competed in professional trials riding.
He has a garage full of trophy's.
Me and him had left the rally Sunday morning---I live East--------but we went West.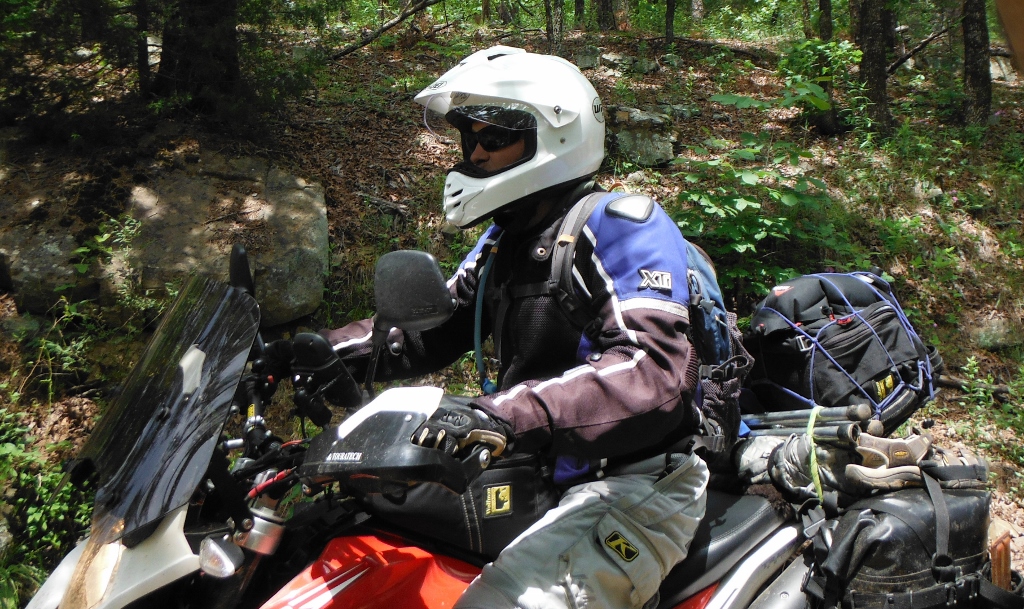 I'm not sure I'm suppose to tell where we went riding---this is High Fives secret playground.
Kind of like the Smokey Mountains------minus the people.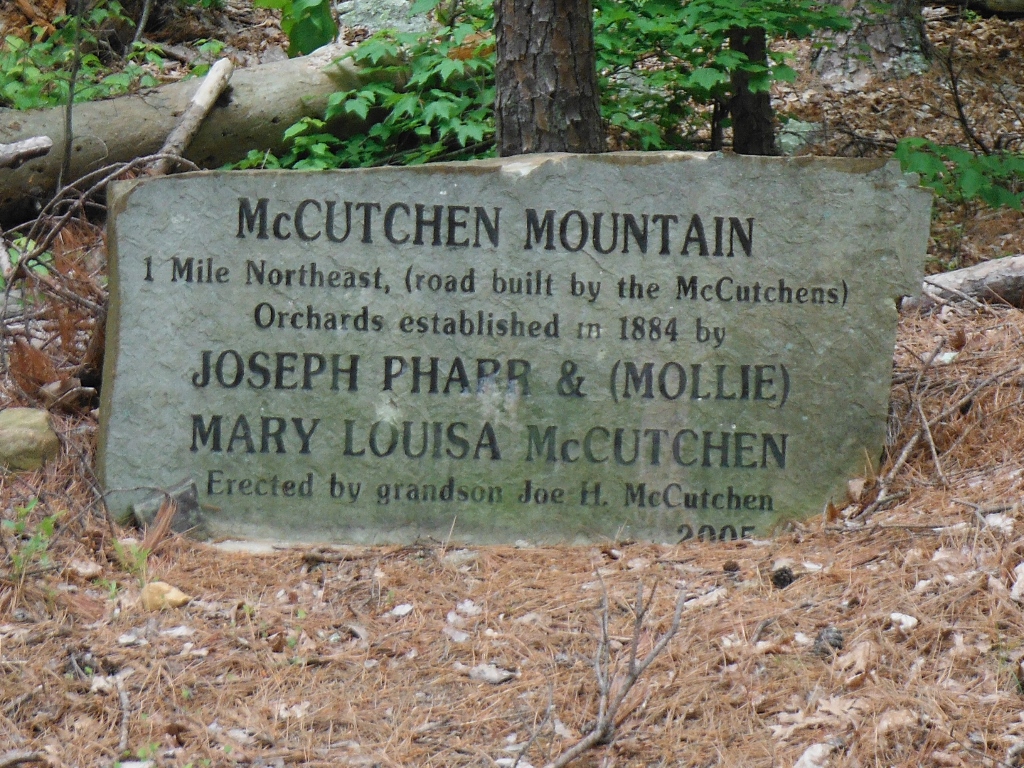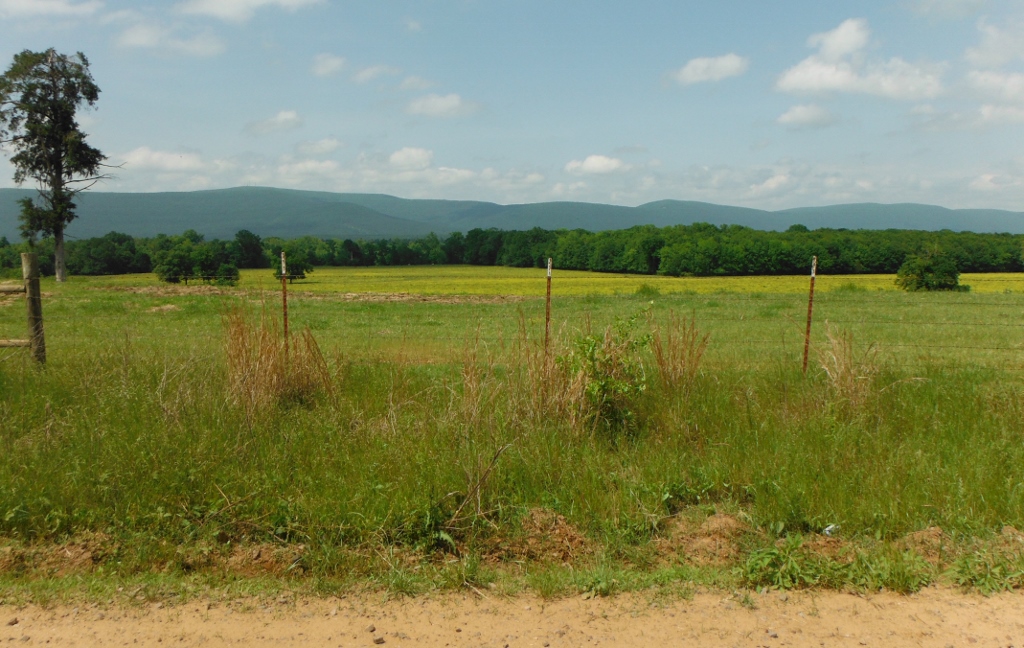 This is the Oklahoma border---you can barely read or see the sign.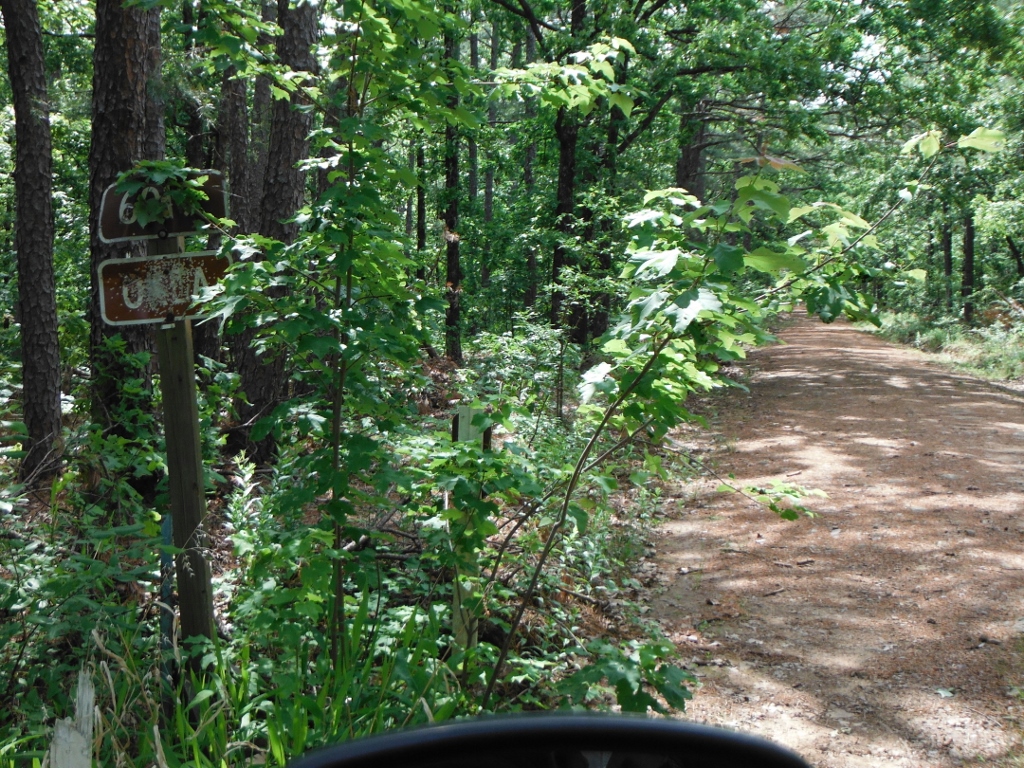 Scott blind folded me and led me to his private camp spot.
I was sworn to secrecy.
There are very large black bears in these Oklahoma woods---and after smearing tuna fish all over my face for dinner
I slept a little uneasy.
HIgh Five on the other hand------didn't sleep at all---as a pesky whip-r-will kept him up all night.
He finally got up and shood it away with a rock------but it came right back.
We cooked chile over the file---but had crackers and tuna for an appetizer.
And washed that all down with a gatorade.
The Jet-Boil is for coffee and breakfast in the morning.
It was a nice nite and I pondered not putting on my rainfly---------but did.
Figured that would keep the bears off me !!!!! Or at least I couldn't see them coming.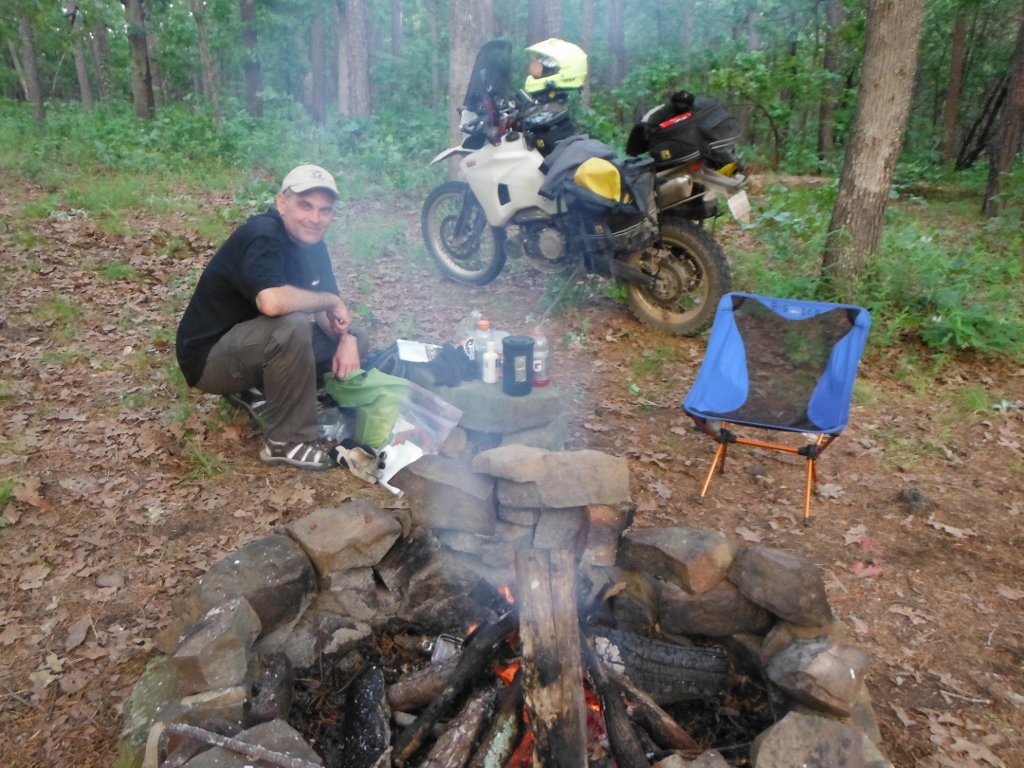 Scott is a hammock kind of guy.
Wouldn't have a tent.
I really enjoyed Scotts company---and thanked him for showing me around his playground.
He is a very smart guy and I always find his ideas very good.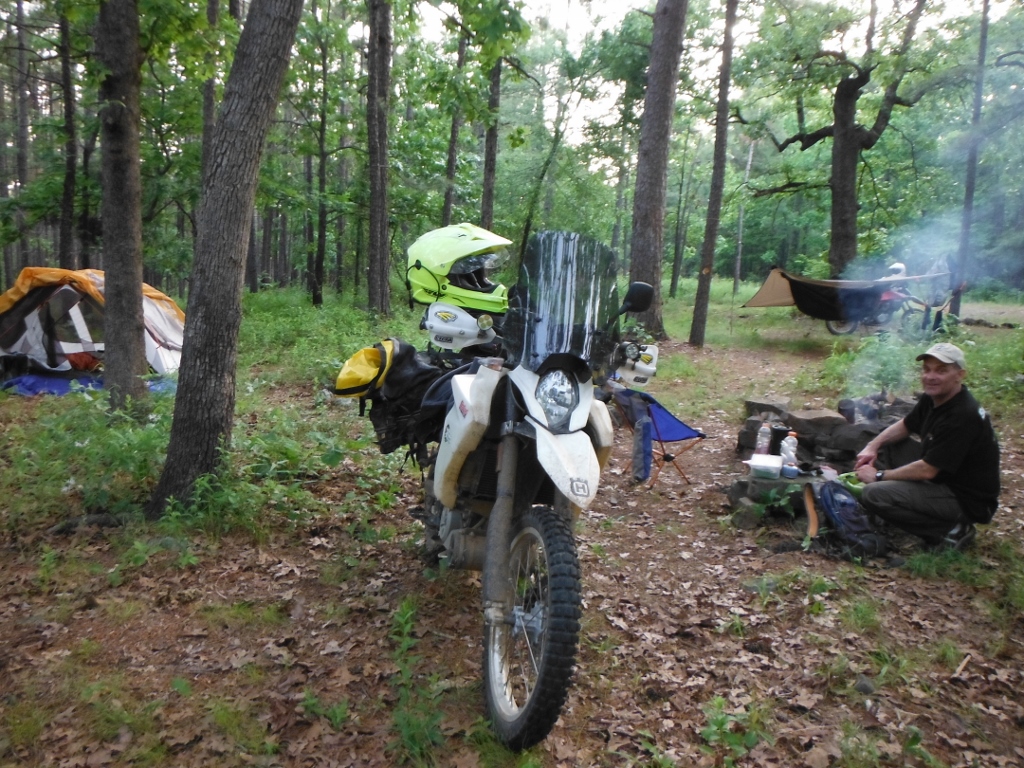 And into the mountains we go.
On top of the far smoky mountain in the distance is a trail.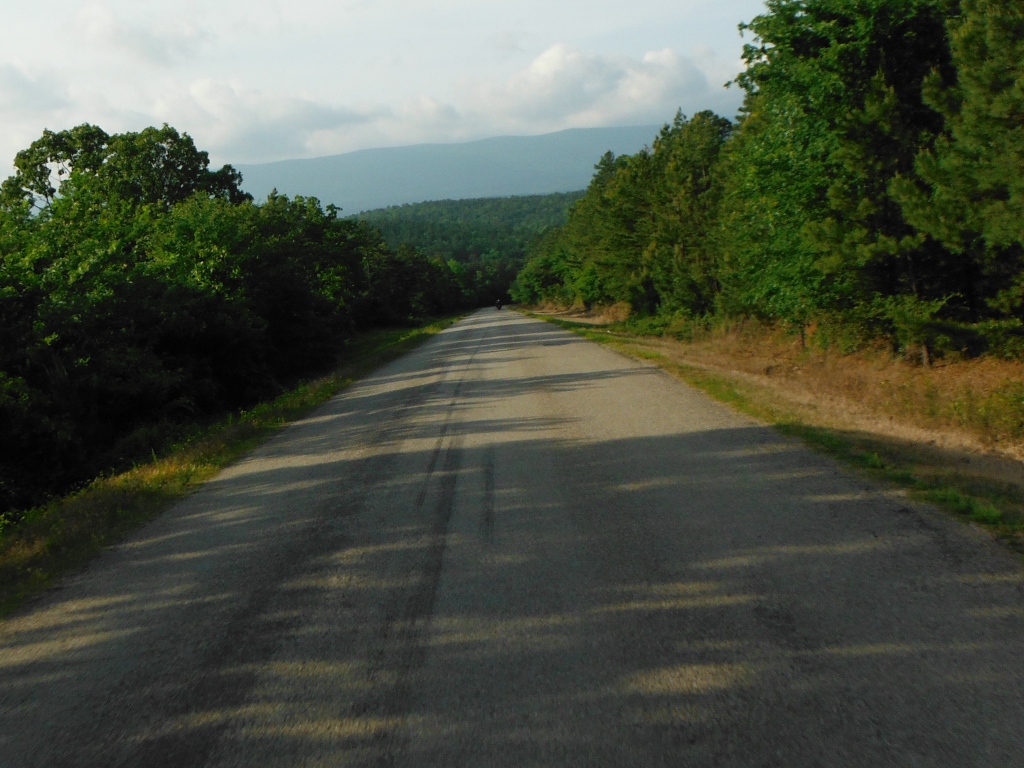 Haw Creek General Store----population 11
But soars to 53 on Friday fish nite.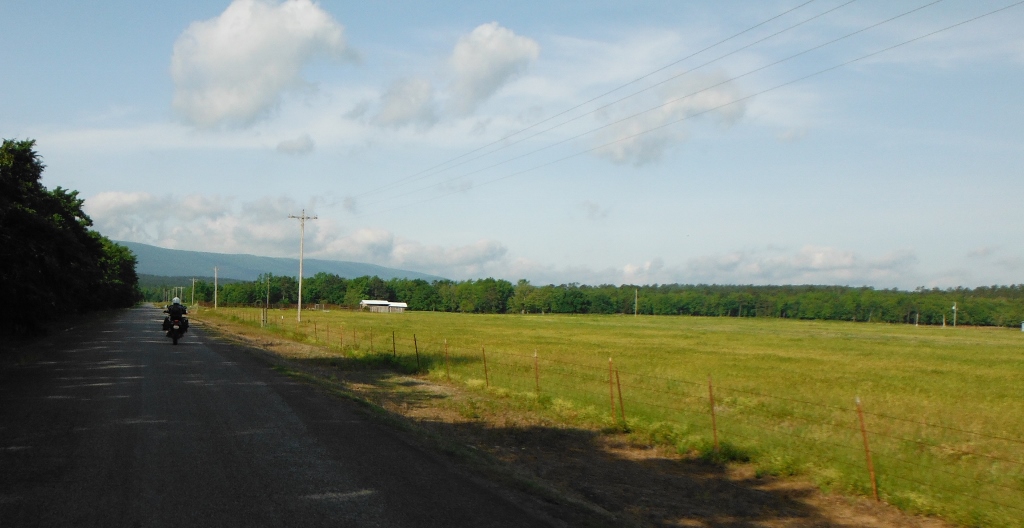 This is about my favorite picture---like I said.
Like the smokey mountains---minus the people.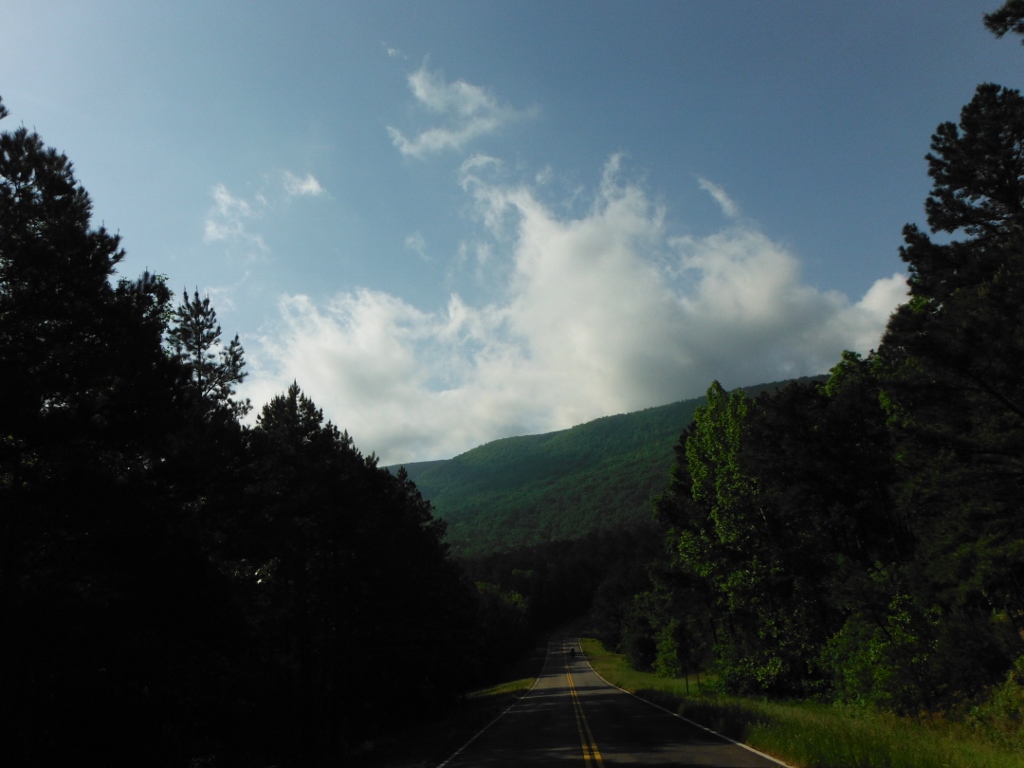 Yes this is Eastern Oklahoma-------don't tell anybody.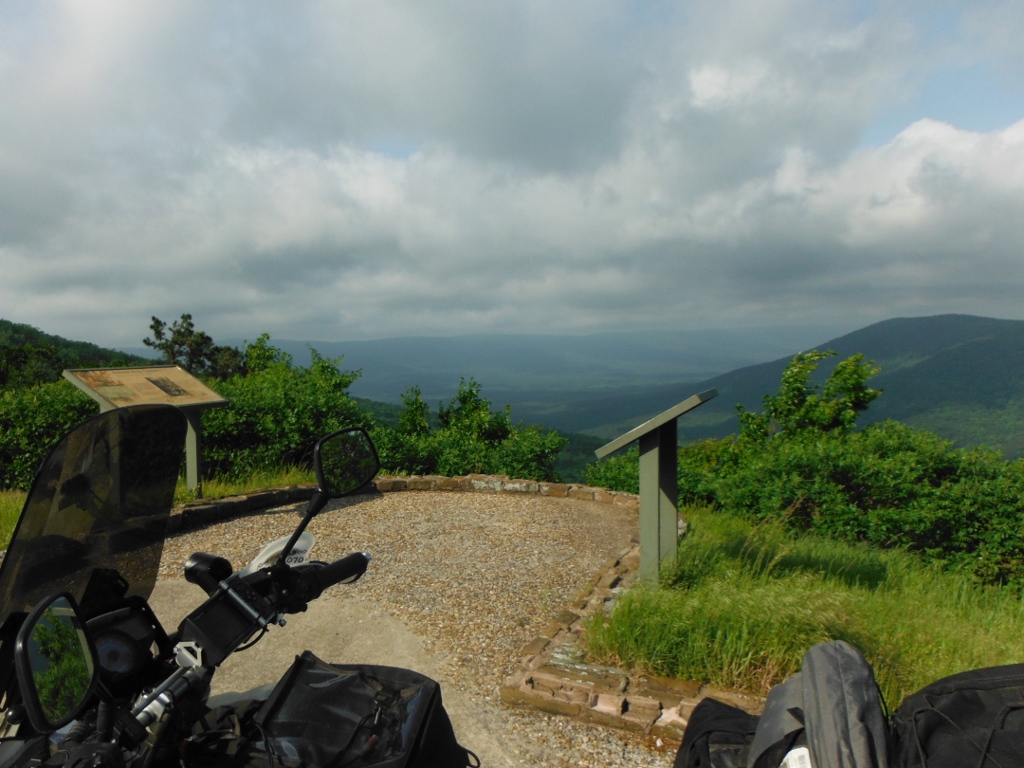 We crossed about 20 of these--not too slick.
They hadn't got the rain in Oklahoma that we'd gotten in Arkansas---otherwise these would have been impassable.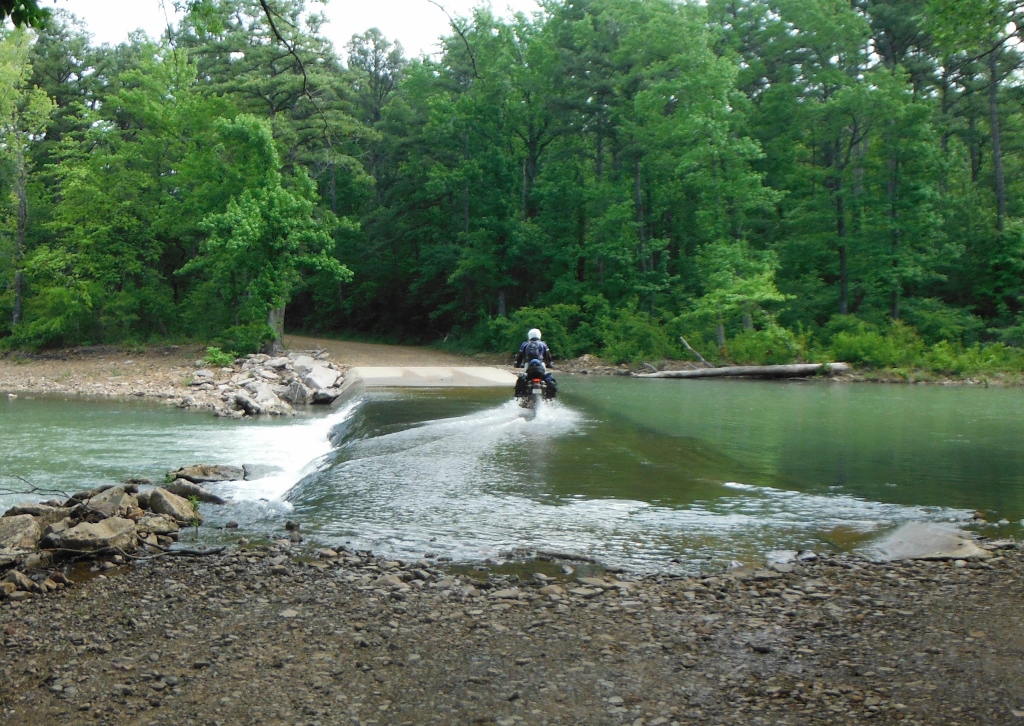 The high mountain roads were mostly like this.
There was lots of single track out here-----Scott knows it all and invited me to come back--but I would need my KTM450EXC.
He has a 390 Husaberg.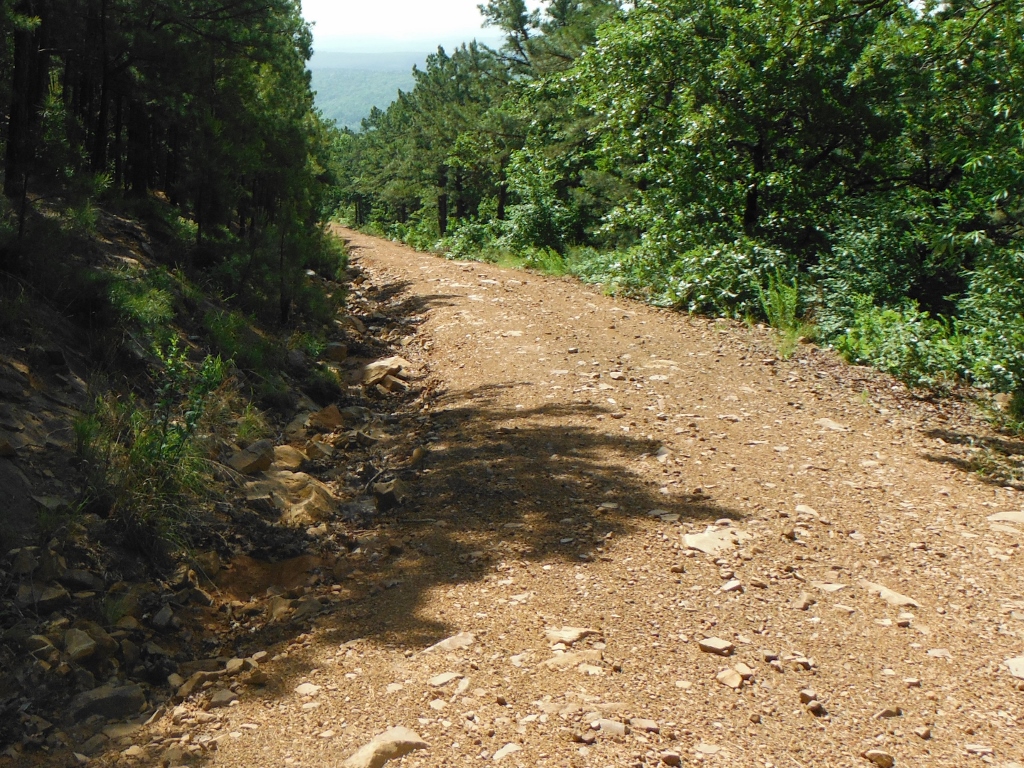 This is one of Scotts favorite places to stop and eat and get a soda.
But it was closed for us.
Lot's of horse people ride in to here--and there were places to tie up your horsie.
Me and Scott had parted ways about noon that day.
I ended up going North on paved Arkansas route 7. One of the top 10 scenic roads in America.
As I was riding I noticed a waypoint on my gps that said "TAT Shack"
It was just a few miles off route 7 and I went to find it.
The gentlemen that owns this has an old mobile home here where people that are riding the Trans America Trail
can hole up for the night. A huge yard for camping-or your can stay in the mobile home and even get a shower.
This is really nice of him------he is an avid adventure rider himself.
Look at the neat sighn he has out by the road.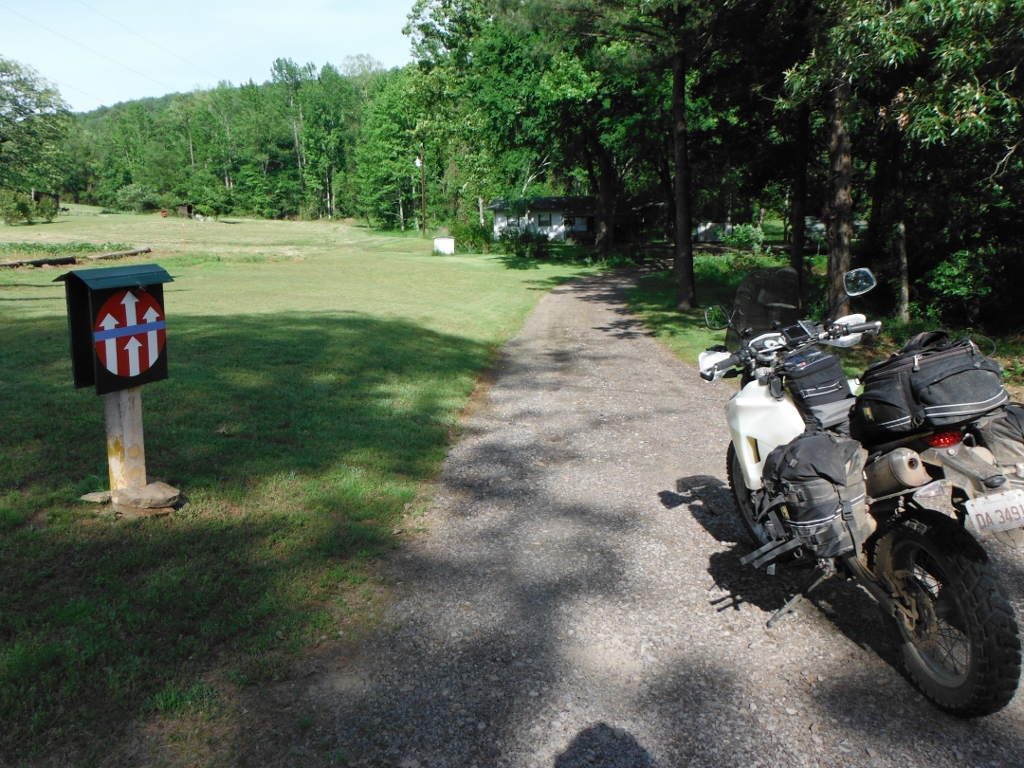 I hadn't been parked at the driveway to this place 2 minutes when the two guys on the left road up.
One on a KLR and one on a DR650. They were riding the TAT all the way to the ocean and back.
They were a hoot and were very good riders as they had raced most of their lives.
They were going to hit lots of snow in the mountains this early--but they knew it.
The guy on the right was the owner---------super nice guy.
This place is for TAT riders only.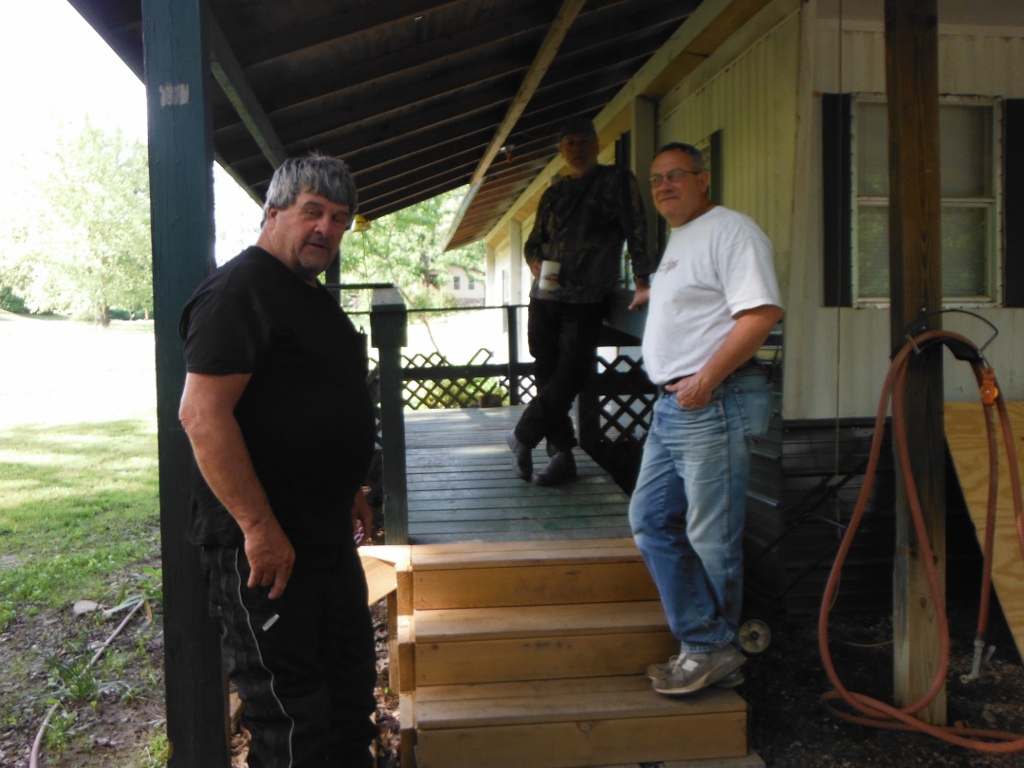 I kept on North and crossed Bull Shulls lake on the ferry.
A free ride !!! Free is good.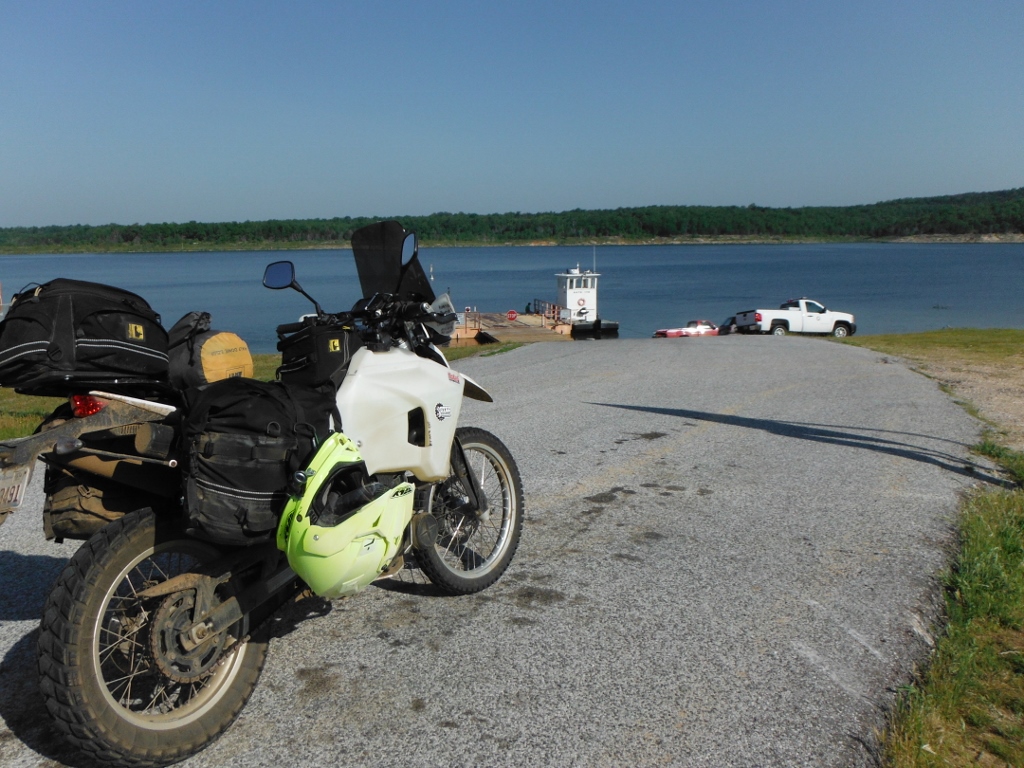 This is whats left of Brixey, Missouri
And old gas station and post office.
I poked around here for at least a half hour.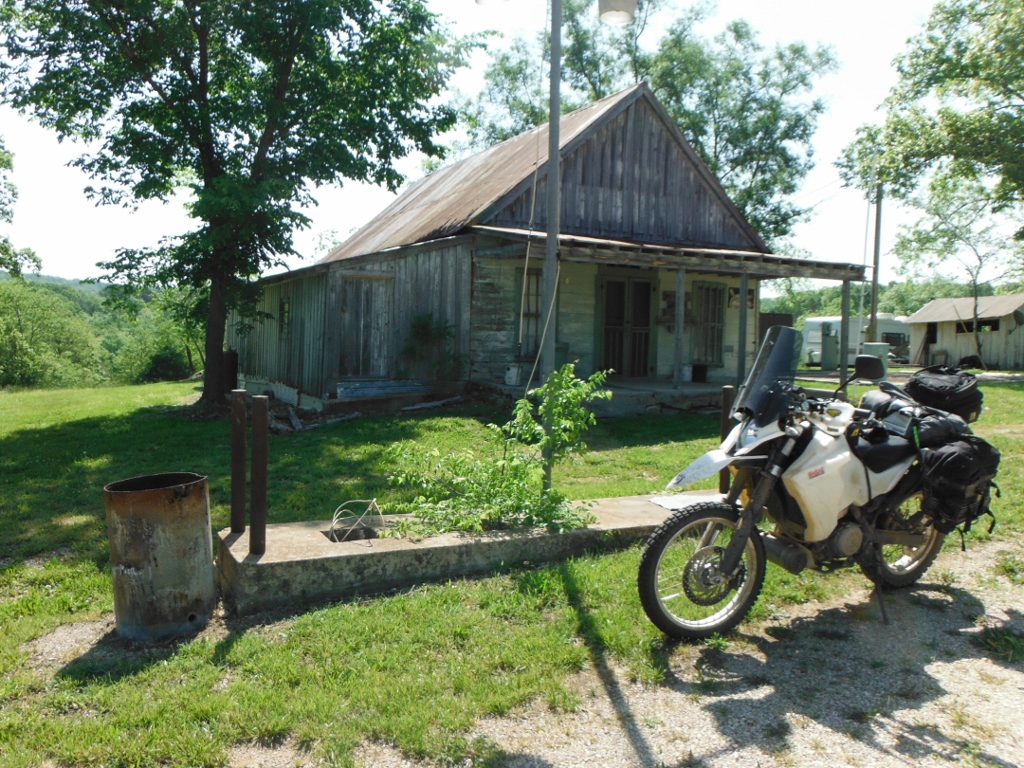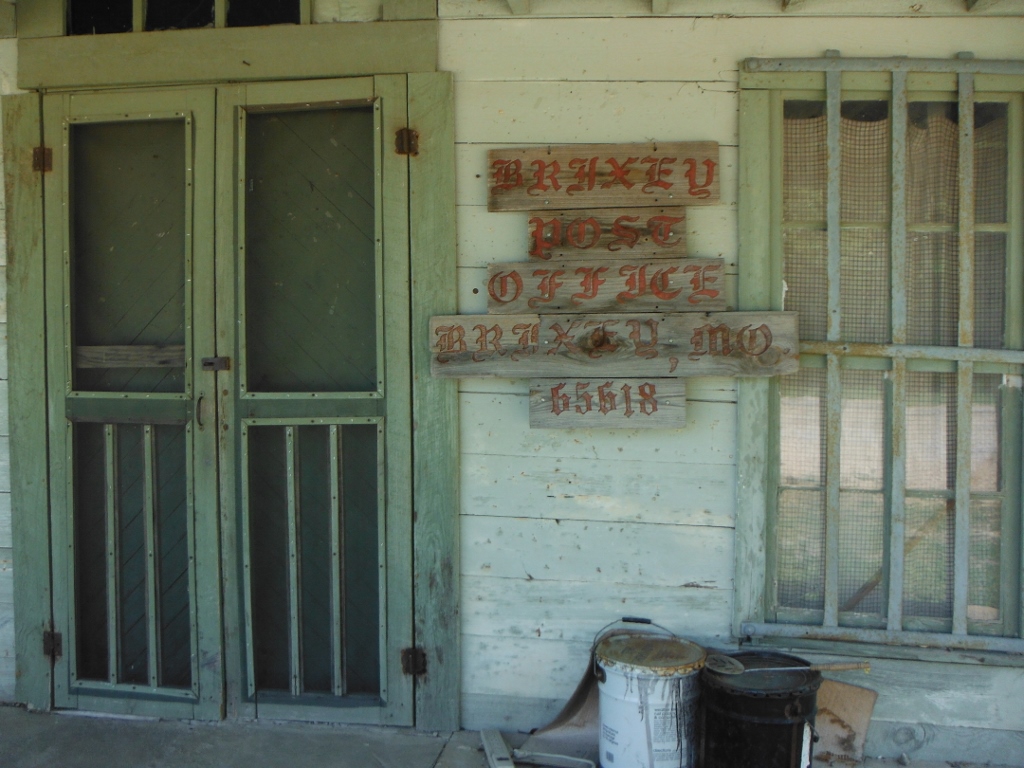 Further into Missouri I had to stop in Bixby Missouri for a sandwich and root beer.
I didn't eat a big lunch-------and left room for cobbler and ice cream.
Bridgette the owner wasn't there---I always enjoy visiting her when I stop here.
If you haven't been here---it's a very old store and the caboose you see is actually a dining area---really nice unusaly place to
stop and eat and relax. I've been coming here for maybe 25 years ?????
My Husky got 61mpg coming home----I couldn't believe it to be that good carrying all my camping stuff and pushing the
big windshield---with 9.1 gallons of fuel---she will get you down the road.
Back at home---I honked my horn and out comes my little doggy "JoJo"---just a gettin' it.
He flew off the porch like he hadn't seen me in a month.
You can barely see the little furry fur ball in the lower left bottom of the picture.
He's my buddy.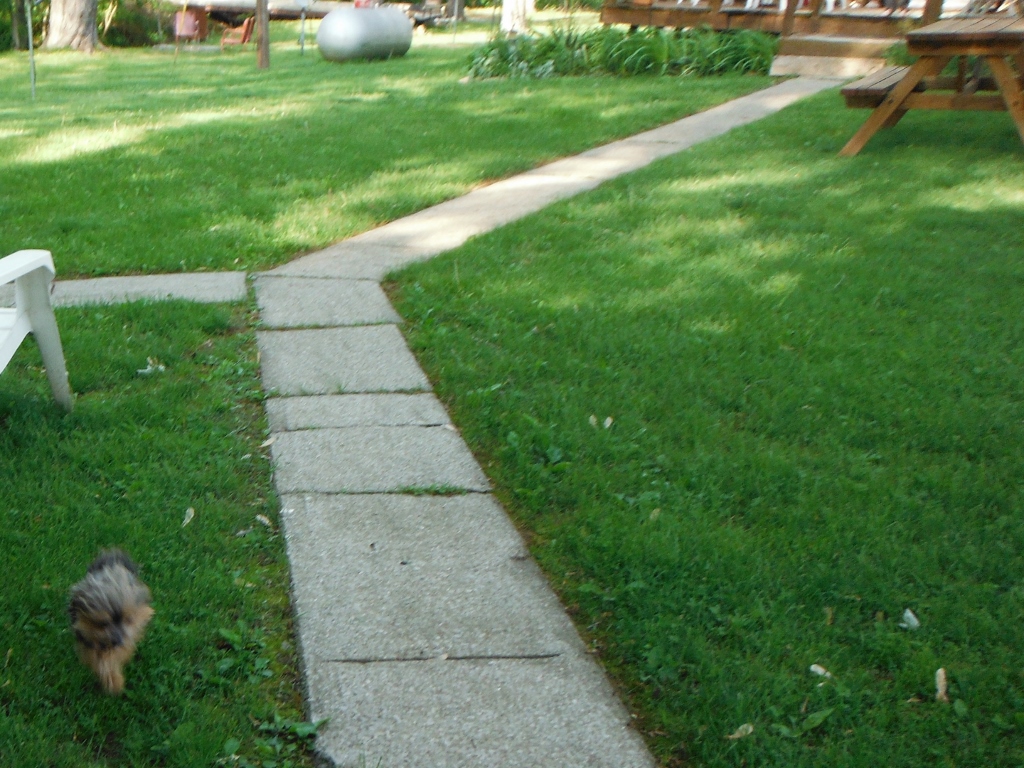 And then my lovely wife follows up with a glass of sweet tea for me.
Yes I'm a lucky guy----but I know it.
Guess I'll have to mow the grass tomorrow--------if I can find the time.
This year-----on May, 24th--we will have been married 40 years.
I love you Debi !!!!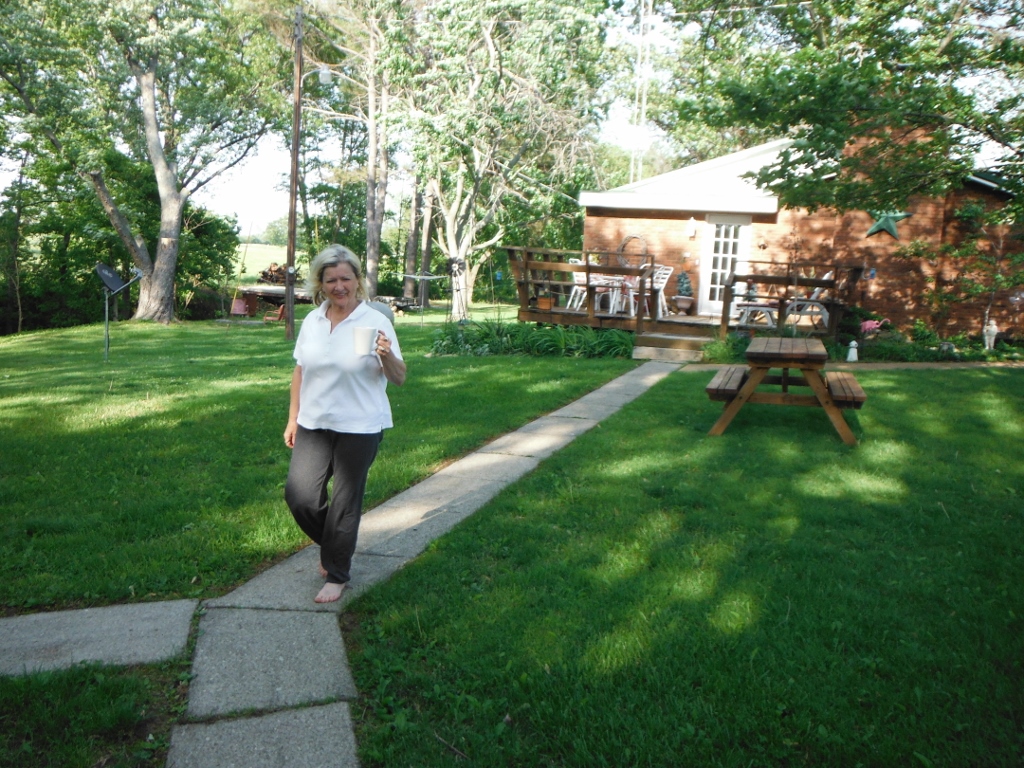 Back to my Homepage