Shawnee Forest Fall Color Ride

Southern Illinois 11-6-05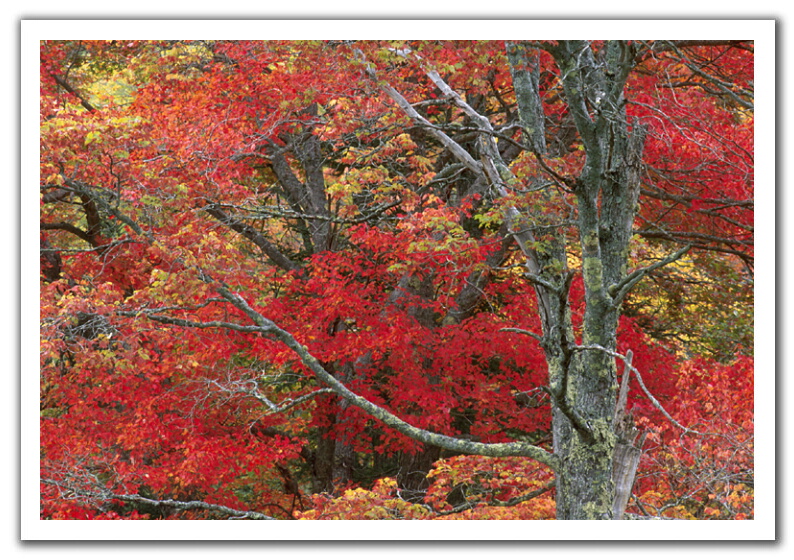 Sometimes it's hard for me to leave the house. My wife can no longer ride with me and she won't let me take JoJo (looking out the window)

JoJo is a 3 lb. 5 year old Yorky that is my buddy. He is always by my side except on the bike. He can't stand for me to leave and will just give me a sad look as I hit the road for adventure again. He will be in that same spot when I come home-----you'll see !!!

Dogs have no sense of time----and if you gone a week or 2 hrs. it doesn't matter--they are so glad to see you.
I'm off at the crack of dawn again in search of new roads and trails----and the.....

Fall Colors

It has rained overnight---I know it will be beautiful and the gravel will be settled with great traction in the dirt.

The KLR was ready for a romp as the KTM had been getting all the ride time lately.
In search of breakfast.

I didn't go 15 miles till I hit the little town of Dahlgren, Illinois. I spotted a word that caught my eye !!!

Cafe !!! Gran Grans Cafe no less !!!

She must have just opened this up as I never have seen it before---man I was hungy but it seems Gran Gran was going to church this Sunday morning---I got to go back on a Friday or Saturday.
As inviting as Gran Grans sounded I headed South towards the hills of the Shawnee Forest and saw another sign that caught me eye in Mcleansboro, Illinois!!!

Cafe !!!

It's really called "Skillets Cafe"

This is home to Jerry Sloan----coach of the Utah Jazz. I don't pay any attention to ball sports at all. as that would require me to sit on the couch and hold a remote control, but I have worked at Jerry's 150 year old home there and he is a swell guy.

Pancakes---eggs over easy---bacon--lots of coffee--less than 4 bucks and I was out of there.
| | |
| --- | --- |
| Heading farther South on rt. 142 I was paralleling an old abandoned railroad. There's some pretty big trees growing up between the tracks in the woods. It's been many a year since a train blew it's horn coming threw here. | |
Muddy, Illinois

This little town of about 300 people was to be the treat of my whole days ride. I found so many neat old buildings and structures in this town to keep me entertained for an hour.

This is an old coal mining community who's industry died up years ago and most people moved away. I love this old abandoned church with the bell tower.
I ran into the preacher standing in front of his church and we had the greatest talk. He told me the complete history of the town and explained to me what some of the buildings in town were.

This thing I just couldn't figure out---it's solid concrete--what is it?????

It is the only concret mine tipple in the whole world---it was abandoned many years ago. The preacher told me there use to be another one in Germany, but world war II destroyed it. Most tipples of the day were made out of wood--then steel.

It's a beautiful structure--it was posted no trespassing. I asked the preacher if I could walk up there---he told me I wasn't suppose to and if this one guy caught me he would run me off-----but he told me to tell him that the preacher said it was OK !!!

I think the preacher was late for service !!!
The new Post Office was across the street----a ugly old mobile home.

But look at this jewel !!! The preacher told me it was on historic record as being the smallest Post Office in the United States. All the little brass mail boxed were still inside----what a treasure.

Go too Muddy and poke around--stop and talk to anybody you find in this friendly little town and I'm sure you will be highly entertained.
| | |
| --- | --- |
| I hadn't really got in the Shawnee Forest hills yet---but this road would take me there surely. Man it was nice out---about 58° | |
| | |
| --- | --- |
| | About 70% of the time I can get thru on my KLR when confronted with a sign like this. I was alone----what is down the road ???? |
| | |
| --- | --- |
| I went a mile down the road---the bed of leaves told me no one has been down this road in quite a while----I loved this road. | |
End of the line---there was no gettin across this bridge. Seems somebody set the timbers on fire and ruined the bridge.

People just keep destroying my bridges.

This one is about 2 1/2 miles Southeast of Pankeyville

Gotta luv those "ville"s
I got quite an urge here and came to the realization----that......

There is no toilet paper on the road less traveled.

So---I brought my own. As people have went outside for millions of years---I just ain't comfortable on one of those glass thrones. That old bridge of many holes came in real handy.
My GPS lead me down this old road--or what's left of it---it ran into a big impassable creek where the bridge was long forgotten and I had to turned back

I ran into a lot of harvesting machinery all day--but all of it was shut down after the previous nights rain.
I had to route around the bridge of course and ran Southwest North of Mitchelsville

(gotta luv those "ville's) on some nice rolling hills.

I think I kept my heated grips on pretty much all day but didn't need to resort to my heated clothing. My Moose Gortex pants and Belstaff Typhoon jacket kept me comfy all day.
Favorite road of the day---"Bill Hill Holler"---this dirt road ran for miles down thru creek after creek. This crossing was scary as the dead leaves had turned the water black and I couldn't see the depth at all-----piece of cake---it was only about 10" deep..

This road ran right below some bluffs and there were some neat rock formations along the way-------never saw nobody.

N37° 35.834' W88° 37.536'
| | |
| --- | --- |
| This old wooden bridge was on the same road. | |
I rolled into the ghost town of Stonefort, Illinois.

Man I was hungry----I got my hopes up but then noticed I was a week early. I hoped to come back next week.
I happened to catch this country store open and had a sandwich and cup of coffee.

The owner didn't seem to know much about the history of the town or how it got it's name---didn't seem to care. The man kind of seemed unhappy with his life in this lttle quiet town---so I moved on to a happier place.
| | |
| --- | --- |
| | What could be down Elk Lane ???? |
This lane dead ended into an Elk Farm. I watched many of the huge animals for a half hour-------magnificent.

It is open for public viewing----I wouldn't go in if you bike wasn't quiet---I don't think they would appreciate it.

N37° 35.943' W88° 45.729
In the little bitty town of New Burnside, Illinois is this old relic sitting along the side of the road. I use to know this guy.

Back in the 70's Doug Cross was a motorcycle jumper. He put on exhibitions all over but spend most of his time in a hospital.He was suppose to jump the Grand Canyon but never did.

I only seen Doug jump once---he didn't make the far ramp and his chest slammed into the ramp at about 70 mph---I don't know why it didn't kill him--but I heard he is alive and well still living in this town somewhere. The remnants of his old gas station are there---and there is this old trailer, old cars, old boats, old buildings---and 2 old gas pumps at $1.37 a gallon. Kind of a sad place.
Remember when gas went above one dollar a gallon---but the pumps wouldn't register that high ????

Why---nobody ever thought gas could possibly get over one dollar per gallon !!!!

After hill I found some nice backroads thru what I call "Horse Shit Holler". Well there's a story behind that one I'm sure.

I tried to find "Shoe Spring" which I had a GPS waypoint for--but I just couldn't get to it.
See that tower on top of the hill ????

GPS take me there-----on tower road.
| | |
| --- | --- |
| What a beautiful lane going up tower road---I would ride on the edge of the road and watch the fallen leaves scatter behind me in my mirrors. | |
| | |
| --- | --- |
| | It finally turned to gravel then dirt---and I was riding in a canopy of beautiful trees and leaves. |
It was too good to be true----the road was gated before I got to the tower.

N37° 20.768' W88° 59.266'
| | |
| --- | --- |
| | Man I enjoyed this road---but had to stop and admire the view. It won't be long before winter sets in. |
| | |
| --- | --- |
| Running Northwest toward Anna, Illinois I ran under the interstate thru a tunnel and this view opened up to me. Like a picture on a postcard----or the pearly gates. I cracked the KLR's throttle and motored on in complete bliss. | |
Cobden, Illinois has a special place in my heart. A beautiful quiet town that is the Apple growing center of Southern, Illinois.

You see this new bridge ?? There use to be the most magnificent old steel bridge here you ever saw--the more I think about it the madder I get. I talked to a fireman out cleaning his firetruck---he was as mad as I was because they tore down the old bridge and built this piece of crap!! Ruined the whole town he said---I agree. Sorry--I almost went off the deep end and forgot this is a family website. I'll get off my soapbox--for a little while anyway.
I had left the house at the crack of dawn as usual and couldn't get anybody up to go----but low and behold they finally got out of bed and I ran into my old riding buddies near Alto Pass, Illinois on a bluff with a view of Bald Knob----the 3rd or 4th highest place in Illinois ???

Left--Jay Grafton

Middle--Butch (Cannonball) Baker

Right--Jerry (Roach) Brownsberger
I just couldn't decide which riding outfit would match my KLR for this ride.

But after looking at my worn, mismatched, tattered, and old KLR---I just grabbed a little of this and little of that--who cares.
I was trying out my new Arai XD helmet. This is the helmet I have been dreaming of. I've never paid anywhere near this much for a helmet before---but it was worth every penny.

So does money by the most fun-------no !!!

The cheapest bike I've ever owned I sometimes think is my most fun bike.
When the 3 guys above just turned around---this is what they saw.

See the cross on top of the mountain. It was built about 1961 as a symbol of piece and is about 105 ft. tall. Go to Alto Pass and ride up the mountain to the cross--it's beautiful and so is the ride.
Here is the view below the bluff we've been shootin' the breeze on. That is an old railroad bed down below----the railroad ran right thru the middle of Alto Pass years ago. It's a hiking trail now. I use to ride my dirtbike down it years ago before it was closed off just like all the rest of the forest :(

The forest use to be open to all---now it is open to an extremely small group of people--probably way less than 1% of the public can use it now---why do I have to pay taxes on it--why don't they pay all the taxes ?????

Ok--I'm off my soap box !!
We all headed home together, but not before stopping at a winery on the way. The rest of the guys tasted some wine samples---it all tastes like rubbing alcohol to me.

What color is left in the trees will be gone shortly---dang, winter is coming on !!

It got dark on us--the temps dropped and we stopped in Christopher at the Maid Rite drive in for pie and coffee----I luv this kind of ending to a day of riding. We sat in there for an hour and talked of bikes and the good times.
Look in the window------I told you !!

The picture is blurry---but there is JoJo on the left waiting for me----he's been there all day pouting. And looky on the right--there's my wife Debi.

Can't wait to get in the house and cozy up on the couch---get the fireplace going and turn that dang TV off.

Wait----there's a sickle race on Speedvision !!!!

Nope--it's Nascar----"look Debi--there going left---and--now--there going left again-----whoa----yellow flag---Hey Mark--there's a big pass---no their not passing--somebody got bored--pulled out and the wind blew him backwards"-----ZZZzzzZZZZZzzzzzzzz

ZZZZZzzzzZZZZzzzzzzzzzzzzzz--let's go to bed.
As usual you can see my wife is mad as hell !!

I've been out running all over hells half acres---here and there----wandering around--not a care in the world--and the poor thing has been home sick with the flue.

I tried to get her to give me a mean angry look for the picture---but you can see the smile peeking thru.

"Come here JoJo---go get your toy and let's play !!!