Poncho And Lefty
A New Mexico and Arizona Motorcycle Adventure
January 2009
A DVD video of this ride can be purchased Here
If you would like to read the complet build up I did on my WR250R to make it the long distanced adventure bike
I wanted it to be---and it is----go Here
I had my heart set on going to Mexico over the winter but could not find a riding partner who could pack and go
with a 36 hour notice. My buddy Randy didn't have a passport-----I decided Southern New Mexico and Arizona
would be just fine, and me and Randy hauled the bikes South close to the Mexico border.
Two problems--Randy had to get a hall pass---and he had a job. The Hall pass was easy as both our wives
had been asking us "don't you have somewhere you'd like to go" ????? After Randy quit his job--off we went.
Somewhere on the way we pulled in to fuel up and the attendant ran out and posted this sign !!!!
I guess our reputation preceded us. She did oblige to take our picture.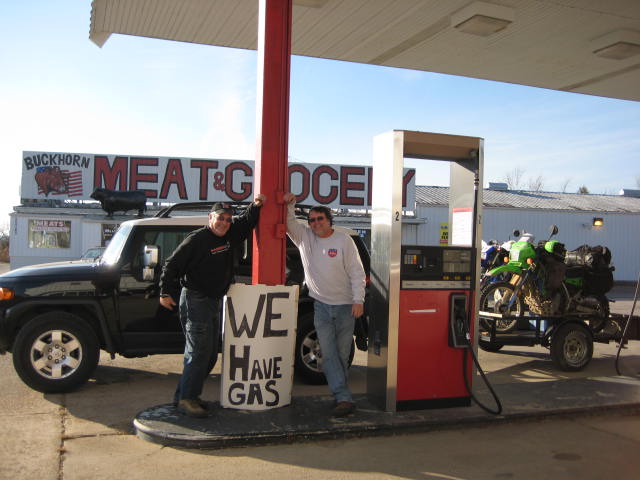 We blew into the bustling New Mexico town of Rodeo---population 53 with not a clue where to stay--where to eat
or where to leave my tow vehicle for an undetermined amount of days. No more than 15 seconds after asking this elderly
couple about our dilemma they told us to folllow them on their 4-wheeler.
Andy (ex-biker) and his wife had us follow them out in the middle of the desert and put us in their travel trailer for the night.
They were living in the mobile home next door---told us to treat it like home--stay as long as you like----and went in their trailer
without much more conversation. Obviously they had no idea of what unscroupulous people they had living next door.

They didn't know "Poncho and Lefty" were right under their noses.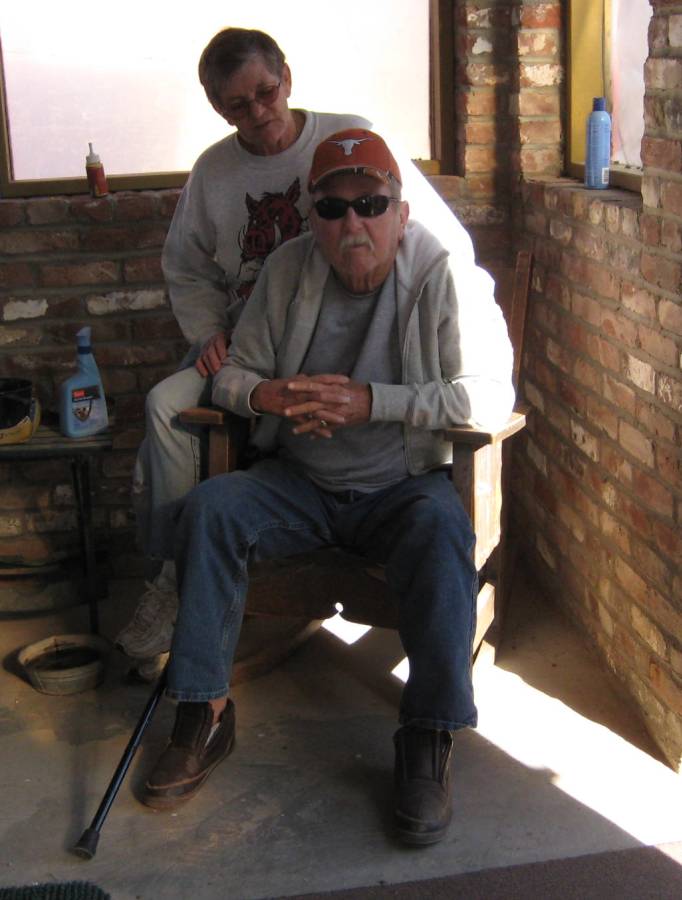 We had fell into the perfect place to stay--and were just dumbfounded-----or maybe just dumb ???
We slept like babies as we had drove straight thru switching drivers when one of us got tire.
The next morning we were ready to ride.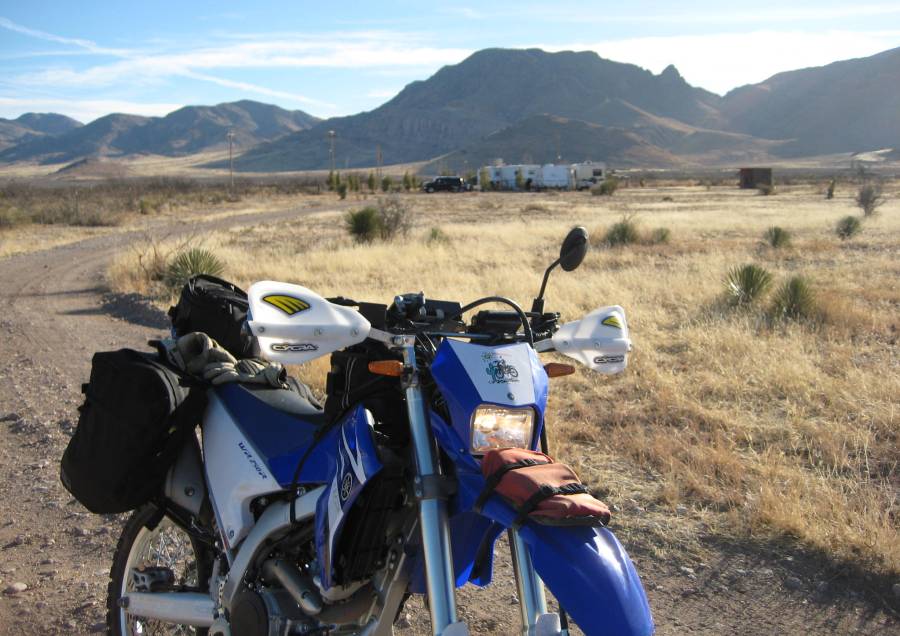 Day 1
Shakedown Ride
I was riding my new WR250R and had it all set up---but decided it would be prudent to do a shake down ride.
This was very convenient as there was some great riding in the area and if either of us had problems now would
be the time to take care of it.
After the shakedown ride we would be gone without support for over a week at least.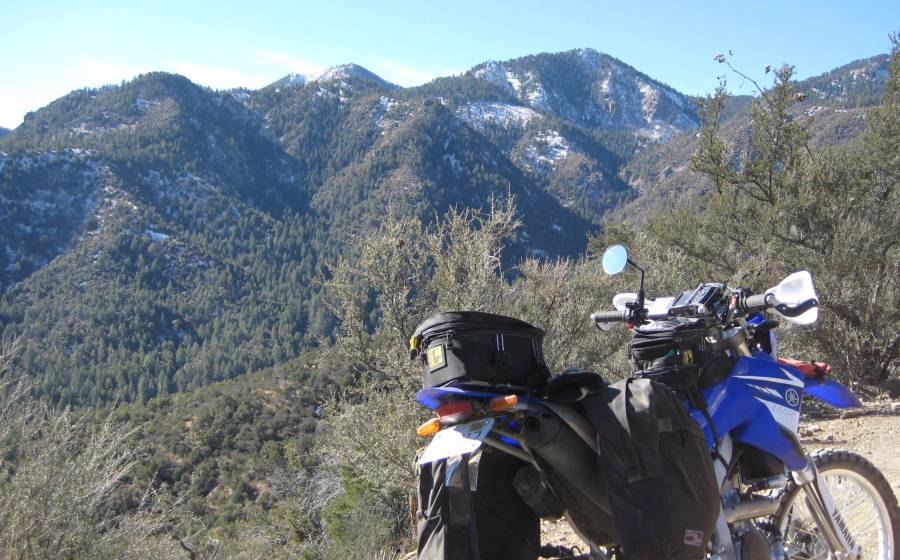 We had breakfast at the local cafe and headed Northwest immediately crossing into Arizona. I was headed for the
mountains and the tiny towns of Portal and Paradise-----population 2 when we passed thru.
Paradise is actually a ghost town with only one original building still standing.
The post office was established in 1901 and discontinued in 1943. The original jail was an open air jail
where prisoners were shackled to a chain run between two trees. Even tho the mines were closed in 1907
a few hardy residents remain--but I didn't see any.
Randy said a mountain lion might be in the mine-----I wasn't skeert.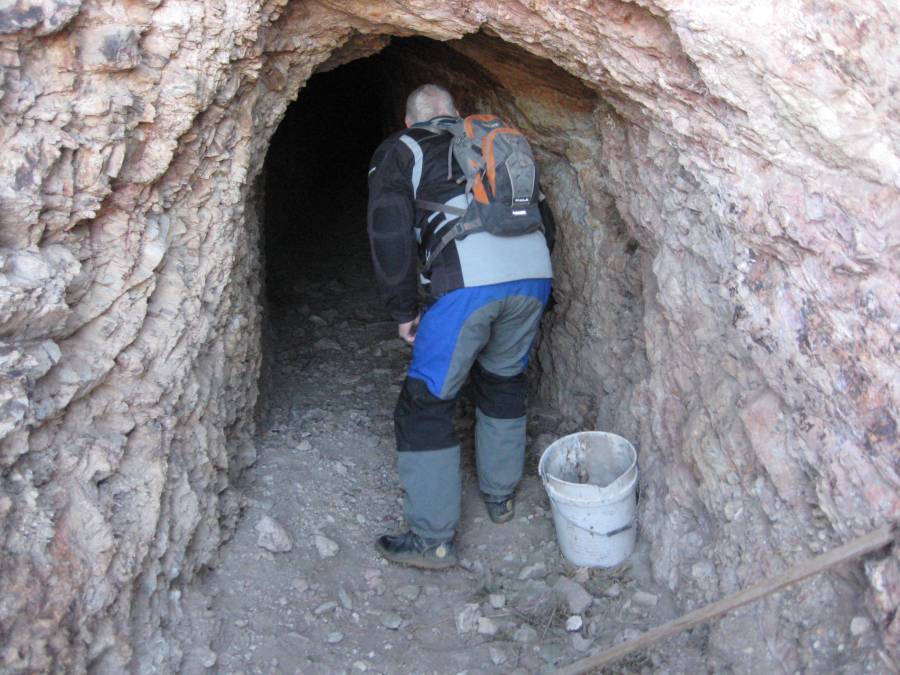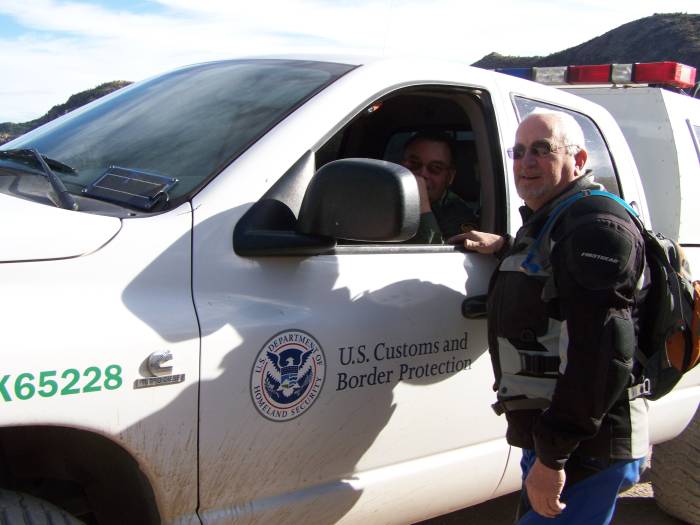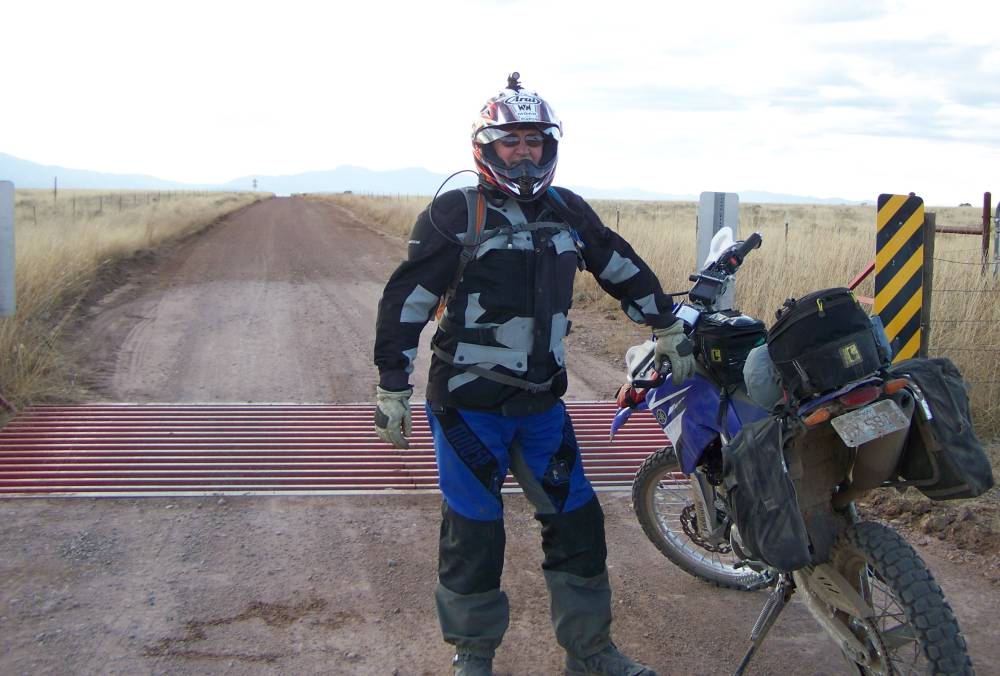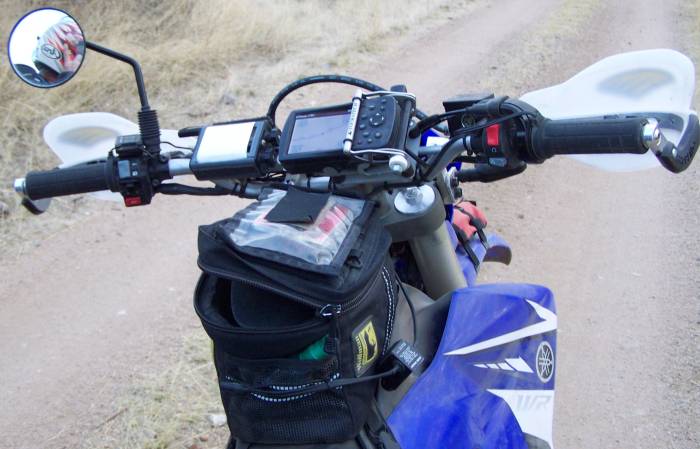 We rode for miles with our butt cheeks tightly clamped to our bikes seat with our outriggers fully extended.
I knew if we hit a steep grade we'd have to turn back. But we plugged our way North and West
up Pinery Canyon road.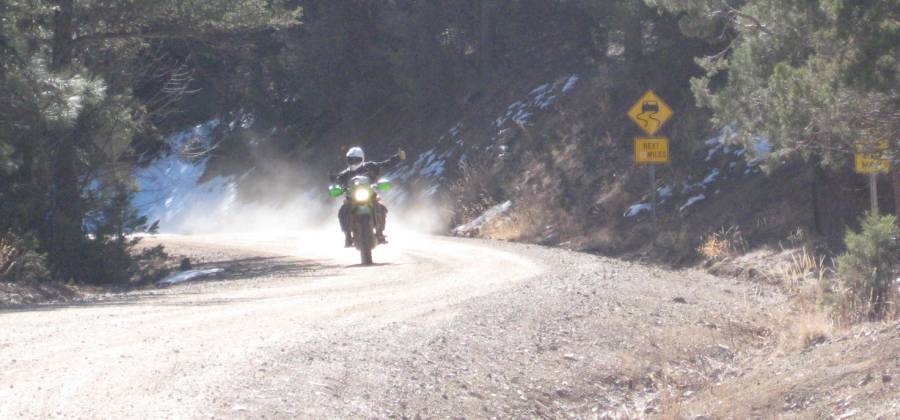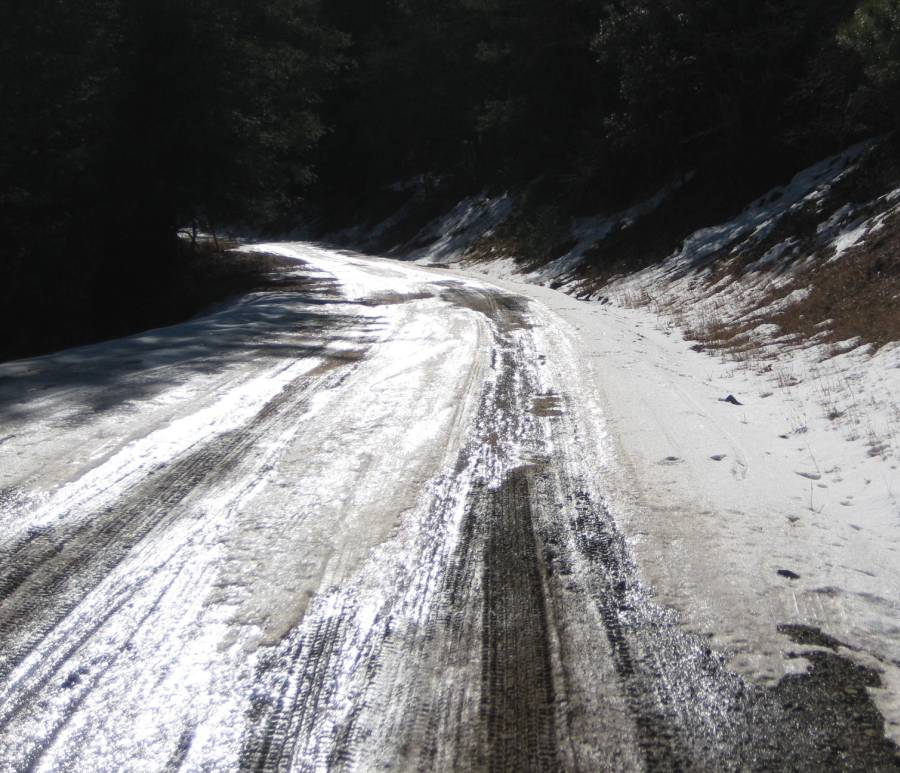 Beyond these rocks the trail became impassable. Huge boulders and big trees had been washed down the mountain blocking our path.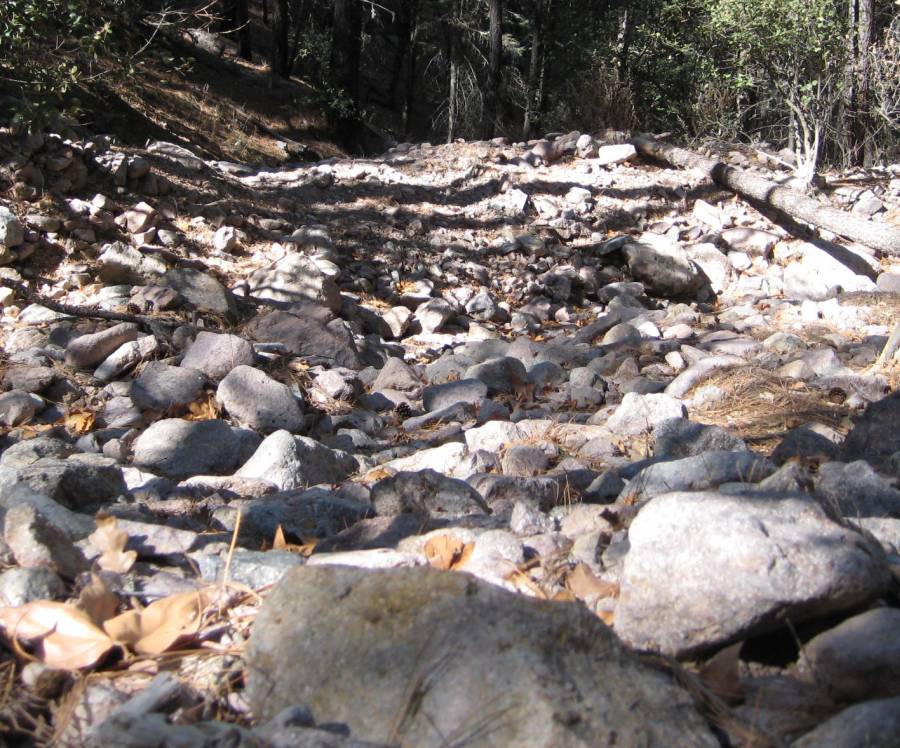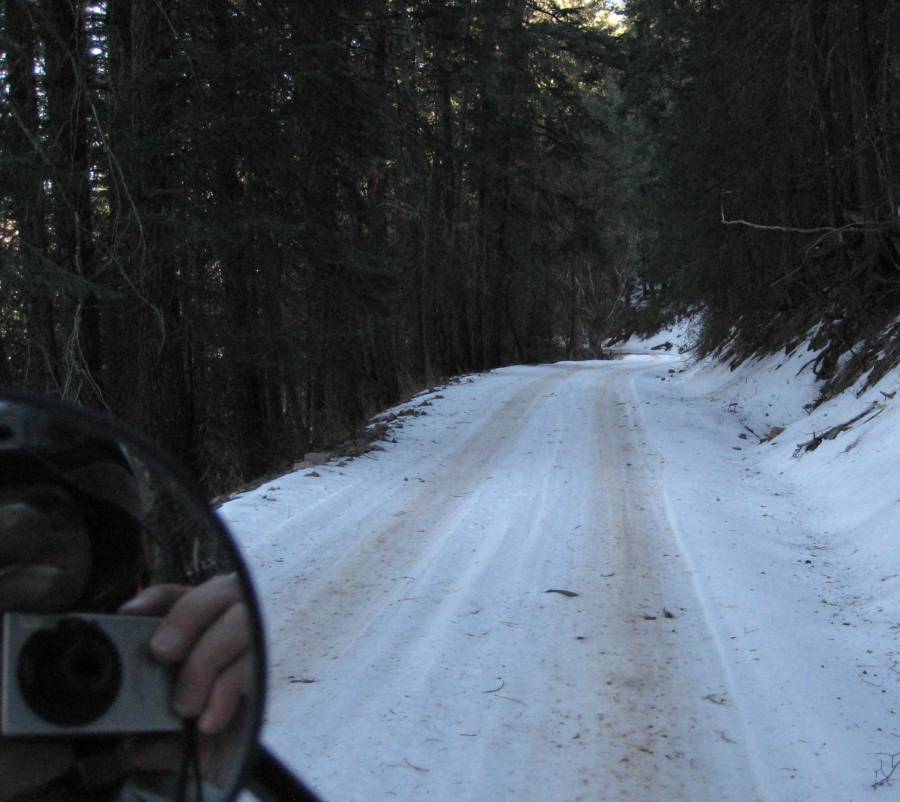 I had seen these prescribed burn in Idaho last year. The forest service sets the grass or forest on fire and puts these signs up to warn you
and keep people from calling in telling the fire department there is a fire. We never saw the fire---and this was a dead end road to
Johnny Ringo's grave.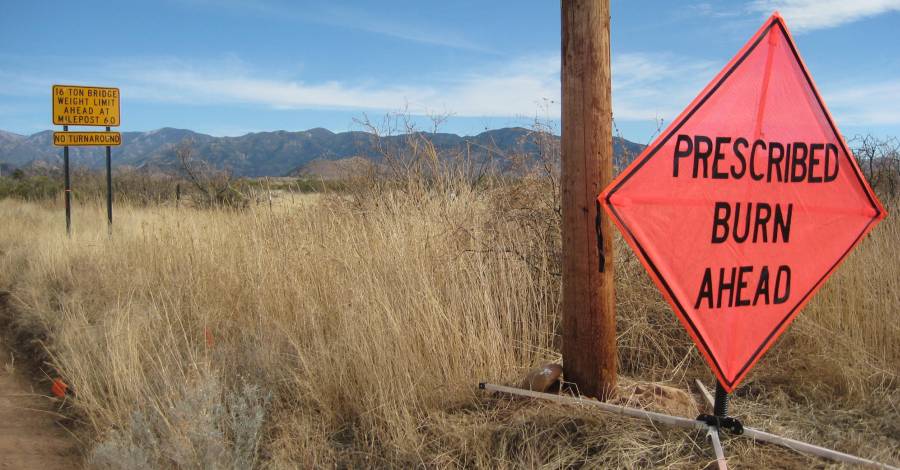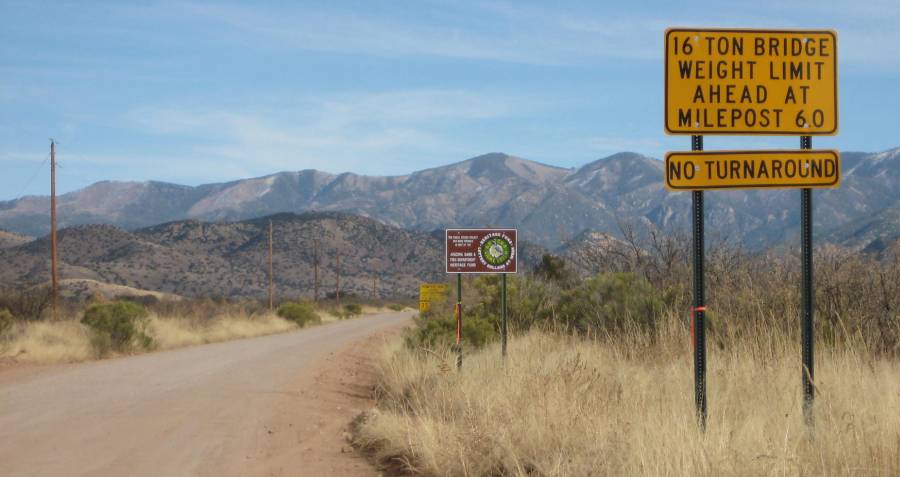 I probably had several hundred things marked in my gps to see---or try to see. No set plan---if I got close I'd try to find it.
Not marked on the dirt road at all was a small pull-out. Beyond the fence was Johnny Ringo's grave.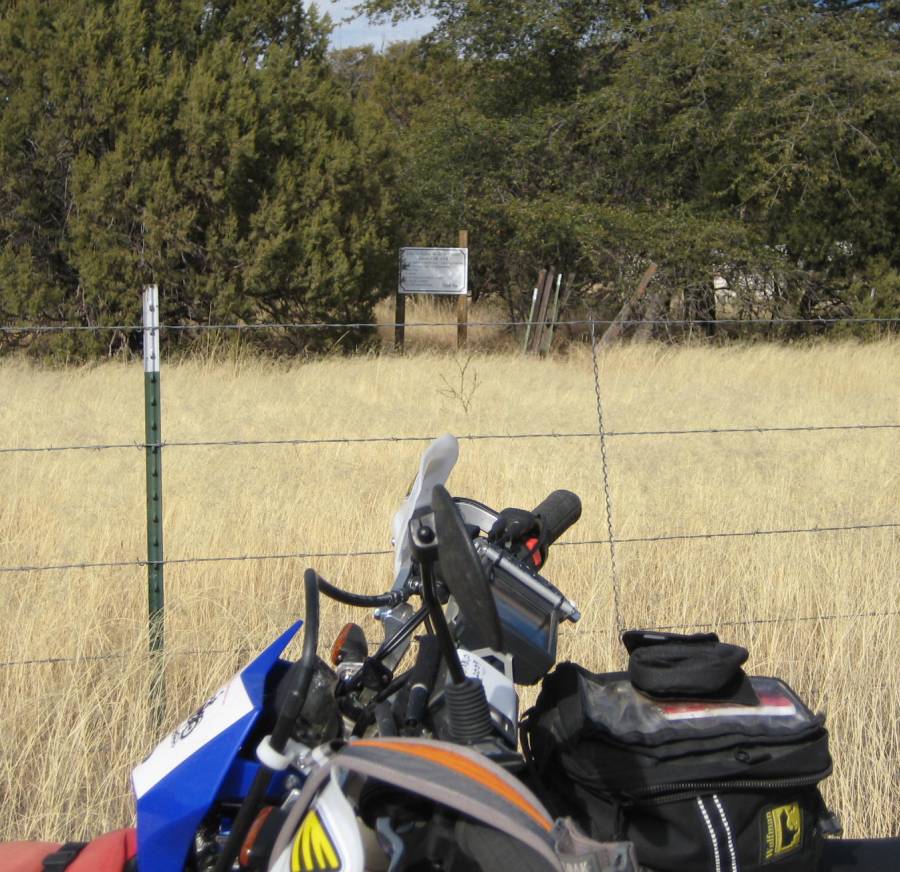 This is on private ground--but the owners graciously let you visit poor old Johnny's grave.
It's out in the middle of nowhere---we pondered the desolate terrain and the horse he rode in on.
To find his grave--you just have to know where to look--there are no signs pointing the way.
BigDog has his sources !!!!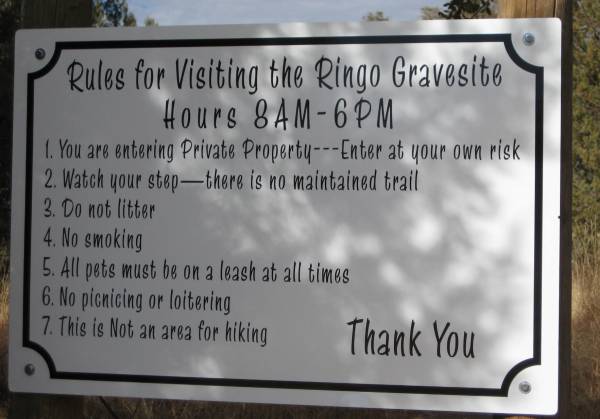 John Peters Ringo achieved a reputation as a notorious and dangerous man in Texas based on his participation in the Hoodoo War, also known as the Mason County War, which peaked in violence during 1875. Around 1879, Johnny Ringo drifted West to the territory of Arizona, where the notorious cowboy became the chief antagonist of Wyatt Earp, and received more notoriety before his death in July 1882. For more than a century, mystery and controversy have circulated about the details of Ringo's demise, making his death one of the most hotly debated deaths in Old West history.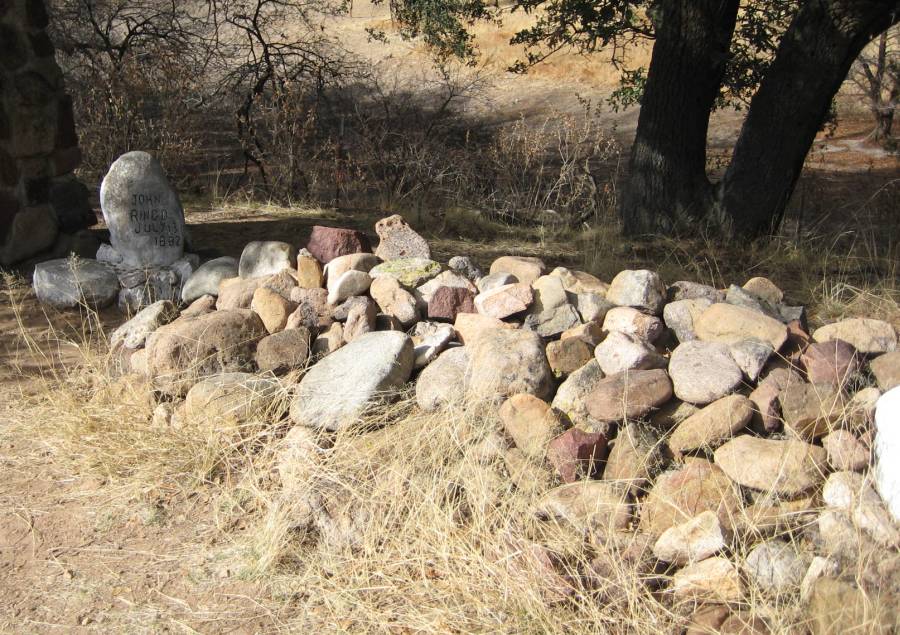 Johnny Ringo's passing did more than signal the consumation of the life of a notorious and dangerous man that had attained infamy throughout parts of the Southwest. It strangely began the cowboy's after-death journey into becoming a legendary cowboy whom writers romanticized to the point that he was considered one of the deadliest gunfighters of the Old West. By the 1960s, cinema and television had made Johnny Ringo a popular Western character known throughout the United States and in parts of Europe. As a result, the public's perception of John Ringo has been based largely on the legendary Johnny Ringo - deadly gunfighter, gentleman outlaw - "the fastest gun in all the West, the quickest ever known."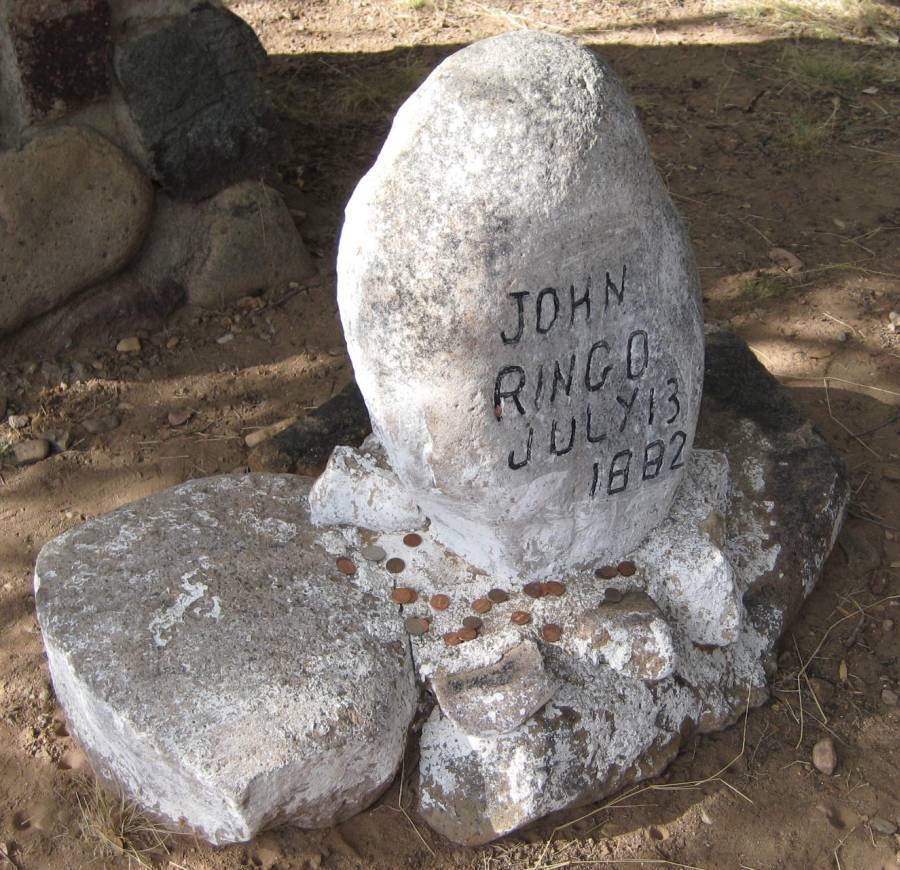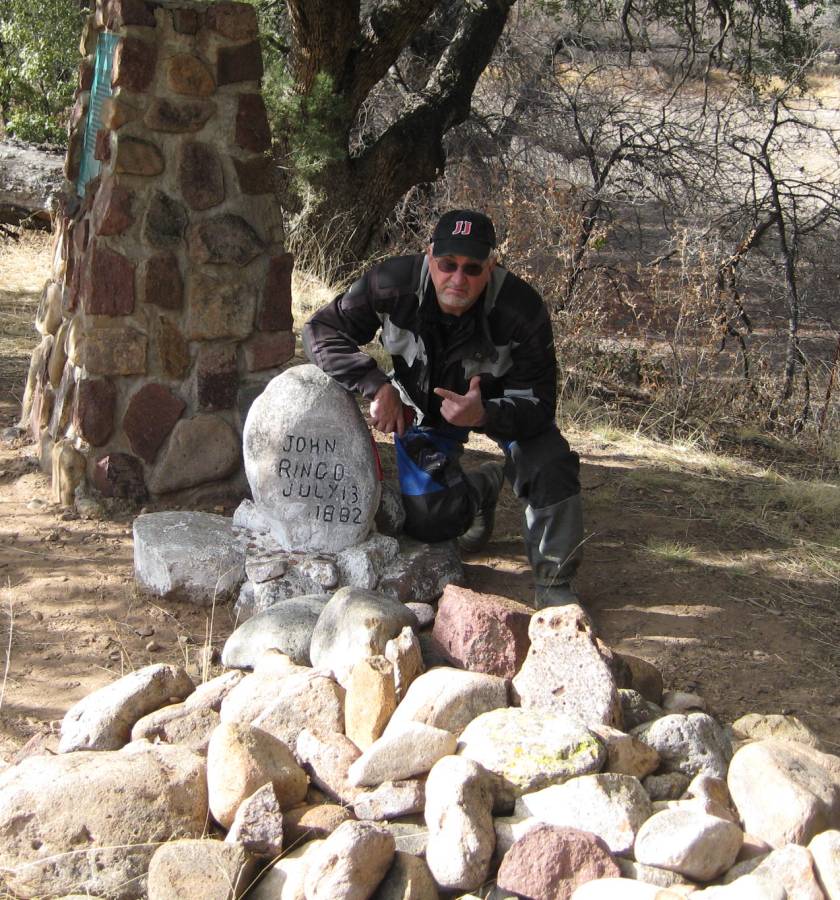 The story goes that Johnny Ringo was asleep under a tree and was shot thru the right temple and buried right there 2 days later.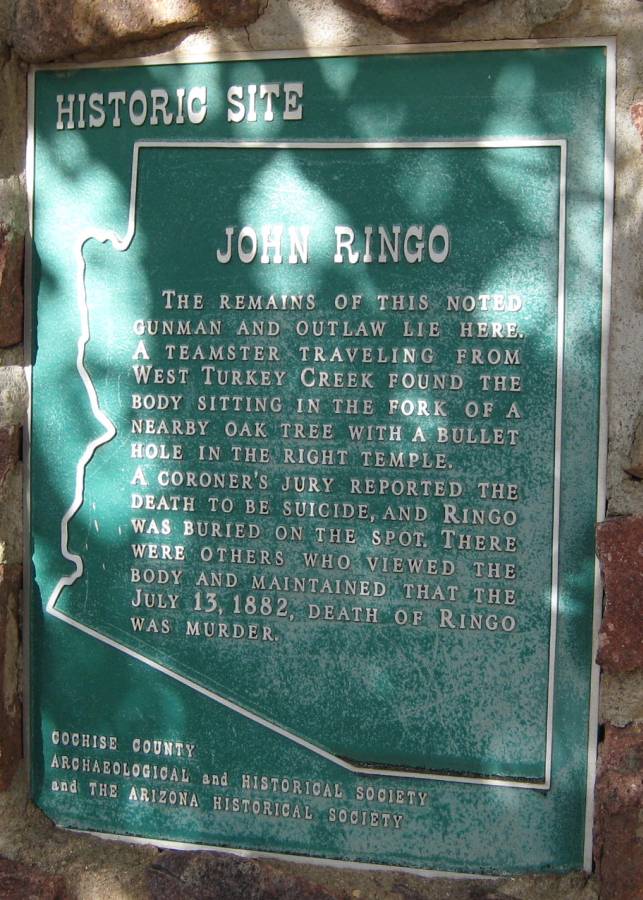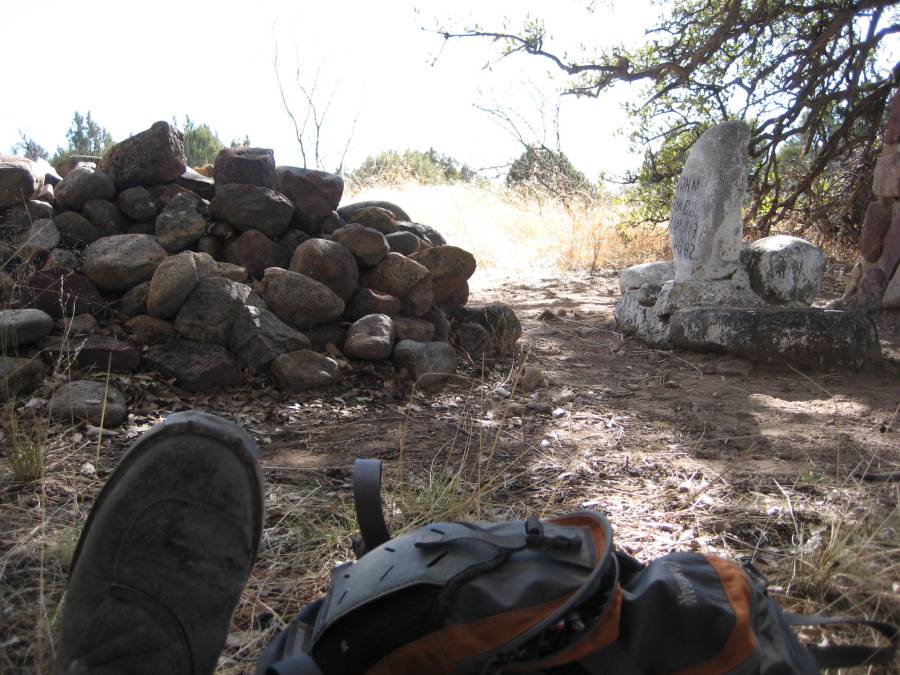 Poncho and Lefty pondered Johnny Ringo's life as they sat against the tree he probably got shot under and had some beef jerky and water.
We could bad mouth him all we wanted----as he was pretty defenseless.
Me and Randy sung a couple verse of "Poncho and Lefty" while there.
It somehow seemed fitting for some reason.
"And the federales say---they could of had him anyday"
"Or so the story goes"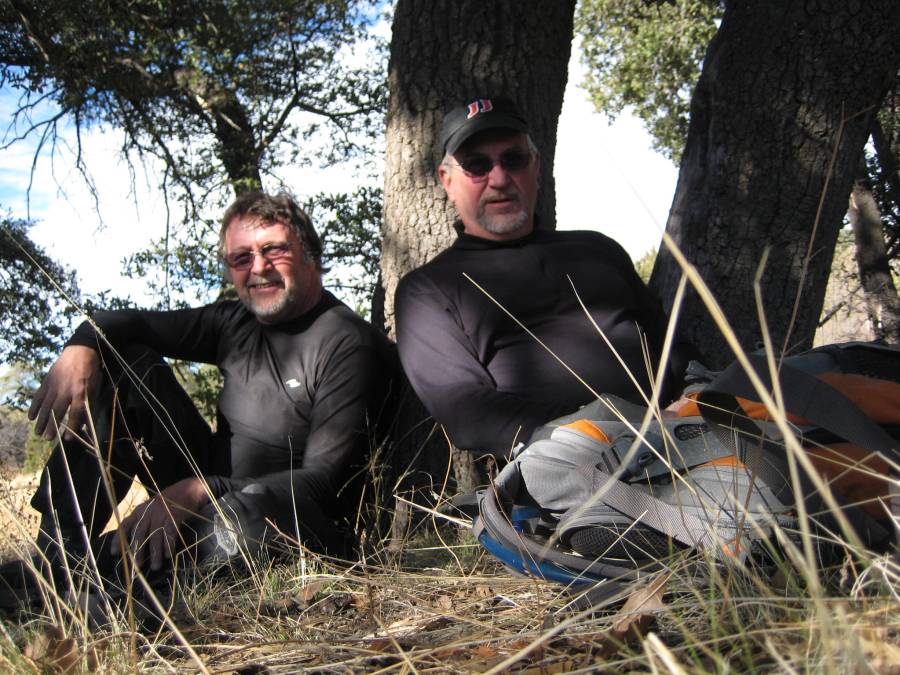 I blew by the entrance to Chiricahua (pronounced--cheracowee) National Monument with the little WR
pegged out in 4th gear---and wound her up to 5th and 6th to get as far away as I could--- as I wasn't going
to pay for something that should be free-------I won't pay.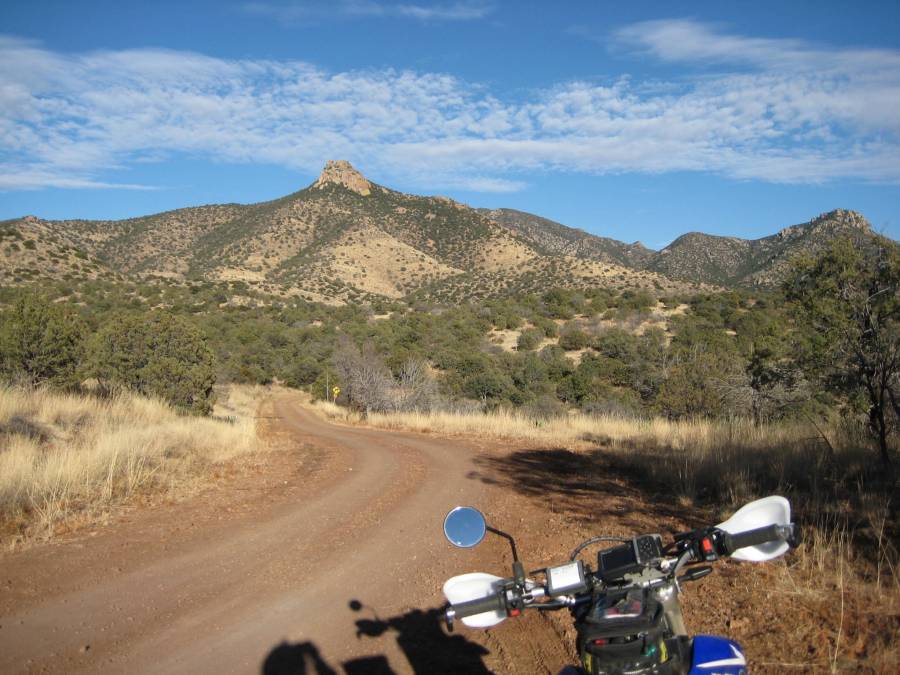 We then blew South and East down beautiful Rucker Canyon road as the WR purred smoothy in 6th at 70mph.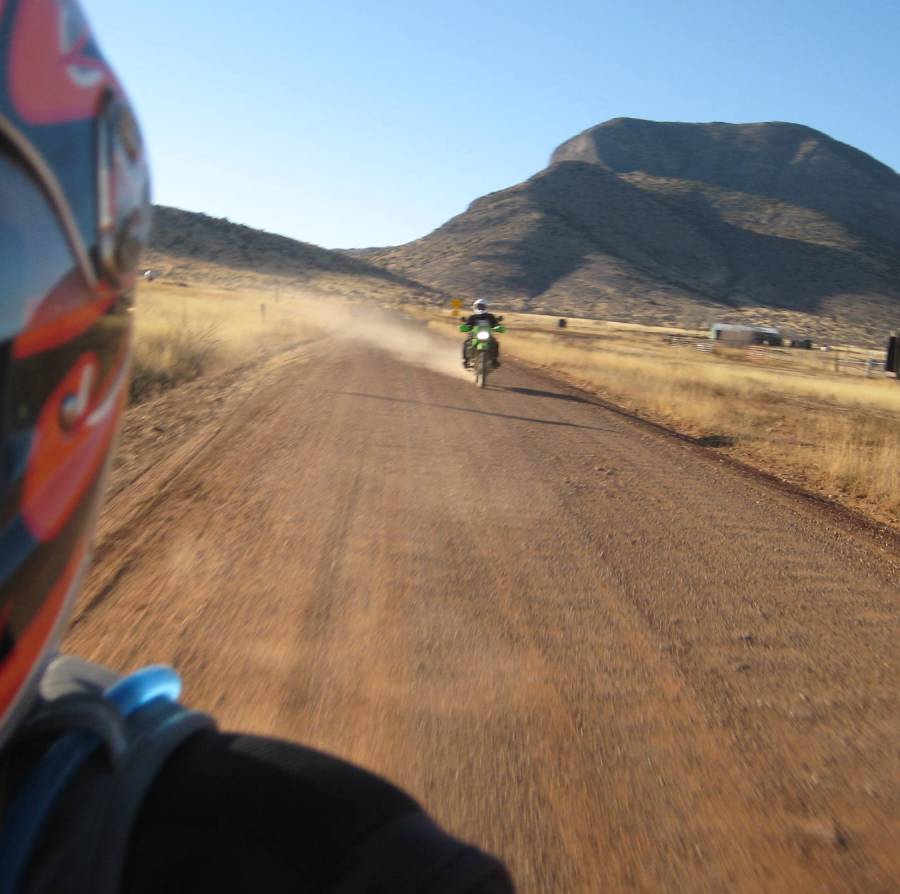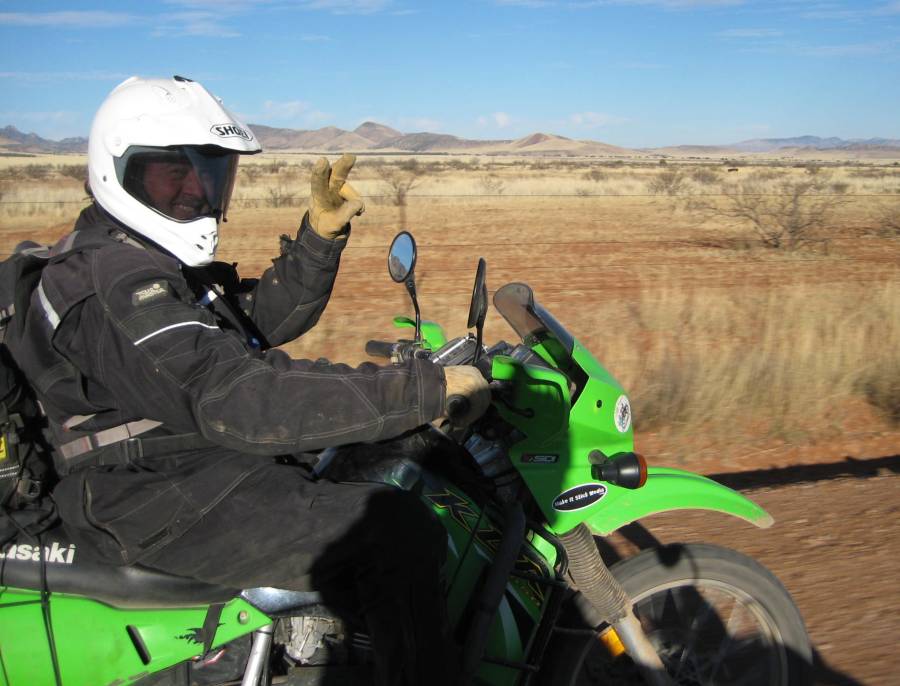 I had spotted a crater called the Paramore crater on google earth before I left.
It turned out to be on private ground and we couldn't get to it.
So on to the memorial where Geronimo was captured.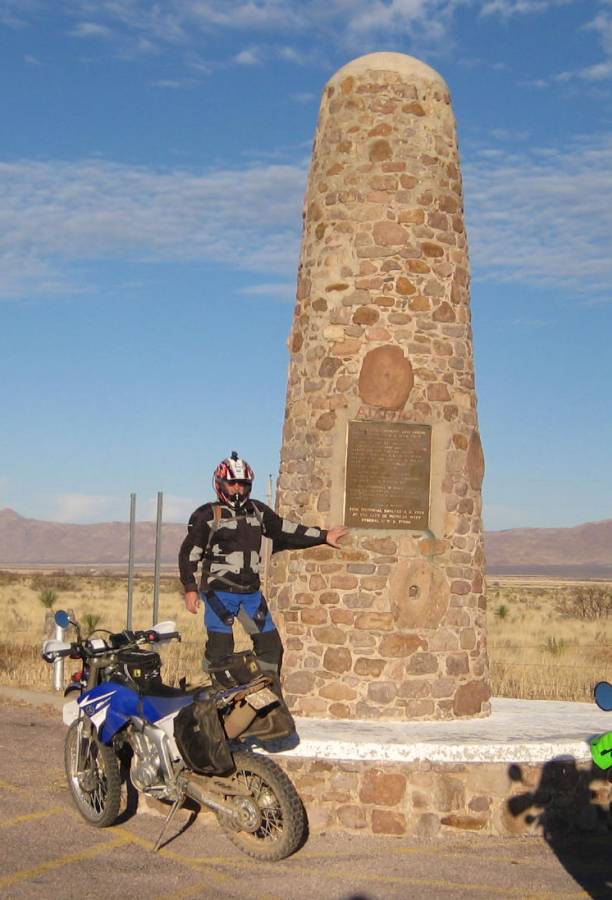 Access to skeleton canyon has been closed.
It is on private land and the owner said he got tired of people trashing the place and coming
thru on dirt bikes with modified exhausts---------I don't blame him.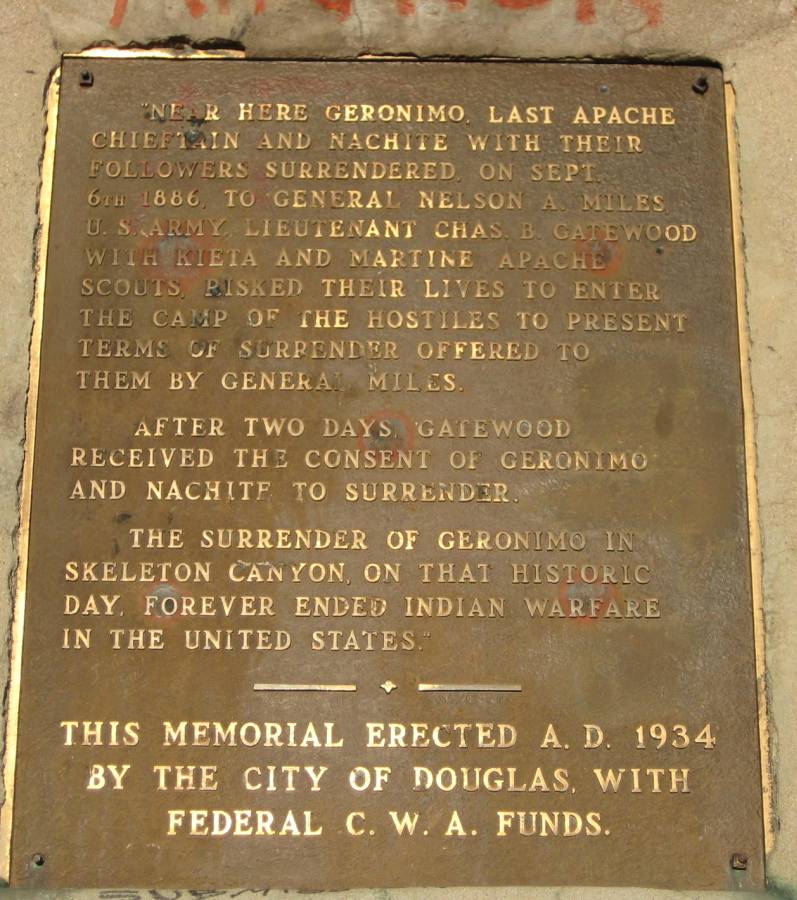 We made it back to our comfy travel trailer about sunset and were lulled to sleep
by coyotes. We had no bike problems whatsoever and will leave camp tomorrow
and ride South and East towards the Mexico border in New Mexico--then head pretty much
straight West along the border. We would cross into Mexico tomorrow---unintentionally !!!!
Day 2
Rodeo, New Mexico to Nogales, Arizona---a US border town.
A town where we would need a welder !!!!
As luck would have it-------I was probing google earth in Southwestern New Mexico and found a dirt road heading
close to the border thru the Coronado forest and found a picture of a guy riding his GS thru there. The picture
was intriguing and looked like good riding. The road is called the Geronimo trail and ends in Douglas Arizona
a US border town I've been too.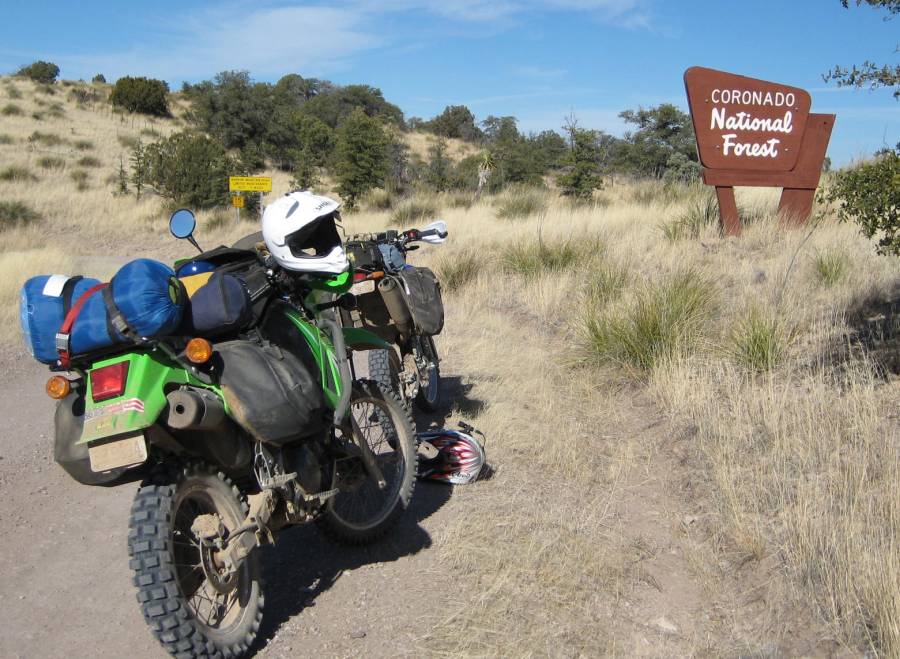 Again we were riding thru ranchland thru the Diamond A Ranch.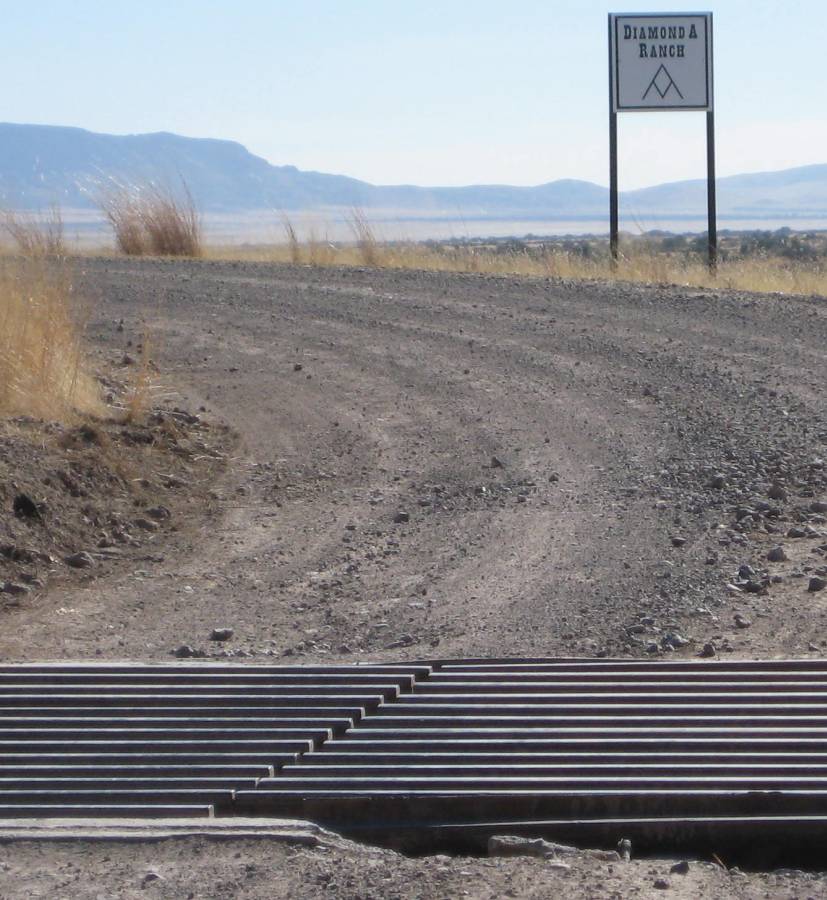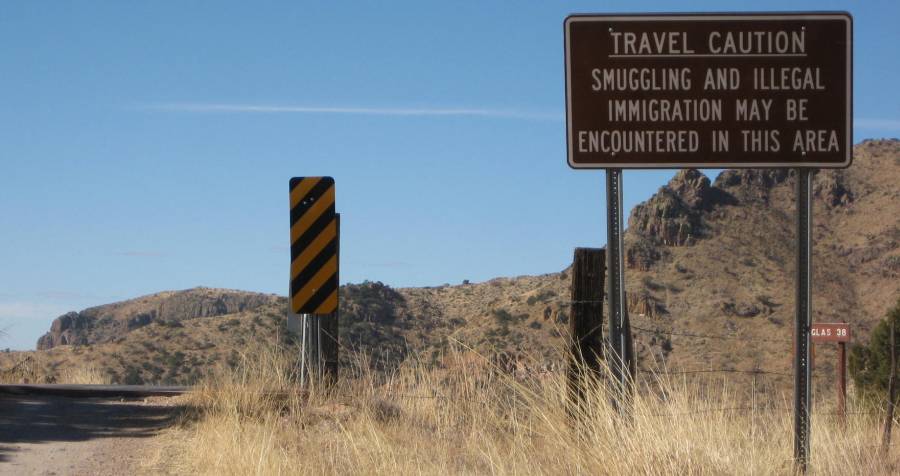 The border patrol caught up to us and I got some good info from them---we would see probably 20 of these guys
probing along the border road.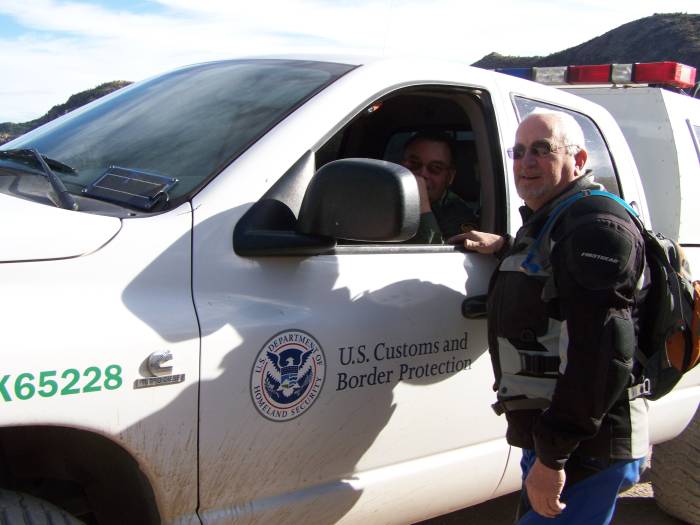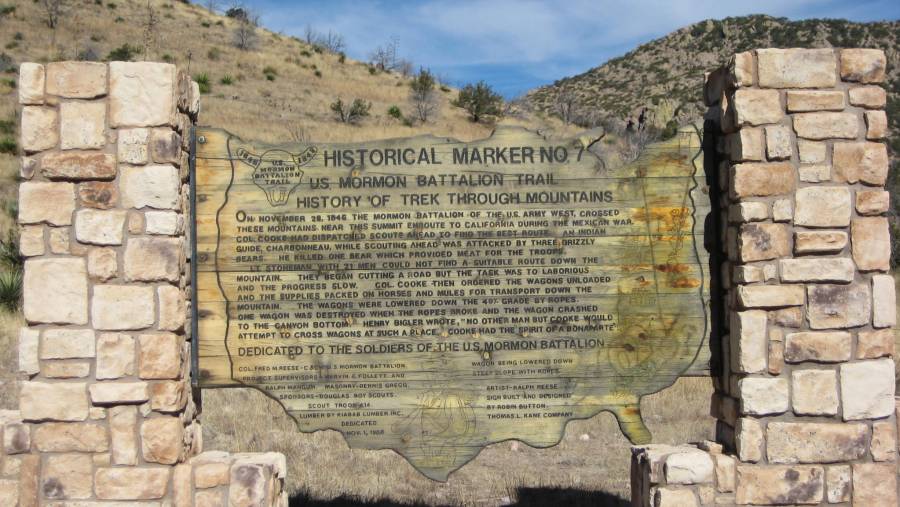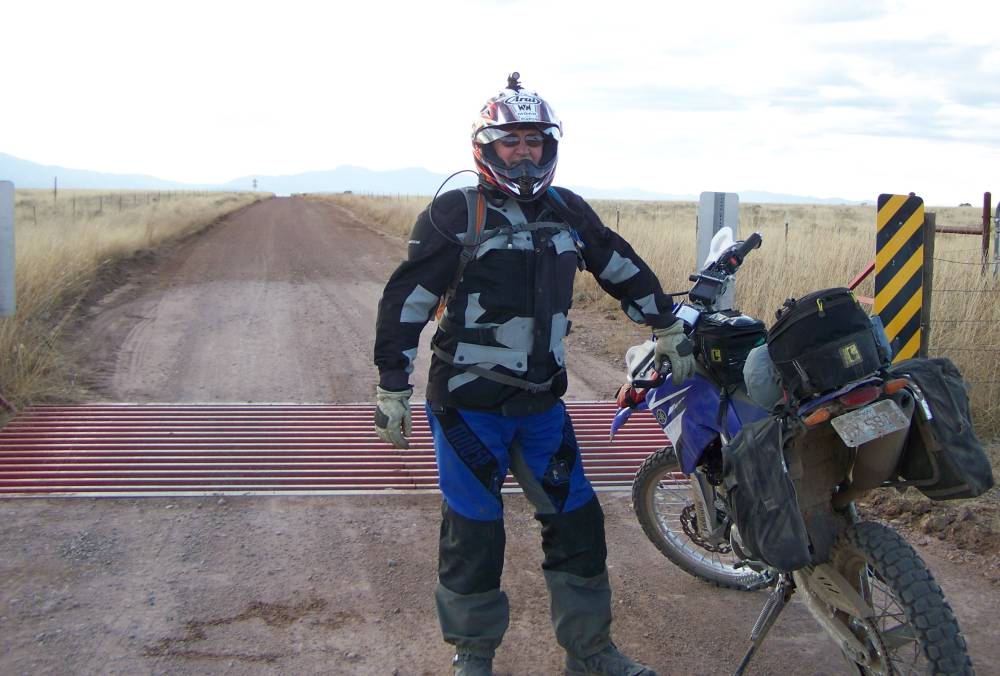 I've got my 2008 WR250R all set up with the same stuff I do all my bikes. Cycra Pro-bends, heated grips, garmin 276C GPS, foldable mirror,
Wolfman enduro tankbag, dirt bagz, Wolfman peak tailbag and wiring for heated gloves and clothing. The WR puts out 350 watts of power--almost as
much as my 950 KTM.

I'm always wasting good tires when going on a big ride---but I kept the stockers on there and they did fine.
They are trailwings I think----we rode in some slippery mud at times but the light weight of the 250 let me ride it very
aggressively and easily thru it all.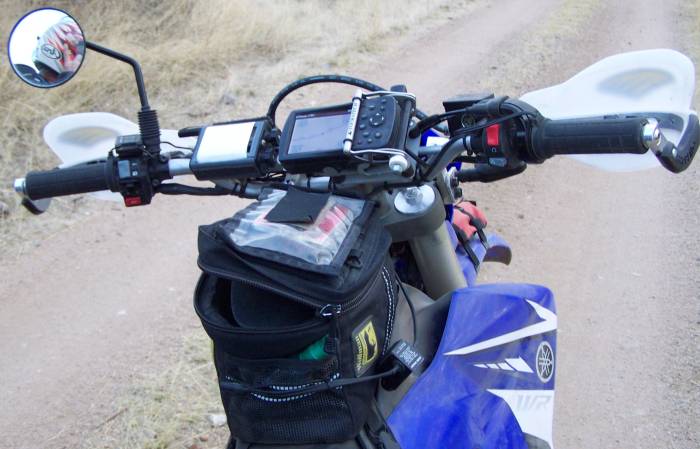 The Geronimo trail was absolutely fantastic. Beautiful moutain switchbacks, many creek crossings and lush vegatation at times.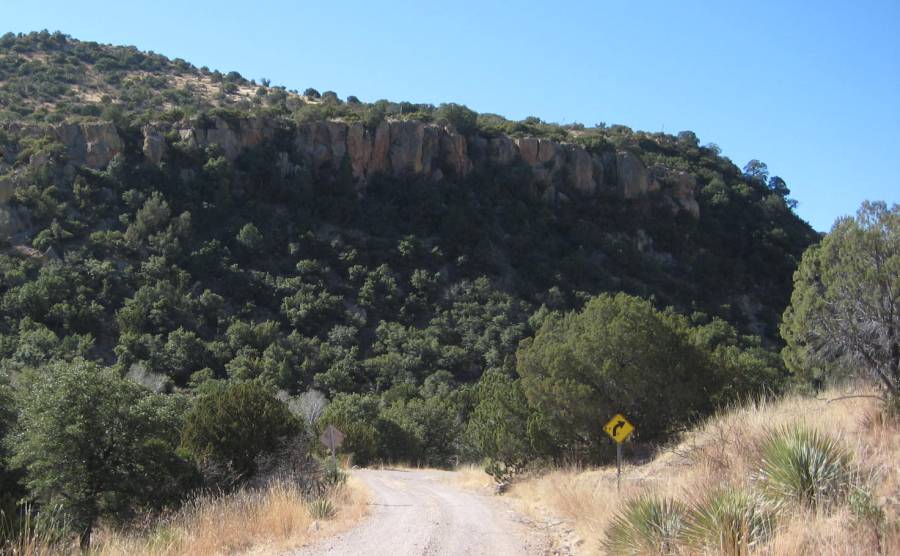 As I said---the Geronimo trail took us right into Douglas, Arizona and we got close to the very old and historic Gasden hotel.
I wanted Randy to see it-----so we went in the lobby and rested awhile then had lunch in the restaurant.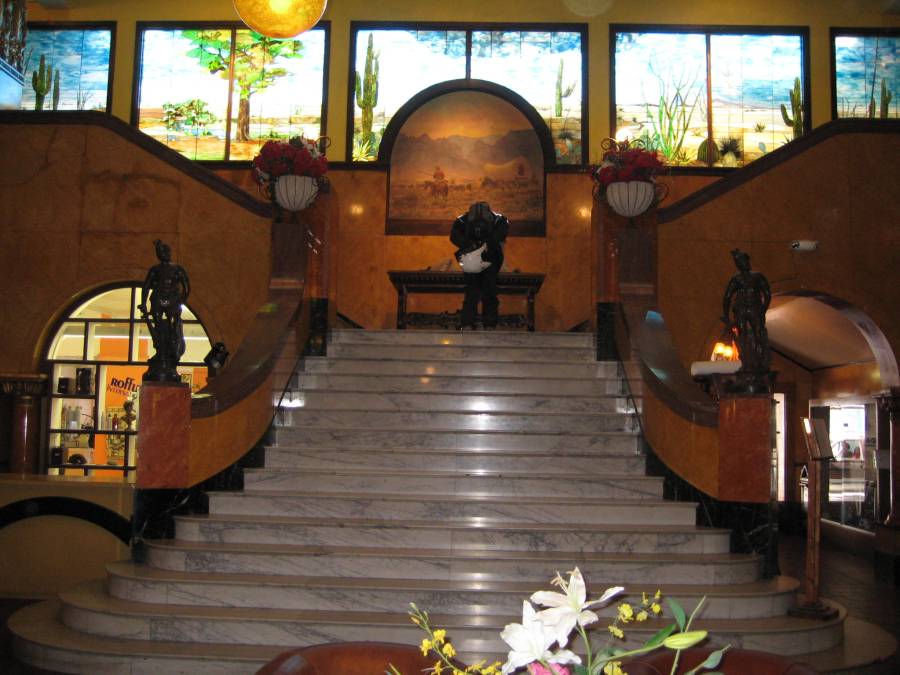 It's a nice restaurant with lovely Mexican senioritas waiting on us and Randy sticks his little finger out trying to show a little cooth.
There wasn't an ounce of "cooth" between the 2 of us as we both relieved internal gaseous pressures making loud obnoxious noises.
What's funnier than that ?????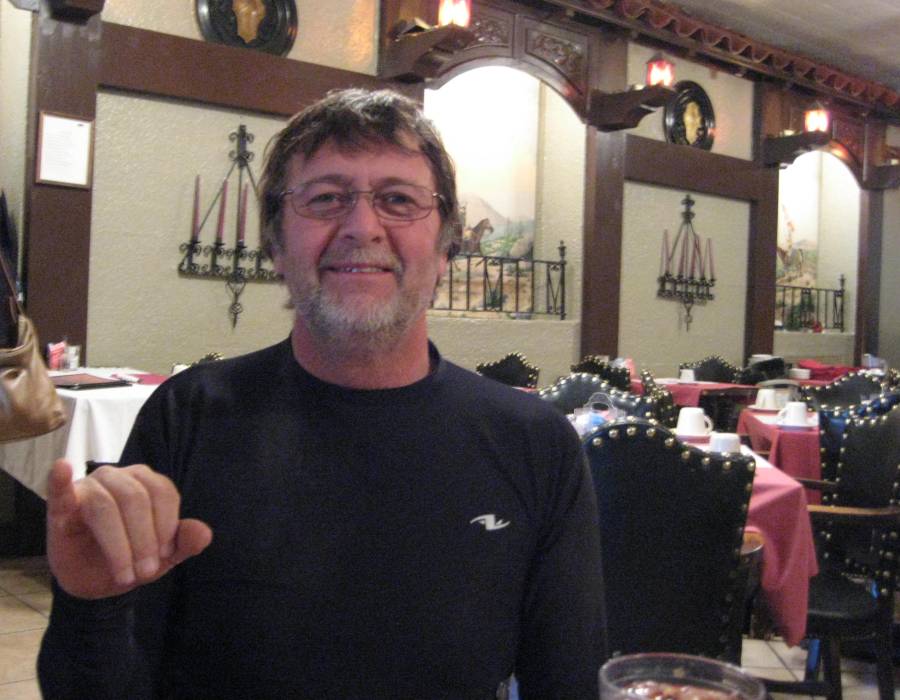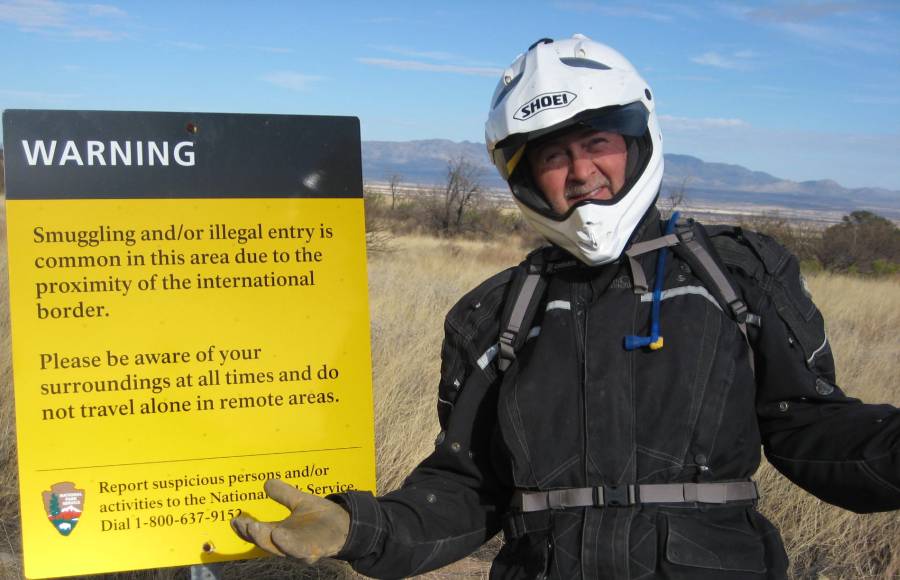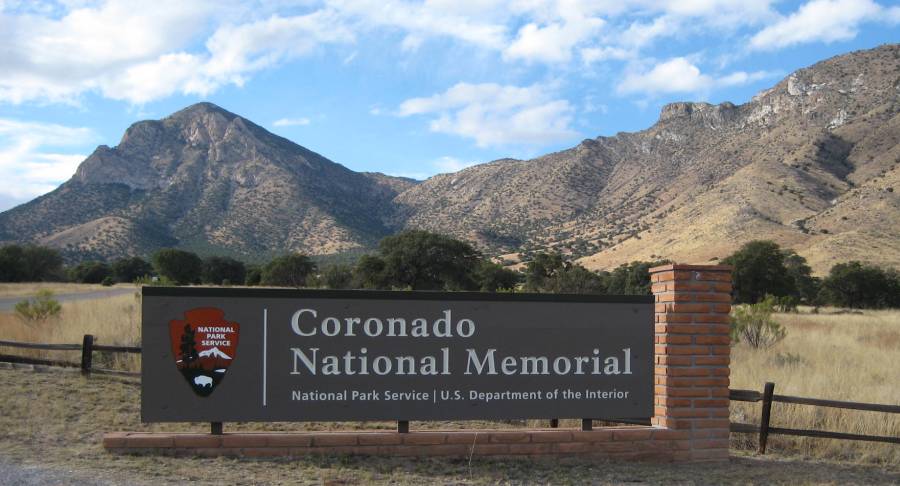 We headed West on what a lot of people call "The Border Road".
Going thru the really neat historic mining town of Bisbee on the way thru Montezuma canyon and over Montezuma Pass at about 6.000 ft.
My big gas tank for this bike hadn't arrived yet so I had a 1 1/2 gallon Kolpin gas can in my left saddlebag.
I didn't want to haul gas--but had to---but it just wasn't a problem. I had to use the spare gas many times.
My bike got a whopping 74mpg more than once----and a low of 67mpg.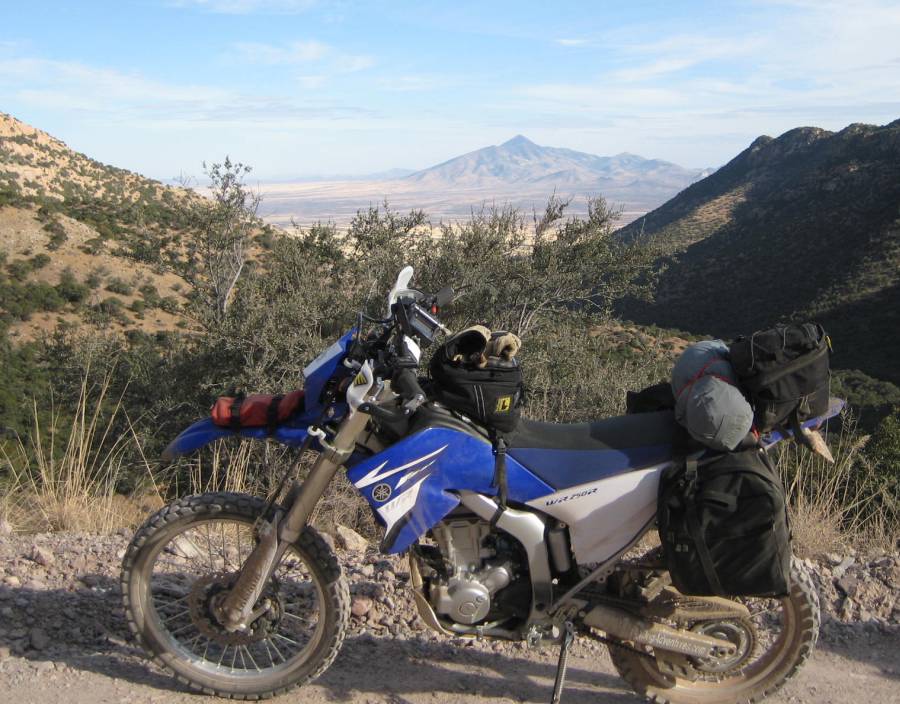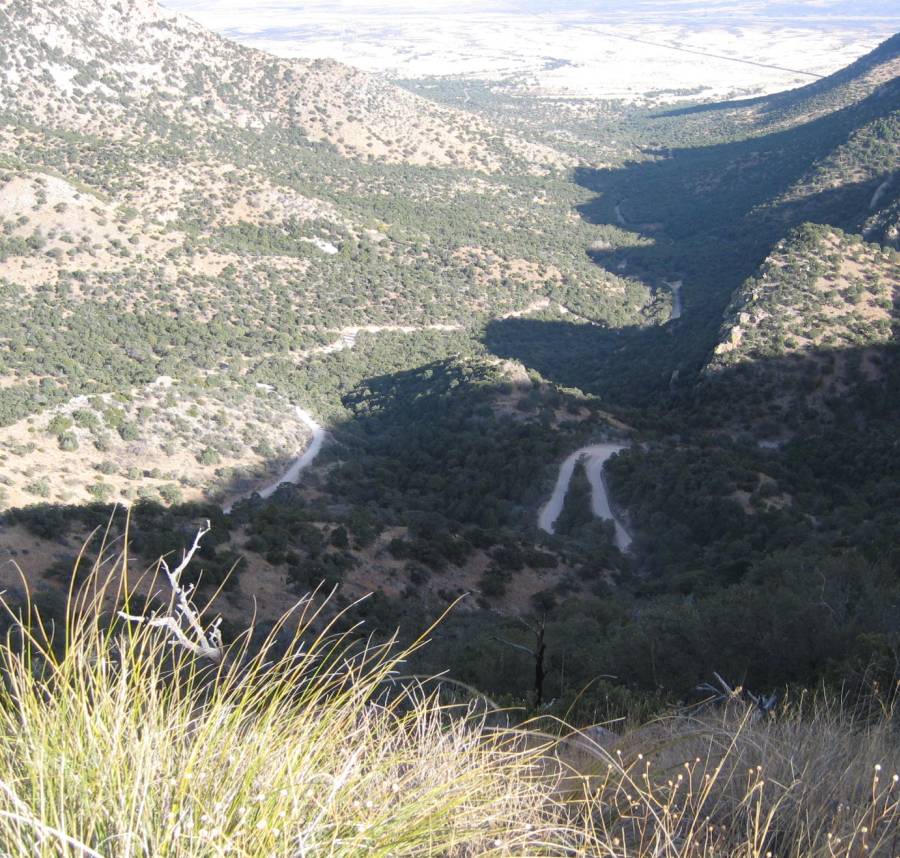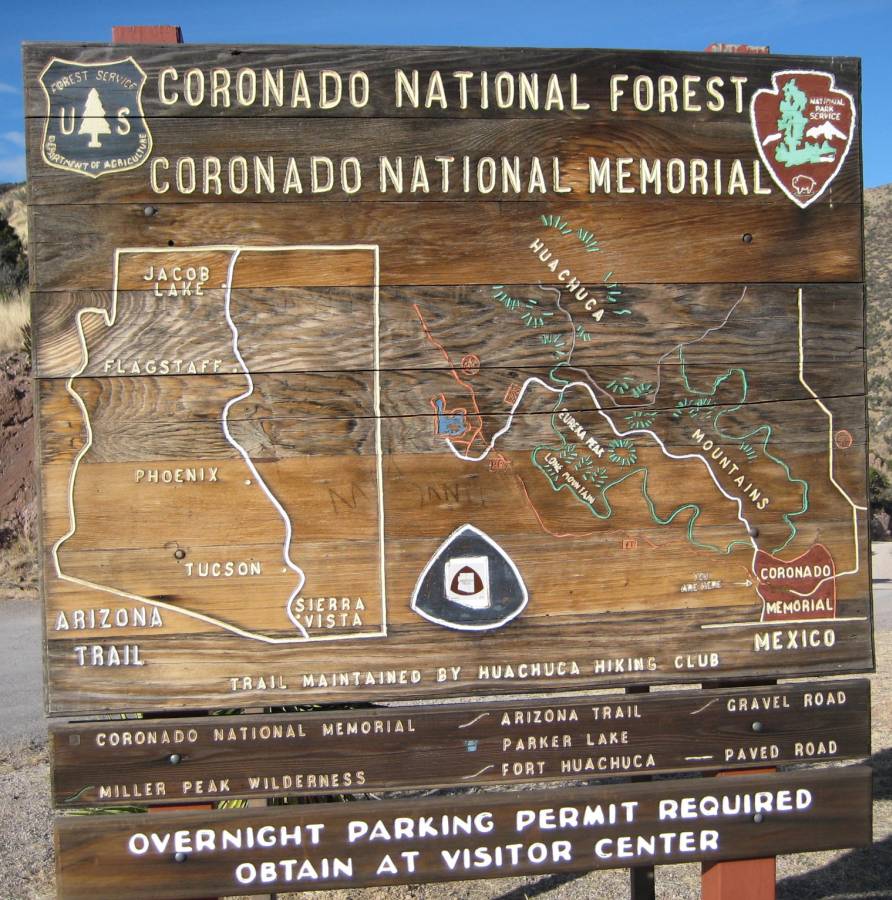 I guess I made a wrong turn somewhere ?????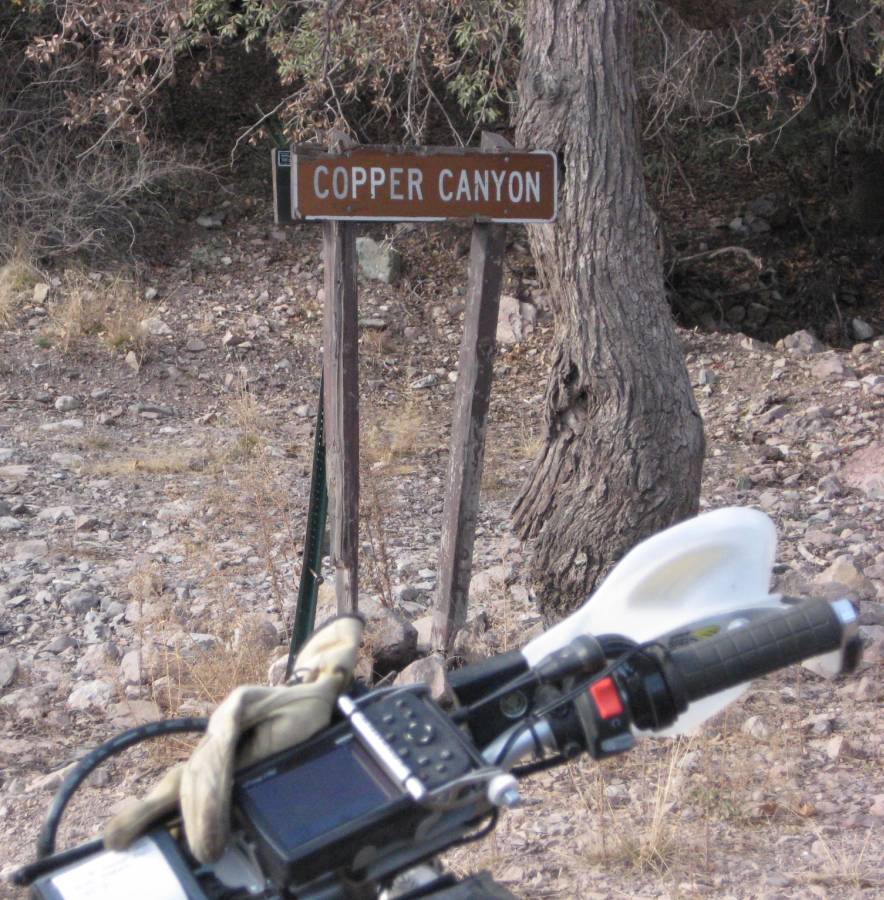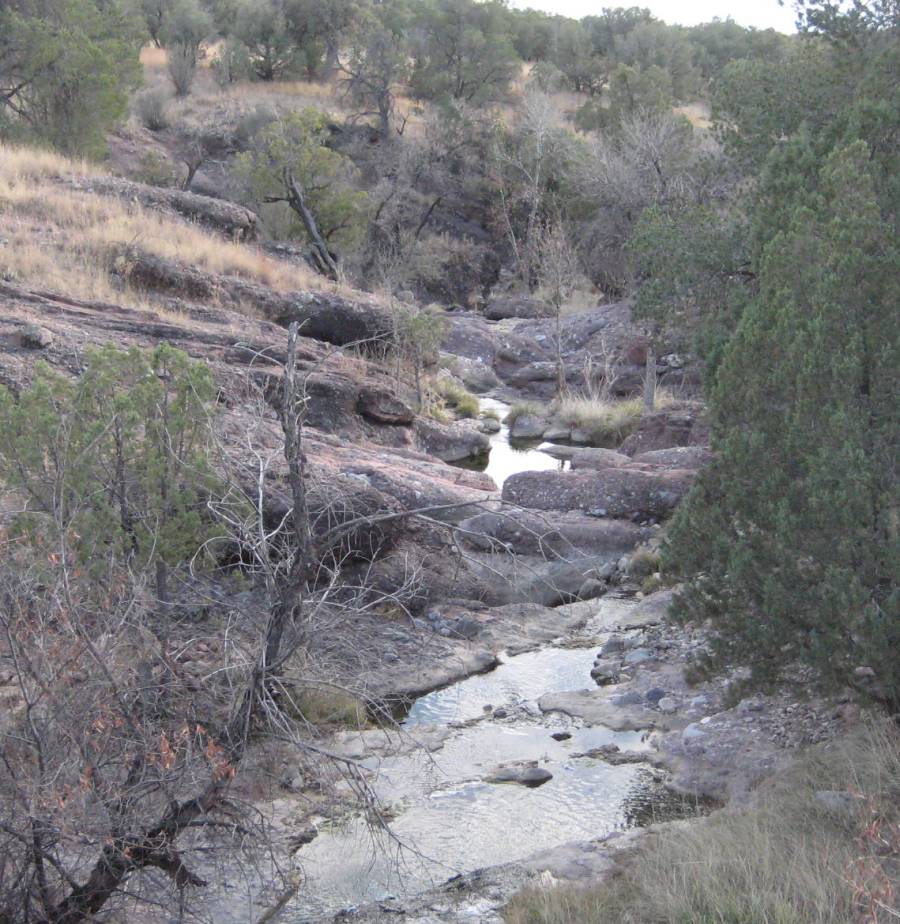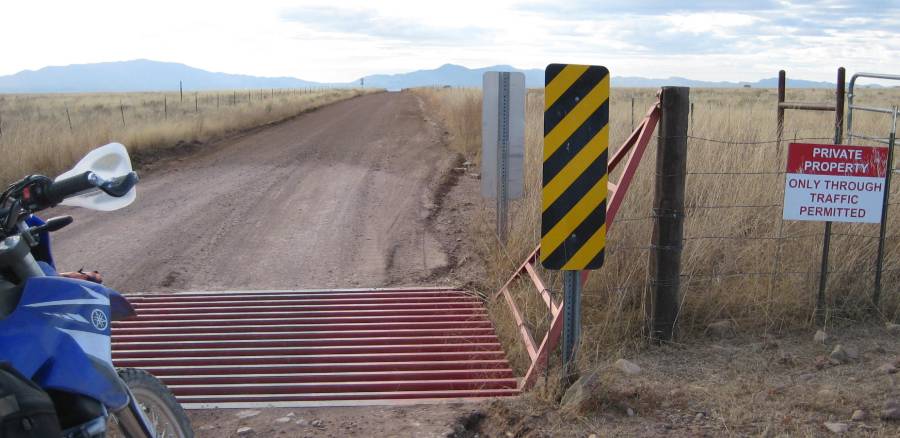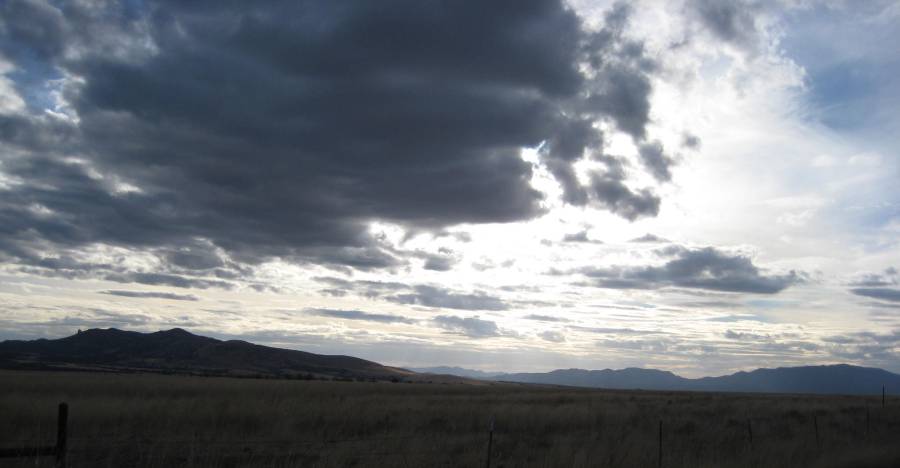 Along this route we spotted all kinds of border spy devices and cameras.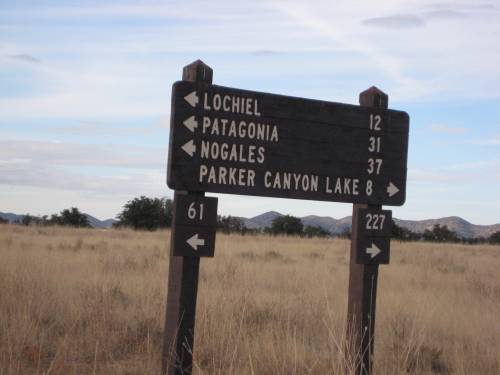 We rode into the dusty border town of Lochiel----population 6 we heard.
But we never did see anybody. I spotted this building which I thougth was a church way off in the distance to the South and made tracks for it.
It was a beautiful structure and we both admired it for awhile and when I looked down at my gps I was shocked !!!!
We had crossed the border by quite a bit-----and we quickly started the bikes up and beat it North again as the border patrol was everywhere.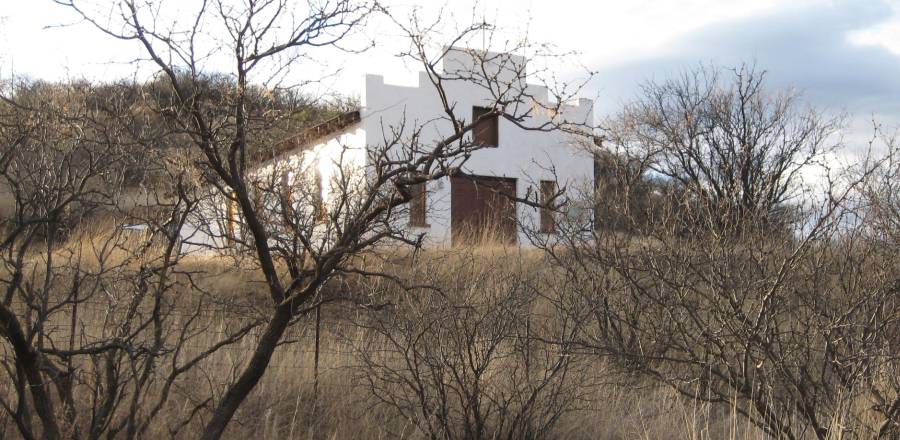 We didn't make it very far as the following picture will show the fantistic view we saw.
The combination of sun, clouds, trees, old buildings and the Samson windmill motor astounded us.
We sat here in silence for quite awhile absorbing the solitude of it all.
I imagined all this in black and white.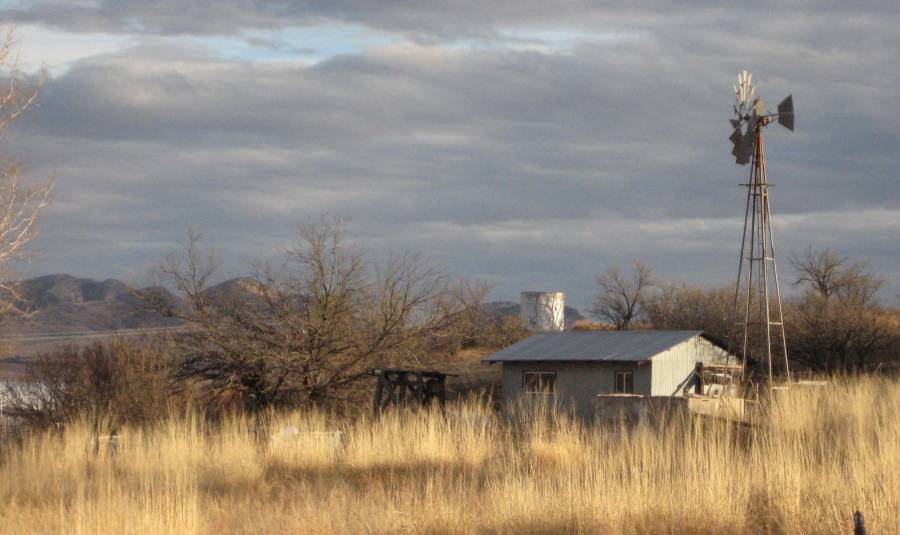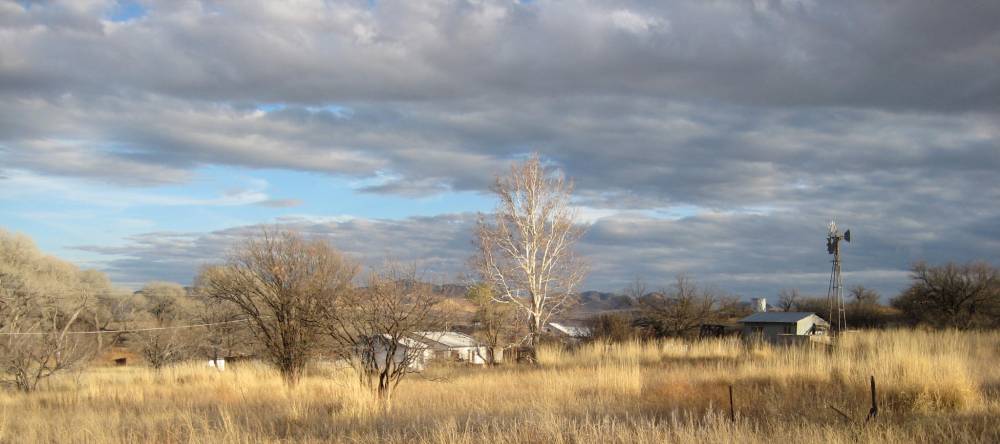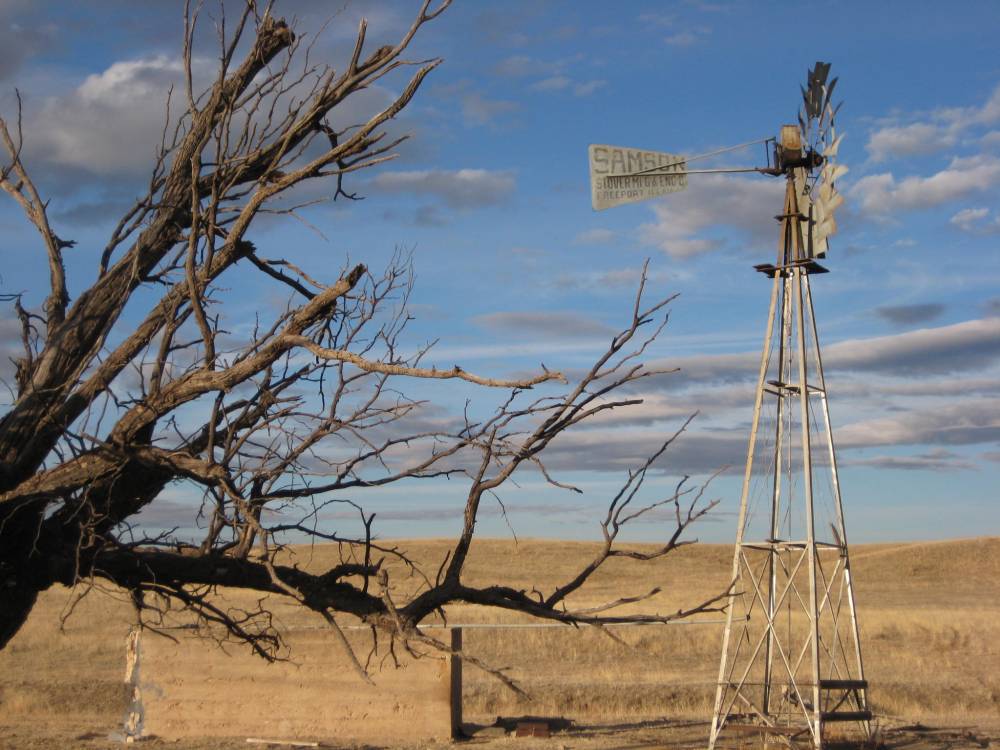 Introduced in the late 1920's, the Samson Oil Rite today is the most frequently seen of all the windmills produced by the Stover Manufacturing Company. The mill was made in two patterns, the Model S and the Model M, the former having been introduced about 1930. These mills were not the first self oiling mills from the Stover firm, as a short lived Stover Oil Rite mill was produced for a short time between about 1925 and 1930, but it never achieved the popularity of the later Samson Oil Rite. For about a decade from the early 1930's to the early 1940's, the Model M Samson Oil Rite sold as the Champion windmills by Sears, Roebuck, and Company. Although the outward appearance of the Model S and the Model M mills differ, mechanically they are quite similar. An important difference between the Model S and the Model M mills is their bearings. The former employs Timken tapered roller bearings, while the latter uses plain babbitt bearings.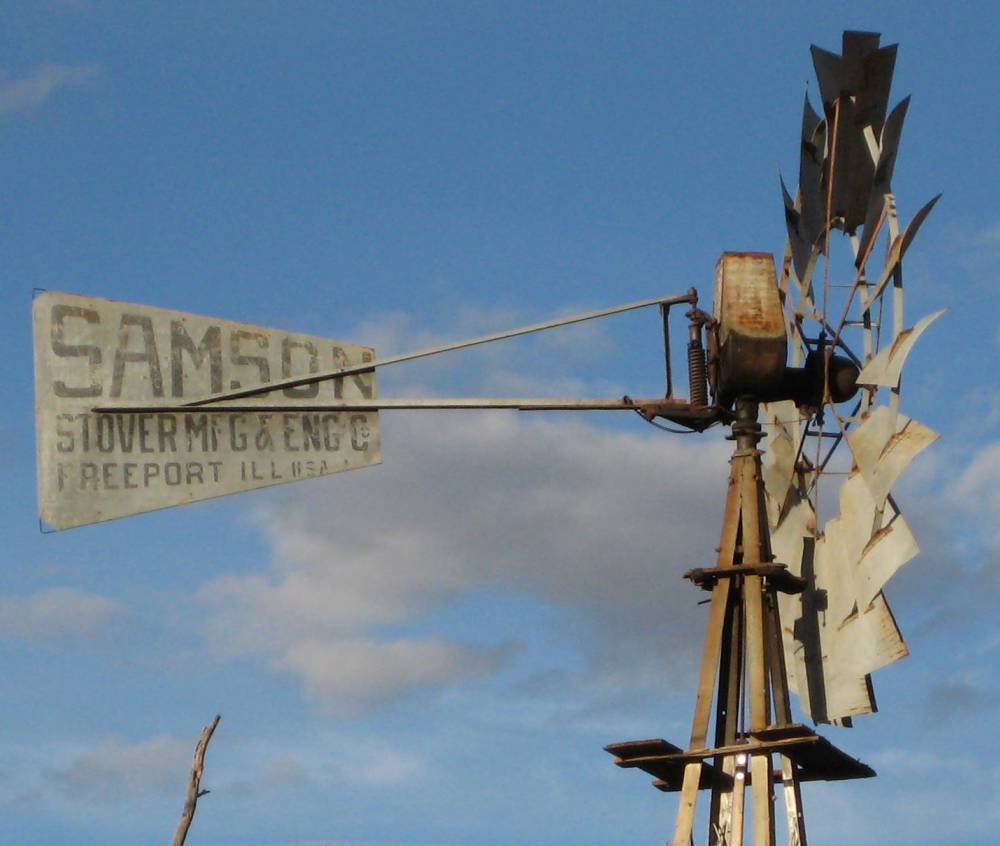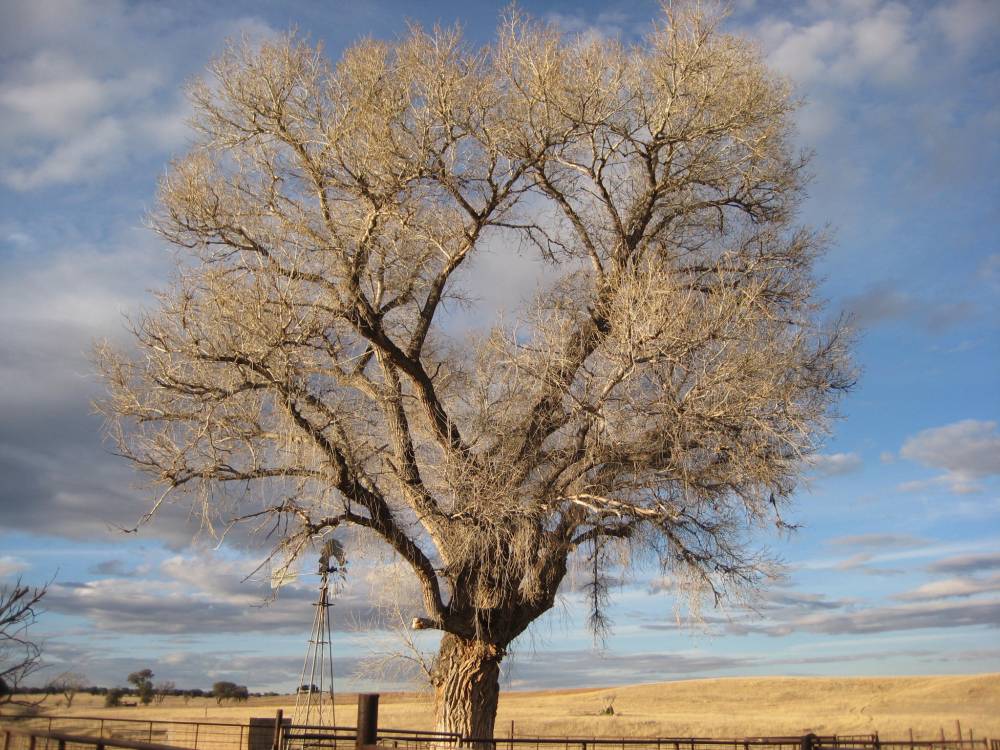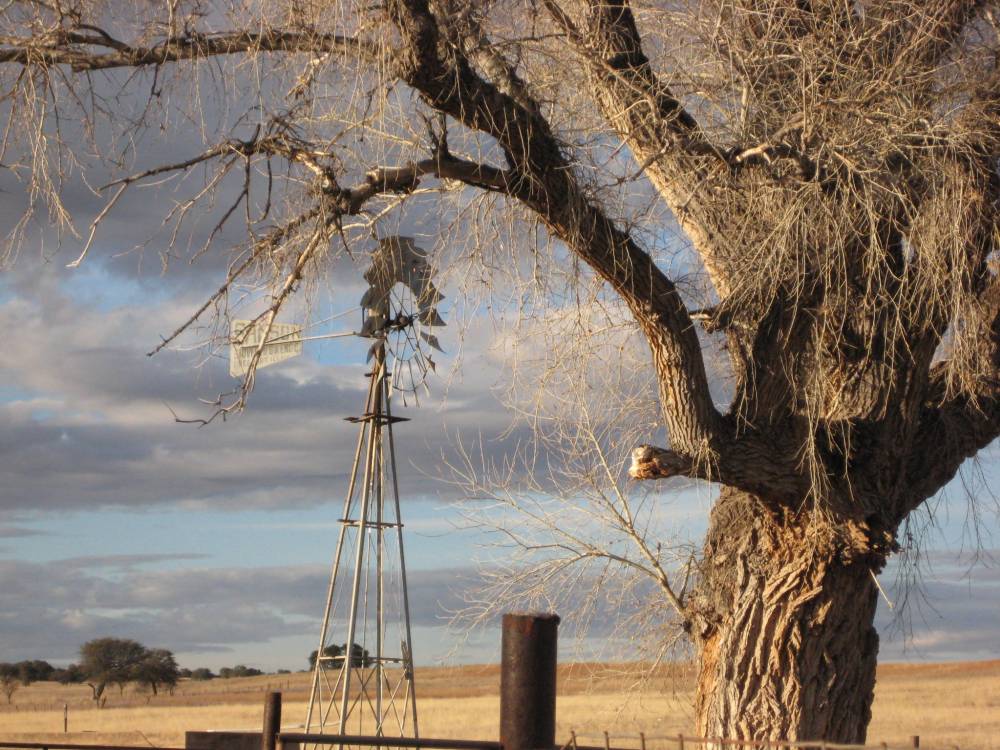 ABout 10 miles Northwest of Lochiel we passed the Kansas Mine.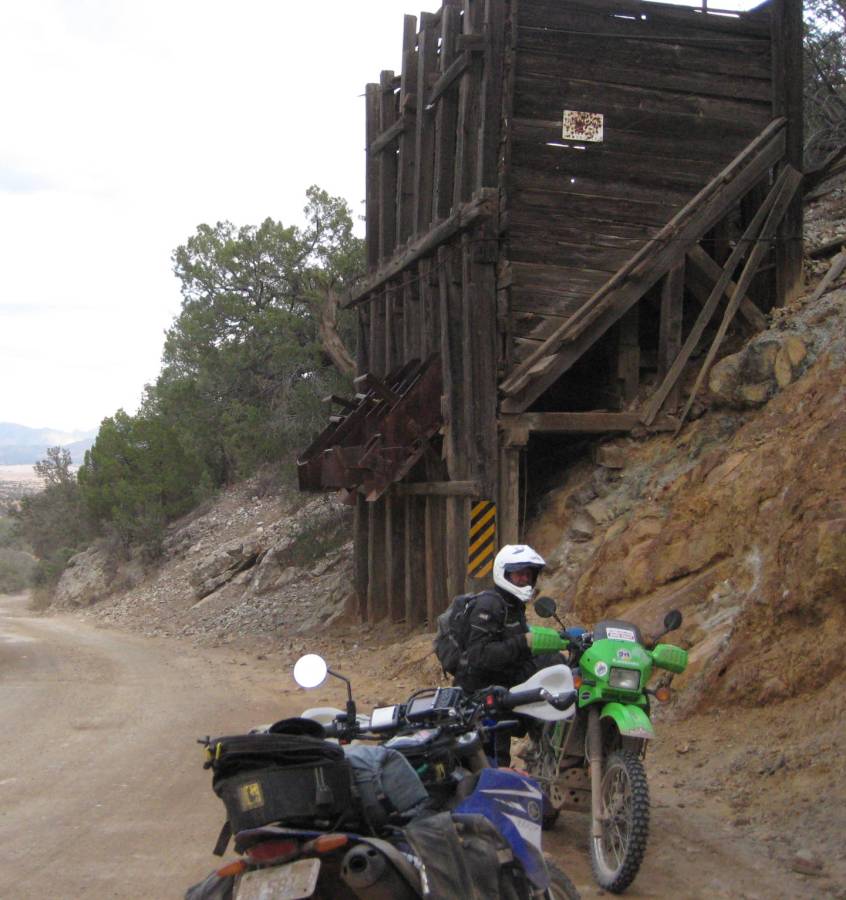 We ended up in the border town of Nogales for the night after a hard days ride into the dark.
Day 3
Nogales to Tombstone Arizona
About 5 miles North of the border town of Nogales, Arizona we headed straight East on the most lovely dirt road
thru a ranch running thru beautiful dry desert scenery. I will rain for 2 days straight later on and the desert will come alive !!!!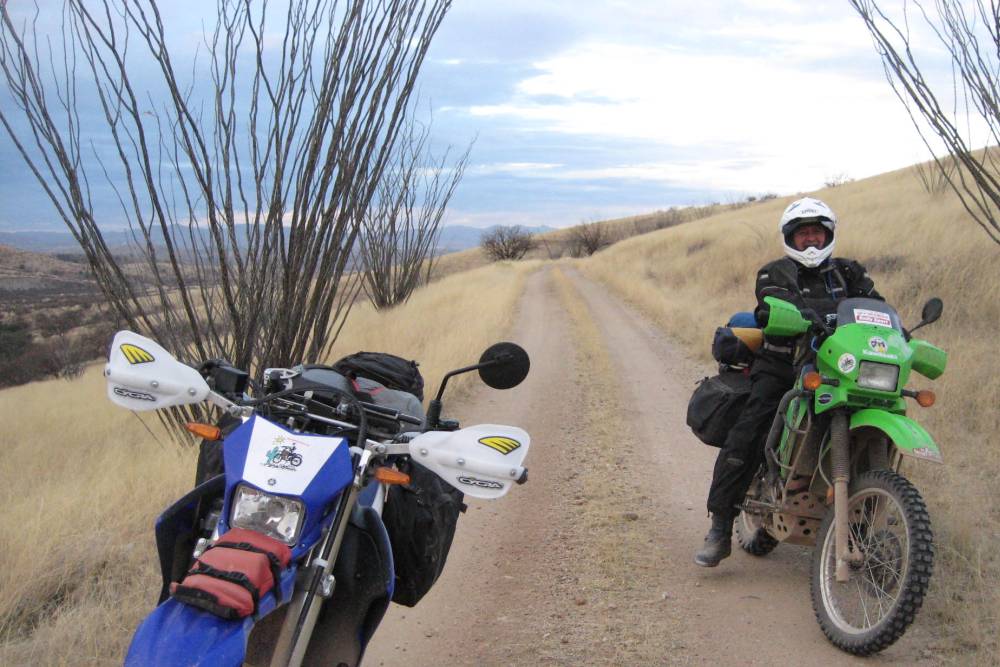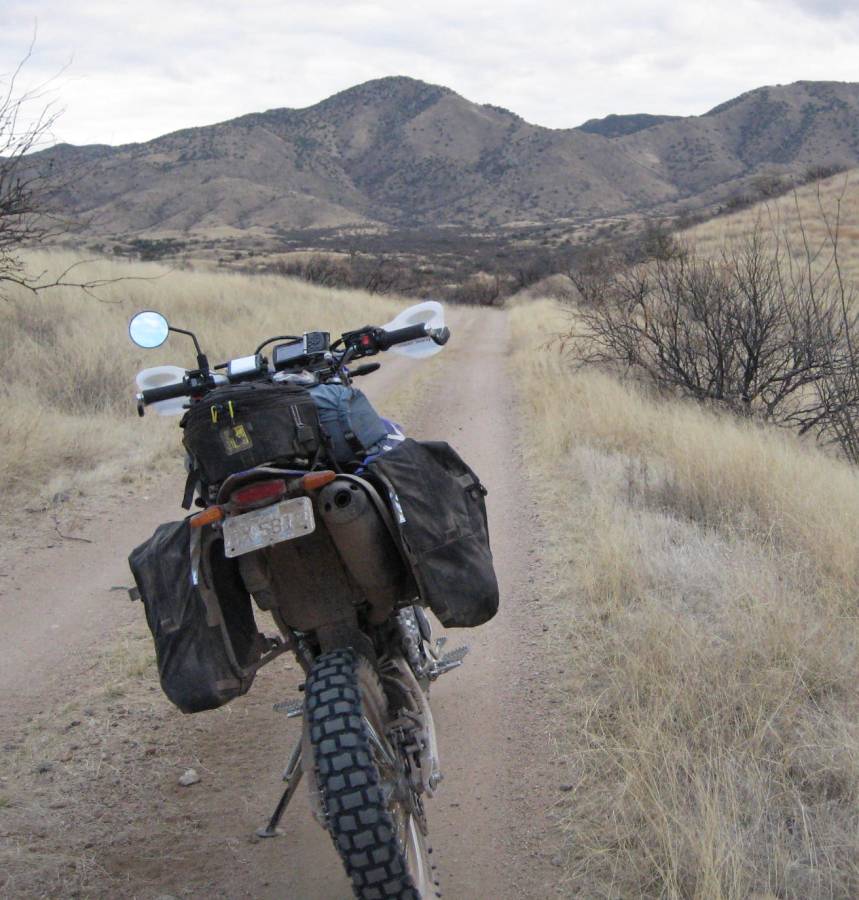 We only got down that dirt roade about 3 miles when sadly for Randy-----I had my video camera running and was right behind him and down he goes.
It made for great video at Randy's expense.
We're not sure if the crash done it or what---but the KLR's shifters are notorious for breaking. It was my fault I guess---as I jinxed it when I said at
the start of the trip---"Randy you better get rid of that flimsy shifter--it's gonna break".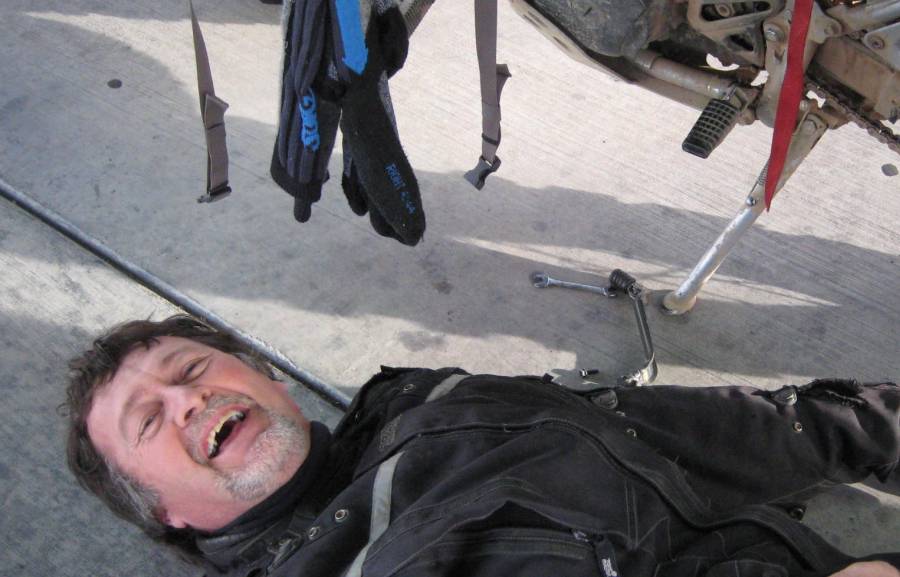 We limped back to Noglaes and took the shifter off at the first place to pull over.
I took the shifter and went hunting a welder. I didn't go 1/2 mile when I spotted a sign "Hernandez Ornamentle Iron And Welding".
I knew they'd have a mig (wire) welder---which is really the way it should have been welded.
I wasn't gone from Randy over 10 minutes when I brought back the welded and still hot shifter------Randy just couldn't believe how resourceful I was !!
The nice Mexican fellow wouldn't take any money----and I made him take $20 and told him if he didn't take it Randy would come back and kick his ass !!!
Oh-----I'm a welder by trade---and he done a better job than I could have.
All the last 3 days I certainly felt like I was in Mexico being we were so close to the border and there were so many Spanish speaking people.
I found myself talking in Spanish to everyone I saw---at least what little I could.
The other thing that made me feel I was in Mexico--is all the friendly people and the welder who was so glad to help and wanted no money.

This is the sign that was posted as we entered the ranch where Randy fell and broke his shifter.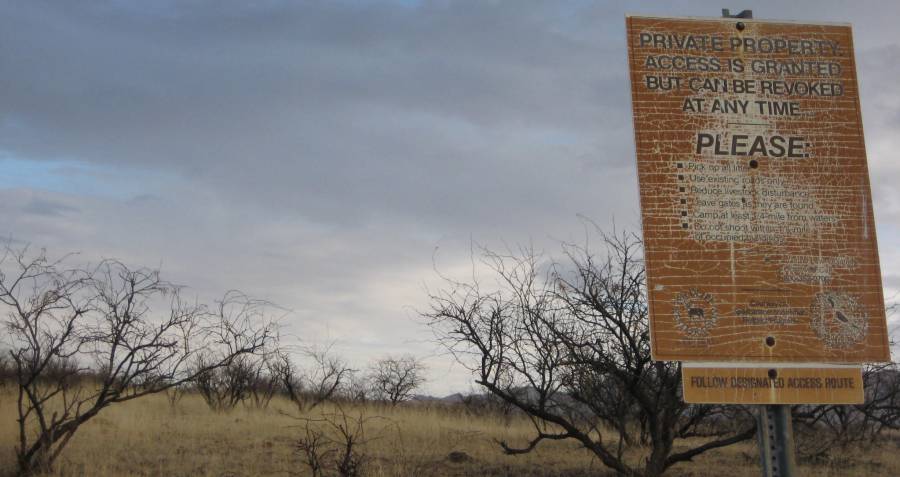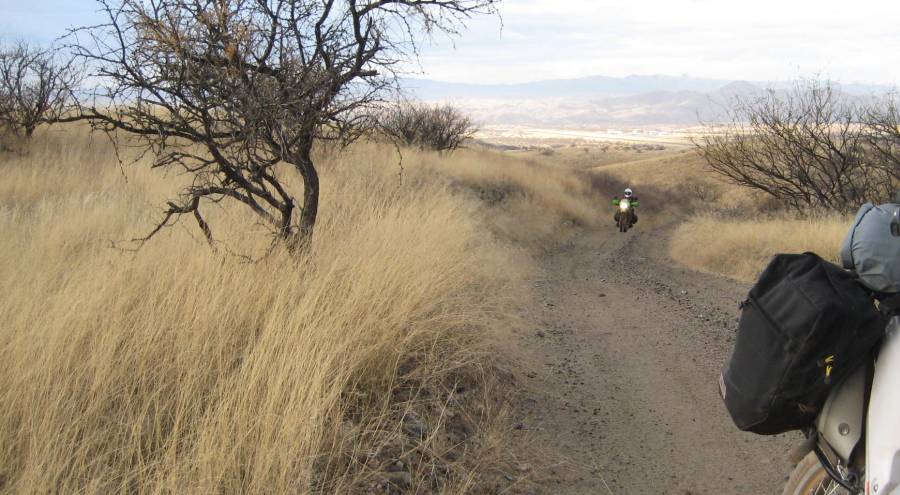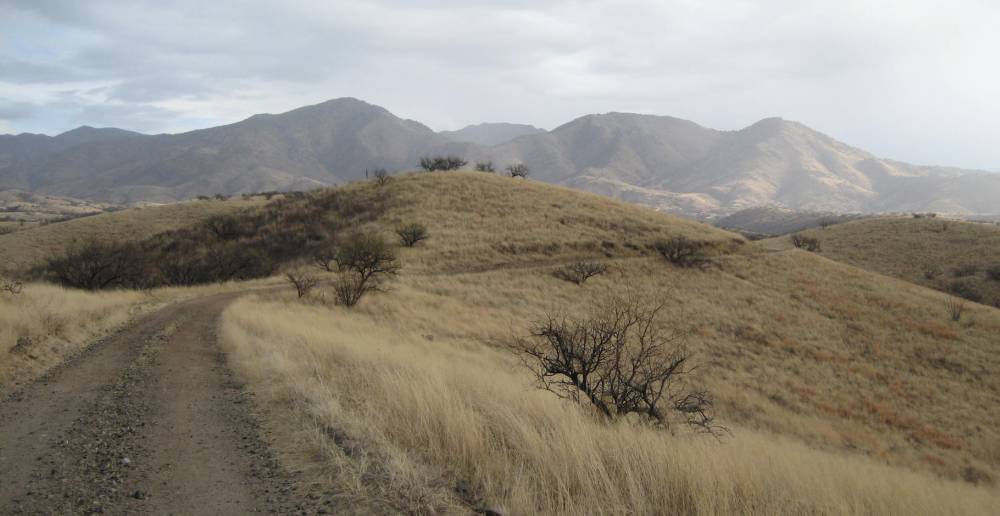 I was really letting my WR rip thru here as I could ride it must faster than my 610 Husky, KLR or 950 as it was so light and nimble and unllike the other bikes
this bike could stop on a dime---instead of letting the weight of my other bikes push and slide you to a stop.
It would pull at low RPM's and rev to the moon-----it made lots of prods to the shifter unnessasary. God I love this bike.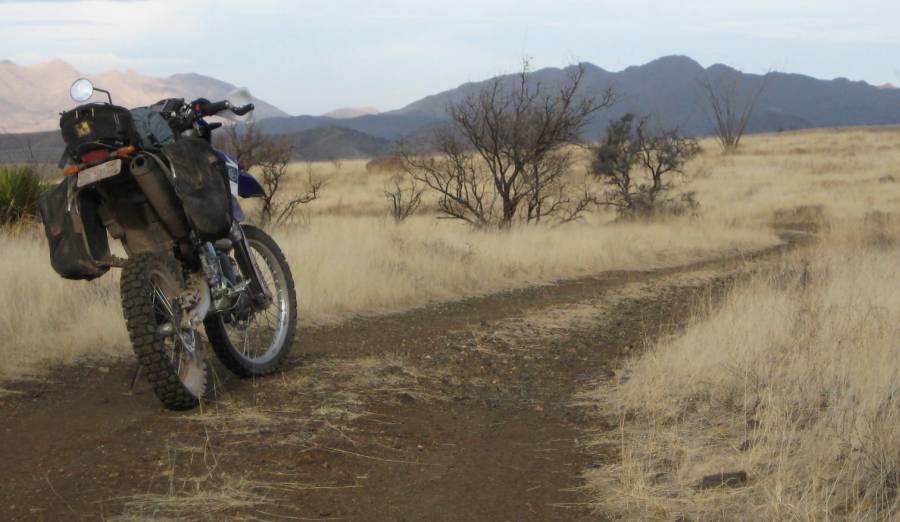 This section of our trip to us thru Cumeron Canyon.
Some of it was on ranch land and some was in the National forest.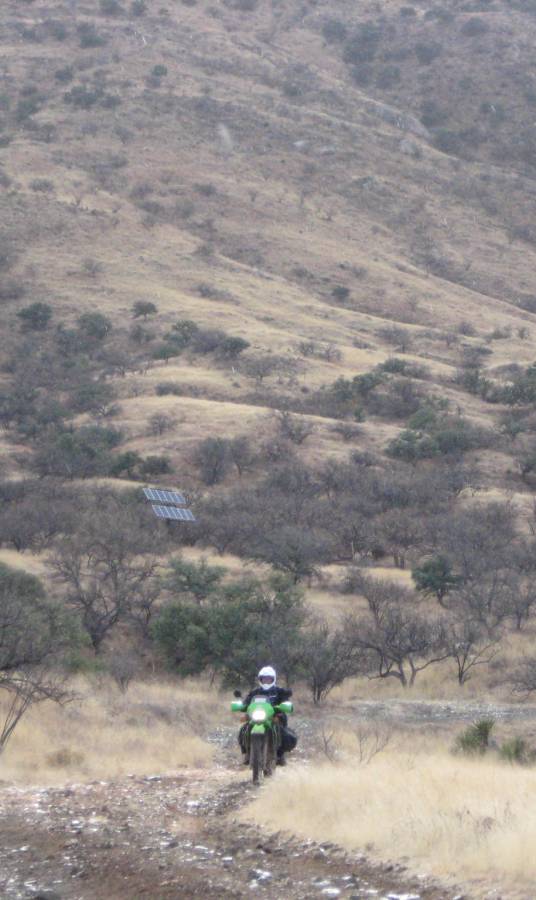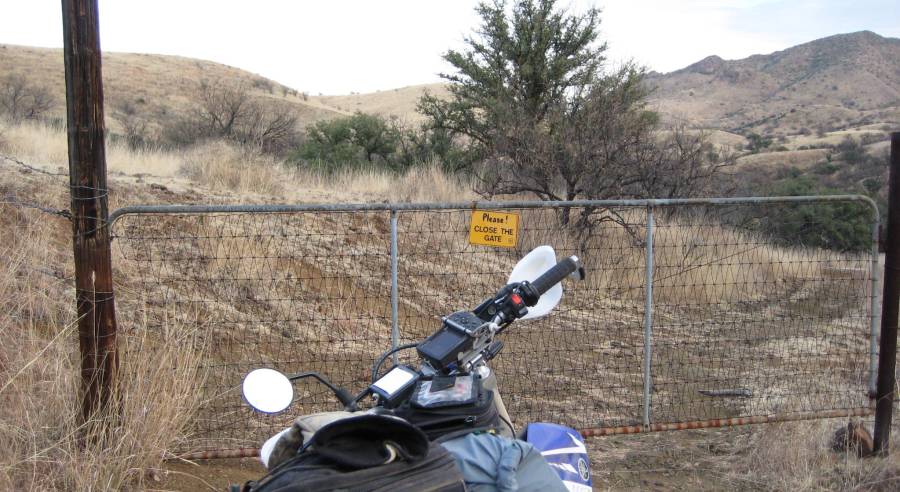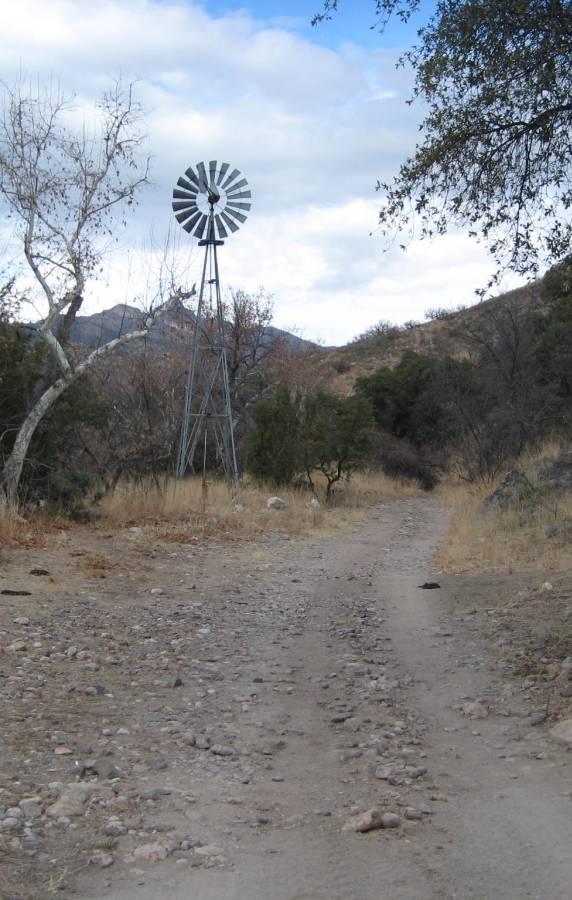 Around noon we arrived in the town of Patagonia Arizona and took off on the Temporal Gulch trail.
This is a spectacular rough route which dead ends into a wilderness area.
It got rougher and rougher the farther we rode in.
We passed many mines on the way--I think this is the Amada Mine.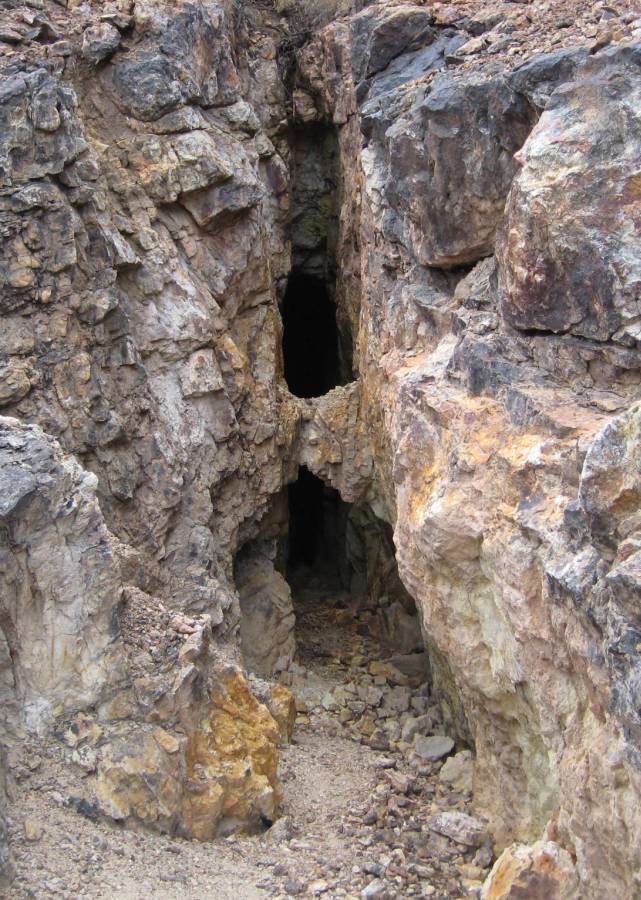 Randy is really knowledgable about so many things about nature and knew all about mining and explained a lot of interesting things to me.
Randy got buried alive a few years ago---and going in here wasn't easy for him----but he curisosity got the best of him.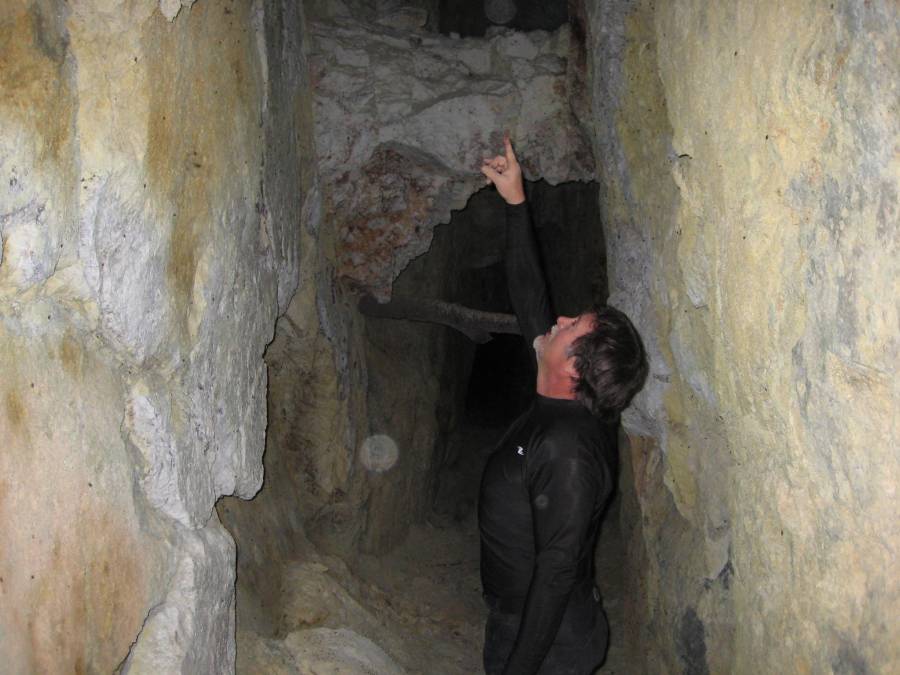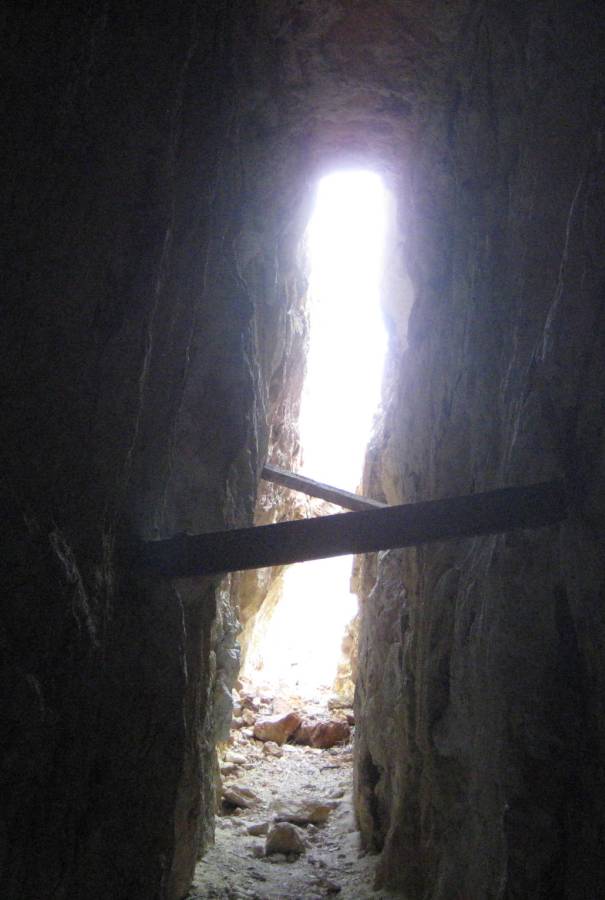 This is my personal favorite picture of the whole ride. Randy caught the rope in the air by accident.
These Mexicans were very busy herding the cattle down the trail and we watched them for at least 1/2 hr. and tried to not bother them.
They finally turn the cows down a wash and we were able to ride on by.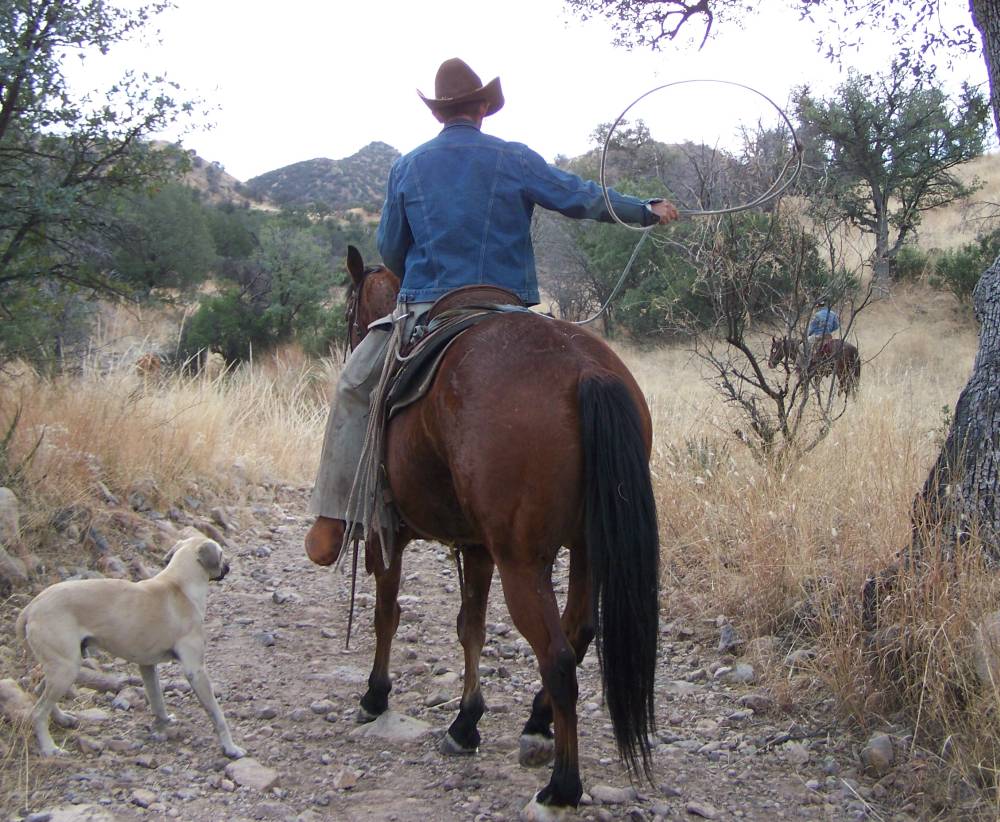 There 3 dogs and they worked feverishly keeping stray cattle in the main herd.
It was a pleasure to watch.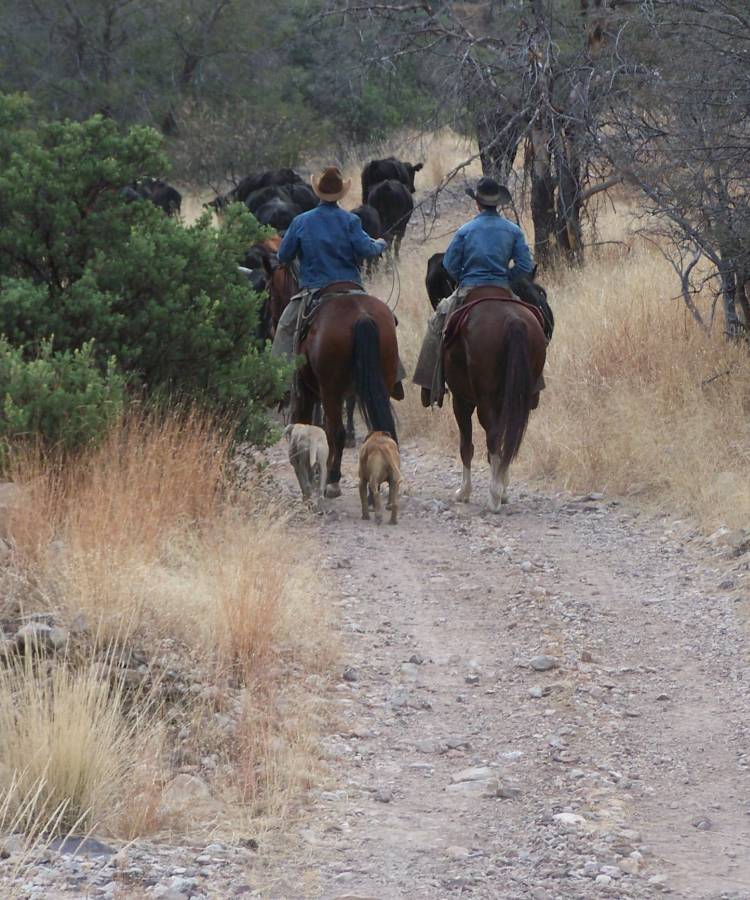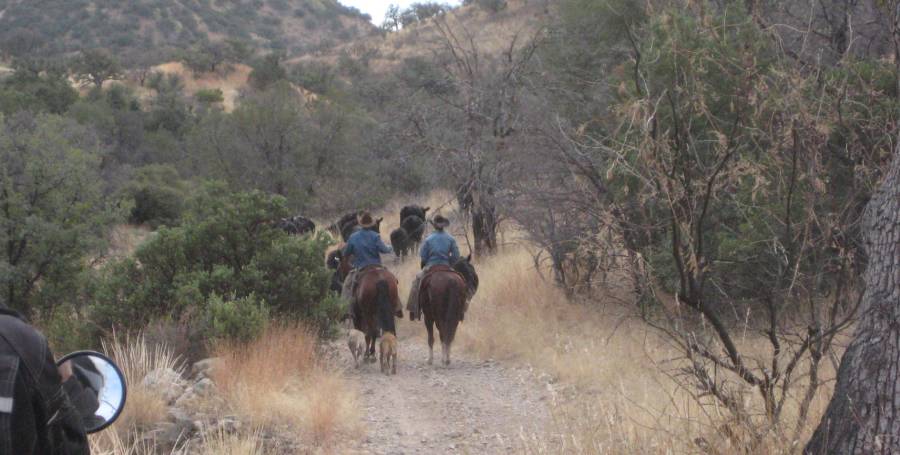 Meanwhile we rode back to Patagonia and Almost straight South towards the border again on Harsaw Road which connected into the same border road
we road yesterday for a bit. I did this so we could ride another route I had plotted called the Black Ridge Trail which you see below.
I had a hard time finding this road as they had stockpiled a bunch of cattle guard repair materials right in the little road.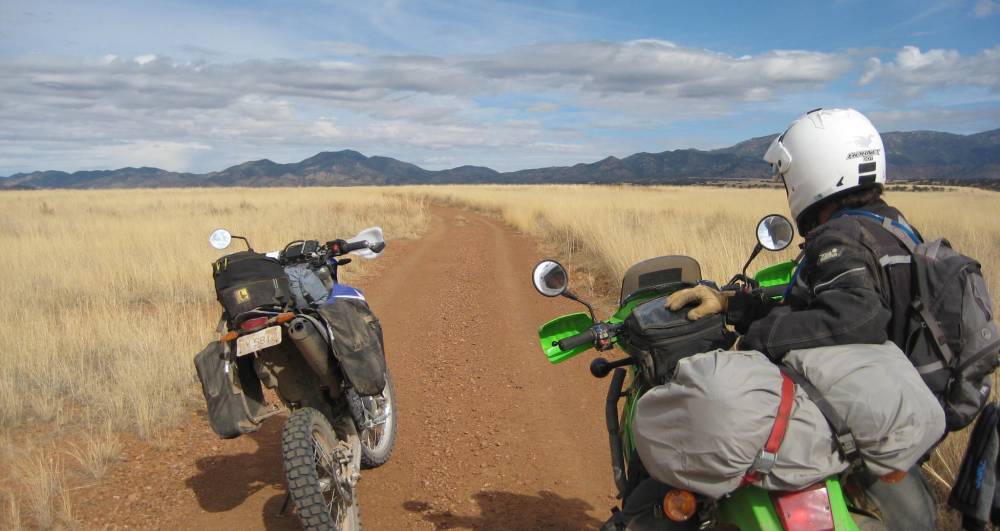 Yep the WR probably saw 6th gear thru here----I love riding dirt roads like this thru grassland.
Randy is more of the lots of trees type guy----I like the wide open desert.
Hell-------you can see trees anywhere.

The Blacktail Ridge Trail intersected Parker Canyon Lake Rd. North to the town of Sonoita.
From there we headed straight East towards Tombstone. I wasn't sure I wanted to go to the town of Town of Tombstone as I figured it would be way to
touristy for me. But on the way I had something I thought way better in mind.
One of my favorite movies of all time is a western called "3:10 to Yuma".
The film was originally made in 1957 with Glen ford and the new remake in 2007 has Russel Crow as the star---both are excellent.
The last scene in the both the 1957 and 2007 version was shot at the railroad depot in the now ghost town of Contention, Arizona.
You can see the name Contention on the railroad depot in the movie. I wanted to go there as I read nothing was there now except at few fallen buildings.
I also hoped to cross the San Pedro river to get to the old town site and maybe camp there. Google earth assured me nothing was around.
On the way just a few miles south of Contention was the old historic town of Fairbanks--below are a few remaining building of this old western town.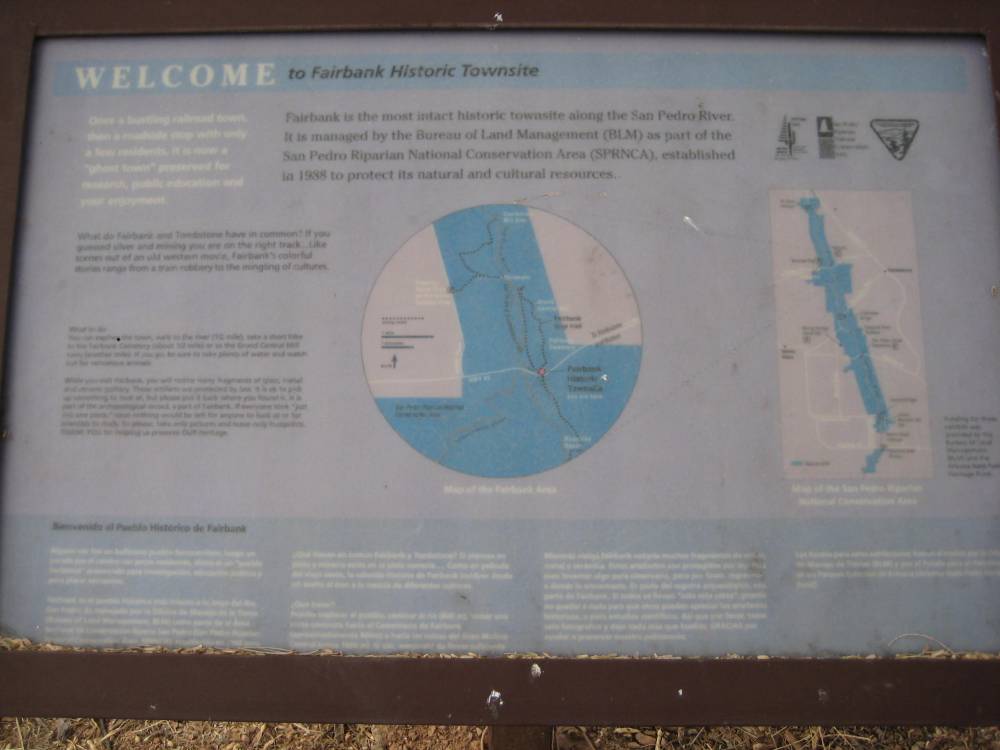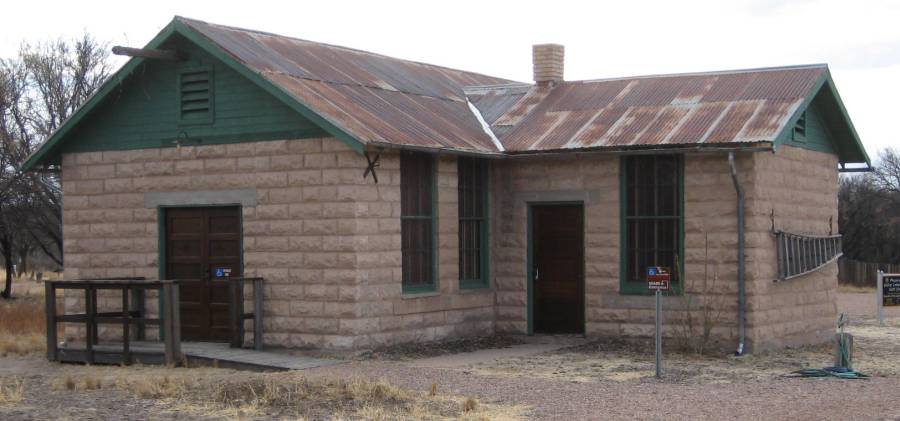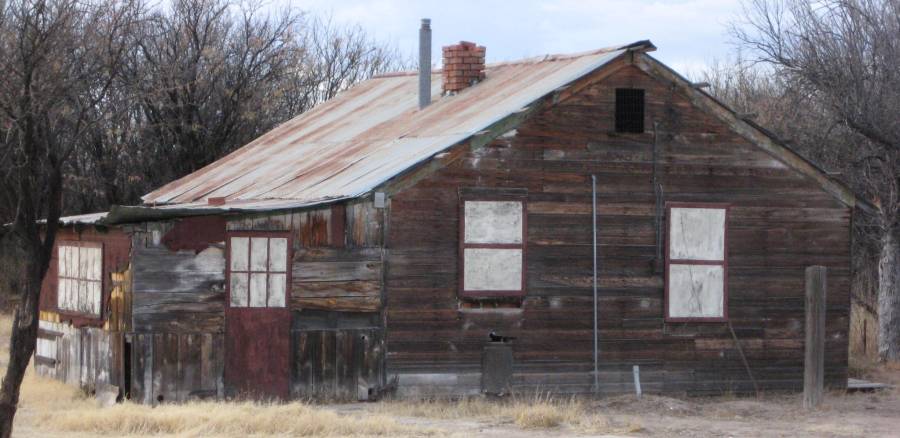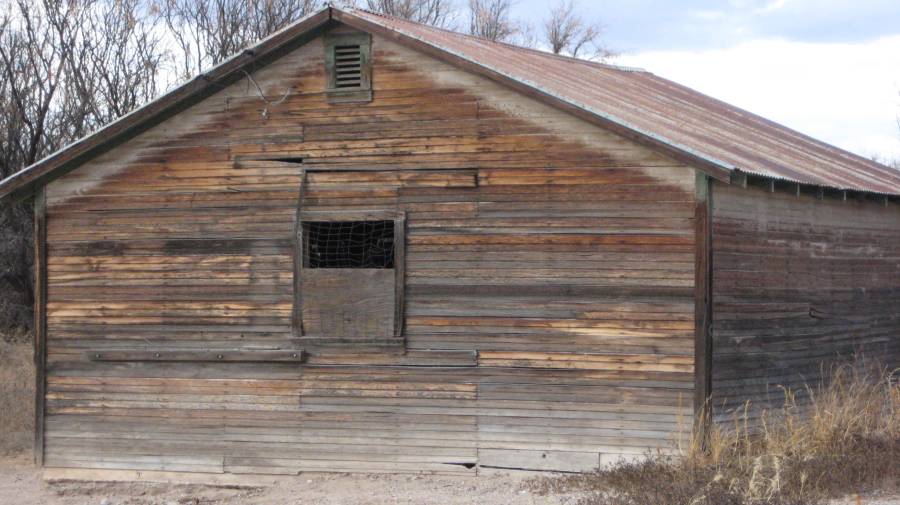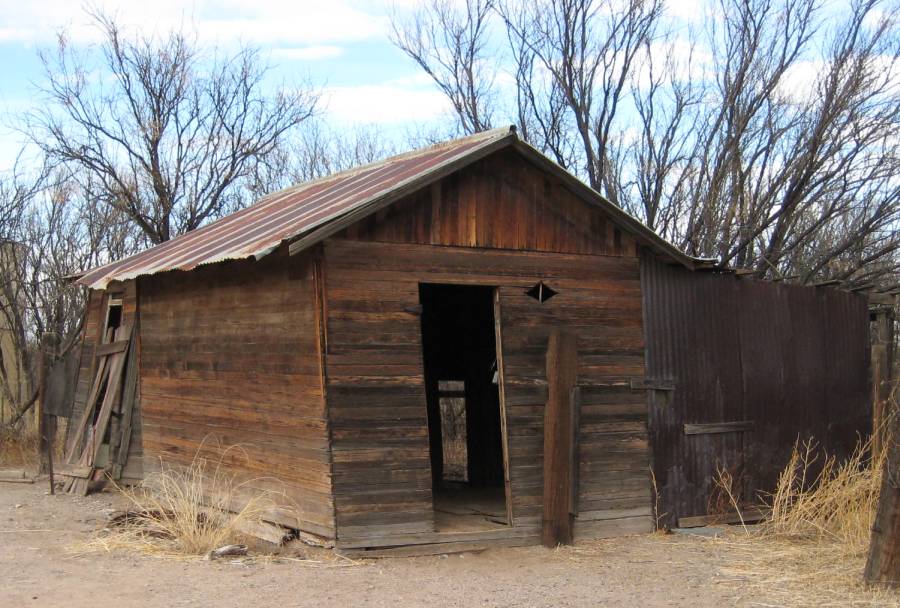 This is the old railroad bed of the southern Pacific railroad that went thru Contention and Faribanks and on to Yuma Arizona.
In the movie this train was to take a very bad guy from Contention to the prison in Yuma.
Contention was not to be for us---motorized access had been denied and we would have had to make a several mile hike
to it-----I was severely dissapointed as it was on the top of the list of things I wanted to see on this ride.
We blew into Tombstone for the night and it wasn't so bad----as it was out of the tourist season and hardly
anybody was there---good thing or I would have kept going.
The tombstones at the boothill cemetary were very interesting and sometimes comical.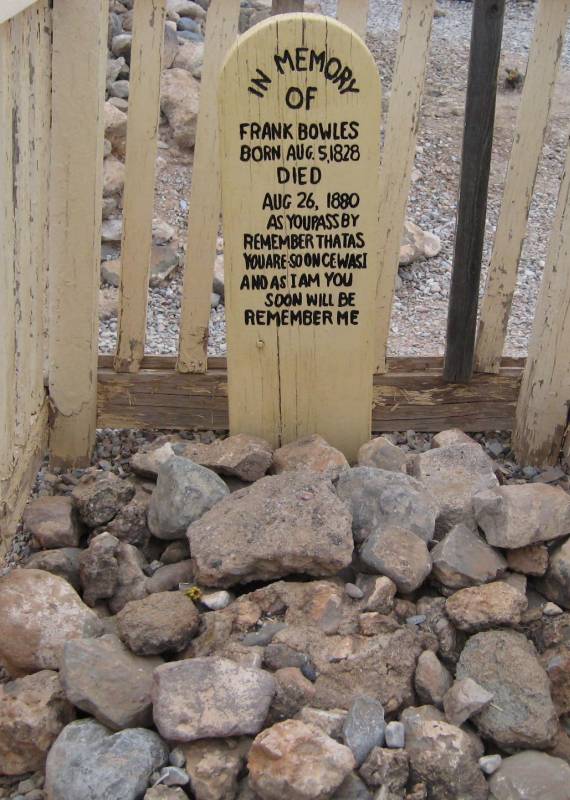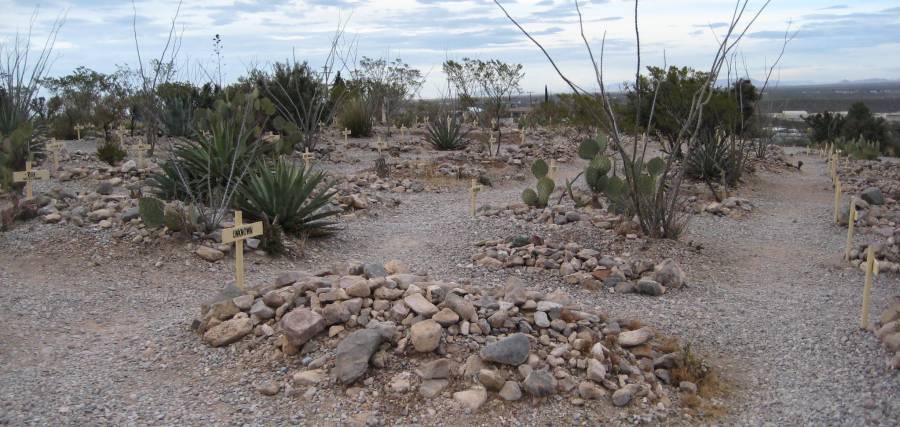 Here lies most of the Clanton gang--killed by the Earps at the OK corral.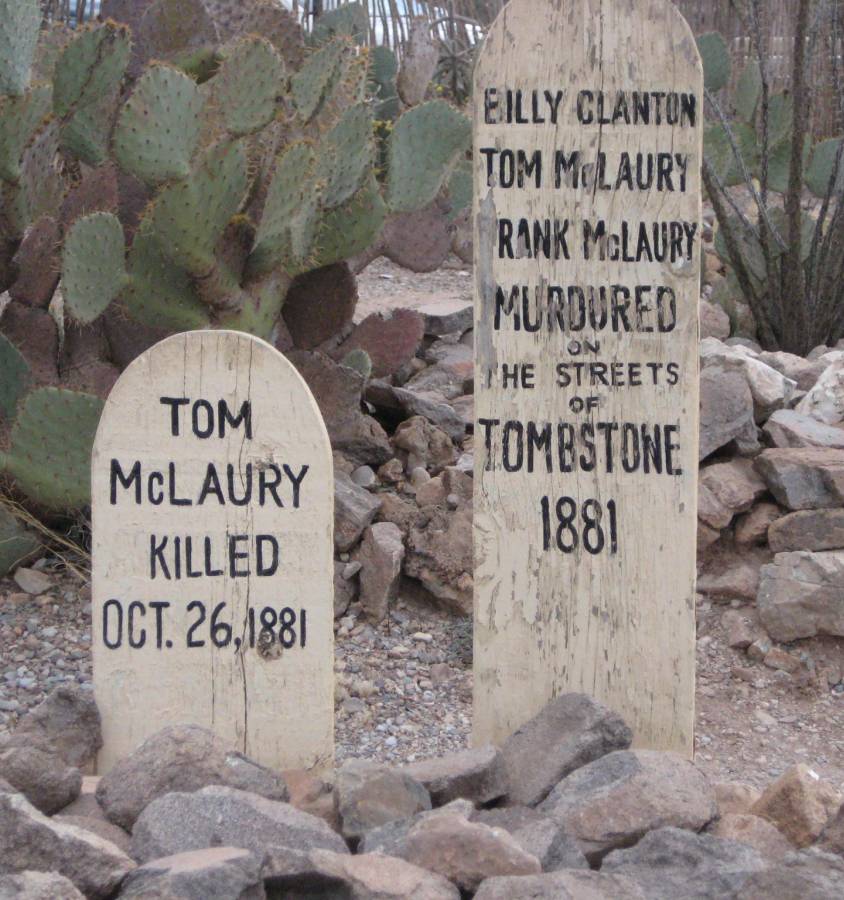 It was obvious to us that a lot of shit when on in 1881 and 1882 in Tombstone.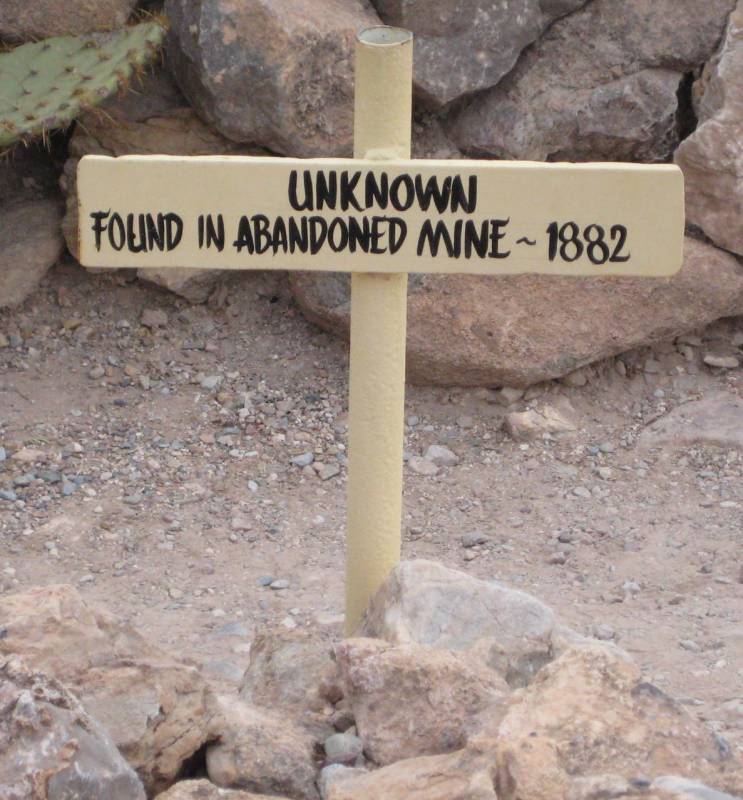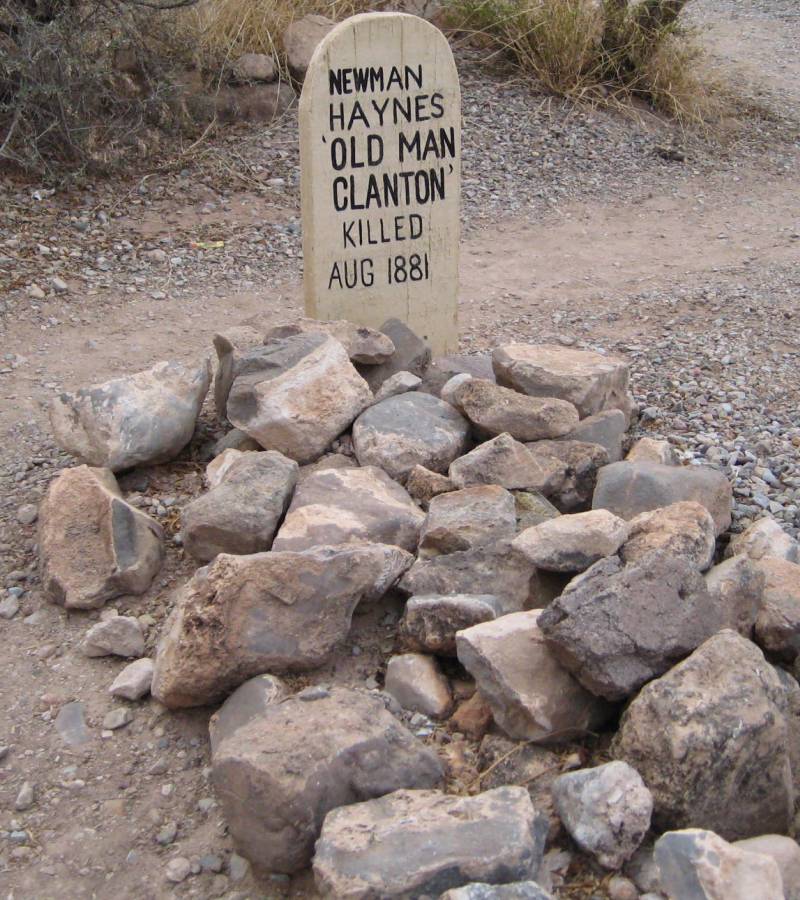 Hanging---something they need to bring back. About 100,000 public hangings per day for a few years would
make a small dent in getting rid of all the bad guys in the world.
I'd put lawyers and judges and the whole judicial system out of business if given the opportunity.
Never going to happen---wouldn't cost enough and makes common sense.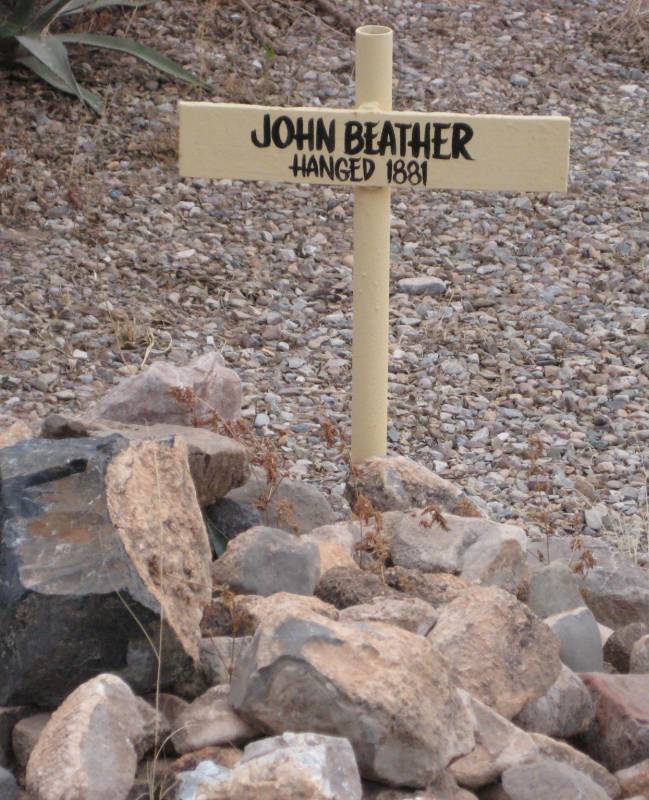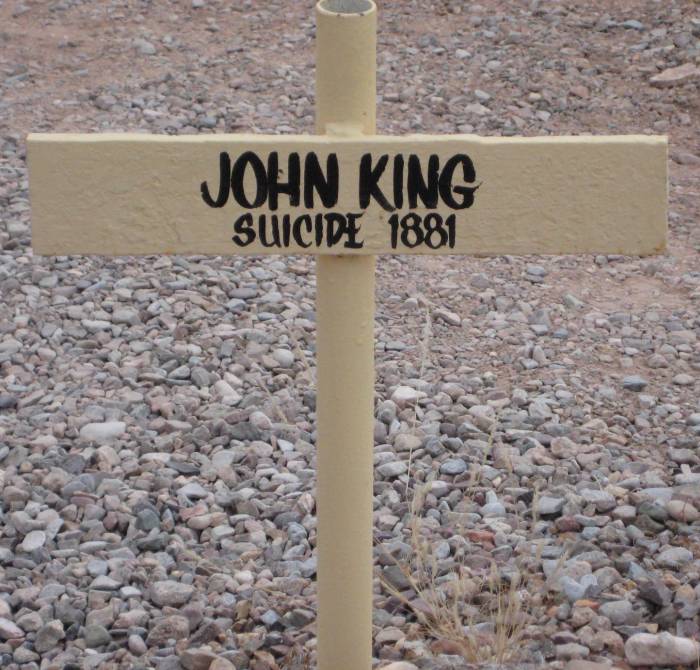 Apaches---fighting terrorism since 1842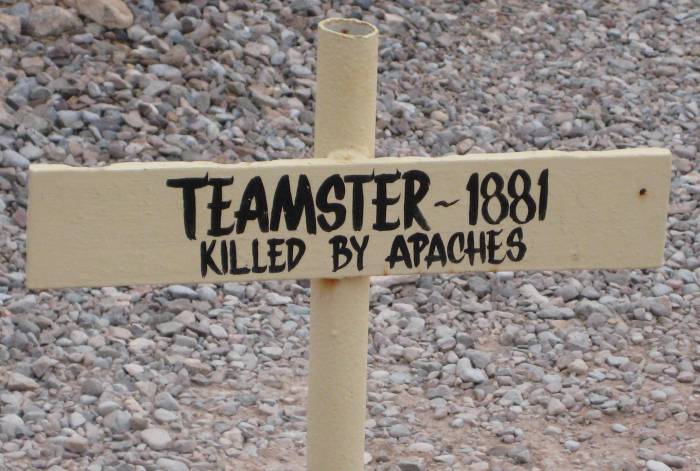 My personal favorite.

Old downtown Tombstone--almost tolerable since no-one was here.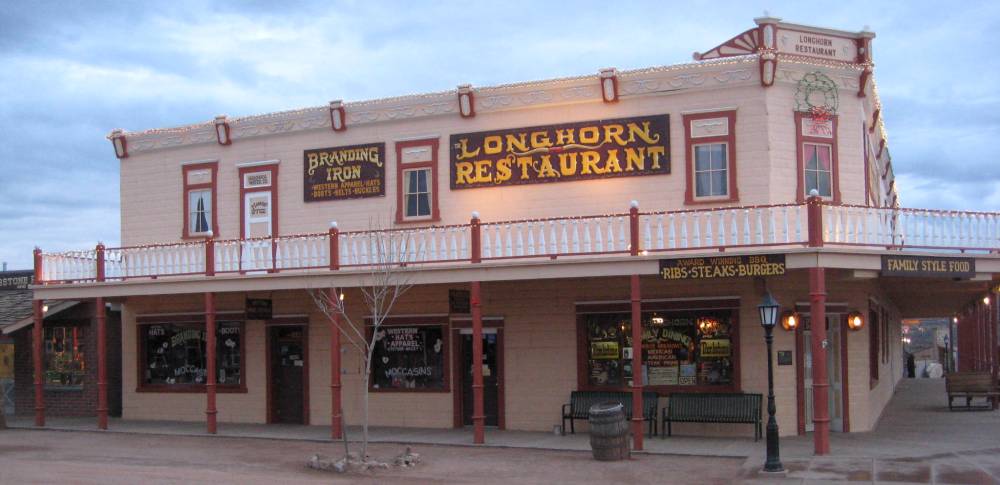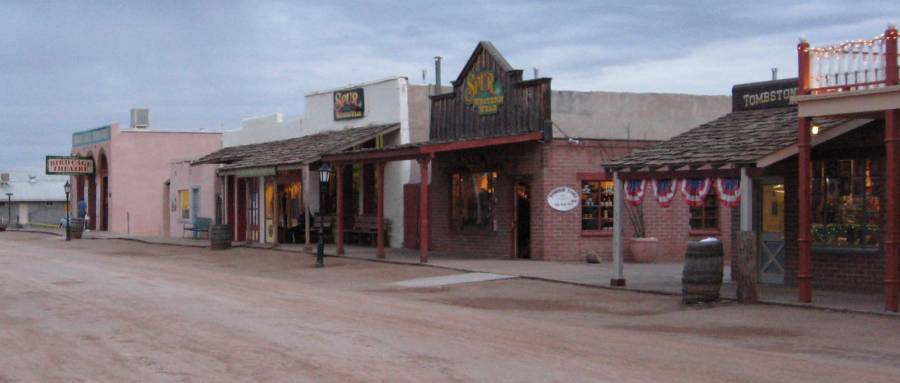 We had a hoot with this guy---he carried a real gun in his holster and roamed the streets of tombstone.
By law he was not allowed to carry the gun in the street and was constantly hassled by the local Sheriff.
He was supposed to stay on the boardwalks.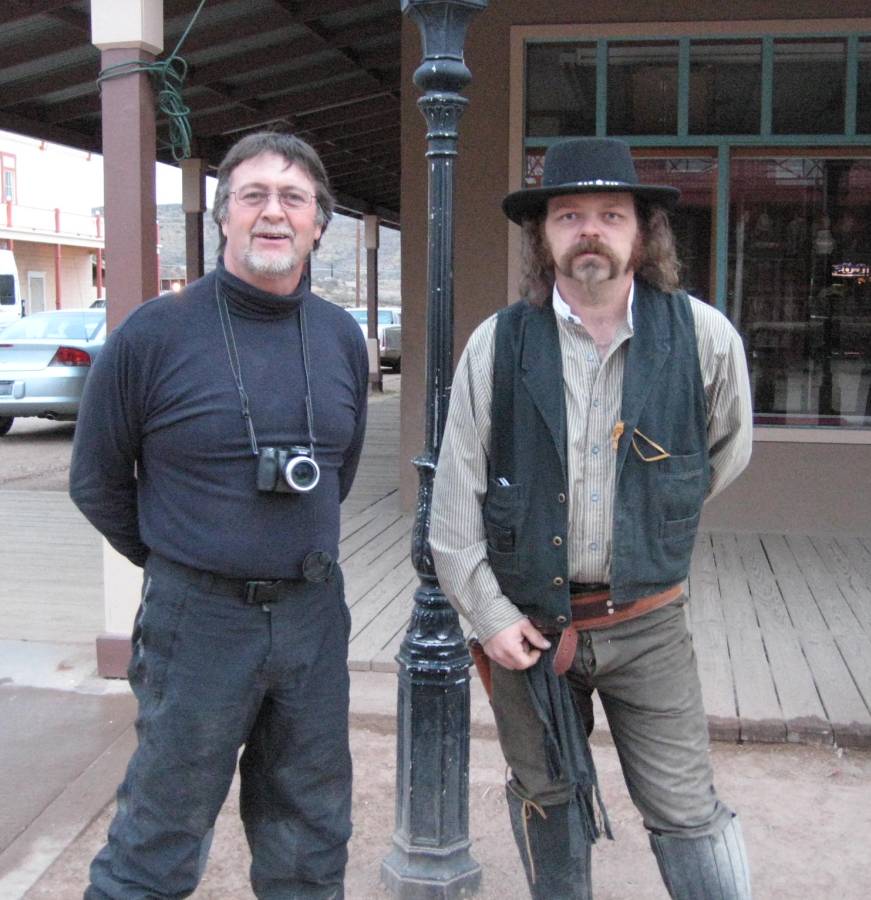 This really touched home with me and Randy.
Give this some thought----it deserves it.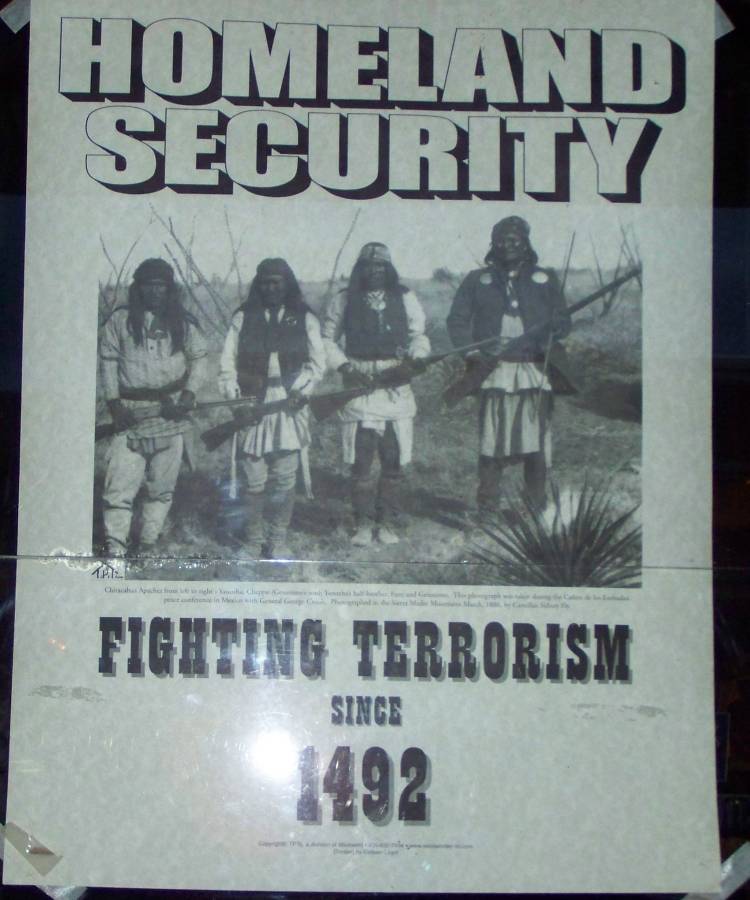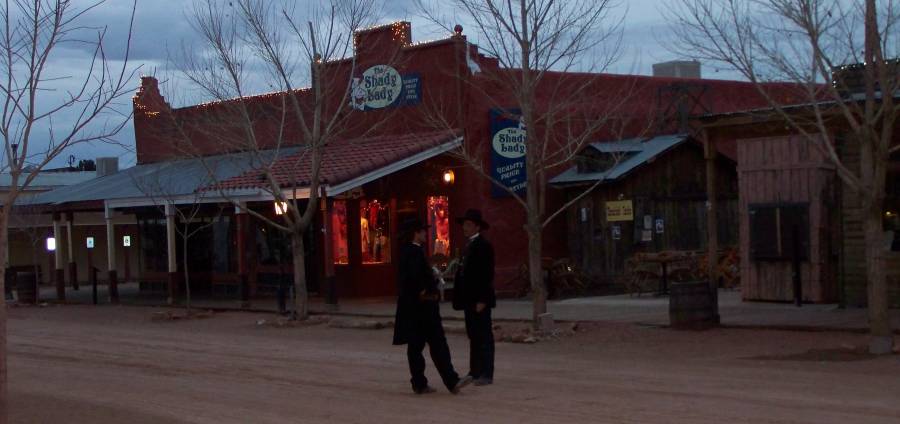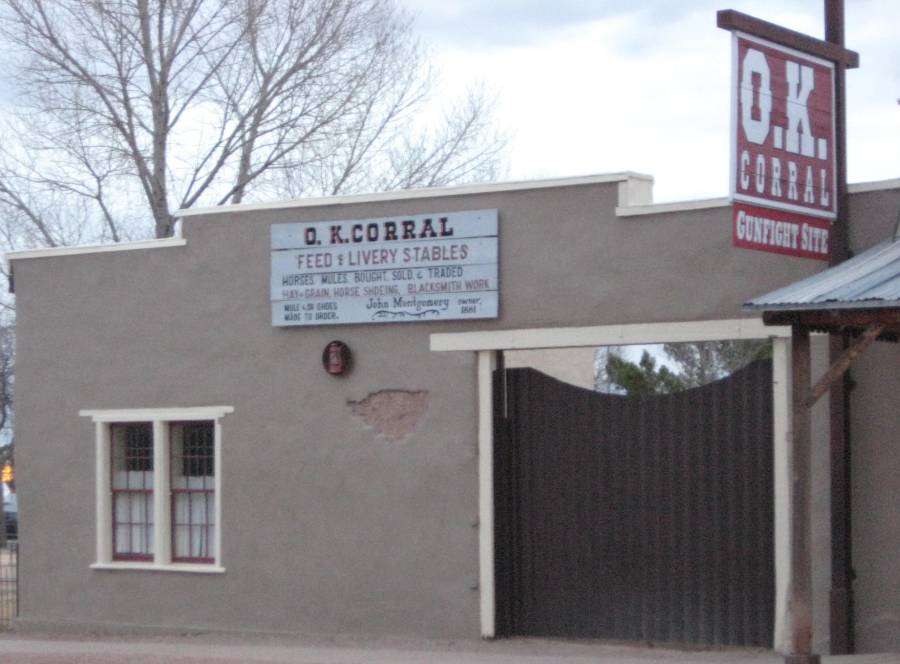 Day 4
Tombstone To Tuscon
Today would be interesting---as it rained most of the day---got muddy as hell----and the desert came alive.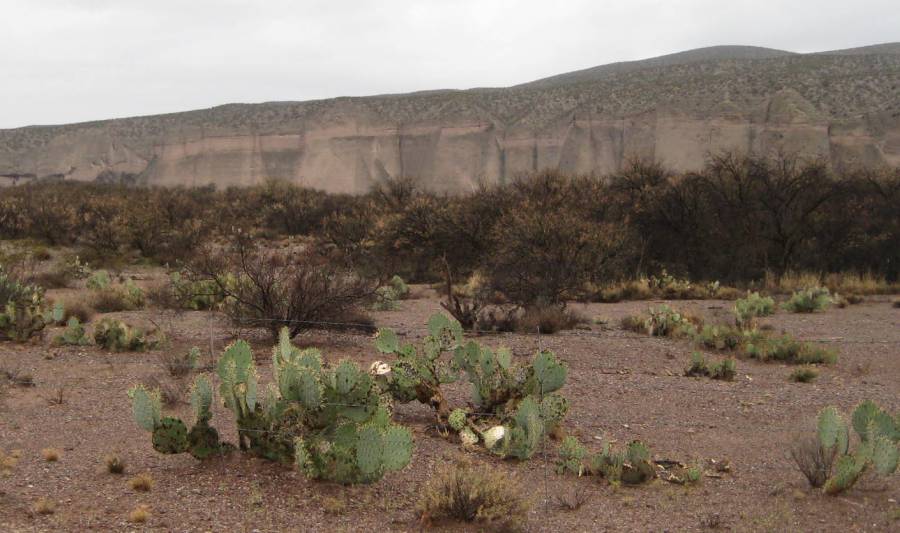 We actually cheered the rain on----I have seen the desert in spring bloom and it is amazing. The cactuses seeme to soak it up first
and just turned a bright green in a matter of hours. The Sequaro's swelled out and prepared for the heat of summer.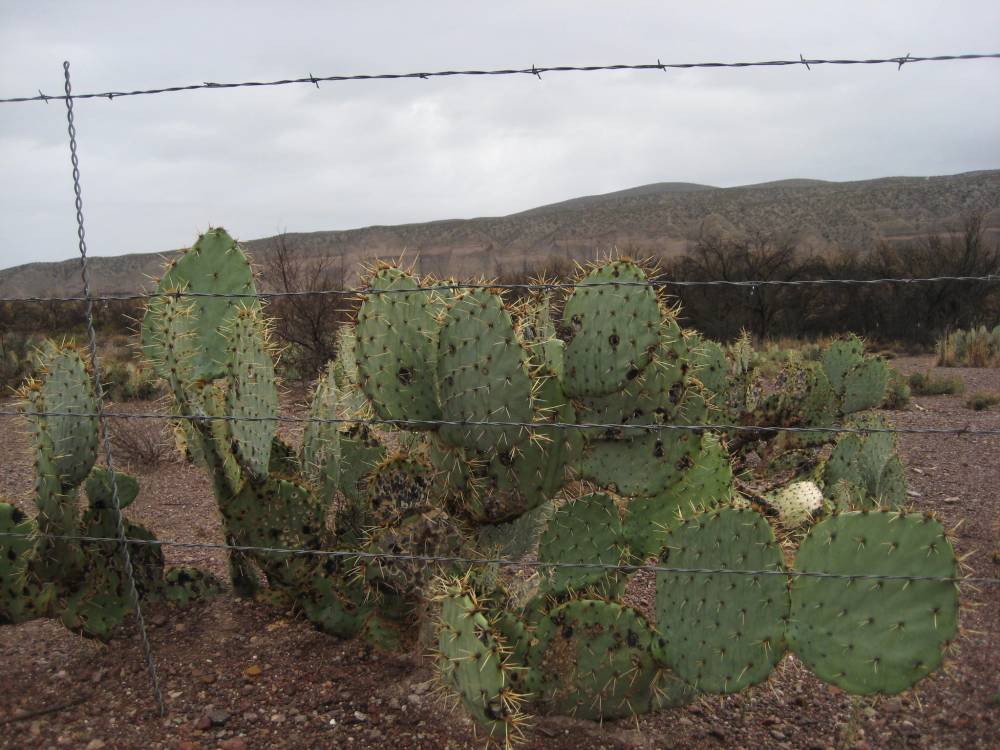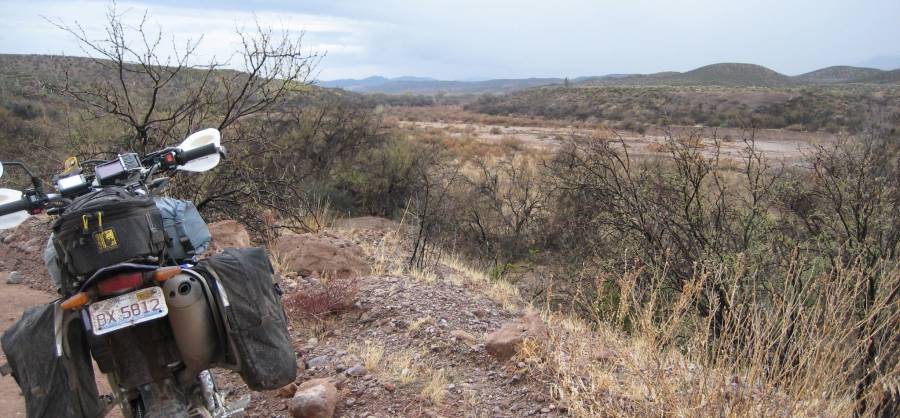 What'd I tell you---it was instant green. I was just absolutely estatic.
I have seen the desert like this before but Randy hadn't.
I think I converted him to appreciated the desert.
You can see trees anywhere.
The lone cactus you see here is a seguaro----pronounced---sah--war--oh
They can live to be 200 years old and grow about one inch per year. Research says they grow to 15 to 23 ft. However I've seen
them much taller. They are spectacular.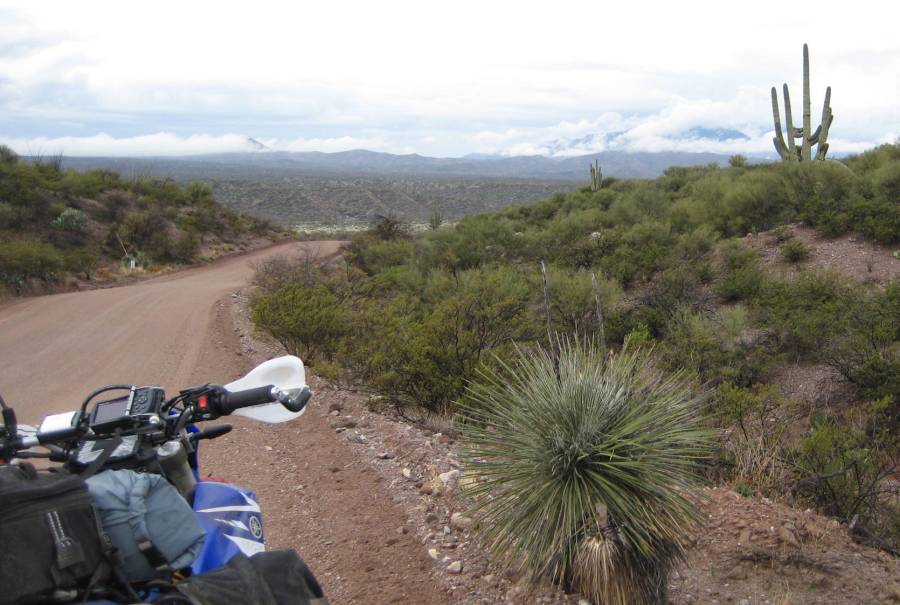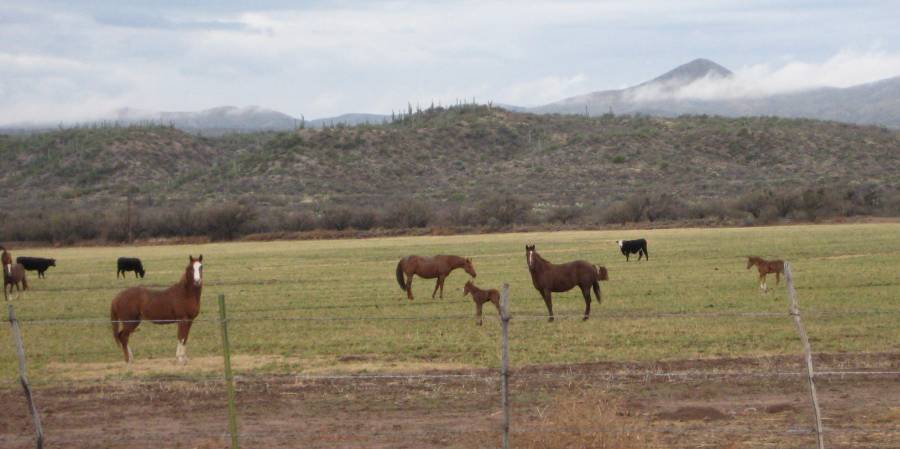 The clouds are "Juicy"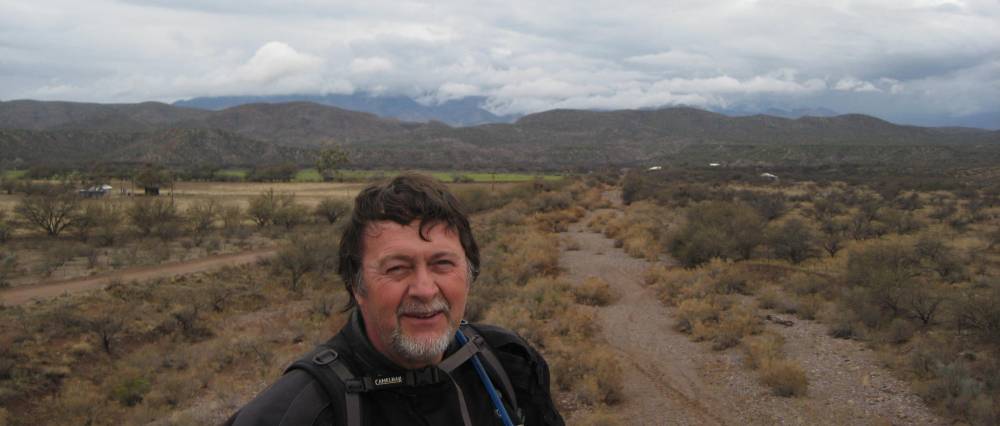 Poncho and Lefty
Livin On The Road My Friend, Is Gonna Keep You Free and Clean
Now Your Wear Your Skin Like Iron----Your breath as Hard As Kerosene
You Weren't Your Mommas Only Boy----But Her Favorite It Seems
She Began To Cry When You Said Goodbye----And Sank Into Your Dreams
Poncho Was A Bandit Boy--His Horse Was Fast As Polished Steel
He Wore His Gun Outside His Pants---For All The Honest World To Feel
Pancho Met His Match You Know,On The Deserts Dwon In Mexico
Nobody Heard His Dyin' Words, Ah But That's The Way It Goes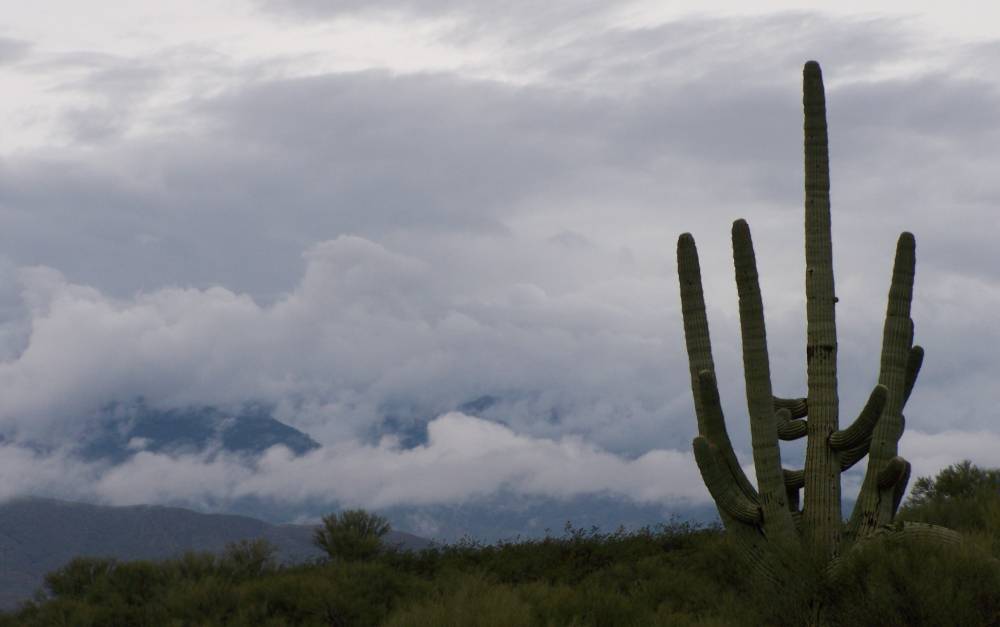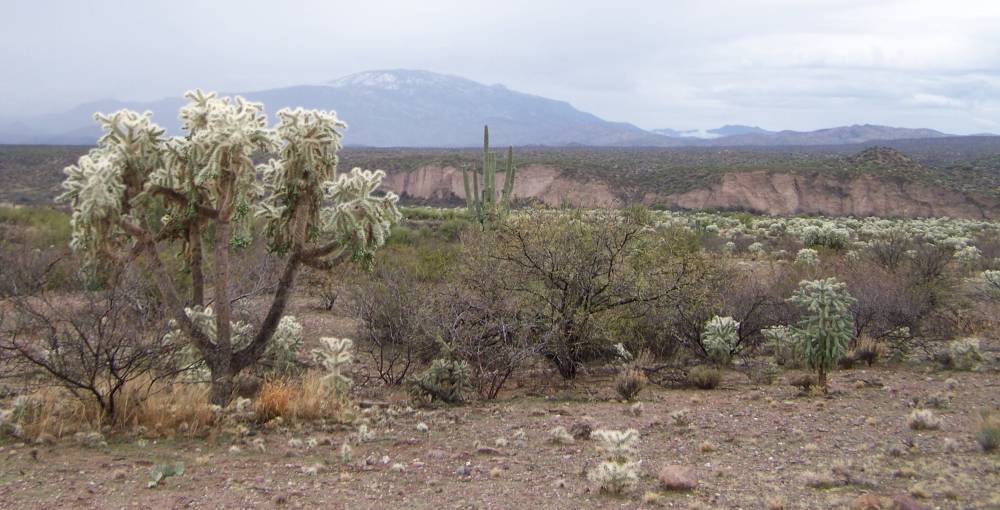 All The Fedrales Say, they Could've Had Him Any Day
They Only Let Him Slip Away,---Out Of Kindness I Suppose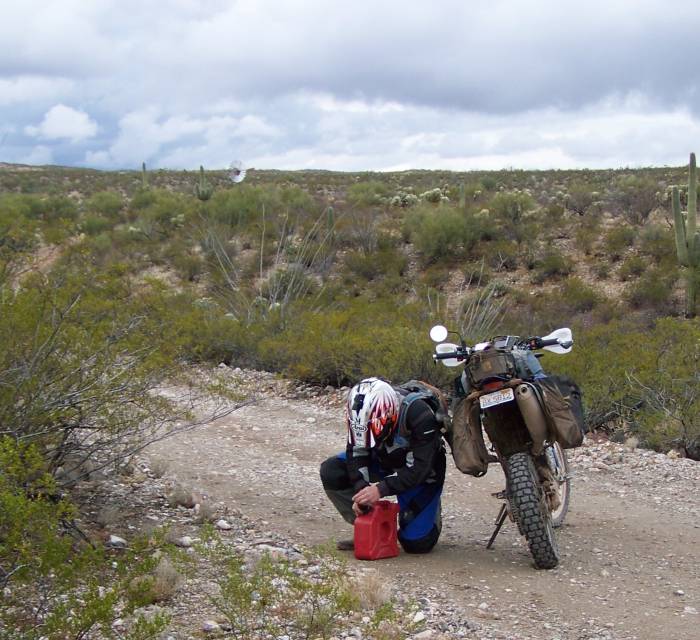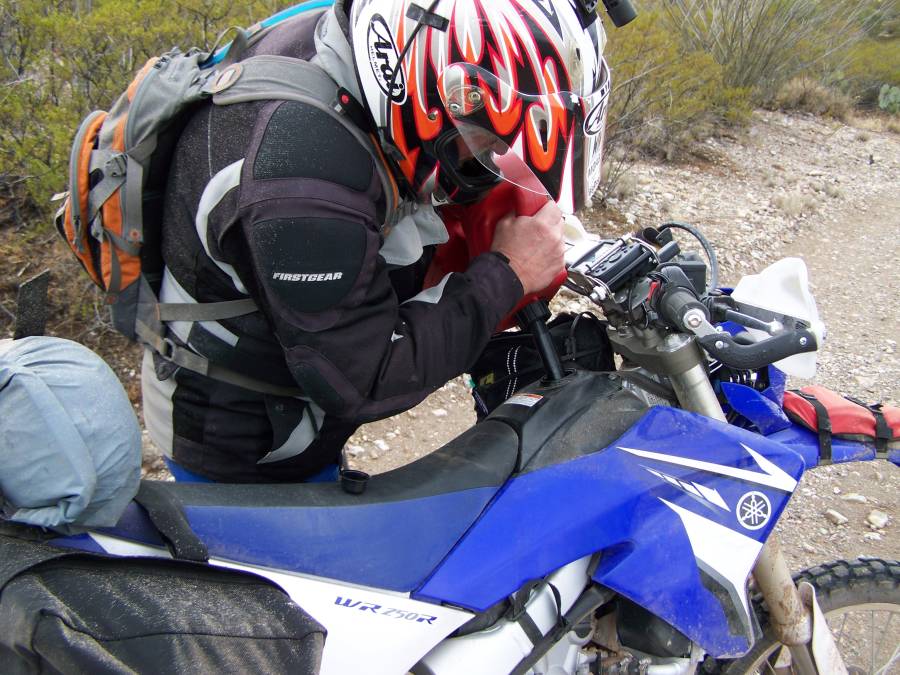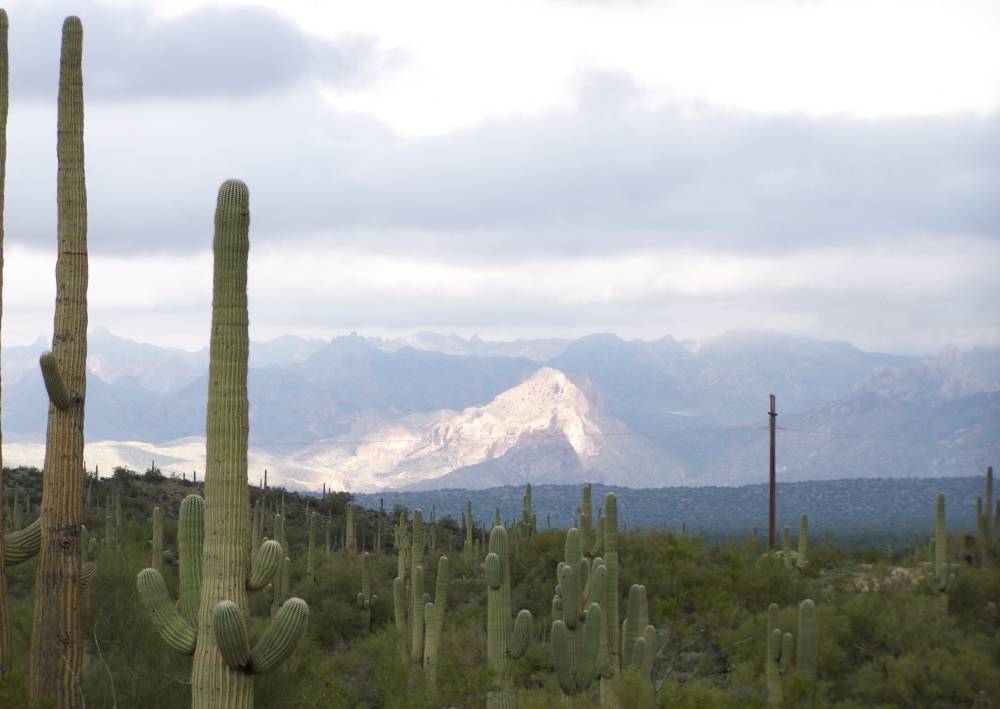 The Boys Tell How Poncho Fell, and Lefty's Livin' In Cheap Hotels
The Deserts Quiet, Cleveland's Cold, and So The Story Ends We're Told
Poncho Needs Your PrayersIt's True, But Sane a Few for Lefty Too
He Only did What He Had To do, and Now He's Growing Old
All The Federales Say---They Could Have Had Him Anyday
They Only Let Him Slip Away----Out Of Kindness I Suppose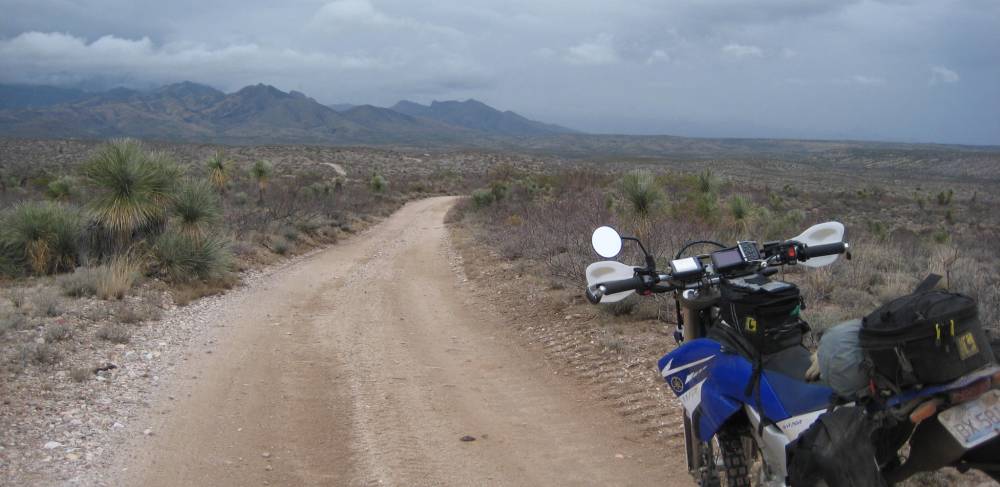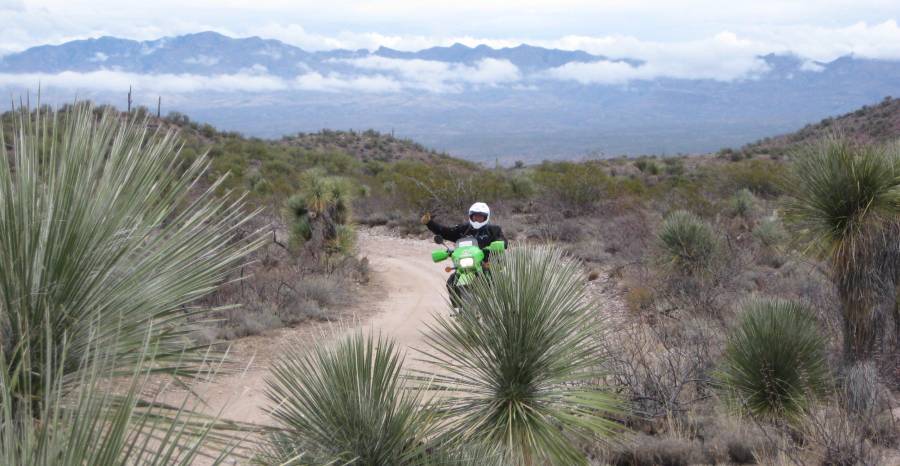 Poncho and Lefty hit the end of the trail and had to turn back or get bushwacked.
This was a far as the Buehman Canyon Rd. would let us go so we went back to the Redington
road heading southwest toward Tuscon.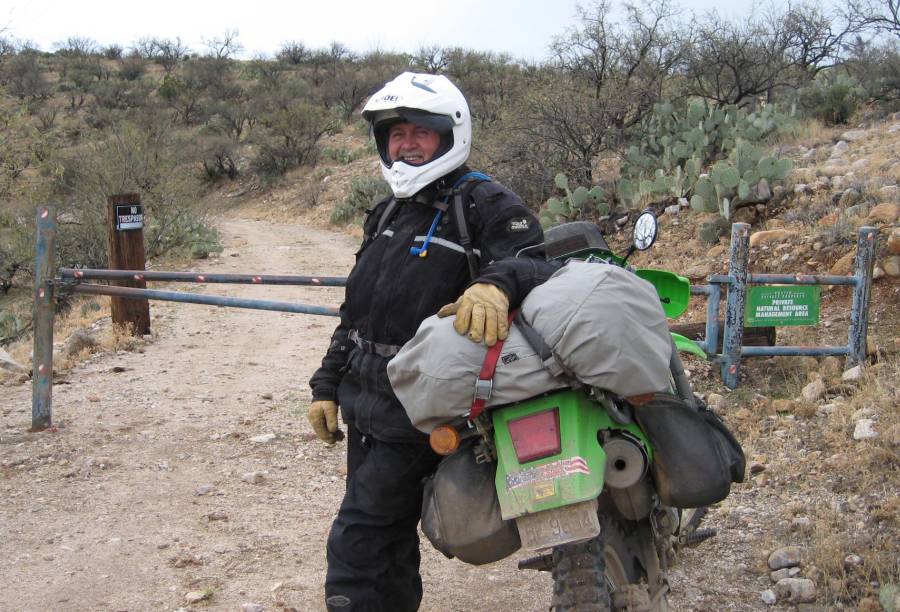 Day 5
Tuscon to Oracle
This morning we rode off in the rain up to Mt. Lemmon elevation 9,157ft. North of Tuscon.
It was raining and turned colder each thousand ft. we went up in altitude.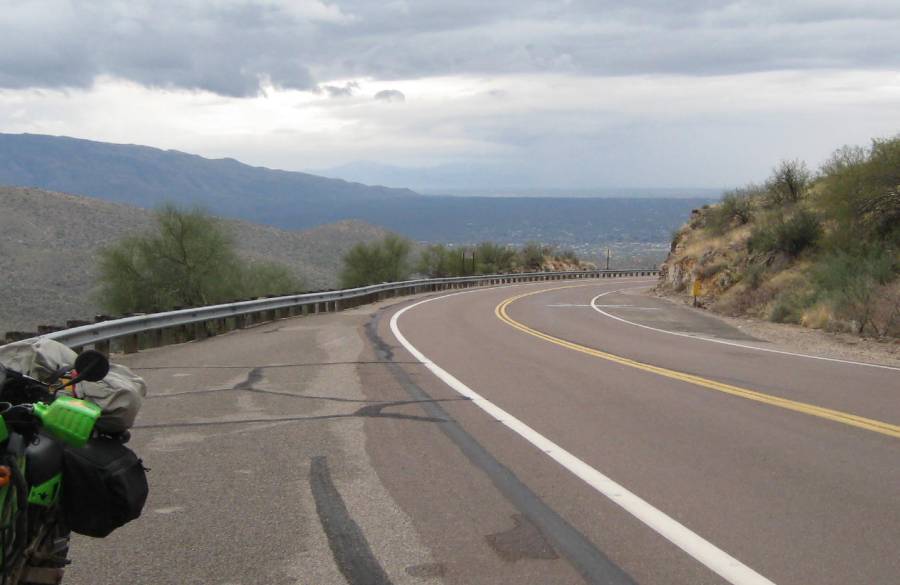 The Clouds would stay juicy all day today.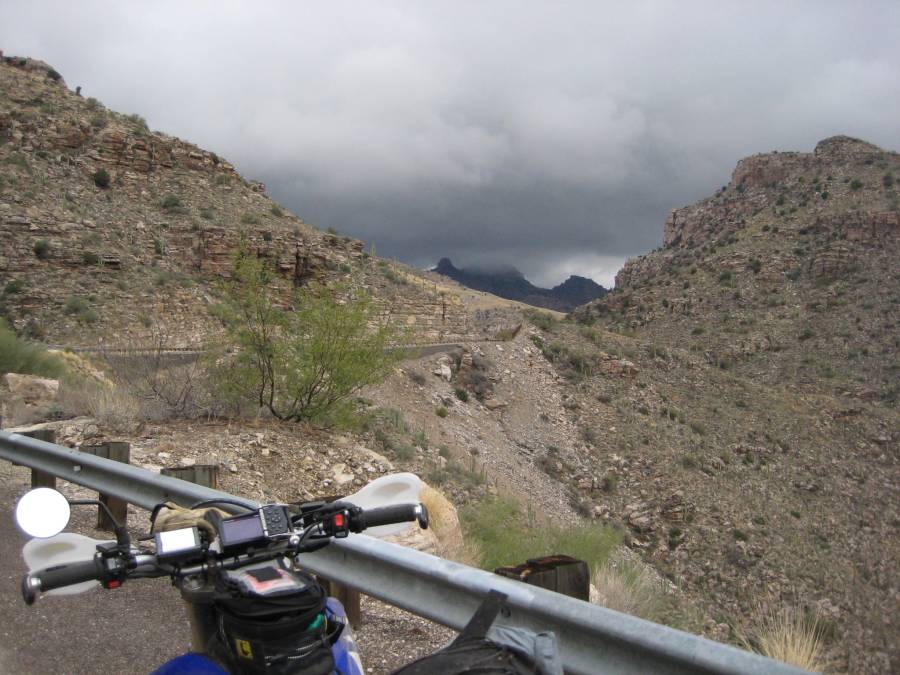 It rained until it was too cold to rain and then it sleeted and snowed on us.
We passed at least 2 signs that told us we either had to have 4-wheel drive or chains to proceed any farther.
We just rode on passed a couple forest service vehicles as they stared at us in amazement.
Poor guys----in heated cars !!!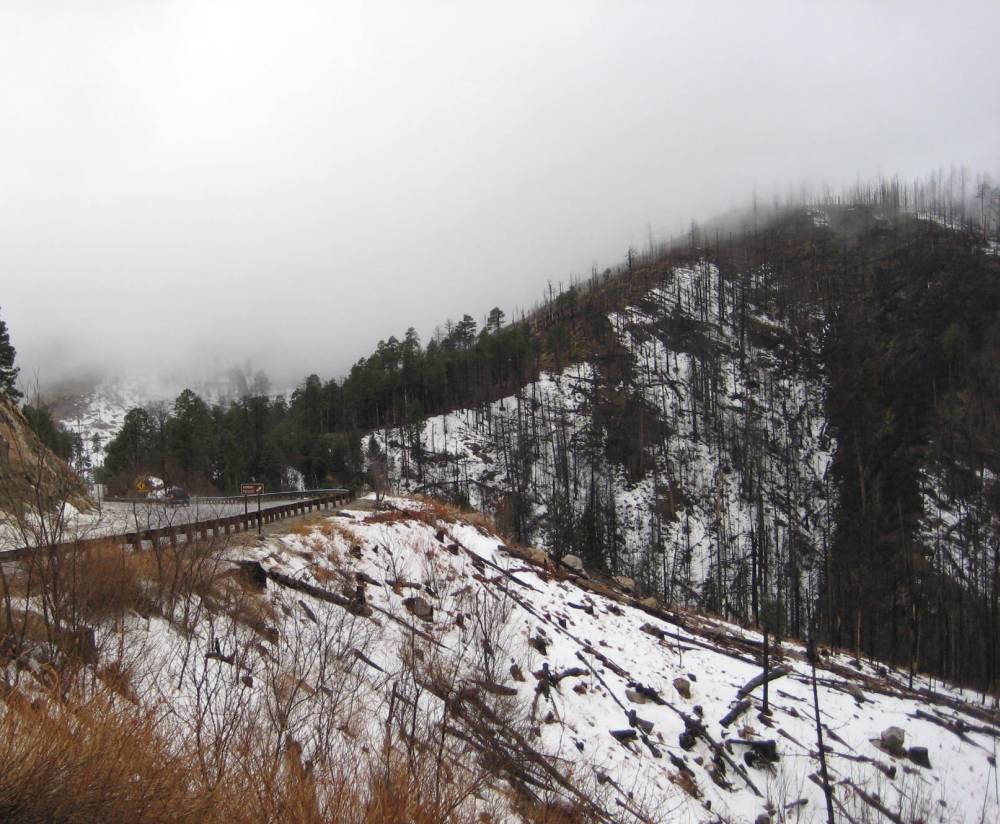 I think Randy was giving thanks the pavement would end soon---so he would't have to slit his own throat.
We were so dissapointed as the rugged dirt road (Oracle Contro Rd.) going down the other side of the mountain was closed for the season.
We were forced to back down the mountain and ride Northeast over the Redington road again.
It had been slippery the day before--and with the constant rain we thought it might be worse or impassable.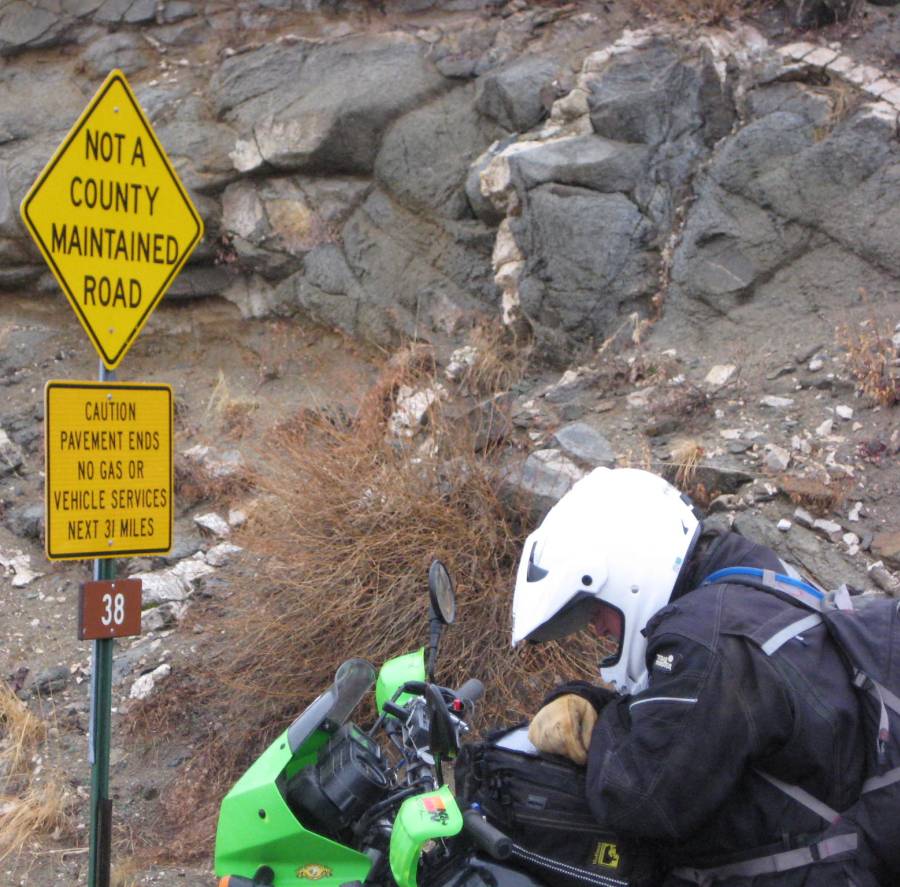 However it was a spectacular ride going back the other direction and gave us a whole different view.
At the lower elevations we were able to turn off our heated grips again---really nice.

I found the Catalina Ridge Trail I had been looking for which headed most West toward the lower part of the Oracle Control Road that went up to Mt. Lemmon
from the North side. Sure enough we intersected it and found we missed only a short section of the road anyway.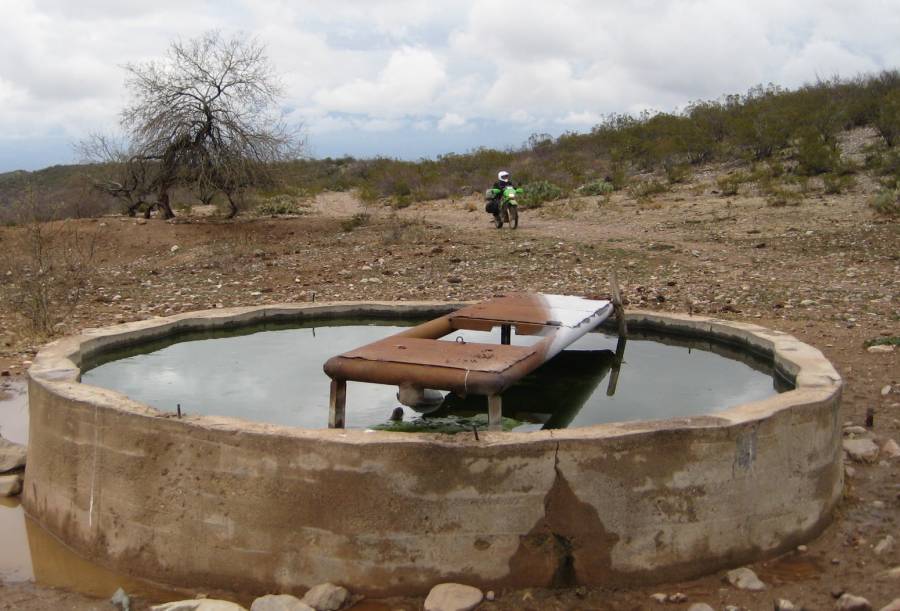 This cattle watering hole on top of the mountain had water pressure feeding this float valve.
How that water got there me and Randy hadn't a clue--it was in the middle of nowhere.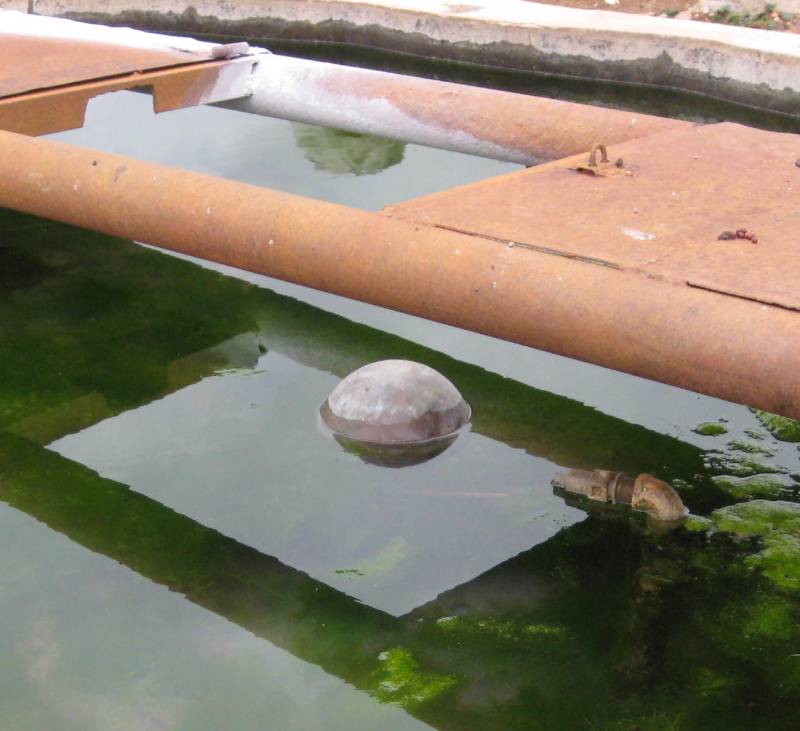 We Headed thru a ranch--then North on the Mt. Lemmon Rd towards Oracle as the rain finally came down pretty hard
and we were ready to get a place to stay, eat and dry out.

We pulled into Oracle and it was surreal.
We were greated with a clearing sky---a rainbow to die for, food and a neat little Shalet to stay in.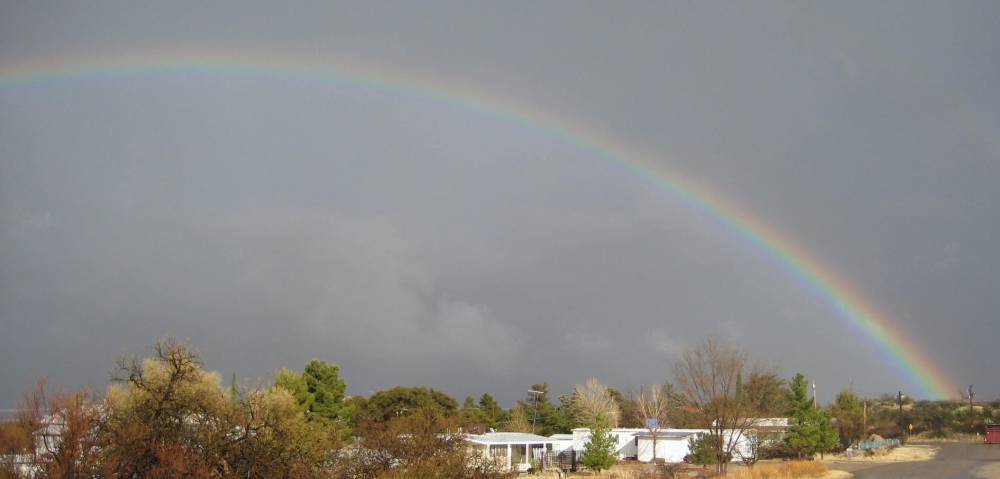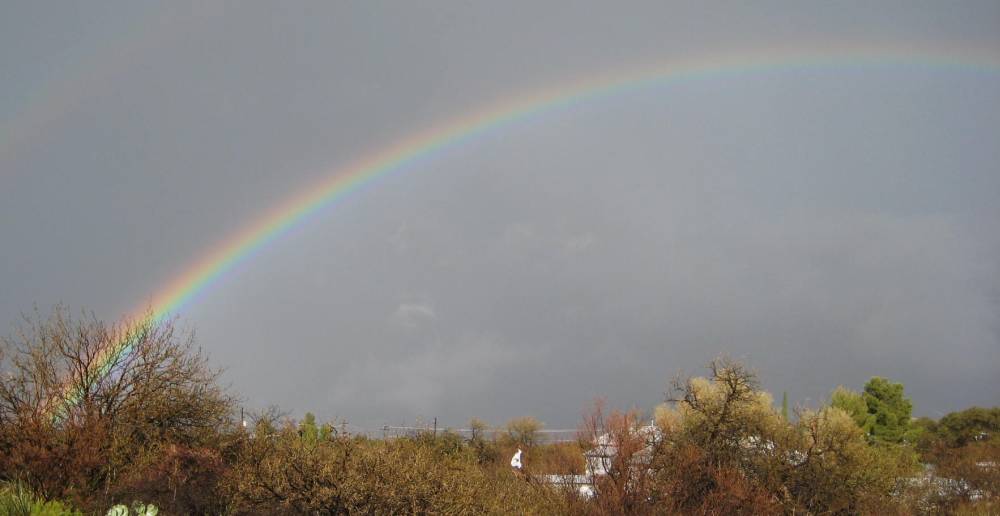 There wasn't an Inn here no longer but they had great food. It was a very small town and we were invited to stay for the blues band at 8PM.
Poncho and Lefty would be asleep by 8PM. We wanted to ride tomorrow with fresh bodies----getting shit--faced and staying up late
didn't interest us at all.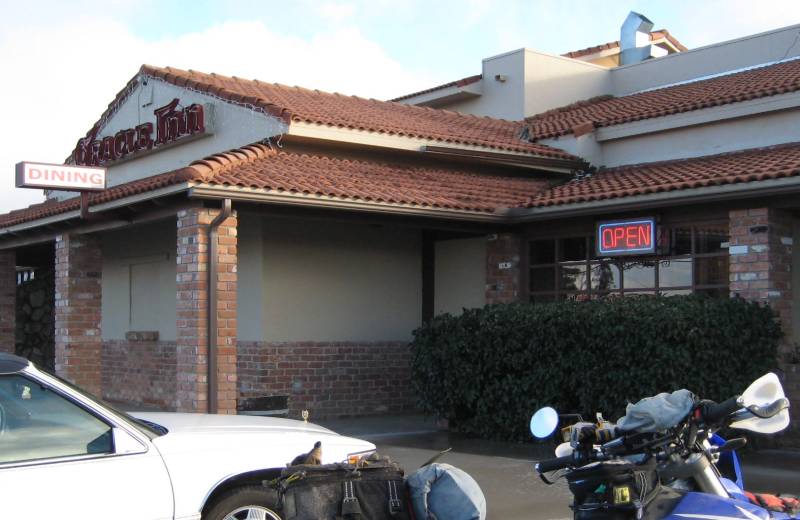 We were headed out of town to the "Shalet"
Sounded way to fancy for us--but we were delighted to just a basic place to lay your head.
She said there was no phone or TV and I asked if I could pay extra for not
having to be bothered with either----included she said.
It was so cozy and simple with a little gas wall heater.
Even had a ceiling fan to hang our clothes we washed in the sink to dry out.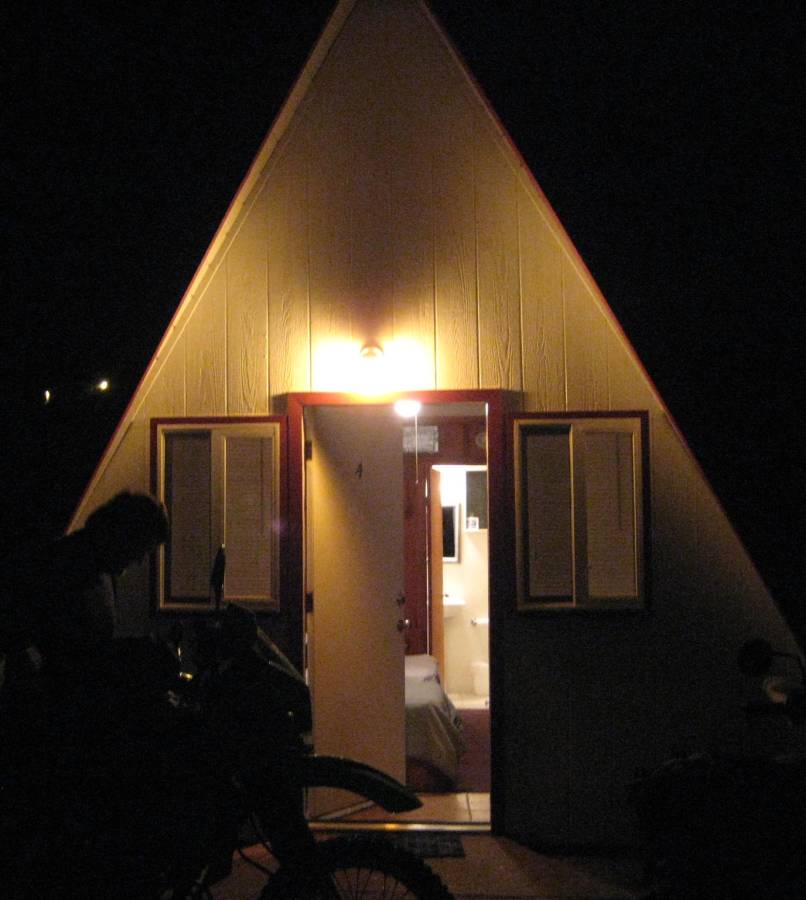 Day 6
Oracle To Cave Creek
About 3 miles West of Oracle I headed up Willow Springs Road---can't believe we never took a picture of it.
It was one of those roads that most would say impassable when wet. It was nasty and very slick and I stayed on the throttle
on the little 250 shifting gears and standing on the pegs keeping the front as light as I could and pulled away quickly from Randy
as he disappeared from sight. I stopped for him after a short while and his KLR wasn't having as much fun as my WR was and we turned back
to take an easier route and found this huge mine on the side of the road.
This was the only time the 2 days of rain would change our route---the rest was pure dustless bliss with lots of traction.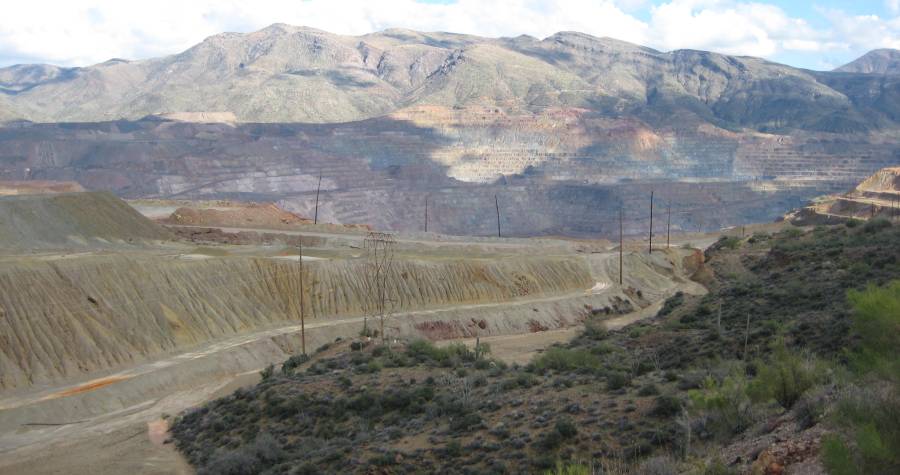 We pulled back on the reigns entering the lawless town of Florence, Arizona. Our steeds wanted to run but obeyed our commands.
Just as we entered the city limits the police car you see at an angle going the wrong way turned his vehicle
in my lane and came right at me sort of sideways
scaring the heck out of me. It was a very dangerous move on his part---my expert braking skills kept me from
slamming into his car hood.
Lights flashed radios sqwawked and another car pulled in for the kill. We were immediately told we were being
pulled over because there had been
much drug trafficking in the area on ATV's. They couldn't tell the difference between an ATV and a motorcycle
I guess---one kept an eye on us and the other
was only interested in one thing-----------our criminal records---it was very obvious. He took nothing
but our drivers license and kept them for at least
20 minutes sqwauking all the time on the radio checking us out. We were never asked for insurance or registrations.
The final blow came when he gave us a ticket for dirt on our license plates from the muddy road
I just told you about. I don't care how you see it----it was just plain harrassment.
We left town with a bad taste in our mouth and was going to eat and get gas here--but left in search of a more
friendly town.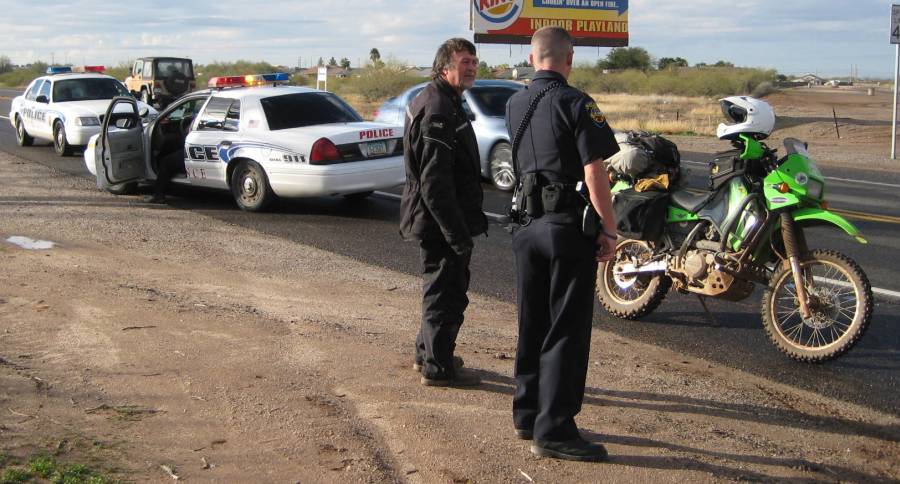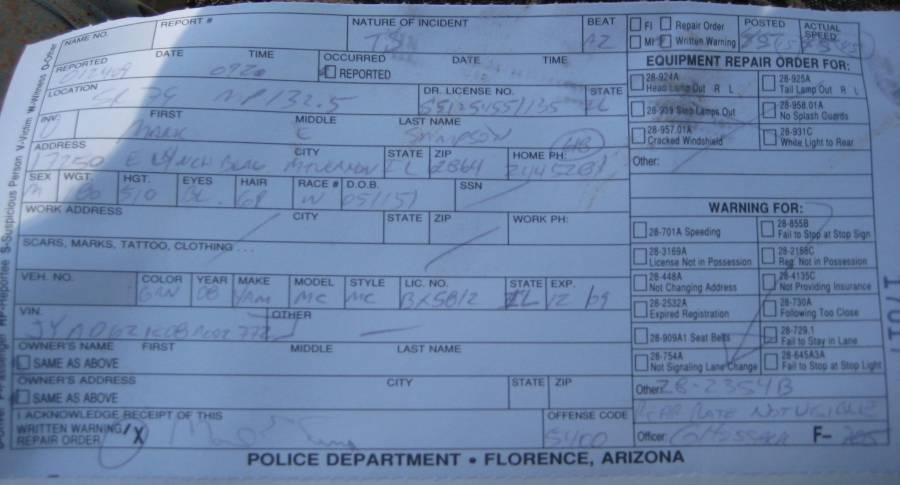 The famous coke ovens along the gila river where near here---I have been to them but wanted to check out the area
on the South side of the river as I knew we'd have a great view of the ovens even tho we couldn't cross the gila
river as it was way to deep and swift. We traveled East on the sandy Florence Kelvin road and then turned North
toward the Gila river. The road to the river was spectacular and the desert just shined with green.
This picture is not all that good as my camera had to zoom way in to see the coke ovens.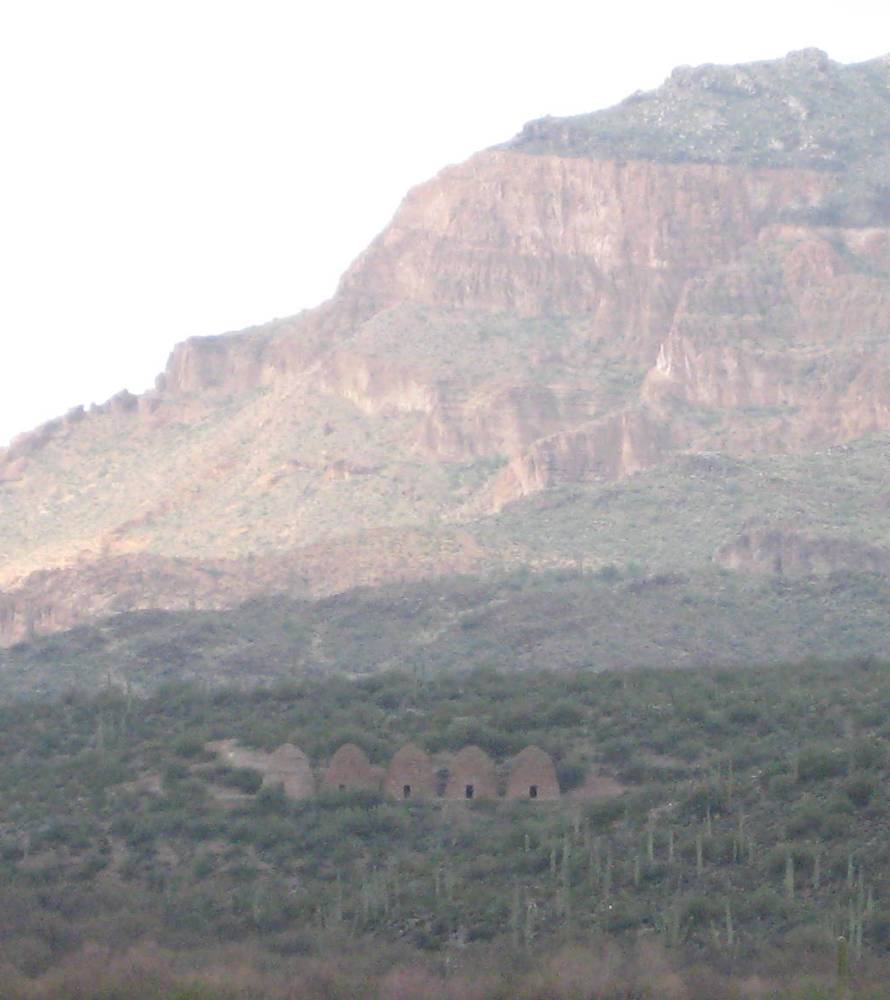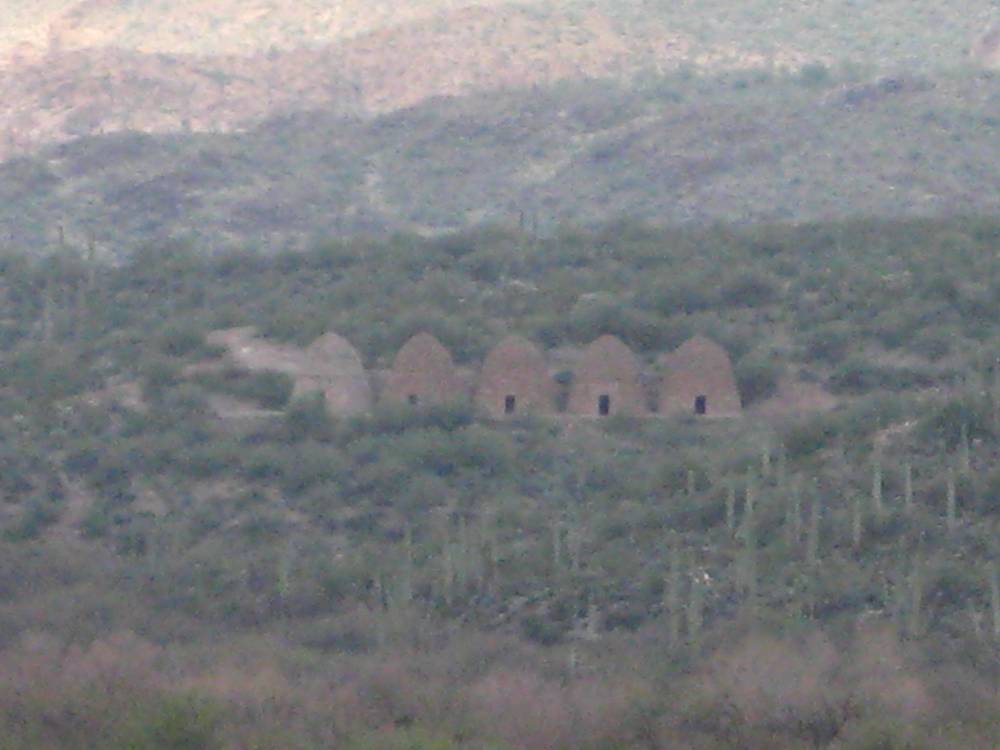 I wanted to get to the Railroad bridge you see in this picture but went down many sandy roads and just never seemed to find a way to it.
I've seen pictures of it and it was spectacular---wish I could have gotten to it. The Railroad was still live and I thought they might even
be a tunnel on the other side of the bridge.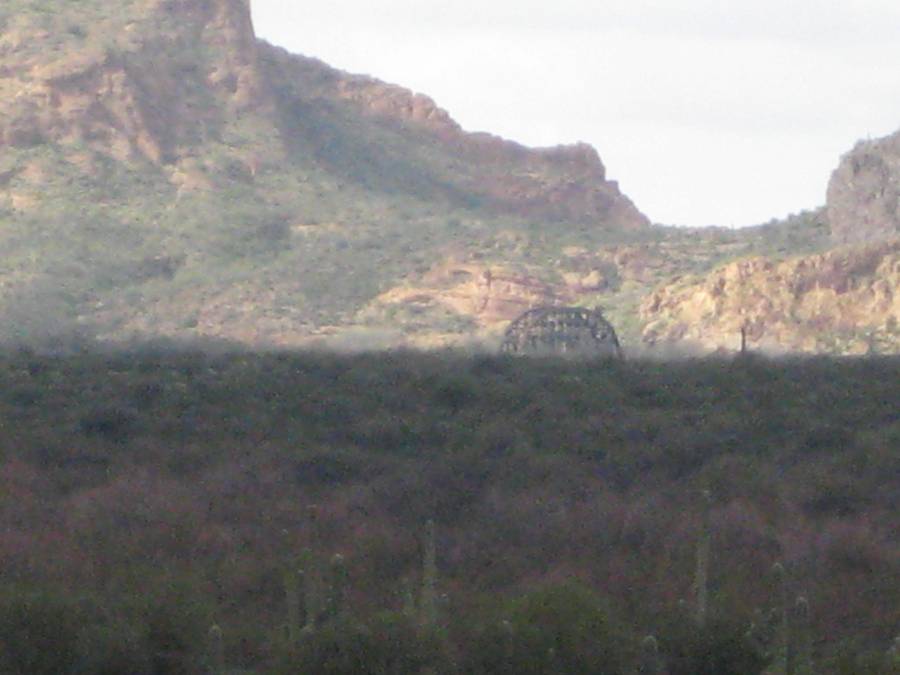 Real close to the river we pulled out the Jet Boil and had lunch.
Randy's Jet Boil was recalled by Jet Boil because of a leaky gas valve---we weren't skeert'.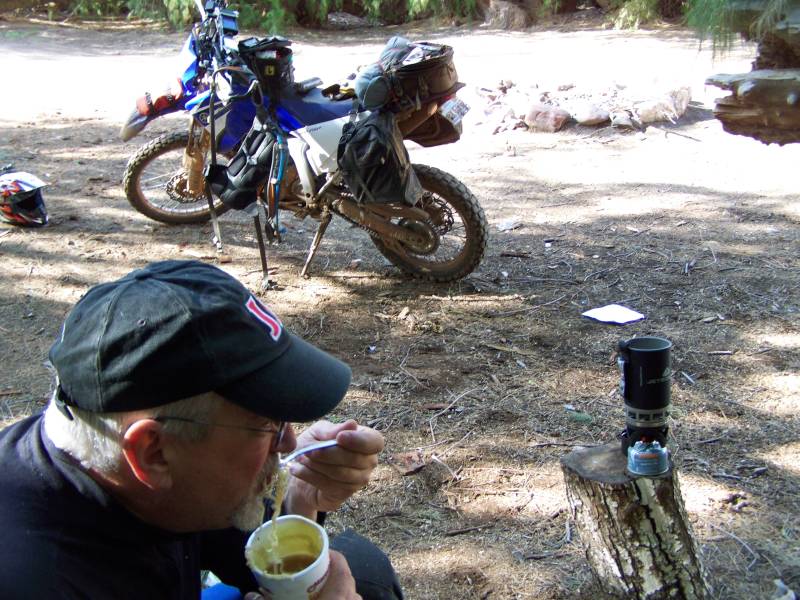 We had seen the roaring Gila river. We met a guy in here in a jeep and told him we were turned away by the river.
He told us there is never in water in the Gila river and crossing it would be no problem---I don't think he ever saw it
as you had to go down a muddy road---open a gate and cross the railroad to get to the river.
Me and Randy chuckled at the man's advice. Reminded me of an old guy me and Randy ran into in New Mexico
last year------we told him we were riding dirt roads to the next town 70 miles away---he told us
"Boys I've lived here all my life here (75 years) and there ain't no roads period between here and there"
We rode off and went right on thru with no problem.I guess he never got out of town.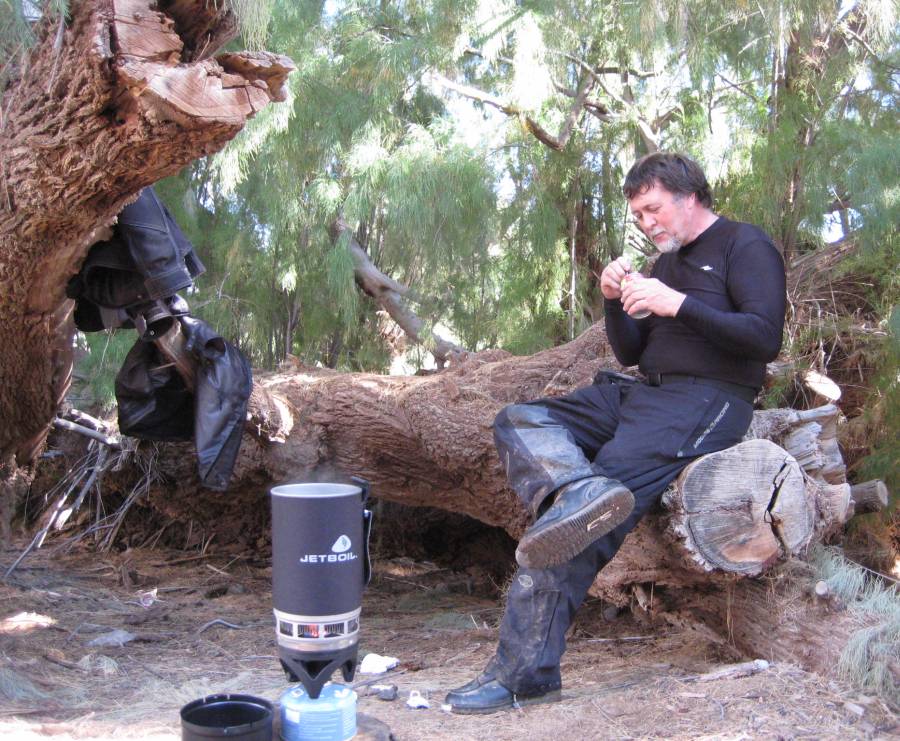 We rode back out to the Florence Kelvin dirt road and headed East ----away from Florence.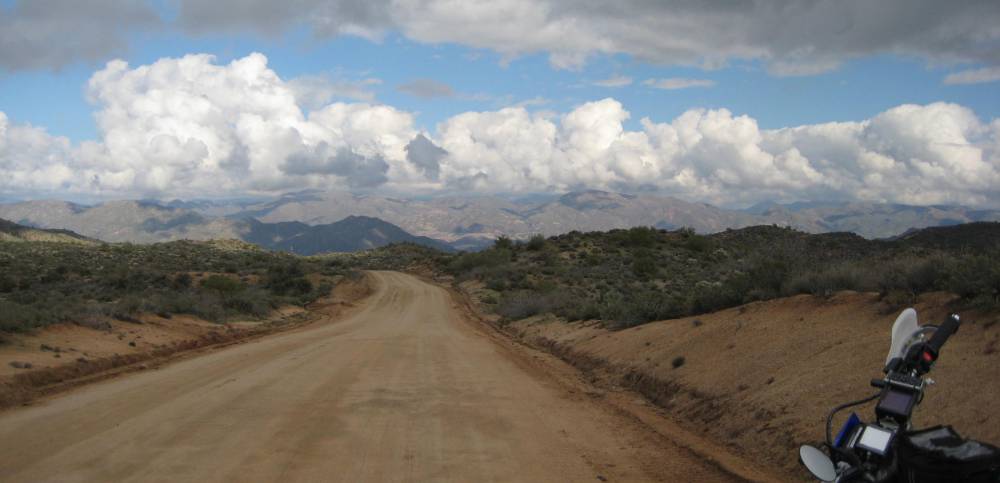 I was carrying 1 1/2 gallons of gas in a Koplin gas can in my left saddlebag and
wanted to run my bike out of gas on the stock 2 gallon tank.
It went 136 miles. I wanted to remember it--but knew I'd forget it. Lefty knew he'd forget it too so we wrote it down.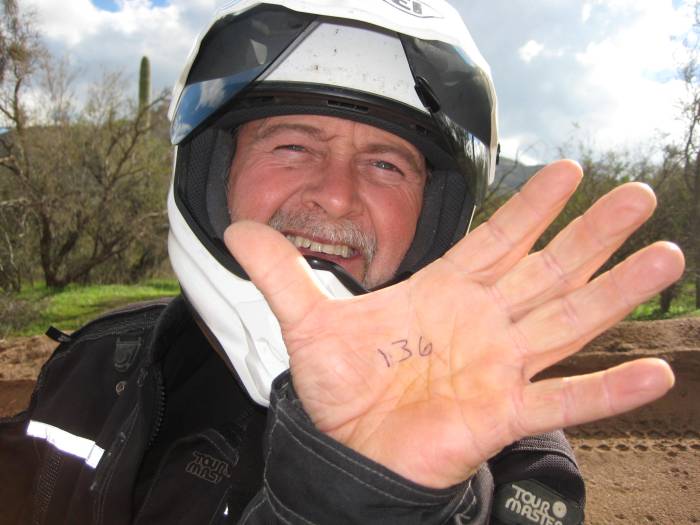 It was way after dark when we rode into Cave Creek Arizona. This picture was taken
the next morning--it is the Tumbleweed Grand Motel.
If my wife had went in here---I'd of had to pick her up a couple days later as it was full of----------stuff.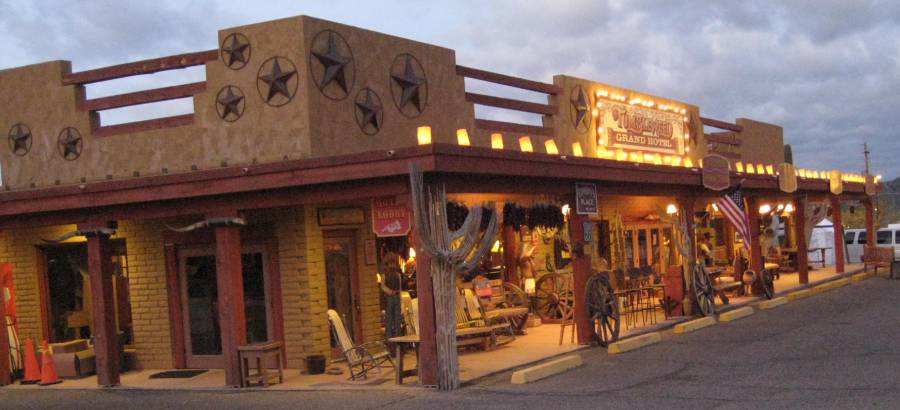 I almost forgot to mention our run in with a very generous fellow at a gas station. He had all kinds of bikes and a nice shop and house nearby.
He asked if we needed anything and we replied no after a nice chat with him----"How about bike maintenance" ??? He asked.
Me and Randy looked at each other and both thougth our air cleaners needed cleaning. We followed him to his house and
helped ourselves to all his tools, and cleaning equipment. It was a really nice gesture and now that it was dark and we
were without a place to stay he directed us to the Tumblewee Grand Hotel. It was nice--but the only thing Grand
was the price. My air cleander didn't need cleaning really--but I cleanded it anyway---Lefty's was all plugged up again. A pound of dirt
fell out of the air box-----and I thought he'd pull another 5 lb. booger out of his nose like he did last year when following my dusty
trail for days on the Shadow Of The Rockies Trail !!!!
Day 7
Cave Creek To Strawberry
This was by far the most spectacular day------I wanted to cross under the dam and spillway at Horsehoe Lake and wanted to ride up the East
side of the lake and cross Sheep Bridge East to West. I attempted this route a few years ago but wasn't sure about the legality of it and was
worried about a hill you'll see in a bit.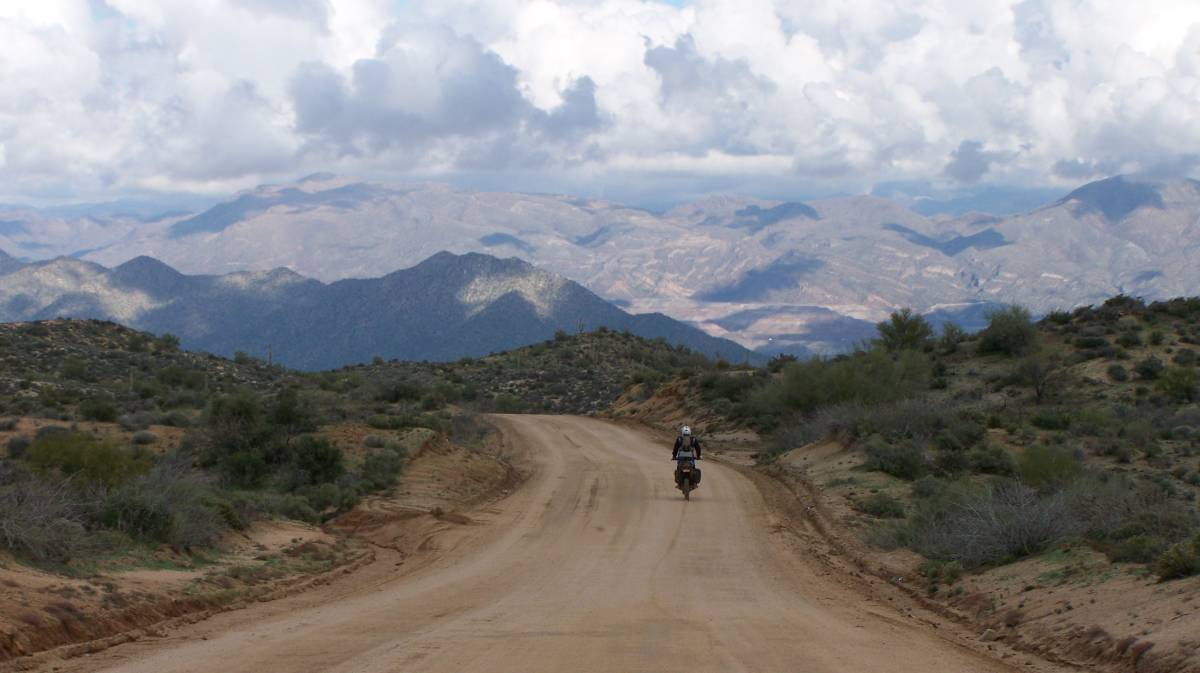 We rode Northeast out of Cave Creek on the Bartlett Dam road then split off North on the Horshoe Dam Road. this is all Northeast of Phoenix.
My stomach was all knotted up anticipating what I wanted to do---without getting arrested or hurt.
When we started this trip I didn't think we could get this far North in January. I was almost relieved not having to attempt this route.
But as it grew closer I knew I had to do it. I told my partner Lefty of the risk and he agree to go where I went without any qualms.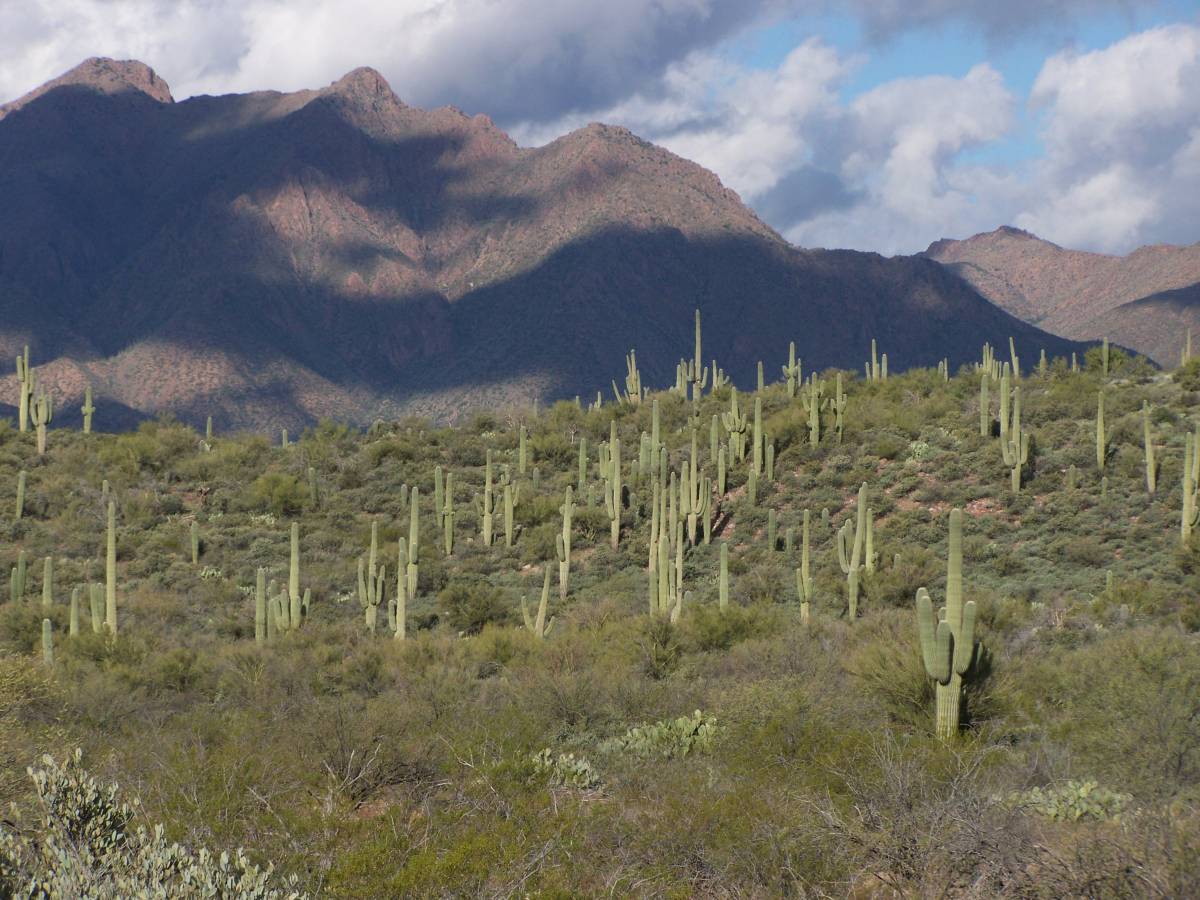 As you can see it was again pure bliss riding the many miles on this sandy road towards the lake and dam. It was washed out bad in a few places
from the 2 days of rain we rode in----if you hadn't been paying attention you would have paid a very high price.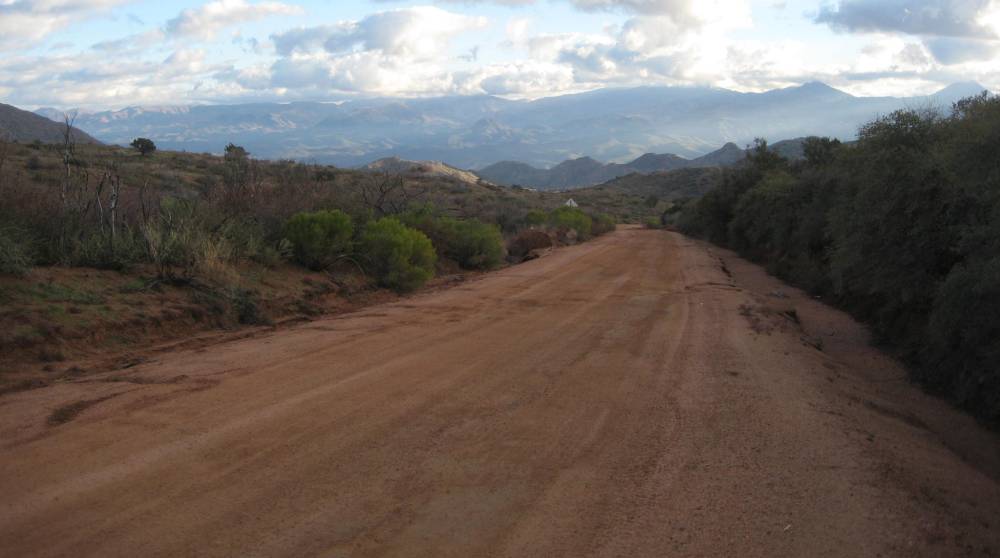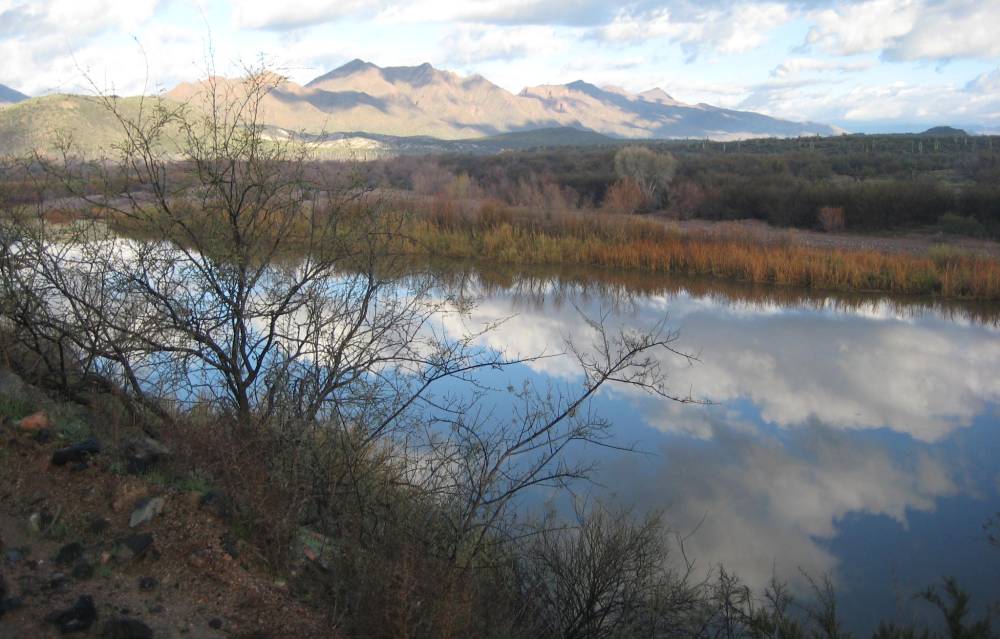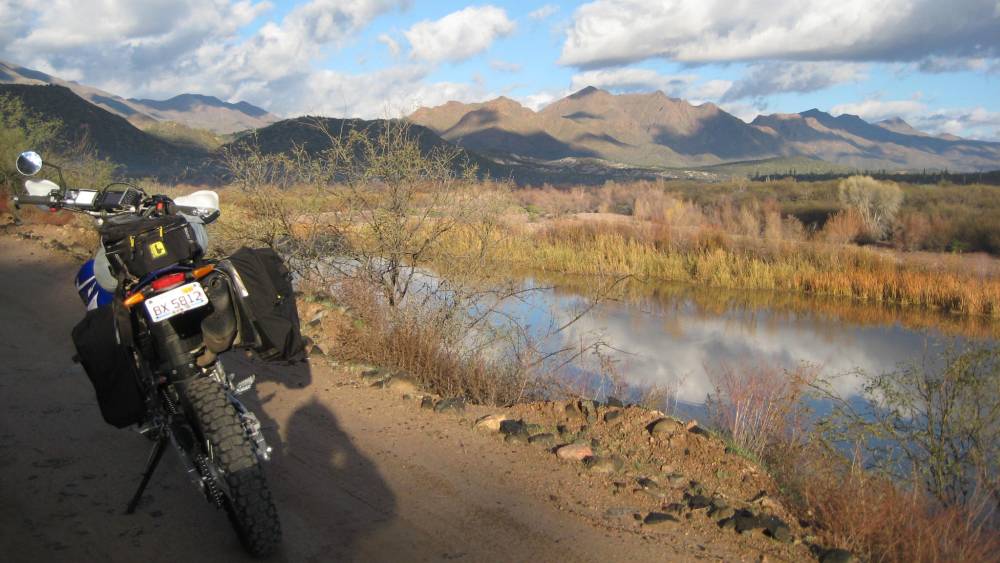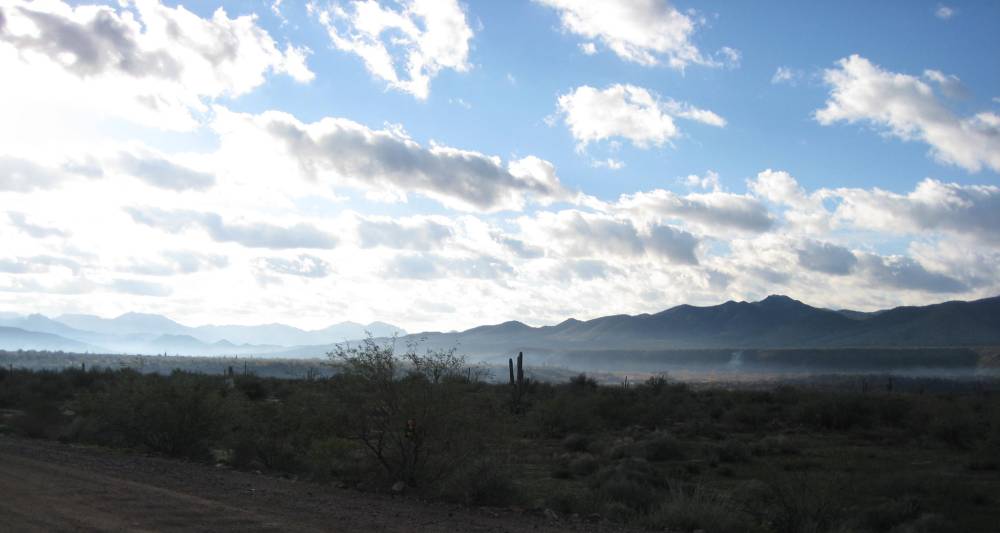 The dam came into view and my nervous stomach was scouring the terrain and Verde river banks for people.
People that might not want us doing what I was going to do.
I again questioned Lefty if he was OK with this--and he nervously nodded after actually seeing the dam crossing
we were going to attempt. The Verde river has been crossed here---but not today or tomorrow--it was way
to deep an swift.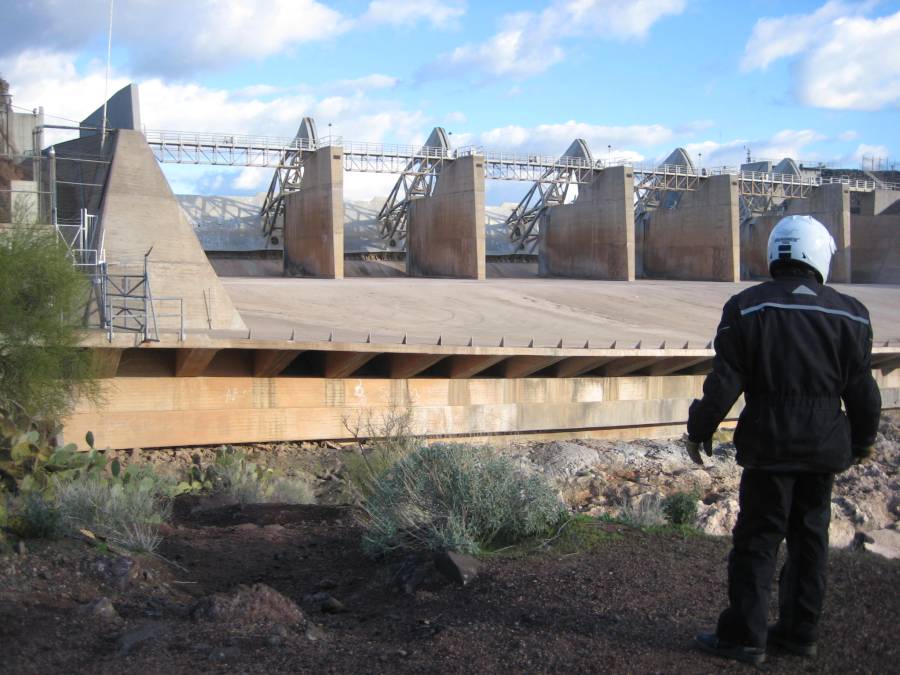 No water is spilling over the apron overhang which is above a concrete walkway where I guess workers can walk from one side
to the other. It is very narrow to say the least and has 2 very tight 90° turns----and rocky downhill to get down there
and a steep rocky climb to get out. Really not that hard--if your bike will fit thru.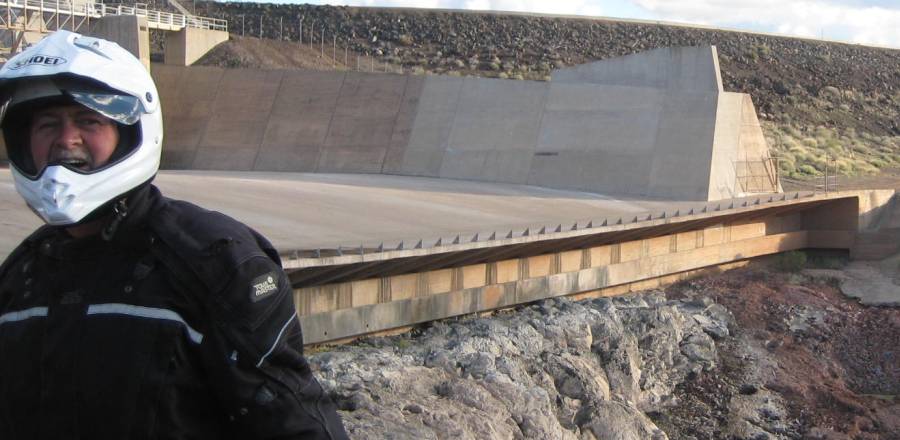 I rode my little WR down the rocky hill and entered the walkway only to be stopped by the 90° turn you see Lefty stuck in.
I barely squeezed my bike thru after much jockeying and sliding the rear tire. After getting thru I knew Randy wouldn't make it---
but he did.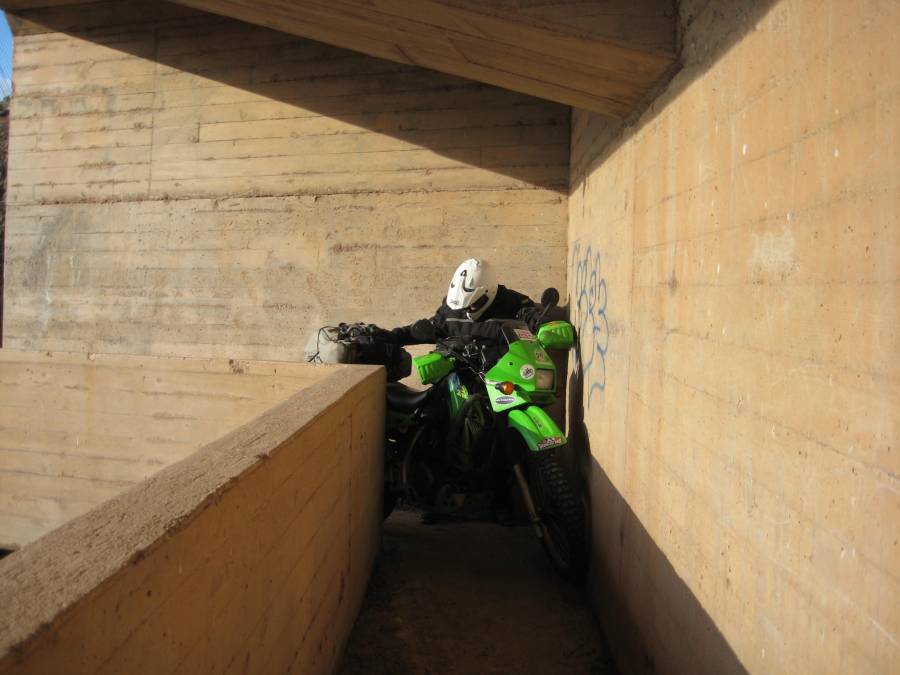 You should have seen the shit eatin' grin on my face as I rode down the walkway-----that is until
I got stuck in the 2nd 90° turn. If we had to push out bikes back---there was no way to turn them around---and we would have had
to push them up the rocky downhill --------backwards. I don't know if we could do that !!!
And to ad more drama to this story---if we couldn't climb the nasty hill at sheep bridge--we'd have to come back under the dam.
The knot in my stomach grew to a triple knot-----it was a great triple knot----it's what adventure riding is all about. It's why I ride.
For the knot !!!! I video'd this whole ride---and in the video of riding thru here you can sense my apprehension.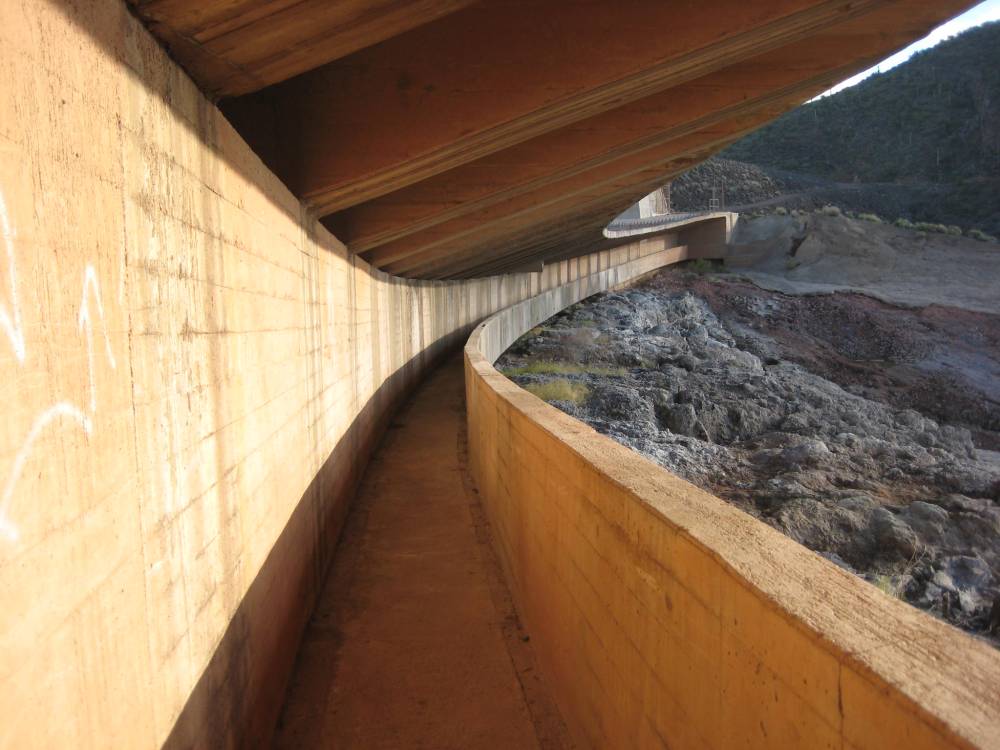 I was so relieved after I made it thru here and climbed out on the other side to see Randy come after me. I really didn't think his bike would go thru.
I wasn't the first to do this----several conversations with locals on e-mails assured me I could do it. One guy did it on a 950.
Here is a view of the lake side of the dam we just went under.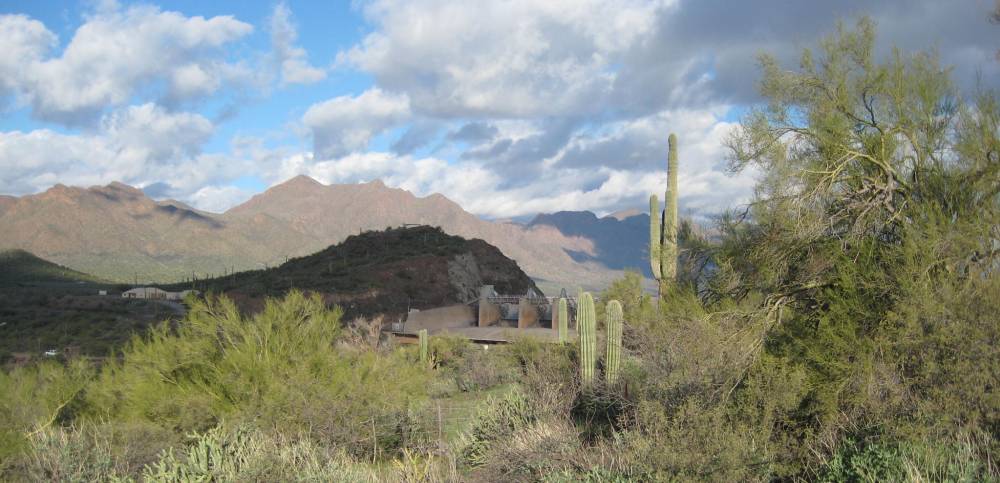 We rode North about 12 miles toward sheep bridge. The route was fantistic and the knot in my stomach grew even more tangled
as we got closer to Deadman's Creek-----a very hard crossing I was told. This mud here would have been really bad a couple
days before we went thru.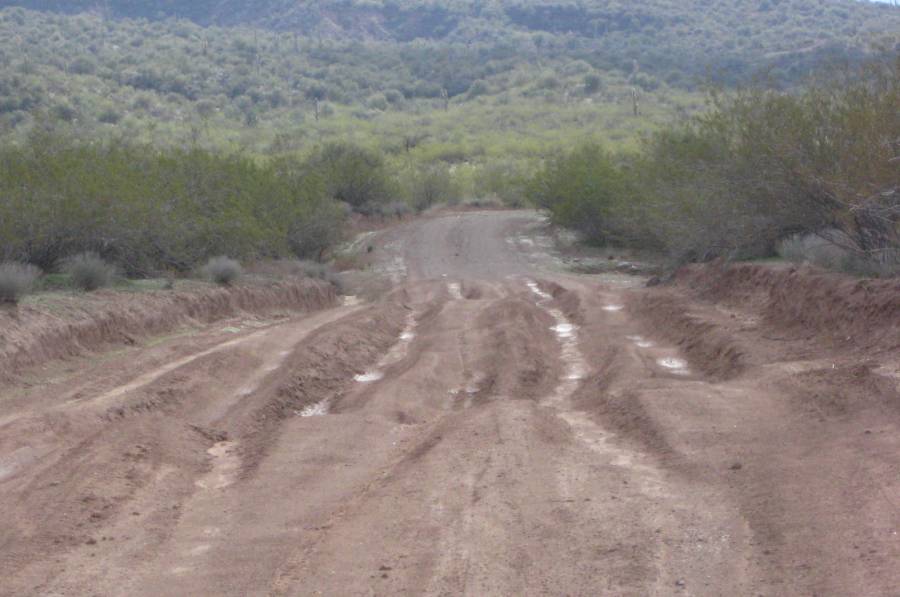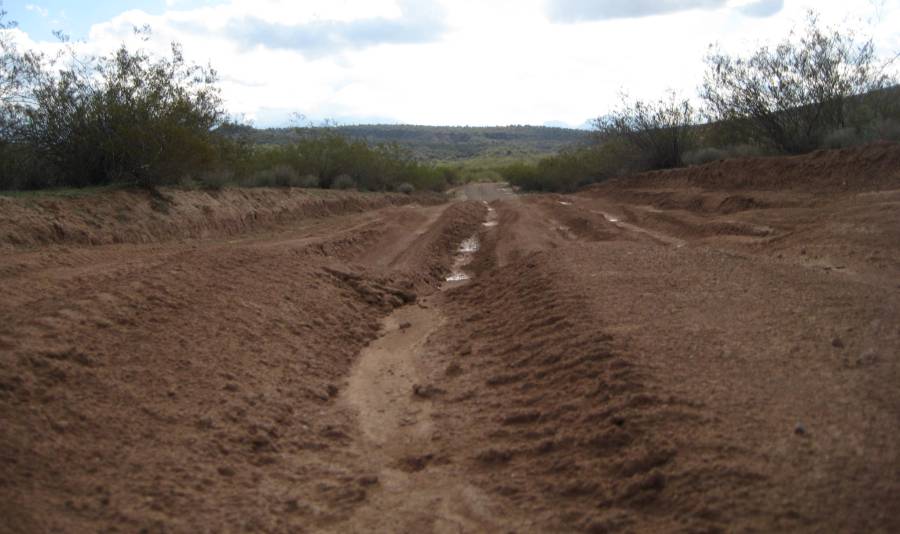 Deadman's creek was a piece of cake and after miles of desert road we caught our first glimpse of Sheep Bridge.
A very old suspension bridge used long ago by ranchers to get their sheep across the Verde river.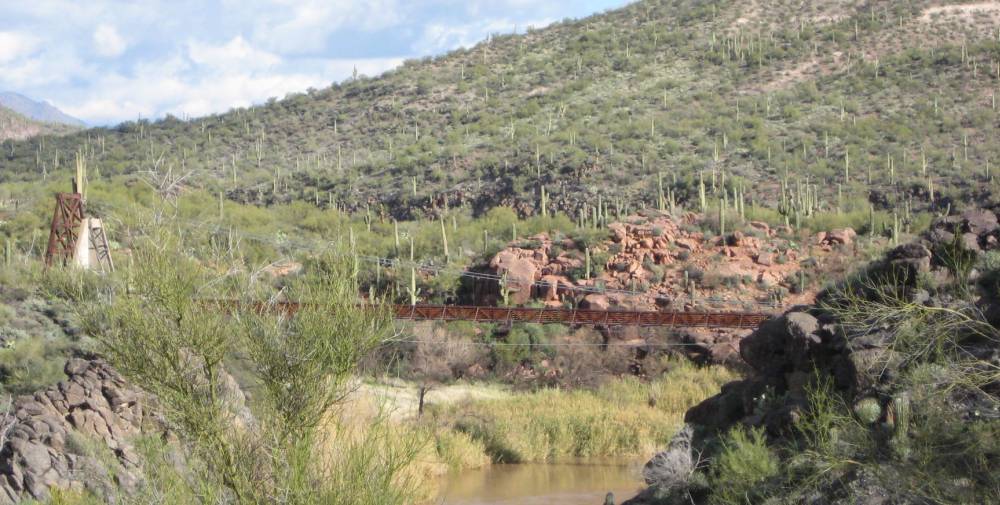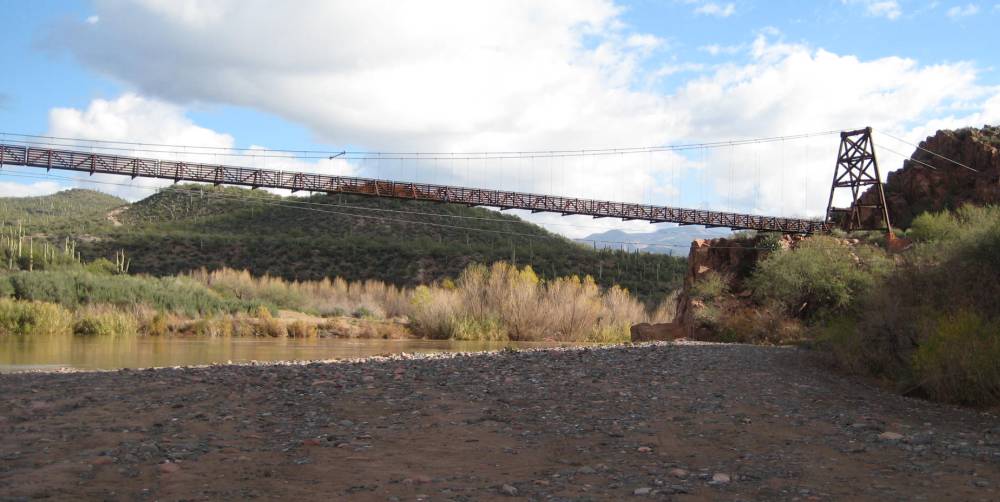 There was no crossing the Verde River today---nor the last time I was here.
We either had to climb the rocky hill from hell up to the East side of the bridge or go back----I hate going back.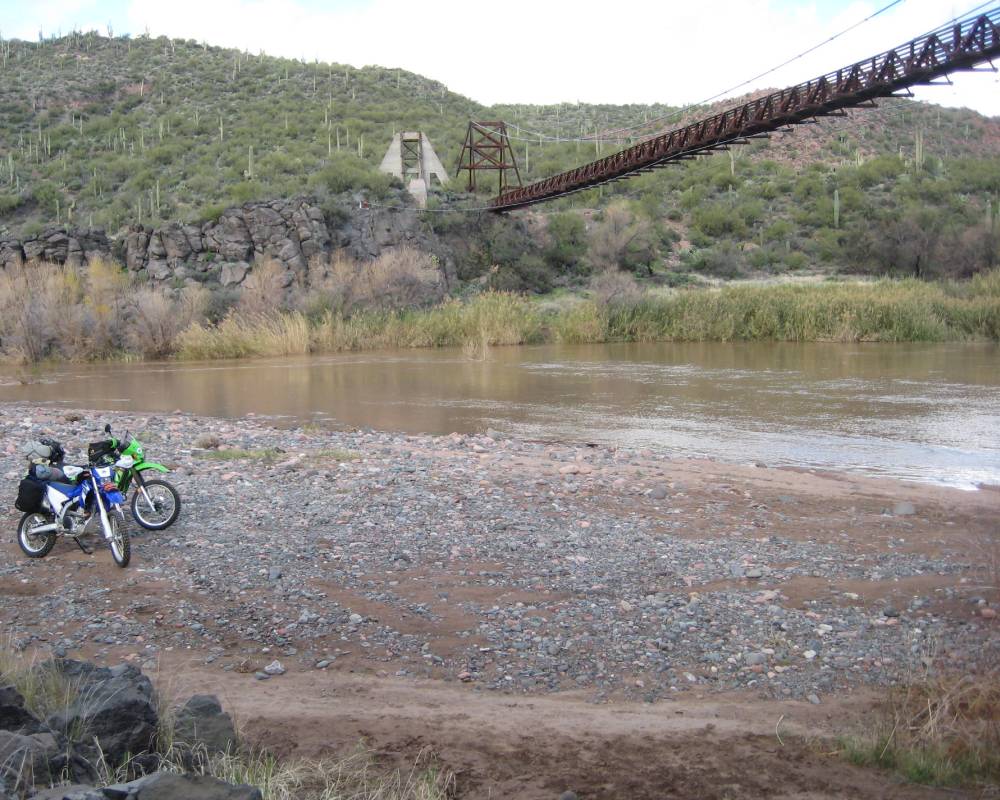 This is the level part of the rocky hill before it got really steep up to the bridge.
We walked it a couple time and both agreed we couldn't climb it---bummer.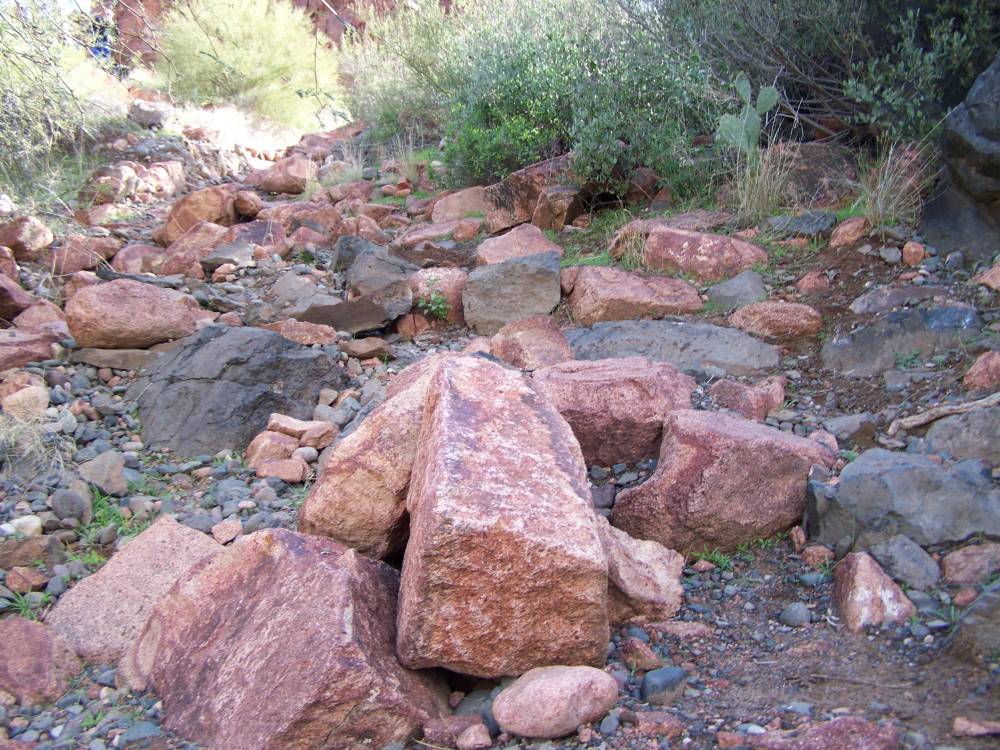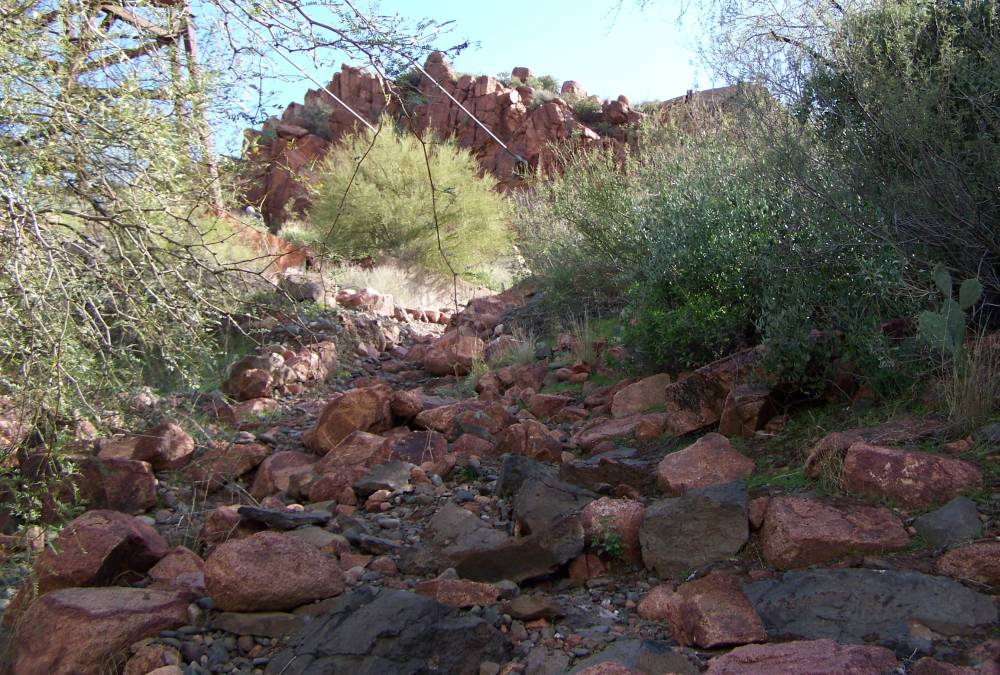 Near the top is leveled out some and was rideable.
I made a suggestion----unload everything from our bikes and push them up.
Both of us agreed the 250 might be do-able but worried about getting the KLR up it.
We made several trips and carried all our gear and my full gas can up the hill and then came down to get the bikes.
We planned on not riding the bikes--but walking them with the motors idling and slipping the clutch all the way up.
We started with my 250----It wasn't easy---it wasn't hard---it was brutal---We killed the motor many times----
slipped and fell---bout dropped the bike several times---laid the bike over and gasped for breath that just wasn't there.
A guy across the river offered to help and was hollering at us be we couldn't understand what he was saying.
I don't know how we got it up ----but we did---and fell to the ground at the top not able to speak.

While we were trying to regain our strength we knew we had to get a bike up that was much heavier and geared
much higher----we weren't sure we could do it. It was a matter of survival-------we mustered every ounce of energy we had
and syked ourselves up for the KLR's ascent.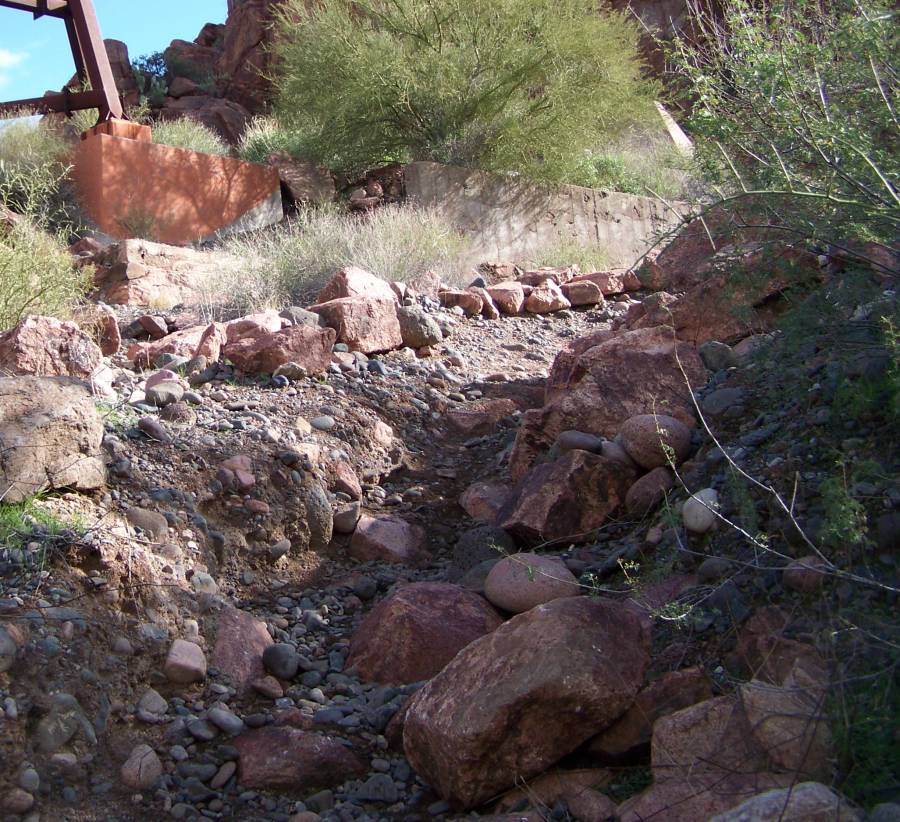 We made it---and the guy and his wife across the river had been watching us all along and taking bets I think---they said they
stayed to watch and weren't leaving until we either died, gave up or made it. Said it was bettery than anything they'd watched on TV for years.
Randy stares at the bridge crossing (he's extremely scared of heights) and is not sure he can ride across.
I said------"Oh your riding across alright"---if I have to push you !!!!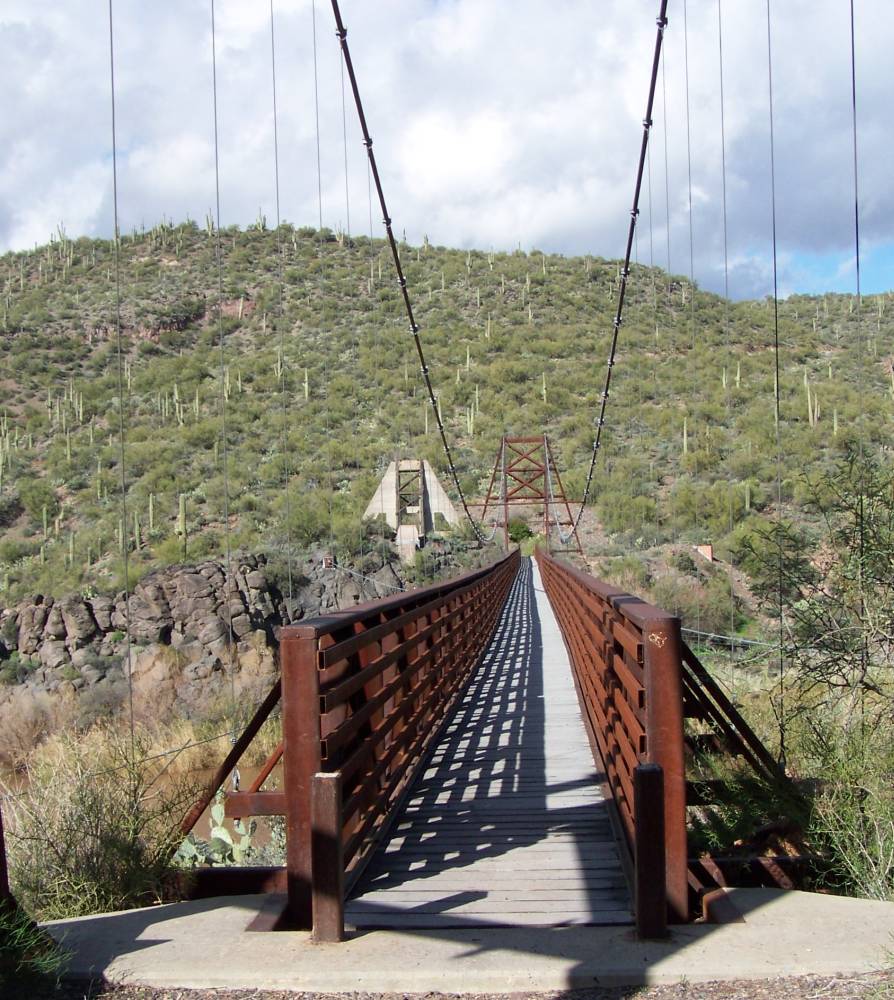 Please reas the sign and plaque on the East side of the bridge--it tells the history of the bridge
and you can see an old picture of sheep getting herded across the bridge.
You cannot continue on East of the bridge---very close to where we were at is the Matzatlan wilderness area.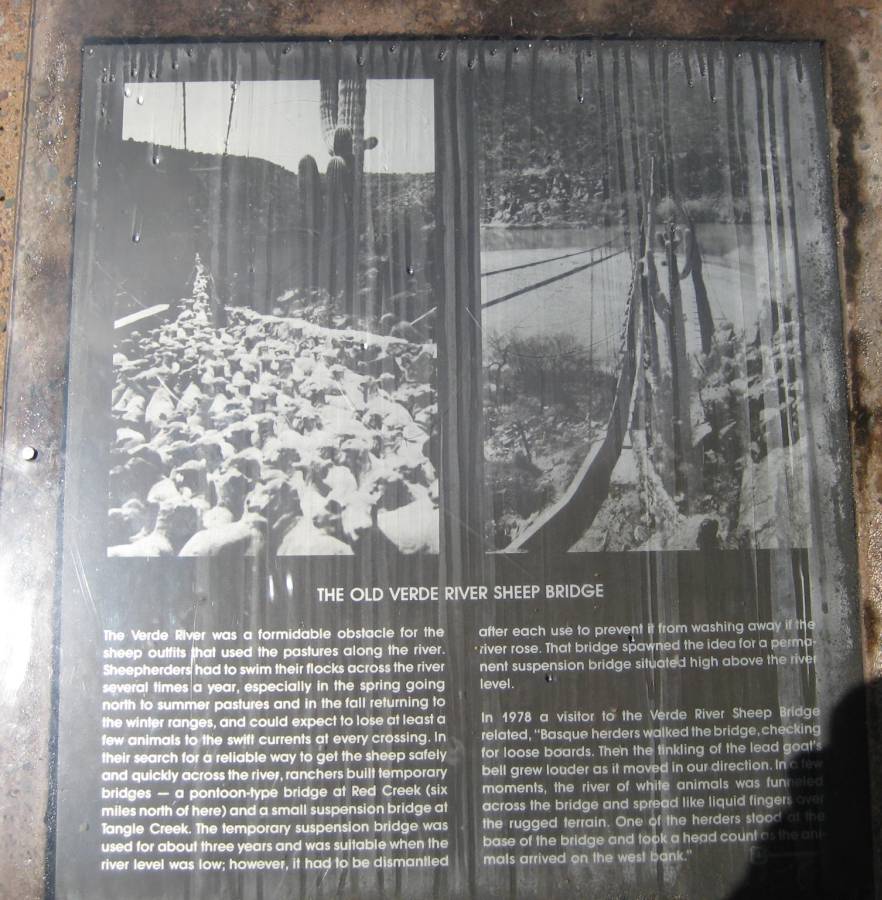 Most people that visit the bridge come in on Bloody basin road to the dead end at the bridge.
I hate dead ends---we made a thu route out of it. I think all riders that have attempted what we did
have done it North to South so as not to have to climb the hill. That would have made maybe 40 miles of
backtracking for us--------I hate backtracking.
Were we tough----we we stupid----------I've been told both--you decide.

Northwest on Bloody Basin road--this guy had a very bad day.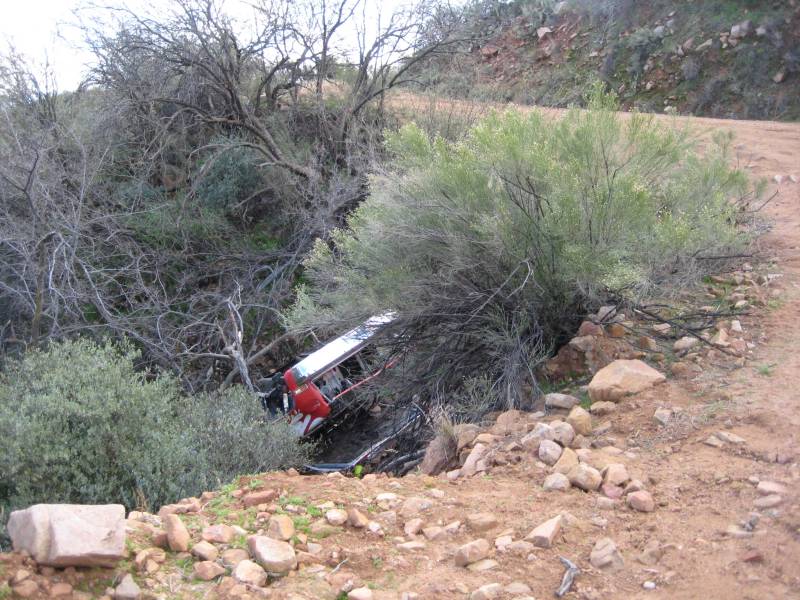 For my next trick---I wanted to ford the Verde River and find the hot springs and old shut down
water power plant. We rode a few miles---and then I came to my senses as we both really knew
the Verde couldn't be crossed---we did backtrack a little and headed further West on the Bloody Basin road
thru the Aqua Fria National Monument and I would try to get to the 2 abandoned power plants another way.
I was overwhelmed with our accomplishments so far for the day---another part of my dreams had come
to a reality.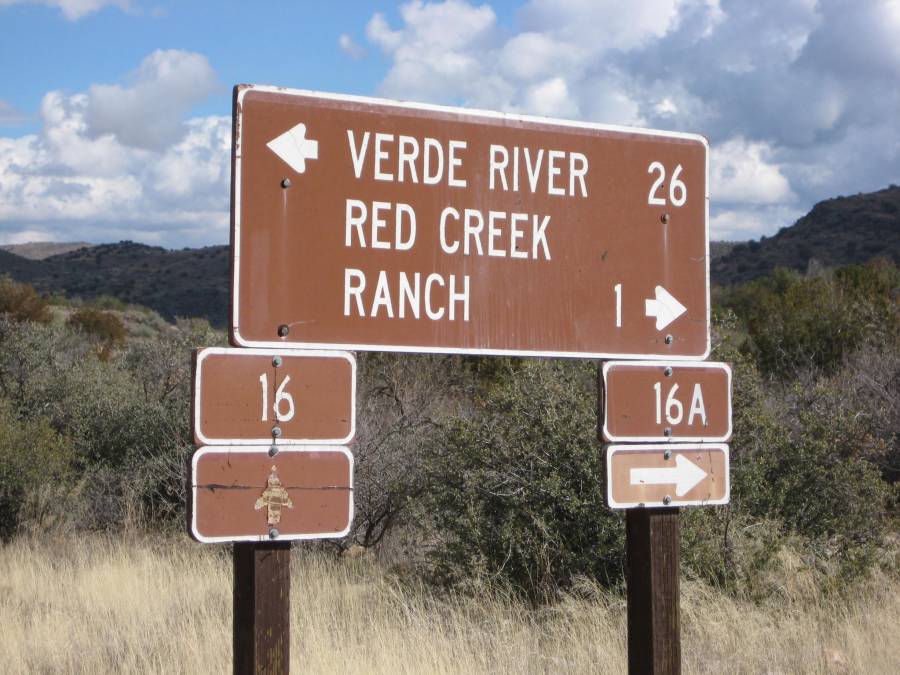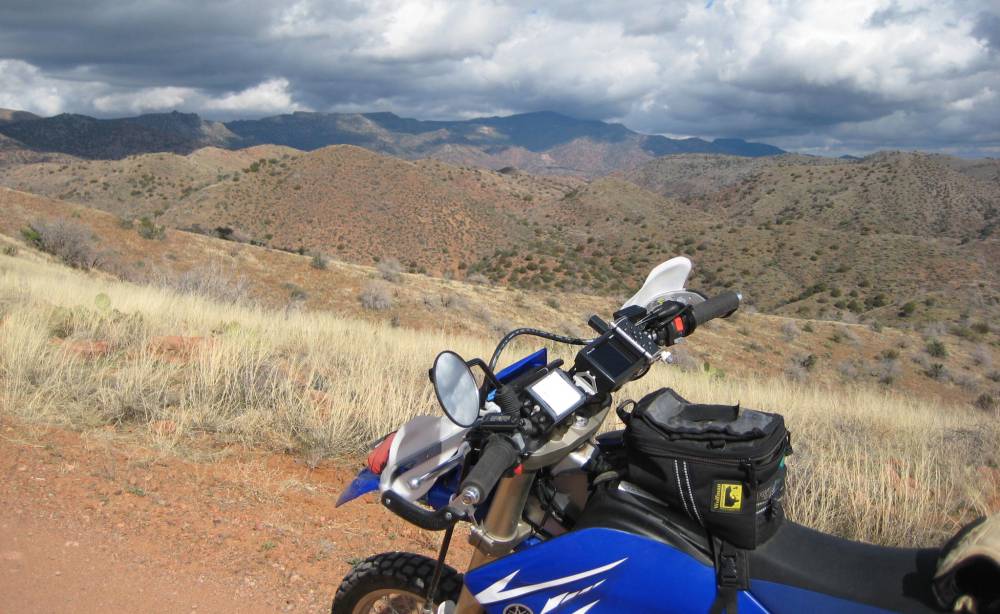 We made it up to the town of CampVerde and headed Southeast toward the power plants and the Verde River
We were now on the North side of the river and wouldn't have to cross thru it.
Strawberry----what was that---we would find out---and it was our savior for the day.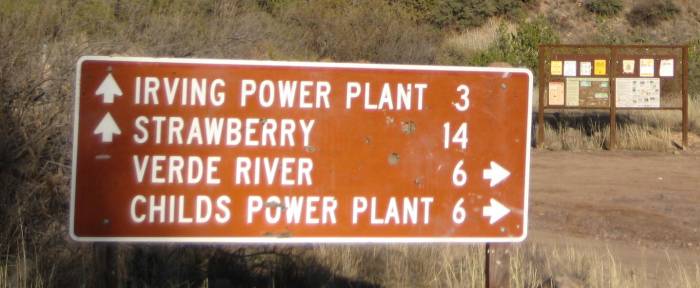 I think the greenies got the Childs and Irving water power plants shut down. Something about endangering the habitat
of the blue speckled, lop eared, snaggle toothed, gay tortuoise.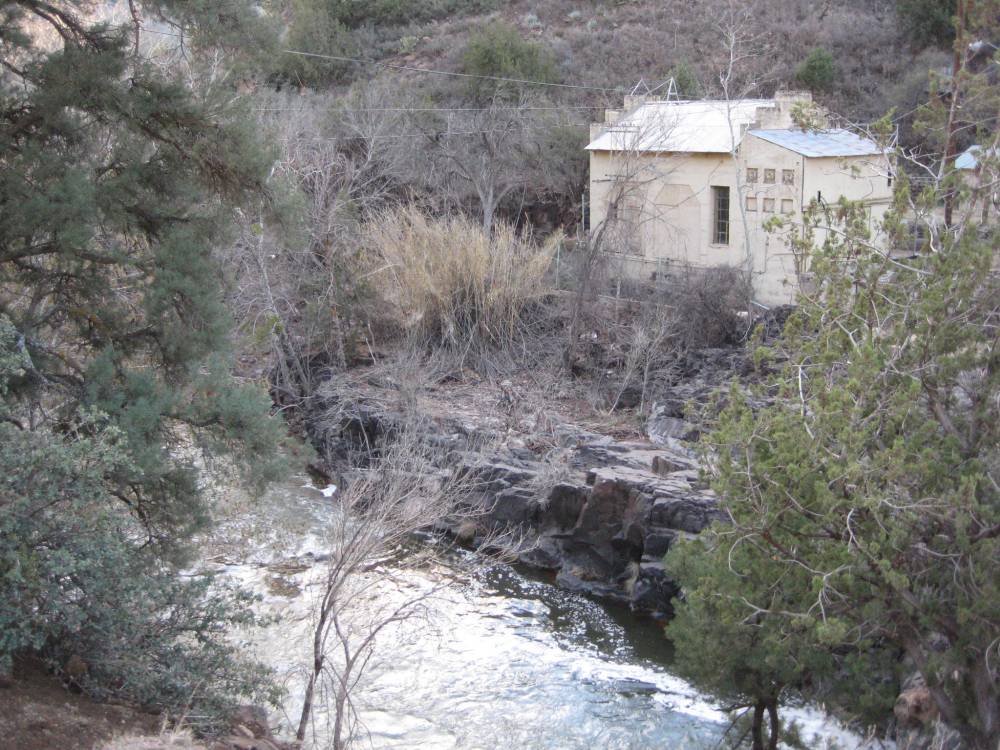 Some of the water you see here was at one time diverted to a turbine and returned to the river.
What that did to the water I don't understand.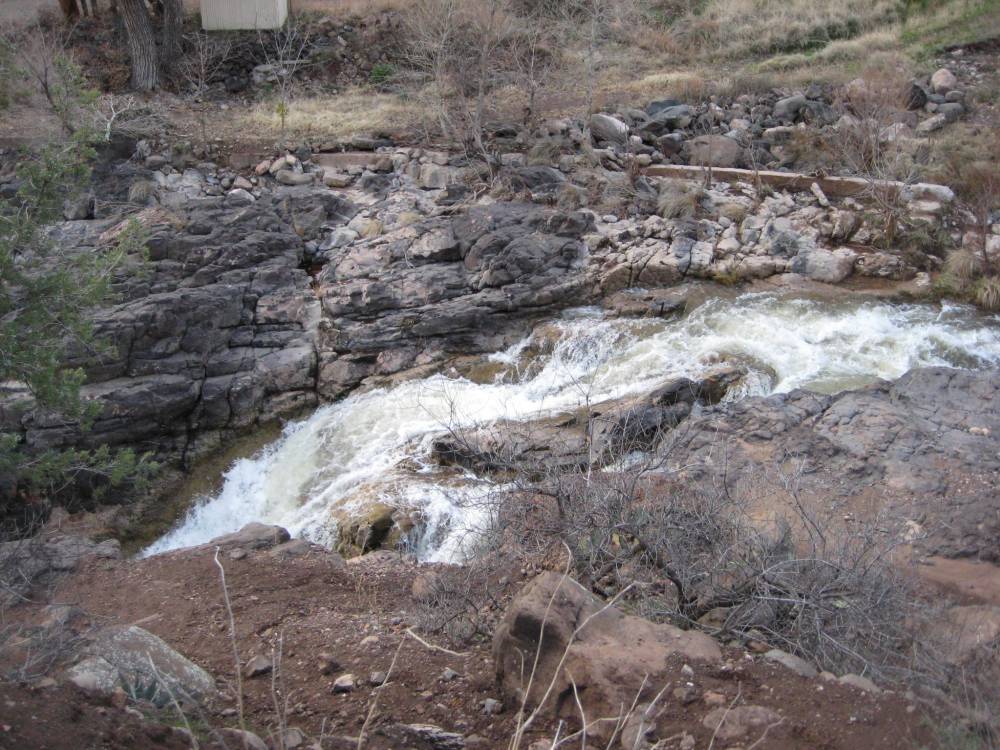 I thought we would be riding on gravel roads along the river into Strawberry.
Instead we were treated to steep moutain, muddy, rutted and rocky
swithchbacks to the little town..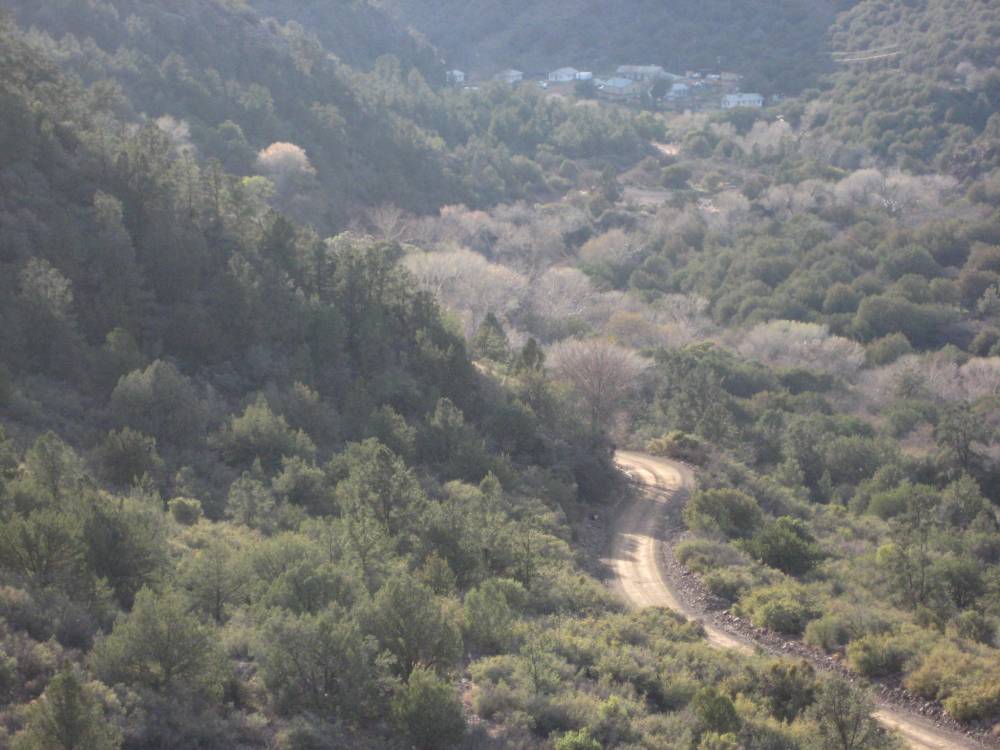 It had gotten really cold---heated grips had been on high and the little quiet Inn and motel in Strawberry, Arizona
was a sight for sore eyes. This day had been one of the best riding days of my life !!!
And we ended it in a nice little tiny village---I wasn't that hungry and just decide to have coffee, homemade
apple pie ala-mode of course.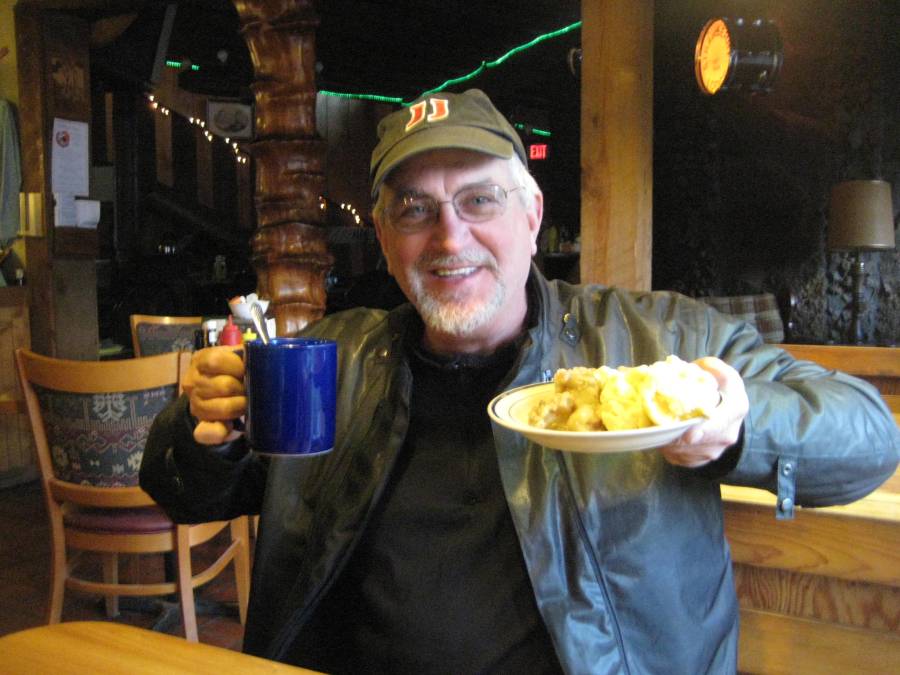 To supplement the pie, coffe and ice cream there were 2 roaring fire places to warm our cold butts up.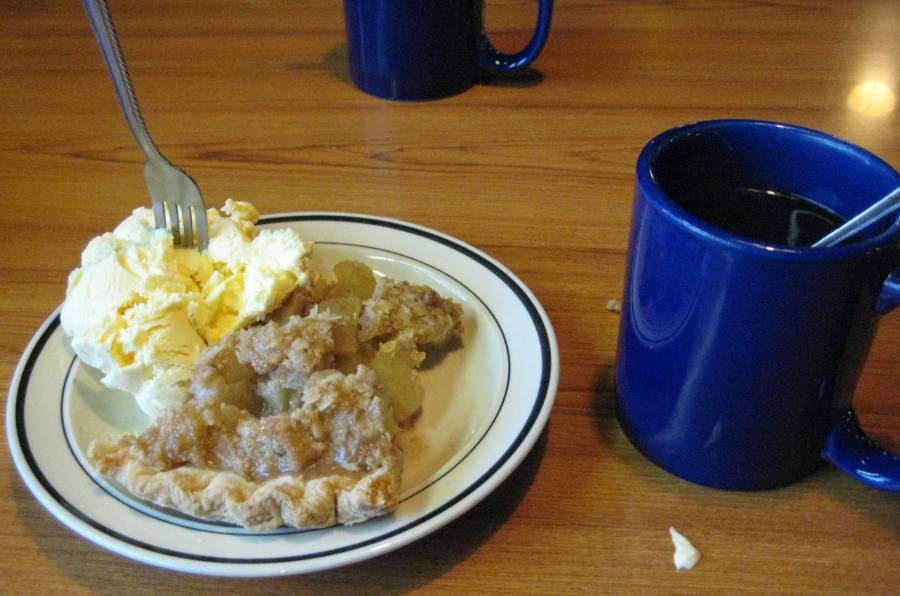 Poncho had pie and ice cream but Lefty had a full meal and you can see the contentment in our wind worn faces
of a long day on the trail---we had started riding in the dark and rode into Strawberry in the dark.
We didn't wast a minute of the day.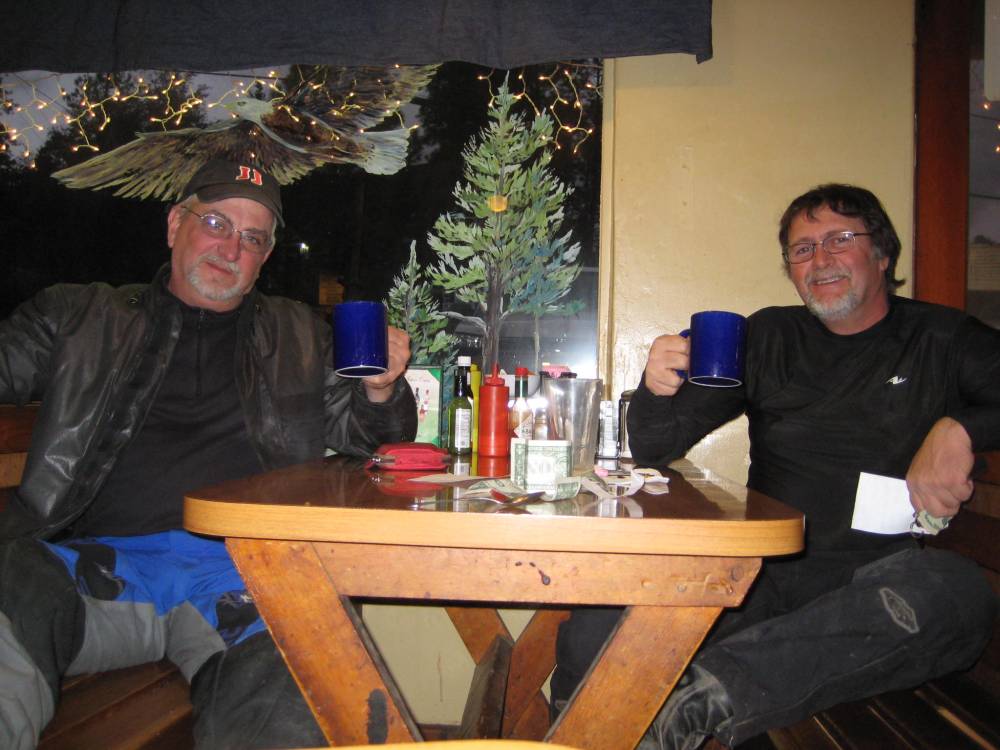 I surely don't have to tell yo what's going on here do I ????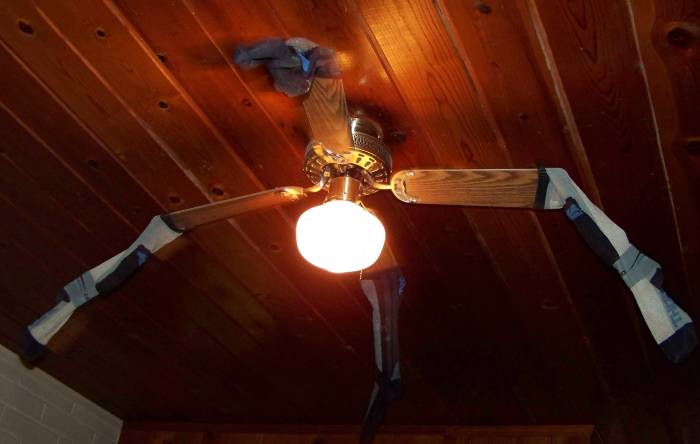 Day 8
Strawberry, Arizona To Rodeo New Mexico
Riding out of Strawberry we rode 2 miles to a cafe in Pine, Arizona for breakfast and then
East on what the locals call the Control road. It runs for miles at the base of the Mongollon rim.
I have tried twice to ride the rim----but snow kept me out both times.
Tall pines wer the order of the morning---heated grips and we finally broke out the heated clothing
most of the day.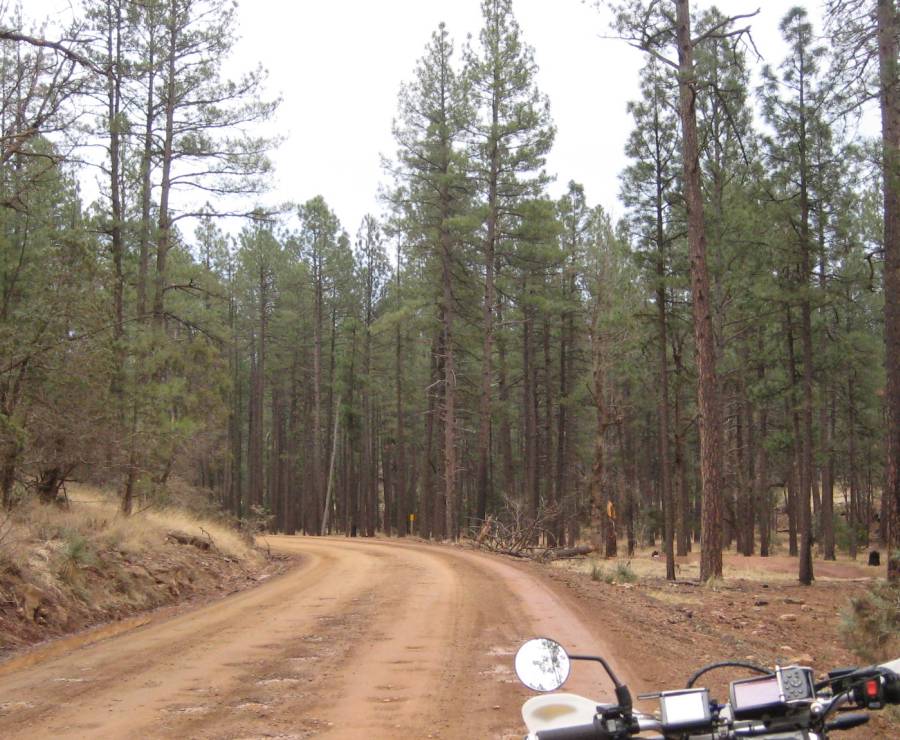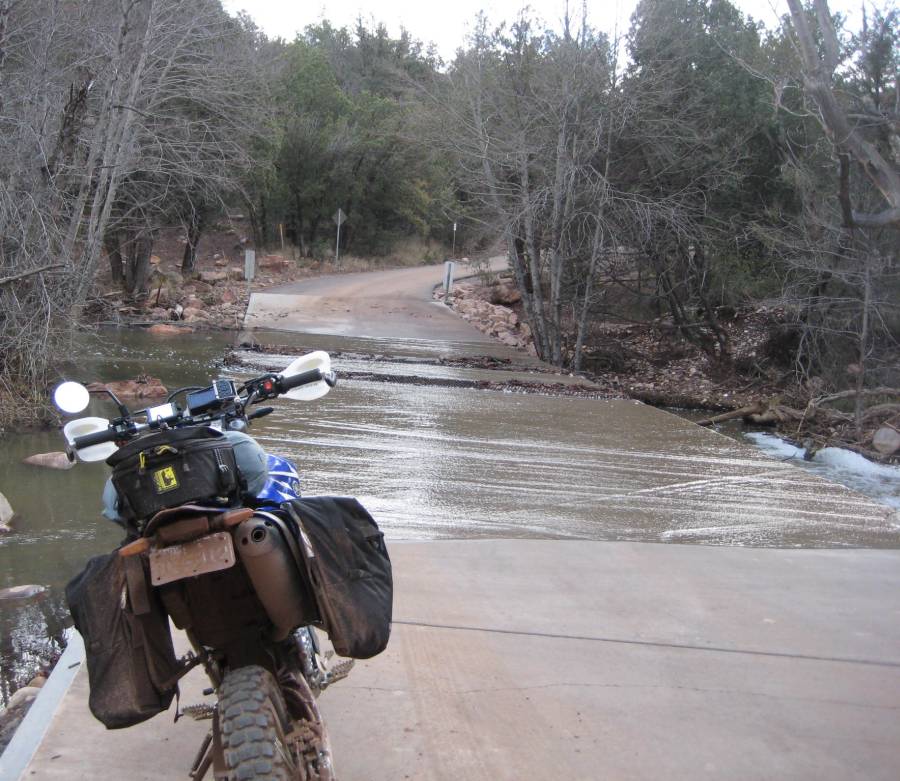 It's somewhat shrouded in the clouds---but the rock faces are the Mogollon rim.
Prounouced "Muggy--Own" believe it or not.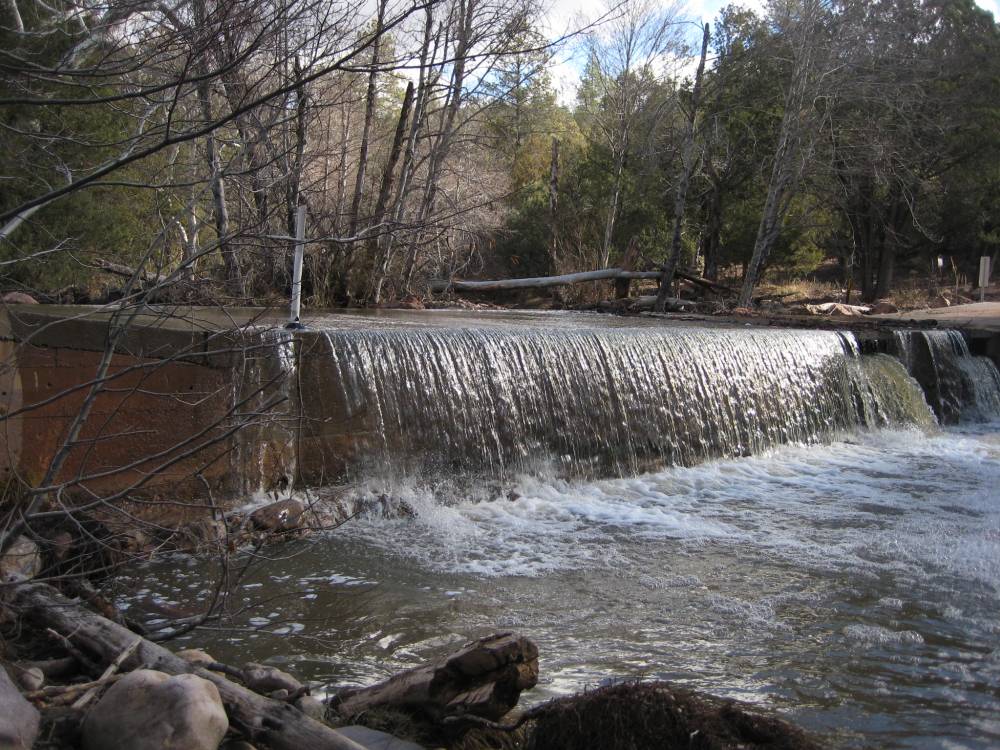 Just a couple miles East of Christopher creek we headed south on the Chamberland Trail To Young--then farther South on the
"Tall Pines--To--Desert" road--------what a name---very fitting I suppose.
The mountain swithcbacks were spectacular and eventually Theodore Roosevelt lake appeared in view down below.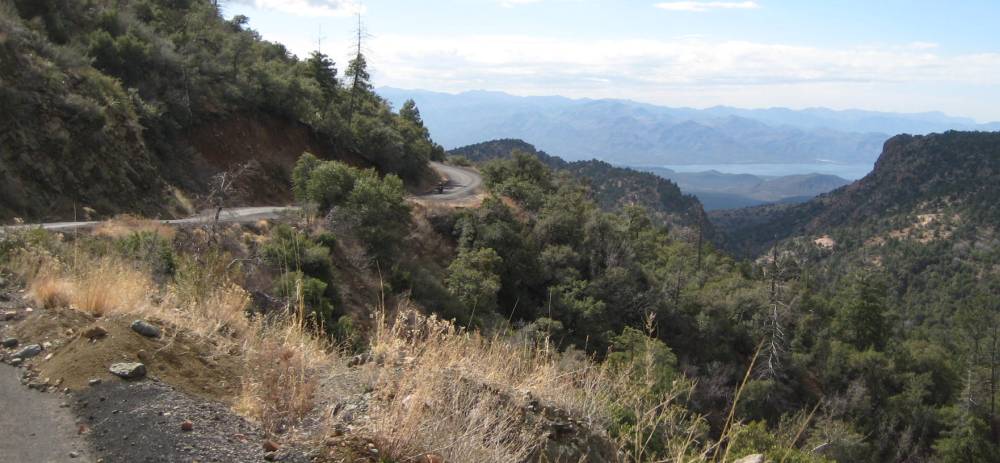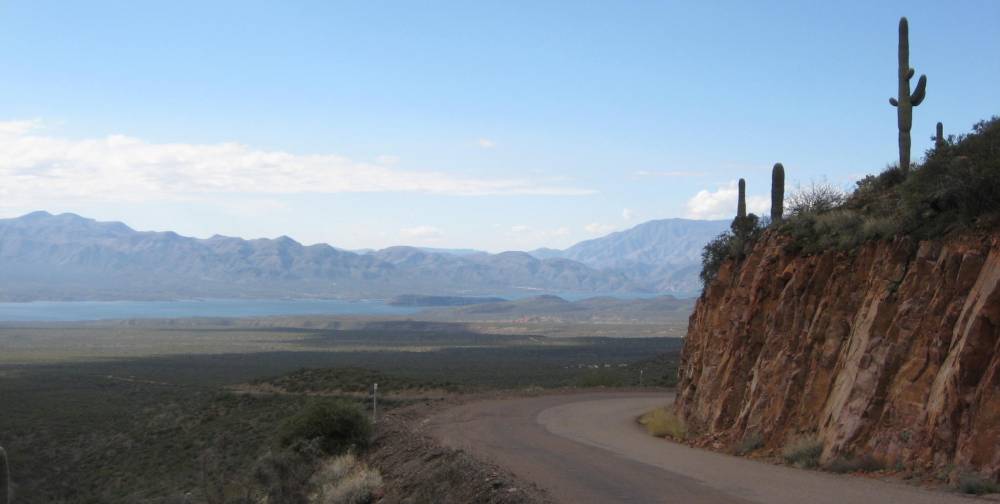 At the bottom of the descent into more desert terrain we crossed the Salt river on the bridge you see and eventually getting to Paxton.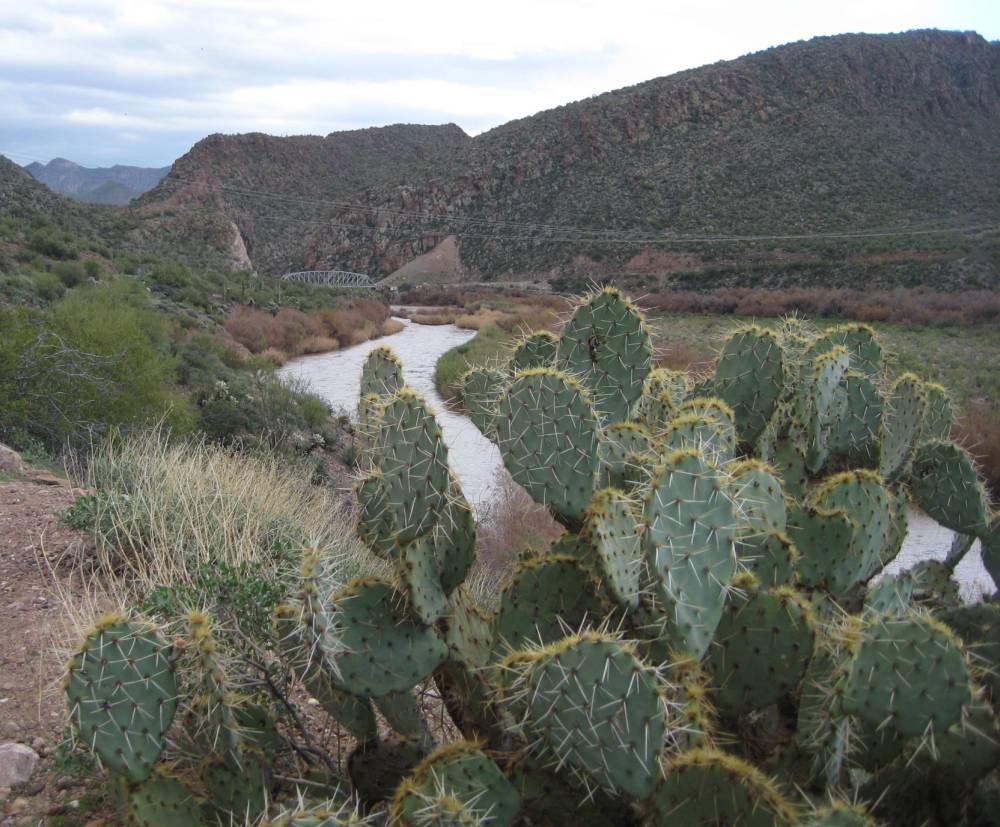 Way to soon we saw the little town of Rodeo, Mexico coming into view---the starting place of our ride.
Without words a warm feeling came over me and Randy as we rode for miles on a sandy road towards town
and without any jestures---we rode standing up---side by side into town as the sun set to our West.
Was this real ??? We we really riding on this fine day with this magnificent sunset to our West ???
It just seemed to good to be true. Poncho and Lefty had been thru so much.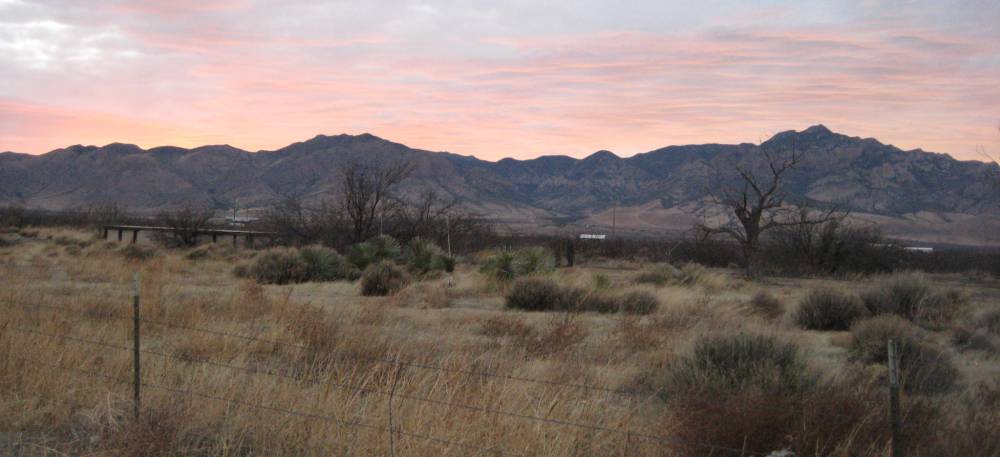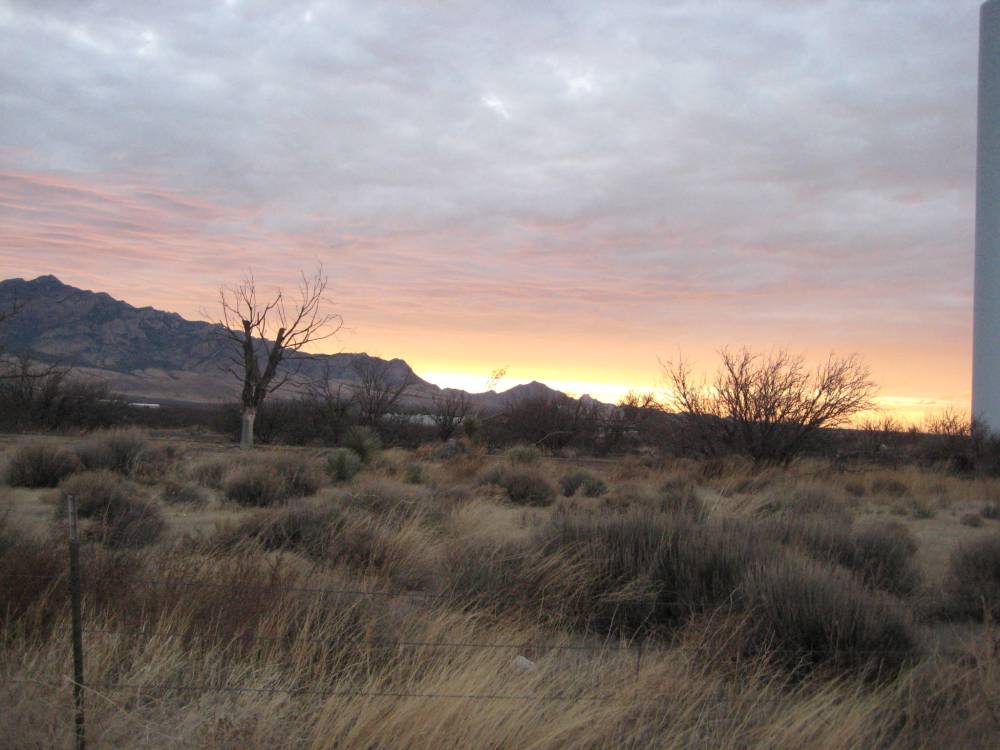 Ride Home
And a visit to Vinnie The Snakes (Vance Hunter) in Broken Arrow, Oklahoma