3 Weeks Riding
The Pacific Northwest
June, 2007
A DVD video and the GPS
files for this ride are
available--Here
Where we going ?????---we don't know--the list of possiblities is very long---some states we will probably travel in are Colorado--Utah, Nevada, South Dakota, Montana, Wyoming, Oregon, Washington, Canada (is that a state ??)----the state of Idaho is on top of our list.
We'll not be on small bikes--me and Gaspipe will be on 950's our buddy Killer will be on a 1200GS,
and Peeee-aire will be on the one off CR815---2-smoker.
Yes---this will be a different ride for us.
Mr. Pipe and his new to him KTM 950 Adventure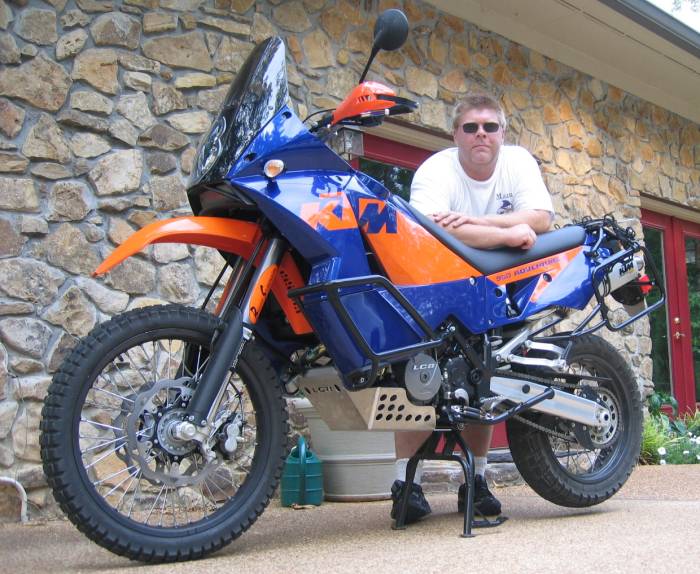 Some have said I don't need the roll of duct tape !!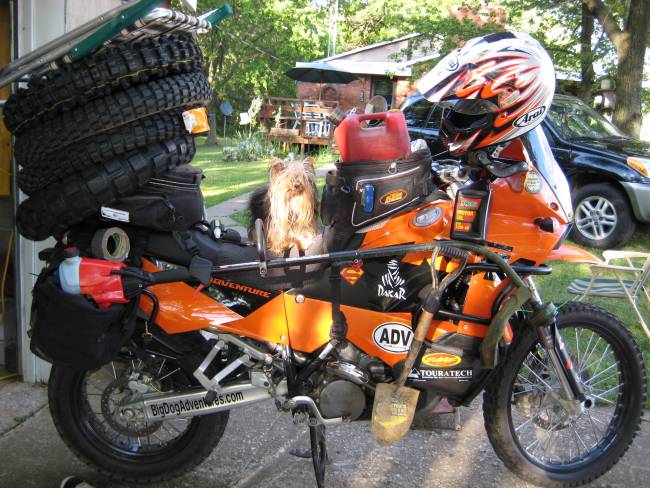 "Peee--aire Fran----seeeesko"--or know to most as "Little Dog"
Our Guide for this adventure.
He's ridin' a Honda CR500 2-smoker bored out to the max.
His huge panniers are actually auxillilary gas tanks--and with the 22 gallons he carries
he can go about 23 miles between gas stops.
He is seen here in New Guinea after crossing the Golly Wobble river and then
was chased by a giant 12ft. chicken for miles--the slain chickens foot can be seen in the background.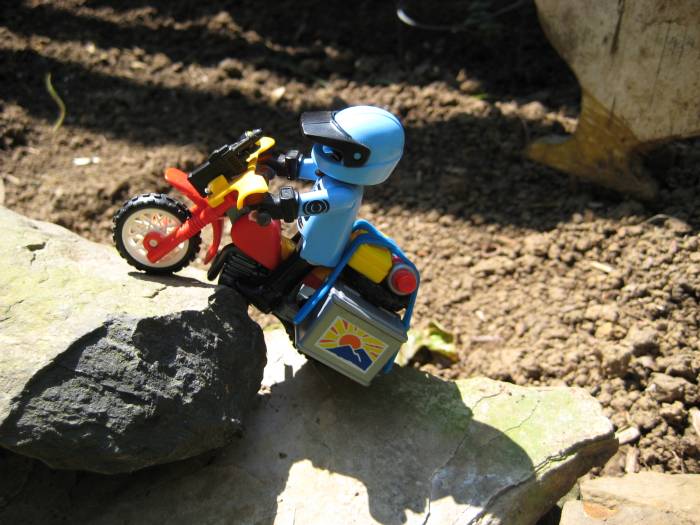 He also is sporting Continental TKC 80's (with a spare), an AKC 47 assault rifle, army issue spy phone (disquised as a sattelite phone), wal-mart tupperware packs, Alladin thermos, dual-star center stand, Helen 2-wheels pack straps, Ariai XD helmet and of course his secret cracker jack deocoder----disquised as an ordinary watch.
This Peeee--aire is no ordinary traveler.
I pray we can match his pace.
He waits on no one.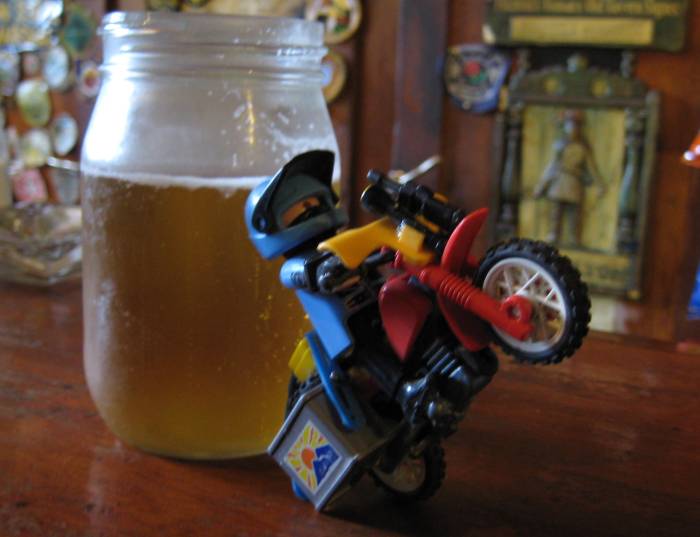 This was the first picture I took on the trip. My lovely wife Debi and my dog JoJo were giving me the sad eyed look as I pulled away. We would all miss each other so much.It really was hard for me to go as you never know when you might see someone for the last time.

I always think when I ride away on my adventures that this could be my last one---a morbid thought maybe, but life is precious to me and so are my loved ones.

I live my life like the song by Tim Mcgraw says
"Live Like You Are Dying"
I was packed up with some new tires. I would ride on my worn out tires to my buddy Bruce Crawfords (GasPipe) house and put my new ones on at his house. This would assure me getting another days worth of riding in before my new rear tire was worn out. Knobbies don't last long on these big machines. One set of tires would not last this trip----as per our trip to Baja earlier in the year.

A 2005 950KTM Adventure was my choice for this very long ride.

An Adventure bike.....Hhhhmmmm---this should do very well !!!
The ride really didn't start for us untill we were in Colorado. We blew out of Montrose, Colorado early in the morning. It was just the 2 of us, as Chris Kyle (Killer) would intercept us somewhere in Utah----Killer would be riding up from Phoenix on his new to him BMW 1200GS.

We headed West---then Southwest up onto the umcompaghre plateau and over Columbine pass. We were high up in the elevations and the temperature was cool.
Our route---we didn't care. We had no itenary at all---at least what most people would have. We had no time restraints and our only goal was to go where we have never been riding in the most remote parts of the country our big bikes could take us.

Our route took us to the Hovenweep National Monument out in the desert of Southeast Utah.. Beautiful sagebrush and canyons were the order for the day.
Our riding partner "Little Dog" is here enjoying the view of the deep canyons.

As you can see---Little Dog is a very experienced adventure traveler and is packed down with all the necessary equipment and gear to ride around the world if necessary.

Little Dog was sent to my by a very special friend who I've ridden with in the past. Charles Williamson from Tennessee is a really good friend and riding partner that I have know for years. It's been a while since Charles and me have ridden together---but Charles reads my stories with interest and longs to go on these rides--sometimes I feel like he is along with me.

Little Dog has been sitting on my office desk for years.
Don't you think it's time that.........

Little Dog Gets Off The Porch
We all sign the register at Hovenweep.
Little Dog uses his alias.

This area was populated by Pueblo Indians in the 1200AD time. Hovenweep is a Paiute word meaning 'deserted valley', but it was obvious a good deal of indiginous folks had lived here in days long gone. As we decended into the lower desert, the first wave of heat blasted us.
This is only the beginning----as Little Dog had been on the porch so long he sometimes got a little over zealous.

It was a nightmare trying to get him out of this one.

Believe me---this is only the first of many pickles Little Dog gets himself into.
All of us really enjoyed the views of the canyon.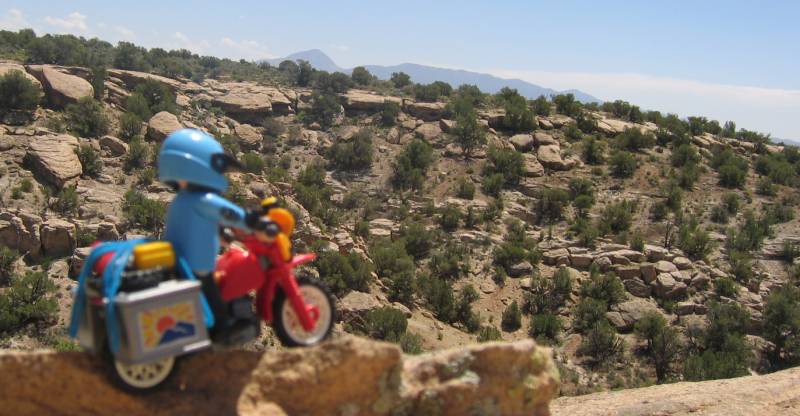 We found gas, and topped off - the camelbacks, too. Utah and Nevada have always been the places I have found where gas can become a very precious commodity. If you're heading into no man's land out there, you'd better get gas everywhere you can find it, and keep as full as you can. You'll be very, very glad you dd somewhere down the line. I love riding across these barren basins.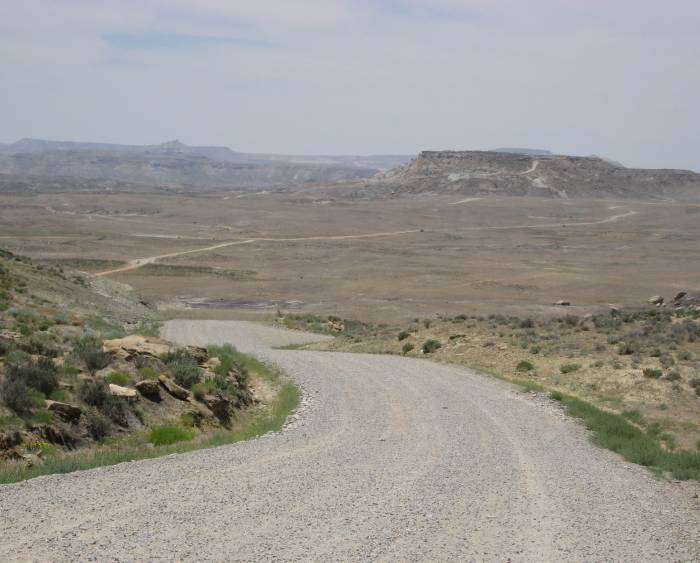 An intriguing road popped into view a little way west, so we decided to explore it. We rode out to Bluff, UT, and just a little south of there into the foot of the Comb Hills. Comb Wash Road intersects Rt 163 here.
It must have been near 100 degrees here, but we decided to traverse the desert here - afterall, we'd come all this way, and it sure looked awesome.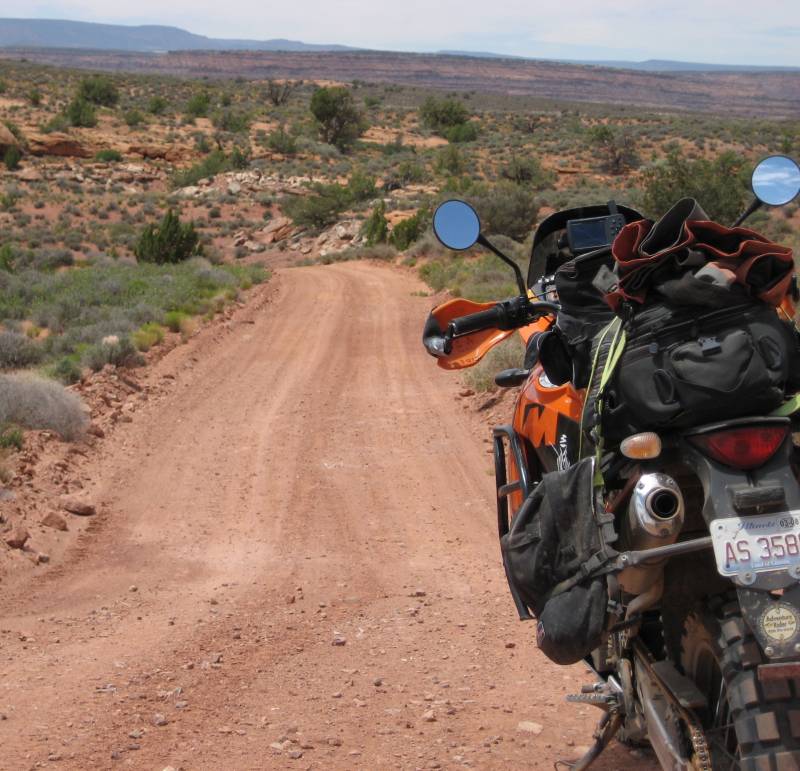 We were packed very light for this ride---I could have not even taken the tank bag if it weren't full of video equipment.
I brought just the necessities and gear for riding--not much else.
A pair of light synthetic pants that the legs zipped off for shorts and one t-shirt was all
the casual clothes I packed. This could have lasted me a year on the road.
I had a small tent and sleeping bag packed in case. I never used the tent
but did use the sleeping bag in a couple of places that are accomodations were.....
well....................pretty pathetic.
My riding gear could and did keep me comfy from freezing temps to well over 100°.
Tools were plentiful--we could fix a flat on the trail in 20 minutes flat--no problem.
I put on a new rear tire in Boise in the parking lot of the KTM shop.
I know my bikes very well--and having GasPipe along with the same bike
gave me some assurance that we could take care of most any problem we had.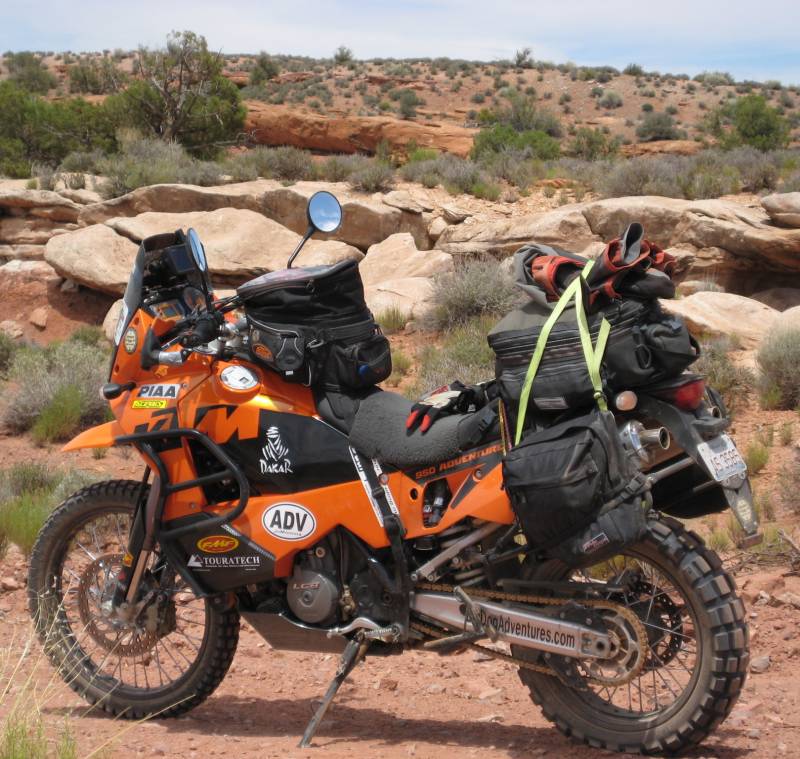 A few miles up, the cooling fan whirring constantly on the 950, the road branches. We took the Snow Flat Road fork, leaving the relatively nice graded dirt of Comb Wash Road behind.
It was out here on Snow Flat Road where the 950 and I came to terms with each other. If I was to be a 950 rider, here's where I would cut my teeth. The road gets progressively more rough as we climb a ridgeWe climbed several ledges near the "Twist" and traversed some deep sand to cross this road before we reached the easy slickrock and the decent back to Rt 261.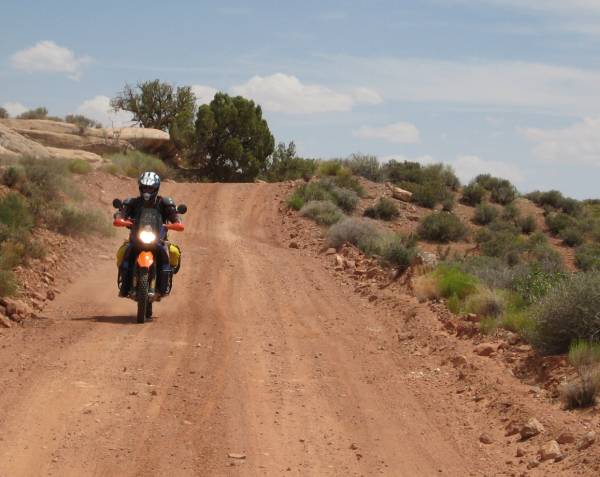 The full image of this is now my desktop !!!!
Me--my 950--and the desert.

We ran quite a few miles today and holed up in Green River, Utah
where Killer was to arrive tonight.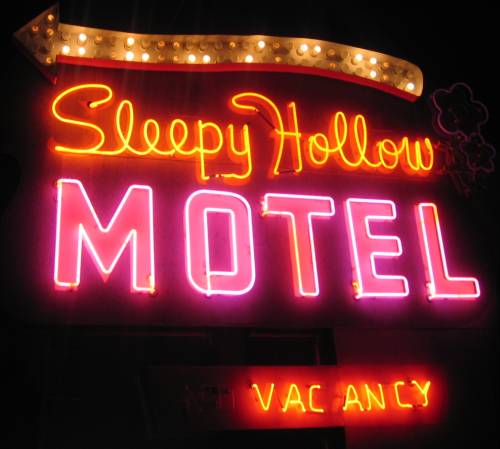 Me and Bruch had stayed at this same motel last year riding the trans am trail West to Oregon.
The nice lady had the old sign fixed since we last passed thru.
Bigdog and I wandered on over to Ray's Tavern for dinner. Good food, good beer It's a cool joint that caters mainly to the dirtbiker and rafting crowds - pretty much the only crowds in town anyway.
Me and GasPipe wandered on over to Ray's Tavern for dinner. Good food, good beer It's a cool joint that caters mainly to the dirtbiker and rafting crowds - pretty much the only crowds in town anyway.
I wandered off to slumber away 430 miles of desert running, as GasPipe waited up for 'Chollo (Chris---Killer) on his BMW.
| | |
| --- | --- |
| And we turned up Nine Mile Canyon - a seventy five mile dirt escape from the staggering mediocrity of the two laned strip of asphalt known as US6. | |
I continually changed the air pressure in my tires on this ride to suit the conditions. Taking the tire pressures down to about 20lbs. on some on those rough wash board roads took the harshness out of the ride.

Most people don't take the time to do this--it can be a pain--but worth the time an effort for me.

GasPipe was perfectly happy with both tires at about 30lbs. The rims on these 950's are very poor quality and we worried about bending a rim. Weird thing is he bent his rim in several places and mine came home unsathed------go figure !!!
What a handsome crew---little dog was nice enough to take this picure of us.
Left to right: Bruce Crawford (GasPipe), Mark Sampson (BigDog) and Chris Kyle (Cholla--or Killer)
Would we need all that fancy riding gear on this trip ??????
We were asked constantly from everybody why we were wearing all this goofy looking
hot riding gear. I always kind of butted in with :
"We don't wear "riding" gear---we wear "Crashing" gear"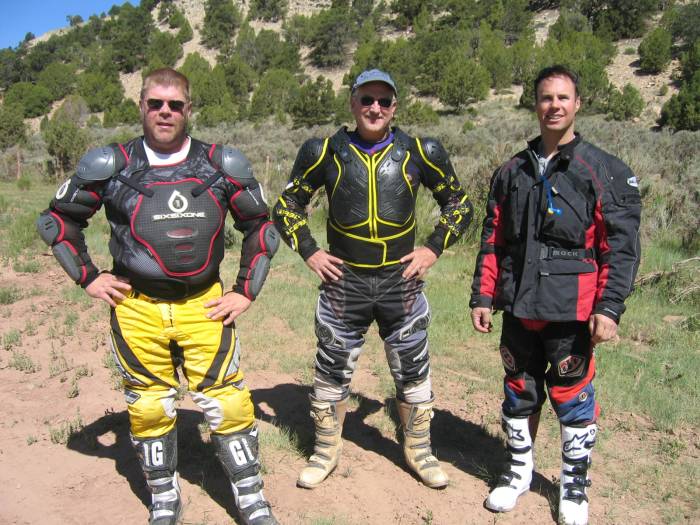 The natural gas and oil exploration gig has caused the area near Myton to be studded with wells and pipelines, aimed at extracting a waxy oil residue, as well as the natural gas by using hydraulic pressure. The extraction process is relatively inefficient, but energy prices are driving the industry forward.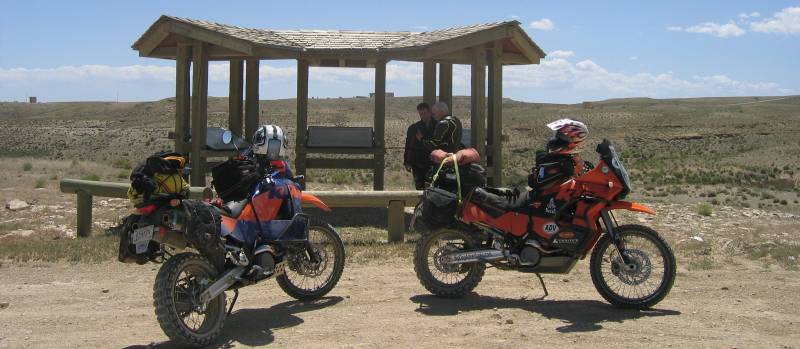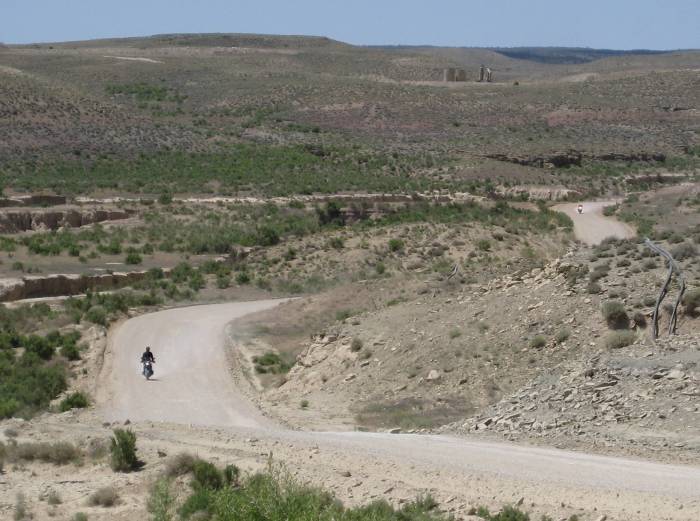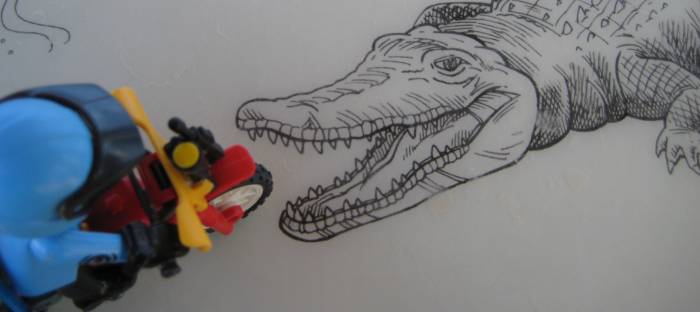 This fellow built up this rigid springer, and has been touring the States. He'd been stuck in Vernal for a week waiting on parts, but was just now back on the road. There's a six gallon steel jerry can on the back of that bike, on a 3/4 rebar sissy bar, ingeniously plumbed into the main tank (complete with a brazed in sight glass). The lever on the right side of the bar actuated the rear brake (no front brake), open 3" primary belt, and there was a foot clutch and a hand shifter with a crystal door knob.
Perhaps the coolest thing was the lack of paint and the typical bling. Just a desert rust patina that you'd see on a '34 Ford left in the desert decades ago.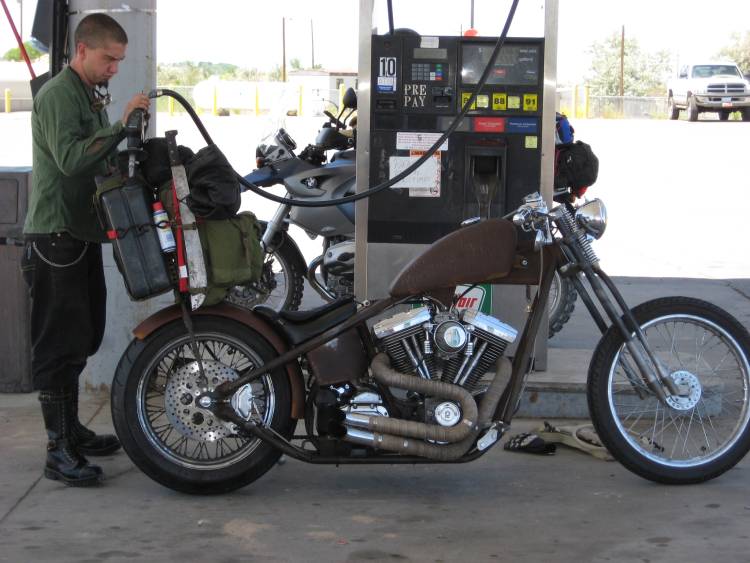 We got gas in Myton, and headed up to Vernal to get something to eat. As we sat in a Wendy's, we decided to ride north up to Flaming Gorge and see what we could see.
We climbed back up to the canyon rim to get a look at the river below. Flaming Gorge dam, built in 1958, stands about 500 feet above the canyon floor, holding back 90 miles of the waters of the Green River - which evetually flow into the Colorado River just outside Moab, UT - close to where me and Bruce were yesterday. It took John Powell months to traverse the same terrain.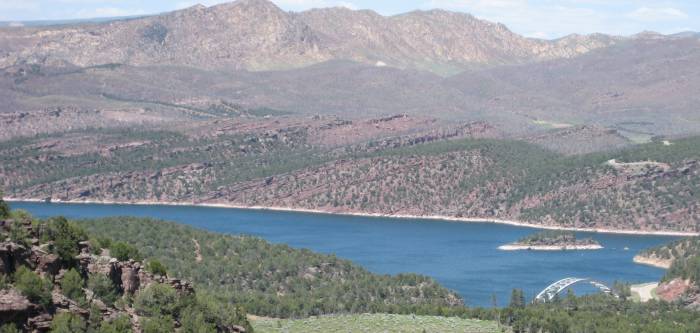 Little Dog was caught doing 73mph in a 35mph zone on the bridge and is hiding from the coppers as they searched for him.
"They'll never take me alive" was quoted from the little dog.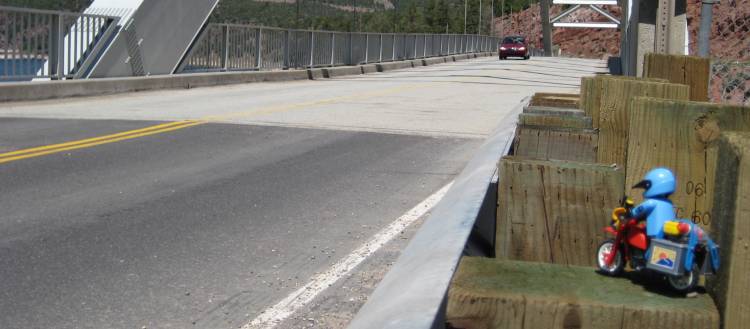 We found a cheapo motel with three beds, so no one got the floor that night.
As the sun set, the temperature dropped fast. There was snow on the ground here just a few days ago.
GasPipes bike ran out of gas rolling into Kemmerer--right into the gas station--what luck !!!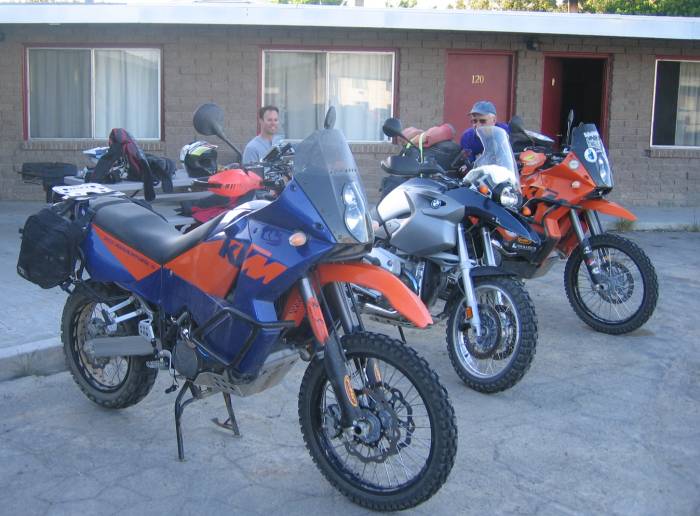 Day3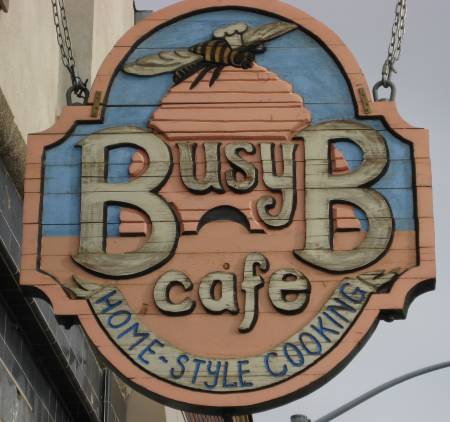 A quick breakfast and coffee at the Busy B was had, and we left Kemmerer under gray skies to the north, on Rt 233.
A couple or three miles up the road, and it turned to dirt.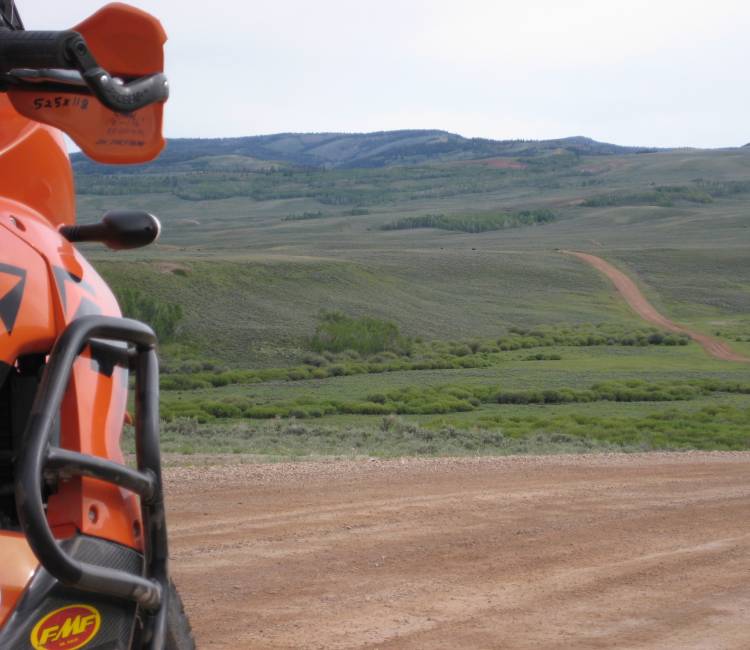 As we continued up the valley, we reached the headwaters of the Hams Fork River, and then climbed west
over the top of Hams Fork Ridge and dropped into Basin Creek Valley. Deer and antelope were plentiful, and many young ones were ambling along close to mom. Snowcapped peaks were in the distance, and we knew we were headed that way.
This tower of stuffed animals was found in the middle of nowhere on a dirt road.
An obvious memorial to a child killed here--little dog joined in the tribute.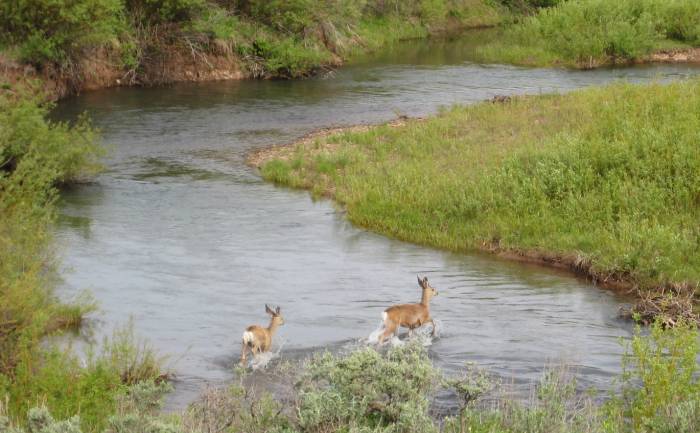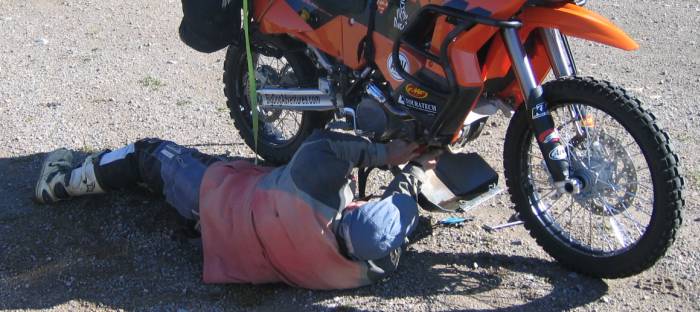 My 950 kind of sputtered for a moment and started running on one cylinder.
I just knew my fuel pump had gone out--turned out to be just a little water in the gas.
Some gas line anti-freeze took care of that.

Well----little dog had to take our picture again--we could only oblige him.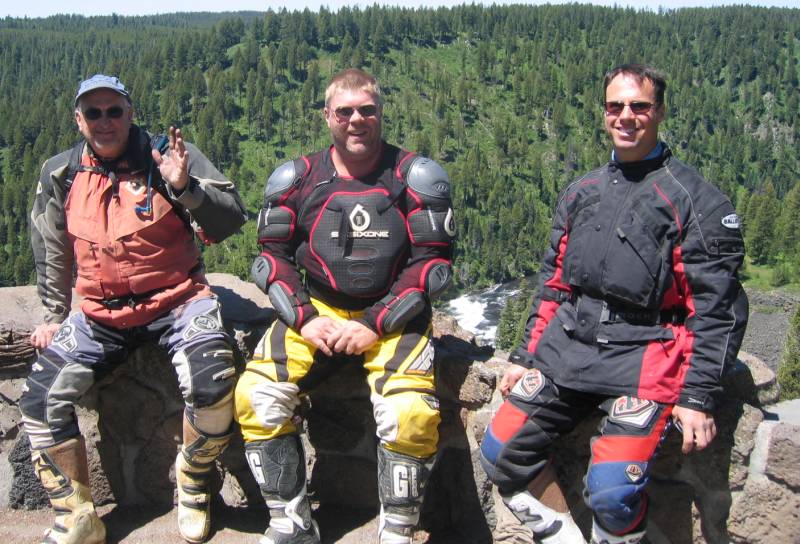 Little dog led most of the time---it was hard running his pace and he would get irritated if you lagged behind.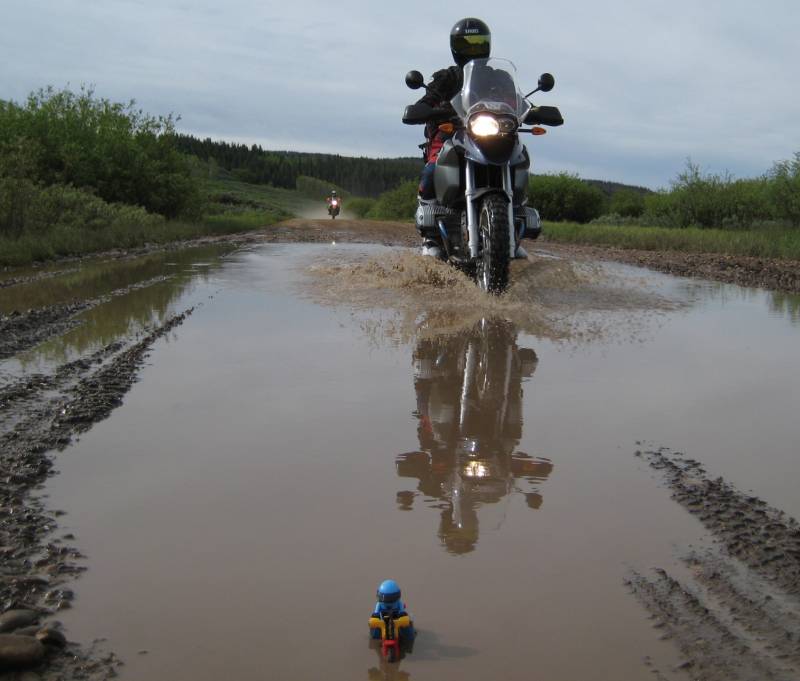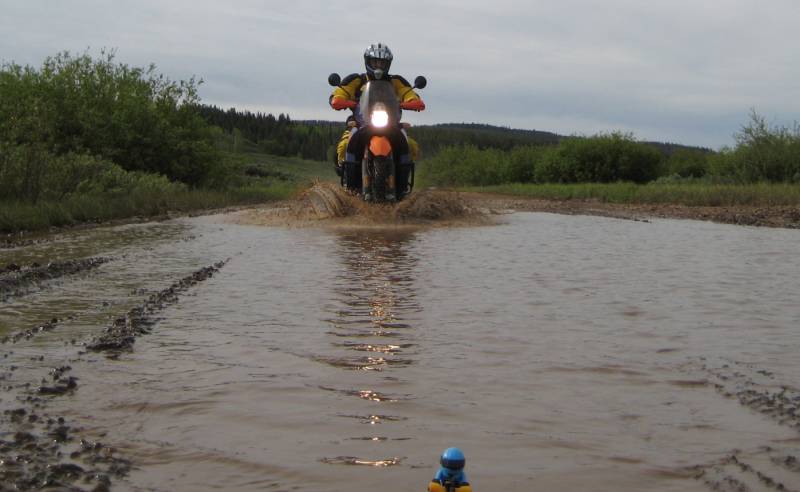 If it hadn't been for him--we would have never made it thru here :)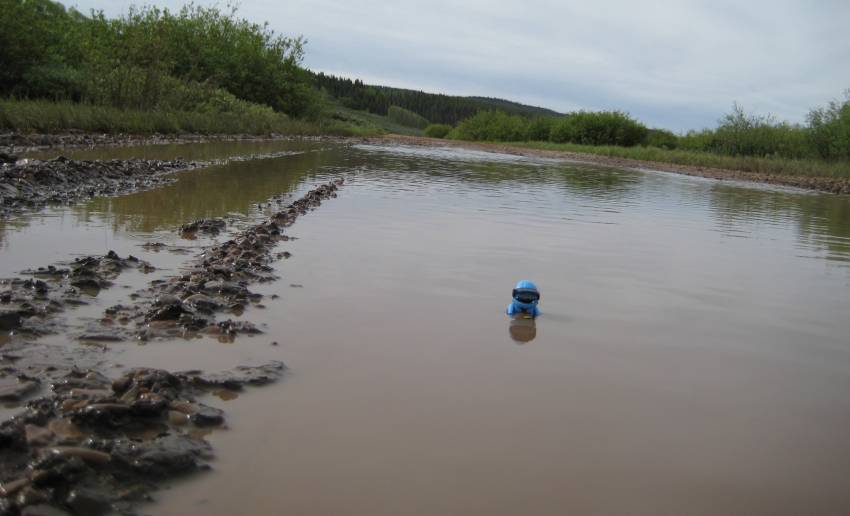 What a rider !!!!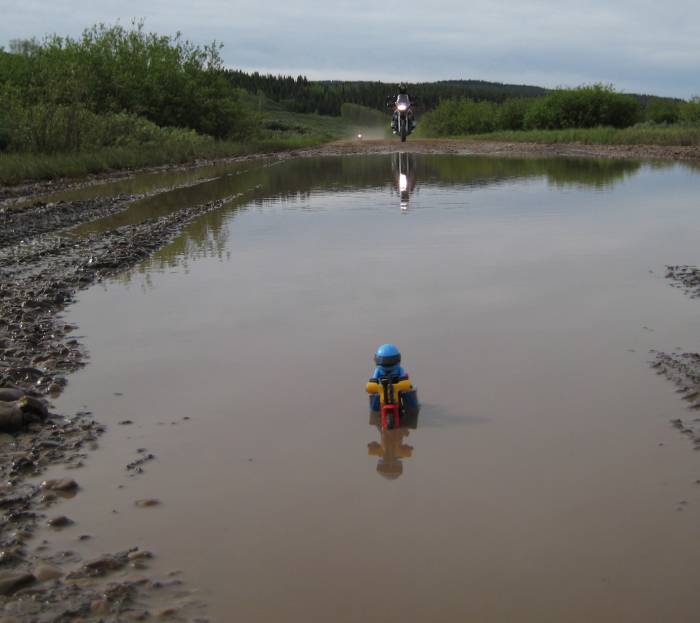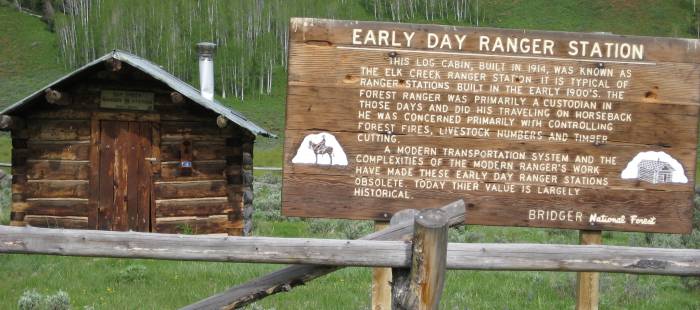 The ridgelines are running more or less north-south, and we're heading more or less west, so we roll over one ridge, drop into a valley, then cross the next. As we approach the climb to the next ridge, we spot a waterfall. Or is it?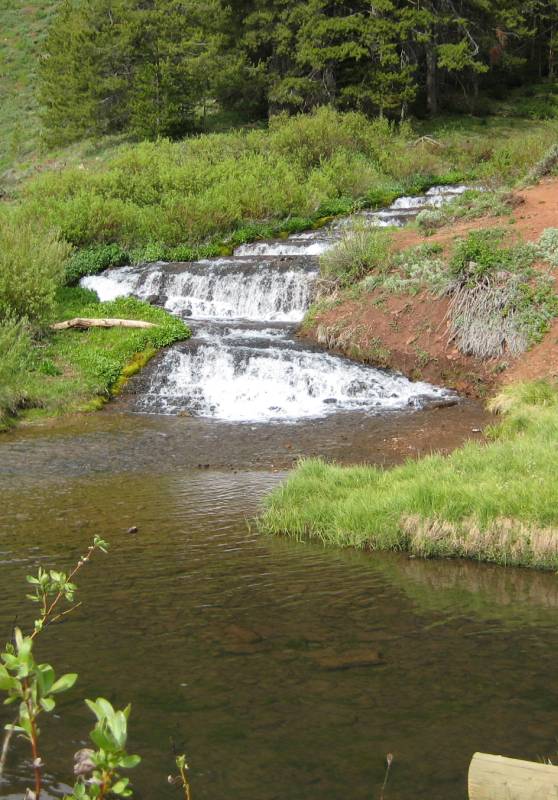 Turns out that this is Big Spring, a significant flow of very cold water that feeds into the west fork of Hams Creek.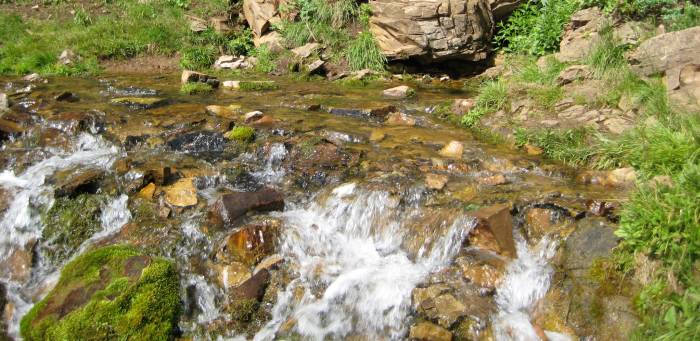 As it turns out, this road was part of the California/Oregon Trail, and as many as 350,000 settlers passed through here a century ago. It's now known as the Big Spring Backway and starts at Kemmerer and terminates in Cokeville. Who'd have known? Our complete and total lack of route planning is really beginning to pay off nice dividends.
A cool drink from the boil, and we're off again.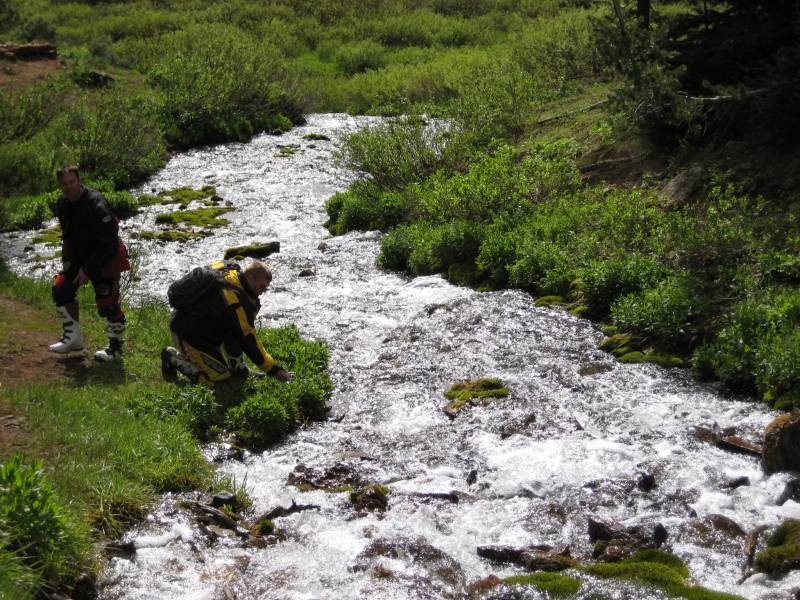 If this picture doesn't stir you adventurous soul ?
Check your pulse !!!!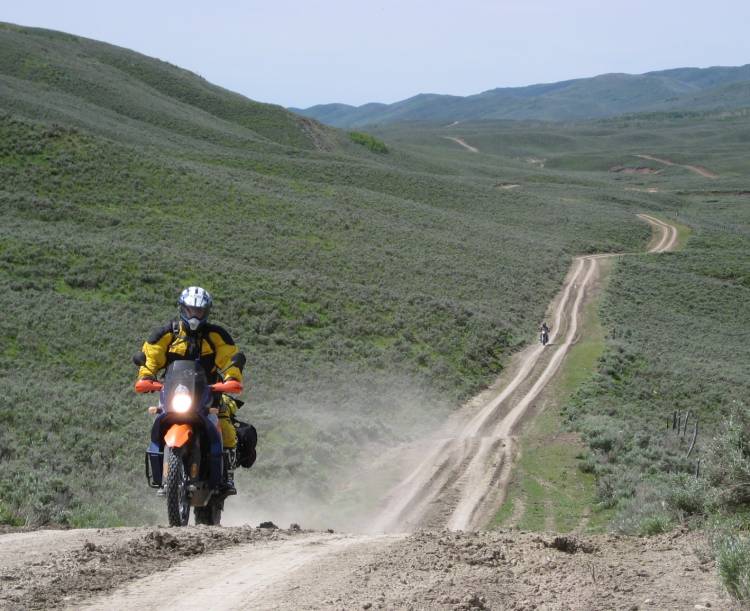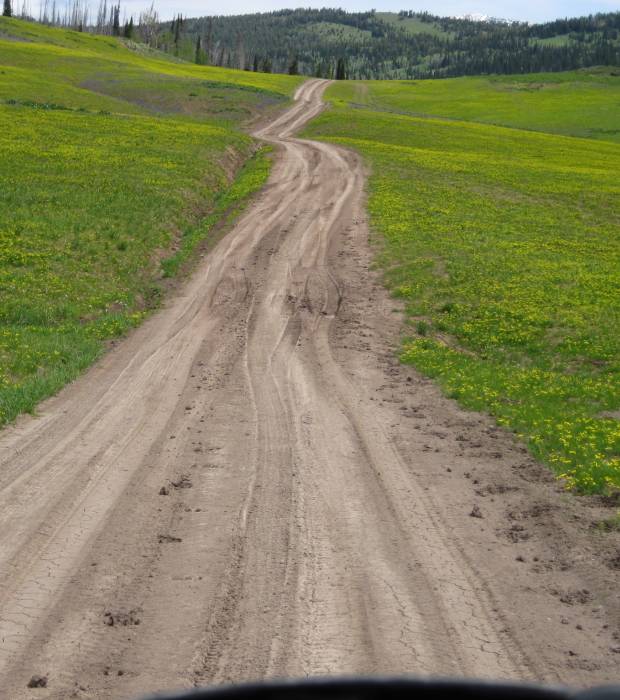 We used GasPipe as a guinea pig to forge thru the ice--even little dog wasn't having any of this.
We soldiered thru several snow blockages and motored on down the road.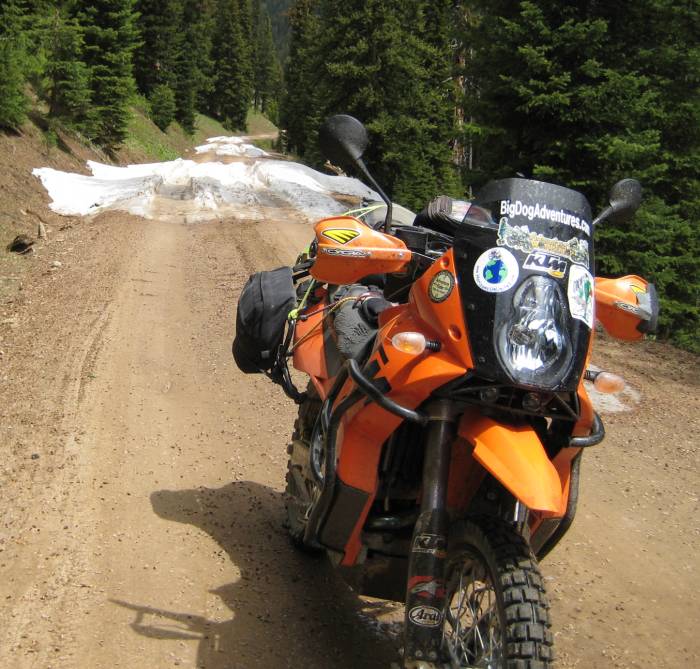 Little dog hit the snow pack going at least 50mph. He looked good for awhile----go little dog !!!

He ended up getting into a huge tank slapper--one of those we all dread---he flipped er' several times and finally high sided into the deep snow.
We were a half hour digging him out.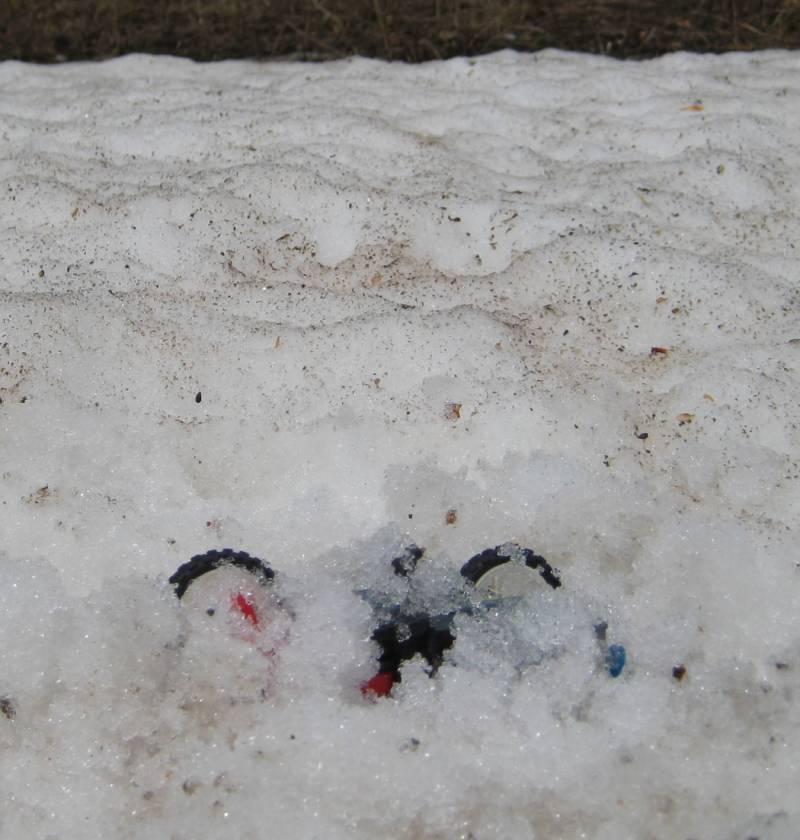 And then it started sleeting----never slowed little dog down.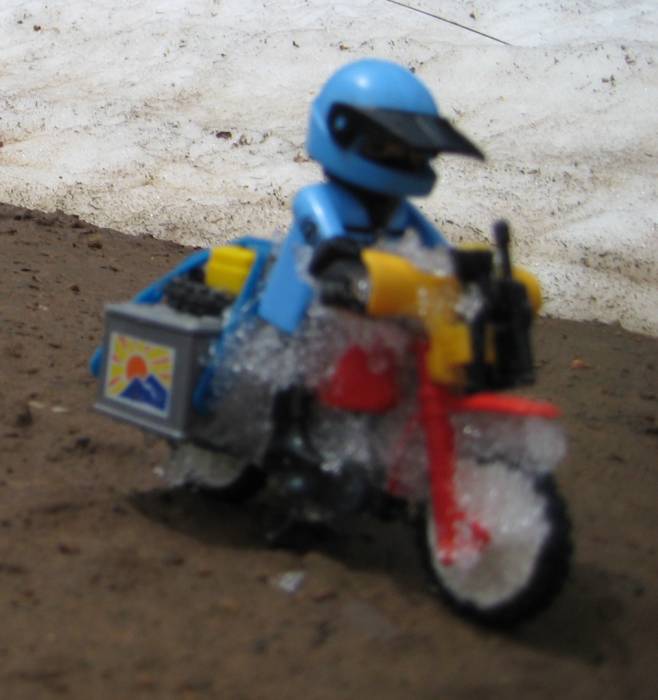 Yep seen a few of these on the road.
Moose

We also saw a black bear, brown bear, jillions of antelope, elk, deer, mule deer, jack asses (2-legged), muskrats, bald eagles, prairie dogs, and a few snakes on this trip.

This is GasPipe after drinking one to many Red Bulls.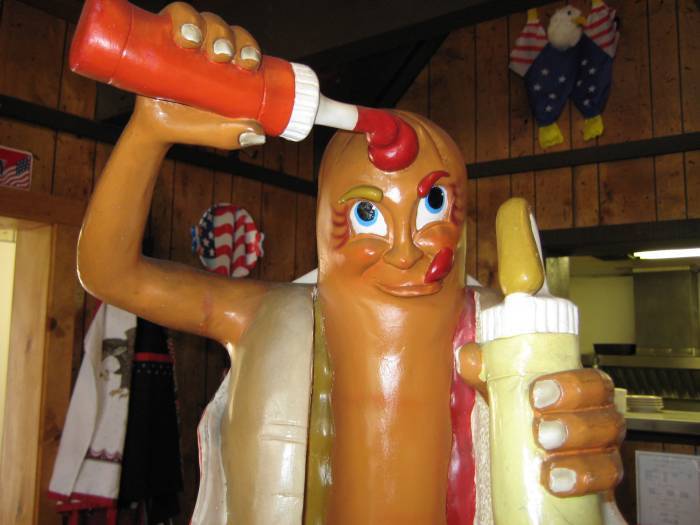 In Alpine Junction, Montana--Little Dog kept a guard over GasPipes beer.
The next day--he was still guarding....................an empty can.
Motel in Alpine junction, Montana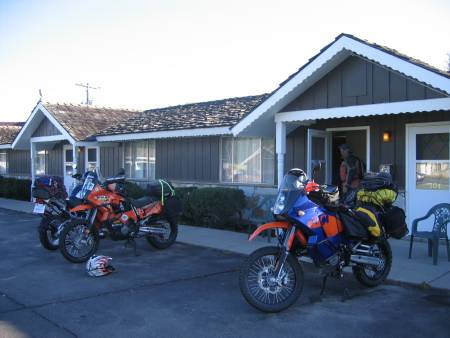 Day 4
The snow capped mountains in the background are the grand Tetons--next to Yellowstone National Park.
Don't go on the other side of the Mountains---hords of people pulling their houses behind them.
So many people you can't even breathe.
I'll never see Yellowstone, don't want to---if you knew me, you'd know why--it's better on this side.

We blasted up Warm River Road, and turned east on Baker Draw, which plopped us onto Fish Creek Road - a stone's throw (for a dude like Catfish Hunter) from Yellowstone. That's as close as we dare to that place.From way up high on the ridge, I could see the snowy slopes of Sawtell Peak to the west.
And we began our decent into the valley to the headwaters of the Henry's Fork River.
This muskrat entertained us for awhile as he vied for snacks thrown in the water.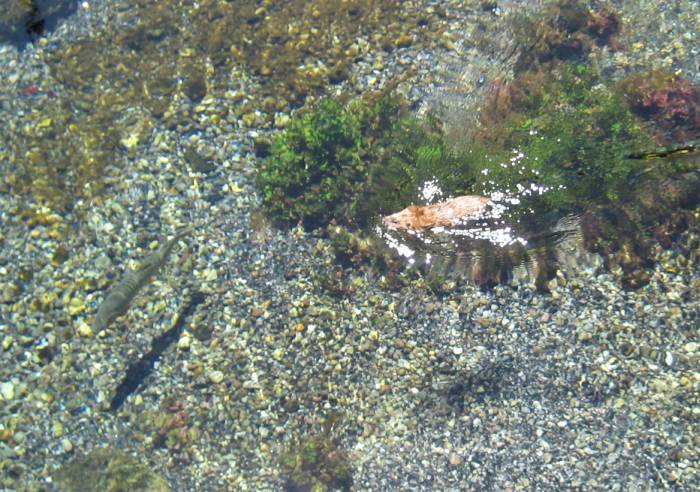 Big Springs (second one of the trip) is fueled by the Yellowstone caldera, and is the headwaters of the Henry's Fork of the Snake River. Crystal clear, but a few degrees warmer than it should be, evidence some volcanism near by.
We cruised on down into Macks Inn, and got a burger..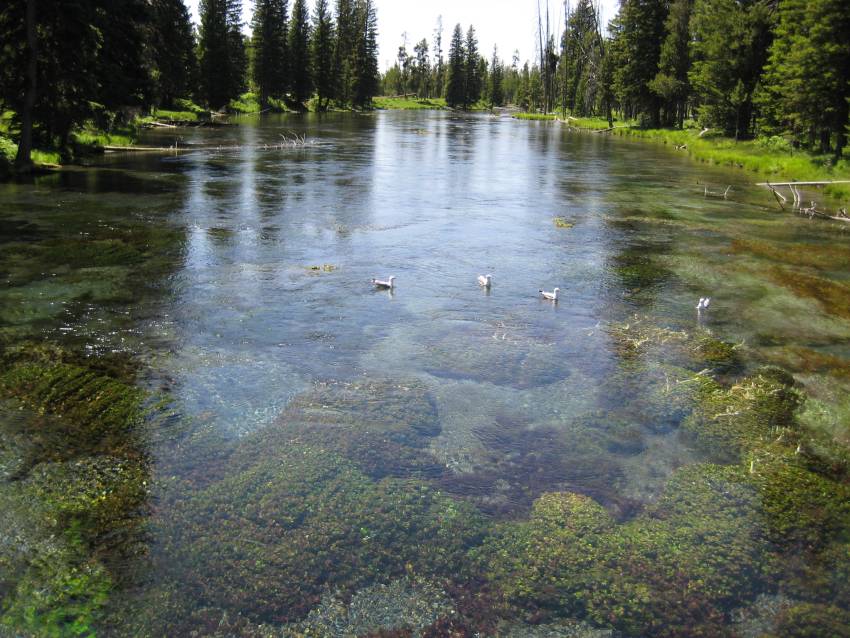 Little Dog gets our only flat from a nail in his front tire.
The biggest nail I'd ever seen.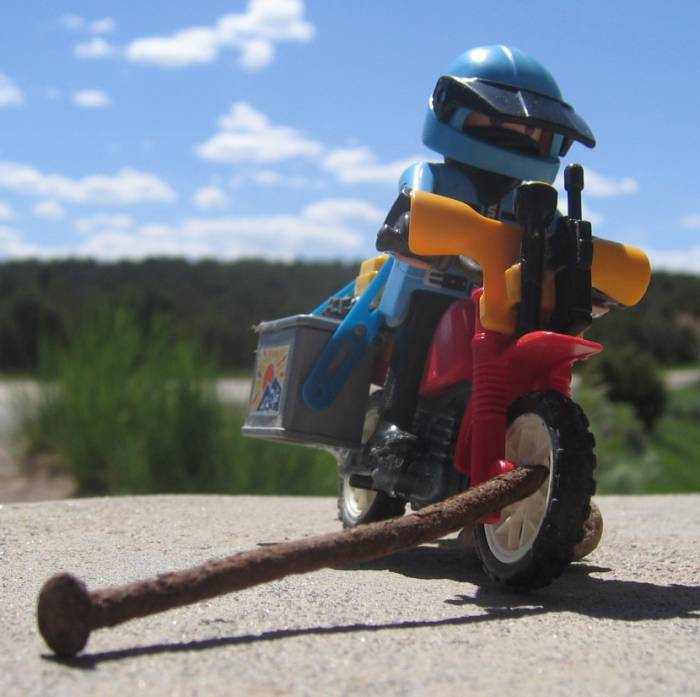 We plotted a route north up through the Beaverhead National Forest, using a little section of the Continetal Divide Trail out over Red Rock Pass and Lakes.

Me and Bruce had both ridden thru here following the continental divide trail--it was worth another visit.
Where the CD trail continues west (or east, depending on your perspective there), our improvised route peels off due north into the Beaverhead National Forest a little way west of Lakeview, and heads north along the Ruby River Valley and onward eventually to Ruby Reservoir.
The Fariweather Inn----Virginia City, Montana
Built in 1863---It wasn't built as a motel in the begining.....
But is a fine one today. Very rustic with original decor.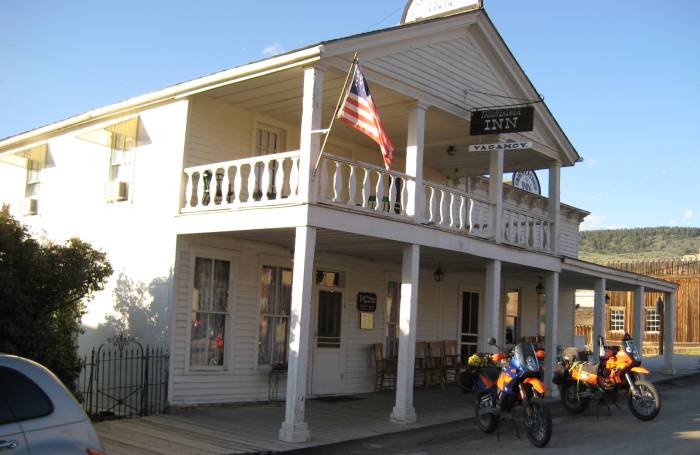 This town wasn't one of those made up western towns.
Just old buildings still standing and in use.
You would do yourself a favor visiting Virginia City, Montana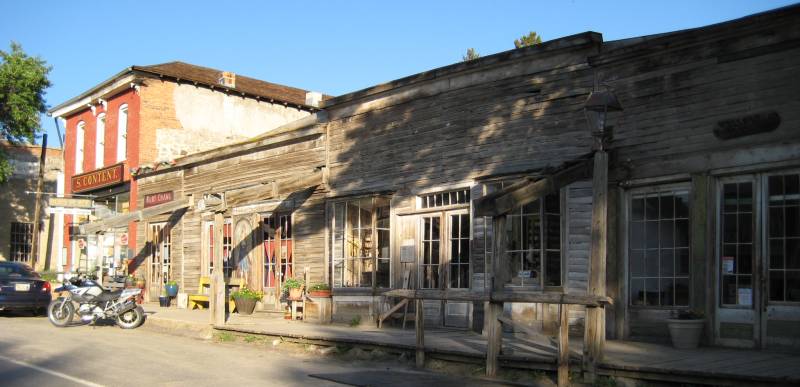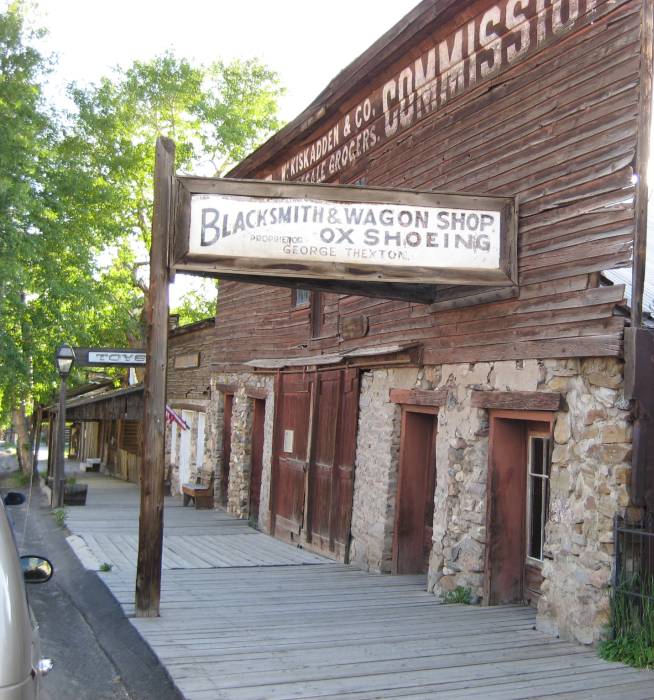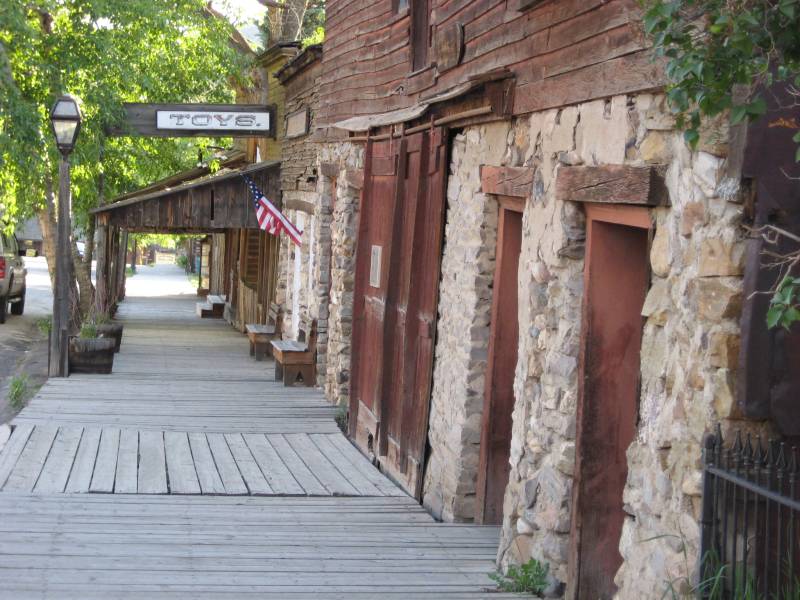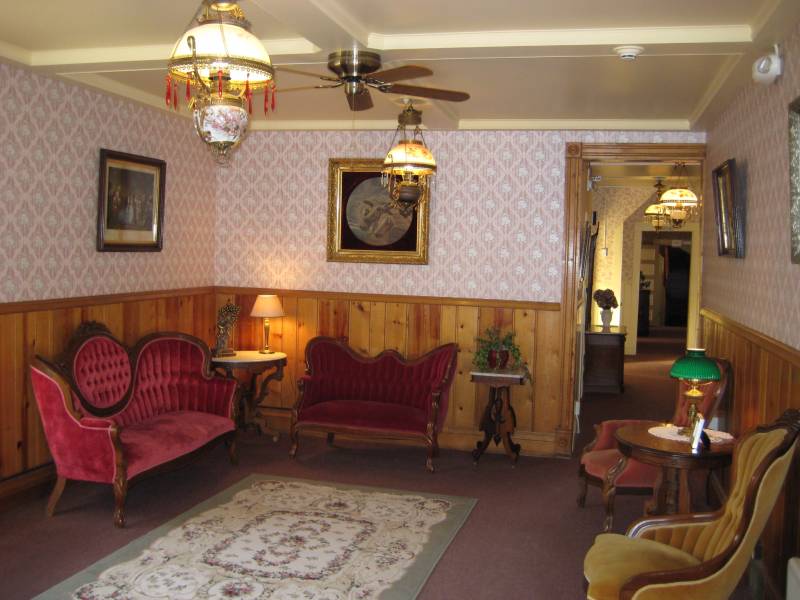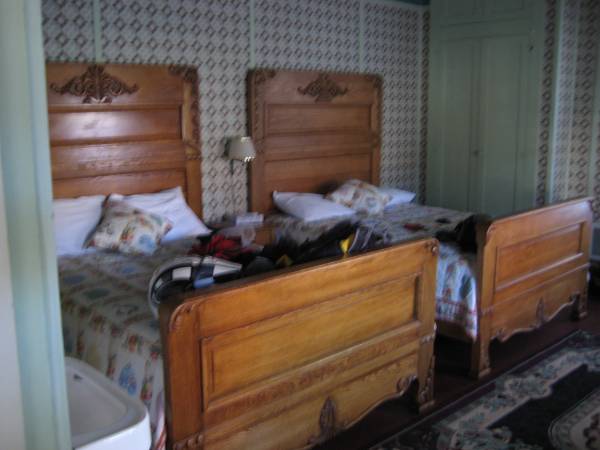 Charcoal Kilns
I think it was 3 years ago when I rode the continental divide trail we rode very close to these charcoal kilns. I begged the guys I was with to go leave the trail and find them---I also had read there was an old forest service log cabin that you could stay in out in the middle of nowhere. I didn't convince my riding buddies to go.
When I mentioned this to Bruce and Killer----they were all up for it. I had the kilns marked in my GPS already, but wasn't sure where the cabin was. Here the kilns are---maybe 20 of them. I'm sure bruce will remember all the history of these things. All that escapes me----all I remember is that they were awesome and I could never comprehend how they built these things out here in the middle of nowhere in a time where transportation was done by horse.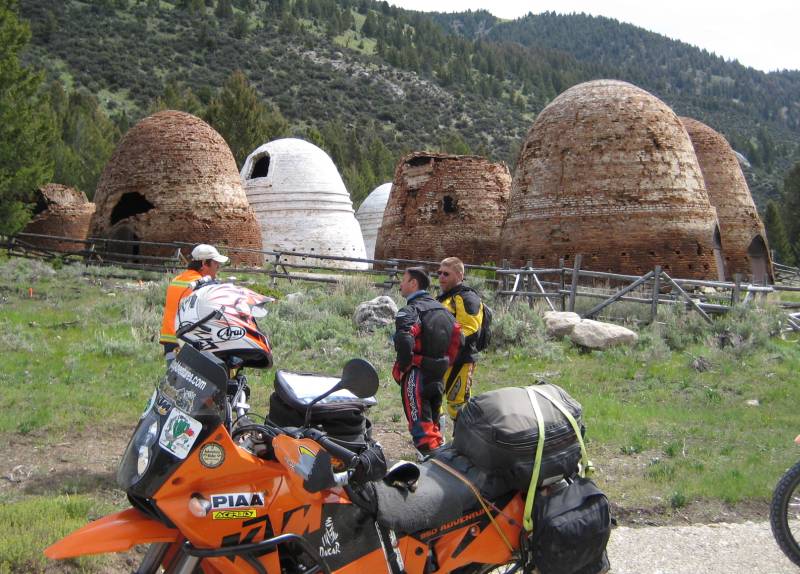 I led the guys West and found the cabin down a one lane dirt 2-track---and we opened a barbed wire
gate. It's a forest service guard station--rarely used by the forest service.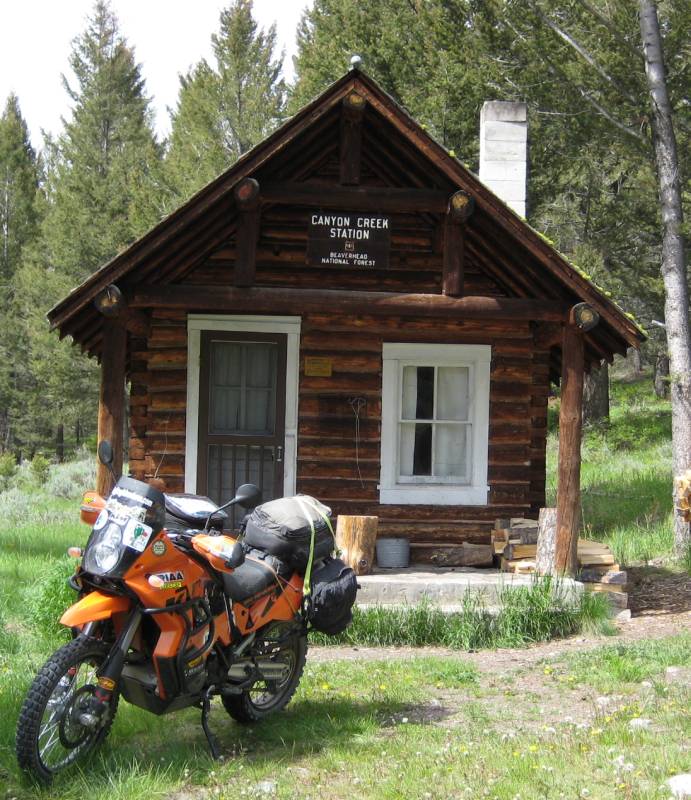 I knew you had to go to the forest service and get permission to stay here and they would give you the combination------it is an unbelievable ride up over the mountains which not long ago were in snow pack to Wise River, Montana to talk to the forest service and get supplies for the night.
We put little dog in charge of the supplies.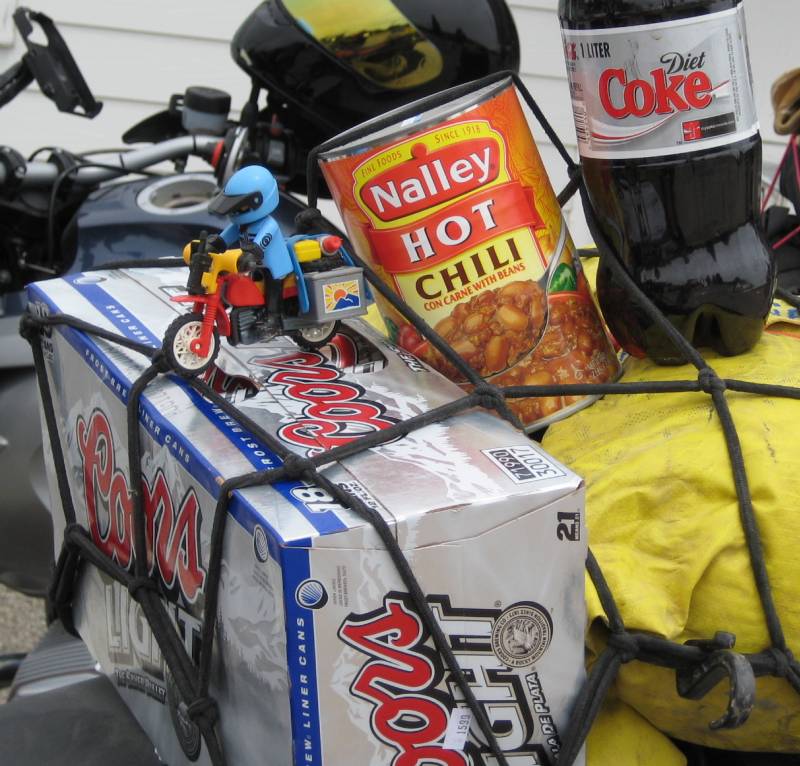 Things like electricity, telepone, internet, water, toilet were not to be had at the cabin.
No cell service either. We were on our own and liked it.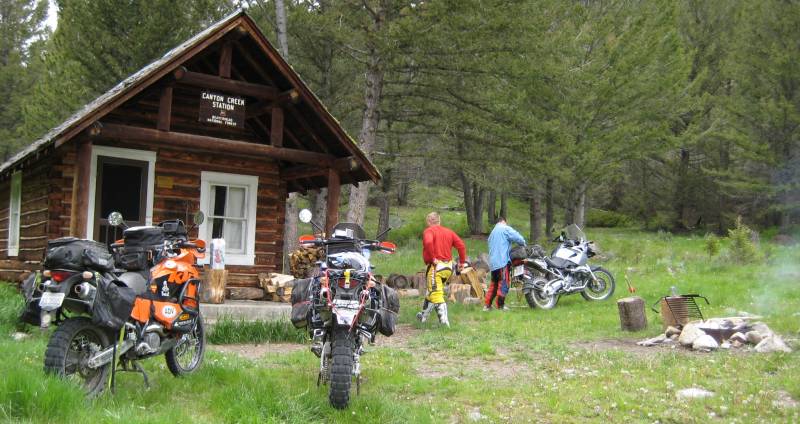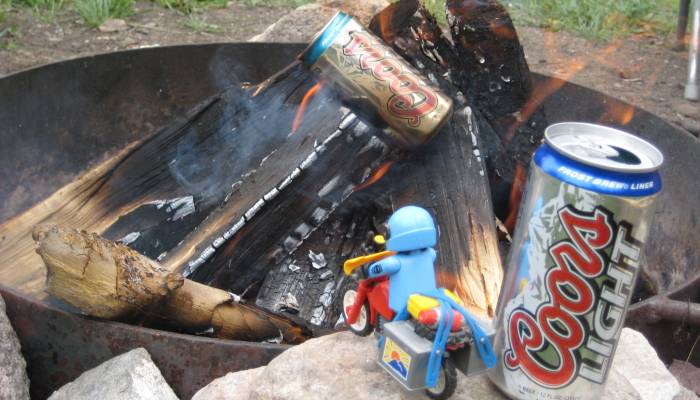 We moved in and started a fire with the generous supply of split firewood the forest service had left. I was getting hungry---and the thought of chile and hot dogs over the open fire was making my stomach growl.
Little Dog kept a vigil by the beer---so a nasty grizzly bear would get a hold of it.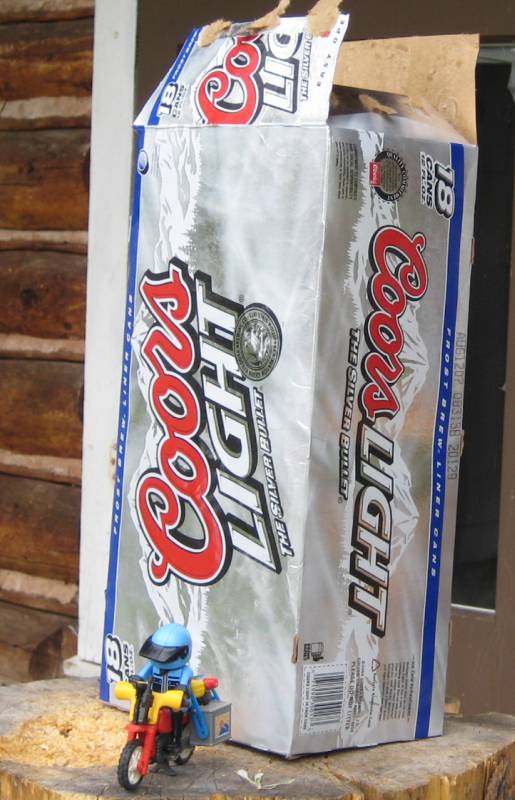 We ate and drank untill it was all gone.
Little dog over indulged and was out before the sun went down.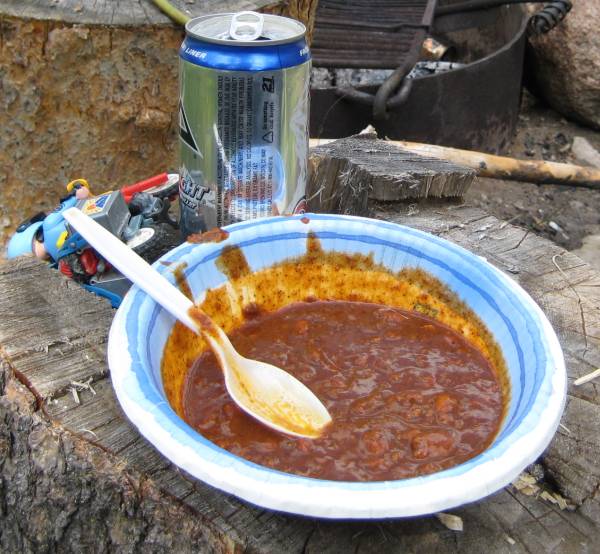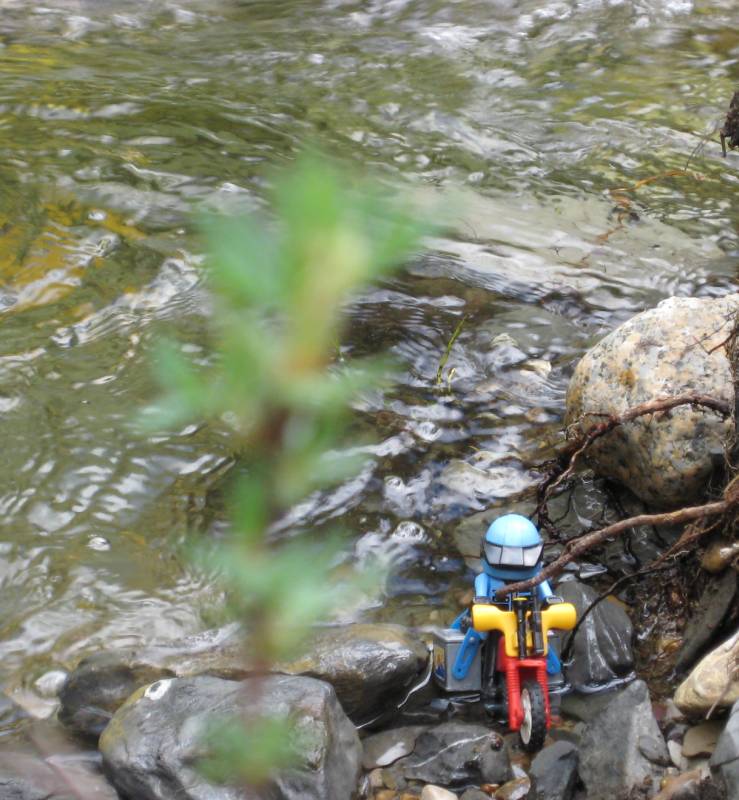 Bruce and Killer split wood for 2 hours with the axes and mauls in the cabin. The cabin was equipped with a wood stove for cooking and heat--4 cots--gas and battery lanterns---a propane cook stove and lots of utensils and cookware for whatever you wanted to cook. The cabin was just chocked full of most anything you could need----shovels, matches, first aid kit, some food, salt, pepper--all kinds of stuff. It had a neat table that folded down from the wall and opened up a cupboard.
Little dog went for a ride thru the bush but came back scared----maybe a grizzly was lurking in the forest. He almost got hung up in this bed of Elk turds---or was it bear scat ??????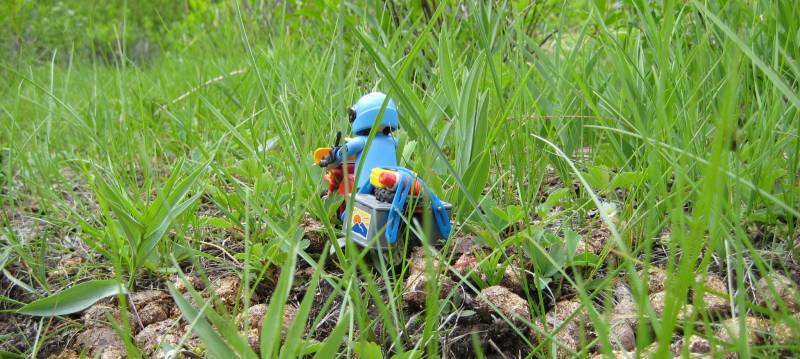 Day 6
Going up the steep dirt and rock switchbacks the kilns will come into view-----
this time from way above..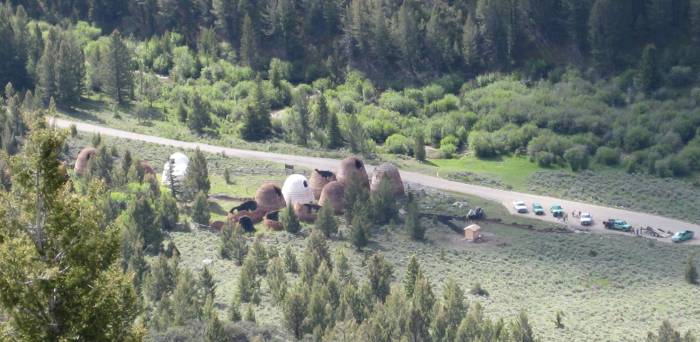 We didn't want to leave the cabin in the morning. It wasn't all that cold at night--but in the morning we fired up the wood stove and stalled around as we didn't want to leave. We may have stayed another night---but the forest service was going to use the cabin later in the day. They rarely use it.
To get to the cabin-----from Wise River Montana go about 5 miles East and turn South down a rough dirt road and go over the cattle crossing-----you'll ride for many miles over the mountain passing an old mine.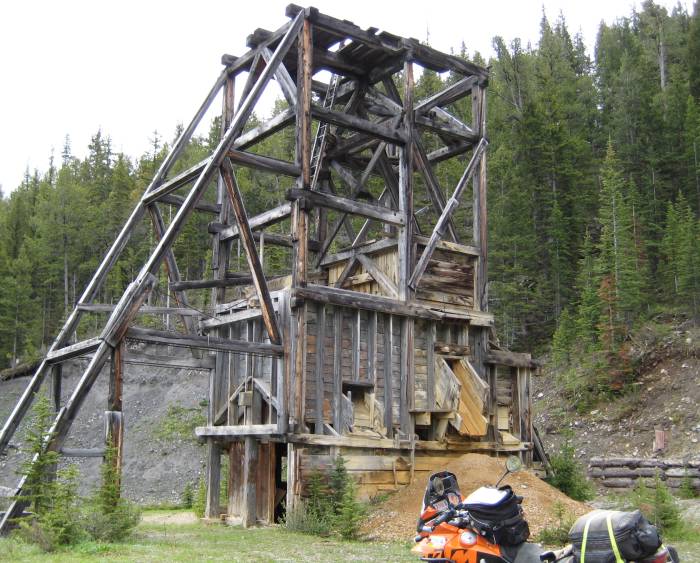 Day 8
Riding West out of Superior, Montana we rode down trout creek road toward HooDoo Pass.
We opted to go our own way instead ride the much written about LoLo Mororway and Magruder Corridor.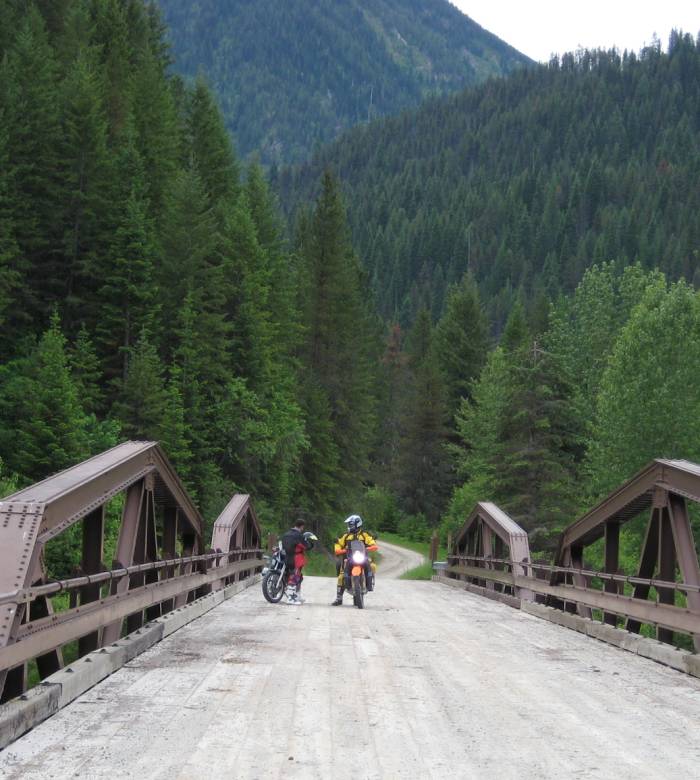 I can still hear the roar from trout, HooDoo and Moose Creeks.
Riding thru hear and stopping and listening to the creeks
put me right in the movie "The River Runs Thru It"
One of my favorite relaxing movies.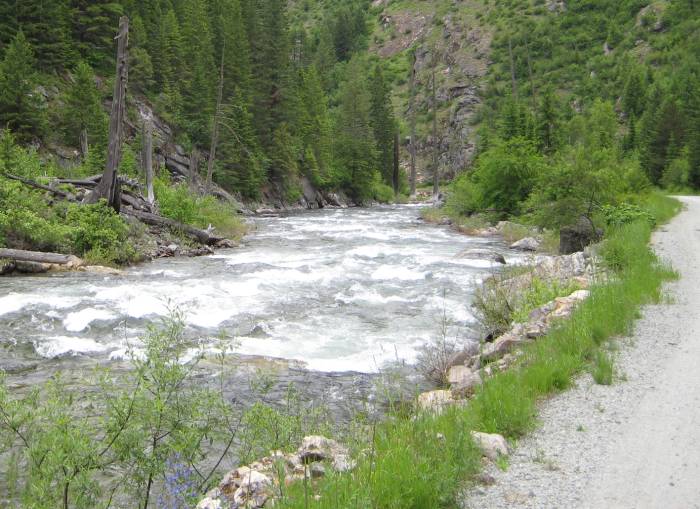 I did a lot of video thru hear and can watch it and relive the sights and sounds of the lush
mountains, forests and creeks.
We found 2 suspension bridges like this one that led to hiking trails
on the other side of the creek.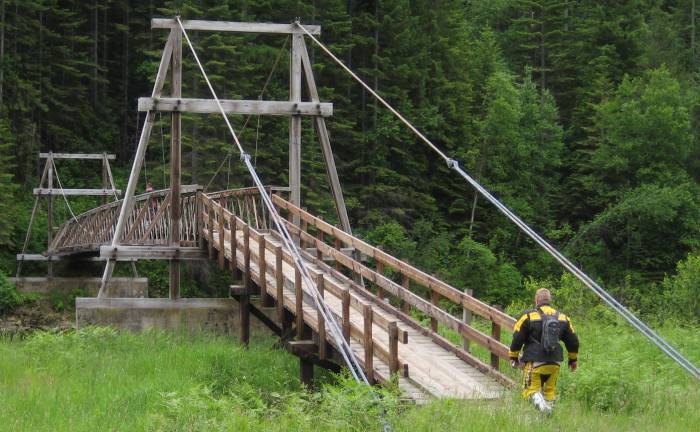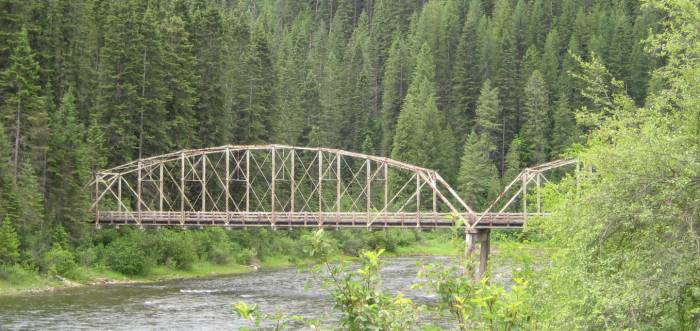 We rode west and ended up in Clarkston Washington for the night.
I have never been in Washington--this was to be our entry point for
2 days of riding in the Hells Canyon area and down to the Snake River
and it's deep canyons.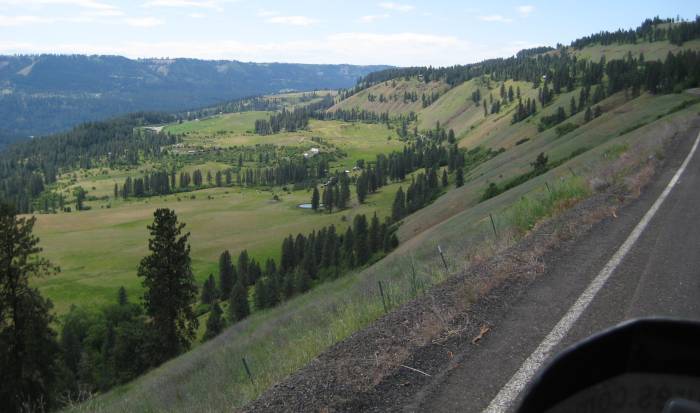 Little Dog grabbed the remote and channel searched for 30 minutes
for "The Outlaw Josey Wales"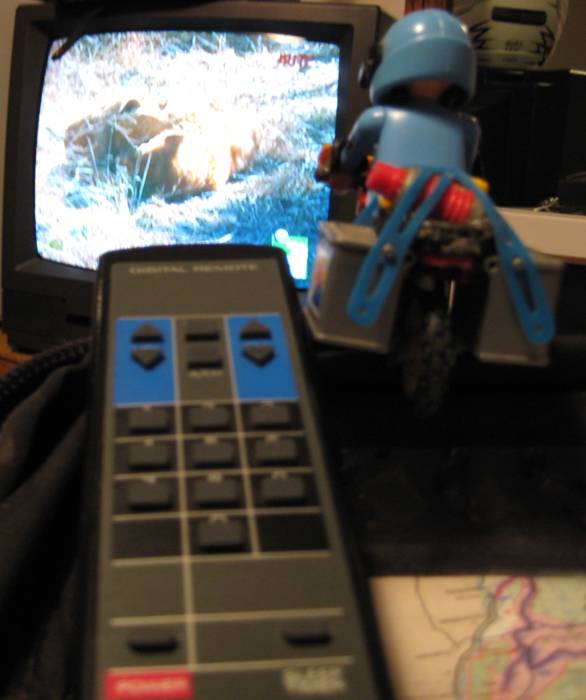 It was useless--------disgusted and tired
Little Dog turned in for the night never dismounting his motorcycle.
Man can he snore--it was a symphony between him and GasPipe.
Thank god for my I-pod as I let Allison Krauss lullaby me to sleep--with "Gravity"
I left home when I was seventeen
I just grew tired of falling down
And I'm sure I was told
The allure of the road
Would be all I found
And all the answers that I started with
Turned out questions in the end
And as the years roll on by
And just like the sky
The road never ends

And the people who love me still ask me
When are you coming back to town
And I answer quite frankly
When they stop building roads
And all God needs is gravity to hold me down

And the people who love me still ask me
When are you coming back to town
And I answer quite frankly
When they stop building roads
And there ain't no more highways to be found
And I answer quite frankly
When they stop building roads
And all God needs is gravity to hold me down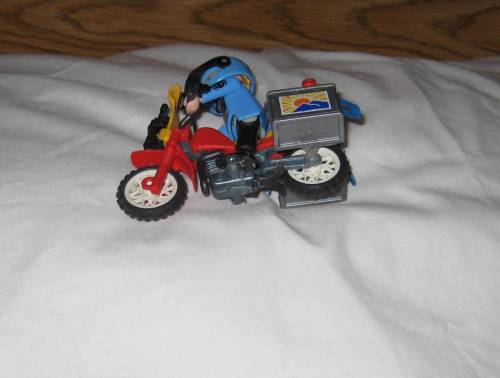 Day 9
Sadly Killer got a cell phone call from his boss---next thing I know he pointed the BMW toward Phoenix !!!
Guess we should have never left the cabin.

Now it was just me and GasPipe again ???? Tahlequah 23 ????
We got body odor or something--nobody wants to ride with us ???
Maybe we should have bought an extra pair of sox ????
Even tho this ride had no agenda at all--in the back of me and Bruces minds
was Hells Canyon all along---it never left our feeble minds.
Here is the snake river on the Washington side and this would lead us
to dirt, deep canyons, sharp switchbacks, high elevations, remote mountains
and of course our favorite little town Imnaha, Oregon--population 10.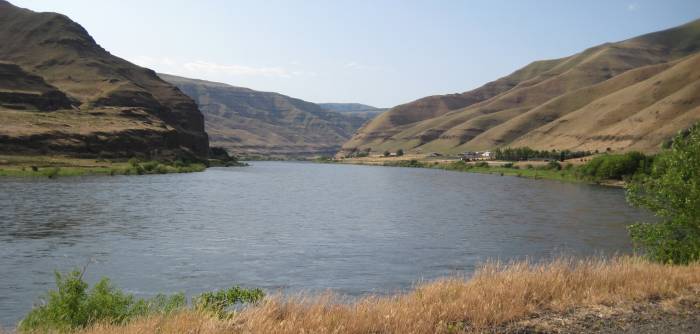 The pavement turned to just plain old dirt as we climbed up and up
into the mountains and on to a high plateau of ranchland.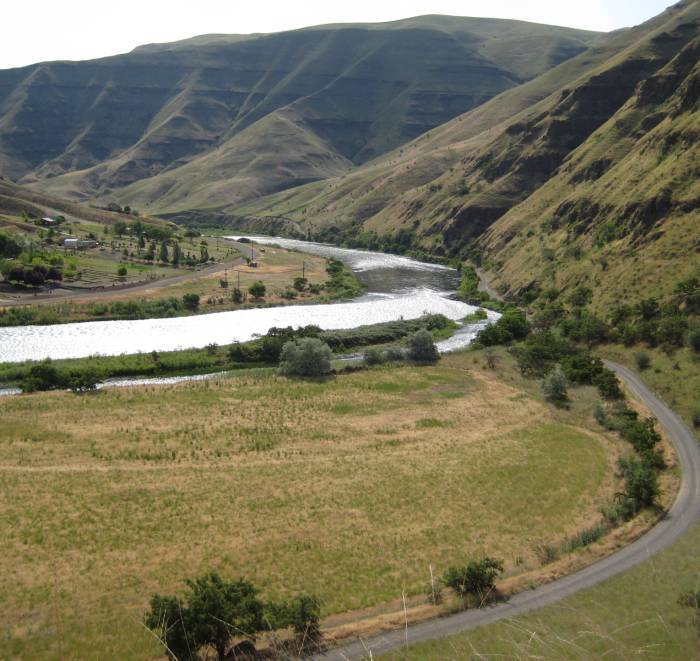 We spent the next 2 days in bliss on roads like this. I was navigating too Imnaha
but most of the roads we wanted to travel were blocked off by the huge ranches.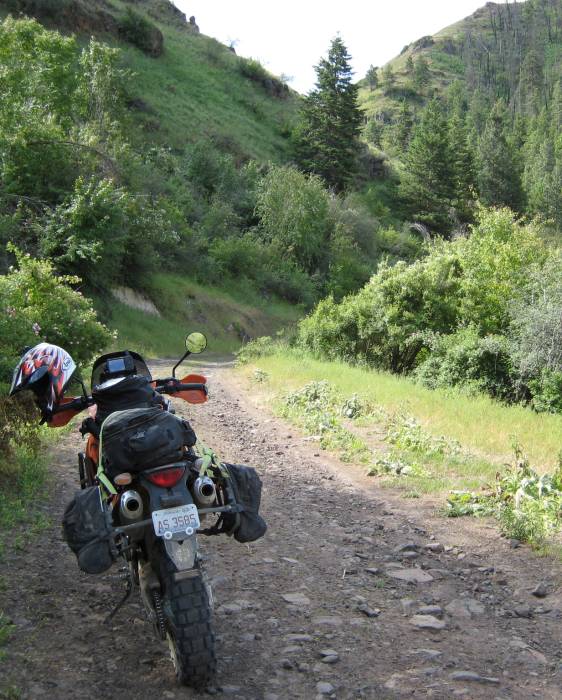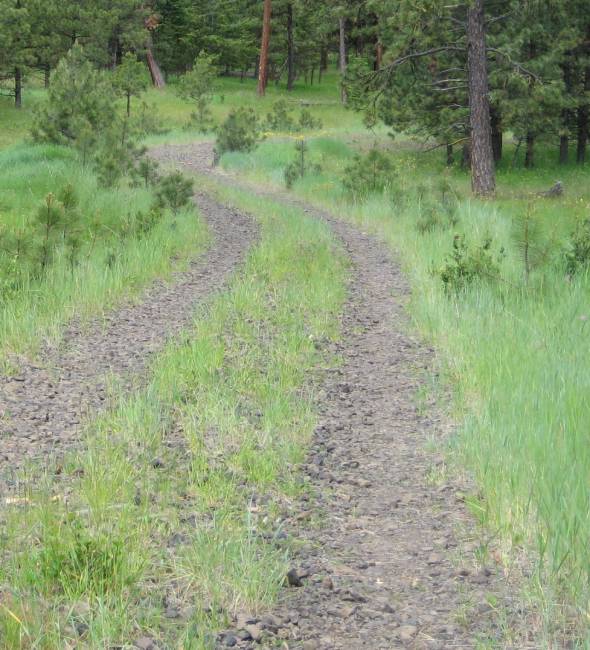 The road above lead to the locked gate below.
Great--we get to ride the road again !!!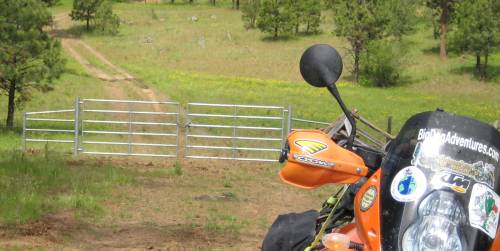 This road here went right thru a huge ranch and we had to open and close several cattle gates.
We ran into these nice people out there on 4-wheelers.
They assured me the road was legal for riding--which I wasn't sure about.
It was miles of huge high meadows.

Then maybe my favorite and most beautiful part of the trip.
The ride down this dirt road between the lush mountains is one I will
never forget.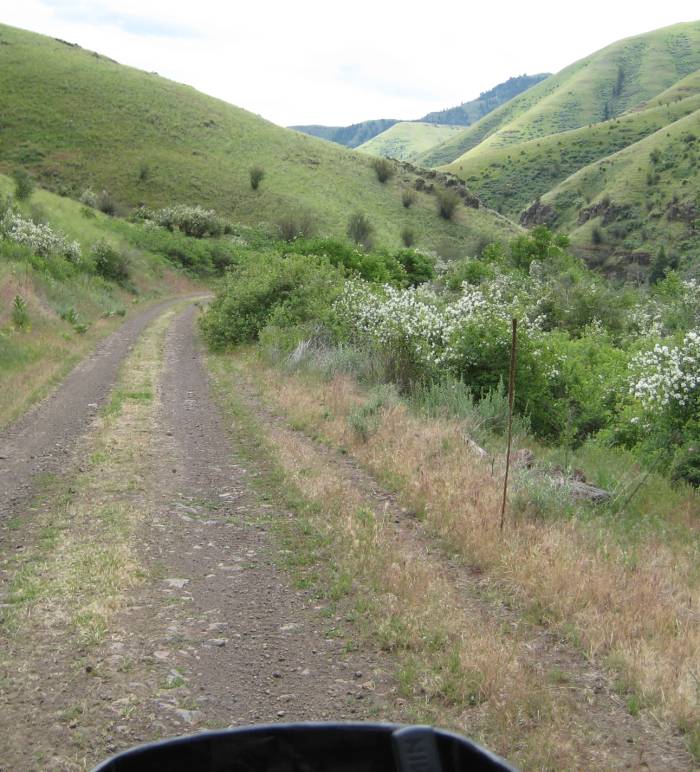 We dropped and dropped and dropped in elevation for miles--with no one in sight.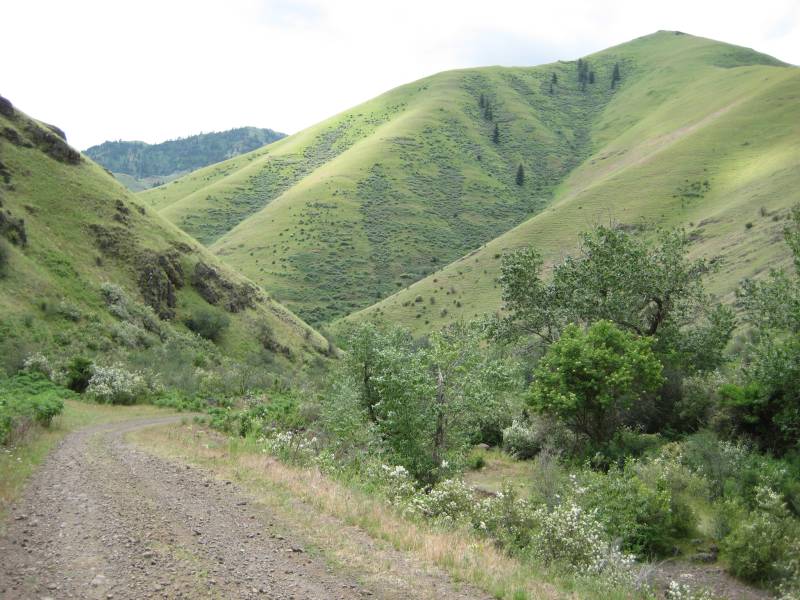 The road took us to Imnaha, Oregon-----------population 10.
Home of some of the nicest people I ever met.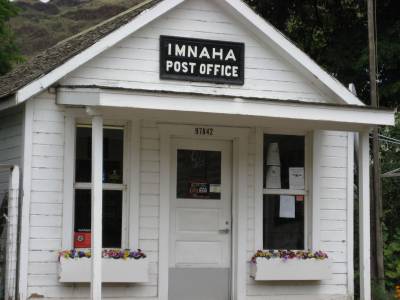 GasPipe in the morning-------before coffee !!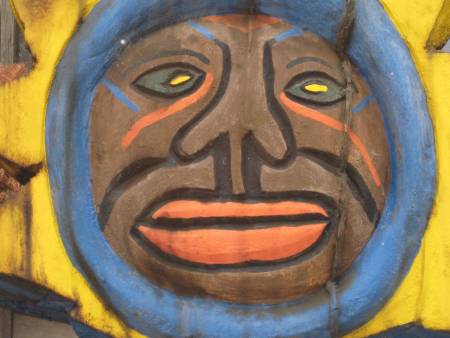 Inside the Inmaha store is a cozy place to sit, eat and relax.
You can get some groceries, get warm by the wood stove, drink a cold soda or beer, find a
shoulder to fry on, tell a joke, hear a joke, laugh and be merry.
The nice folks there make the weary traveler feel right at home.
We decided to stay at a little place in Imnaha for the night.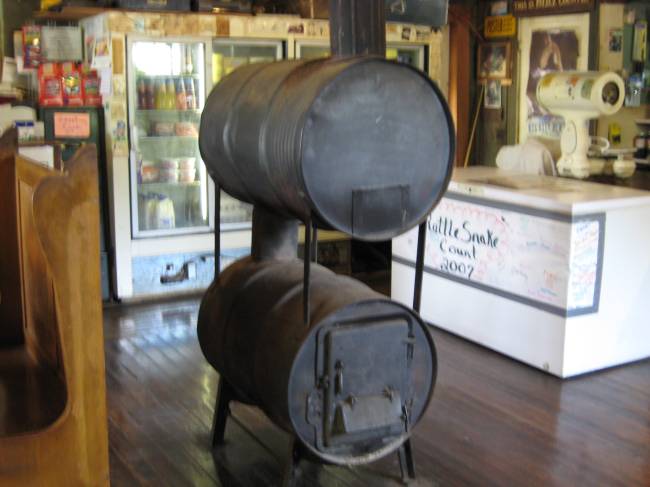 We ate lunch--but there was daylight left and we blew out of there and headed for
Hat Point---the view of a very deep canyon (Hells Canyon) down to the snake river.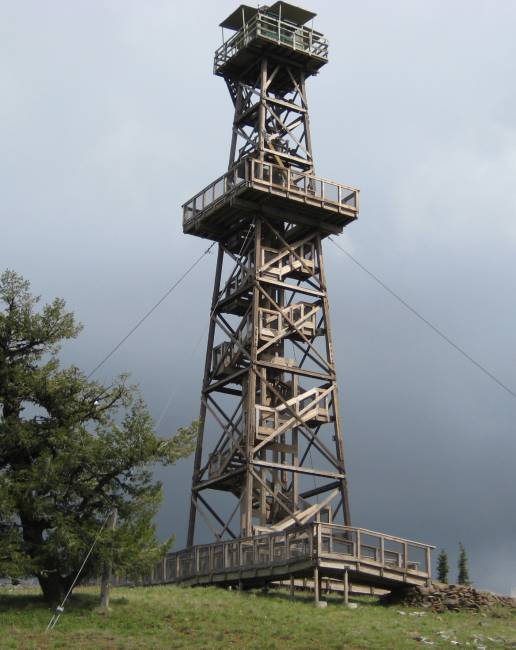 The view from the fire tower over the canyon into Idaho.
The wind was howling on top of the tower and it was very cold.
The fire tower shook from the fierce wind--but we loved it.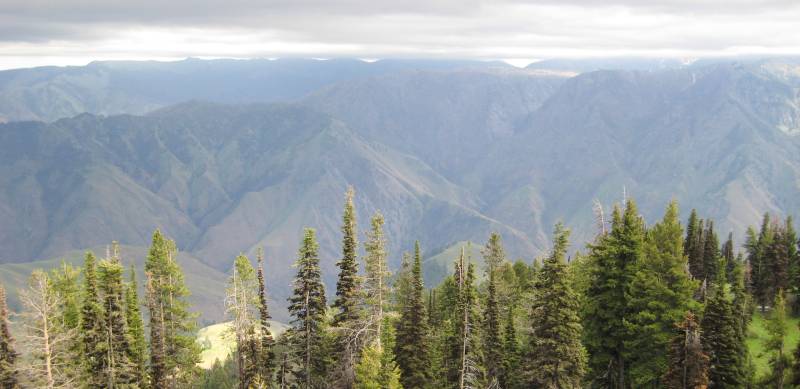 The ride to Hat Point was just awesome. The next day we would attempt to ride all the way
down to the bottom of Hells Canyon to the snake river to a place we knew only as "Dugbar" ????
We were told big bikes couldn't make it----that's all it took for us to try it.
Meanwhile back at Imnaha for another hamburger Little Dog was having a hoot
and started to let loose. He entertained all the nice folks in there with wheelies and stoppies.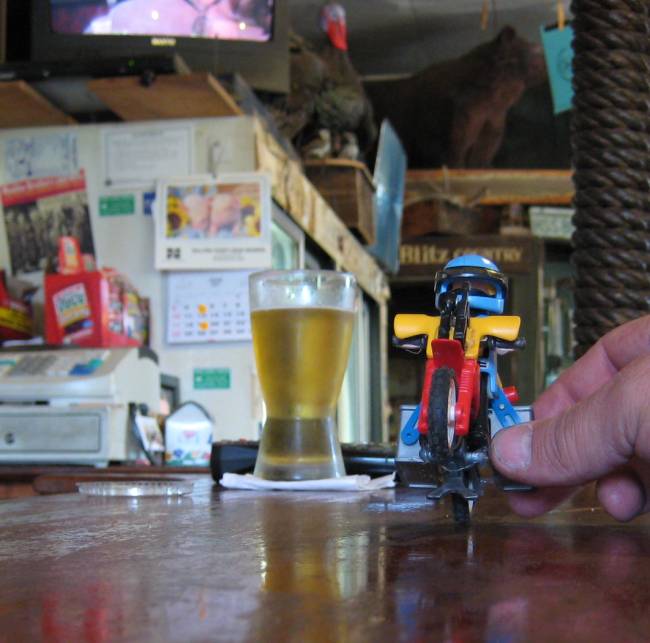 I don't know how much he drank--but he found his own cup and I knew it was going to get ugly.
Better slow it down Little Dog.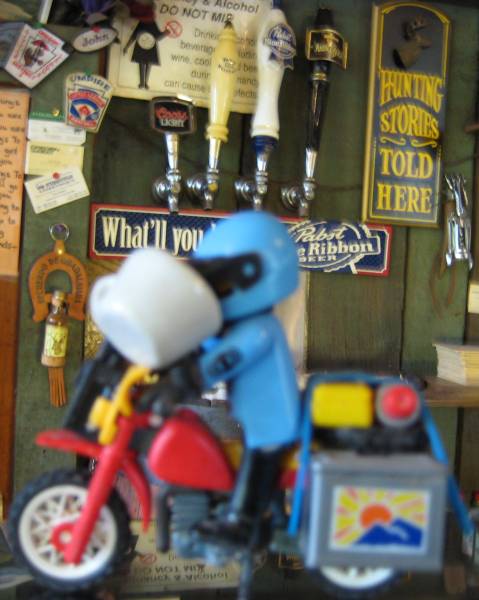 He was eyein this jump !!!
I had to hold him back or he would have jumped right in.
He jumped down on the bar and lit his rear tire up.
Black smoke poured from his rear tire and he brake torqued the powerful
2-smoker and let it loose. He broad slid that sucker all the way down the end
of the bar leaving a 25ft. long streak of rubber and slammed into a napkin holder
knocking it to the floor----then here he come back at us with fire in his eyes
and his front wheel in the air.
Was his throttle stuck ?????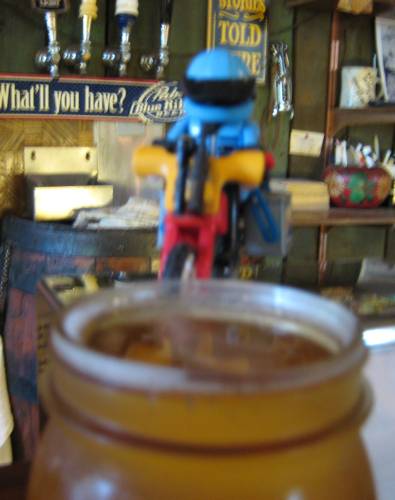 I knew it was going to get ugly and was looking for the door.
It all came to an abrupt end.
I guess this picture sums it up !!!!!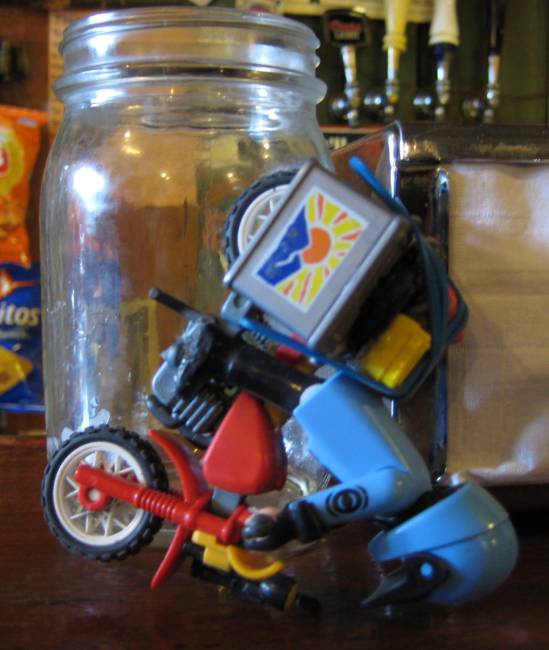 Can't take him anywhere.
The next morning we decided to ride to Dugbar---what the heck does Dugbar mean---I don't know.
What I do know is it is suppose to be a very rough 36 mile ride down to the bottom of the Snake River
and the bottom of Hells Canyon.
I wanted to go to the bottom------just like Evel Knievel---just not the way he did it !!!!

Big problem our gas tanks were near empty and we had to ride 30 miles
to Joseph, Oregon to fill up. We had breakfast while there and ran into a nice
couple on Ducati Multistradas. They owned a motorcycle shop in Bend, Oregon.
We had a nice long chat----their bikes were highly modified and were awesome.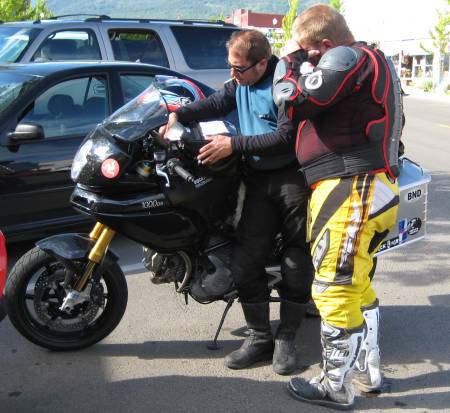 Downtown Joseph, Oregon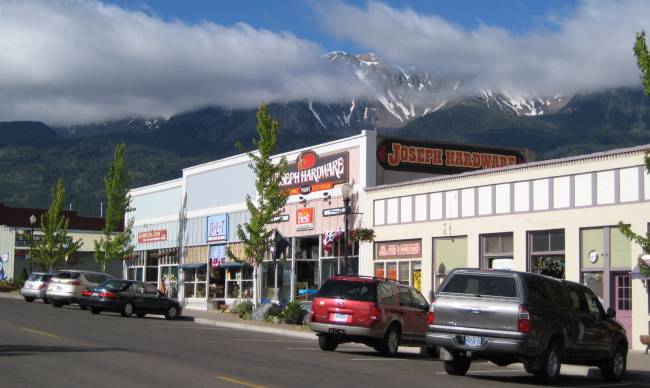 I think their shop is Bend Euro Motosports----Bend, Oregon
Our tires were shot and they offered getting us some---but the logistics didn't work out.
I talk to this lady for quite awhile and soon found out she knew bikes----very well.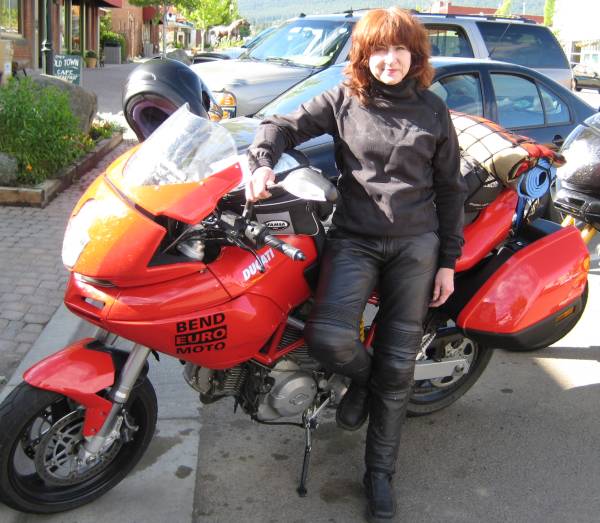 It was back to Imnaha to find the road going down to Dugbar.
We ran into these 2 guys (forget who they are) who were laying out a dual-sport ride
thru the Hells Canyon area. He assured us we'd make it to the bottom of the canyon on
our big bikes----he didn't know how feeble a rider I was.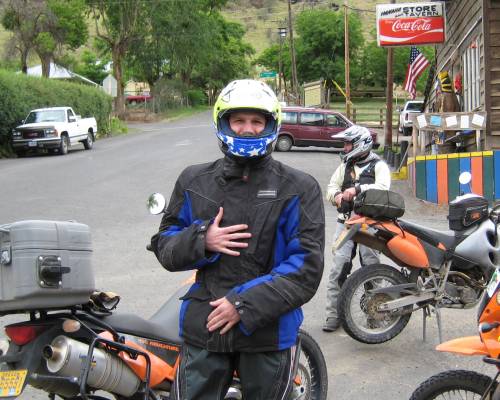 Down, Down, Down, Down, Down we went.
The views were................well see for yourself.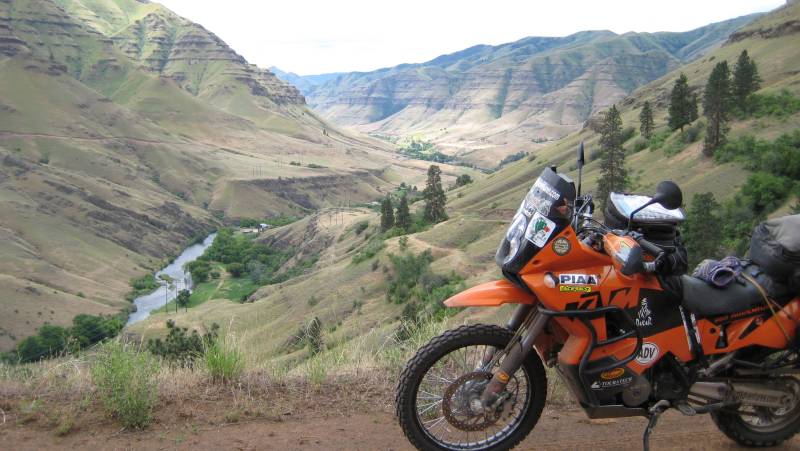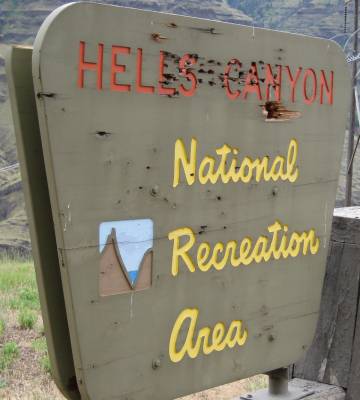 I don't know what going on here---some kind of propeller measuring device in the river.
However I suspect it is another government fiasco------14.2 million dollars to measure the sexual
actrivity of the blue speckled salmon. GasPipe knew the answer and would have given it to them
for free---------all they had to do is ask !!!!! Maybe they were measuring the water flow---GasPipe knew
that too-----just ask-------jeeeeeez--all that money wasted.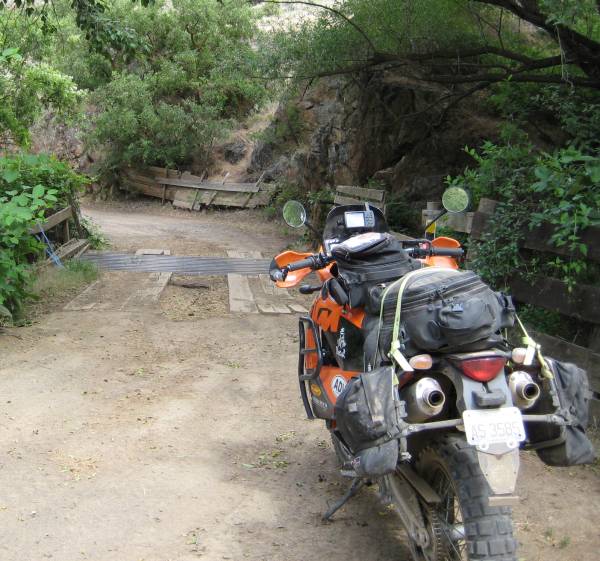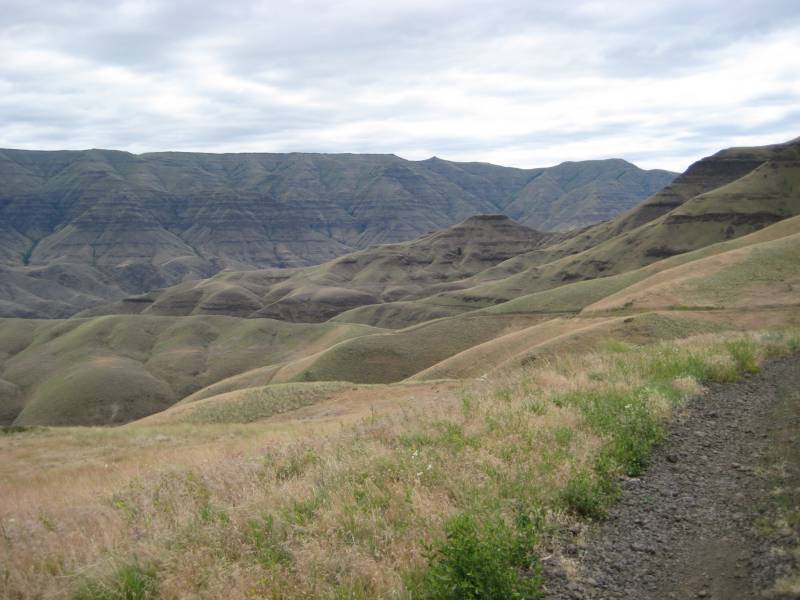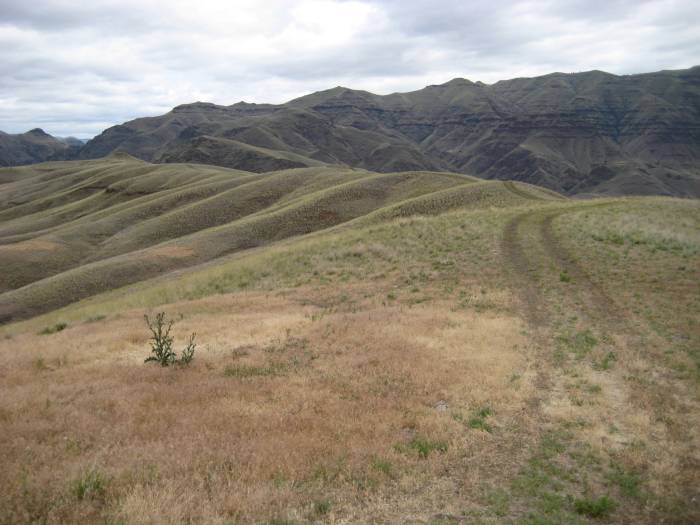 Were nearing the bottom here.
What's at the bottom--we were hoping nothing.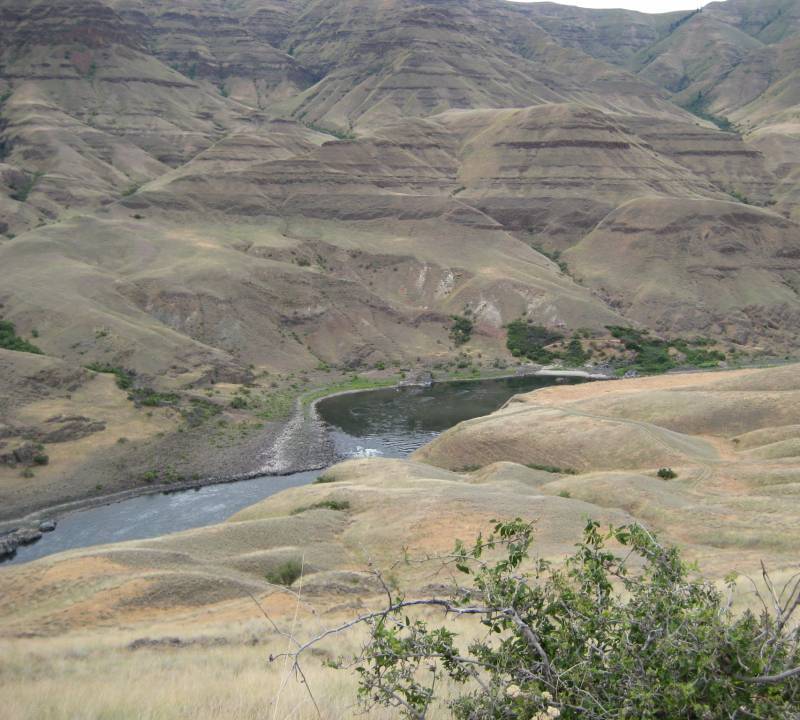 Yep---pretty much nothing in Dugbar--just this one lonely place.

Their mail came by boat--------I'm not kidding
We sat by the river and soaked in the sound of the river
and in short order we solved all world problems.
It was a simple matter----just ask us--won't never happen tho as it
is easy, very cheap and simple---the government would never go for it.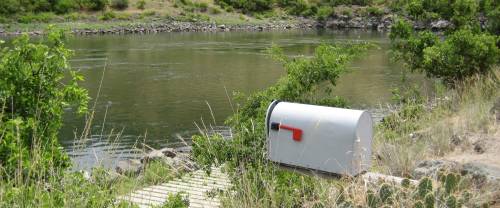 Back at Imnaha for one last visit and one more good lunch there.
The owners of the Imnaha Store
I consider them my friends---they are everybody's friends.
27 years working 7 days a week to accomodate the needs of a town with
a popultation of 10. Two of the most friendly and truly nice people I have
ever met. I will never forget them.
They thought little dog was a hoot.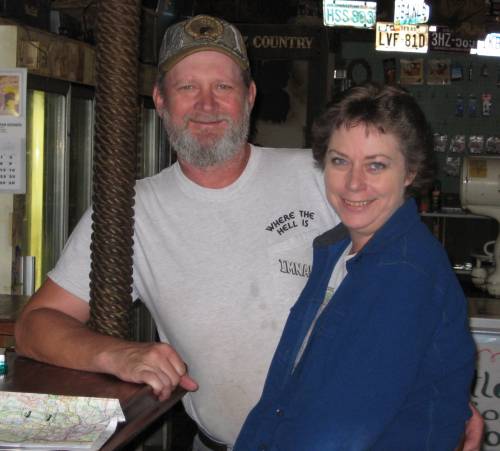 Dave and Sallie Tanzy---Imnaha Store and tavern
Imnaha, Oregon.
Out in front of the Imnaha store Little Dog had gotten' himself in another pickle.
That Little Dog--------always in the gutter.
He really wasn't a bad guy till he started carousing with that GasPipe.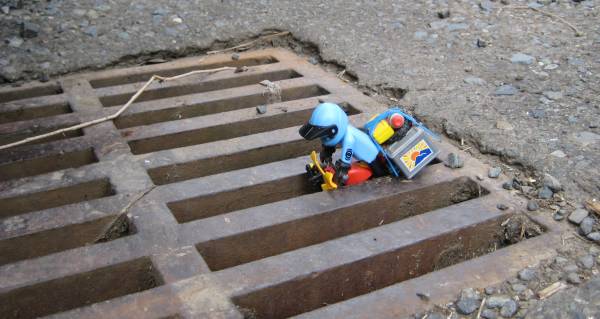 After conquering Dugbar we headed South out of Imnaha running rigth along the Inmaha River.
You see that little squiggly line in the pic below ??? That's a little dirt road called the Kleinshmidt Grade--it's in Idaho.
Gaspipe is in Oregon going down the Hess road--maybe more spectacular than the Kleinshmidt.
The snake river is between the 2 roads--we need to get to the other side.

Another picture of the Kleinshmidt Grade in Idaho--were still in Oregon.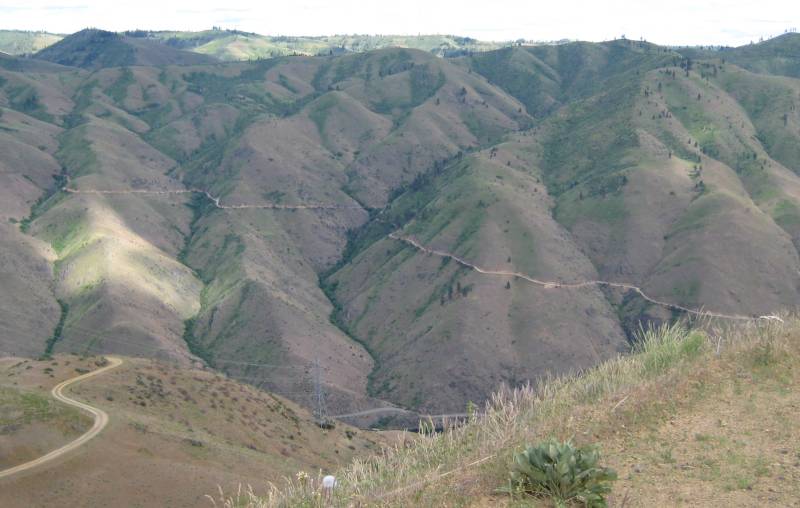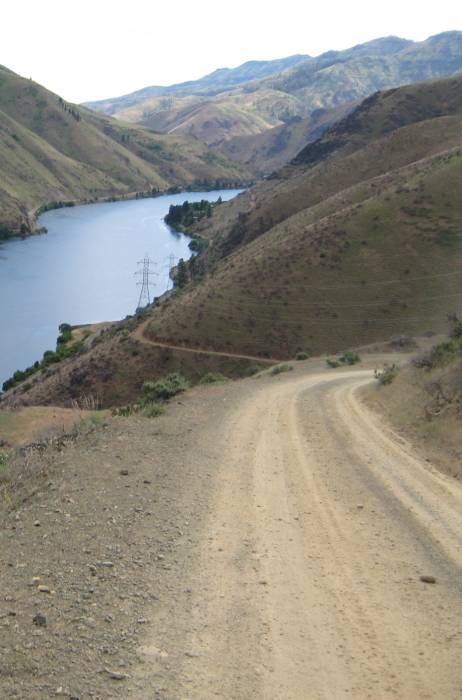 The usual picture of signs to make it look like it was harder than it really was !!!!
Guilty as charged.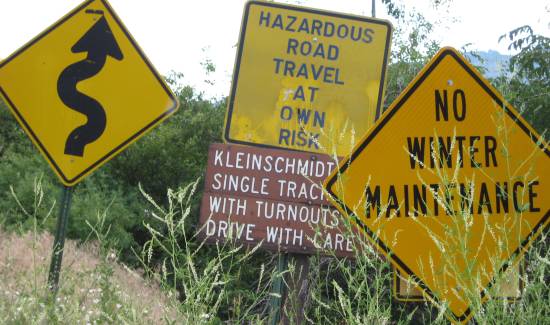 This picture was taken in Idaho looking back across at the Hess road we had just come down.
We crossed over a bridge just South of here. Pretty neat huh ???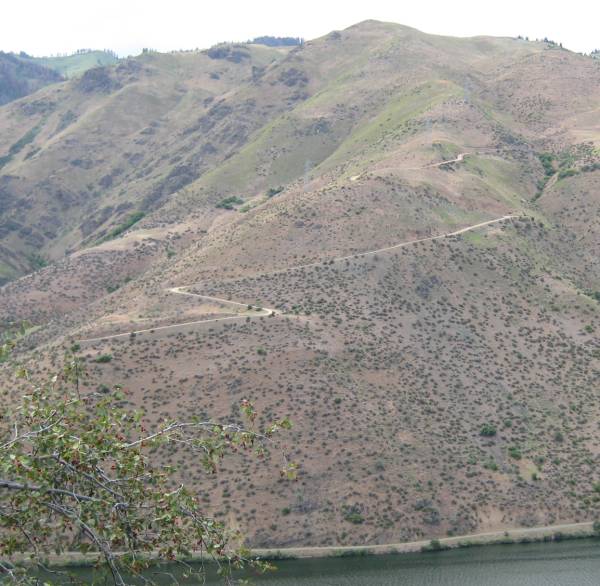 I remember this road---don't go there---they were in the process of paving it.
But in the meantime we had the pleasure of riding on dirt with knobbies---albeit worn out.
Full throttle power slides thru the damp dirt and sand road--and a couple oopps in deeper sand.
It was a hoot blowing around construction vehicles and poor guys holding signs all day long.
They couldn't catch us.
"You'll never take us alive copper"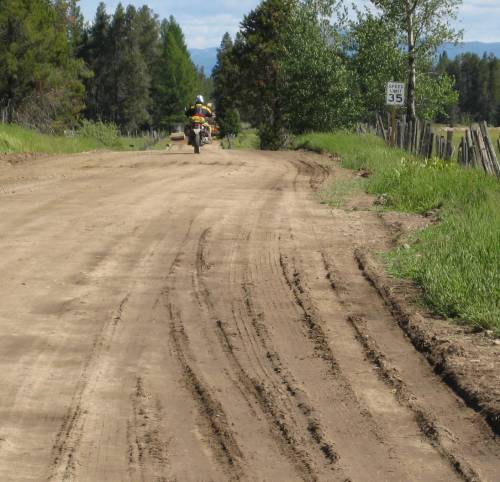 Sawtooth Peaks--that's not snow------white rock.
A guy on a bicycle blew by us here going way faster than we dared.
We headed for the lonesome town of Yellowpine--population 34.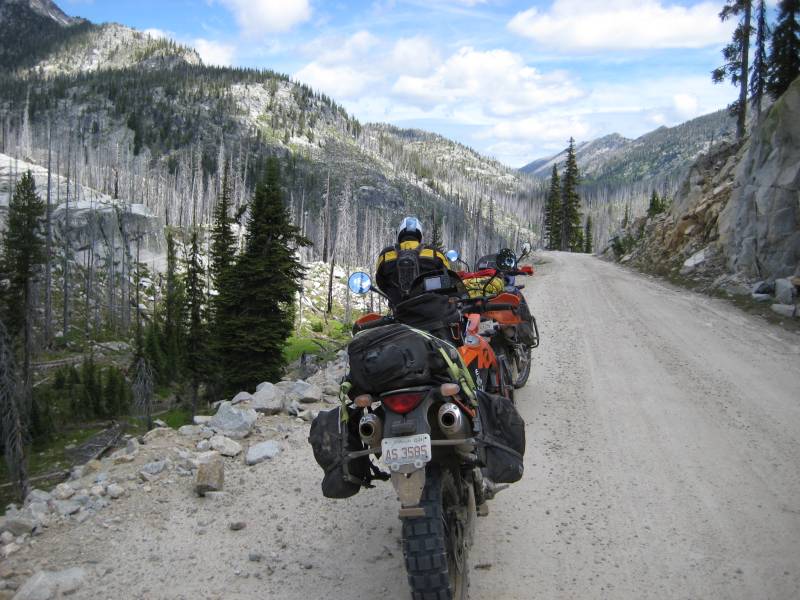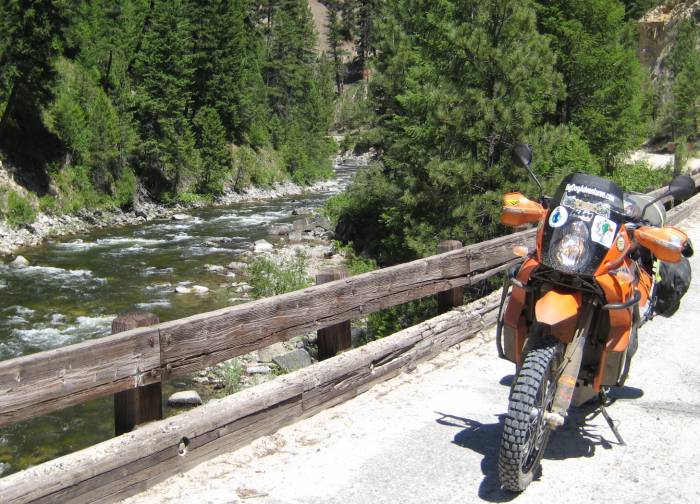 Yellowpine, Idaho--what a sorry 2-some.
We sat on the porch of the local store and told tall tales with the locals.
An extrremely friendly little town.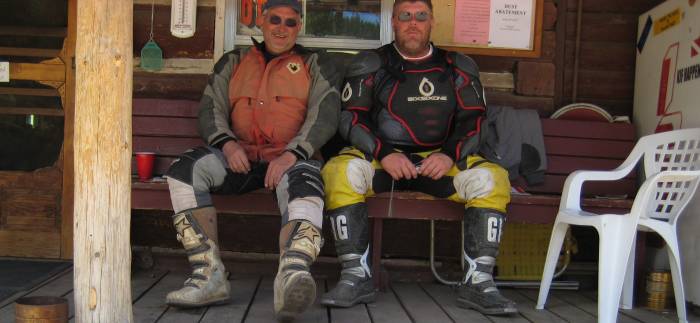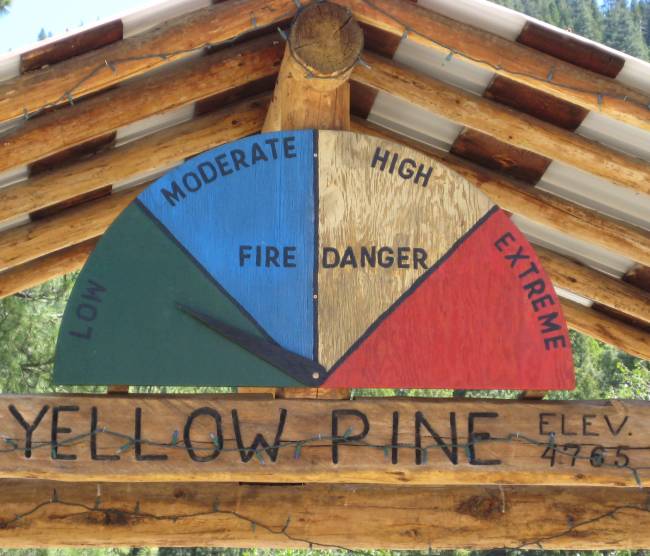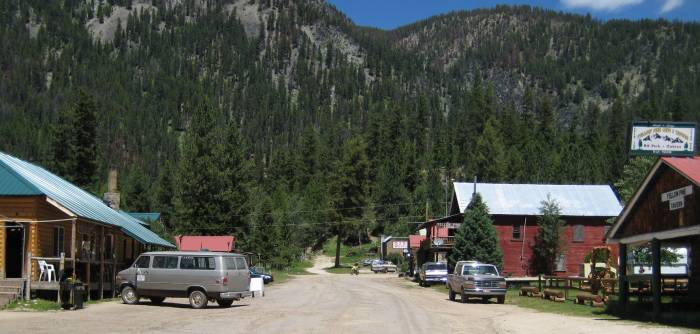 We pondered staying in one of these downtown cabins
But it was way too early in the day to shut down.

I took a few pics to show the misses.
I'd move here in a minute.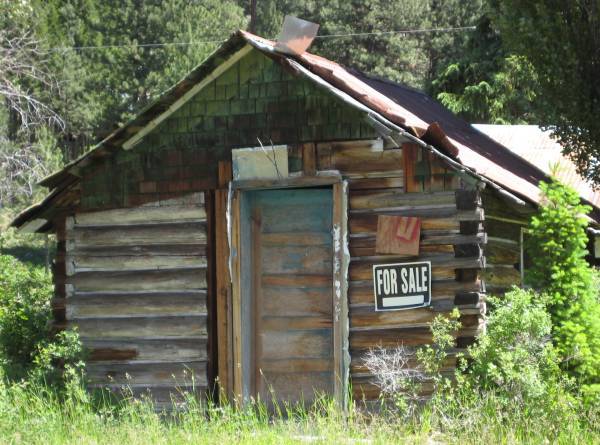 Now this is more like it.
This is really my style---I would think nothing of living the rest of my days in a house
and town like this. Debi lets me do most whatever I want but
put her foot down on this one.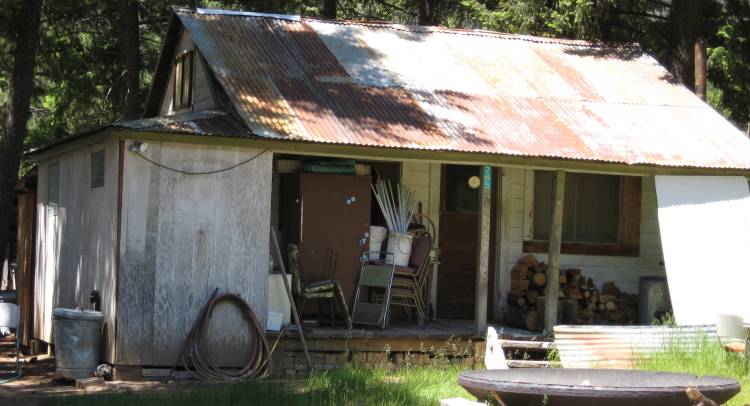 Now check out the snow cat.
I thought is was their school bus--but turns out a local guy owns this
and just put the rear of a school bus on there to give more seating.
It was a very well done rig and is ready to roll.
I loved this thing.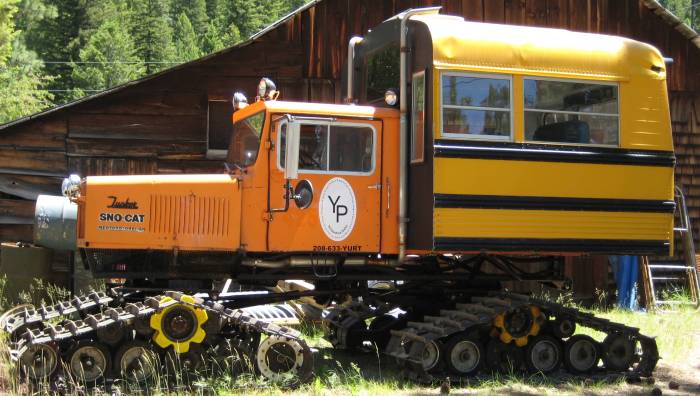 It was in perfect shape--when I opened the door the interior light came on.
Nice job !!!!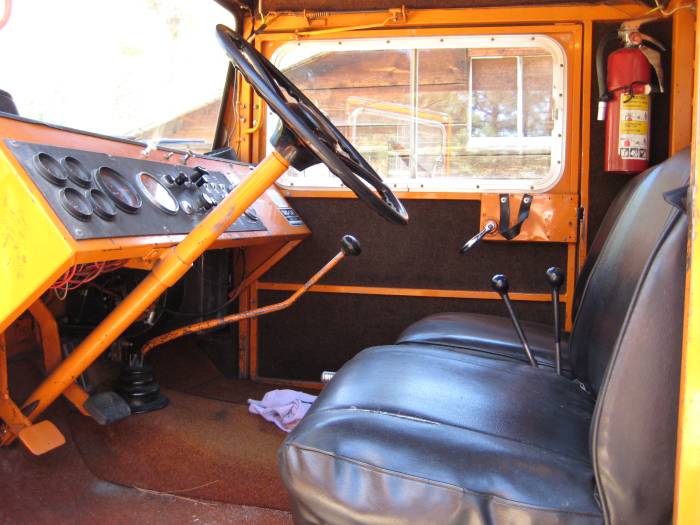 Now this guy was a hoot---he'd lived out in the mountains a long time---maybe too long--heck I'm just jealous.
When I showed some interest in his jeep he told me about every nut and bolt on it. From top to bottom.
He was so proud of it. It is a 1946 model which was the first year that jeep sold these to the public.
It was the first model to have electric windshield wipers and a cigarette lighter-----6-volt
He made sure he showed me everything worked---------and it did.
It ran like a sewing machine--and idled so slow you could count the fan blades.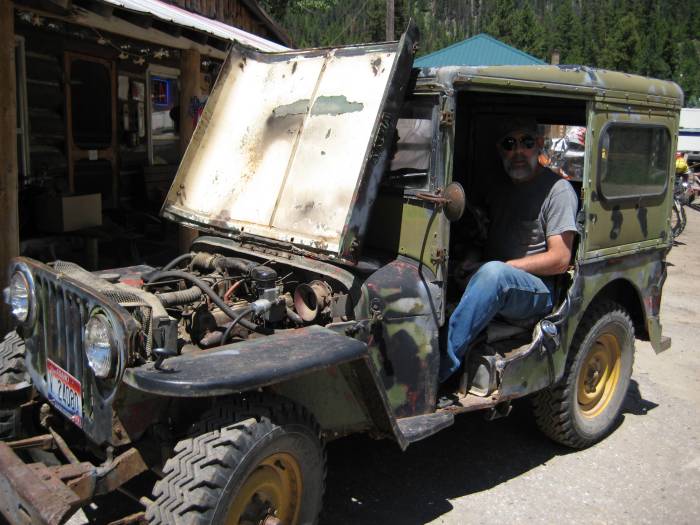 We ended up in this log cabin about 12 miles East of Lowman, Idaho.
It wasn't much fun--heck they had electricity, phone, TV, heat AC--all that crap.
Little Dog didn't like it much either---he made hot laps around the cabin and finally
crashed in some rocks before calling it a night.
He did channel surf a bit for "The Outlaw Josey Wales" to no avail
and clicked her off.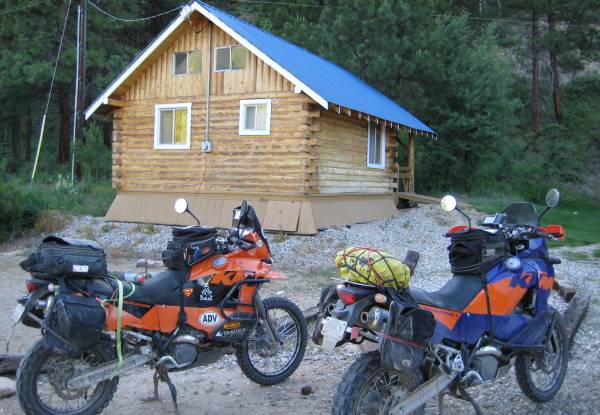 This is where the log cabin was--and they had a good restaurant.
I was reminded it was fathers day--me and my son were many miles apart
but he phoned me and wished me a happy fathers day.
Wish he was here with me.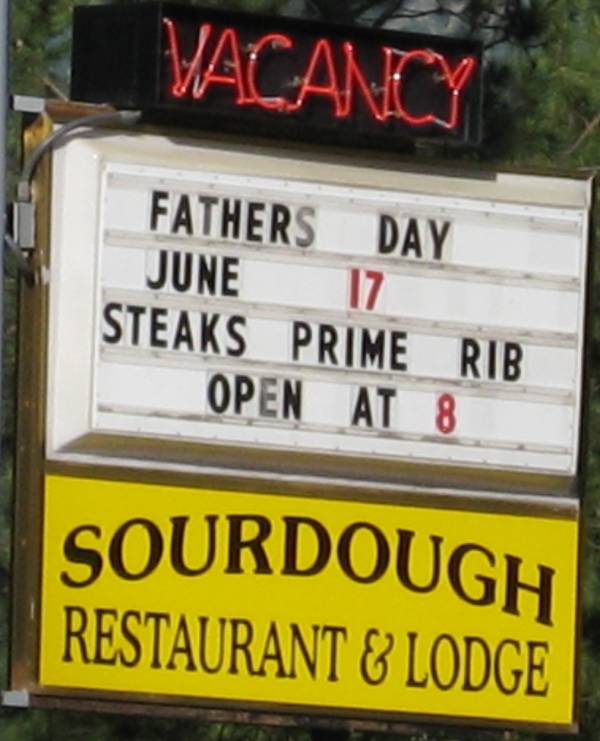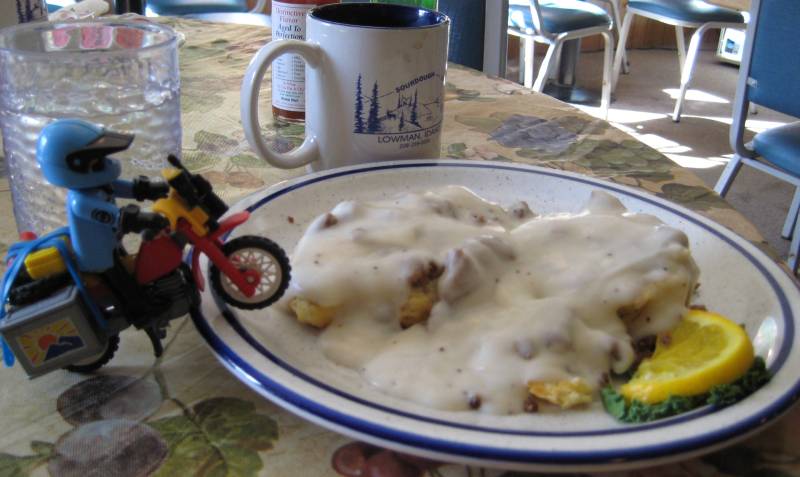 Day 12
After chowing down the hardy breakfast above----we needed to get to the KTM shop in Boise for
some tires. We headed Southwest.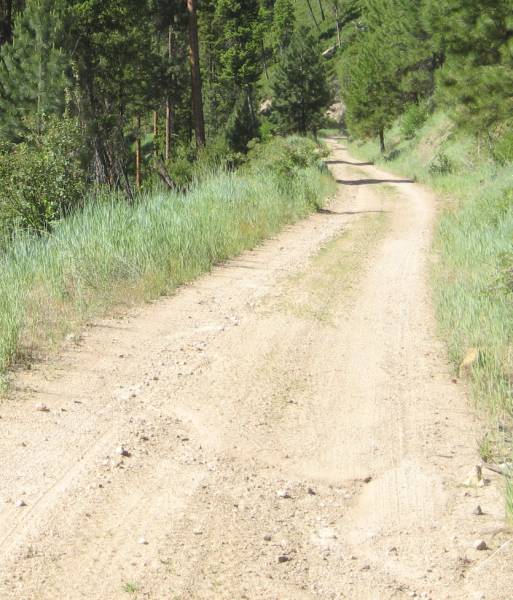 Getting some knobbies at the KTM shop in Boise was a bust.
Seems all their customers use woosie tires.
I got on the phone and found some for them--and we would have to
come back to get them------we found some place to go without no problem.
We headed toward Atlanta, Idaho---population 30 something.
Just Northeast of Boise while riding along Arrowrock reservoir we came
to---you guessed it------------Arrowrock Dam !!!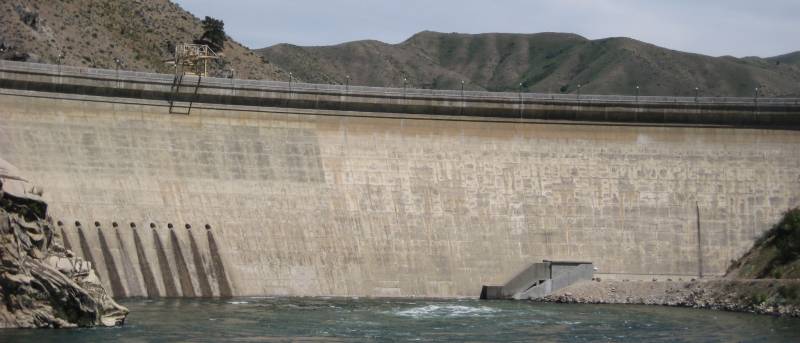 We rode for maybe 10 miles along the North lakeshore on a dirt road.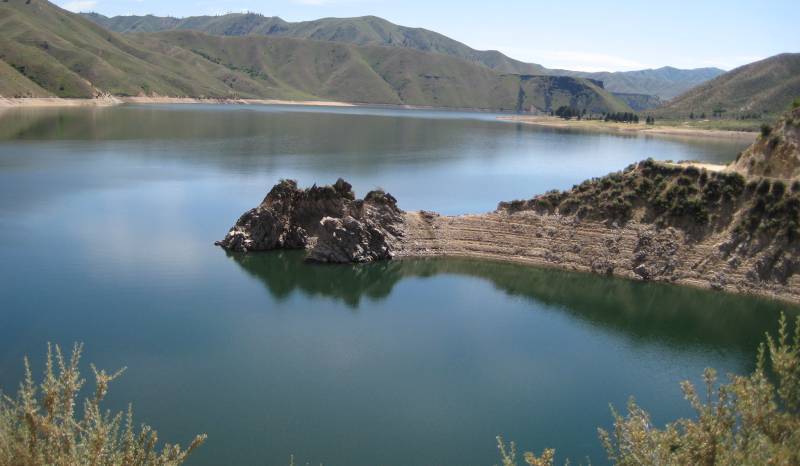 The Lake left us---and the dirt road ran right along the beautiful middle fork of the Boise River.
Pretty neat contraption here that I just had to ride across.
I got in it but it was cabled and locked--no dice.
This would have added another aspect to my reprotoire--if I knew how to spell repertwaar..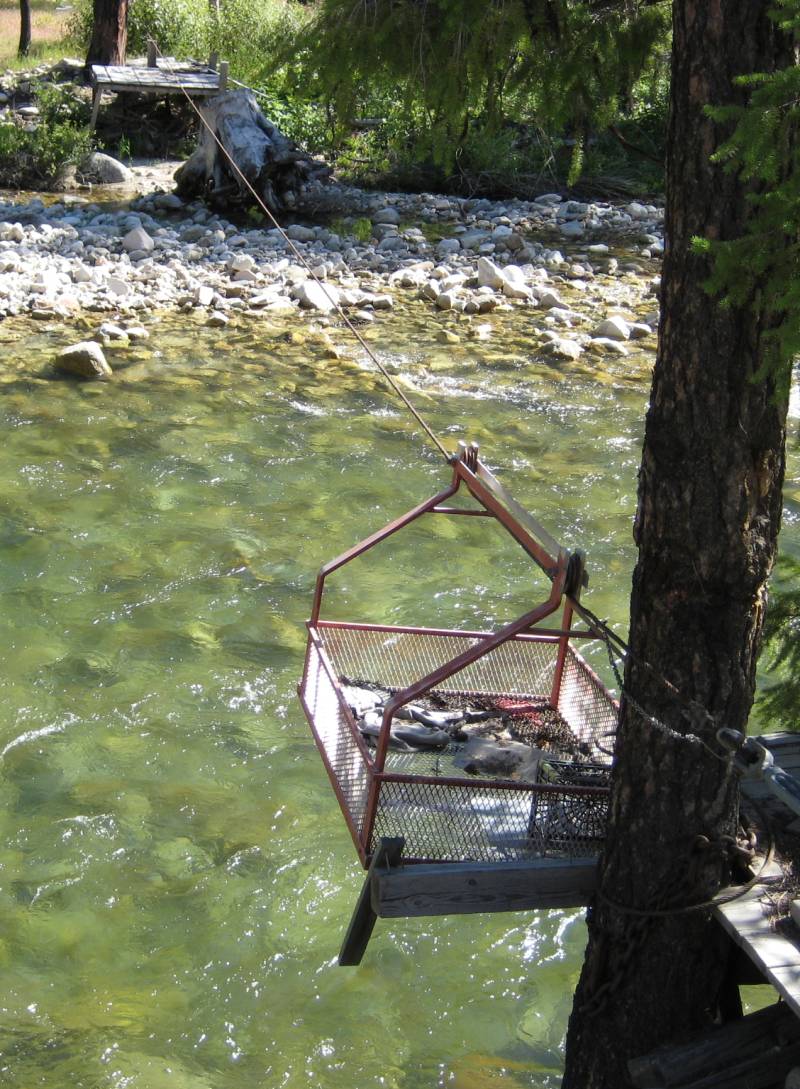 We were getting close to Atlanta and here is where they got their electricity---cept it didn't work.
Seems Aunt Pearls brazeer got caught in the impeller of the generator and took it out.
They ran on a diesal generator-----but just for a few hours.
You got you ice cream out of the freezeer while the electricity was running---and never
opened the door again till it came back on again. It ran 4 hrs. in the morning--and
4 hrs. in the evening-------then lights out.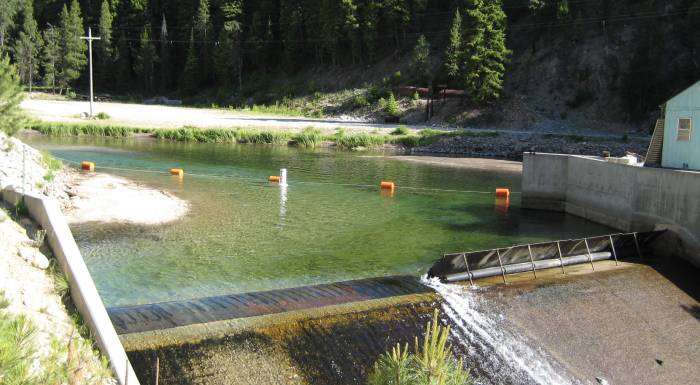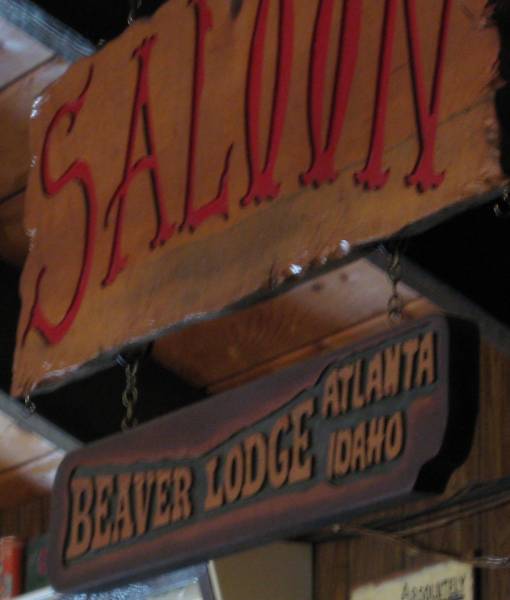 All I going to say is----"the people in Atlanta were different"
We felt like we were in the twilight zone.


There were a few very rustic cabins for rent in town-----but........
"naw you can't have one"
Good ole' George (below)----let us stay in the loft of his place for
one Hamms beer---I think ole George had many more before we
got there.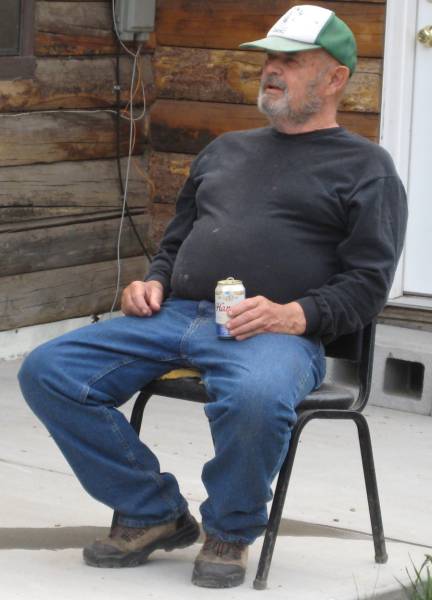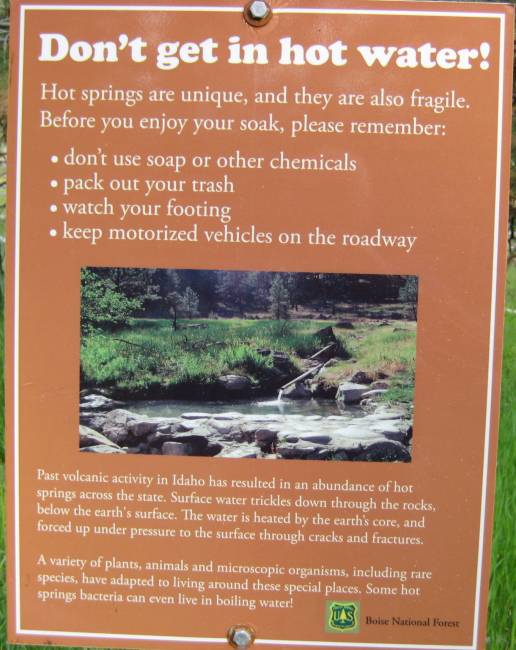 I guess we looked bad------and smelled bad.
We were threw out of town and told to get a bath in the hot springs.
Temperature a comy 95°
I had to get out after about 5 minutes as the hot water was putting me to sleep.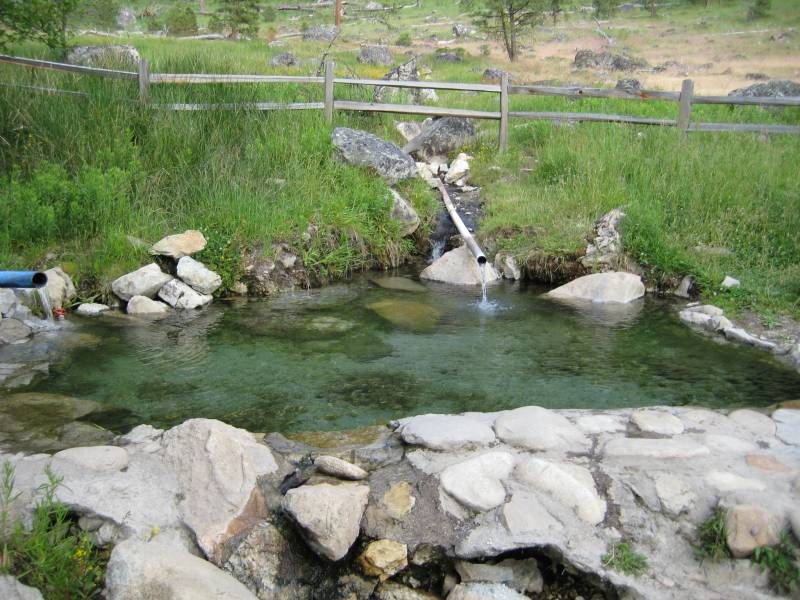 ATGATT
GasPipe-----you didn't think I'd not show this picture did you ?????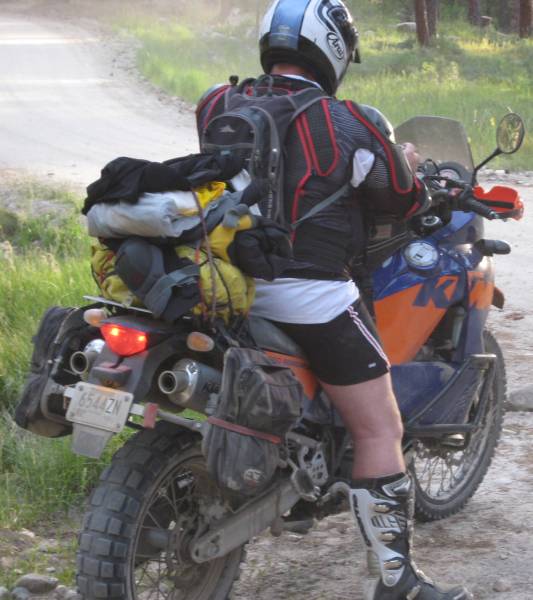 This is George's Place--he started it in 1963 but has never got around to finishing it.
I don't know George's whole storing--but would love to know. Maybe he didn't want us to know.
We couldn't get much out of him as ole' George was recovering from open heart surgery and
obviously had had a pretty serious stroke as he had a hard time talking or finishing sentences.
All conversations ended abruptly with a confusing look....a long pause.....and the word
"whatever"
I felt so sorry for ole George----he was a forest ranger years ago.
You could't get in the house by the door at the bottom--nor up the stairs to the right
as both didn't function as intended---so.......you had to walk the plank you see
at the left---the only way in. It wasn't nailed down and it scared me.
I don't know how George walked it. Thanks George.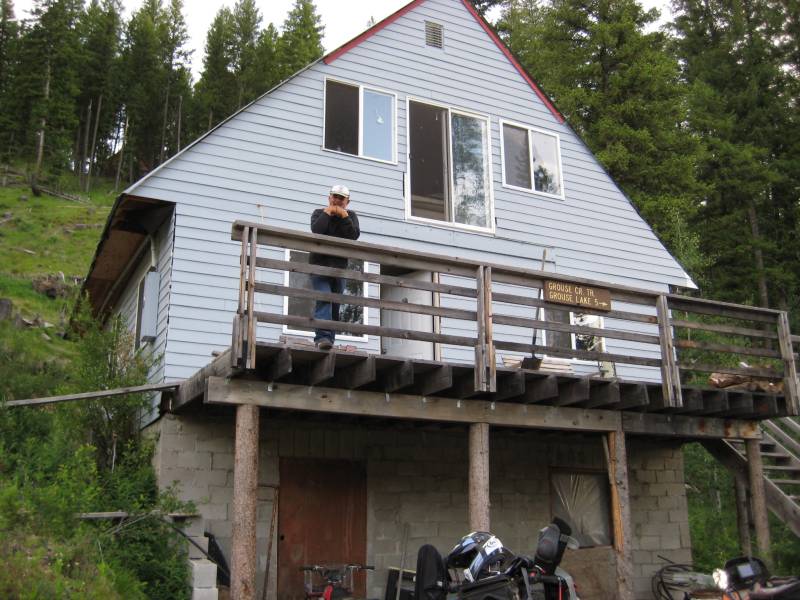 GasPipe never got any sleep at all that night.
Something about nightmares of "Slingblade" dragging a lawn mower blade
up the steps to murder us both.
"HHHhhhmMMMmmmmm---you ought not do that--HhhmMmm"
"Alright Then"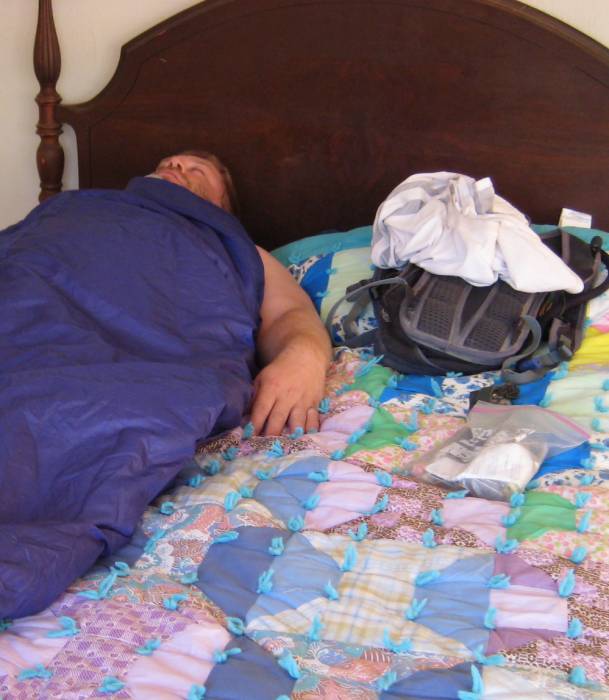 Day 13
We blew out of Atlanta with no breakfast towards Featherville over some really high and great
dirt swithchbacks.Breakfast was had in Featherville and I got way out ahead of Bruce and probably waited
too long without checking on him.
In the meantime I road along one of the most beautiful canyons I had ever seen in my life.
This was all on the South Fork of the Boise river.
Enjoy !!!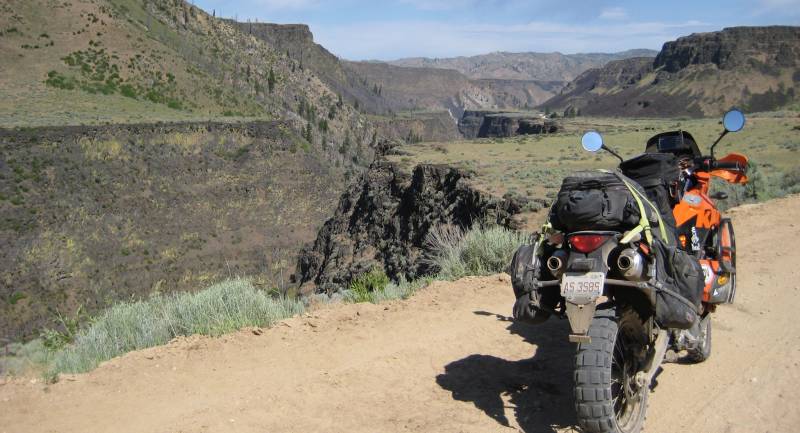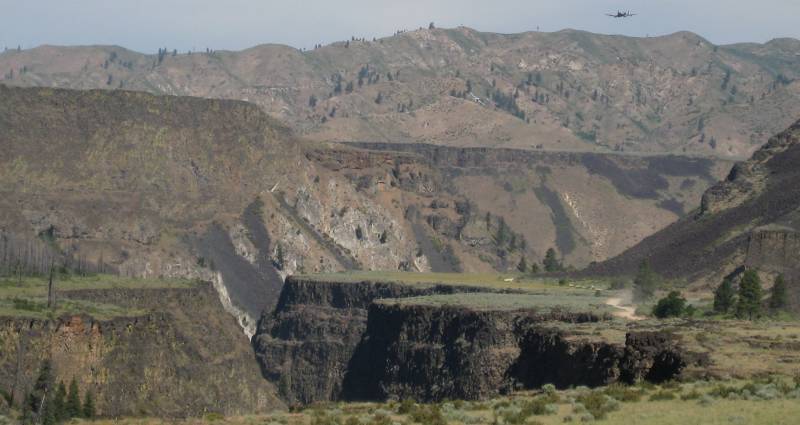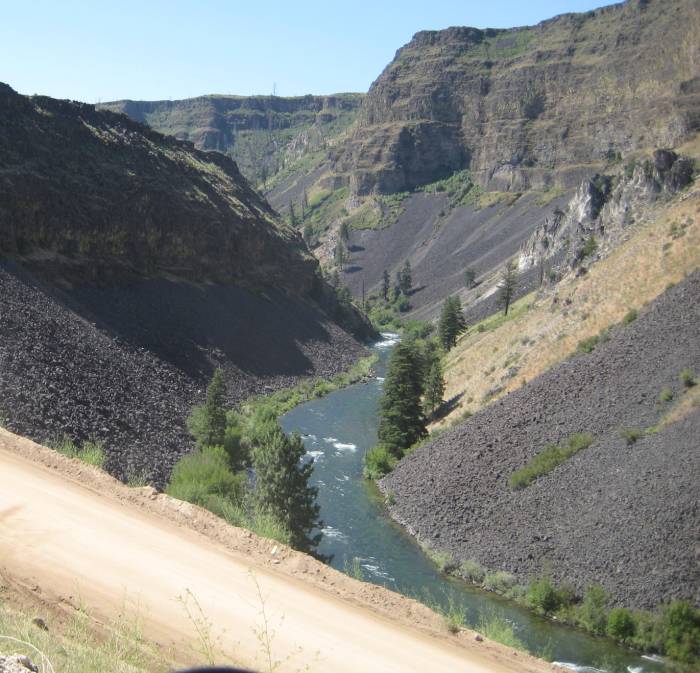 Ok--stop here awhile---yes you must go here !!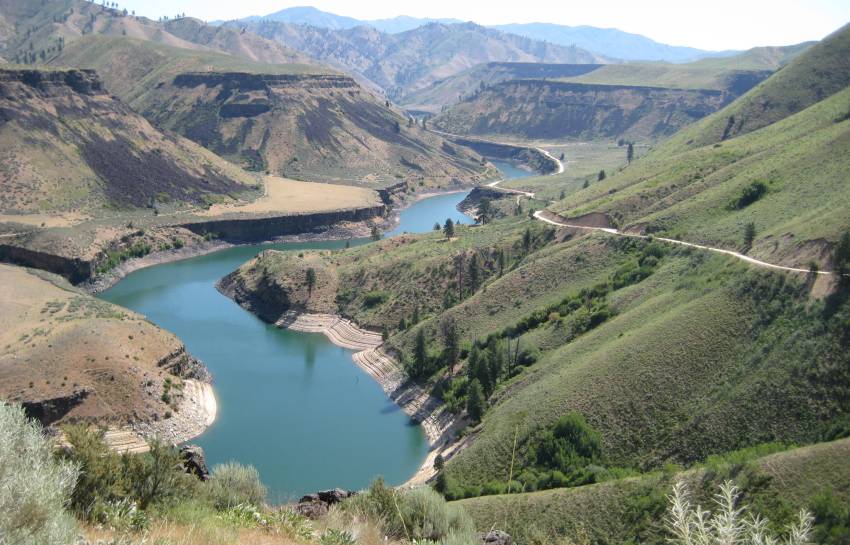 Long story short me and Bruce took different routes---and I rode a bit of the
Idaho Centennial trail which led to this locked gate--and he rode some old
trail I forget the name of.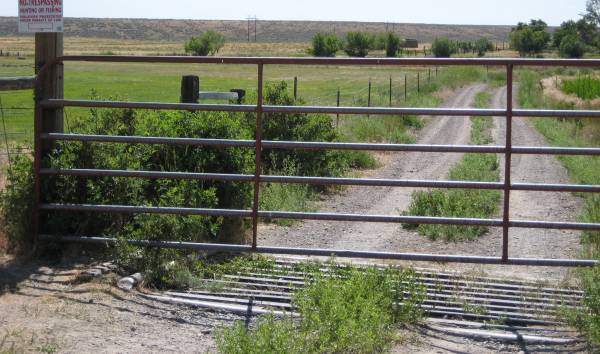 We both ended up in Boise at the KTM shop and I spooned on my new Michelin Desert
in the parking lot of the KTM shop by hand.
GasPipe who had gotten there much earlier got the red carpet treatment they put on his tire,
changed his oil--cleaned his bike---and adjusted his chain (albeit way too tight).
I guess when you're late--you get what you get !!!
I didn't buy a new bike like GasPipe did while he was there--
so I got the "do-it-yourself treatment"
Just kidding guys !!!!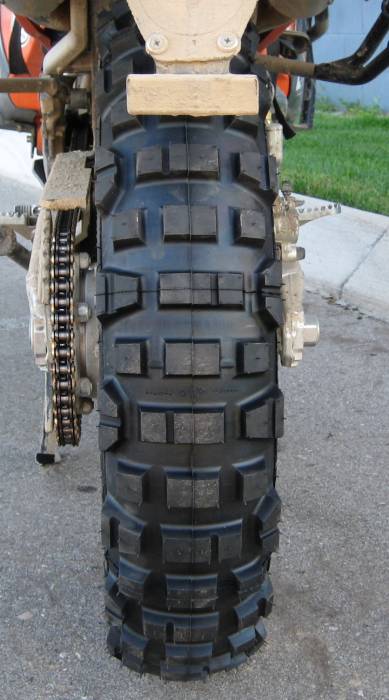 Day 14
New tires--------yeh---kobbies--yeh----nothing like new knobbies.
It was a fight to get out of Boise---worsed night of the ride.
Stinkin' motel was full of crack whores and several rooms where alcoholics were camped at
the front door of their rooms----smokin', loud, drinkin', loud, loud, and loud--people without
a home or job--------guess who's payin' for the beer---yep--in a round a bout way--you and me.
On sinker Road we tried to cross the Snake river again.
Some dipstick said it wasn't safe and blocked it off ater a 3.7 million dollar study.
Guess who paid for that-------yeh you and me that's who.
It was plenty safe for 2 sickle riders we thought.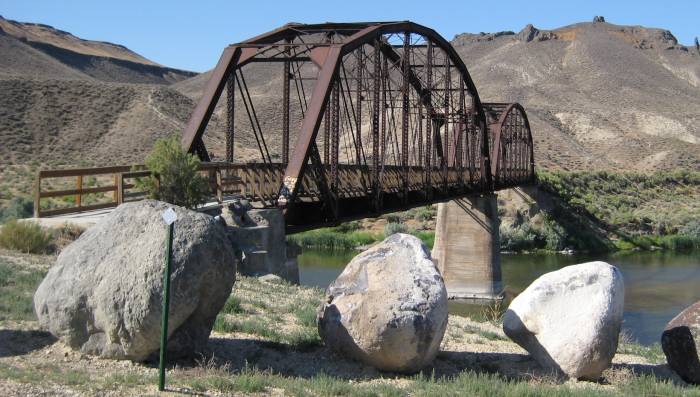 After a little debate and after Gaspipe spotted this dirt
off we went.
This was pretty rough for the big bikes--and would have been impassable
if wet--but it was fun and led us to a highway where we crossed the Snake.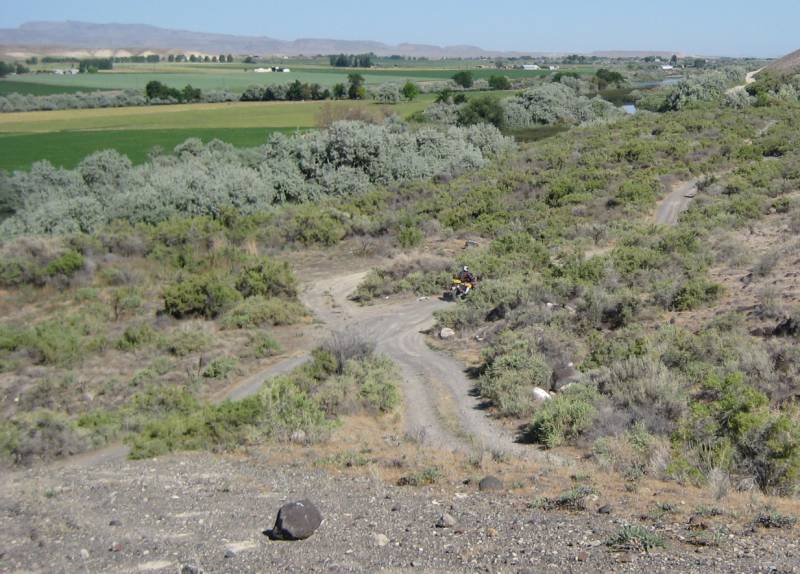 This guy just knew GasPipe had done something.....
but didn't know what--he followed him for miles just waiting
for him to bobble or fart.

"You'll never catch me alive copper"
I sat on this rise before falling into the basin for a good 10 minutes.........
soaking it all in.

Near Murphy hot springs (barely in the Southern tip of Idaho) we ran into Darwin who knew everything.
He was a hoot and wanted to know where we'd been and where we were going.
He probably thought we were pretty stupid when we told him we didn't know.
We were looking for Murphy hot springs to soak in----I guess he thought we were
stupid'er when he told us it was right there !!!!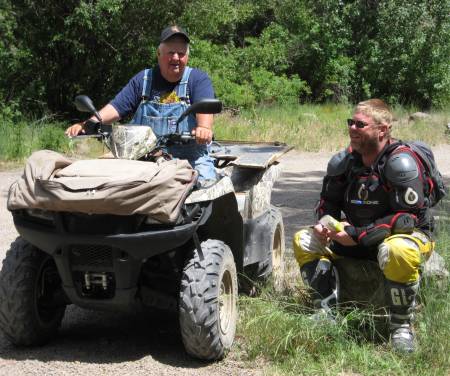 Murphy Hot Springs---A big let down.
We were hopin' for a swimmin' hole in the middle of nowhere.
Looked like a nasty old run down swimmin' pool---guess it was--the water was hot tho.
Some government agent come and shut the place down after a 8.3 million dollar study
determining that you can't breathe under water---we could have told them that !!!!
Guess who paid for that one-----------yep !!!!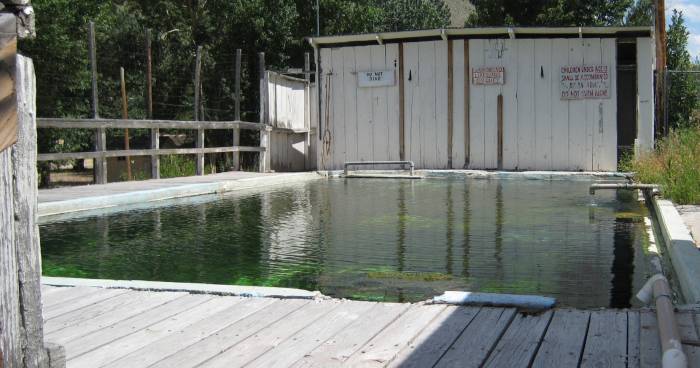 There was one way to Jarbidge, Nevada where we hoped for a room and gas..........
not knowing if either were there. However GasPipes devil box (GPS) said there was another route over the
mountains that only a billy goat could get thru--oh yeah----!!!!
Before it was thru---------I wish I had been a billy goat.
But our hope were uplifted as we saw the most beautiful view--you can see we were
very high up---------this meadow of yellow flowers took our breath away.

It was 2.8 straight miles to Jarbidge--according to the never wrong devil box.
Shouldn't take more than 4--5 hrs. on this ATV trail.
Around the bend we locked up the brakes on the edge of a cliff and hung on as we skidded to the bottom
with our assholes squeezing the seat---there was no stopping---going down I knew I couldn't climb back up the hill
if we had to. I killed the engine....maybe for some extra braking and tried not to look over the cliff----as any motorcycle rider knows--yougo where you look. We finally came to a grinding hault and I gathered my wits--cept' I didn't have any!!!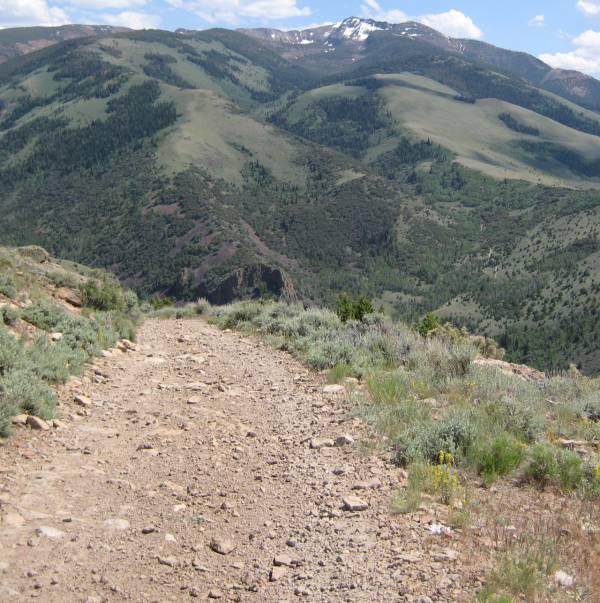 This crik would have been a walk in the park................on my 520EXC.
But we made it. Remember were on big bikes and packed down.
The uphill climb out of here I can only describe---well no--I can't even do that.
GasPipe was in front of me and I heard him grab a handful of Whiskey throttle....
So what was I to do-------but grab some too. Only thing his rear tire was tearing into the silty dirt
and rocks flingling this all back at me and I could see nothing----I'm sayin' nothing.
I dared not let off the throttle on the steep grade--as I'd never get going again in the rocks.
A branch slammed my visor shut on my helmet (which was coverd in dust and bugs and couldn't be seen thru-
that's why I had it open)................ so now I went from no vision..........to negative vision........all the
while grabbing another handful of whiskey throttle, being afraid I would slam into Bruce if
he had trouble-----I could here and feel his big V-twin growling in front of me....and going on sound
alone--when he let off I let off...............good thing--there he was right in front of me.
"How'd it go Mark" ?????
"Piece of Cake Bruce"......you got a cigarette.........(I don't smoke)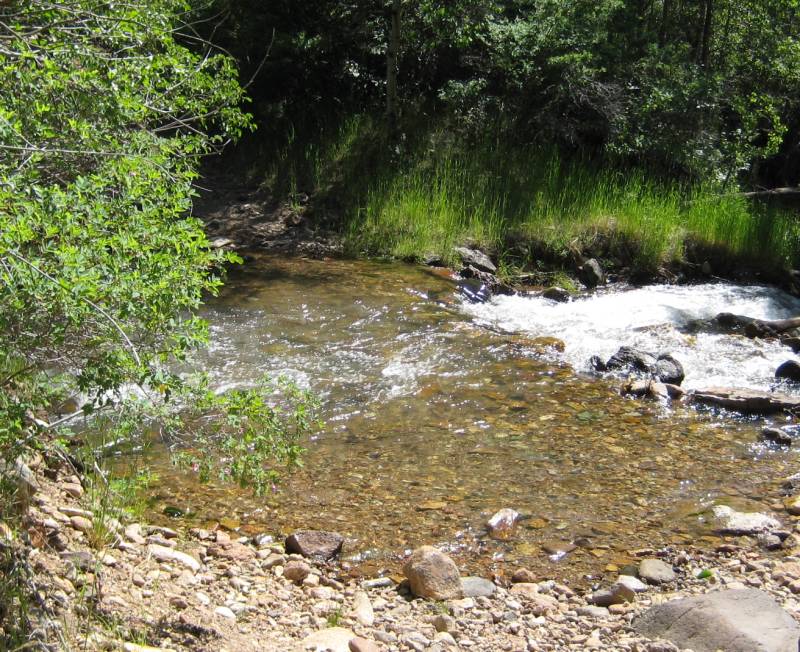 We ran into some 4-wheelers and I waved them down and asked if the trail was worse up ahead.
They eased my mind and told us we had went thru the hard stuff.
I hate 4-wheeler riders.........liars everyone of them.
The next downhill was worse than the first one.
I'm tellin' you there was no stoppin'.......and I sure as heck wasn't going back...
no matter what.
Time for a beer------(I don't drink either)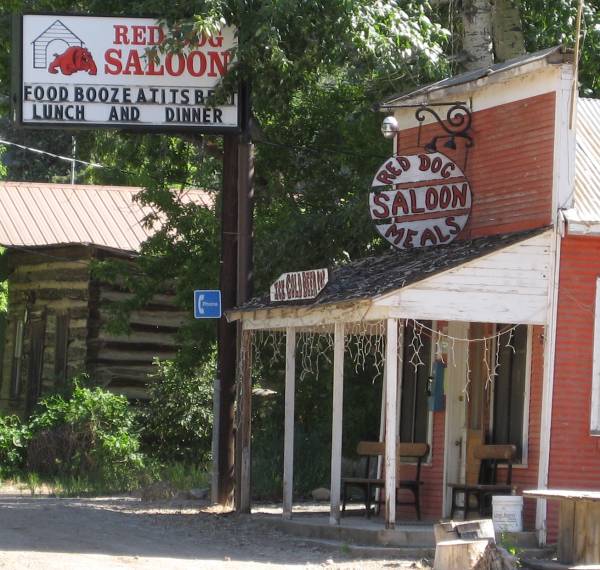 We did find some very good vittles here.
This place could serve you cow dung on a stick and get away with it.
As they are the only restaurant in town--------but their food was extra special.
Everything was home made including the ice cream in my shake---a real shake.
I mean one like they made in 1958---most of you don't know what a real shake is--you just thought you did.
Get one in Jarbidge and you'll never drink a Burger King shake again.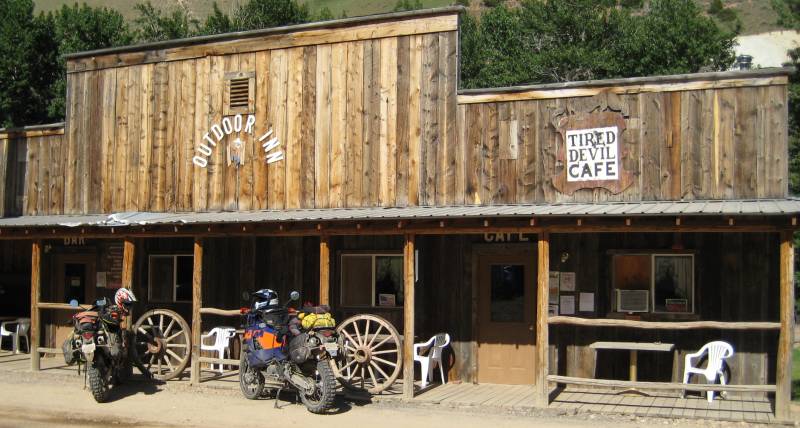 We could have bedded down here---but found better accomodations in a barn.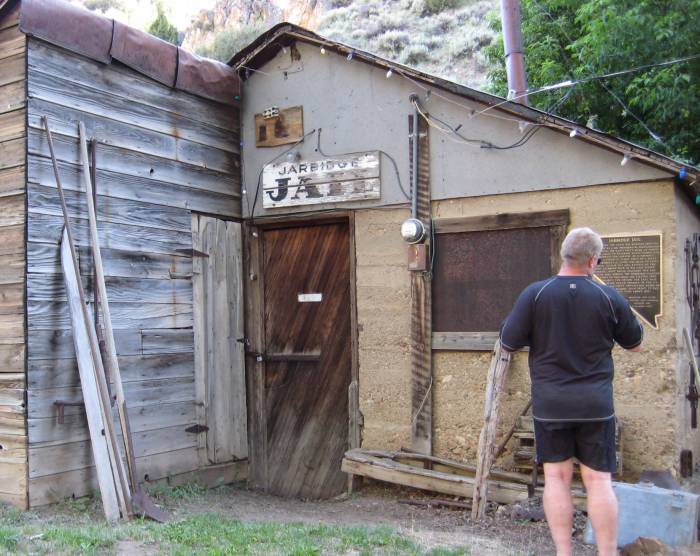 After dinner and a visit to the jail..........seems we are always visiting jails.
I couldn't resist checking this place out.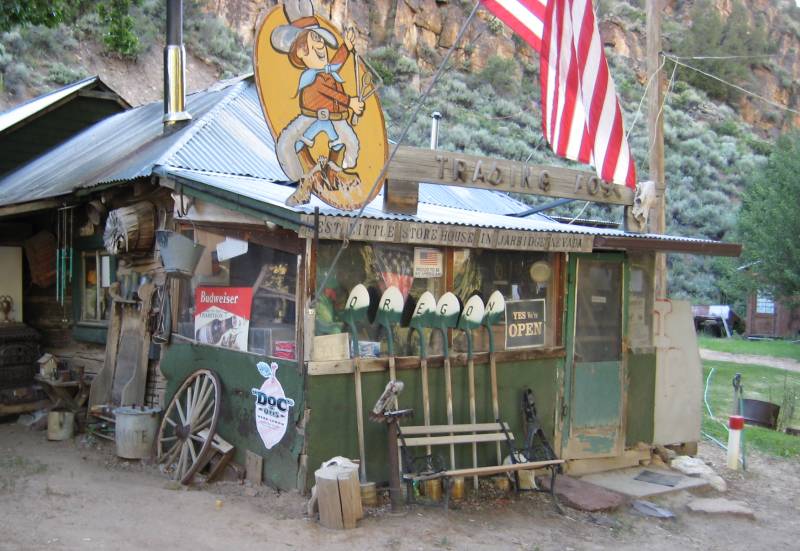 The nice gentlemen asked us "would you like some fish...........assholes"
I said pardon me............"Well you hard of hearin'...........I said do you want some fish....... assholes" ???
Oh you mean fish assholes---no thanks we just ate.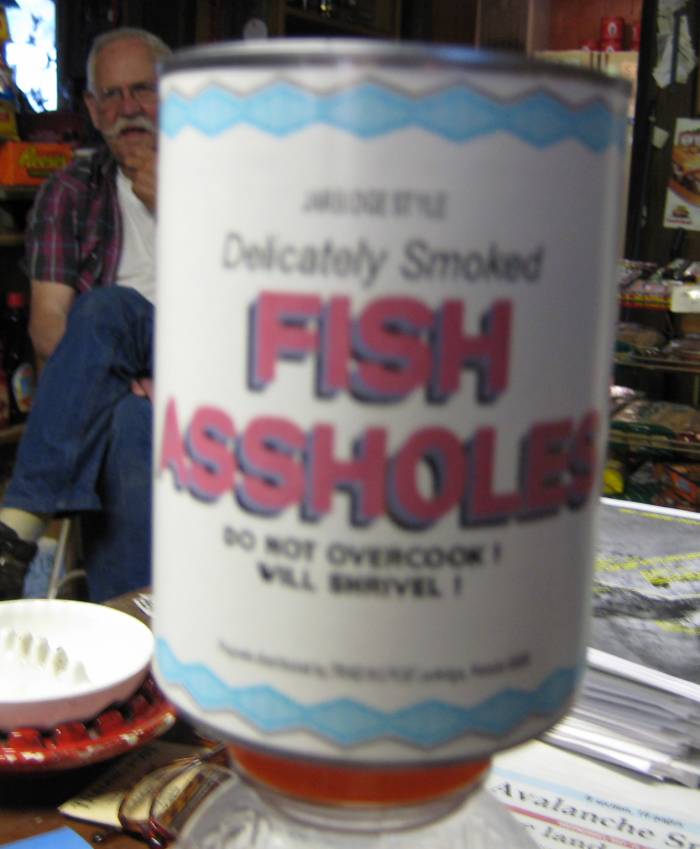 The 2 nice gentlemen were glad to see us and seem lonely to have someone to talk to.
Nice folks. They had everything--even a water pump kit for a 950KTM.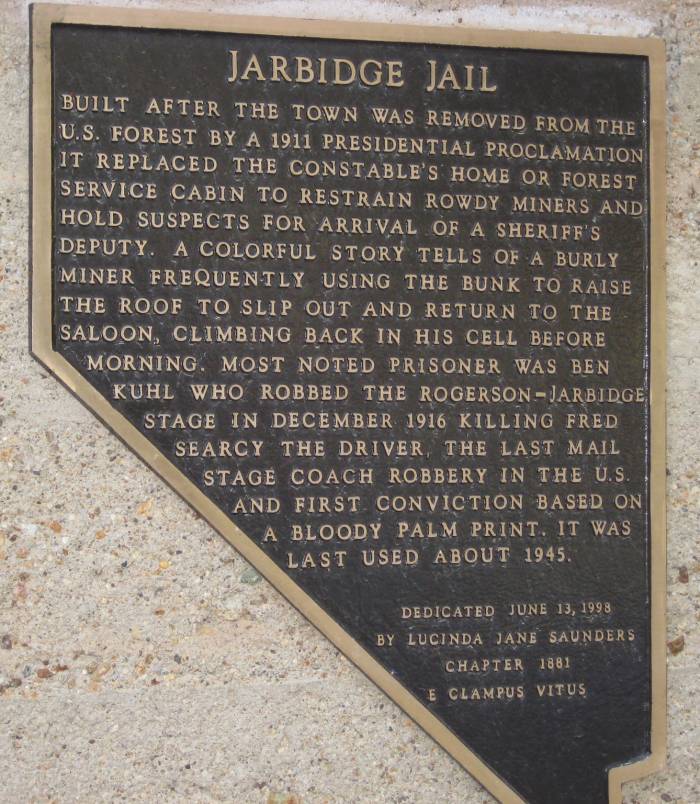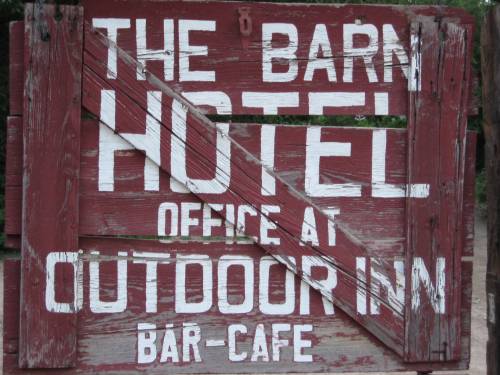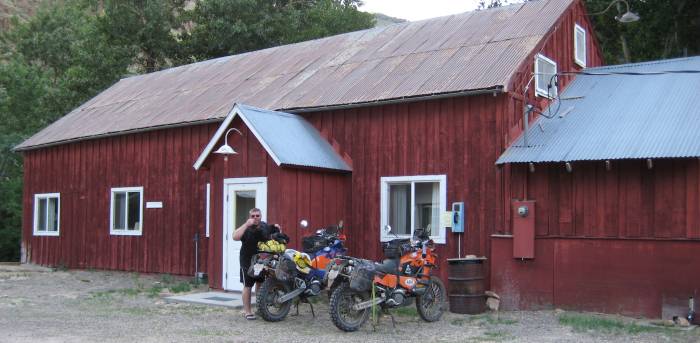 Goodnight GasPipe---Goodnight BigDog
Day 15
We headed South out of Jarbidge over some beautiful mountains and
towards the East side of the Ruby mountain range.
We wouldn't make it to Ely where we knew there was gas on this route.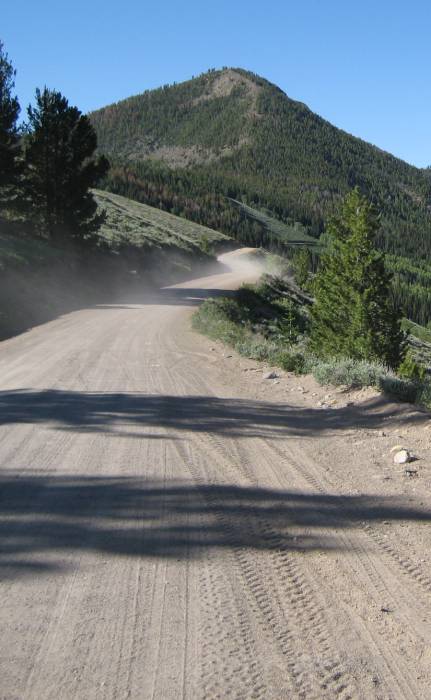 It was a very high route southe of Jarbidge---and is closed to snow most all year.
The locals have to come in from the lower elevations from the North.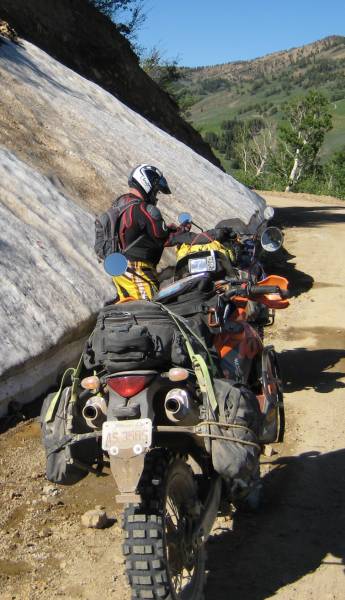 Me and GasPipe Pondered the beauty of the mountains, flowers and pond for a bit.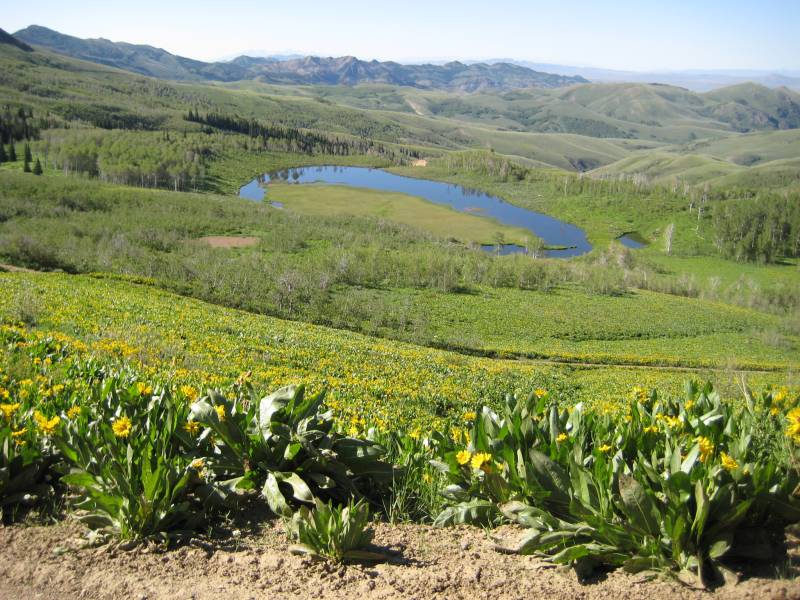 At Deeth, Nevada we had to make a decision about gas. If we went our route we would run out.
We didn't want to go offroute to get gas on the interstate---I chatted with a nice lady at the Deeth
Post Office and she assured us there was gas at 2 places we could make it to---it was very bad advice.
Seems the cows were having some kind of union meeting.
Same old complainsts----dung cleanup, low wages, poor conditions,
short breaks, no overtime on Saturdays, not enough drinkin stations...etc.....etc....

Nope I'm not tellin'--Neither is GasPipe---we have a pact.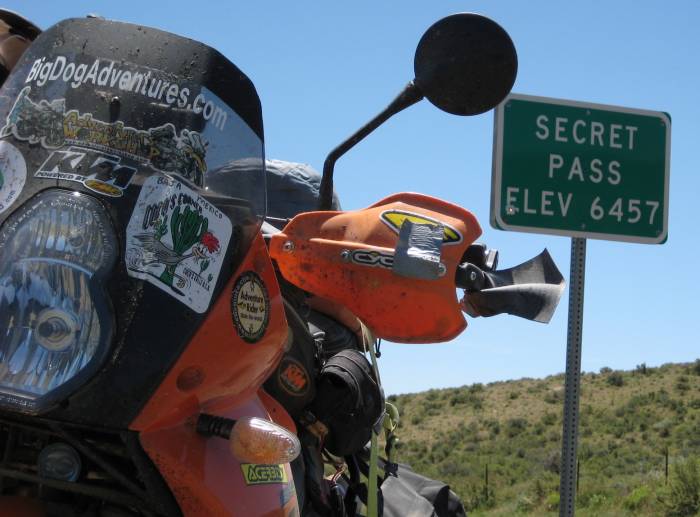 We thought the Ruby mountains (behind us in this picture) were going to be what we came for.
This wetlands proved to be spectacular and we never even paid any attention to the mountains.
I found out there were 162 springs feeding these wetlands and that water was dropping 3/8" a day.
As Las Vegas was sucking it dry----and sucking the rest of the world dry too.
Me and the Pipe have a solution--you don't want to hear it.

No gas at the first place---no gas at the second place.
The second place said there was gas over the mountains in Jiggs.
We thought we had just enough gas to get to Jiggs---just barely.
Jiggs had gas alright----alright !!! Just not today
I need a beer---remember I don't drink.
Nevada can be a very cruel place to be if you run out of gas or water---or beer.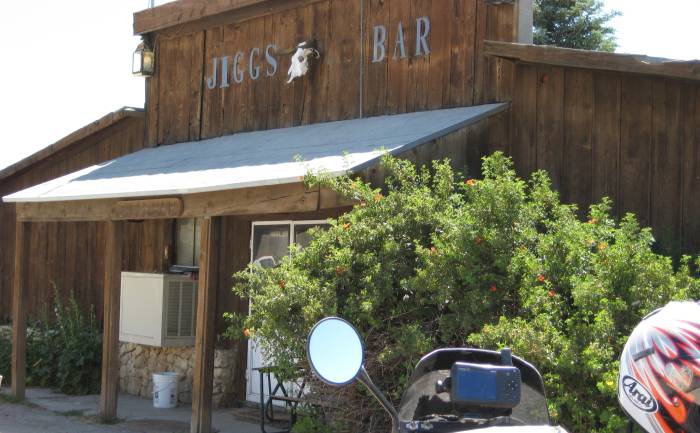 Bruce had a beer and I related our dilemma to the bar keep.
There was this old coot at the end of the bar who had heard everything I said.
"Yep------I've got some gas. Lawnmower gas....didn't want to mow the lawn anyway"
He was glad to get rid of it and me and GasPipe split 4 gallons of gas and paid twice the going rate.
Dumb asses-------we'd a paid 3 times that .
I told him we left him enough to mow the grass--and seemed pissed I didn't use it all.
Then in comes the cowboys---I'm talkng real cowboys----I mean for real cowboys--hands like leather...
spurs......guns.......cowboy hats....stunk like the devil.
I suddenly felt real silly and out of place in my bright colored sickle ridin' outfit.
"Where you boys from---Illinois---where's that ??"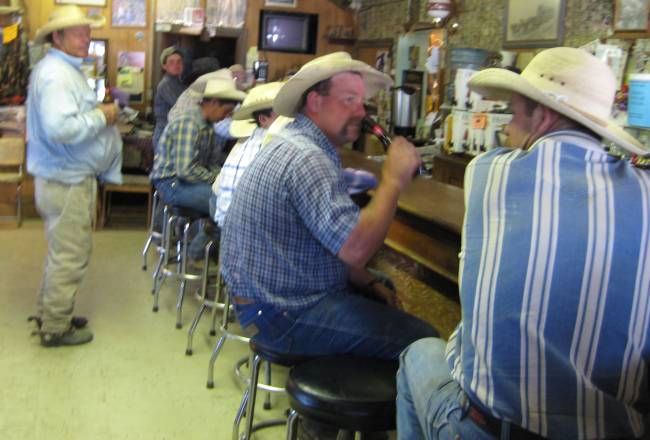 Actually they were the nicest guys and we had a hoot talking to them.
The saloon had fixed them all a big dinner--it was their lunch time from hearding cattle.
Stop in Jiggs and get a cold one---might have gas---might not--you take your chances.
9 Miles across this basin.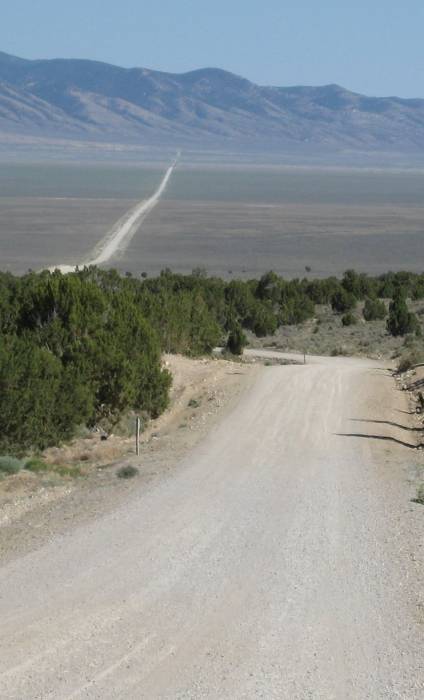 We would have roared into Ely to the White Pine Motel----cept
we didn't have enough gas to roar---we just whimpered in with our tails between our legs.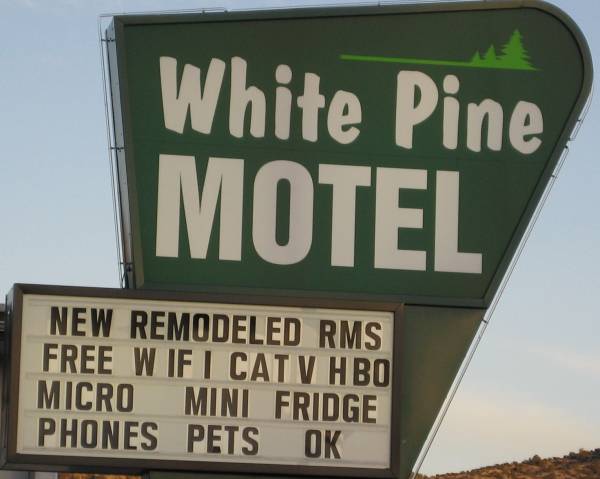 Day 16
Don't look at these Kilns----I told you not to look---cost you $4.
That's right $4-------we didn't look either.
We did some cipherin'--------......................
Yep---it'd cost the tax payers $5,672.32 to collect, process, computerize, store, and analyze that $4.
It gave us a good feelin' to not look at the kilns and save the taxpayers all that money.
Hell---------it was 100 miles from nowhere---it's cost $47 in gas to come and get it---dumb asses.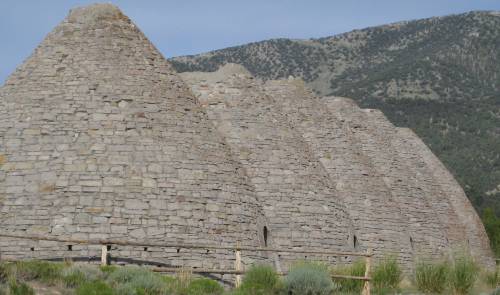 These were free---look all you want !!!
They're doin' a study on these.
Pretty soon they'll figure things out and it will cost you $5,672.32 to look at these
plus the $4 of course.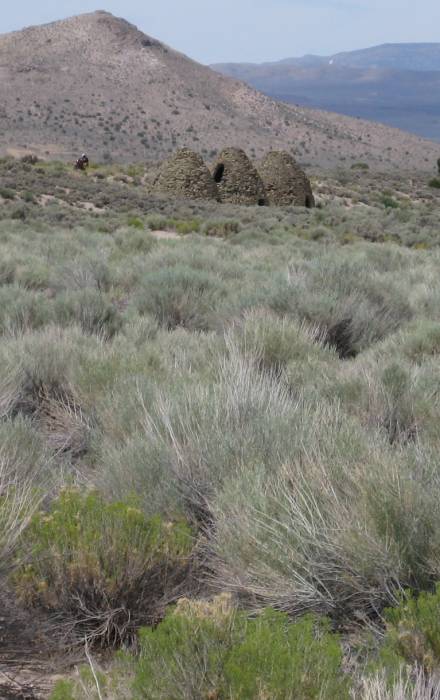 This picture need to be black and white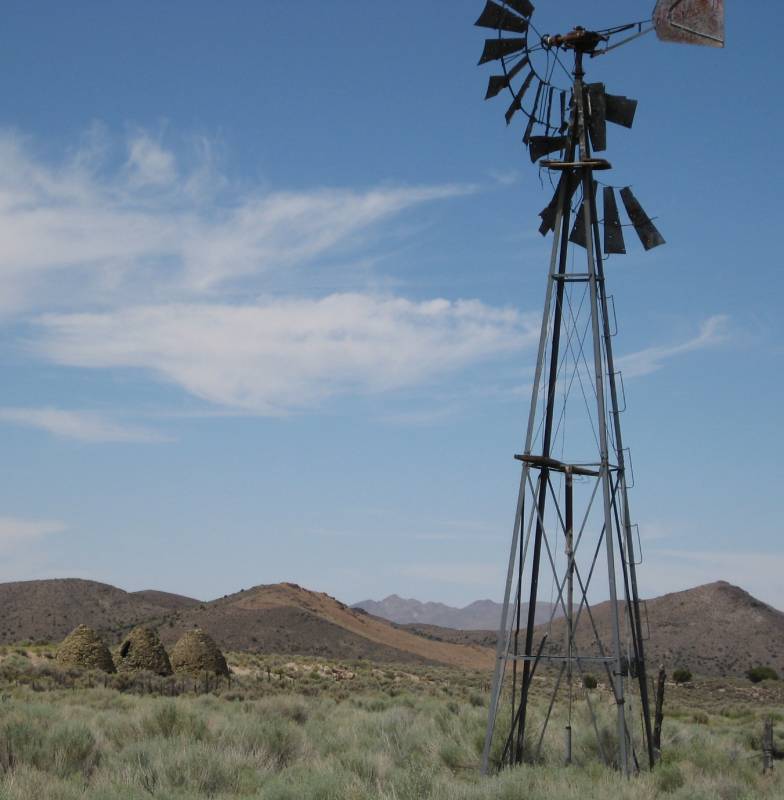 We ended up in Escalante Utah for the night.
Good dinner--and great breakfast.
Day 17
We found the Burr trail heading East. A beautiful ride thru the Grand Staircase-Escalante.
As soon as you enter the pavement ends and you go down the beautiful switch backs toward
the ferry at Lake Powell.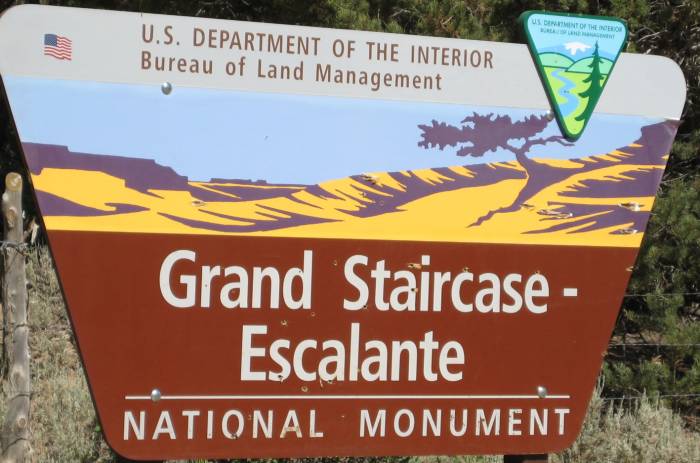 Red dirt--little pavement down to the Colorado River
I some some great video of riding down the switchbacks and down to the river here.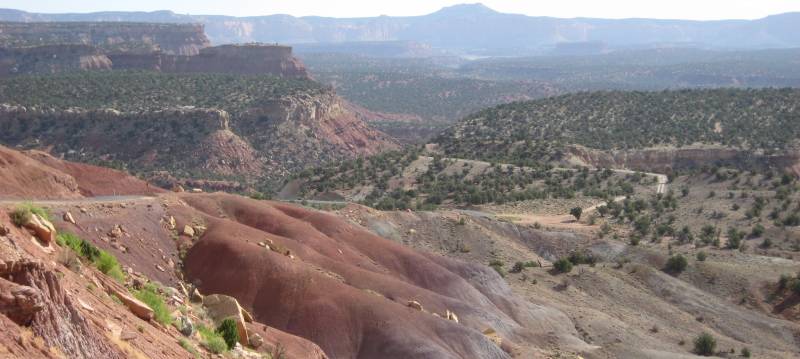 It's a pretty big ferry. About 12 nice folks on road bike loaded up with us--they came from the pavement
from the North--they asked if they could make it thru the Burr trail---and we both gave them a firm no
as even tho most of it is very easy--there are quite a few places of deep sand where even our bikes
couldn't keep a straight line.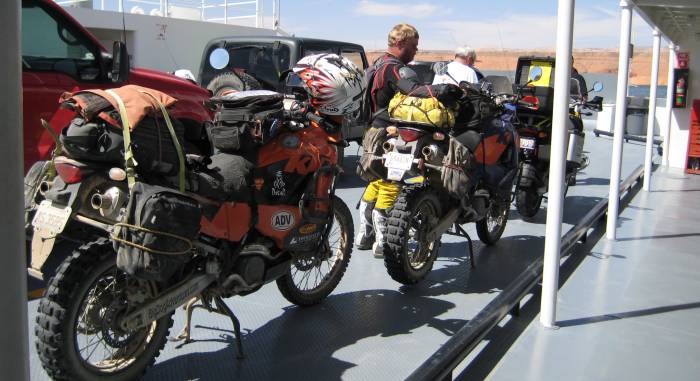 The captain of the boat was having a hard time getting lined up with the dock.
Little Dog finally had to take over.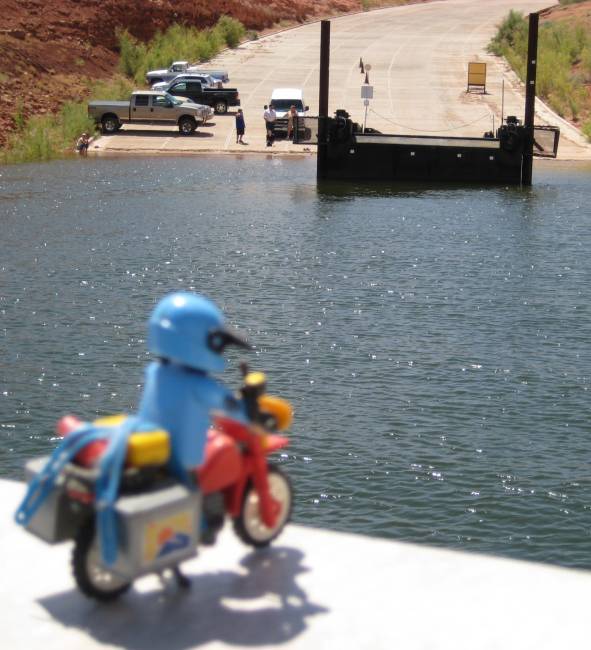 The girl working on the boat took a liking to Little Dog
Everybody loves Little Dog.


The Moki Dugway
We got very close to here on our first day---but took the time on the way back.

The very small town of Mexican Hat is down below--way below.
Gas and food are available there. We were low again and needed the gas.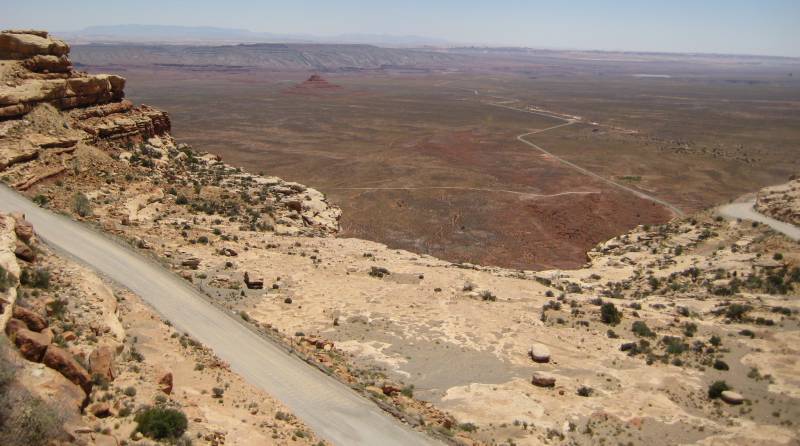 At least a dozen switch back to get to the road below--and the temperature went up 20 degrees or more.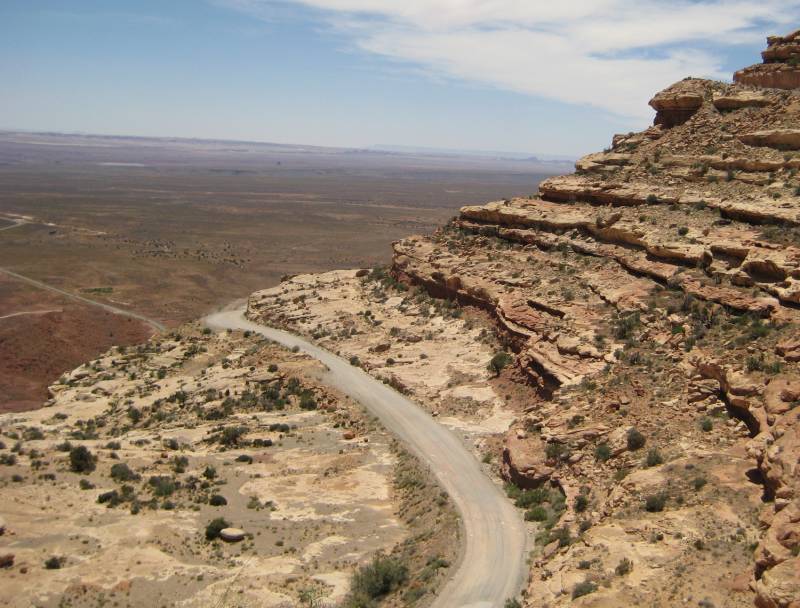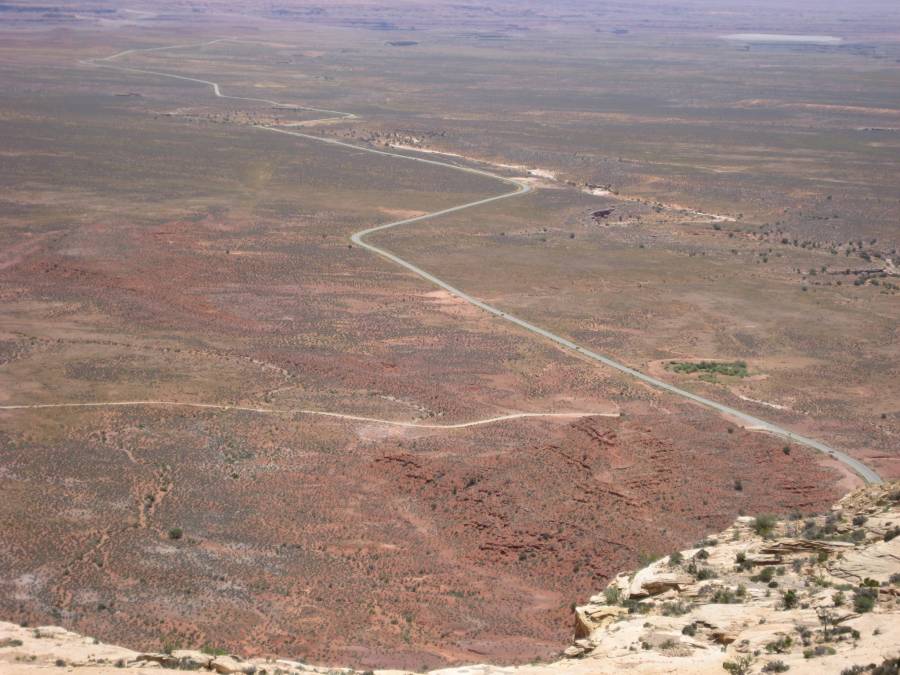 Little Dog beat us to the bottom and waited on the sign.

On the way to the little town of Mexican Hat we came upon this rock structure.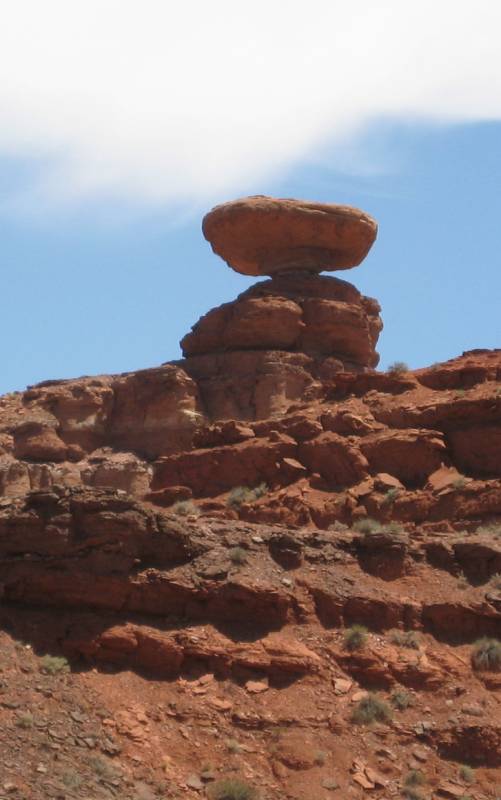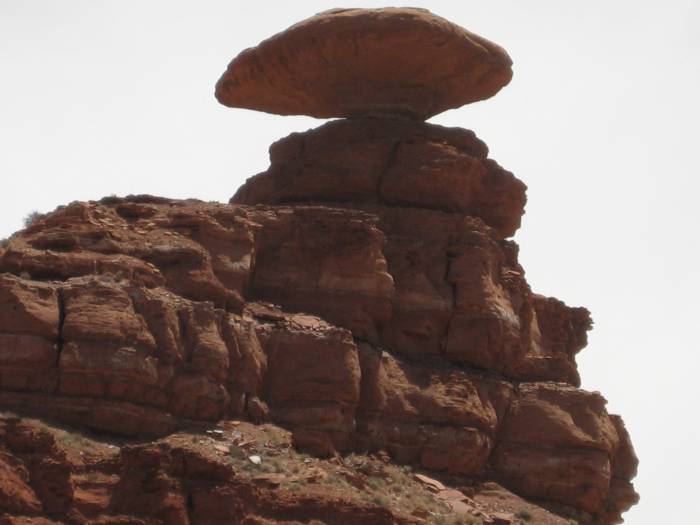 UFO ?????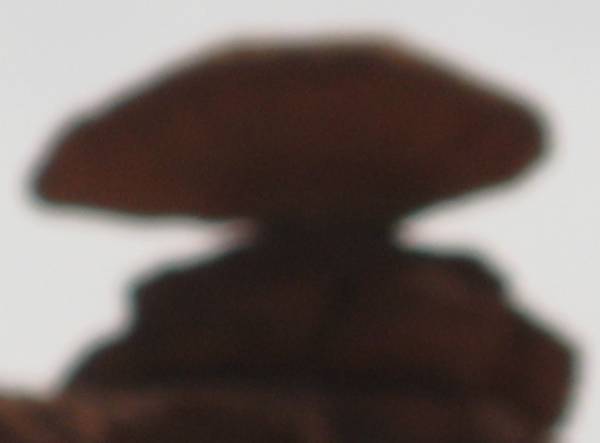 The last picture I took on our trip--I just keep staring at it.

It's a picture of a picture. The more I look at this picture the more it intriques me.
The girl is hanging from the edge of the Mexican Hat rock wearing a huge Mexican hat.
I will never forget this picture.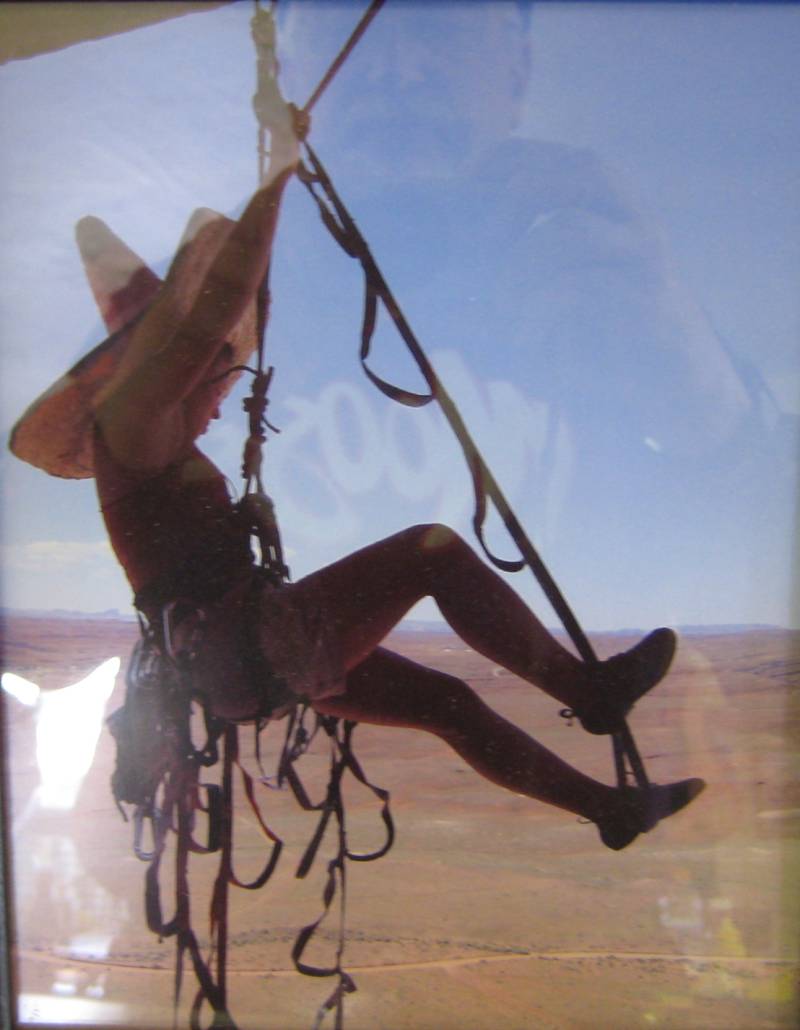 The End

17 days and 4,500 miles of bliss !!

Are we iron butt riders ?? I hope not.
They would have rode all we did in 3 days,
and never seen a thing.