New Mexico Backcountry Discovery Route
April 2016
I anxiously awaited all winter for the Back Country Discovery (BDR) guys to post up their new route this winter.
When they did---------it wasn't long before off I went-----and I thank them !!!

On the way out to New Mexico from my home in Illinois me and my friend Jerry (Road Dad) stopped and rode for 3 days on
the Arkansas 500 ride. I had my KTM 690 with me and my KTM350EXC and rode the 350 on that ride.
We had a great time on that ride with perfect weather------but after it, we had a bigger fish to fry you might say.
Being both retired-----we meandered West (wandered aimlessly and slowly West with no visible means of support) !!
The NMBDR starts or ends depending which way you ride it in Dell City, Texas and Antonito, Colorado.
However I made a loop ride out of it and rode the newer version of Sam Correro's New Mexico Shadow Of The Rockies Ride (SOR) South first.
We started in Trinidad Colorado where we unloaded our bikes and rode the Trans America Trail (TAT) Southeast to the start of the SOR which is where
the TAT crosses into Colorado. If you want to read about me riding the original New Mexico Shadow Of The Rockies ride-------it is elsewhere on my website.
This story will concentrate on the New Mexico Back Country Discovery Route.
So------it took us 3 days to ride the SOR South to Dell City, Texas----it was an awesome and beautiful ride in perfect weather.

I rode my 2014 KTM 690 Enduro.
Outfitted with all Wolfman luggage and Rally Raid auxilliary gas tanks (3 tanks in total) so I could carry about 5.8 gallons of fuel.
This bike gets an amazing 60 mpg most of the time.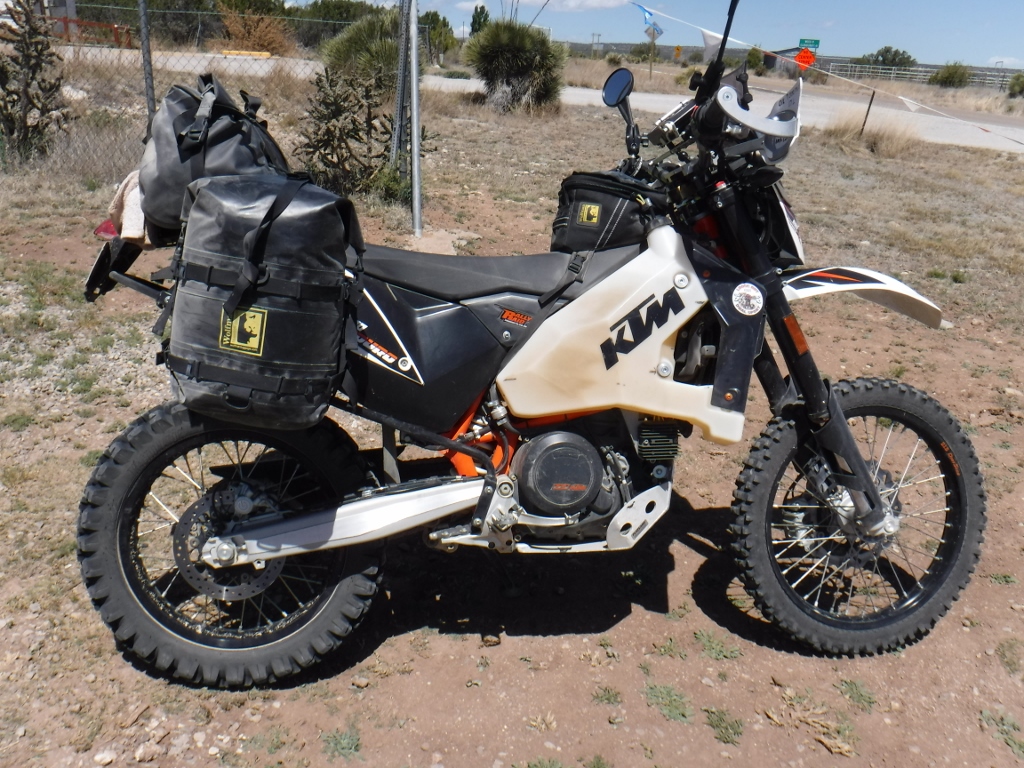 We blew into Dell City Texas in the late afternoon with blue skies and warm weather.
It's a very small town with just a gas station---small campground----small store and a restaurant.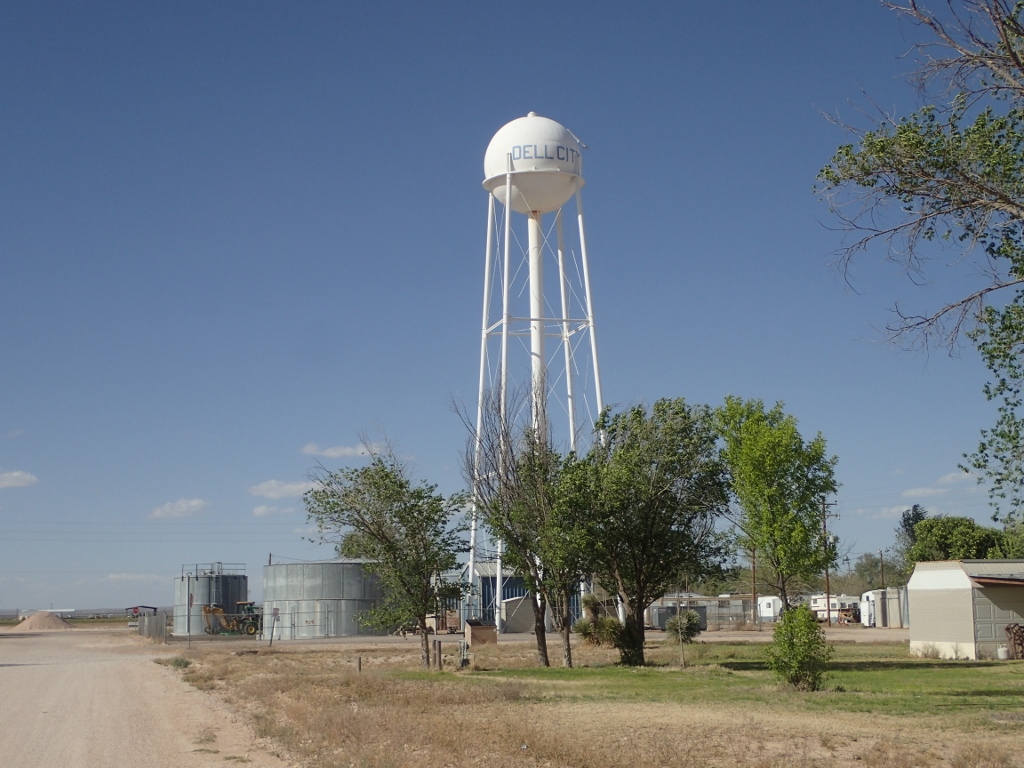 Be sure and stop in Two T's (Terry and Tami I think)-------they've got lot's of stuff you might need.
These small town stores like this keep all kinds of stuff----oil---groceries---anti-freeze---tools----- all kinds of stuff.
And....they will cook you up a sandwich---we had a hamburger and ate at the table in the in-house laundry.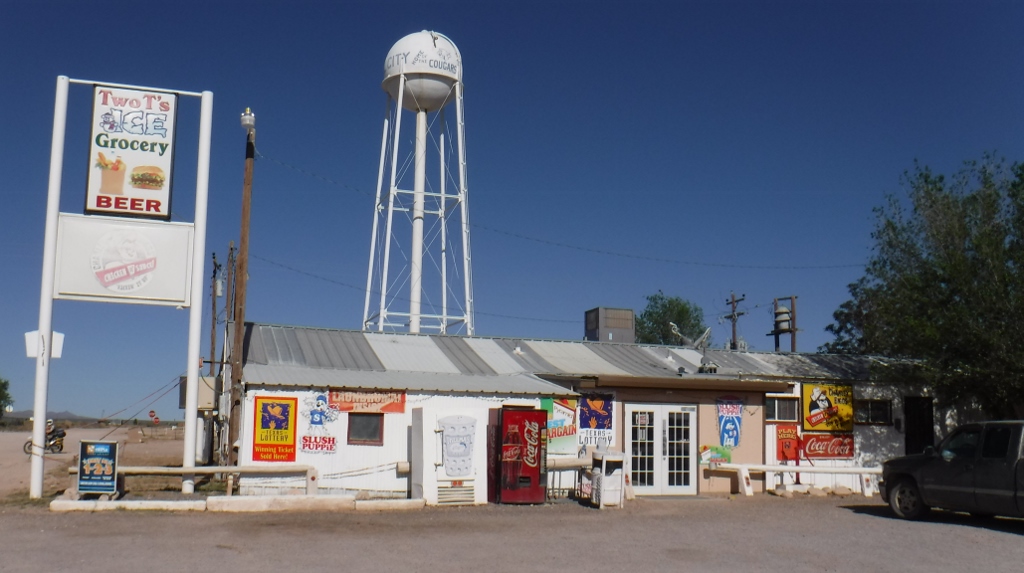 The BDR guys said nothing about camping in Dell City---but you can camp just North of Two T's grocery if you ask.
There is no motel in Dell City.
Road Dad thought it would be funny if he put that sprinkler sprayer under my tent------I thought I felt a lump under it.
So I put it on top of his tent when he wasn't lookin'.
Heh,,,,,Heh,,,,Heh,,,,,, !!!!!!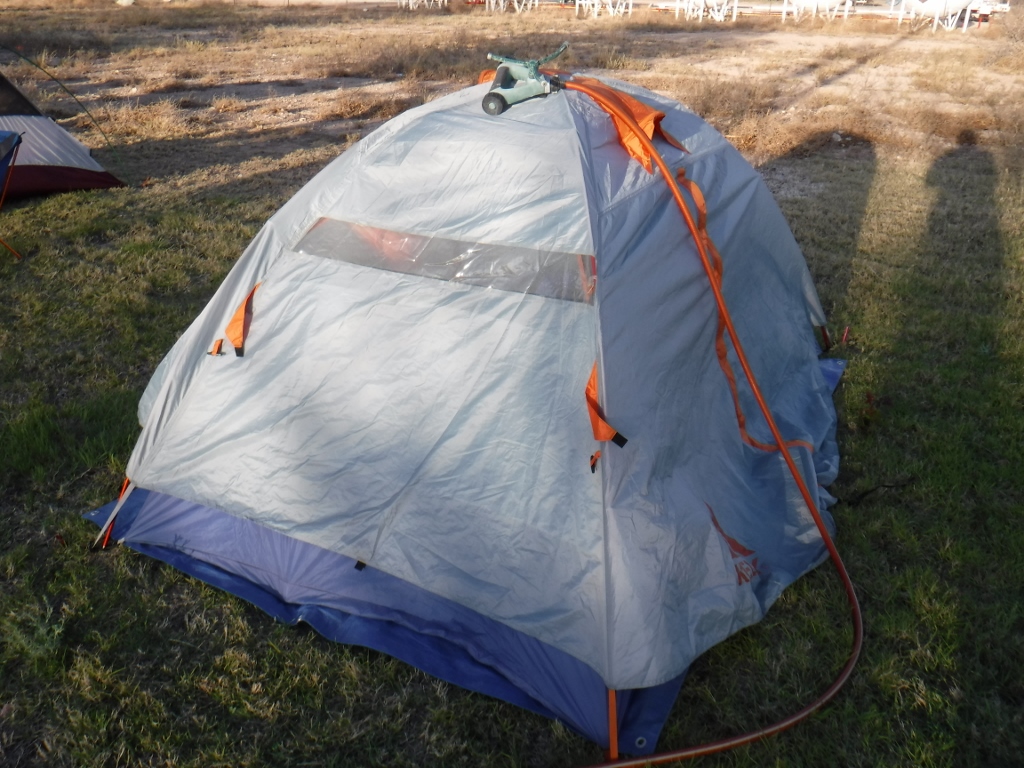 Being the admittedly cheap guy he is----- Road Dad has one of those cheap Chinese Knock Off 2 dollar RP3000 Adventure tarps.
Bob Bob in the left of this picture shows his disapproval----he's riding his KTM 690 also.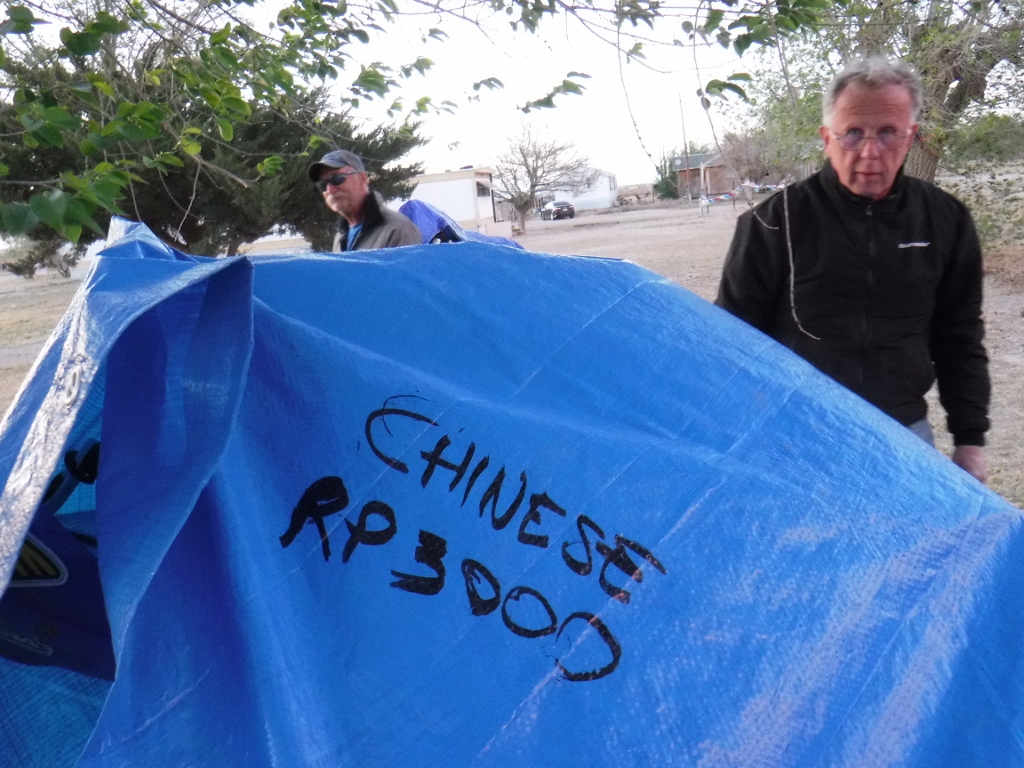 In the morning we all beat it to the Spanish Angels Cafe----lot's to tell about this place.
I tried to get a group picture of all 3 of us but couldn't get them to pose.
The last time I was here it was operated by 3 Mexican ladies who spoke no English---but oh could they cook.
This is my 3rd time here trying to ride the rim road Northeast of here------unsuccessfully.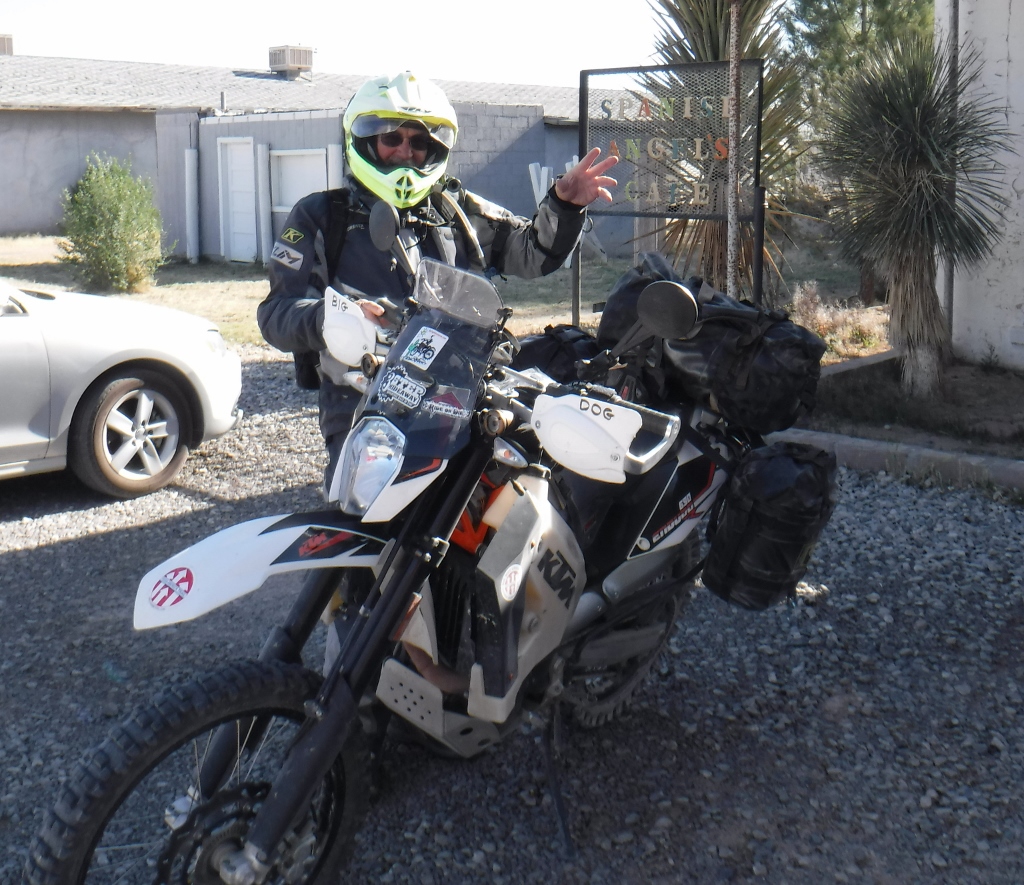 Sorry for the blurry picture-----but this guy is very important.
He just bought this place and is a very enthusiastic owner---------his name is Craig.
We talked and ate here for an hour----and Craig is aware of the NMBDR---very aware.
We were only the 2nd group of guys who came into his store who were attempting the BDR.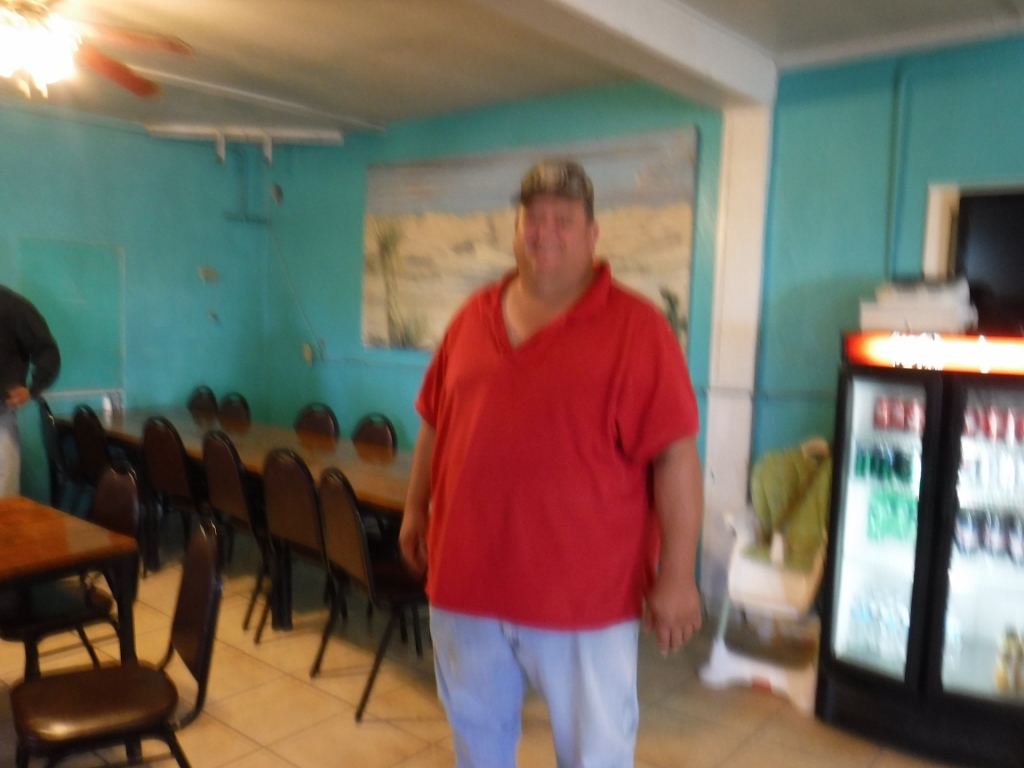 Craig had just bought a ledger for BDR riders to sign---it's a nice book.
And we were honored to be the first riders to sign it.
When you stop in -------be sure and sign it.
Road Dad signed it "Tit, Tat, Twat"----I ride a lot".
He's got 96,000 miles on his 2008 Yamaha WR250R.
My KTM will be dead, buried and forgotten about way before 96,000 miles.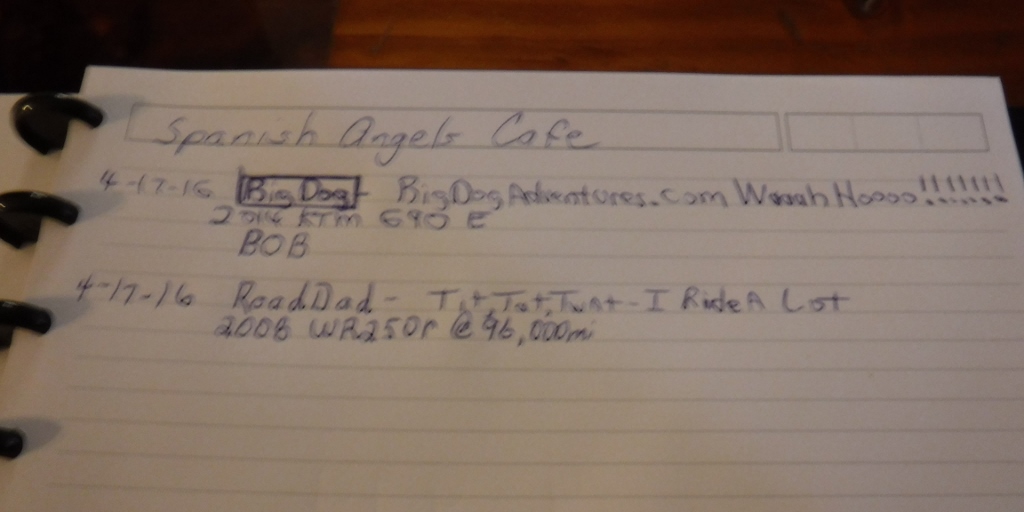 Here's what the whole cafe looks like-------it's very easy to pass up and kind of looks abandoned.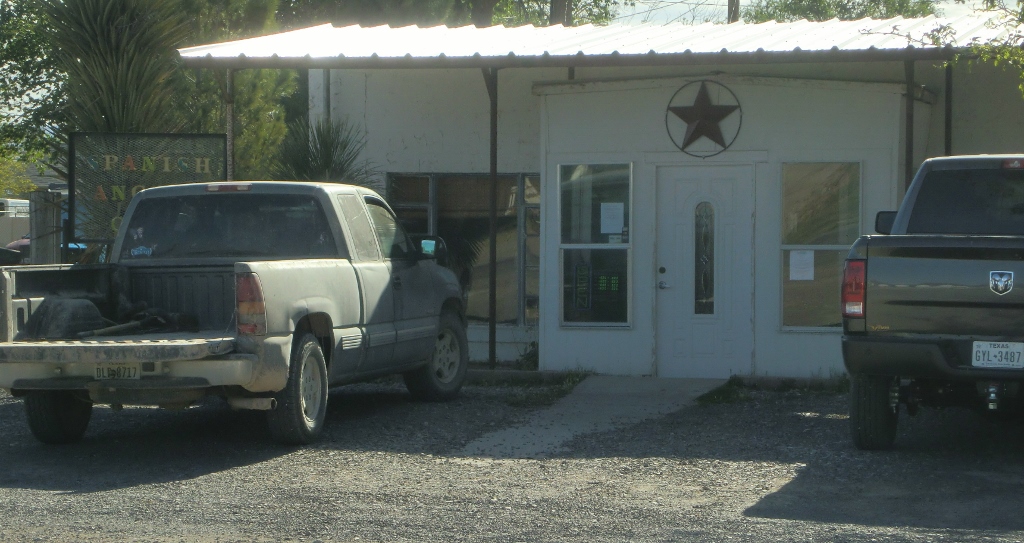 Guess what--------they got a library in Dell City.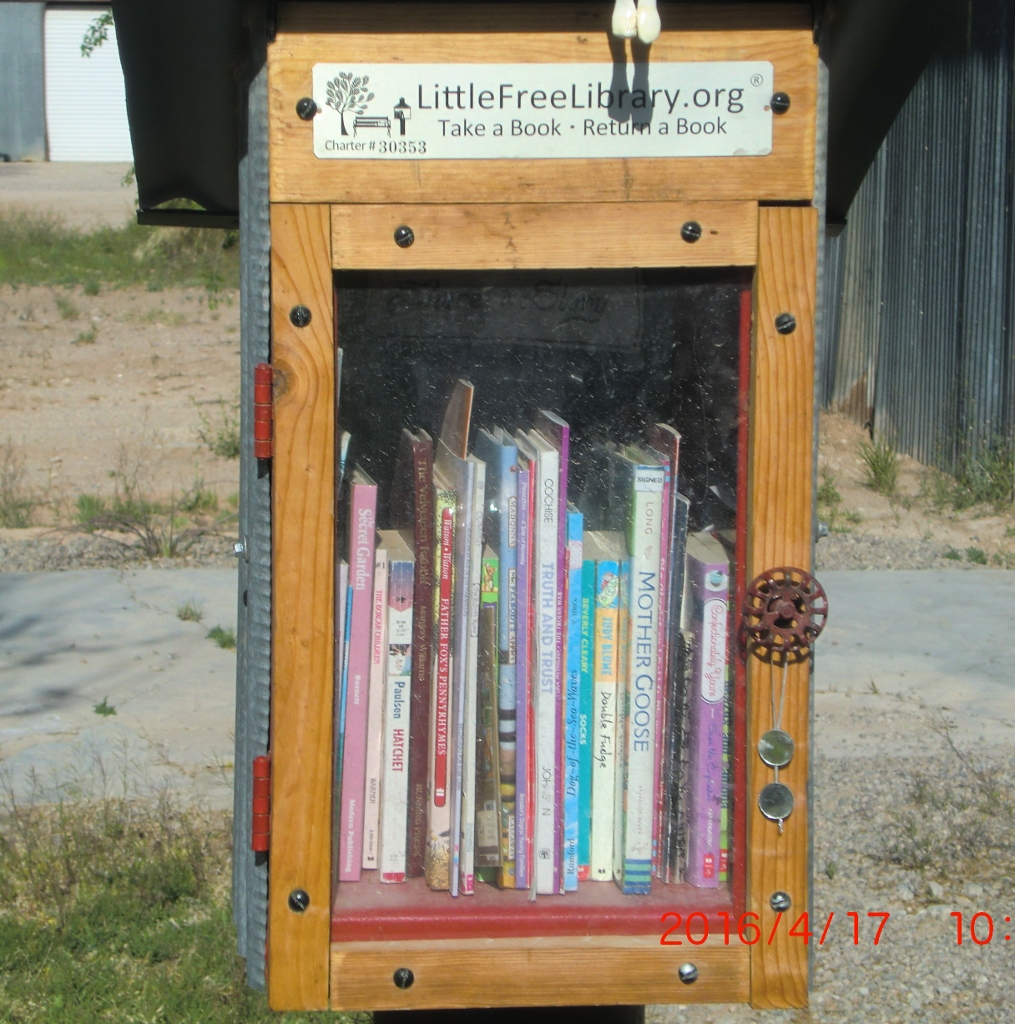 And a Justice Of The Peace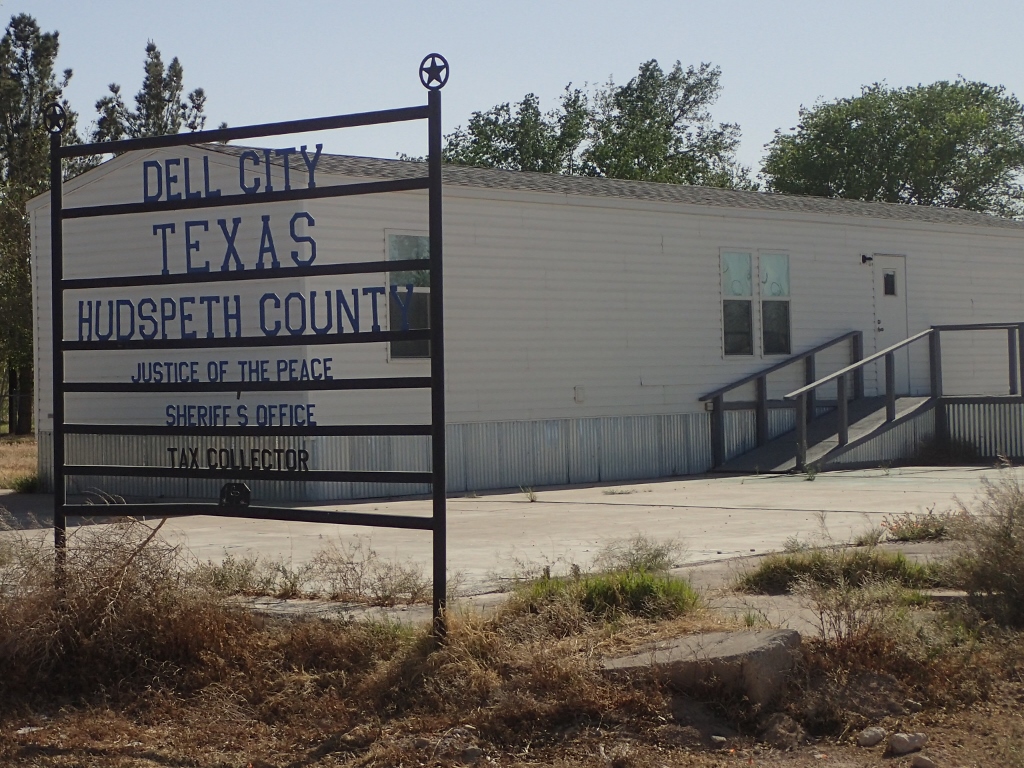 Day one on the NMBDR
So after breakfast we headed straight North out of town on a paved road-----which didn't last long.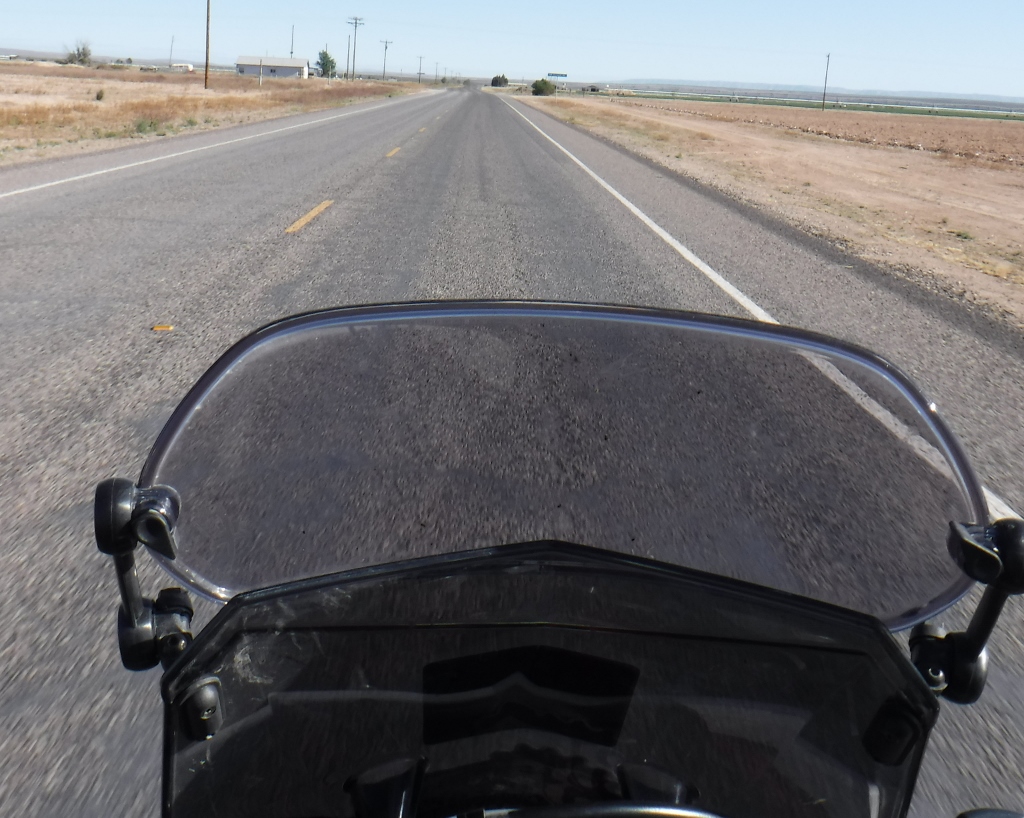 Yesterday we had seen this truck on the road-------just like this.
We at first seen lots of oil------then parts-----then the truck. I guess he was trying to get to town and didn't make it.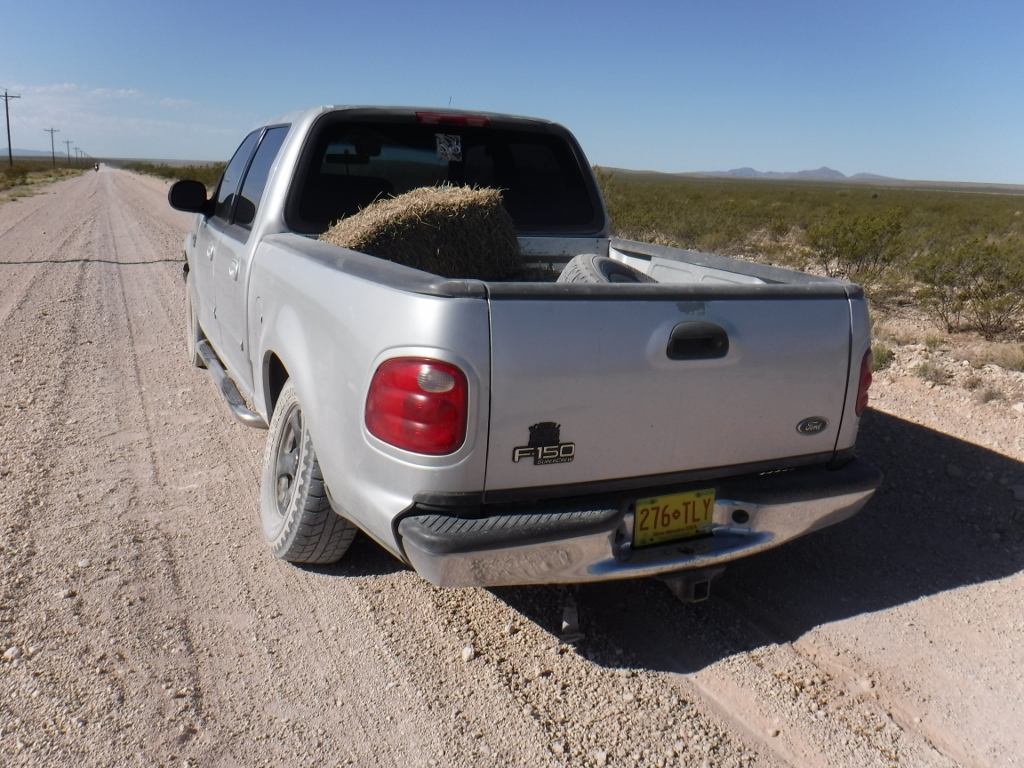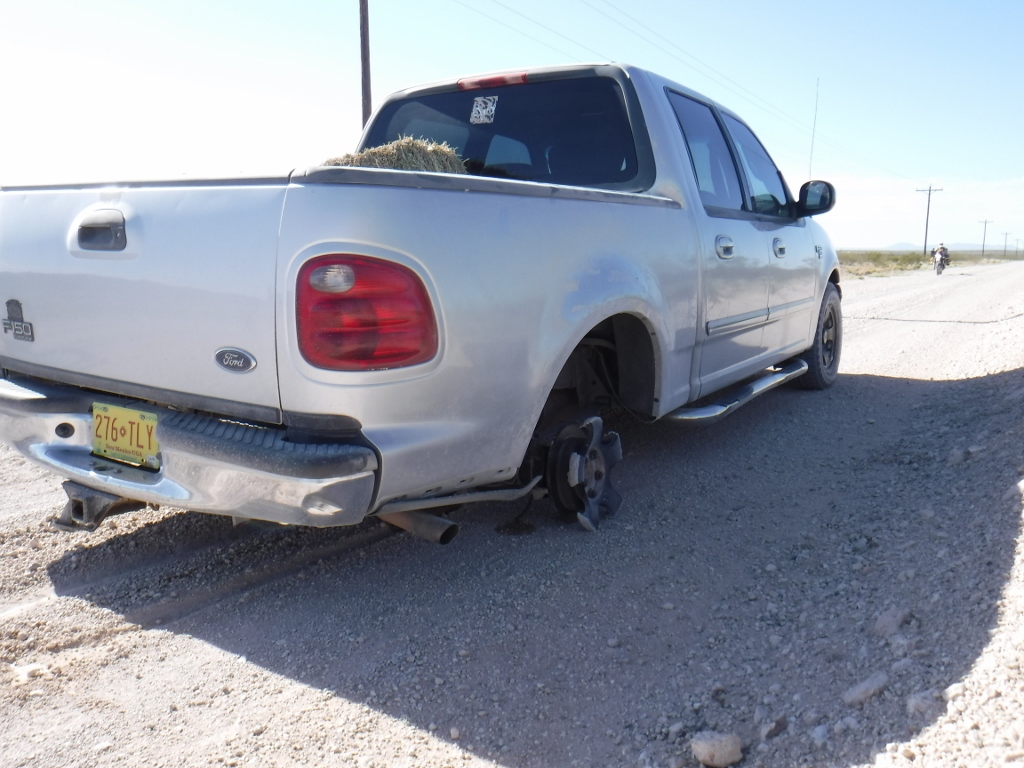 Poor Guy !!!!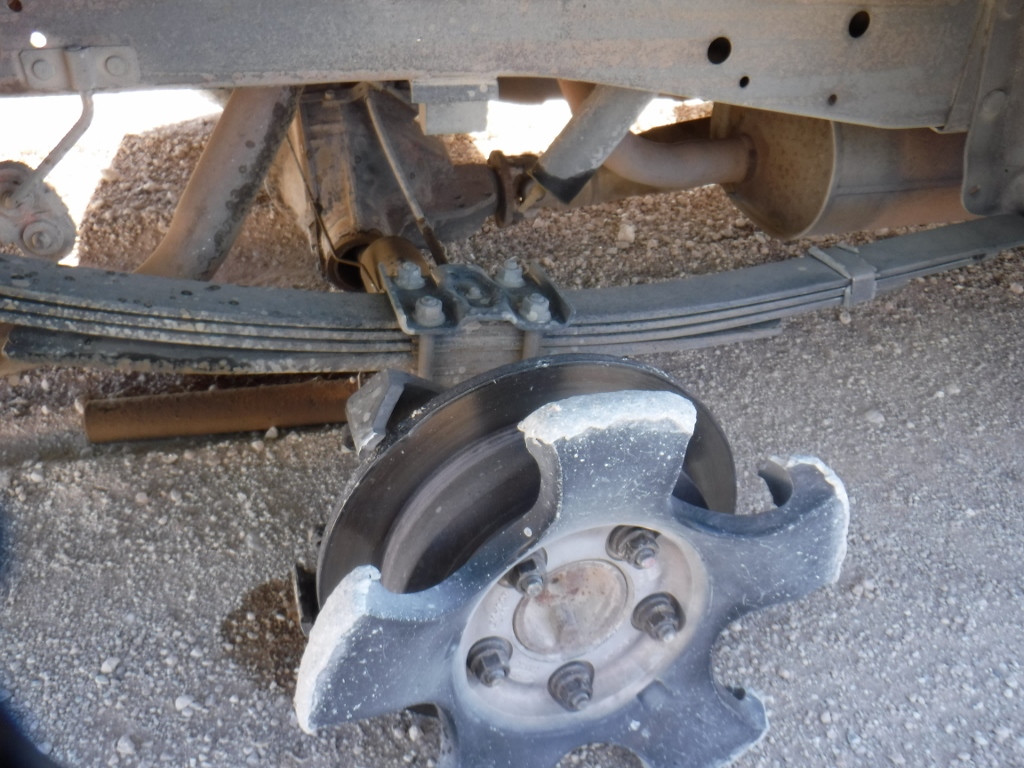 Twice I've came down here in the dead of winter to ride thru Dog and BigDog Canyon----and get up on the rim road.
One time it was unbelievable mud------the other it was below freezing and I threw in the towel.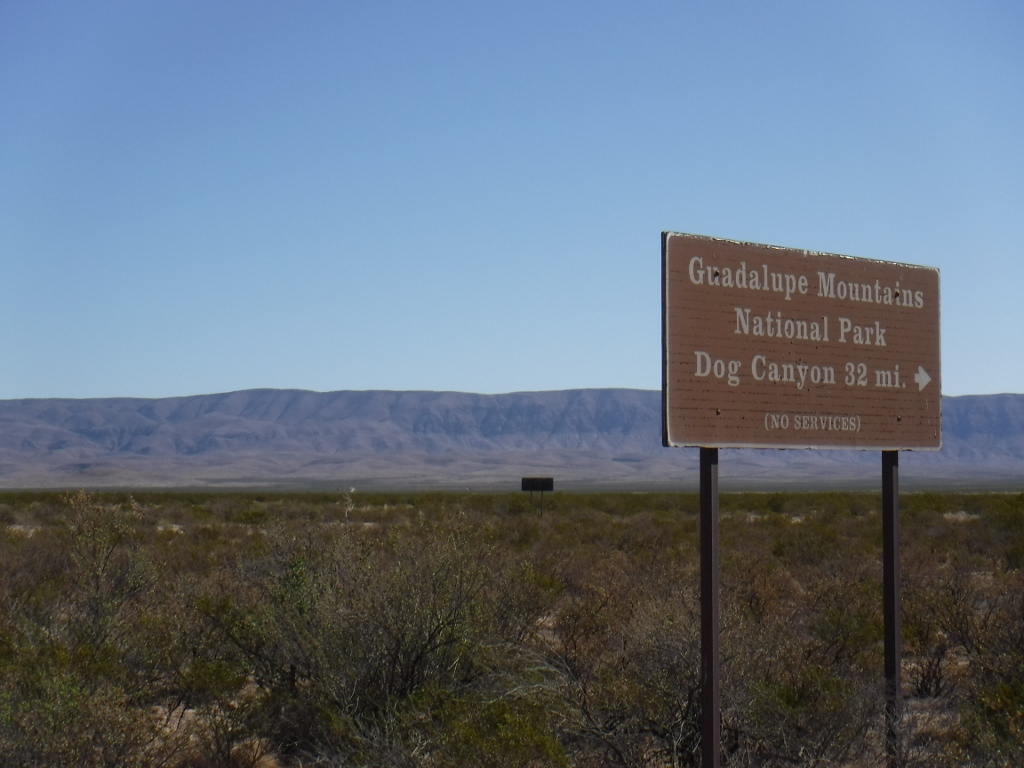 One of my favorite pictures I took.
I love the wide open terrain and desert----unlike others who seem to like the forest and trees more.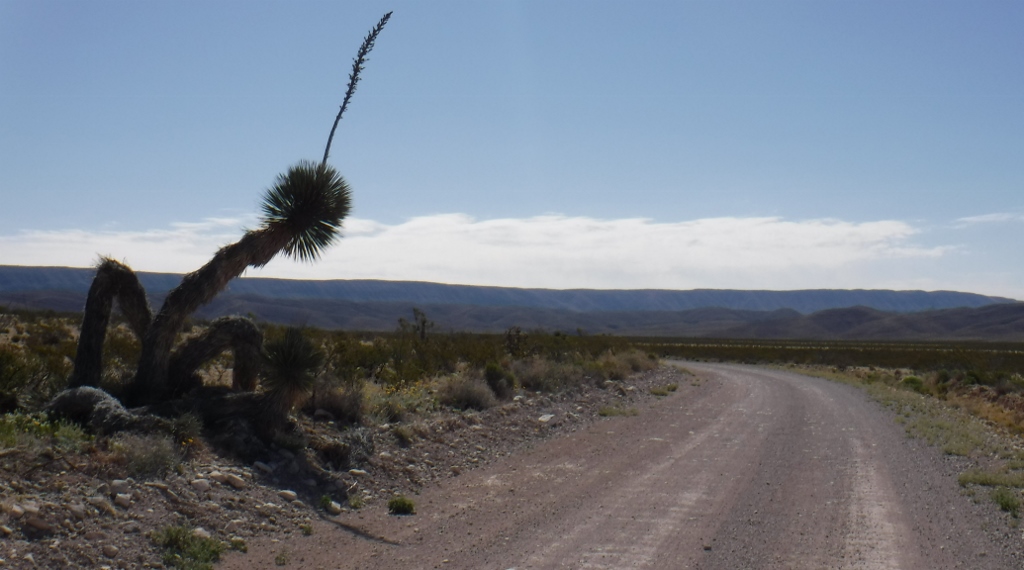 We will be riding right up on that rim in a bit.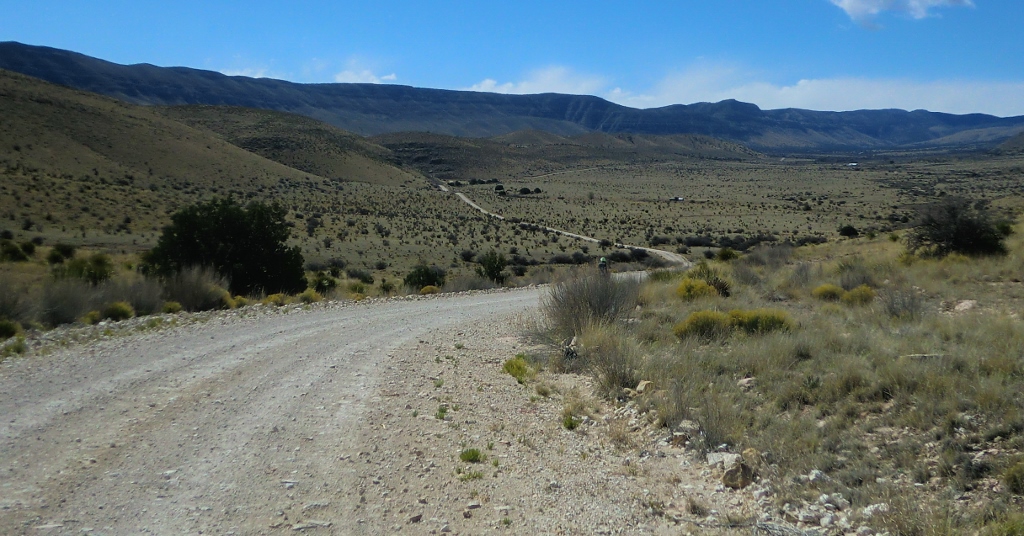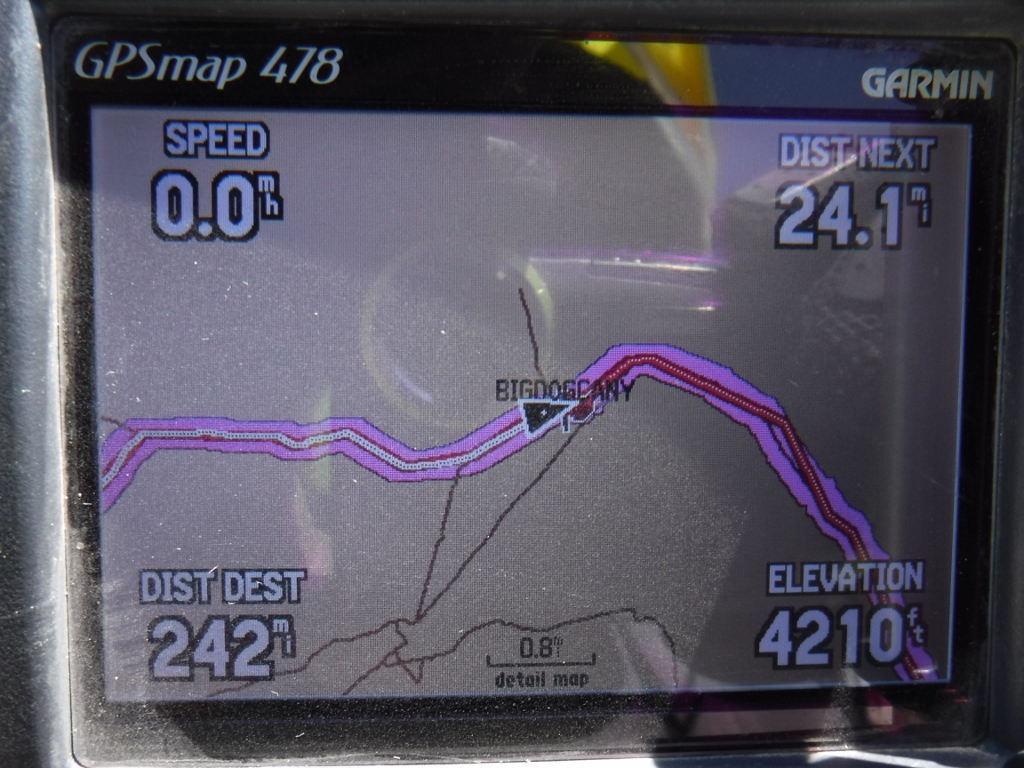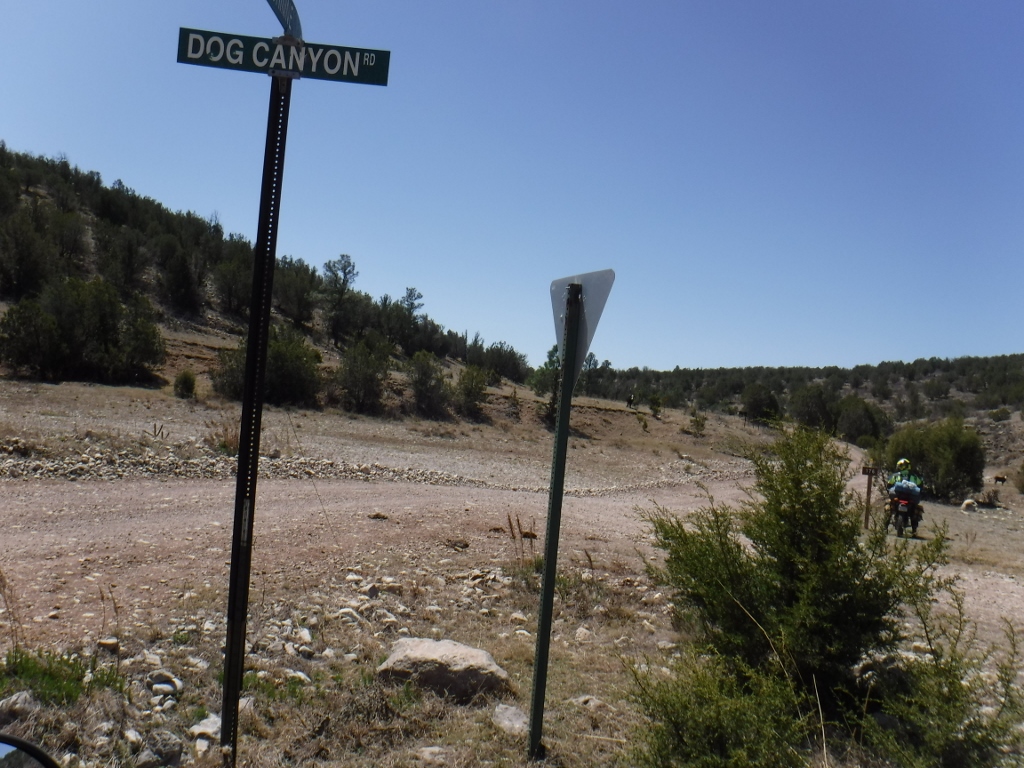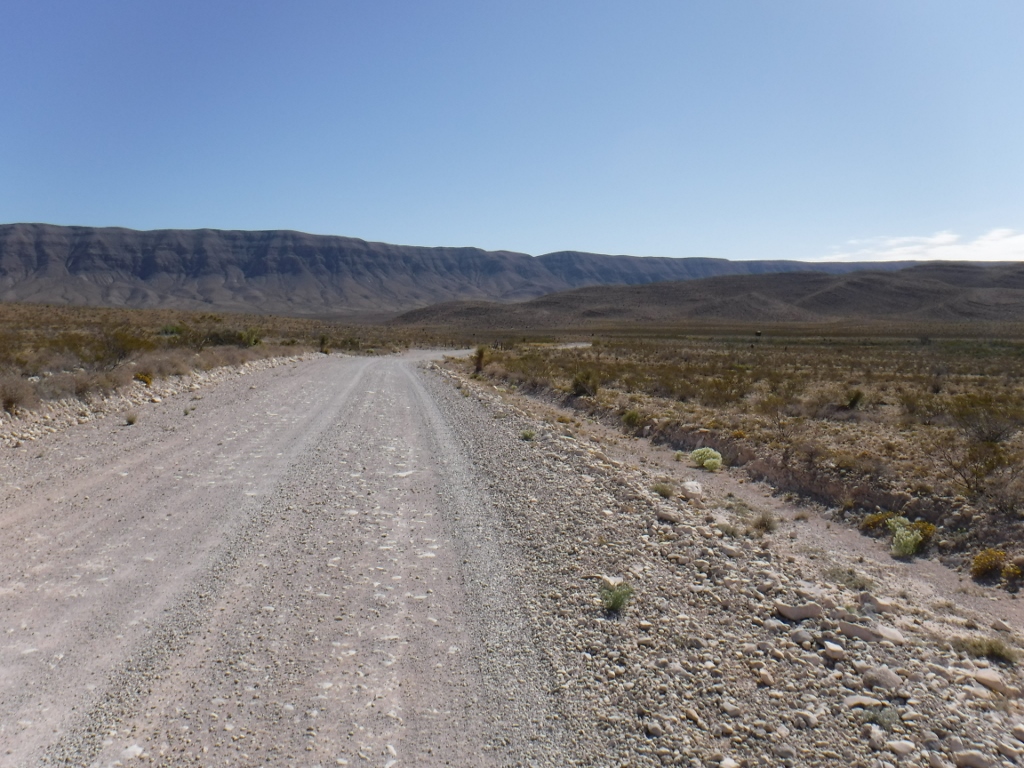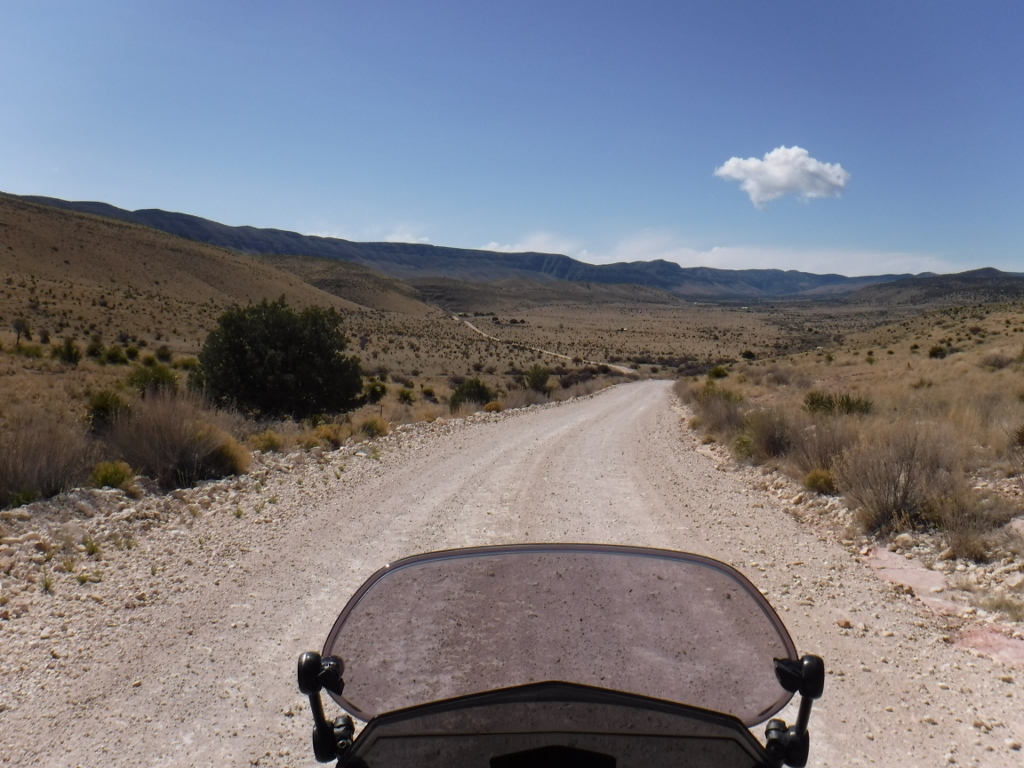 Right before you turn off to the dirt rim road you ride about 5 miles of pavement----it was pretty cold out this morning
and we wondered how it would be as we rode North----it worried us as we were just getting started.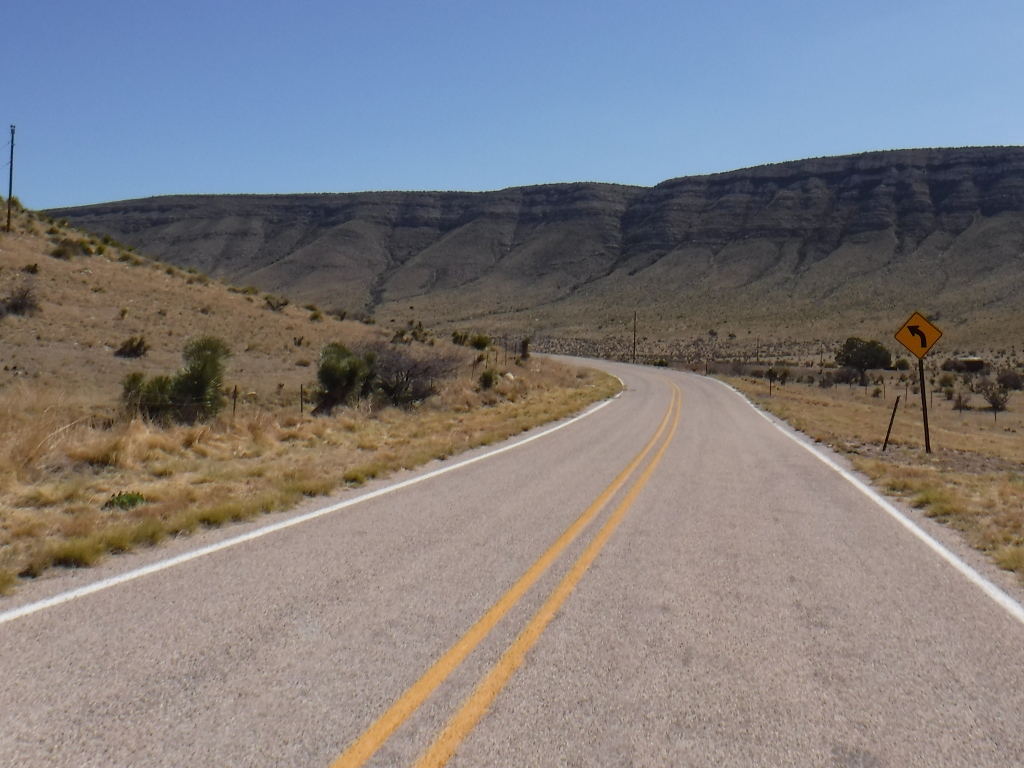 On top of the rim road we had some spectacular views.
This went on for maybe 50 miles ????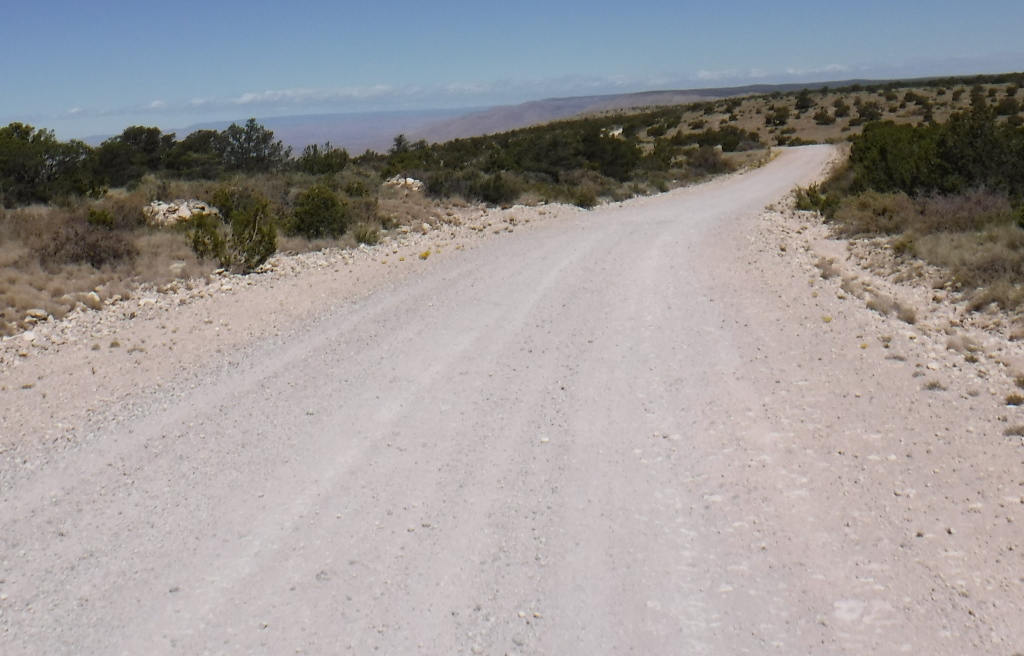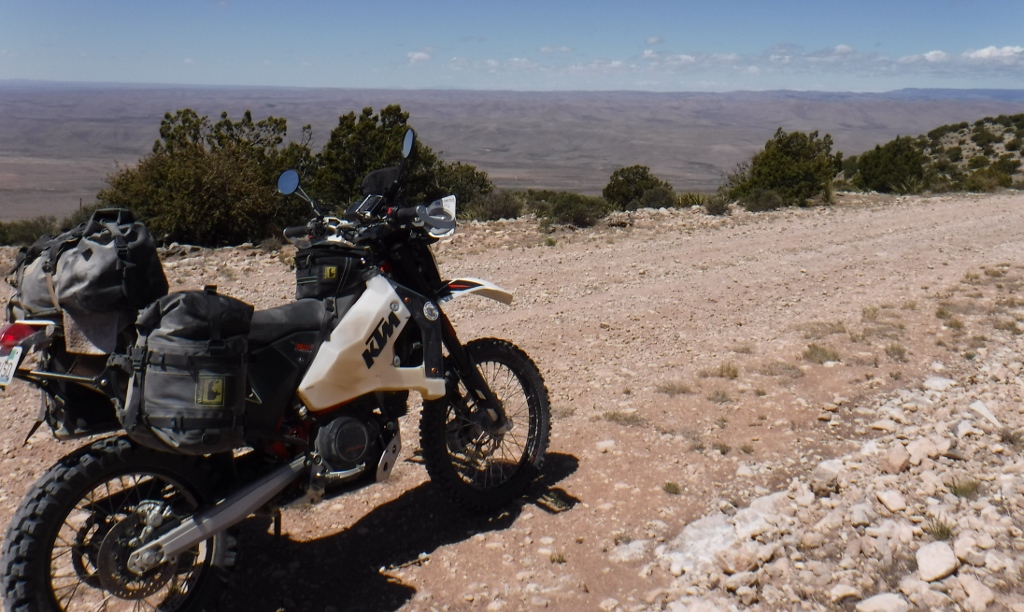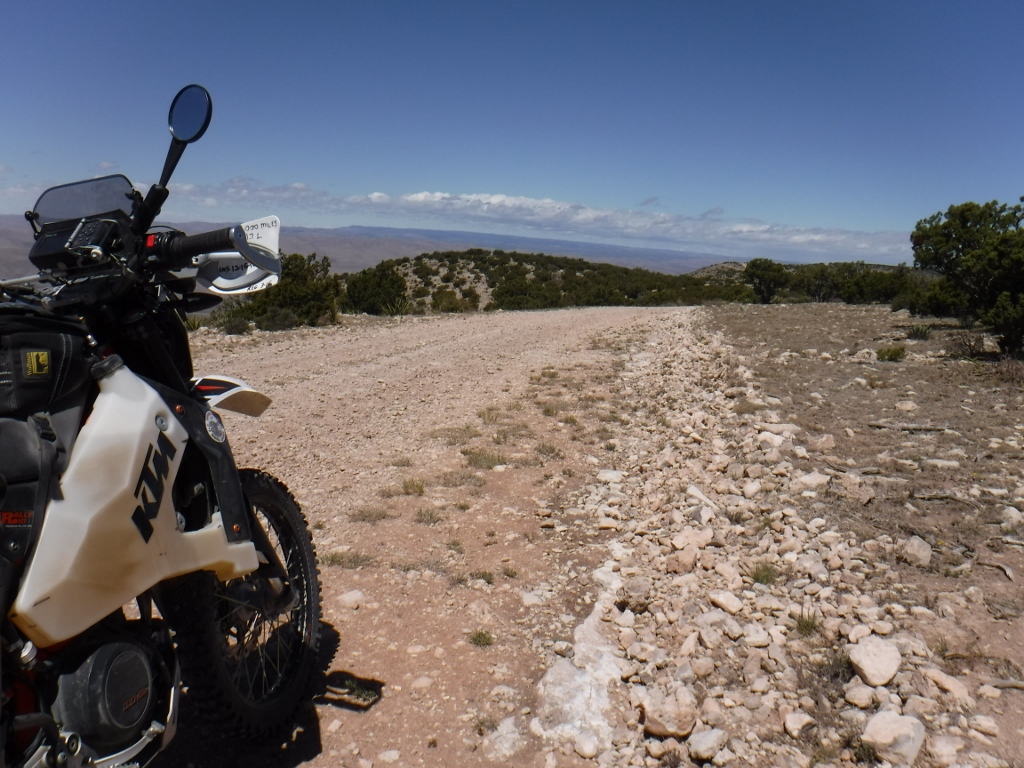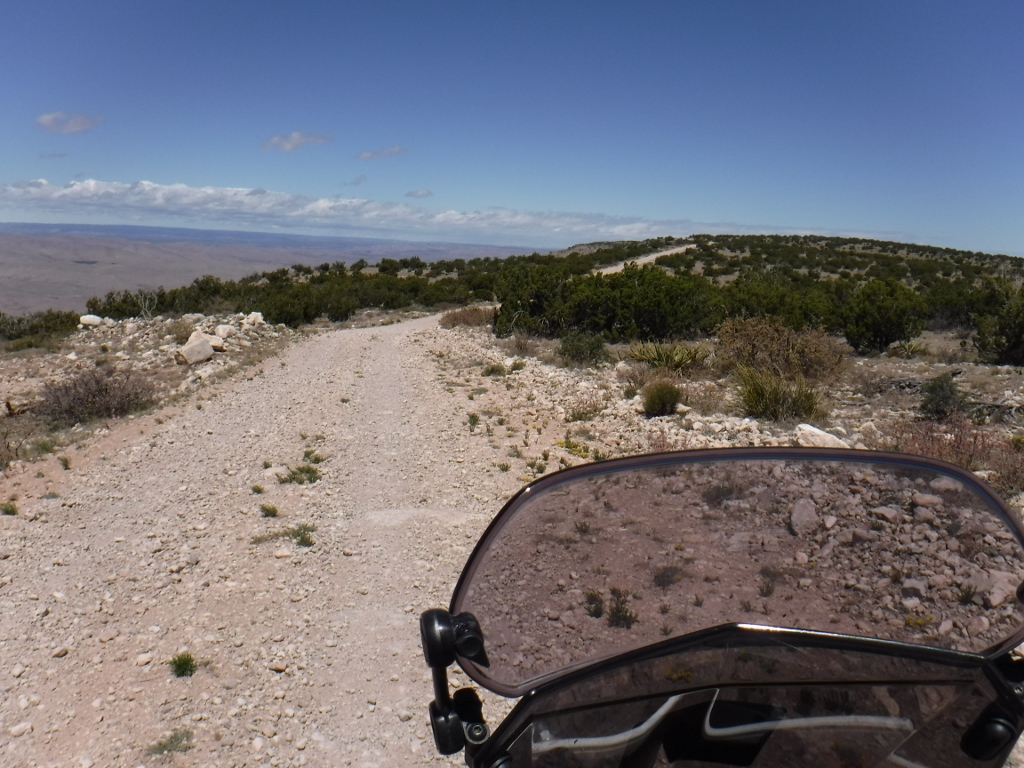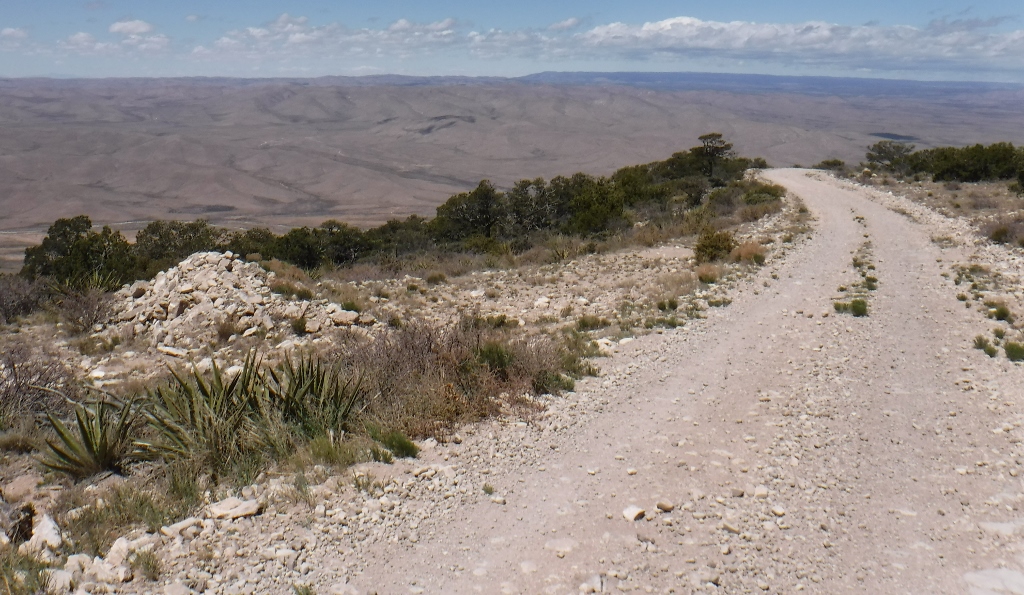 Not your ordinary wind powered water pump.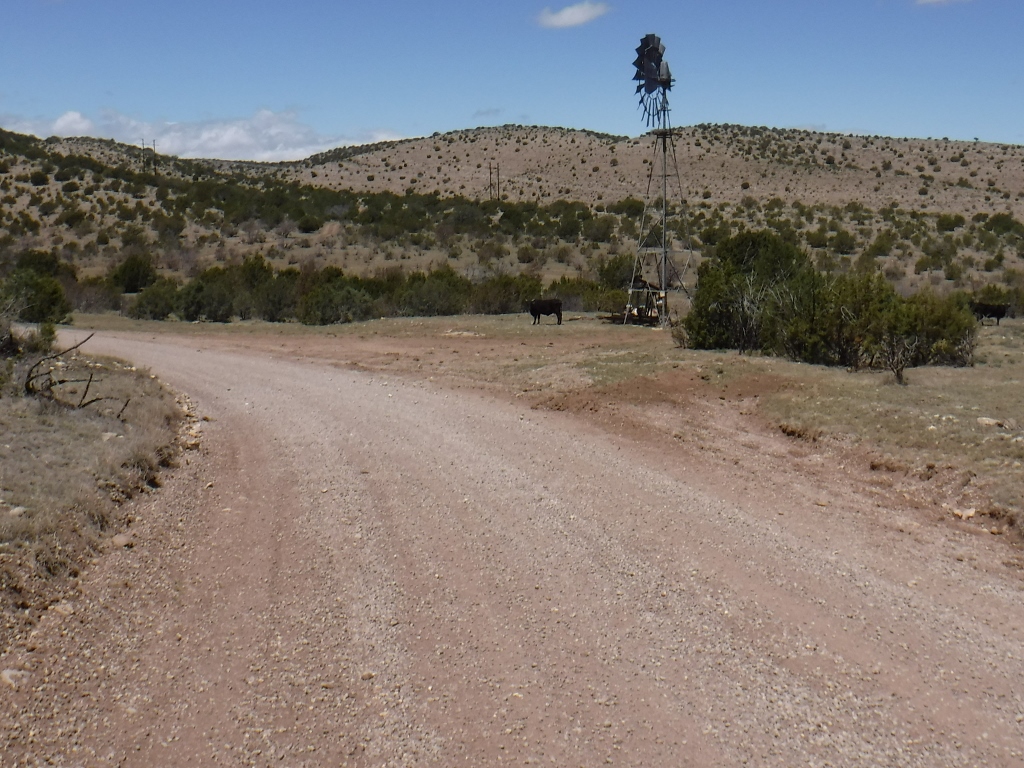 The windmill had been abandoned-----and a Honda gas motor drove the old oil well pump and pumped the water.
Whoever made this contraption was a genious I'm telling you.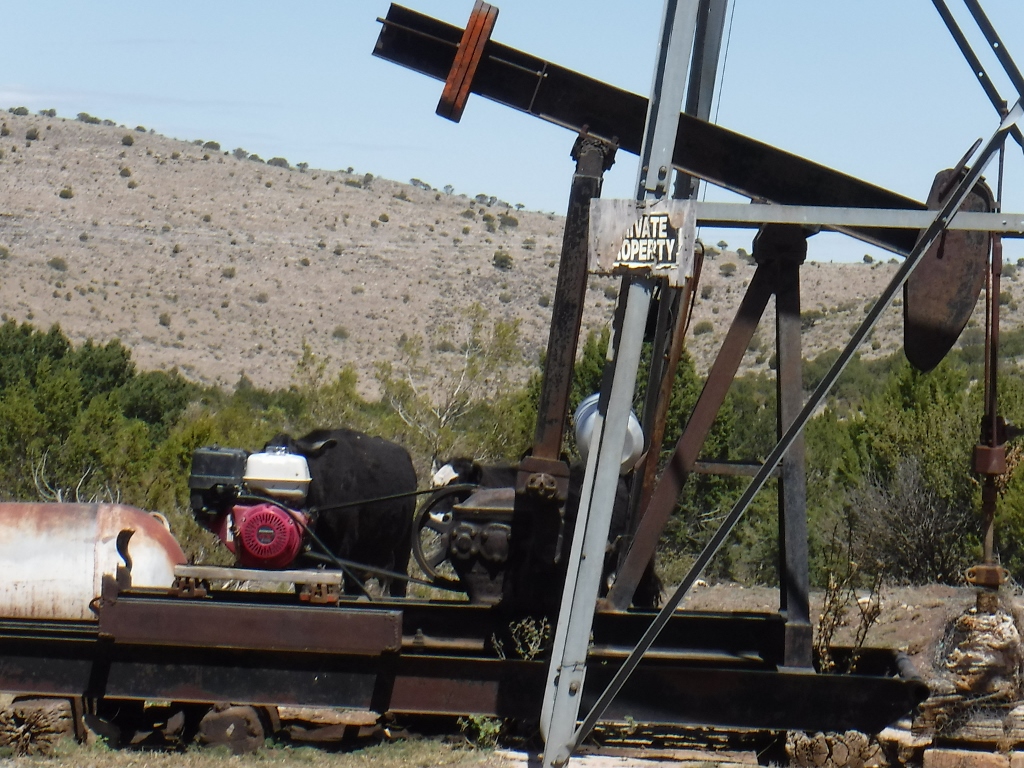 These cows were probably harmless ------but they moved right at us at a pretty fast walk and we took off.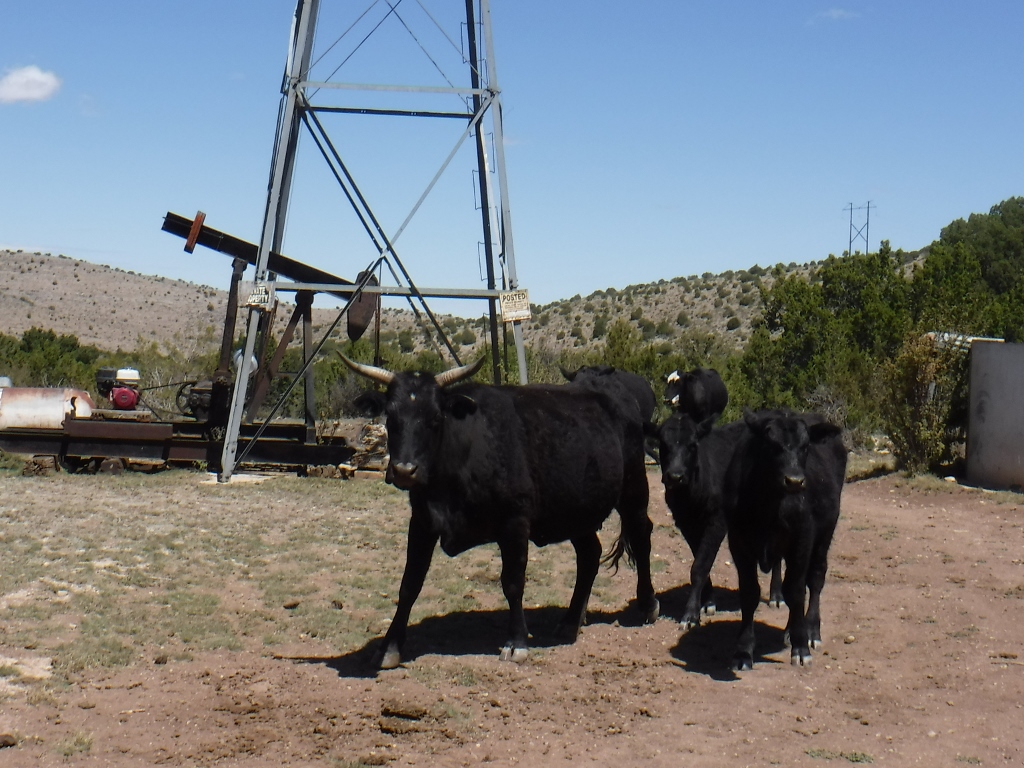 The Pinon Store in Pinon.
Ok---you can get gas and some goodies here---but not on Sunday--------remember that if you come here.
Here is Bob Bob's 690----------it's a 2014 model----Bob Bob is older than me but is a very good rider and owns
a WR250R too---and a BMW I belive.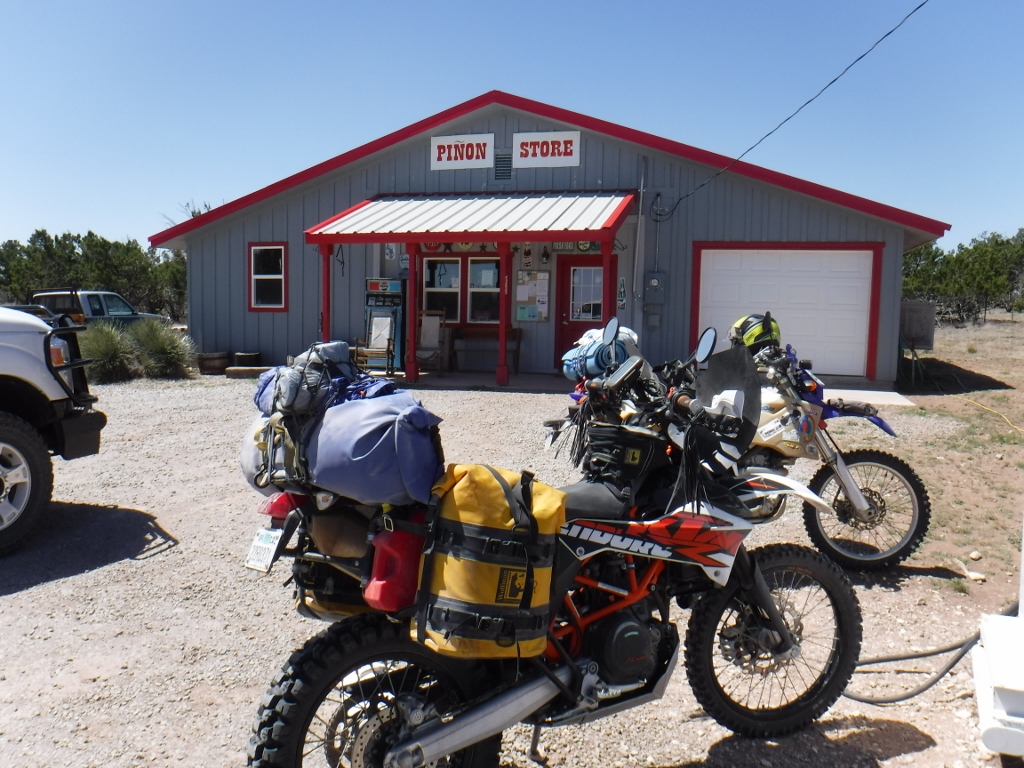 When you come here---you'll probably be waited on by one of 2 young men.
The most polite young men I ever met----they were all "yes sir---and no sir".
One of them is an excellent guitar player---and has his guitar in there----stop in and ask him to play.
He's a bit shy---but plays in a band and has done some recording.
On the way down---we stopped in and got gas---on the way North we stopped in again and they were closed on this Sunday.
But......................the boy and his dad just happened to stop by to get something and ran a drop cord to the pump and
gave us some gas. How nice is that ?????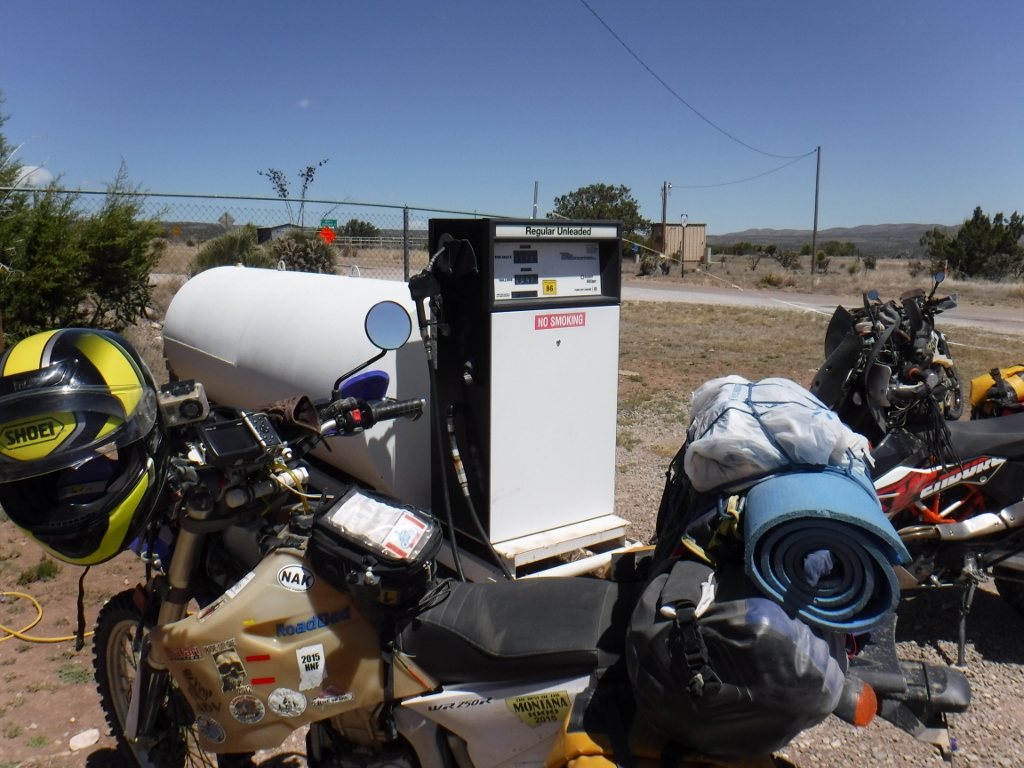 Go ahead and ask the gal inside if they have any weed------everybody else does !!!
She's use to it.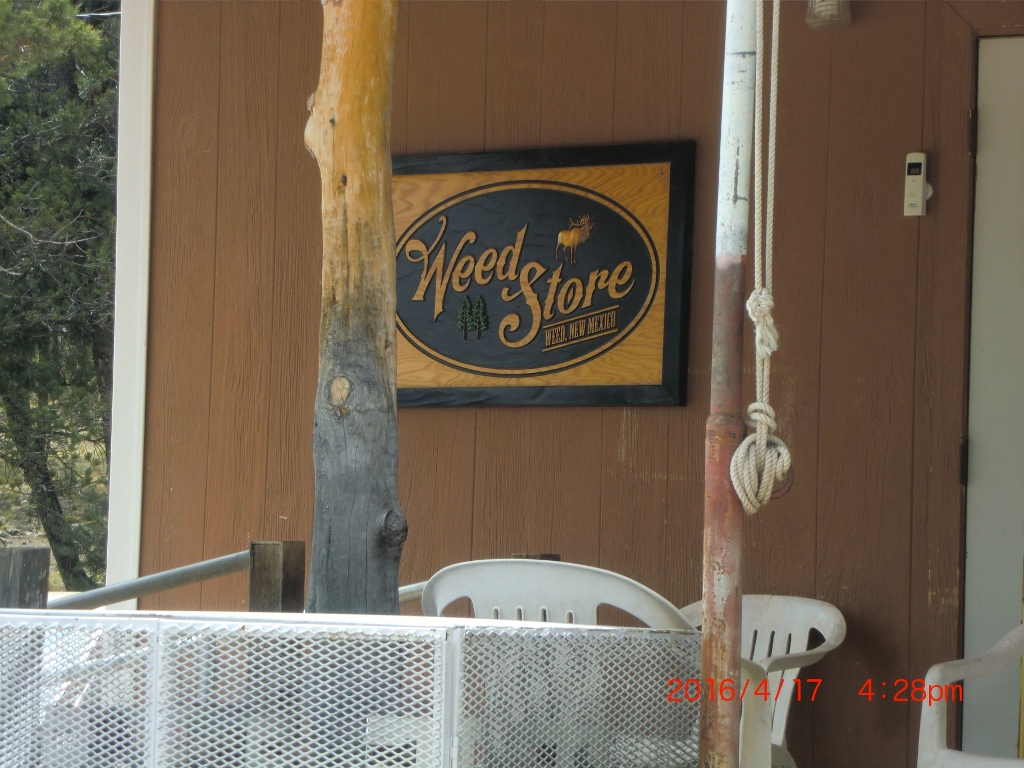 And they got gas too !!!!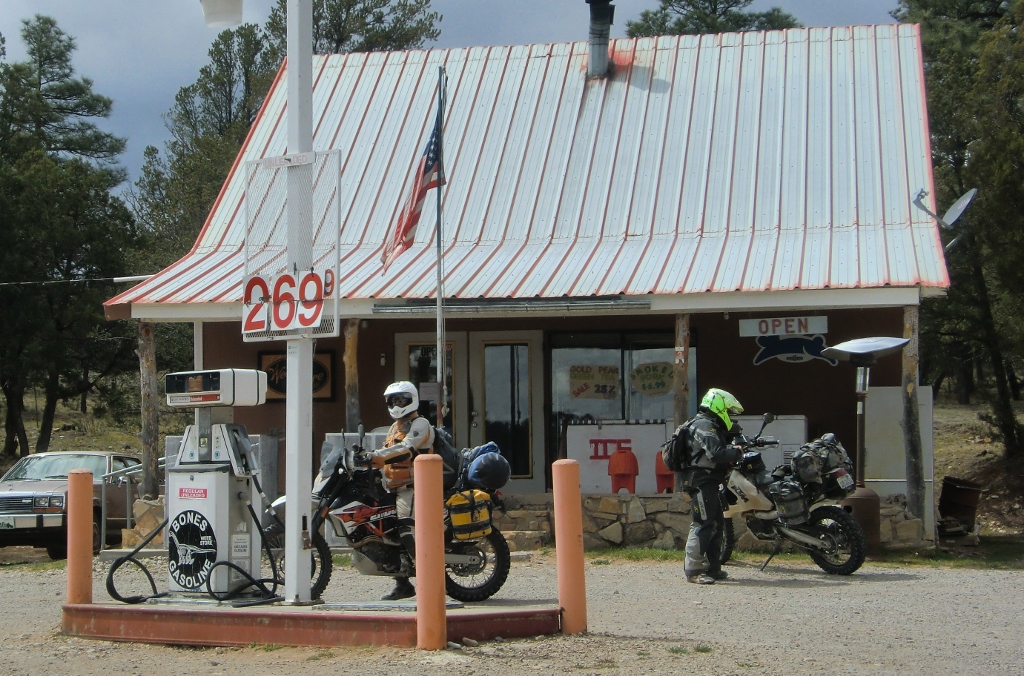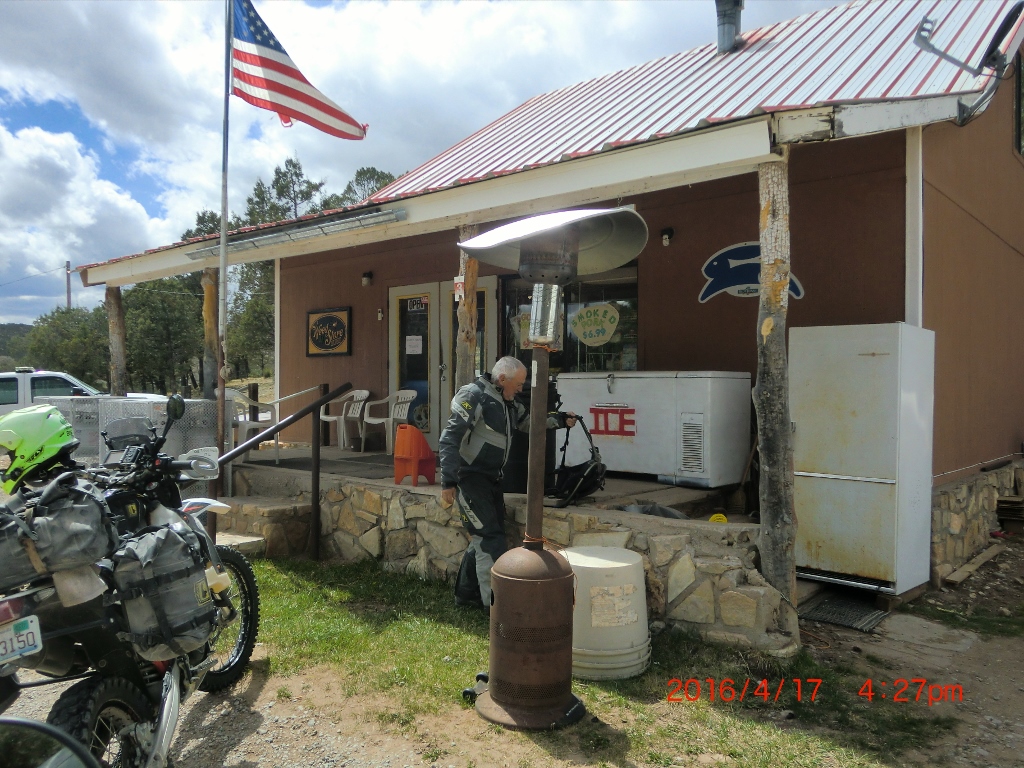 We heated up some burritos in the microwave and she seemed lonely------and talked a lot.
And we listened--------she insisted we bring the chairs in from the porch outside and sit a spell---and we did.
She was very nice and we enjoyed our visit.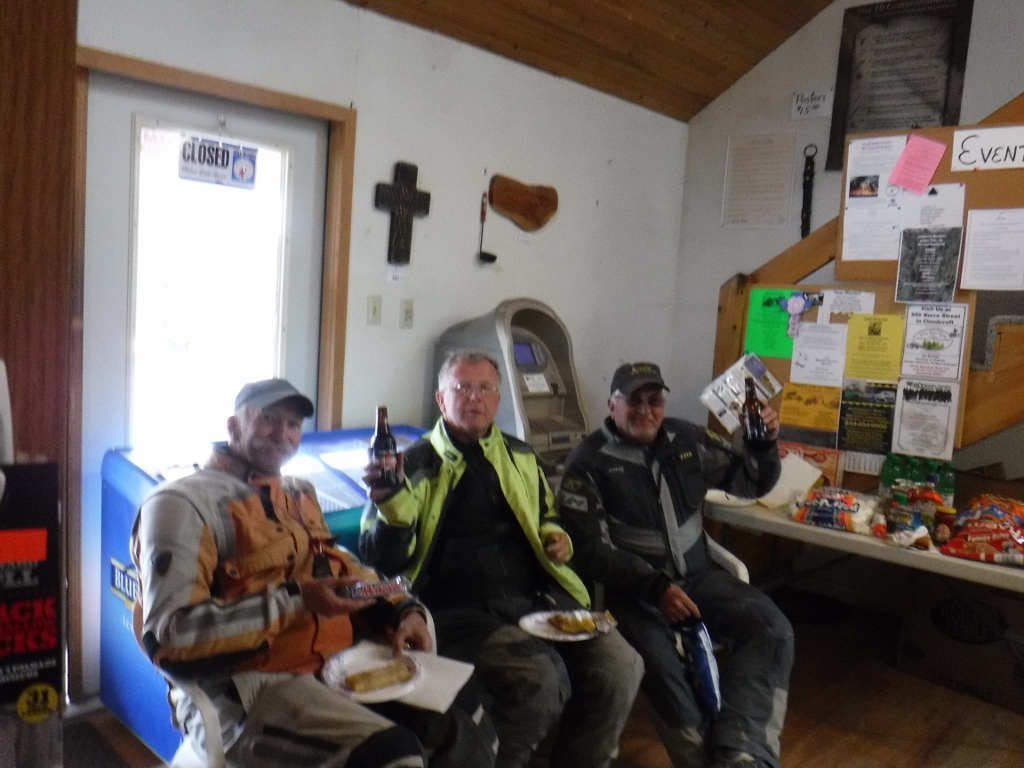 Note the population-------------20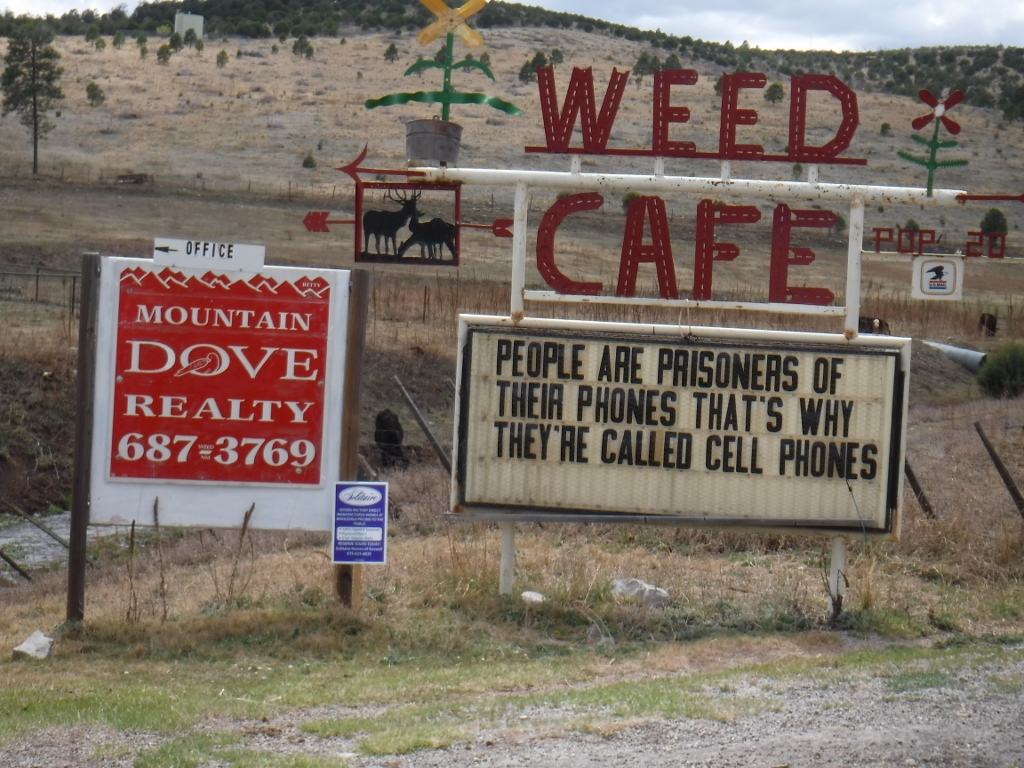 Horses and motorsickles running amuck------everywhere.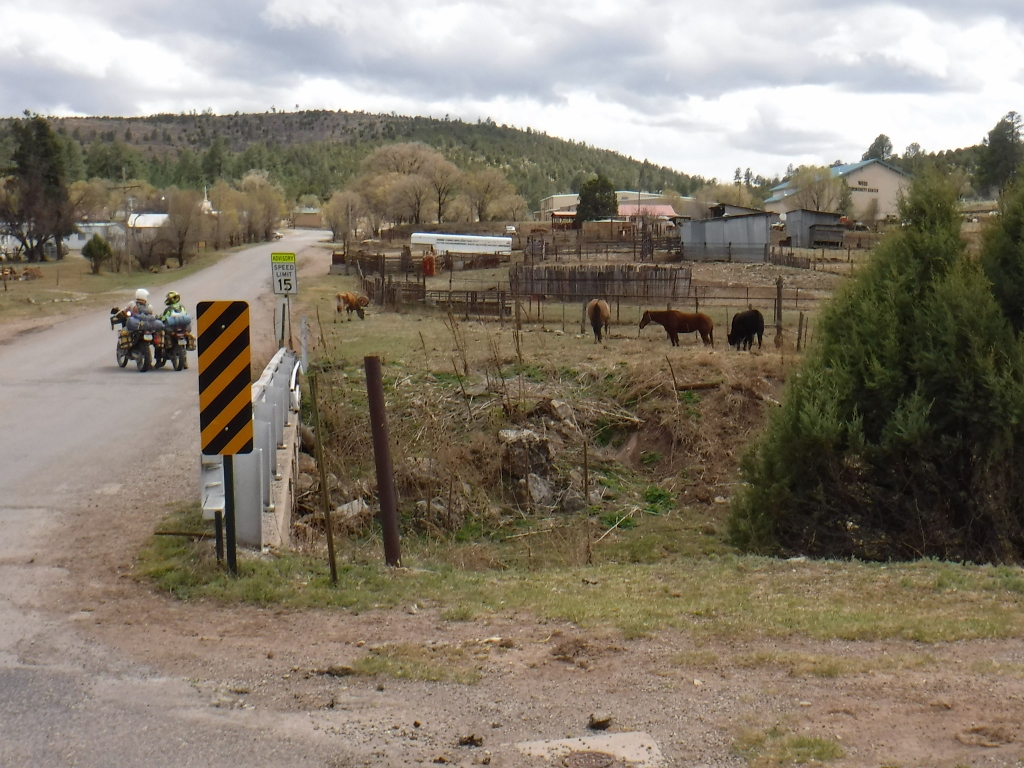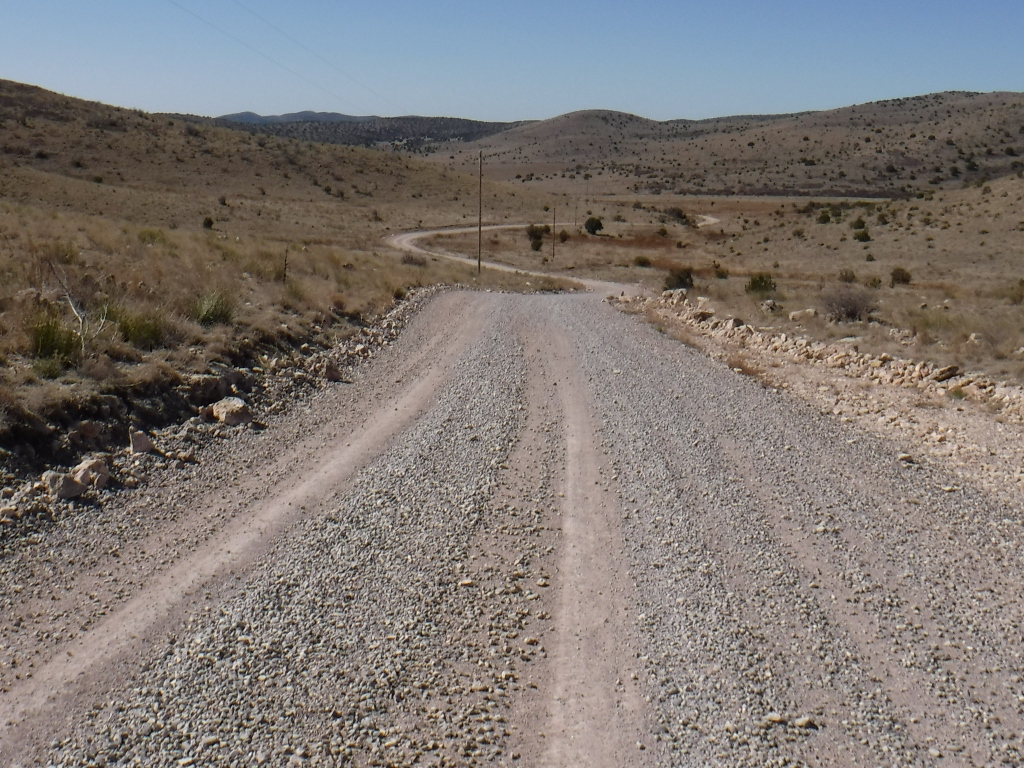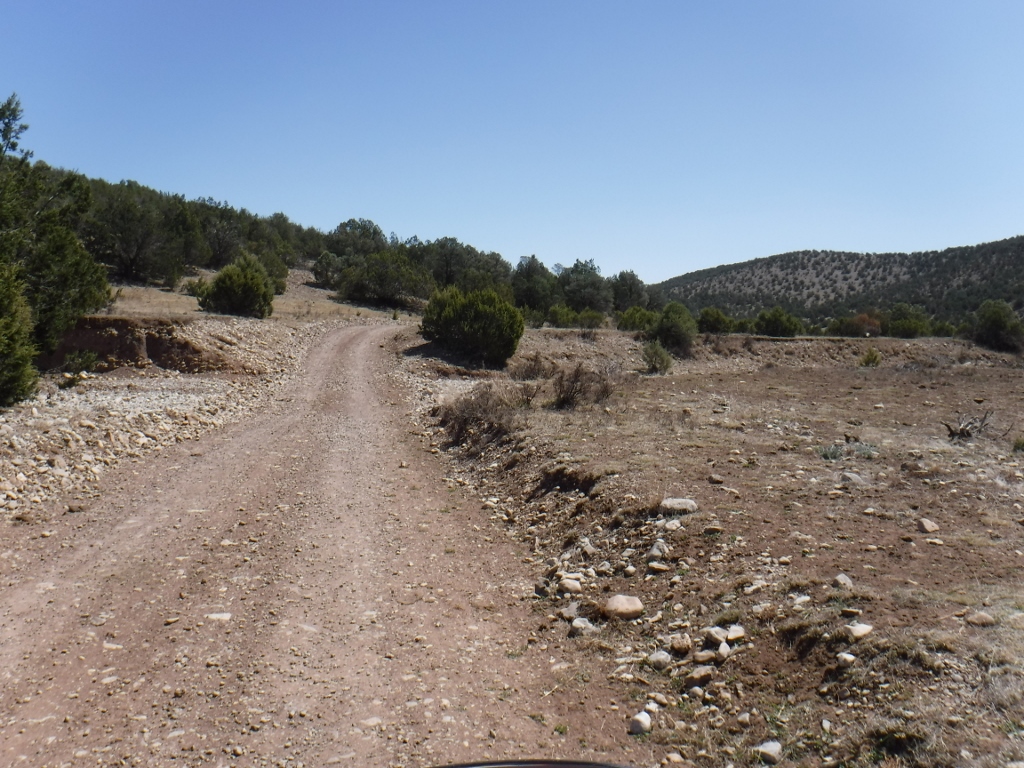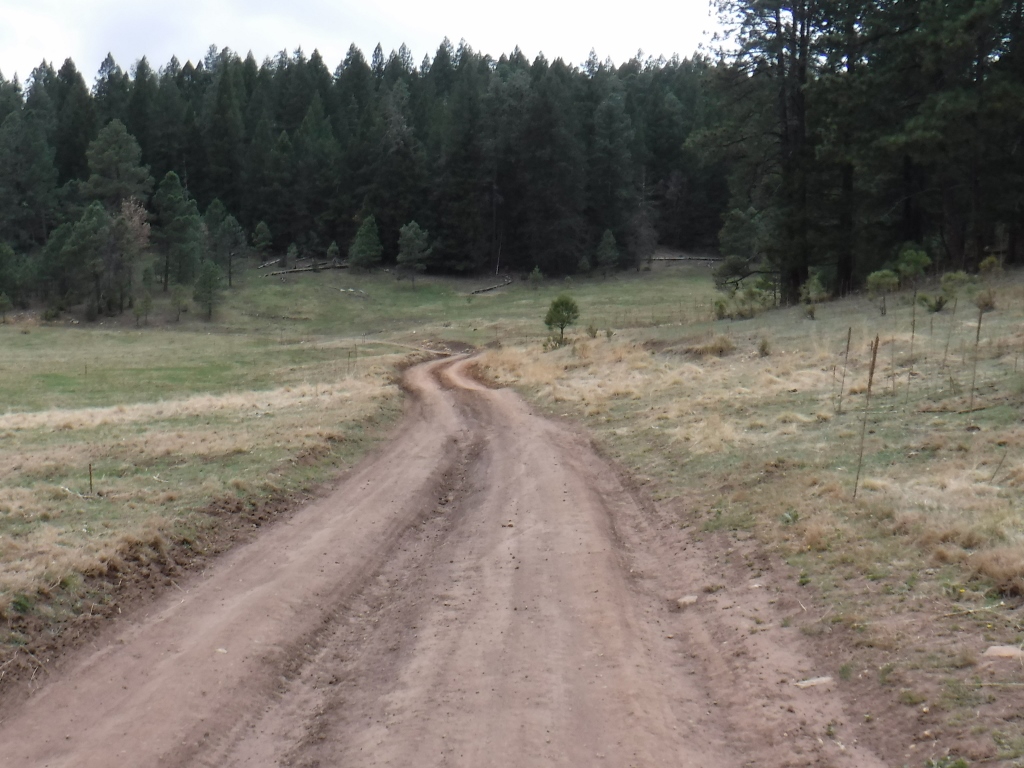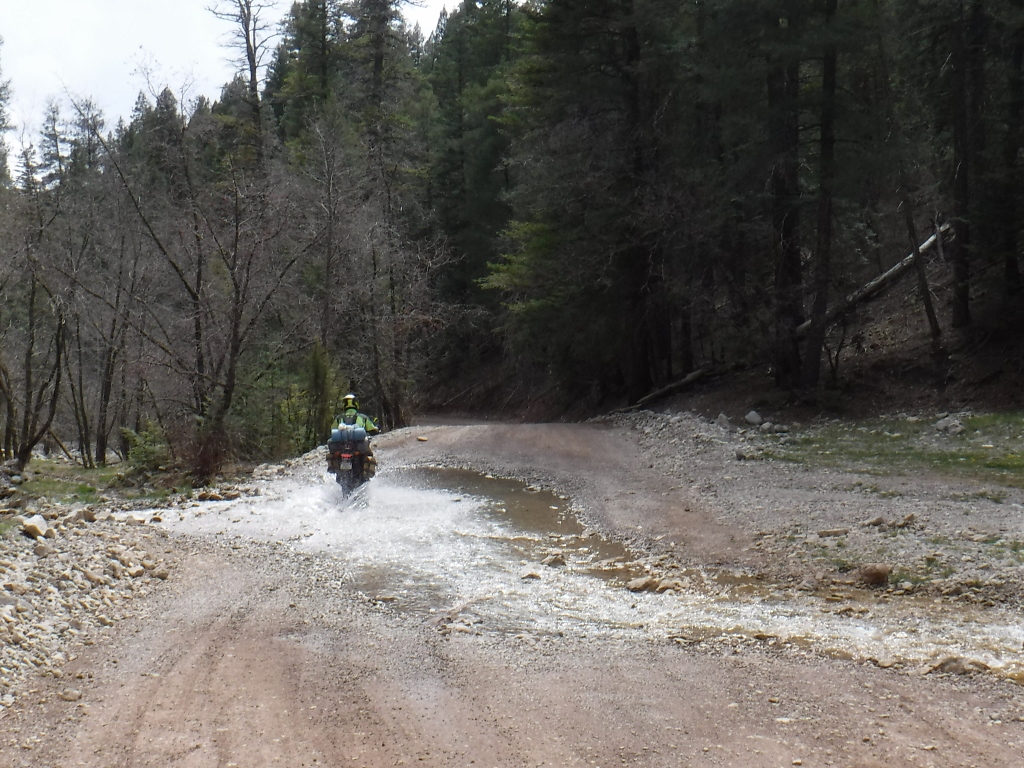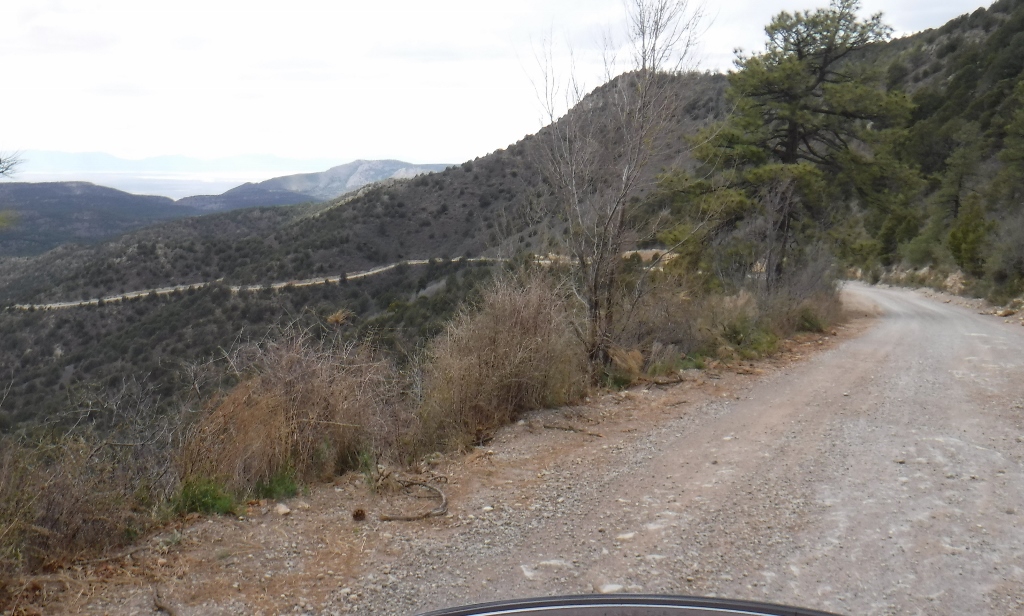 Seen a lot of clouds like this on this ride.
The rain seemed to fall down----but never touched the ground.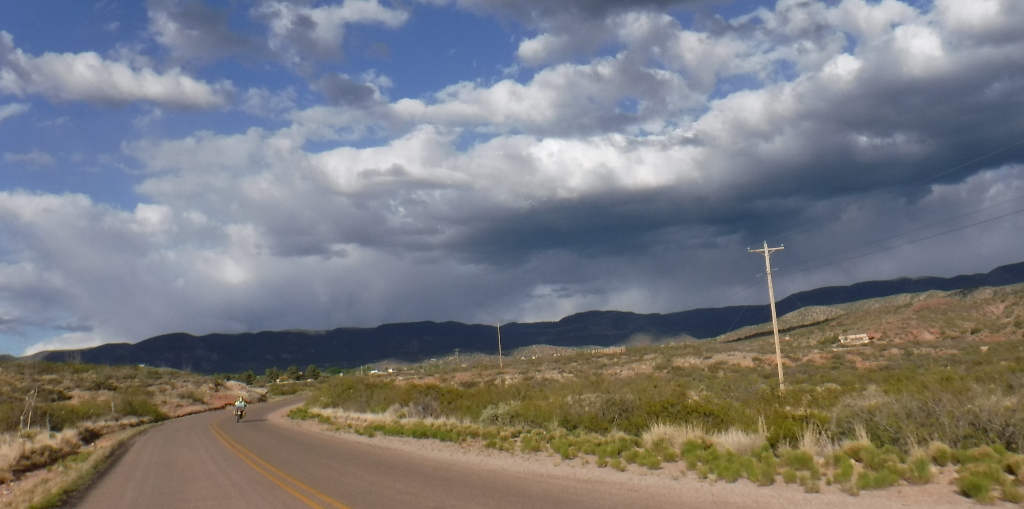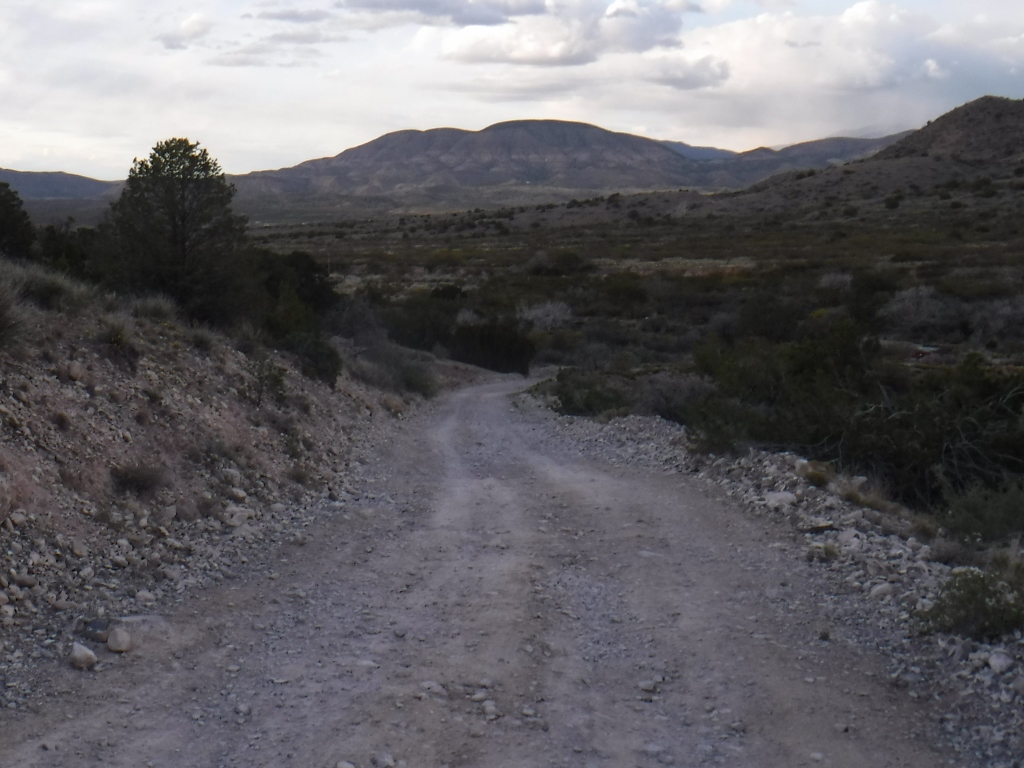 We blew into Ruidoso late that day and got a motel.
It was the first motel ever built in Ruidoso and had been condemned at one time.
There are many places to stay in this town.
Snow can be seen up in the mountains---and it was pretty chilly.
Here's a rough map of our route this day.
Yellow is our route on the first day of the NMBDR----the green was our route down on the SOR.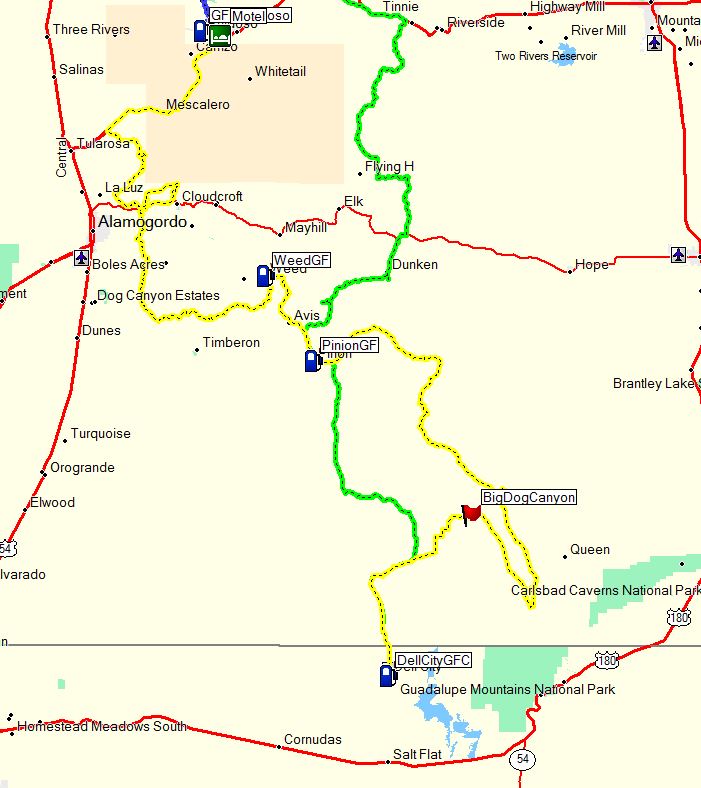 Day 2 on the NMBDR
Day 2 of our ride would take us from Ruidoso, NM to Truth or Consequences, NM
This whole day was awesome !!!!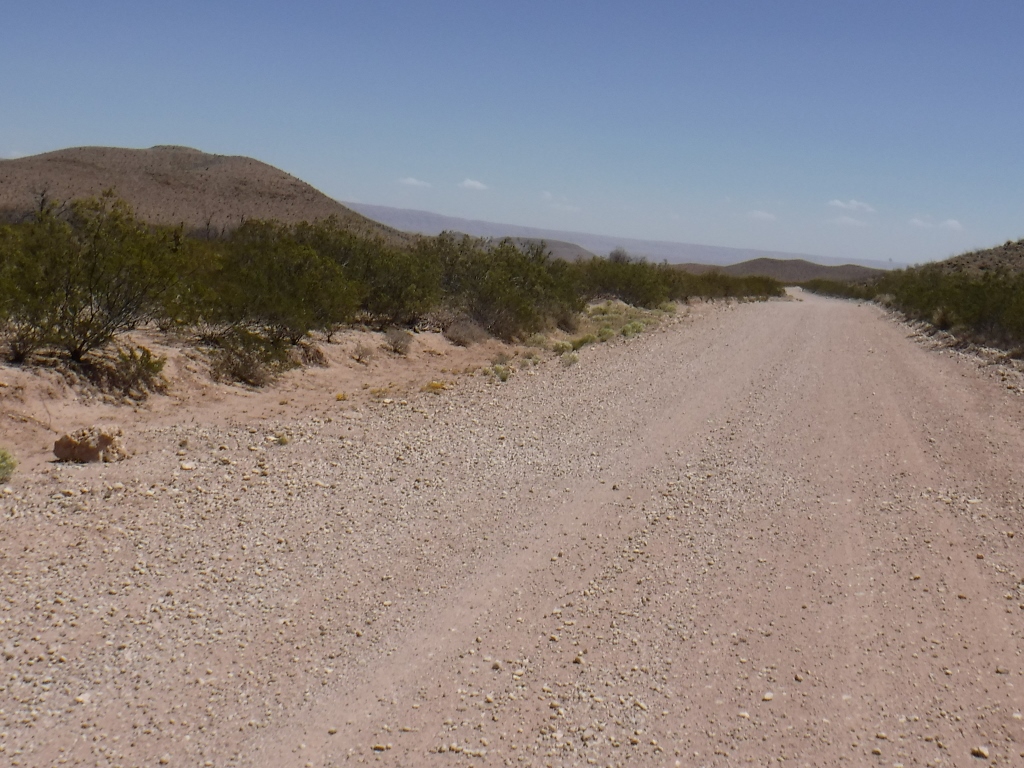 North on paved route 48 we then turned West on NF-107
And then some nice dirt forest roads.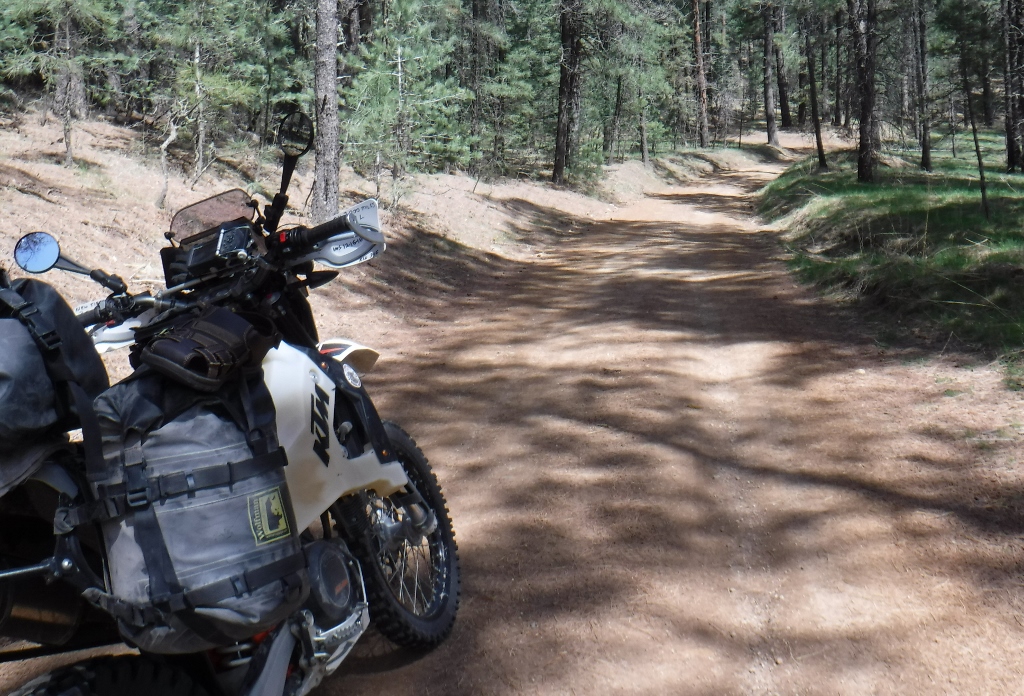 And then we came upon this---and I rode thru knowing we could probably get thru on our bikes---but I was kind of wrong.
The road was completely blocked for repairs.
Someone had rolled their truck over at this point into the creek over the winter and got killed.
So these guys were out fixing the road and we were told it would be days before anyone could get thru.
It would be a huge re-route to get around this---as there weren't that many roads out here.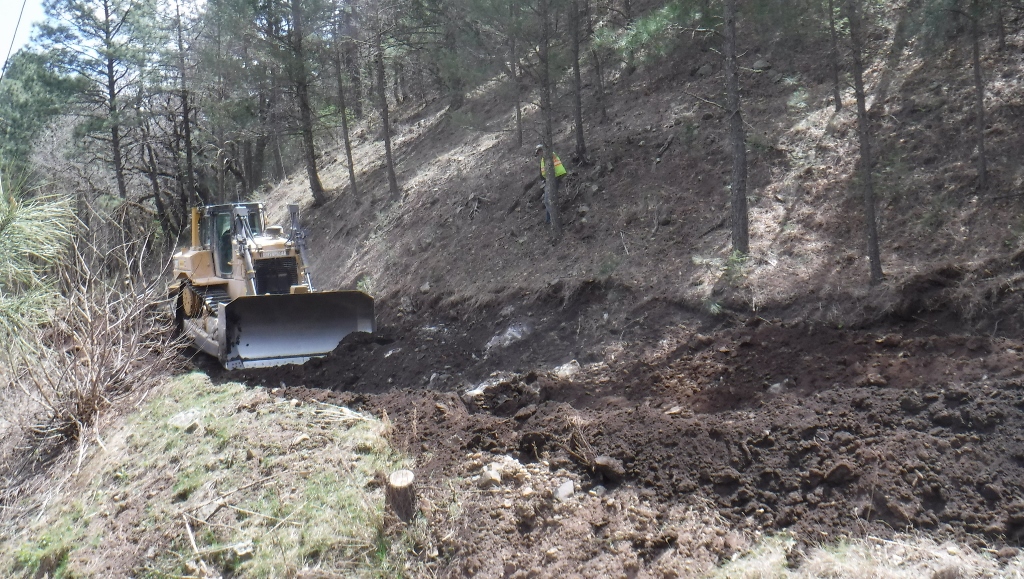 The guy on the left was running the whole show and we had fun making small talk with him.
He was very interesting----and after talking to him for awhile and not trying to make any demands on him he finally opens up
to us and said he'd see what kind of mood the dozer operator was in.
I think he knew we wanted thru and how much of a re-route it would be for us.
You get more from people with kindness.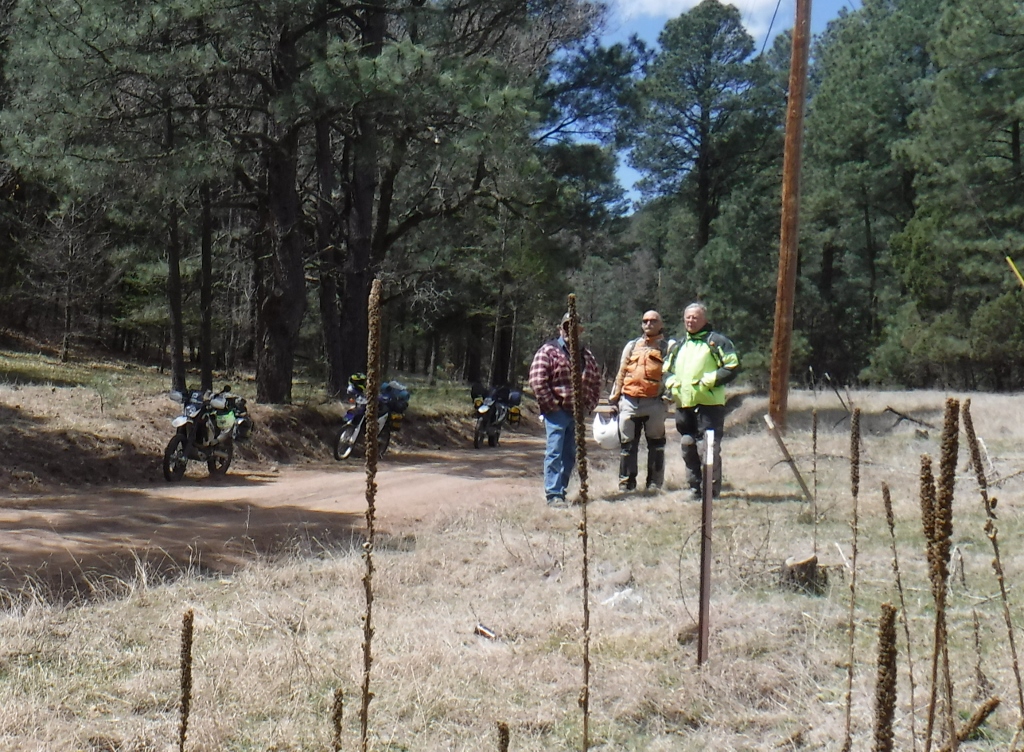 He talked to the Dozer operator and came back and said he was in a good mood and would make a path for us but it wouldn't be pretty.
The dirt you see in front of the dozer was a good 15ft. high---and he plowed thru it.
I was surprised they did this----as you know how liability stuff works.
It was easy for us and we rode thru and gave the operator a big thumbs up.
He probably had fun doing it I thought.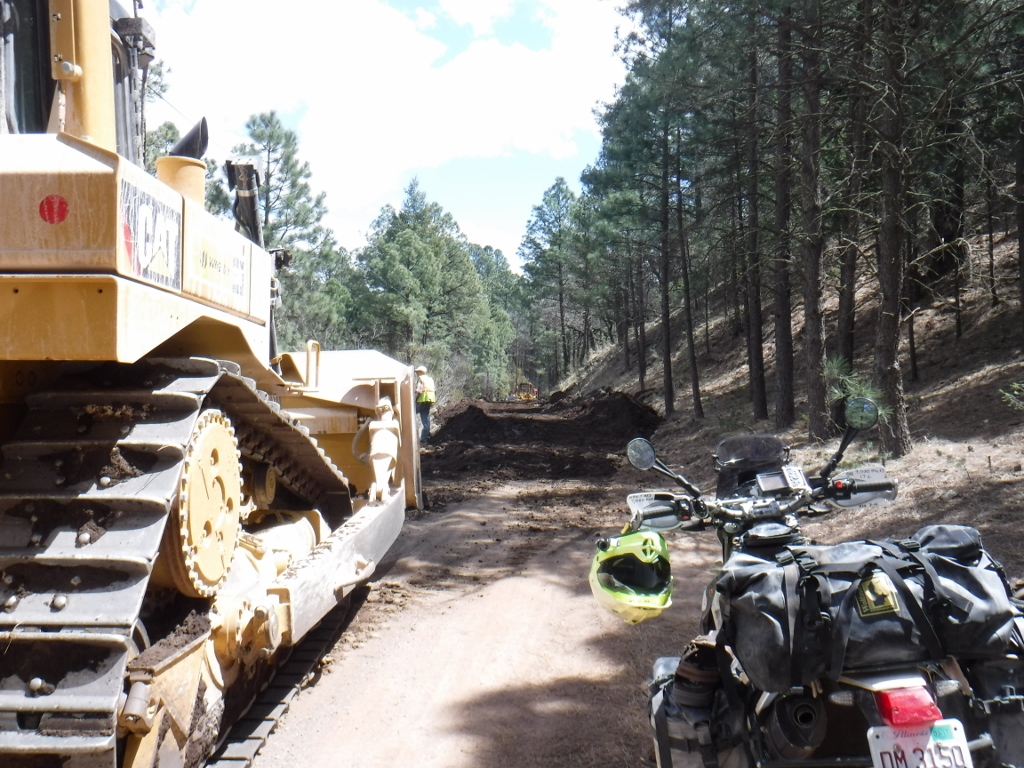 We road on North---then into Carrizozo for gas----there is gas, food and lodging in Carrizozo.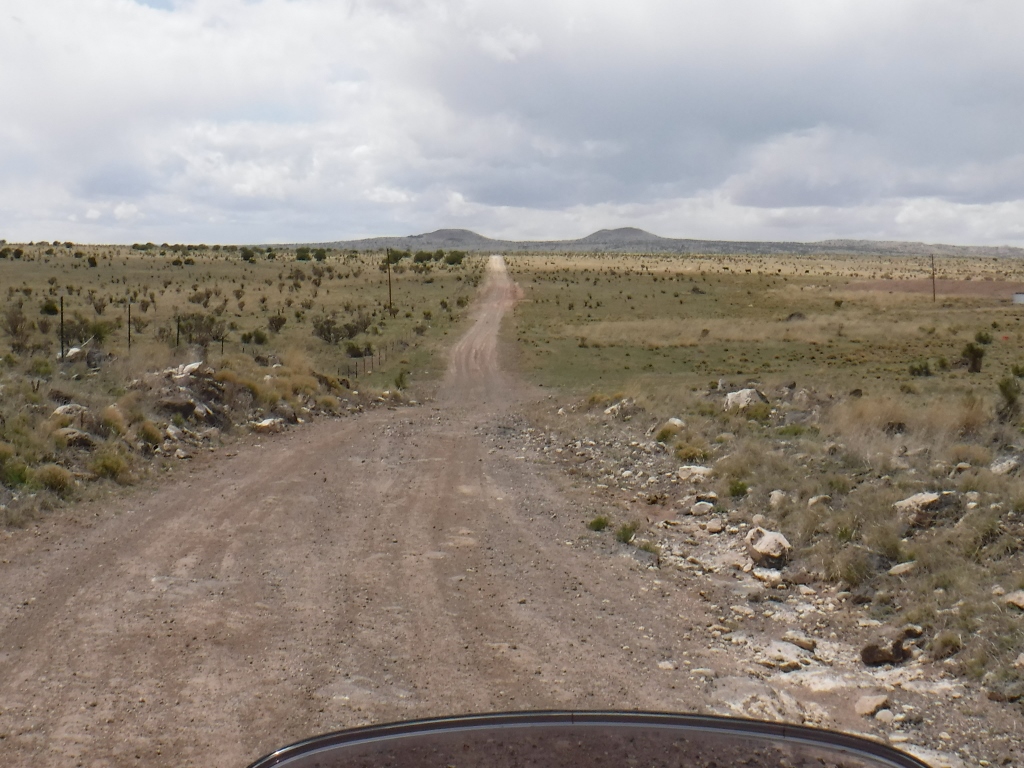 I was always leading-----Bob doesn't like to lead at all---and Jerry seemed to like me leading.
I would open the ranch gates and one of the other guys would close it.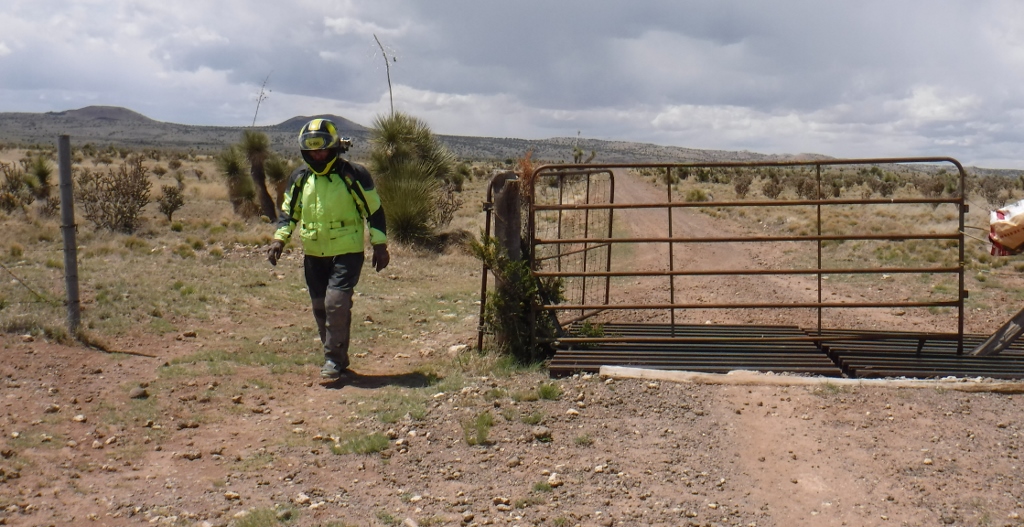 Again------the rain never touched the ground.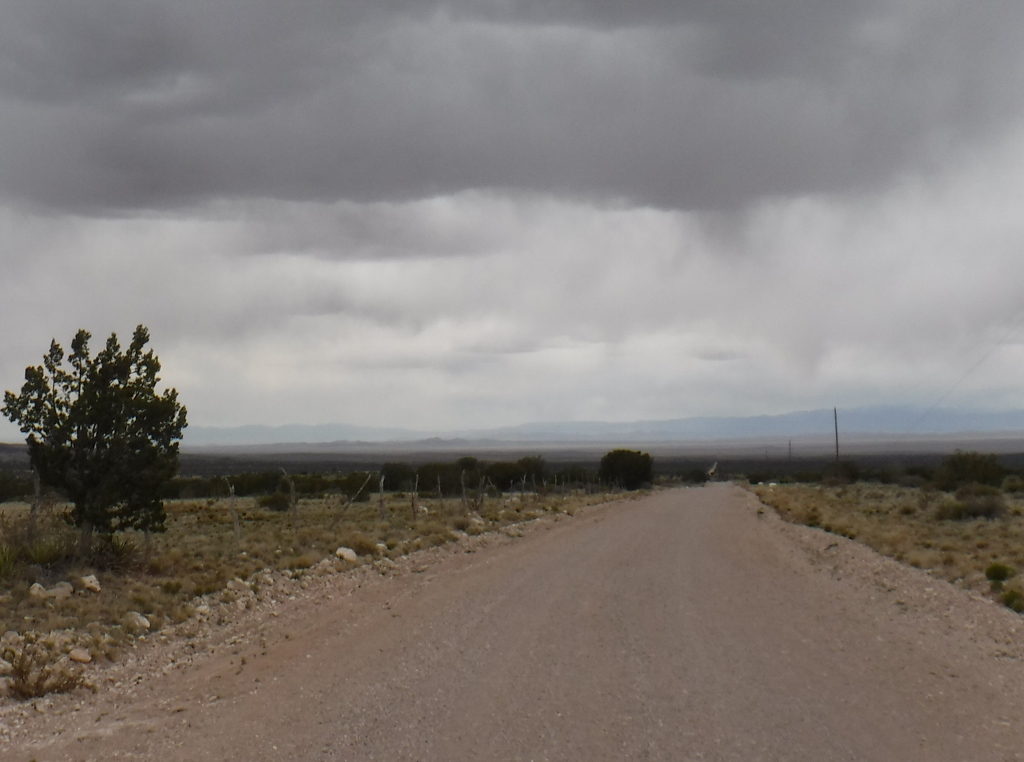 North of route 380 we rode West on what I think was mostly Broke Back road ????
I laughed when we got to this intersection----it's obvious some fast flying NMBDR riders were a bit hot coming
into this turn and missed it. For a few days we saw tracks of riders ahead of us---but later on they'd disappear completely.
We then turned south and rode I bet 70 miles on this sandy road thru the deset just West of the border of the Missile range.
Sometimes we were right on the border fence with signs warning of un-exploded ammo.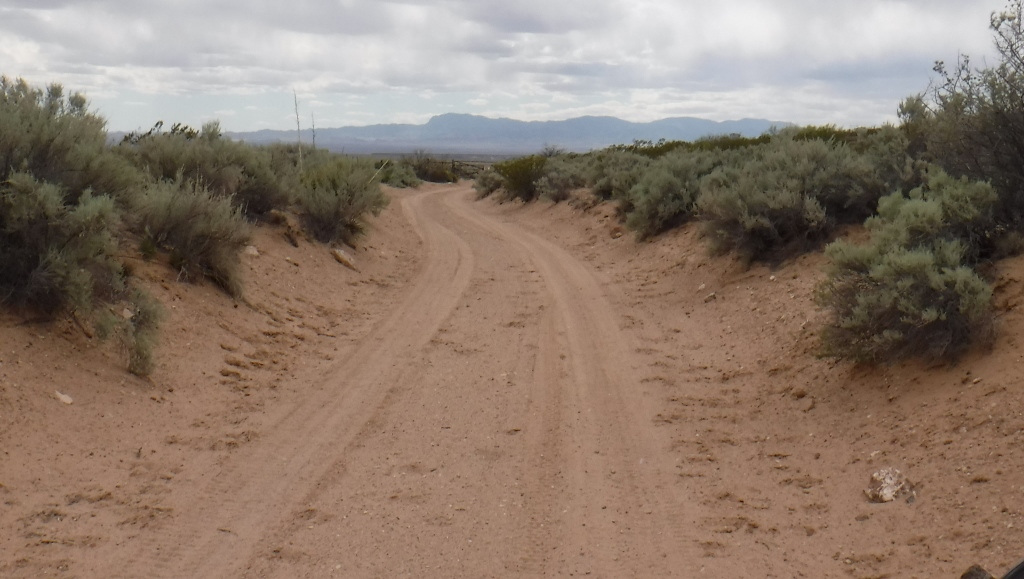 And then things turned weird-----------really weird.
It's seems all 3 of our gps's lost a satellite signal -----all at the same time--------what the heck was going on ????
Was the world at war-------sun flare--what the heck ???? We were lost.
We came to this gate and turned back hoping to get a gps signal.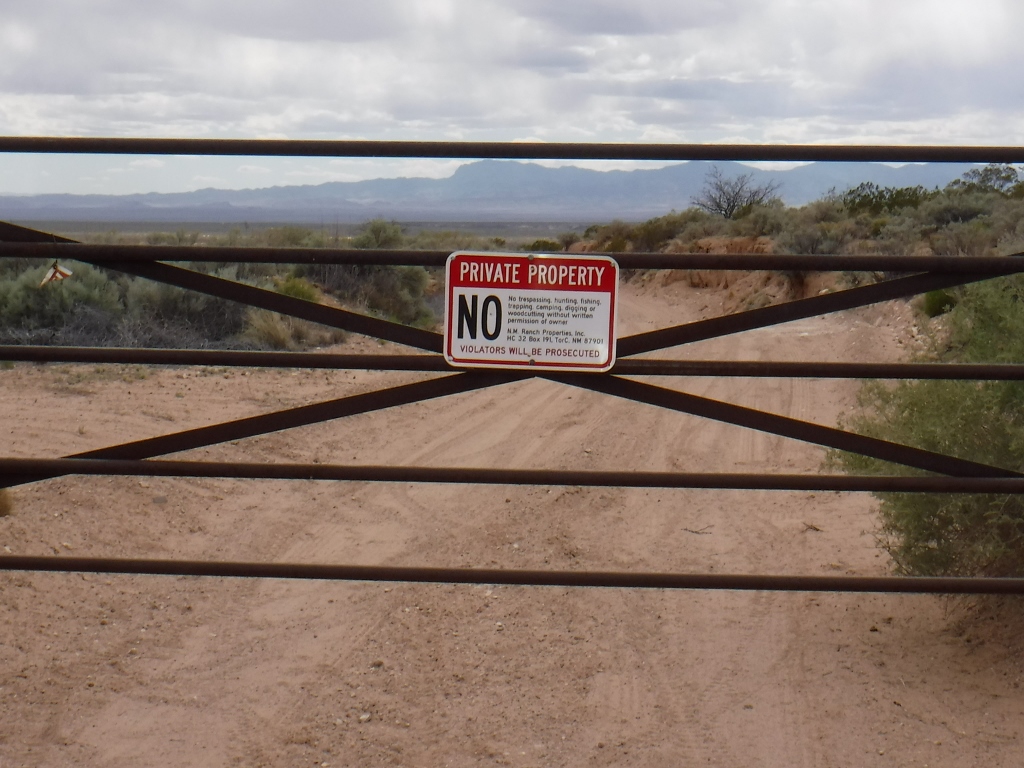 It was beautiful in here and the sand wasn't that deep when we went thru and we could ride really fast if we wanted to.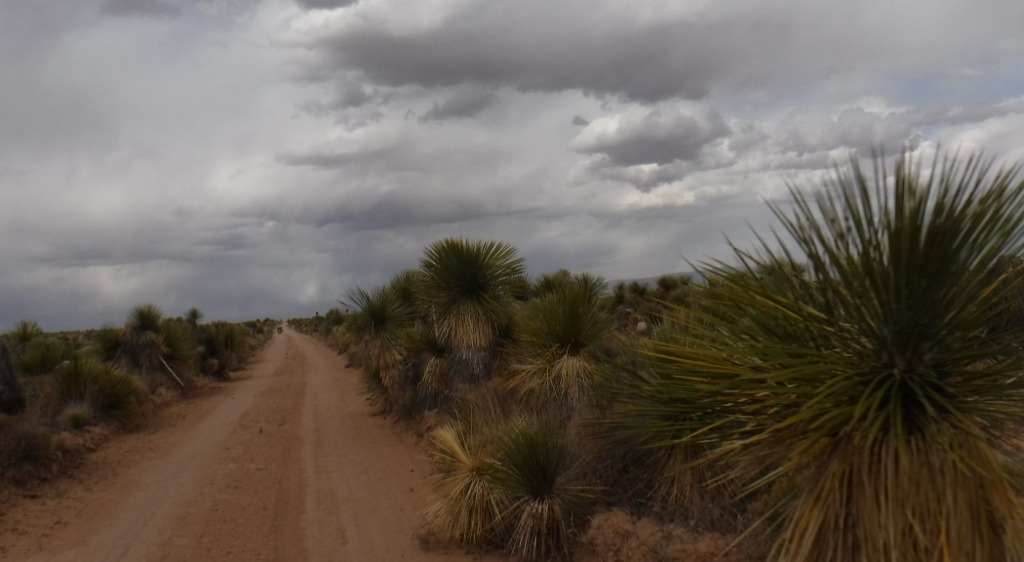 Our gps's would get a signal momentarily at times----and Jerry got us out of there some how.
You'll never convince me any different----I think the military guys in the missile range had us on radar and infa-red and were
just screwing with us--------laughing all the time.
Jerry's a better rider than me---and when he gets out front there is no catching him on his 96,000 mile Yamaha WR250R.
He flew down these roads---but our gps's were working now and we now had the navigation to get out of here
without following someone.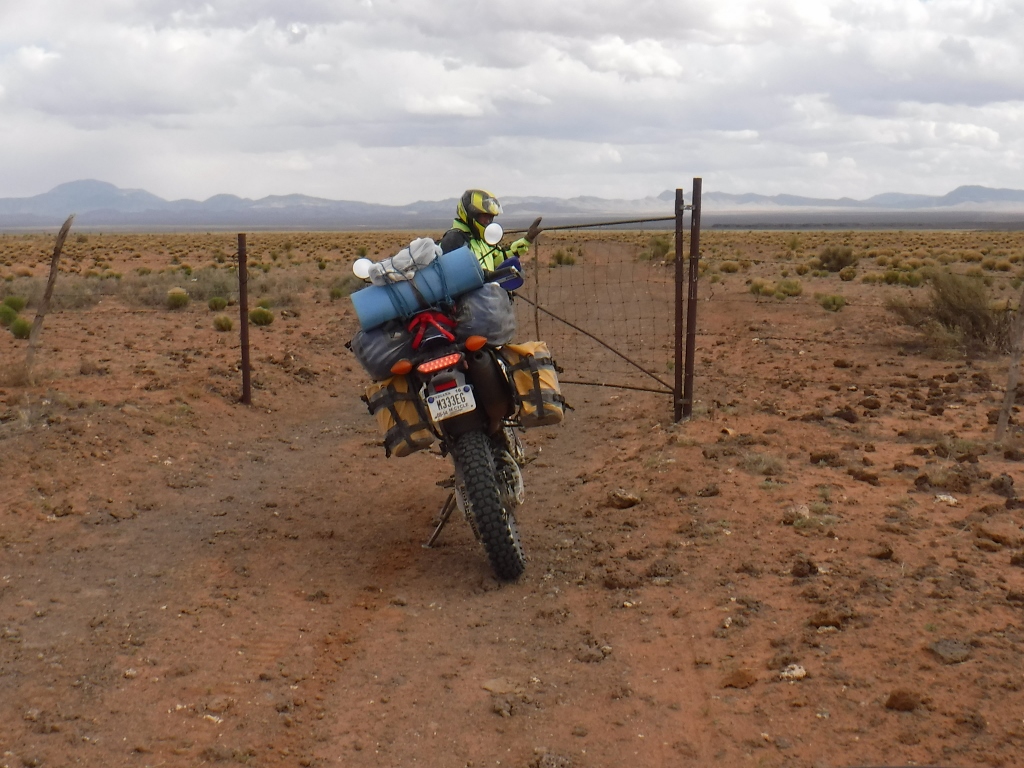 We all knew this was out there from pictures we'd seen from the BDR guys---------but were afraid we'd missed it wandering around out there--------lost at times.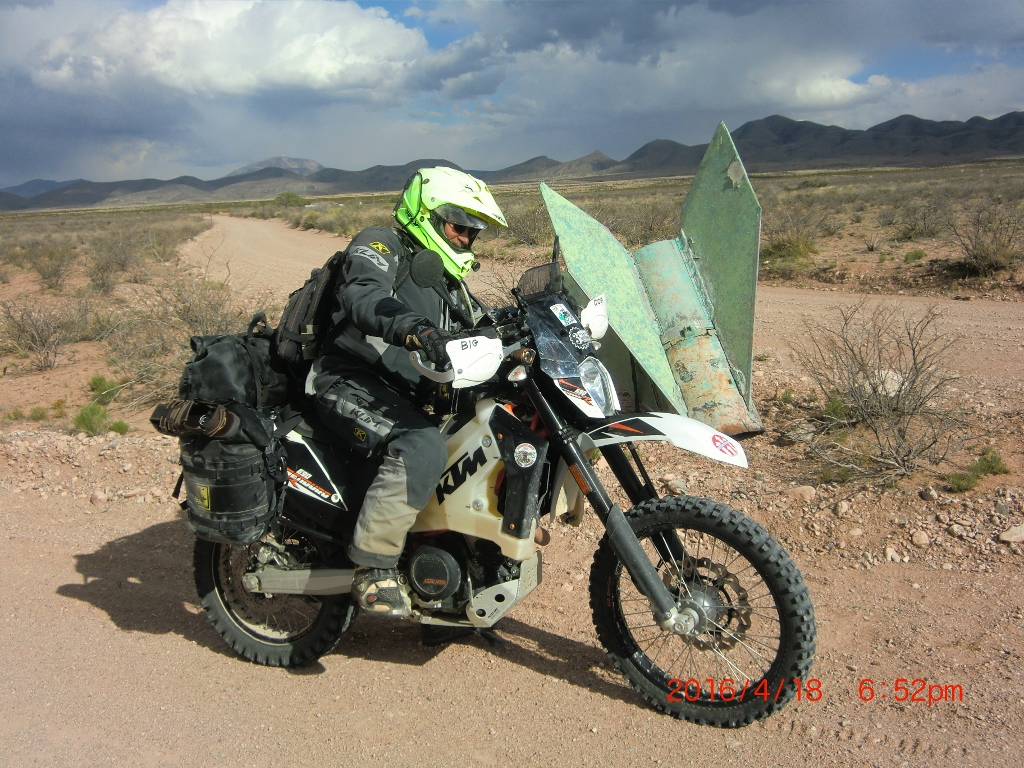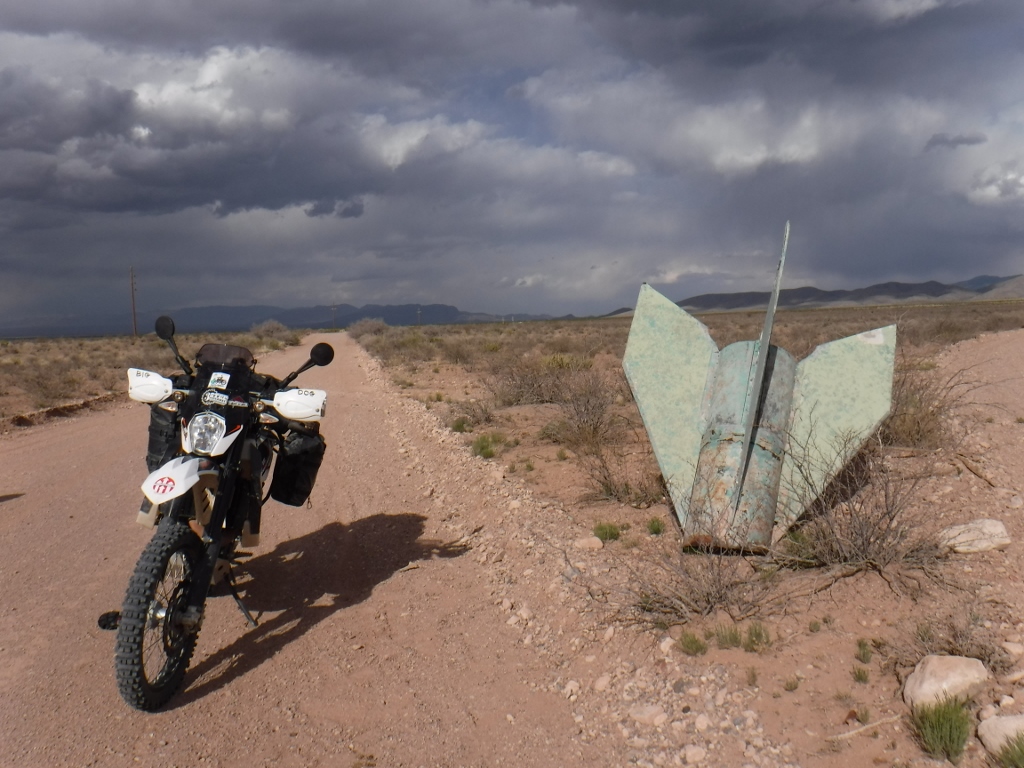 Coming into Truth or Consequenses we got a great view of the dam on Elephant Butte Reservoir.
There were some great looking campsites we could see thru here---right on the lake.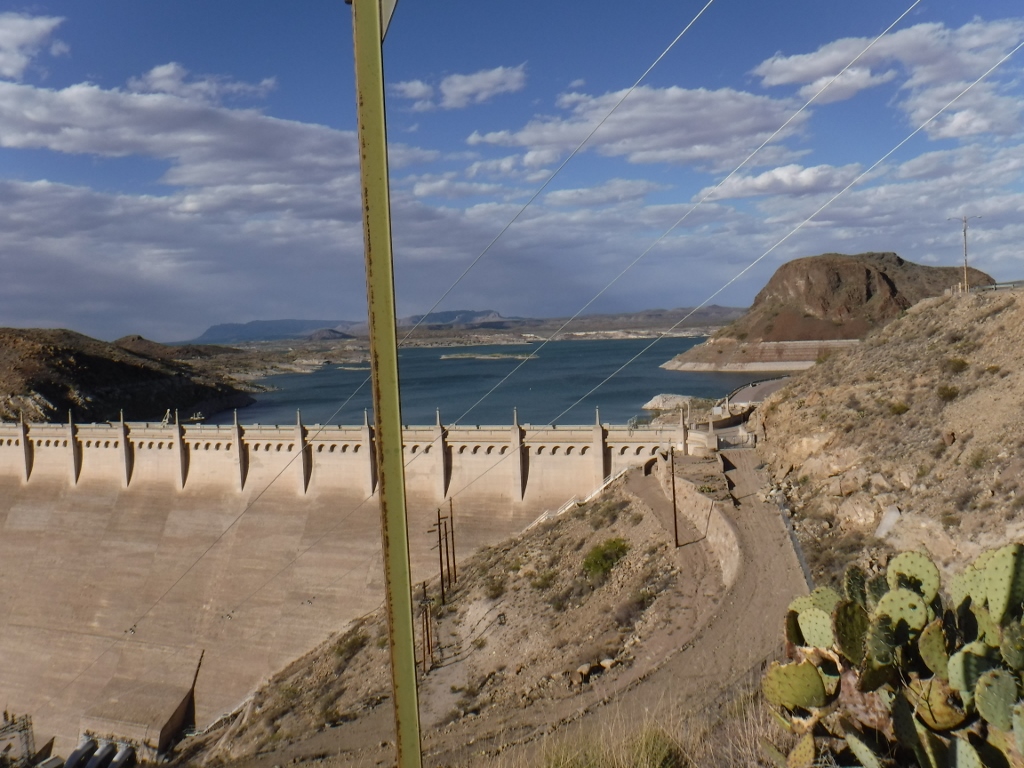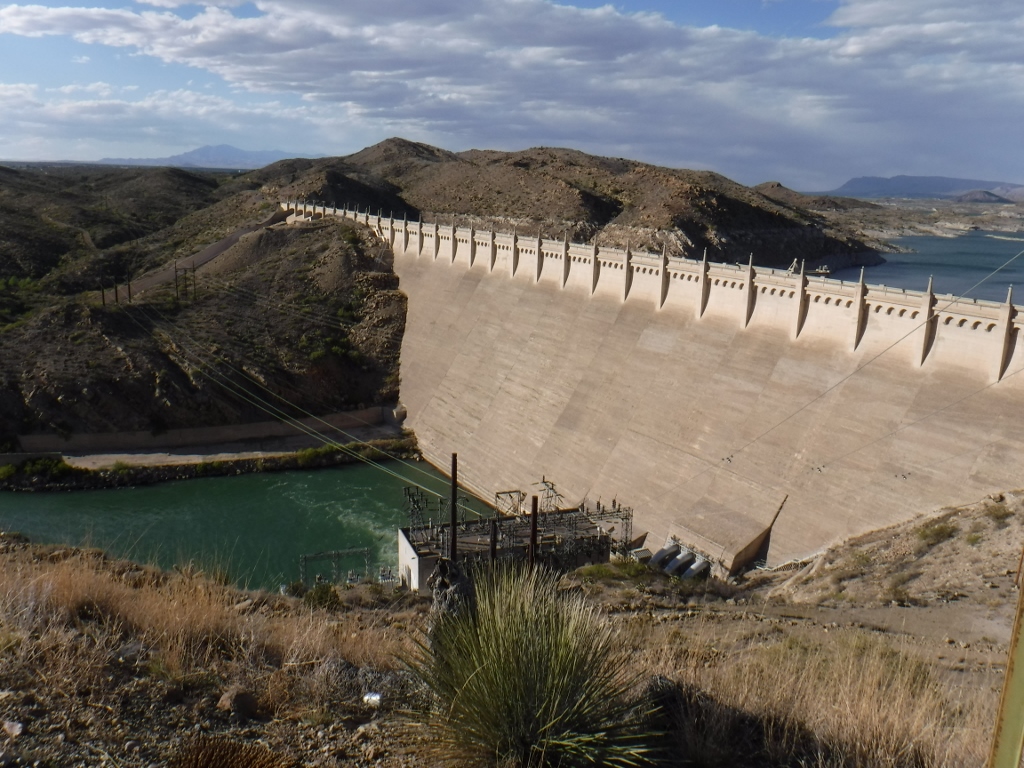 We got our view of the dam from here.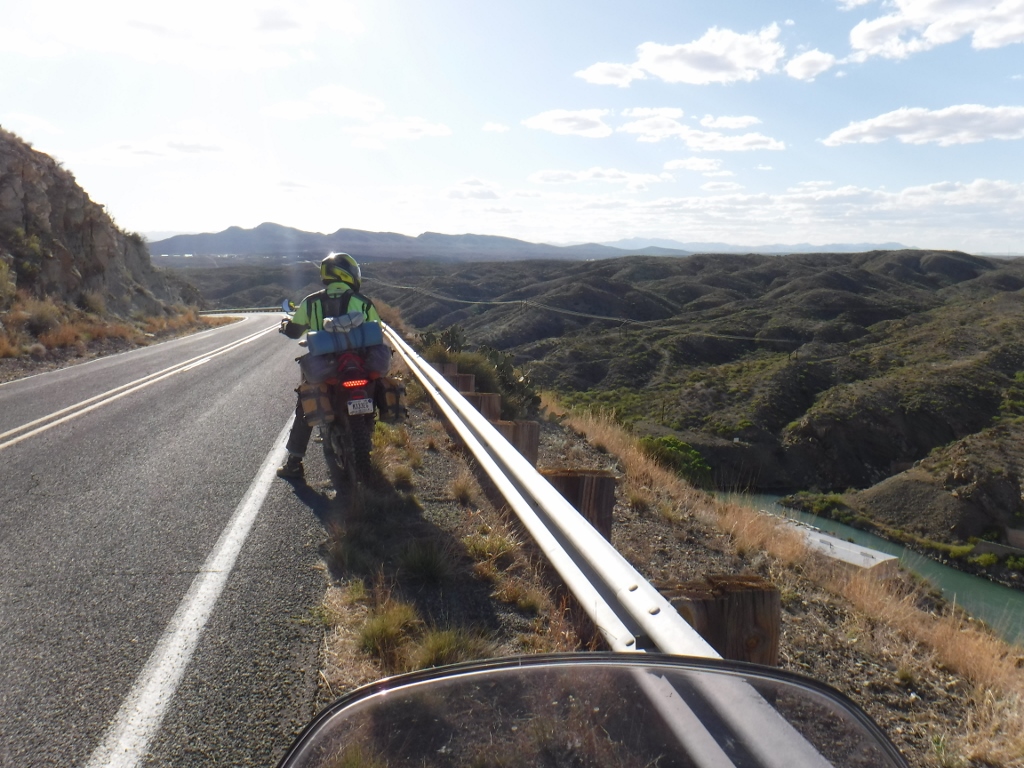 A map of our days ride.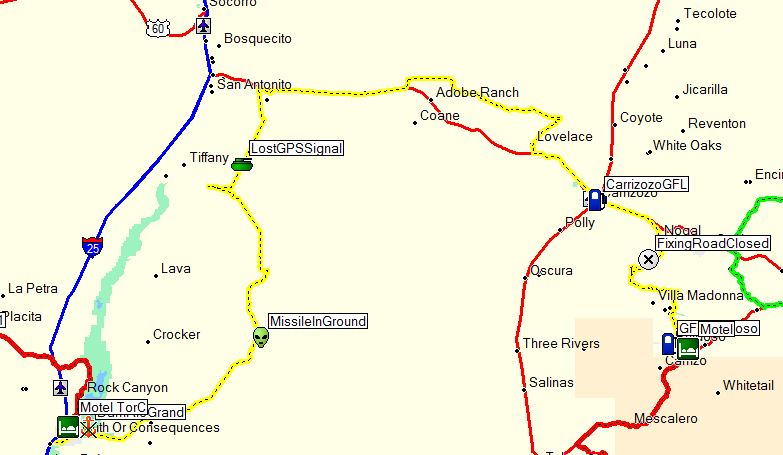 Day 3 On the NMBDR
Todays route would take us from Truth or Consequences N.M. to Alpine Arizona.
Our route right off the back took us North right along Elephant Butte Reservoir on the West side of it.
And it was in no time we blew into Winston----another very, very, very, very small town with gas, food, and stuff---lot's of stuff---even sold guns in here.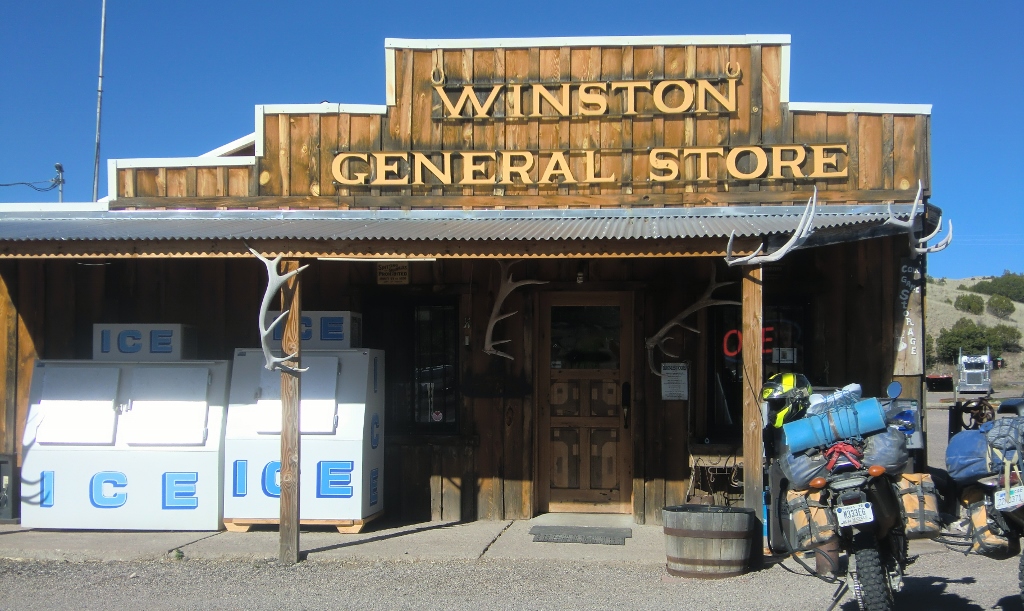 And oh yes a woodstove---and it was going.
We probably all topped up here with gas----and for sure Bob Bob did as he had way less of range than me and Jerry.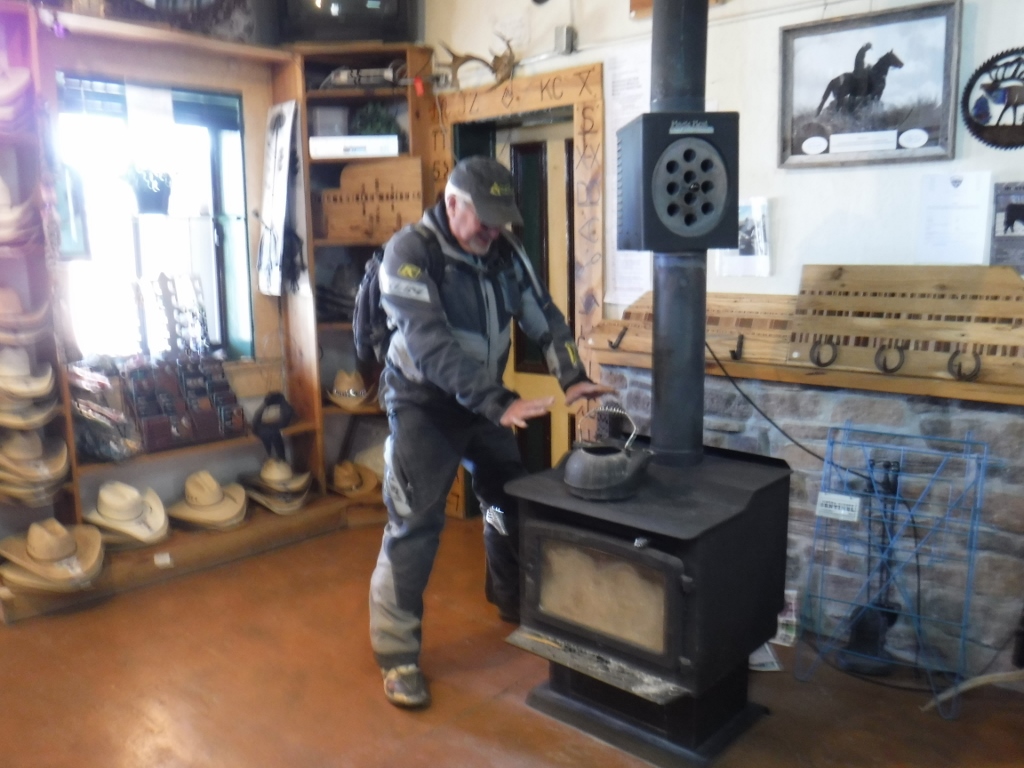 "What you lookin' at"
Just down the road is the even smaller town of Chloride.
Please take your time and poke aorund this old mining town---lot's of old stuff to see with lot's of history.
Bob Bob is sporting his Giant Loop wind stoppers over his hand guards-----he didn't have heated grips and these things
help out greatly I'm told.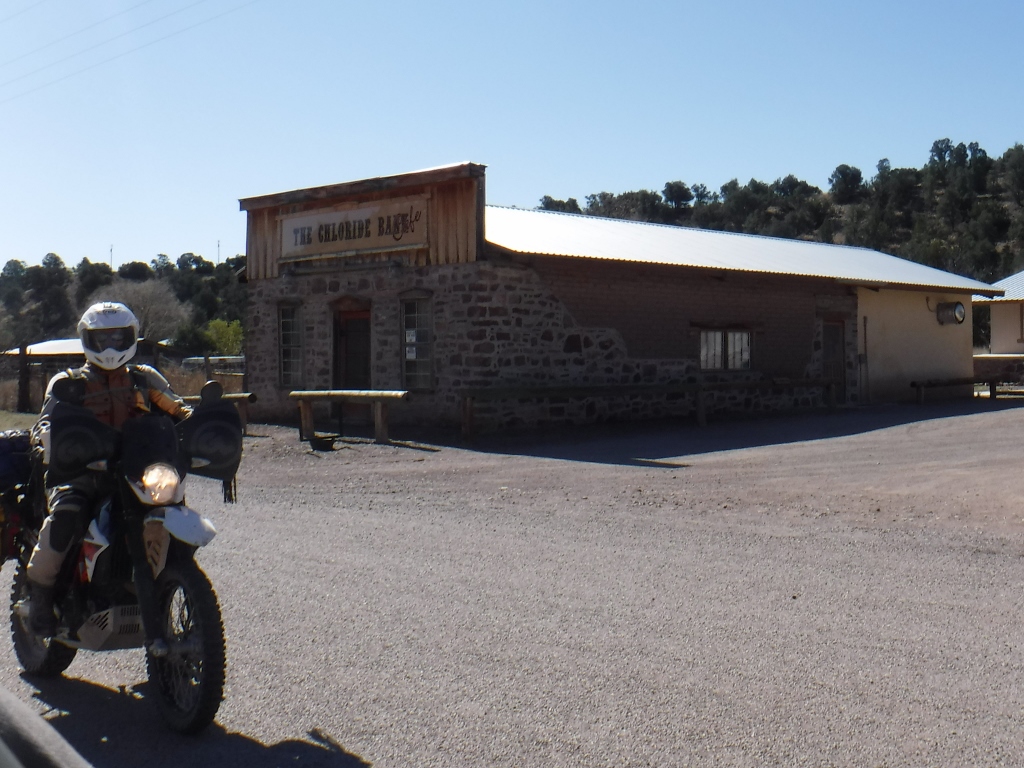 This old machine had a gasoline engine in it.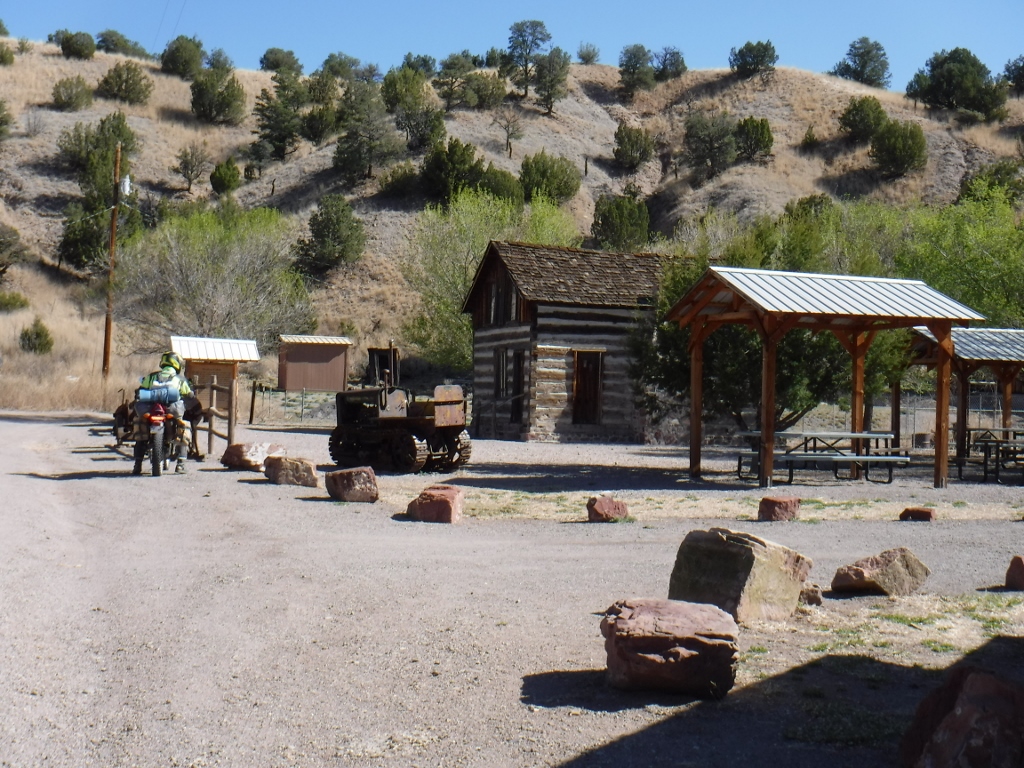 And right out of Chloride you are thrown into Chloride creek.
We were told that we'd cross the creek over 100 times and knowing this made me nervous as I had no idea of how big the creek was.
It was never over a few inches deep and usually about 5 ft. wide--------give or take a bit.
In a rain storm might be impassable due to flooding ?????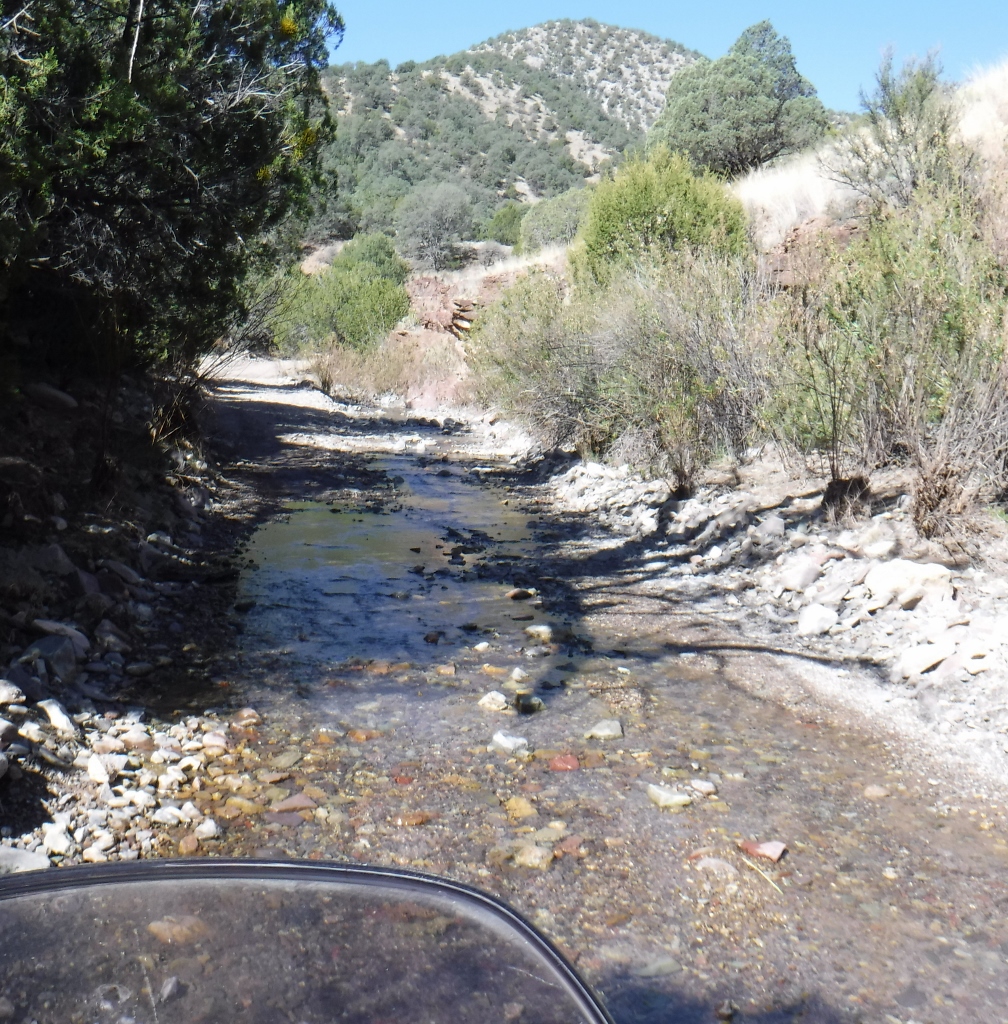 Riding thru Chloride creek was definitely one of my favorite parts of the trip.
Some times you rode right in the creek for a long ways---it was about 20 miles thru here and was just awesome.
And I remember a pretty good hill climb that might cause some riders on big bikes some grief.
Look how pretty it was---as now we start to climb out of the creek into higher elevations and we were told in Winston we might hit mud or snow------Not to be tho.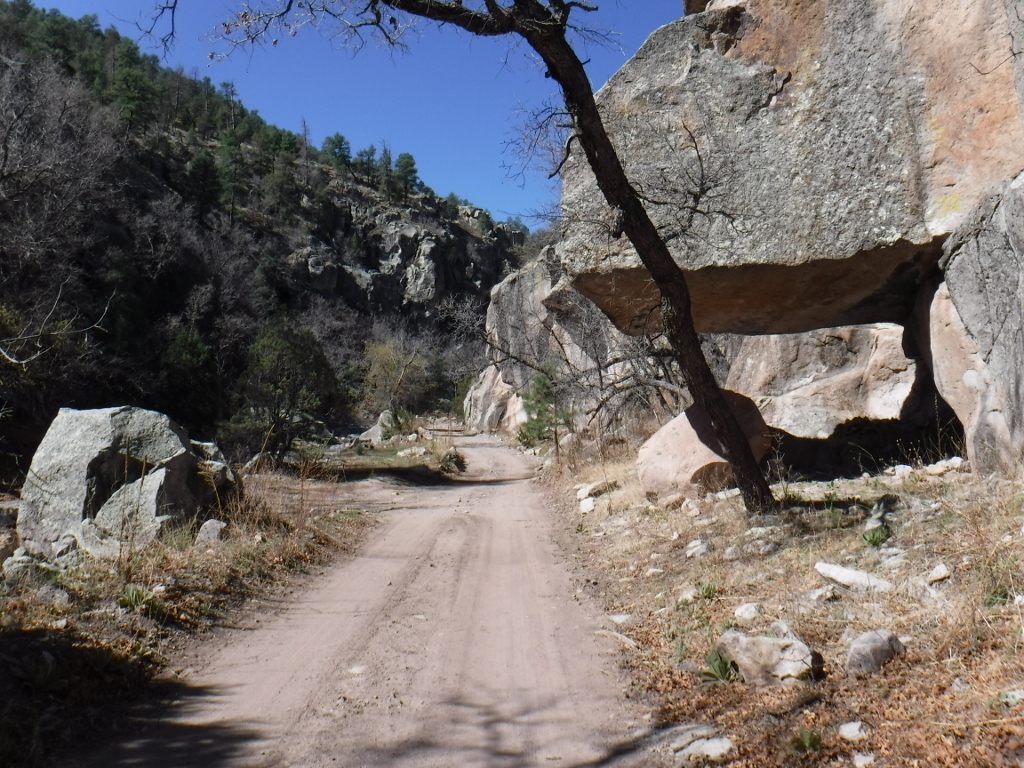 At probably the highest elevation on the harder Chloride creek section you cross the CDR hiking trail. It came out of the woods to our left and
went down the road---never did notice where it went back into the woods.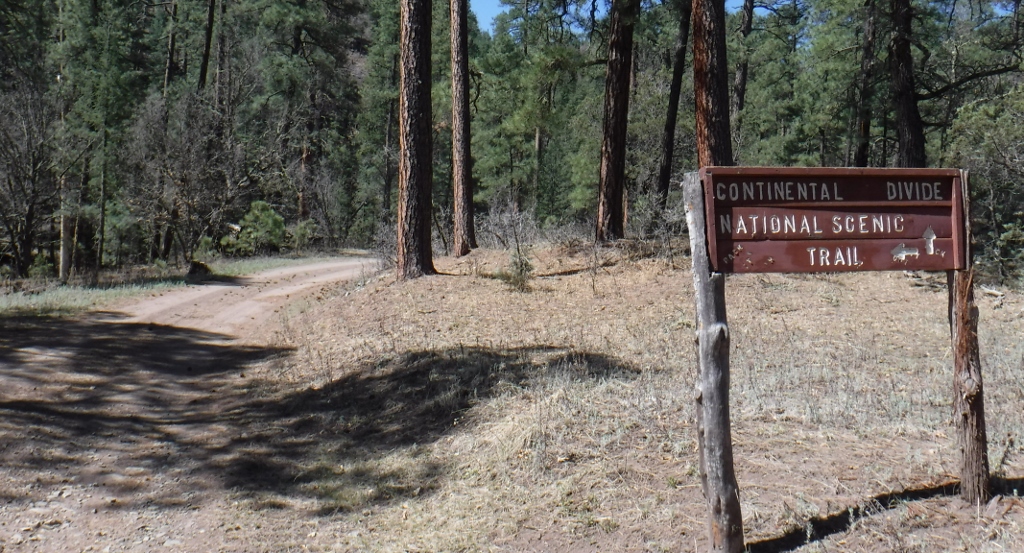 We came to a huge stand of very large pine trees and an old cabin----there was some really nice (perfect) campsites in here--------with a view.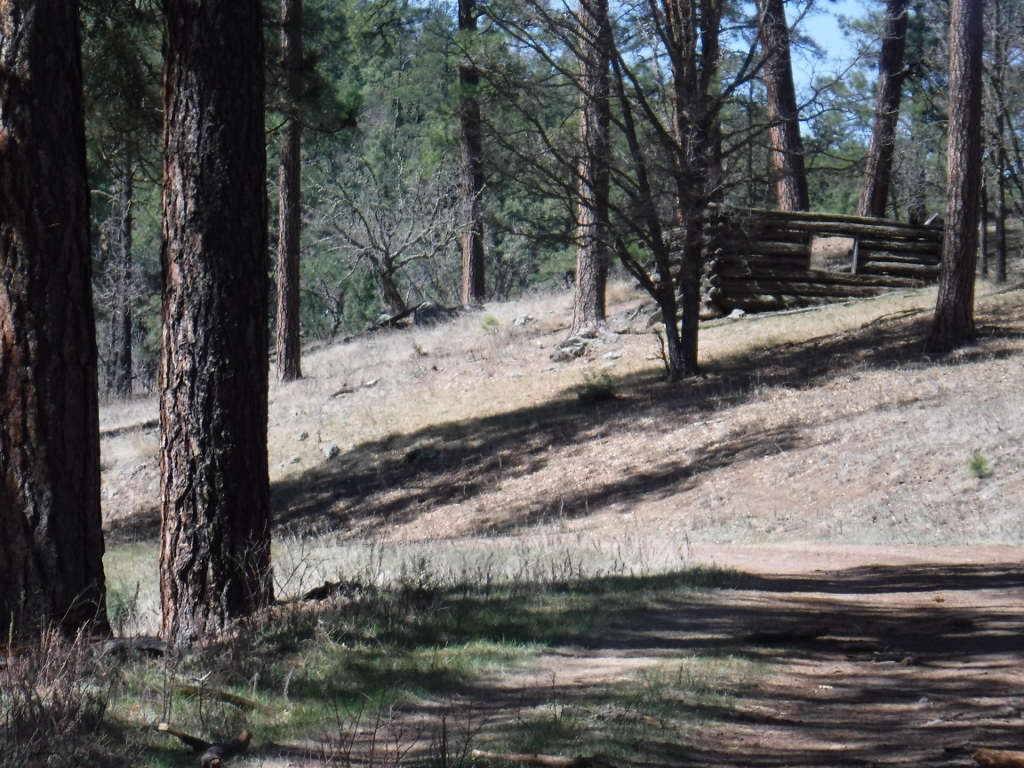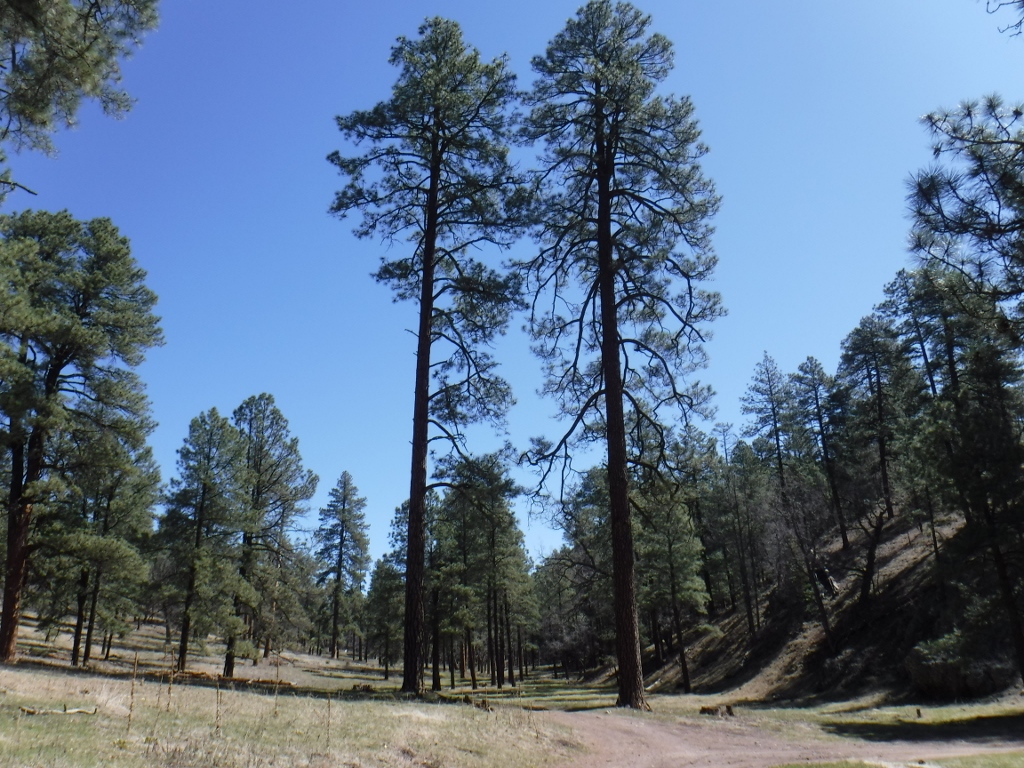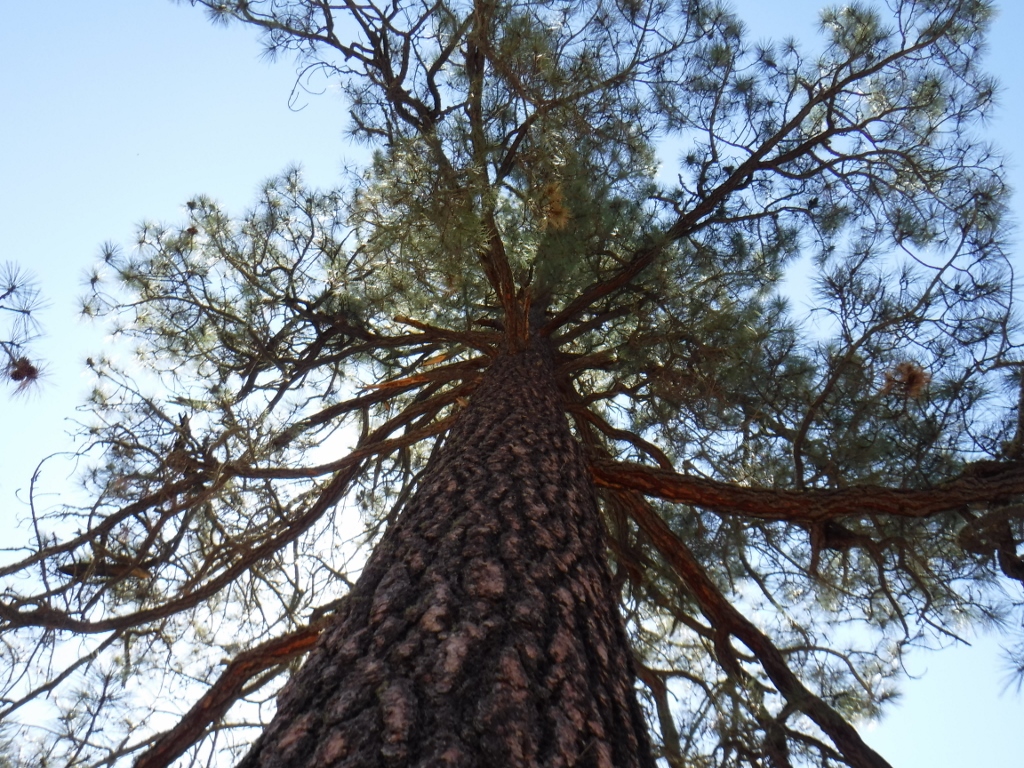 This pic has a story--------I have ---or should I said "had"---a very nice expensive pair of Keen sandals that I've had for years---lot's of miles on those sandals.
But-----------I lost one-----and had no choice but to throw the old sandal away and bought some $6 knockoff Crocks somewhere. They didn't last long
as I bought these cheap sandals at a Wal-Mart and thru the Crocks away before somebody seen me in them or worse yet------took a picture of me wearing them.
Since these were cheap sandals--------of course they'd never come loose off the bike.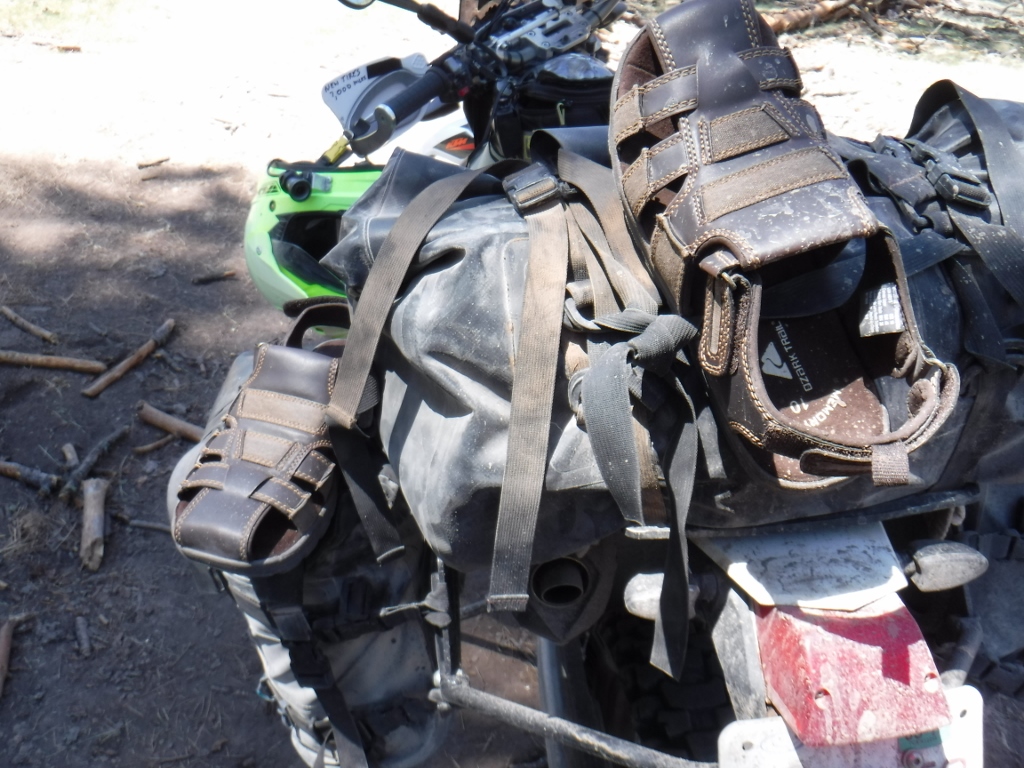 More great riding and we went thru the tiny town of Reserve---a designated point of gas, food and lodging.
Take note-----------lodging may not happen as the gal there told us there was a very long term construction project going on
somewhere around there and the rooms would be booked in advance------------forever. The other lodge down the road had the same owners
and it would be the same there--------so maybe no lodging in Reserve for you BDR travelers--however if you booked online before hand
you might have a chance she told us.
We asked about camping and she insisted we'd have to set our tents up in an RV site with hookups----and it was fresh
deep soft dirt-----and would turn to muck if it rained. There was some grass there but she said the owner wouldn't let you
set up a tent there. There was a shower house as I guess the cabins had no shower ????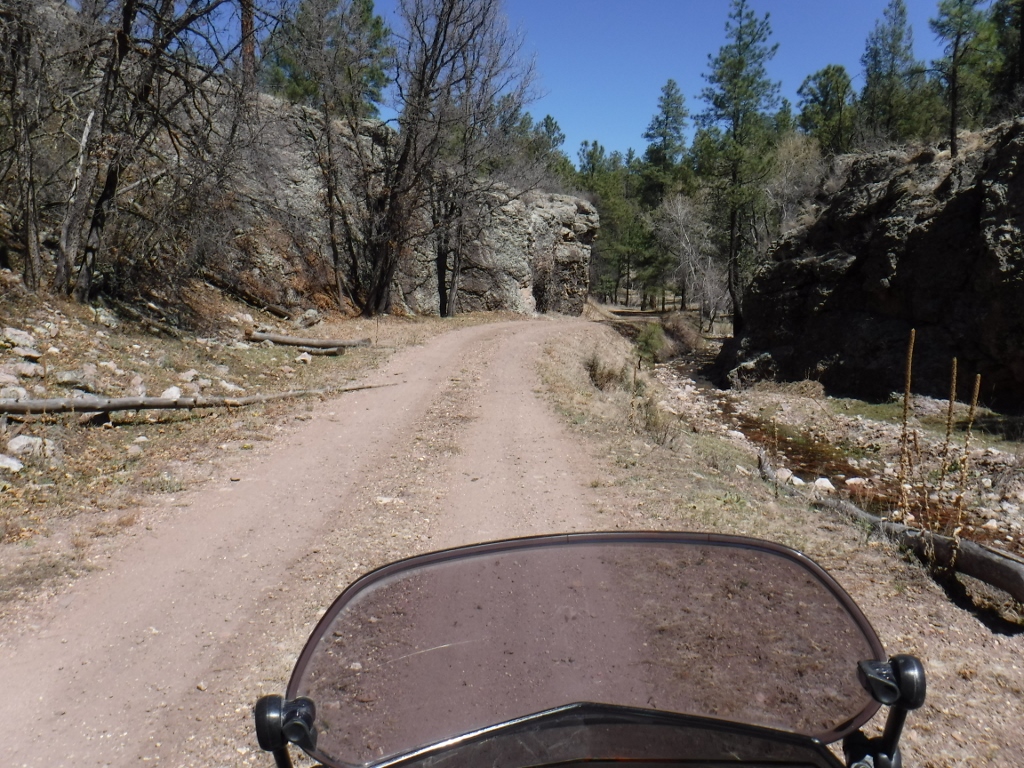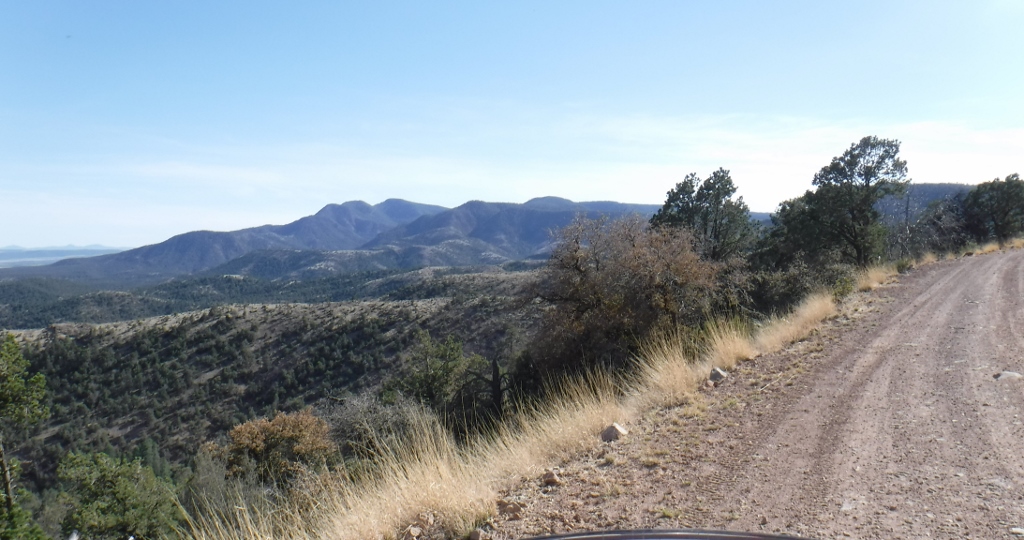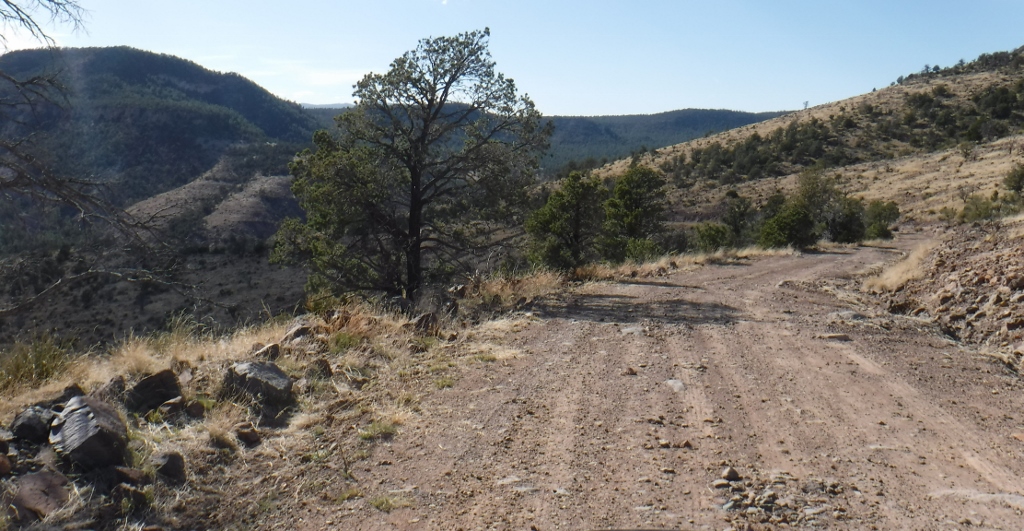 Since we couldn't stay in a cabin in Reserve or camp there-----we rode off the route to Alpine Arizona and got a room.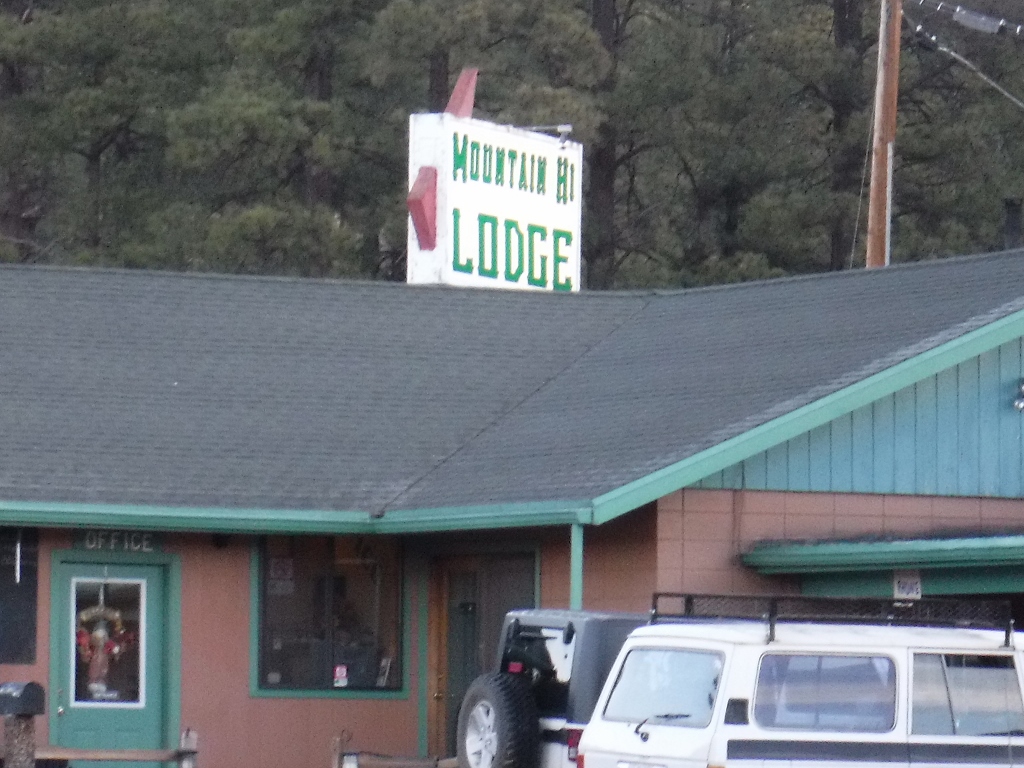 I didn't know what we were in for---but found out it was very motorsickle friendly------------too motorcycle friendly.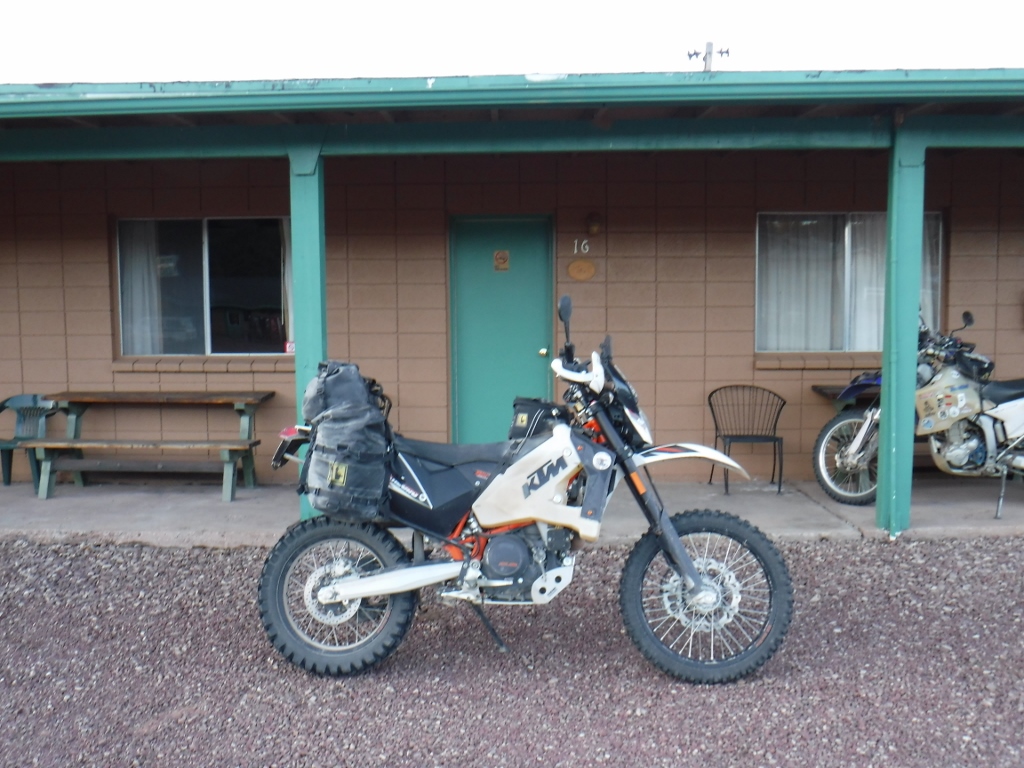 Me and Jerry's room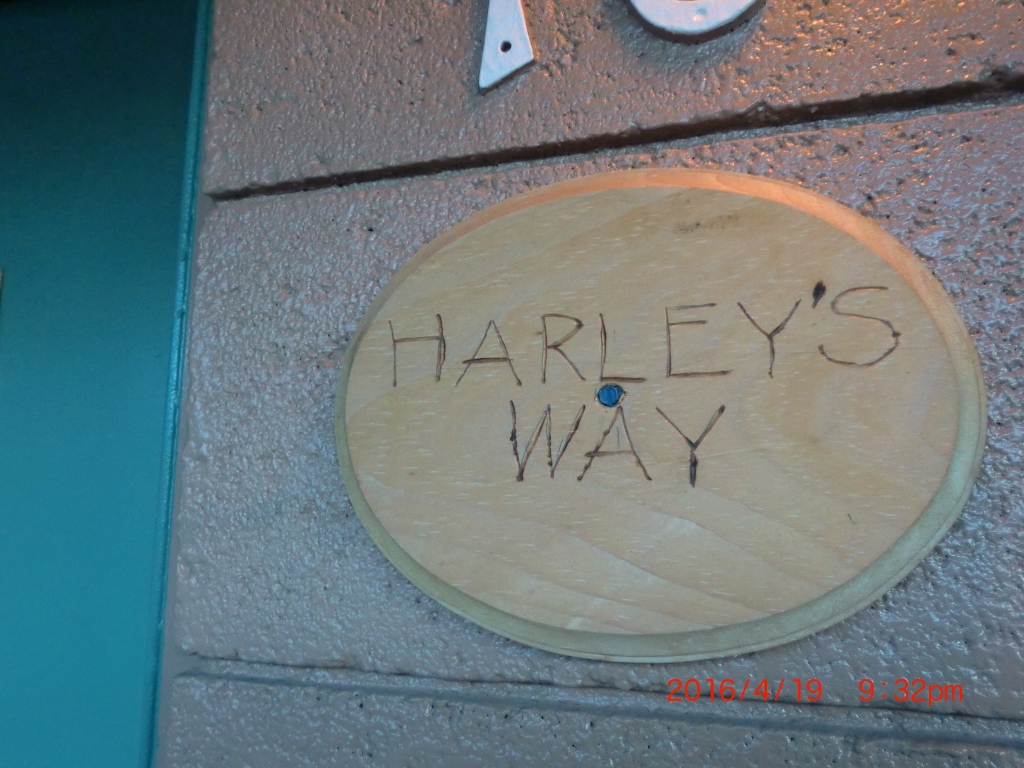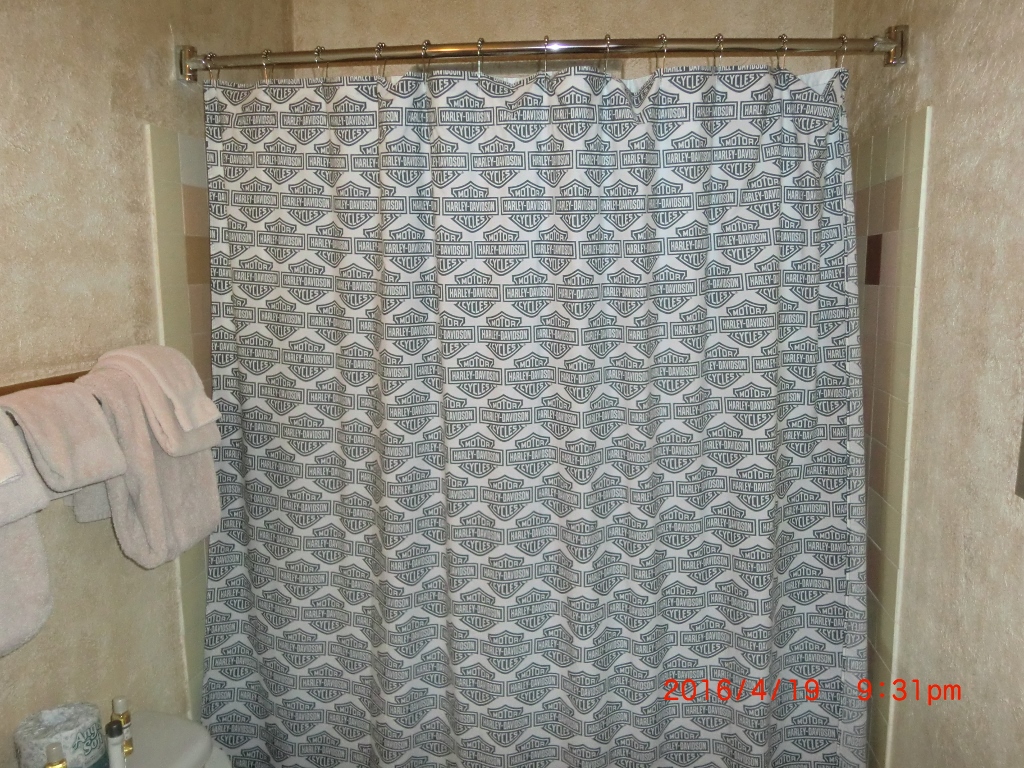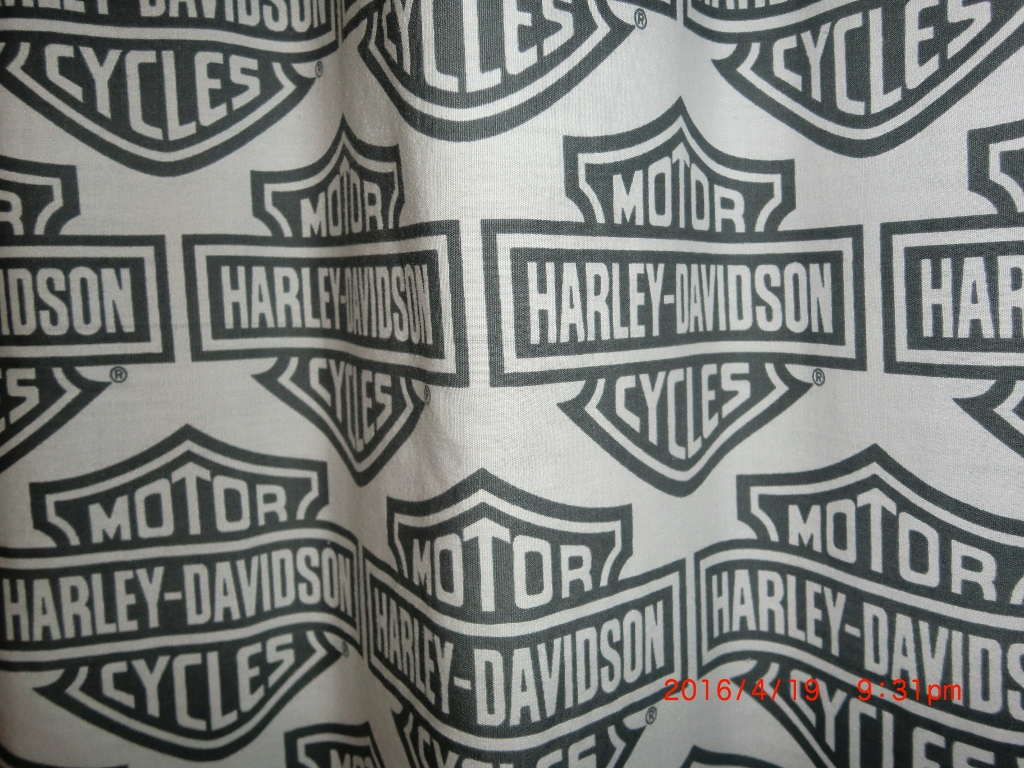 We requested the "heathen dirty dirt bikers room" but was given dirty looks.
She was so nice and asked if we needed rags for our bikes----"uh---no----they're dirt bikes"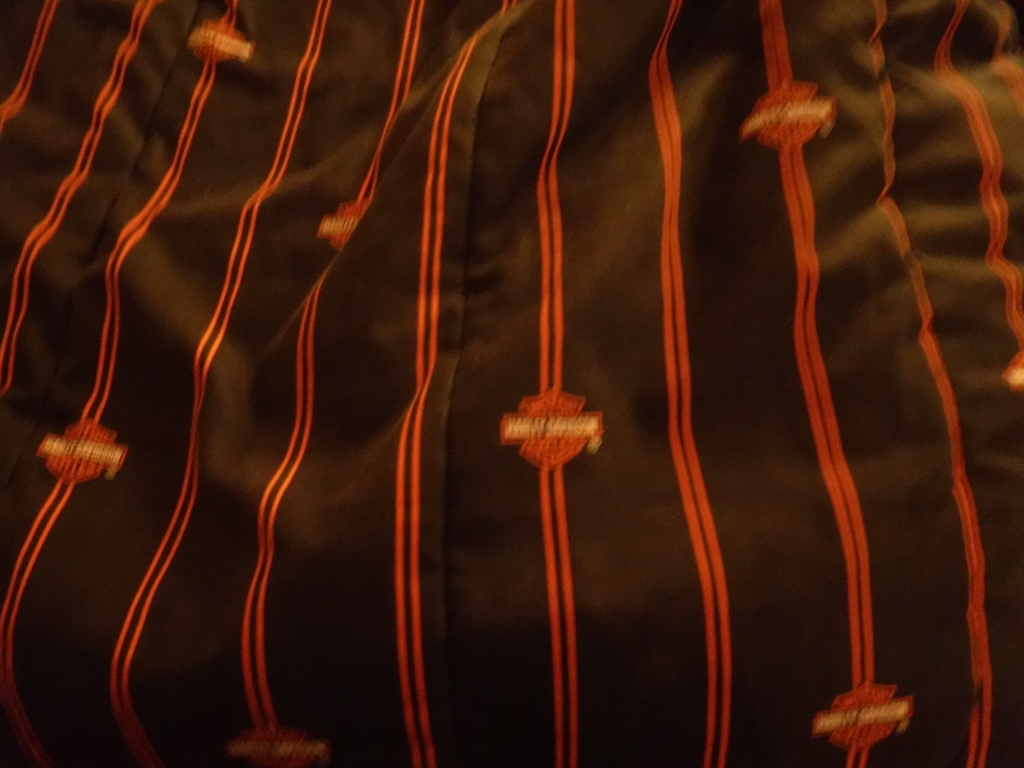 A rough map of our ride today.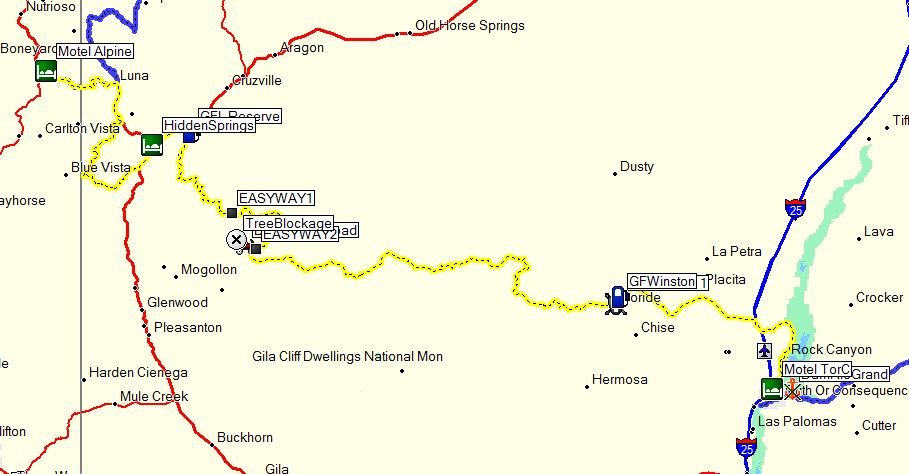 Click Here
For the rest of the story.