Missouri Mill Tour
October 2008
A DVD video of this ride can be purchased here
Since I've been pretty free of all the obligations most people have in life I've found that riding alone is something
that is going to be more of a necessity in my riding adventures. There are some good points to riding alone....some just
just can't do that----and then there are some I guess that only ride alone.
I love to ride under the bridge on a dirt road--but it was totally under water.
Southwest on hwy. 51 I turned Southeast on the first levee road I came to and shortly turned West and crossed this old bridge.
The water looked deep---but after testing the waters depth I made it across without incident.
Just after the water I realized I should have had my video camera and still camera in a zip tie !!!!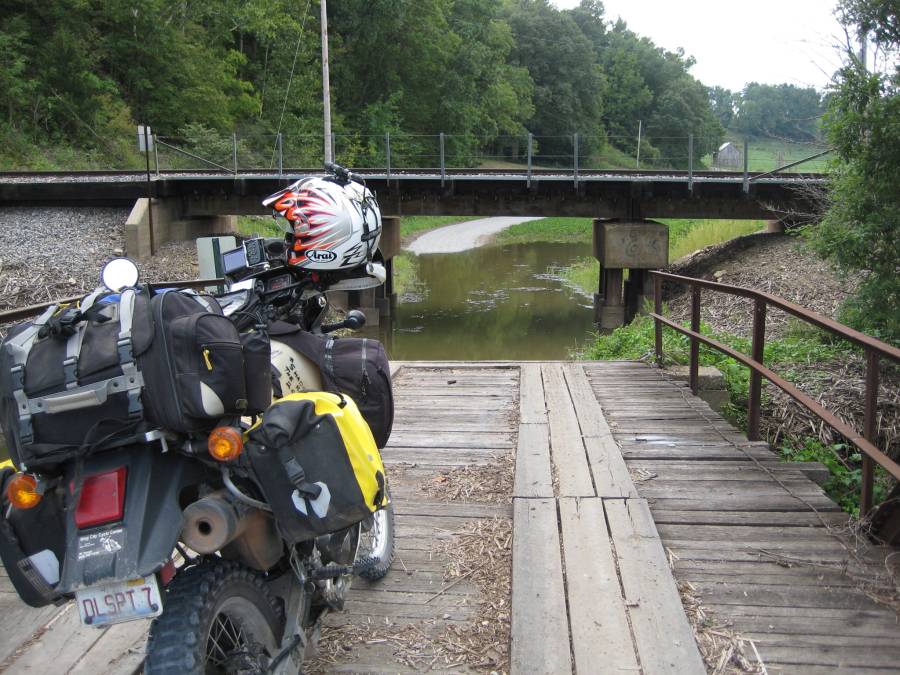 Just a little down the road on CR-210 I came across something that I had seen many years ago.
Everytime I came by I just stopped and stared at it as I really just couldn't believe what I was seeing !!
A Duck with a School Bus welded to the top !!
There is so much other interesting stuff around-----so I waited again---and waited---and waited.....
for someone to show their face and I could ask about the Duck.
Today was my lucky day------as I sat motionless on my trusty KLR Charles sauntered out of his workshop and I
asked him if I could look at his Duck-----I was really wanting to look at everything in his yard---I had all day--heck I had all week.
Little did I know I was going to get the tour of a lifetime----and also hear Charles life story.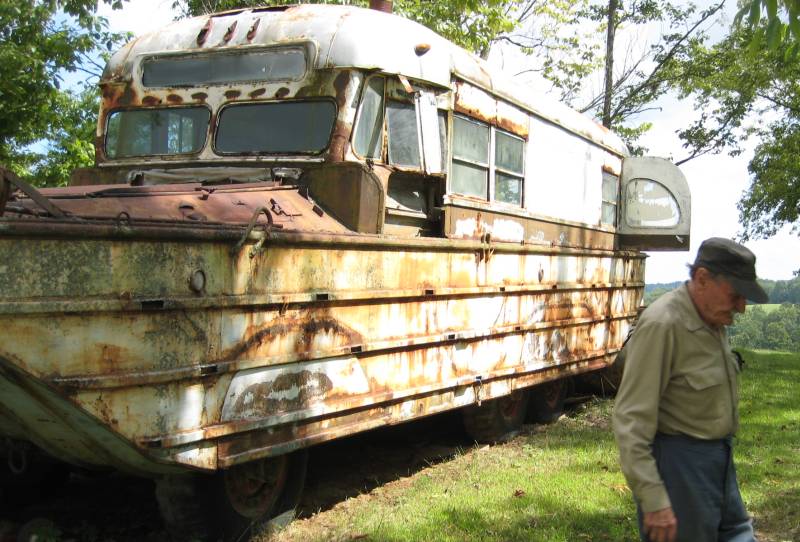 The DUKW (popularly pronounced "duck") is a six-wheel-drive amphibious truck that was designed by General Motors Corporation during
World War II for transporting goods and troops over land and water and for use approaching and crossing beaches in amphibious attacks
The DUKW was designed by Rod Stephens Jr. of Sparkman & Stephens Inc. yacht designers, Dennis Puleston, a British deep water sailor,
and Frank W. Speir, an ROTC Lieutenant out of MIT.[2] Developed by the National Defense Research Committee and the Office of Scientific
Research and Development, it was initially rejected by the armed services. When a United States Coast Guard patrol craft ran aground on a
sandbar near Provincetown, Massachusetts, an experimental DUKW happened to be in the area for a demonstration. Winds up to 60 knots
(110 km/h), rain, and heavy surf prevented conventional craft from rescuing the seven stranded Coast Guardsmen, but the DUKW
had no trouble, and the military opposition melted. The DUKW would later prove its seaworthiness by crossing the English Channel. .
You can plainly see the GMC emblem on the valve covers.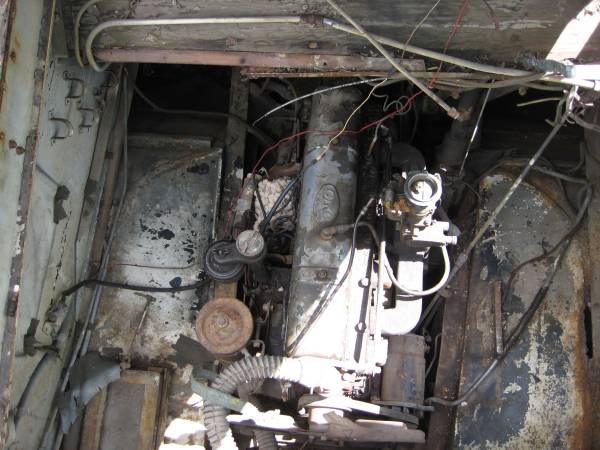 Charles bought the Duck and drove it home and gave people rides in it--but wanted to make it more comfy.
Here is what's left of the School bus sitting next to it. He said he took a gas engined cut-off saw and just walked around
the bus cutting the top off--and got a gin pole to lift it on top of the duck and welded here down---Charles was 92 years old
and a body man by trade----this man could build and fix anything-------as you'll see.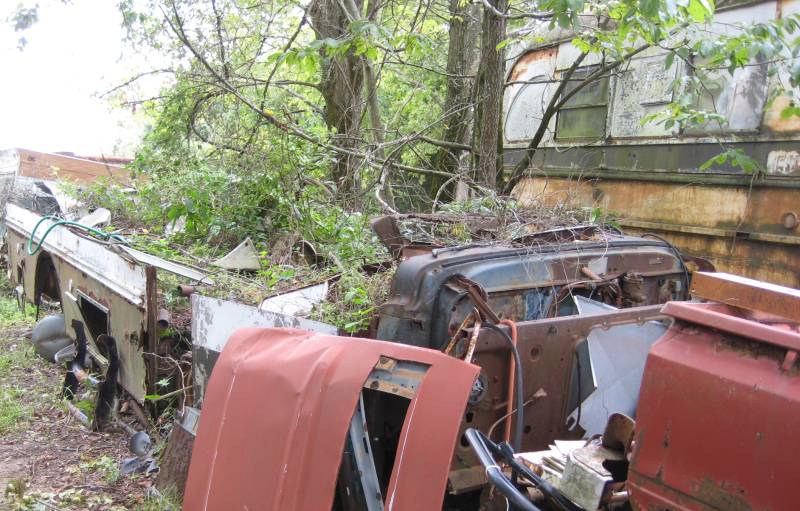 Inside the Duck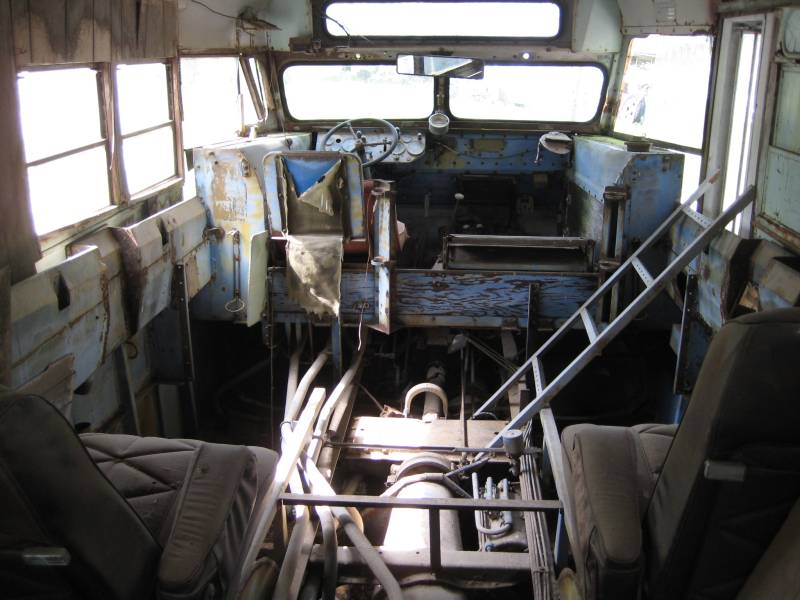 Charles swore the thing ran. The funny part is he sold this thing for $5,000 along time ago.
The guy sent him $3,000 for a down payment but never showed up to get it.
A year went by and after Charles tried to track the guy down----seems he had a nasty divorce--then died.
He called the guys attorney and asked him what to do----the attorney said "keep it".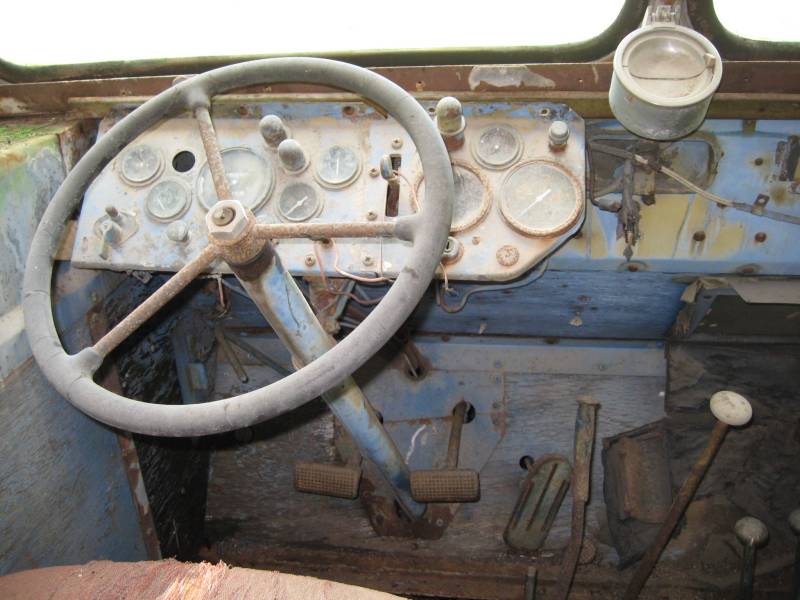 I asked him if he ever had it in water---he said no--as the only thing missing on the whole thing was the propeller !!
A pretty important thing---he tried to find one but never did.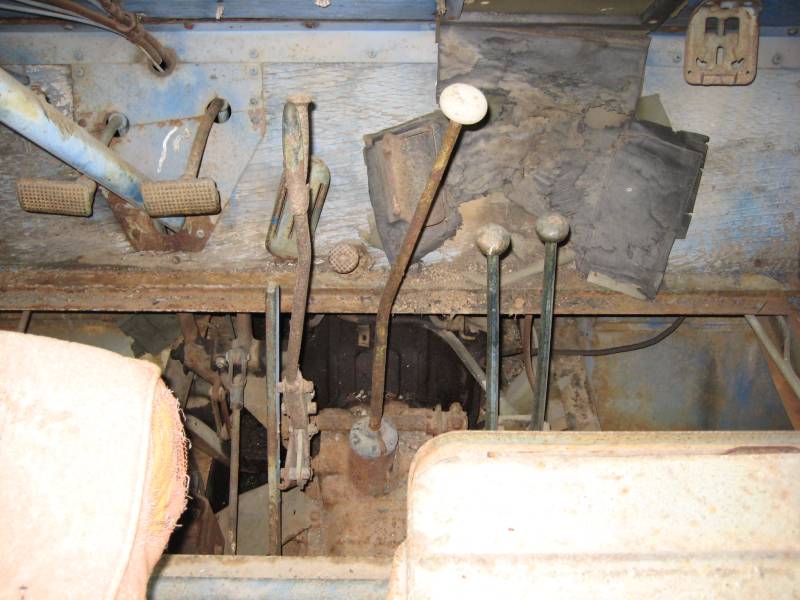 My tour guide-----I was at Charles house for about 3 hours and had the time of my life as he told one tale after the other about a lot of things.
He got around very well and talked very well and his memory was way better than mine as I can't remember 1/3 of the things he told me.
All the time he was talking I was zapping one picture after the other.
What I liked about Charles is that he was old school---of course. Talked very slowly and precisely from a time when people weren't in such a hurry
and listened to every thing you said without interrupting or cutting your conversation short. He looked me right in the eye as I relived his whole life
as Charles has know no other place than here. He built his house and garage and owned, drove and modified every vehilce in his yard.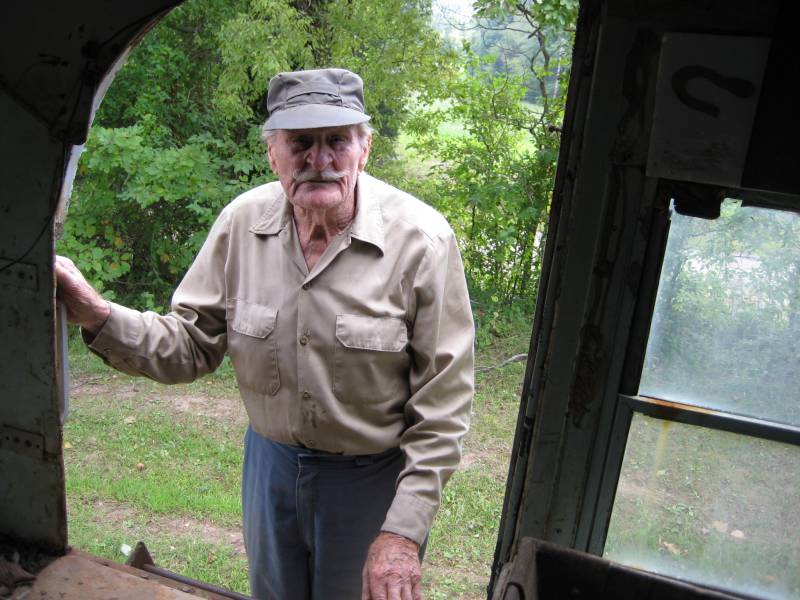 He didn't make this cement mixer----it was a stationary unit at one time.
But Charles welded it to the frame of a 2 ton truck and this thing poured all the concrete in the county he said--way back when of course.
Notice the driveshaft on the front for hooking to a tractor to run the thing.
Charles told me that he poured the blocks that his block house was built out of.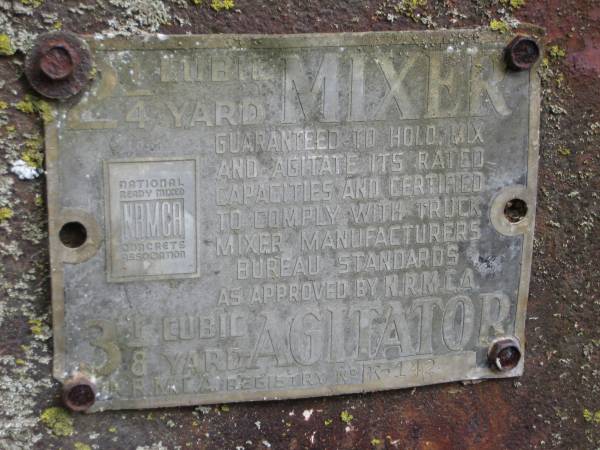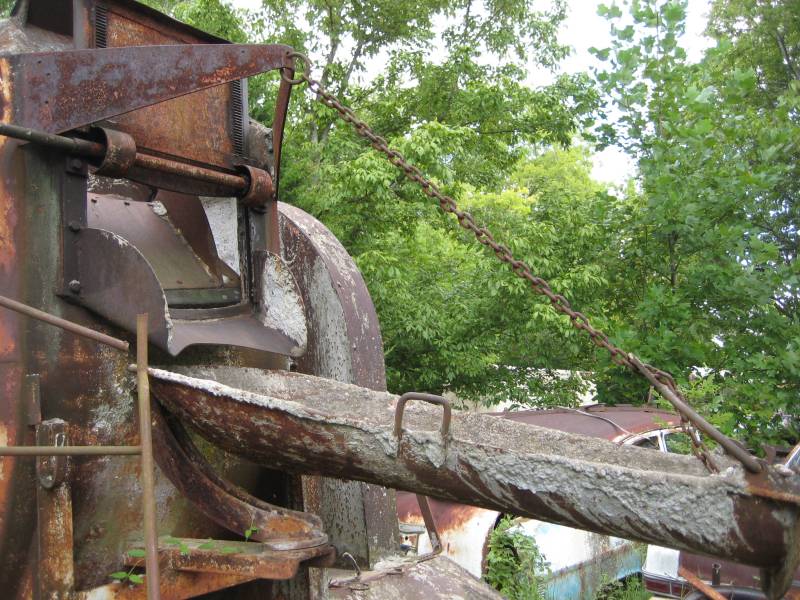 Everything was modified----chevy engines in Fords---Ford engines in Chevy's---it was hilarious.
Here is a Chevy engined fuel truck--said the Ford didn't have enough power to pull the snot out of your nose.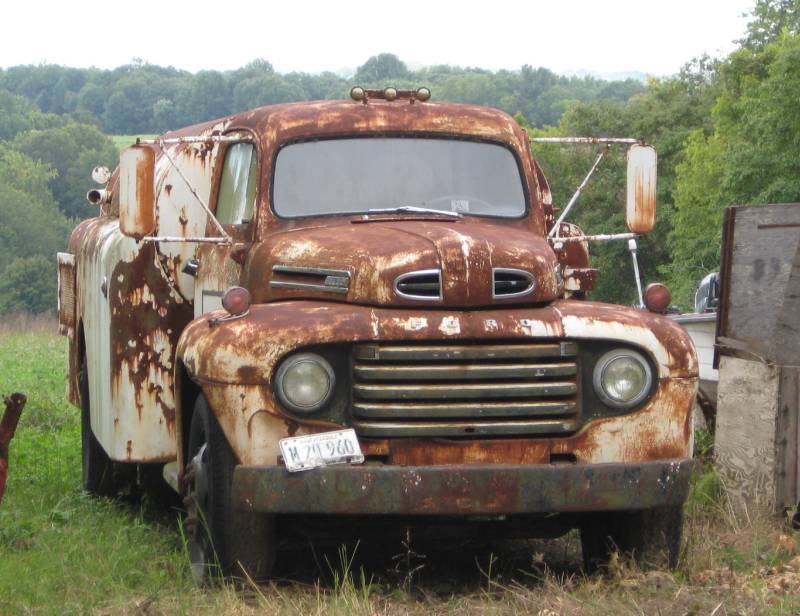 Electricity---I suppose he had it before anybody else.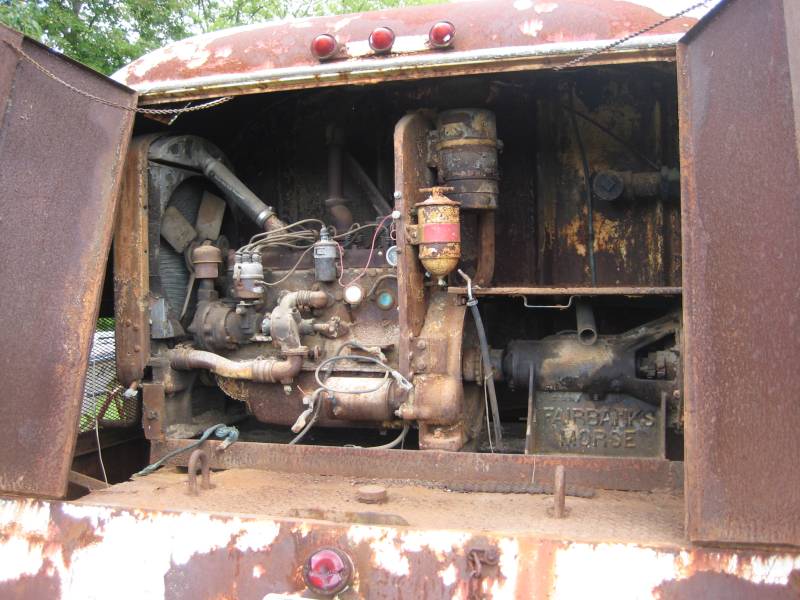 This was the newest thing in his yard--and old Suzuki RM----I didn't mention it on the way by--------
but later asked him if he ever owned a motorcycle----boy did his eyes open wide----"did I"---he exclaimed !!
You'll see and here that tale later.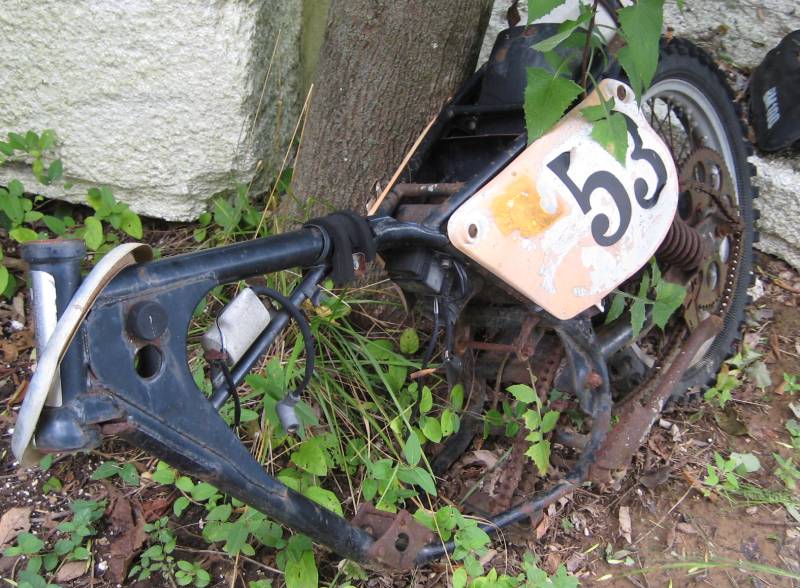 Homebuilt Dodge motorhome---with who knows what kind of motor in it---I don't remember--he did tho !!!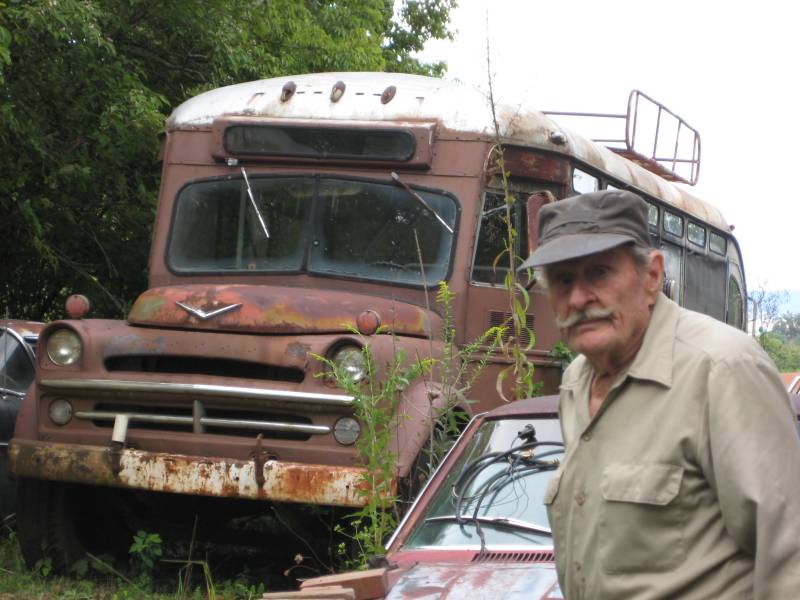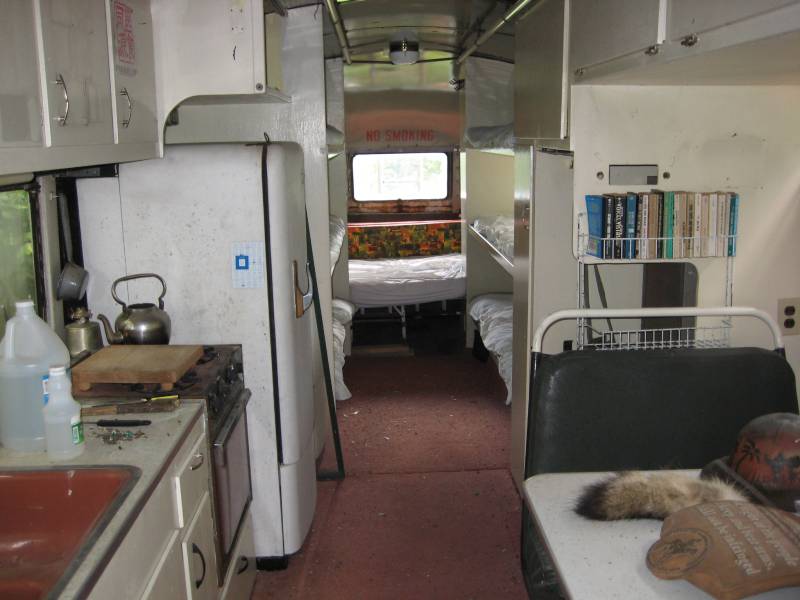 As we were walking out the motorhome this snake scared the livnig bajeeesus out of me.
He laughed till he cried------it was rubber.
I didn't see it when I came in but when I went out I bout pee'd my pants.
That peckerwood had set me up.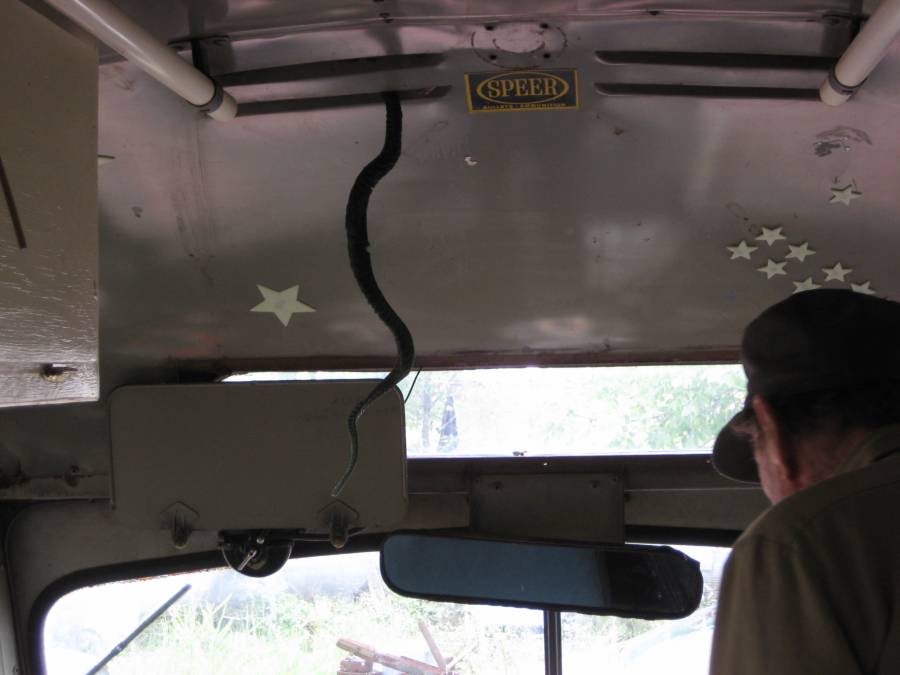 We had visited for about an hour when his wife came out to see who in the heck I was.
I introduced myself--she seemed a little concerned of the stranger in her yard---I winked at her and told her I'd keep an eye on him--
but we'd be awhile !!!
Then we came to his 1951 (the year I was born) Keiser.
He asked me if I thought a pinto was the first hatchback------I wasn't sure ????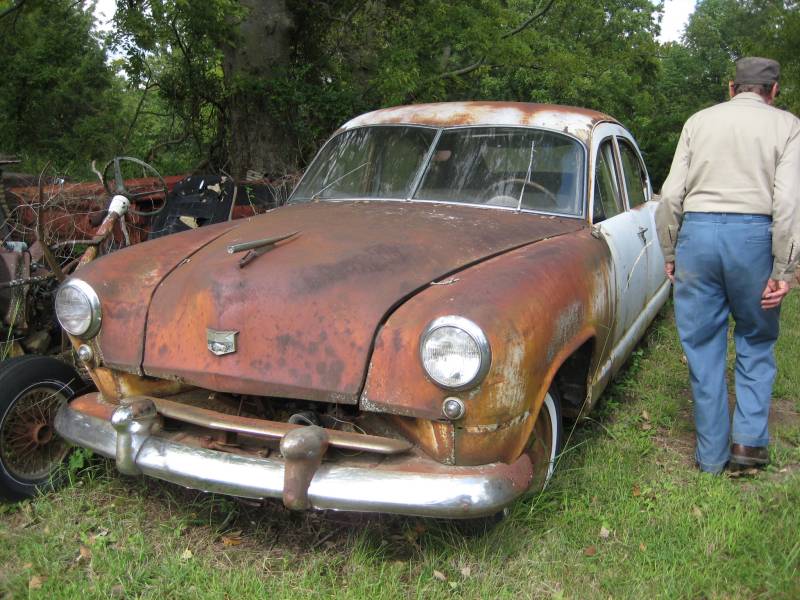 The Keiser was the first hatchback-----he had to show me the hatchback still worked and insisted he lift it by himself when I tried to help.
In fact he had to show me everything still worked---although he never tried to start anything.
But more than once when we came to a vehicle he told me it still ran--!!!!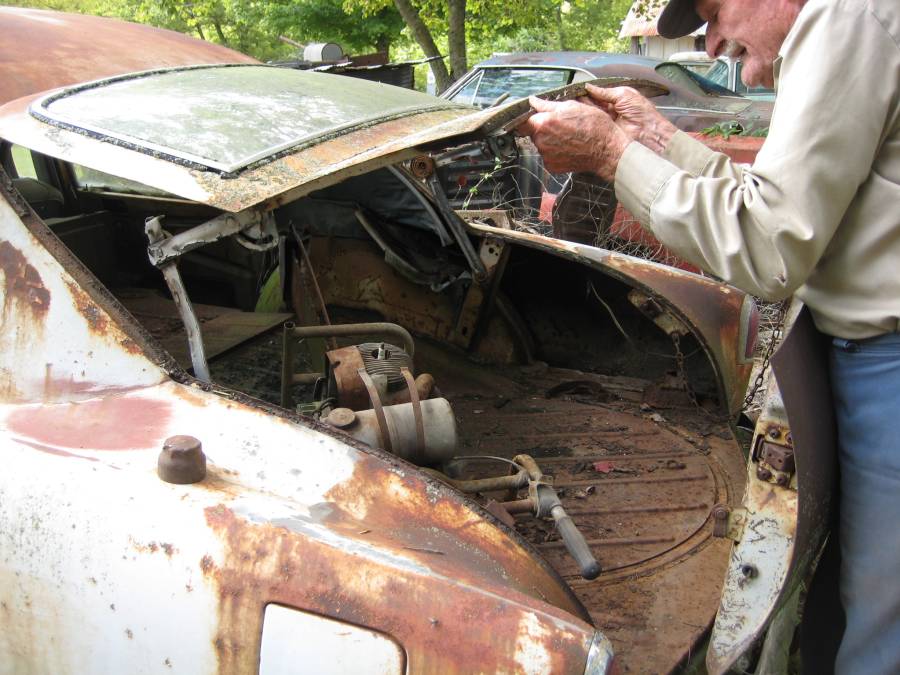 There was a 2-man chain saw in the hatchback---probably ran ????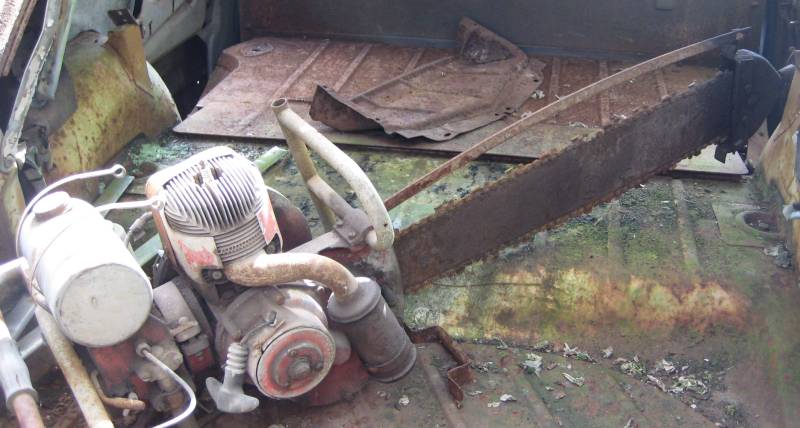 He built this from scratch.
Said------"somebody gave me this old Jap motor that had a lug broke off the motor where the alternator mounted"
It ran so I got out my welder and started welding.
Notice the drive train----the engine and driveshaft goes to the rear end--but the rear end has a small metal wheel on the end and it rubs the rear tires
to turn them !!!!! Can you just see him running around the countryside in this thing !! Followed by his wife in the DuckBus.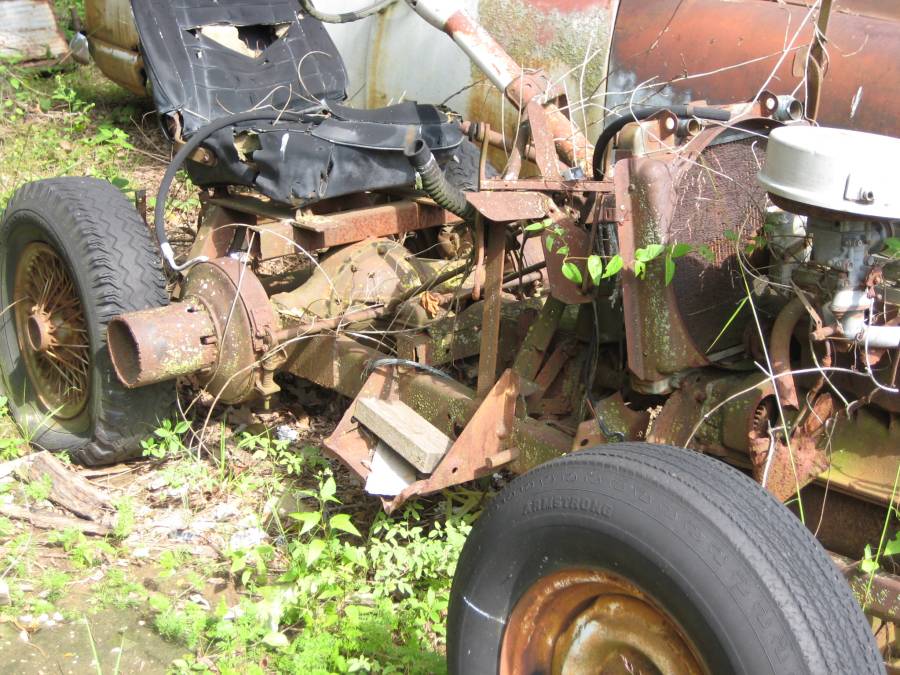 Charles said he'd been married mite near 65 years to the same woman.
I asked what he contributed to his good health and got way more than I asked for.
Without even the slightest hint of a smurk said "Good Sex"----"and often".
"I've cut her down to 3-4 times a week tho--instead of a day"
I wish I had a picture of my bewildered face----as I didn't know what to say or do.
As soon as he was finished with that statement---it was quickly on to the old Nash before I had time
to ponder on that too long.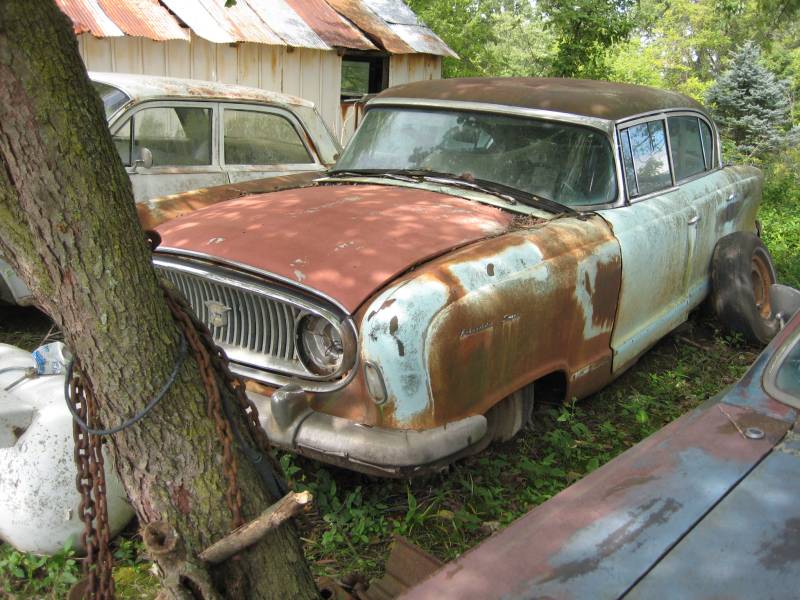 "Yep---runs like a top"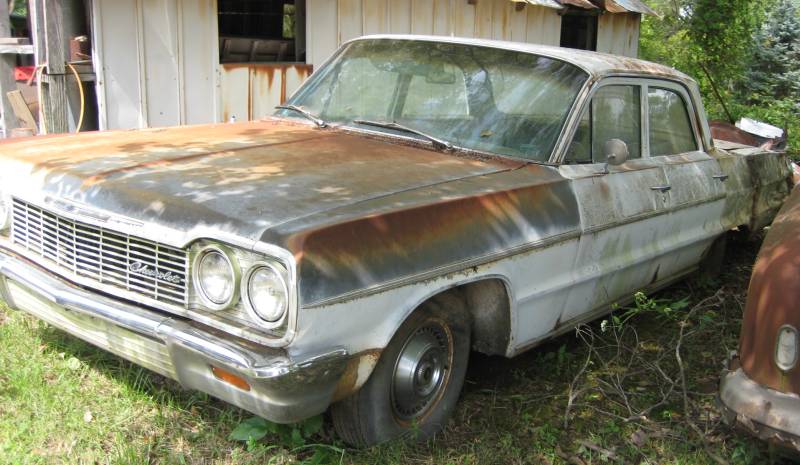 I don't think he intially intended on taking to his private workshop where all the work had taken place over his entire life.
It was his castle----it was full of the tools that were 75 years old. He told me it was just about 2 years ago that he had to
quit workin' on stuff----I just almost shed a tear as he sadly looked at all his old stuff and all the toys he had made.
I didn't talk much--I didn't have anything interesting to say---and I didn't want to interupt him----I let him walk, wander and talk
at his own pace and felt honored to have met him and walked and talked with him.
Oh yes---the 1958 Harley---the bike was somewhere getting worked on !!!!
Probably come roaring by my house one of these days on 2-wheels--with a DuckBus on it's tail !!!
I will never forget Charles---never.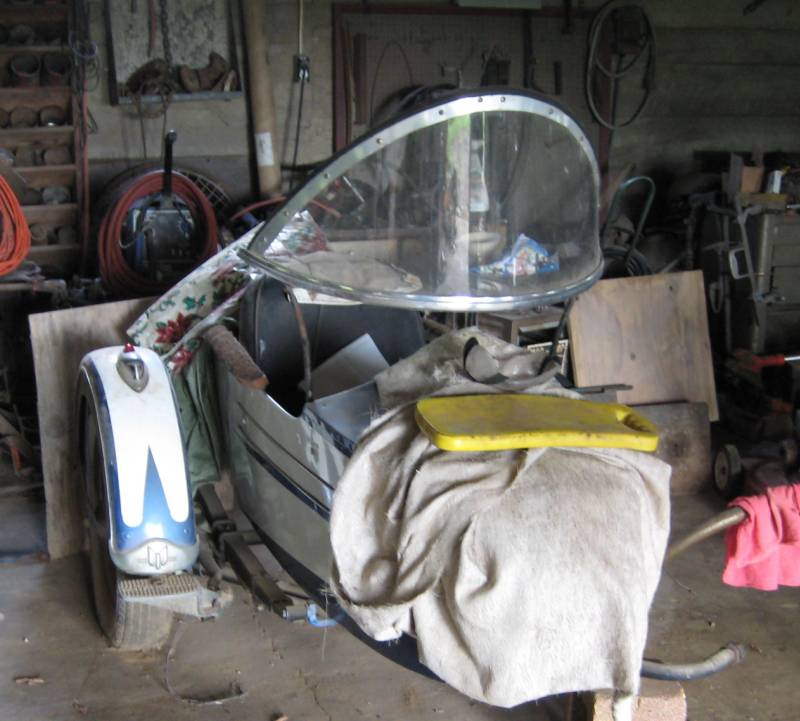 Update !!!!!!!!!!!!!! 11-10-08
I received an e-mail from a guy who lives in Belleville, Illinois who said he knew Charlie.
Charlie worked at his dads body shop and rode this Harley to work everyday, but hadn't seen Charlie since about 1970 !!
He even remembered seeing Charlie riding his daughter in the blue and white sidecar.
He went on to say that Charlie was a very nice guy and a lot of fun and he learned a lot about life, motorcycles and girls.
He never knew where Charlie lived but remembers him talking about his house on a hill near Perryville, Mo.
I replied to him and told him he ought to visit Charlie and I'd give him directions to Charlies house.
I think this next spring (2009) if I'm still here----I will visit Charlie again and just sit and relax in a couple chairs
and let time go buy looking out over the beautiful valley in front of his house---maybe have a chew of backey !!
I would love to get to know Charlie well enough that he could call me his friend.

Just a little upstream from the Bollinger Mill is this old bridge which was open the last time I was here.
Didn't matter-----I never used it then and didn't this time---just a little downstream to the South
you can cross in the Whitewater river----it's along way across but not that deep.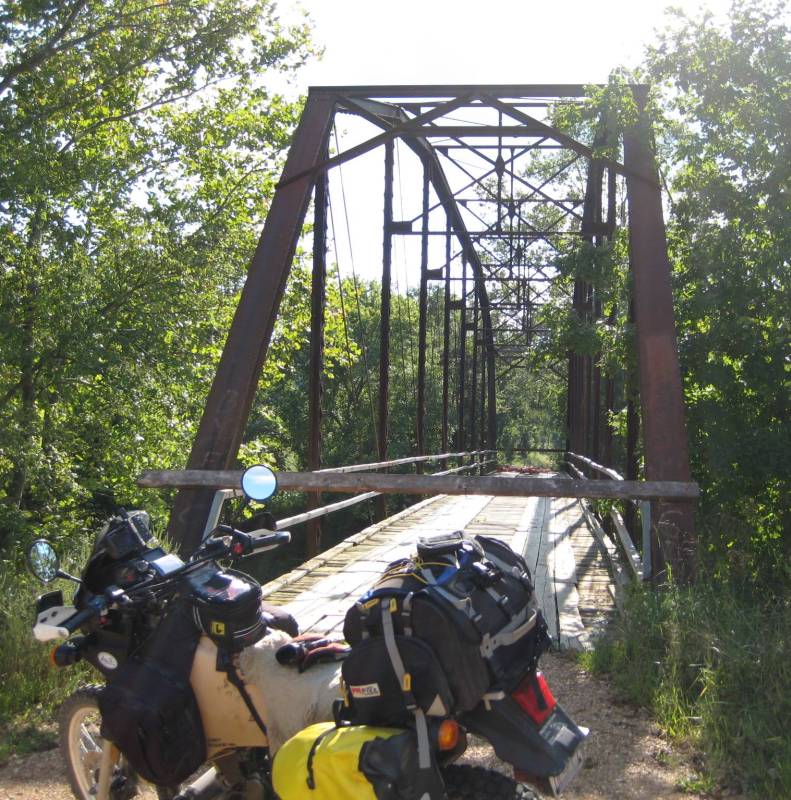 I crossed out there--about 100 yards downstream.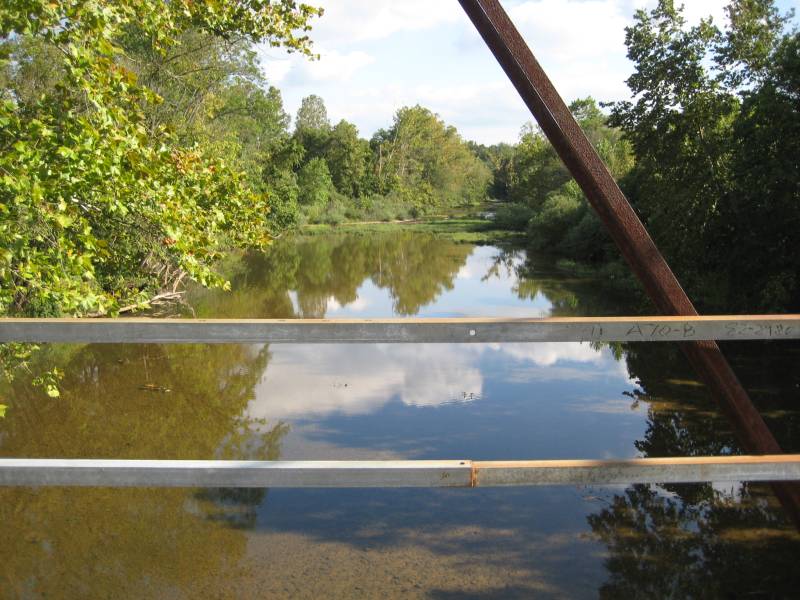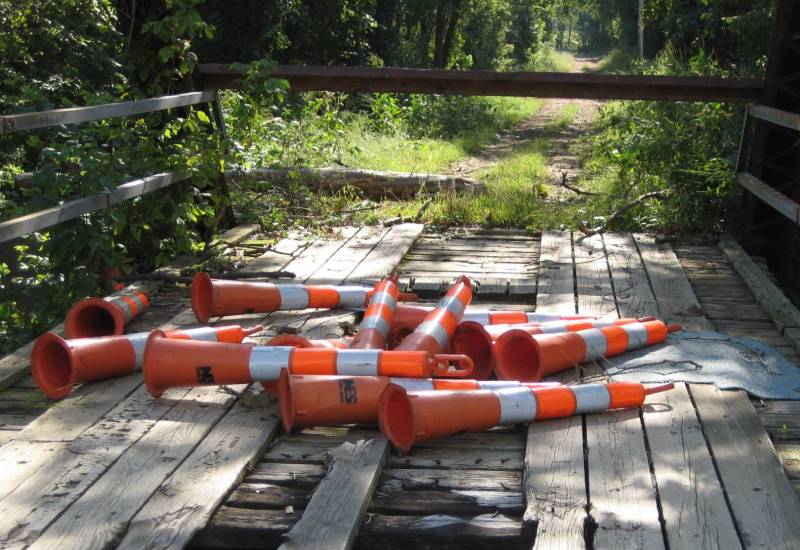 About 1.7 miles West of route 51 on CR 930 I found this old house------or is it ????
I don't know what made me look----but under the house were all these shafts, wheels and pulleys.
A grist mill ????---where's the water wheel and creek ??????
A mark on my gps said Heitmans's Mill-----I better investigate.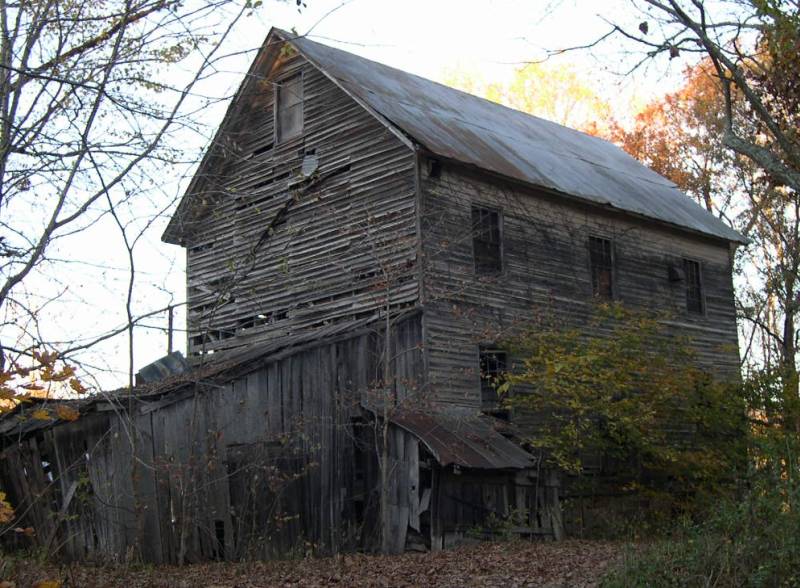 Look under the house-----wheels--shafts---belts---I've found the lost Mill !!!!
But how is it powered ???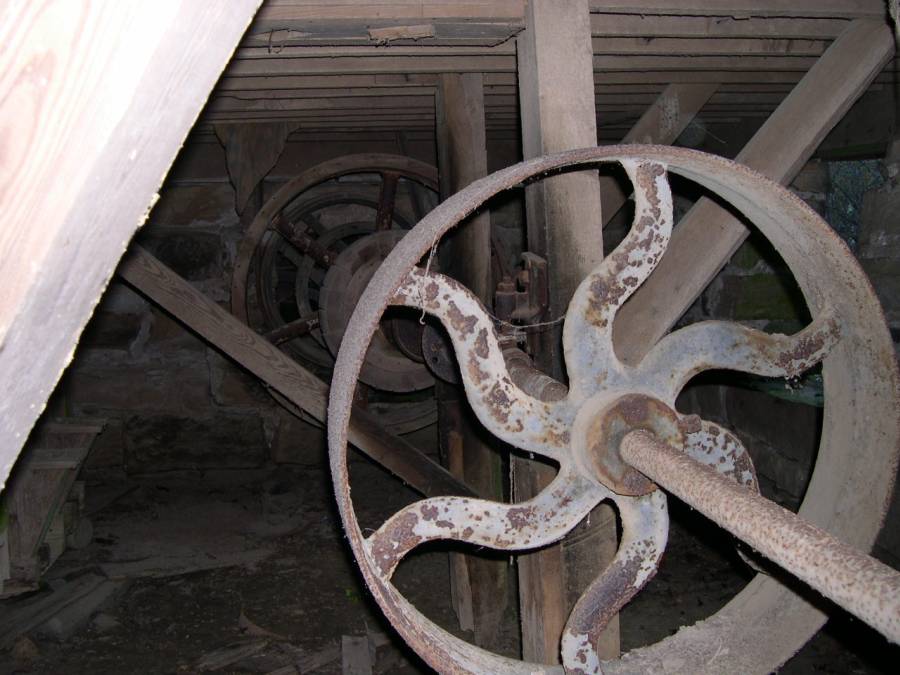 Here is the remains of an old steam boiler---that is my trade-----boilers.
I suppose most wouldn't have known.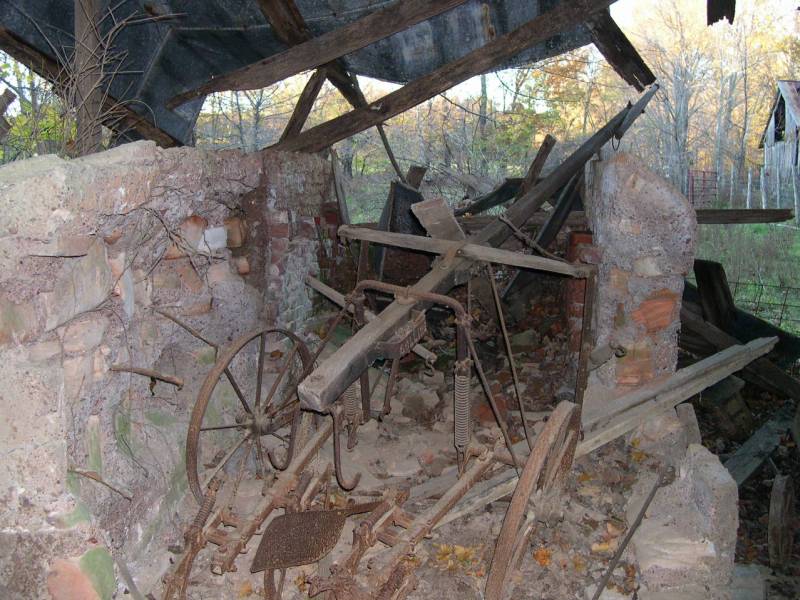 And here is the steam engine and flywheel---with a shaft going under the mill into the crawl space.
I've never known of a steam powered mill.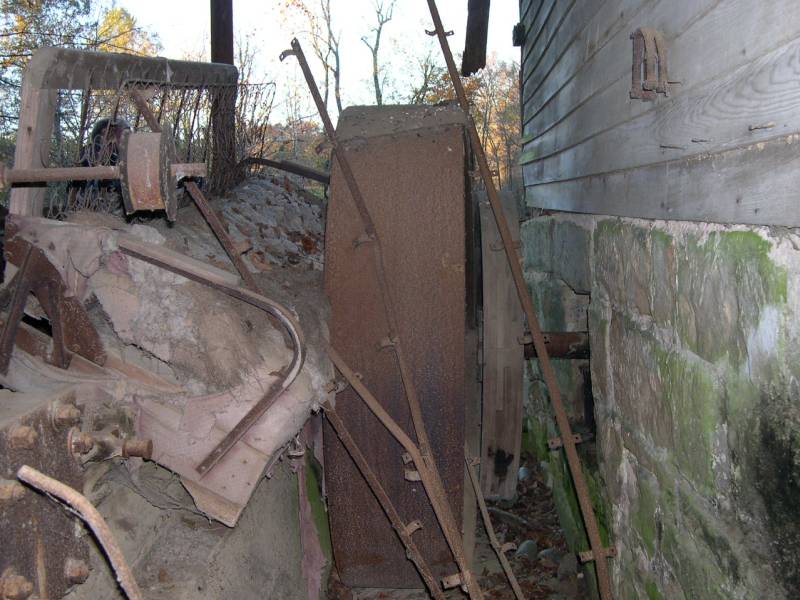 Inside is all the old equipment---amazing--most stuff dated in the 1800's.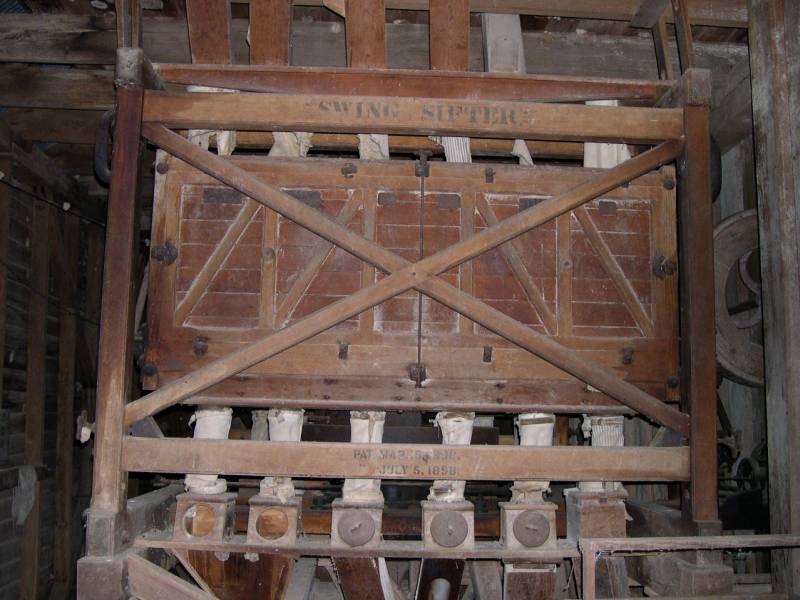 I traveled South from there a short ways and found the old Heitman Church.
But the Heitman School below was my best find----it was on my gps--out in the middle of a cow pasture.
It was being used as a barn----I got permission to go to it from the friendly landowner--right thru his cattle.
The old road thru there was barely visible and not usable.
This is private property----don't go out there without permission--it was on my Roads and Recreations
mapping software from Garmin.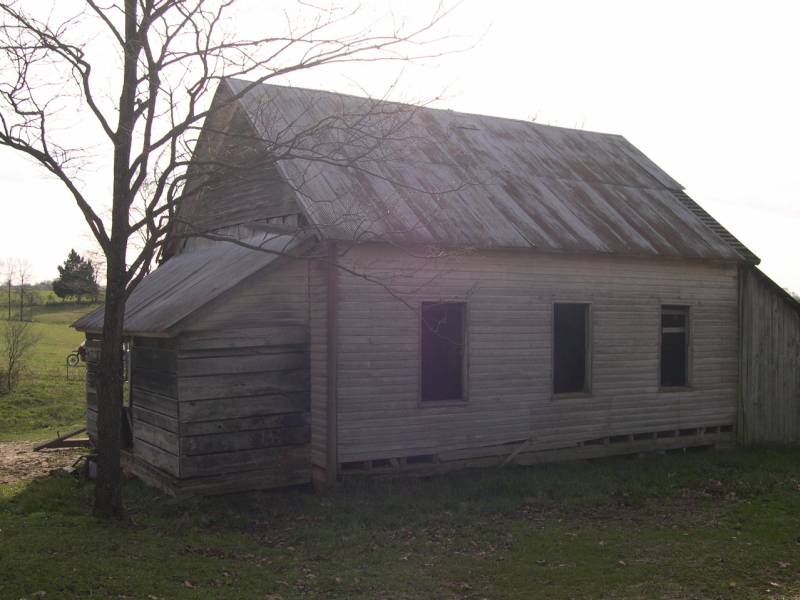 It was getting kind of late and I started looking for a place to camp---and ended up at a campground that used to host the
Trail Of Tears BMW rally. There was nobody there and I had free camping with a hot shower!!!!
That campground is about 12 miles West of Marble Hill--then just a 1/2 mile South on Y.
Really nice sort of primitive place right on the beautiful Castor river.
The next morning I had ridden 50 miles before the sun came up---you can't do that by yourself--not usually with a partner or more.
But I was soon to get a partner --and a good one, as I talked on the phone with my buddy LeeUllman and he was jobless like me. Poor sucker.
Maybe we could pool our money together for breakfast !!!!! We headed towards each other and met at Skeeters cafe in Gainsesville
for breakfast. Man I rode a long way for breakfast---but it was worth it. We have been internet buddies
for years------and he just did the Western TAT with an old Mexico buddy of mine Burt. They didn't quite make it--but will try again.
I met Lee and Burt near the Canada border in Montana as I had just finished the continental divide ride and they were near the
border.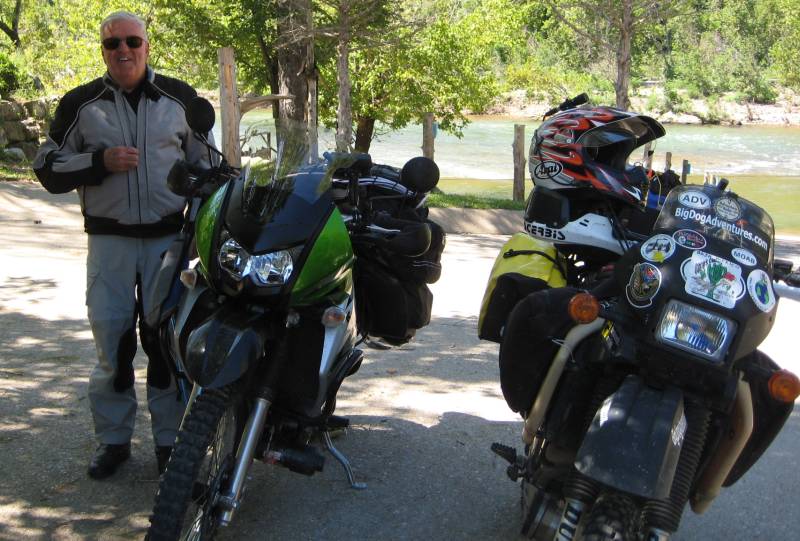 We had some catching up to do----and had no schedule at all--being jobless and all--who's going to holler at us ???
"Your late !!!--Late for what ?? "
We yakked for some time before heading East to the Dawt Grist Mill.
This is the North Fork River and the bridge going to the Dawt Mill.
Last time I was here the water was up and you couldn't see the bridge--I thought it was a goner---not so.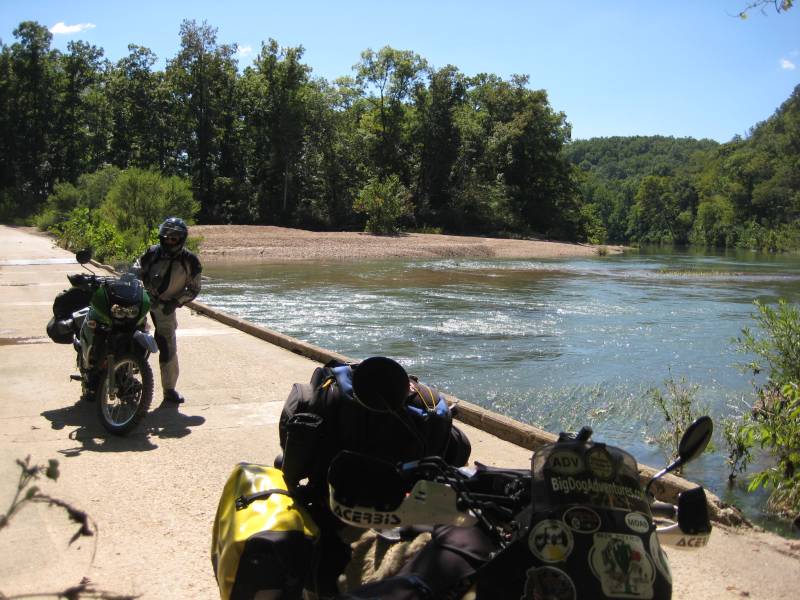 A view from the river of the old Dawt Mill
Better get there quick--they are rebuilding it---and ruining it.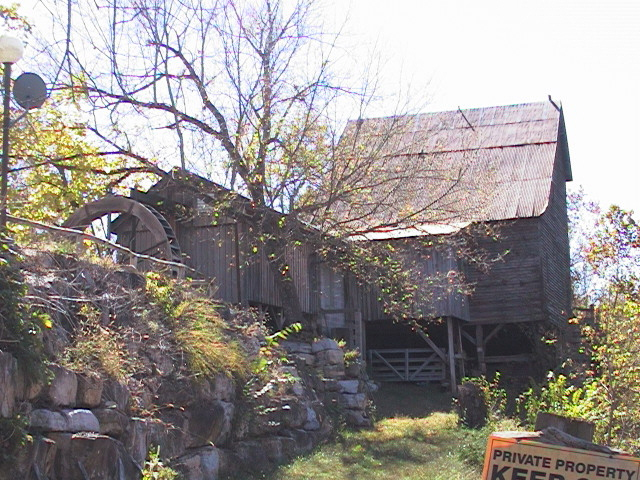 This is a neat view of the river at the Dawt Mill.
They built the dam to divert the water into a water way to get the water to flow thru the mill.
What a beautiful sight. This is actually a picture of me here a few years ago--I seem to have lost
the newer pictures---better for you not to see what they are doing to the mill. I shed a tear.Z

The Dawt Mill is about 12 miles East of Gainesville, Mo. then just a little North on PP.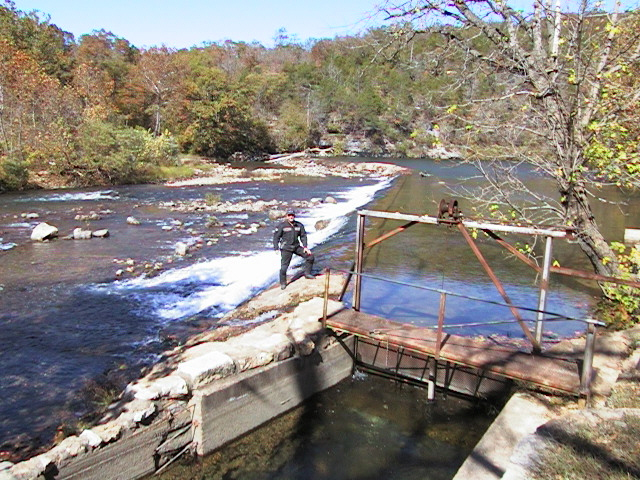 About 12 miles (in a straight line) is the Zaoni Mill---just about a mile West of FF on 181.
Looks like you are driving up the driveway to someones private mansion.
That's because you are !!! Who'd a thought. I've never been bothered stopping there.
Gas is around back out of an old glass gravity powered gas pump for about 17 cents per.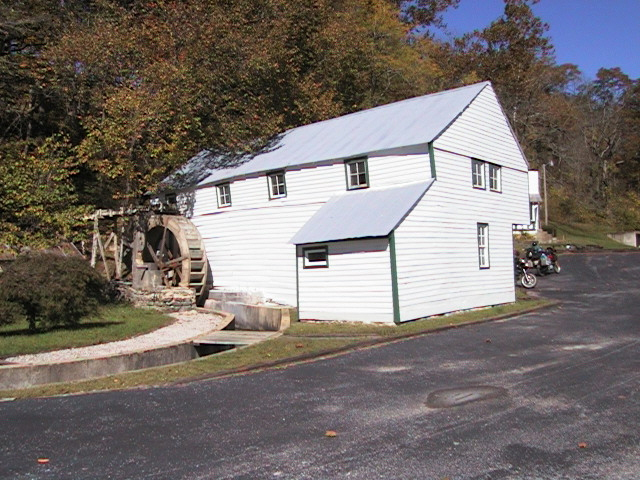 Go back East on 181 and on the right side of the road you can't miss the Hodson mill.
Beautiful spring powered mill with a waterfall to boot.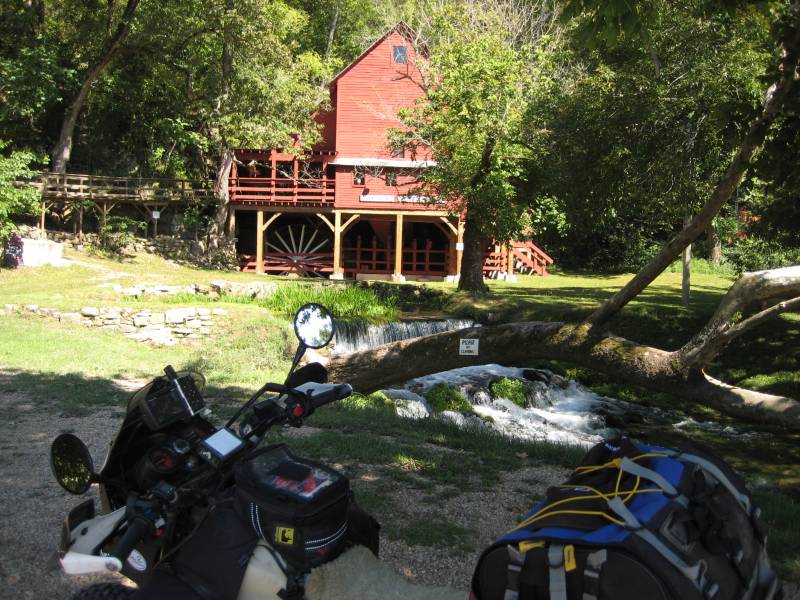 Now this was by far my favorite---by very far !!!
I'd marked this mill probably 12 years ago--I never researched it and didn't know if anything was even there.
The best part is it was down a nasty one lane road in deep gravel--then you had to ride thru a river and over an old bridge
and there she was.
Take note---this was my favorite thing on this ride.
The Topaz Mill
It's on the North Fork River same as the Dawt.
I might have to kill you to tell you where it's at.
I'm not even going to try and tell you how to get there---I don't think I could. But it's here:
N36° 56 44.3 W92° 12 10.5
Tell em' BigDog sent you--that'll get you thrown out for sure-----or worse yet--------run oft !!!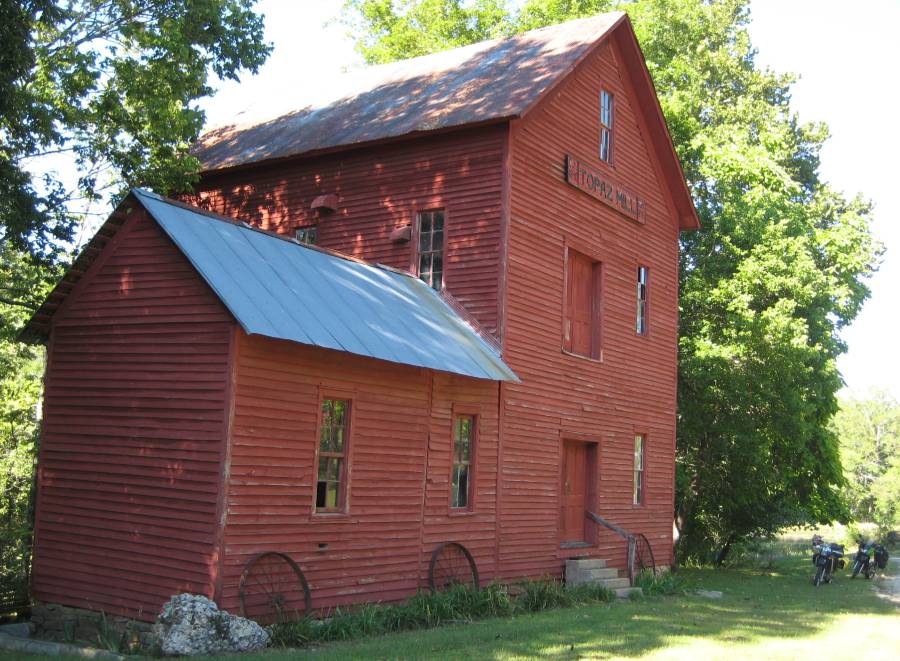 You can see the wooden wheel hidden in the bushes behind the mill.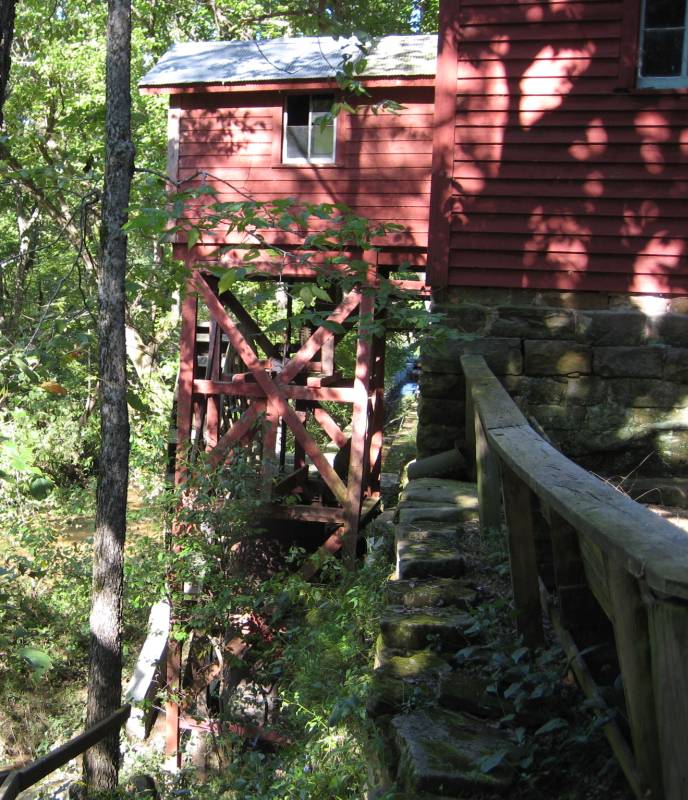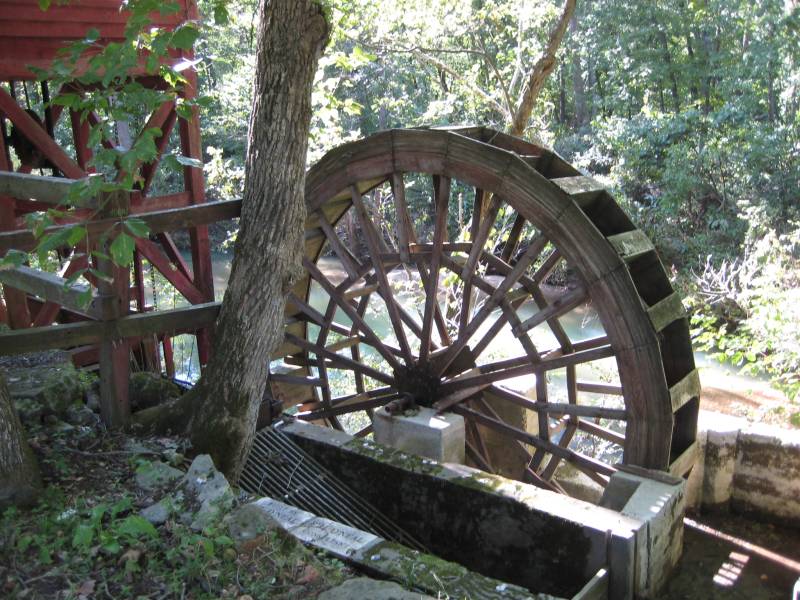 Blind luck was with me again------we wandered around long enough (we had no where to go and no schedule) that an old man
finally sauntered over to us---just like ole' Charles back at the DuckBus---am I lucky or what.
He had lived there forever and was in his 70's and owned the whole place.
He asked "you fellas want to see inside of it ??"------"Do I llike motorsickles ??""" Duh !!!!
We got the 5 dollar tour for nothing--he was proud to show everything off---and said if you turned that wheel the grist mill would
come alive and start moving and whirring-----better watch your fingers and toes.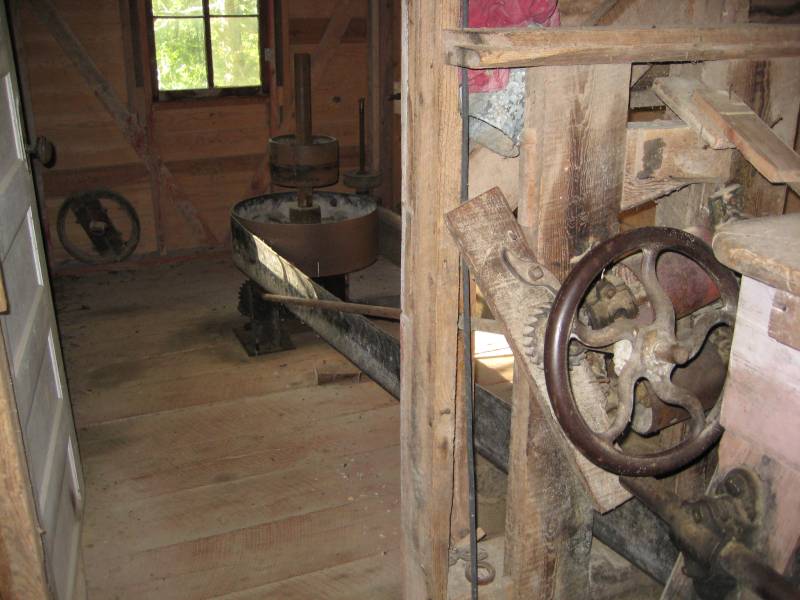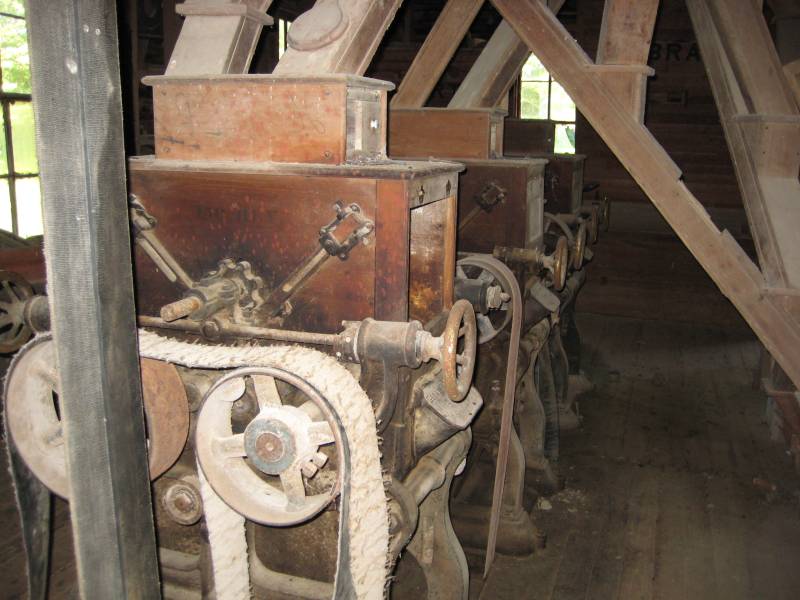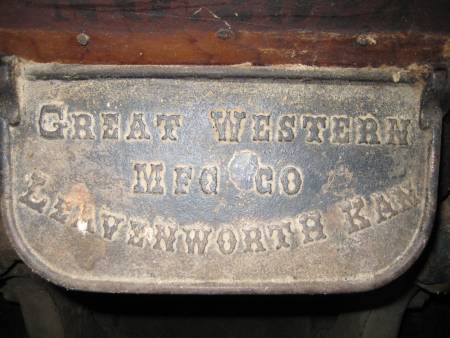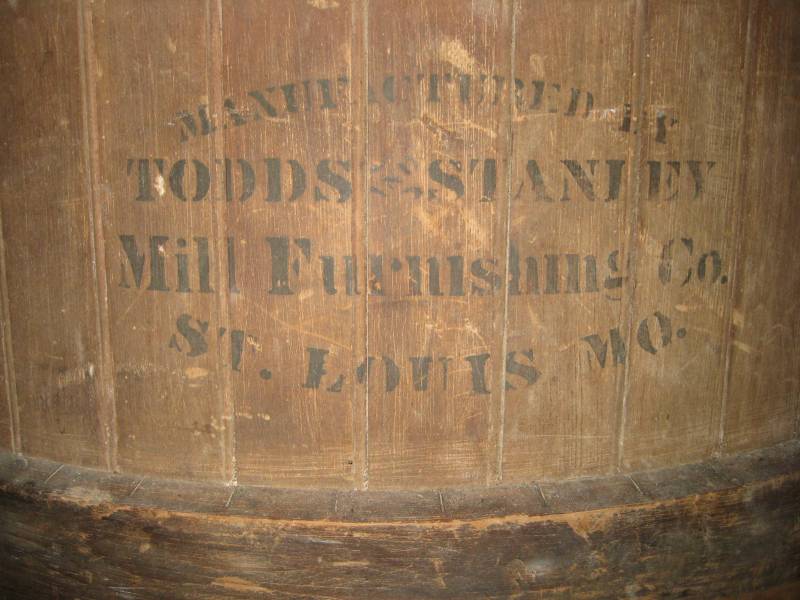 There was an old Barber shop off to the side in a little room.
Looked like the electric chair to me.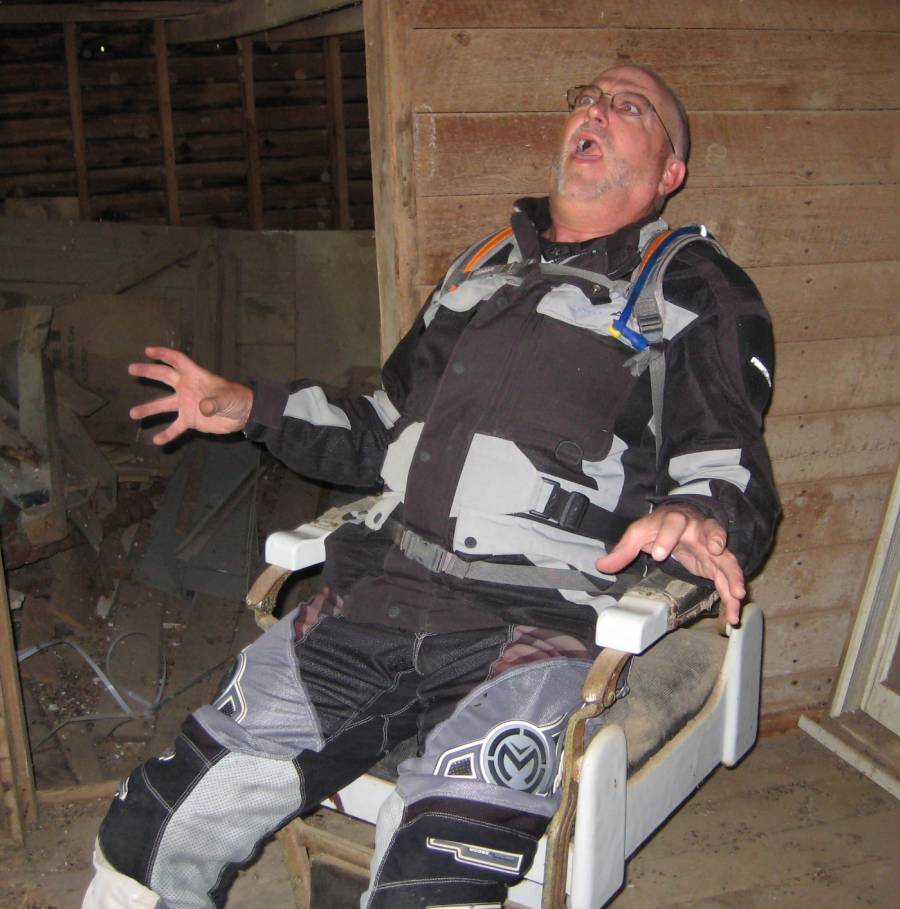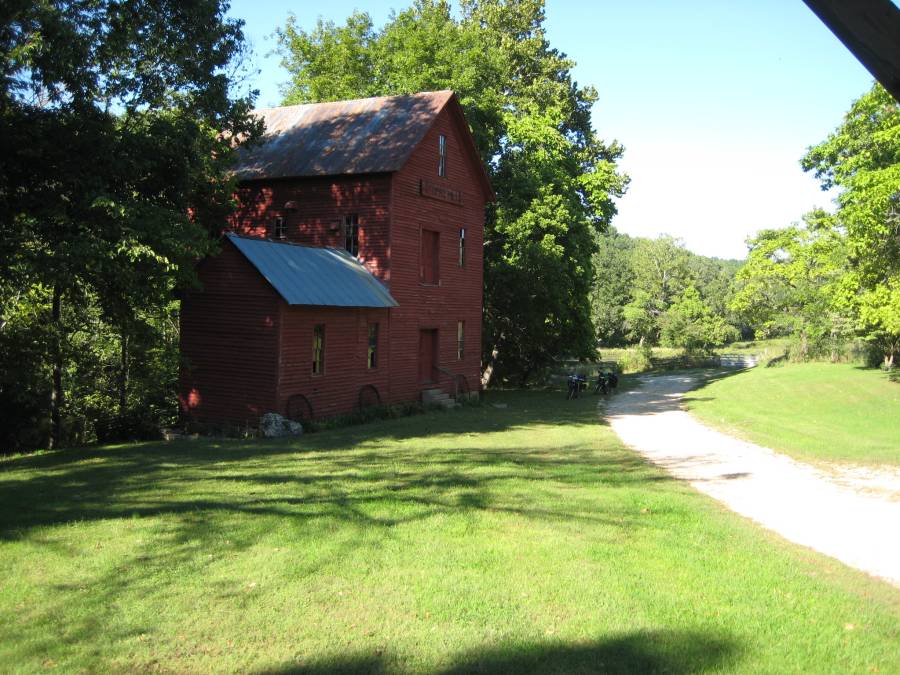 I we walked out of the mill I cleverly kept eyeballing the old store next door.
"You fellas want to see the store ?? "
OK............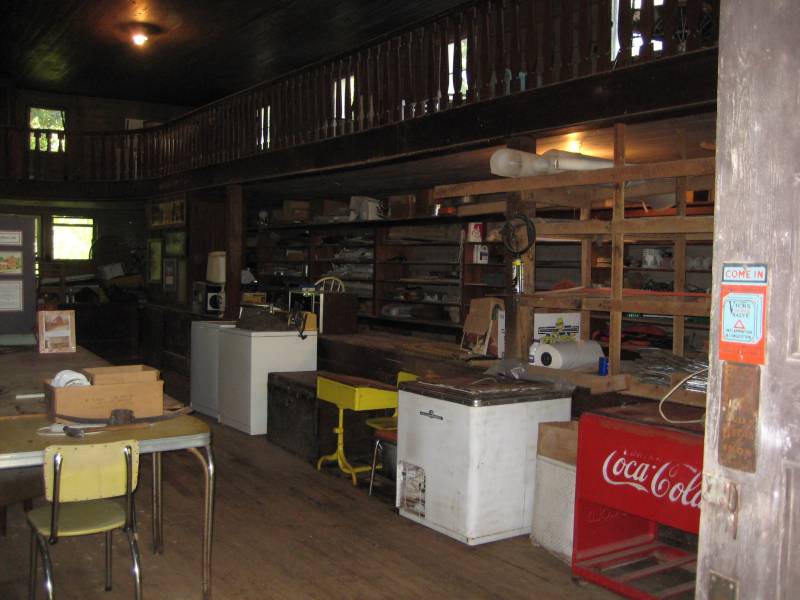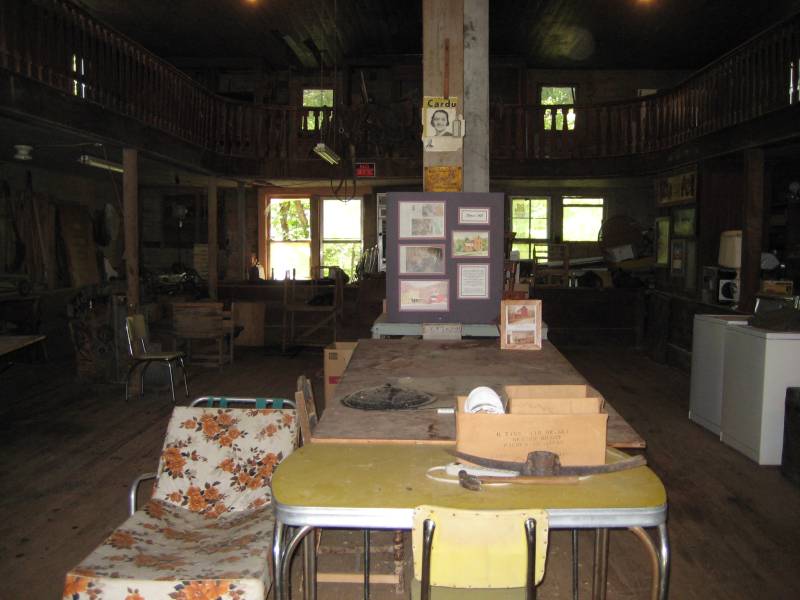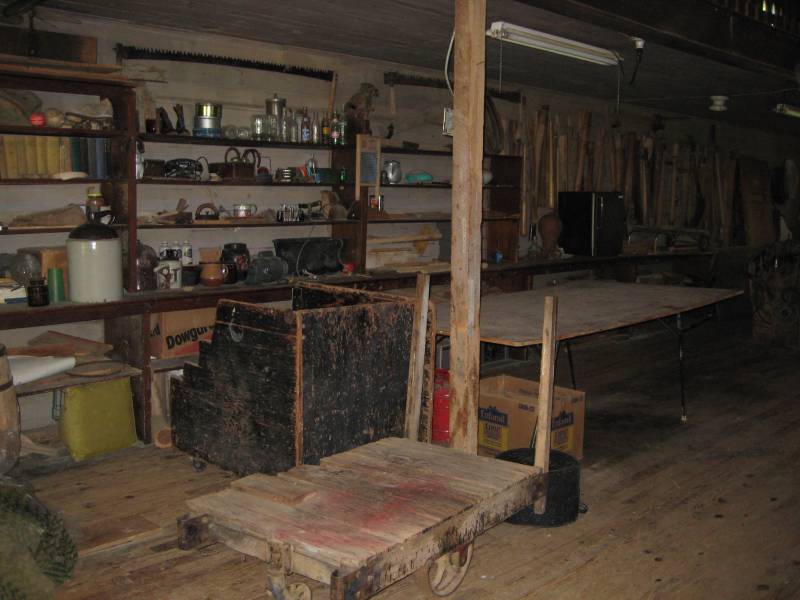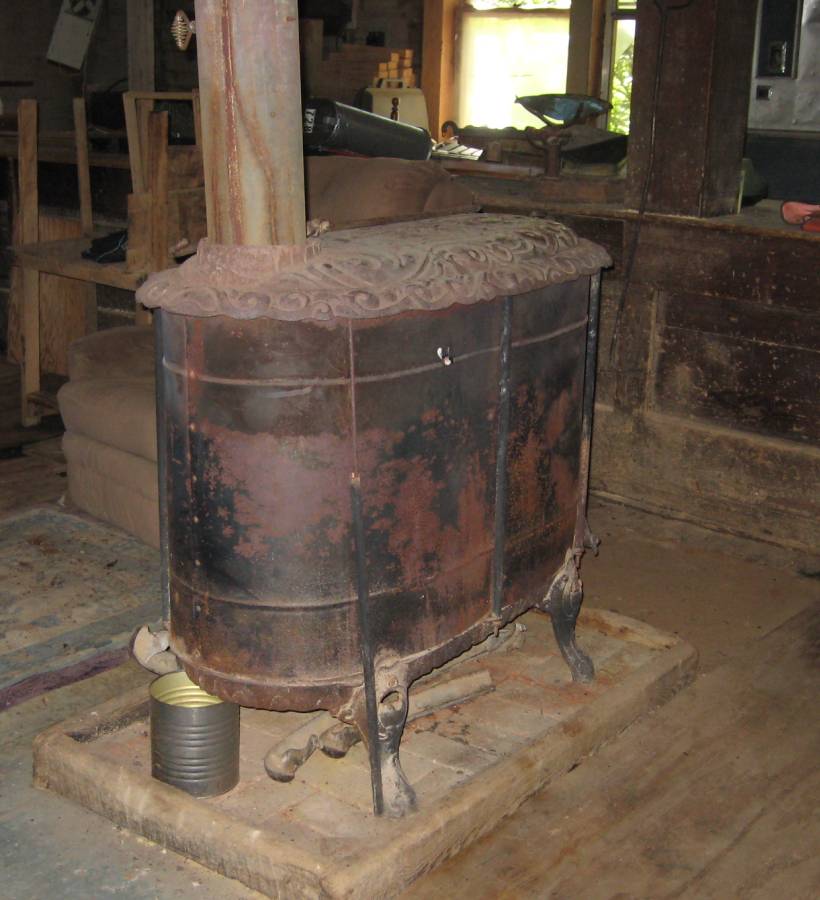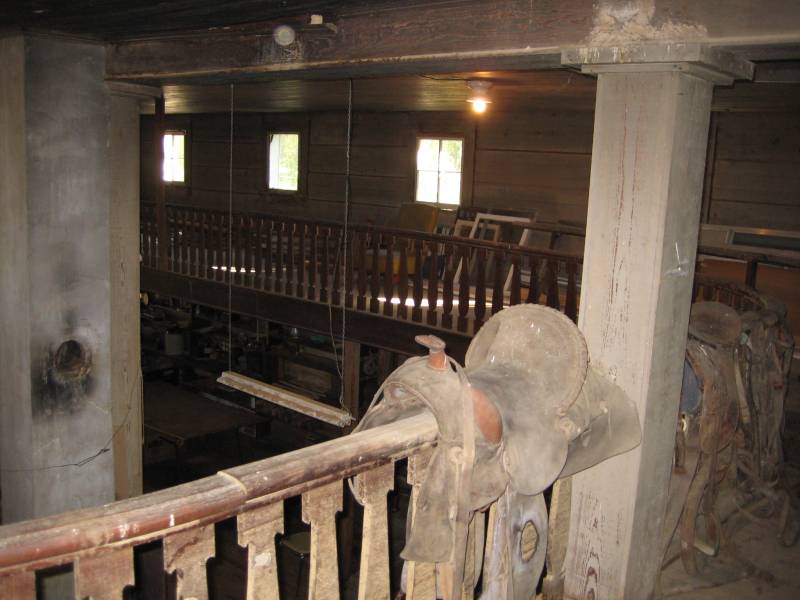 "Miss Kitty----why don't you drop that red hair down sit on my lap and we'll have a sasparilla"
"Ok Matt--but you watch that pistol of yours "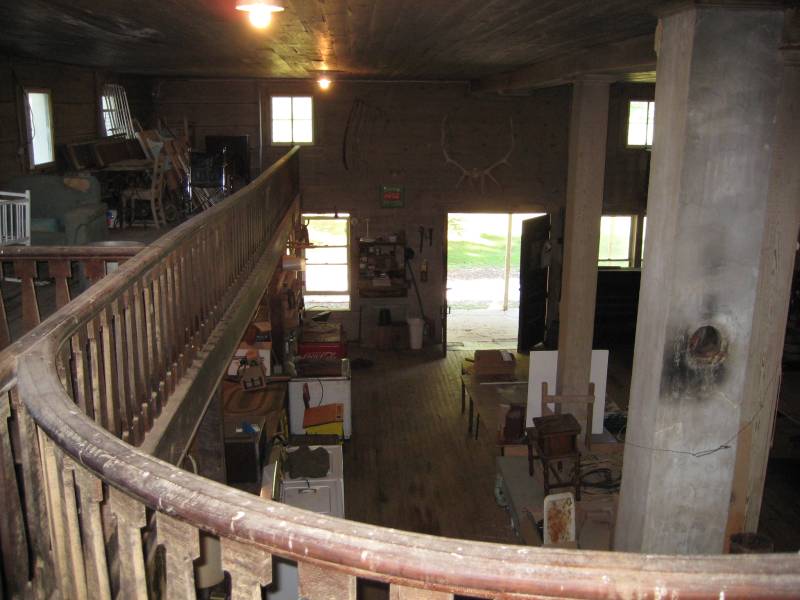 Here's our tour guide---I can't remember his name-------can't remember my own name--why should I remember his ????
Said he killed the Elk in his back yard across from the mill---there's what's left--those big antlers.
I don't know bout you all---but I've had about all this adventure riding I can stand in one ride----but on I must go.
There's more I guarantee.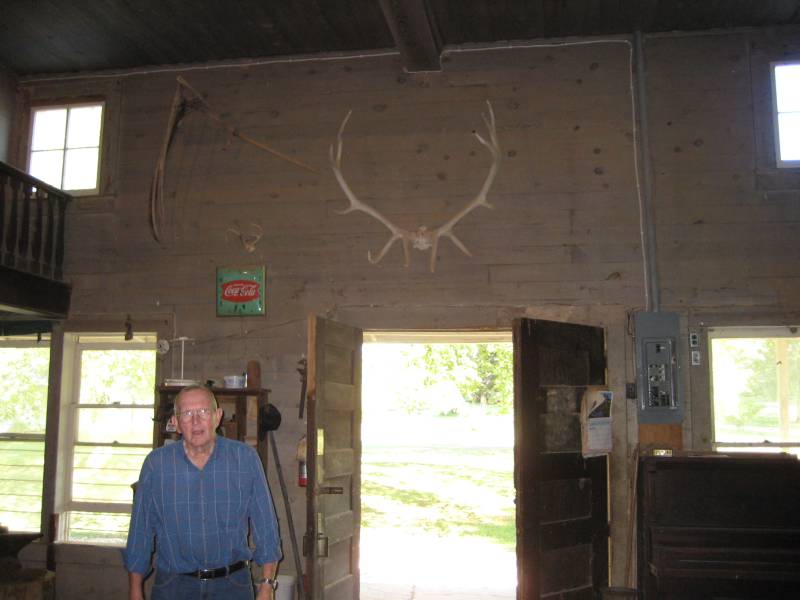 Lee's got one of them fancy smancy new fangled KLR's----with fuel injection---14" of travel--ABS---traction control---
transponder----reverse----800 watts---6 speed tranny---brakes------and 78 horsepower. He's a happy guy---you can see that--nice to have
a happy guy along. Well you all know what I got----she's a good ole' gal tho.
We were so happy to camp----this is a place called Blue Spring on the North Prong Jacks River.
I got my Jet-Boil out and Lee got his little stove out and we had a feast of ramon noodles--tuna and such.
Mind you---I wouldn't eat that stuff at home---but out camping it was so good.
We had nice hot coffee the next morning--I've been making good use out of my jet-boil lately.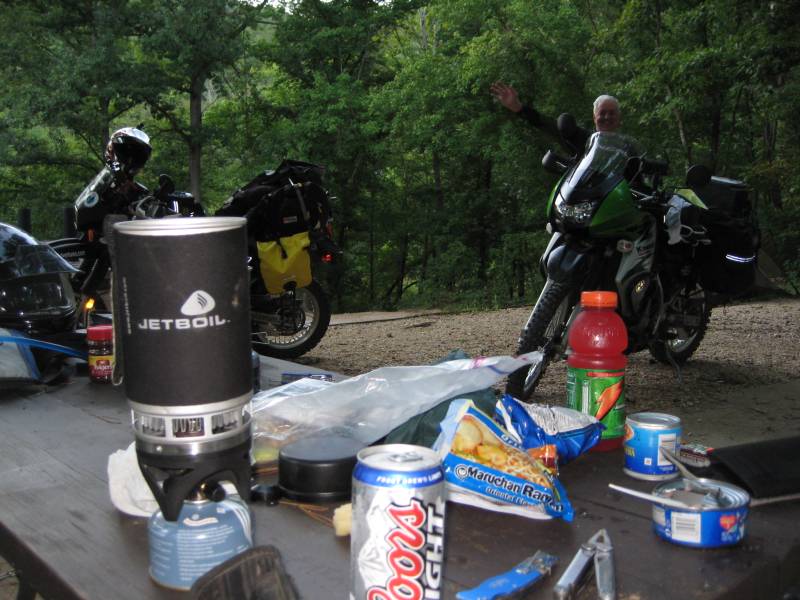 A long time ago I had been here on the other side of the river---and told Lee we would cross the river in the morning and head North.
No--way---that river was way to deep a fast. We was too smart for that---but not so smart later on.
Me and Lee told Lies for awhile then crawled off to bed---hell it was after my bedtime---must have been after 8:30.
This is a great place--whichever side of the river you get here on---it's a dead end--but there's a primitive campground on the
East side--I didn't know it was there. I think the spring is on the other side of the river--we could hear water gurgling over there.
We had an outhouse-----and I took a bath in the river---I figured the water would be ice cold but it wasn't in the shallow part
where the sun had been on it.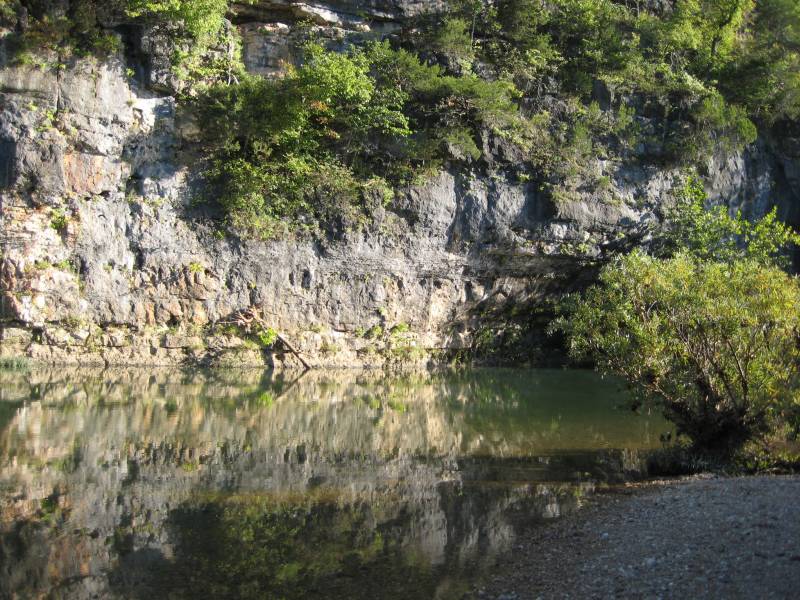 Blue Spring is about 5 miles (in a straight line) Northeast of Mountain View, Mo.
But you can't go in a straight line to get there unless your in an airplane.
Then you'd have to crash land-----so I wouldn't do that if I were you.
Did I tell you I forgot my dang air mattress----man I was barely getting by without it--but I toughed it out.
Oh Lee slept on a concrete pad just to make me feel worse !!!!!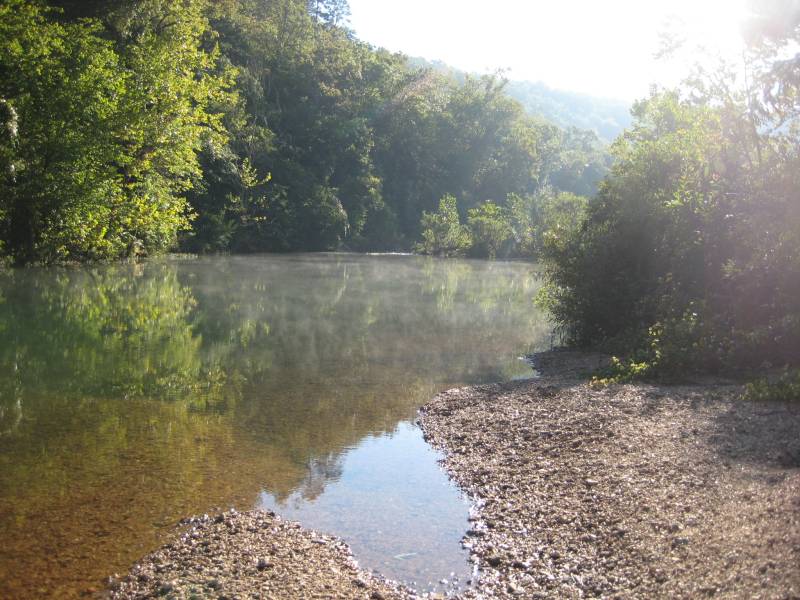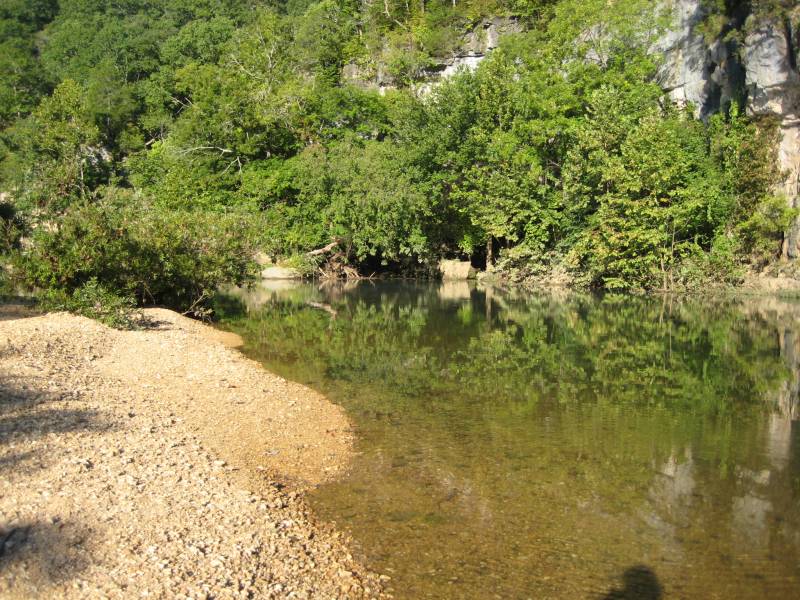 Back in Mountain View, Mo. for breakfast. We pooled our peso's together and ate with the jet set.
I felt a little funny parking my KLR next to a Rolls Royce.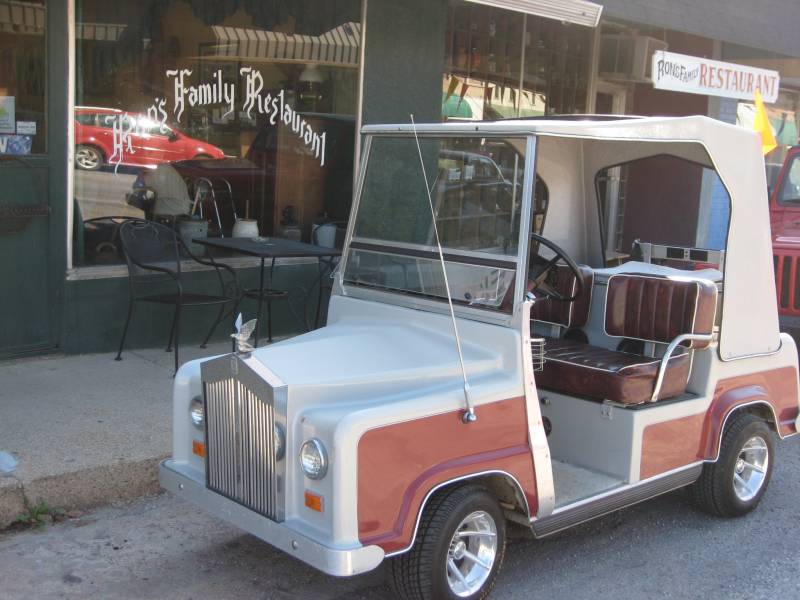 I plotted a course for Falling Spring.
Go about 9 miles south on 19 from Winona, Mo. Turn East on FR 3164---go a little ways and turn right at the T--you are very close.
You can see the little grist mill across the pond--it is spring fed and has an unusual wheel---it's one of 2 I know of in Missouri
that have a steel water wheel. There is a log cabin on the way to the mill and this mill even provided electricity for the people living there.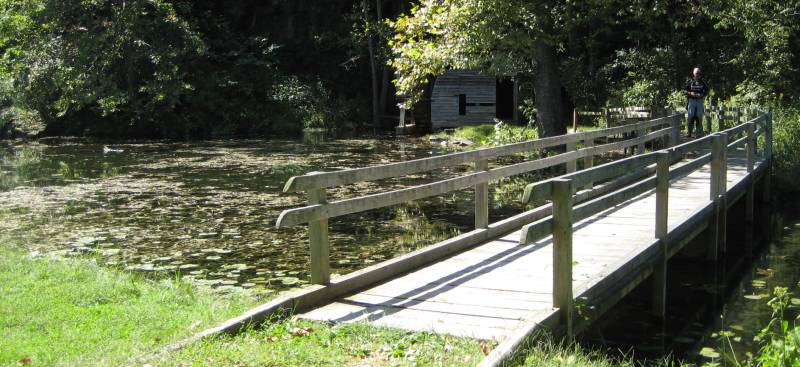 This is whay they call it Falling Spring
The wooden water trough from the spring to the wheel has rotted away and is gone.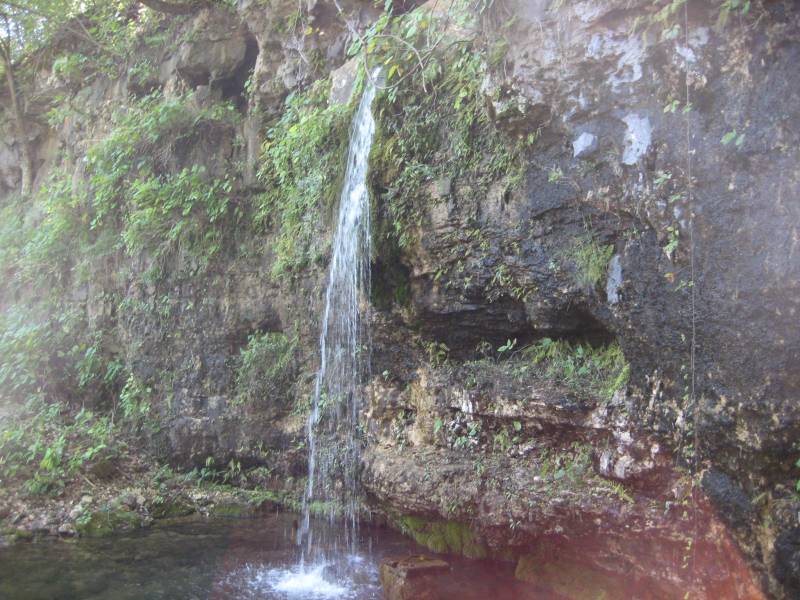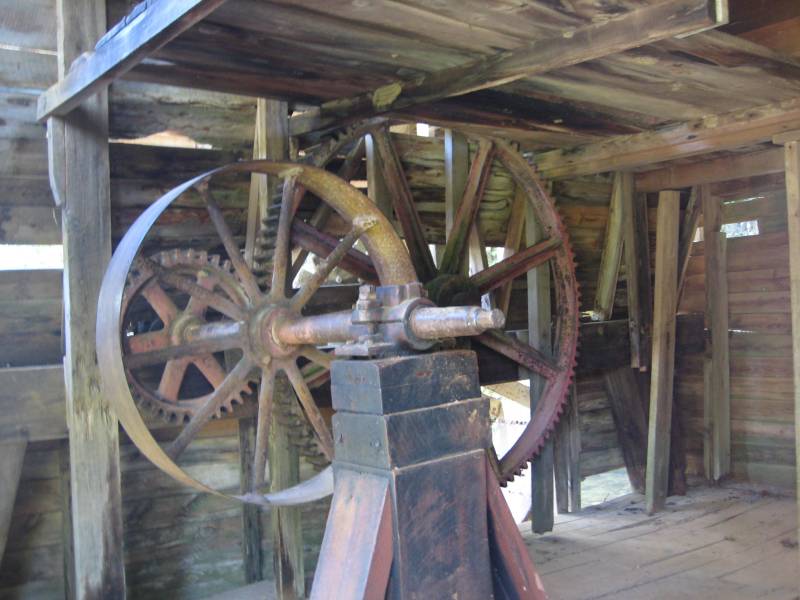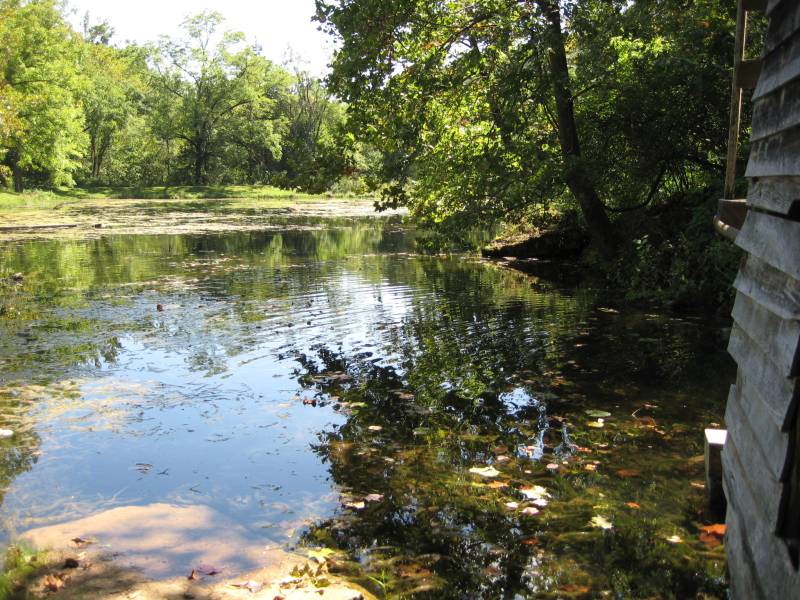 After Falling Spring I plotted some dirt roads the back way in to Big Spring--near Van Buren, Mo.
It is one of the largest Missouri springs with an average daily discharge of 276 million gallons. In addition to the spring
branch, the area also harbors a moist dolomite bluff and an extensive limestone talus breakdown slope.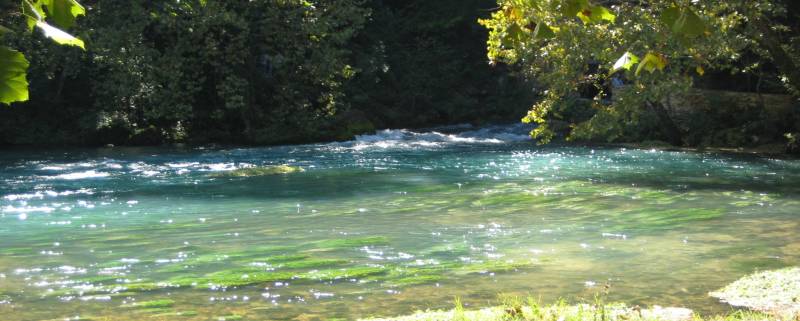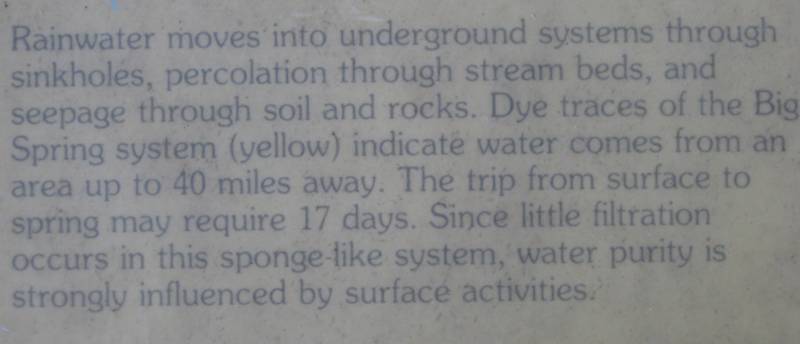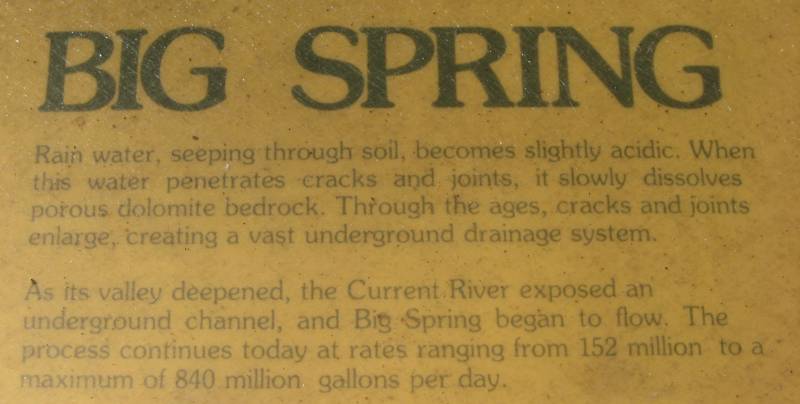 Here's my smilling buddy Lee
I have a picture of my Mom and Dad taken here probably about 1950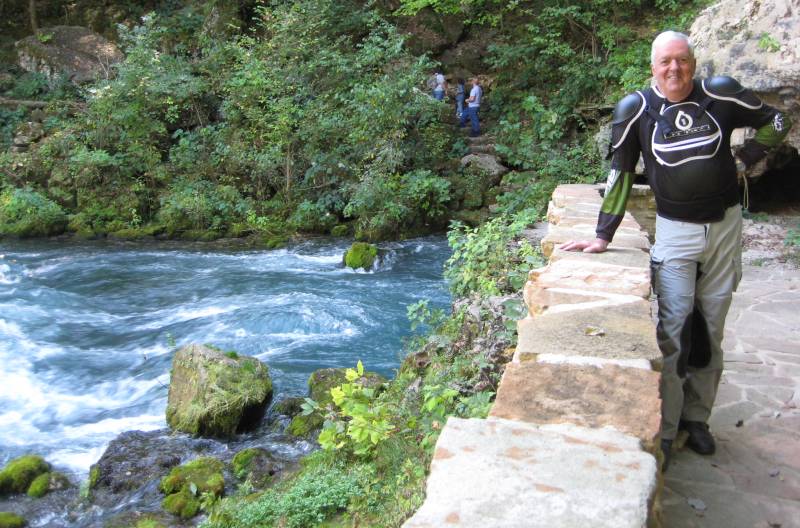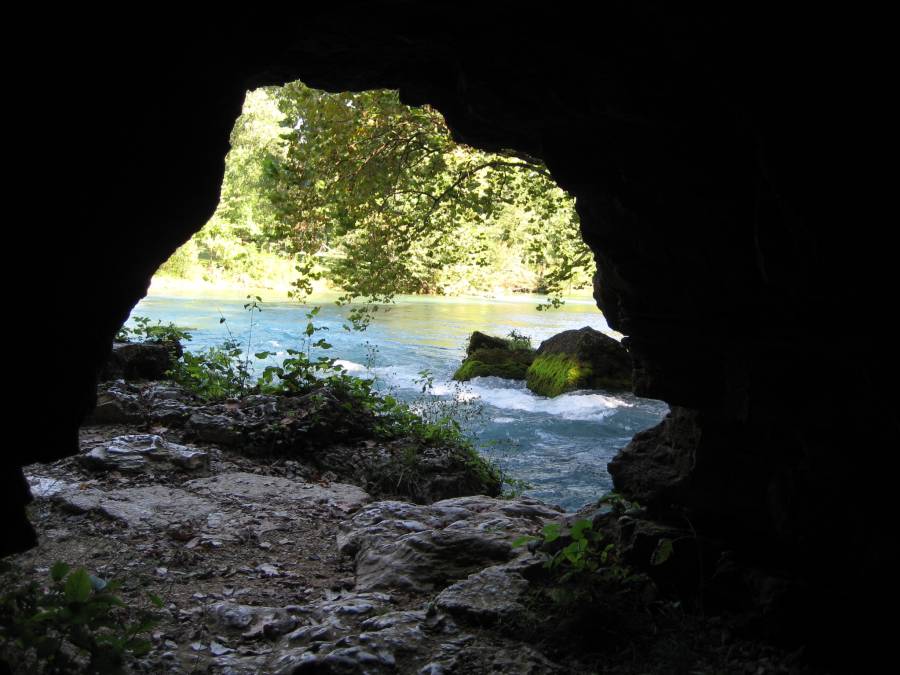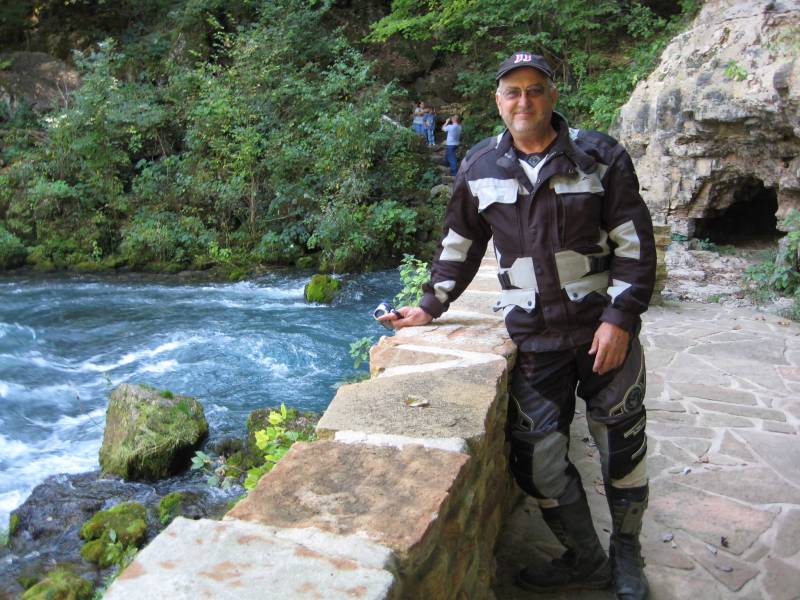 We camped right on the current river that night.
The water was way up and moving very fast. We were afraid to take a dip in the water it was so swift.
I made a very bad mistake here at camp-----I left my tent door open for a few hours and my tent became infested
with turkey mites. This didn't become apparent for 2 days---but was apparent for about 9 days after that. Bad stuff !!!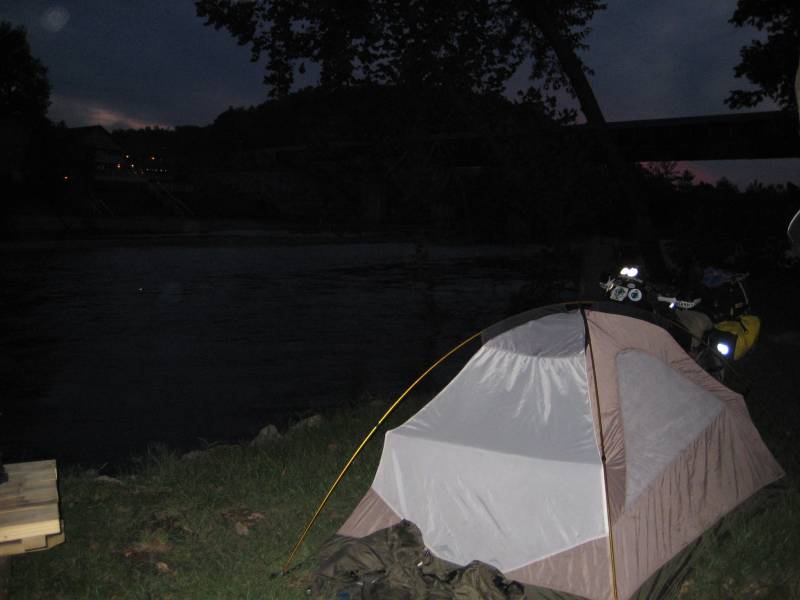 Several boats came up river with big lights. There were a couple guys on the front of each boat with what looked like frog
gigging poles. I found out later they were killing sucker fish. Don't know why or what for as I don't fish---hunt or chew---
or hang around those who do. (My grandpa's old saying).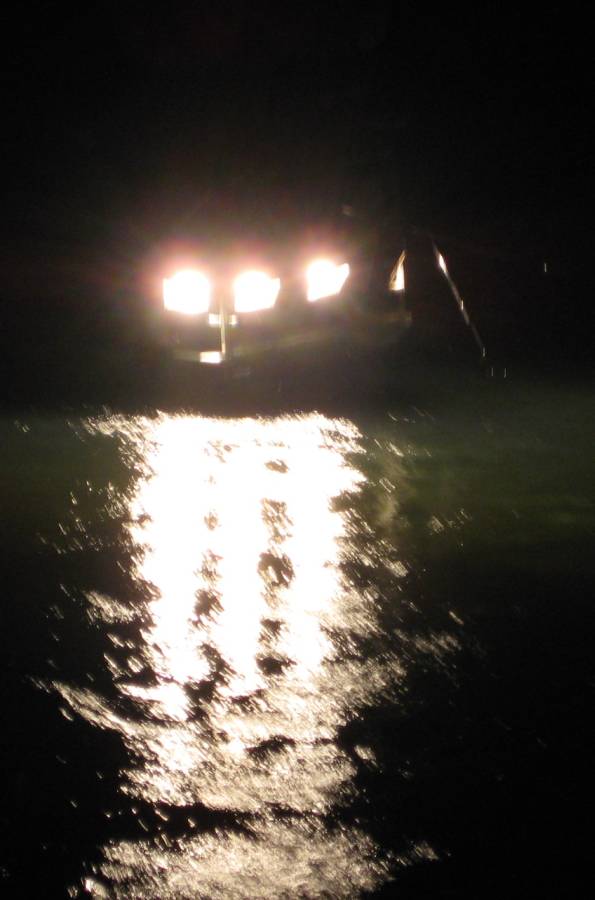 We had breakfast in Van Buren at the Float Stream Restaurant---a good place to eat.
I couldn't leave Van Buren without taking Lee on what everybody calls the Tram Trail.
It's an old railroad bed on the East side of the current river going south to the little town of Hunter.
The ride thru here can change---it can be very easy---and sometimes you need a boat or a chain saw.
Today we would need both----but didn't have them.

It's starts out easy enough---but gets muddy rocky and steep in places.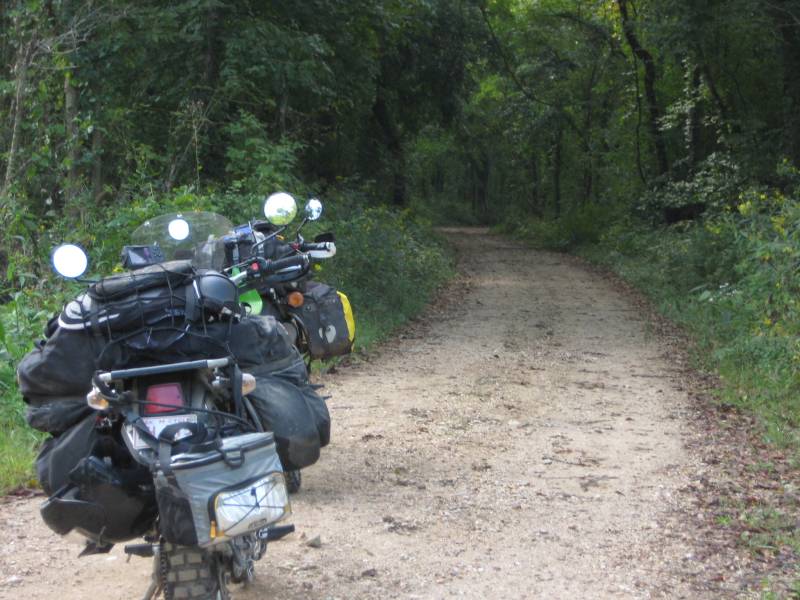 In the middle of the tram trail I went up to this bluff where you can view the Current River going North.
The tram trail is on the right side of the river in this picture and hugs the river most of the way.
It's a beautiful ride---about 17 miles long---navigation is very tricky as there are many places to go the wrong way.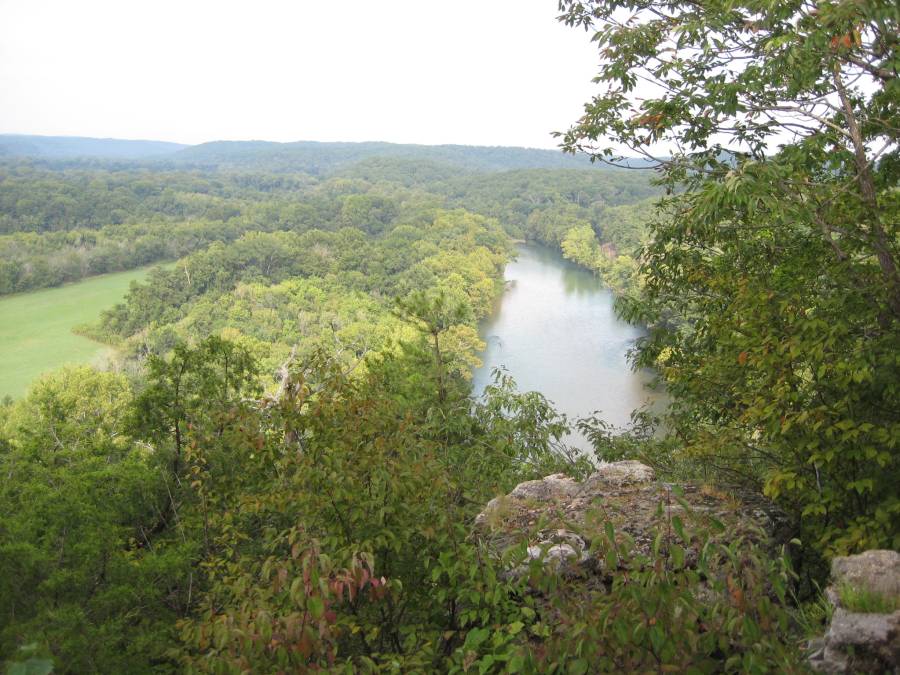 I bailed off into this and it was way different since the last time I was thru---the hurricane had played havoc on the trail
and changed the depth of the creek crossings dramatically.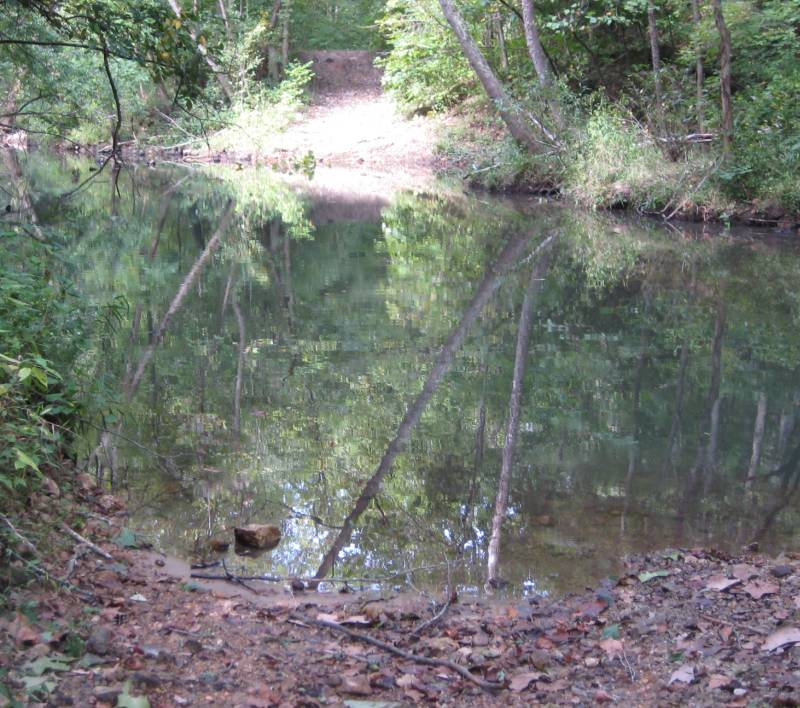 Here Lee is probably cussing me while he is pouring water out of his boot !!!!!
Probably thought I was "Dirty Dog" instead of "Bigdog"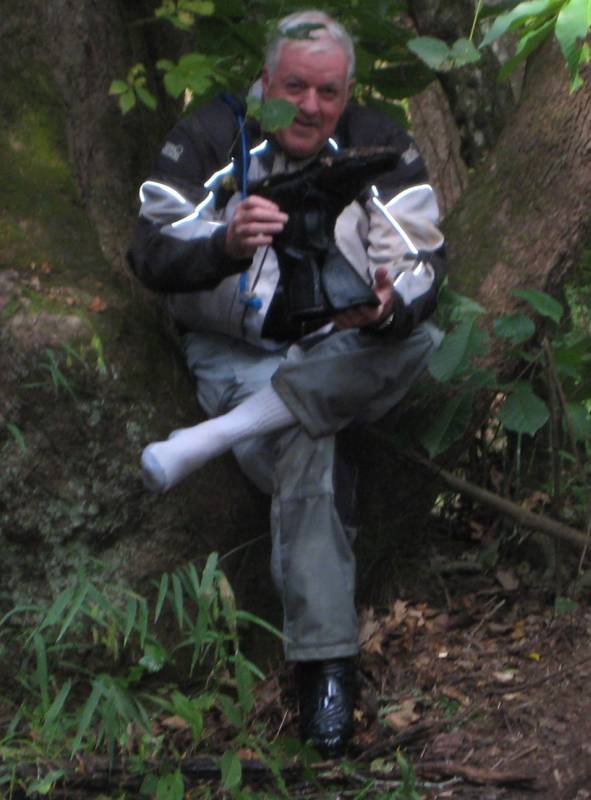 Lee asked if I'd like to ride his bike a while---well he let me ride it about 50 ft. !!!!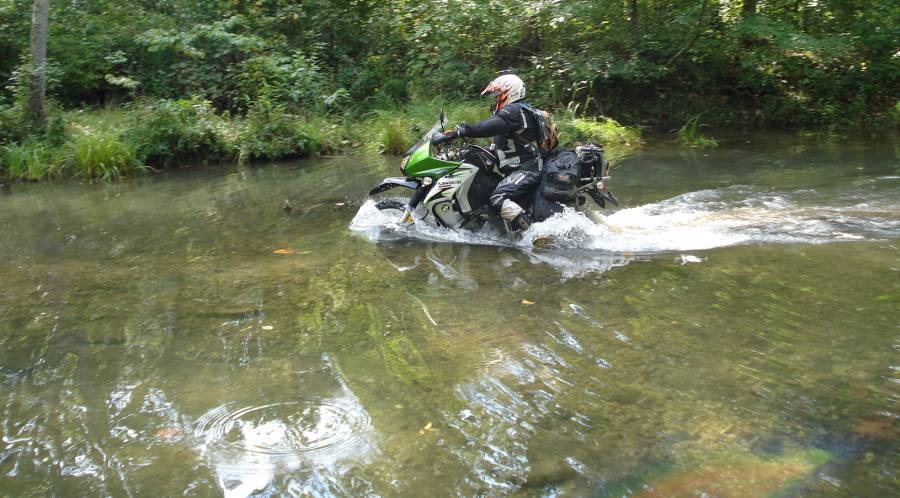 You can see the water line on my bags----my rear tire dug in and the front didn't and I kind of done a deep water wheelie.
My bike quit---or maybe I killed it---but it fired right up and pulled me out with the exhaust a girgling away.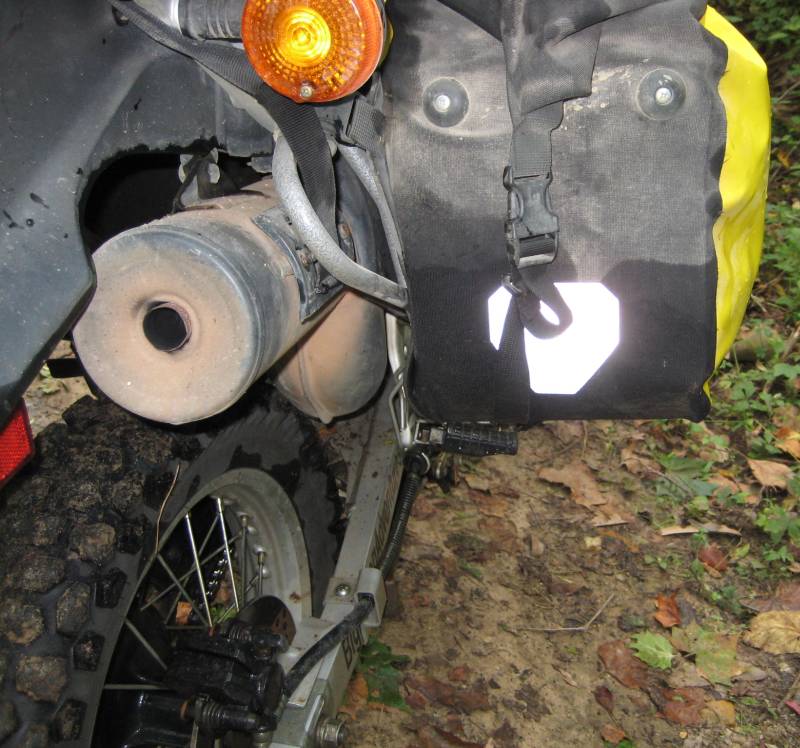 We had to move a few trees out of the way to get thru but made it.
This is the exit of the tram trail at Hunter. We took a break here for a while and rested up
as we had done quite a bit of stuggling thru here.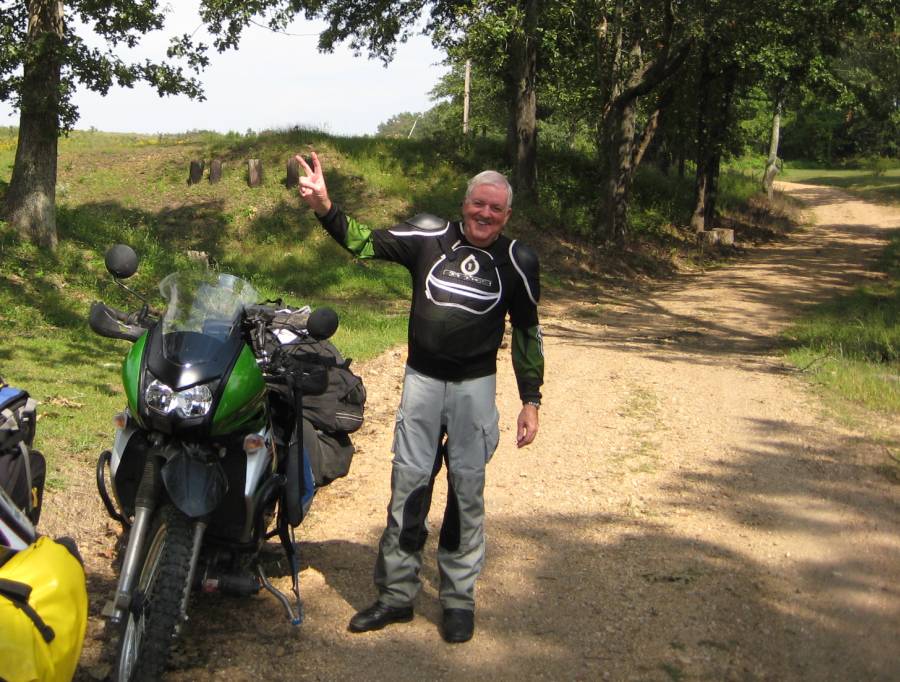 We motored North to the little town of Centerville.
A towns name ending in "ville" is guaranteed to have a "Cafe".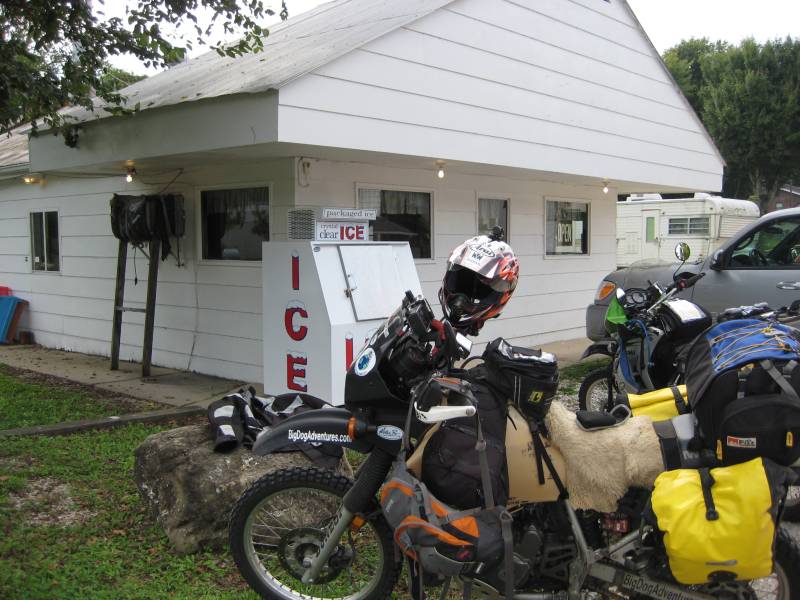 When passing thru Centerville---stop at the cafe or llittle store--ask them where the little grist mill is---you're only about 1/2 mile from it.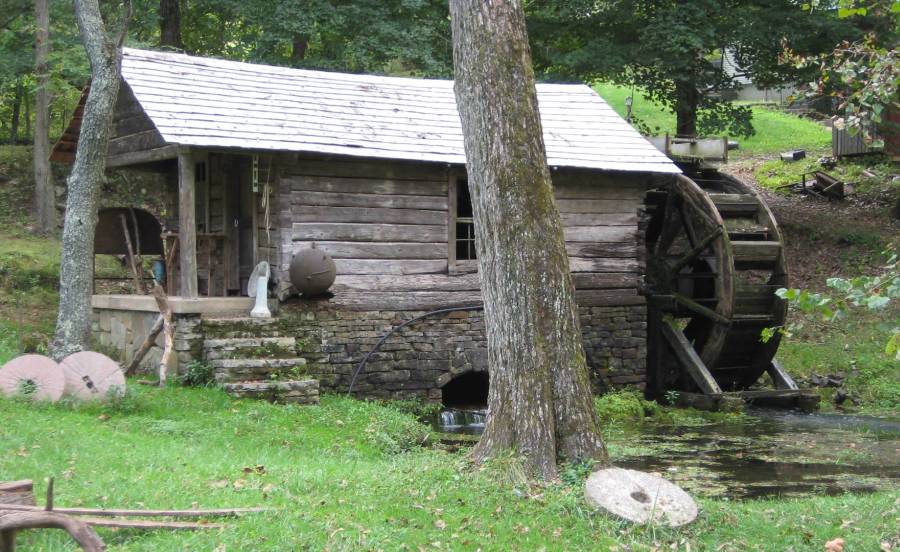 The mill is spring fed---the water seeps into the upper pond---the overflow from it goes to the mill water wheel.
The excess goes to a lower pond--which overflows into the 3rd and lowest pond--then under the road to a creek.
An amazing and beautiful place. I think I was shown this place by a good friend from near Potosi, Mo.---none other
than Mr. Tom Huff ----about 15 years ago. Tom has been to Mexico many times--but is best known for his Missouri backroading
and leading the GS ride at the Fallnig Leaf BMW rally in Potosi, Mo.---which I was just there a couple weeks ago.
at that rally and led a ride of my own.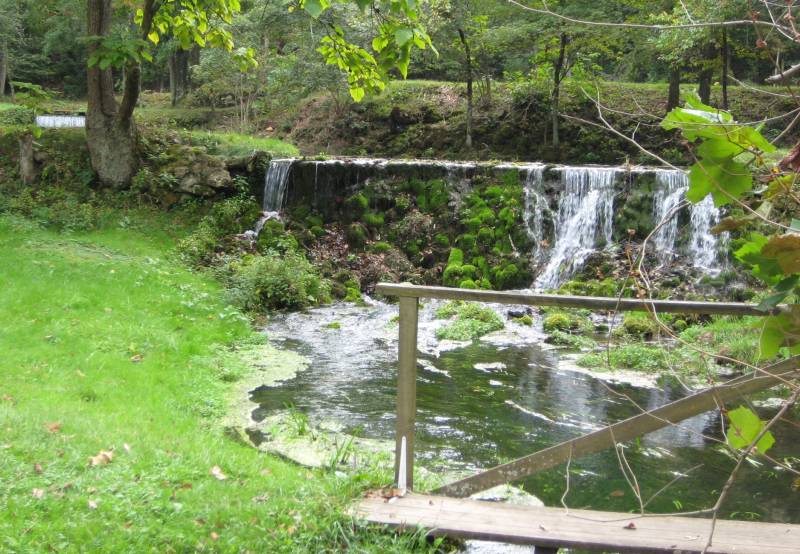 From Centerville we rode by Suttons Bluff and crossed the Black river on our way to what you see below.
Cooks Spring---a little bitty thing by the side of the road---deserves a look see tho.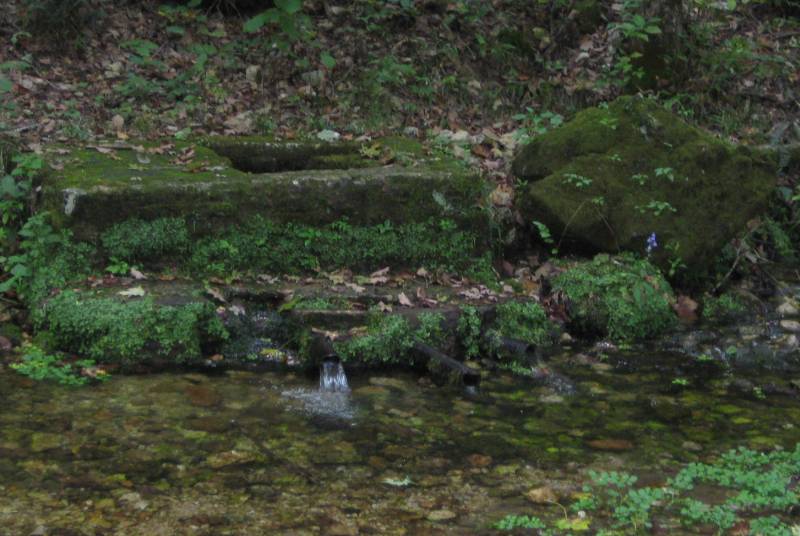 Me and Lee holed up at the Miners Inn in Viburnam, Mo. this night.
The next morning we parted company after breakfast and I headed kind of toward home.
When I arrived at the Hideaway restaurant I wasn't really hungry until I remember how good their homemade pie is !!!
Population zero. Except when they are open----closed on Sundays. Geez I hate to tell you where this is.
Oh----Dag Nabit------Hhhhhmmmmm---crap !!!
N37° 27 36.8 W90° 06 25.1 796
Man that hurt.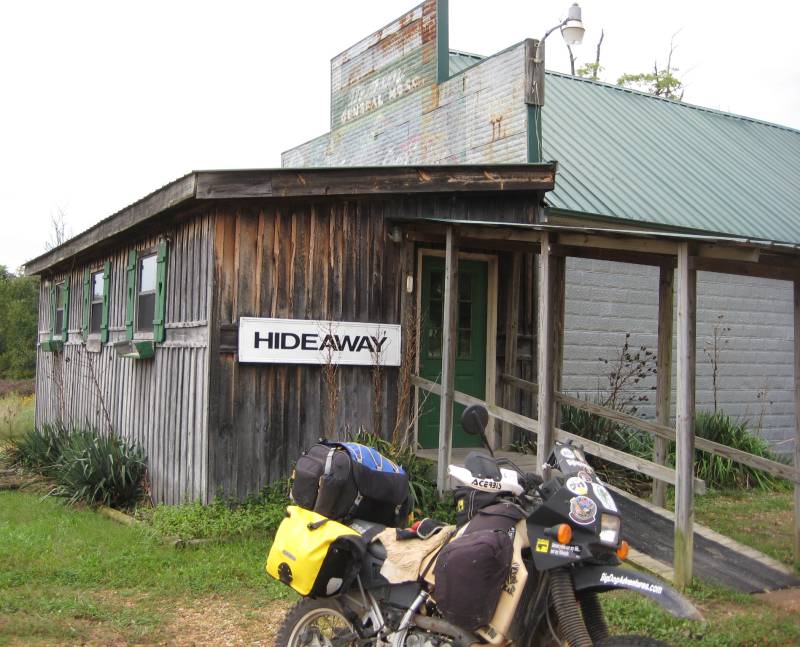 It's been here over 100 years--and was originally the Denman Store
Here is a painting of the original way it looked.
They even sold gasoline.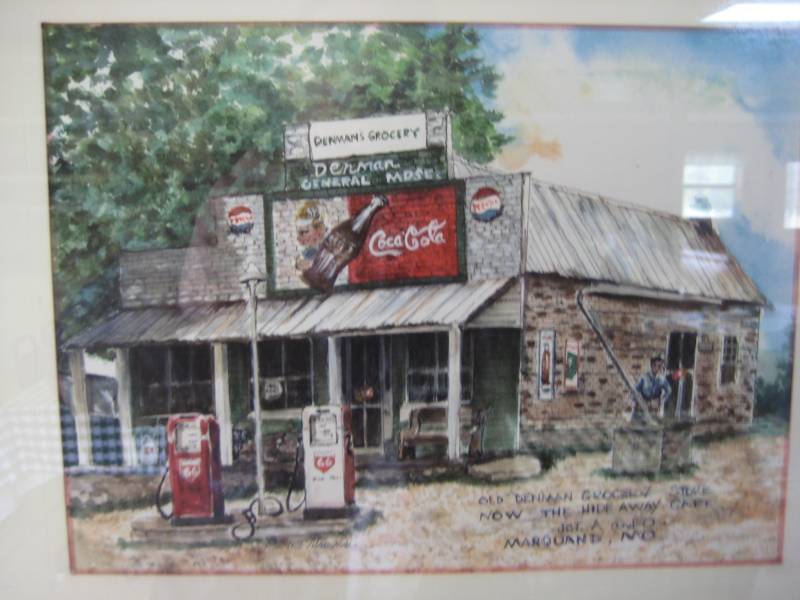 Here is a picture of the inside and the original owners.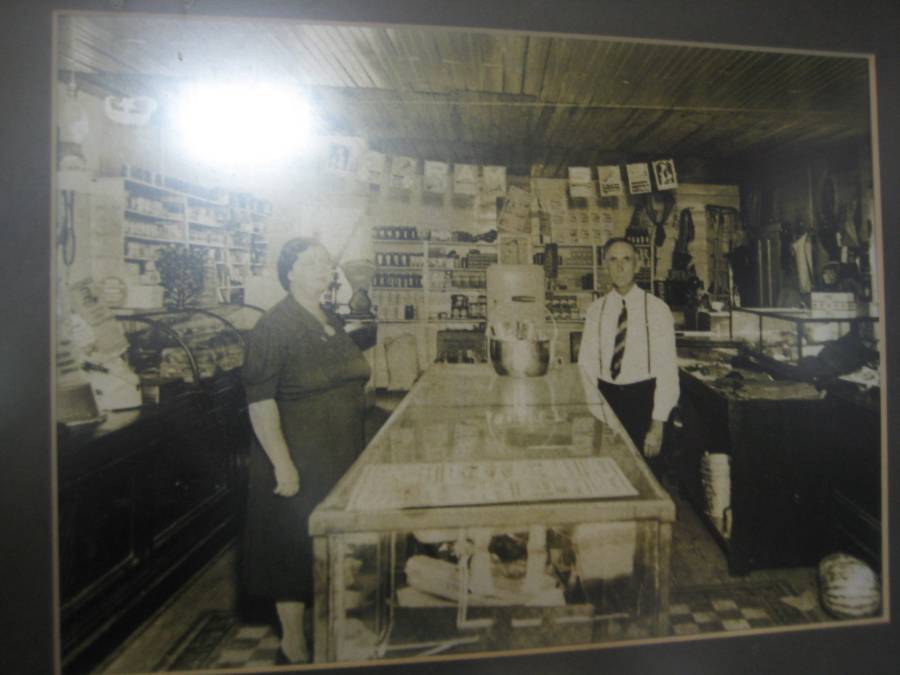 Have you ever seen a sweeter face---one look and I knew this woman could make a mean cherry cobbler.
A la Mode of course.
The current owner. We talked for a 1/2 hour about this and that---a very busy woman and was cooking a bunch of grub
for the church I believe.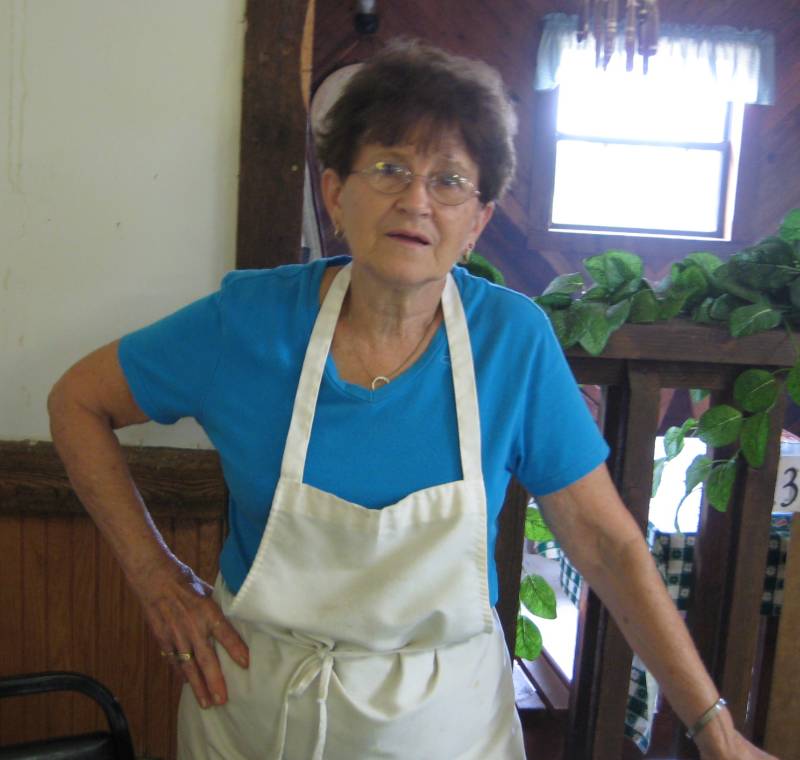 When it comes to my cobbler and ice cream I guess you can call me a pig.
I wasn't going to share this with anyone---but why not.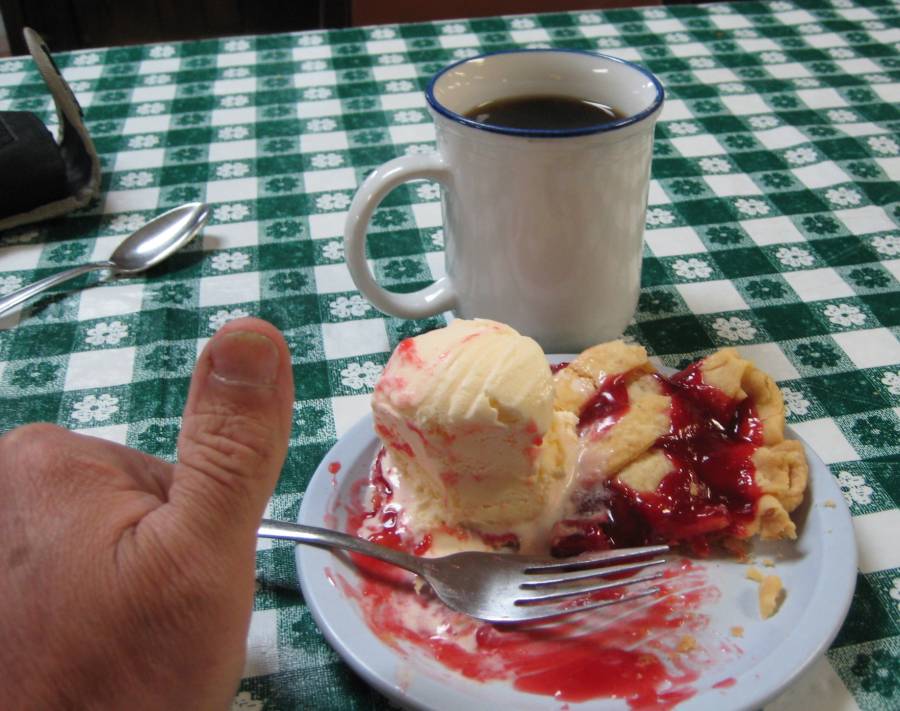 The End