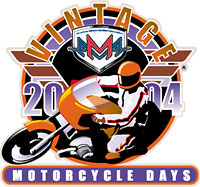 July 16 - 18, 2004
Mid-Ohio Sports Car Course Lexington, Ohio.
If you've ever thought of going to this event--check out the story and pictures below.
I heard someone else say "If you just like motorcycles even a little bit----you will love coming to this event".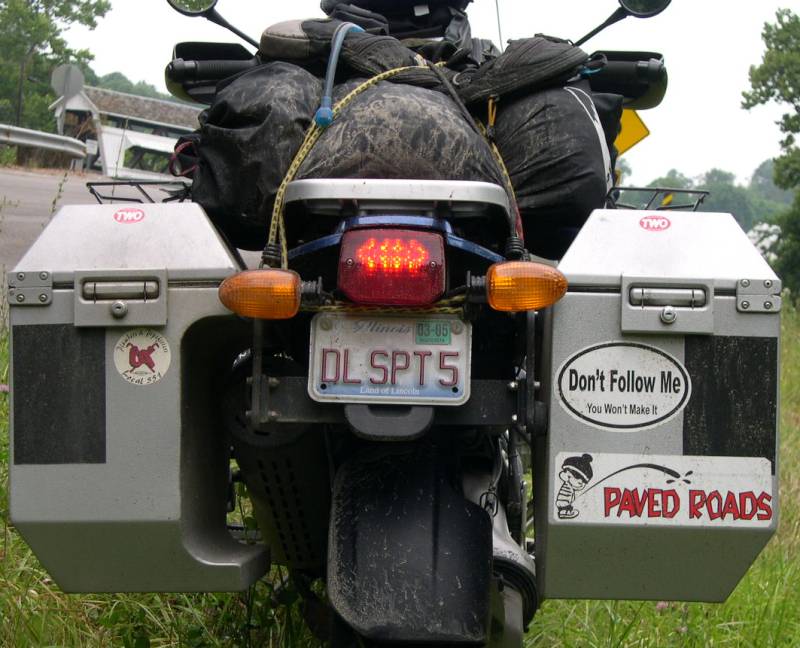 The "Big Dog" got off the porch and headed to the Mid-Ohio racetrack for vintage days.
(DL SPT=Dual Sport)
| | |
| --- | --- |
| I was cruising down the road at speed for the Ohio racetrack------when I spotted a covered bridge waypoint on the screen of my newly aquired Garmin 276C GPS. Although it was getting late in the day and I had over 400 miles under me--I was looking for an excuse to get off the pavement. This is the Chambers covered bridge about 1 mile North of East Liberty, Ohio. It was the first of 13 I would find and visit over the weekend. | |
I had always wanted to go to this event--but it was always really hot this time of year. The forecast was sunny and 80° for the weekend. It got really cool at night and it was a good thing I had packed my good sleeping bag. I was so glad I went as it was a great event.

| | |
| --- | --- |
| | Once at the track I set up my tent in the campground and lo and behold I ran into 2 good friends from my home town. Rex Cusamo and his son have been coming to this event for years looking for old motorcycle parts for their extensive vintage motorcycle collection. If you can't find it here it doesn't exist and there are acres of vendors buying, selling and trading old hard to find parts for your rusty 1942 BSA Bantam trials bike. Rex can rarely get away from work and this is his vacation every year. His son is riding the AMF scooter which has to be pedaled to start it. Rex is on his CB100 (long distance touring model)---these were ideal for commuting around the huge track grounds. |
| | |
| --- | --- |
| You name it and it was here---This same bike (1947 Cushman) was my first motorcycle I owned. My mother told me "you'll never have a motorcycle as long as your under this roof son" !! I had it hid at a neighbors and snuck it out on the backroads when mom wasn't looking. It had a 2 speed tank shift--but didn't matter much as 1st gear didn't work anyway. It was a good starter bike I guess and I really honed my mechanical skills keeping that thing running. I would put it in thru the side door of my 1965 VW bus and hall it out to the country. It also had a combination foot and centrifugal clutch--the foot clutch was only for shifting--which I didn't have to do :) | |
| | |
| --- | --- |
| | Oh lookey here---a 1974 Bultaco 200 Pursang just like one I used to have. I motocrossed, hill climbed, enduroed, flat tracked, and hare scrambled it. Racing was simple back then----A quick change of the countershaft sprocket was all that was needed to change between racing modes. I bought a new Bultaco every year from the local dealer. In the 200cc motocross class I was always the first one to the first turn as I clearly had more motor than all those little piddly 175cc Japanese bikes---but alas, I usually finished last or near last as I wasn't very good at motocross. Now hillclimbing and hare scrambling was a different story---damn--wish I hadn't thrown away all those trophies !!! |
| | |
| --- | --- |
| Yep--thats me!! I still have all that riding gear----the black leather jacket was later converted for Harley use---straight pipes, beer, no helmet, no heated grips, no GPS, --how did I ever get anywhere ?? | |
| | |
| --- | --- |
| | Ducati Vintage road racer. Maybe it's not to late to get back into this racing thing---most of these guys were older than I am now. Or maybe I should just stick to the bicycle laying on the ground. |
| | |
| --- | --- |
| Jay Springsteen was there racing. This bike appeared to me to have a 750 XR dirt track motor in it. That had to be fun to ride. Jay was signing autographs and I looked on but kept a small distance as the last time he shook my hand he just about took me to the ground----man is that guy strong. My wife is still laughing about that one. | |
Vintage BMW sidecar racer.

I never had a hankerin to be the "Monkey" in one of those things- although I have had several sidecar rigs for traveling when my son was little.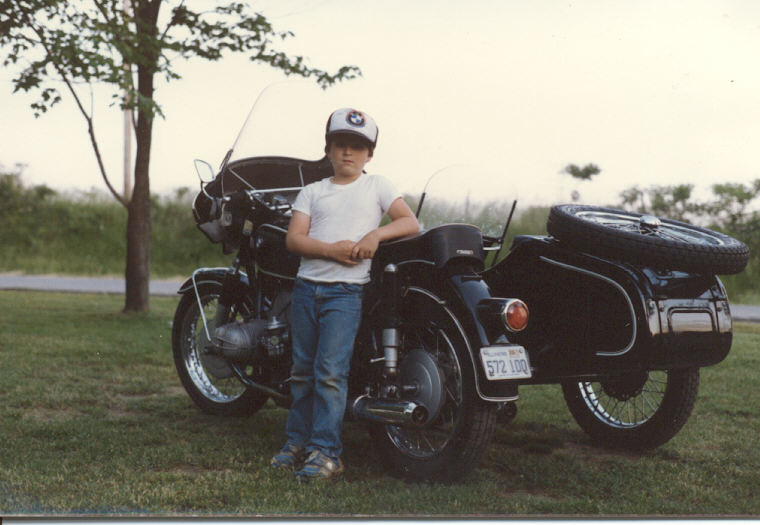 My son Marty------about 1981 I think. Mom was the "Monkey" as Marty wanted to ride with dad. This is a 1962 R50/2, but it had a 900cc electric start motor stuffed into it. I never told my buddy who had a Harley sidecar rig the motor was changed--and he just couldn't believe that this 500cc bike would outrun his big Harley----I think he got plumb mad over it.
| | |
| --- | --- |
| Yep it's a scooter---and yes it's Harley powered. A Harley sporster poweres this nastalgic bike. The big black round hole in the right side panel is a radiator cooling fan off of a car to keep the air cooled twin from melting down. I think these are being mass produced and are for sale. | |
| | |
| --- | --- |
| | Here are the vintage bikes out on the track. The new bikes hit over 180mph down the straight away on TV at this track----but I don't suppose these guys get anywhere near that. |
| | |
| --- | --- |
| This just give you a slight idea of how huge the vendor area is. Rex tells me it takes him over 2 days to try to see it all. | |
I think this guy was having more fun than anybody---I swear he never shut that thing off as he went by my campsite a hundred times. A real chick magnet his bike was---had to beat them off with an old kickstand he said !!
I wish I had a picture of it from behind going down the road----the frame was bent badly ever which way you could imagine---if he had let go of the handlebars it would have been all over !!
Mister (I use that term loosely) and Mrs. Harley.

This guy is a hoot I'm tellin' you. I met him at a dualsport ride in Southern, Missouri years ago in which he has rode a 70's vintage Can Am. Harley is a vintage man thru and thru---except for his lovely young wife of course. They are both very nice people and there is never a dull moment with Harley around---I can't tell all the good stuff on the public internet.
"Hey Mark--you want to go for a ride" ????

I knew better----oh....I knew better---"Well hell yes Harley, let's go !!!!

This was called "Flying the Chair" in the old days. The sidecar went up--and stayed up---ring-a-ding-a-ding--va-rap !!!---ring--ding--ding--ding-a ding--a ding--pop--bang--fart--a-ding--ding.

Thru the camground we went as people scattered the heck out of the way.

My heart hadn't race this much since I went sky-diving a few years ago.
| | |
| --- | --- |
| He took me down to the woods and we watched the vintage trial races for an hour or so----and then it was ver--rap !!!!---ring a ding--a ding--pop---pow--bang--all the way back to my campsite. | |
I'd had all the fun I could stand and packed up early Saturday morning and figured I'd take 2 days riding the backroads home, hitting all the covered bridges I could on the way.
If you just ain't into covered bridges you might as well bail out here. I love these old things---and one thing about finding them is you will be guaranteed of traveling thru some very scenic countryside on the way to them. There won't be any traffic and you probably will get some good conversation with the locals to boot.

You can barely see the 2 guys under the bridge fishing. It is pouring down rain---so much for the sunny forecast.

The roof on this thing is just about history. This is the Mercer covered bridge and is about 2.3 miles North of Fallsburg, Ohio----which probably ain't on your map, which is a good reason to get a GPS--as it's on there !!
| | |
| --- | --- |
| This is the Gregg covered bridge which is a mile Southeast of the above bridge. I'm glad most of these are open to traffic as I love riding thru them. | |
| | |
| --- | --- |
| | Jacks Hollow covered bridge which is about 3.2 miles Northeast of Mount Perry, Ohio---which probably ain't on you map either. She's a leanin' quite a bit. |
Hopewell covered Bridge

It's still pouring down rain and I'm having a ball as everybody is in watching the home shopping network. I can park the "Big Dog" inside a covered bridge and realax--have a beef jerky and a sip of Gatorade--yes--life is good.

And-------there is no dust !!
Nope--it ain't the same one as above, but I guess it had to be built by the same guy. This is the Park covered bridge and I hung out in there for quite a while listening to the rain pitter patter on the roof. It is about 3.2 miles ENE of Somerset, Ohio which probably is on your old oudtaded paper map :)

It was really pretty out as everything was so green from all the rain they had all year.
Tired of covered bridges ???---I ran into these 2 really nice young men testing their testosterone. We've all had to do that---and my wife tells me I still am--hasn't killed me yet.

What do you think--about a 40' drop ?? The deep part was very small in diameter and they told me you just had to step off----don't jump out or you may never get to test your testosterone ever again.

Check out the creek waterfall. And just above all this is the Rock Bridge grist Mill and covered bridge---see---I told you, you would find neat things while finding covered bridges.
Rock Mill Covered Bridge

7 miles Northwest of Lancaster, Ohio

It's just been restored fully.
Mink Hollow Covered Bridge

I like the covered bridges that are open air like this one----it's neat to gaze out at the river below.

1.4 miles Southeast of Hamburg, Ohio

It had finally stopped raining and I felt a gentle Northerly wind as the humidity dropped and became really nice riding, even with an Aerostitch suit on.
Well we have it all here.

A motorcycle

30 mph curvy road

Covered Bridge

This is the Johnson Covered bridge which is closed to vehicle traffic and is about 3/4 mile Northwest of Revenge, Ohio.
| | |
| --- | --- |
| The Hannaway covered bridge was another open air bridge and is about 2/10ths of a mile South of Clearport, Ohio. | |
| | |
| --- | --- |
| | Here is a nice shot of some fine rolling green hills of Ohio. I haven't done much riding in Ohio, but have found a good reason to go back. |
Kims Diner---Sabina, Ohio

I highly recommend this Diner. It is a 1947 vintage railroad dining car and I thought this was an appropriate place to have a late lunch after the vintage rally. The food was top notch and they were extremely friendly folks, and wished me a safe journey home.
Black Covered Bridge

1.2 miles Northeast of Oxford, Ohio. The sheer size of this bridge made it my favorite. The opening is 18ft. wide and as you can see a modern semi would have no problem going thru this bridge. It was in perfect shape and there was absolutely no graffitti on it anywhere. It spans over 209ft. of 4-mile creek and was built in 1868 to provide access to a 3 story saw and grist mill--which no longer exists. 132 years old--and she looks magnificent.
Ok--this is the last one I'll bore you with this time.

This is the Duck Creek bridge which spans over the chicken creek-----hah--caught you--you weren't paying attention were you ??

How bout' Duck Creek---I lost track of where this bridge is--but it was the last one for the day.
| | |
| --- | --- |
| | Right as I exited Duck Creek covered bridge I had this beautiful lonely road ahead of me to ride. Over hill and dale I rode slowly making my way East toward home. I had intended to take 2 days to get home---but I was going to camp at the Stoney Lonesome dirtbike clubgrounds for the night near Nashville, Inidiana but the gate was locked--it was near dark and I soldiered another 170 miles home getting home just before midnight. I was beat----about 650 miles for the day, which is certainly no iron butt mileage day--but it was spent poking slowly along the backroads of Ohio and Indiana in the rain half the day. |
But on the way---looky what I found in my rear view mirror when I turned down this gravel road. A 3 span stone arch bridge.

This find was another result of poking around the backroads looking for covered bridges.

Night fell---and I lit up my 470 watts of high beam and dared a deer to get in front of me :)