Meet Me In Montana
A motorcycle Adventure ride In Montana----July, 2016

This is a story about a camping ride I did in Montana Called "The Best Of Montana"------or BOM.
It's been going on for years -----but is a different ride each year---this was my 3rd time doing the ride.
Sometimes the ride has gone into Idaho---but this year it stayed in Montana.
It is the brainchild of a friend of mine---Ron Haraseth, with help from others.
He even used some of my track logs from a ride I did years ago up there for this ride.

I hauled 2 bikes to Montana from my home in Illinois and planned on riding my Yamaha WR250R on
the BOM ride---and after that I planned on tooling around on my African Twin.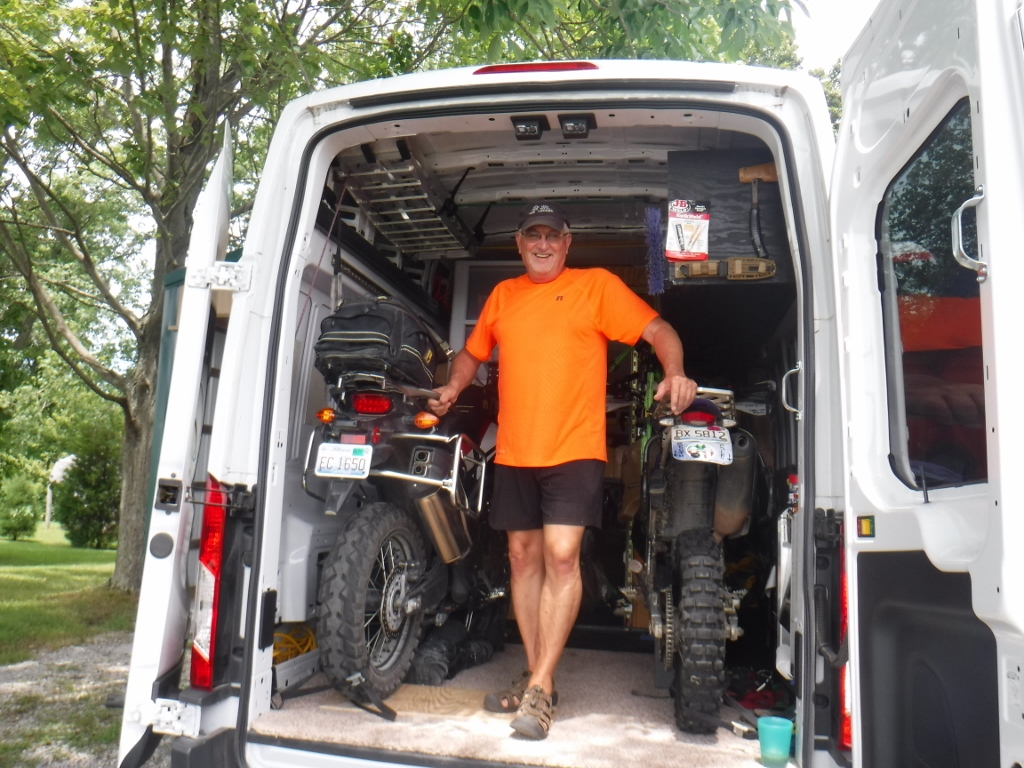 Even when traveling in my van I take the backroads----all paved of course and saw some neat stuff on the way
and camped in some beautiful places. If you want to skip to the Motorcycle stuff-------skip these next 25 pictures.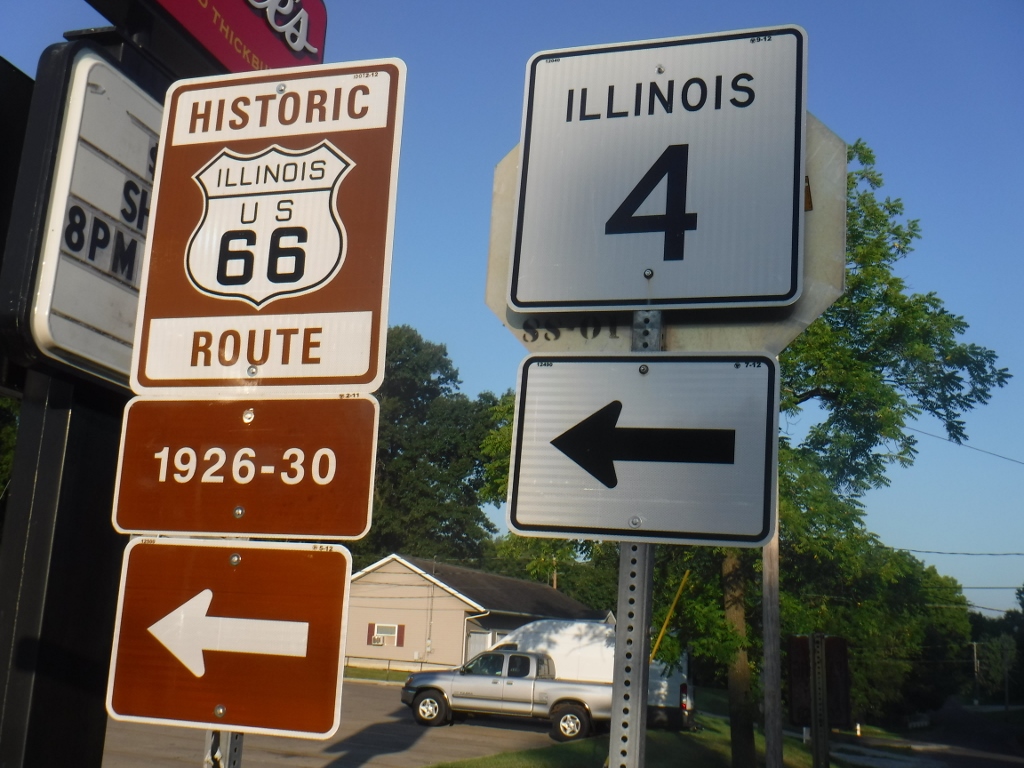 I crossed the Illinois river on a ferry in the little tiny river town of Kampsville, Illinois.
No charge the man said.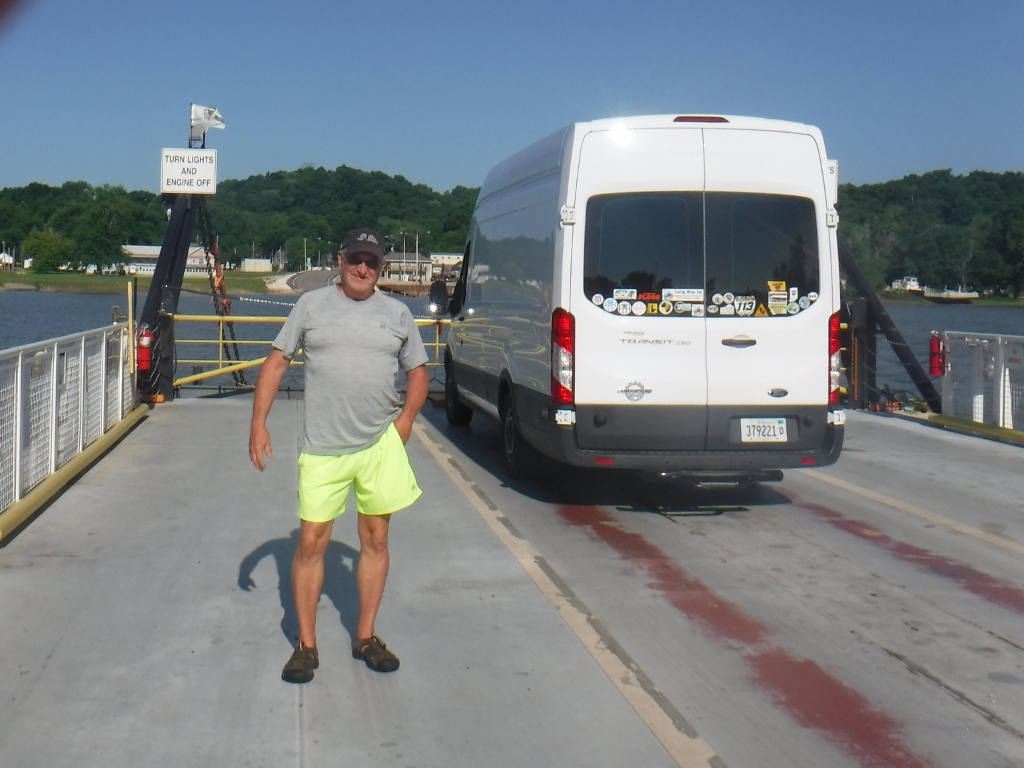 Spotted this little work of steel art in Southern Nebraska.
You never know what you'll find on the backroads.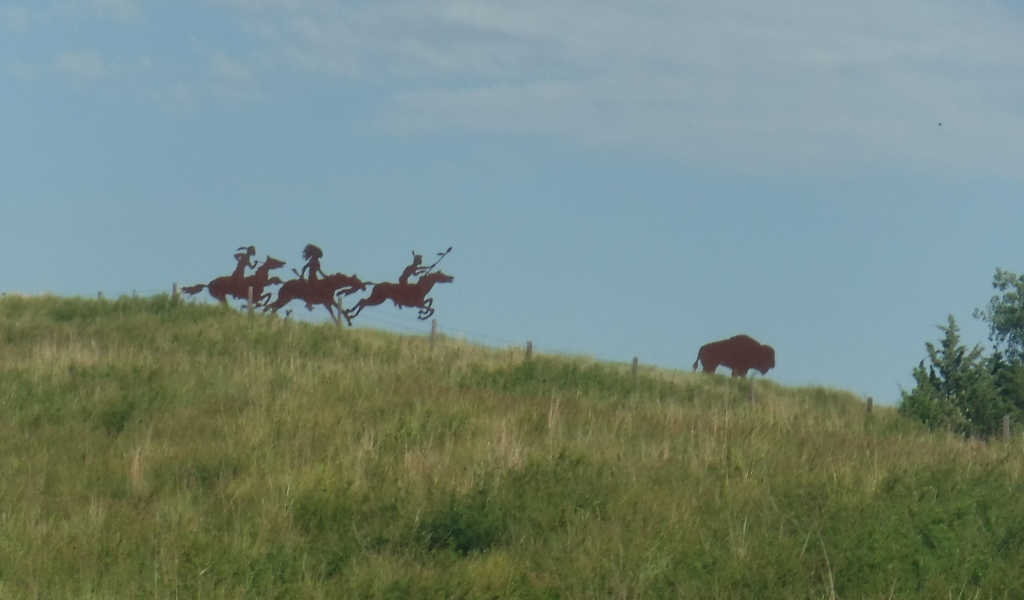 Wide open spaces and no traffic at all.
Going the way I did I avoided going thru St. Louis, Missouri---and did the same coming home.
That city tries to kill me everytime I go thru it.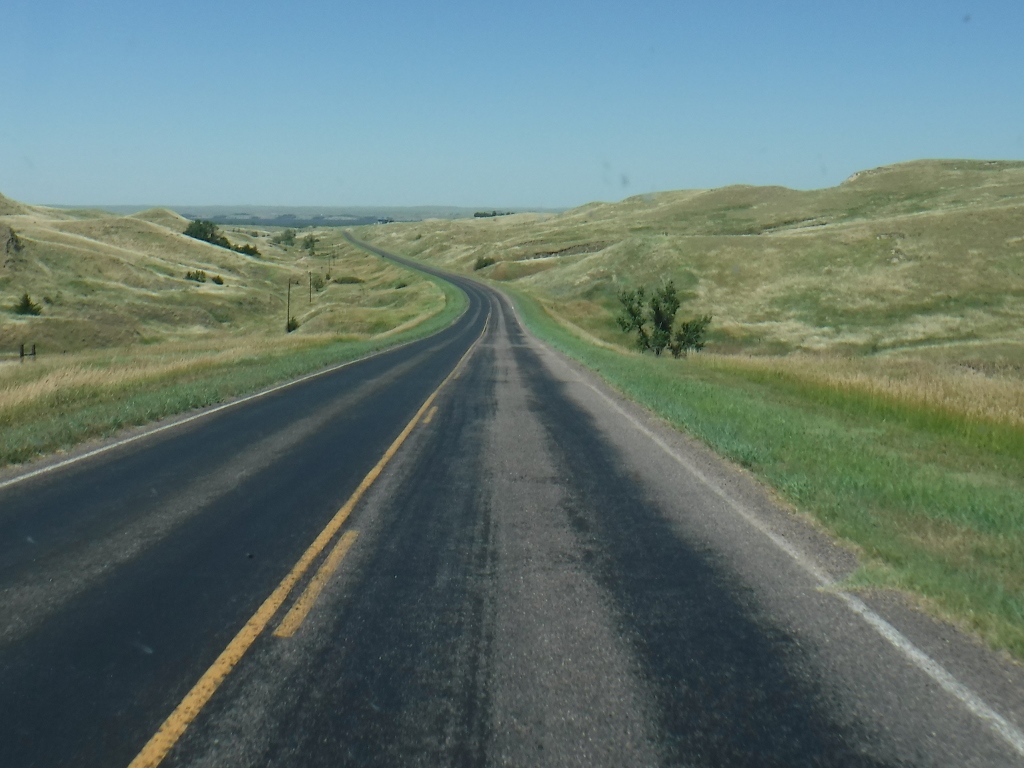 I ended up at Chadron State Park in Nebraska and the Humidity of Southern Illinois was left behind.
It got real cool that night and I had a nice nights sleep in my van.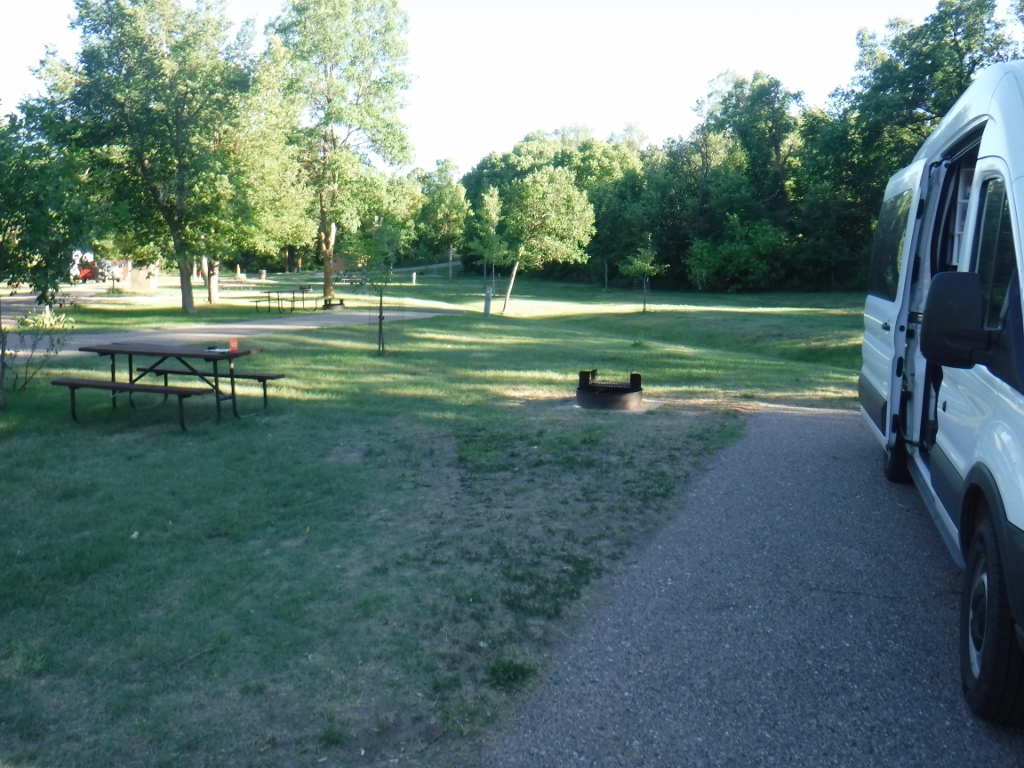 The next night I camped in Boysen state park right on the Big Wind River in Wyoming.
I had seen this campsite last year coming this way but didn't stay here.
And vowed to stay hear the next time through.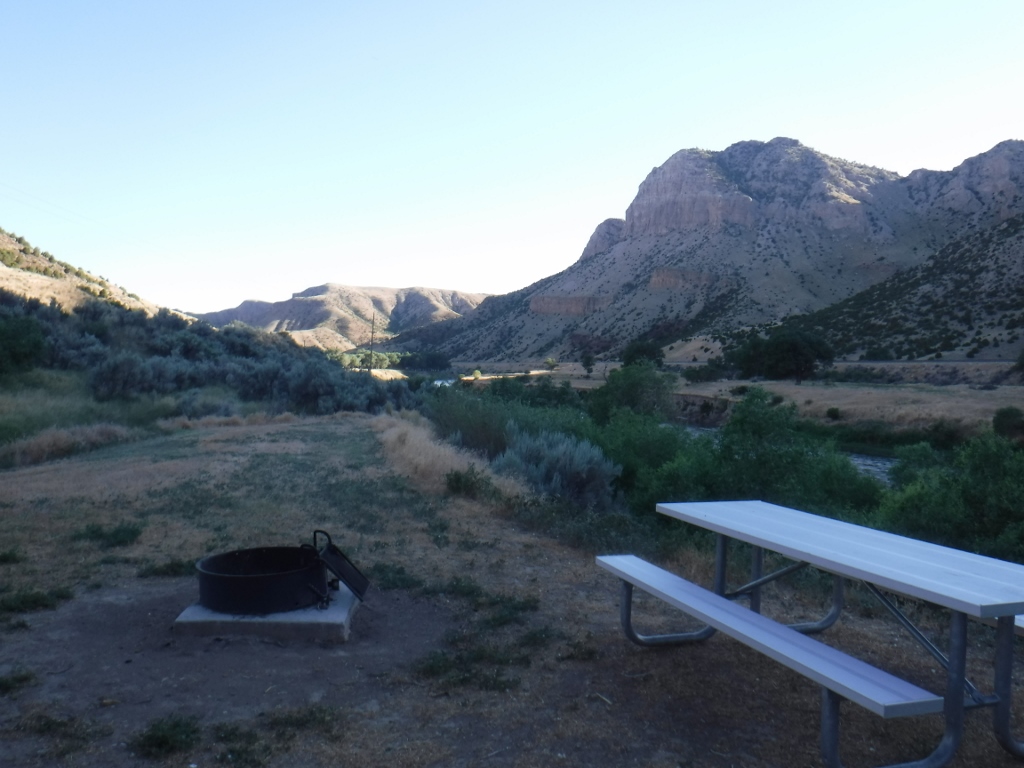 And looky who shows up-----------my very good friend Jerry Mueller (Road Dad on AdvRider).
"Nice van Jerry" !!!
He rides a WR250R too and has rolled over 100,000 miles on it.
Jerry gets out the cooker and we have brats for dinner.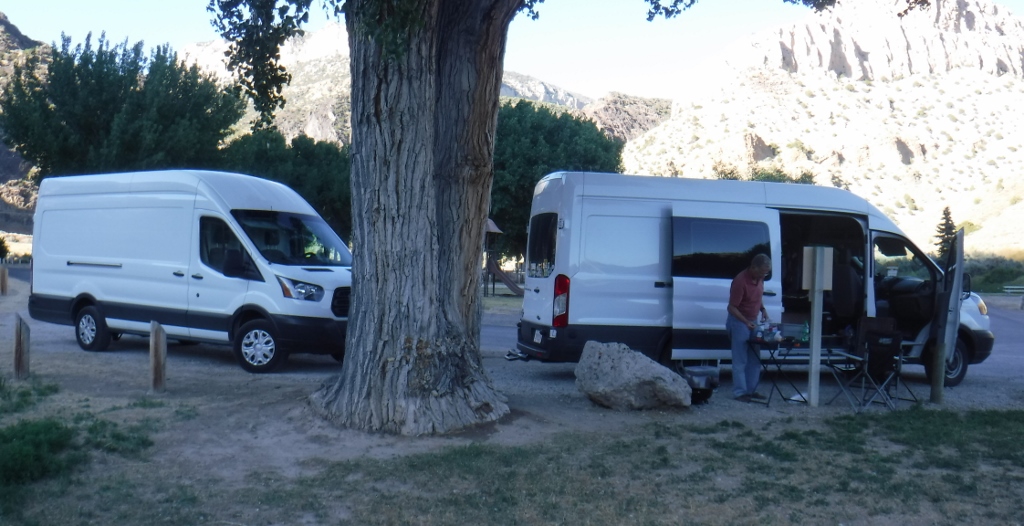 After dinner it was nice going for a bit of a hike along the river----and we found out some things about this place.
See the railroad tunnel ?? It's still in use. This river flows North.
Lot's of fisherman fish this river.
For reference this is about 125 miles Southeast of Yellowstone.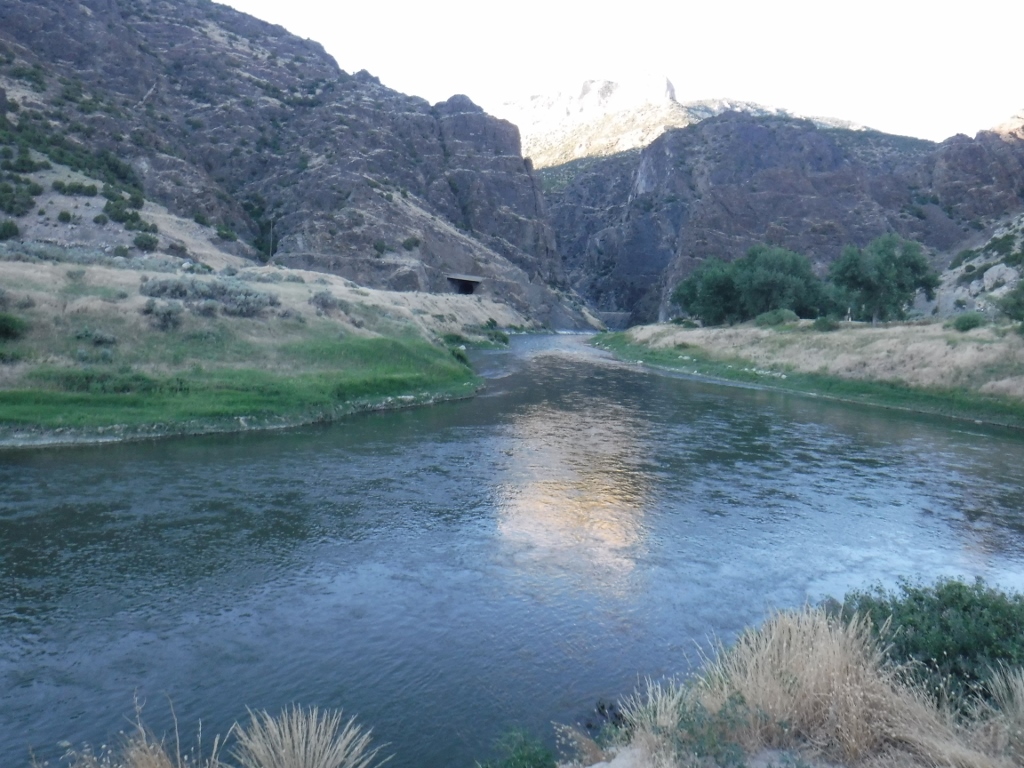 As we walk towards the narrow canyon the road tunnel comes into view on the East side of the river.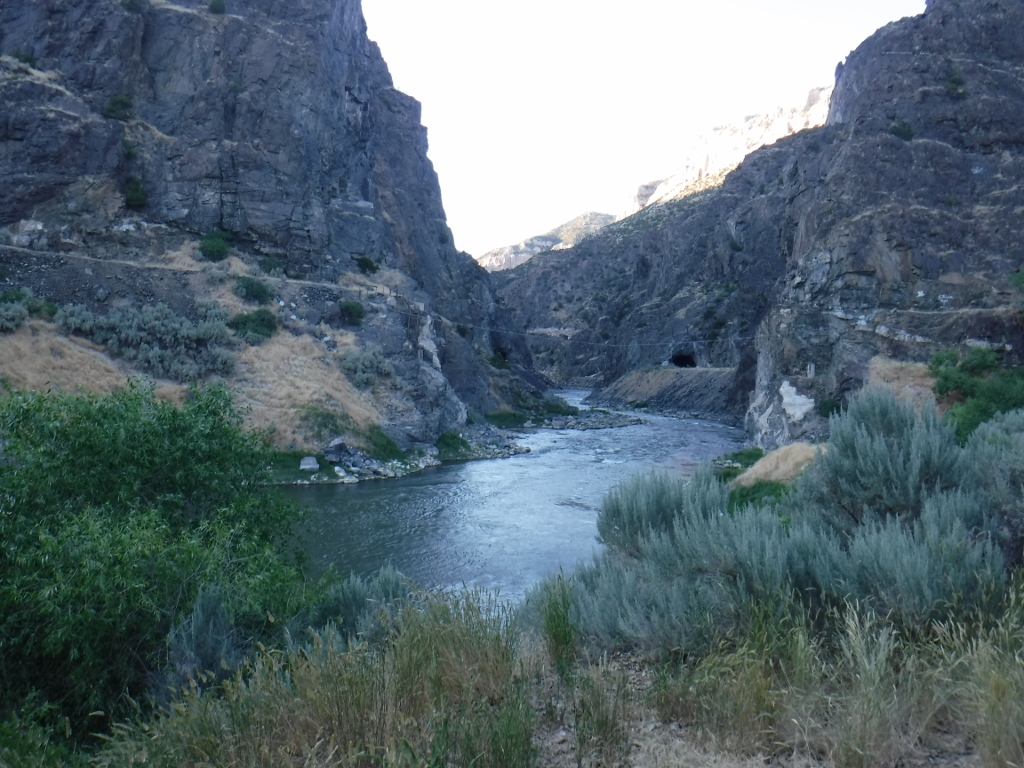 And here we run into a forest ranger who gives us a bit of history-----there used to be a huge tall dam right below those steps.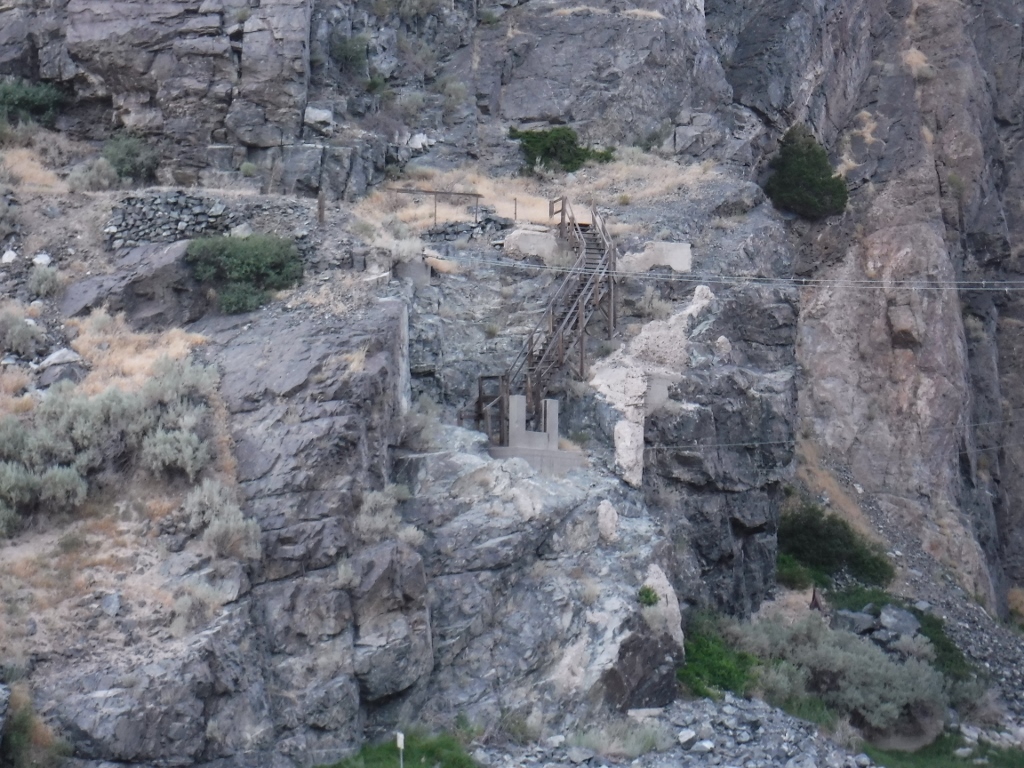 And what's left of a swinging bridge.
My wife told me not to do anything illegal or dangerous.
So I don't dangle from the old cable and hand walk to the other side.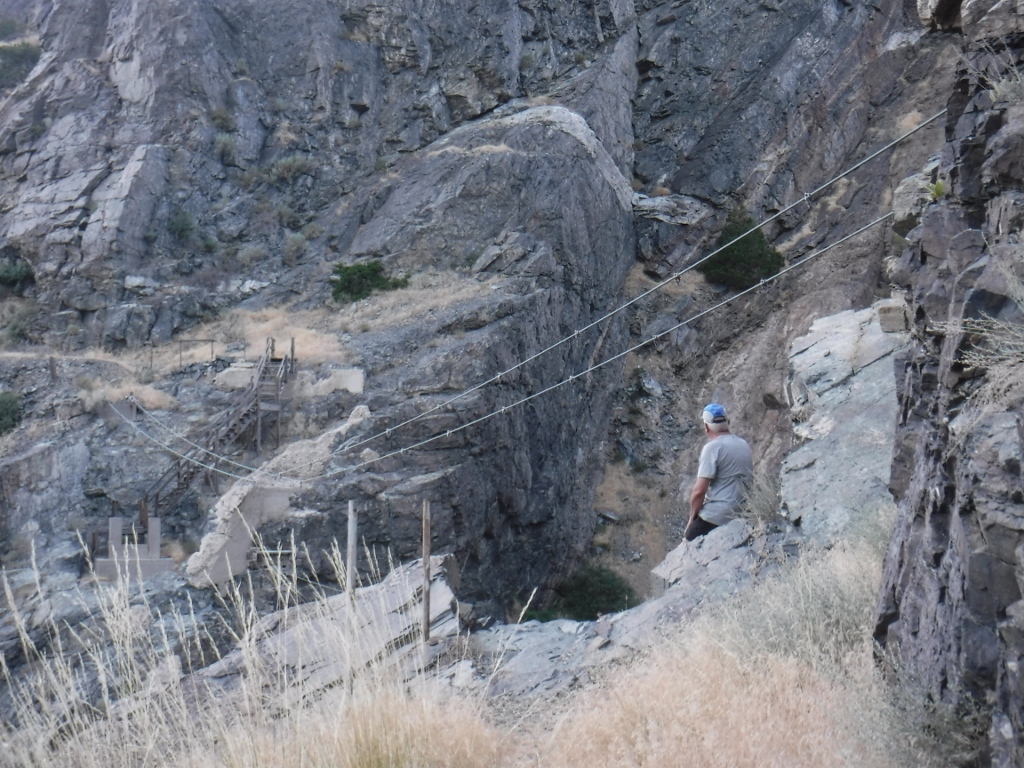 Maybe she meant I wasn't supposed to walk on the edge of a cliff either???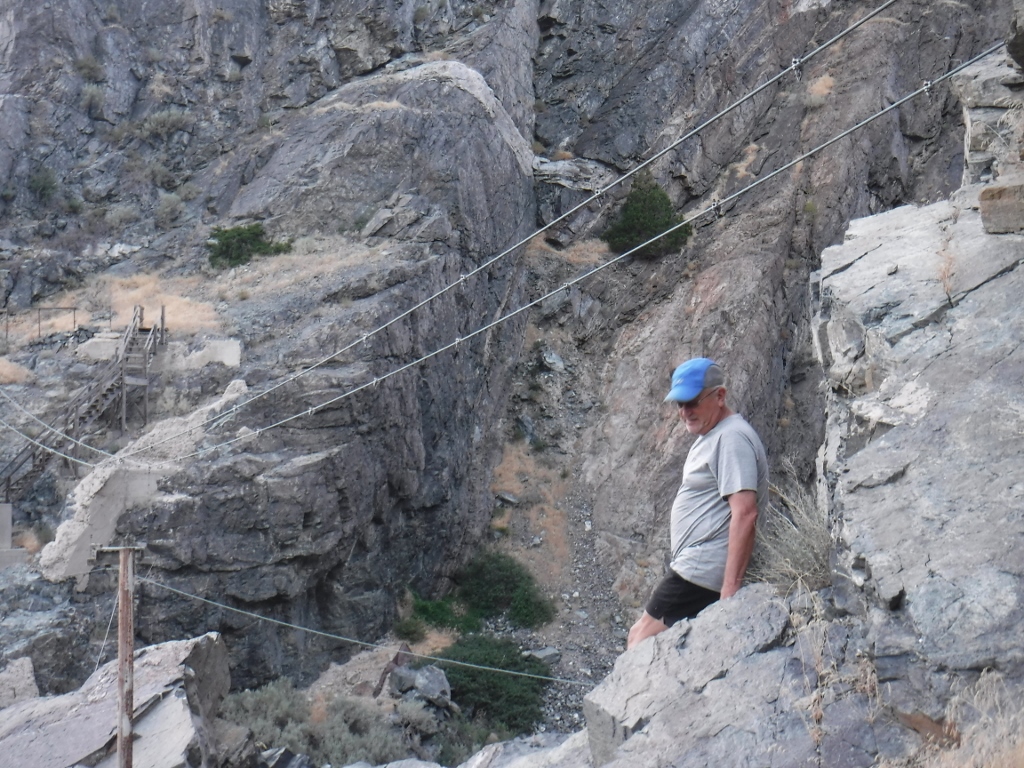 Jerry loves this-----it was very cool---and no humidity....a really nice evening.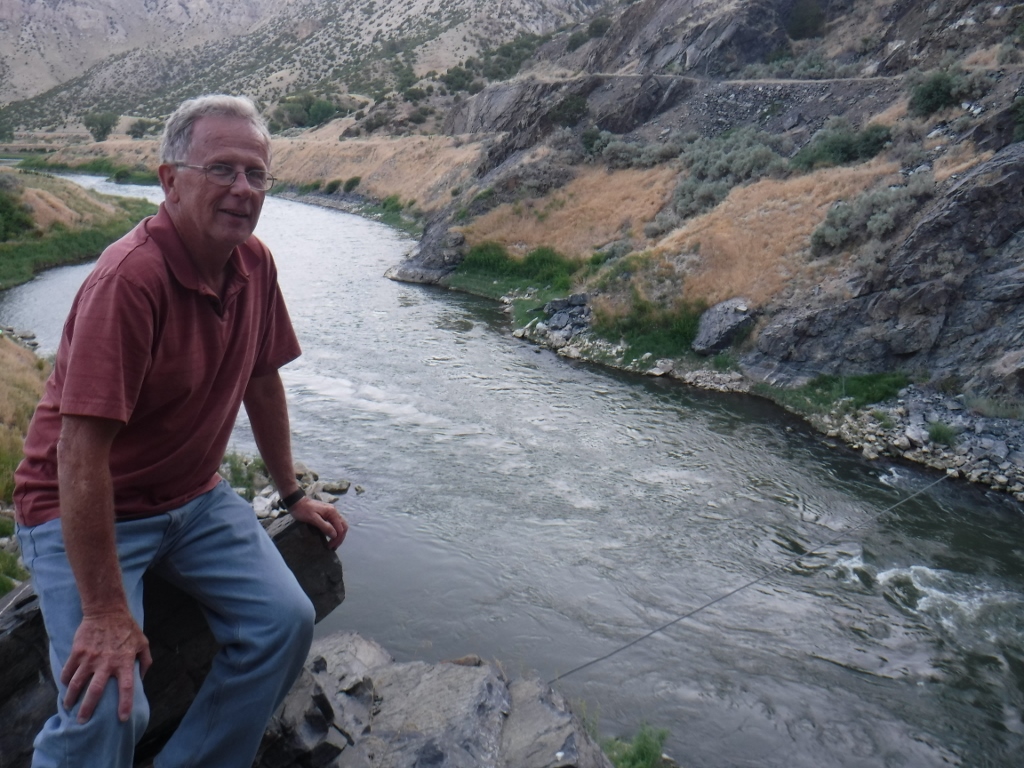 This is a better overall picture of the place where the dam was.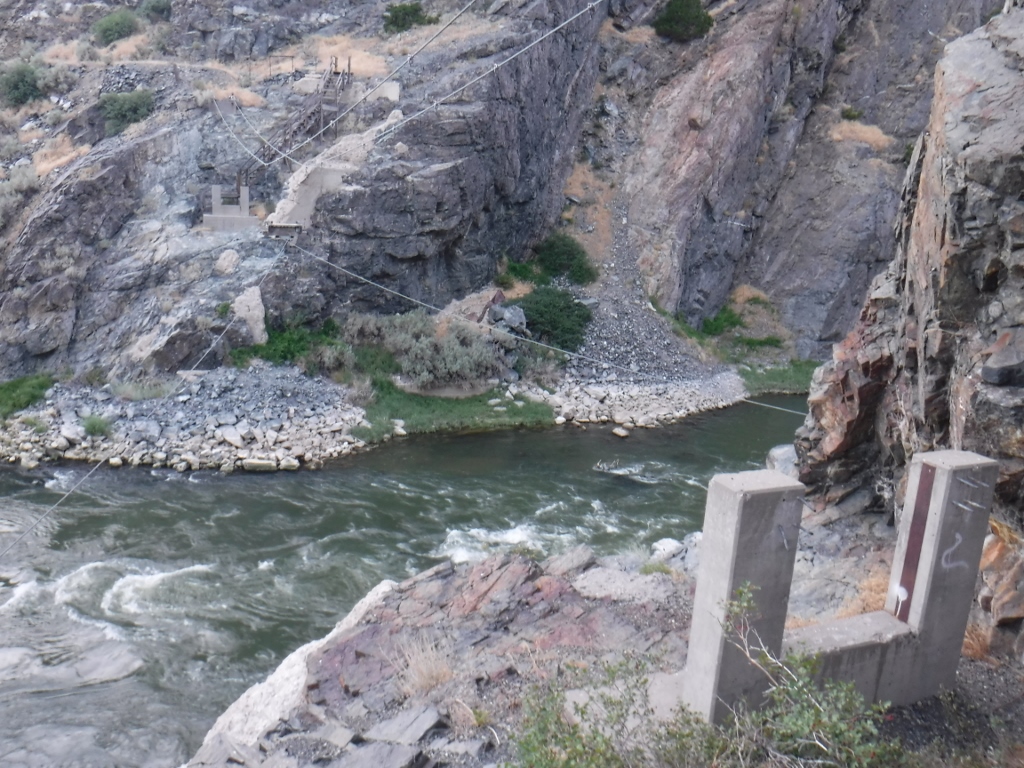 We break camp in the morning after fixing breakfast and drive thru I think 3 tunnels out of the canyon.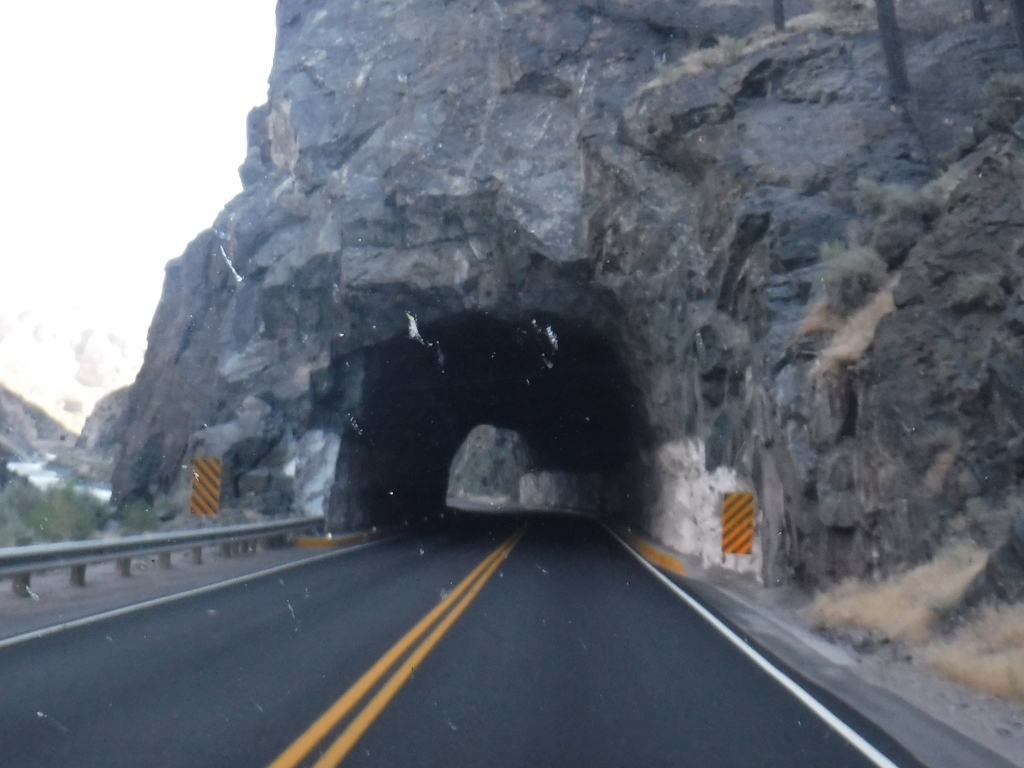 The next day we spend a few hours at the worlds largest mineral hot springs in Thermopolis, Wyoming.
When Yellowstone blows up------------I think this place will go with it.
It is a beautiful place.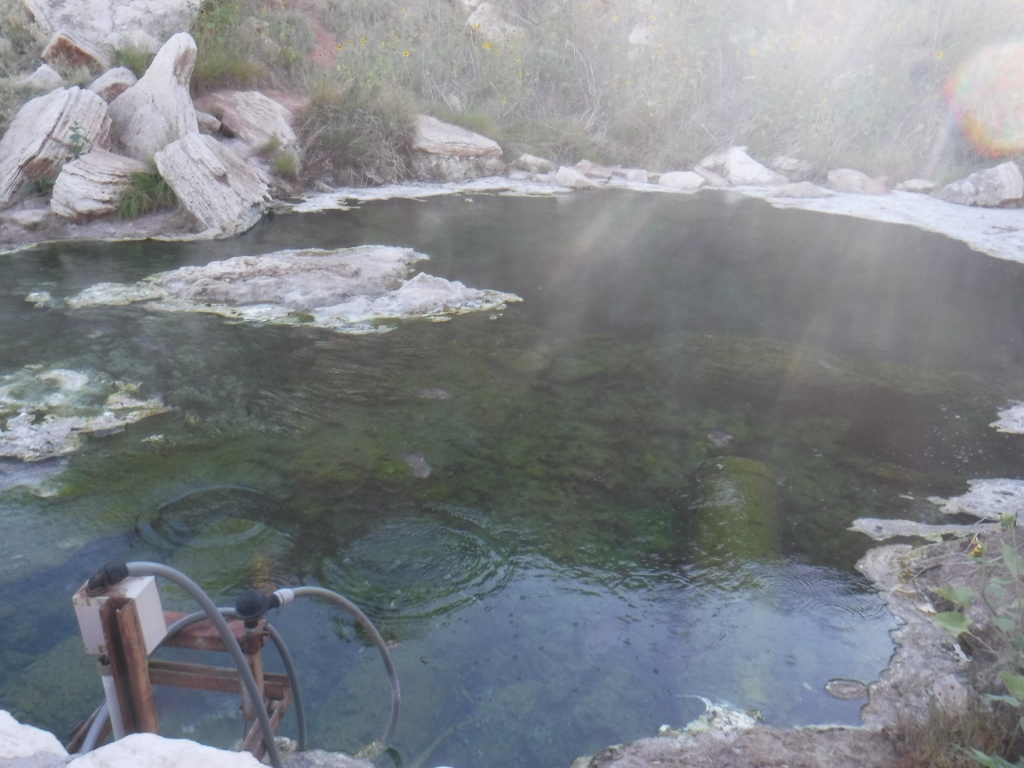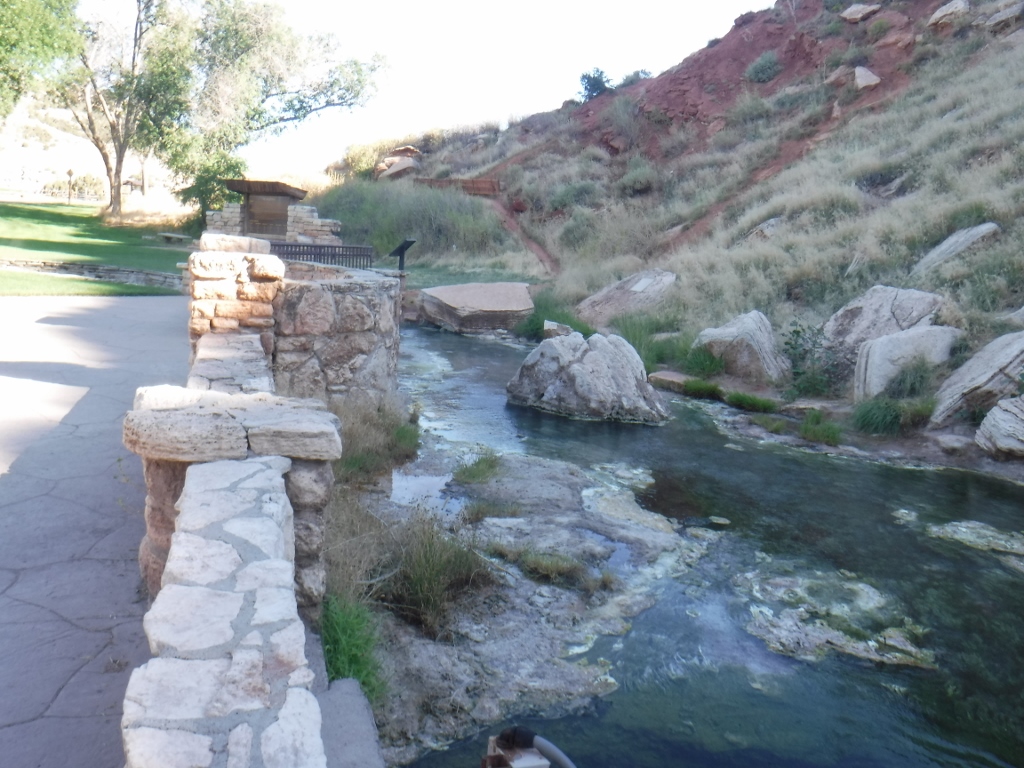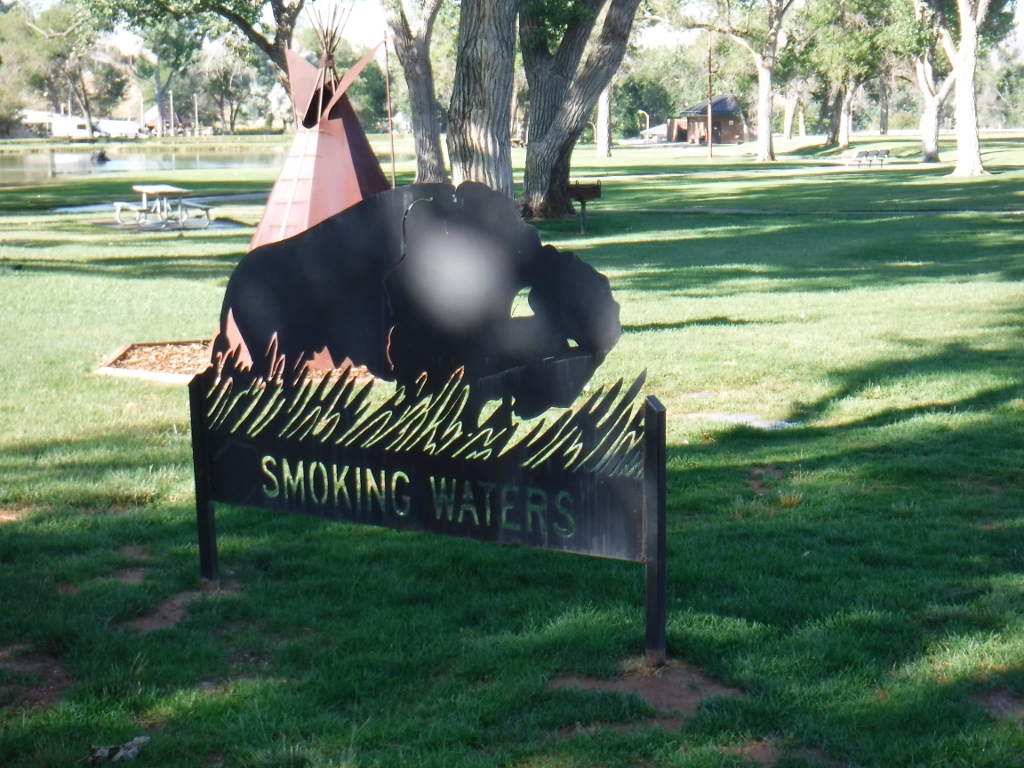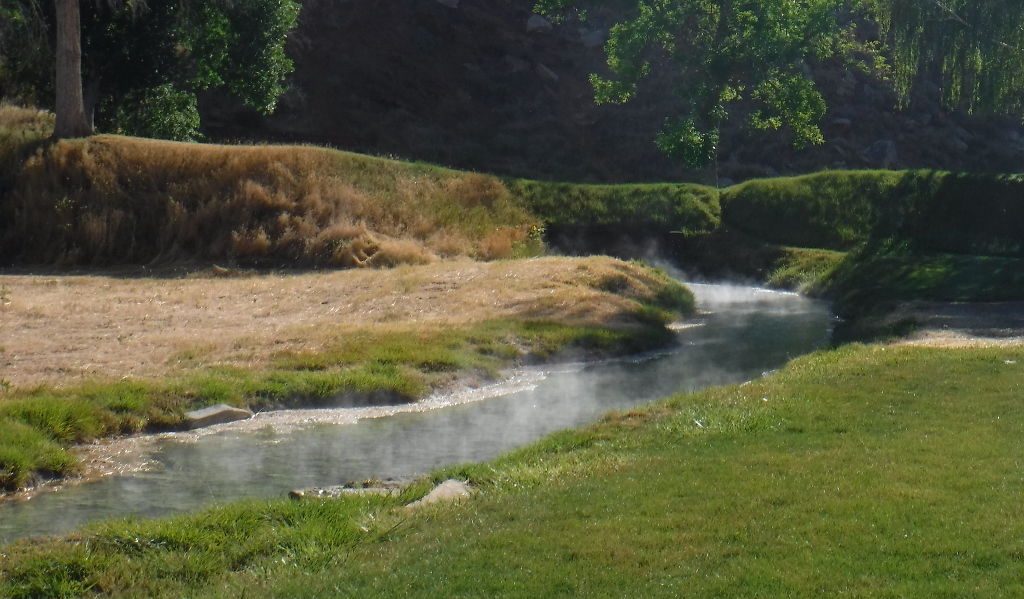 You can see the mineral deposits left as the spring water flows down the rock and into the Bighorn River.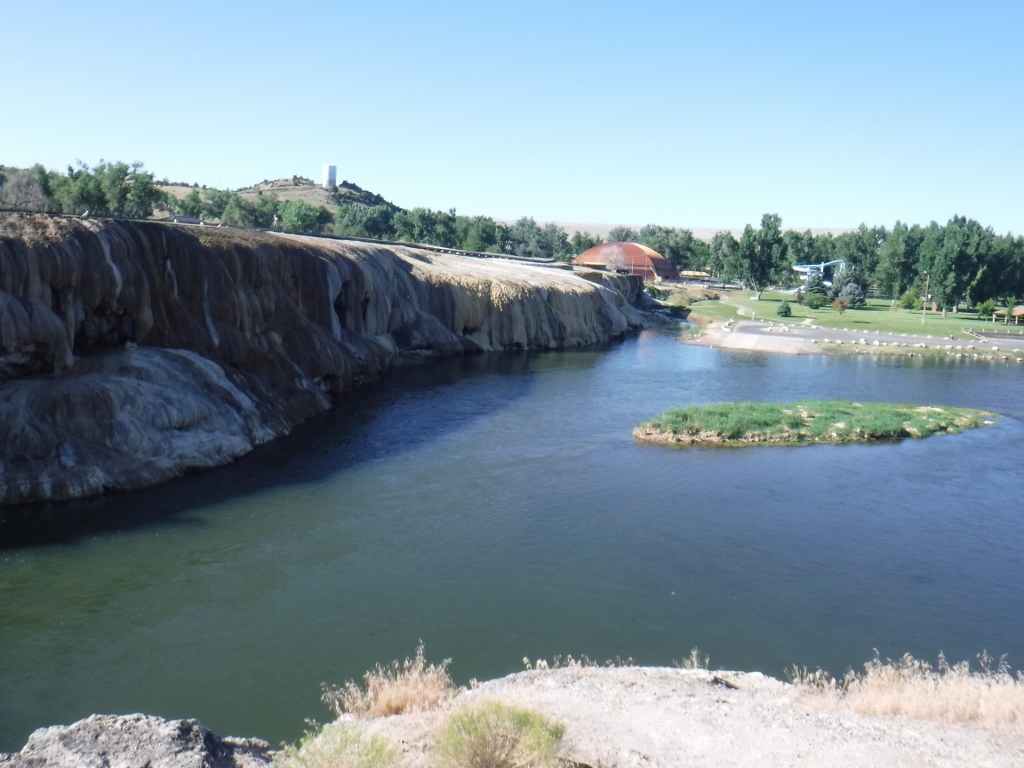 Lo and behold looky what we found on the side of route 308 just Southeast of Red Lodge, Montana.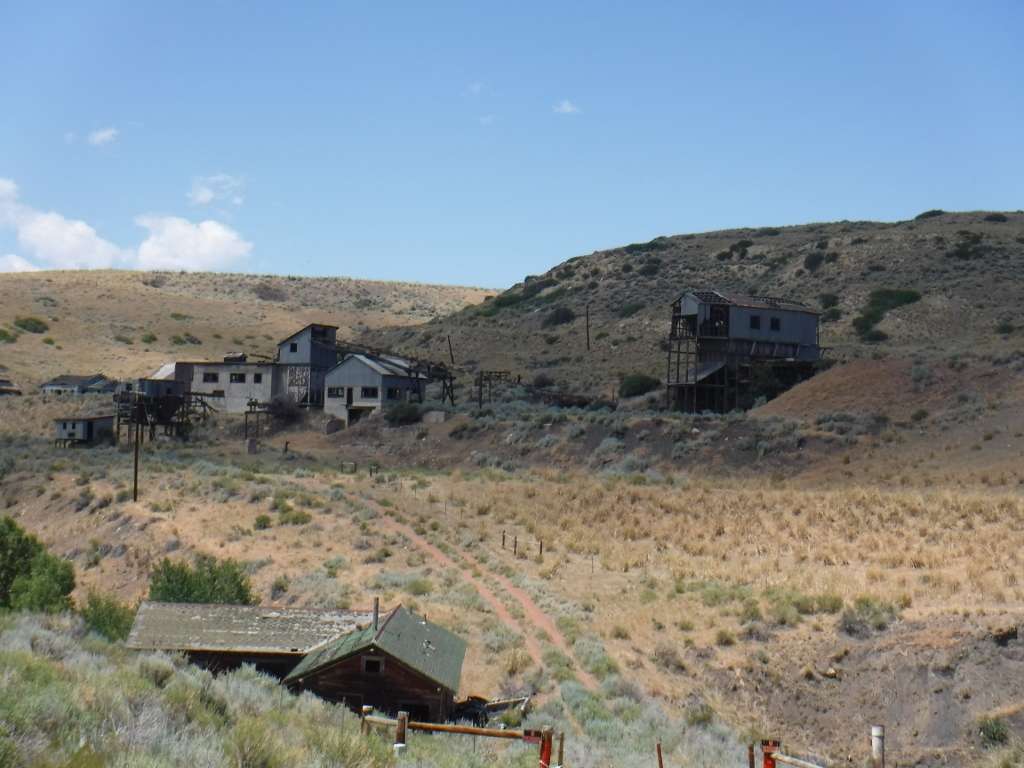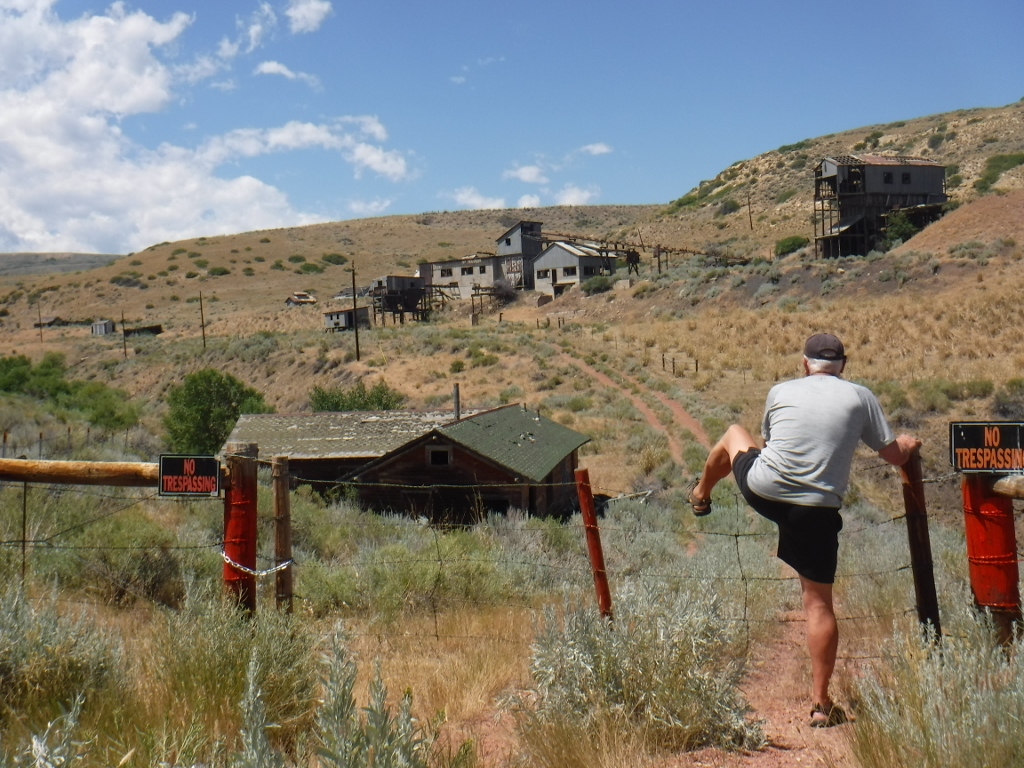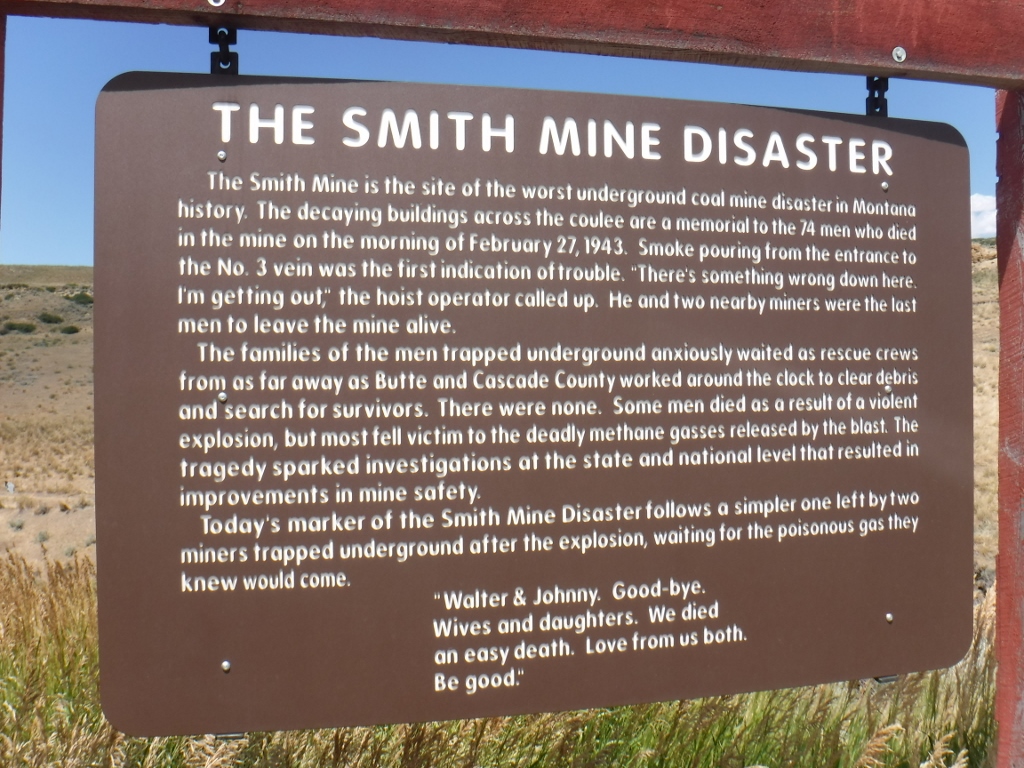 Coming into Stevensville, Montana I stop at the BigDog Coffee.
One of my thousands of coffee stands I own all over North America and parts of Europe------------yeh right !!!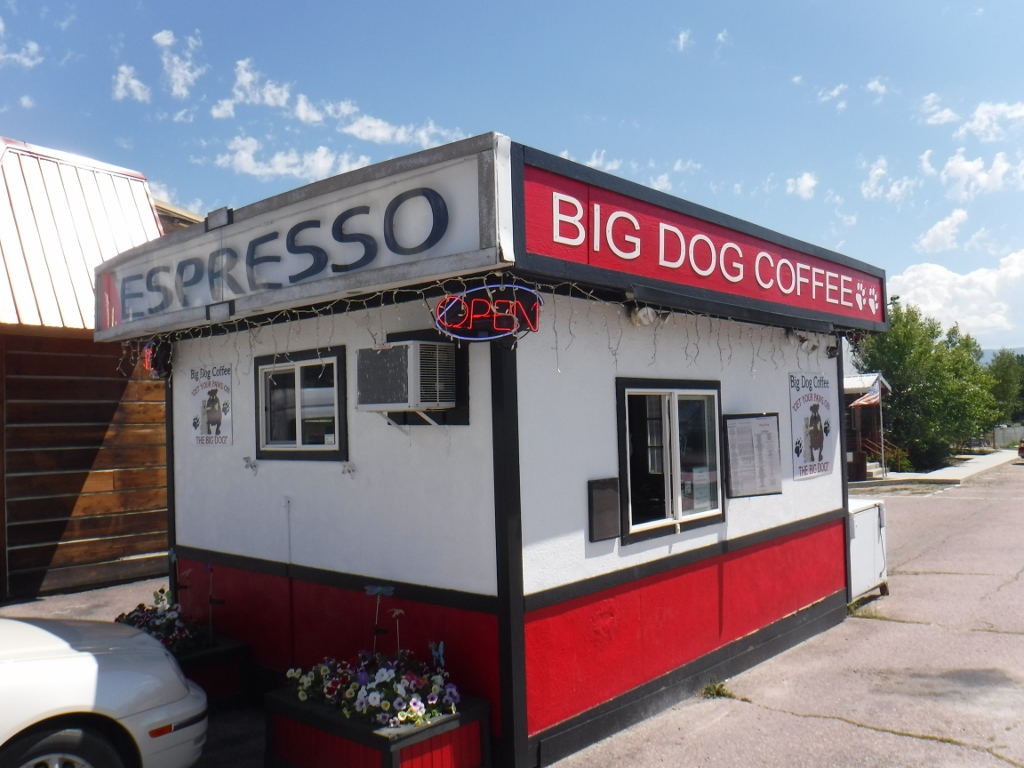 I coax the nice lady out of a couple BigDog Coffee cups.
A little one for my wife---and a Big one for me !!!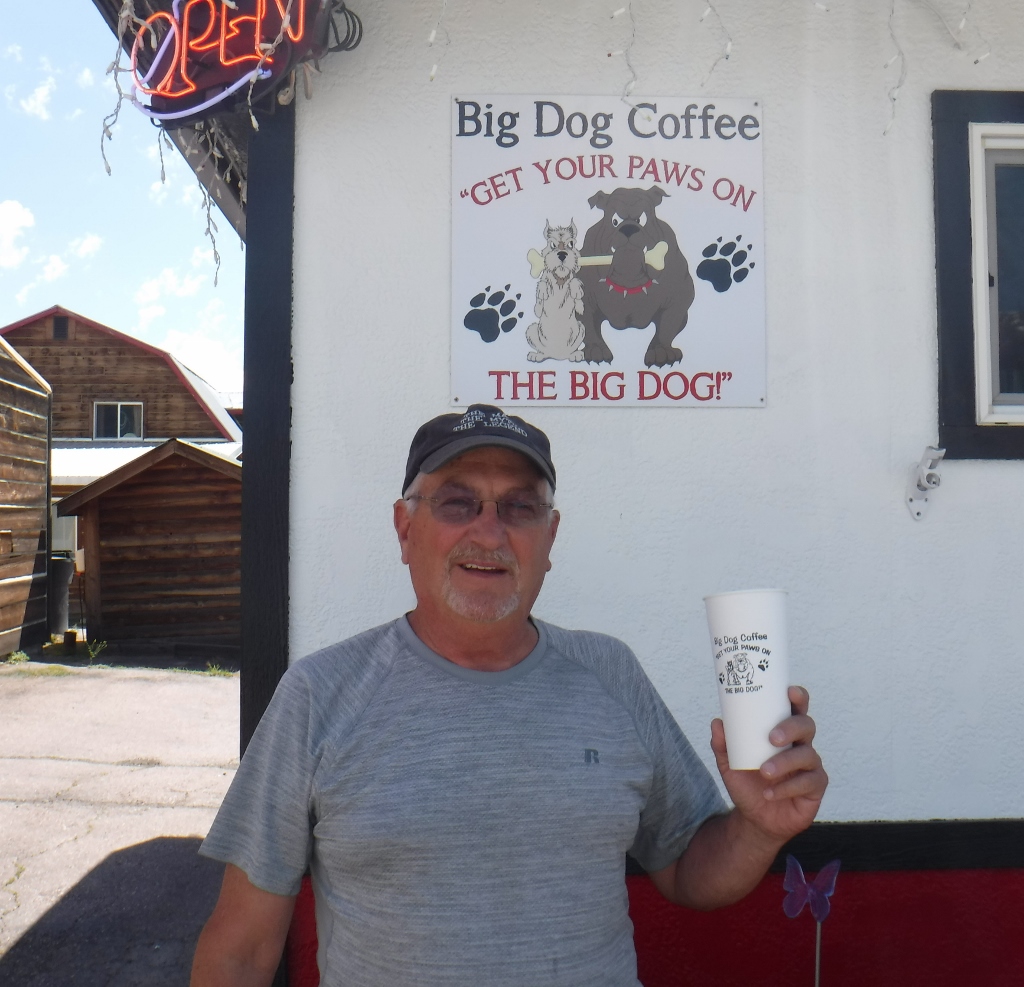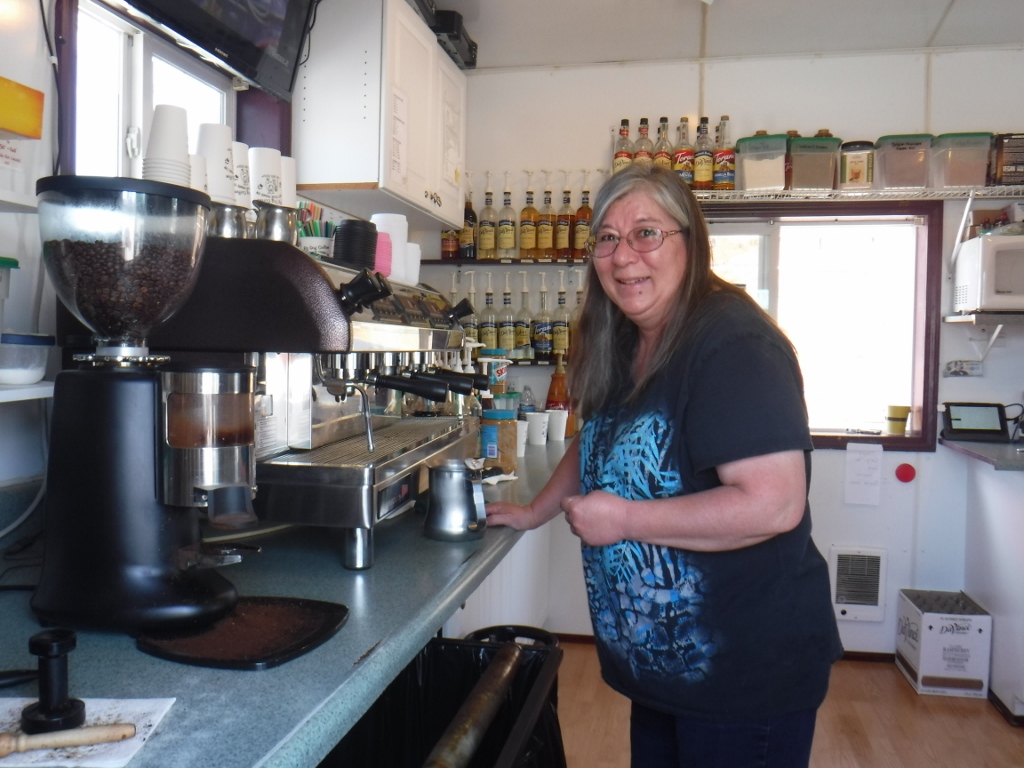 Now on to the motorsickle riding !!!!!!!
The ride started on Saturday July 16th-----but most riders arrived the day before and got unloaded and ready.
Ron was so accomidating and let us leave our tow vehicles at his place.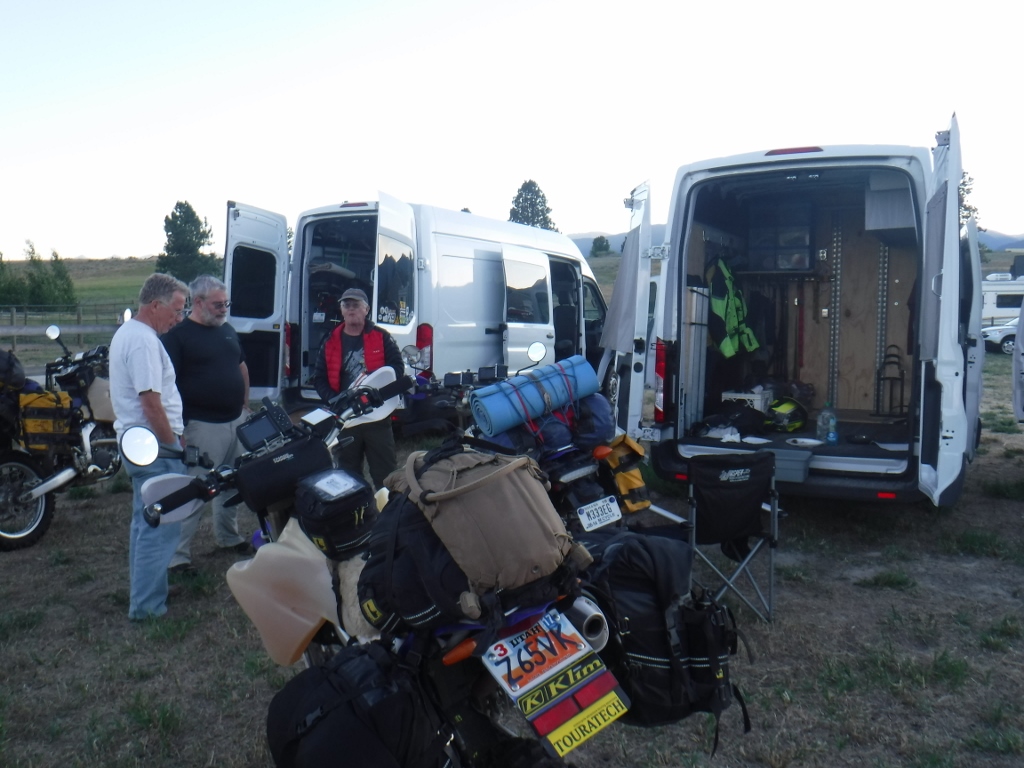 This is Allens bike----a very highly modified KTM690. .
It was awesome----if there's a farkle out there---it's on Allens bike.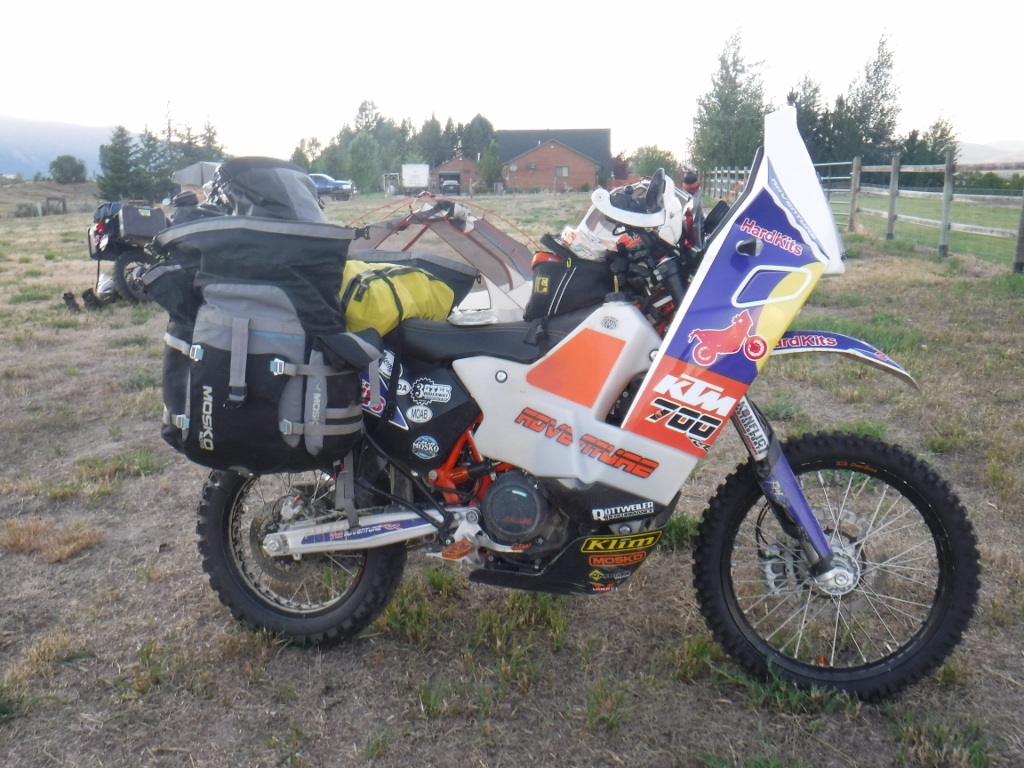 And let's just call this guy "Walter"------(really Jerry).
You know-------the ventriloquist Jeff Dunhams dummy.
"Walter" kept us in stitches this whole ride with his sarcasm. He was a hoot.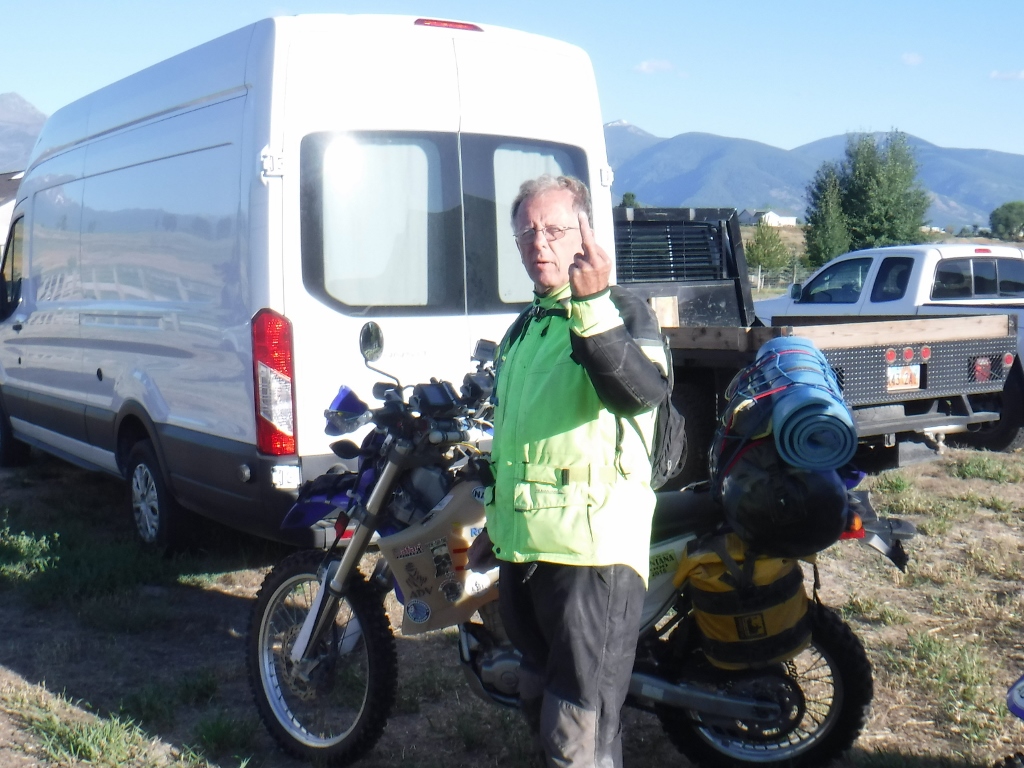 Yeh----it's pretty out here.
Today we rode from Ron's in Stevensville, Montana to the Whitehouse Campground
West of Boulder, Wy.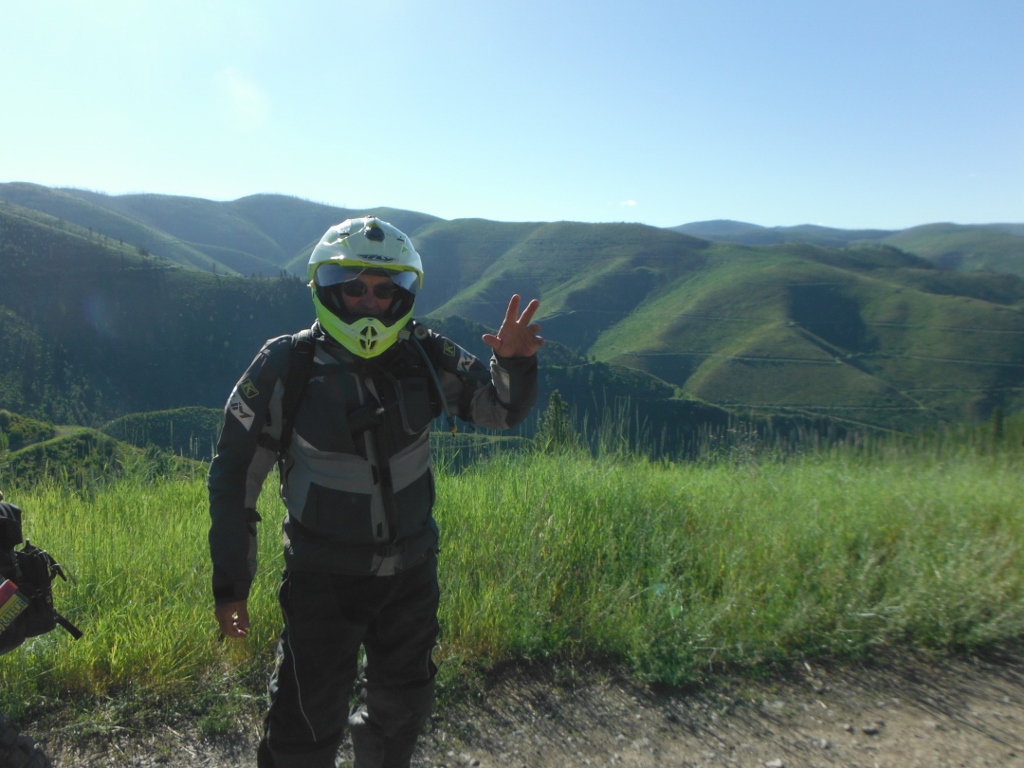 Last year I rode my KTM 690----but this year got the WR out.
It had been neglected and needed to get out.
This bike never lets me down.
I prefer a bike that weighs 300lbs. or less on a ride like this.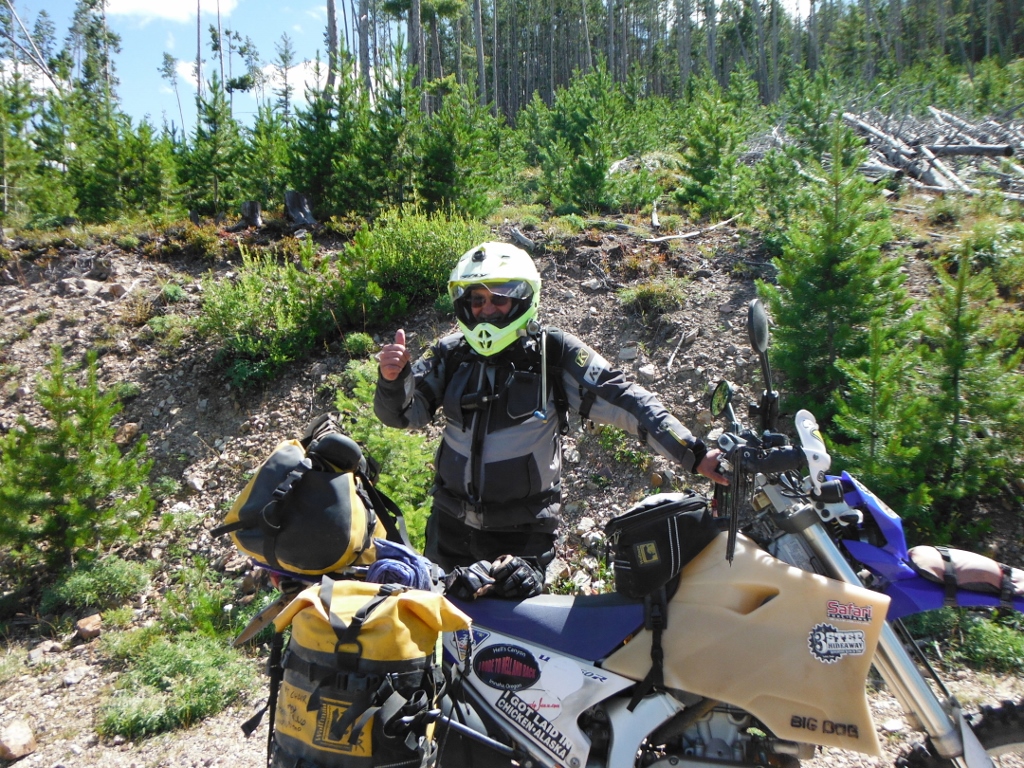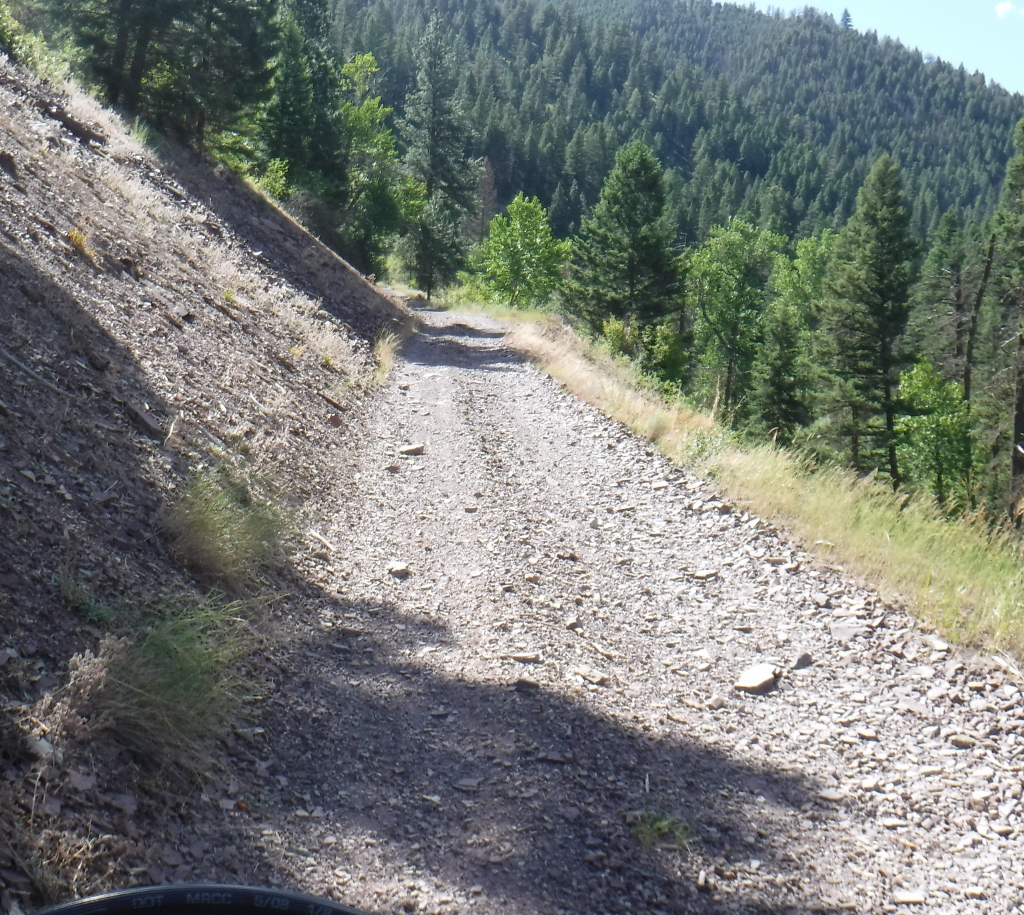 No room for more stickers.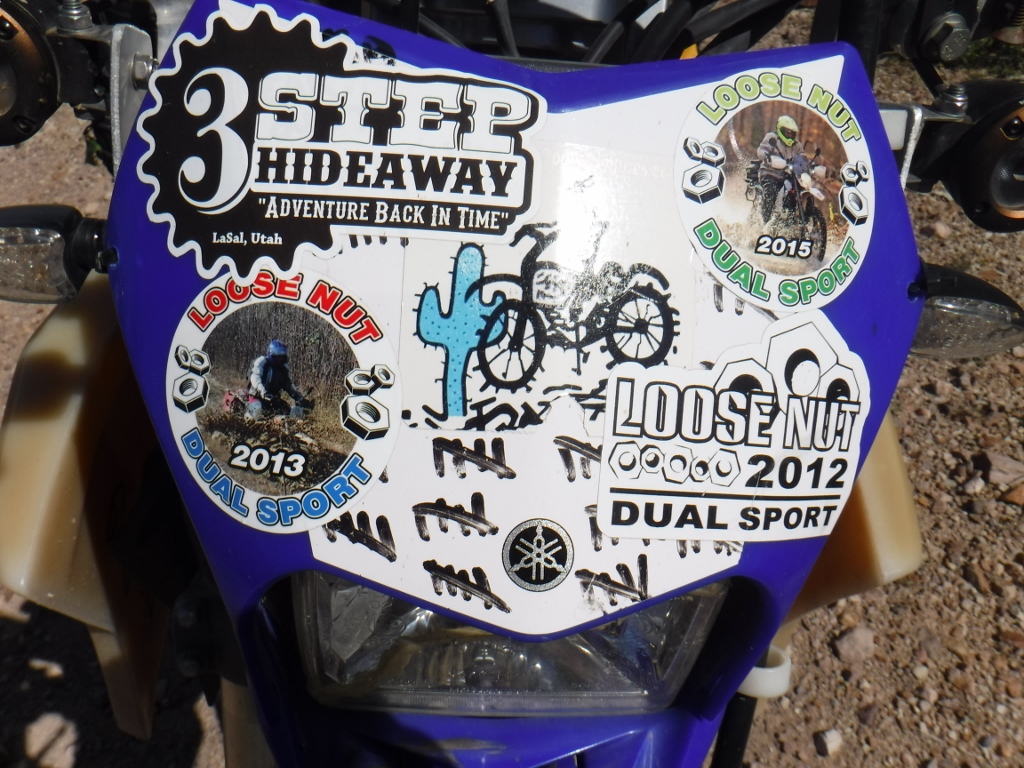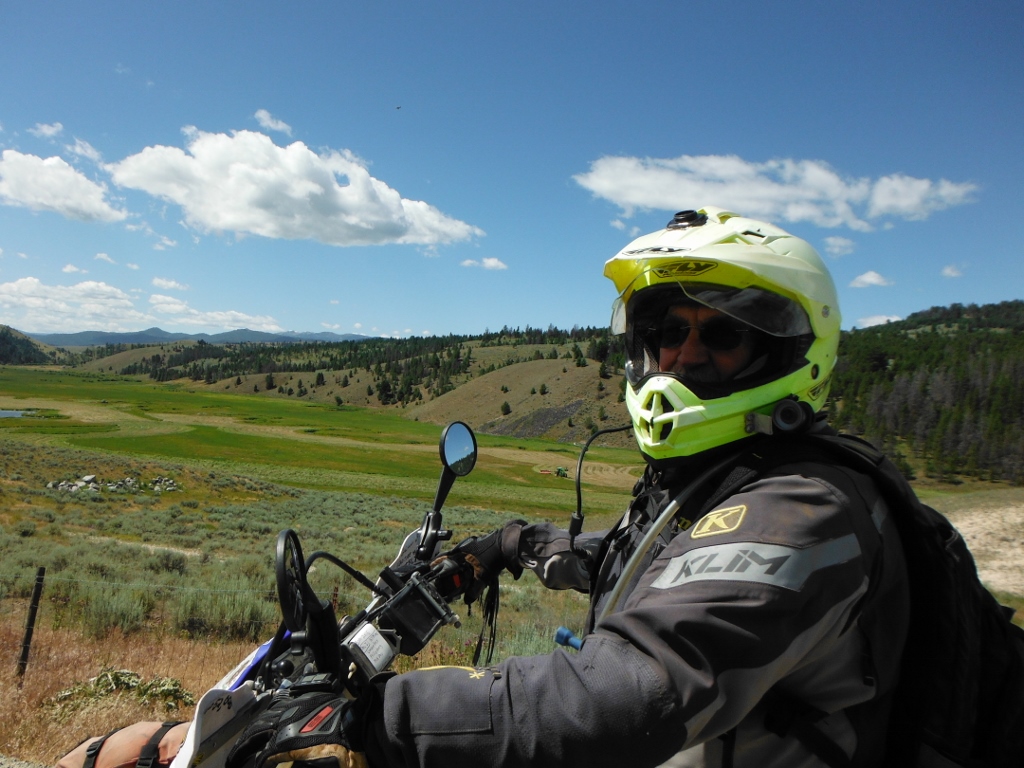 It never rained on us the whole ride----well just a few drops at night in our tents and there wasn't much of this..
Tires ????..........I use a Kenda 760 on the front and a Dunlop 606 on the rear.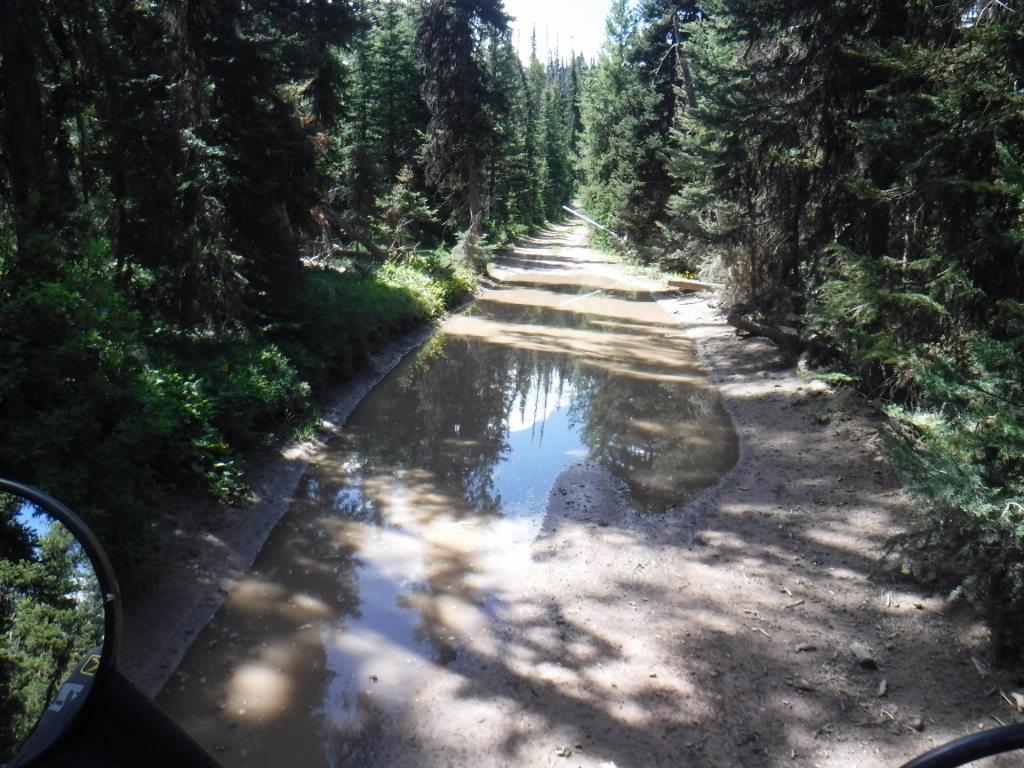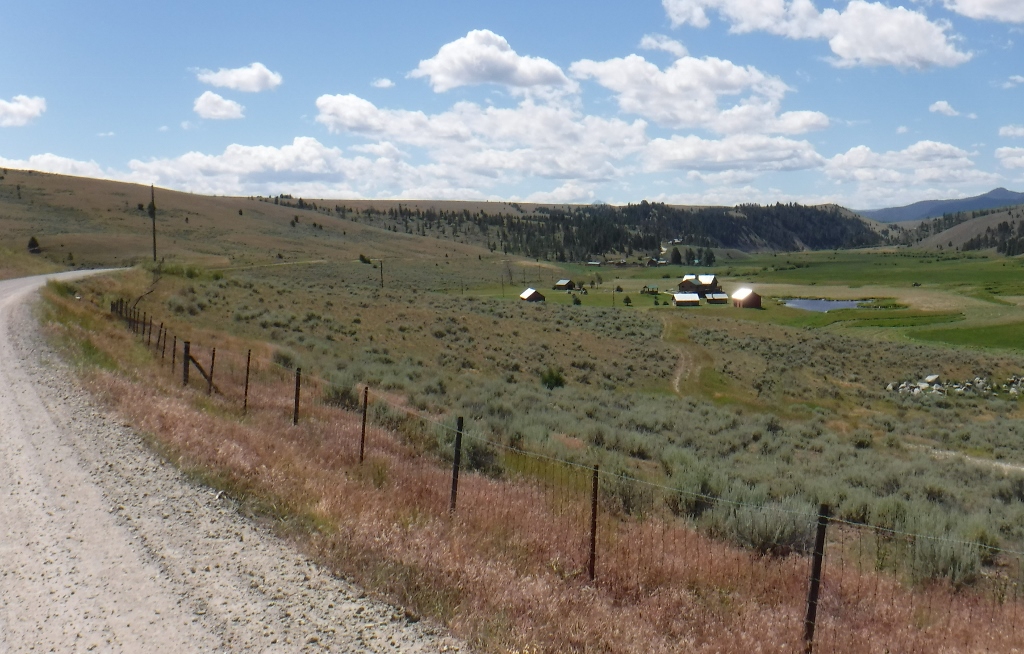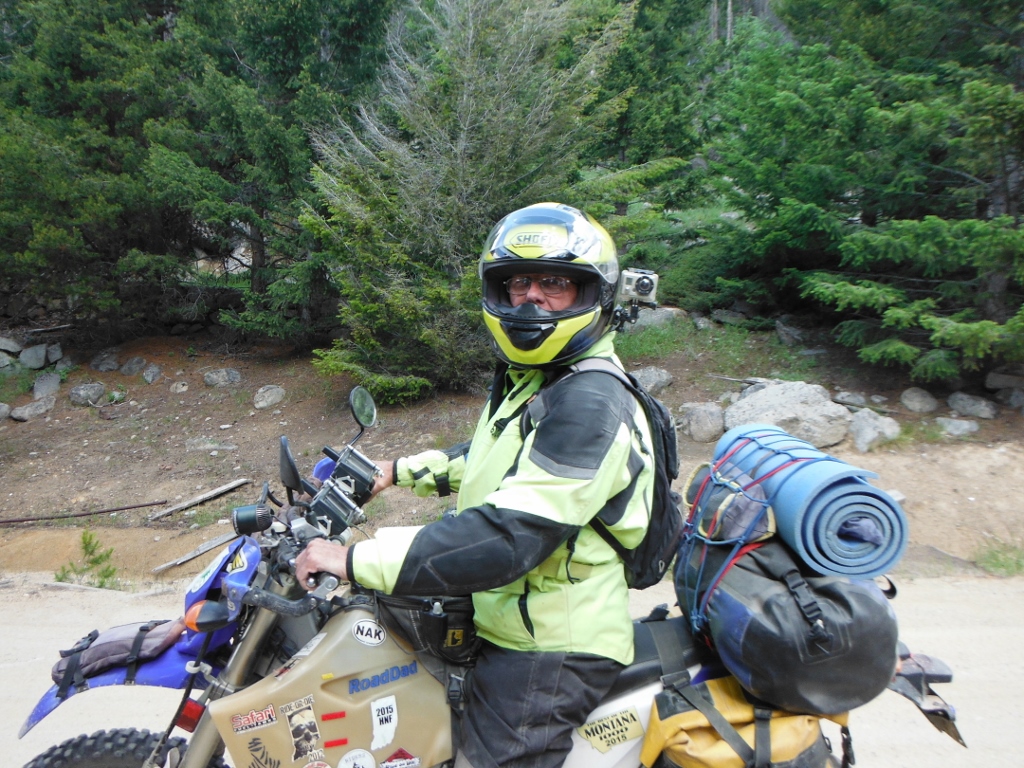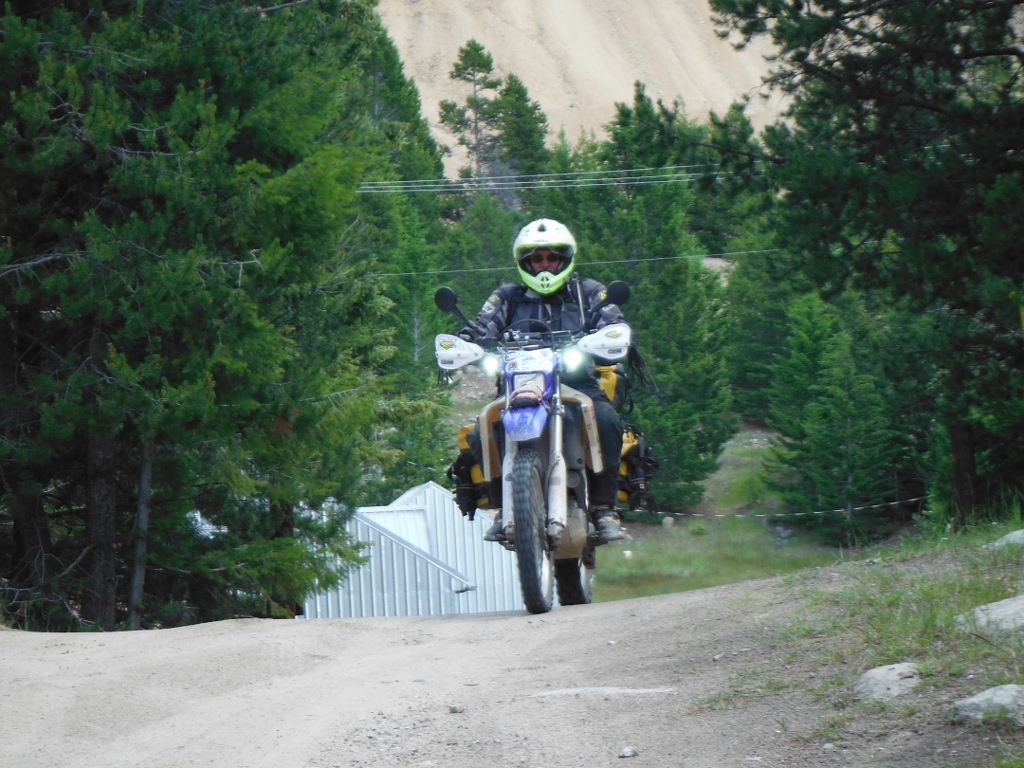 The ride had many side trips in it----this side trip led to us to the ghost town of Granite.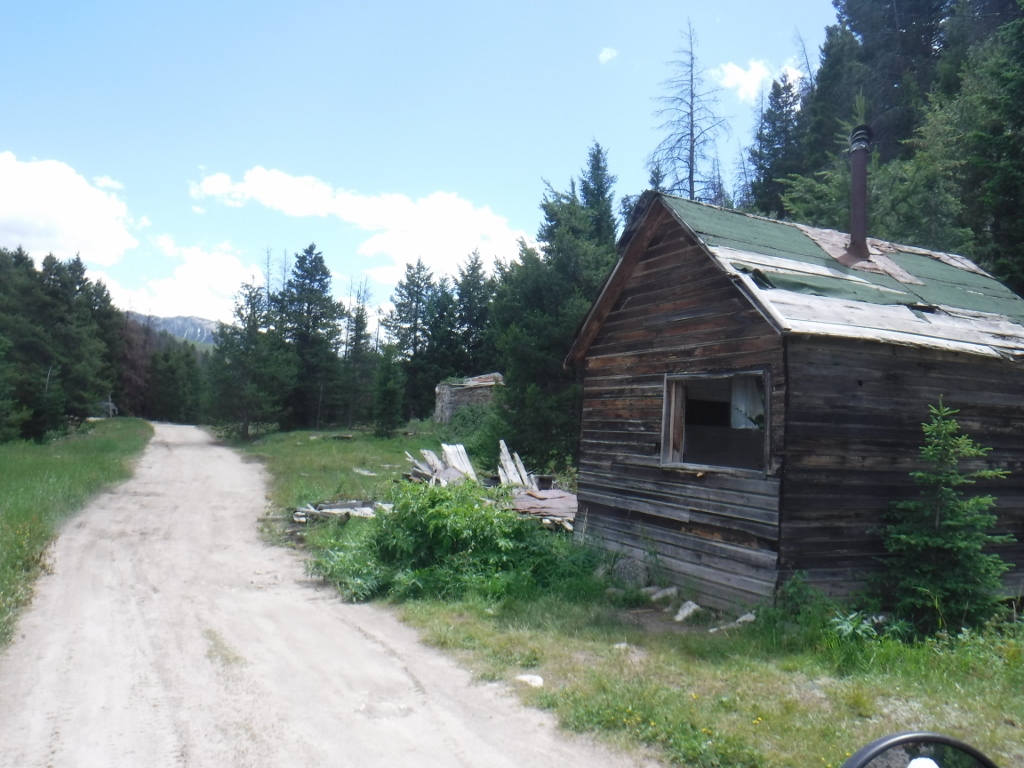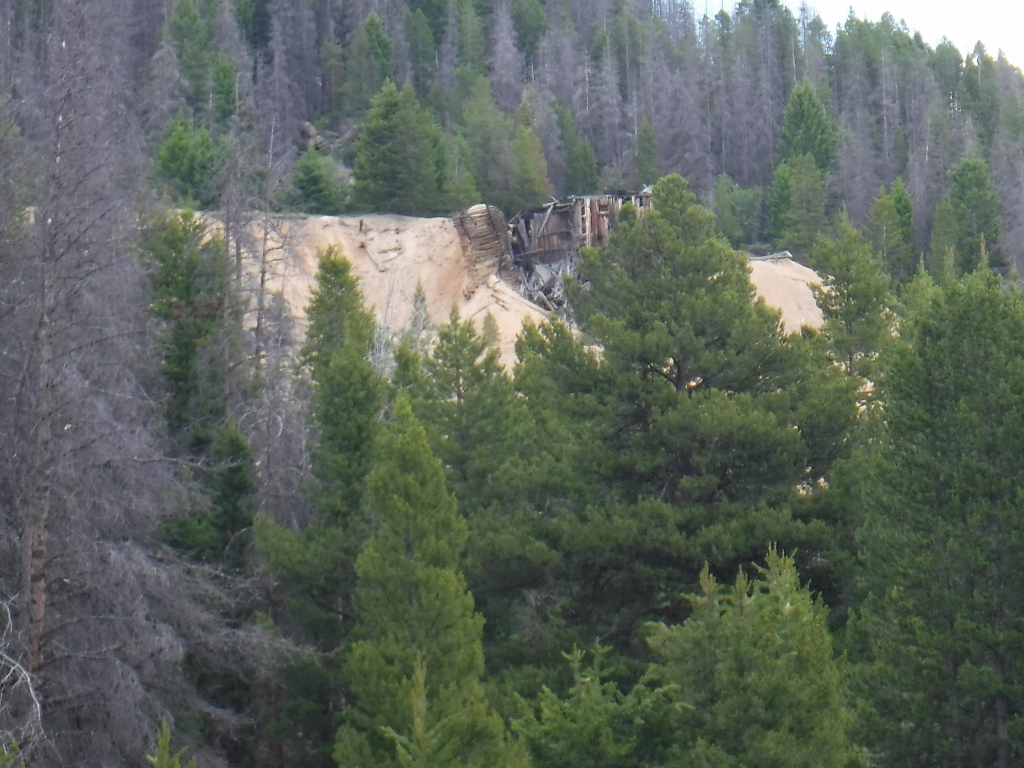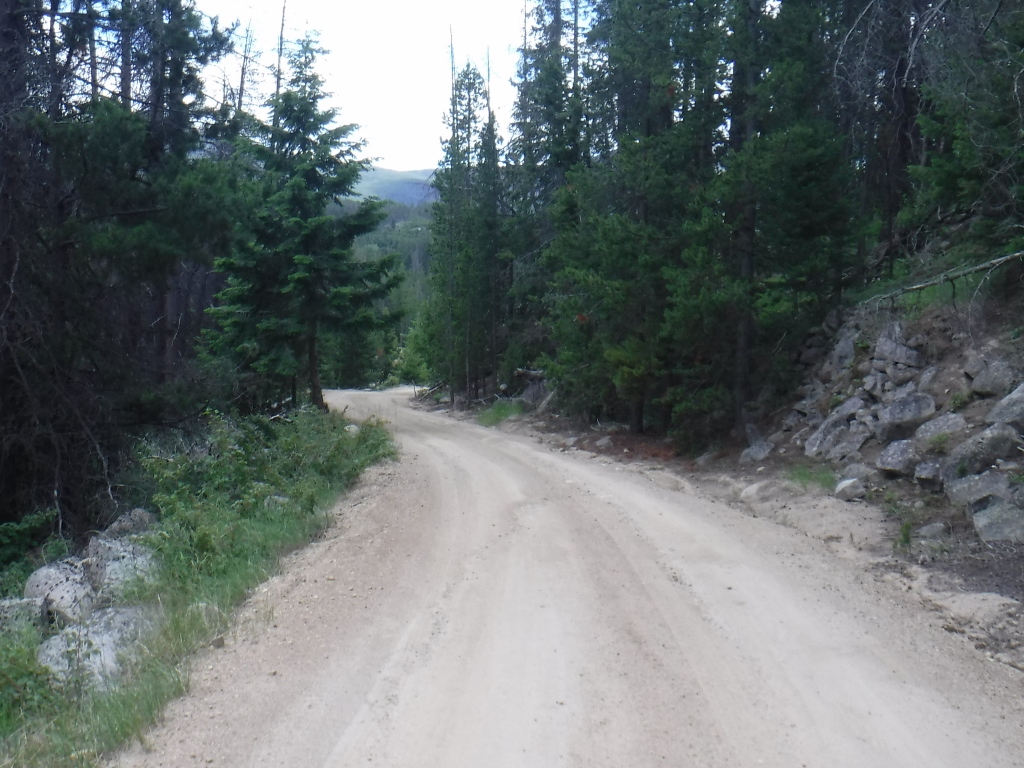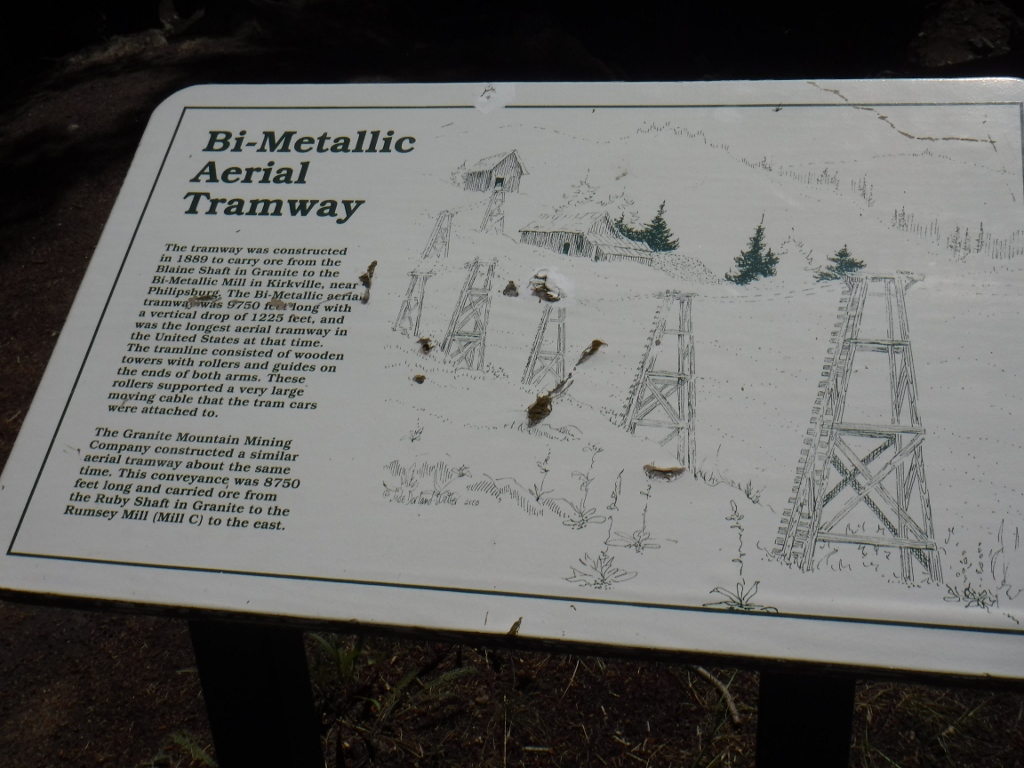 This seemed to be all that was left of the tramway.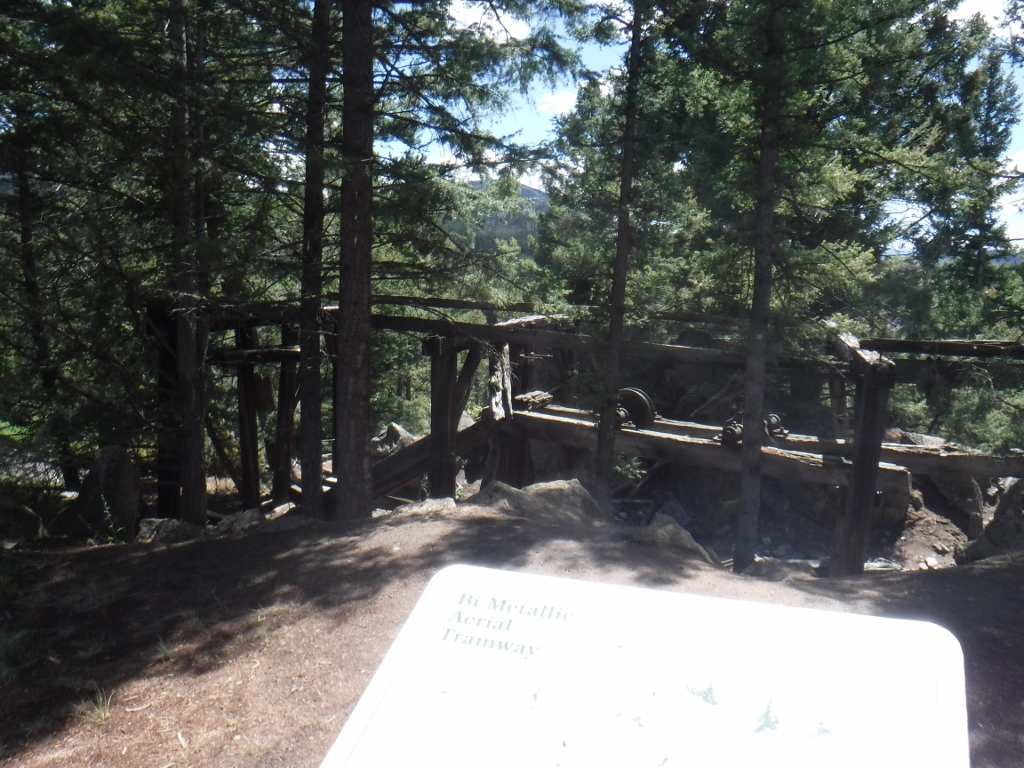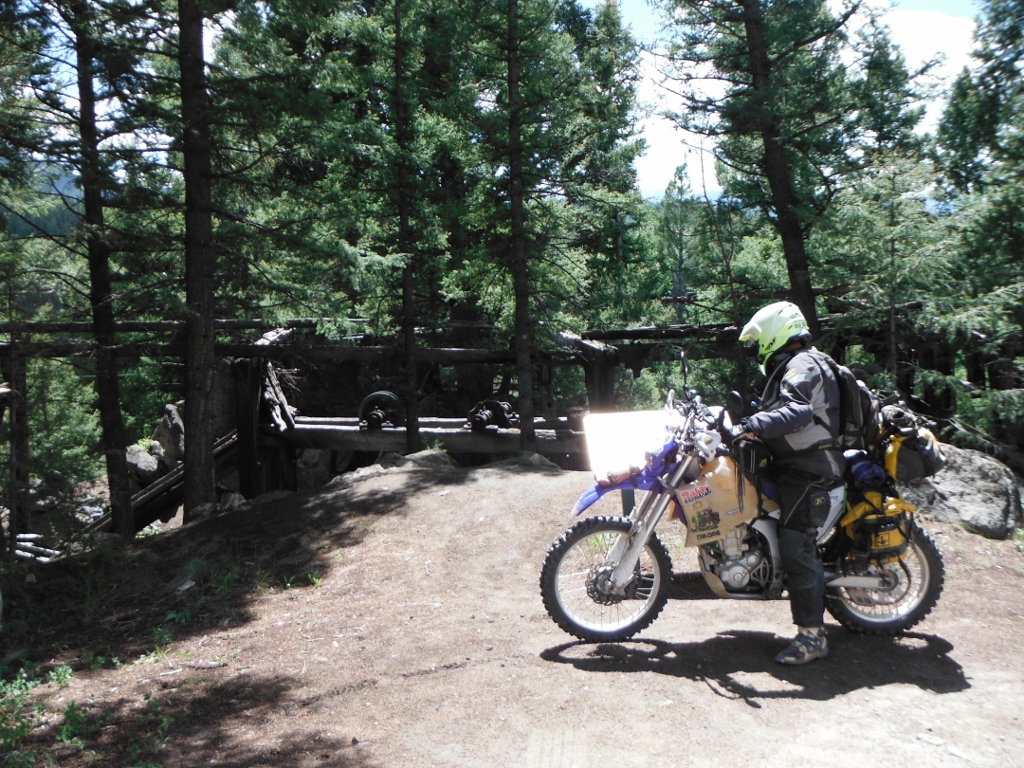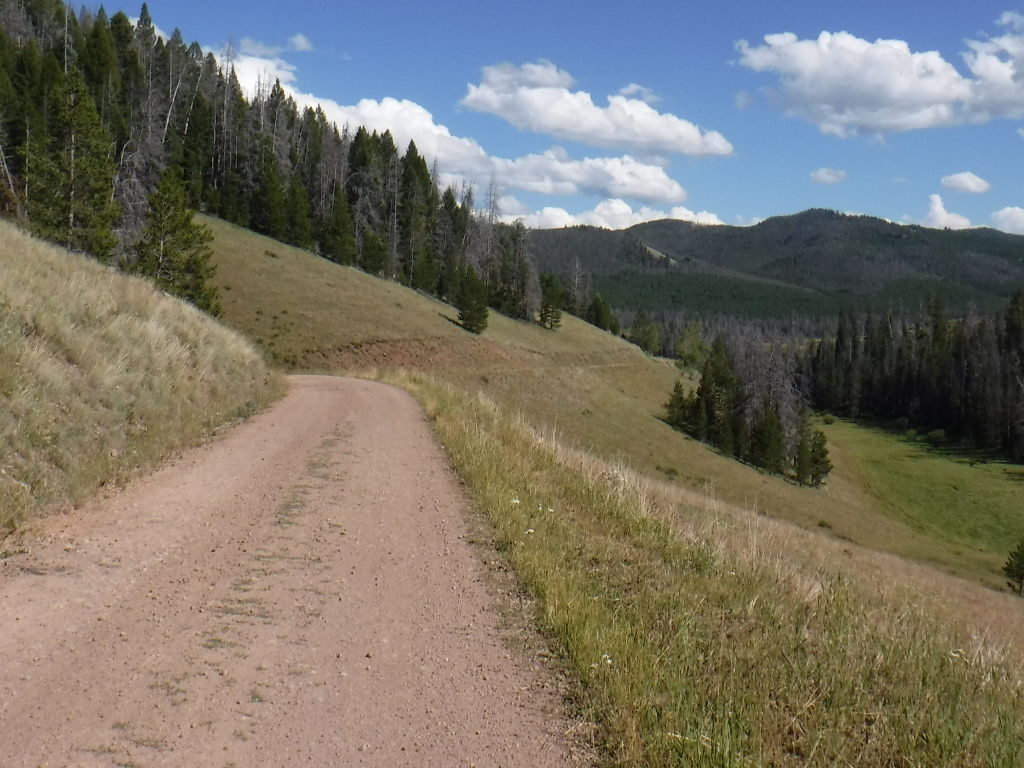 After about 200 miles we arrived at our campsite-----the "Whitehouse" campground ----about 20 miles West of Boulder, Montana.
On the left is an old friend I haven't see or ridden with in years----Jeff Jones....who is "Jonz" on AdvRider.
I rode with him and Gaspipe on my first trip to Baja many years ago. He is a superb rider and rode a KTM 950 super enduro.
On the right is my good friend Scott Stevenson (Dingweeds on AdvRider).
He was on his WR250R with about 70,000 miles on it. Me and him have done a lot of riding together.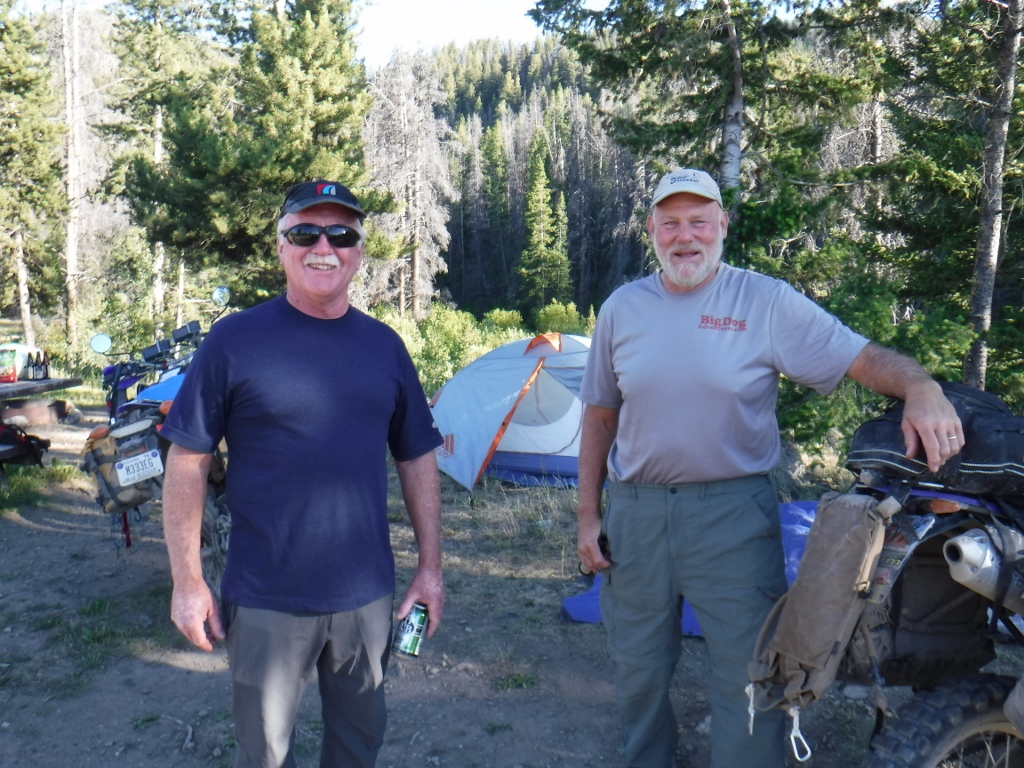 We set up camp---there were no motels on this ride------9 days without a bath.
It was on this day I believe about 5 riders got on a track that was un-rideable for most ordinary riders -----(me).
It was a test of survival---going a 1/2 mile in 4 hours---it's a long seperate story.
I would have never made it thru what they rode---so most riders saw how bad it was or heard how
bad it was and rode around it. .
Here's a video made of that ride----it's 20 minutes long----do not get bored and not watch it all.
Only after watching it all will you get the feel of how bad it was and how lucky they were to get out of there.
Warning----there is lots of cussing in this as riders got completely exhausted and just lost their cool.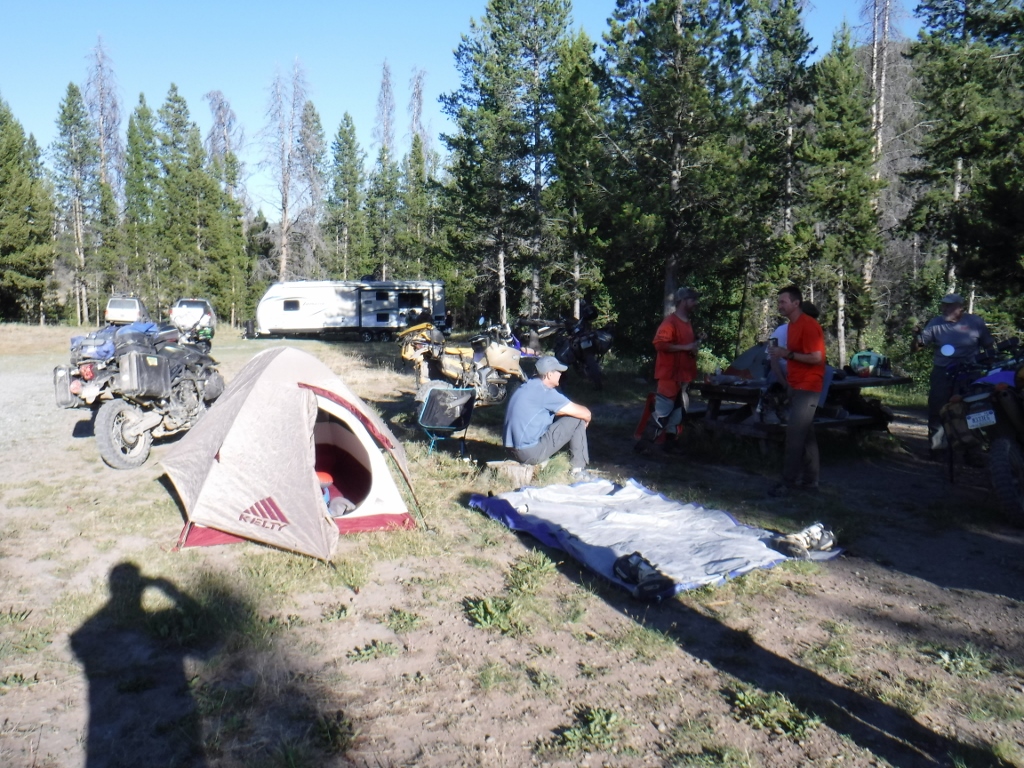 Let me introduce Will.
Will was one of the youngest on the ride and we became good friends on the ride. He rode a KTM690
but lusted for Jonz's super enduro the whole ride. He was so fun to be around.
He'd let Jonz know everyday that he was riding his bike !!!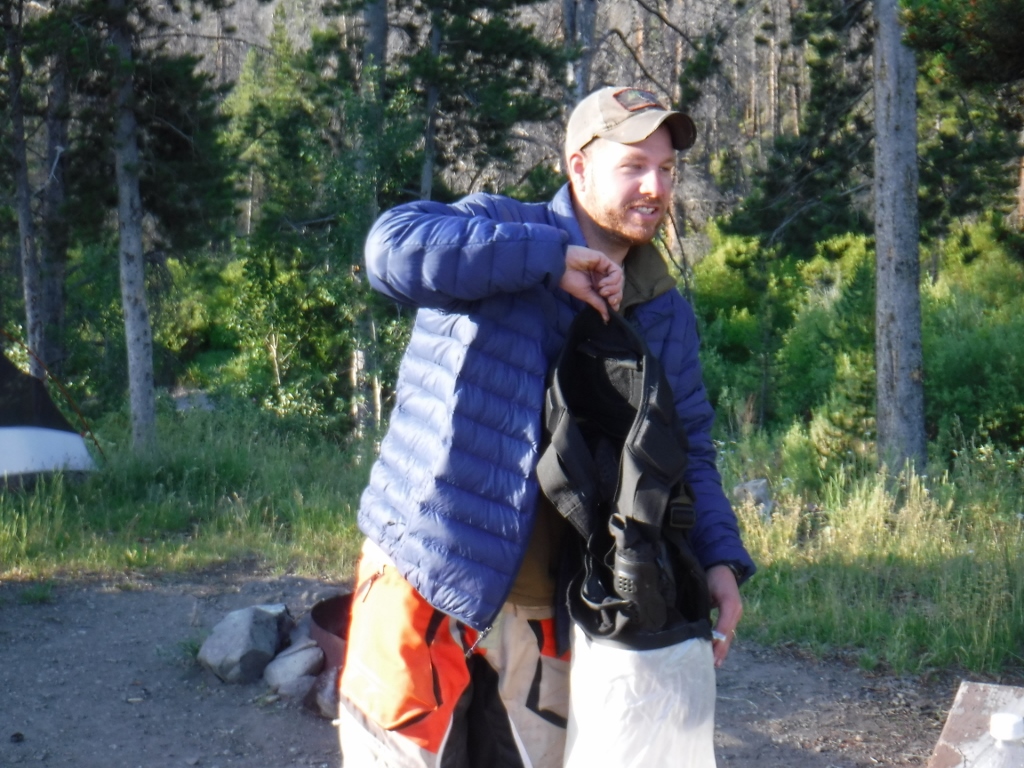 Here's a short video I shot of the first day----select HD 720 is you have the speed.
There is a blank spot at the begining ????-----so just let it play.
Here is a rough map of our ride today.
The yellow is what I rode.
There were by-passes for riders on big bikes.
And there were also available small bike routes---some not even recommended by Ron.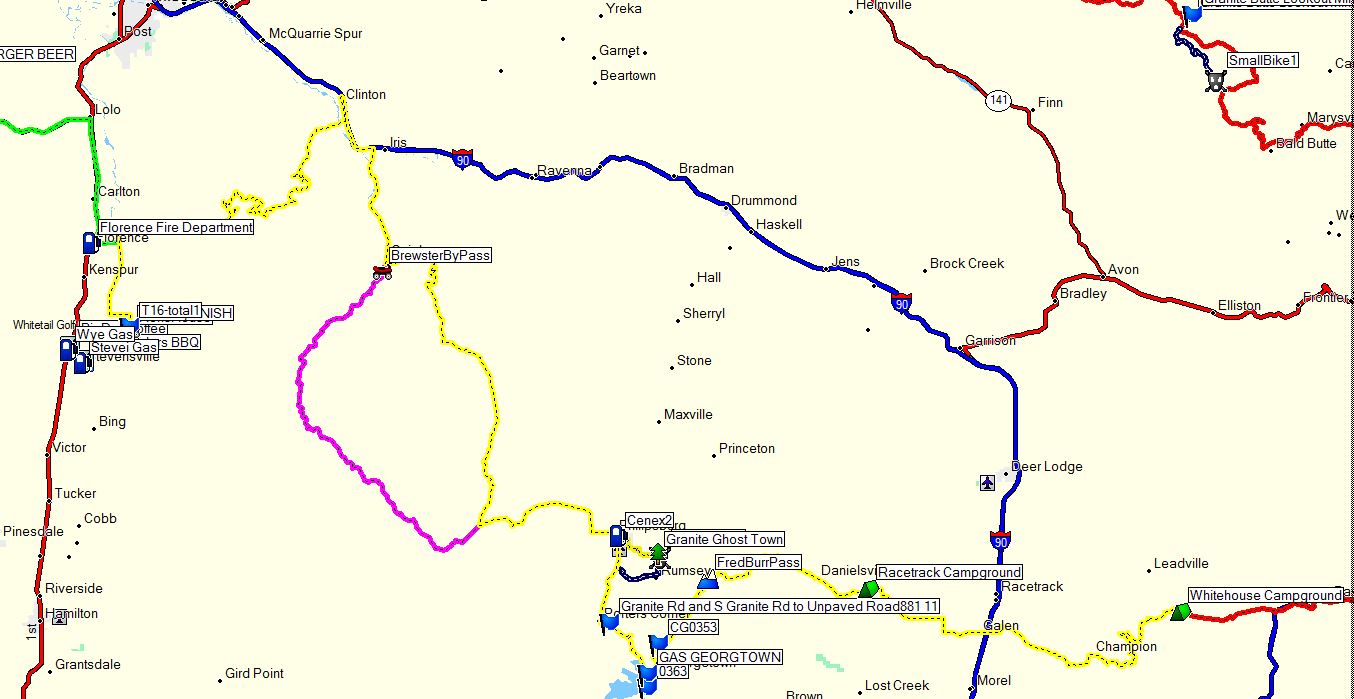 Day 2 of the 2016 BOM
Whitehouse Campground to Gipsy Lake Campground
Will is getting with the program already. No waiting on him at all.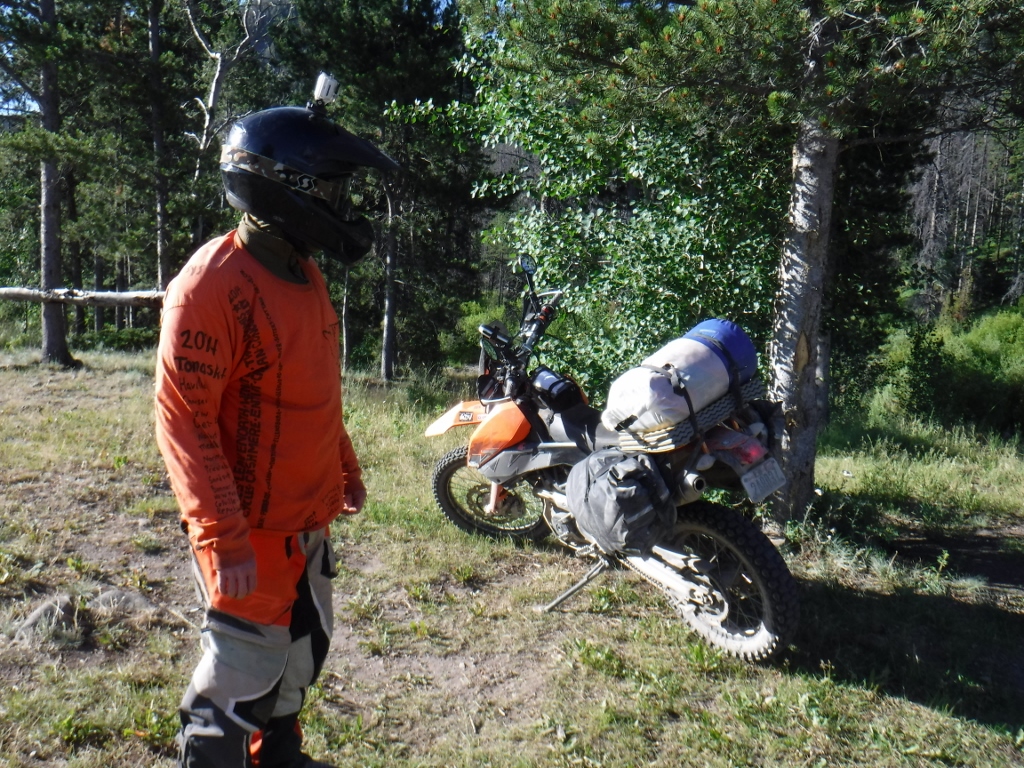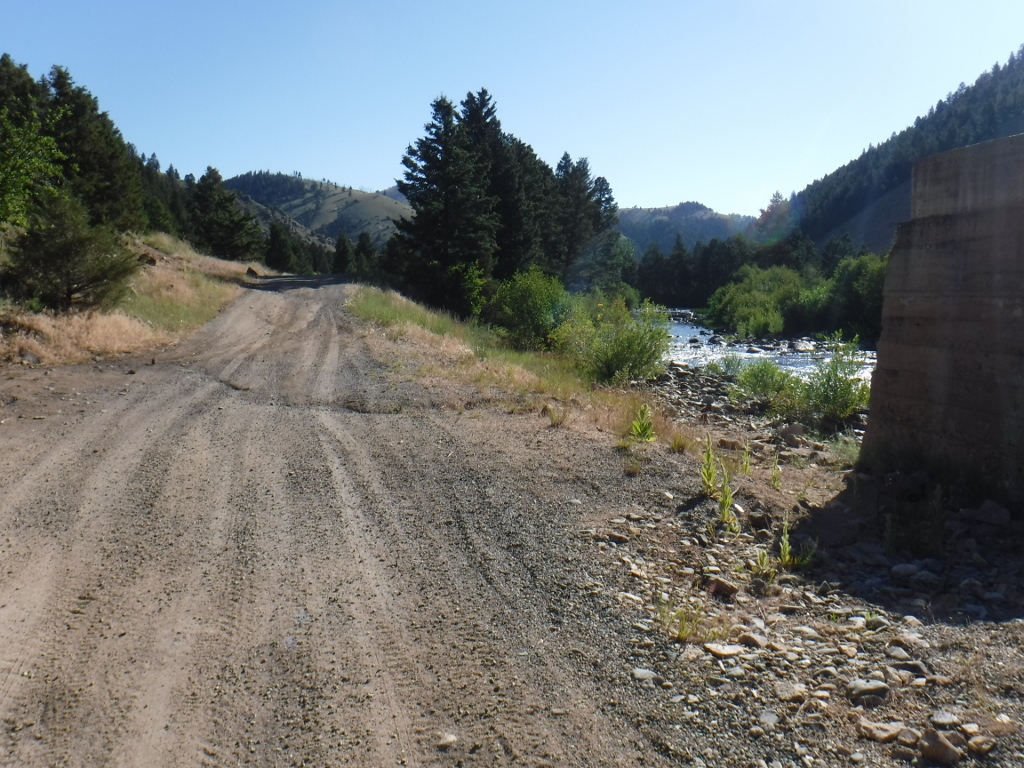 Nice and cool again----I never got overheated in my KLIM Badlands riding gear.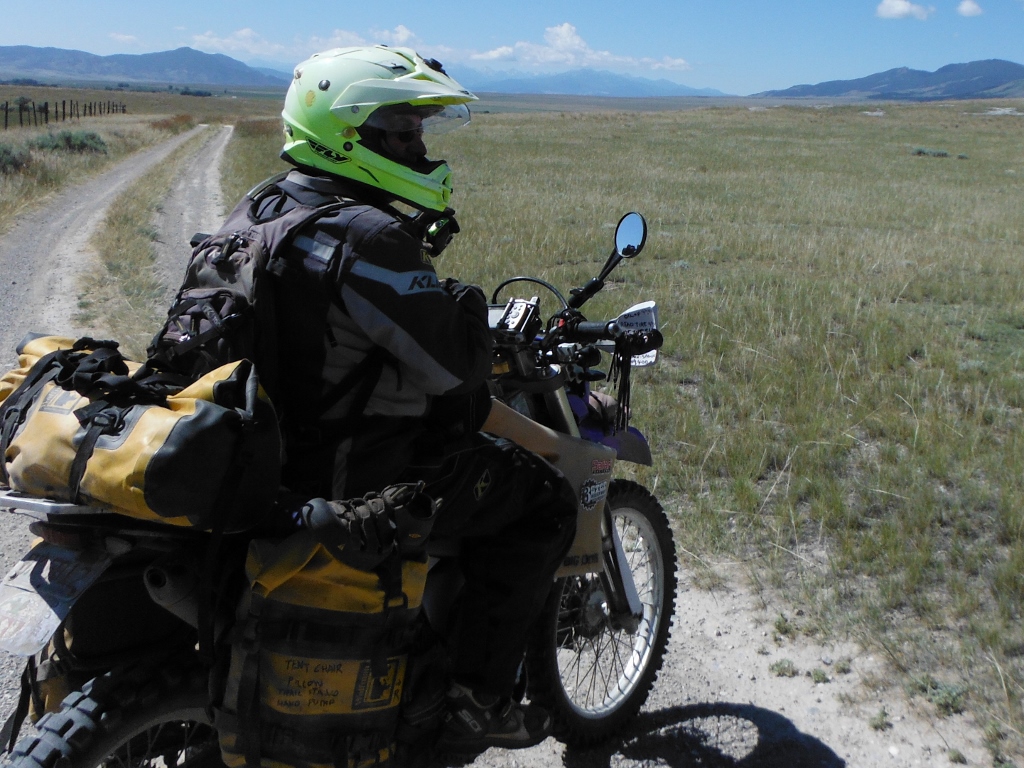 I this this was in the little town of Boulder---and we had breakfast-----------just 20 miles into the days ride-----perfect.
There were a few KLR's on the ride-----the ulitimate machine of choice.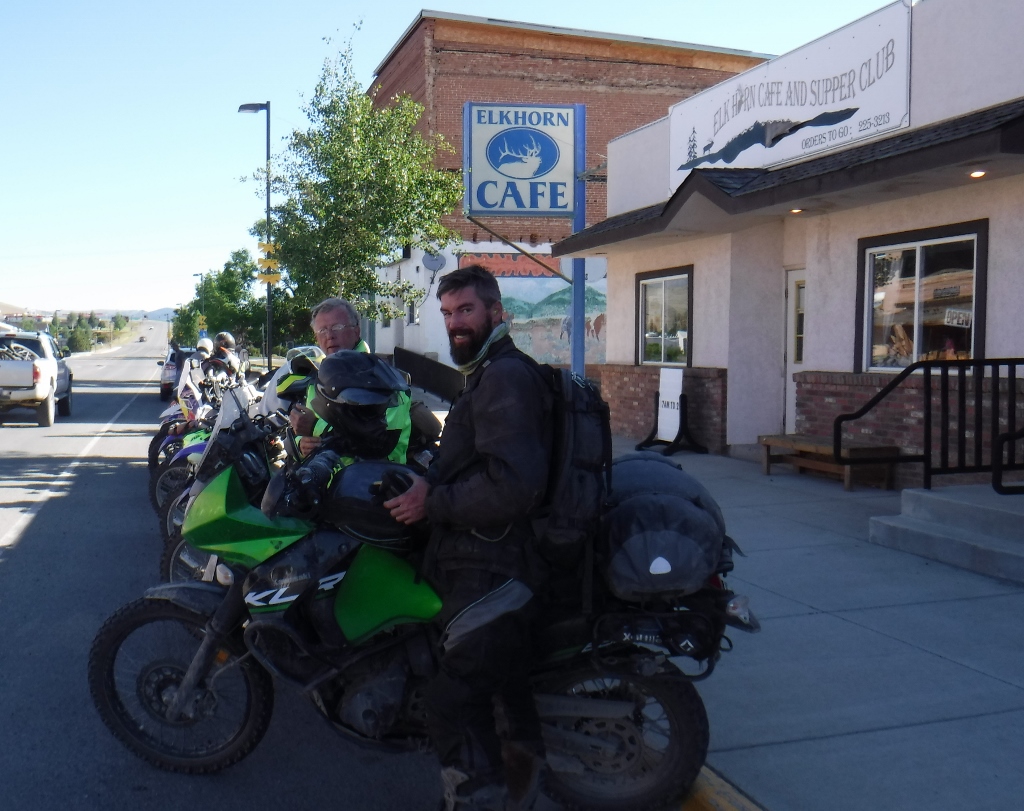 After breakfast----Walter needed a nap.
"What you lookin' at" !!!!!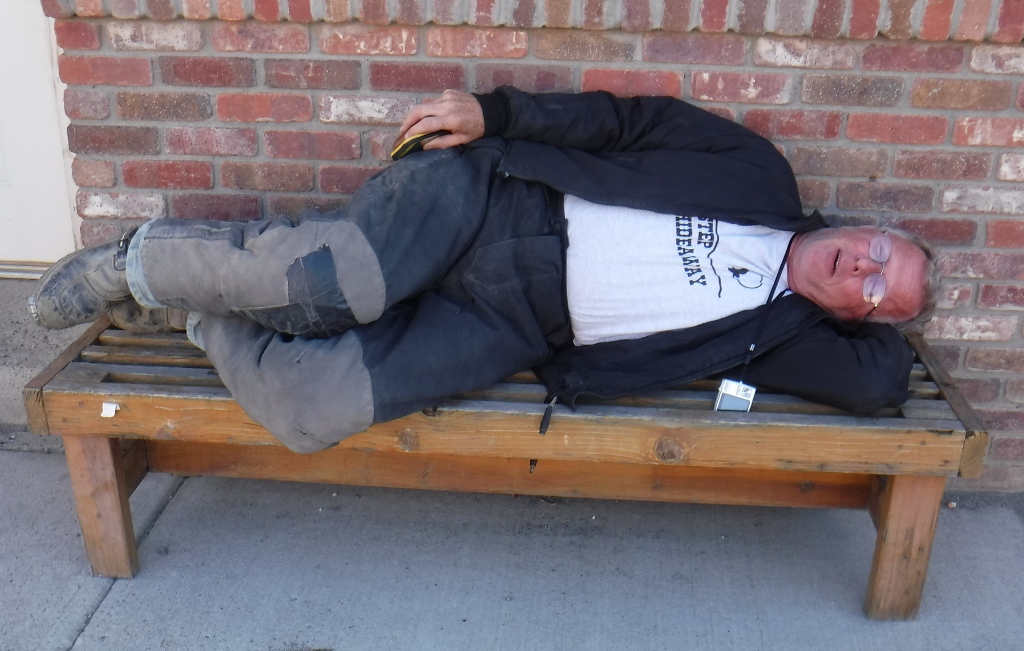 Lot of riders with lots of gear--------it's always nice to check out other riders method of riding and packing.
Always something to learn.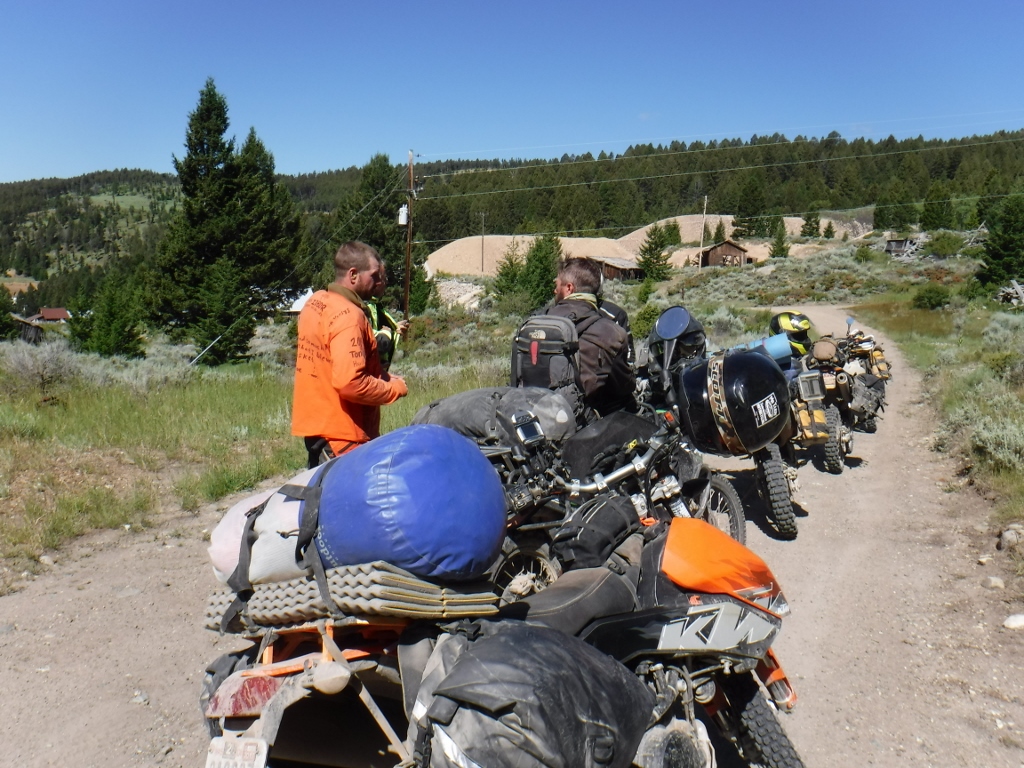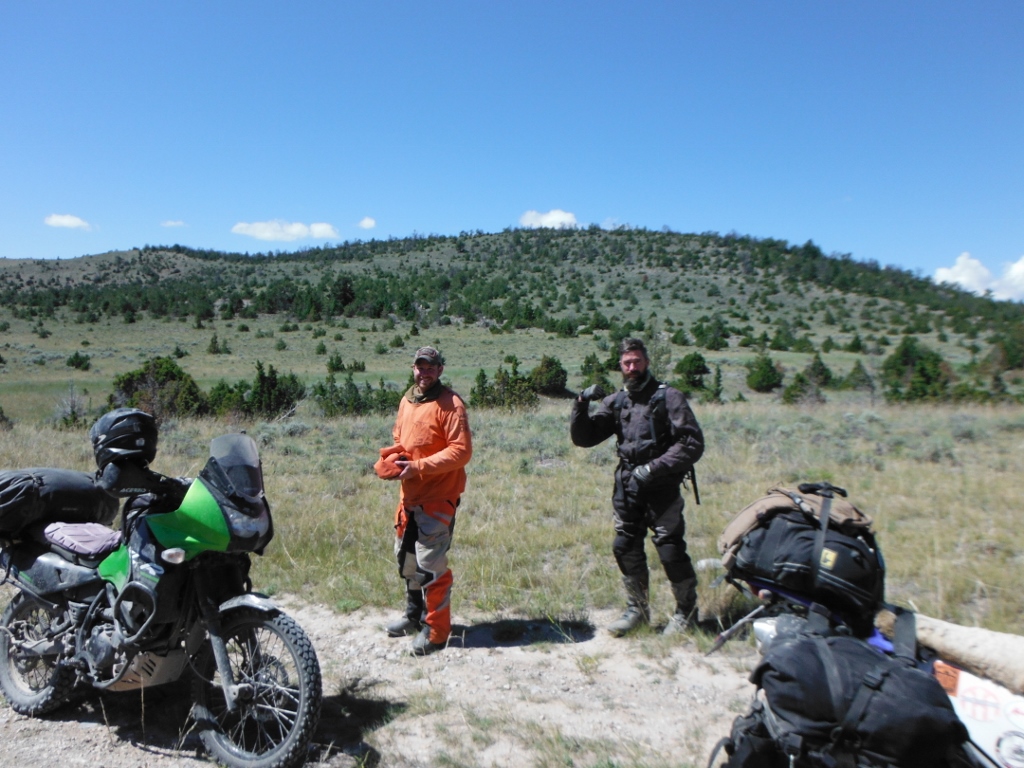 This is the old Ghost mining town of Elkhorn--------I've been here before----a few people still live here.
Google it-------to find out all of the details.
I just like looking at all the old stuff.
Lot's of old mines and tailings-------old stuff laying everywhere.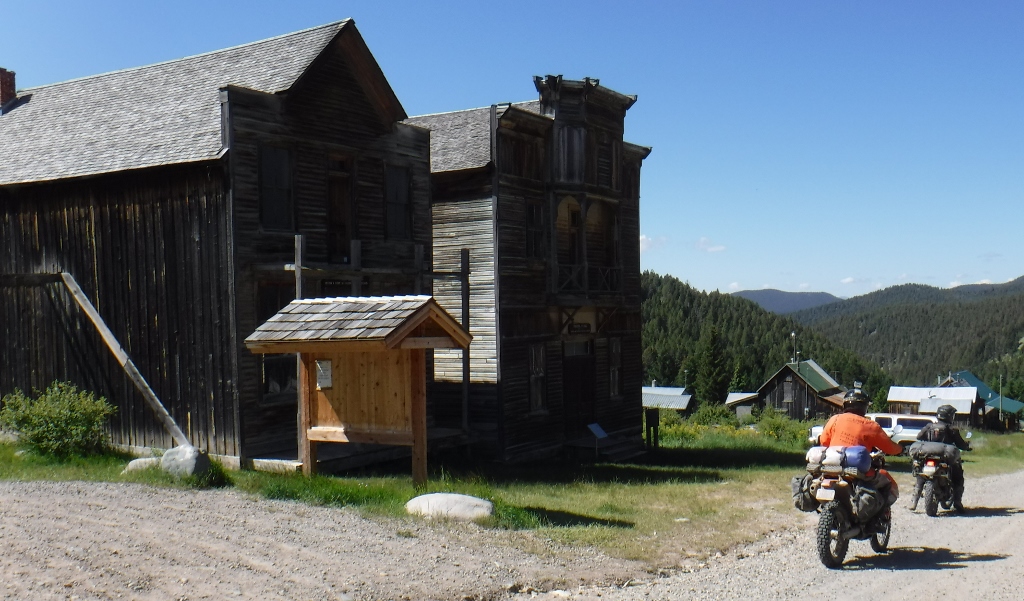 Montana had just gotten a good widespread rain before the ride.
Most of the time it doesn not look like this at this time of year.
We were blessed with the colors and lack of fire danger.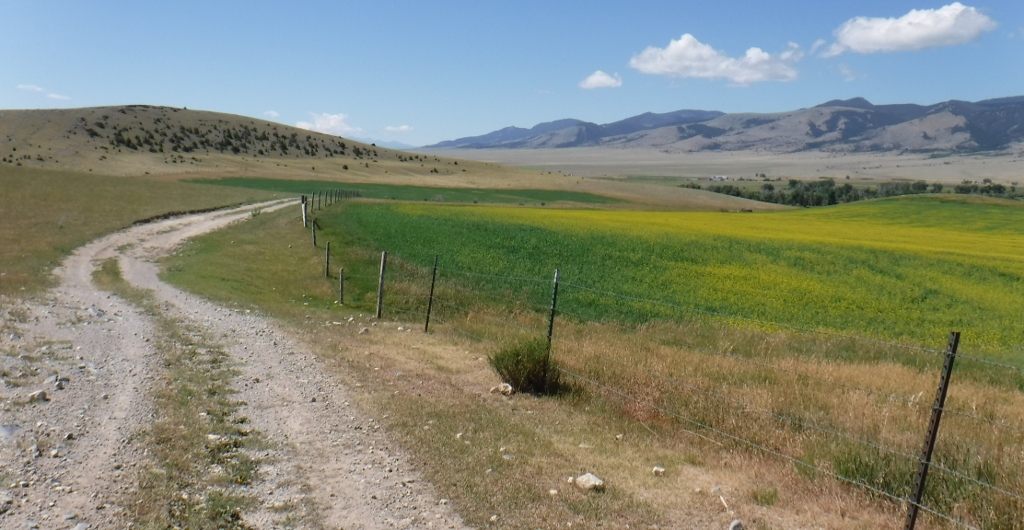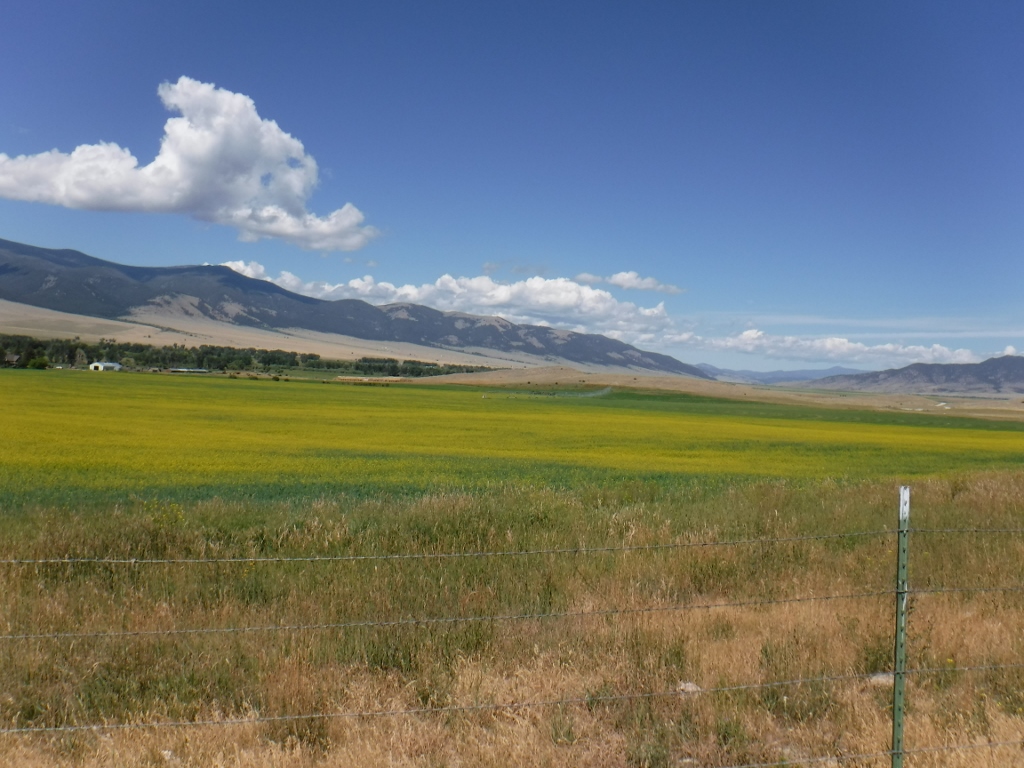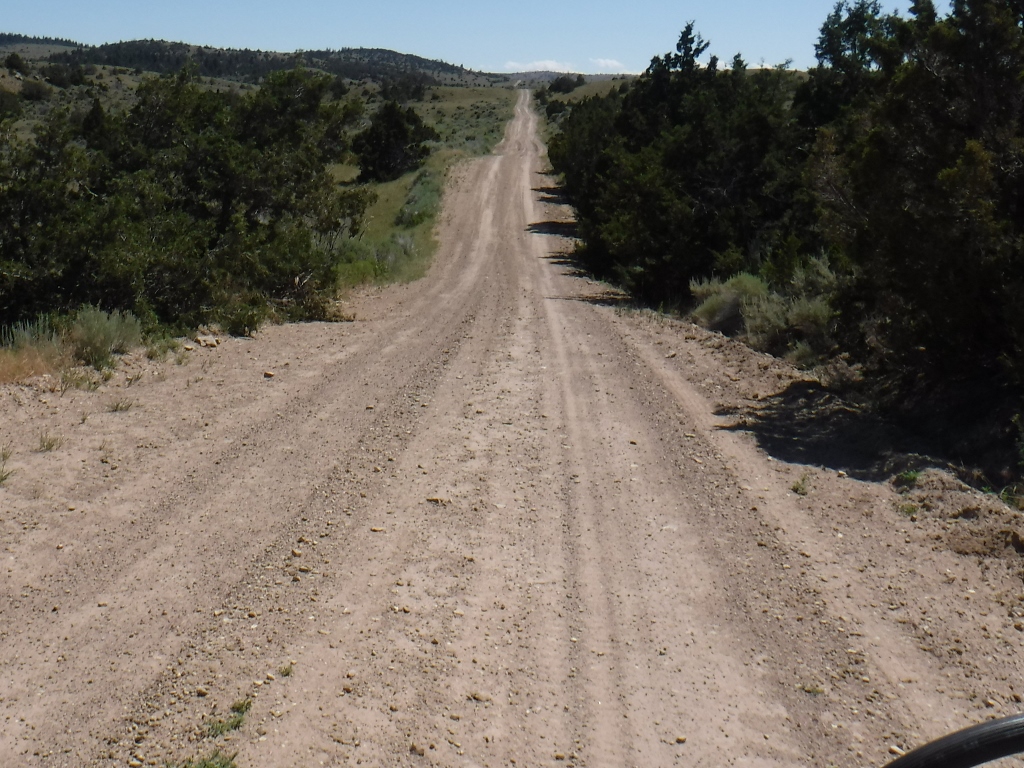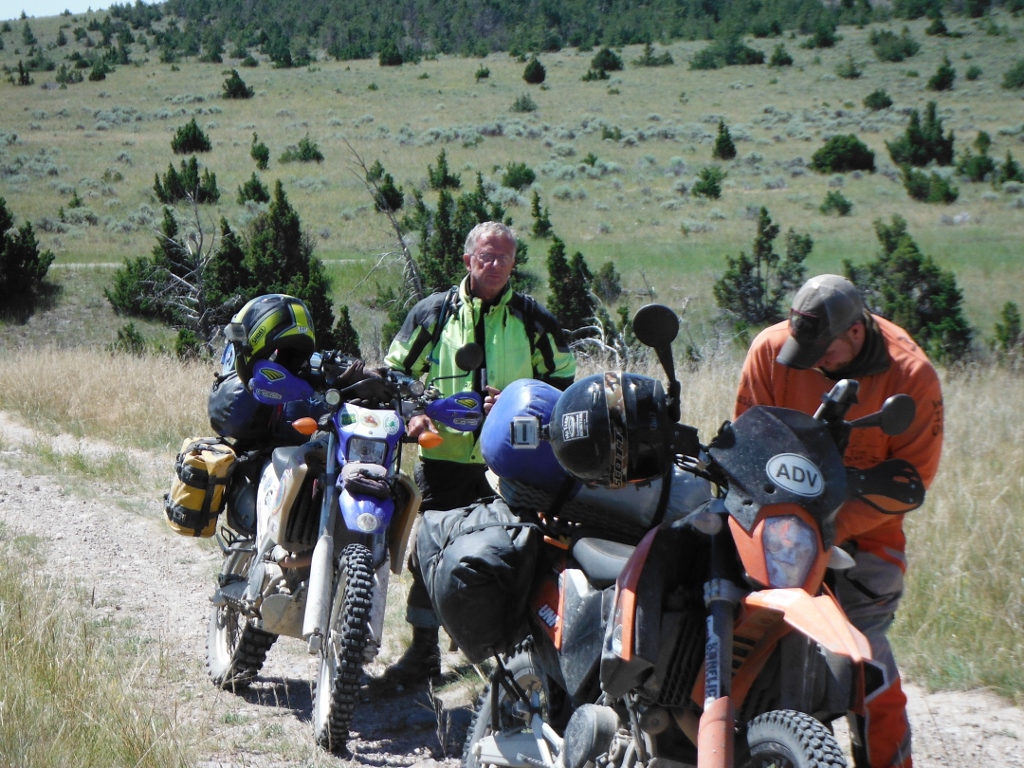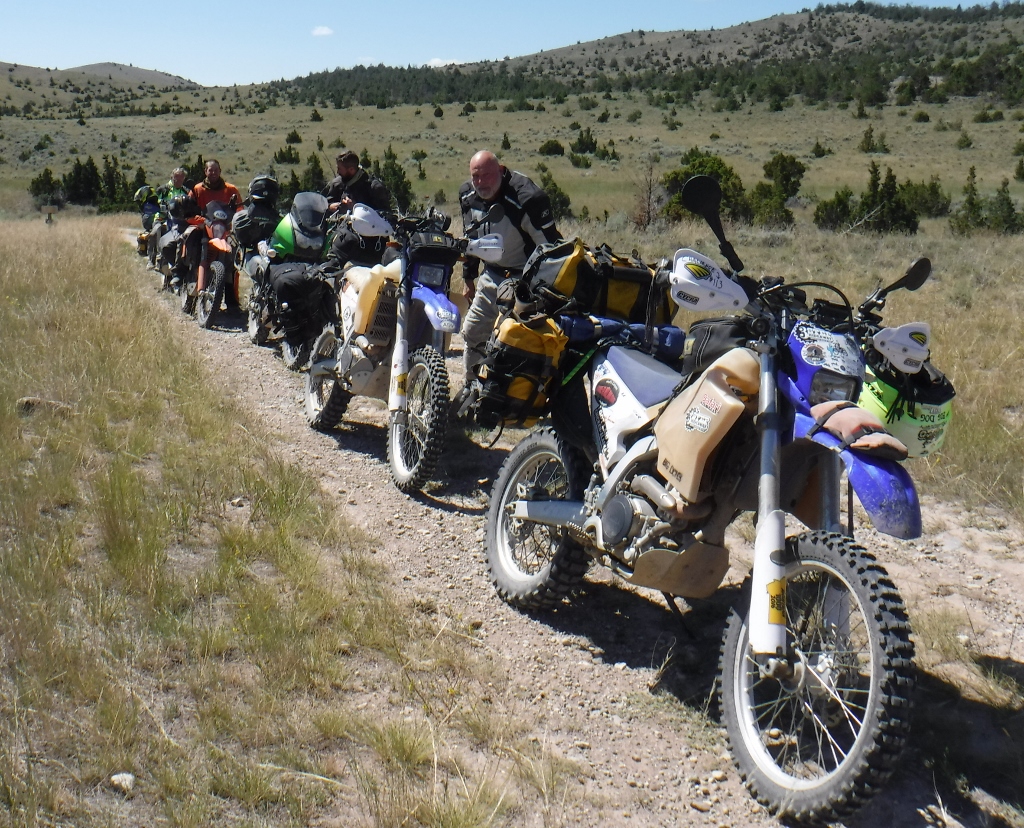 This little track was a ride favorite----it even got less traveled the further we rode.
We finally came to an old abandoned mine that I presume was the only reason for the road.
Everybody loved this.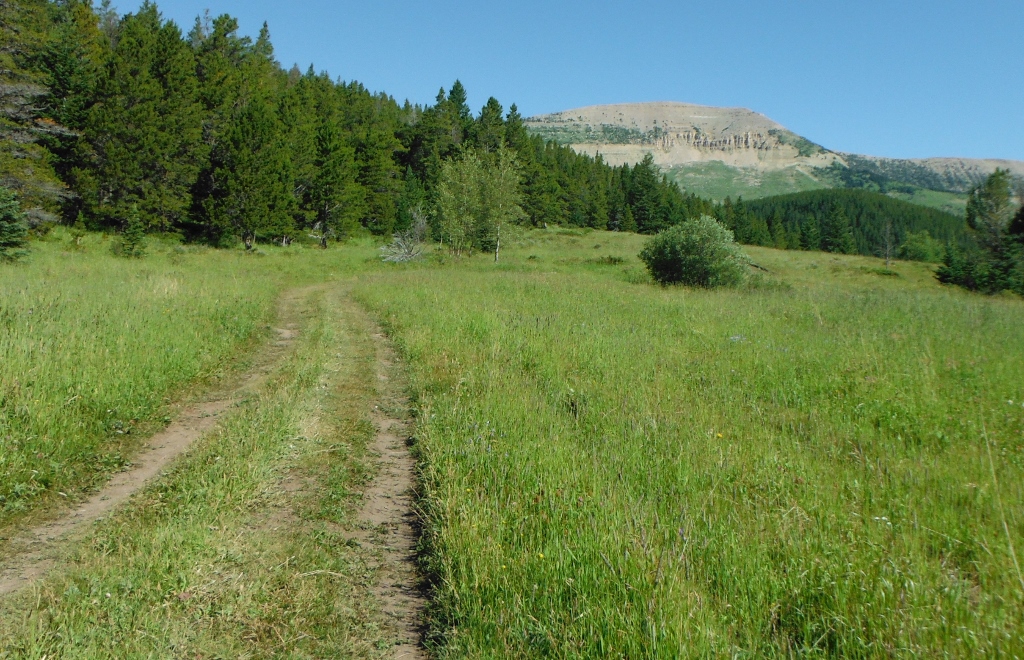 There's the mine tailings.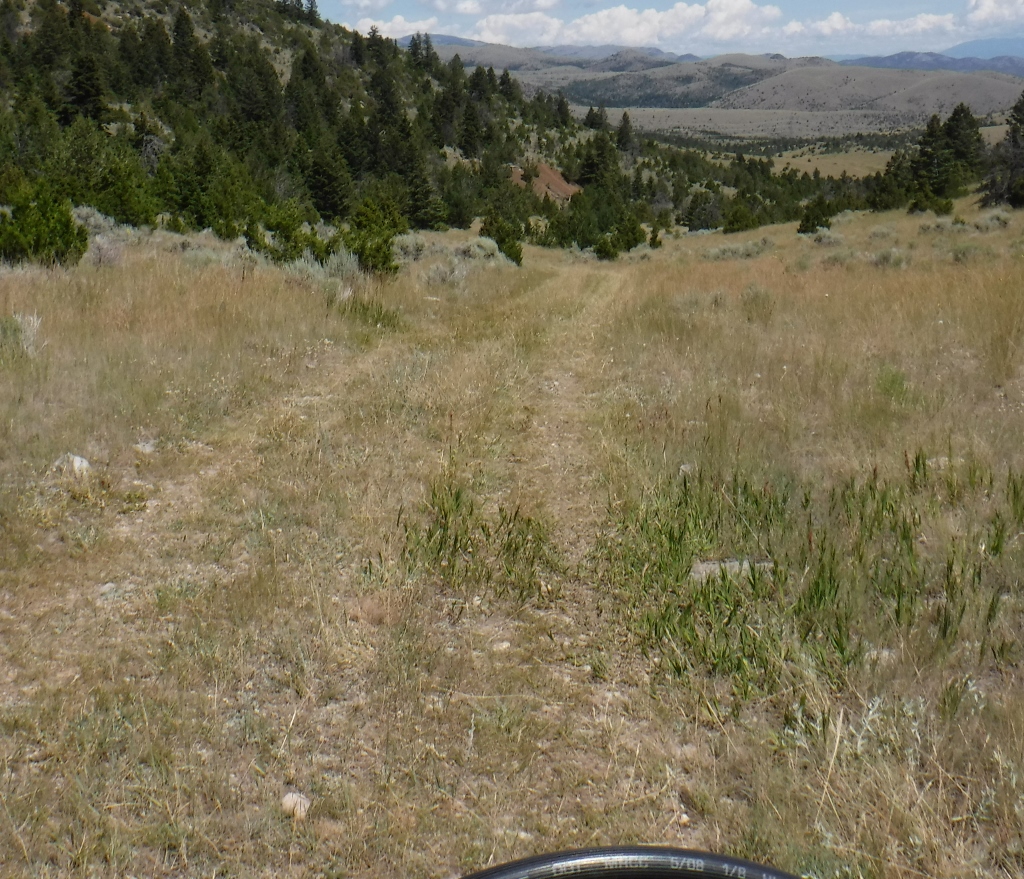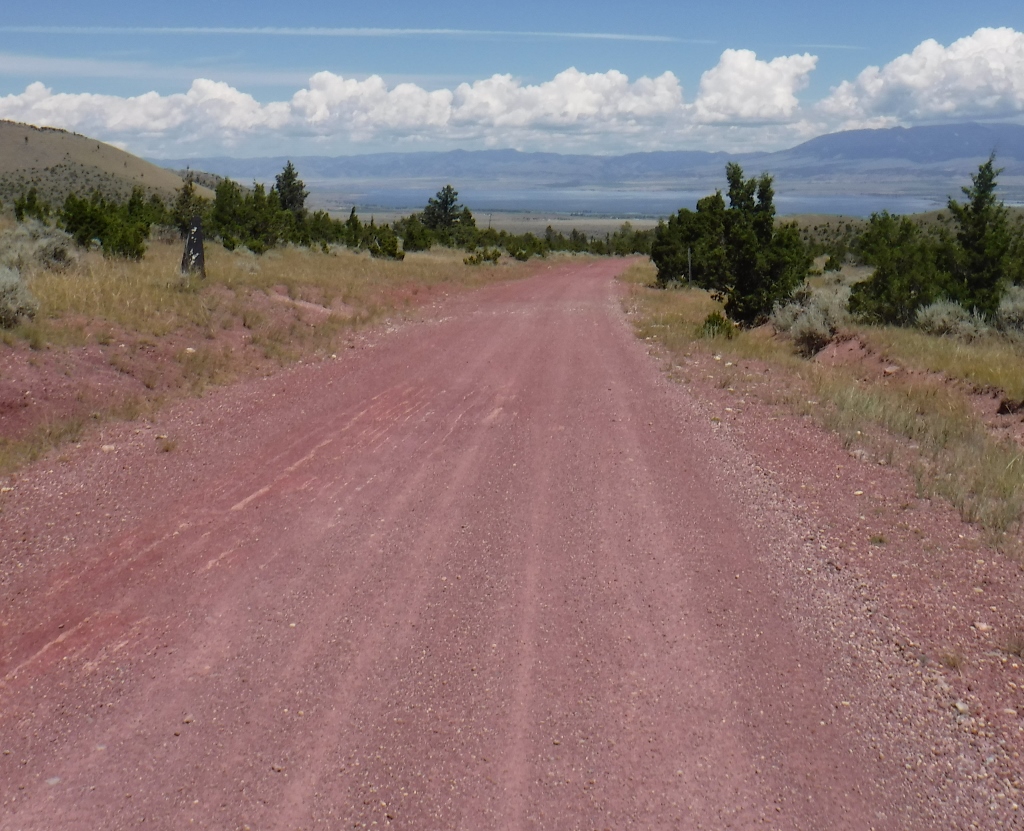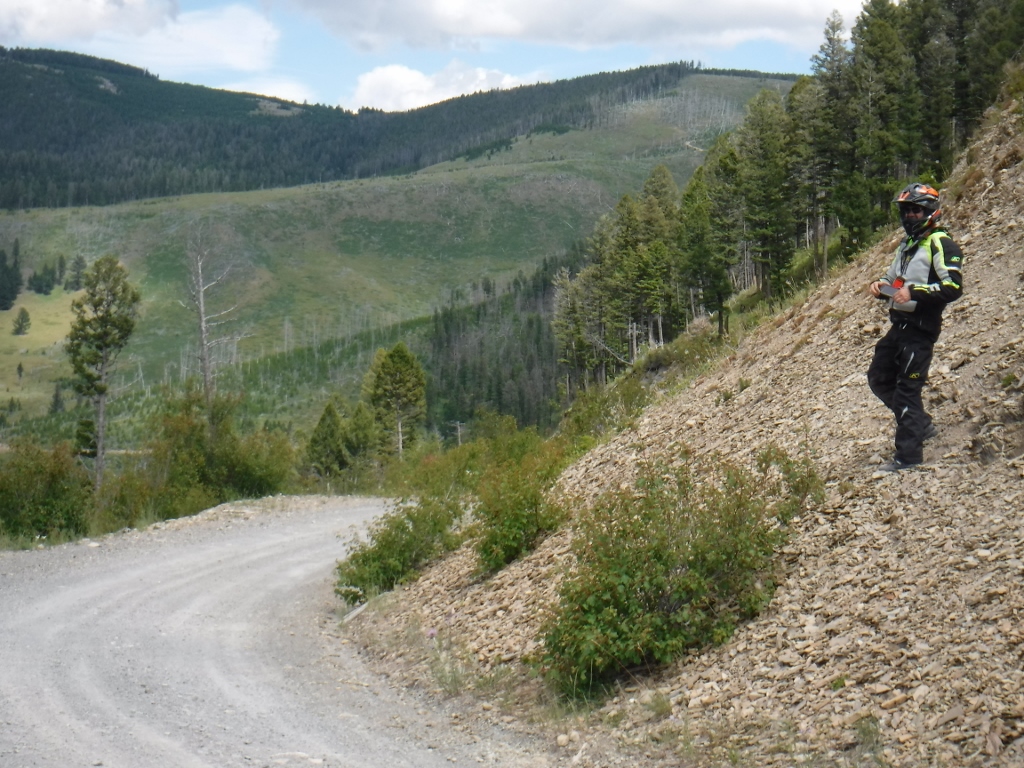 That is Canyon Ferry Lake in the distance---we would get gas there at the marina and have a snack.
For $5 you could take a shower.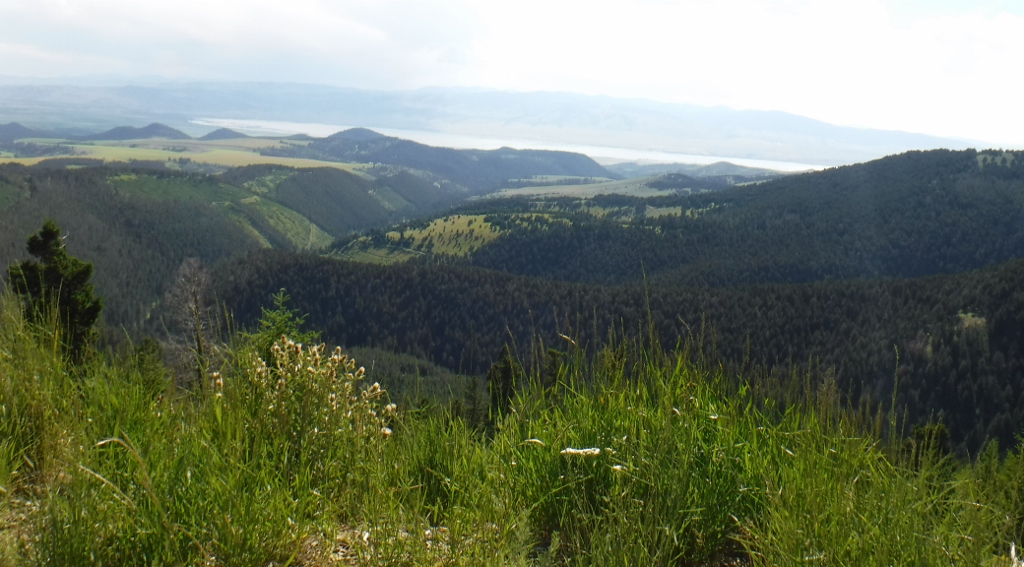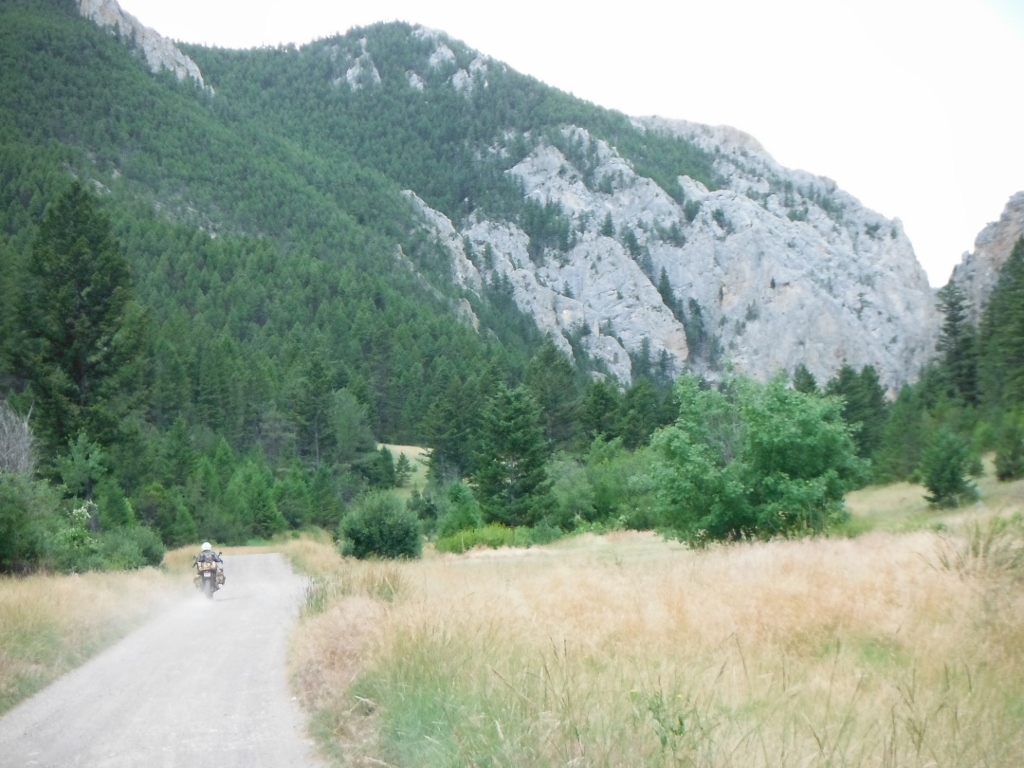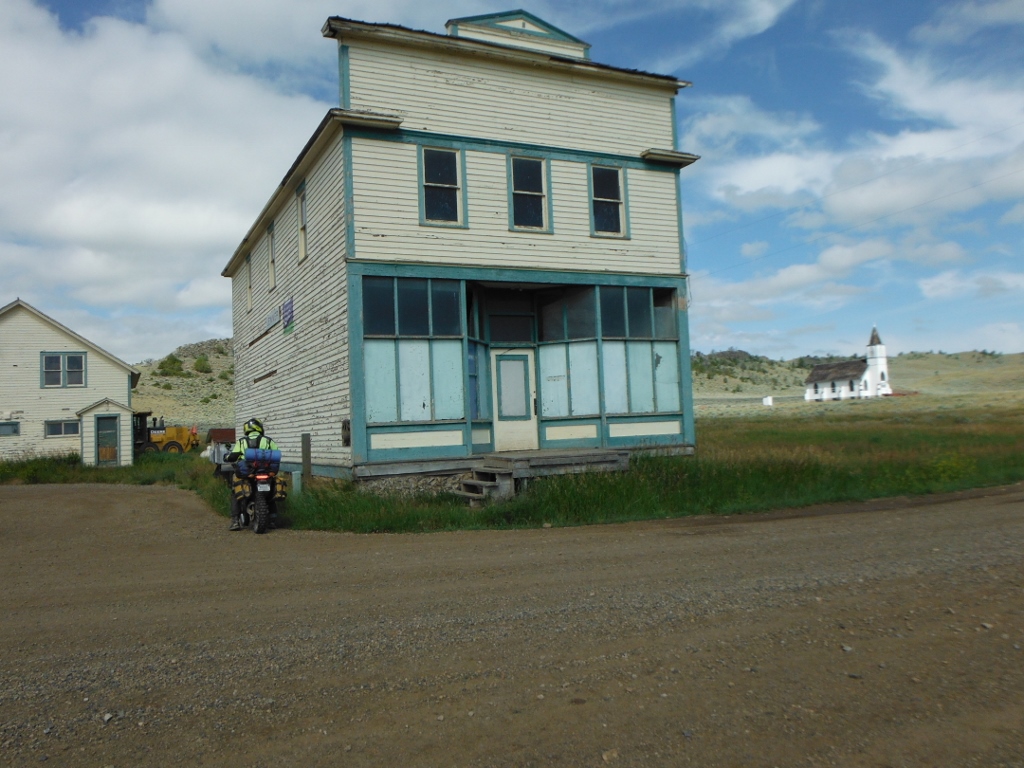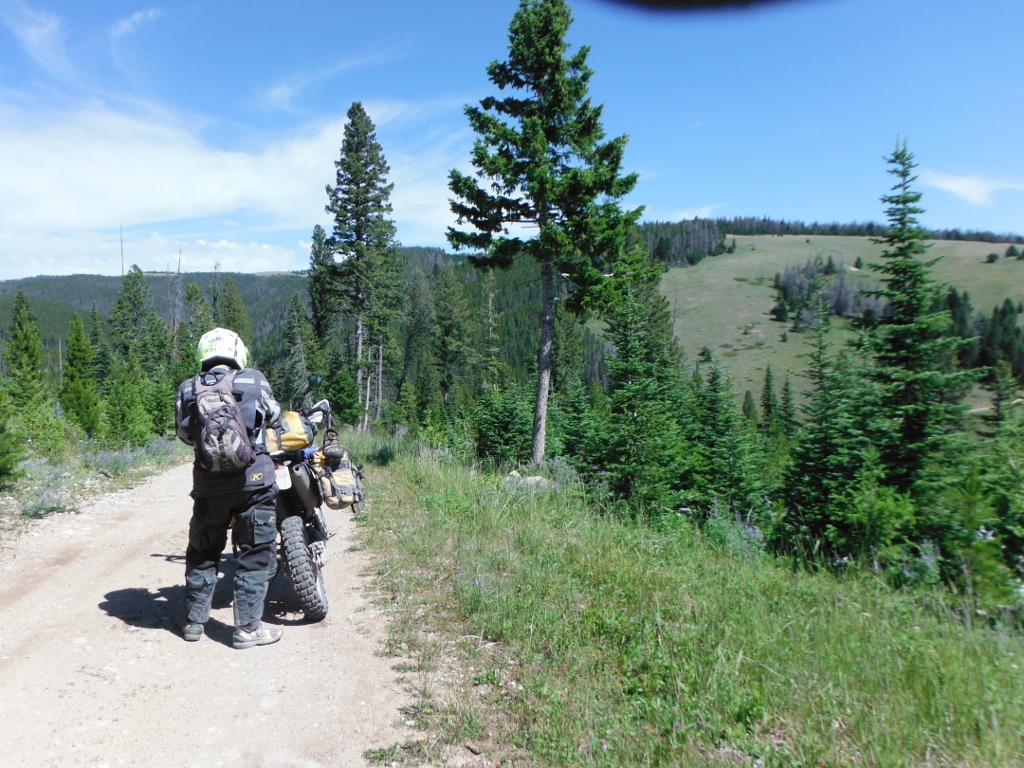 Most of the guys had joined onto the Spotwalla tracking page---where you could see where every rider was at any given time
if you had wifi. Remember those guys trapped on the trail from hell-----we saw they were still out there and wondered
what was going to be the outcome of their predicament.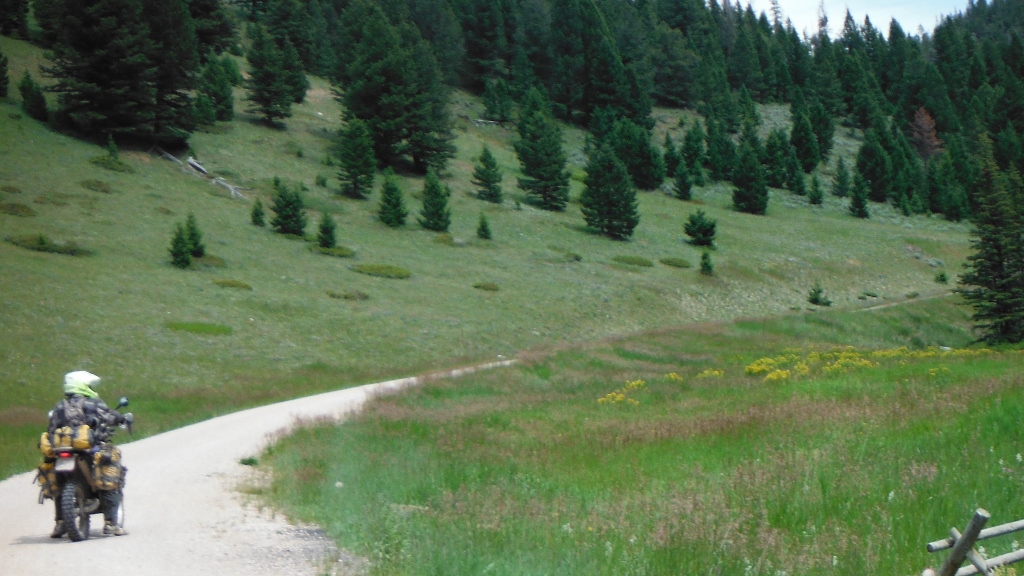 We finally ended up a Gipsy Lake Campground.
Dingweeds is an ace at a campfire.
It got cool that nite---as it did everynite.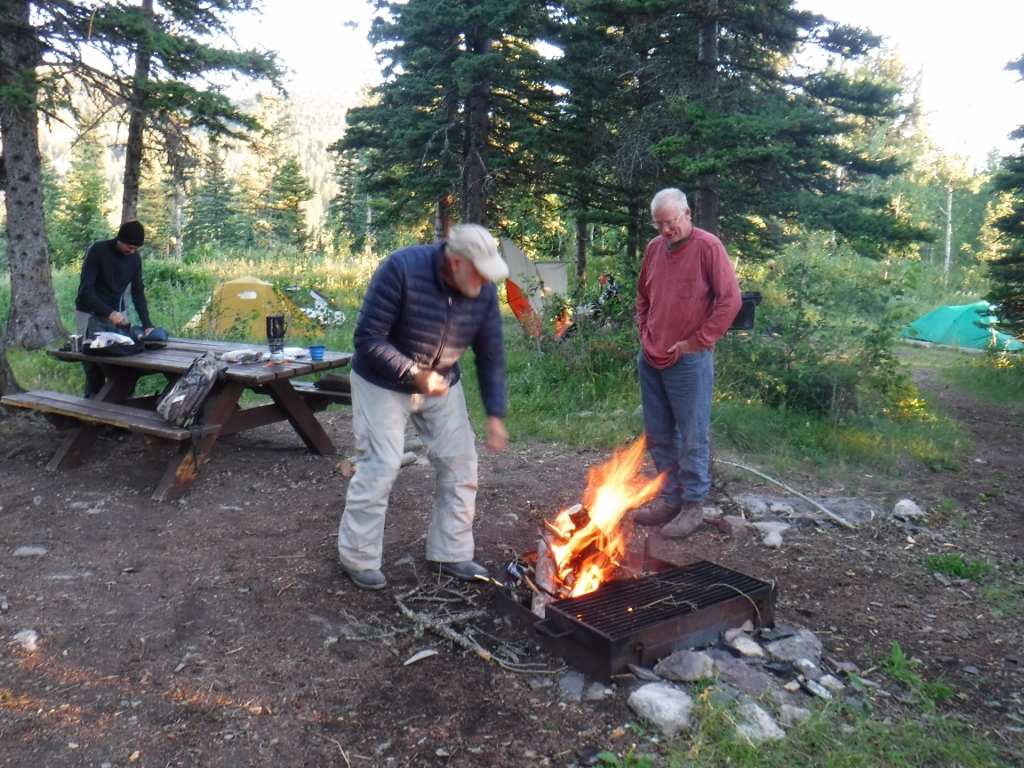 Meet Allen Anderson-----KTM 690 rally.
I really grew to like this guy---always a smile and full of ideas about gear and gadgets.
He had stuff on his bike I can't even begin to remember----I was most impressed with his Sena helmet camera.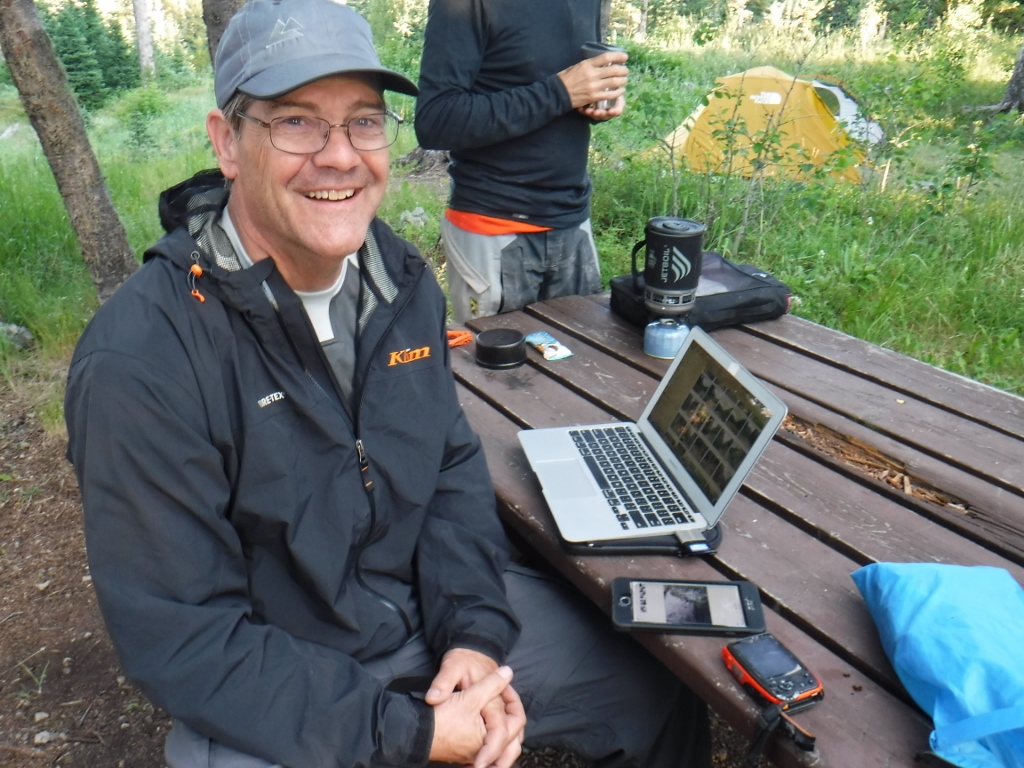 Another look at Allens bike------I've never seen gas tanks like he had on his 690.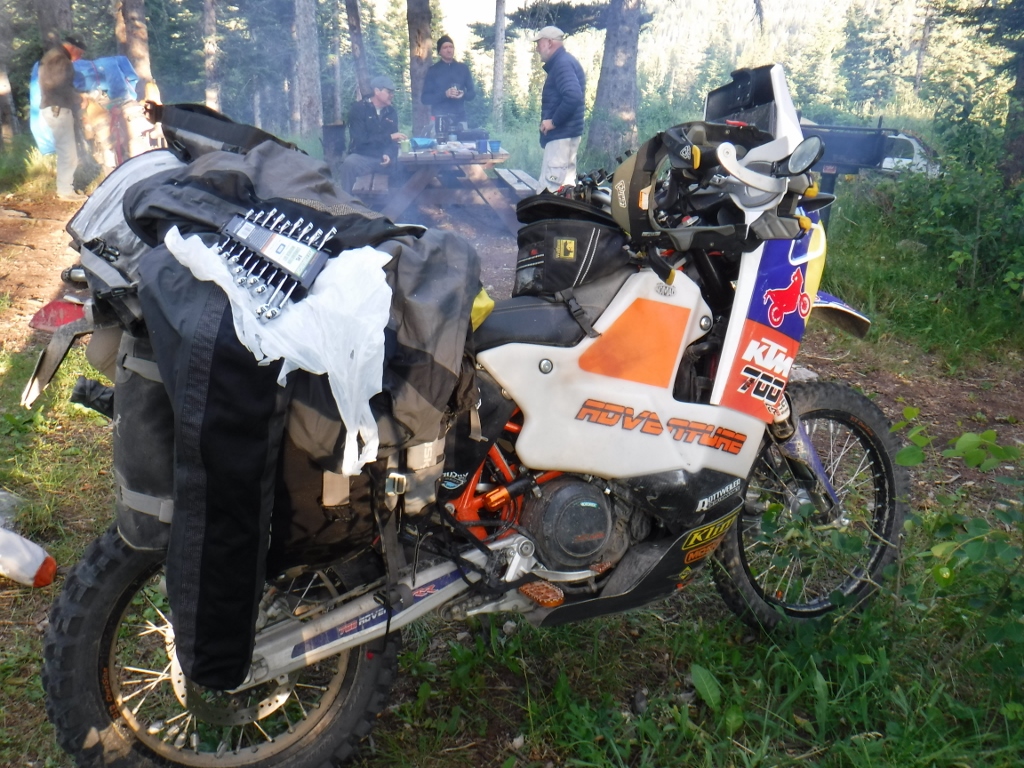 A rough map of our ride today.
Me and my group rode the yellow---the other stuff is options and tracks from the return route.
Once again ----Ron had warned me of how difficult some of the small bike options were---and we
didn't take them.
Some of those waypoints were provided---some I added for my benefit as I led the whole time.
That little loop just Northeast of the waypoint "GAS KIMS Marina" was a hoot up and then back down
the mountain----it was beautiful beyond description and I just knew a bear was going to be seen--but no such luck.
I would barely miss hitting a big black bear a few days later on my African Twin.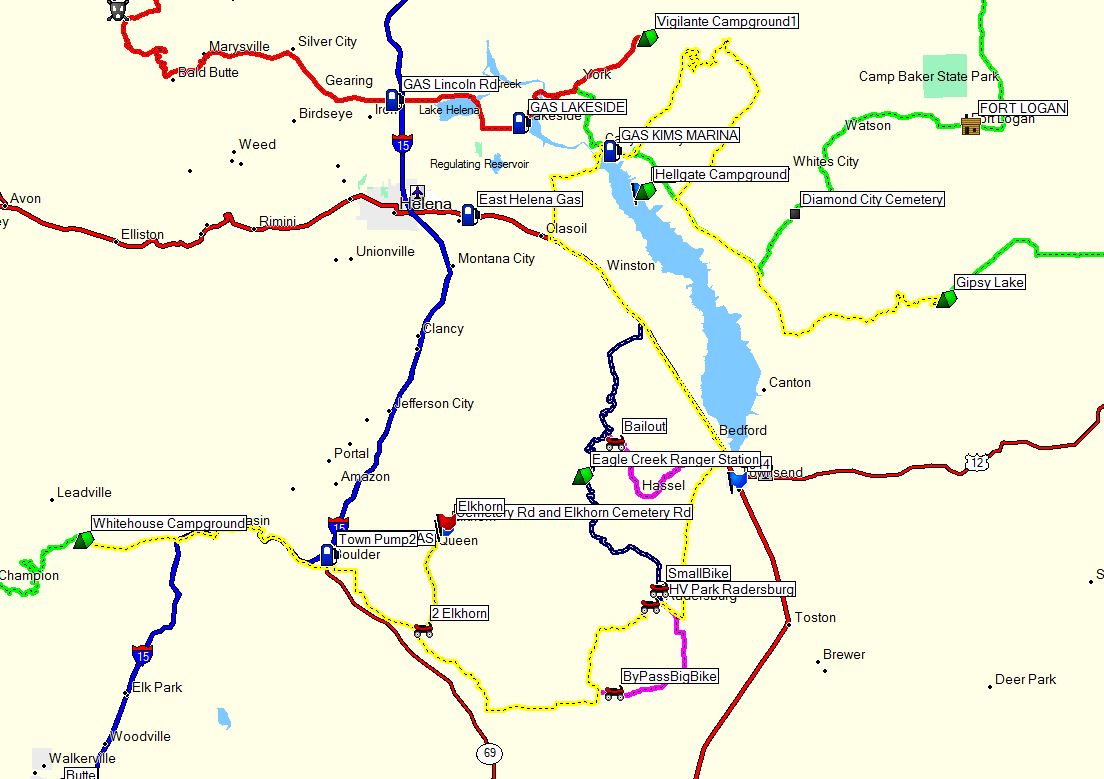 Day 2 Video-----select HD 720P if you have the speed.
Day 3
Gipsy Lake Campground to Timber Creek Campground
This is a rollchart I made. Before the ride I wrote some things on it that would give me and good indication
of what was in store for us----that is---mileage, Gas Stops, Food---and camp. It came in very handy.
I would also take a picture of this first thing every morning and that helped me greatly organize my pictures, as I
knew exactly what day the pictures were taken on.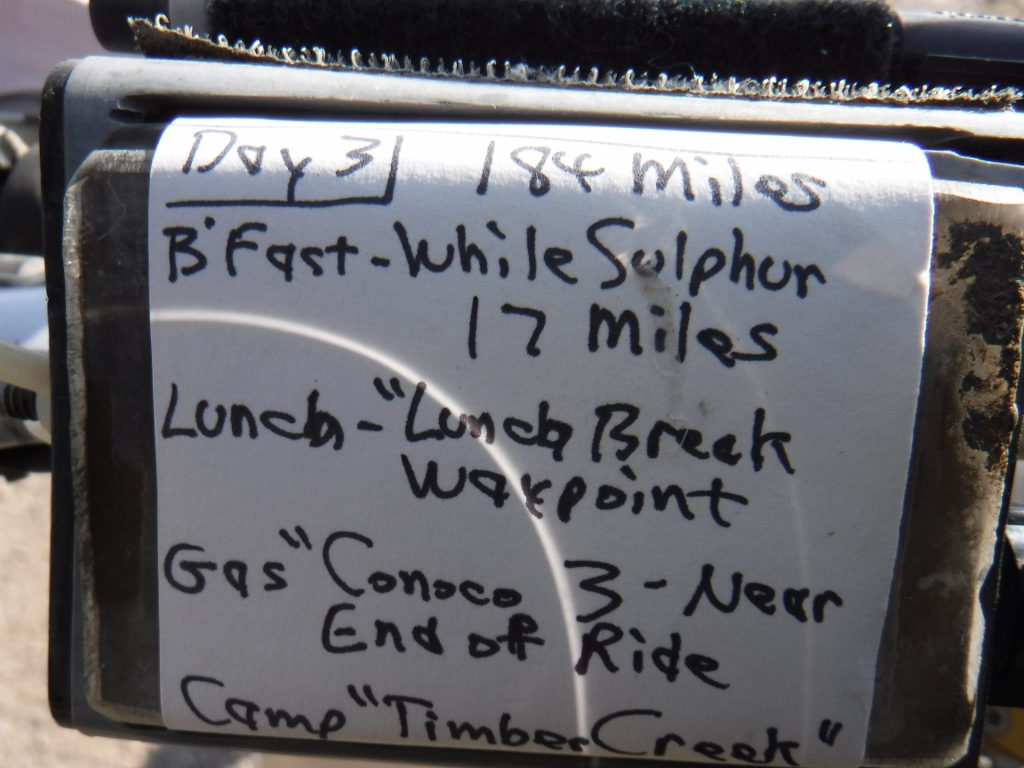 We rode Straight East out of Gipsy Lake Campground and into Sulphur Springs for breakfast.
This would be perfect again----a nice 20 or so miles then breakfast.
Wish we could do that everyday.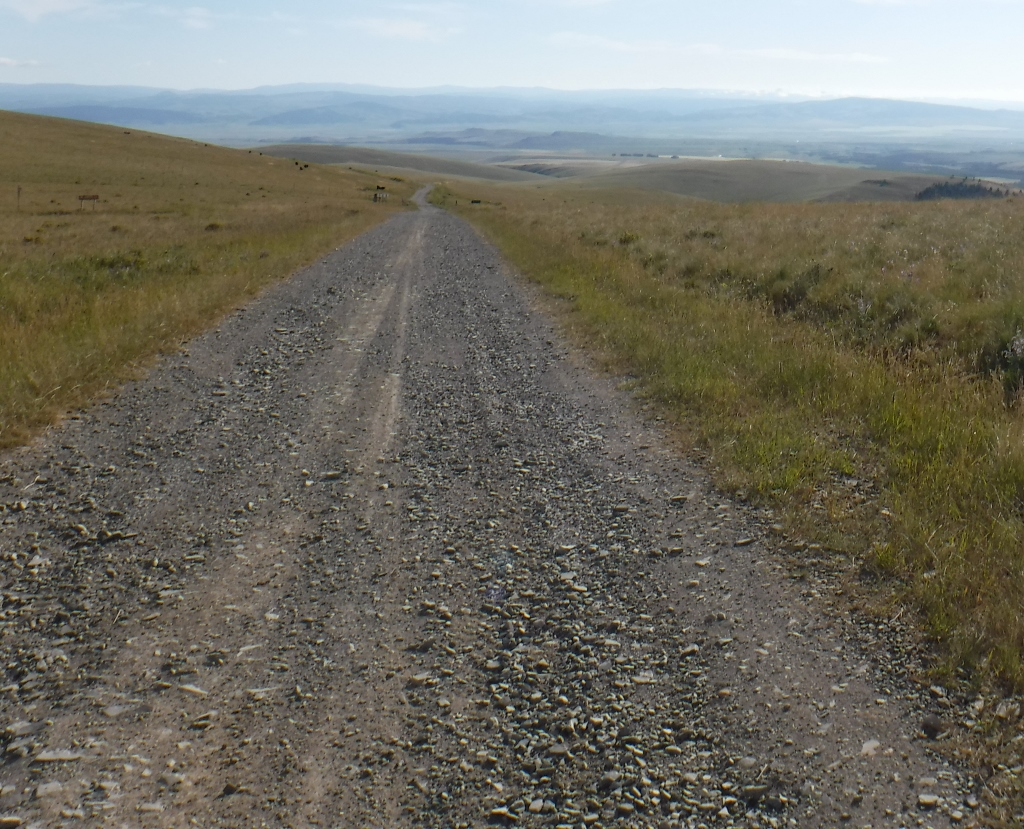 We spotted a wad of bikes on the ride at a restaurant in Sulphur Springs as you entered town.
So----knowing me I found this little jewel with no one there.
Nice and quiet, great food and service.
And it just looked like Dori's needed the business too.
I'm not sure what little ghost town this was-------maybe Lennup ?????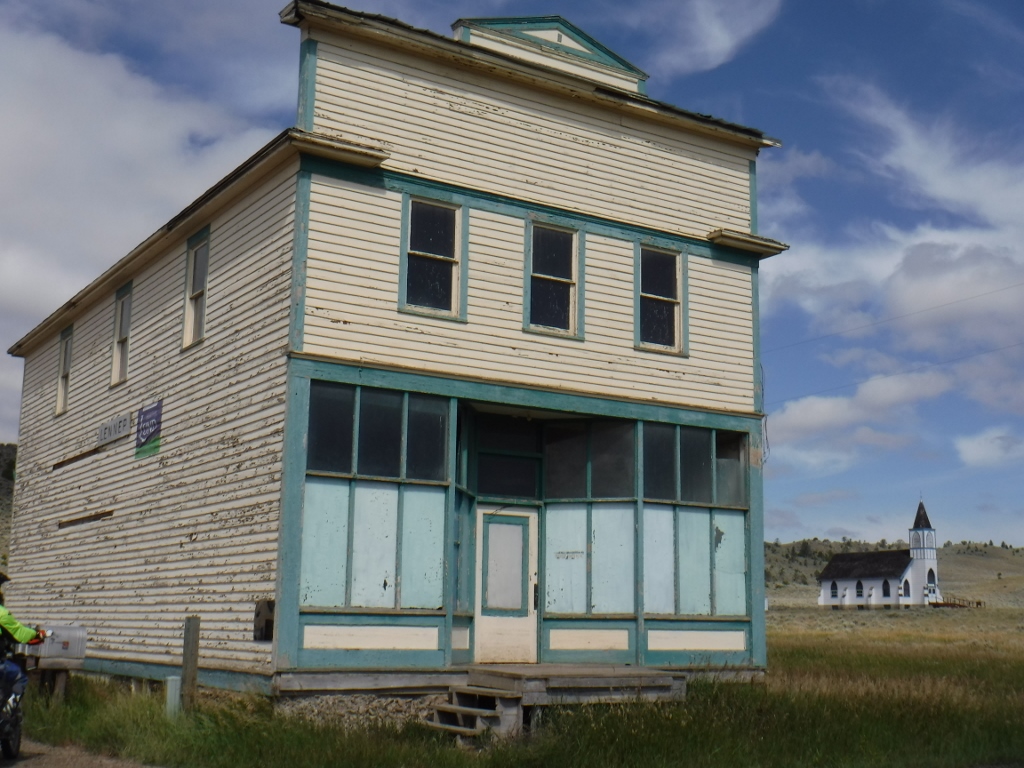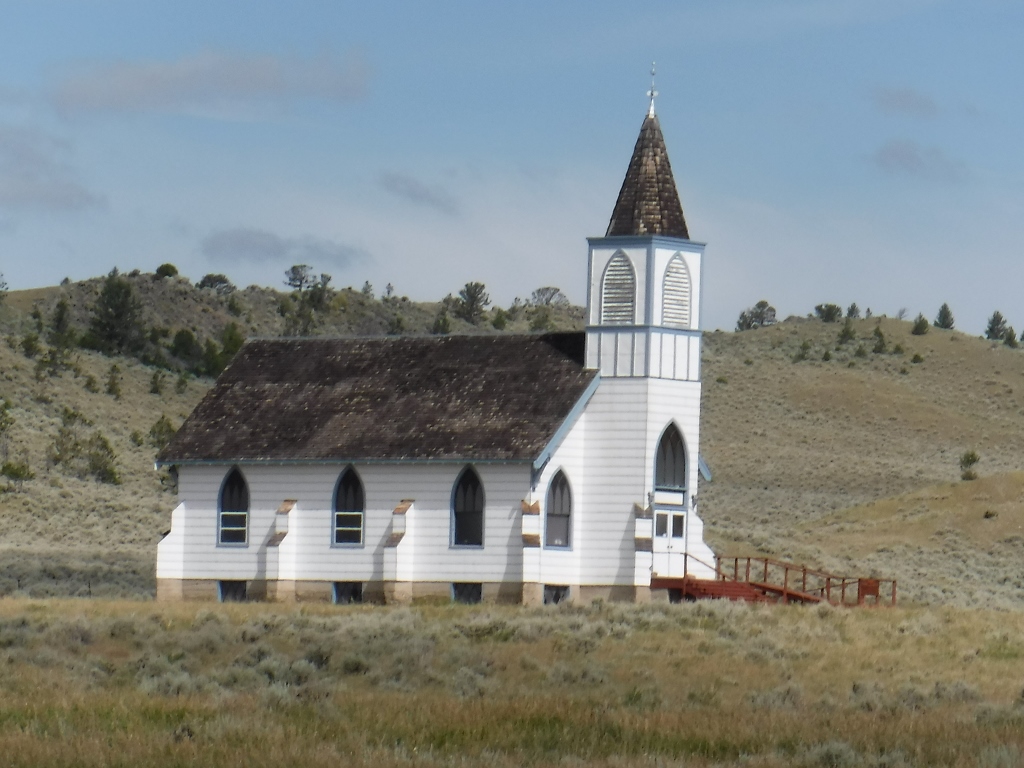 And then we came to this old ghost mining town----Castle Town.
There was so much to poke around and see here---some on private ground tho.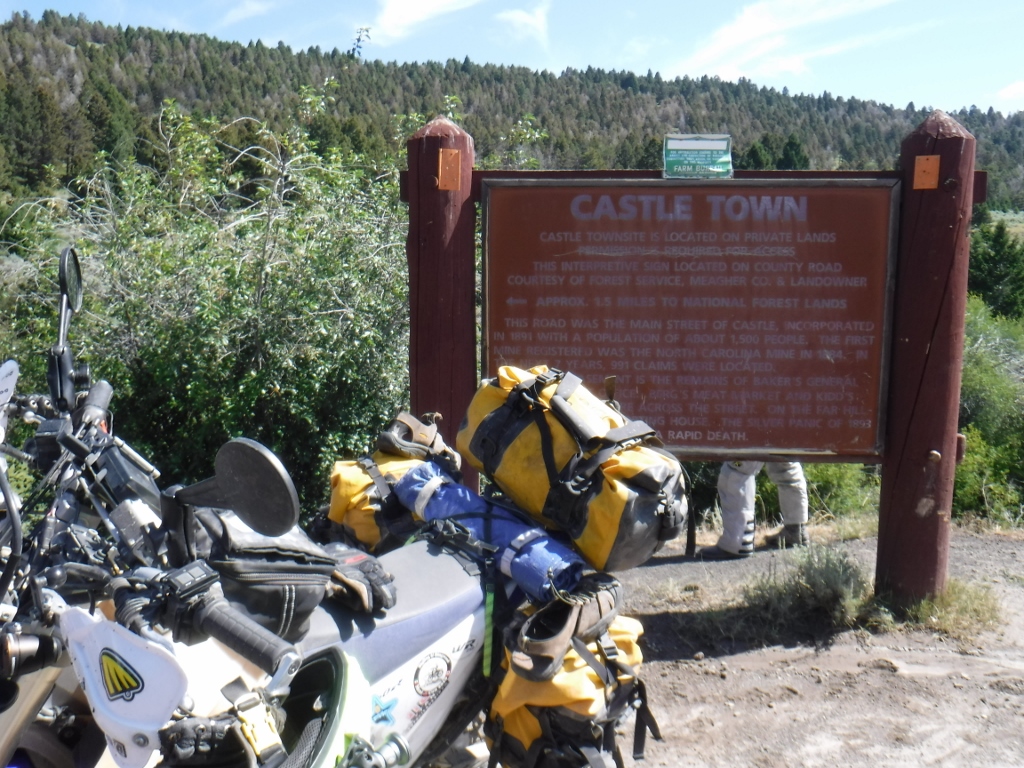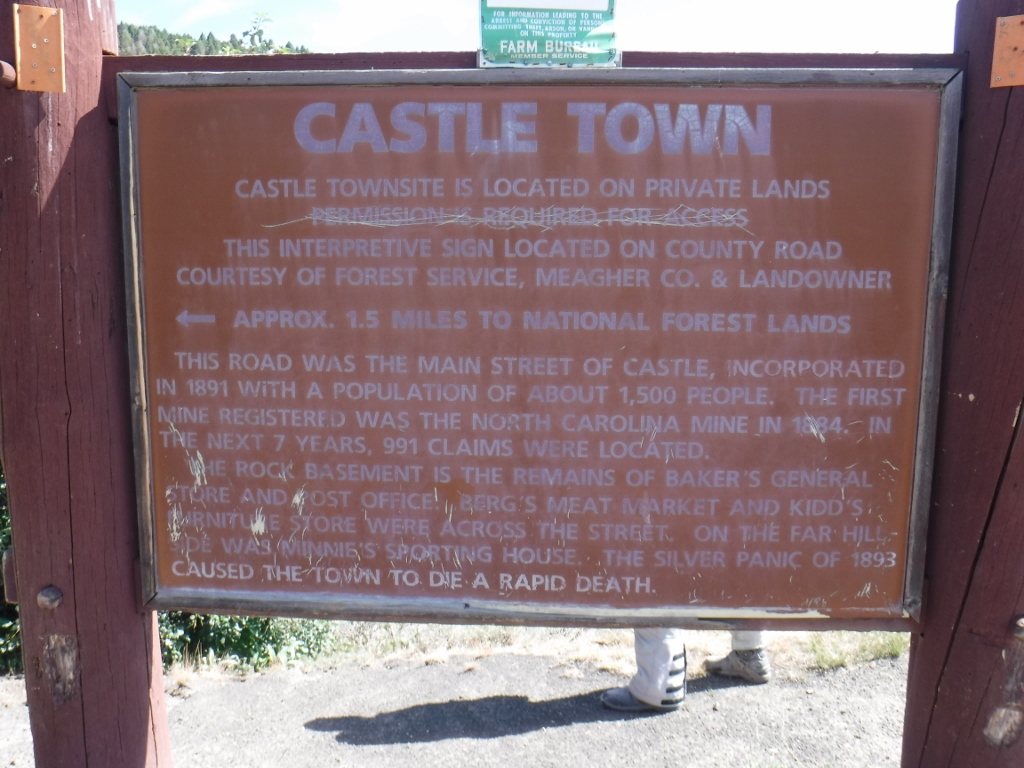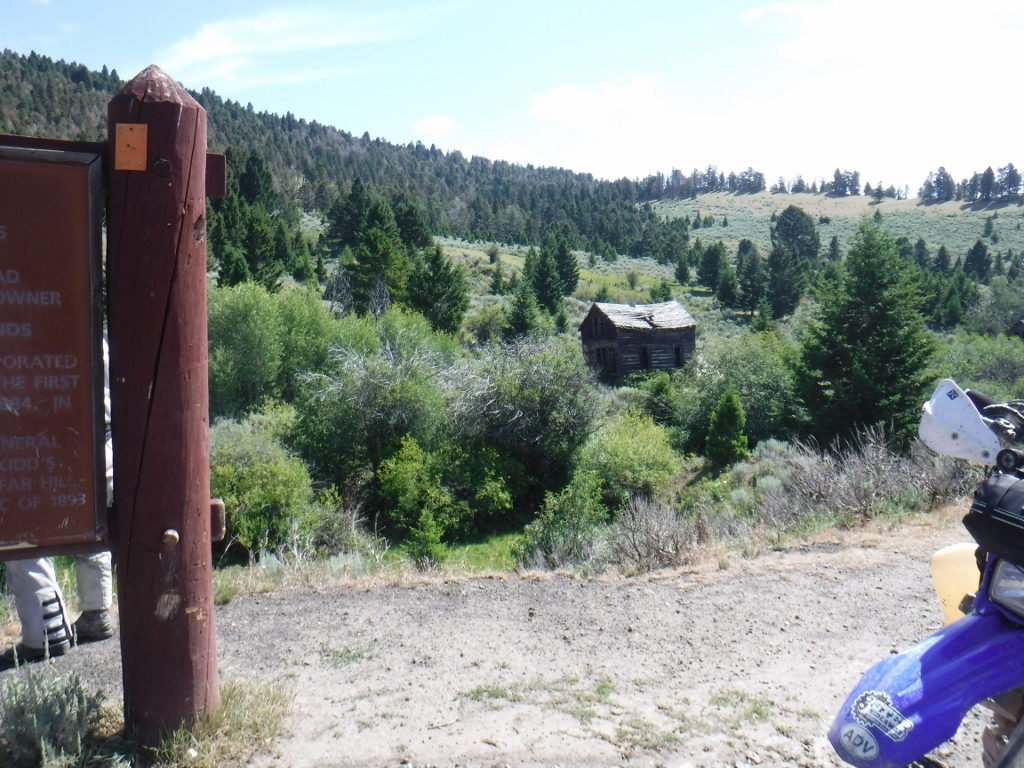 Here is an old stone foundation.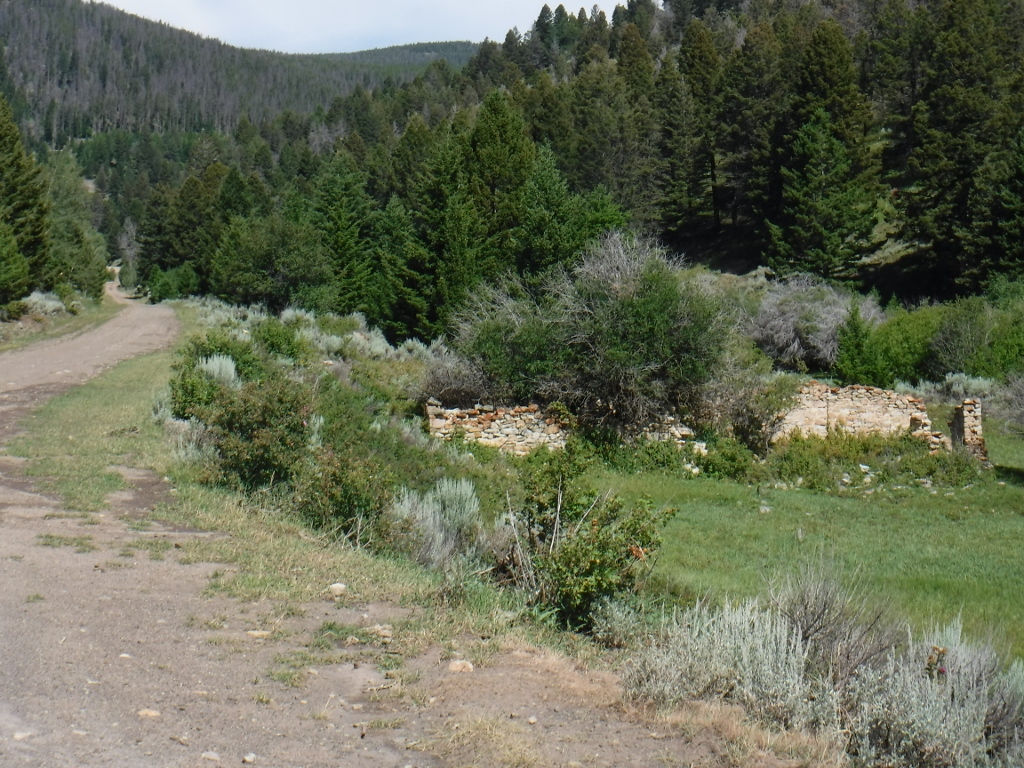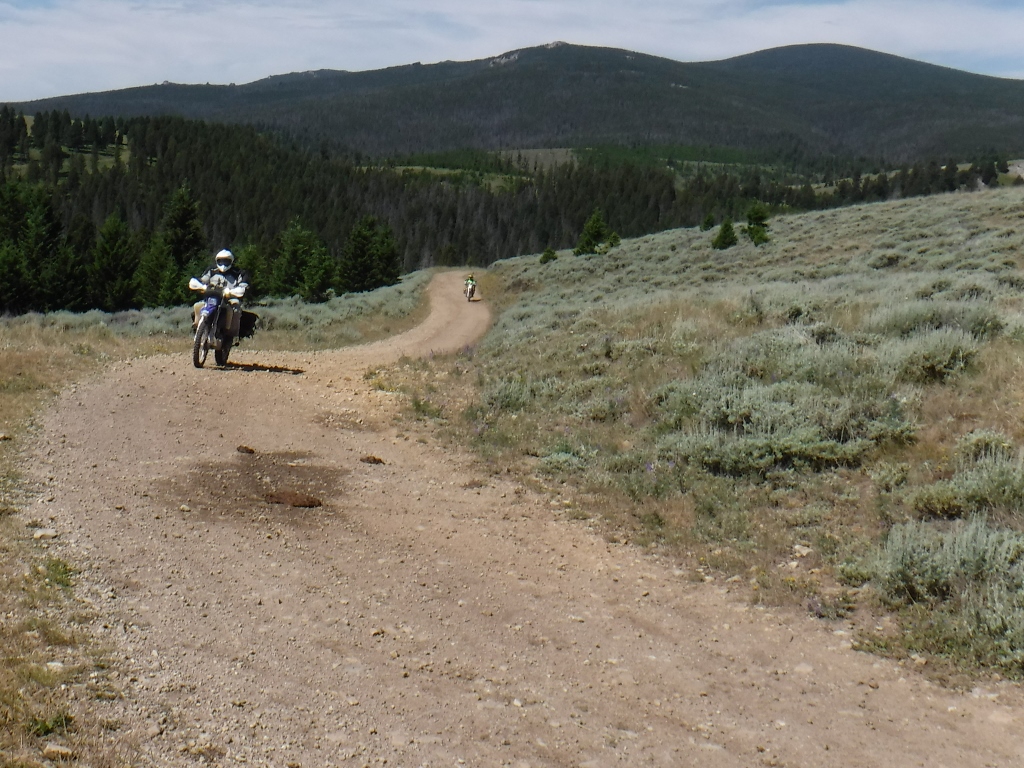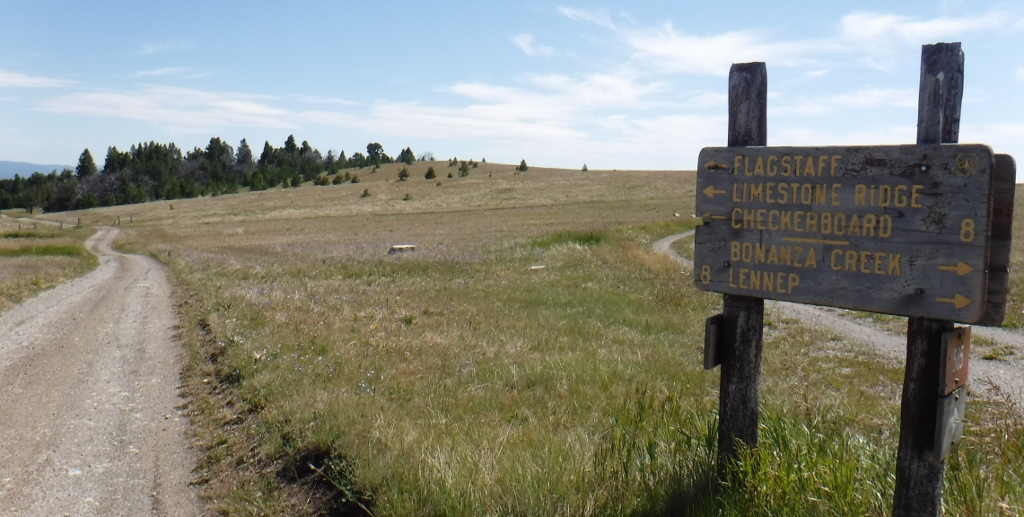 Nice to let it loose down roads like these.
But not till you stopped and took the view in.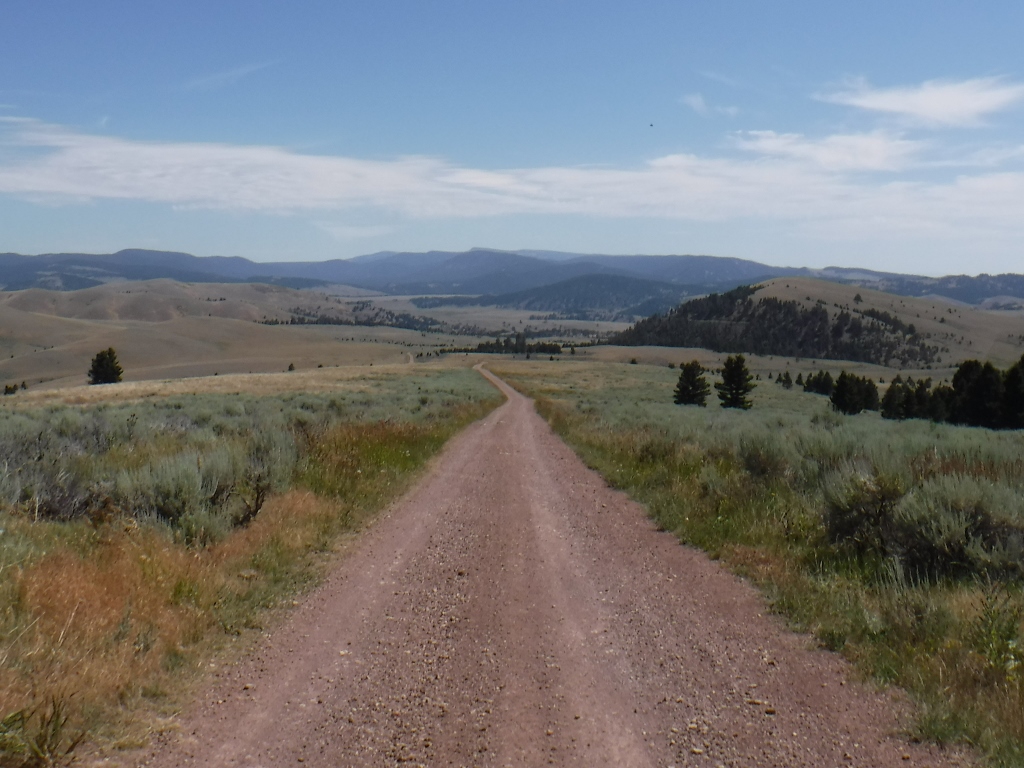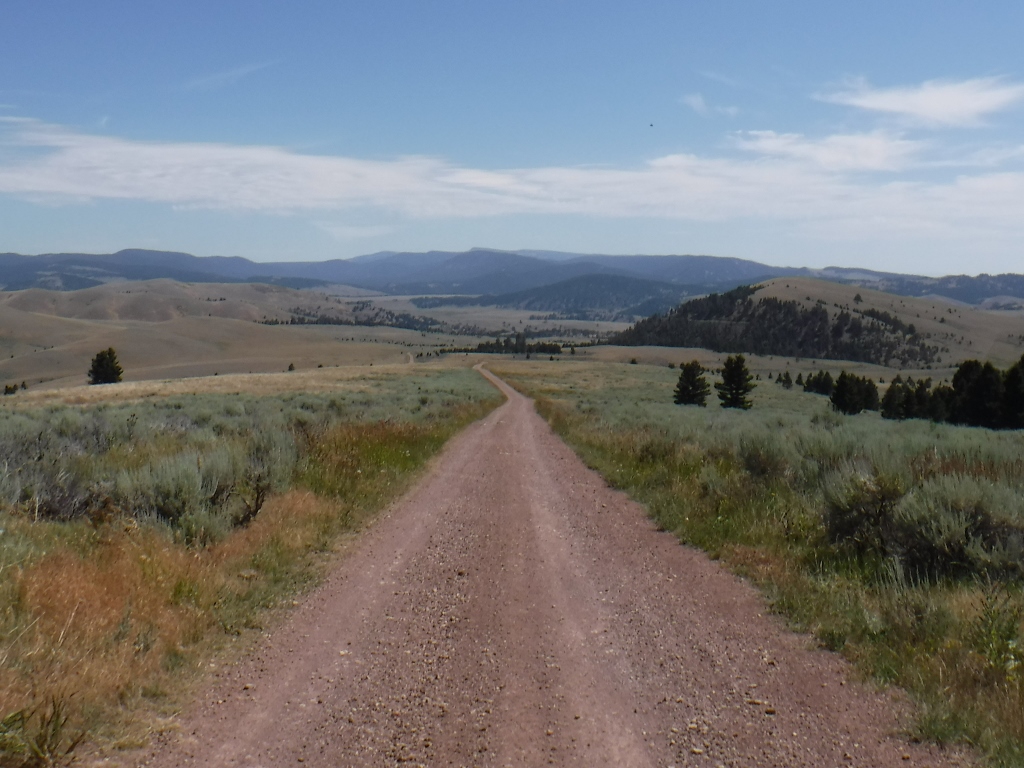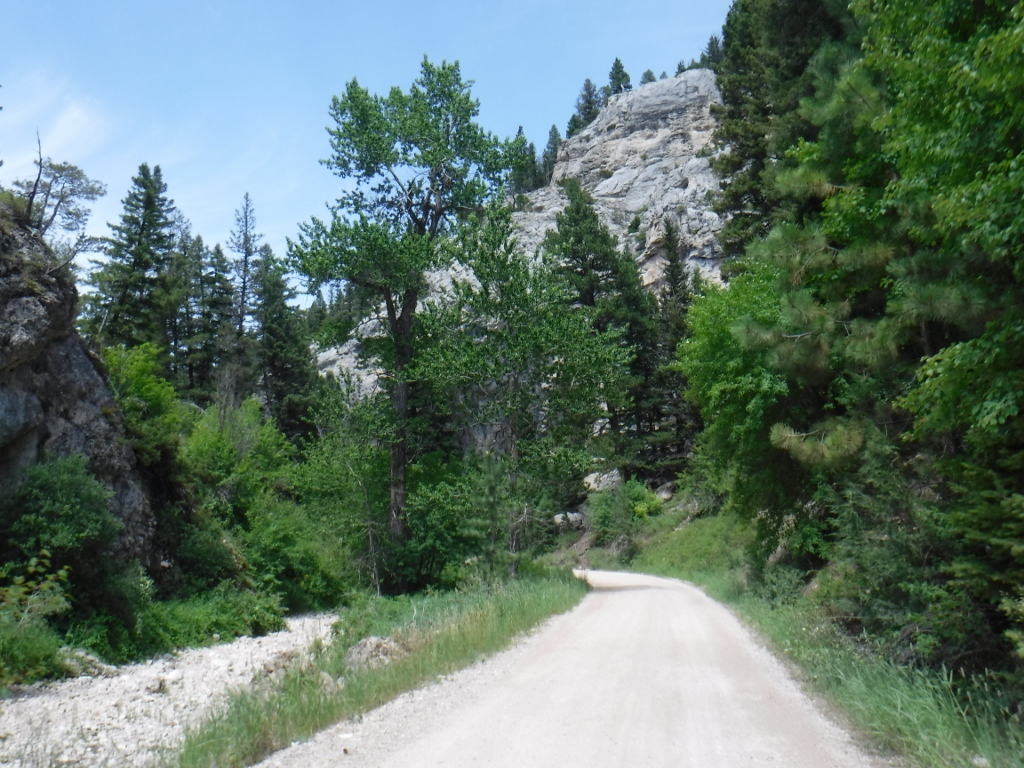 Not much left in Buffalo.
Must have been quite a town back in the day as this building was magnificent.
This and a really nice kept church was about all that was there.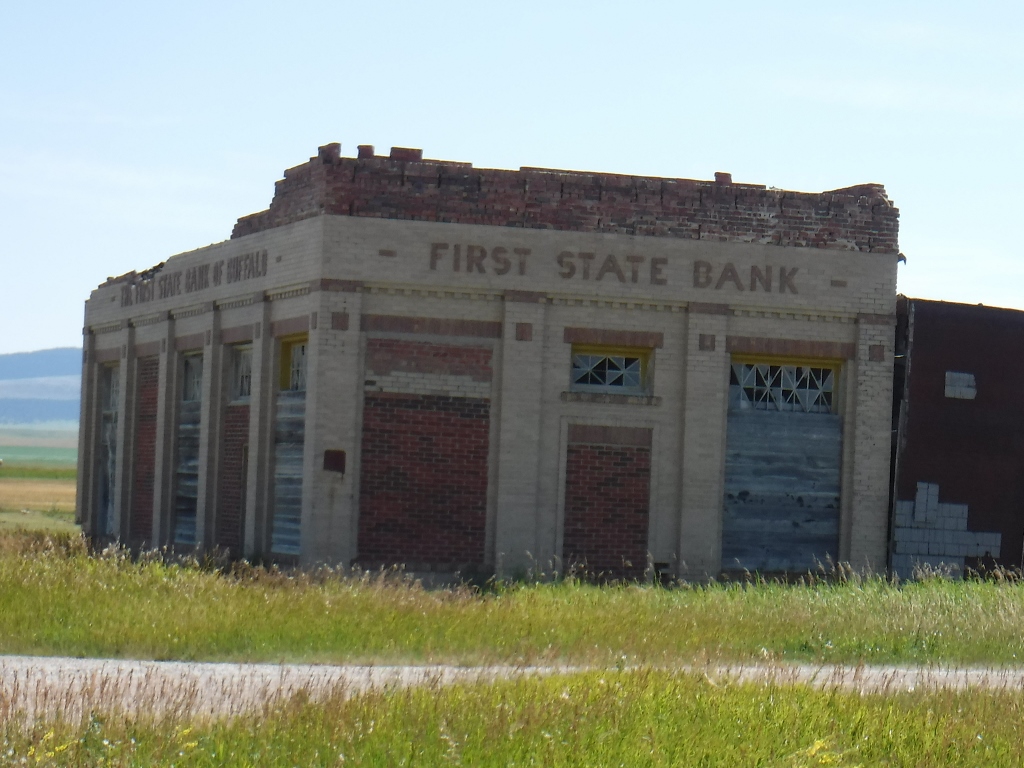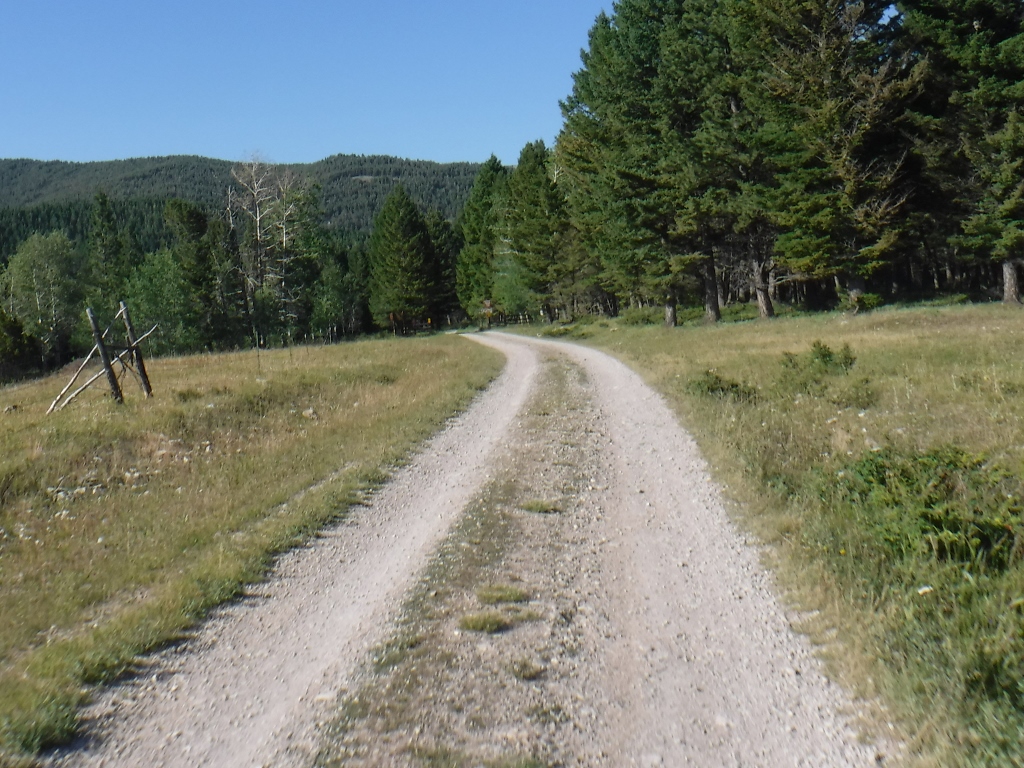 After about 184 miles we rode into Timber Creek Campground.
One thing really great about the ride that is laid out---is that the mileages each day are not crazy long.
You can sleep in if you want------ride slow if you want--look at stuff if you want.
Or ride like an idiot side by side over a blind hill and make a logging truck lose his load---that's all I have to say about that.

We just arrived and Jones is yawning already-----------I can't talk---I was always asleep before the sun went down, which
which was after 9PM every nite-------past my bedtime.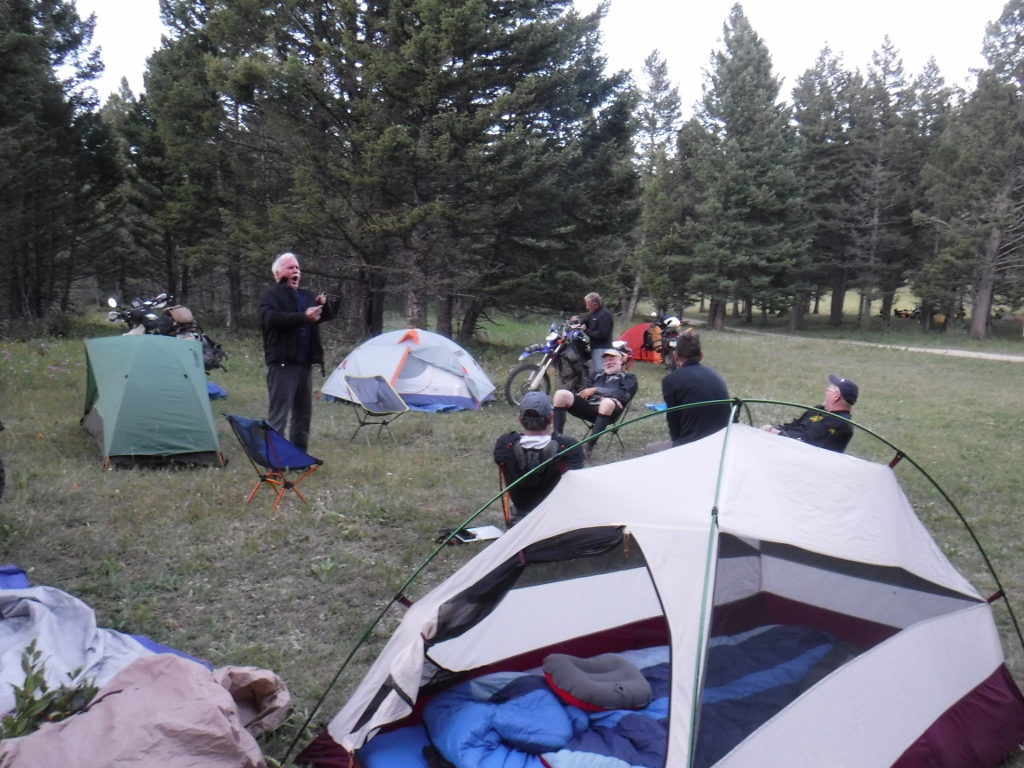 A rough map of our ride today---again---the yellow is what we rode.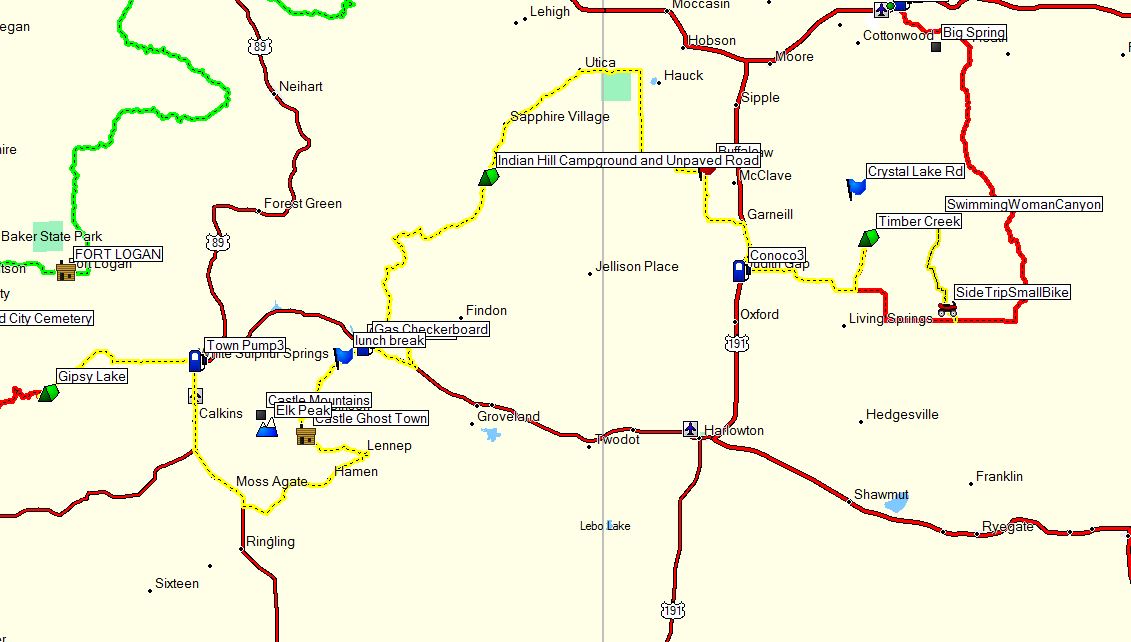 Here's a short video of day 3----select HD 720P if you have the speed.
Day 04
Timber Creek Campground to James Kipp recreation area---right on the Missouri river.
We would cross this river several times on this ride---twice on a very small ferry.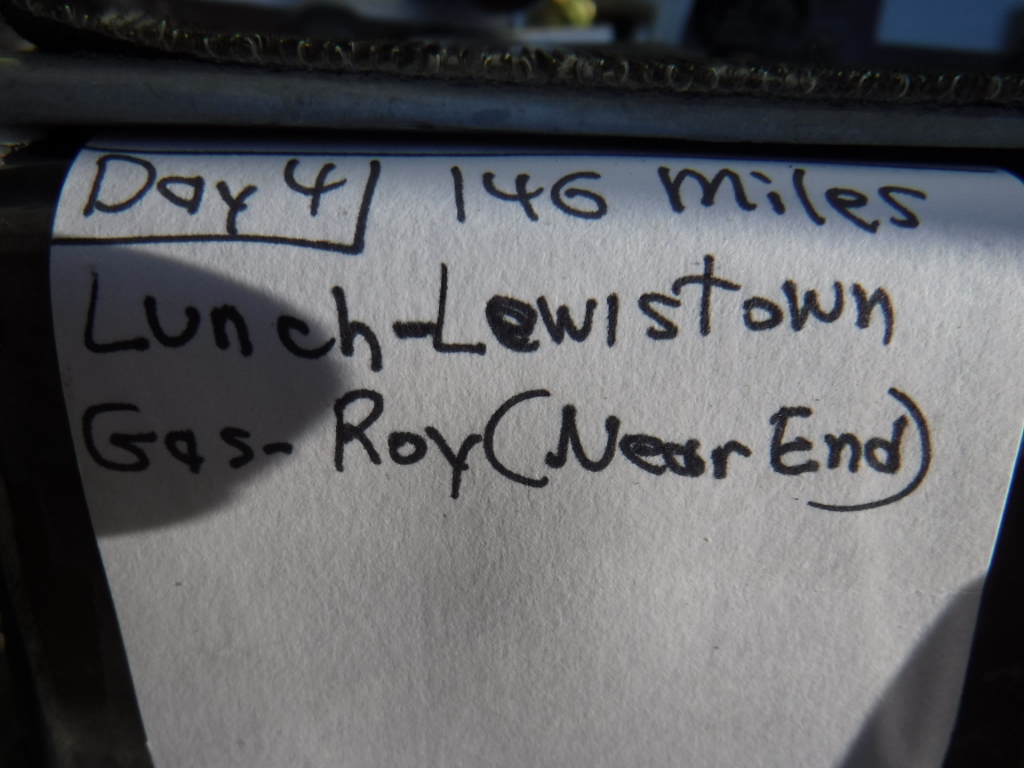 Ever have your rear tire kicked sideways from a rock that somehow your front tire missed ?????
Well poor or Jerry had it happen and it punctured the sidewall of his rear tire.
It took it a while to go flat-----a new tube didn't last long---so an old tube was used to put over
the tire puncture--inside the tire.
This lasted the rest of the ride------------------barely.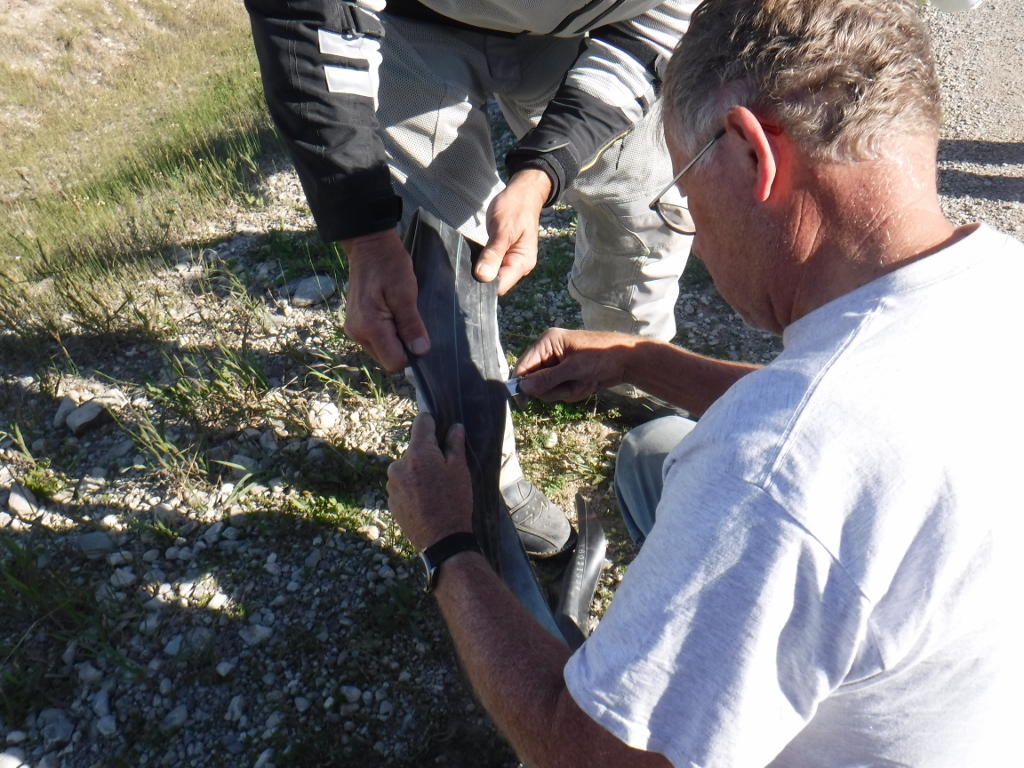 No bears bothered Jerry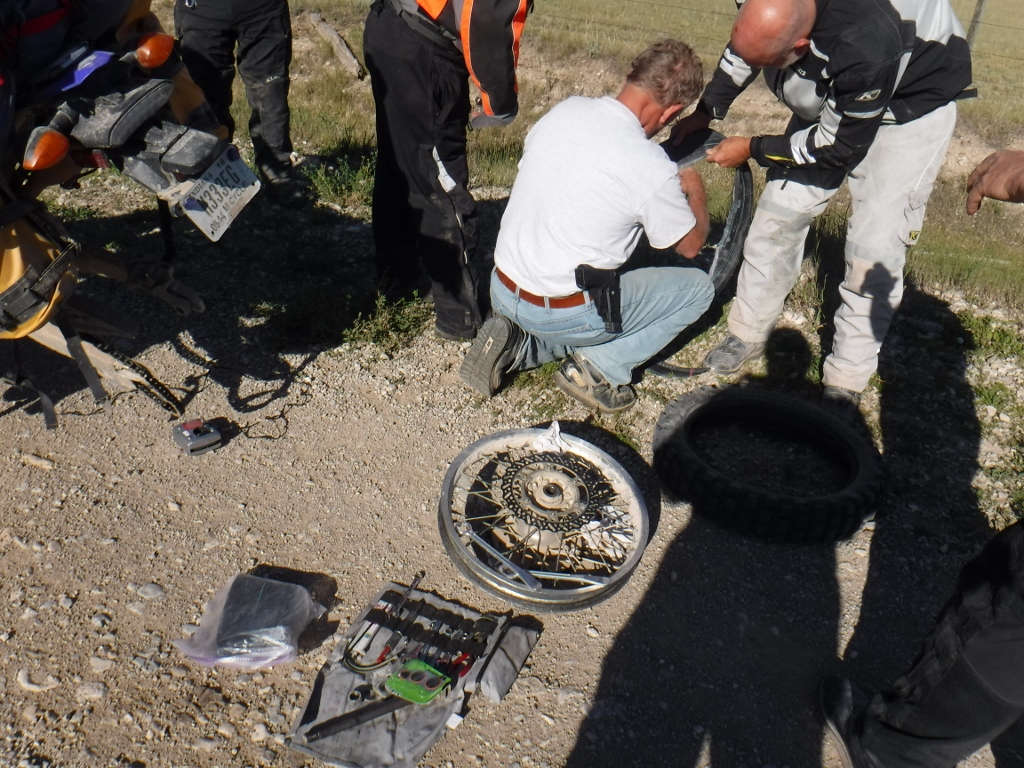 Obviously "Homeless with absolutely no visible means of support"
O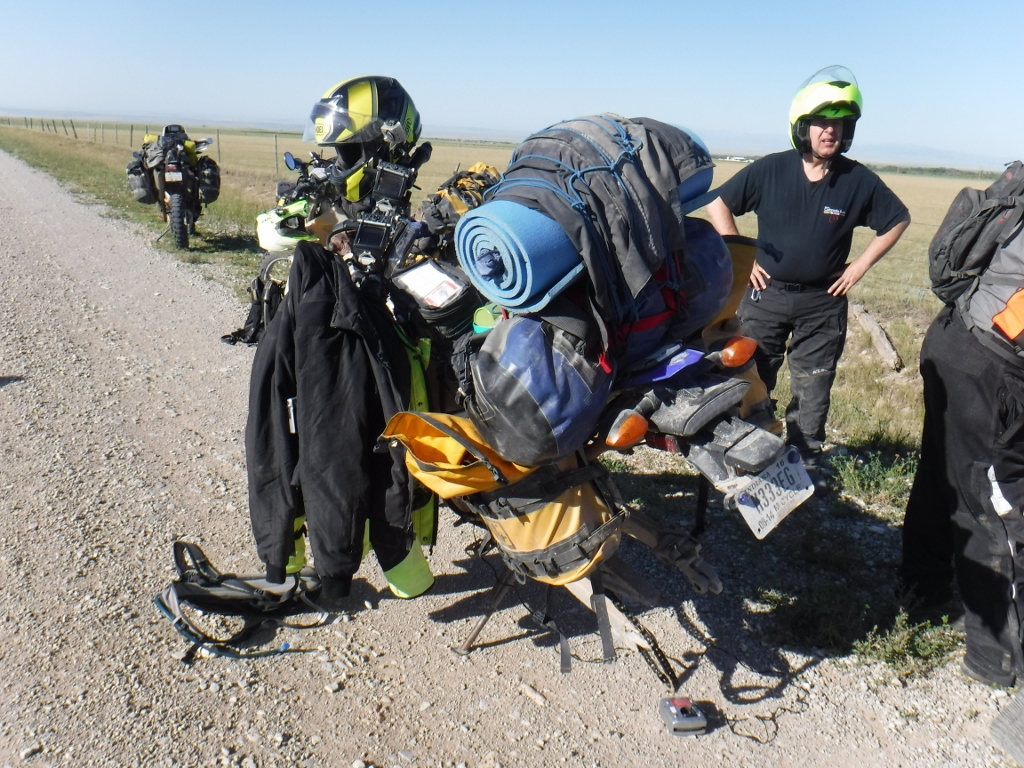 We were told going down this dead end road and back would be the highlight of the day--------and it was.
It ended in a canyon on the wilderness boundary line.
Lot's of mudholes and rocks---but not too difficult for everybody.
I don't seem to have many pictures of it----------but me and Dingweeds video'd the whole thing.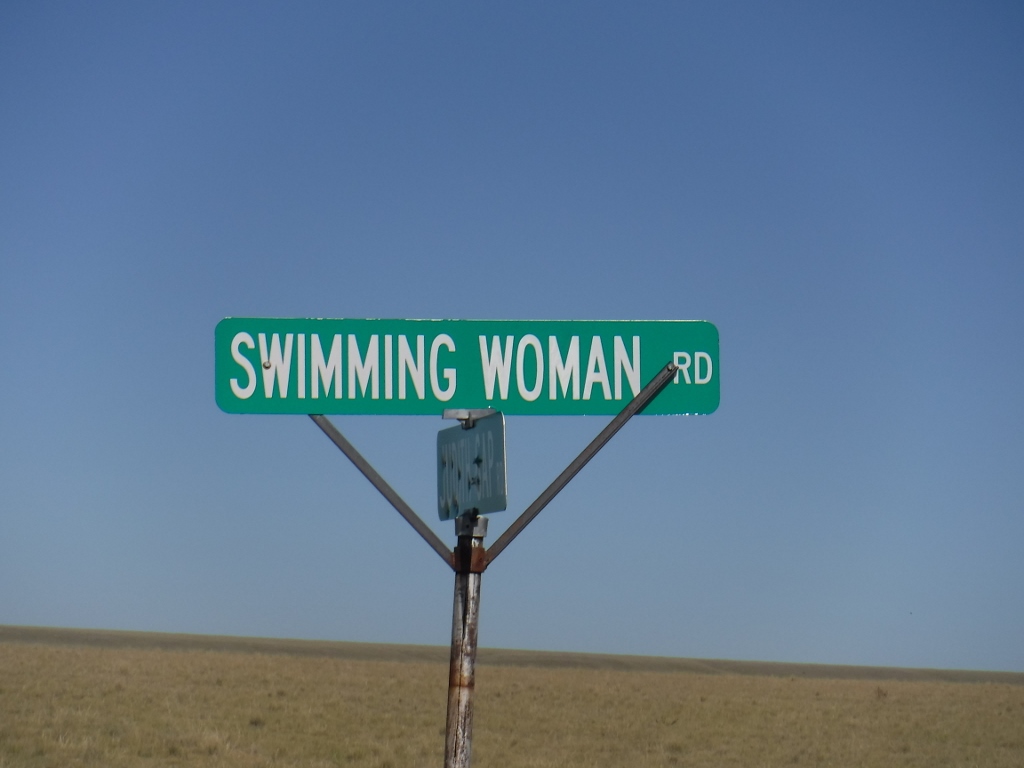 The road fades as you ride in---then turns into mudholes and rocks.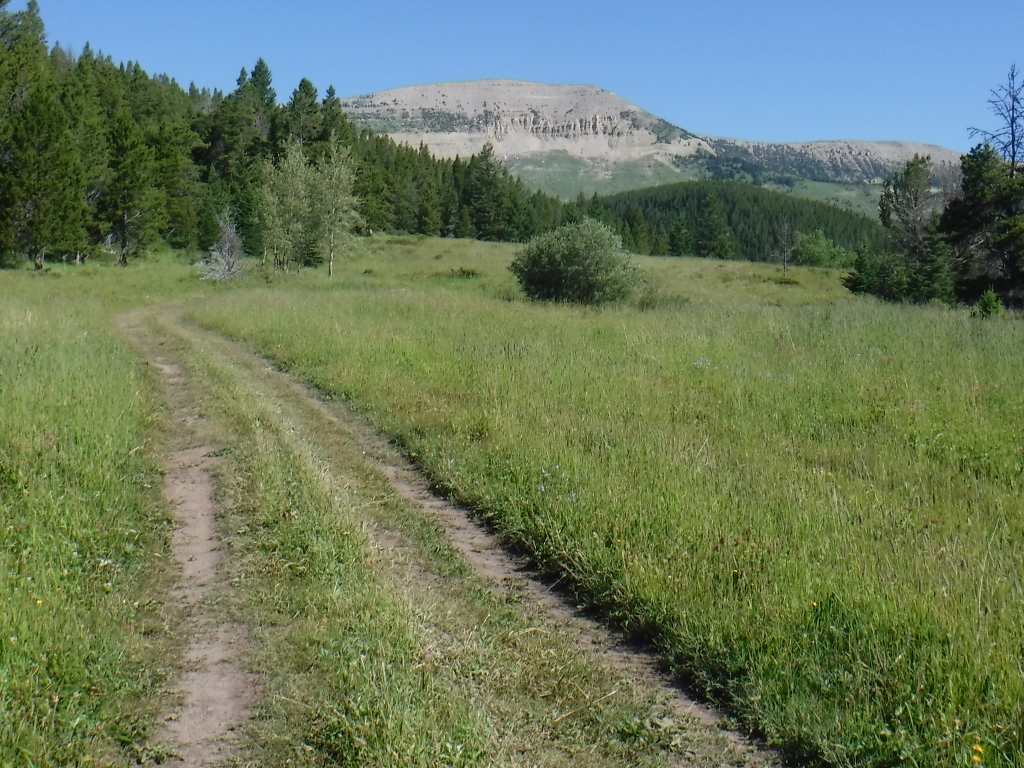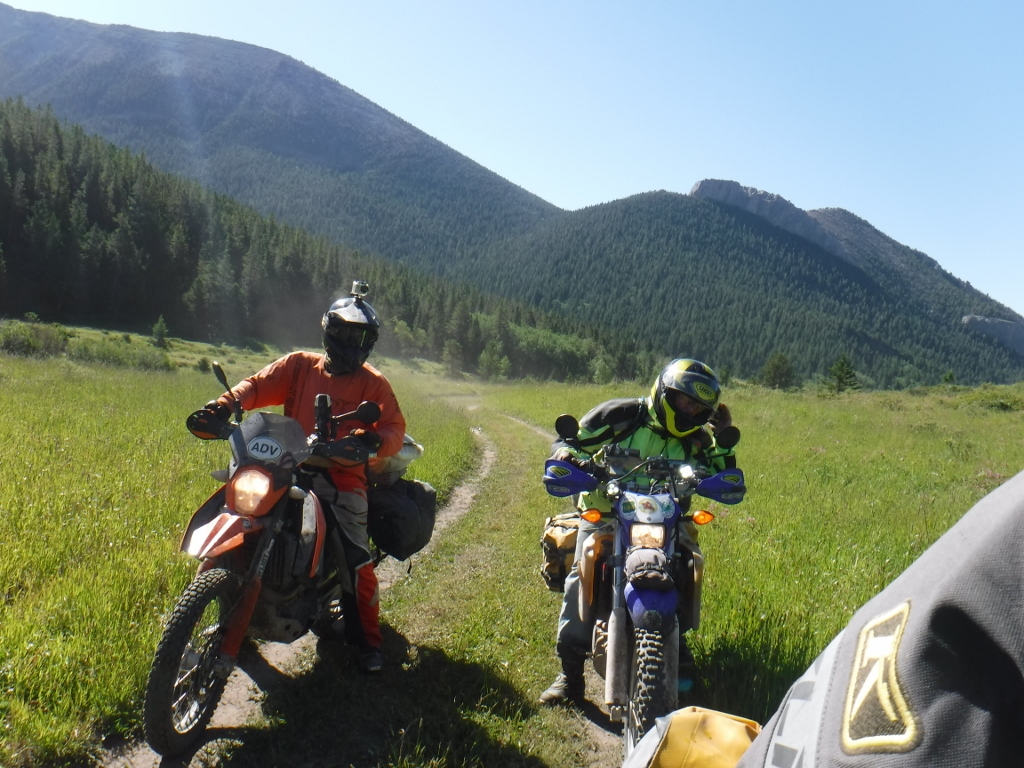 I wasn't sure what had already happened here when I rode thru.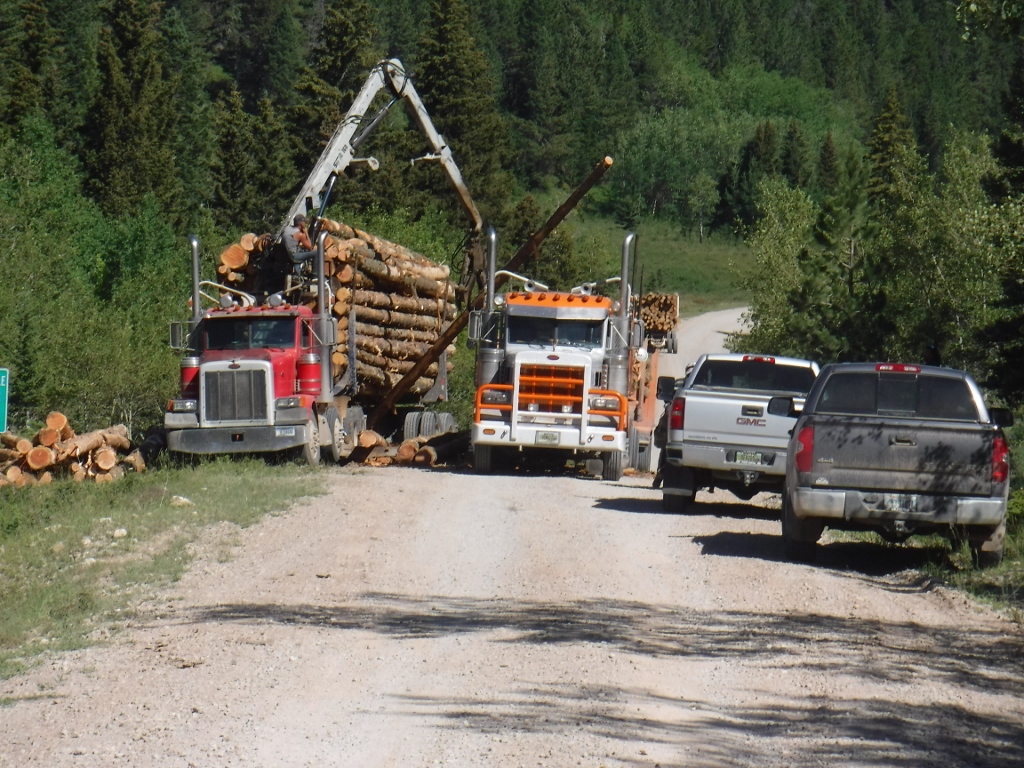 Don't mess with Walter.
I found out first hand one morning when I shook his tent.
And heard the big Glock chamber a bullet.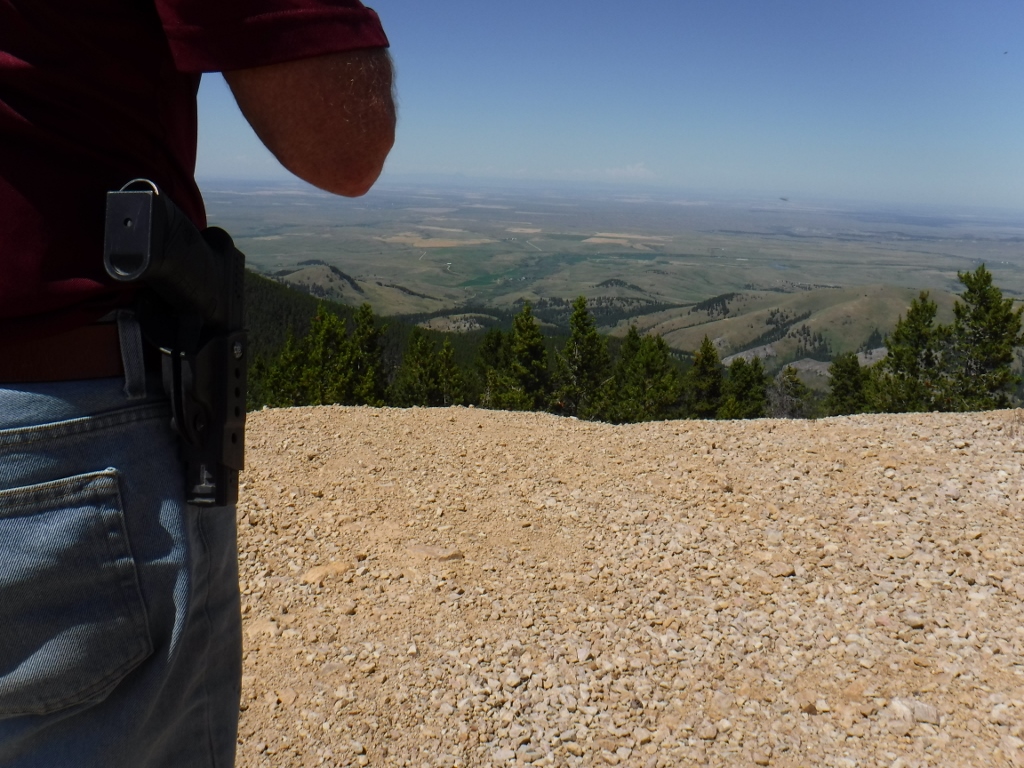 We had a waypont for old Fort McGinnis--------it was a fun ride there---but we just couldn't find much at all that
hadn't went back to mother earth---there was a sign to a cemetery but we couldn't find it.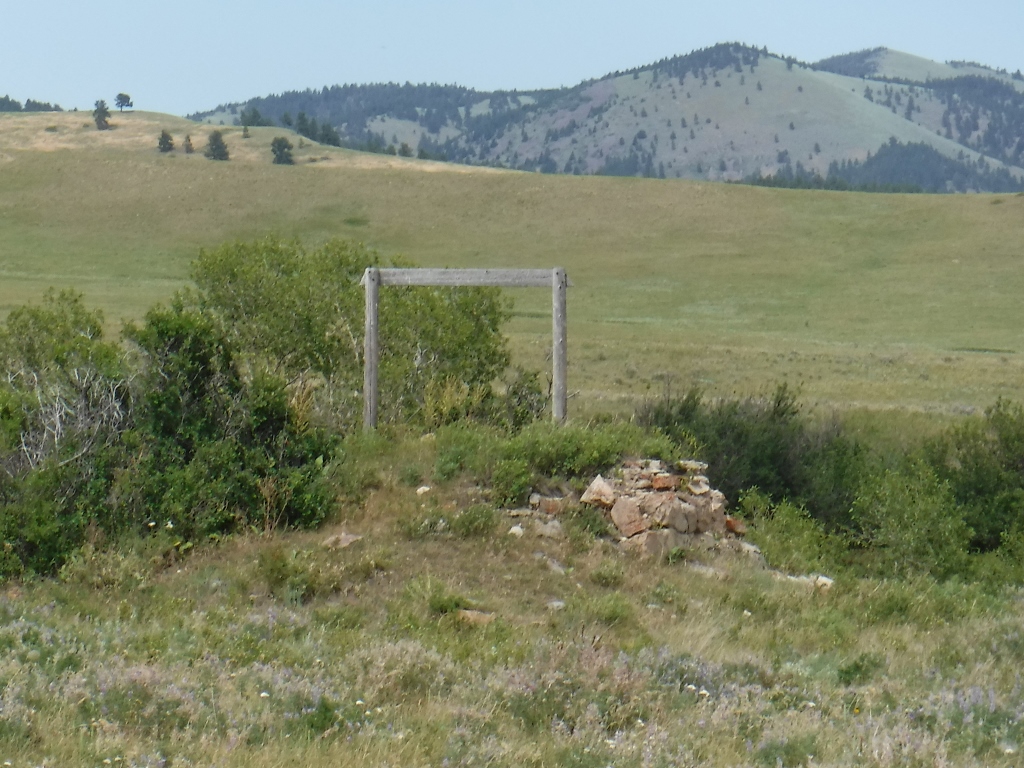 You can't tell how big this thing is in the picure ---but I think it's about 16 ft. long.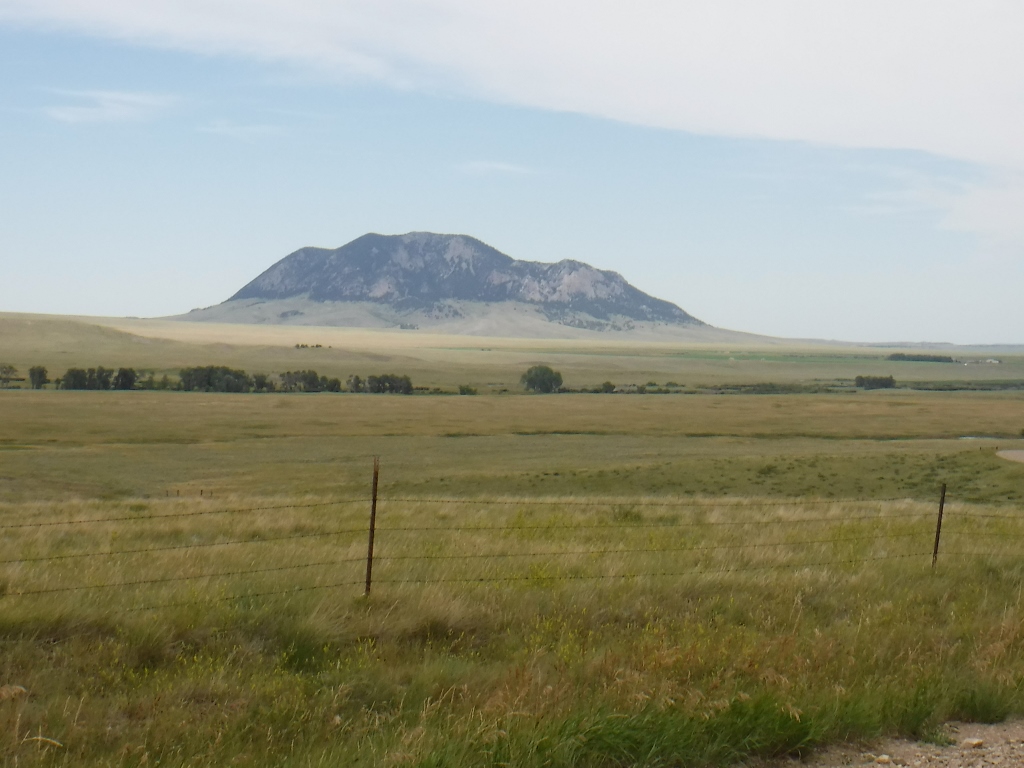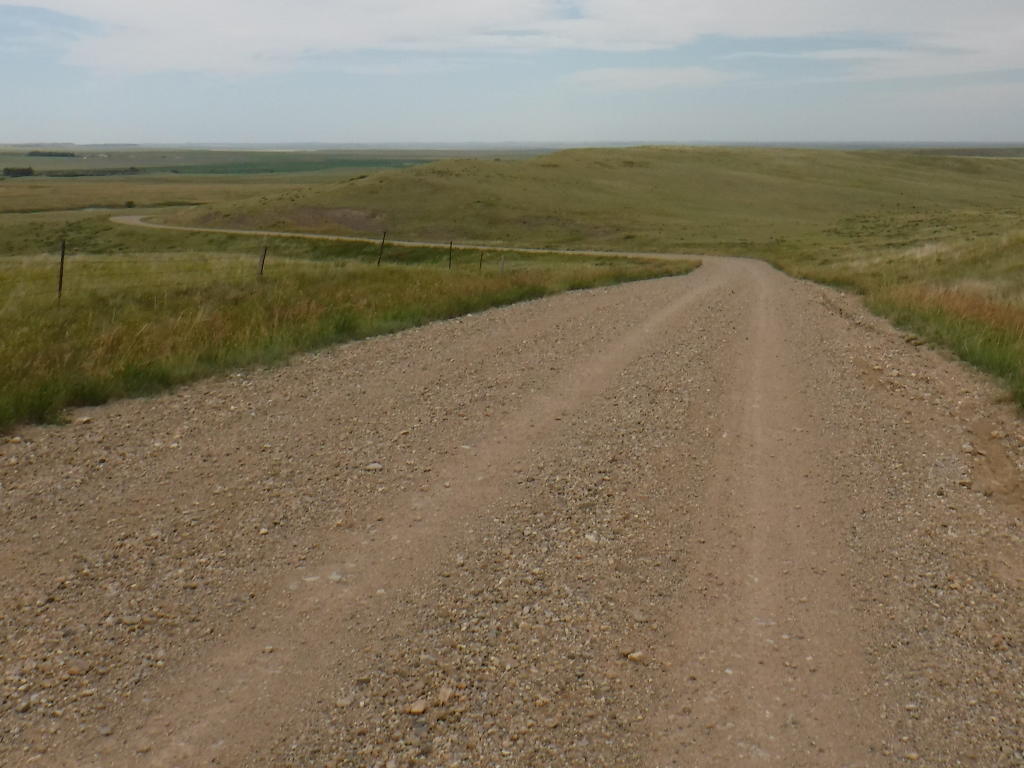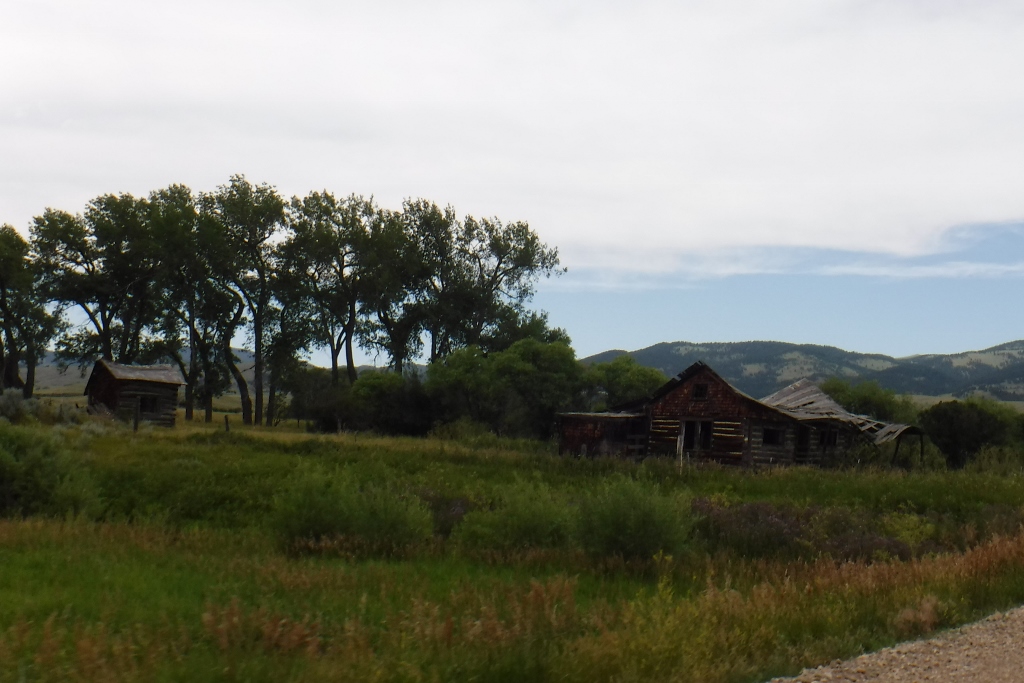 At the James Kipp recreation area we scattered about to several campsites right on the Missouri river..
I hadn't had a bath in 5 days---and wasn't gettin' one today----nor for another 5 days.
But I did get a shave.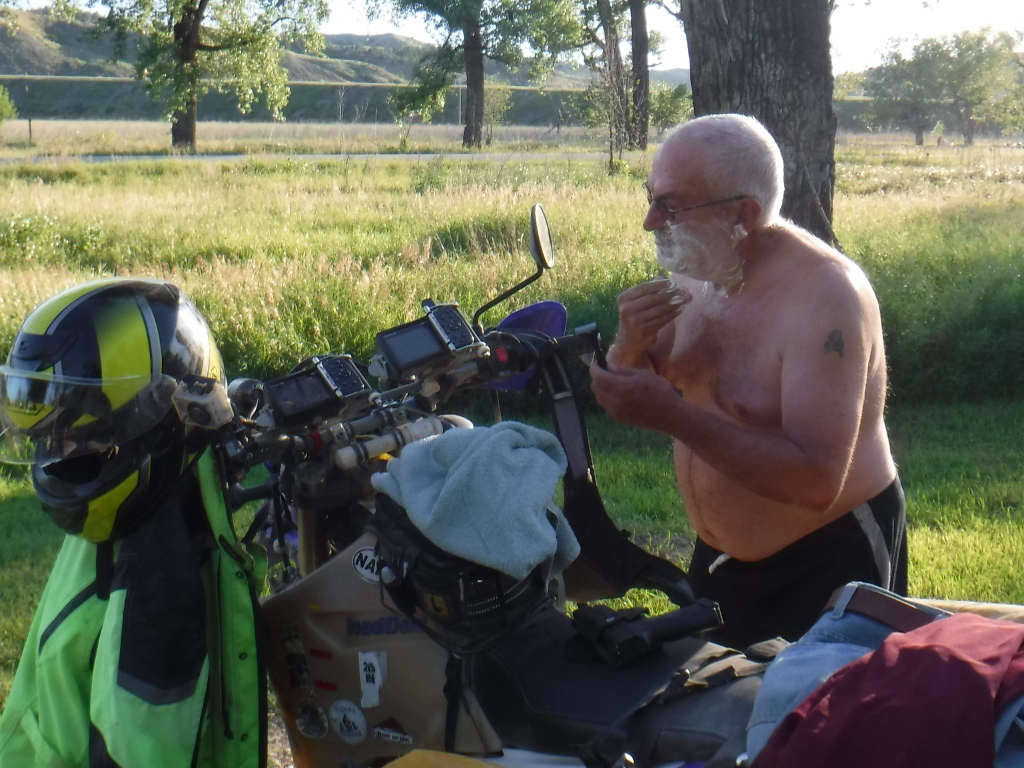 Somewhere on this ride---Allen took this picture and sent it to me.
It shows it was cool at nites on this ride.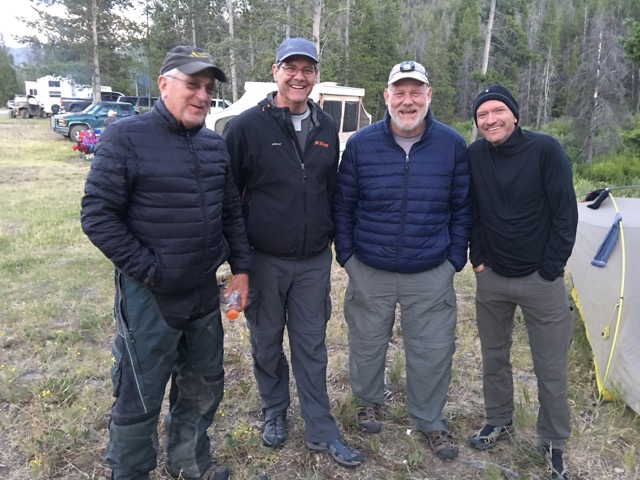 A rough map of our ride today. All days were less than 200 miles.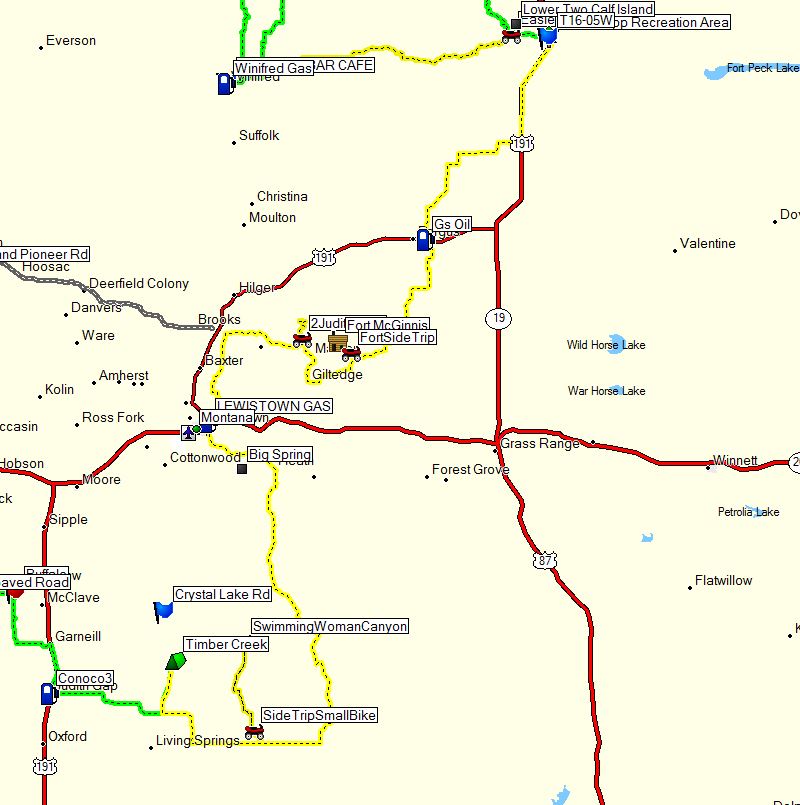 Here's a short video of Day 4----select HD 720P if you have the speed.
Day 5
James Kipp Recreation area to Bear Paw Lake Campground.
Breaking camp at the James Kipp Recreation area me and Scott made good use of our world class
"Dingweeds RP3000 Adventure Tarps"
We road West for miles---with the Missouri river in our view to the North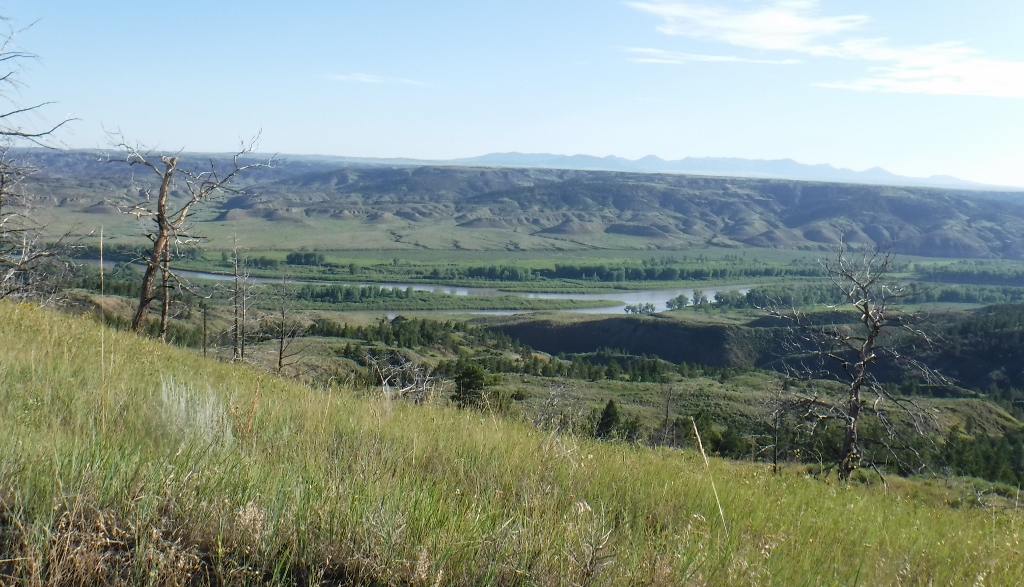 There was a more rugged old dirt road North of Knox Ridge road----and we took it--not taking the easier by-pass.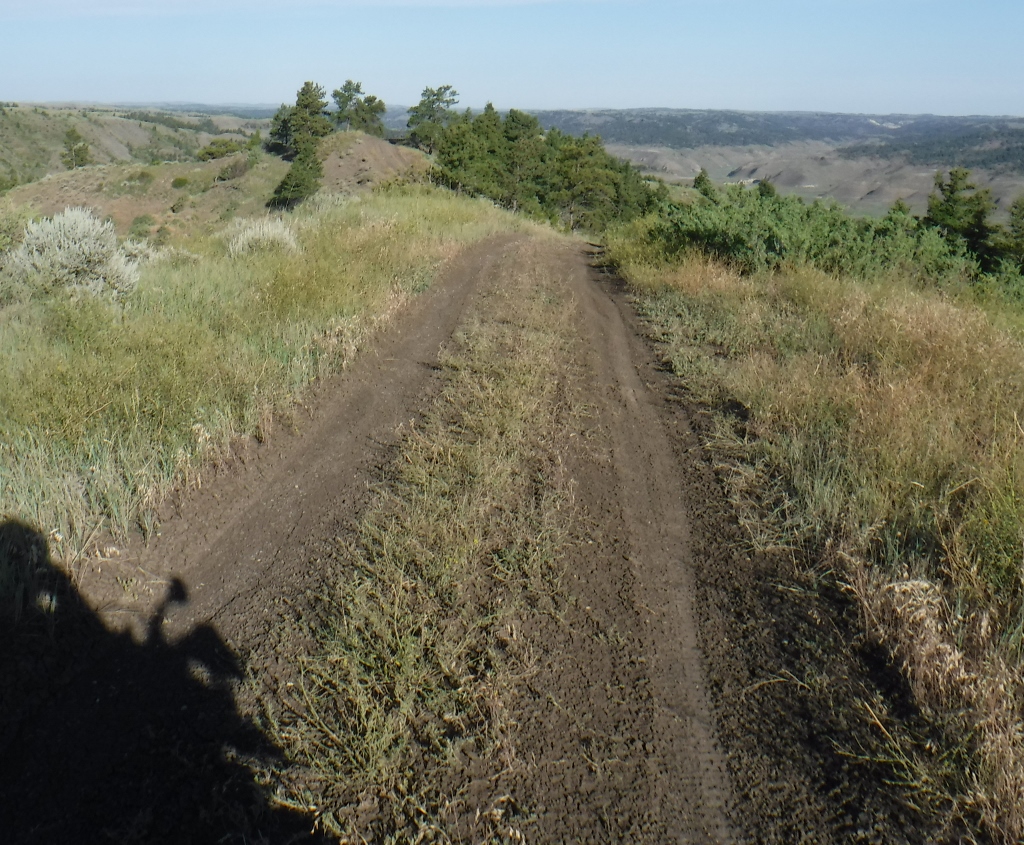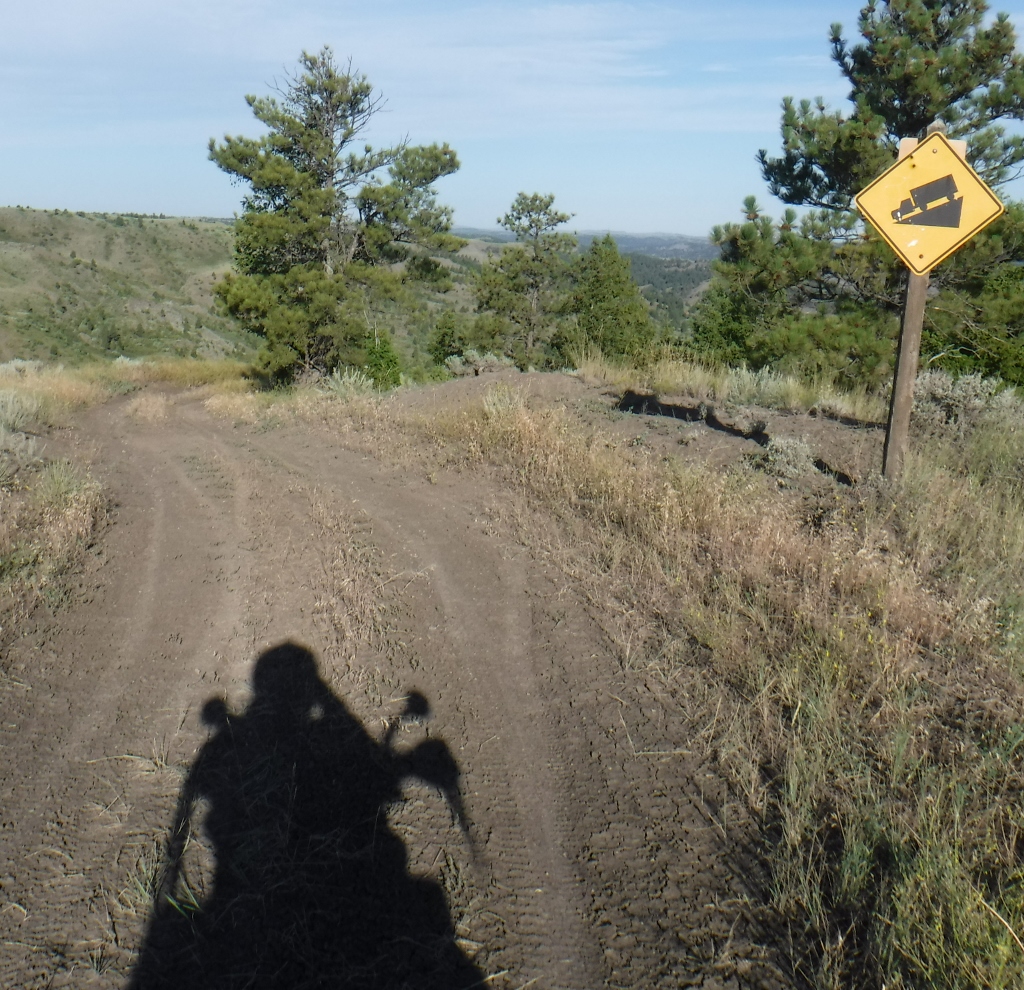 However we soon came to this----and we watched a few riders get across-----with some struggling and spinning in the
mud on the other side.
It was a long way thru this road and we feared it might get a lot worse and went the easier way.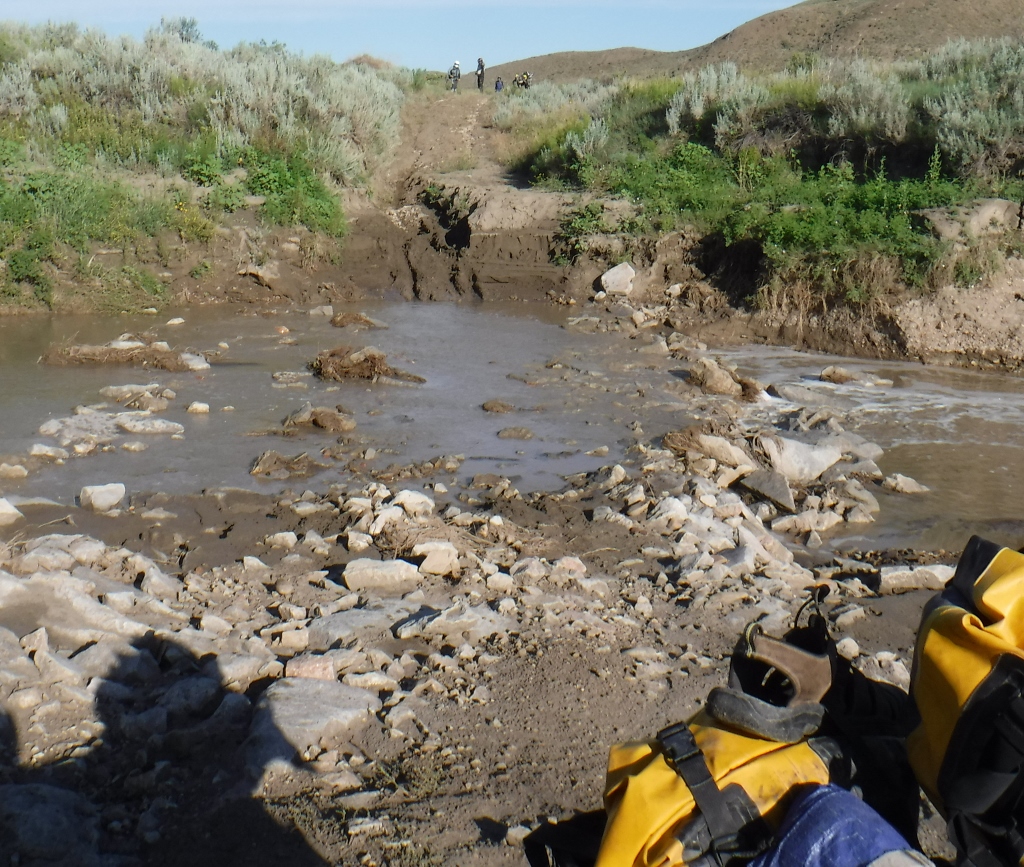 So here's the easier way----scenic but easier.
Turned out the what looked like the harder way got real easy and those guys beat us to breakfast in Winnifred.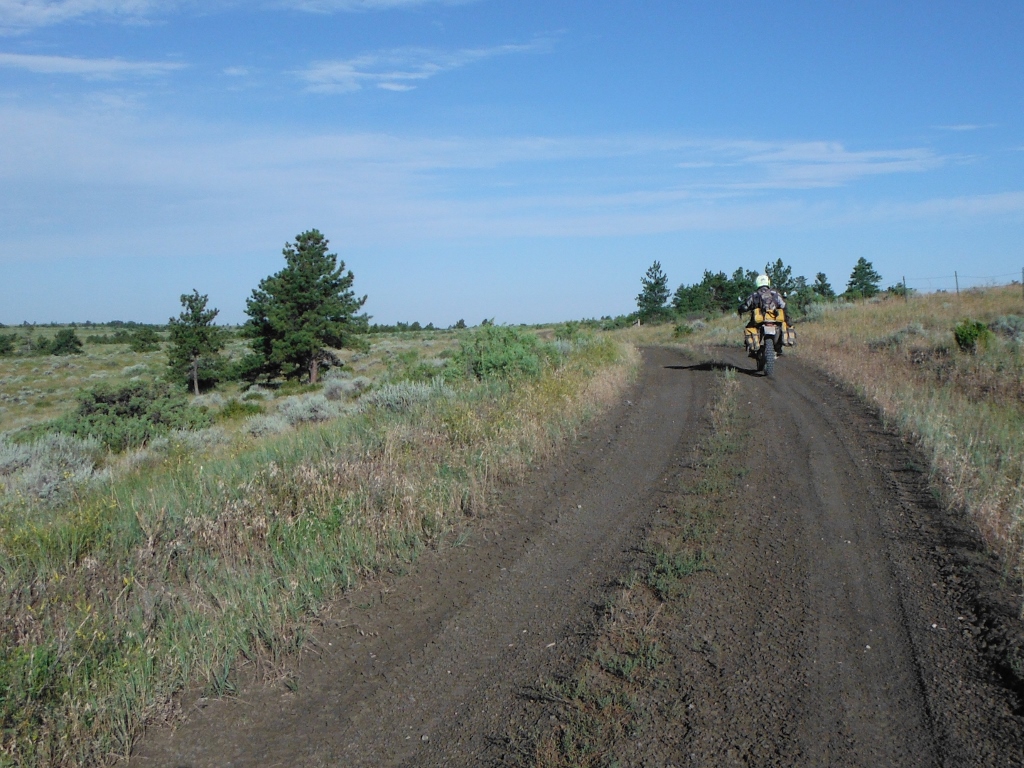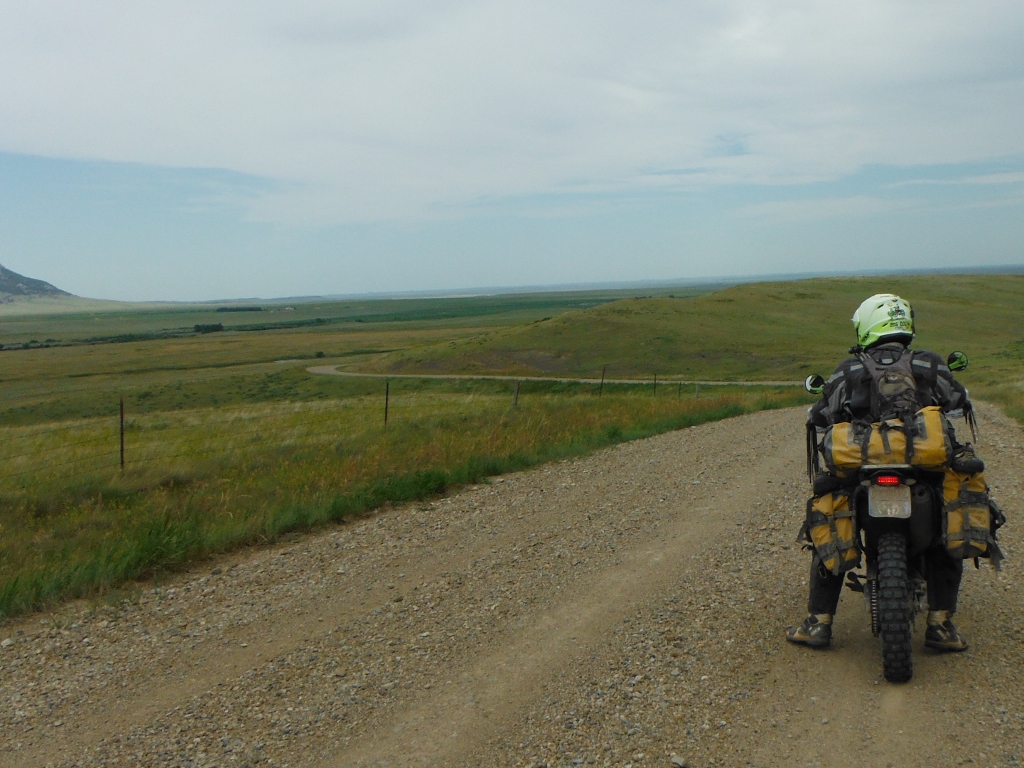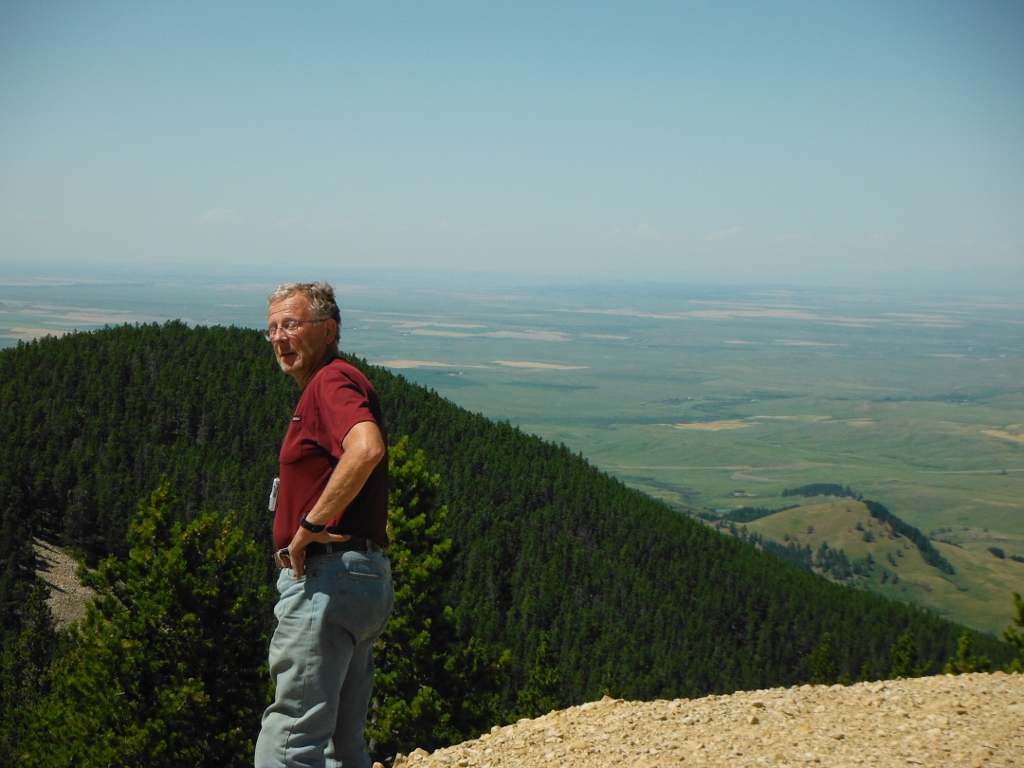 We had the best breakfast here----and for me and Dingweeds this town had some memories.
It was on one of the Mobius rides with Dr. Rock and Francine that we ate here and camped in a small campground
behind the cafe.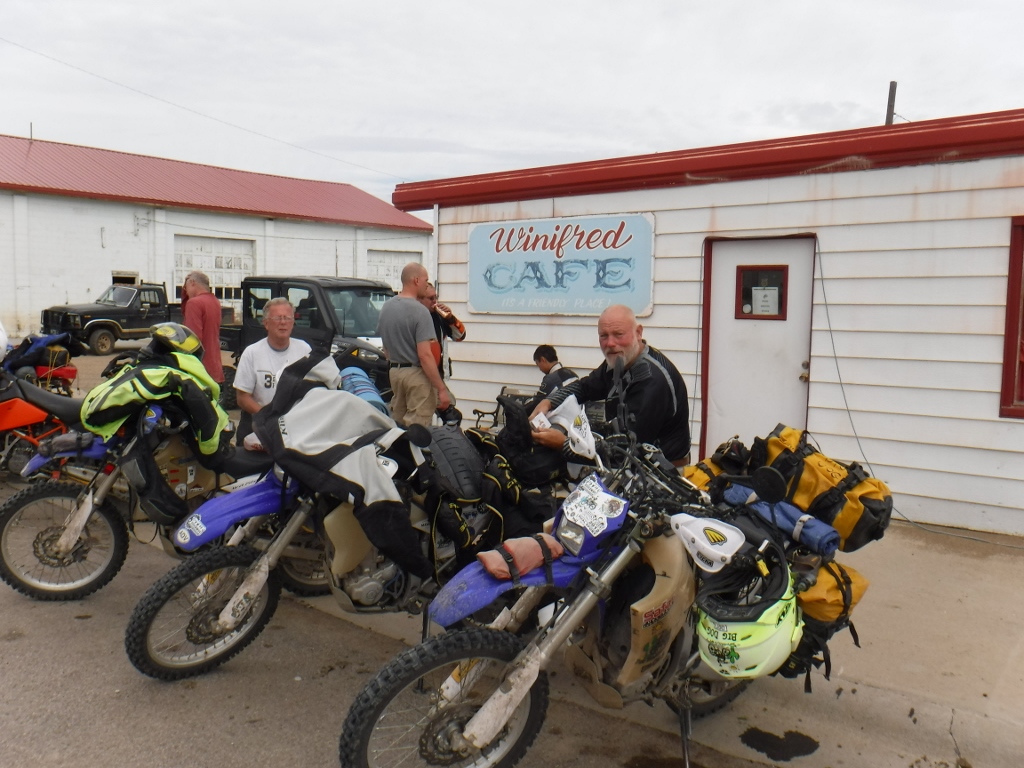 I knew there was a ferry crossing today---and I was really excited.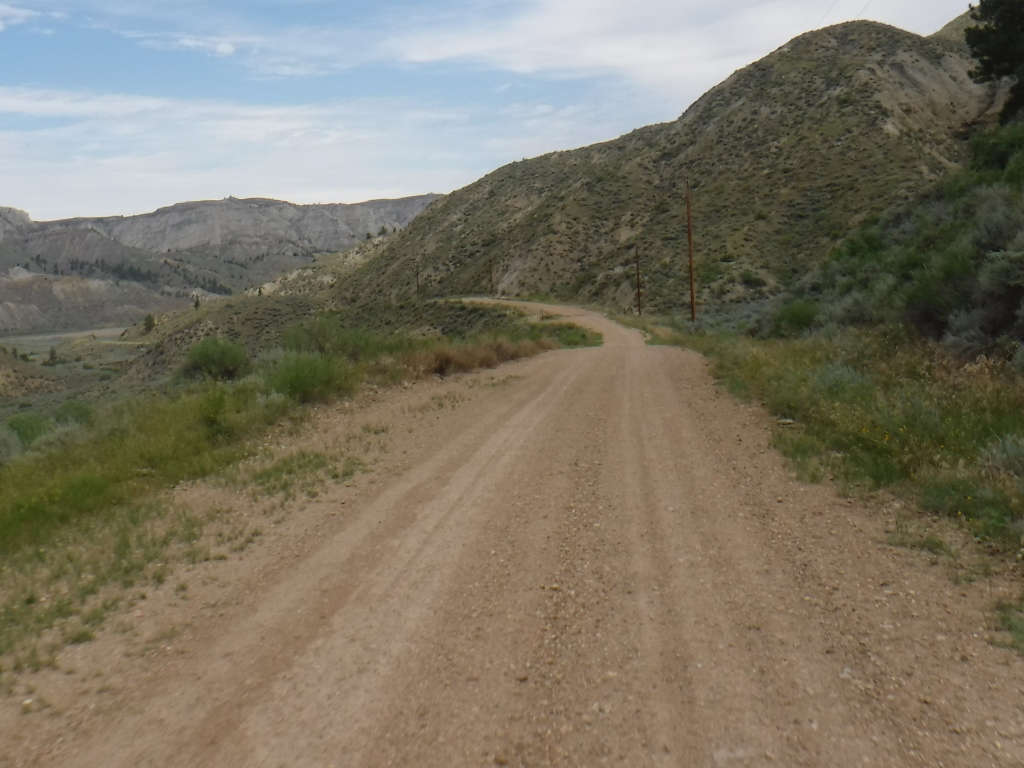 The road approaching the ferry across the Missouri river was so nice---and the scenery took my breath.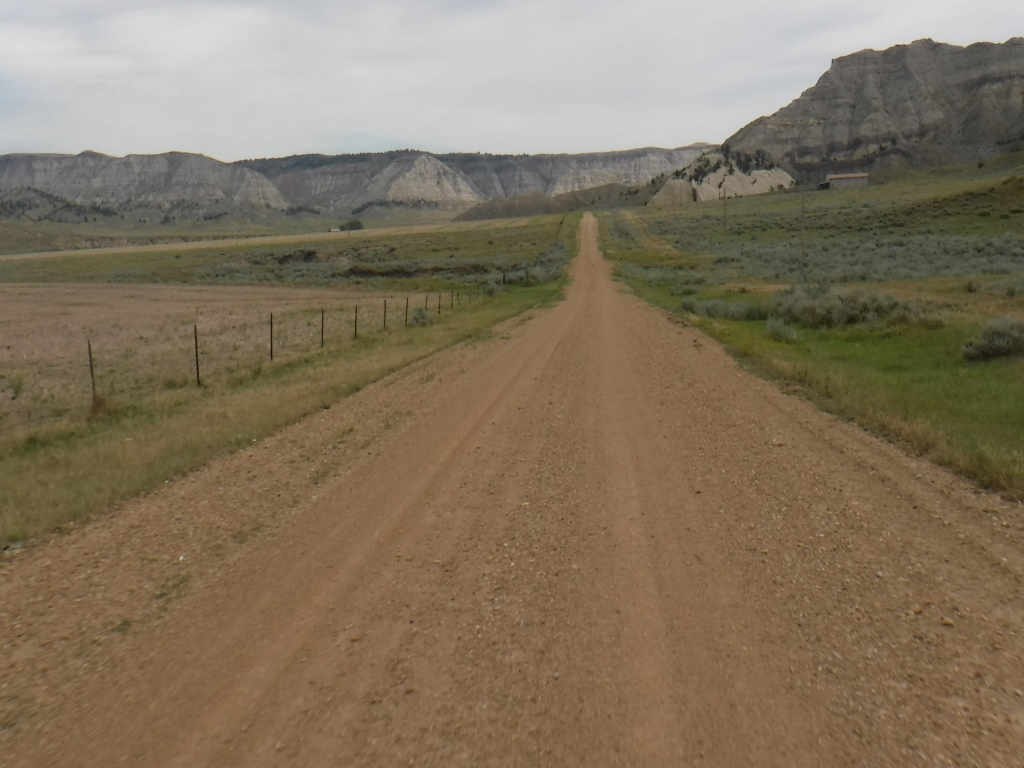 Now this surely has got to be the place Josey Wales sent those boys down river on the "Mizzourah Boat Ride"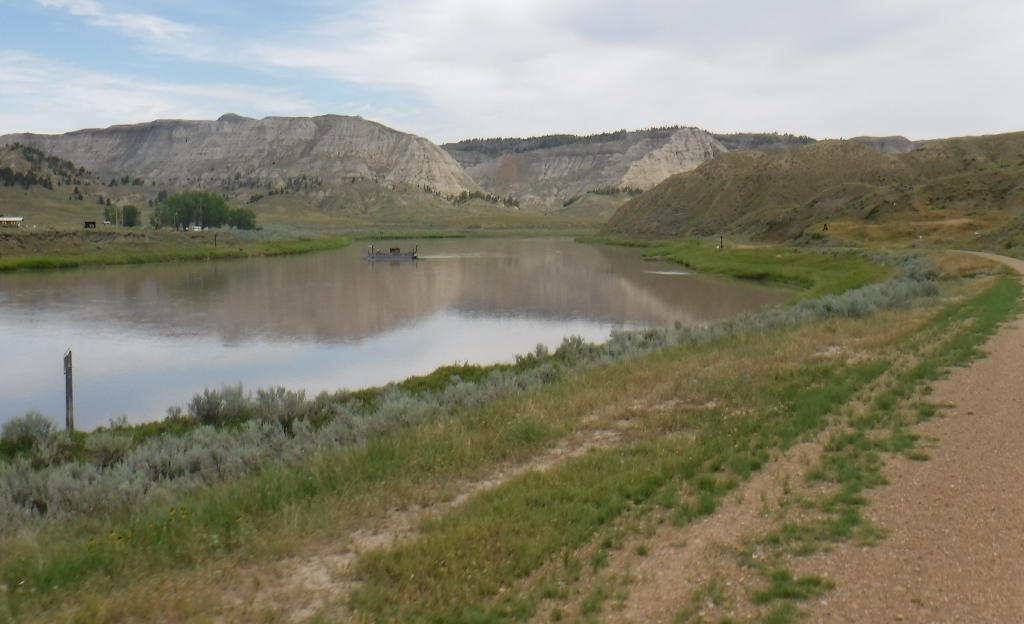 The ferry was tiny----and a motor pulled in across the river using those steel cables.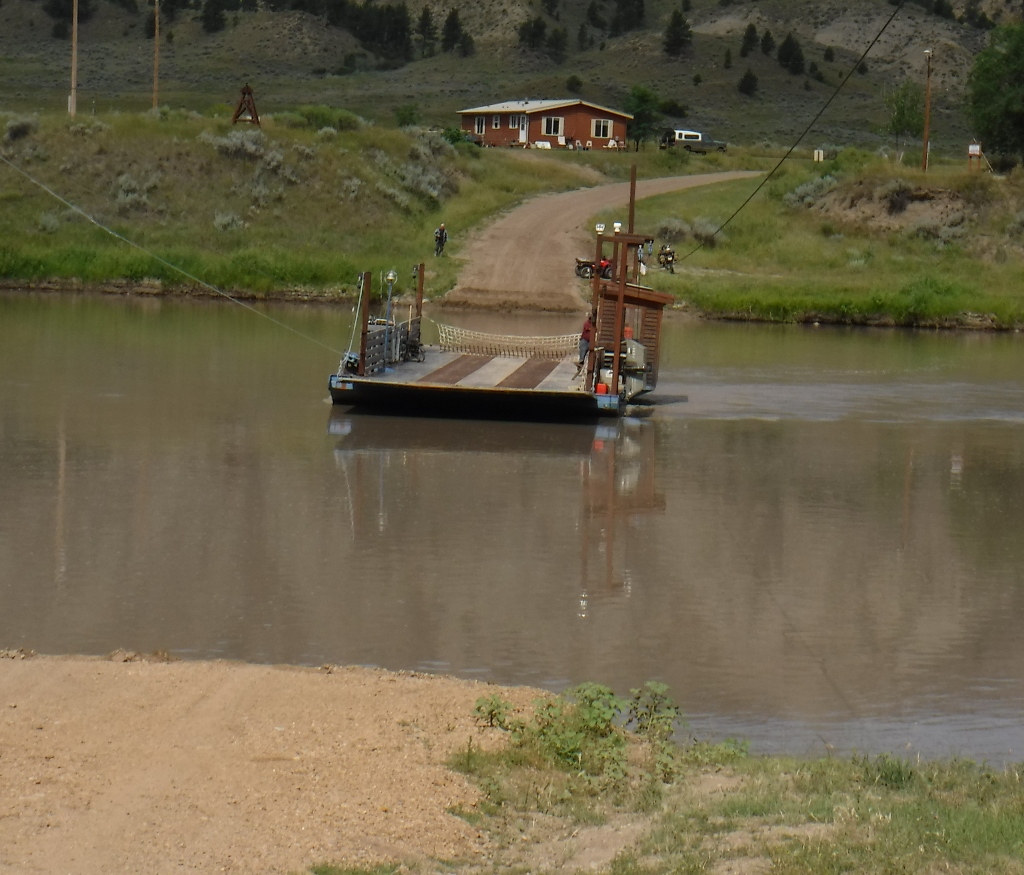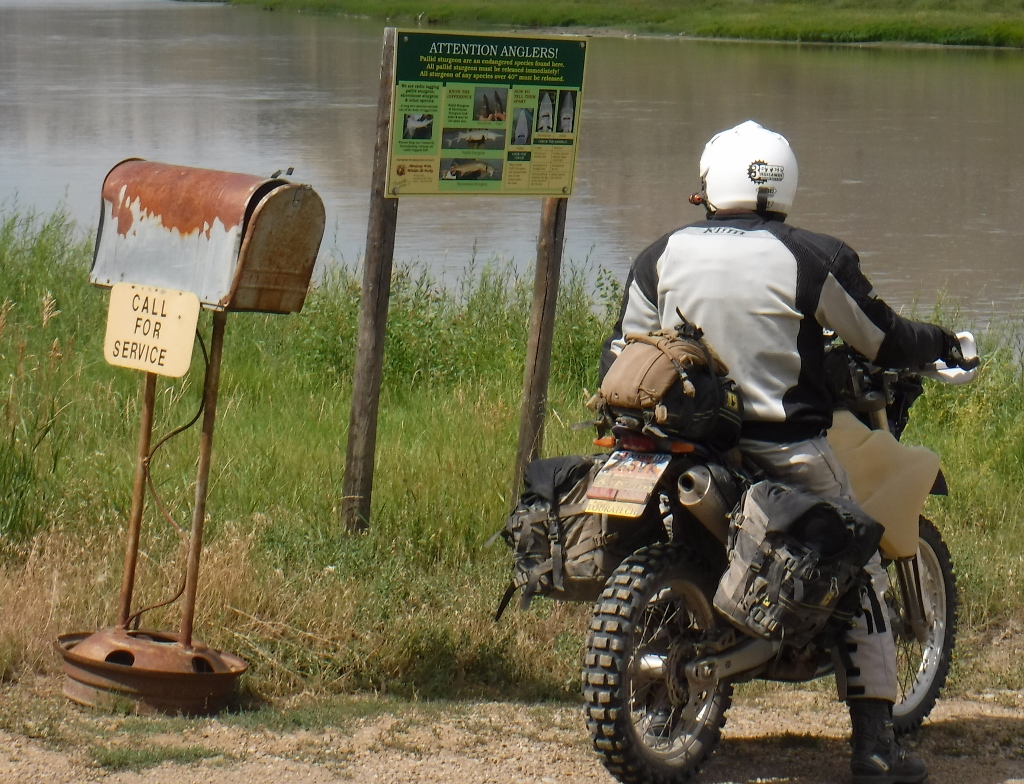 This gentlemen took all our license numbers down---not sure why----but it was free !!! I like free.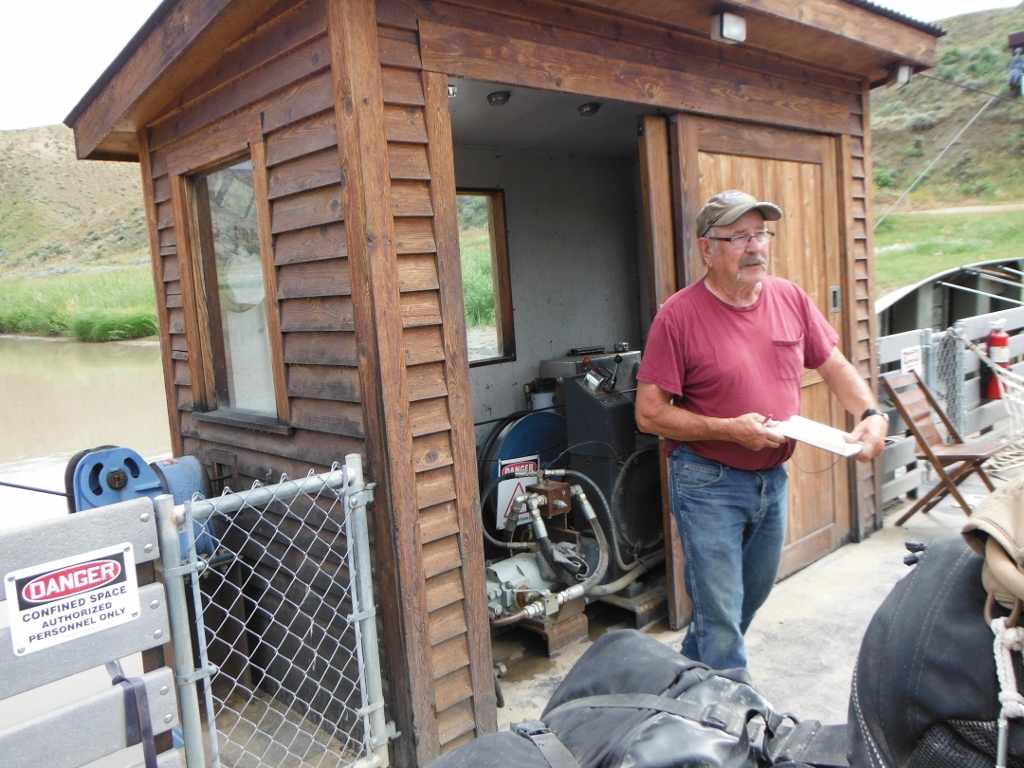 I'm thinkin' this was Wills first ferry ride.
It wasn't my first by no means-----but it sure was my favorite.
My "No--Hassle Tassels" would keep me safe as I imagined Lewis and Clark and his crew making their way up this river.
My tassels are getting shorter and shorter---a lot of miles are on those tassels--they used to be 2ft. long.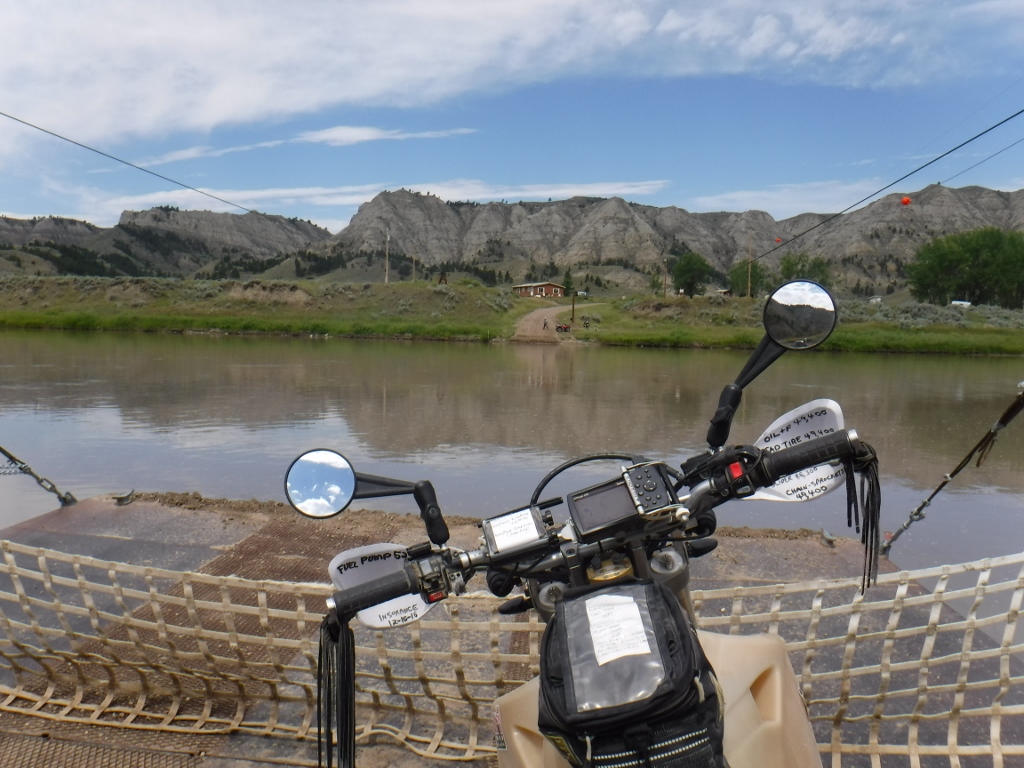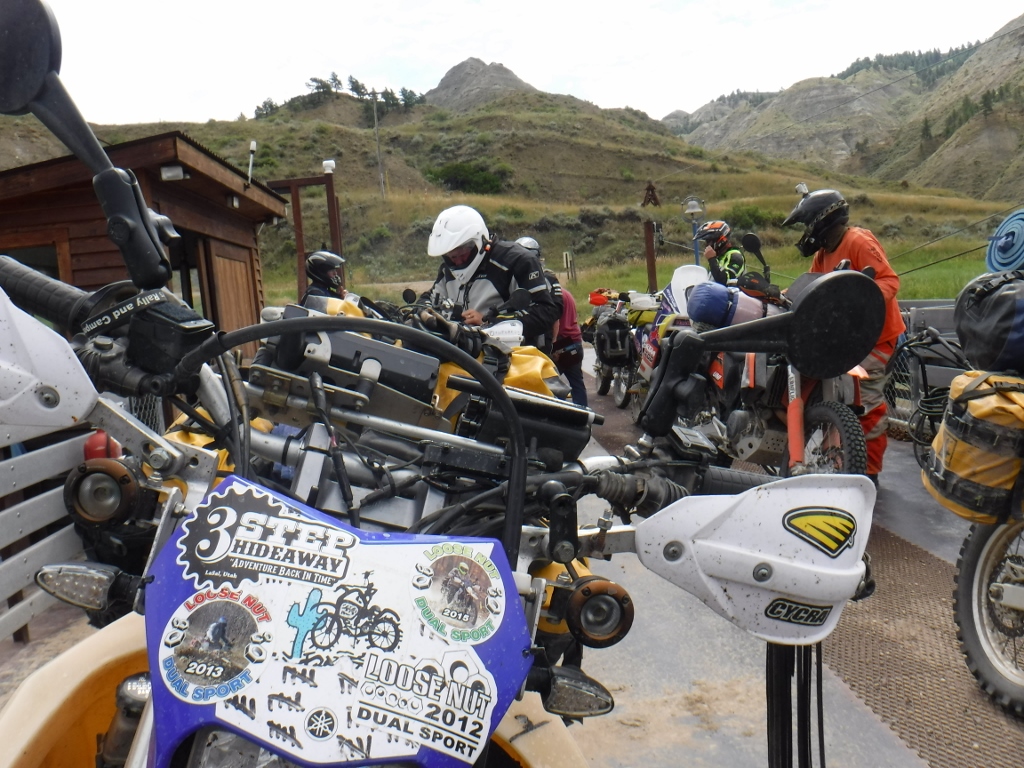 The road on the other side was nothing but dirt------------real dirt-----nothing but dirt.
It amazed me this ferry was kept running as no ordinary vehicle could get down this road if it rained.
And it went on for miles and miles.
Gosh it was pretty in here----as I was still hoping to see Lewis and Clark paddling up the river on our right now.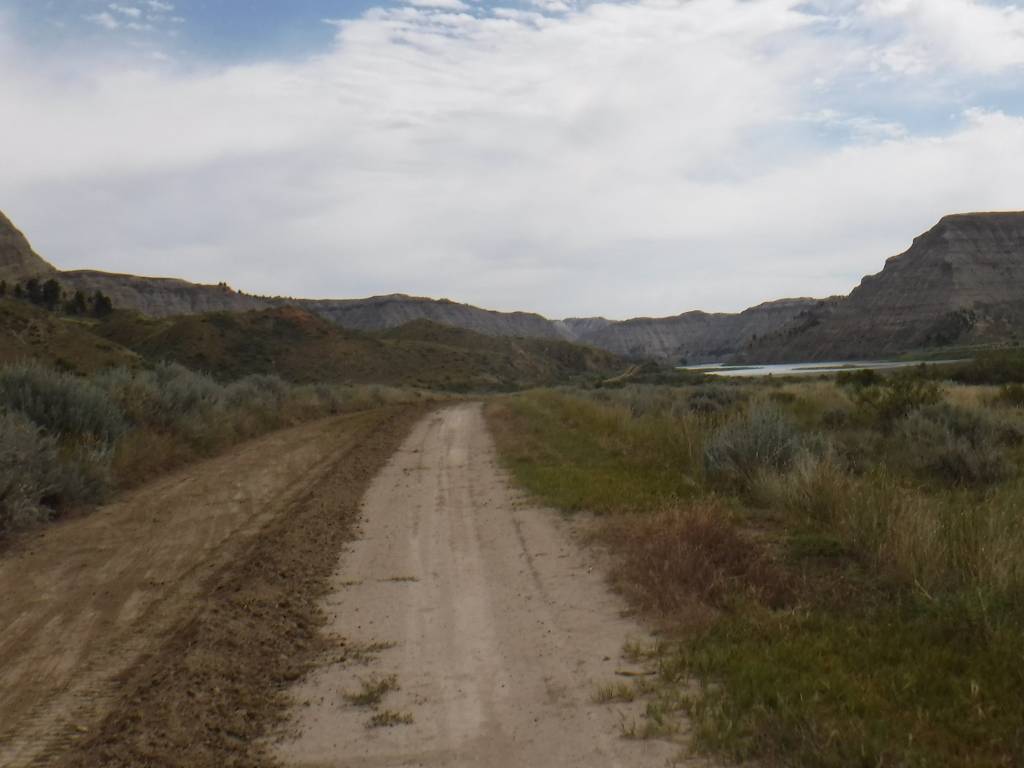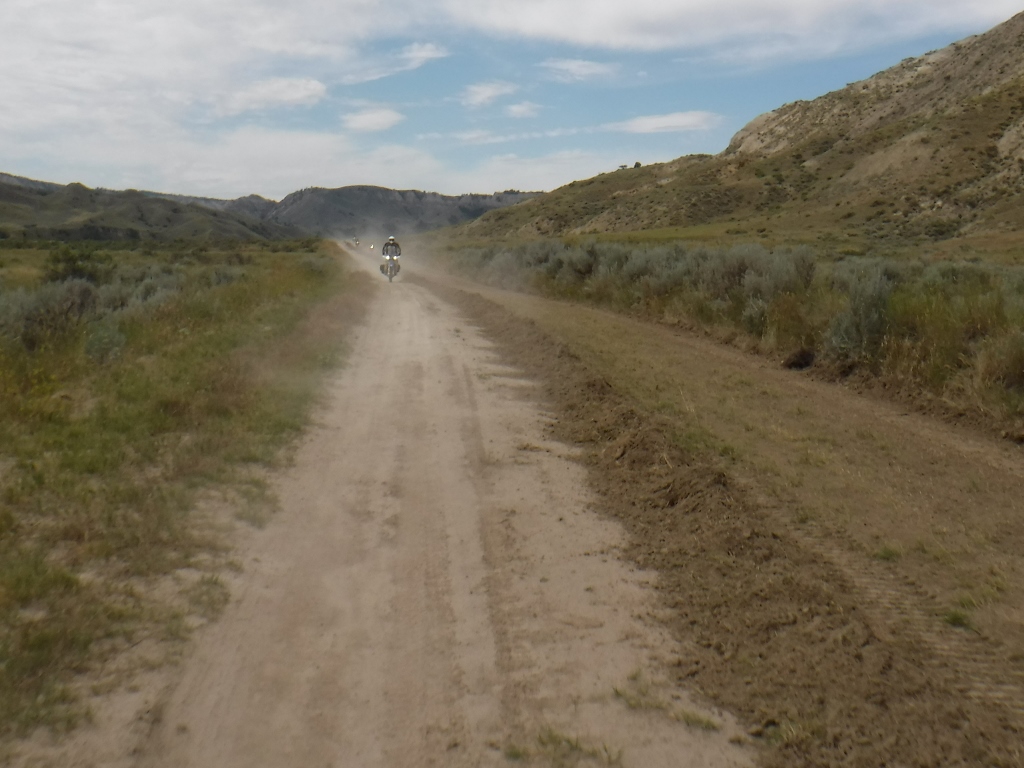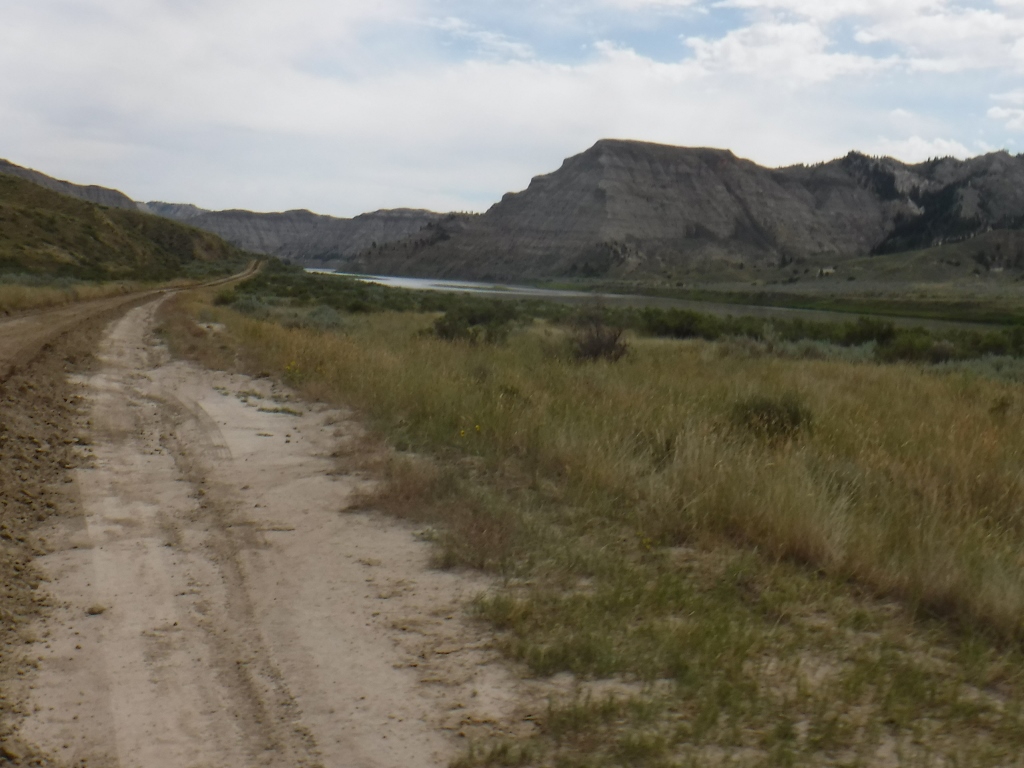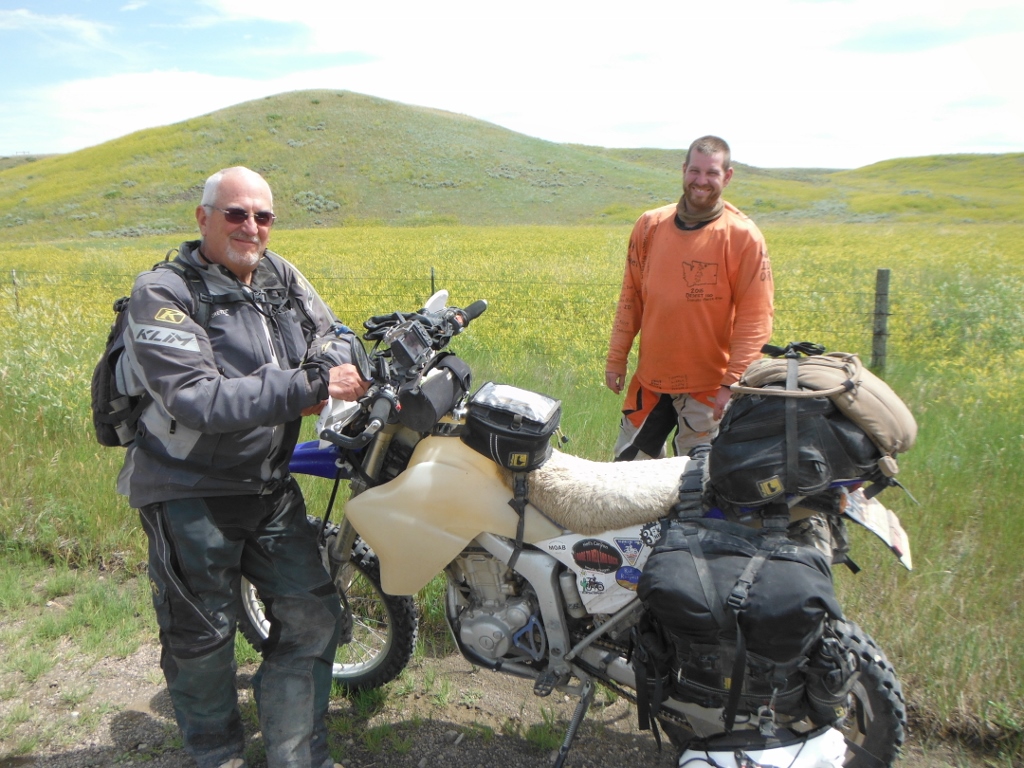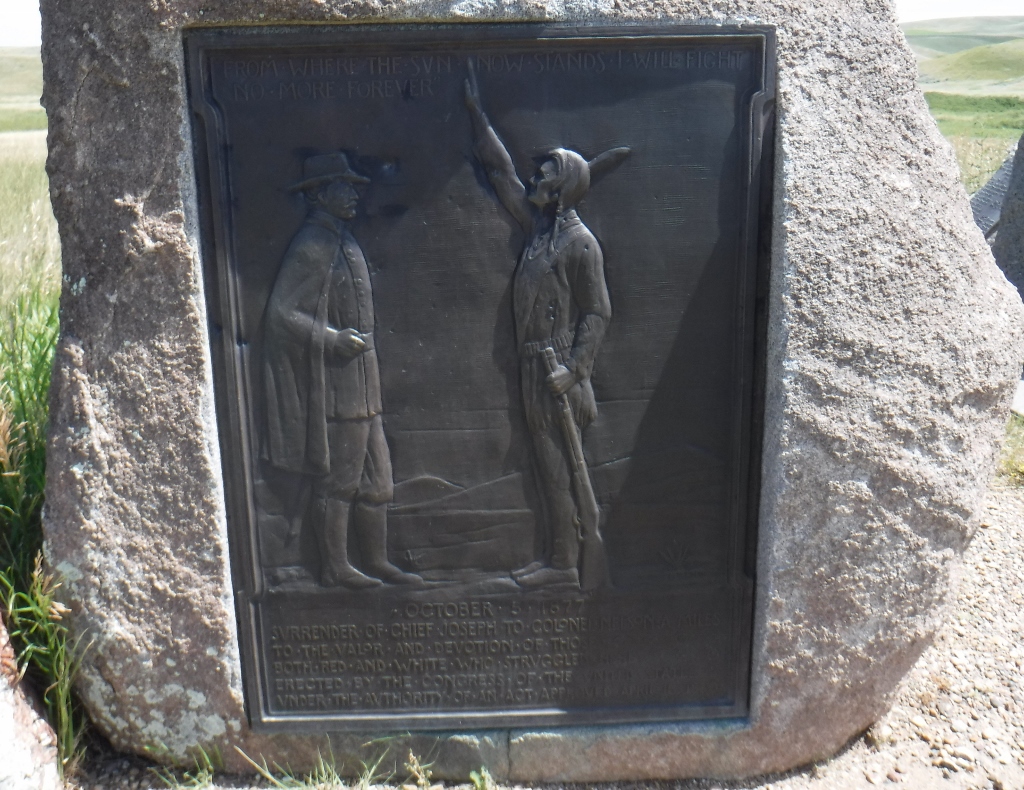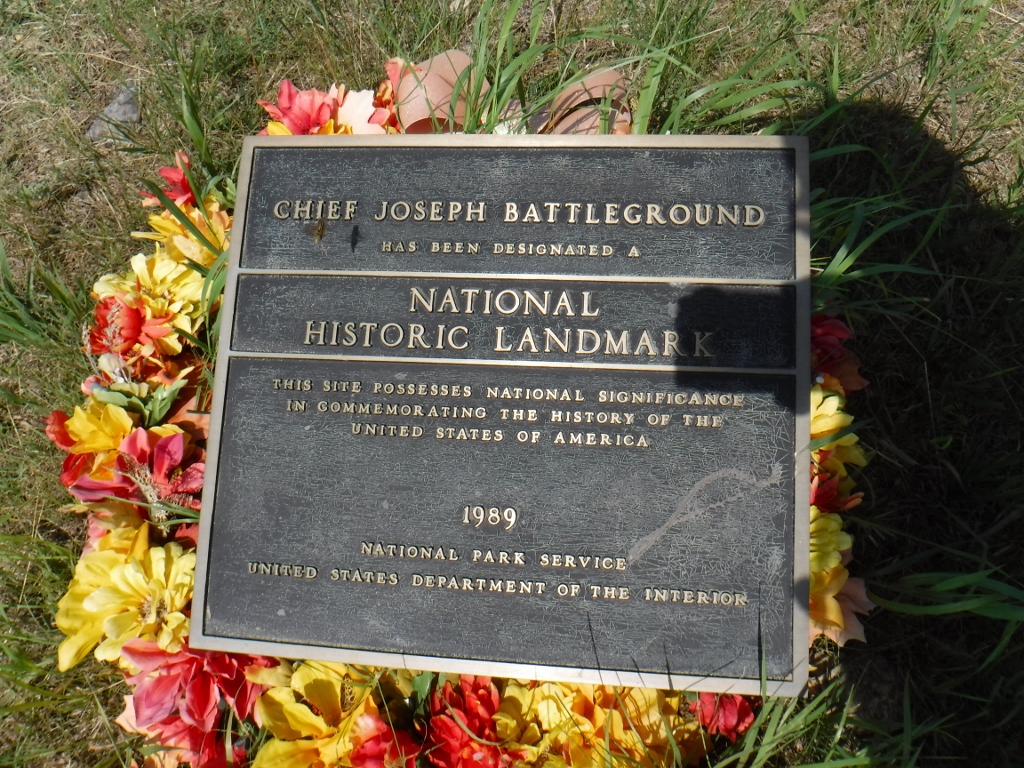 Sometimes I'd have 2 guys following me---and sometimes 8.
Groups changed up constantly.
There may have been 30-35 riders on this ride----but we all spread out and somedays never saw each other.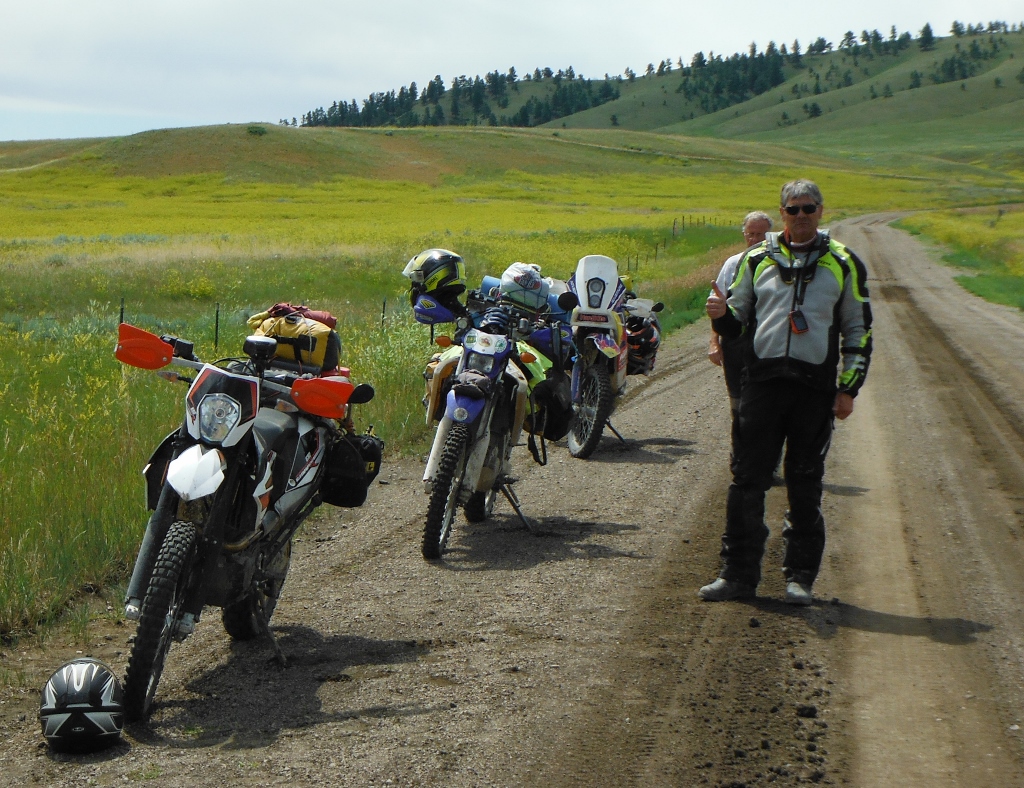 We rode thru the Bear Paw Battlefield----google that up if you like---all I know was that it was pretty through here.
You could hike on the trail all over the battlefield----I would have like to have done that.
If I would have been alone I would have done it.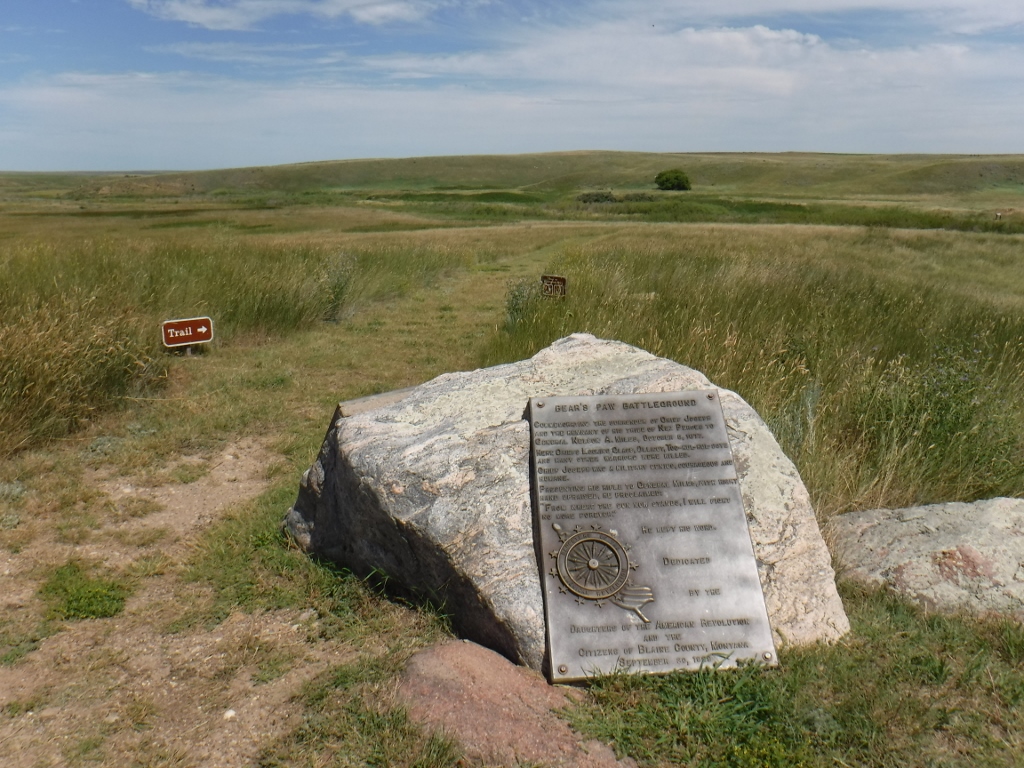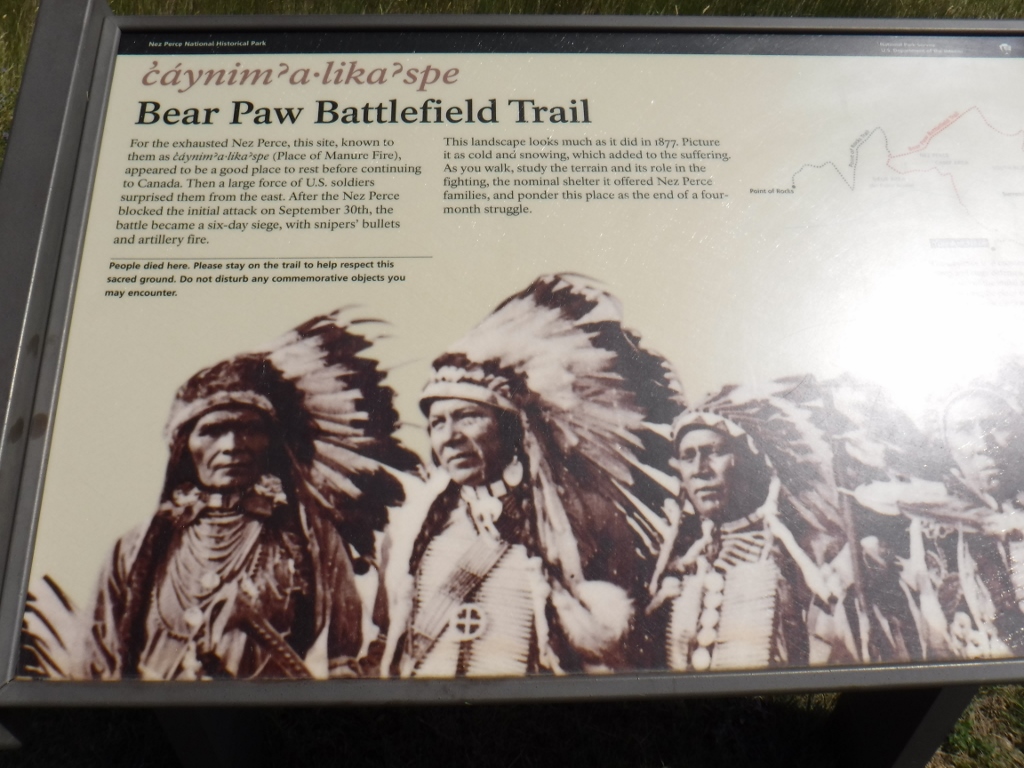 We finally get to our campsite on Bear Paw Lake---and man were we all stinky-----5-6 days and no bath.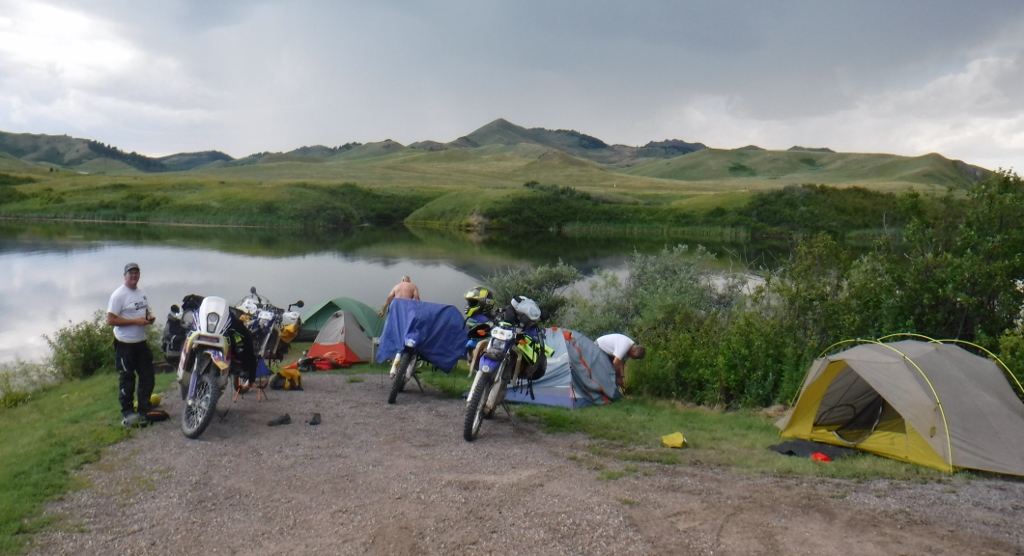 Bear Paw Lake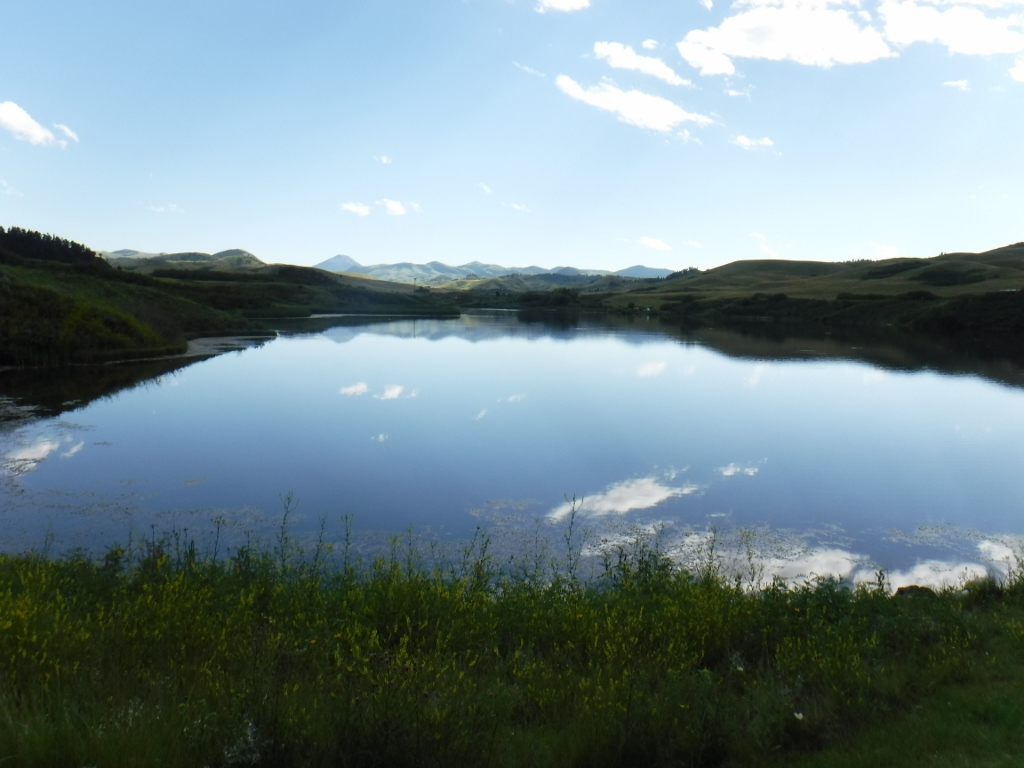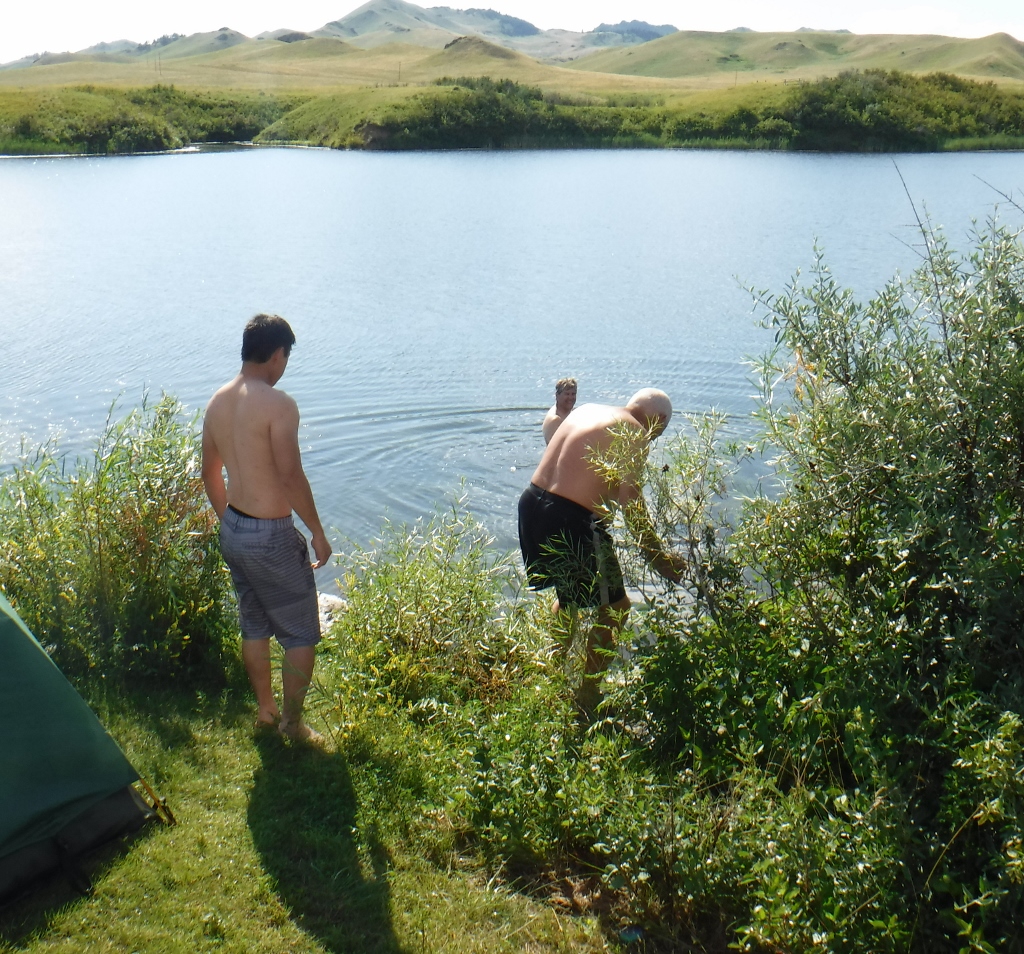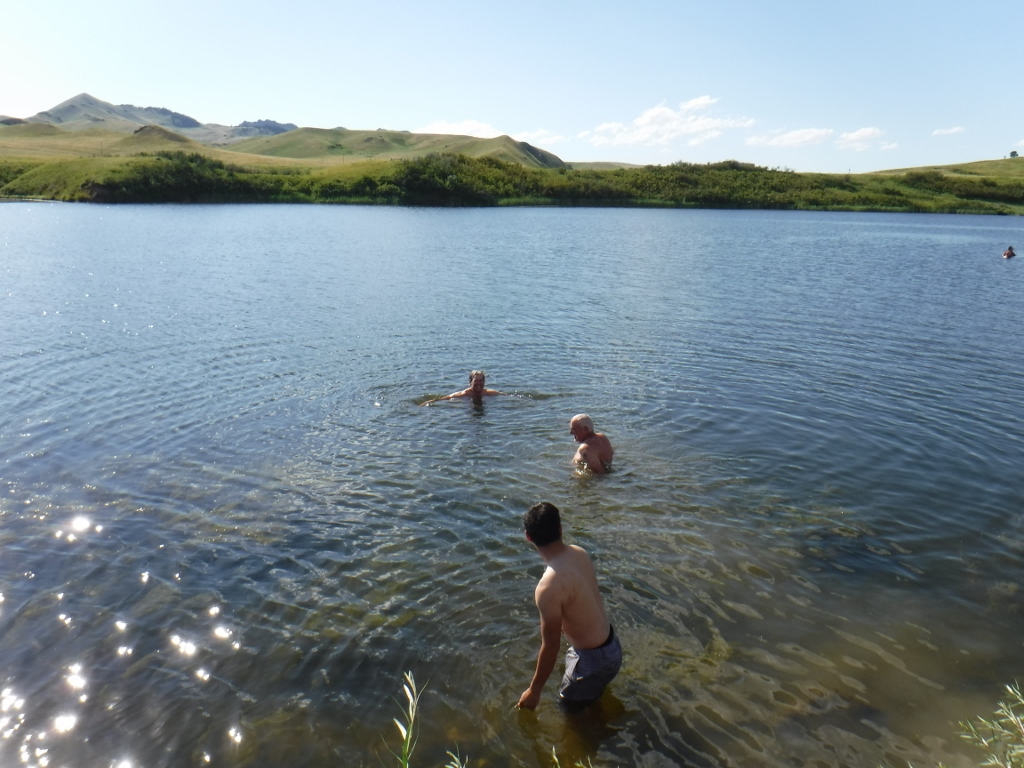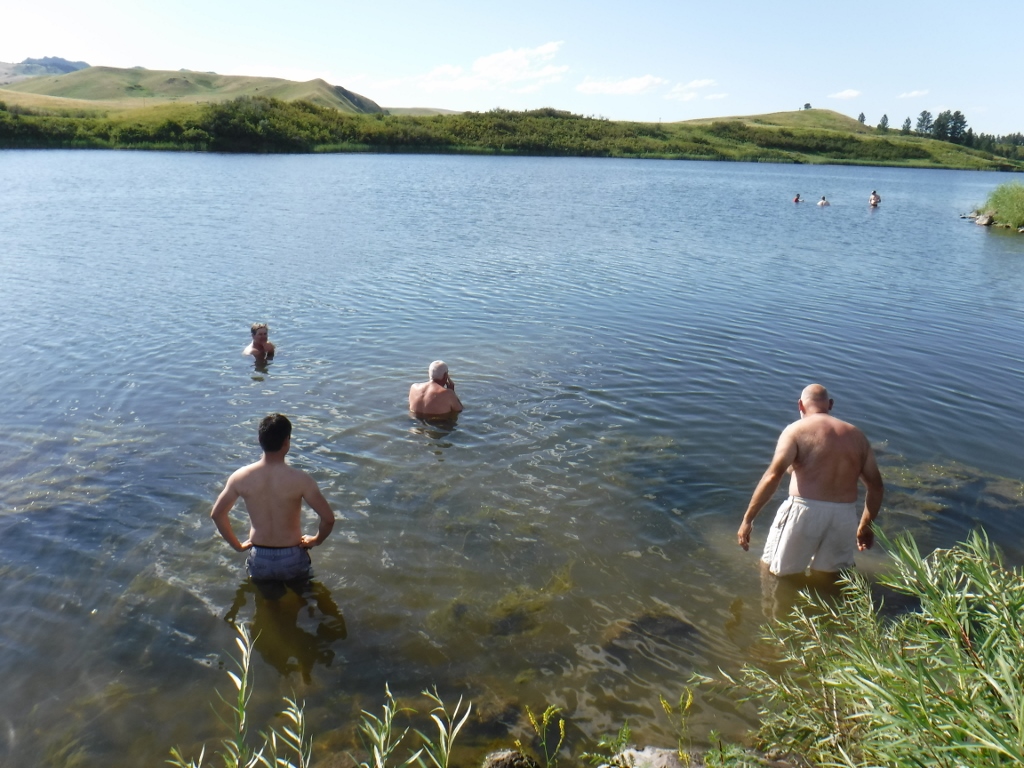 I think most every rider took a dip that evening.
I use to be a good swimmer and swam against the famous "Mark Spitz" in high school-----true story. (he beat me).
But found out this day that I'm not so good anymore.
Sam---the guy on the lower left is one of the survivours of the trail from hell on the first day.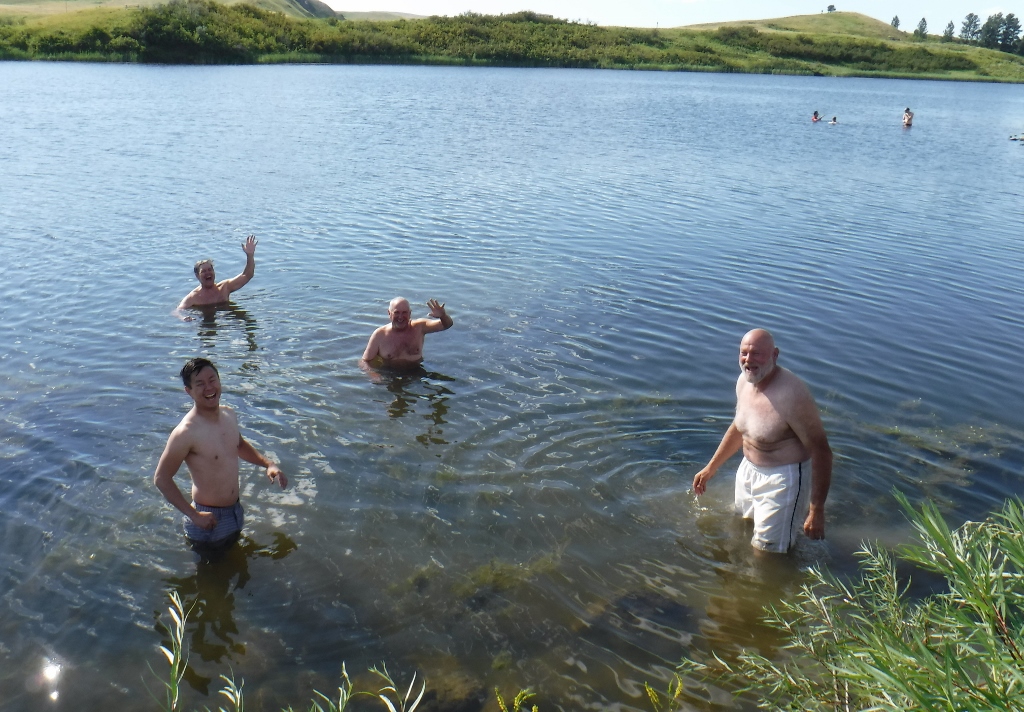 My buddy Will---what a character.
He was a good guy---constantly talked about his wife and kids.
He was a good dad---and that is saying something about a guy.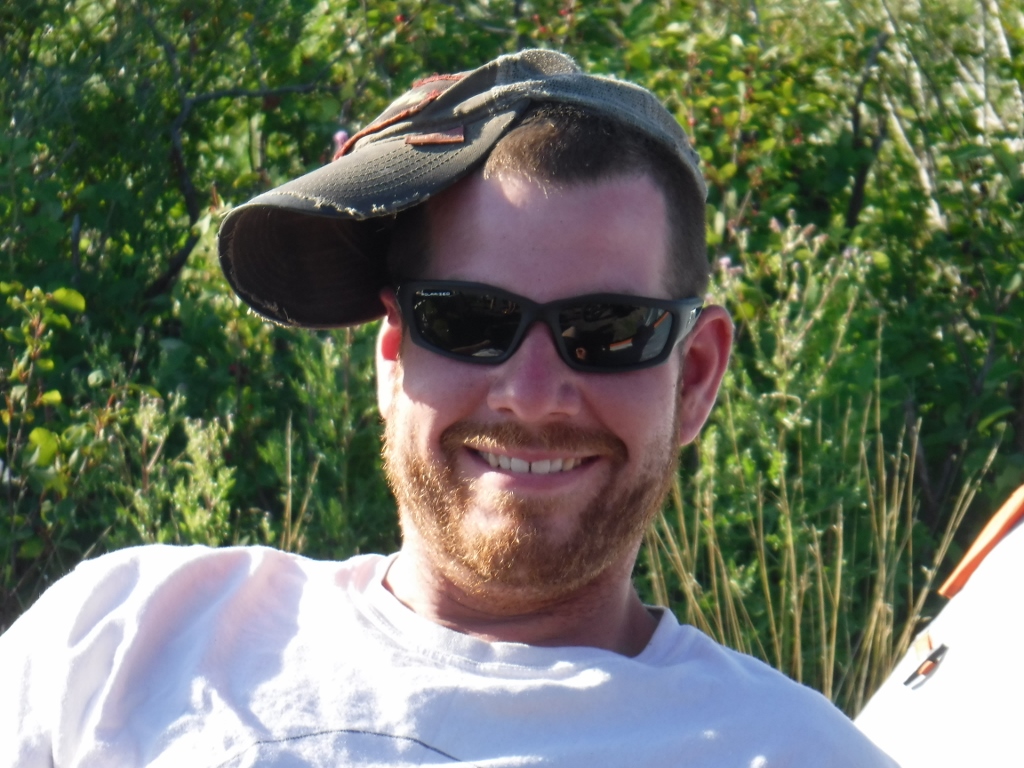 It rained on our tents that evening for about 7 minutes.
Every drop of water that hit my tent went inside of it---and I thru that tent away after the ride.
I can't have my BigAgnes down sleeping bag getting wet.
If it had kept up I would have been in trouble.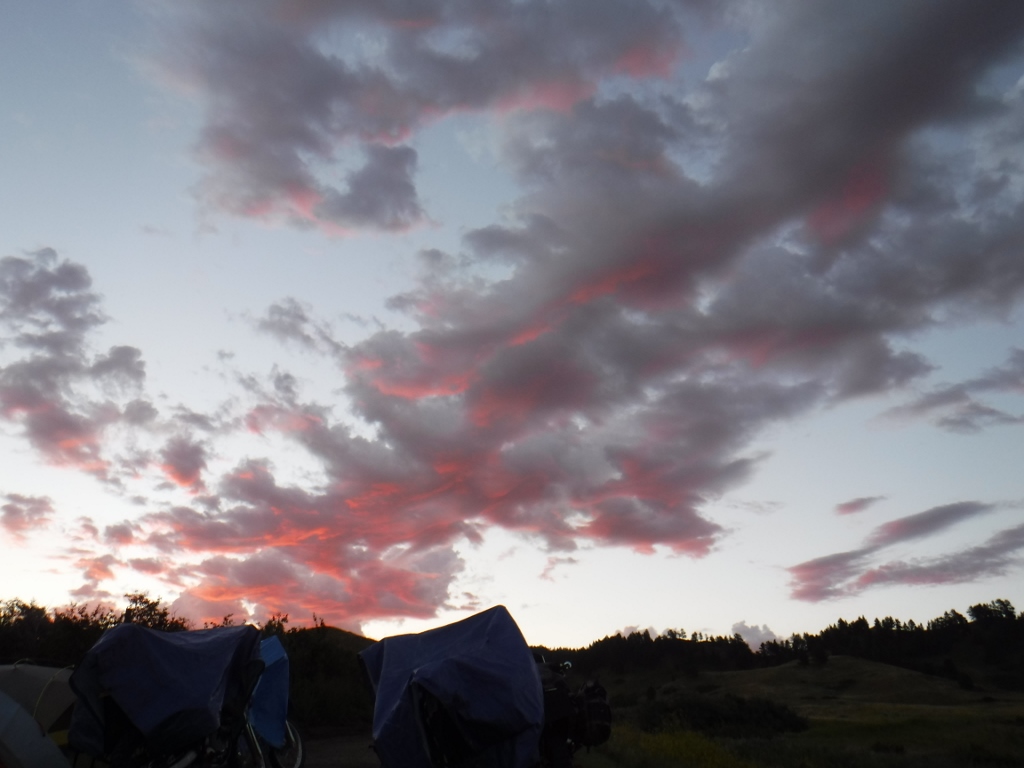 A rough map of our ride today.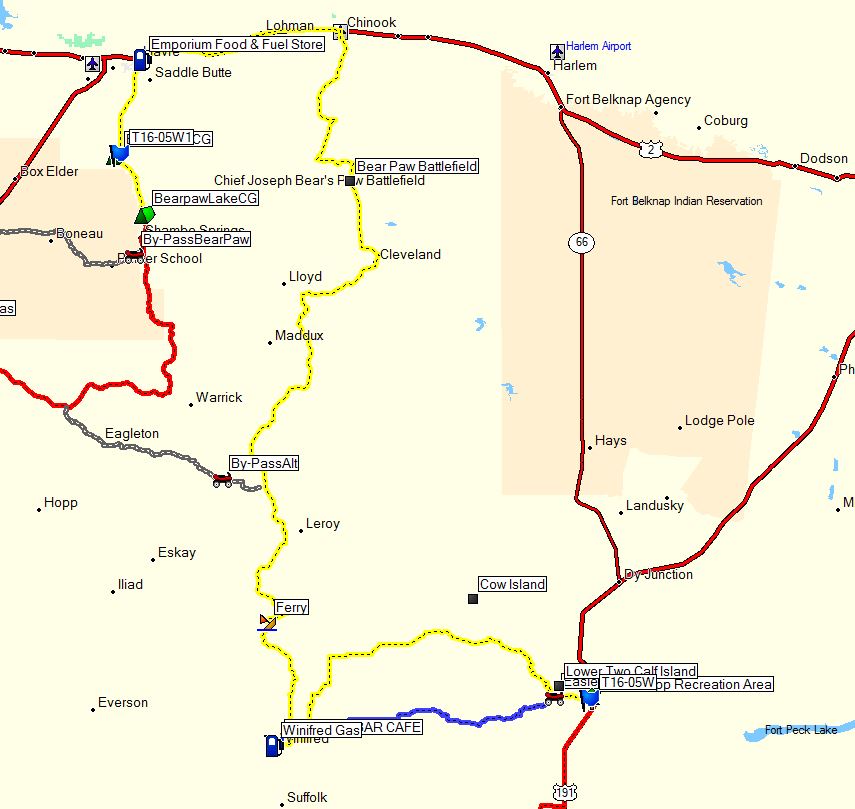 A short video of Day 5---again, select HD and 720P if you have the speed.