Katy Trail
A 237 mile Bicycle ride across unpaved Missouri
The Katy Trail is a 237 mile (386 km) trail stretching across most of the state of Missouri.. Over half of it follows Lewis and Clark's
path up the Missouri River, where you can ride beneath towering river bluffs while eagles circle overhead. After leaving the river, the trail meanders
through peaceful farmland and small-town Americana.
America's longest "rails-to-trail" project, formerly the MKT rail line, is flat and scenic. It's ideal for hiking, running, or cycling on just
about any kind of bike. Horseback riding is also allowed on a 35 mile section of the trail, from Sedalia to Clinton. Also, the Katy Trail's
Tebbetts-Portland section now allows equestrian use.

As an avid cylcist I've dreamed of riding this route across Missouri for at least 10 years----never thought it would happen.
A perfect window of good weather opened up and I told my wife Debi that I'm going to ride it or die trying----and off I went alone.
I rode just a few miles from the start at the Eastern end of the trail and came to my first rest and info stop.
I think there were about 40 of these---most had water, a bench to rest and a bathroom.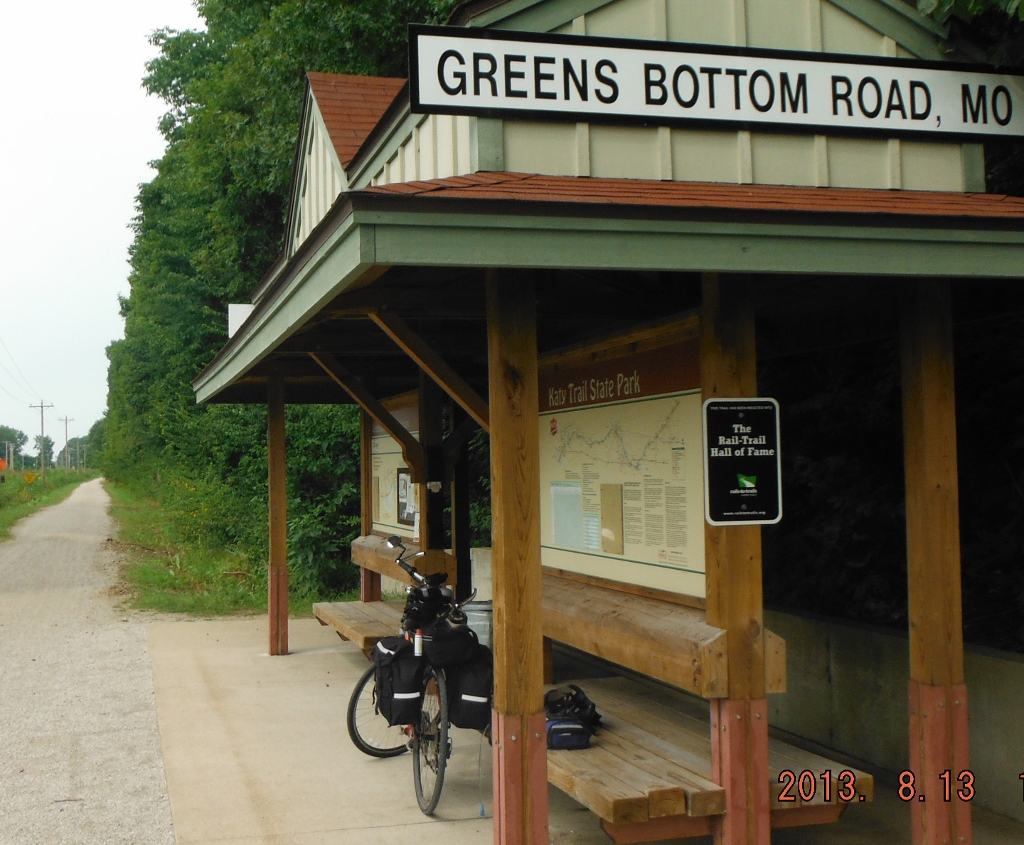 Lots of information was at each one-----most were at a little town and had lots of local info to offer.
I was packed for camping-----figuring after a hard days ride I'd weaken and get some more modern shelter, but
I never did.
Mind you----------I've got lots of miles on a bicycle but had never done anything like this.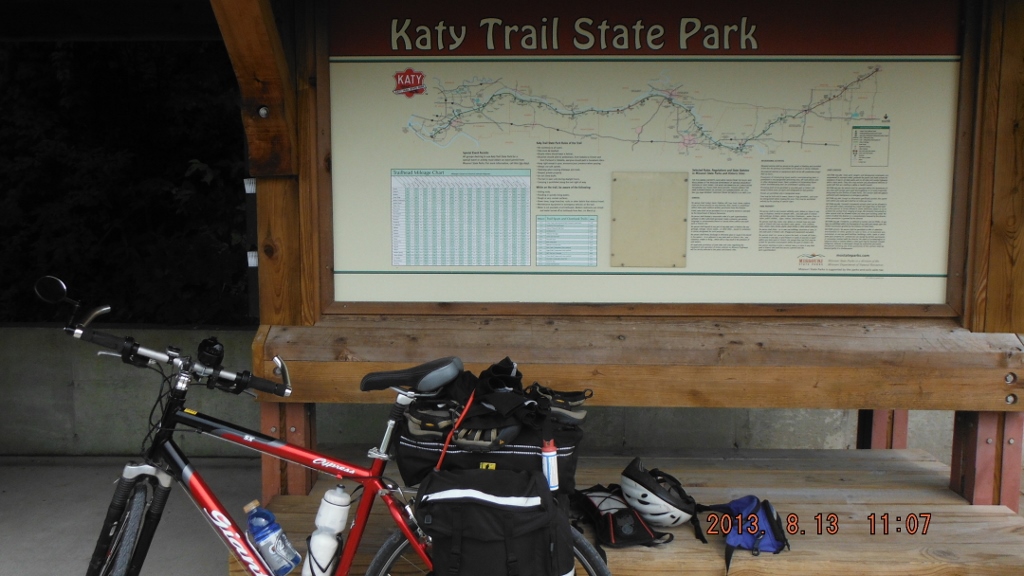 All along the way were rest benches--------sometimes not when you really needed one--but most of the time there were plenty.
My first day was my hardest and I got better in the groove of the ride as the days past.
I knew the scenery was going to be great-----but I didn't know just how really good it was going to be--------I was pleasantly surprised.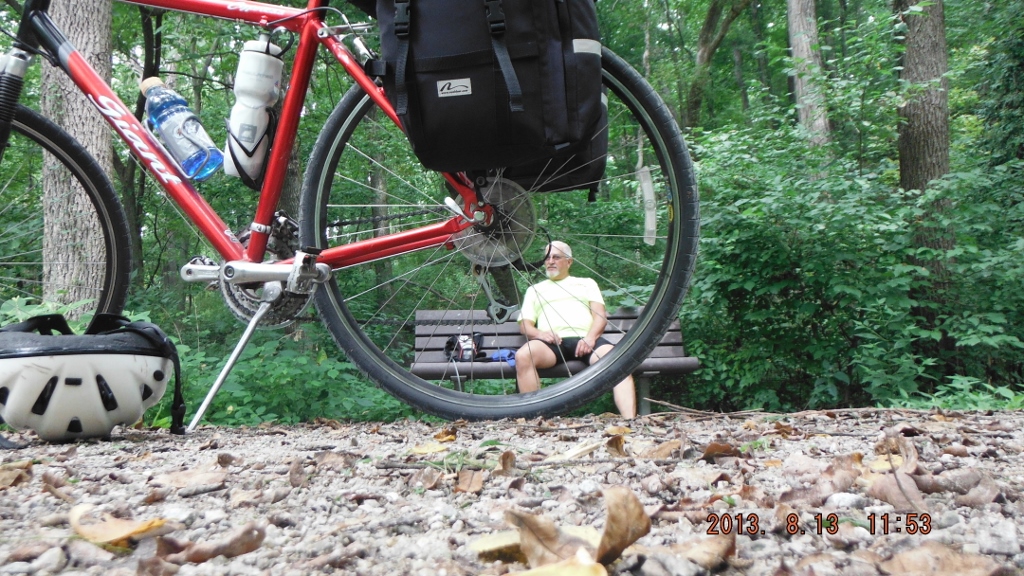 I was a cool 70° or so as I pedaled up-river. Yes I'm a dummy-----the trail followed the river and I was going up river so I rode uphill most of the way.
There were at least 20 Lewis and Clark informative markers along the way. I was in no hurry and stopped at every one
and read the information posted. Most were places where maybe Lewis and Clark camped, rested or hunted.
For years riding up and down this river on my motorcycle I never looked at it without thinking of Lewis and Clark.
I hated history in grade school-----------and now love it.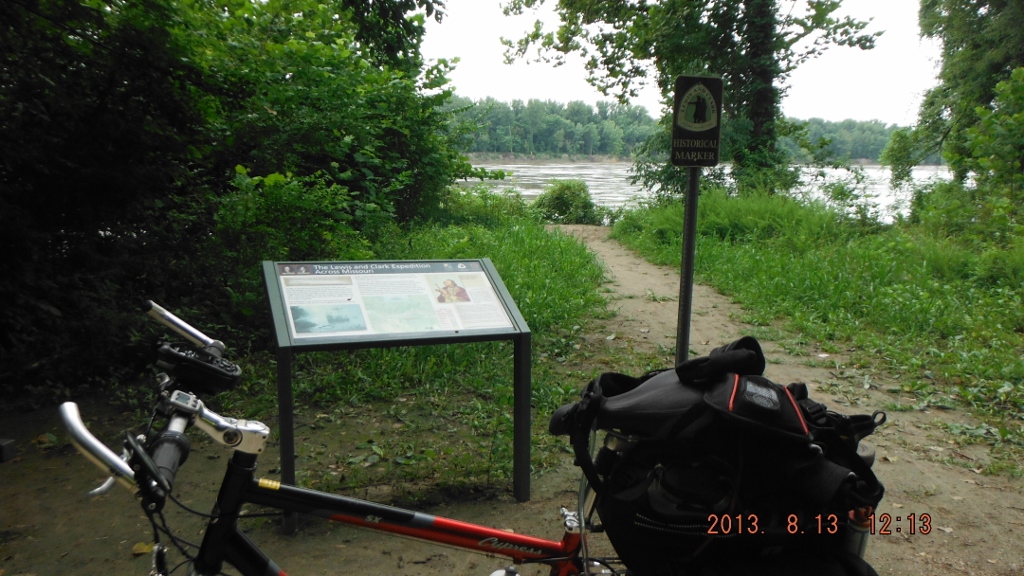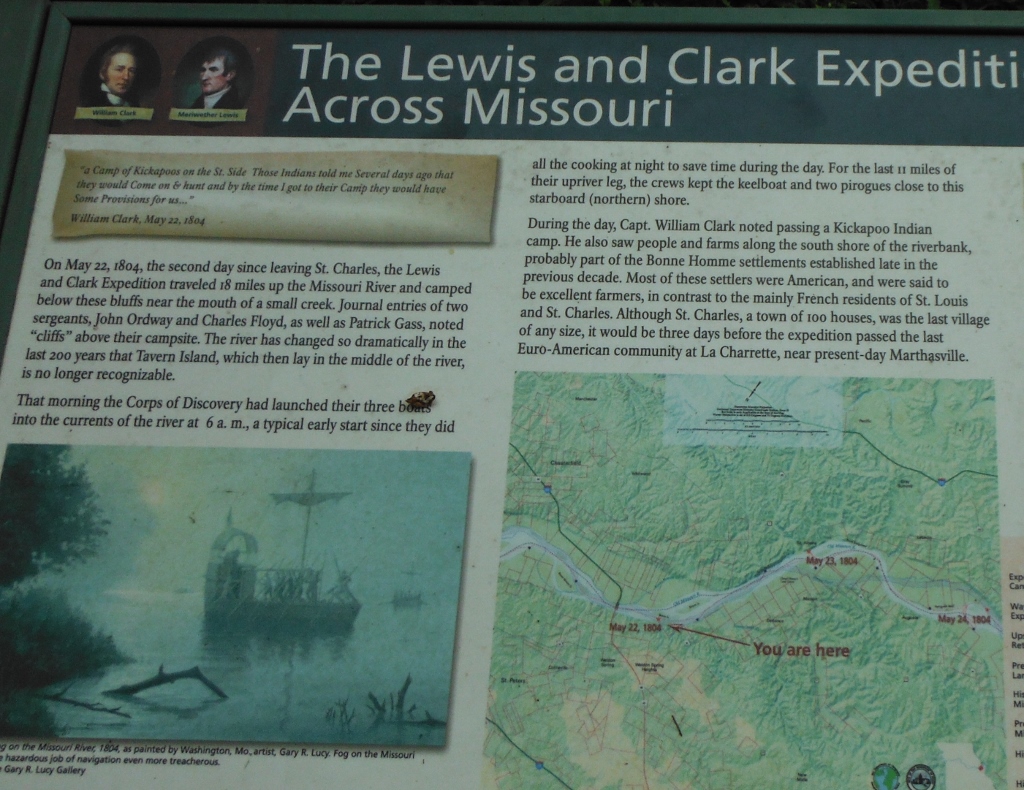 I still can't believe they pushed those boats up the Missouri with long poles-----it's just unbelievable what they did.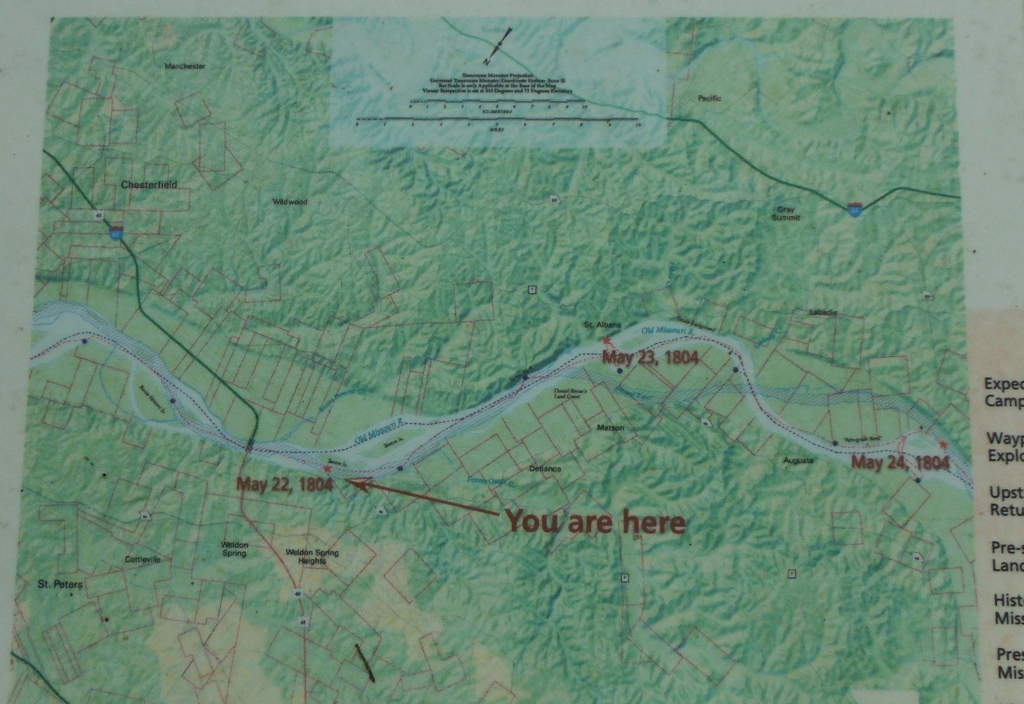 I was about 19 miles into my ride today when I came to the Weldon Spring, MO. trailhead.
They called all these stops "trailheads" on the Katy Trail and there were always parking for people to access the trail.
I'm sure I ran across at least 100 riders the first day and I was always eager to give a big wave and say hi to each and everyone.
And stopped and talked to many---to here their story-------as some were long distance travelers traveling across the USA and
some were traveling the world. I learned a lot about myself, people and traveling on a biycle on this ride.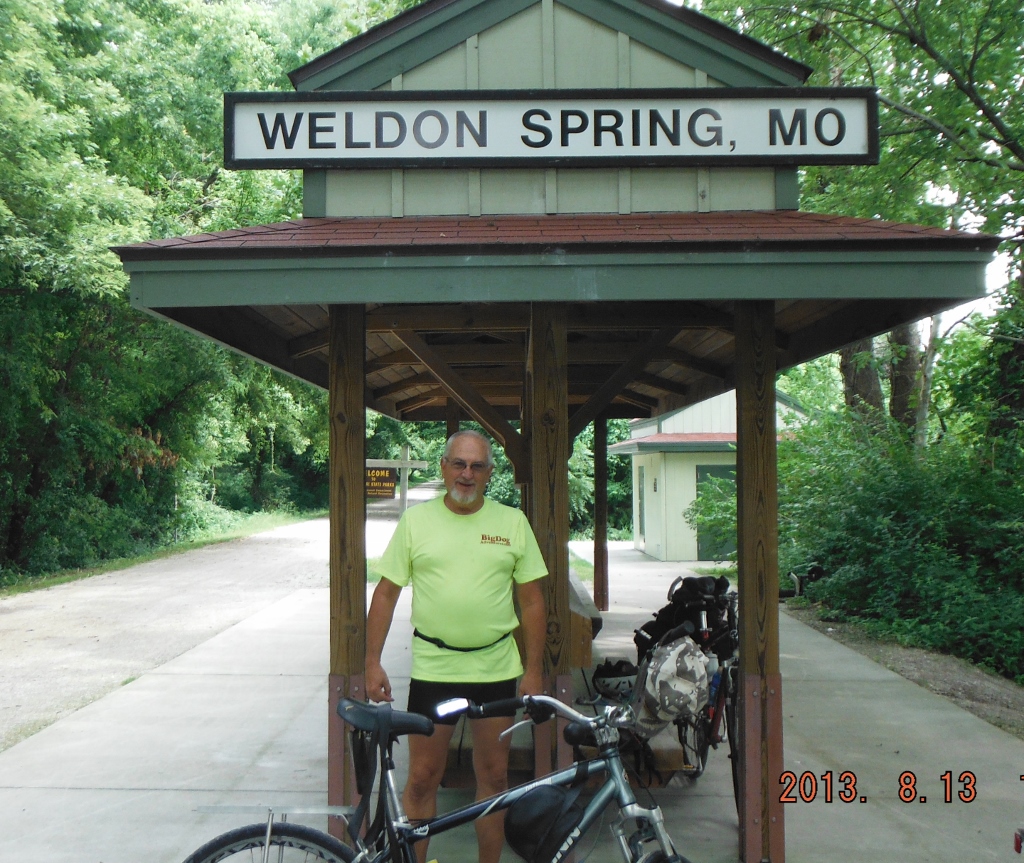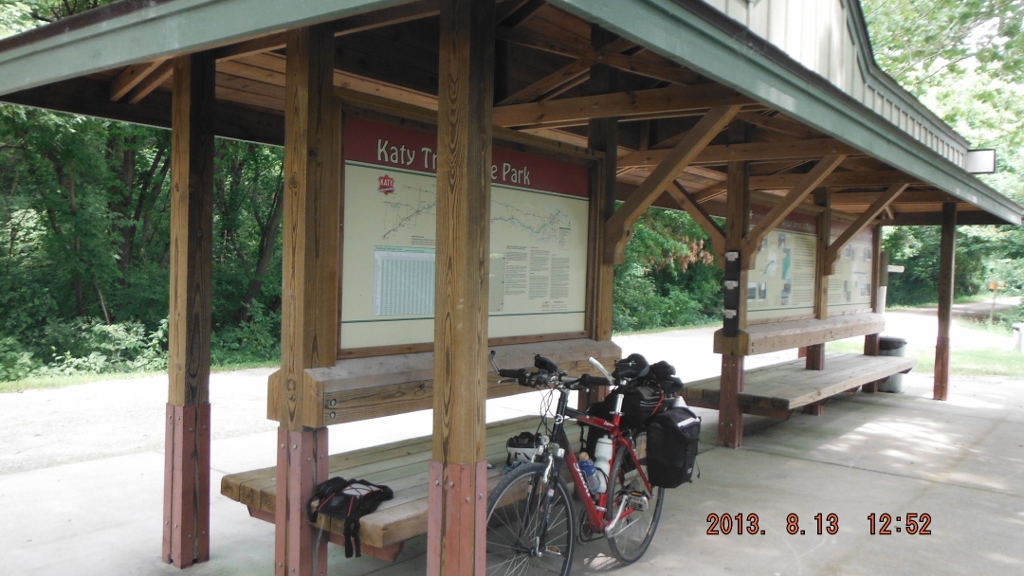 I completely lost track of the number of tressells I crossed on the ride.
All were built about 1897----and steam locomotives is what first traveled the MKT railroad.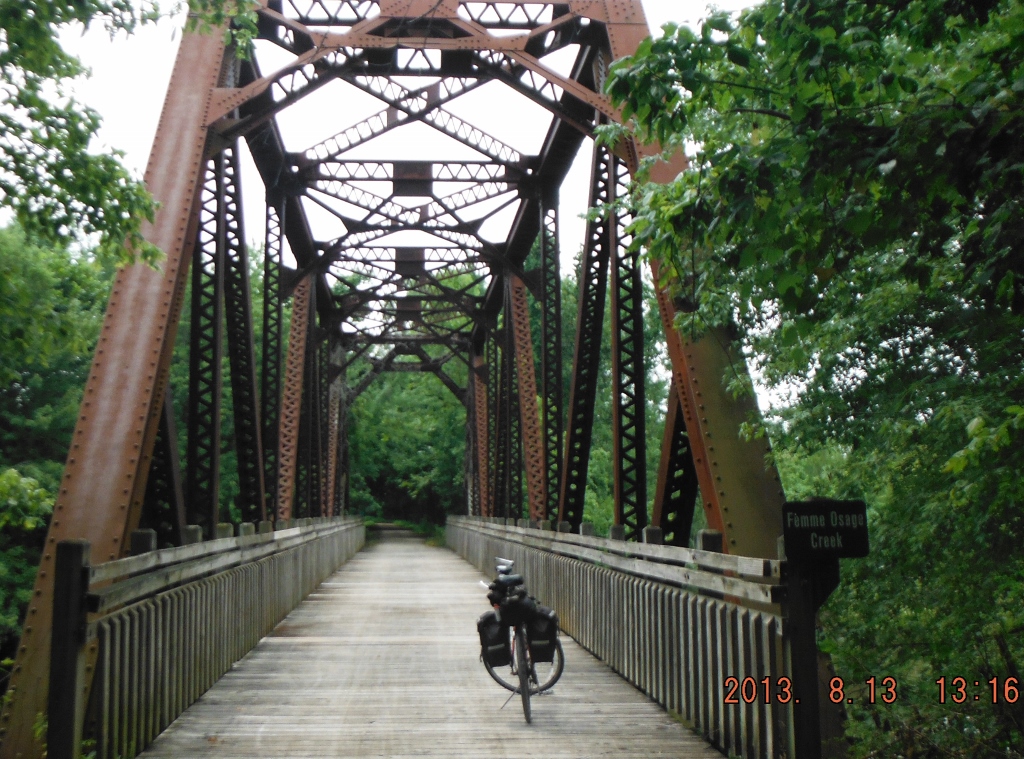 This ride was so relaxing for me----I was so happy just tooling along at my own pace not trying to keep up with anybody
and found myself singing out loud many times. I can't sing---so good thing I was alone.
This fellow in this picture was probably out for a day ride--or just a few hours or miles as were most on the Katy Trail.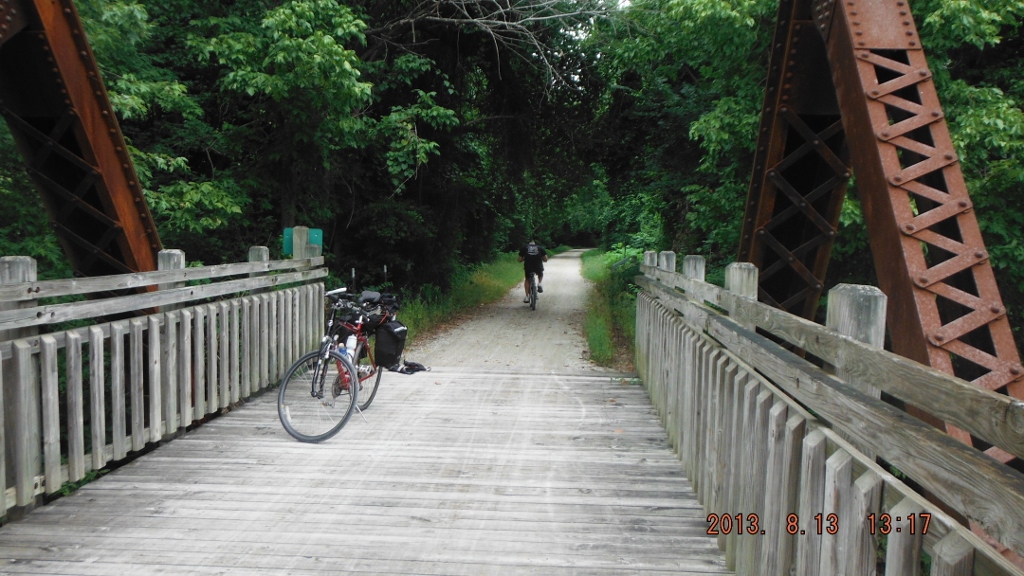 So much of the time along the Missouri River I would have beautiful bluffs on one side of me and the river on the other.
The miles eased on by and I was careful not to put too much horsepower into those pedals so I would be able to ride all day long.
I was in no hurry and didin't know or care where I'd end up each day.
I knew my physical stamina would tell me when to find camp.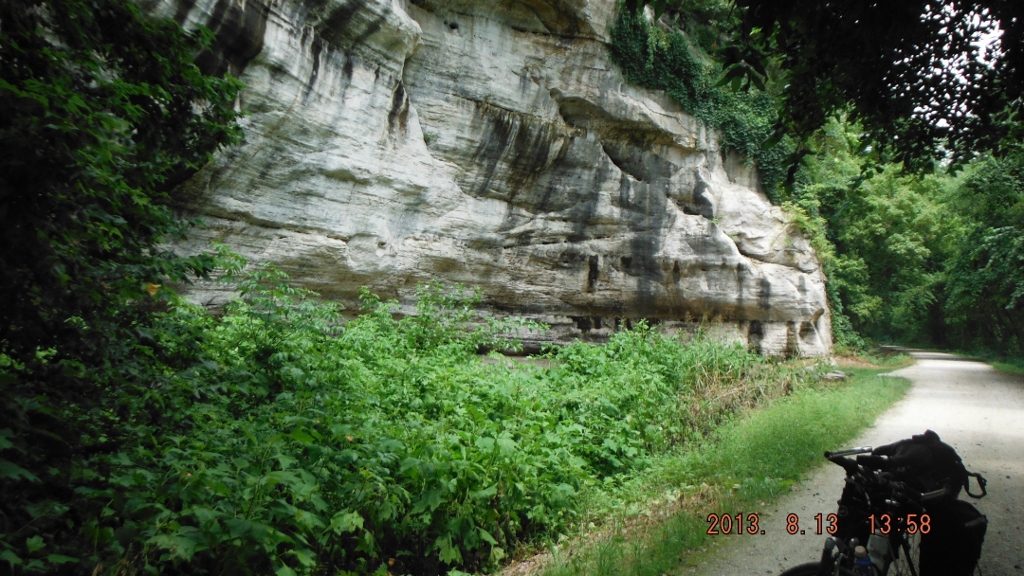 The grade was very flat of course----I think a train can only pull about a 4% grade ???????
But this grade here was much less---and almost seemed flat----but that didn't mean the scenery was boring---not by a long shot.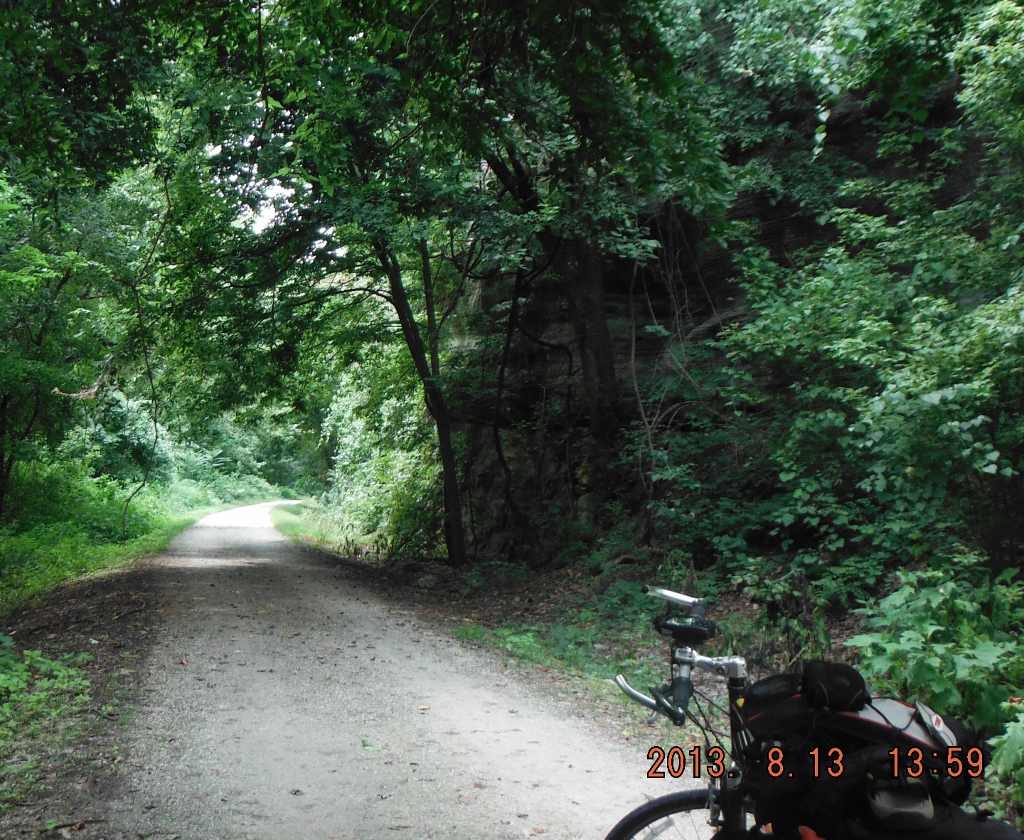 I tooled into the tiny town of Marthasville, Missouri-----I thought maybe I'd ride between 50 and 70 miles a day depending on
how I felt-----but at 36 miles today--------my legs said to stop and camp---and I did.
My info said you could camp in the park----in this tiny town there were 4 parks. Nobody was around and I ended up asking the Sheriff where I could camp.
He said "see that log cabin over there-----put your tent right there and if anybody gives you any trouble have them call me"
I had a picnic table to boot---I think I had ate in the town of Dutzow and didn't need to cook dinner that night.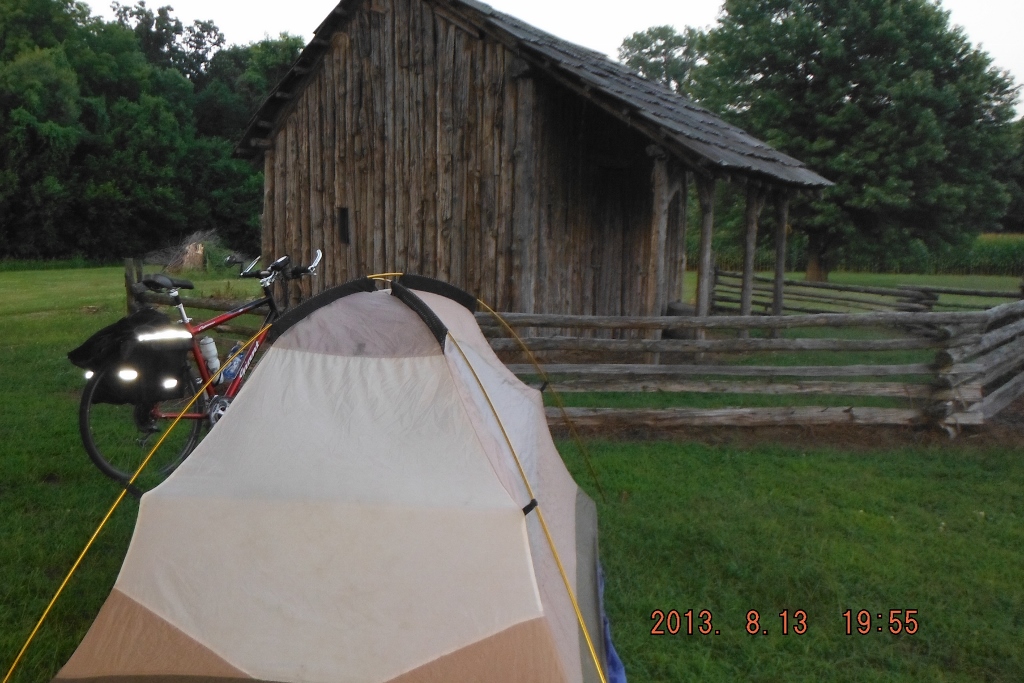 Across the street at the other park 3 musicians showed up and played some very old music on some very old instruments.
The gal on the left had 3 instruments---none newer than 1920 and one was made in the 1800's.
Early Gibson guitars didn't say Gibson on them----they said "The Gibson"------I had forgotten that.
I took a hobo shower under a water spout after dark.
I had listened to them till it got dark and rode back to my tent that was already set up and crawled in not to waken
till sunlight the next day.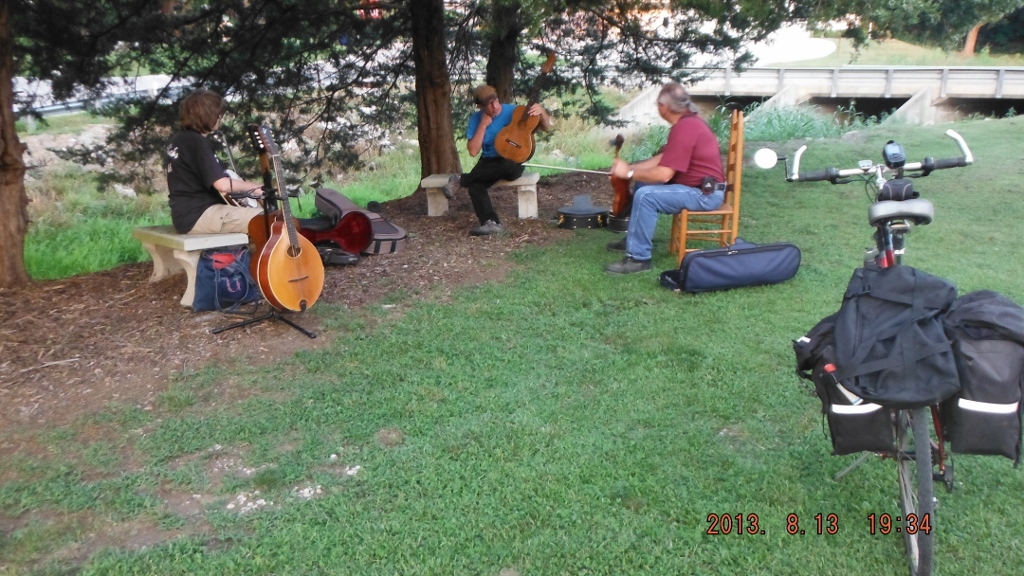 The next morning leaving Marthasville I rode past the old Caboose where I had gotten a ice cream sundae the night before.
It had a little deck out front and I had a hoot yakking with the locals there.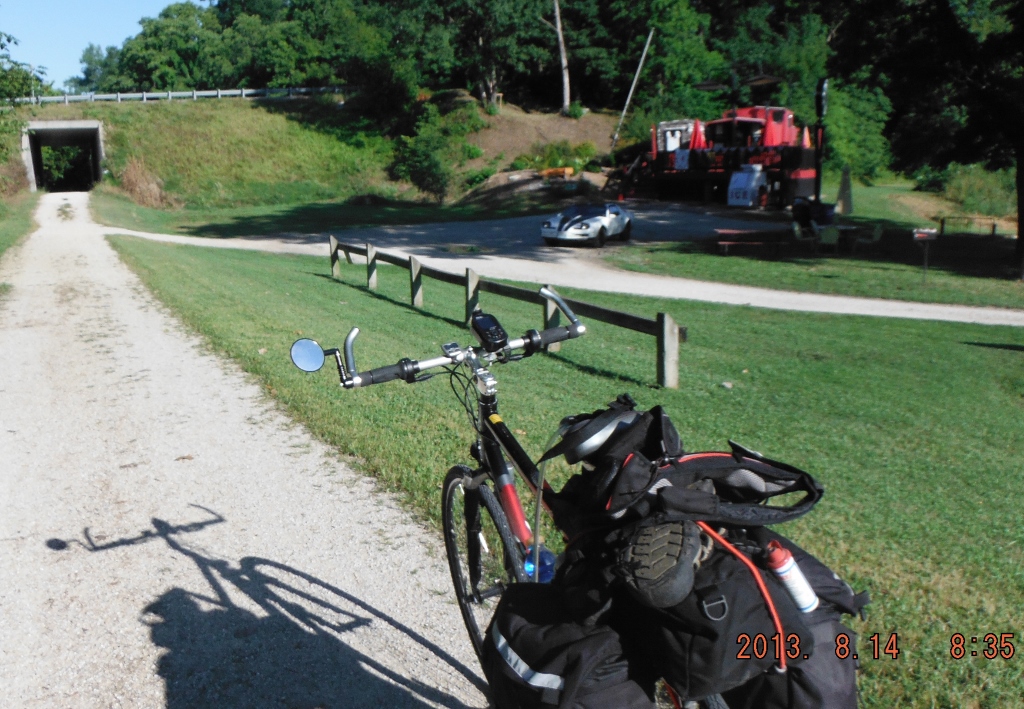 It had gotten down to about 58° last night----but the blue sky warmed up to about 68° when I steamed into the tiny town of Treloar and the trailhead there.
I started off wearing a wind breaker but quickly shed it as my body made ample heat as I rode down the Katy.
I was packed for camping and carried cooking gear and food just as I do on my dualsport motorcycles.
I've never done this on a bicycle---- but I guess my experience paid off and I never wanted for anything more---and never wished I
hadn't brought something. I kept my sandals my son bought me for my birthday handy in case I wanted to hike some----and
I wore them around camp. My cycling shoes were made for bike riding ----------not walking.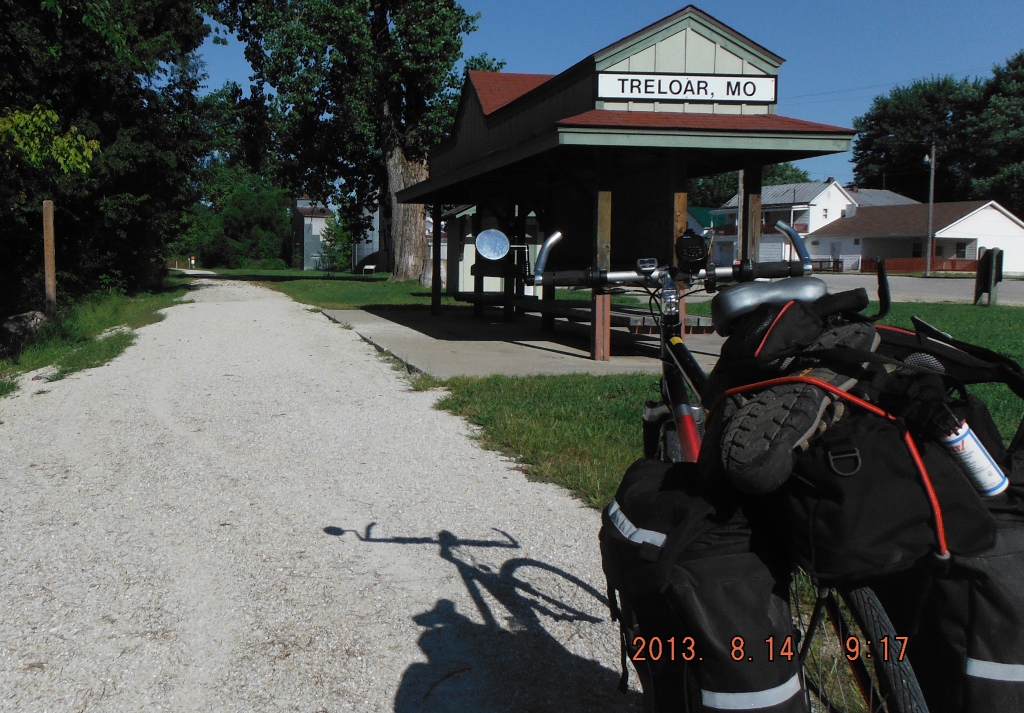 Pretty much all the little towns I rolled into looked about like this.
I met so many nice people in the small communities.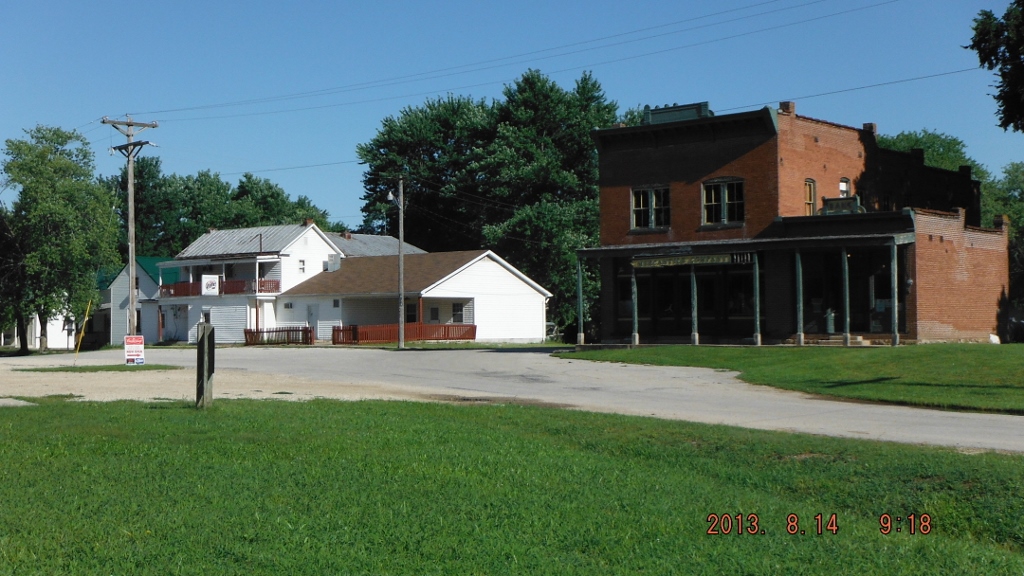 You can see here I've ridden 7.2 miles to Treloar --------I had the Katy Trail route loaded into my gps with wads of waypoints
for lodging, Bed and Breakfasts, camping, bike shops, neat stuff and gas--------don't know why I had the gas tho ????
The Delorme PN-60w was loaded with topo mapping software and was very handy.
It's a much smaller unit than I run on my motorcycles----but this was better for the bicycle.
There was absolutely no need for the gps to navigate the route---but it was handy to see where I was at and how
far it was to the next campground or food.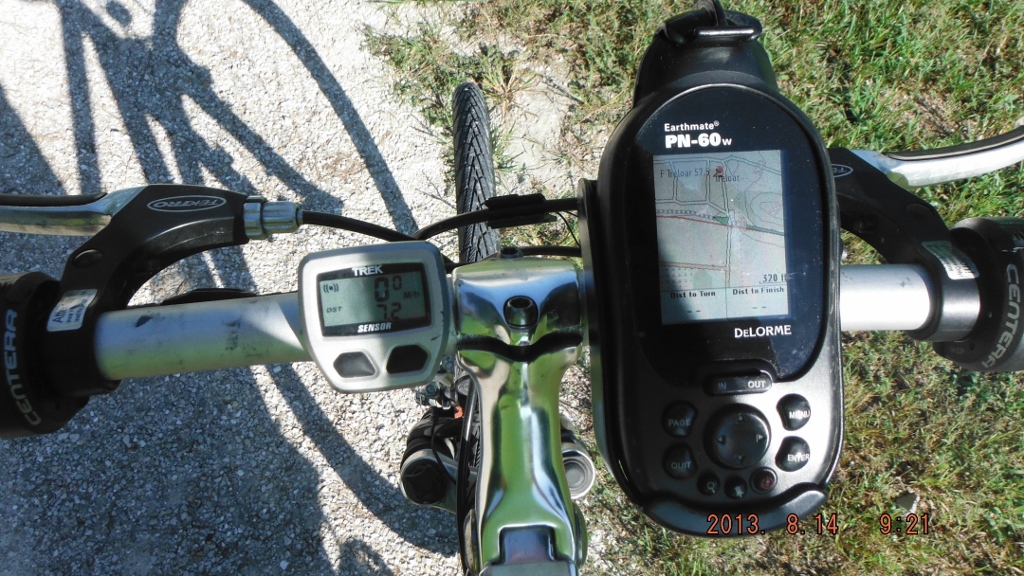 My "Giant" brand bicycle is what I calle a hybrid-----or you might say a dualsport.
It had front suspension but none on the rear. Suspension is certainly not absolutely necessary for this ride.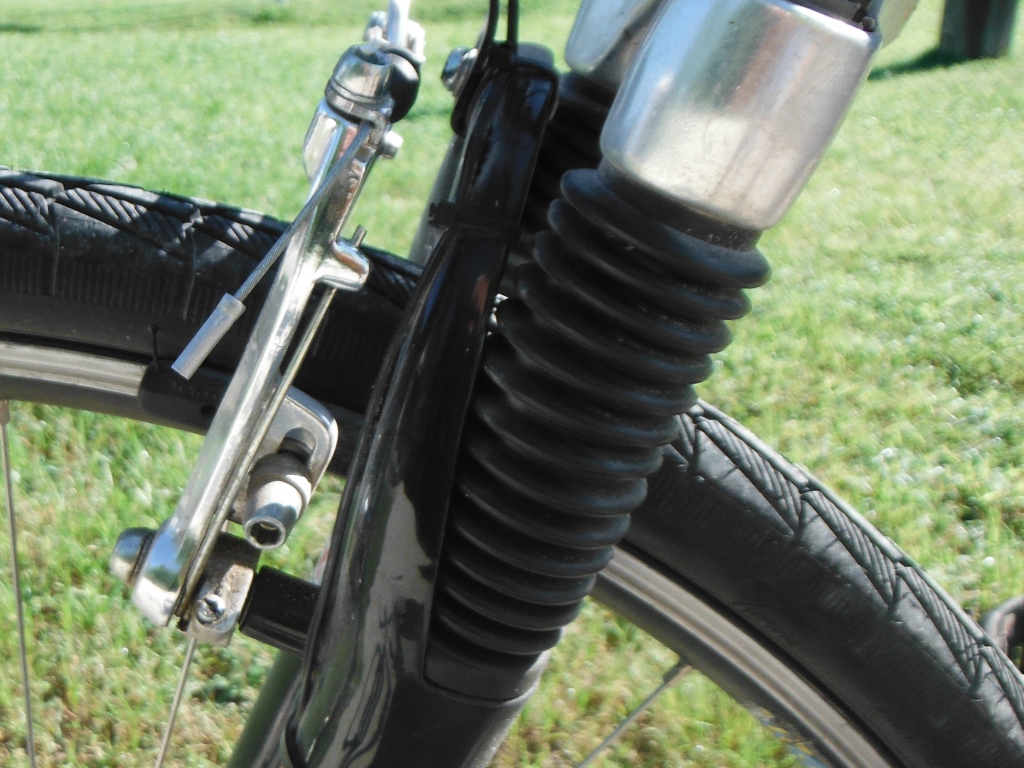 For you non-bicyclists----------serious bicycle riders wear special shoes with steel clips on them that lock into your pedals.
This makes peddling much more stable---they come un-clipped easily by twisting your foot sideways.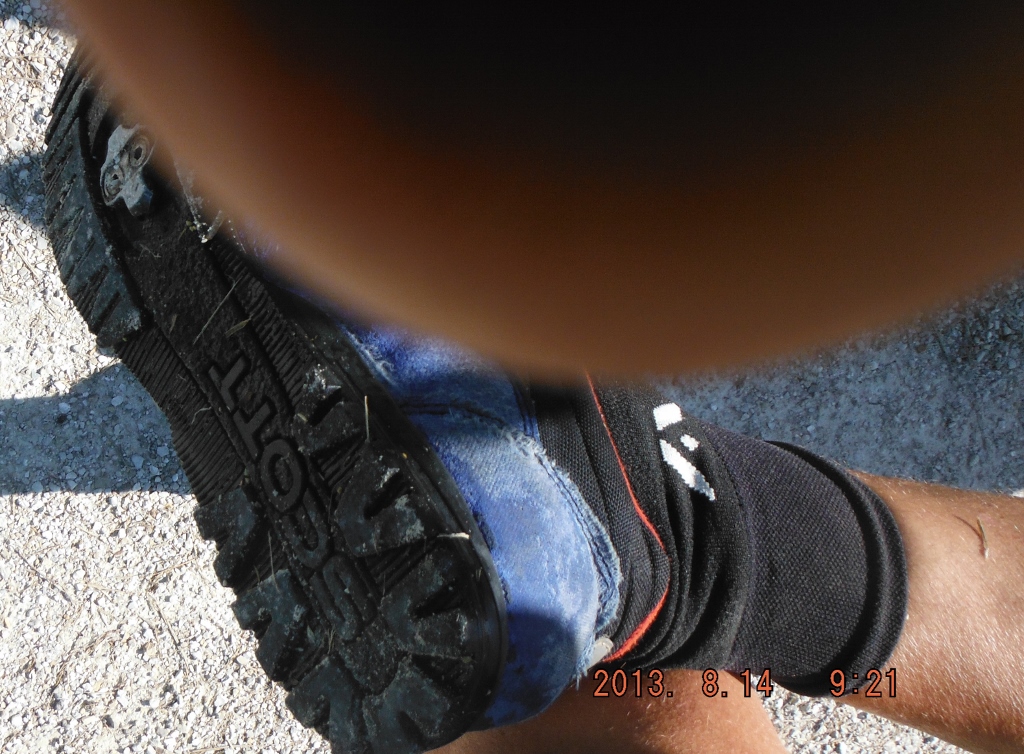 I had brand new tires on and never had a flat on the whole ride----but was prepared to patch or repair a tube if necessary.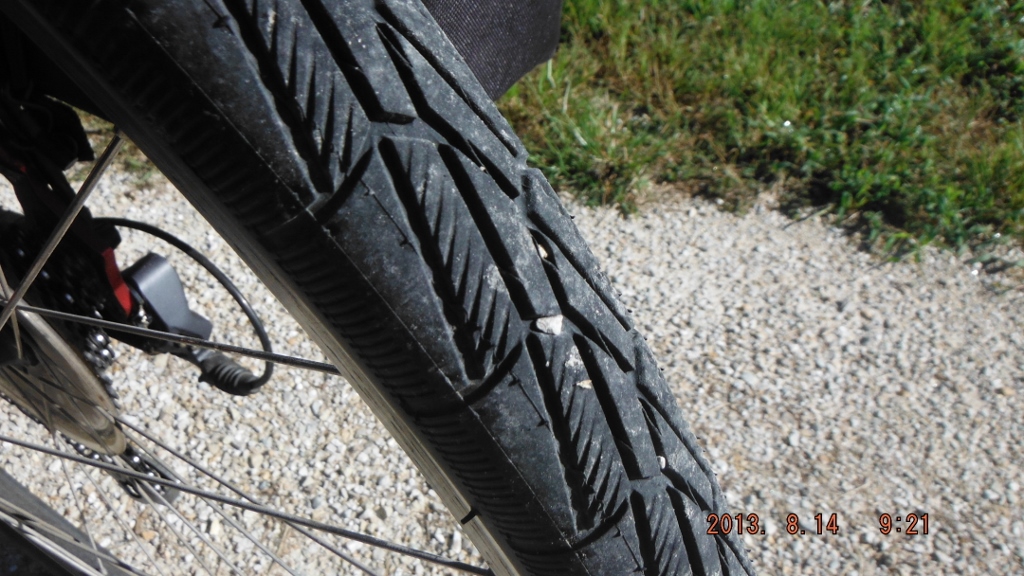 My front sprocket had 3 sprockets actually---the rear had 9.
This gave me 27 gears to choose from.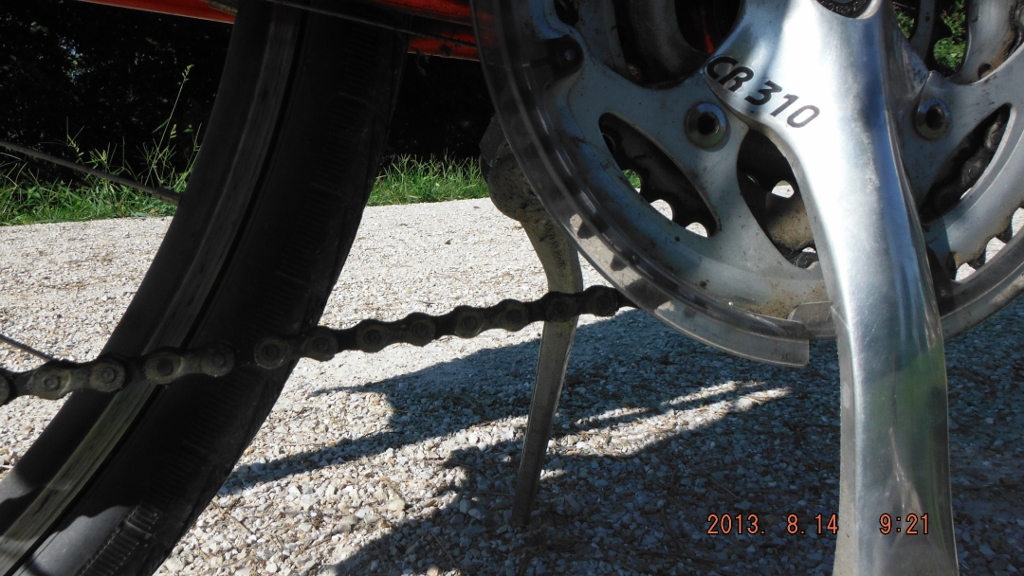 A twist of the grip changed gears.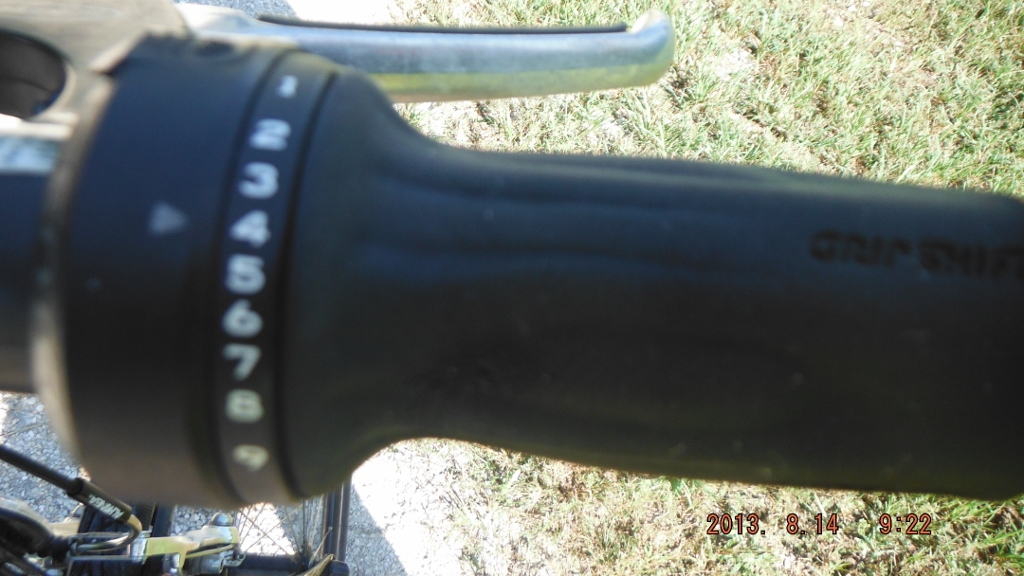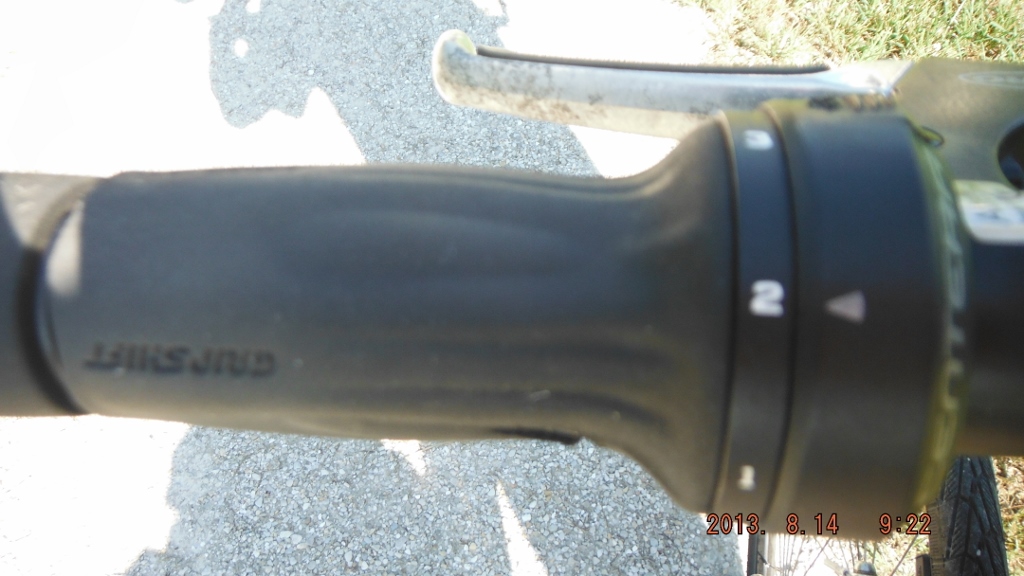 Also for you non cyclists----------do you think you want a big comfy fat seat ??????
Think again-------a big fat seat will wear a hole in your thighs if you ride very far.
My butt never got sore at all the whole ride------I also wore a nice pair of cycling shorts with a thick chamois pad in the crotch.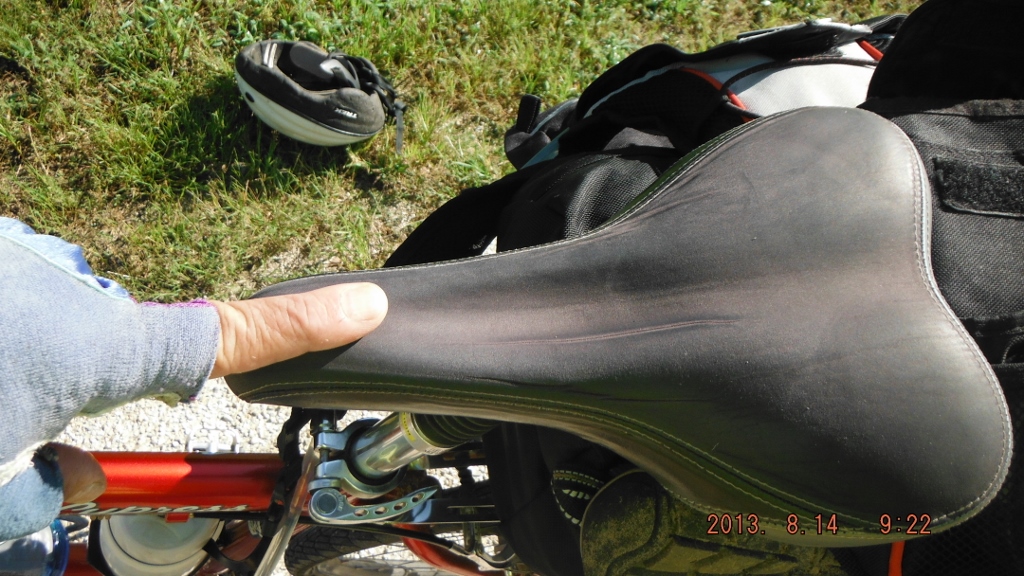 I had a water pack on my back to drink while riding---but usually kept another water bottle and some gatorade on the bike also.
I needed water at night to cook a meal---so I was careful not to run out.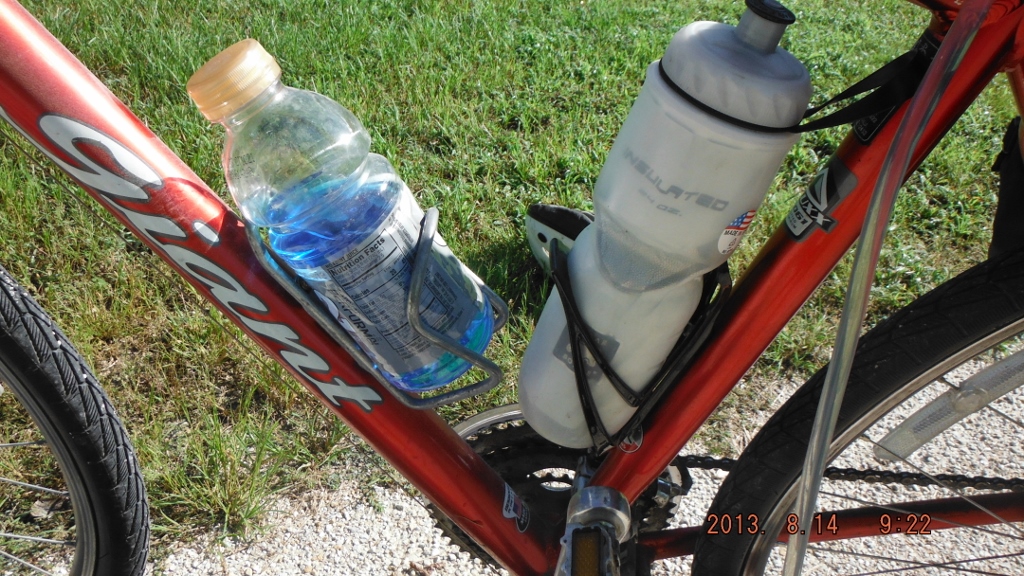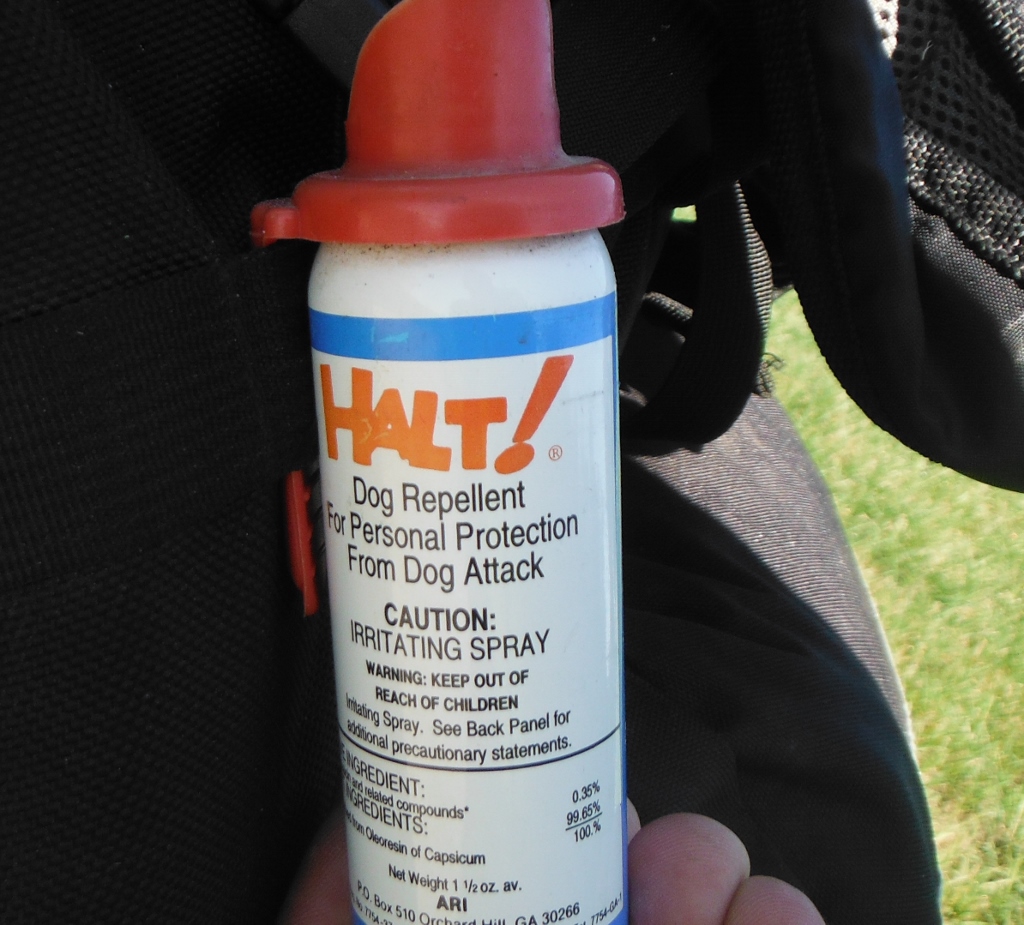 Nice views of the Missouri river were usually but not always on my left as I rode West.
The Missouri always seemed as big and wide as the Mississippi river to me.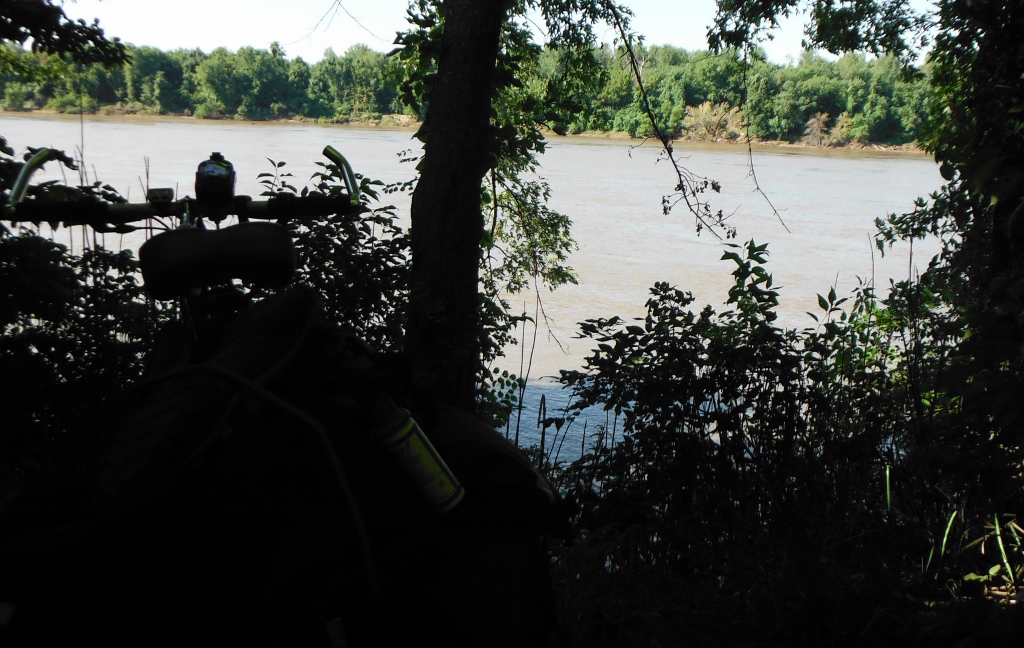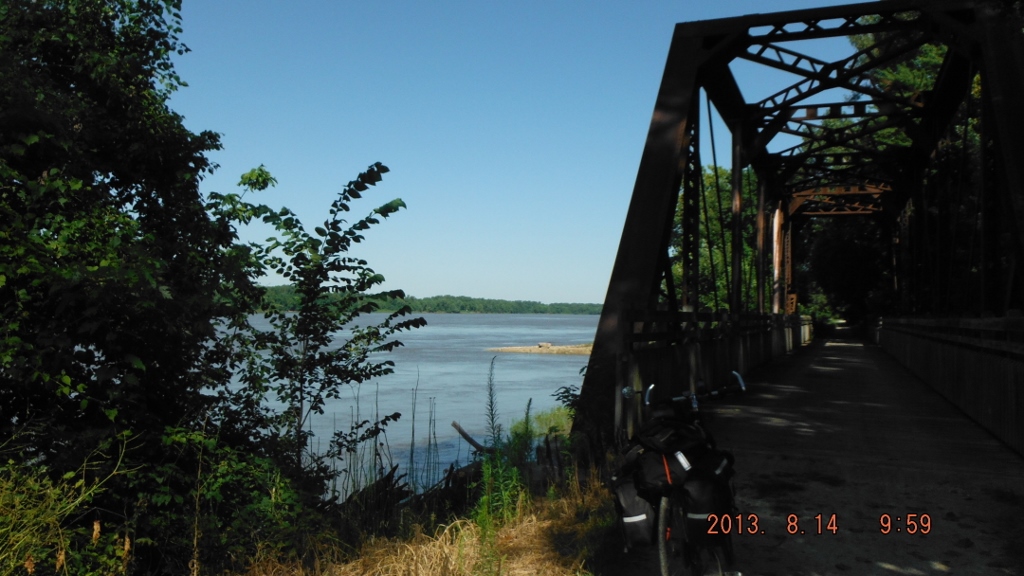 There is an area all the Missouri motorcycle adventure riders love to ride----we all call it Lost Creek. It's quite a bit North of here, but
I was amazed I found where it dumped into the Missouri river-------the Missouri river is just left of this picture.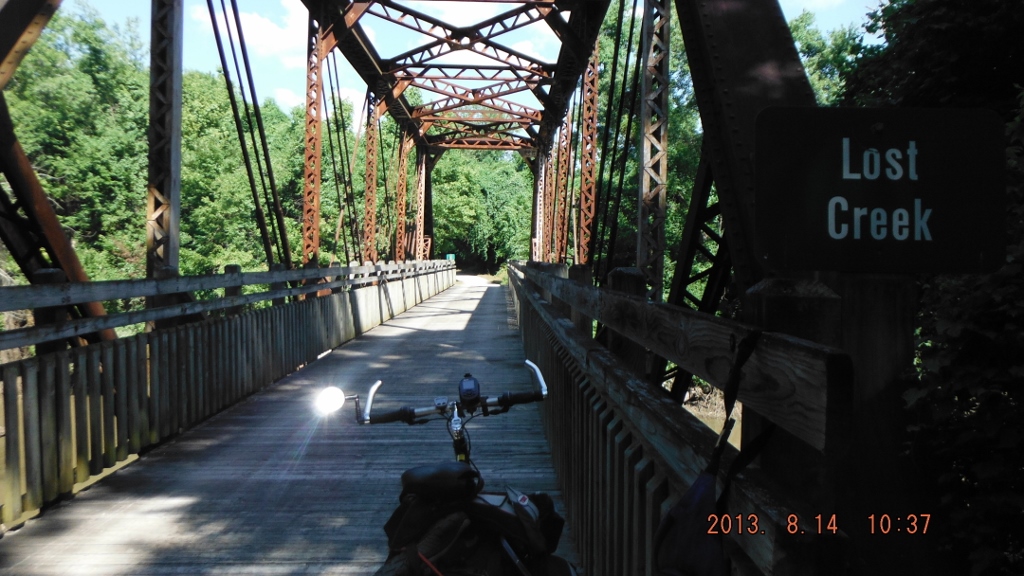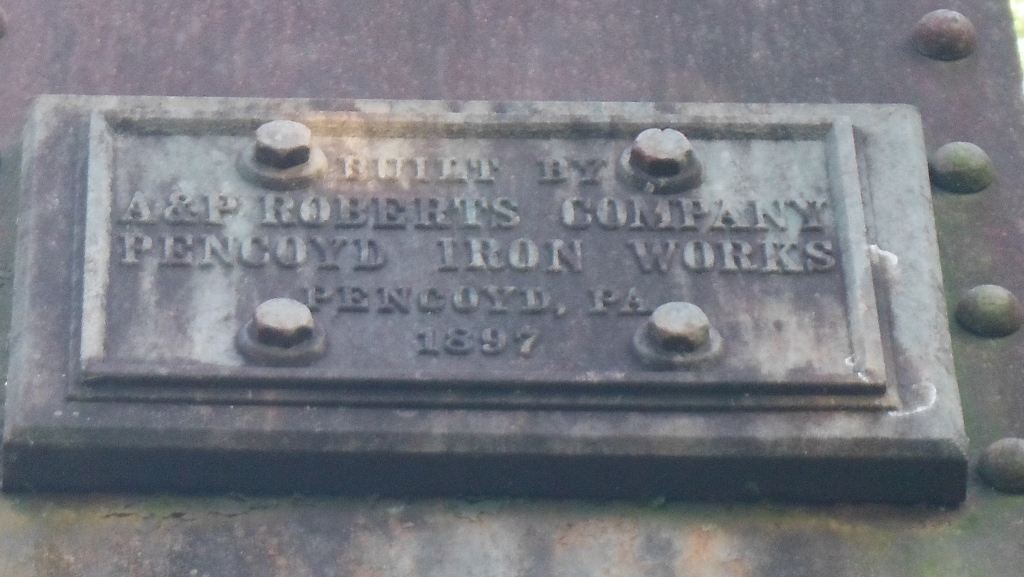 All the old steel tressels were in fine shape.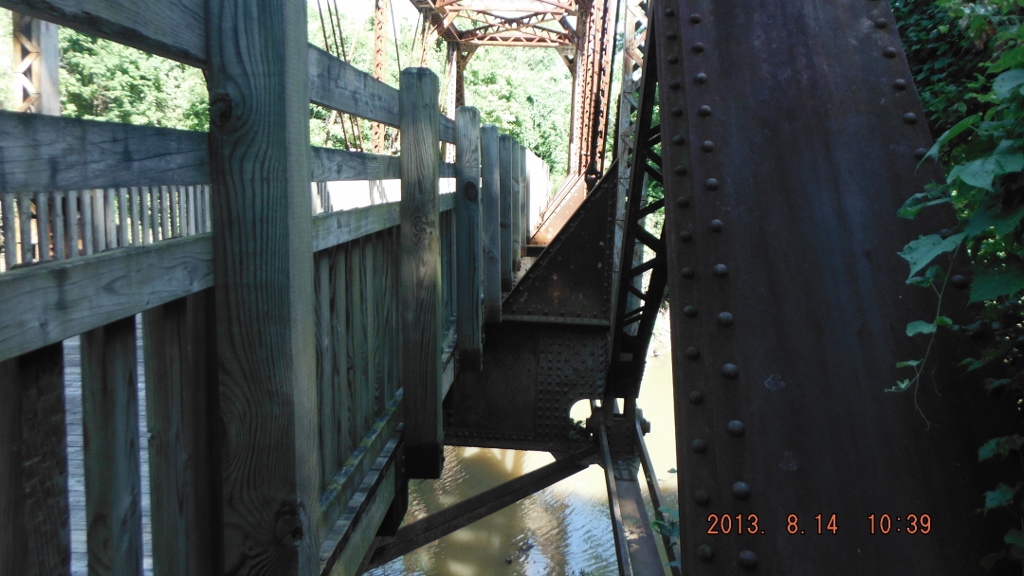 It was useless for them to put up these signs---they were never right.
They'd fix the bad spot and never take the sign down-----then never put up a sign where a bad spot was.
There was no need for them as the rough spots weren't bad at all and easy to see.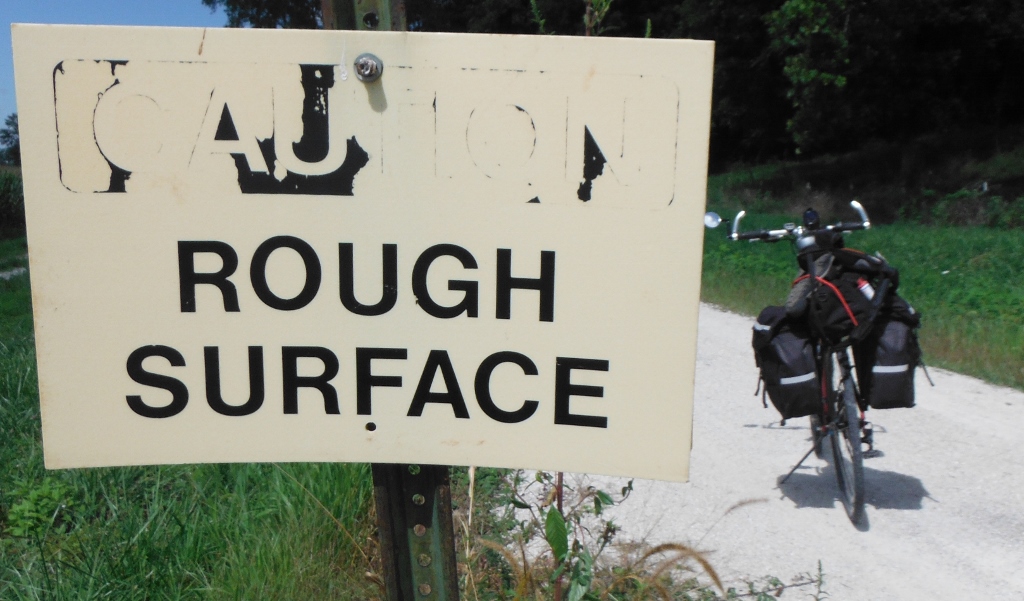 Standing rock.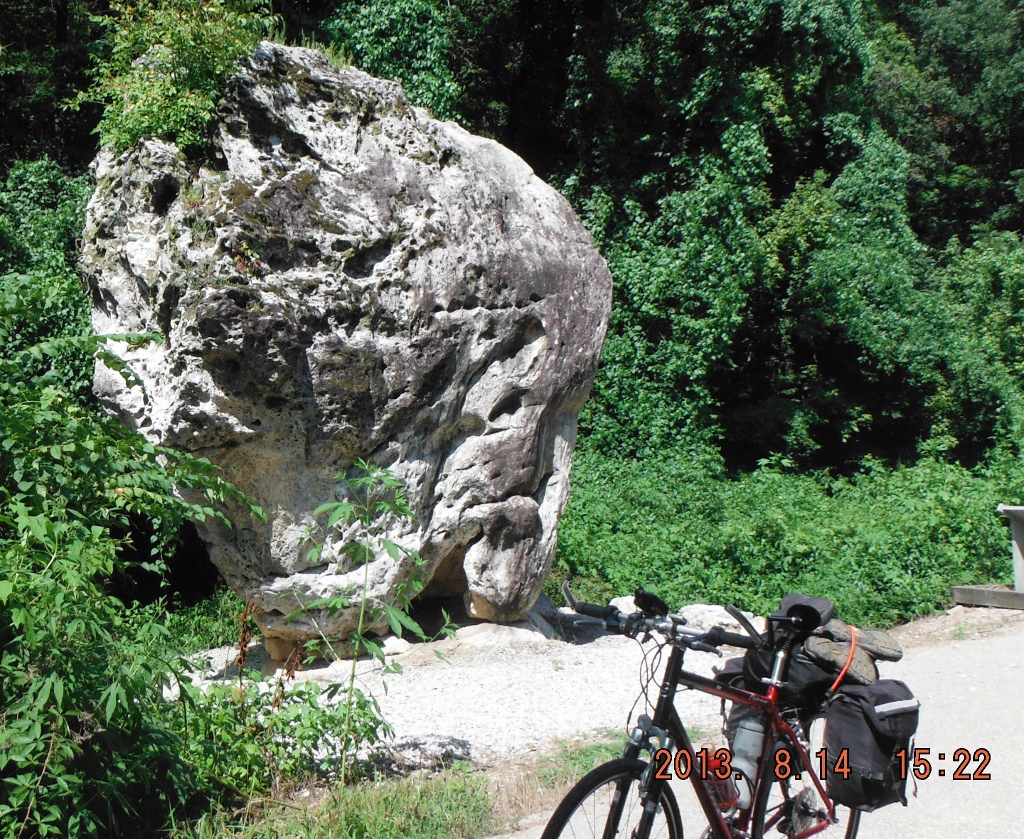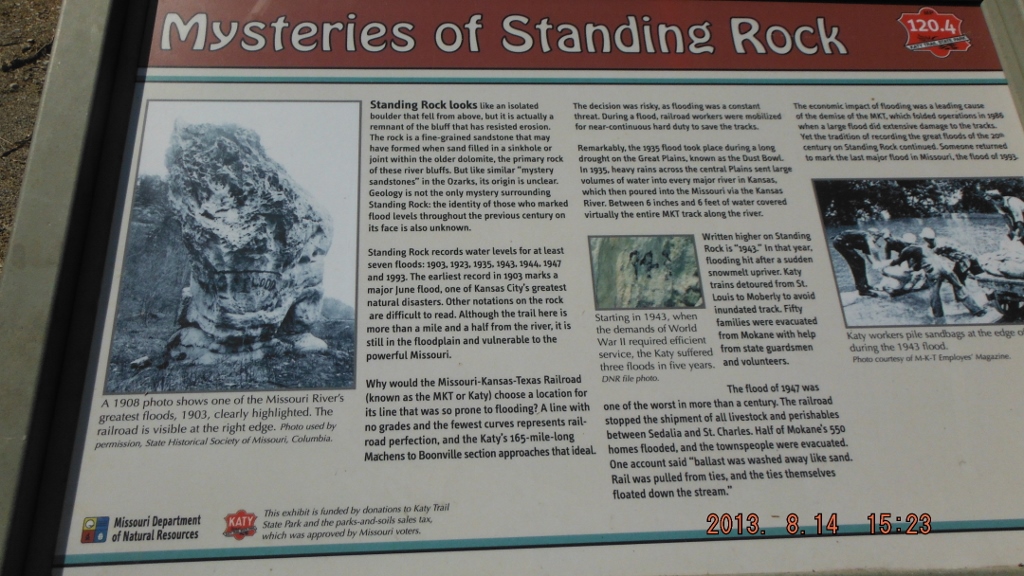 You can see the old flood mark on Standing Rock----the river was far below and I was astounded that the river got up this high---it
just seemed impossible. Flood caused lot's of damage to the MKT line and shut down the line from time to time and it took a lot
of money to fix it. Some think this was really the major un-doing of the MKT railroad.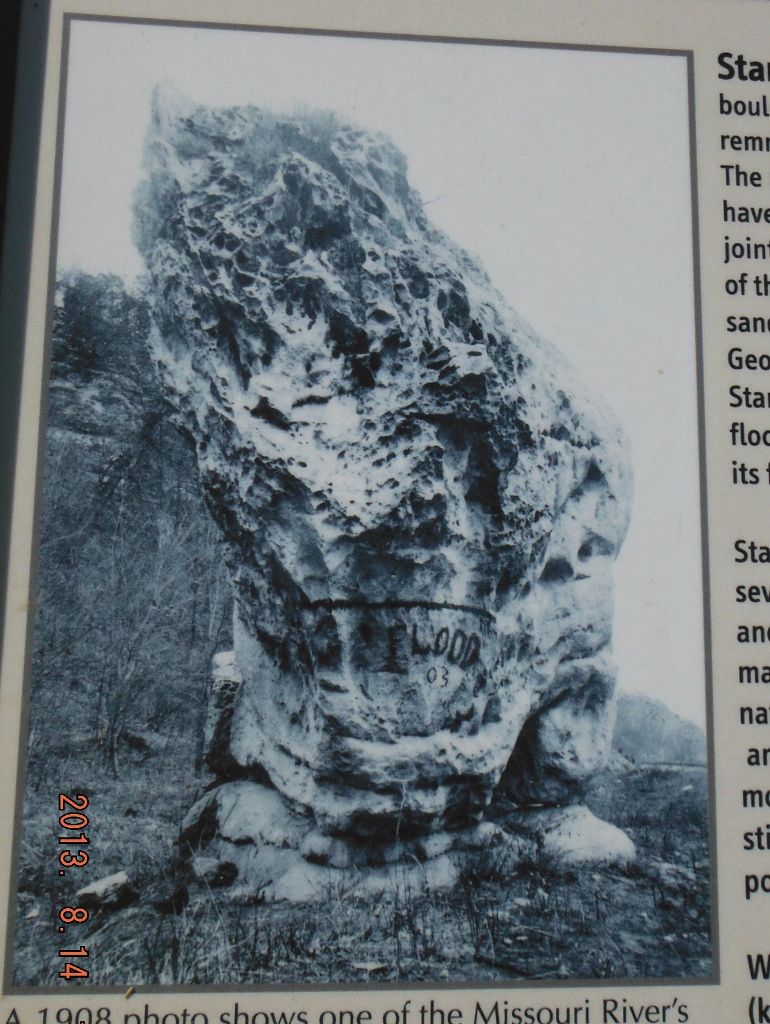 I loved this little town-----maybe 200 people ????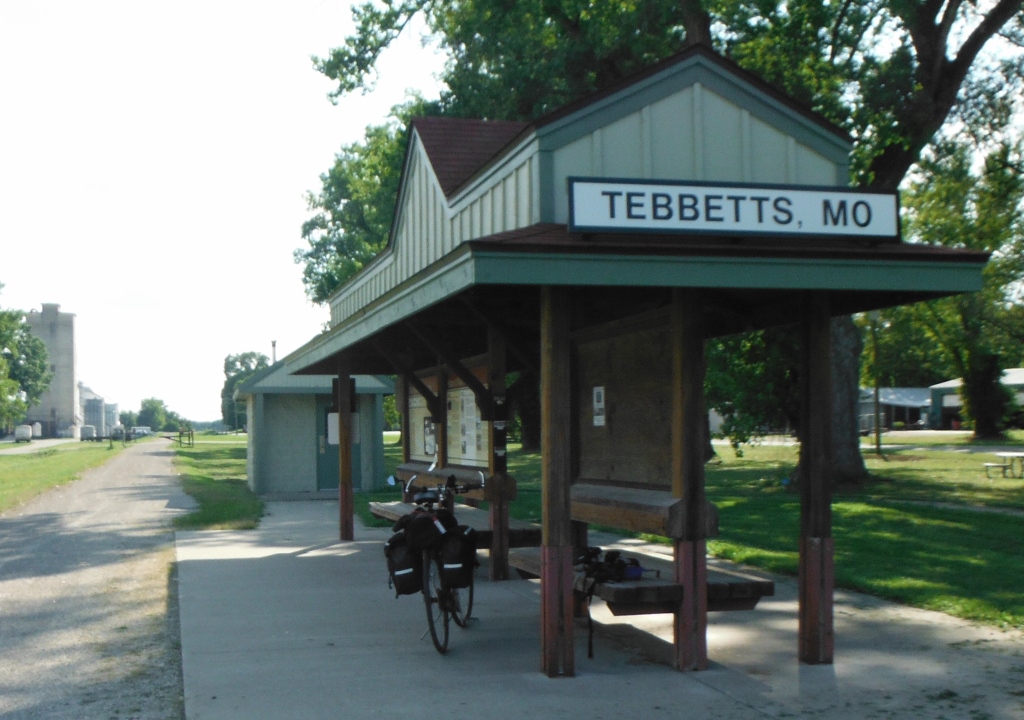 I had ridden 54 miles today and was totally satisfied with my progress and looked for a place to camp.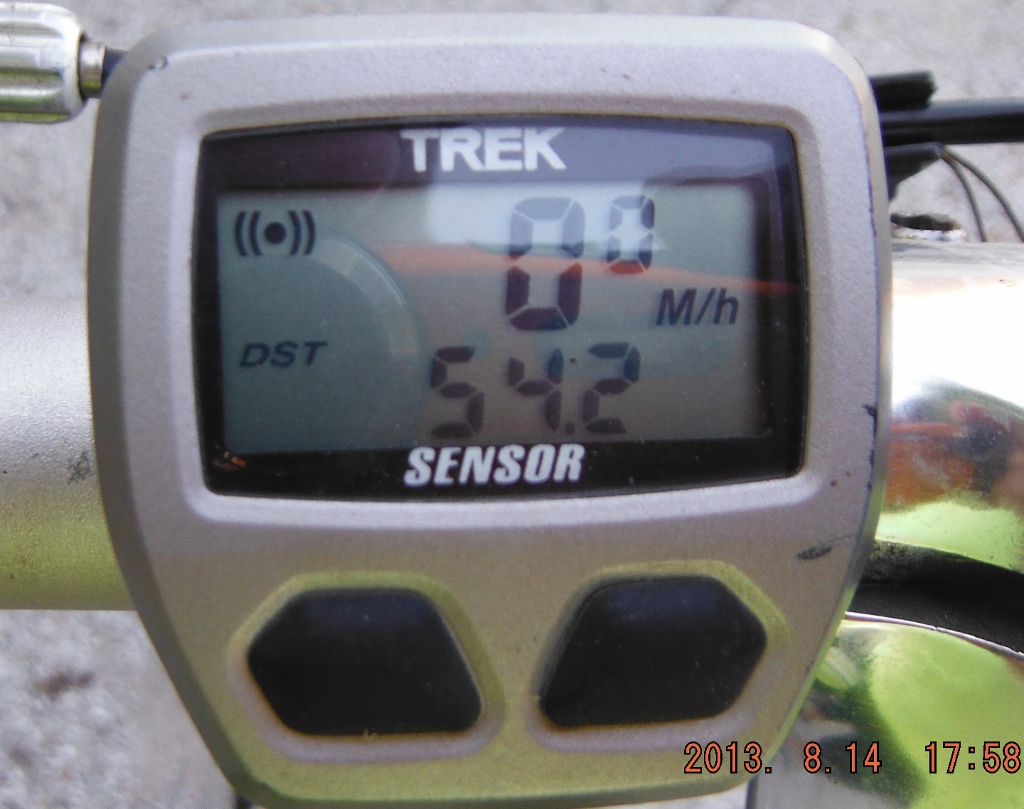 Looks like I had ridden a total of 92 miles when I got to Tebbetts.
After this day I pretty much left my gps off unless I needed to see where I was at as it was eating batteries and I really didn't need it much.
It was very helpful at times and I was glad I brought it.
It shows my speed average as 5.1----but that was overall.
I usually rode about 10-12 mph when not climbing the few grades that were on the Katy.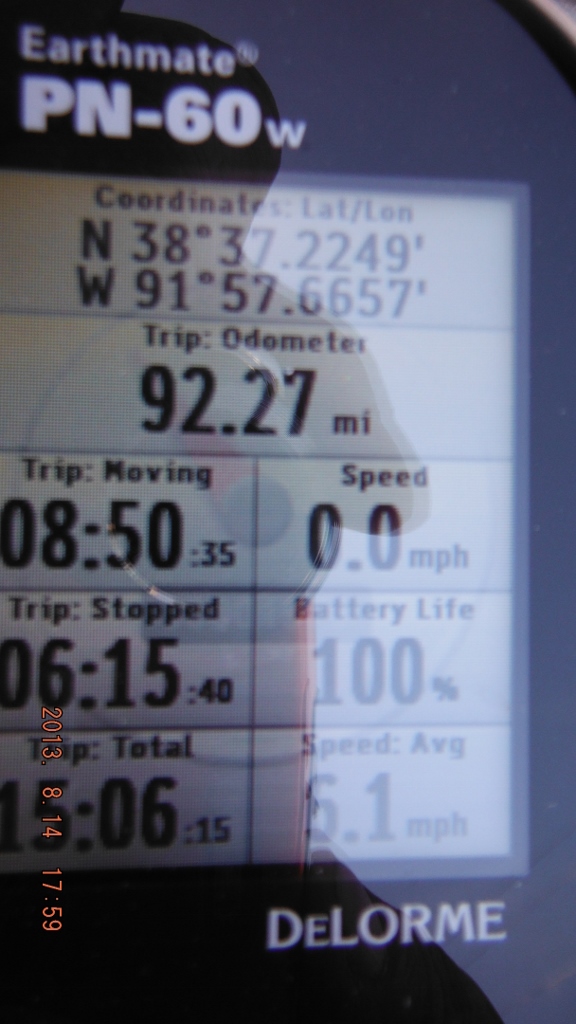 So where do I stay in Tebbetts.
What's this------a bicycle hotel ???????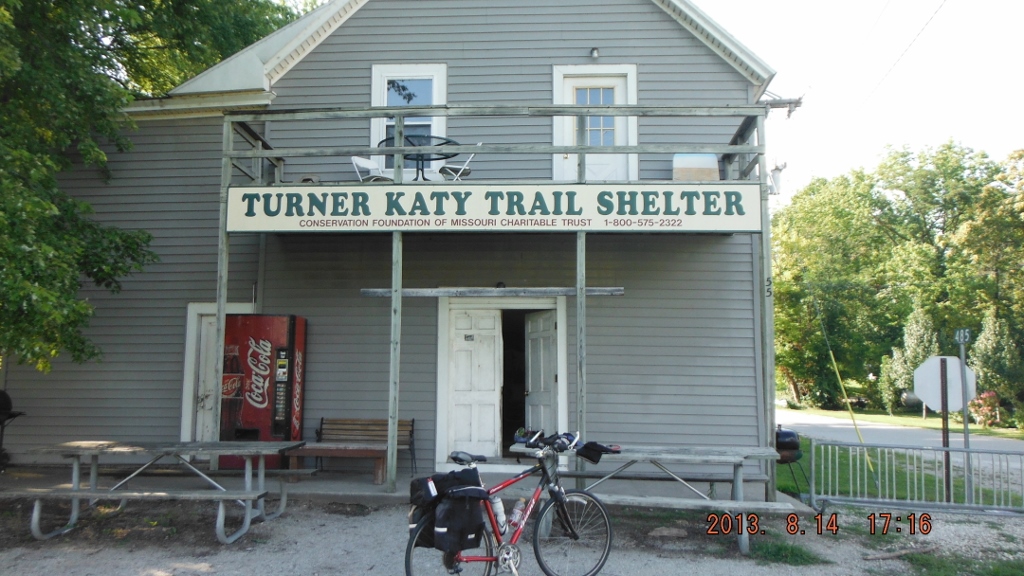 Here's the sign on the door.
Notice the last line.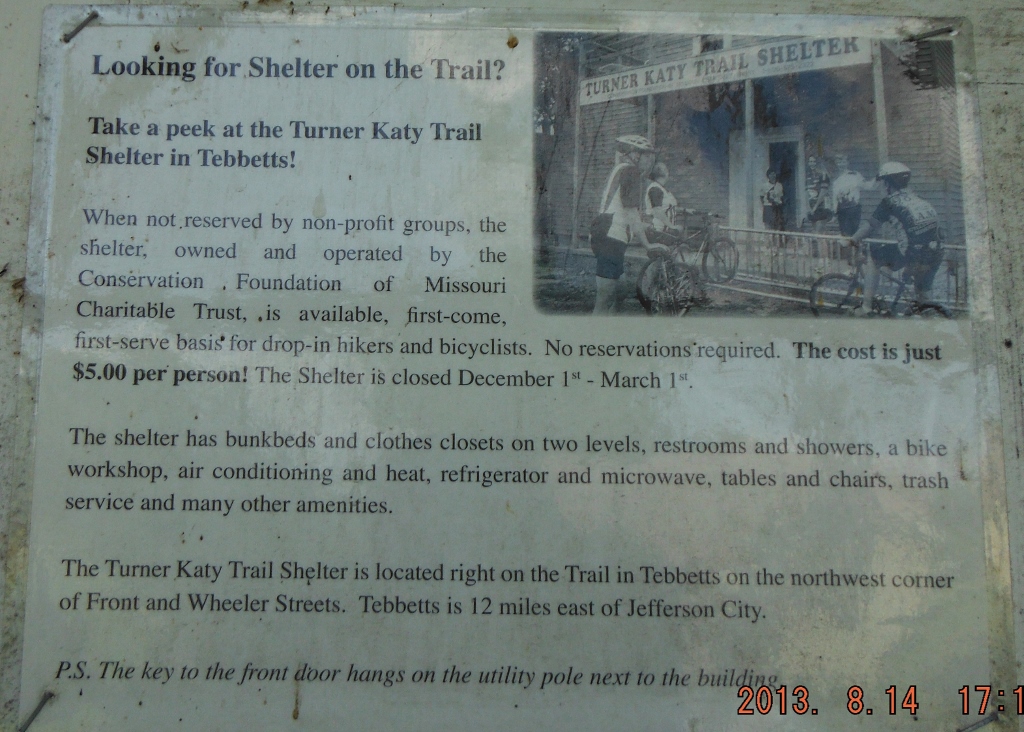 And yep-----there was the key on the pole beside the building.
I'm sure everyone in town knew it was there but nobody bothered anything and I put it back once I unlocked the door.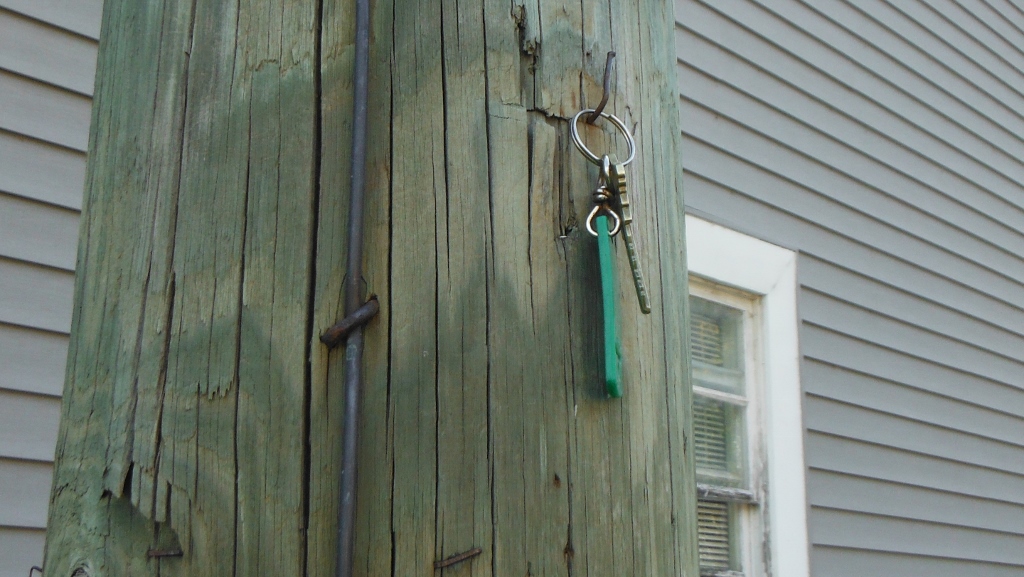 I went inside and was astounded----for $5 I get a bed, electricity, microwave, refrigerator, table, bathroom, shower, hot water
air conditioning, heat, a library and a bike shop. I was the only one there.
It was 2 story and there were bunks upstair I think-----if many people had been in here I probably would have moved on.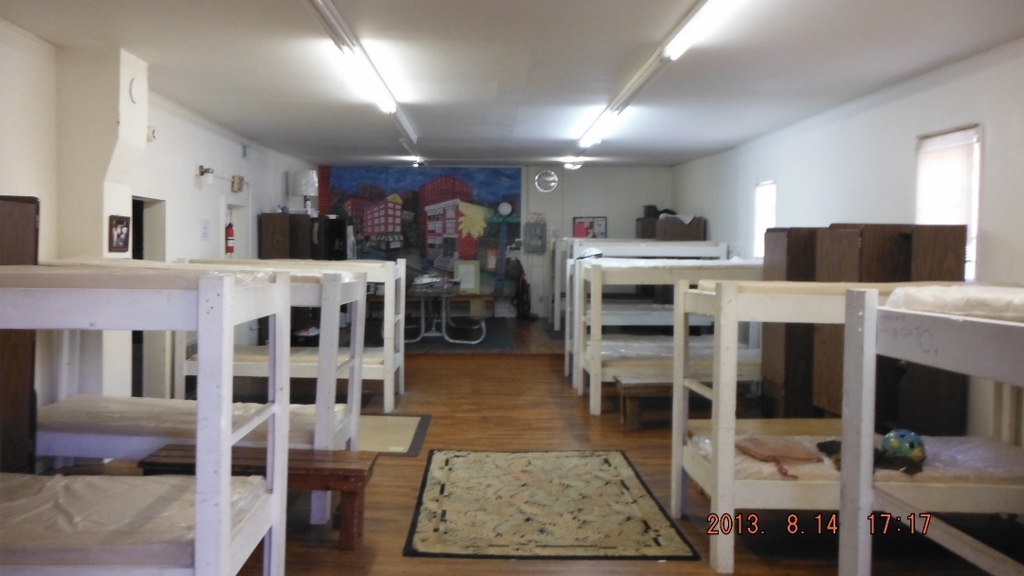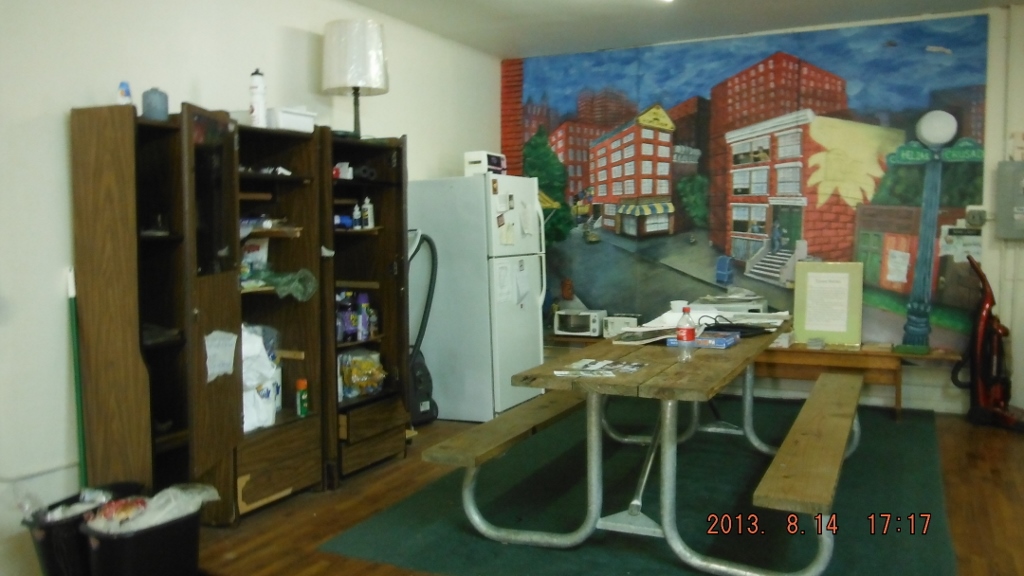 The bike shop -----------with a bike stand, tools and even bikes !!!!!!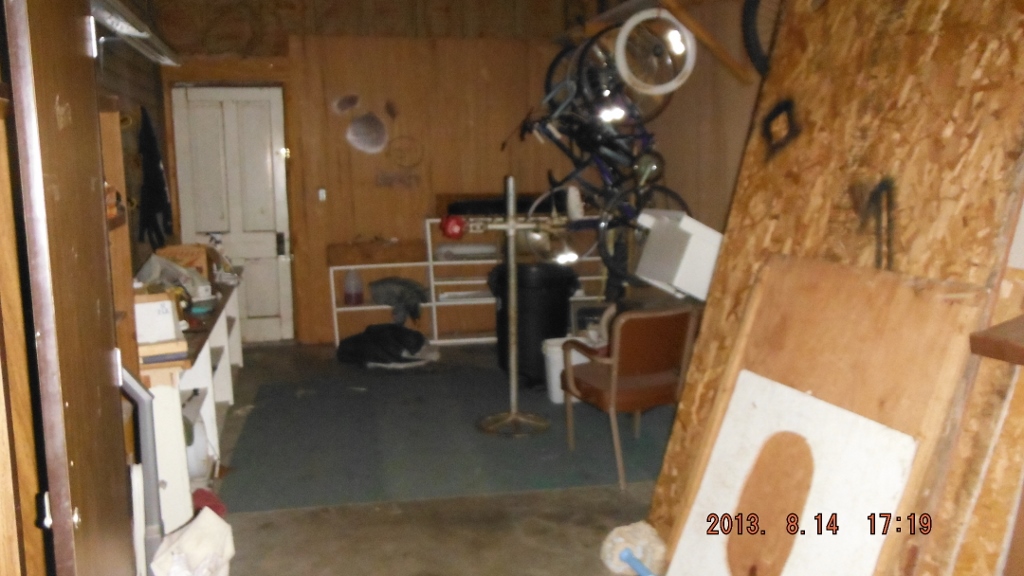 The Library.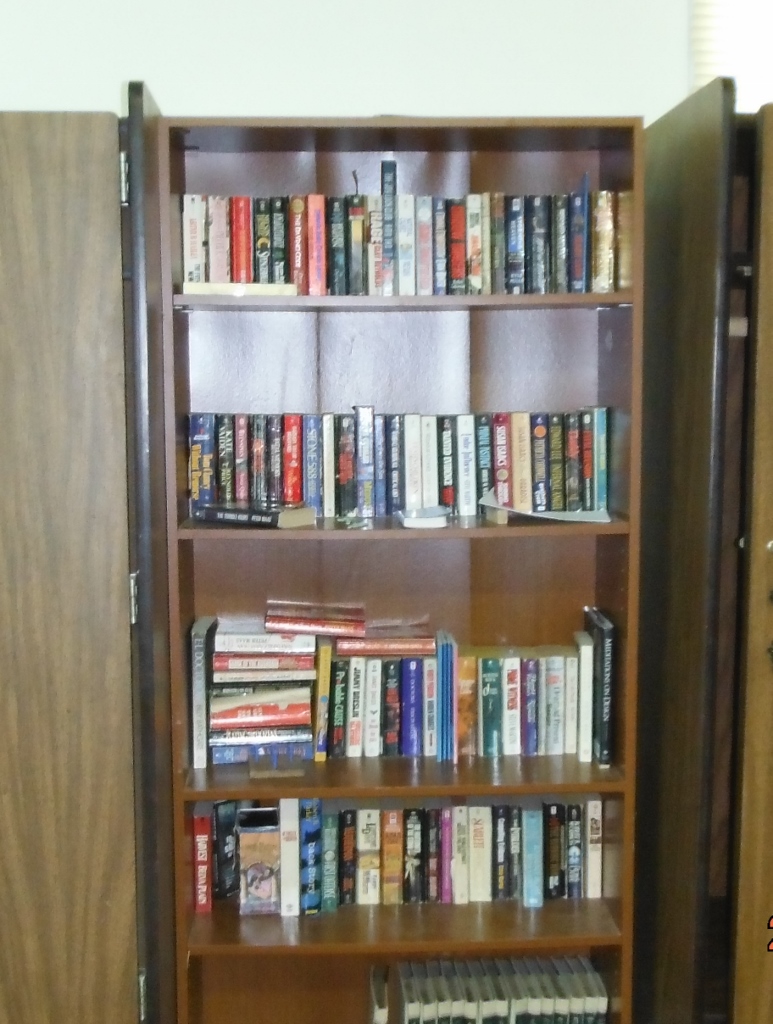 You couldn't buy anything in Tebbets----this town was so small I don't think they even had a stop sign let alone a stoplight.
There was no store or gas station---------but I was prepared and went out front on the picnic table and cooked me a meal.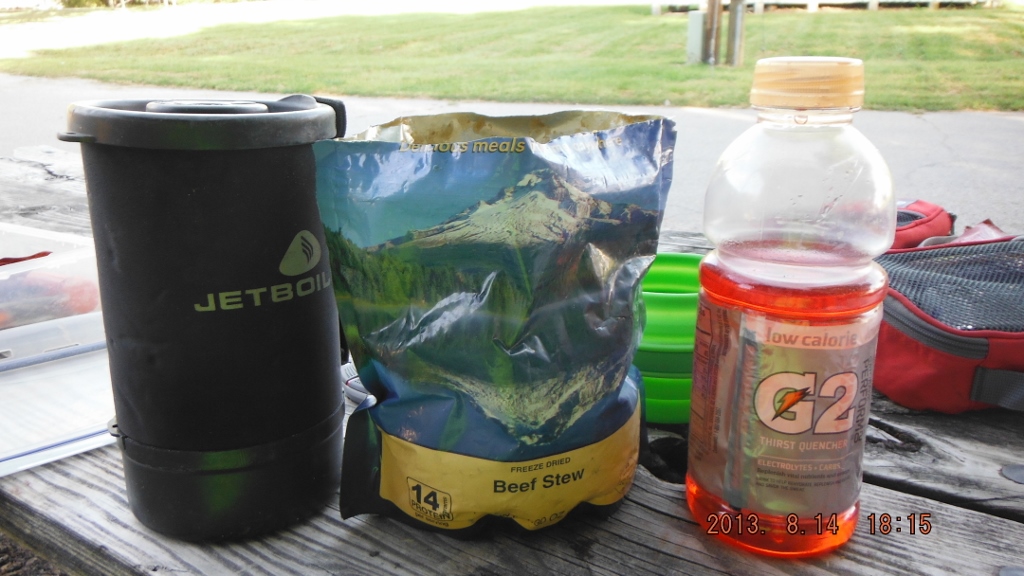 Just before dark another rider showed up who was traveling across country---my trip seemed so small and insignificant compared to his.
He was heading to Oregon and picked my brain quite a bit about getting over the continental divide.
I think I've been over every single place possible to cross the divide.
Actually you could buy one thing in Tebbets---there was a soda machine out front---but I didn't have the change to put in it
and was thirsting for a soda. He bought me a soda and a few days later I was able to pay it forward to this nice young man---in a different way.
That round thing you see by his front wheel is a bear safe. He kept his food in there and it was guaranteed bear proof.
I've never seen one before---like I said---------I learned a lot from him.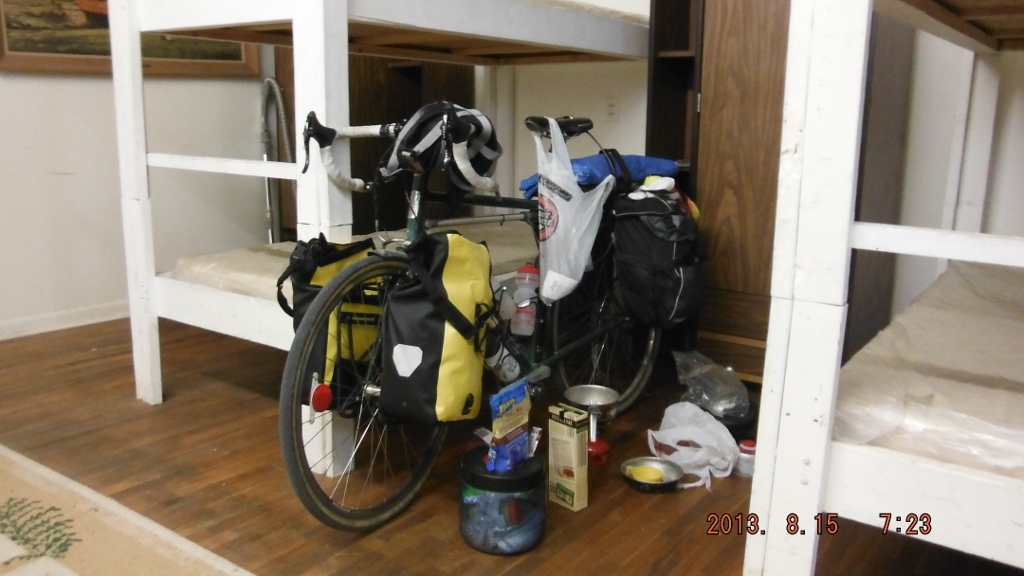 The next morning after a great nights sleep me and the other lone cyclist parted company and I rode off alone figuring I'd never see him again.
It was a pleasure talking to him and looking over his bike and gear--------I learned a lot from him.
And first thing I was greeted with another tressel----I didn't take a picture of all of them---there were just too many.
I had cooked some oatmeal for breakfast but it didn't stick with me very good and after about 20 miles of peddling I found Dotty's cafe
in Hartsburg, Missouri. This was just like being in Mayberry RFD and Dotty fixed me a great big breakfast even tho breakfast time
was over when I got there. I was just in the mood for breakfast---and breakfast is my favorite meal.
There were so many nice folks in here and I think I ended up talking to them all---I was in no hurry to be anywhere and
soaked it all in.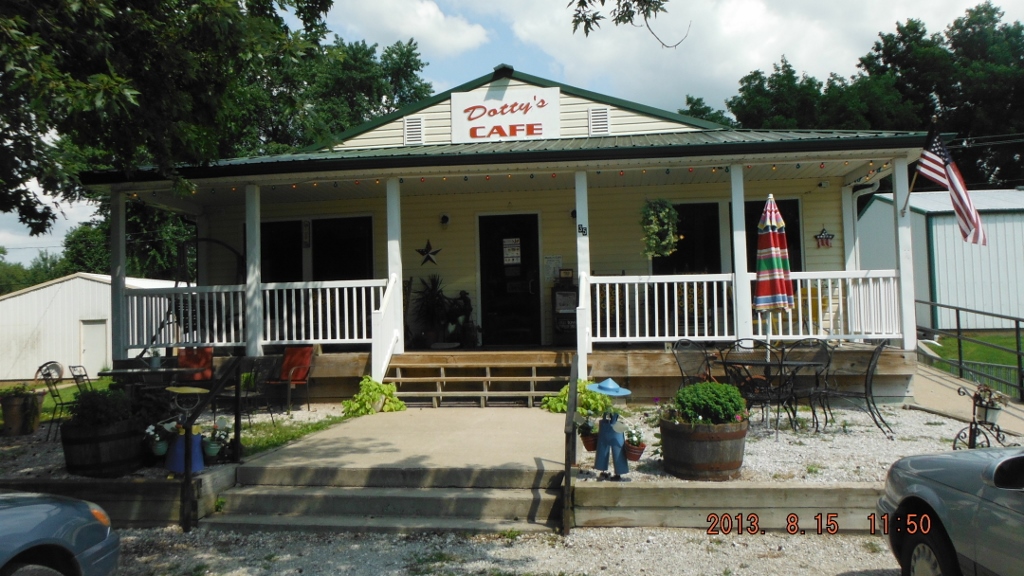 I think this was across the street from Dotty's and appeared to be lived in and was part of the house you see.
It had a neat wood deck off the left side.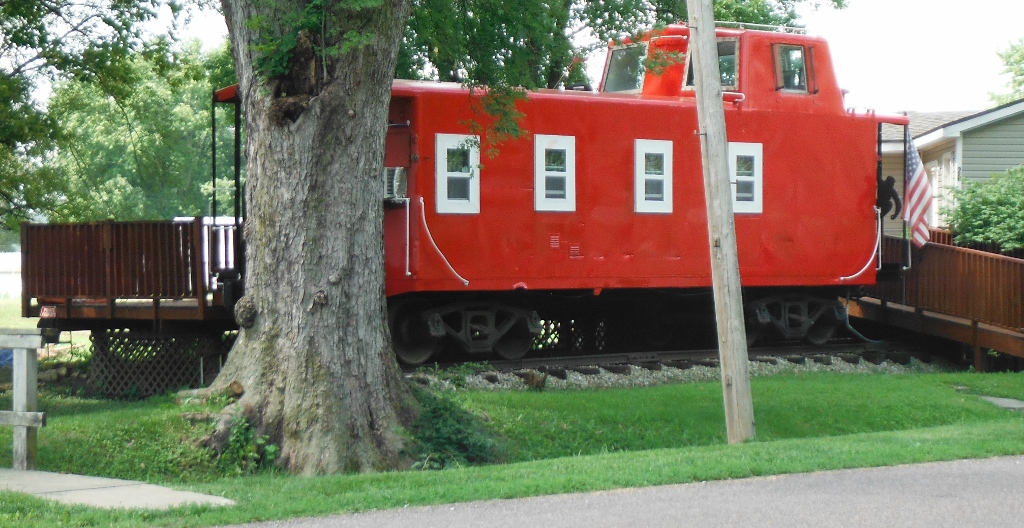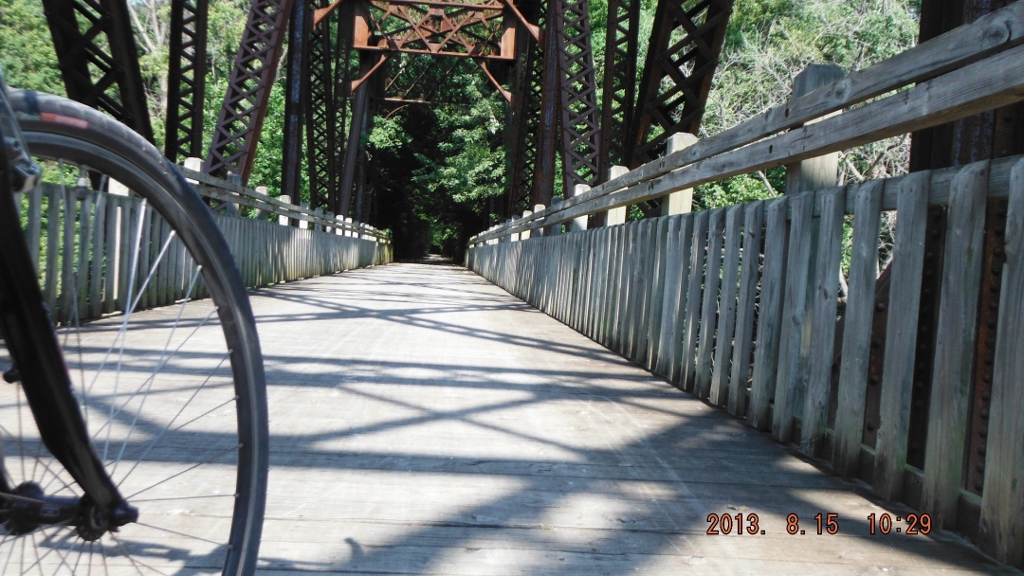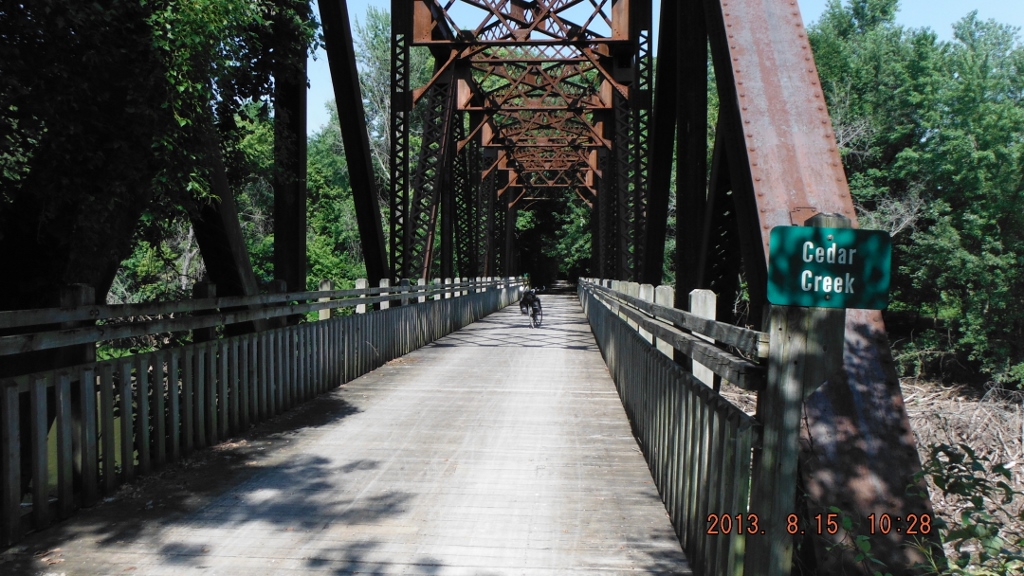 Meet Fred------me and Fred became pretty aquainted on this ride as we both had about the same pace.
As we traveled together I sensed he wasn't really happy with this equivalent of an interstate road and soon went off into the weeds
to get back to the "Road Never Traveled".
He talked and I listened as his travels and experiences were much more exciting than mine.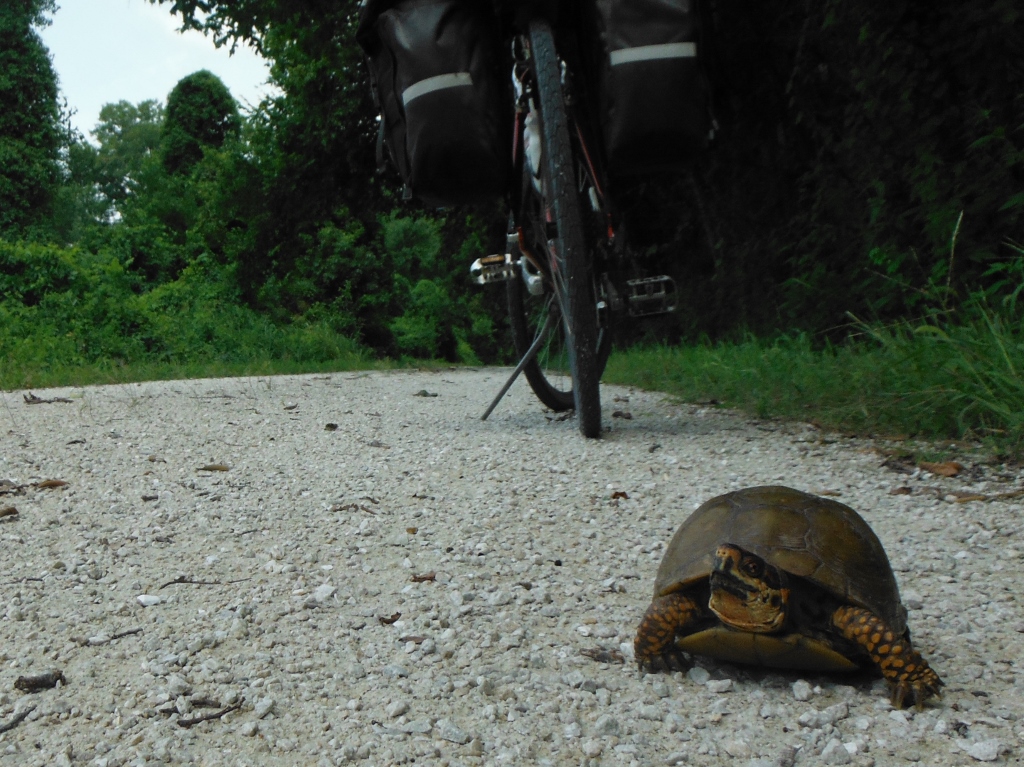 I came upon this right beside the trail and just couldn't believe my eyes.
Boat-henge---I guess ??????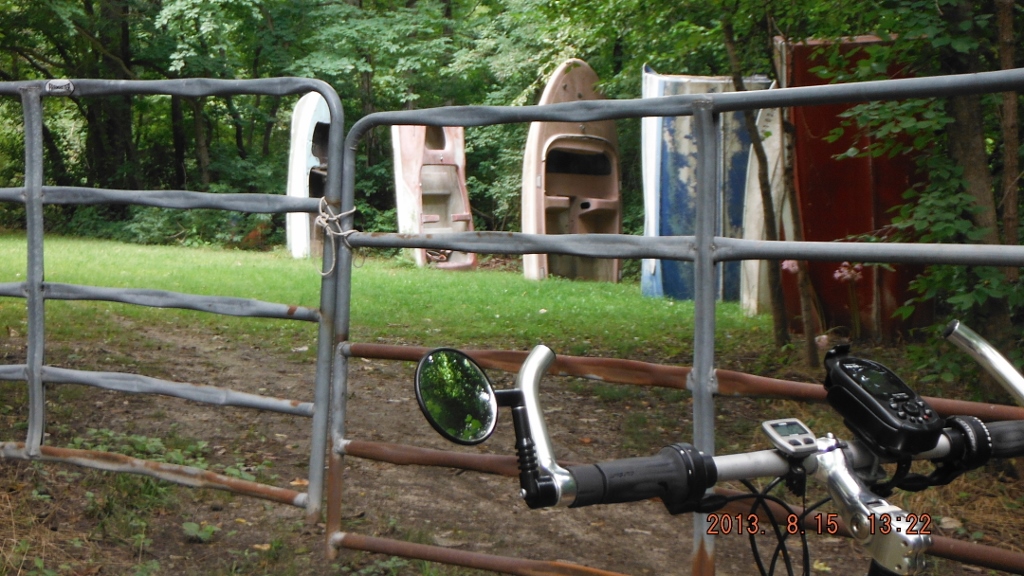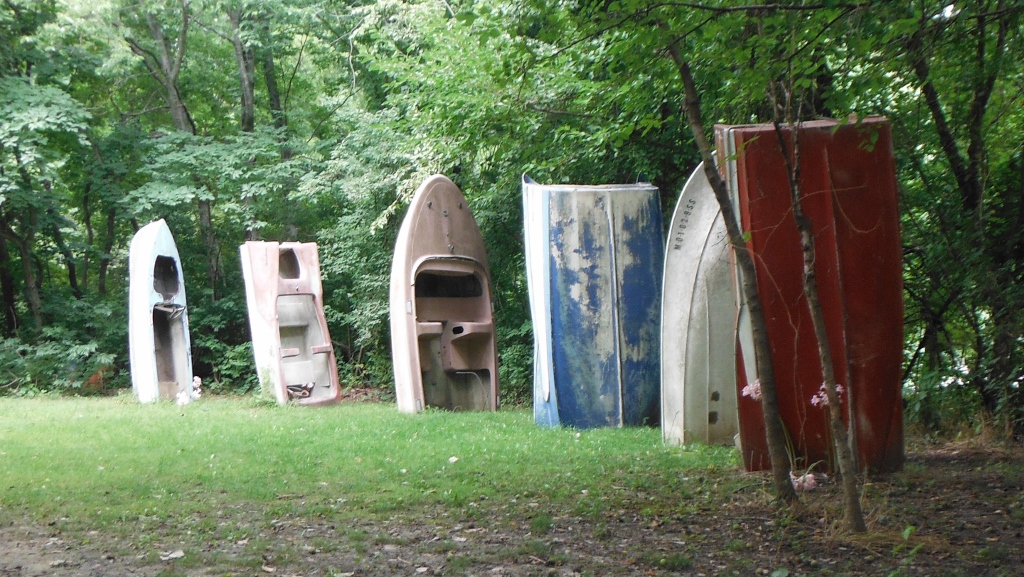 This was very interesting---and history tells me that this is where the rail builders kept their dynamite.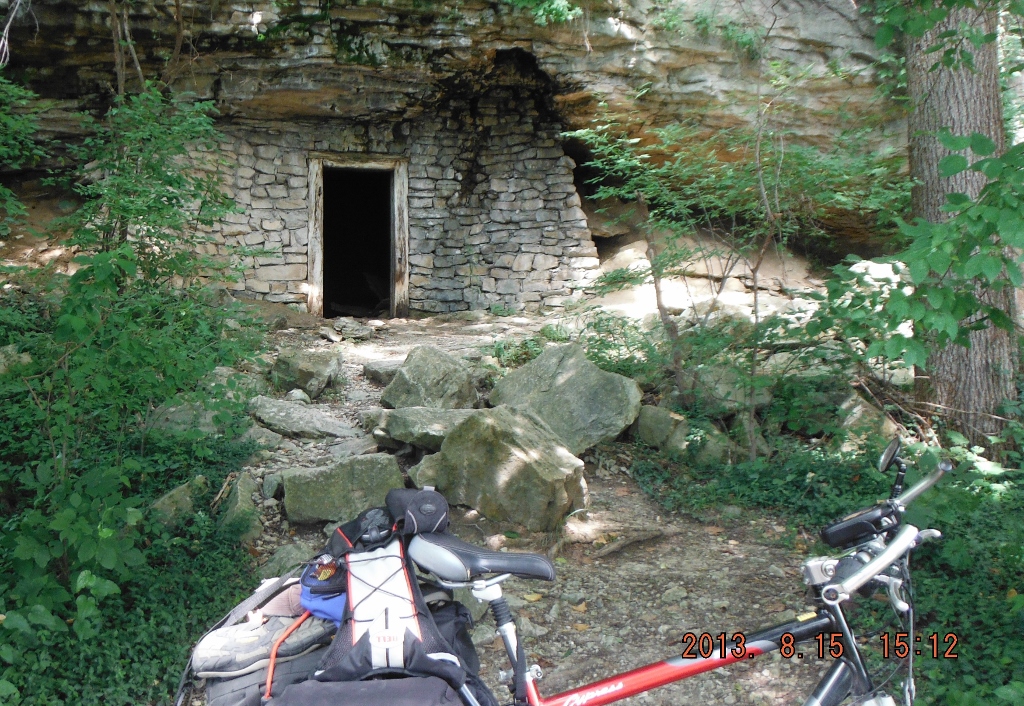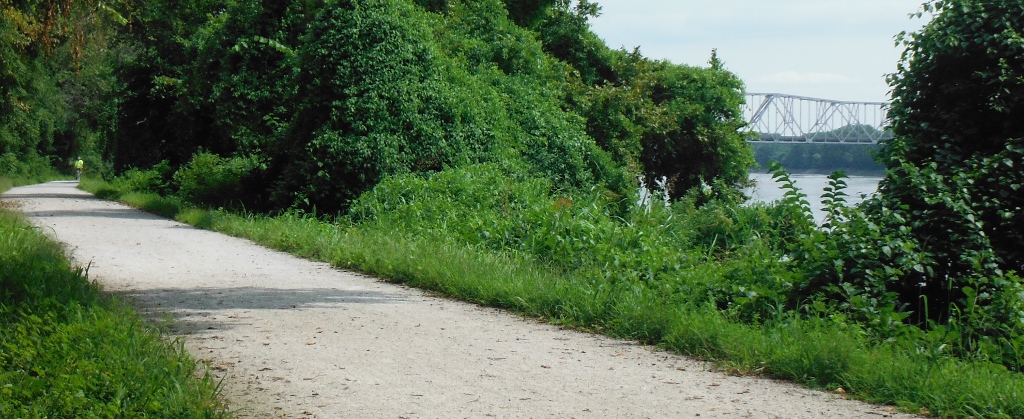 Just as you exit the little town of Rocheport, Missouri you get to ride thru the only Tunnel on the old MKT railroad route.
But it was spectacular.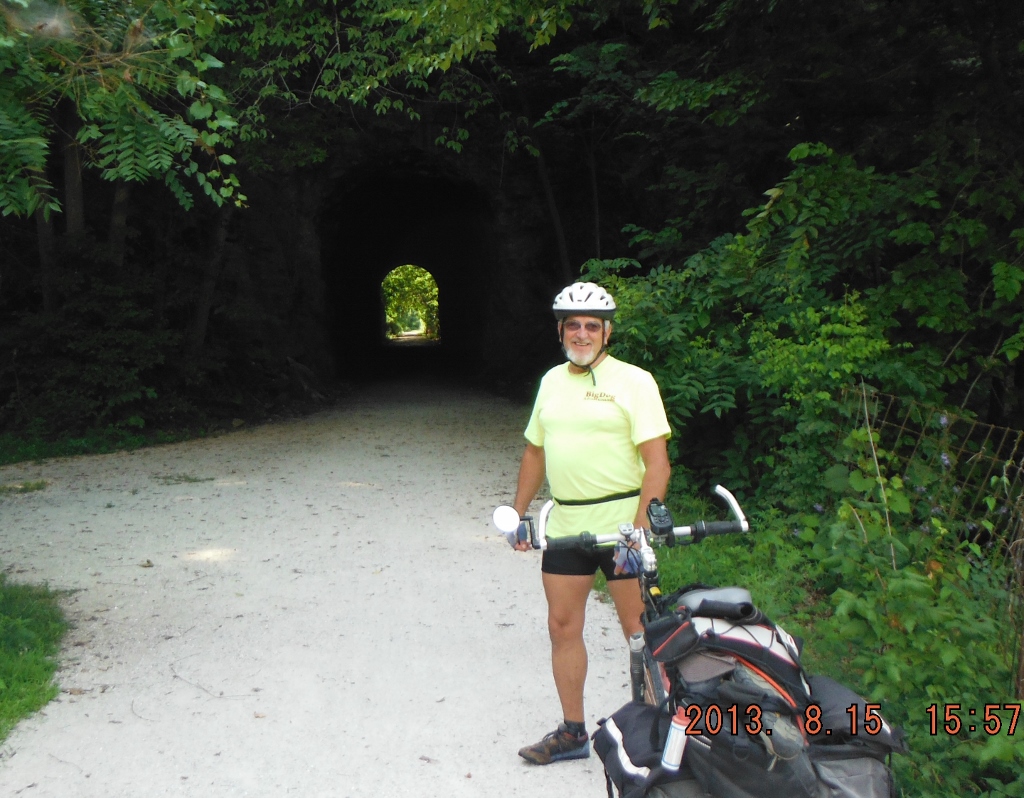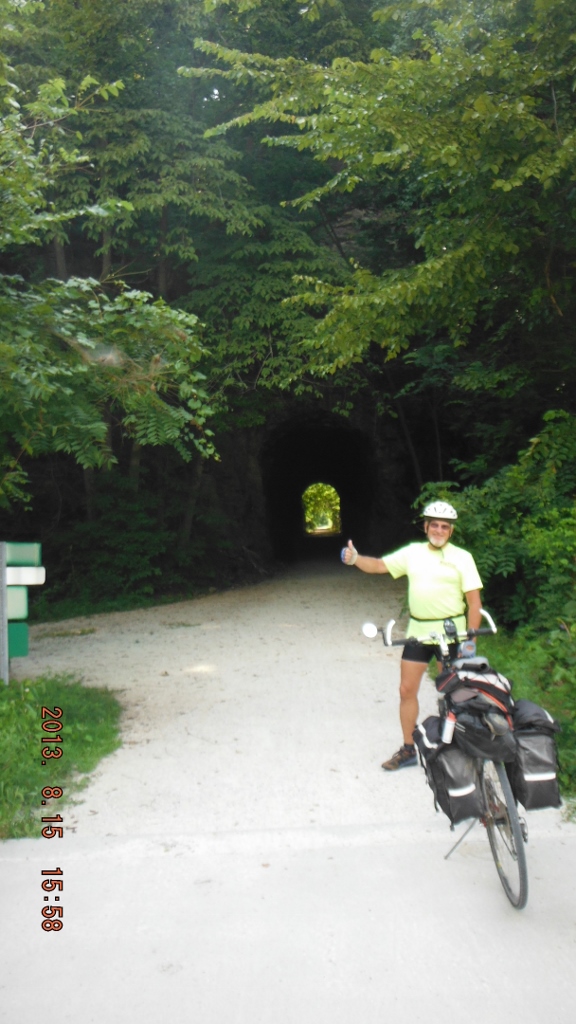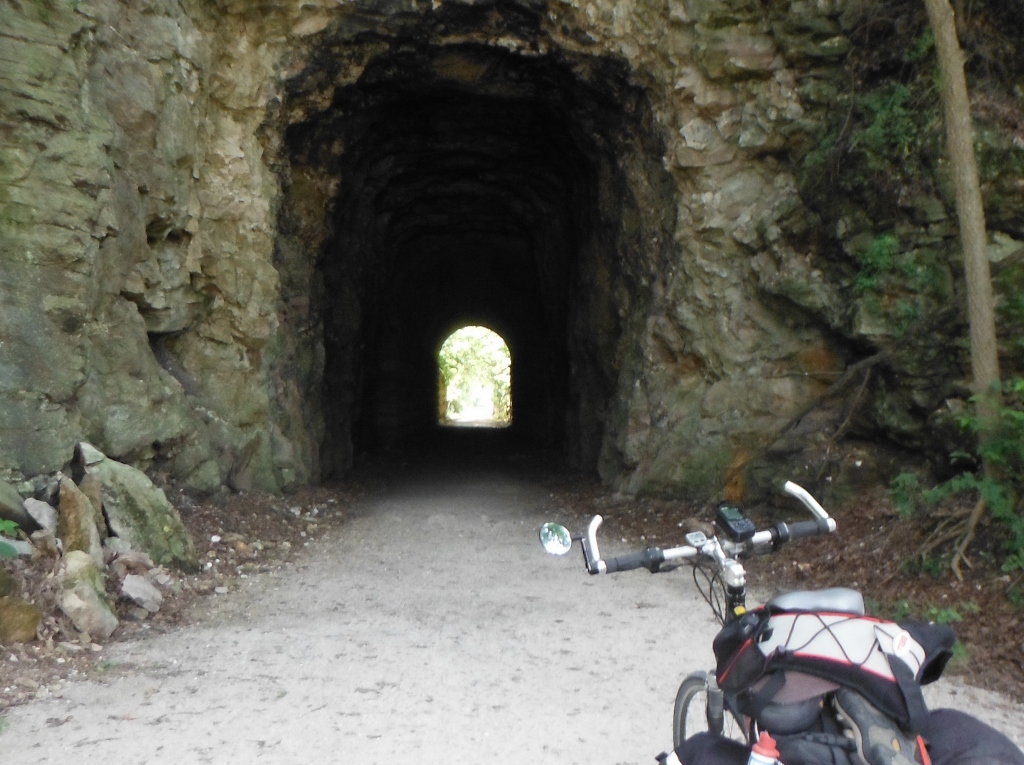 I had kind of anticipated camping in Rocheport but found none and rode on passing this spectacular silo.
It was made with these big glazed blocks--and I'd never seen anything like it.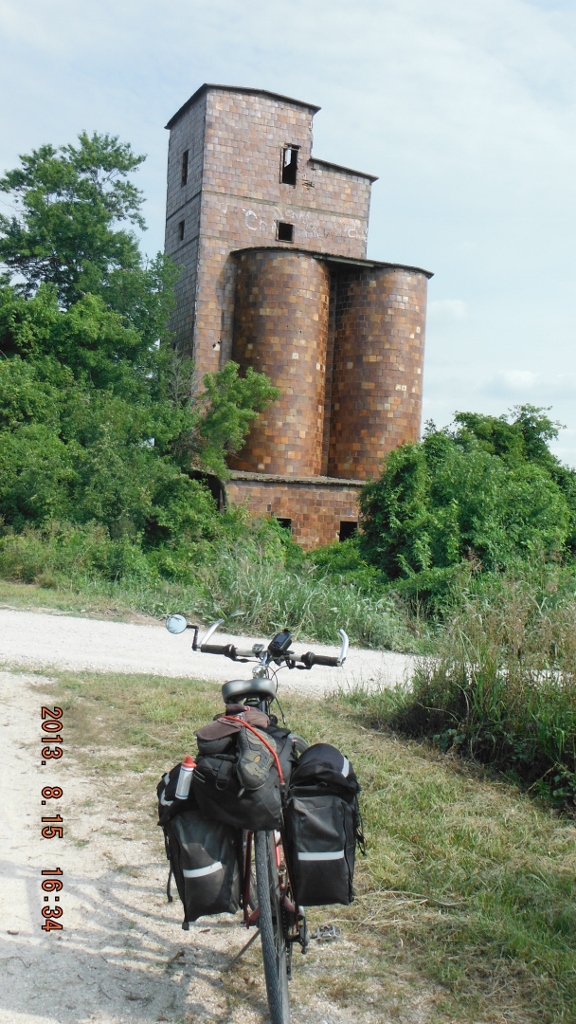 The whole time riding the Katy I was sharing the route with all kinds of people. Most of them cyclists out for day rides.
I noticed at the beginning where I was nearer the city some people weren't very friendly at all and would try to not look at you even when
spoken to----they seemed all pissed off and had this worried look on their face as they tried to pedal away their frustrations.
The further I got away from the start and the more populated area of the ride this changed drastically and people became
very friendly and relaxed. .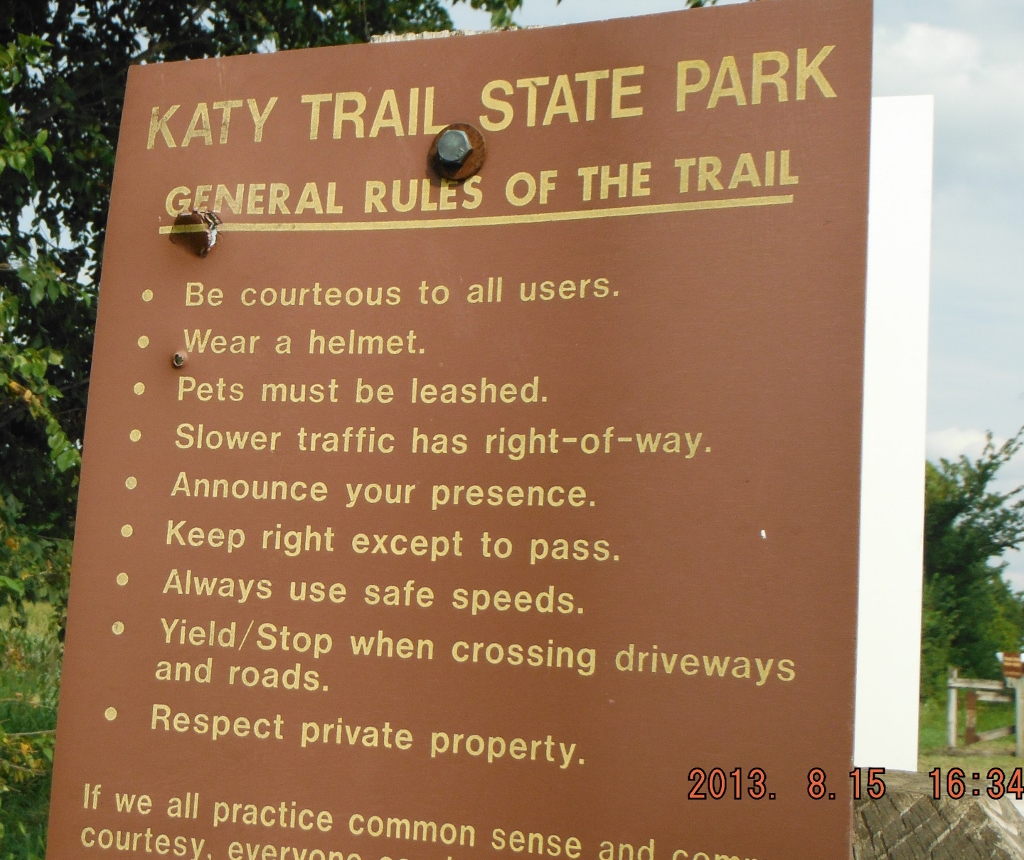 New Franklin came into view and here was suppose to be the remains of an old locomotive turntable used on the MKT line. I couldn't wait to see it.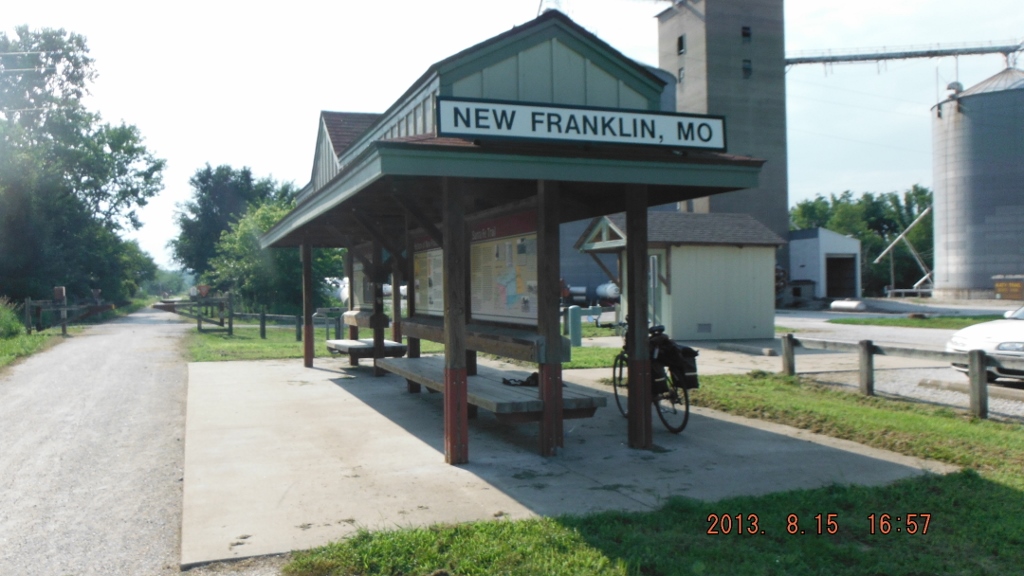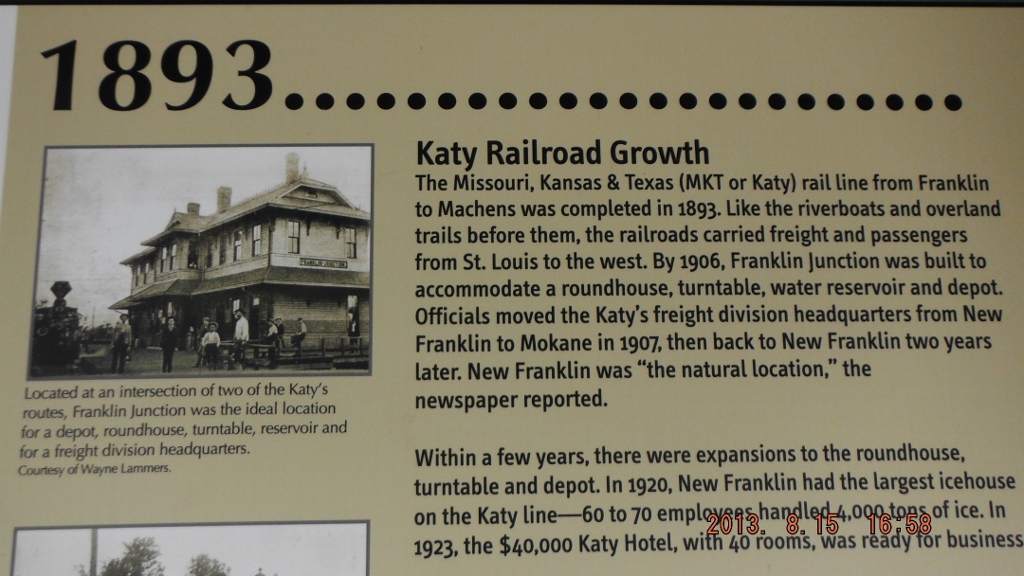 I had ridden 58.5 miles today---today was a good day as everyday on the Katy and I was feeling really good.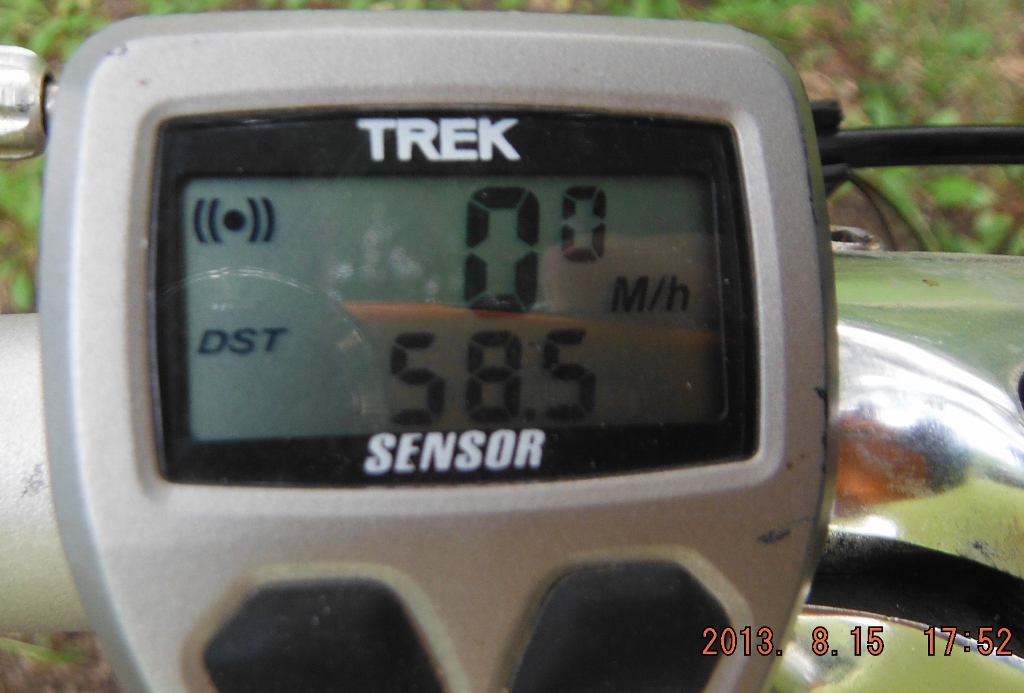 My computer said I averaged 10.1 mph -----------a moving average which was typical for me.
I found very few people riding any faster.
At home I average a few more mph ------but they are shorter rides riding with no gear.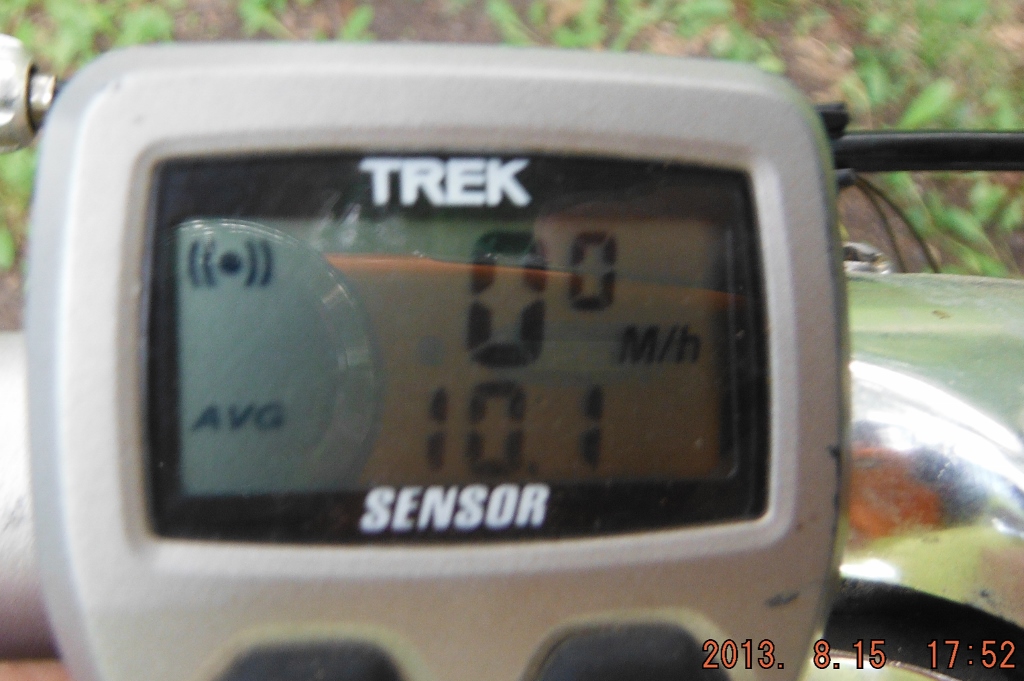 I found this campground for $6 with a shower.
No one was in the tent area and I set up my tent.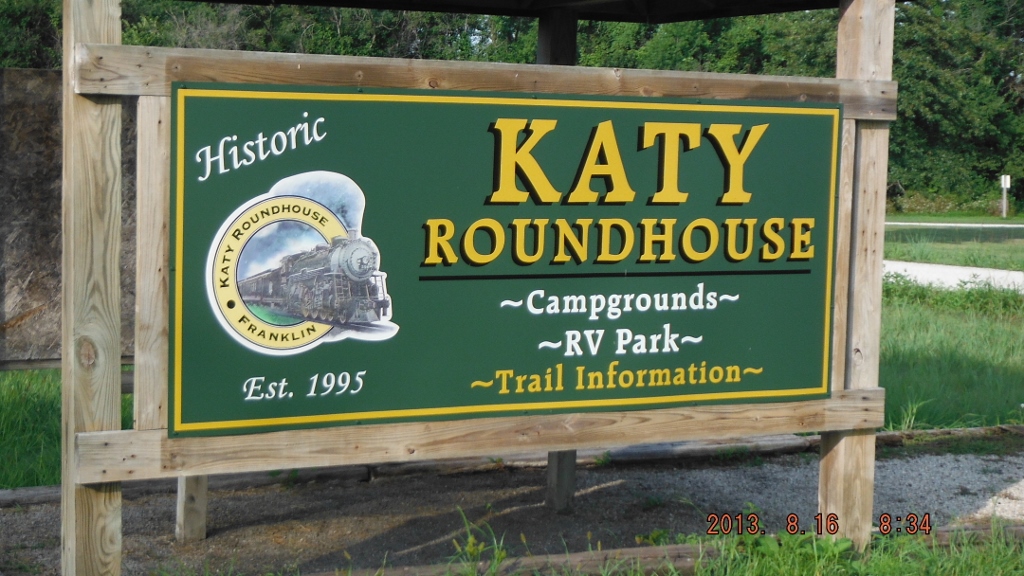 And then later Wayne shows up. I had a hoot with this guy and really liked him.
He started talking with a big foreign accent and I asked him if he was from New Zealand.
He was amazed I said that as most people thought he was from Australia and asked how I guessed that.
Well-----------look at your flag Wayne !!!!!!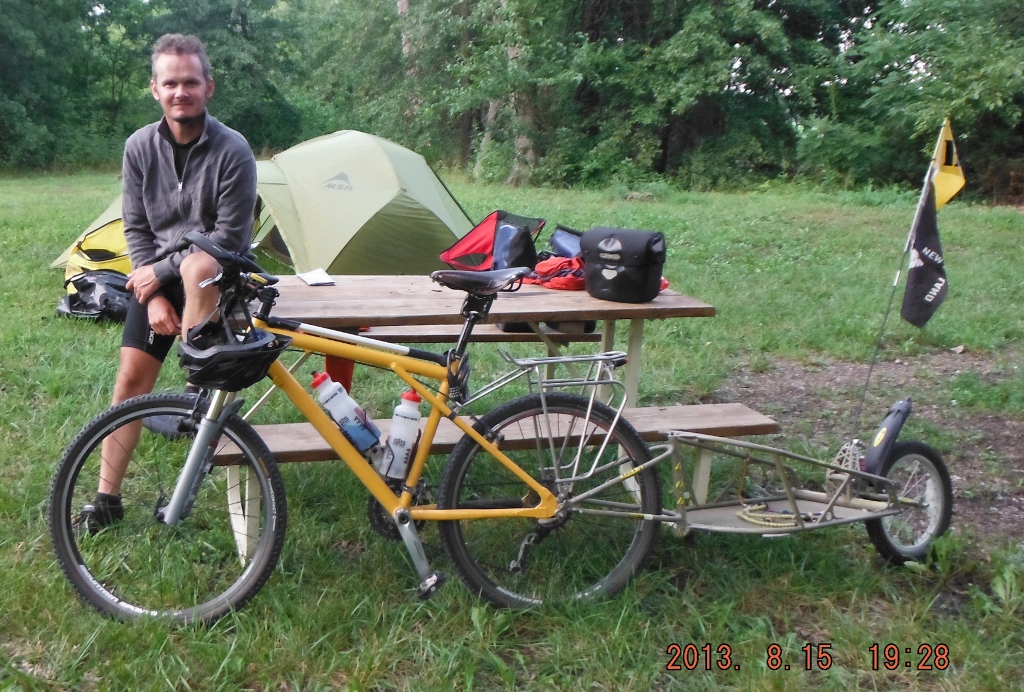 He was traveling across country of course and had everything.
The next morning I fixed some more oatmeal for breakfast and he gave me some sugar to spice up the bland taste of my unsweetened oatmeal.
As with my old buddy Fred (the turtle) I was all ears about New Zealand and he fired up some maps on his I-phone and showed me where
he lived---where his parents lived and told me all about the climate and other interesting things about New Zealand.
Heck I didn't even know where it was at at first. I hated history in grade school--but was now all ears.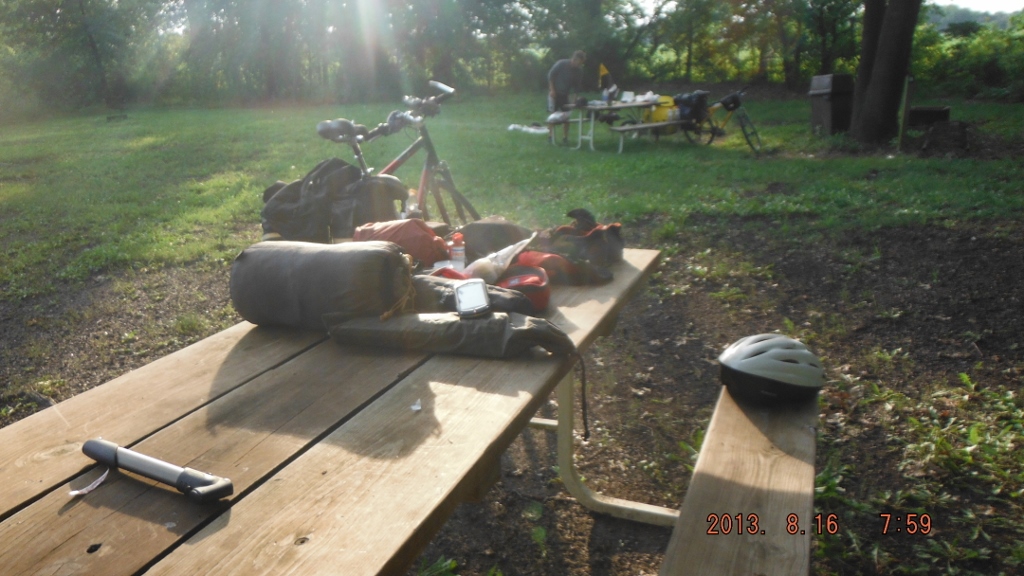 Here he is all packed up with his "Bob" trailer---he was headed the opposite direction I was so we never shared any riding together.
Wayne's tires were completely bald and I made a comment about them and told where a bike shop was 10 miles down the trail if he wanted to buy new tires.
"No worries mate" he said----------I've got tires, patches and tubes.
Funny thing tho---that morning I looked out my tent and his bike was upside down and he was fixing a flat---he wouldn't put on the new tires tho---said
his old bald ones had less rolling resistance---------------OK Wayne and off he went.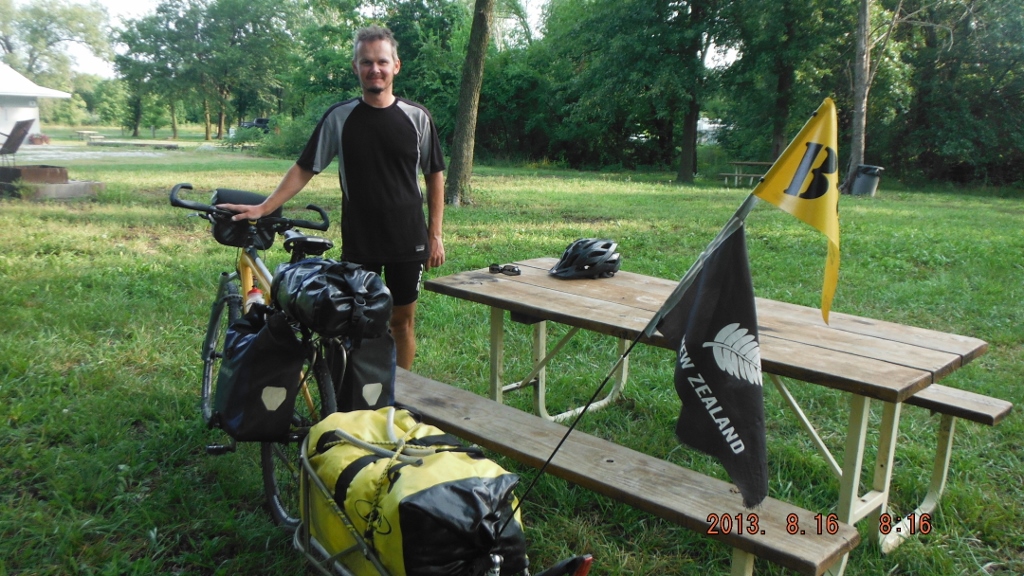 The old train turntable was nearby and right as I left the campground I found it's remains.
Here is the turntable in 1919.
Check out that huge hunk of steel under the turntable.
These allowed the engine to turn around or get on another track.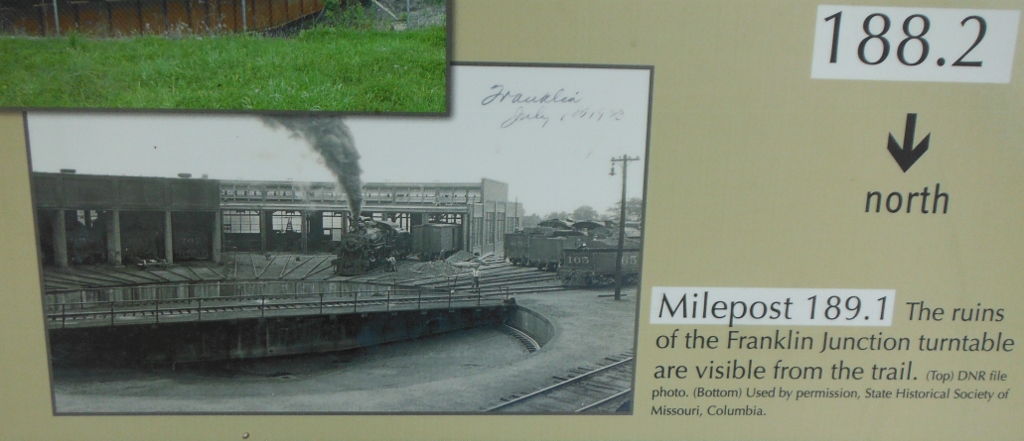 And here's what's left today.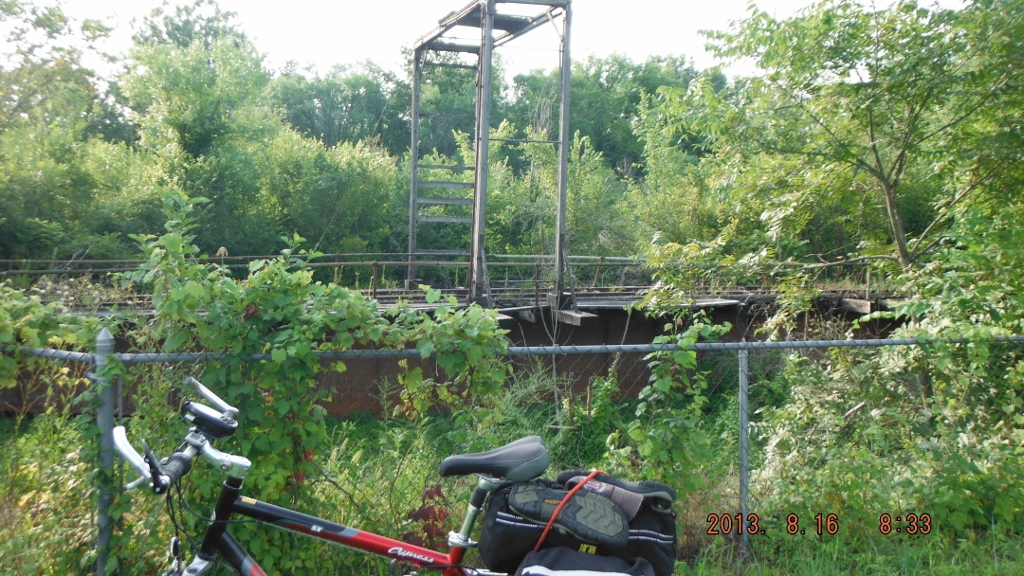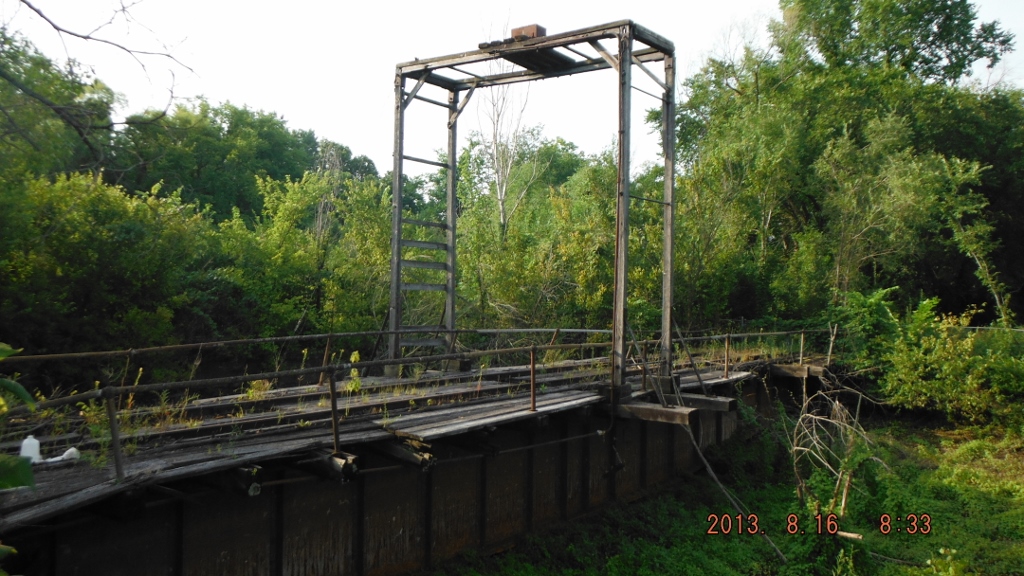 Today I would sadlly cross the Missouri river and leave it's company.
And when I spied this old bridge off in the distance I thought I'd be crossing on it-----but not so.
I hated leaving the river and it's company and figured the scenery would deteriorate------but not so.
I spotted the new bridge that the route was going to take me over the Missouri River.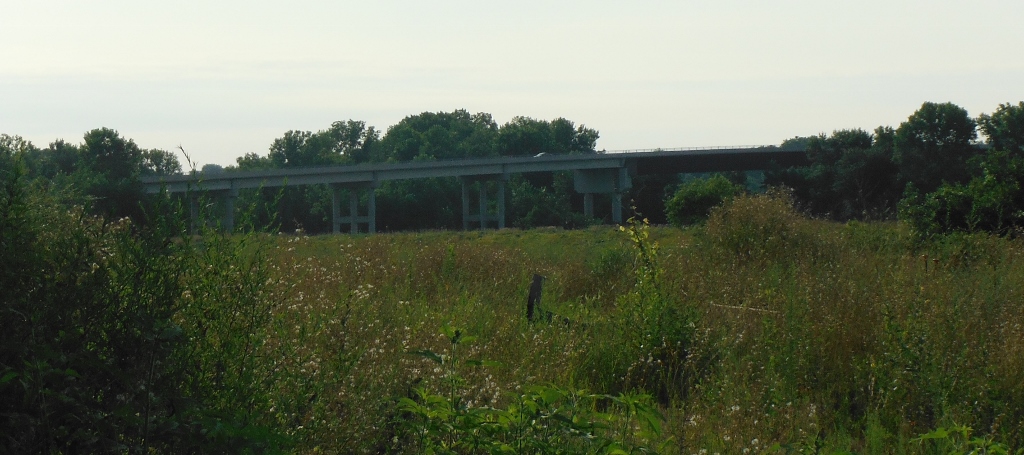 And it was on this bridge that I would meet somebody that was most memorable to me.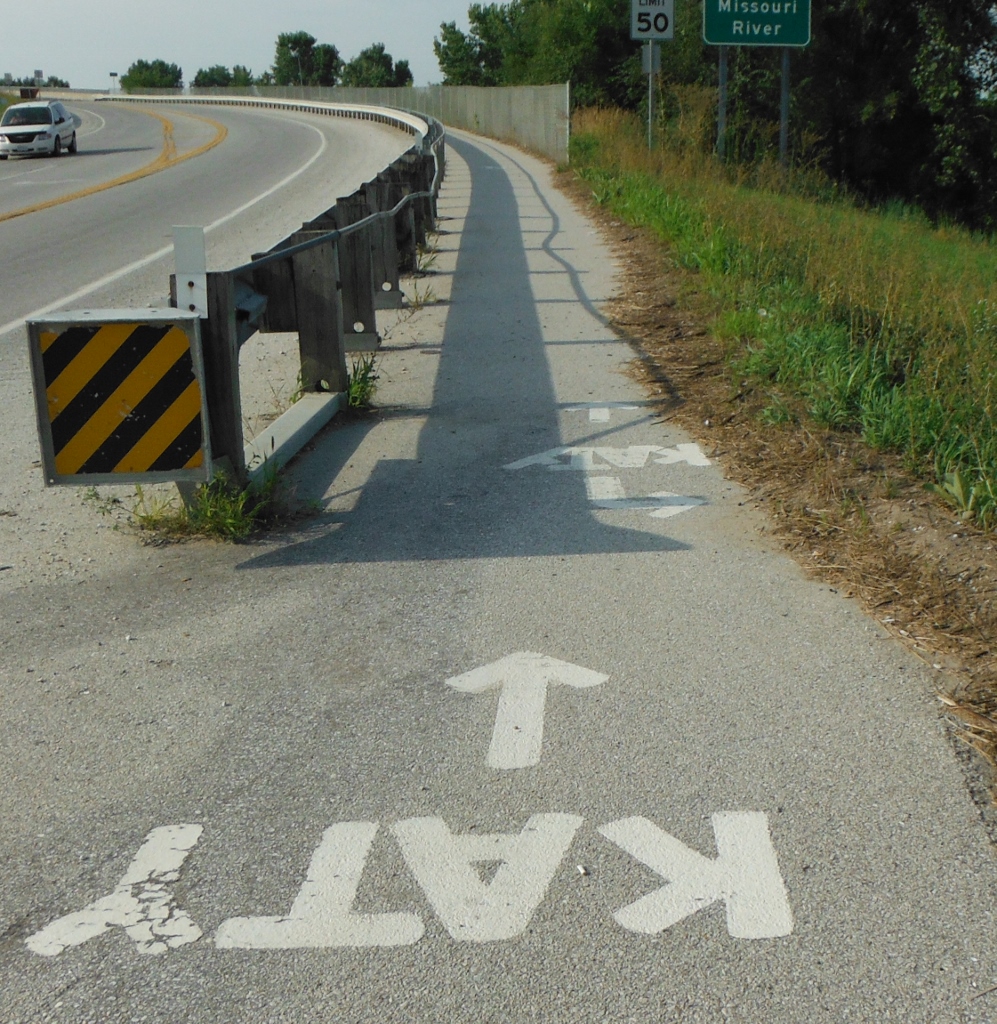 OK----I'll try to keep my speed down !!!!!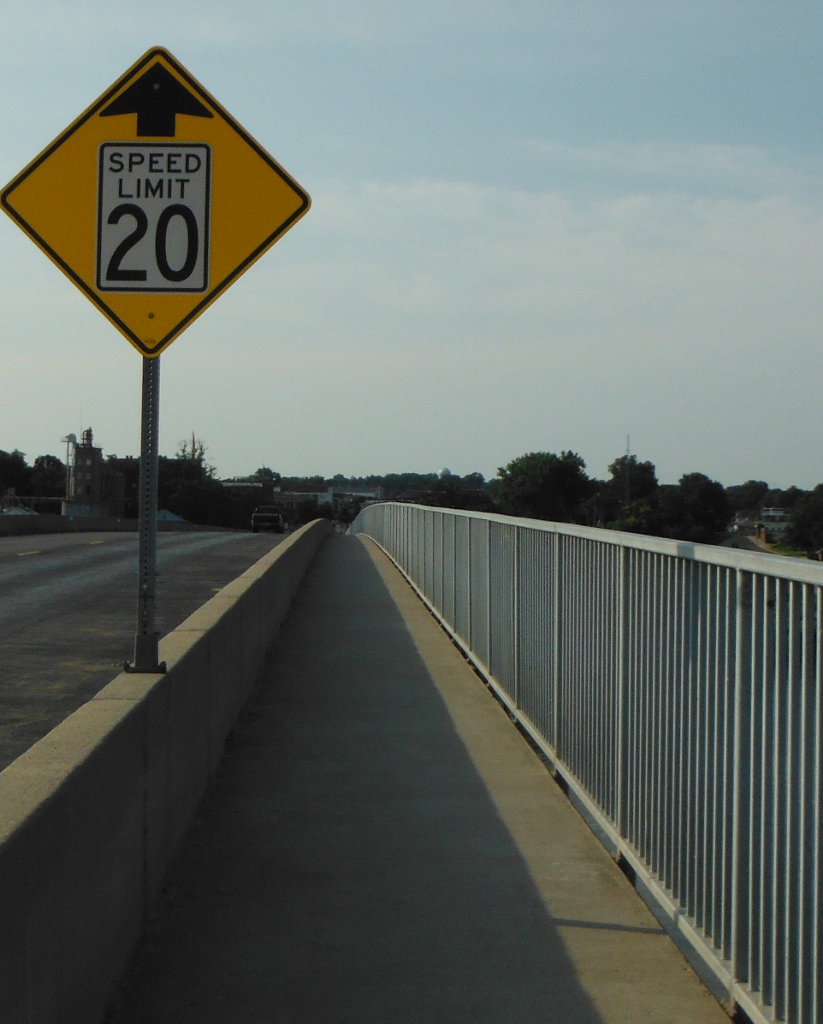 And here is where I met my new friend (black shirt)-----------meet Katy !!!! Yes .........Katy !!!!!
She informed me her name was Katy and this was her trail and she knew all about it.
She told me man things about the Katy trail and asked one question after another about my bike and gear.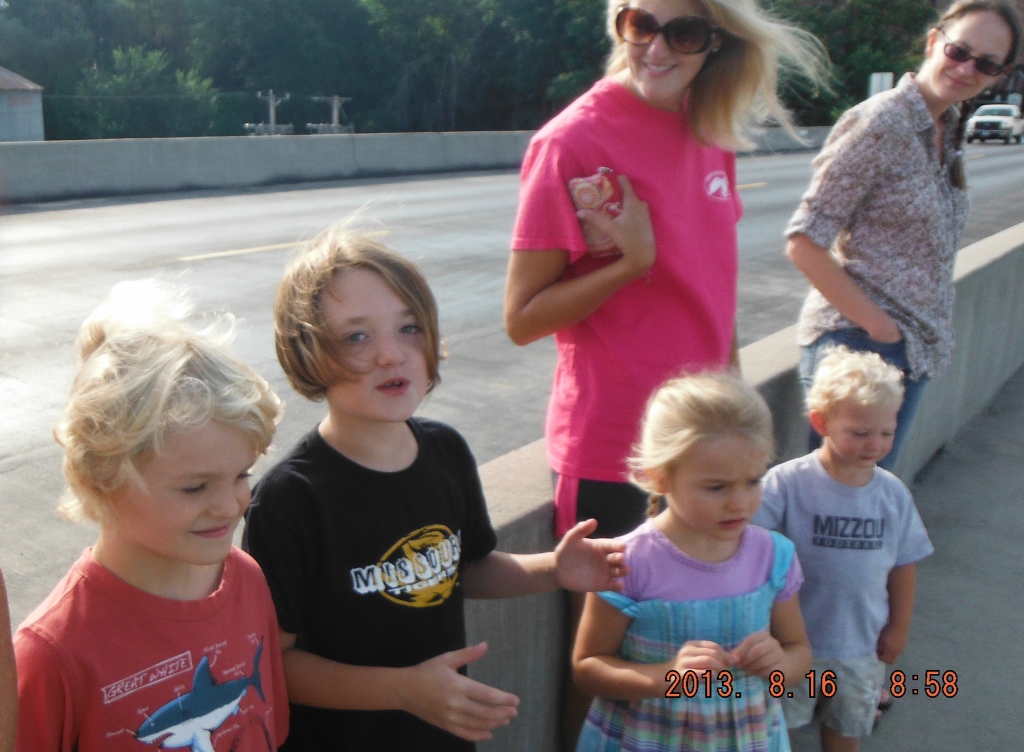 This old bridge was to our right as I talked to Katy----and she told me all about it.
I'd ask her a question about the Katy Trail and she'd spit out an answer.
I really had fun talking to her and she told me where I could have a proper breakfast.
I shook her hand before peddling away and told her I hoped she would get to ride the whole Katy Trail someday-----------goodbye Katy !!!!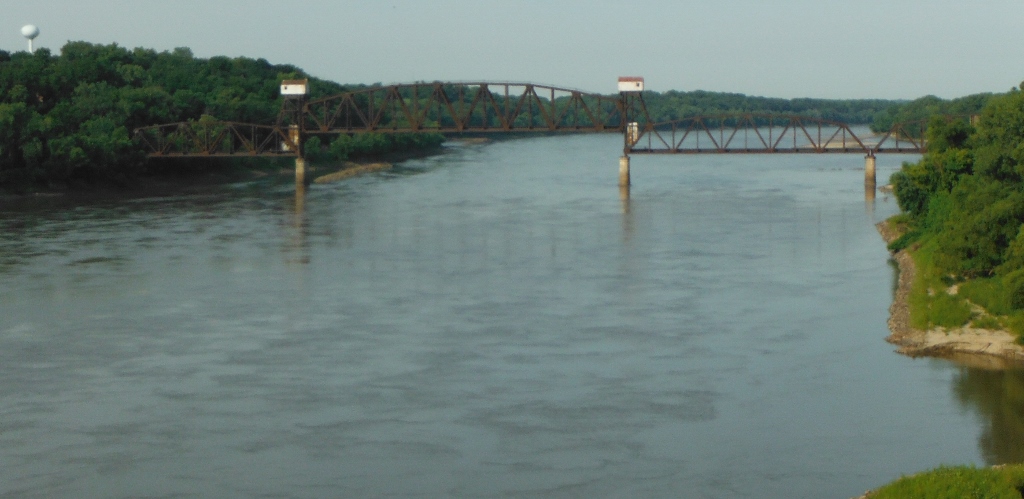 Riding down the hill off the bridge I coasted right into this cafe---just like Katy told me I would.
This was in the town of Boonville, Missouri.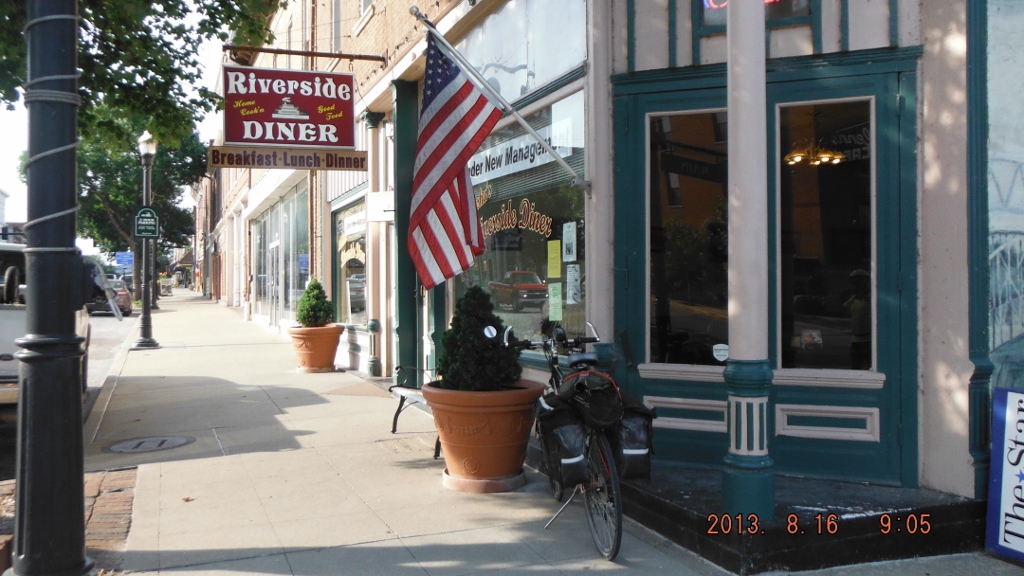 You actually crossed on what is shown as route 5 on the map.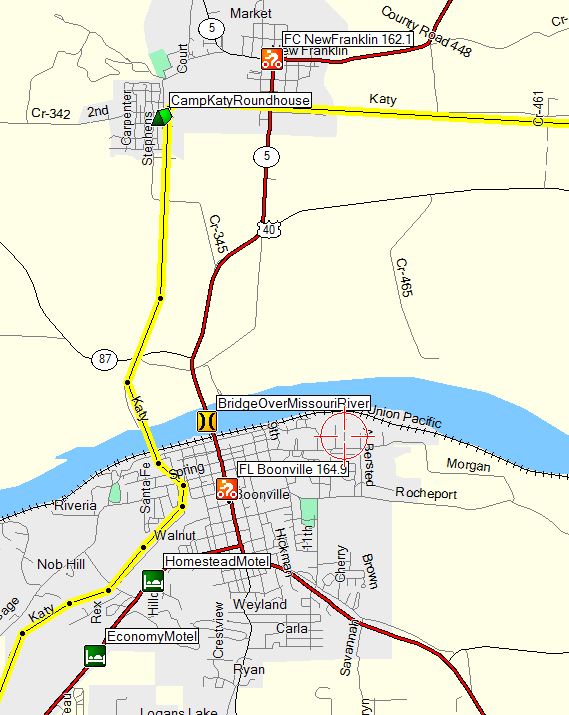 In the Cafe I found some interesting pictures and signs.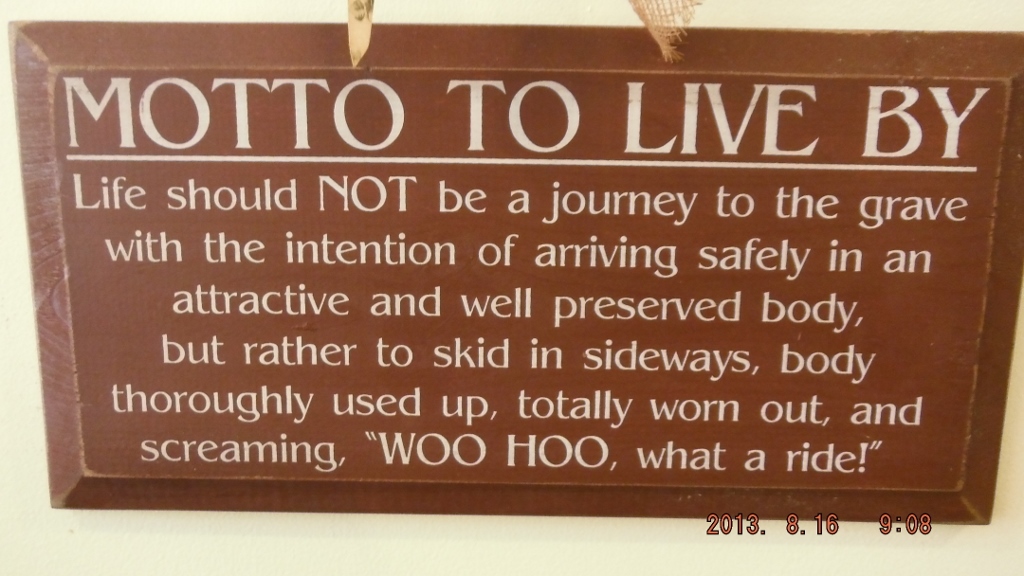 Before the old bridge in the picture above that went up and down was this bridge that turned for boats to pass.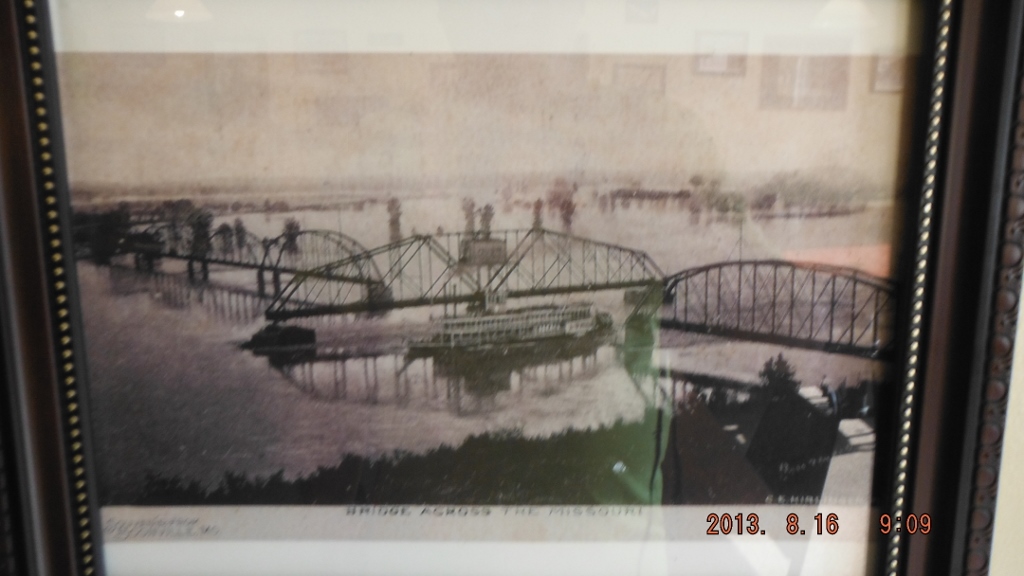 And here is them blowing it up.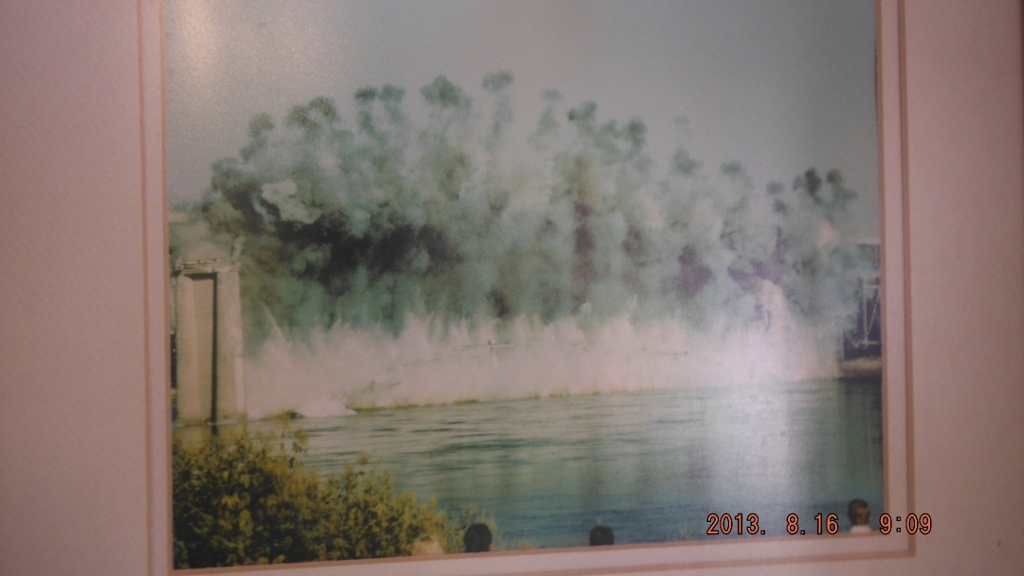 The old restored Boonville train Depot with a MKT caboose.
A museum was inside the Depot.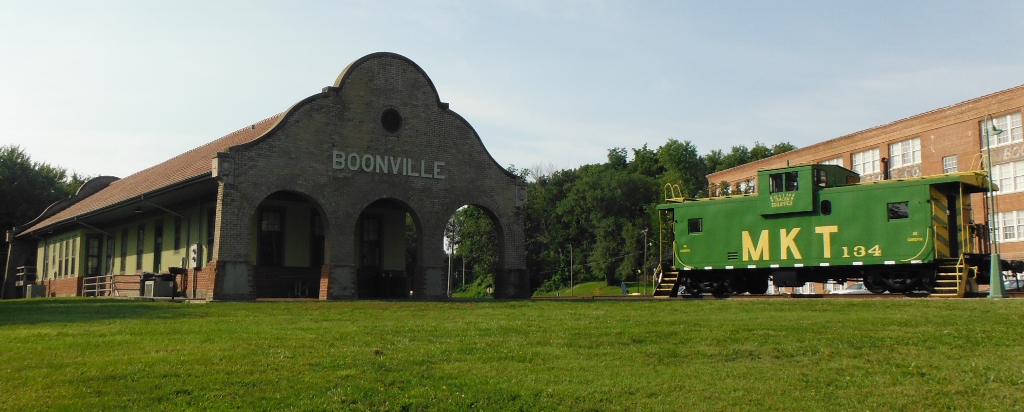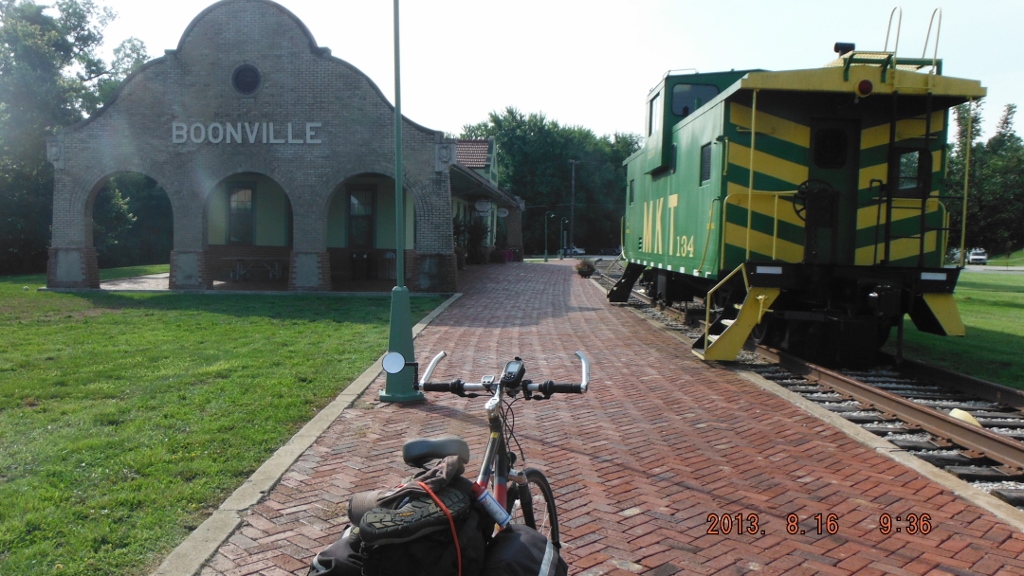 I loved this picture of the Depot back in the day---looks about the same.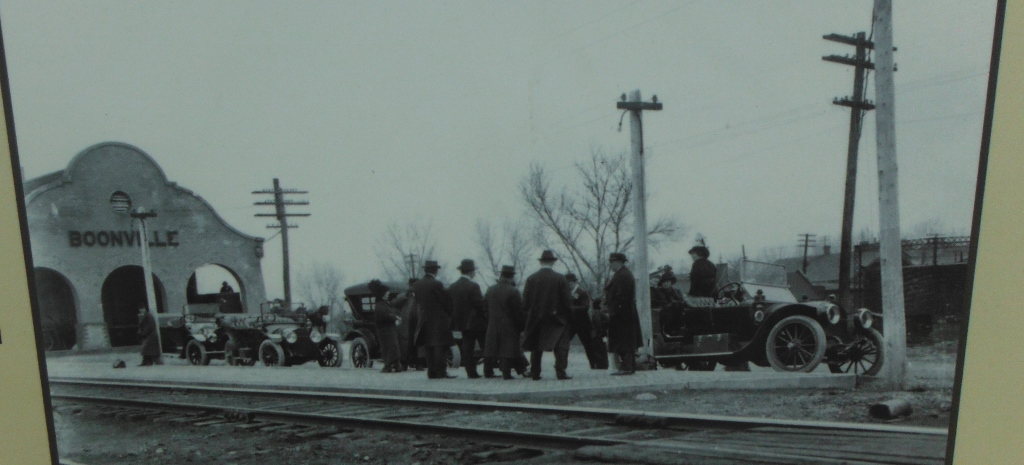 I snuck down to the exit of the old lift bridge that you aren't allowed to cross on.
They raised the bridge and shut it down years ago.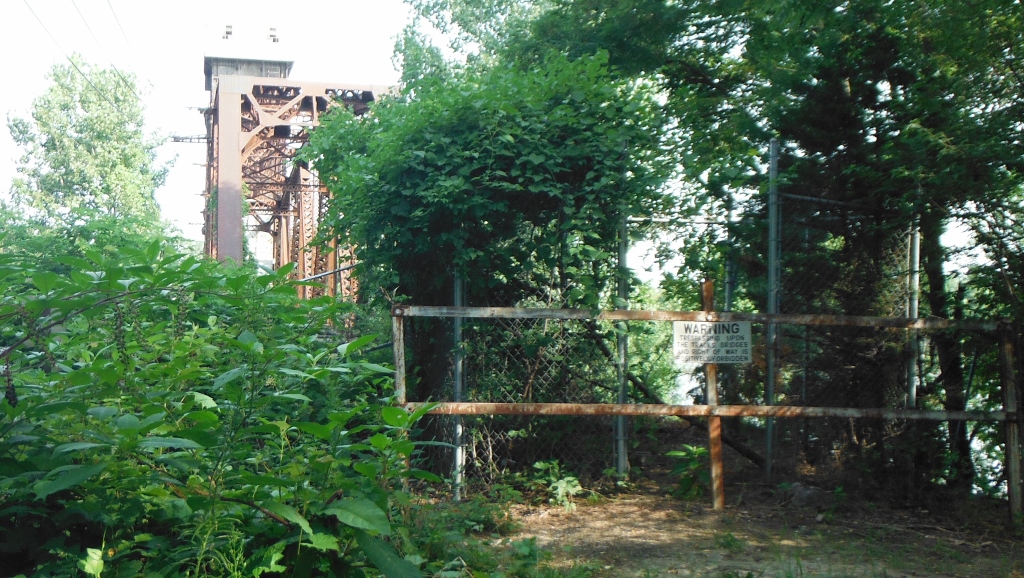 Just before leaving the small town of Boonville and once again going out into the countryside I passed this trailhead.
It was here I was told that instead of being almost flat ----the next few miles would undulate up and down---but I found
more up than down !!!!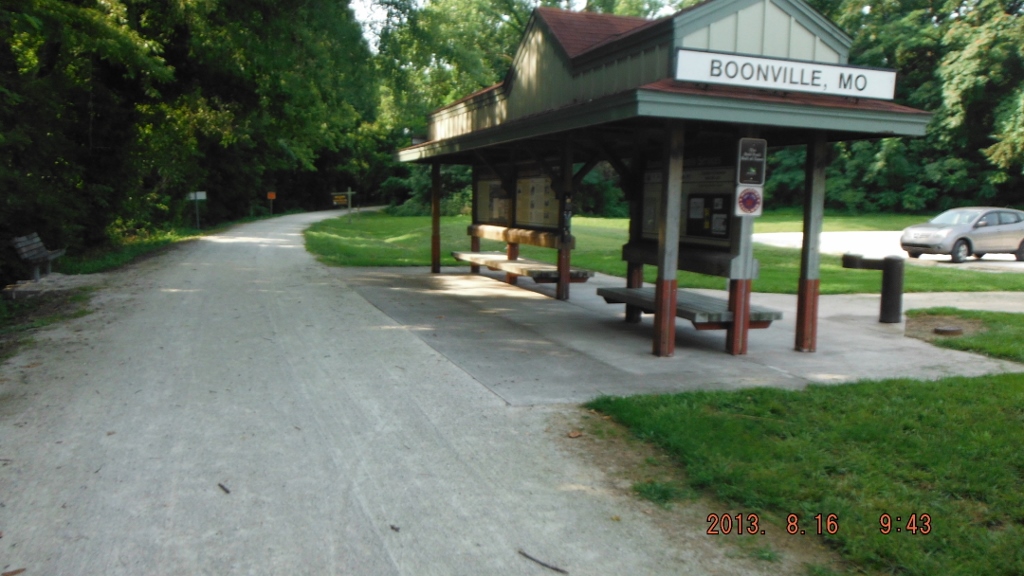 And it was here I ran into a few fellows that decided to play a trick on me--------or so it seemed.
I had been climbing for miles when I got to this culvert and these guys knew it and told me it was all down hill from here.
I thought I heard them snicker as they rode off the other way towards Boonville-----then I heard roaring laughter !!!
Well they were 20% right-------as I immediately hit the longest and steepest uphill section of the whole ride.
It wasn't bad really------but I actually laughed about the whole thing.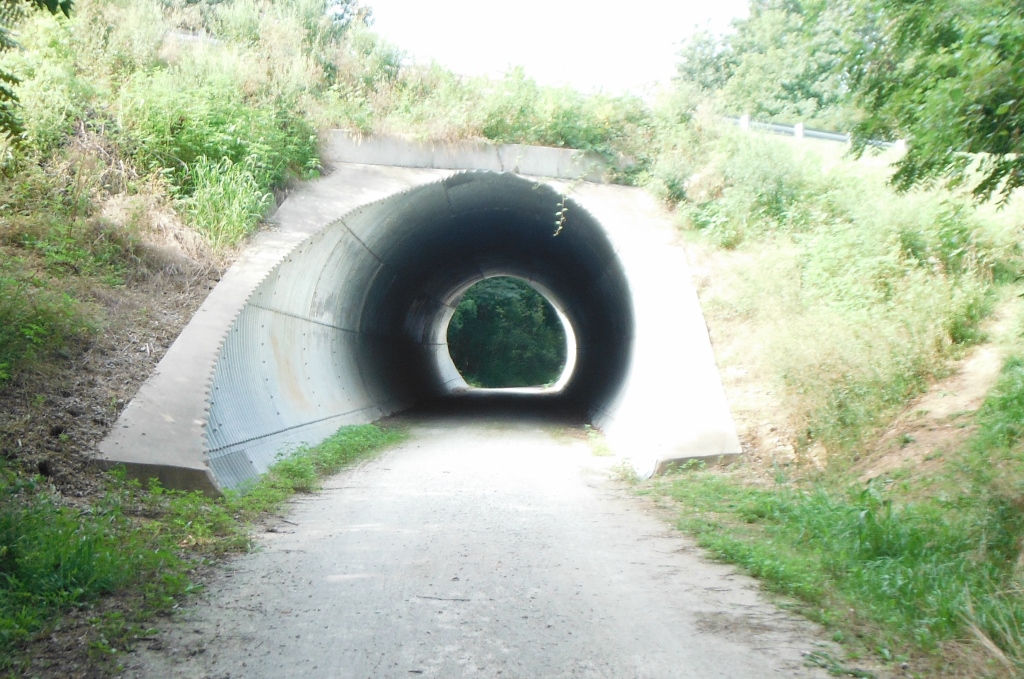 Somewhere along the trail I missed seeing this------but found a picture of it at a trailhead.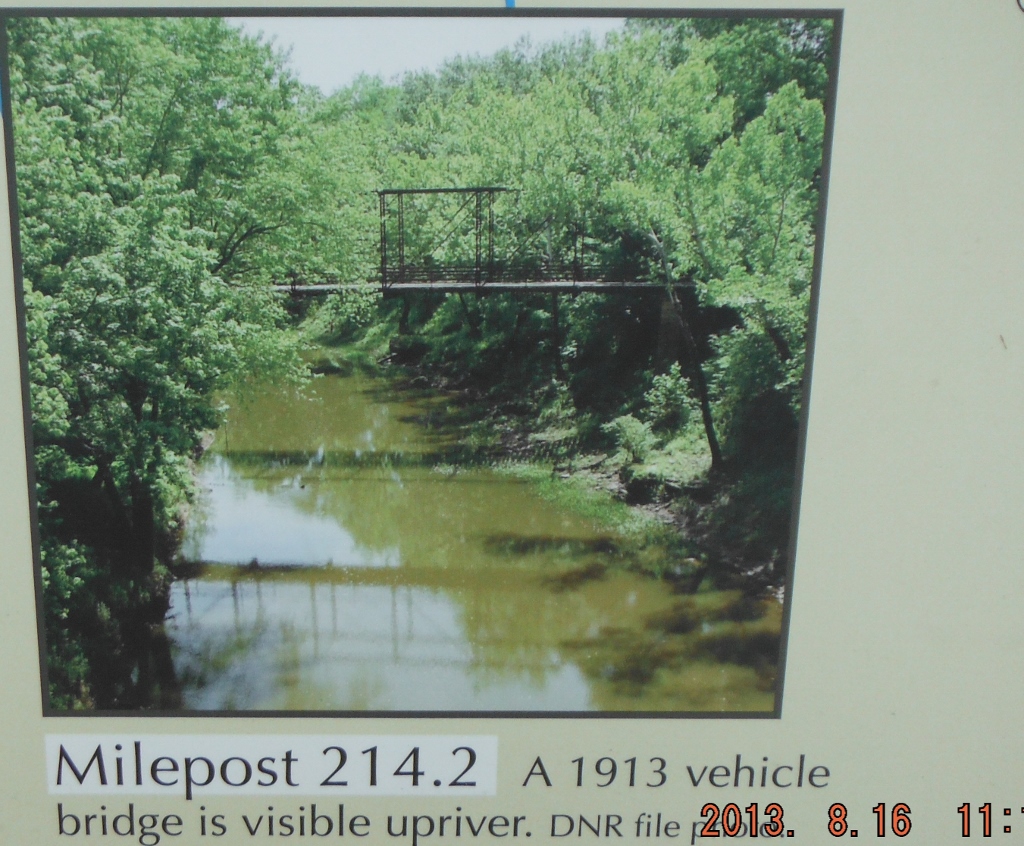 I crossed interstate 70 here.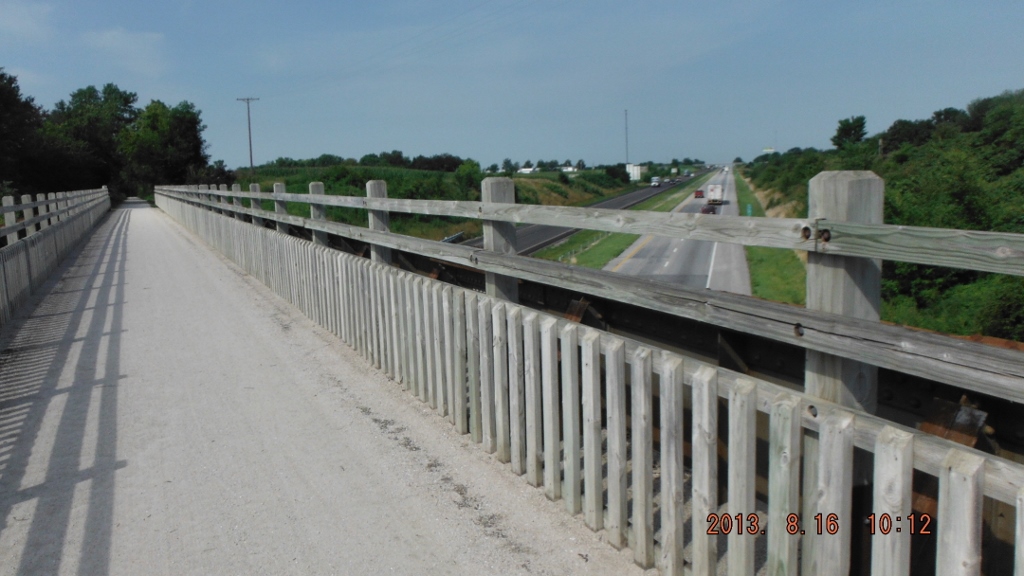 And risked life and limb to get this picture. I had seen that Katy Trail sign many times on the interstate hauling my dualsport motorcycles out West
and dreamed someday I'd cross that bridge on a bicycle----and today was the day---I was estactic.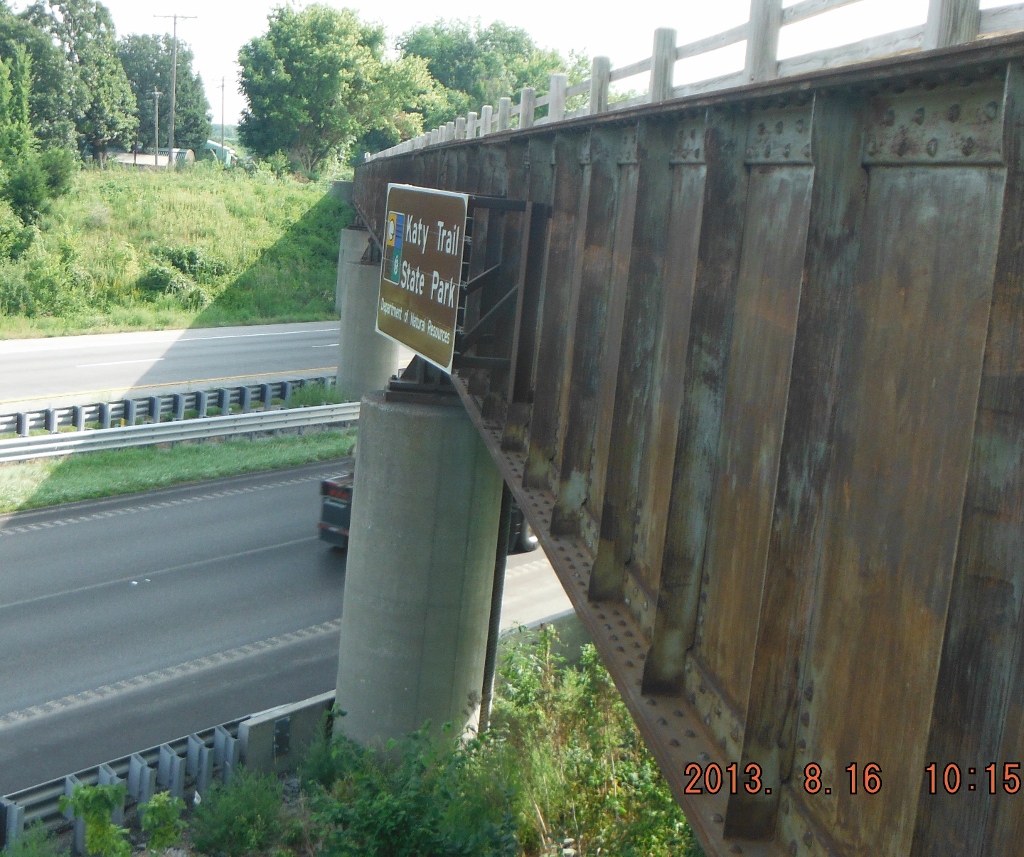 I think I could have killed myself getting that picture.
First the fence was too high to just straddle it---so I had to use it as a ladder which didn't work very well.
And I pictured getting my nut-sack caught on the top of the wire fence--with my foot trapped below---then over I'd go breaking my femur in the process before tumbling
to my death down the steep embankment where I'd hit the guardrail before bouncing out into traffic and then get run over by a semi.
I hope you appreciated that picture.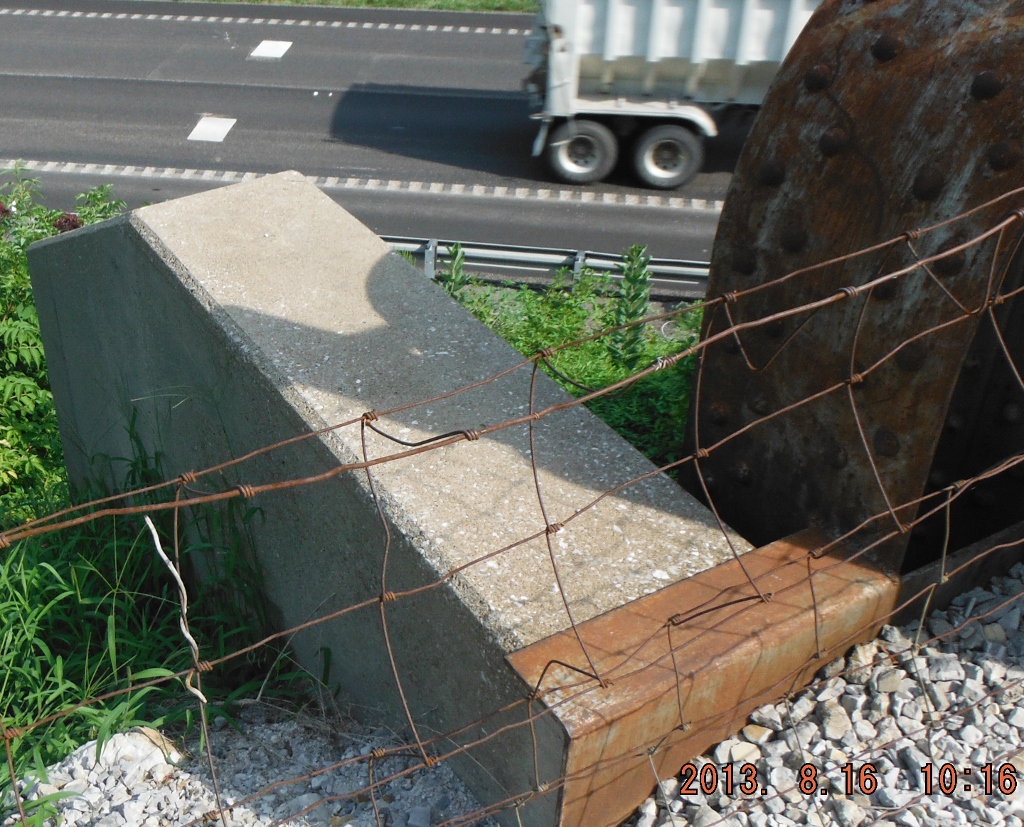 I steamed, hissed and tooted my way into Pilot Grove and backed off the steam pressure a bit for a break in Pilot Grove.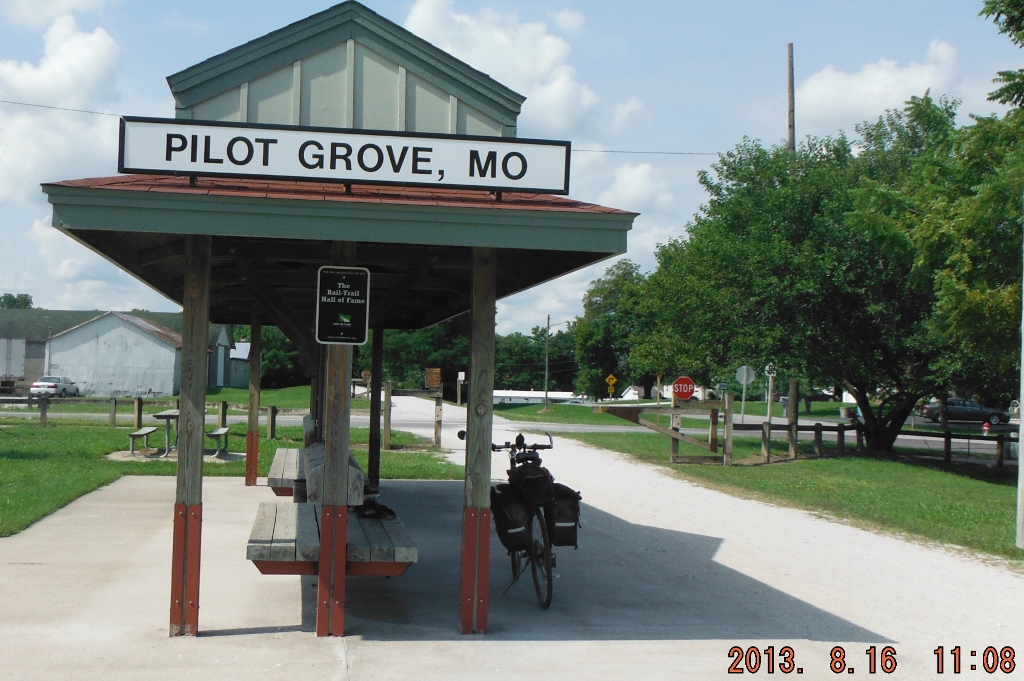 And I found Becky's Burgers and Cones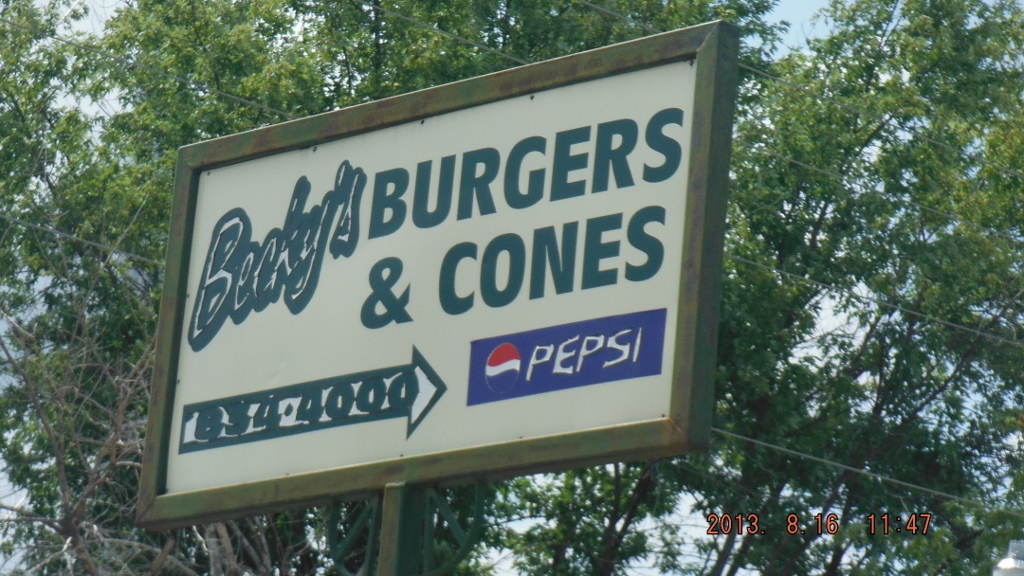 I went inside and ordered a caramel sundae and took it outside on the porch of Becky's on a picnic table and jabbered at everybody
coming in and out. Most were interested in my ride and had all kinds of questions. I'm not in a hurry-----and answered every one ----I'm retired you know.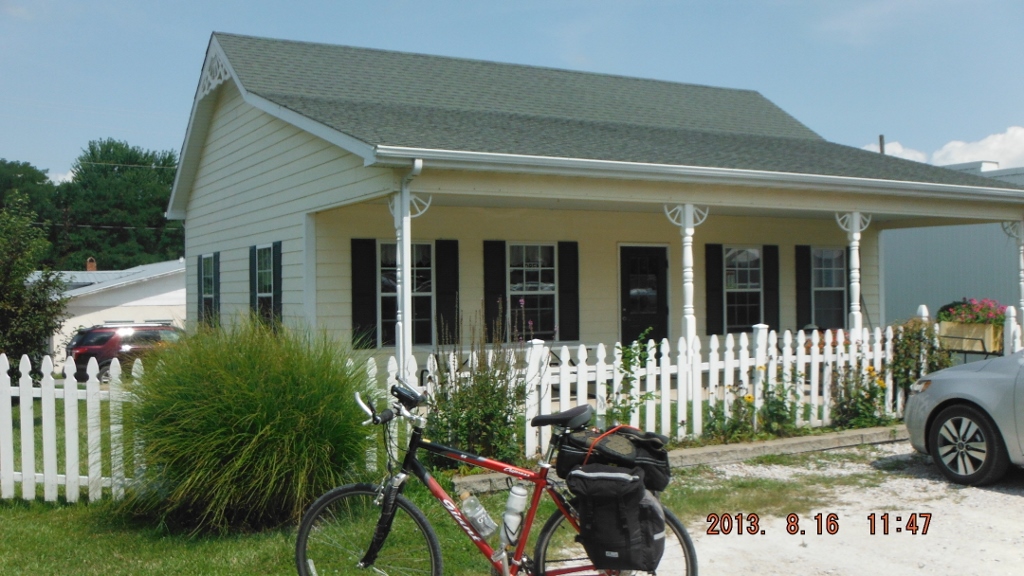 There are very few remains of the old signals on the MKT line.
There was just part of this one left.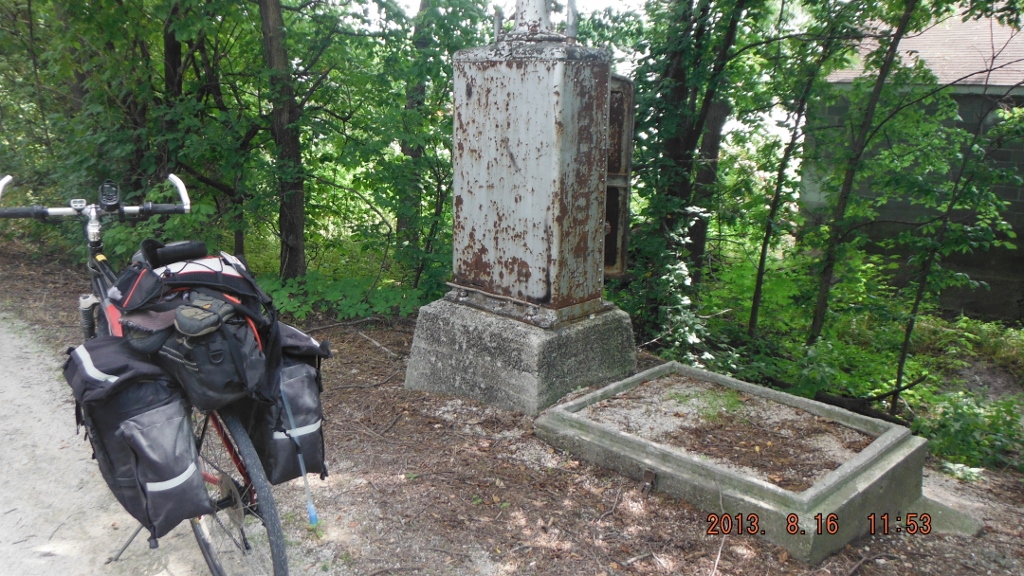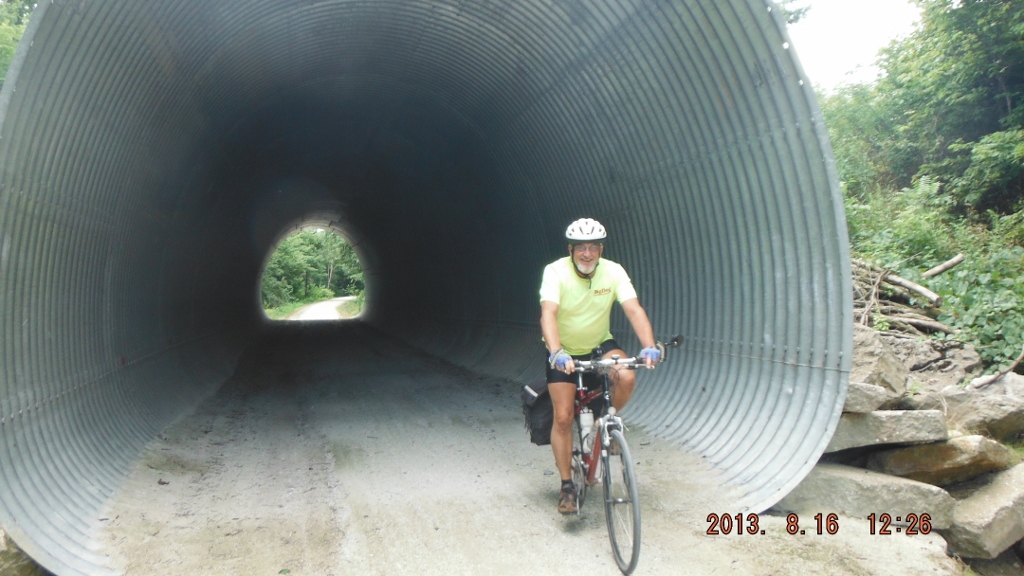 This is the only remaining "almost" complete signal---all the rest are long gone to time or vandals.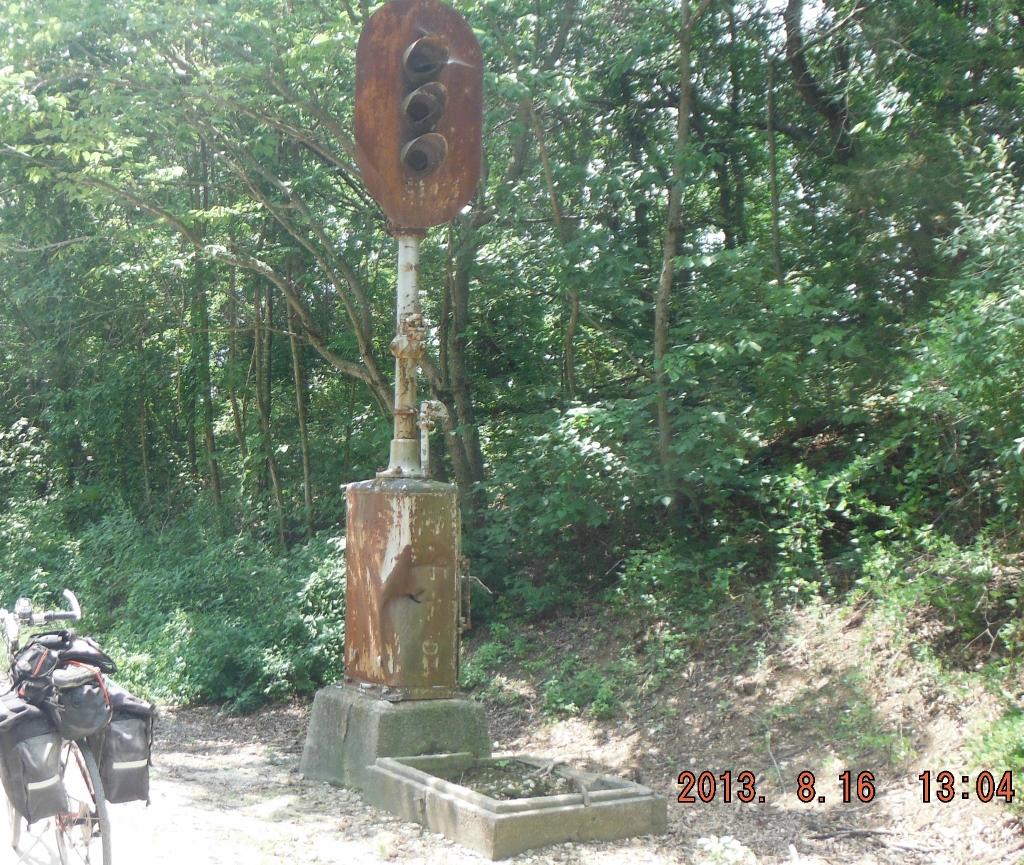 I was a little skittish about opening the signal box door on this one.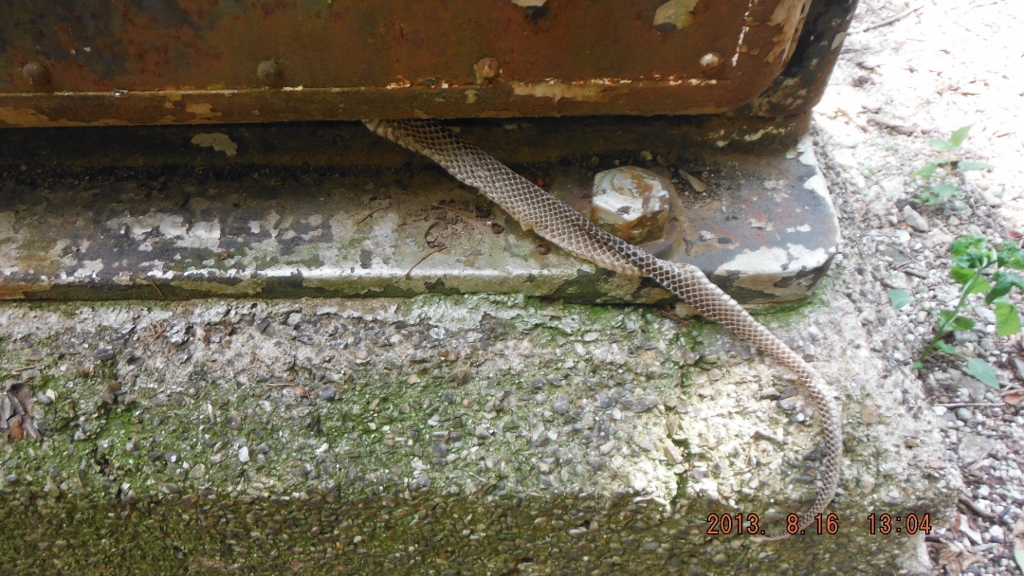 I'm not sure if the snake just shed it skin here-------or he had the door slammed on him and he died here ?????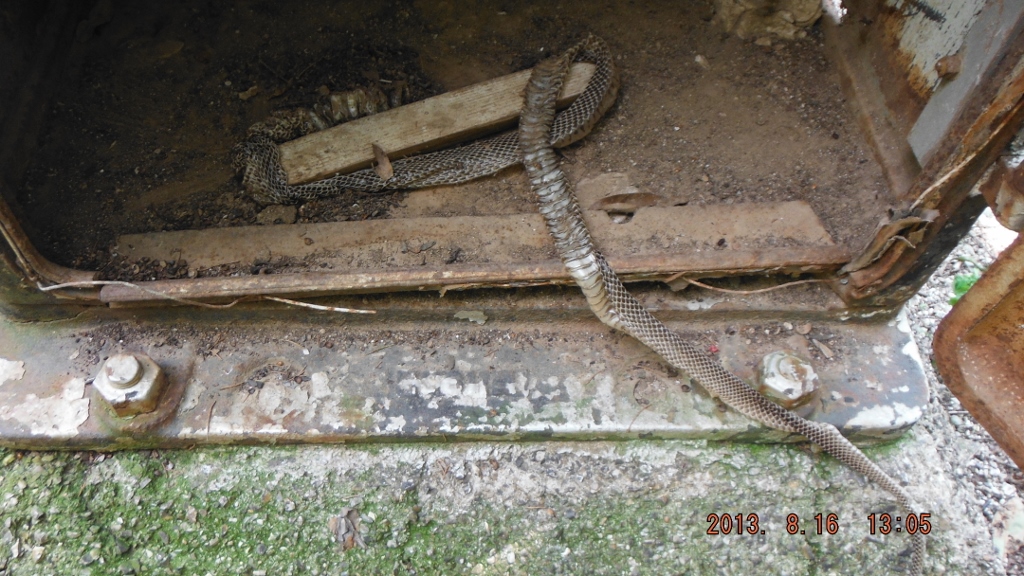 The signals perplexed me--------there was never anything significant about their location.
There was never a road nearby-----or dangerous curve---or hill---------or town---I couldn't figure it out.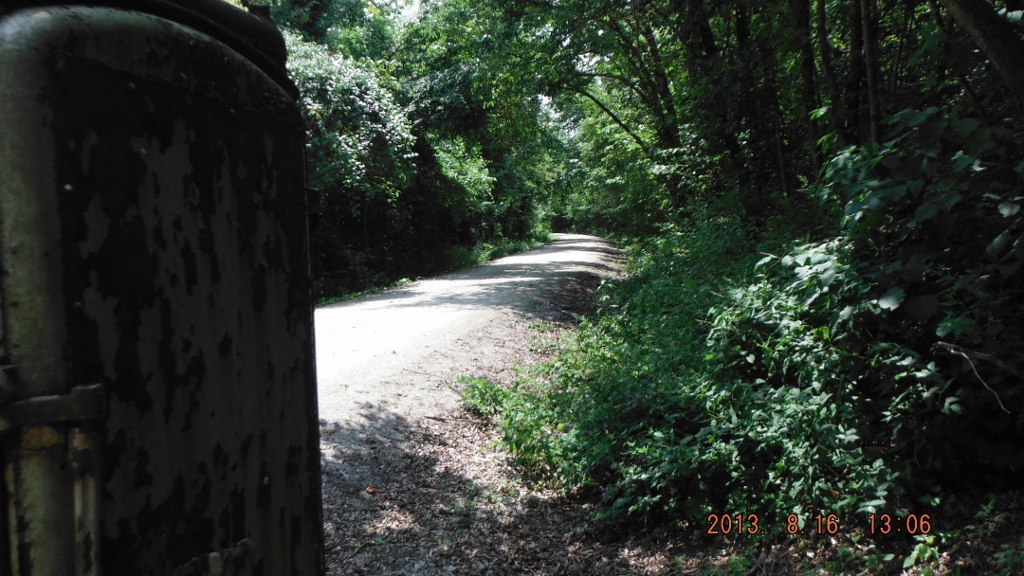 There was an awesome view at this bridge.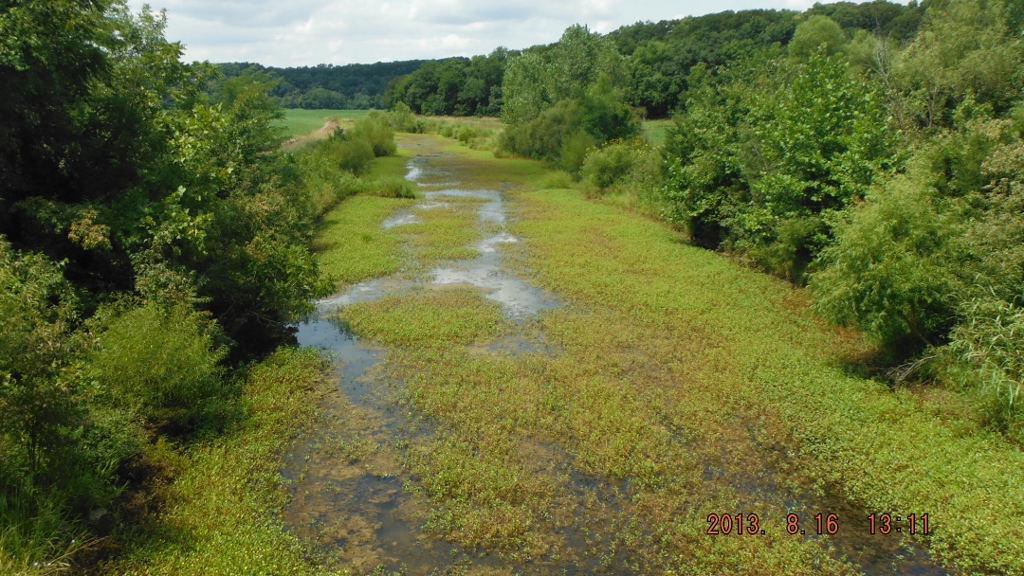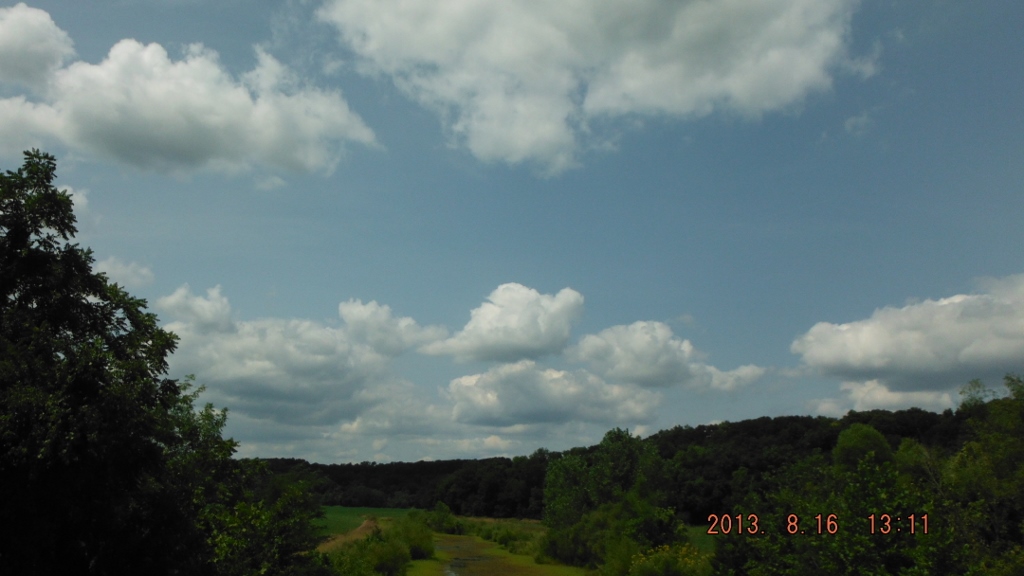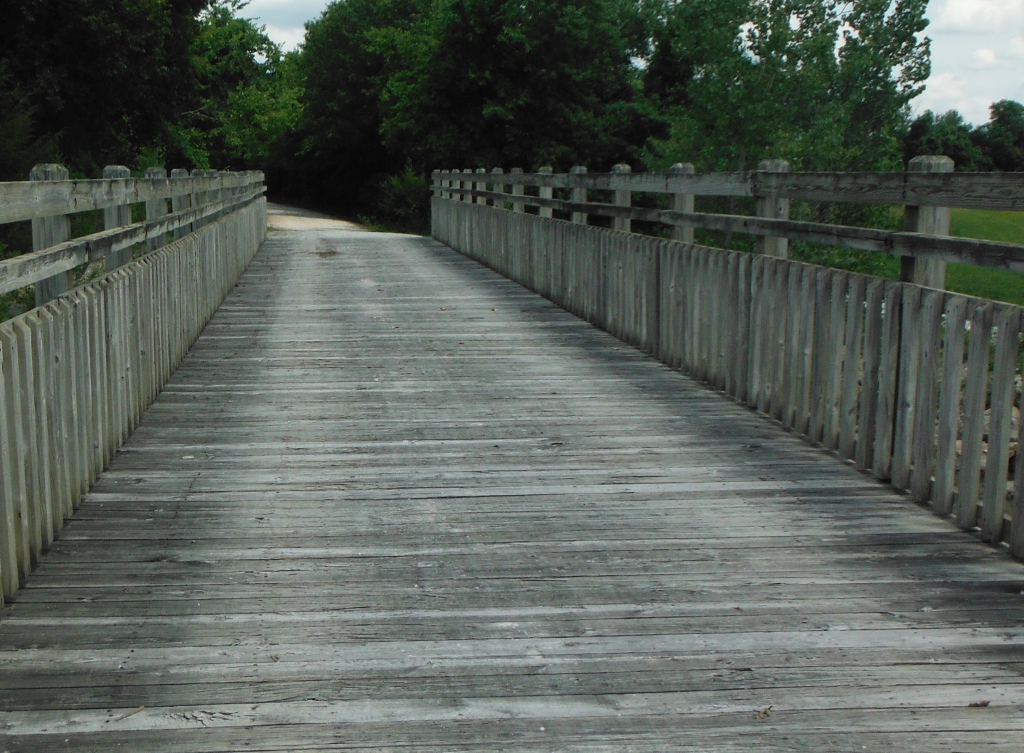 This was the only time I saw an intersecting rail---------------and up ahead I got a glimps of an old Industrial facility that I figured it went to.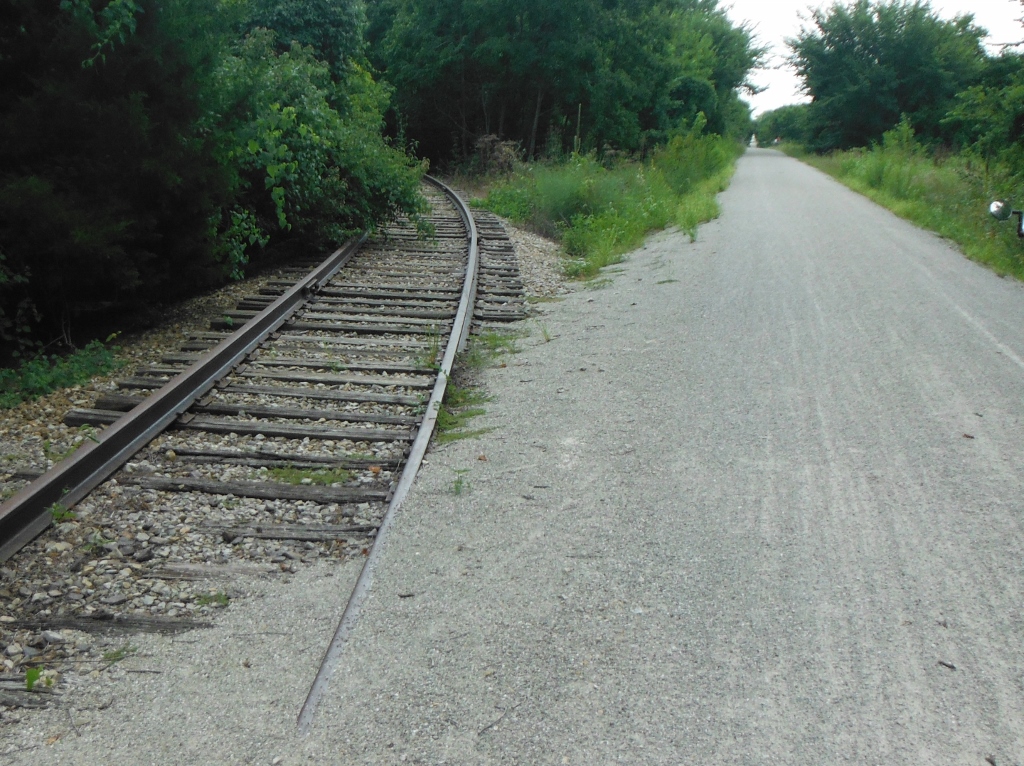 Man----I'm really on the downhill side now-------my next to last day on the trail is at an end as I roll into Sedalia to find camping, which
turned into a big adventure in itself.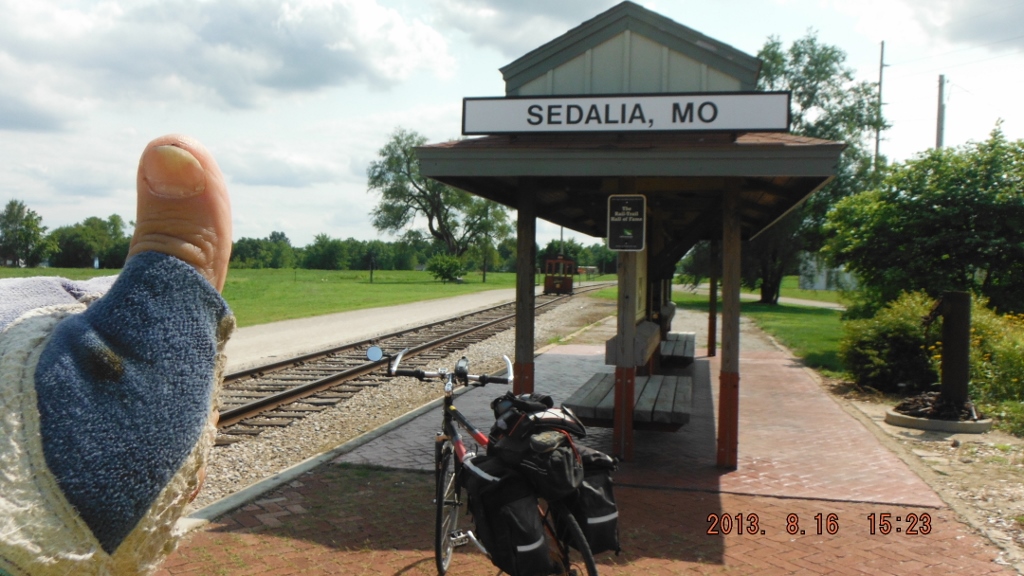 The old depot was restored and beautiful---there was a really nice bicycle shope inside and I got some info on camping
that wasn't so good.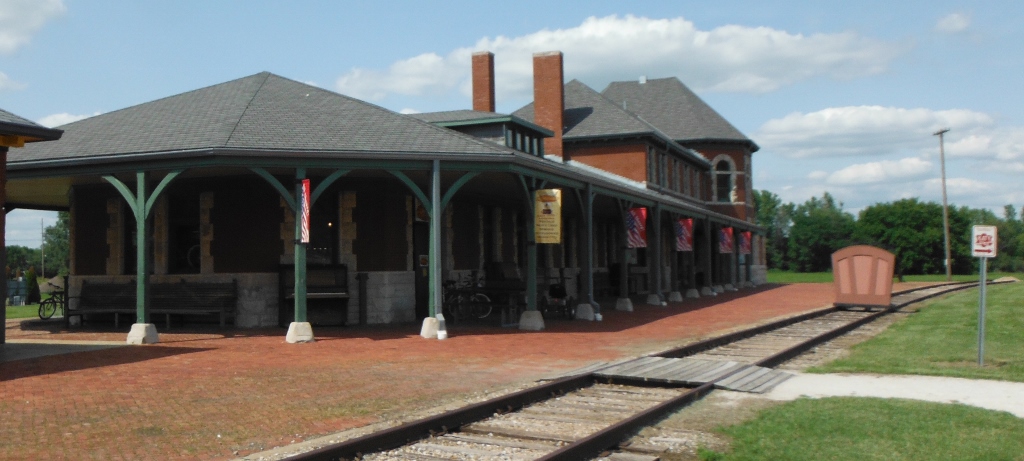 And I crossed route 50 I think in the middle of town.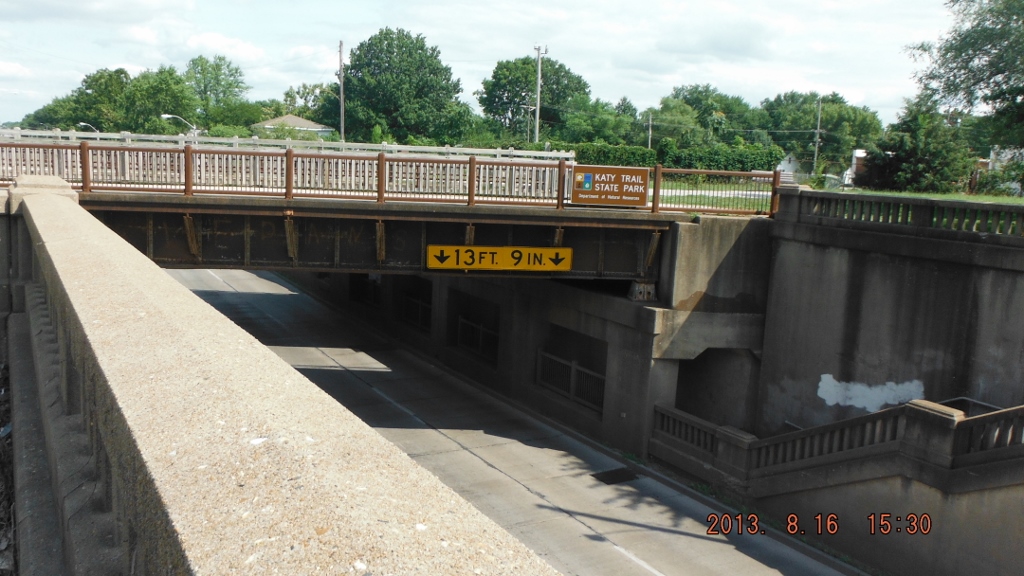 I had planned to camp at the state fair grounds but had no idea that the fair was going on and there is a sea of RV's here running
generators. I found another couple traveling the country off in the corner down a hil and we hope the RV's wouldn't come down here.
They didn't------and even tho I didn't go to the Toby Keith concert I got to hear it just fine--------till I fell asleep.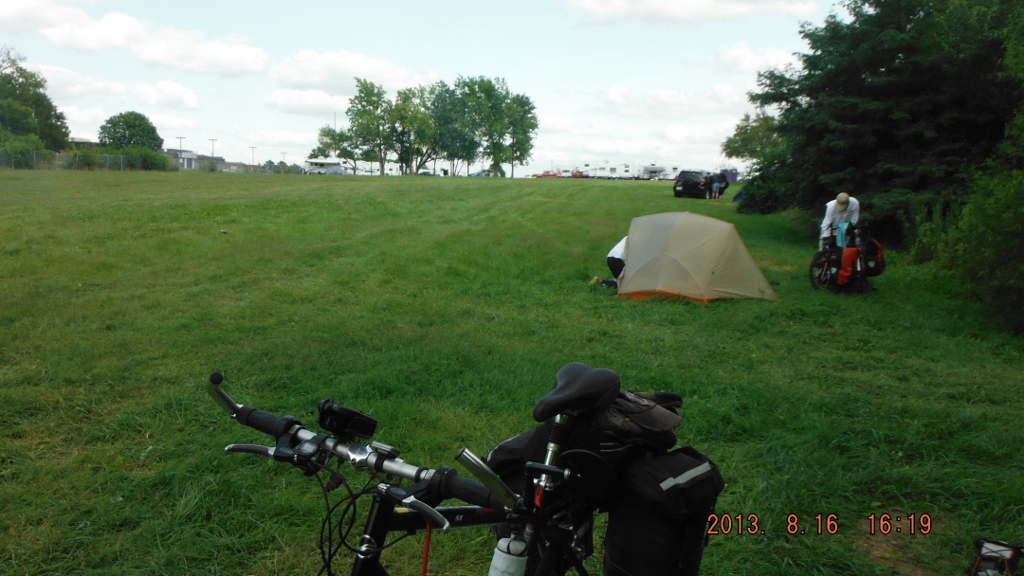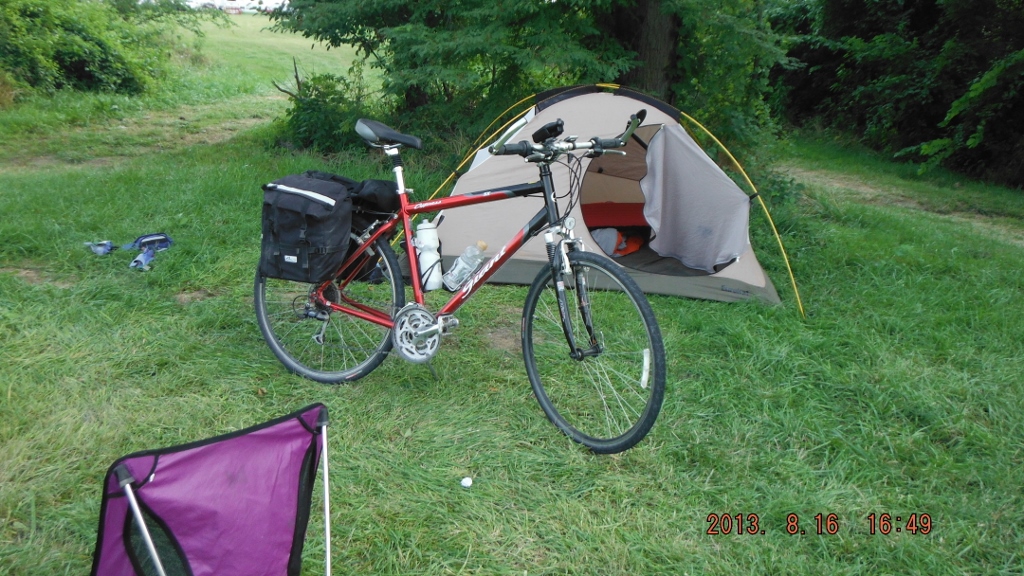 It was here I ran into a nice couple who had ridden this morning from the end of the trail to here---and were ready to ride back.
I embarassed myself by kickin' over the woman's bicycle while dismounting mine---but I didn't hurt it.
They told me it was all down hill to the end of the Katy in Clinton, Missouri---and they were 98% right !!!!!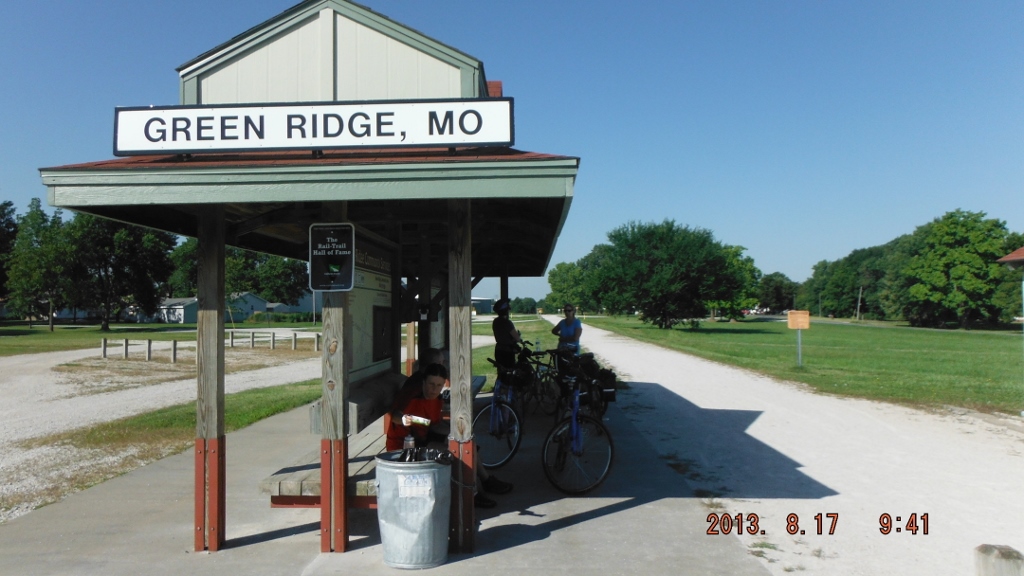 The air was getting thin----it was hard to breathe-----but I bucked up and road on into Clinton going down hill all the way.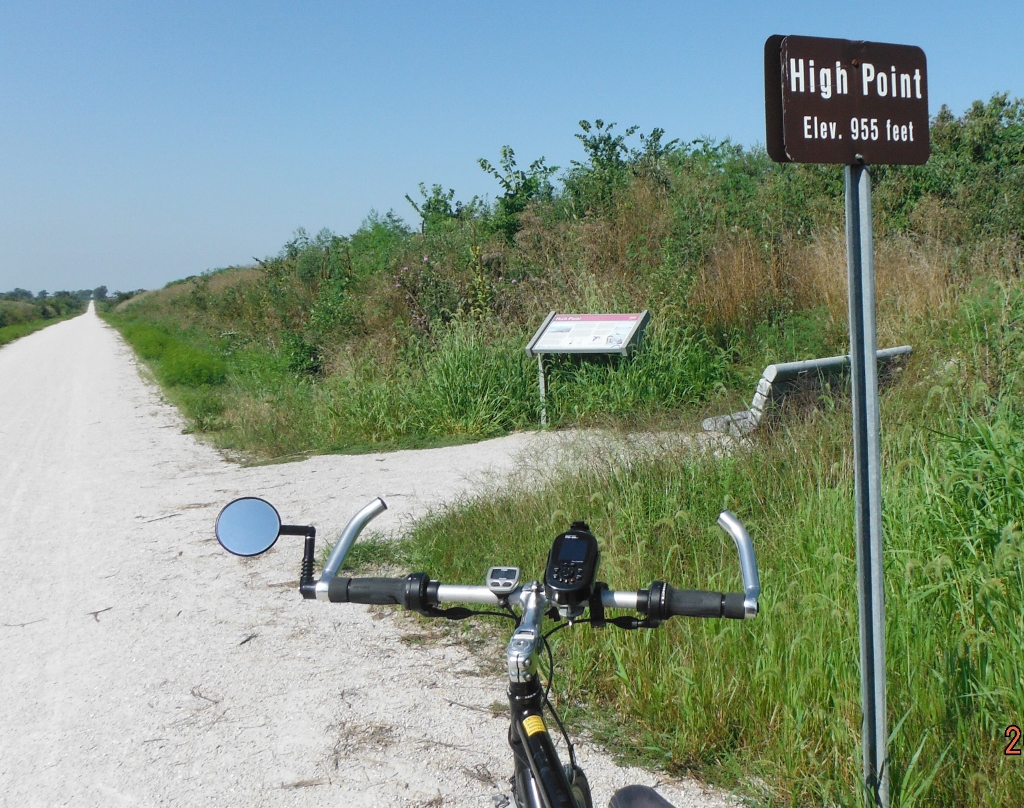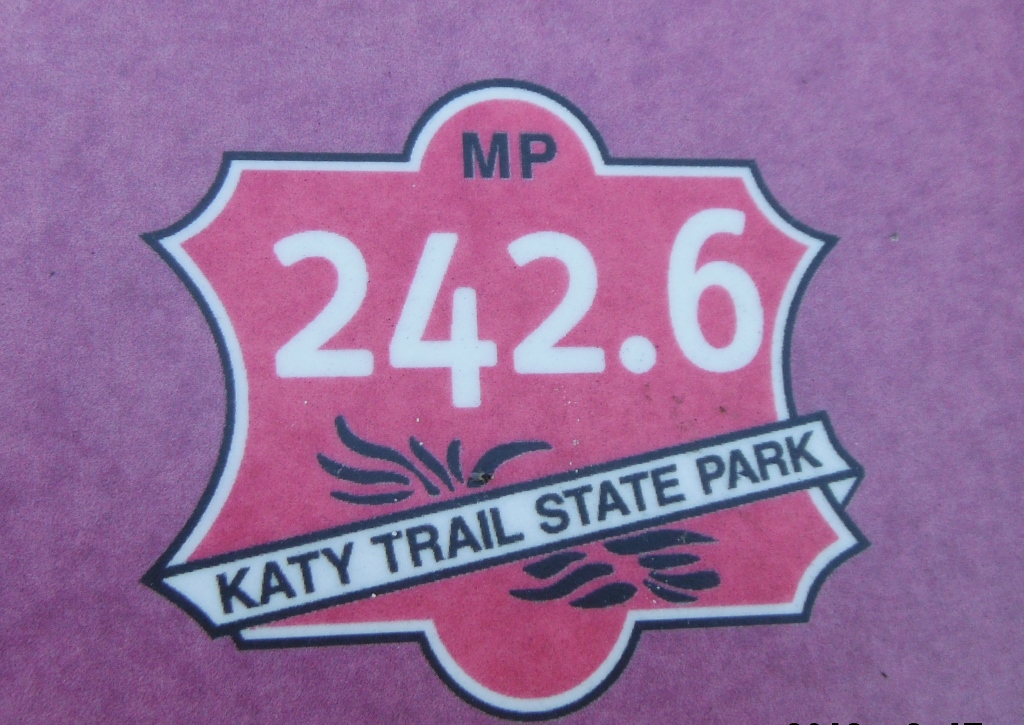 There were just a few of these old power poles along the way with their glass insulators.
Someday all these will be like me-------------gone forever.
I used to love looking out the window of my dads 1953 Buick looking at these while traveling across Kansas.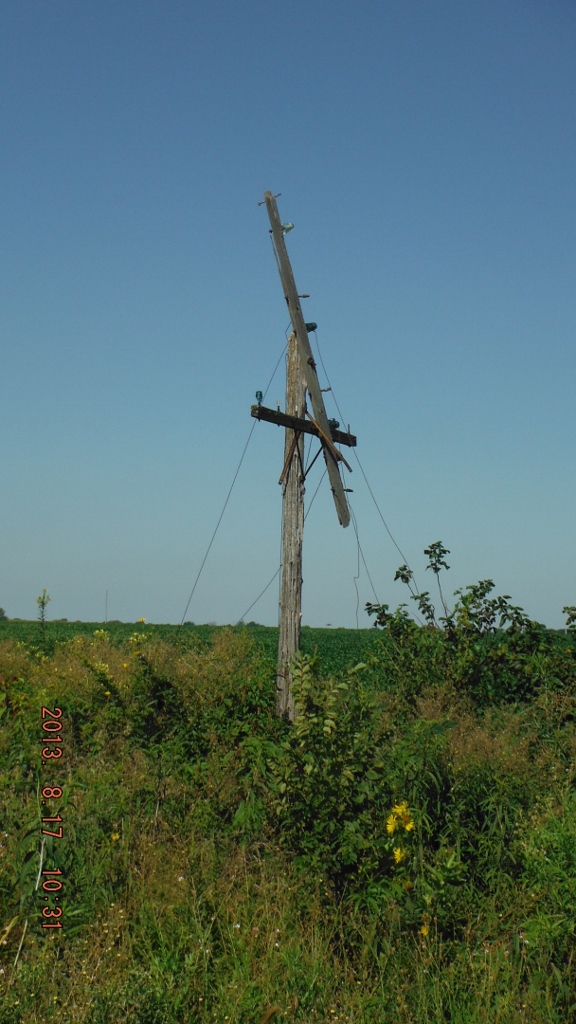 What-------has the railroad changed names on me ??????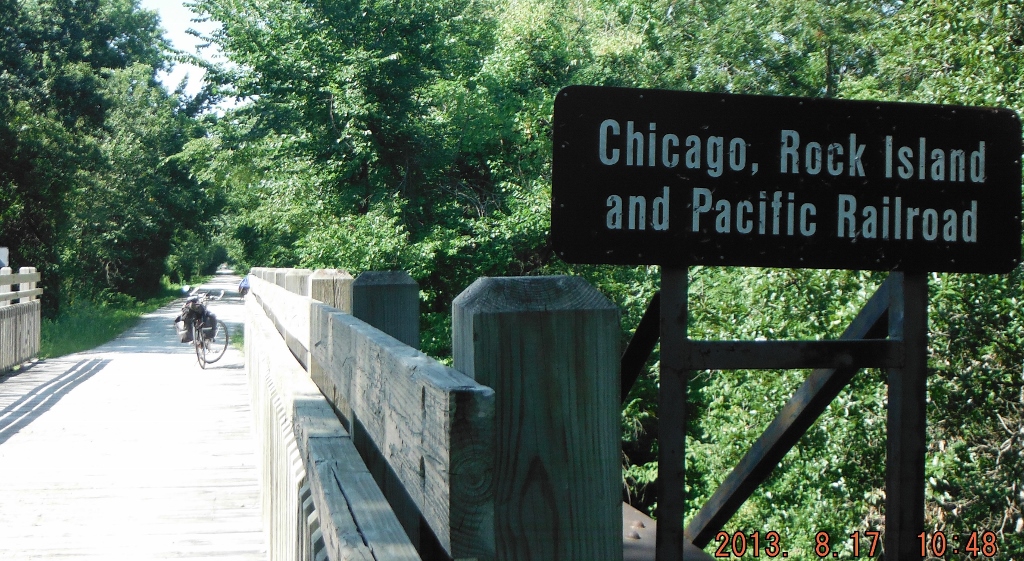 I had an idea---and looked down----and sure enough there was the old line in the weeds.
I also notice some old wire that ran on the old telephone poles in this area.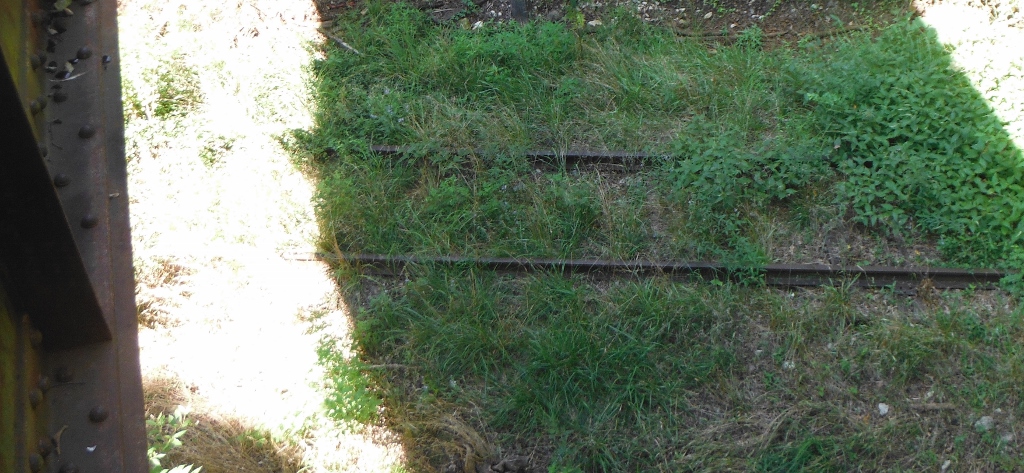 Just a few miles left now. This day was the easiest for me as I had really got in the groove---it was unbelievably cool for this time of year---I
was going down hill and had a tail wind.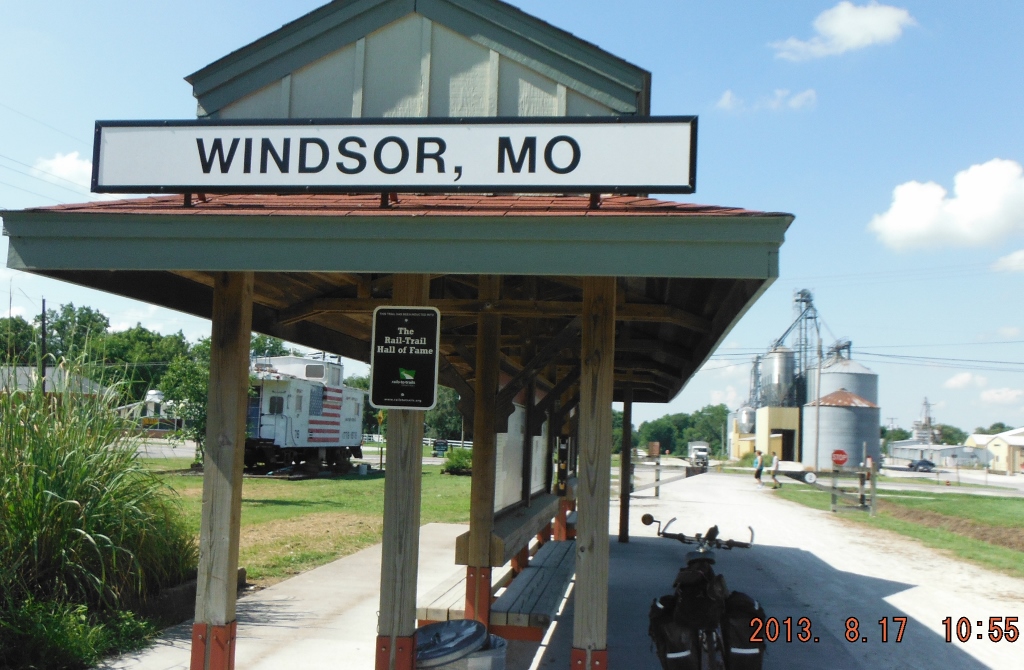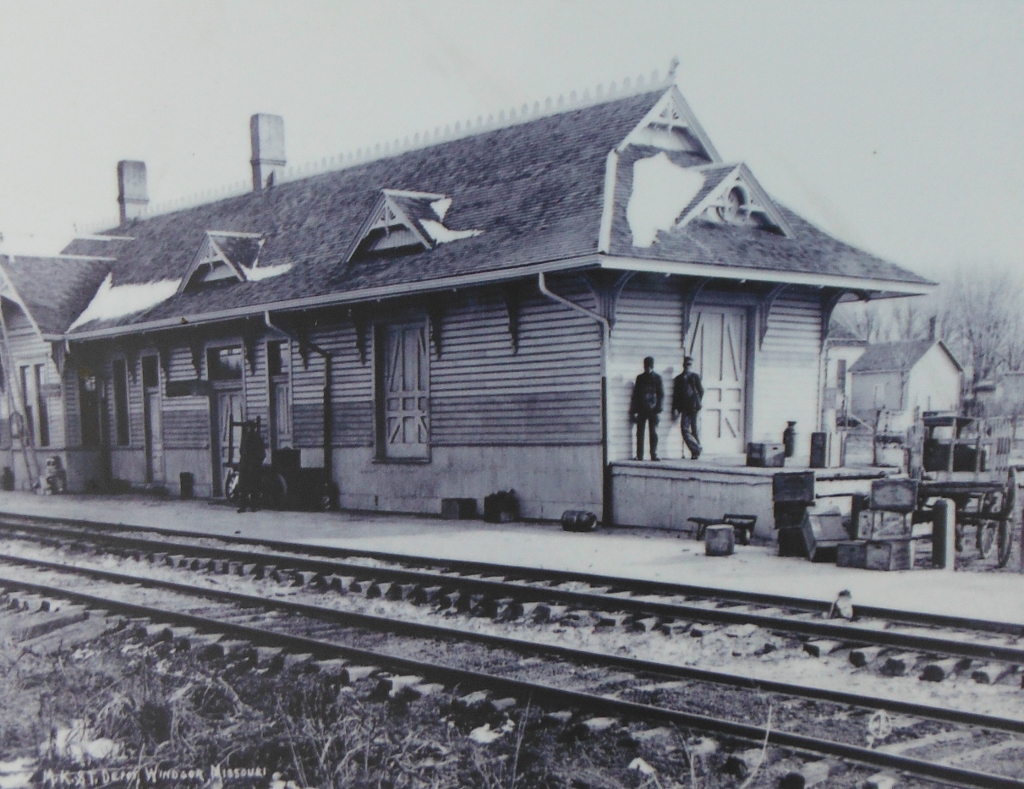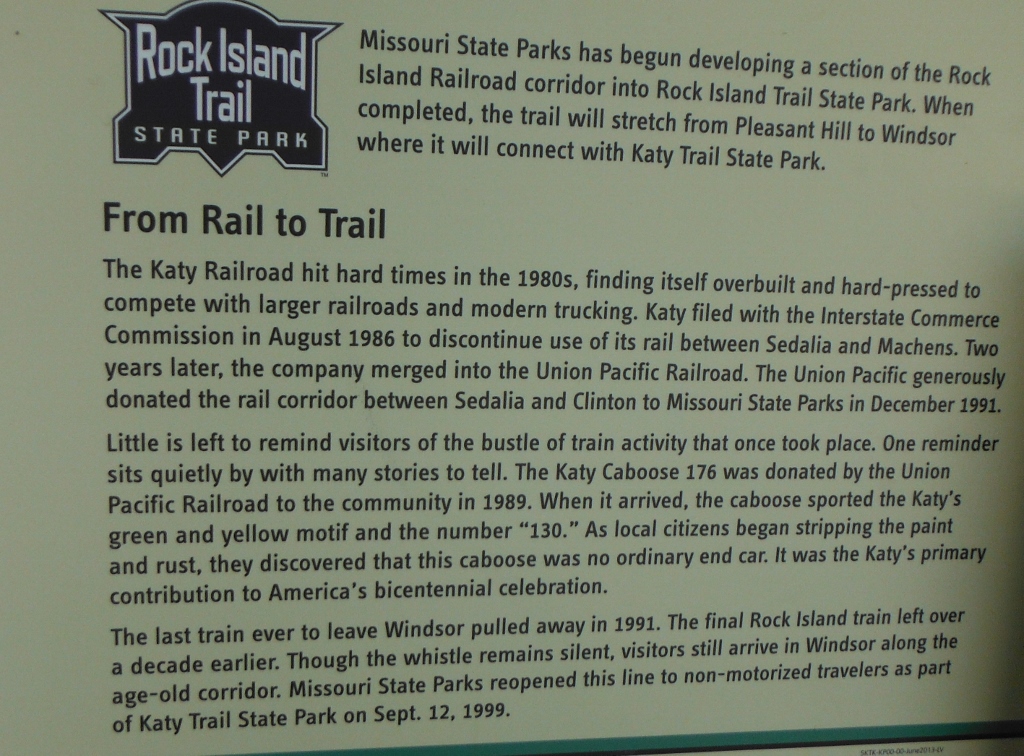 It was in Windsor my old buddy who stayed with me in Tibbetts caught up to me.
We had a good time sharing thoughts of the trail and the different campsites we used.
I didn't know if he wanted company or not---but we just strolled out going the same pace and talked all the way to Clinton-----barely
peddling at all since we were going noticeably downhill.
We rode 15 miles I bet without even stopping---the longest stint I had done without stopping.
He was headed to Oregon and was really distraught knowing he'd have to get out on the road now and fight cars, trucks and lot's of people.
It was really botherin him after the piece of the Katy Trail.
I really enjoyed these last few miles and it went bye all too quickly.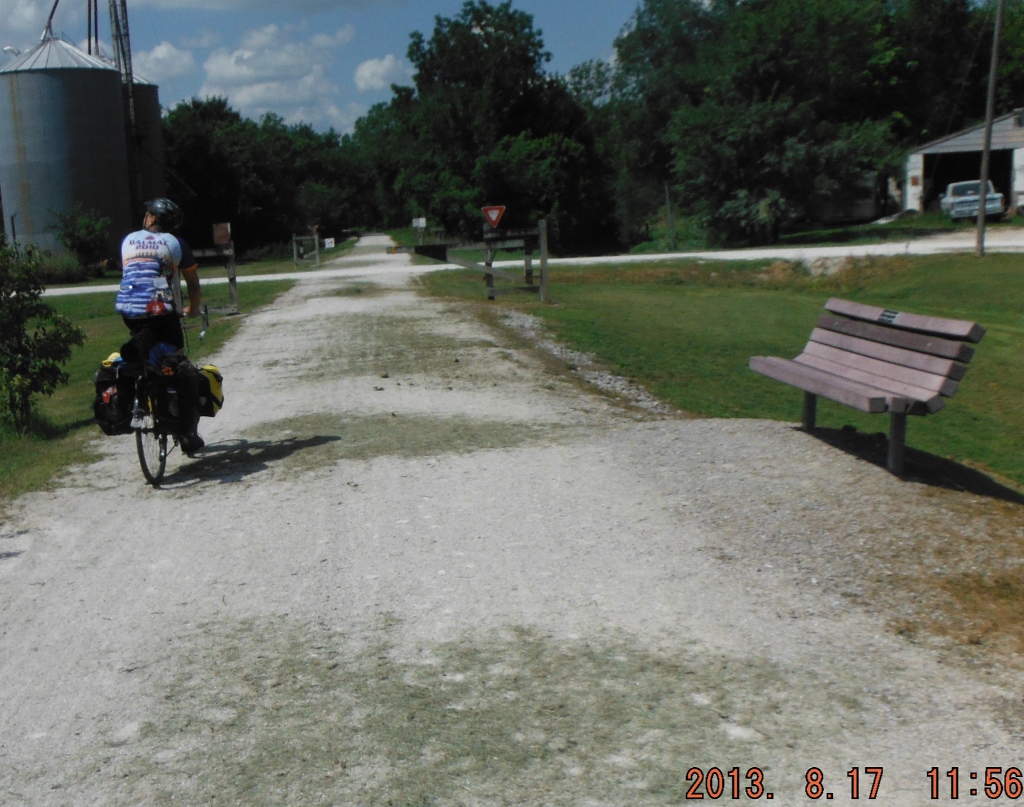 Crap the end--------and I was just getting into the groove.
What would my wife say if I just went on to Oregon with my buddy ?????
Well-----------JoJo my dog would be mad---that's for sure !!!!!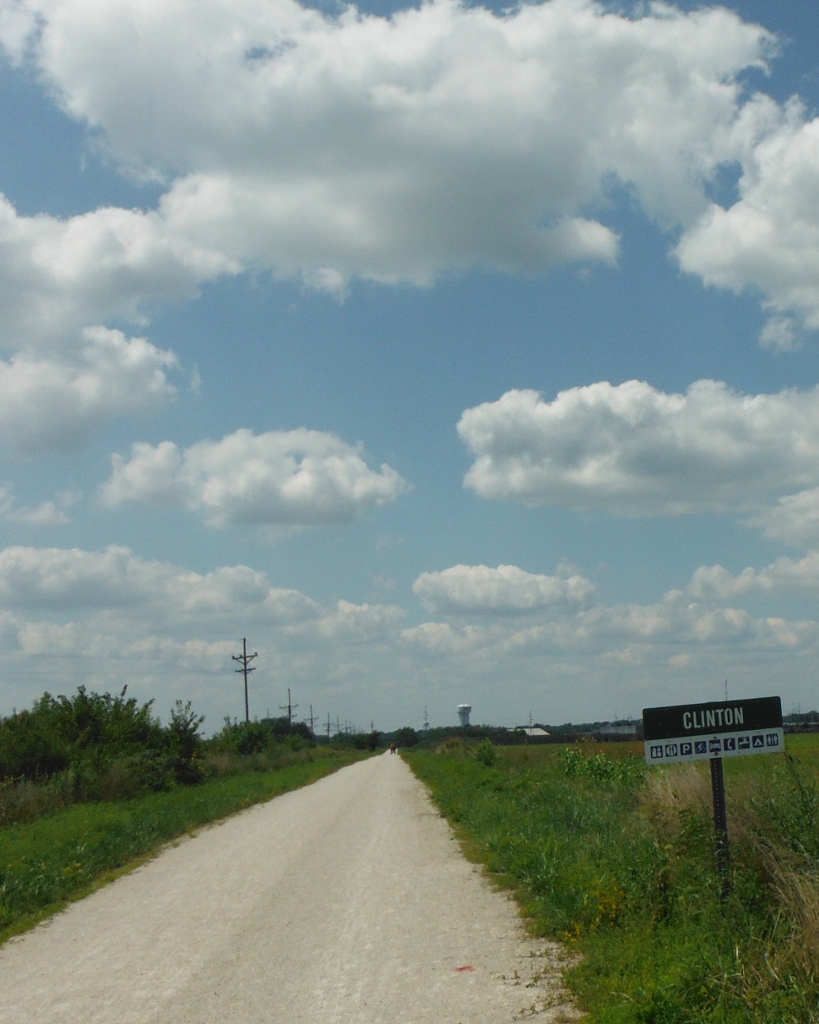 Back at home I still can't believe I got to do this.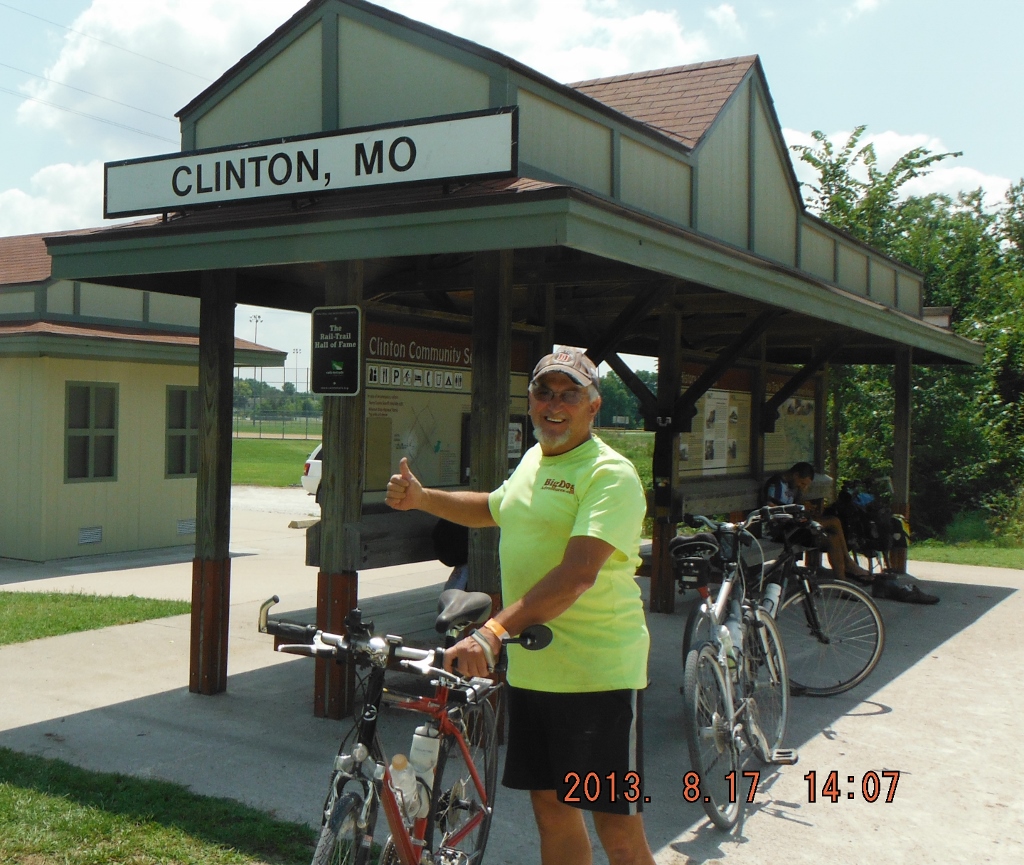 My son who lives not to far from here took my picture and took me to his house for the night and put me and my bike on the Amtrak train
the next day for the ride home. That was fun too !!!
I think I'd like to do this again-----and go the other way---mostly downhill !!!!!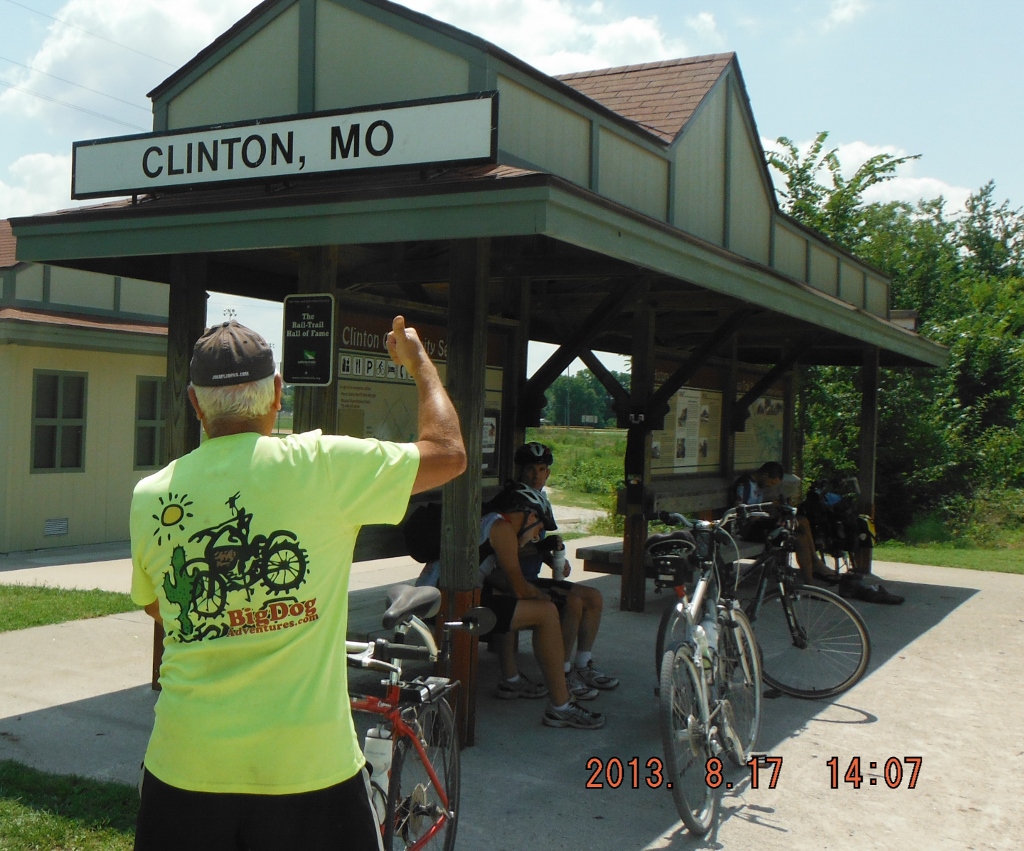 And for immature audiences only----enjoy !!!!
The End
Back--to my homepage