Idaho/Montana 2014
Or---I'm good--but I ain't no Dingweeds
Getting there and Day One riding.


I hauled my Yamaha WR250R out to 3 forks Montana where I would leave my Sprinter van.
I had lots of time and took the paved back roads on the way and had a relaxing time--camping in my van mostly.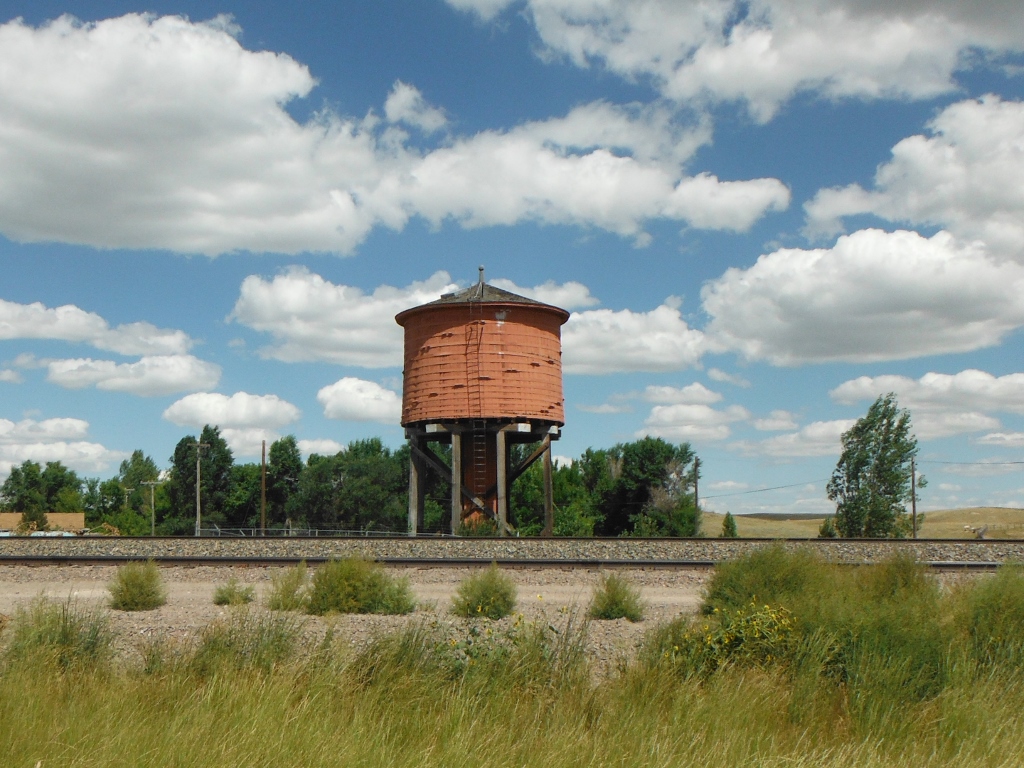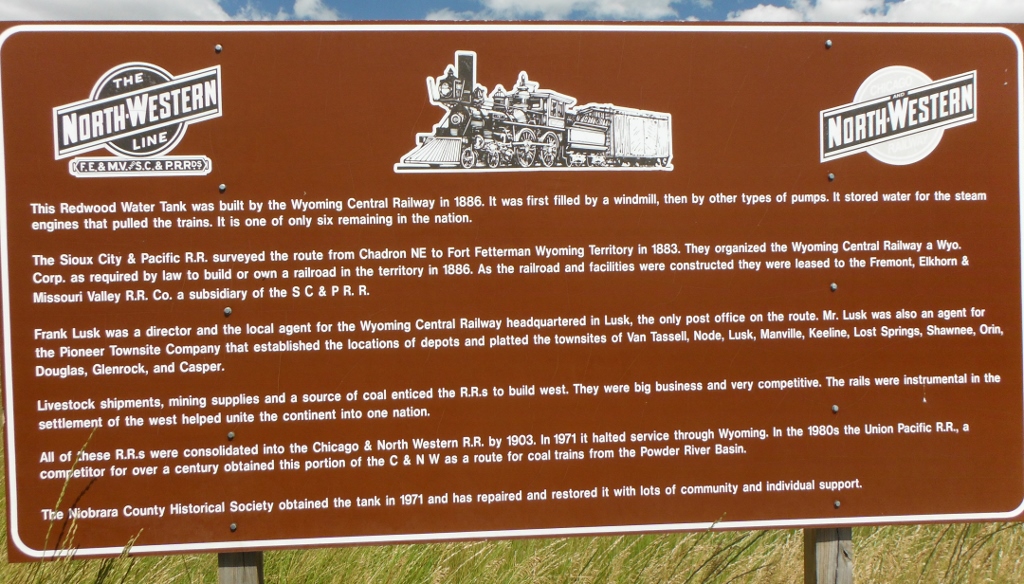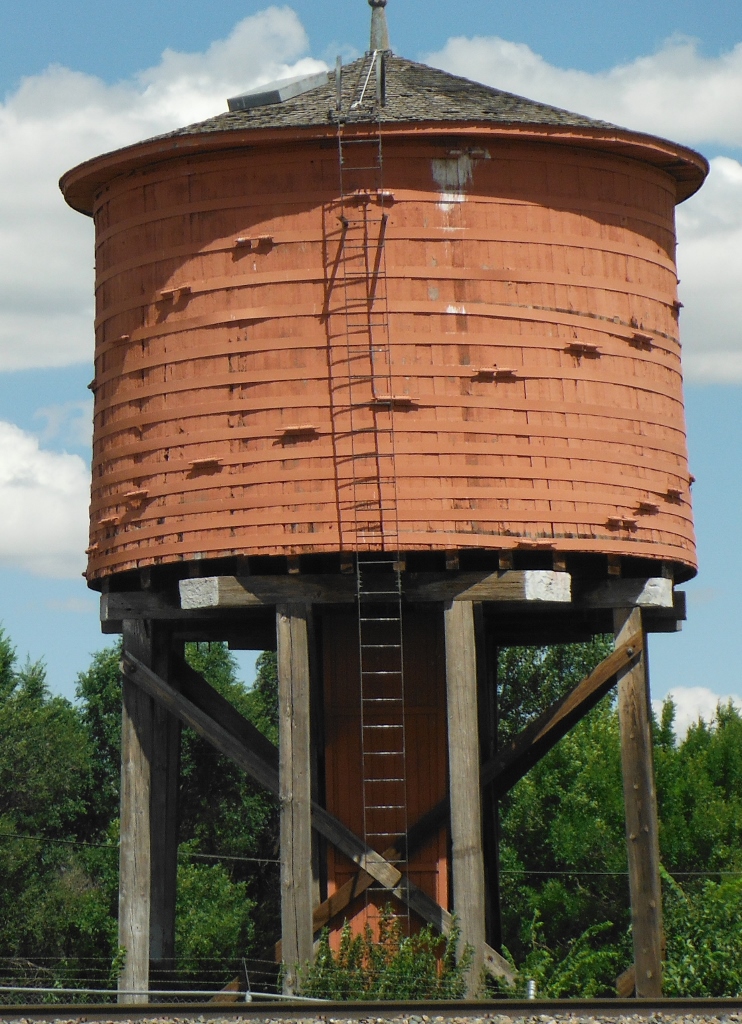 I stopped at my sons house in Kansas on the way and stayed a bit--------then headed on out after a couple days and camped in my van in Boyeson
State Park in Wyoming. This is about 130 miles Southeast of Yellowstone park.
I went thru Yellowstone on my way home----ask me what I think about that place the next time you see me.
Let's just say for now that 130 miles is as close as I'll ever get to it again.
I robbed all the wood I could from other abandoned campsites and heated up some chile over the fire.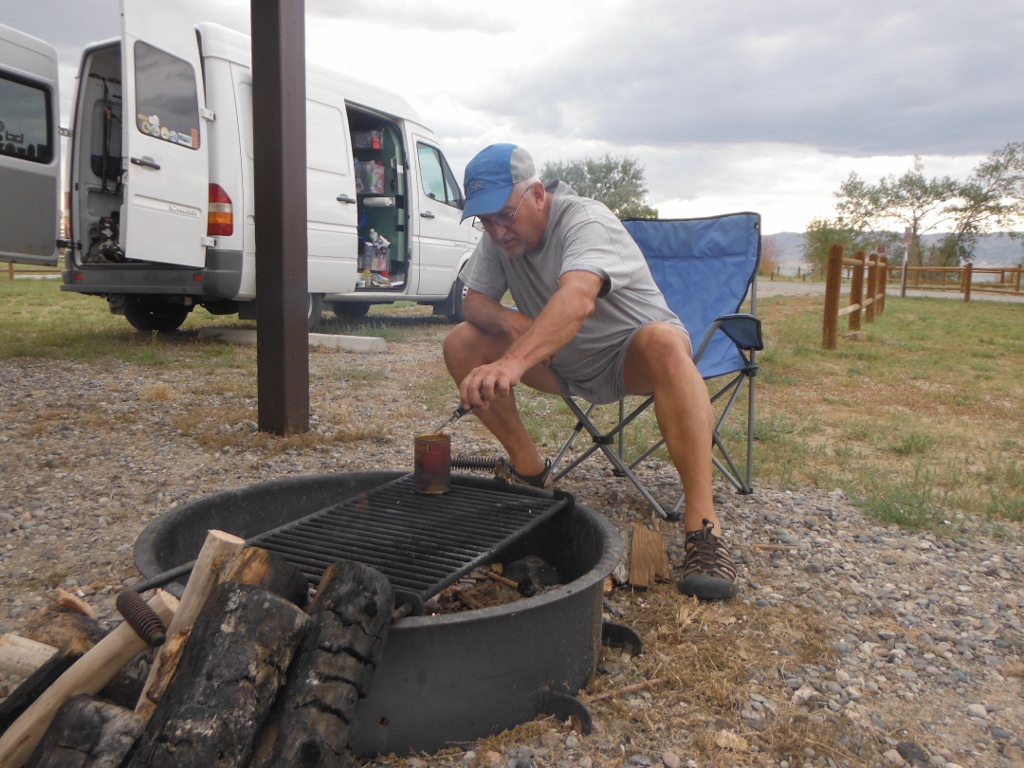 Storms brewed all around me and the thunder rolled----and I wished it would rain on me but it never did.
I had a little shelter to get under and it would have been great to be under and watch and listen to the storm.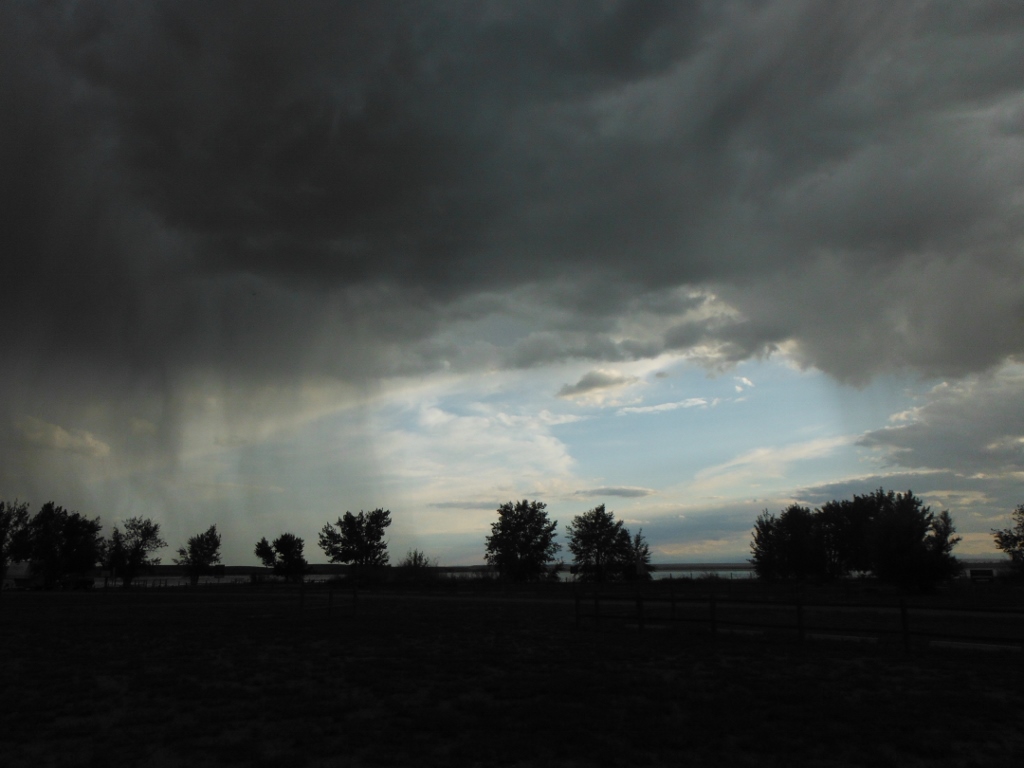 The next day I rolled into 3 Forks Montana-----"Montana's Favorite Little Town"
I agree-----I called home and told my wife to pack up---were moving here.
This is the Sacajawea Motel.
3 rivers converge near here and form the Missouri river-----Lewis and Clark named the rivers as they passed thru.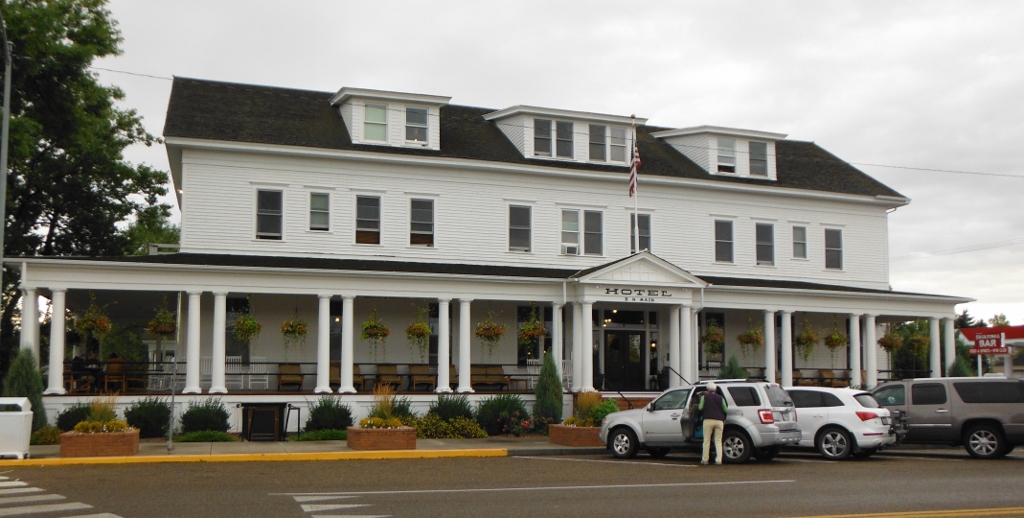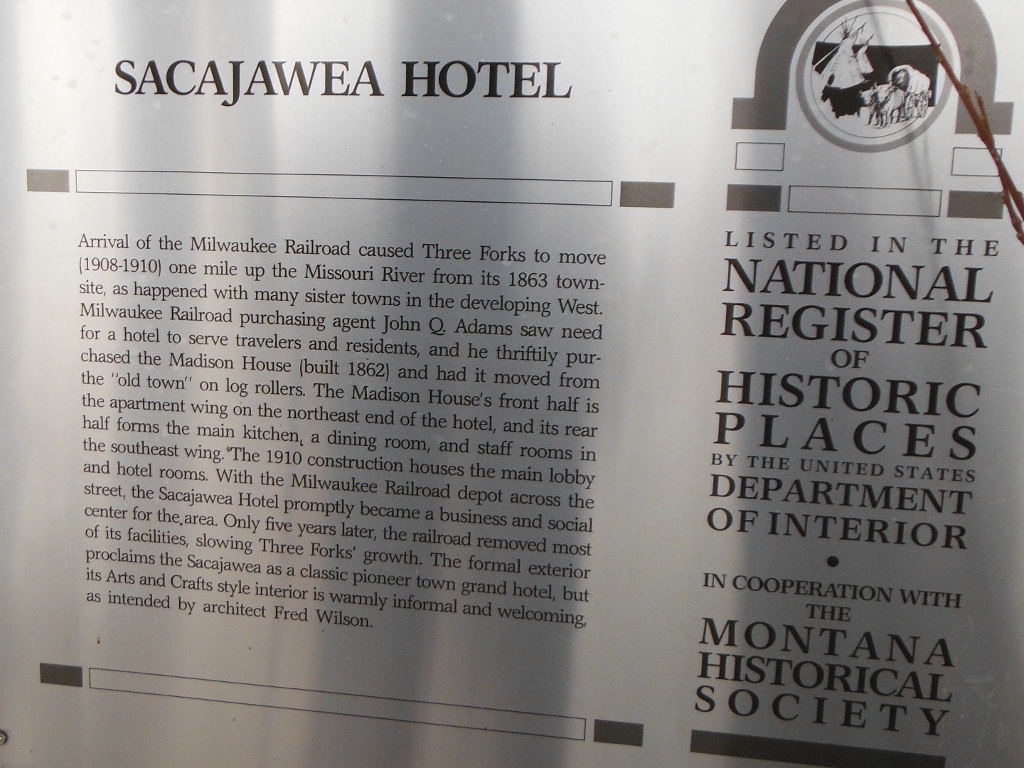 It was beautiful inside and the whole area reeks in history.
We didn't stay here--but ate here twice.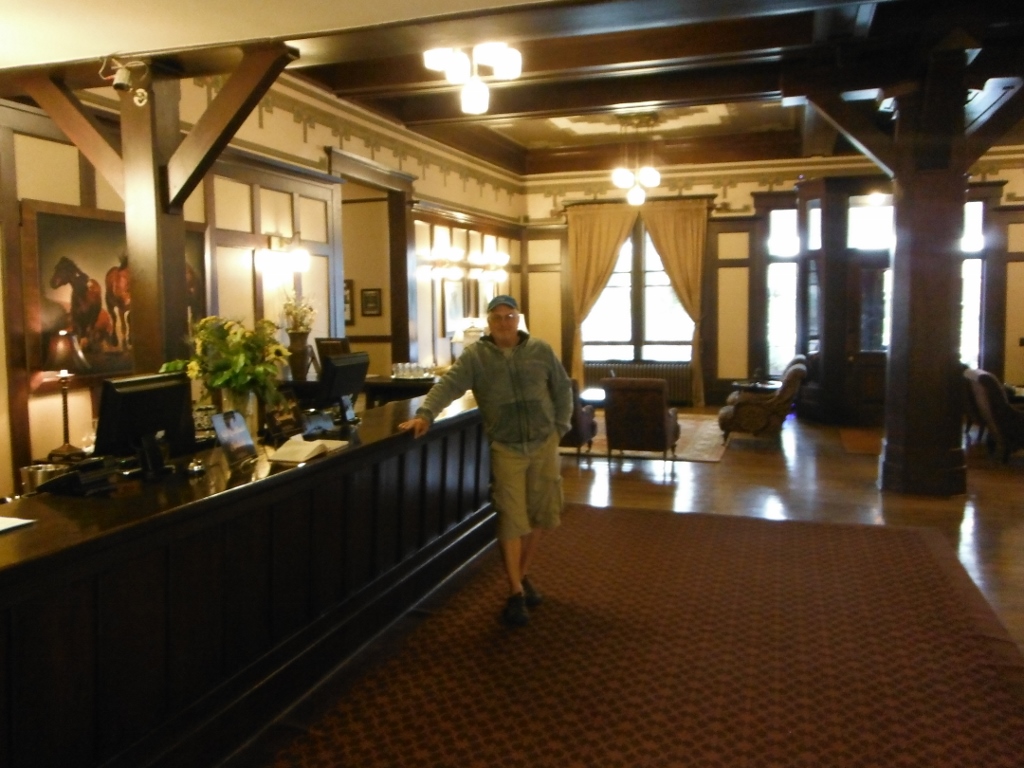 I stayed at the "Broken Spur Motel" and waited for 2 of my buddies to show up.
Dingweeds (Scott Stevenson) and Rick Horton who is from my hometown.
Our "Dingleweeds RP3000 tarps kept our bikes nice and cozy.
We stayed here 2 nites---as the first day we were suppose to start riding was a washout.
The first good rain they had all year-----it poured and poured.
The Broken Spur let us leave our 3 tow vehicles out back---nice people.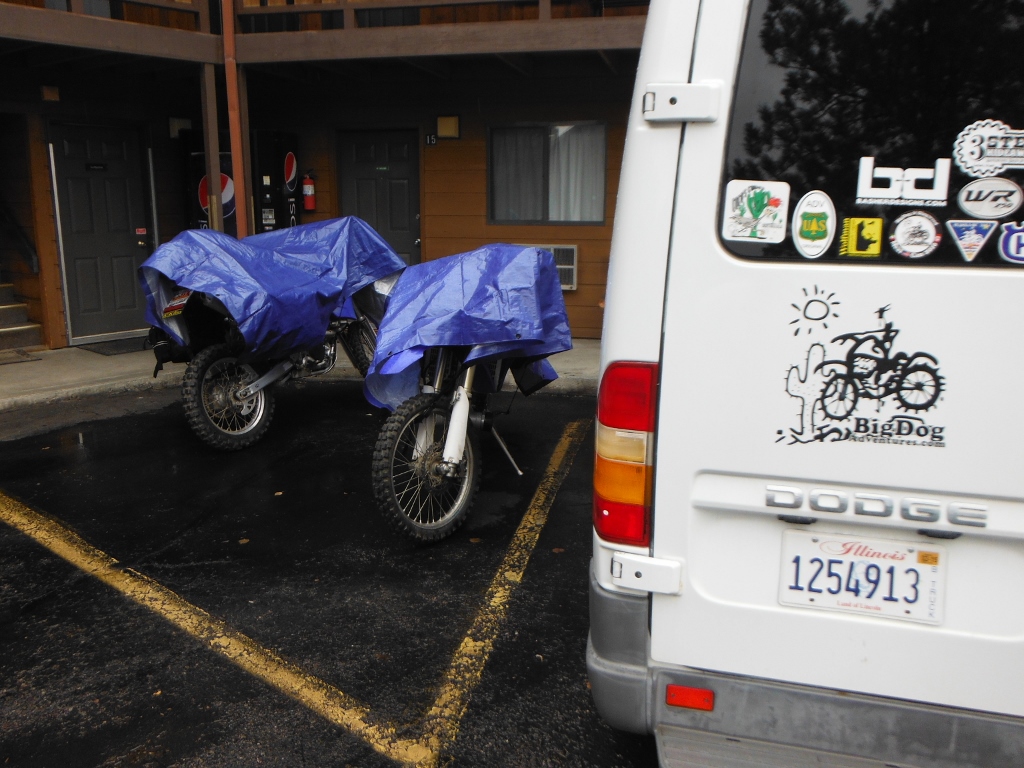 Day 1
August 24th, 2014
The focus of this ride was to make a big loop ride ride thru Montana and Idaho.
I had laid out a nice ride encompassing places we'd never been and would also be concentrating on old ghost towns and staying
in the old log cabins built by the forest service in the early 1900's. There are about 50 of these in Montana and most only cost $20 to stay in.
More on those later.

We took off on a dirt road on a wet, cool and cloudy morning towards the ghost town of Radersburg----but after 20 miles or so we were
turned back back by impassable mud. It just took me about 5 seconds to reroute.
While at the motel I read about something very interesting and on our re-route we went by these horses and I knew
exactly what they were---I didn't remember where this was located but we were lucky and went right by.

To the ordinary passer-by--------you'd just see a bunch of horses on the hillside---and breeze on by and never know the real story.
These horses are made of steel and are a work of art--------no two are alike.
There are 39 horses 3 miles North of 3 Forks, Montana on Hwy. 287 built by sculptor Jim Dolan of Belgrade, Montana.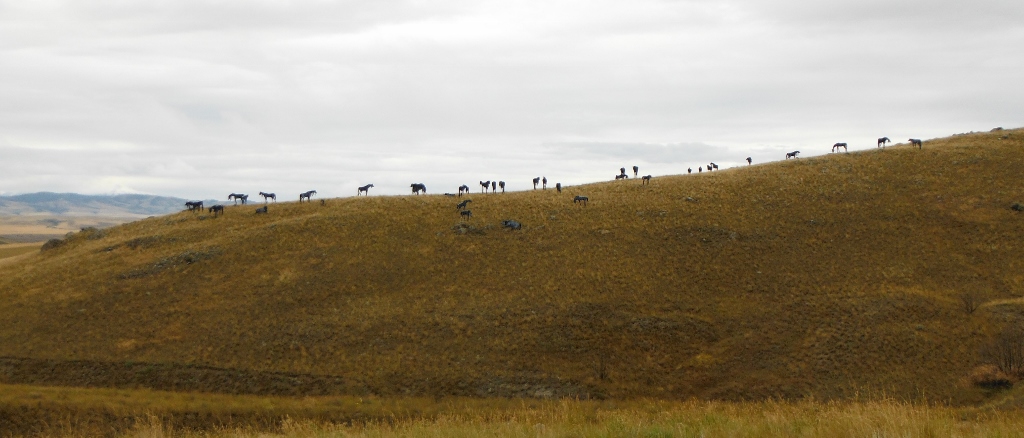 The horses have manes and tails made of 4,000 ft. of debraided polyester rope. It took him just 15 months to build them.
Arrangements were made to put the horses on Wheat Montana's property for all to see.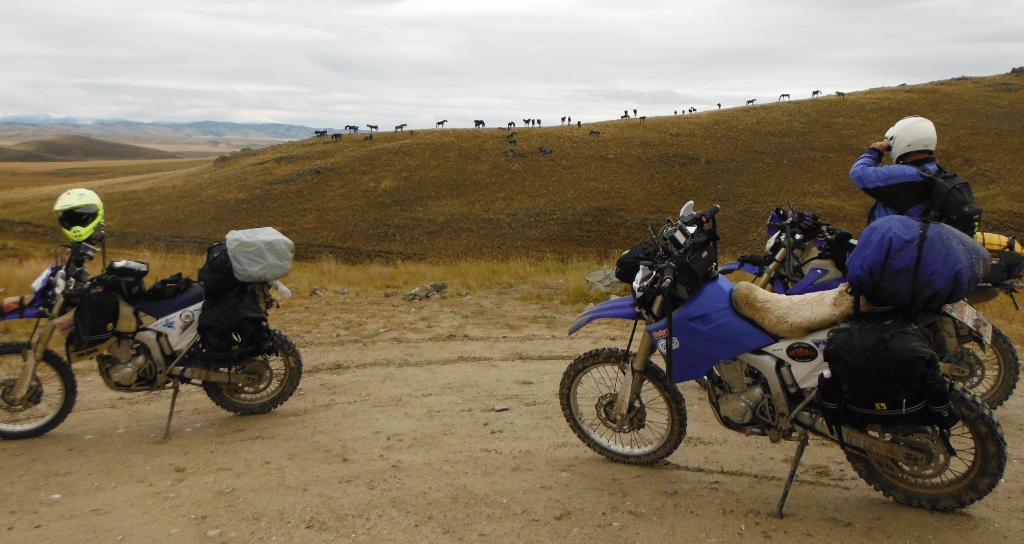 We then proceeded to the ghost town of Radersburg--on a wet but passable dirt road.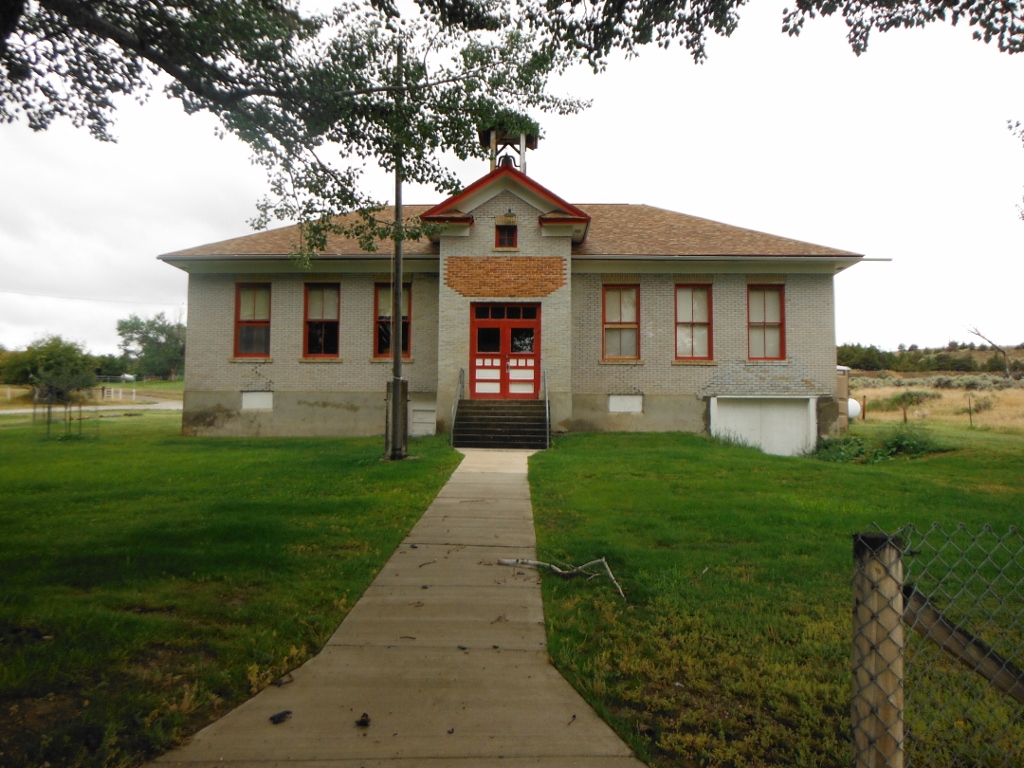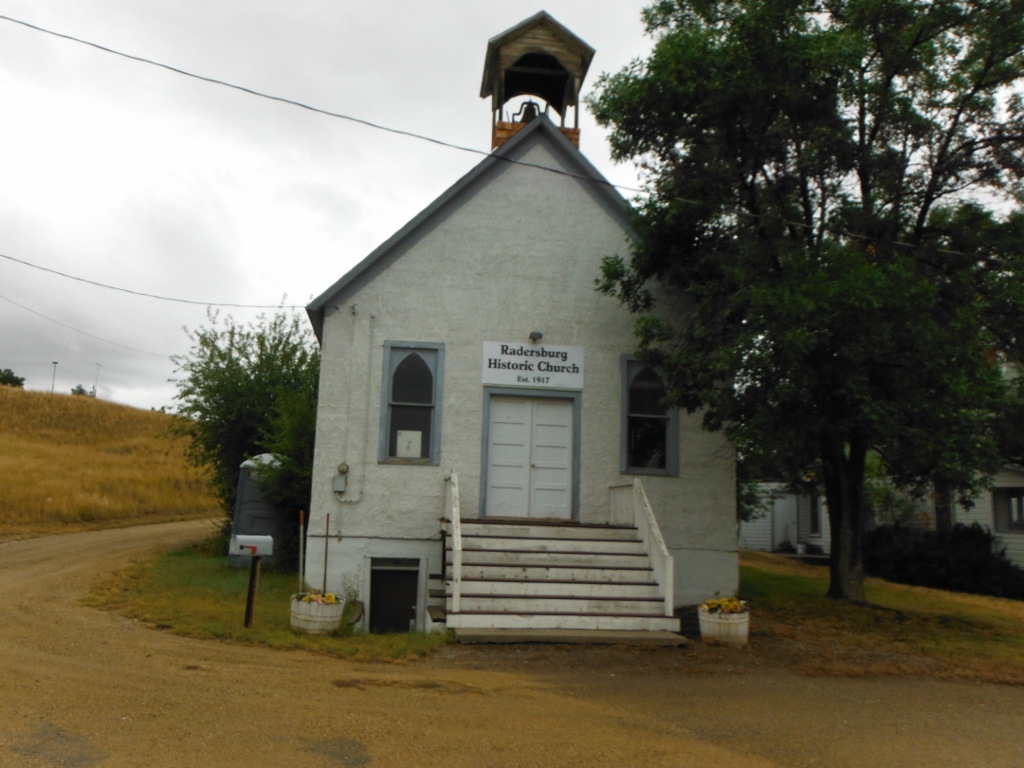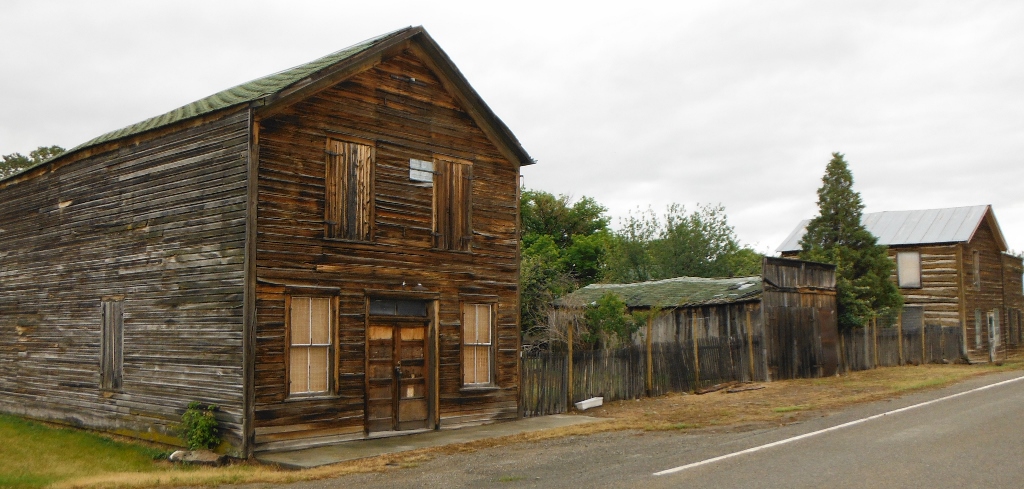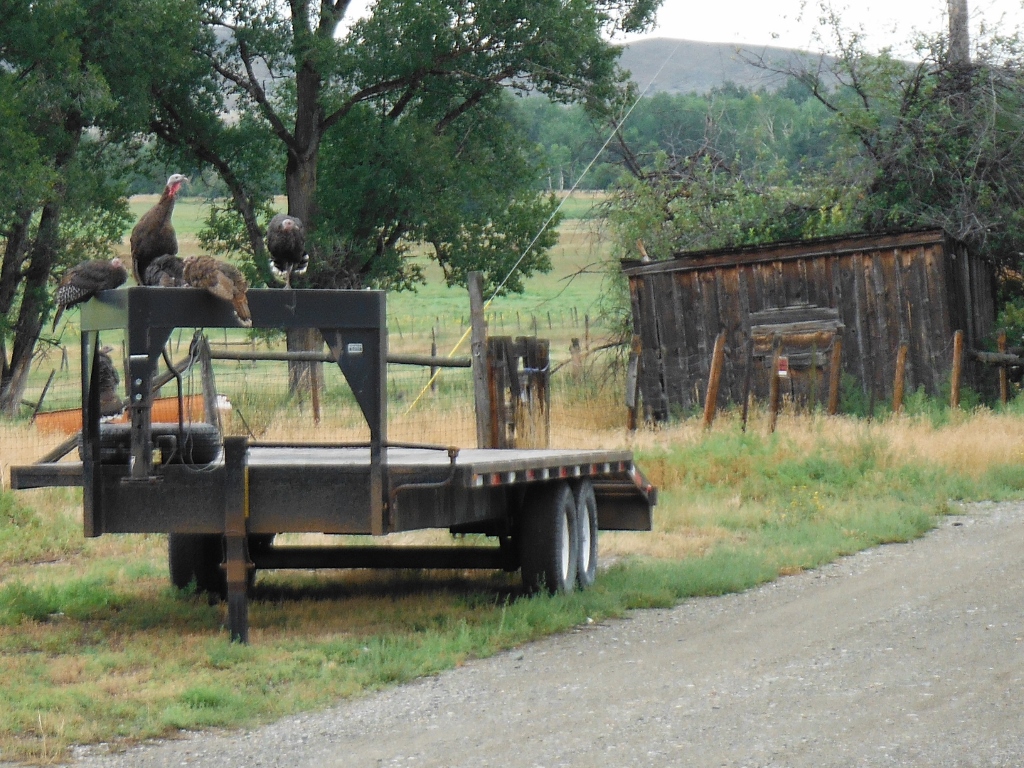 Not so many miles down the road we would go to the ghost town of Elkhorn----after a necessary stop.
My good friend Scott (Dingweeds).
I felt like Lewis and Clark pointing the way.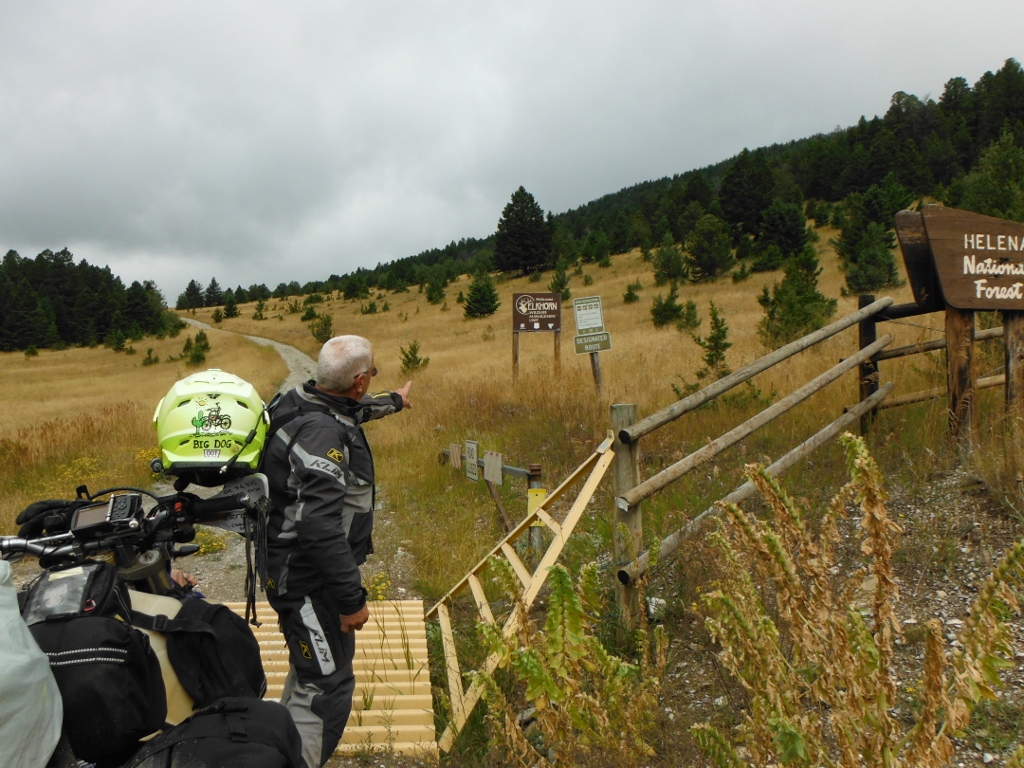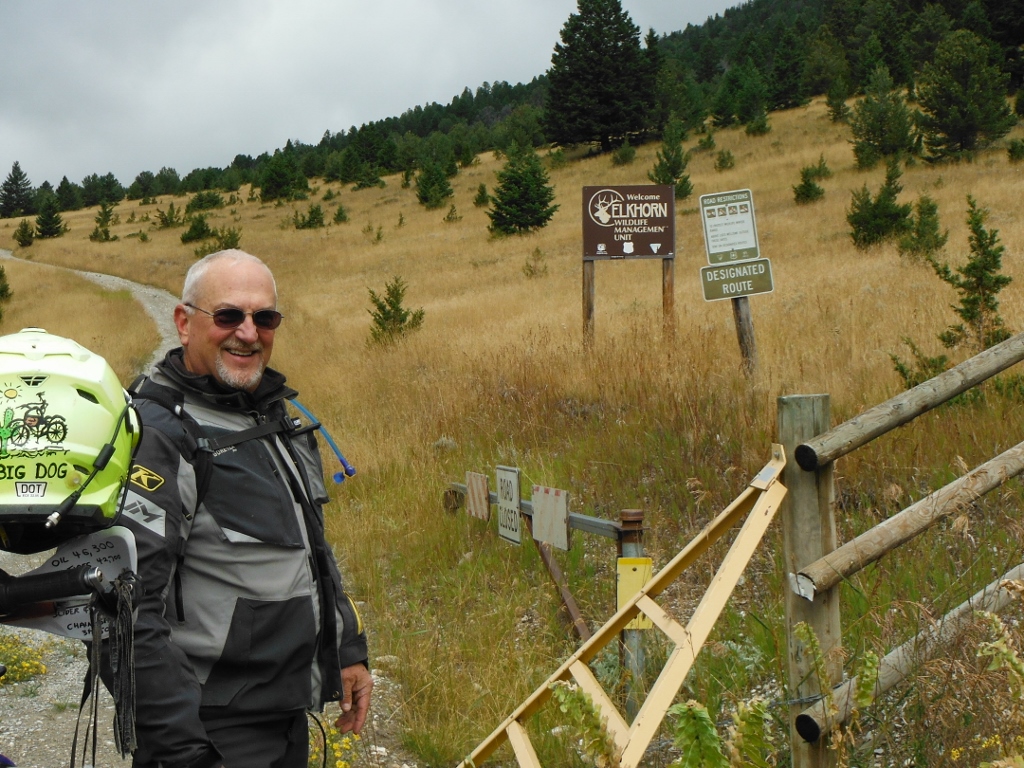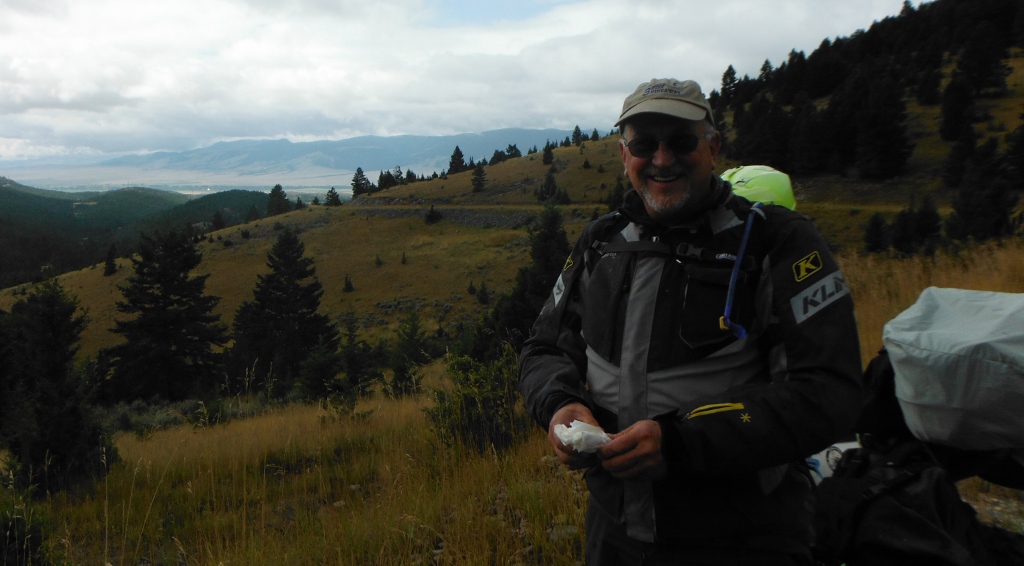 Rick Horton---Mt. Vernon, Illnois.
I've known and have ridden with Rick all my motorcycle life. He was riding a Yamaha 450F on this ride.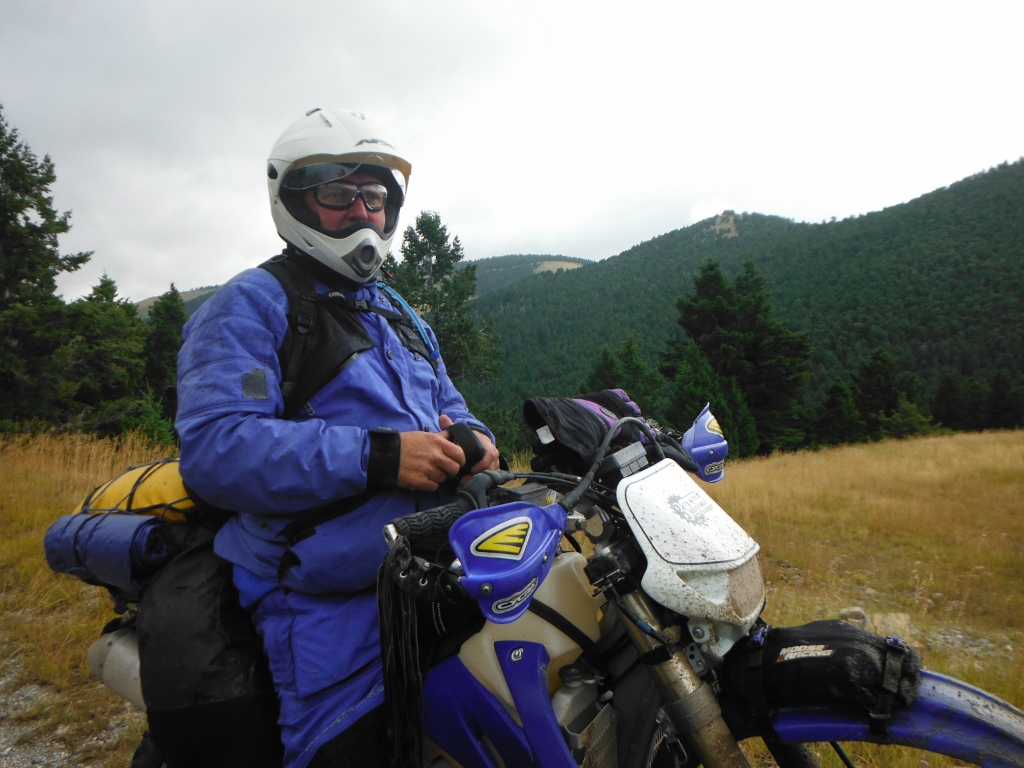 My new teeth !!!!!------------all 2 of them.
And sportin' my new "3 Step Hideaway" hat.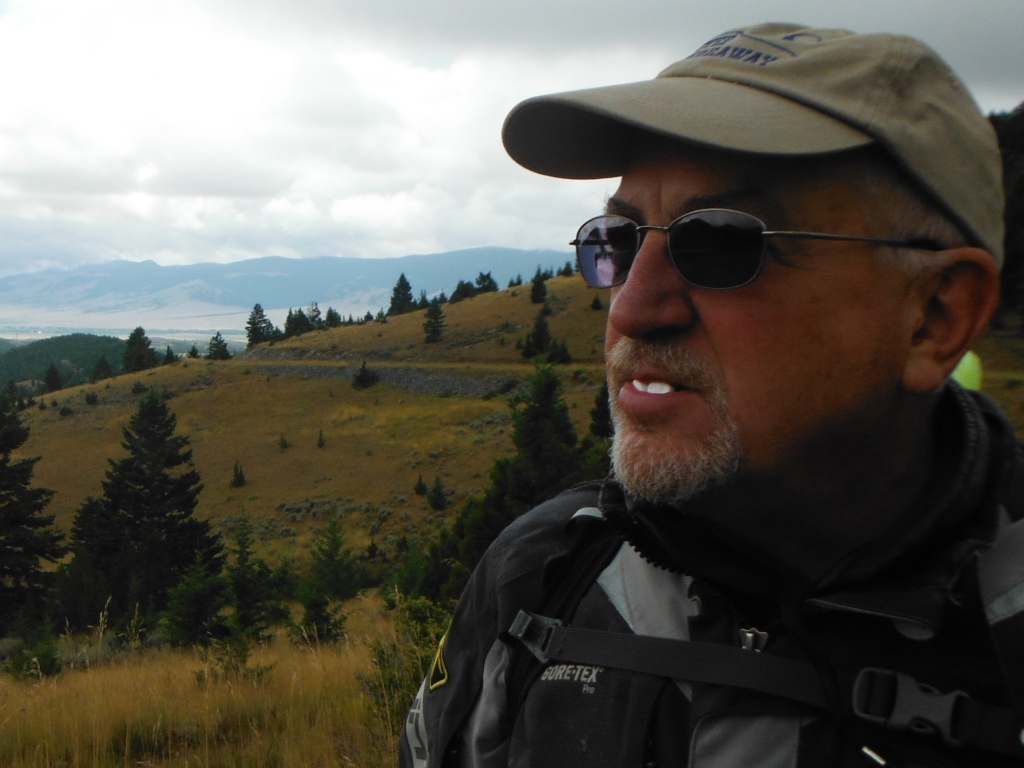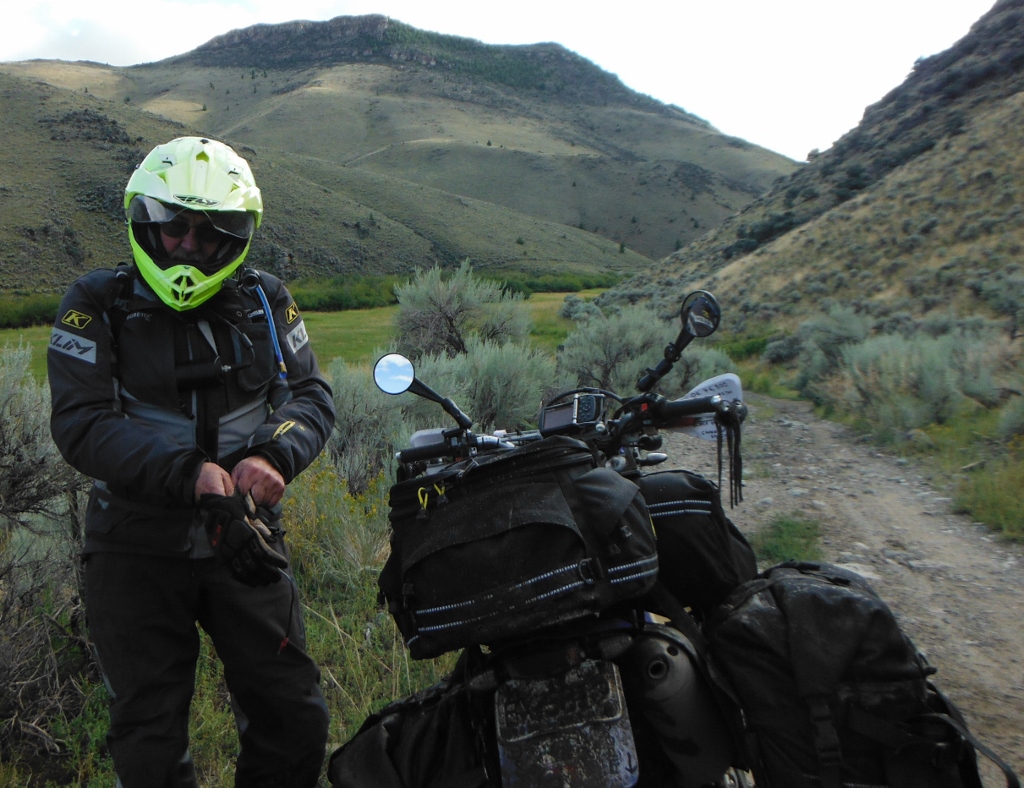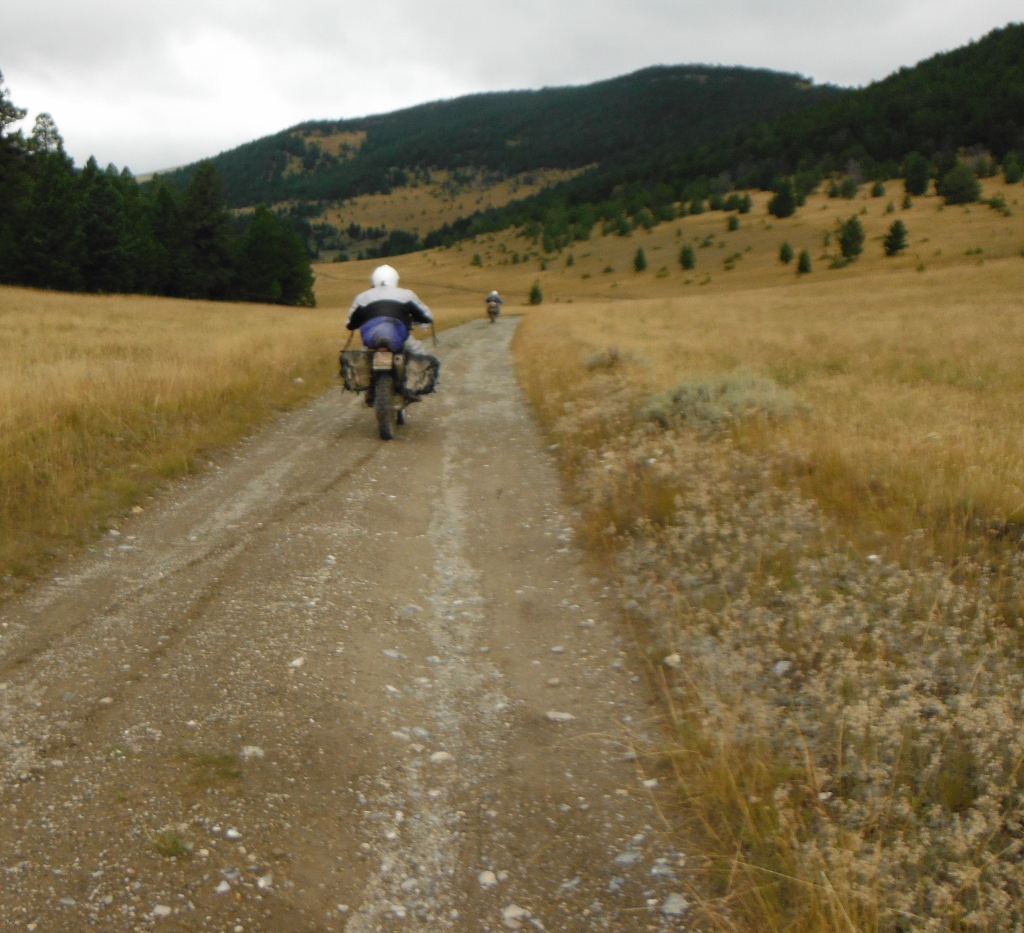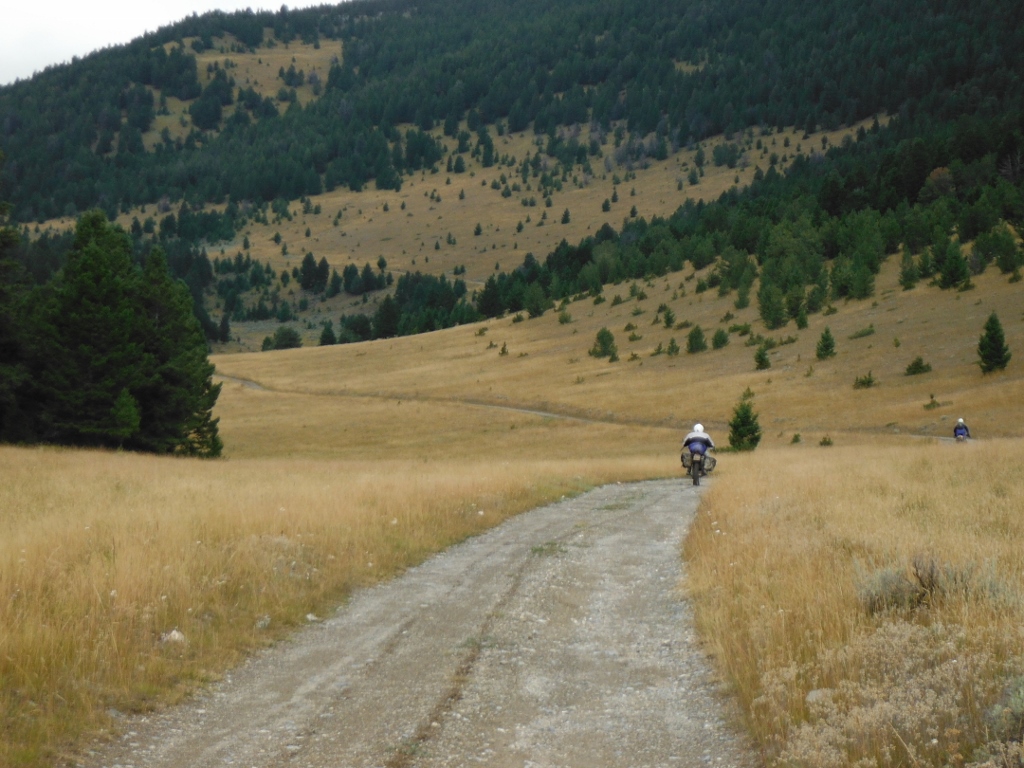 Believe it or not------this is a spring-----------my gps said so anyway.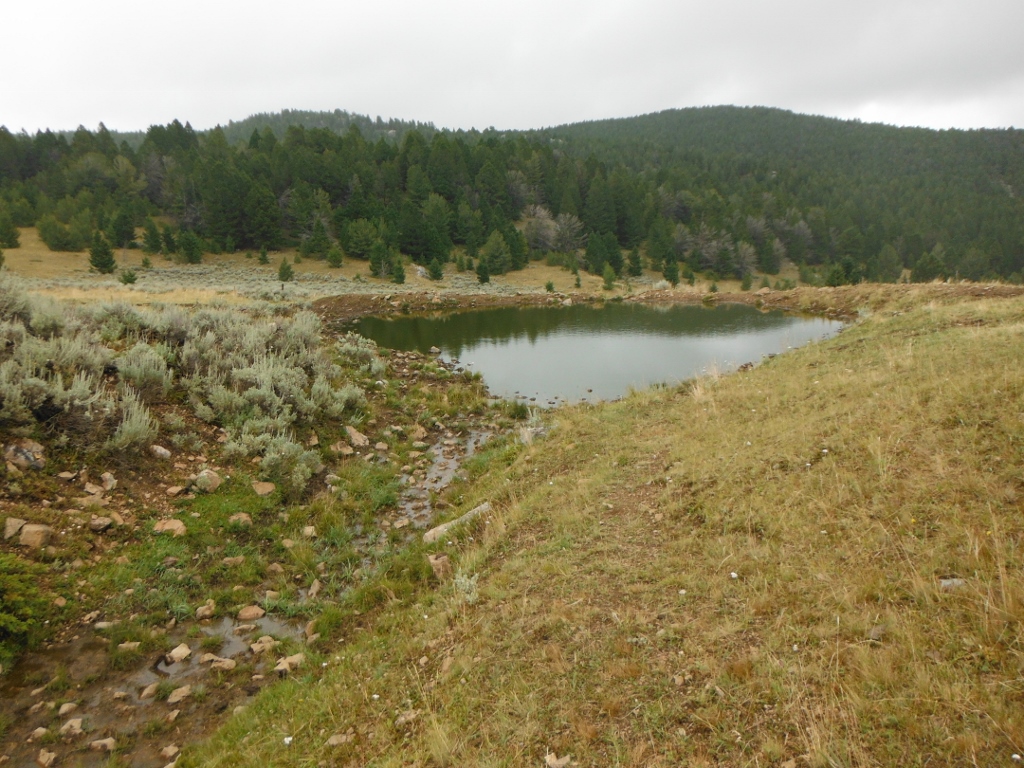 We are entering the ghost town of Elkhorn here---lot's of old mining stuff laying around everywhere.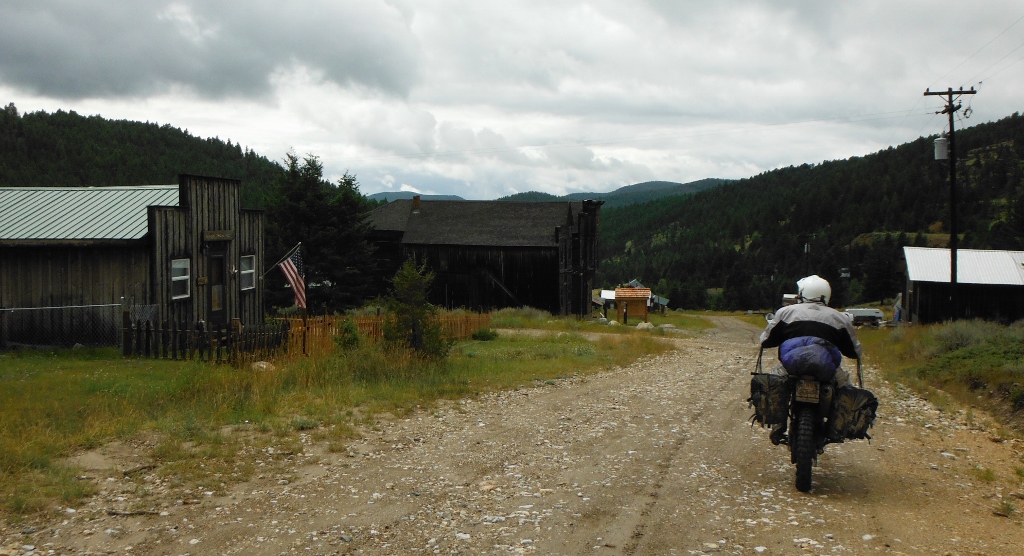 I thought it was unbelievable how straight these 2 old building were standing.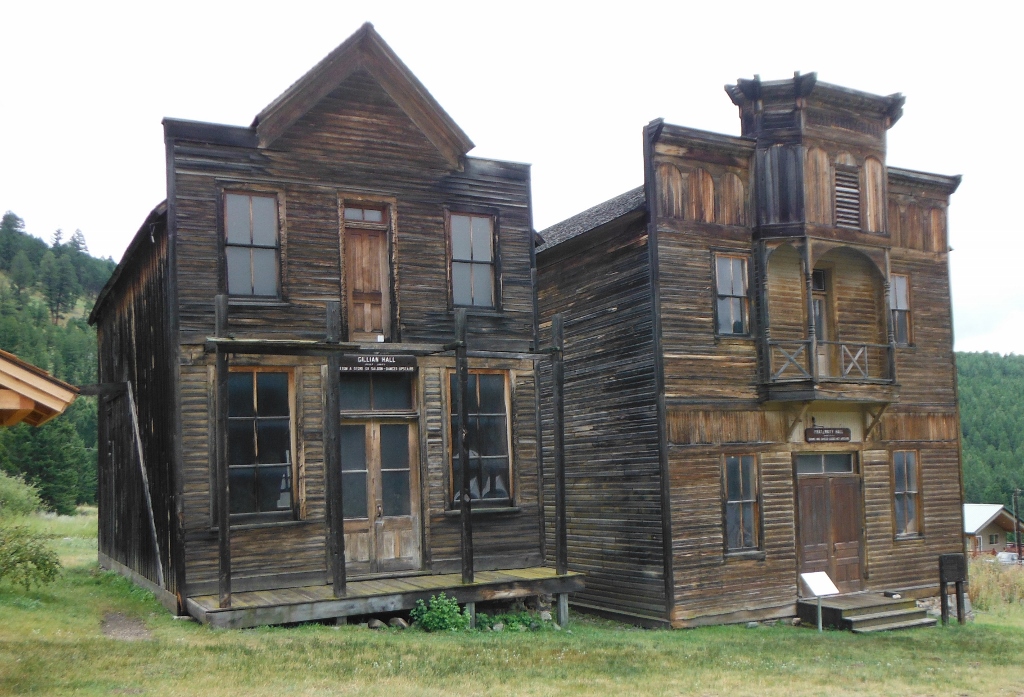 Along our route we just ran across more steel artwork---these were really good.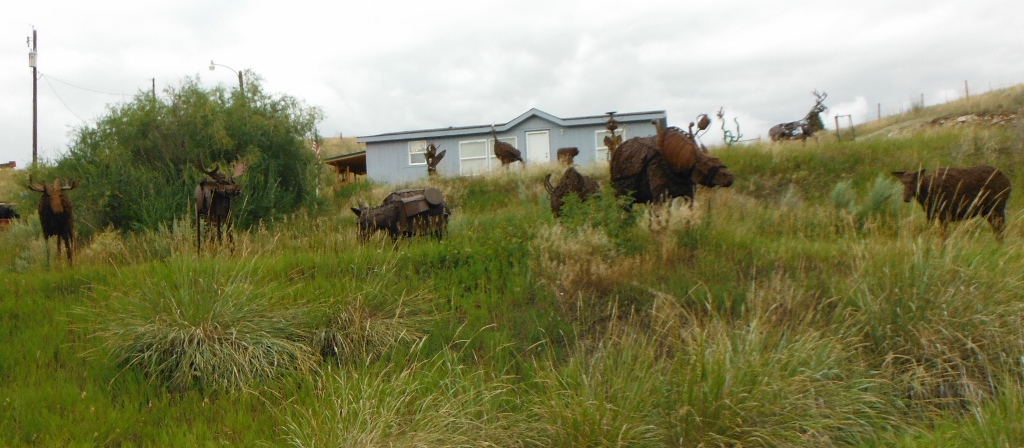 I especially liked the cowboy---and the bison full of bullet holes.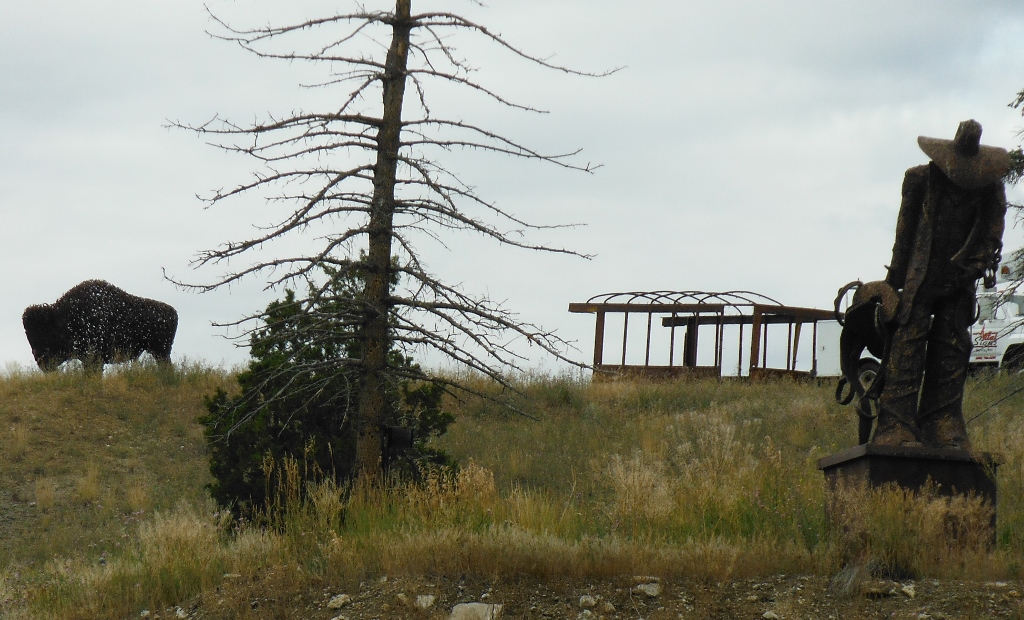 This was a very fresh snow---and I'm sure was the result of the rains that hit us in 3 Forks the day before.
This whole ride would be done in temps way below normal. I never turned off my heated grips and ran my heated
vest a lot. We were never uncomfortable---way better than hot and humid.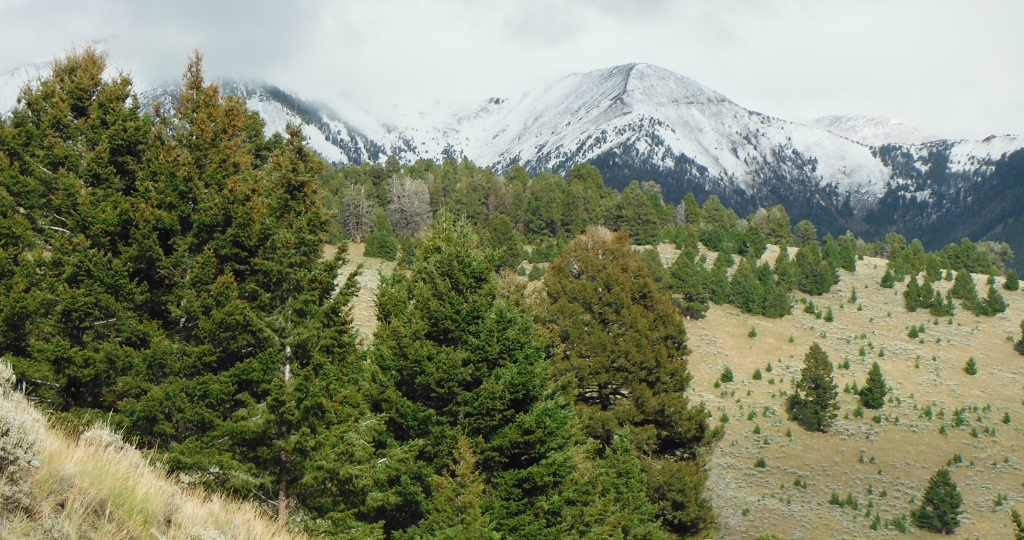 On this narrow dirt road we had to run thru a hundred mud holes-----a couple pretty deep.
I think this was on camp creek road near Melrose, Montana.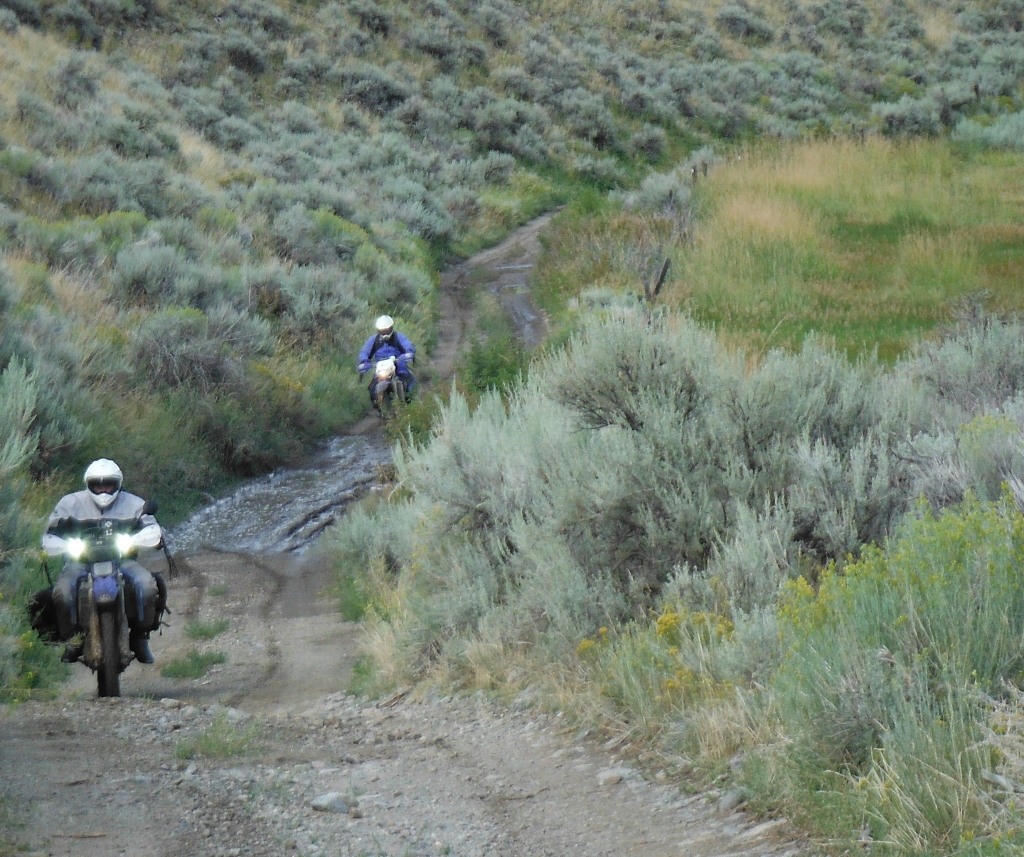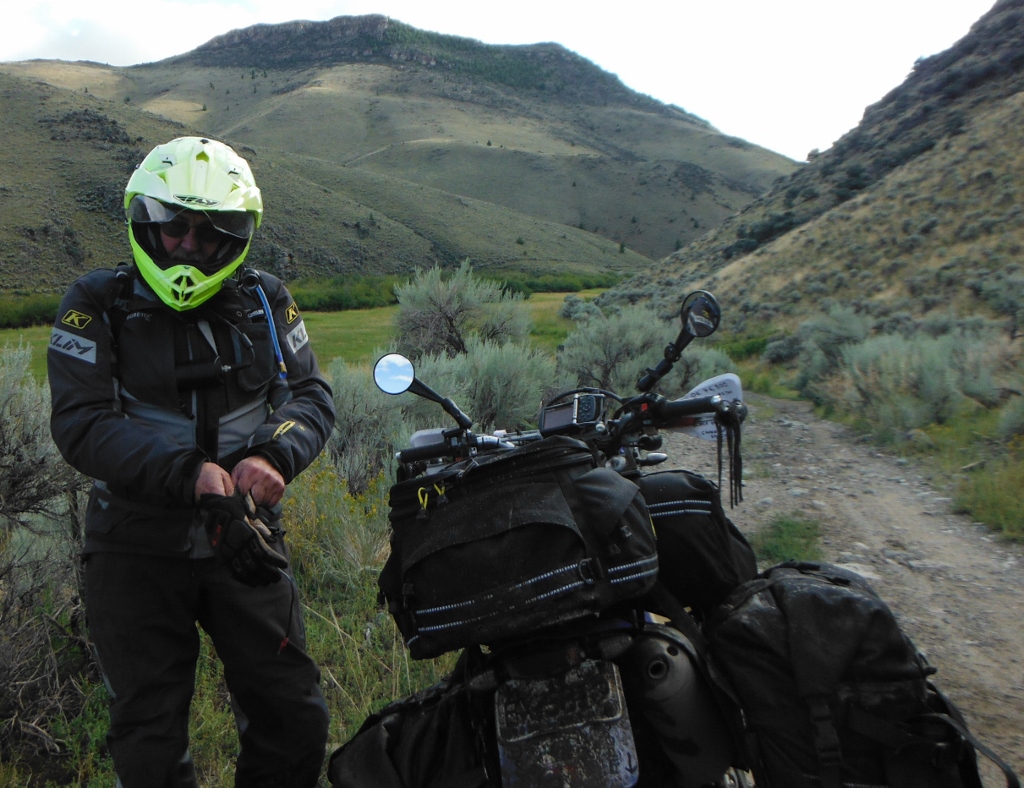 This road here I had been on before----long ago with my buddy "GasPipe".
We rented a forest service cabin not far down this road----I tried to rent it this time---but I was too late.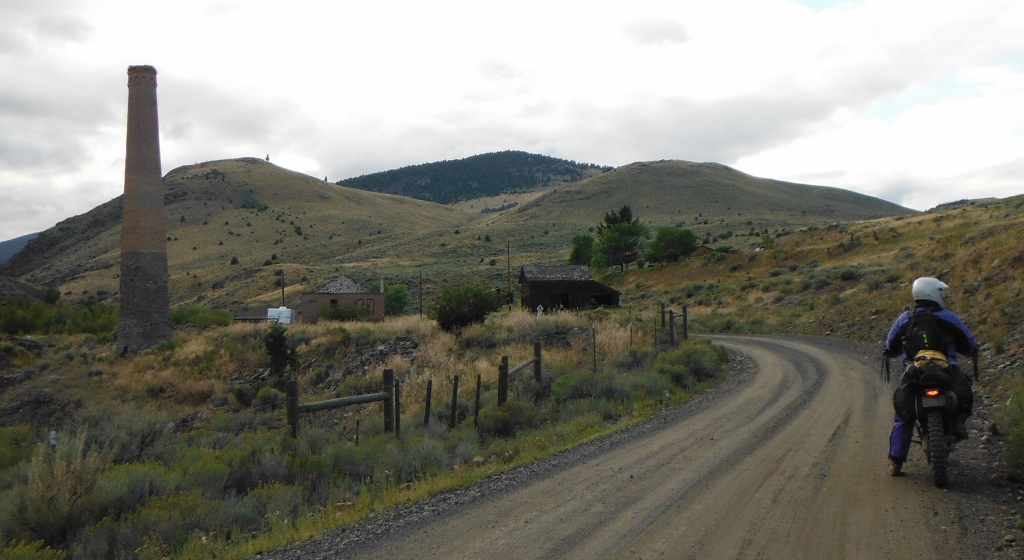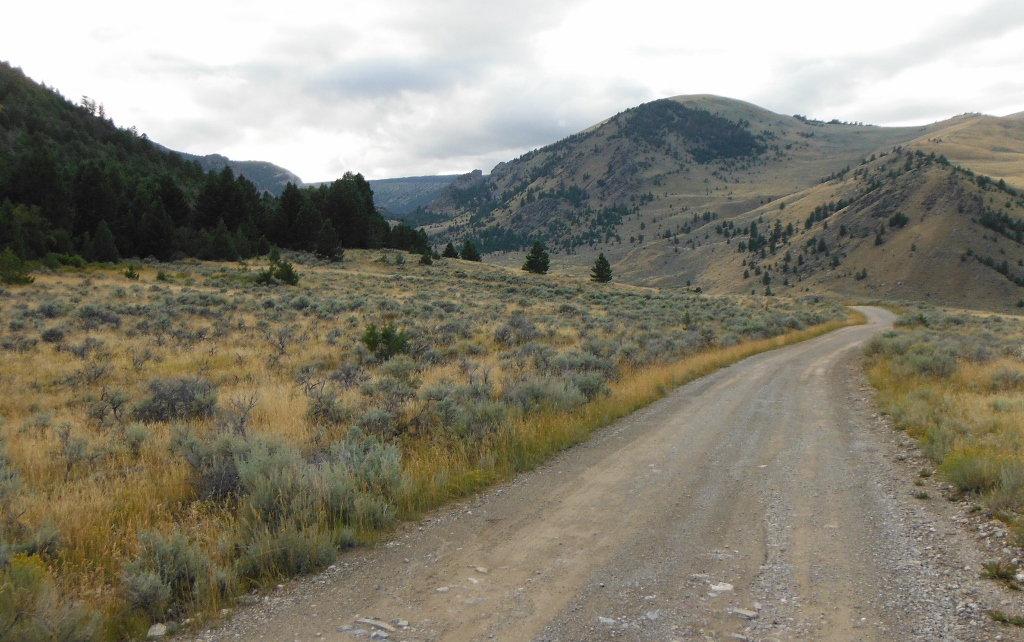 The old charcoal kilns were still standing of course and on we rode towards Wise River, Montana.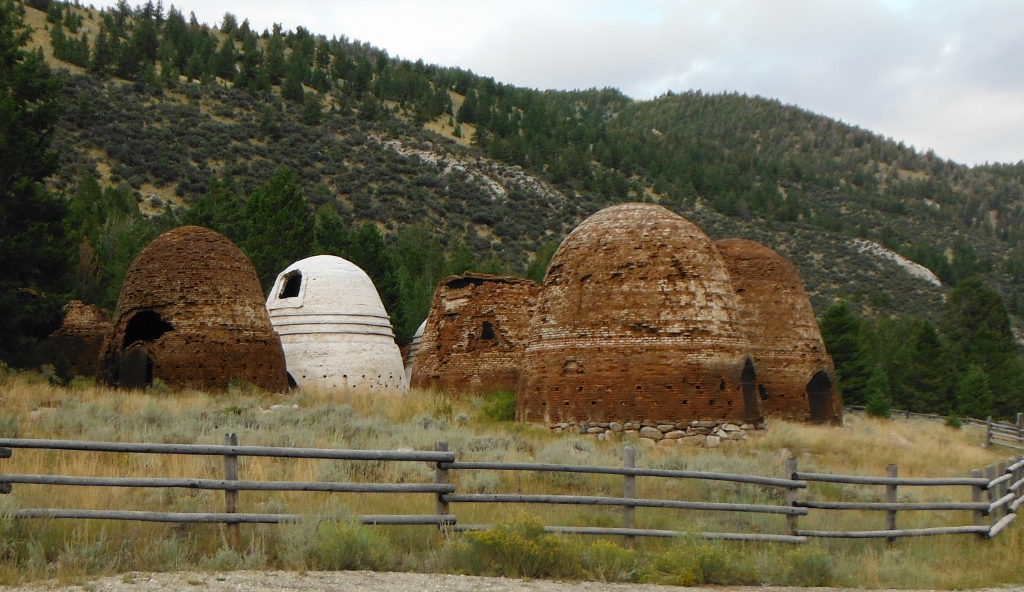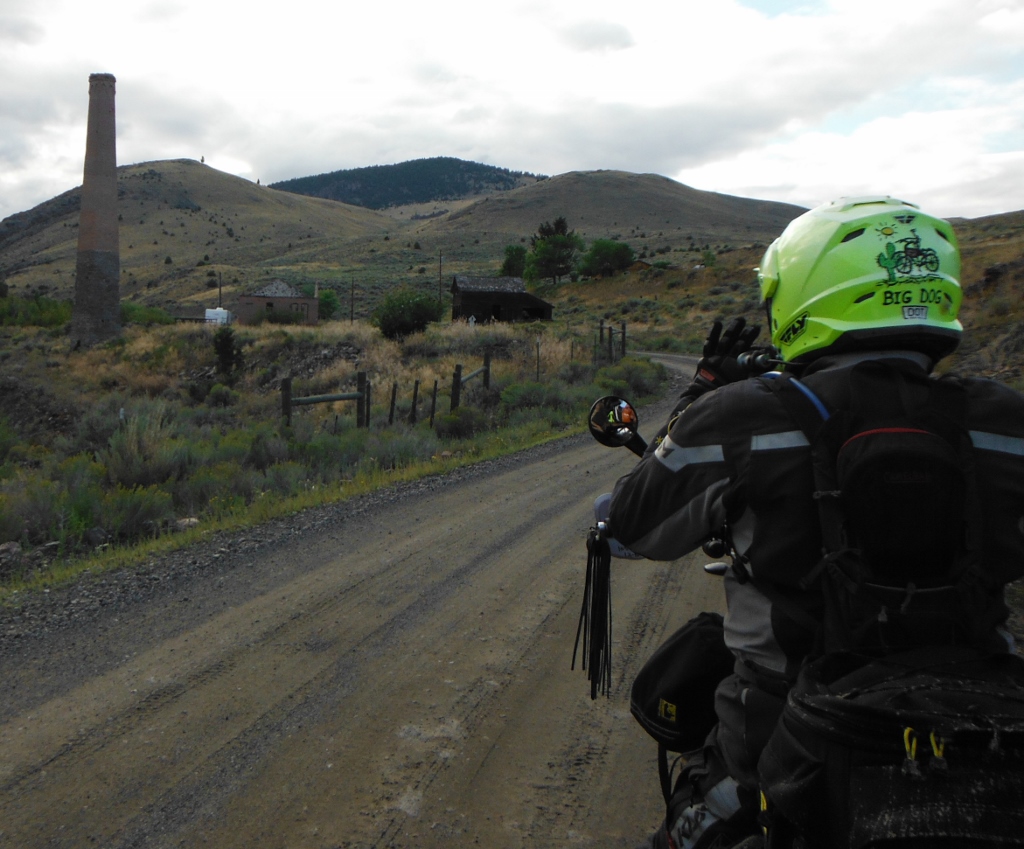 We got a cabin in Wise River, Montana at a neat place that also had a bar and grill---we were starving.
About 218 miles for the day---and here is a rough map of our route.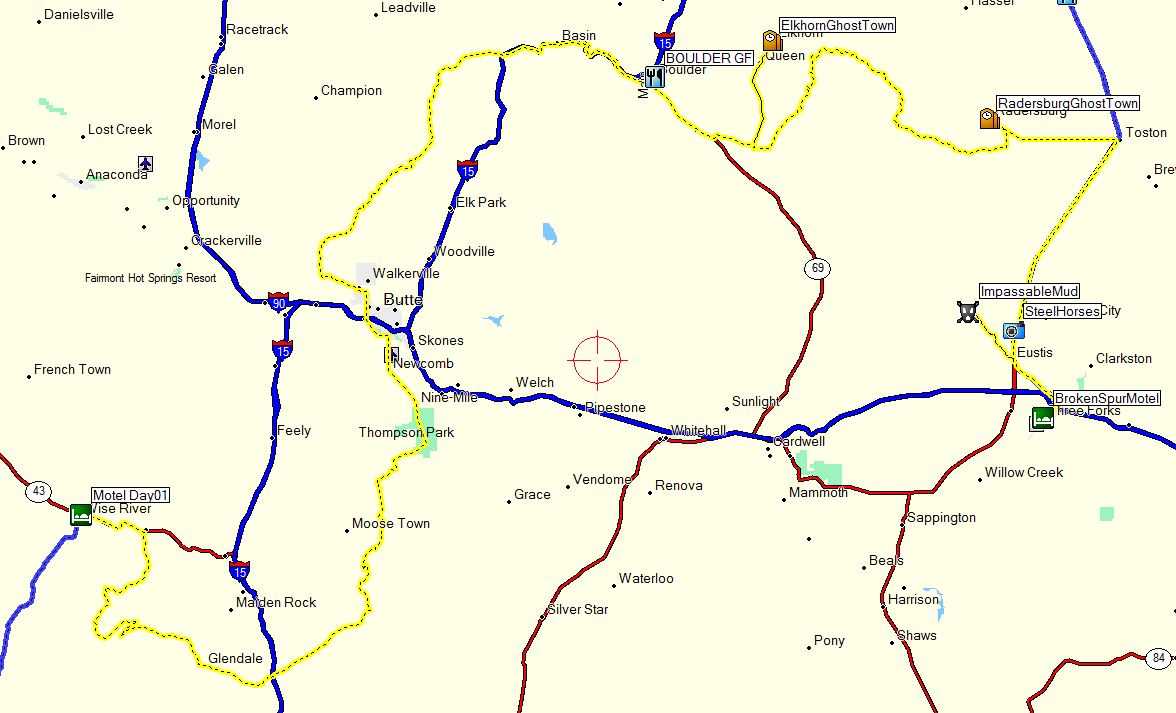 Here is a Video of Day 1
Day 2
August 25th, 2014
Today would be a great day----a short one---but great.
The riding was fantastic and I had manage to reserve an old forest service log cabin.
I never reserve motels-----------never----and never will as I don't want to be tied to a specific destination for the day--but these are special.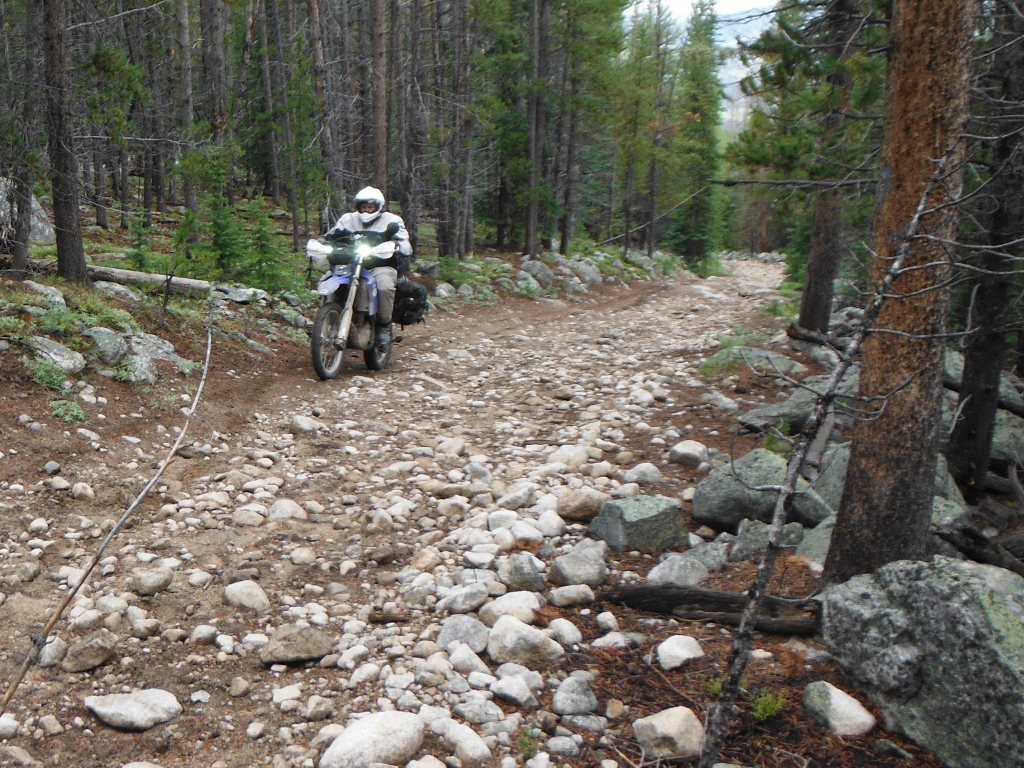 Lot's of steep rocky roads in here-----and we had to help each other out a bit to get thru it.
If you lost your mometum in this stuff it was hard to get going.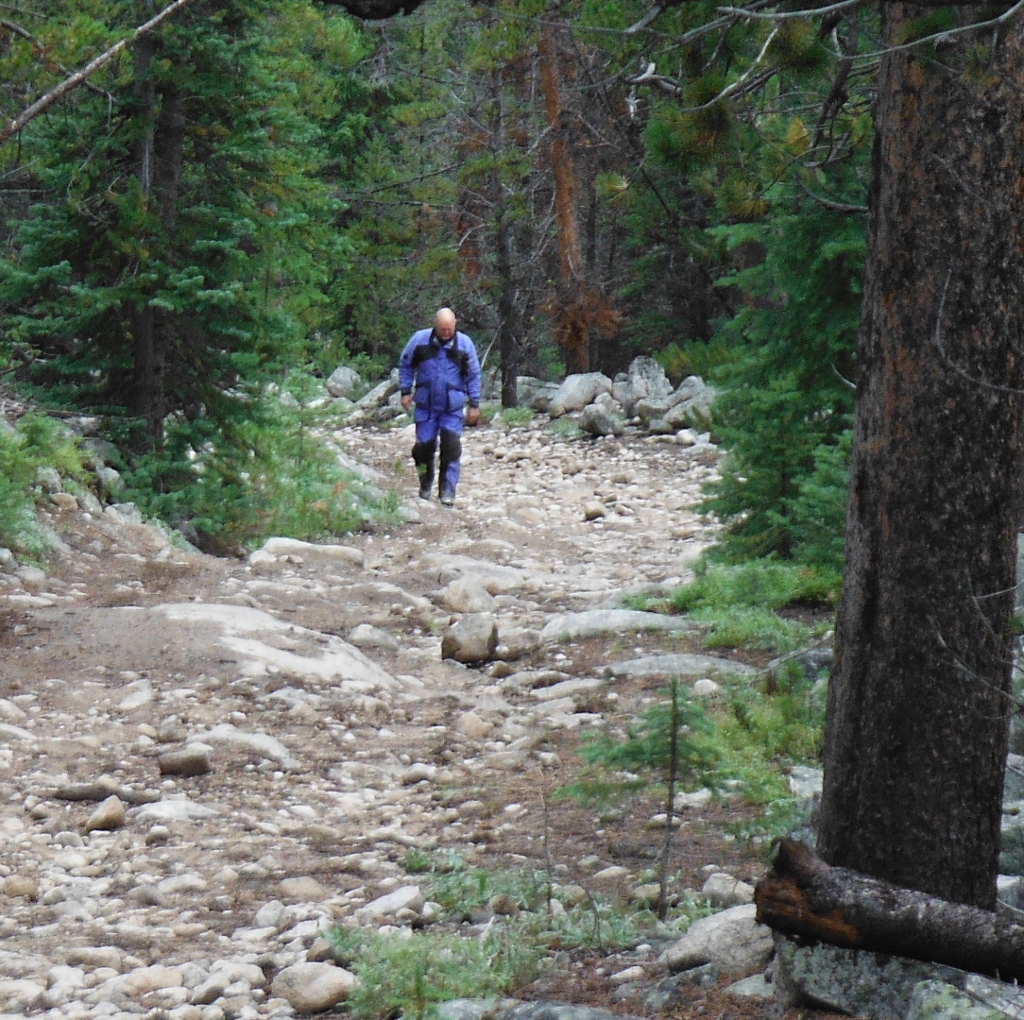 Available in the finer upscale outdoor stores everywhere.
The "Dingweeds RP3000 Adventure Tarp"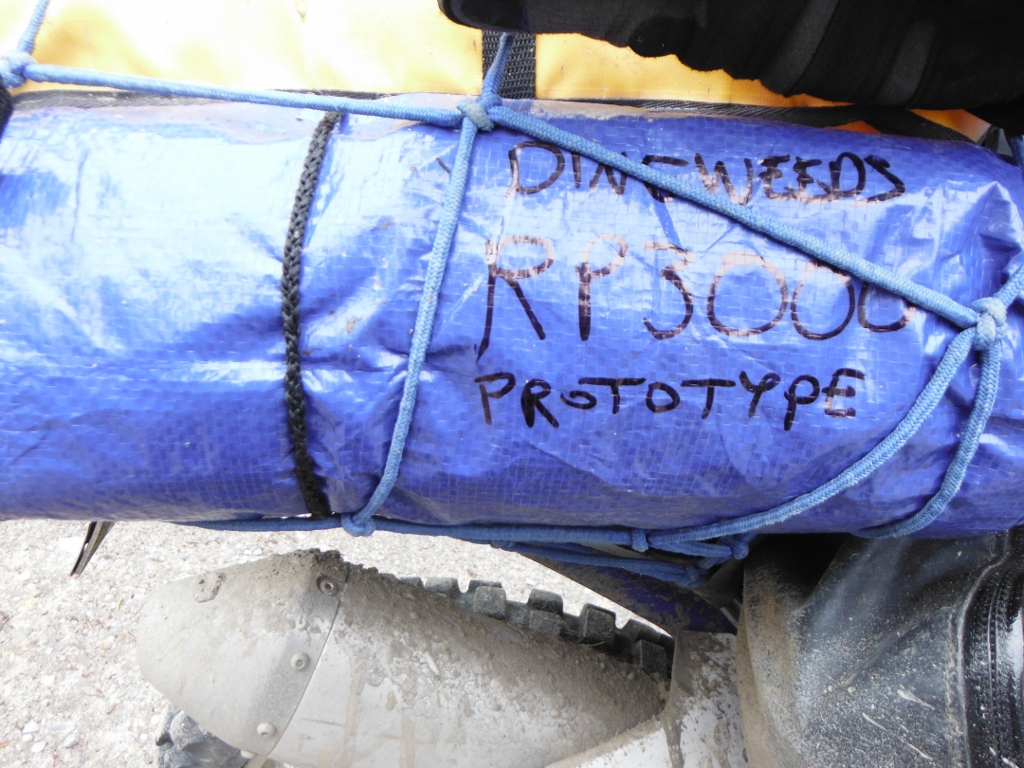 We tried to find the ghost town of Elkhorn in here---but it alluded us.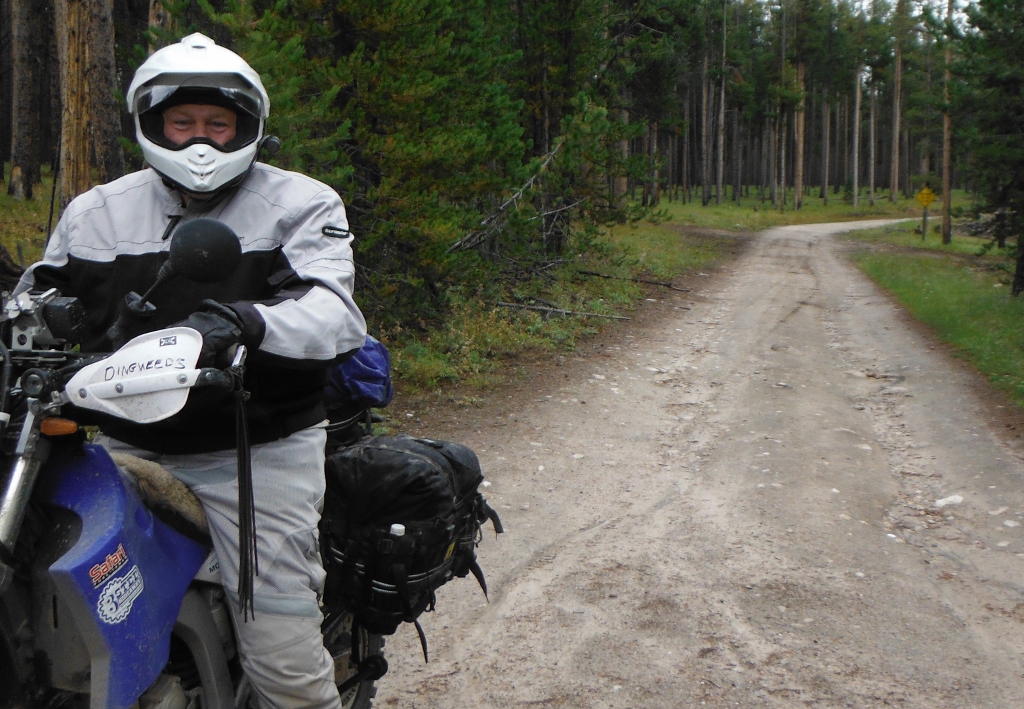 I love the brown rolling hills found in Montana and Idaho.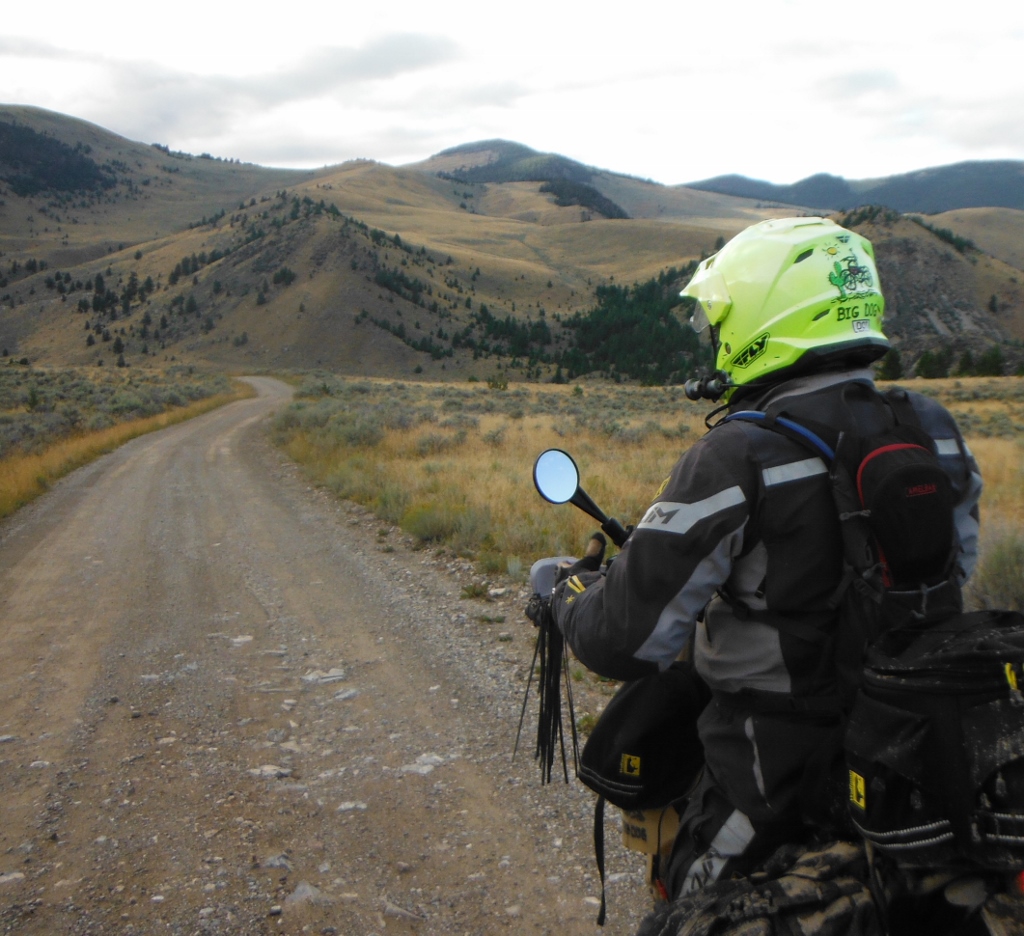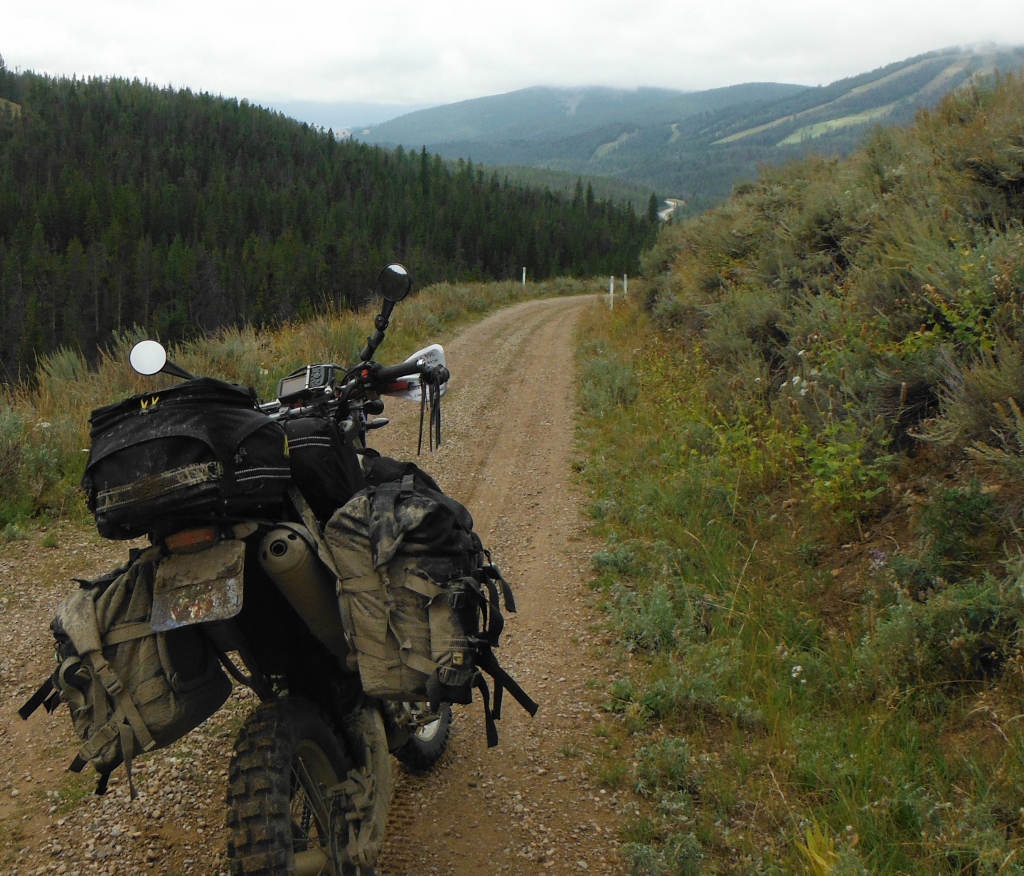 Our route took us on a short section of the CDR ride and I stopped in to talk to the lady that use to run the
"Canvas Cafe". A neat cafe in a tent right on the CDR trail that few people got to enjoy as it was short lived.
It blew away--------several times---and she just gave up---it's been gone for years and the woman was in very bad health---I hadn't seen
her in years and wished her well and told her how much I enjoyed her cafe back in 2004 I think----and rode away.
West of there we turned Northwest on Bloody Richard Rd. towards our cabin for the night.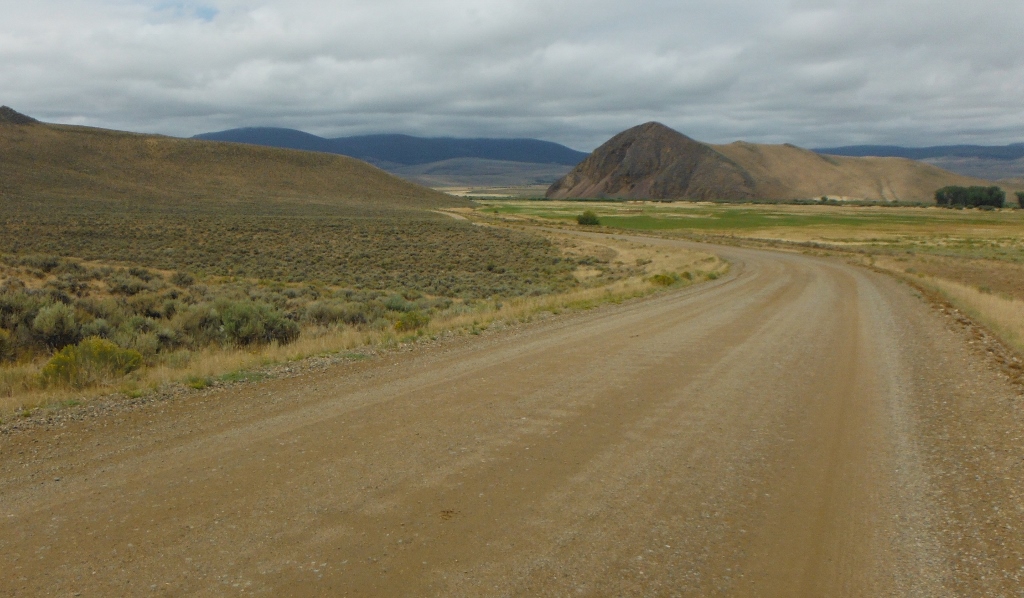 The rock you see here is called "Red Butte"---and looked much redder in person.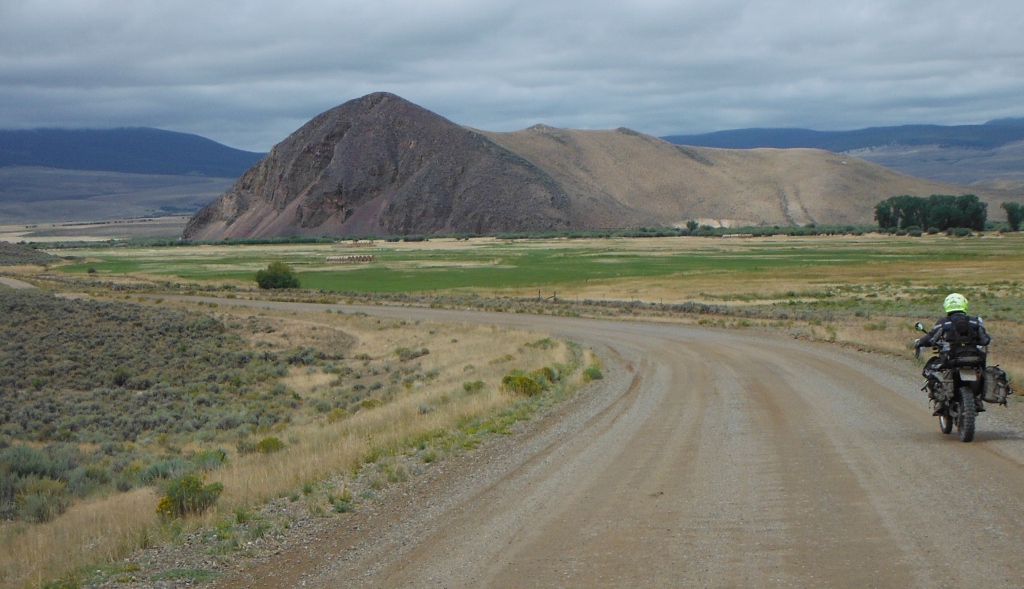 I was estatic to know we were going to be able to stay in a real log cabin for the nite---and we couldn't wait to get there and stok a fire in the woodstove.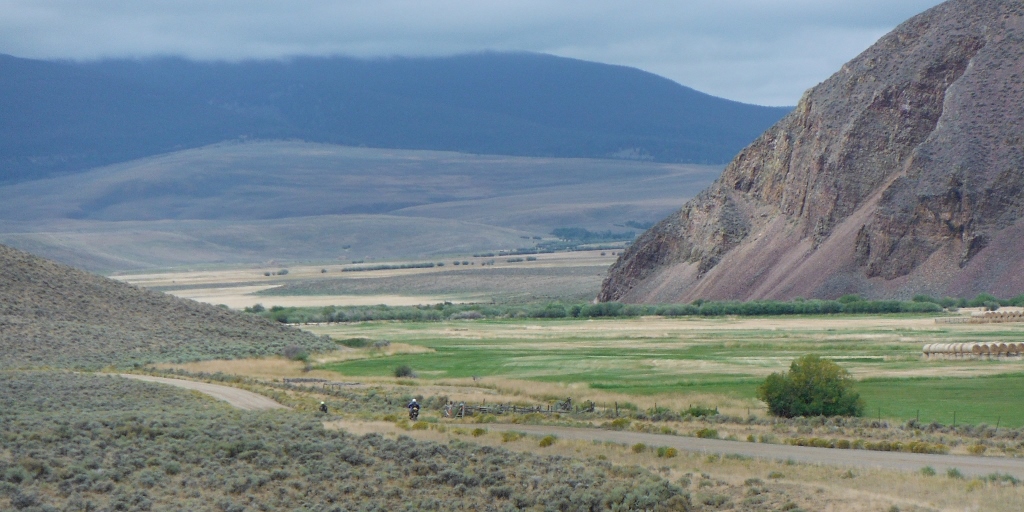 A reservation on line will get you the combination to the lock and the location of the cabin.
The dirt road getting there would be impassable if wet.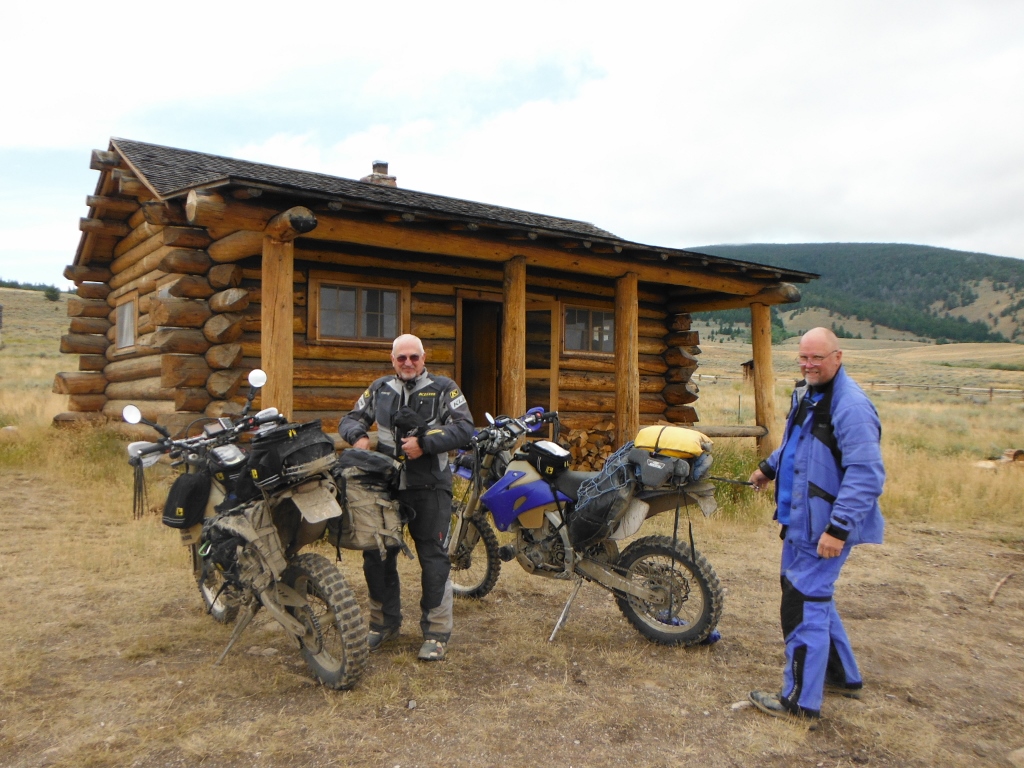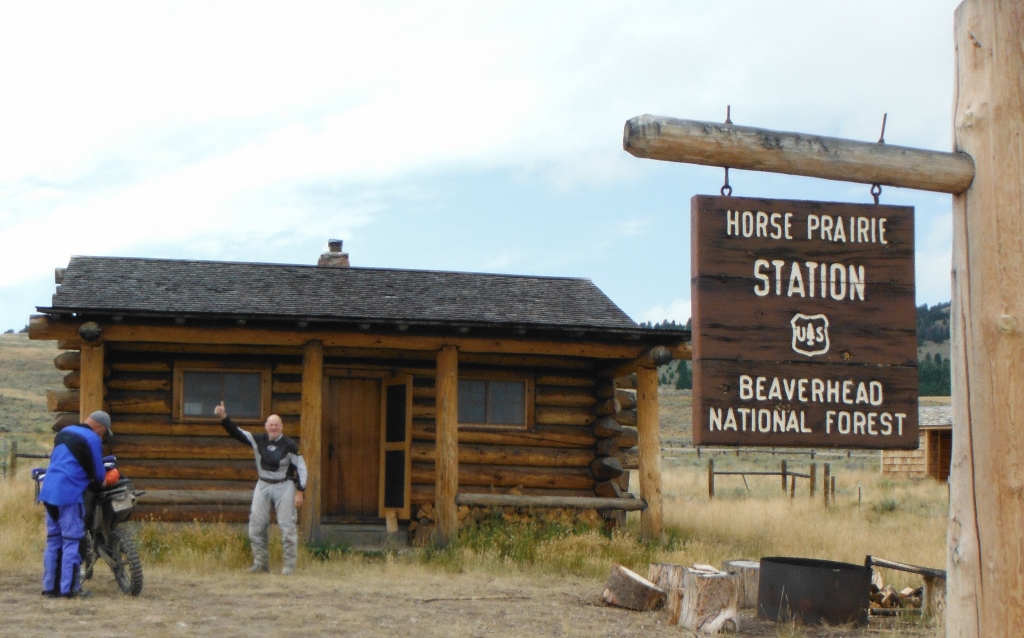 There was plenty of firewood for a month's stay--and we got busy splitting wood.
There was plenty already split---but it's a courtesy to split more for the next guy-----kind of "pay it forward" you might say.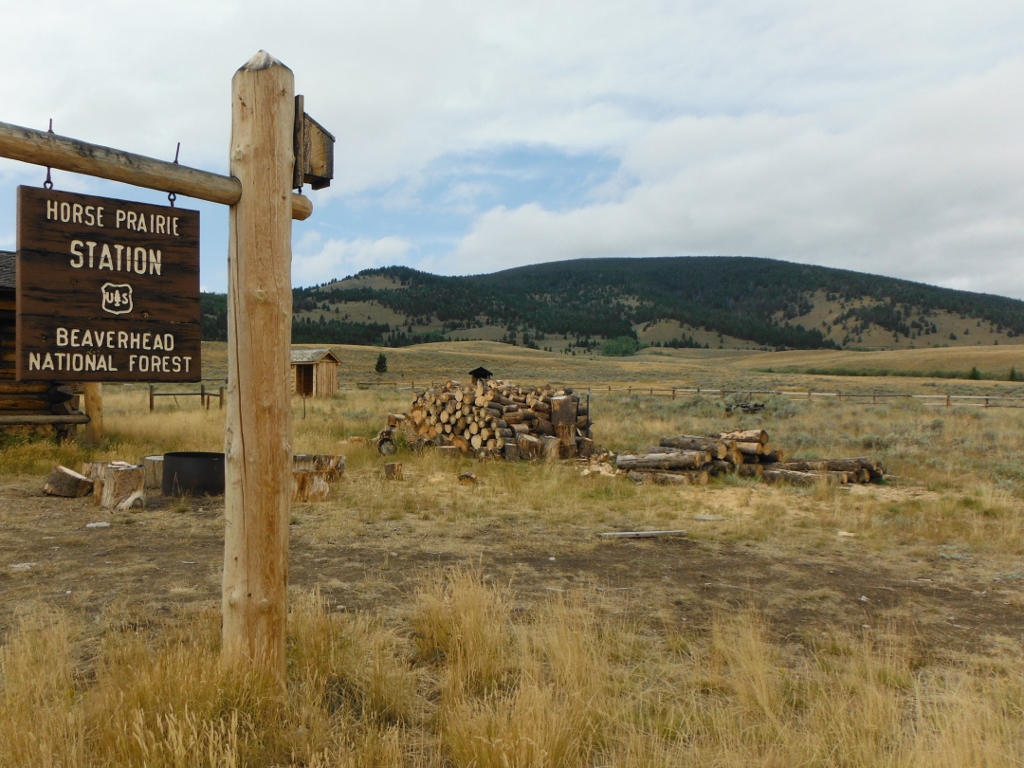 They don't furnish bedding or food---but you have everything else you need.
Pots and pans, utensils, axes, splitting mauls, first aid, brooms, dust pan, firewood, ---all kinds of stuff.
This cabin had propane for the cookstove and lights--most don't have this.
This one even had water at the sink---which was fed from a spring up a hill---gravity fed.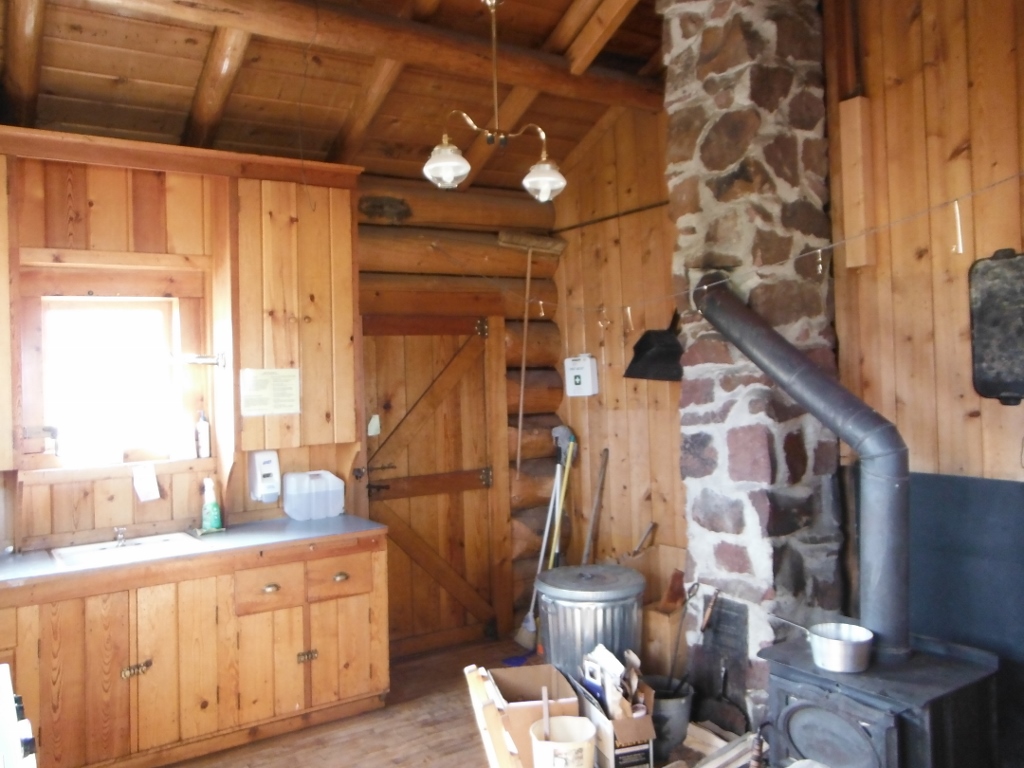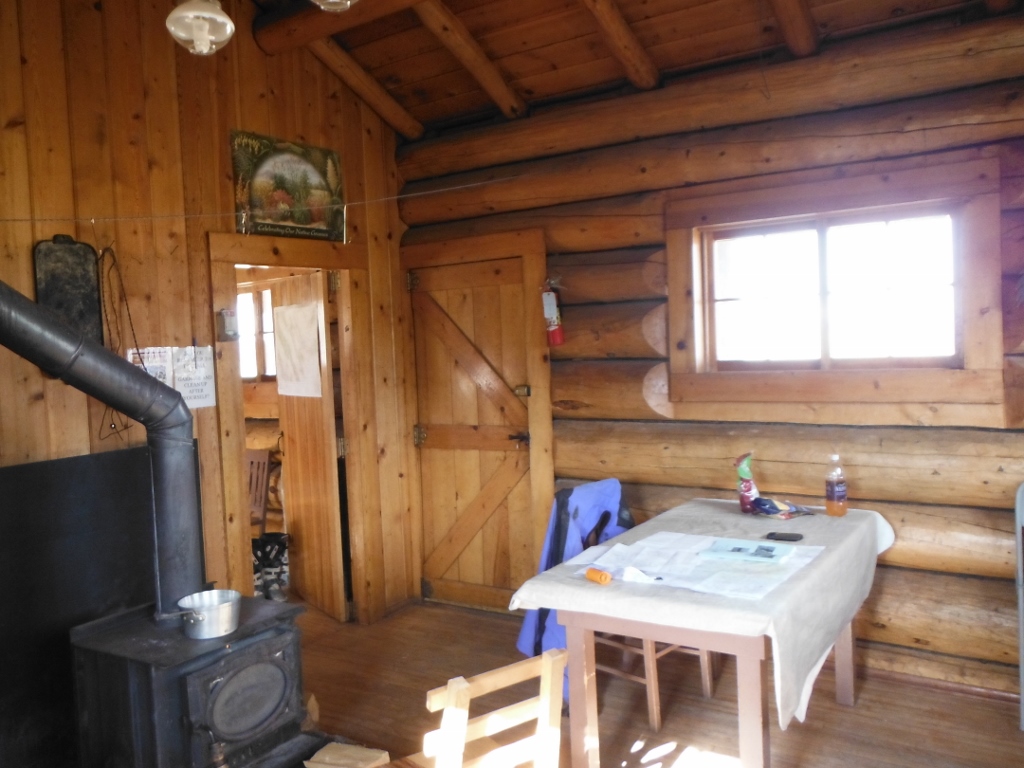 It would sleep 6 and we made ourselves at home and put our sleeping bags on the bunks.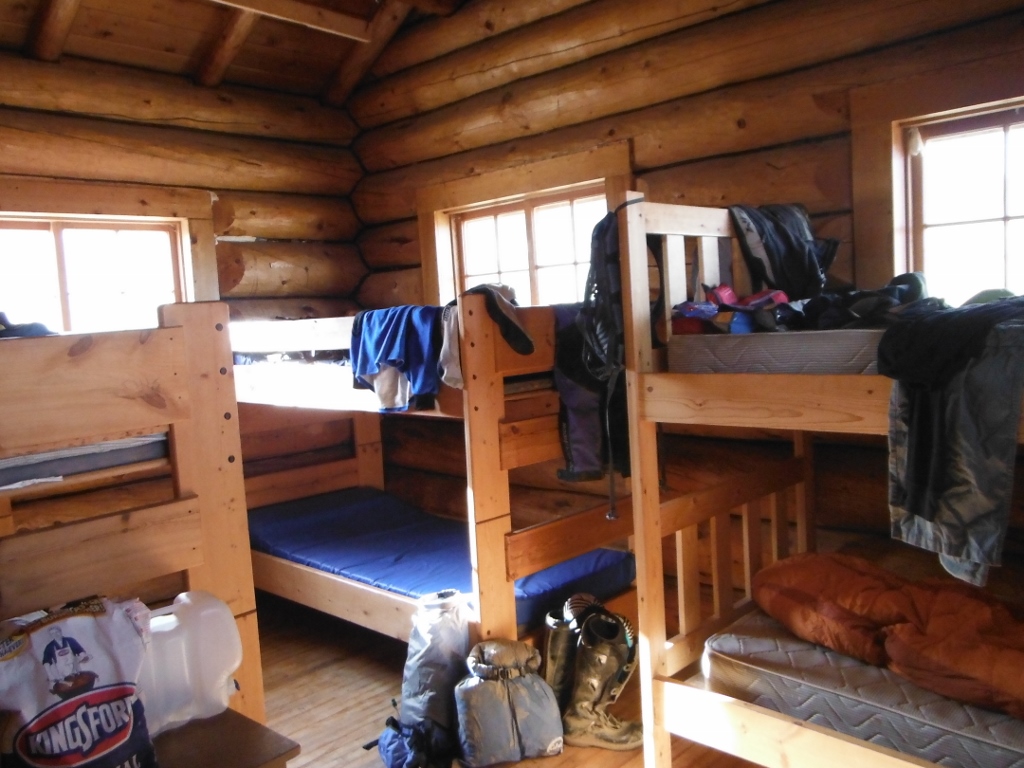 We eventually made a fire outside to sit around as the sun went down and it cooled off-----and got pretty cold that nite.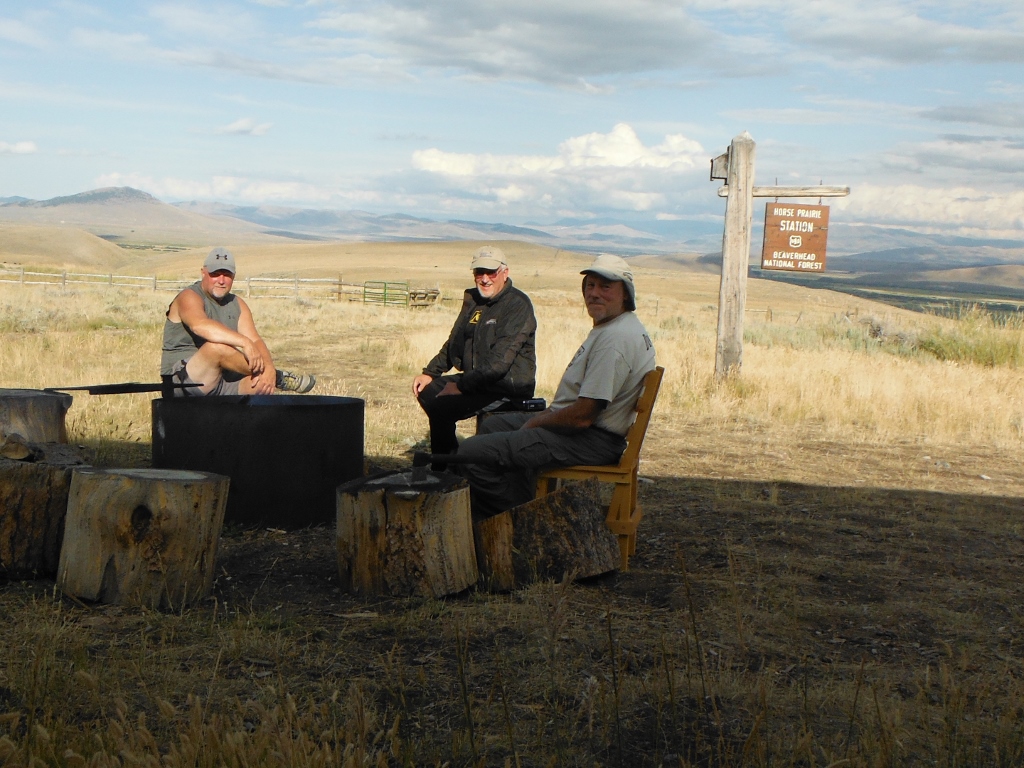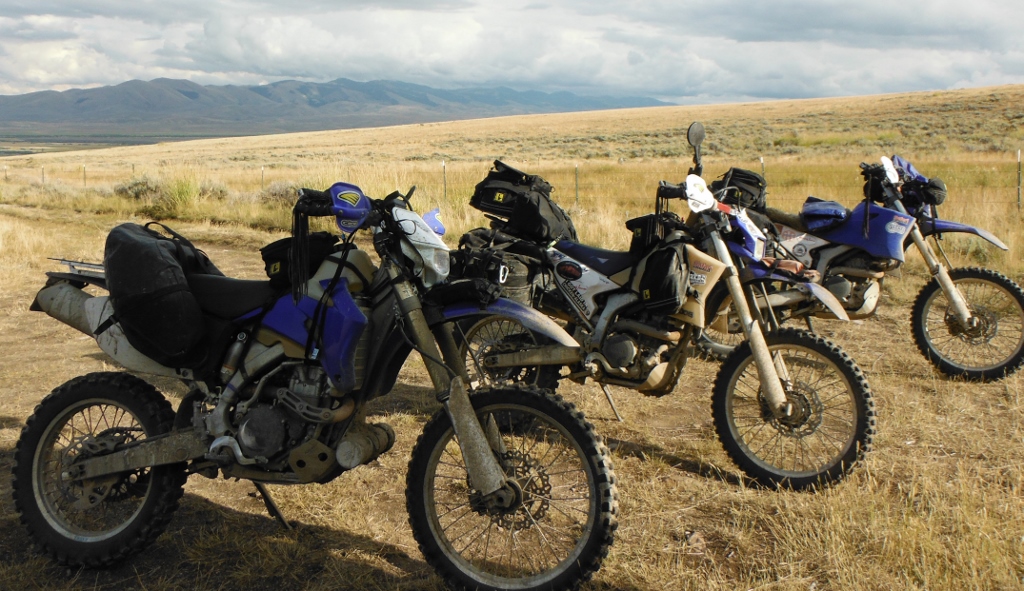 Rick (looking at you) is pretty good---------but he ain't no Dingweeds.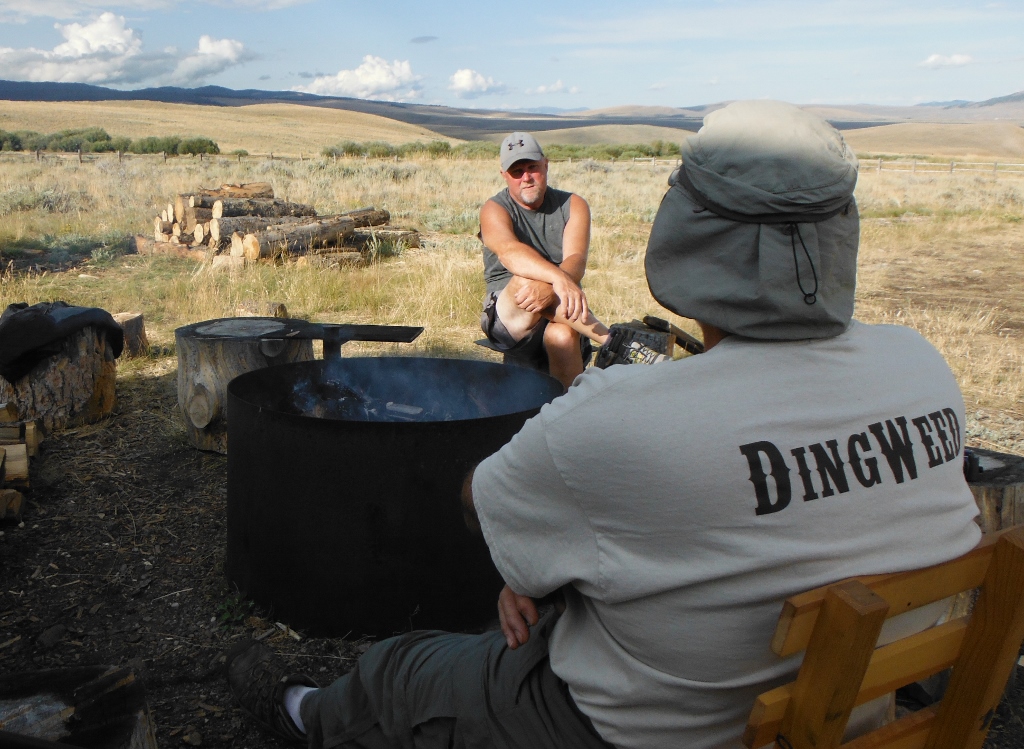 We had a hoot taking turns splitting wood----and split way more than we used.
They were bears everywhere---and I made sure I had a pee bottle for the nite so I wouldn't have to go out.!!!!!!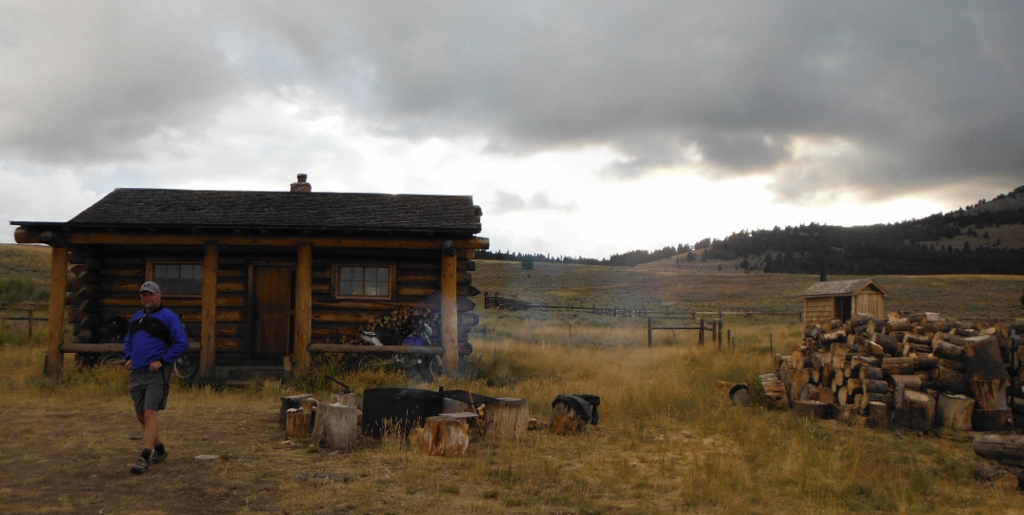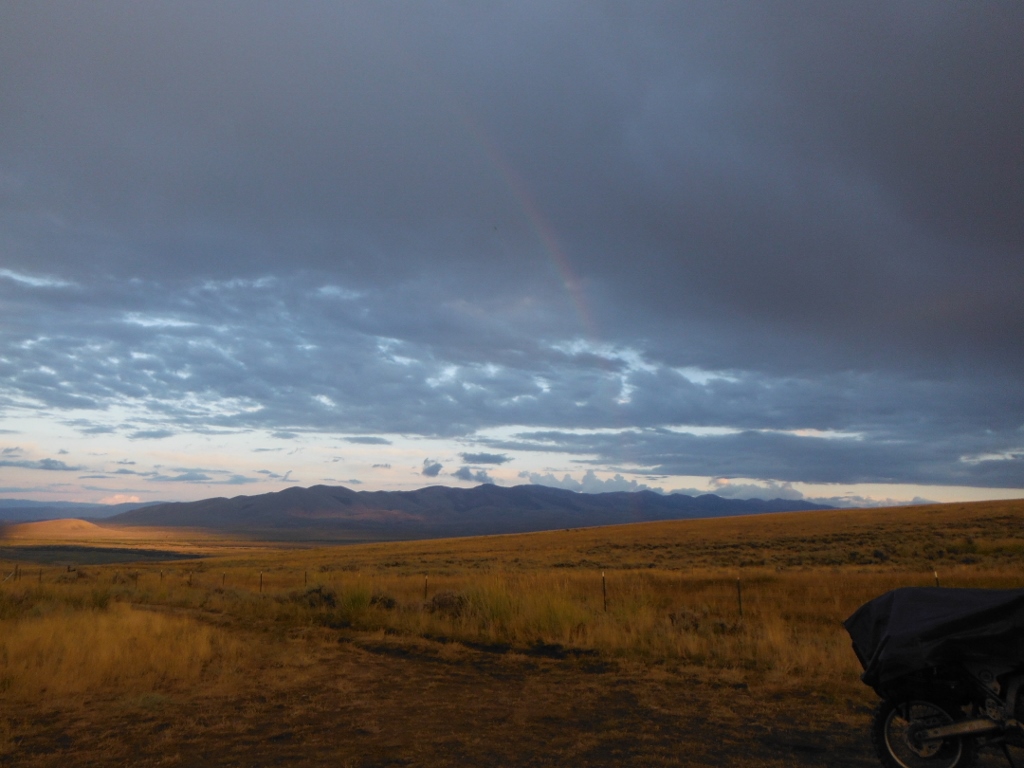 A view from the way we came.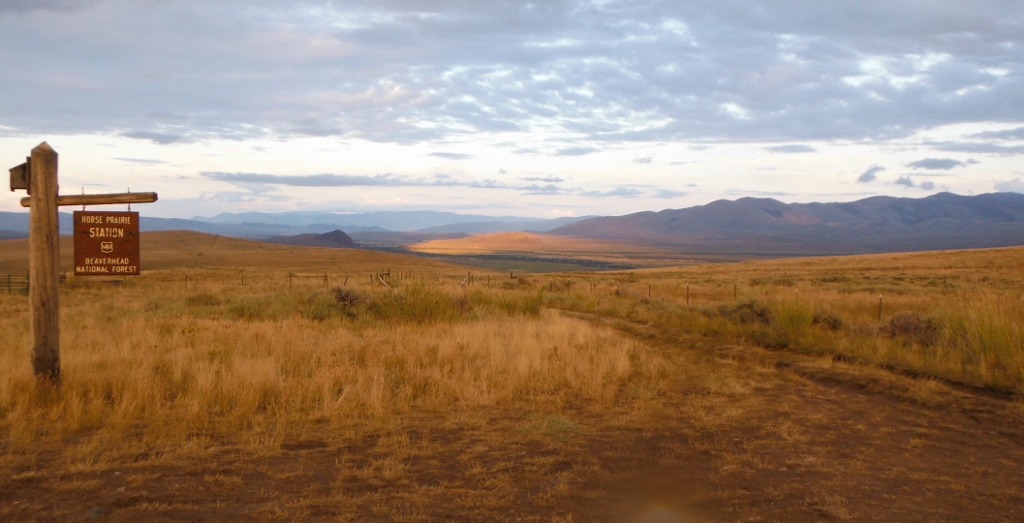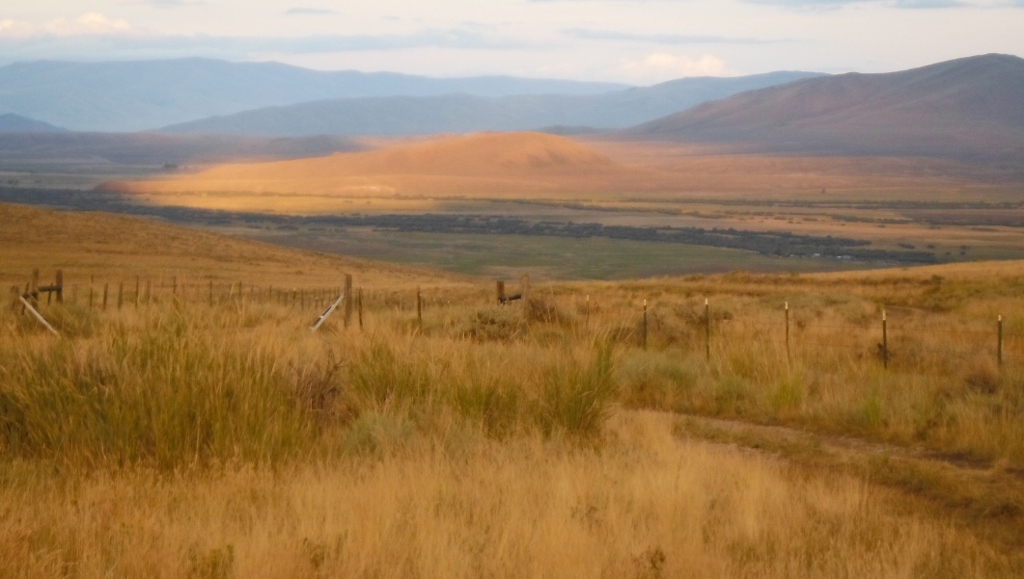 And sunrise the next morning !!!!!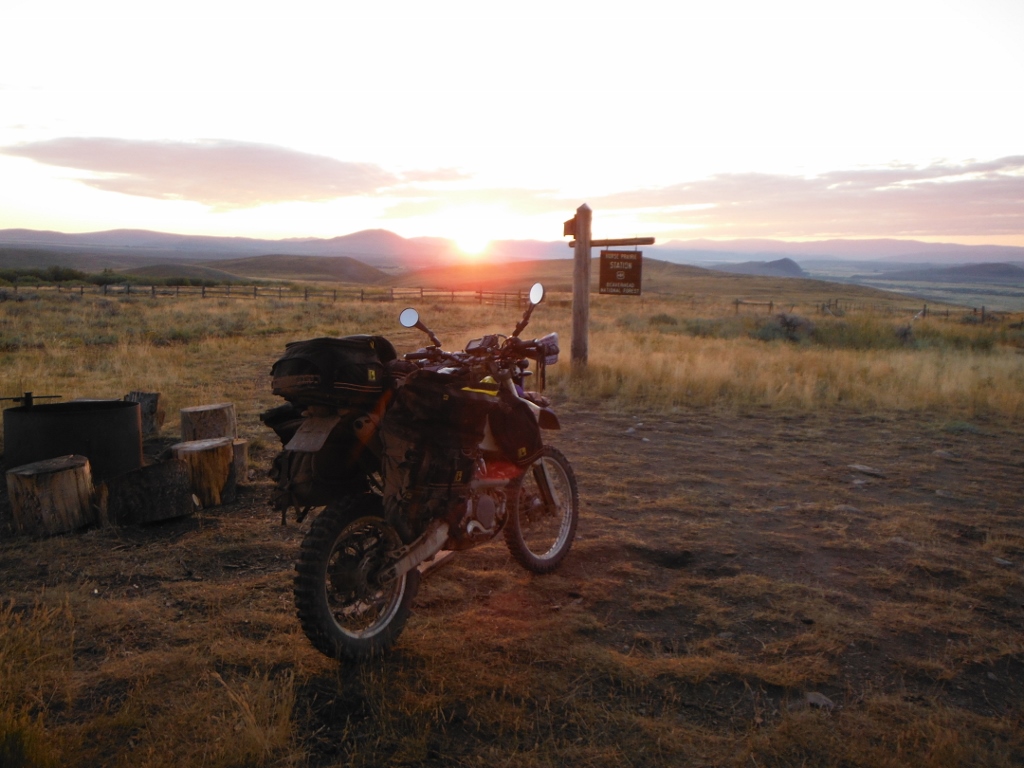 A rough map of our days ride of about 88 miles.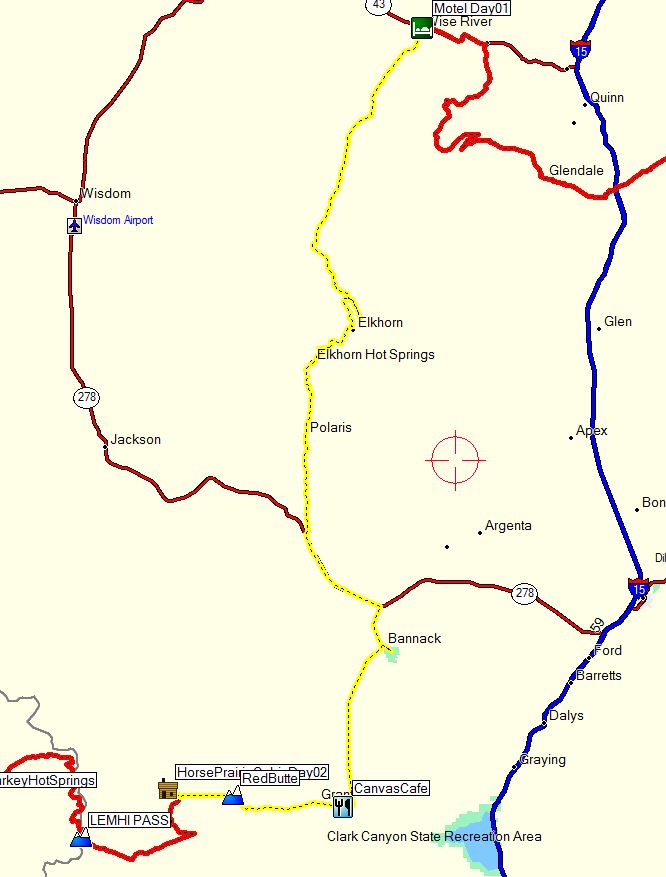 Here's a Video of Day 2
Day 3
August 26th, 2014
Day 3 would take us from the Horse Prairie Cabin to a campsite on the Salmon River East of Stanley, Idaho.
Man it was hard leaving the cabin that morning----I kept the fire going all nite and when we packed up it was nice to come
back in the cabin to warm our hands as it was very cold this morning.

And on the way.................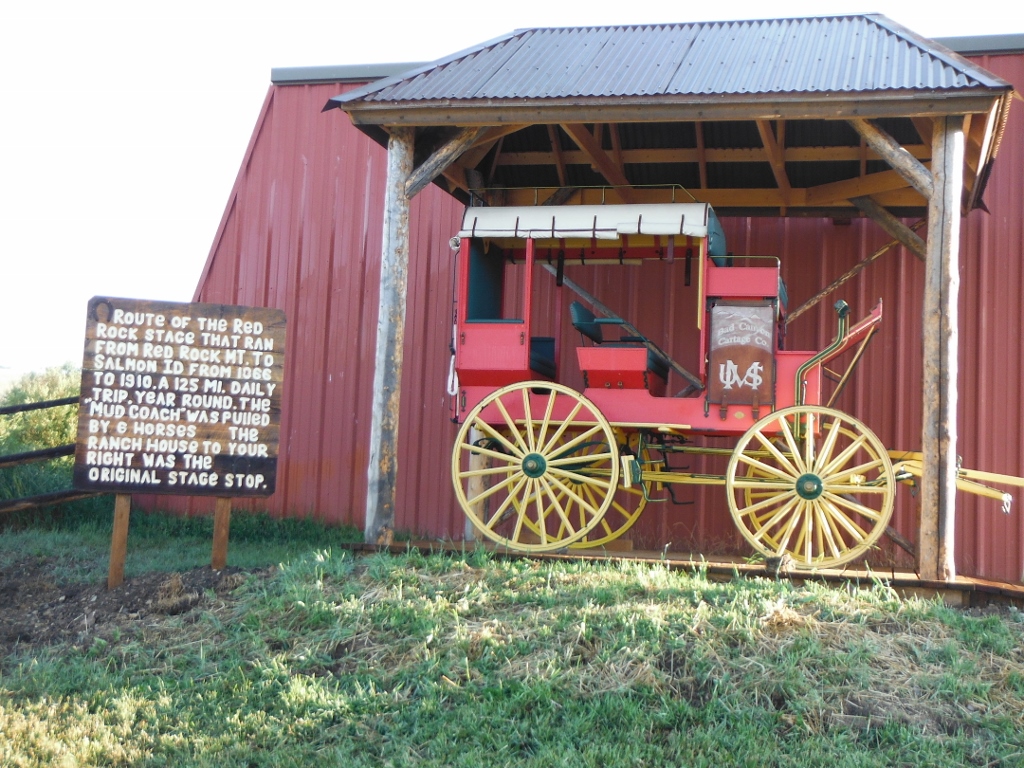 Lemhi Pass also serves as the border line of Montana and Idaho--so now we are in Idaho.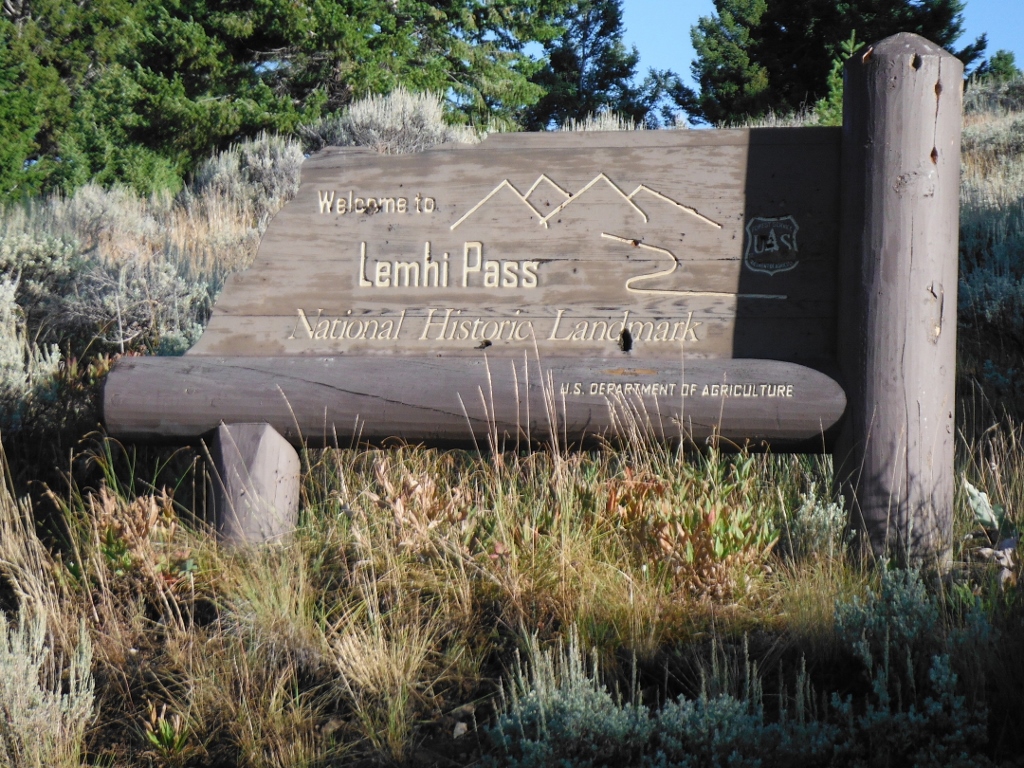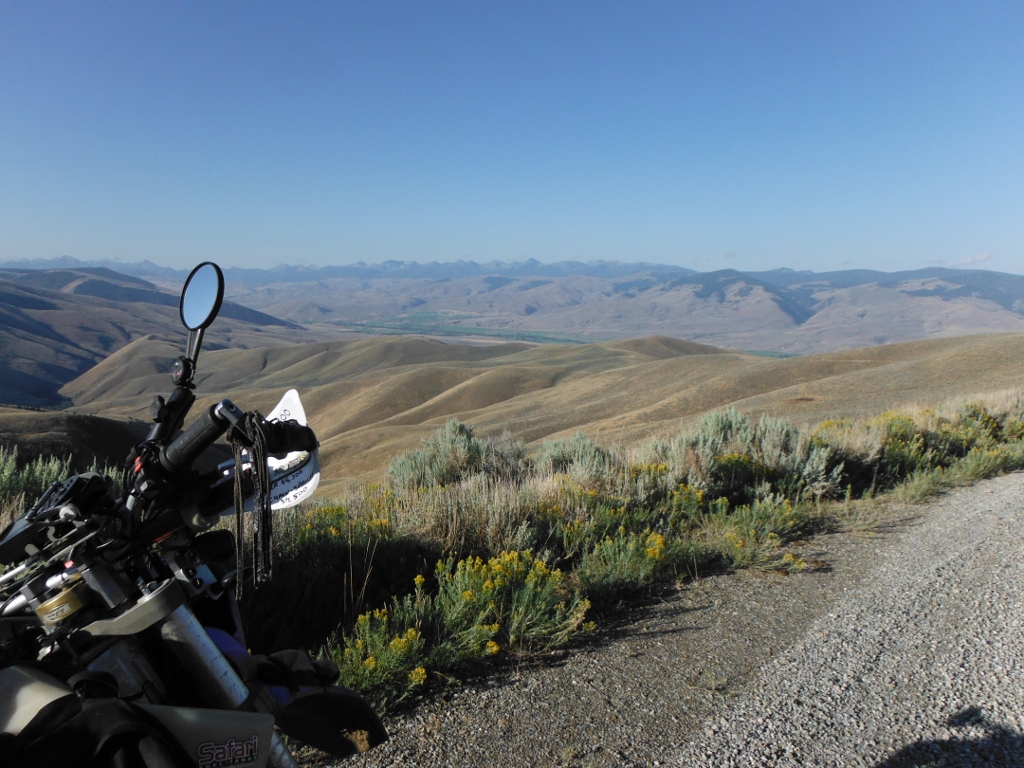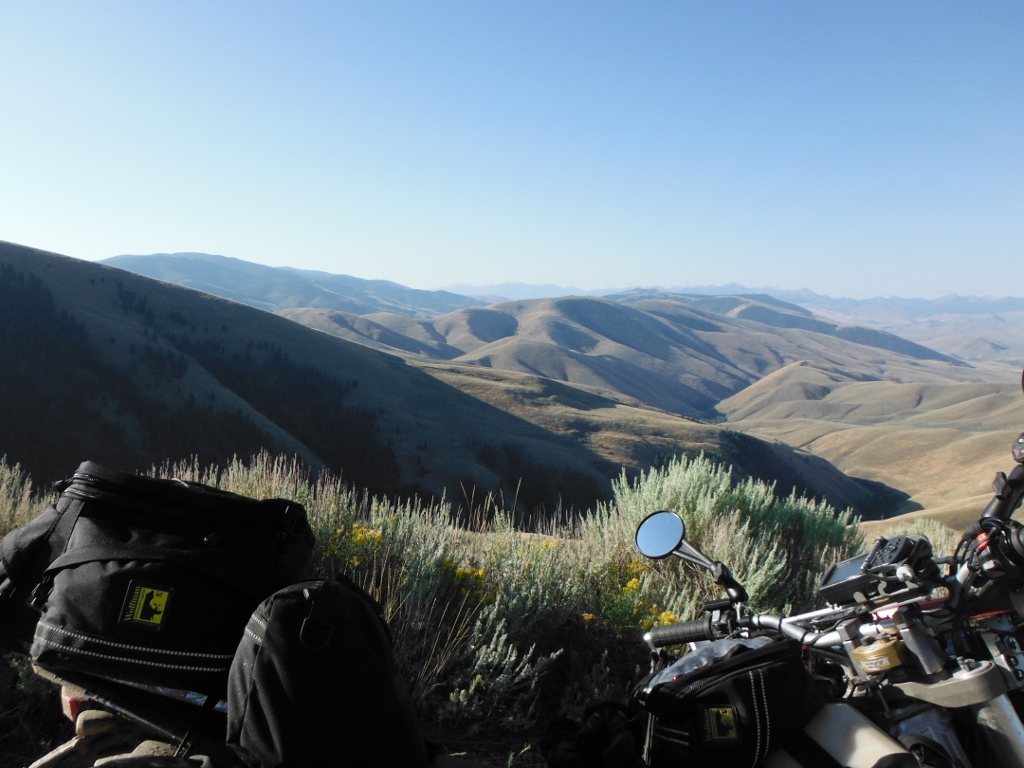 About 17 miles Southeast of Salmon Idaho we came to Sharky Hot Springs.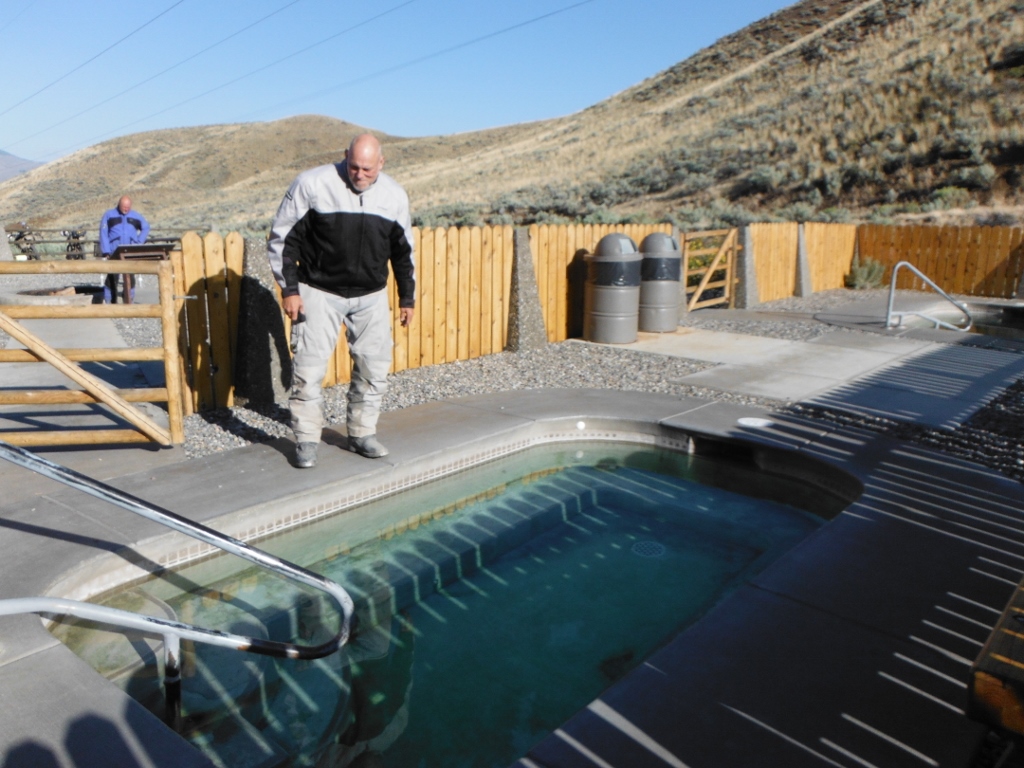 This site is unmanned-----and you self pay to use the hot spring pools.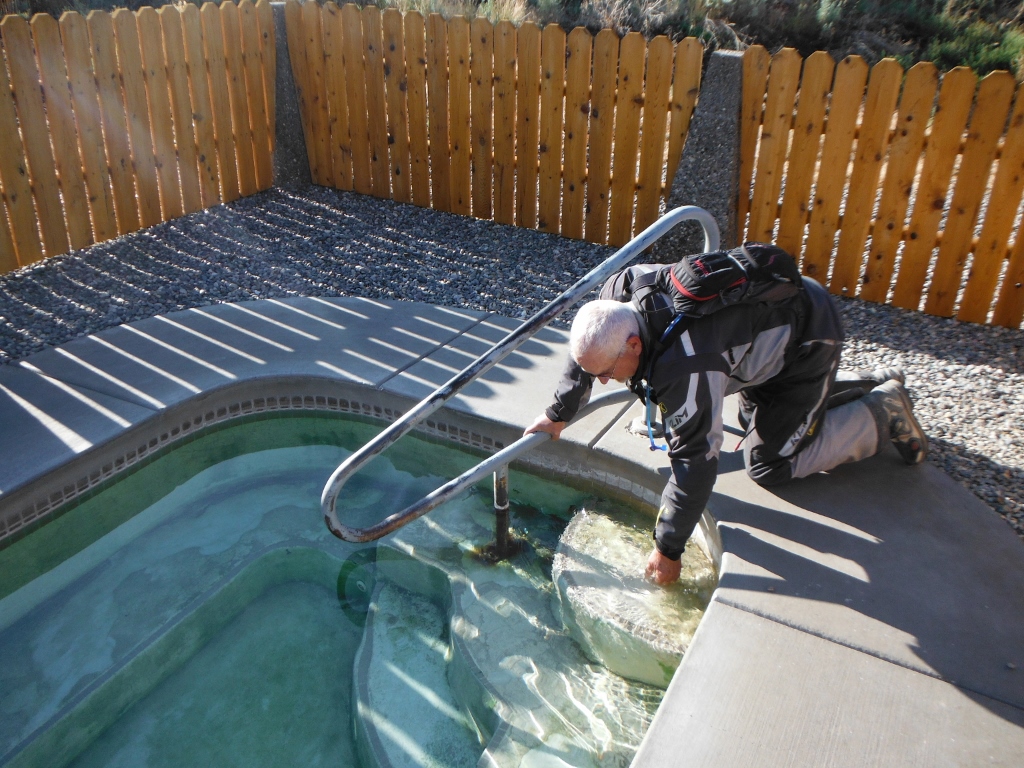 Not really our style.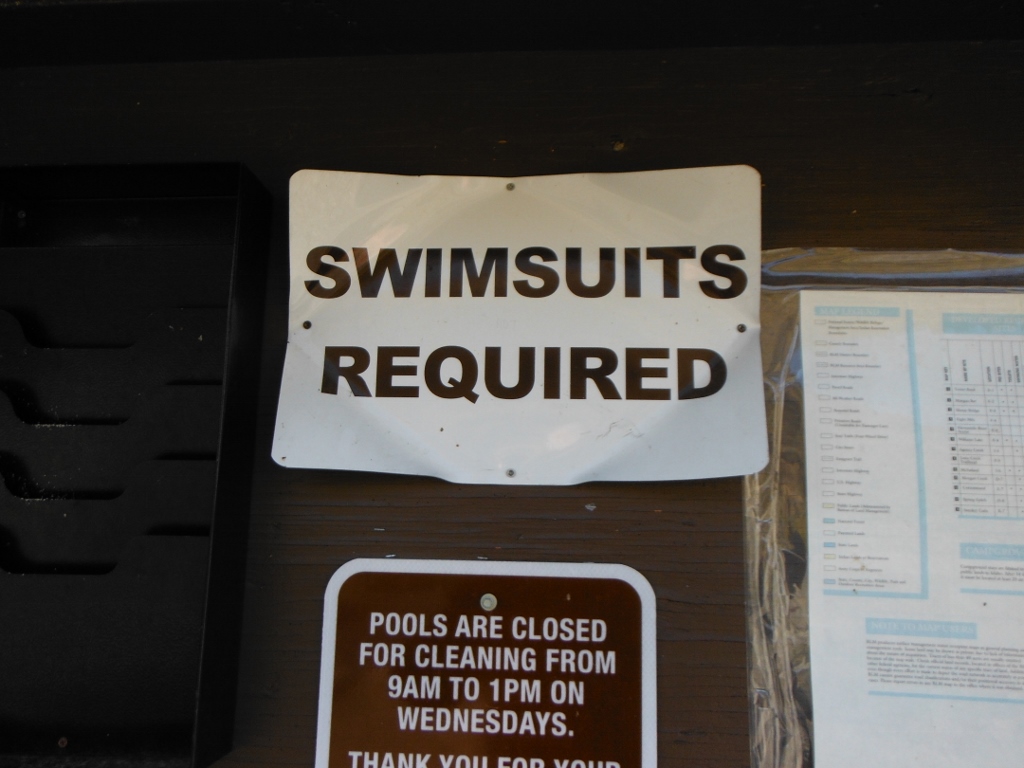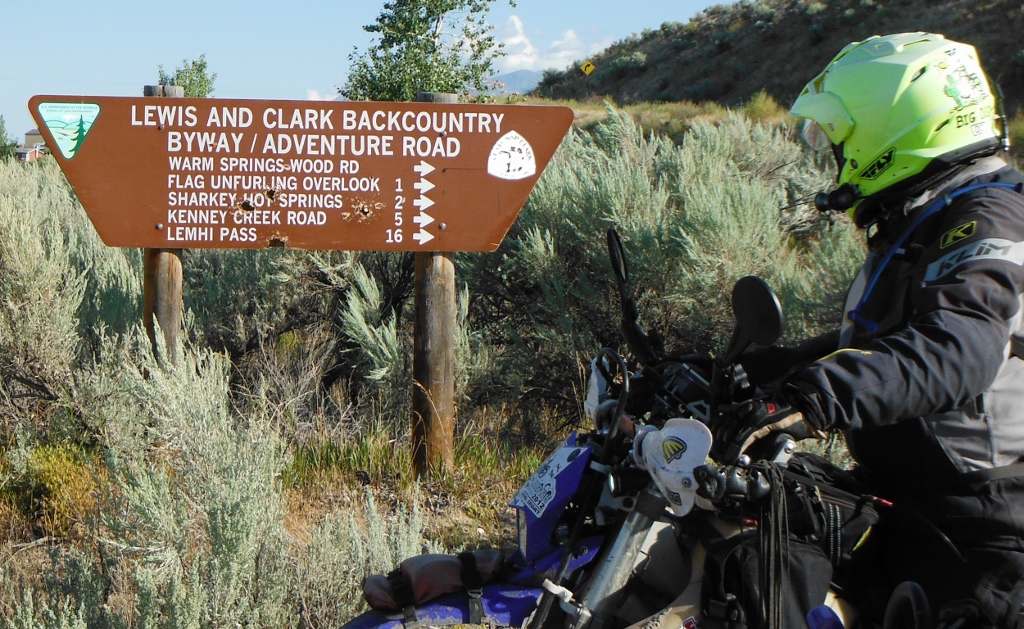 "No Dogs Allowed"
I found this to be a recurring theme on this ride.
This was in Salmon, Idaho where we got gas and breakfast.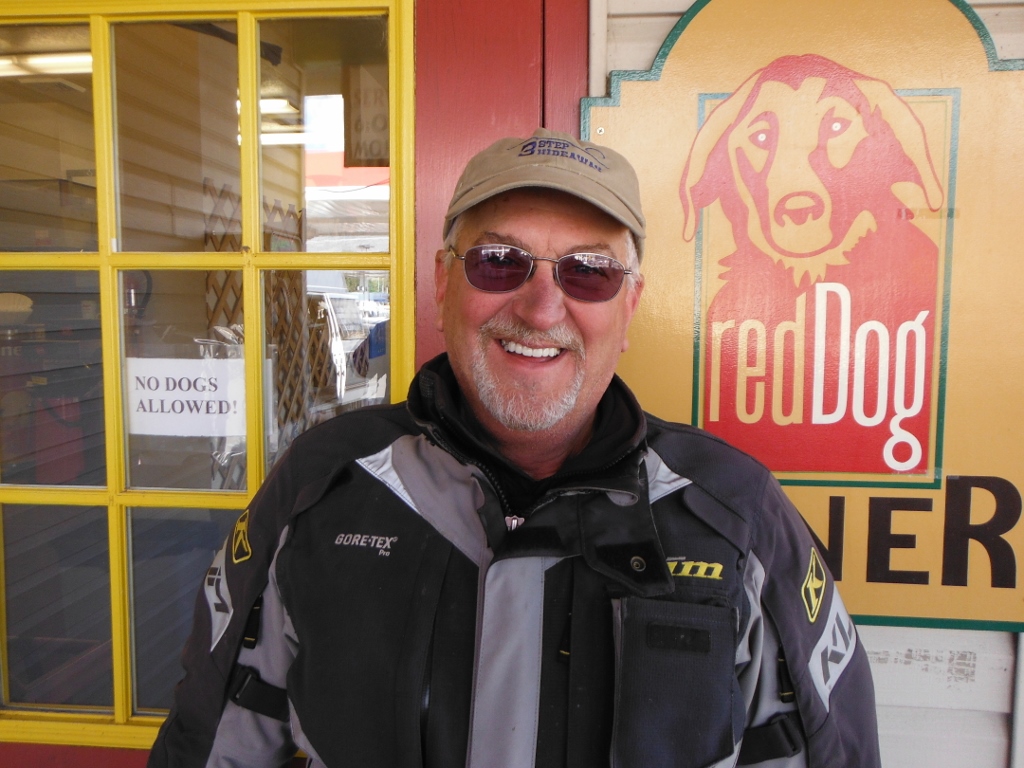 We headed South on hwy. 93 out of Salmon and turned West on FR 021.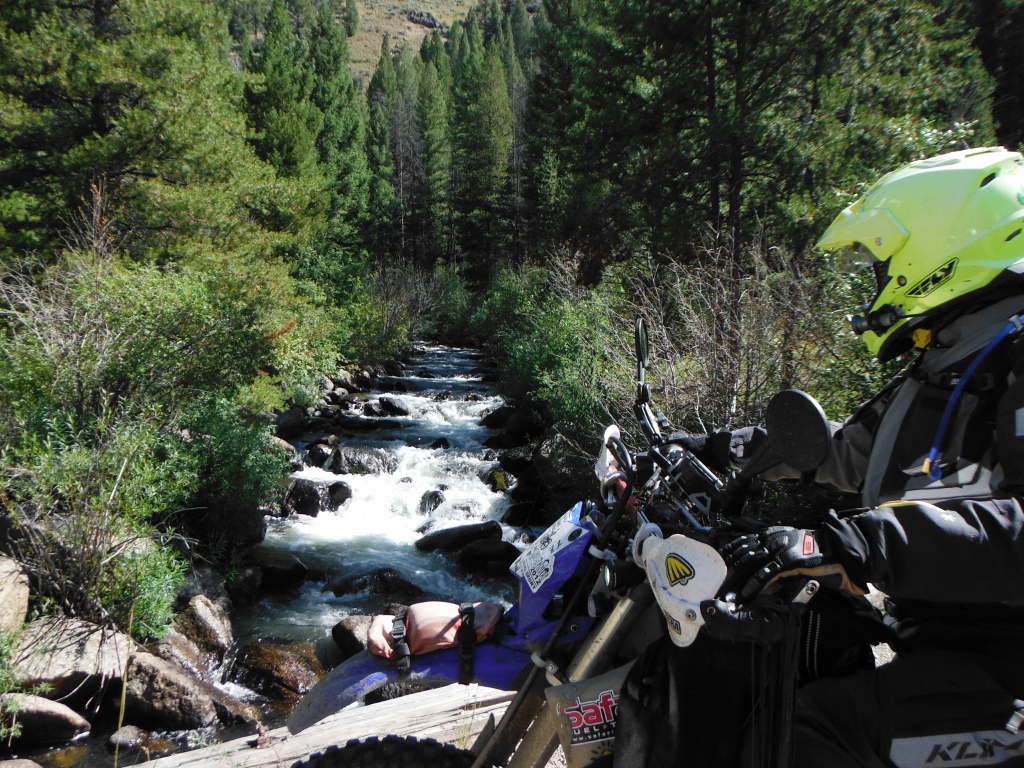 Then on Mocassin Creek road--then Napais Creek road--then South on FR 055.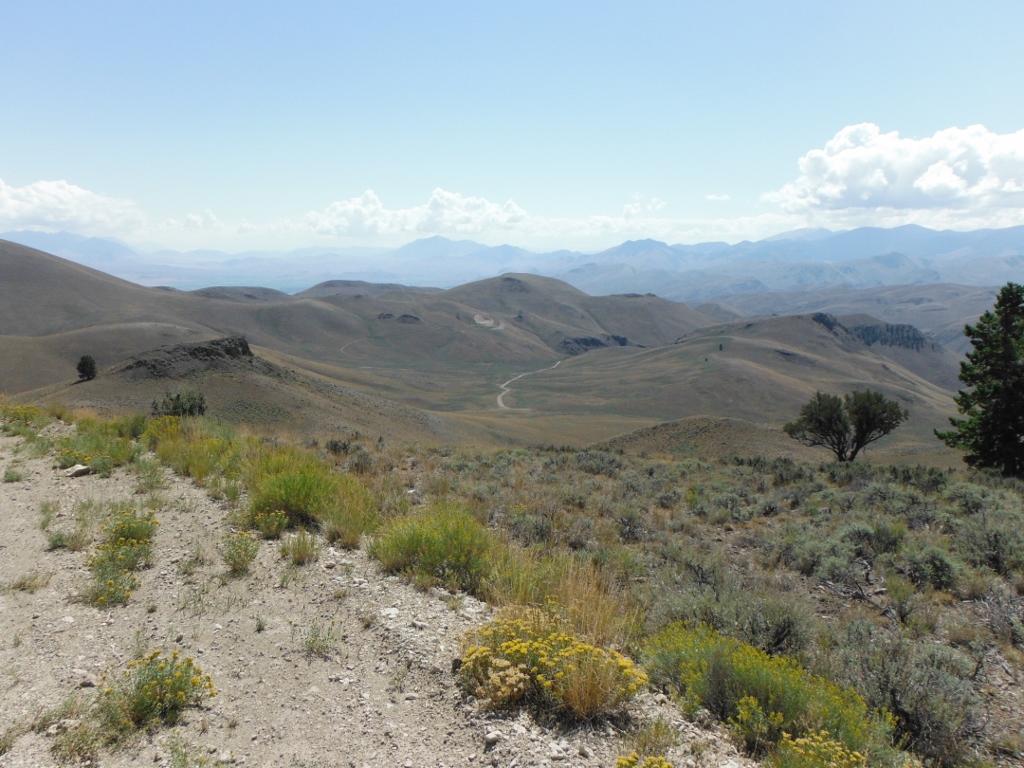 Going South for many miles we finally hit Challis, Idaho and went West on the Custer Motorway.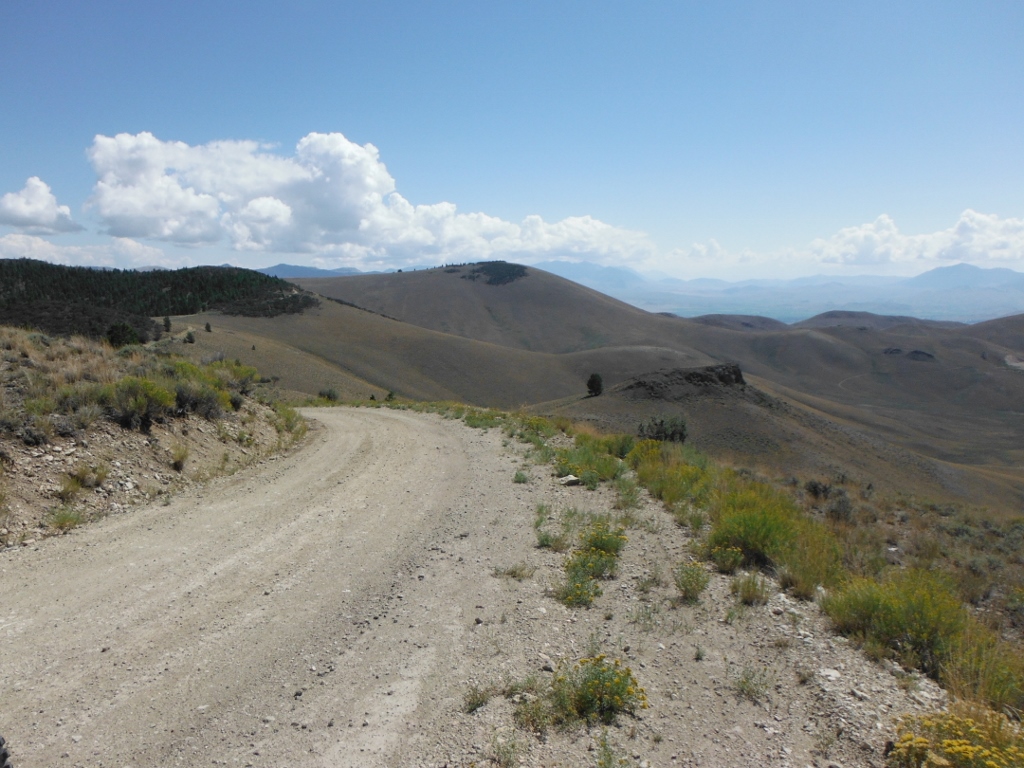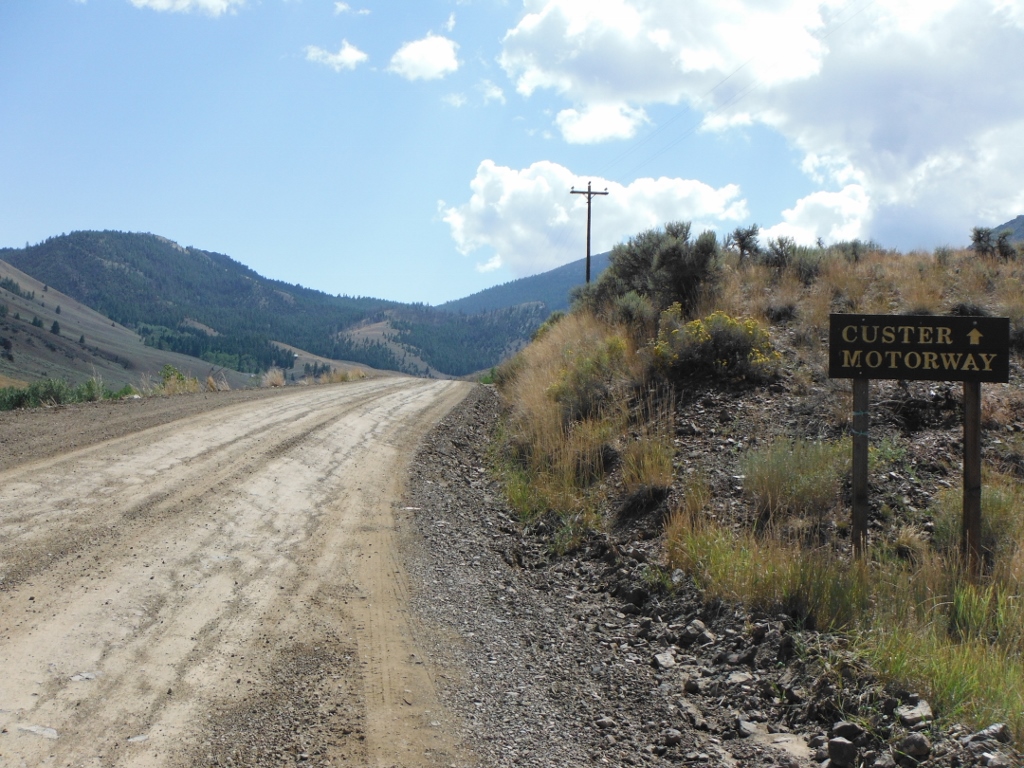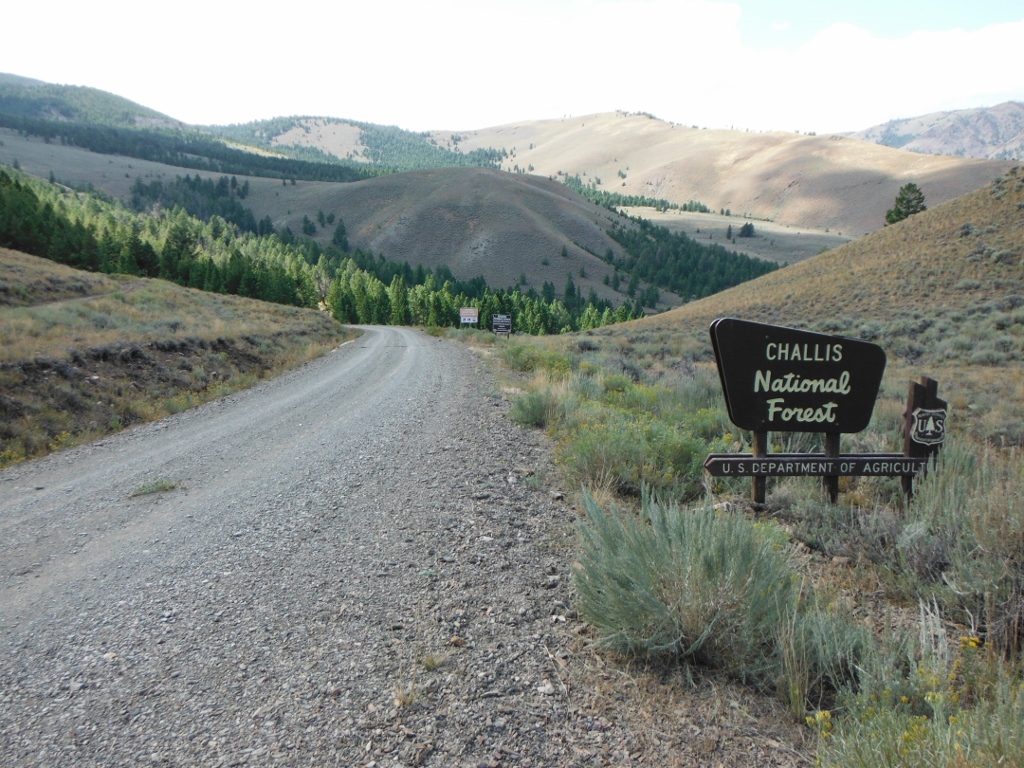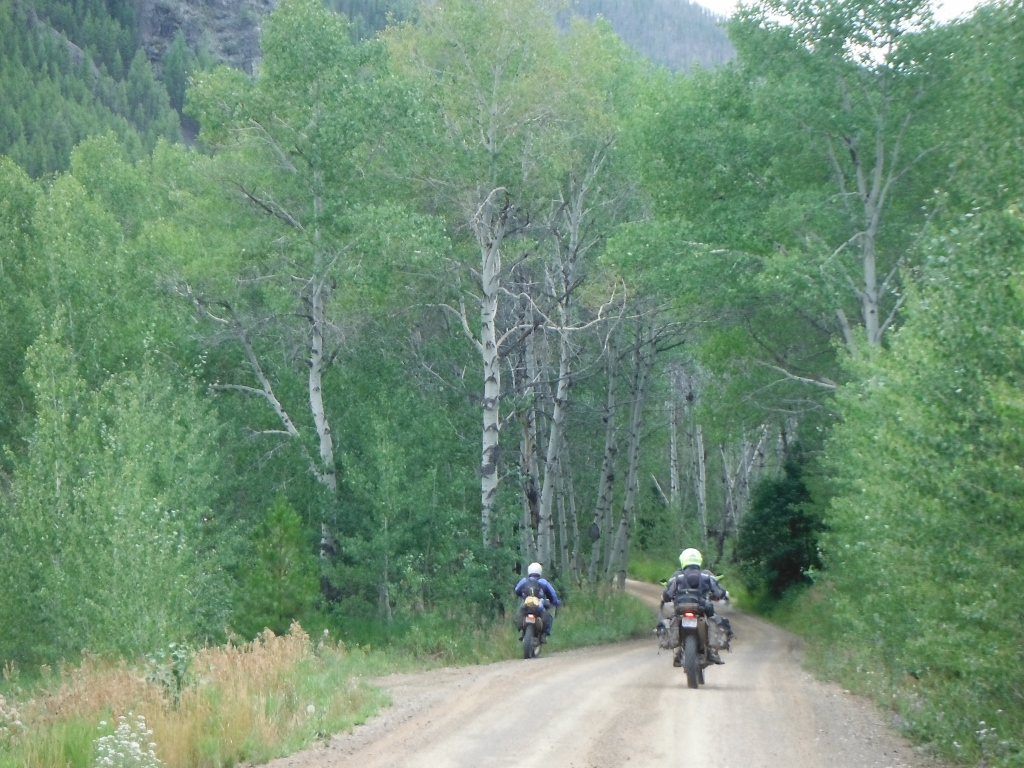 This was one of my favorite roads---easy but very scenic with lots of history.
The plaque below tells the history.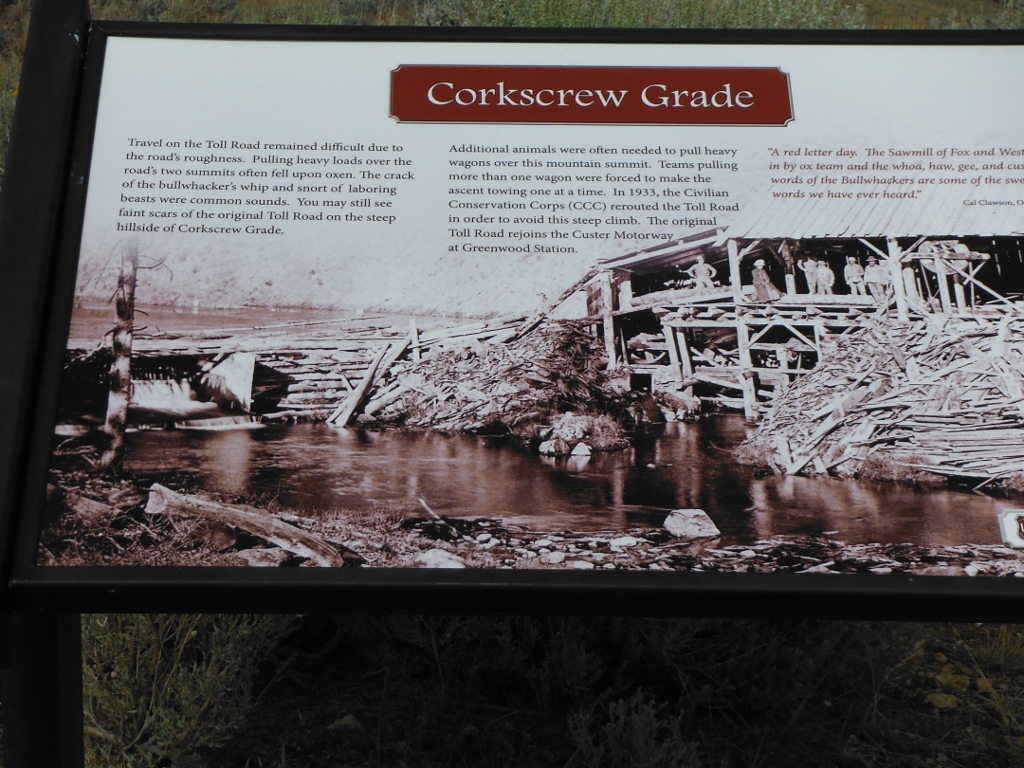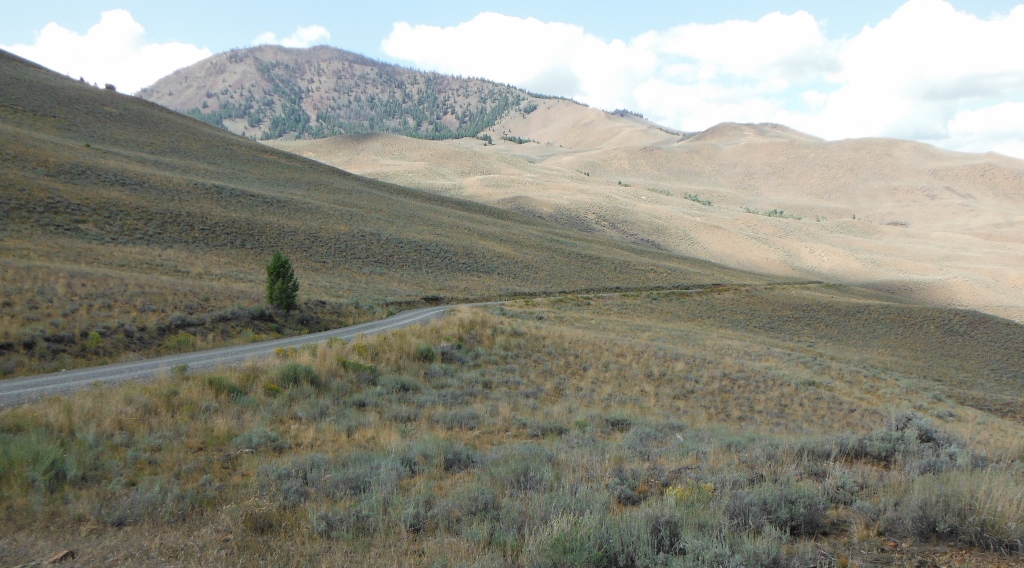 About 17 miles straight West of Challis you go over Mill Creek Summit.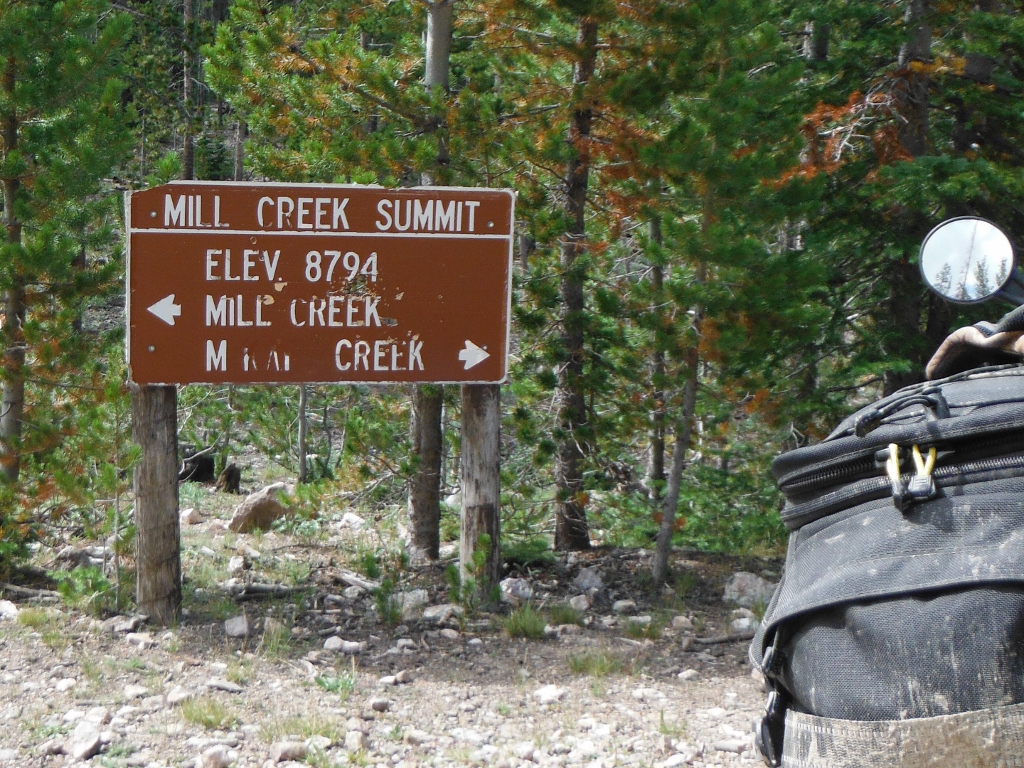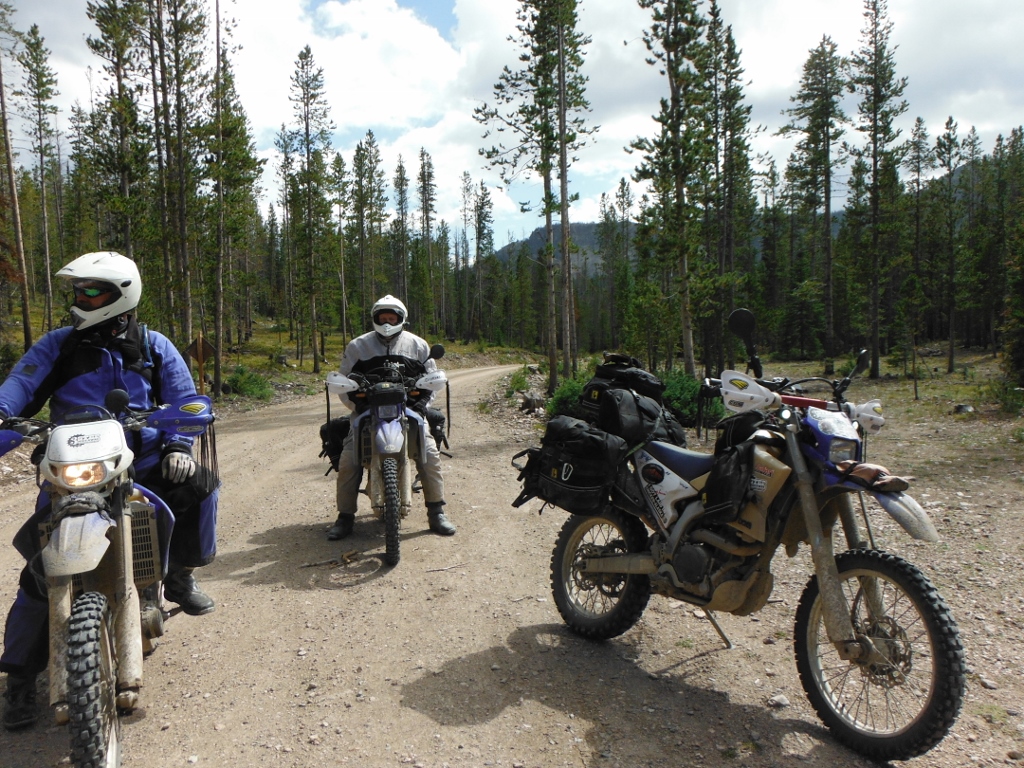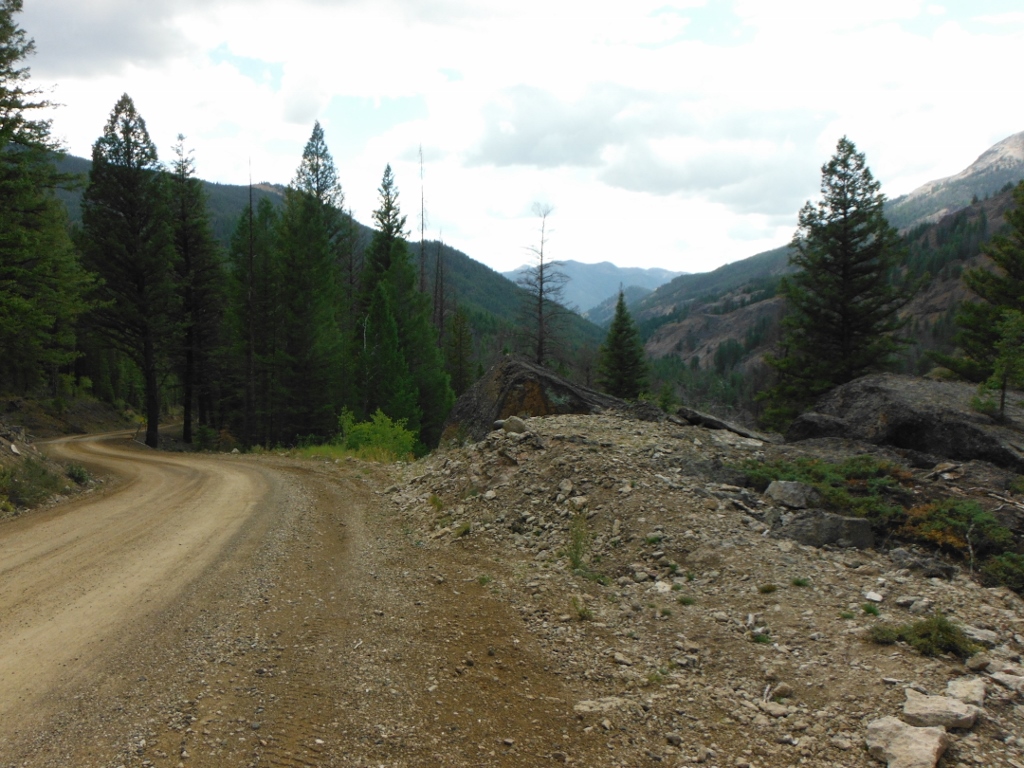 The history of Custer, and the cemetery was very fascinating.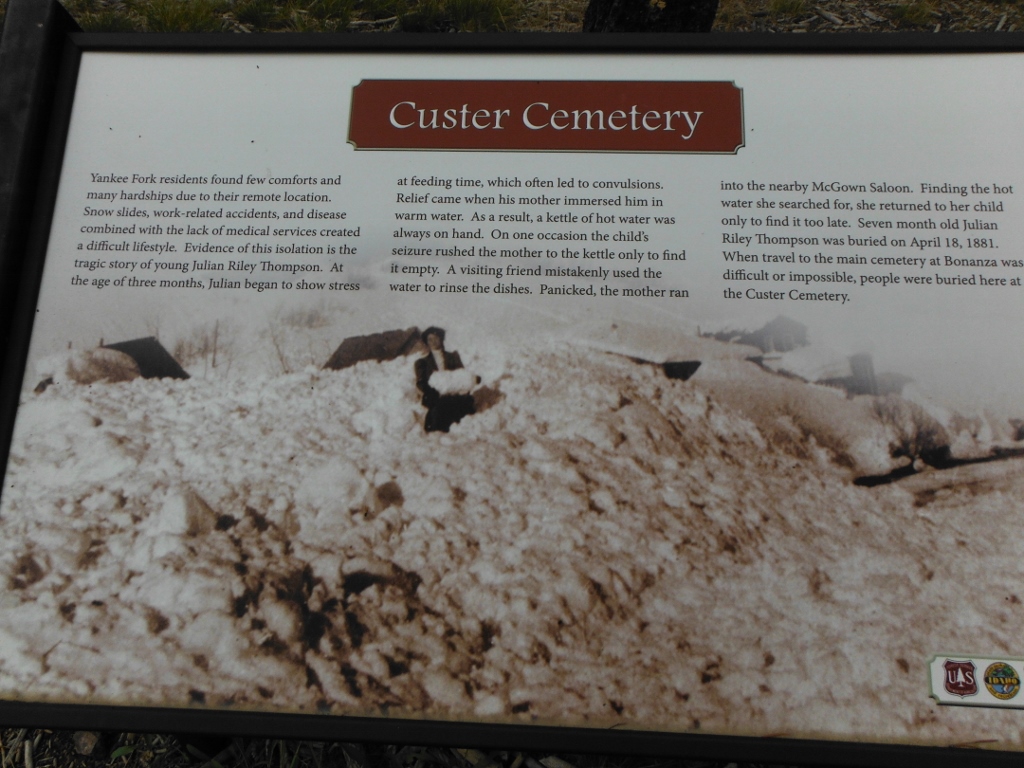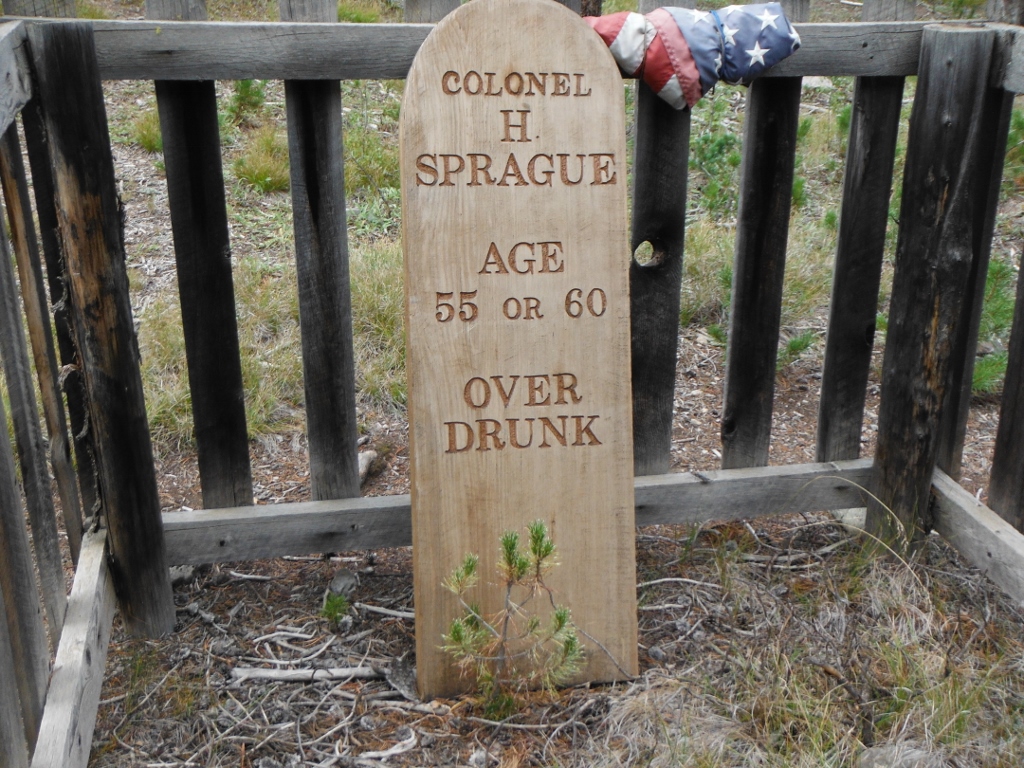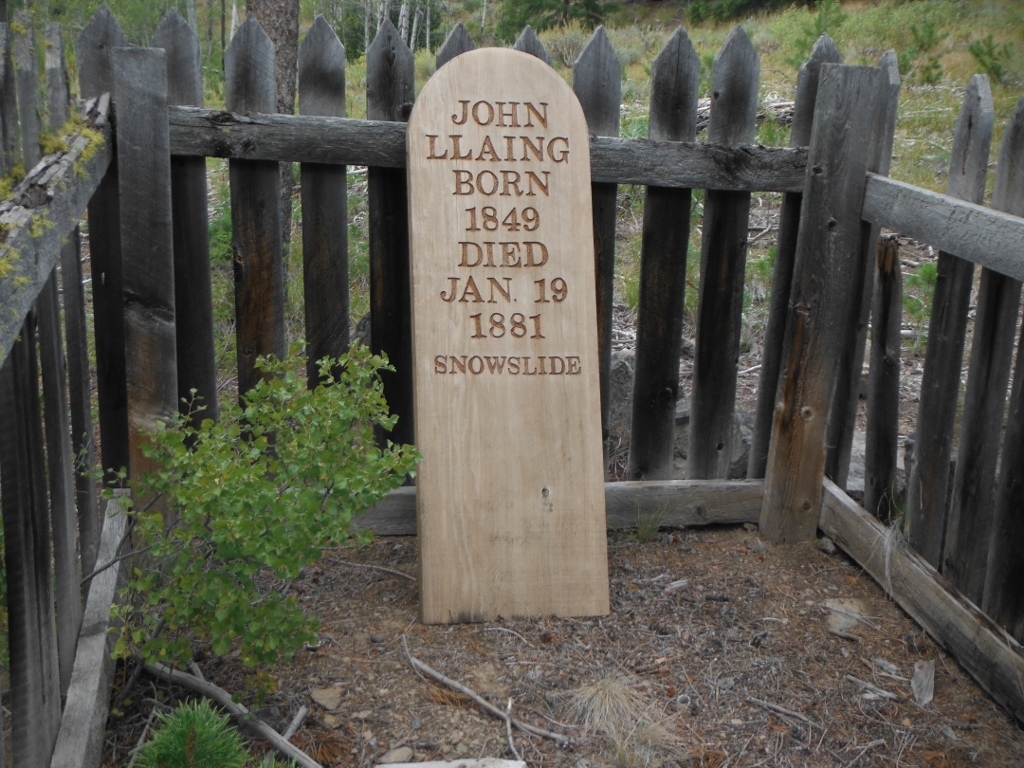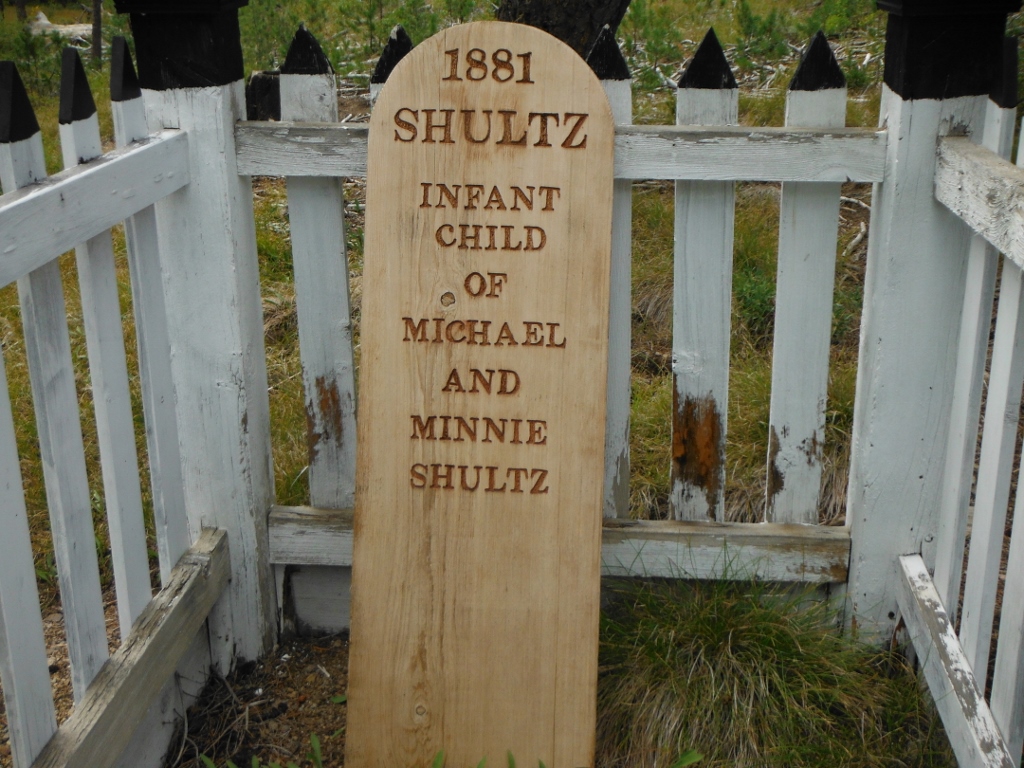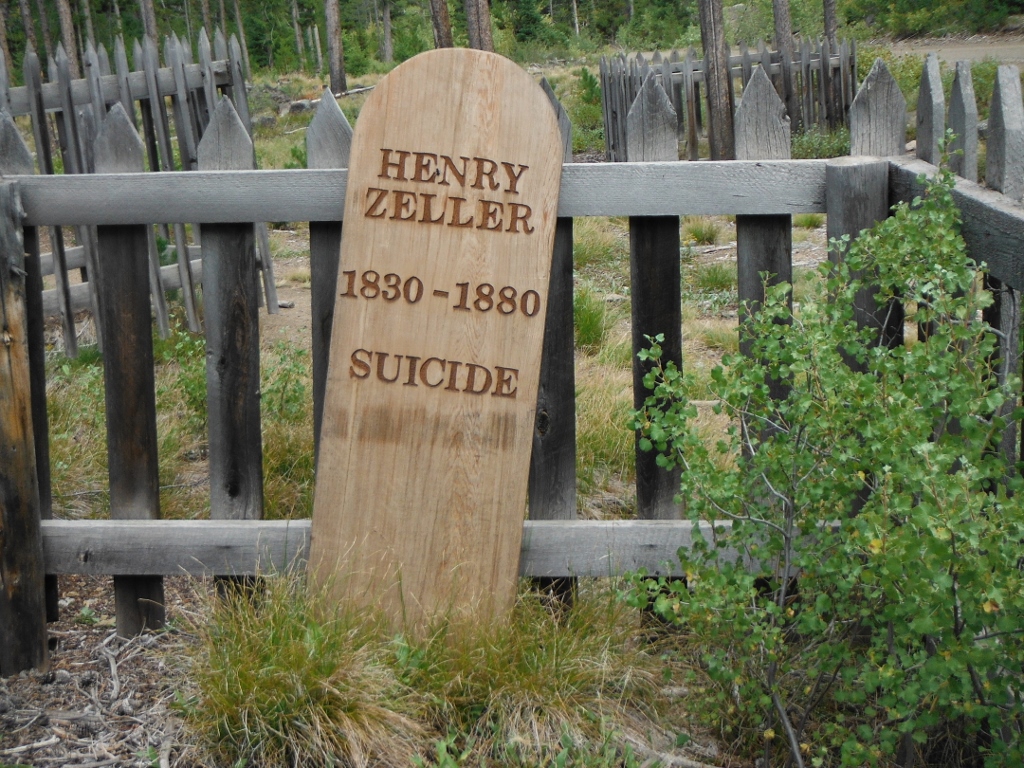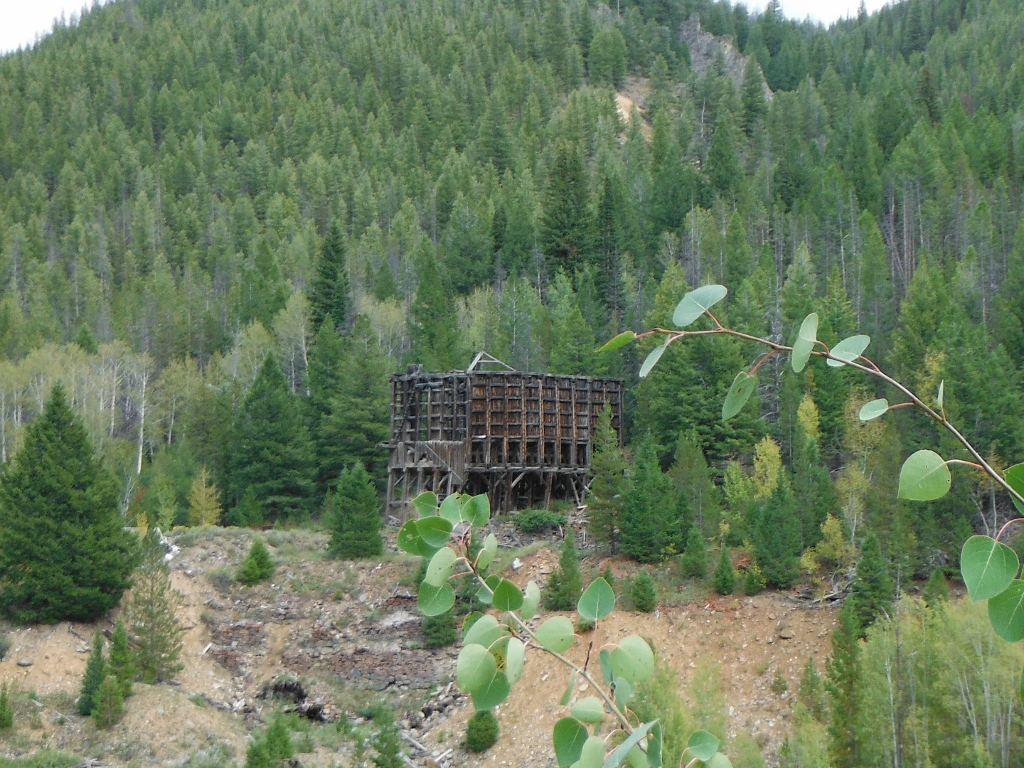 I knew those Aspens would be turning soon and knew we'd get to see some of them turn on this ride---but it wasn't to be.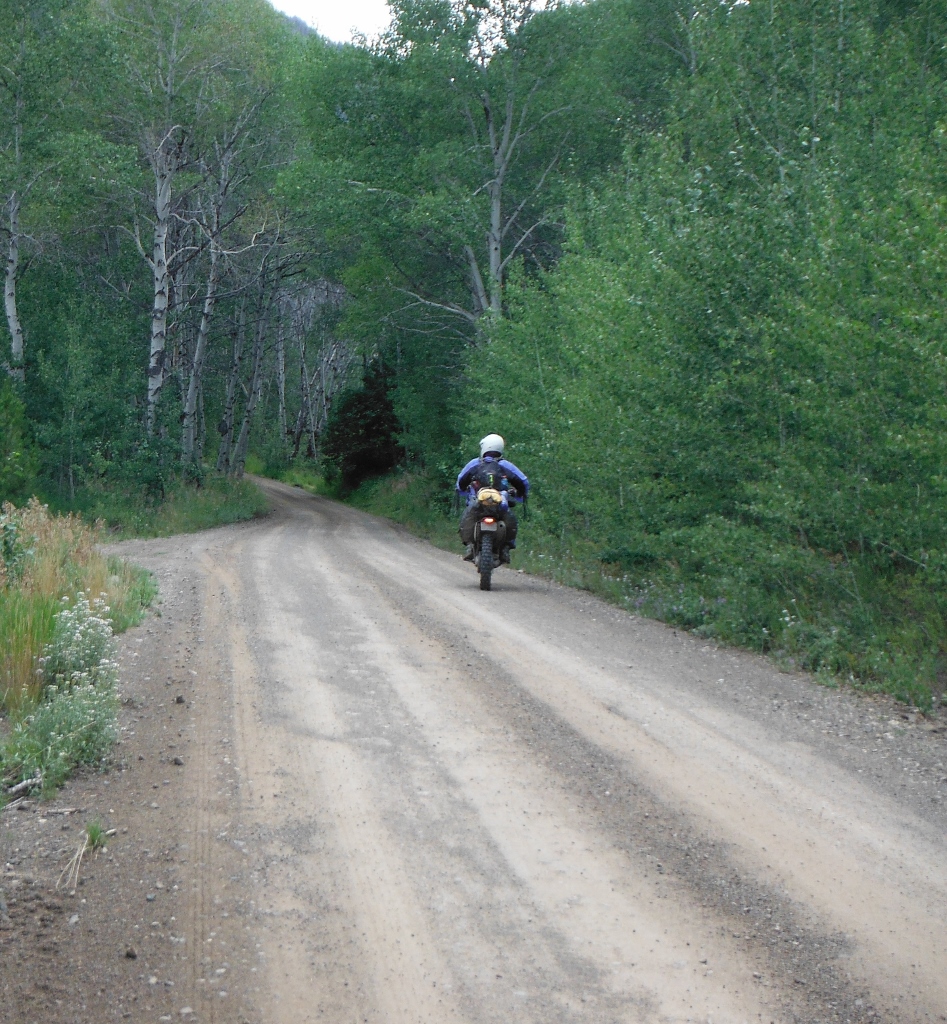 The old mining town of Custer.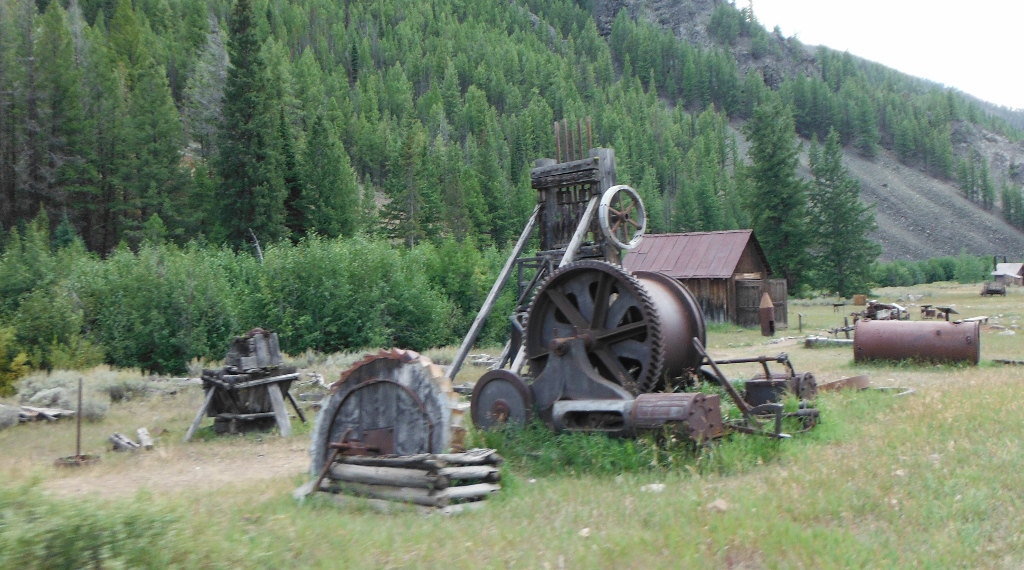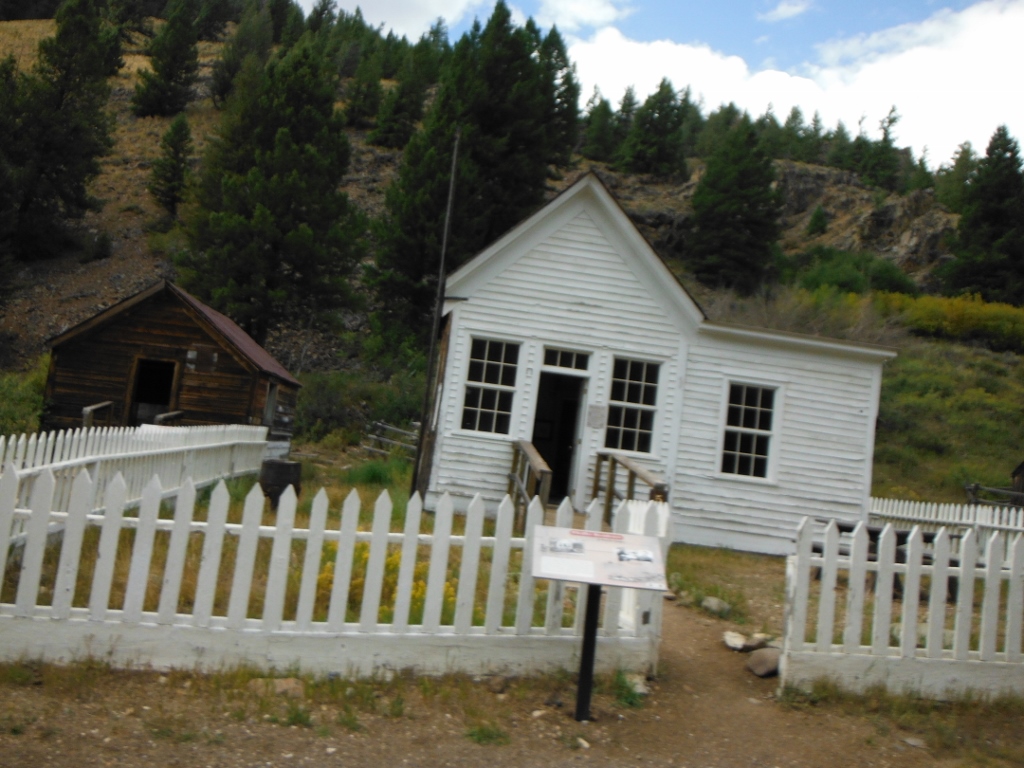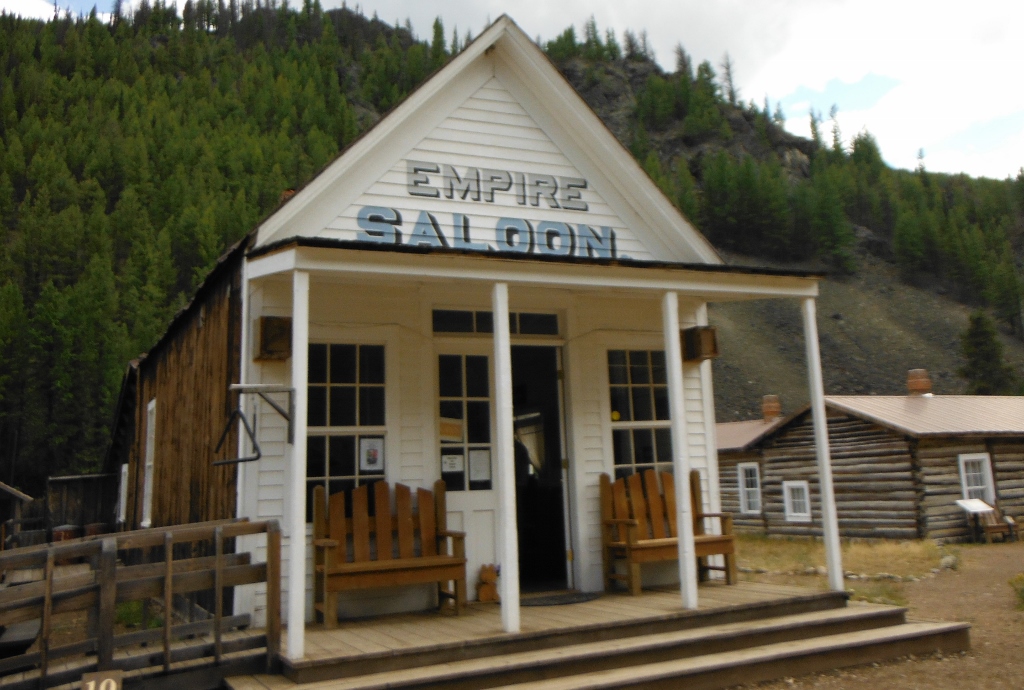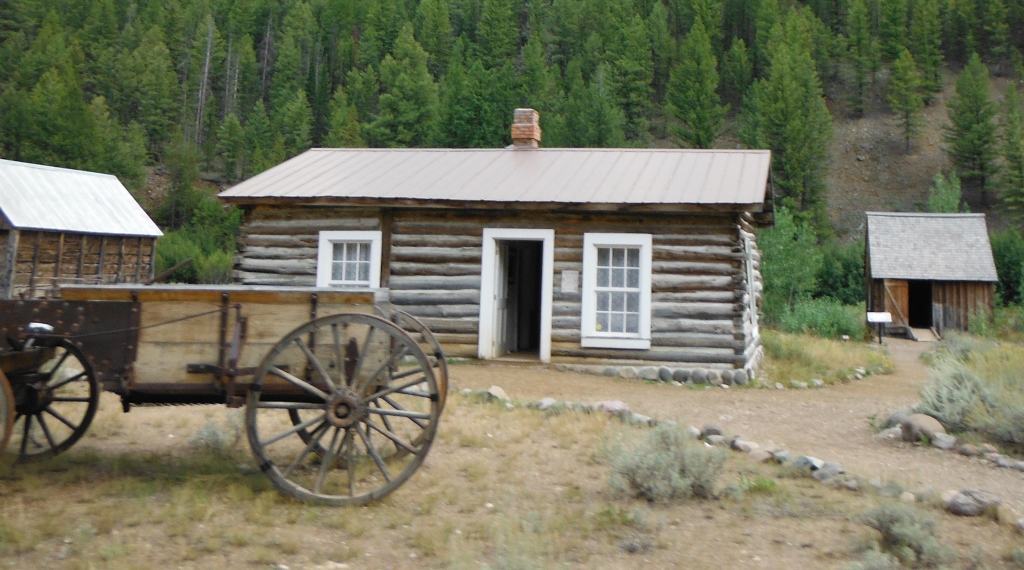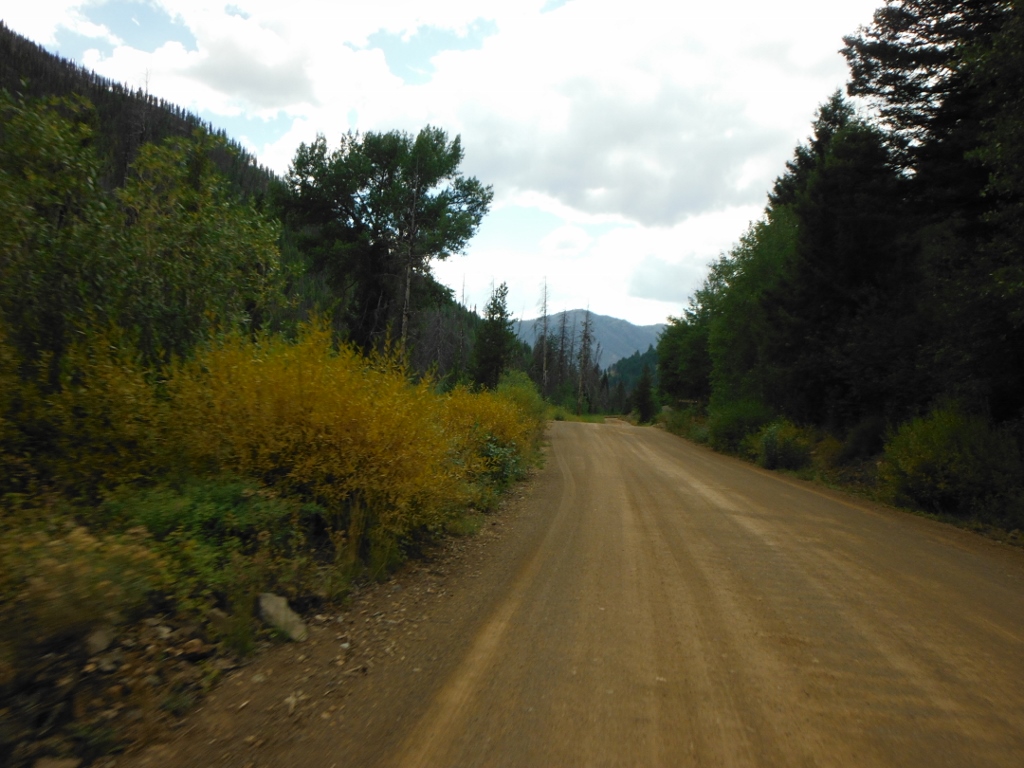 I had a waypoint for this Dredge I saved many years ago and anticipated seeing it-----and now we were here !!!!!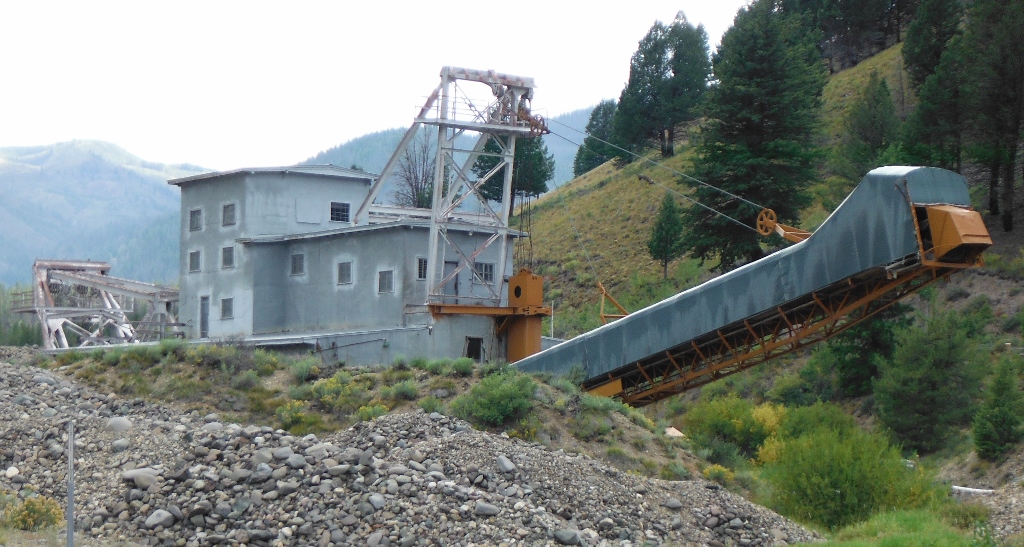 Most I've heard about and seen were steam powered--this one was diesel powered.
I just can't imagine seeing this thing running.
Obviously it worked---but just looked so big and awkward.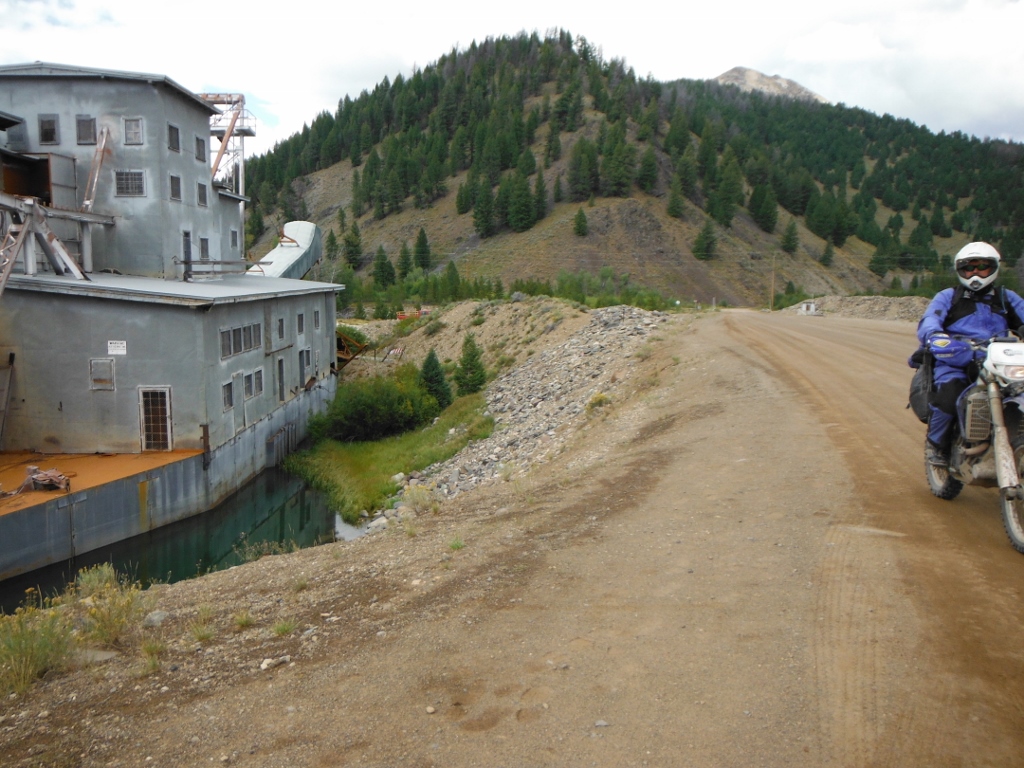 For miles riding South we could see the rocks that monster dug up from the creek-----miles of it.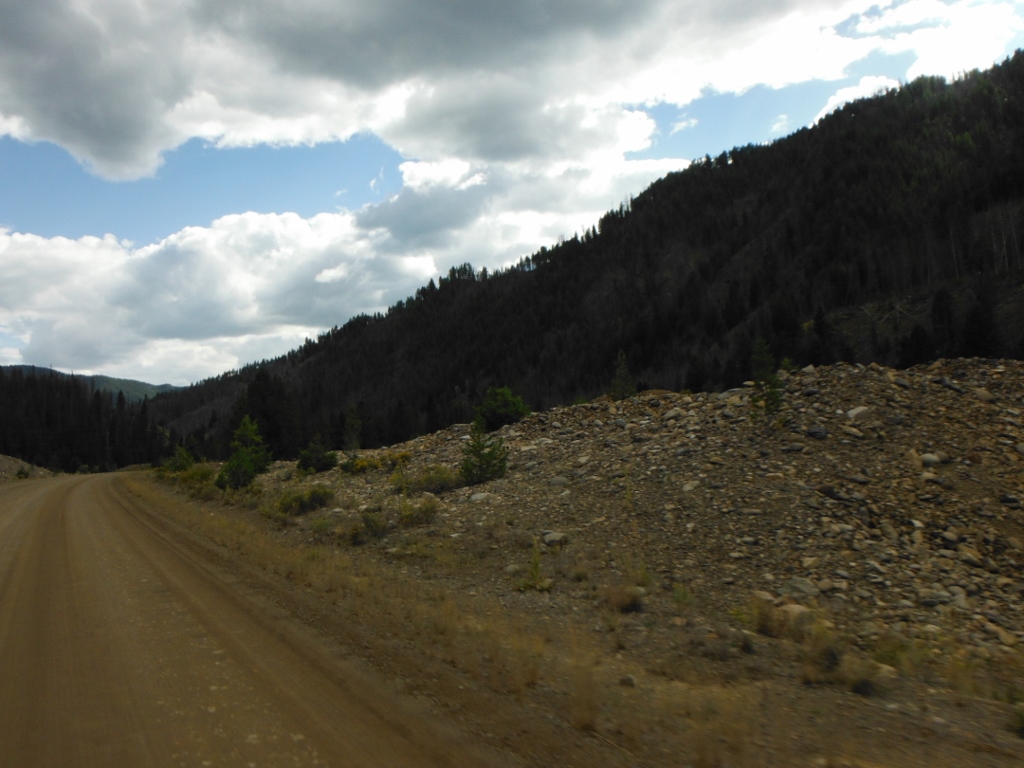 We had a race----it was close.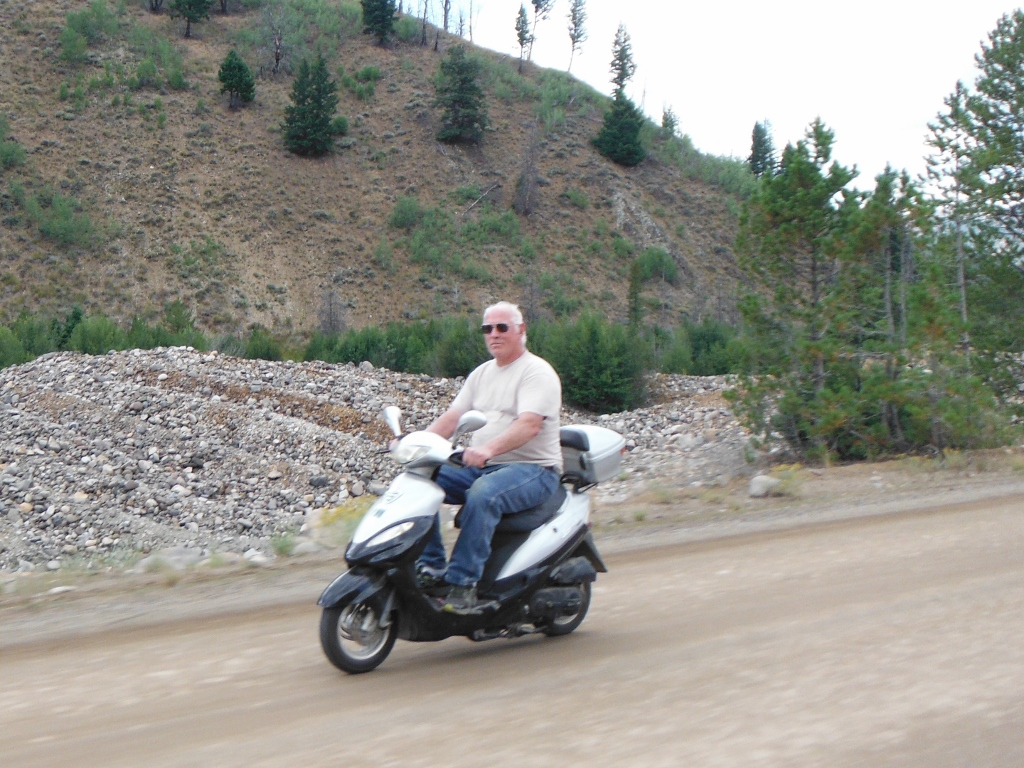 About 7 miles South of the dredge on Yankee Fork Rd. we turned East on paved hwy. 75 and we were looking for a place to camp going this way
as I had something up my sleeve for the next day------it was way off my route----but was on my "Bucket List"---so what was I to do ?????
I had to go.
Dingweeds is a serious camper and had a fire going in no time after I coaxed some firewood from our neighbor.
Mountain House tonite Baby !!!! Well...............it was all we had.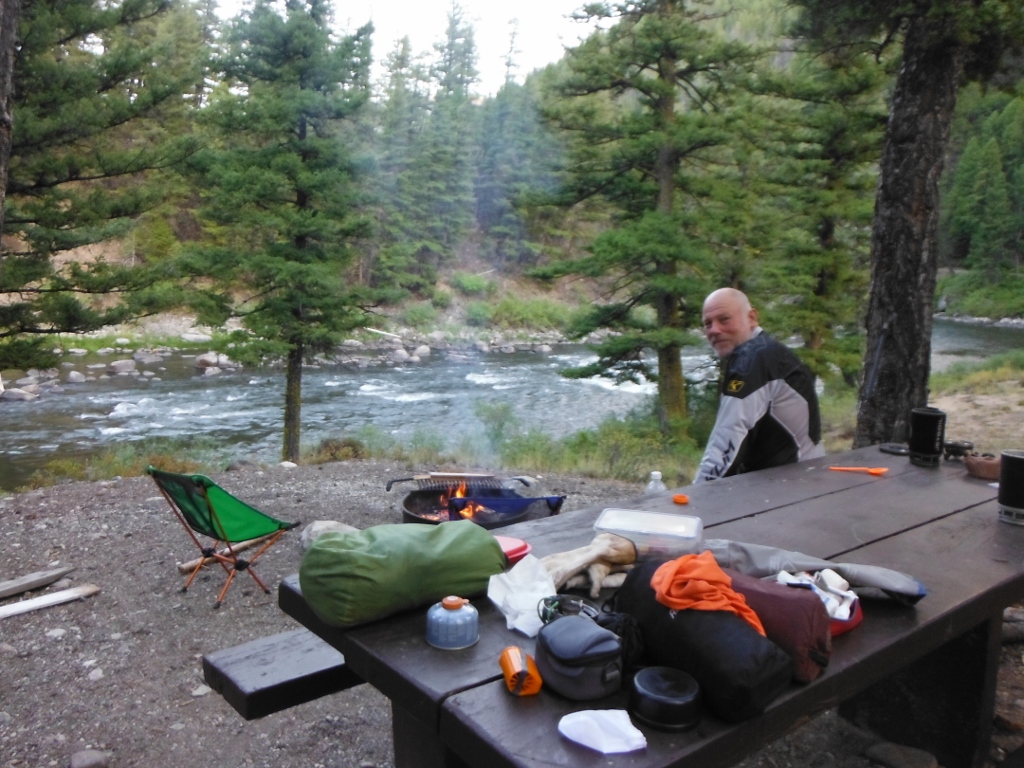 One at a time we all got naked and took a bath in the river at the far right of this picture.
No one got arrested----and man did we need it.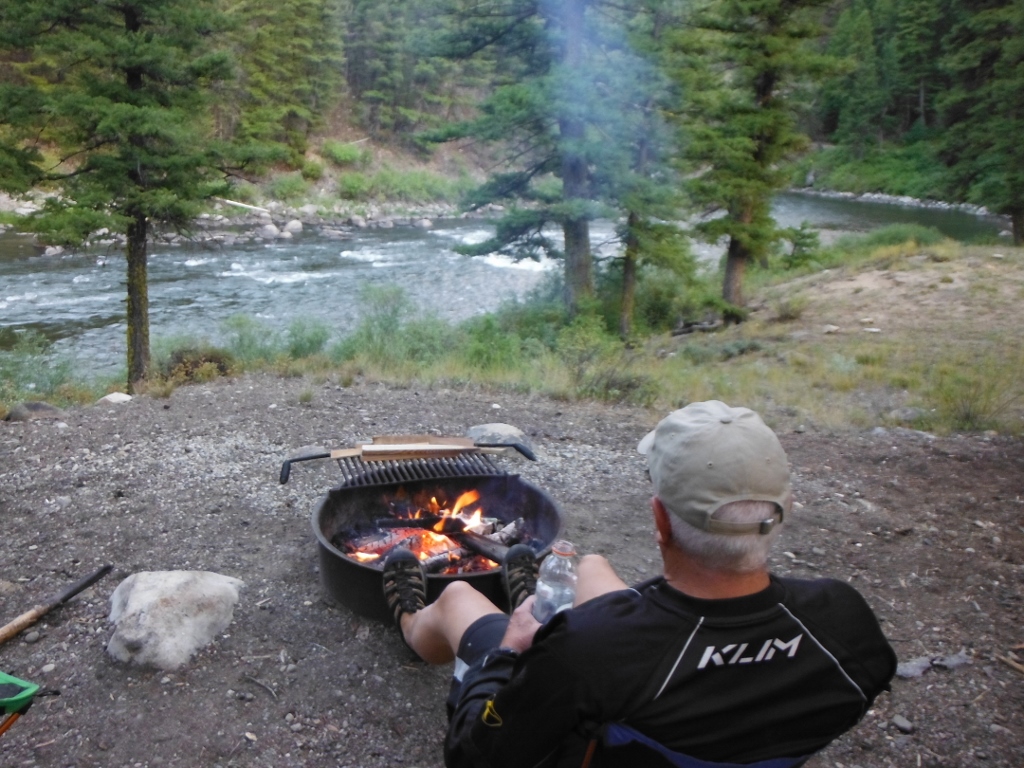 We never even used all the firewood I cut up with my "Sven" saw-----so we "paid it forward" to the next guy.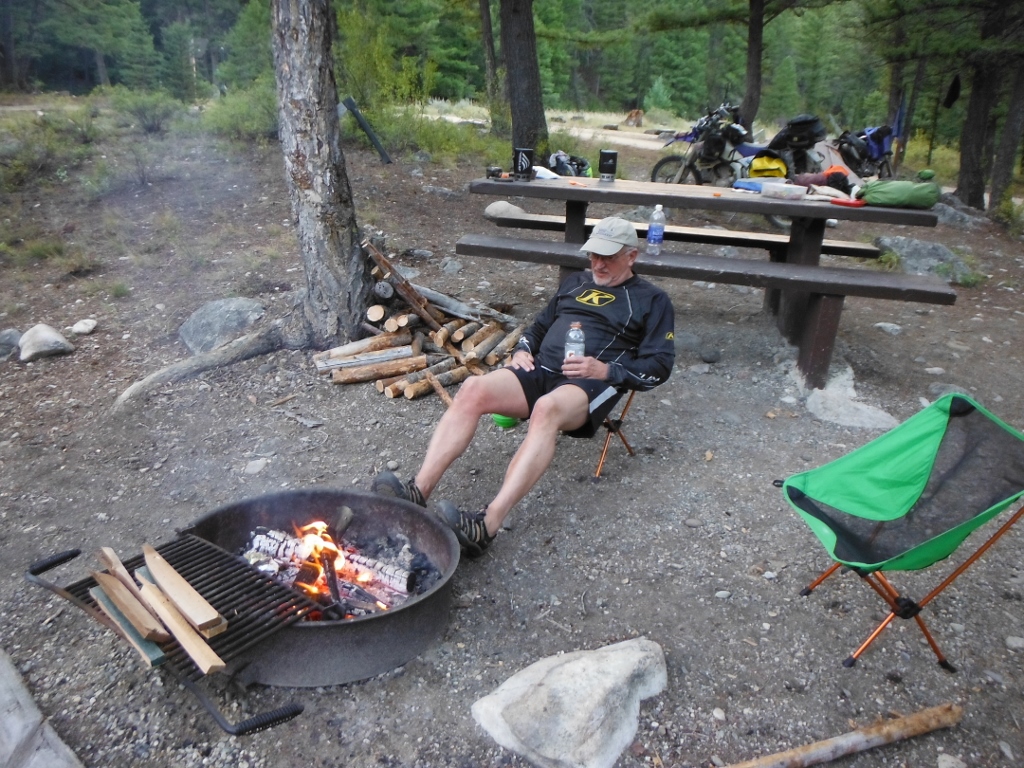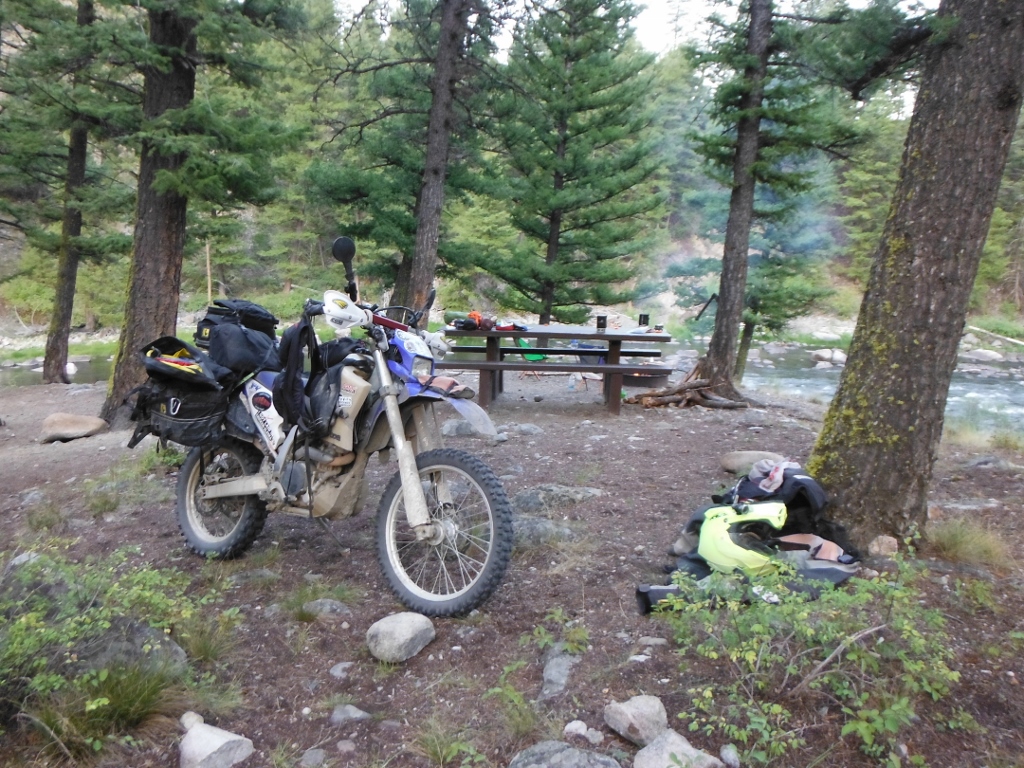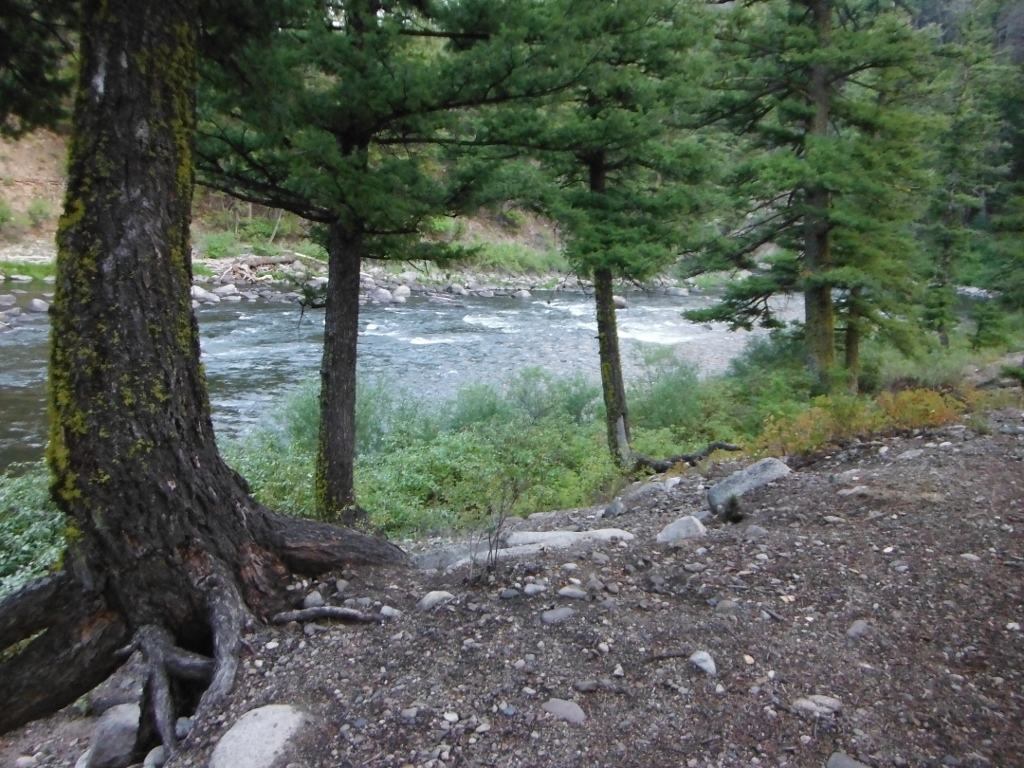 A rough map of our ride today---about 188 miles.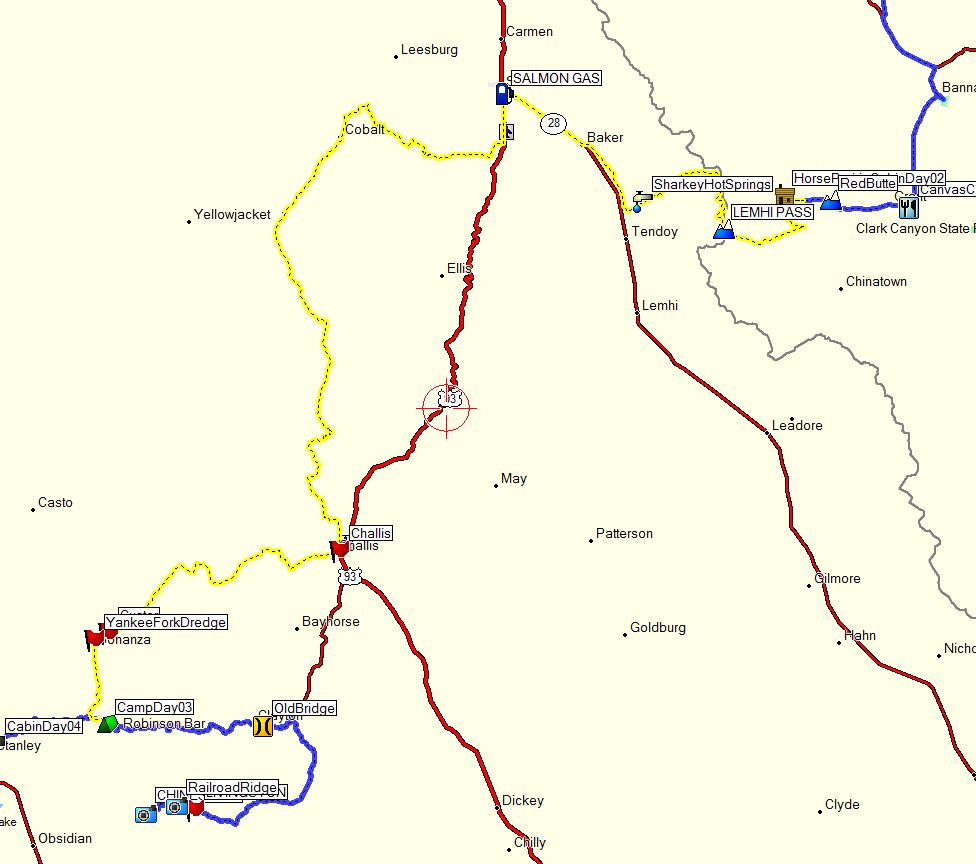 Day 3 Video
Day 4
August 27th, 2014
Day 4 would take us from our campsite-----to the Chinese Wall (my bucket list) and on to Stanley Idaho.
This required some road riding to get to the good stuff---but the good stuff was absolutely over the top and I was not going to miss
seeing the Chinese Wall when I was so close. My buddies were all for it and we went for it.
To get to the chinese wall you have to go south off of paved route 75 on E Fork Rd.
Eventually you'll go straight West on Big Boulder Creek Rd and thru the active mining town of Livingston.
A very small dirt road goes up the mountain----check out that hole in the rock.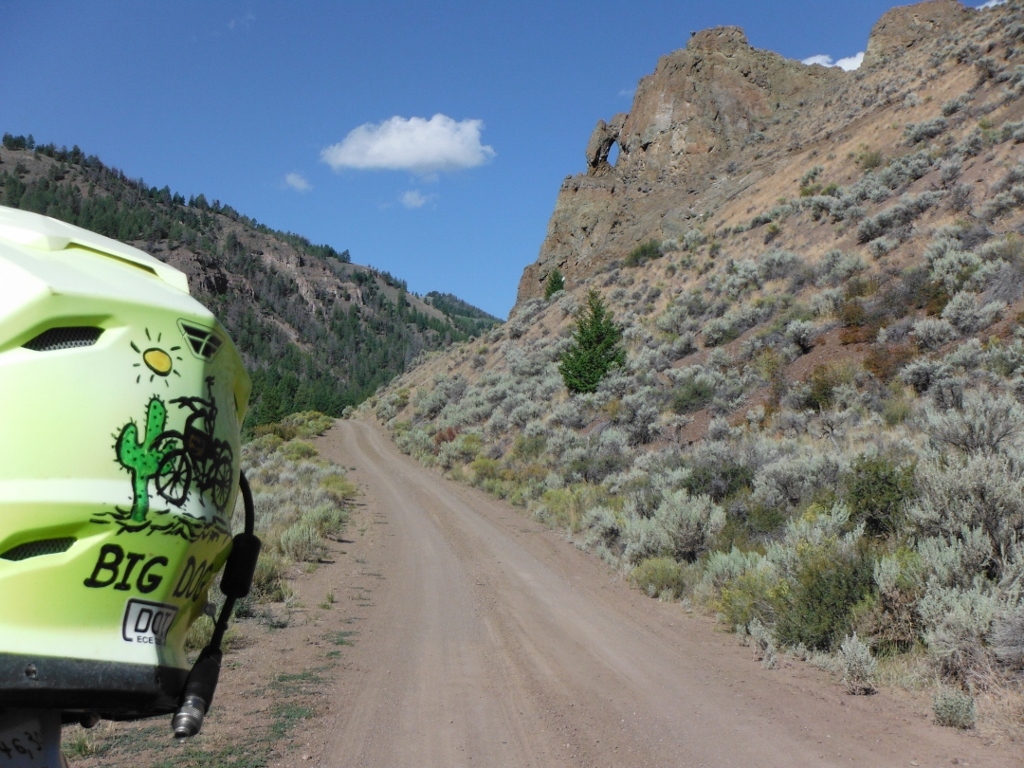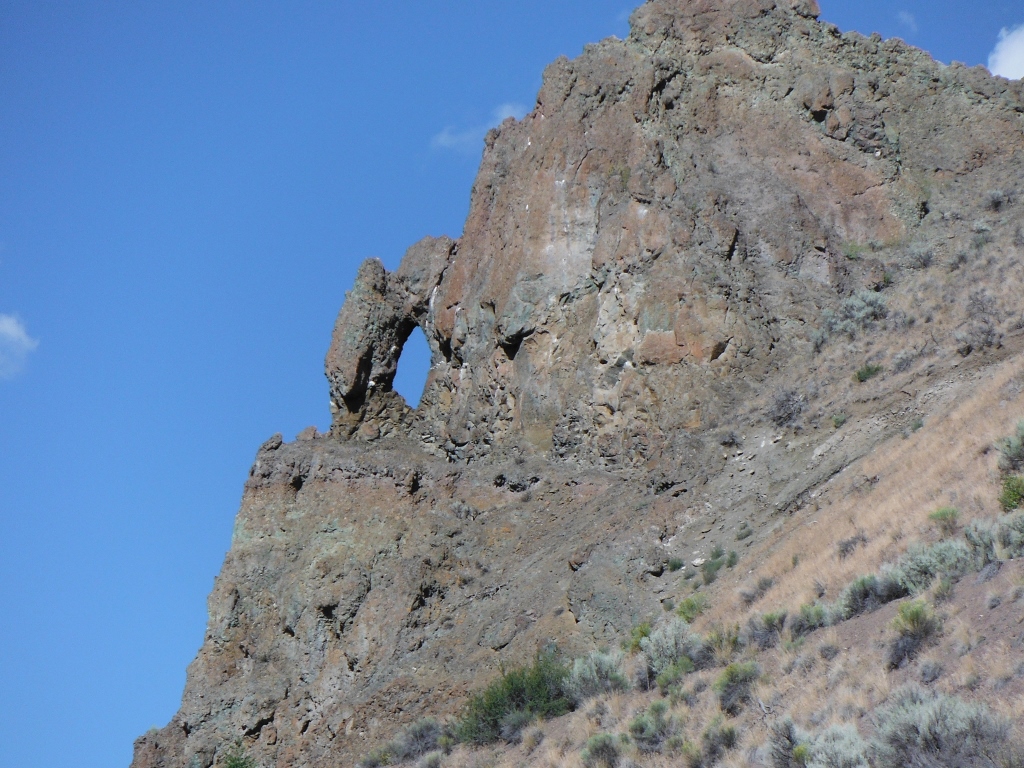 Looking down on the minint camp.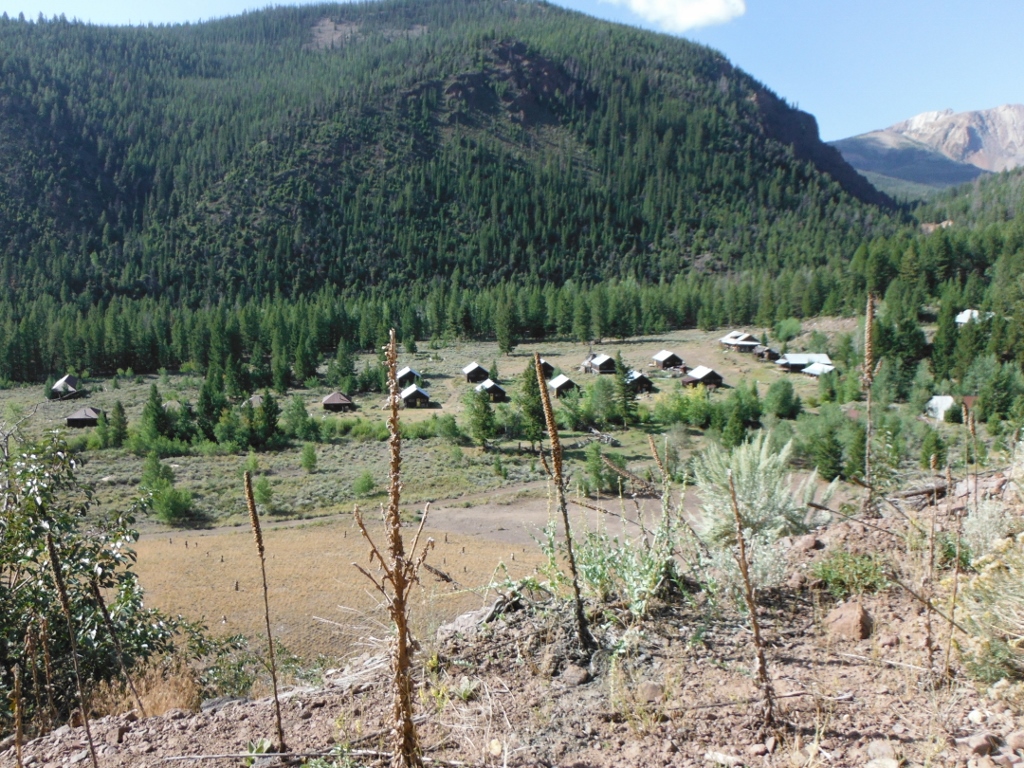 We started off at about 6,000 ft. ---but climbed to 10,400 ft. real quick. It was steep.
One spot was really steep with loose rocks and shale but none of us had any falls.
The subtle power of the fuel injected WR250R is the most perfect bike I've ever ridden on stuff like this.
I think I would have spun out and had trouble on my 690----but that's just me.
This isn't the steep part.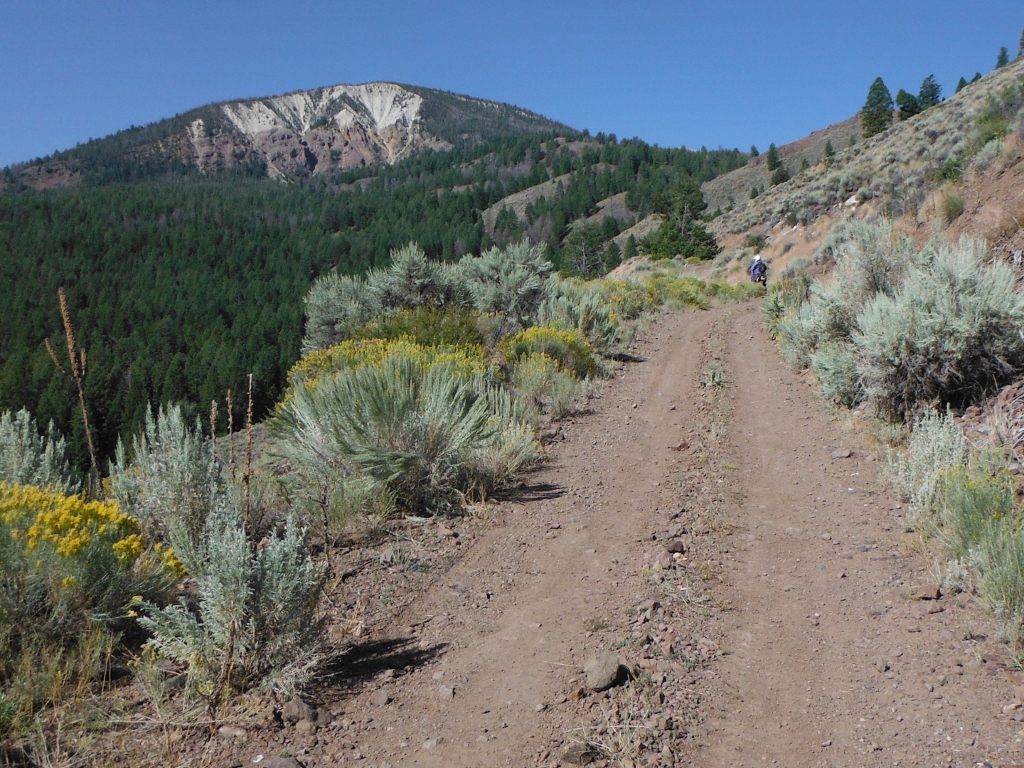 What I haven't said yet is------------I talked Scott and Rick into leaving all our stuff at camp to ride up to the Wall---as I knew we'd be back thru
camp later on and we wouldn't have to carry all that weight up the climb--------that worked out perfect.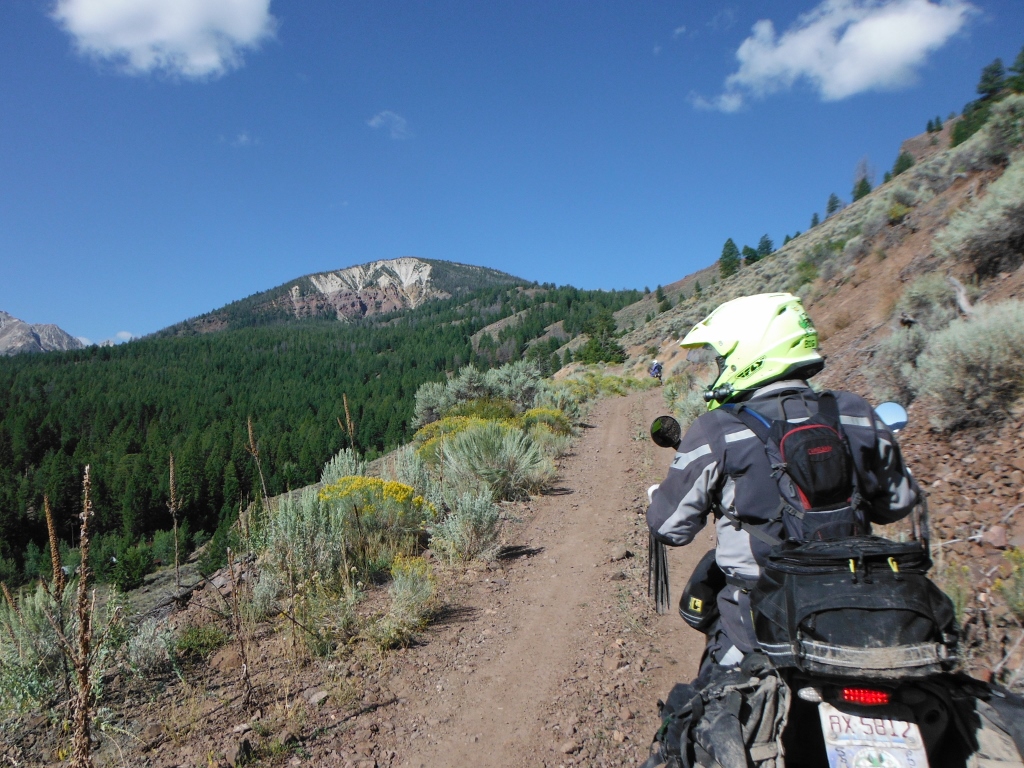 We are on top here at 10,400 ft. and you have almost a 360° view in which you see no signs of civilization.
I think this ridge is called "Railroad Ridge"----------don't know why ?????
At this point--I thought the Chinese wall was to my left---but Dingweeds straightened me out--------it to the right in this picture.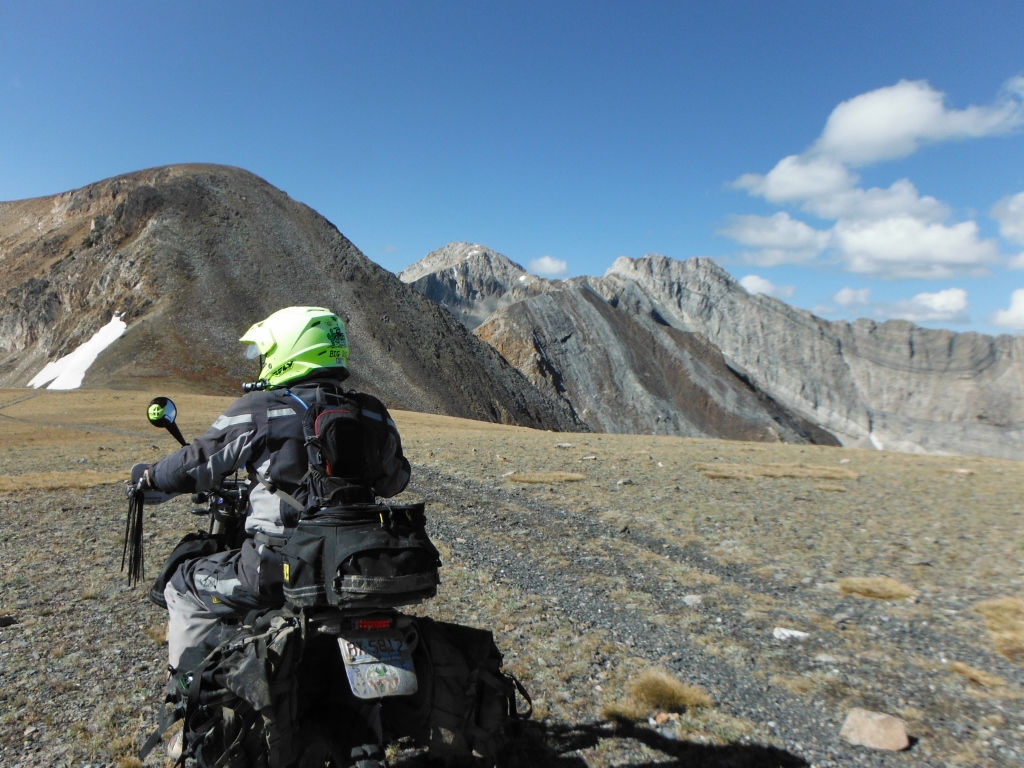 Nope---------that's not it.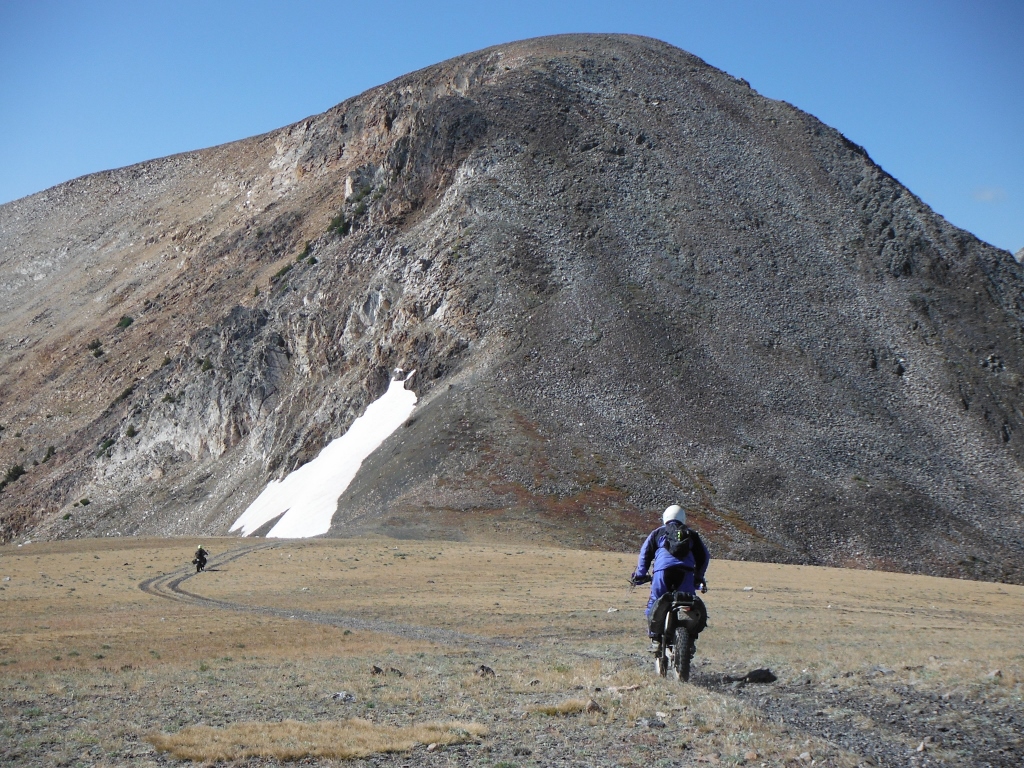 Nope that's not it.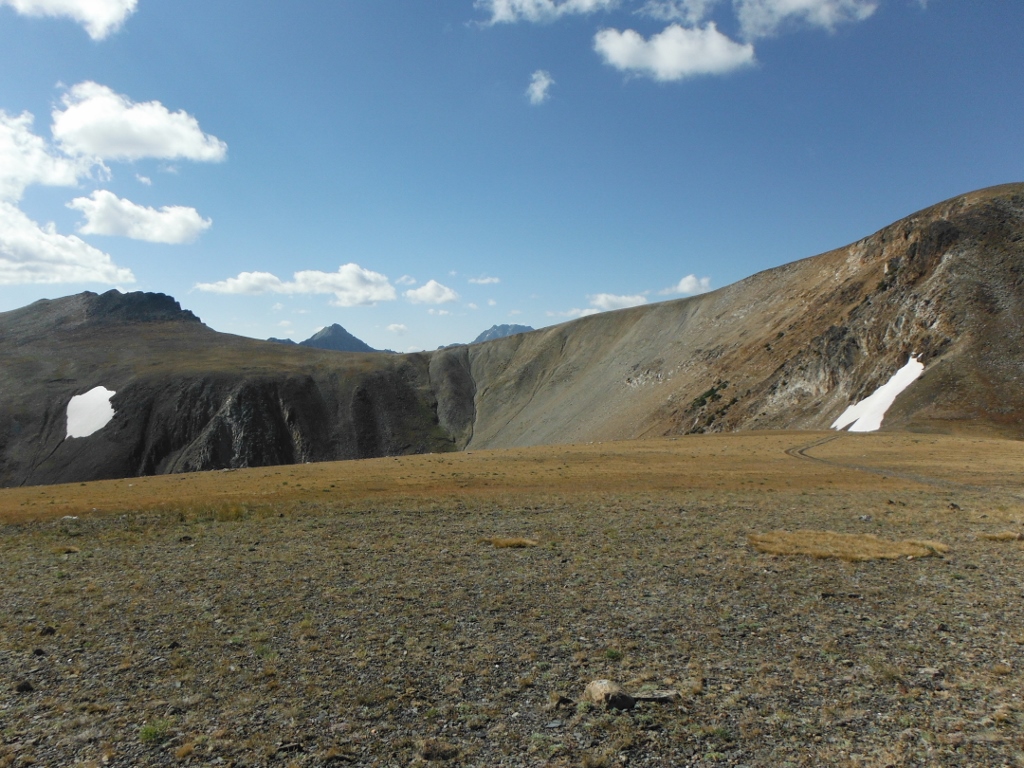 From where we came---like I said-----no power lines or signs of civilization.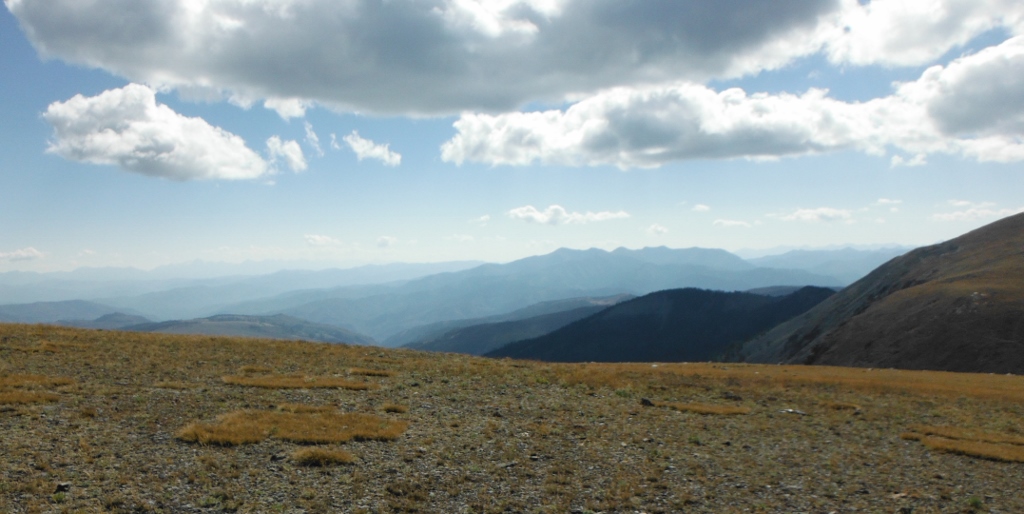 We all were out of breath but walked down the side of the bluff a bit to get a better view of the wall and Crater Lake----------no...not that crater lake.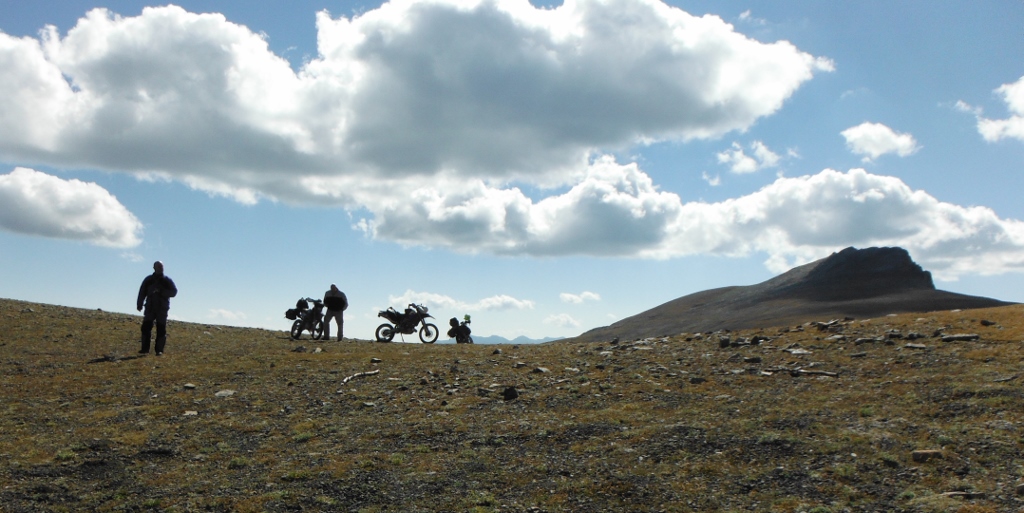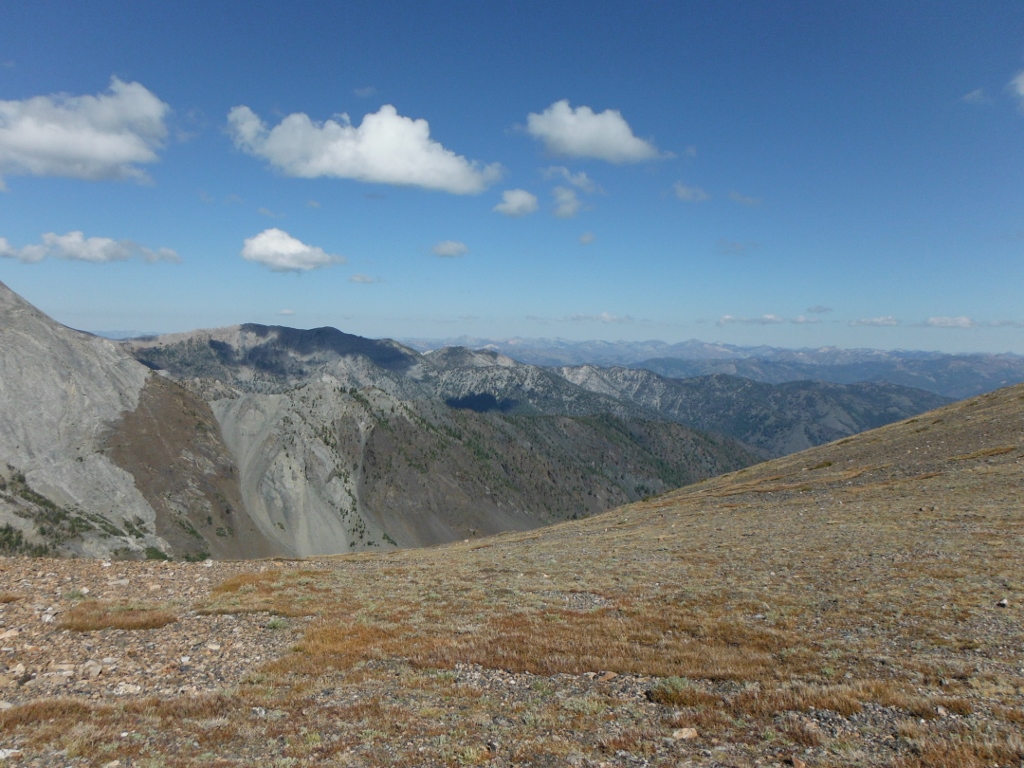 This crater Lake.
The Chinese Wall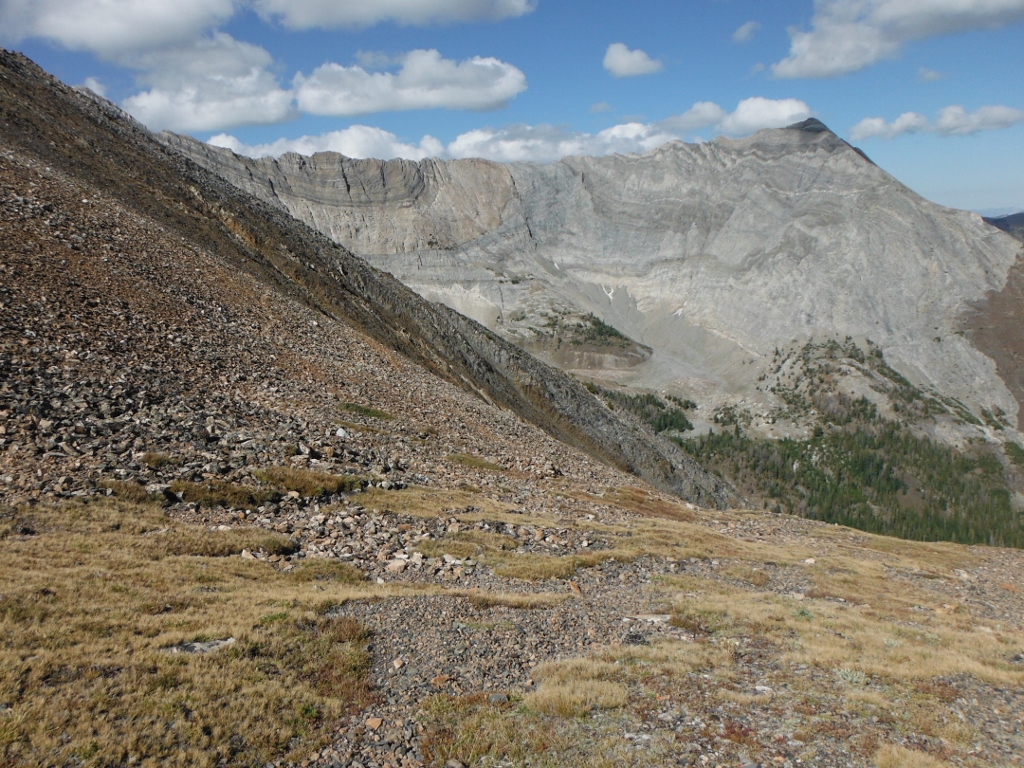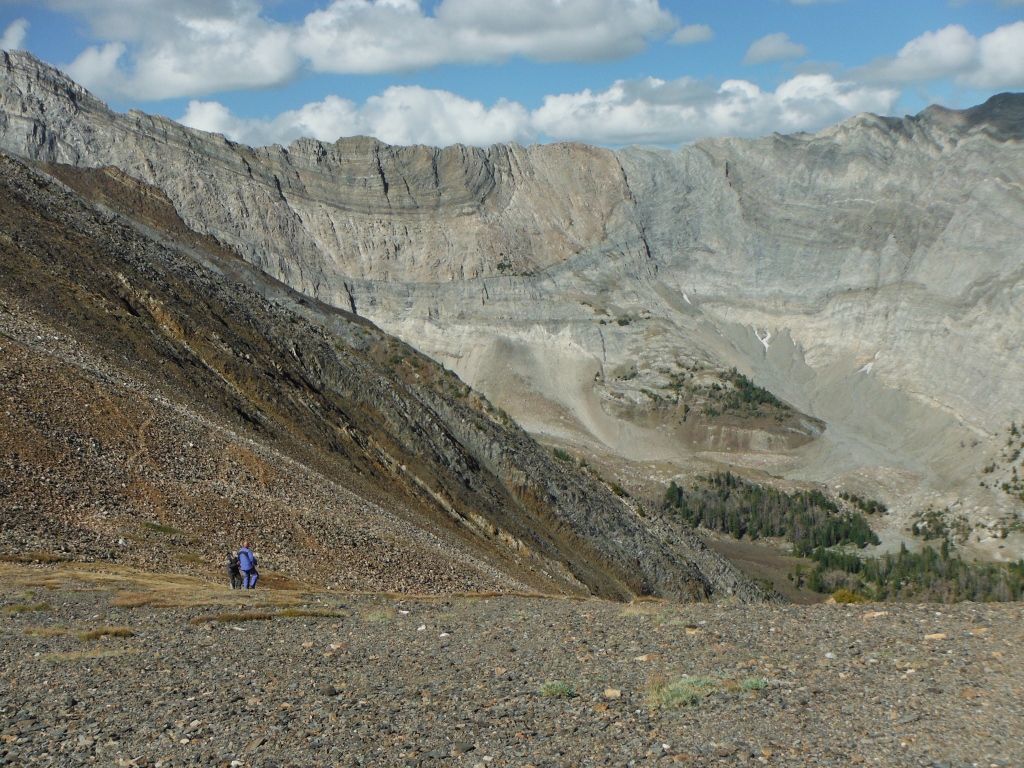 OK--big deal-------------now I can go ahead and die a happy man.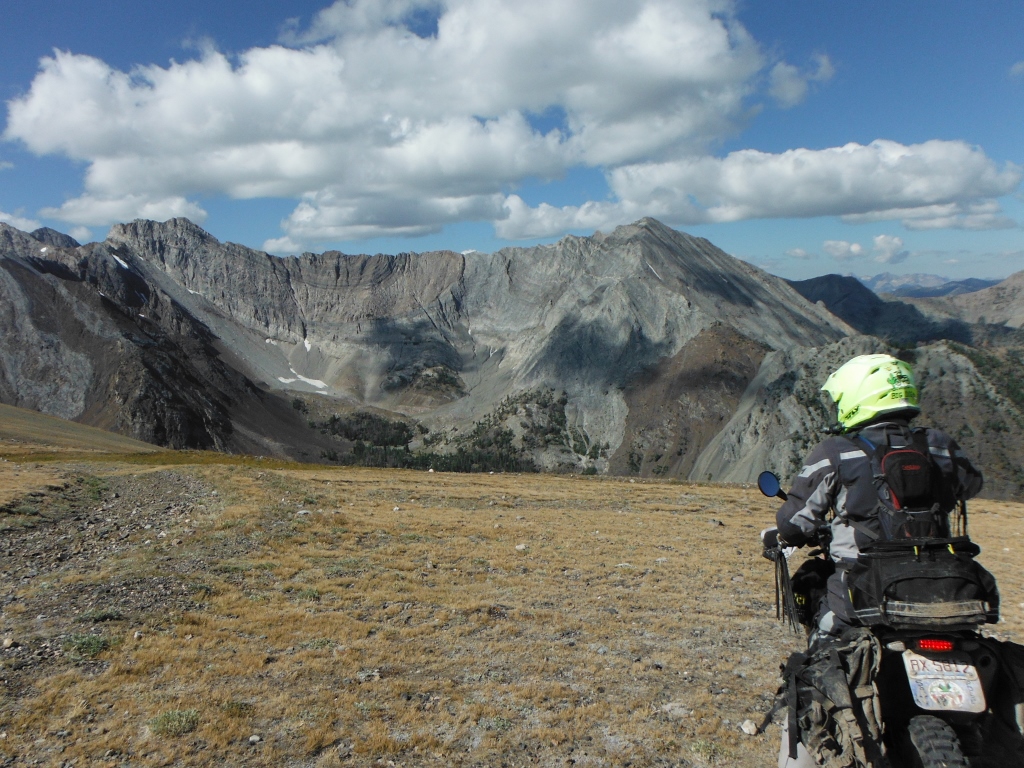 We spent a lot of time up here and sat down for a bit and talked and had a snack.
We were in no hurry to go anywhere----------didn't know where we were going next anyway.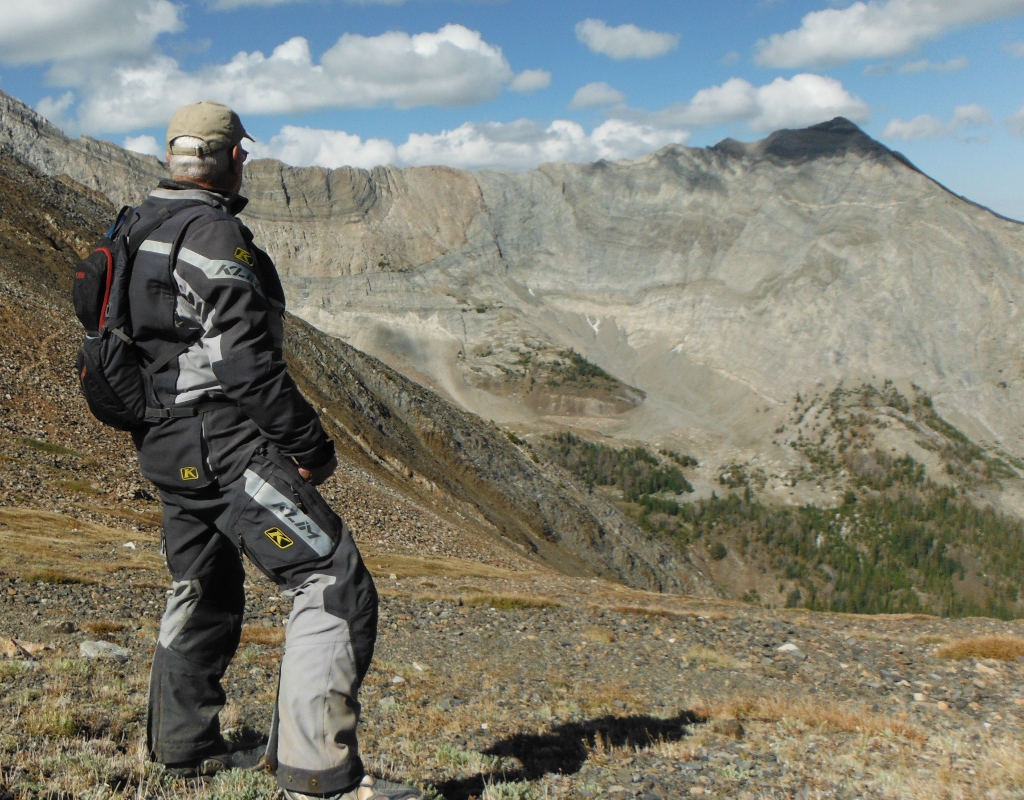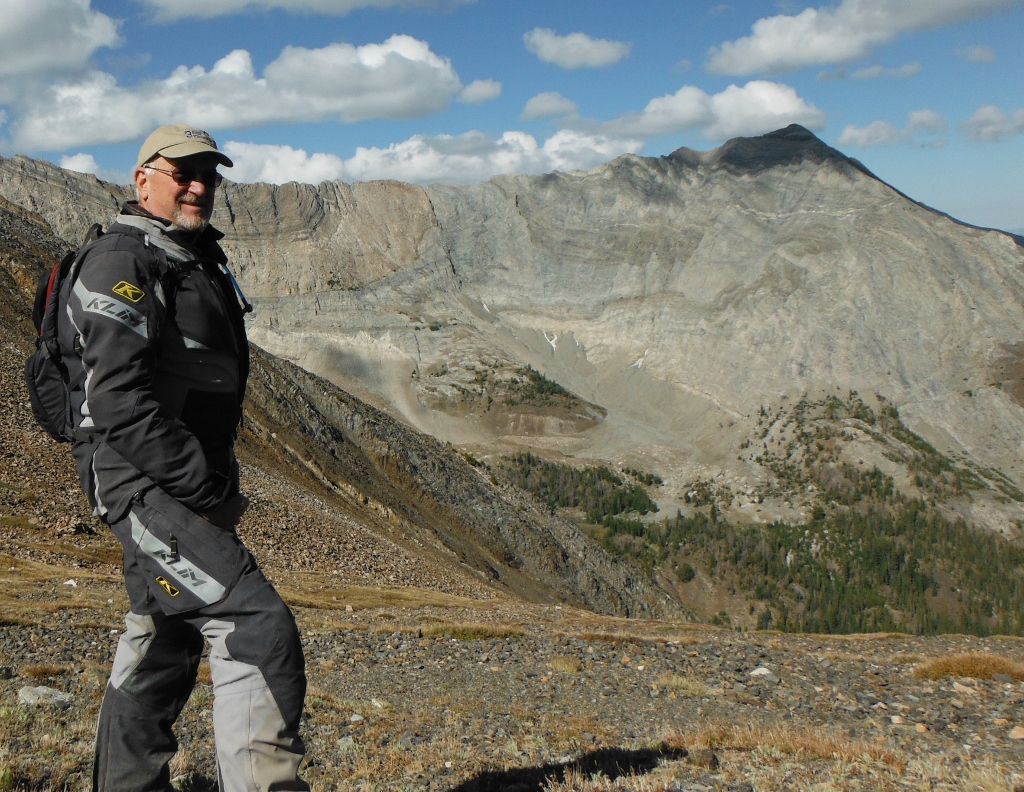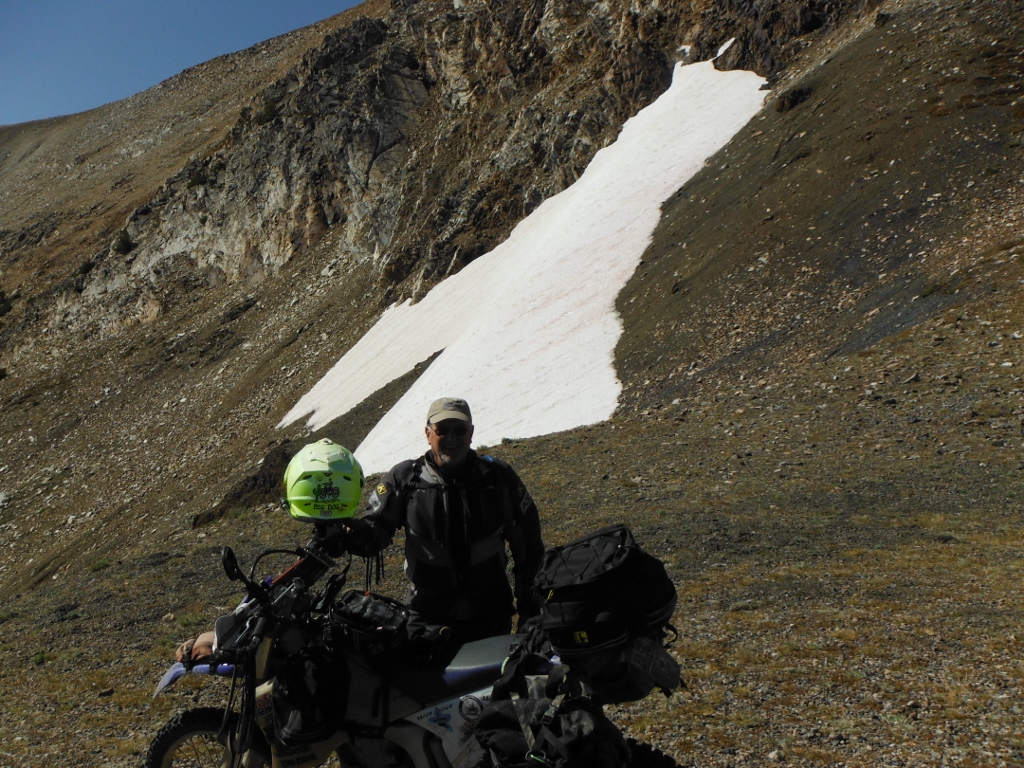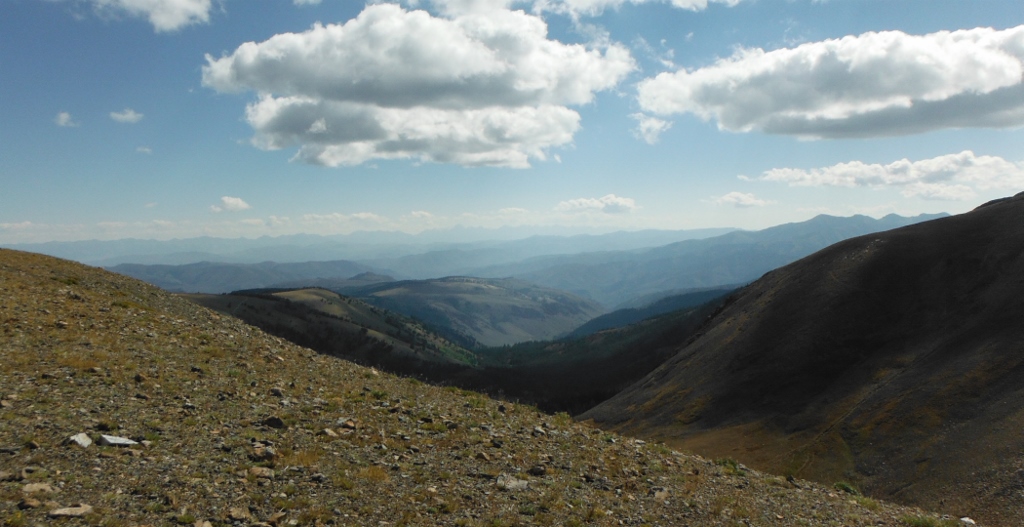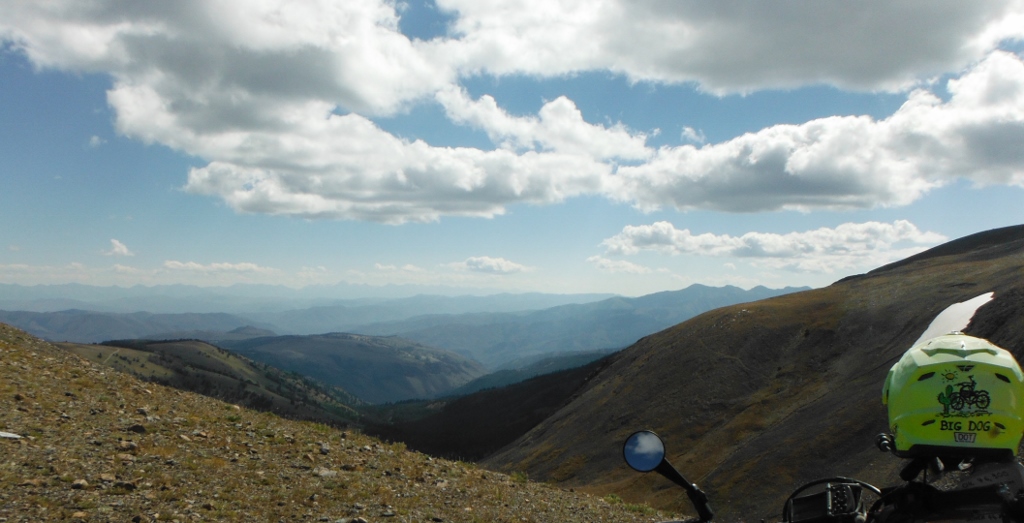 We just sat here for a bit and thought about things.
Ebola, Fergisan and Isis were the farthest things from our minds.
Surely gravity would take me back down---we poked our way down as the view going down was much better than going up.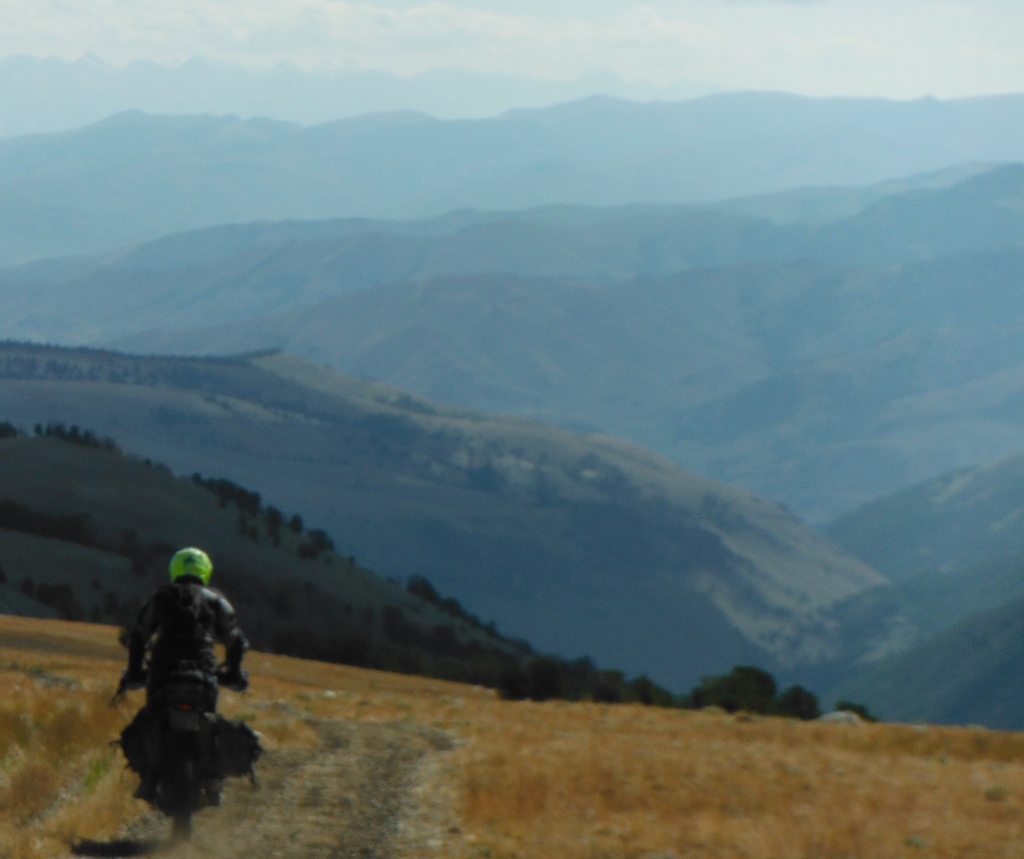 No picture of the steep gnarly part--but I've got it on video.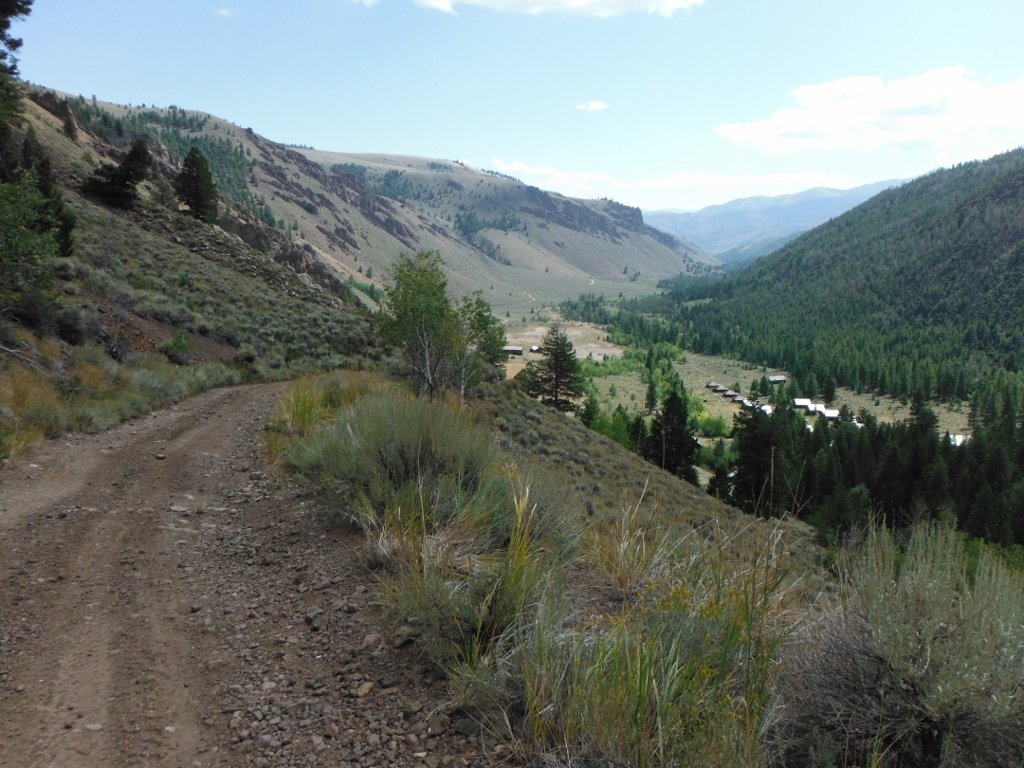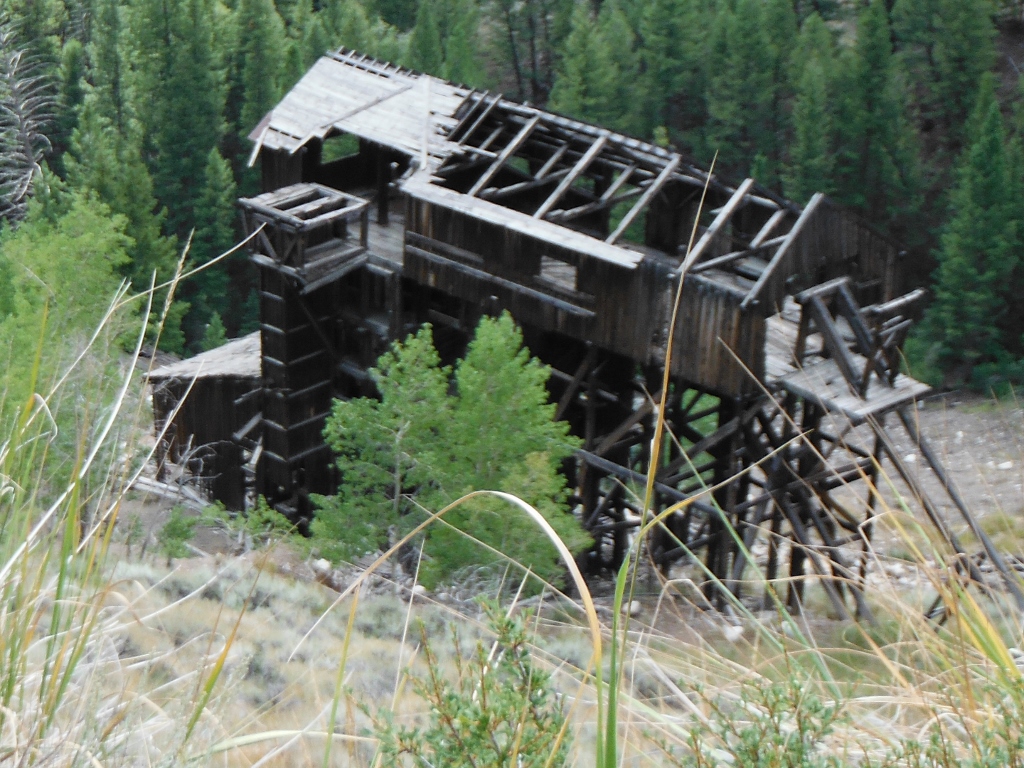 While we were riding the pavement West to get to the wall-----I kept spying this dirt road on the other side of the river !!!
Why weren't we over there------stupid me.
On the way back I made sure we rode it and we got to cross this old bridge before the numb nut's tear it down.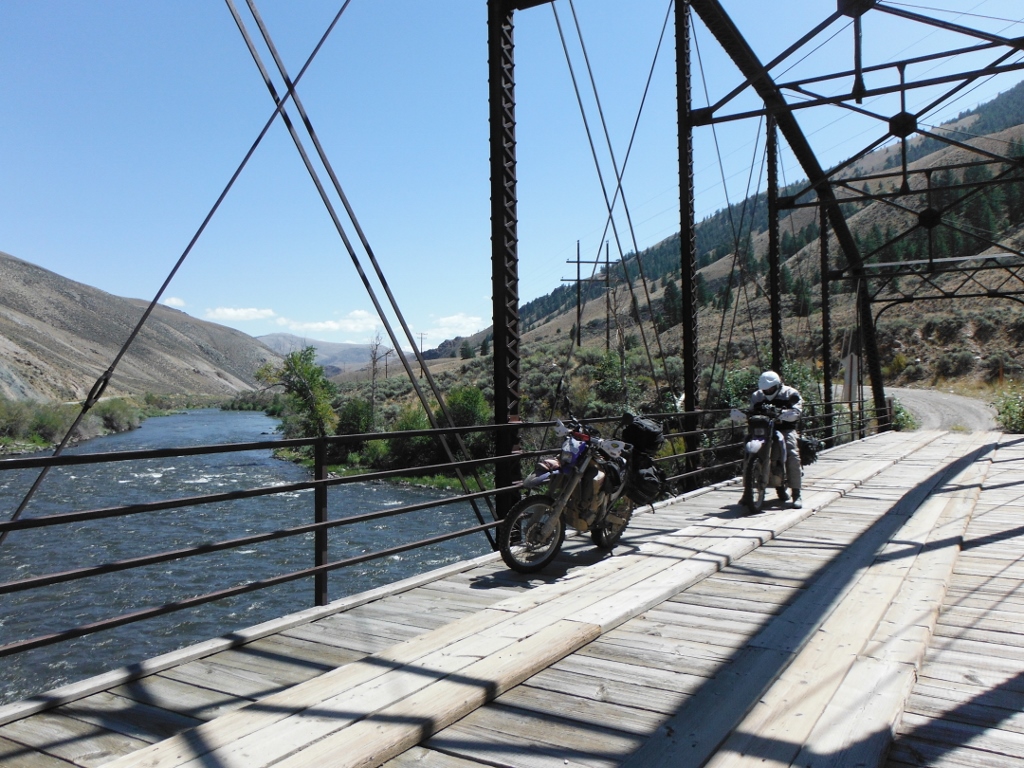 Into Stanly for a very late lunch. And "No Dog Allowed" again !!!!! This is pissing me off.
We walked into this restaurant and I proceeded to make an Ass out of myself-----also a recurring theme.
I hadn't seen the town yet and ask the waitress how many people lived here.
She said "63" ..................I said "63,000 I didn't think it looked that big"
She said "No.......63......................I said "6,300 ??????"
She said "no ..........63"...........in the summer----almost nobody in the winter----I said "OK now I get it"
No wonder they don't allow dogs !!!!!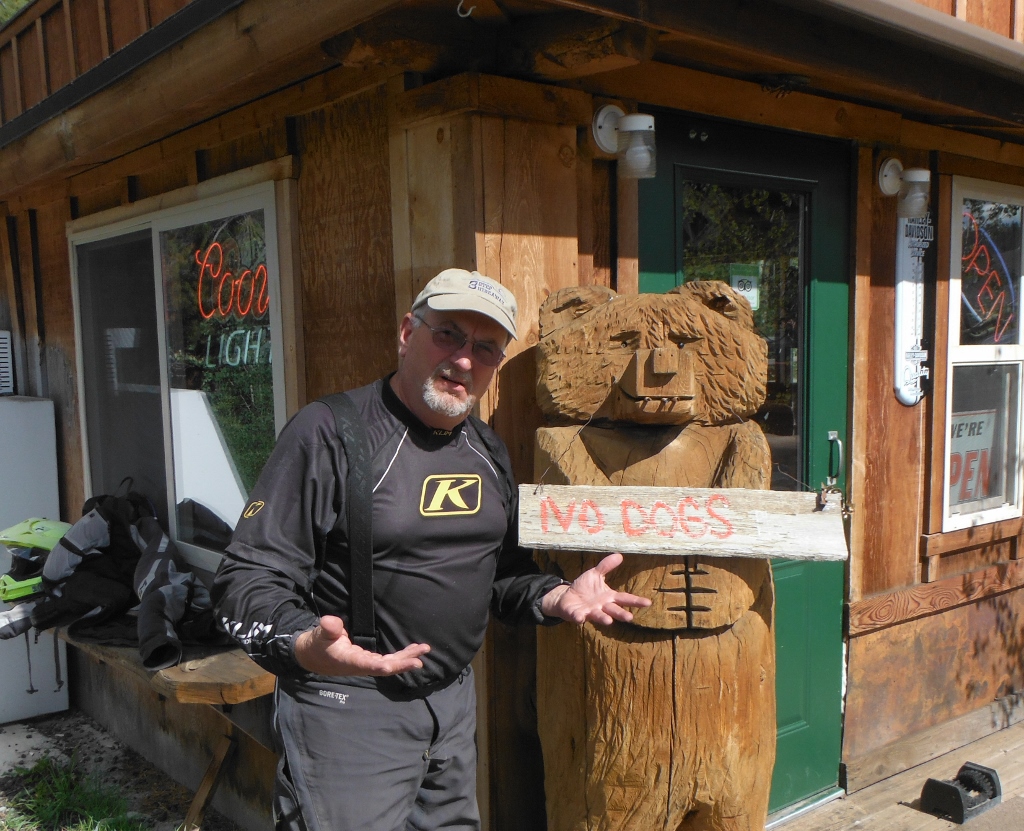 We got a little cabin by the Salmon River with 3 beds. It was nice--------No AC--but you didn't need it---summer here is very, very short.
BobBob whom you haven't met came to Stanley and have a soda and beer out back---he would join us later on.
He brought his daughter with him who was so nice and they had hiked 13 miles in the mountains that day--and he's older than me------he's really fit.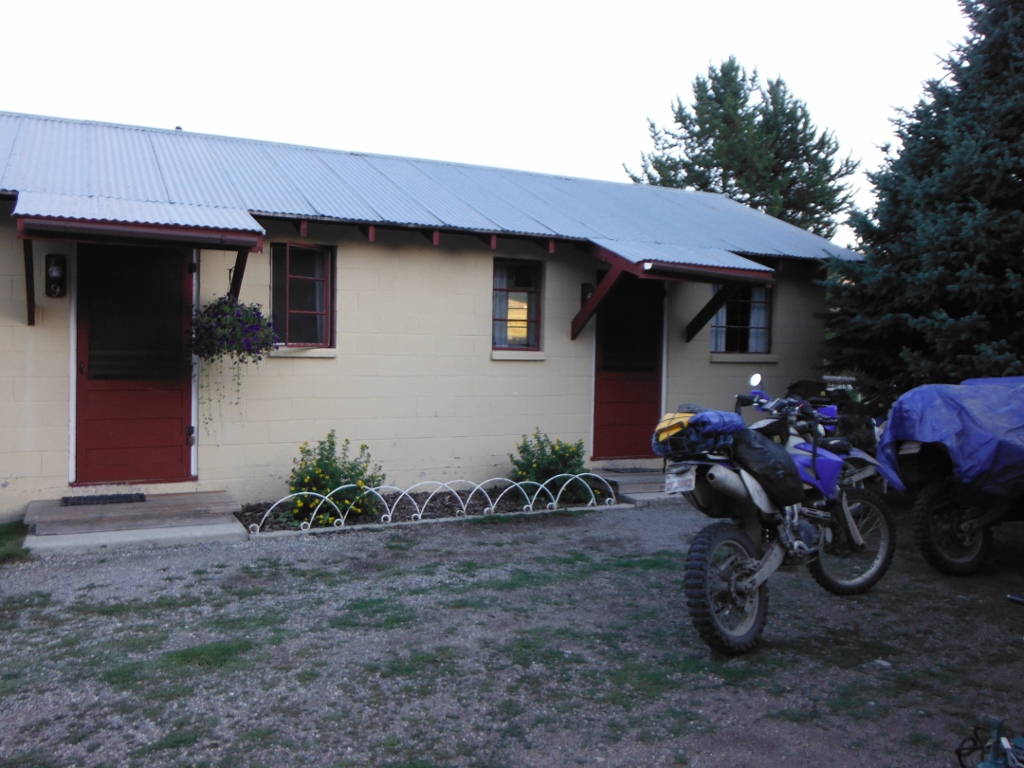 We fought over the hammock------Rick won------he's a big guy.
I could have played the "old guy" card----but didn't.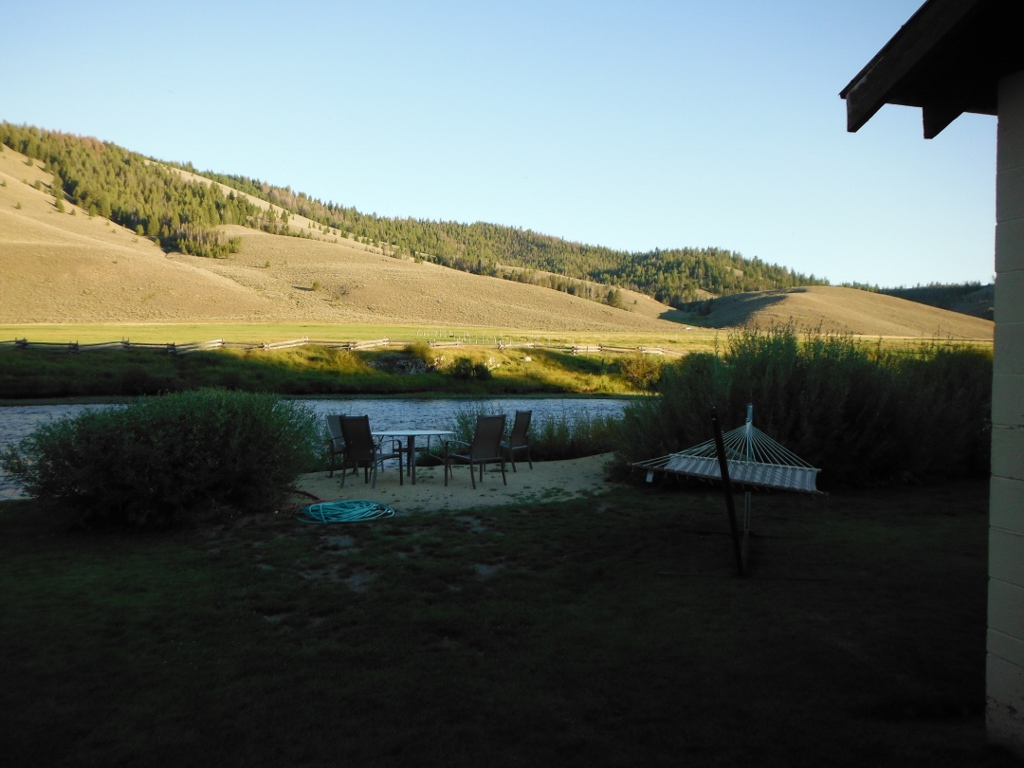 A rough map of our ride today----about 118 very good miles----I was very happy with the day.
Didn't ride many miles --------but rode all day long.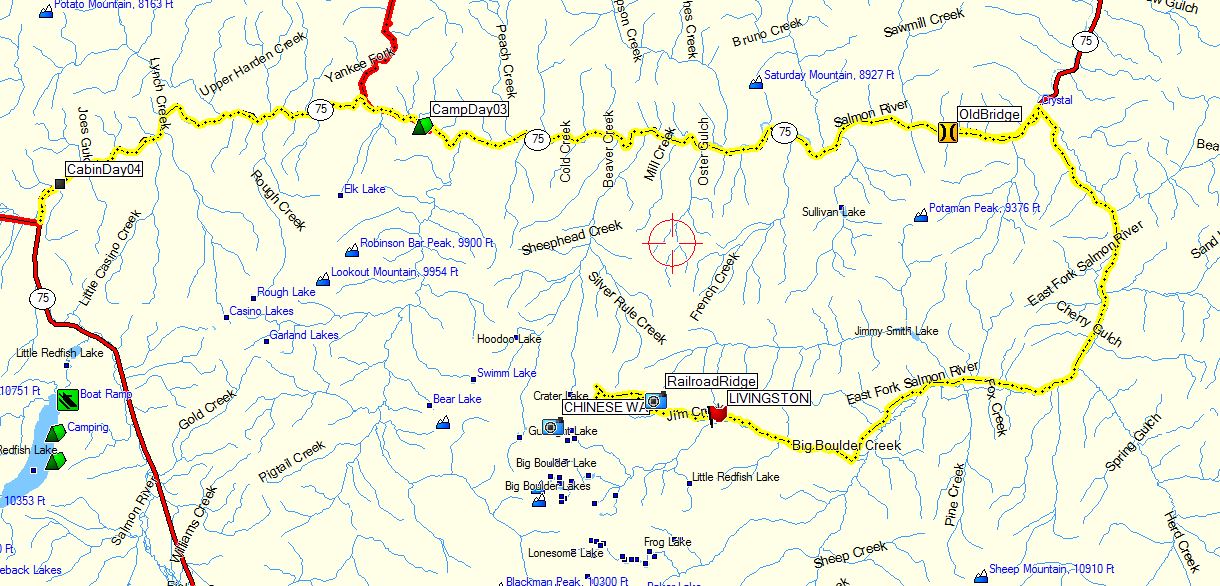 Day 4 Video
Day 5
August 28th, 2014
Riding out of Stanley that morning we headed Northwest on paved Hwy. 21 then turned West on Bear Valley Rd.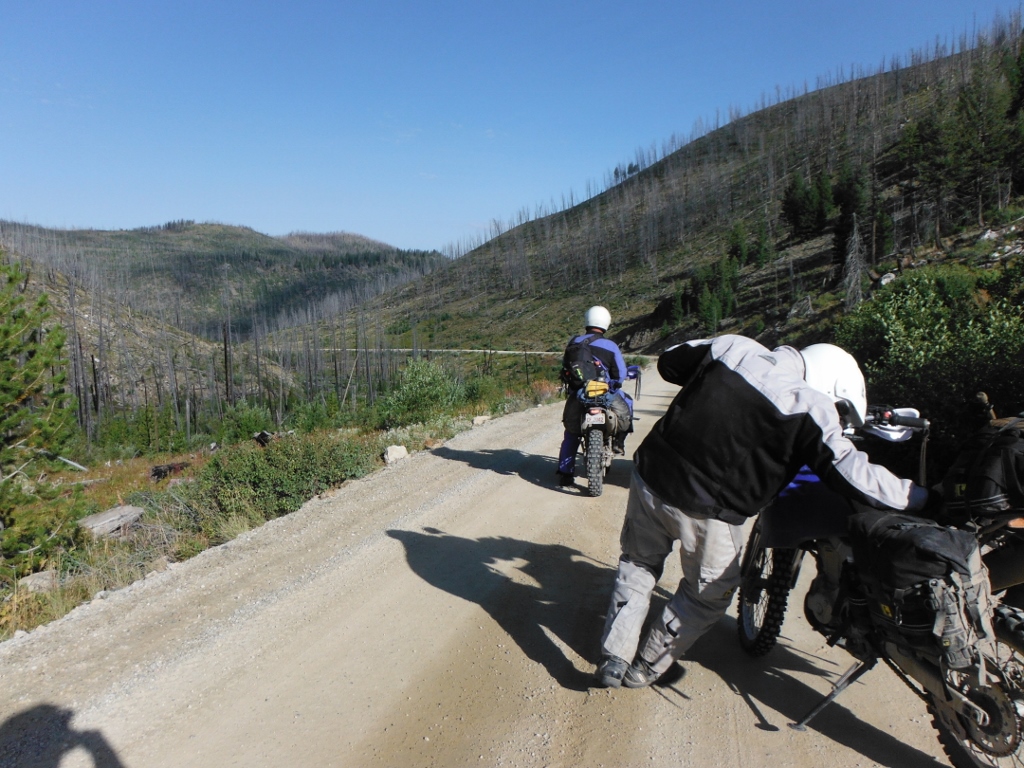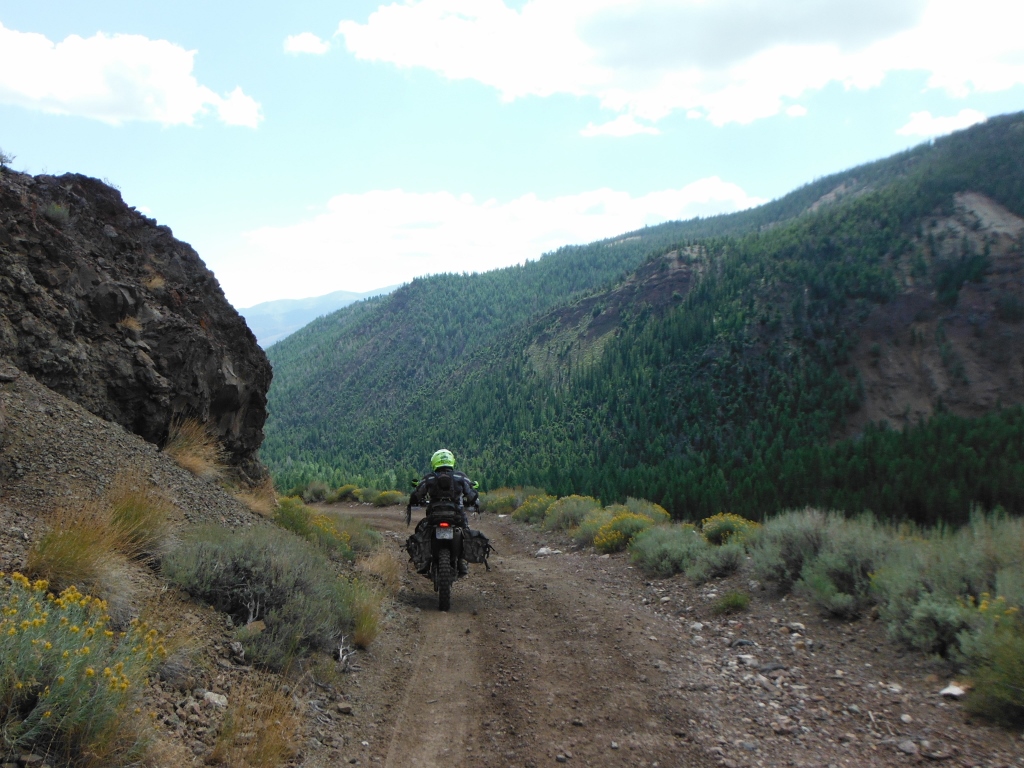 And after turning North we went over Deadwood Summit------you can see our elevation on the gps.
It was a very cool crisp morning--------with no dust.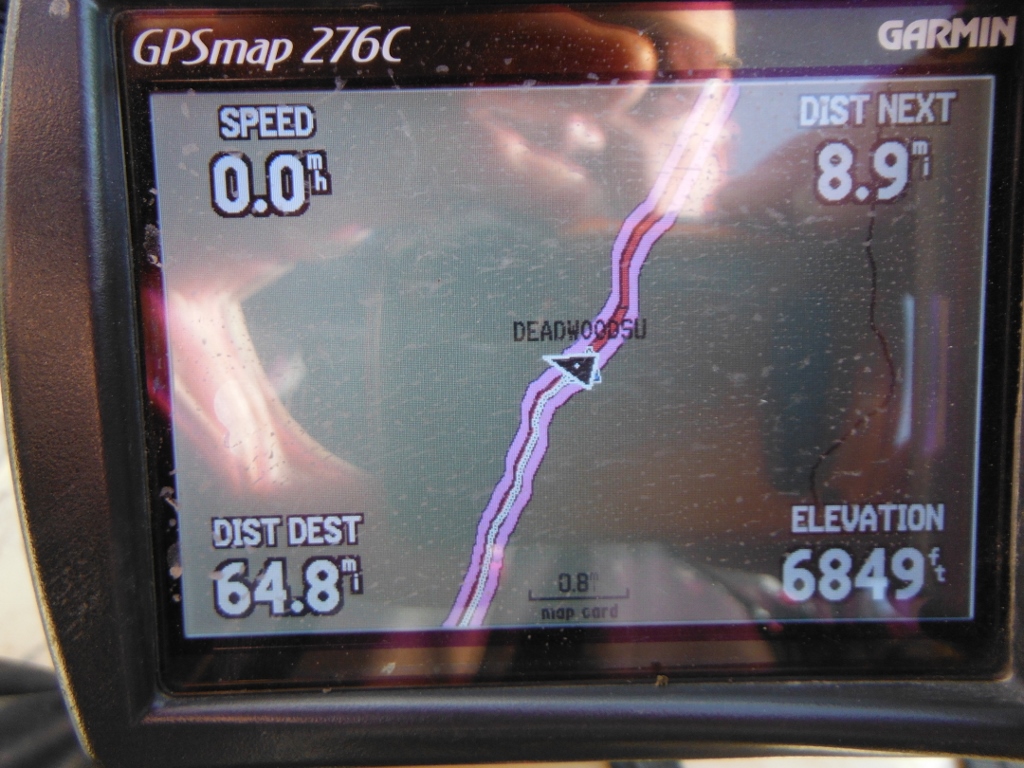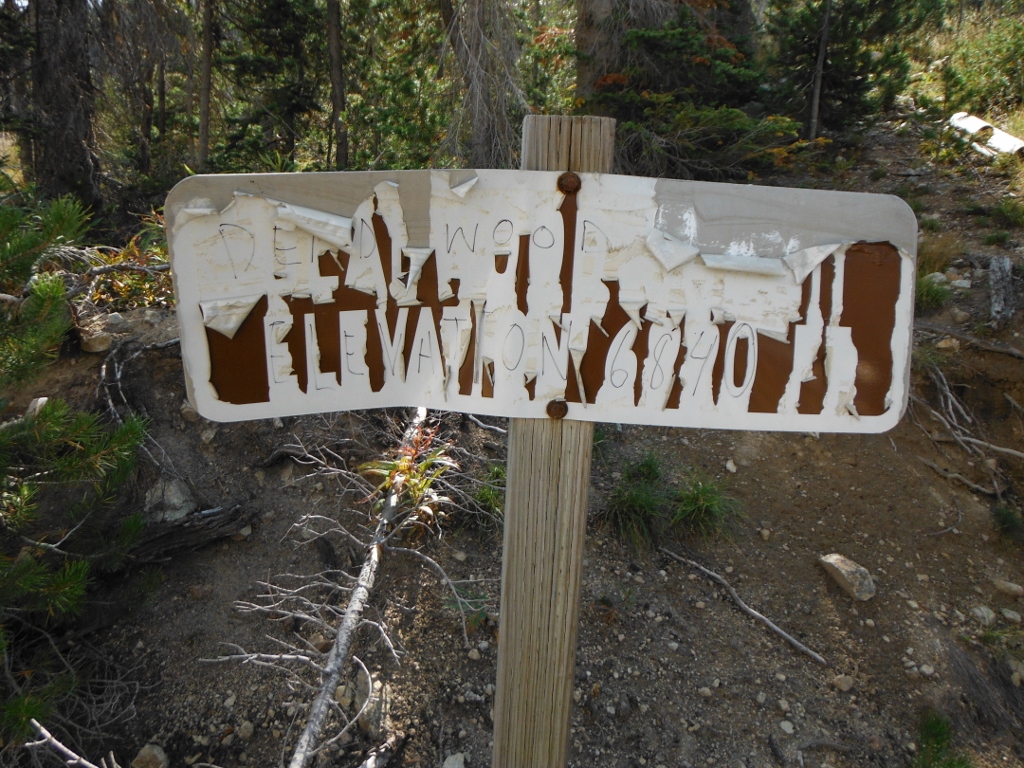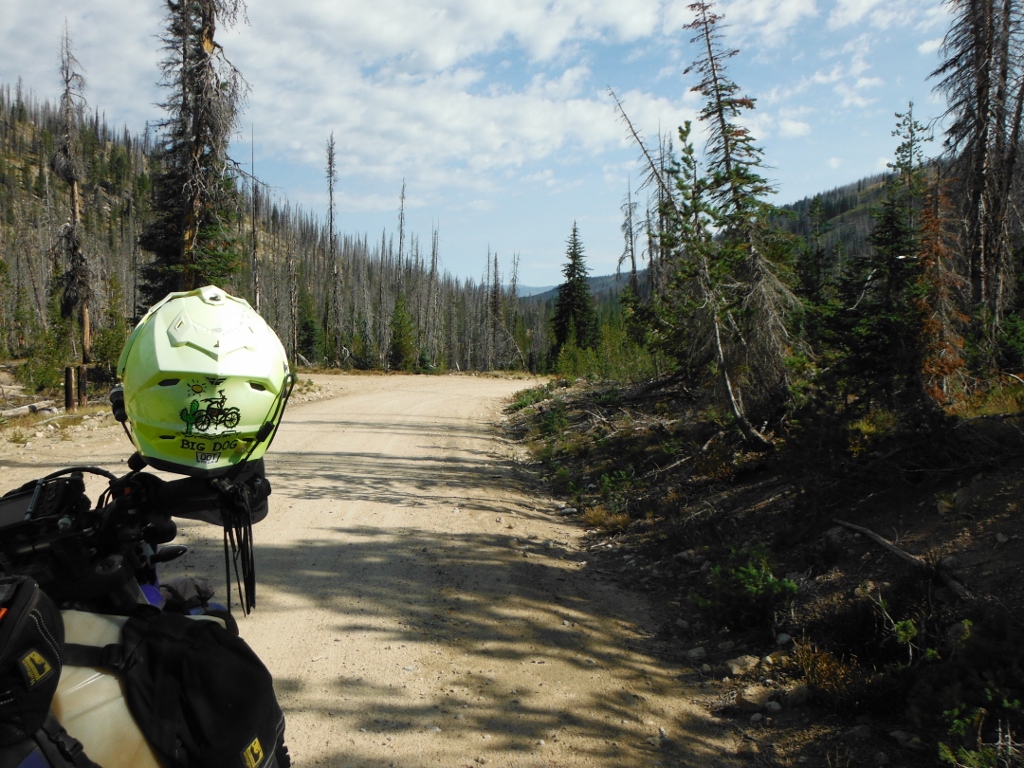 We ran along the South Fork of the Salmon river--with the river always in our view and found these Salmon Spawning and watched them for a 1/2 hour.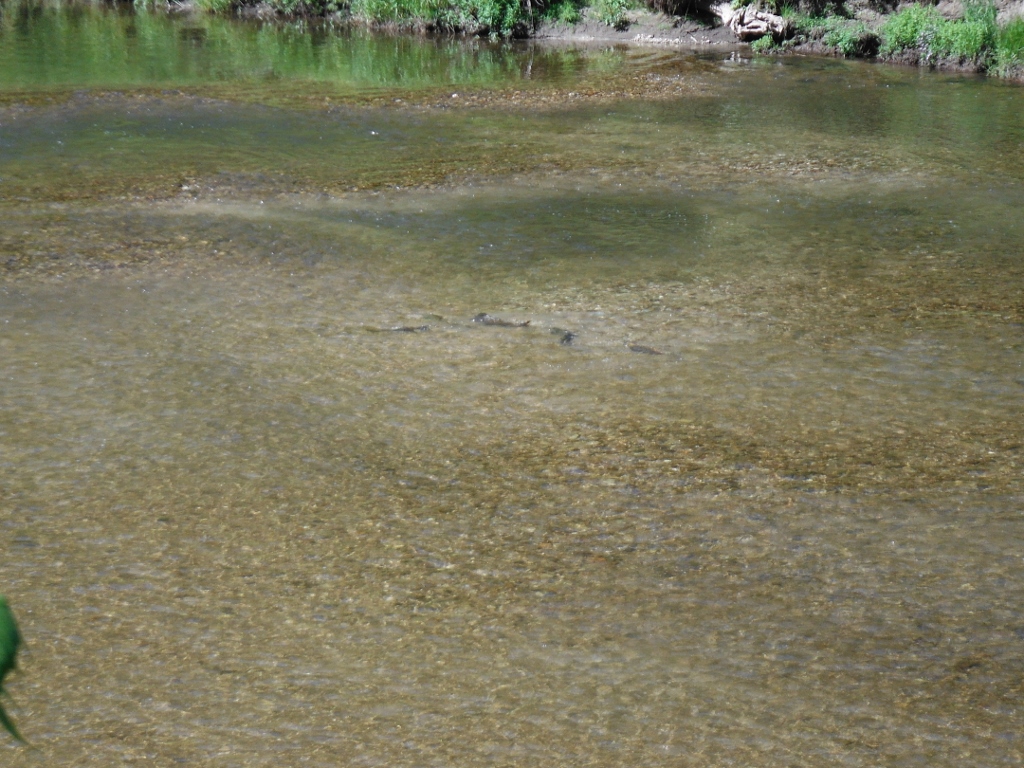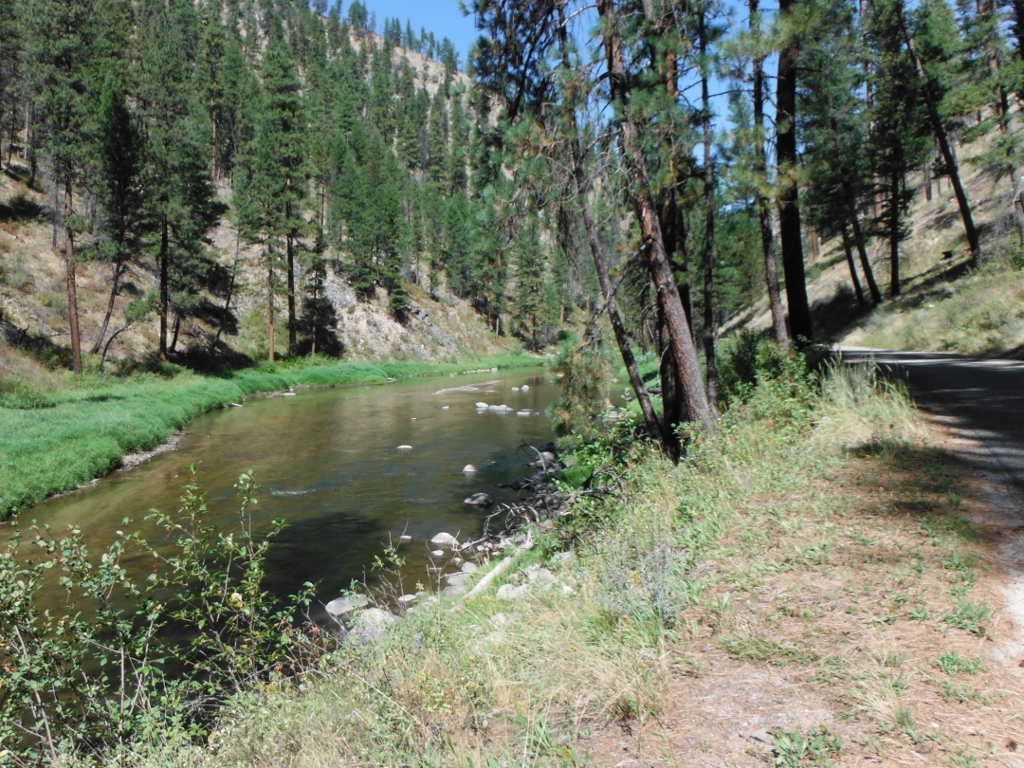 This swinging foot bridge led to a hiking trail on the other side.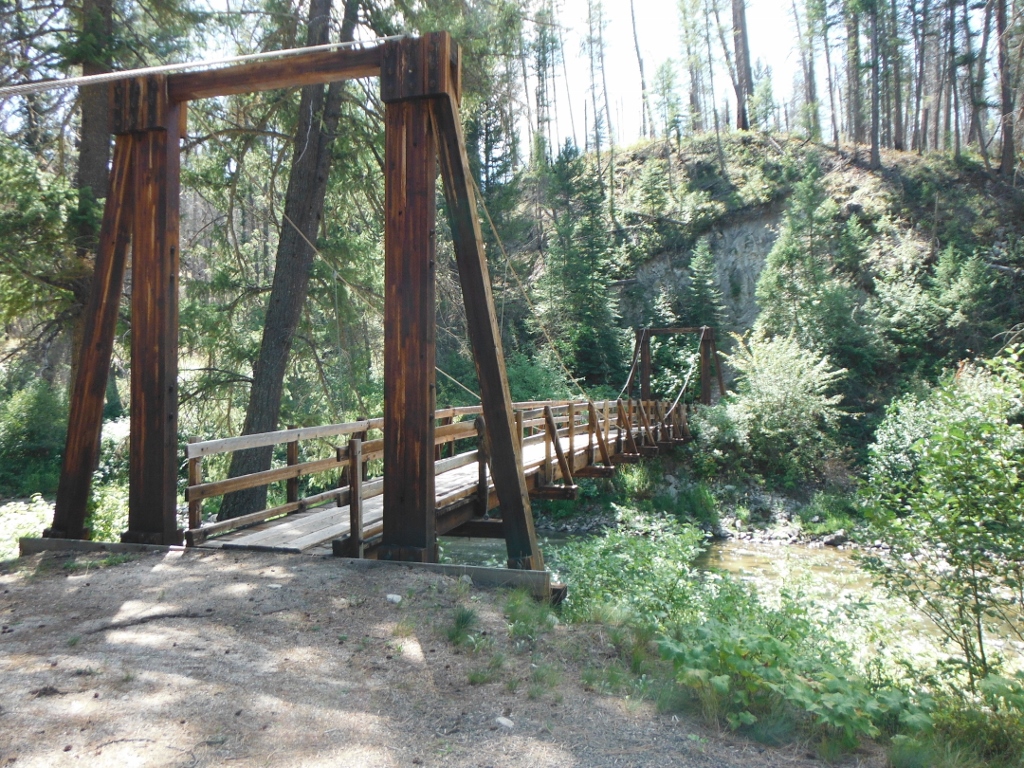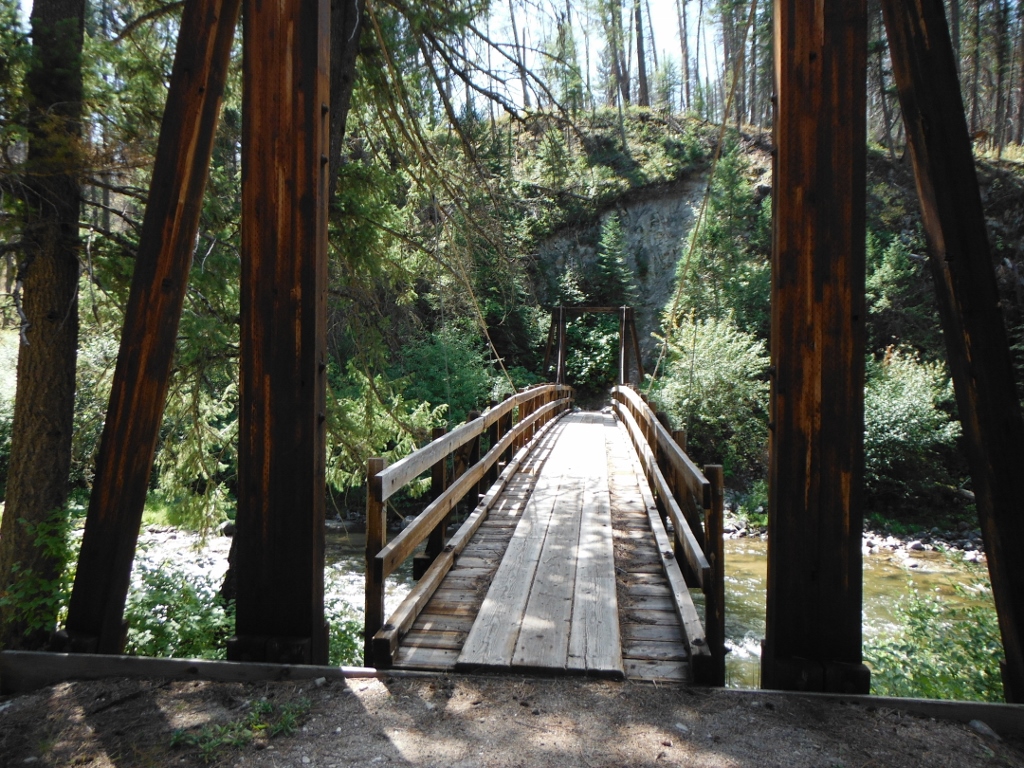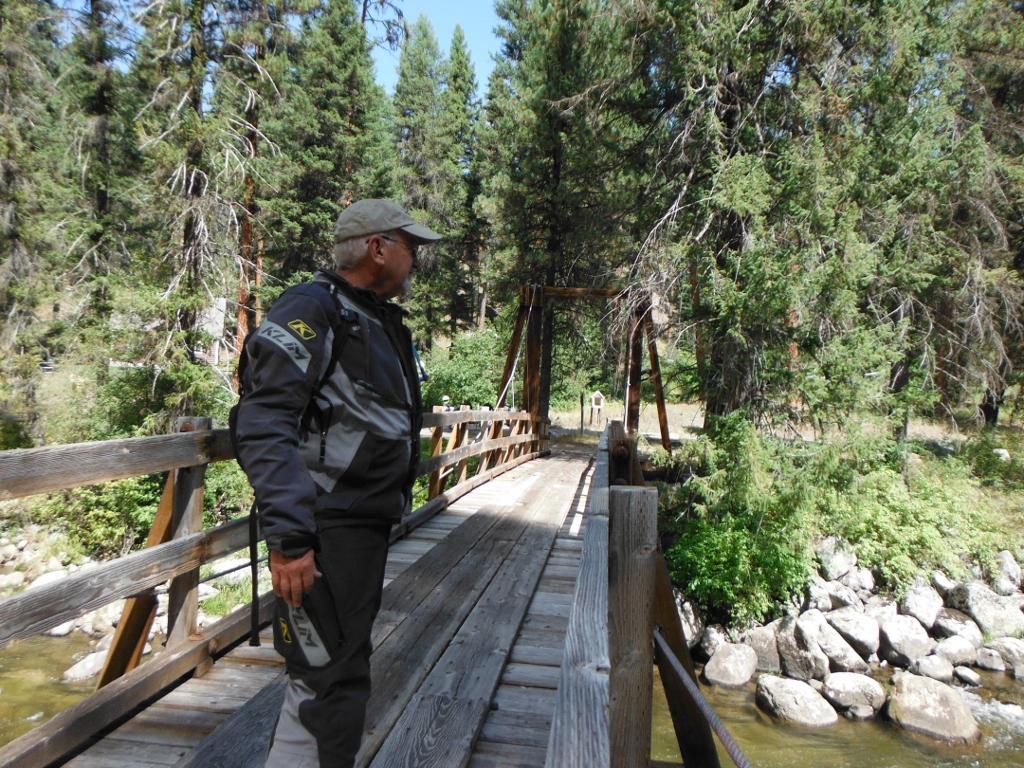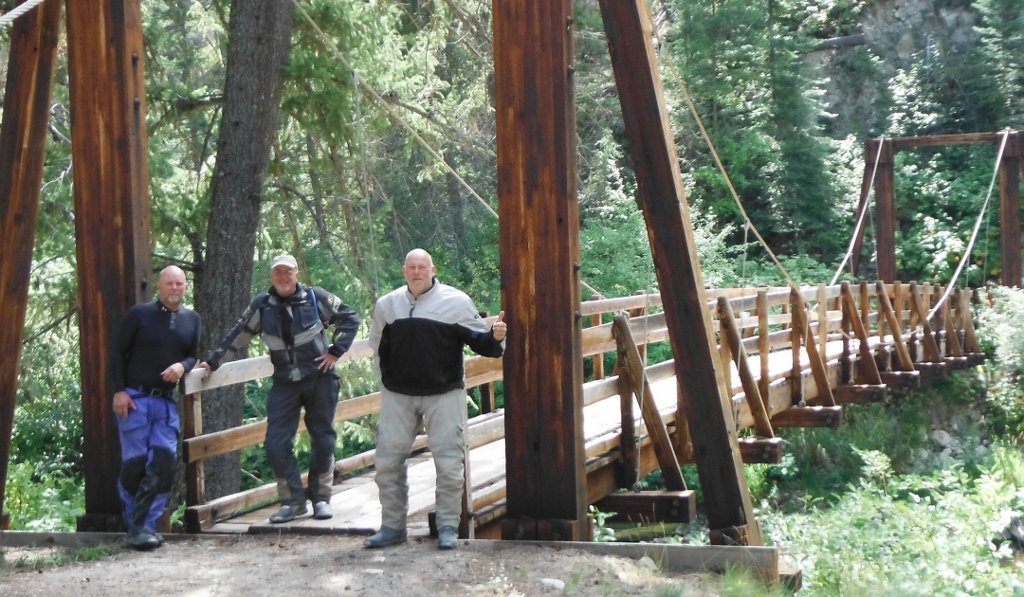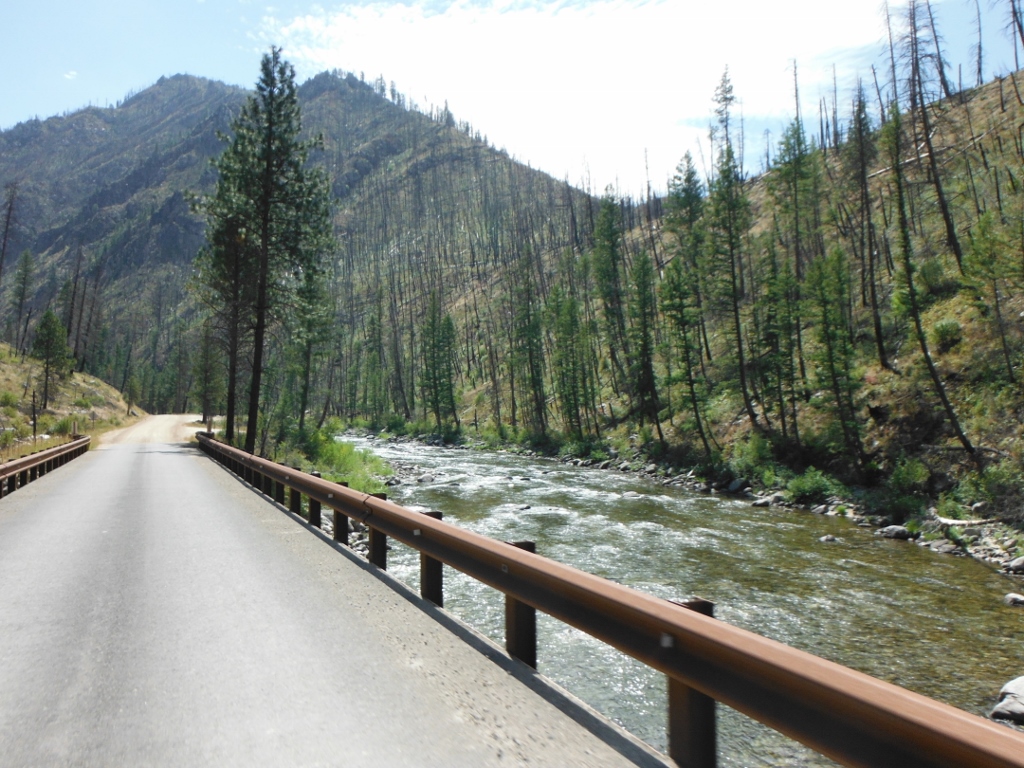 We rode into the little town of Yellow pine and had lunch and filled up with gas.
A hamburger like my mother used to make.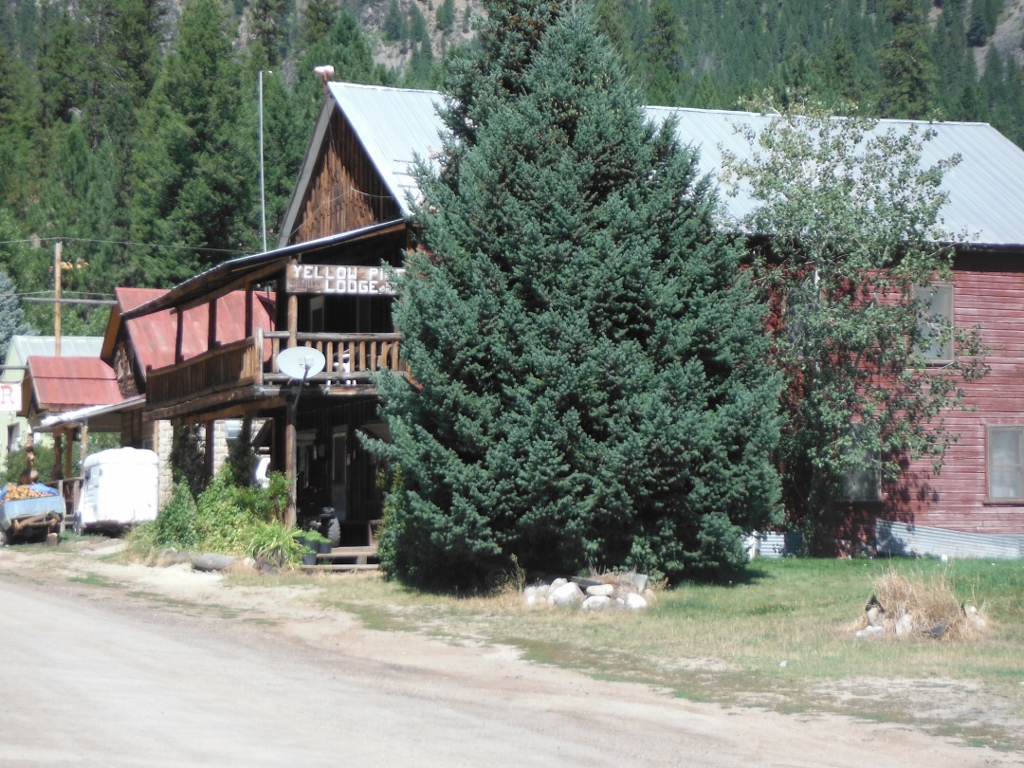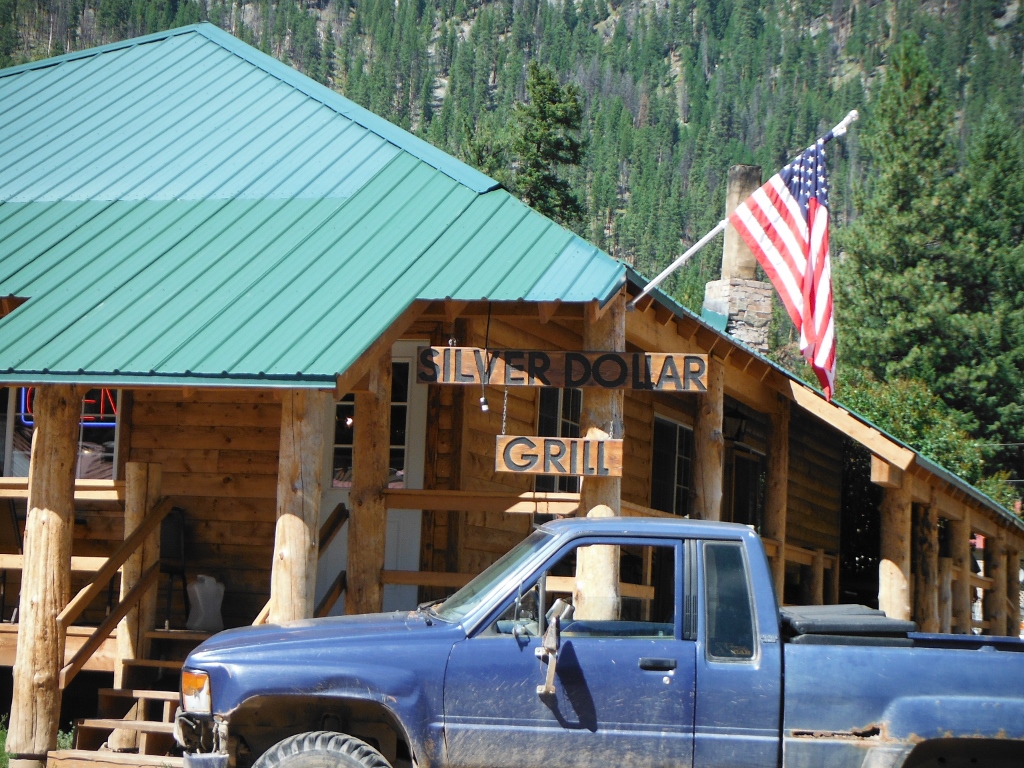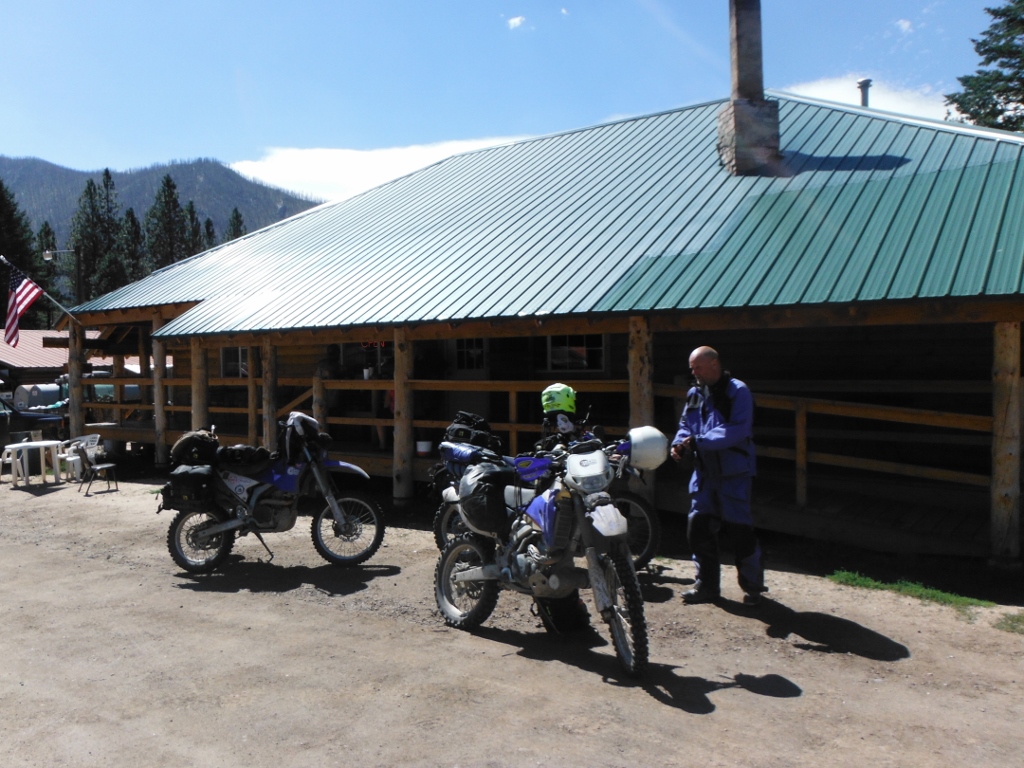 There were many cabins in town for rent and the people in here evidently owned all of them.
It was 2 early to stay here. I had stayed here many years ago---a fun little town with kind of an Alaskan feel to it.
Some tough people live and survice in this town.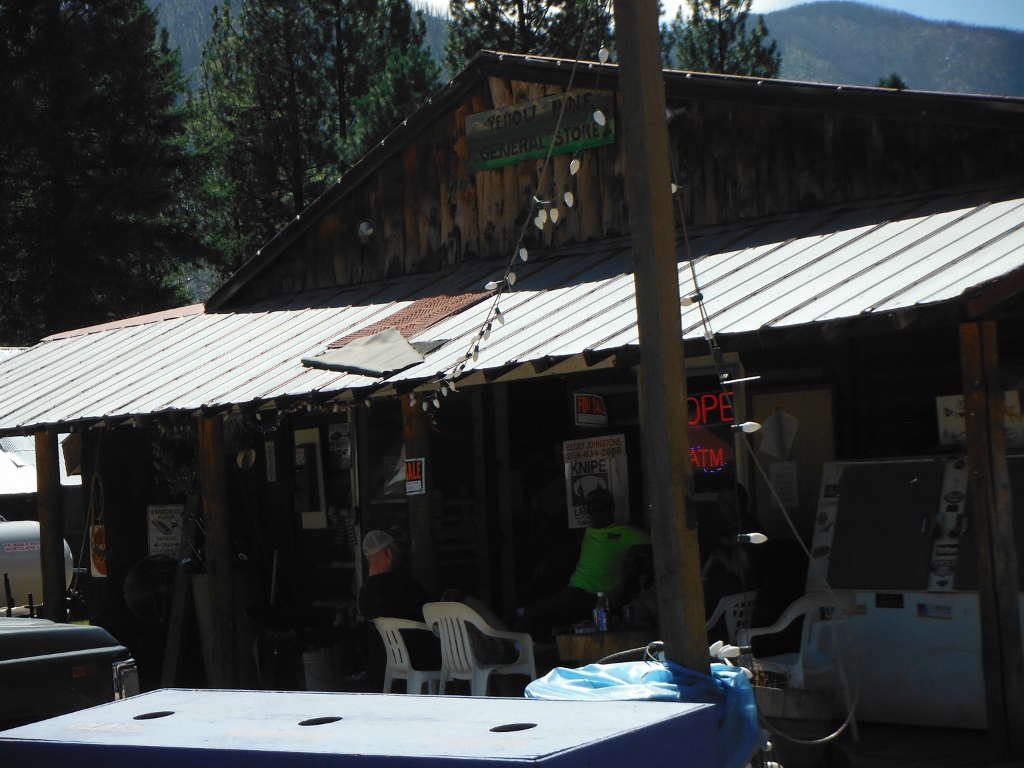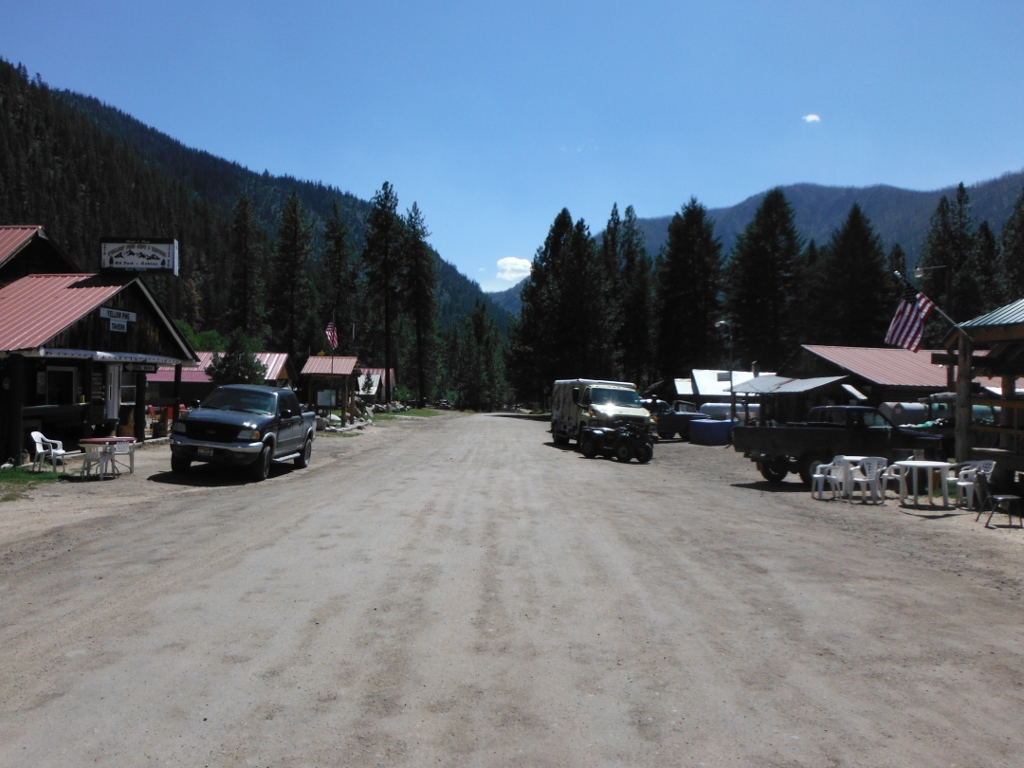 I think it took us a couple hours to make this summit---it was easy but awesome riding.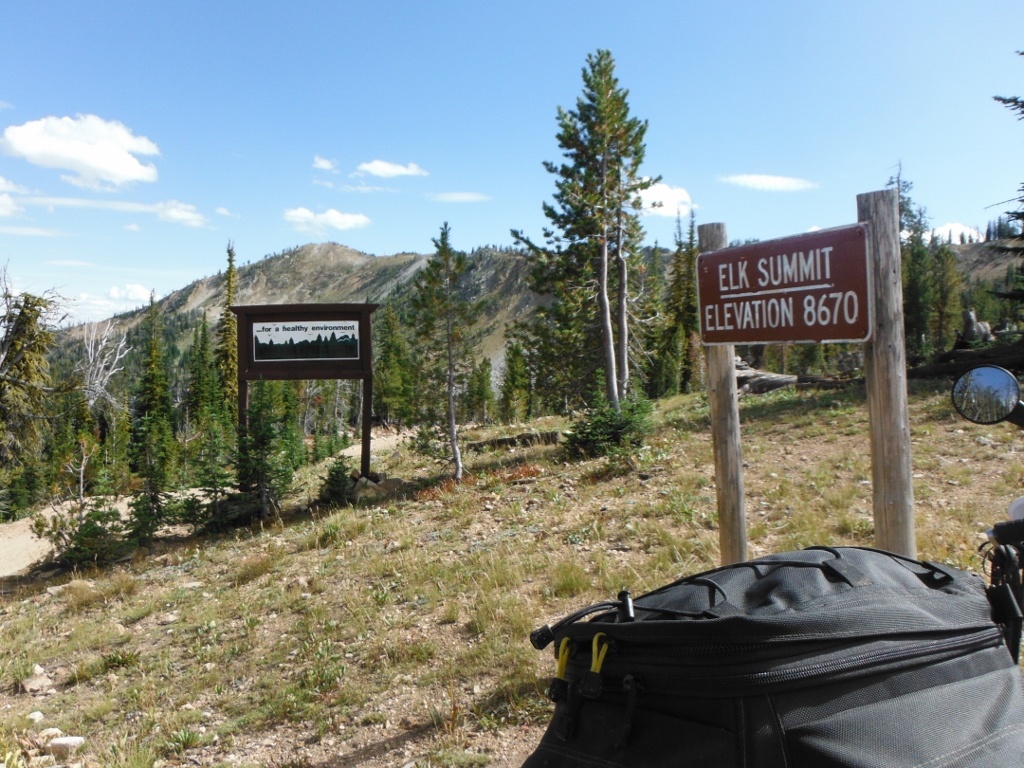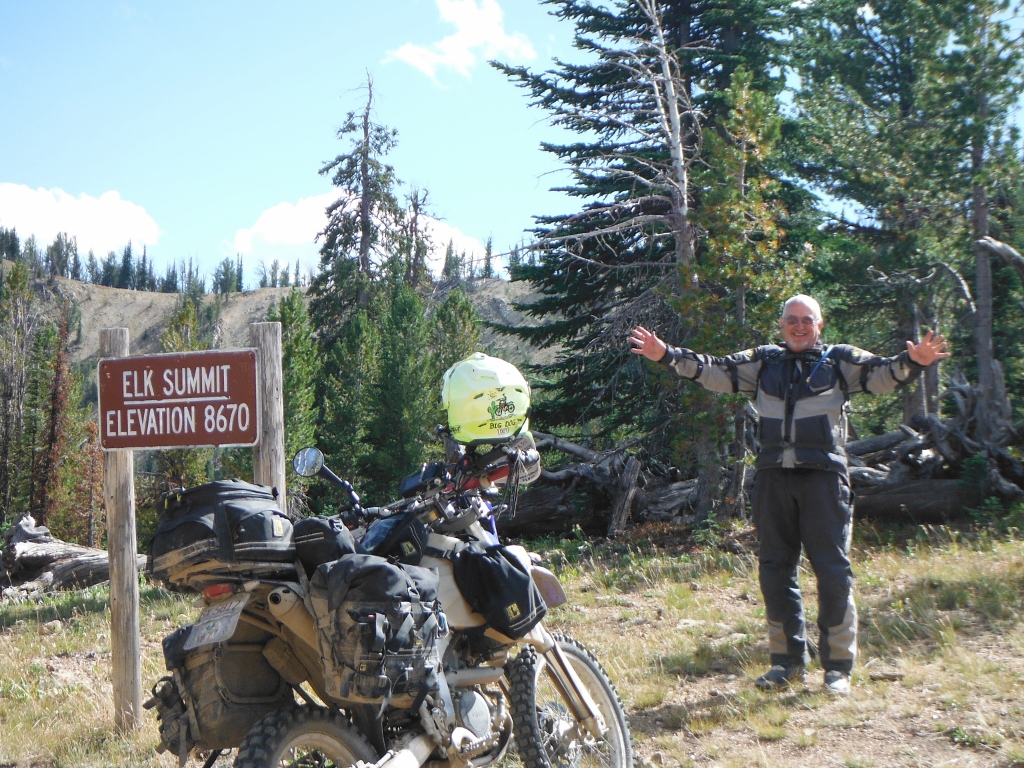 Over the pass and down we go towards Burgdorf Hot springs------I had no idea of what to expect there and it was the opposite of what I'd thought it would be.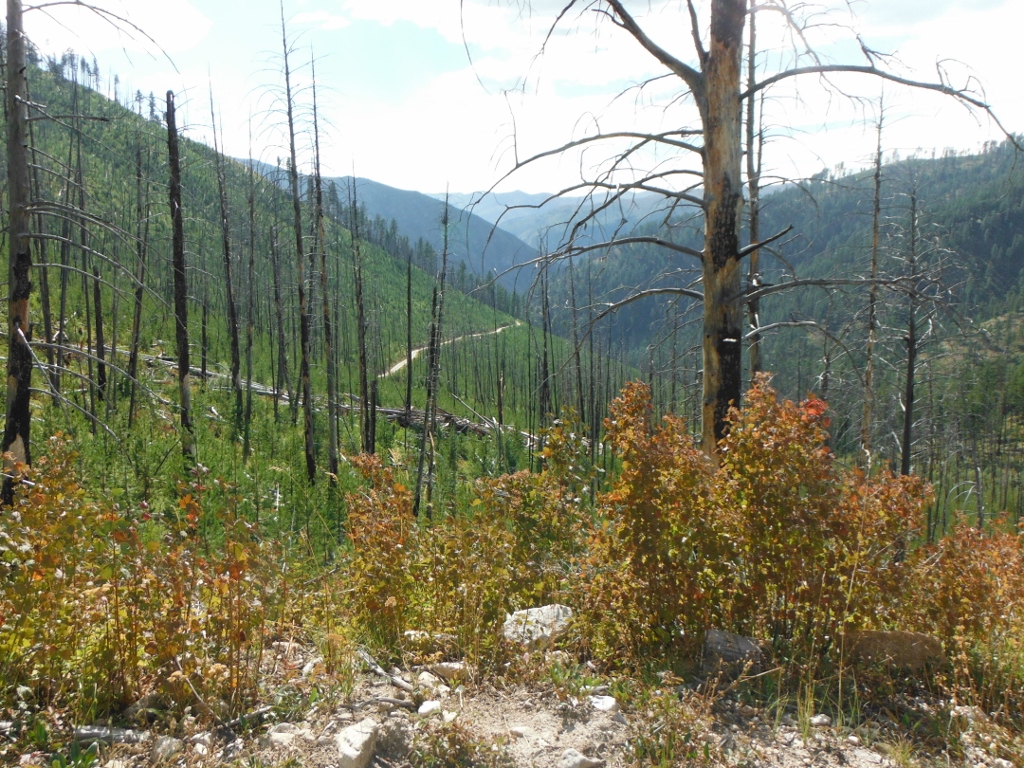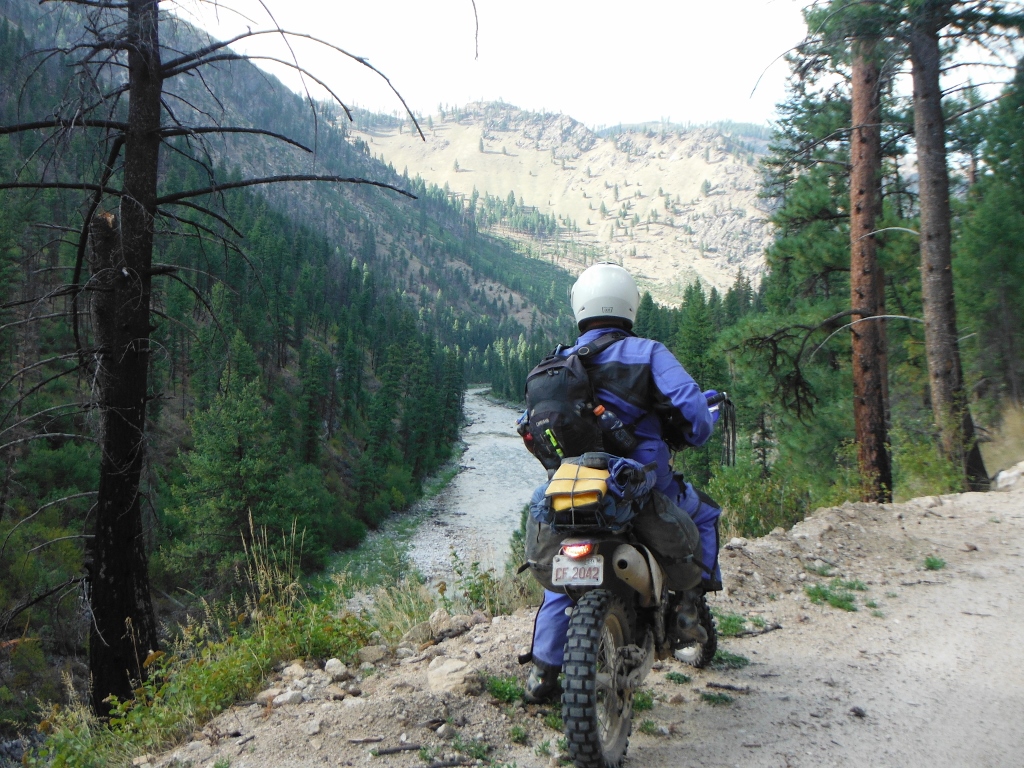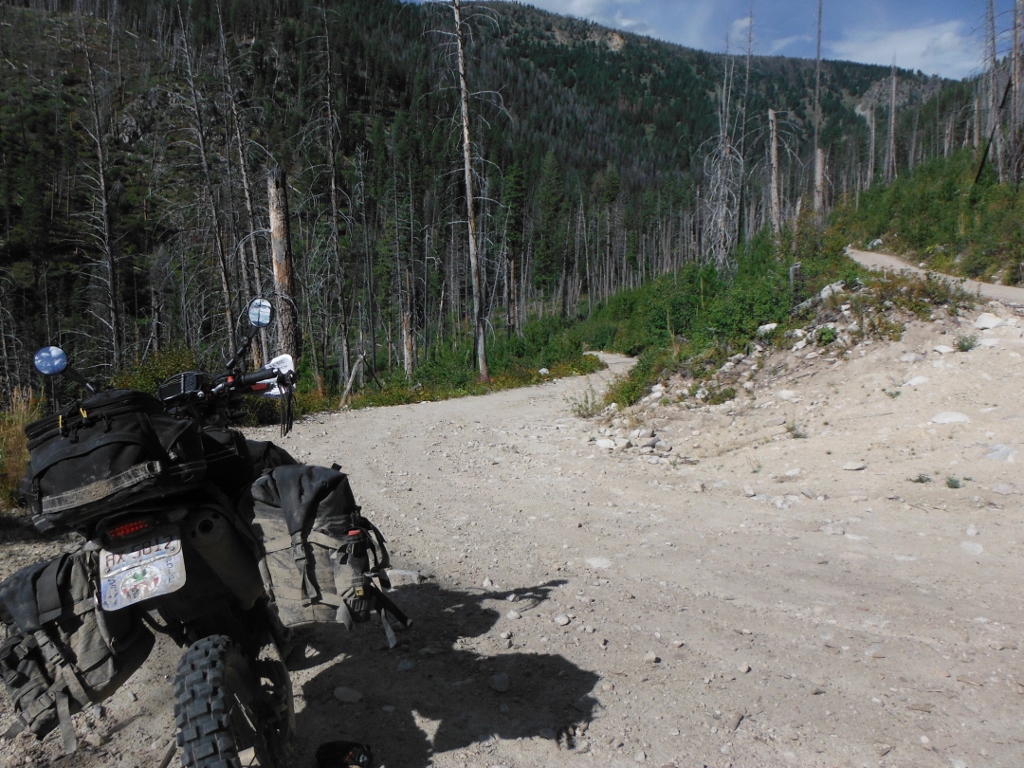 It was weird seeing these signs---------"Abrupt Edge".
All it was -----was the road dropped straight down off the edge of it---hell I've been doing that all my life---never seen a sign about it tho.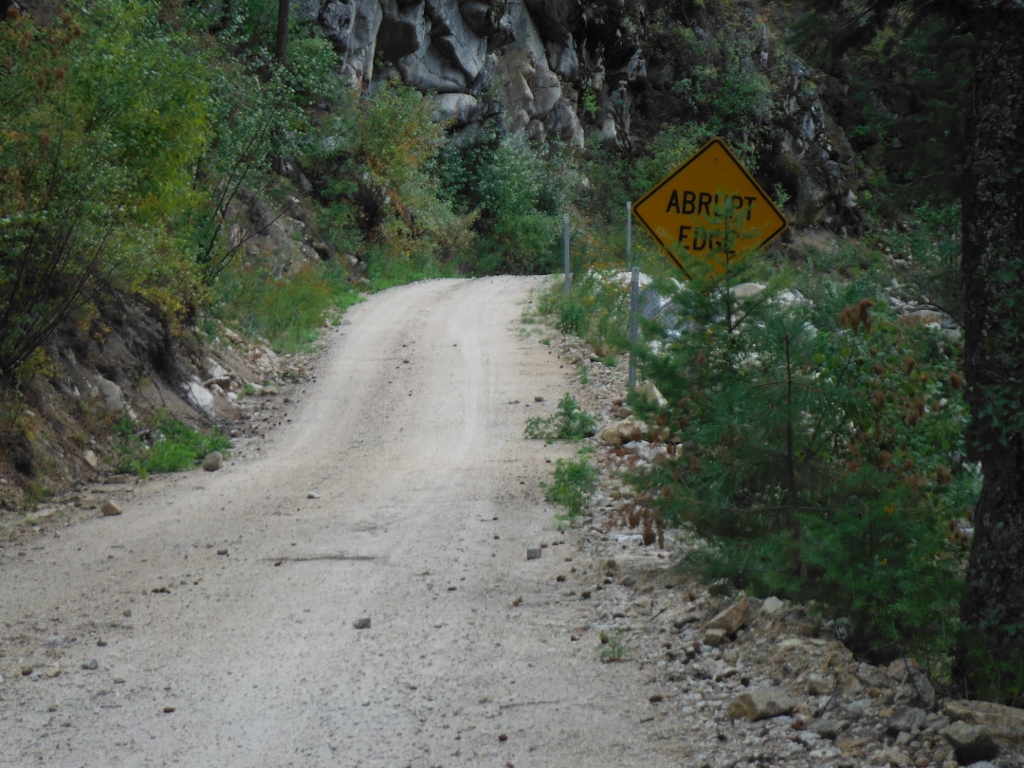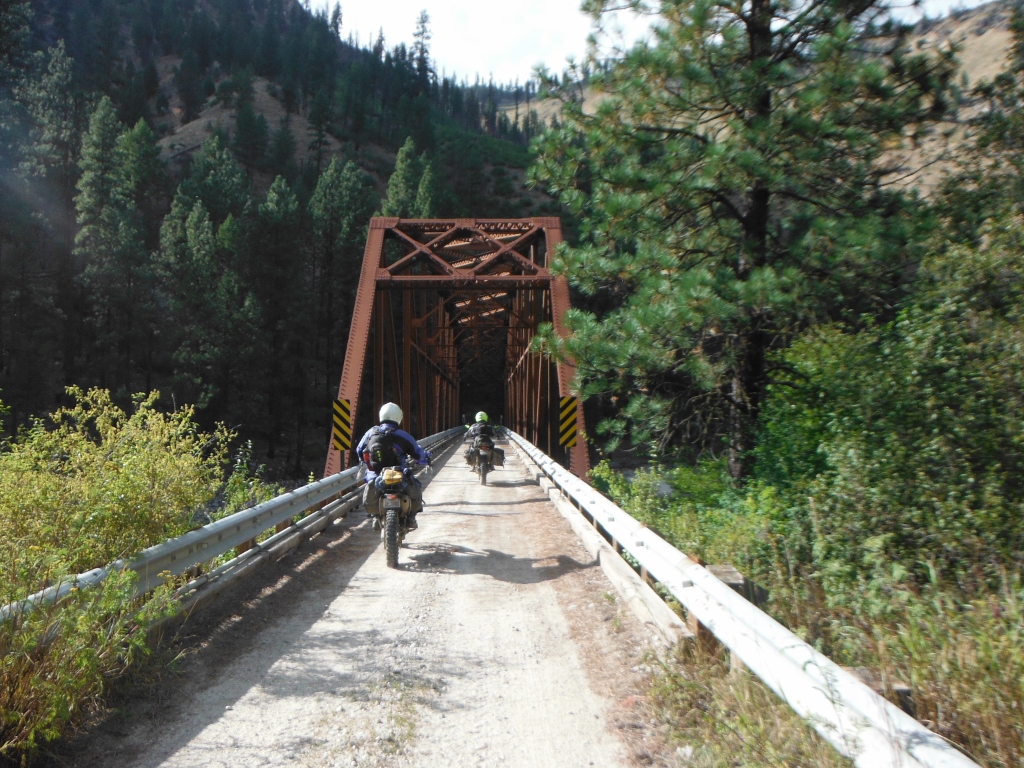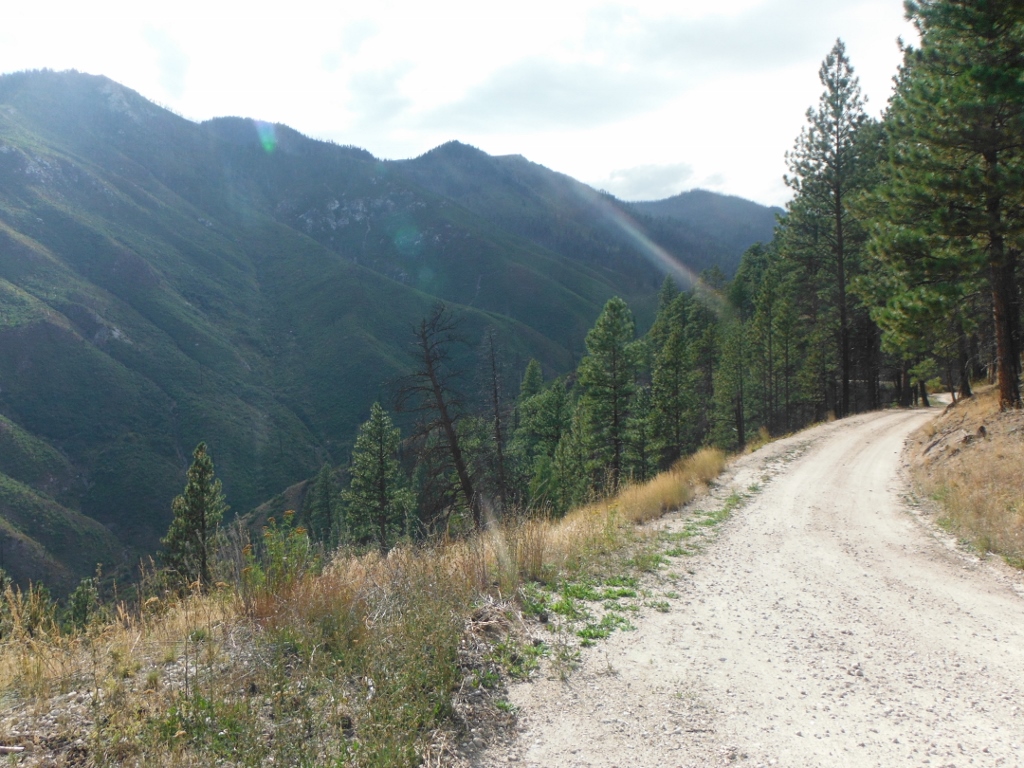 A few years back Ricks 450F had constant problems our his last ride up here with me due to some aftermarket electrical parts.
All was good now after going back to stock.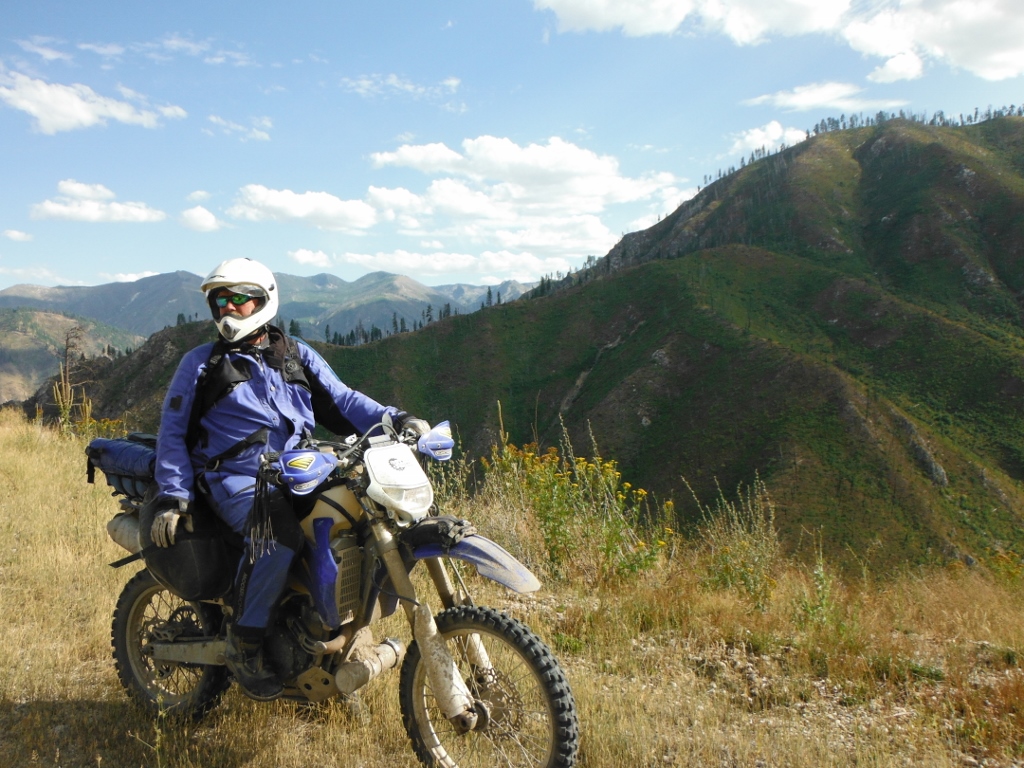 This is the old mining town of Warren, Idaho.
Warren is an unincorporated community in the remote north central region of the U.S. state of Idaho, near the Frank Church River of No Return Wilderness.
Miners from the previous gold strikes in Pierce and Florence fanned out to the south and discovered gold in the Warren Creek area in August 1862. It led to the formation of the
settlement, then in Washington Territory, making it one of the oldest settlements in present-day Idaho. With a gold mining boom in multiple regions during the Civil War, the Idaho
Territory was established in 1863. Shortly after the gold discovery by Lewiston's James Warren, the Warren's Camp population swelled to over 2,000; the southerners
called their area of the camp "Richmond" and northerners called theirs "Washington.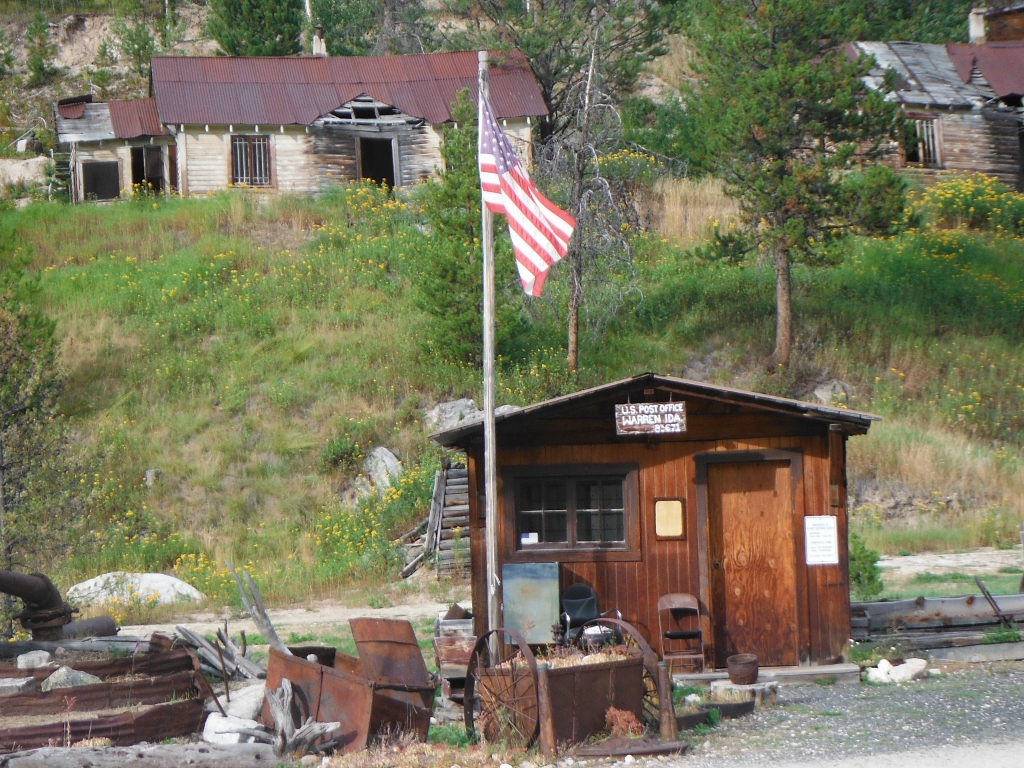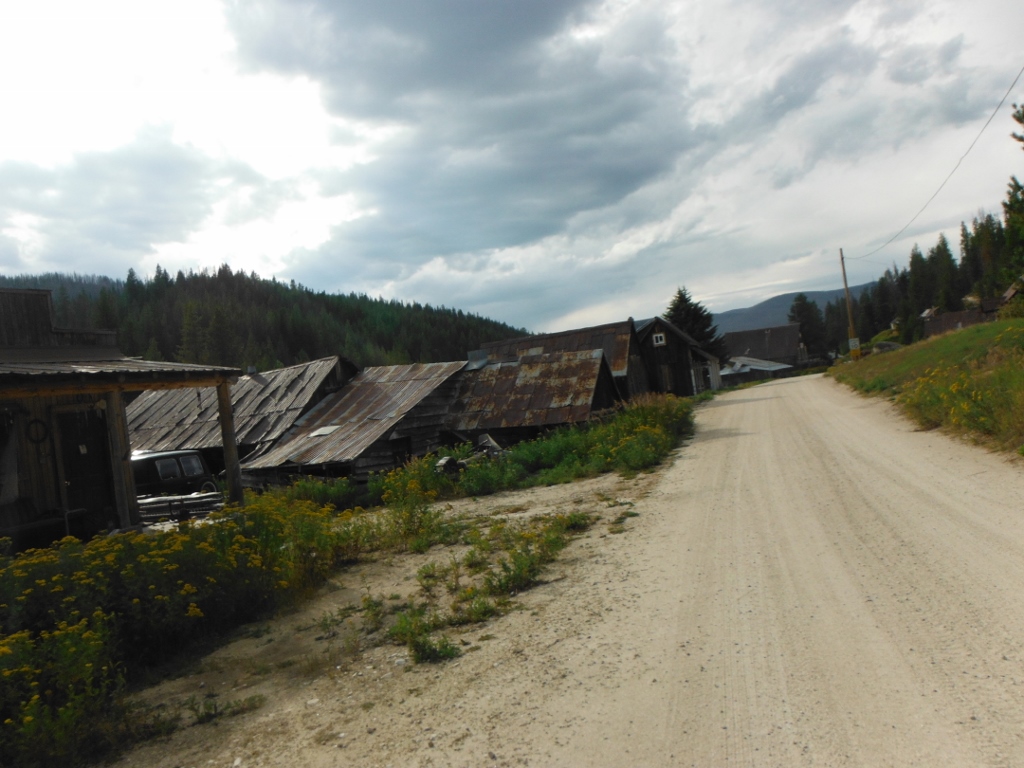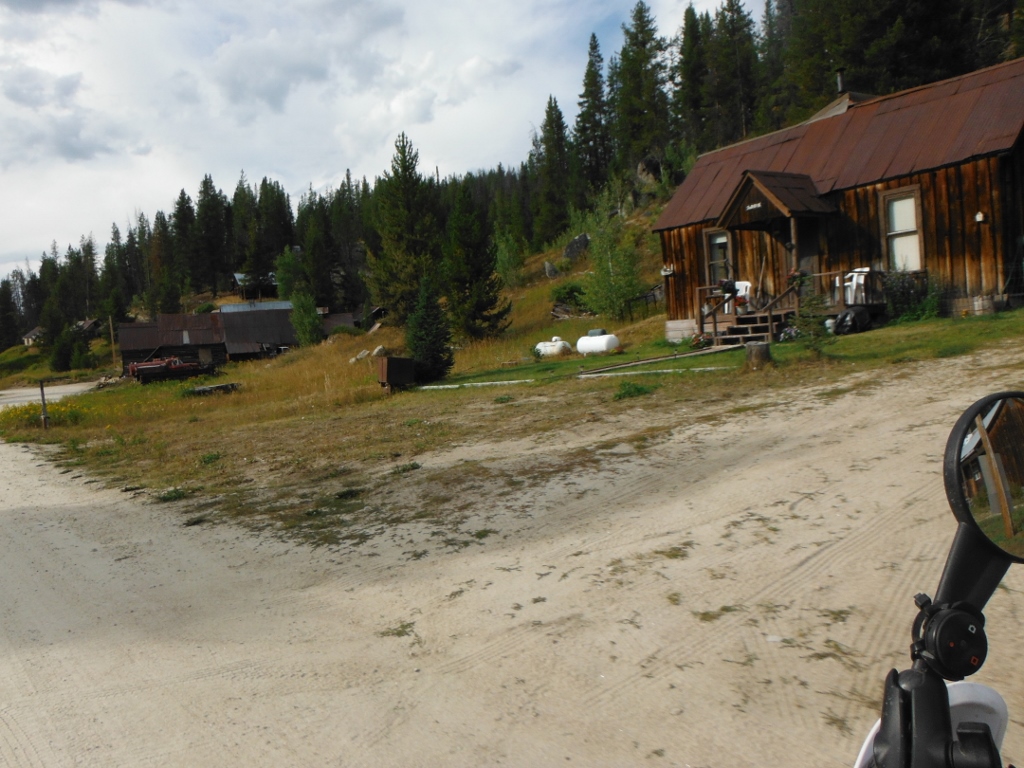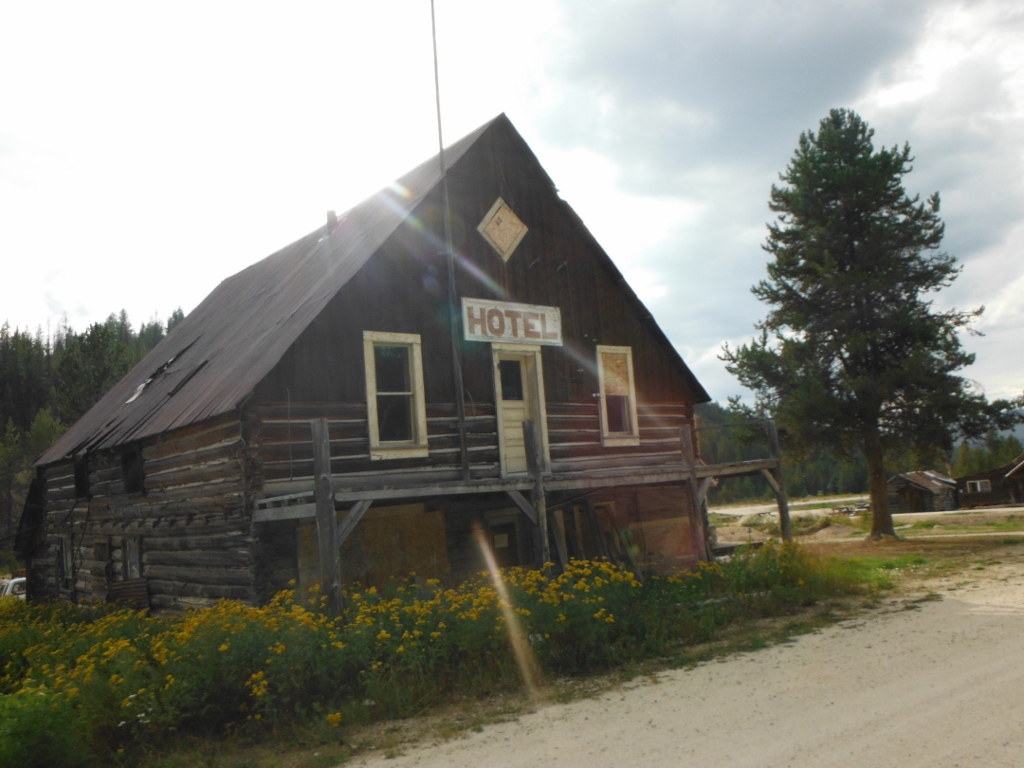 We rode for miles on a dirt road and I truly had no idea of what we'd find at "Burgdorf Hot Springs".
I just imagined a touristy modern facility on a paved road---but it was just the opposite.
And here is our first look.
We almost past by as it almost looked abandoned-----but thankfully didn't.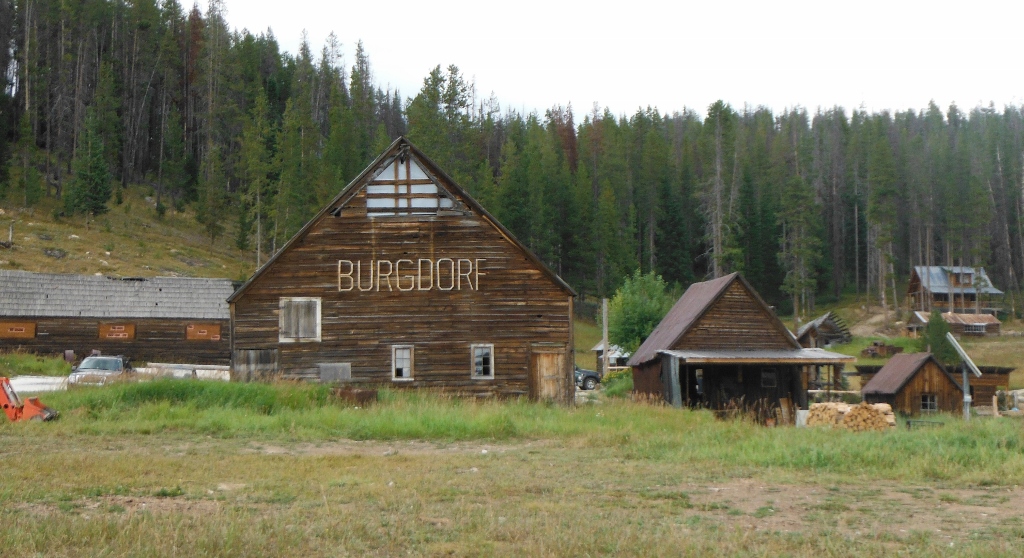 We checked in here-------rented an old "real" log cabin and had free access to the Hot Springs-------Hot Damn !!!!!
$35 per person and the nice lady in here fixed us a pizza.
There was no electricity here at all-----the wires you see are no longer connected.
She was off the grid and totally solar powered---but just this building---the cabins had nothing but a woodstove.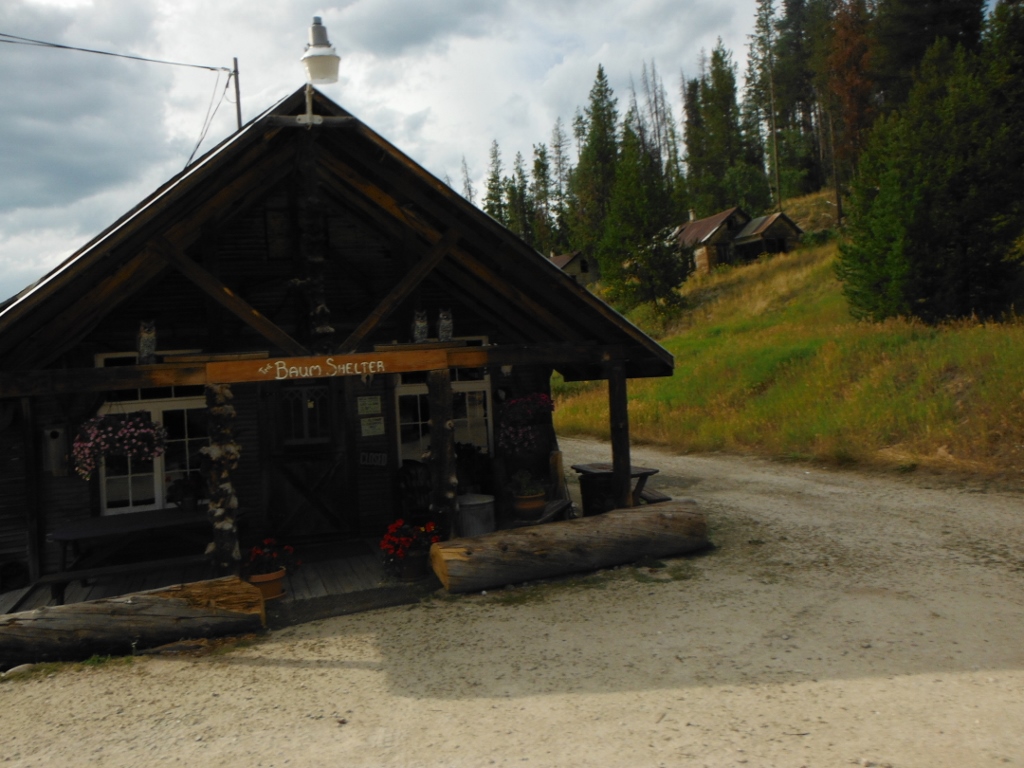 Our cabin for the nite--------------"The Hornets Nest".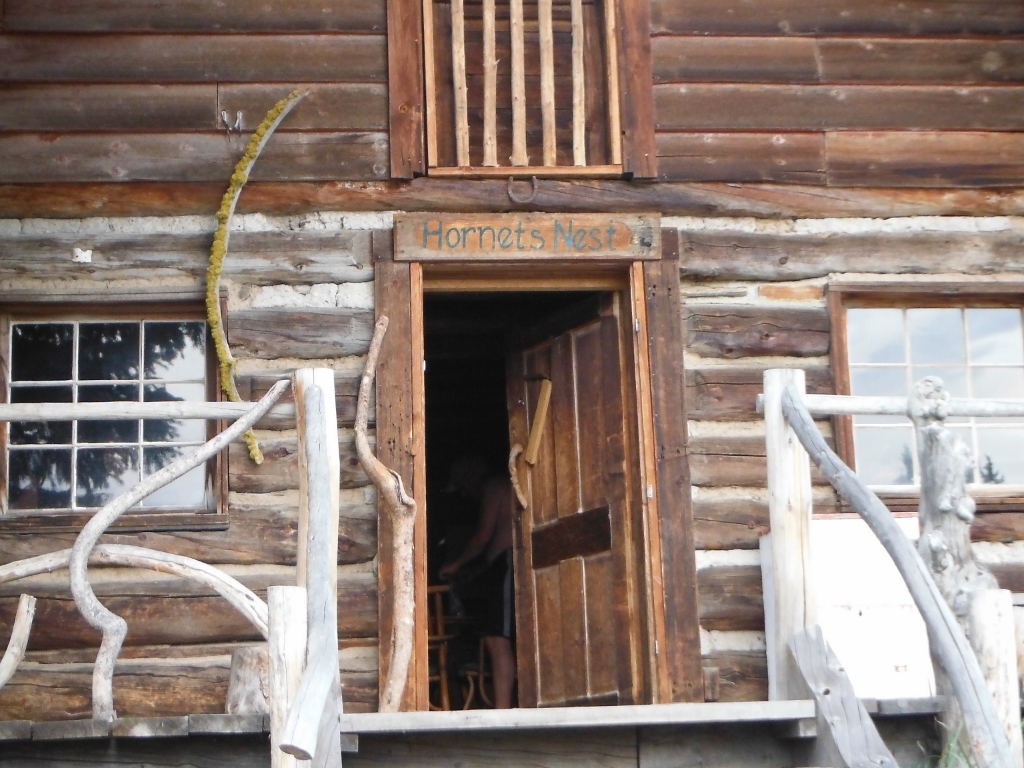 It was cool but nice that evening---but almost froze over nite.
Ricks headin' for the Hot Spring---and me and Dingweeds were hot on his tail.
As you can see---we had plenty of firewood.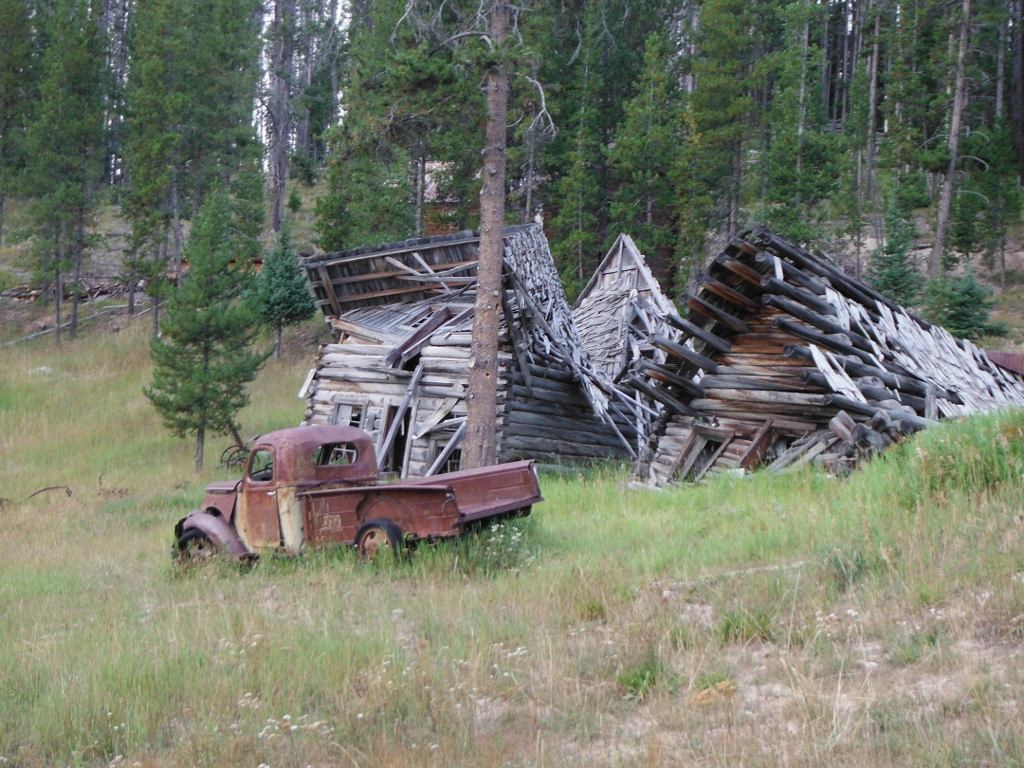 I wish I asked what this building use to be---it seemed to be full of firewood now.
This place is open year round---but requires a snow mobile in the winter.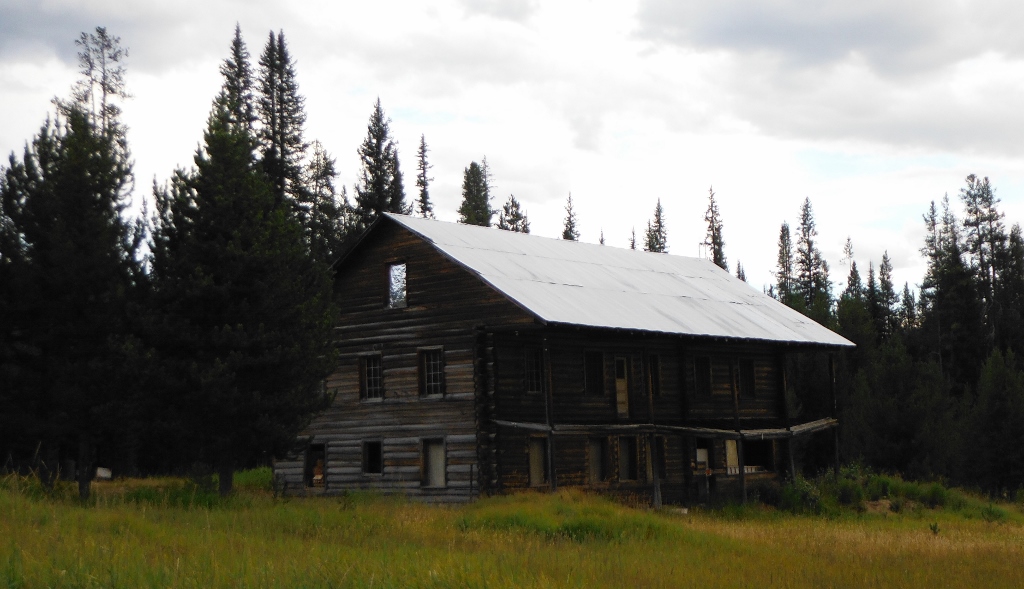 This is the big pool---the water was about 90°. We stayed in it long enough to get very sleepy.
There were many cabins scattered about----not sure how many.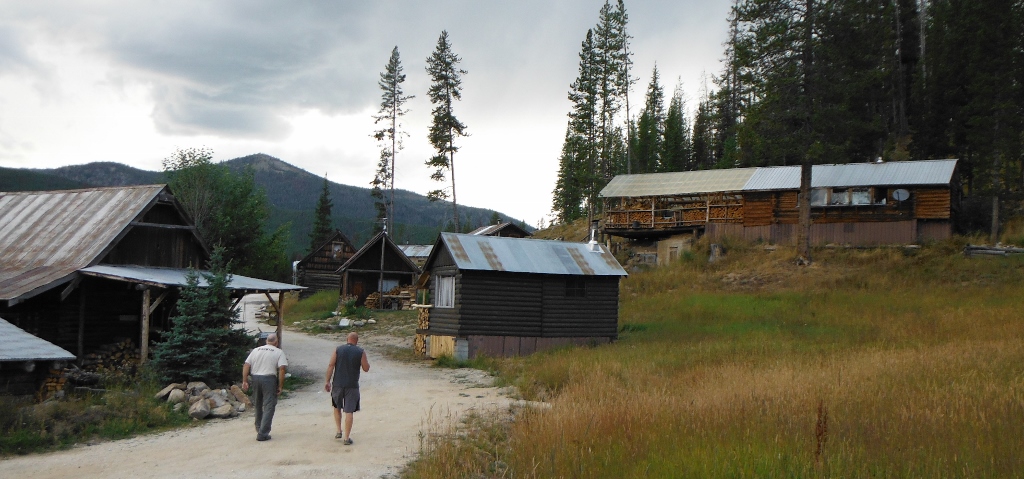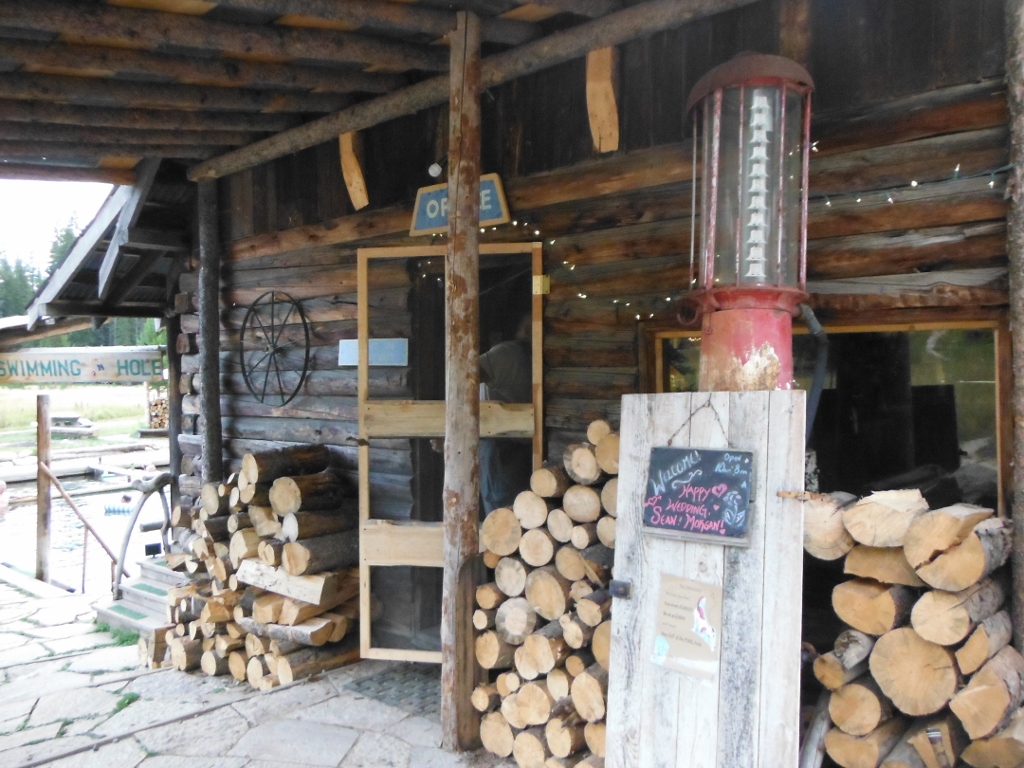 At the far end of pool under that shelter were 2 very small pools where the water was much hotter---about 110°.
Rick and Dingweeds were able to get all the way in it-------me, I couldn't even put a foot in it---I don't know how they did it.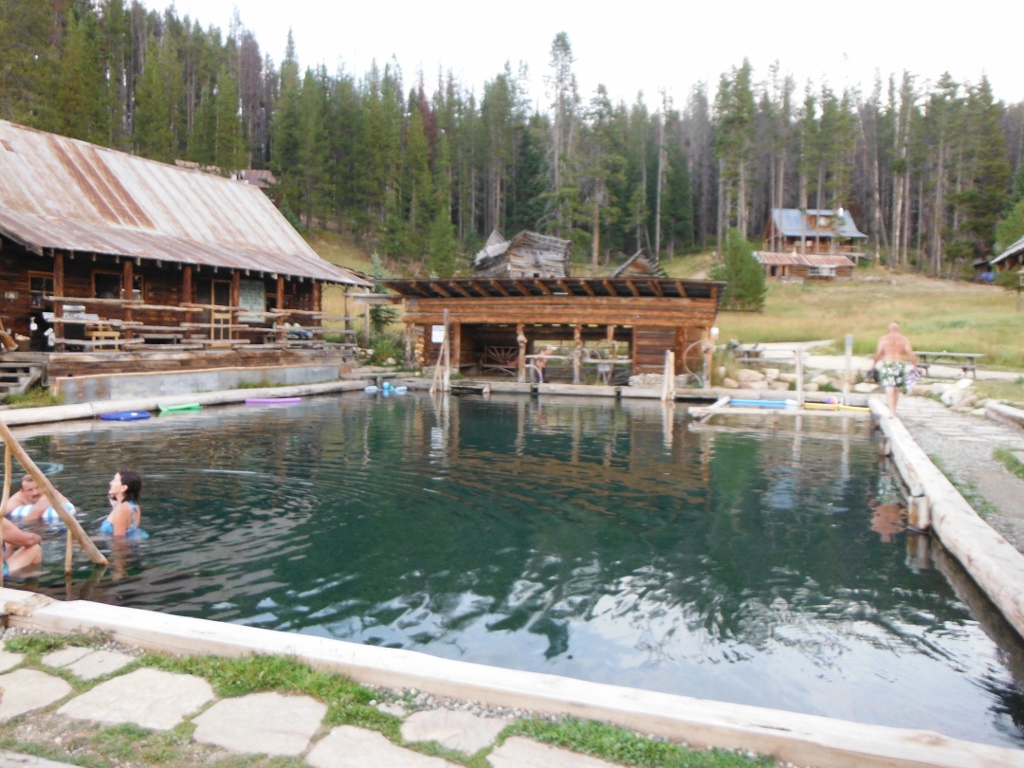 This is the run off---out of the big pool------if you were a little nasty---Rick was-----you were to get in there and clean yourself off.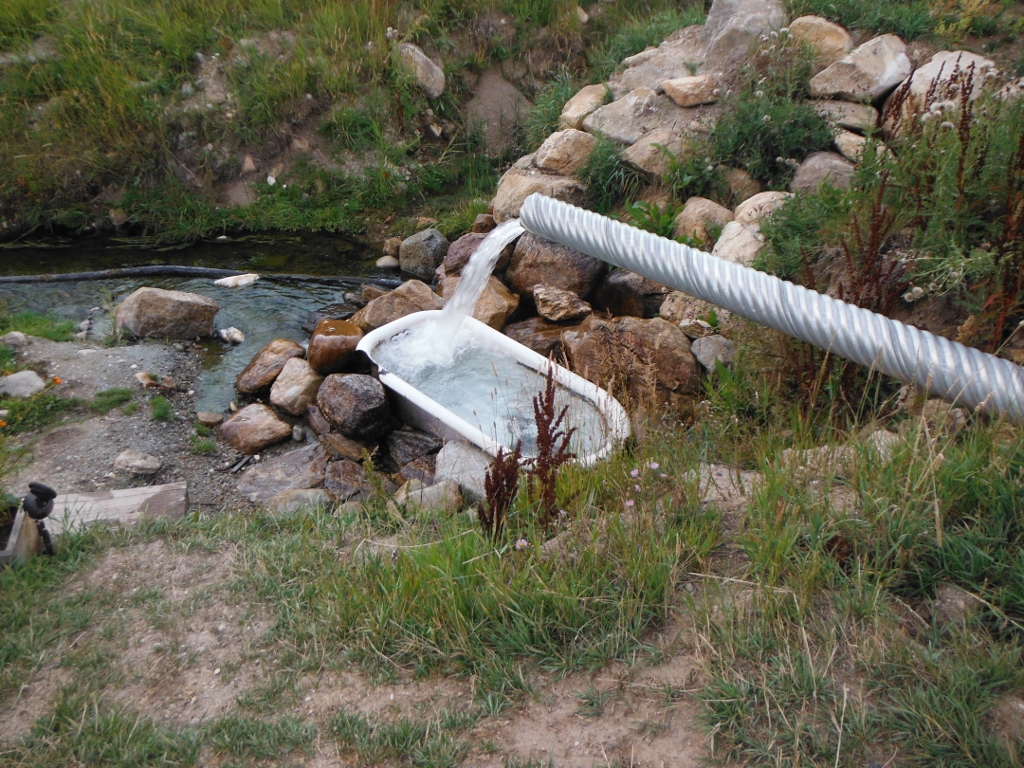 The water then flowed into that little hut you see.
Looked like they were growing plants in there----it would stay warm all winter.
Our cabin had a loft and me and Dingweeds slept up there.
We didn't need to build a fire till the next morning----and then it got nice and toasty in the whole cabin.
This made it so nice as it was freezing outside and as we were packing we could come in and warm up a bit.
We were in no hurry to leave and made coffee and oatmeal in our jetboil stoves.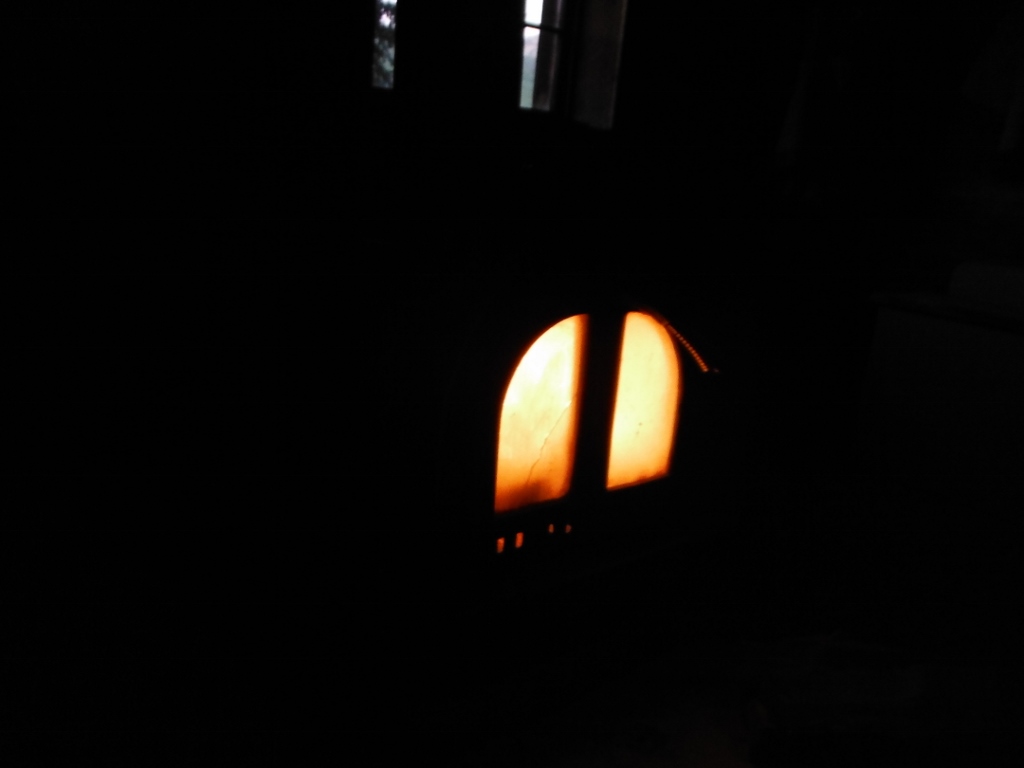 These next pictures were actually taken the next morning.
Sure was neat seeing the fog riding off the hot spring.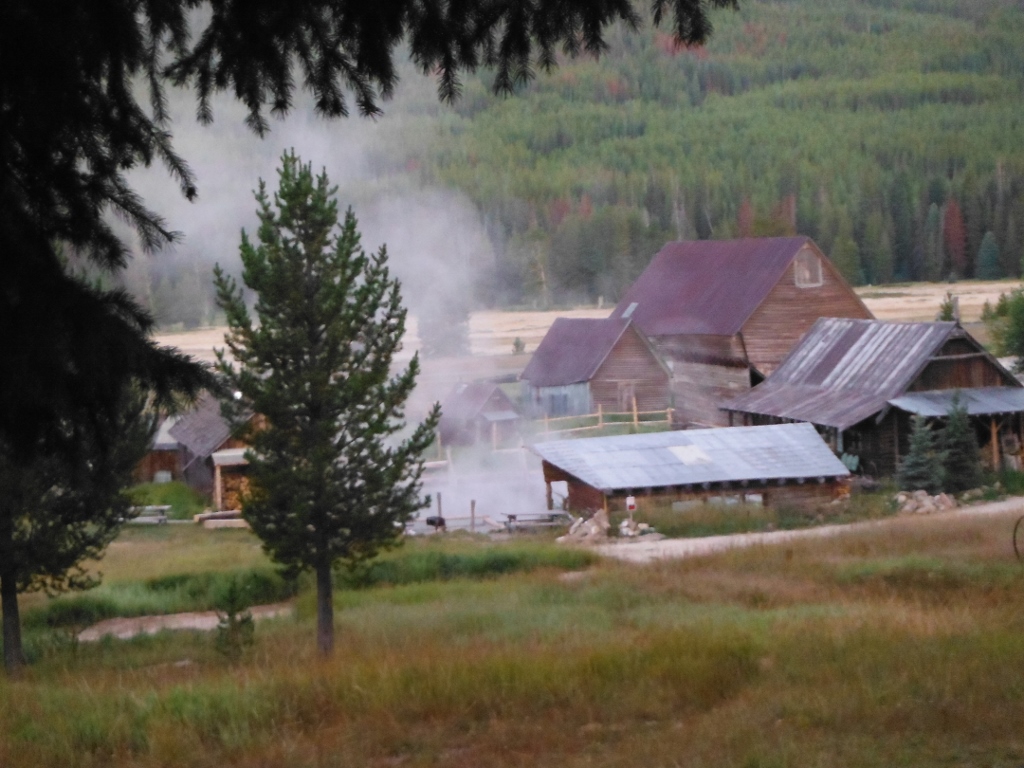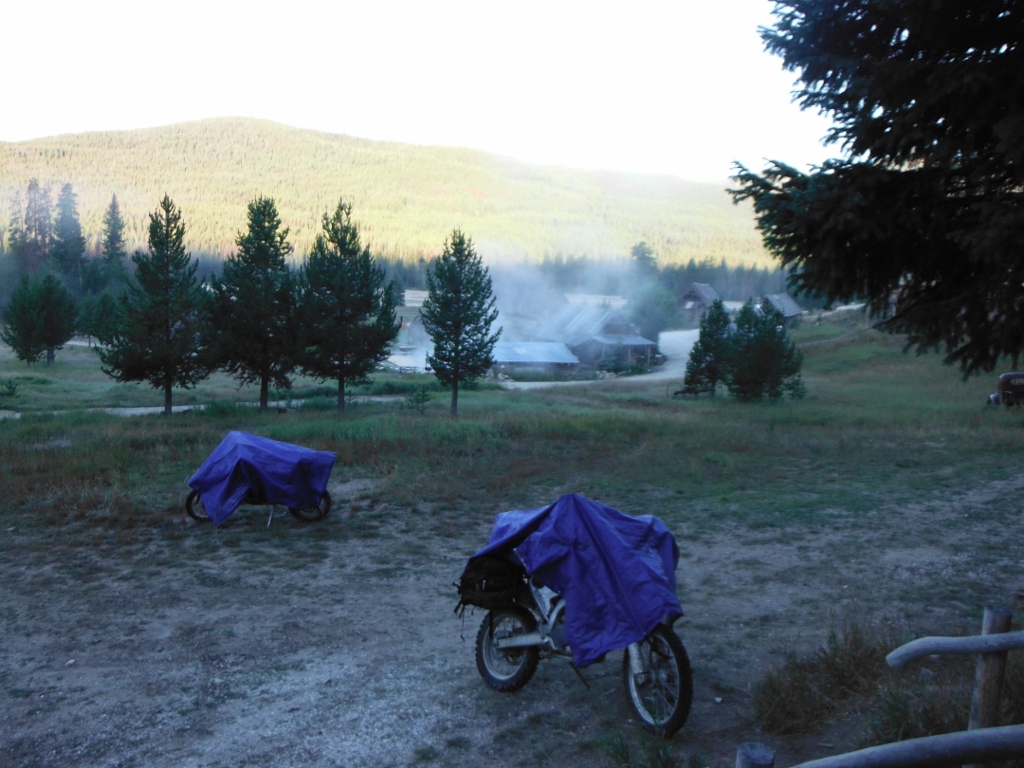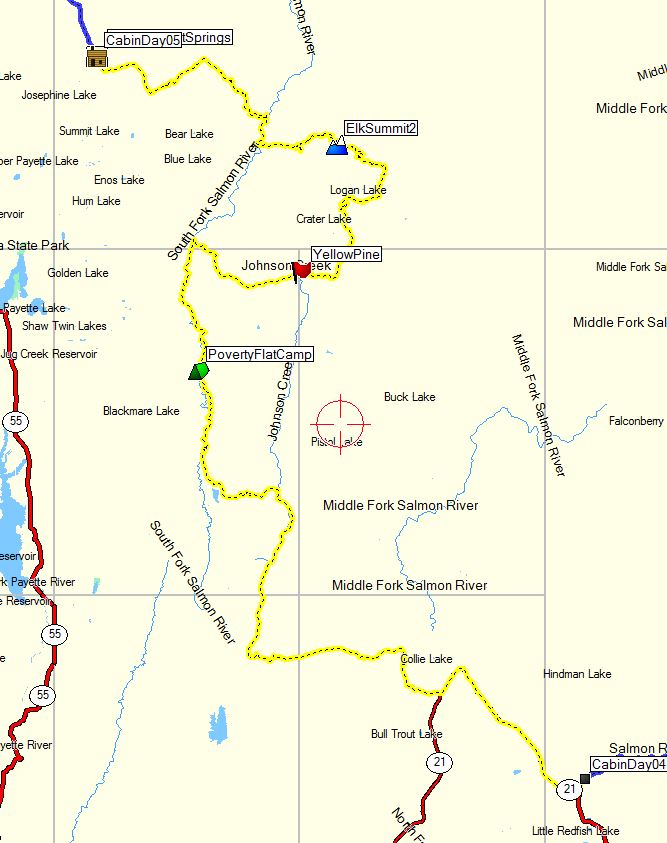 Day 5 Video
On to Day 6
Click HERE