Pandilla Terraceria a Creel
(Gang of Dirt Bikers To Creel Mexico)
October, 2006
If you would rather read this story and pics on the AdvRider site

It had been almost 3 years since I had been to Mexico and I have been dreaming about going back every since my first trip. I wanted to go to different places than the first time and had been eyeing some different offroad routes. A call from my friend Bruce Crawford (AKA--GasPipe) was all it took for the trip to happen. He had a rough dirt route in mind that had turned him and his buddy (Geraldo Ibarra) back last year with an nasty crash in a slime infested river which busted a radiator.
First I needed a passport---didn't need one last time but things have changed.
Having it certainly made things a lot easier.
Huachinera (Watch--I--Nara) Mexico would be our first nights destination.
A little programming of my front fender guidance system kept us on track.
A little sign just to warm people !!
We were also going to attend the Horizons Unlimited motorcycle gathering in Creel, Mexico.
This is a gathering of motorcycle world travelers to share their experiences and travels.
People from all over the world would be there.
I'm not a world traveler--but was excited to share some times with these new to be friends.
Me and my buddies GasPipe and LeeBob (pictured) hauled the bikes to the Mexico border at Douglas Arizona.
LeeBob kept us all in stitches the whole way---his constant humor made the boring drive down there an absolute hoot.
I didn't know this was just a taste of his mental wisdom and fun loving spirit.
He kept me constantly laughing the whole way with little outbreaks such as this one.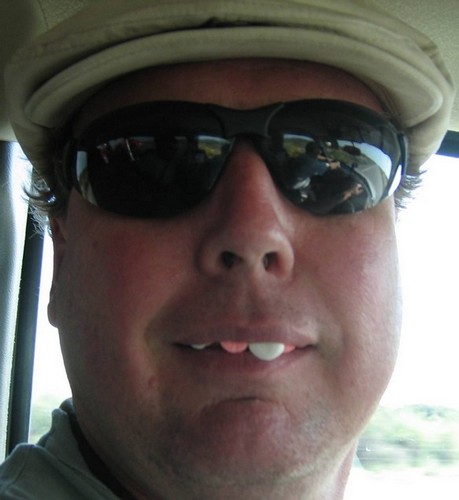 Riders from all over met at the hisoric Gasden Hotel in Douglas, Arizona at the Mexico border into Aqua Prieta, Mexico.

The Motel was soon to celebrate its 100th birthday.
And yes--------if you leave your bike unnatended---terrible things can happen to it.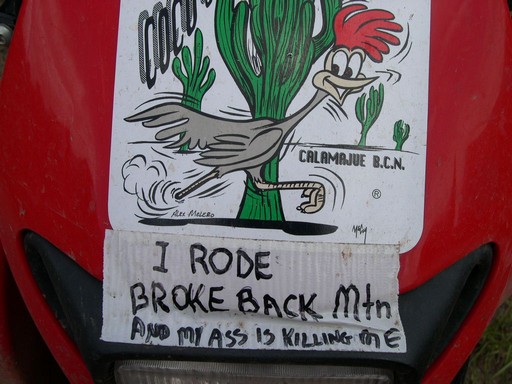 | | |
| --- | --- |
| | Inside the motel was beautiful--it was all in its original condition. You can see me at my computer as I helped many riders download Mexico GPS route, track log and map data into their GPS's |
| | |
| --- | --- |
| The motel had many inhouse services including a nice restaurant where we had a great dinner and met many new friends. | |
Todays riding would take us mostly South of Aqua Prieta, Mexcio thru the villages of Bavispe, Ejido La Galera, Bacerac and on into Huachinera.
I was flabbergasted when this guy showed up--meet Burt.

I've never met a guy with so much spirit in his heart for adventure riding. I think Burt is in his 80's and has been to Mexico many times.


I met Bert last year near the border of Montana and Canada while finishing up riding the Continental Divide trail. We had a great conversation there and I regretted not to get a picture of him---well now I got one !!!!!
GasPipe held a riders meeting and suggested the riders break into small groups as this would make riding and navigating much simpler.
Most riders took the pavement on into Huachinera as they were on big adventure bikes.
It was a good thing as none of us could have rode the big bikes thru the terrain we were about to encounter.
There were 5 in our group---a few kept on our track thru the beautiful mountains. It was raining, hailing and lightning all around us and one rider turned back and I suppose he took the pavement.

The rain was a blessing as it kept down the dust and made for some great scenery on the way. The desert was alive with moisture from previous rains.

The desert is a beautiful place to be----especially after the substantial rains the area had experienced recently.
| | |
| --- | --- |
| | The rain worried GasPipe as only he and Ibarra knew the road ran thru many washes which would become impassable in heavly rain. |
I was absolutely awestruck with the beauty of our route.
Few people traveled this way which made it even nicer.
| | |
| --- | --- |
| | The relentless rain and hail pelted us at times but there was plenty of traction in the sand and rocky road. |
| | |
| --- | --- |
| Lighning bolts struck all around us followed by loud thunder that would shake you in your boots-------I even thought a tornado might come out of this. | |
The road turned right into a wash and we rode for miles in a river of water. Somewhere in here me and Paul waited for an hour for LeeBob to catch up---turned out he was ahead of us. It was hard keeping track of the riders as we would constantly pass each other all the time.

The bikes we had chosen for this ride were perfect---I was so glad I left my 950 KTM at home.

And this day was too be the easiest riding of our whole trip.
We had a few breaks in the clouds always with the refreshing smell of rain in our nostrals.

The desert was alive !!!!
My new friend Geraldo Ibarra

Geraldo is from Mexico but has been in the states for a few years.


He sold everything he owned except what you see in this picture--his bike and what he carries in his saddlebags. He will be staying in Mexico for a while after leaving our company.

His riding ability was light years above all of us-----he danced on the pegs thru rough terrain while the rest of us flailed around like pigs pushing a wheel barrel full of cement with a flat tire.

I would try follow him trying to pick up on his technique---but 3 seconds just wasn't very much time to pick up much !!! A face full of sand, rocks and water and off he went.

He had broke a clutch cable here---but carried a spare---a few minutes and we were on our way.
Lee Bob

"The man in the yellow pants"
We blew into Huchinera in a downpour.
The whole town was expecting us and gave us mucho preferential treatment. Many little boys gathered around the gringo motos-----and loved sitting on our bikes, honking our horns and pushing buttons.
This town is what my hometown is not...........

A quiet village void of crime, boom boxes, crack whores, horrid traffic and crowds of uncaring people pushing and shoving their way thru life in a crazy frenzy.

No one locks their doors in Huachinera

No one takes the keys out of their vehicles in Huachinera

You can walk the quiet streets of Huachinera any time of day and see nothing but smilling faces and friendly people who would help you in any way they could.


There was a big festival going on here and we were invited to the dance, dinner and other festivities.

Me and LeeBob were escorted to the nice hacienda of Felix and his wife who graciously put us up for the night in their humble home. Felix works on a local ranchero (ranch)-----he and his wife made us feel so at home.

She directed me to my bed and laughingly grabbed this doll--but not before I grabbed a digital image.

We spoke almost no Spanish and they spoke no English----still it was a great visit of pointing, grunting and laughing.

The couple gave us their best sleeping beds while they crowded into a bed too small for the both of them and gave me and LeeBob the only 2 fans in the house while they slept without any. This kind of hospitality is what you can expect thru out all of Mexico----------only on...........

The Road Less Traveled
Me and Lee Bob left the house for about an hour and came back in the dark and lost our way--------we couldn't find the house and didn't really remember what it looked like------especially in the dark. We finally poked our flashlights in the screendoor of a place we thought was it-----thank god it was. My Spanish was not good enough to explain to a complete stranger what we were doing inside their house.
We awoke very early and Felix's wife insisted she fix our breakfast and had coffee already made.

We had to decline the breakfast as we had arranged the night before for all of us to eat at another resident of Huachinera's house.

The man in the middle played the accordian in the local band. We didn't know who he was---but Felix was already gone working out on the ranchero.
She took us out into the backyard and insisted I take pictures of her lovely flowers in here backyard-----I however was much more interested in their plumbing -----figure that !!!
Their water supply was gravity fed from this elevated tank which was filled with the local water supply.
Before going to bed the night before we had a really good hot shower----the water was extremely hot.

The water heater sits outside the house.
They couldn't afford to have the local propane gas so they tore the gas burner out of the bottom of the water heater and simply built a wood fire under it. Our breakfast would have been cooked on a wood stove----we were to eat many meals on this trip cooked on a wood stove.

Didn't need no stinkin' relief valve as the water system was an open system----ingenious !!!!!!!
Mr. Frog
This huge frog scared the crap out of us as we stood in the rain and dark on the town square. Something was coming at us and I thought it was a monster tarantula, which we saw many. This guy was huge and jumped his way all across the square oblivious to anybody or anything.

It was pure luck we caught him "in flight" with the camera.
We all had sat under a tent in the rain the previous night re-living our days ride.

Paul liked his Tecate's (beer)
But later on would regret he ever saw a Tecate
All of us met the next morning at these nice people hacienda for breakfast.

It was a great breakfast----but those flapjacks (on the stove) were the thinnest I ever saw ??????........
Ok so they were tortillas---------how was I too know ?????
We all (especially me) hated to leave Haucinera.

I will never forget you !!!!!!!
The GasPipe is all cool and calm as he awaits to attack the mountain climbs for the day after rejetting his carburator a little. The climbs are going to be brutal, rocky and steep and Bruce warns me of one especially steep rocky climb that took out some riders in the past.

I Reply---"You're Scaring Me"

Turns out this ole' man blew up that hill like it was a downhill interstate in Kansas.
Got to thank my sponsors-----Dunlop tires, Moose gloves, Dobbs bargain town duct tape, thor shinguards, golly wobble wheel bearings, Alpinestar boots, Arai helmets and "Oooops----I Sheeet My Pants Undergarments".
These cattle guards will kill you if you're not careful. There is nothing like them in the U.S.

If you're brave you can jump them---maybe------I'm not very brave and creep over them like the old man that I am--and live to ride another day.

"Moooooove
Over-Gringo "
I think Paul is in heaven on his nice KTM 525 EXC

He is an excellent rider who drove all the way from Canada to ride with us. It was good to ride with him even though he could only stay for 4 days of riding.
Yes Senoir' "Beeg Dog"
Is in heaven also.

Lee Bob has changed my name form here to fore to

Pierro Grande
| | |
| --- | --- |
| We climb today to over 9,000 ft. and it is tough climbing in rocks that are really taking a toll on my stamina, hands and arms. | |
| | |
| --- | --- |
| | You've heard the story-------there was much worse terrain but we were too busy hanging on to take pictures--ya-da-----ya-da---ya-da. |
| | |
| --- | --- |
| With only 55 miles under our belts at about noon I was completely wore out and had to really pull myself together to continue on. Others were feelling the same way. | |
| | |
| --- | --- |
| | The terrain eased up a bit and I regained myself somewhat to enjoy the views. |
| | |
| --- | --- |
| Then back into it--I'm getting my 2nd wind. | |
| | |
| --- | --- |
| I never noticed till I got home and looked at this picture a little closer that it was made out of an old sawblade. | |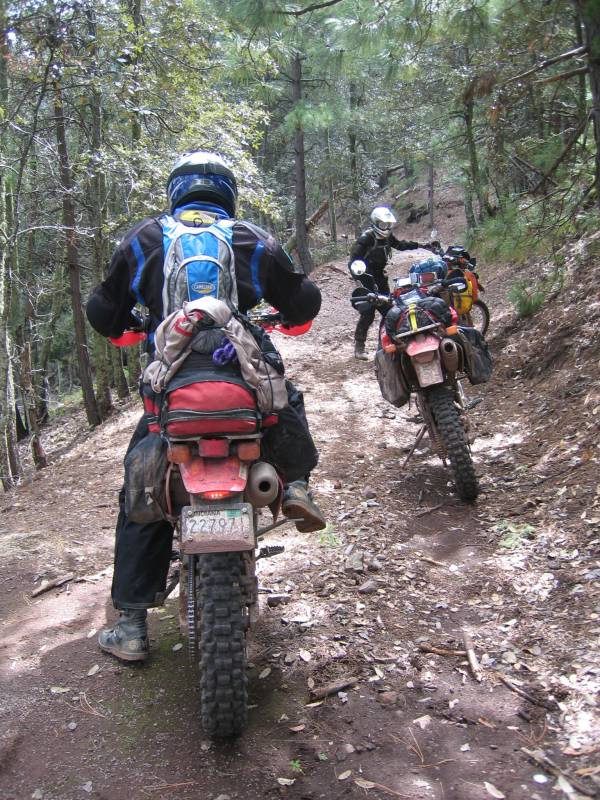 We finally came into the tiny village of Tres Rios.

It had a little Tienda (store) to stock up on goodies and we ate lunch here.

We managed to pilfer a little gas from a nice gentlman out behind his hacienda.
This cattle guard was different than all the others.

It used a piece of a truck tire inner tube as a rubber band across the road to keep the cows in.

You can see where Paul let her rip and jumped the whole thing.

But alas------- I wallered over the tube like the old man that I am -----got my foot hung in the inner tube and it about jerked me back into the creek.
The sun is going down.

Don't ride in Mexico in the dark
There are many memorials like this throughout the country.

Someone evidently missed the curve here and went off the mountain.
Don't ride in Mexico in the dark---we all knew better.

I had my HID light on and could see like daylight and wasn't worried at all.

Unfortunately GasPipe had a mason jar with a candle in it for a headlight and high sided on this bridge as he didn't even see it. I'm sure he was probably going around 40mph.

It was a bad crash and he was hurt---broke his thumb and rib---jumped up and said "let's get movin' for I stove up"

He tore up his jacket, glove, pants and knee pads. We ducked taped them all up and they'll go in the trash we he gets home.

No real damage to the bike.
After GasPipes horrific endo of death---we eased into the town of El Largo a bit on the ragged and beaten side in complete darkness. I had almost completely bonked at noon this day but got my second wind after lunch and felt better at the end of the day than at noon.
The Motel El Huerto

A pretty nice place complete with several alarm clocks for each room---how thoughtful.

Each alarm clock went off at a different time and had a different tone. One for 1AM---one for 2:30AM--one for 3:45 AM and so on.

You were guaranteed not to oversleep at the hotel El Huerto.
| | |
| --- | --- |
| We headed out early and loaded up with water and goodies for our backpacks and ran thru the sizeable town of Madera. | |
| | |
| --- | --- |
| | It was a beautiful relaxing ride this morning with some blue sky, no humidity and pleasant temperatures. |
Here is a 100ft. high cliff overlooking the river--on the other side was a beautiful ranchero off in the distance.

I had tried to convince the guys to head West out of Madera to go see an old suspension bridge I had seen pictures of. I really wanted to find it but we headed off a different direction.
Good thing we went this way as I was mistaken about the location of the bridge---there it was down in the valley---I was estatic---I had been dreaming about seeing this bridge for at least 3 years.

The bridges goes over the Sirupa river in Huapoca canyon.
| | |
| --- | --- |
| It is about 15 miles Southwest of Madera at Sirupa--a town which was either hidden from view or no longer existed. | |
| | |
| --- | --- |
| | The entrances to the bridge were railroad ties laid down on an old framework of a railroad car. |
We watched with eyes wide open as we all thought the loaded logging truck would surely end up in the river.

I searched intently on the net to find some history about this bridge but came up with nothing.

I've seen some pictures of it when it was in much better shape than now--it is very rusty---the cables may not hold much longer.

I saw one older picture where the old ralroad car frames weren't there--maybe they were a later addition.

I am still so glad I got to actually see this thing. It one of those things I had to do before leaving this world.
| | |
| --- | --- |
| | Just a few miles beyond the bridge was this neat old log cabin---a good place to take another break. |
| | |
| --- | --- |
| The old hardly traveled roads were in perfect riding conditions--as they were wet enough to keep down the dust. | |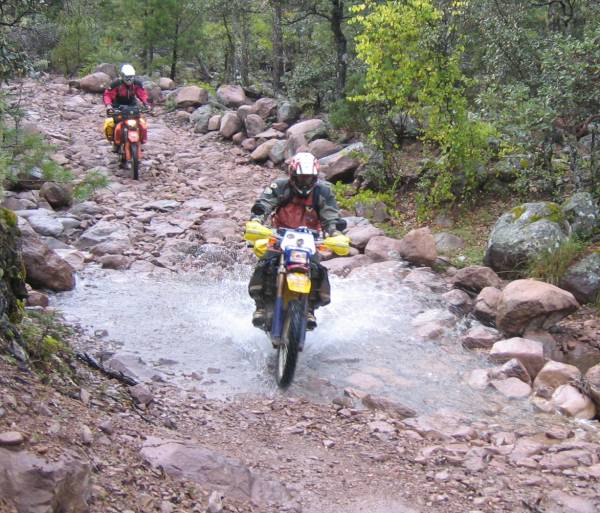 Later in the day we road into the very tiny town of Tutuaco
There was no electicity in this town and I bet the people liked it that way. Once again our leader Geraldo who speaks fluent Spanish asked if someone in town would put us up for the night. I have forgotten to thank publicly Geraldo for always taking the lead and taking care of any language barriers we had.
We were out of water and Geraldo arranged for this man to boil us some water for our camelbacks----we would pick the water up in the morning.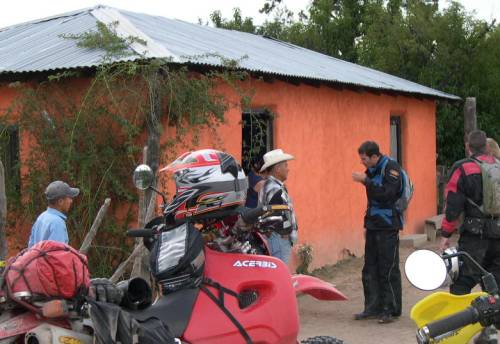 Here is their nice little house---so neat and clean.
We were directed to the mayors house who gave us 2 options for camping.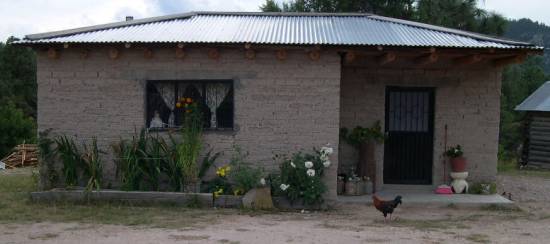 One option was the old sawmill----the old building you see in the distance beyond these boys who were very curious about our motos.
The sawmill dirt floor had been taken over by the cows and looked pretty miserable.
Plenty of pies-------cow pies.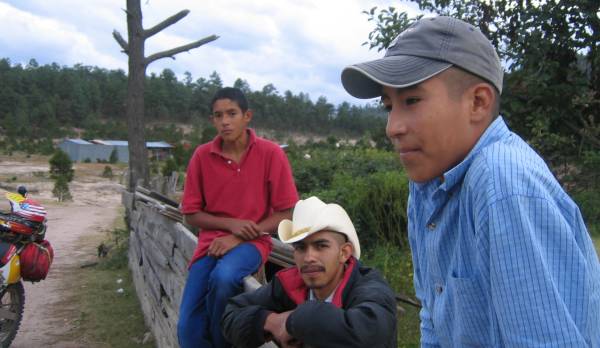 | | |
| --- | --- |
| Option 2 looked much better-----an incompleted house that the mayors neighbor let us sleep in. We had a roof over our heads and we were very happy campers--what nice people. | |
We couldn't believe what was in the house--the only thing in the house.
4 mattresses--what were the odds--only on
The Road Less Traveled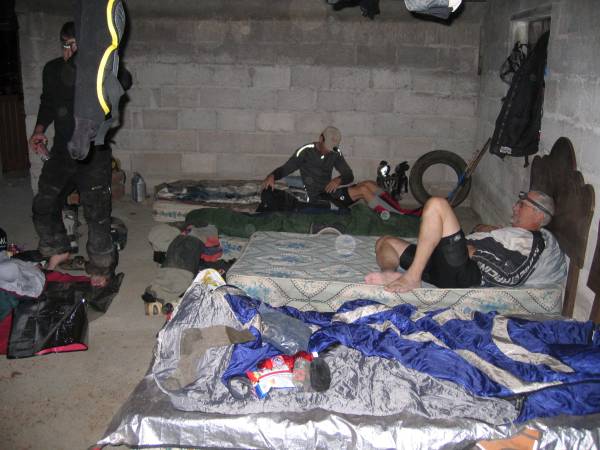 We had bought some bologna and crackers at the mans house and a feast ensued.
Best meal of the trip !!!!!

Unfortanately Paul was carrying a six pack of beer in his dry bag with his sleeping bag-----yep-----blewyyyy.
A beer bag.

Paul was having a bad time with his beer---but the worst was yet to come---much worse !!!!!
I slept like a baby---we hung all our stinky clothing from the rafters----didn't help much.
It was a beautiful cool crisp morning when we woke up as I kicked everybody out of bed--well except the GasPipe--he'll kick you back with those 2ft. by 2ft. square feet of his. Don't mess with the Pipe untill he's been awake for awhile.

Back at the Tienda in Tutuaco (too--too--aahko) they had heard our engines fire up and had coffee and breakfast cooking on the woodstove.

We we walked in there was a cat under the woodstove--he had found the warmest spot to take a nap.

Check out the name on the stove--Alamo No. 2

About 35 pesos ($3.50) paid our tab and we were on our way.
It appeared most of the transportation in town was by horseback.

The low fog was so beautiful, but by the time we left town it had lifted and was a perfect day.
This is pretty much all the houses in Tutuaco.

Population about 100 we supposed.

Very happy people who didn't have to put up with any noise except those pesky stinkin' dirt bikers.

I'm sure there were people in this town that had never seen a motorcycle before.
| | |
| --- | --- |
| | Before we got out of town we crossed down thru another river where there was a neat old walking suspension bridge. |
| | |
| --- | --- |
| One more creek crossing as we left town and hung a left down a fence row. | |
Let me tell you what lies ahead for us.

One year ago GasPipe, Giraldo and Killer tried to come thu here. Giraldo was crossing a creek of boulders that were covered with green slime which took Giraldo down hard. It took all of them to pick the bike up in the slippery rocks and that is when they discovered his radiator was broken. They had to turn back to make some temporary repairs and vowed to come back to the road that had never seen a motorcycle and had been closed for at least 6 years from avalanches and just plain hard going.

They were determined to ride it this day--and drag this ole' fart along with them.
Knowing what I was in for got me all spooked and I trembled thinking I might break a leg out here---stick a bone out my riding pants and just up and die. The pictures don't depict the nastyness of the ride thru here. It was just 12 miles to pavement---our average speed was probably below 10 mph and it took us at least 1 1/2 hrs.

It was by far the toughest riding of the whole trip.

I was following Geraldo closely to follow his always perfect line and we went thru a creek---after we got to the other side he told me that was the creek that got him last year--------I was glad I didn't know. I don't have a picture of it but it was slippery-with nasty hidden rocks. I was lucky to get thru it.
At one point the trail was completely blocked with 2 big boulders as big as a small car that fell on the old road---we barely got arund them. There was nobody out there except us and one lone Mexican on a horse.

We finally broke out to some easier going near the paved Mexican route 16 and went thru a little village (population about 8) called "Blue Rocks"---I can't remember the Spanish name for it. But here are the blue rocks the little village was named after.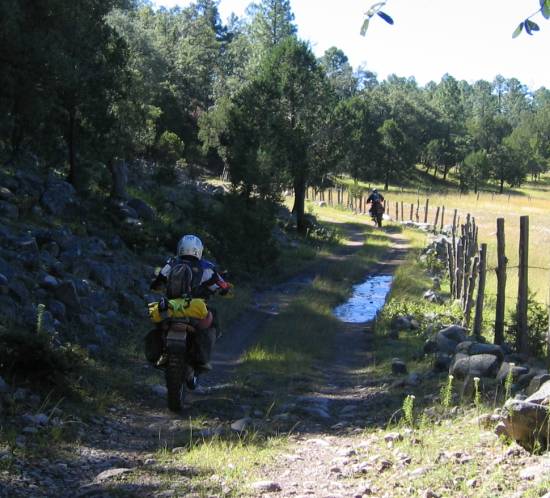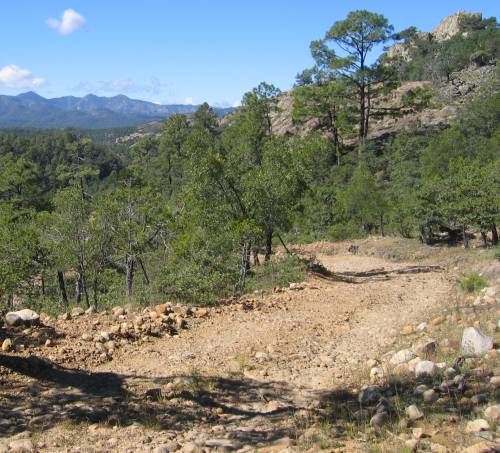 When we hit the pavement (Mexic0 16) we were estatic----definitely not because we would be on boring pavement but because we had ridden a road that had been said couldn't be ridden.

Our engines revved and our horns honked-----we shouted and smiled as we had done it. I think Geraldo was the most proud---it was just something that he had to do. And we all got thru it without even one tip over.
We hit a Pemex on the way and filled up.

Here I was introduced to the man in the middle of this picture and he called himself Al. Man he had a nice set of panniers on his Beemer---never saw anything like them--Hhhmmm.

After listening to the converstion a little I finally picked up on the fact that it was Al Jesse who manufactures the finest aluminum panniers in all the world. I've owned some of his products. Nice fellow--very easy to talk to.

He was trying to find the time to make something for us cruddy, nasty, stinky dirt bikers in the future. Can't wait to see what he comes with.
Pretty slick huh ??

Forget it you can't have them---yet.

Al was testing them. The fastening system was a stroke of genius.
We stopped to view Basaseachi falls and Paul is bored.

He wants to know if there is really a tube inside his tire.

Sure-nuff--------there was.

We kidded him as he thought he was having a flat--but all was well and he put the thing back together in nothing flat (pun intended).
Basaseachi Falls
"Bass-Ah-Sea-at--chee" to you Gringos

700ft. tall water fall

"Yeh------(long pause)---kind-a spectacular I guess"
(LeeBob Quote)

LeeBob would always make a casual comment like this when we would come upon something that was just really spectacular---kept us all in the stitches the whole time.

I had been here before, but LeeBob and GasPipe had never seen the falls. It's a must see place while in Mexico.
Poor ole' Lee Bob lost his riding jacket after we left here.
It had a lot of money in it--all his Identification and his passport.
Finally miles down the road a nice young man in a pick-up held it out the window to LeeBob.
You can't get that back at home--somebody would have bought a days supply of crack with it.
Only on......
The Road Less Traveled
We rode what used to be a neat unpaved route from the falls to San Juanito.
It is now a ruined route that we hated------it's not paved yet but had turned in to a very wide gravel road with lots of truck traffic for the mine------the flavor once there is all gone. We vowed to never ride it again.
We did have some fun riding thru the dirt piles in construction zones and blowing down both sides of a slow moving 10 ton truck hauling rock-------in the ditch.
We arrived in Creel at our Motel in room numero uno.

It was time to survey our damage.
LeeBogs aluminum rack had been bouncing up and down for the last 200 miles----the mounts were busted. He went to a local blacksmith and had some new brackets made in short time-----200 pesos please ($20)--what a bargain.
GasPipe didn't get the pleasure of heaving his Electroplex tailight into the river-----it was just gone---good riddance said the GasPipe.

His left turn signal looks OK--but it's not----it was torn loose in his high side but was still hanging on (and still working) by some tape.

I surveyed my bike and found I just needed a tire-------we all needed tires. We concluded we wouldn't make it to the border let alone finish what riding we had to do yet before the border--now what ????
Anti-Gravitational Socks

Everybody complained about my smelly socks.
Hey !!!! I brought 2 pair--what do you want.
(Although I never used my back up pair)

My socks paled in comparison to GasPipes which stunk like smelling salts soaked in a Montezumas revenge turd.

They had become stiff as a board and just plumb defide gravity.

We burned them in a fire and it stunk up the whole town.

It was a miracle the Mexican Federally Policia didn't lock him up-------they would have regretted that !!!
We had an ordinary Motel type room---but some had the tazh Majel-----however you spell that ????

Things weren't up to snuff here however as I had to work on our room heater and several water heaters and a leaky propane valve that was spewing propane all over.

The water was on sometimes--not when you wanted a shower however.

The electricity went off a few times and nobody blinked an eye as it was a very common occurrence----everybody just kept on talking like nothing happened.

Your are in Mexico !!!!!
"I want 2 of whatever is available"
and hurry man---as my throat is terribly dry man"

See the little red fuel bottle on the table??
It was clearly marked "Do Not Drink This"

It was know among the Pandilla (gang) as "Panther Piss"

The Tecates and Panther Piss were to very soon play a very bad joke on poor ole' Paul

I never got passed the smell of the
"Panther Piss"
| | |
| --- | --- |
| Well ole' Perro Grande" was already in bed. What a party pooper. | |
This is the painted wall in our room.
It is about 14ft. square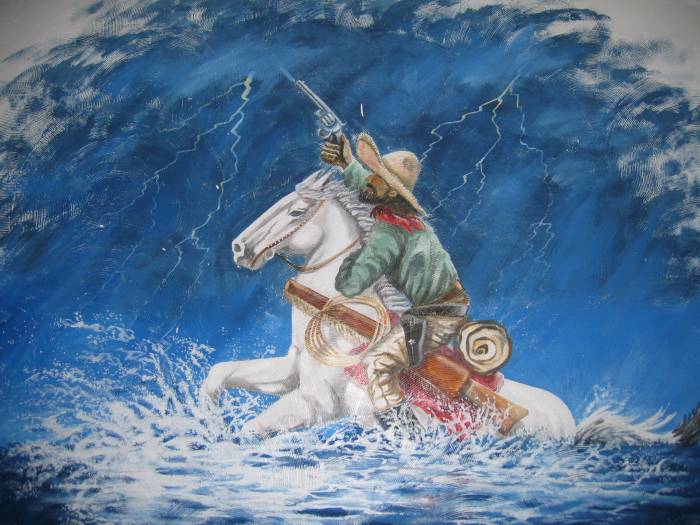 Our tire situation was a very serious one.

It's not what you know sometimes---but who you know. Geraldo had a fellow rider there who was a physician in the city of Chihauhau (Arturo). One phone call and we had 3 brand new tires that came on a bus---we picked them up the next morning and put them in our room.

The plan was to do another days riding on a route known to nobody and burn up our old tires a little more--then return to Creel (that didn't happen). (There was a reason you will find out about why nobody knew about the route in question).
Geraldo is estatic about riding this route.

The navigation will be critical--and dangerous.
LeeBob
The very famous man in the yellow pants

I like this picture of LeeBob.........as it captures his personality to a tee !!! Always a smile and a fun loving attitude.

And he's always got a 6 month supply of rrrrriding mints in his pockets

Altoids actually------------curiously strong !!!!!

LeeBob manages a rafting and kayaking company in the Smoky Moutains of North Carolina.
This area is about 40 miles North of the town of San Rafeal which is next to the famous railroad line which runs thru the copper canyon area.

We were North of it------and the plan was to ride thru these canyons and over those mountains to the railroad.

It was a novel plan----but as you will see..........a plan is just a well...........plan.

We were all estatic to think we could accomplish such a thing. None of us had ever been out in this area.
It started out simple enough.


We had heard of a little village out here called Maguarichi.

We planned to take a route just East of it over the mountains.
The sight of Maguarichi was too much for us. We had to visit.

We rode for many miles from this picture down thru a canyon and switchbacks and back up to Marguarichi.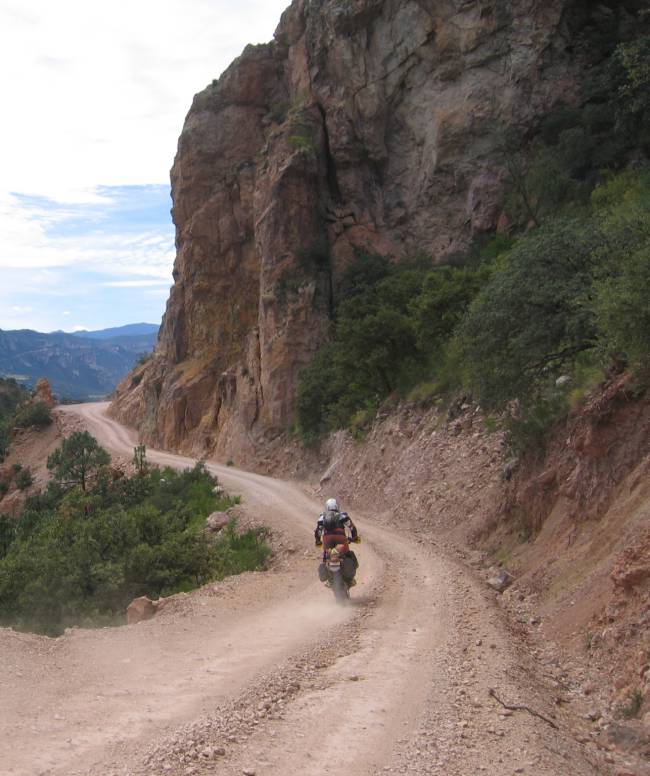 Around the corner is Maguarichi

What a beautiful place to live

The cobble stone streets were magnificent
This was one of the most remote, clean little villages I've visited in Mexico

Word is that Gold is what started this town
These guys had a load of big rocks

The truck was propane powered and the gas line from the tank--over the exhaust pipe--to the engine looked like garden hose to us.
As always--the local little boys were really curious about the gringo moto riders from far away

We found the next day there is a much easier road to travel on which is they way that people get in and out of here I'm sure.

We had a Coke here but made the very bad mistake of not loading up with water and food---after all---in 3 hours we would be back in Creel-----right ???
| | |
| --- | --- |
| This was to be our route South--that was a fun ride up the mountain. | |
We all stayed here for quite a while soaking up the view.

I looked and was really wondering how and if------we could get over those mountains.
| | |
| --- | --- |
| It was over one mountain--down the other side and thru a small river. | |
I'm not good at wheelies

In fact I'm terrible

The riding was good

There was the camera

Ok I can do this

Whoops---bout run over the GasPipe----then there was the cliff---1,000ft. down.

Hey--I got brakes !!!

Wheeeeewwwww!!!

It was worth it--got a nice new desktop picture.
We ran across some local Mexicans cutting some timber---they said the road didn't go thru--what the hell did they know--they didn't have no GPS's ????

Said it was "very bad"

Very Bad Senoir'
I was running tail and stopped to relieve myself

Good thing-------oil was running out of my engine

I had punched a hole in my side case on a rock at the last river crossing.

I quickly laid her over to stop the oil flow---I got out some spare gas I had and cleaned the spot up best I could--sanded it off with a rock and put some 5 minute JB Weld on it.

I waited 15 minutes before I picked the bike back up as I only wanted to do this once----I still didn't know if there was much oil left in the motor.

I was relieved to find it had hardly lost any oil

Geraldo came back looking for me just as I was ready to remount my steed----we needed to move on as the day was getting late.
Here is the damage

Doesn't look to bad---If it holds the trip till I get home I'll grind the 5 minute stuff out------clean her up real good and put some 24 hr. JB weld on it.

This is actually a very good and permanent repair.

A similar repair on my DRZ400 held for years---forgot I even done it sometimes.

A proper skidplate for my bike isn't available yet--a guy is making me one but is taking 6 forevers to get it done.

This could have been much worse--I rode off with confidence knowing the repair would hold.
We had to move many boulders and rocks to get thru here.

There was a ledge you can't see here we had to lay many rocks to make a ramp up the ledge.

Where I am standing was very treacherous and we had 3 guys there in case you fell when you went thru
We all worked hard in here and helped each other out

Nobody fell and nobody got hurt and on we went
"Whatcha doin' LeeBob"

"Restin'

"Why'd you do that for"

"So I could rest"

"you want a crashing mint"

"yes--that would be nice"

"What'll you do now"

"How bout a Picture"

"yeh--that'd be cool"

"want some help"

"if you don't mind"
The funny thing you can't imagine about this little deal is LeeBob wasn't coming up the steep hilly road behind his bike.
He was climbing the much steeper side of this road-----he flew over the top with great speed whilst becoming airborne--and soon started to fall straight down after leaving the ground-------that's when LeeBob noticed his landing strip was a deep rocky rut-------------kerrrrplomp.
I'll try to make this simple short and sweet-------it's getting dark------fast--we can't find our way thru--the old roads just dead end--many of them--many different ways--somebody does not want us to get over that last mountain.
It's too far back to Maguarichi------in the dark
The last thing we decided to do when departing this morning was take our sleeping bags and tarps----------in case
Well-------it's "in case"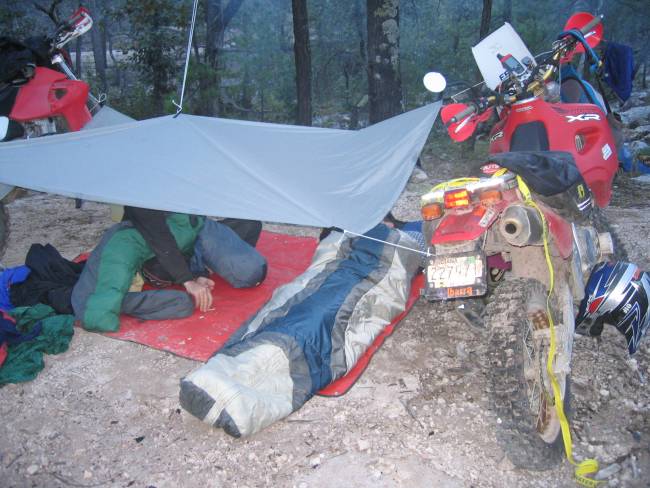 We have stupidly ran out of water but had a little more food to make us more thirsty !!!
We all filled our camel backs with water out of the creek and put some pills in them that was supposed to make it fit to drink------man that water smelled bad---I didn't drink any as I was afraid it would make me sick or kill me--it's happened. Geraldo drank quite a bit and I watched him for 2 hours to see if he was going to die on us. I still wouldn't drink it.
We built a fire and actually had a nice camp going. We all slept real well, but in the middle of the night there were all kinds of animals noises----ones I never heard before---I was afraid to peek out my tarp.
I then heard many animals (or whatever) moving about our camp for an hour----I finally peaked out and we were surrounded by 20 cows---I lauged out loud then noticed one was about to step on LeeBob's tarp as LeeBob was a snorin' away. "Hey LeeBog-------LeeeeeeeBooooob---Hey LeeBog"-----he finally move around and the rattling of his tarp scared the cow to death as it jumped and ran off thankfully not trampling nobody---they all followed suit except for one donkey that went unnoticed--------well for awhile.
About an hour before dawn the valley we were in echoed the bellowing of what must have been a 15,000 lb. Donkey
I never heard anything so loud
HeeeeHawwww---HeeeeeeHawwww---------HeeeeeeeeeeeeeHawwwww
He quit then did it again later------we never did see him.
The white rock you see is the only thing man made we had seen for many miles--some kind of marker.
Jim and Windsor who may have gotten a little freaked out about our situation at first----decided it was the best day that they had ever spent on a motorcycle---------I agree !!!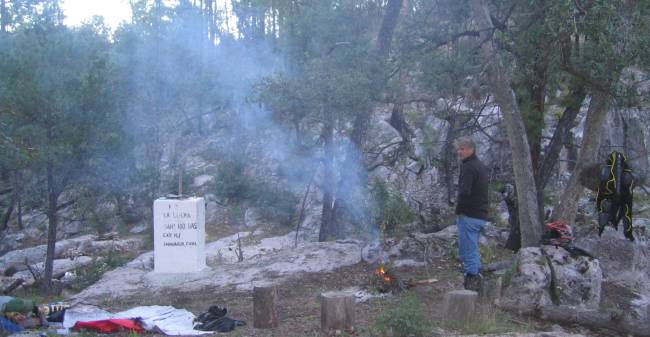 Well it's morning now and I forgot to tell the GasPipes clutch cable was toast last night.
He replaced it and off we rode.
| | |
| --- | --- |
| The plan now was to ride back to Maguarichi and get some food and much needed water. I think all had drank the donkey piss water except me. I was still holding out good. | |
| | |
| --- | --- |
| | This time entering the town of Maguarichi we came across some burrows enjoying the views---as we were. |
We first hit a Tienda and loaded up on good cold water and dumped the donkey piss into the streets.

Once again we were pointed to this nice hacienda for breakfast.
The nice lady opened up her home to us and fixed us all a very nice breakfast complete with coffee and orange juice.
It was absolutely delicious---oh yes I forgot about those really thin flapjacks----thin but really good.
| | |
| --- | --- |
| What a nice little place | |
| | |
| --- | --- |
| | Our breakfast was cooked on this woodstove |
Back at Creel we ran into these 3 crack heads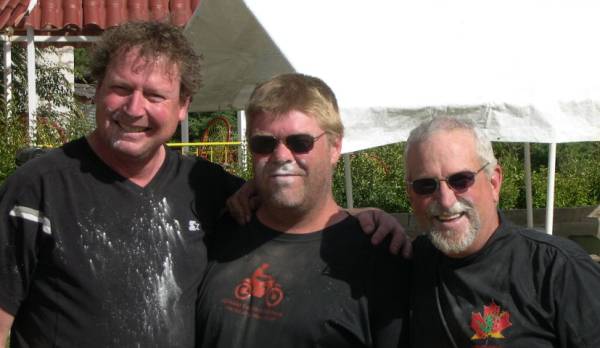 And these 2 crack heads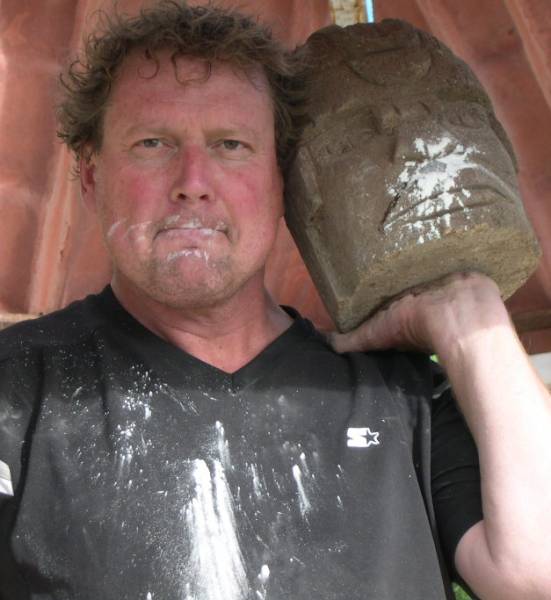 We left Creel and the Horizons Unlimited meeting for good. We really had just planned on staying there one night and moving on, but our tire situaiton changed that. We went Southwest along the railroad line that goes right thru the copper canyon area.
Divisedero

The most viewed point of all of Copper Canyon

A sight to behold
| | |
| --- | --- |
| | Tarahumara Indians selling their wares. |
I had been to Divisedaro but hadn't ridden the road between Divisedaro and Bauchivo.
At one point there are 2 roads thru the area--the high road and the low road.
We took the low road as it is much more challenging and scenic.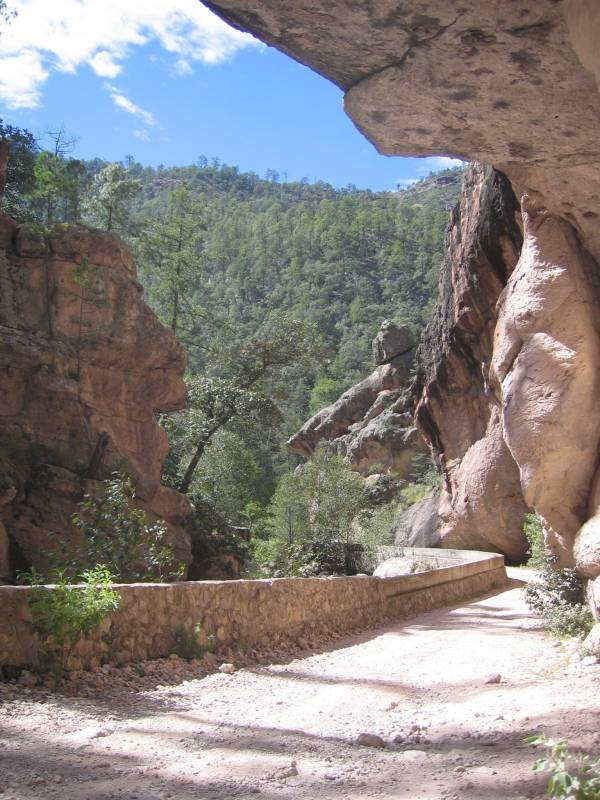 The road is in the process of losing its flavor as they are building bridges on several of the river crossings.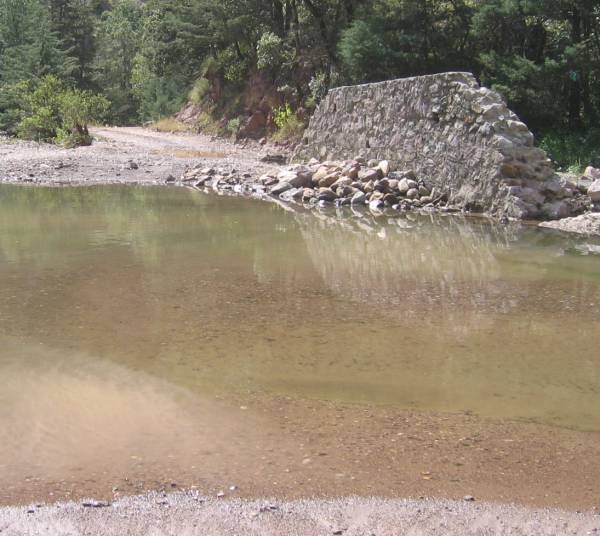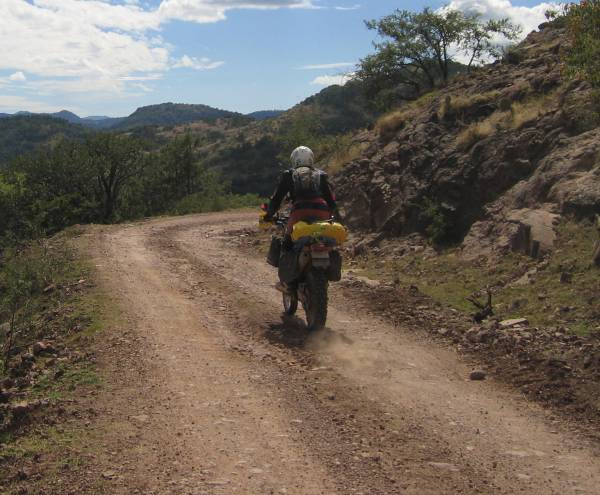 I've seen pictures of this---a bridge of railroad rails.
They used to not be tied together and wiggled when you rode across them
You had to be careful as your tire may get caught between the rails.
This is another one of those things I had seen pictues of and heard about but wanted to see it and ride over it before I died.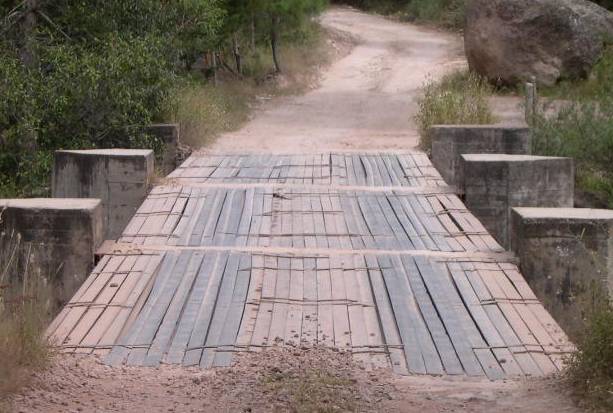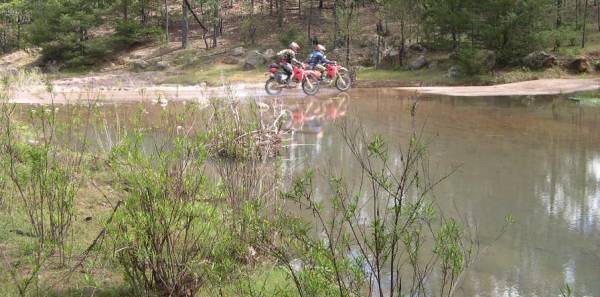 Meheeeecan Truck Wash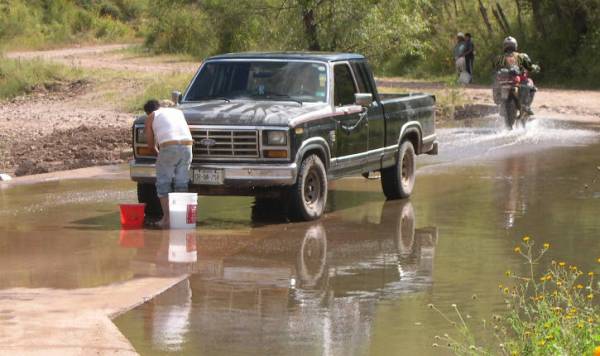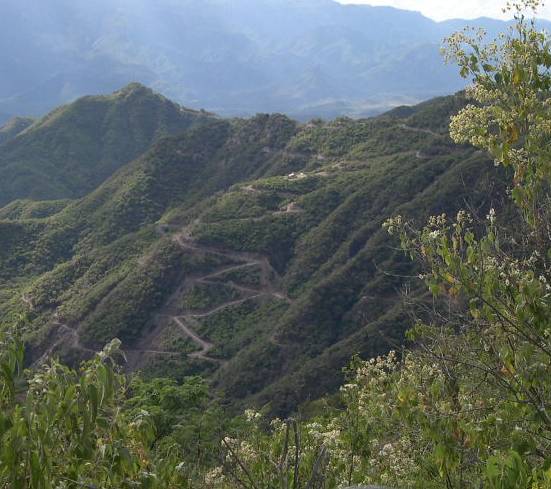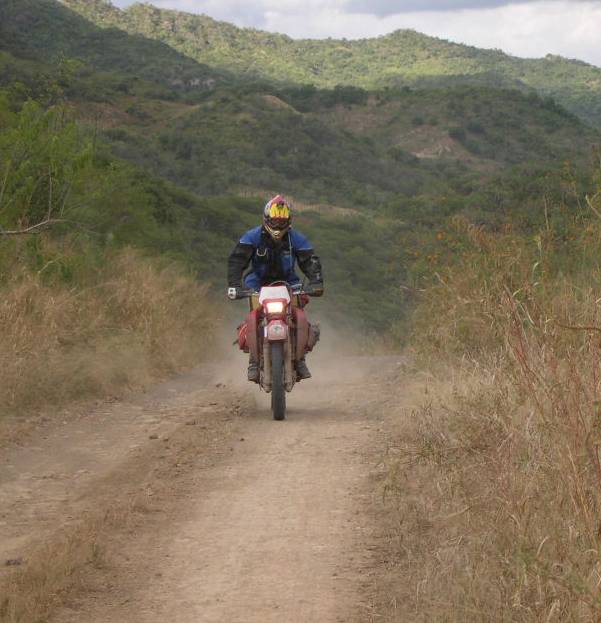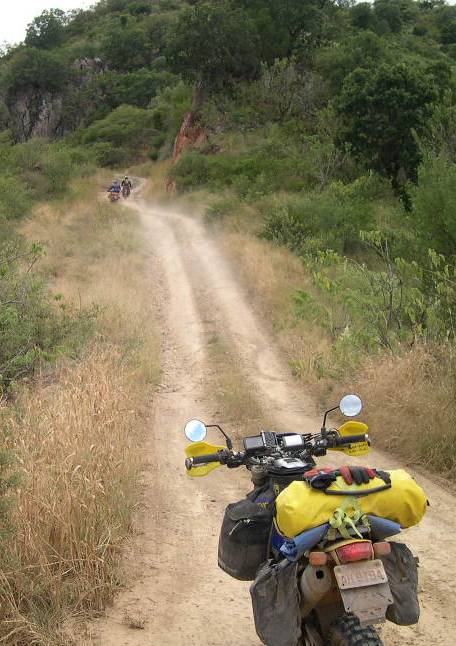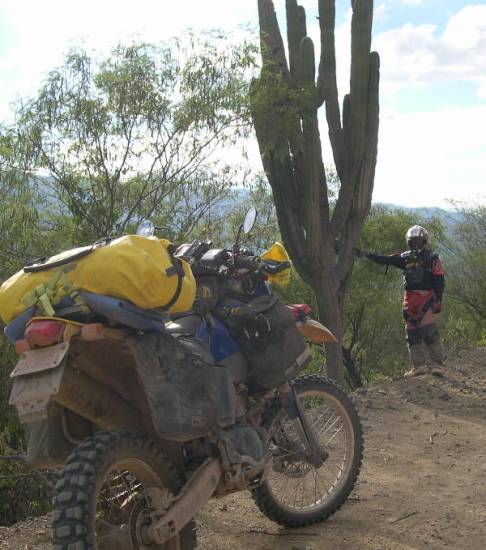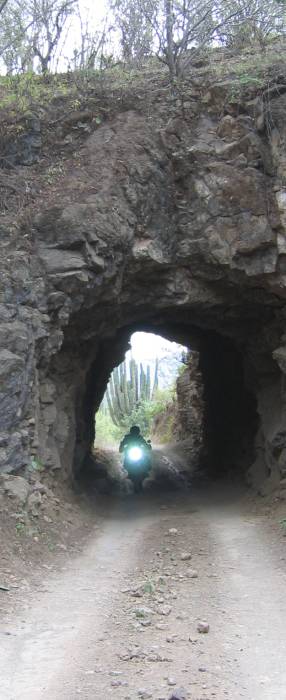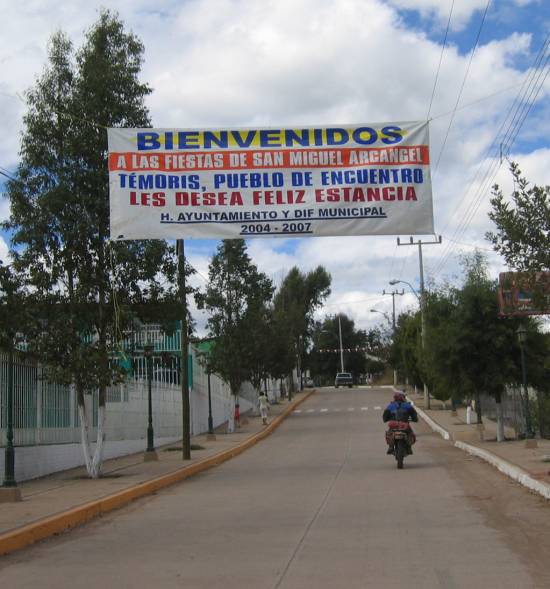 After riding thru Bauchivo and Temoris we headed towards the very remote town of Chinipas.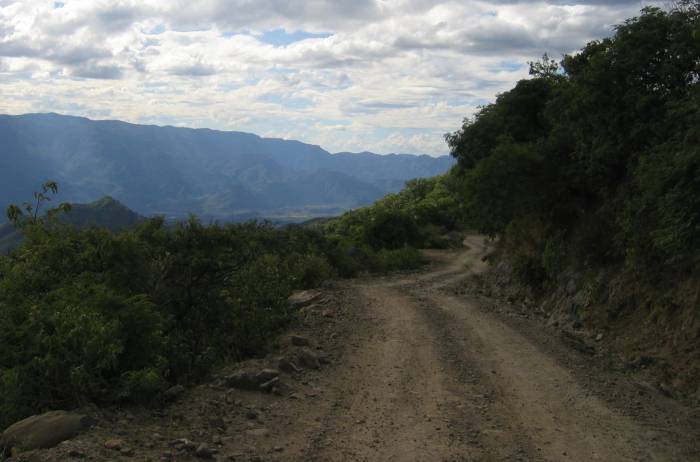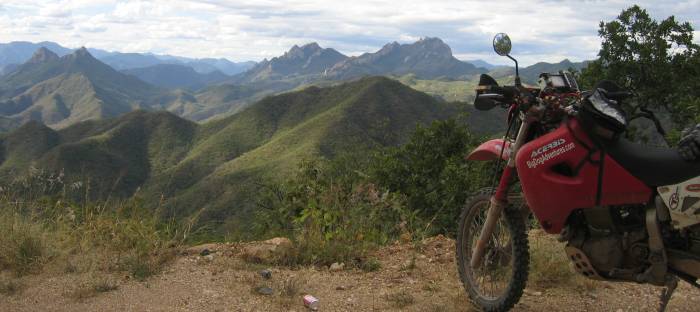 At the edge of town we gassed up and were planning on spending the night here as it was getting late and the riding West of here after crossing the Chinipas river was rugged and long. GasPipe dropped his camera right here---and when he came back a 1/2 hour later the attendant seen him coming and had it in his hand. He was so glad to get it back---the loss of the pictures would have devastated the GasPipe.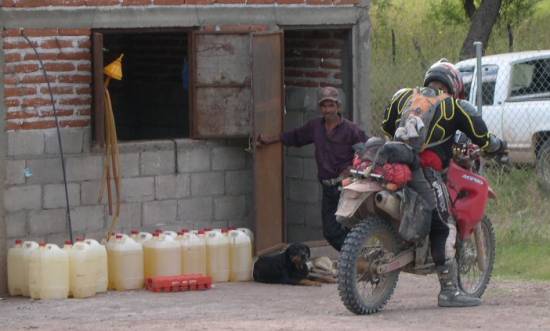 We had dinner at Gaby's
Here you see Rosa (on the right) and here daughter who fed us well
See the little guy peeking out from under the counter at the strange gringos.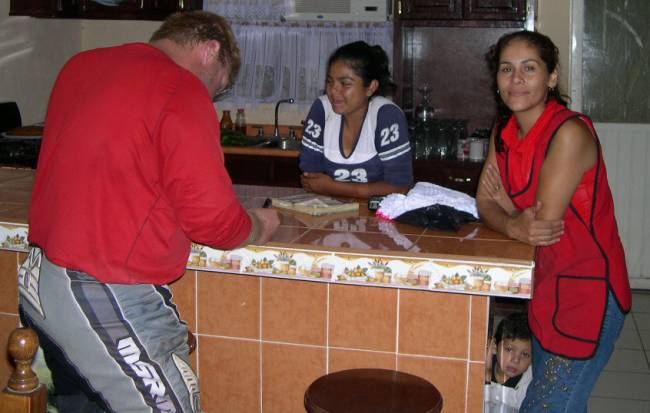 We aquired a motel and rode our bikes right into the open air inner courtyard.
This is a common practice for motos in Mexico.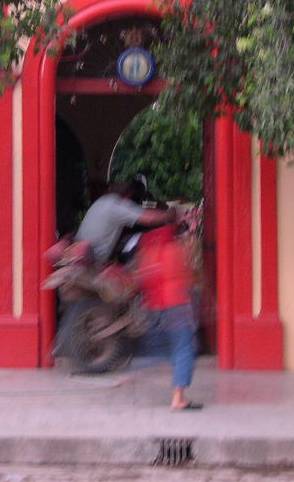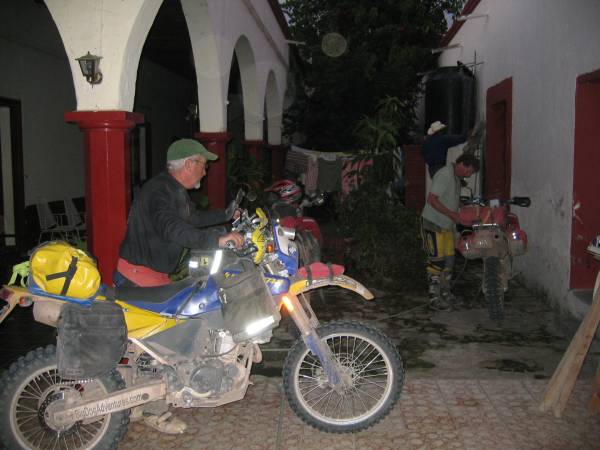 We sat for an hour at the town center on a bench watching all the people and kids playing and having a great time.
We had another taco at the little stand you see--which belonged to Rosa also.
It was like going back to 1955 here
Kids playing everywhere and having a good time free from TV's-----Nintendo's and Devil Boxes
I hadn't been so relaxed in a long time--didn't want to leave.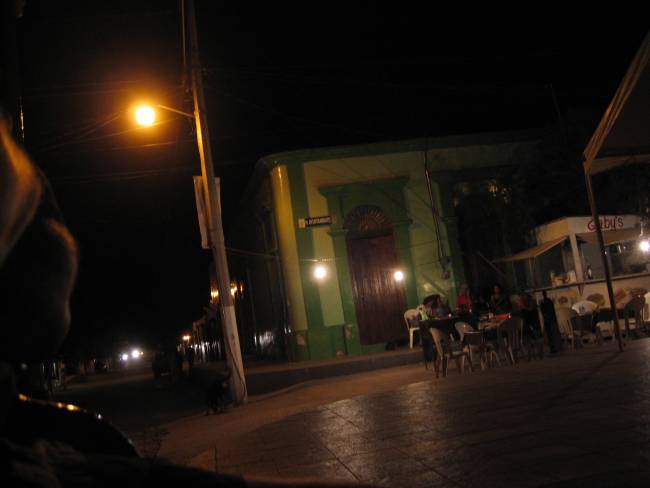 We were up at O-Dark-Thirty

And made it back to Rosa's after O-Turd-Thirty

Breakfast was good at Rosa's
Leaving West out of Chinapas you must cross the Chinapas River.

I was the only one who had been thru here before and knew what to expect and where to cross the river.

There was just one place where the river was wide--but shallow enough for us to cross.

We all three crossed under power with no problems.

Our next river crossing on an unexplored route would claim a victim---who would it be

A Rider who proclaim loudly---"I will be the guinea pig"

Yeh--------a drowned guinea pig
After crossing we went upstream a little to see the suspension bridge for walking. Word was that it washed away last year.

Well its still they and magnificent as ever.
Some motos have crossed on it in high water---now there is a sign asking you not to use the bridge with your moto--or horse--or donkey--or jackass.

Well that leaves us out.
Jackasses on motos !!!
In town we had heard rumblings of some Pandilla defacing a toilet in Creel
The Federally Police were after them---and closing in fast.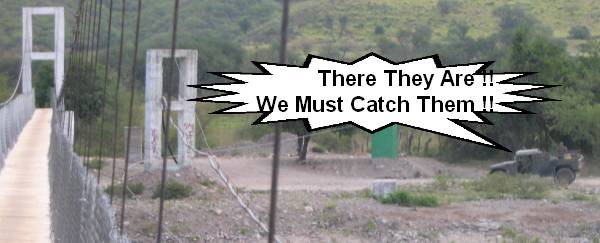 The Pandilla fired up their Motos with Gusto----off they went in a cloud of Dust !!! Vamooos--Gringos !!!
We looked back at the town of Chinipas and our tummies growled at the thought of Rosa's skinny-----but excellent flapjacks !!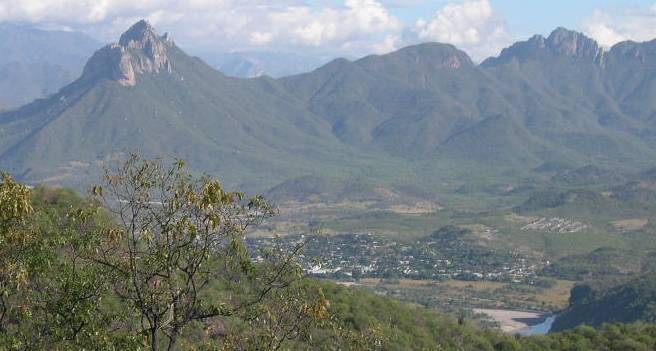 The Mexicans are very clever---they don't spend billions on signs.

A little carving and paint does a fine job.
Lee Bob was so estatic about this pot of gold--he locked his brakes up----flew over the bars---shit his pants (see the remains on the ground) and planted himself headfirst in his pot-o-gold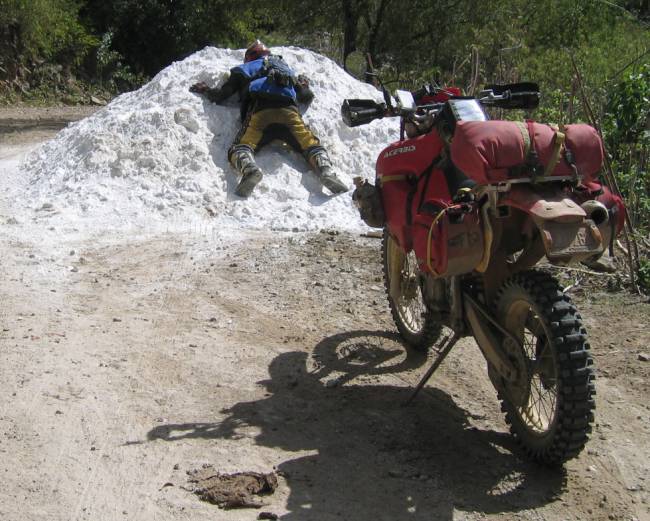 I was especially excited today
Geraldo and Gaspipe had been doing all the navigating and I was so relaxed just following along without a care in the world.
But today----I had plotted a route North from this Pemex in Los Tanques thru an area that none of us had heard of anybody every riding thru.
We had nothing to go on much except the GPS--and we knew there was a river to cross that none of us had ever even seen.
Some maps showed no roads going thru---but one did----it was agreed upon that we would try it.
I hoped this route would take us Northwest to the town of Quierago in which I've been to--but not from this direction.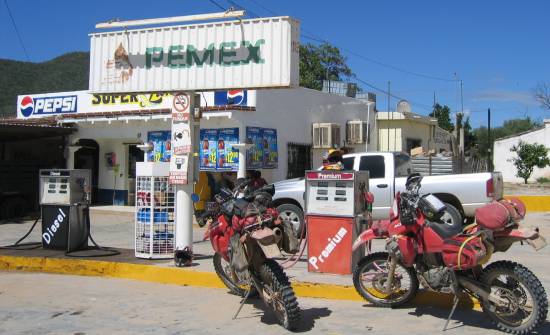 We were now on the West side of the Sierra Madre Mountains and at the edge of the Sierra desert.
We rode for 20 miles North of LosTanques on a dirt and sand road going thru deep sand at times.
This was so much different than what we had been on.
I was searching for a way to cross the river and we rode thru this town of Macoyahui---this took us to the river but it was much too deep and swift.
I even thought if we didn't find a bridge this river would be impassable for us.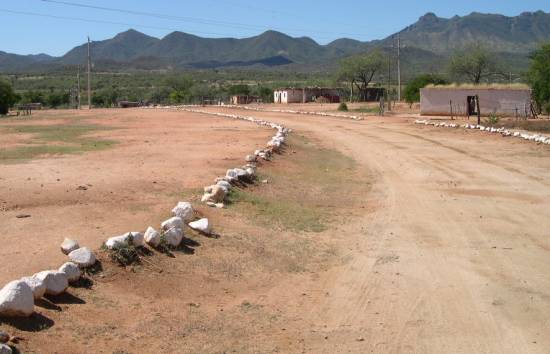 The little town of Mexiquillo was on the other side of the river---but offered no crossing.
We didn't want to turn back and we kept looking going down a few dead ends into the river.
I've been with riders that get frustrated at times like this and want to give up---none of us wanted that.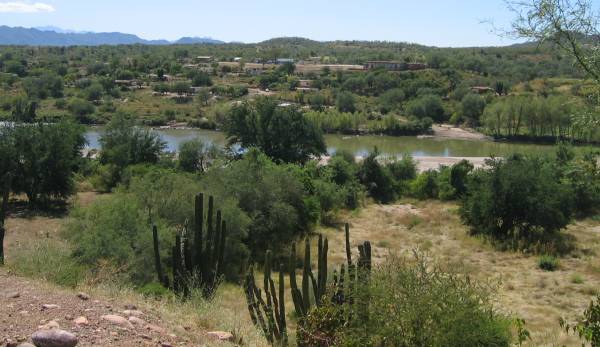 I finally find what was so far the best looking place to cross----------it was deeper and much faster running water than the Chinipas.
However LeeBob was filled with confidence after having conqered the Chinipas river and after downing 2 "River Crossing Mints" (Altoids--curiously strong) proclaimed loudly............
"I will be the guinea Pig"
OK------As I relaxed and went digging for my camer--just in case!!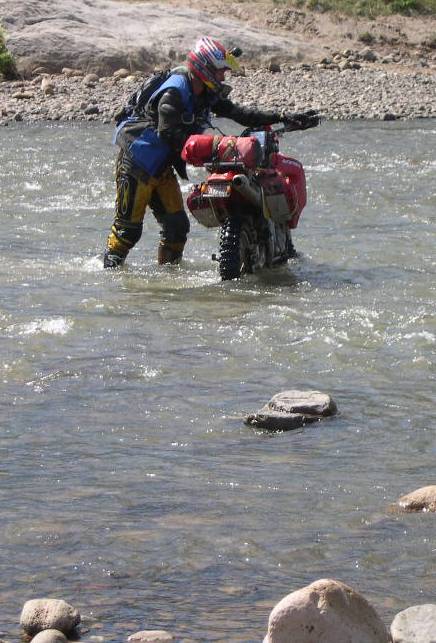 My camera was not quick enough to catch the Big Red Pig Drowning.
After pushing his bike across the river it needed some Mouth To Mouth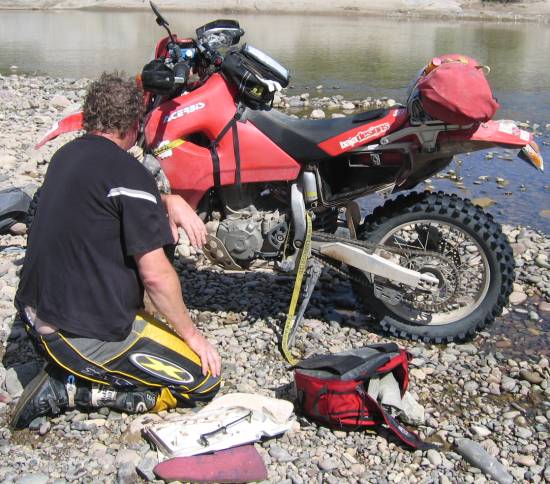 If me and the GasPipe had any confidence--it was washed (pun intended) away after LeeBobs drowning.

We pushed them across with the motors idling without misshap--but were severely gasping for breath at the other side---the water was very swift and pushing you and the back pretty hard.

We hoped we didn't have to come back if our route was impassable---or didn't exist.

Now--and only now......
We are adventuring

When it all goes not to plan--you are adventuring.
Whilst traversing the Rio-------------"RIVER" to you Gringos !!!
It seems a little Montezumas revenge was being squished out of what was LeeBobs already very sore arse !!!
There was not enough Butt Powder in all of Meheeeco to take care of this !!!!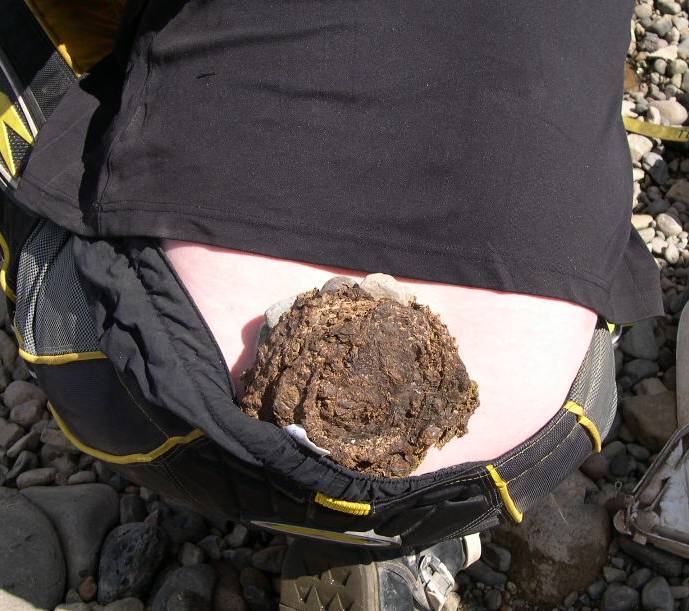 Stare at this picture---see the 2 gringo moto dust clouds in the distance ???
If this picture doesn't stir your adventurous soul----or cause you to E-bay your gold wing and sell you car......
You are hopelessly doomed to mediocrity.
Only On
The Road Less Traveled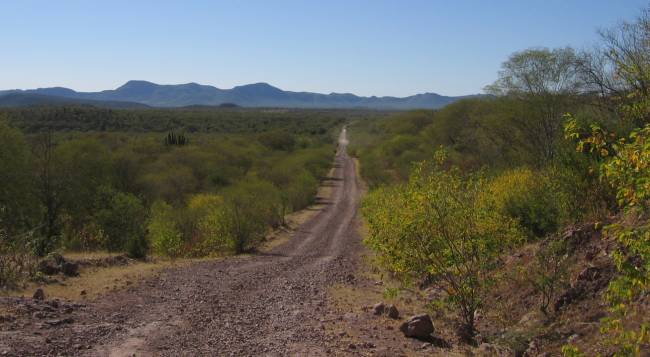 Some of the pueblos we went thru (none of any more than a population of 15) on our way to Quierago were......
San Juan, El Frijol, Machilbampo, Mojari, Tepahui, Baucarit, Goijaquia and Bacusa.
Most were ghost towns.
I've read a lot of travels in Mexico----we've never heard of any motos traveling thru here.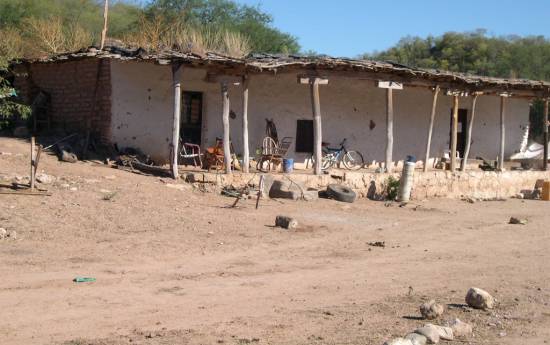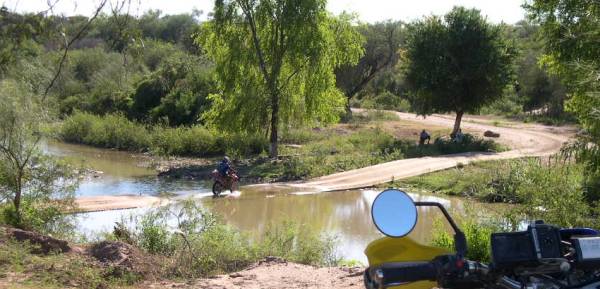 Quierago for a snack at the abarrotes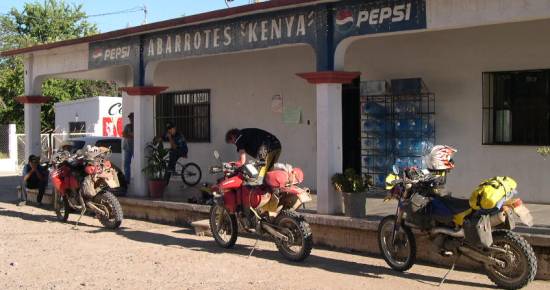 We had the best Tacos here in Rosario------------"Rose---Are----EEEE---O" to you gringos !!
We got a Motel here
Where LeeBob drank enough beers to do an impromptu "River Dance" for us caught on video.
Of course Perro Grande snoozed thru the whole thing.
But I did get to see the video.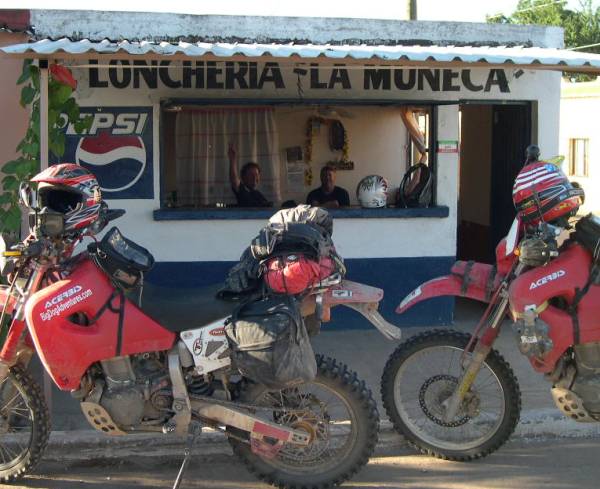 GasPipe had a tremendous assortment of tools on his bike.
These bead breakers were just amazing.
I witnessed the breaking of the bead of a seemingly impossible tire replacement with these tools.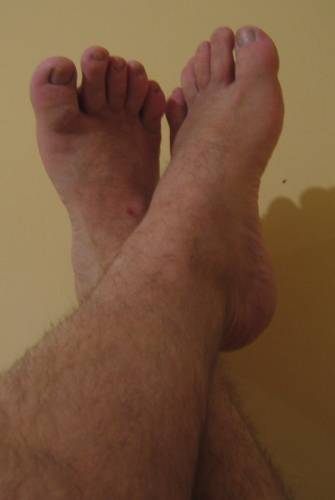 His feet were as wide as they were long-------and it didn't seem to matter which way you put them into a motorcycle boot as they would go either way.
This is our last day----we are going to road it to the border in one day as LeeBob and GasPipe need to get home.
I didn't need to be anywhere----but need to go with them as I'll need to haul the Husky back to GasPipes in LeeBob's truck.
We have a few road hazards and a surprising detour----enjoy !!!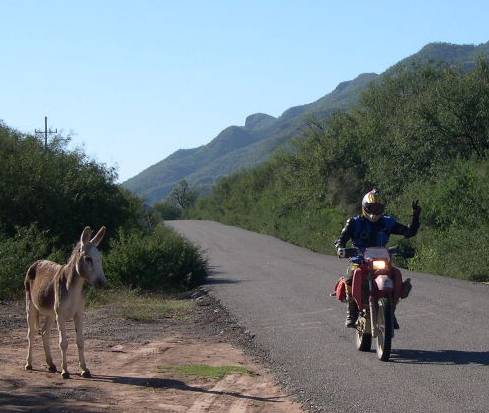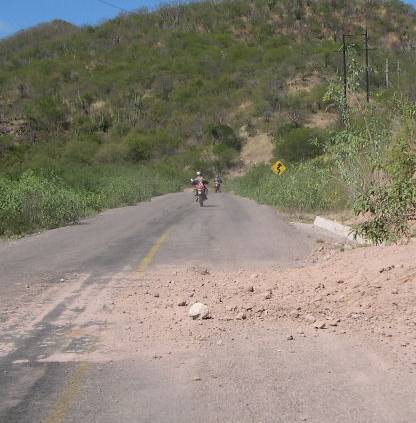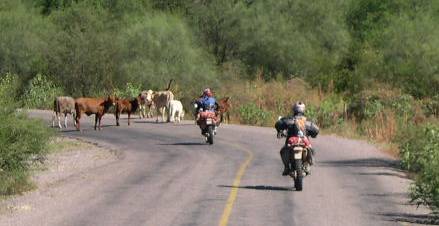 Detour---for you gringos !!!!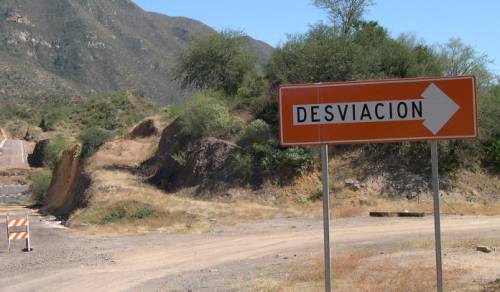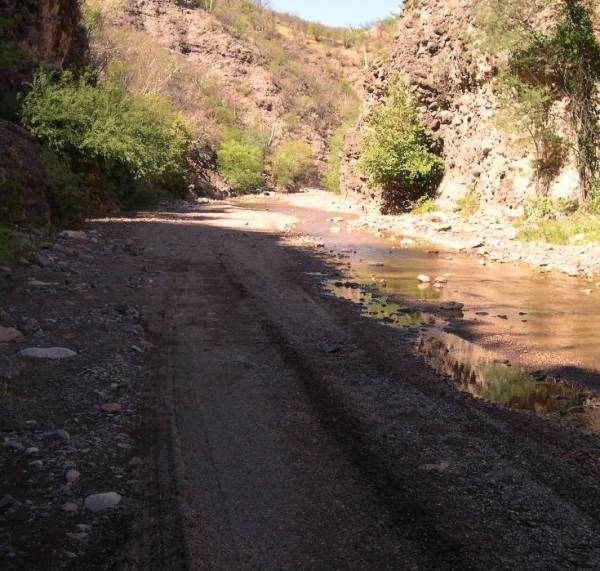 Yes this a Mexican Detour
Not your typical Americano detour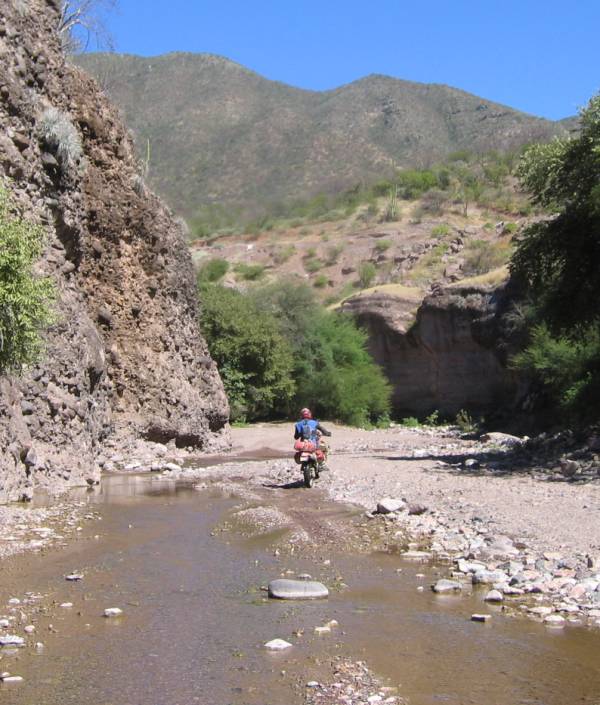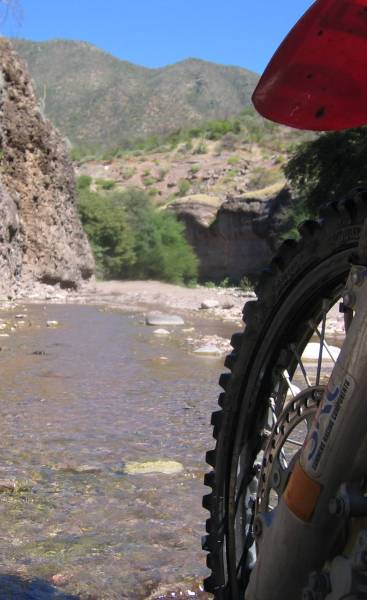 This little jewel here would have run you right thru the rebar-----straight down 40ft.
No sighn----no na-da
If it had been dark----well-----asta luego my friend.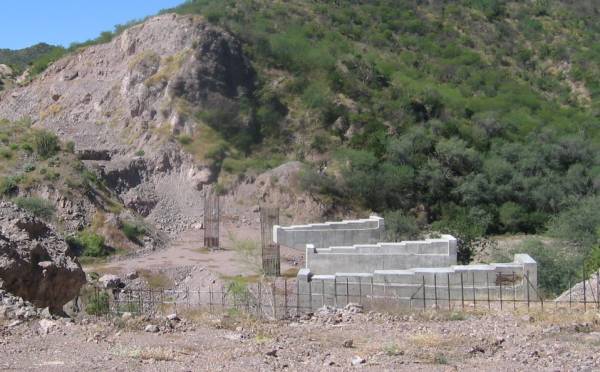 This paved road just plumb gave me the willies. It was paved---no traffic--nobody.
I felt like we were in a twilight zone movie in which the aliens had removed everybody on earth----except us.
The bridges were unfinished----there were at least 200 places like this where the road was partially blocked from falling rock--and obviously the rock had been there a long time and nobody was even thinking about removing them.
It was mid week and there were no workers out here ????
Even what pavement was there was already in need of repair---before they finished the whole road.
Another thing--------the road wasn't on any maps ??????
Were we in the twilight zone ----------or what ????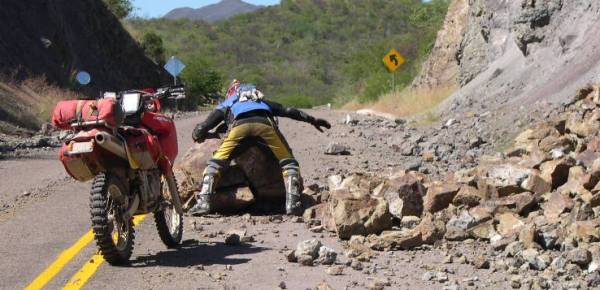 Sometimes there were warning signs for a hazard----then the next thing you know the road just would drop you off a 40ft. cliff with no warning whatsoever.
Yes--------we were in the twilight zone-----I'm sure of it.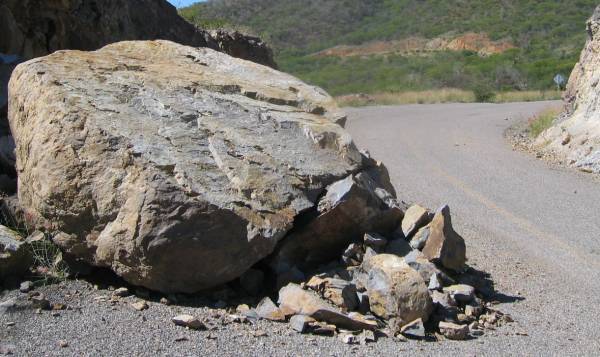 Not too many miles from the border---Mexico just didn't want to let us go----or were we really in the twilight zone---where were the people--where were the cars-----where were we?????
I was following Lee Bob at a safe distance and all of a sudden something was under LeeBobs bike--it was alive !!!
It squiggled and wiggled and lurched----LeeBob was in some sort of distress I could tell.
His rear tire threw a 7ft. long snake right back at me and it slithered and twisted around and reared its ugly head at me as I ran over it-----I think I raised my feet clean over my head to avoid the thing as LeeBob came to a hault to help me fight this monster off-----I could here the twilight zone music in my head------da-da-da-na...............da-da-da-na.....da-da-da---na.......da-da-da-na----on and on.....on and on---it got louder and louder..........and louder and louder---------........................or maybe it was his chain that had broke and he couldn't go no more----yeh------....that was it alright !!!!!!

5 minutes to put on a new master link and we were off.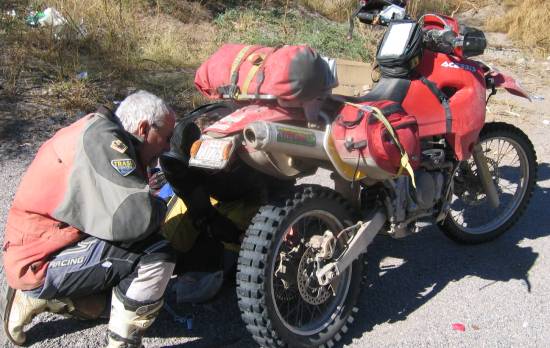 The border crossing and back to the U.S.A.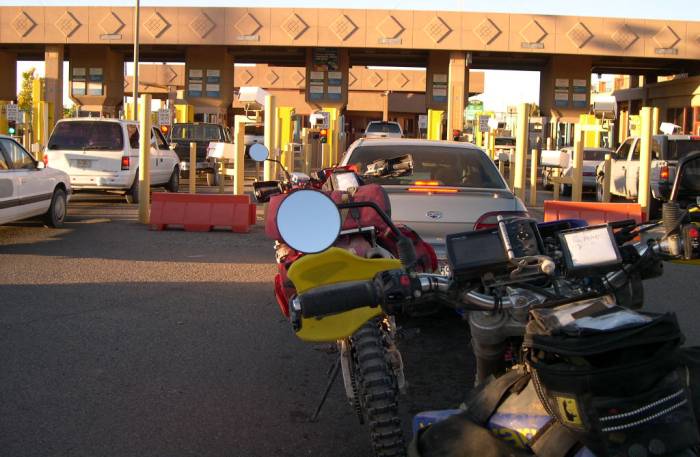 The End
Back To My Home Page