To the "Extremely Nosy" person making judgements and comments about my personal life and riding
Please mind you own business----dipstick poser
Great River Gravel Road Ride
August 2006
I was invited to Iowa to camp and ride with other adventure riders to ride the scenic backroads of Iowa and Wisconsin.
I put about 1,800 miles on my KTM over the next few days as I made a much bigger trip out of it.
The route had us crossing the Mississippi river twice--once on a ferry.
Here's my story.
| | |
| --- | --- |
| I travelled alone going North from my Southern, Illinois home. The very first thing on my mind was breakfast in a cafe. | |
You just never know what you'll run across on the Road Less Traveled.

Mt. Pulaski, Illinois

There was a beautiful and very old brick court house on the square.

The courthouse would certainly have no shortage of water, or water pressure.


I've never seen a water tower on the court house lawn before.
I was to meet Mark on his black 950 on the way up.

We talked awhile got something cold to drink and headed North.

The weather was very pleasant out and we headed for the highest point in Illinois which is very near the Wisconsin border.
The Hennepin Canal--Built in 1892
It was built to carry barge and other traffic between the Illinois and Mississippi rivers and is 104 miles long. It has 33 locks but was obsolete before it was finished as the barges that were being built were to big for the canal. A horse or mules drug the barges thru the canal.

After 1930 it has only been used for recreation. You can hike, bicycle, fish, boat, canoe, picnic all along the canal.

But don't even think of riding your motorsickle along it.
| | |
| --- | --- |
| I got pretty handy at taking shots going down the road on this trip without busting my butt-----all cameras have the buttons on the wrong side for us motorcyclists. | |
| | |
| --- | --- |
| | Northern Illinois is not near as flat as the central part of the state. |
As we approached the highest point in Illinois the scenery and hills got much better.


I was poised to turn on my heated grips when the temperatures started dropping !!!!!
This beautiful house sits atop Charles Mound
The highest point in Illinois
This was also an ancient burial grounds.
Charles Mound is now on private property.

The 2nd and 3rd highest points in Illinois are down in my neck of the woods in the Shawnee (keep your stinkin dirt bike out) National Forest.

Nice rolling hills made for some great scenery and riding.
We ended up at dark at a really cheap mom and pop Motel in Wisconsin

The sign on the door said
The Warmest Of Welcomes

How could we resist---Mark lost the coin toss for sleeping on the floor as the rooms only had one bed---and there is no spooning on the BigDog rides.

Seems odd--I always win these coin tosses for the bed ???
We were wakened about 5AM by a nasty storm

The rain and hail blew sideways in a 45 mph wind

I got my bike under the overhang in the nick of time

If we had been camping we would have been blown away
The Cheese County Railroad

One of the biggest highlights of my trip as we rode for miles on this old railroad bed. It was beautiful out as the rains and clouds were gone and we were left with a dust free ride down the trail.

I think this is about 45 miles long and runs thru 3 counties.

It runs from Monroe to Mineral Point Wisconsin

And yes---us stinkin dirt bikers are legal to ride it.

It was a hoot--and the water puddles showed us where the deep holes were.
We crossed many bridges like this over beautiful creeks

I think some local ATV clubs keep this maintained

My thanks to them
At times we kept up a pretty good speed

But I rode careful as there were a few muddy places and some deep holes that could send you over the bars

I'm way too old for that--although still do it on occasion !!
The trail ended for us here at the Mineral Point railroad museum.

I would of liked to went in but it was closed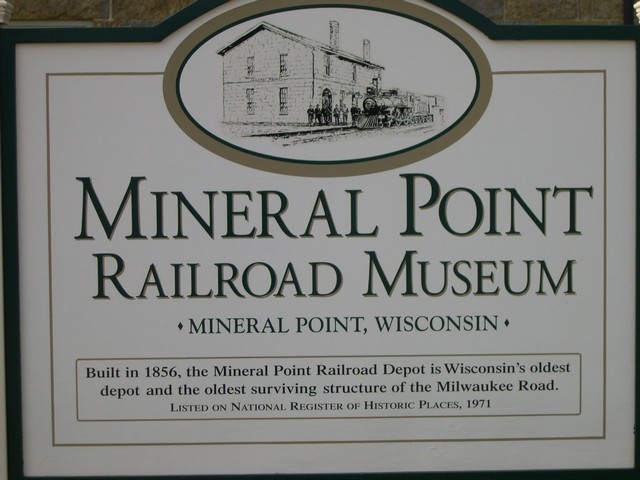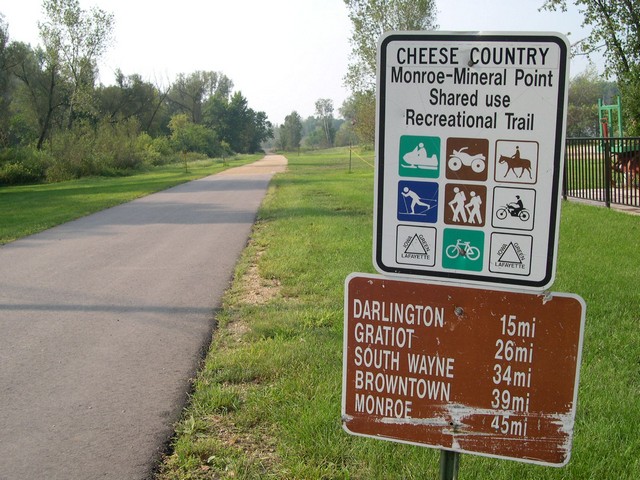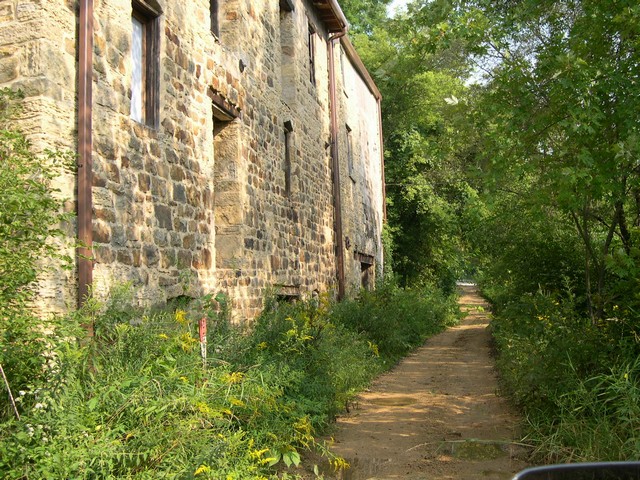 Dowtown Fennimore Wisconsin

We had lunch here and checked out the old display of railroad memoribilia.

When I was a kid I dreamed of riding on one of those little cars

We called them "Putt Putt" cars.
We crossed the Mississippi into Iowa on an old bridge and ran into these hooligans at a gas station in Harpers Ferry, Iowa

On the very right you can barely see Chad---he was the very generous guy who organized this ride.

Thanks again Chadd !!!!
The next morining I didn't waste any time to go riding with quite a few riders in tow.

Good thing----they buzzed thru this downed tree like a chain saw and we got thru.
I led a group for most of the day. I was riding a pace a little faster than I wanted too as when I looked in my mirrors all I could see were many bikes right behind me. So I passed up a few photo ops------come to find out they didn't know where they were going and were afraid of getting lost--------sorry guys !!! I was the only one with the route loaded into my GPS.
I only know this fellow as "Cannonshot"

He seemed to know all the roads in the area and took over navigation on a scenic route.

I've read many a tale of his offroad riding adventures in the upper penninsula of Michigan--nice guy !!

He's retired and we both thought we should ride together someday.

He was trying out his brand new 1000 V-Strom-----and ask more of the bike than it was probably meant to do.
The 30 some riders that started had divided up into groups of their own speed and interest.

We all seemed to gather up at lunch time.

Lots of bikes---big and small KTM's, KLR's, DR's, BMW's V-strom's, and one old 80's model XL500 with 3 headlights.
Were having a little too much fun here !!

I won't talk about the little mishap here---if you don't have a picture--it didn't happen !!!!

Some guys just aren't quick enough with their cameras---which saved me some embarrassment later on.
We really went thru some very pretty countryside.

My buddy Stever who I met at the ride.

His DR650 was really set up nice

I'm going to Mexico shortly and Steve is coming too.
Were heading for the bridge which will take us back into Iowa

Steve is behind me and I think that is a guy I know only as "Old School" behind him. Heck---he's almost as old as me---a good rider, always with a smile on his face.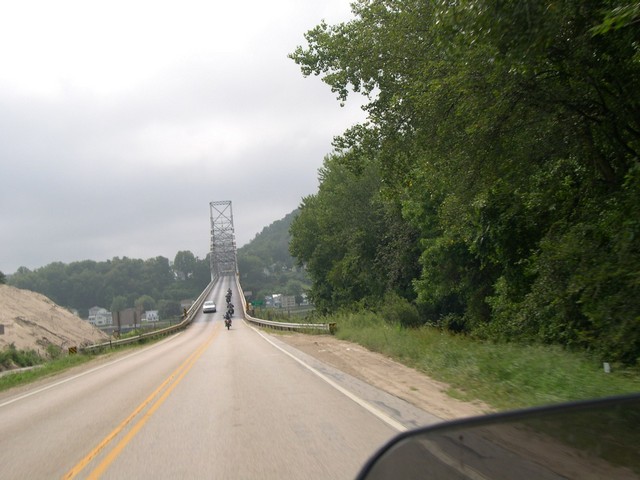 | | |
| --- | --- |
| We crossed the river just North of Ferryville, Wisconsin and Cannonshot took us up to a bluff where we had an awesome view of the Mississippi | |
| | |
| --- | --- |
| | This is the bridge we just came over. |
We stayed at this bluff for almost an hour having fun shootin' the breeze and meeting other riders who stopped by.

The river looks so much different up here than down in my neck of the woods.
The trickiest part of the whole ride---there is lots of really slick green slime on the concrete. You had to go thru 2 of these to get to the campground.

I guess Chadd figured if you could ride thru this without falling down (I couldn't) you were OK to do the ride.

I fell once---and at least 2 other guys did. When I wasn't falling I was slding sideways.

Mark on his 950 wasn't skeert.
Doesn't look so bad when your standing off to the side and don't have 500lbs of bike on top of you and your face in the water !!!

I did ponder the bridge.
Back at camp

Yep---Adventure Riders we are.
Me and Mark took a dip in the little paint river after the ride.

The water was spring fed and extremely cold.

Steve spotted some strange bubbles coming from my direction and scrambled for shore.

After a night in the Motel with me--he'd had enough !!!!
Plenty of goodies back at camp as the ride stories started up in earnest.

I guess several went down over the days ride but nobody was hurt and only one DNF with a broken clutch cable.
Dirty Daves Bike

His KLR looked like it had been everywhere---cause it has. I think he's going to Mexico too in October when it cools off down there.

I really liked Dave and enjoyed watching him cook all his meals on a lttile stove----he felt sorry for me and shared his coffee pot with me.

He seemed prepared for anything and even carried extra gas. A Hearty traveler--I hope to run into him again.
Well it's early Sunday morning

Me and Steve decide to ride together as were both heading the same direction-----nowhere in particular !!!!

I luv coming over the hilltops and seeing the fog lying low in the valleys.
I once made a cop really mad when he ask me where I was going and I told him I wasn't going nowhere-----he just couldn't understand that. "You have to be going somewhere" ????

No---------I'm not.

Next time I'll make up something----and maybe it won't cost me so much

Look at Steve--he's havin' a ball---listening to the Eagles on his XM radio.

"Takin' it easy---takin' it easy"
I can smell an old bridge 40 miles away

Or was it my smelly socks ????
It wasn't easy but we made our way back to it

And here you have it

"The Road Less Traveled"
It was almost too late for breakfast---but too early for lunch

The buffet was a mixture----I had breakfast and Stever had lunch

I believe this was in Fayette, Iowa

We gassed up and hit the road
I finally turned South toward Missouri and Steve headed to some family members house for a visit.

Steve was a good guy to travel with----as he was always very relaxed.

He was good with a wrench as I watched him in the campground dismantle his DR650 after filling it full of water in the little paint river. He's got a road going BMW---but I think his heart is where mine is

Down the road less traveled.
| | |
| --- | --- |
| | Yep my nose was right----and I think another is not too far away-----sniffffffff--sniiff---sniffff. |
Yep----just a few miles down the road I came upon this beauty.

Curved bridges are a rarity. This one went over a railroad. I know of one other in Indiana--both are wooden.
About 1/4 mile before here I passed a sign that said

End Of Pavement

So ??????????

This was a new one on me !!!

Yes---it's been raining--not too bad--yet
Off to the left I found this much nicer road

A little muddy---good thing I had on new knobbies.

I was tired of the pavement anyway

I guess somewhere along this way I passed into Missouri
Browns Station

Self Service at 12.9 per gallon

Call me a cheapskate but I couldn't pass up this price

Had me a Moon Pie and a Root Beer
I no sooner shut my bike off when this nice couple who just got out of bed and ran across the road and gave me a big howdy and offered me a cup of coffee.

We yacked for a half an hour and they took me across the street and showed me their pride and joy----their Harley softail. They go on many rides trailing a 6ft. American flag off the sissy bar.

Only on

The Road Less Traveled
I'm telling you people----you don't get this blasting down the boring interstate seeing how fast and far you can go.
Take the next exit
I'm headin' to Mexico soon to find the road even less traveled.

Guess, I'm headin' the right direction

Yeh--it's raining again

I assure you I won't melt
I smelled a neat old bridge--but something didn't seem quite right--something strange was in the air---I may have shed a tear here at Hermann, Missouri.

Here's what you get for 13.6 million

1. The destruction of a perfectly good, beautiful and historic bridge.
2. The ruination of a nice historic town
3. Screwed with higher taxes
4. More traffic than an old town can stand
Sutton's Bluff Camground--Missouri

A very good friend and dirt bikin' buddy was suppose to be camping here with his boys.

Hmmmmmmmmm----here's some tents !!!!

No People
Here's a picinic table-with coolers

No people
I've got plenty to drink !!!!

No People
I've got plenty to EAT !!

No People

Life is good
It started raining hard----really hard. I dove into the biggest tent, unzipped the windows so I could look out---then laid back down on an air mattress with a nice pillow and got so relaxed
Ahhhhhh--life is good
On the road less traveled
Man this is comfy
I slowly dozed off to sleep------ZZZZZzzzzzzzzz
I don't know how long that lasted---but I was rudely awakened by a bunch of nasty lookin' tatooed dirt bikers !!

Thank god I knew them

And was in their tents !!!!

I like this tatto---he wanted to remain anonymous in case his picture ended up on the local post office wall !!!
Poor guys got lost and barely made it back to camp.

$600 down the toilet

I never seen the inside of a 276C


He had wacked a tree knocking the screen loose-----it immediately started raining and the GPS was full of water when they came in.

Bummer !!!!!
I had a great visit with my old friends
We took an hour long dip in the Black river below Suttons Bluff. The boys climbed up on the rocks and jumped in the water as me and their dad just watched------nope we weren't going to jump in the shallow water---we were to old for that--but had fun watchin the boys have a ball.

Then it was back to camp for a great dinner and campfire.

The next morning the boys cooked a great breakfast and I rode off with a belly full. This all reminded me of the good times me and my son had dirt biking in this area many years ago----before he went off to college and got other interests.
I meandered East toward home not knowing if I would actually get there or not. I went down one dead end gravel road after another and found some really neat stuff.

Check out the carving on this rock--it says
"Rock Pile Mtn. Wilderness"

Went down one dead end road--when I came back some guy ran out of his house and stopped me----I thought maybe I was trespassing----he had a transalp in the garage and we talked for an hour about some neat things in Missouri. Seems he knew some people I knew--always a small world.
Had lunch at the Hideway

You've seen me here before-------population zero

I'd tell you what town it's in but there is no town--no nothing--just the Hideaway

On second thought---I'm not tellin' where it's at anyway !!!
I sauntered out of the Hideaway
Belly full
Kind of Sleepy
Which way do I go ??
What's that I smell ??
Smells familiar----Couldn't be--could it ???
Yep there she is----right off the river levee I was riding on!!!
Almost missed it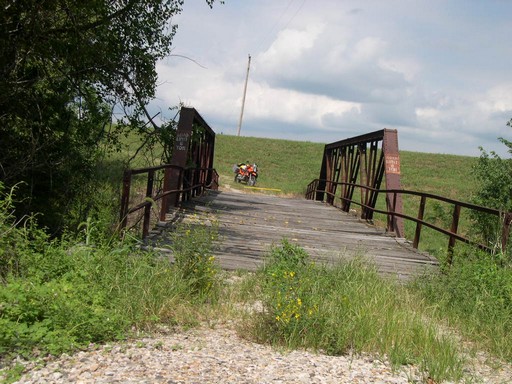 Back To My Homepage