Click on the link below--for the best account of this ride.
What were the odds-----tooling around the backroads and jeep trails in the mountains of Arkansas and looky what we came across on "Flag Day".
Kevin is seen here trying to scurry to the top of the rock after putting the camera in timer mode--he didn't quite make it.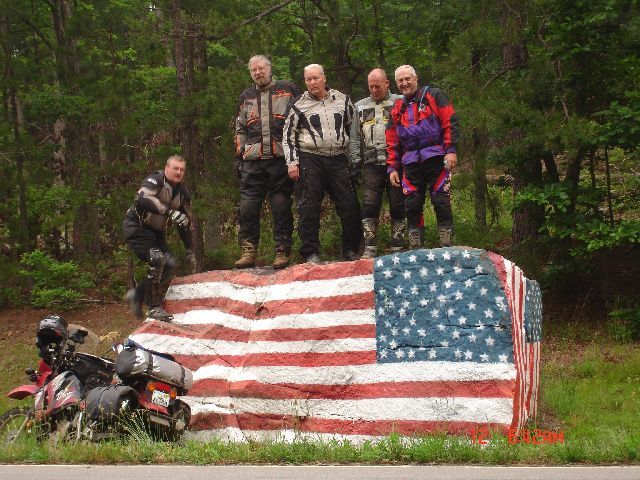 Left to right: Kevin Sweet, Larry Taylor (Too Tall), Farrell Caesar, Kevin Tennant (Buzzez) and Mark Sampson
Buzzez was the ride leader----and the ride was to start Friday morining in Bixby, Missouri. I took off from Illinois Thursday for Sutton's Bluff campground near Bixby. On the way I jumped off the highway under a bridge and took "The Road Less Travelled".
Good thing Too Tall didn't try to ride thru here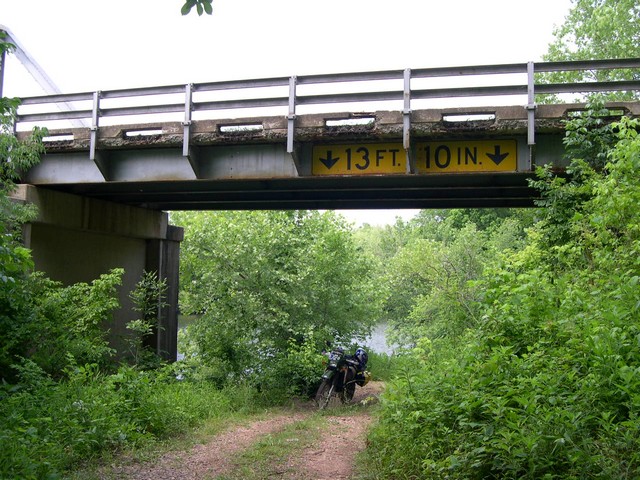 Once at the campground and after setting up my tent, I rode down to the low water bridge over the Black river below Suttons Bluff. This is one of the prettiest places I have seen in Missouri.
N37°28.602' W91°00.400'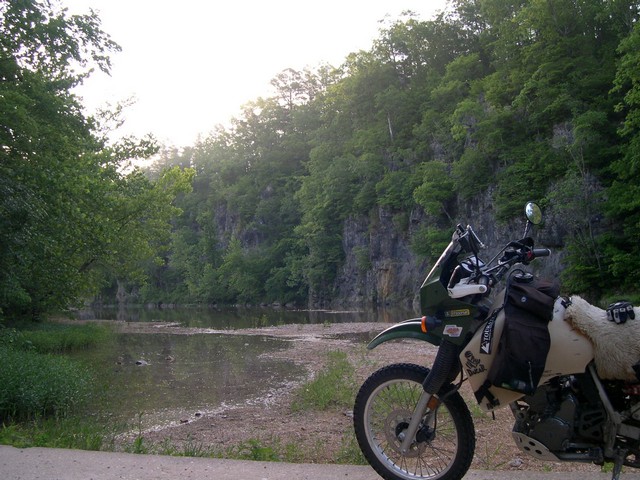 I was up early and rode to "The Old Country Store" in Bixby, Mo. for breakfast and to meet the other "Flag Day" riders. Here is Buzzez our infamous ride leader and well known by his own admition---the---"Crappy Creek Crosser". He would live up to his nickname several times over the weekend.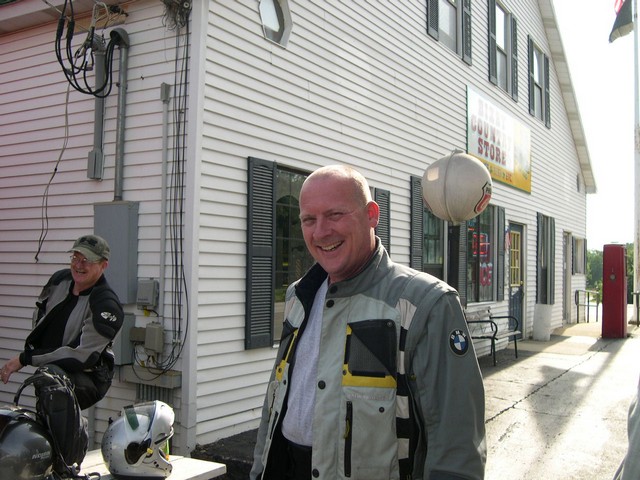 The Bixby old country store is well known to all Missouri adventure riders and others as well. You are back in "Mayberry RFD" when here. It is a very old wooden floor store with lots of neat stuff inside. Just stop--get gas--eat--pick up some goodies---drink several cups of coffee, relax and when you leave, tell the nice lady what you got and pay your way out the door. There is an old railroad caboose next to the store which is attached and you can dine in there if you like---a nice friendly place to visit.
N37°39.622' W91°06.811'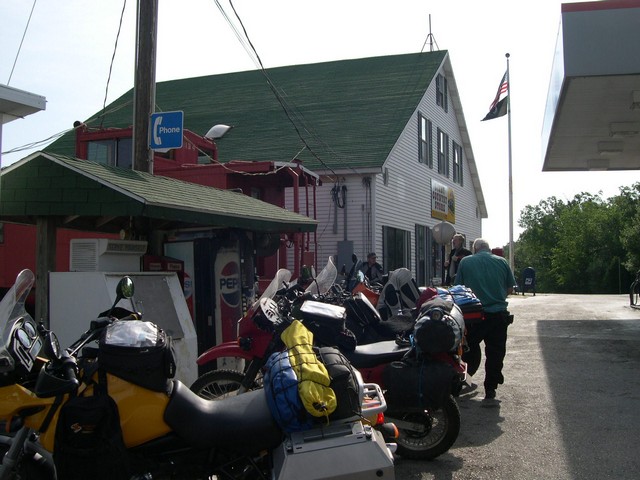 We headed South on KK--then West on hwy. 106 to Emminence, Mo. where I unorganized the ride and found a dirt road which ran right along the Jack Fork river heading West towards Alley Spring. I think I owe finding this dirt road to a fellow I only know as "Spyder". Thanks from all of us Spyder.
N37°09.813' W91°25.139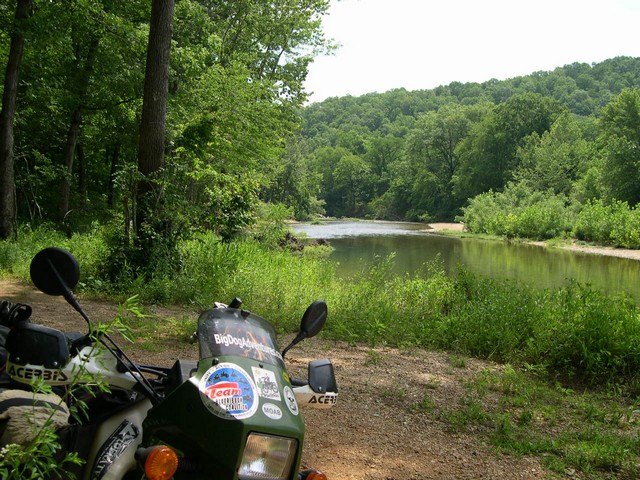 On West along the North side of the Jack Fork river towards Alley Spring.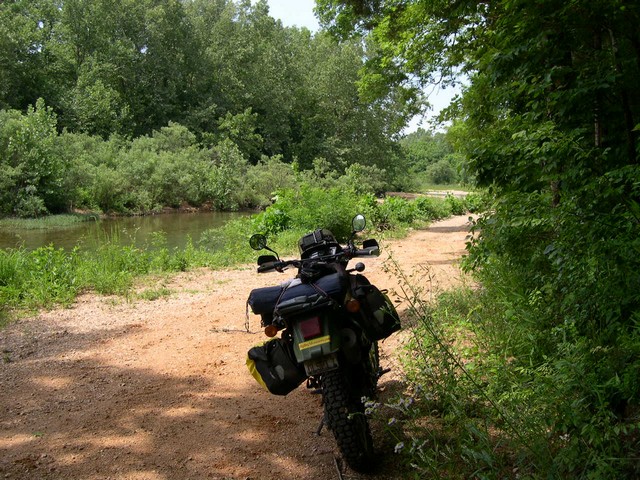 Eventually we crossed the Alley Branch. The beautiful water you see here is just water coming directly out of Alley Spring----as you can see this spring flows a lot of water. I would love to see this after a snowfall.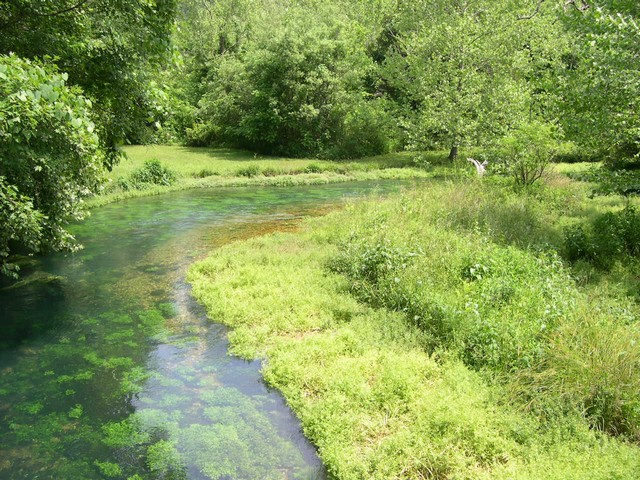 Just North of Alley Spring we followed the Alley Branch for miles down a dirt road that detoriated to this. Buzzez did the turtle in some deep sand in here--then it got worse--then Buzzez busted his really nice camera in another turtle. I've finally learned a lesson------don't take a guys picture when his face is very, very red---------so---no picture :)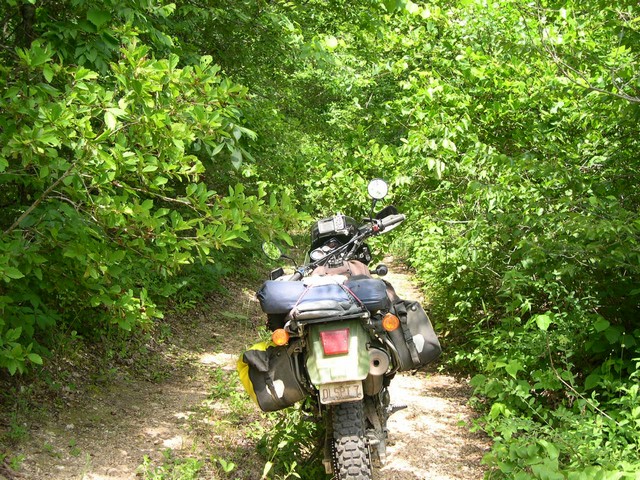 After that very tough section it was time for a drink and a break--it was very hot and humid out--and was that way all weekend. We all did our bet at keeping hydrated--or maybe it was de-hydrated.
Which way do we go
It was West on 106 then South on 17-----then East on O and South on a dirt road to Blue Spring. A beautiful huge spring on the North prong of the Jacks Fork river. I intended to cross the river here---but after scoping out the crossing I decided it would be very tough on my KLR to make the crossing--and there were bigger bikes than mine along on the ride. I somehow suppressed the growing testerone of the "Crappy Creek Crosser" and we backtracked to the highway where Buzz took over and we headed for lunch.
Blue Spring N37° 03.192' W91° 38.388'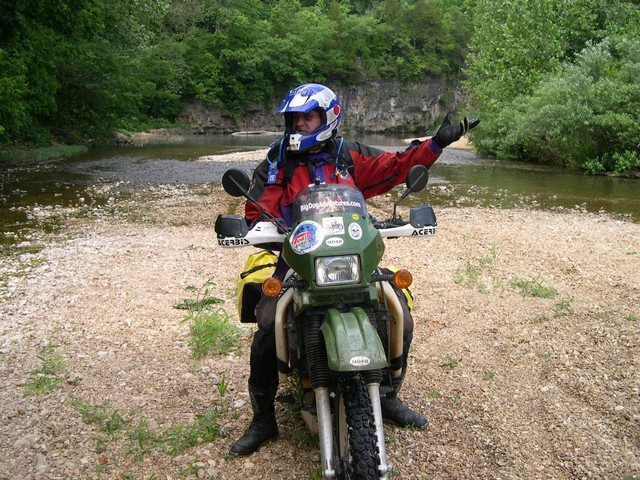 So now it's South on 17, West on P, South on AP, West on 14 and on South on 81 to Gainesville, Missouri where Buzzez led us to a great cafe for lunch----"Skeeters Cafe" on the square.
Again-----we tried to keep "Hydrated"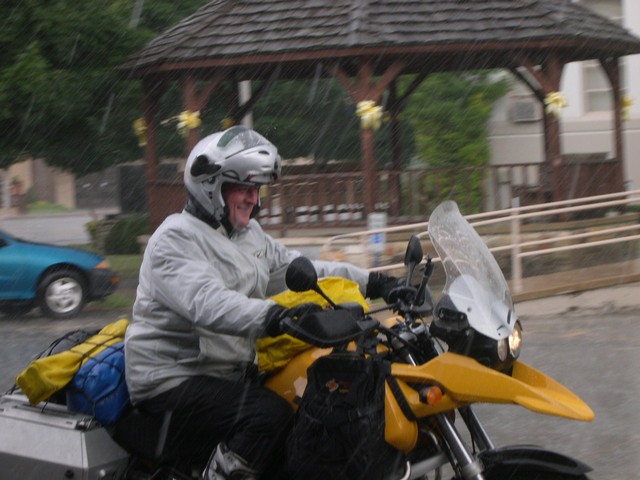 Friday ended at Haw Creek Camground in Arkansas which is about 12 miles West of Sand Gap---which I think was just a crossroad. We got there almost at dark and while setting up our tents it poured on us and I think I never put up a tent so fast in my life.
Haw Creek Campground N35°40.585' W93°15.324'
We were up at the crack of dawn and were dying for breakfast and some coffee-----"BigDog" new a shortcut to breakfast in Oark, Arkansas. It was to be a workout. It started out simple enough.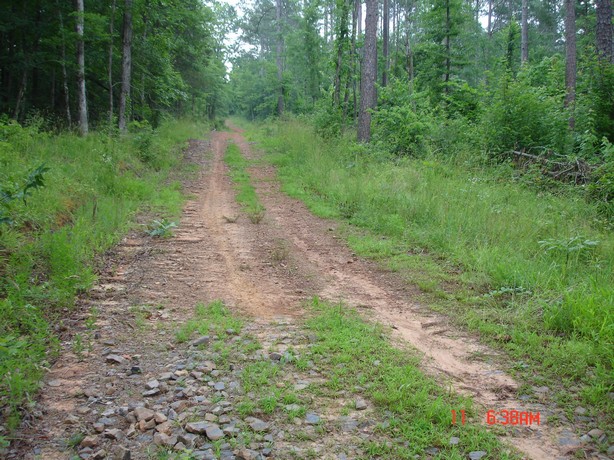 Then it got worse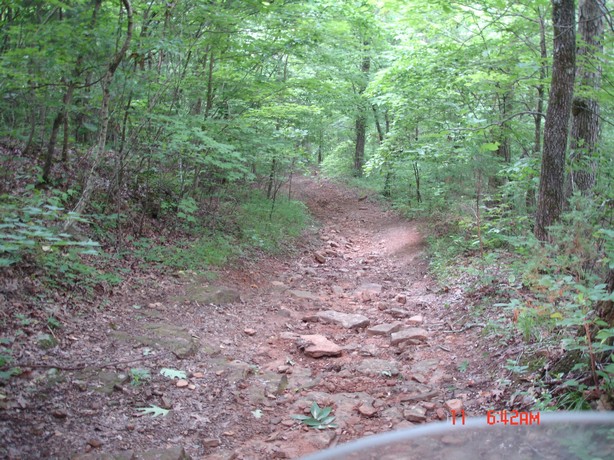 Then it got more worse--Big Pig down !!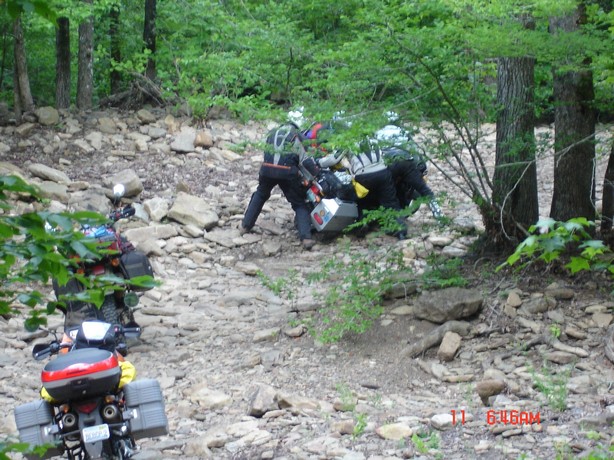 Ferrell has no problems on his 950 KTM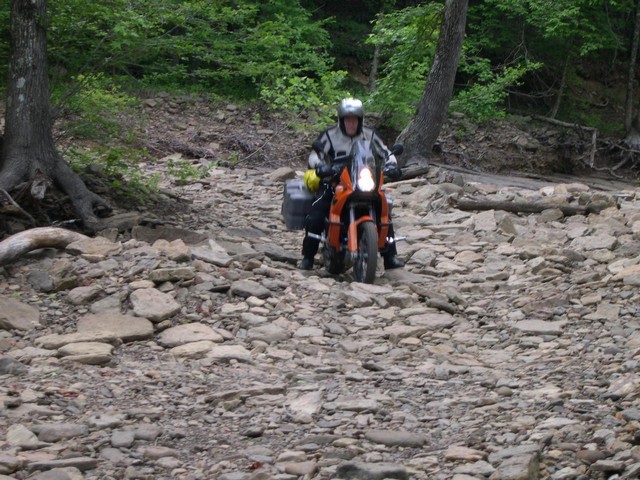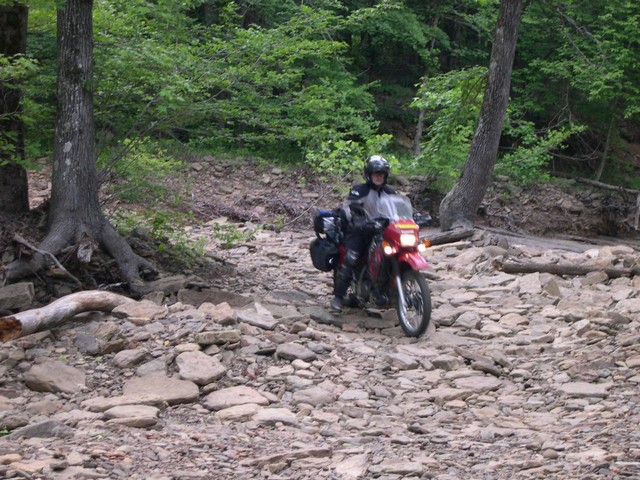 And then it gets worse-----or I mean "Better"---much better !!!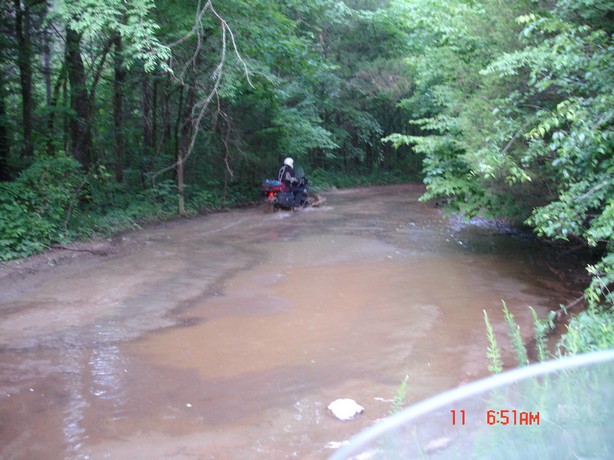 Oh yeah--come to daddy---a little mudhole ain't gonna stop 98 horsepower.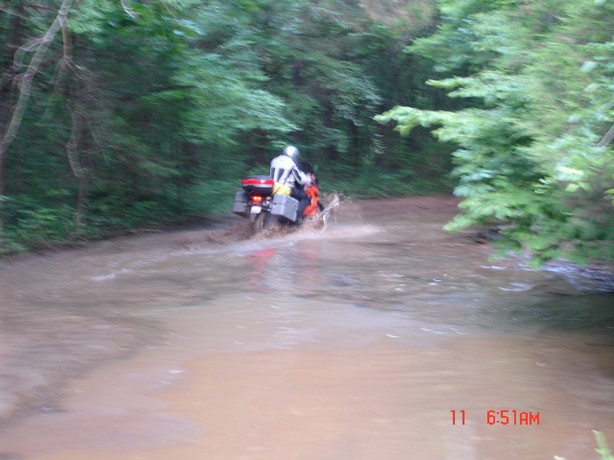 Whoops-----man where is the coffee--who's leading this thing anyway, wheres BigDog, are we in an enduro, short cut my A__, are we there yet, which way is up, where's the interstate ??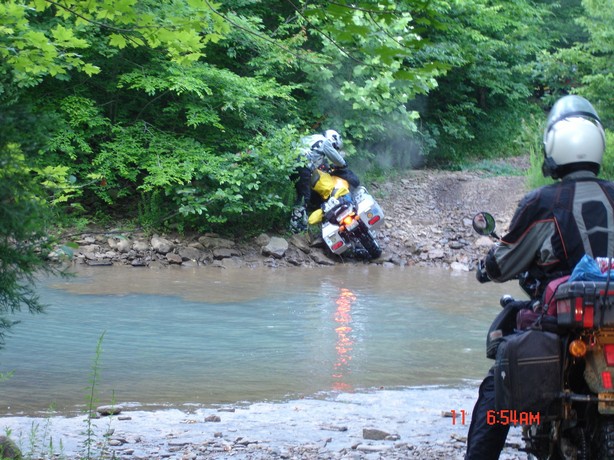 The rocks are tearing Kevin up on his KLR--so he lets some air out of his tire---Ferrell on the big 950 is just having a cake walk.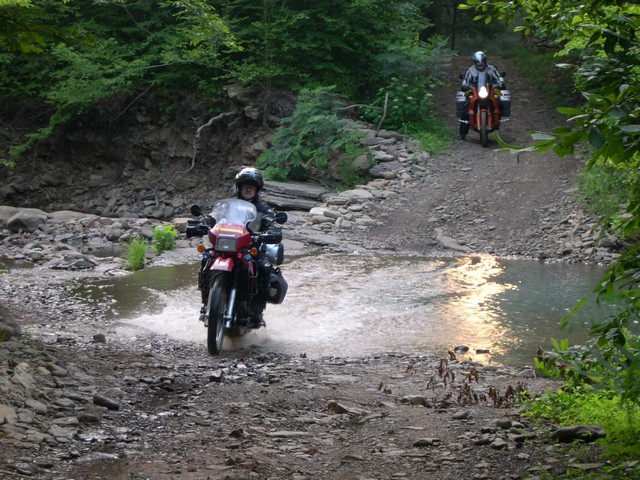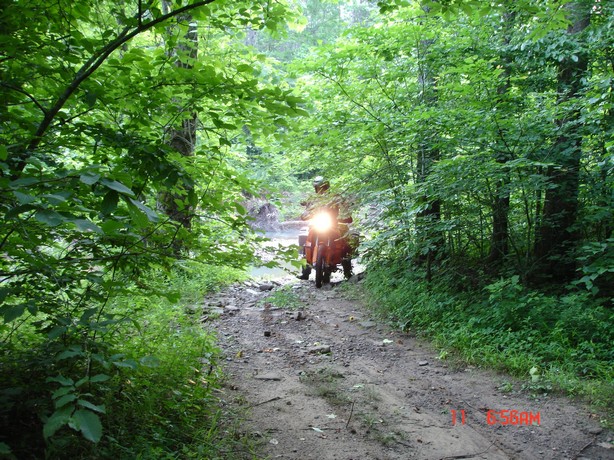 Whoops-------seems Kevin let a little too much air out of his tire and ripped the tube !!! Now he is putting a $12 tube in a $2 tire. Both of Kevins tires were toast as he was trying to get one more ride out of them before he put new tires on. Will he make it home ?????
We finally got some breakfast in Oark, Arkansas. Take special note of this place and try to visit someday. This old store has been in constant business I think for about 100 years. You can get pretty much what ever you want here---breakfast, gas, tire repair stuff, rent a cabin, a shoulder to cry on, lunch, air (and it's free--what a novel idea), and great conversation. The mayor of Oark (population 6) seems to always be drinking coffee in there--he claims to be the judge and sheriff there also. He is a hoot----we had a ball talking with him. There's a big ole' dog on the porch you have to step over to get in or out---man he's big---but thank goodness he's friendly---scratch his neck if you have the time--he's so neglected. The people that run this place are some of the nices people I have ever met. I always hate to leave.
N35°41.344' W93°34.295'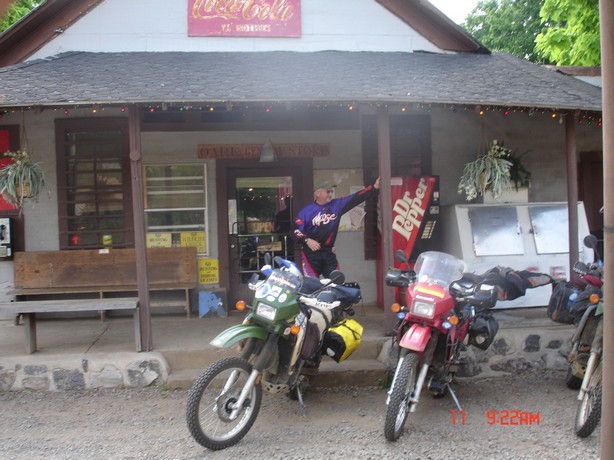 Crash Damage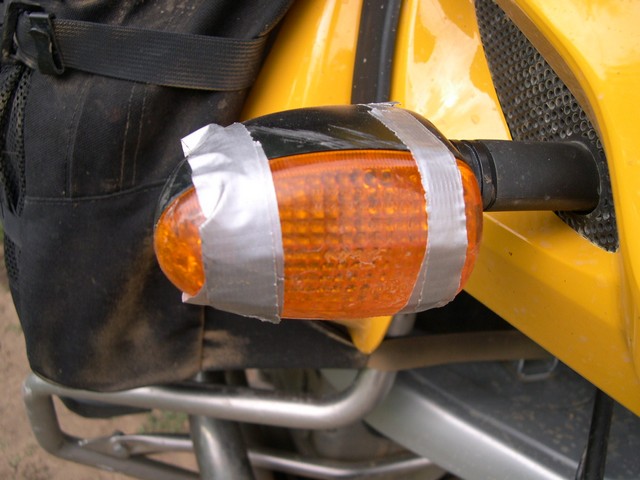 More crash damage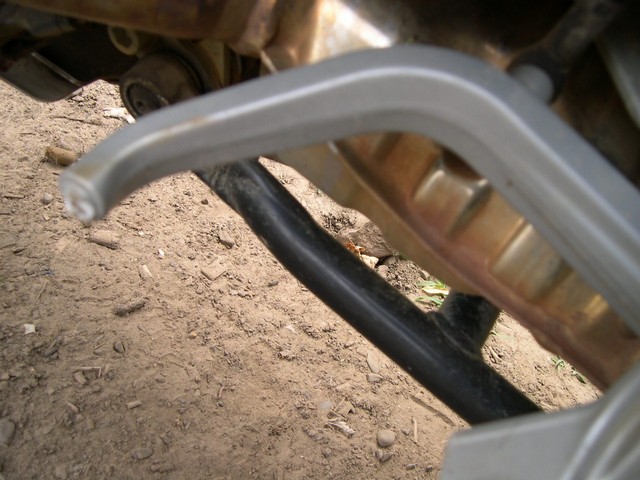 And More-----and it all on the yellow bike ?? Boy where he leading us ???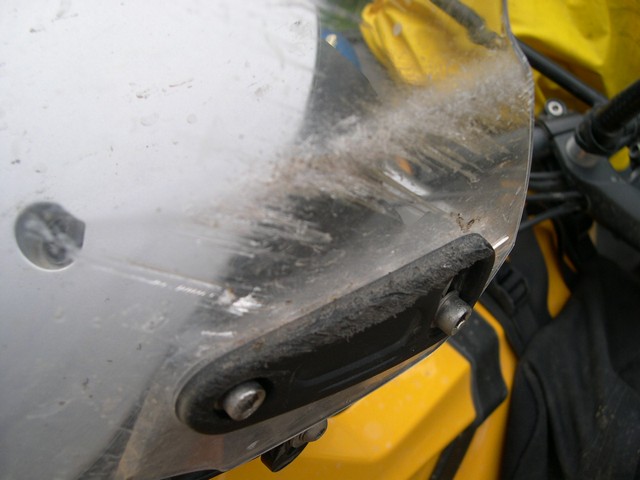 You'll never find this without the GPS coordinates---you'll ride right by and never see it. It is still used by a family in the moutain wilderness, and everything they need must be carried over this bridge.
N35°41.327' W93°31.924' (you'll still have to nose around !!!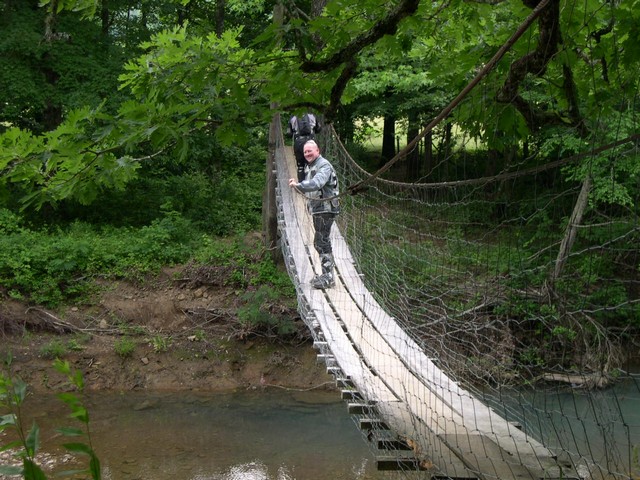 I was really hot and sweaty and took a dip right below the bridge--man that felt good. I kept my clothes on as I didn't want to end up here naked---and you don't want that either.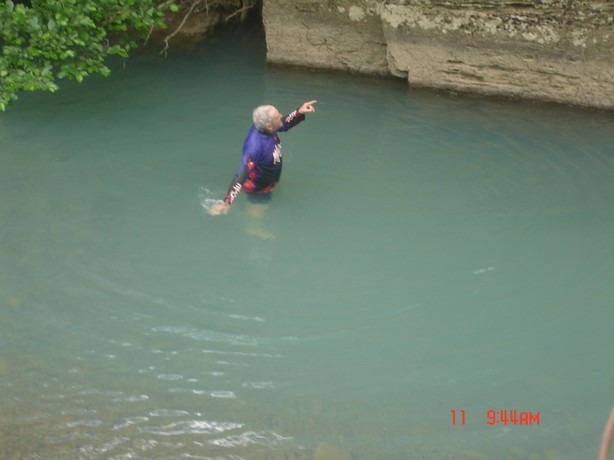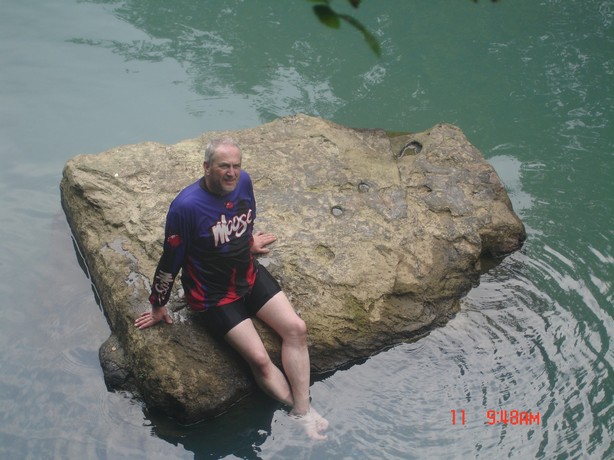 I took us North of Oark a little ways and was looking for an old historic log cabin out in the mountains that is rented by the old store in Oark--it got kind of rocky and rough on this trail and we had more crash damage.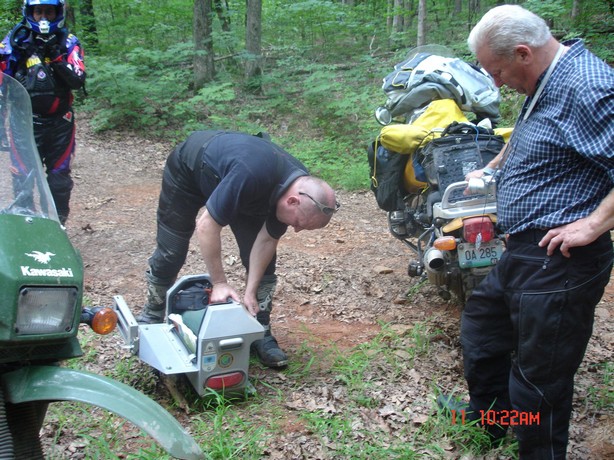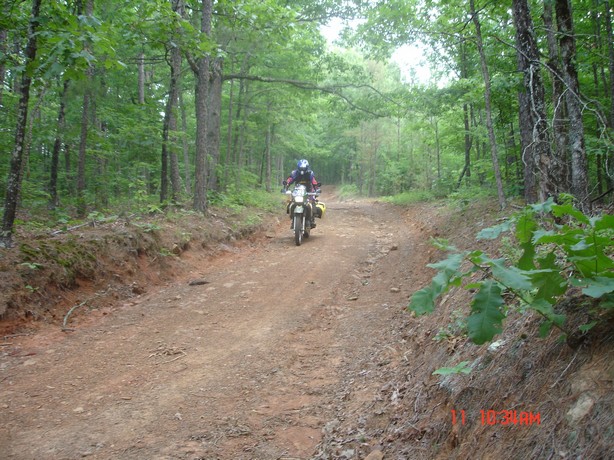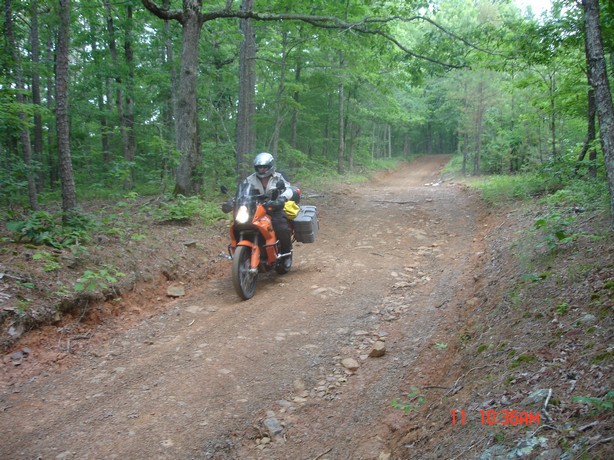 We made her south and cross the Arkansas river at Clarkesville. A beautiful crossing. It's raining cats and dogs up ahead and were putting on the rain gear here. Everybodys rain gear failed them miserably on this trip--thank got it was hot and felt good------well, almost.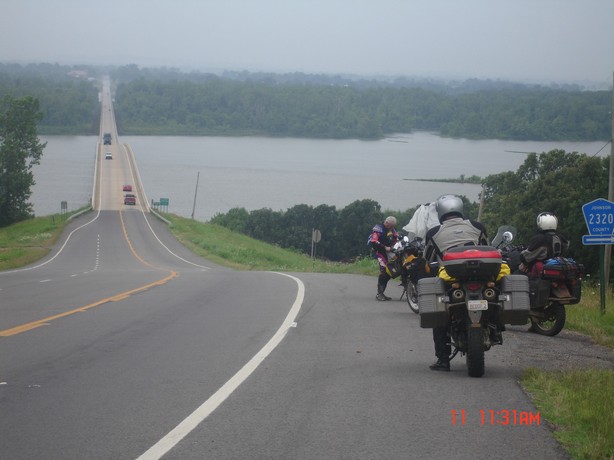 Lunch at the Outback---really good food here. You can get a really good look at Ferrells 950 here. He was such a good rider---and while all of us were flopping around bouncing off of rocks all day-- he just tooled along whistling away---with a big smile. Damn--I gotta get one of those KTM's
N35°11.930' W93°38.097'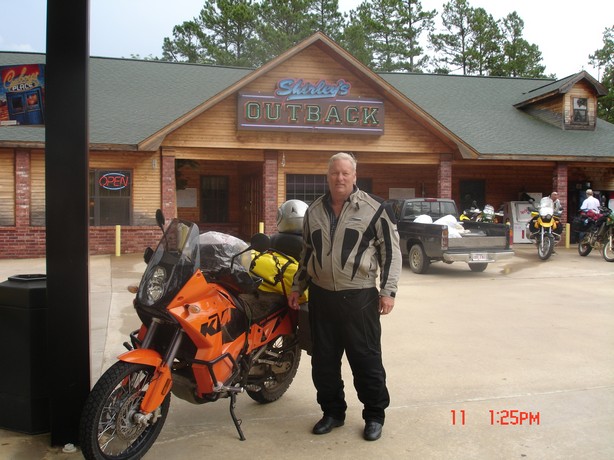 This is my favorite view atop Mount Magazine.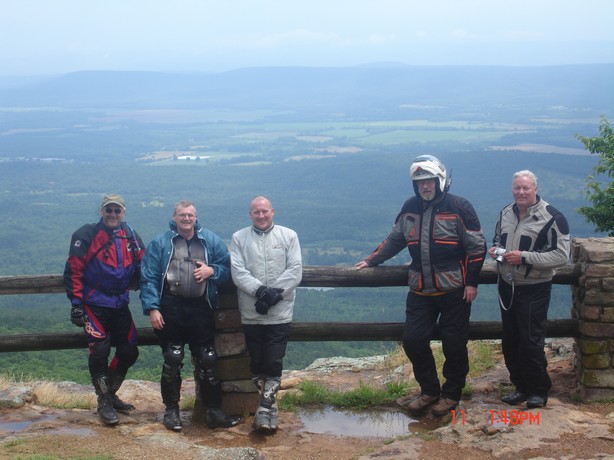 Hey--what's goin' on here Is this the KLR lowering kit people have been raving about ??? Does Too Tall need a taller bike ?? Is BigDog going to help or just continue with the pictures ??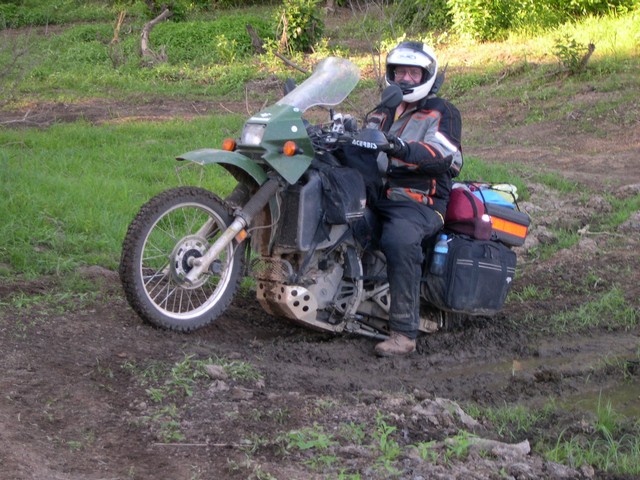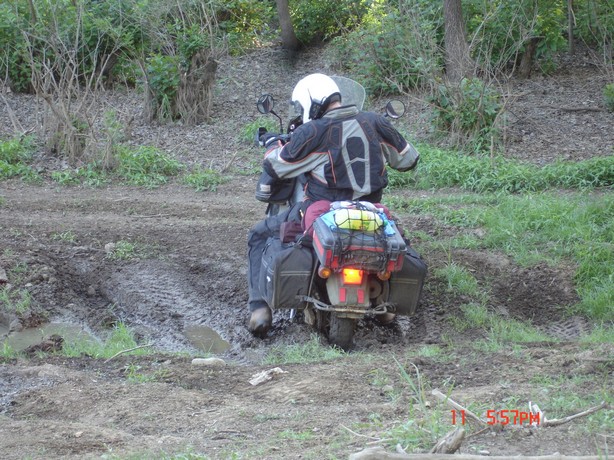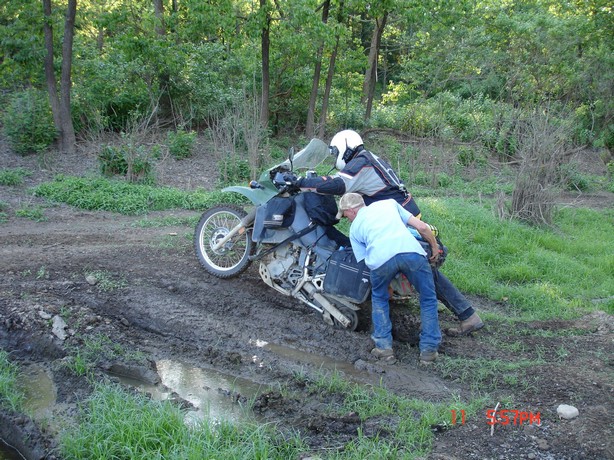 The guy pushing Too Tall was a very helpful local fella on a 4-wheeler who took us into this dried up lake bed----as we were searching for some water as none of us had taken a bath for 3 days--me 4. It was like a swamp in places here and some places were bottomless. One of the guys buried his 4-wheeler in here and it took 2 4-wheel drive pickups to pull it out.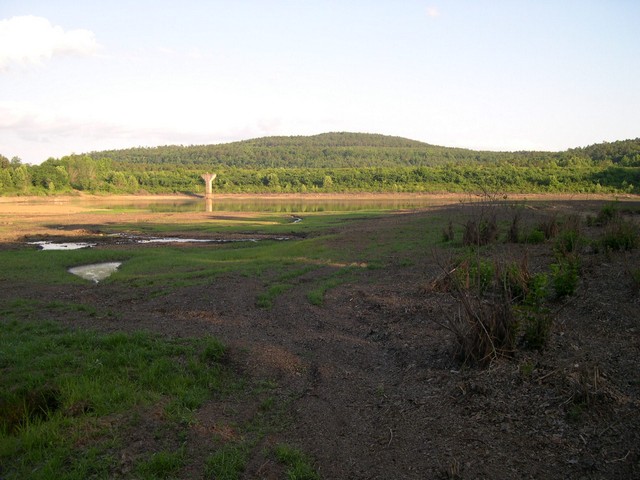 It was miles down a one lane mountainous road to Brock Creek campground in Arkansas----and Buzzez puts up our "Flag Day Ride" flag. This was the best campground---it was so remote--nice and quiet except for the "Whip-Or-Will" from hell.
Brock Creek Camground N35°29.218' W92°48.245'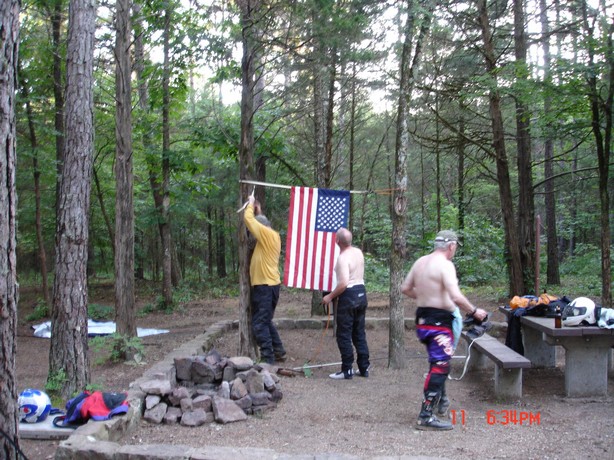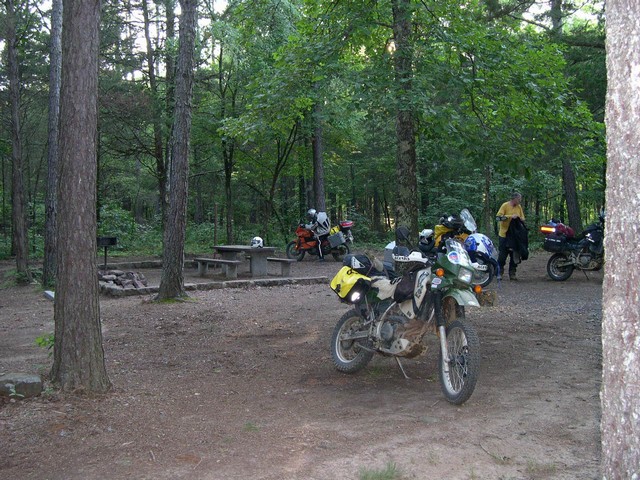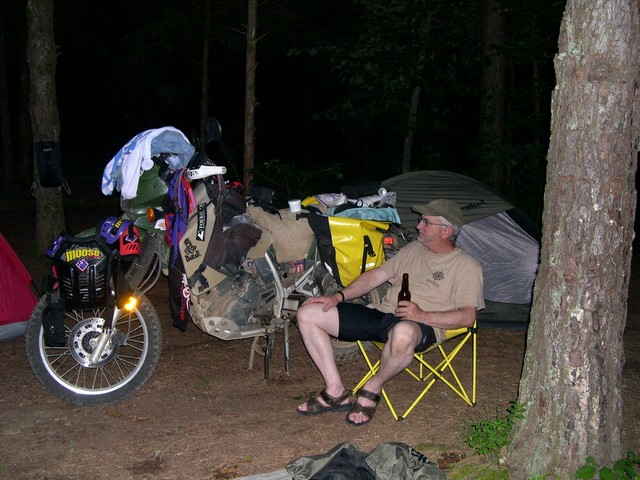 The night before we got to the camp---the locals told us 2 bears were prowling the camp. Something helped itself to the contents of our trash you seen here in the plastic bag. It made a lot of noise-----we all were wide awake during this midnight robbery, but kept quiet as 5 church mice hoping we weren't the next meal. Nobody peeked out to see what it was--I don't want to know.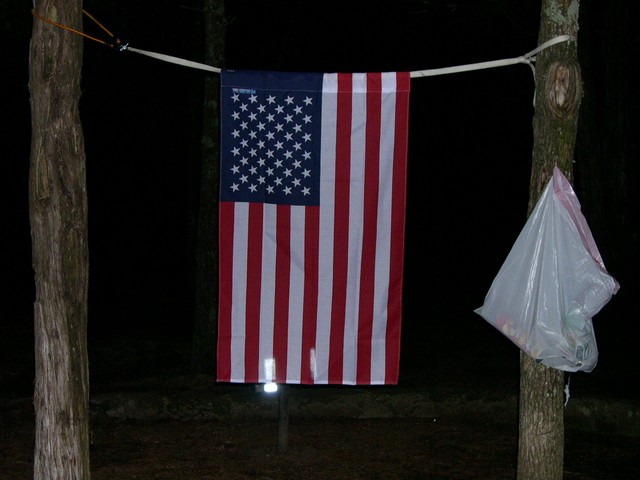 Buzzez back was out for about an hour every morning. We had to pack all his stuff up. Then when we were all done---he was fine !!
I was starting to get suspicuous of this :)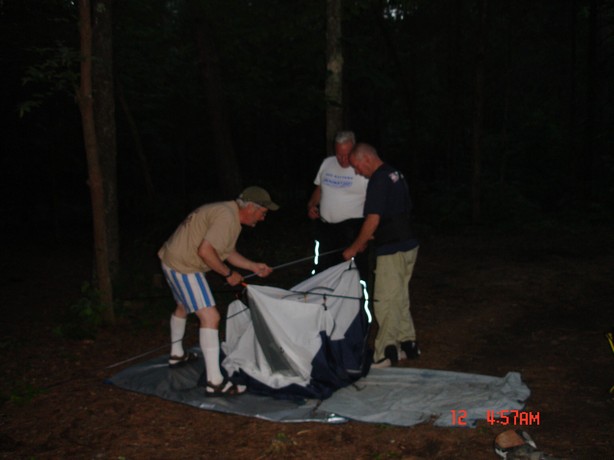 Sunday morning we rode to breakfast in Clinton Arkansas-----first it was a huge dump across the street----then back across to the cafe for breakfast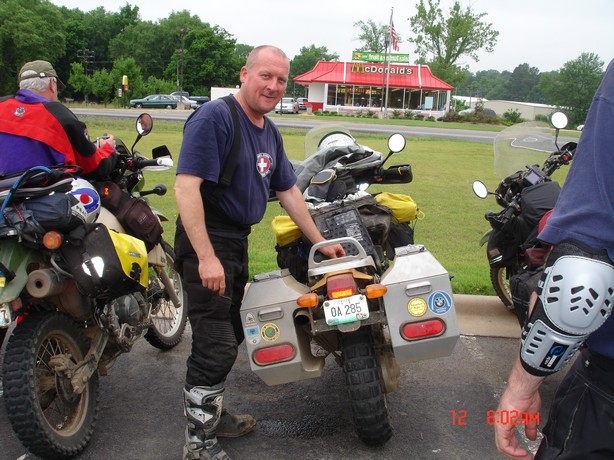 A few more pictures of the route back home.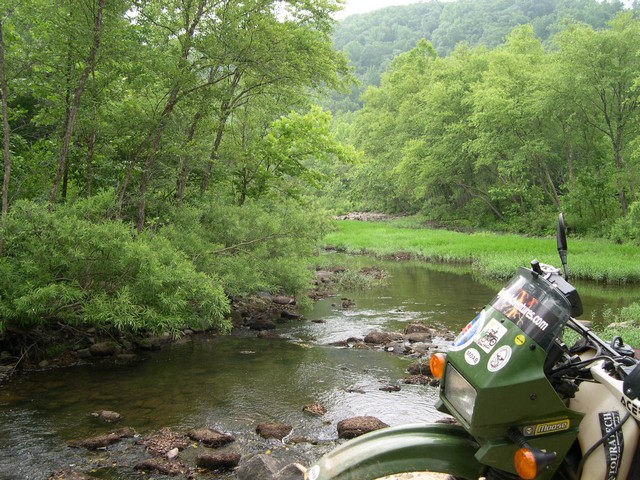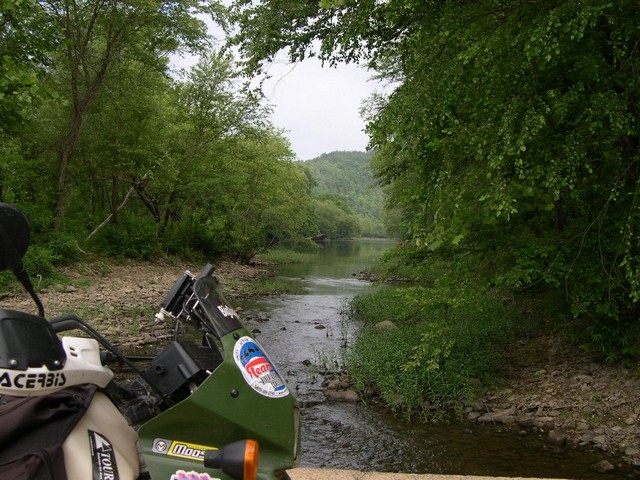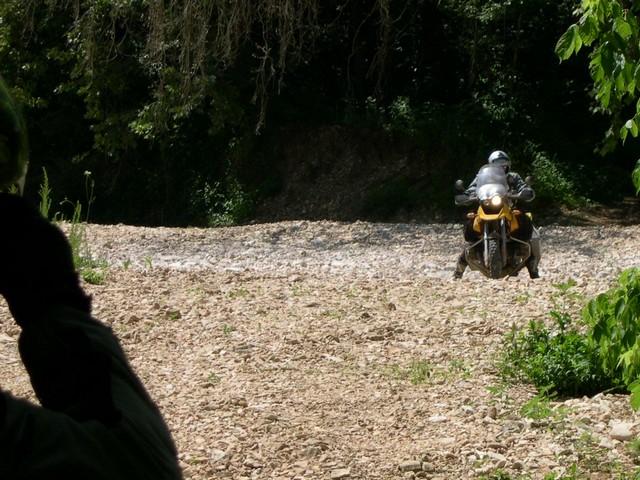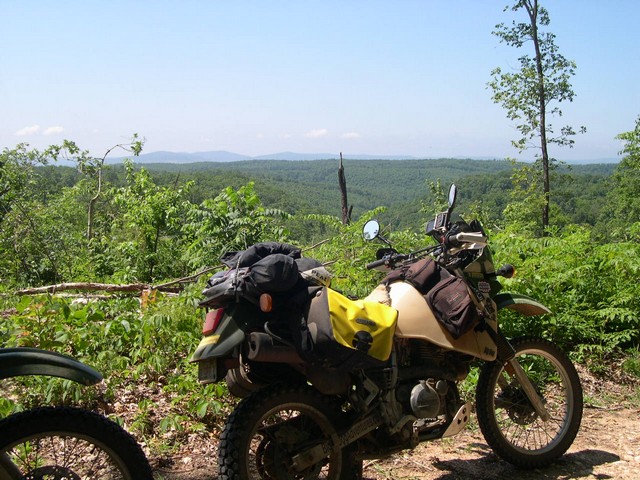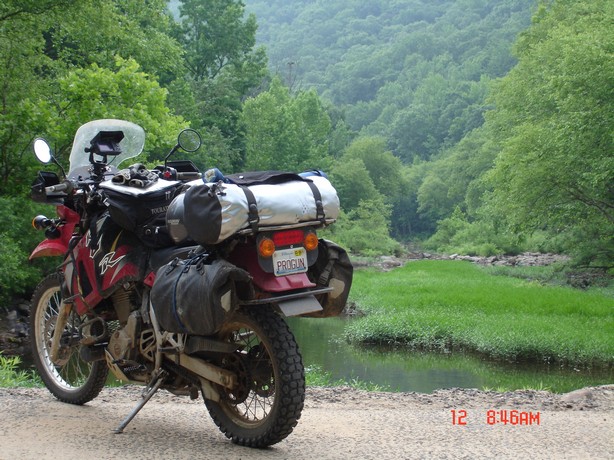 The End !!!
Back To My homepage