Ozark Mountain Daredevils
A video of this whole ride can be purchased HERE
October 2007
Dirt Ride ?? Dualsport Ride ?? Adventure Ride ??
Well---------yes !!!!
Riding with new friends was the highlight of this ride.
I had met Tim and Lisa Rhoads in Missouri ealier in the year and after one ride together
it was decided that we were really great riding partners and it would be a lot easier on us
if we just moved closer to each other. Well that probably won't ever happen but we loaded up
our dirt bikes and headed to the Ozark Mountains in Arkansas. I brought along my KLR also as
I had planned to not come home after our 2 day dirt ride near Clarksville, Arkansas.
I drove to Tims house and him and Lisa put me up for the night and I ate very well.
I was no longer on a diet----no way.

The next morning I had to wait for Tim and Lisa to work a few hours and Tim asked me if I
would like to ride his brand new X-Challenge BMW -----Duhhhhhhh !!!!!!!
He loaded me up a great 100 mile backroad ride in his gps and off I went.

Little Dog had to stay in the FJ Cruiser--as he would be nothing but trouble.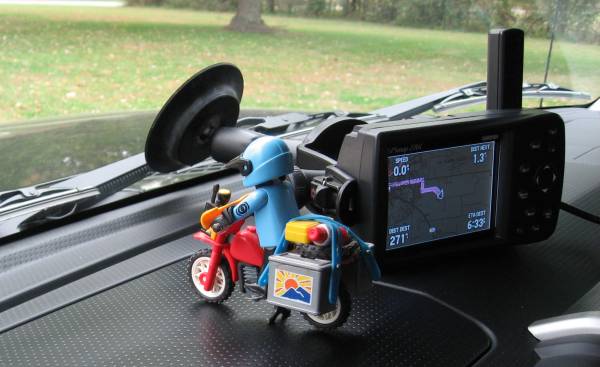 I pulled a small utillity trailer with my KTM 520EXC and KLR on it.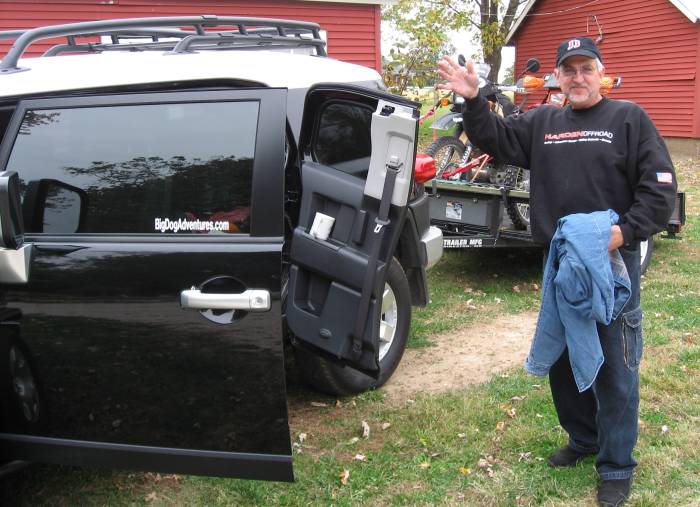 I had seen an X Challenge before but for some reason just didn't pay it much mind
as I seem to have drifted away from the BMW's I rode for over 20 years.
I didn't ride anything nasty---but hey.........it's not a trail bike.
I was totally impressed with this bike from top to bottom.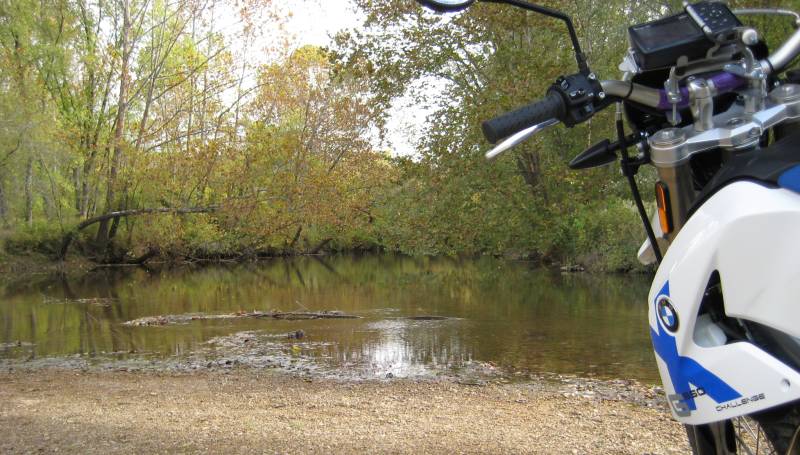 The fuel injection was spot on and the motor was very strong and smooth.
At first it didn't seem good for pulling wheelies------wrong !!!!
It's has a very small gas tank but gets close to 65mpg.
X-mas is around the corner and a I hope Santa (you listening Lisa) brings him a touratech tank.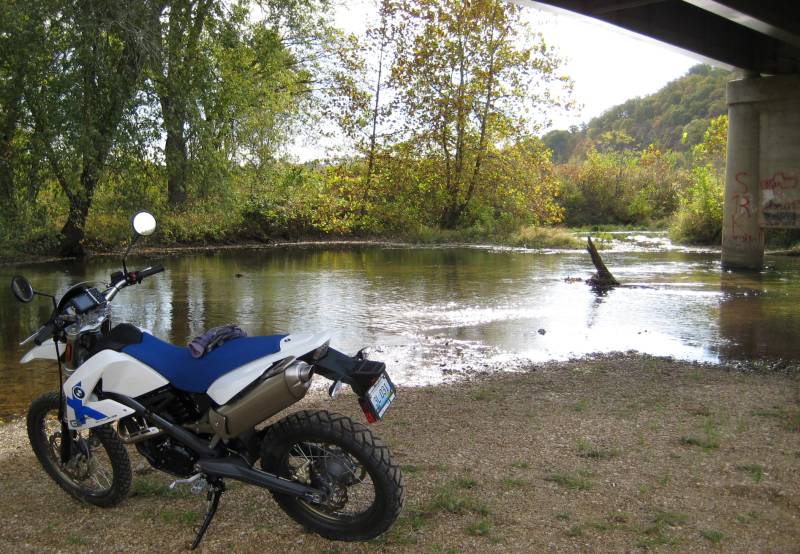 Brakes are superb and I wish that seat was on my Husky TE610
It's narrow up front for standing--and where you sit is much wider--really nice.
It had a little more power than my Husky--but the Husky motor is really a 570cc. motor.
It is super quiet and always started instantly--it was nice not having to mess with a choke.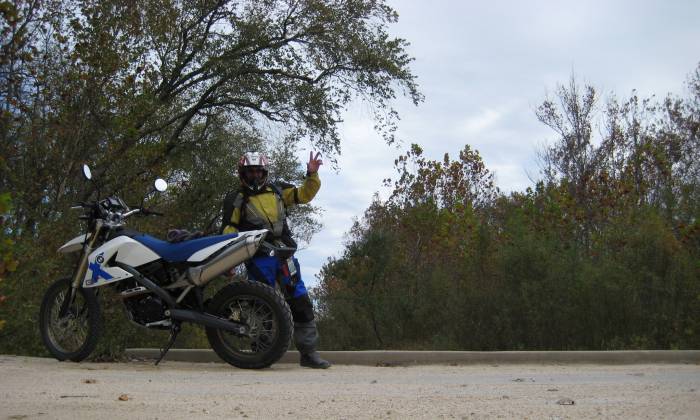 And it brought me to one of my favorite things------a bridge....OK a tressel will do.
This tressel, which is Southwest of Rolla, Missouri is still in use.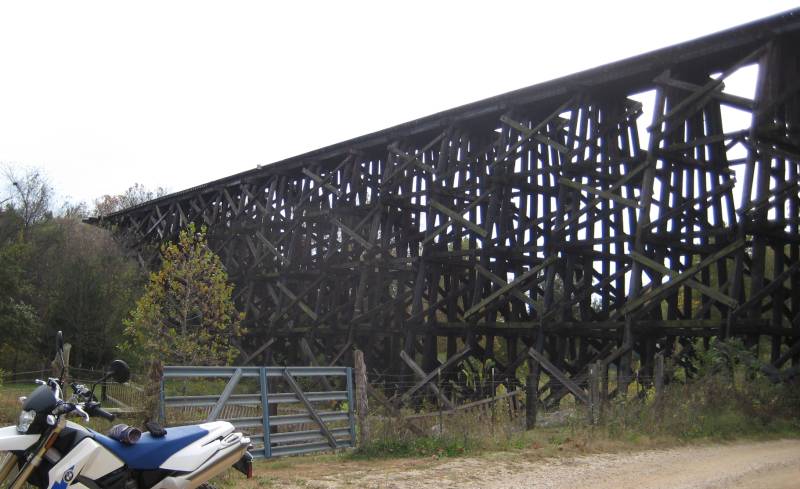 That Tim-----routed me to another neat old bridge--with a curve in it.
I'm telling you--BMW is heading in a new direction with their small bikes.
Right when I thought they had gone to far left-----they made a hard right back to where I like it.
Strange--the rear shock just felt plumb goofy sitting still and bouncing up an down on it--
but worked perfect riding it--it's something totally different as it's an air shock.
It's a very tall bike--as tall a bike as I ever sat on---short in-seam people should not apply.
That is what it takes to ride tough terrain fast.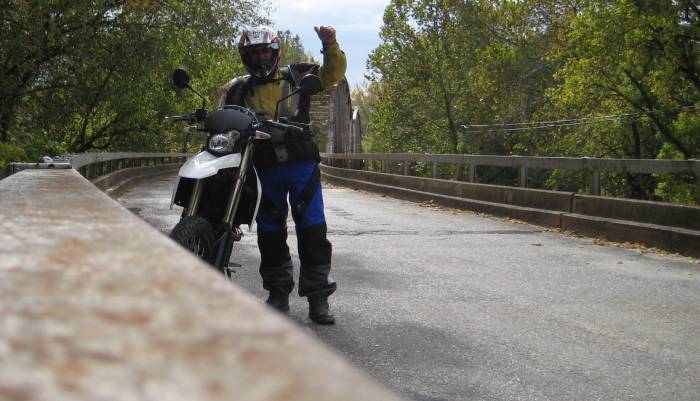 And then onto old Historic Route 66
It was pretty cold out and I had nothing heated on--then it rained a little.
I was enjoying the ride too much to even think about being cold or wet.
I looked at the GPS and it said I was going to get back to Tims quite a bit later than our
set departure time for Arkansas--------Ahhhhhhh.......they can wait---I selfishly
said to myself!!!!!!!!

When I got back Tim.........who has a full compliment of bikes from dirt bikes on up told me,
"If I had one bike to keep---it would be this one" (the X-Challenge).
Tim is a very good offroad rider and adventure rider--he knows his bikes.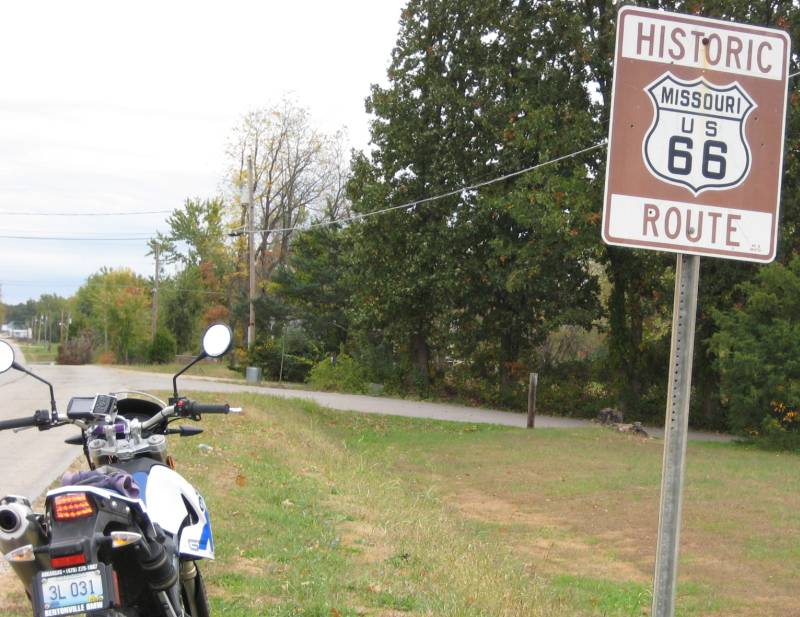 Where here they are----Tim and Lisa.
One fun loving couple if I ever met one.
Lisa is a hoot and is just up for anything.
There were no droopy faces the next few days--it was a pleasure.
Lisa's got her bike---but is working on her technical skills,
We'll see more of this girl later on I'm sure.
I'll never forget sitting at a table with this couple--I looked at Tim
and asked if he thought he'd be interested in going to Mexico.
And Liza blurted out "Hell Yes"--Like I said that woman is
up for anything.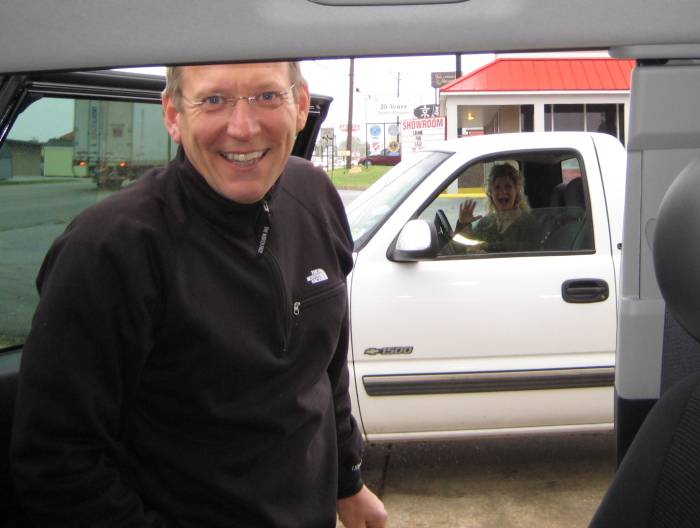 For the next 2 days we'll be riding the trails North and South of Clarksville, Arkansas
Here's my 3 riding buddies.
Tim Jorgensen--XR650R----Fargo North Dakota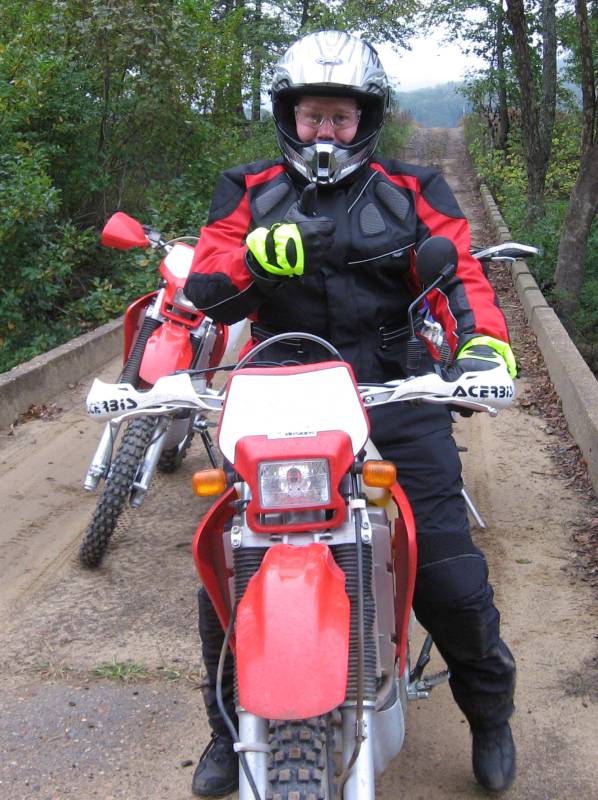 Mike Jorgensen--XR650R---Fargo North Dakota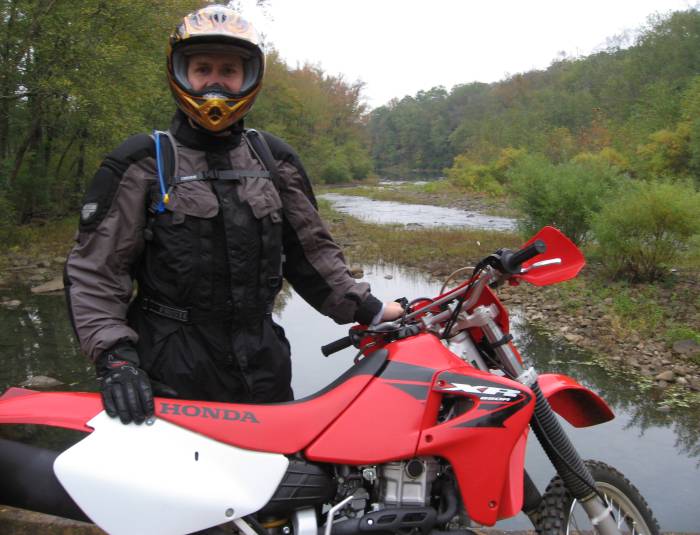 Tim Rhoads--WR450---Rolla, Missouri
At this neat little creek crossing we had ridden about 15 miles in Arkansas mountains
and stopped for a break on the little bridge. The section of trail before this bridge gets wider
and easier everytime I come thru here---I expect hords of motorhomes on the trail some day.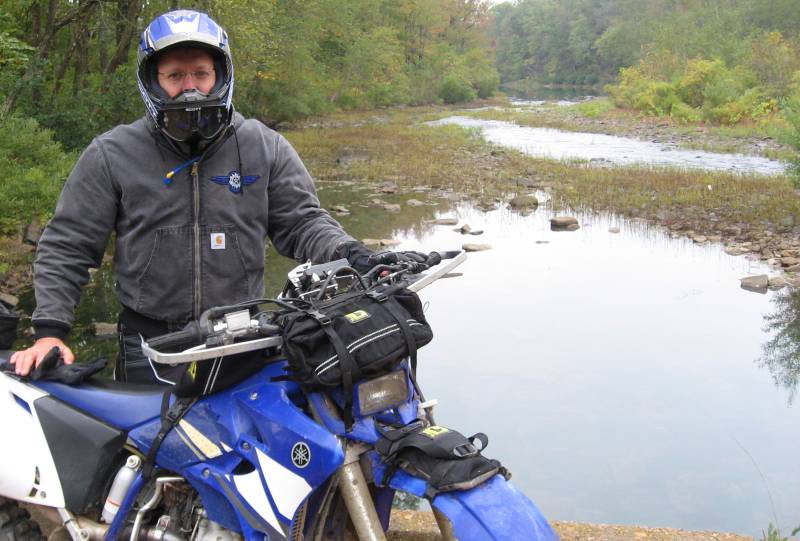 Who is that masked man ????


It was quite chilly that fall morning
but Tim was making the best of it.
After quite a few miles in the cold it was time for a cup of coffed and a snack.
They loaded up on gas---and I should have but didn't--not normal for the "BigDog"
I guess I was used to having a huge tank--not so on my 520EXC.

A funny thing here---Tim's XR would not start--and they pushed and kicked till it just
wasn't fun anymore. I finally helped push it way down a hill and it just wouldn't fire.
There we were---and I asked if I could try kicking it-----well yeh.......have at it..
you think you can kick that big motor you ole' fart ????

Yep----first kick fired right off and Tim says "And that's why they call him the BigDog"
I sauntered off, chest swelled up, with everyone wondering how in the heck I got that big pig started.
Yep that's how you do it boys-------stupid dumb luck !!!!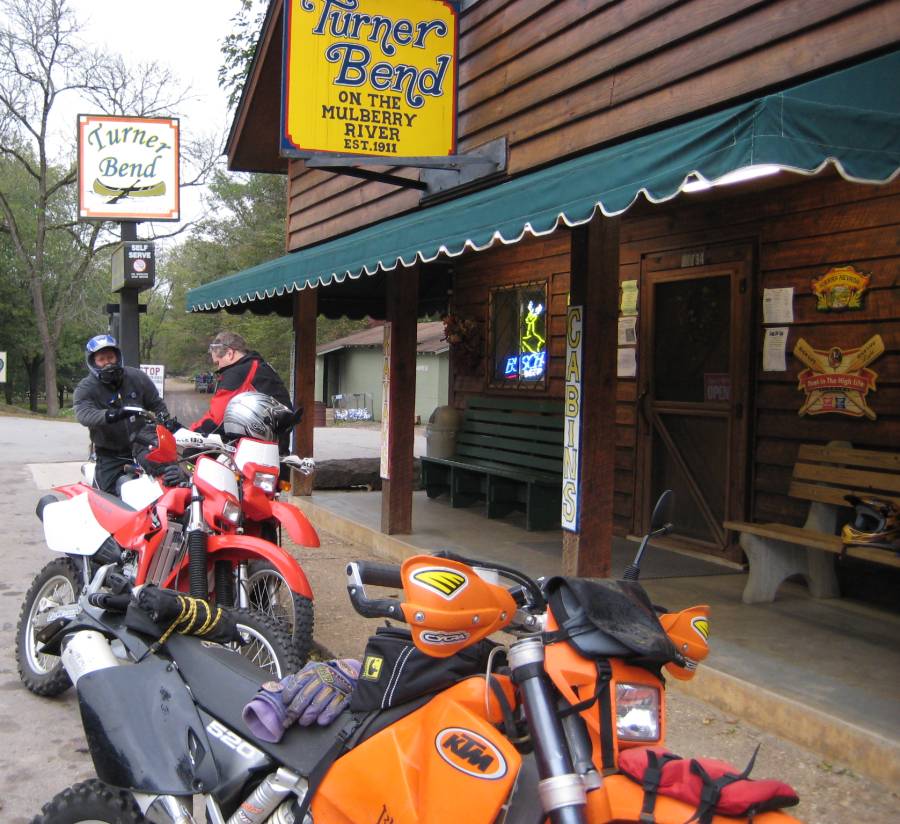 You can see my helmet cam really good here.
I got about 1 hour and 45 minutes of some really good stuff.
The video is so much better than these pictures.
I record it to digital mini-DV and the quality is excellent viewed on a TV.
It's not the fuzzy, small, short stuff you see on the internet.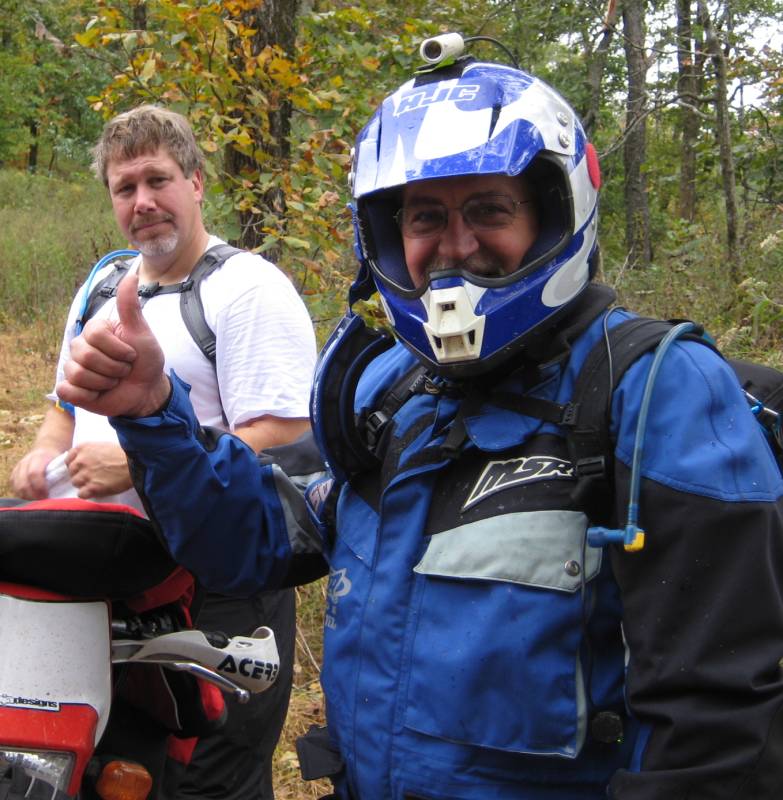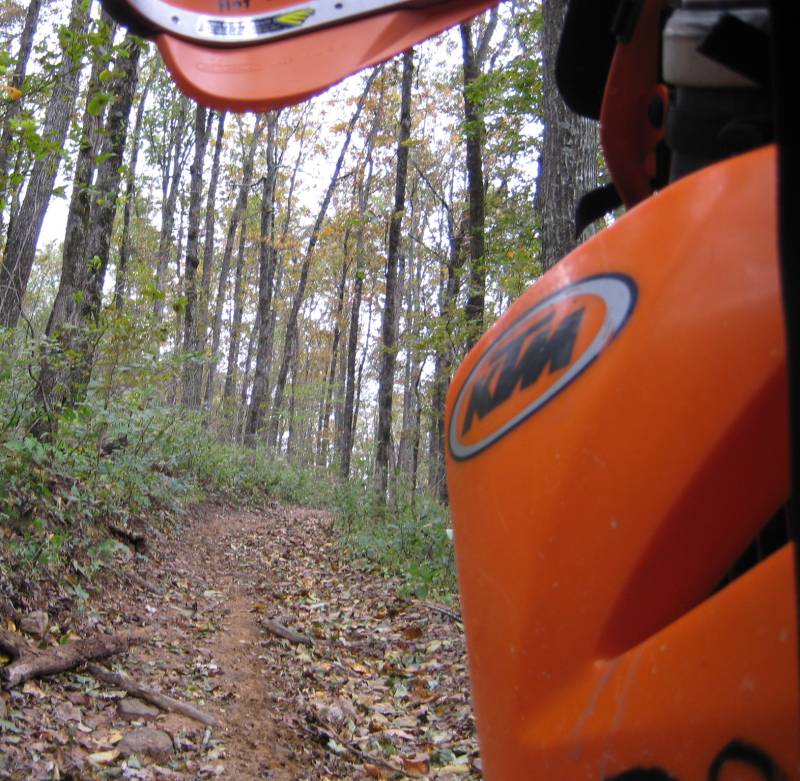 We blew into the little town of Oark, Arkansas and ate at the only place in town.
The Oark General store----in buisness for over 100 years.
We ate Texas burgers and pie---I was stuffed. We were starving as we got here
way late in the afternoon and even tho we got an early start we couldn't finish all
the trails we wanted to ride.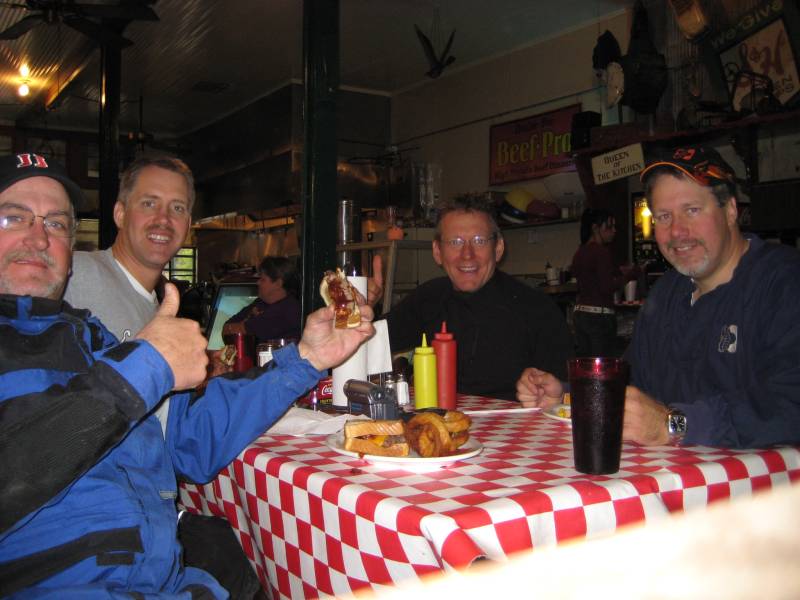 Got to thank my sponsors.
Jimmy Johns restaurants
MSR---Mark Sampson Racing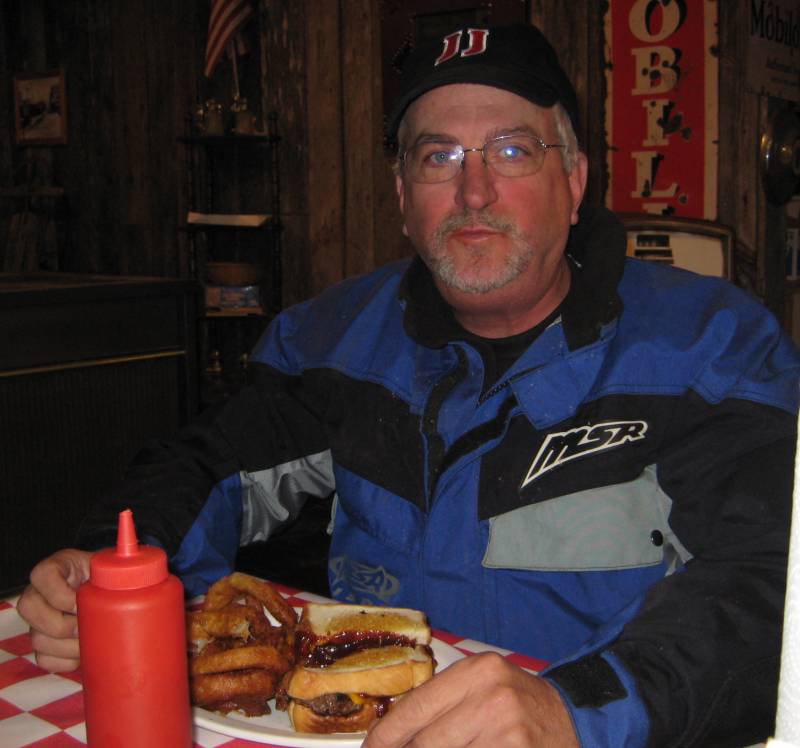 This picture needs a caption.
"OOOoooPPpppps---hope that was just air"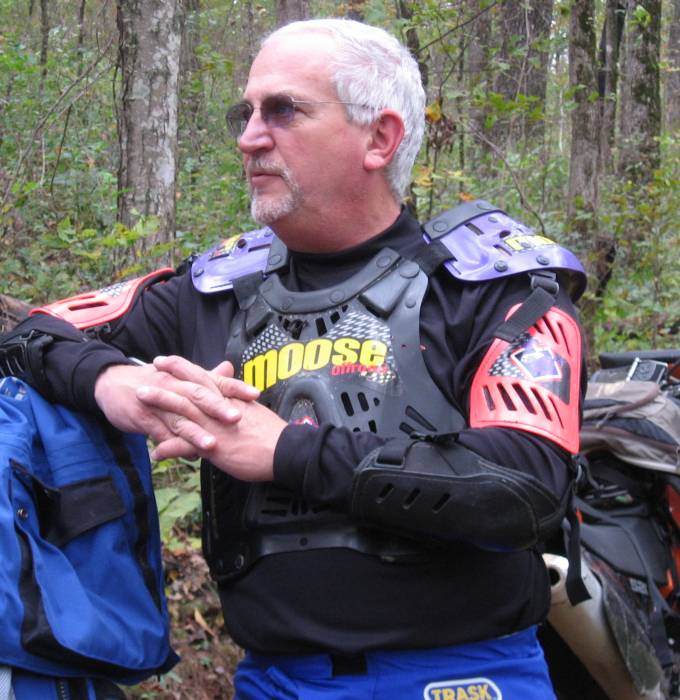 That evening we all went to a great local Mexican restaurant.
Or I guess it was I couldn't eat a thing--but everyone else was enjoying it.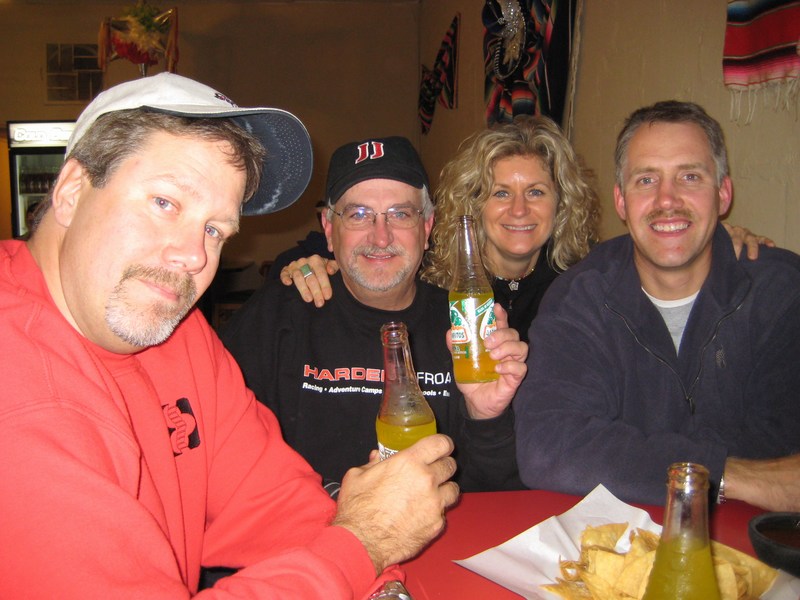 I like riding with these guys-----6AM we were eating breakfast--and then went riding.
We headed South across the Arkansas river and hit some really nasty rocky trails.
Lots of fun---the fall colors were late this year--but everything was still beautiful
in the Arkansas mountains.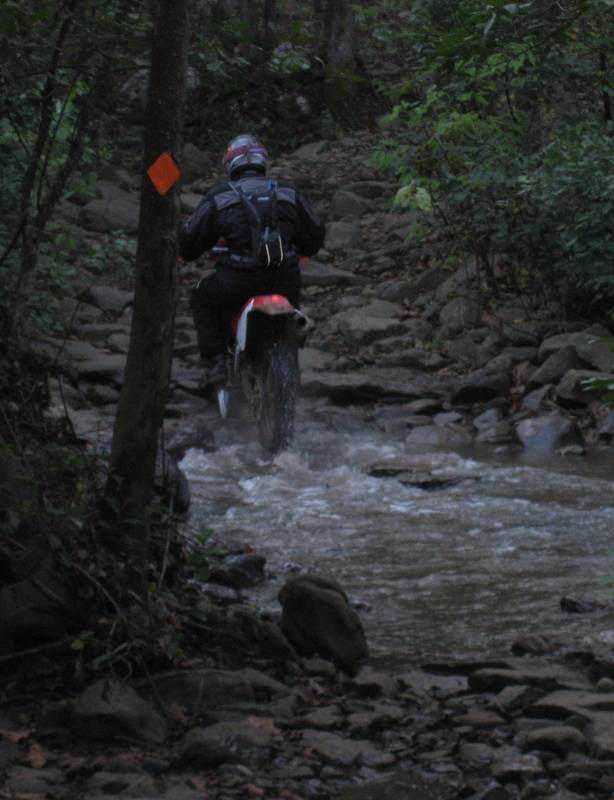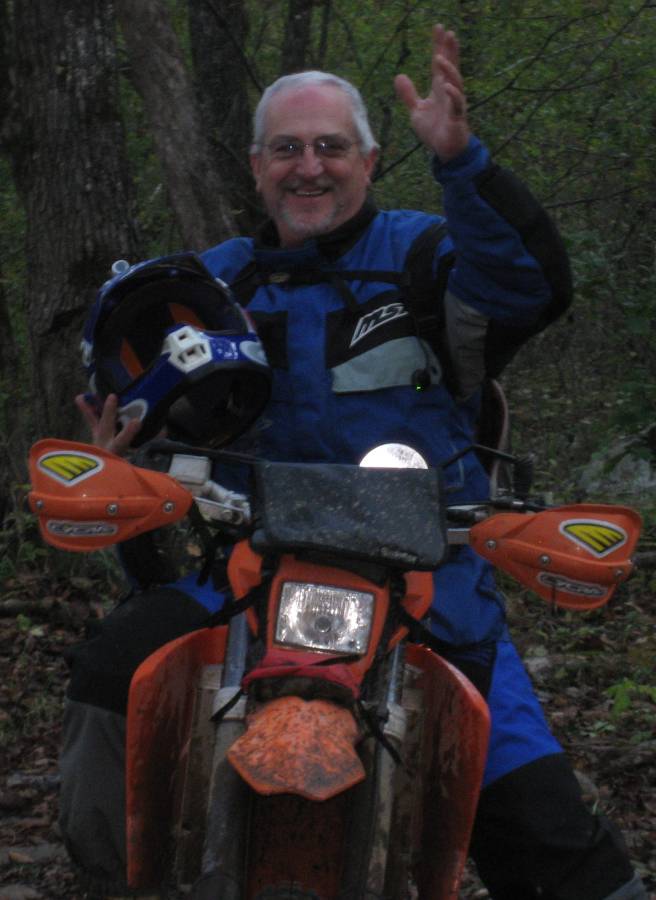 On top of Mount Magazine---the highest point in Arkansas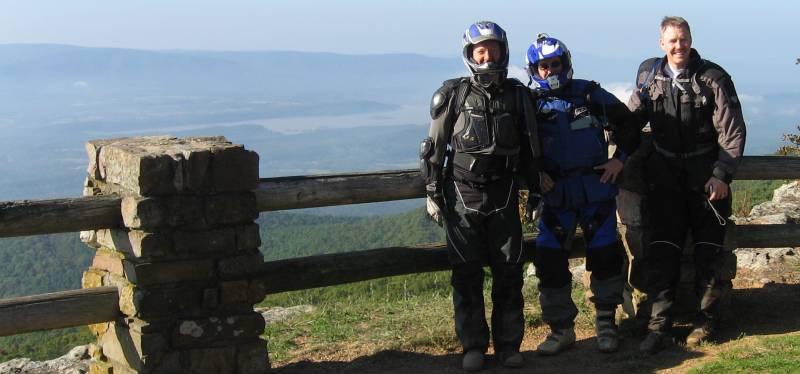 On top of Mt. Magazine we had lunch at the Outback--here was our waitress.
Kind of made me nervous she did.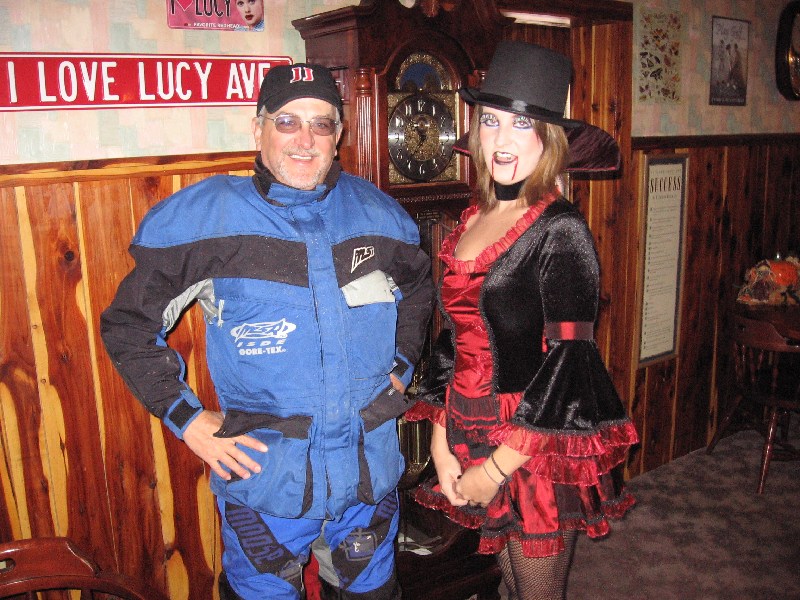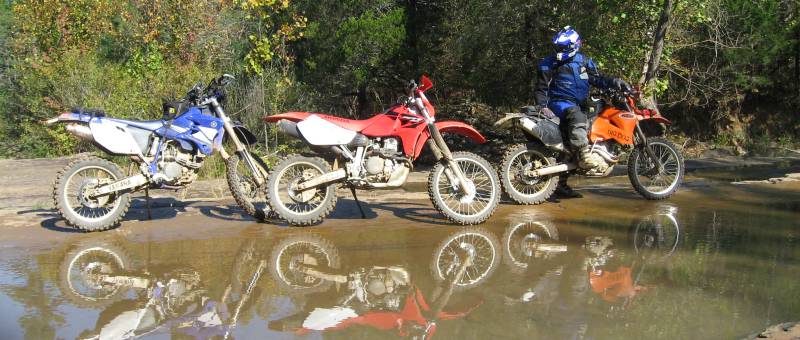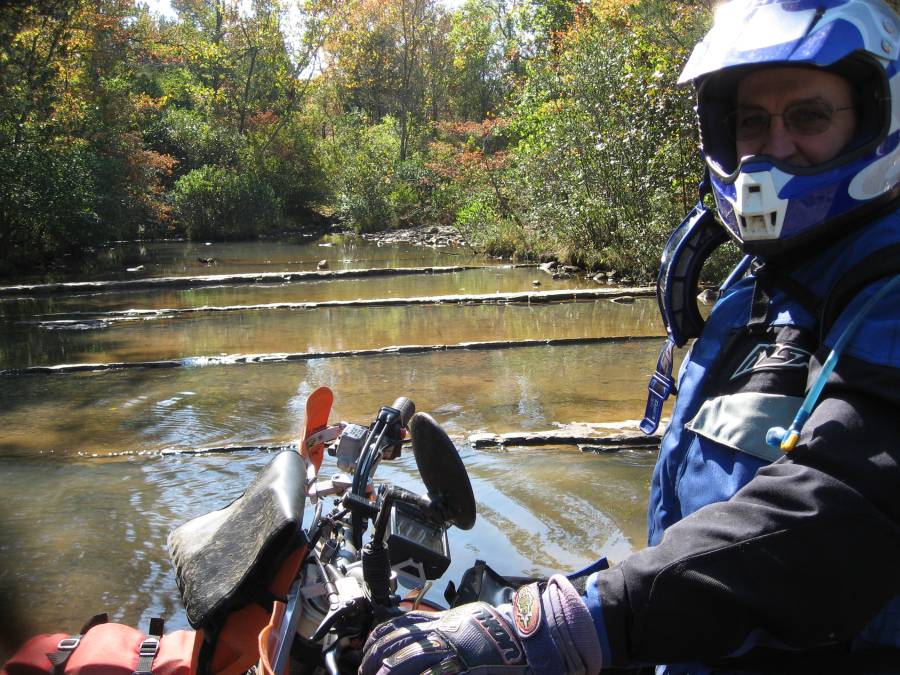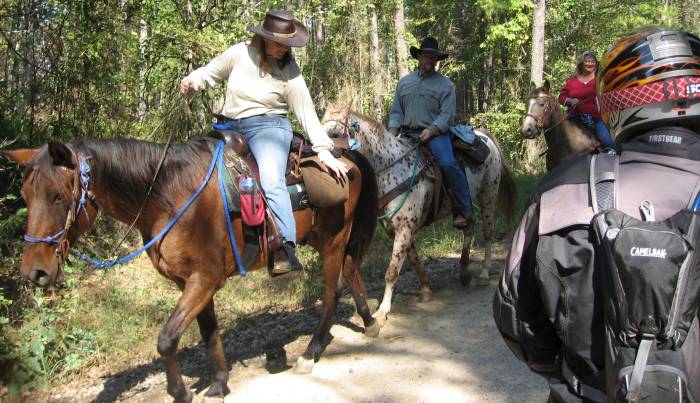 I knew the ISDT reunion race was going on at the same time we were down there--old guys racing old bikes.
I was so hoping to see some of these bikes---little did I know we would be racing in it.
Well sort of !!!!!
We were riding some pretty nasty stuff when one trail had race course markers on it.
I really wanted to go where the racers ended up and look at their bikes but didn't
have a clue where that was---then I thought ????
Duh !!!!!!!---follow the arrows dipstick---OK !!!!
So we raced and we raced---blowing thru one check point after another.....
giving it all we had. We rode on true single track for miles---most people don't have a clue
what true single track is since 4-wheelers and jeeps have wallered out all the trails us
old dirt bikers made year ago. I was passed by one old fellow on a 2-stroke.....blew
me right off the trail------I'll have to hunt this guy down--must be a professional on
a 650 or something.
Here's some of the bikes we saw---enjoy !!!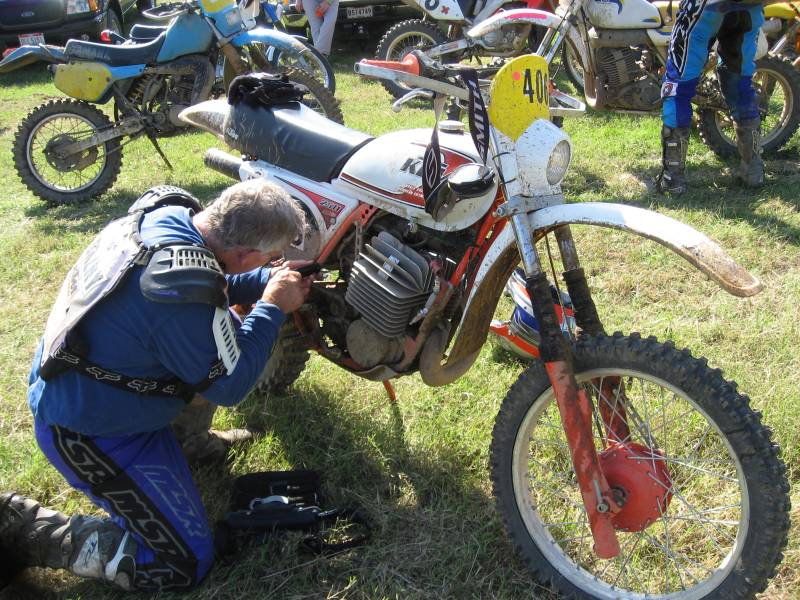 Yep--had one of these.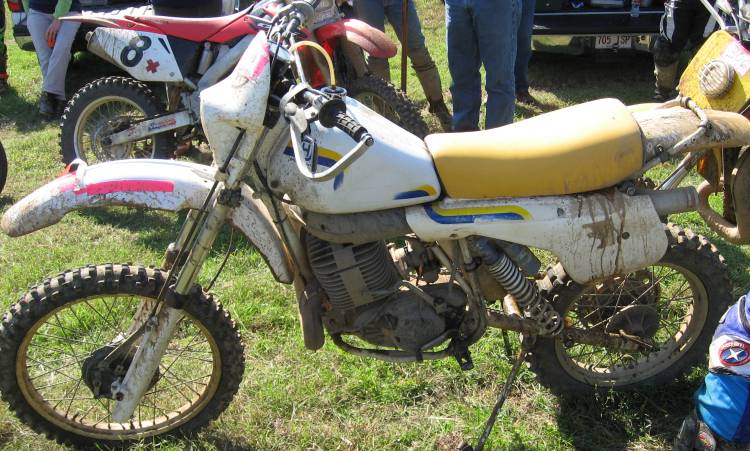 Yep had one of these.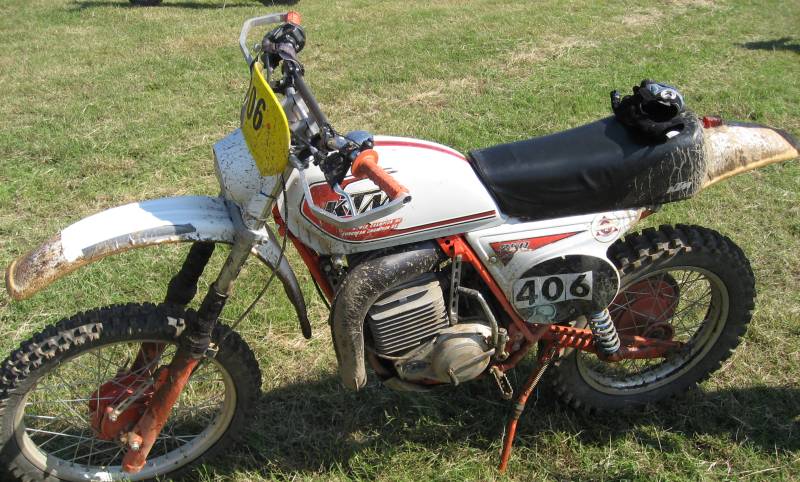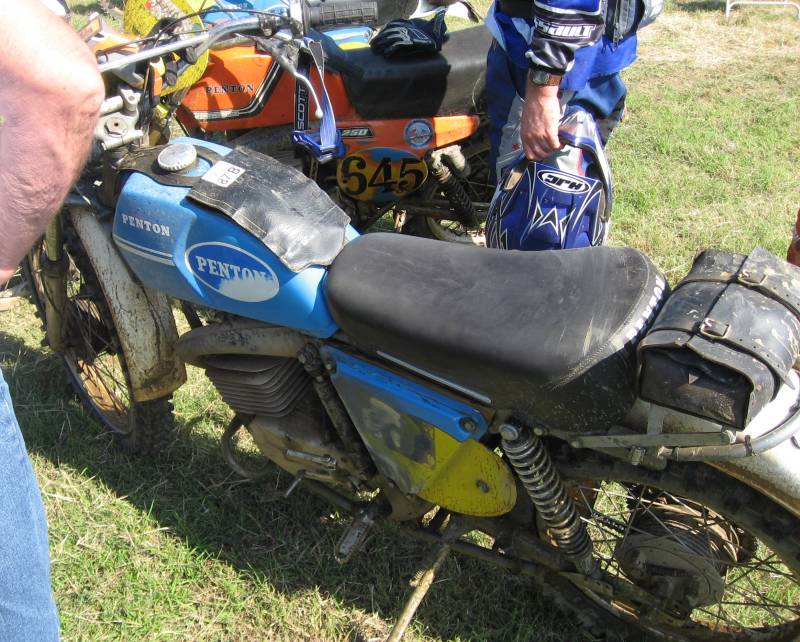 Yep had one of these too.
A rare and interesting--- but obsolete model----1951 Geezer
It was in pitiful shape and I don't see how it got anywhere--a very heavy example.
It belched, farted, leaked and was totally obnoxious.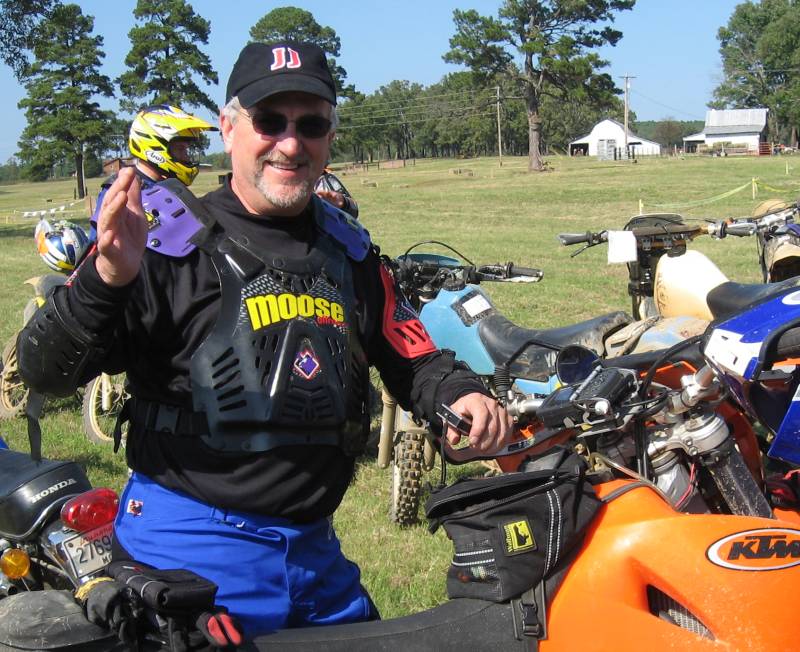 Yep had one of these.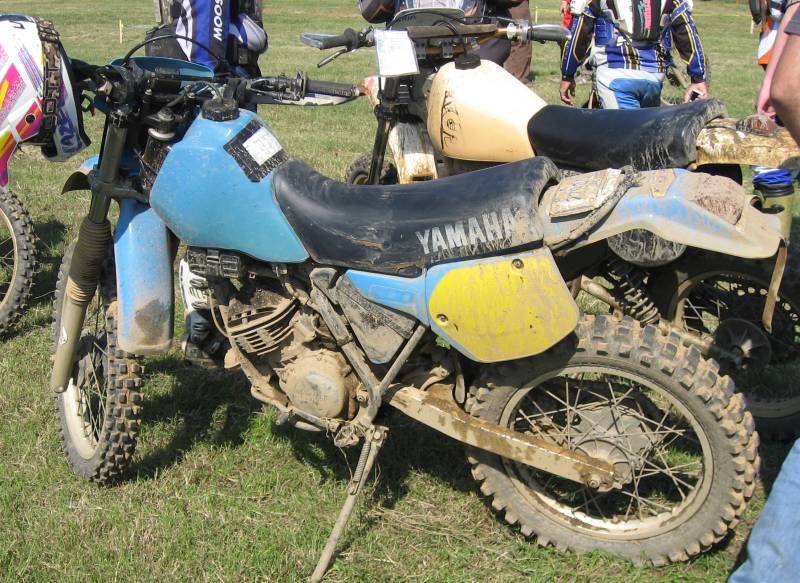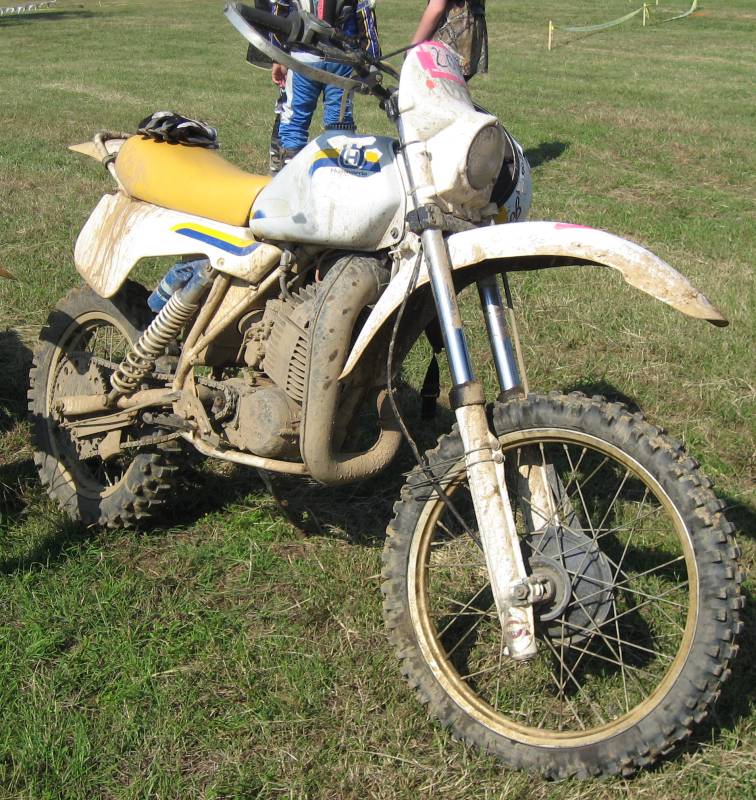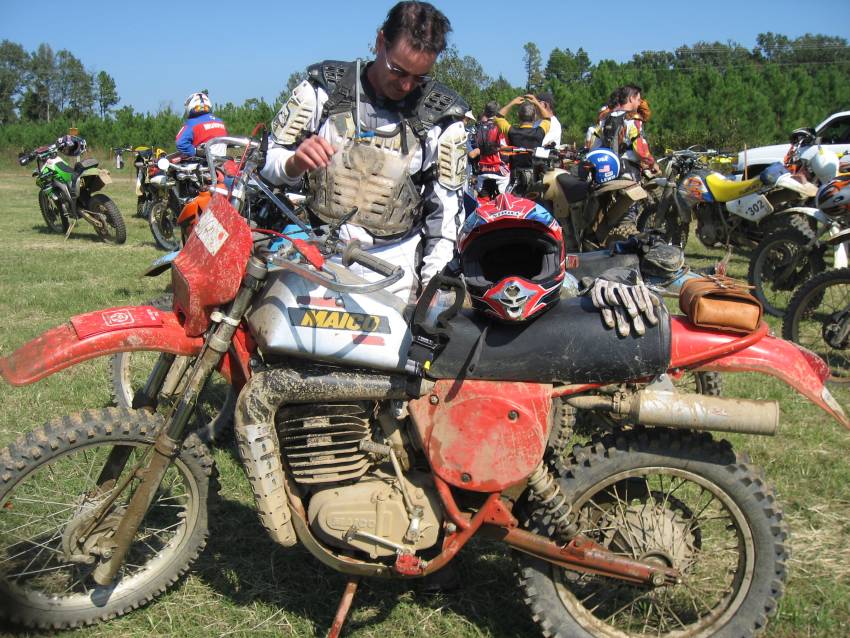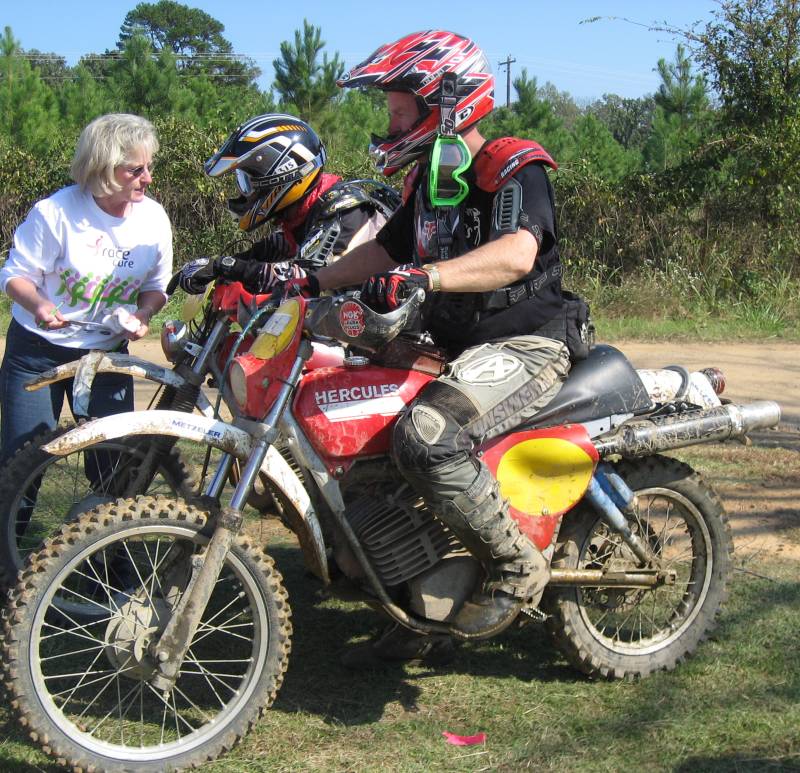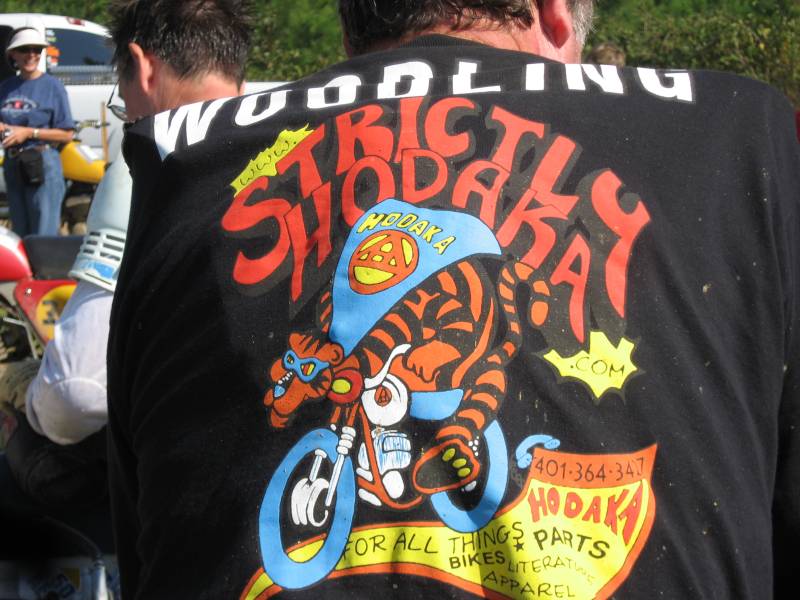 Ok----here's the smart-ass that blew by me like I was standing still.
100cc Hodaka Super Rat
Yep--had one of these too--and a Wombat--and a Combat Wombat.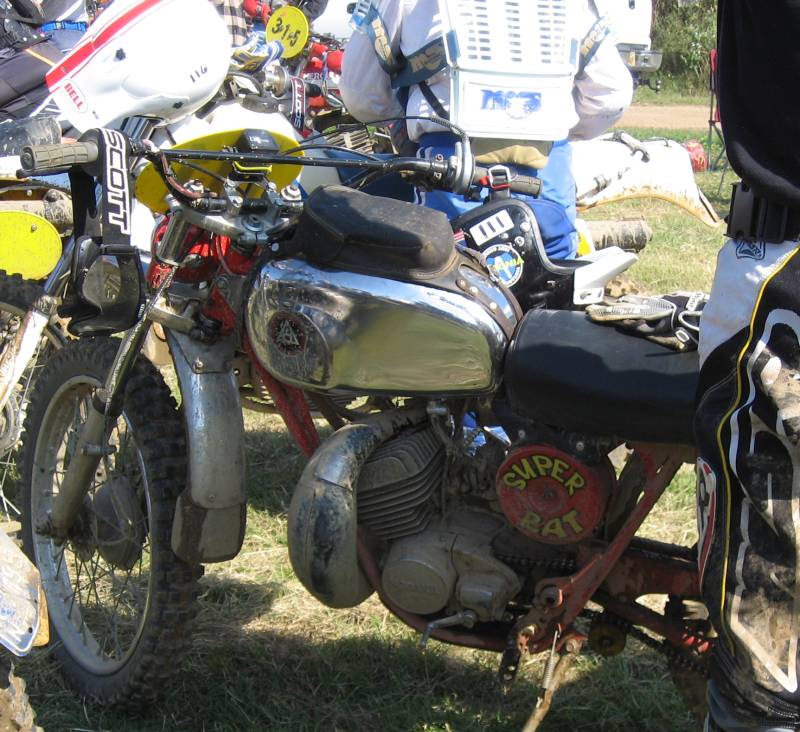 My favorite Bultaco I ever owned----360 Frontera
This was really a great bike--loved the big tank with the little toolbox built into it.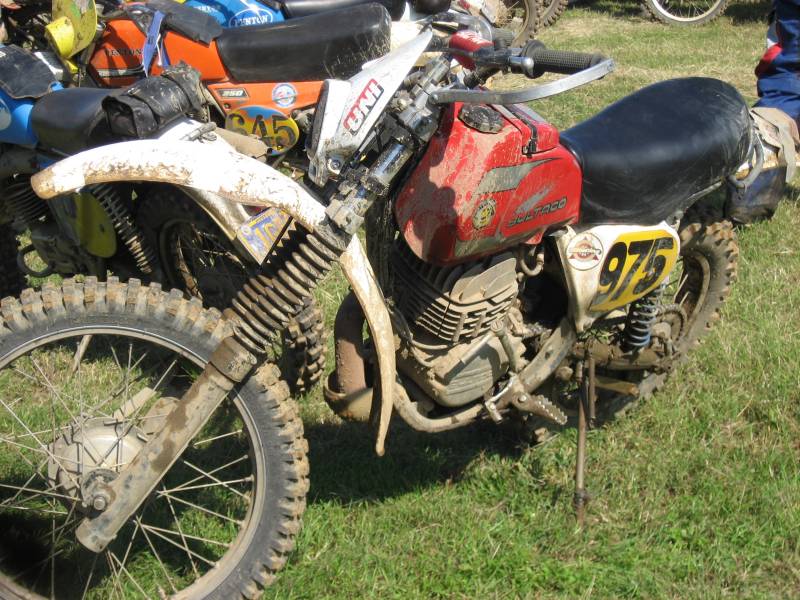 A CCM
Most people have never heard of these---lots of BSA parts on it.
I raced a BSA motocross bike back in the early 70's------a 440 I do believe.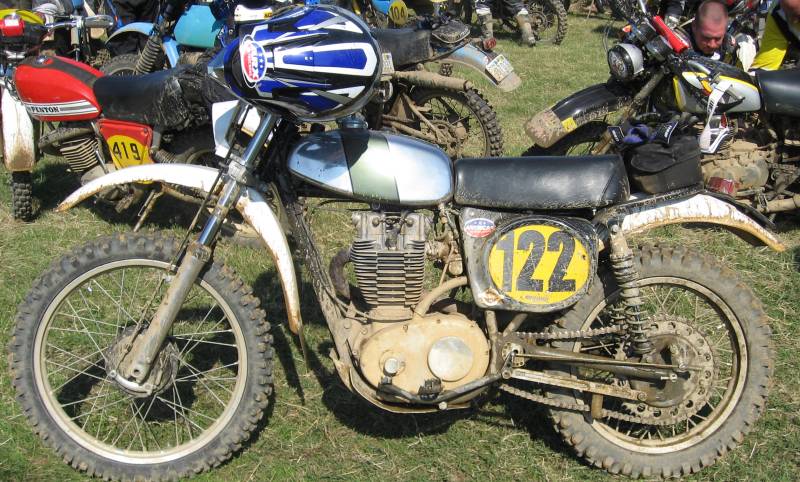 Tim is really hard on tires---I noticed it ripping knobbs of with the big XR motor early on.
There were lots of guys running these trial tires down there--they worked well in the rocks.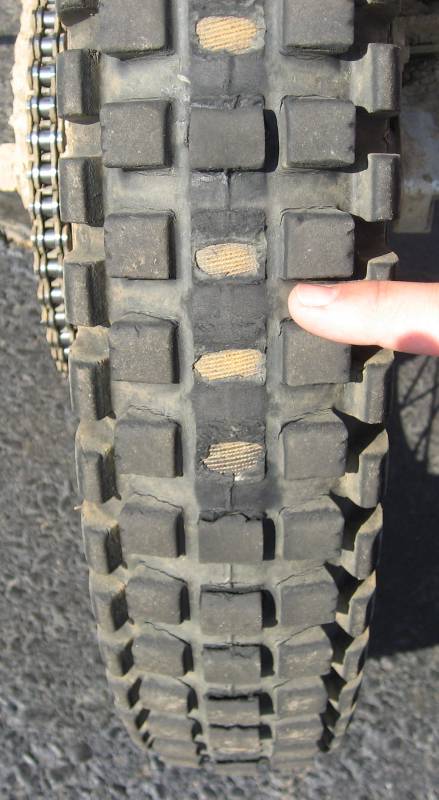 With much sadness all my riding partners had to get back to work--what's that ???
It had been 2 days of bliss with some really great friends.
Thanks so much for your frendship--it was great riding with you guys.

I had been invited by a guy I met to ride back to his home in Oklahoma.
I could sleep on his couch he said and ....................
His wife was a good cook--and he guaranteed 200 miles of dirt to his house in the mountains.
I am so In !!!!!
My new friends
Left: Roger cyrus Right: his son-in-law Tom
Roger led me back up to the top of Mt. Magazine on a route that I had never ridden
and then it was all dirt baby----we would ride down into the valley you see below then
back up into the mountains you see in the distance---then southwest into Oklahoma.
I had no where to be and wondered where I'd go---I was so glad to run into Roger and Tom
and they could take me where I'd never been
"On The Road Less Traveled"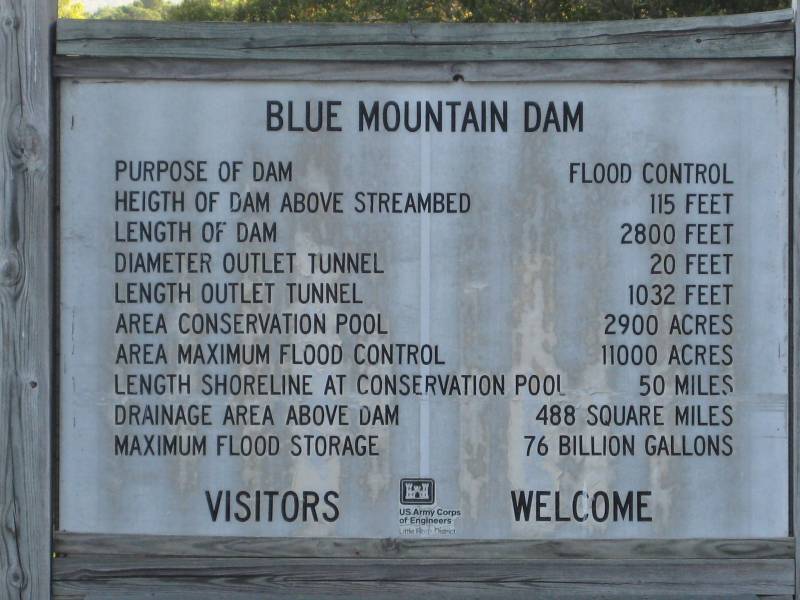 The mountain in the background is Mt.Magazine
We rode from here to Wilderness road which was just awesome.
It had grass growing up in the dirt road and followed a mountain ridge.

I think I'm going to like riding with these guys--this is my style alright and Roger knew it.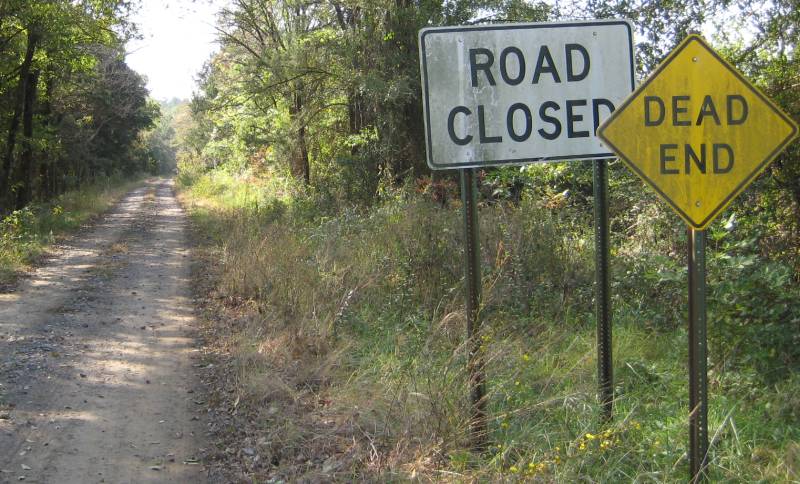 Tell me I wasn't diggin' this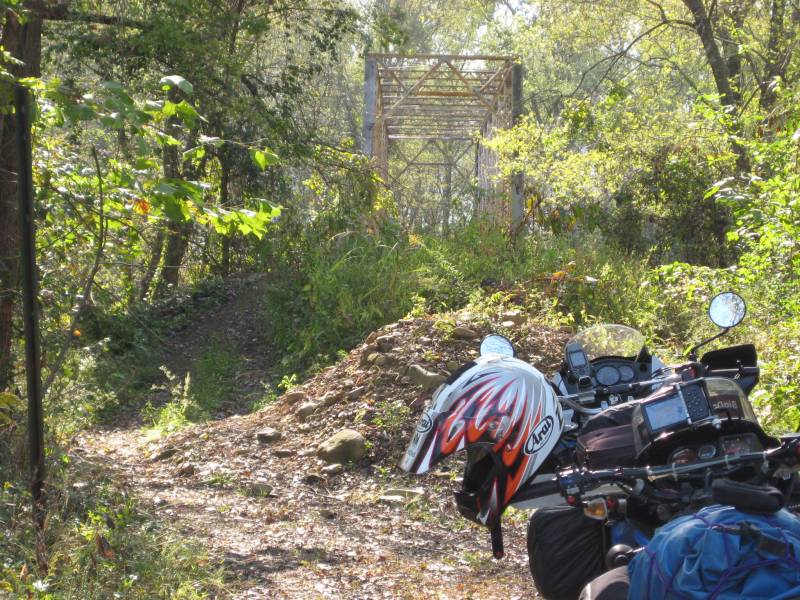 Roger and Tom walked it to make sure it was safe.
The bridge had been closed and abandoned for years..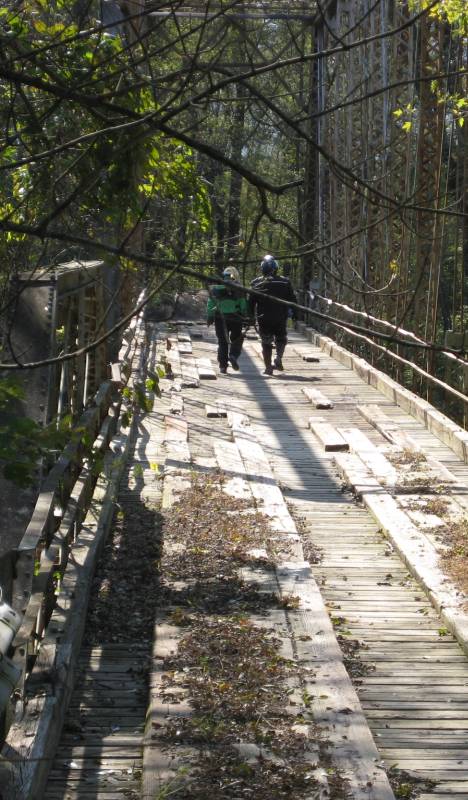 I think this it is here
N35° 05.805'
W93° 48.075'
If it's not--you'll still find something neat--as I only drop waypoints on neat stuff.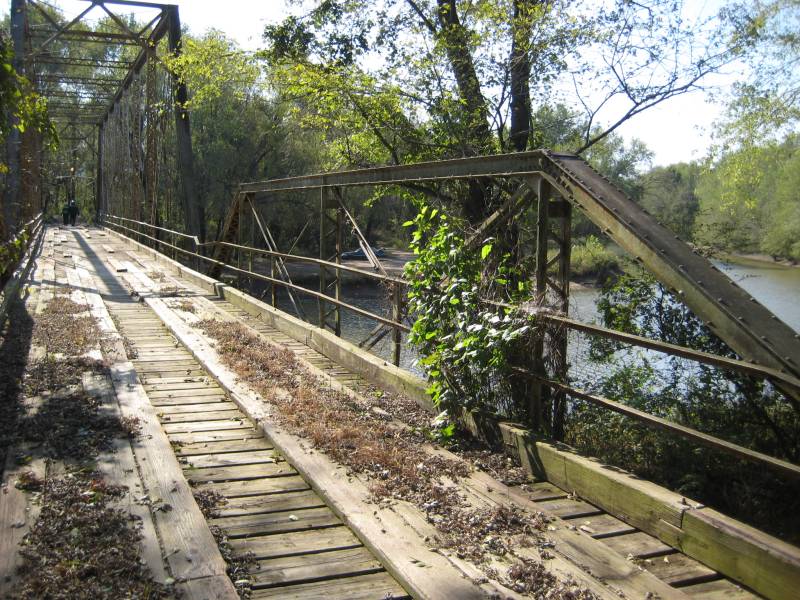 The waypoint BR ARK 100 is the bridge above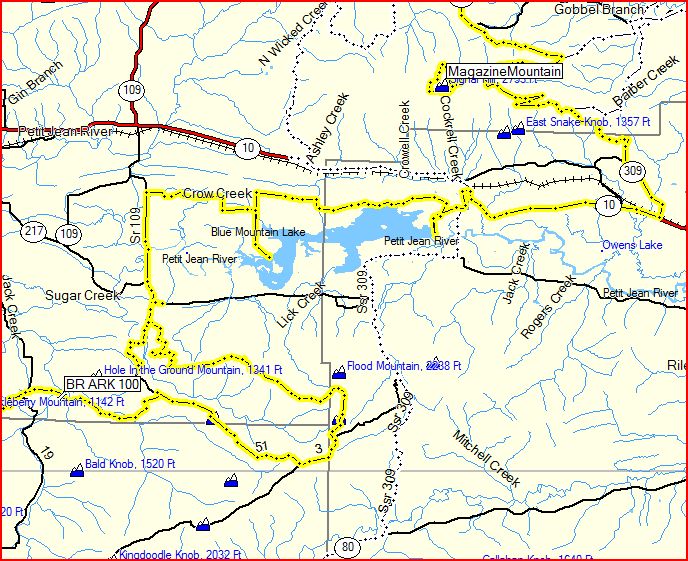 The mountain in the background is still magazine mountain.
We had rode down thru the valley-around those lakes, over the bridge above and now
on top of this mountain and had the view to die for.
I think this is Huckleberry Mountain.
After the bridge we rode mostly West (in Arkansas) on CR20--then West some more on CR70
before turning North on Poteau Mountain Tower Road towards Rock Island, Oklahoma riding
past Round Mountain and Pilot Knob.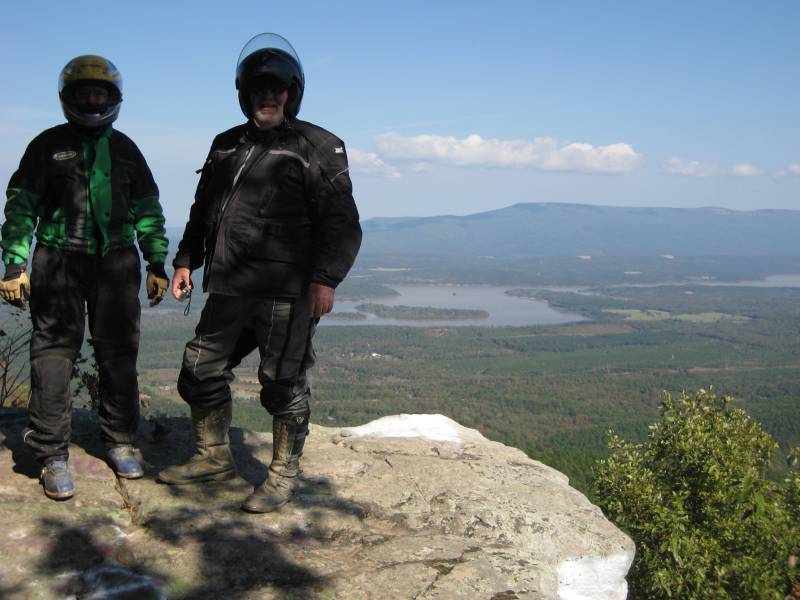 This was in a neat little state park and you could jump off the rocks into the water.
We was just plumb skeert.
Dumb forest service had the park closed for the winter ???
On the nicest day of the year ???? Dumb--asses !!!!!
We got in tho.
Little did I know I was going to see the highest hill in the world !!!!!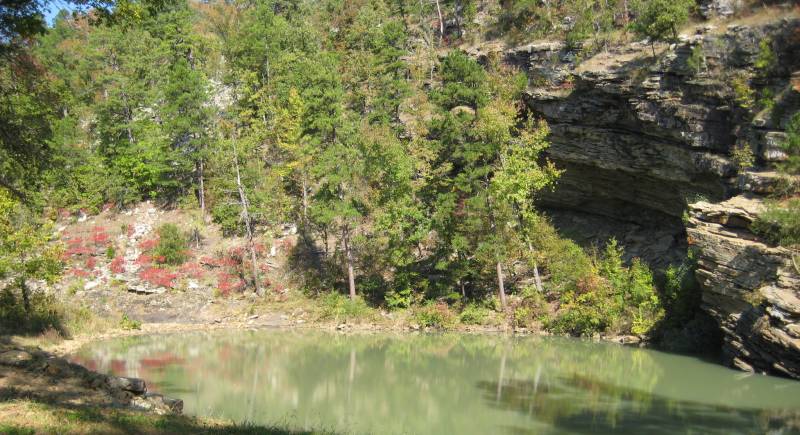 Roger kept telling me all along I could sleep in his motor coach.
I didn't know he didn't have a house.
Roger said--and I quote "If I don't like my neighbors--I just move on down the road"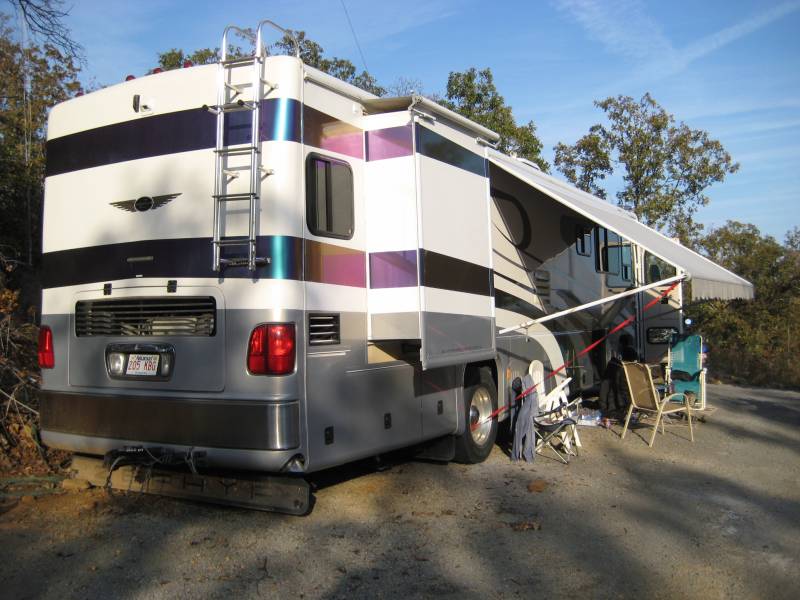 Roger wanted to watch a race on TV--I stood up "where you going Mark"
"Inside to watch TV" I said--he then flipped up a door and there was his outside TV.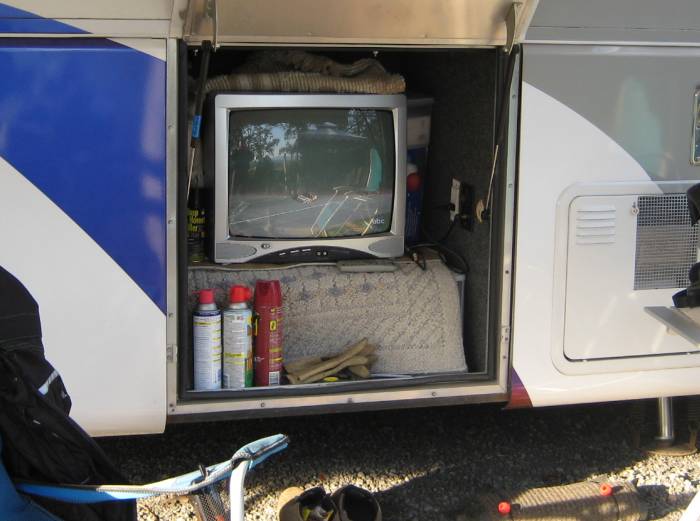 Roger and Brenda Cyrus---the nicest people you will ever meet--they've been married over 40 years.
Roger drilled oil wells in 21 countries--he worked hard and was away from home all the time.
Him and his wife have worked hard for the lifestyle they now live---good for you guys !!!
I kidded Roger about living in a mobile home and leaving the wheels on it so he
could keep his taxes down !!!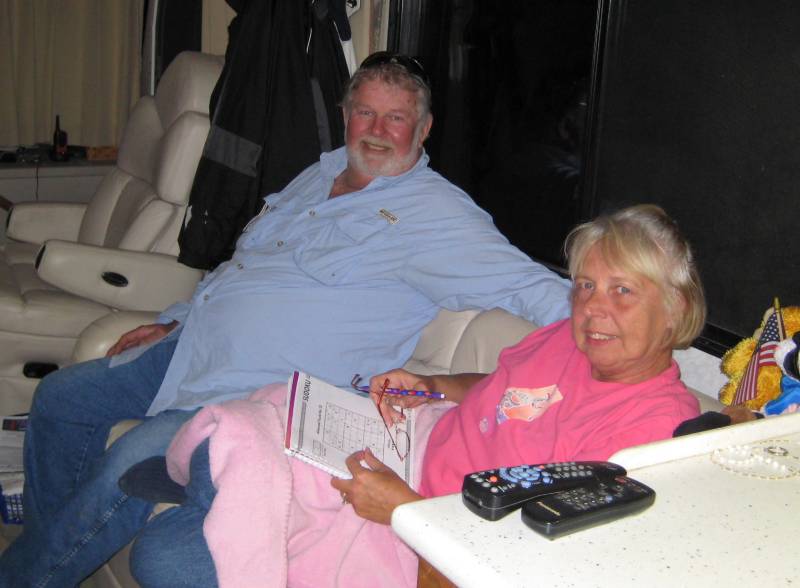 Yeh--they got a TV inside too---even high speed internet
We got on BigDogs site to see what he'd been up to.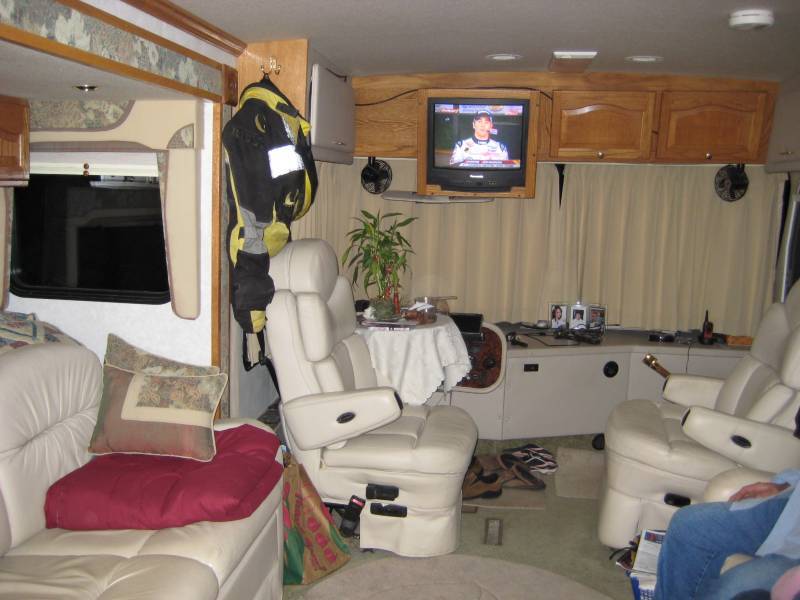 It got cold---we cut some firewood and fired it up (propane wood)
And spent the evening after Brenda fixed us a fine meal talking of riding and such.
Roger wants to go to Alaska alone next year--take his time and go his own pace--- his own way.
I can appreciate that. He's got one of them knew fangled KLR's. They really are nice---Roger
said it is better in every way to the old one---he put a lot of miles on his old model KLR.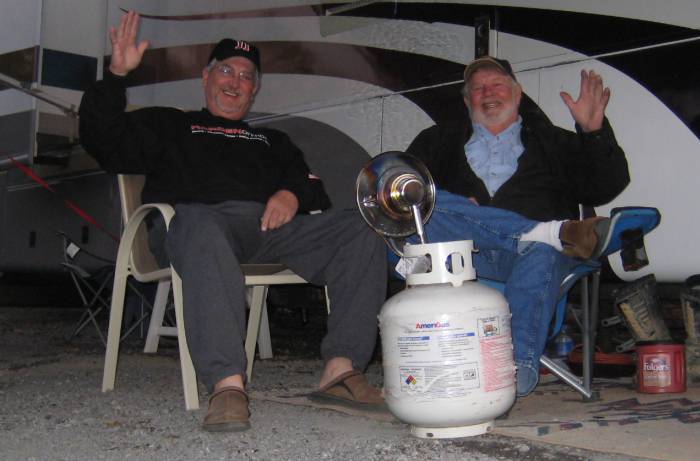 I dearly hated to leave such good company.
I invited Roger to park his "Mobile Home" at my house anytime and we'd go ridin'
I'm sure he understood I had to go and off I went----I had dropped a waypoint at a point
Roger told me would take me South on dirt all the way to the Talimena Skyline Drive.
I had ridden on it years before--and before I got there this dirt road led me East.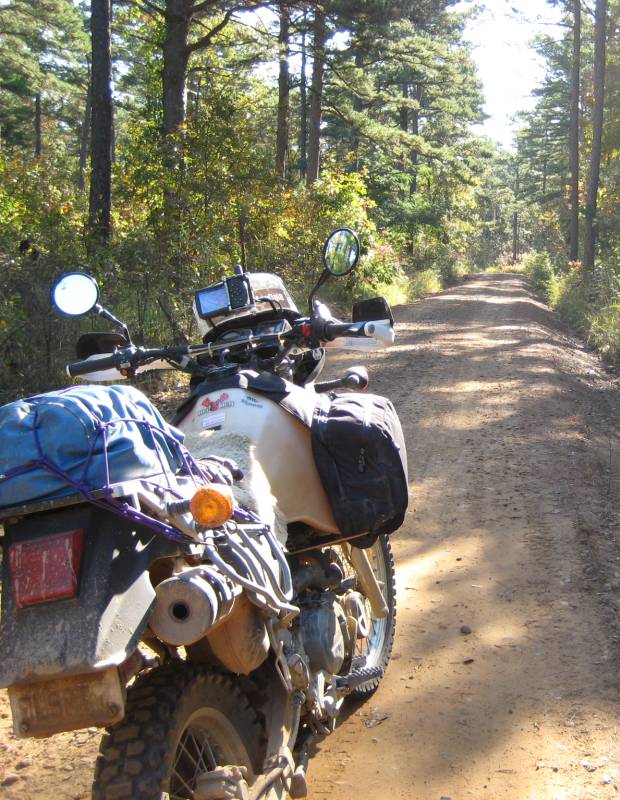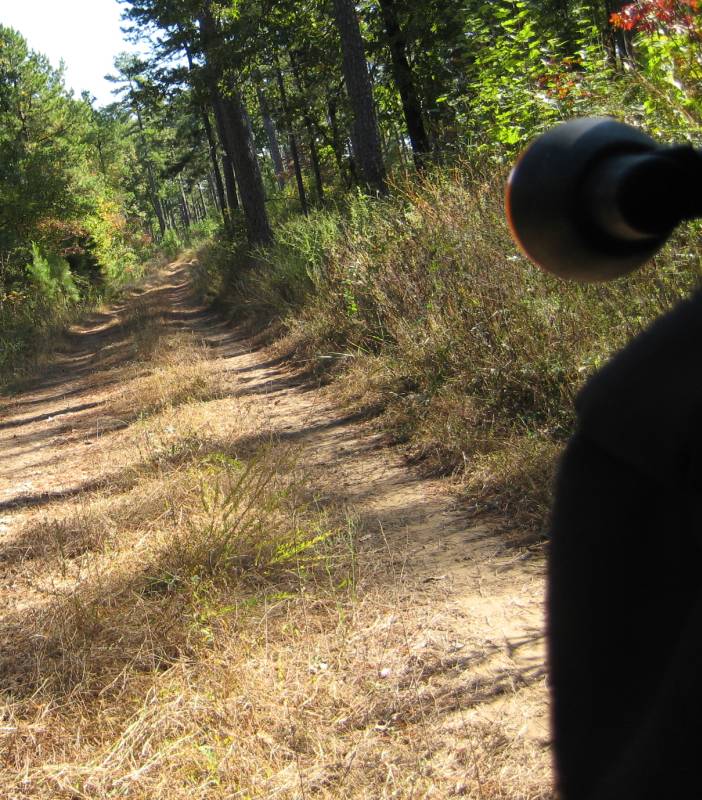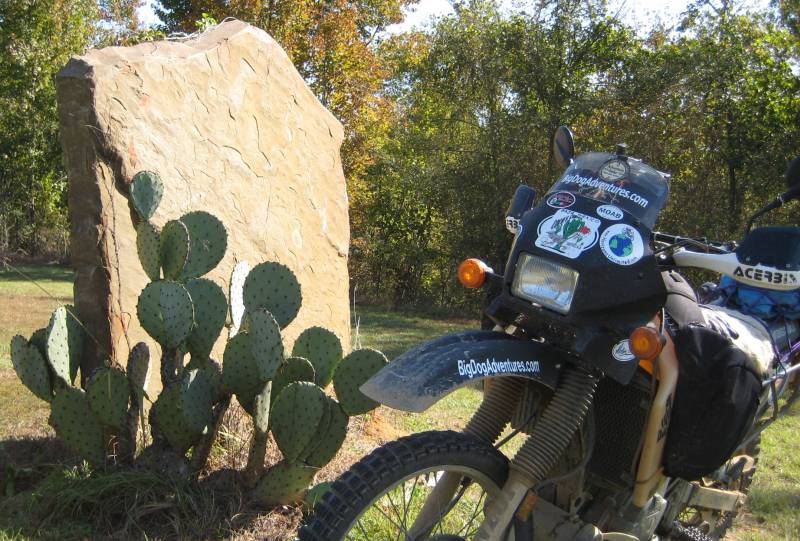 You'd think this road wouldn't go thru--but go thru it did.
Thru mud hole after mud hole and up and down one mountain after another.
I didn't seem to take a lot of pictures in here but had the video camera going.
It was awesome footage.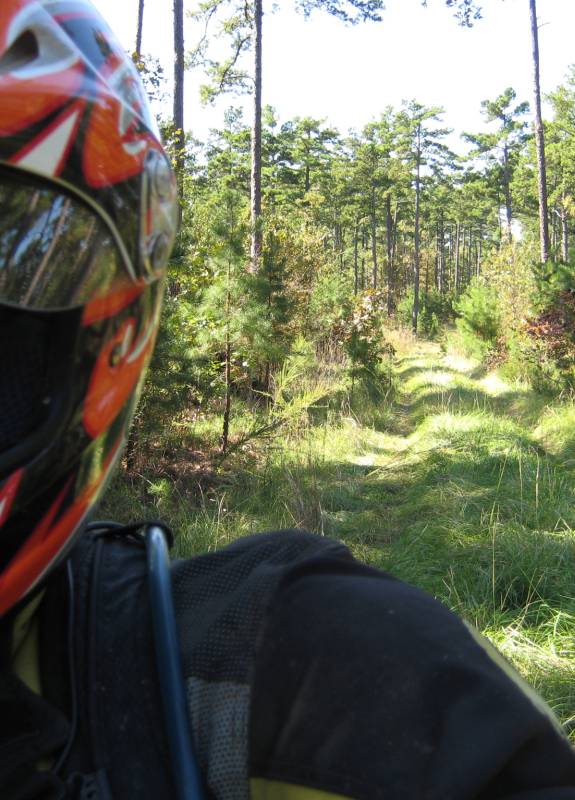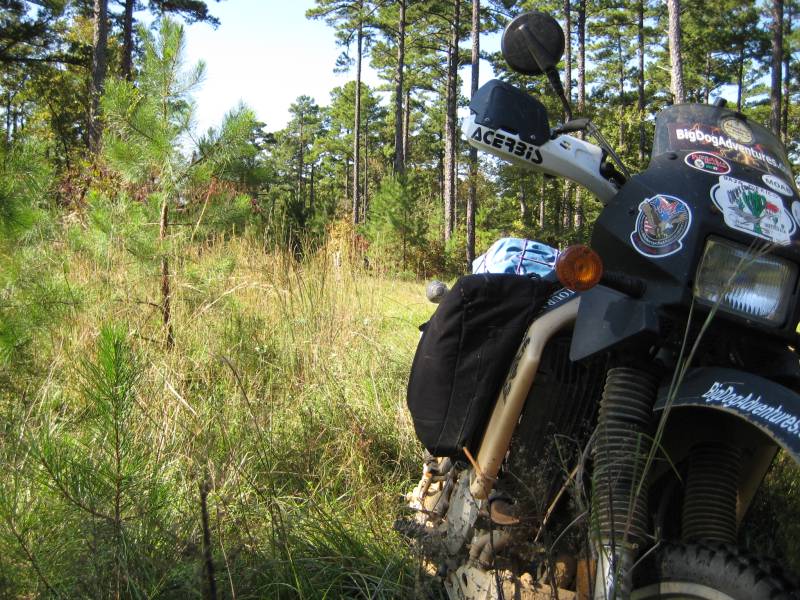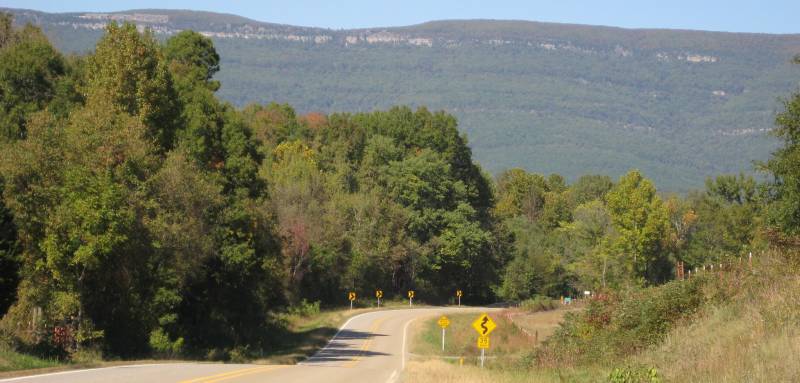 I had put down a waypoint in Arkansas of a spring I bet 10 years ago.
Well I was going down a moutain dirt road and the waypoint came onto my GPS screen.
Right where the waypoints was was these ribons leading off into the woods.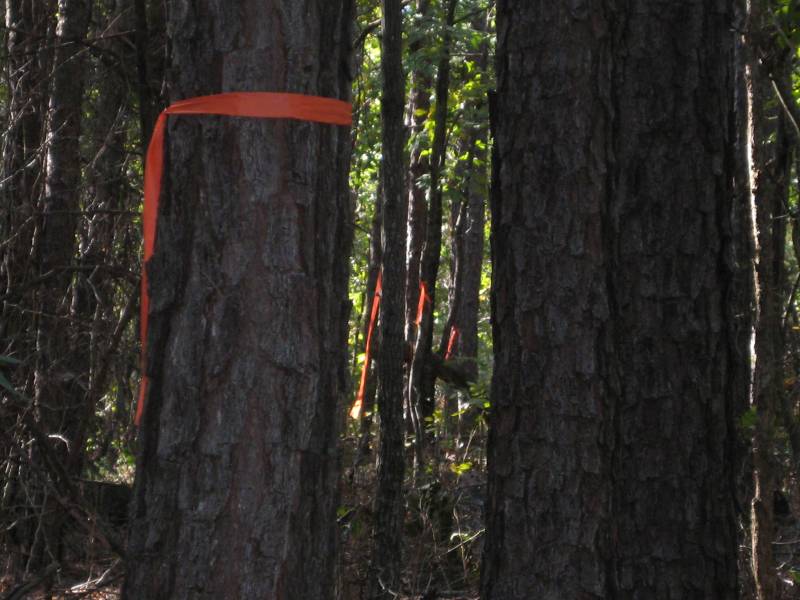 The ribbons led me to here ????? I never found the spring--was this it ?????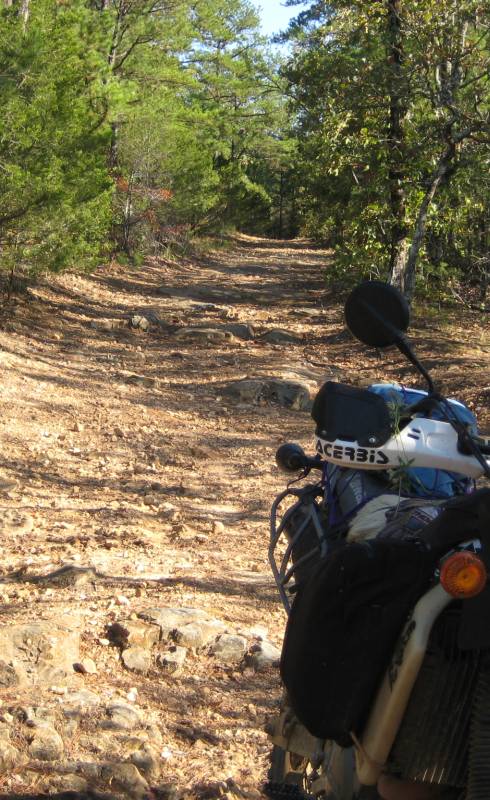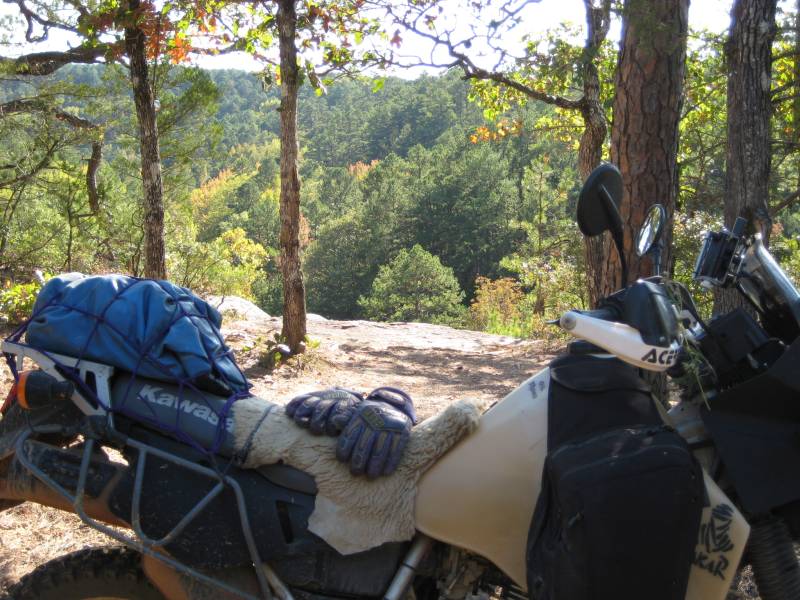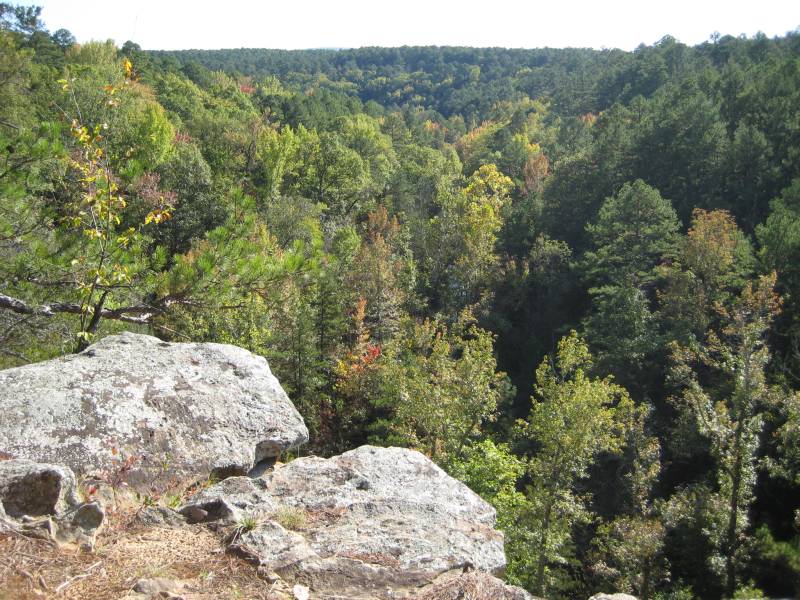 And extremely rocky narrow road led me down a mountain and I was getting nervous on the downhill
as I was alone and was not only afraid of getting hurt out here by myself but I wasn't sure if I hit an obstacle I
could climb back up the hill----it would have been difficult on my 520. I came to this creek crossing (the
bridge was washed out and abandoned) and I knew I had to cross the creek---the water was clear
but there were big rocks in there and I was also afraid it might be slimy and slick. The KLR soldiered
thru it with no problem. Just across the creek the dirt and rock road widened and it was easy riding
passed here.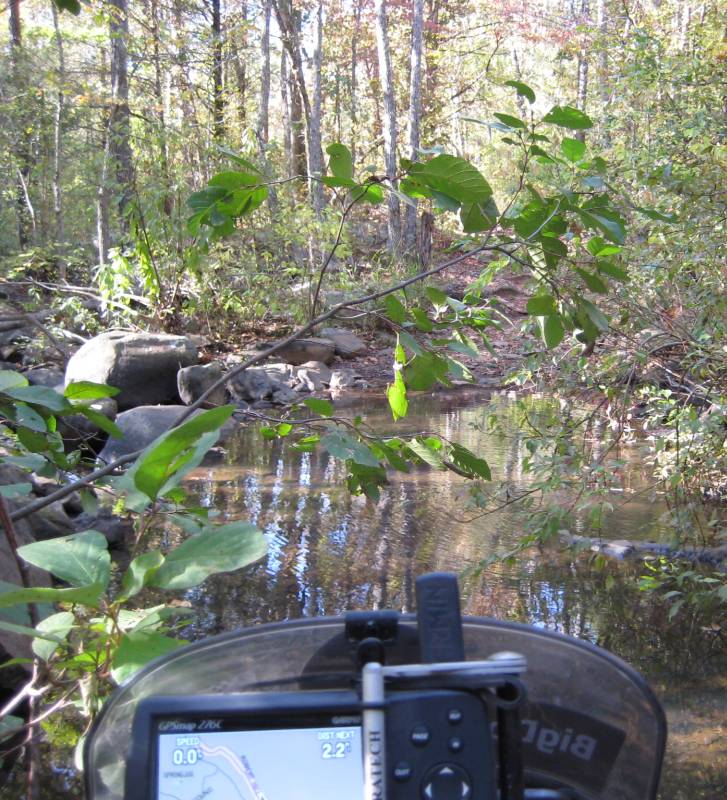 This is the abandoned bridge on the creek crossing above.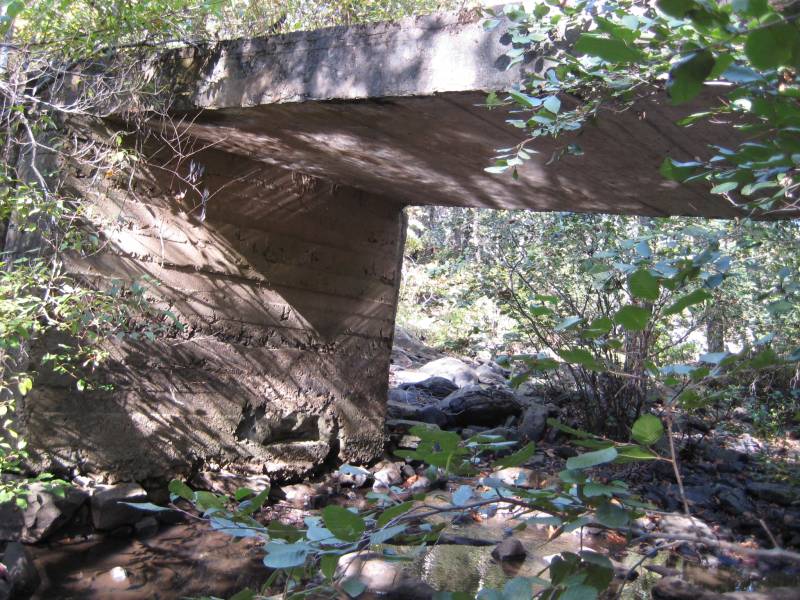 From here I just eased my way back to my SUV and trailer in Clarksville and loaded up the bike for the drive home.
What a nice relaxing day it had been. I really love my KLR---I've said it before--but what I really like about my
KLR is that it is so relaxing to ride. No it's not a dirt bike--but felt like a gold wing after getting bounced
around on my 520 for 2 days. It was a good change of pace--one that I lean more toward all the time. It handled
the last 2 days of riding with ease and confidence--more confidence than any other bike I have every owned.
The End