Fall Color Tour 2005
The Fall Color Tour was a 2 day Adventure and Dual-Sport ride in the Arkansas Mountans put on by RL Lemke of Dualsportmagazine.com
We would get to meet and hang out with Scott Harden the man who headed the USA's team in the infamous Paris Dakar race--the most grueling offroad race in the world.
I rode from Southern Illinois on my 950 and had a great ride down there taking some pretty knarly backroads---and ending up on a really tough mountain trail in the dark that I wasn't sure we were going to make it out of.

Me and Rodney King on his 1150GS Adventure were riding a rural road and went thru a bright orange pumkin patch-----HhhhMMmmmm----orange--HhhhhMMmmm-----lots of orange----I screeched to a stop--made a U-turn and got right in the middle of the pumkin patch for a picture that may just be my new "Desktop".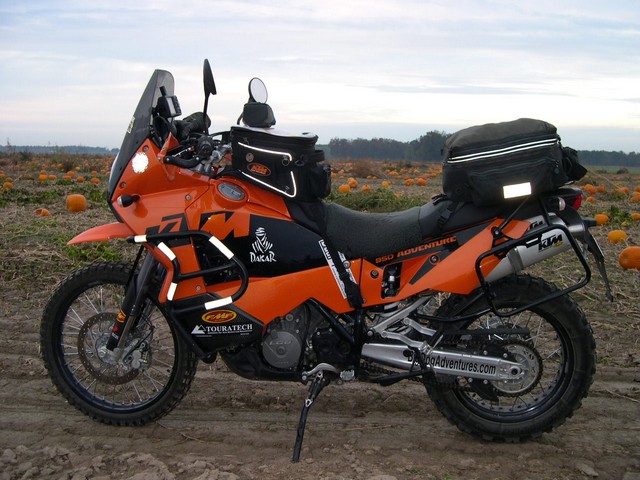 My rear Michelin Desert was wore out when I left the house---I didn't really know if it would get me back home. I had ordered tires--but they didn't arrive at my house till after I left.
OK----it didn't say "Cafe"---so I was a little worried. But "Farmers Table" was close enough. It was in the little burg of Evansville, Illinois right on the Kaskaskia river. We had a great breakfast and made converstion with everyone in there---which I always enjoy and is why I stop in little places like this.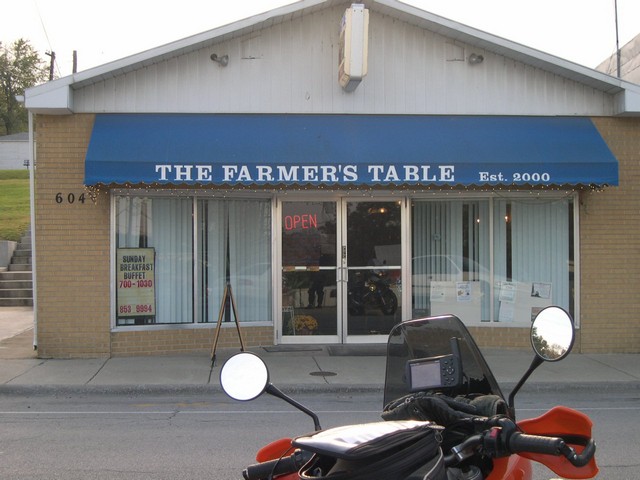 On into Missour we ran down the river levee to check up on a huge eagles nest I have been keeping an eye on--it's as big as a bathtub. It was still there but the little ones that were poking their heads up out of the nest weren't to be seen--hope they are OK.
OK--here is why I travel the "Road Less Traveled". It appears to me to be an amphibious (hope I spelled that one right) duck with a bus welded to it. No----it wasn't in Arkansas !!! It was Missouri.
37°48.315' 89°48.378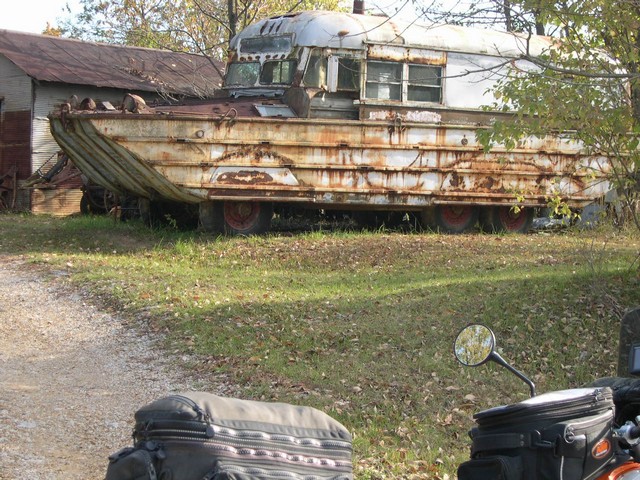 The ride was hosted out of the Hampton Inn in Clarksville, Arkansas. My riding buddy Rodney on the left (his orange shirt is going to look nice on his orange bike when he gets it)-----Troy Wolf and Chris from Kansas are with him---they are members of the Kansas backroad touring organization and I had the pleasure of riding with them on my way to the Arkansas Hoedown and few weeks ago.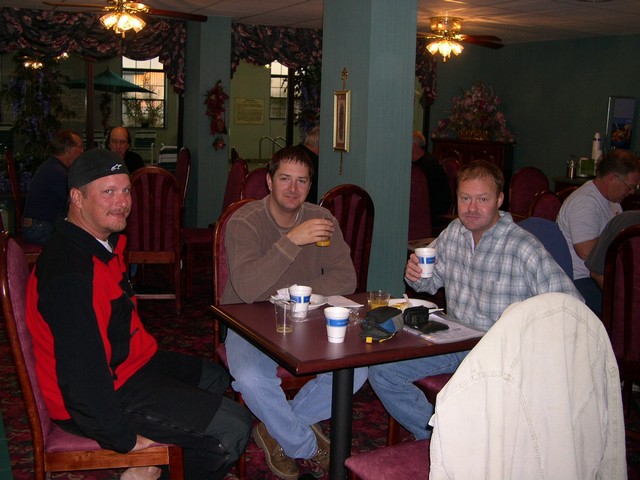 This was one of my favorite bikes from the rally---sorry I can't remember who he was--be his bike and gear were very well set up for adventure riding.

Scot Harden rode an old beater loaner 950 of many colors--where busted body panels had obviously been replaced from whatever they had laying around--didn't matter. Nobody could keep up with him. Duhh
Here are my buddies Troy (KLR) and Chris (KTM)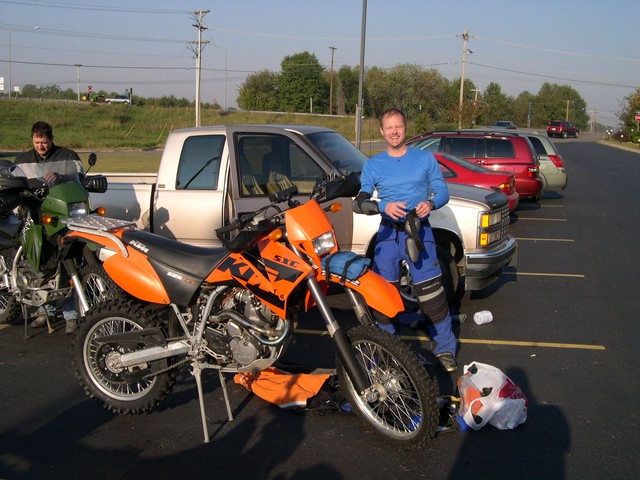 I rode the Adventure loop this year on my 950. I have always rode the main harder trails on my DRZ400 in the years past. I think this was the hardest section of the whole ride. It was a 1/2 mile long uphill with loose rocks and bolders to spin out or knock you off your line. A piece of cake on a DRZ---I was lucky on my 950---I kept it pinned---well not pinned--more like---kept my momentum up and made it without a hitch---I was lucky---here's my bike at the top.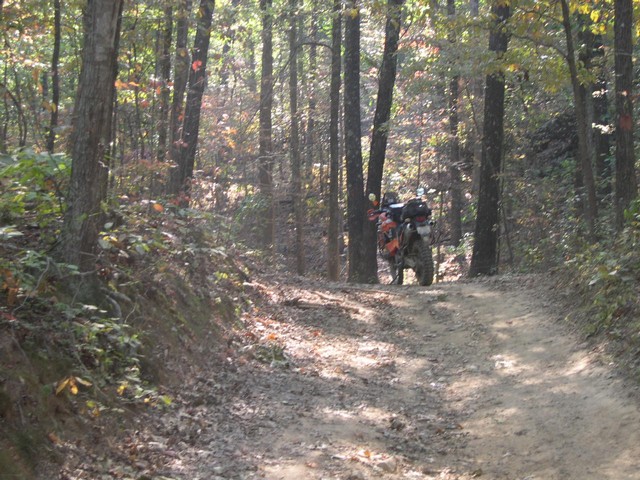 OK-----I was lucky !!!
Rodney was luckier !!!
This hill is called "The Hill Of Death"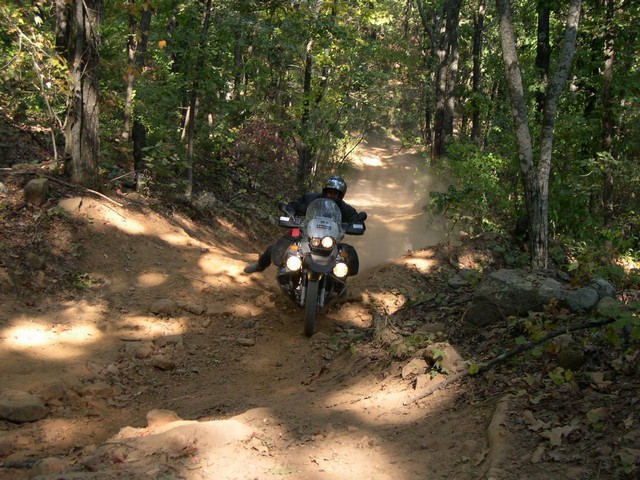 Oh Rodneys cocky now------I think he is chasing Scott Harden.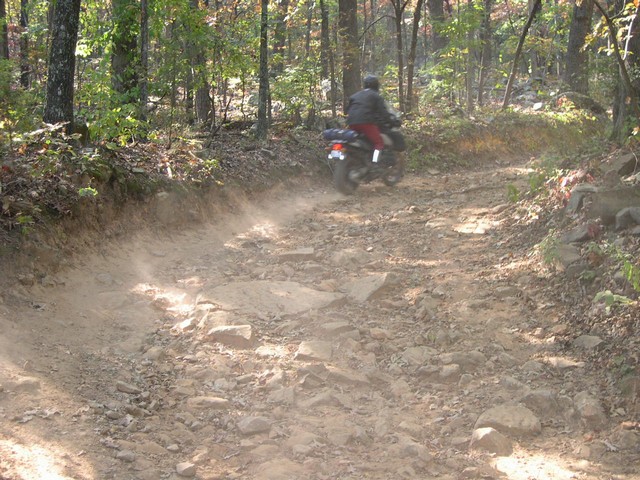 We met 2 couples on horses at the top of "The Hill from Hell"---they were so nice and said the bike riders were very courteous----I liked hearing this from the horse riders.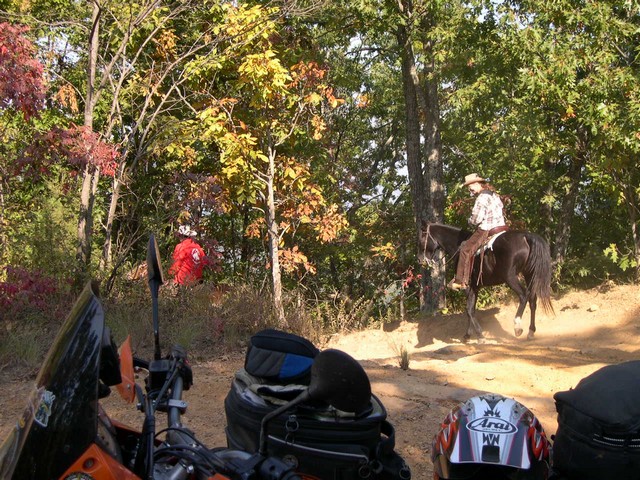 I really had a hoot on my 950---and got more and more confident as the weekend went.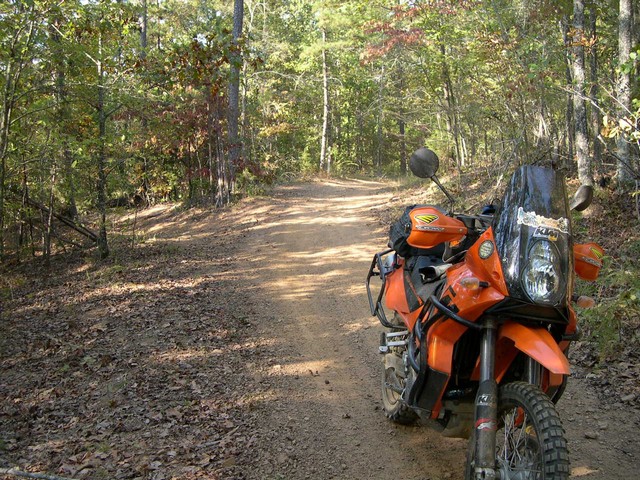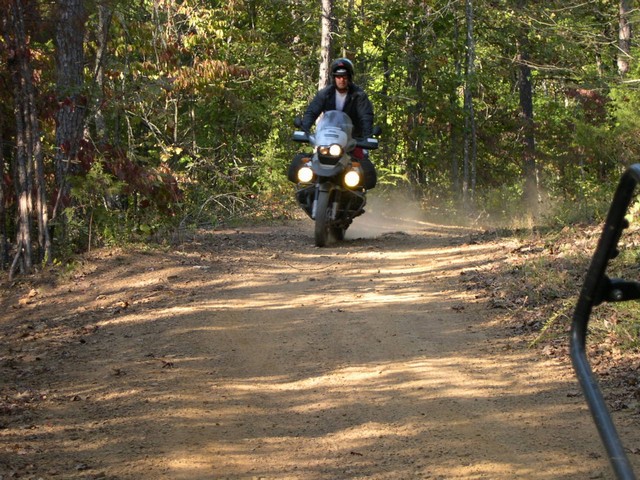 Me and Rodney finally made it to the top of Magazine Mountain. It was pretty hazy up there. When it's clear you can see forever.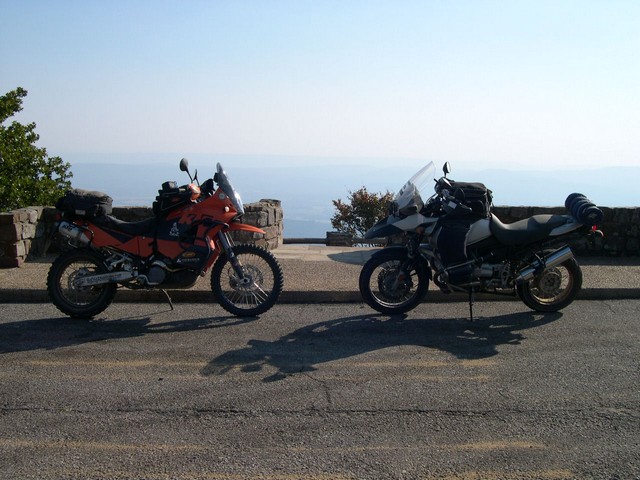 Here is Scott Harden finishing up with his rider class for the day.
That's "GasPipes" 640---------"Team Wypall"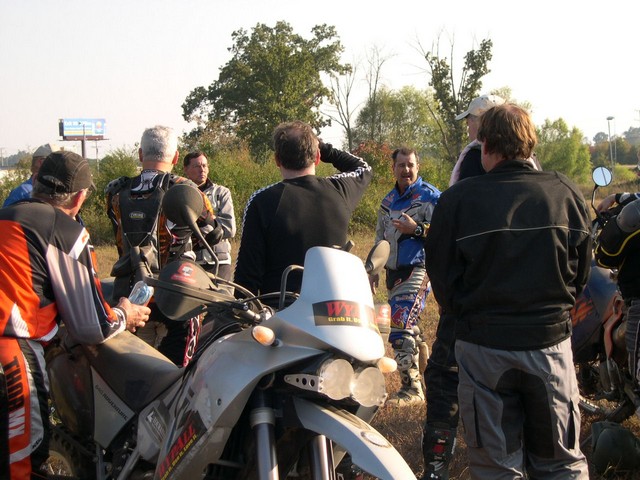 It was a beutiful day. It was very dusty---but I made the best of it by just hanging back--which was very easy as I ride so slow.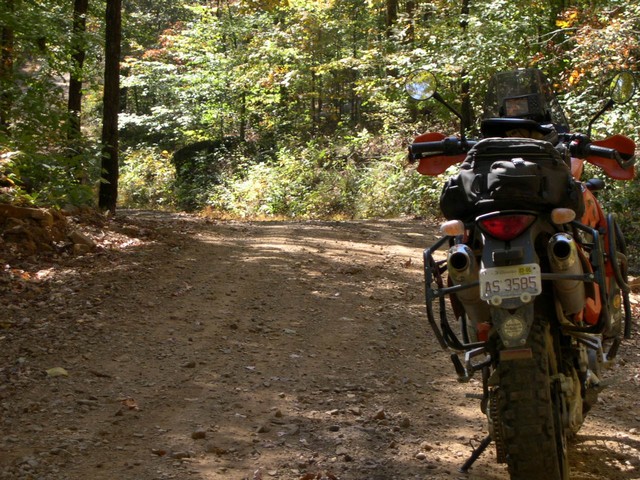 "The rocks are this big---and if you don't have some momemtum--you ain't gonna make it". RL---the ride promoter.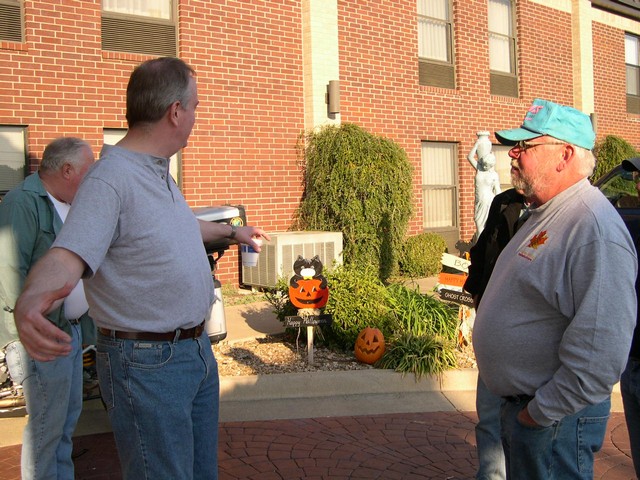 Me, Rodney, Scott Harden and a friend of his who's name I can't remember rode in Scotts SUV to the banquet---the race was on. I hung on as he used both sides of the road---flew over railroad tracks and used cars for berms on our way to the next checkpoint---I mean banquet !!!!
It was a hoot----We didn't talk much as Scott had Neal Young cranked on the stereo and "Broke off the knob, and beat on the dash".
And yeh---we all sang to Neal Young all the way back-------"My My Hey Hey-----Rock and Roll is here to stay". No wine or liquor involved I assure you.
This is me and Scott Harden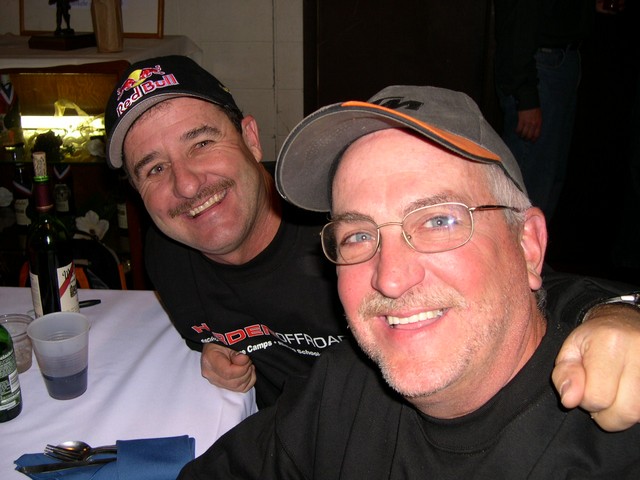 On my way home on the "Road Less Traveled"-----I found this for sale. This could be your next adventure bike.