East Of The Divide
May 23rd, 2010
May 2010 I was headed West across the divide to visit and do some riding with my son Marty who had just moved to
Durango, Colorado a few days ago. I was really looking forward to the visit and we planned to do some dual-sport
riding, bicycling, exercizing, sky diving (woops--already done that), kayaking--and if we don't tell mom--bungie jumping.
On the way across Kansas I was about to fall asleep when my trusty garmin 276C just about had a meltdown.
You see---I plan my trips more by avoiding stuff than I do going to stuff---all you got to do is avoid stuff and the
good riding and neat stuff will just come to you-----I've been amazed at how this works for me.
I have developed some new software (patent pending) that when downloaded to my 276C (won't work on those gay gps's)
will assure I avoid all the stuff I want to avoid. In my almost stupor I had let myself get within 150 miles of Denver, Colorado
and my gps was having none of that and threw me on an immediate re-route North.
North ?????--Durango was Southwest ????? OK--I've never been to Nebraska nor South Dakota----let's go !!!!!!
Marty would just have to wait---he's unemployed too--he'll surely find something to do for a week or two.
On this ride my 36th wedding anniversary would pass.
I was getting some gas and about to head North when the 3 mile long parade of the "Riding To The Wall" rolled into
Oakley Kansas---and I had a nice conversation with this nice guy on the ride. He invited me to come along, but I had other plans.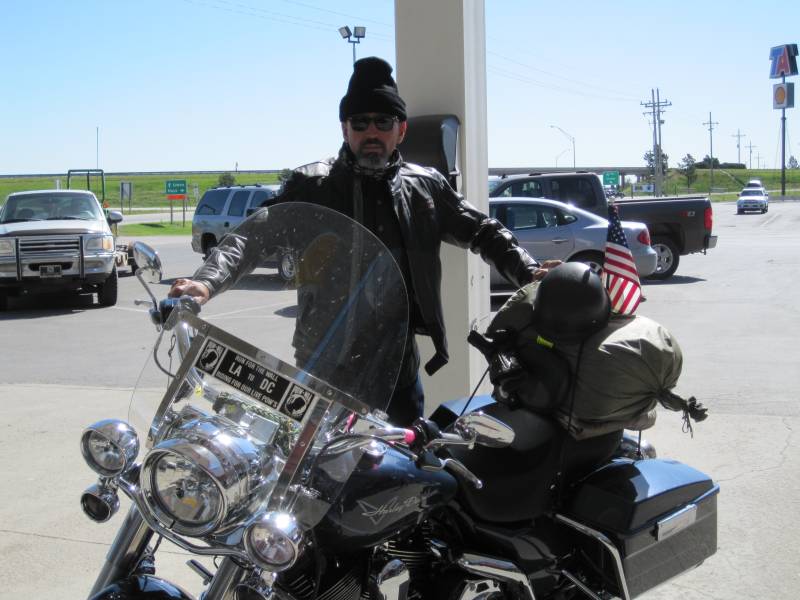 From Oakley I headed North and I believe it was Atwood, Kansas I saw this little covered bridge.
A quainty little town with the nicest rest stop I ever saw--a little lake with lots of places to picnic
and I remember a little mom and pop motel--the "It'll do" motel.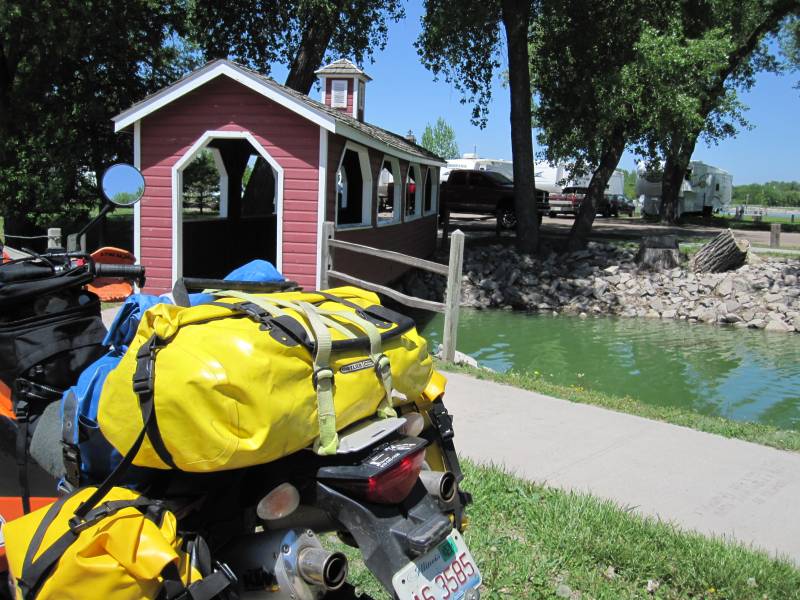 In this same rest area was this most unusual windmill---I've one like it before somewhere.
The blades folded in when it wasn't needed. I'm guessing it had a 15ft. diameter.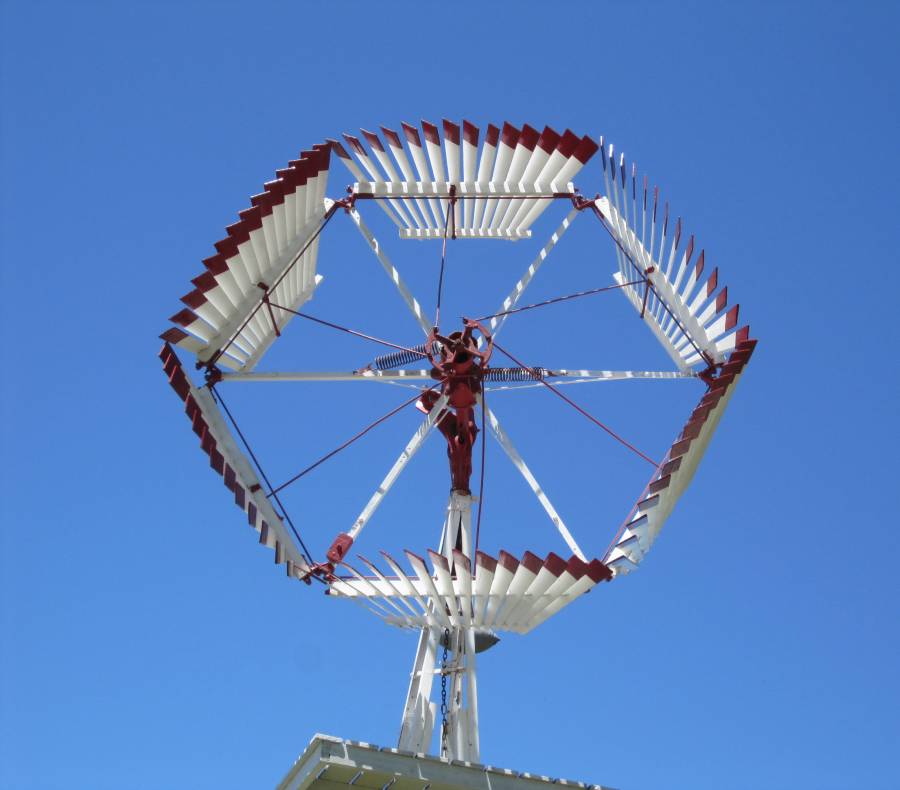 This was the first long ride with the new Wolfman expedition dry saddlebags.
So far they are doing fine. I think I got the first set he sold--I think about $450 with the mounting racks
which replaced the original racks used for the hard bags.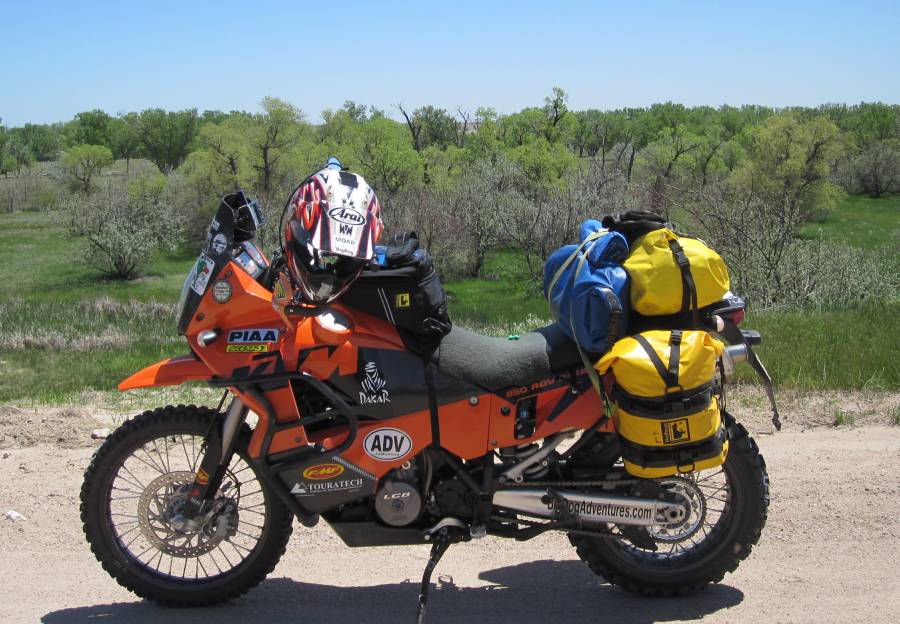 My gps said this was Hells canyon.
It was a beautiful sunny cool day---I called it Heaven canyon. This was still in Kansas.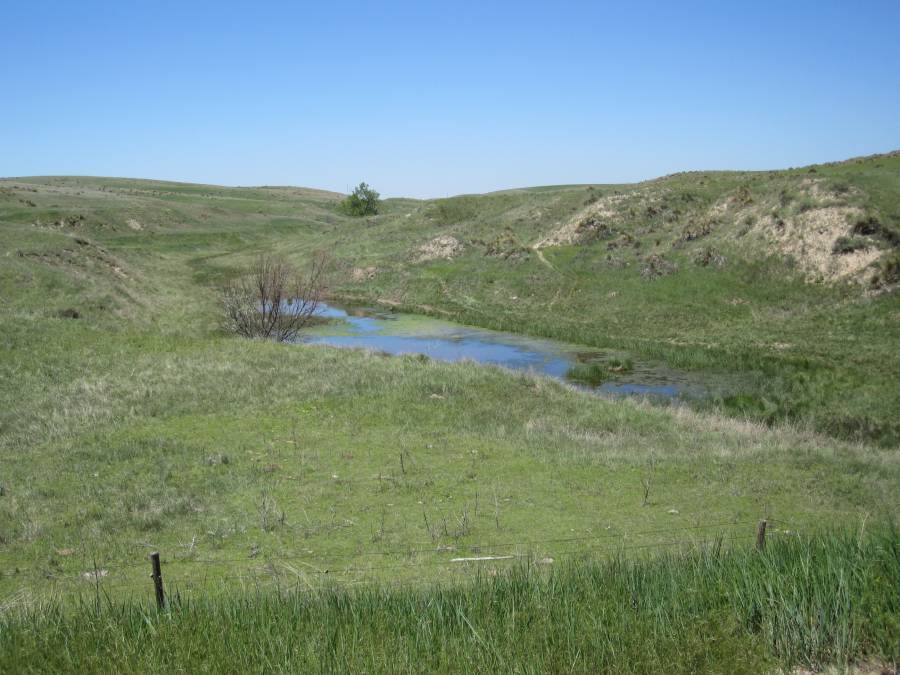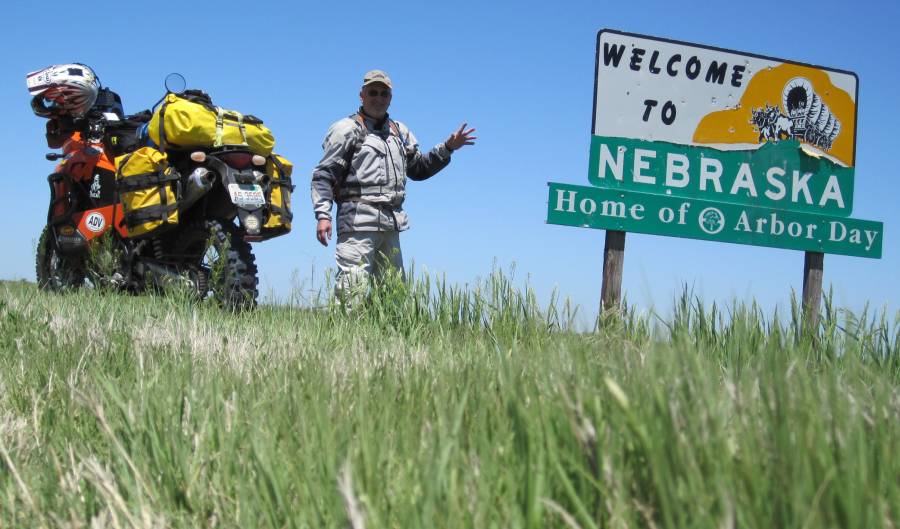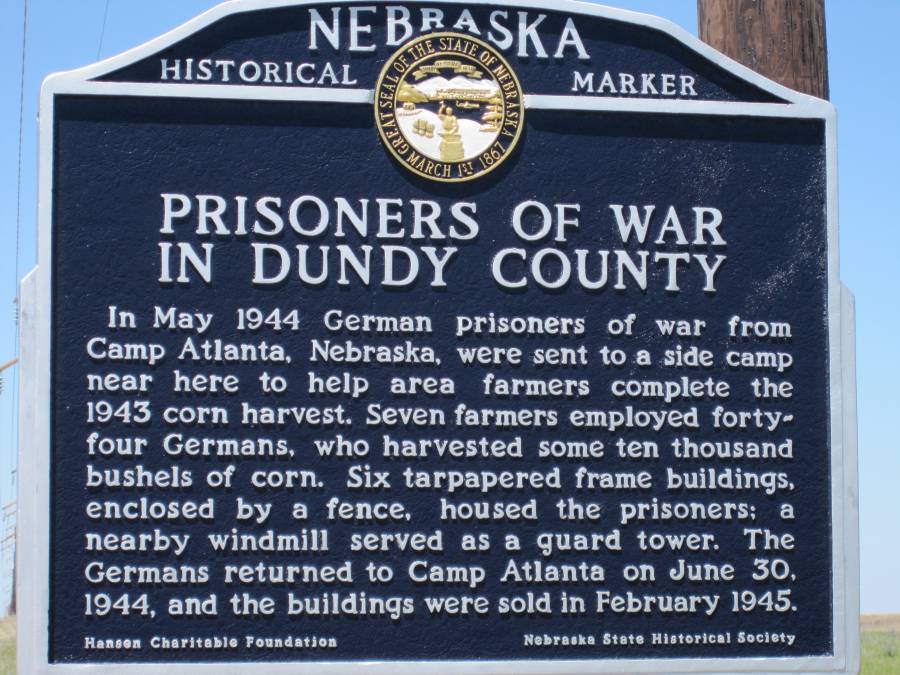 Nebraska surprised me tremendously---from hearing people talk I had thought it was state I'd have to cross to get
to South Dakota to good scenic riding. This was a very good day of beautiful riding.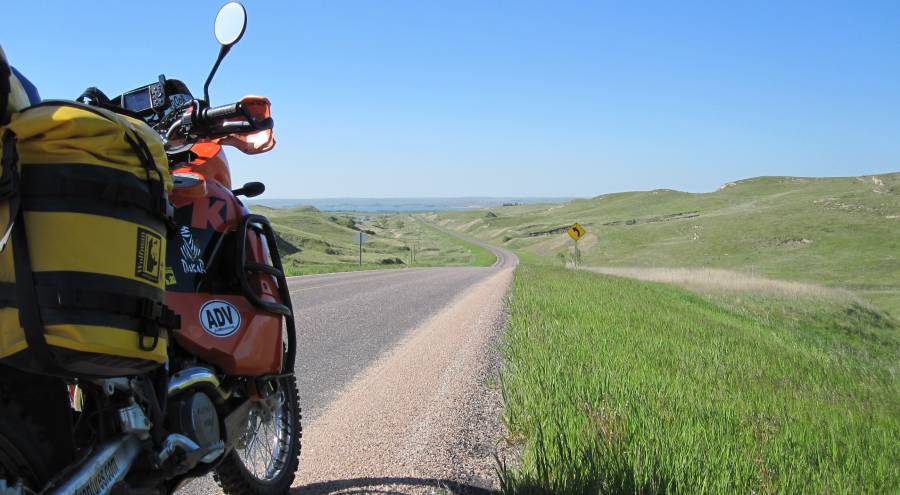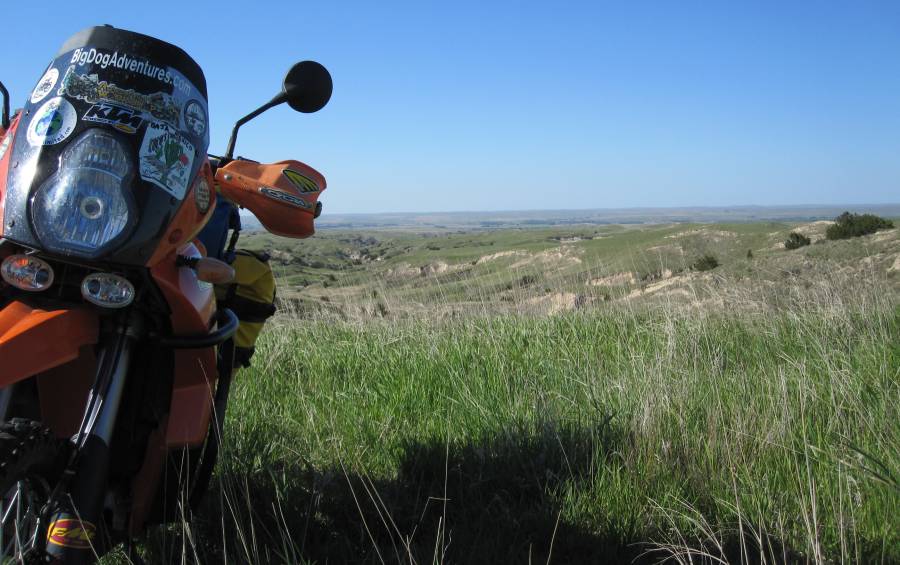 I had done a tremendous amount of maintenance to the 950 before leaving and hoped I'd given it a good shakedown ride before leaving.
I had tore into it and check the valves--it had been over 23,000 miles since I adjusted them---and they were fine.
I completely tore apart the carbs and thoroughly cleaned them--removing every jet and piece--just because it hadn't been done.
It had 32,000 miles on it at this time and I just wanted to make sure something wasn't lurking in there.
New spark plugs, an oil change and a lubing of the swingarm which had never been done completed my maintenance.
I had put an electronic fuel pumpon it not long ago--so it would get a test also.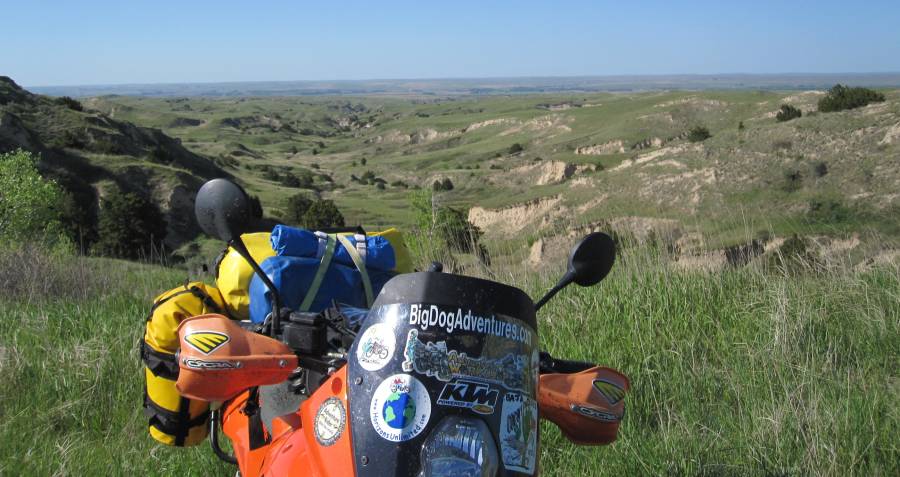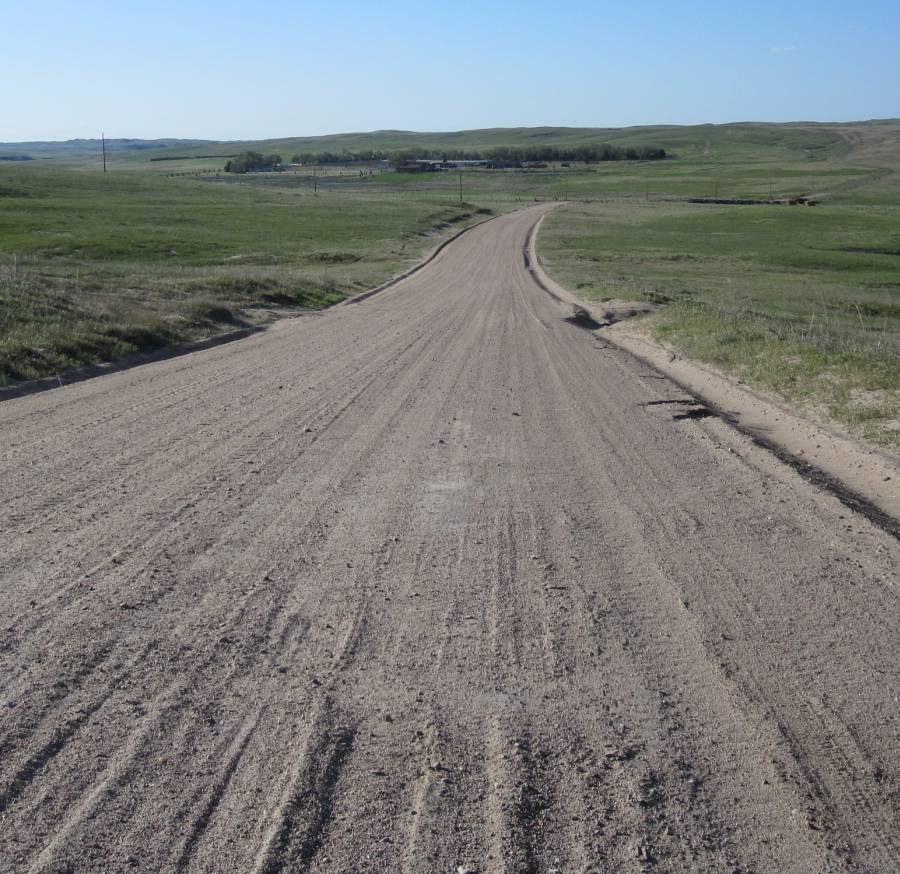 I was estatic riding thru here----if in Nebraska you have to ride thru here---pure bliss.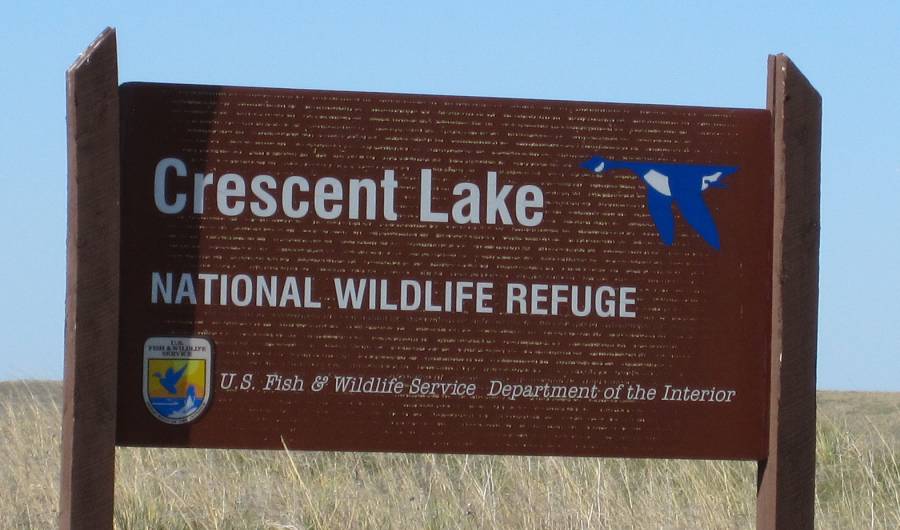 It was at least 50 miles of a narrow one lane road--sometimes broken ashphalt--sometimes dirt--and some deep sand.
I saw so much wildlife---I thought I might be riding after dark today and wanted to ask the first person I saw how dangerous
it was riding at night up here---it's very dangerous at home--so many deer. I never saw a soul but my question was soon answered
as many antelope ran in front of me several times.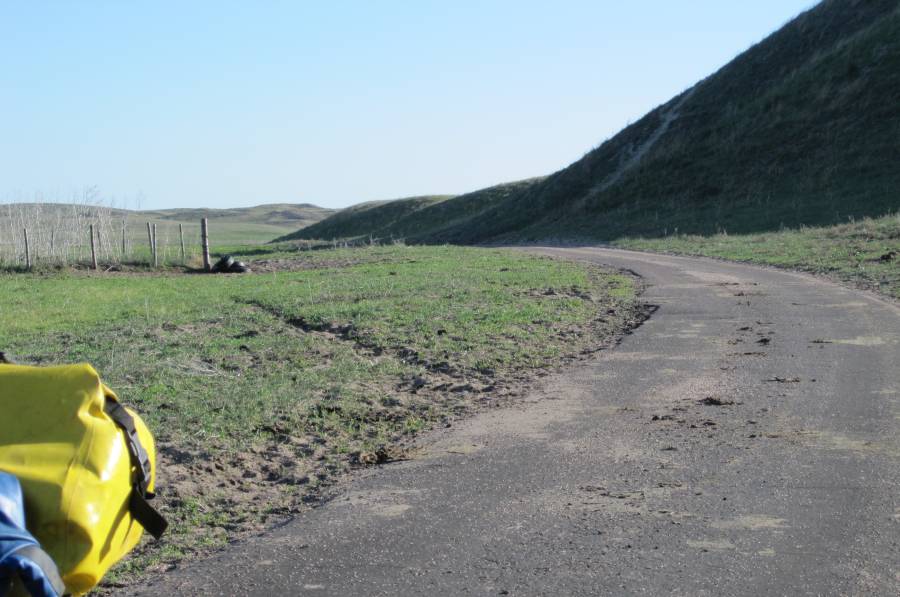 There were a hundred lakes and ponds out it with all kinds of bird wildlife--wild horses and of course--the cows.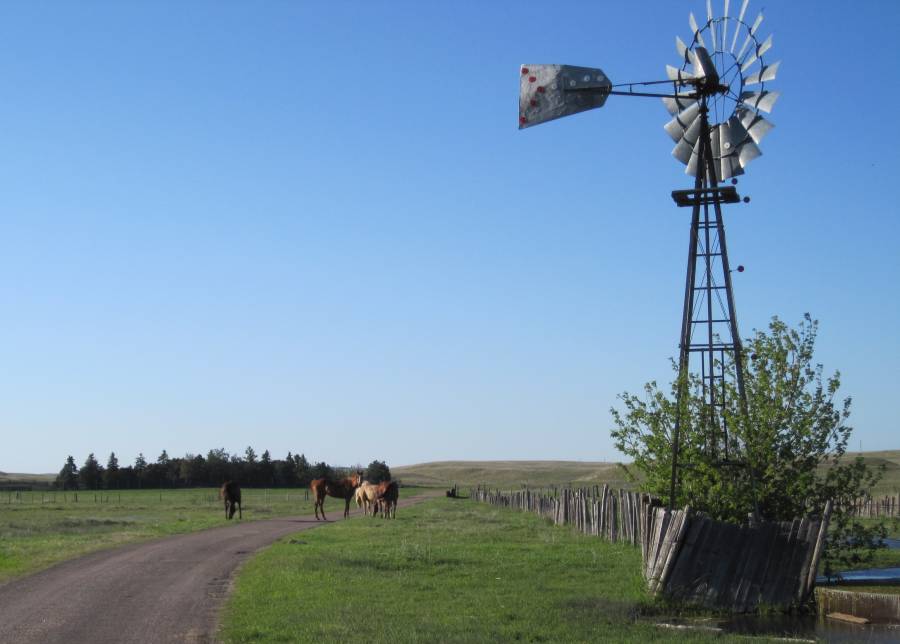 I caught this pic on the fly--a lucky shot.
Tomorrow I'll catch a pic on the fly of a much bigger animal--and I was afraid of him.

You'll cross 40 or more cattle guards out here---just a few ranches that seemed to support the wildlife.
There is no camping out here--just a quiet one lane road devoid of people. Almost kind of eery.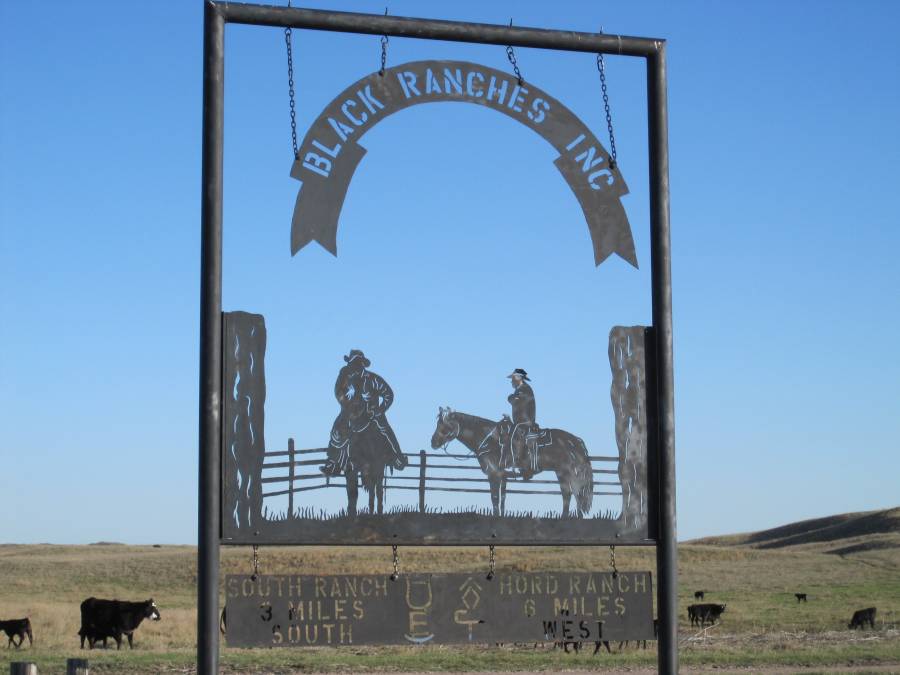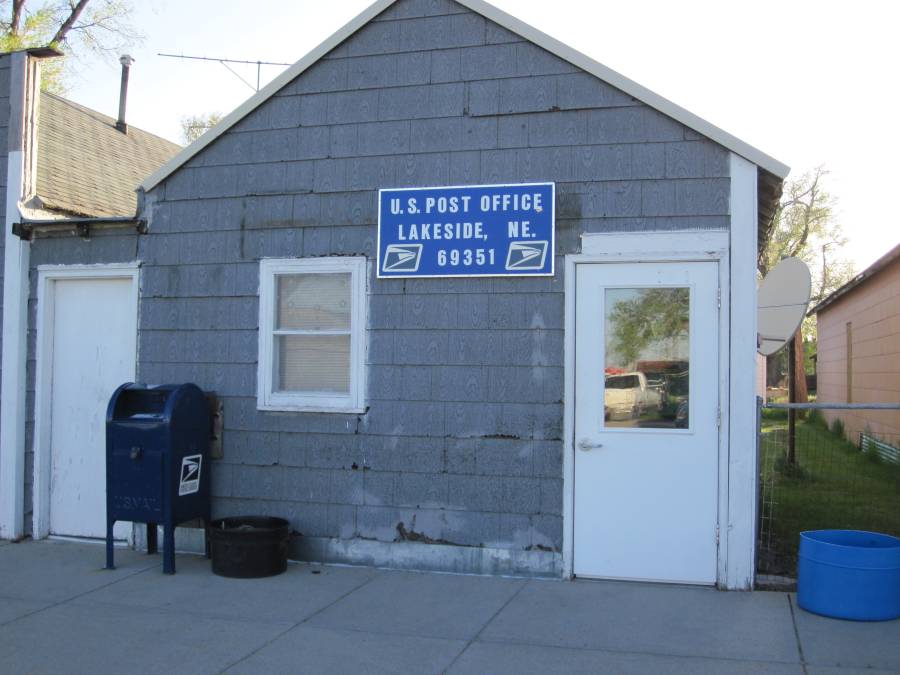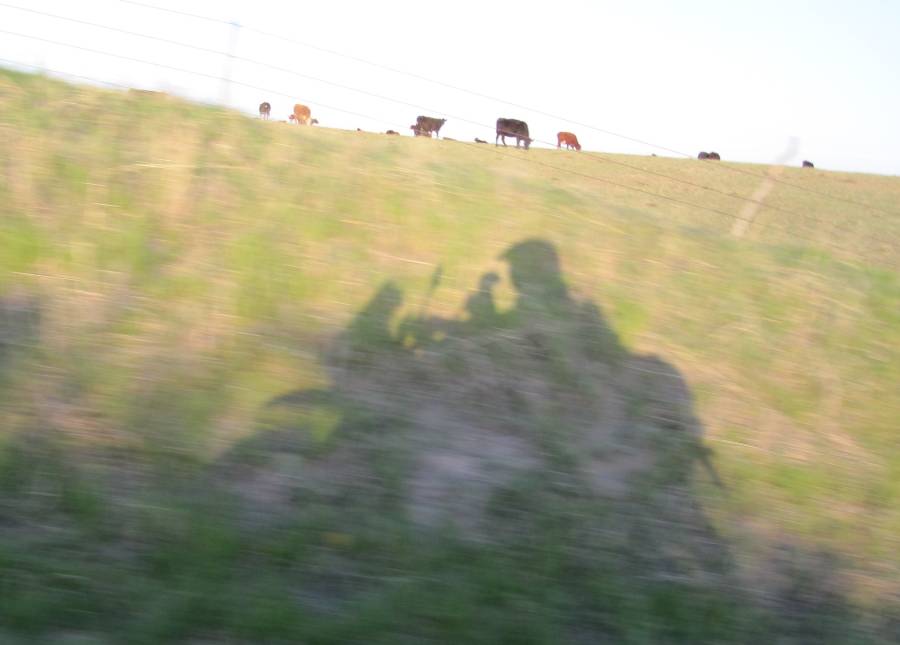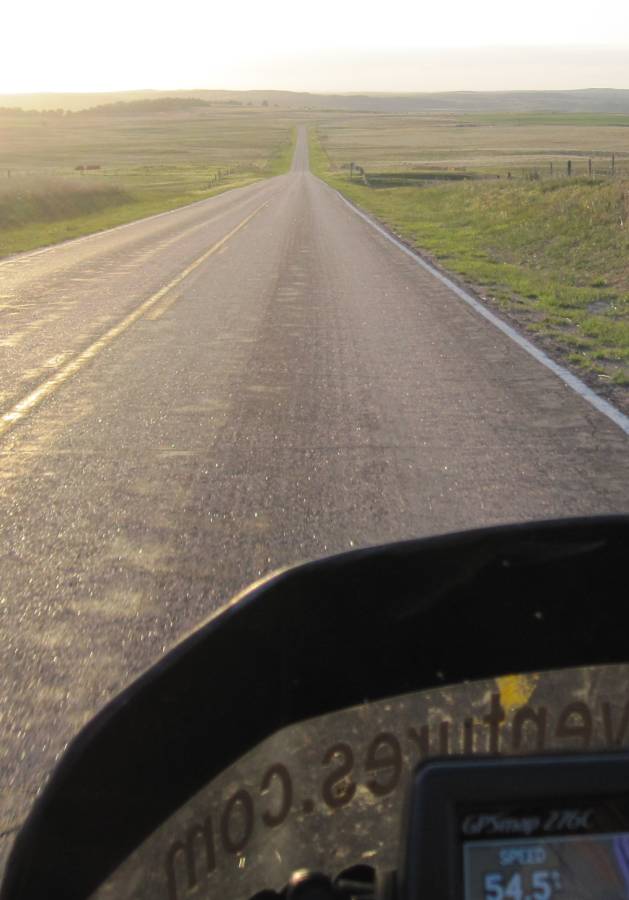 I ended my day in Rushville, Nebraska--about 30 miles South of South Dakota.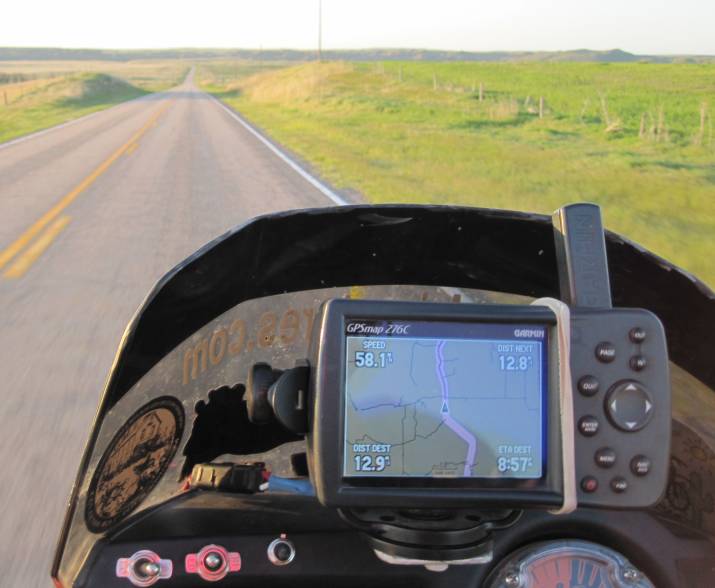 May 24, 2010
I found the nicest campspot on a lake but was afraid it wasn't legal--later in Rushville the local deputy told me it was.
I awoke at the Nebraskaland Motel and had a mechanical problem----HHhhMMmmm.
My gps had no power---it took me about an hour to find a broken wire on the wiring harness I had made to power it
and I was on the road.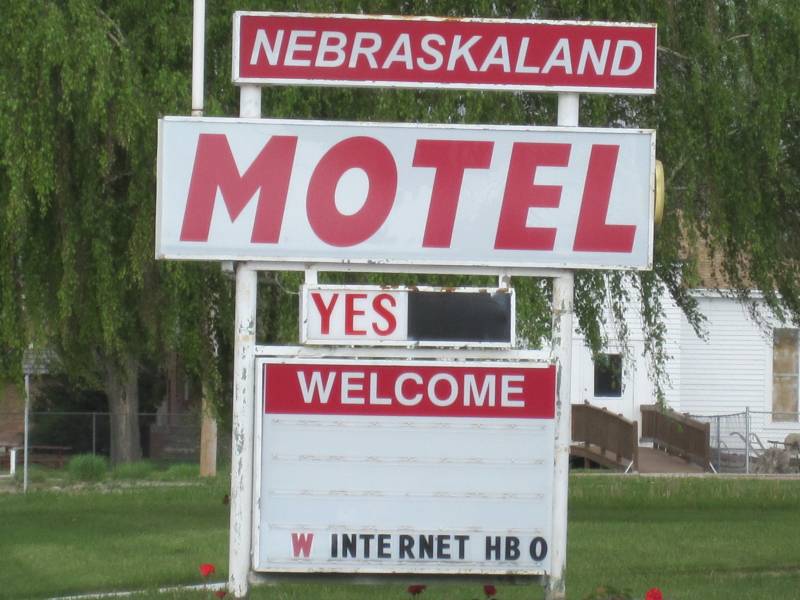 Lot's of history here at the Nebraskaland.
You can read about it below--but the neatest part............
The present owners claimed it was the first self service gas station in the USA.
You heard it here first !!!!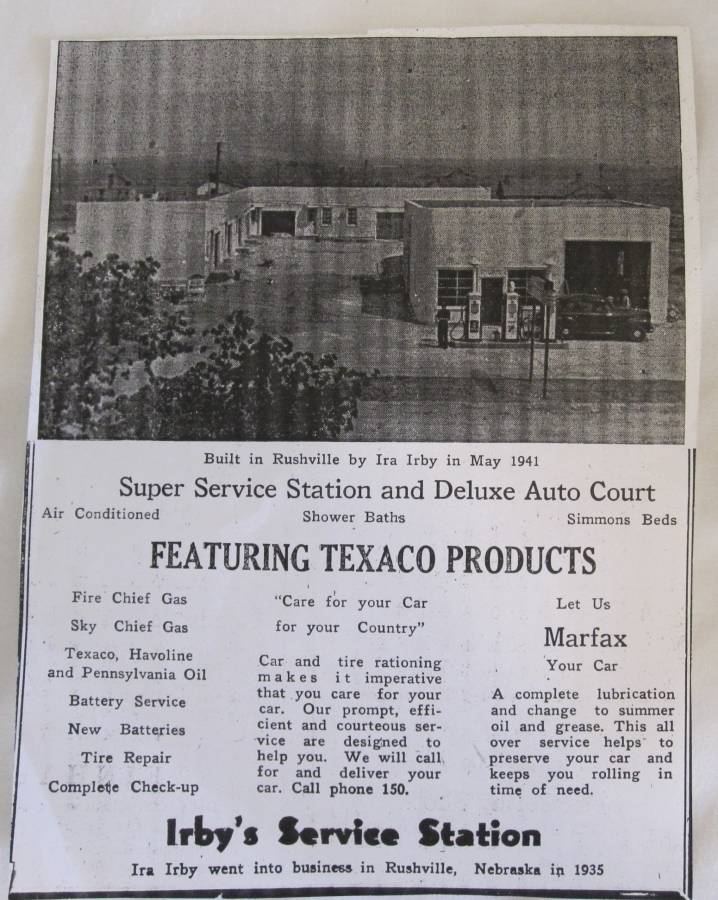 The remains of the gas station in the picture above.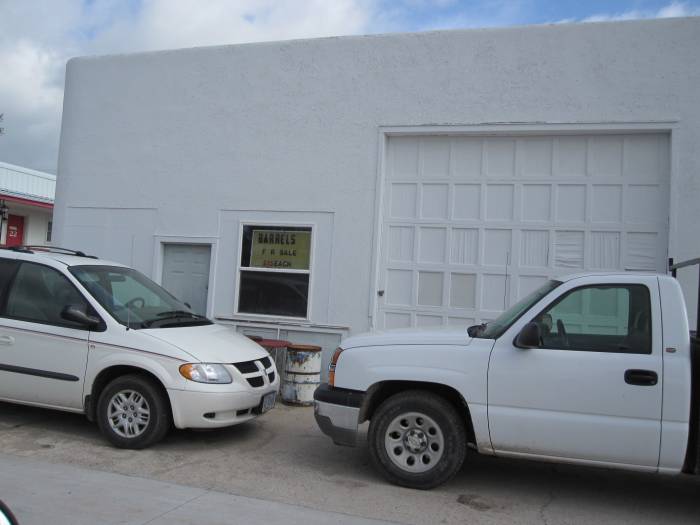 This mornings weather was great---but extremely high winds, damaging hail, rain, storms and tornadoes were the forecast.
Boy was I in for a surprise as I headed North toward Indian country and the badlands.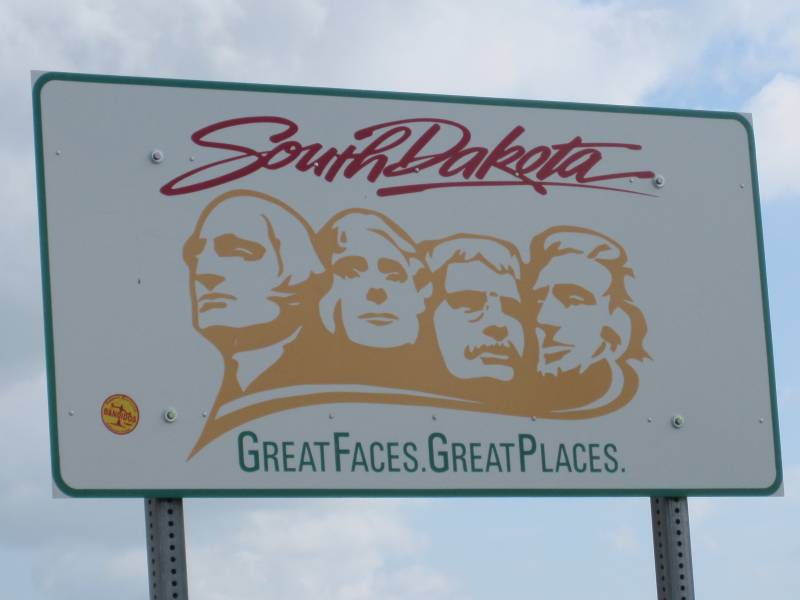 Well--how bad could it be---still sunny and warm-nice.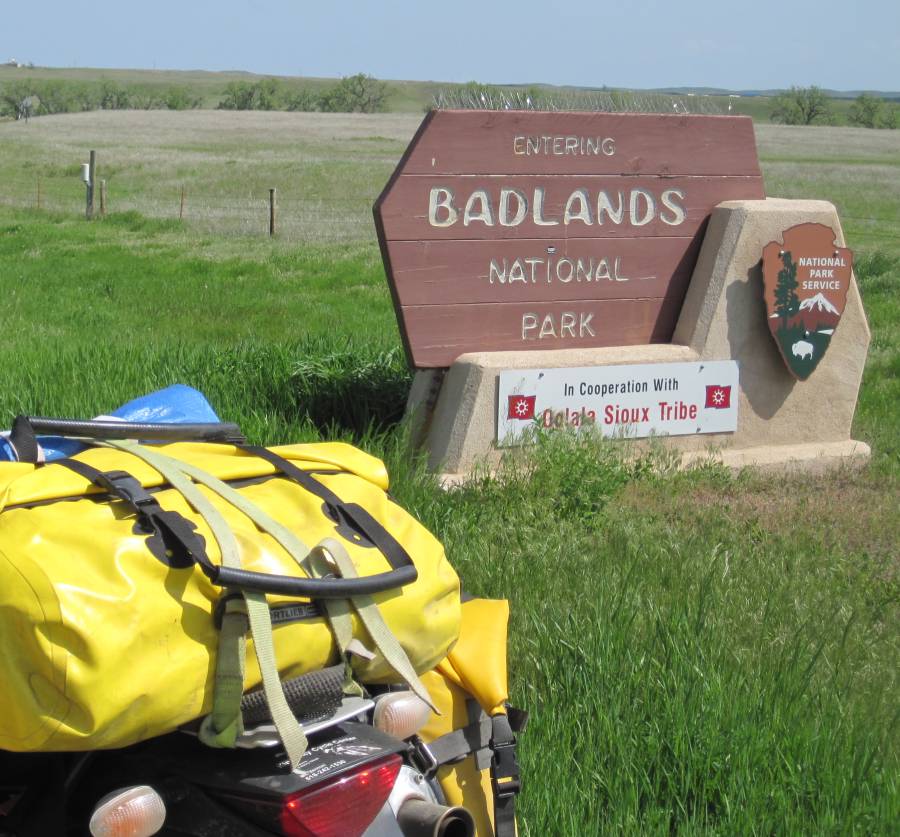 It was so nice out I knew the day was going to be fine---some of the badlands.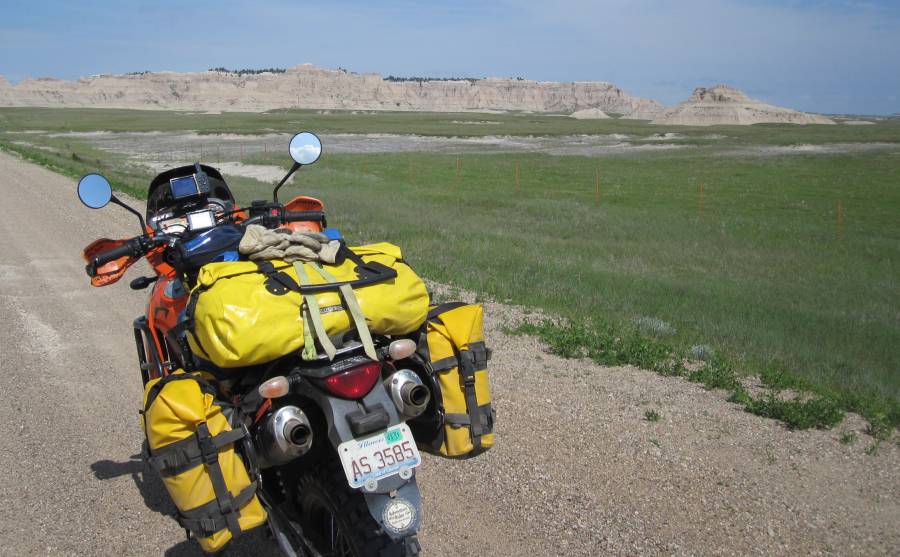 I headed straight West ----just South of Badland National park on this dirt and rock road.
You just can't see it in these pictures--but this road kept me to my full attention.
It wasn't all that many hours ago that it was mucky-------what's mucky you ask ???
Ever felt you back end just wander sideways ????? That's the first sign of muck. The second sign is you are no longer headed
in the direction you were going--the 4th sign is-----well you surely know--the dreaded high side.
This road was weird--looke like high speed standing on the pegs---not today.
The dirt below the rock was holding much water and was so soft. If it had rained out here on me--I'd still be there.
Muck isn't the stuff you pull a handful of throttle and pull out of it---deep sand is for that.
Muck is for slowing down and trying not to dog paddle and look stupid.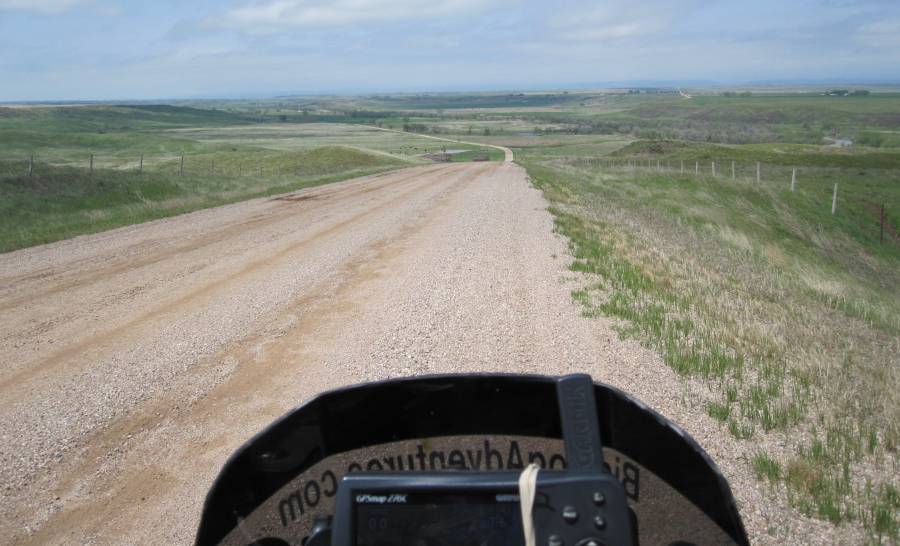 I' ve said it so many times before---I always have this perception of what an area
I haven't been to is going to look like--and I'm always wrong.
Not in a bad way at all------it's just always different.
It's beautiful in here.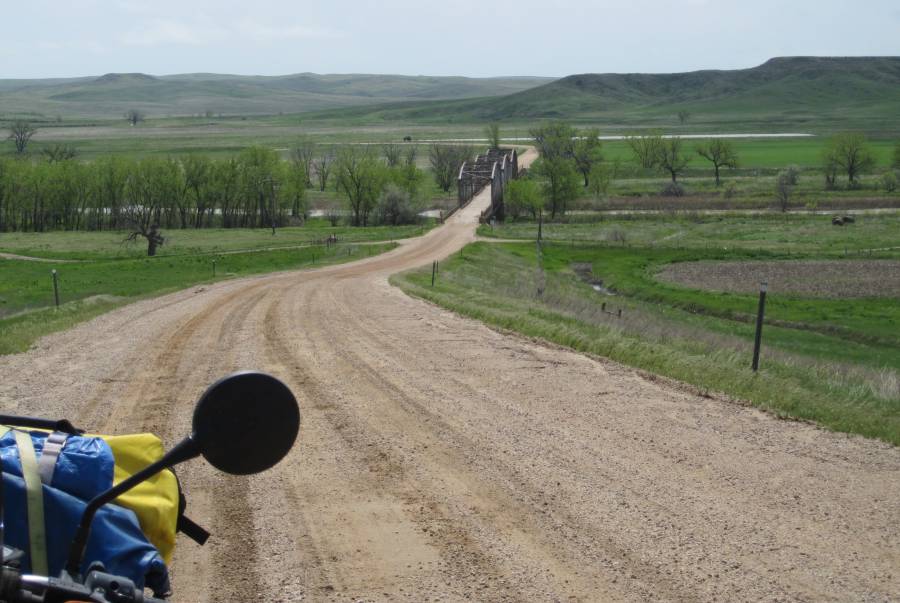 Down the Hill and before the mountains is the little town of Buffalo Gap.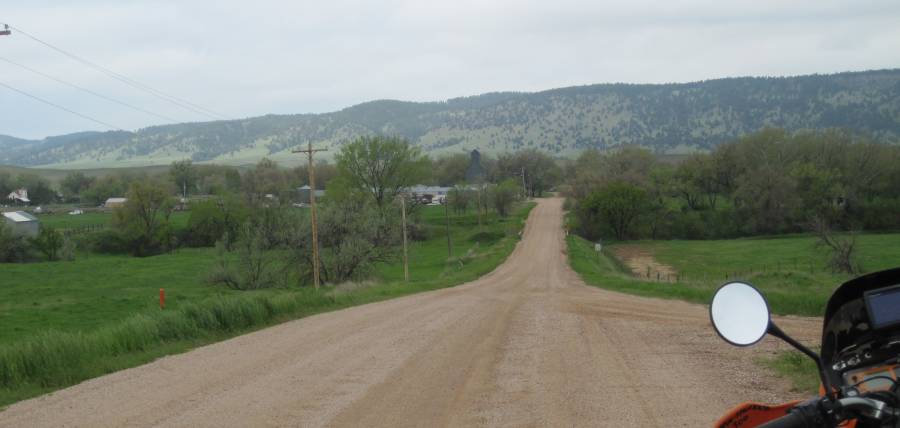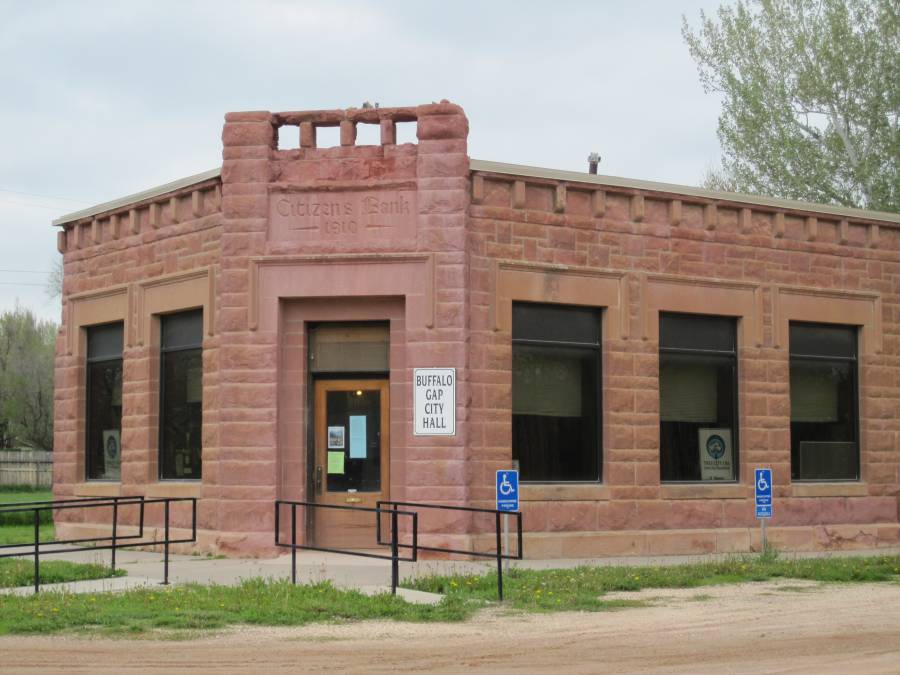 Ok---what do you see.
I see 2 oil pans off a car--several expansion tanks--legs look like an old horse drawn plow--part of a hay rake---
a hood of a car---and all kinds of neat stuff.
Only on the rode less traveled--this was on a dirt road just South of Wind Cave National Park.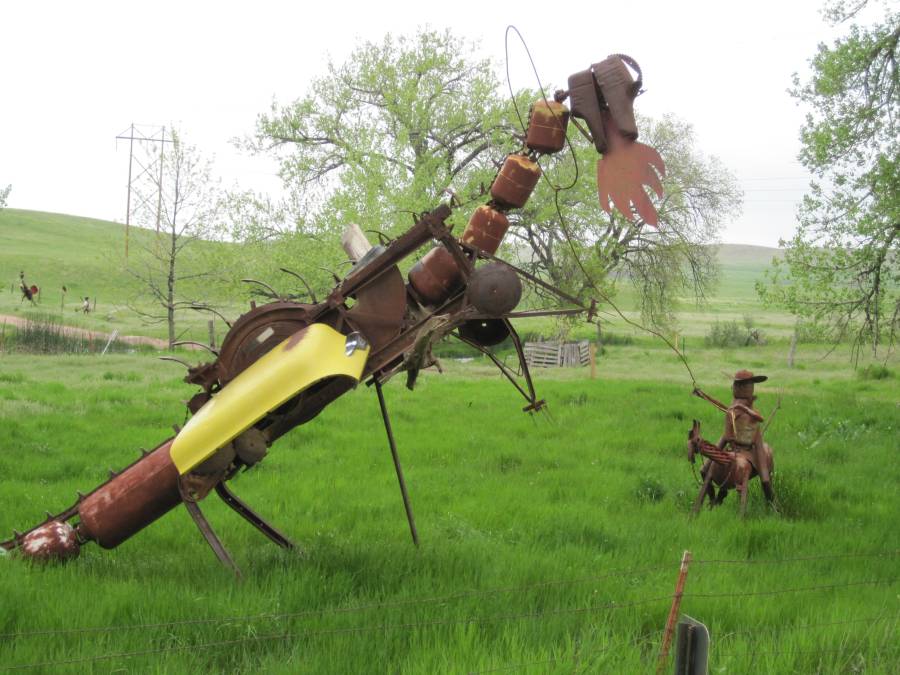 It's more deceiving than it looks.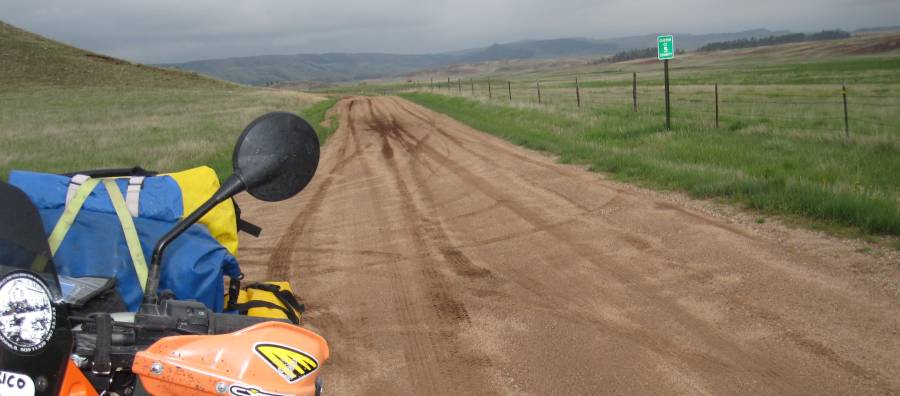 More one lane loveliness---dirt--almost mucky roads for miles. Nobody out there.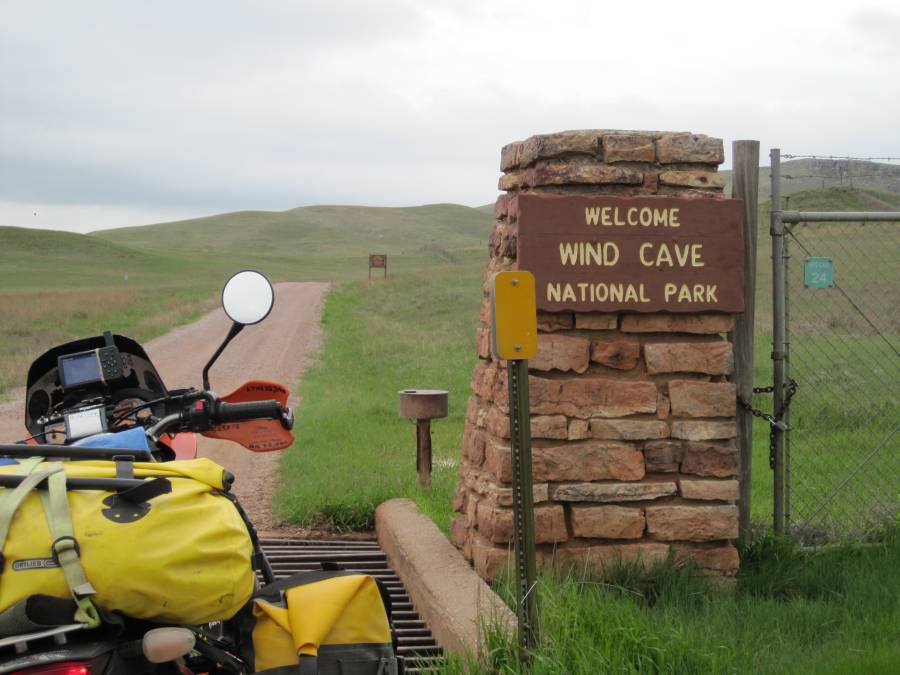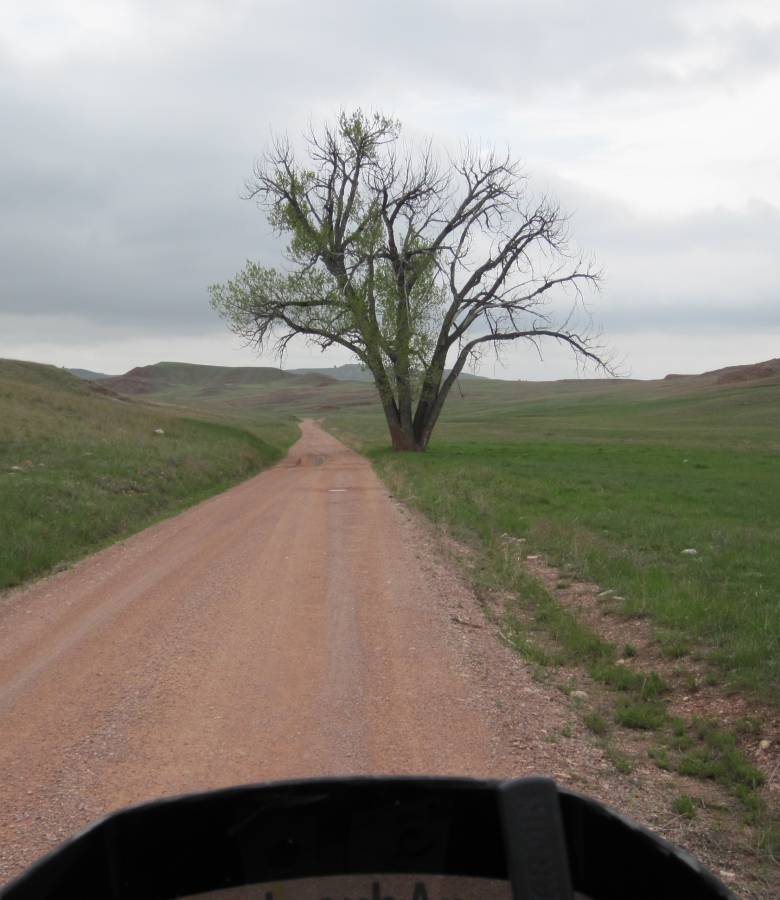 If you run across a herd of cows across the road--I've never had a problem with just going slow--
maybe honk my horn--but try not to---and
ease thru them--no problem. Some people call cows stupid--I call the people stupid---
there just cows--they don't know what to do.
But these bad boys are well...............bad....very bad.
Don't mess with a Buffalo--he will stomp you in the dirt. Leave him alone and he will leave you alone.
I had a good friend who had one for years--never could get in the fence with him--he'd try and kill him everytime.
I hope they wouldn't block the road as I wasn't going anywhere if they did.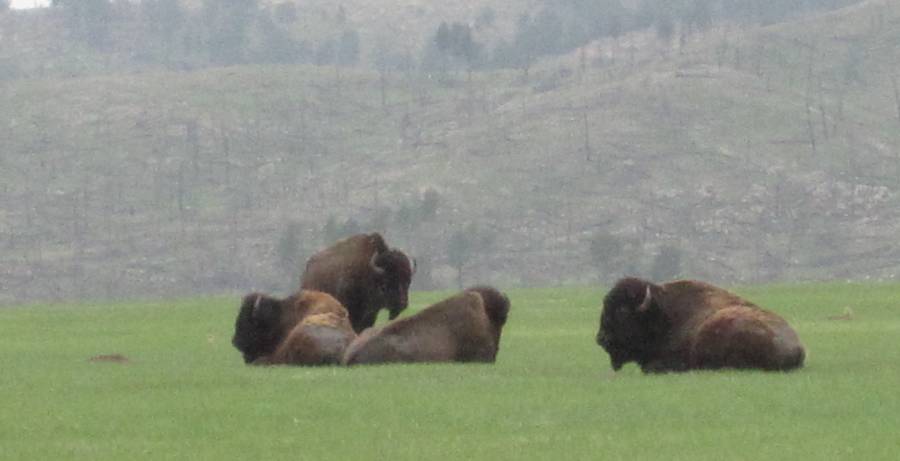 I shot this pic on the fly-----a nervous fly.
My other hand was on the throttle and I was ready to sacrifice my camera.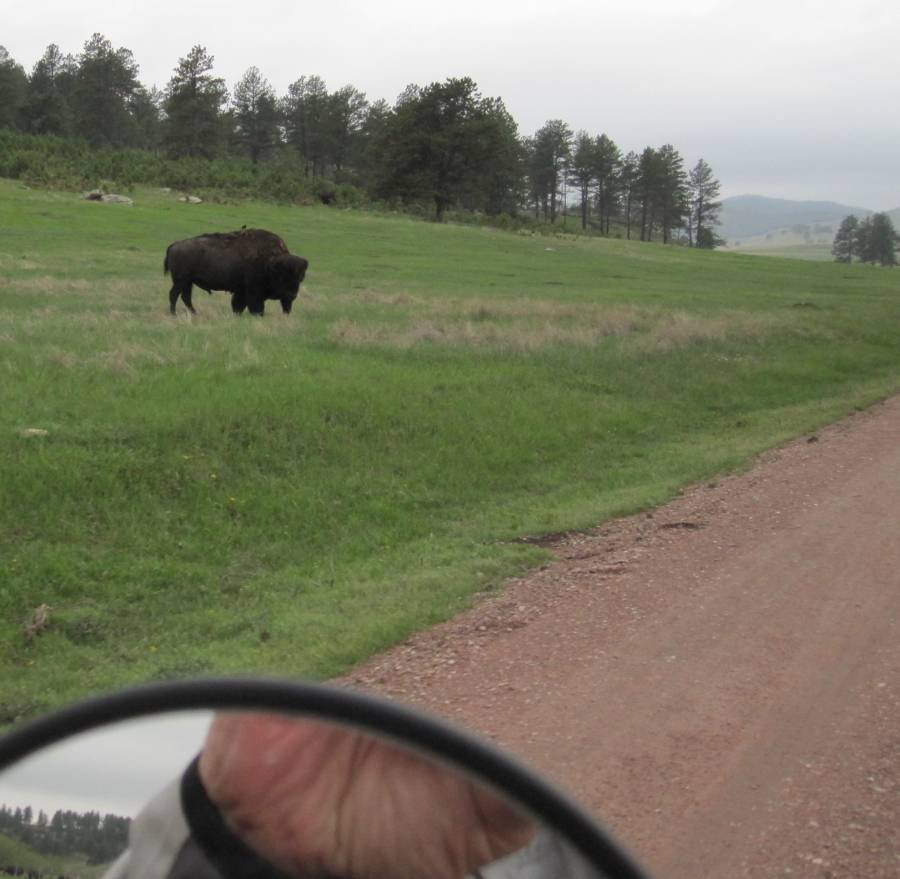 The weather forecast was looming behind me--and I knew I had to get off these dirt road--or spend a couple 3 days out there.........starving to death----and cold.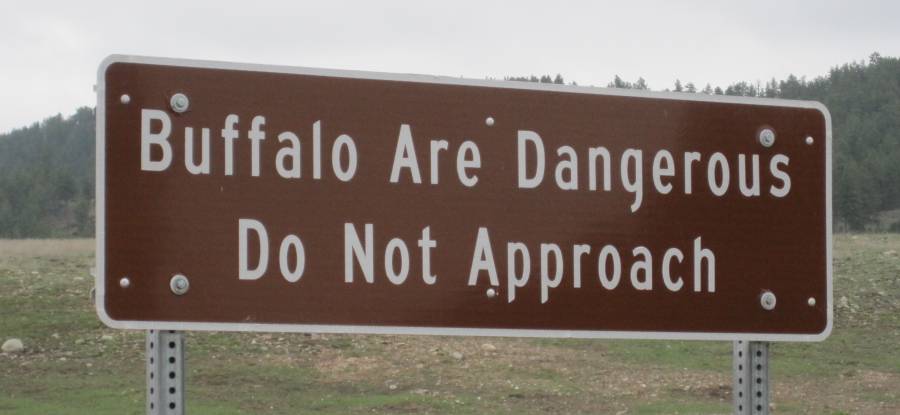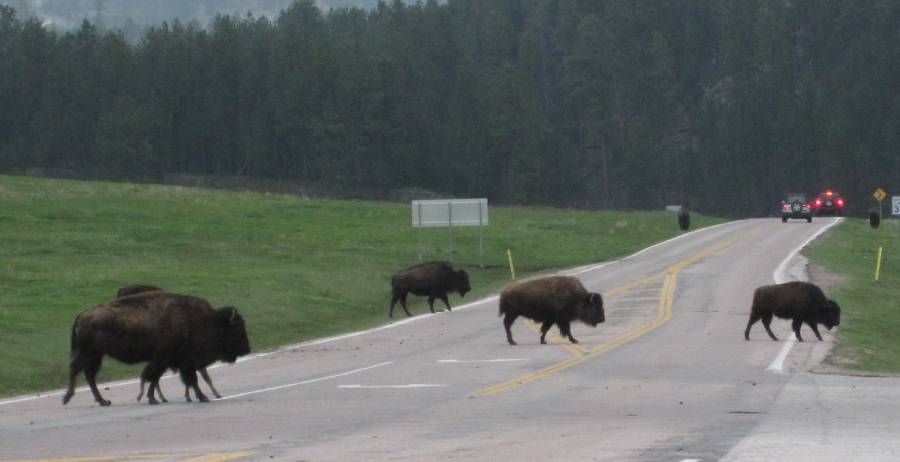 It was pouring hard when I rolled into Custer, South Dakota--then it started hailing--I knew the tornado was next............
and it was--just missed the town. I recommend the rocket motel--nice clean mom and pop and reasonable.
It was way too early to quit riding-----but I did.
In my cozy motel I watched as the temperature plummeted to freezing and it snowed for just a bit.
Gonna be a cold start tomorrow.
And oh yeah--those nasty mean buffalo ??? Had one for dinner---really tasty.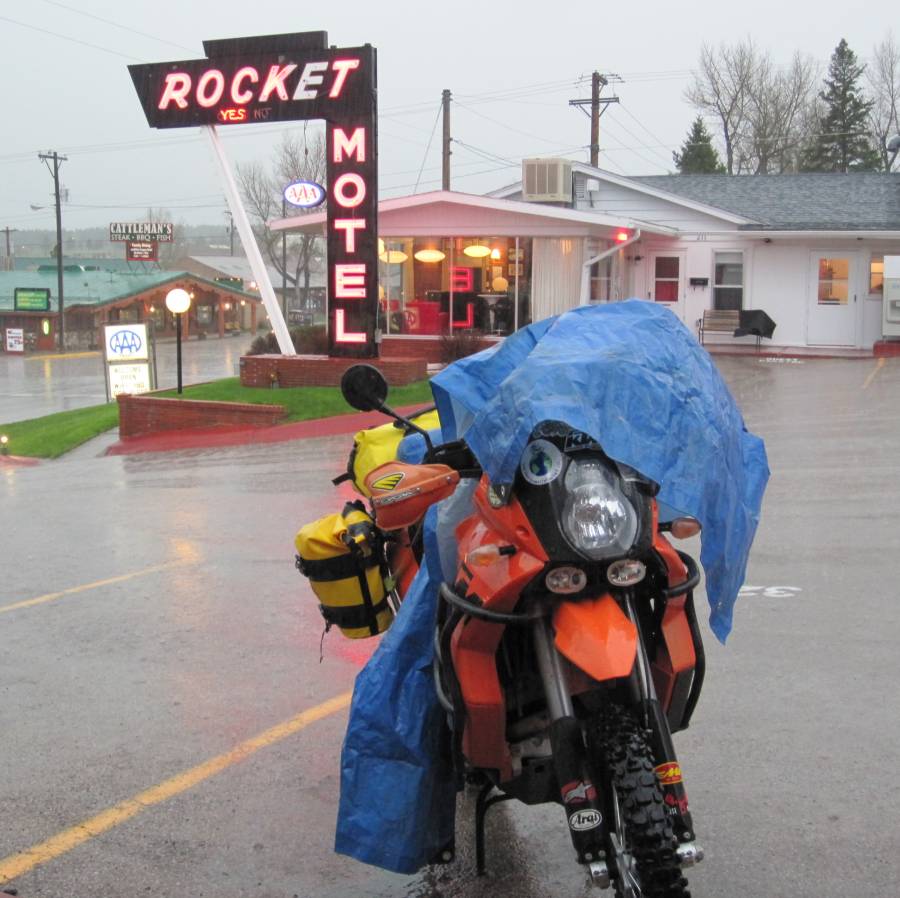 May 25th, 2010
I awoke the next morning to a cool brisk sunny morning and got some breakfast in Custer and
promptly hit the road. I asked the waitress what the most scenic route to Mount Rushmore would be
and she told me iron mountain road. Hill and curves where getting over 35 mph was almost impossible.
It was a very fun road untill the tree from yesterdays storm.
I knew I was just a few miles form Mount Rushmore and I saw cars on the other side of the 2 trees
so I knew this had to be the only obstacle between me and the presidents. I hated the thougth of
going around---then 2 Harley riders showed up on the other side after the cars left and down the
embankment I went and clawed my way up the steep hill past the first tree which was full of rocks
and mud--all this to the Harley riders amusement I'm sure. I tried to get some momemtum going up the steep
hill but couldn't----but the knew Rally Raid dug in and got me up the hill---the second tree I was able to
just go around the tip of it without going back down the embankment.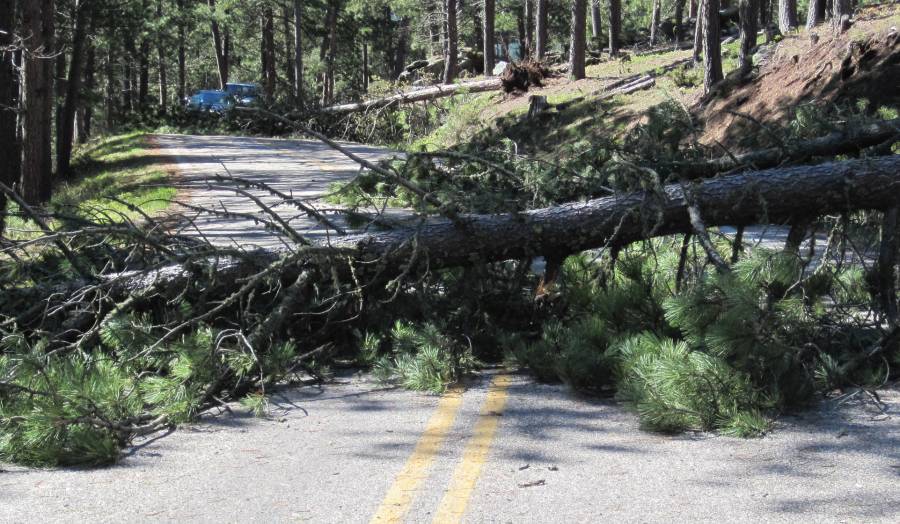 I'm on the other side of both trees here---and all 3 of us tried to move the one tree--but it wasn't budging.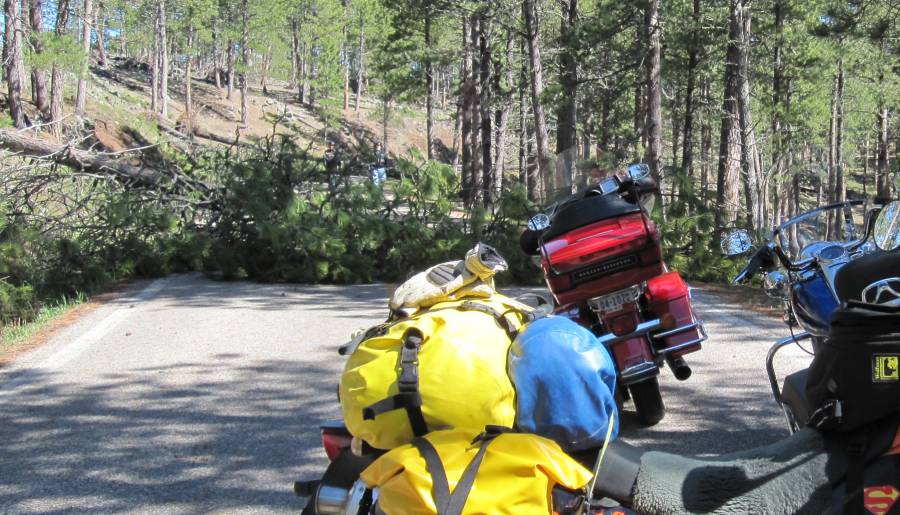 Really nice fellows---father and son. The son had rented his Harley from the shop not far away.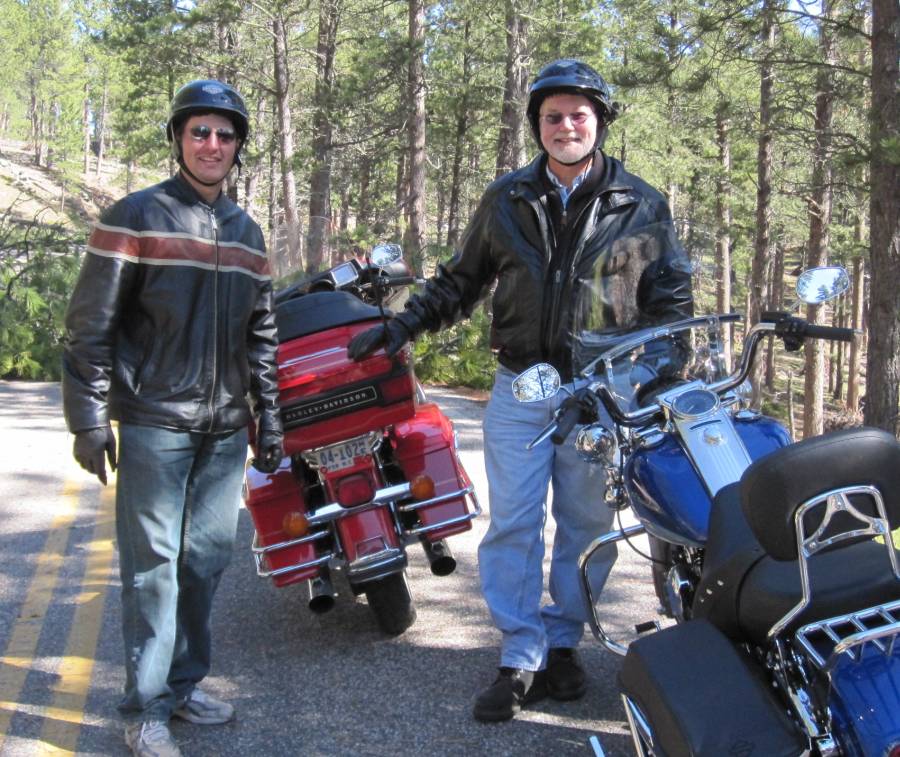 This guy was an old dirt rider--sounded like he had done a lot of riding in his day.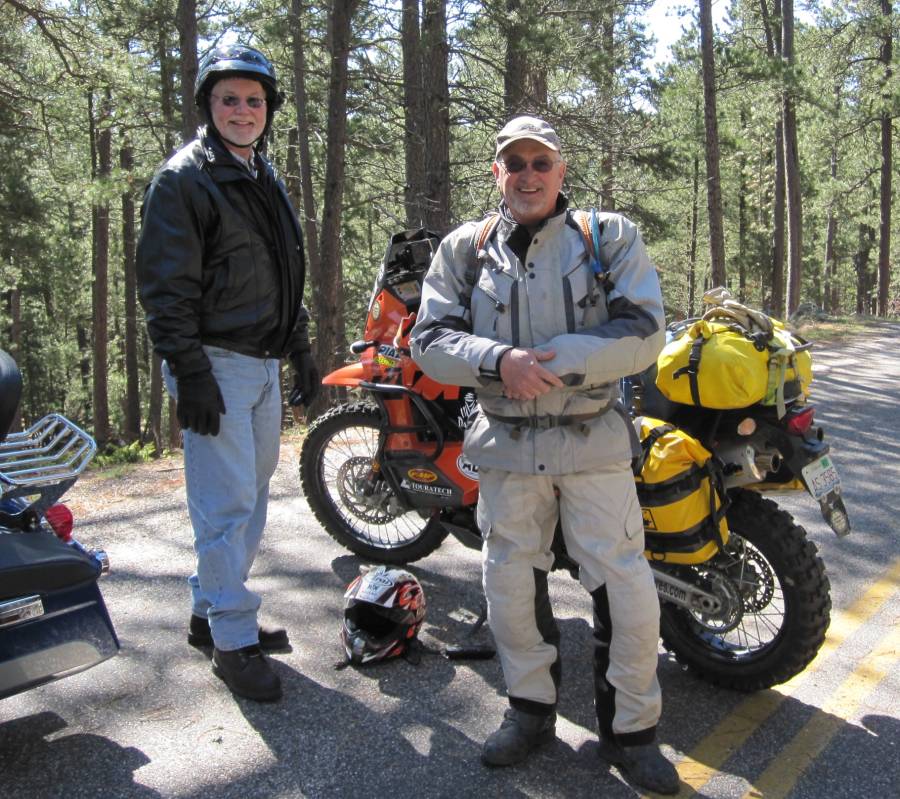 On toward Mt. Rushmore I went thru several tunnels--one lane -----all of them.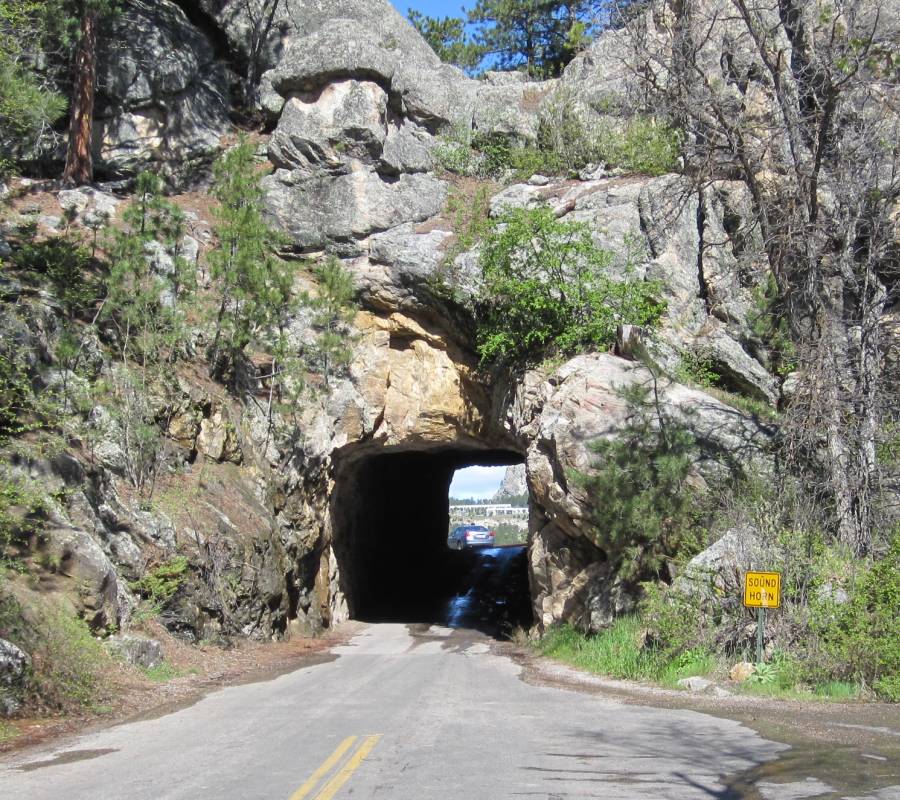 My first view of the presidents from very far awya--my camera zoomed in very well.
This picture was taken I bet a mile away.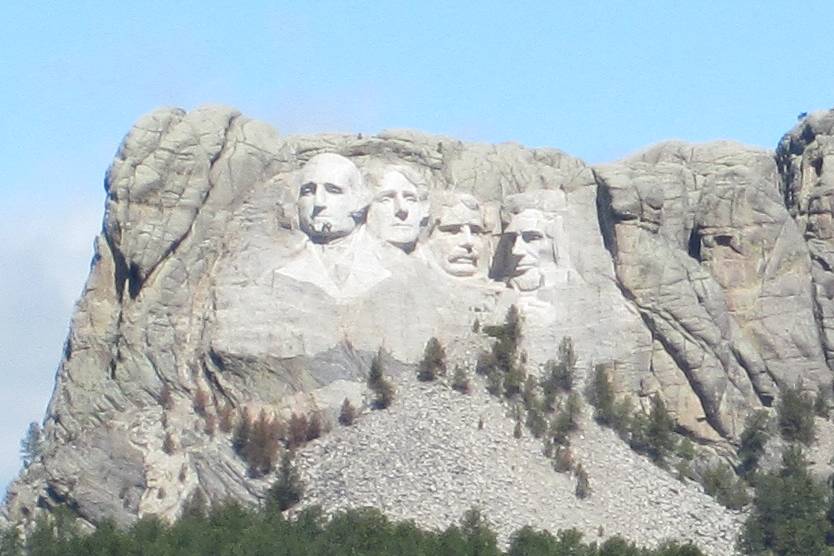 I wouldn't pay to park in the parkng lot with all the RV's when I could see the whole thing plainly from the road.
Awesome--then around another curve I got this side view--with somethin hanging off the presidents face.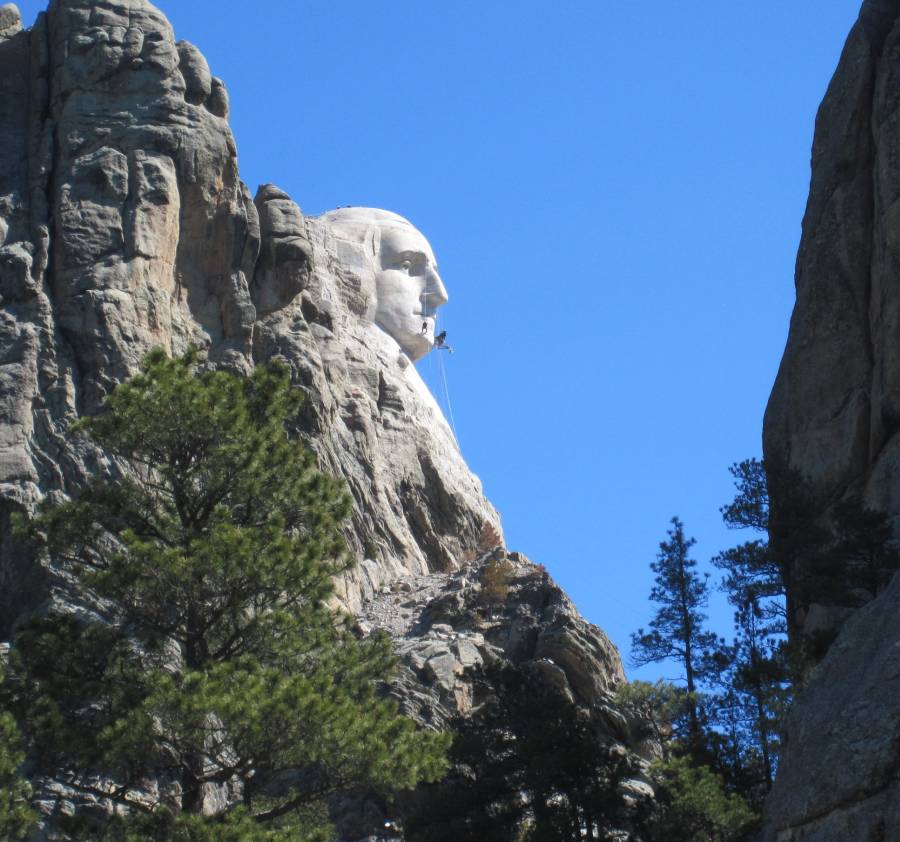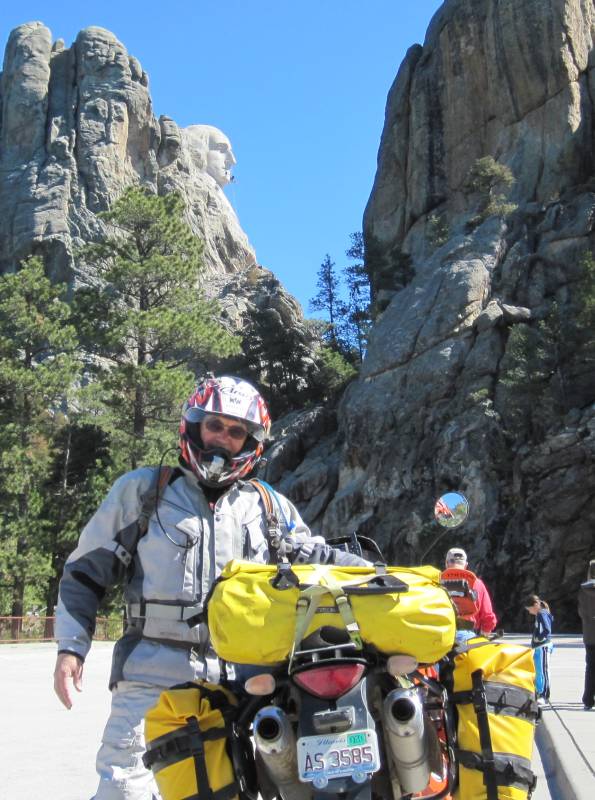 Could you do this job ????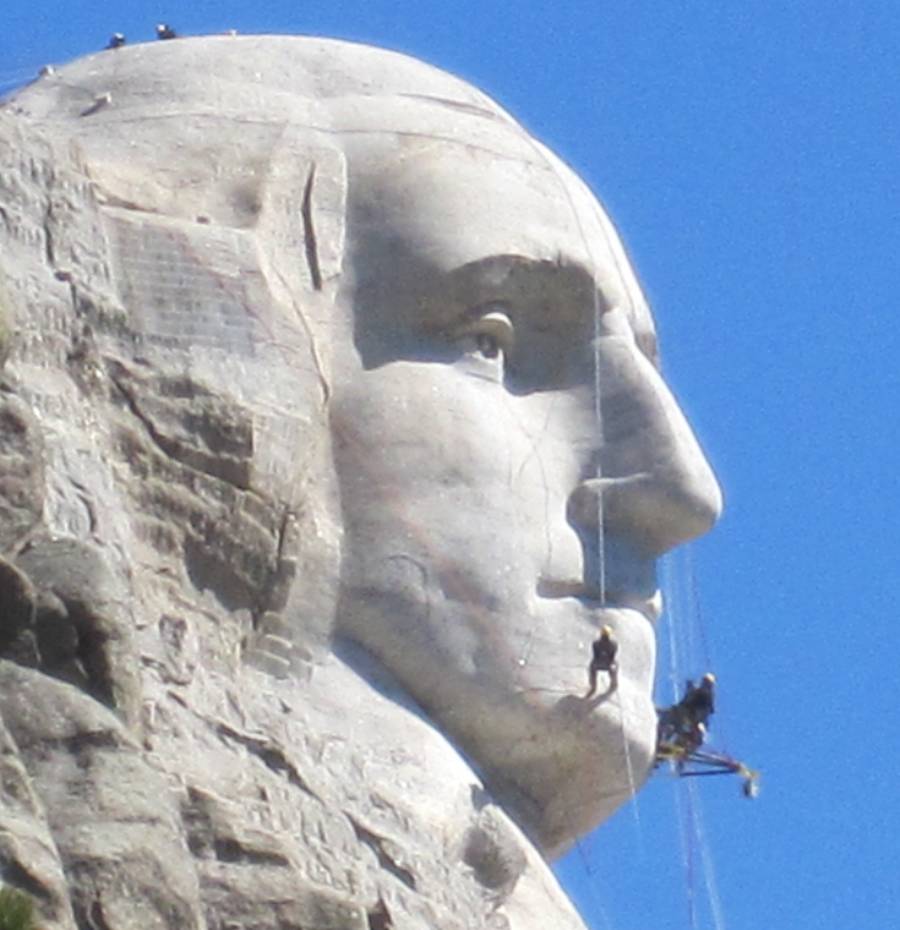 I then headed West toward Devi's tower in Wyoming---but just meandering around any old road that looked interesting.
I was by no means in a hurry-----but at the end of the day couldn't believe how much ground I had covered.
It was just from getting up early---riding---my favorite thing !!! And being alone I didn't have to discuss with anybody
where I was going, where to eat, or which route to take---I just went my own way and ended up near the Wyoming border
up to about 6,500 ft. in what I thought was snow--the forest guy I met out there said it was hail.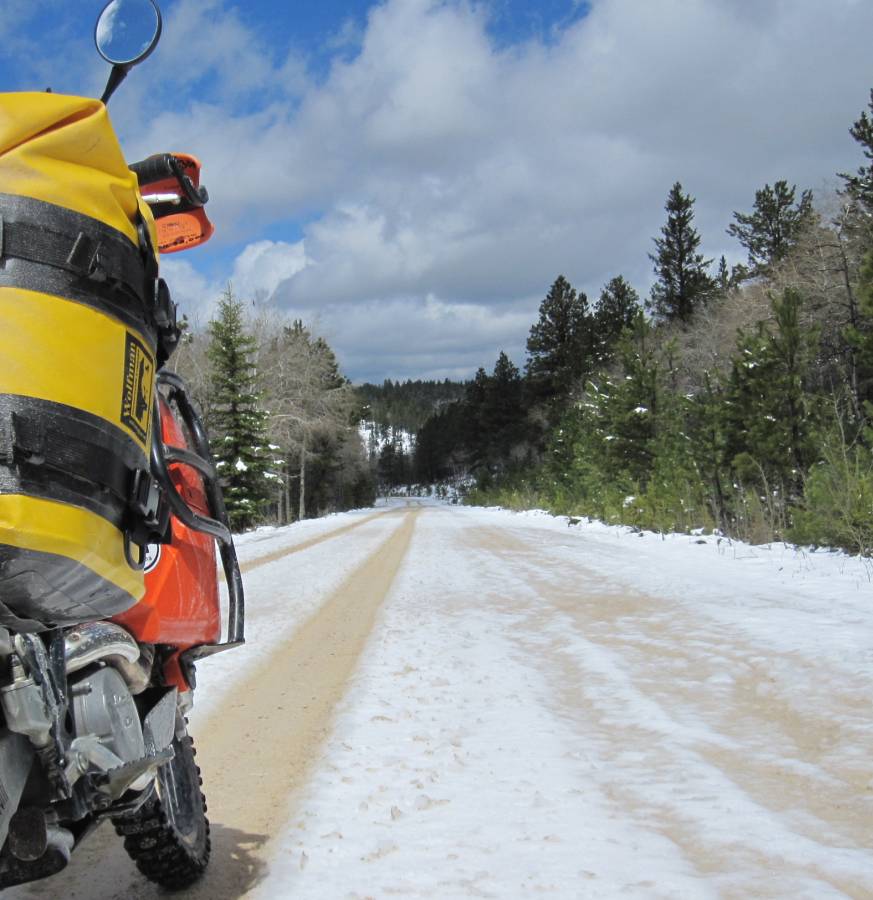 I was a beautiful ride thru here and I never slipped a tire.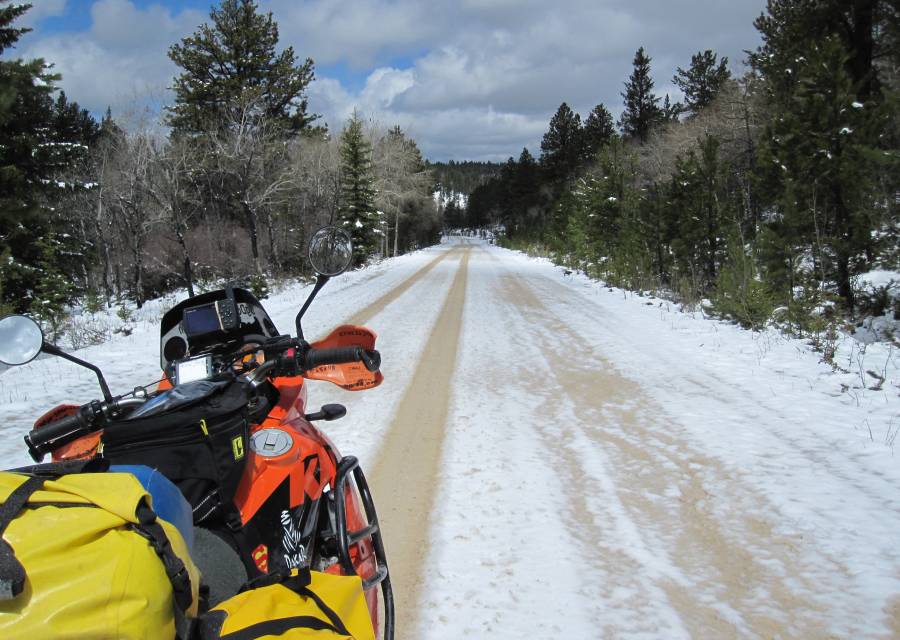 Wyoming terrain heading towards Devils tower,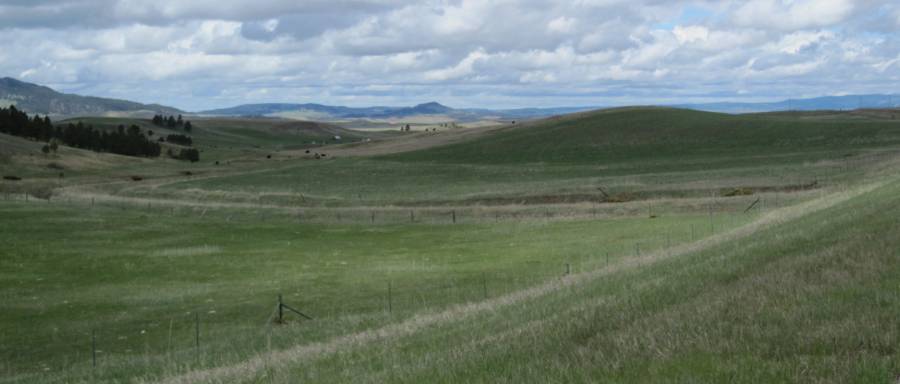 The surrounding area of Devils Tower was so georgeous. I finally caught a glimpse of it about 15 miles away and I was estatic.
This is another one of those places I just never thought I'd ever get to see---but I did------check !!!!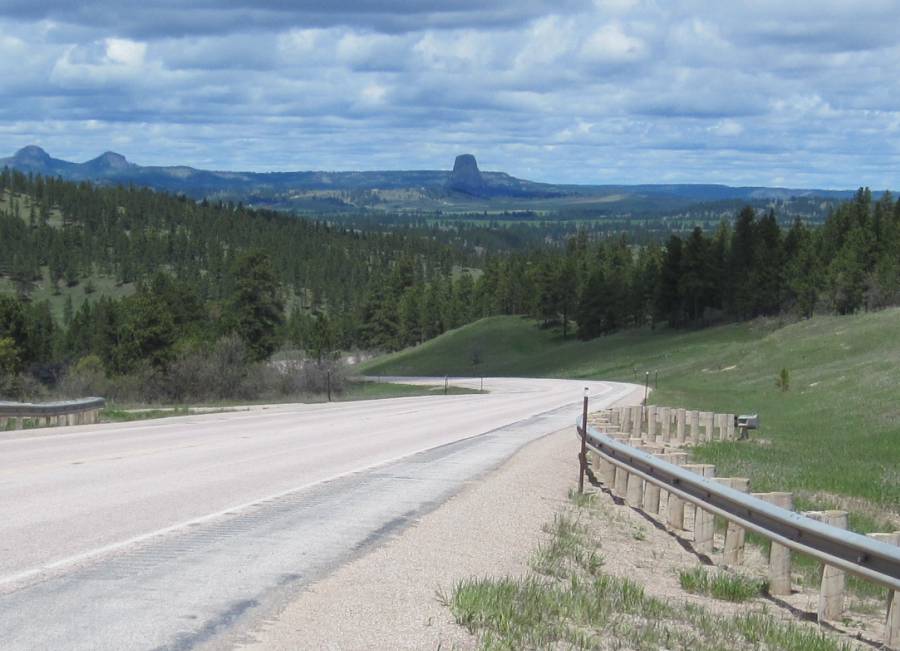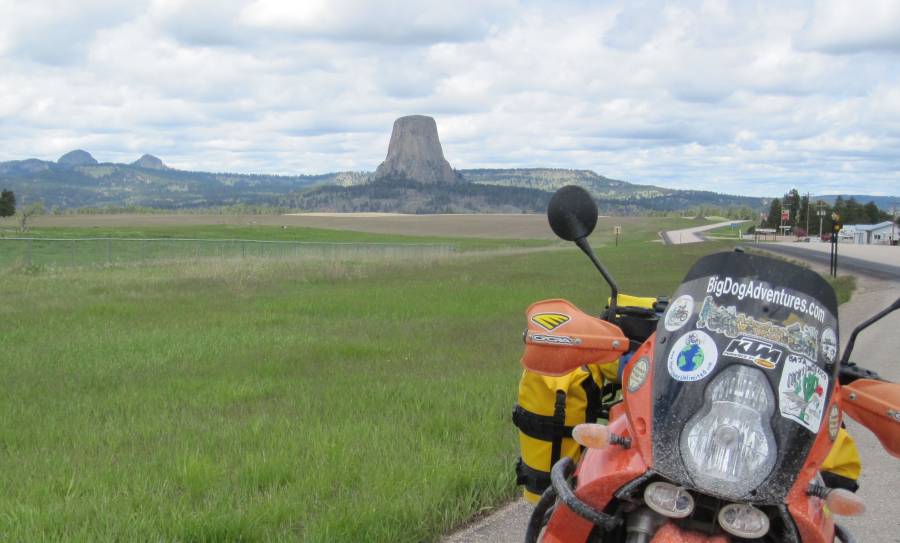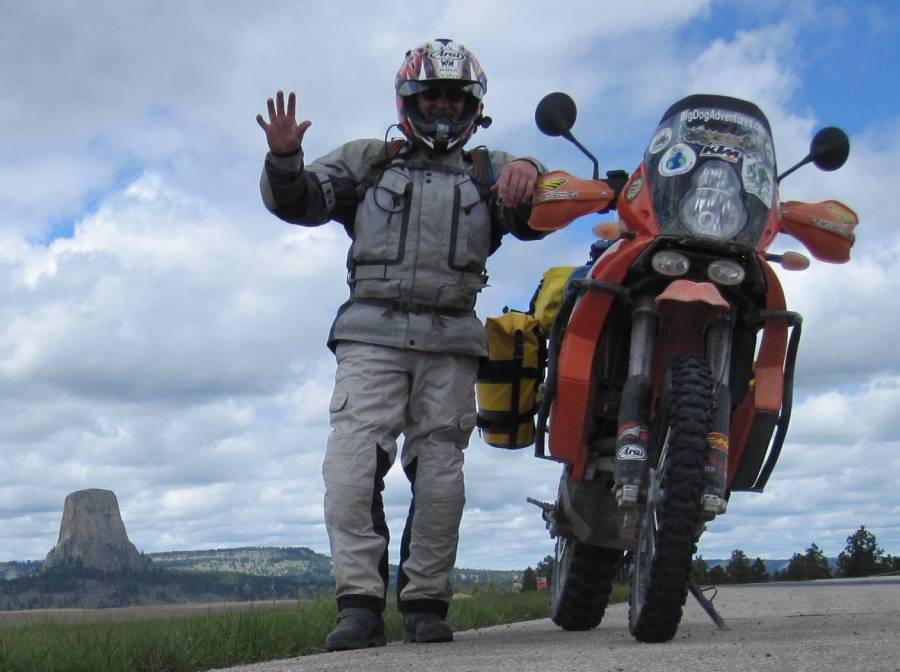 Being there was so much better than looking at all the pictures I have seen all those years--and watching the movie Close Encounters
Of The Third Kind. I hung around for quite awhile---and chowed down on some more Buffalo meat at a nearby cafe.
It was nice and warm now and I turned South East for no other reason than it just looked like good riding.
Man---Mt Rushmore and Devils tower--and great riding in the same day--and it's only 2PM !!!!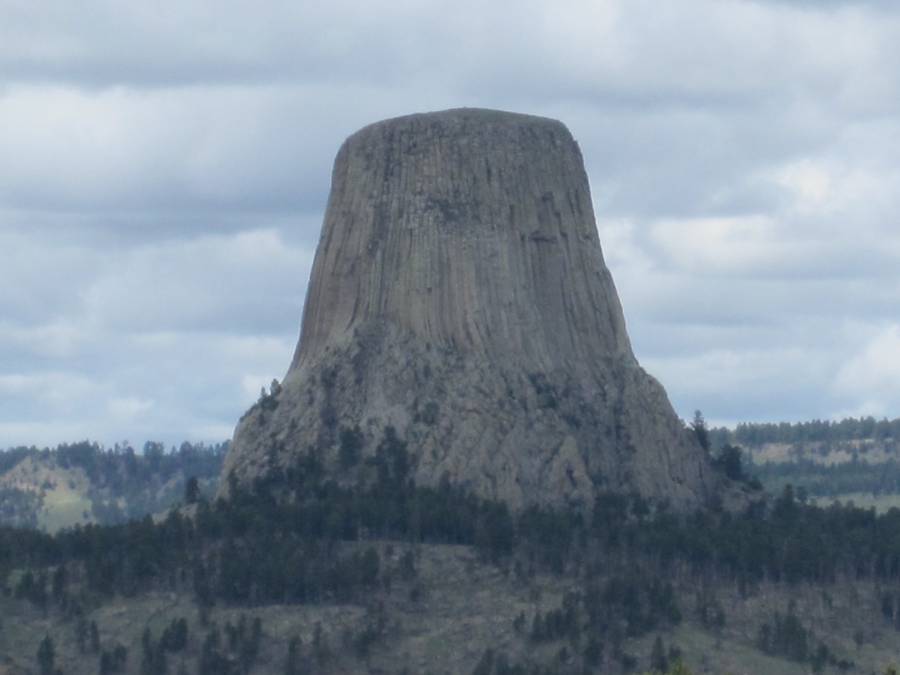 I found every dirt road I could find.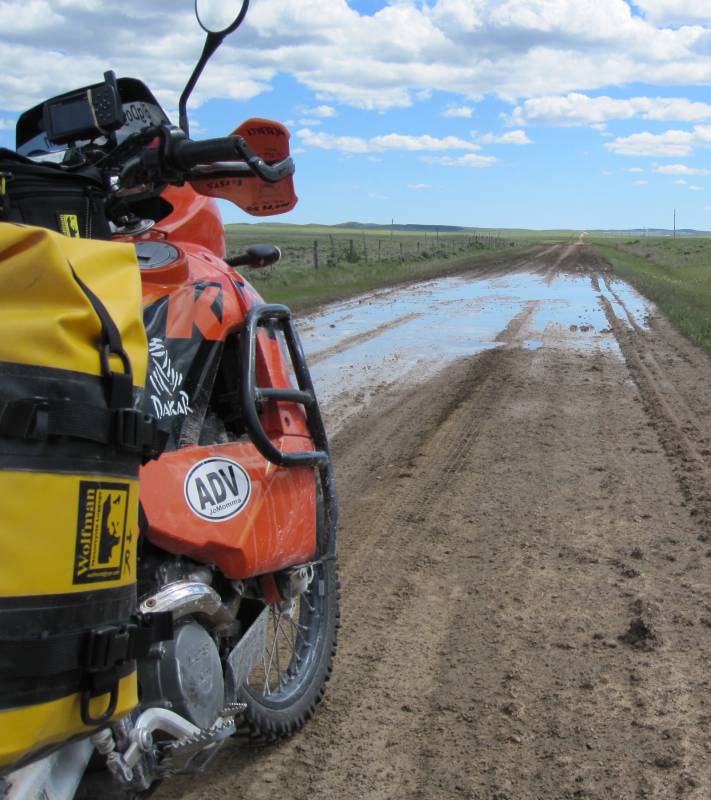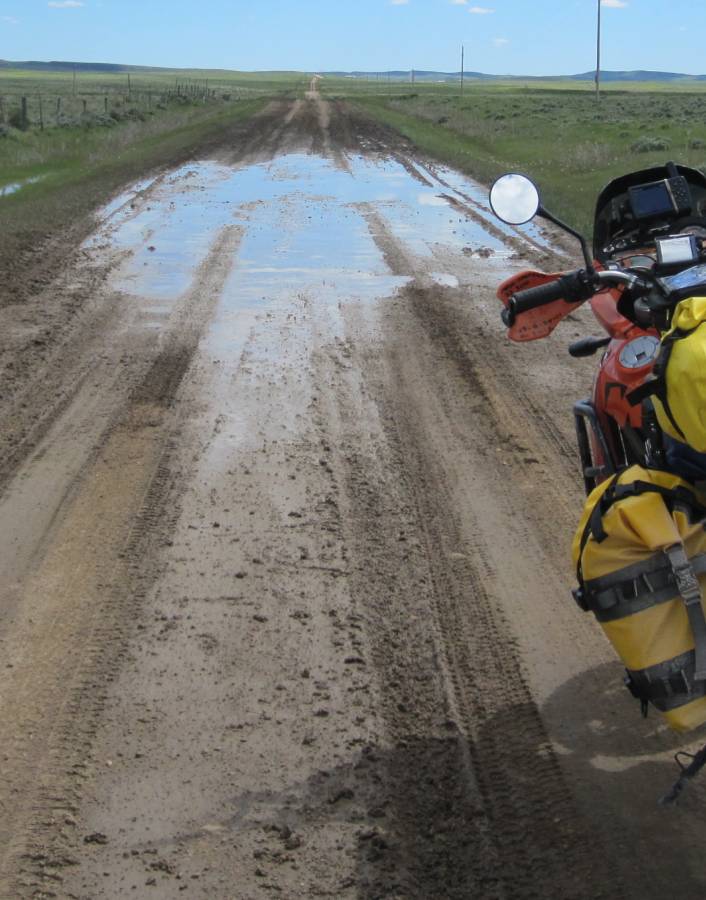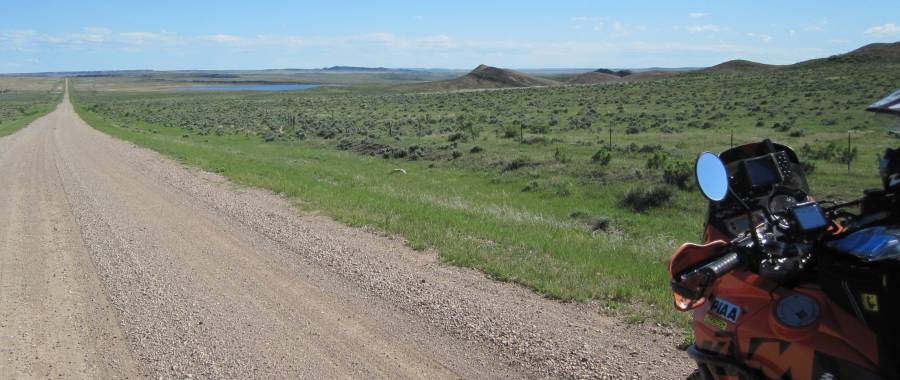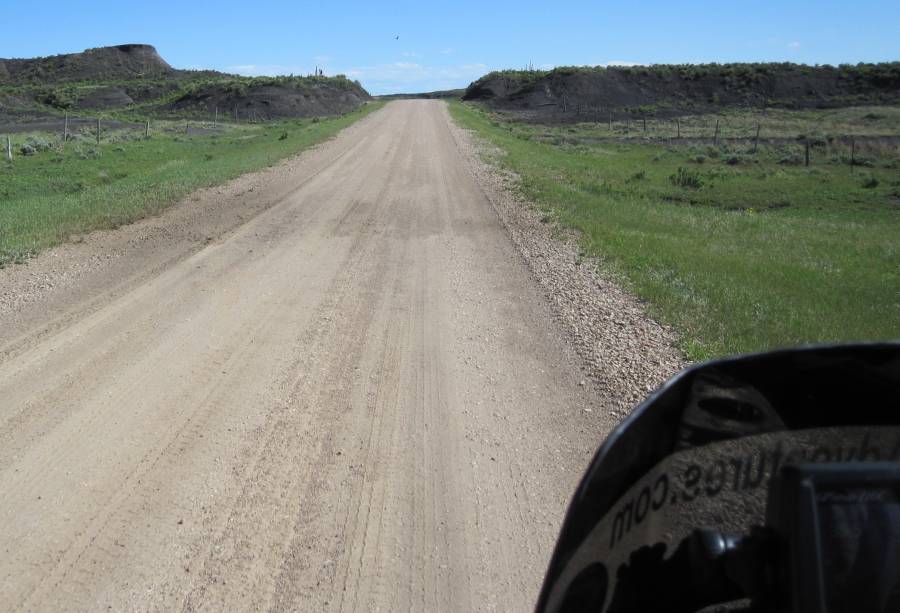 I have no idea what this is-----it was sitting in a field beside a dirt road.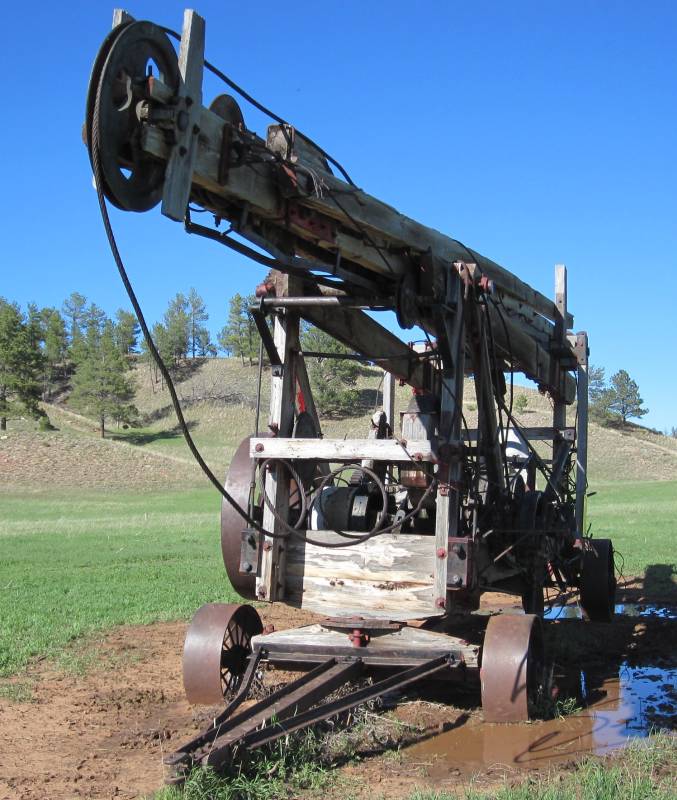 I'm in love with the wide open spaces of Wyoming.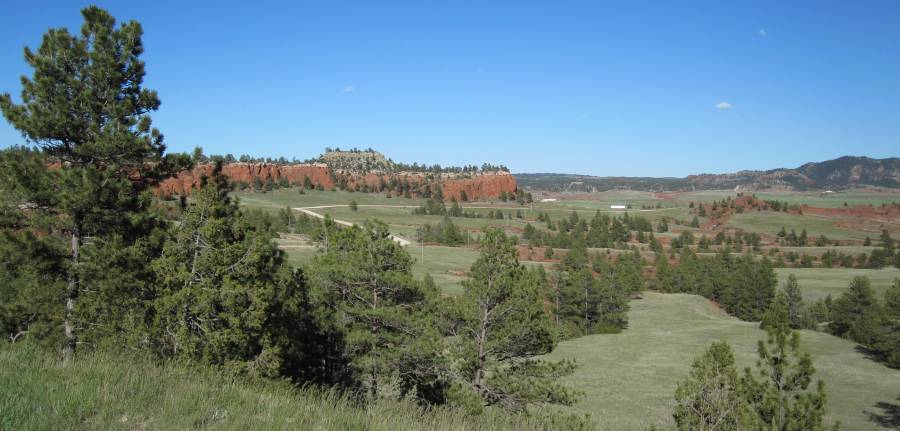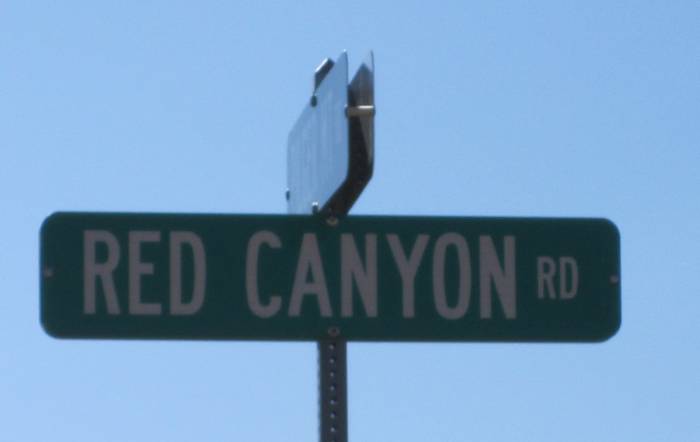 Red Canyon Road--this was a treasure--enjoy the pics.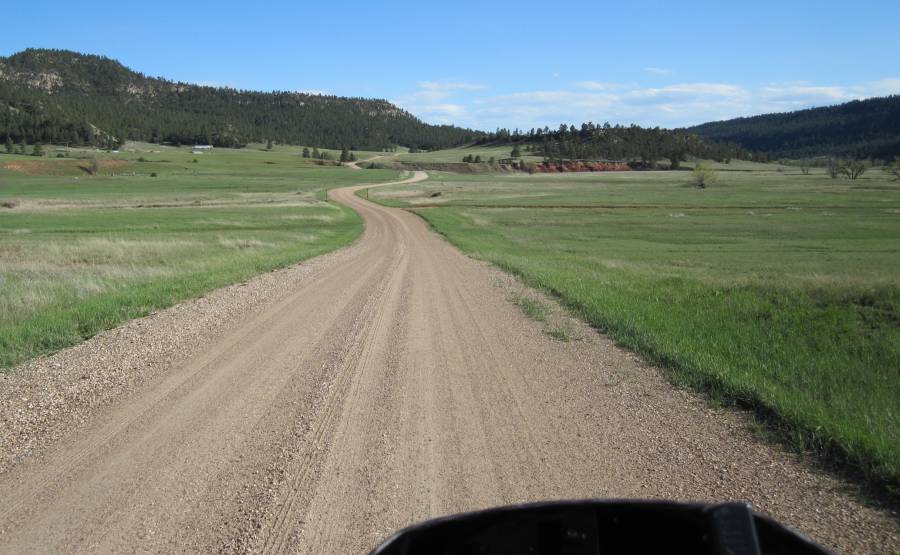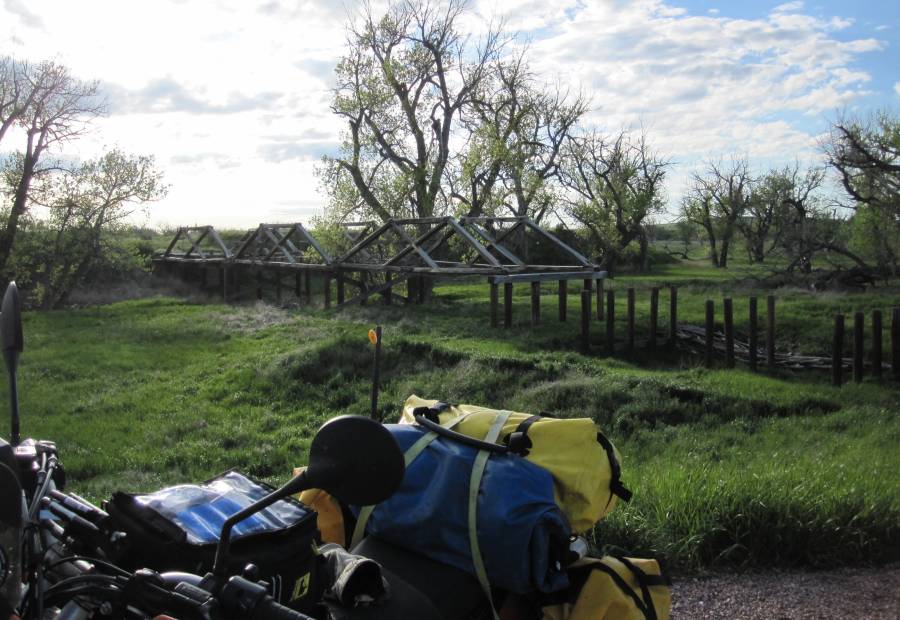 I never seen so many miles of grass in my life--beautiful rolling grassy prairies.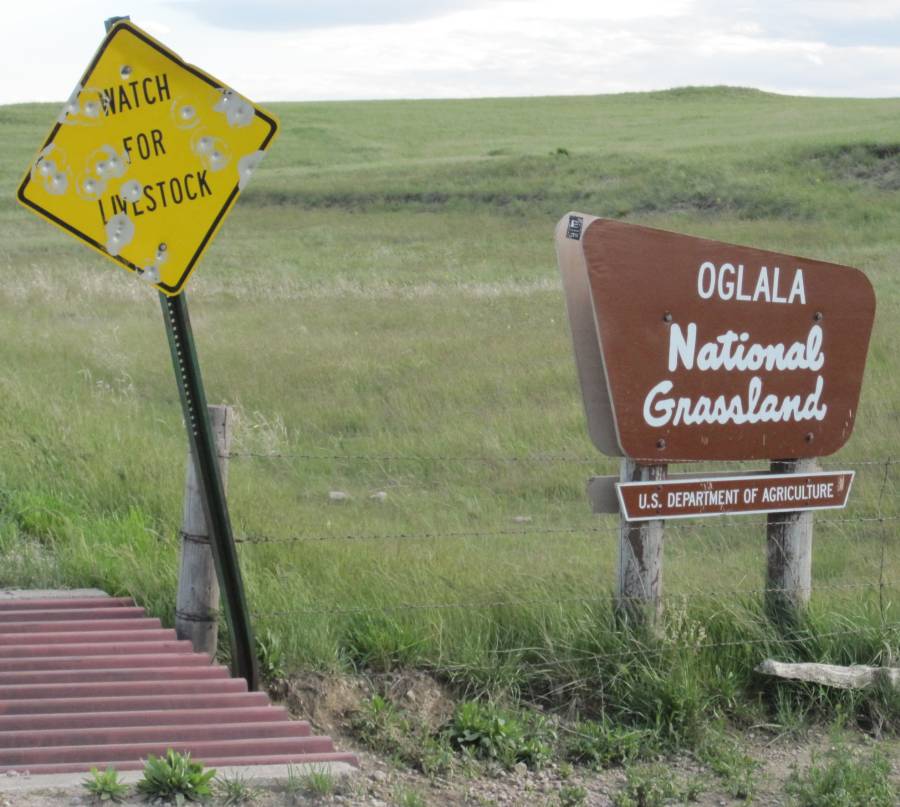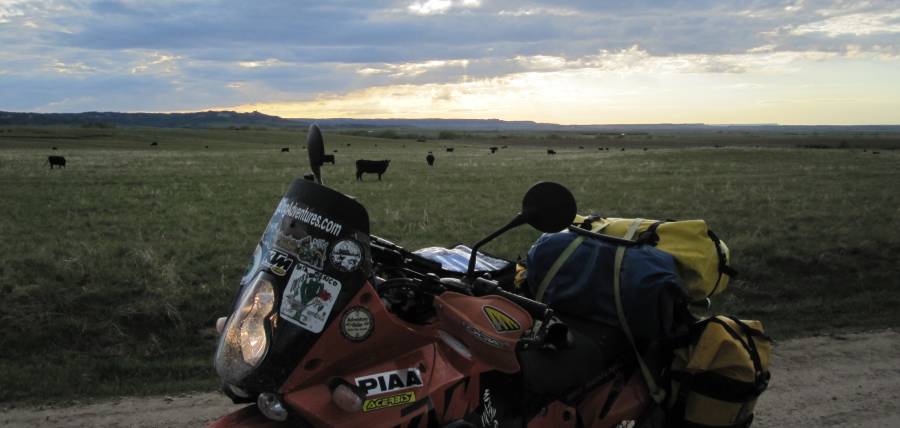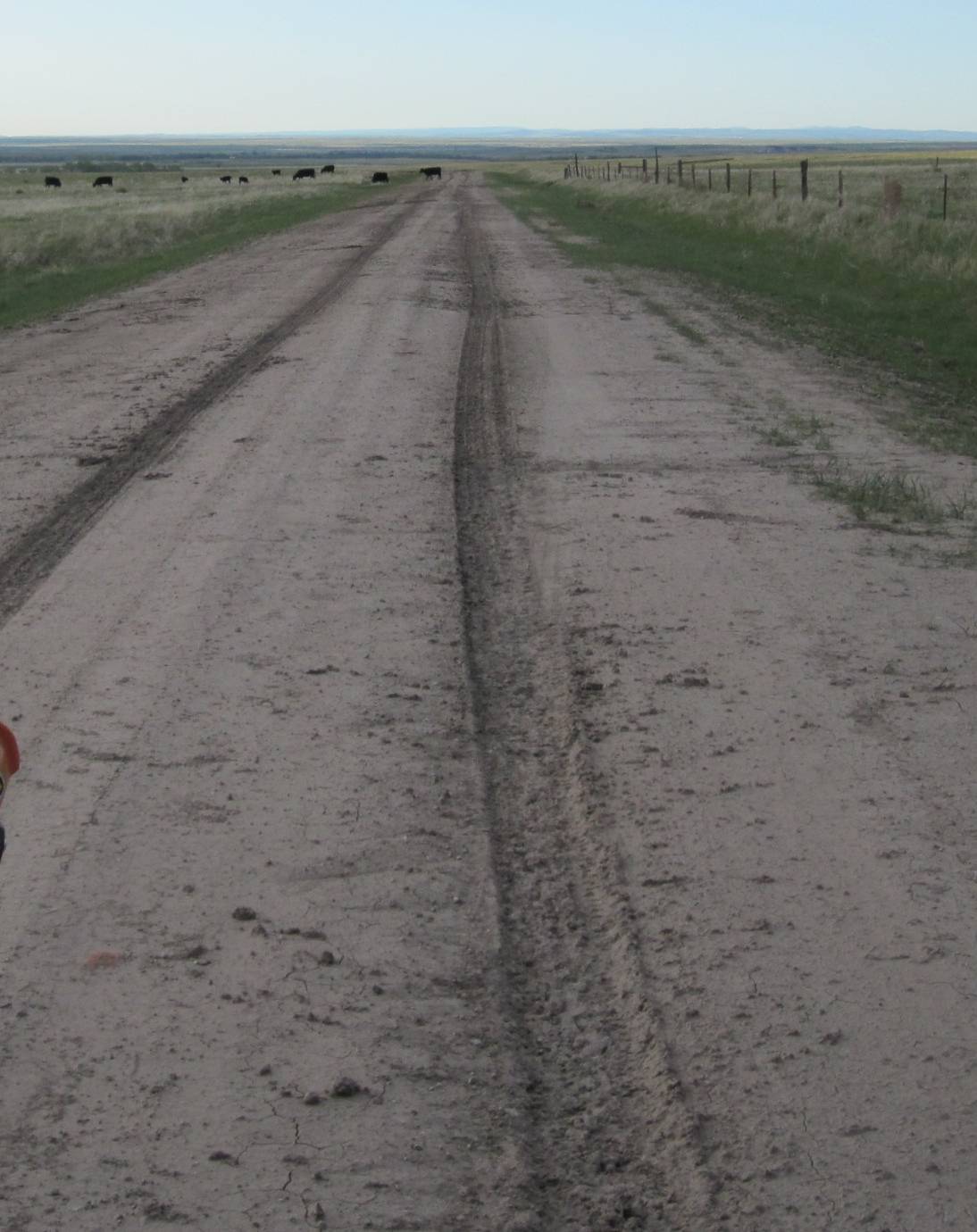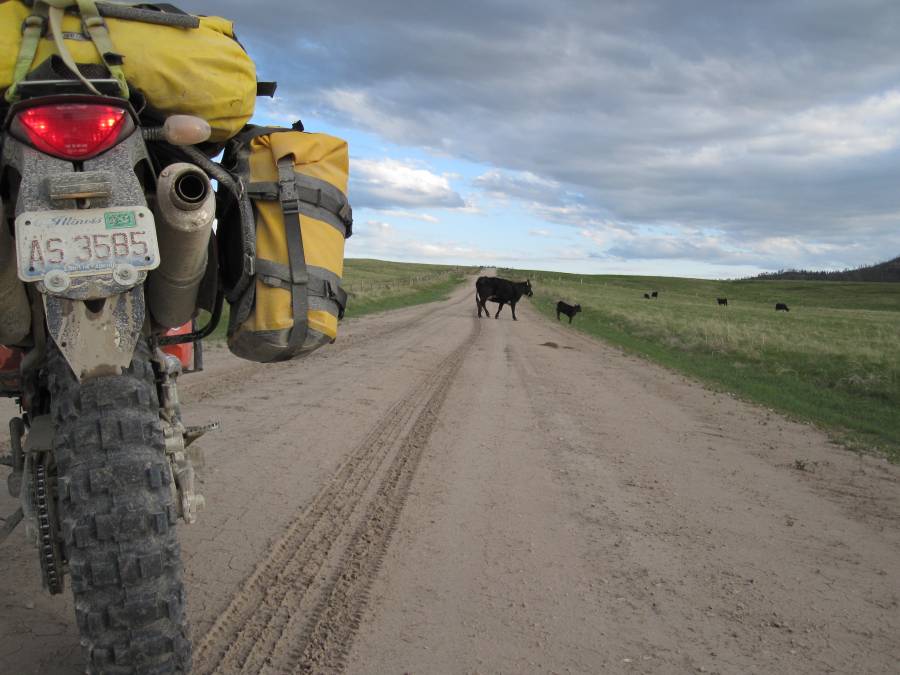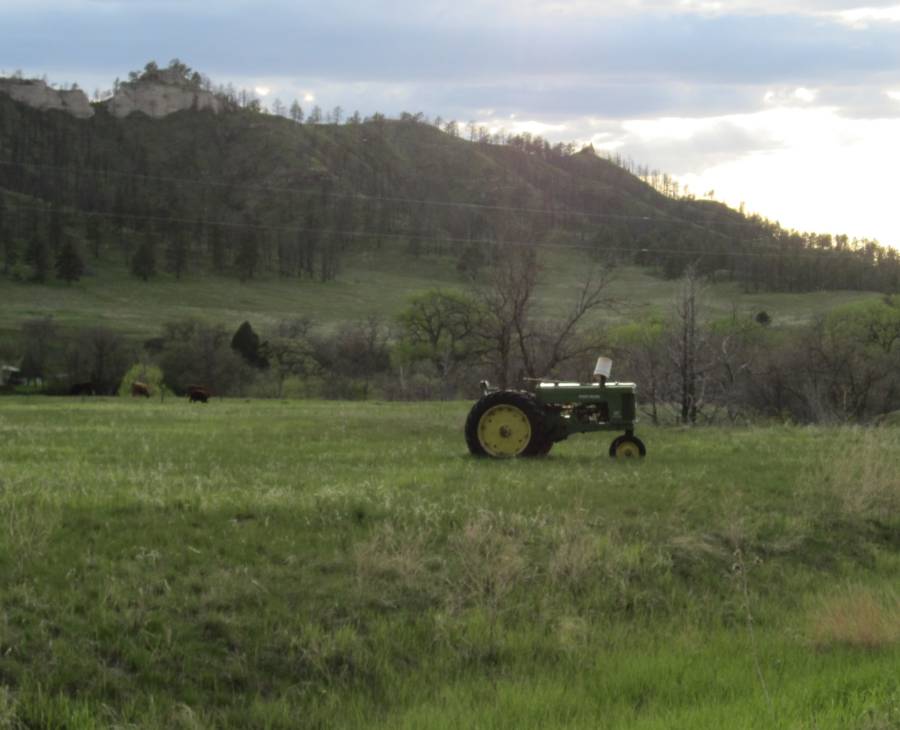 The suns going down---I have been on the move and in the saddle all of the days daylight hours.
Fort Robinson isn't that far--I try to make it there by dark to camp---and I do.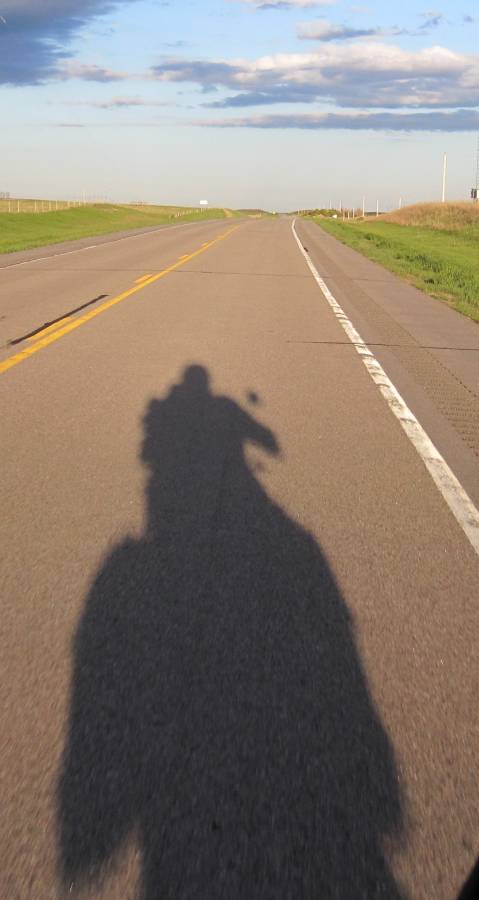 I slept here for free as I got there after the attendant went home and left before he got out of bed the next morning.
This is the neatest state park--the Fort is completely restored and I couldn't believe all the original building still standing.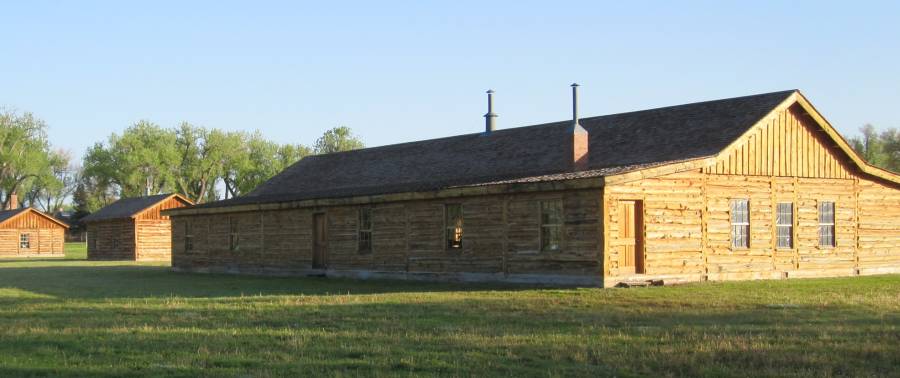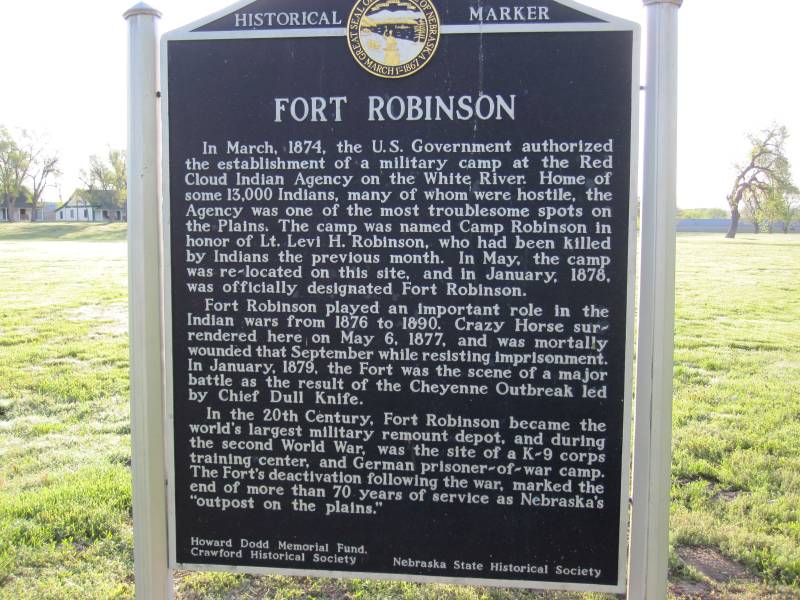 The Veterinary Hospital at the fort.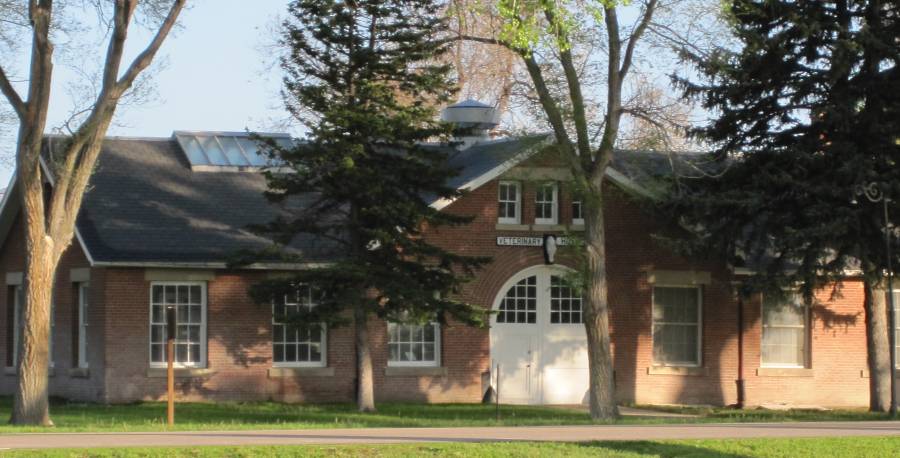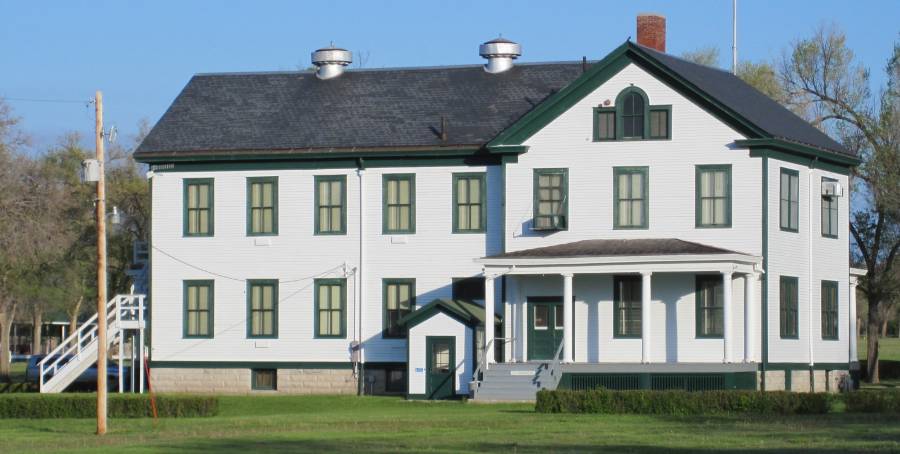 May 26th, 2010
The next morning I headed just East of Fort Robinson state park to the nearest little town and had a great breakfast
this little cafe---took me awhile to find it after some poor directions---but I wasn't about to give up.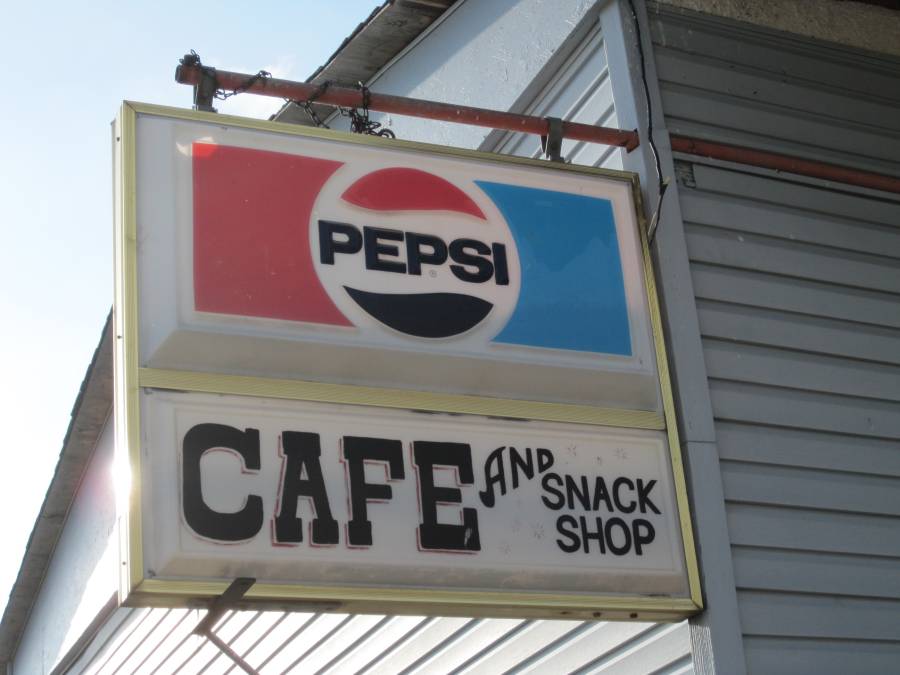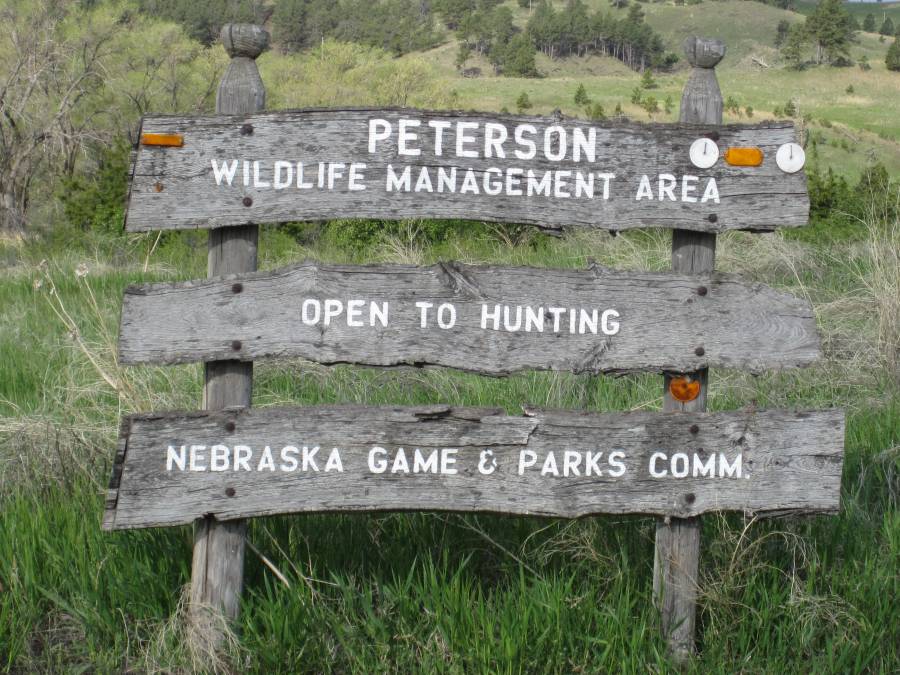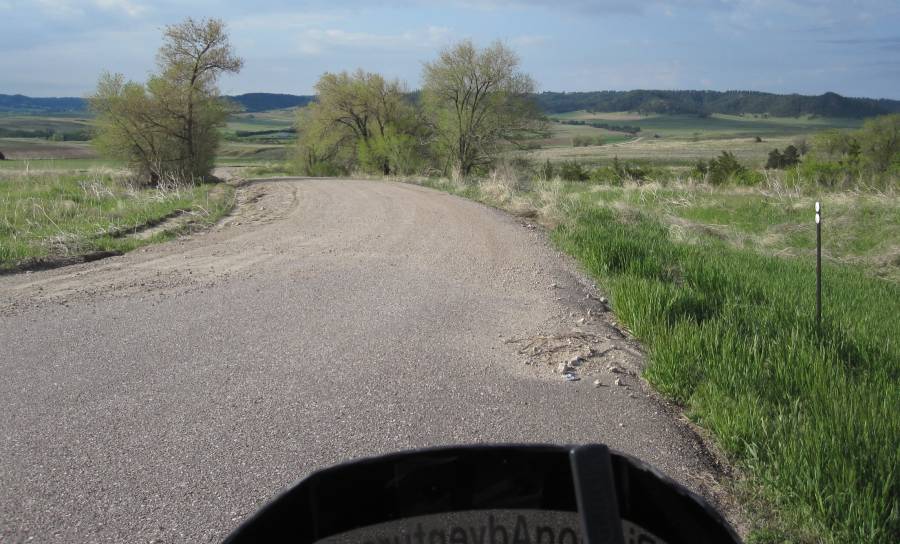 The roads thru here were devastated from the same storm that hit me in Custer 2 days ago.
Some were much worse than this--but it was widespread.
I stopped a local rancher and he said it was the equivalent of hurricane Katrina to them.
But no Obama dollars were to come he said---we're not a minority and will get nothing--we'll have to fix it ourselves.
His words not mine.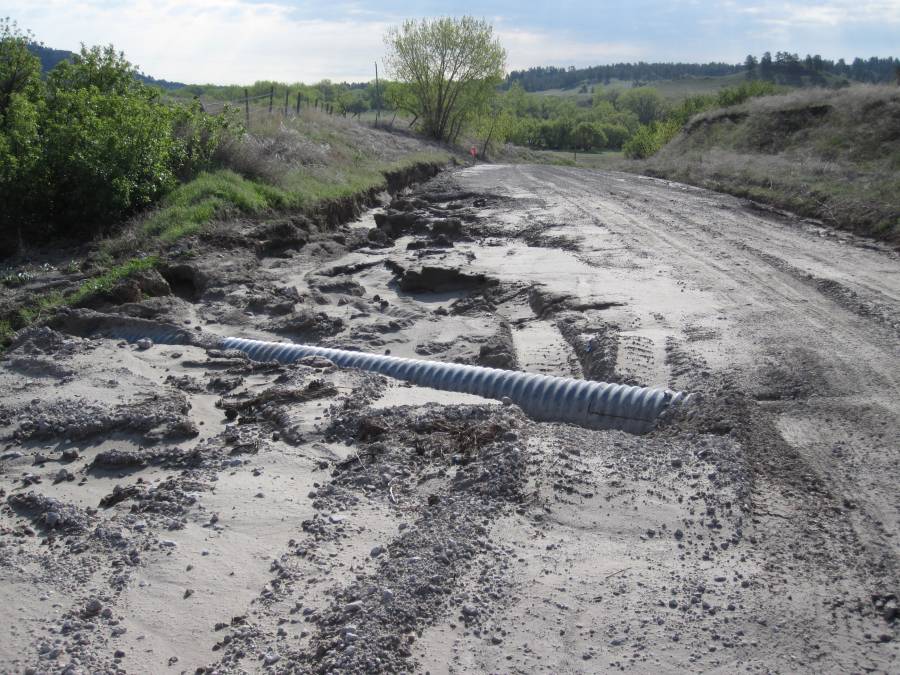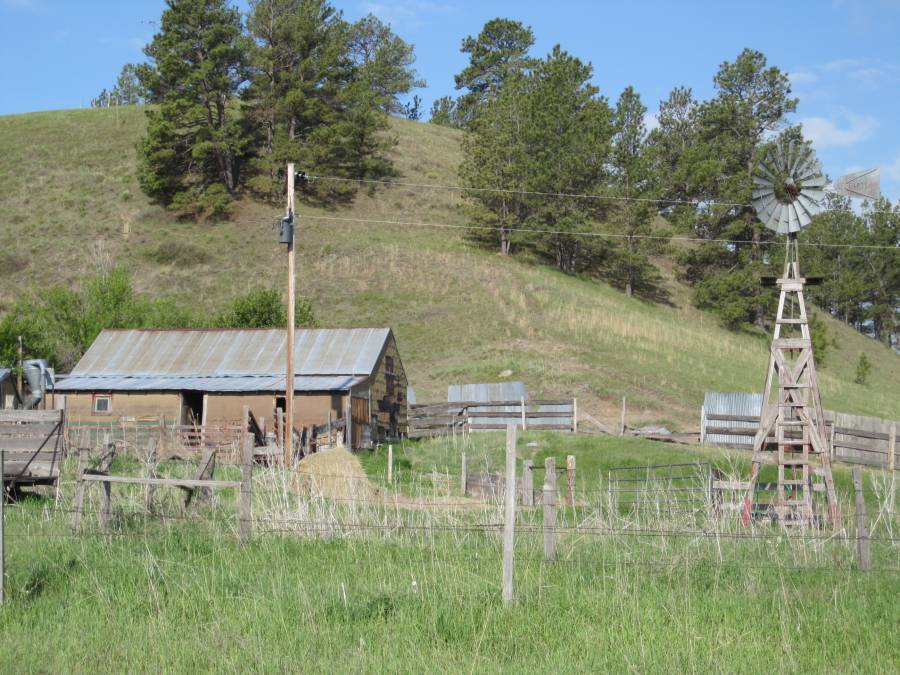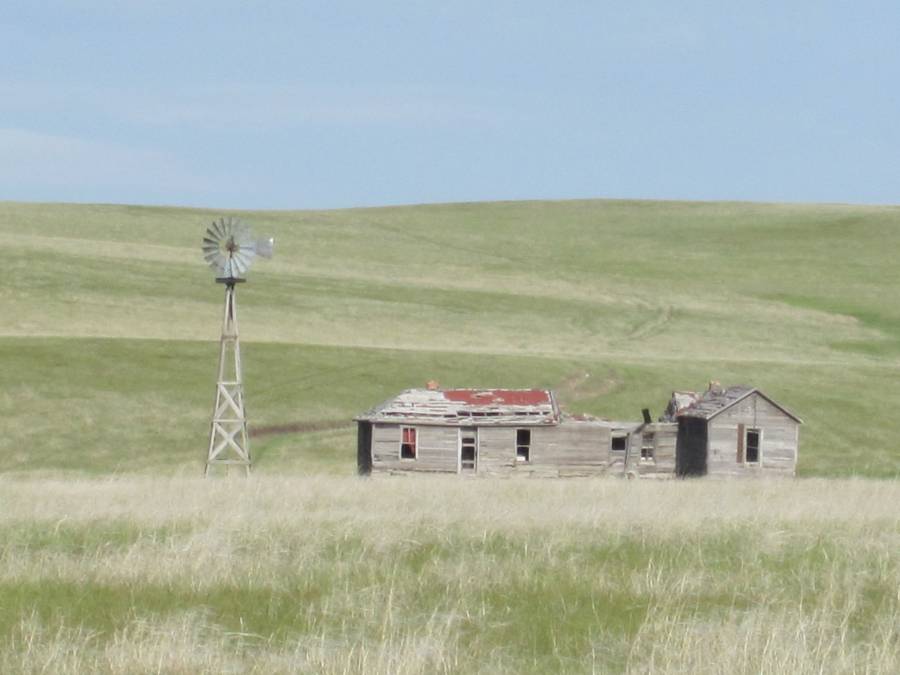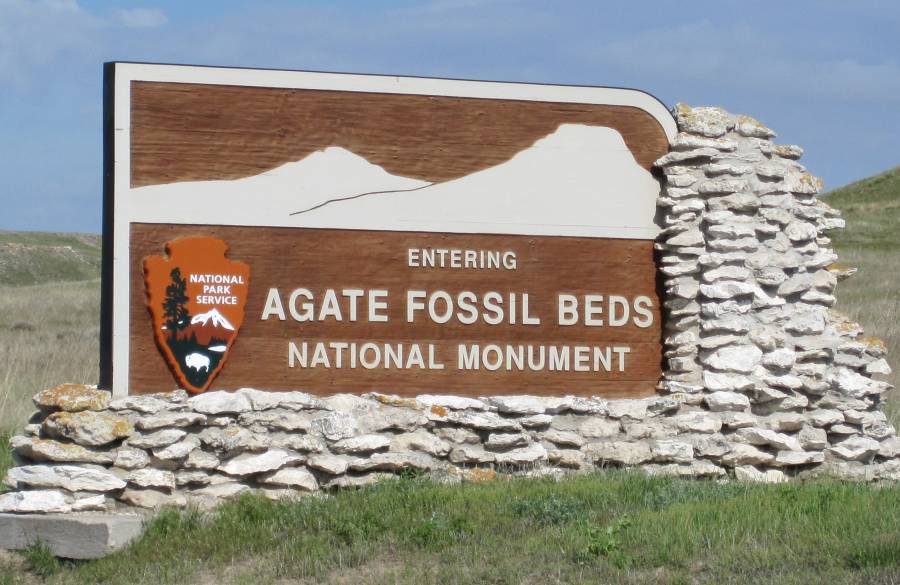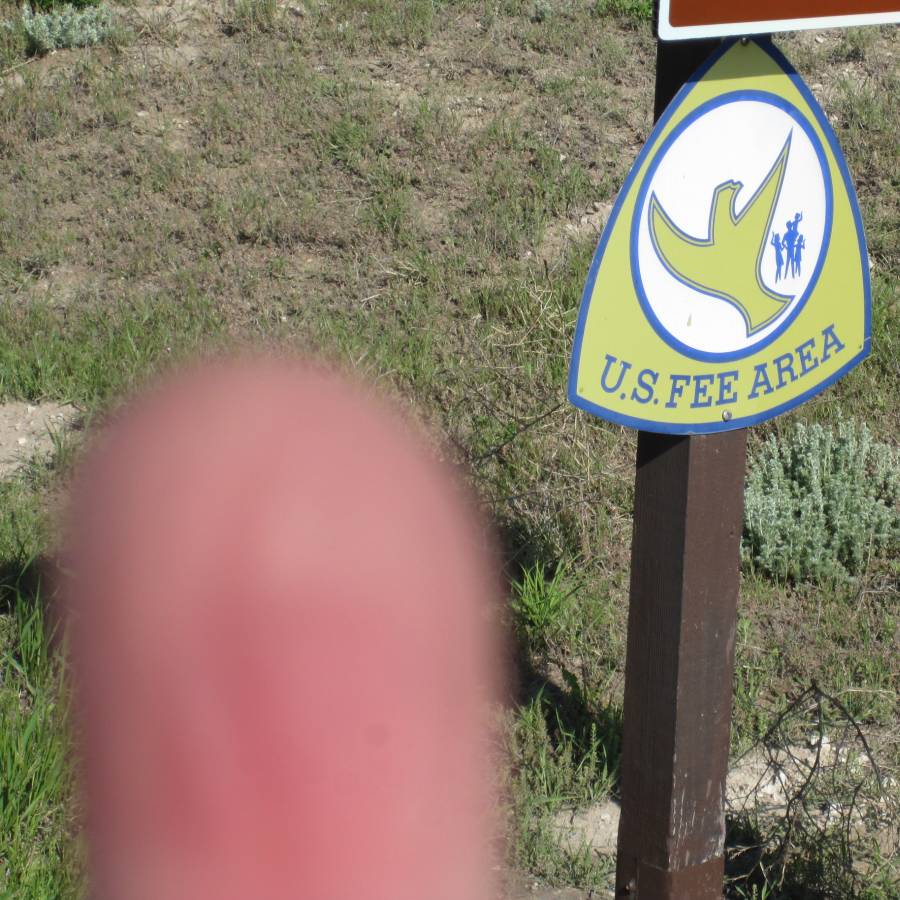 Fossils of all the animals below were found in this area in the early 1900's.
All have been preserved for all to see.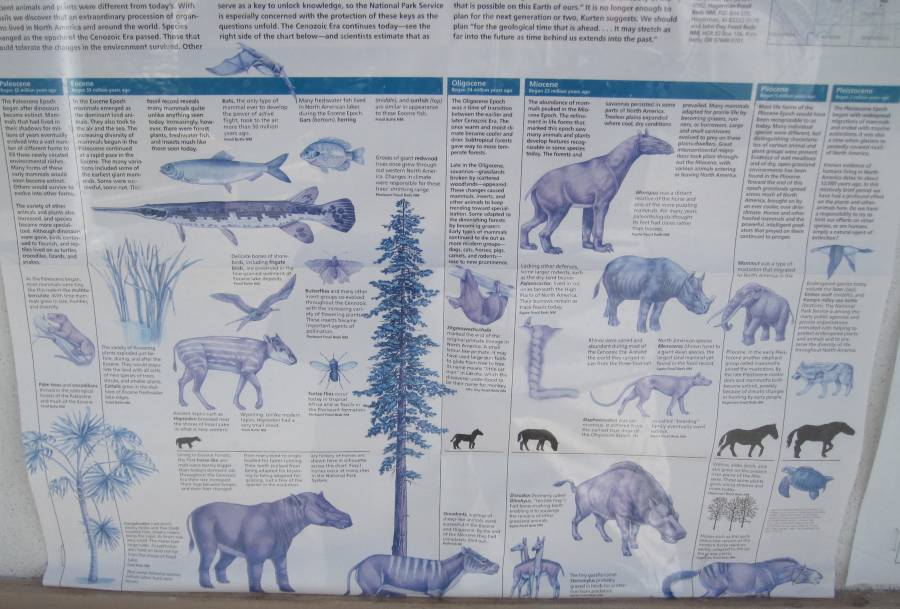 What a surprise--didn't know I would cross this old traill.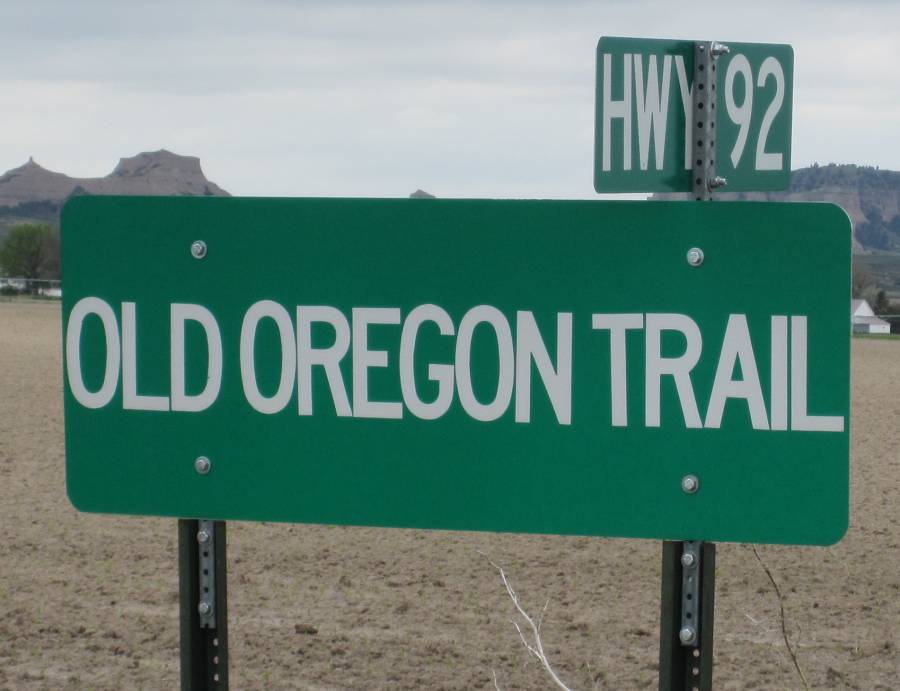 This marker I found just as Scotts Bluff came into my view.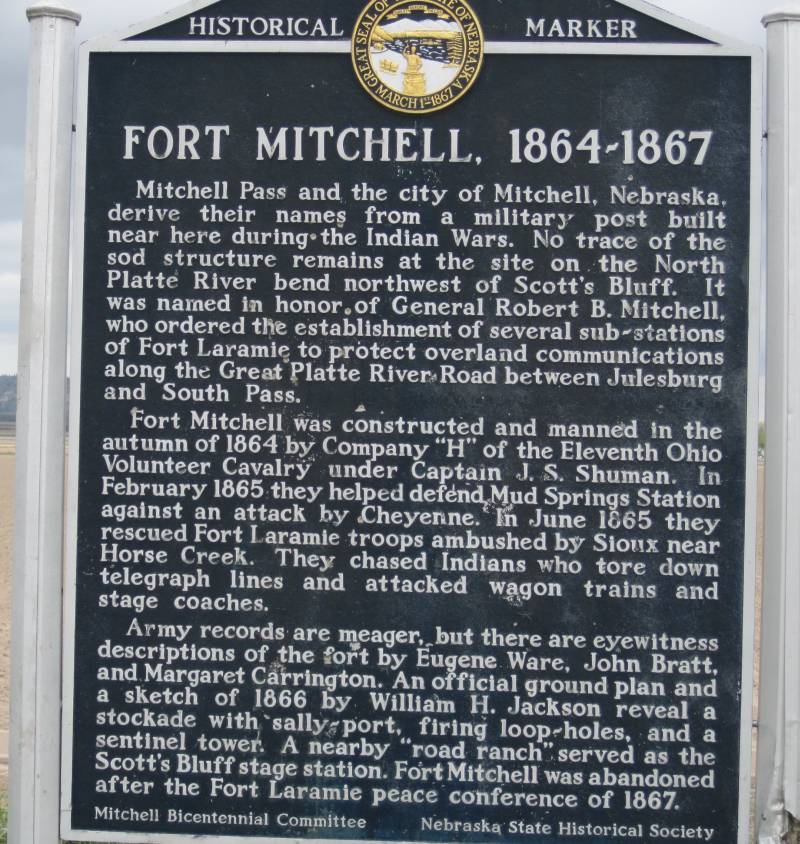 Scotts Bluff----the highest point in Nebraska.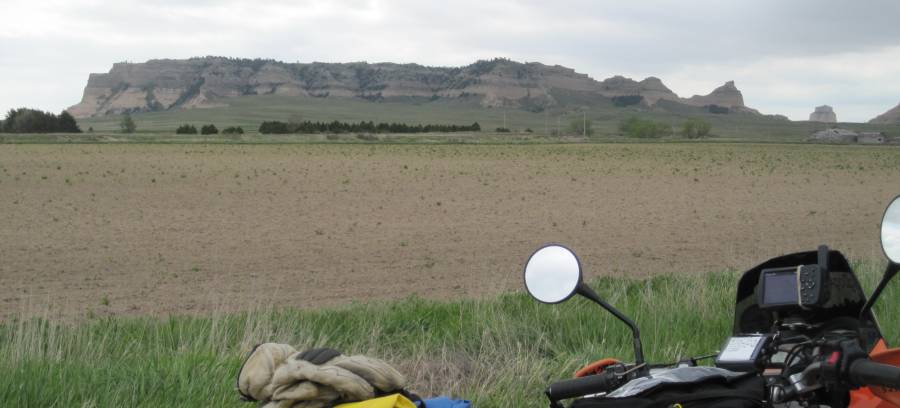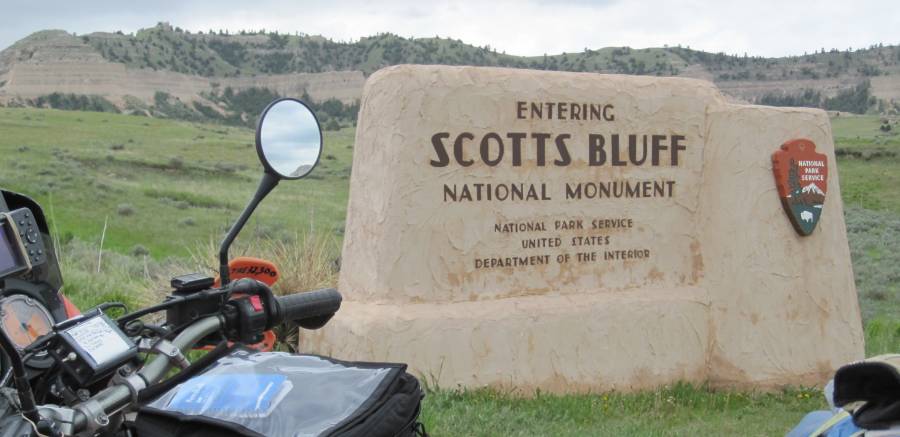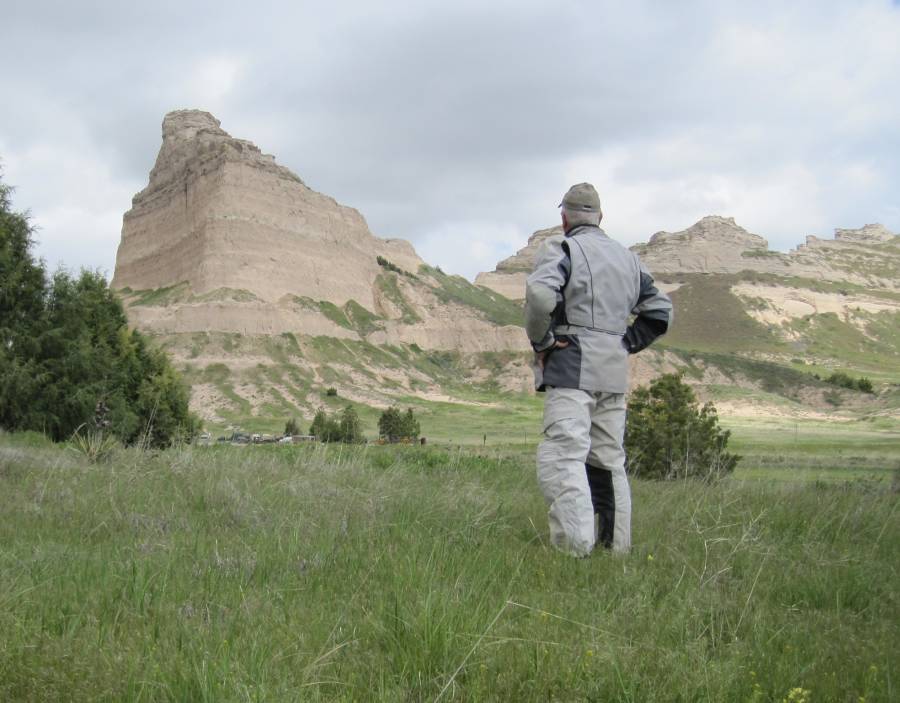 I was riding on a very high bluff when these came into view---I drop straight down the steep bluff and rode East right below the bluff
for what I thought was about 30 miles---I finally turned South but never did see the end of them--hundreds of them
The weird part was that not one of them was turning--there was enough wind for sure--and I wondered why ???
Maybe because the weather was mile and there wasn't a need for the extra power ??
Maybe this was a fiasco and somebody wished they never thought of these things ?? I don't know ???
Maybe our stupid government was mad because they didn't think of it--and shut em down ????

Dropping down the bluff.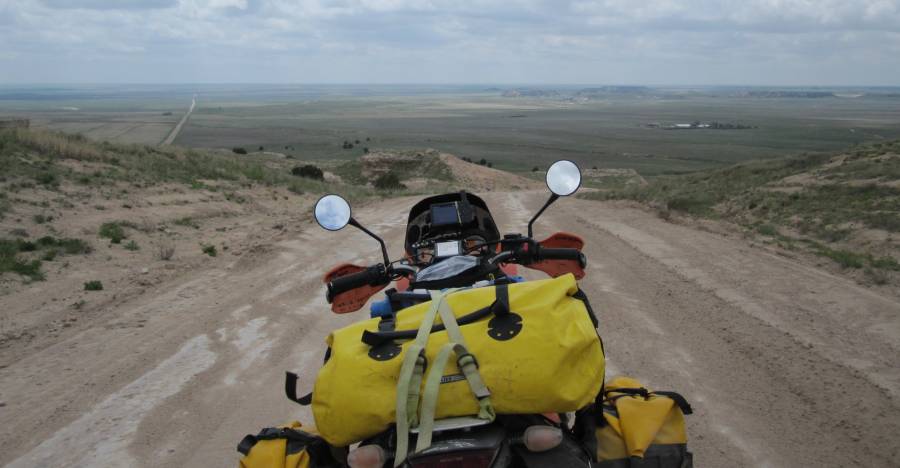 I sat here and pondered the misery here over a energy bar--but couldn't imagine what exactly went on here.
Why can't we all just get along ???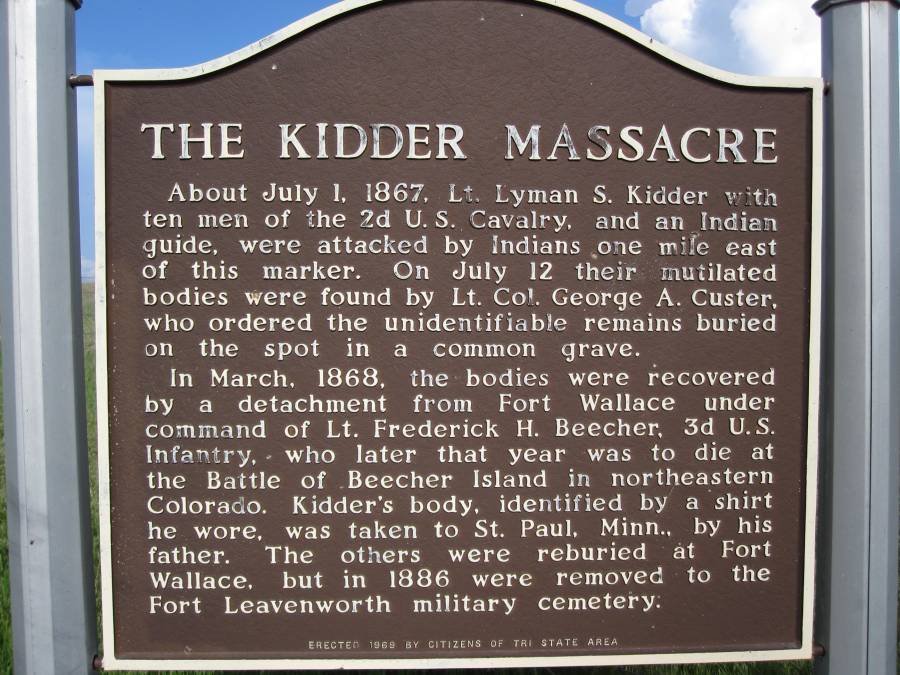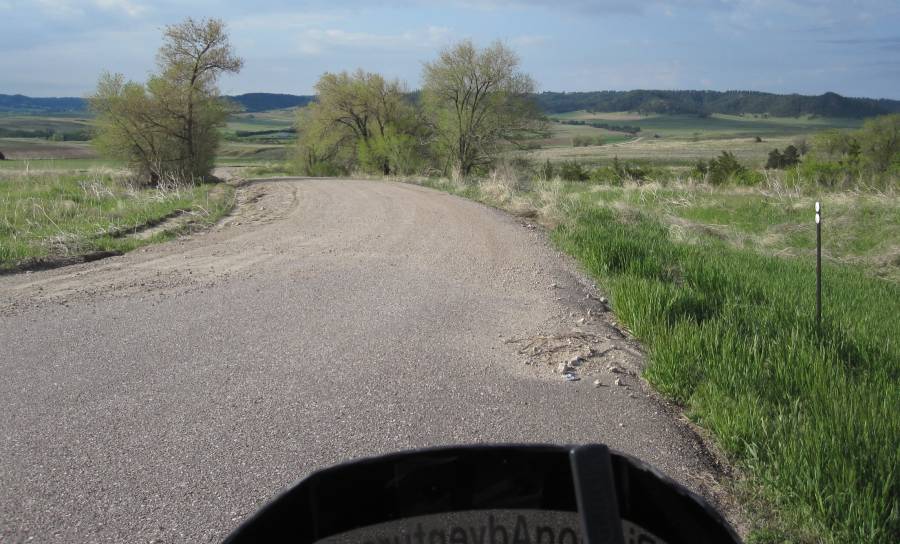 From hear in Northwest Kansas I meandered on toward my son's house in Durango, Colorado.
It has been many years since we have ridden together--or even spent much time together.

Hopefull I'll write about that story soon.
Let's see------that's West Of The Divide isn't it !!!!
The End.