Taylor Park---Colorado
June 2007
It's been quite a few years since I've been to Taylor Park Colorado.
I guess it was time I went back----but since I was there the first few times
my riding style has changed drastically. I no longer like to do day rides on dirt bikes.
I'm just not happy unless I'm traveling----having to be back to the same place I started
just doesn't sit well with me as just when the riding gets good and you want to take a good
looking trail------you have to head back to the barn ??
BigDog---No Likey
Single track trail overlooking Colorado Springs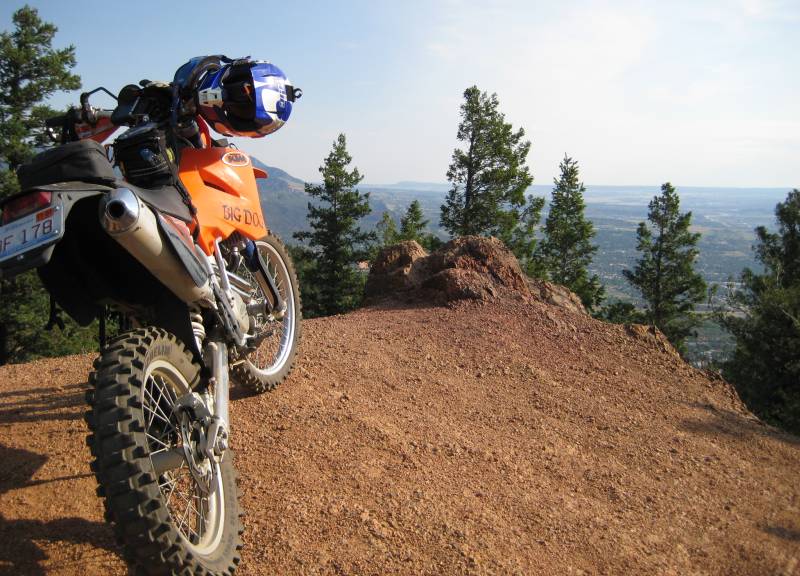 We hauled our little dirt bikes out there from my home in Mt. Vernon, Illinois of course.....But....
Before we left I talked of unloading my bike in Colorado Springs and riding the 250 miles
to Taylor Park----seems a few of the riders were knodding yes......but really thought I was kidding.
Untill I started unloading my bike at the motel in Colorado Springs. None of them had ever ridden a dirt
bike that far in one day----offroad.........but 3 others out of the 7 joined me in apprehension as the
the other poor souls had to drive the trucks to Taylor Park on the pavement--the long way around.
They missed the best day by far of the next few days riding.
In Colorado Springs----I dove straight up the mountain to a road that most people don't know even exists.
Actually it doesn't-----it's an old railroad bed running for miles into the old gold mining town of Cripple Creek.
But first we rode miles of single track we chanced upon by some advice of locals.
An ATV couldn't get on these trails as most of it was riding on narrow ledges.
My 520EXC felt right at home here--and the altitude never bothered the big motor.
After the single track we jumped on Gold Camp Road (the railroad bed) and I hunted for 3
railroad tunnels (one collapsed)that were on a short stretch of the road that was closed to most. I was foiled
finding these tunnels as the city had a running race going on.....right on the road I was
wanting to explore--------I was turned away by a policewoman on a moped.....ggggrrrrrrr.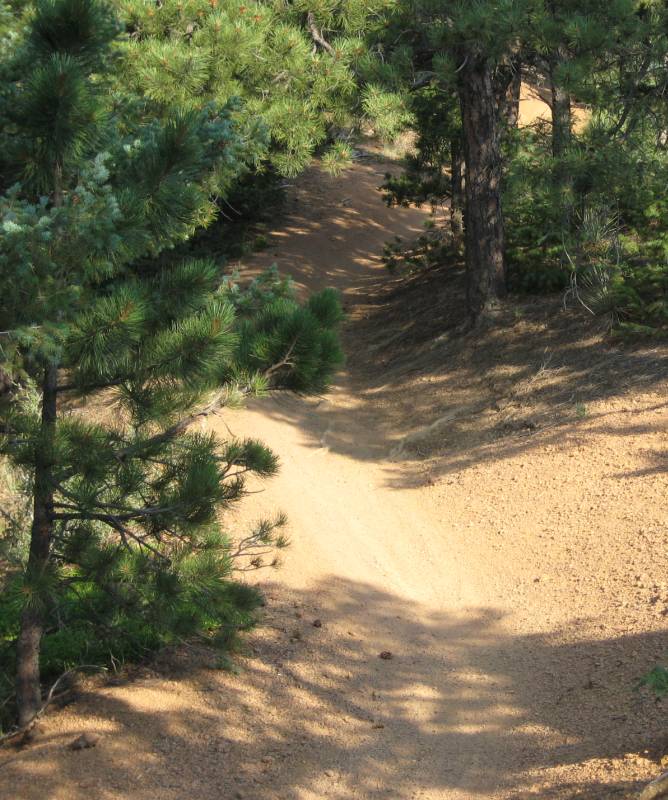 The single track ran out and we barrled West down Gold Camp road into the town of Cripple Creek
going over Hoosier Pass in the process--I don't think I've been over that pass before.
It's still a neat little town---even tho the Casinos have taken over the whole town.
We walked into a Casino restaurant in our dirt bike gear---all dusty and dirty--my buddies just knew
we'd get thrown out---but we had the best breakfast (at noon no less) and it was cheap....and we were certainly cheap.
Everybody in there wanted to know what in the heck we were doing and where we were going. It was a great time.
The town is over 10,000 ft. in elevation and there is a neat little steam locomotive train that runs
from Cripple Creek to Victor and back---me and my wife rode on it about 5 years ago.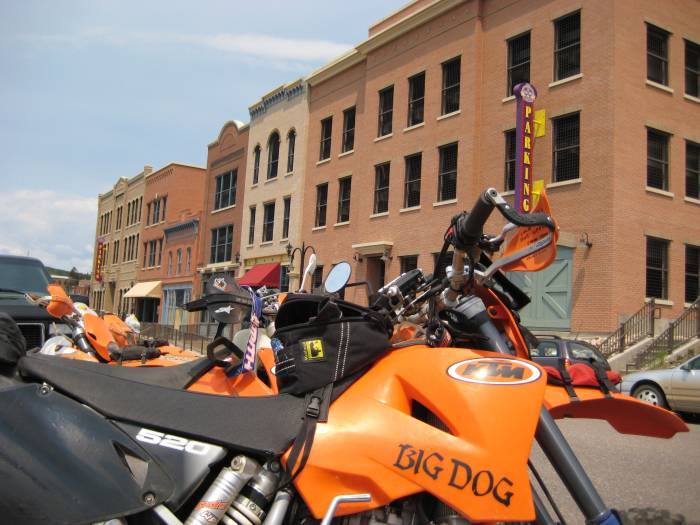 South out of Cripple Creek we rode what the locals call the "Shelf Road"
It was beautiful with a very deep canyon on your left all the time.
We road slow and soaked in the view.
These 2 guys haven't been on my website for a lot of years.
I do local and not so local dirt riding with them occasionally.
Left: Gary Elliot (KTM 520EXC) owner of King City Cycle in my hometown--where I get most of my stuff.
Right: D J Paleaz (KTM 400EXC) riding buddy for 20 years. DJ is all orange--if you know what I mean.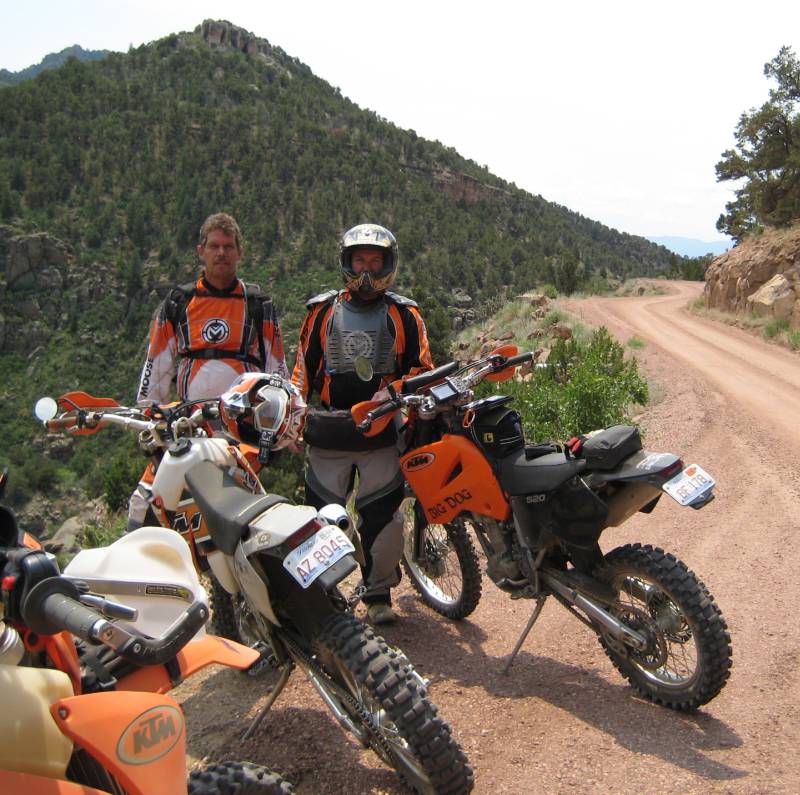 If you kept riding on the shelf road you would end up in Canon City-----there's too many people there....
I cut West thru Red Rock Park which was beautiful--a very remote place where people pulling their houses
behind their diesals never get to. I had know idea if the roads or trails went thru and had never ridden thru
this area.........it was a treat.......a 4-wheeler rider told me I couldn't get thru as it was very rough and he thought
the trail dead ended. I got us thru alright and the riding was excellent and we ended up riding thru 40 miles of ranch land
opening up one gate after another. I don't mind this at all----really nice dirt roads you could let you bike have it's
way digging into the dirt.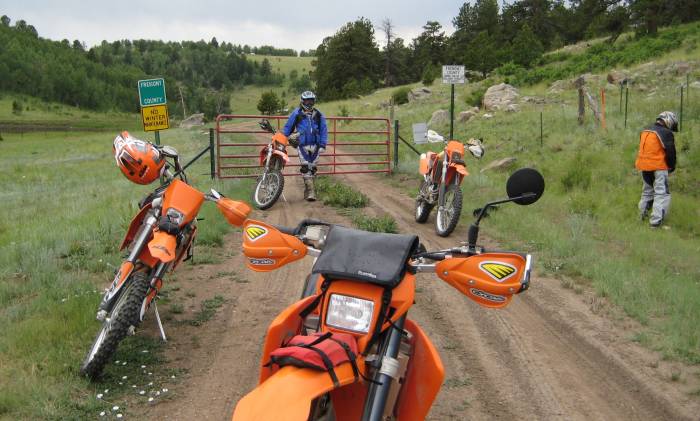 We rode around Rice mountain at over 8,000ft. and Cover mountain which is over 10,000ft.
We crossed the paved route 9 onto more ranchland between Black mountain and Dicks peak.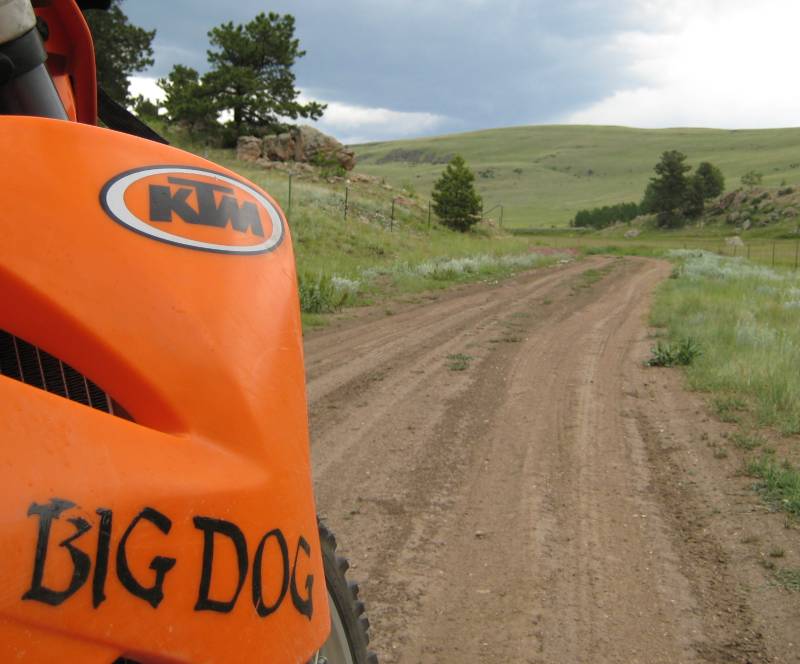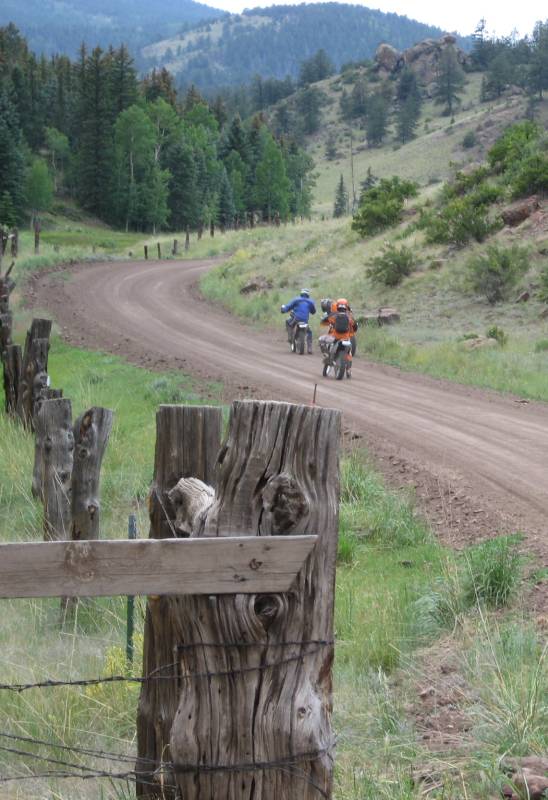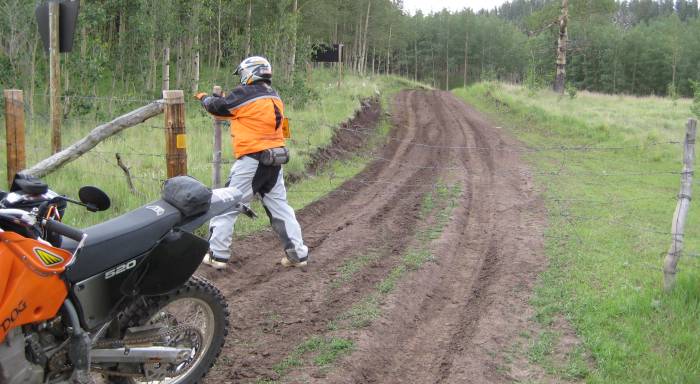 It's drier than it looks--but if we had come thru here even just a few hours earlier we would have been
sliding all over the place.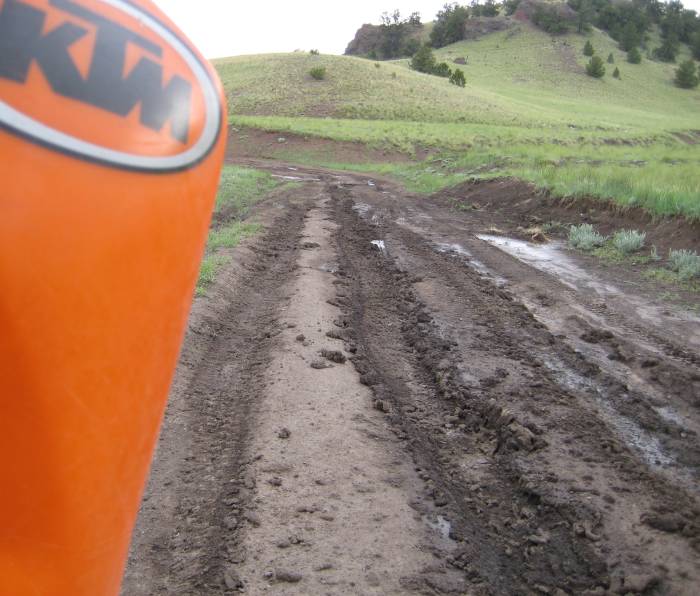 We kept riding Northwest across these high meadows.
Dang I love high meadows---------towards Buena Vista, Colorado'
It's hard to believe you can be so close to Denver and find this much solitude.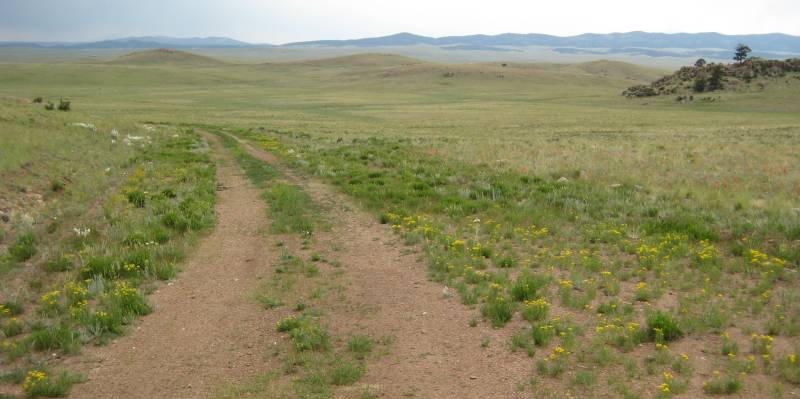 I had plotted this route out and downloaded it to my GPS and this is where It took us.
I had no control---my 276C just grabbed my handlebars and throttle---the handlebar part
didn't bother me so much--but the throttle did.......these 520's
are unbelievable powerful.
I seem to have a knack or skill for lucking out on good routes---I'm rarely dissapointed.
We are still very high here but it was warmer than expected---not hot tho--and no humidity of course.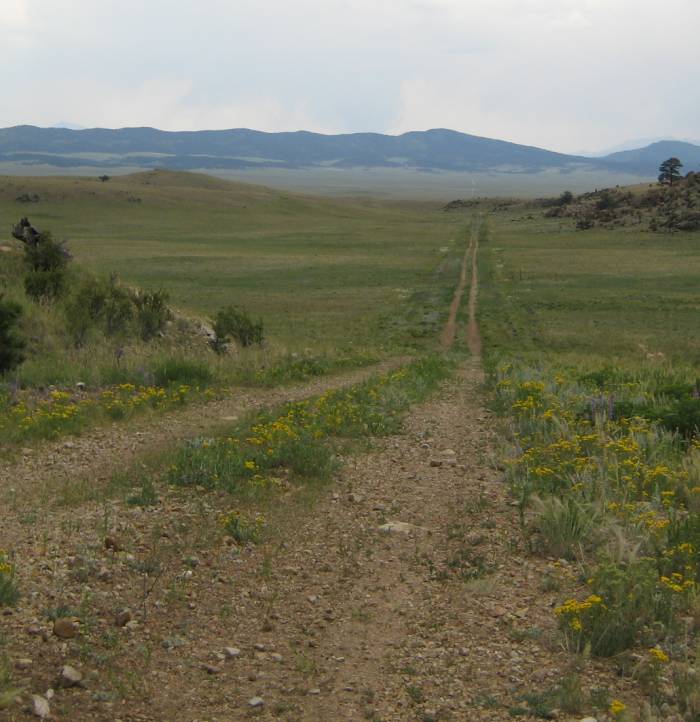 We crossed paved route 24 Northeast of Buena Vista over Trout Creek Pass and went down a really neat dirt and sandy trail
that runs right along 7 mile creek. This trail was probably 20 miles long and the area had many red rocks---some
red dirt and looked more like New Mexico than Colorado. Me and Gary got to really roosting in the sand
and riding much harder than we should have been---Gary finally bit it, but we straightened his front end
out and all was well and off we went--letting the 520's eat the sand.
The 520 would eat me later on !!!!!
We popped out just North of Buena Vista where there are 4 railroad tunnels right in a row.
I've never seen anything like it-----2 of the tunnels are only maybe 40 ft. apart.
But as soon as we hit the pavement and looked up it was obvious we weren't in New Mexico.
I do believe that might be Mt. Antero at about 14,200 ft.
I've been to the top of it several times but we wouldn't go up it again on this trip.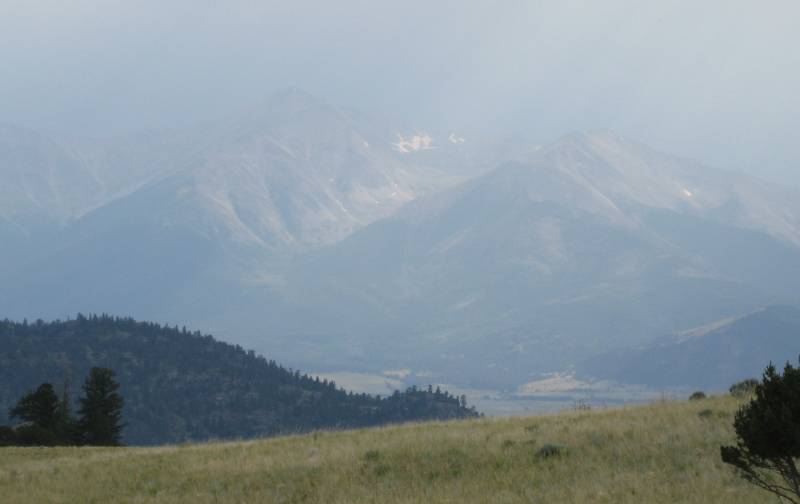 It was looking really nasty and we knew we were going to get wet------but didn't.
We rode passed Cottonwood lake and almost took the popular gulch trail
into St. Elmo--then would have rode over Tincup Pass and into Taylor Park.
It was getting late--everybody was getting Monkey Butt (except me) and we took the easy
route over Cottonwood Pass which is dirt on the West side. The Popular gulch trail is very tough and technical.......
no ATV's can ride it........and it would be no place to be in a downpour.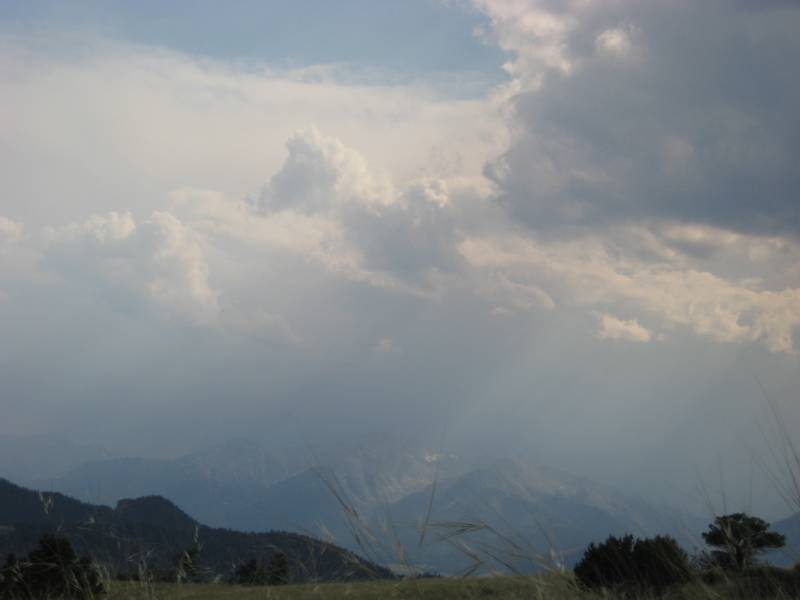 DJ had neve rode that far in a day----he was a very happy rider.
We had ridden almost 250 miles on dirt bikes and yes--we were tired.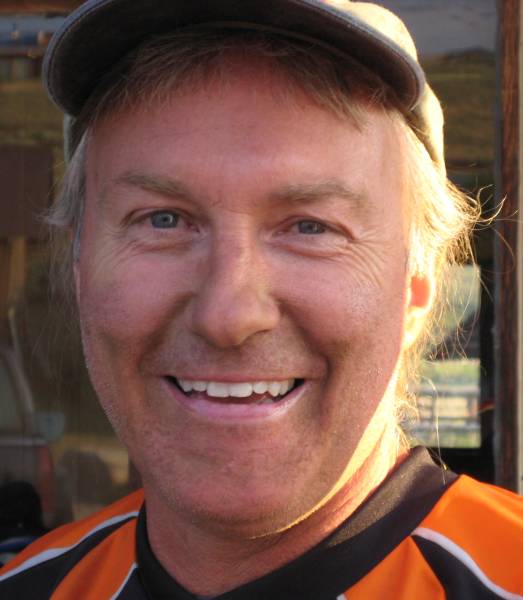 At the big cabin we had rented we all got a shower and took it easy.
Rick Horton on the right had ridden with us also on his KTM 400EXC.
Left: Mike Maceachern and his son drove the trucks in. They were both going to be riding KDX 220's.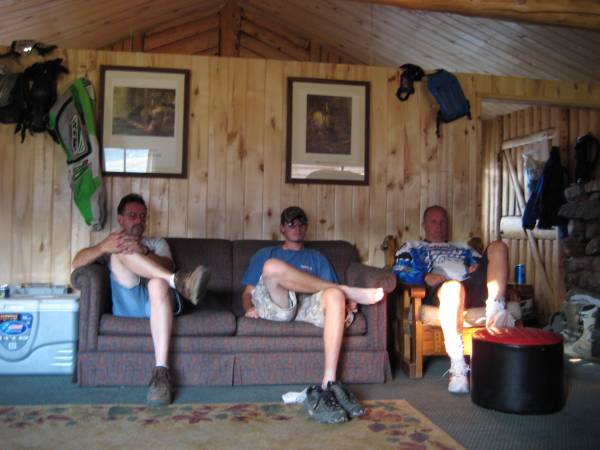 Our cabin would sleep 7 comfortably-------if nobody snored.
However with 9 in there (we pick up 2 more riders later on) and all
of them snoring..........it was pretty tough.......no.....it was miserable.
I couldn't find the headphones to my mp3 player........
I would have paid $500 for a pair. These are my friends....how could they do
this to me !!!!!!
The truck drivers had graciously went shopping while the 4 of us rode the bikes to Taylor Park.
They had bought over $400 worth of food and Gale Karcher was an excellent cook.
I was a an excellent eater--------a very good combination. I like this !!!
I am a terrible dish washer and let it be known----but took my turn anyway.
Gale cooked all of us a breakfast to die for---and we had lots of coffee.
We headed out early for Taylor Pass..........it's a very tough climb thru some
nasty rocks----we are in the rocky mountains.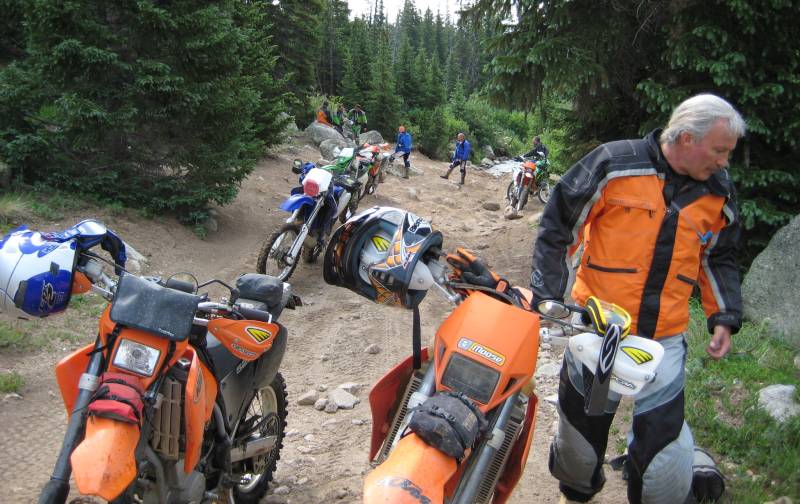 Mike Maceachern-----KDX220--2-smoker.
Mike is a superb rider----at no time in my life could I ever ride as good as Mike.
Even my 520 was no match for Mikes riding skill. Mikes son had a matching 220
and I enjoyed watching the fun they were having and it reminded me of days gone past
of me and my son riding together---those times can never be replaced.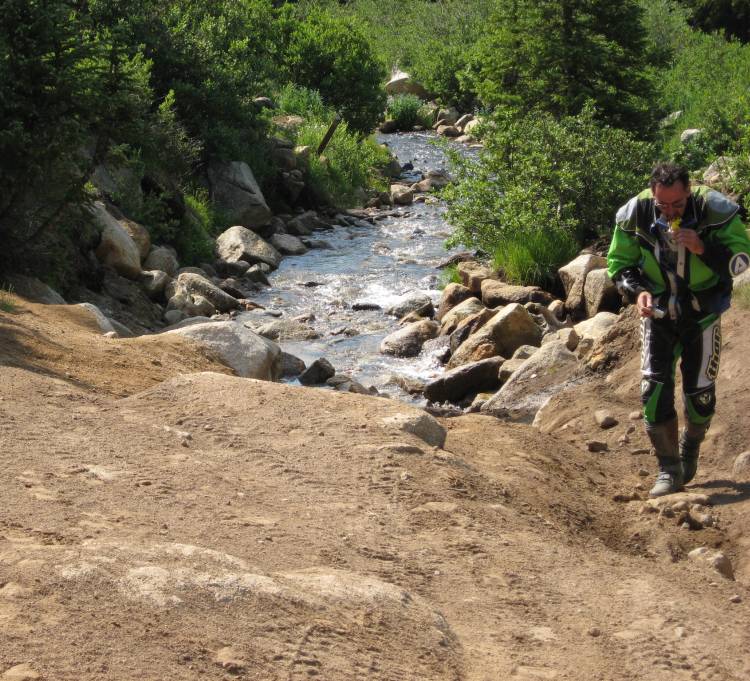 To get to taylor pass is very difficult. That creek you see in the picture is deceiving.
Looks like a creek to me-----Nope---it's the trail for about 1/4 mile--there is no other way.
Thank goodness the wet rocks aren't slimy or I would have never made it thru here.
Wendell Ellis's TE610 Husky was a bit much bike for this but he made it.
Wendell is an old friend who use to live in my hometown in Illinois....
He hauled up from New Mexico to ride with us.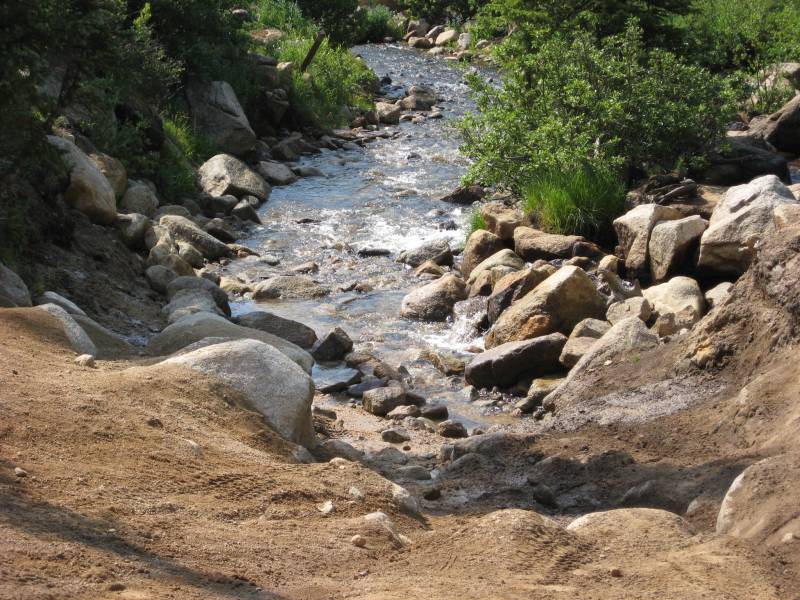 Far right sitting down---Rick Horton---by far the best rider among us.
He isn't tired........well maybe he is........tired of waiting for the rest of us mere mortals.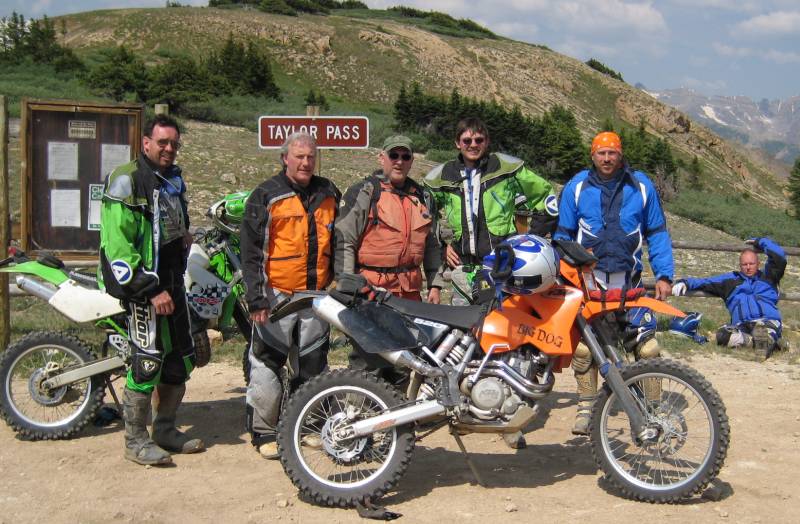 I bit it pretty hard climbing up here----Wendell was smarter than the rest of us.
We watched him from above ride what we all knew was the wrong way.
Turns out Wendell knew another way--if that gap in the snow hadn't been open he would have
had to go miles back to the bottom of the climb and come up the way we did.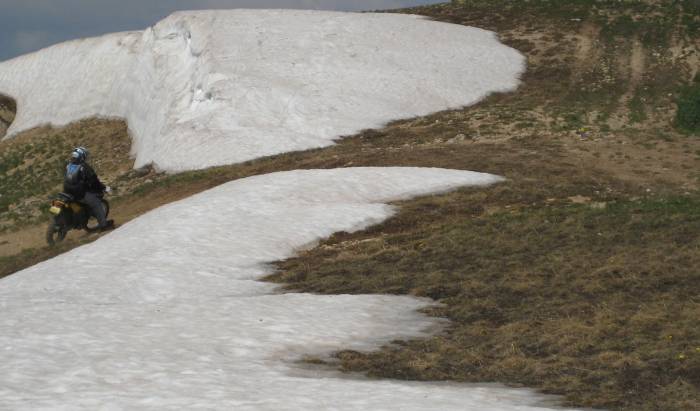 This is at the top of Taylor Pass looking South........ overlooking Taylor Lake.
Our cabin is some 30 odd miles South between the mountains.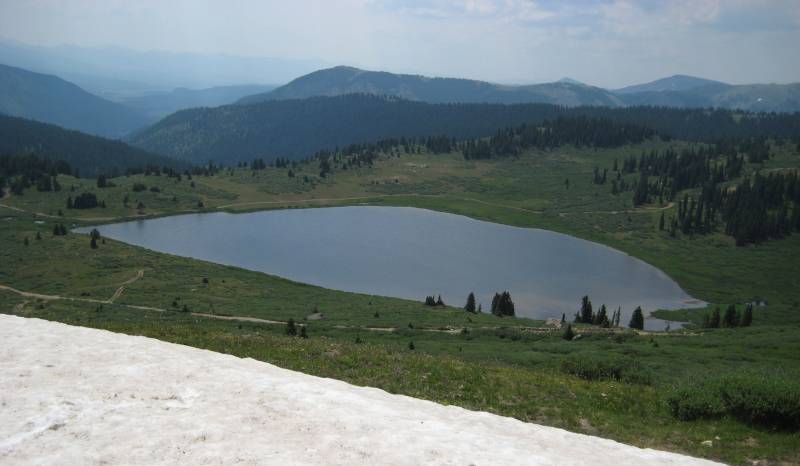 Rick was leading and when he turned up this last turnoff for Pearl pass I told him I
would wait for him here as I knew they wouldn't conquer Pearl pass.
Sure enough about 20 minutes later Rick and all that had followed
came back with their tail between their legs. Pearl pass is an unbelievably tough pass----the rocks are brutal.
Many years the snow never melts on Pearl Pass-----this year was one of those. Rick bit it hard when his bike
deflected off a big rock and he said his front wheel was 12ft. in the air when his KTM spit him off
and tried to climb an embankment on his left.........good thing......as there was nothin but thin air on the right.
While resting here my leg was hurting pretty bad and had stiffened up-----remember I had a get--off too !!!
Me and Wendell parted company with the group and took the easy way back to the cabin
over the magnificent Independence pass. It was a great ride tho on pavement.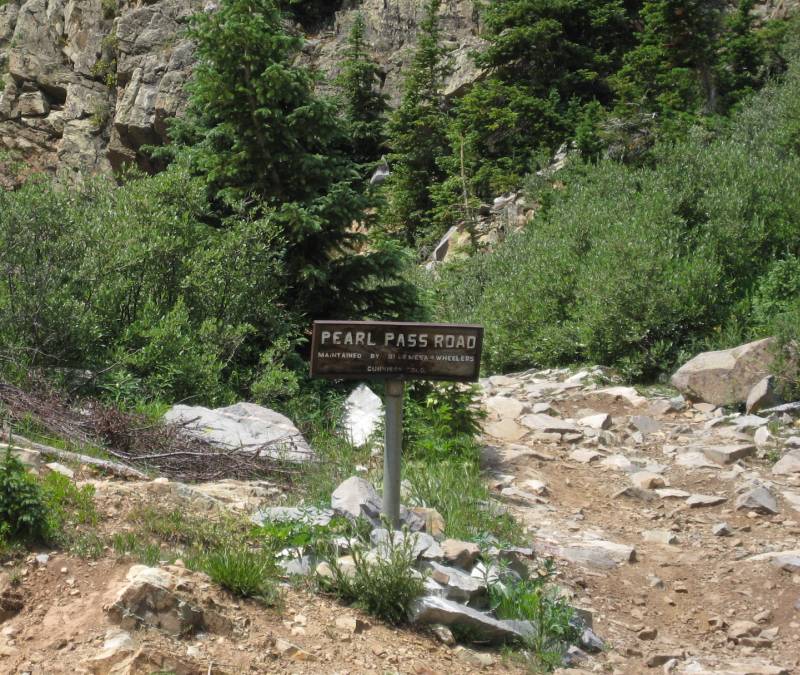 Back at the cabin Gale cooked us a dinner to die for-----and I showed my excellent eating skills to all that would watch.
Lots of pretty faces-------If I'd a had a rope we'd a had a hangin' that night !!!!
I loaded my bed up with ammo-----everytime Steve would get to snoring I'd throw something at him....
But I finally ran out of ammo. Where's my mp3 headphones ????
BigDog....... No Sleepy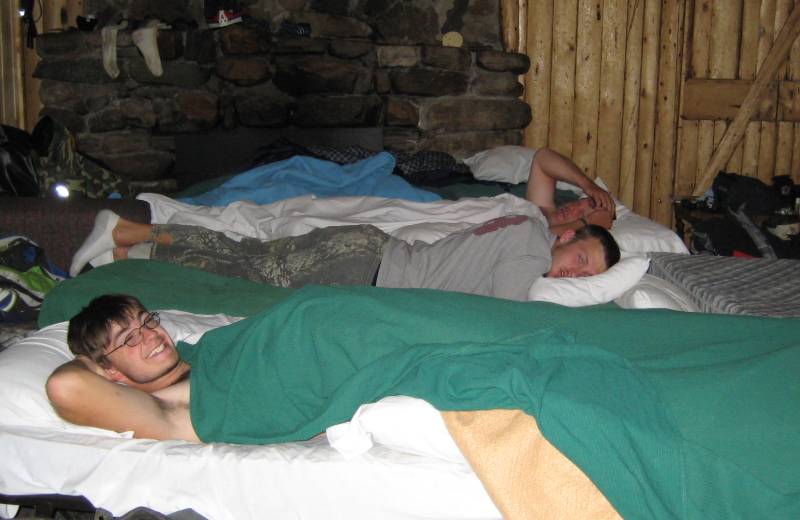 My leg was really stiff---I think I over extended my knee a little and pulled a muscle on the back of the knee.
BigDog got his riding gear on and toughed it out for what was to be a spectacular day.
We now have 9 riders---except one was going fishing today---so 8 riders.
All on well prepared bikes and ready to ride-------all day long if necessary--it was necessary
as BigDog was leading again. Where would his GPS take us ??????
Left to Right: Steve Asbury and his son Gavin (Suzuki DRZ's), Rick Horton (400EXC), DJ Paleaz (EXC400),
Gale Karcher (WR400), Gary Elliot (520EXC), Mike Maceachern (KDX220), His son (Zebco 440),
and last and least........ me on my 520 EXC.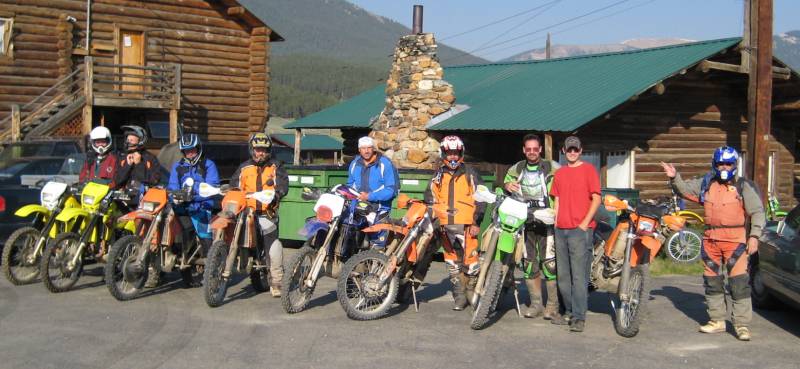 One place I have never been too and have wanted to go was Marble Colorado.
To get there I plotted us over Schofield Pass. I had never been over Schofield and for some reason had a vision
of a graded easy dirt road-----with spectacular scenery. Nope--not even close.
Rocks, steep grades, narrow ledges---beautiful waterfalls----and yes.....spectacular scenery.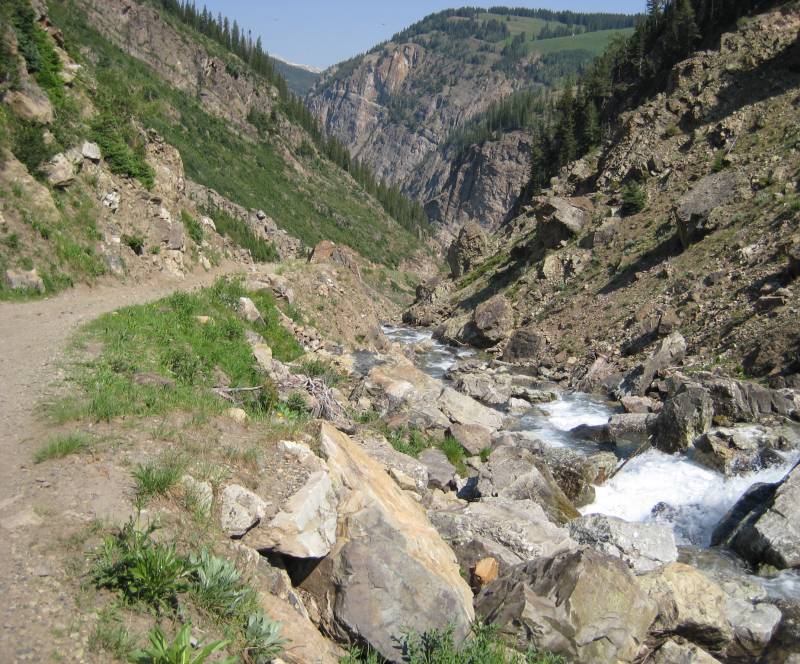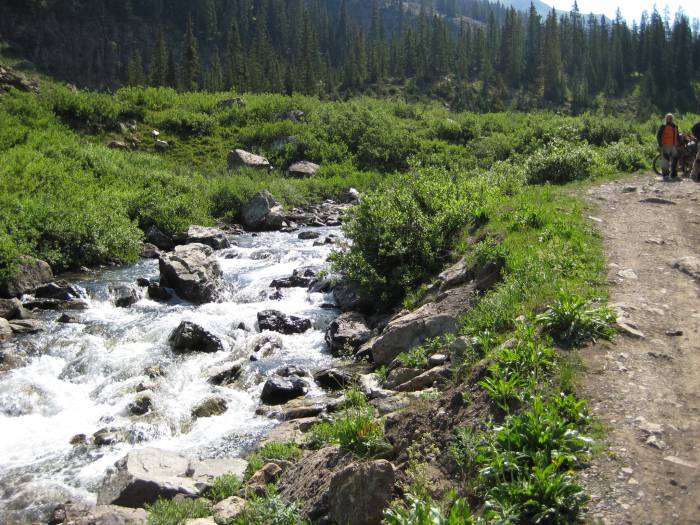 Middle---Steve Asbury
We bring Steve along for entertainment-----he is a hoot !!!!
So many stories that won't be told on my website.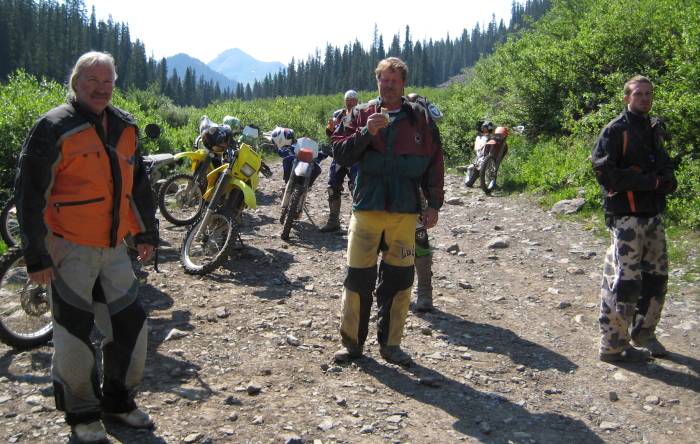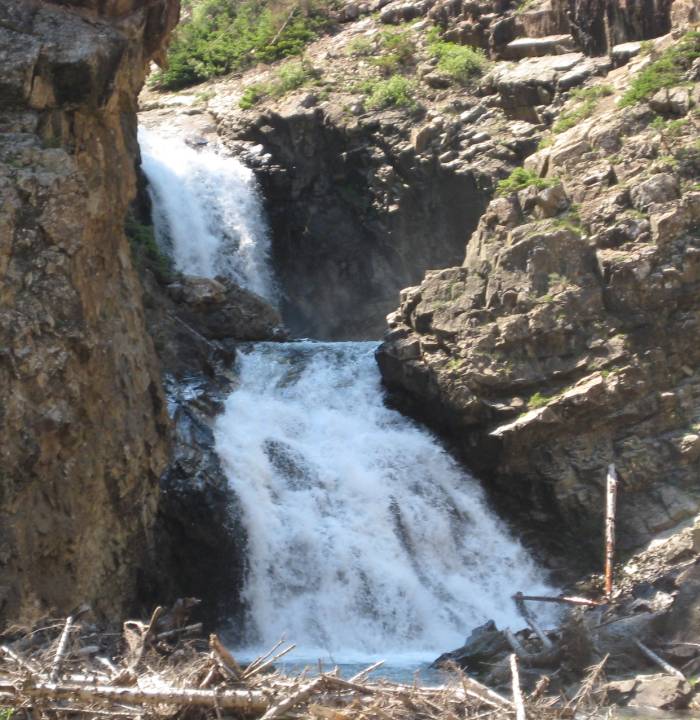 After riding down Schofield Pass and sliding down with the brakes locked up almost overheating the brakes
I decided I would never attempt Schofield the other way----riding from Marble to Schofield.
Don't bring nothing but a dirt bike thru here------you won't make it on something bigger.
Schofield was my favorite pass on this trip.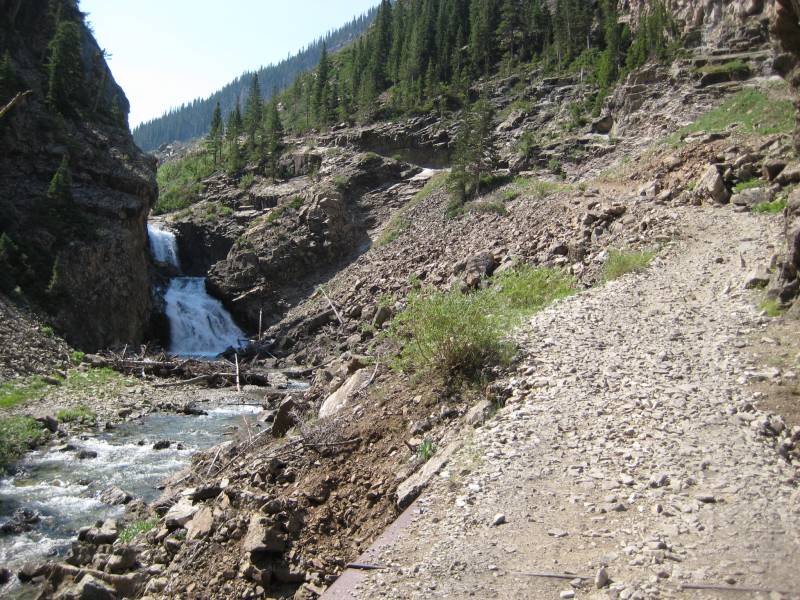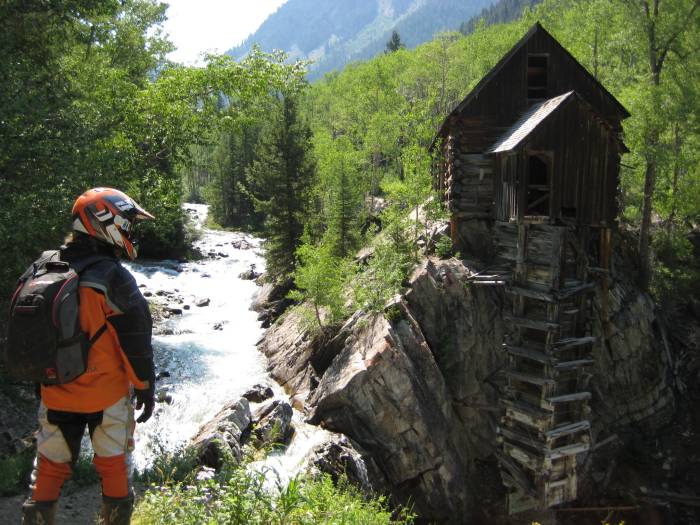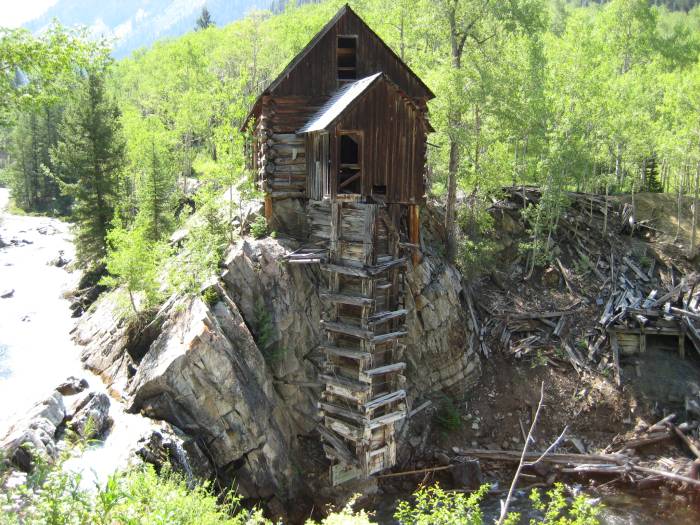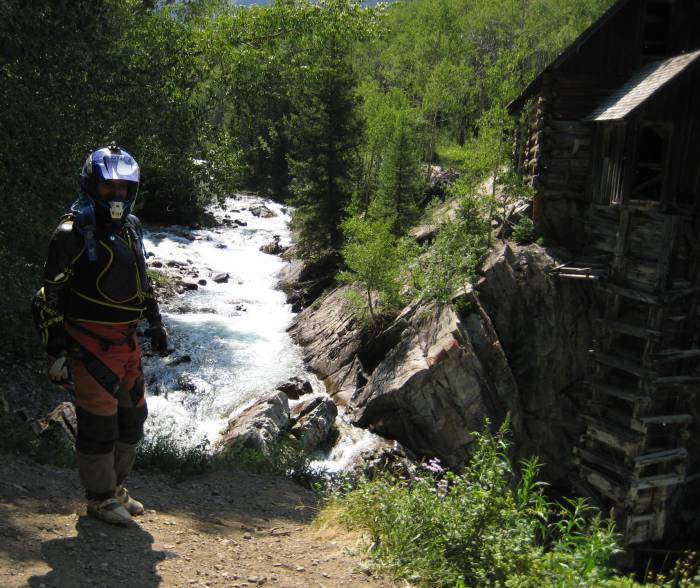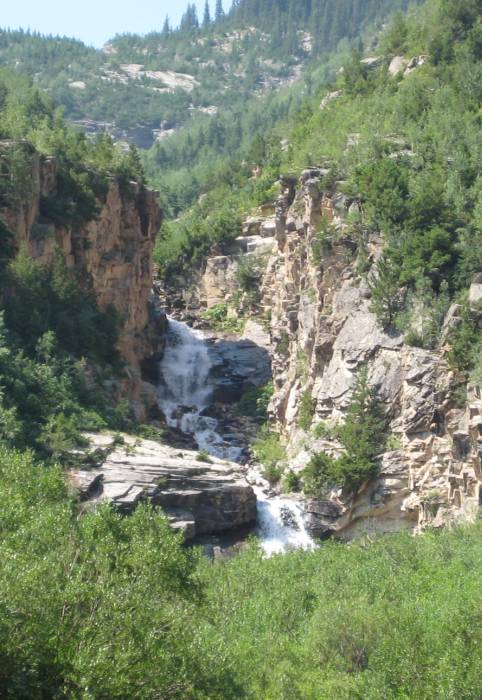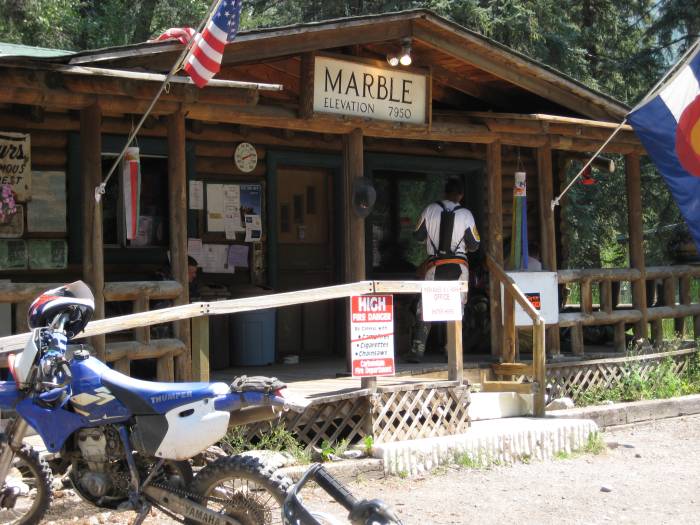 Wonder where they got those marble steps ??????

If it wasn't for bad luck---Steve would have none---now a flat tire in Marble.
It took him 5 days to get to Taylor Park as his Cadillac broke down on the way
in the middle of nowhere---he was lucky to get it fixed.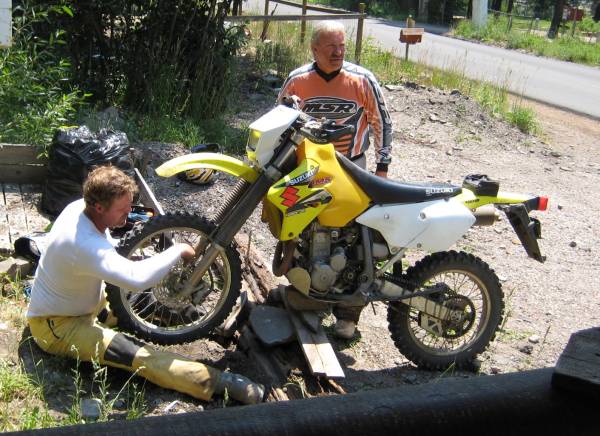 Steve fixed the flat in short order...but a nap was in order.
Mike couldn't find a pillow-----or did he ????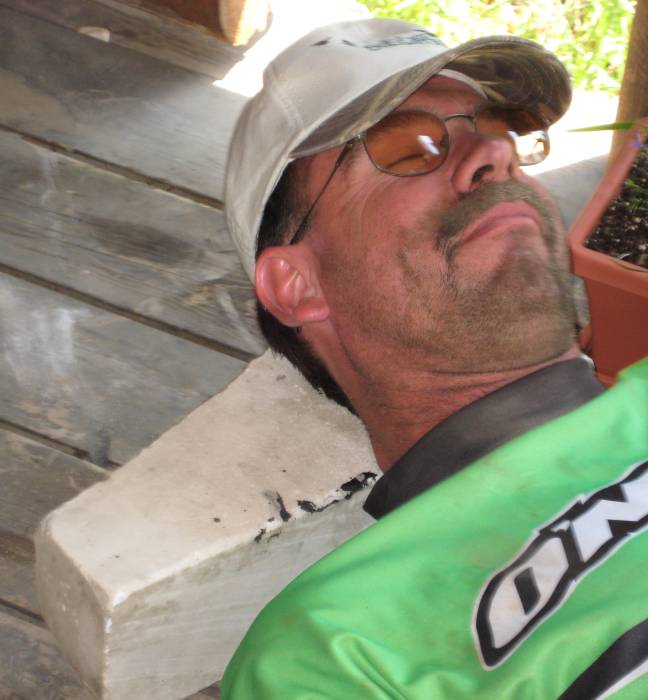 We headed up the mountain toward the Marble mine to get a glimpse of it.
The way we approached it you had to pay $4 to pass thru private property to see it.
BigDog----No Likey !!!!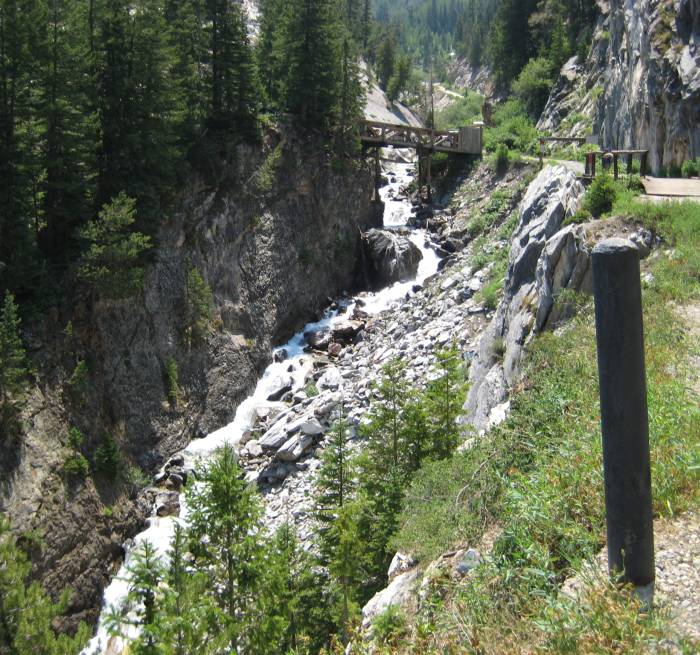 Known for its marble mines, this town has furnished marble for the likes of the Lincoln Memorial, Tomb of the Unknown Soldier, Municipal buildings in New York and San Fransisco, and more. This was said to have been the largest marble mine in the world. There is still plenty left today. Two other towns, Yule Creek and Clarence started out nearby Marble and eventuall grew into Marble. The company that handeled the mining here was the Colorado Fuel and Iron Company and the Colorado-Yule Marble Company which J.C. Osgood, of nearby redstone fame, had control of. The town is still alive today although there isn't much mining going on. At one time the town had 2 newspapers and even a city band that played outside on the bandstand during the 20's. A visit here wouldn't be wasted.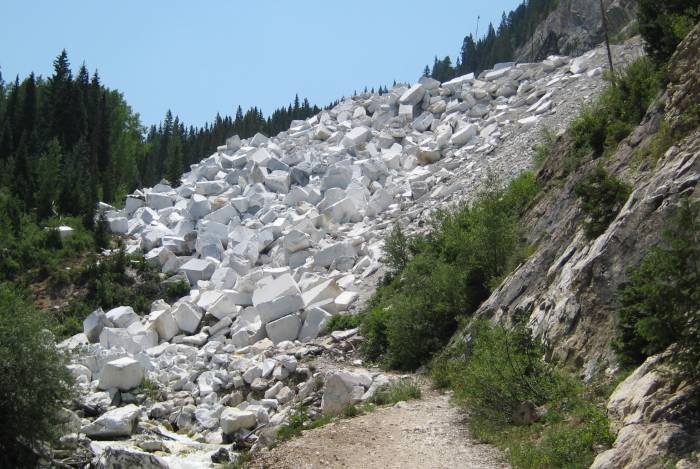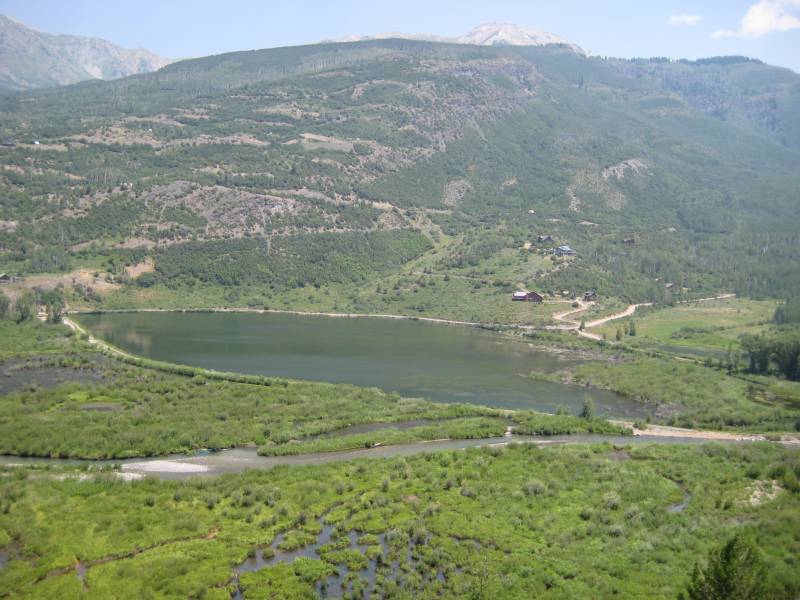 Seems everything was closed in Marlbe that Tuesday--there is no gas.
Yeppppp----closed on the 2nd Tuesday of whenever we feel like it.
Life in a very small town--you have to love it.
I inquired about a place to eat and the nice fellow pointed West and said
"Just over the hill you'll find the Sandwich Shop"
Yeh---------12 miles over the hill---I thought I had passed it.
The food was excellent---we garble it down and took an ass eatin' from a guy who found
a lit cigarette on the ground that one of us left-----not me--I don't smoke !!
The whole area is under an extreme fire watch--it was unbelievably dry.
Dusty--if you rode in the back------or so I heard :)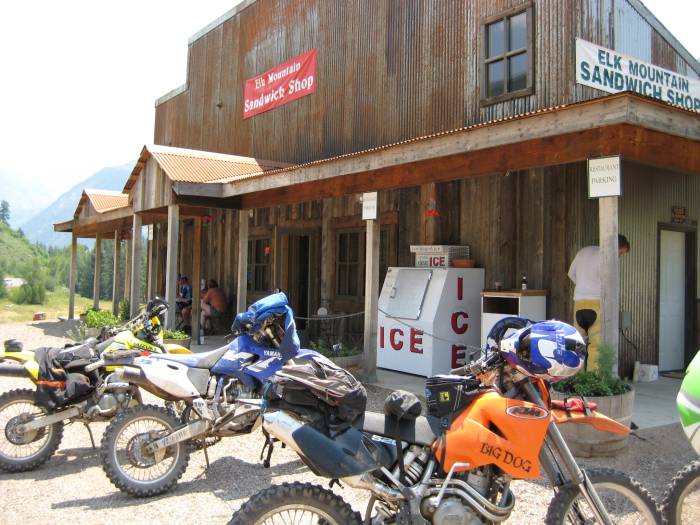 We rode West then South out of Marble and dang near ran the KDX's out of gas.
We had to short cut it to Crested Butte for gas--then on thru cement creek road and trails
that led us to Flag mountain---elevation 12,600ft.

Me and my 520 stuggled to get up here. The grade was extremely steep---a sea of loose shale rocks
and a plugged air cleaner made for a difficult climb.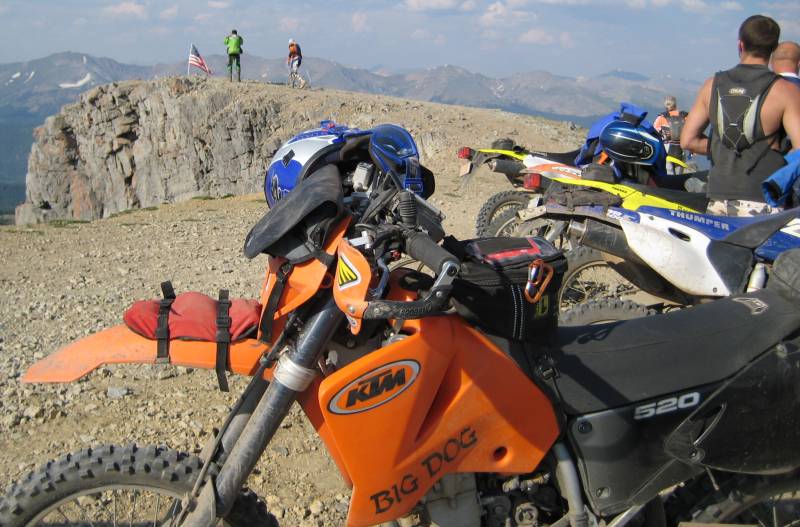 I don't know why they call it flag mountain---beats me ????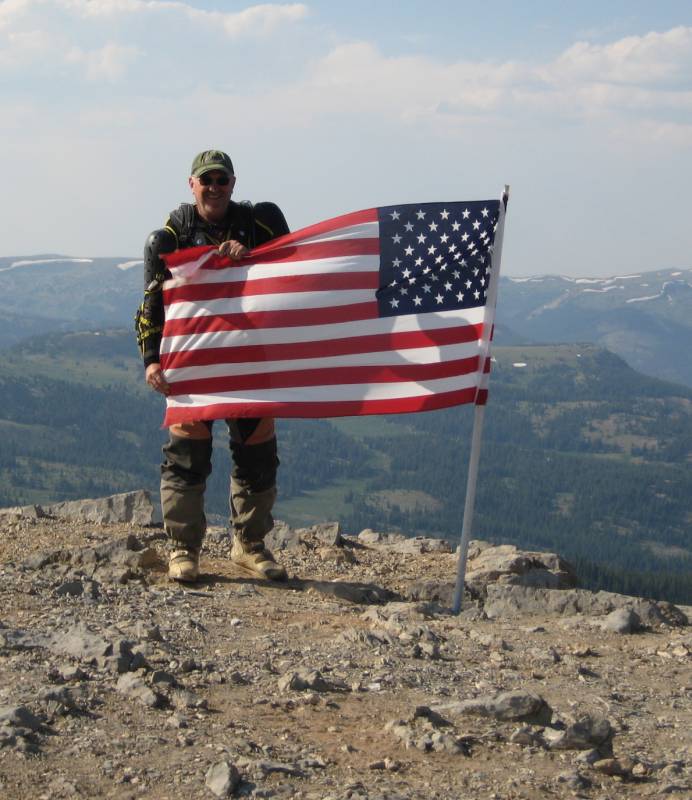 Took my knee and shin guard off-----remember my get-off on the first day.
I think my shin guard aggravated my pulled muscle-----looks worse than it is.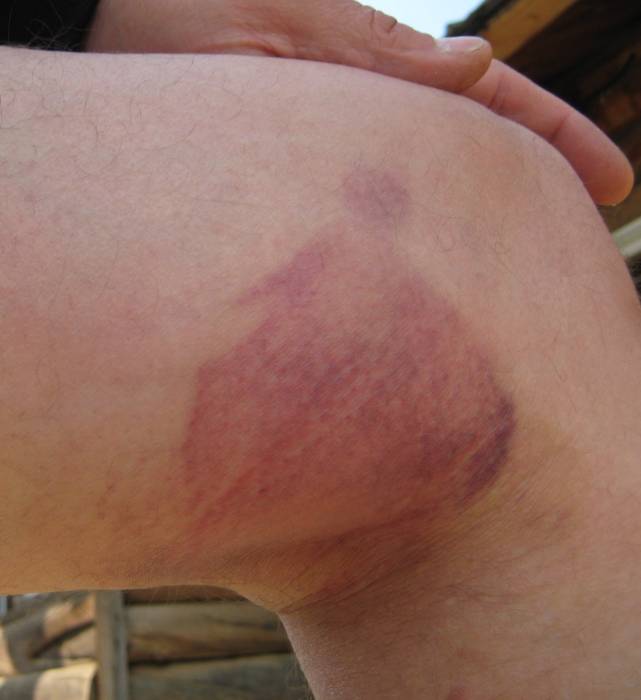 We did a lot more riding in the area.
Finally our tires were wore out---time to go home.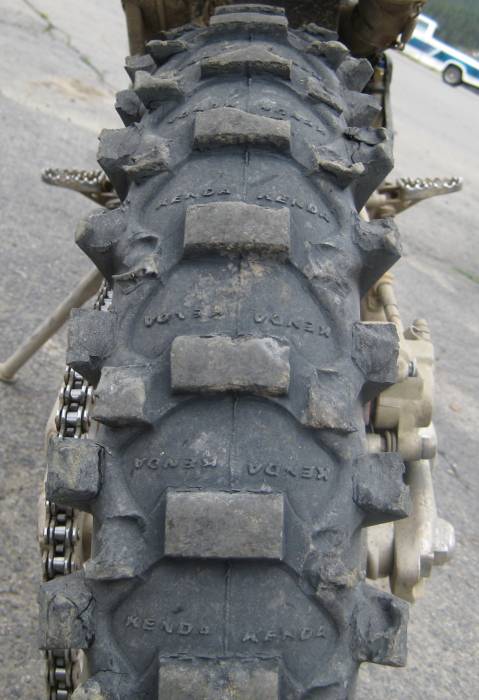 The very end
Back To my Homepage