Colorado Mountain Pass Ride in 2001
Written by: Mark Sampson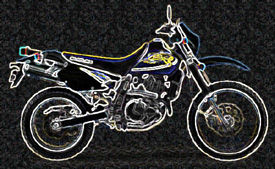 There are a lot of pictures in this webpage---I hate clicking on thumbnails and have included full pictures with the text--so give some time to let the pictures to download--go read the latest cycle news or something.
This is the account of the adventures of 3 friends touring the backroads and trails of the Colorado mountains and itís passes. This was done on street legal dirt bikes, dual-sports if you will. We were as equipped as any experienced motorcycle traveler would be, but things had to be a little different as we were on offroad machines. All 3 of us were as equipped as best we could to combat, cold, rain, snow, wind and hail as best we could. We camped some and hit a Motel occasionally---in the end, our thorough preparation paid off big time, as our gear and equipment held up very well.
The riders and their bikes
Mark Sampson----2000 Suzuki DRZ400S, equipped with Clark natural color (see-thru) 3.9gal. oversize gas tank, heated grips, tailrack, Garmin GPSIII+ (loaded with topographical map info), Touratech GPS mount, MT21 DOT knobbies, spare tube fender bag and headlight glove box. The bike had stock gearing which did very well except in the very tight rough stuff where a little clutch slipping would get me thru.

Kenny Gibbons----2001 Suzuki DR650, equipped with IMS 5 gal. Plastic gas tank, heated grips, MT21 DOT tires, custom tailrack, Garmin GPSIII+ (loaded with Roads and Recreations software), touratech GPS mount and soft saddlebags. Kenny was geared down one tooth on the countershaft sprocket which worked pretty well for him. It could have been lower in the tight stuff, but would still really go fast on the pavement very easily. Any other motor modifications Kenny was very tight lipped about, as Kenny was going to have the ďedgeĒ on us. He just grinned when questioned----and it was thought by Don that he might even lie about his mechanical modifications J. This suspicion seemed to come from some past experiences.

Don Magnus-----1986 Honda XL600 which was amazingly stock. Me and Kenny felt bad about having the electric starters and heated grips on our bikes so we duck-taped a button on his handlebars to make him feel better (it didnít). Don was geared down one tooth on the front, and it too was a little tall in the rough stuff. He also had a highly specialized low production (one) rope starter----which you will hear much more about as this trip goes on and a rear tailrack. There wasnít a lot of fancy smancy goo gaws, heated gear shift levers or gyroscopic guidance systems and such on Donís bike, but his fun loving spirit for adventure and riding a motorcycle was all he needed to have a great time.

Here's all of us after finishing the trip--getting ready to load up and go home.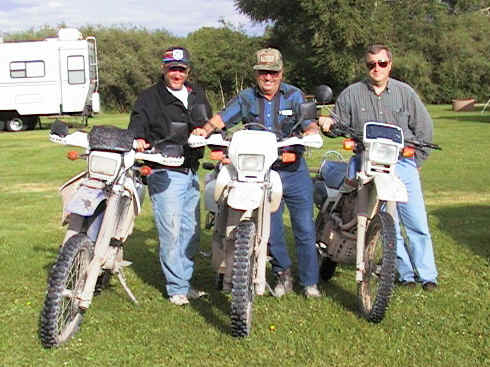 Click below for Day One----there are 7 days of riding with with a link to the next days riding at the end of every page. If it seems a little slow at first----hang on-it gets much, much better.
Day One Cripple Creek, Victor, Shelf Road, Phantom Canyon Road, Gold Camp Road and Old Stage Road.