Stage Two
The Quest for Pie
We were up very early and were anxious to try out our new knobbies on the dirt---right out of Silver City we hit pay "dirt"---with a few obstacles thrown in the road.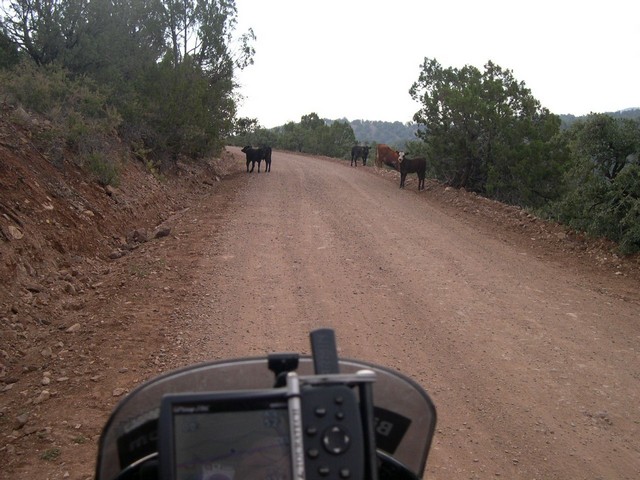 Monty's pretty warm in his Aerostich which proved quite hot for this ride. He is just starting to get his offroad legs and his riding ability would be tested to the max.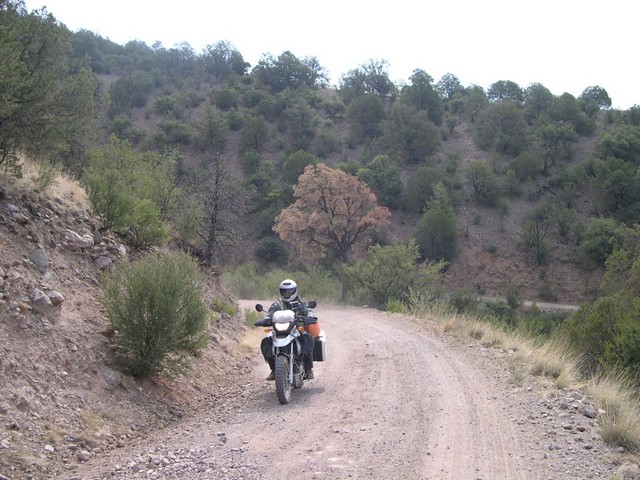 We are following a route laid out by bicyclists who have been riding this route for years. We ran into so many of them on the trail and they were a lot of fun to talk to--amazing athletes. Kevin came up missing---we waited for a long time and no Kevin---I had a bad feeling as I went back looking for him as the mountainous switch backs we had come thru had many dropoffs where a rider could simply disappear.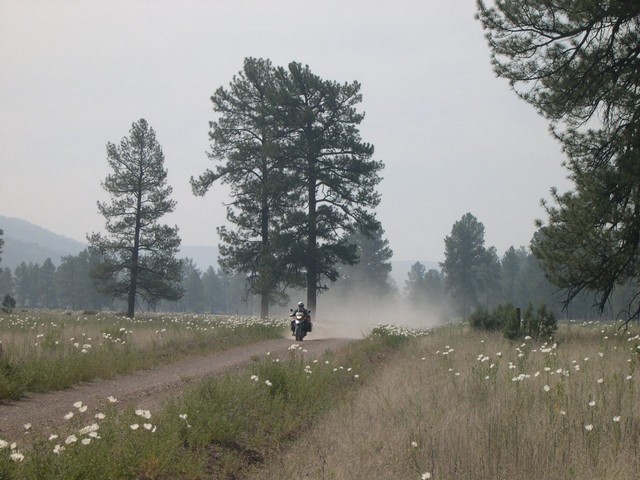 Thank goodness he was OK---he had the tire fixed when we got there. I couldn't figure out how he fixed the tire as I was carrying the tire irons ??? Kevin had given up on us coming back and had took the tire on and off with the blunt end of a crescent wrench and an extension tool out of his stock KLR toolkit !!!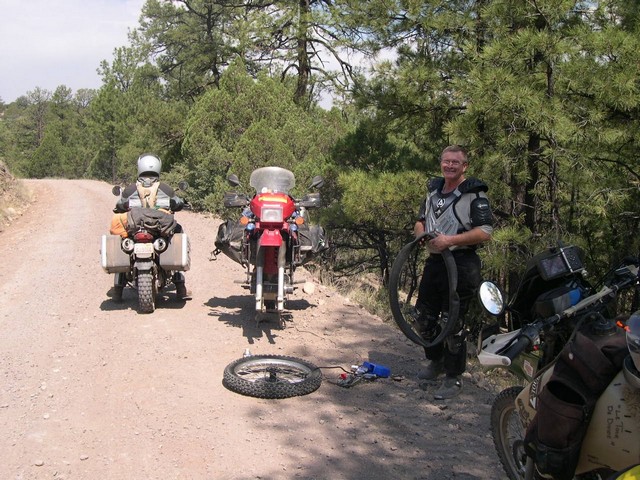 Kevin lost 5 "Adventure" points for not having tire irons---but earned 20 for doing the tire repair with no tire irons---like I said, Kevin can fix anything.
We tooled slowly passed some horse riders and rounded the bend to see "Wall Lake".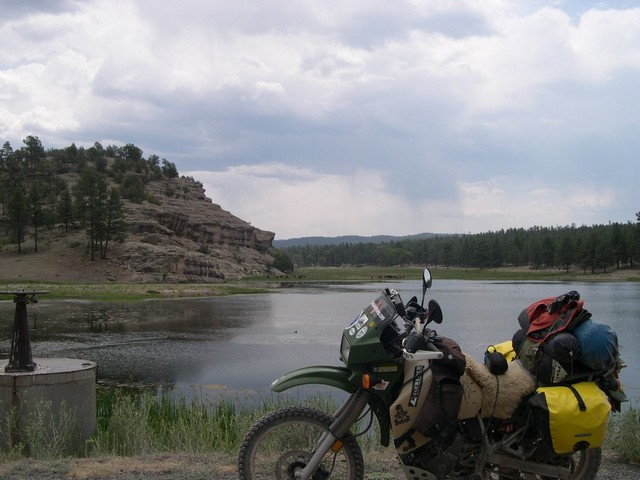 Rain and Forest fires surrounded us all day. We were very lucky to squeeze thru this area as the fire crews were closing roads all around us, and we thought we would be turned back anytime.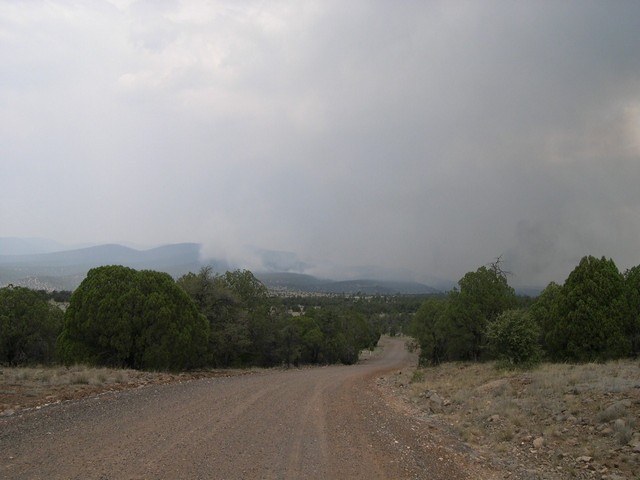 It is a very long stretch thru here with no gas for over 240 miles. If you haven't prepared your bike and gas carrying capabilities thru here you won't make it.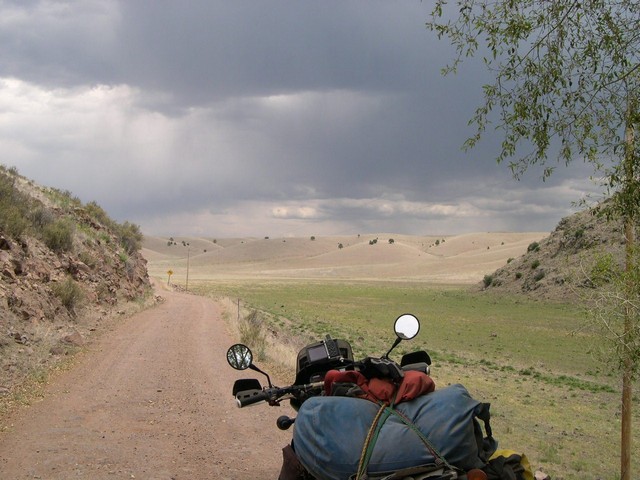 These were very lonely roads--we hardly ever see a soul. It is so relaxing riding thru areas like this.
New Mexico was my very favorite part of this whole ride---it had some of the hardest riding also which is not depicted in any of these pictures as we were busy holding on. Contrary to what it looks like--most of these roads are impassable when wet. Don't sit there in your easy chair and go "Oh Bull"---you'll be sorry !!!!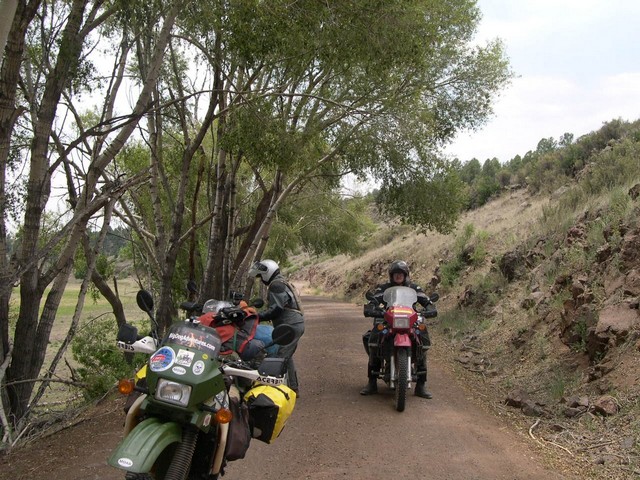 This picture is out of place as the new tires are still on my bike----I thought this was near Pie Town but I was wrong. Anyway--if you pass by, please "Sit-A-Spell" and rest.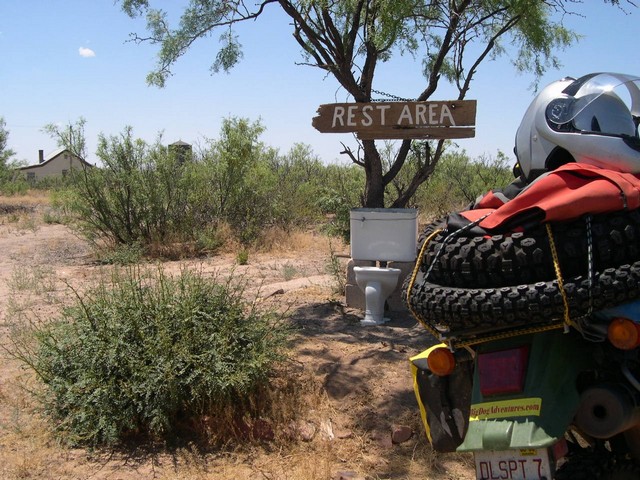 I have been slobbering at the tales of good pie at the "Pie-O-Neer"---it's closed !!!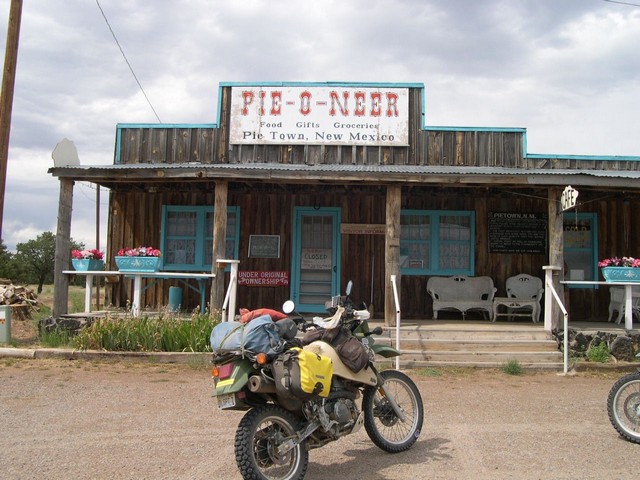 Never fear--"BigDogAdventures" comes thru again with the best pie in the world just a little down the road from the "Pie-O-Neer" at the "Pie Town Cafe". You must stop--or lose 40 bonus "Adventure" points. The food and scenery in this place is awesome !!! I had rode many hundred miles to have pie here and would do it again.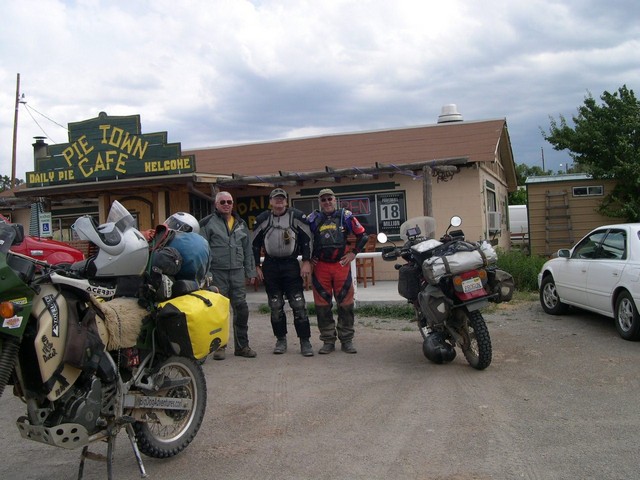 I had the longest gas range of all of us and it was feared the BMW wouldn't make it all the way thru here--didn't matter, we were tired and headed 15 miles East to Quemado, New Mexico for gas and a motel.
If you pass thru Pie Town go to Quemado for gas and come back or you might not make it--doesn't matter if your traveling the route North or South---better safe than sorry.
Stage 3 Navigation gets a little hairy.