Big Dog And Son
June, 2010 Mark and Marty Sampson
My son Marty turned in his resignation at his corporate job----He had known for quite awhile that as long
as he was in that position we would never get to spend any time together--let alone quality time.
So.....he pulled the plug and decided to not work for awhile and packed up and moved to Colorado.
And this is where this story starts---father and son spending some great time together.
When my son went off to college---I felt I lost my best friend.
14 years later we begin another journey.

We go riding our motorcycles, riding our bicycles, rafting, camping, gliding (airplane glider), riding
a 1925 steam locomotive and much, much more. We talked about
all kinds of things----except work
To order an hour and a half (approx.) DVD video of this ride click
Here

June 1st, 2010
We headed West out of Durango, Colorado towards Verde Mesa National Park.
Marty's has ridden since he was 3----and even after a 14 year hiatus---
he had been around me enough to know how to set up his
2008 Husqvarna TE610 for adventure travel.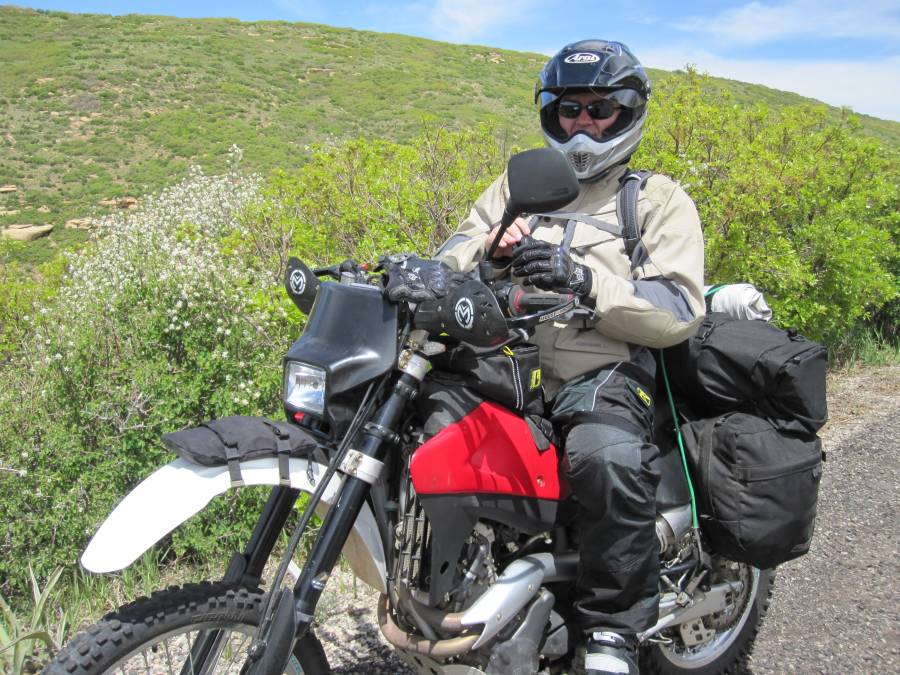 We entered Mesa Verde State Park and immediately realized it was a bag day to visit. The traffic wasn't horrible--but the
road construction made it very slow to get around in the park--we made the best of it and really enjoyed the views
on the high mesa. The weather was perfect.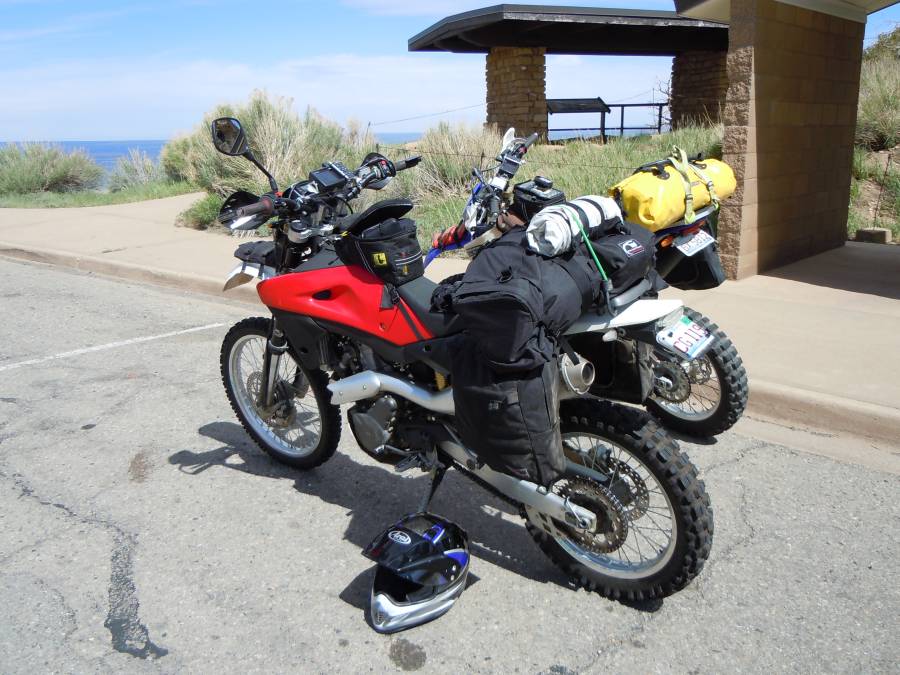 The roads are all paved in Mesa Verde---but a lot of fun--but you had to have a very watchful
eye out for the radar gun. I always feel like I'm in a cage in state and national parks....
that's because you are.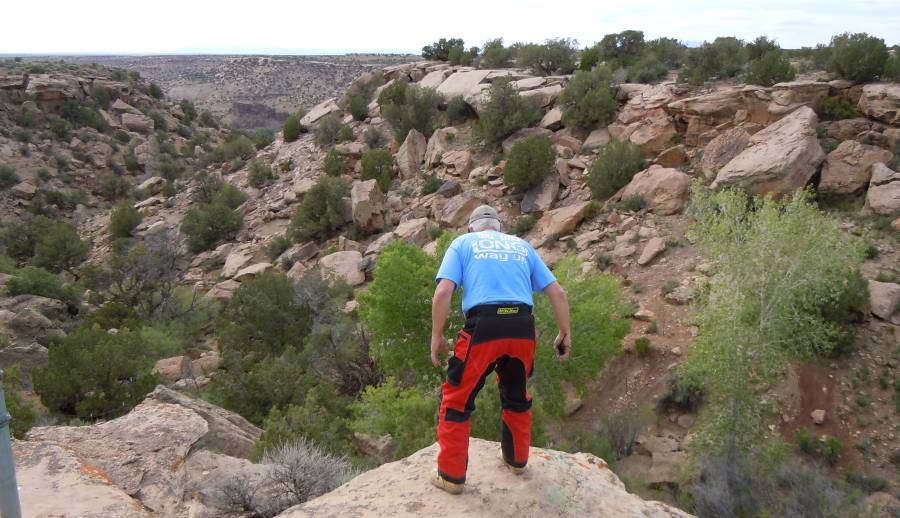 The local KTM shop had put a rear tire on Marty's bike 2 sized too small. I spotted it the second I saw it but it we had to
go with it as they didn't have the proper size and we were leaving the next day. This geared his bike down severely and
he demolished the tire on this 5 day ride.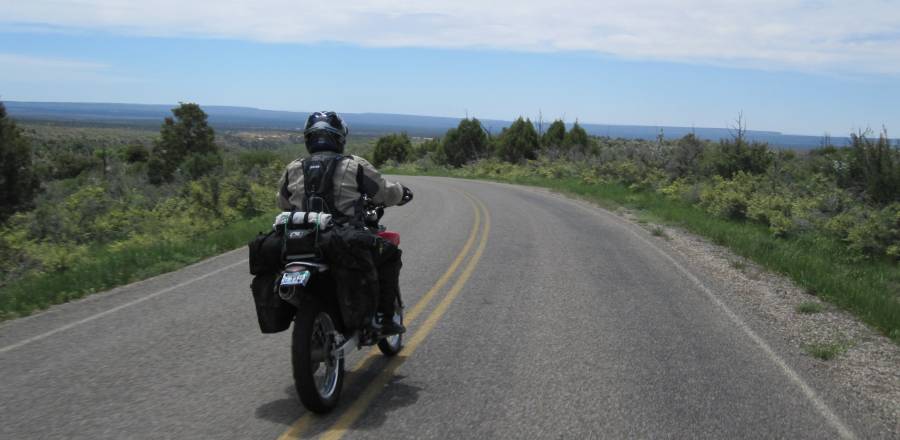 Looking North in Mesa Verde at some much higher snow packed peaks.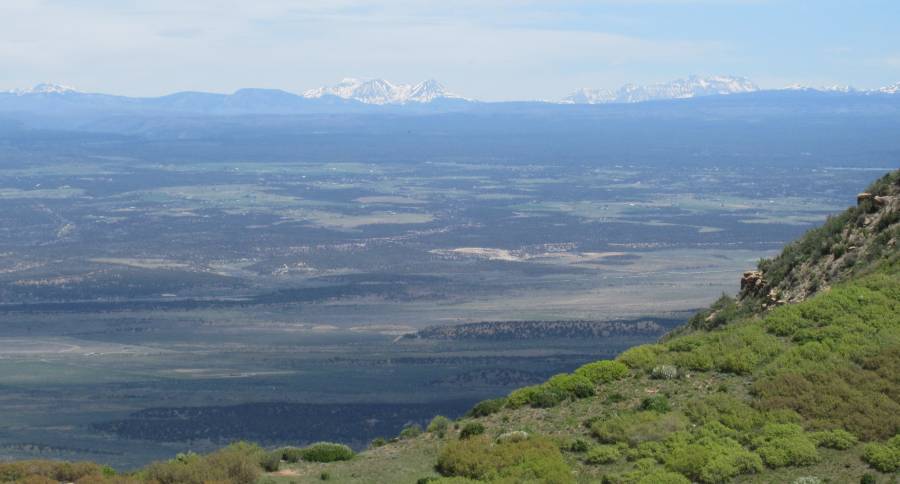 I am always dummyfied at road signs--right behind Marty is a sign----"Tunnel"------duh.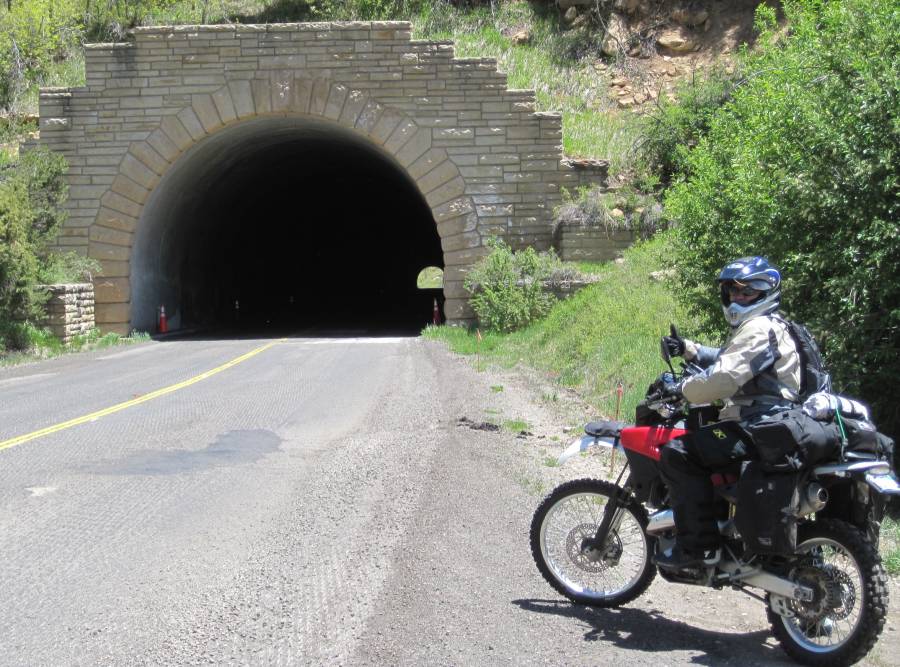 After leaving Mesa Verde---I spied a small dirt road going between 2 big Mesa's East of Mesa Verde National Park.
We ran into the UTE Indian reservation and weren't allowed out there.
We were anxious to ride some dirt and I had heard of a Mesa West of Cortez from a hiker in Mesa Verde called Cannonball Mesa.
That sounded interesting and off we went.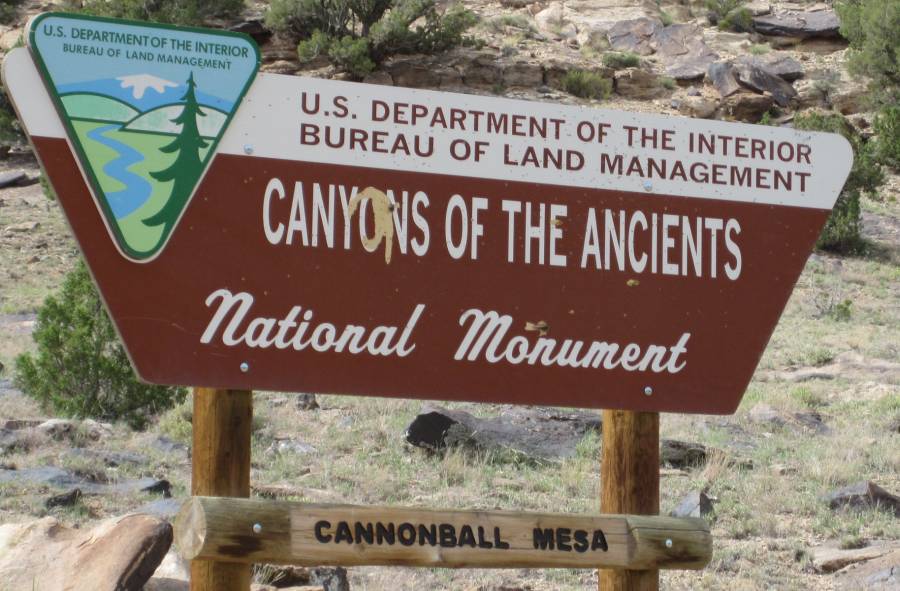 This is on top of Cannonball Mesa--we rode for miles on this sweet dirt road.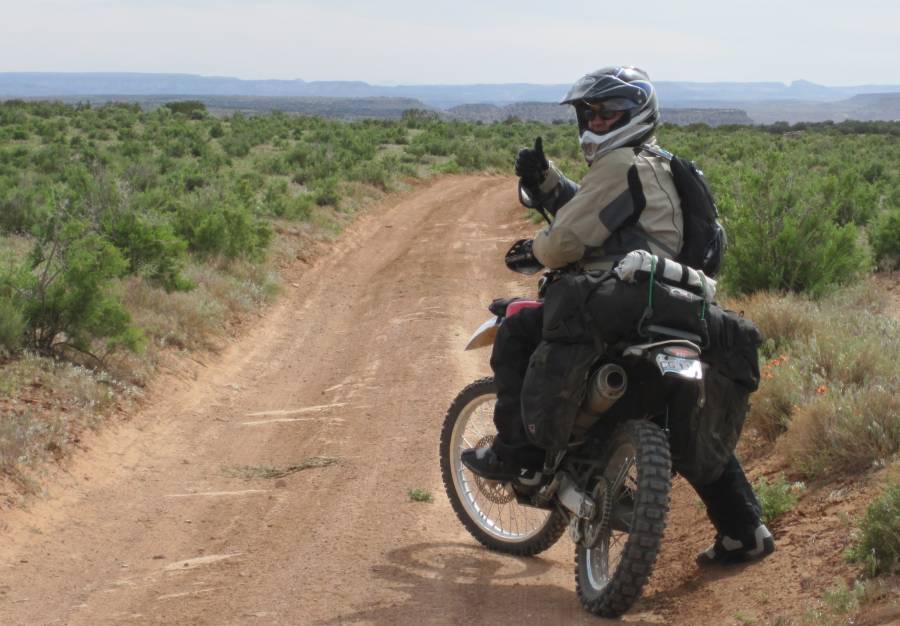 The Topo software in my gps pointed out a spring to me----- and we headed to it down a dead end dirt road.
We were re-warded with more than we bargained for with these neat old ruins.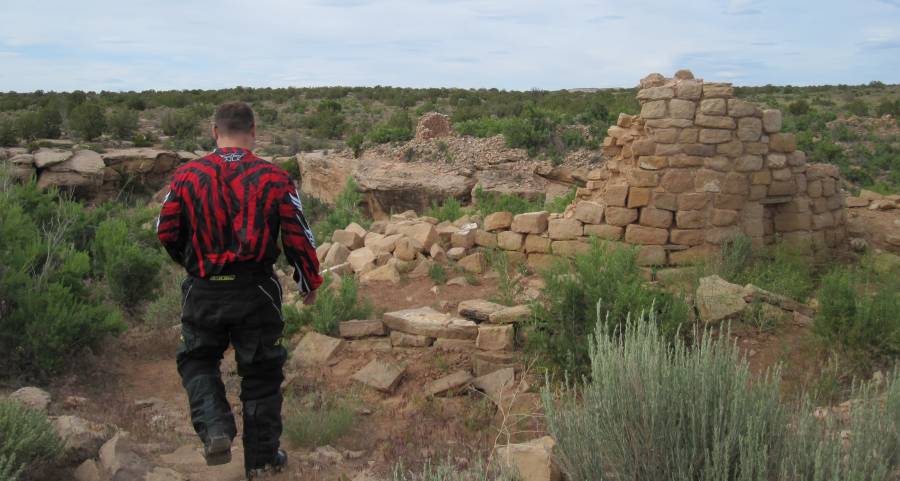 The spring appeared to be dry right now--but there was plenty of greenery by it--so it must have just dried up recently.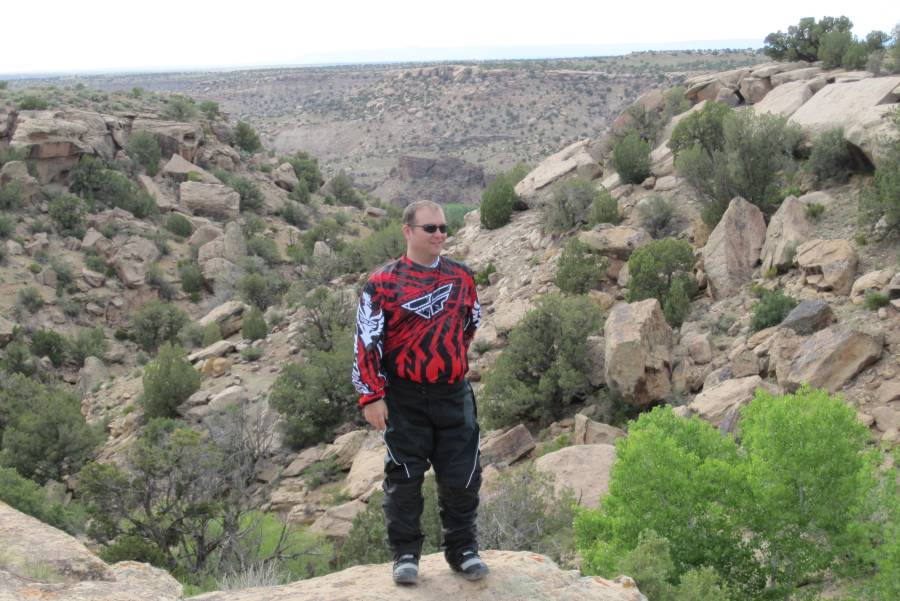 This is the gate off the highway you must open to get to Cannonball Mesa.
You cross a little bit of private land (OK to pass thru) before getting into the Land Of The Ancients.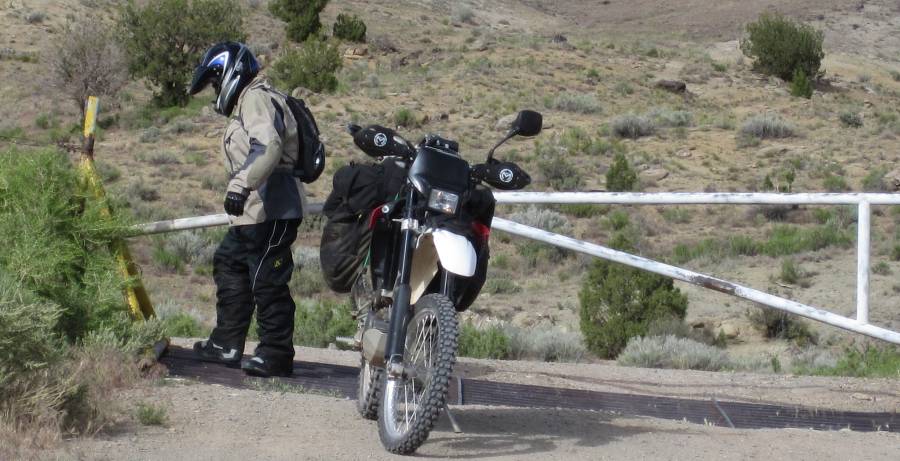 Back on the pavement I didn't go very far before the WR headed down a dirt road and
we opened and close a barbed wire ranch gate.
It wasn't but about 2 miles later I tried to cross this creek---the big rocks in the fast moving
water took me down and I got soaked.
Marty jumped in to help and got his brand new Tech 8 boots all wet.
It was a blessing---as he had to ride the rest of the day in those wet boots---which gave them a fast break in time
and the next day they felt totally comfortable for him.
The air was so dry hear in Colorado I dried out very quickly.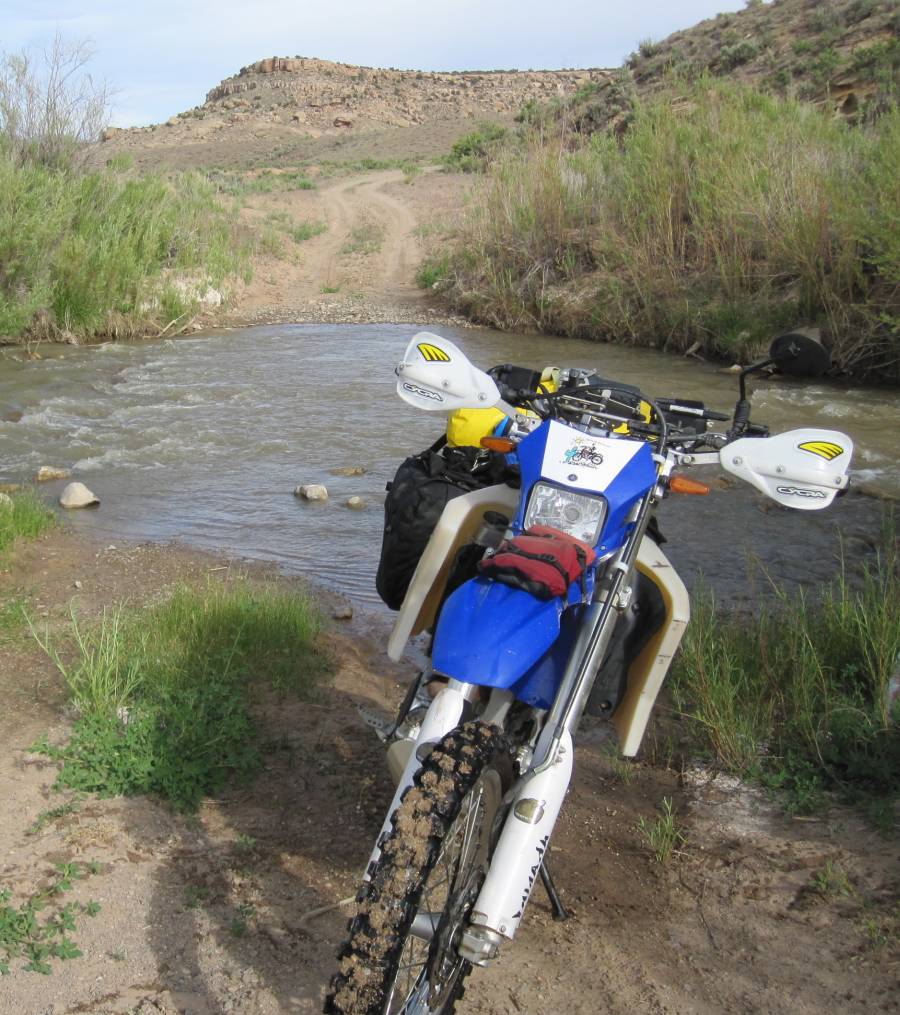 I never let a gps tell me where to go---but often let it "Suggest".
It autorouted me across this foot swinging bridge. Me and marty just laughed out loud as soon as we saw it.
I'd tell you where it's at-----but I'd have to kill you.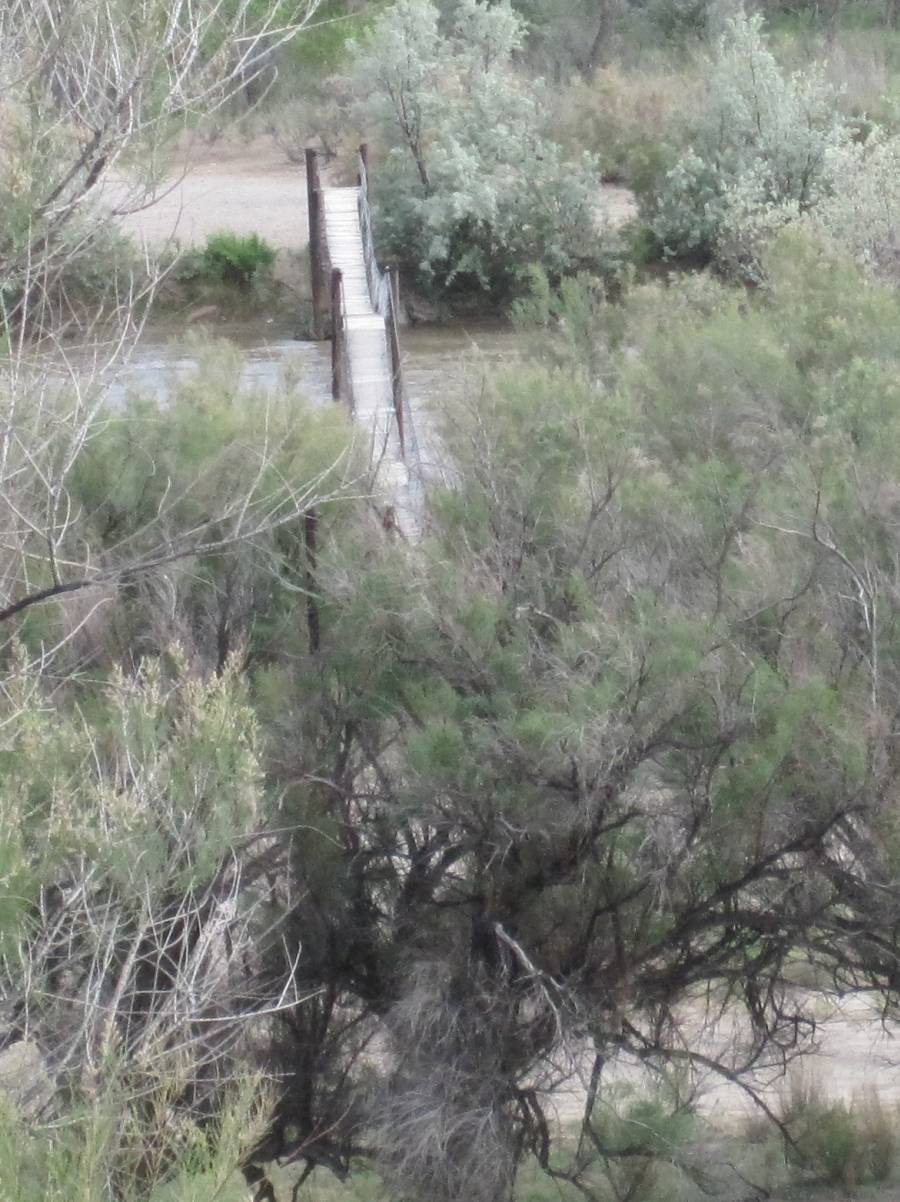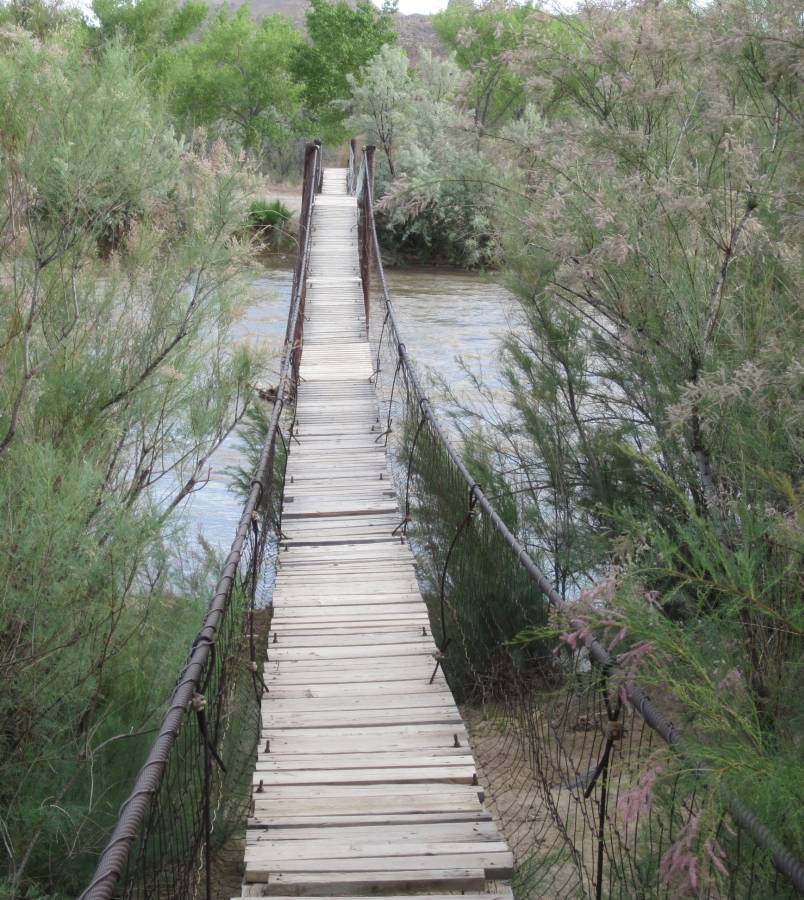 We had crossed into Utah------and I bet if you go to Aneth, Utah you'll find this little jewel.
It crosses the San Juan river---which is up and running hard--like the Animas River in Coloroado
was because of all the snow melt. I'ts kinda of hard to find---and I bet you'll have to ask locals (Indians) to find it.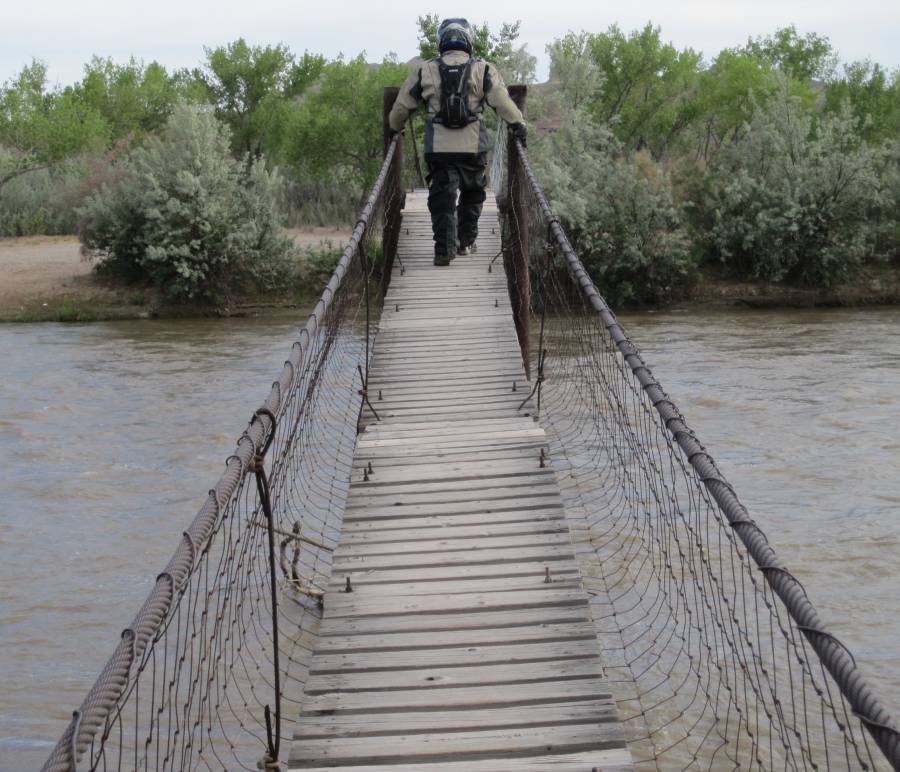 We made a big loop and ended up back in Cortez Colorado for the night.
June 2nd, 2010
I had many places to go today---but the ride to them would overshadow the destination---perfect.
This is the way I like it-----I almost always prefer the ride rather than the destination--if I even have one.
Which reminds me---if an officer ever asks you where you are going----make up something.
The last thing he wants to hear is the truth-------"I don't really care or know officer"
I found out that the hard way and never tell the truth anymore.
We had got a glimpse of this the day before-----it was at least 25 miles away--and we actually thought it looked like a mirage.
This picture depicts exactly how we saw it-----doesn't it look like a mirage ??? Had we not been drinkin' enough water ?????
Was it real ???? Was it New Mexico's version of "Close Encounters of The Third Kind" ??????
We stared at this thing for a long time----speechless.
Is this picture photoshop ?????

Well we had to find it--but right now this was closer------Chimney Rock.
We had seen this rock from atop the mesa at Mesa Verde.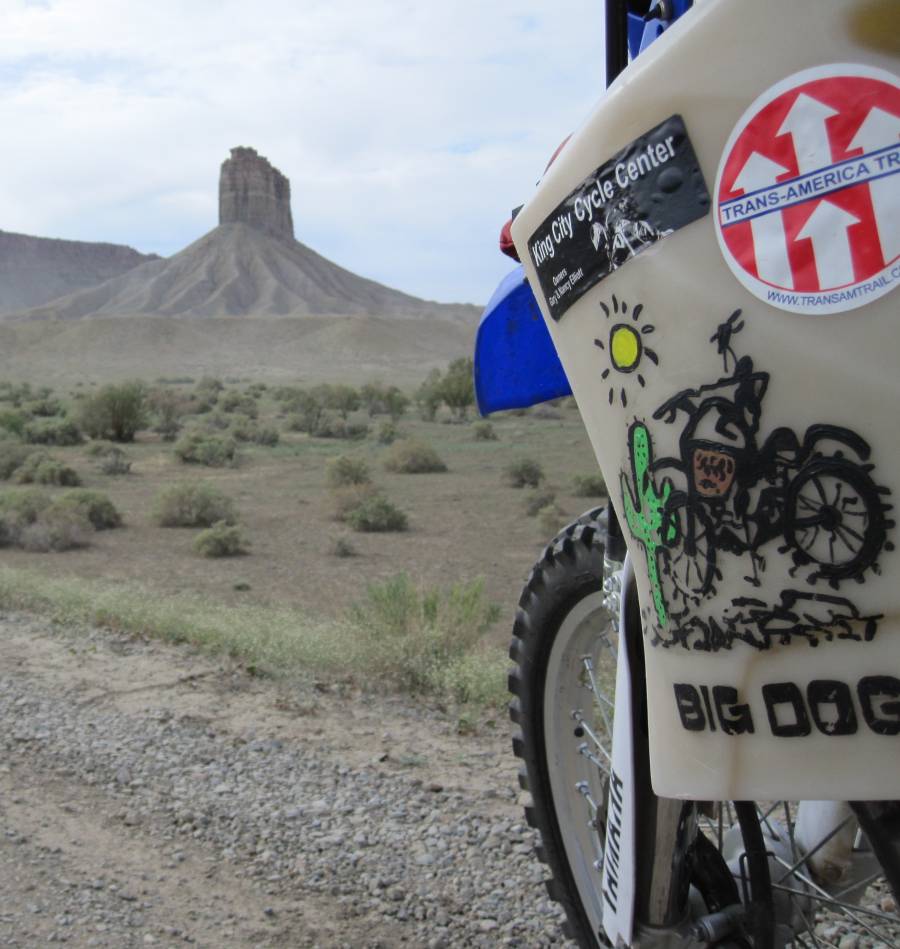 This sign was right where I was sitting in the picture above.
I inquired across the street where some Indians were--and they confirmed we could not go out there.
This was on the UTE Indian reservation.
We found out the UTE Indians had a thing against mountain bicyclists. Seems some guys road thru the reservation and wrote
it was the best mountain bike ride in the country and here they came----hundreds of them---and that was the end of that.
We heard that from the horses mouth.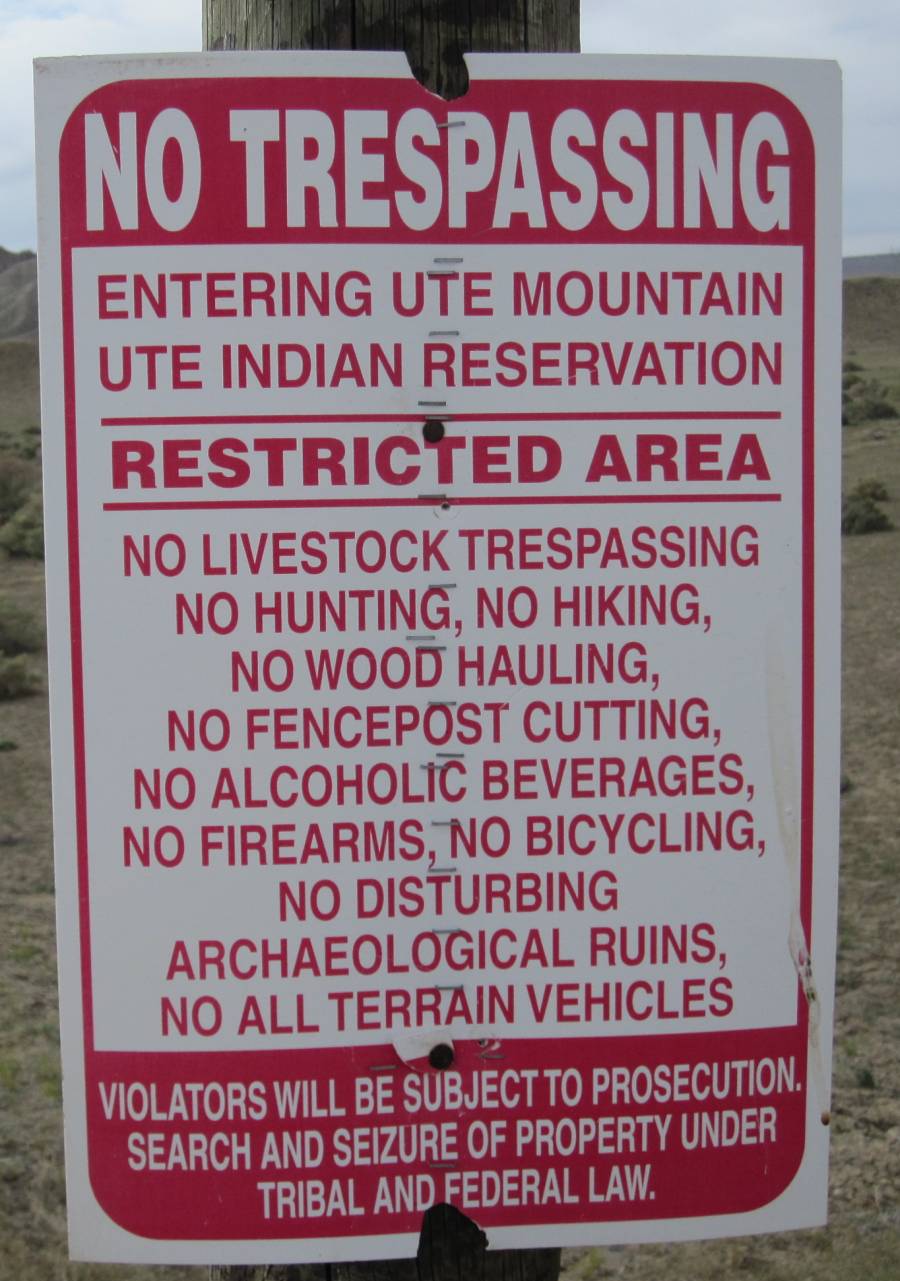 I wanted to see Chimney Rock up close--but I guess this is pretty good.
This is in Southwest Colorado by the way and can be seen plainly right off of hwy. 160.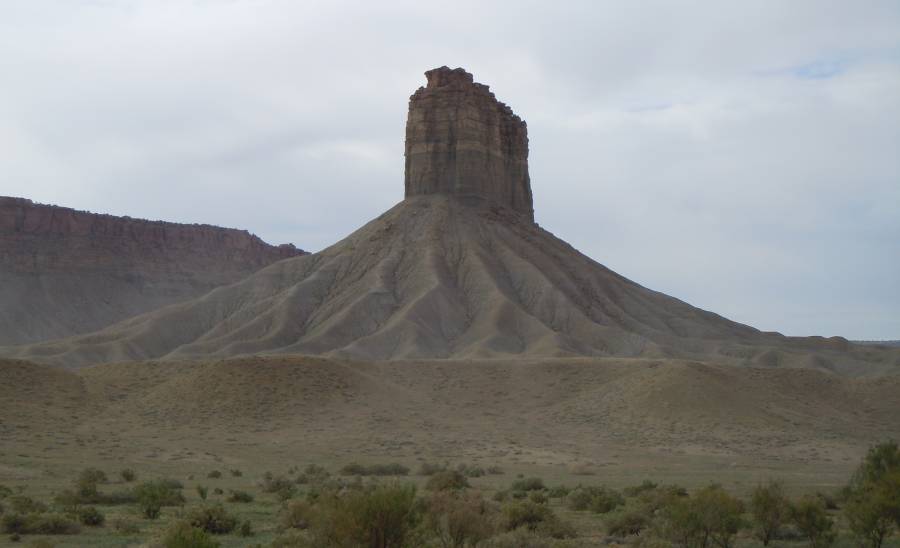 Closed----While we were here, wads of cars kept pulling in and all were astonished--as one couple said----.
"We drove all the way from Florida---and it's closed " ?????????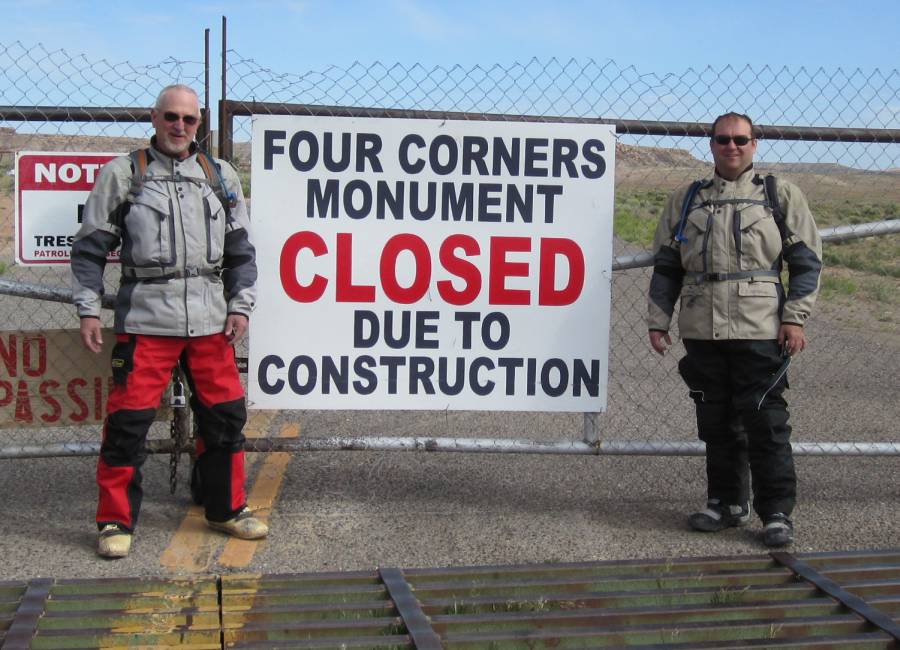 Here is a scanned picture of me at 4 corners in 1987----I had ridden all the way there on my 1987 BMW K75S by myself
and rode up thru thru the million dollar highway in March----nobody told me you can't do that---well that's another story.
Guess I need to write a book.
By the way--back then it was free---now it cost you to stand where I am in this picture.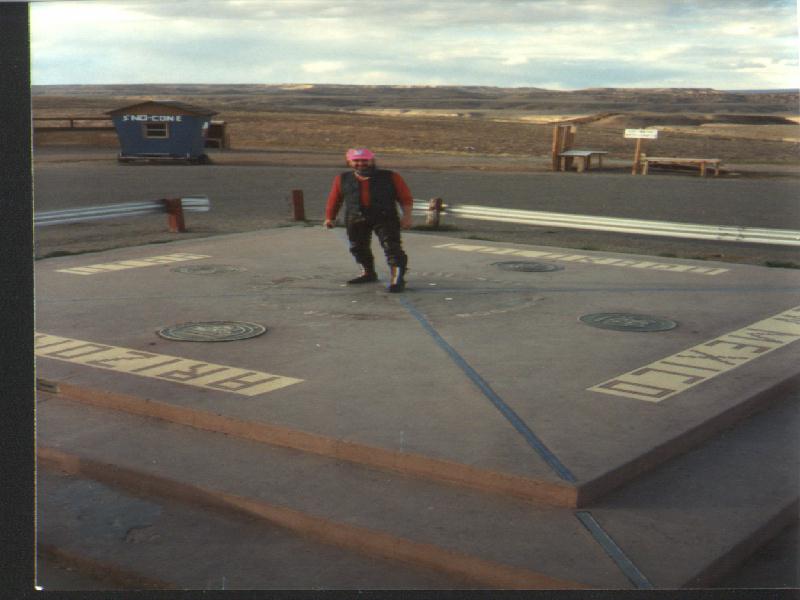 After the 4 corners bust we cruised into the itty bitty Indian town of Teec Nos Pos.
We had a good time here at the tradin' post as we traded 2 worn out sheep skin pelts for 2 ice cream bars.
We sat outside under the shade on a wooden bench and talked to a Full blooded Indian for quite a while.
His name was Charlie See---I'll never forget him--he was very old and could barely speak English and we witnessed
him talking to a friend for quite awhile in their native tonque---and I had snuck my video camera on and got it
all on video. Pretty neat to watch.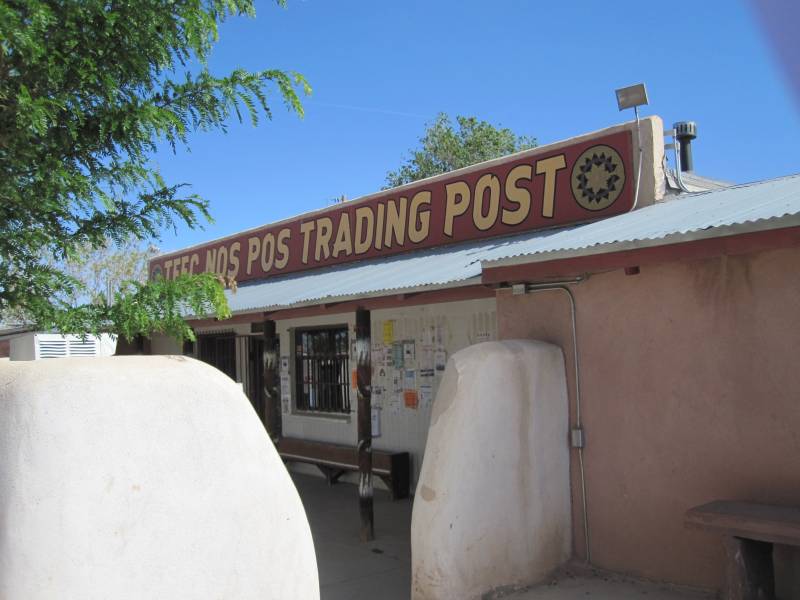 We headed our bikes East into New Mexico with the big mirage of a rock right in our face--and we got closer and closer.
I spied a dirt road heading for this mirage----going South thru the tiny town of Rattlesnake---population 43.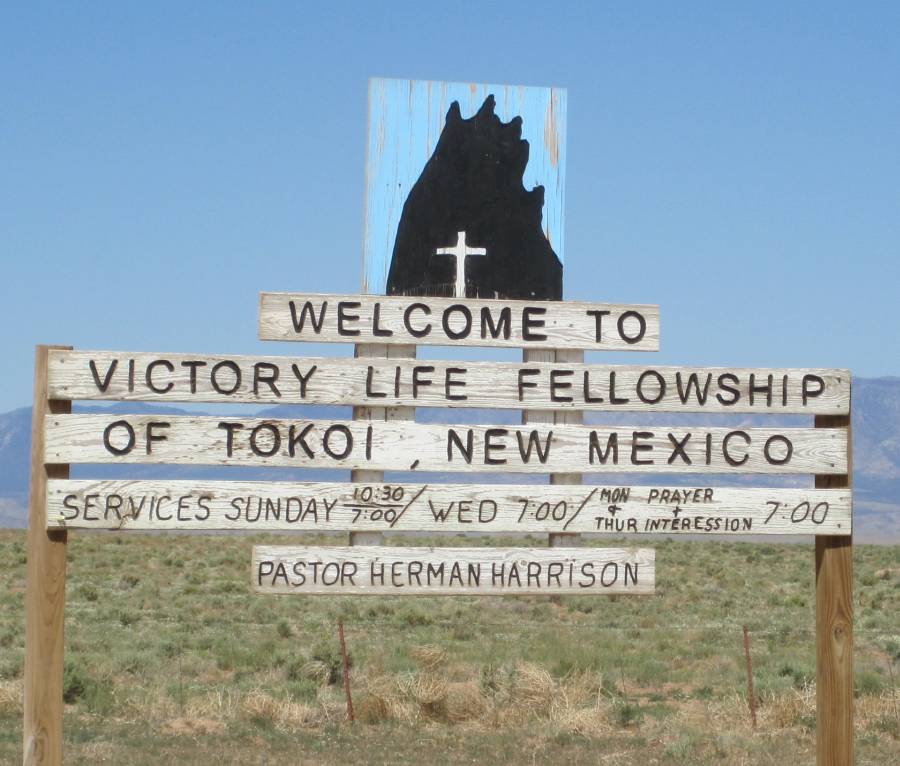 We were now on the Navajo reservation and they did things a little different than the UTE's.
I'm no history buff---all I know is we went down some tough narrow dirt and sand roads toward this big rock called Shiprock
and no one seemed to mind.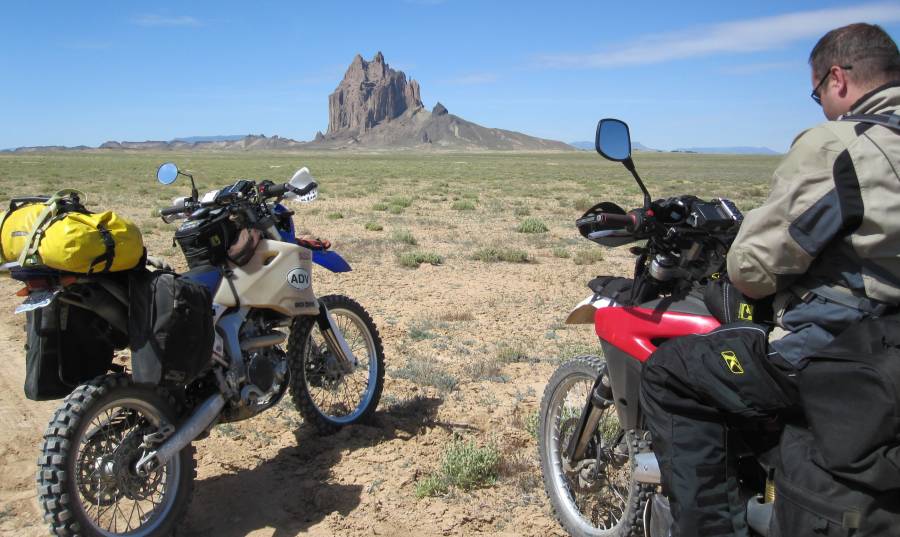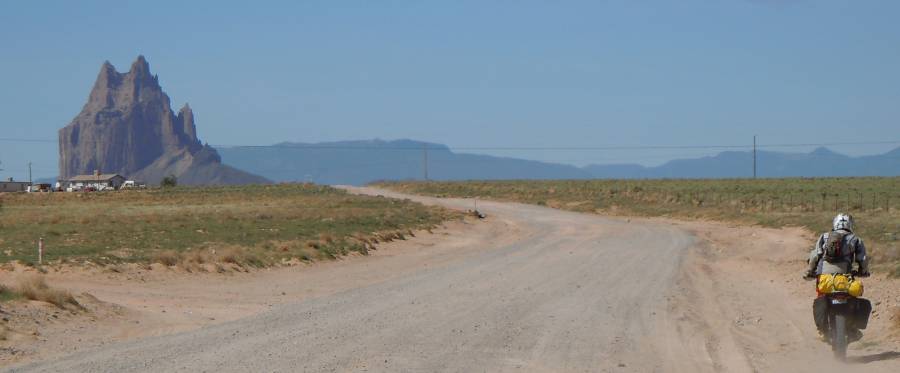 Getting to this thing was a huge challenge--but my navigation skills or dumb luck kept getting us closer.
I couldn't believe there were no well traveled roads out here and the more detiorated the dirt road got the more I feared we weren't going to
get to it--or get arrested if we did------there was nobody out here-----nobody--and no fresh tracks in the dirt and sand.
I was estatic.And Marty just couldn't believe the size and grandeur of this thing.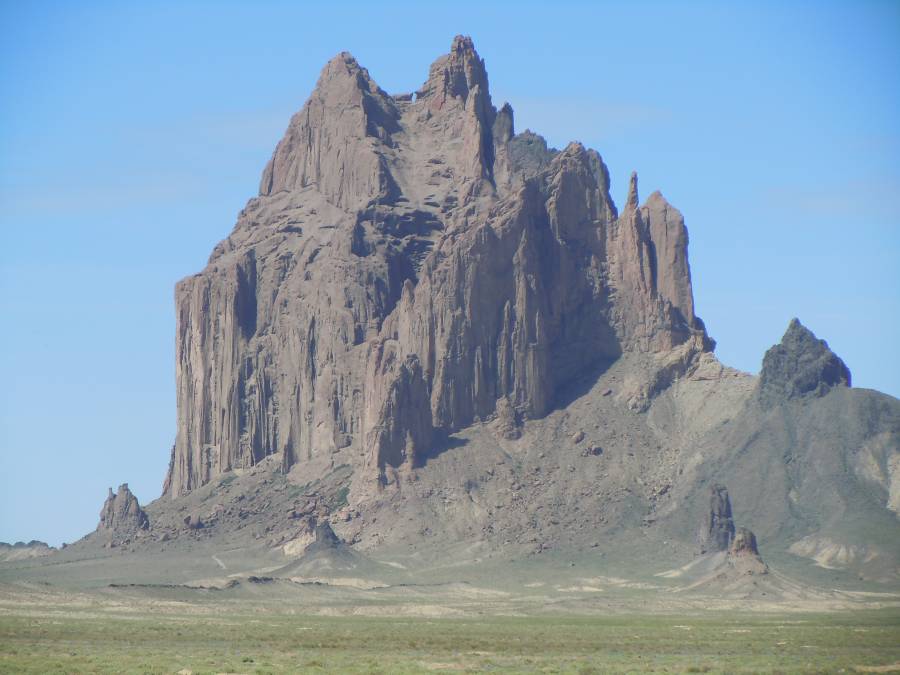 We got right up to it.
You've have got to get on Google Earth and look at this thing--be sure and tilt the view--you will be amazed.
In fact google earth is kind of what got me out to this thing after seeing it. And I saw a tiny dirt road leading to it--barely visible.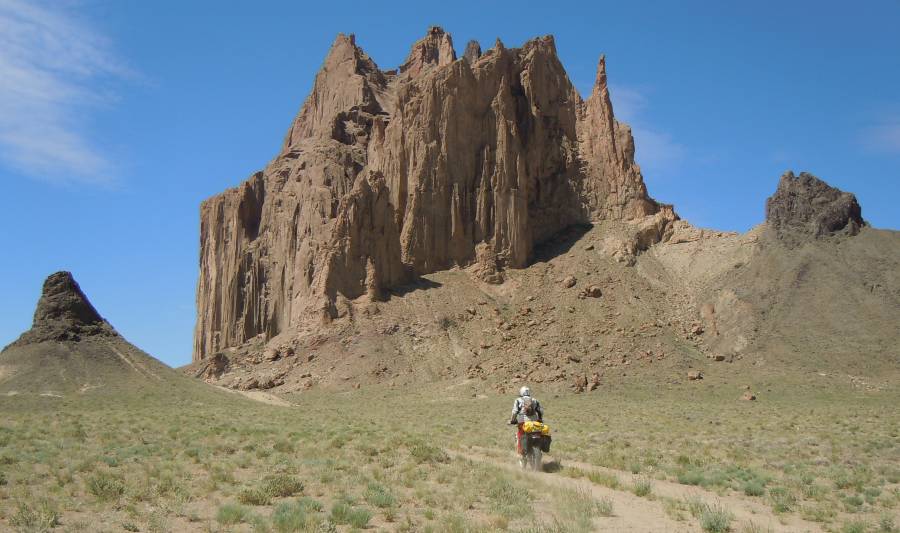 There were no trucks pulling their houses---no motorhomes--nobody with their hand out collecting all kinds of fees--no radar guns--no toilets--
No nothin'
This is my kind of National Park-----like they all should be.
I rename this place---BigDog National Monument.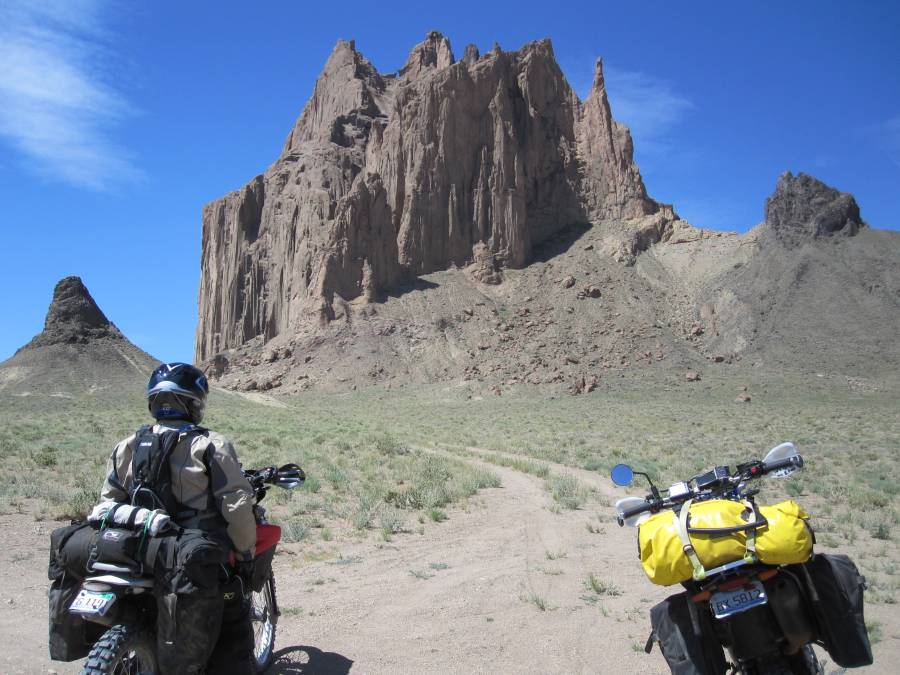 These rocks guided us South to BIA-13
That's Bural of Indian Affairs route 13 for you pale faces.
While on google earth---look at these rocks--looks like the tail of a 1 mile long aligator.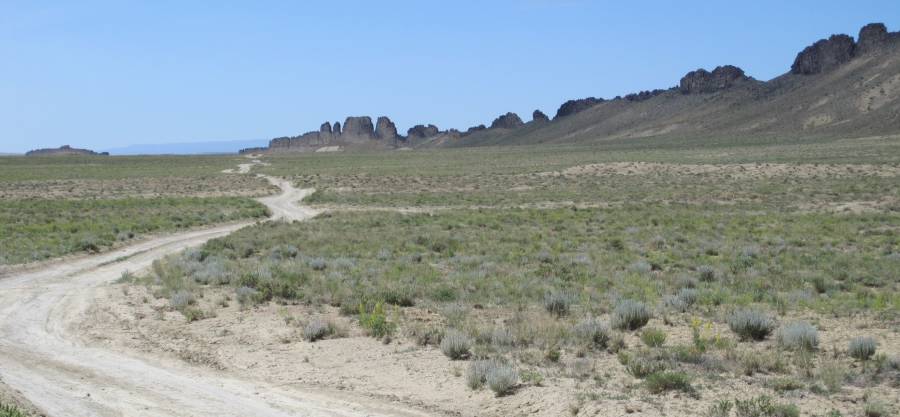 Here is where we intersected BIA-13
Looks much easier accessing Ship Rock than the way we came.
The roads out there aren't even on any maps or the gps.
We felt very fortunat to have gotten to Ship Rock---a definite highlight of this ride with my son.
There is a town about 15 miles away from here called Ship Rock--we never went there-heard they had gas tho.
Many years ago I laid out about 150 different routes thru Arizona--and over about 3 different trips to Arizona I've ridden about 100 of them.
All outstanding--I got all of them out of a very thick and well written book called Backroads Arizona---I treasure this book and
would never part with it. My notes in it are very valuable to me.
Anyway---there were about 5 of these routes in Northeast Arizona that I had never ridden and today was the day.
So from New Mexico we headed back into Arizona.

I have seen picture of the high Luckachuki mountains we were going to ride thru and I was once again estatic.
This is a very unknown, remote, rugged, and lonely road thru here--nobody travels it--it is very rugged
and we were very glad we were on small bikes. I almost took my 950 KTM on this ride--I would have been
very sorry.
Marty had to keep the dust down somehow.
Marty loves traveling with me----he said--and I quote.
"You always have to pee when I do dad"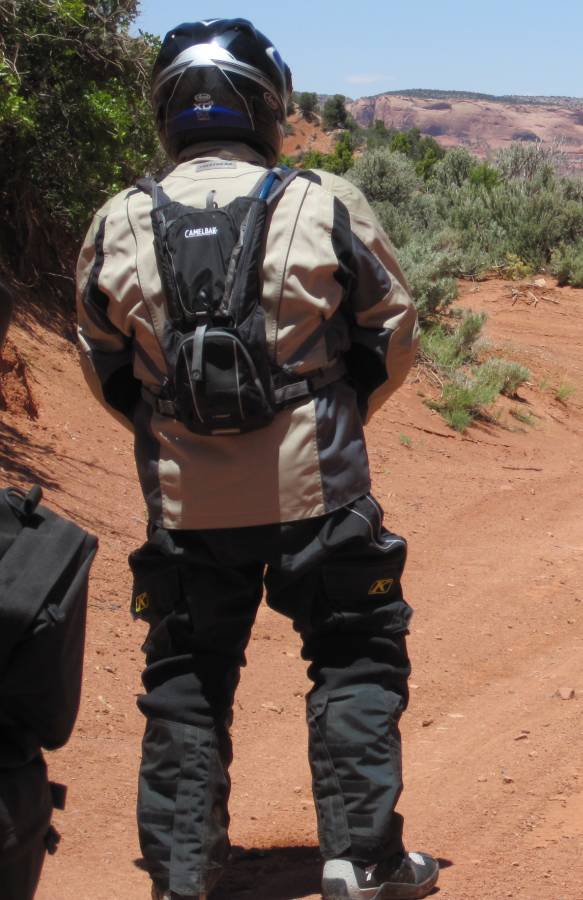 We had some very steep, loose and rocky climbs thru here and kept our bikes in 1st and 2nd gear a lot.
A downed tree in this section would have stopped us cold.
I video'd the hard stuff in here----but have no pictures--just hangin' on.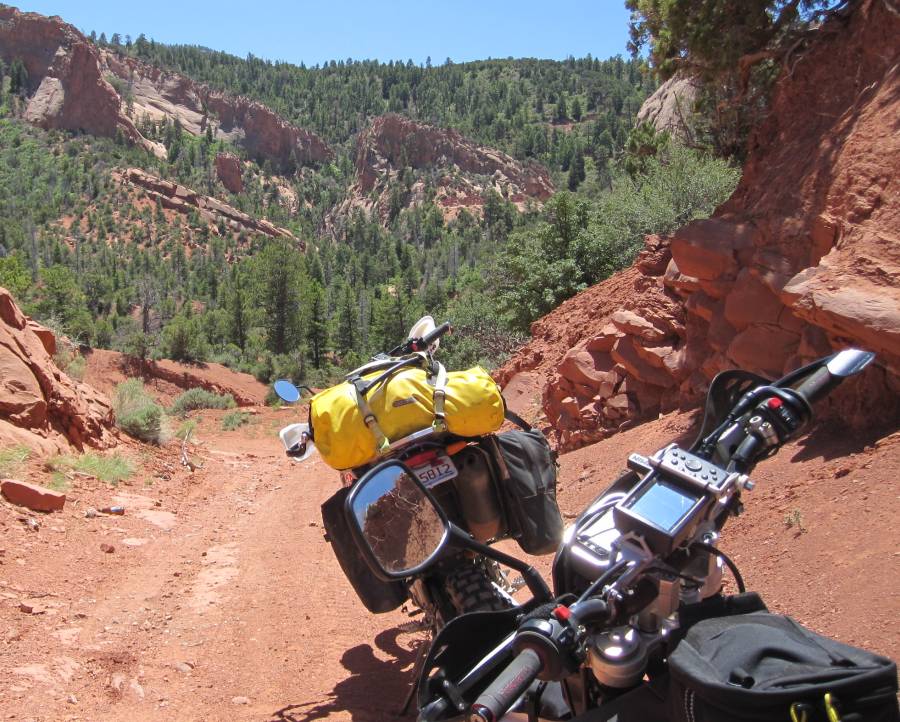 We climbed and climbed South toward Canyon De Cheely National Monument and rode for I bet 15 miles on a very high and cool
mountain with beautiful green meadows and many lakes. It was beautiful and Marty said he never saw anything so beautiful in his life.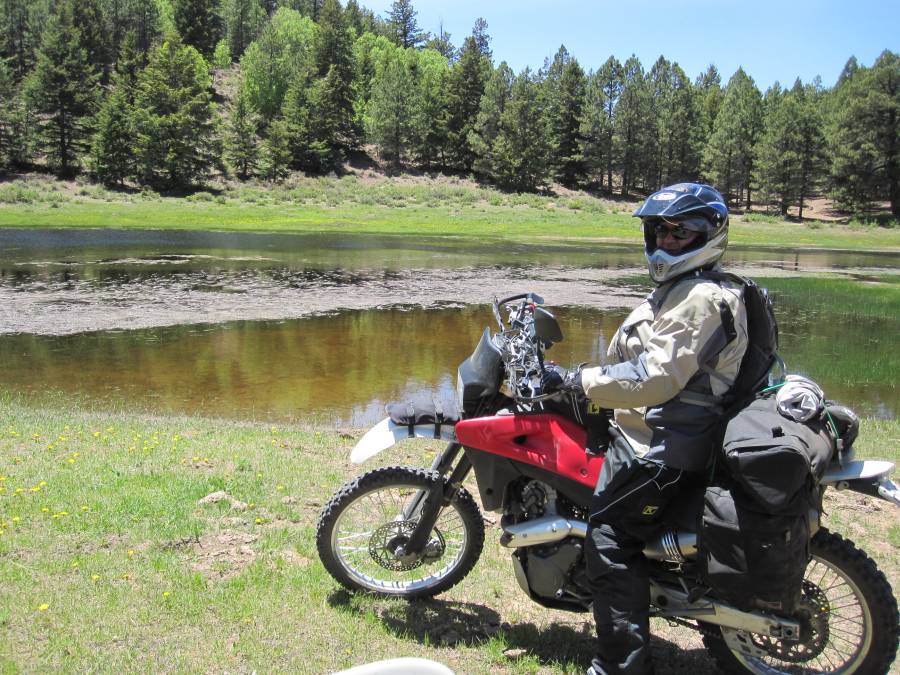 We poked thru here with our jaws dropped and searched for bears.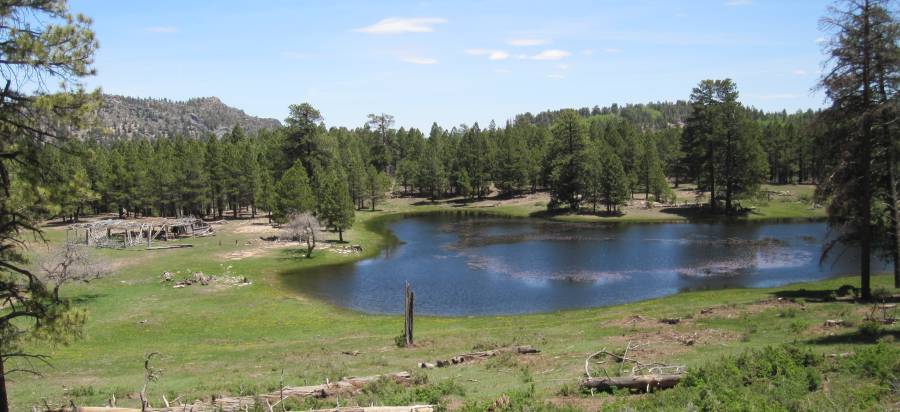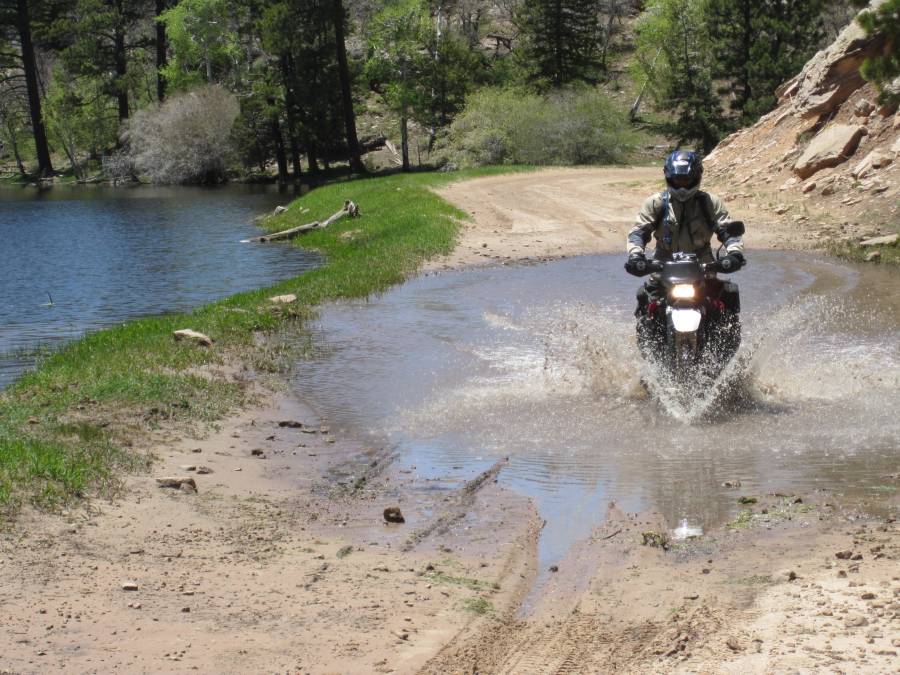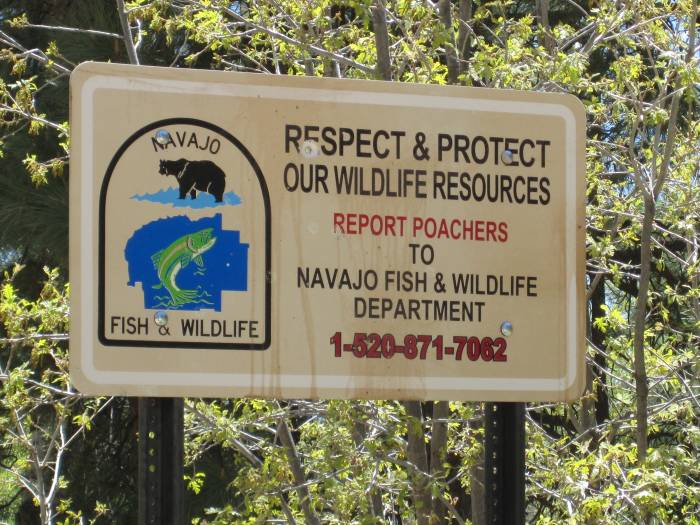 This pulloff off the main road put on on a ledge to a beautiful meadow.
We were in the shade--the weather was perfect---I was with my son--and we were hungry.
I whipped out my jet-boil and educated my son on the finer things in life.
Freese dried food ----heated with boiling water out of a jet-boil.
Marty had been living the high life for years--I didn't know how he'd take this.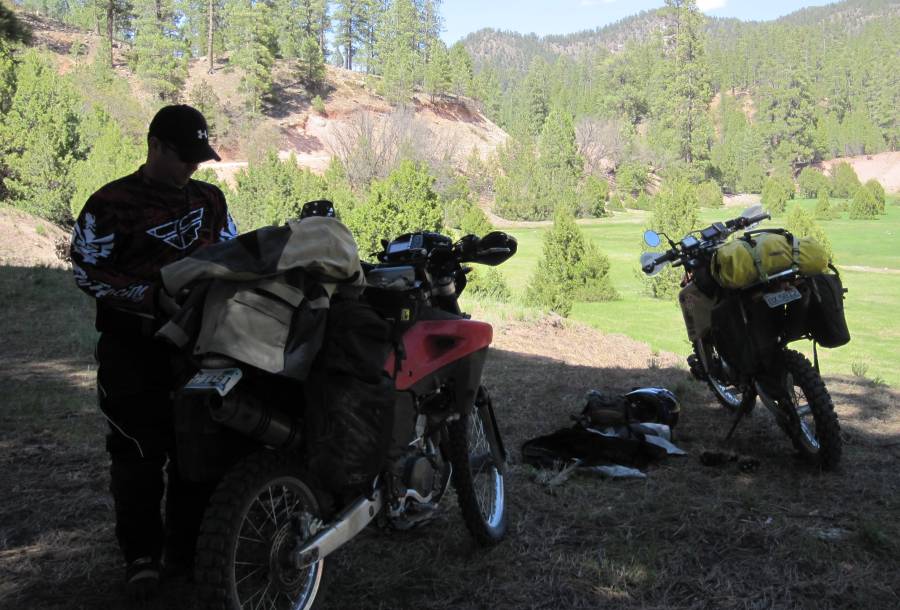 We both wanted to camp here--but alas---it was only 2PM.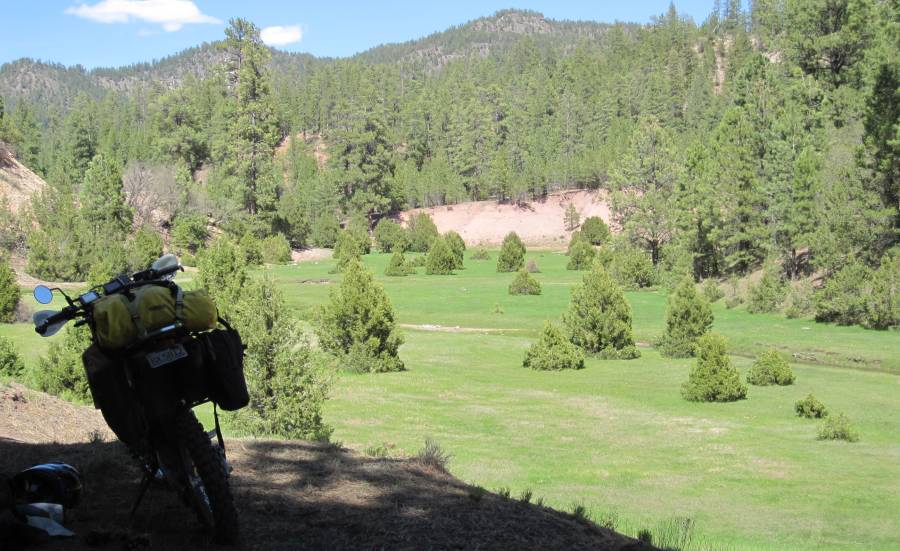 I veered off my routes somewhat and wanted to ride the rim around Canyon De Chelly Arizona.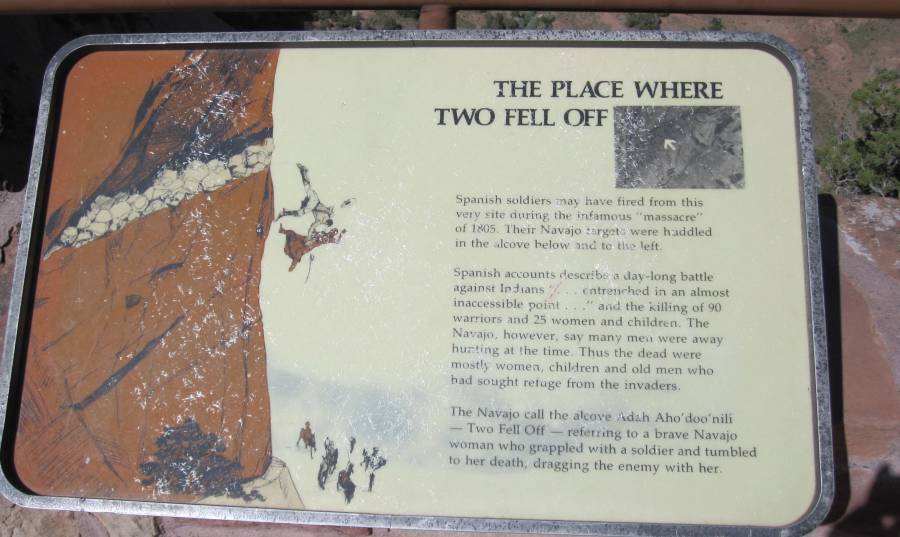 This is on the reservation--and if you want you can hire and Indian guide to accompany you in your vehicle down into the canyon.
I even heard someone---not me----got an Indian on the back of his motorcycle to ride thru the canyon floor.
Yeh---it's a "Long Way Up" alright.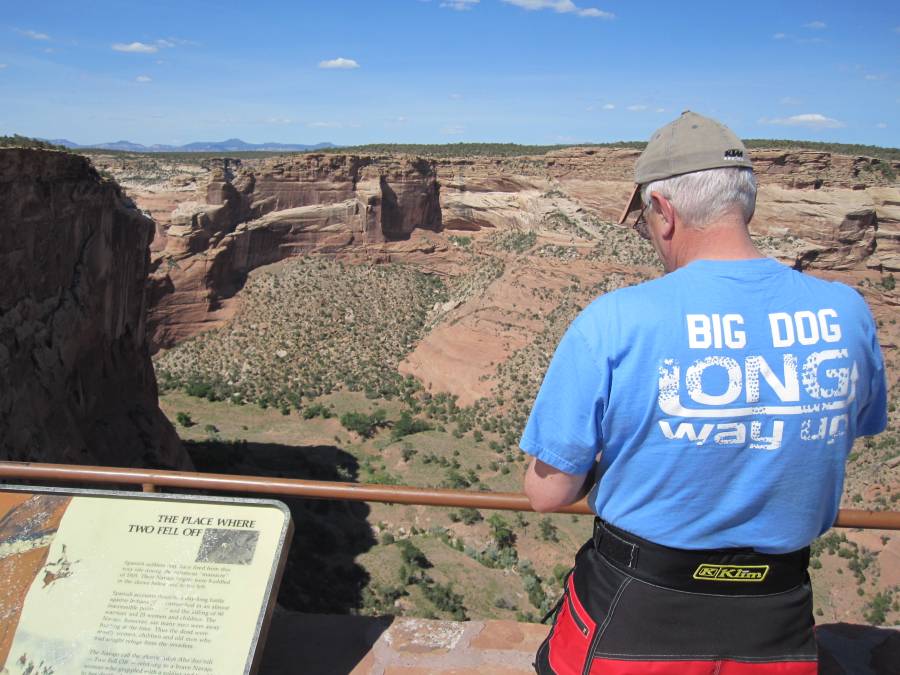 I'll let the canyon do the talking.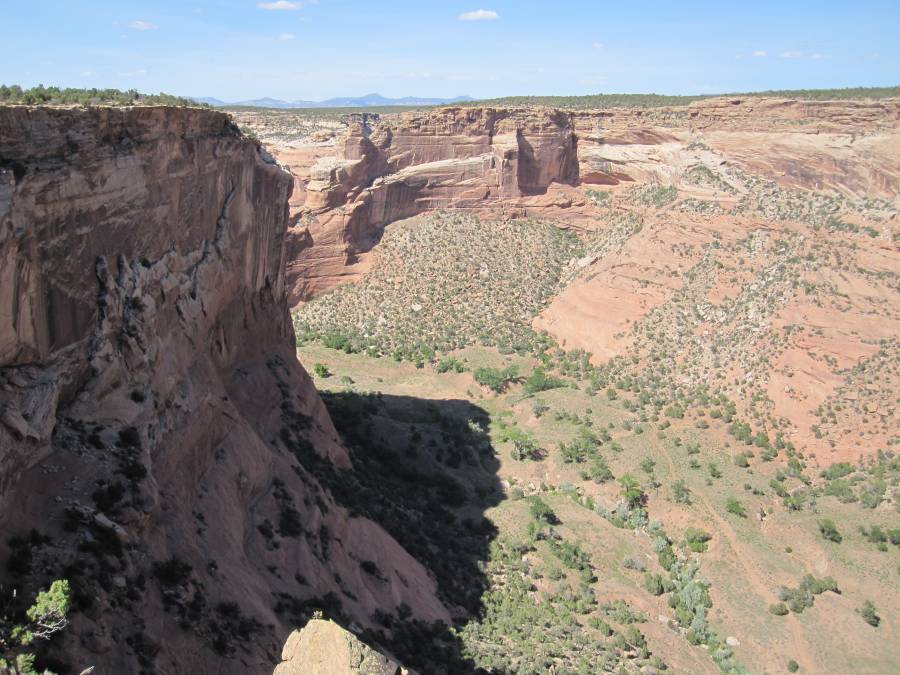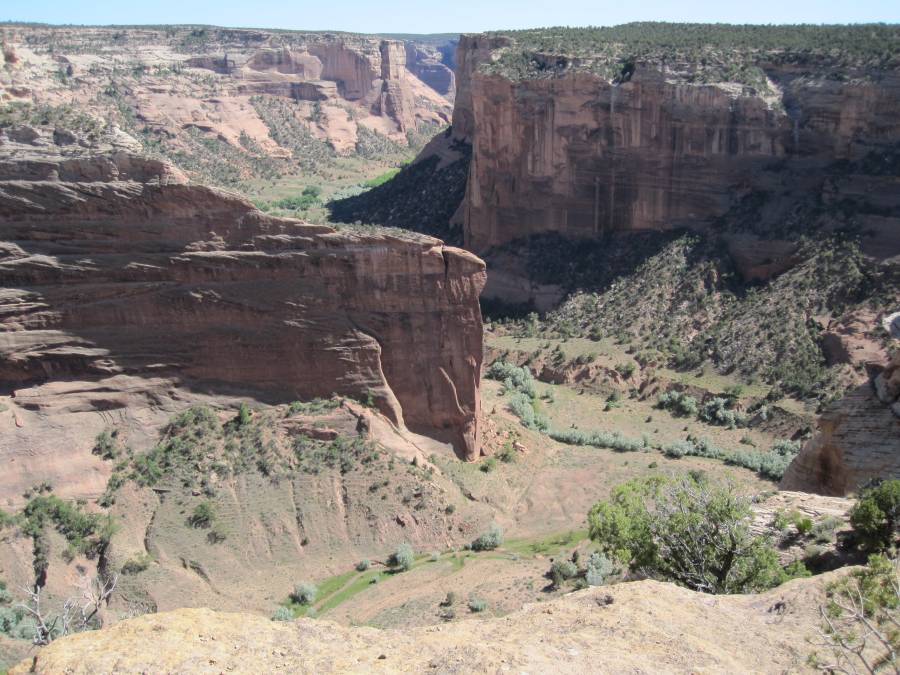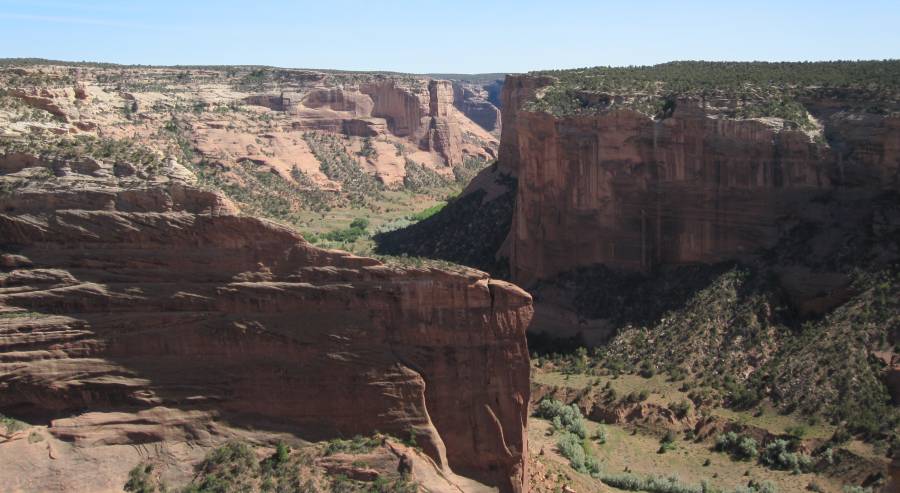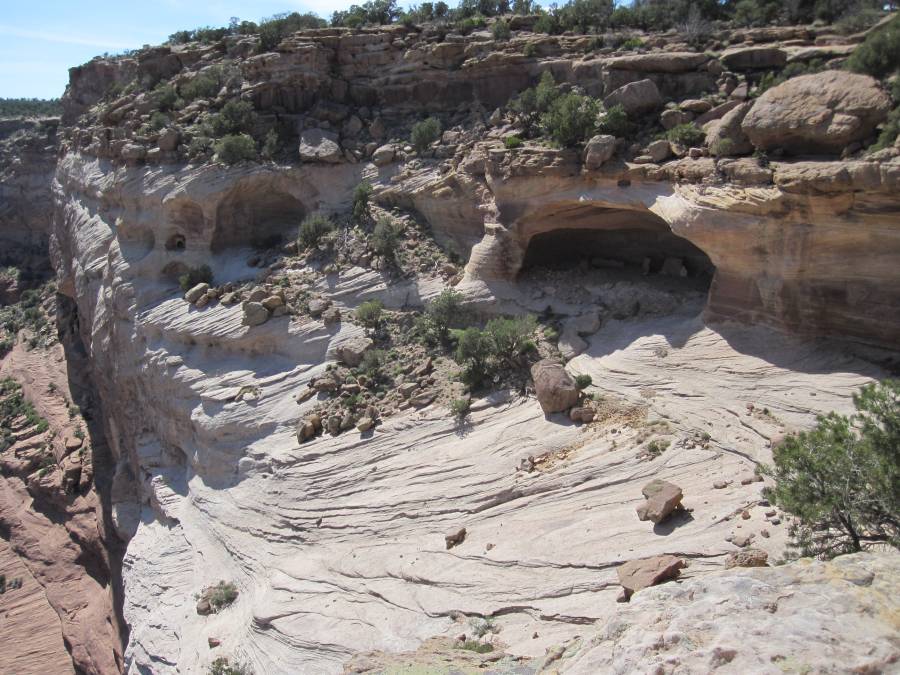 The thumbs up is a father and son thing----remember Fonzy ????----EEhhhhhhhhh.
If you don't know who Fonzy is----then you'll never understand.
I had Marty doing that when he was probably 2 years old---back when I was a Harley rider.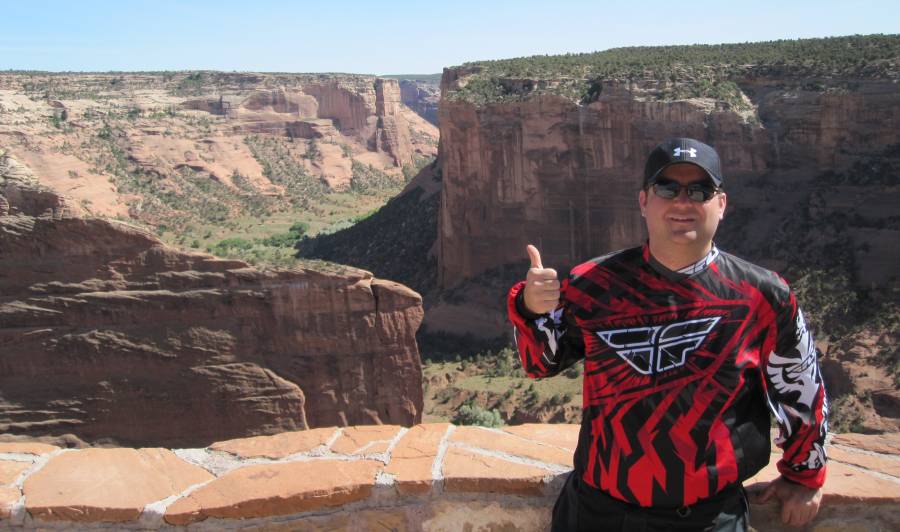 We met a full blooded Indian mom and her daughter at the canyon rim and I luckily remebered my wife Debi always wants me to get
something special for her when I'm on one of my rides. She loves jewelry--what woman doesn't. Me and Marty got her several nice things---
this would bide us more time on the trail. The little girl said she made everything on display.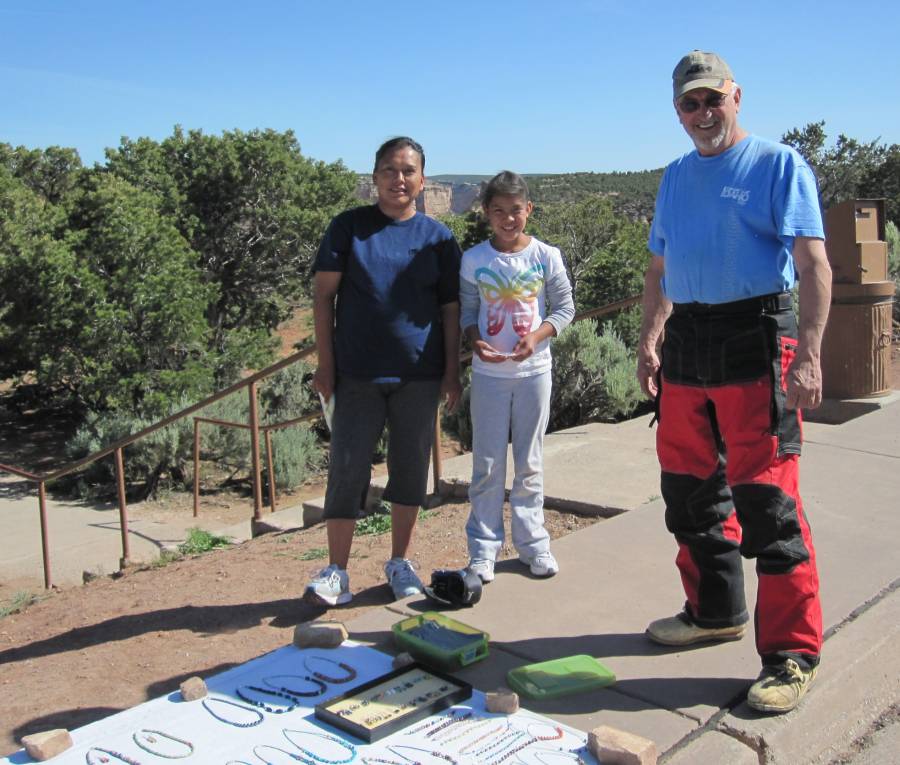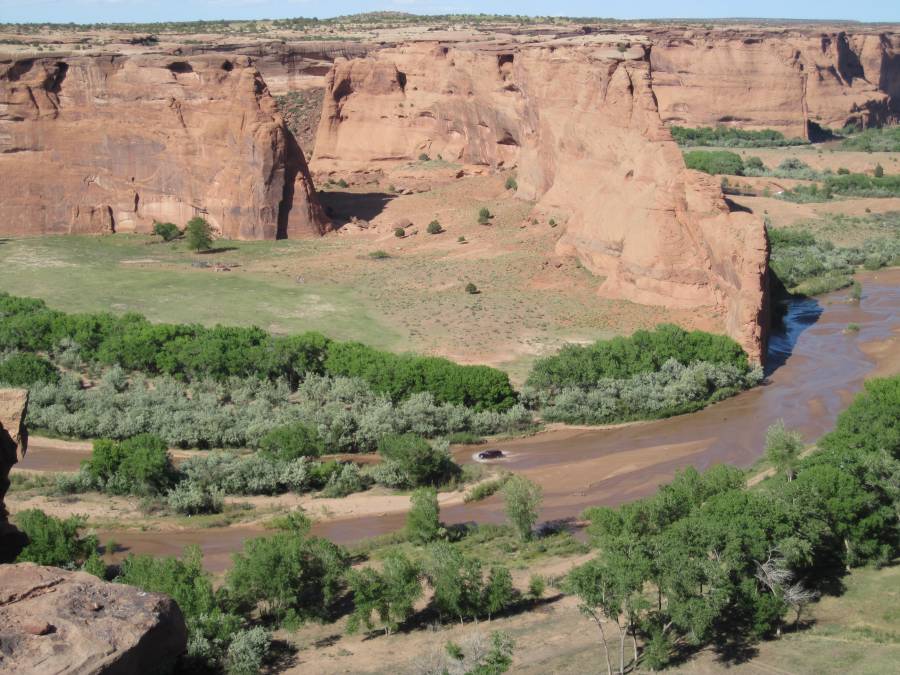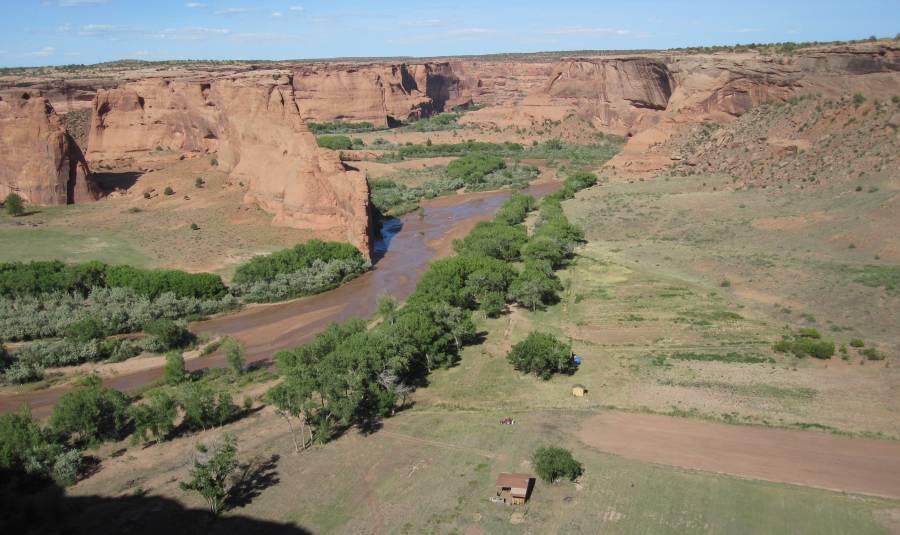 Just South of Canyon De Chelly I saw a waypoint I had put down called "Fluted Rock"---well he it is.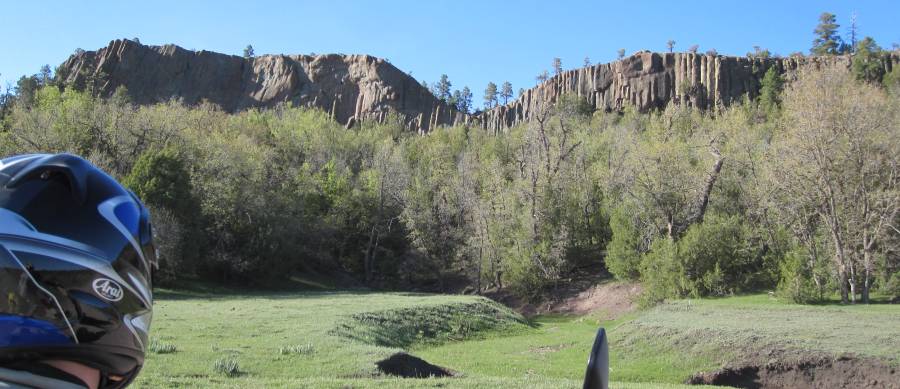 We rode Northeast thru the tiny town of Sawmill--back into New Mexico--then South on BIA-12,
then Southwest back into Arizona on a route where I was just winging it. This little red dirt road was awesome.
I wing it a lot--cause remember officer-----I don't know or care where I'm going most of the time.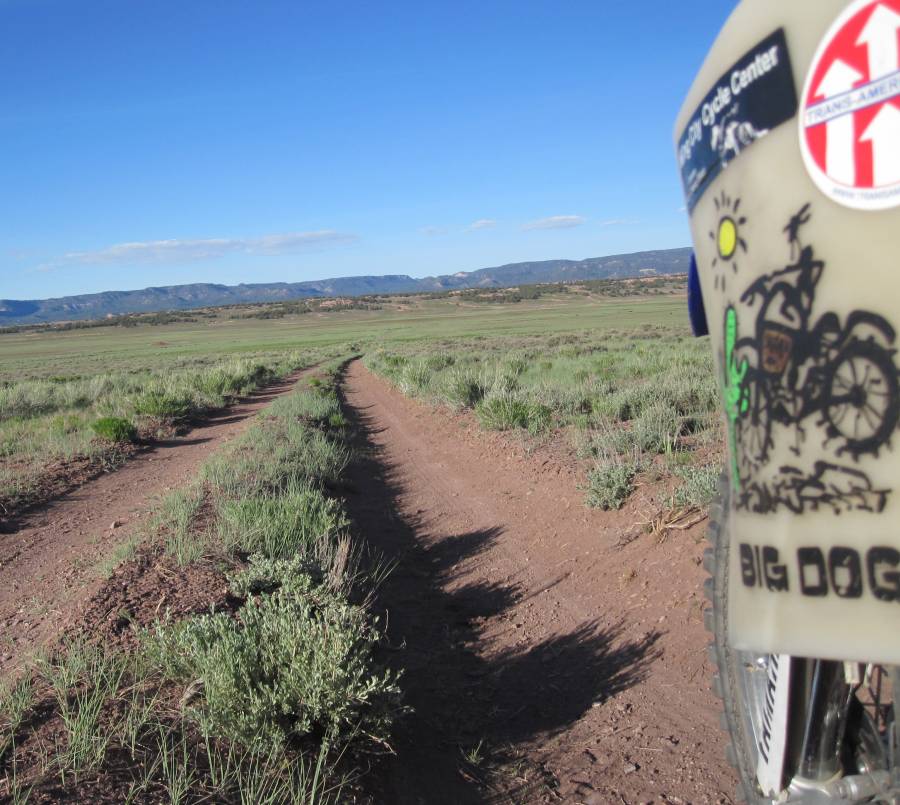 We rode thru that forest in the far distance---crossed that wide meadow---and came to a very deep dried up creek I didn't think
we could cross, but we did--again---so glad I didn't take the 950.
The road was almost gone---and I feared private property or a locked gate after many miles of tough but good riding.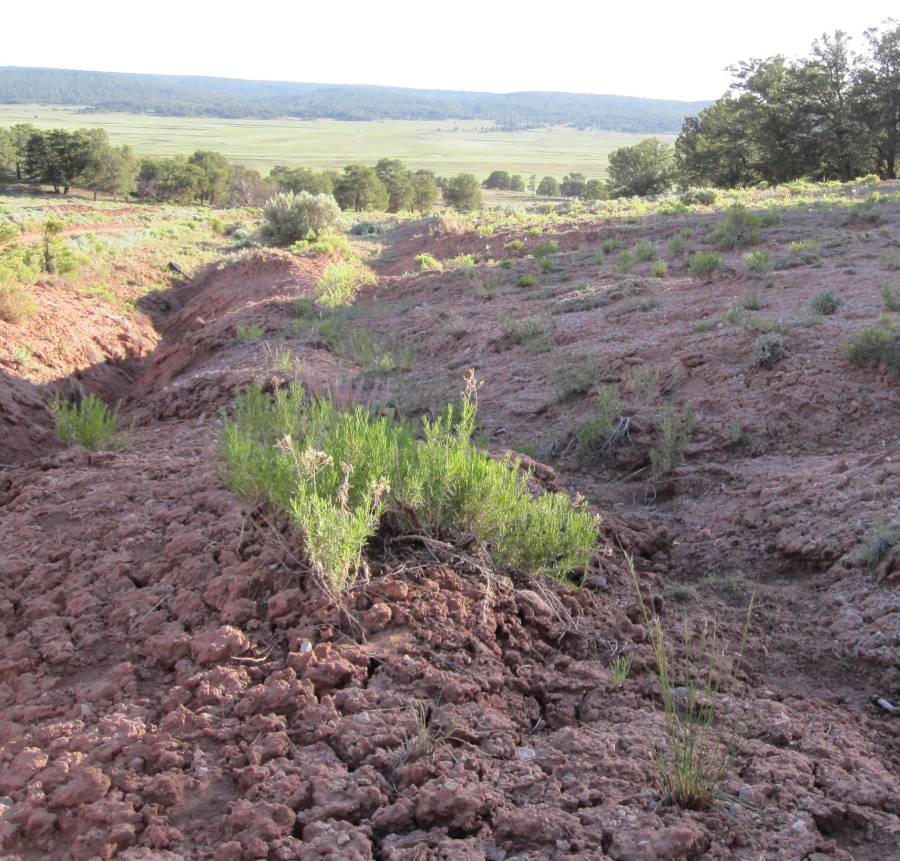 There's Marty at the top of the hill on that so called road---we hit a main dirt road here and I was so glad we
didn't have to turn back-----and if you know me------I hate that.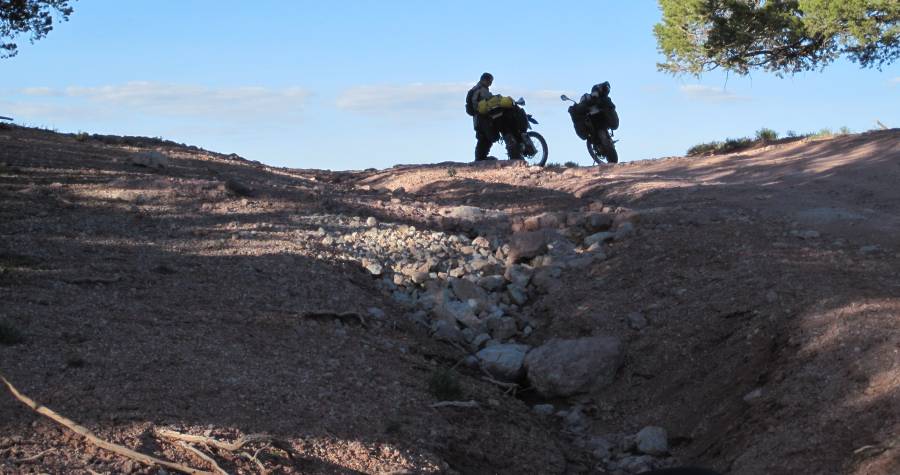 We did find this before we hit the main road--but it wasn't really locked---I thought we were done here.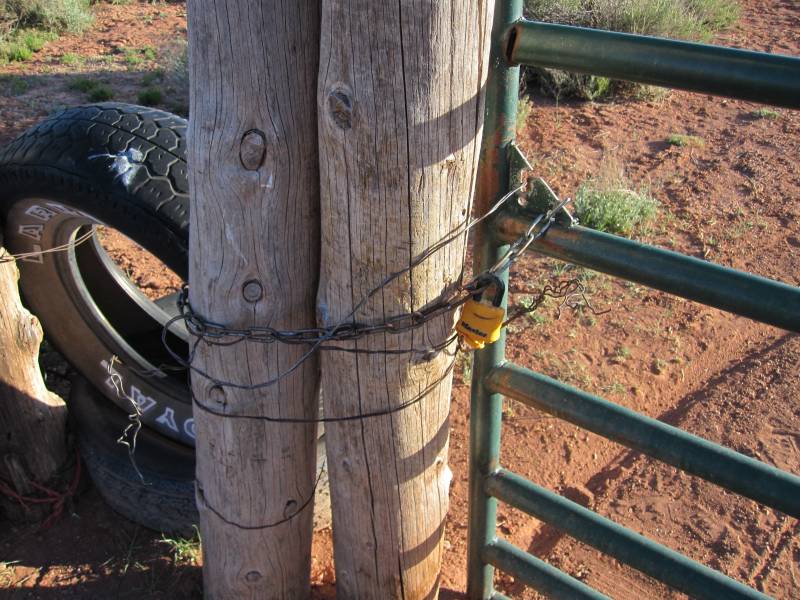 I like this picture------father and son shadow.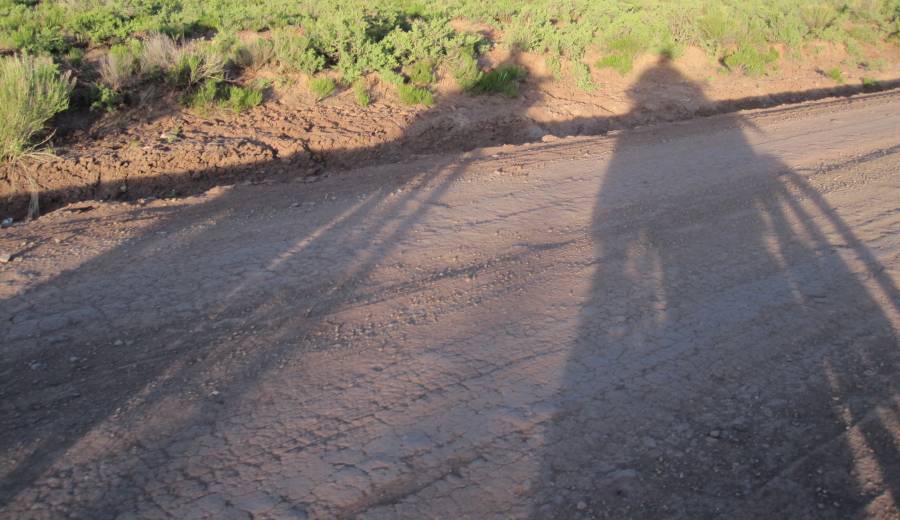 I had seen a map in a store where we got gas---I don't use the things--but spied a picture on the cover that looked just like this thing below.
I asked----"where is this--and what is it"
Why that's "Window Rock"
I then asked "Where's it at" ?????
"Window Rock you Southern Illinois hillbilly"
So off to the town of Window Rock we went as I kept scanning the horizon as the sun set for the rock.
I spied it and made a you---eeee (U-turn)--Marty calls them "Crazy Larry's"--forgot why.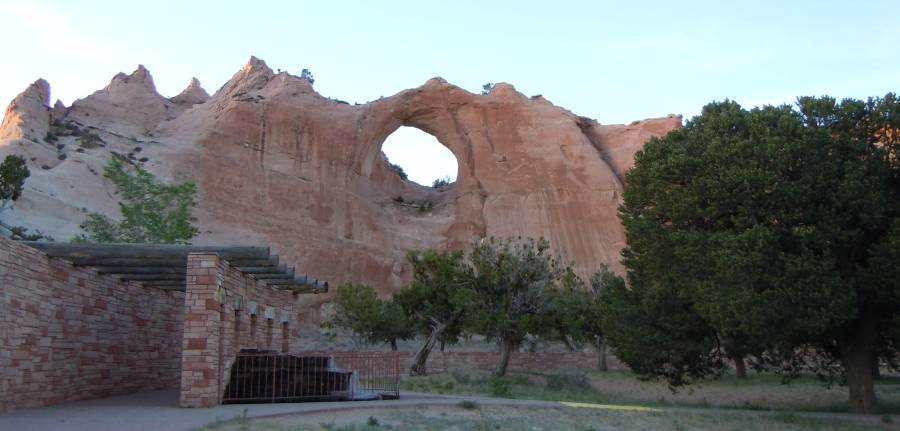 There's a monument there commemorating the Indian code talkers.
Marty knew all about this---as he was paying attnention in 4th grade history class,
and I was just interested in Lucy Montgomery's panty hose. Didn't know what they were--but wondered ???
Marty also said there is a movie about the code talkers---got to watch it. He's so smart----I'm so dumb.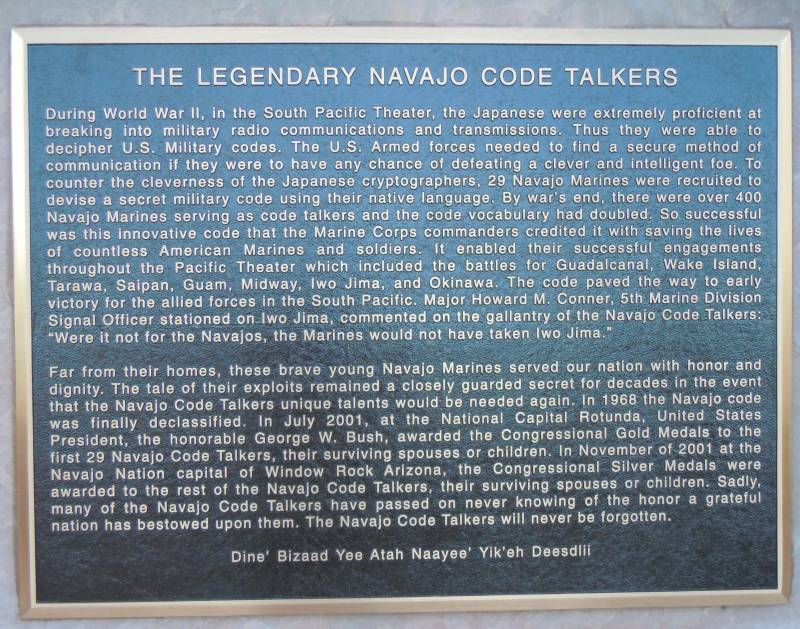 It was a very long day today and was almost dark---we slid into Window rock sideways, dirty, smelly, hungry,
and I asked Marty----"Did we do everything we could have done today" ??????
Yes "WE" did.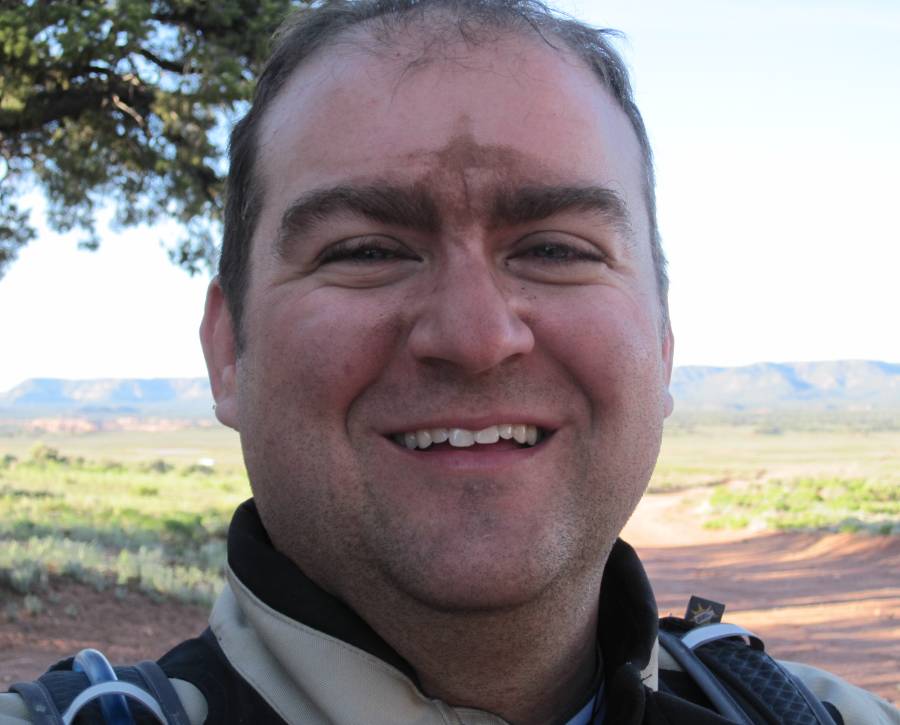 Marty was amazing me---it would get late in the day--maybe 5PM and I'd ask if he'd like to hole up somewhere.
"Heck there is 4 hours riding time left dad--let's go"------OK !!!!
June 3, 2010
We headed West Then South on this BIA road---I was going to wing it kind of East then
and intersect the Continental Divide Trail which I hadn't been on since I rode it in 2004.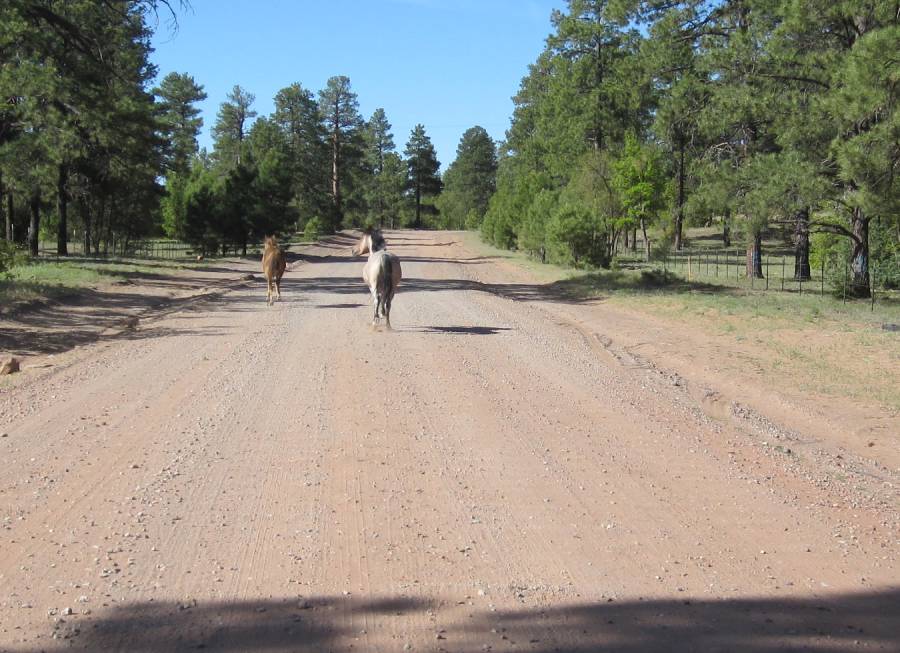 Lot's of tough decisions to be made today.
We laughed all the time because neither of us had a watch and never knew what time it was or what day it was. Didn't care.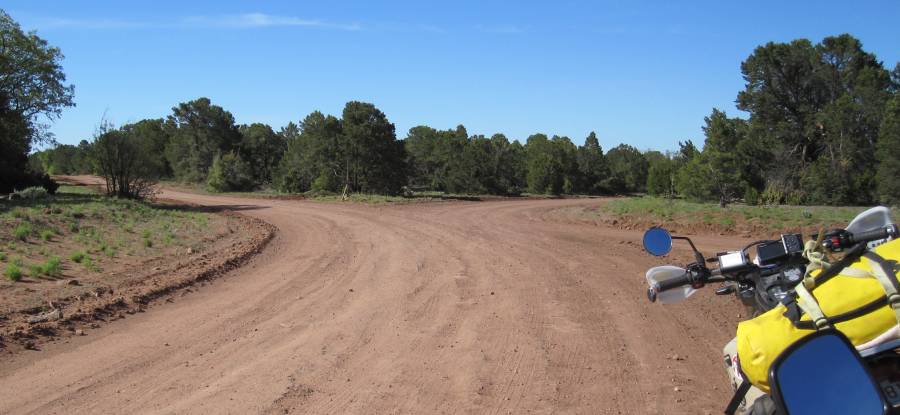 Marty was eatin' quite a bit of dust---so I tried to help him out.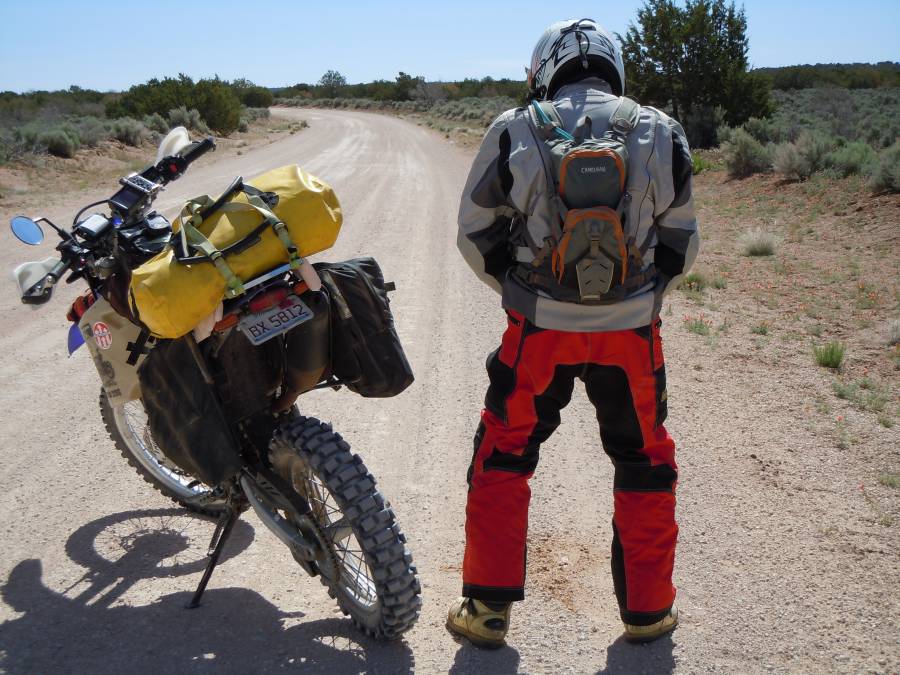 Marty's gettin' the feel for "winging it"
We viewed this bridge from far away and didn't see where the road went under it.
But could see it didn't go over it from the distance.
Marty found the way as I thought we'd have to turn back.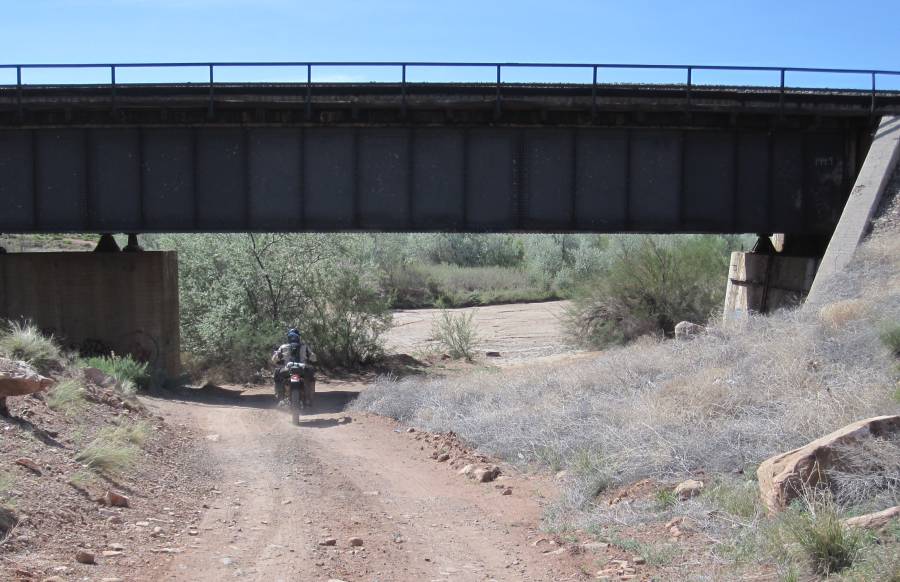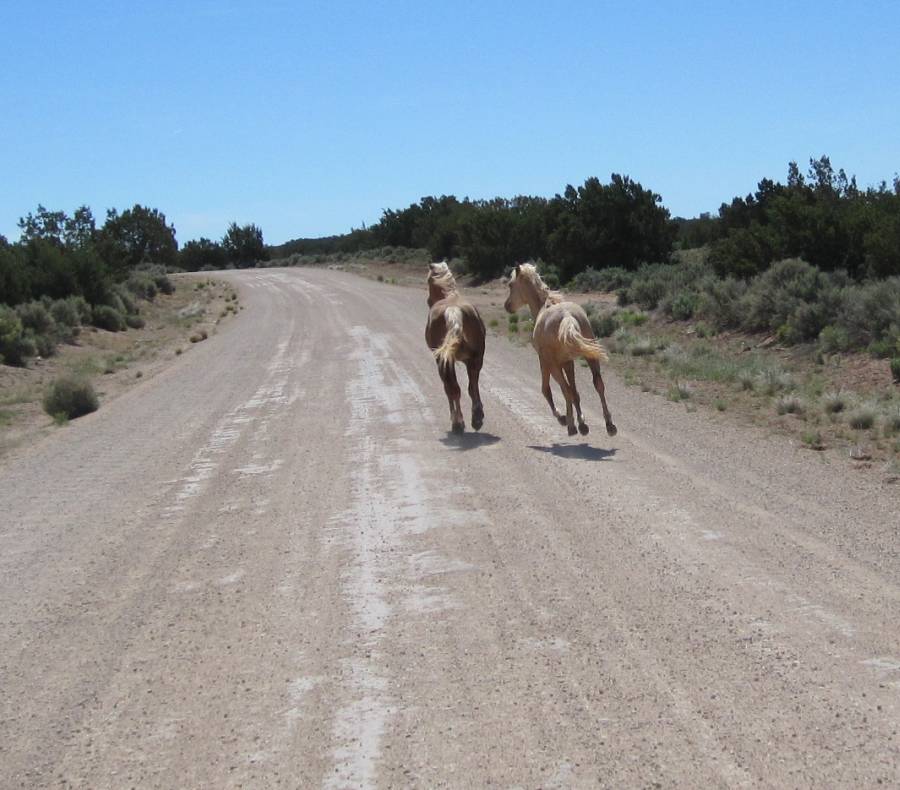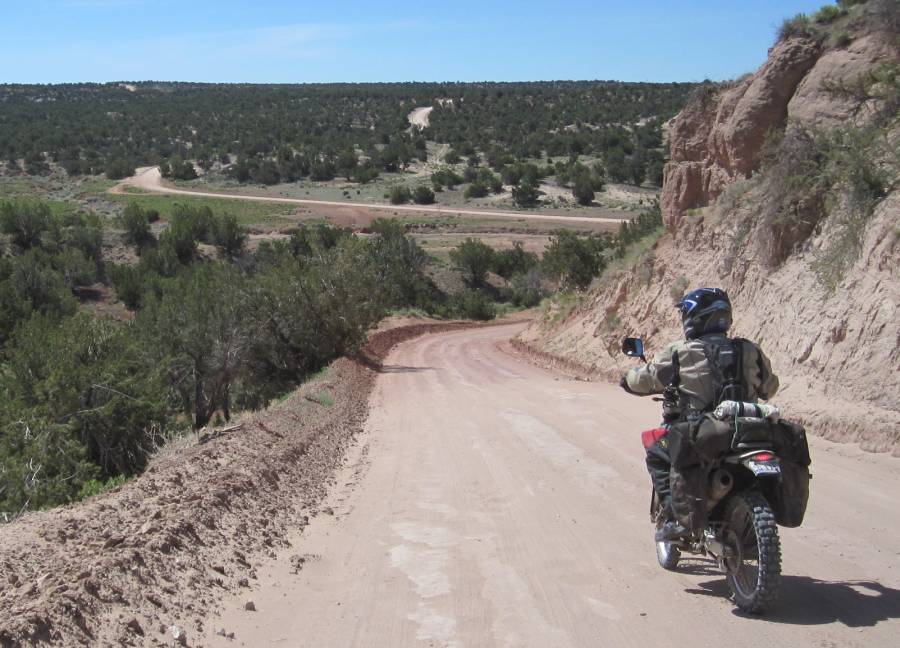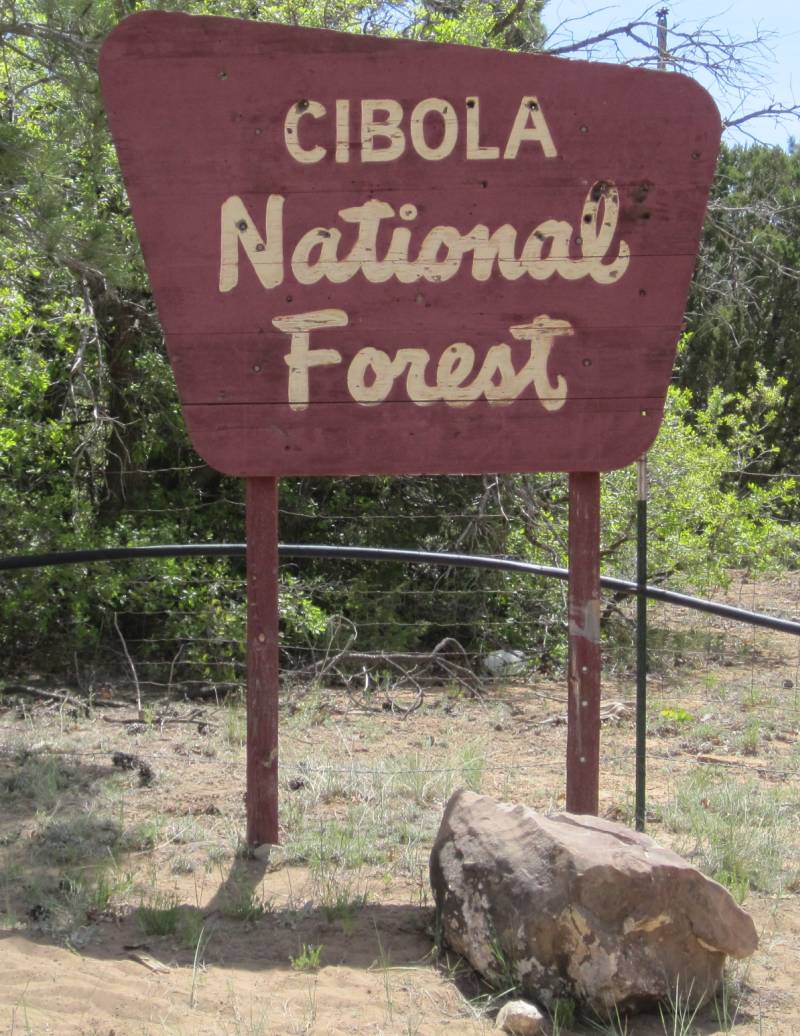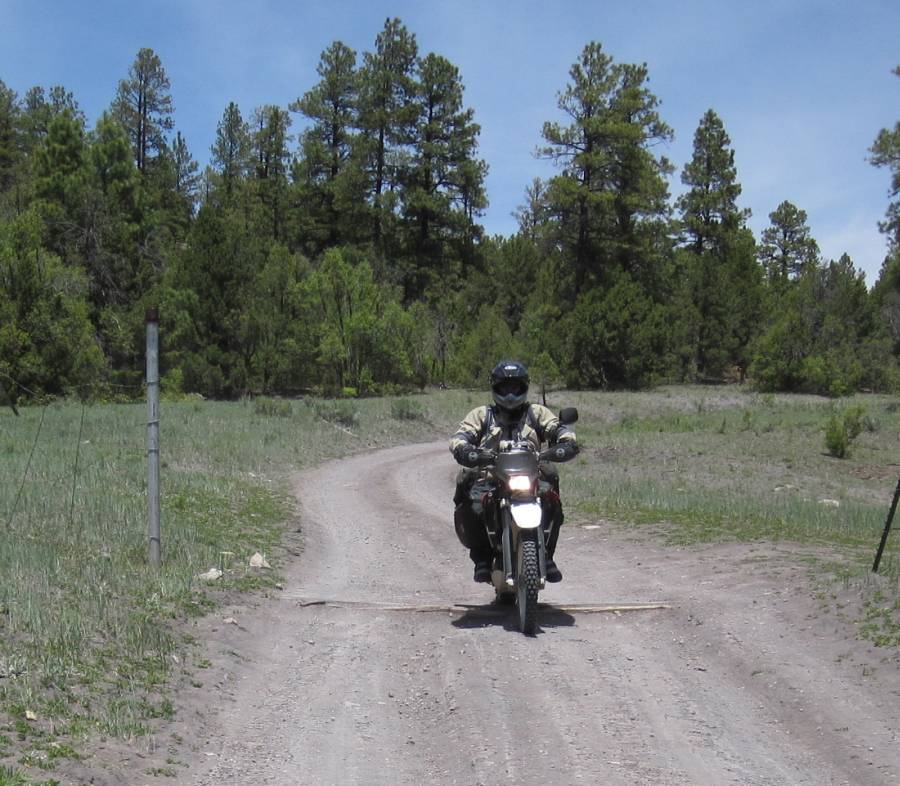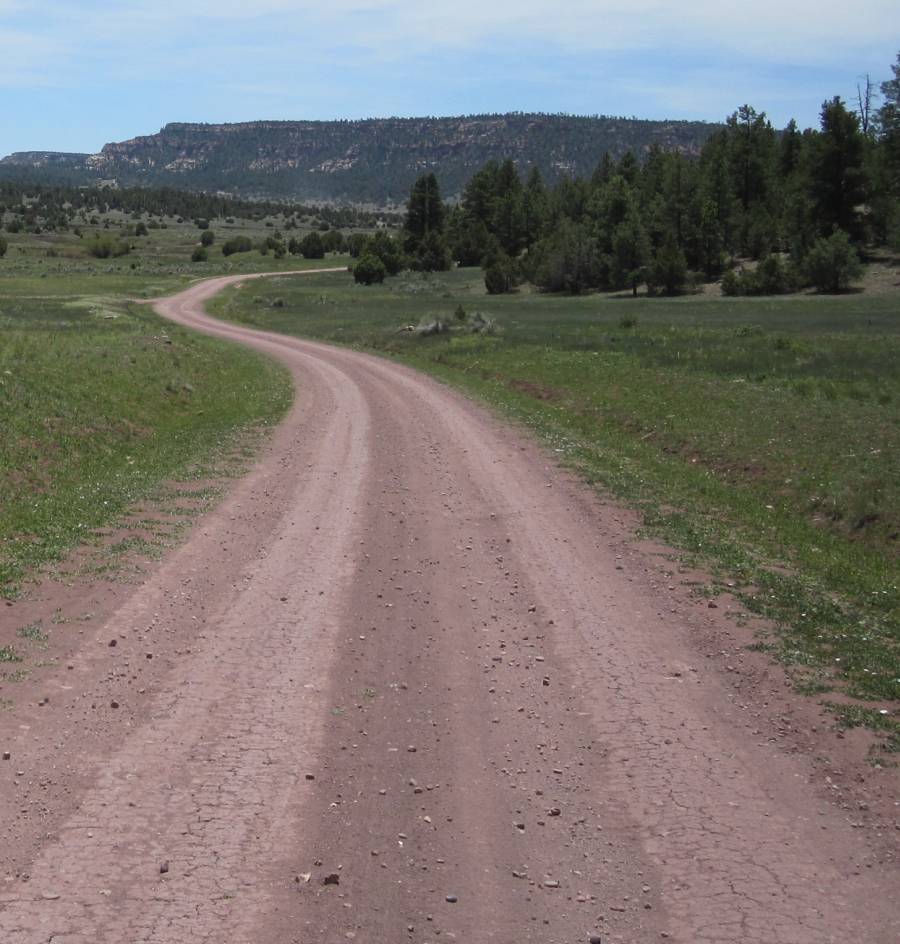 Not to far Eat of Grants, New Mexico we rode thru Zuni Canyon. Deep Canyon walls on both
sides of the road---Marty loved it thru here. Marty would have given it 2 thumbs up--but then
he'd a got thrown off the back of his bike when he let the clutch out.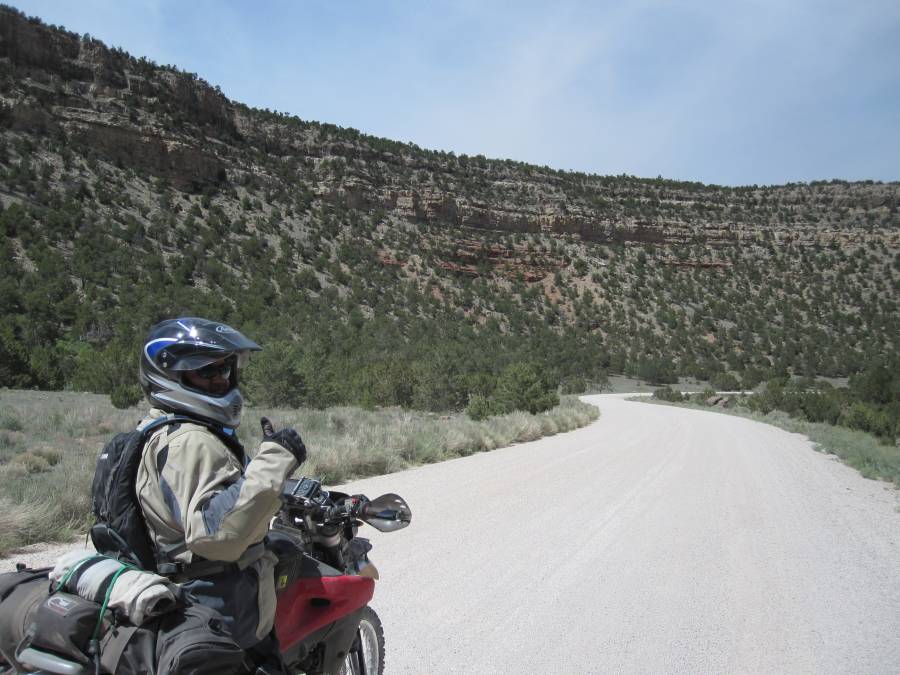 Crusing down into Grants, New Mexico where we would intersect the Continental Divide Trail.

Again I asked Marty if he wanted to hole up in Grants--he wanted nothing to do with that as
there were 4 more hours of daylight left. We are now heading North on the CDR trail and right out of Grants
Navigation gets tricky as you ride right thru a ranchers feed lot. The road just simply disapears here as
the cow trample the road into nothing but cow poop---so many riders coming thru here get really confused
and when I just simply rode right thru it and came immediately to a closed gate--Marty knew I didn't know
where I was going----but found out I did.
Here is Dado peak in the background.
Riding thru here Dado peak is always in your view for I bet 50 miles no matter which way you ride thru here.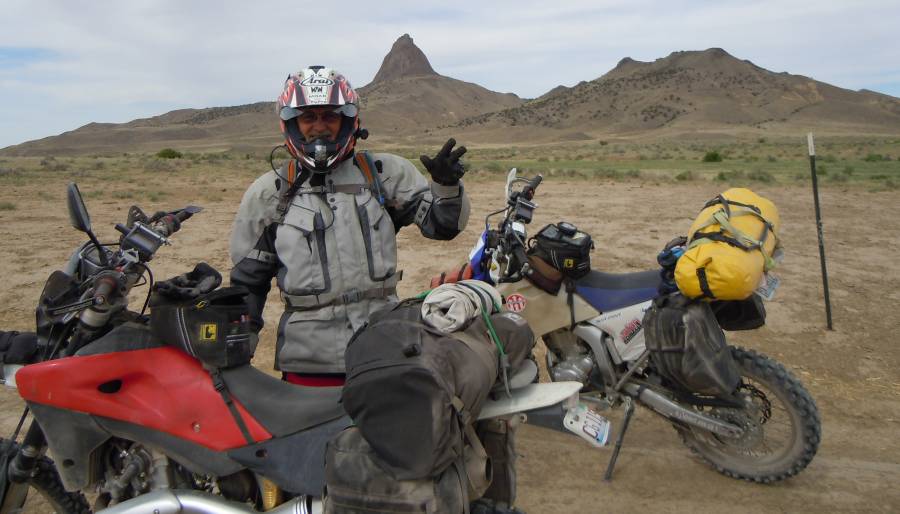 It is nothing but dirt our here for 60 miles and if it rains you ain't going no where---I don't care what you are riding.
We came upon this lone bicycle rider heading North to Canada.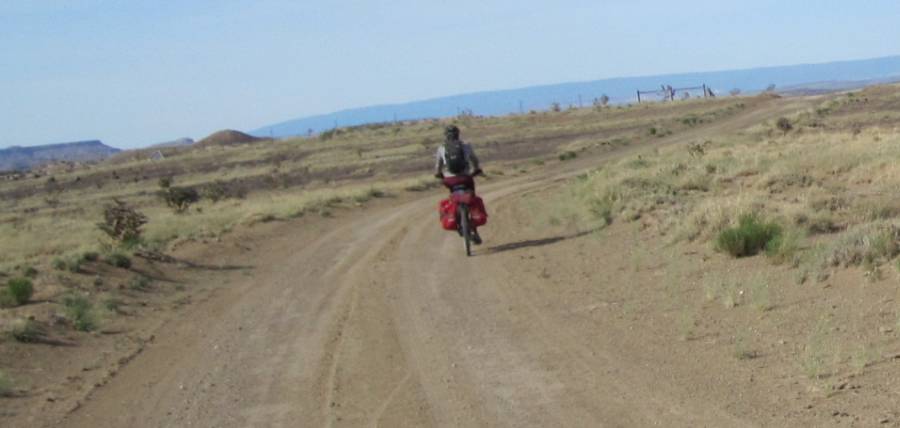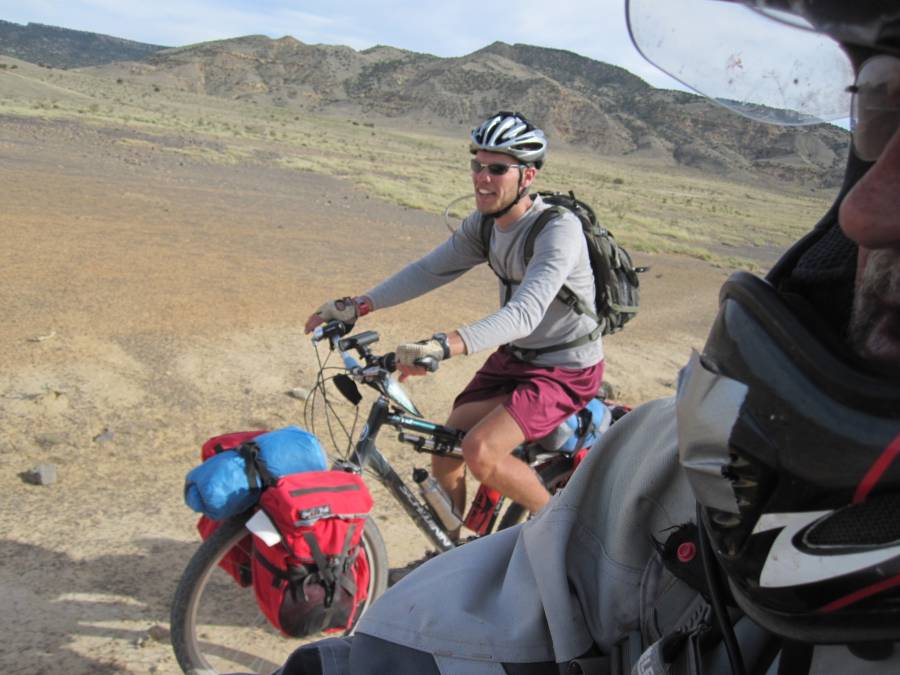 The CDR bicycle trail has been extended into Canada since I rode it in 2004--these guys were going all the way.
One guy was from Holland I think--we chatted for quite awhile and Marty was astounded at what these guys were doing.
I asked if they needed anything and they said they were fine and decided they would camp right here at this spot.
They had covered about 60 miles that day.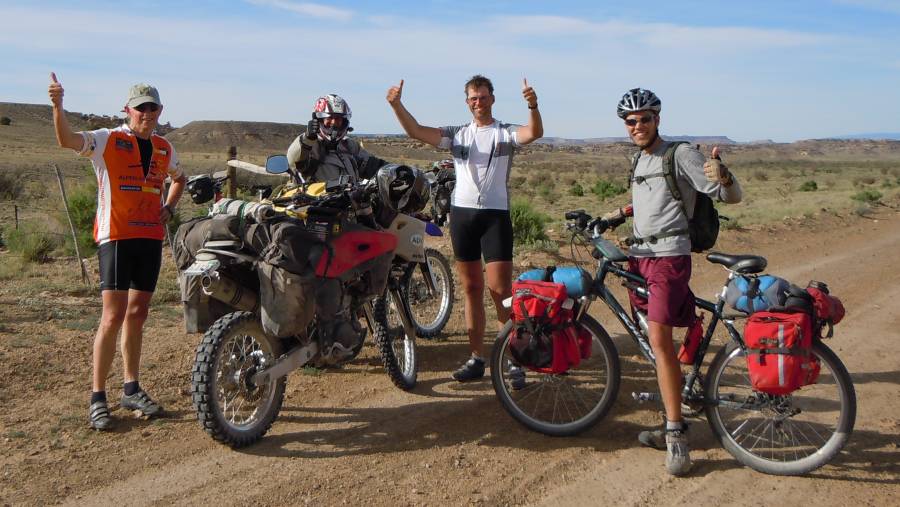 2 Thumbs up !!!!!!!
We ran fast thru here------get in one of those ruts gong fast and you will be tasting the hard dirt.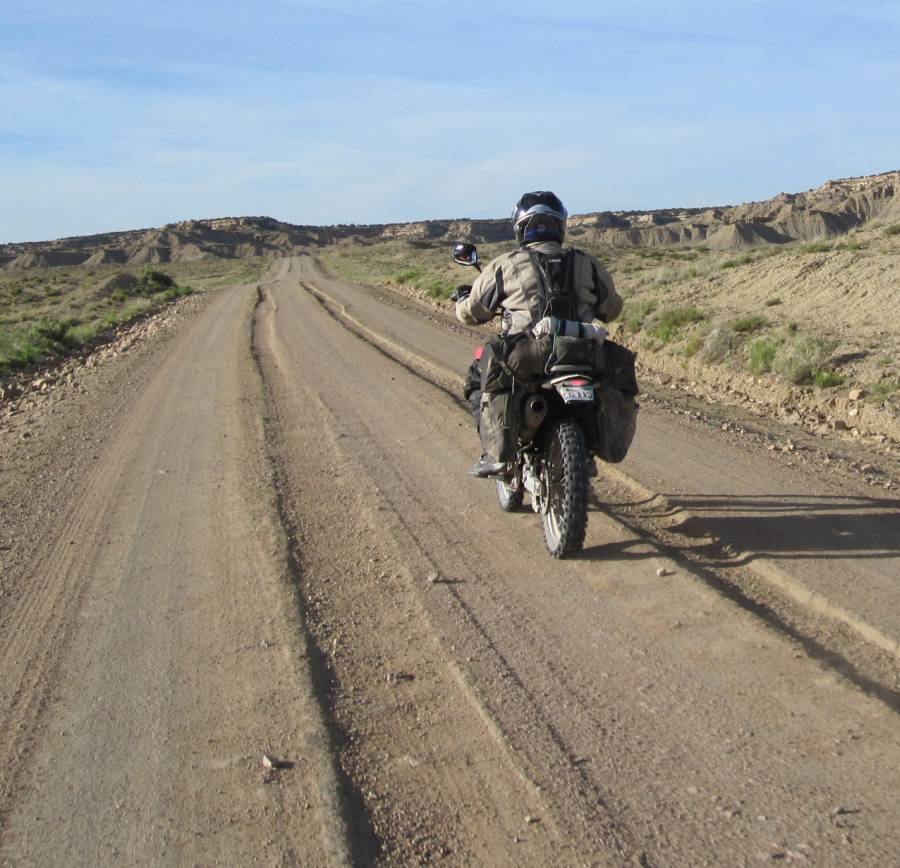 Marty's 2008 fuel injected Husqvarna TE610 was flawless on this ride.
We were both riding fuel injected bikes and the altitude never bothered either bike.
I haven't said--but we were usually at around 7,000 ft. on all of this ride---but get to 11,000ft. some.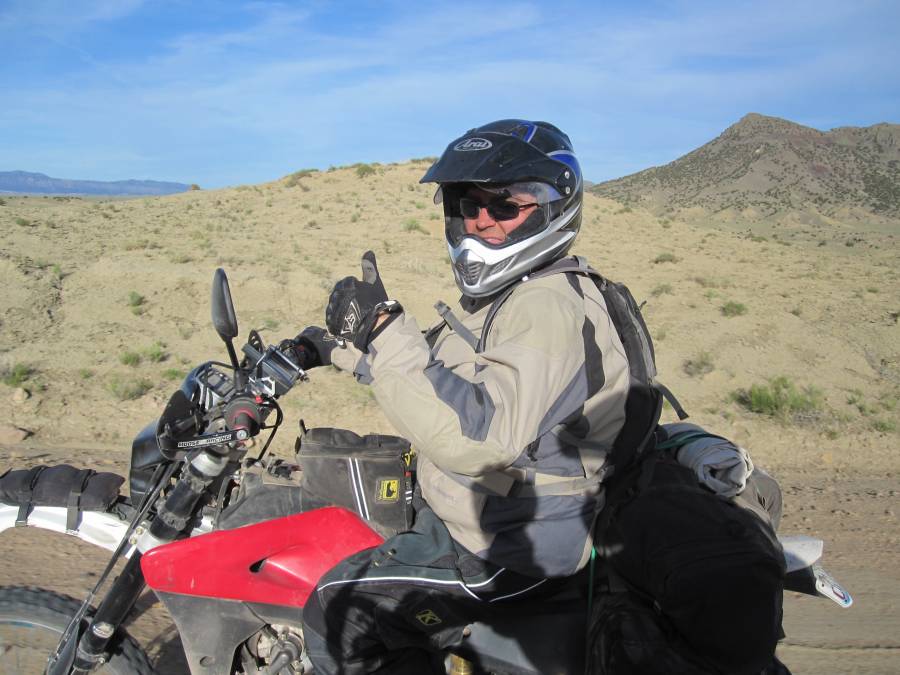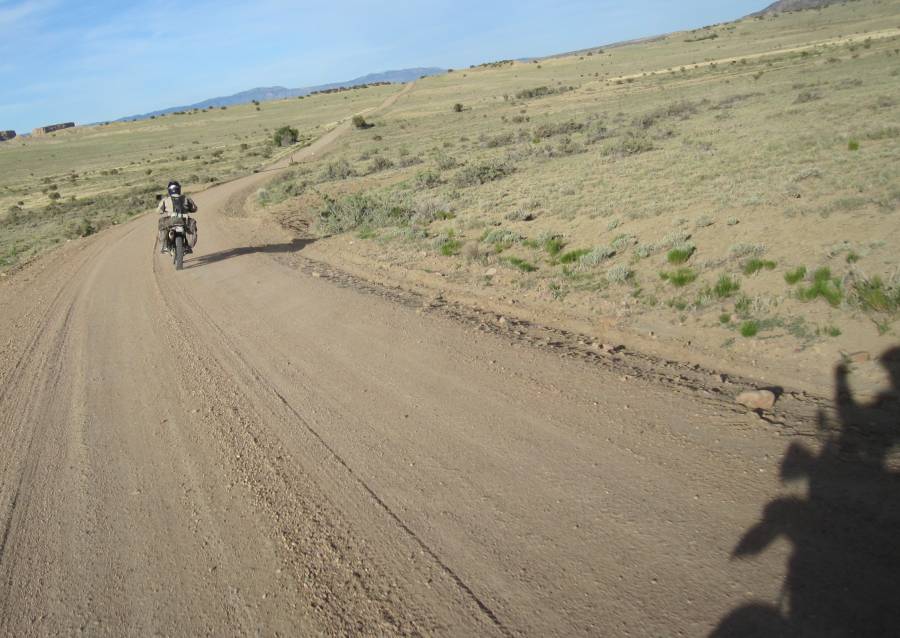 Marty was leading and riding fast-----he rounded a turn and barely missed the head of this huge rattlesnake.
We both were going way to fast to stop----but turned around for a closer look.
Well-------I looked a little closer than Marty did.
Neither of us wanted anything to do with Mr. Rattlesnake----but after all my travels I had not ever seen one.
What's that saying "Curiosity Killed The BigDog" !!!!!!!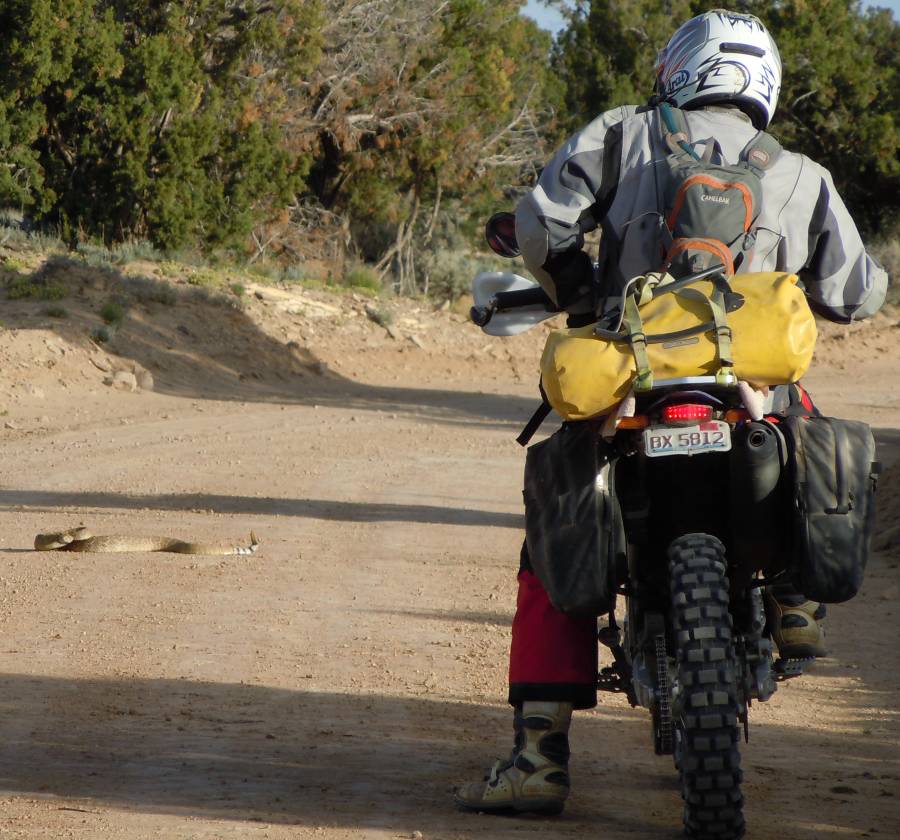 He was huge----and pissed.
Head and rattler in the air.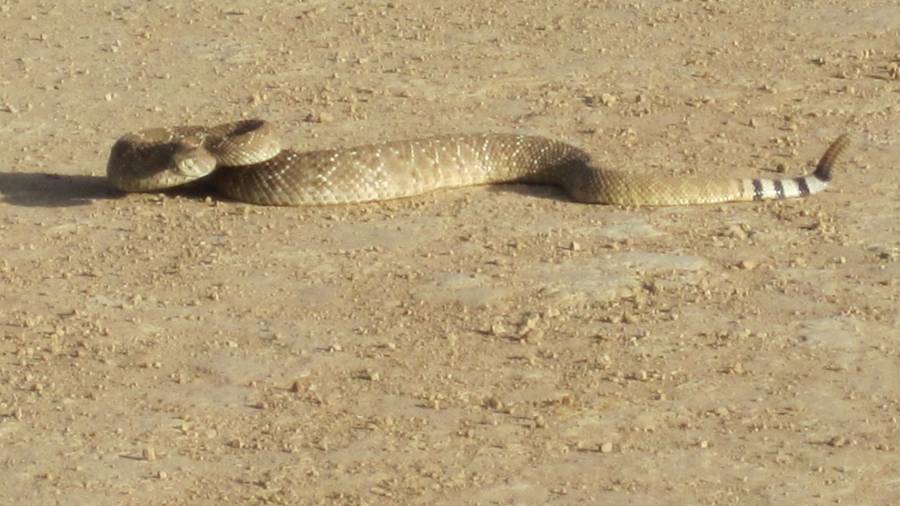 We ended up in Cuba, New Mexico for the night.
June 4th, 2010
The next morning after a hearty breakfast we continued on the continental divide trail---hoping to get
over Summittville---I wasn't sure if the pass was snow free yet.
Today we would encounter lots of snow-----but tomorrow much more.
10-----------10,00ft. of elevation that is.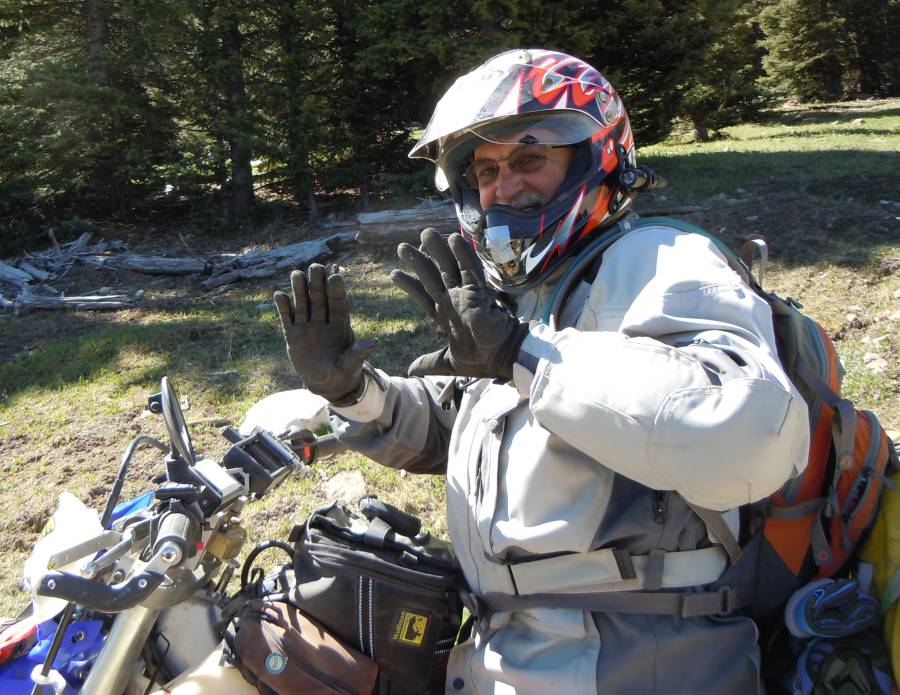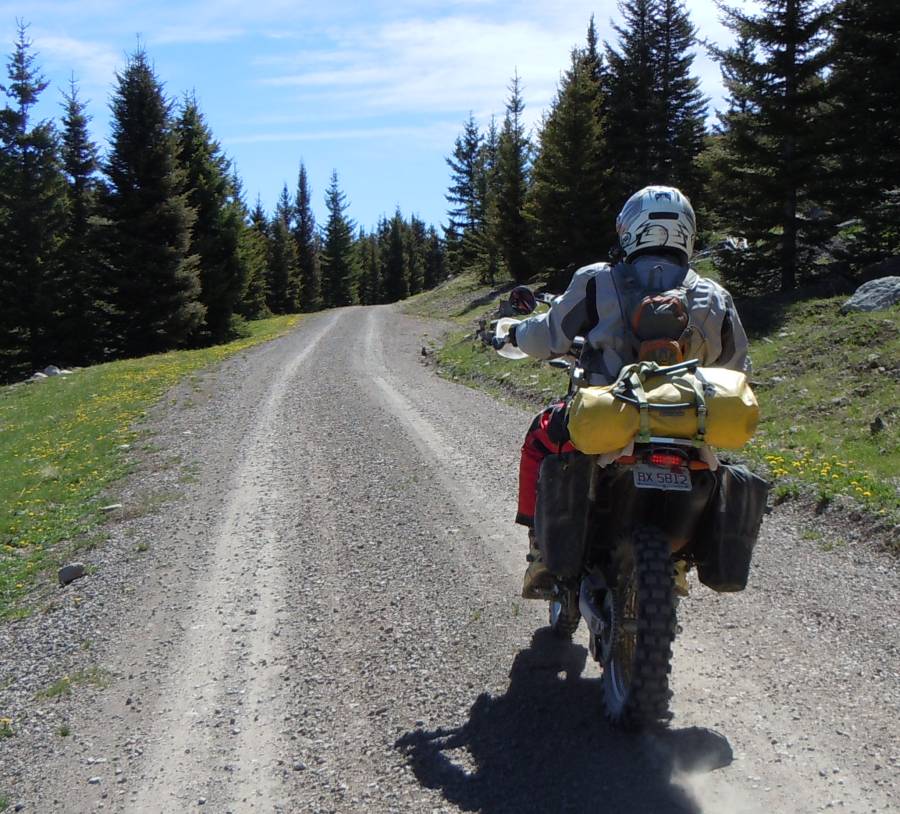 The absolutely most perfect campspot on the planet---someone had even cut firewood for us.
But it was way too early-----always is when you find the perfect campspot.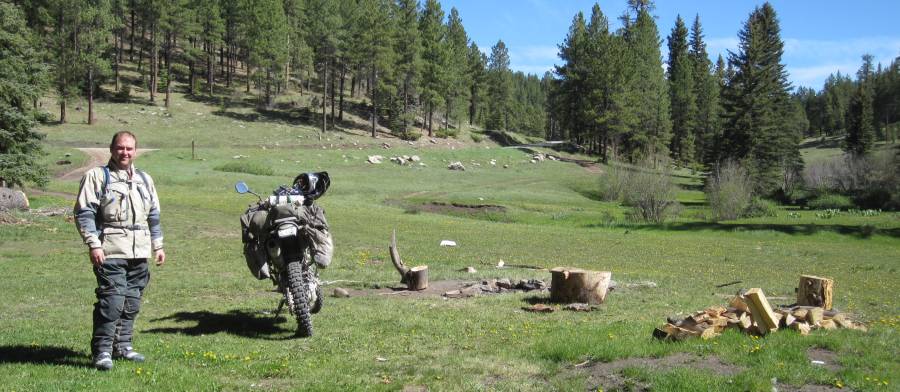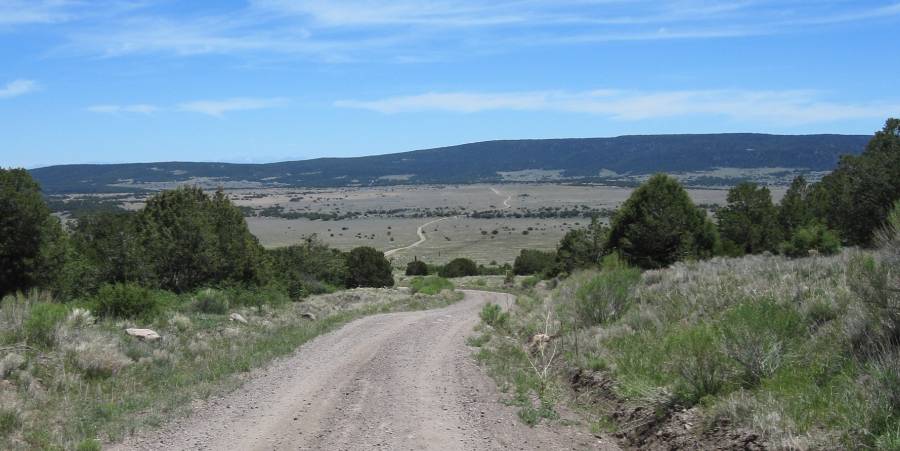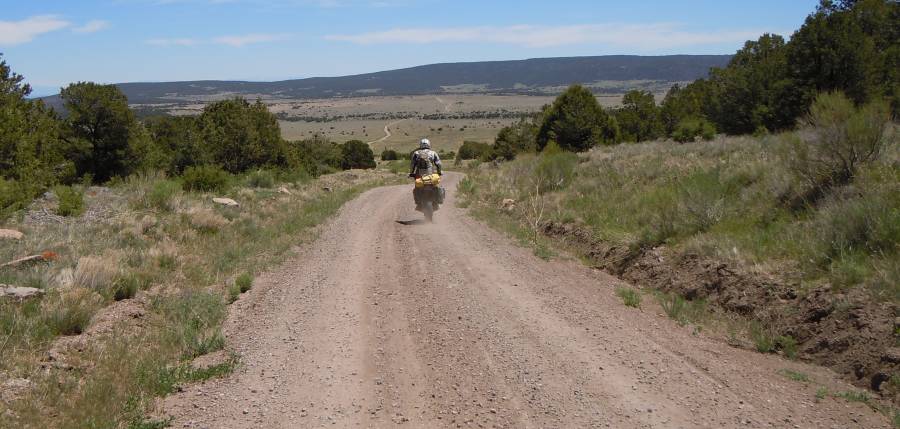 Now how good is this.
We had another jetboil dinner here-----chicken and rice I think.
So a nap was in order.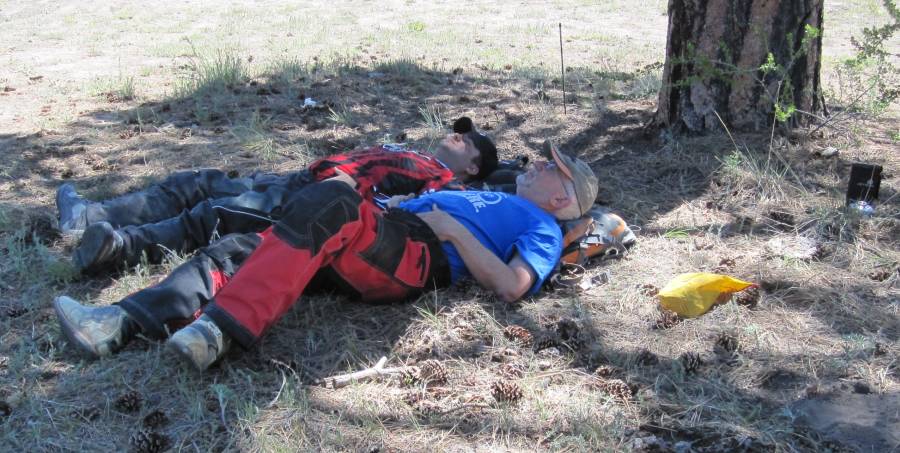 This picture wasn't on the ride---I got it out of the dictionary when I looked up the word------"Green" !!!!!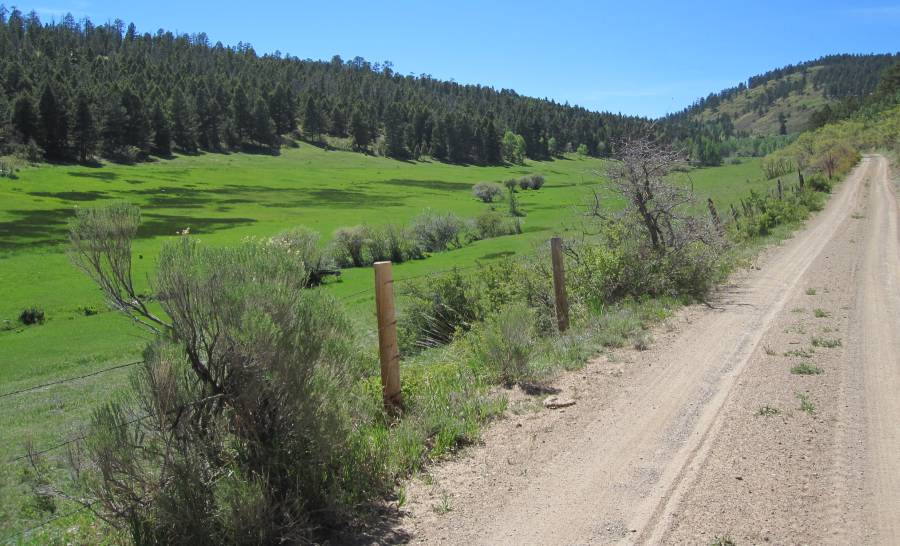 Aspen---and see the little log cabin down the road.
I remembered it from riding it in 2004----my perfect memory you now-------"NOT"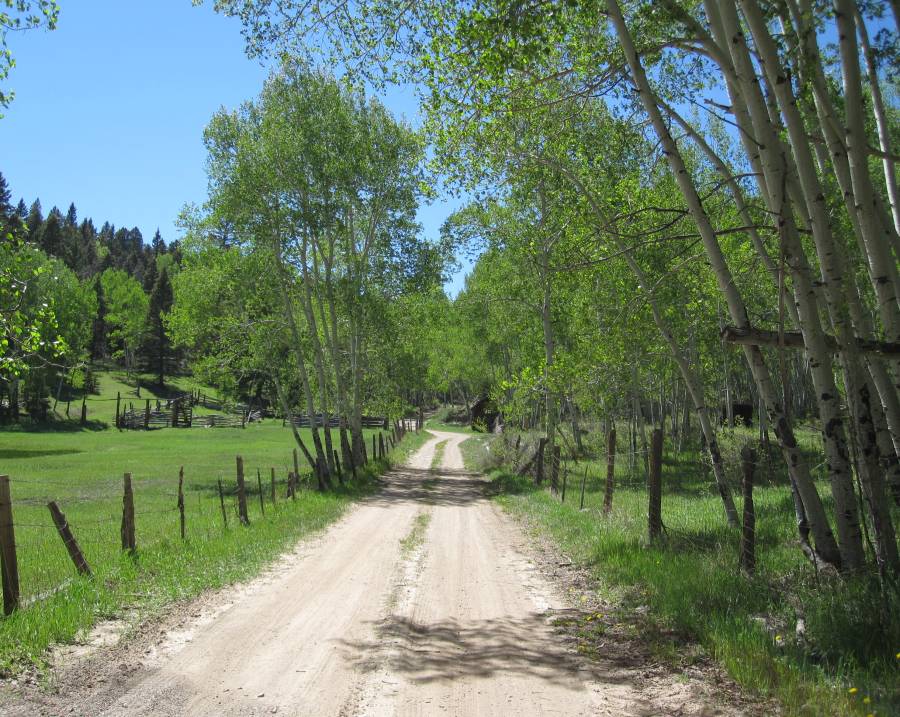 Yeah--this would be fun in a rain storm-------"NOT"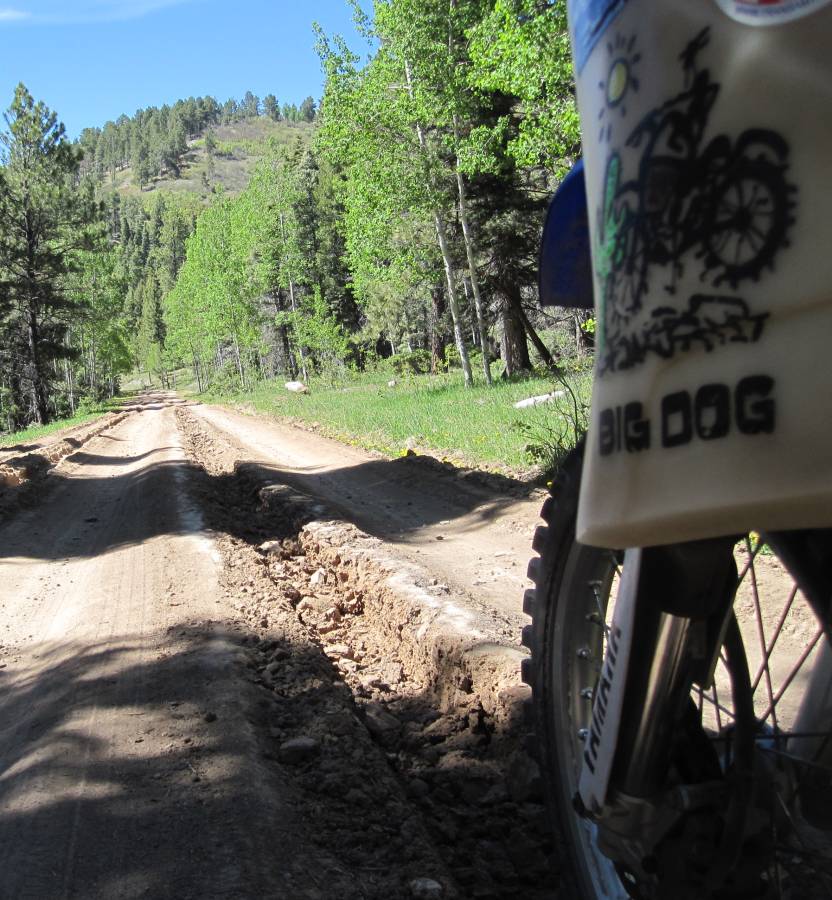 s
Me and Marty went up to Lagunitas upper campground---about 11,000 ft.
This is where a riding buddy got deathly sick in 2004---I went for help in the middle of the night
only to have a flashlight and a gun stuck in my face.

"I have a gun--and if you get off that motorcycle I'll shoot you dead"
But that's an old story---and old one--but a good one.
Marty said it didn't feel right up there----and we left.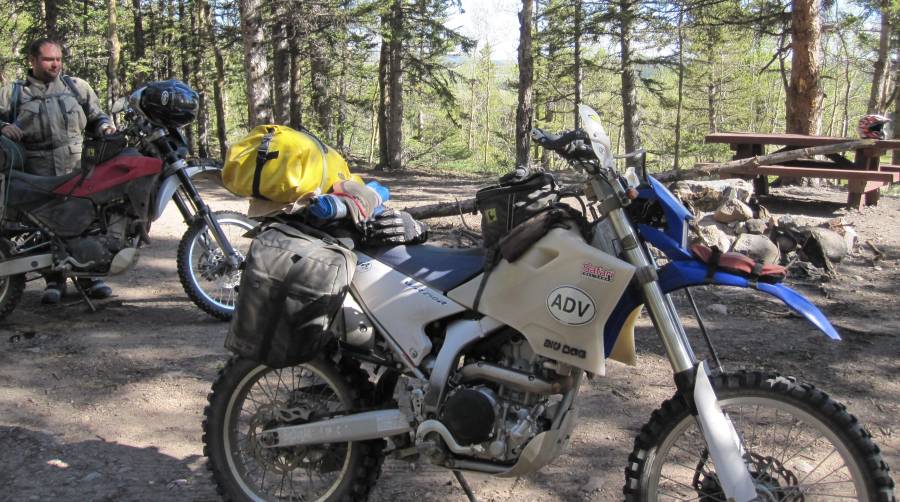 With some difficulty we got around these.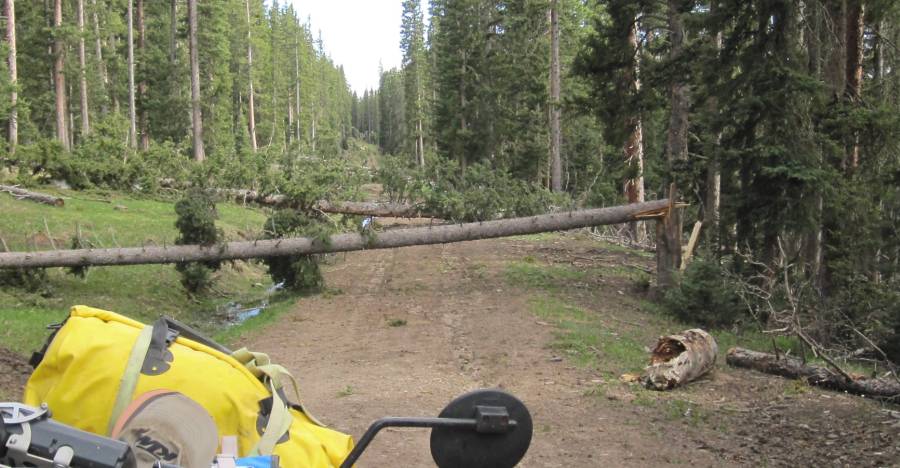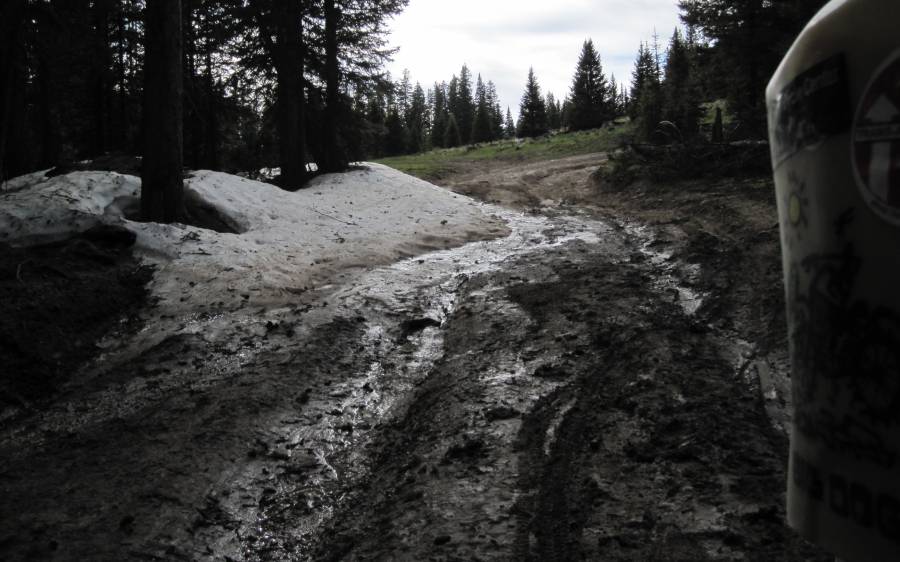 I don't think Marty had ridden a motorcycle in the snow. What a great picture.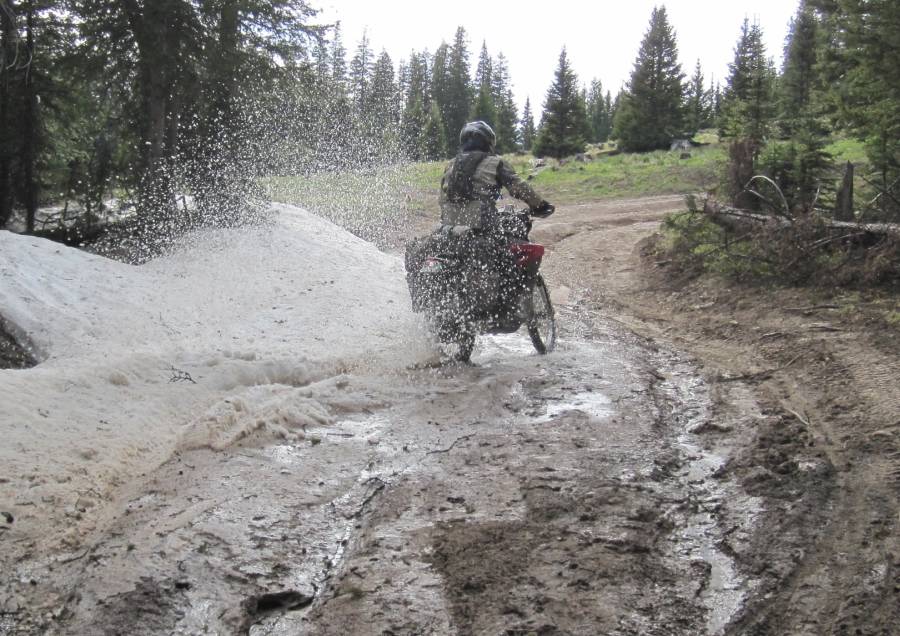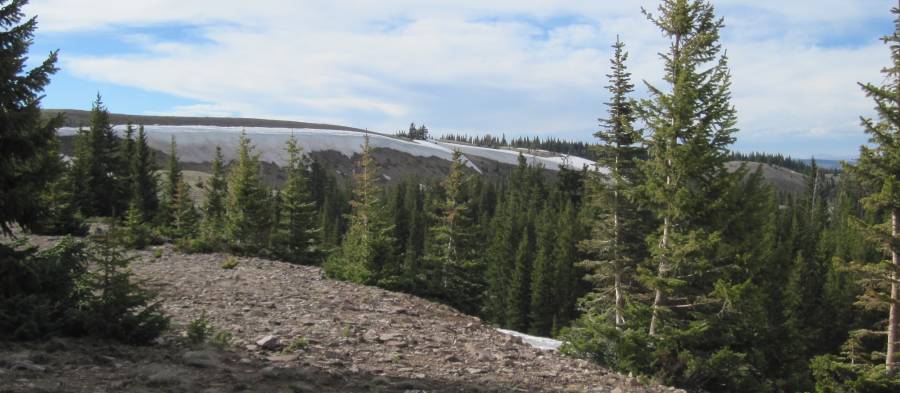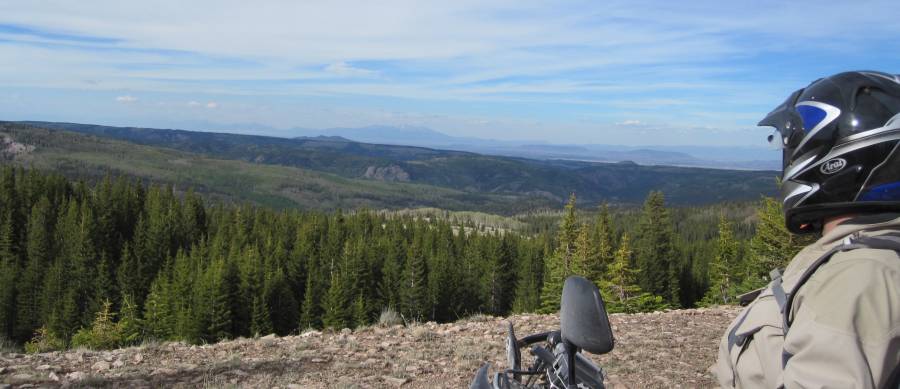 Yep----we got around this.
We crossed the Cumbres Toltec railroad---a beautiful narrow gauge railroad still in use.
The 1925 steam locomotives run out of Chama, New Mexico.
We had just barely crossed into Colorado in this picture.
And yeh---we got around the snow.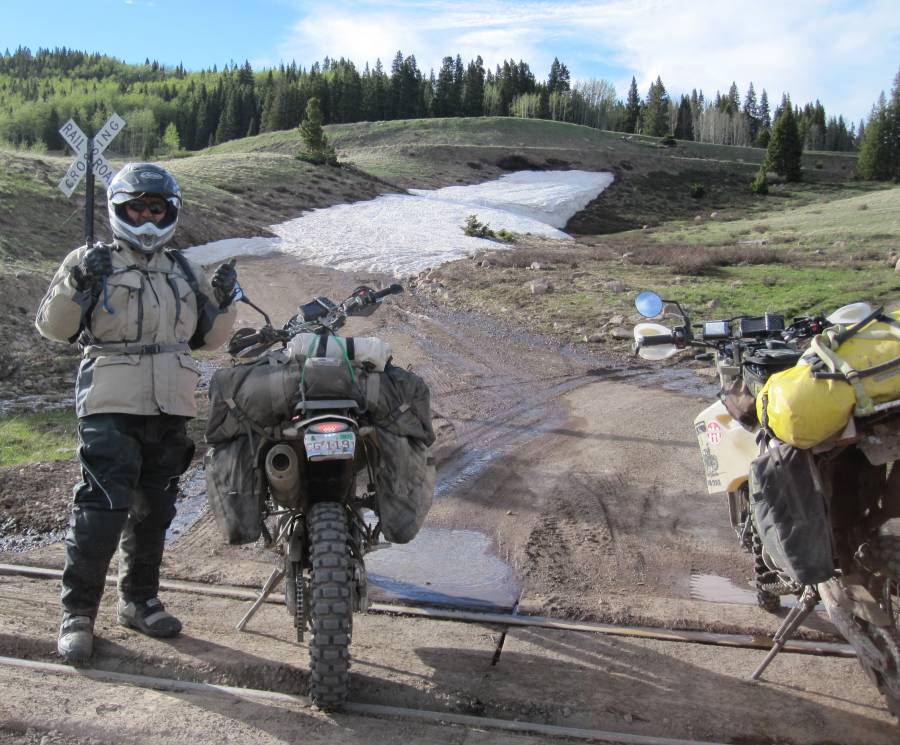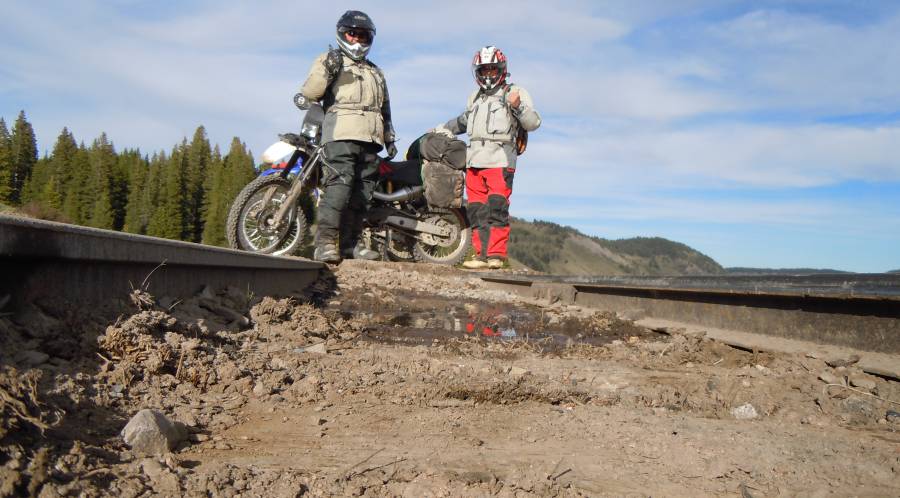 We skirted the edge of this snow drift and got up to the highway that led us back into New, Mexico to chama.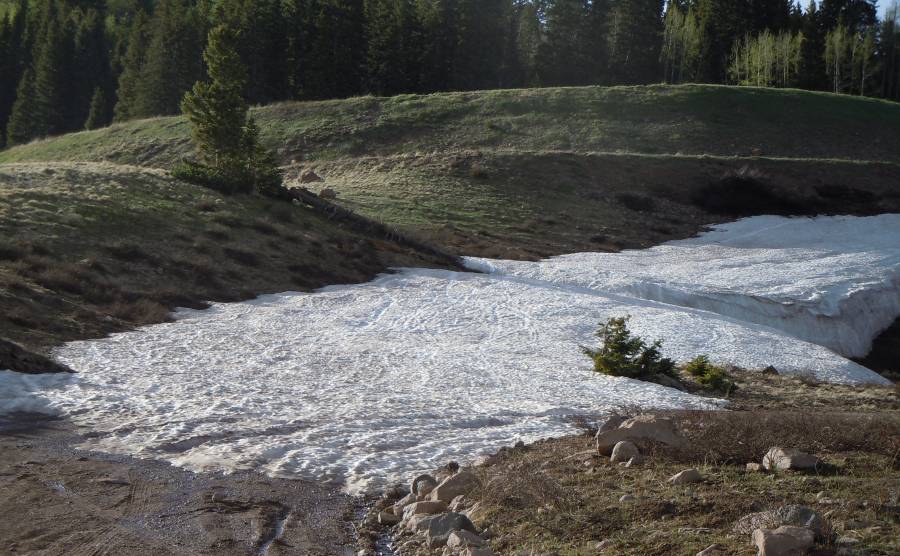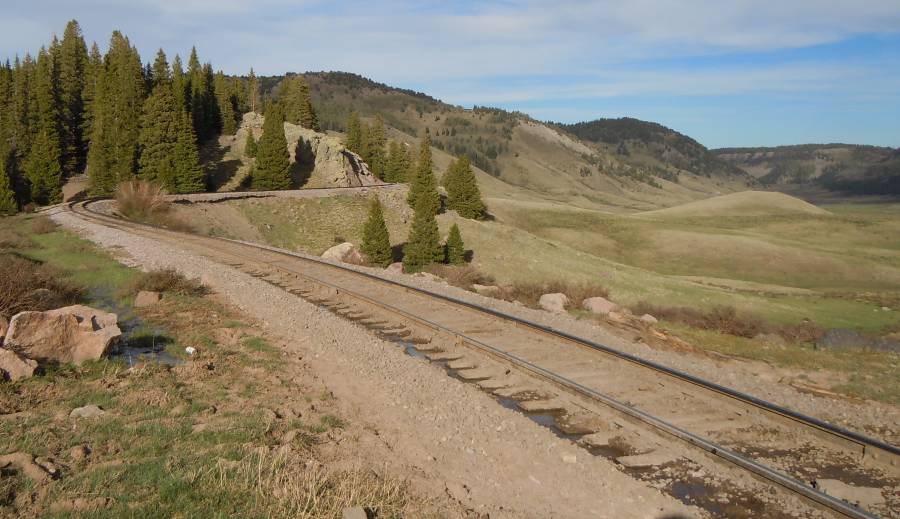 Look closely and you can see the railroad we crossed on the dirt road below.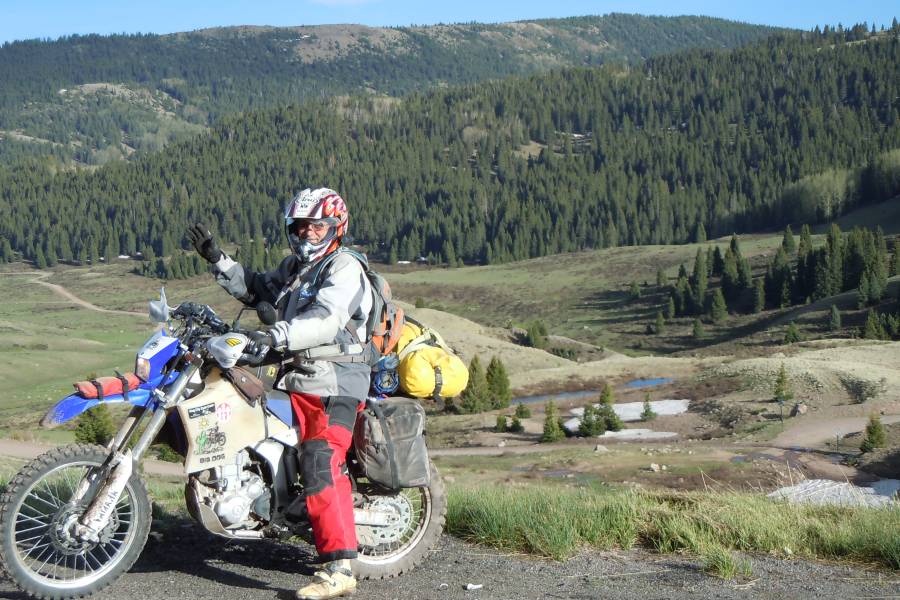 We holed up in Chama for the night and would tackle Summitville pass in Colorado the next day.
June 5th, 2010
Me and Marty had become very relaxed--and after breakfast we rode down to the train station.
The atmosphere here was way different than at the train station in Durango.
Seems the big rich people and stupid liability lawyers hadn't yet got their teeth into Chama----yet.
You could could pretty much wander as you pleased to wander as you may here in Chama.
If you wanted to stand in front of the train as it crept towards so be it.
In my perfect world-you'd have the right to do that--and suffer the consequences if it goes bad.
And the lawyers would have nothing to say about it---and would be hung by a long rope
for bringing such a stupid case to court.



This guy ain't afraid of asbestosis, breathing soot all day---or smokin' that cigarette all day.
He's a happy guy.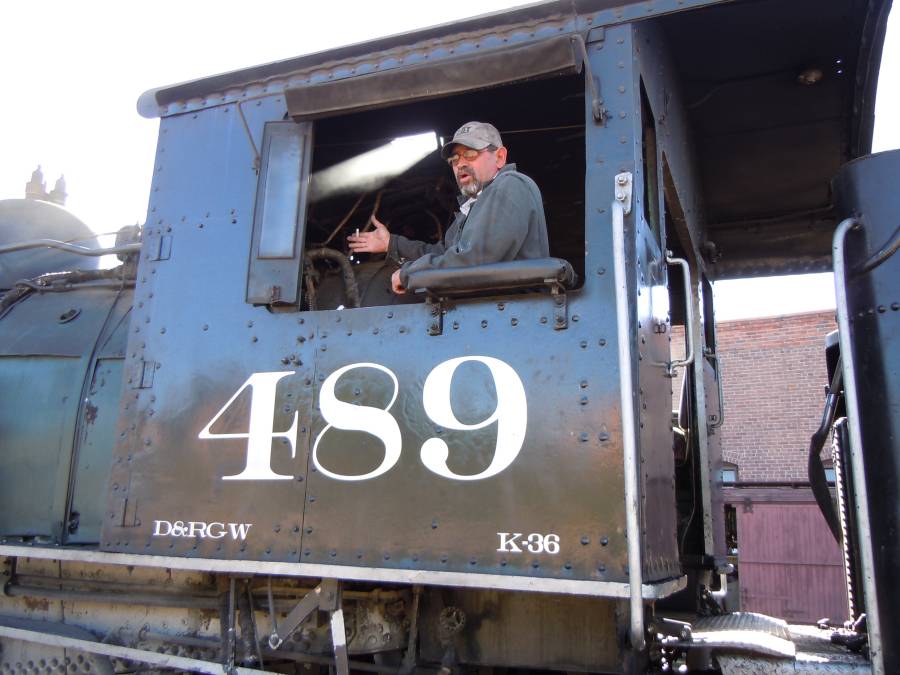 This is the shop area for keeping these bad boys going---about the only place you were not allowed.
But as soon as they found out who we were--and that I was a steamfitter
we were given special priviledges.
Everyone in the shop were volunteers.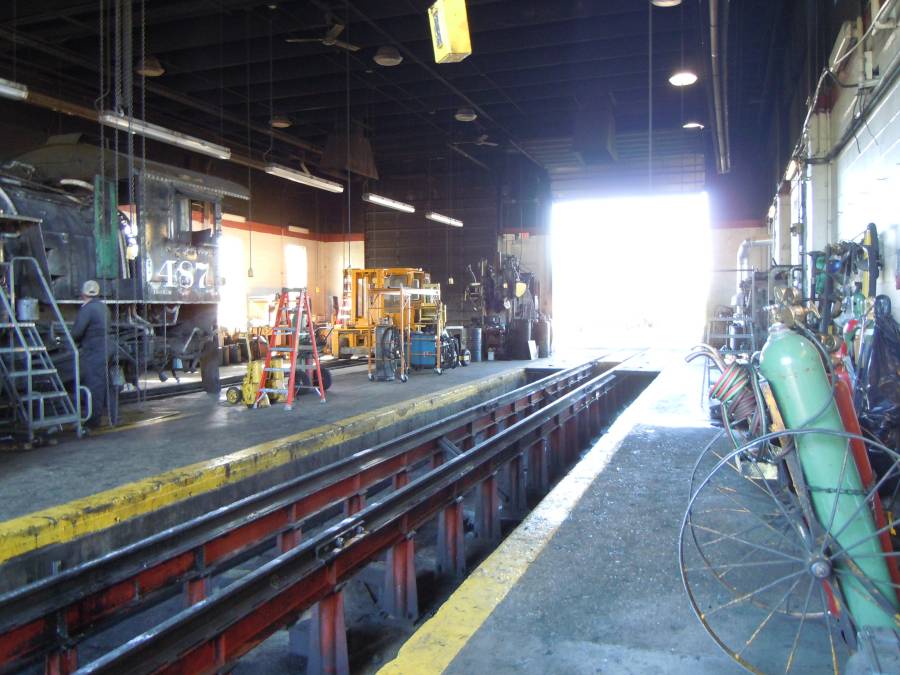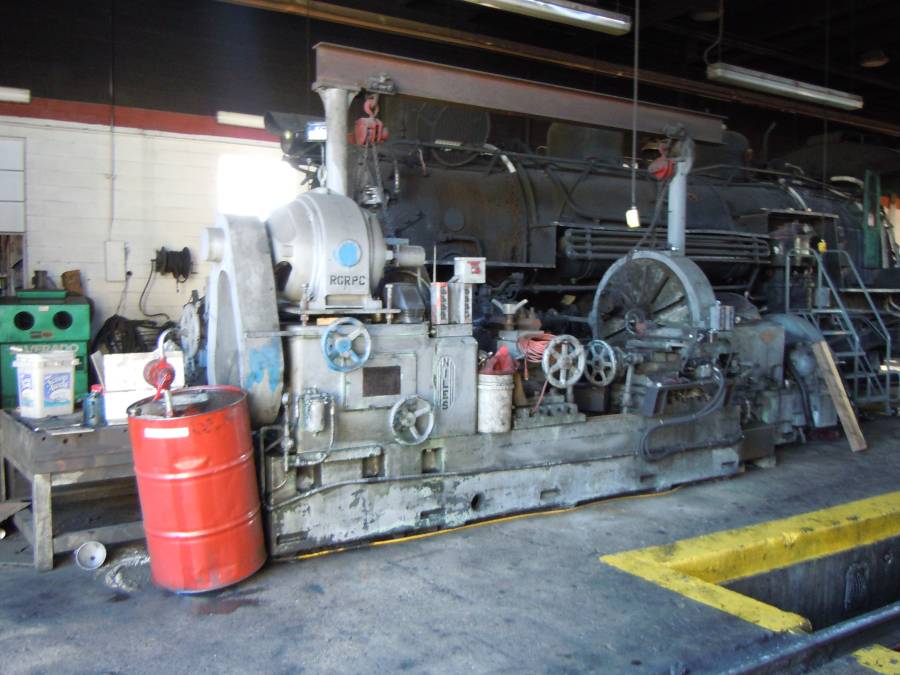 He really like me----as I didn't ask the normal tourist question such as "how fast will it go" etc.
Being a steamfitter I got a little more technical.
"What the pressure and flow capacity of the relief valve" ???
"How many foot lbs. of pressure is on the connecting rod" ???
"Do you treat the boiler water" ???
"Does the steam push the piston both ways" ??????
"How many BTU's in 5 tons of coal "????
"How does the air compressor work to power the air brakes" ????

And "How many cows can the cowcatcher take in one single blow" ??????
All very good questions.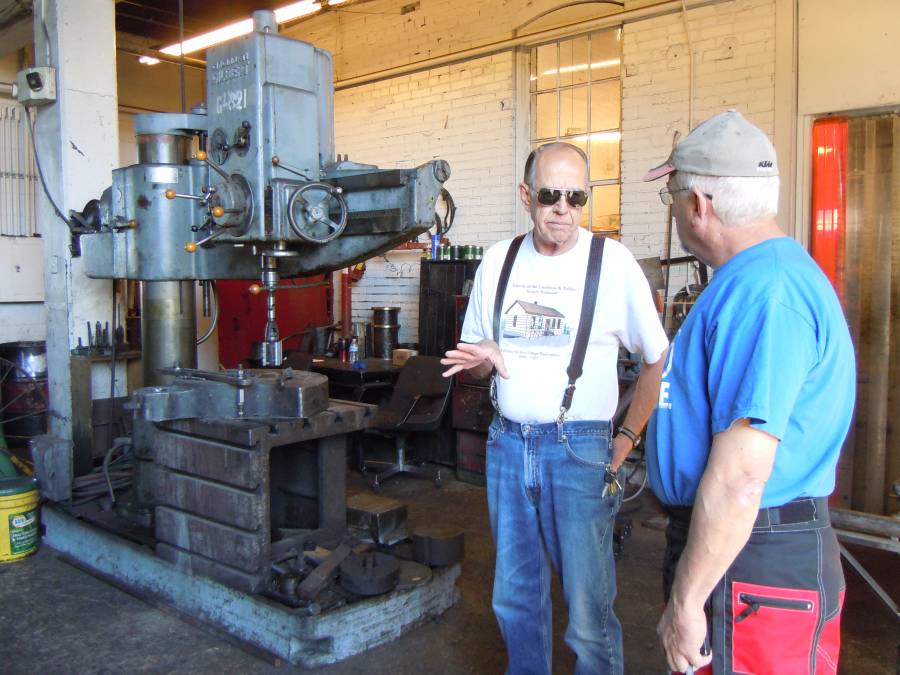 And old putt putt car---there are much older ones than this one.
The real old ones were powered by a 2-stroke water cooled motor and went Putt--Putt--Putt-Putt--Putt etc.
I kept talking about them to Marty and he finally heard one later on.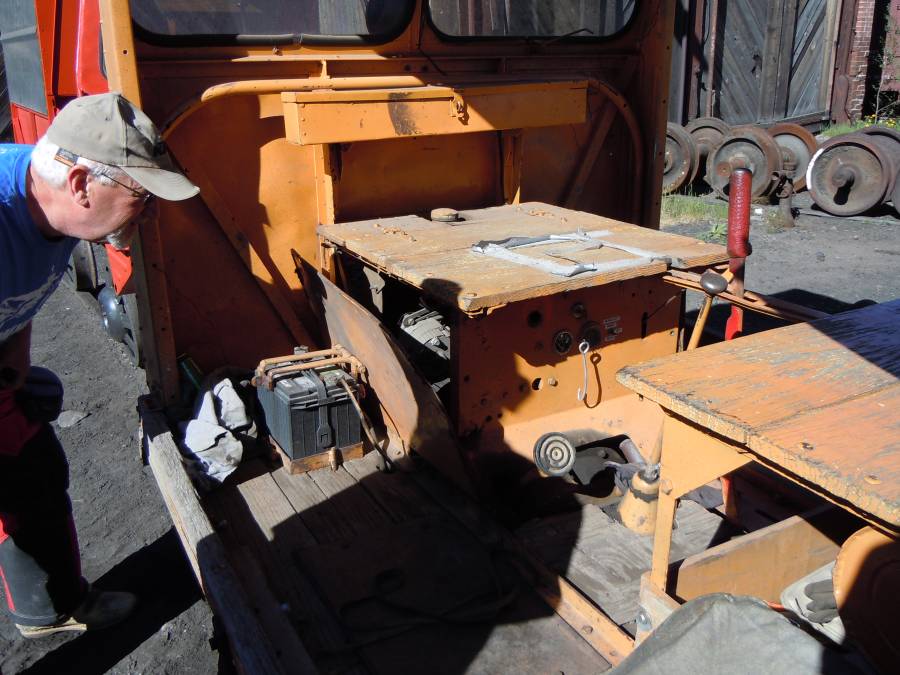 This is a non working locomotive--they rob parts off this one.
It was very hot here-----very.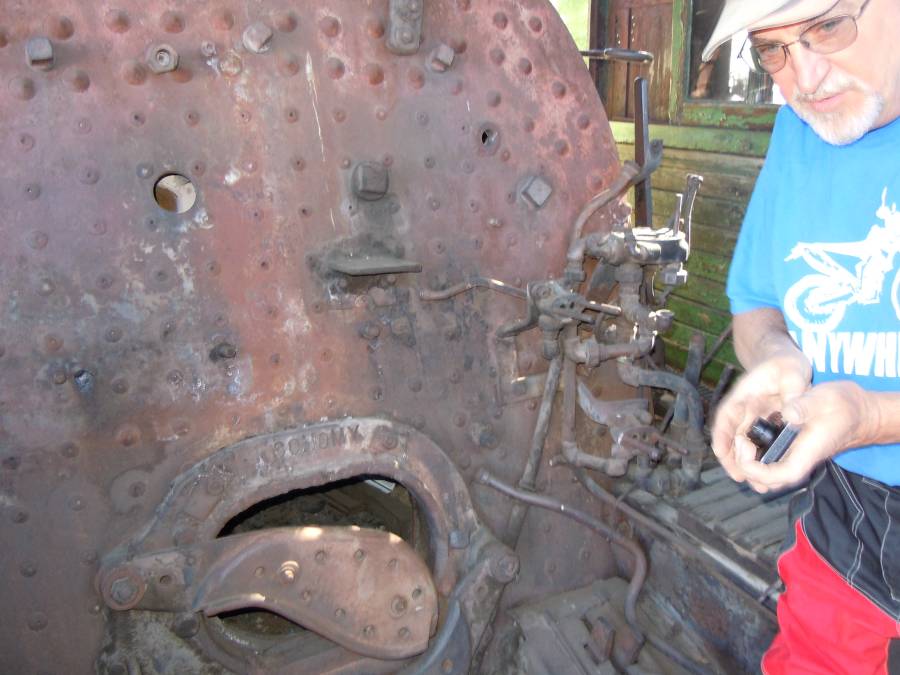 Marty took a very interesting flash shot of inside the firebox---this is where the fire is to heat the water
and make the steam. The heat goes down those tubes which are surrounded by water and it makes steam,
about 190 lbs. of steam---dangerous stuff.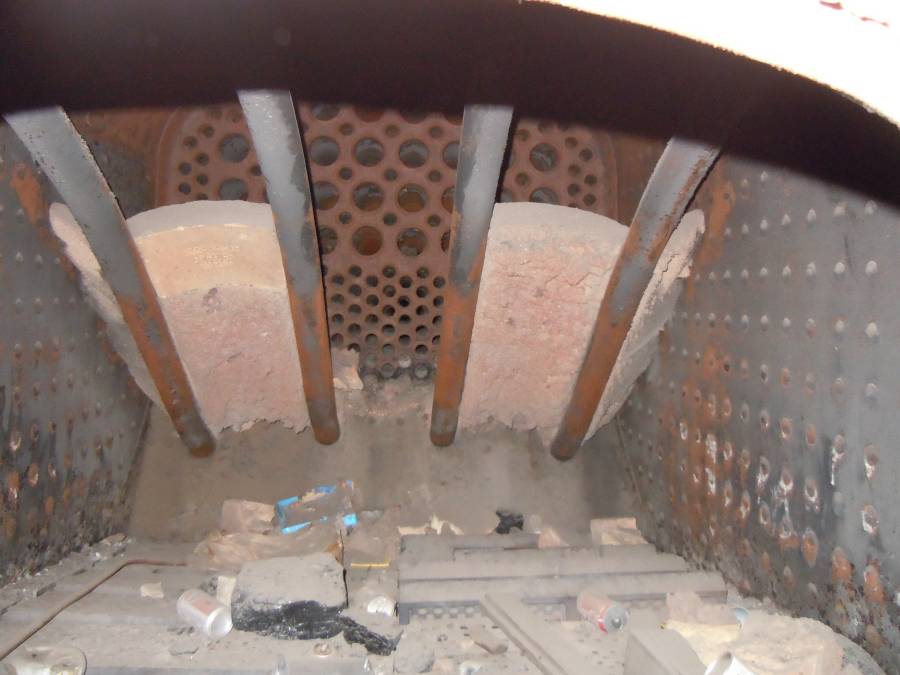 This is where the fireman dug his coal out of and shoveled it in the firebox.
I think we he got a shovel full of coal---he stepped on a lever which opened up the firebox
and he then threw the coal in the firebox----pretty clever huh ???
If you had an good engineer he might give the fireman some relief.
If not--he had to do it all. I heard talk of big engines doing big climbs to where the fireman never
could take a break or the train would slow down.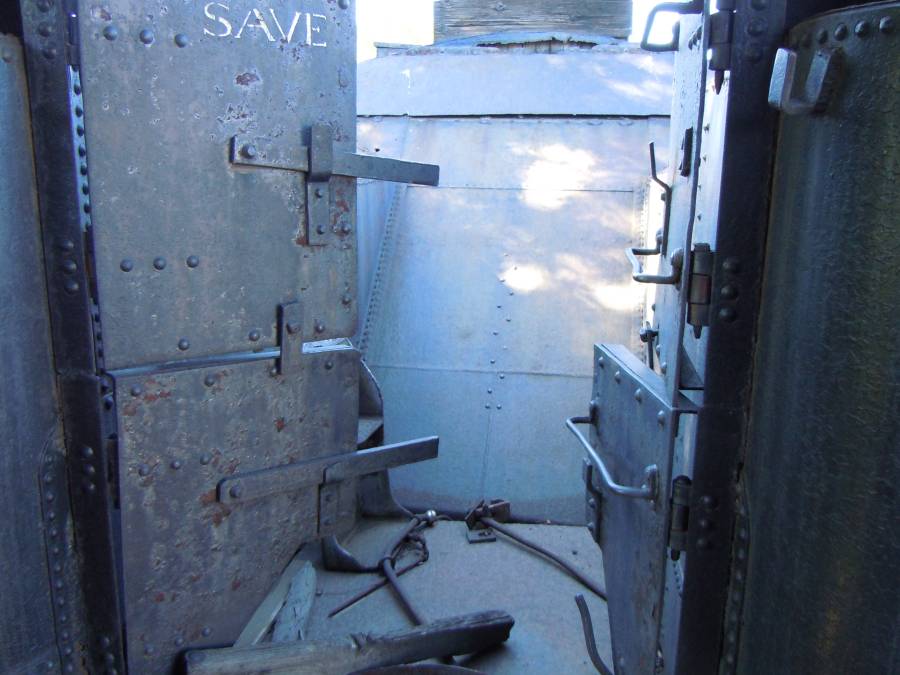 Oh yeah---I could drive this bad boy------let's see--I could mount my Garmin 276C right here.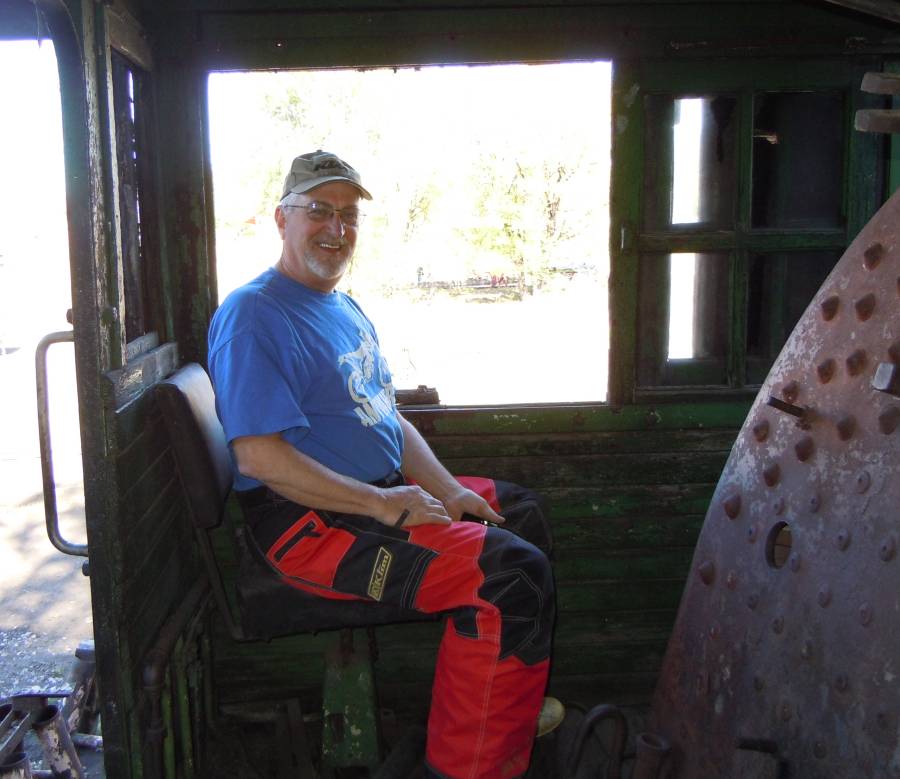 This is the view the engineer had on the throttle side.
He could hang his head out the window or look straight ahead thru the small door that had
a window in it.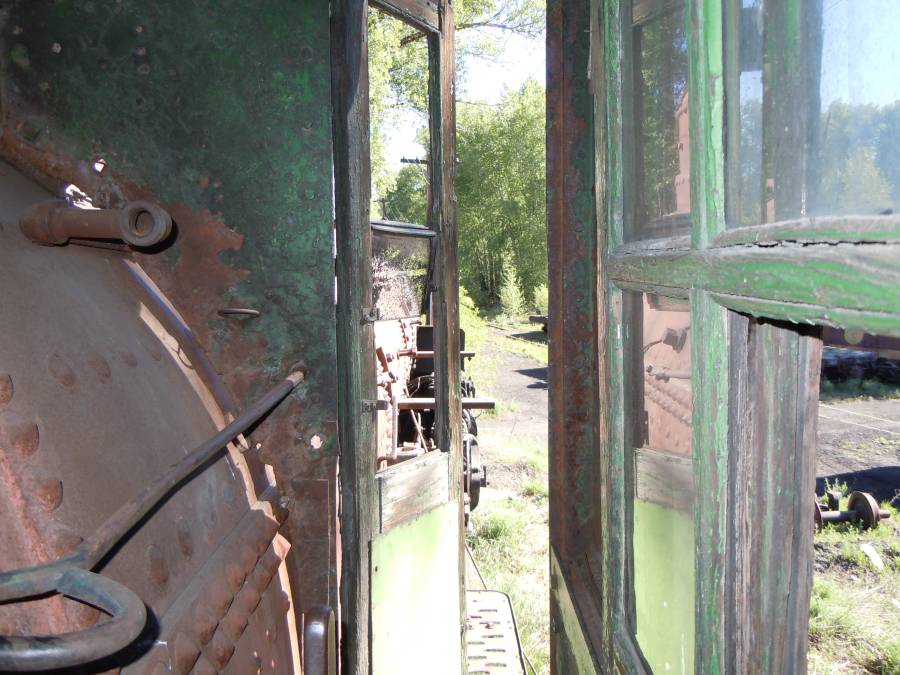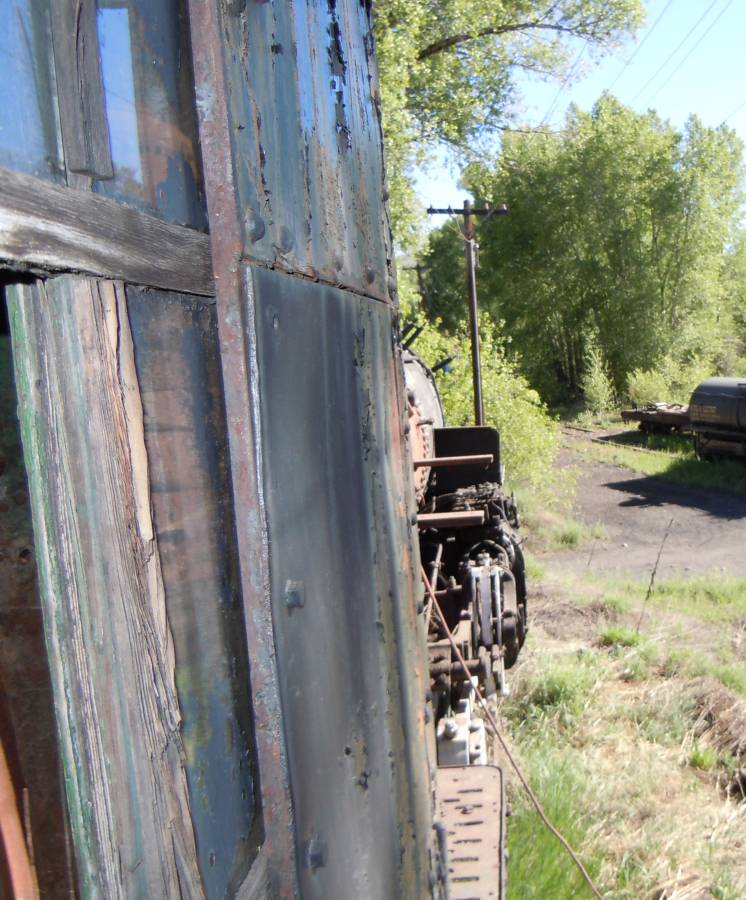 "You better tell that ole' lady in the walker to get off the track---I got a schedule to keep"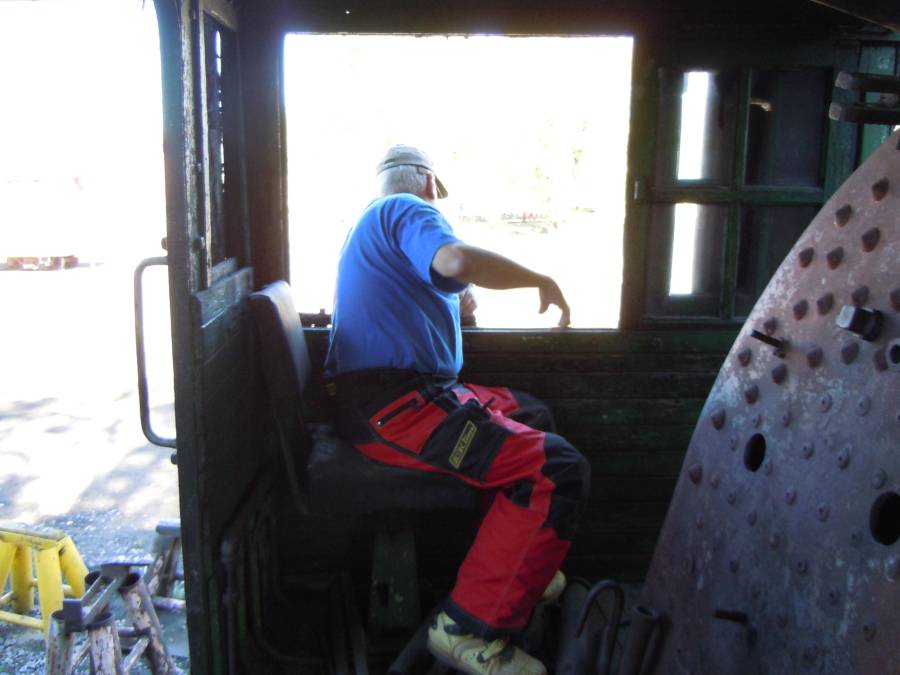 This old beater doesn't even have the insulation over the boiler.
They had to be insulated----otherwise you'd lost all theat energy to the wind.
I think they told me it was about 2" thick--they used to use asbestos of course
but have had to get rid of that nasty stuff.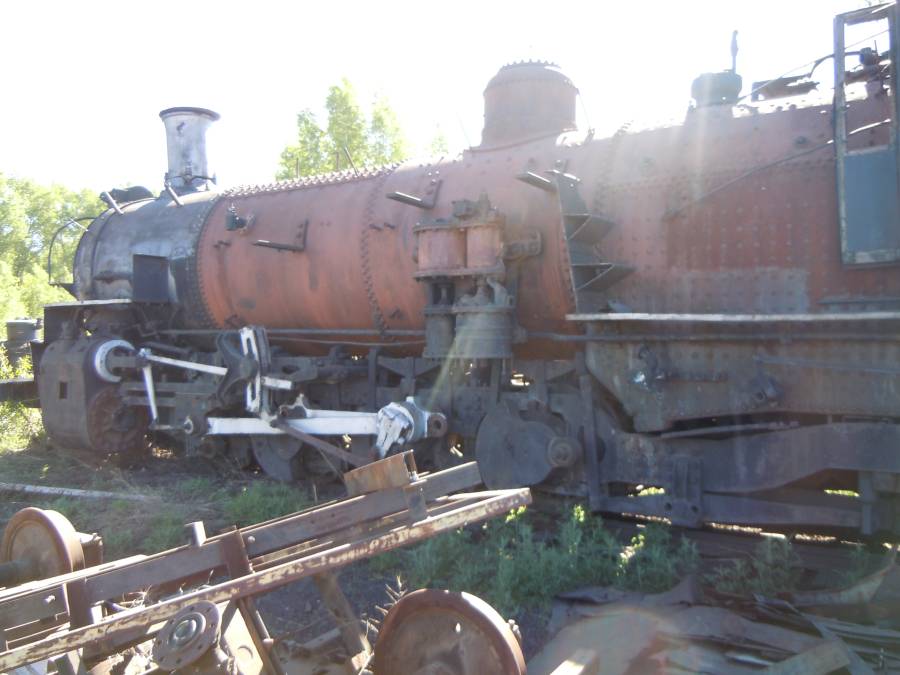 They were backing this big boy into the shop for some minor repairs.
They don't shut these things down at night---it's not good to let them cool down completely.
There's a lot of expansion going on when they heat up and it's hard on them.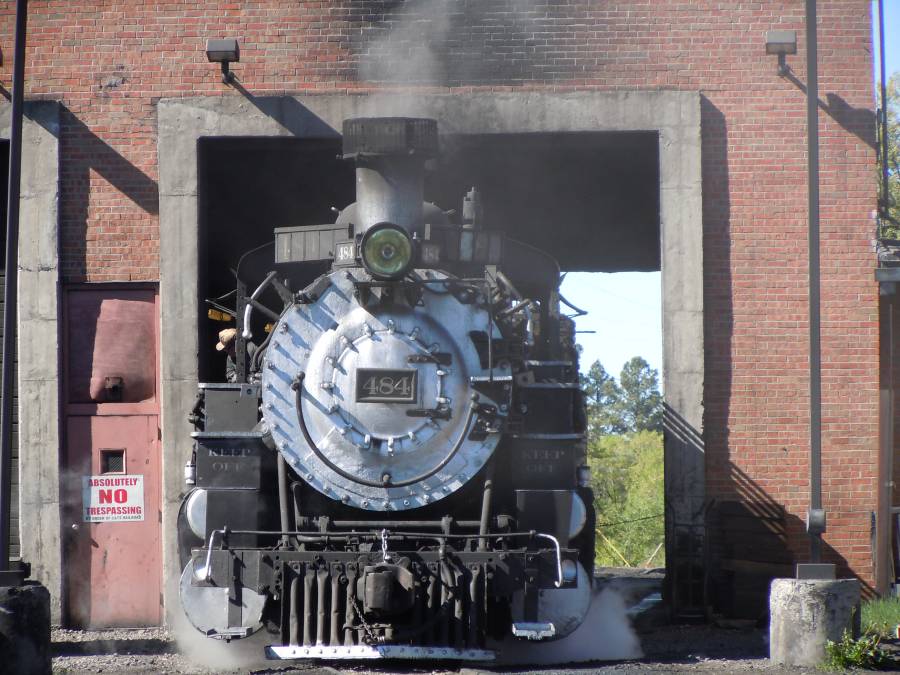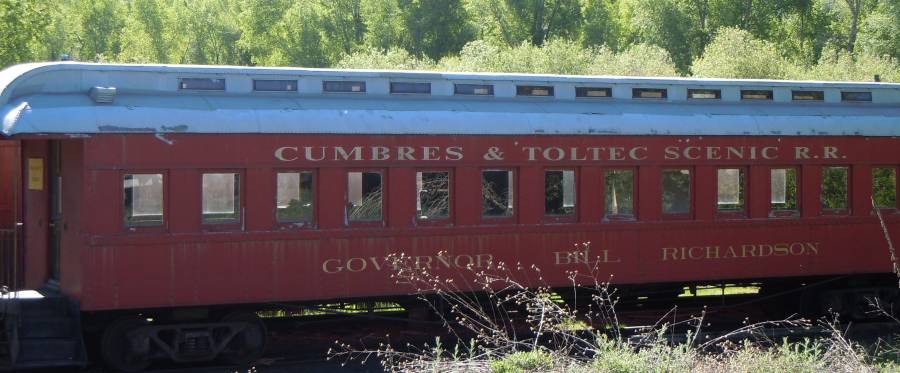 This is interesting--I saw it and figured out what it was.
After the coal is spent you have to get rid of the ash--they open up a door in the bottom of the
firebox and dump in down between the tracks into the pit.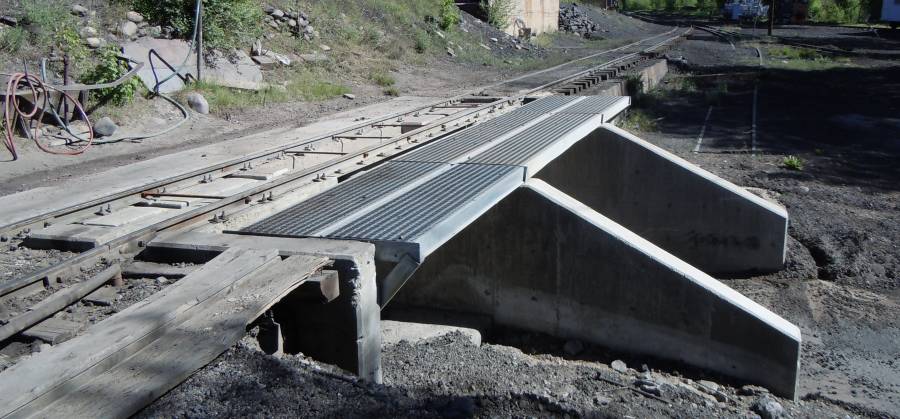 There's lot of old parts laying around everywhere.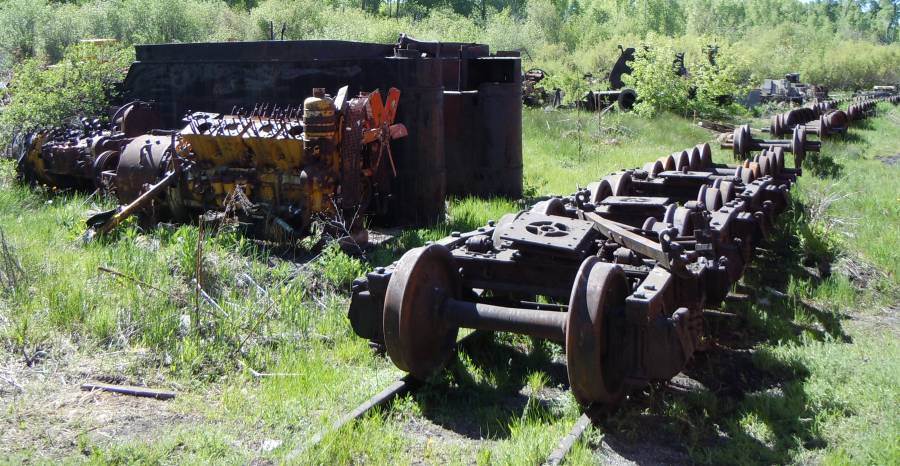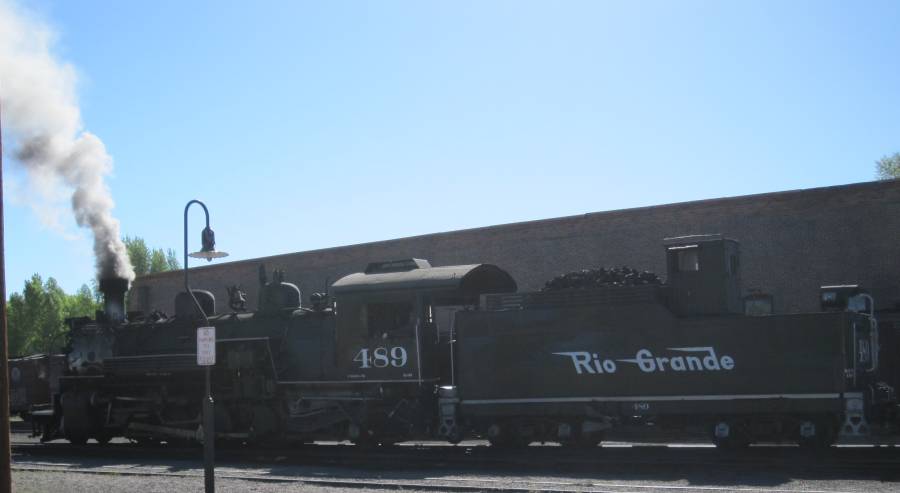 Marty Sampson---engineer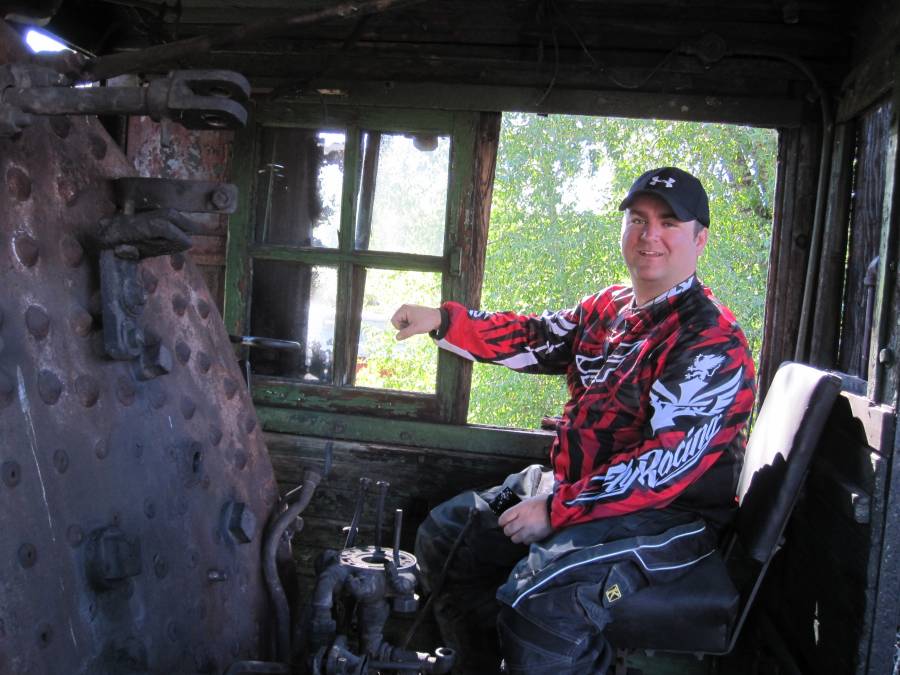 Chuga-Chuga--Chuga---Whooo--whooooo !!!
"Get busy with that shovel I need some more steam"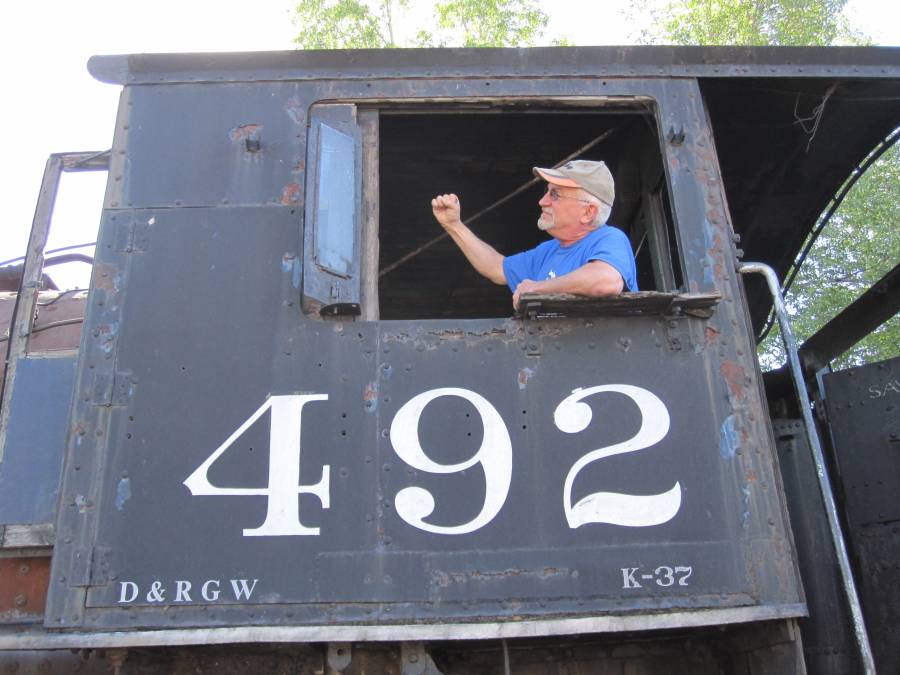 Like father -------like son.
As you can see---me and Marty were like 2 little kids---(actually we are 2 little kids) playing on all the toys
till they threw us out.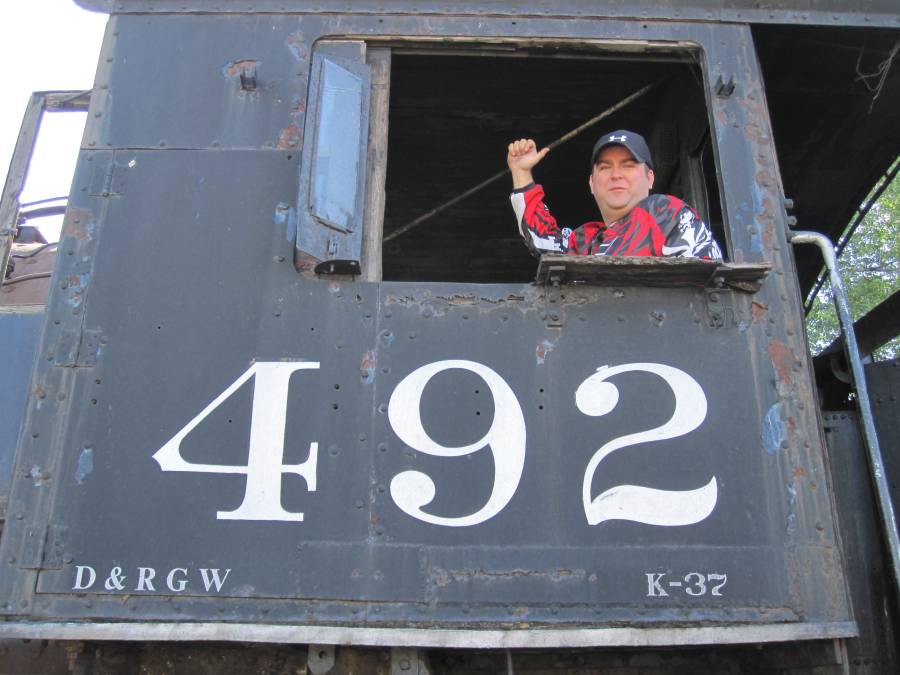 The steam you see coming out the front of this locomotive has it's purpose.
Right before the engineer moves the train he opens a valve in the bottom of the piston to let
out any water that may have condensed and accumilated on top of or below the piston.
Water doesn't compress at all---if he tried to move the train without doing this it would bend a rod.
And that would be the beginning of a bad day.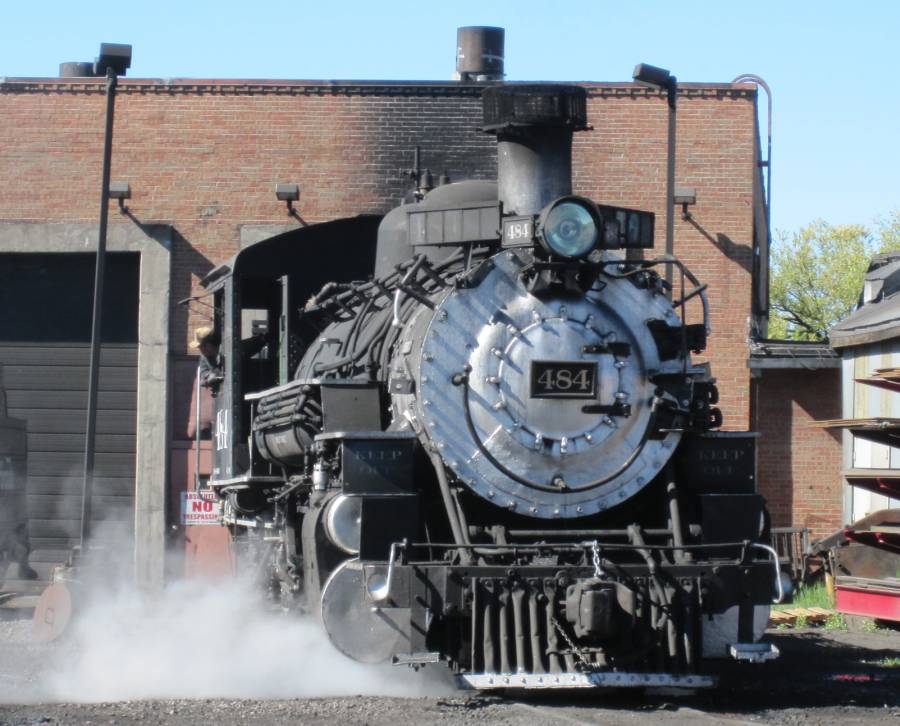 This building housed an elevator that dumped coal into the car behind the engine.
It doesn't work anymore and they load it with an end loader.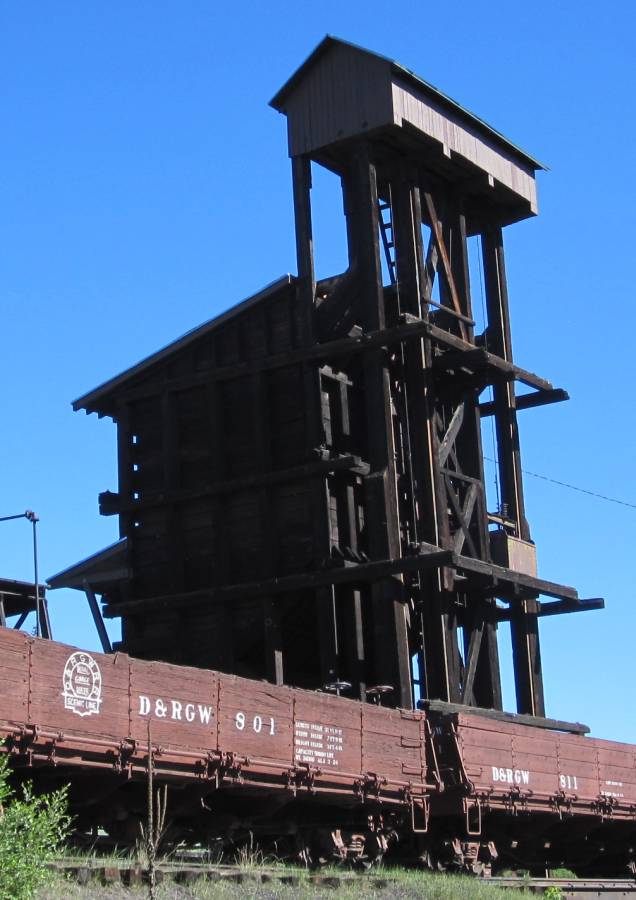 These particular locomotives carry 5,000 gallons of water---not enough to get anywhere.
So they have to fill up often. And they try to never let the water level get below 2,000 gallons.
If you let one of these things run out of water with all that heat there---it will overheat the boiler and ruin it.
You ain't got a switch to turn the gas off.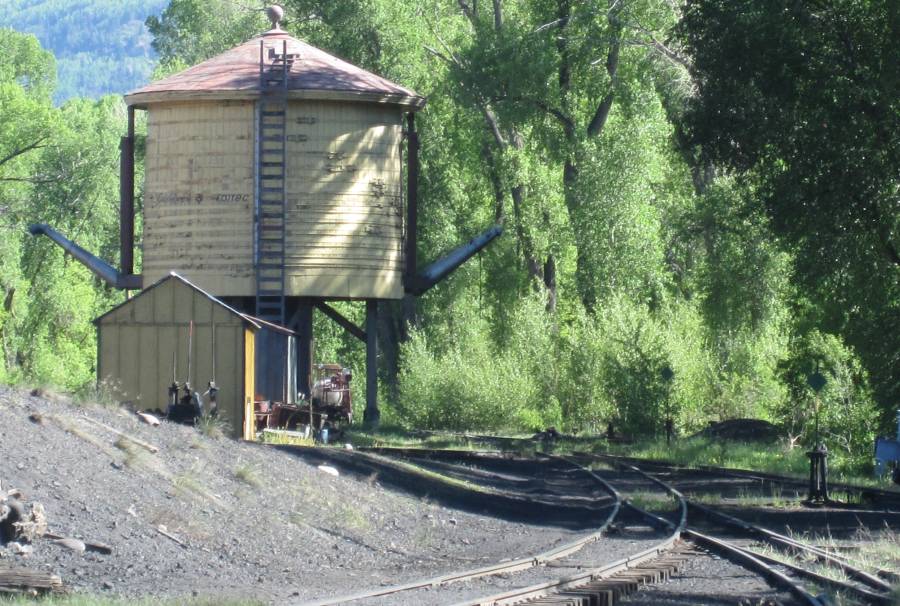 They used snowblowers like this in the winter. The car itself has no power and must be pushed by a locomotive.
The impeller is powered by steam---190lbs of it from a boiler in the following car and
it is the same boiler exactly as in the locomotives. The shoot on top can be aimed to throw the
snow to either side. It took 3 people to operate this bad boy.
Also the blades on the impeller could rotate depended on how deep the snow was and how aggressive
a slice they wanted to make in the snow.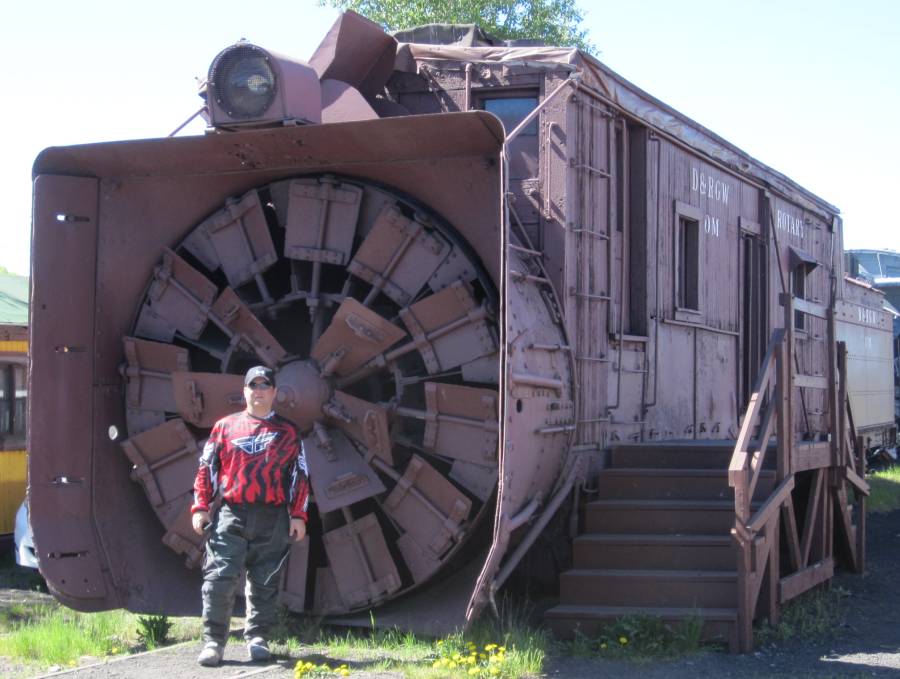 Mandatory------BigDog and son both agree.
Eat at Feliciano's while in Chama.
Seems when I go on a big trip I meet an unforgettable character.
and it is Frank--stop in and talk to Frank.
We ate there twice--the food is so good and I consider Frank my friend.
We loved listening to his tales of woman, trucking, trains and living in Chama.
Notice it didn't take him long to catch onto the Fonzy thumbs up.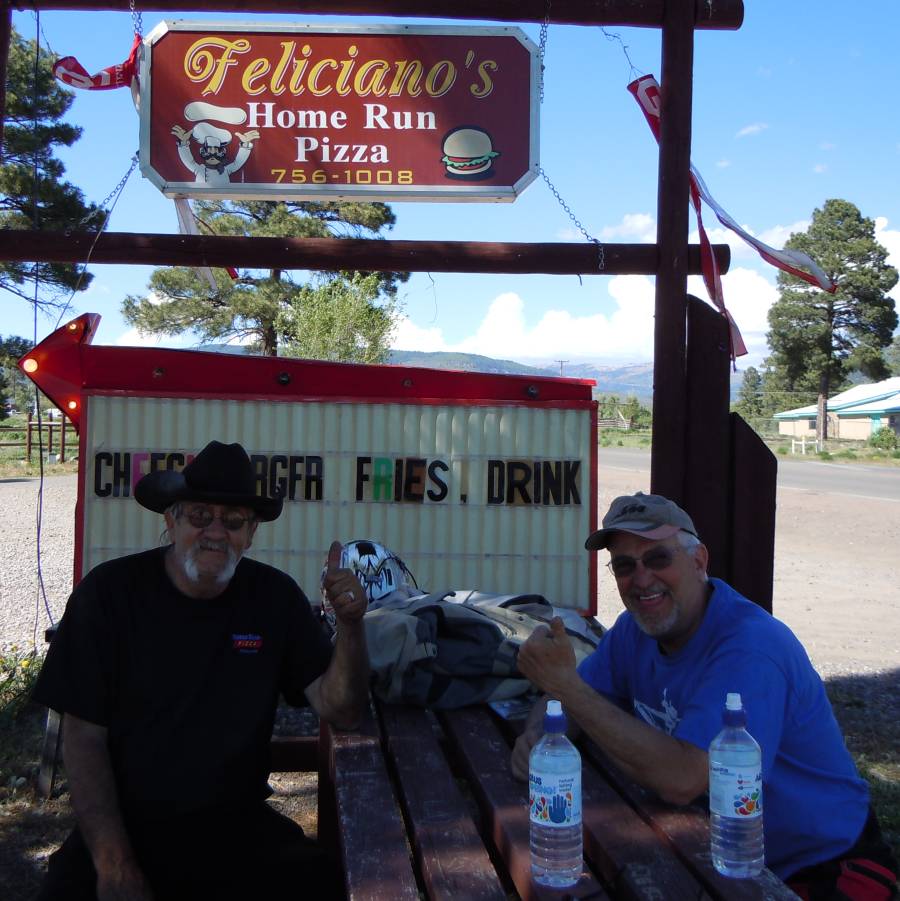 We were at the trains station for hours and decided when it left we'd follow it up the highway.
Even if you couldn't see the train---you could obviously tell where it was at.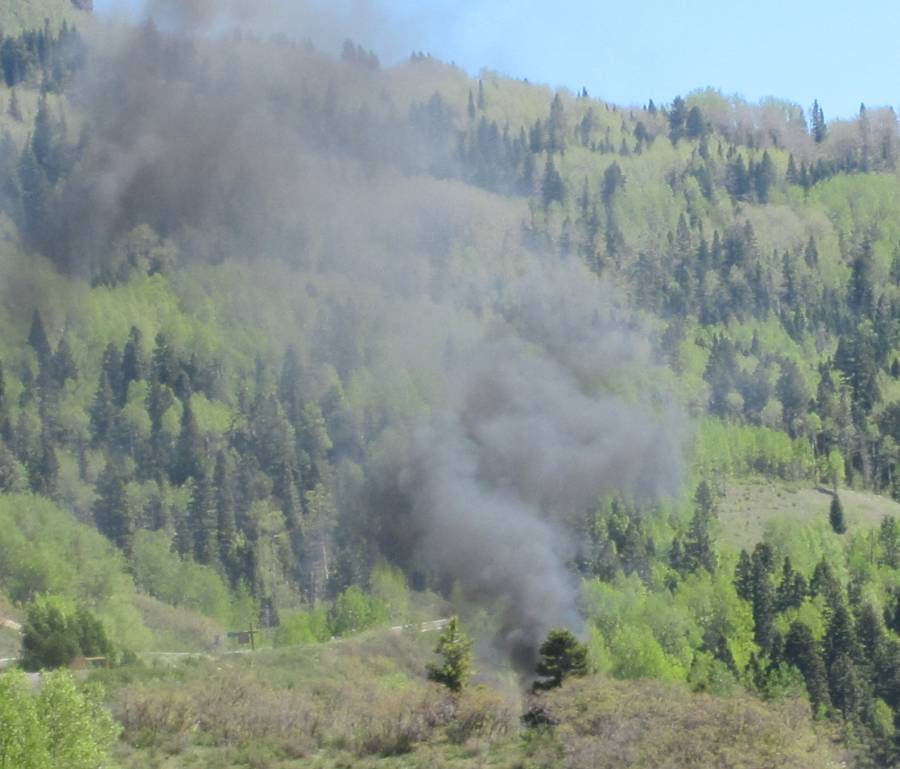 Two weeks earlier at this very spot 2 wheels came off the track.
It didn't de-rail and they soon got it going.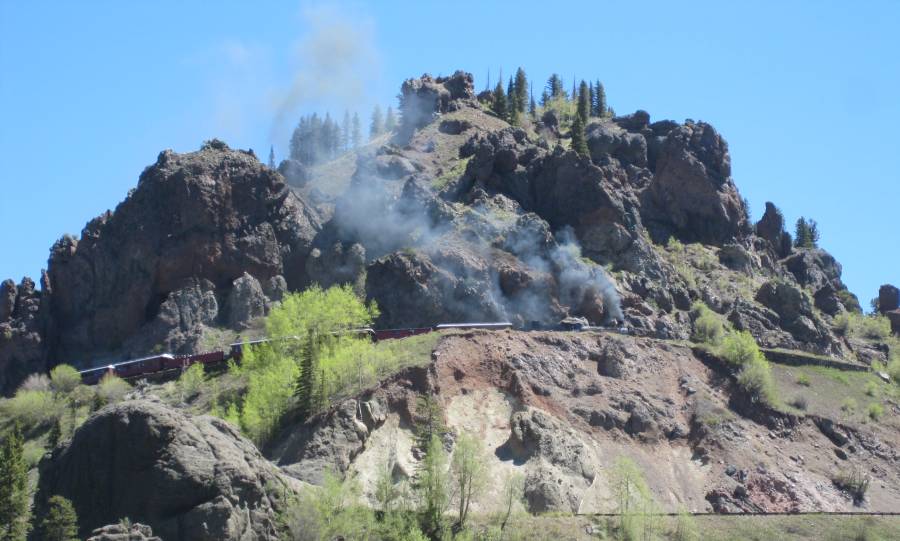 The train was so fascinating to both me and Marty we almost forgot about riding.
But we eventually headed up to Summitville, Colorado some 11,000ft. high.
We finally hit some serious snow.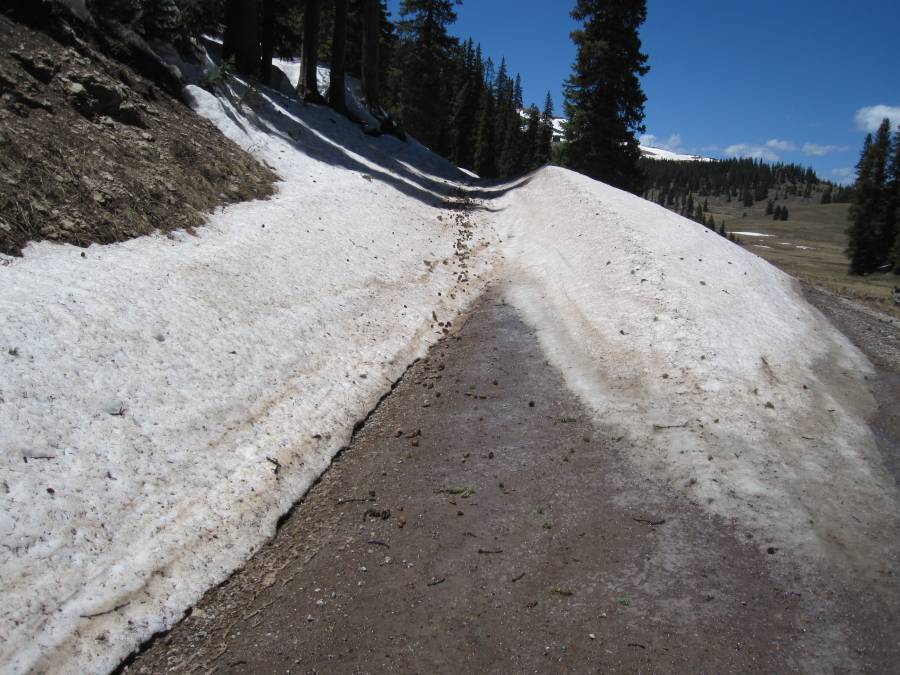 It was getting muddy and wet--many fallen trees we had to bushwack around--but it finally came to and end.
About 2 miles from the Summit we had to go back to Chama and eat another hamburger at Feliciano's and
solve some more world problems with Frank---this involved a hanging rope.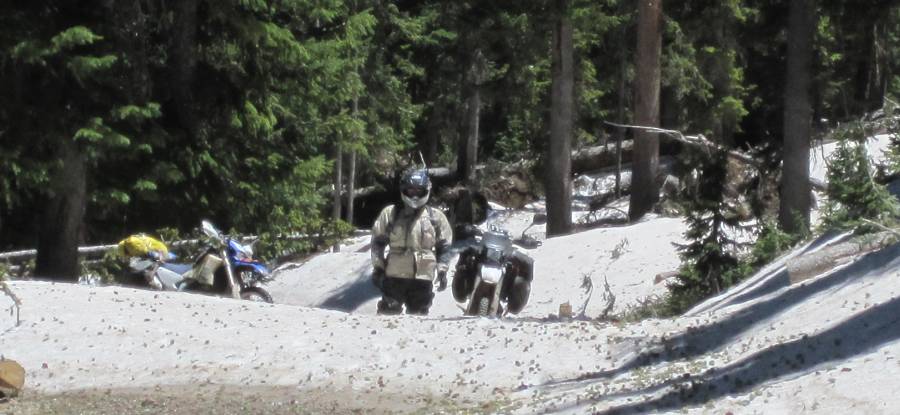 June 9th, 2010
Back in Durango at Marty's place we've been trying to keep ourselves busy
and have been riding our bicycles everyday---at least 10 miles a day.
Most days we stick to the paved trails around Durango and I ride my
Giant dual purpose bike--but today we tackle some really tough climbs
in the mountains around Durango. We rode some and we pushed some.
Marty had just bought a really nice full suspension bike but he still had
my old Trek full suspension bike I bought new probably 15 years ago.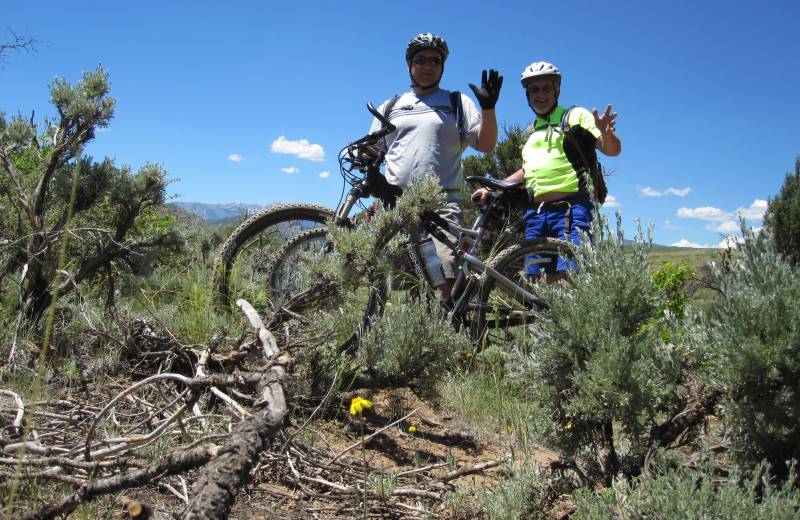 We climbed way high above the town of Durango.
And thankfully what goes up--must come down.
It was a hard day for the both of us.
But what don't kill you--makes you stronger they say.
Well....we were a little stronger I'd say.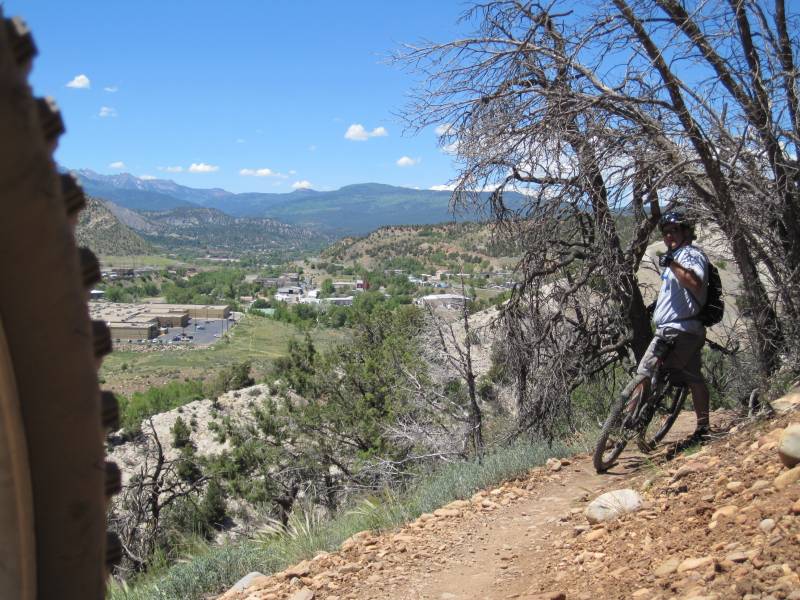 You can't wear motorcycle shin and knee guards on a bicycle........
but Marty wished he could have this day.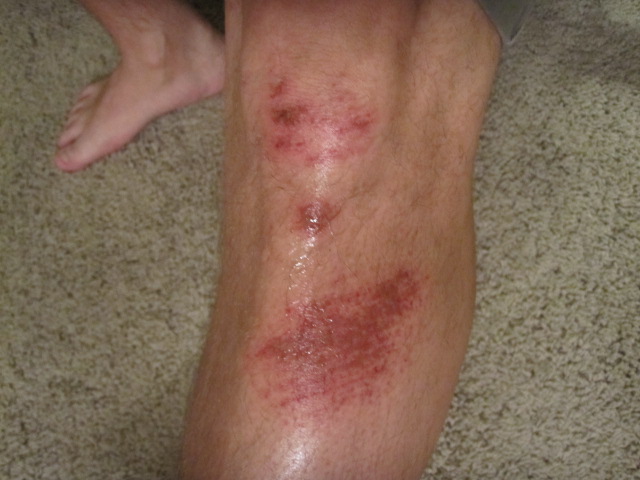 June, 6th 2010
Marty was feeling a little puny this late afternoon and I took off by myself
on my bicycle and didn't go far when I ran
across this outdoor rock concert with food-----and watermelon !!!!!
I threw down my bicycle in the grass and was amazed at the guitar player--he was left handed
and only played Jimmy Hendrix and Stevie Ray Vaughn--my personal favorites.
It was worth the chiggers I got in the grass and suffered thru the next day.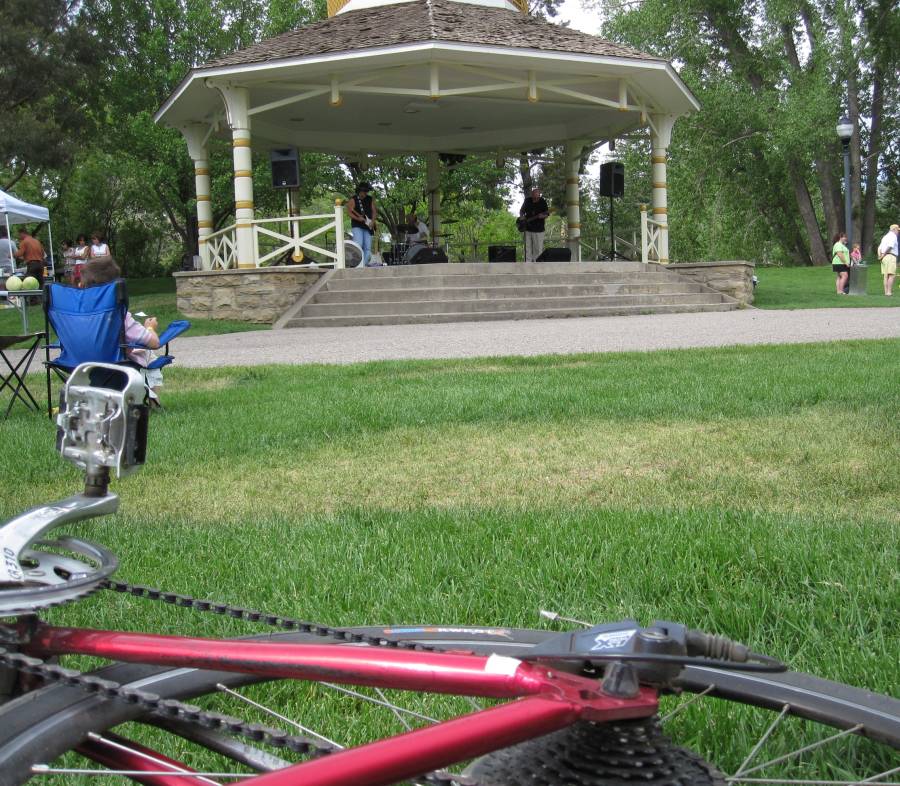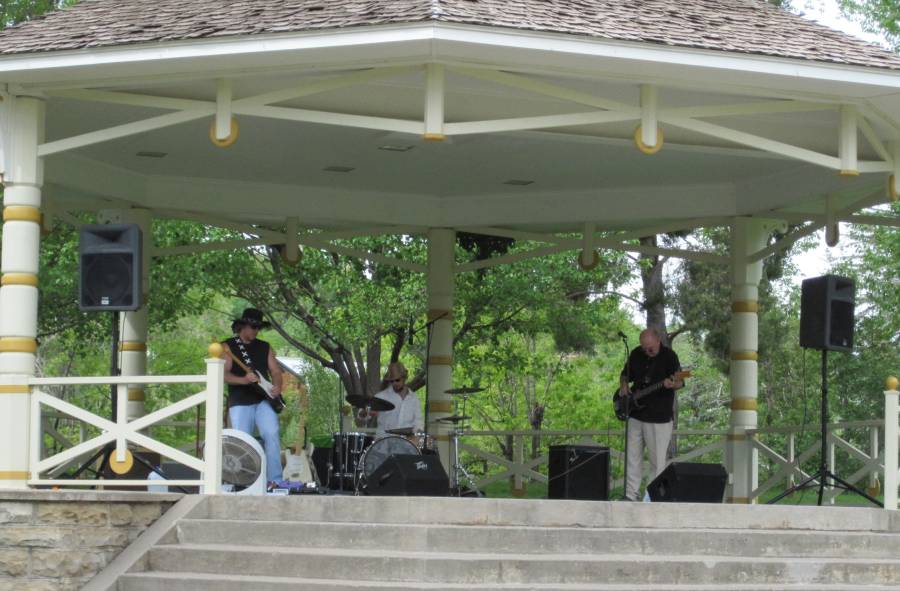 June 11th, 2010
OK--what now--------rafting ?????
"Naw Dad----let's go soaring"----or maybe some call it gliding.
It ain't got no propeller---must be a jet. OK--let's go.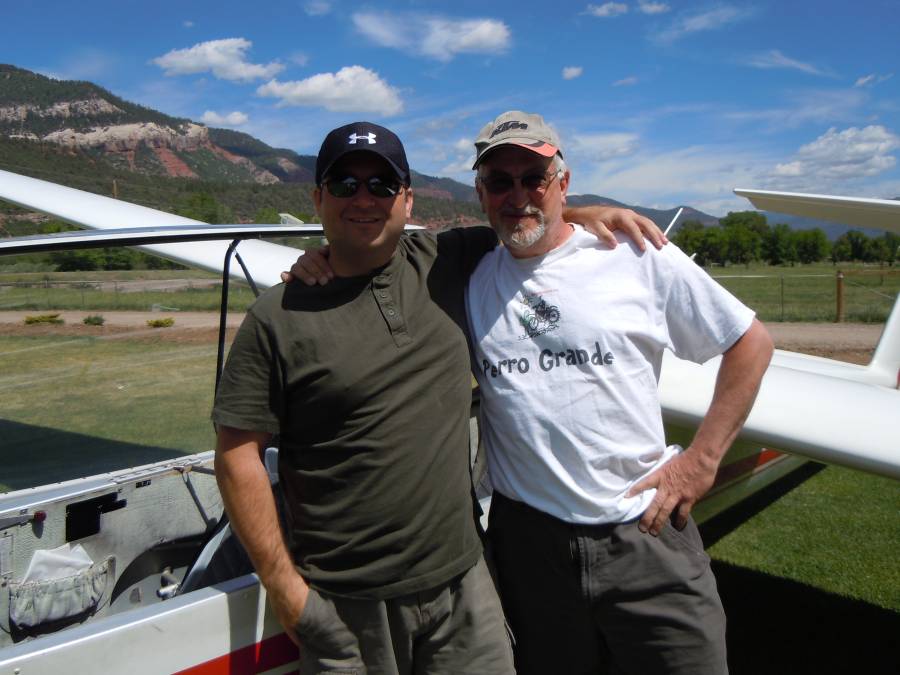 Marty went first and is getting strapped in.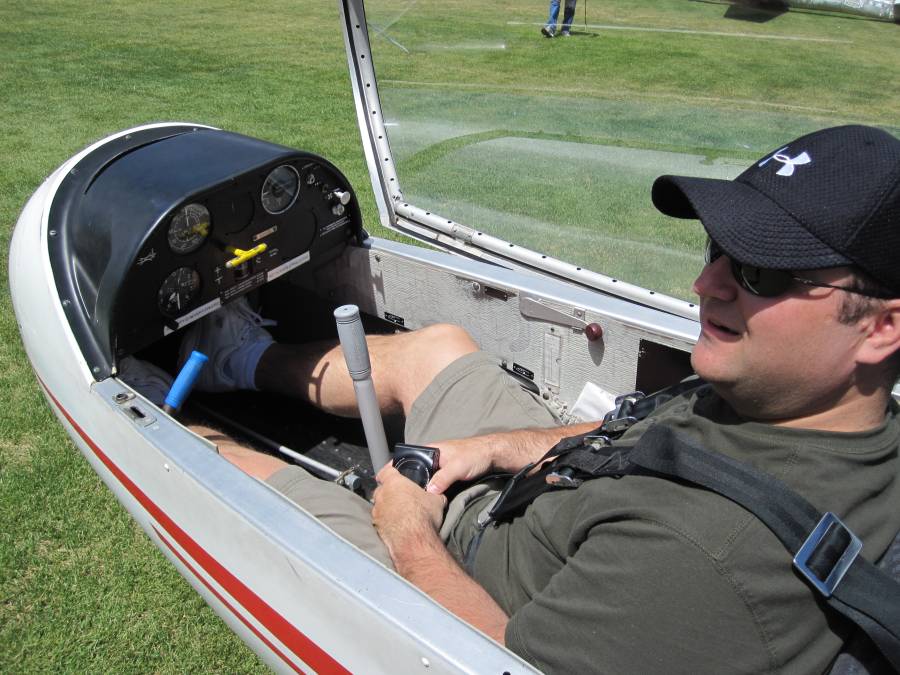 I took this picture in flight.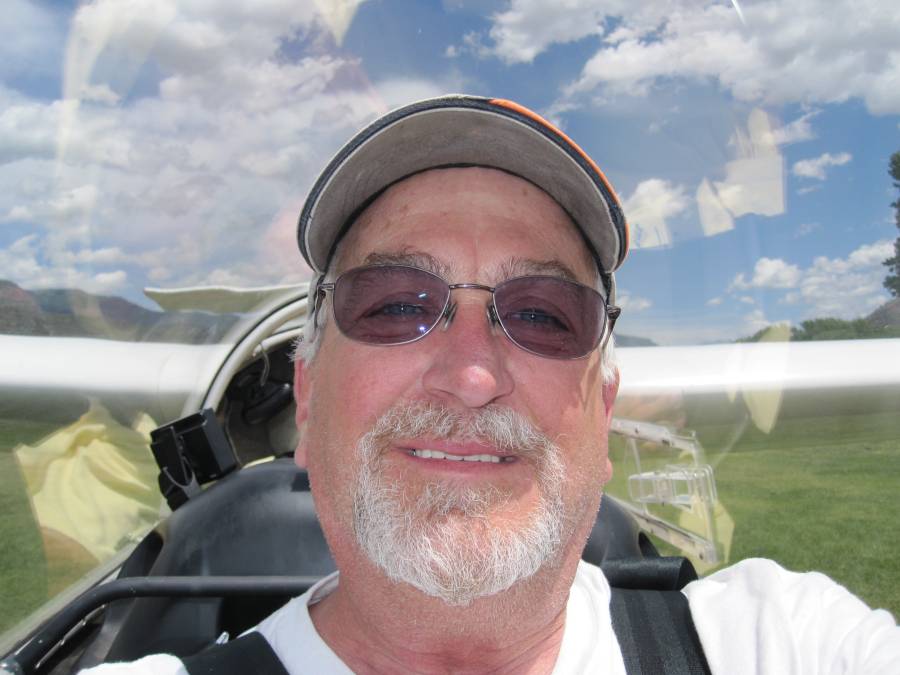 Pretty cool--the tow plane took us up to about 10,000 ft. and let us go.
By the way---we weren't flying these things--we had a pilot in the back.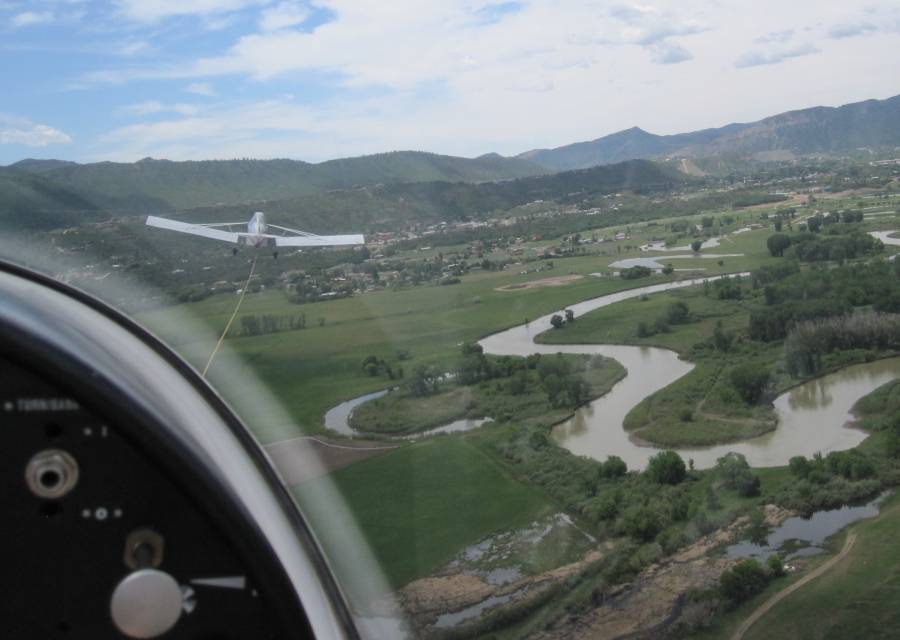 Our pilot-----real cool guy that has been flying all his life.
Soaring is so different then a conventional airplane---they can stay up all day if they want
as they continually try to find thermals to gain altitude. You crusie along at about 55 knotts and it's
pretty quiet up there once the tow plane let's you go.
"Where's the clutch---is it one down and 5 up--let me try this thing" ???????
"Keep your hands off the controls there BigDog"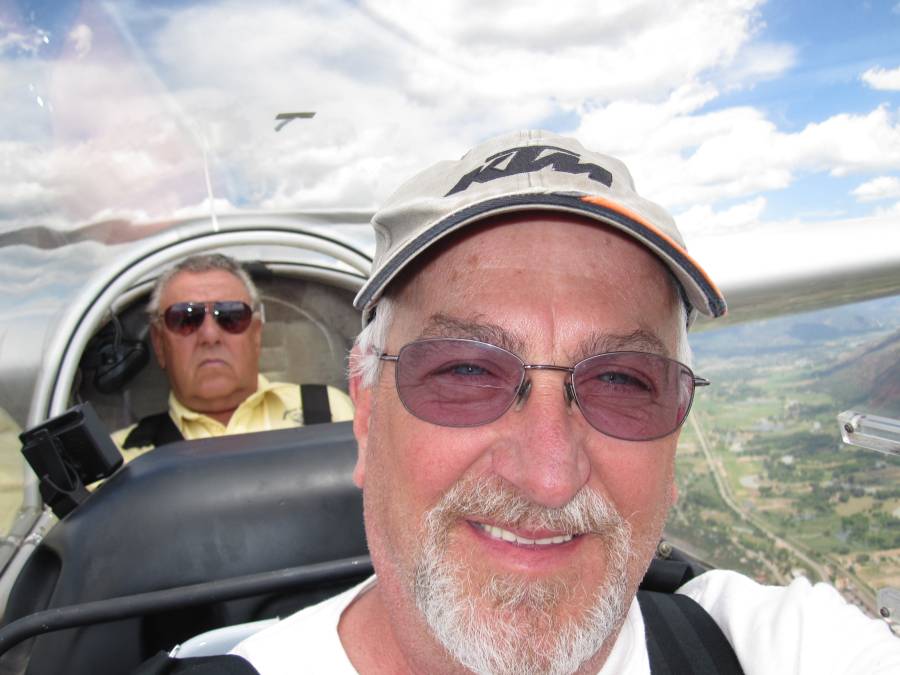 Marty video'd his whole flight---even the part where he asked where the barf bag was.
Man is it neat to watch.
I got a little queezy too.
What's next ??? Bungy jumping ???
My wife gave us rules when I left home---no Bungy jumping was one of them--crap !!!
Now that I think of it----Soaring was one of them--hope she don't read this.
Oh well---probably pull my old legs off anyway.
June 13th, 2010
I took off by myself for an early bicycle ride and came across a kayaking rodeo on the Animas river..
I called Marty on the phone and he came down to watch also.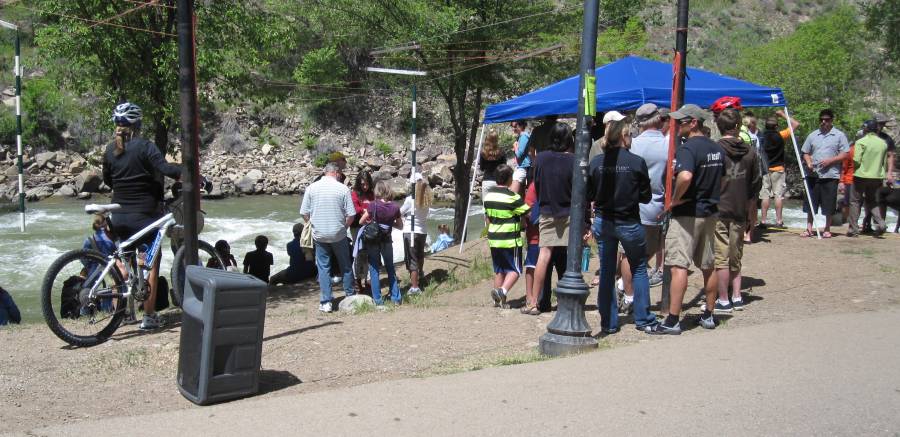 This guy was 8 years old and was pretty darn good-------fearless he was.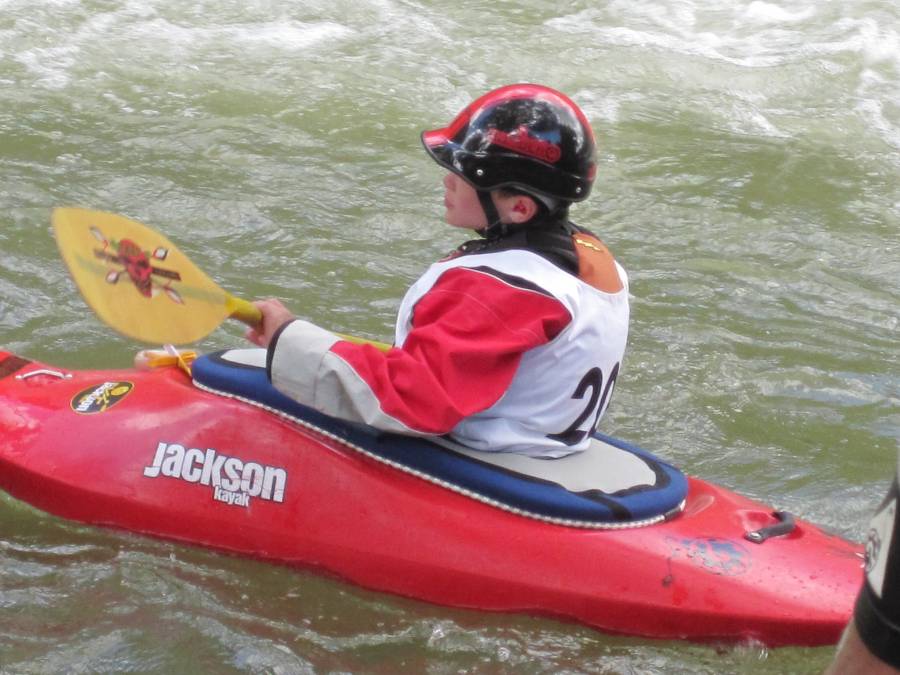 They would kayak into what they called a "hole"---in which with some skill you could stay in
the hole and do tricks----flips, twists, rolls........all kinds of stuff.
The only trick I could have done is the "drowning" trick.
One gal did bop her head on a rock and that had to pull her out of the water.
This was a good thing--if you knock yourself out kayaking--you will certainly die very quickly.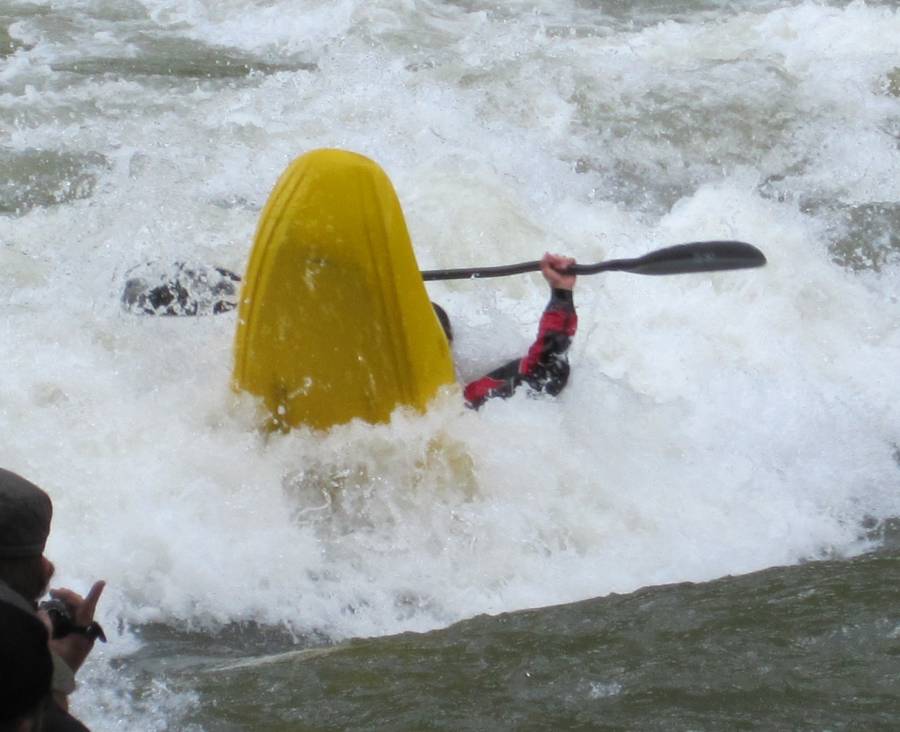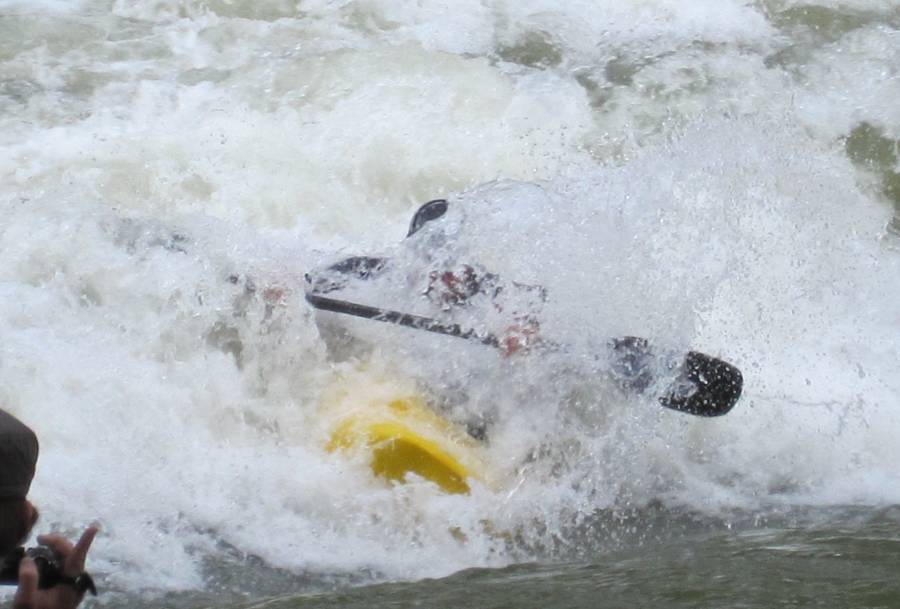 Nope--kayaking was not for me, thats for sure.
It really is a pretty daring sport-----we talked to professional kayakers and they said they knew
all kinds of professional outdoor athletes such as skiers, mountain climbers, hikers etc.
and they wouldn't kayak-----tried it---got the crap scared them--and sold everything.
It's very easy to buy slightly used kayaking equipment we heard.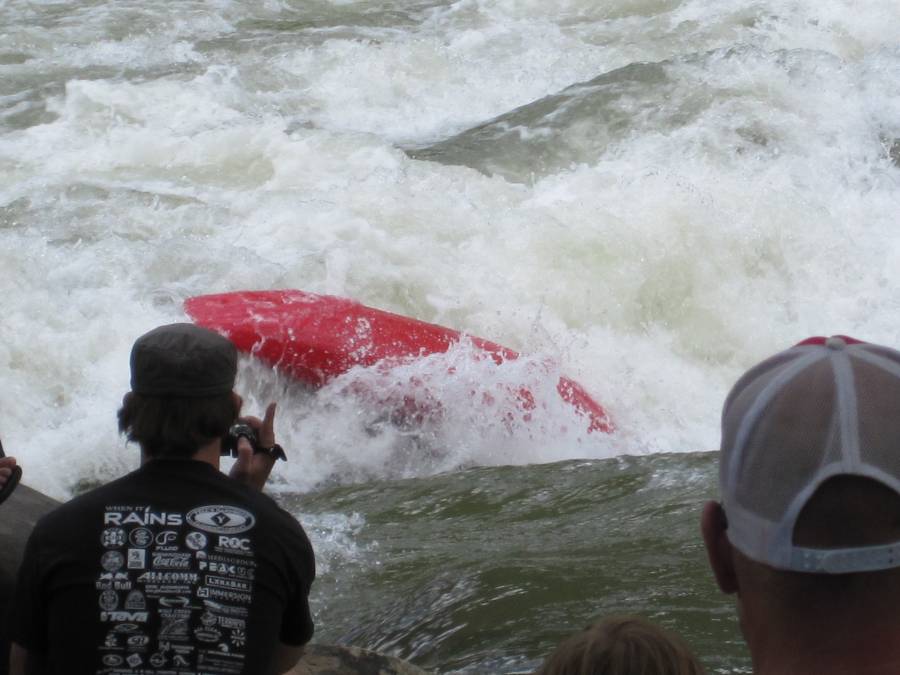 So-------we got on our mountain bikes and went for another ride.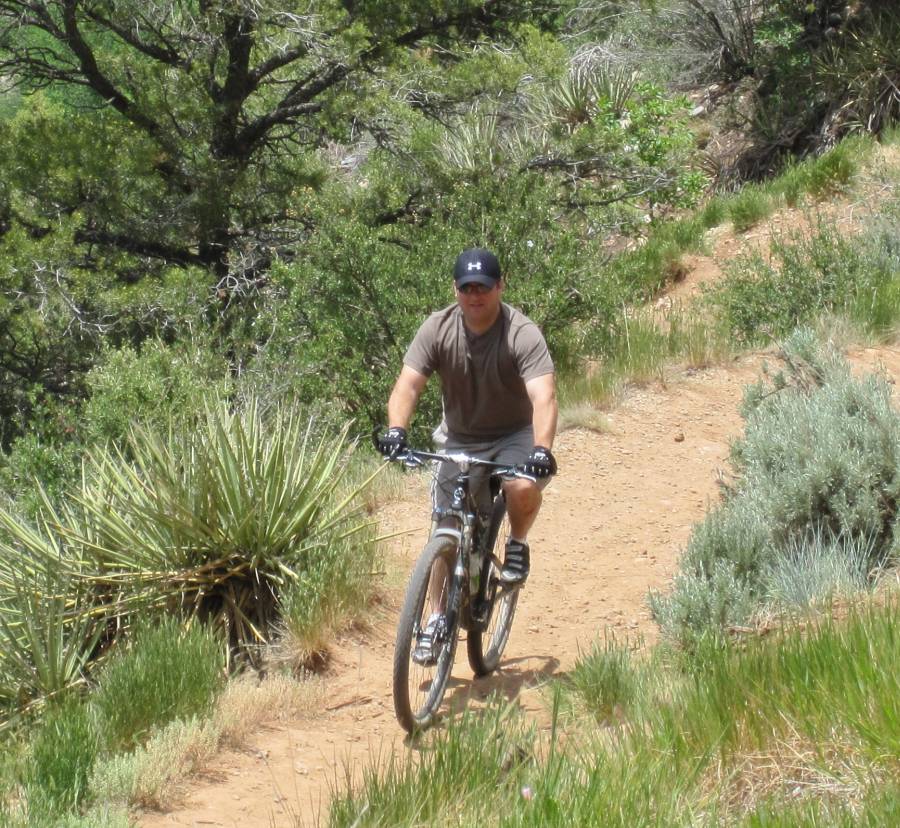 Overlooking Durango, Colorado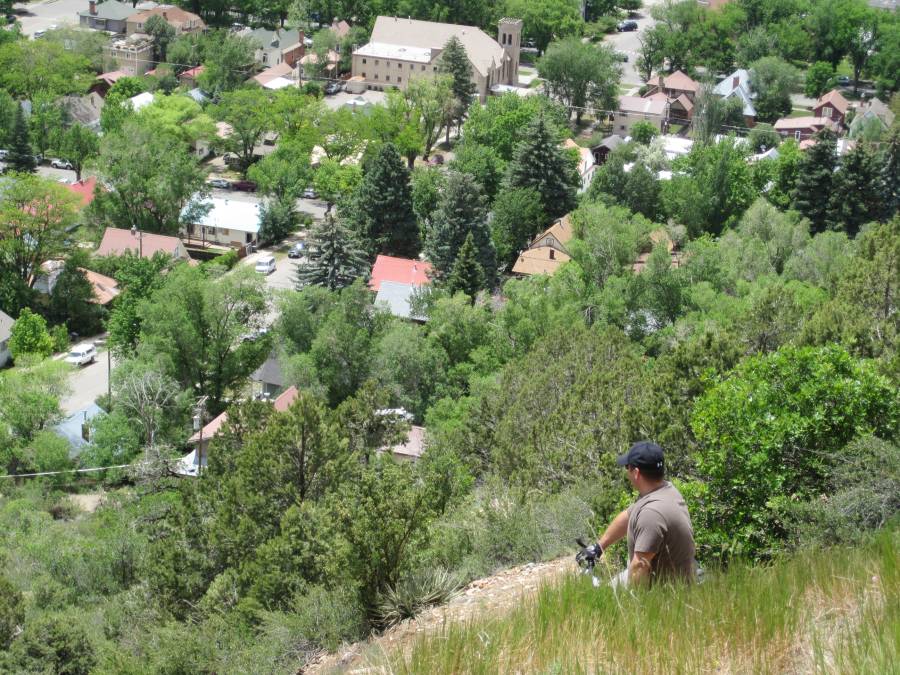 June 14th, 2010
We took off heading North out of Durango on the most beautiful paved road in the whole world....
the "million dolloar highway"..
I myself........couldn't wait to get off it an took the first dirt road to the East and ran Northwest on Hermosa Park Road.
As soon as we got past the gazillion--aires by the ski resort--the road got pretty rough and it really was nice up there.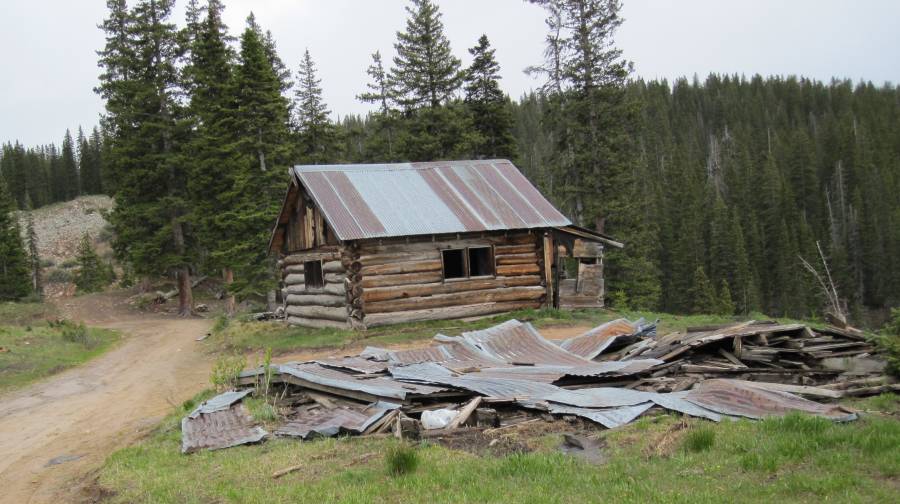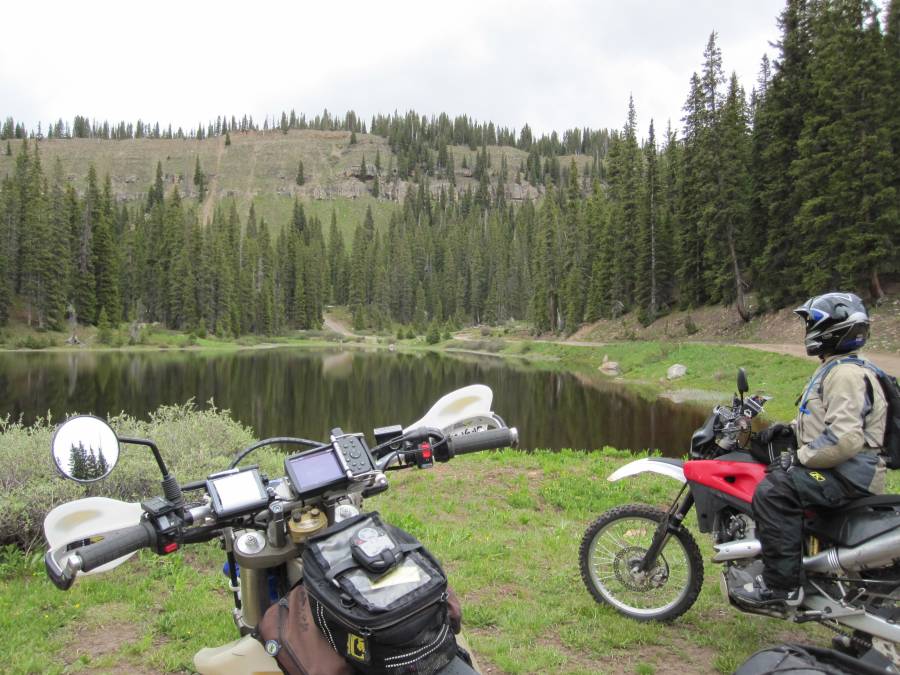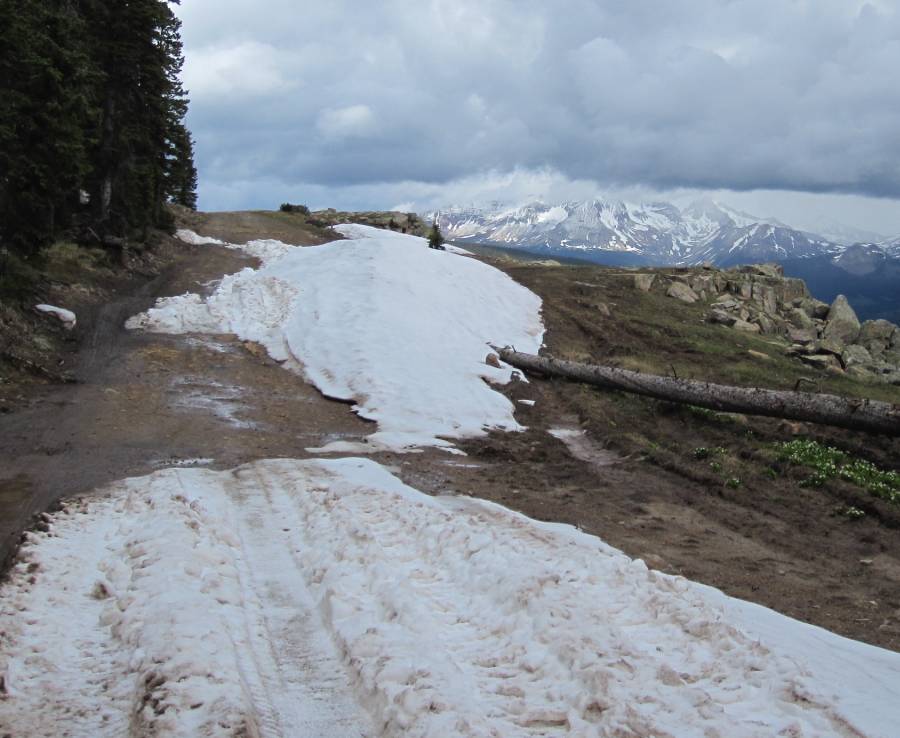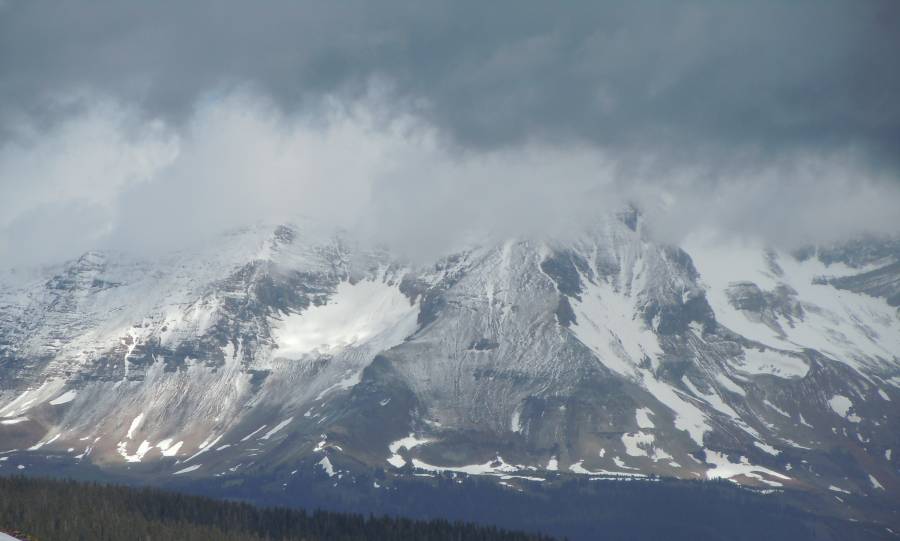 We encoutered lots of snow and plowed right thru---in this picture we topped Bolam pass and this bit of snow
might have stopped us--but I got in the rut that a jeep made and spun my way thru and this was
the last of any difficult snow. The jeep that did get thru here had to pile logs in the snow for traction.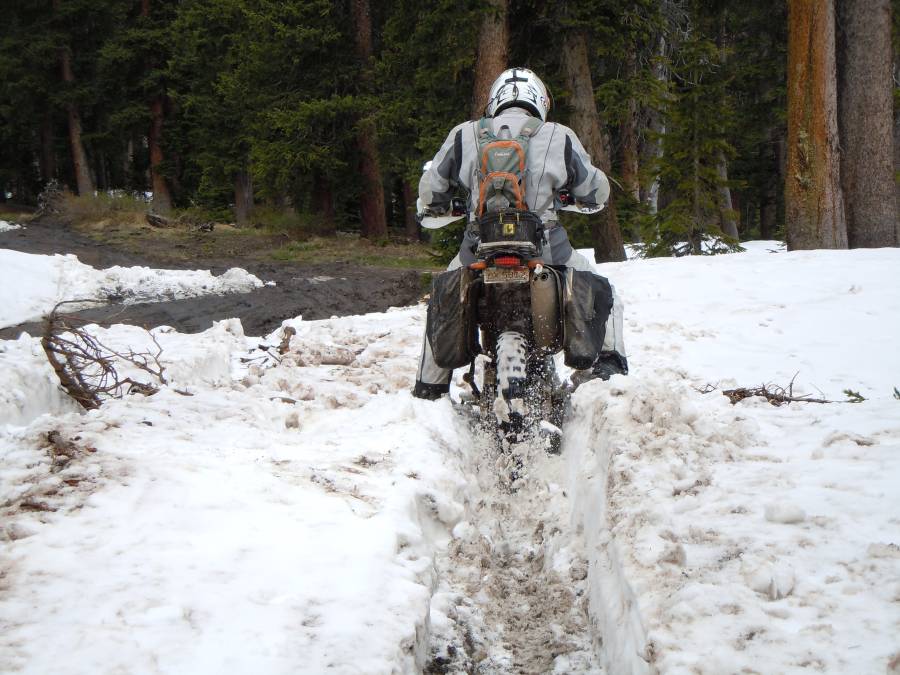 The WR's fuel injecting once again bounced all kinds of computer gizmo's around it's very intricate computer
system and kept my little 250 running perfect. God I didn't miss all my younger years of struggling around
these mountains fighting jetting changes.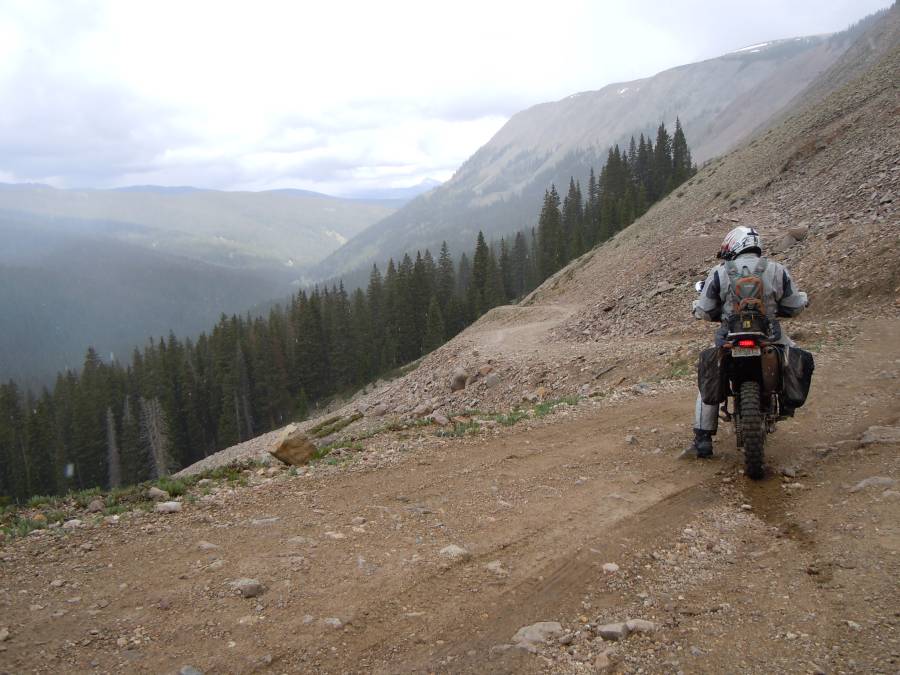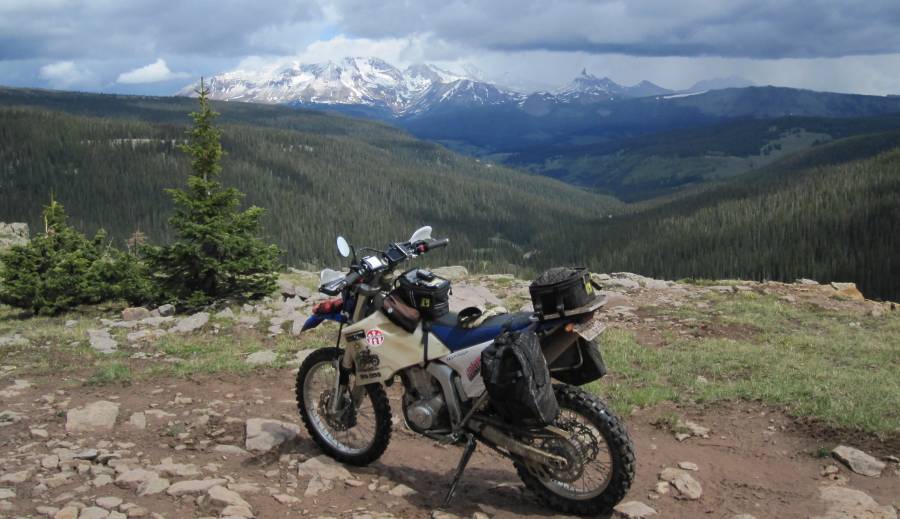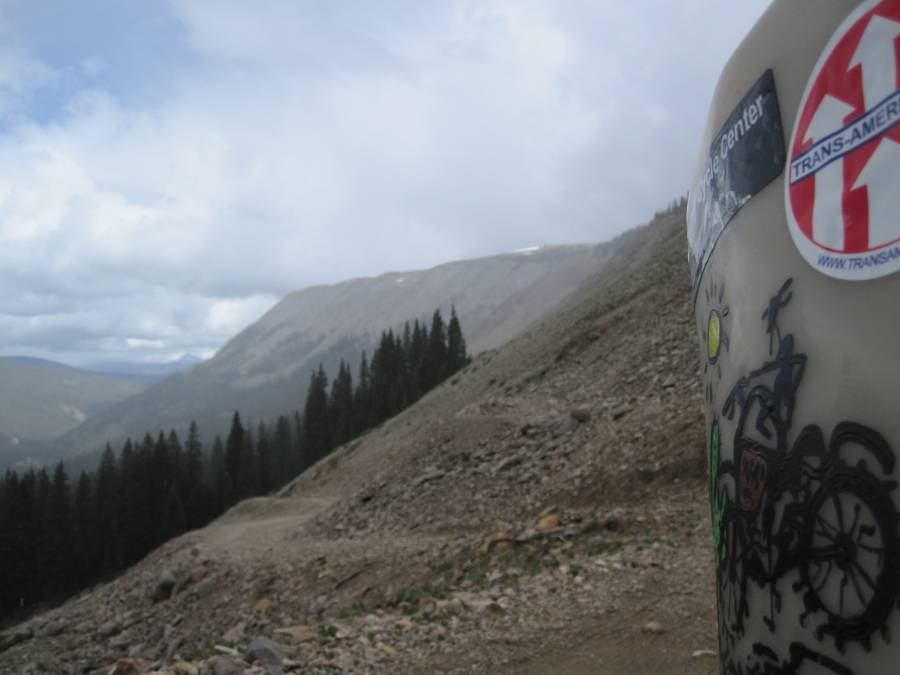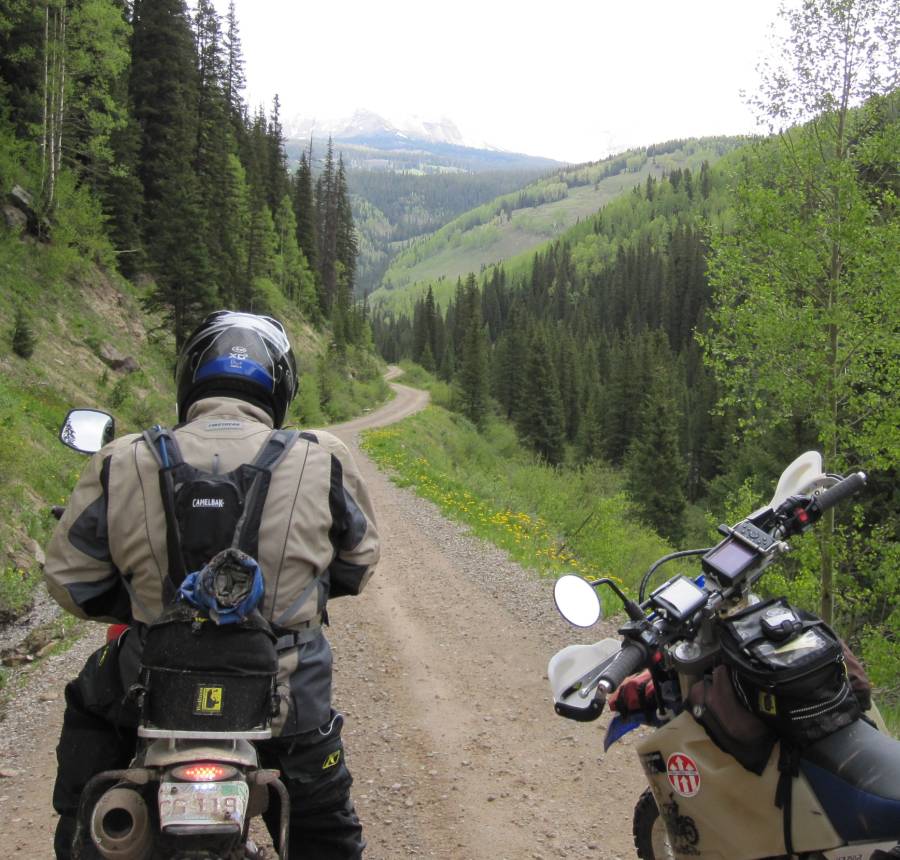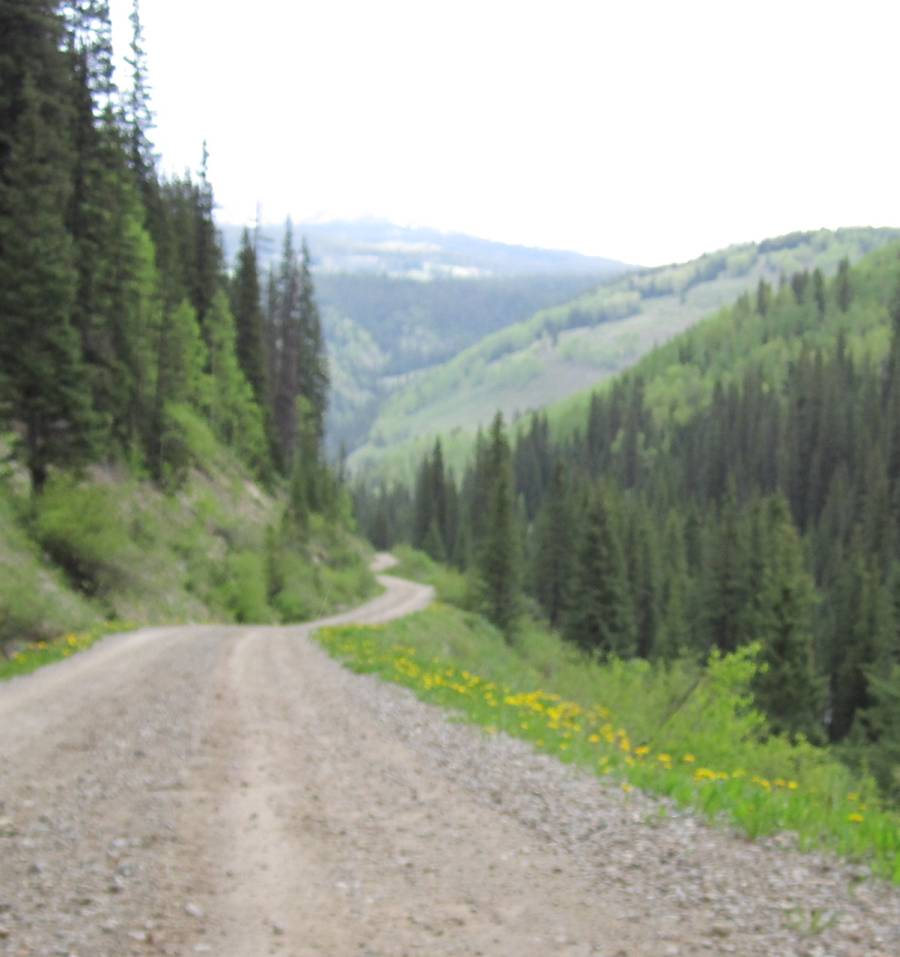 After hitting the pavement we went North thru Ophir and over Ophir pass.
Lot's of snow up there--and I'm sure the pass hadn't been open long.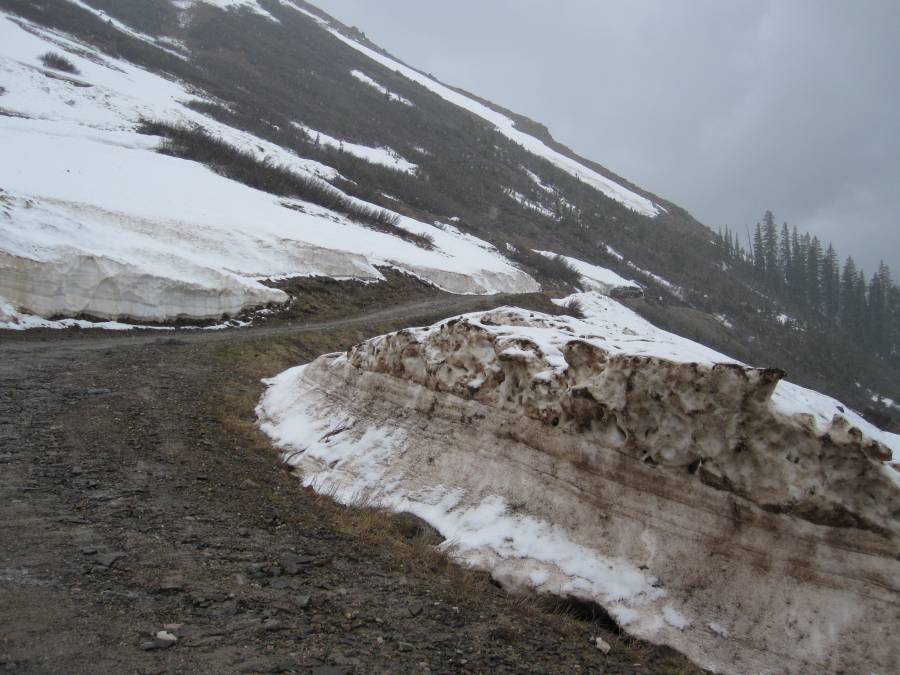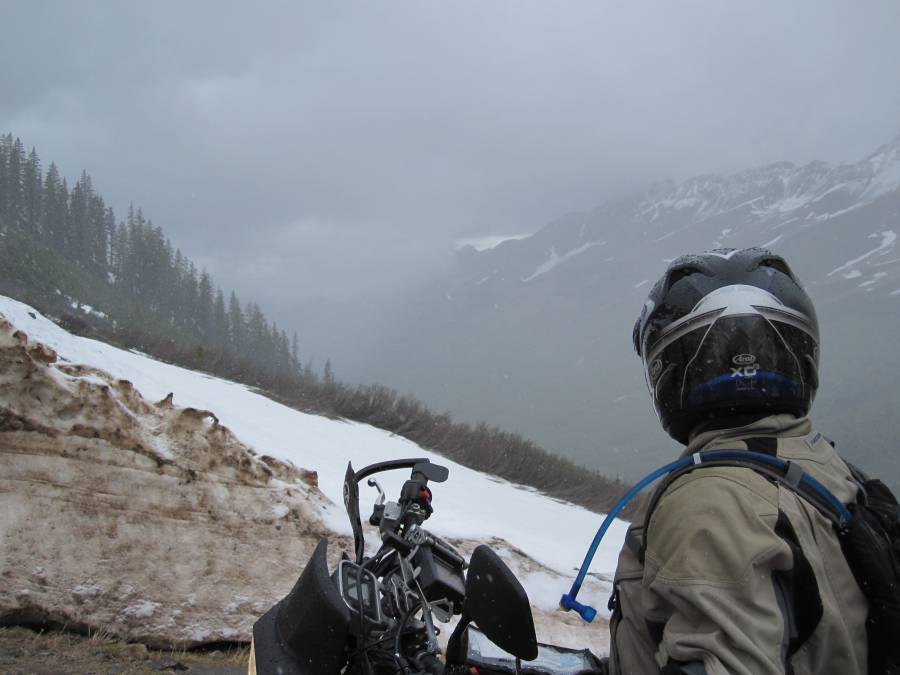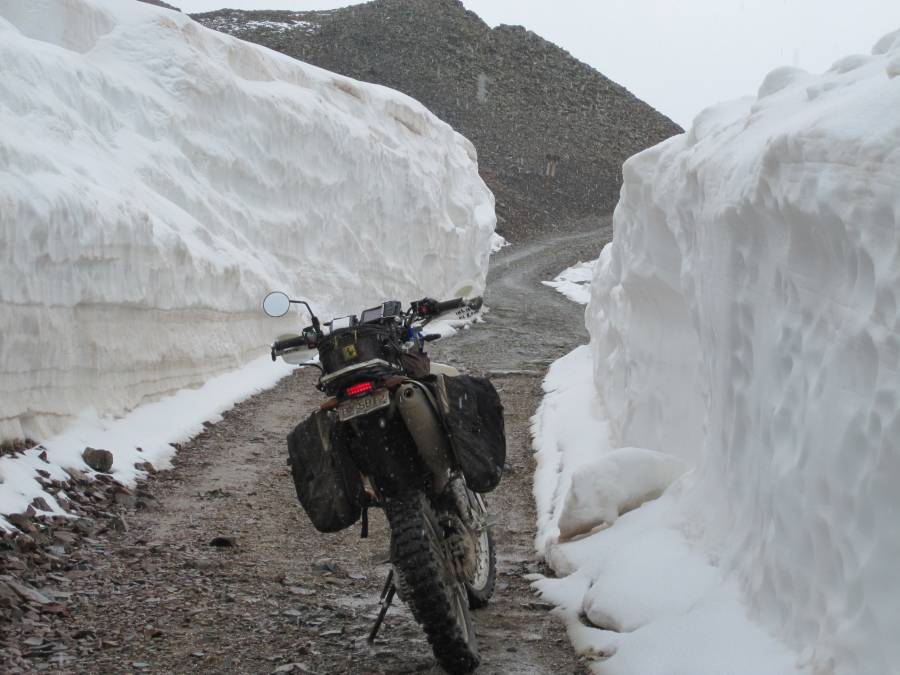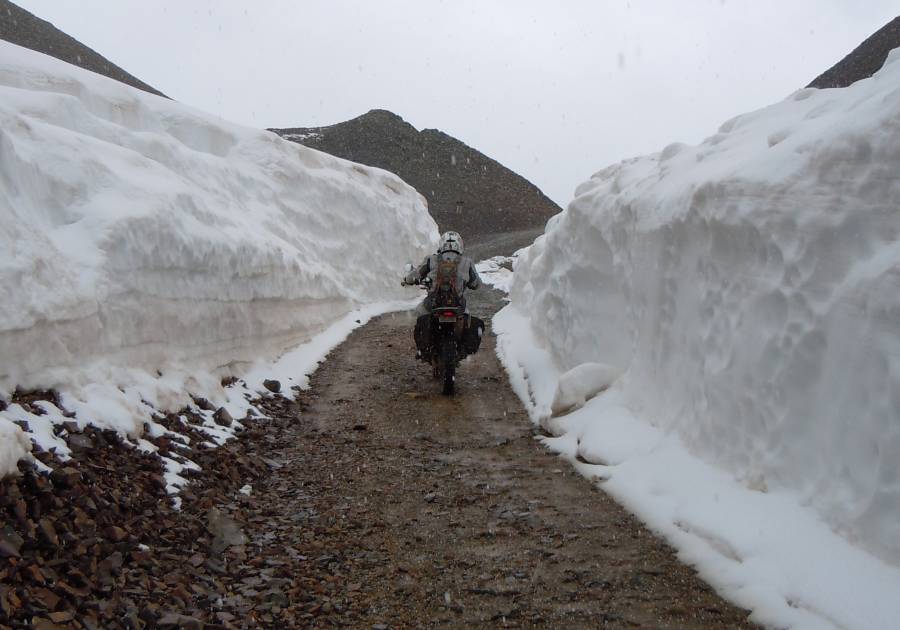 The real treat of the day would be Stony Pass.
Everyone I had talked to said I'd never make it--------impassable snow---impassable creek
and a washed out road that needed major repair ---only a hiker could get thru there.
Well------my buddy Vinnie The Snake tried this route last year but couldn't get his riding buddy to try
a really nasty hill----and all he could talk about was how beautiful it was thru there---at least
the part he saw.

Well this was like dangling a carrot in front of a horse for me------ and me and Marty decided to get as far as we could
and would turn back at the impassable Pole creek----or so we thought.
The pass was just a few miles in and it rained, then sleeted, then snowed on us making us realize getting thru
here might be biting off more than we could chew..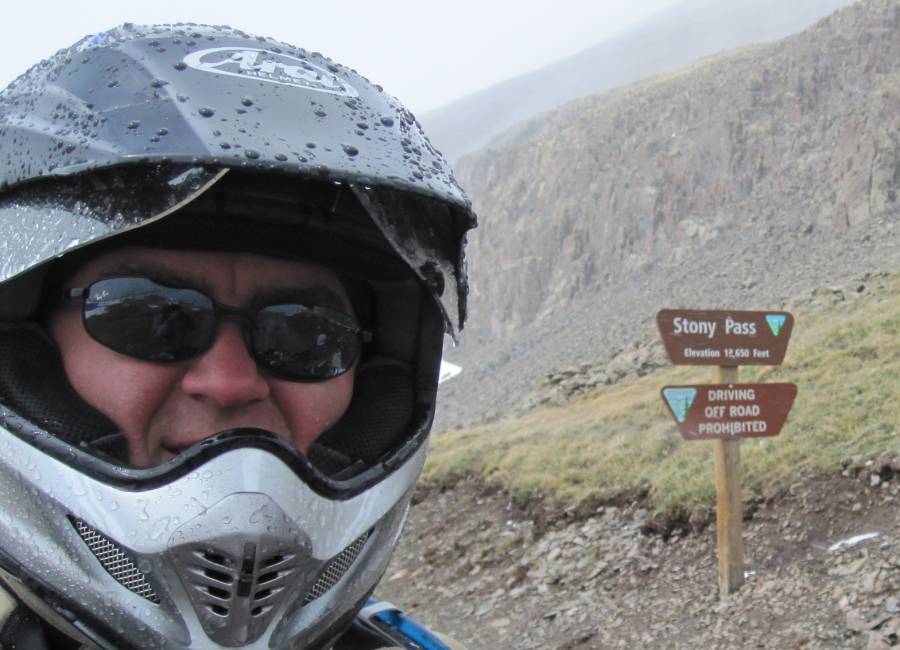 That is not fog----it is snow----it became blinding at times and our faces were freezing.
Then we'd put our faceshields down......which would fog up quickly--then we'd have to flip them up
and freeze our faces off again.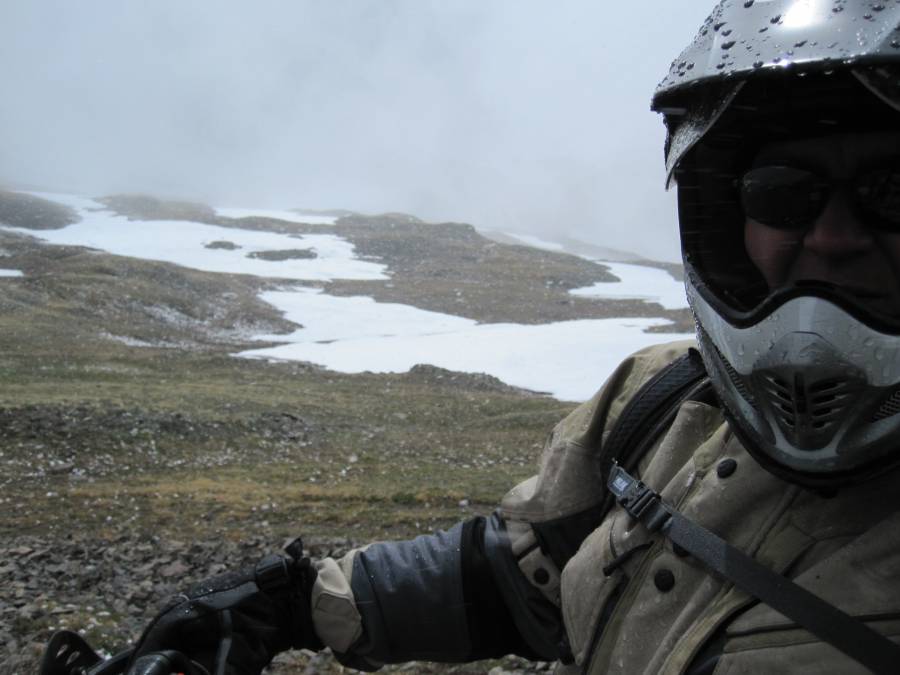 I had dropped a waypoint at Pole creek before we left-------so I'd know for sure when we got there.
Thing is-------Pole creek looked easy---and it was. But it did have big rocks in it and the last thing me and Marty wanted
to do was fall over and get soaking wet------after all it was freezing out.
I pondered turning around---riding 100 more miles freezing didn't sound like a good idea.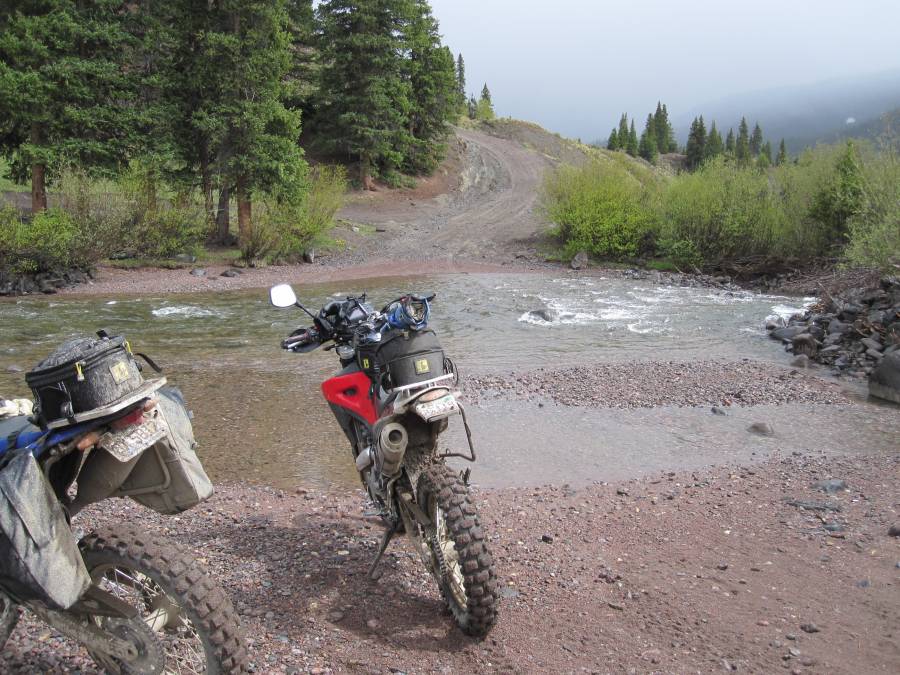 Marty just aced it across the creek---and I of course had to follow------didn't I ??
The ride on East was awesome-----not always easy and I think I found the hill Vinnie couldn't talk his buddy up.
We went down it----got to the bottom---and said "boy I'm glad we don't have to climb that" !!!!!!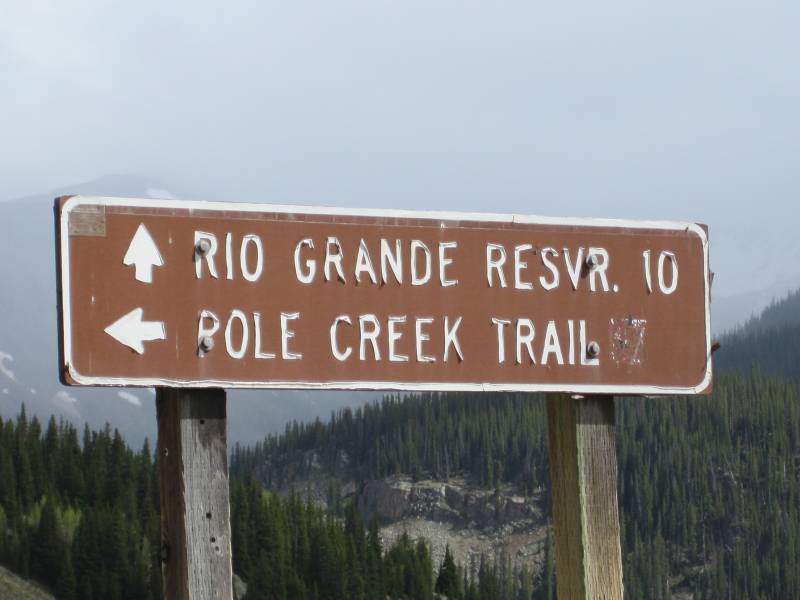 The head waters of the Rio Grande river is very near here--and is just a small trickle of water.
In this picture below you can see the Rio Grande twisting and turning into the Rio Grande Reservoir.
This was a very beautiful place.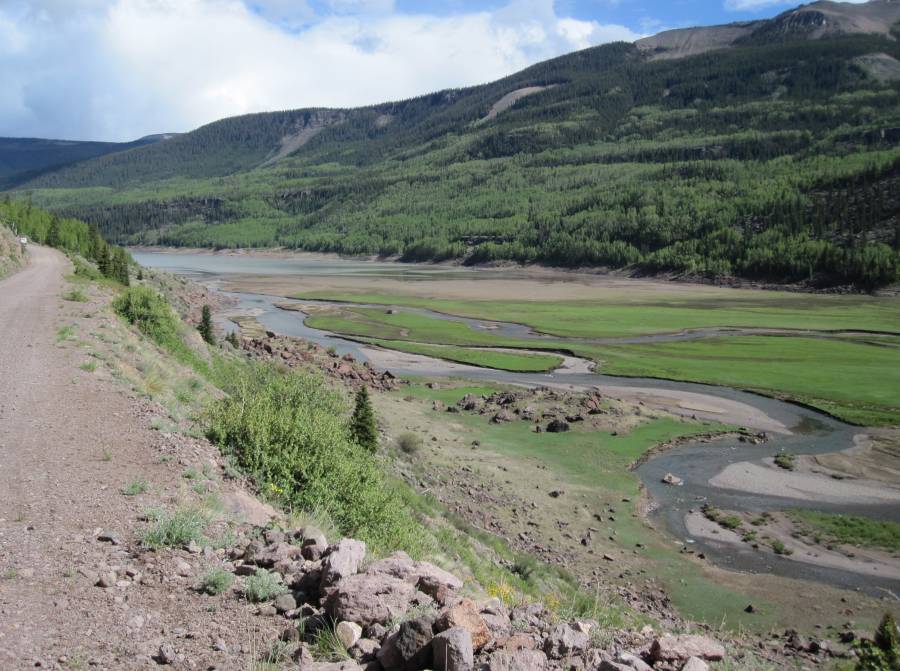 The ride past the reservoir was very easy and we ended up in Lake City, Colorado.
Marty was chilled to the bone---and took 3 hours to warm up.
Imagine if we had gotten soaked in Pole Creek.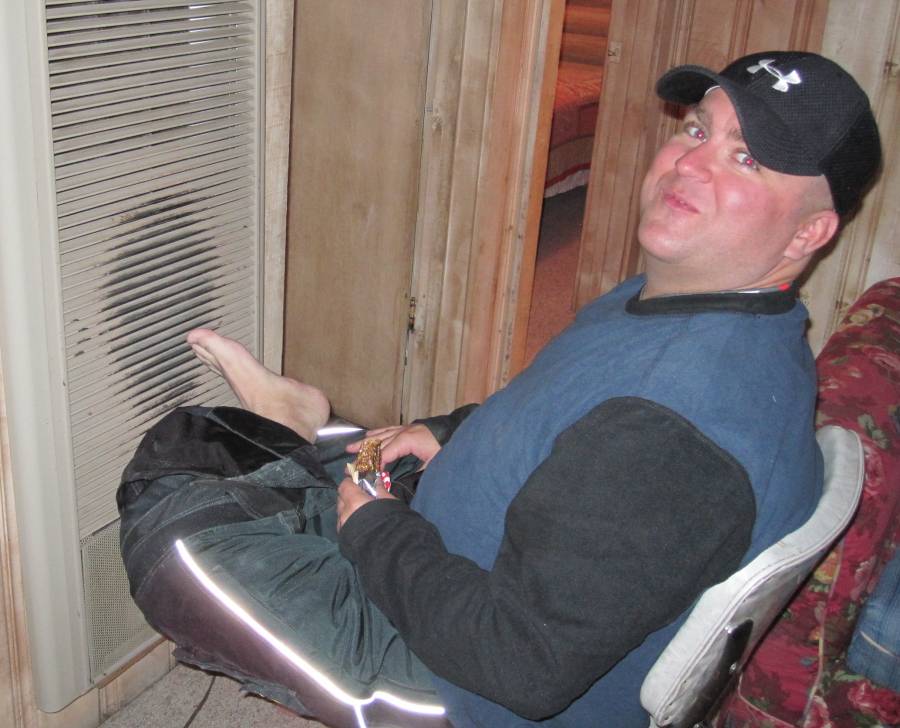 In our log cabin in Lake City.......Marty cozied up on the couch as close to the heater as possible
and got into his "don't bother me I'm comfy" mood.
Of course I had to poke and probe at him and risked getting kicked with his foot
with his old mixed martial arts skills------a risk I took.
We conquered Stony pass when others said we couldn't and were as happy as can be.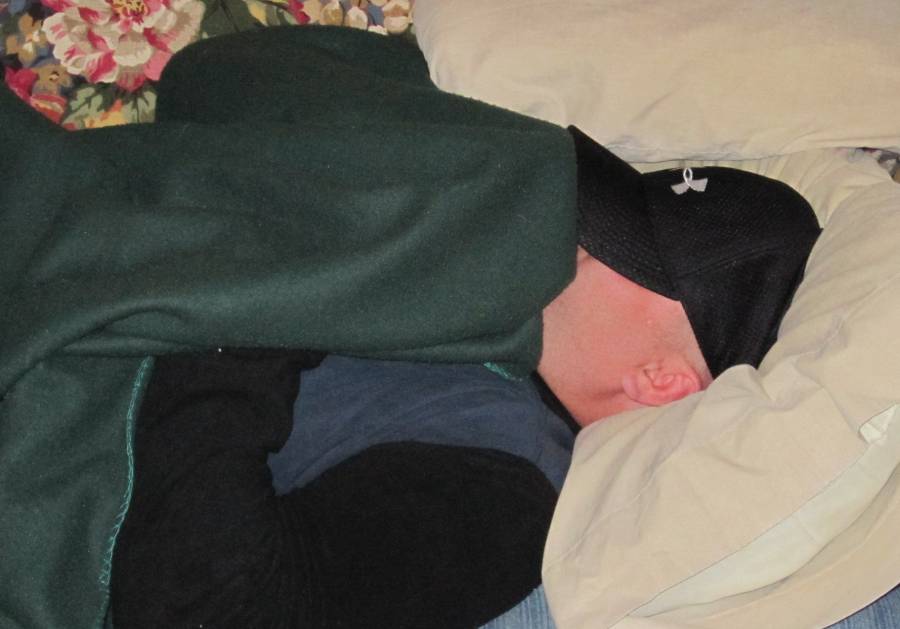 June 15th, 2010
Our hosts in Lake City---this couple was a hoot and were very interested in our travels.
We went out for breakfast at the Tic-Toc cafe and she asked if she could bake some cookies in our stove
while we ate breakfast. I said sure---and she left us some warm cookies in a baggy which we took with us
and ate later in the day at a pretty overlook.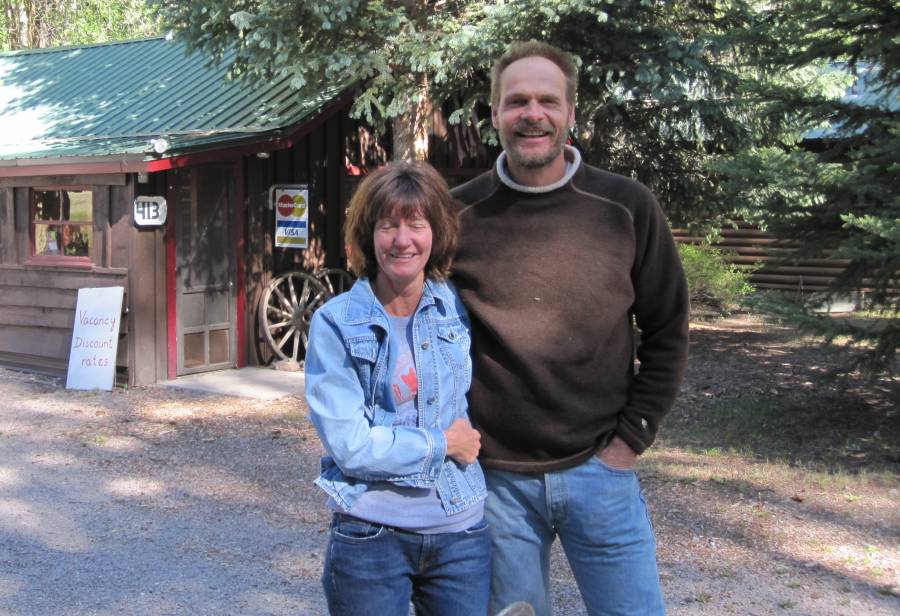 Today would take us from Lake City all the way to Taylor Park, Colorado---where I had spent much of my younger
riding days beating my head off of the rocks on the nastiest single track trails they had--way before "BigDogAdventures".
We rode North out of Lake City on paved 149 and guess what ??????????????
Yep------first dirt road to the left was Alpine Meadow road.
I made a turn off of it to a lesser traveled road and we opened many ranch gates thru some nice dirt roads.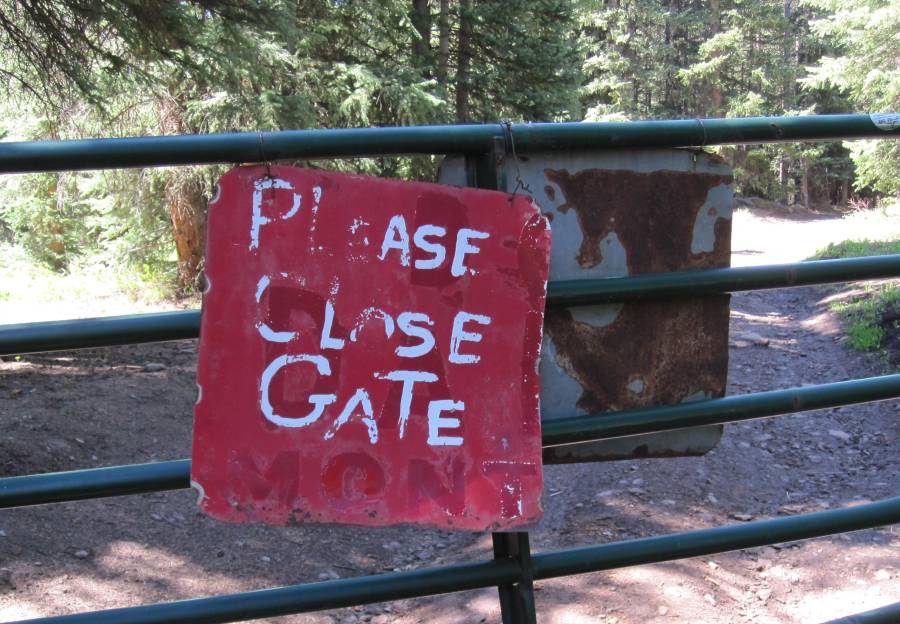 We need a new sign----------"NO NOTHING"
Make things a lot simpler--although in my world--signs will be a hanging offense.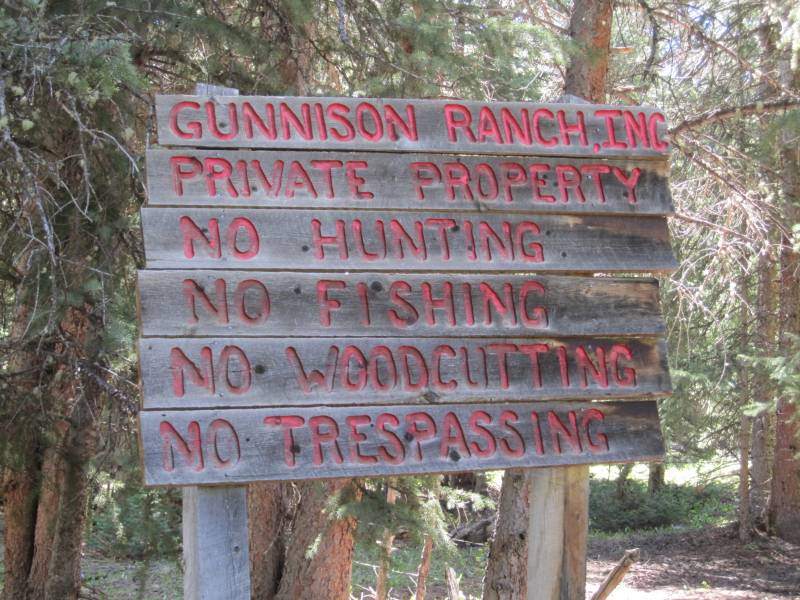 A dead end dirt road led us along Lake Fork of the Gunnison river.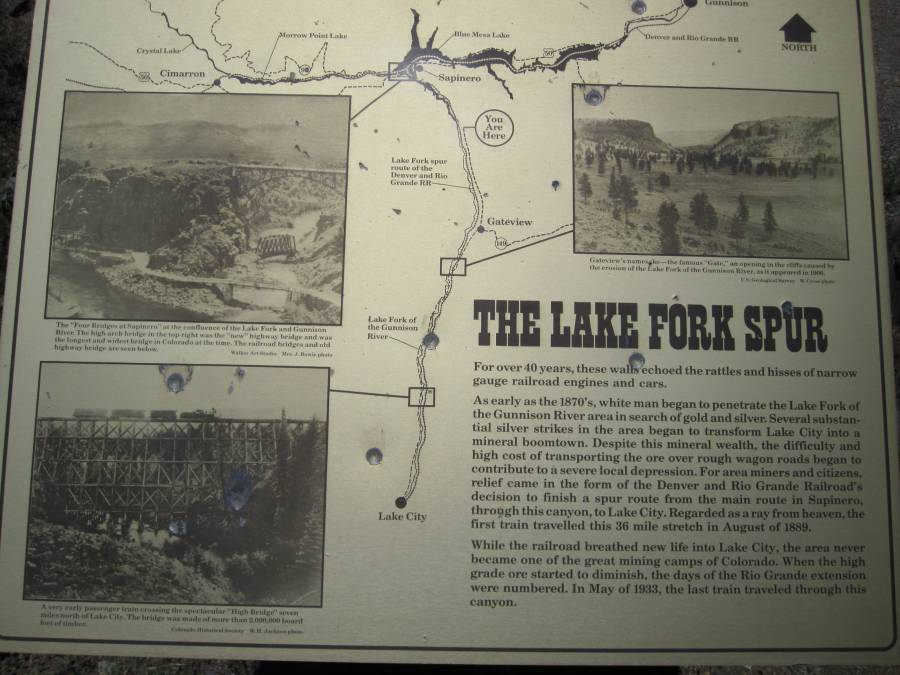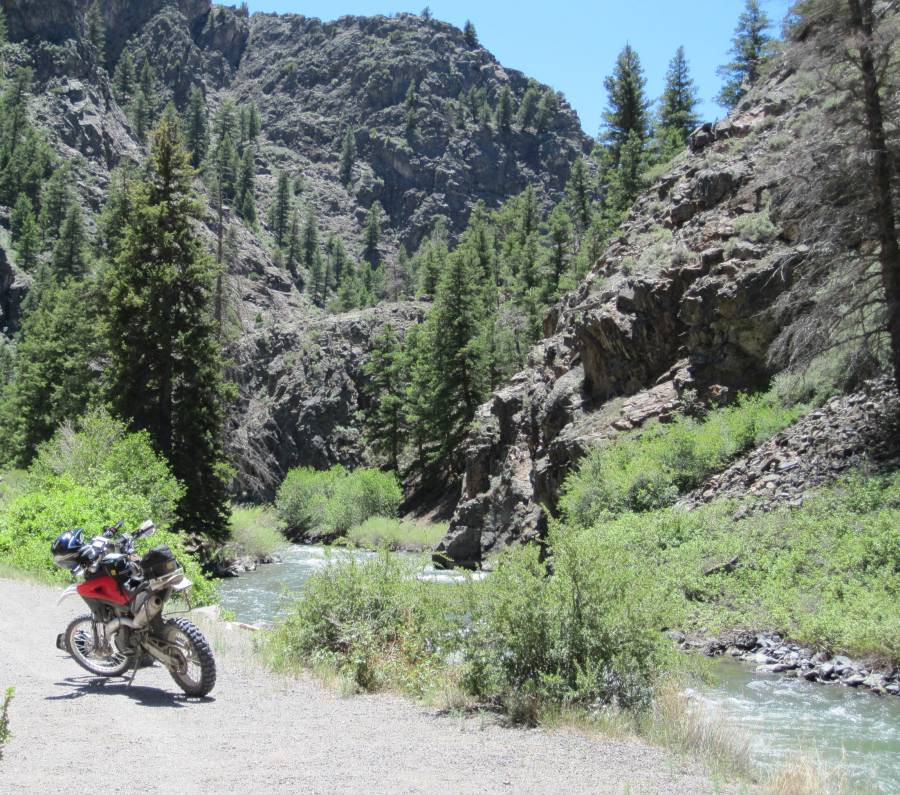 The road was an old railroad grade and the road ended here.
I would love to come back here and camp by the river.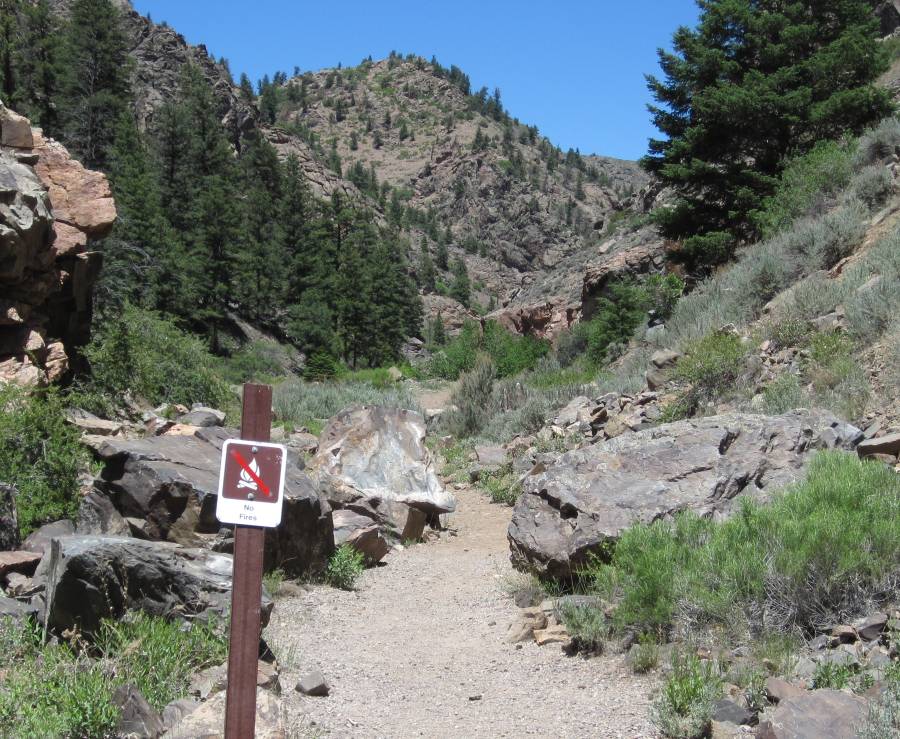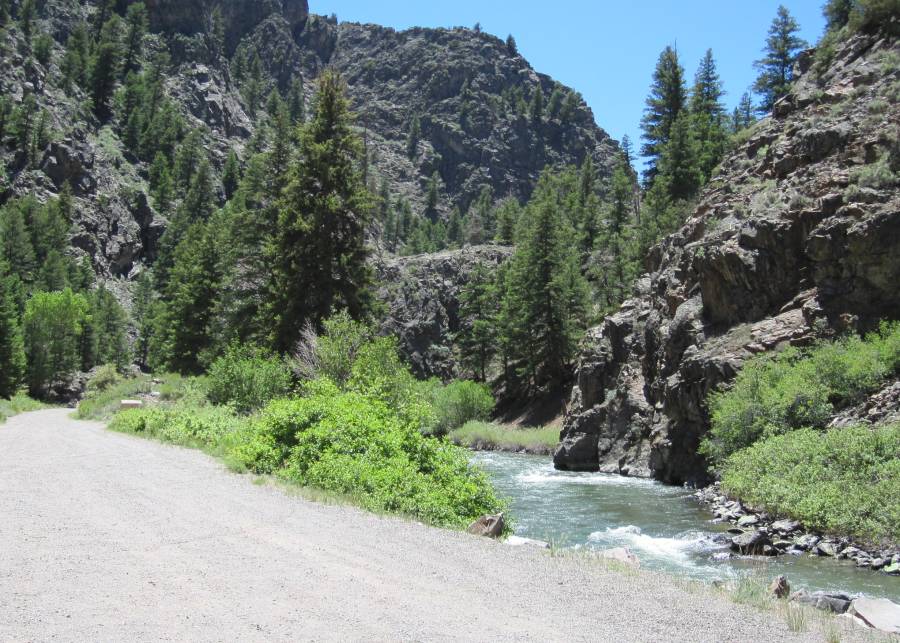 We ended this day up in Taylor Park Colorado---after a visit to the KTM shop in Gunnison. Really nice shop--and we bought a few
things there. Marty had lost my favorite gortex riding pants on the trail today and bought me a new pair of Klim Mojave
riding pants---which will come in handy for an upcoming ride in a couple weeks. Thanks Marty !!!!
June 16th, 2010
Of course at the crack of dawn I was up and milling around the cabin and even took a short ride up the hill
at Taylor Park to see the cabins up there. It was super nice out----a little chilly but it would warm up fast.
So at 5:52 AM Marty is given me the stink eye I think.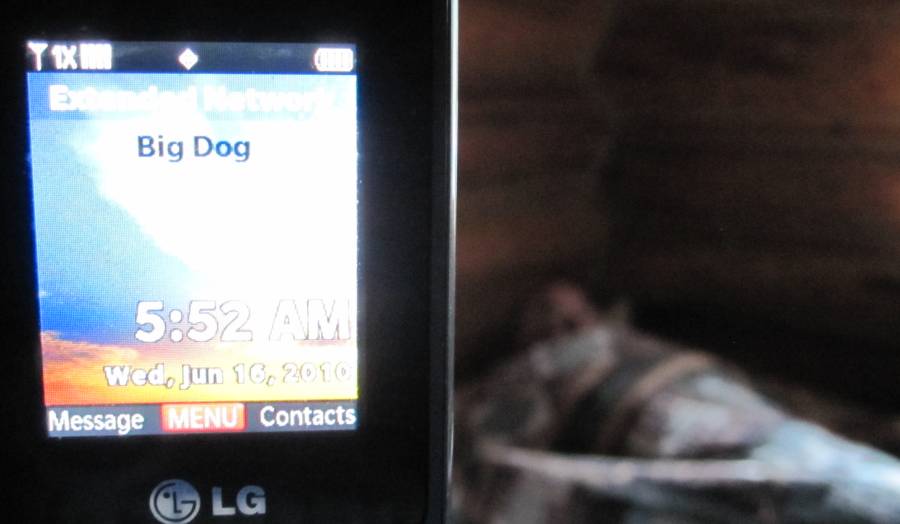 When on my little early morning walk I captured this beautiful picture of the fog over Taylor Lake.

Our cabin at Taylor Park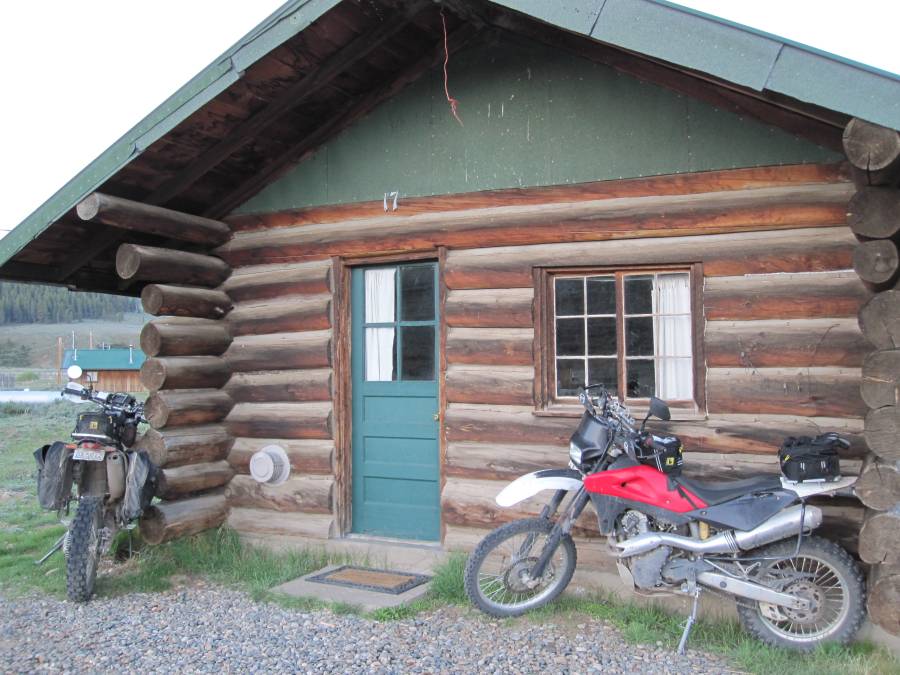 We headed out towards the little town of TinCup--a really neat historic mining town of Colorado.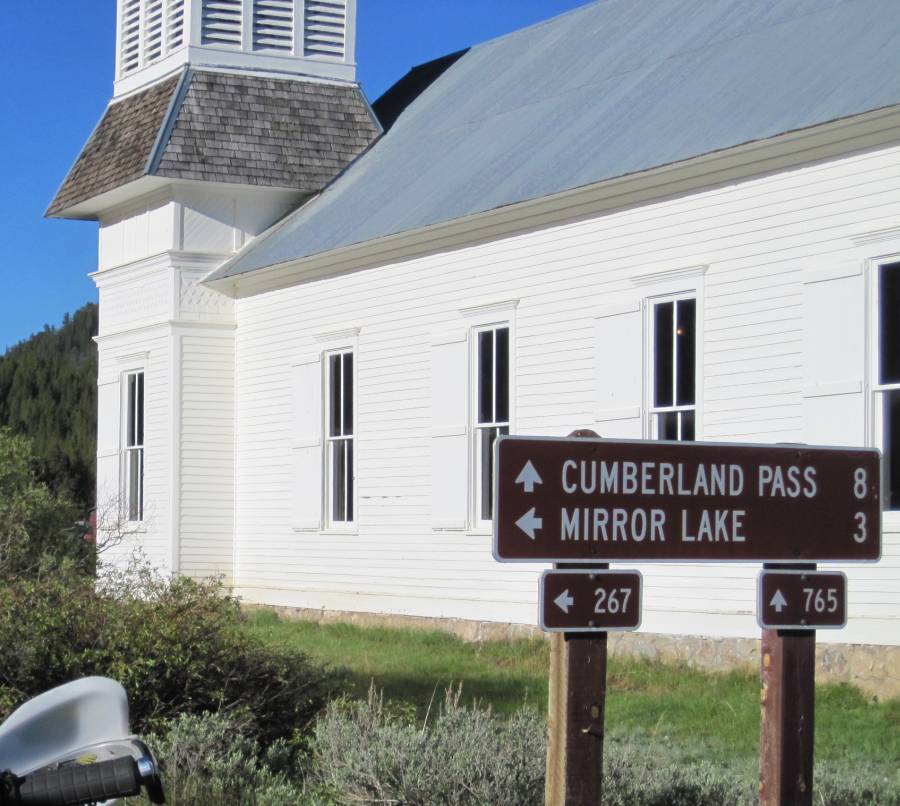 We summited Cumberland Pass and I searched for a goat trail up here I use to ride that was terrifying.
Maybe it was good I didn't find it.
Down the pass we slowly rode into Pitkin, Colorado one of my favorite little towns.
Life here is tough in the winter and very few winter it all the way thru the winter.
We had a cup of coffee here--talked to the locals and the sun really warmed things up
the short time we were there.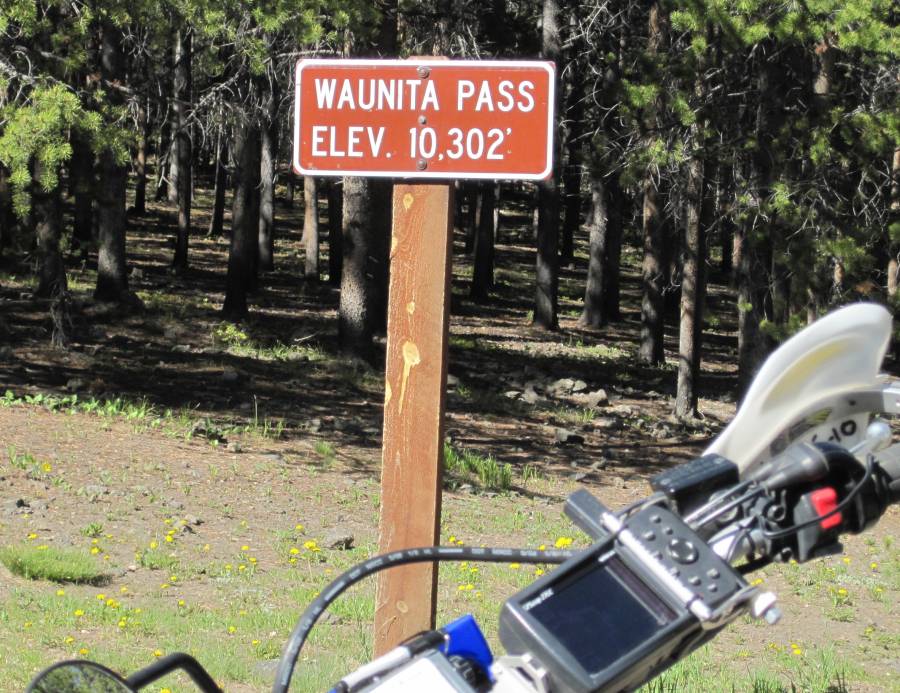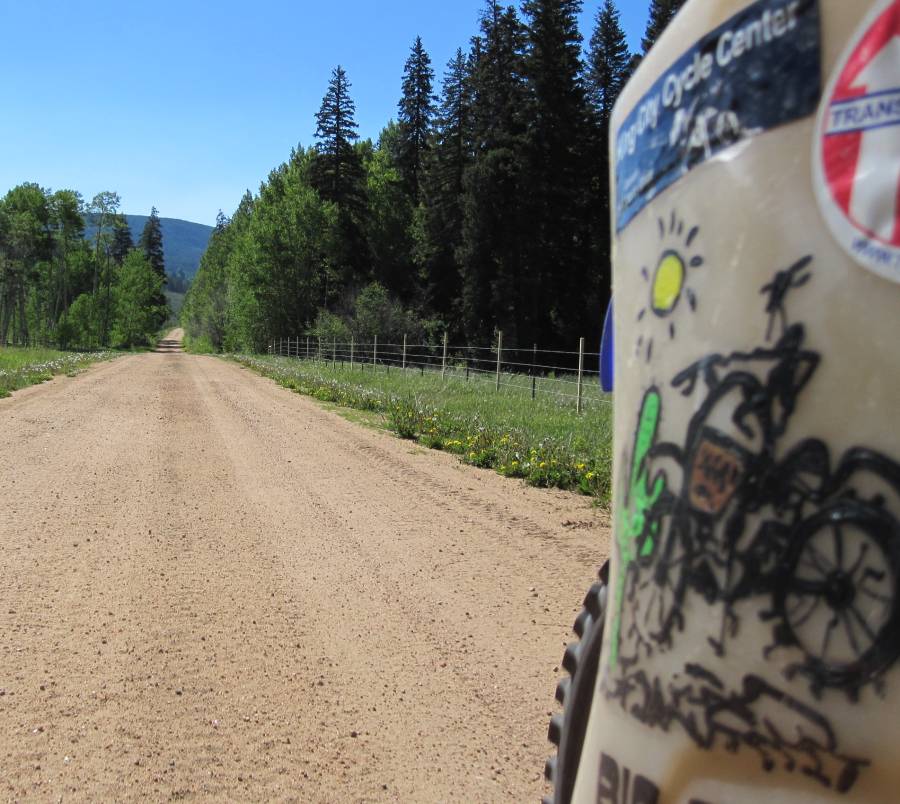 We headed South at Doyleville and continued on another portion of the
Continental Divide Trail.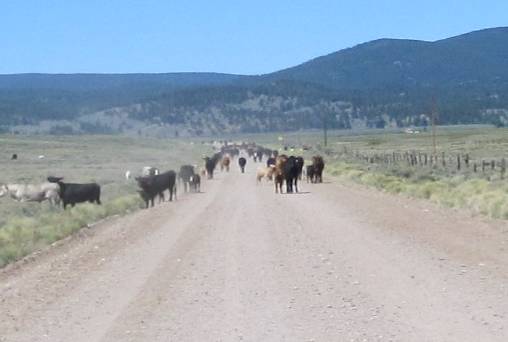 I had ridden thru here before but must have been riding too fast to see this.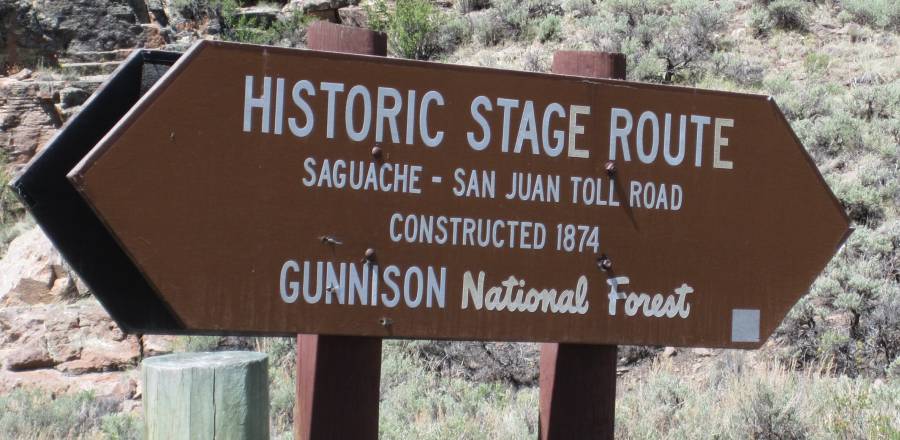 Here is the actual trail and was really rough. We just couldn't imagine a wagon going thru here.
Motorized travel is permitted thru it and we rode about a 1/2 mile of it.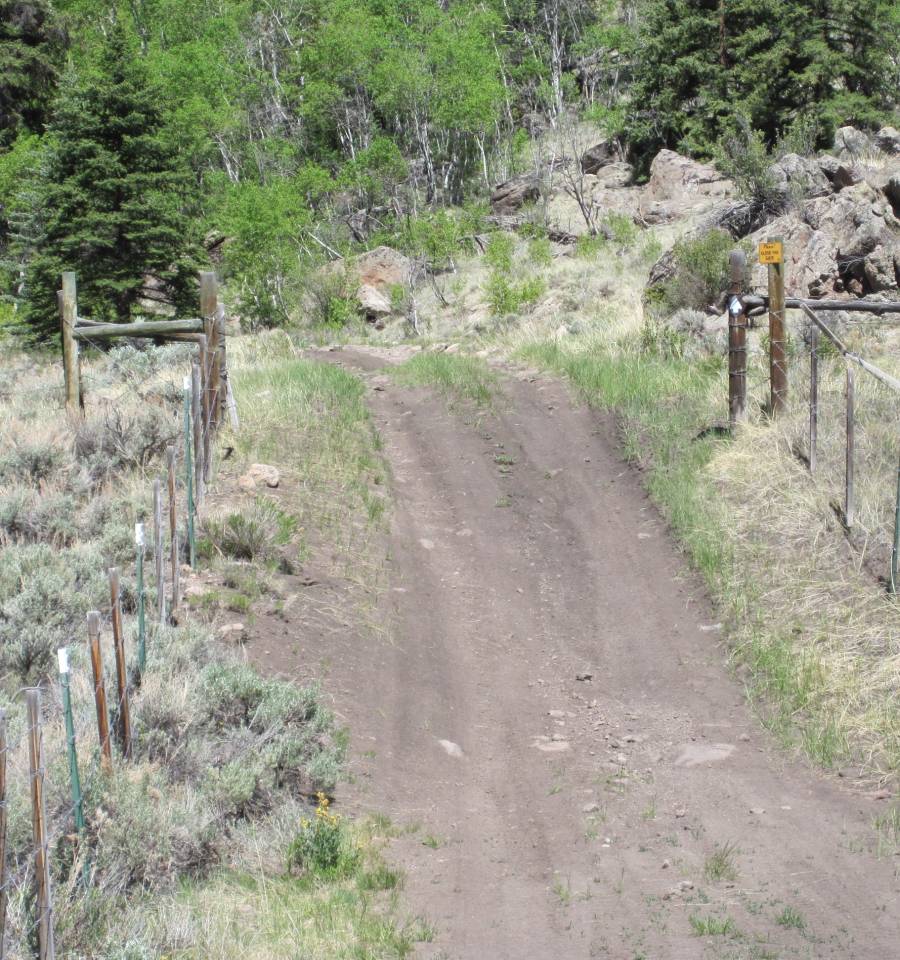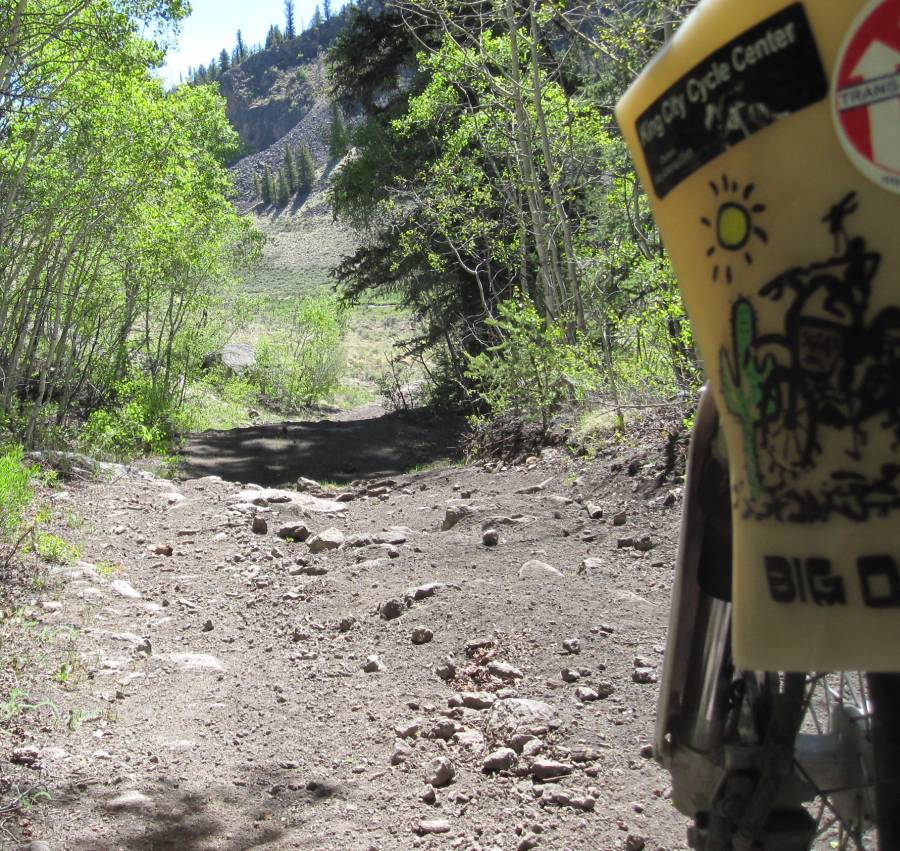 Riding South we hit hwy 14----------well I only lasted 1/2 mile before I took the first dirt road East
toward Lake City and Me and Marty went over Cinnamon Pass.
Marty was feeling really bad---maybe altitude sickness and I felt we needed to get him back home.
I have ridden a BMWF650 2 up with full camping gear over this pass---it was pretty tough but me and
my wife really enjoyed it although it freaked her out several times she had fun---I think..
It was a very tough ride up there---much tougher than I remember it and I thought how in the heck did I ride
my wife over this pass ???? After telling Marty that I had done that he replied.......
"Now I know why mom won't ride with you anymore"
HHhhhmMMMmm----never thought of it that way---but it made sense.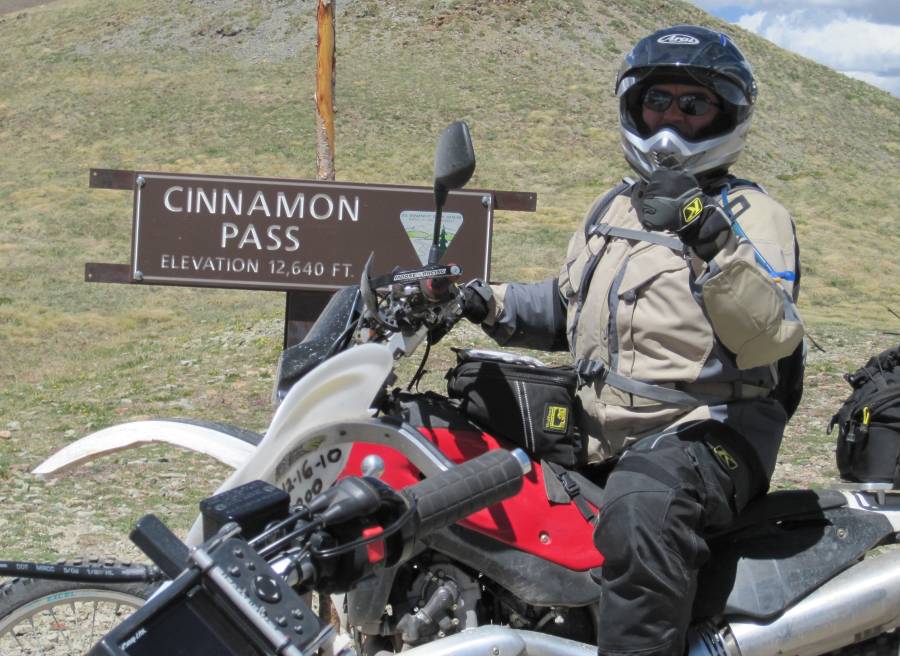 This part of what is called the Alpine Loop descends down into the old gold mining community of Animas Forks.
Much history here---I'm not going to type an hour about all the history here---but do a search and I'm sure you'll
find it very fascinating. There were many hardy souls who labored here for years and survived (or didn't) the
brutal winters.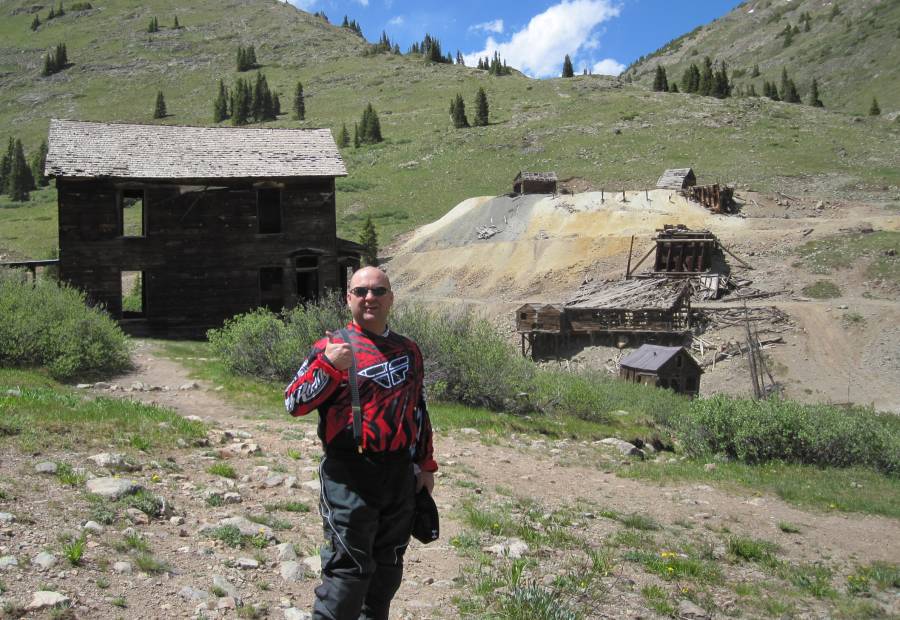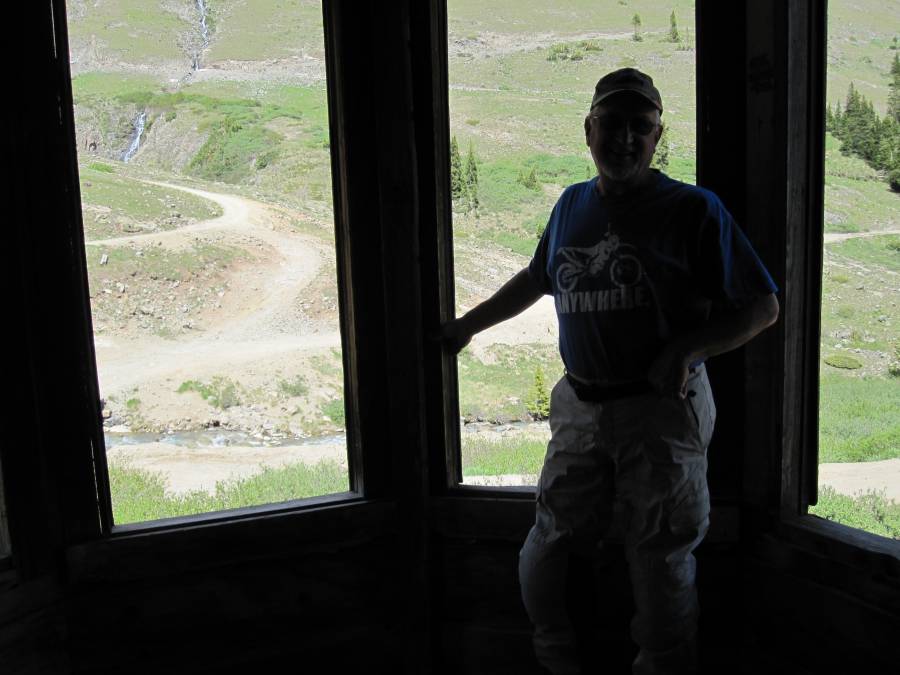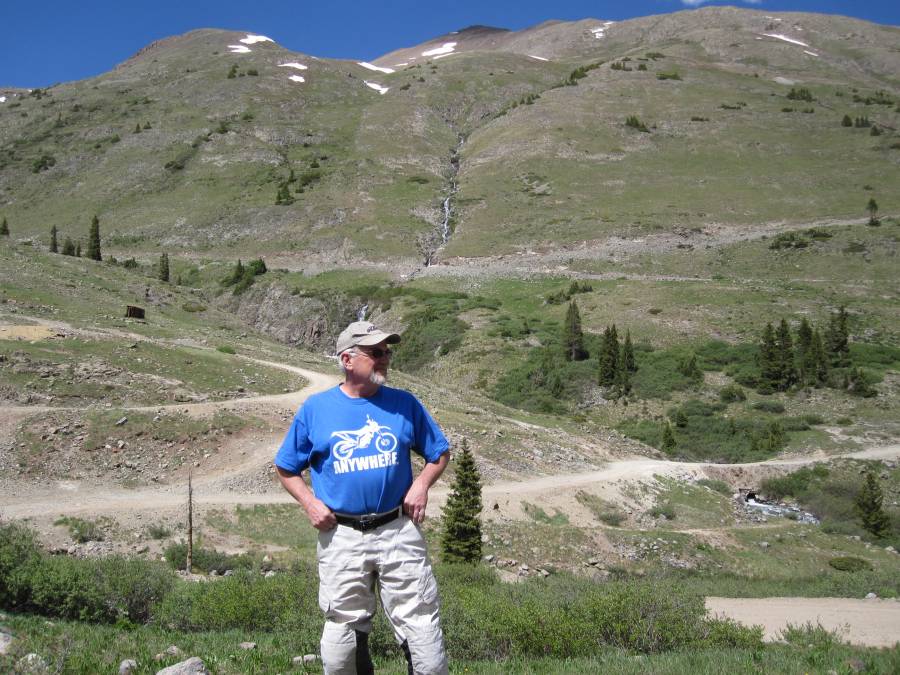 The last picture of this 3 day ride.
Paul Taylor is pictured below----he was riding the entire Trans Am Trail from Jellico, Tenn. all the way to
Port Orford, Oregon which I had done several years ago. He was full of questions about the trail and maybe wasn't too
happy to hear my answer to one of his questions. After telling him about the remoteness of the trail ahead he pondered
going around the remote sections ahead. I respondeded he might as well go home, as he was going to be in some
very remote parts of the US and a problem with his health or bike could get real ugly. You'd have to skip Utah, Nevada
and Oregon to miss all this remoteness.
Anyway----we invited him to follow us to Marty's house and get a bath and some food in him before
continuing on the trail--and he did. Paul had got laid off his job and had never really done anything like this. I was absolutely amazed
at how well his bike and gear were up to the job--he was on a quest as he said--and I hope he fulfills his quest.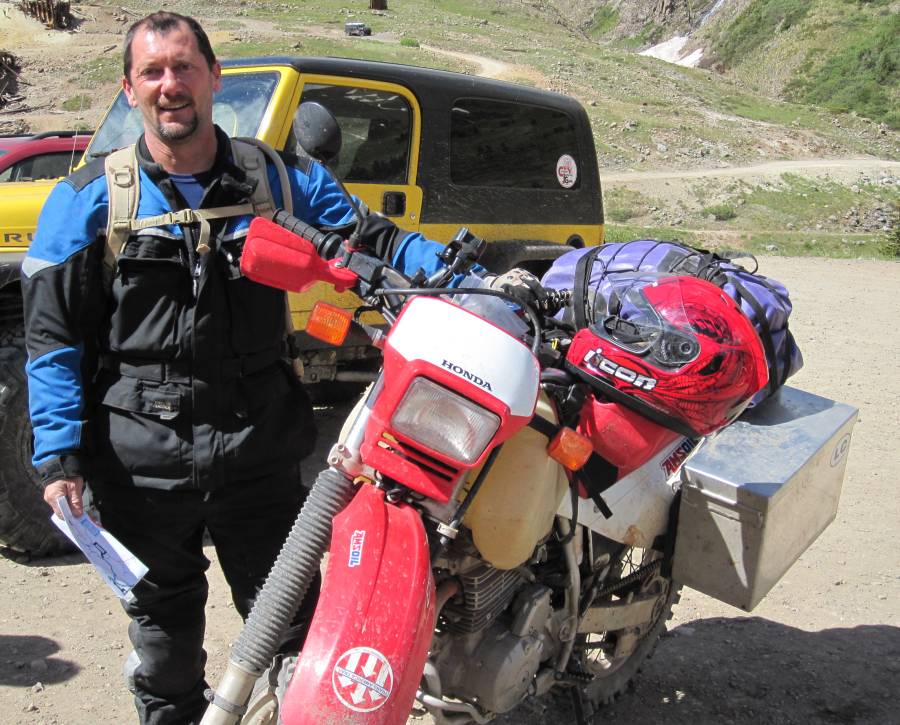 A few years after this ride I finally realized that this was me and Marty's last ride.
Marty sold his motorcycle and that was it.
I don't guess if I would have known that what I would have done different.
I never thought that would happen---but your kids go their own way.
So I guess this last shadow picture of us is fitting.