Day 5 of the Montana 1000
Let's see-----where were we----oh yes---all snuggled up in our bunks at the Horse Prairie guard station.
All the other riders were about 15 miles away at the Reservoir Lake campground.
We cooked breakfast on the propane stove and used water out of the sink---with the gravity feed spring water.
It didn't kill us.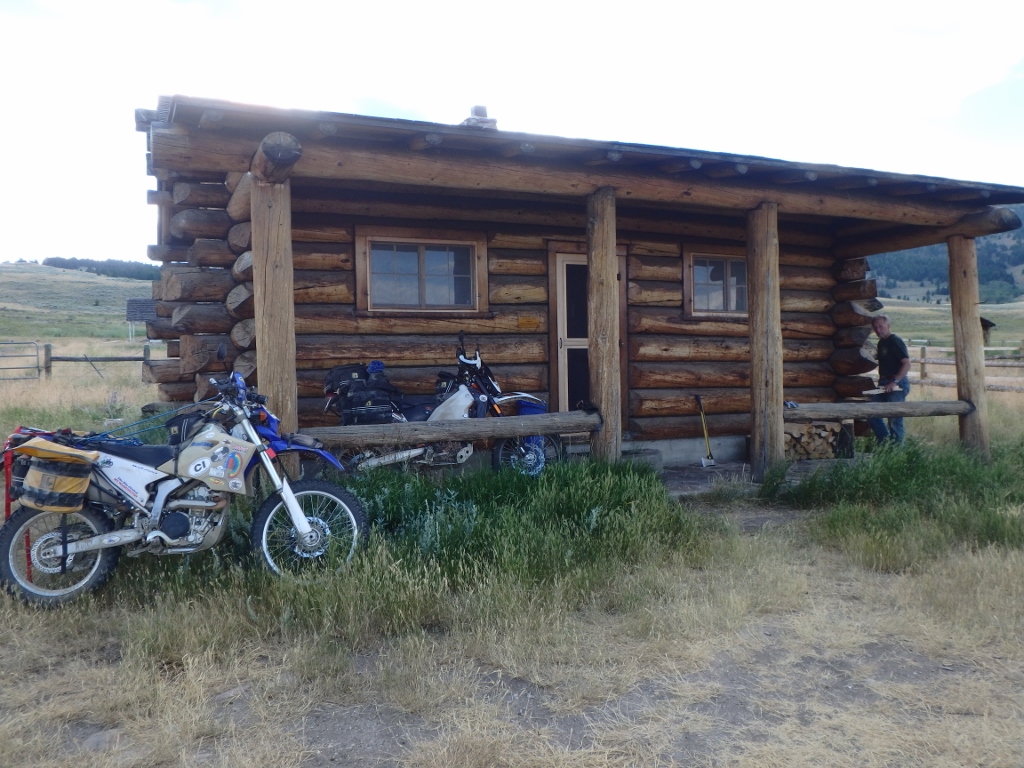 I tried to rent the "Bloody Dick" guard station which was just across the dirt road where the others were camping---but it was taken.
Some call the road and station "Bloody Richard"-----some call it "Bloody Dick"
The forest service lady never even paused when I asked to rent the "Bloody Dick" guard station.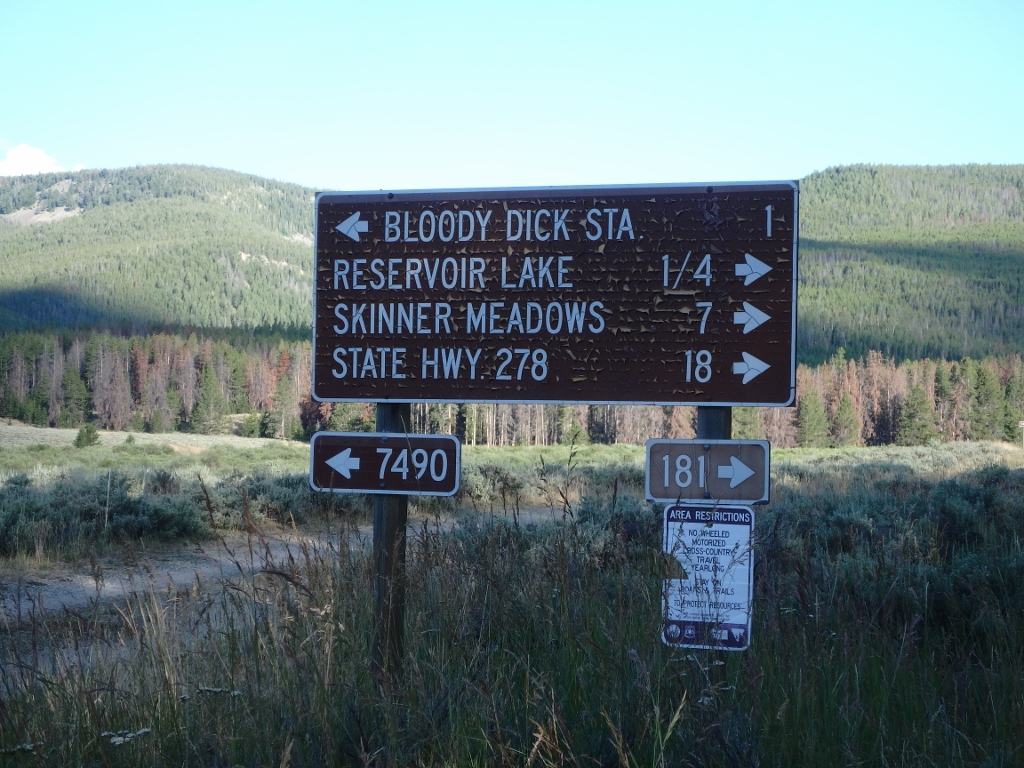 So North we went on Bloody Dick road and the temperature plumeted----it dropped 40 degrees in the 15 minutes it took us to ride by
the other guys campground--------I just couldn't believe it.
Here we couldn't light a fire in the woodstove cause it was too warm and 15 miles away those guys were freezing in the campground!!!!!
This road was awesome for a lot of miles.
This guy is proud---------he's Number One.
Number one to get his throat slit that is.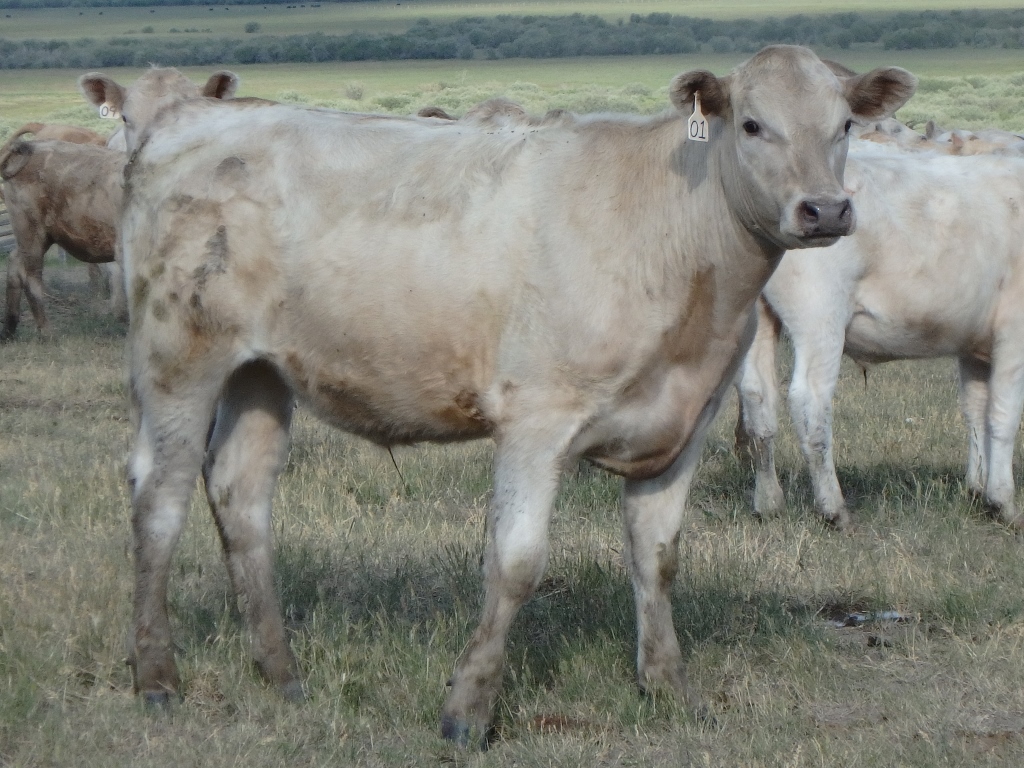 I didn't know Jerry was so afraid of bears-------he's ready.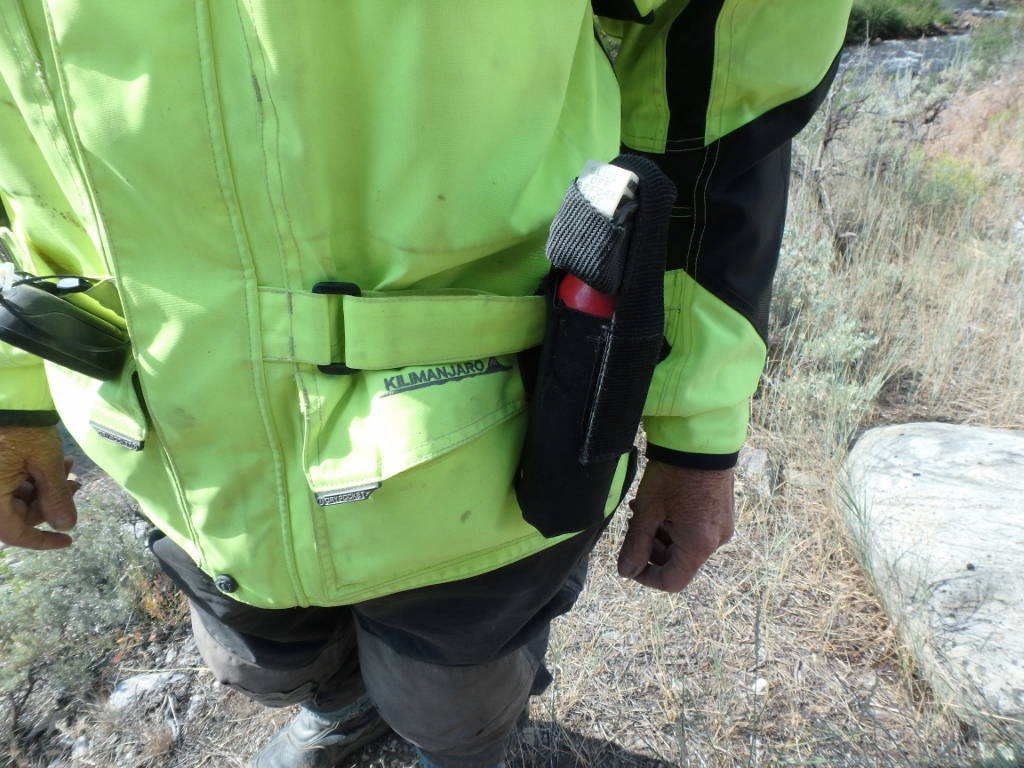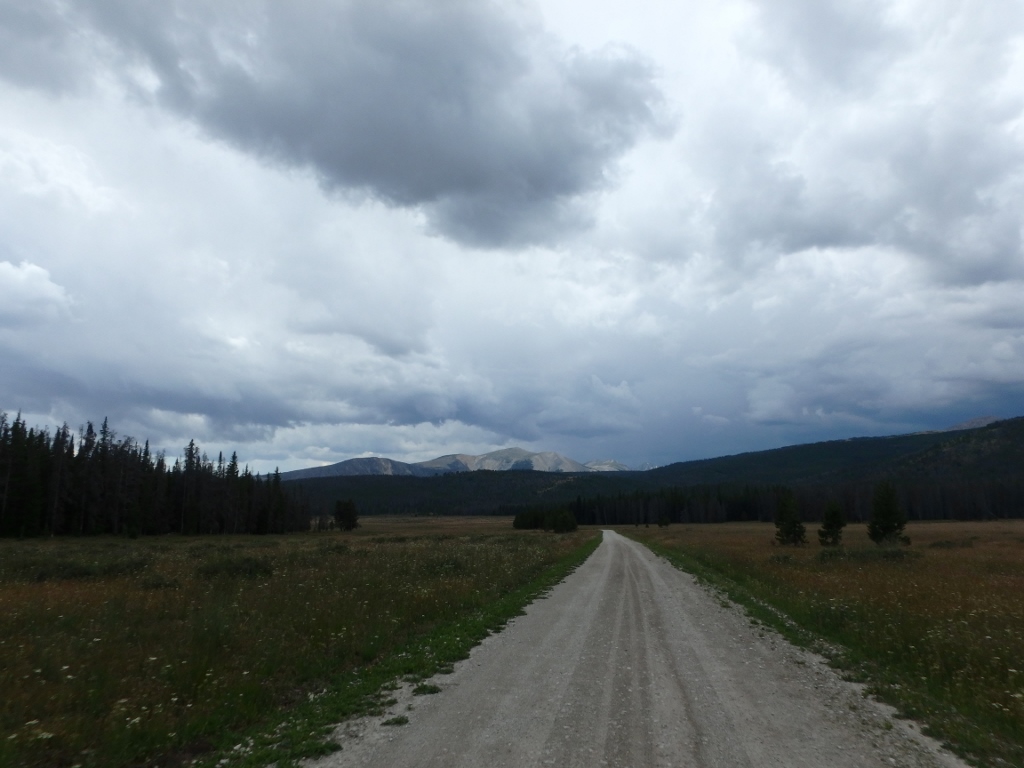 Weather is looking troublesome.
BobBob in the picture now---he rode his Yamaha WR250R----he has a new KTM 690, but just bought it and hasn't got it outfitted yet
for travel. I met BobBob on the first Mobius ride with Dr. Rock and LDF (Francine).
It's been told before---but I named him BobBob. His name is Bob--and his AdvRider screen name is Bob---so I call him BobBob.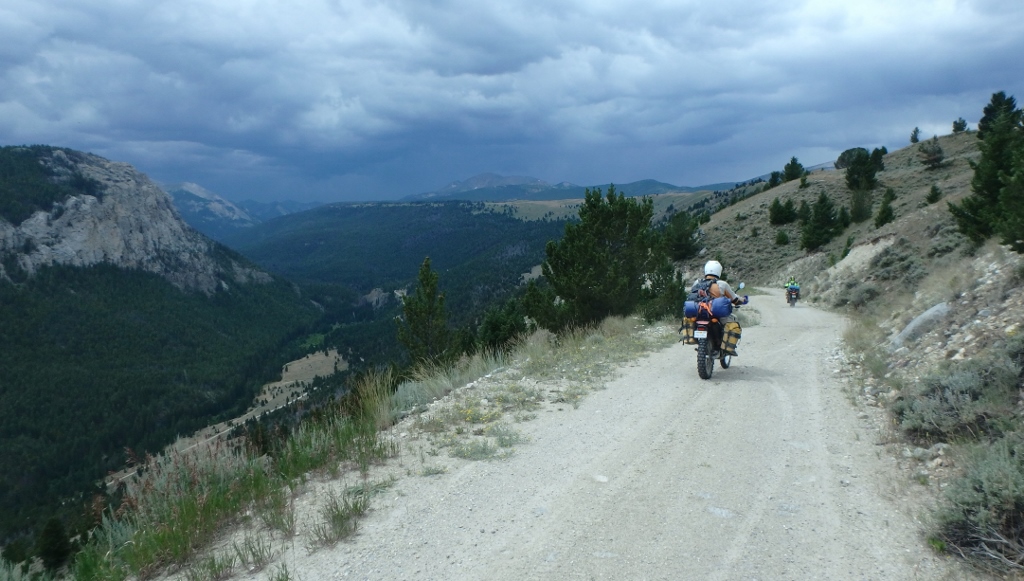 Up thru Polaris and Elkhorn Hot Springs we went and ate again in Wise River---breakfast again.
East of town we turned South and climbed up into the mountains and down the other side on Canyon Creek Road and came to these Kilns.
There is a rental guard station on this road too---it's called the Canyon Creek Guard Station and me and GasPipe stayed in it about 1996 ??????
$20 will get you the combination to the lock on the old log cabin.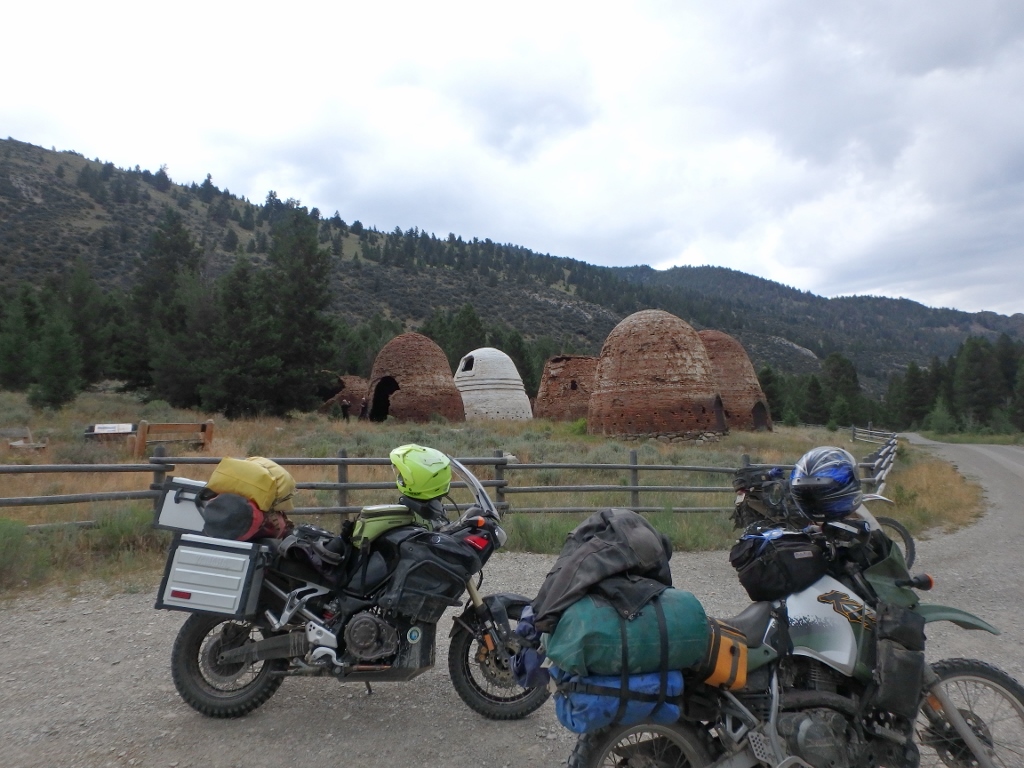 I think I said earlier it never rained on us. I guess it did !!!!!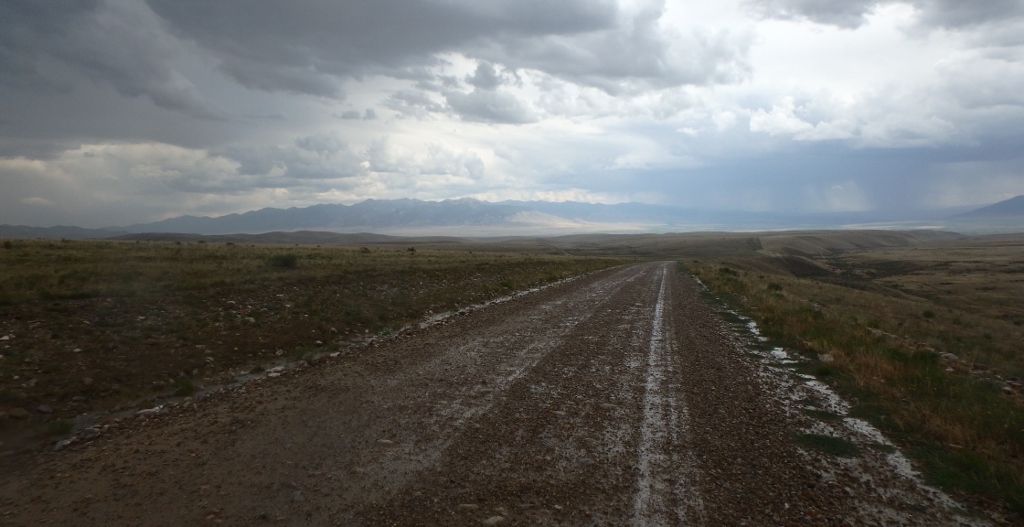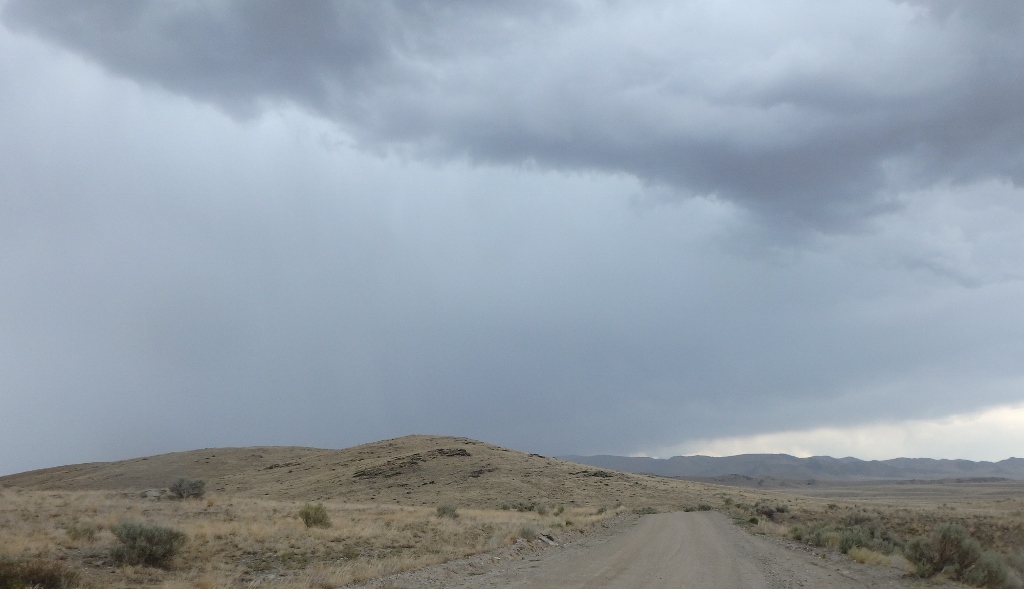 In the really nice small town of Twin Bridges, Idaho------we camped in the city park.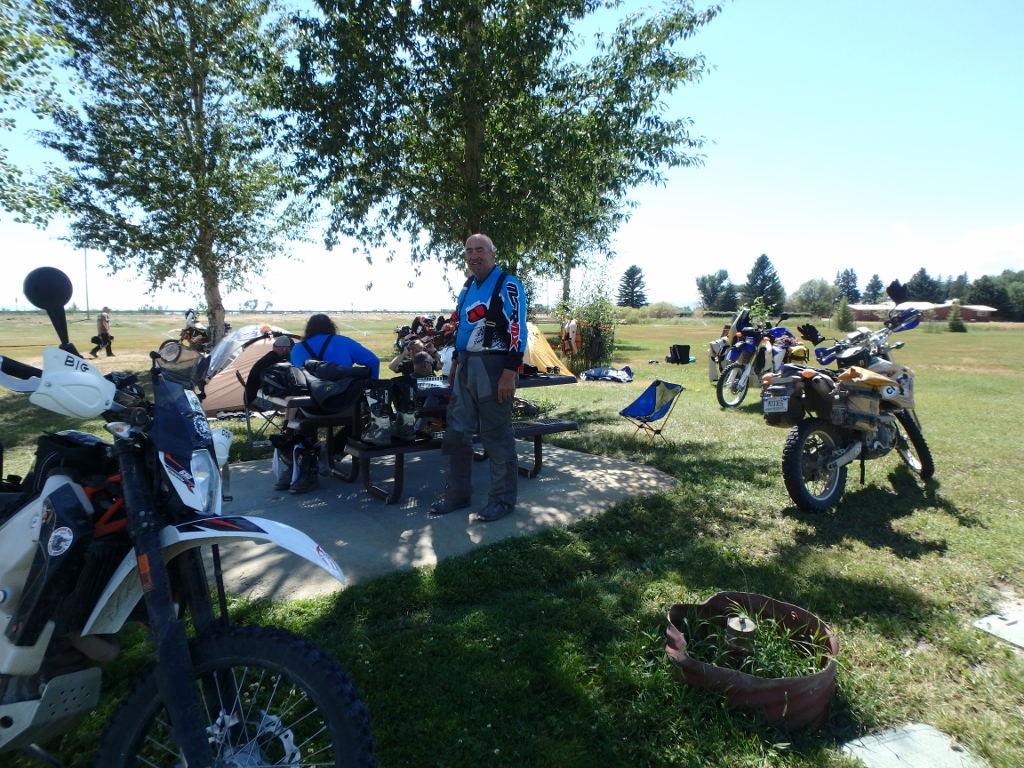 This place is so amazing----free camping with very nice modern toilets and a shower.
I think it was mostly built for bicyclists---but anybody can camp here.
You can walk to a great restaurant to eat--no need to get on the bike.
The beaverhead river lulled us to sleep.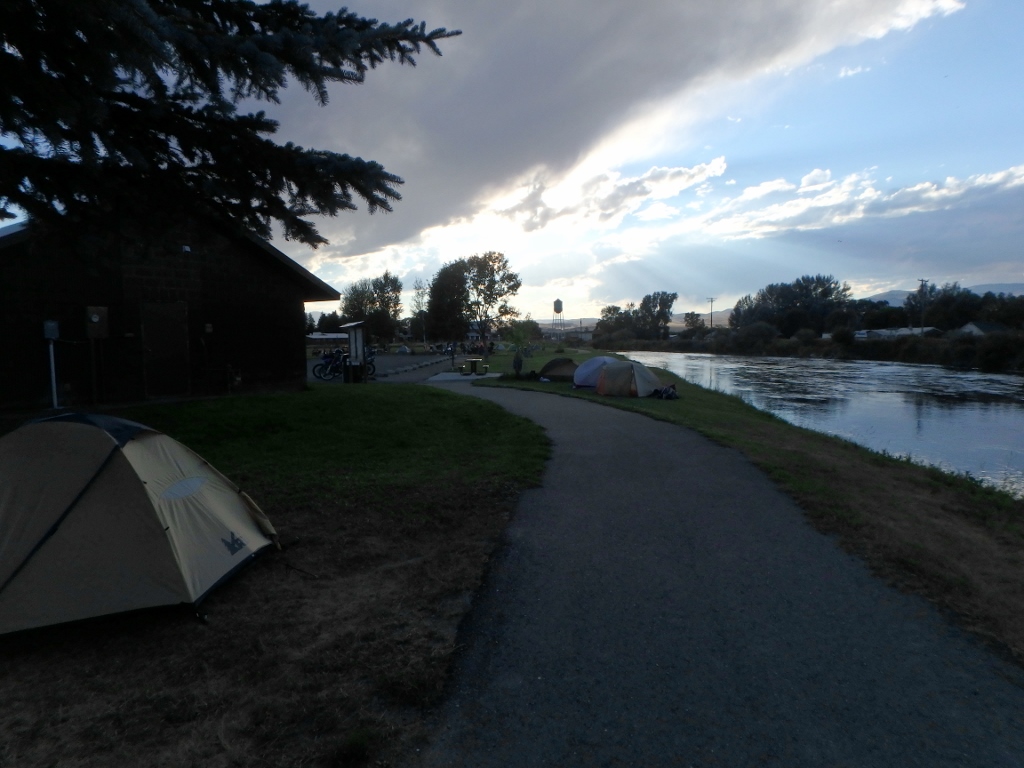 There were sprinklers everywhere---and they showed us where to park so we didn't get sprinkled on in the middle of the nite.
Except one thing--------they told us wrong----------W R O N G ---wrong.
They felt bad after we all got set up---see that cone in the right side of this picture--they put that on the sprinkler head.
But------------I was a licensed plumber and pipefitter------I had a better idea.
I didn't tell anybody---you are the first to hear it----but I turned a valve off in a valve box before I got in my tent---and turned it back on when we left.
I wasn't born yesterday------but the day before !!!!
Slept like a baby.
Me and Jerry would never see any of the other riders after we left here----why you ask ??? Read on.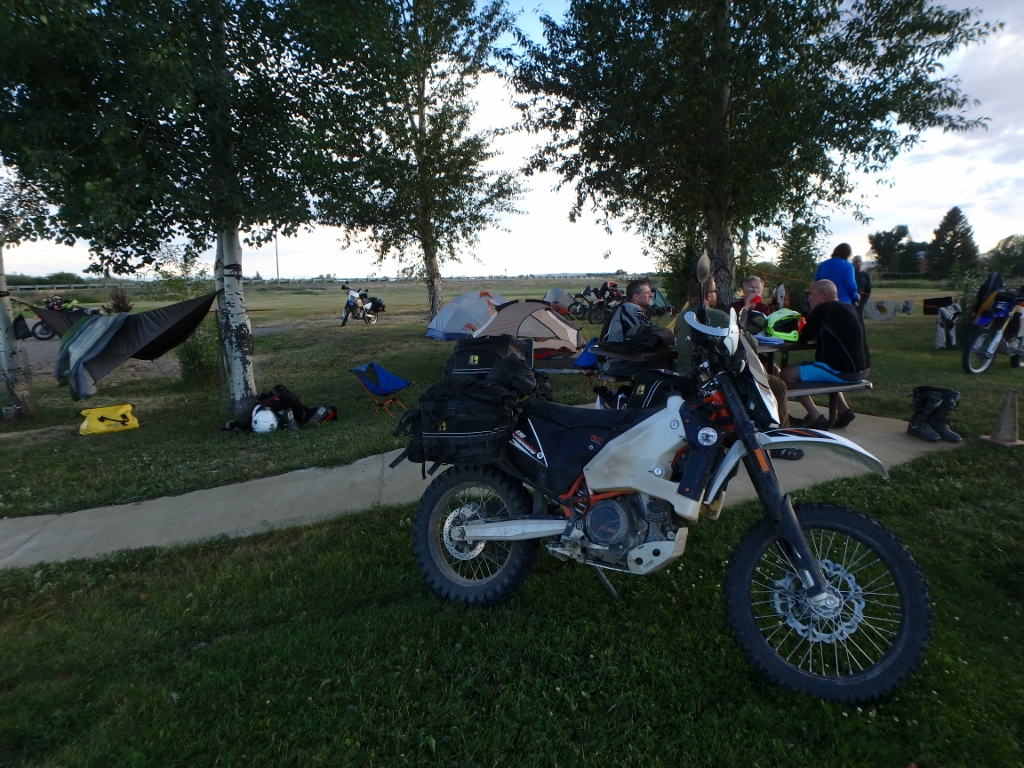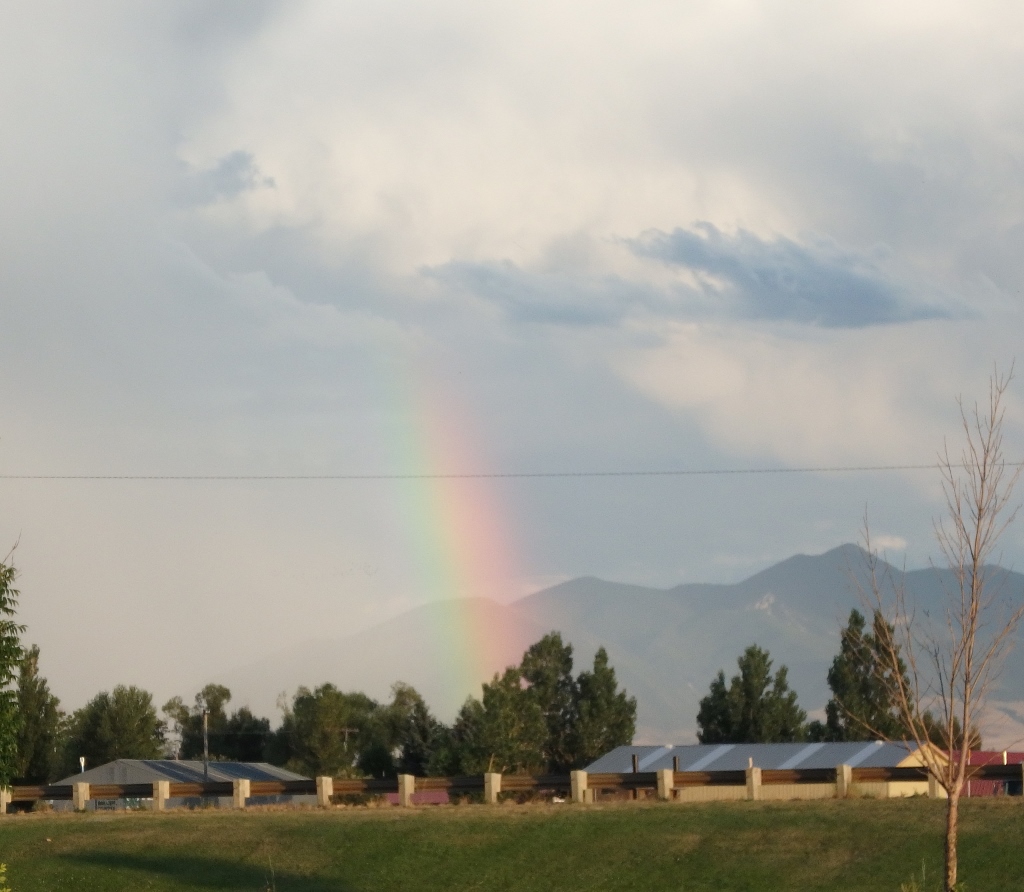 A rough map of our ride today---about 154 miles.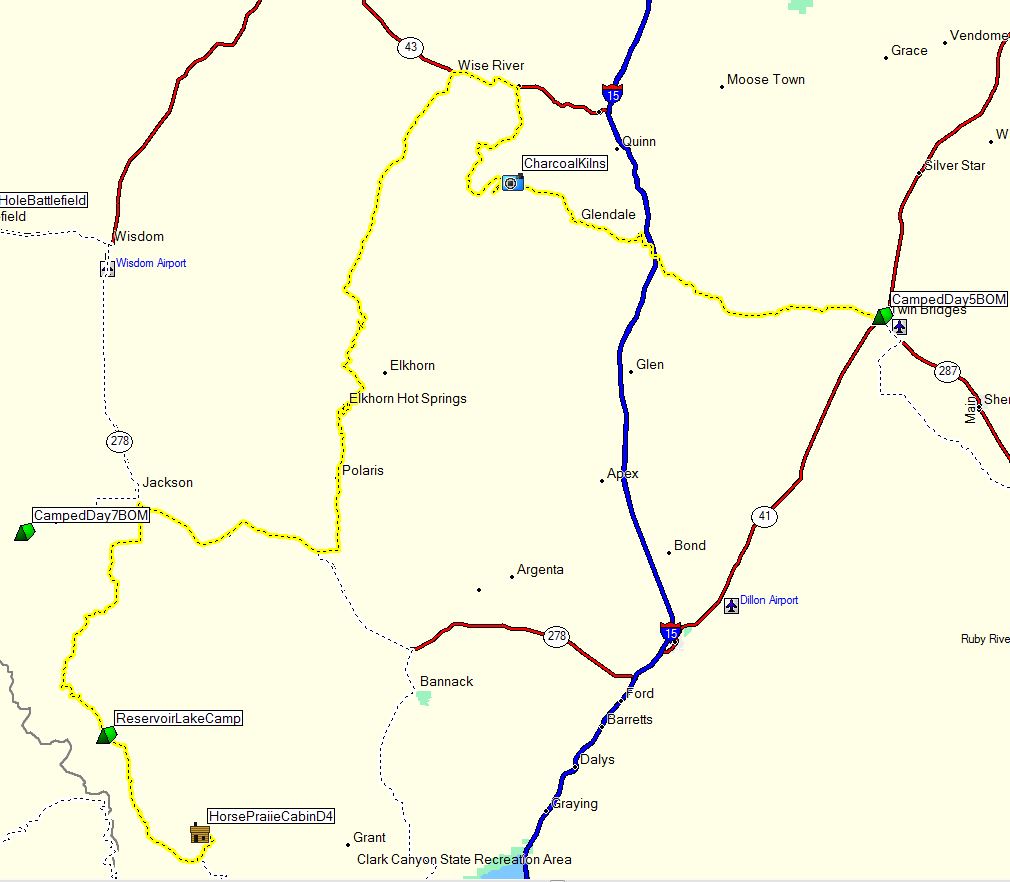 Day 6 of the Montana 1000
Again me and Jerry were first to hit the trail ----------and breakfast in downtown Twin Bridges.
A few riders showed up there as we were leaving-----Me and Jerry continued to follow the desiganted route---but
would never see anybody again ??? Where did they go----did the world come to an end and nobody told us.
Did we go the wrong way ????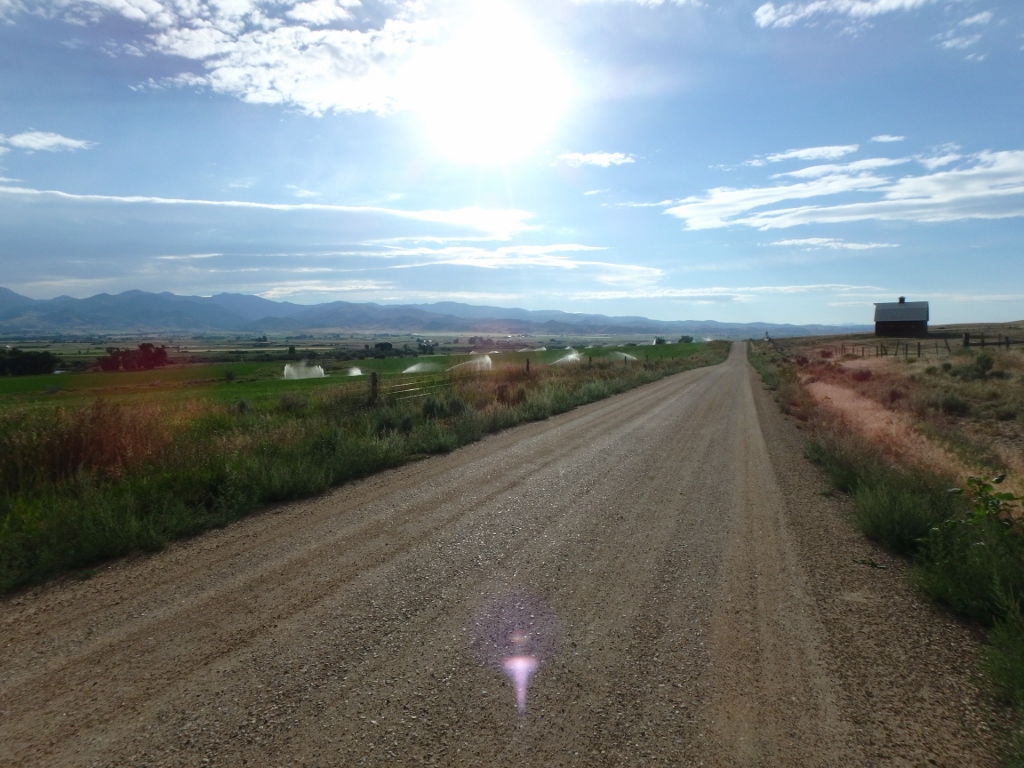 Today we would ride on top of an awesome mountain range called "The Gravelly Range".
But first we had to get there-----that riding was awesome.
This dirt road climbed up and up onto the top of the Gravelly Range.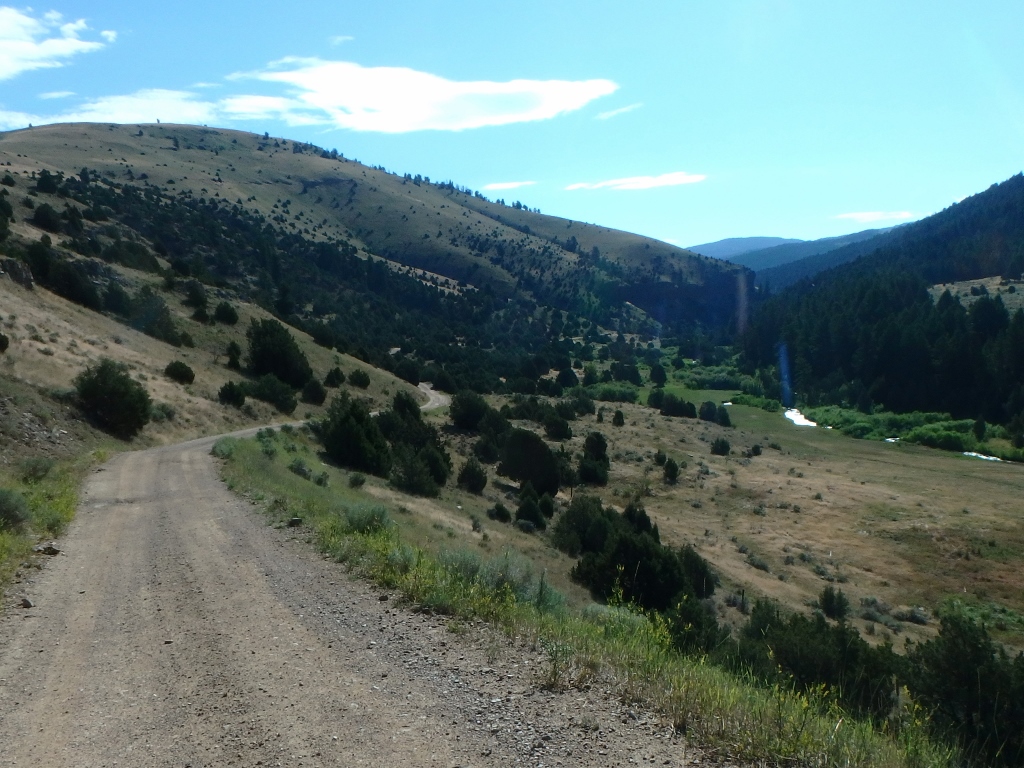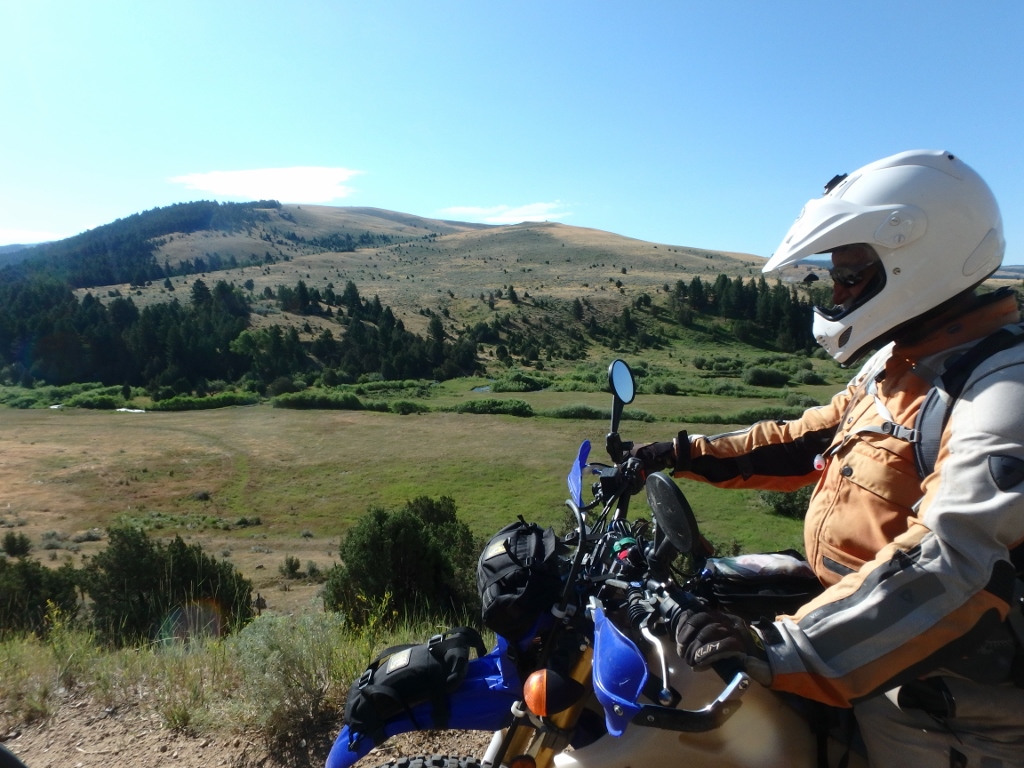 We got to the top and I wanted to pull in Clover Meadows Campground where I had camped before.
And was astounded to see this wrecker up there hauling this jeep out of here---the transmissin was out.
It cost the owner $2,000 to get it towed she told us.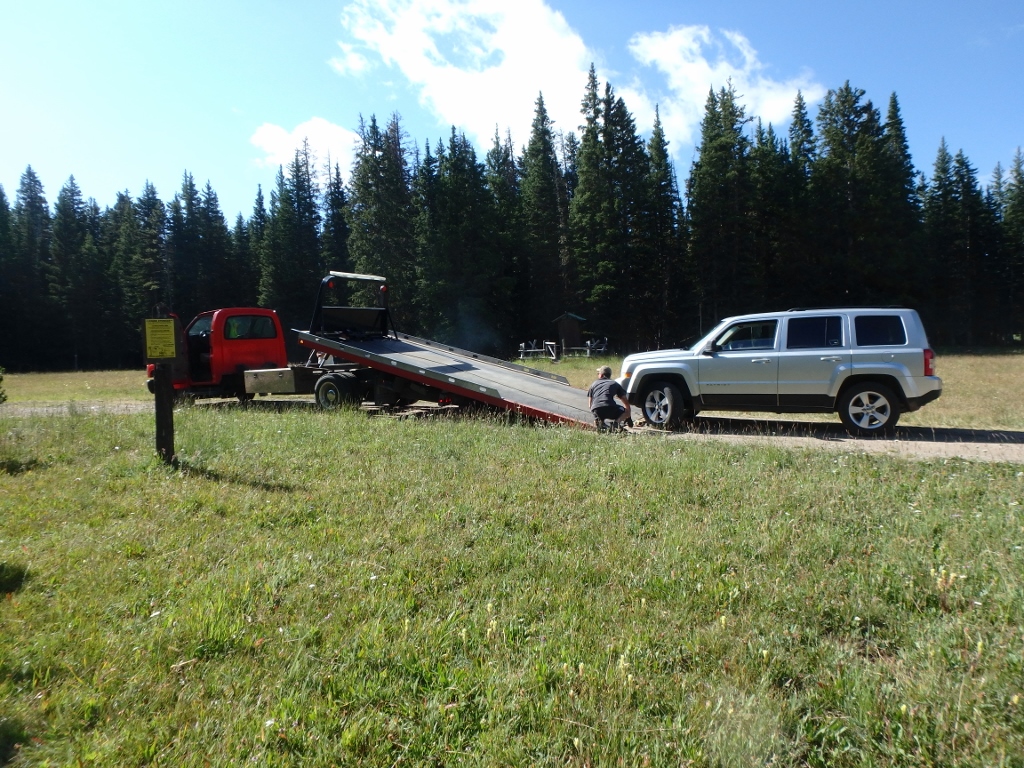 If you've been reading lots of ride reports about riding in Montana---one of the most celebrated routes is the Gravelly Range.
Me, Dingweeds, Dr. Rock, and Francine and some others rode this a few years ago and camped up here. It was lousy with bears and we didn't sleep well.
Riders that ride the Continental Divide Ride are making a diversion to include this in that ride---it is that spectacular.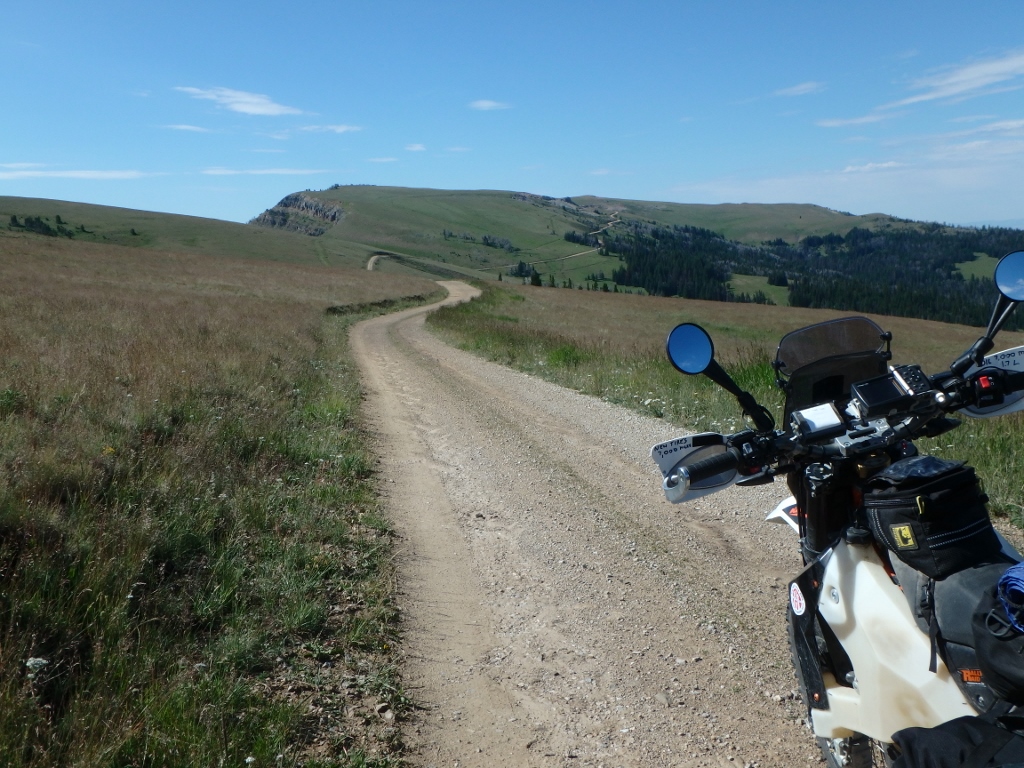 Most of it is at about 9,000 ft. in elevation.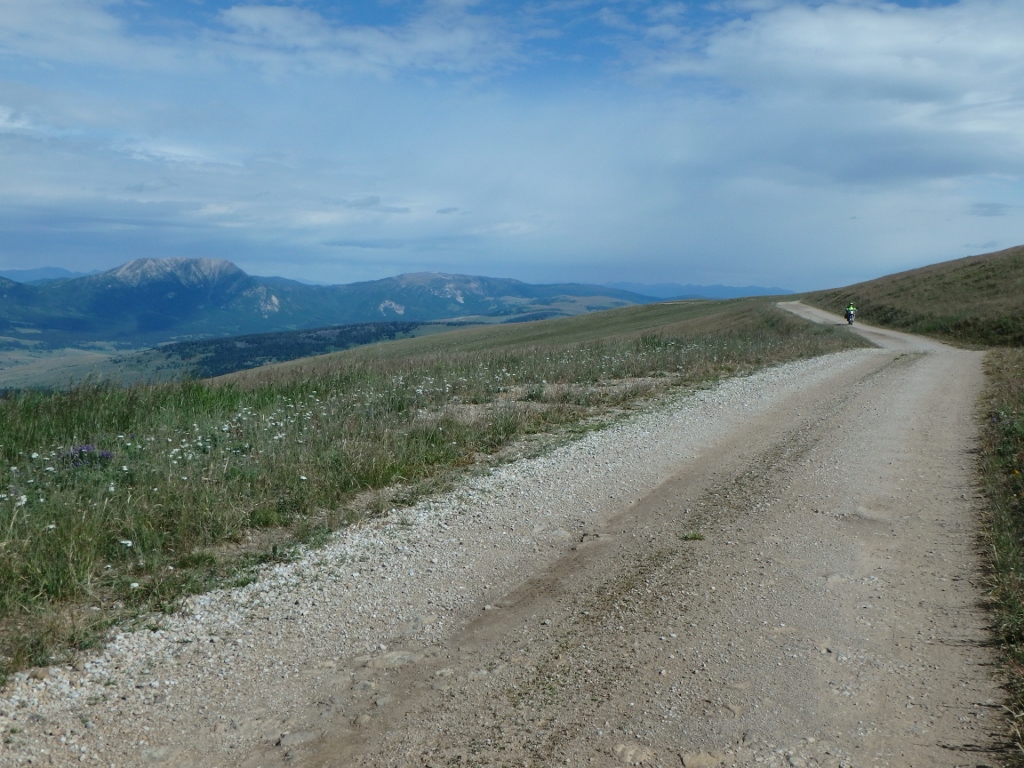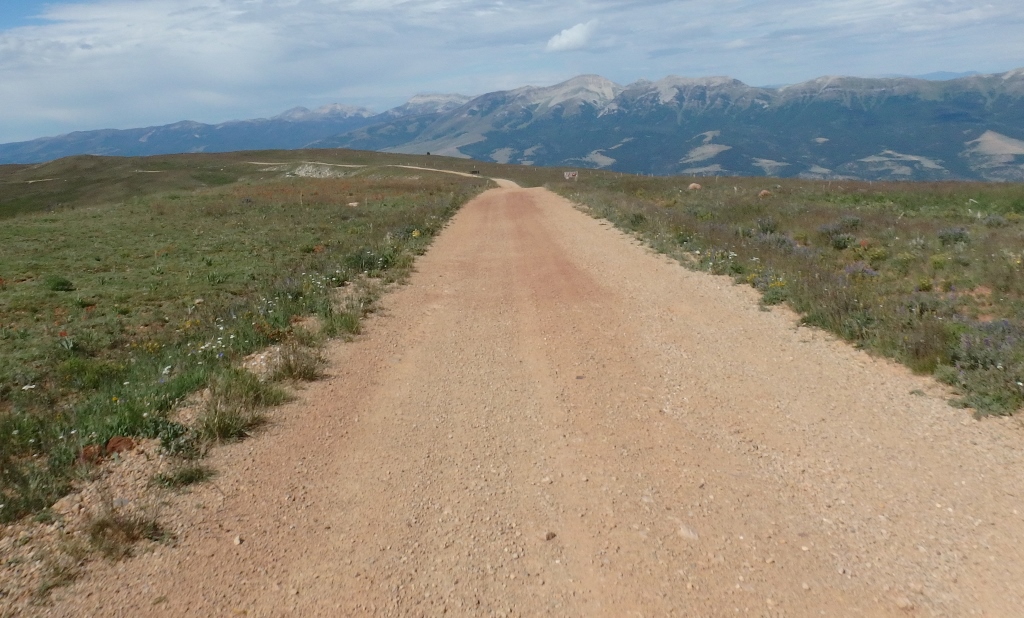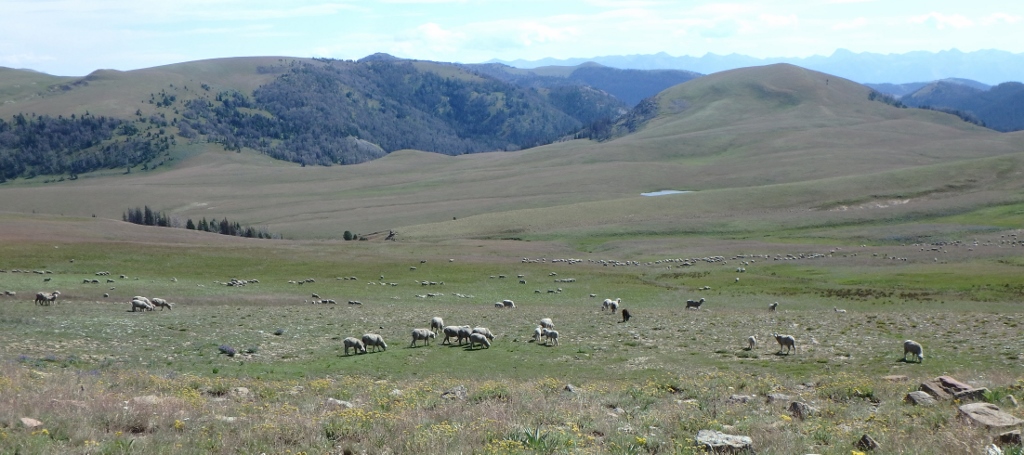 This is a sheep herders home---it's a covered wagon---but with rubber wheels.
Notice his horsey tied up to the wagon.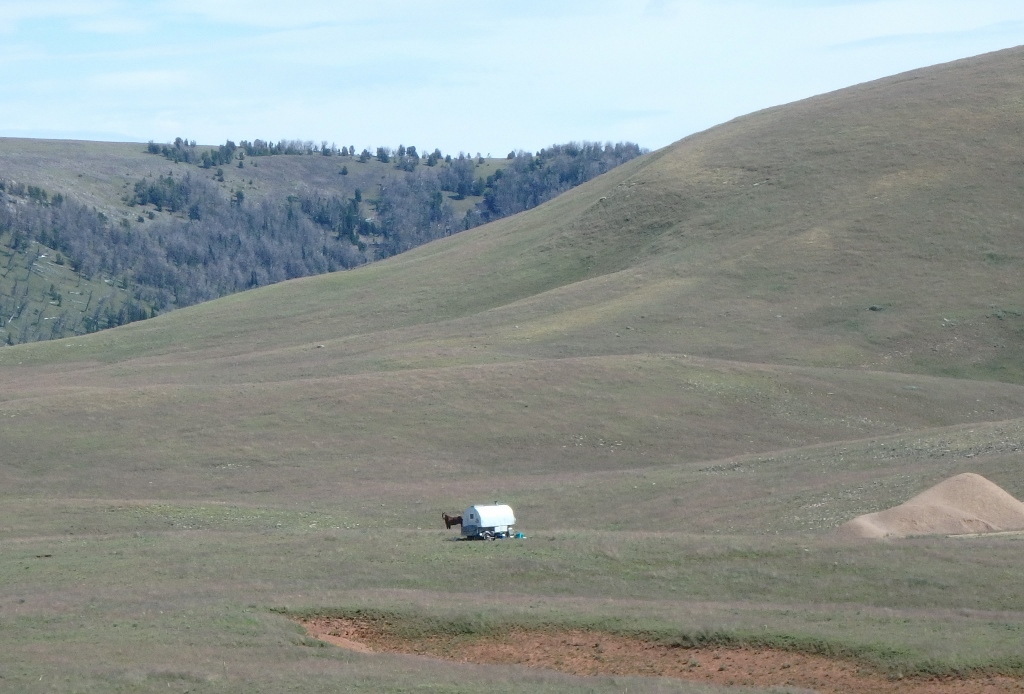 Going North you get a spectacular view of "Black Butte"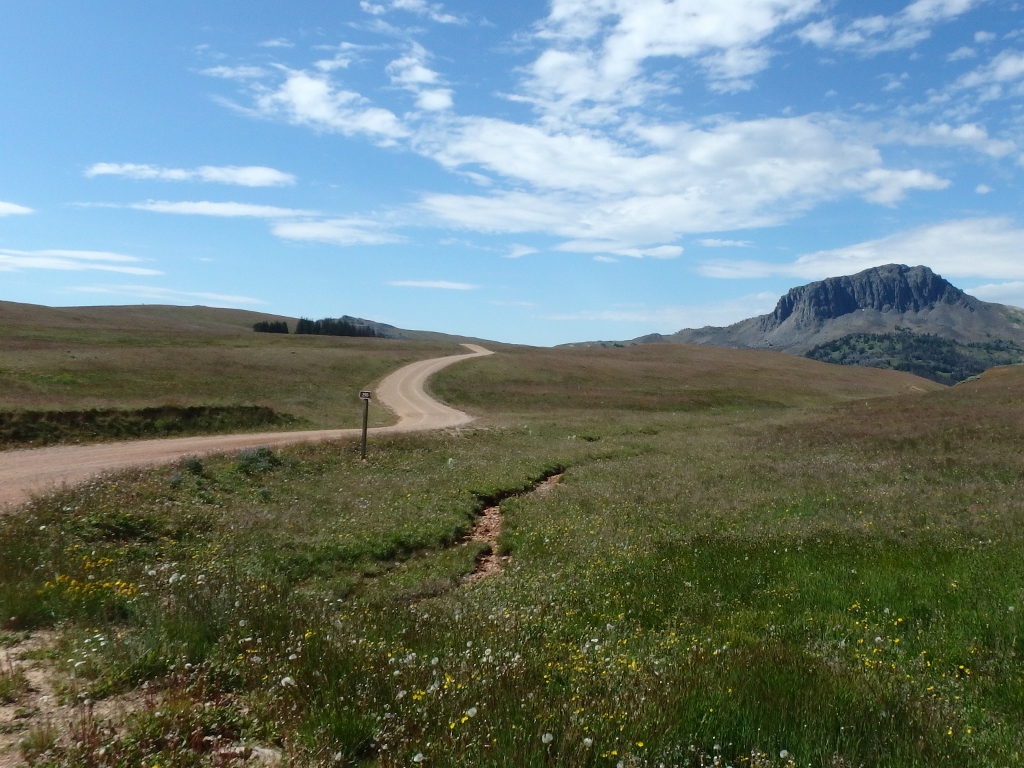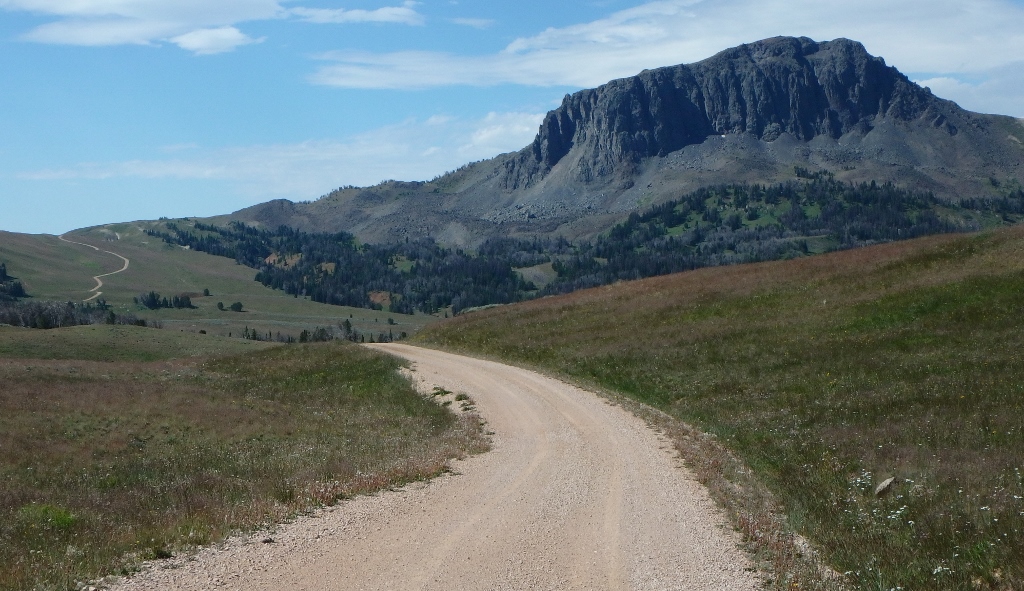 Me---my 690---and Black Butte.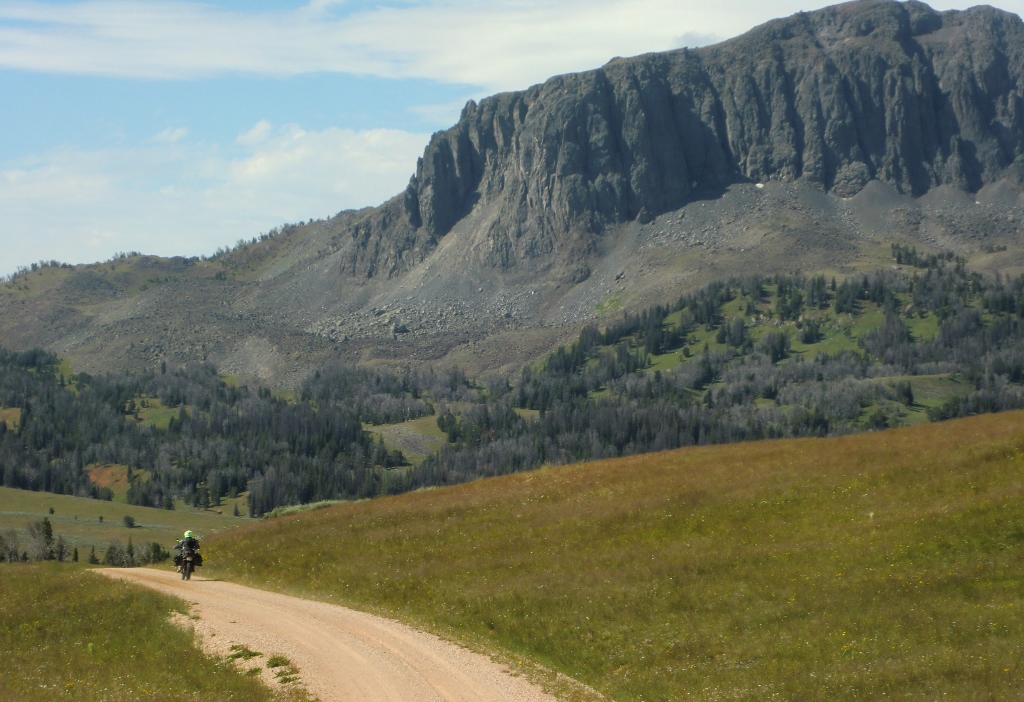 We start to drop off the gravelly range here.
We go down one road that is totally impassable when wet.
I didn't get a picture---it was dry---but you could see if it was wet you'd be in trouble---huge deep ruts everywhere.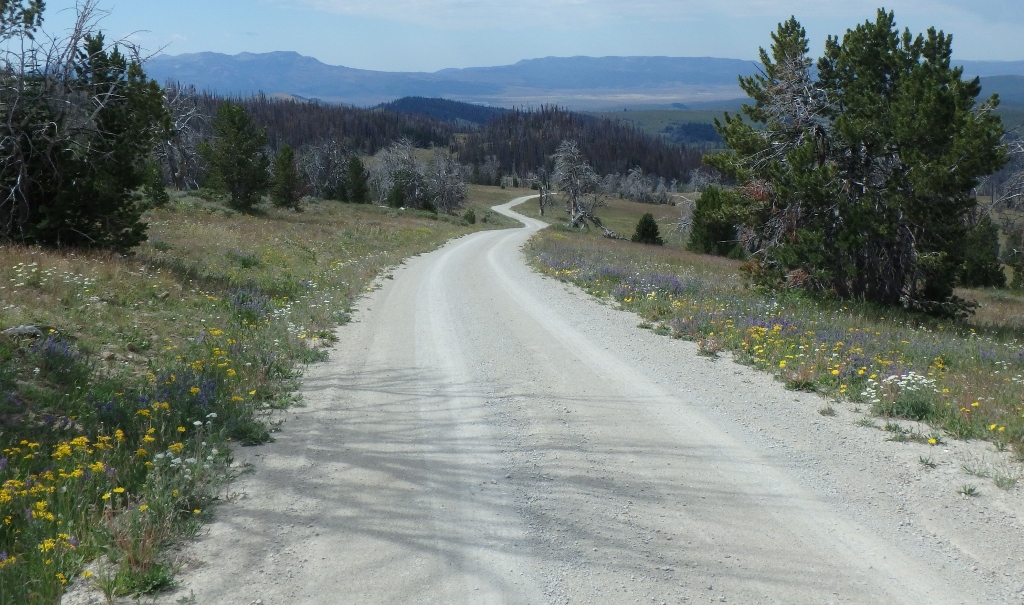 When this tree came into my view-----it's dried up dead beauty just struck me.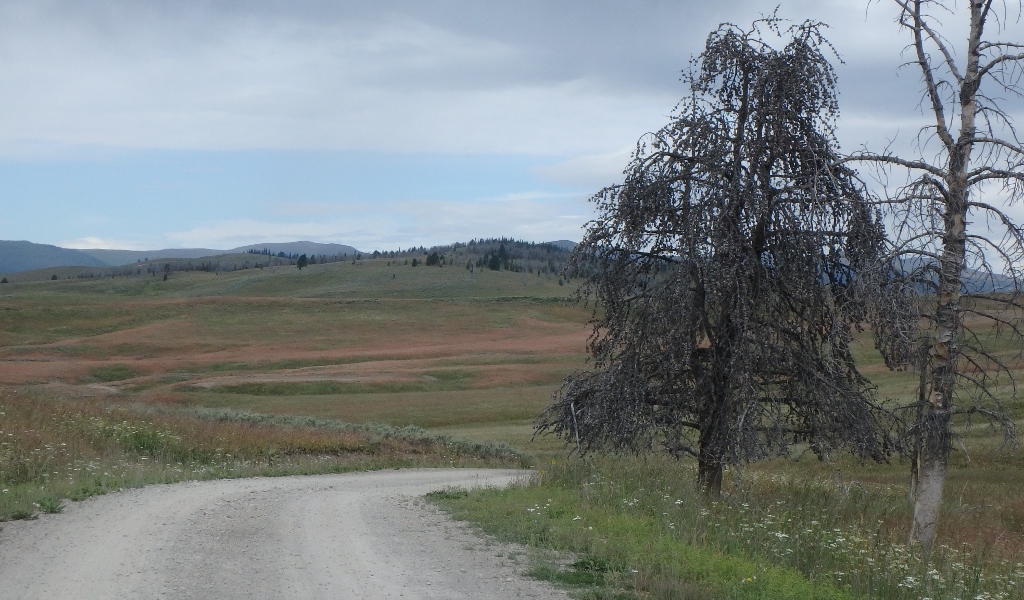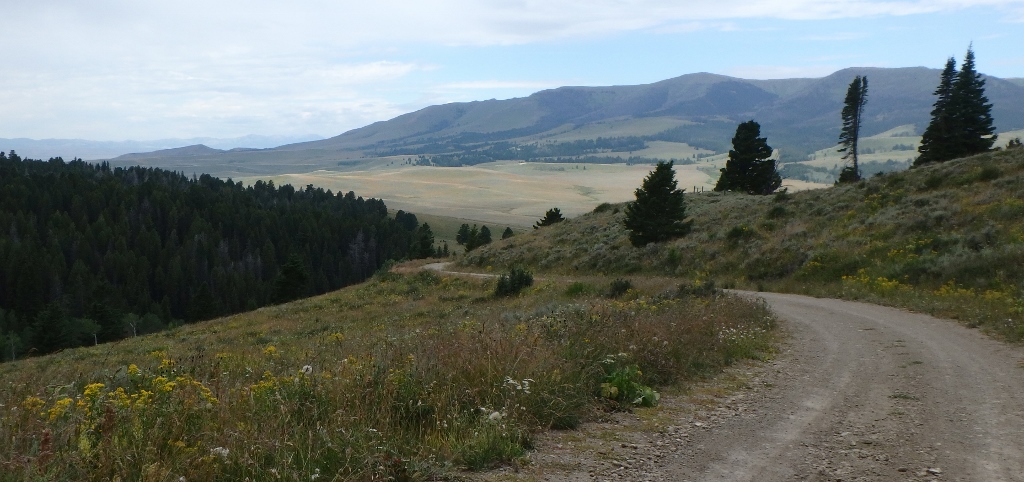 Going South we hit the Idaho border and I was surprised at this.
It was a very fun ATV track for a few miles and we had to open a gate to proceed on.
I've been google earthing this route for years trying to find a way thru here.
But on google earth the road just disappears.
But it's there alright---I was thrilled to ride thru here.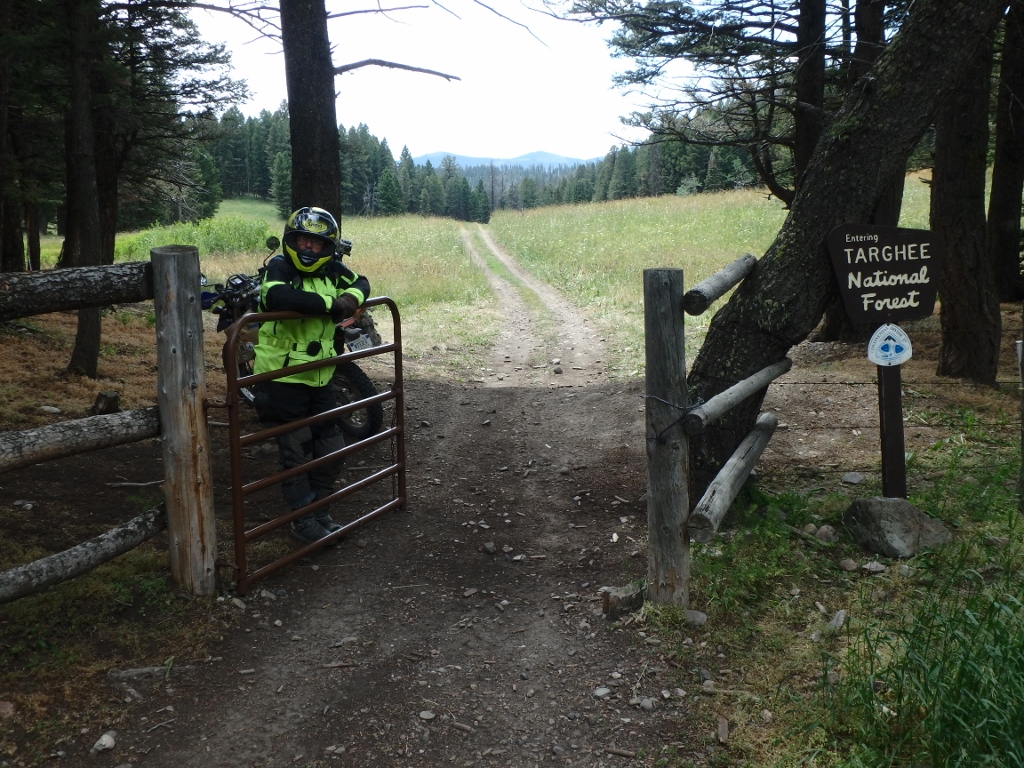 And this route is the Continental Divide hiking trail also.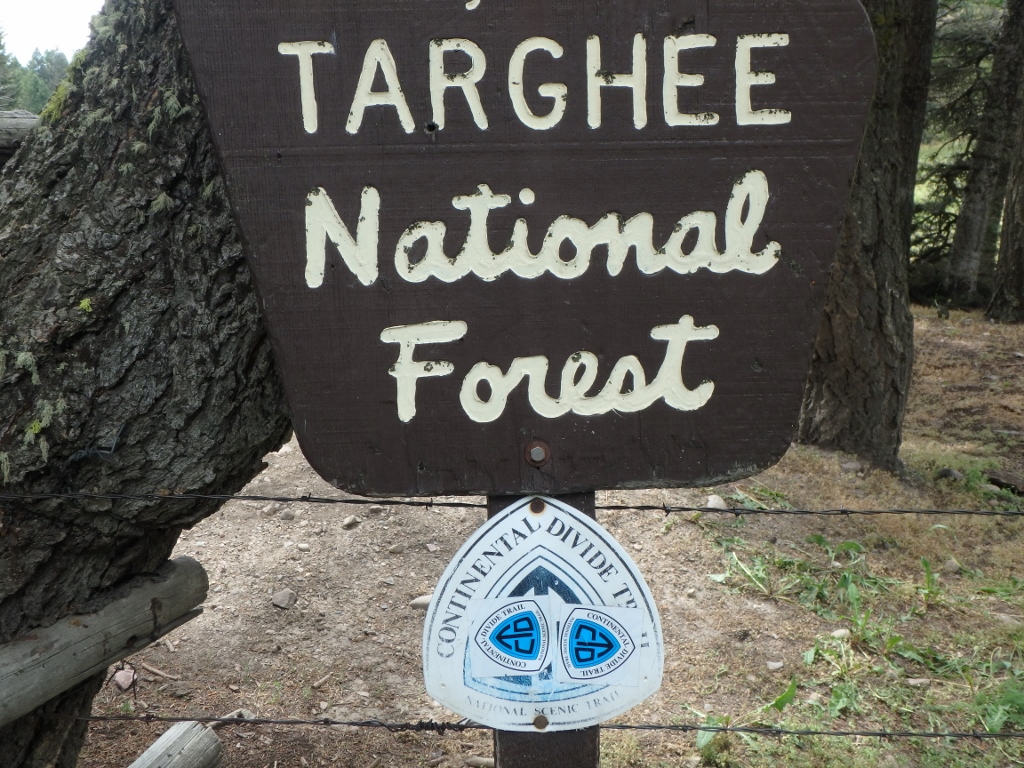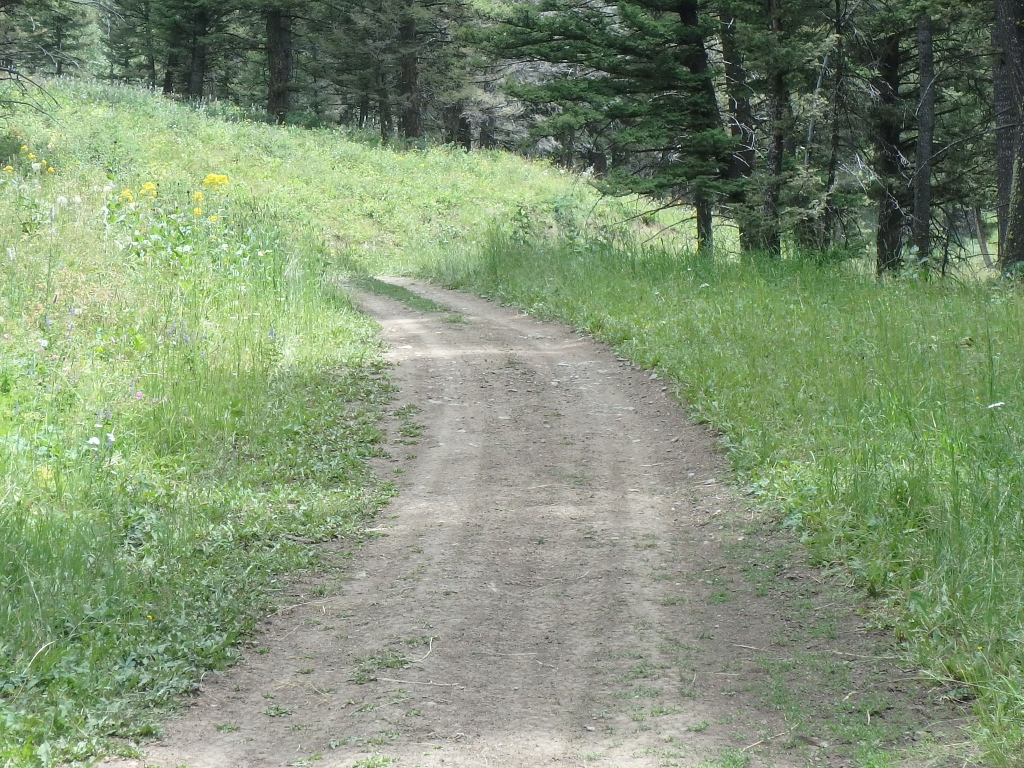 A rough map of our ride today----about 166 miles.
Almost forgot----we didn't camp at the designated campsite as the sign said you had to reserve the site to camp there--so we rode to another spot.
And we never saw the other riders again.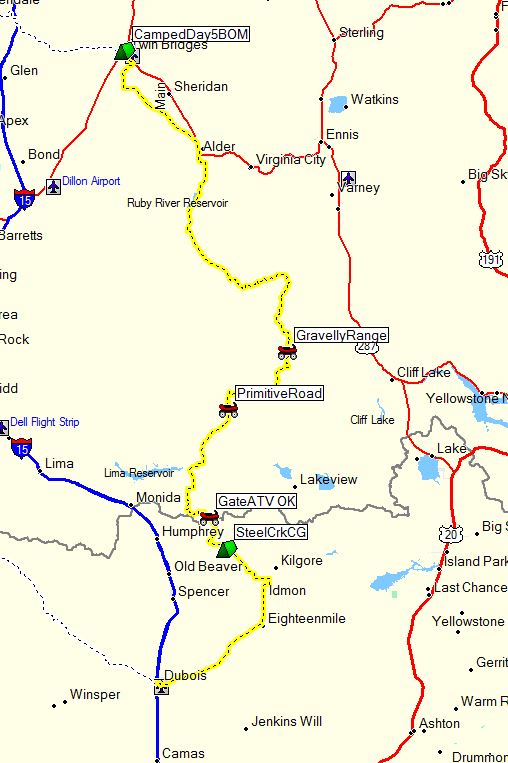 Another Video for your entertainment
Choose HD if you have the speed.
Day 7 Montana 1000
Me and Jerry got going really early again and had breakfast in Dubois, Idaho at this little cafe.
There was the typical truck stop crap right across the street--but we ate at the "CAFE".
Nice and relaxed---good food---friendly locals to talk to.
I don't think I've told it----------but Jerry has about 87,000 miles on his Yamaha WR250R and has never touched the engine.
I have about 50,000 on mine.
I don't expect my 690 to make it that far---send hate mail to "I don't give a rats__s .com.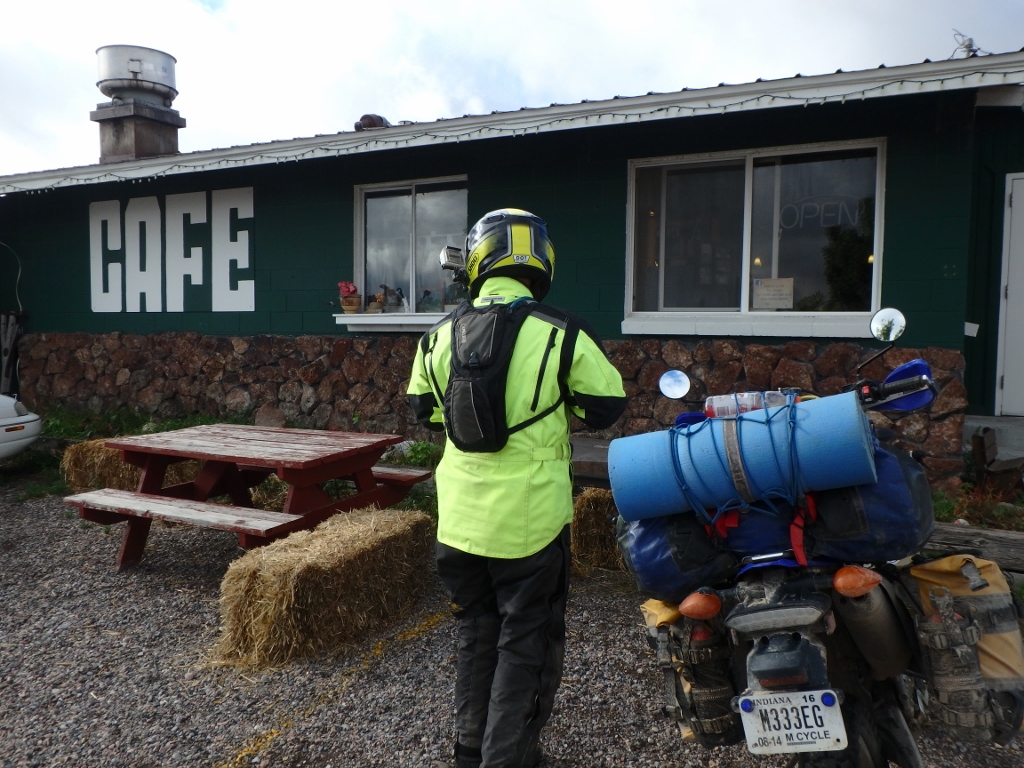 Small Lake Hollow road takes us Northwest towards the Idaho border again.
The rest of the riders knew it rained where me and Jerry were headed and went another way and we never saw them again.
There were some places that would be very muddy-----and they knew it.
However we were ignorant of the whole situation and just rode on and followed the designated route we were provided with.

Here's a good shot of my helmet camera I've been using for years. It's from Viosport.
It has many advantages over a go-pro.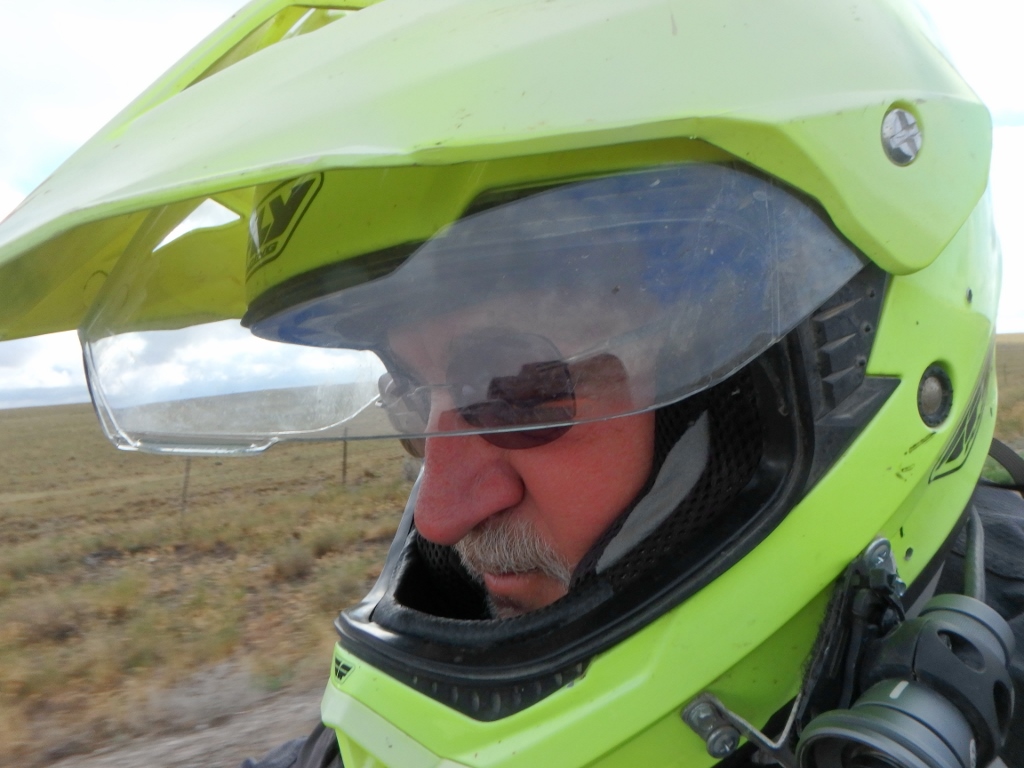 The area had been blessed with plenty of rain this year--made for some pretty flowers.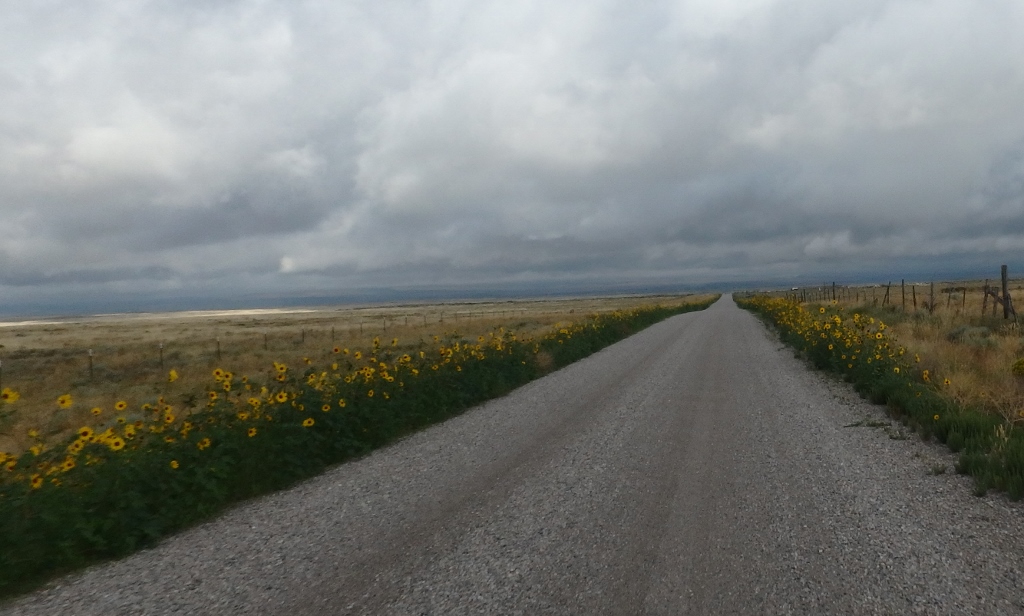 I don't mind at all opening and closing cattle gates.
I get irritated at people who complain about this on ride reports-------------just stay home city slicker !!!!!!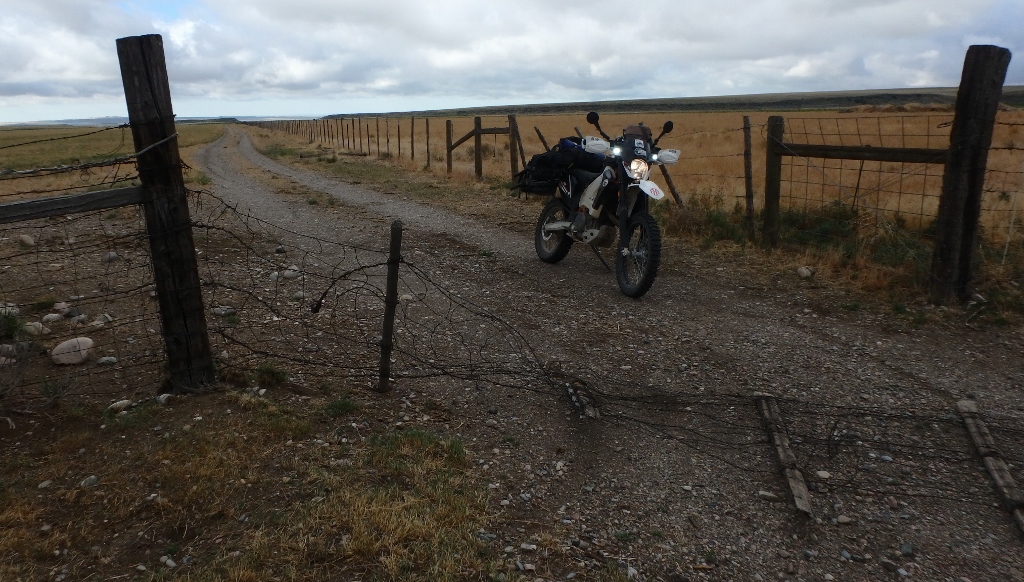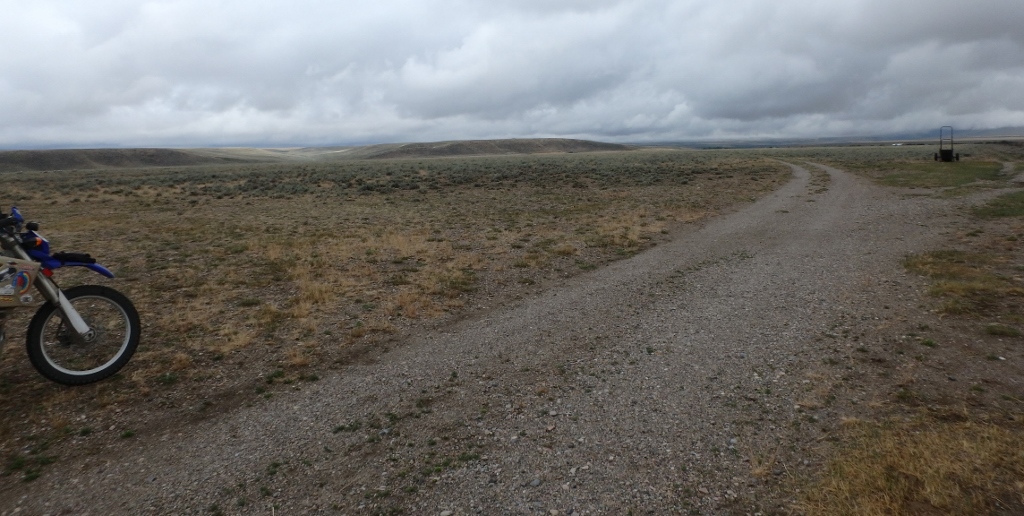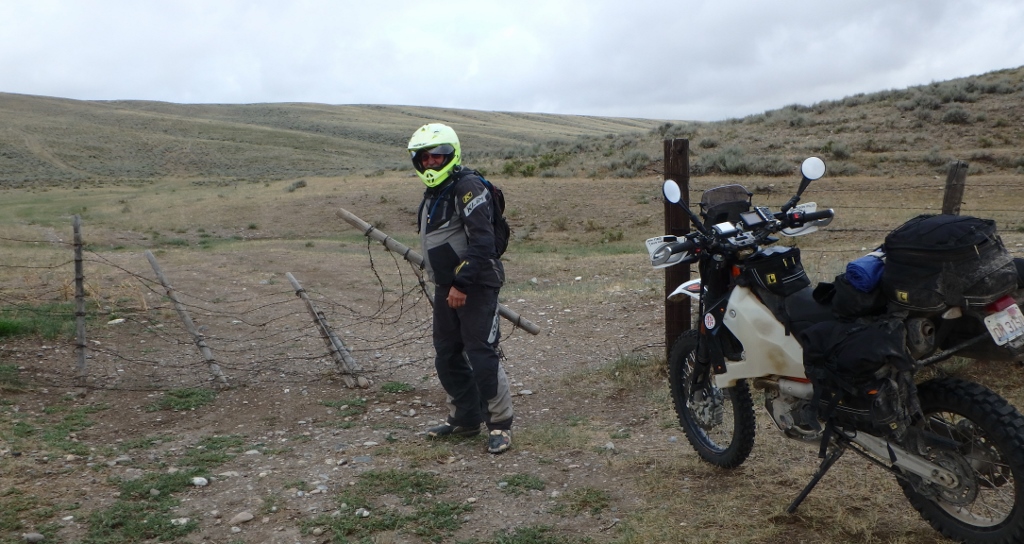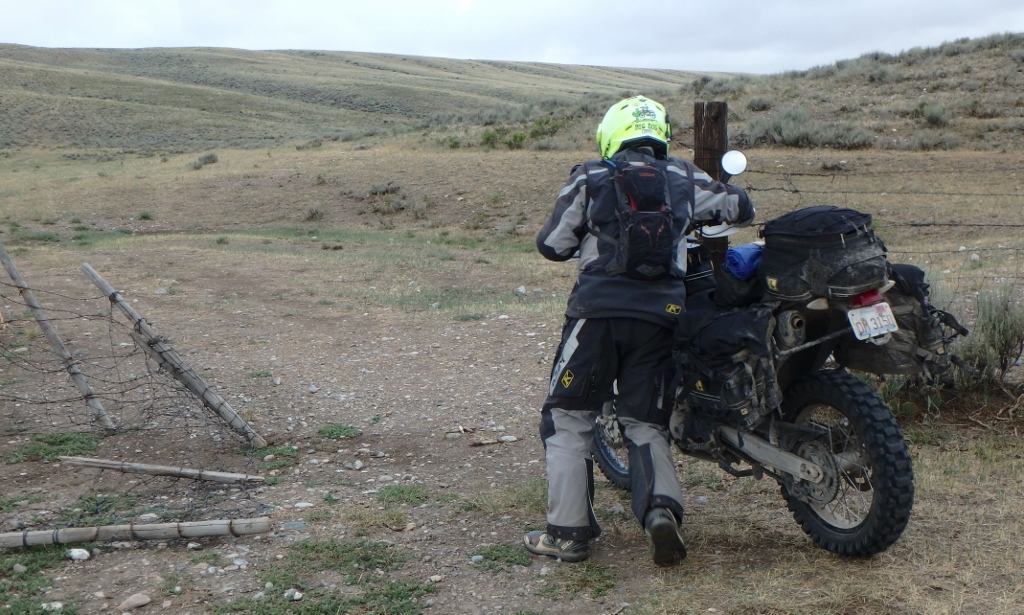 I think my favorite part of the whole ride.
This went on for miles---sometimes sage brush tugging at you legs.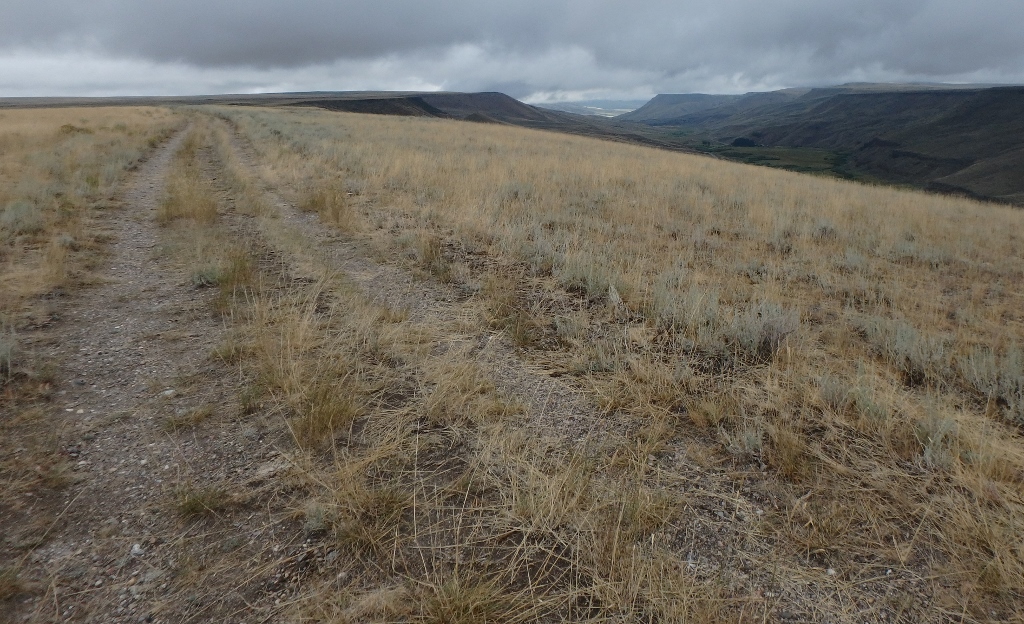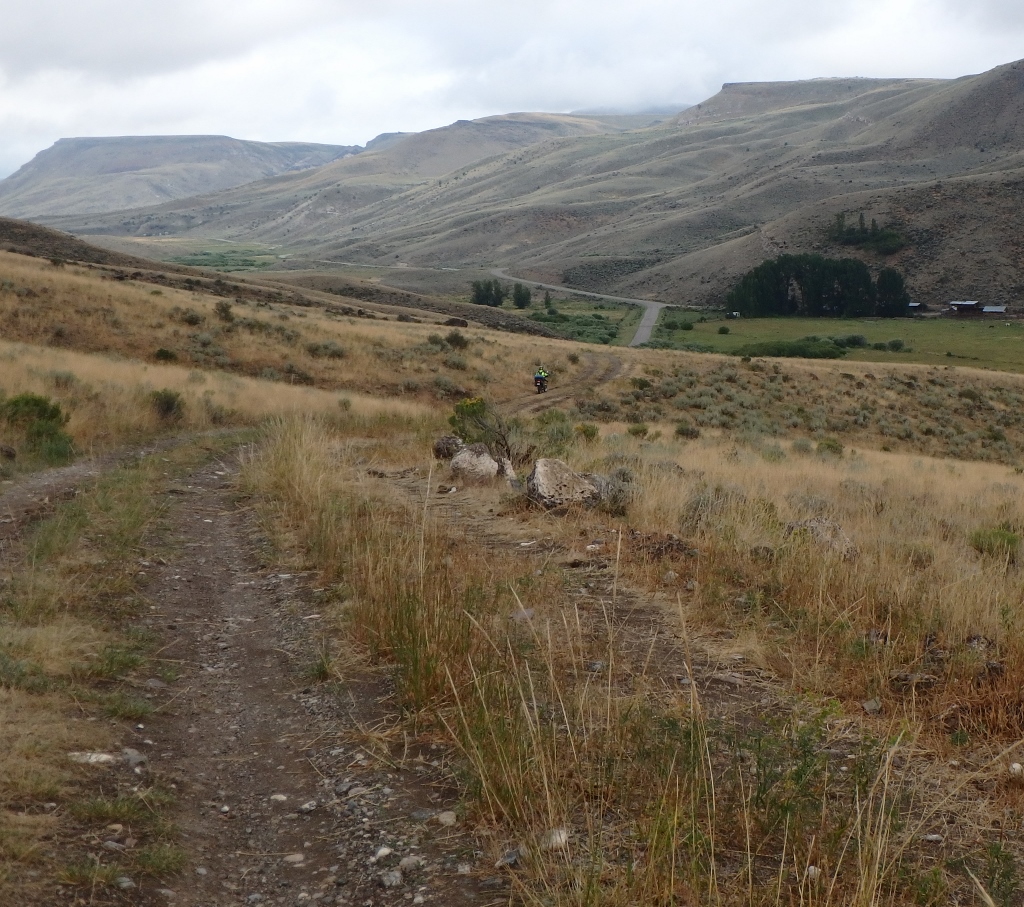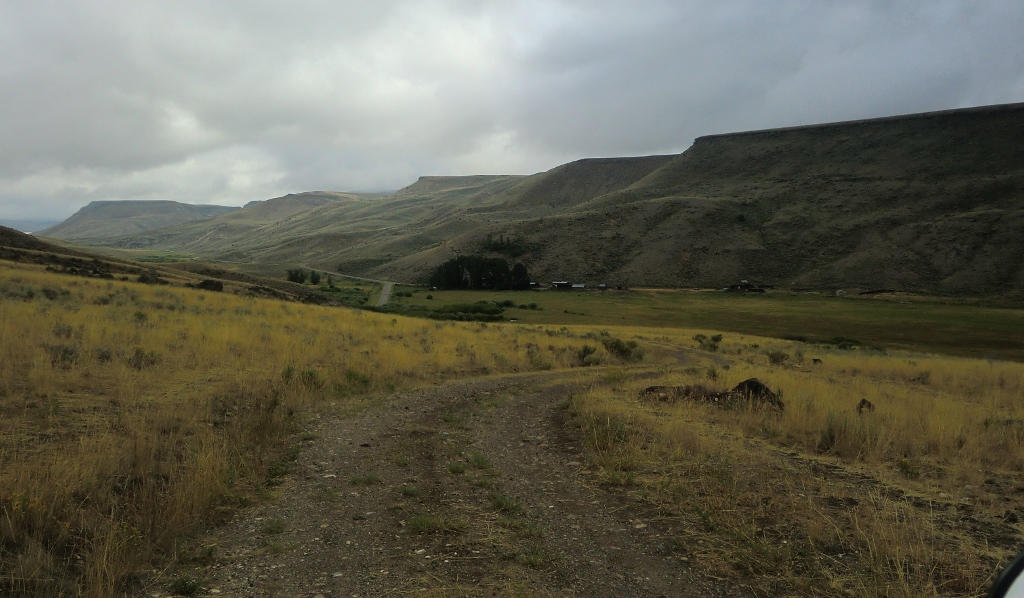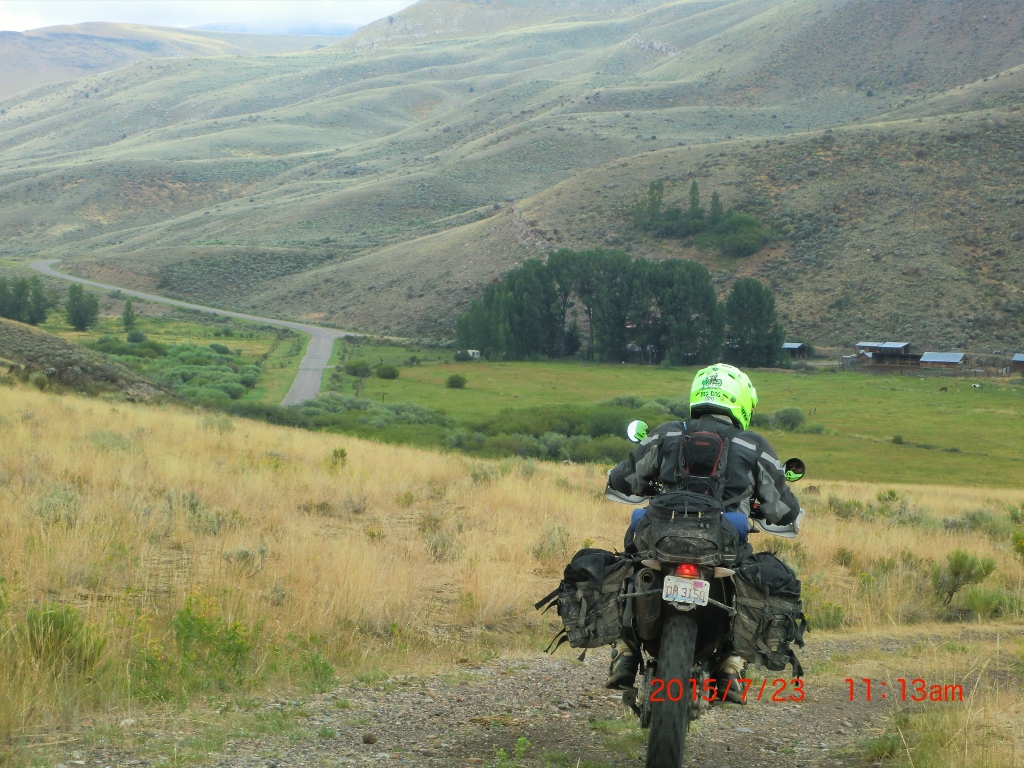 Pretty well preserved old one room school house built in the early 1900's.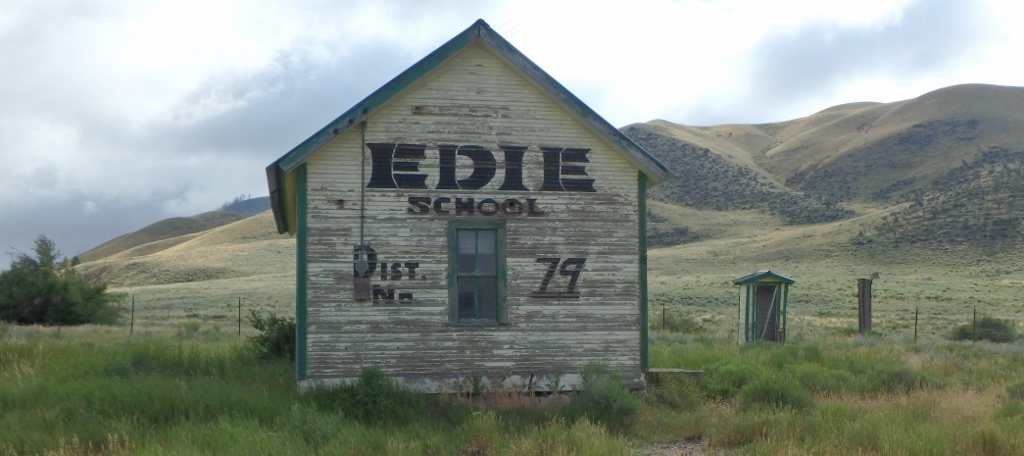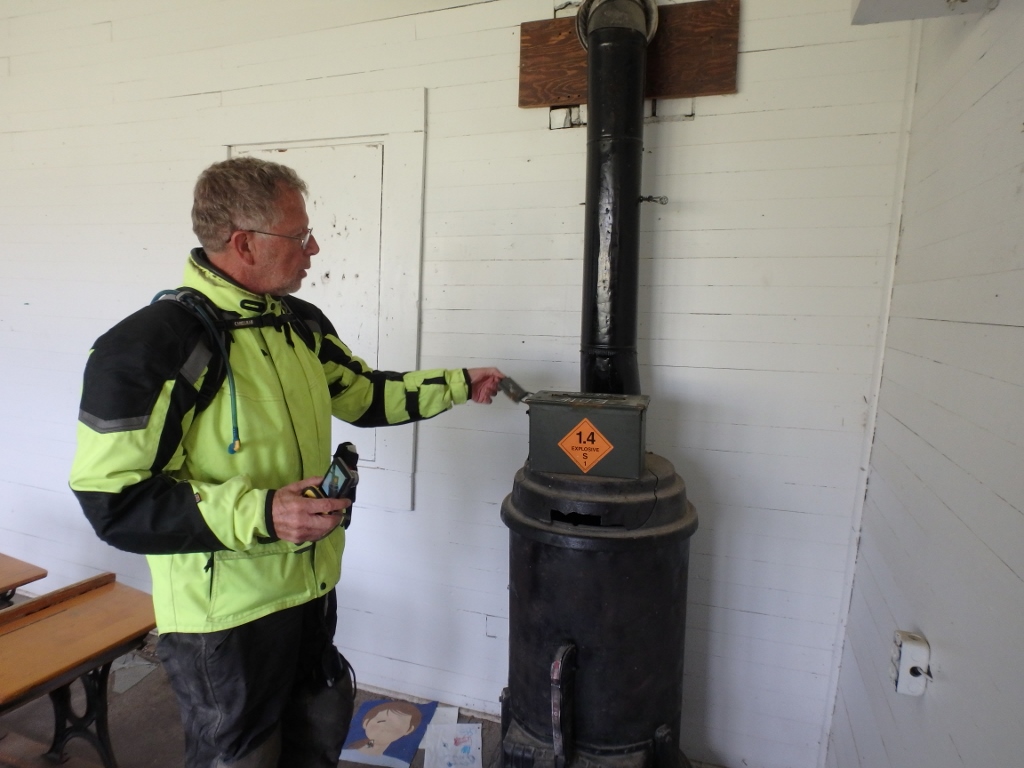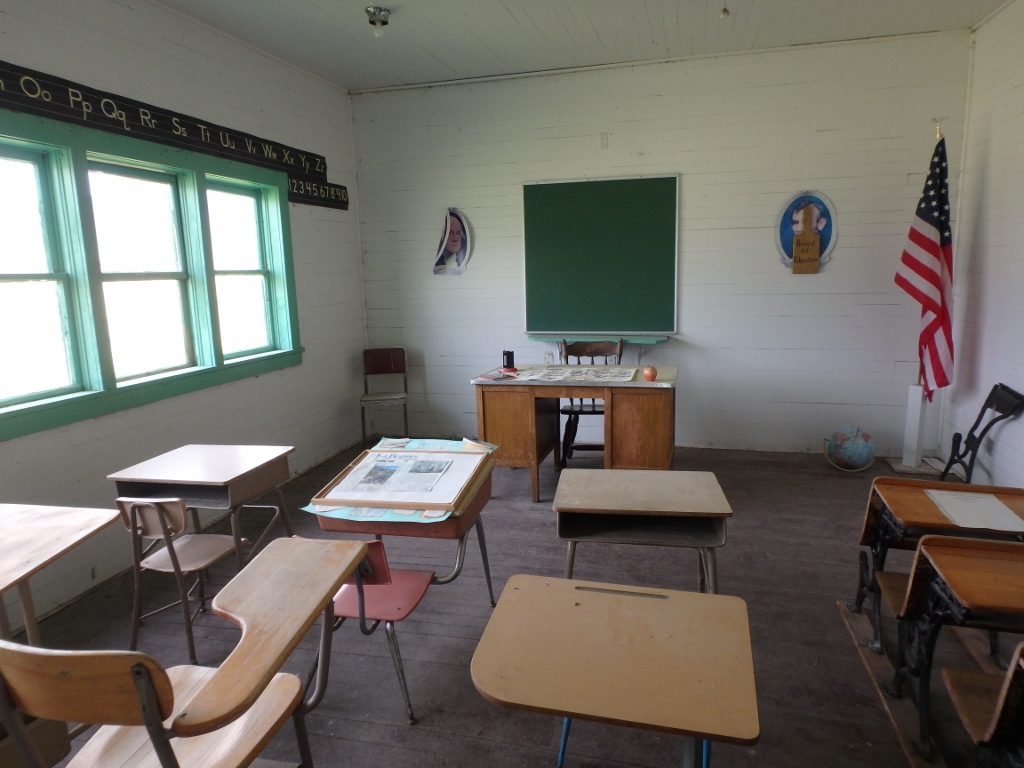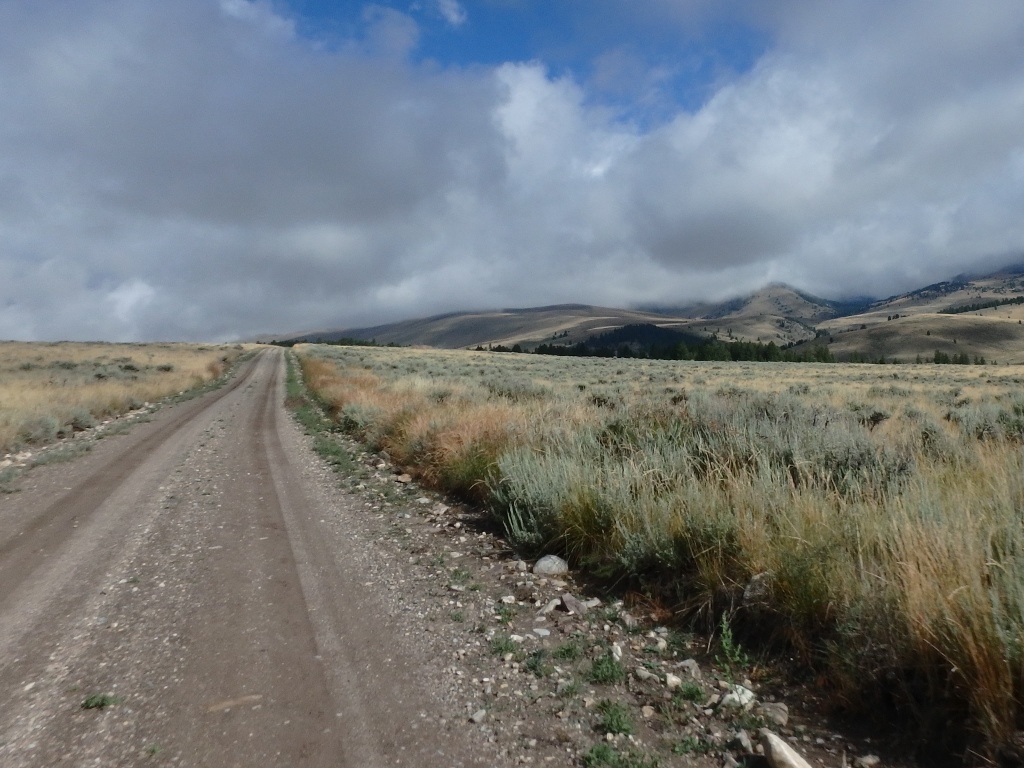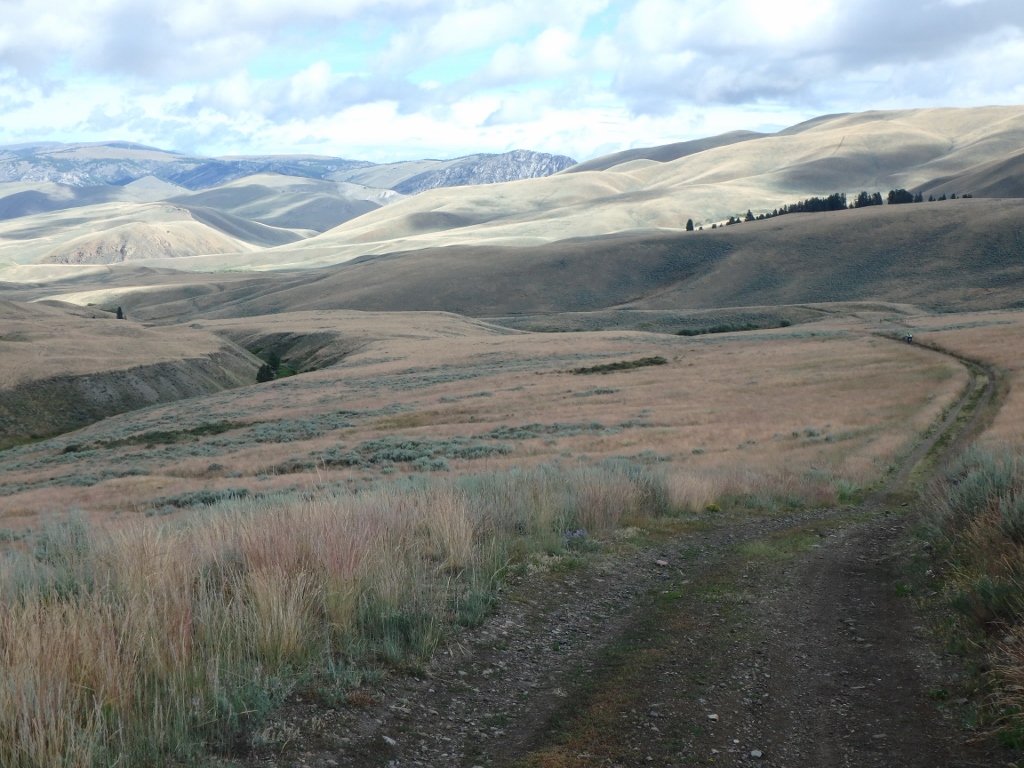 Riding North on NF-951 as soon as we cross into Idaho we cross Deadman Creek.
It's a little deep---but a solid bottom with no boulders.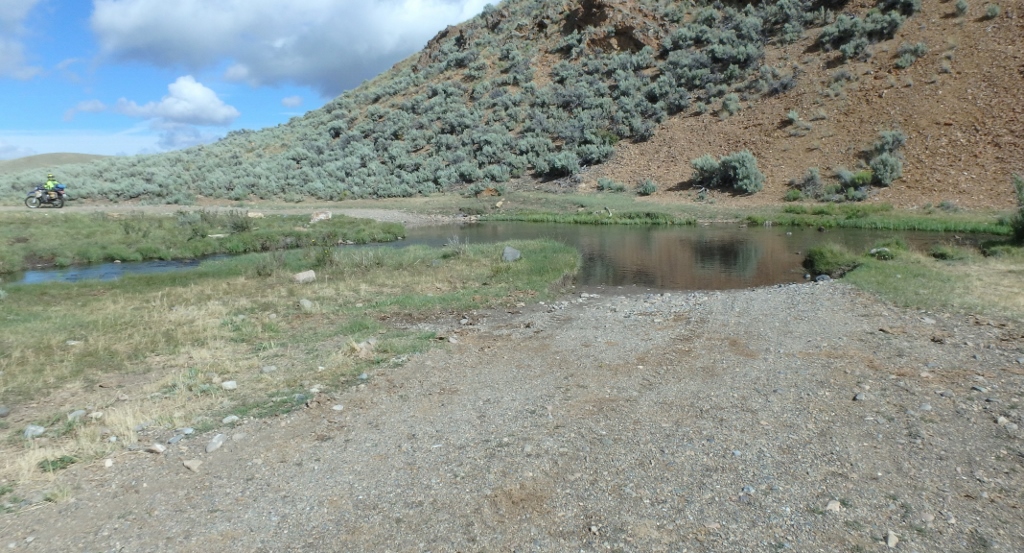 This old cabin was built as a stagecoach stop.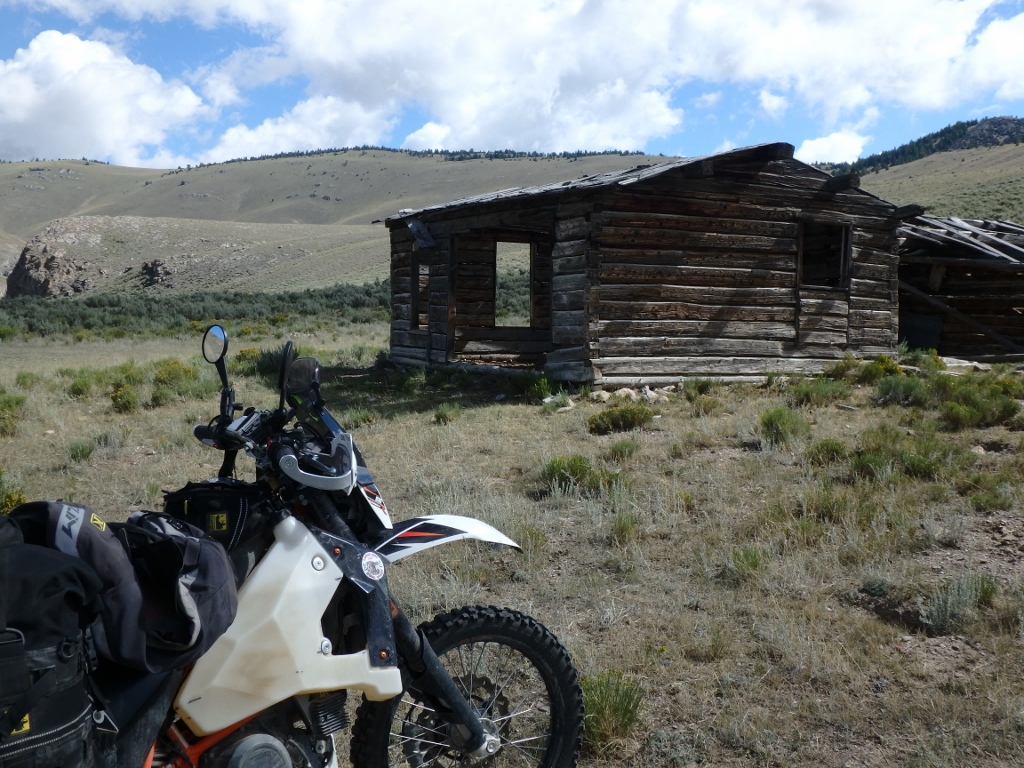 This was a neat little diversion off the bigger dirt roads in the area.
A little mucky in spots but no big deal.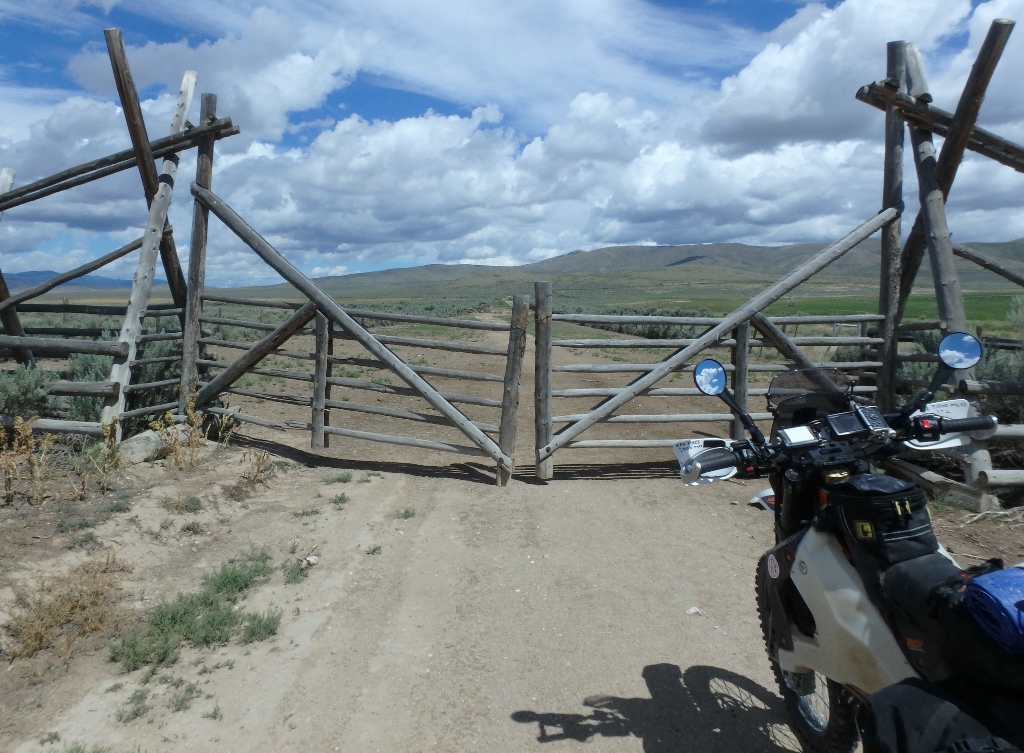 The road went North to the old well preserved town of Bannack-----then we went to this little town----welcome to Jackson, Montana.
The guy had just opened this Hotel up about 5 days ago.
It's really a Hotel and hostel combination----for $39 you can have a bed with many other people in the room---that was the whole upstairs.
Or----for $79 you can have a very small private room down stairs.
It was very nice inside and newly remodeled. The owner also live there---he was a really nice guy.
Notice the Leetle Cafe next door ???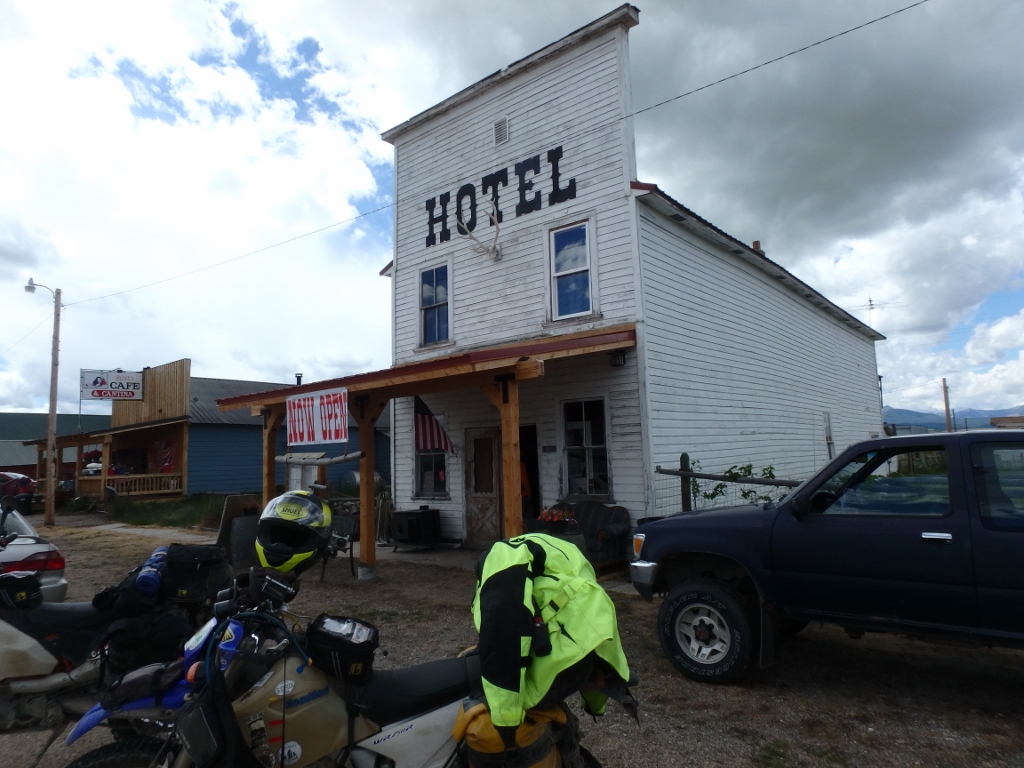 Mexican Music Please
"In a leetle cafe--on da udder side of da border"
I heard Manuel was on his way---so we scattered.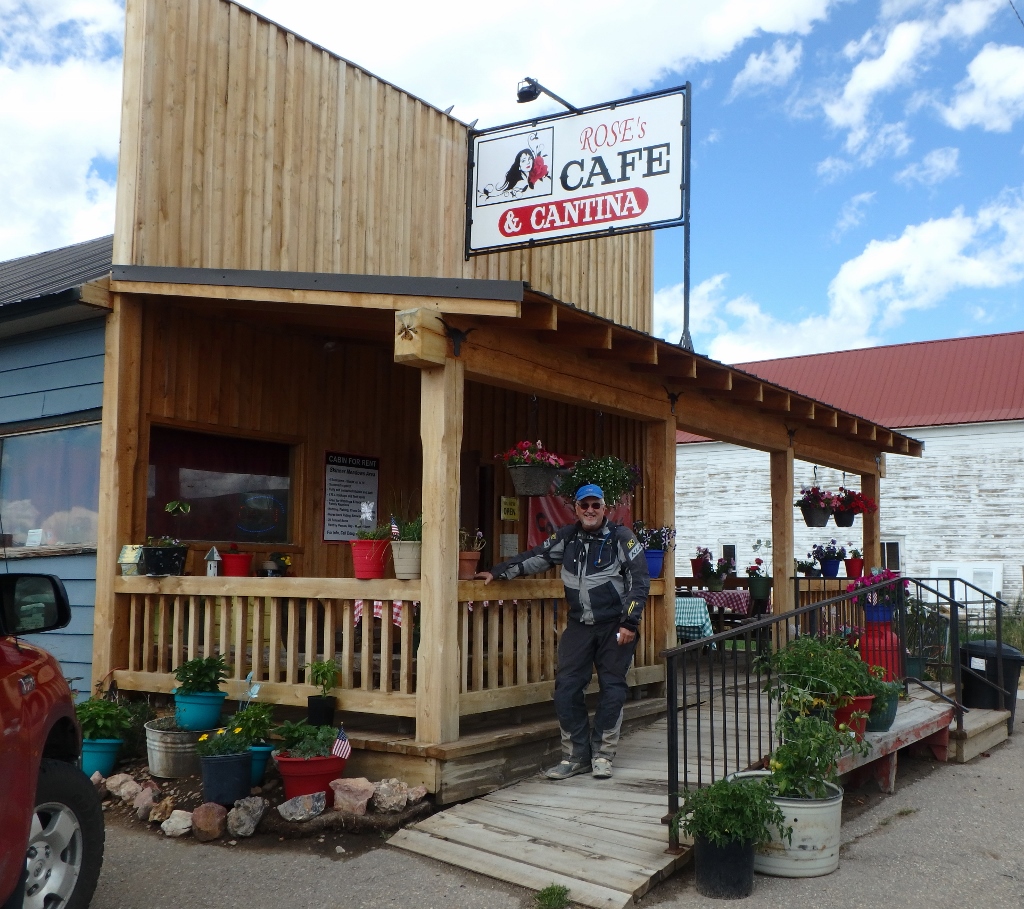 This guy was guarding the door to the cafe and we had to step over him to get in----I love this.
What you can't hear in this picture------he is growling at me.
Everytime I'd reach down to scratch him---he'd growl at me.
Ungrateful I'd say !!!!!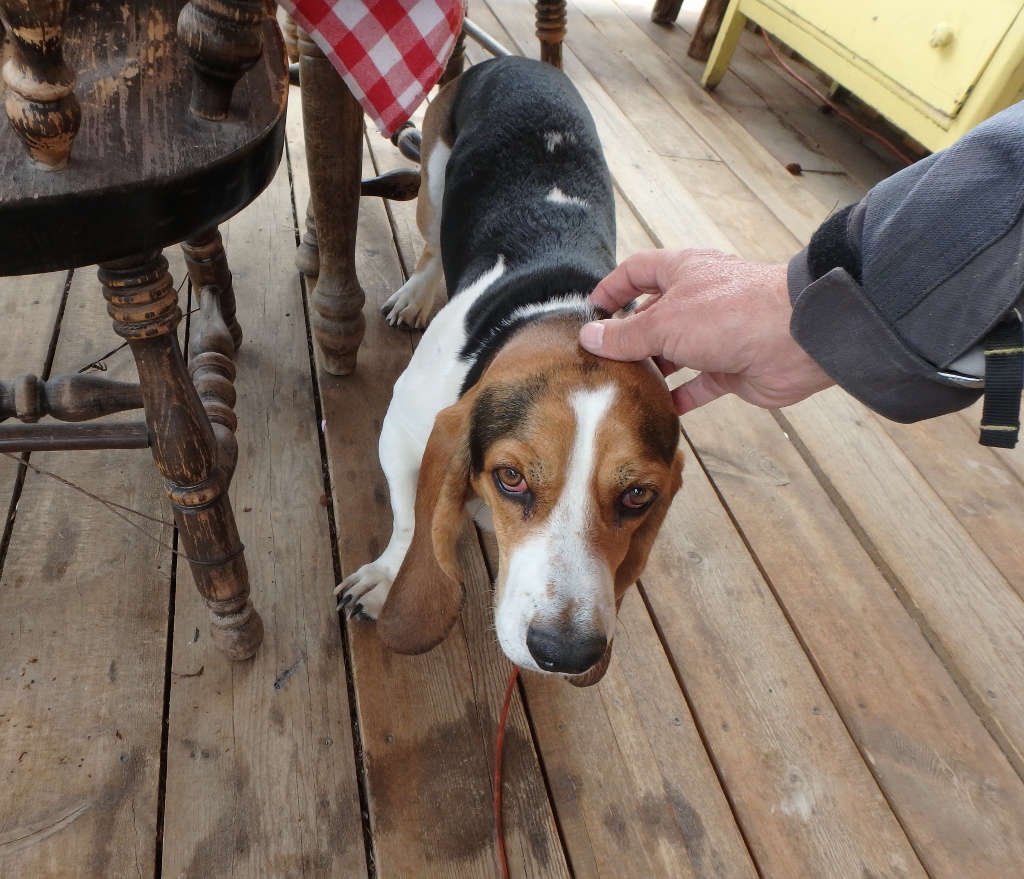 Well the designated campgound was 15 miles away down a dirt road.
It was called the Miner Lakes campground and was real nice.
No sooner had we set up our tents we had to crawl in them as it started hailing.
It thundered all around us with a lot of lightning.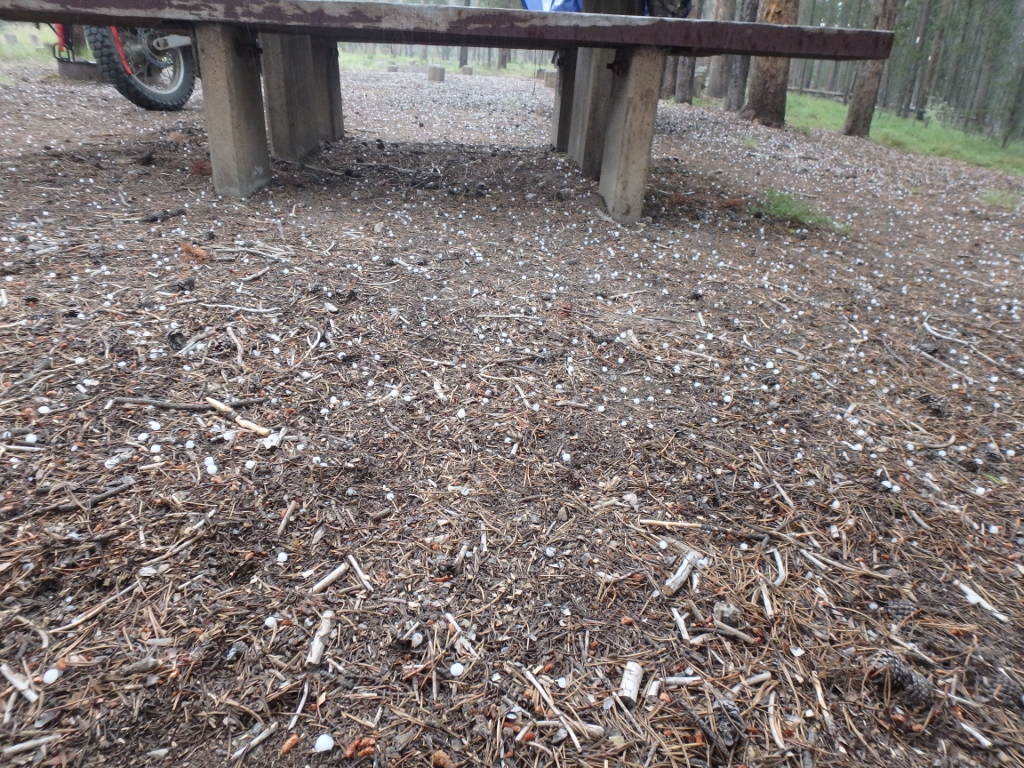 Hail !!!!!!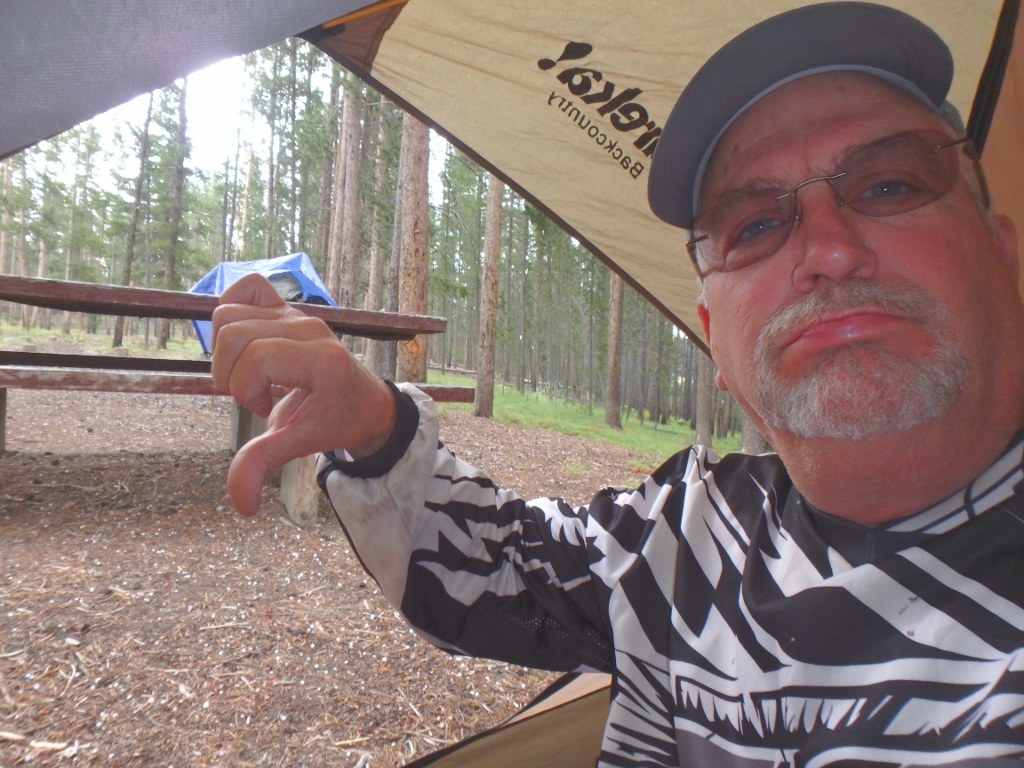 It quit and the sun came out and got real nice.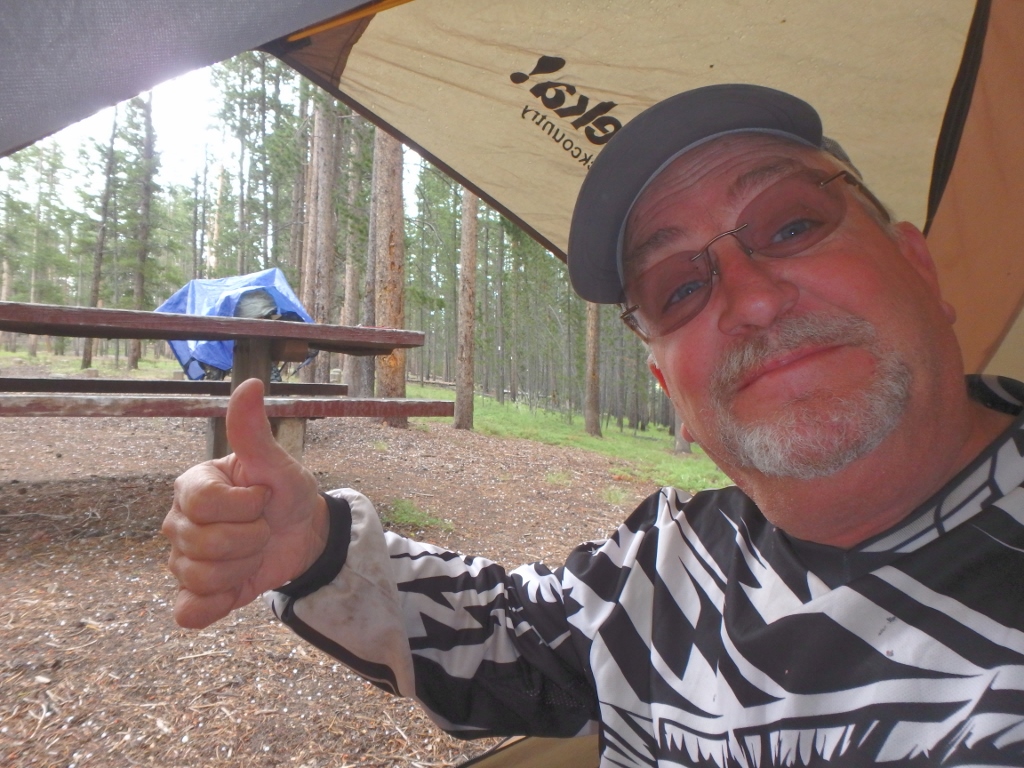 We got busy gathering firewood and got a good fire going as we waited for all the other riders to show up.
But of course they didn't ---as they had went another way.
I truly thought something aweful had happened--maybe one of them got killed or hurt badly and it blew the wind out of everyones sails
and they went home. What happened to them me and Jerry thought all evening. Were we that bad of company ????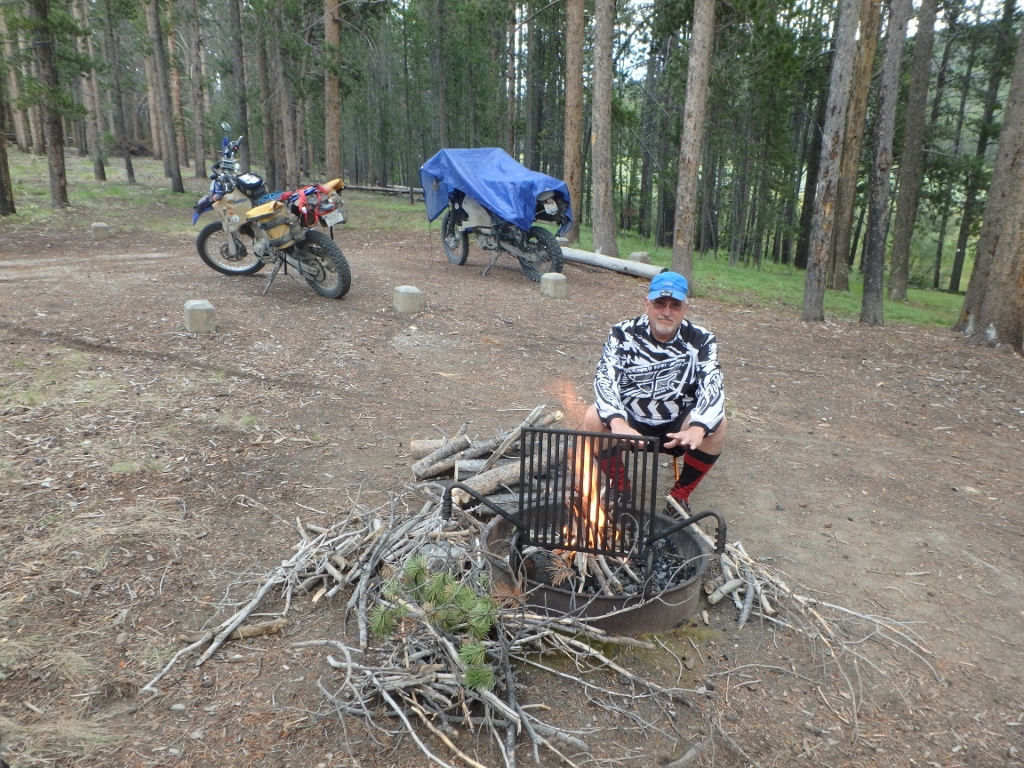 Destitute---no visible means of support.
Trouble makers no doubt.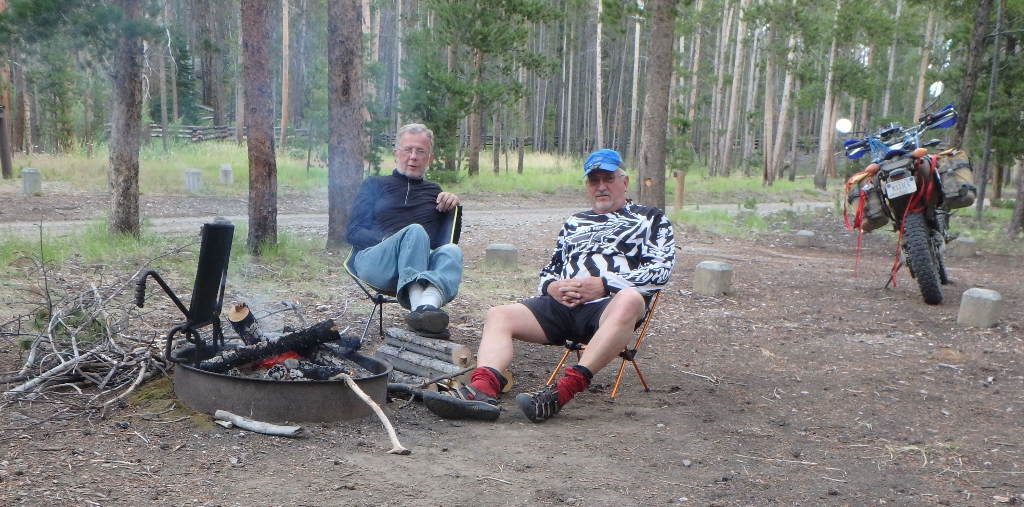 Day 8 of the Montana 1000
It was freezing at our campsite this morning.
Jerry re-kindled our fire and that helped out a lot.
For the first time on this trip I put on my electric vest as we headed to Wisdom for breakfast.
Me and Jerry had ate here on the way up while in our vans.
They had a gas fired stove in here that looked like a woodstove---and I back my butt up against it---I was chilled to the bone.
We drove right by that nice Hotel in Jackson on the way and I'm sure both of us had wished we had stayed there.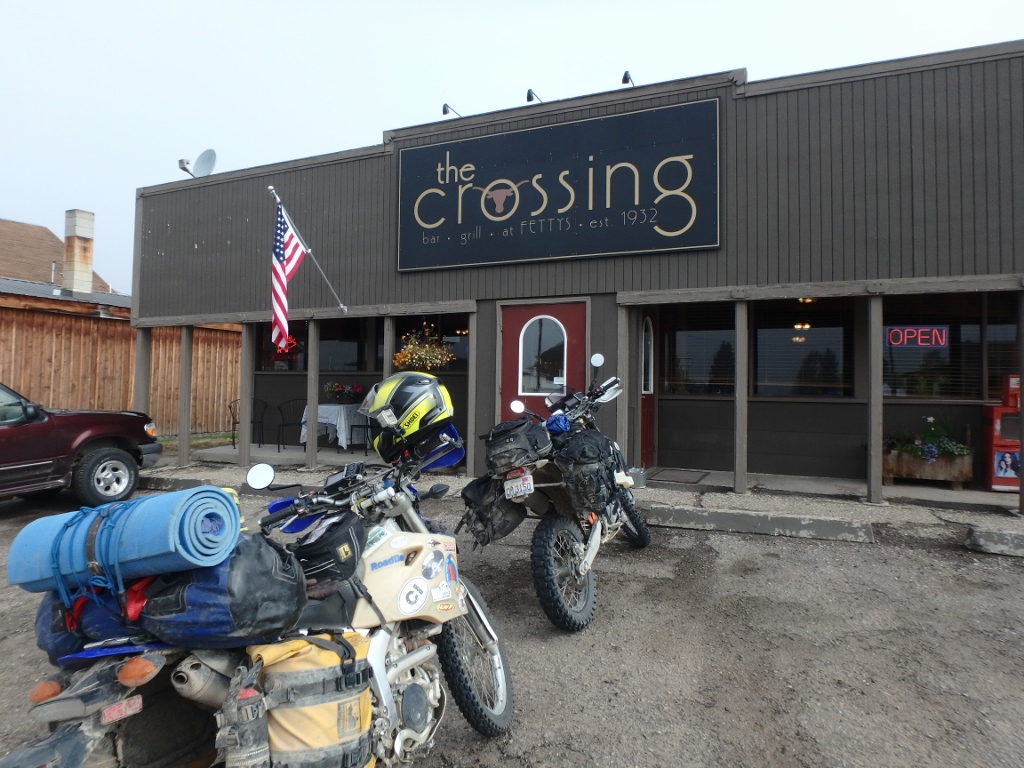 Almsot the whole way to Wisdom we drove in this very dense fog.
We could barely see---and it was very dangerous----I think if a car had some up behind us he might not see us.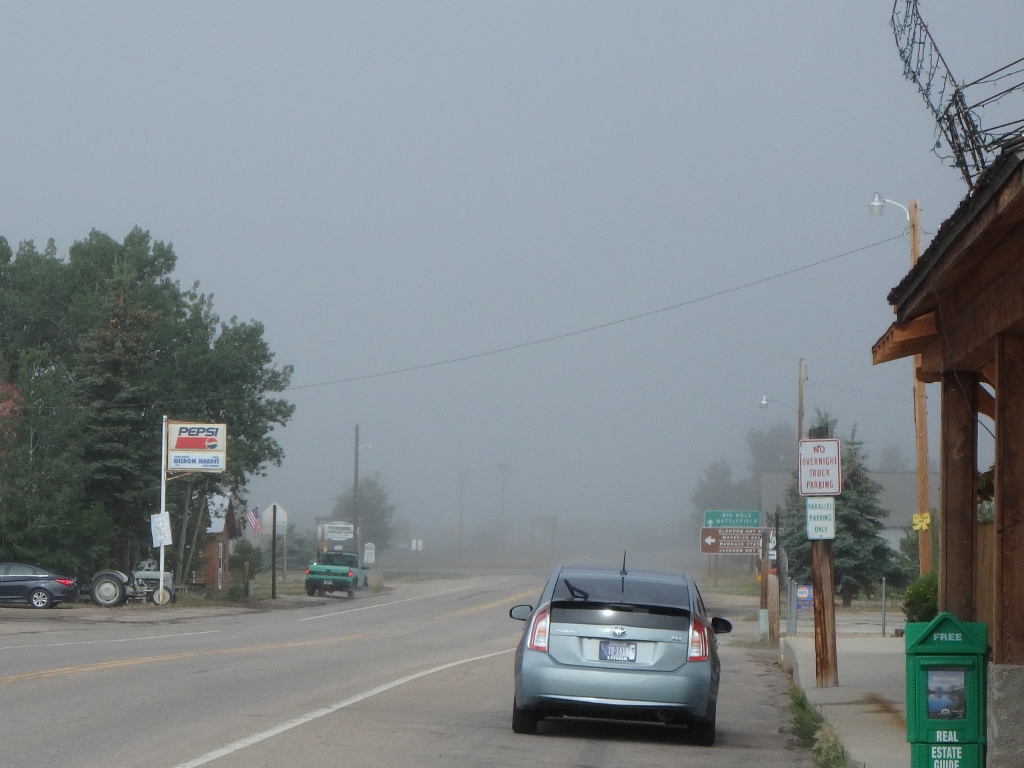 As we rode West out of town you can still see the remnants of the fog that finally lifted.

We rode past the Big Hole National Battlefield memorial and turned North on a dirt road that climbed way up into the mountains again.
This would be a glorius day of riding.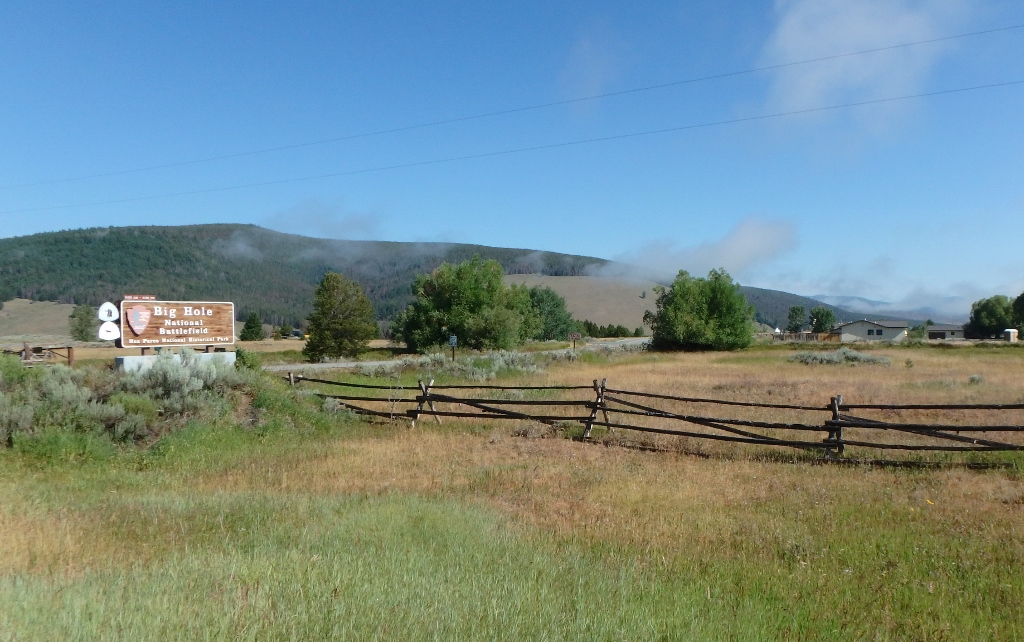 I didn't seem to take many picture of this route---but it was truly magnificent.
And as Ron said-----it is as good as the Magruder corridor and the LoLo motorway------I agree.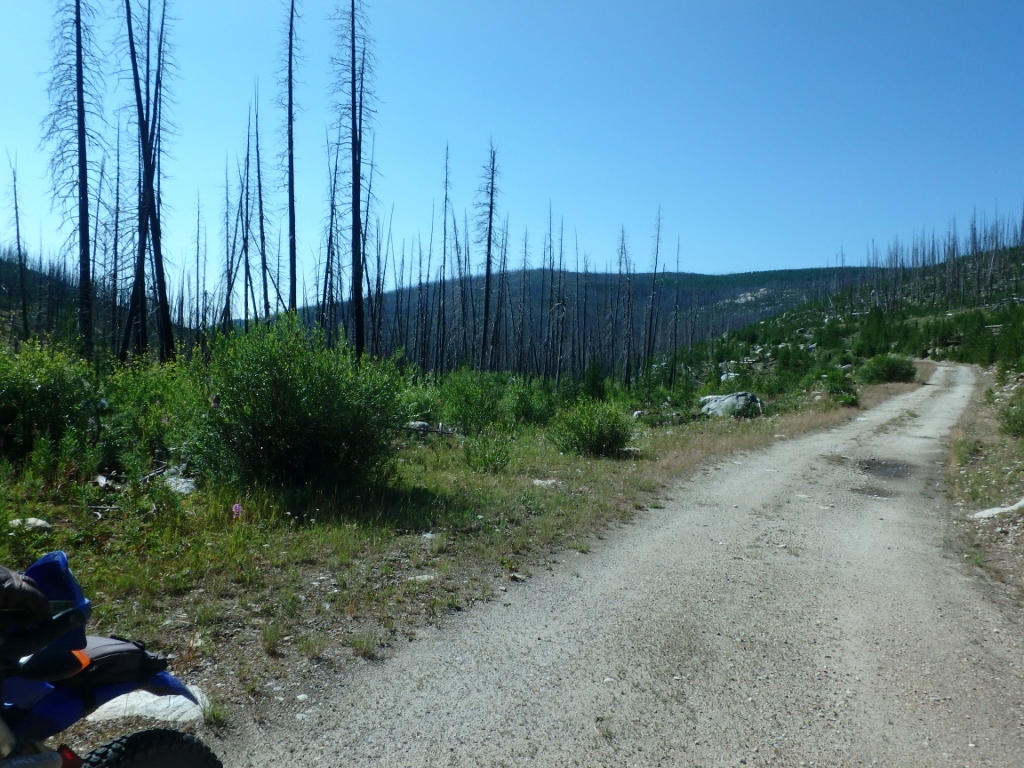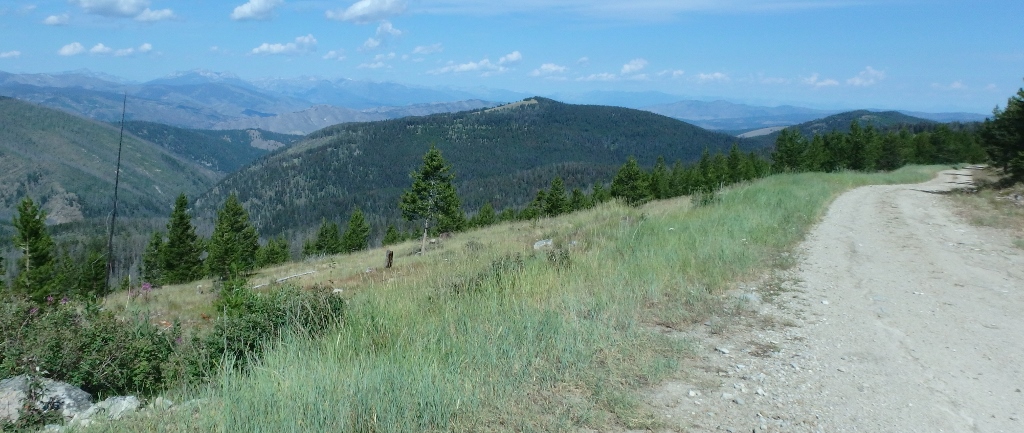 Good place to get a X-mas tree.
We went thru huge tracts of land thru here that had been burned years ago.
It was a big one---and a bad one.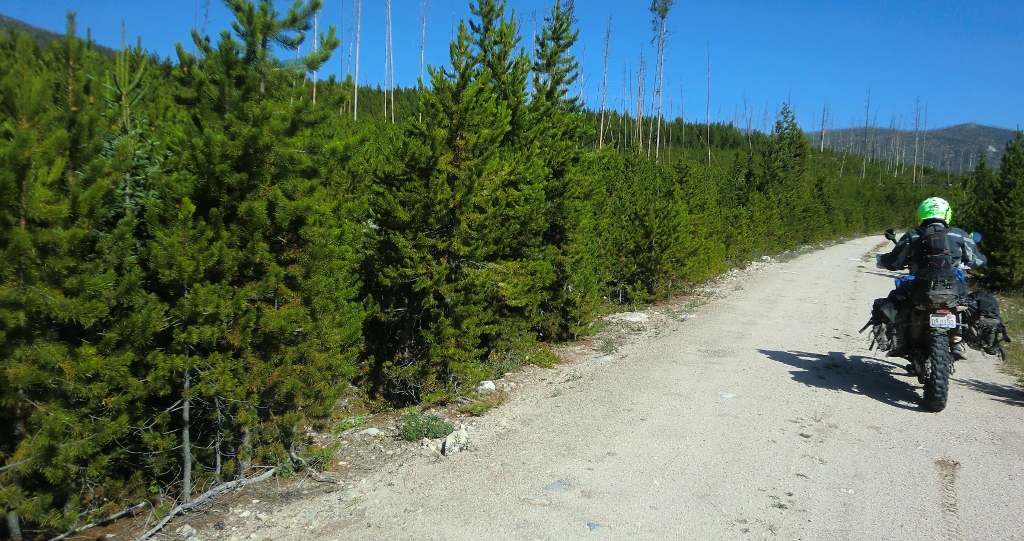 This is what most of it looked like.
Some places a little challenging---and some mudholes to blast thru.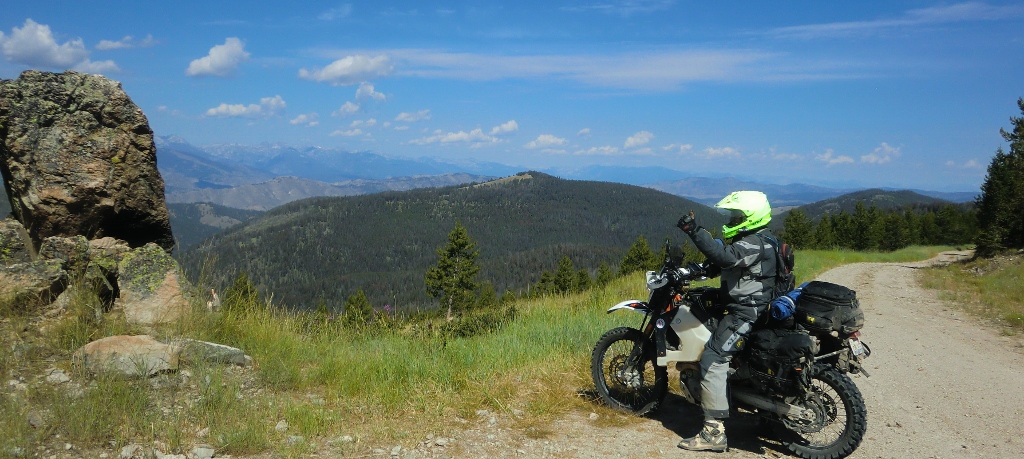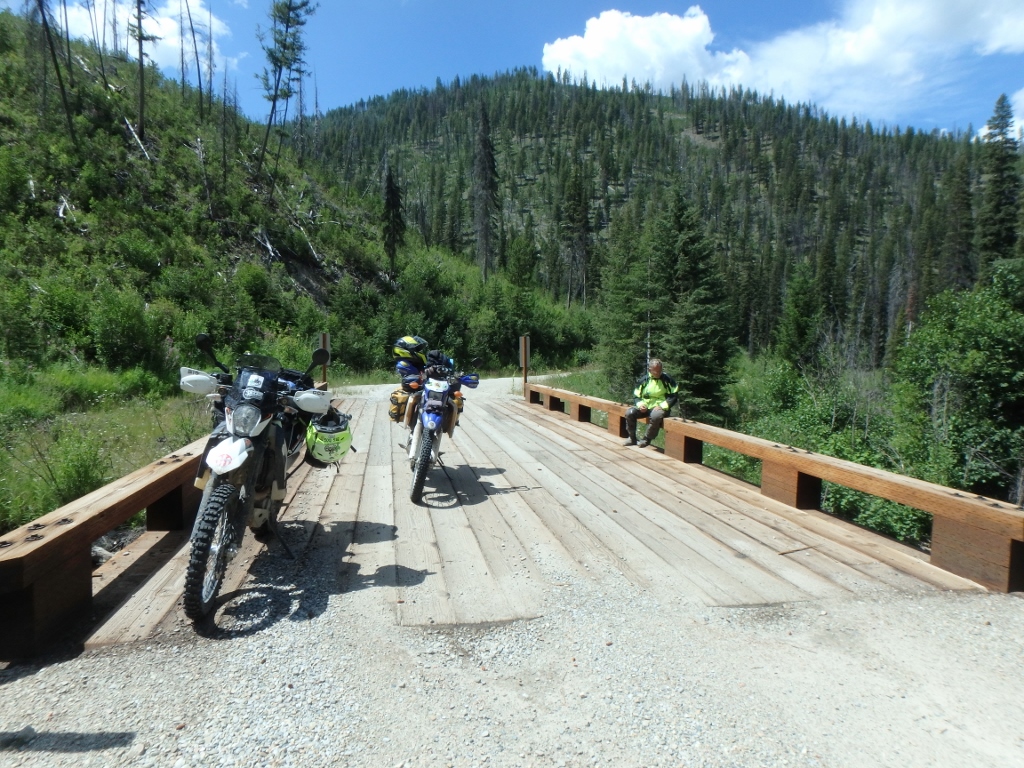 I knew that damn KTM would break down------and it did !!!!!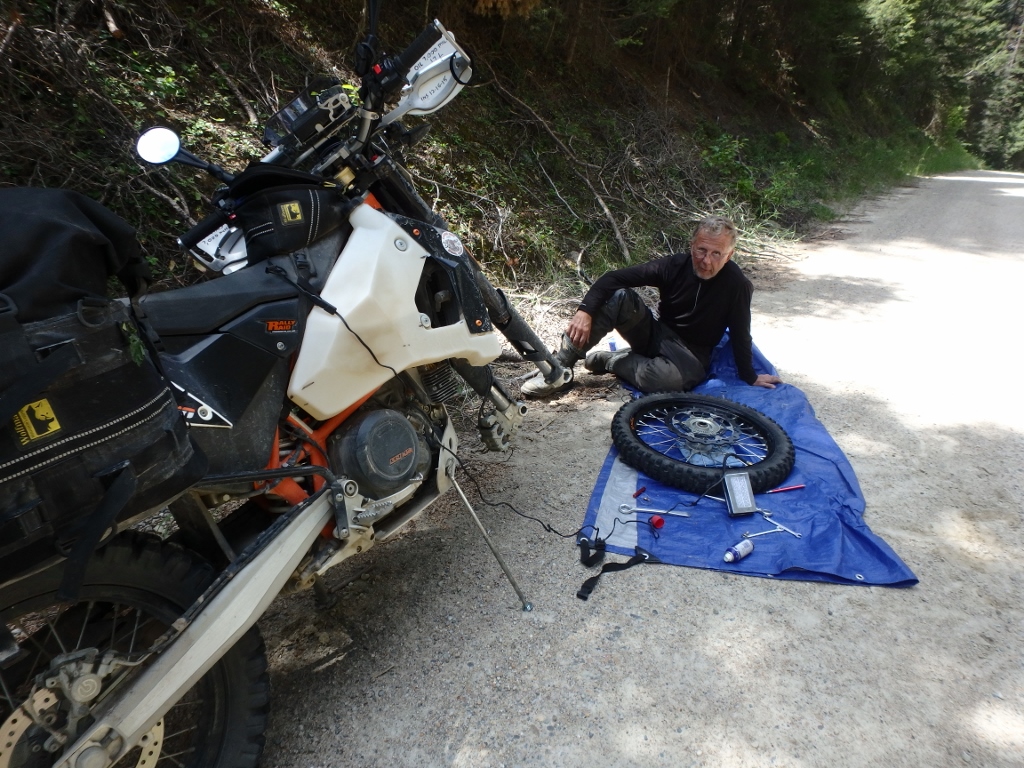 Well we got back to Ron's first---as the other riders were still out there somewhere---but we didn't know where.
So---since I led the whole way---and Jerry sqeezed by me right at the finish line (he cheated)---I awarded him with finishing number one------first on this ride.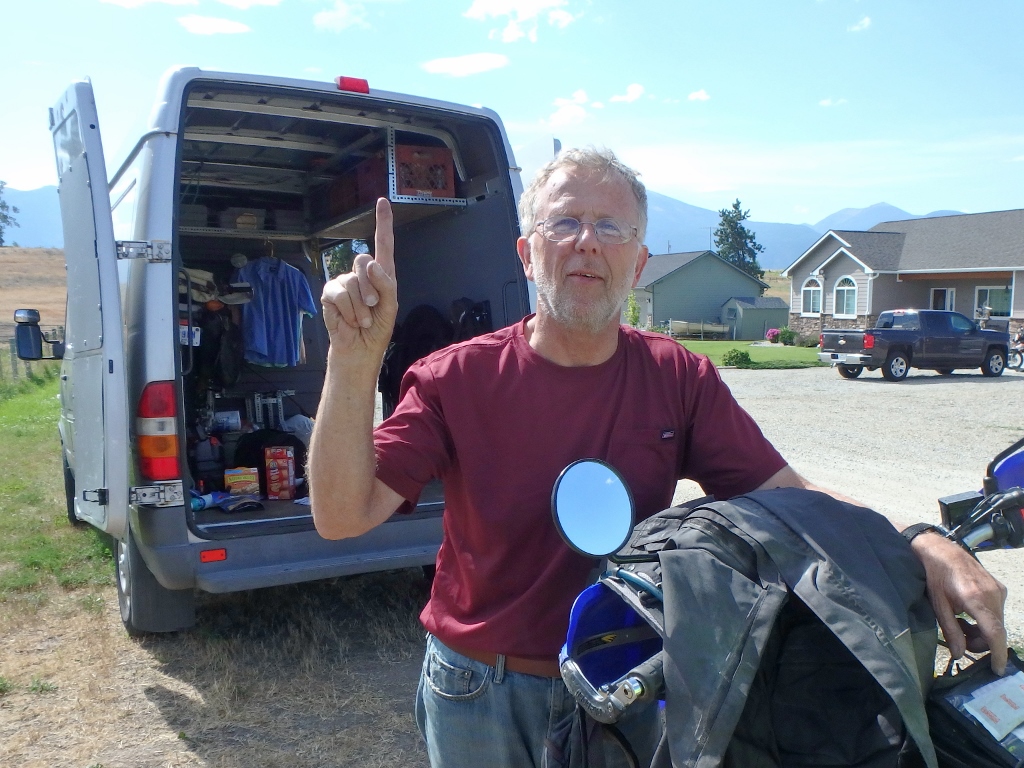 I got 2nd place---but that's pretty good---it's hard to run with Jerry on his WR250R.
Great ride !!!!
We love Montana and Idaho.
Rumor has it that next years ride will be "all" in Montana------imagine that.
The "Montana 1000" in Montana----bring it on.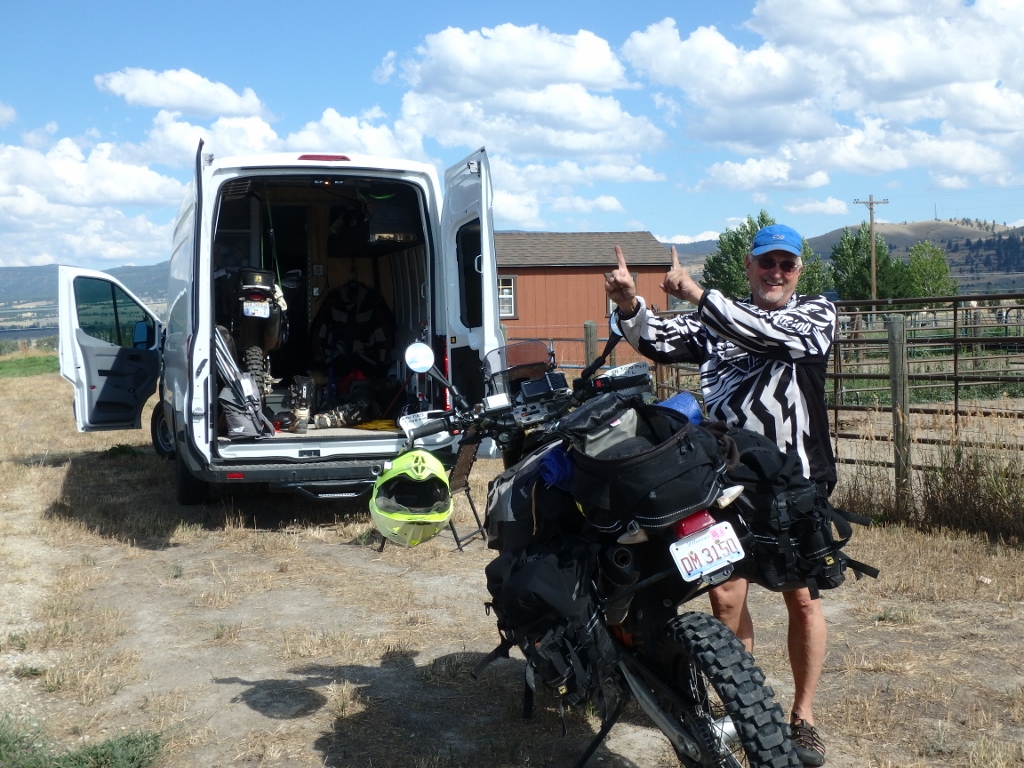 Me and Jerry loaded up our bikes and headed out.
Kind of going are seperate ways---but we would run into each other on the way---and that was funny.
No more motorcycle riding---but I did some neat things on the way home and
got another huge thing off my bucket list---so read on if you like.
So----again----Jerry was in his van heading who know's where----and I was too.
I was sauntering down the 2-lane backroads probably driving below the speed limit havng a great relaxing time when I passed the dirt road
to Sharkey Hot Springs------we'd had ridden by there on the ride---but just looked it over-----the 3rd time I've been there and just "looked it over".
Not this time-----I drove 4 miles up a dirt road in my van and who had beaten me there ????? Jerry !!! Again---great minds think alike.
He was leaving------I ask him if he soaked in the hot spring and he said no--------I told him by god I was----and he joined me.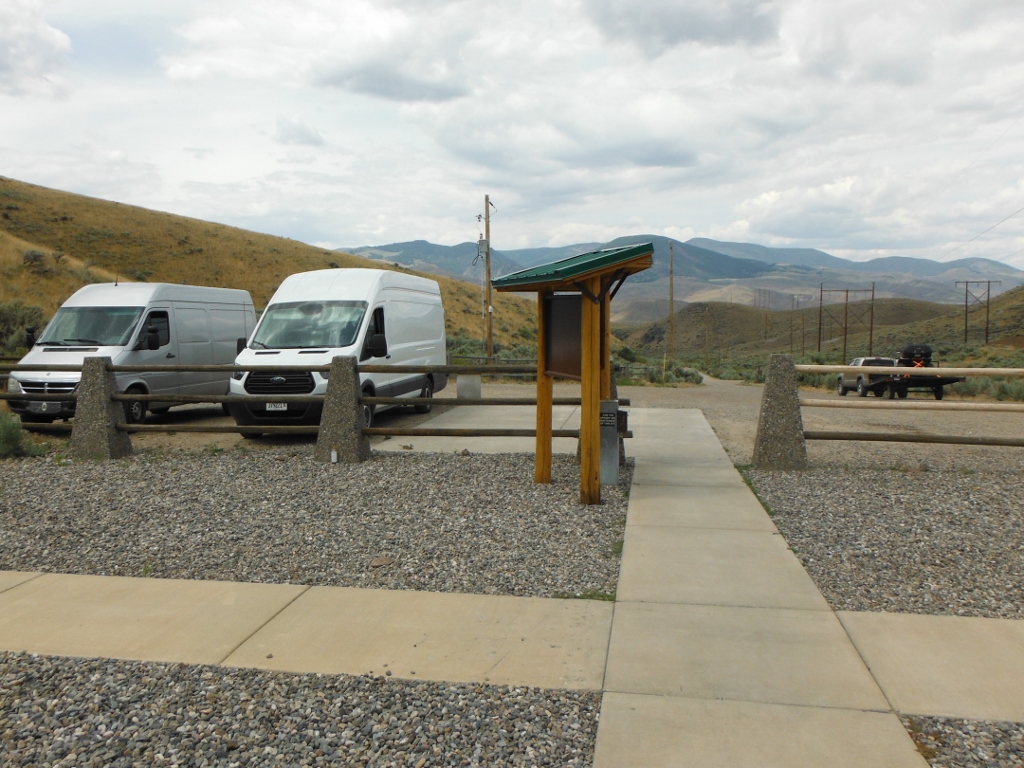 We soaked here for a good 2 hours--sometimes getting out as you don't want to much of a good thing.
It was so relaxing.
There are 2 pools here just a like----the only thing irritating---there were 2 old hens in the next pool---I call them old hens because all they did
was talk about everybody they knew the whole time. It was very irritating but I'd did my best to block it out. Go home and get on face book or call
each other on the phone.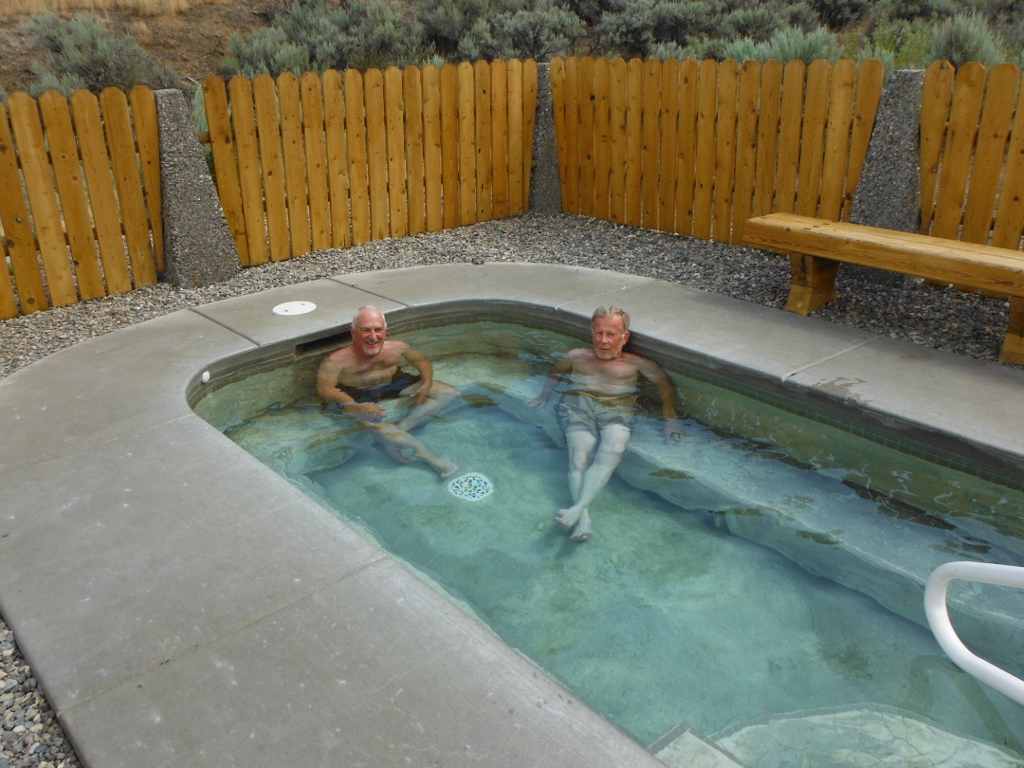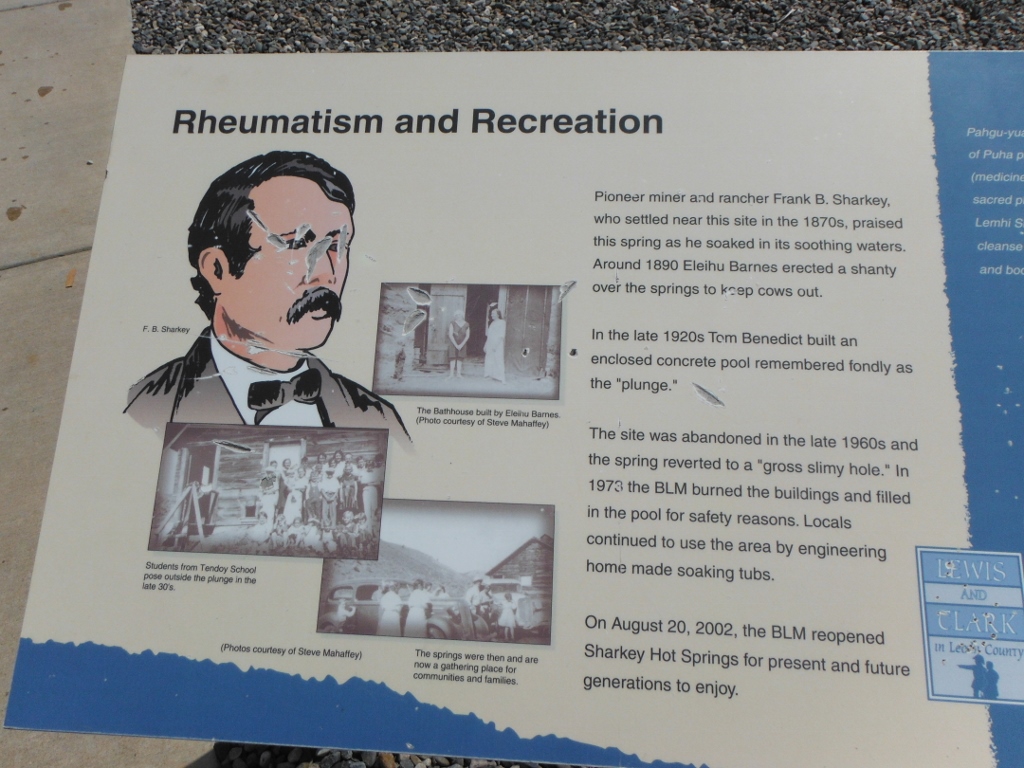 From there----I made it almost to Gunnison, Colorado, but stopped short and camped here on Blue Mesa Reservoir after driving thru
the beautiful Black Canyon of the Gunnison.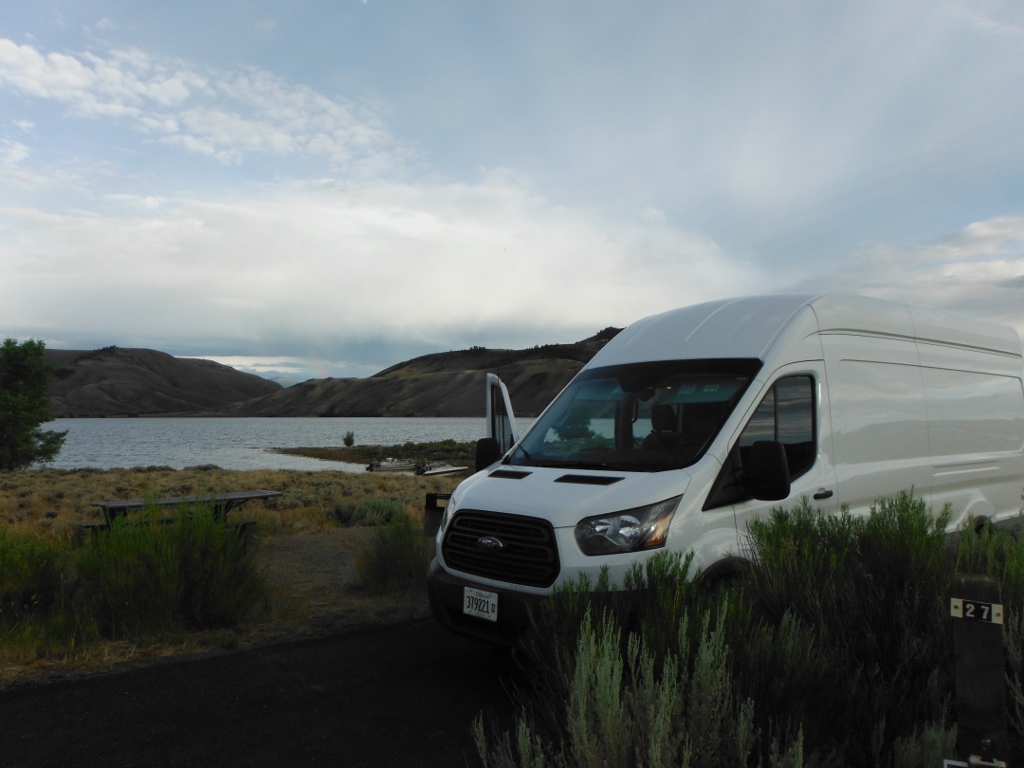 From there I made the very short drive to Gunnison, Colorado for 2 nites of camping and just relaxing.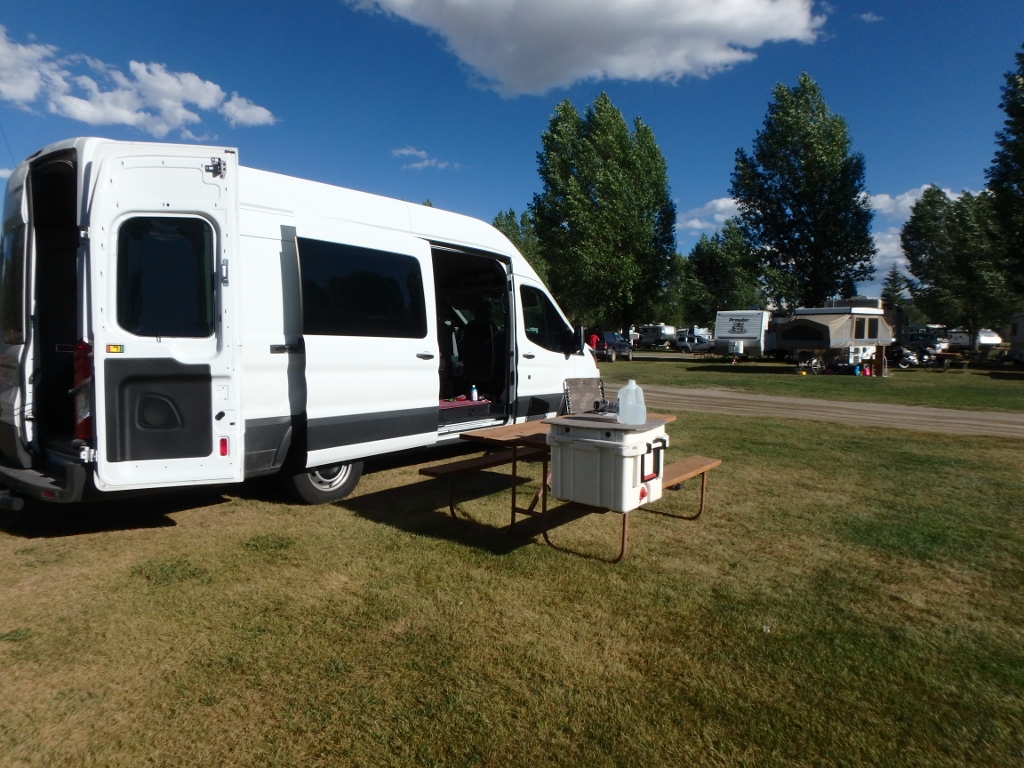 And then made my way down to Chama, New Mexico to ride the scenic Cumbres and Toltec steam train.
Me and my son had been here but didn't ride the train---but spent several hours looking the place over.
We promised to ride the train together someday---but time is running out for me and I felt that might not ever happen---------sooooooo.
When you want to do something-----------do it !!!!!

You can ride the 64 rail miles to Atonito, Colorado and then ride the bus back------or ride the bus to Antonito and ride the train back.
I chose the latter as it left earlier.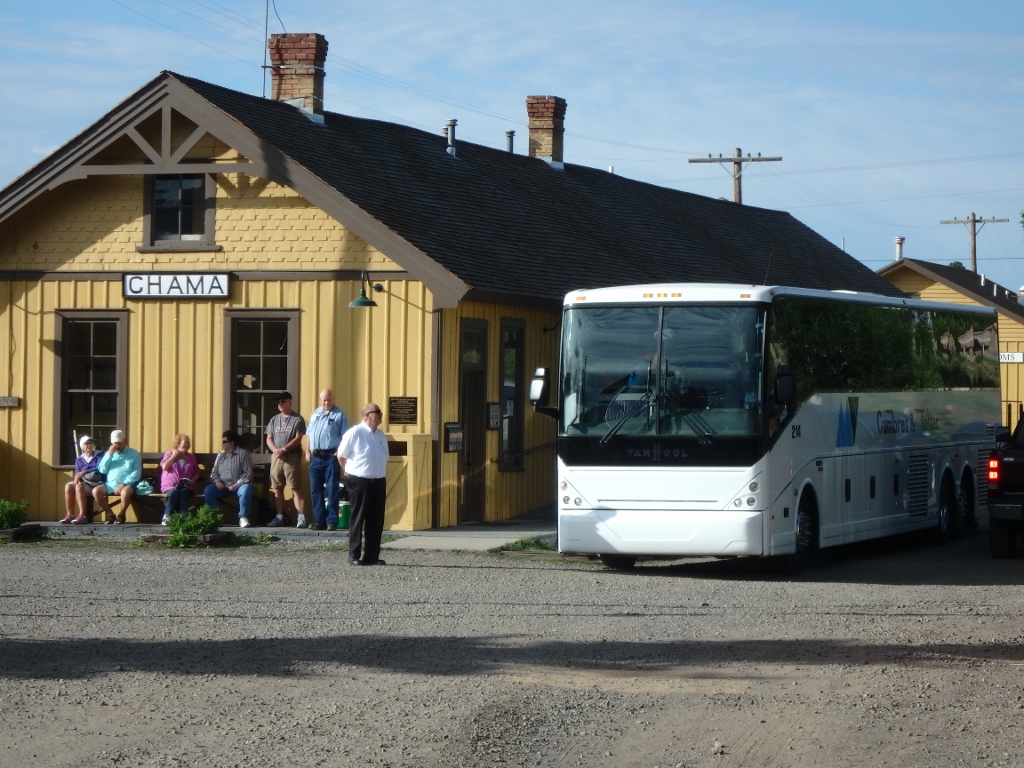 My son Marty at the Chama train station years ago on an old locomotive.
You can't do this in Durango or Silverton.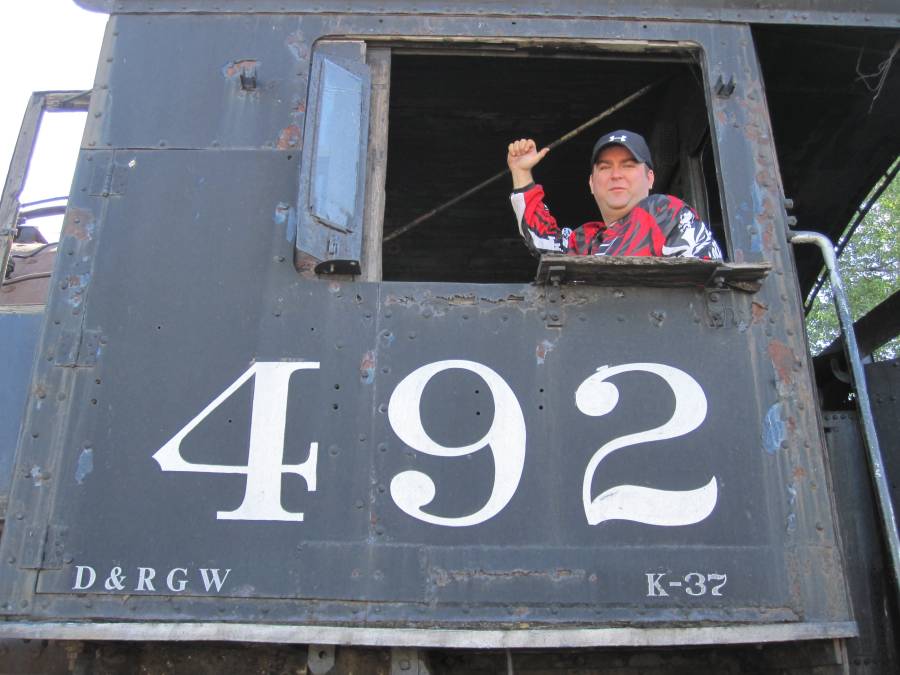 In Antonito, Colorado waiting to board the train.
Me and my son had ridden the train in Durango/Silverton Colorado.
We sure had fun doing that.
I wouldn't say one is better than the other---just different.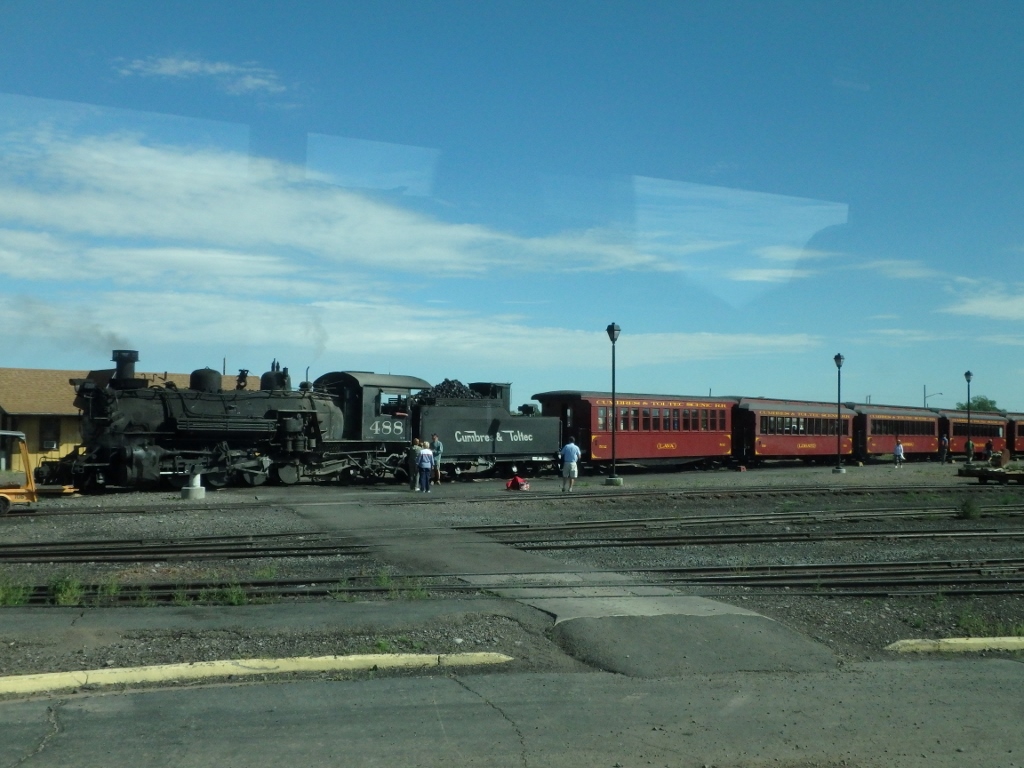 One big difference between Durango and Chama is that Chama is a really small town and Durango is way too busy for me.
In Durango you couldn't wander around the trains and old equipment like you can in Chama---a much more laid back place to be---I could live here.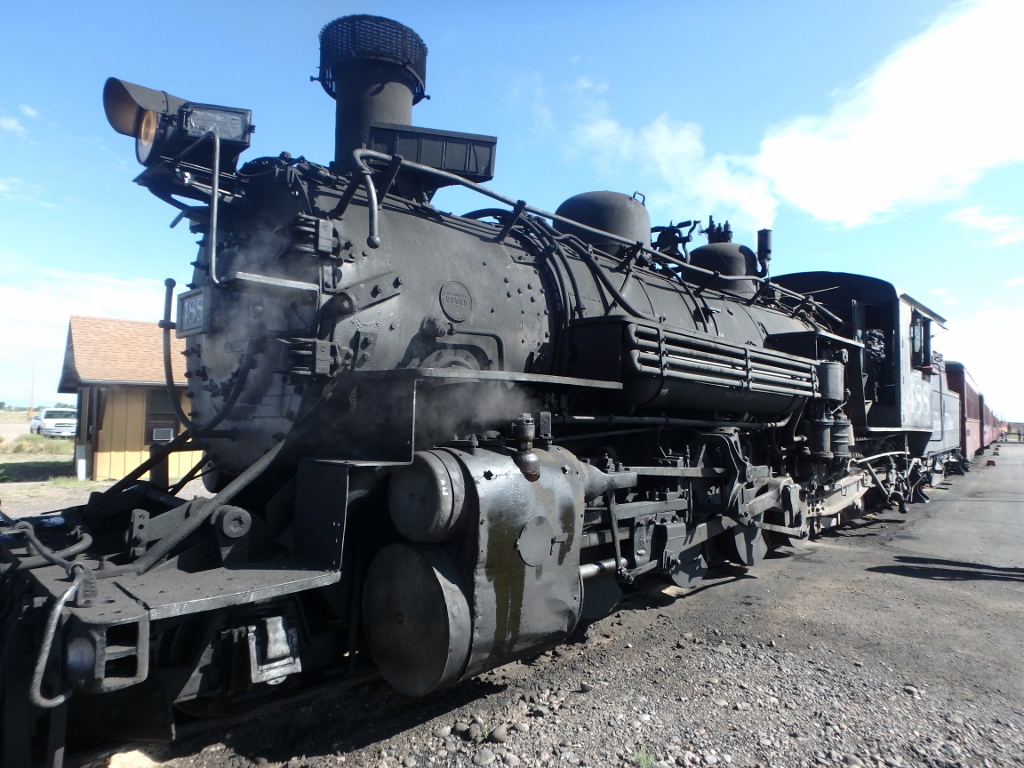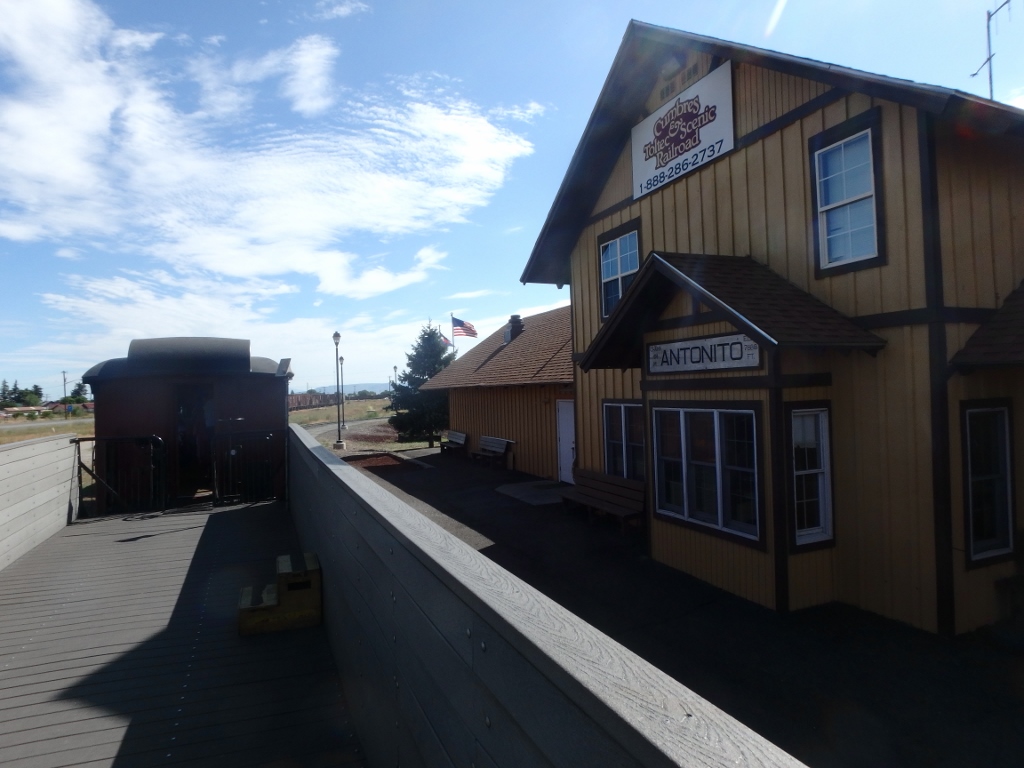 The train is just now heading out for Chama from Antonito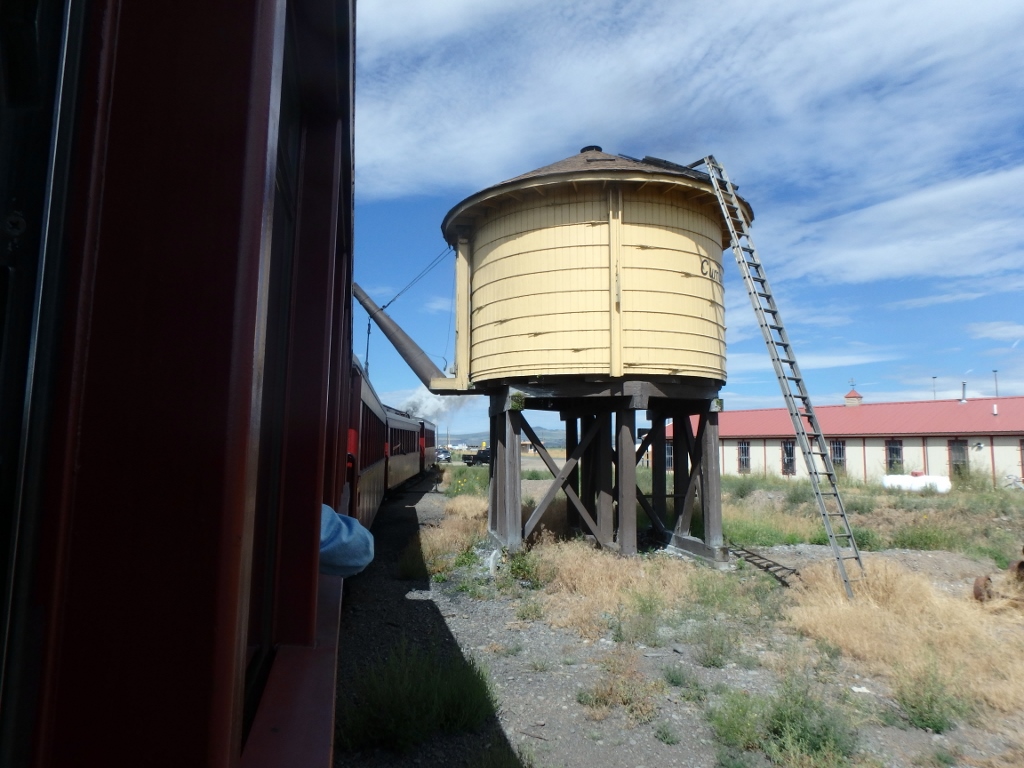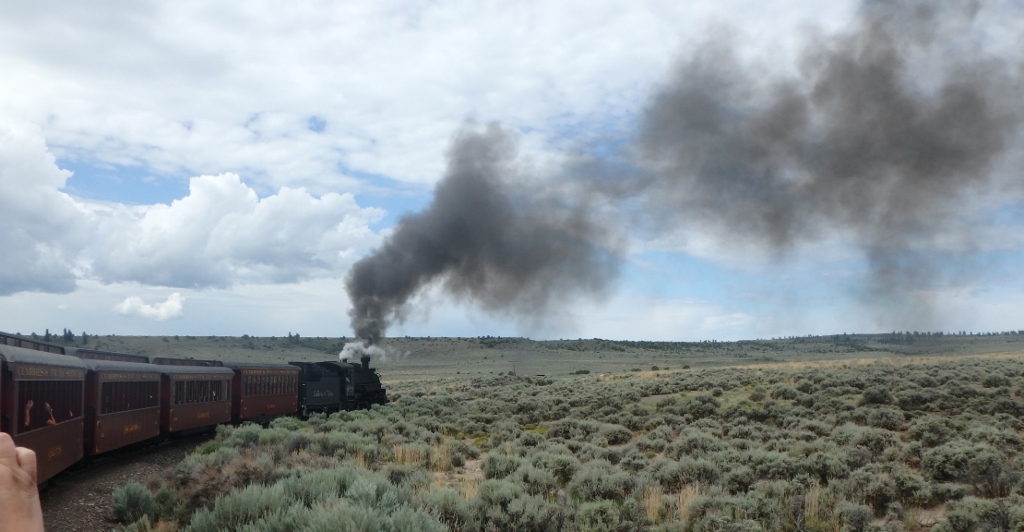 This girl--actually both of them were so cute.
I mentioned how cute they were to a guy I was talking to and he was their dad.
Told me to get my camera out and she'd pose for me---I guess when you are cute you get used to it.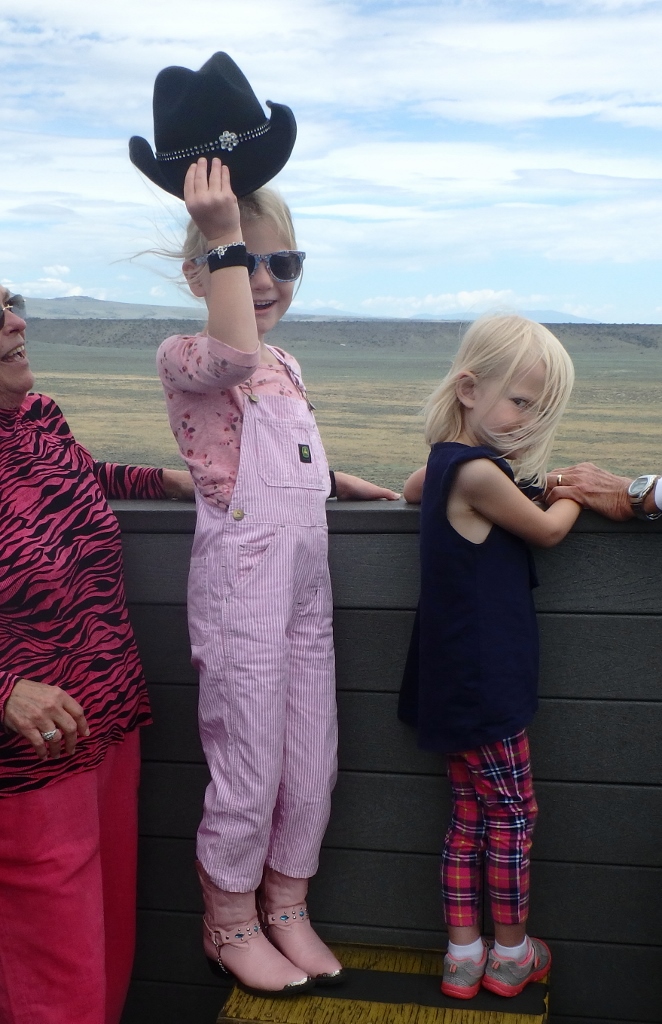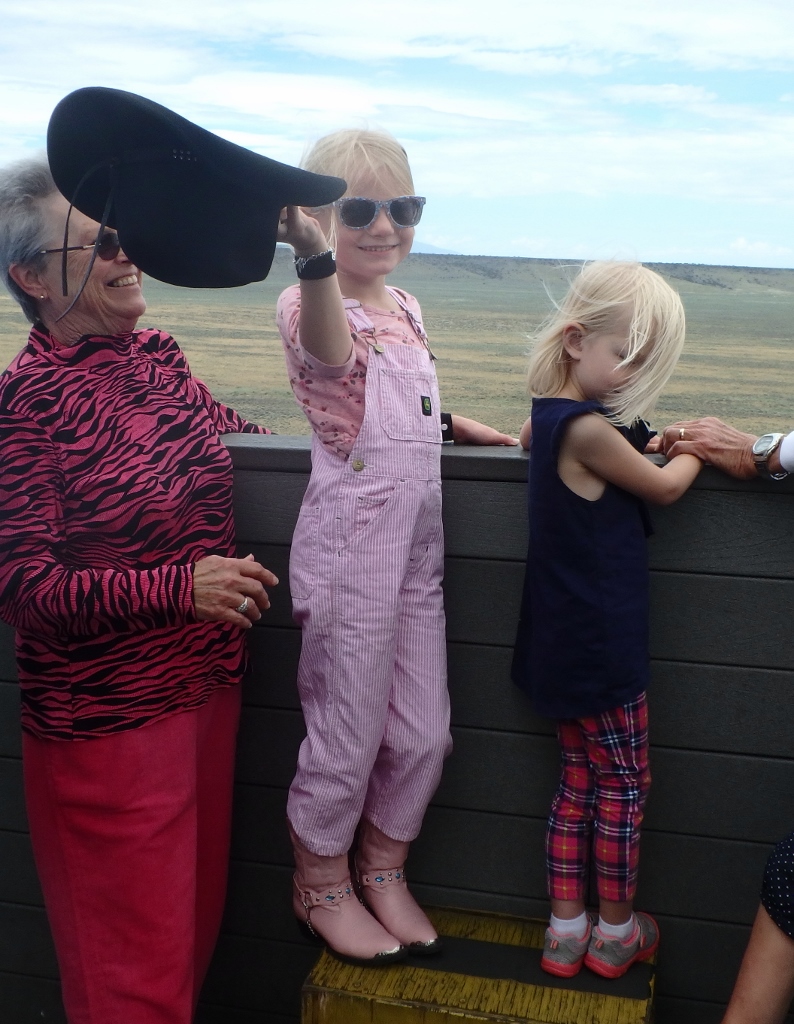 One side of that sign says enter Colorado---the other says enter New Mexico---we crossed that border I get 4 times on this ride.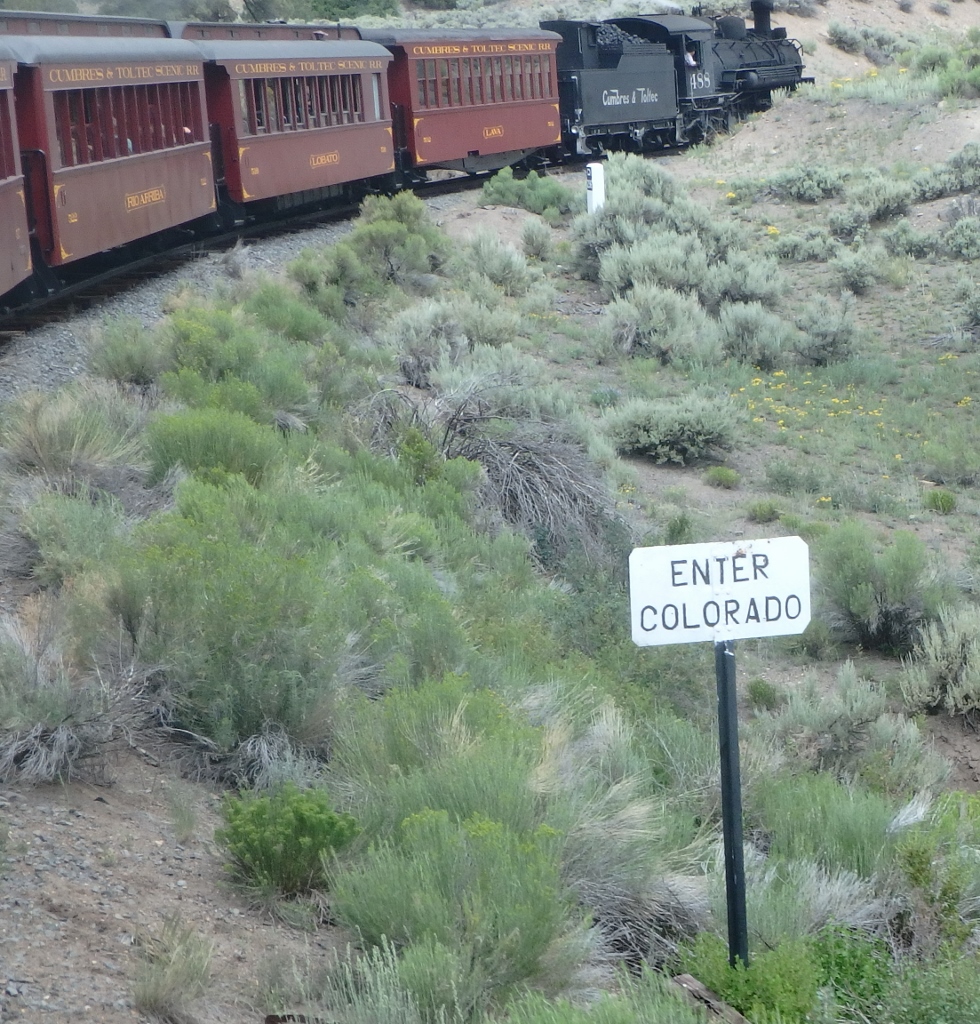 Same sign.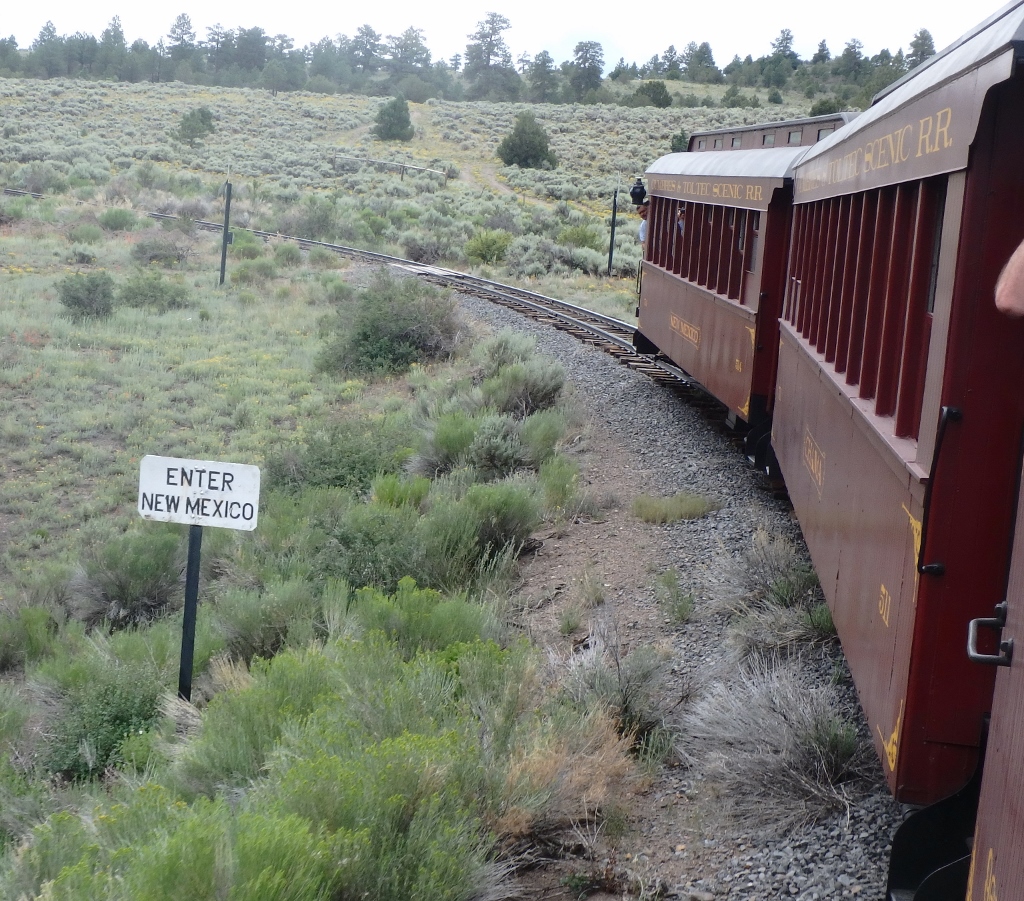 This railroad was built in 1880--and here are some buildings used by the rail workers that are still being used today.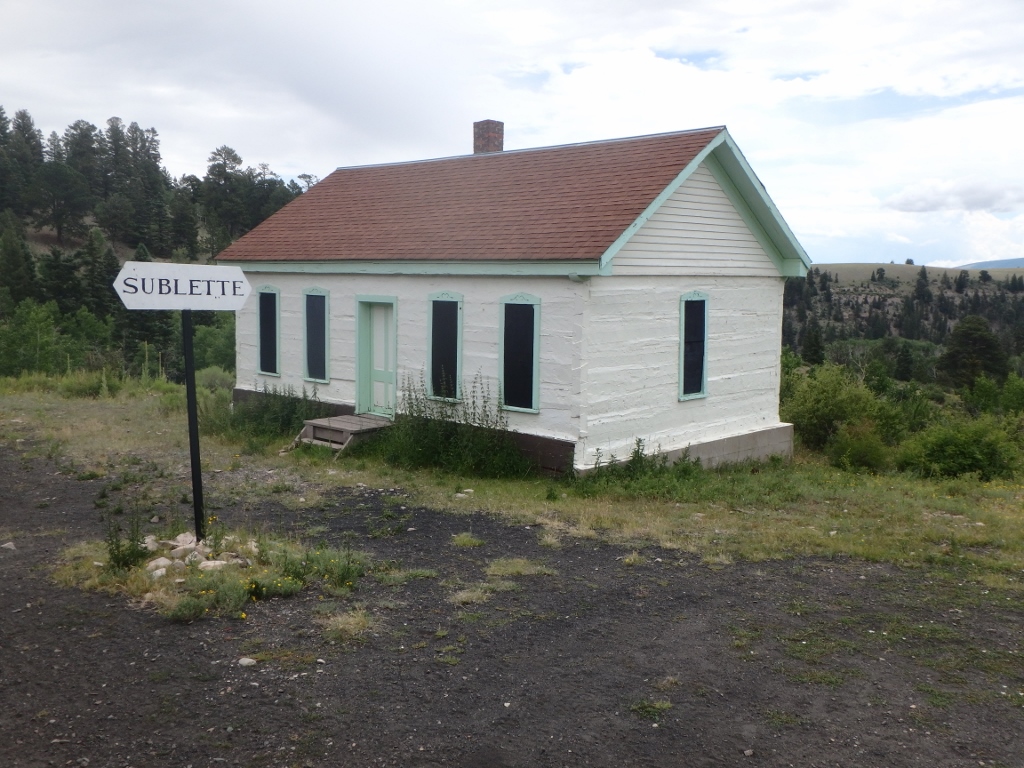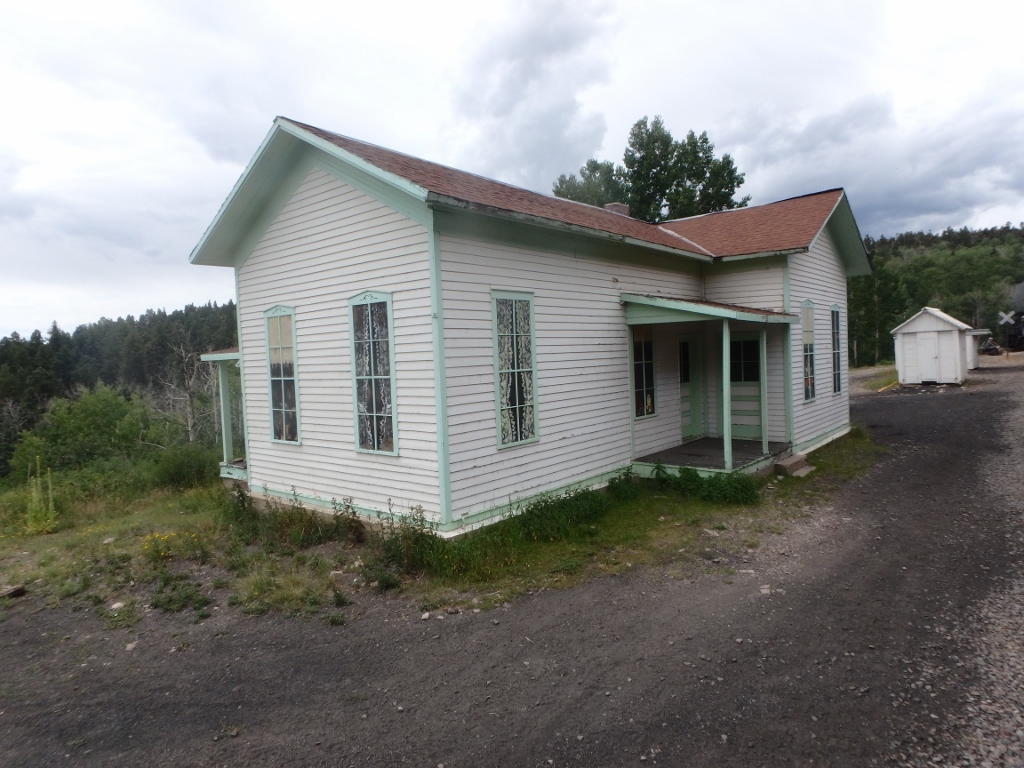 We got water here-----there is a cistern up the hill and big water tank that supplies this spout.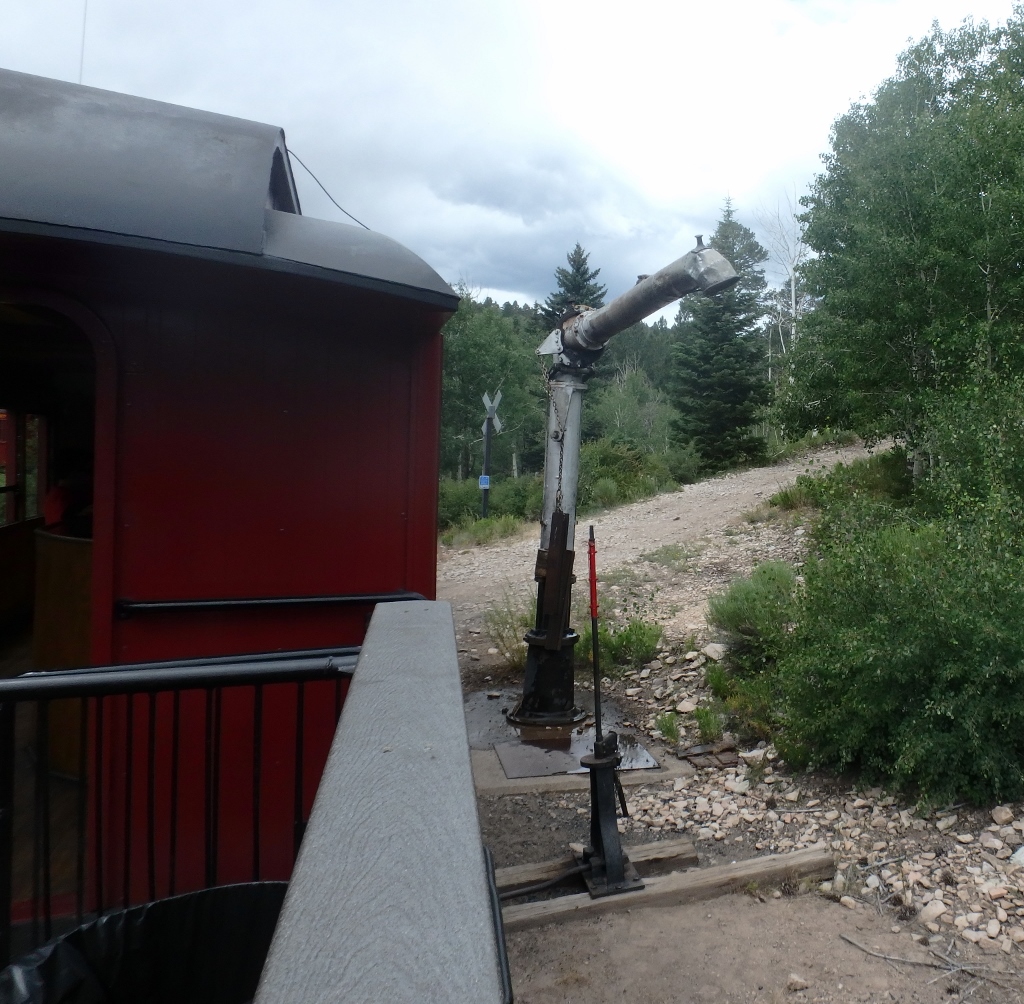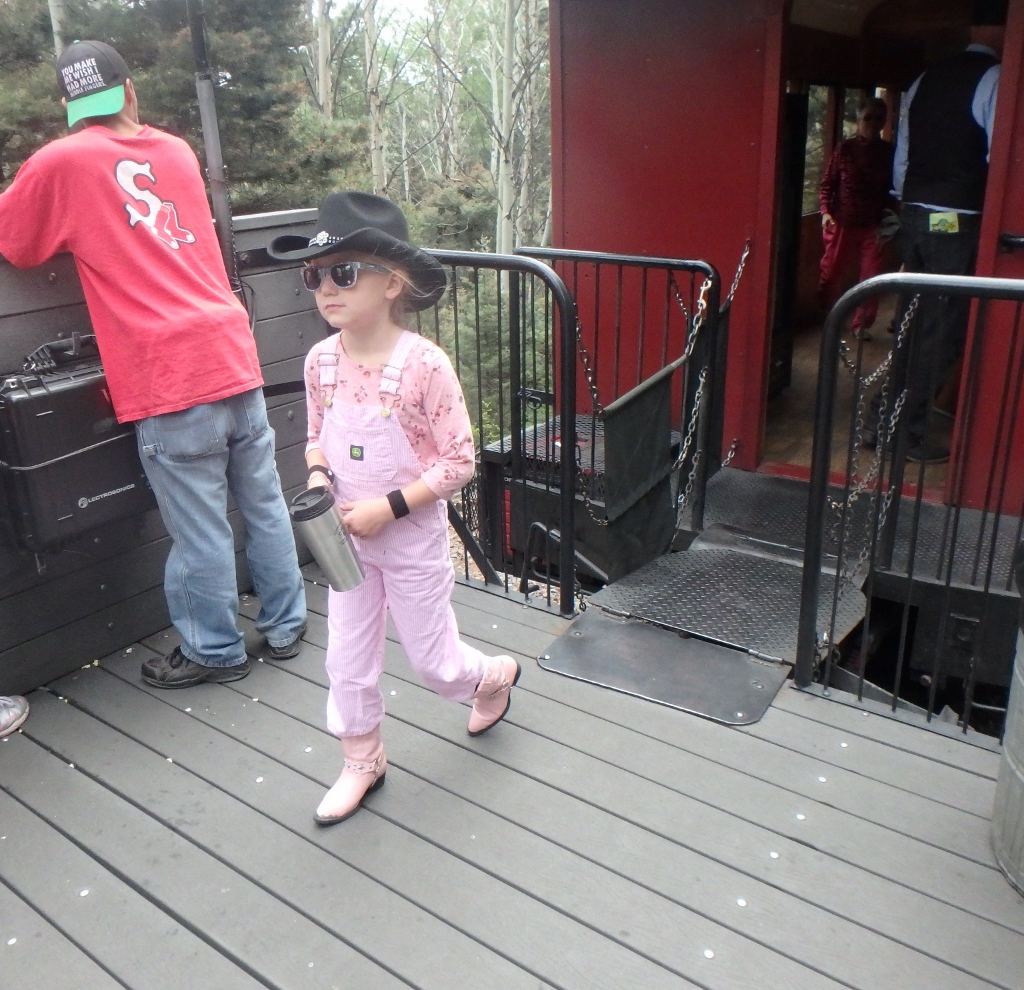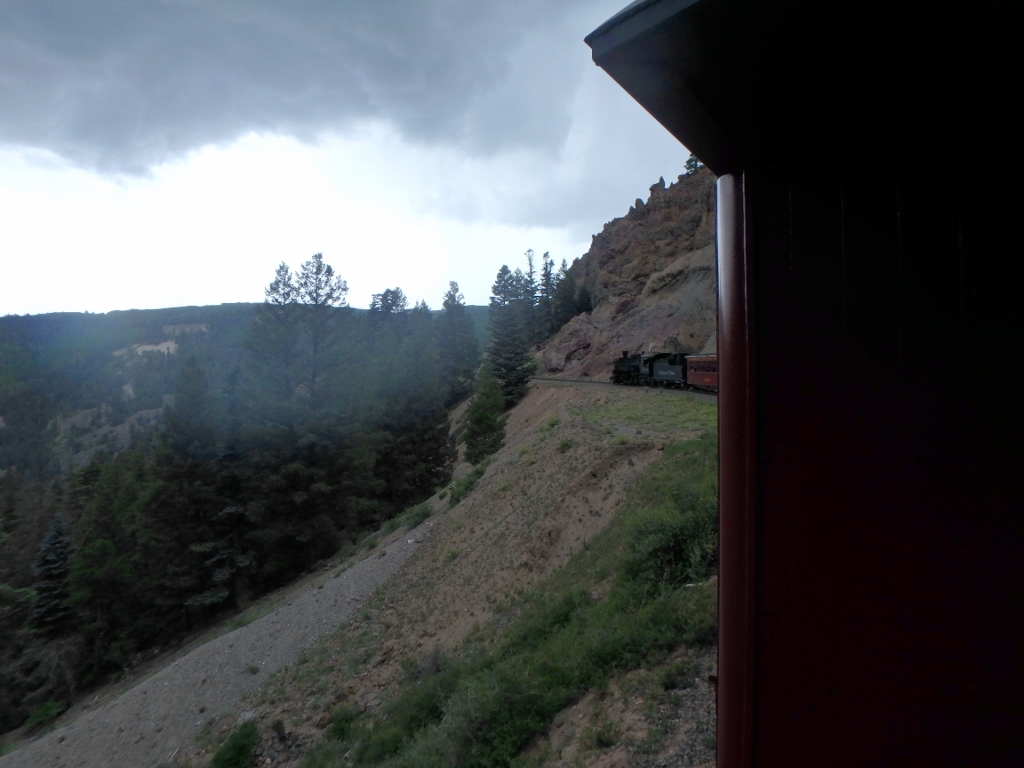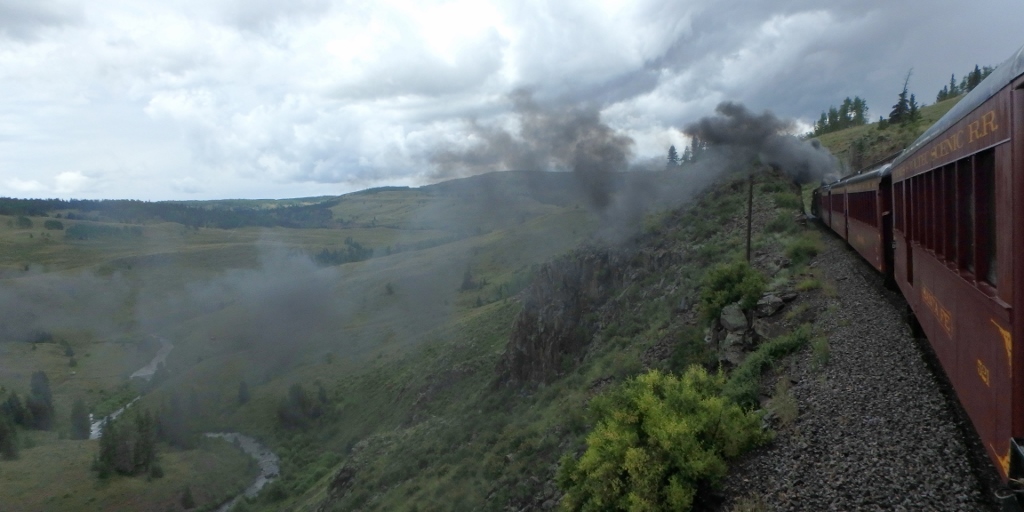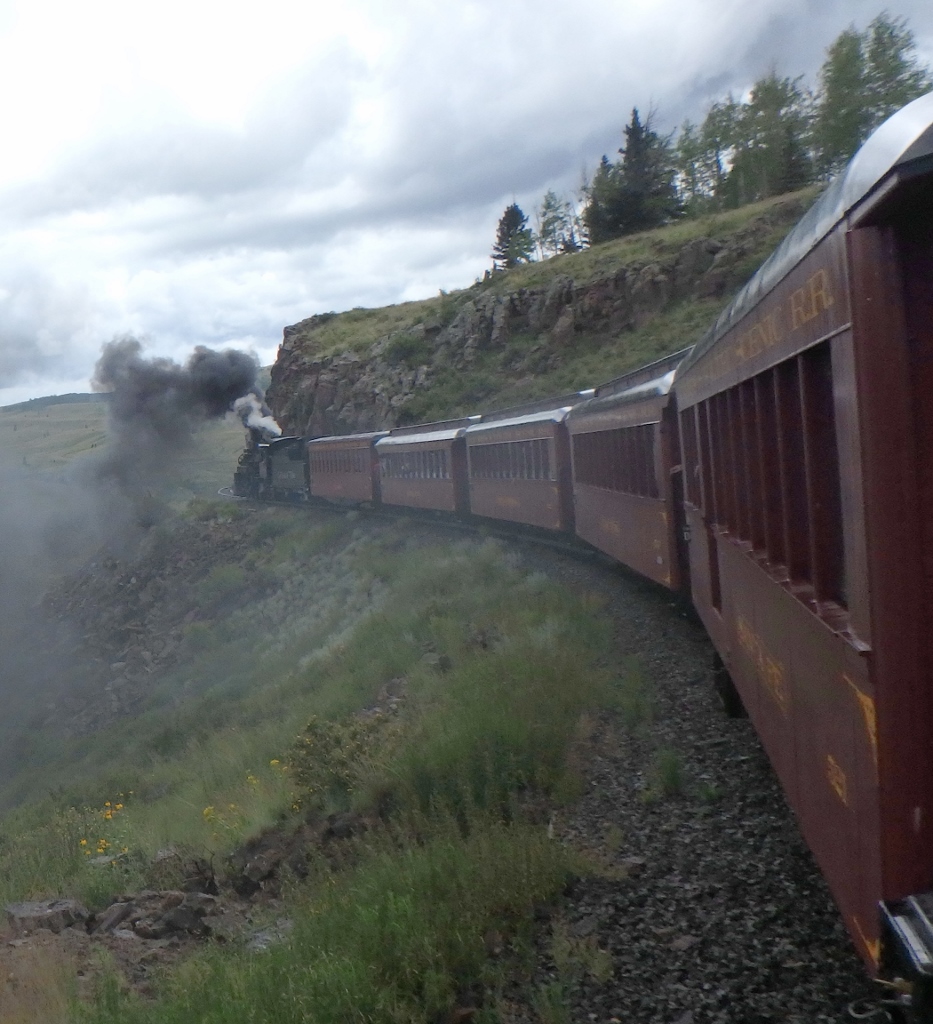 We roll into Osier---a stop on the route.
We ate a nice meal here---it was turkey and I got pretty sick later.
The trains can pass here.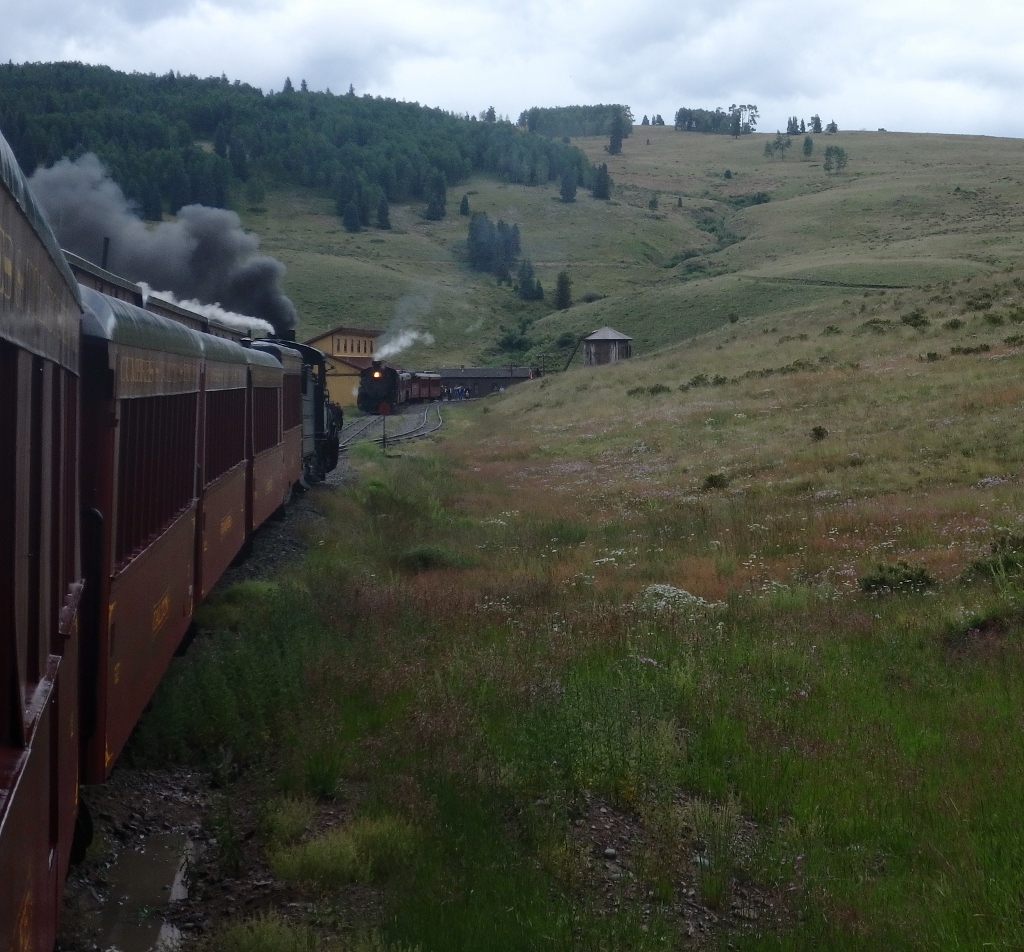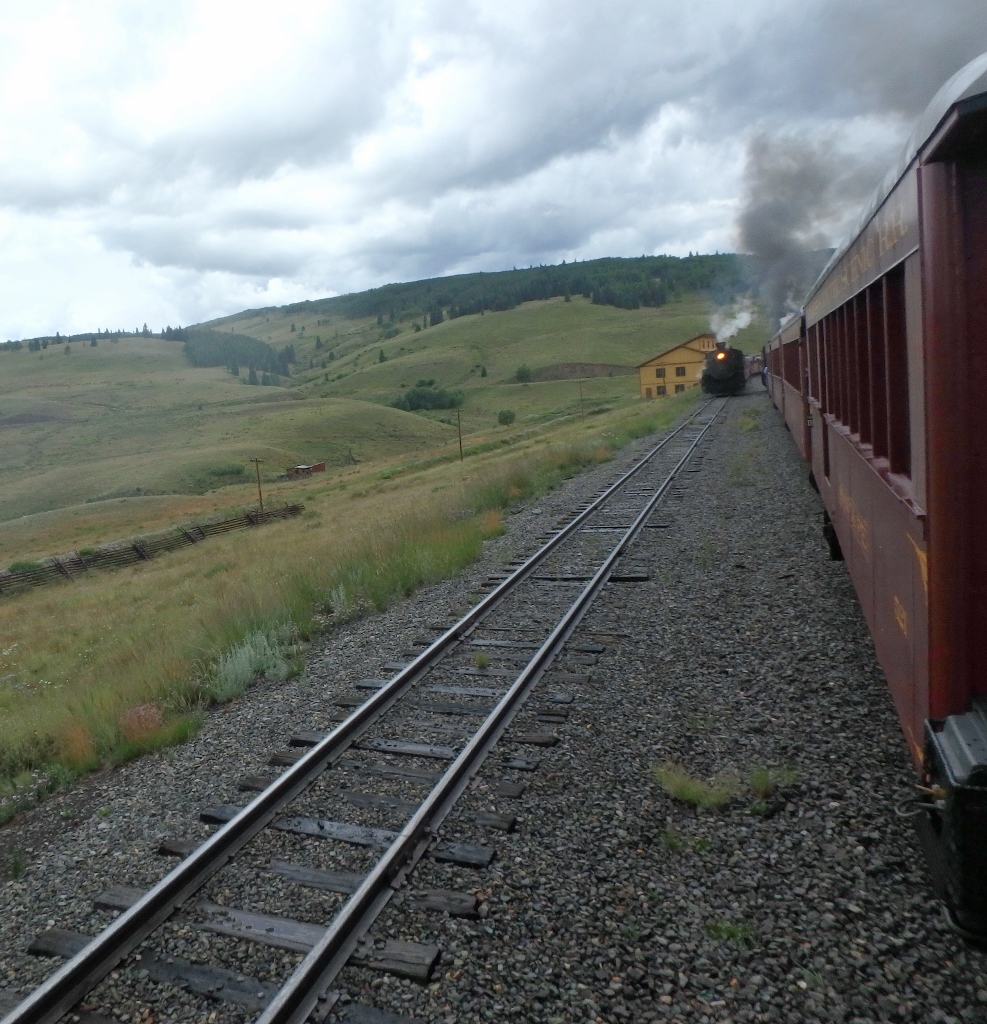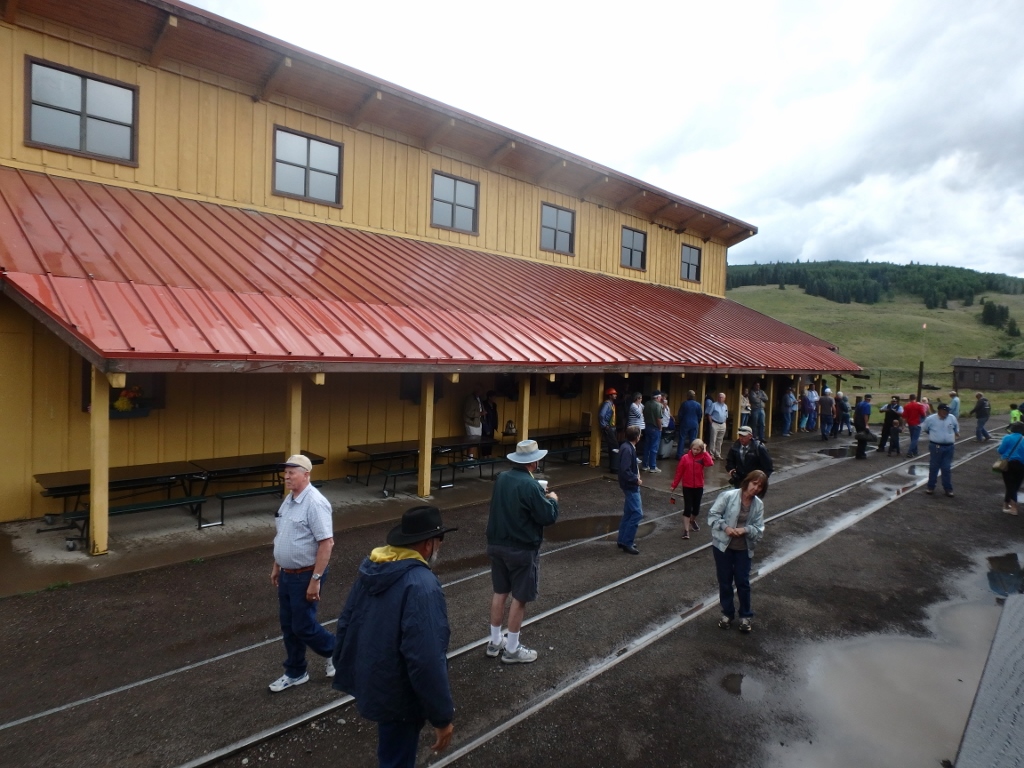 There are 3 levels of cars-----I bought a seat in the cheap car---but never once sat in it.
I was outside the whole time in the open car soaking it all in.
I stood up for a good 5 hours in that open car and wouldn't have traded that for a seat in the fancy dining car.
This was a snack car.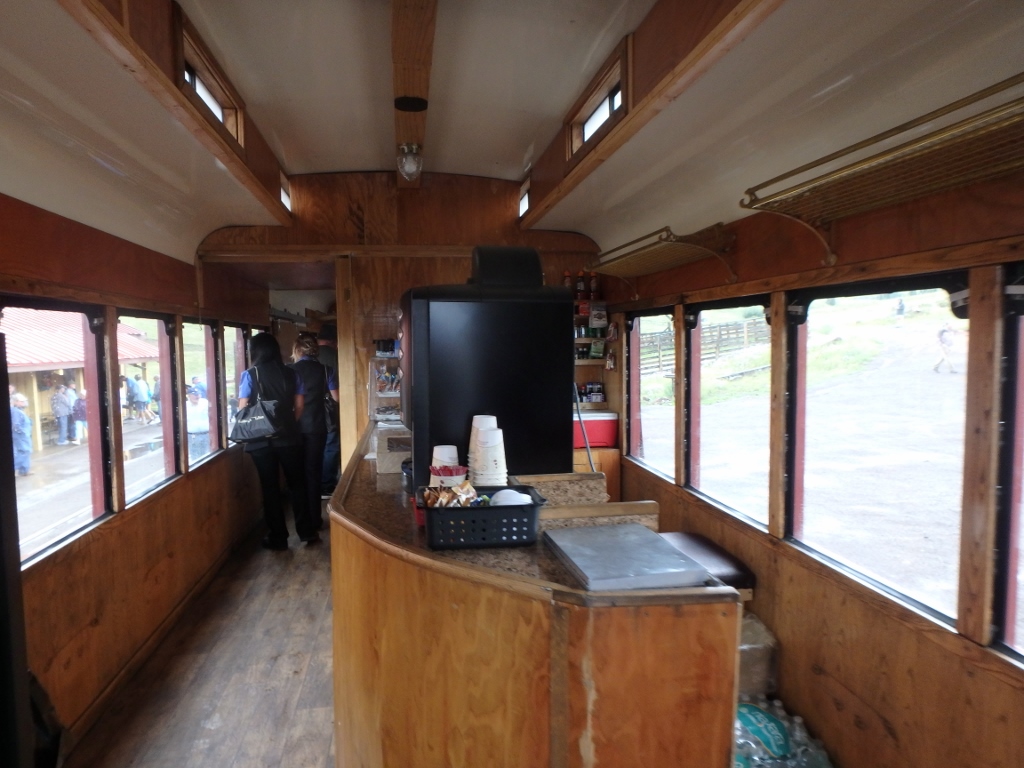 After eating in Osier I went to pee.
There were 4 urinals------I had 4 choices of who to look at while I peed.
Tanya Tucker (pictured), Reba MacEntire, Shania Twain or Lori Morgan.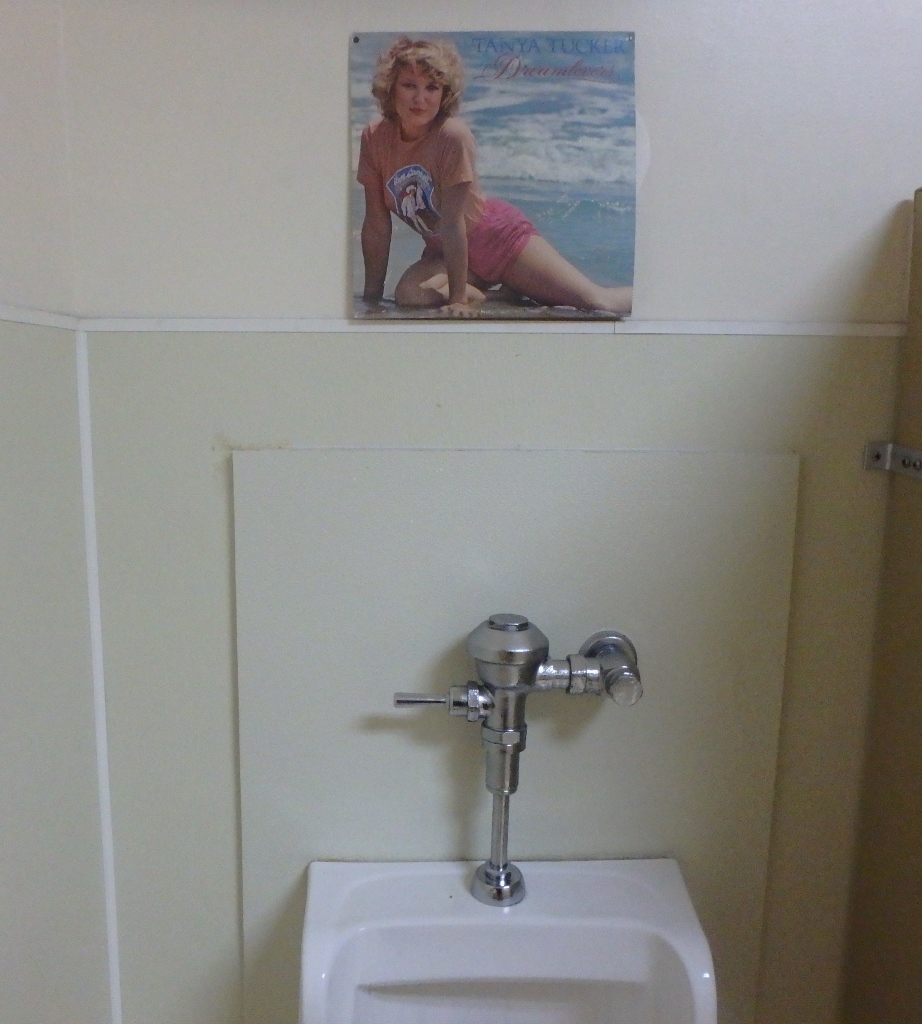 It rained a bit on this ride----and hailed for a short bit.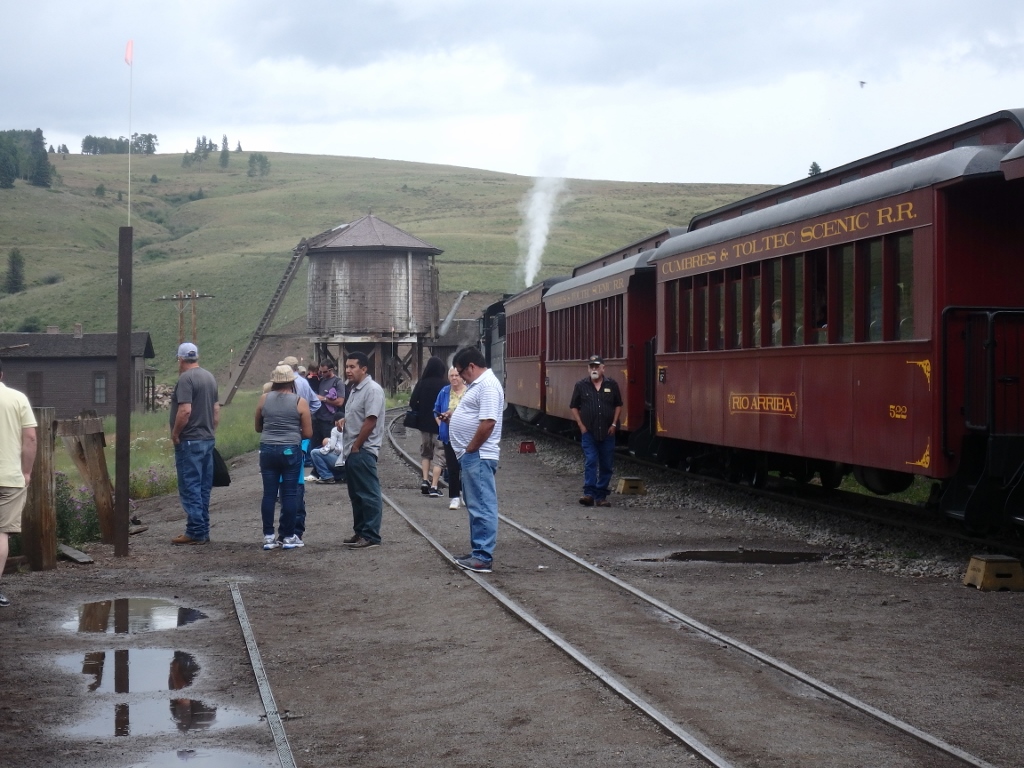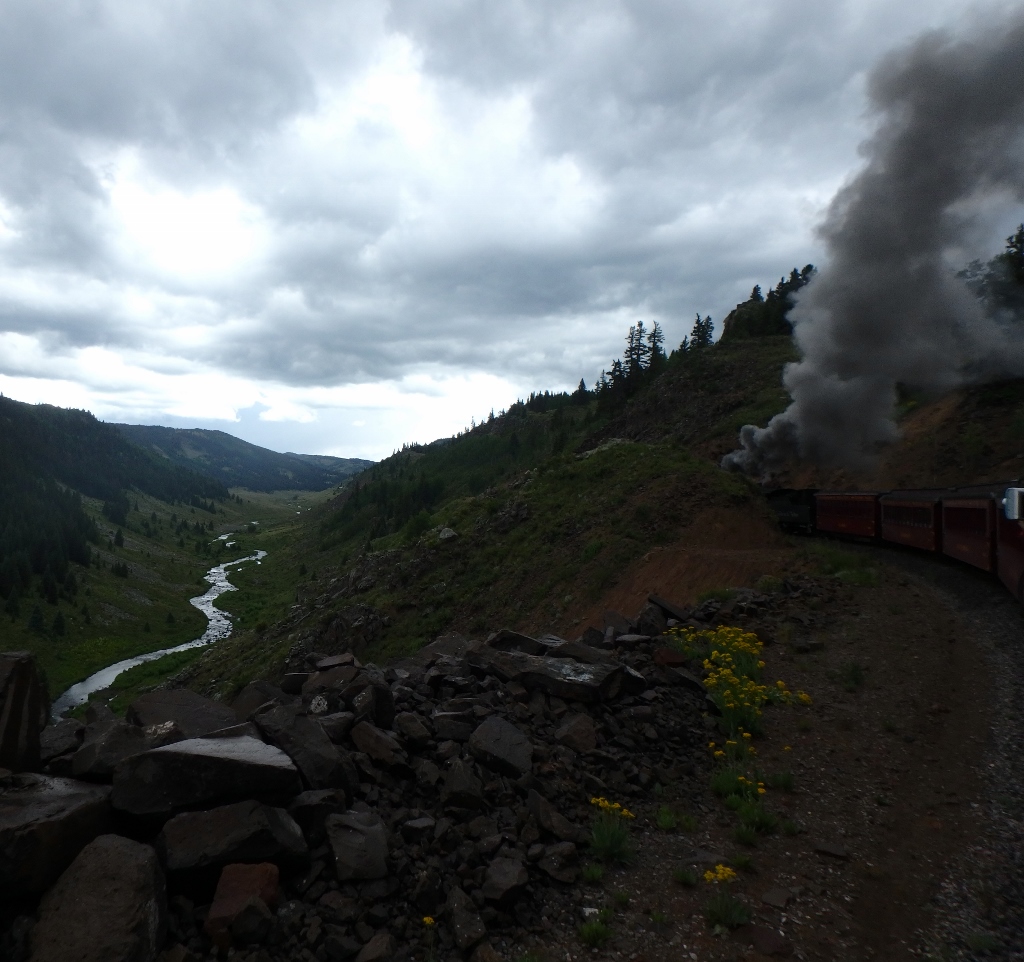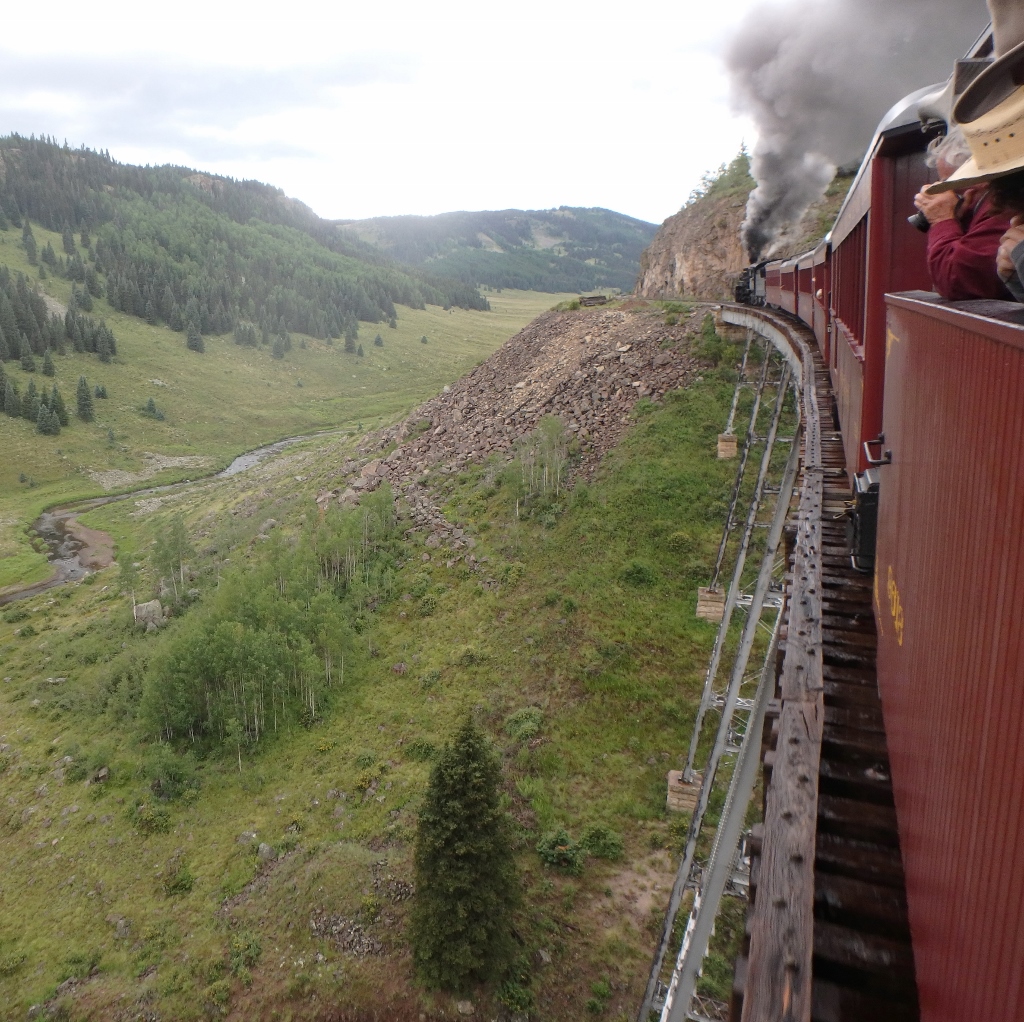 This is a special place for me right here.
I took the picture from the train of course----but it was here I have a picture of me and my son crossing the railroad
while we were on our last bike ride together. This is on the Continental Divide Ride route.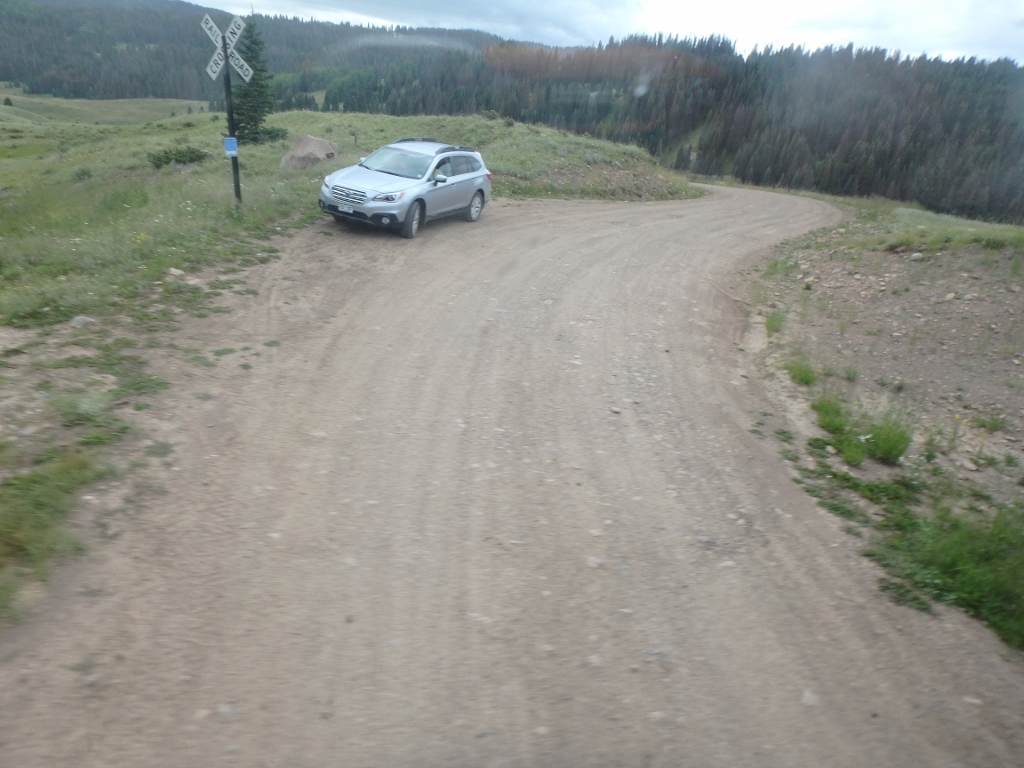 And here is that picture--the same sport as above.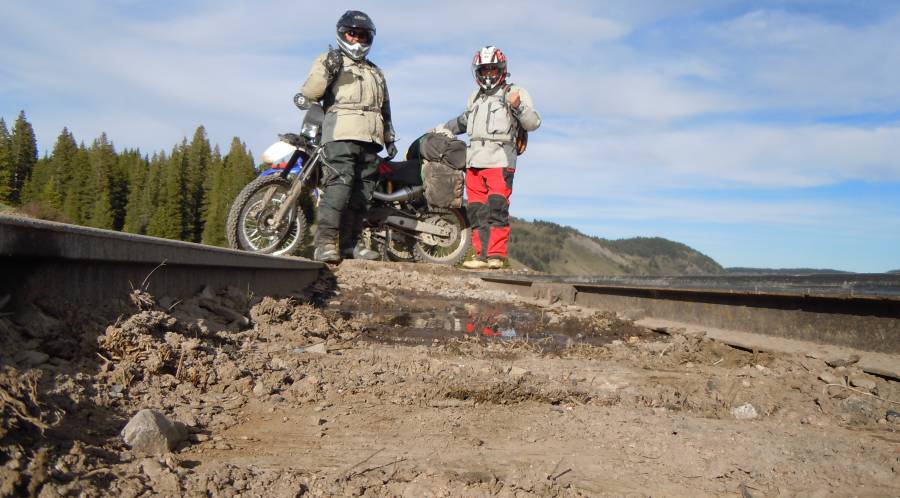 And another---we got stopped by snow later in that day.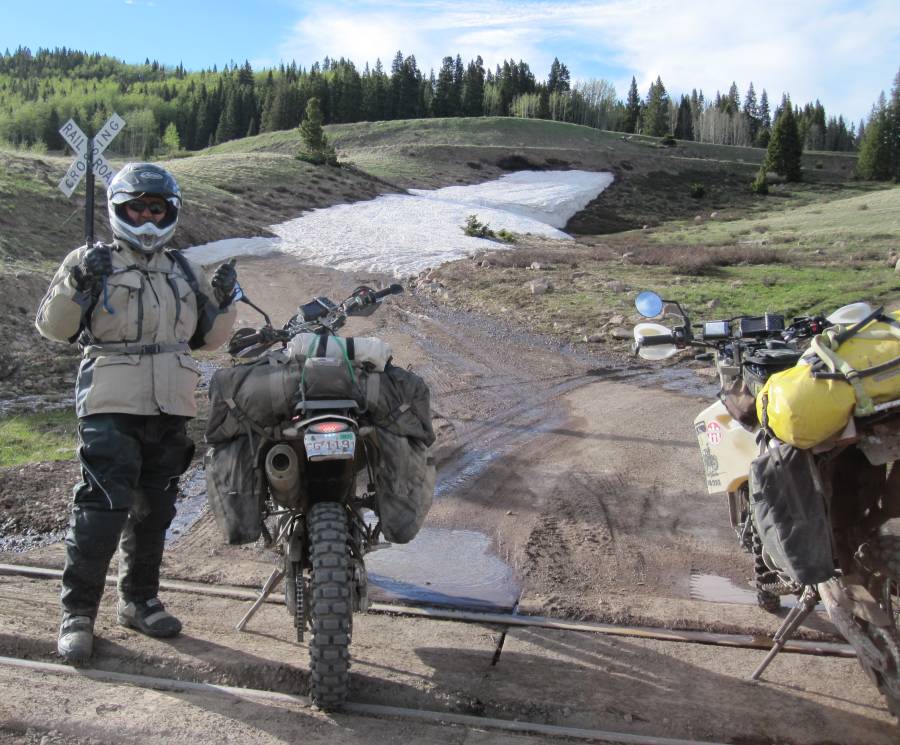 He's not showing off---these trains have to do what they call a blow down often.
They open a valve and it blows the sediment that is collecting in the bottom of the boiler.
I'm an old boiler man--I've worked on a lot of big steam boilers for heating schools and such----they have to do the same thing.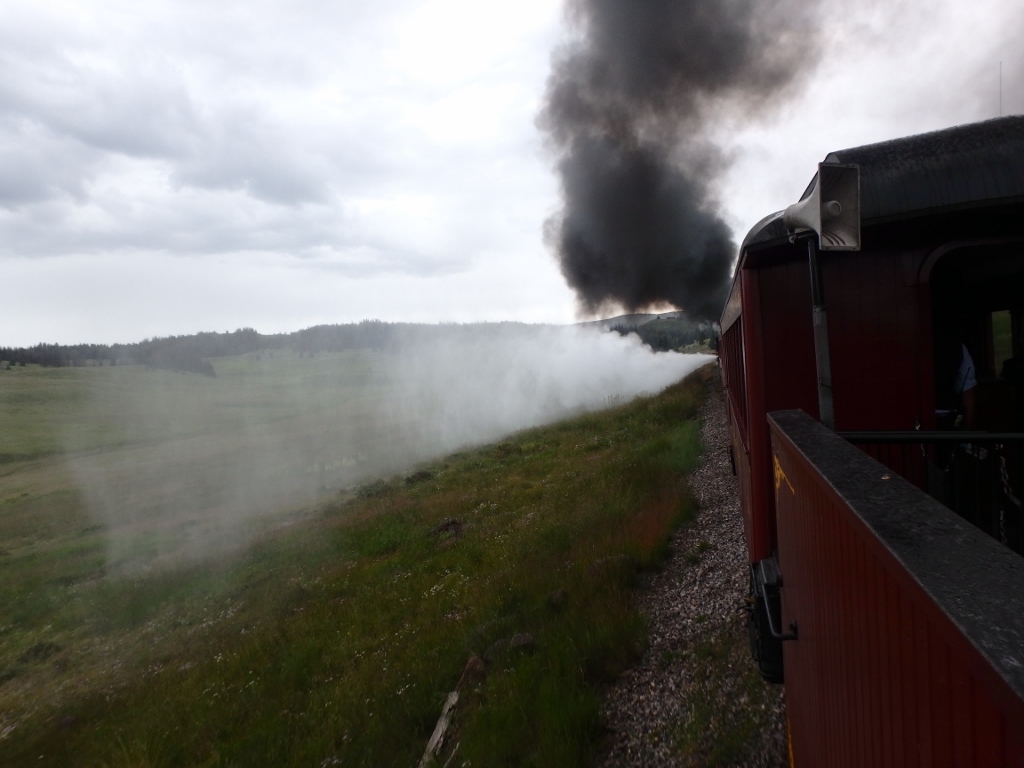 Laying out a route for a train is very tough----a train can only climb a 4% grade.
So they have to make all these curves to climb gradually-----this is the one spot where the route gets very close to each other
as it climbs the grade.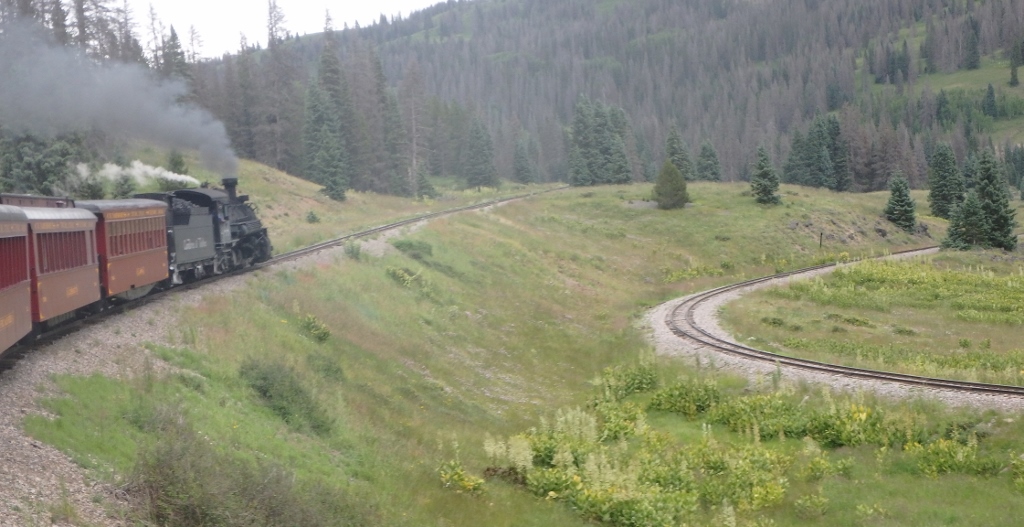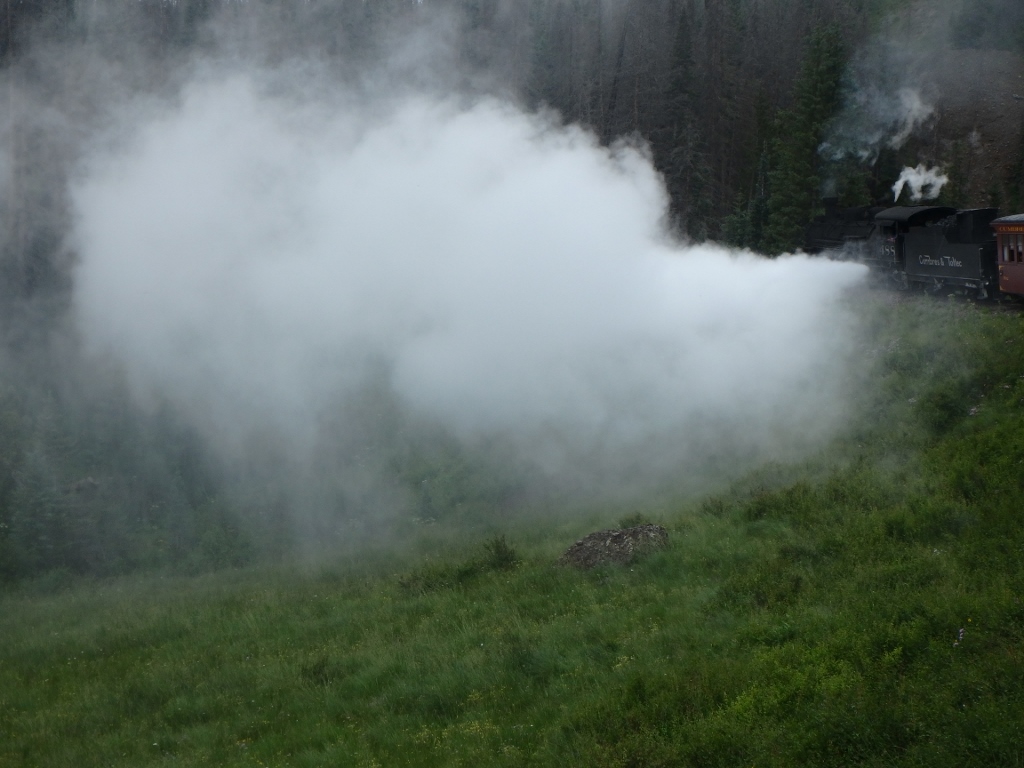 If that hit you-----you'd be fried crisp in less than a second.
When they do this--they have to be very careful when and where to do it.
While in the station would be the most risk.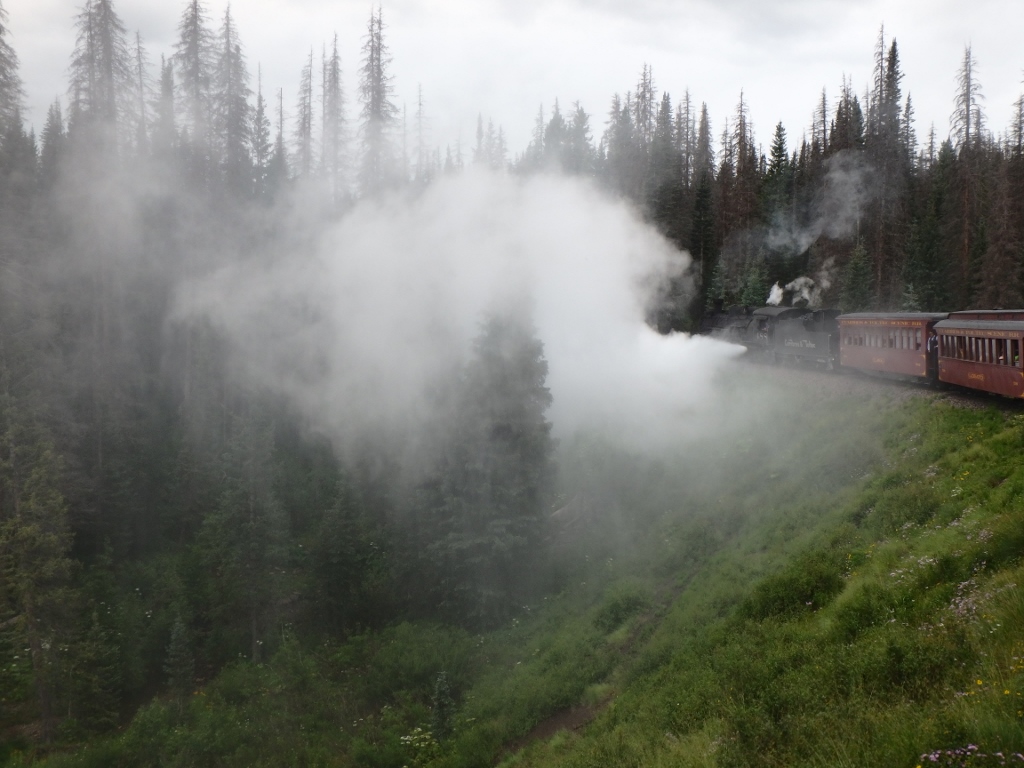 The guy in the cowboy hat became my buddy----telling us all the history of the train and all about the things on the way.
He had one of those Garth Brooks microphones and I told he could be a star-----------said he couldn't sing.
A lot of people work for nothing on this train------some for minimum wage.
It cost me $100 to ride it---a lot of money-----some other people paid more in the fancy cars.
That is no where near enough money to run this thing. They get donations and help from the state.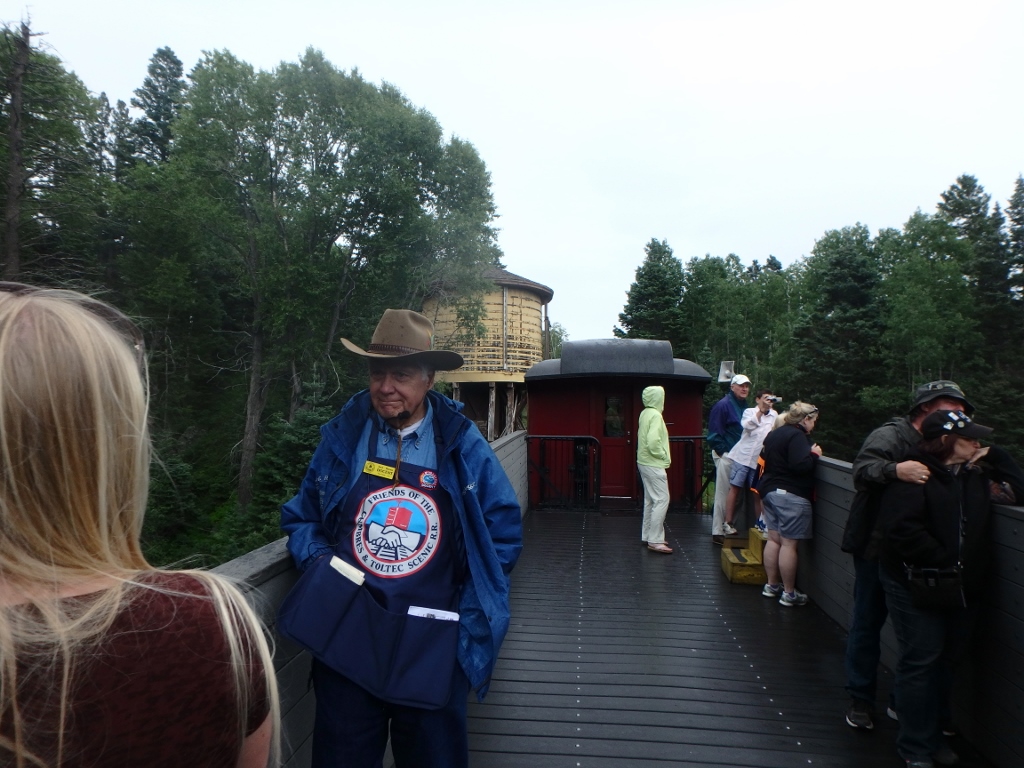 A few people stayed seated in their cars and just yakked the whole time-------I don't know why they came ????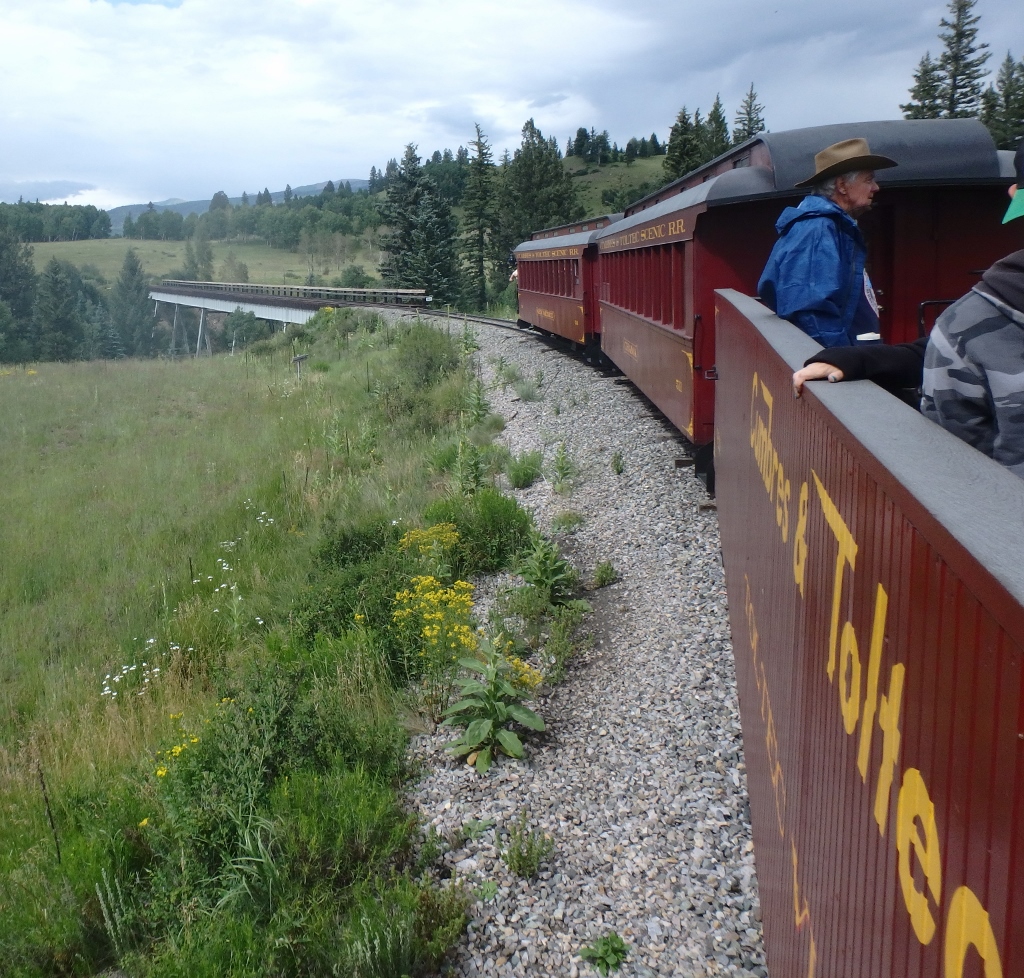 A short Video of my train ride
After my neat train ride I camped again in a campground in Chama.
And and for the 2nd nite in a row---the campgound was "lousy with bears"----------or at least a bear.
I never did see the rascal-----but neighbor campers said he stolled right by them as they sat under their camper awning the first nite.
They said he was huge but ran off after they yelled at him and banged on some pots and pans---then proceeded to dismantle a garbage
dumpster and made a hell of a mess. This was told to me by a lady who saw the bear and was packing a pistol on her hip after the incident.
So-----the next nite I was aware of the bear having been thru there and vowed not to come out of my camper for any reason after it got dark.
However---remember the turkey I got sick on ???----I had to make about 6 quick trips to the campground bathroom that nite---I was not happy.
I had a gun in one hand----the key to the bathroom in the other---and my headlight on my head.
I never did seen him---or her-----------but he did make another pass by the bathroom about the time I was in there according to other campers.
The end I suppose---what a nice relaxing trip this had been for me.
And I got to visit my son both on the way out and on the way back.
Back to my Homepage