Best Of Montana 2015
This Ride was an 8 day ride that passed thru some of the best backroads and places in both
Montana and Idaho
Before starting the 8 day Montana ride----I had to get there first--and thought you might enjoy some things I saw on the way.
I think between visiting my son and seeing some things on the way it took me 9 days to drive some
1,800 miles hauling my bike to Montana. I had a hoot and it was so relaxing and I got some major things off my bucket list.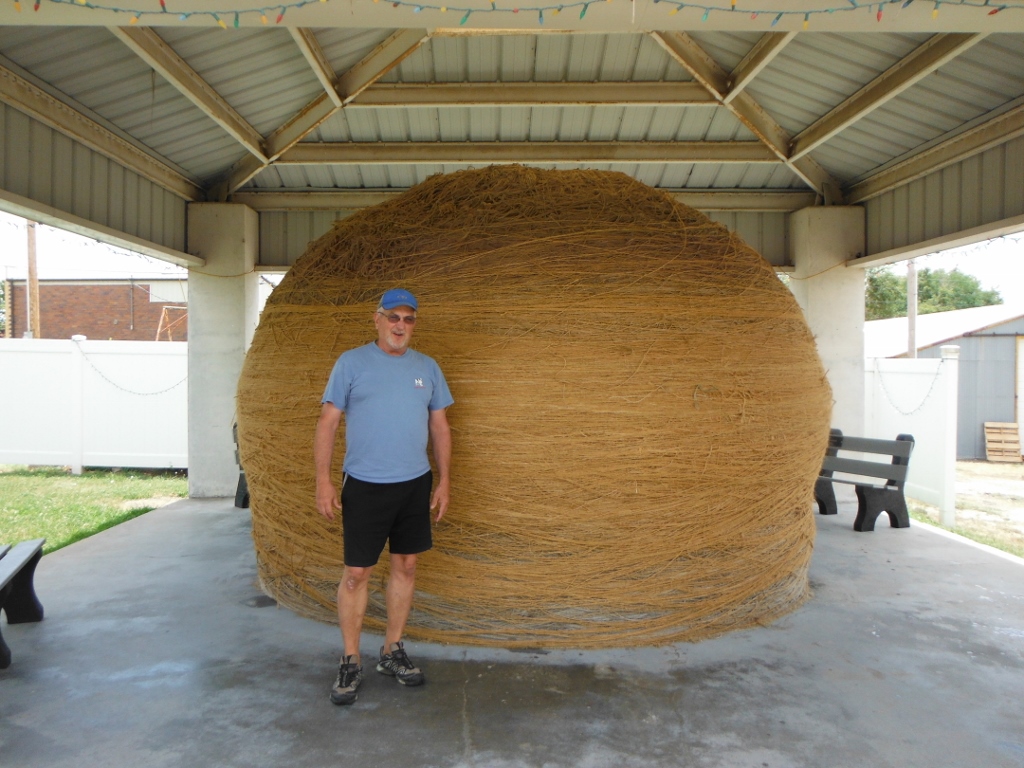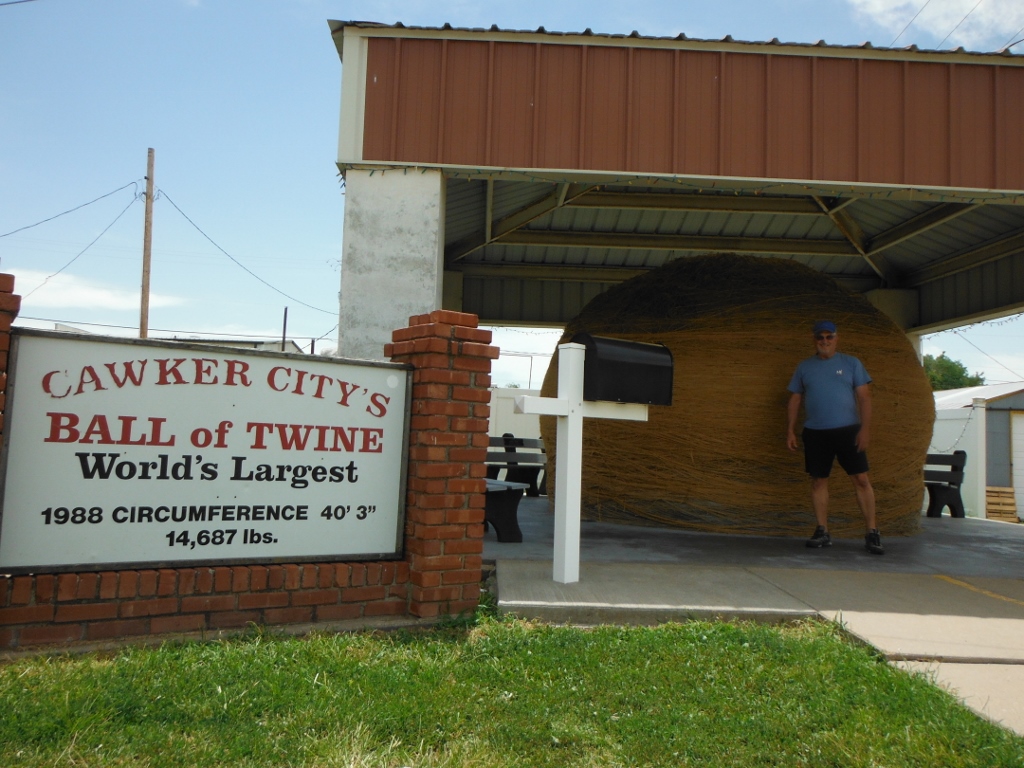 No place I've ever been could top this !!!!! :)
Those little 2 lane paved roads led me to some neat stuff.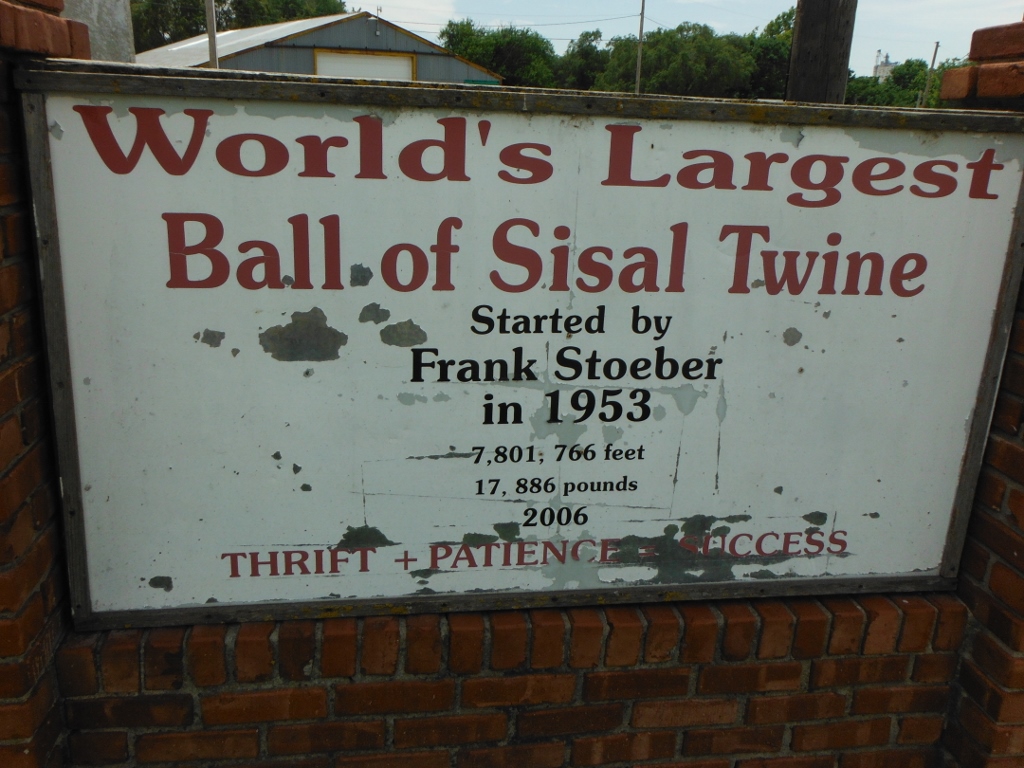 You have to see it-----looking at the pictures isn't good enough----here is where you go.
Cawker City, Kansas. Tiny town---good folks---nobody's in a hurry.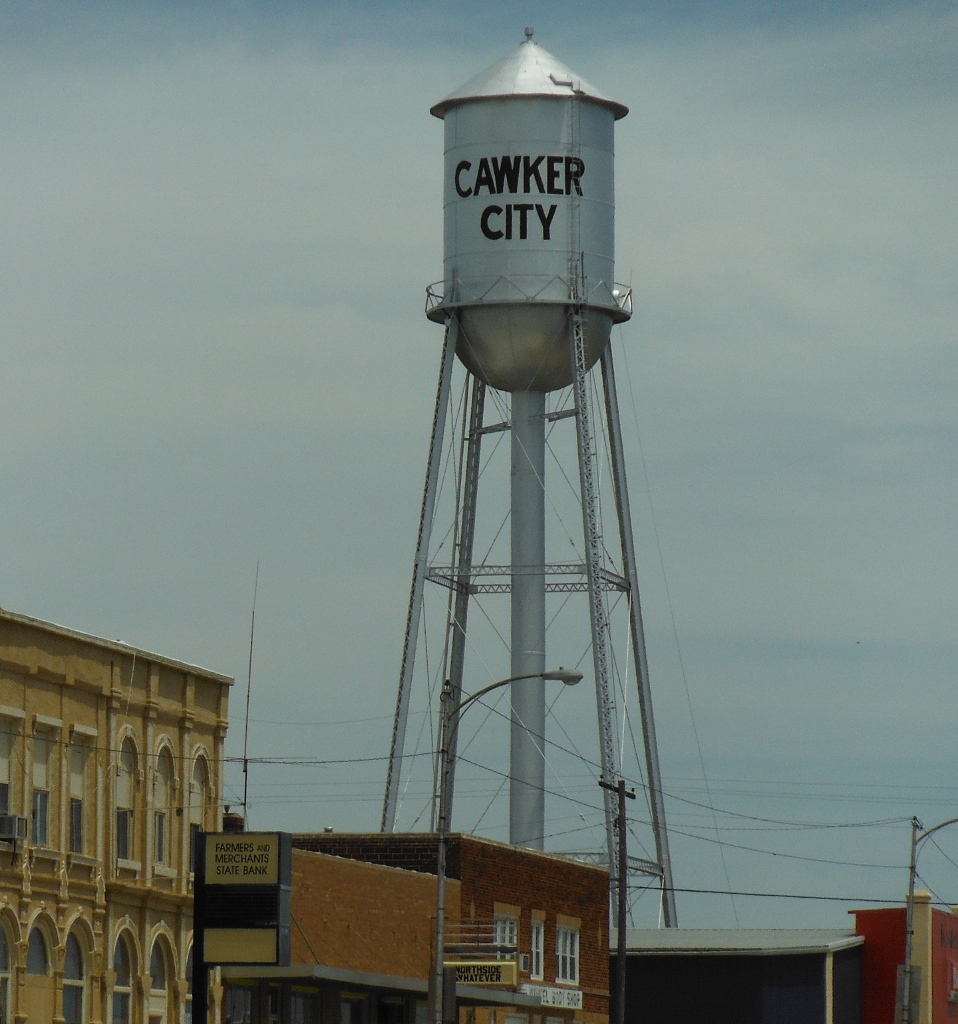 Got back in my van and looked at all the waypoints all over the place in it---ones I put there 20 years ago.
Just down the road was this.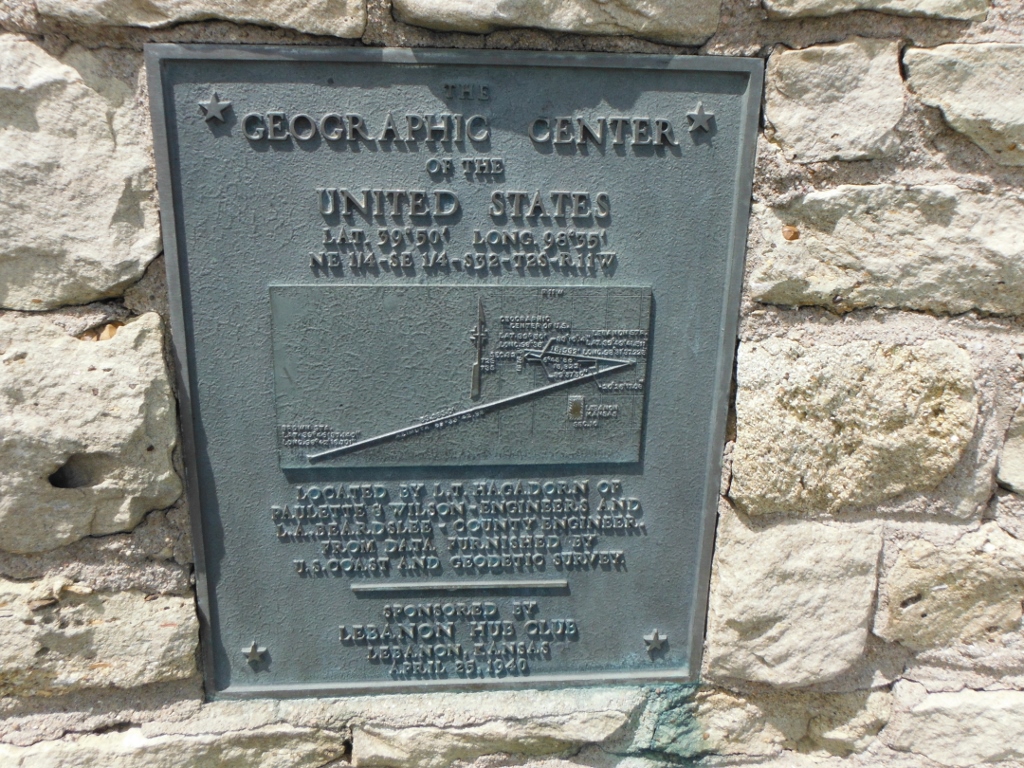 The same nice folks that were at the ball of twine beat me to this place.
They took my picture here just like they did back in Cawker.
Really nice family-----kids were so well behaved.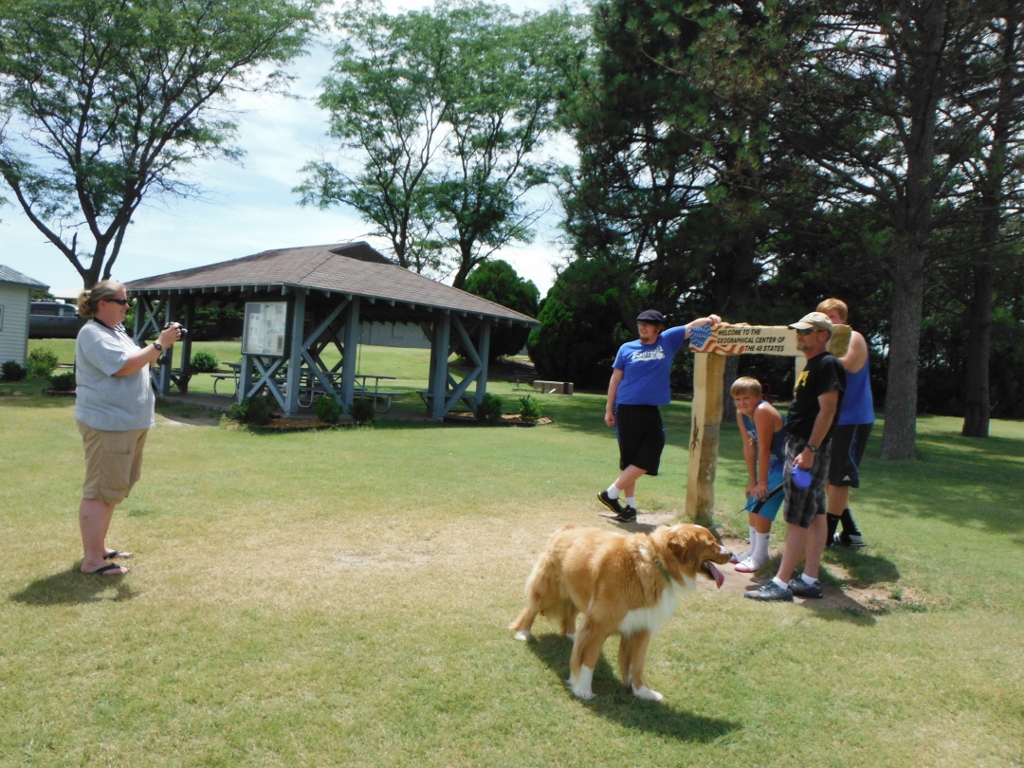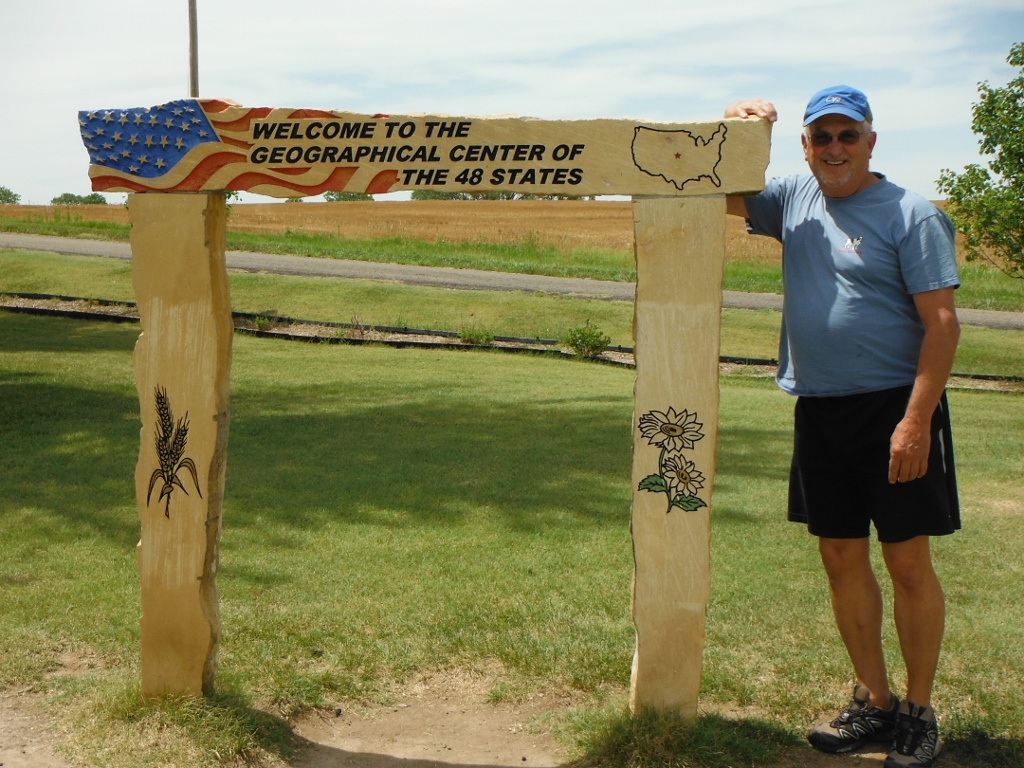 What's this ????
I poked around here for 2 hours-----I had no place to be.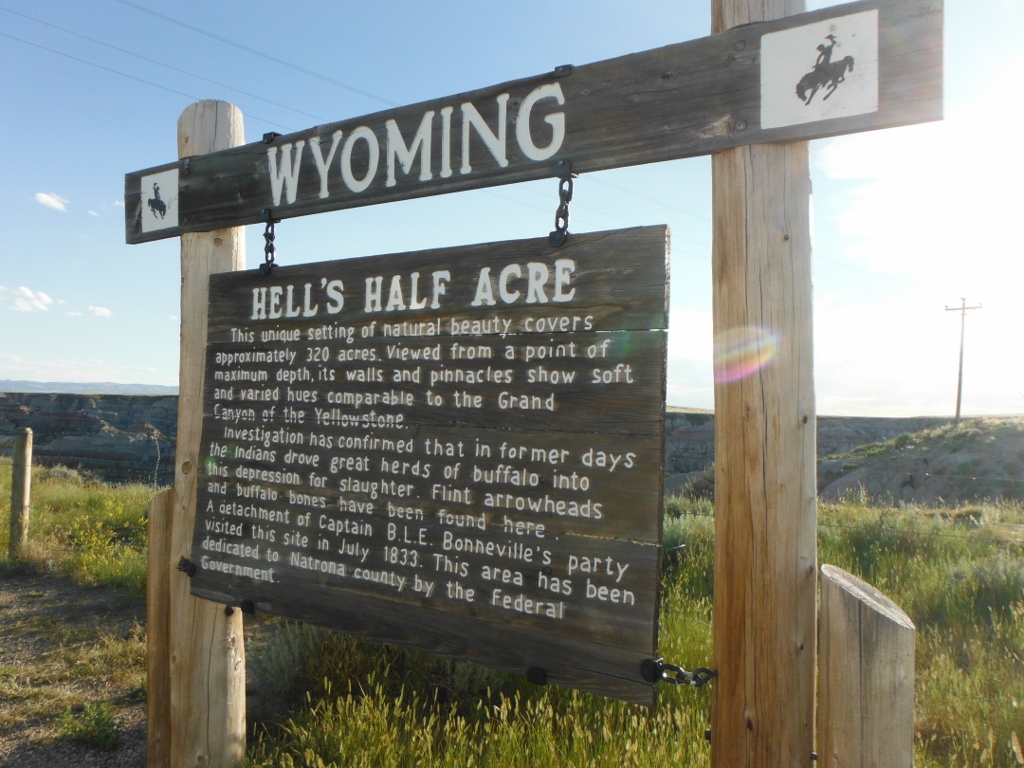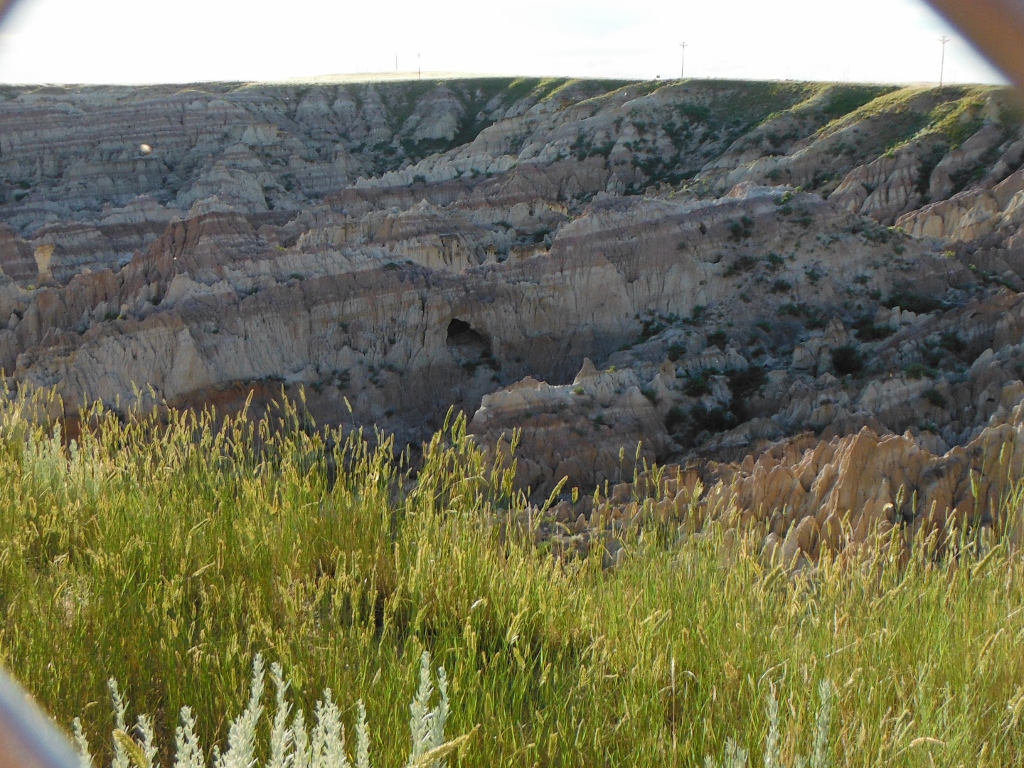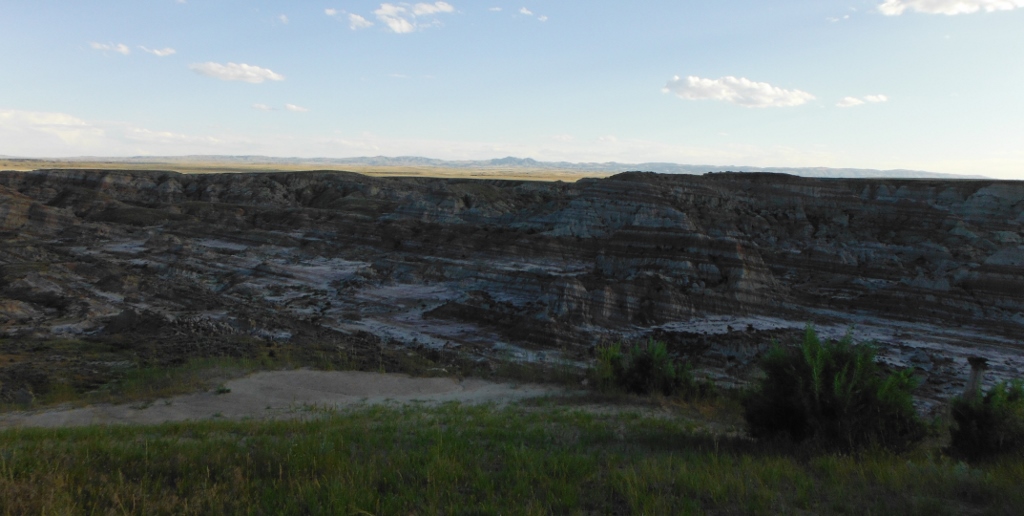 I never heard of this place------just ran across it.
This is the largest mineral hot spring in the world and it's in Thermopolis, Wyoming----and in Hot Spring county Wyoming.
I spent a good 4 hours here just walking around---it was so beautiful.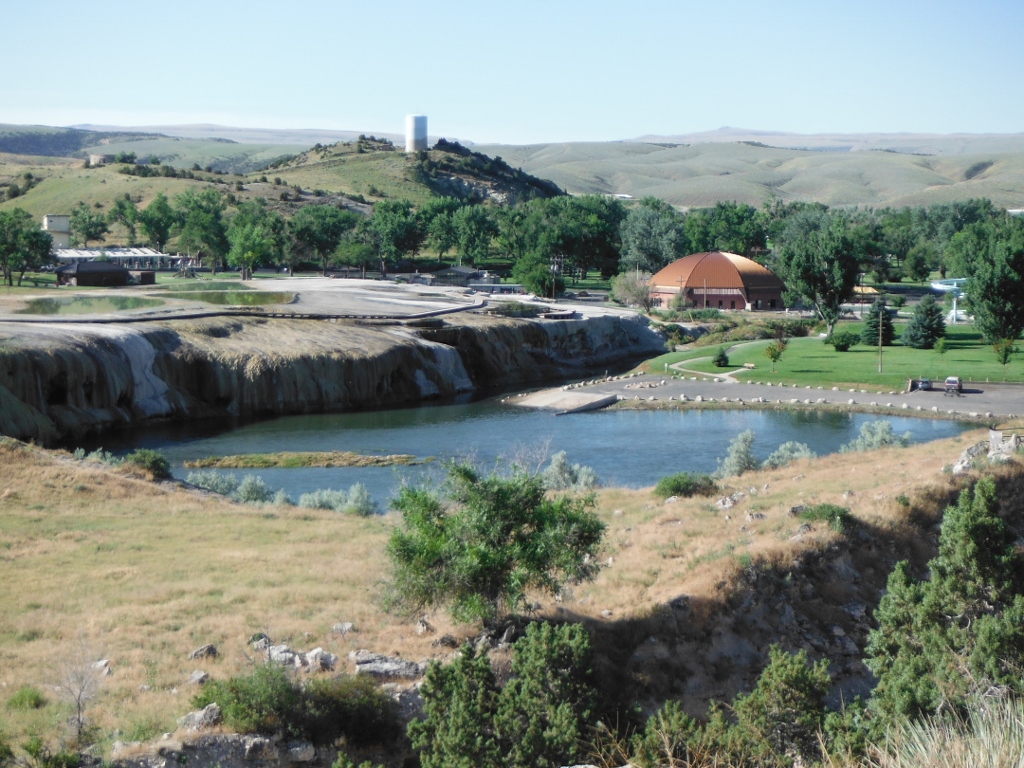 I didn't know anything about this place---and this swinging bridge was the first thing I spotted from the road and almost kept on going.
I turned back to look at the bridge and then realized this was a state park with the huge mineral hot spring.
I walked across this bridge which put me on a little island.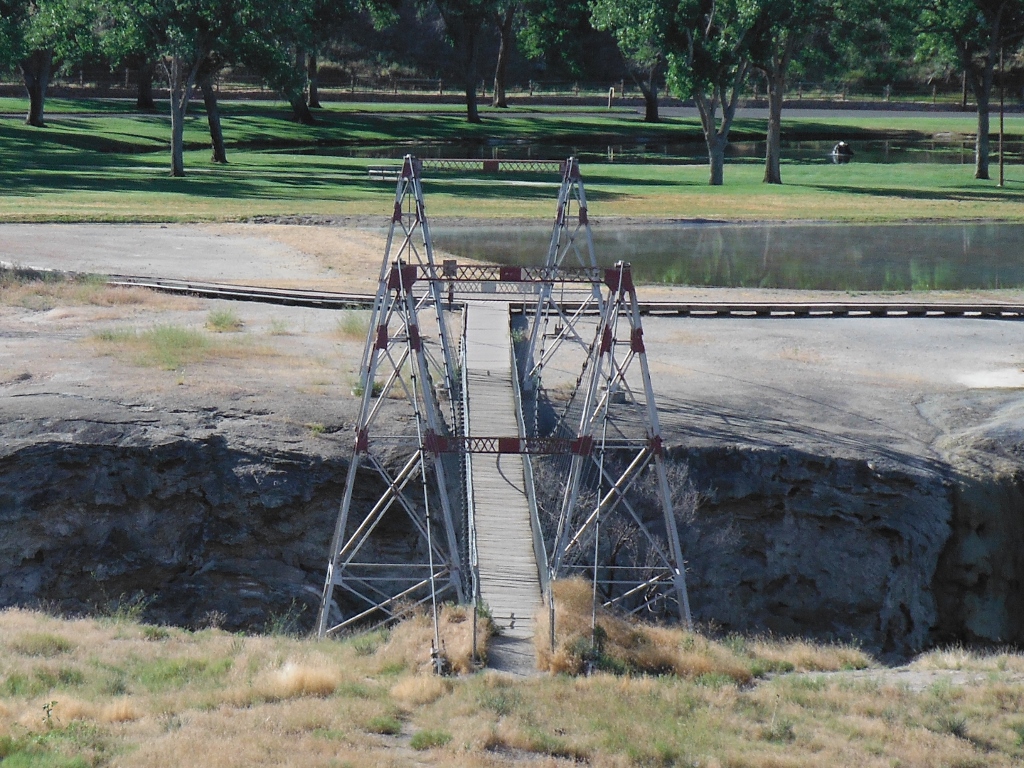 The main spring is on the other side of that culvert and makes a creek.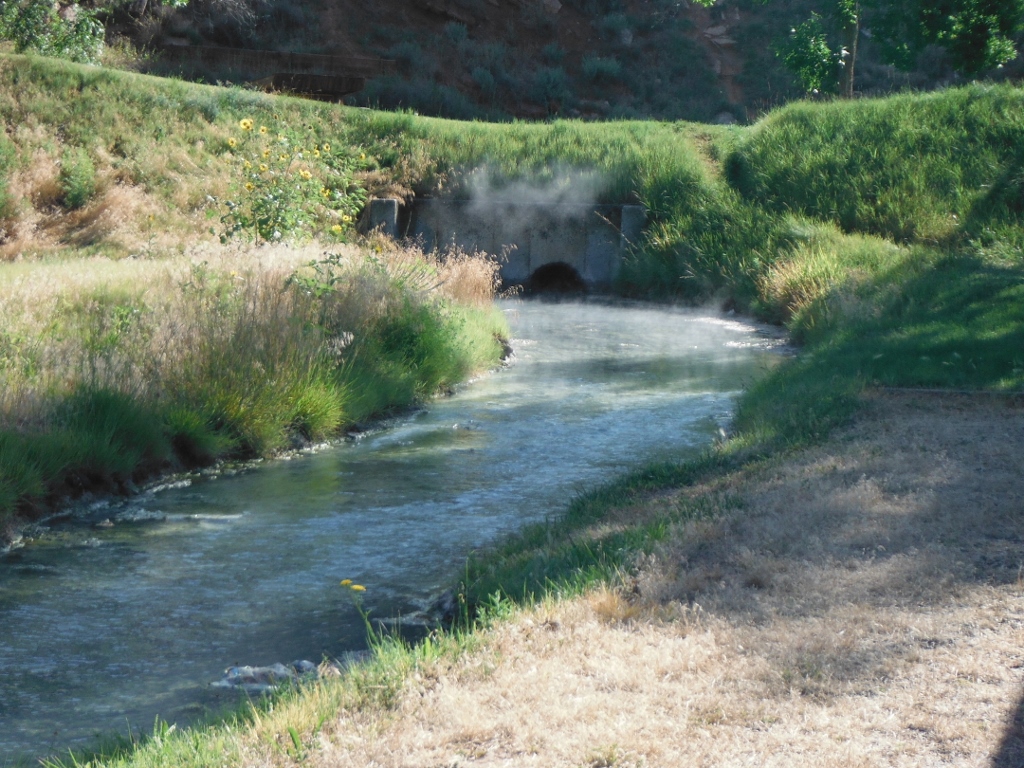 This is the main spring------or so I thought anyway.
The smell of sulphur was thick in the air.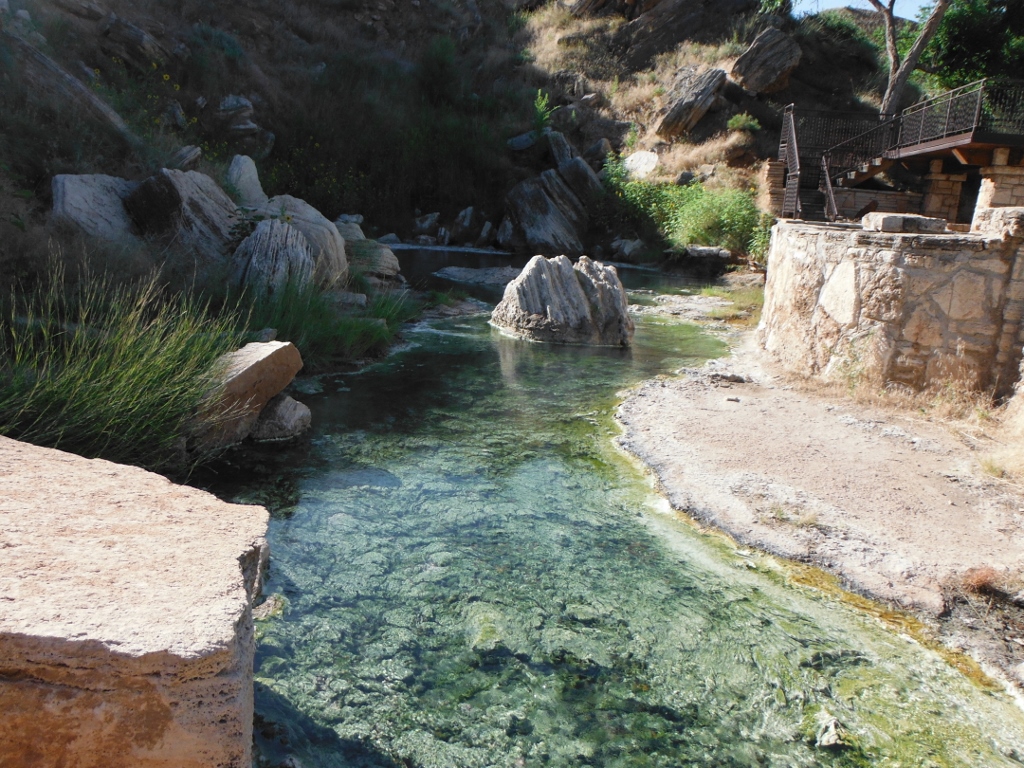 The water ran down these little waterways into big pools.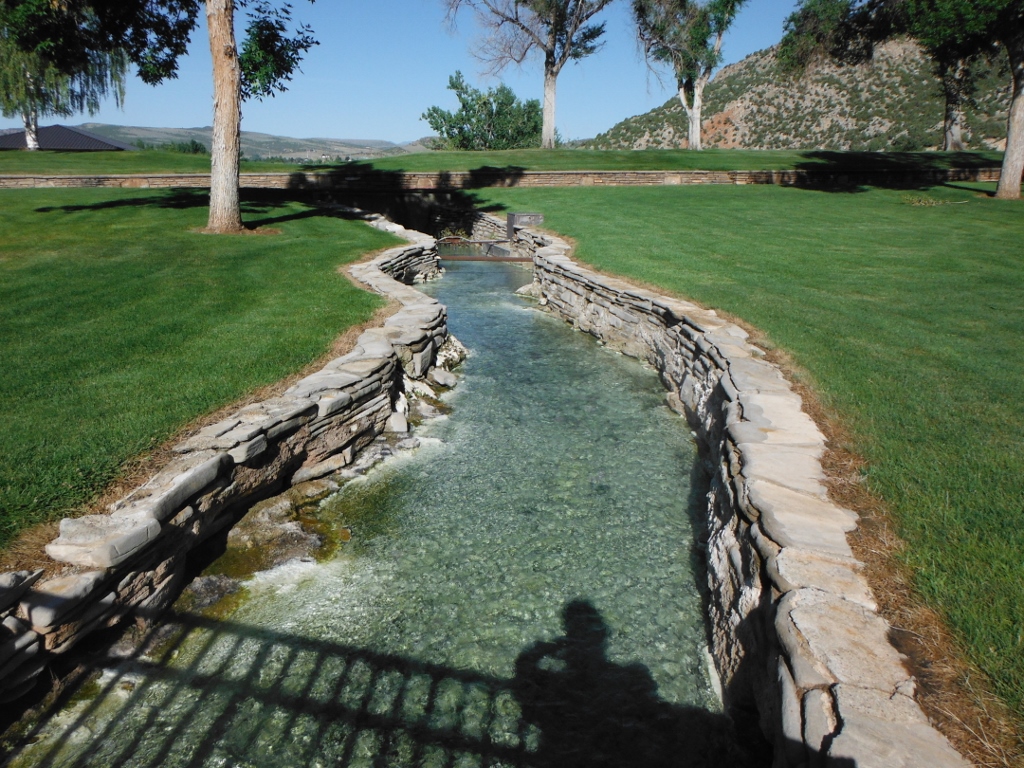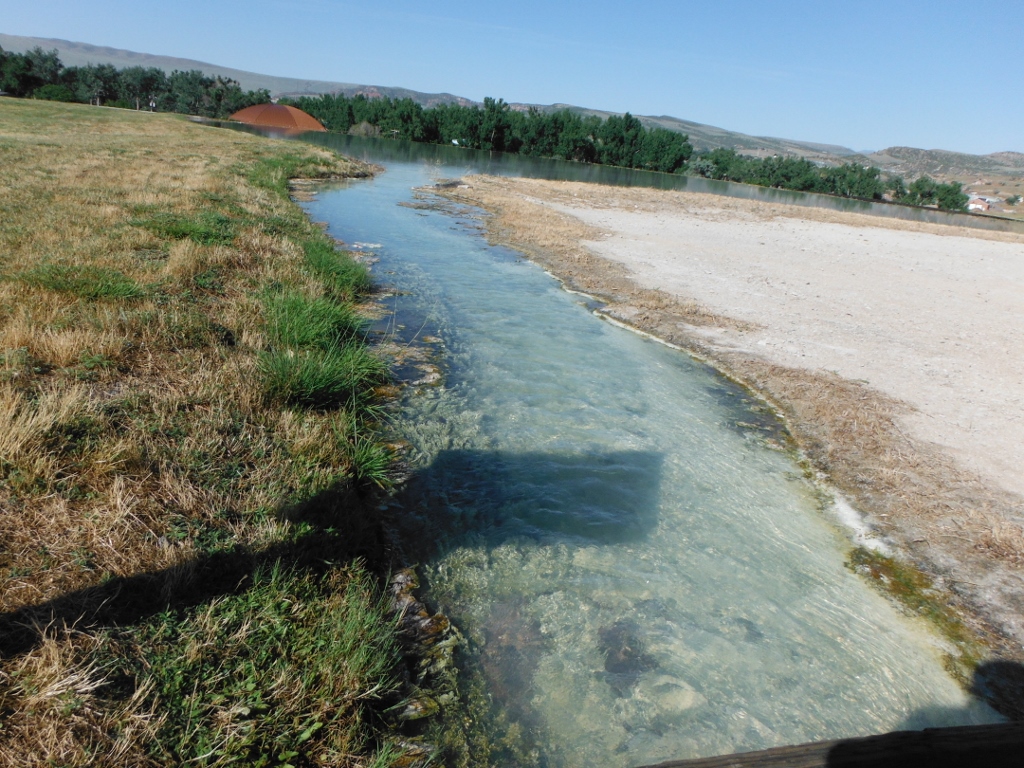 The water in the first pool overflowed into another pool at a lower elevation---and then into another---and another.
This neat boardwalk kept people from messing up the spring area---but let you see it very well.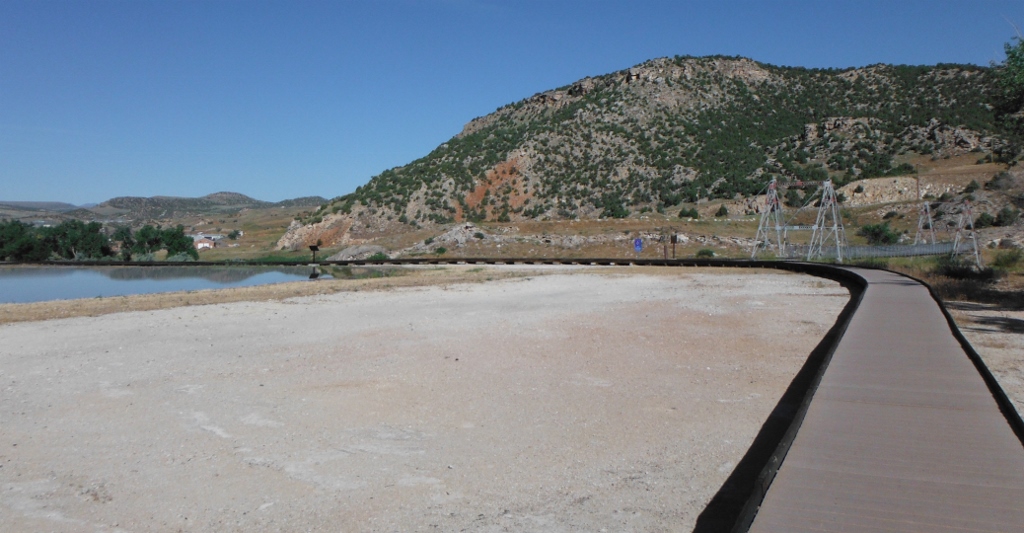 The town claims the world's largest mineral hot spring as part of Hot Springs State Park.
The springs are open to the public for free as part of an 1896 treaty signed with the Shoshone and Arapaho Indian tribes.
Thermopolis is located near the northern end of the Wind River Canyon and Wedding of the Waters, where the north-flowing Wind River becomes the Bighorn River.
Thermopolis is ringed by mountains, with the Bridger Mountains to the southeast, the Owl Creek Mountains to the southwest, the Big Horn Mountains to the northeast
and the Absaroka Range to the northwest. Thermopolis is the southern-most municipality in the Big Horn Basin.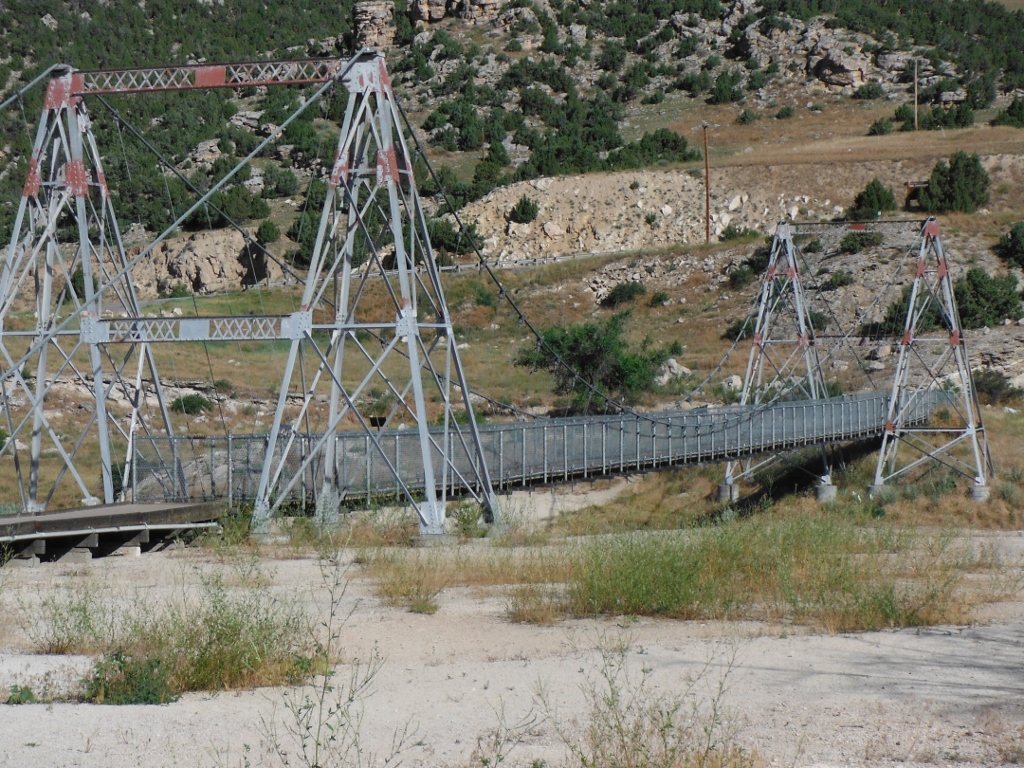 I suppose the water eventually ends up in the Bighorn river.
Look at the pretty minerals deposits left behind on the rocks as it flows into the river.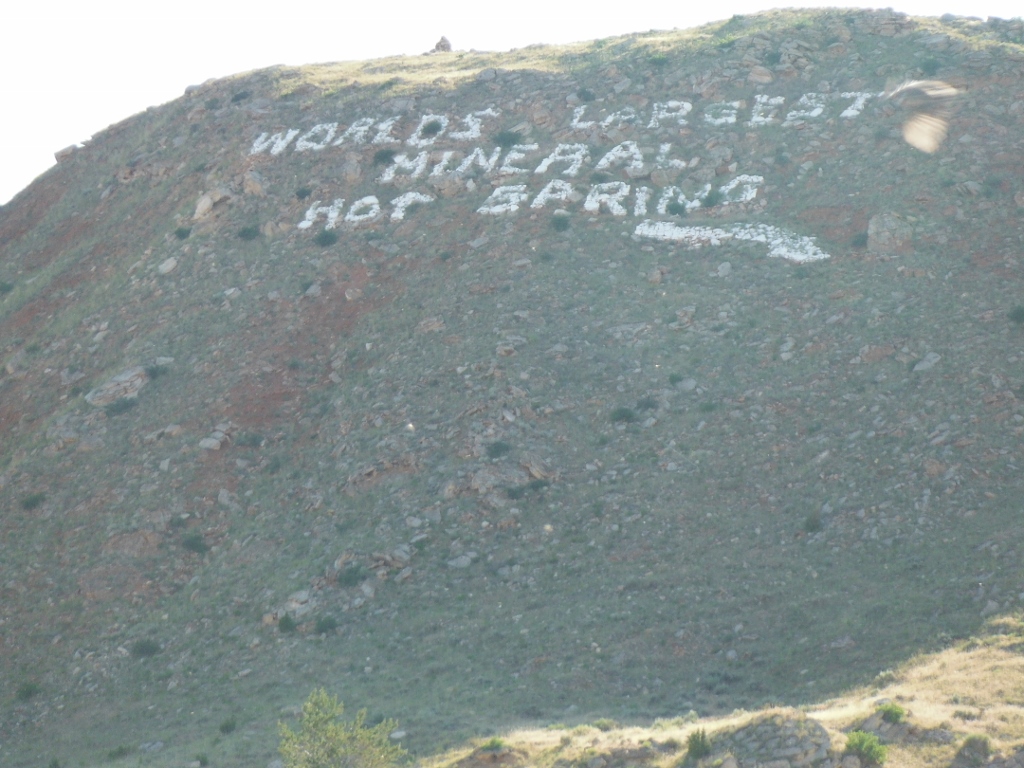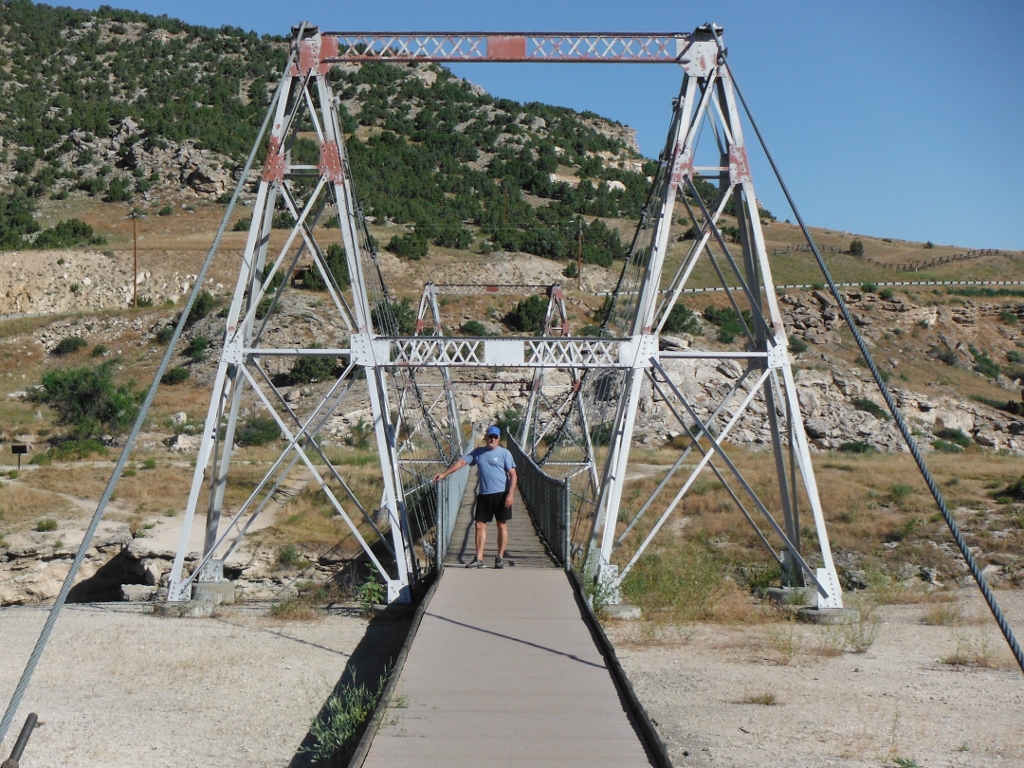 I'm not exactly sure where it was---but somewhere around Tensleep, Wyoming I called my buddy Jerry (Road Dad) on the phone---he
was heading up to this ride in his sprinter van hauling his WR250R.
We just couldn't believe it---we were 10 miles apart---neither one of us had any idea we were traveling this close.
So we found each other and got a campsite.
I had some chile, cheese, hot dogs and cold drinks but no buns.
I went around the campground begging---and came up with 4 hot dog buns---and dinner was on.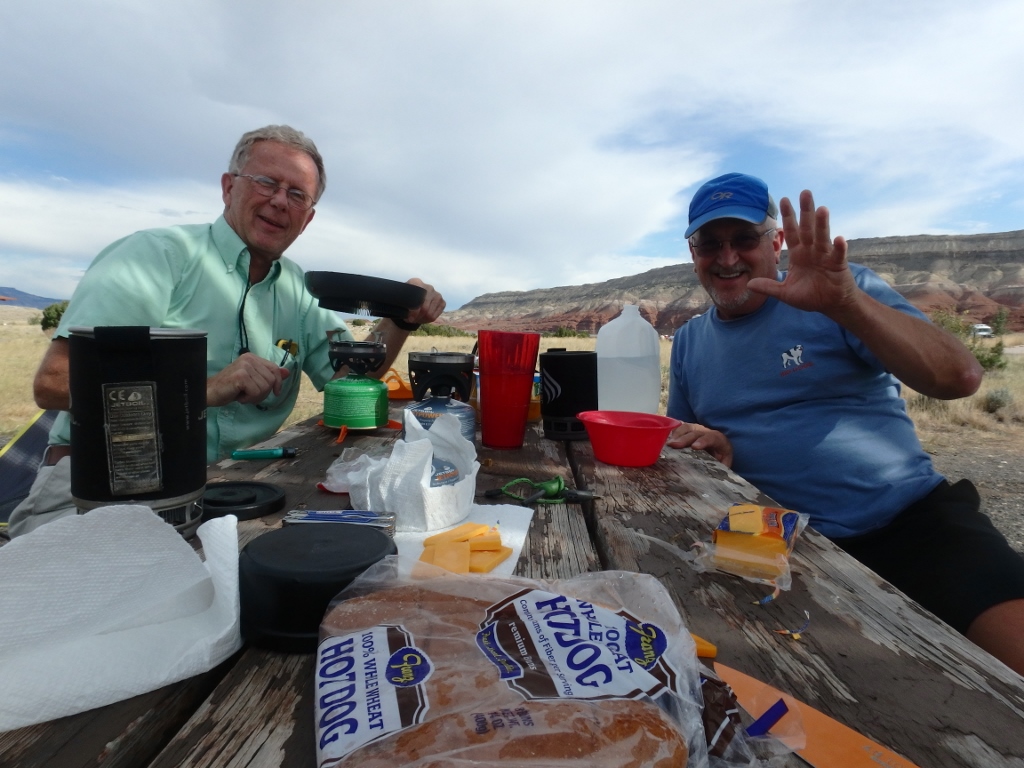 This campground was down a dead end road on Crooked Creek road on the banks of Bighorn Lake.
We've been riding buddies for years as we live about 100 miles apart and are now "both' retired.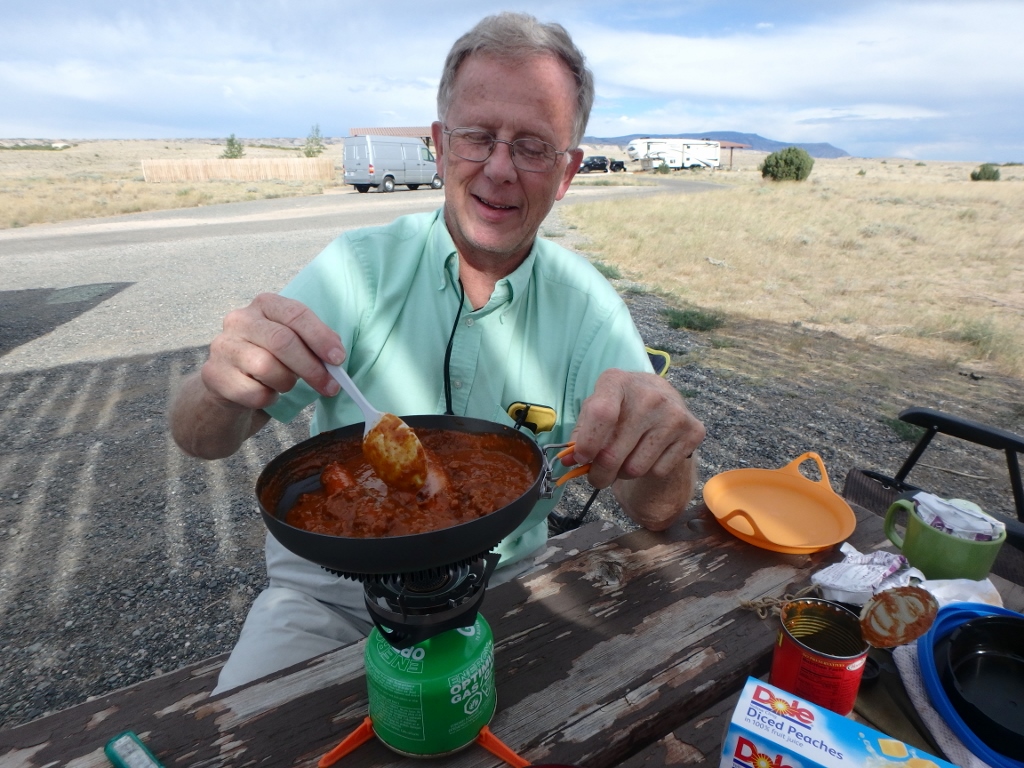 It was here while bulshitting-----we found out we both had went to the biggest ball of twine in the world----and the geographic
center of the US-----but days apart----Jerry lives in Indiana, so we were both coming from near the same place.
Great minds think alike !!!!!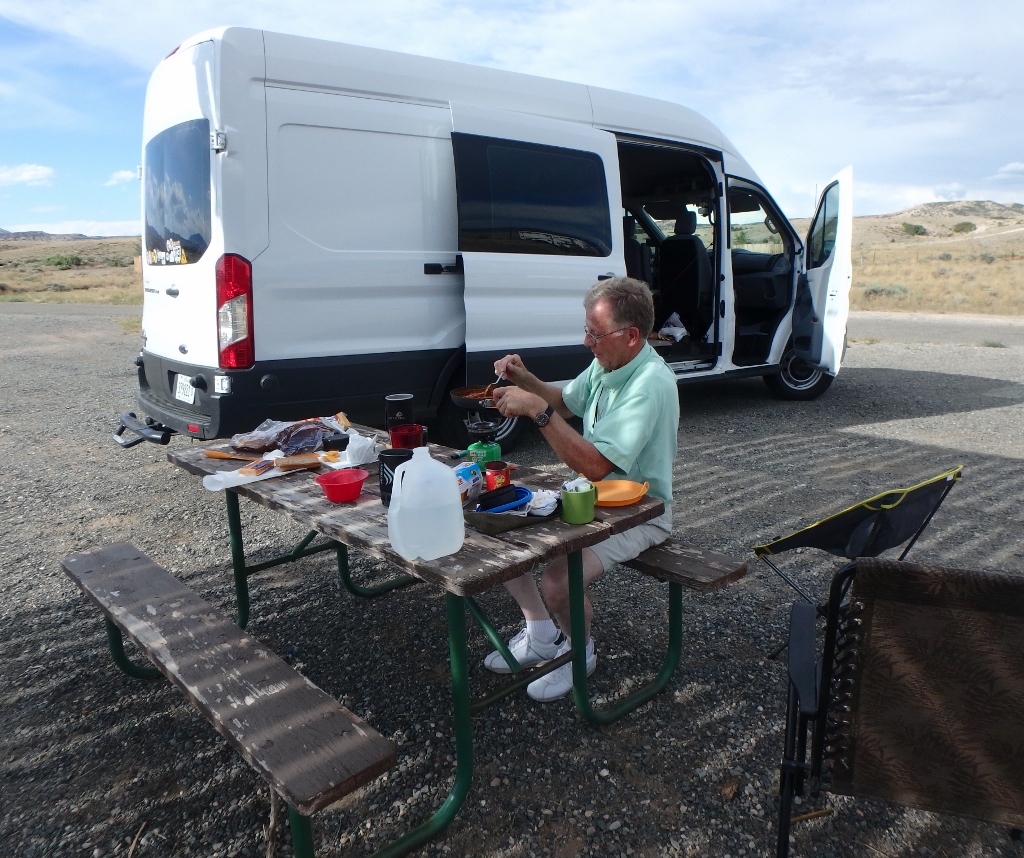 The Lake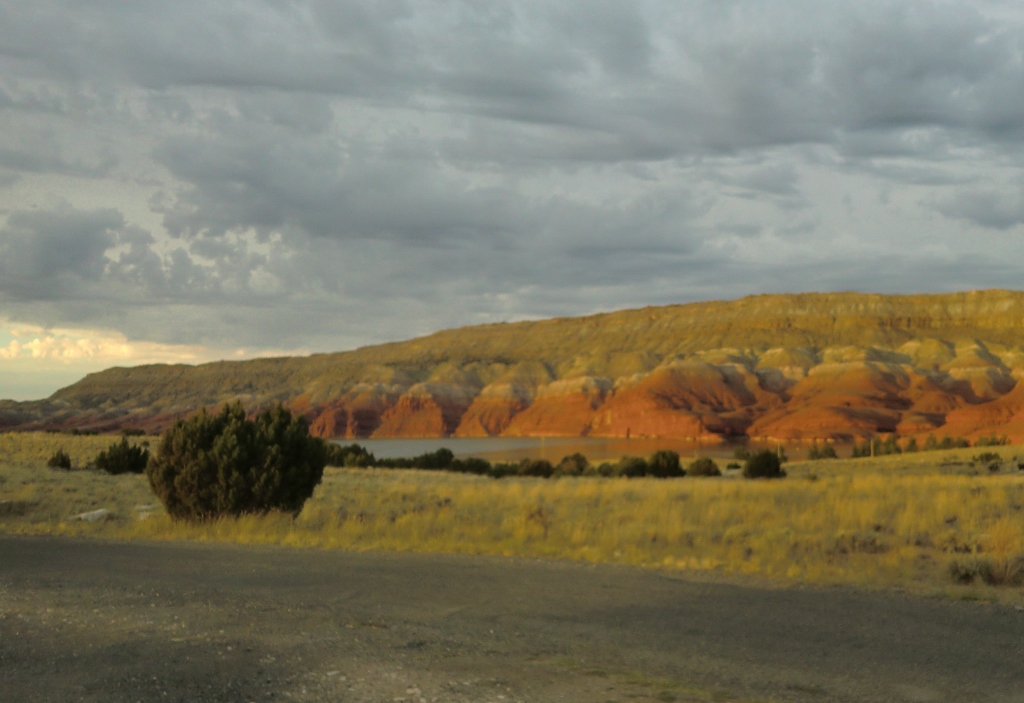 Were both real old-------so we camped at a discount-------I think it was $3.
This "Geezer" card I've been carrying around in my wallet is starting to pay off.
It poured on us as we pulled in---but quit soon and became very nice.
Whether in the van or on the bike---------this whole trip the temps were nice and cool every nite which
made for great sleeping.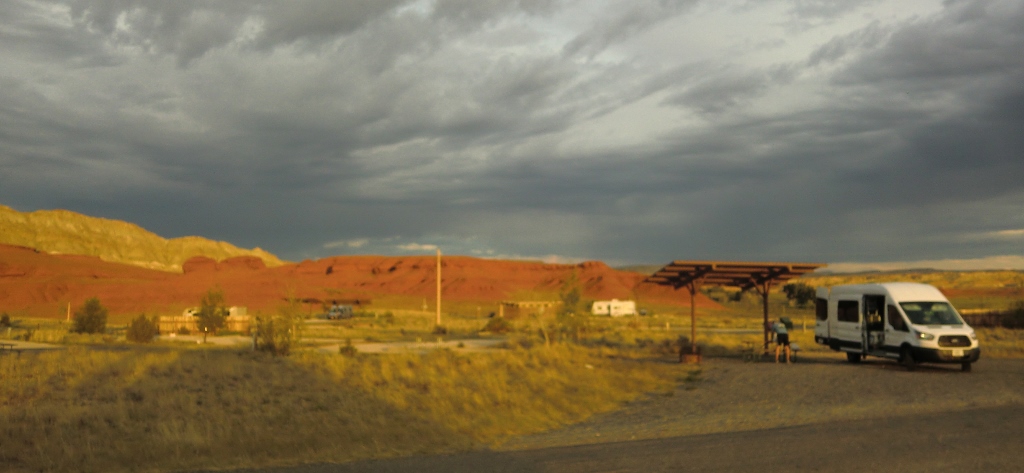 We still had plenty of time to kill before the organized ride started.
So we poked around some more----I've been to the historic old town of Bannack at least two times.
But.............I was a working guy and just blew thru with nothing more to show than the bragging rites of
saying I'd been there.
Things were different now.
We camped in the park and went for a really long walk thru town.
And poked around till dark until we were asked to leave as they lock this town up at nite.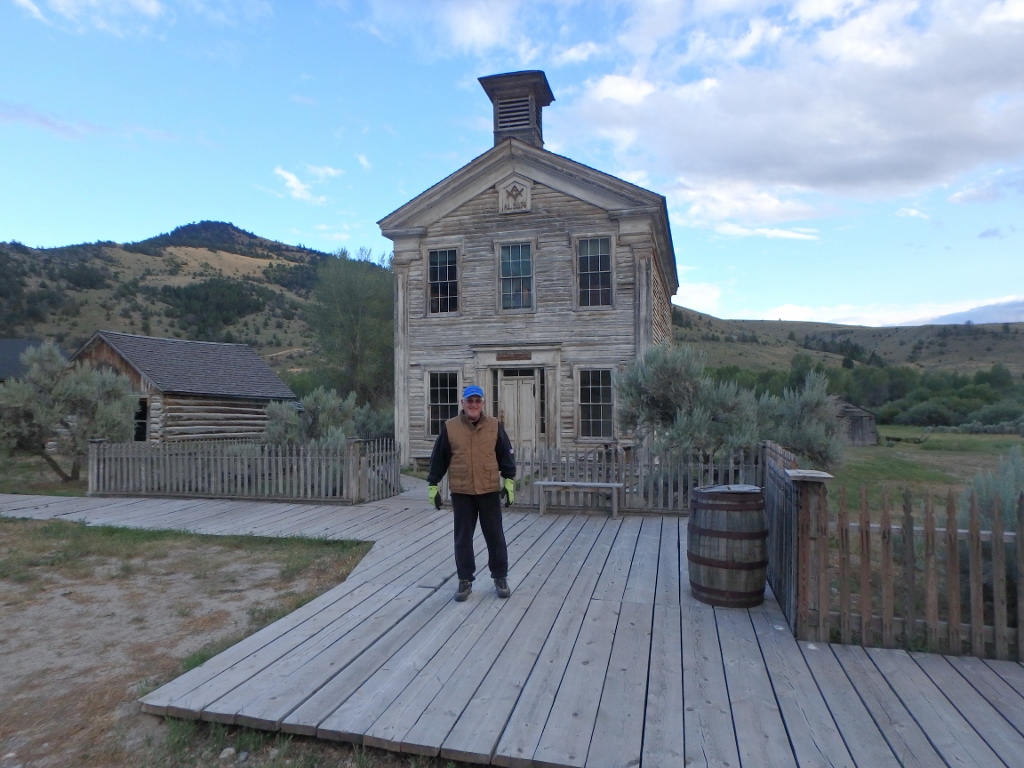 The above picture and the one below are the school house.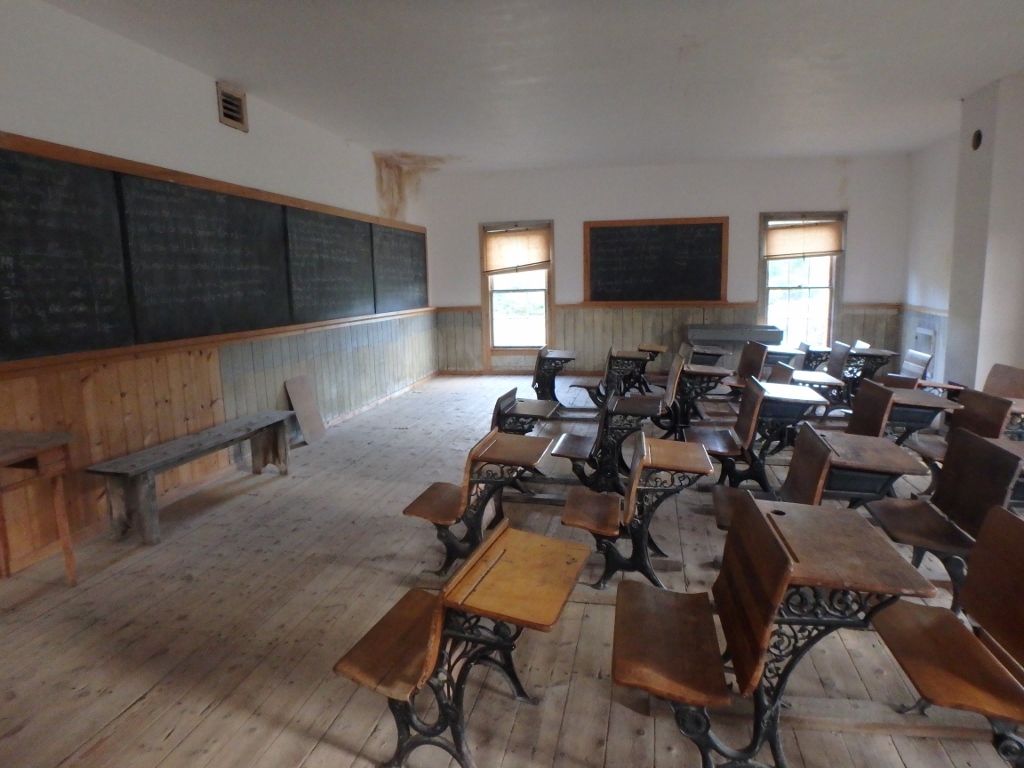 There was a guy there watching the place that told us a few things---about all the mining that went on here and all the history.
He said this wasn't originally a hotel----but I can't remember what he said------maybe a bank---there was a safe in it--a big one.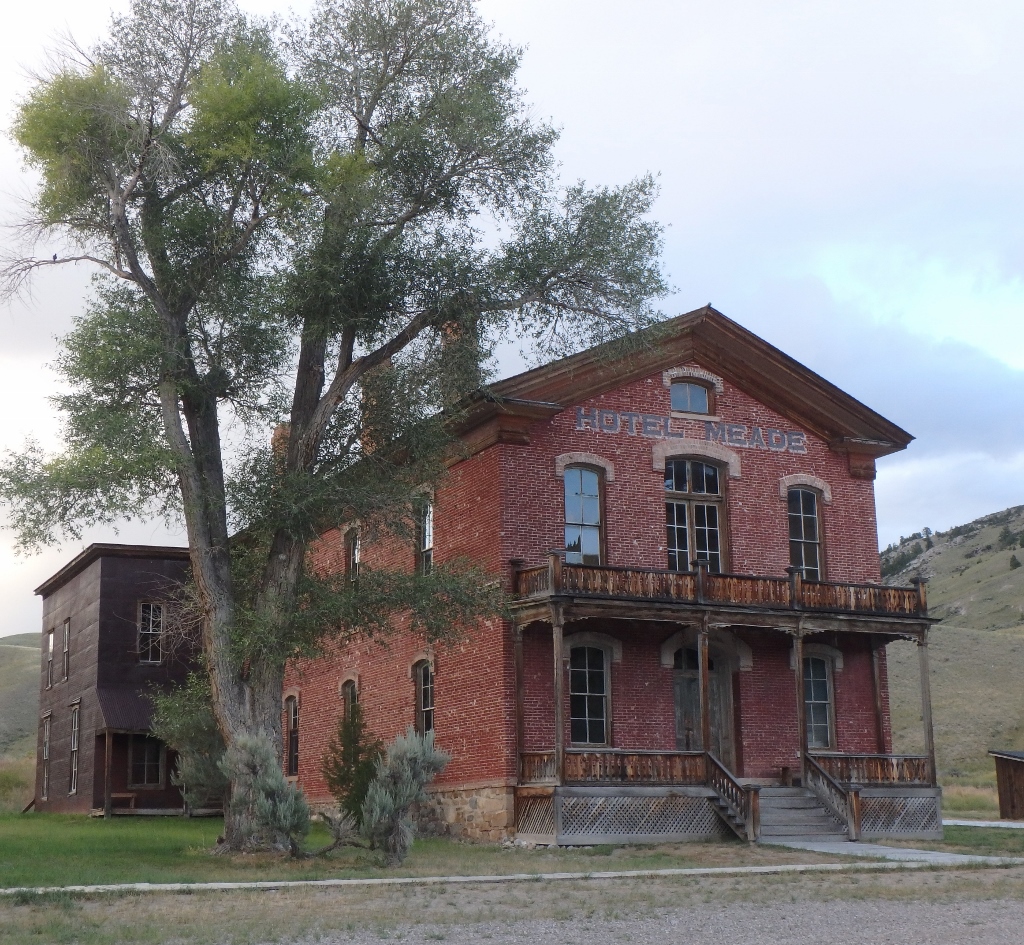 I don't really know---but I can imagine this being the best pre-served old mining town in the US----????????
I'm guessing there were 70 old buildings.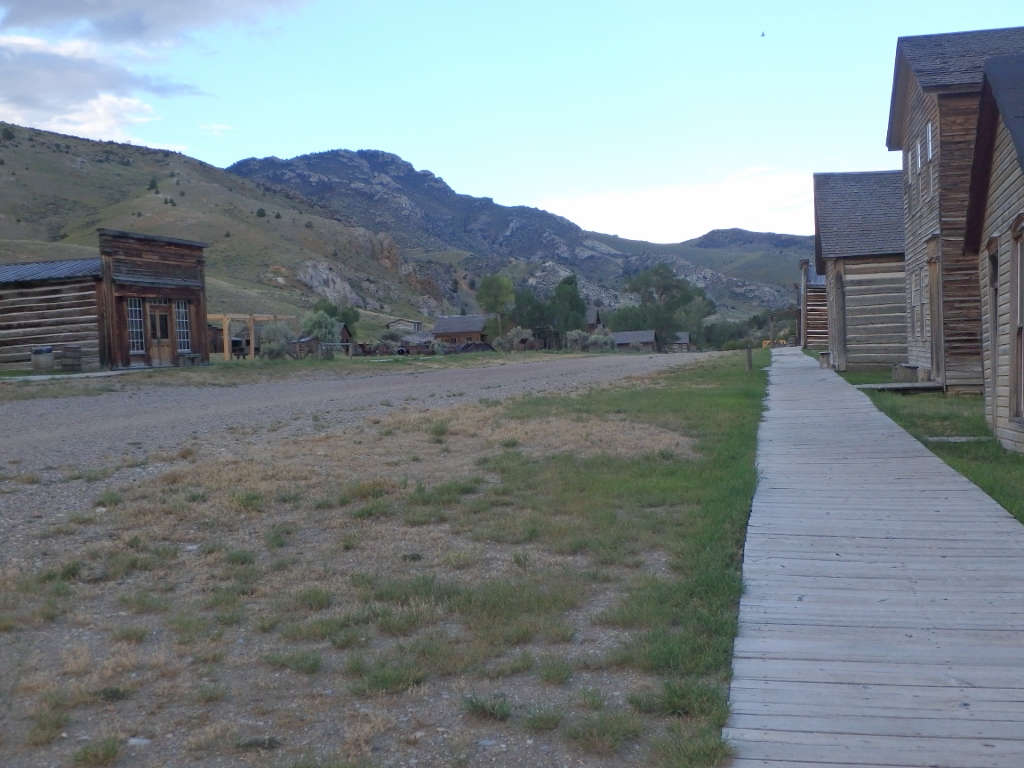 Looking out of the huge porch at the Hotel.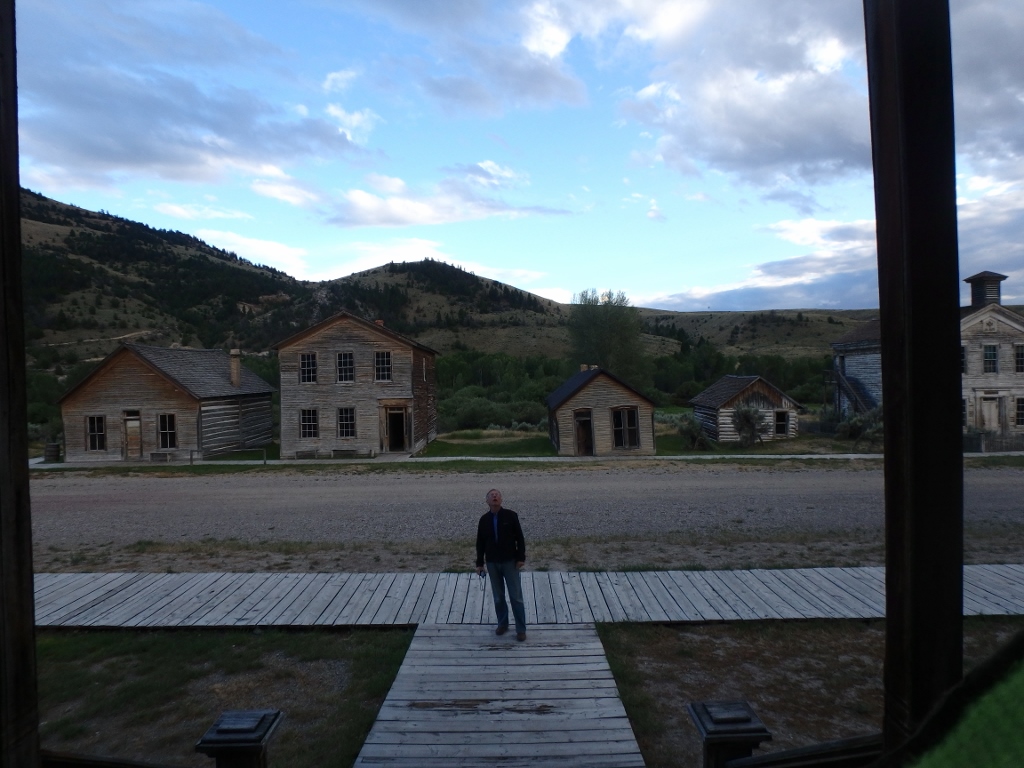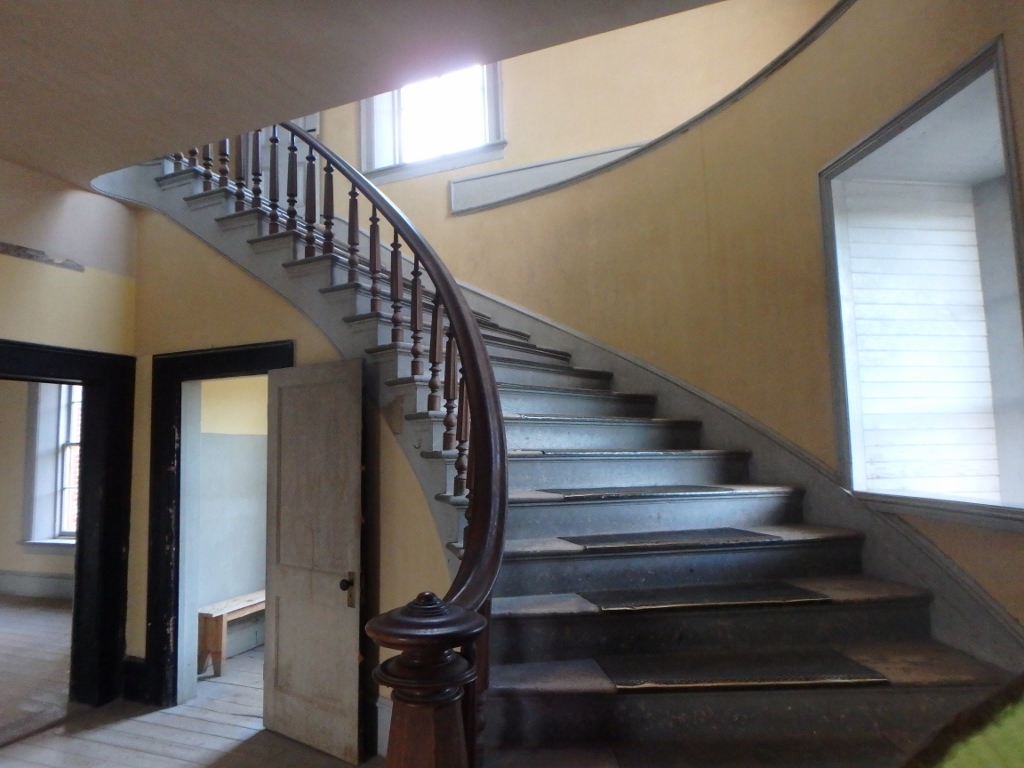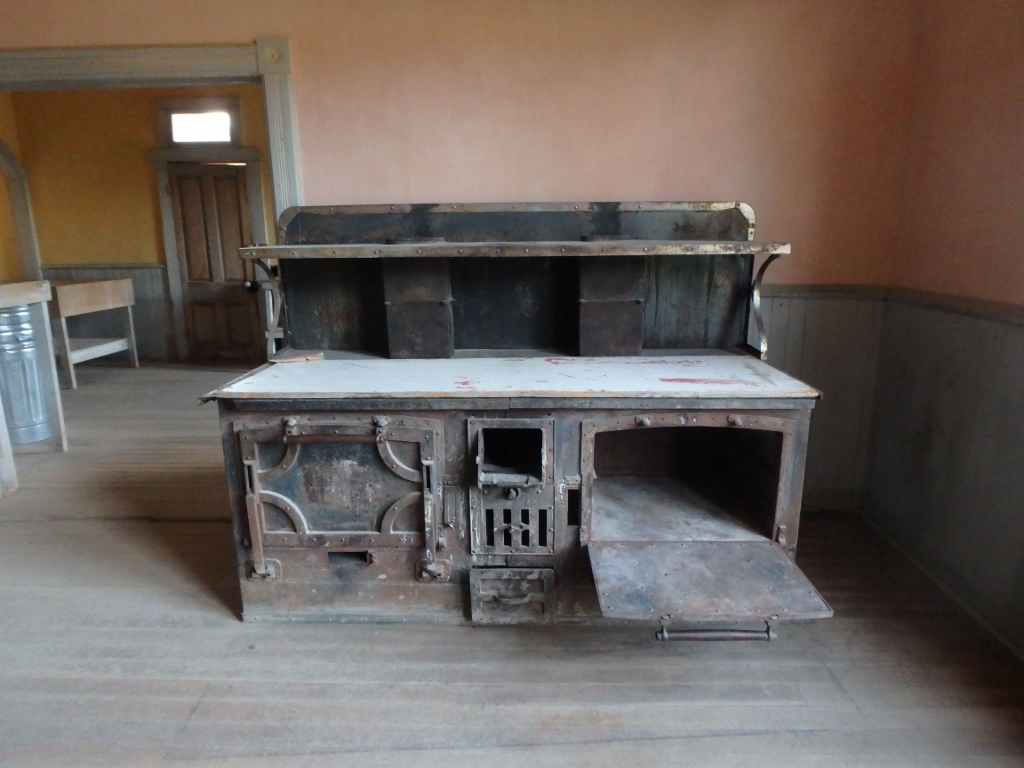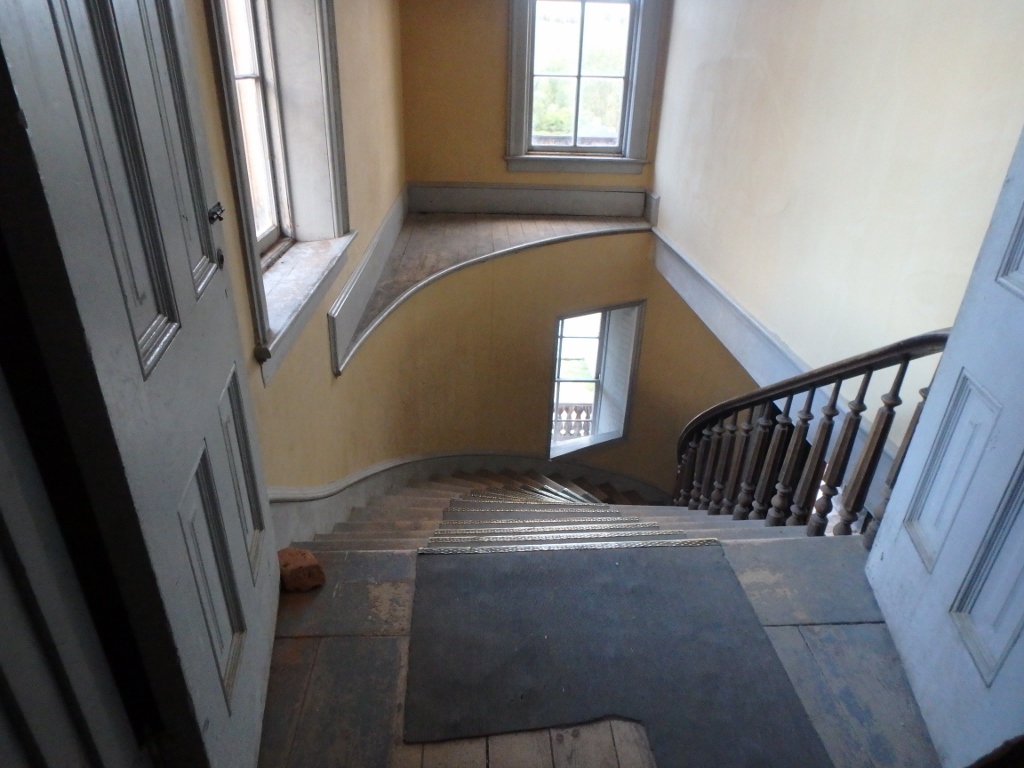 This was way out back---------I figued it was a mine.
But after going in it---I think it was just a cool storage building.
Each building is marked with a number and you can read about each one.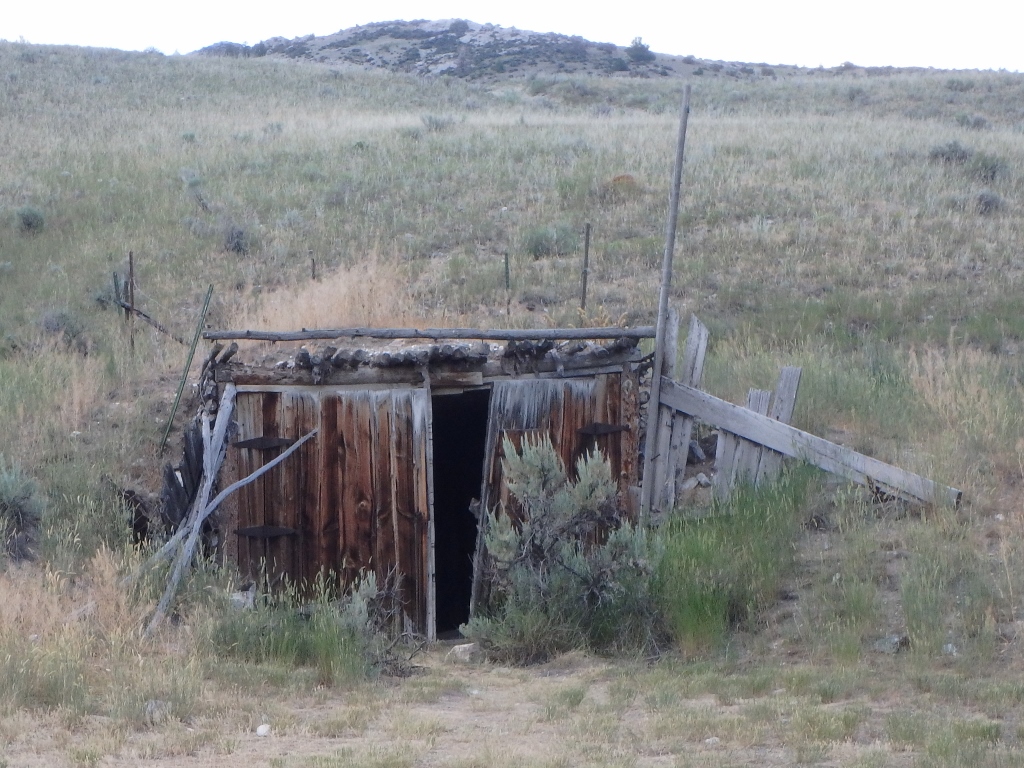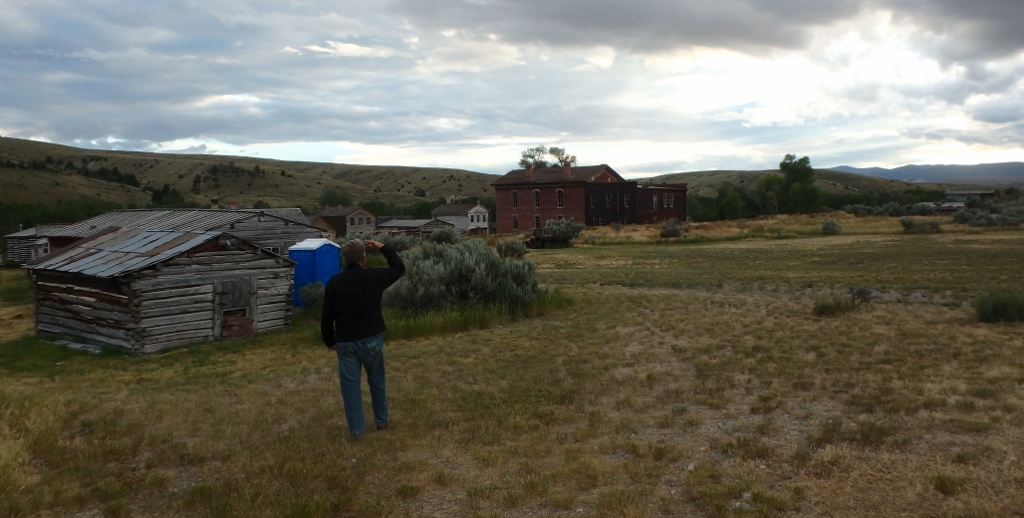 This is the church---and I bet that's the preachers house next door.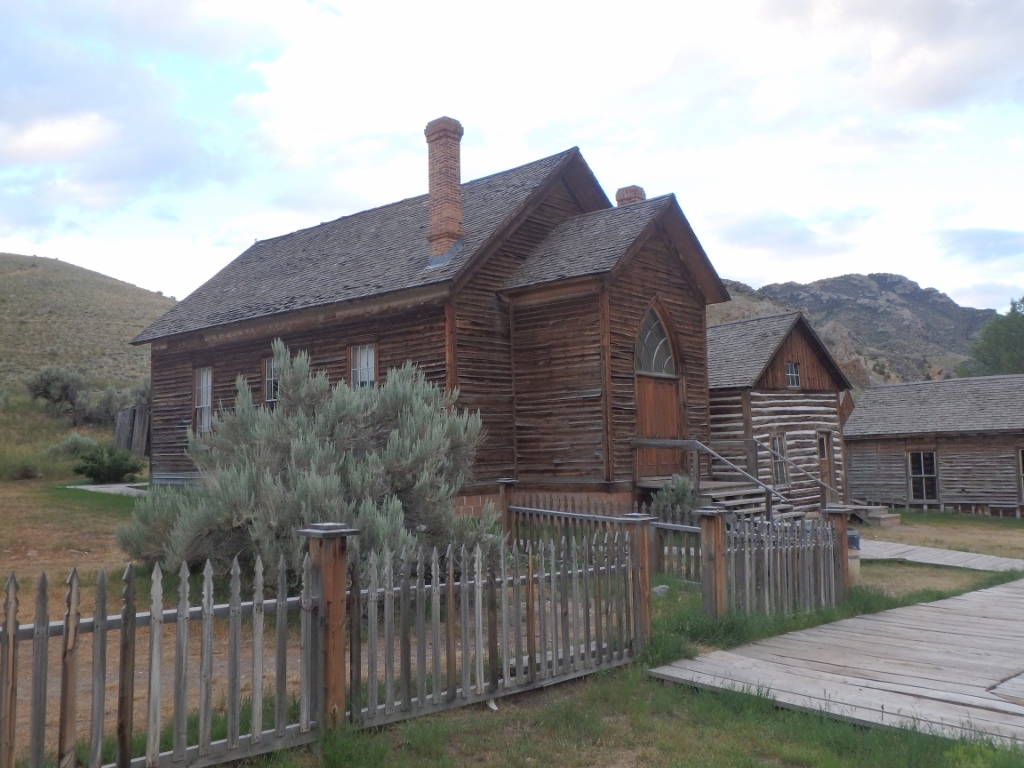 "Jerry Mueller-----------If you don't quit riding your motorsickle on the sidewalks you are going to go to Hell !!!!!!"
(Jerry---is wanted for sidewalk riding in Port Orford, Oregon after completing the Trans America Trail.)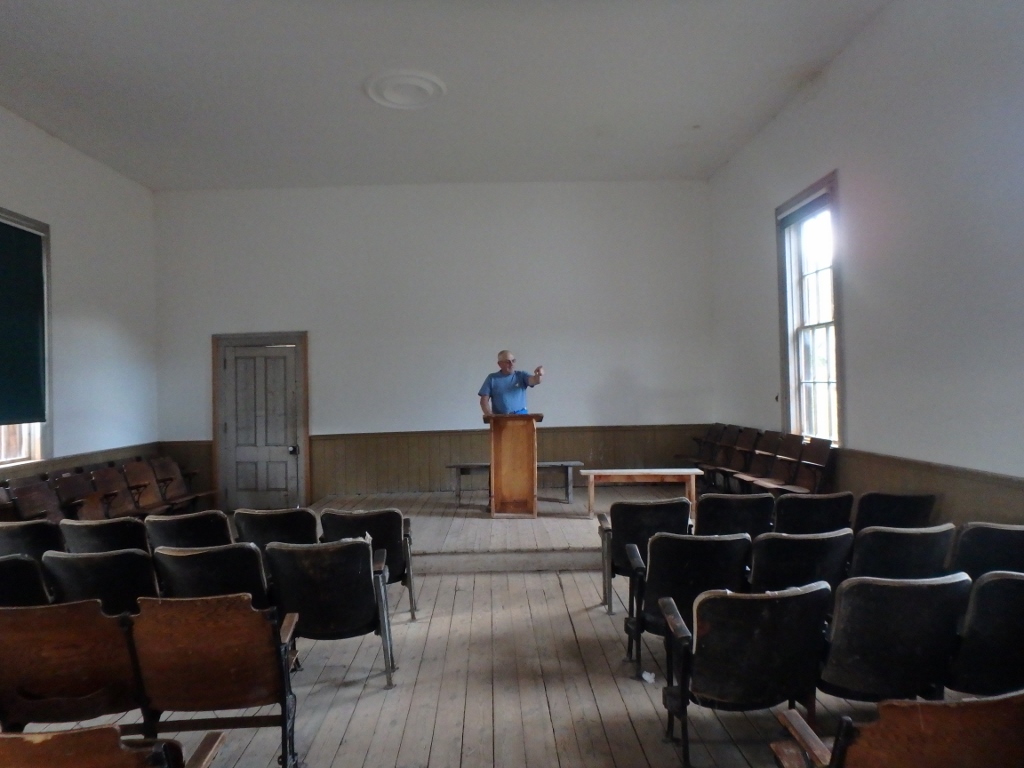 Back at camp---there are several campsites and a Tee-Pee.
The building is not an outhouse---it houses a deep well and provides water to the camp.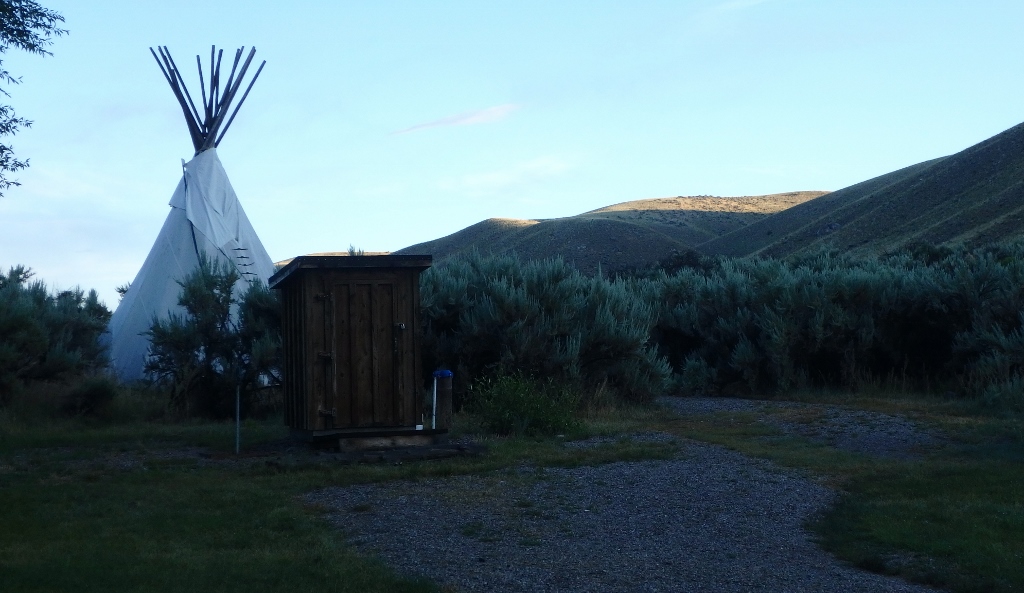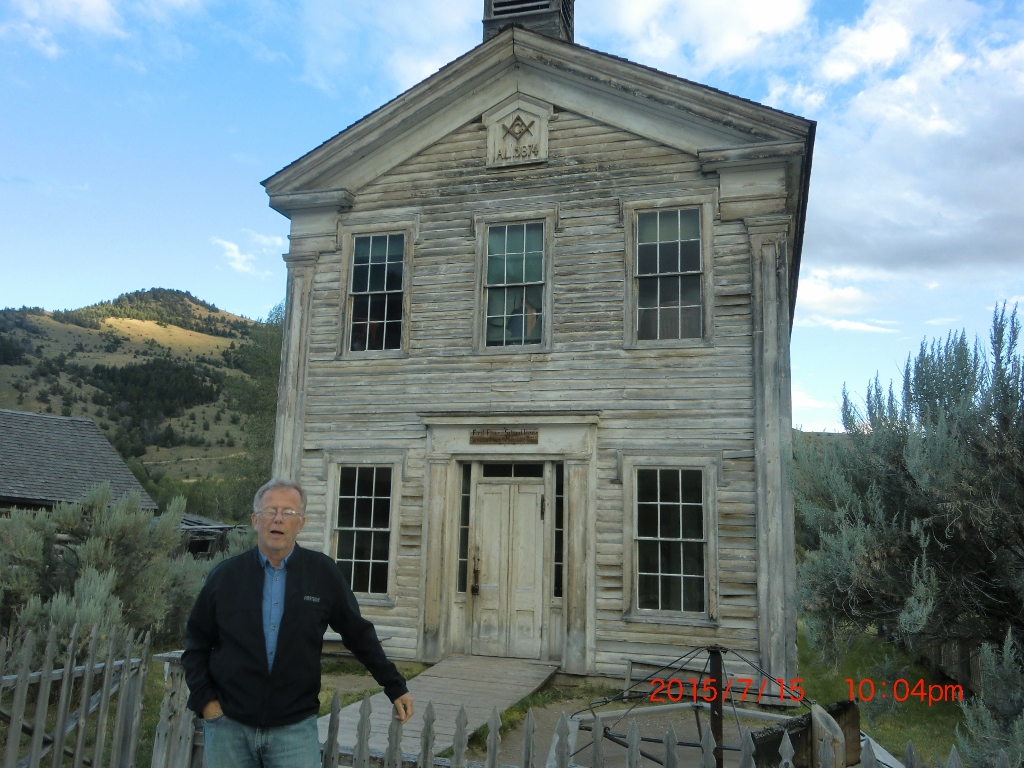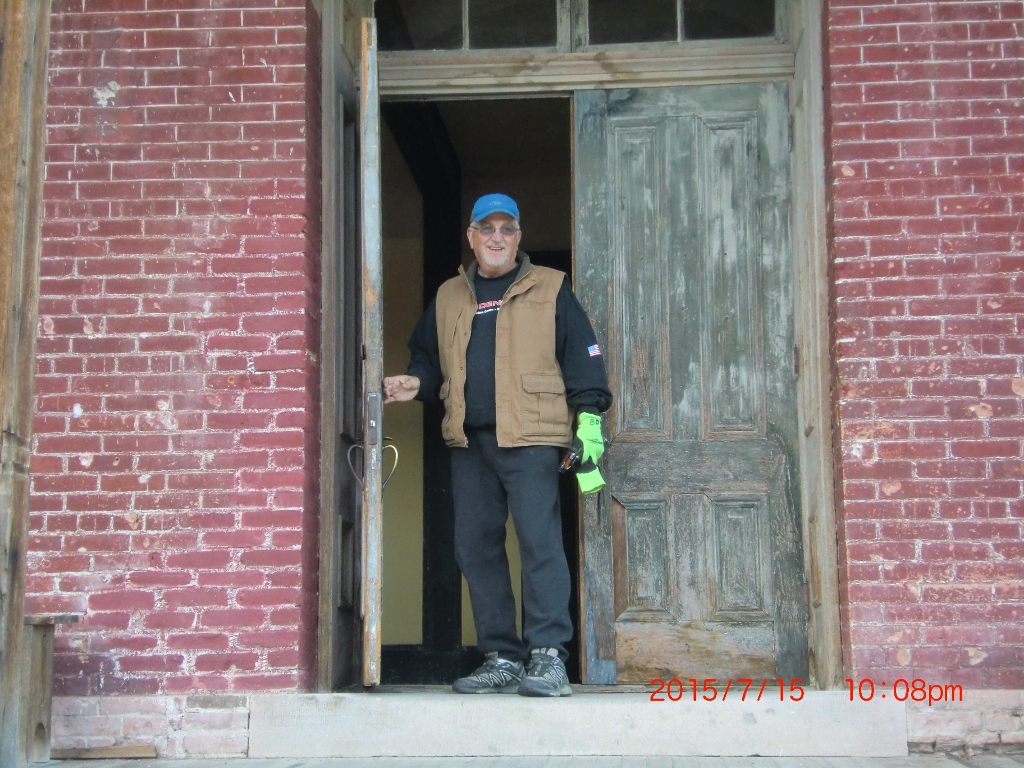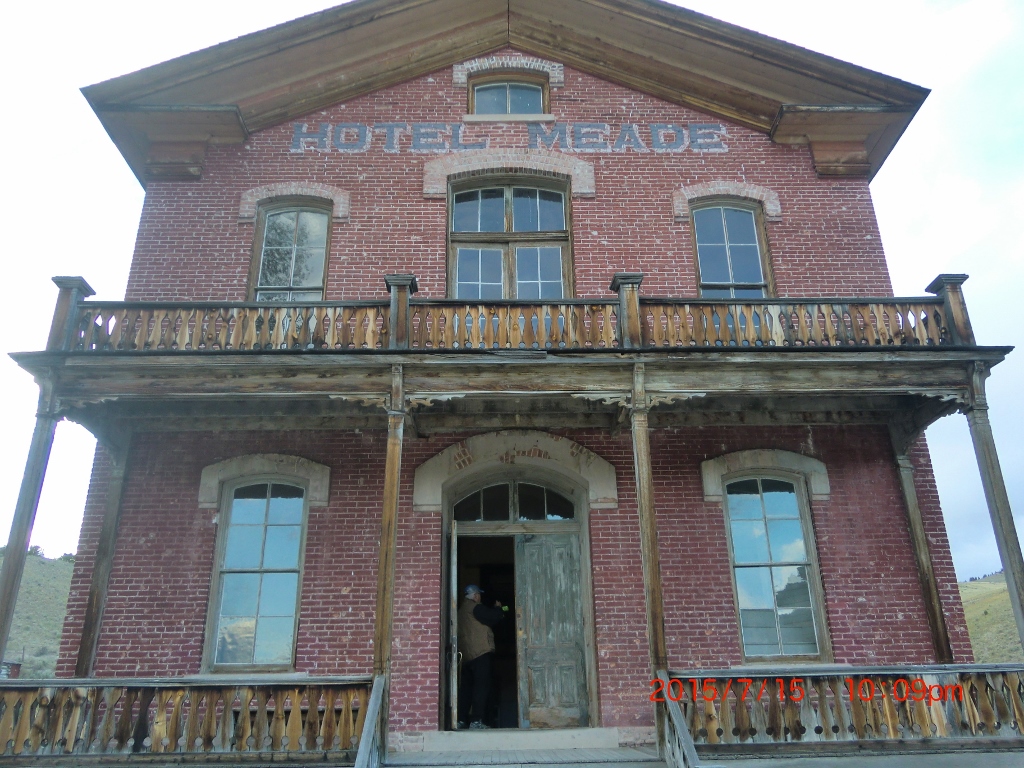 Barber Shop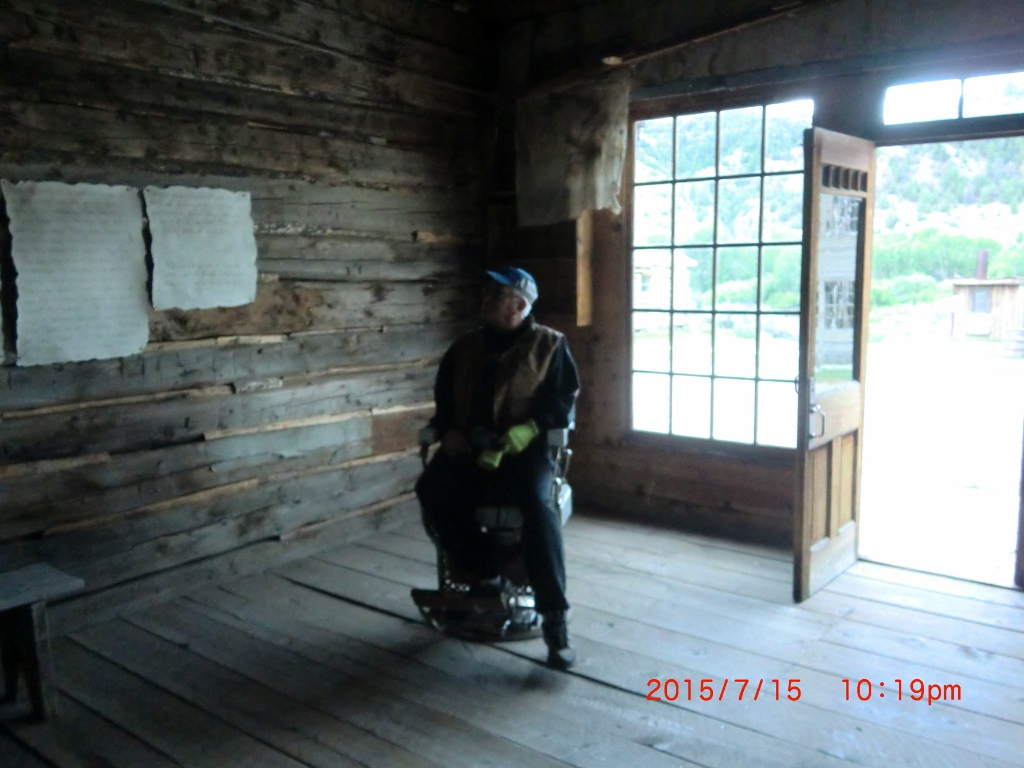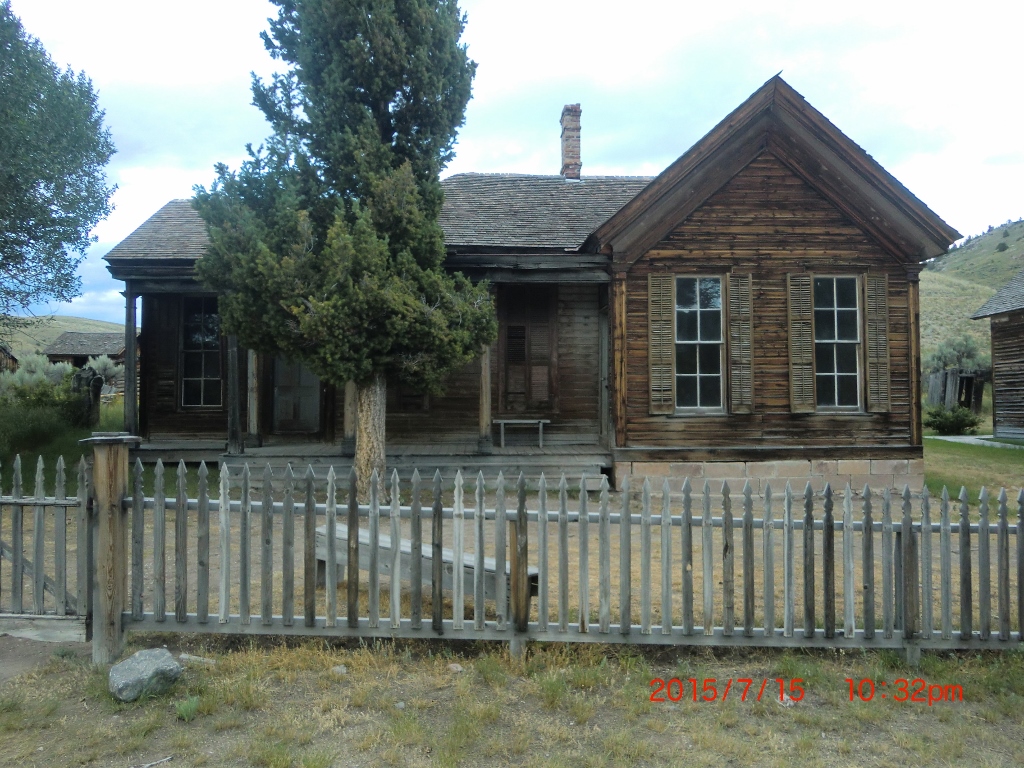 It got really cold that nite again---but we were cozied up in our vans.
I keep a zero degree sleeping bag in my Ford Sprinter Van, but I have 2 kinds of heat if need be-----a propane heater and
an electric heater-----I also carry a 2000 watt Honda generator, but to this day I've had it for at least a year and have never used it.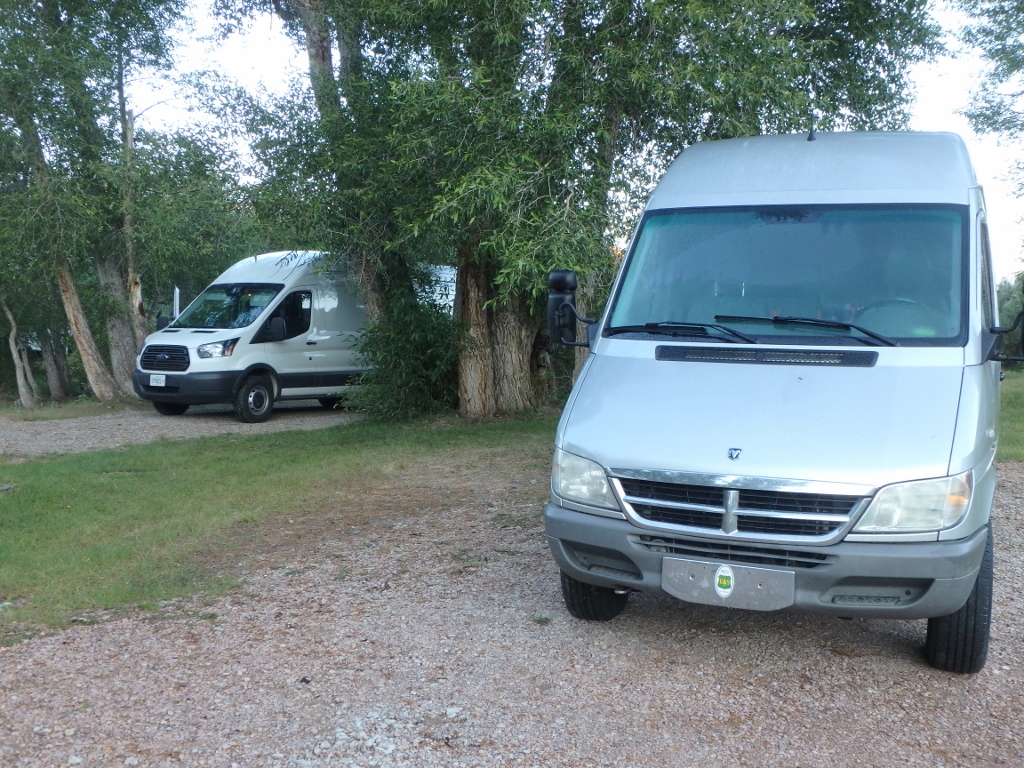 We finally arrived after many days of just wandering around---wonder we didn't forget where we were going.
But we arrived at Rons's house-- "Wansfel" On Advrider.
Him and Timmer organized this ride and we all had gps tracks to do the ride.
Each day we would end up at a campground---but I had a couple of other ideas in my little brain.
Sorry-----I can't remember everybody's name here---can't hardly remember mine.
I brought 2 bikes. A 2014 KTM 690 and a Yamaha WR250R to ride when the KTM broke down.
Send hate mail to-----"I don't give a rats_ss dot com.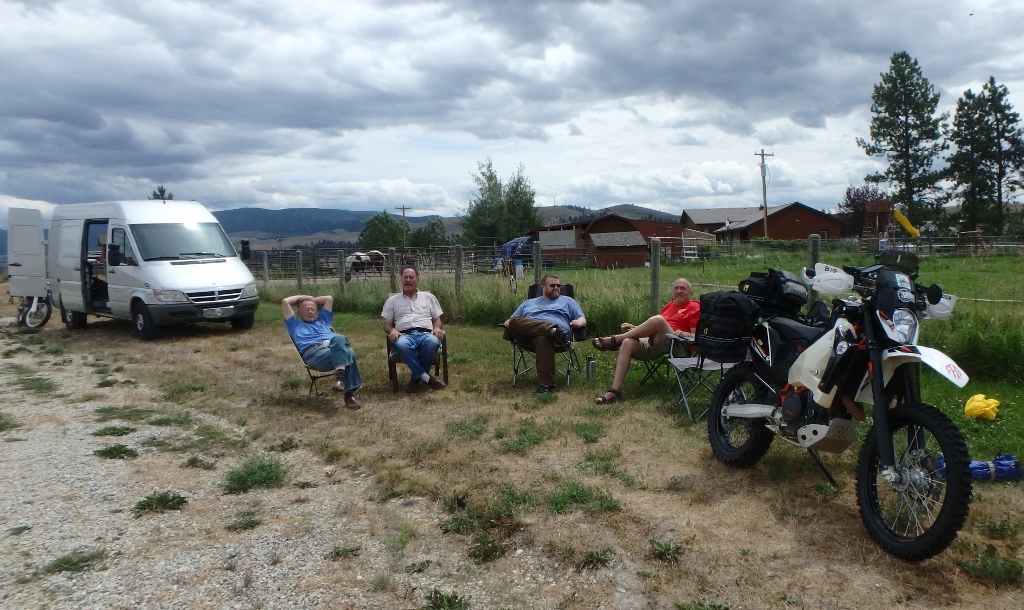 Day One of the Montana 1000
Seems this whole ride---me and Road Dad were first out of the gate.
We weren't in a hurry---and lord knows we weren't fast.
Everybody went to LoLo for breakfast-----it was crowded---cars and trucks running amuck and I had a better idea.
Besides I do like to ride a bit before breakfast--------if I'm not freezing my butt off.
So----Southwest we went on Elk Meadows road and immediately climbed up to about 7,000 ft. in altitude.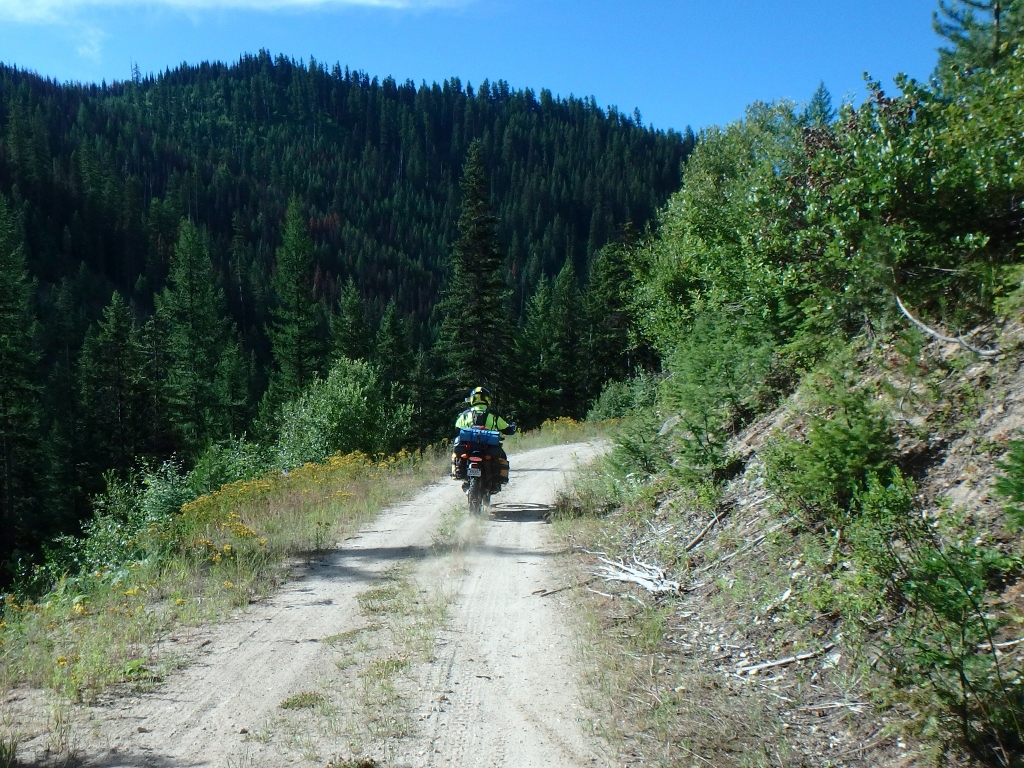 We rode about an hour and dropped into the Powell ranger station and the Lochsa Lodge for breakfast.
The best French Toast I ever ate..
I love this place----many years ago me and a buddy came in here dripping wet and freezing and got a log cabin with a woodstove.
The guy said he'd be by about dark and start a fire for us-----I coaxed him into getting one going right them---as we were shivering.
We hung our wet riding gear all over the place and it was a great night to remember.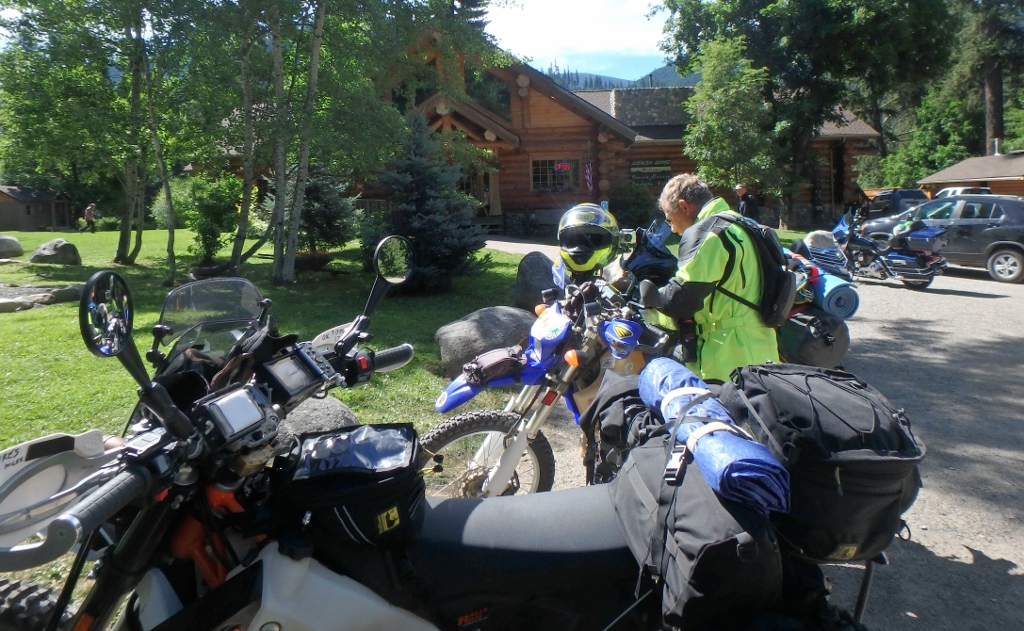 And up onto the LoLo motorway we went---the route of Lewis and Clark
BigDog and Gaspipe
BigDog and Dingweeds
and now BigDog and Road Dad
All studdly adventurers--some more than others.
'm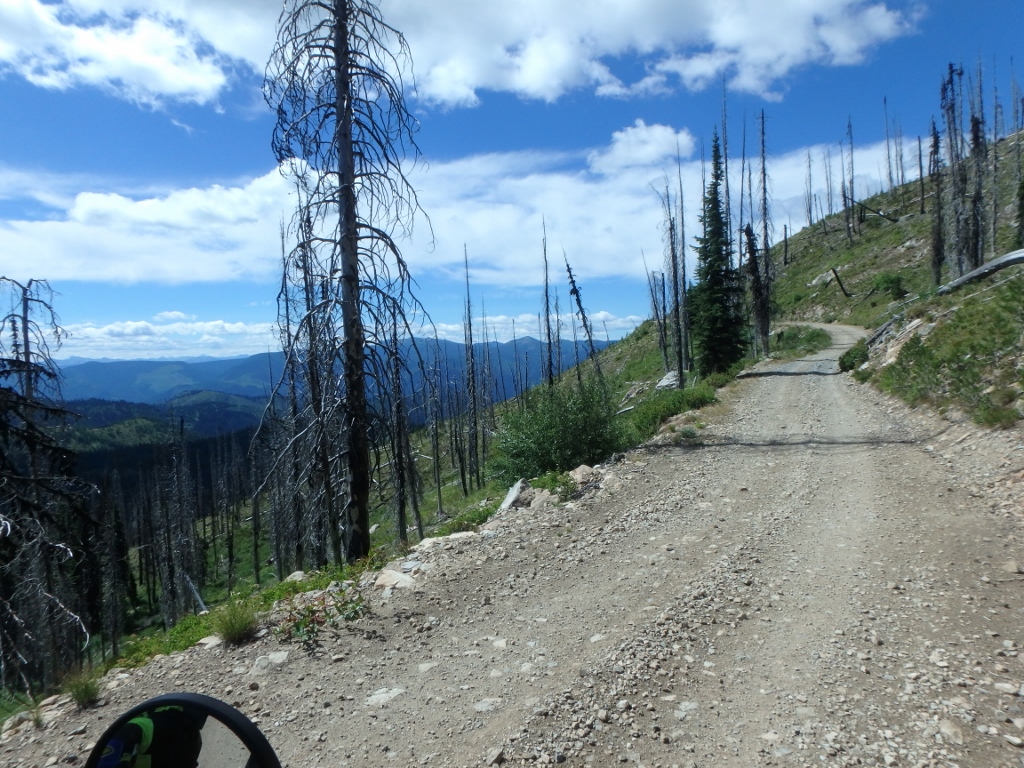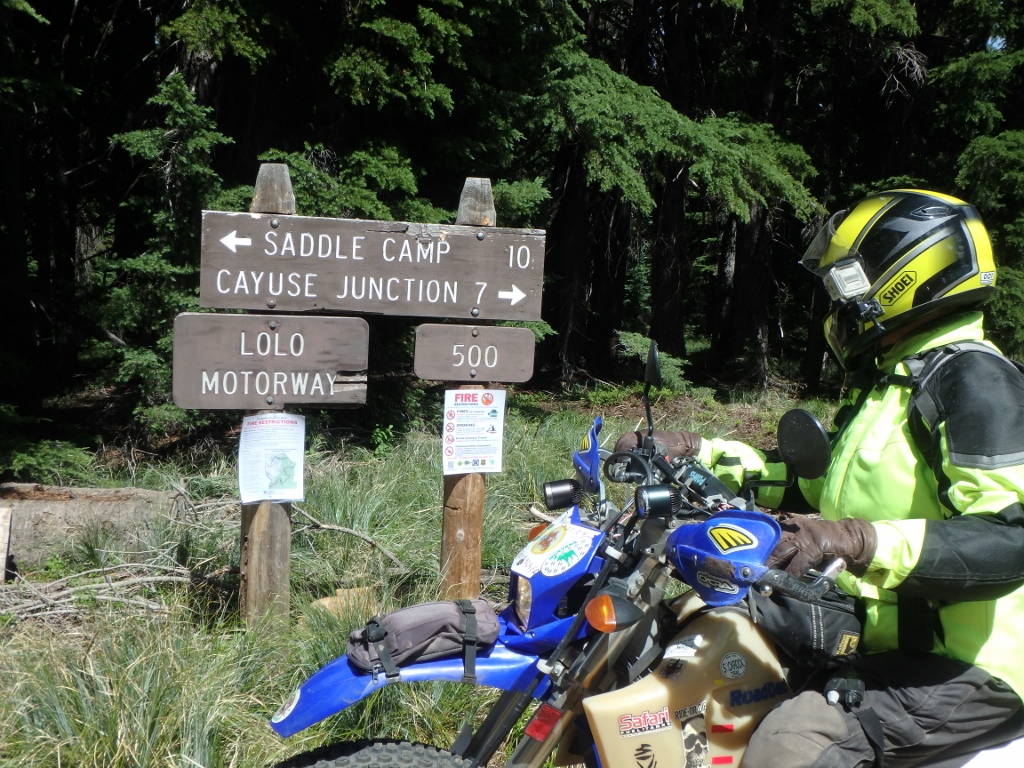 It's mostly curves and mountain switchback riding---but once up high there is one flat spot where you can
ripped it up a bit.
Road Dad said everytime the cylinder fired on my 690 it would throw either a rock or chunk of dirt at him !!!!!!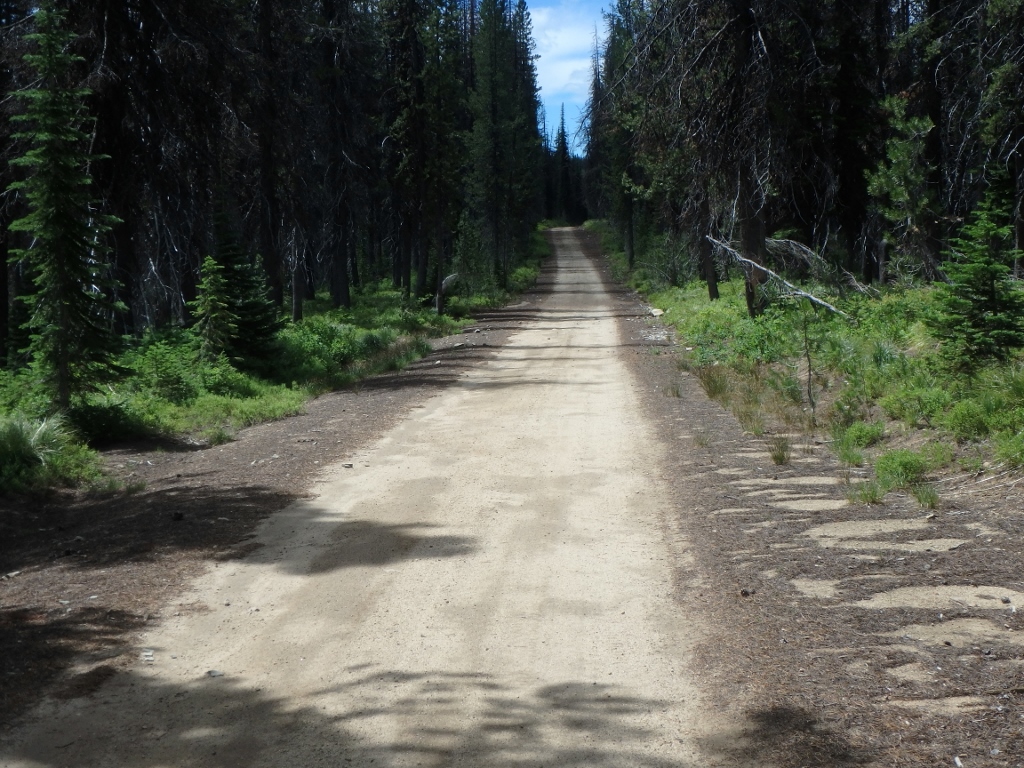 Thank God I wasn't paying attention and missed a turn and ran into this dead end.
They said there were rocks up here------------I didn't see any ????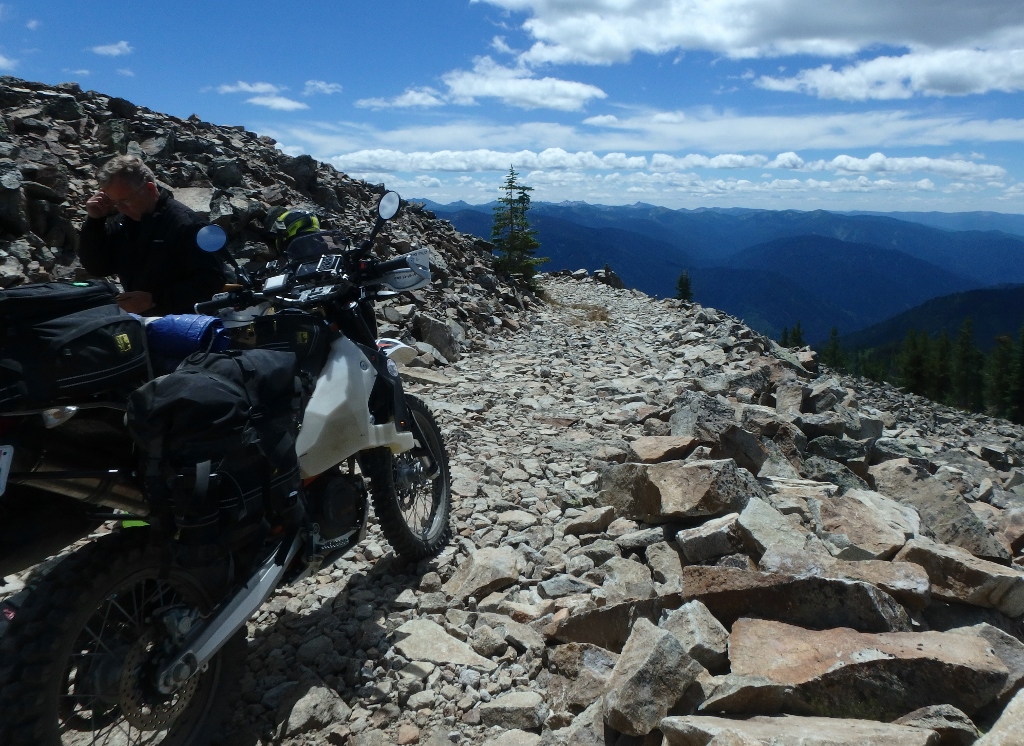 It's the Castle Butte Fire Tower---elevation 6,600 ft.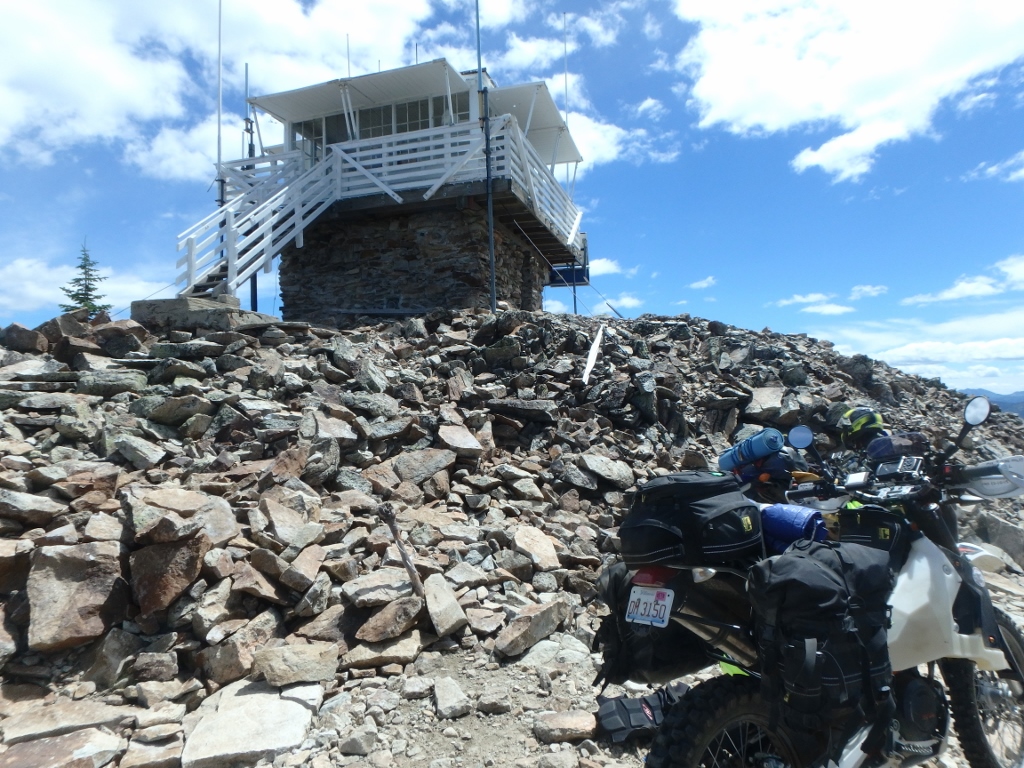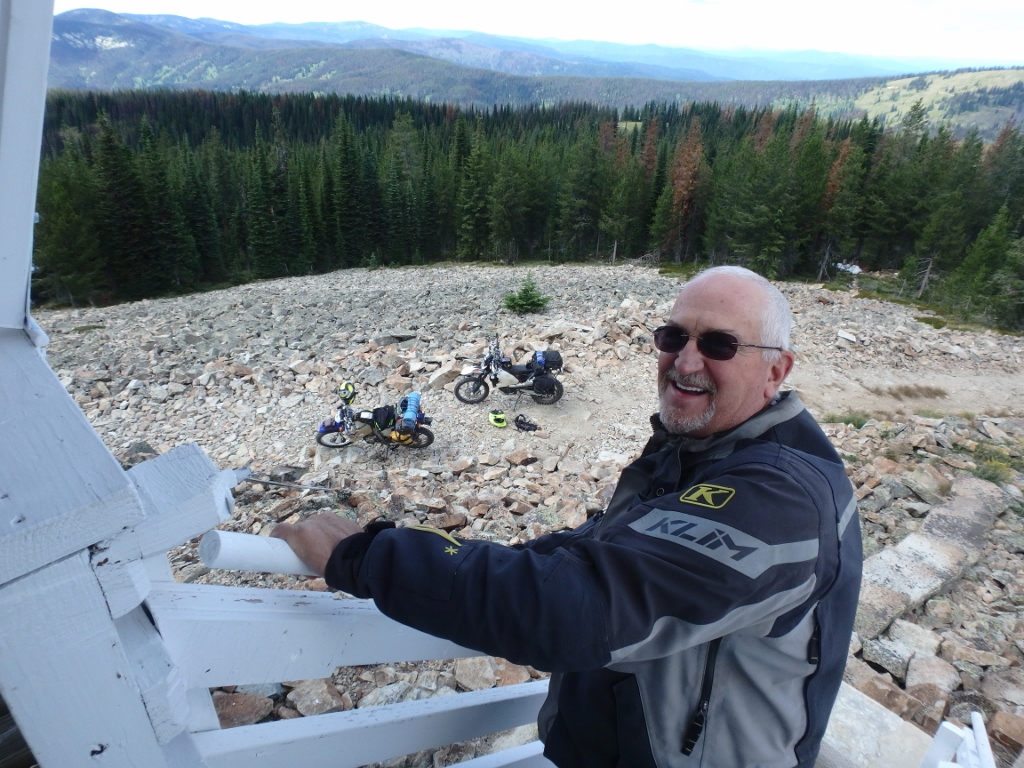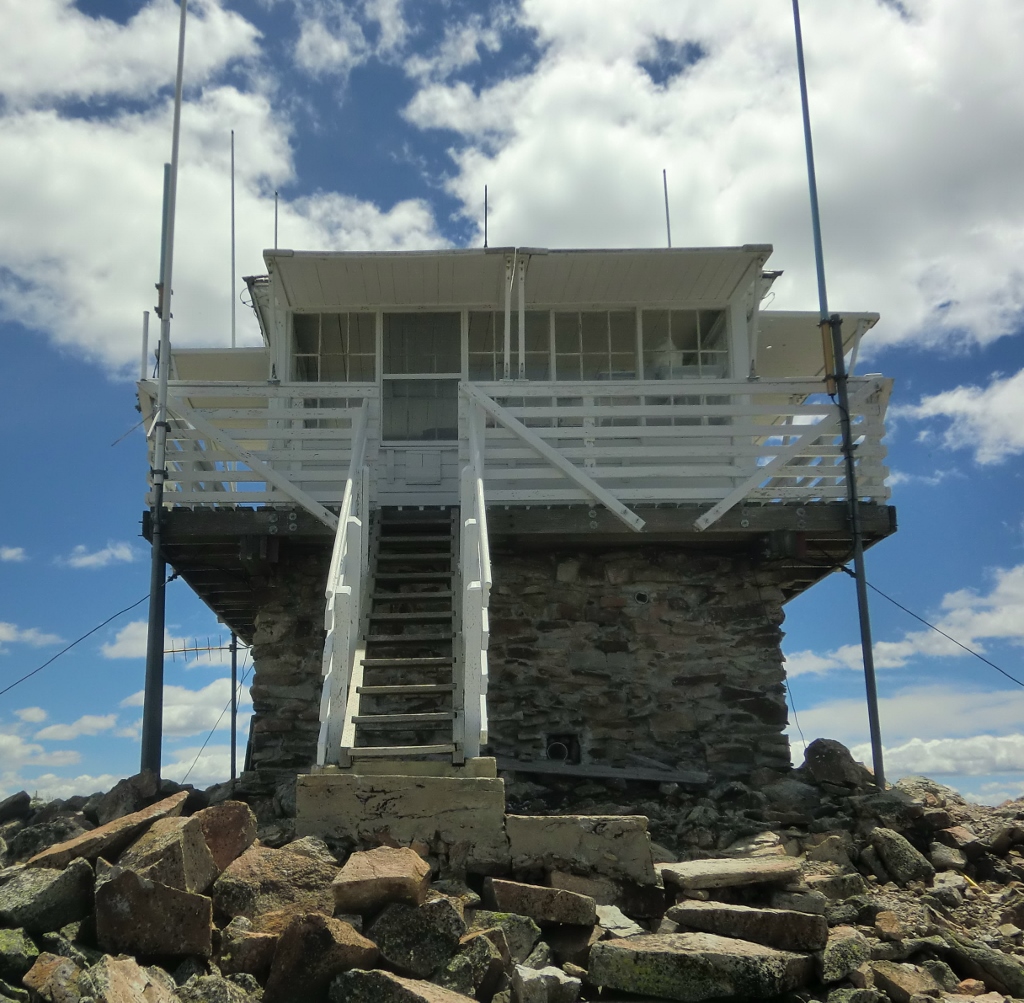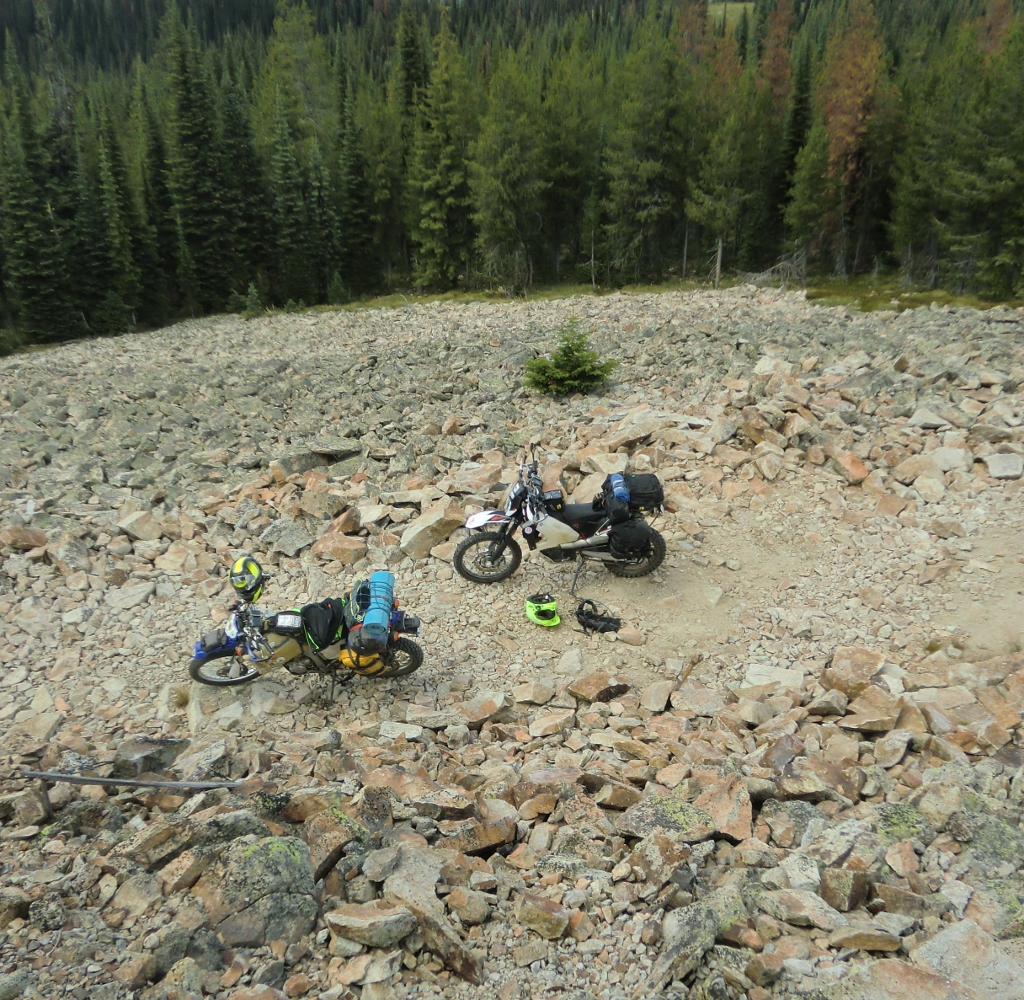 You can rent it out------there was a lock on the door--but you can see it's got beds, cookstove, heater, sink and a view to behold.
I have to stay there before I croak.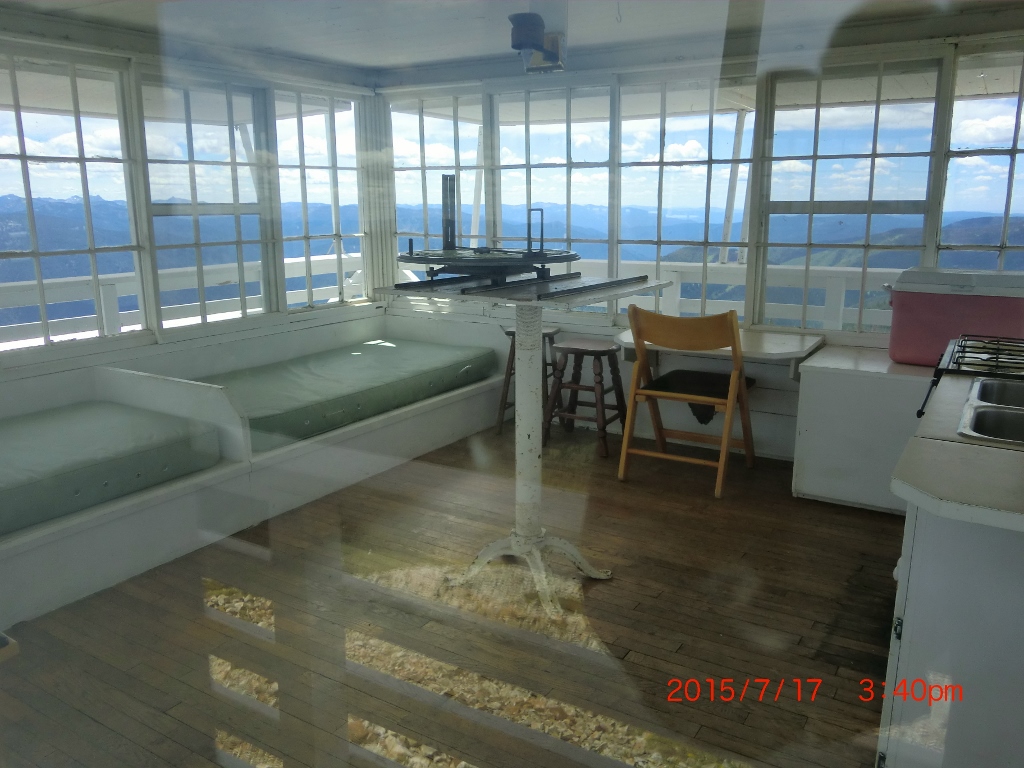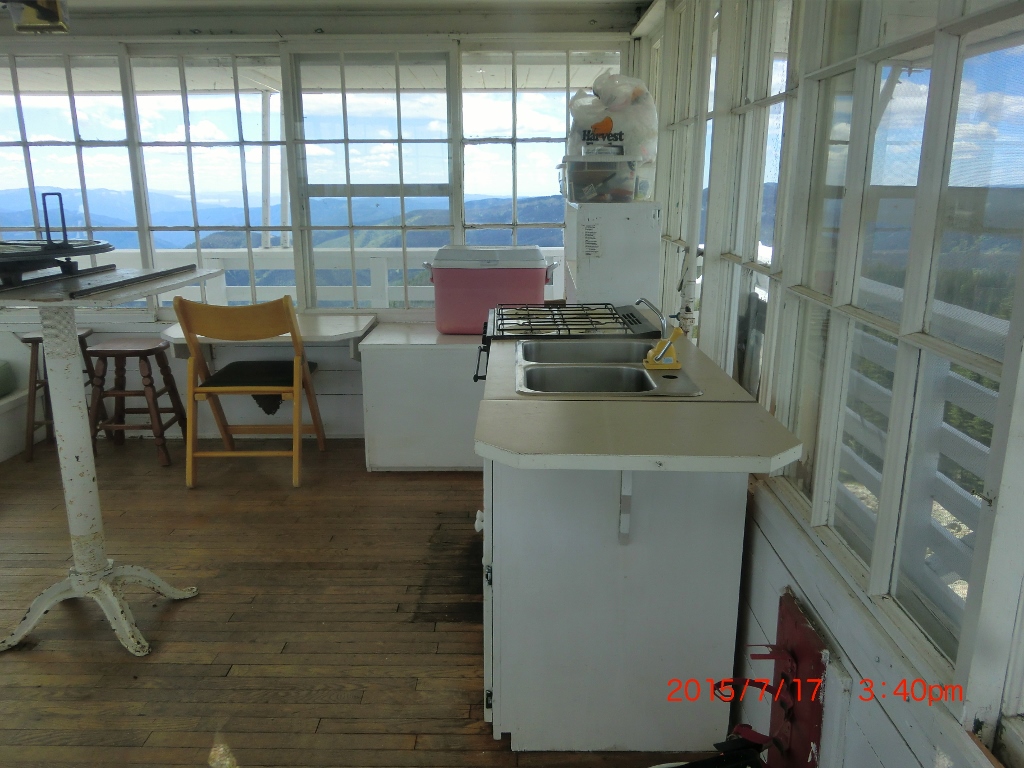 See the little furry feller ????
He was looking for a snack.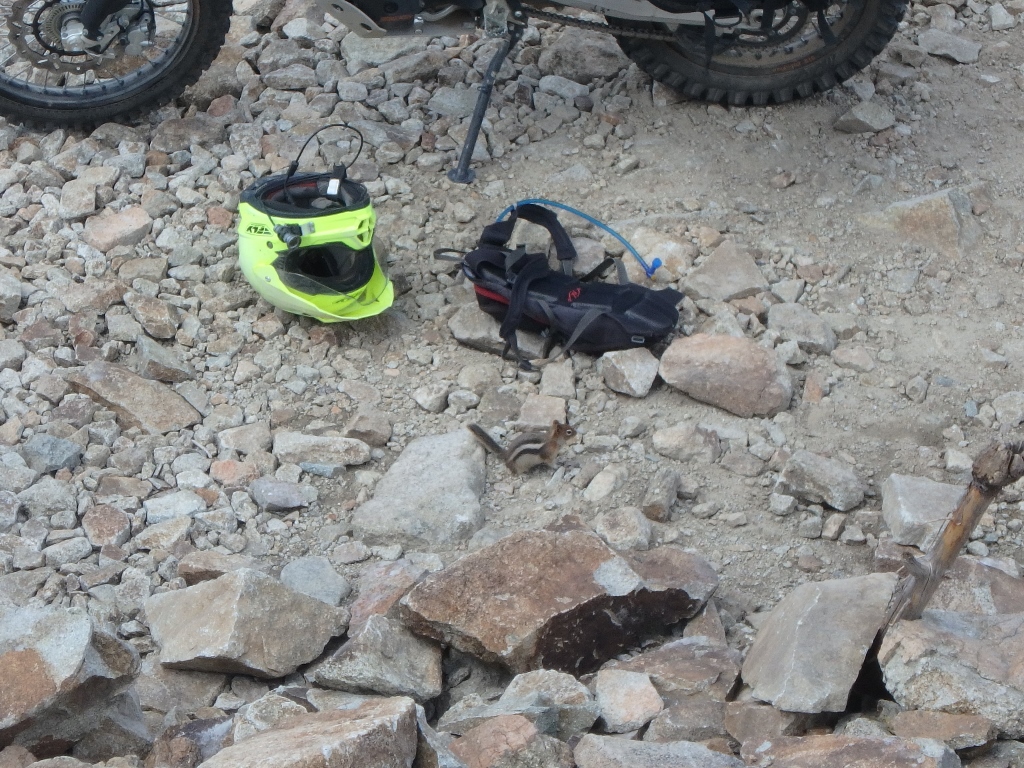 We had a bit of a navigation fiasco finding our way off the LoLo to Lowell for gas----but due to our
extreme expert navigational skills we found our way out.
Then it was down the Selway river-----I don't know what this is.
A mine-----water diversion ??????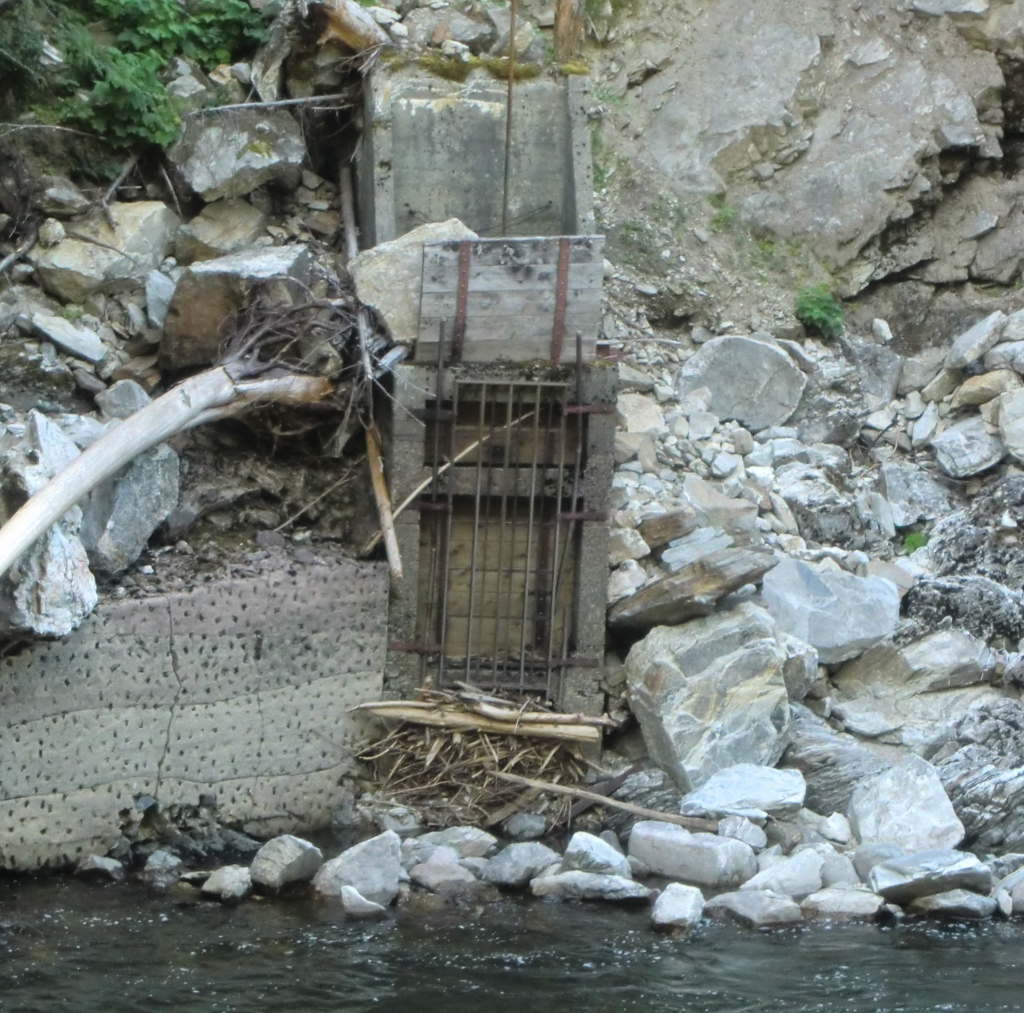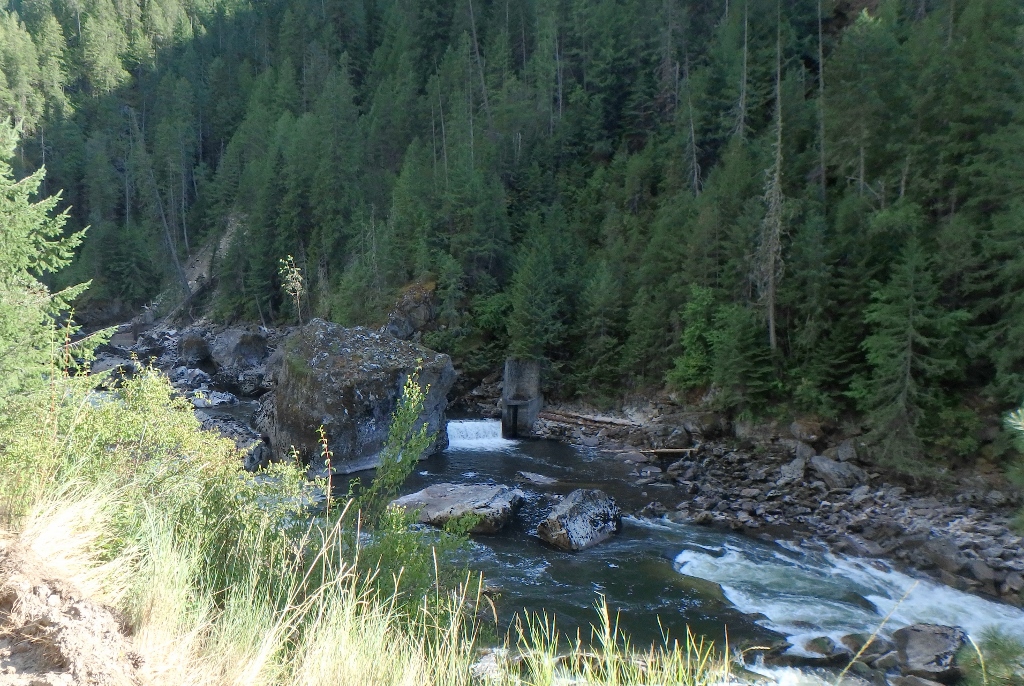 I think Selway Falls in down in there somewhere.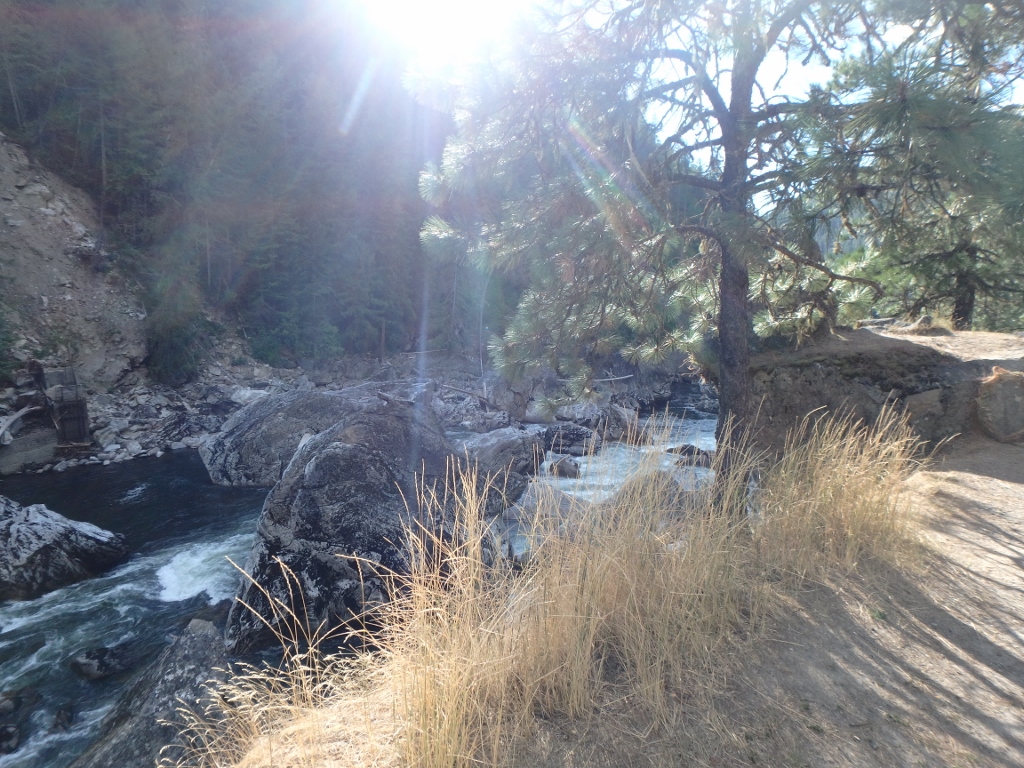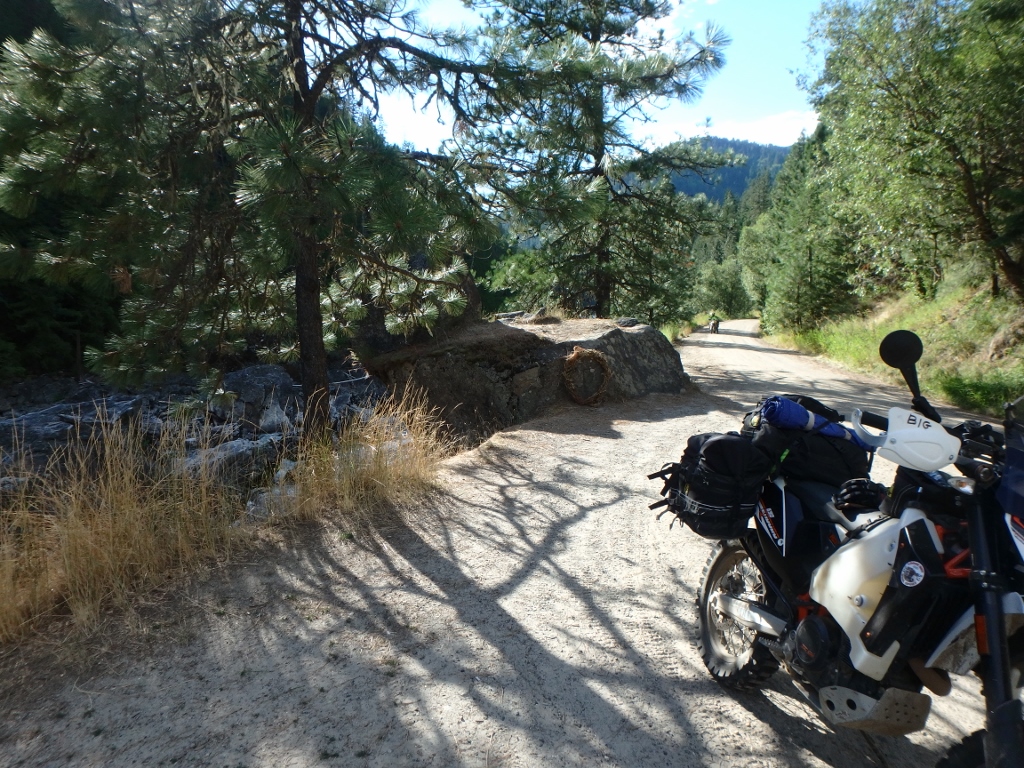 Before climbing we crossed that bridge.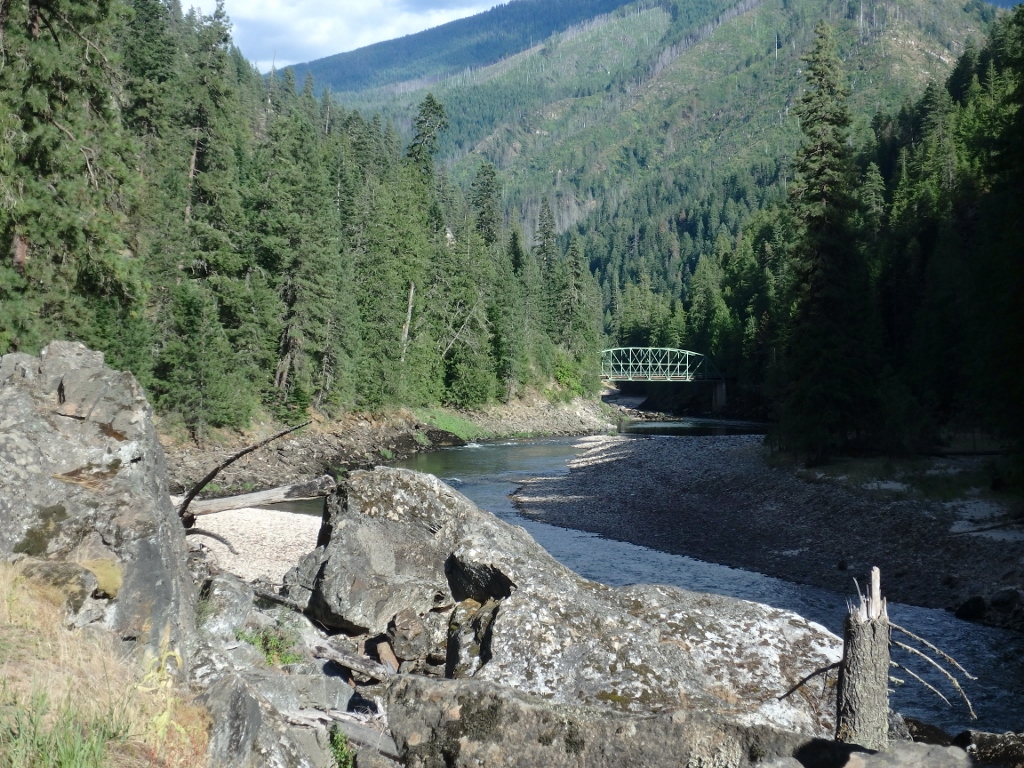 From the river we made a very sharp climb up the mountains again towards Elk City.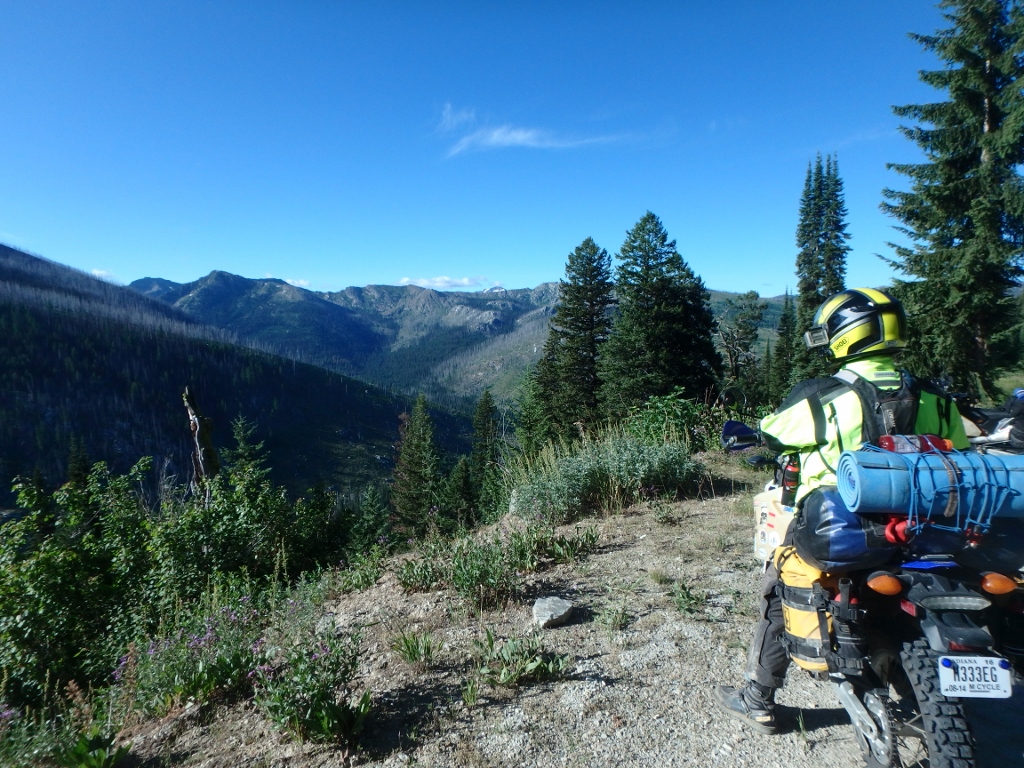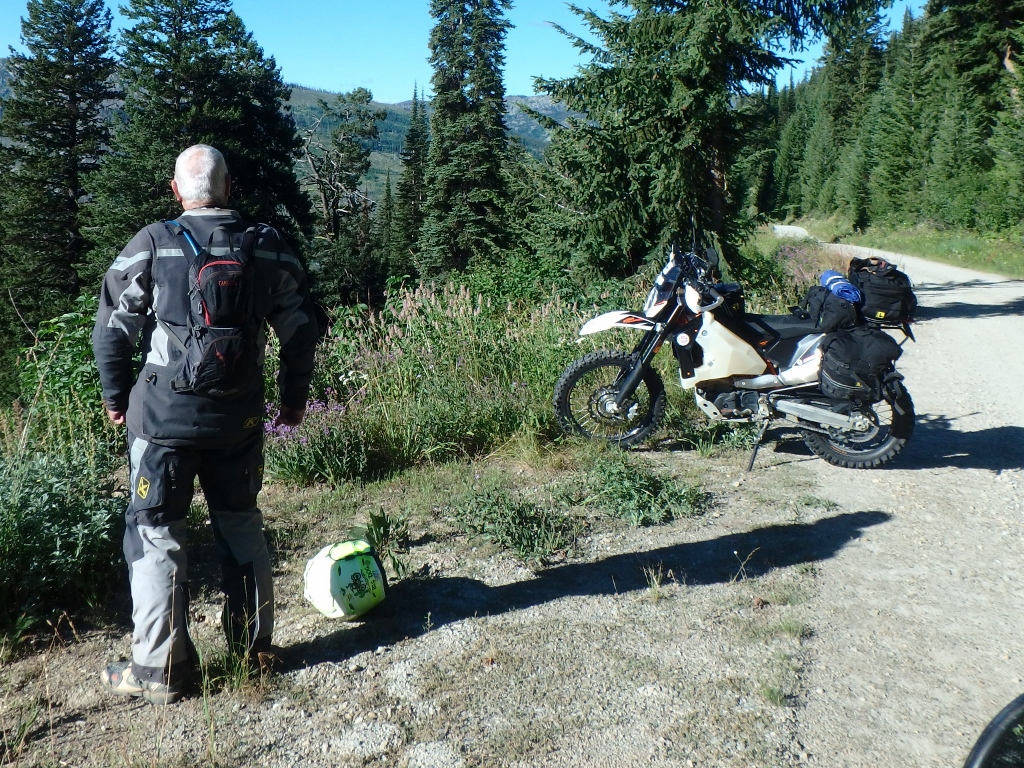 We finally blew into Table Meadows Campground----a very bad place to camp.
Waist high weeds everywhere---I put my tent up in the road.

And look at this happy face----Mr. Bobzilla himself----our campground welcoming host.
He's really a teddy bear--don't let that stare fool you. We had a lot of Bob's on this ride-----one guys name
was Bob Bob---got very confusing.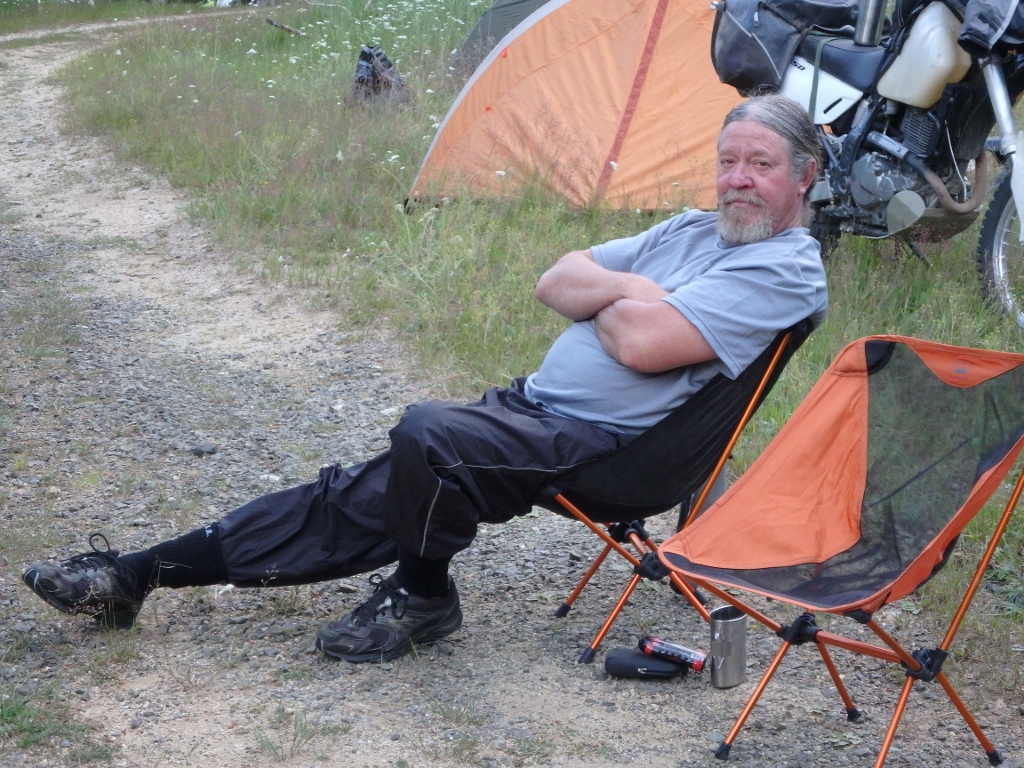 We found this out the next day-----and write this down.
There is a new very nice campground with showers for motorcycles in Elk City-------------------NEXT TIME !!!!!!!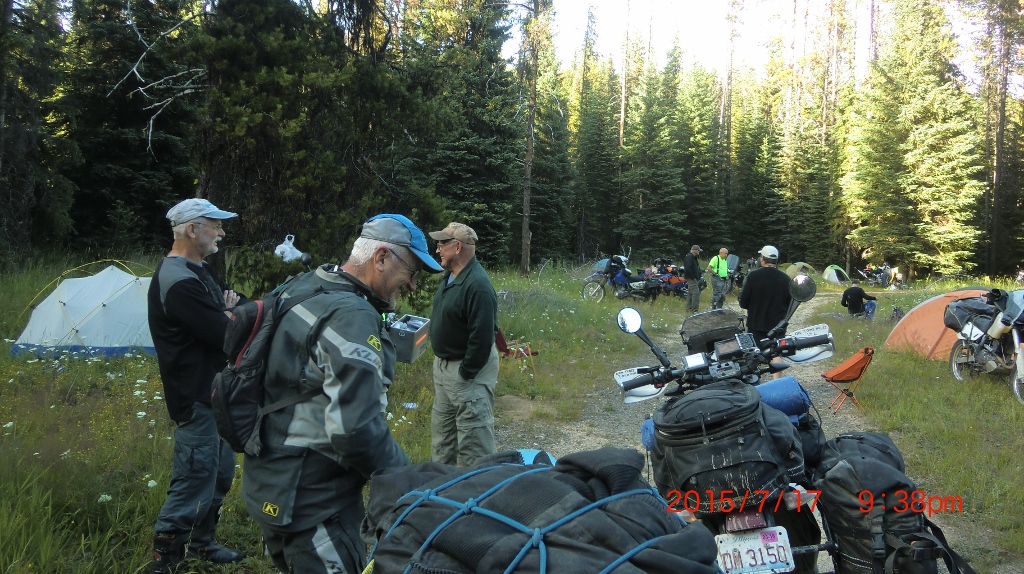 Here is a rough map of our riding for the first day of the Montana 1000.
It was about 230 miles for the day-----90% unpaved.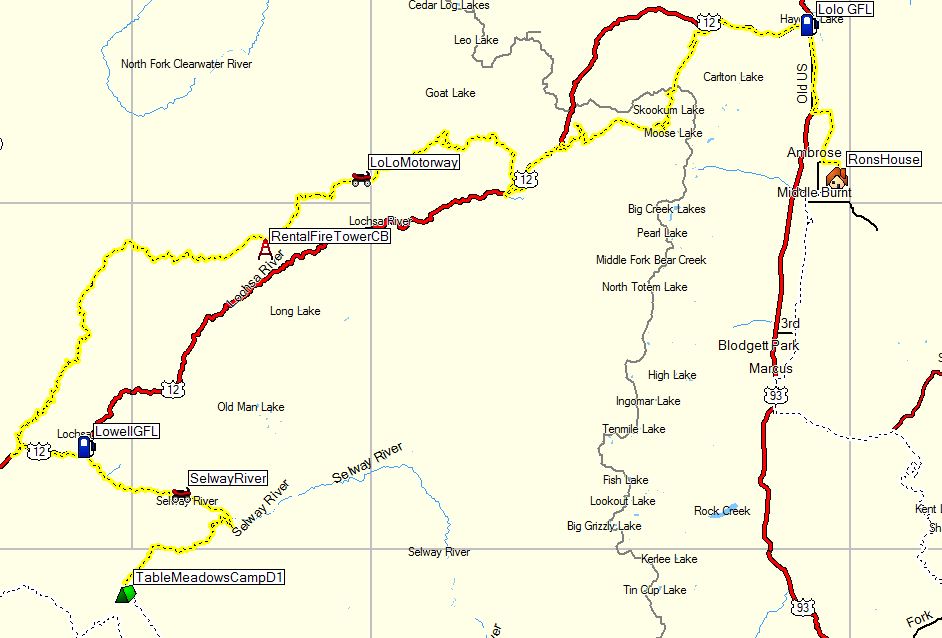 Our 2nd Day on the Montana 1000
Again-----seems me and Road Dad were the first to get going out of camp and hoofed it about 15 miles to Elk City for breakfast.
At the only gas station was a good place to eat but I knew it would be way too busy----I knew of a place in town that was awesome
and we were about the only ones there and were their first customers for the day. I don't think any of the other riders
ate there ?????
And it was here we learned of a just opened campground in town for motorcycles only---and they had
picnic tables and showers----------NEXT TIME !!!!!
Did Bobzilla sleep in that chair all nite ?????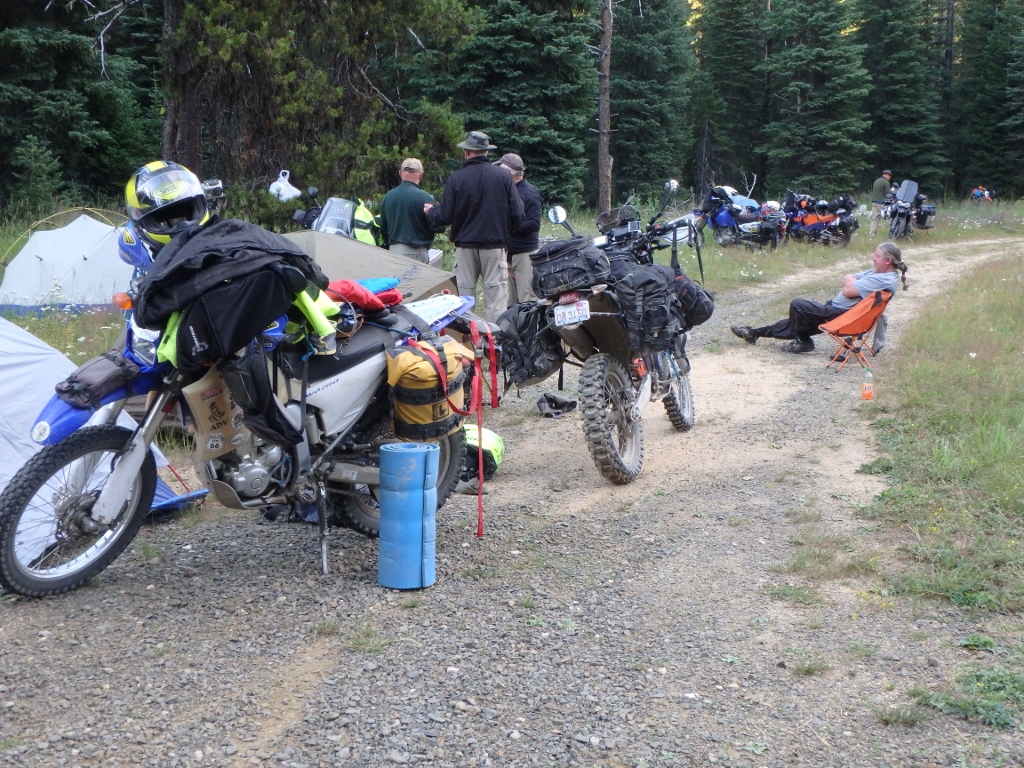 One thing you should never do-----------mess with another man's GPS.
I got caught !!!!!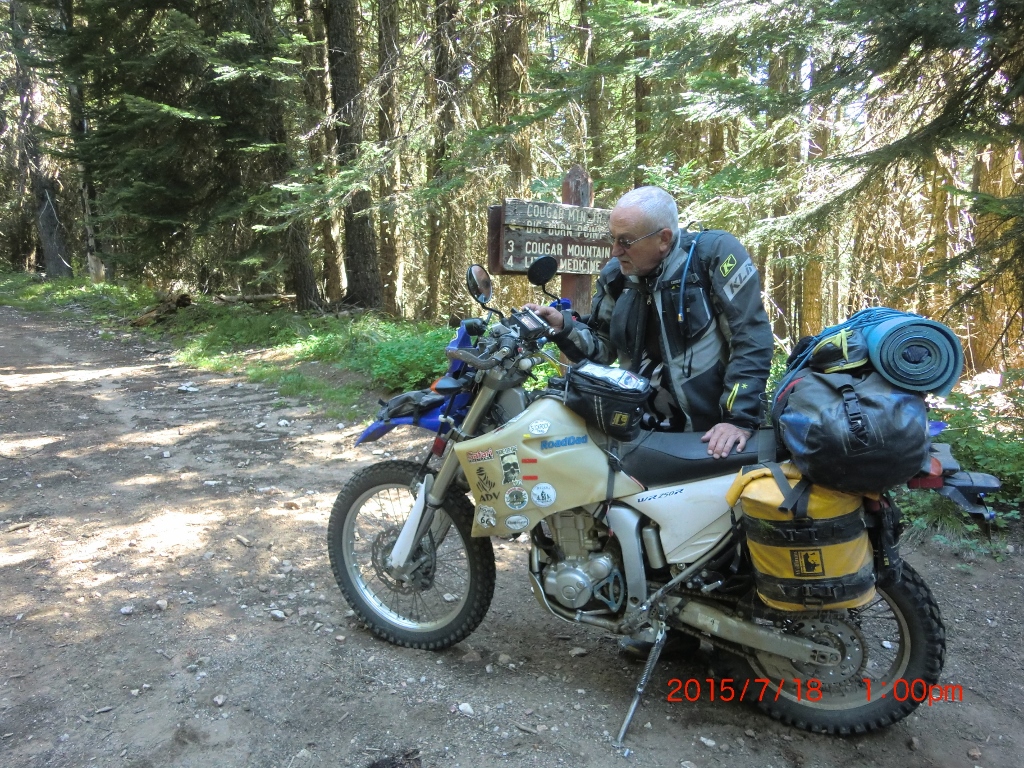 We blew out of Elk City and headed North then West on the old "Elk City Wagon Road"
I tried to find this route last time I was out there and got bumfuzzled ????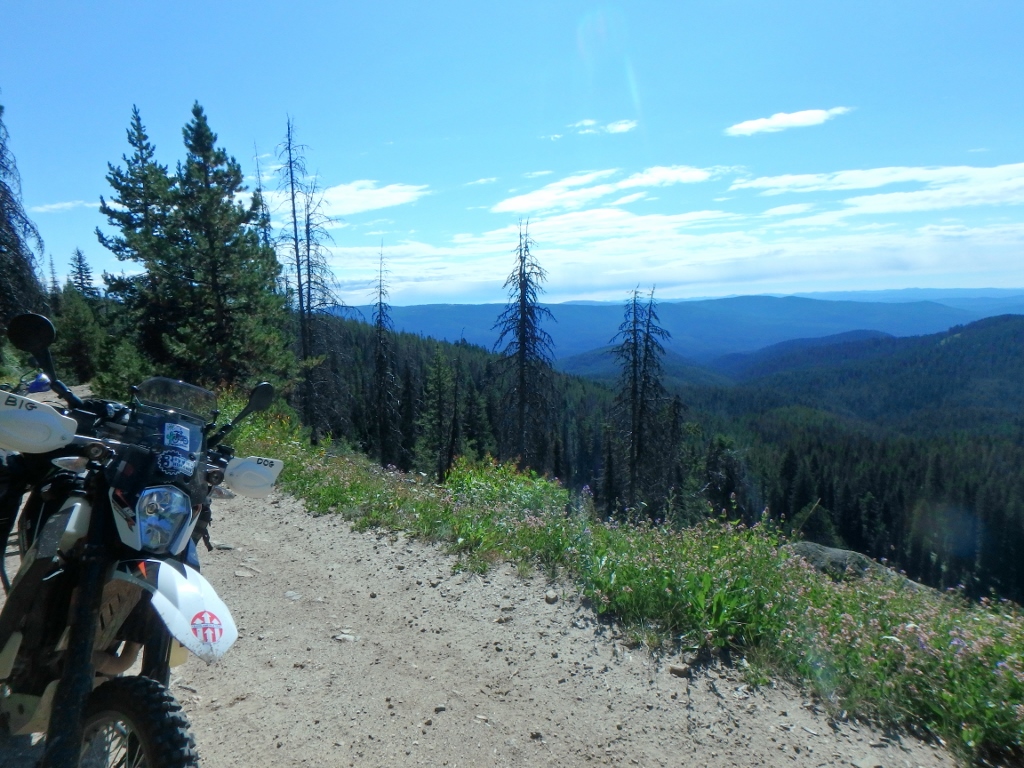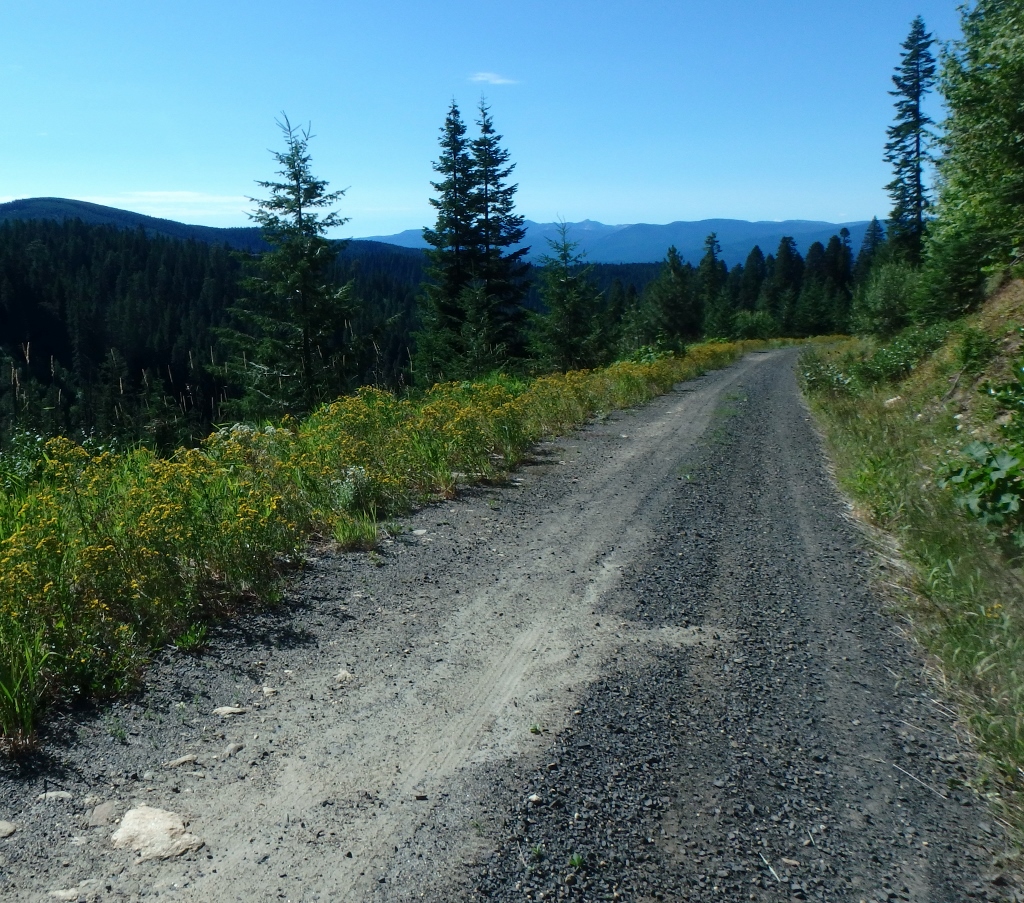 Got a bit gnarly here and there as we got on the most tight trail of the whole ride.
I suppose the guys on big GS's and such got thru here---but wouldn't be the bike I'd choose.
This trail was a hoot !!!!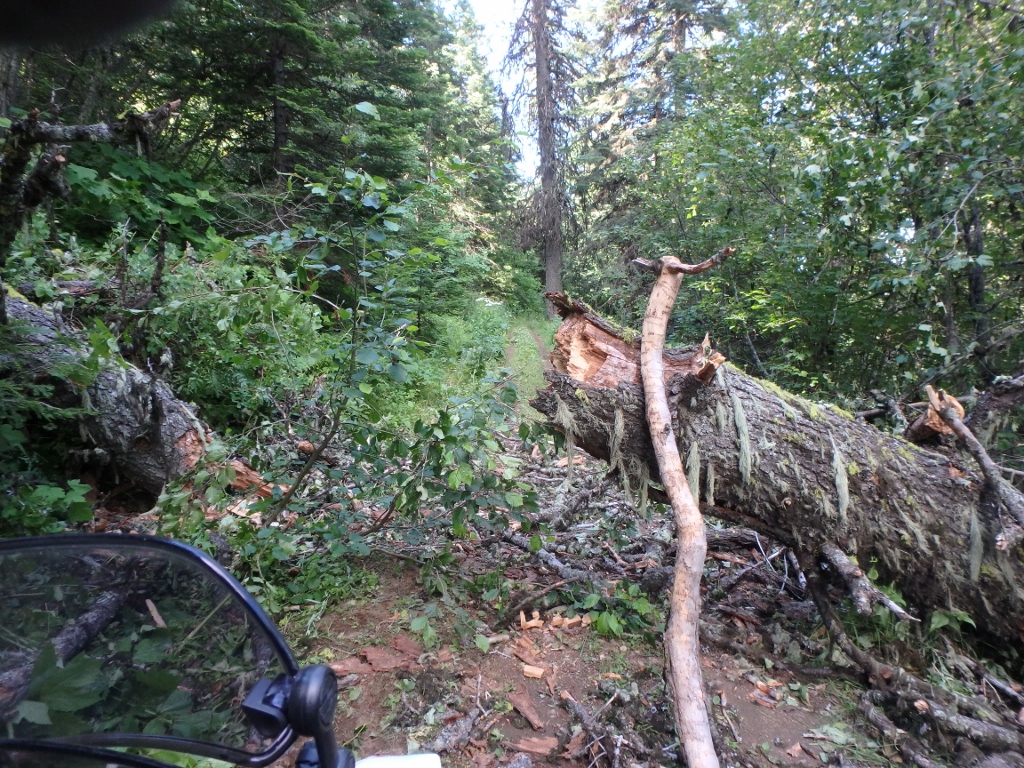 I was out front--------but missed a turn and I feared Jerry had got in front of me and didn't know it---and he had..
I really like having a buddy knowing where I'm at on stuff like this for good reason.
Jerry couldn't pick his bike up----and I'm glad he fell down as I caught up to him and we got back together and he
could help me pick up my bike if I fell-----------yeh.....were old.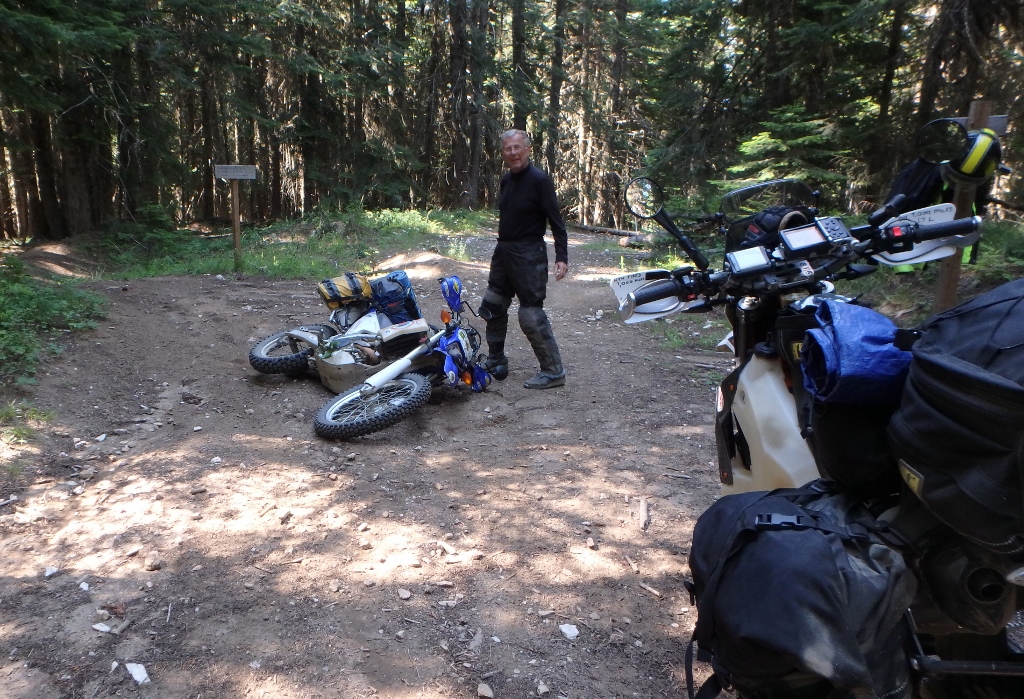 We ran into some other riders here which was a very rare occurence on this ride.
This is all that remains of the old Ghost town of Florence.
There is an old cemetary here and maybe one old log cabin which is returning back to earth from where it came from.
The DR350 was ridden by the very young oriental fellow in the picture----he was a very nice kid and I enjoyed kidding him
about him forgetting to pay for his gas at Elk City and the lady wouldn't reset the gas pump and held us all up..
I think he was riding with his dad ?????
The "DR350"----the bike that started the whole dual-sport thing in the first place-------I had 3 of them---great bike.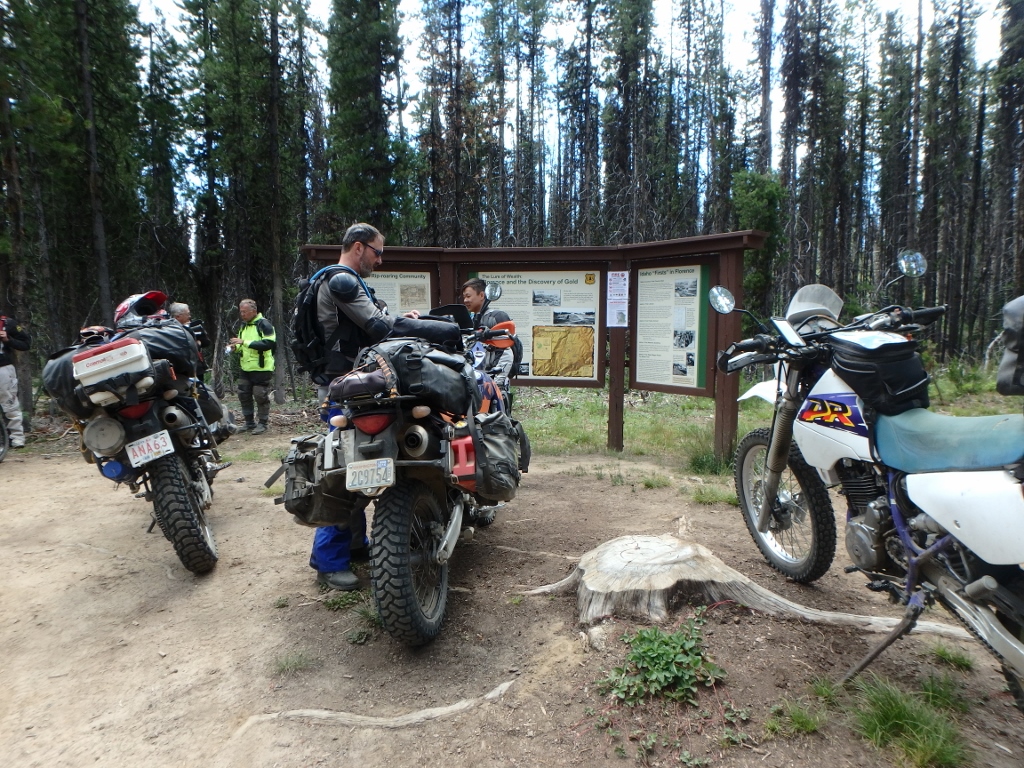 We dropped down out of the mountains to the Salmon River East of Riggins, Idaho where gas, food and lodging is available.
We didn't need gas---me and Jerry both have about a 250 mile range or so---maybe more.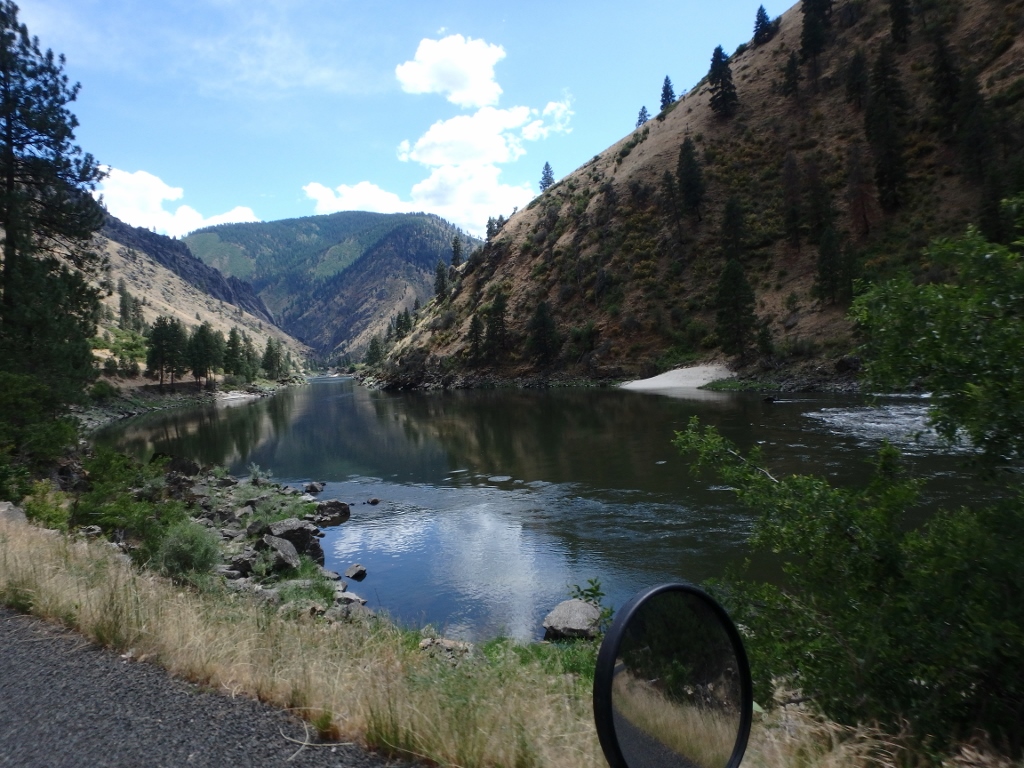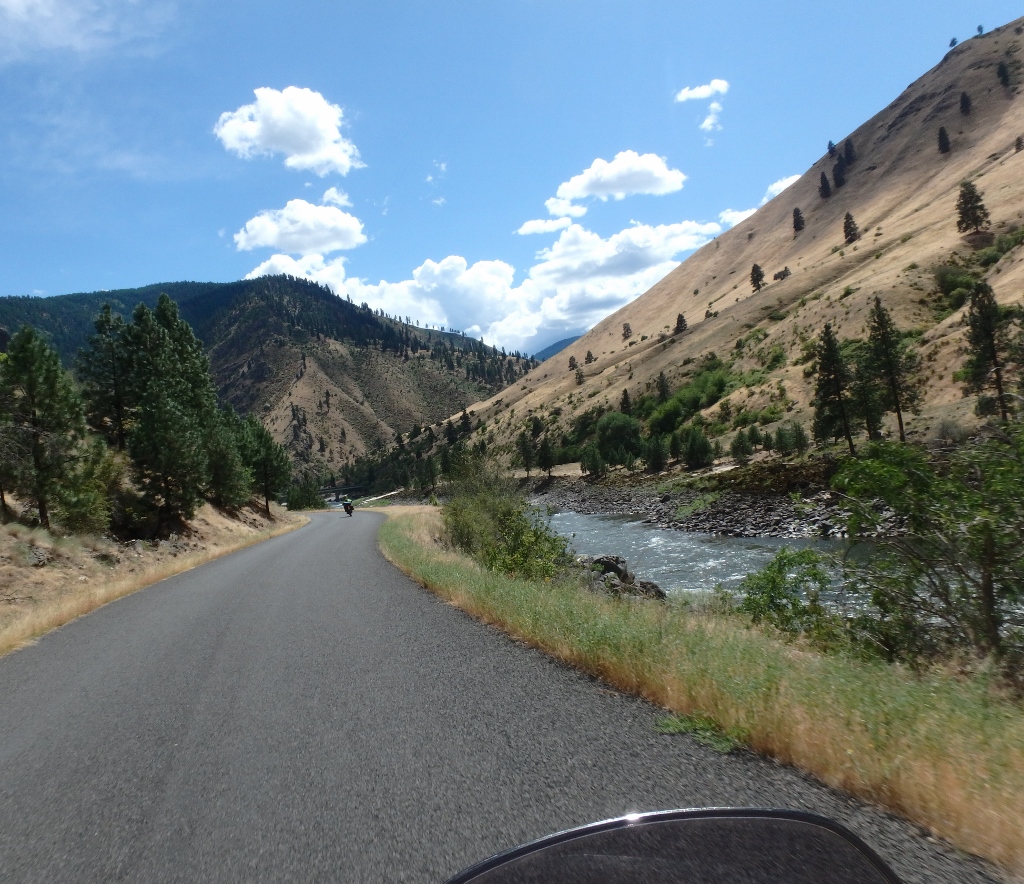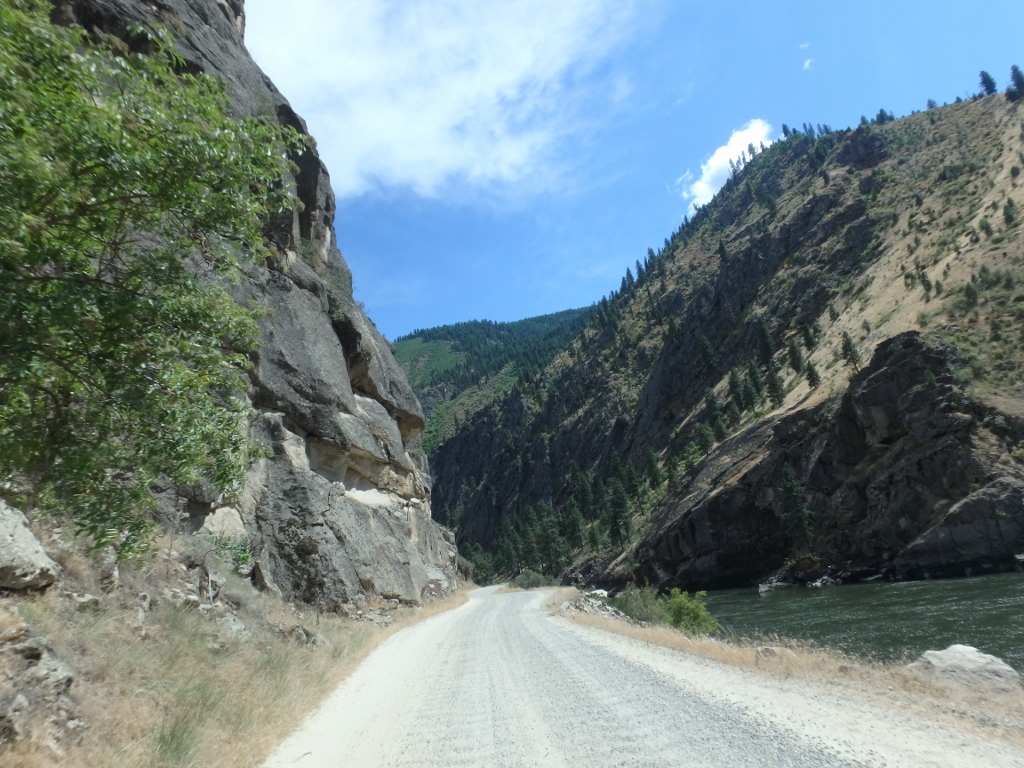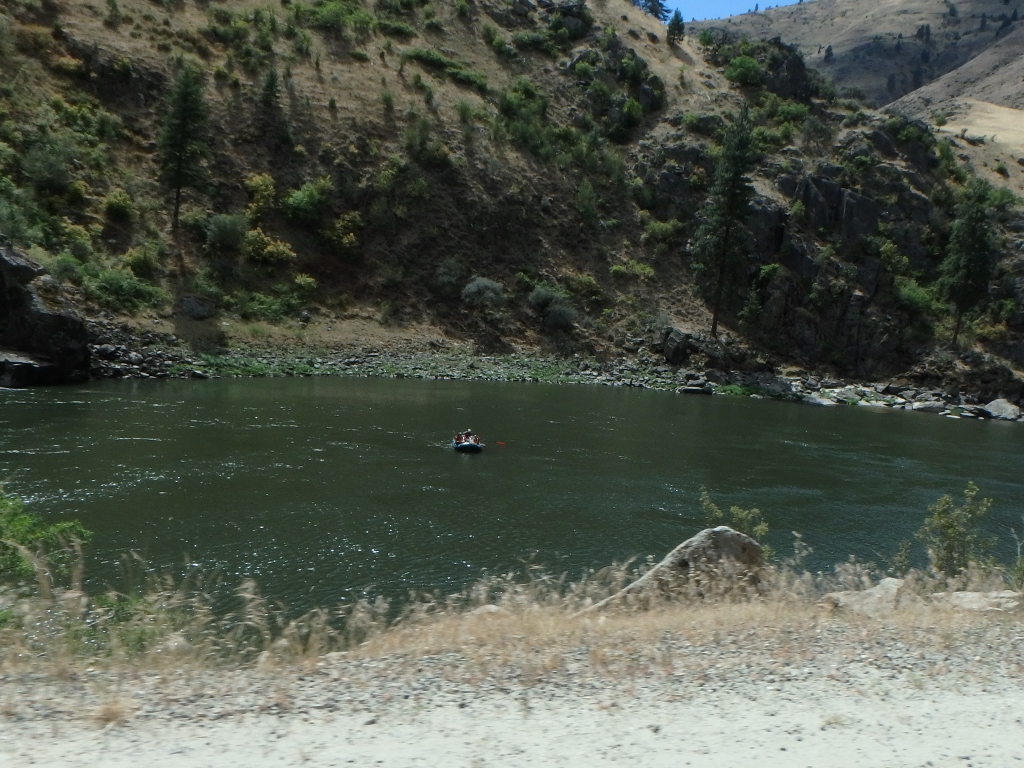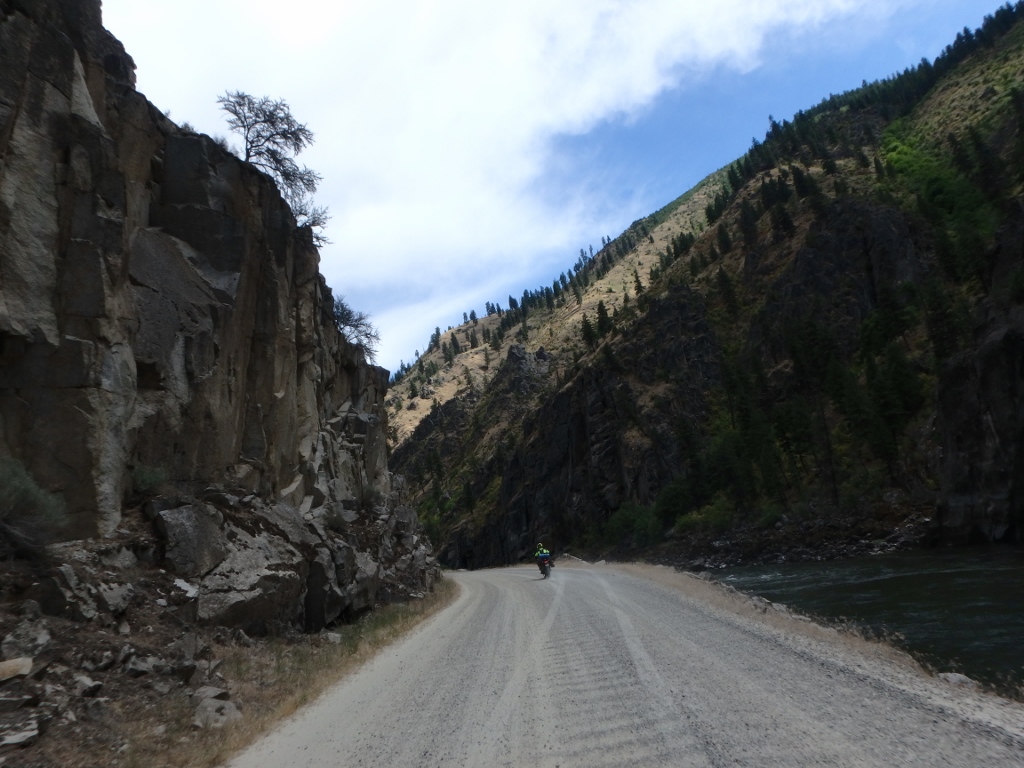 This is the "Manning" swinging bridge----and a swinger it is !!!
Maybe one of the prettiest--most well constructed and just plain neat bridge I've ever been over in my life.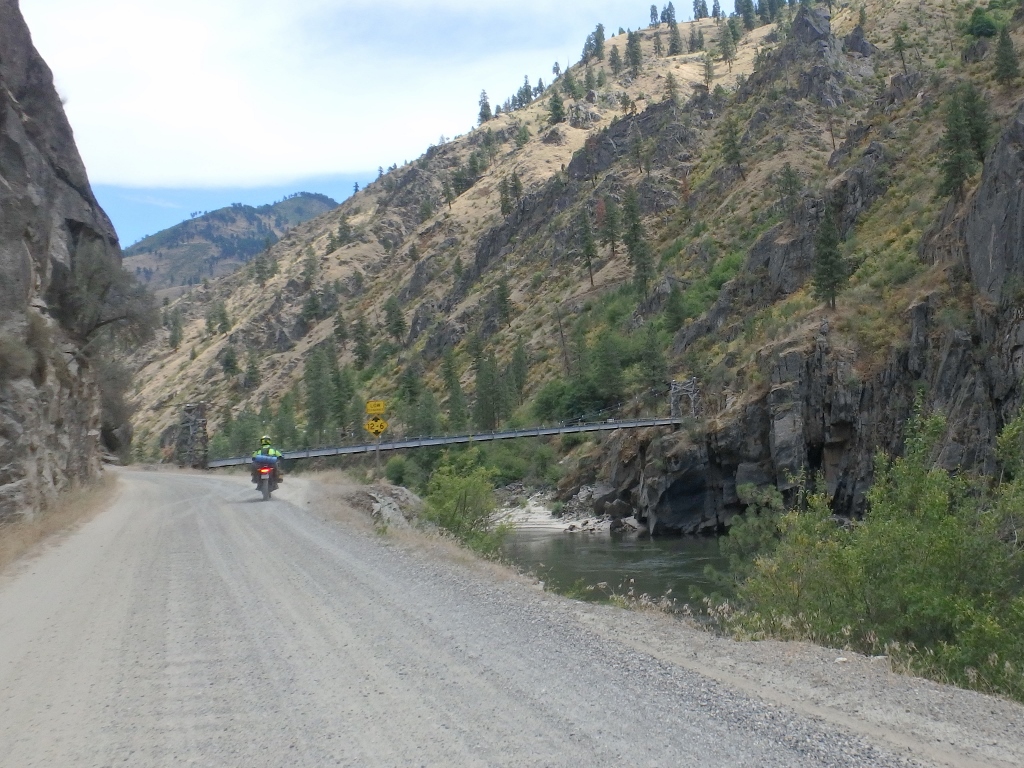 The risers supporting the cables looks like iron with riverts from a distance--------but is wood.
This thing is marvelous.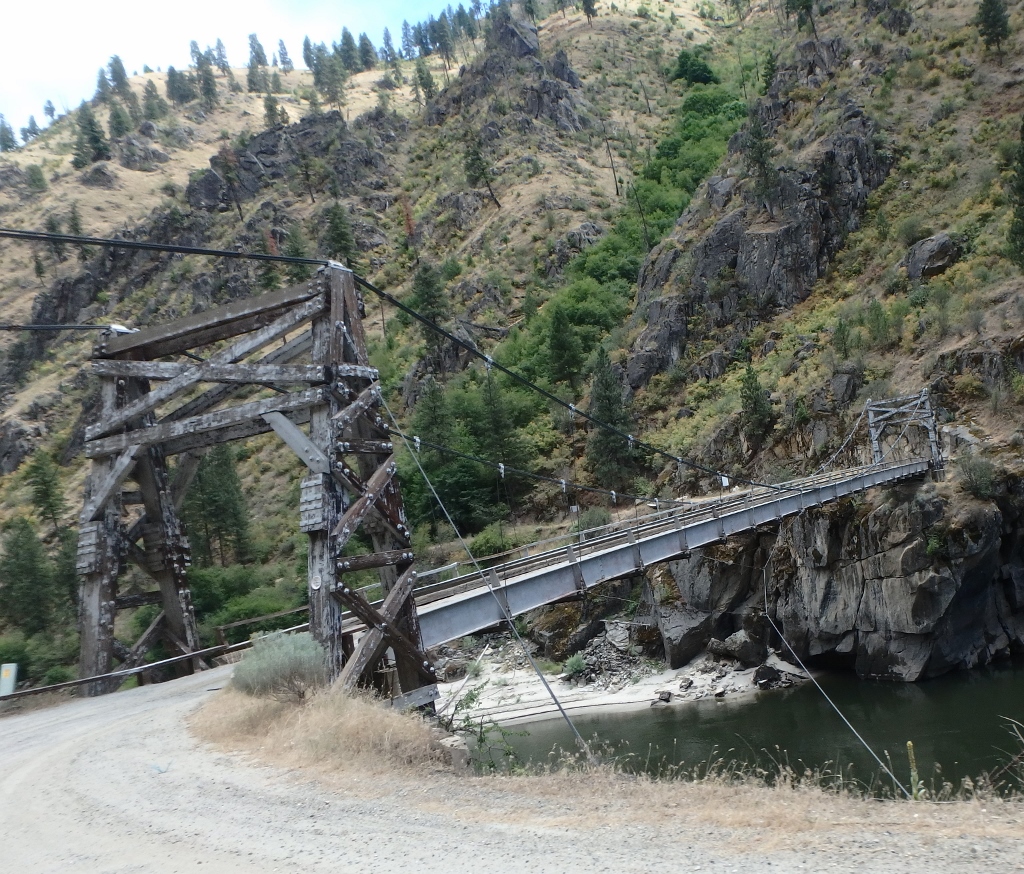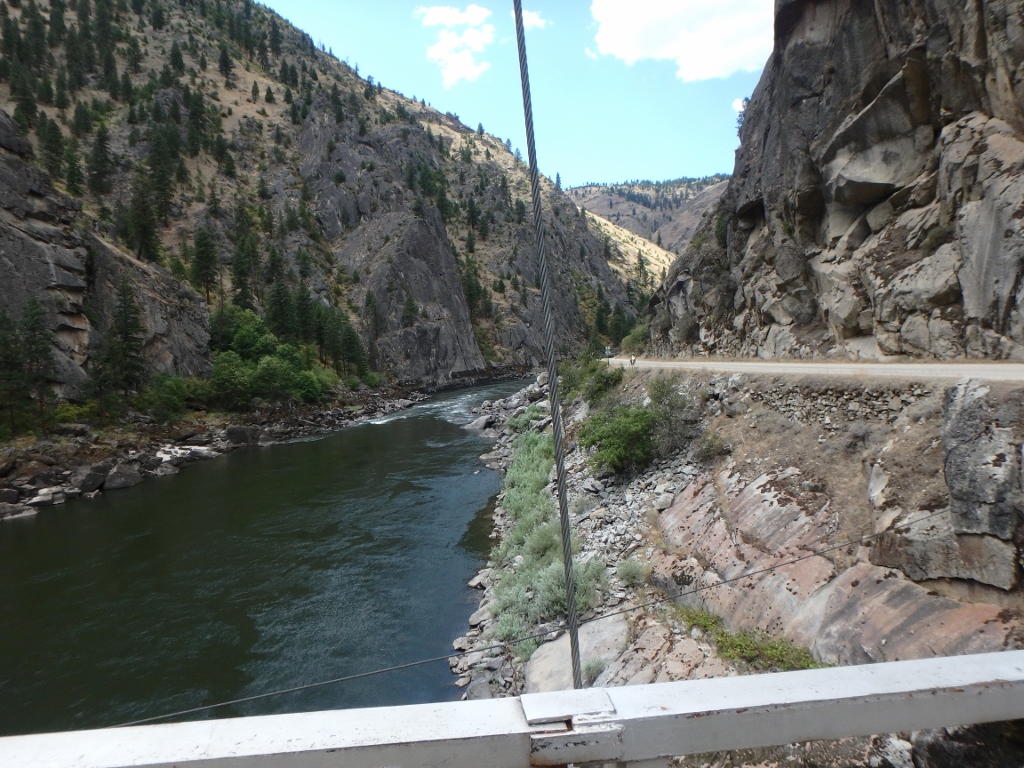 But guess what ???????
It was my last ride over it-------no I'm not dying------it is slated to come down and be re-placed.
Why you ask ??? Cause some dumb ass has a job---and has to do something or be eliminated.
You have no idea how upset I am they are taking this bridge down.
Maybe it's in bad shape and I don't know it-----------fix it--------don't tear it down -your frickin' idiots.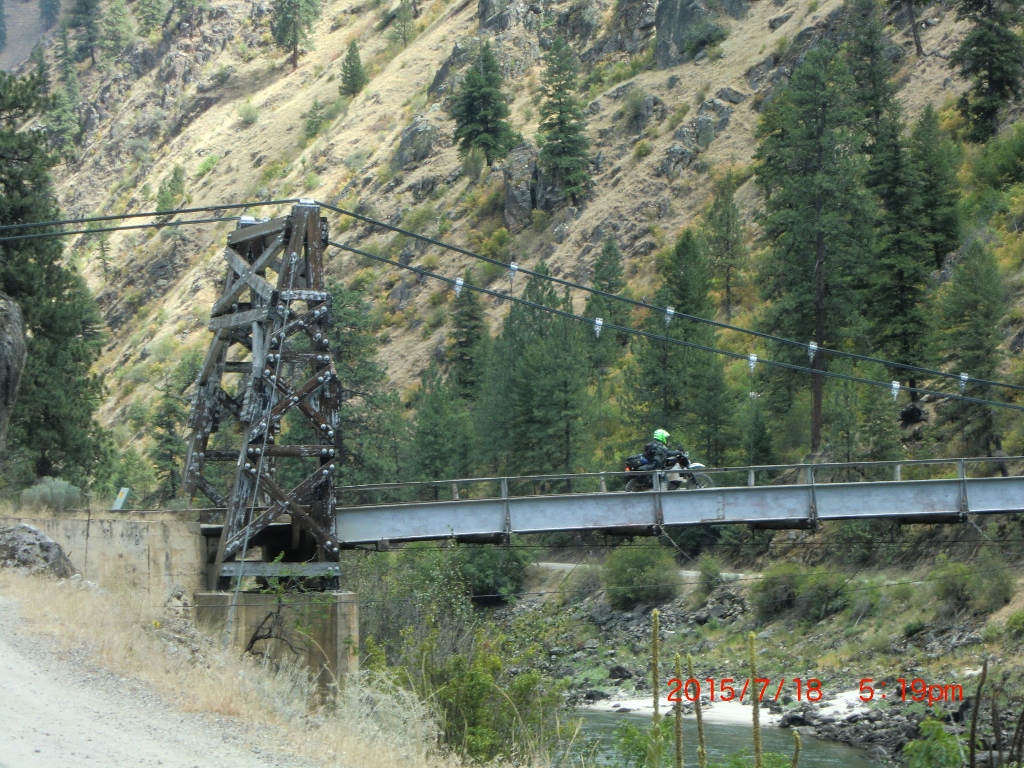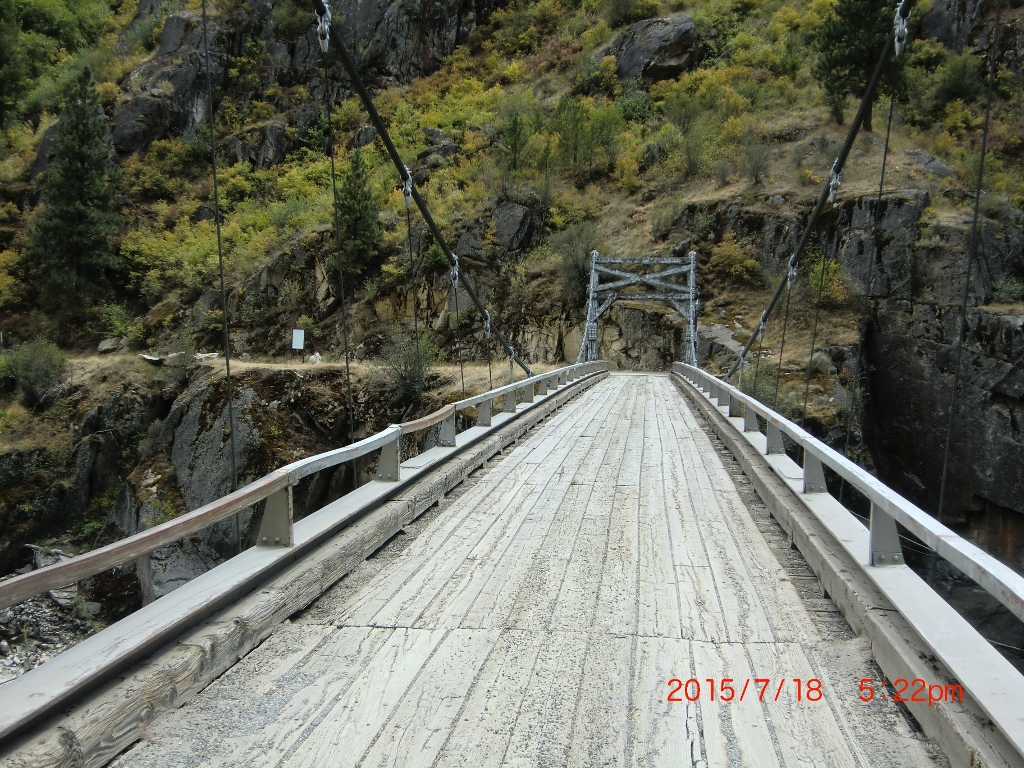 After a monster climb up some of the most spectacular switch backs I've ever been on we make it to Burgdorf Hot Springs.
Everybody else went to a nearby campground---but I had rented this cabin a few days before hand..
There are many old cabins like this one at the springs-----there is no electricity here, running water or toilets.
Just a woodstove and an out house. I love it.
I have another in store for later in the ride.
I have installed 2 aftermarket gas tanks on my bike which gives me about 5.8 gallons---they are from Rally Raid.
I try hard avoiding carrying spare gas cans of any sort---they take up way to much packing space.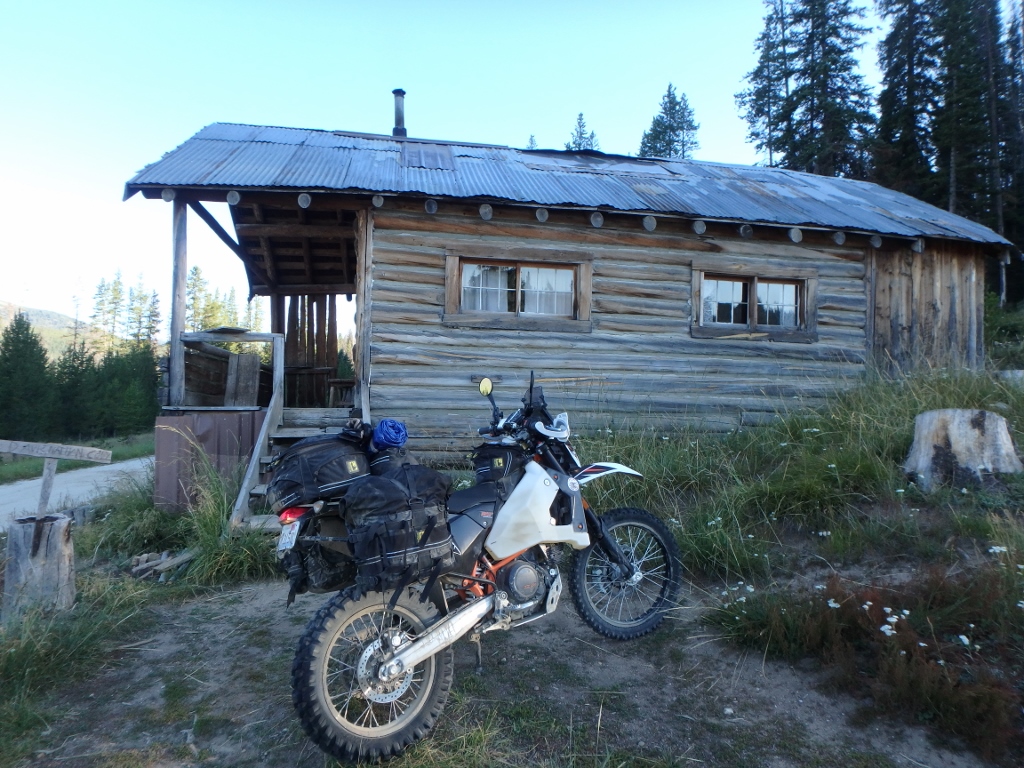 This cabin can sleep up 6 I think---I invited a couple other riders to share the cabin with me and Jerry.
There's a bed---but you have to furnish your own bedding.
It was 2-story and a hole was in the ceiling for accessing the 2nd floor and other beds up there.

Since I arranged all of this---------Jerry let me have the bed downstairs and he slept on the couch------thanks Jerry !!!!!
When we checked in------I had ordered pizza for us down at the office.
The office is the only building with electricity-----I don't know where it comes from--maybe a generator ????
This picture is the next morning---------it froze overnite and I stoked up a fire very early and got the place nice and warm.
We did not want to leave. I don't remember this guys name--but him and his buddy stayed with us.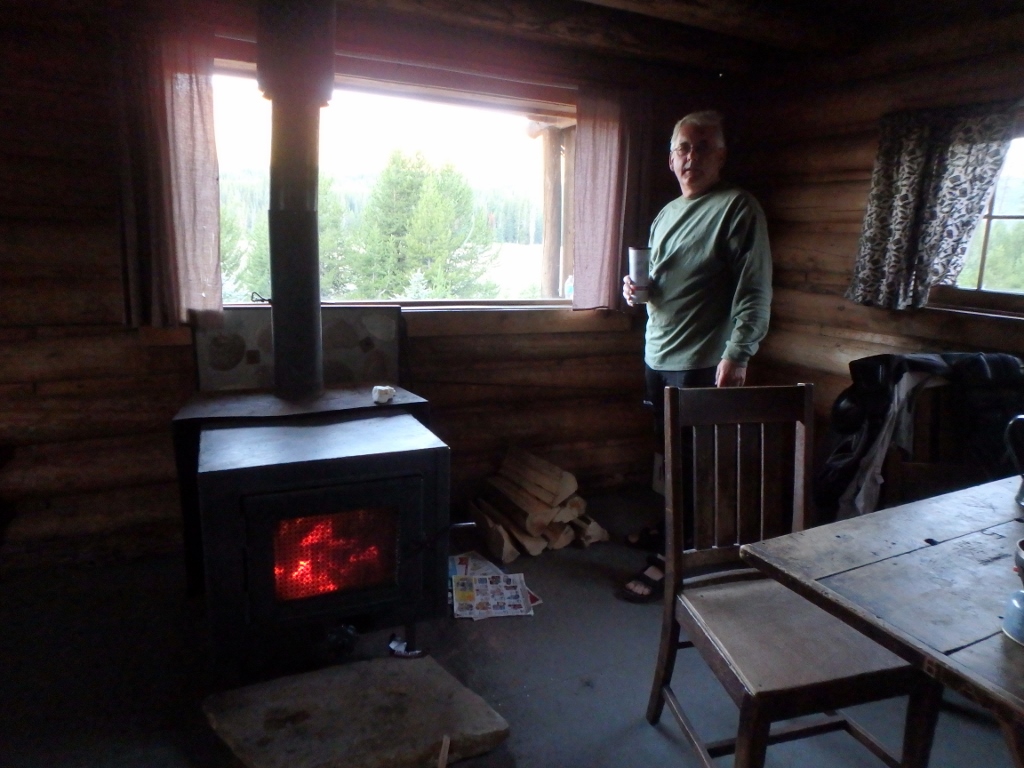 Before retiring for bed the previous evening------we soaked in the hot spring pool for a couple hours.
My bones were aching all over it seems----but I was fully revived after a soak.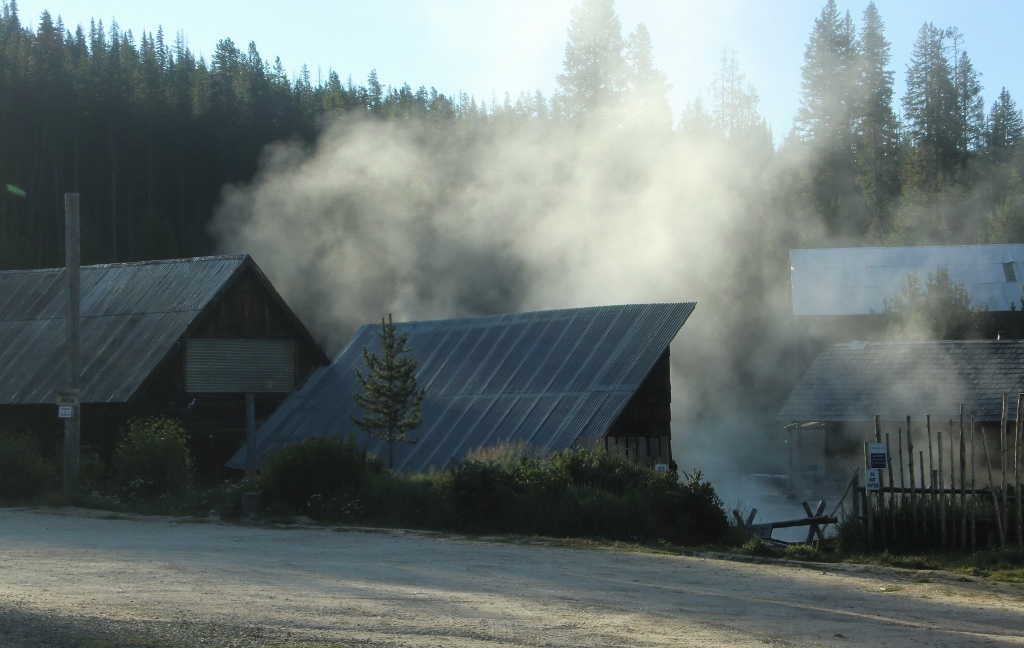 I guess this was early morning-----the previous evening there were 30 people in this thing.
They told us it would be open all nite long------------hmmmmm---wonder what went on in those wee hours ????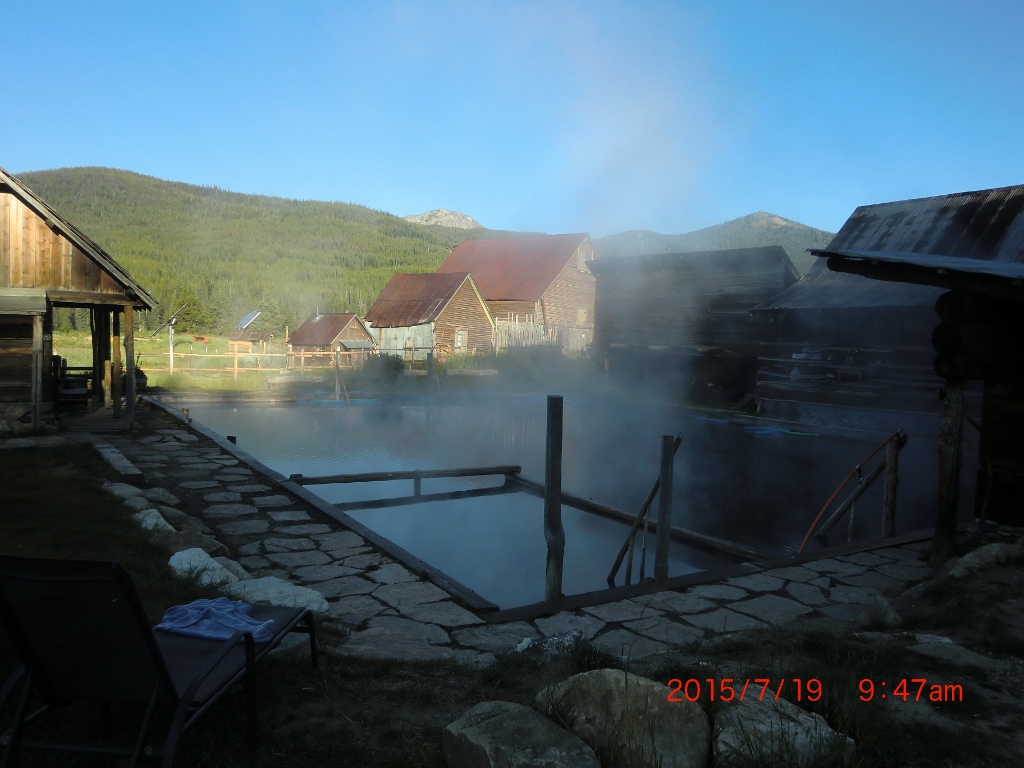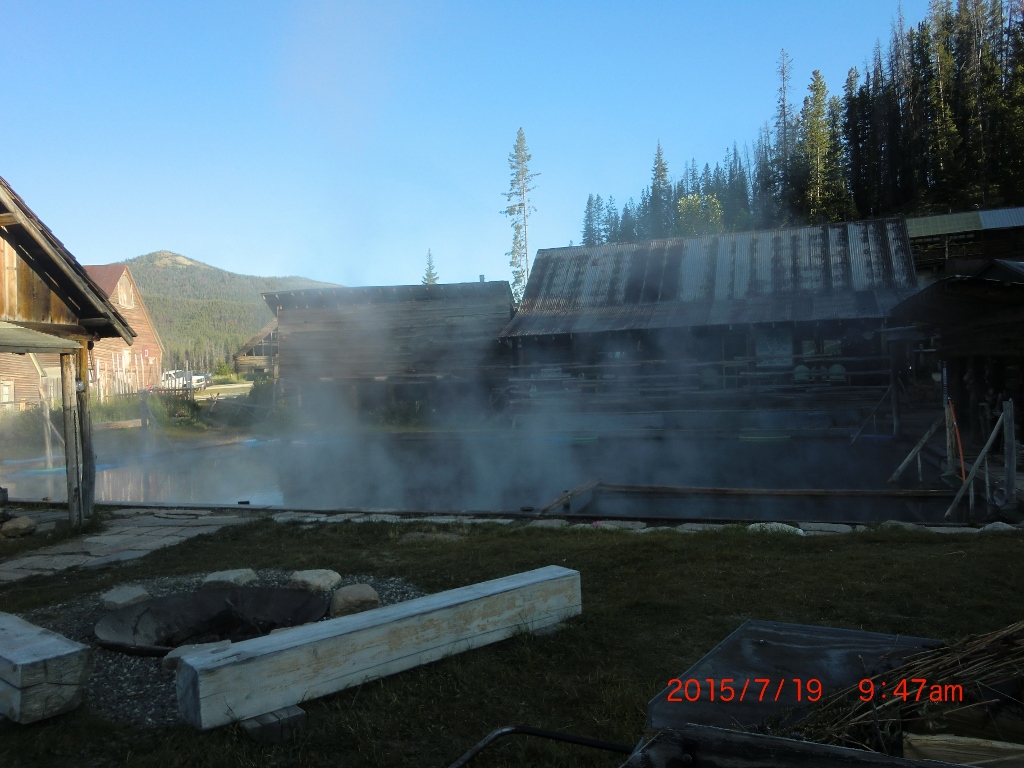 A rough map of our days ride--about 159 Miles for the day.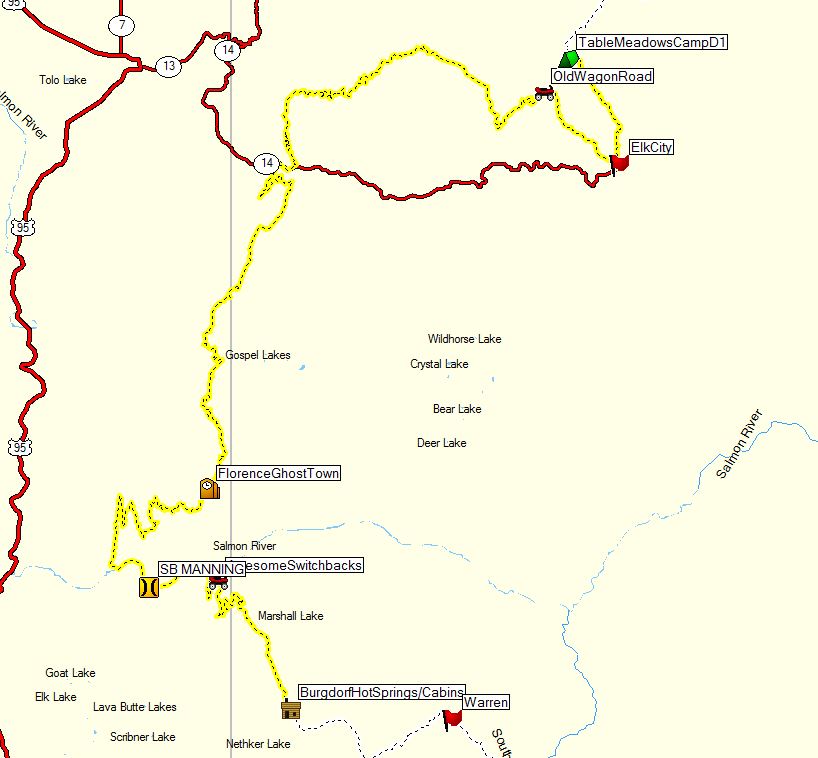 Look at a close up of the switchbacks we climbed before getting to Burgdorf Hot springs.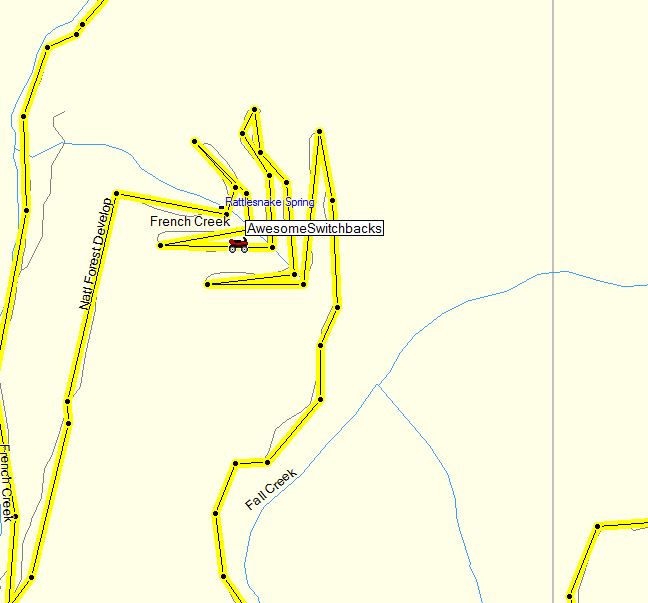 Here is a short video of some of the riding so far---click HD if you have the speed.
Our 3rd Day On The Montana 1000
Burgdorf was above 6,000 ft.--------but we climbed much higher right off the bat.
Early on we also went thru the little town of Warren, Idaho.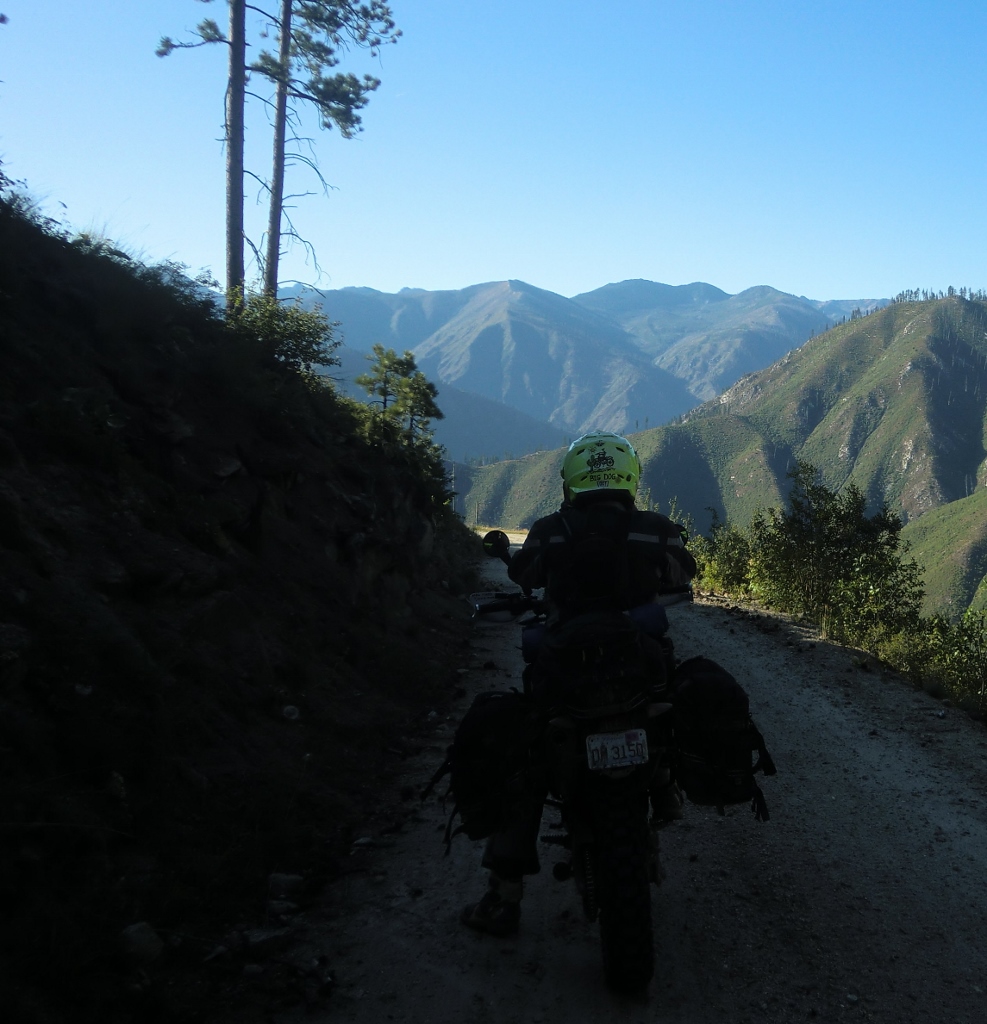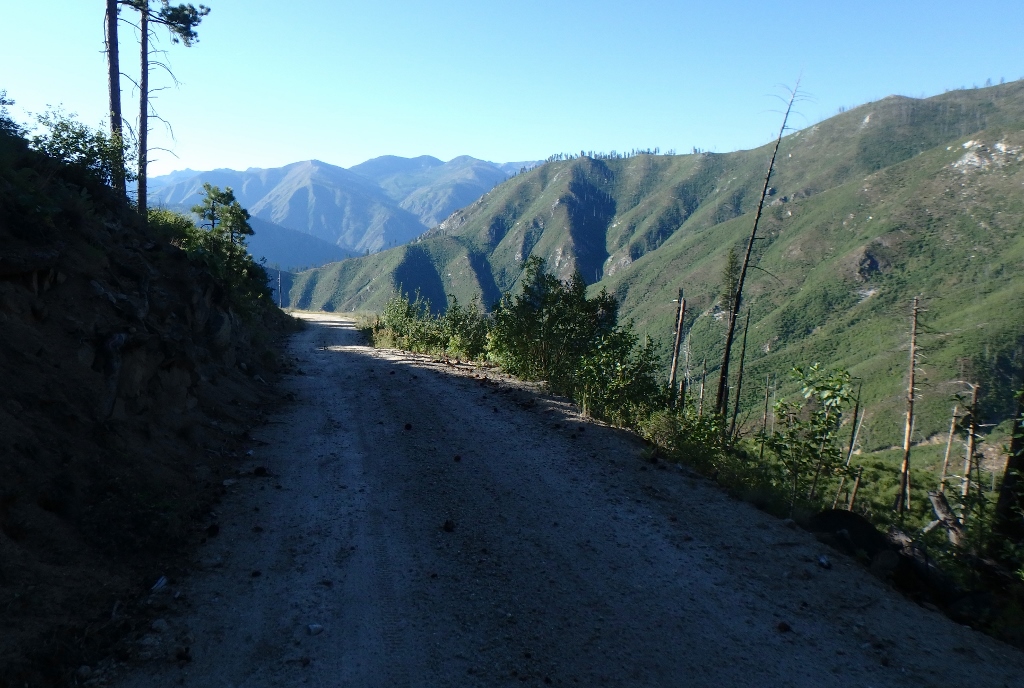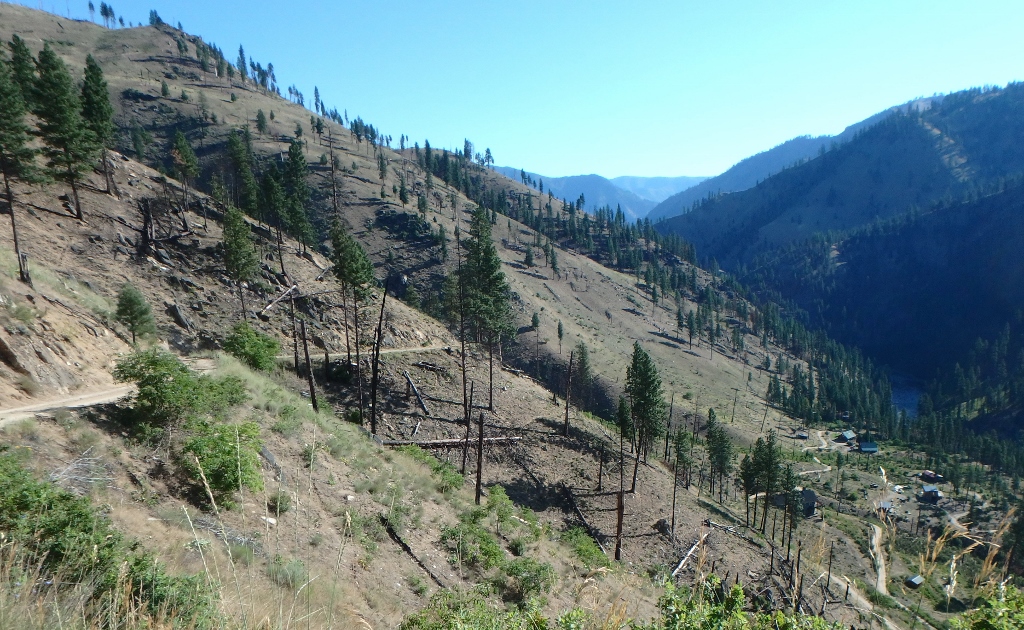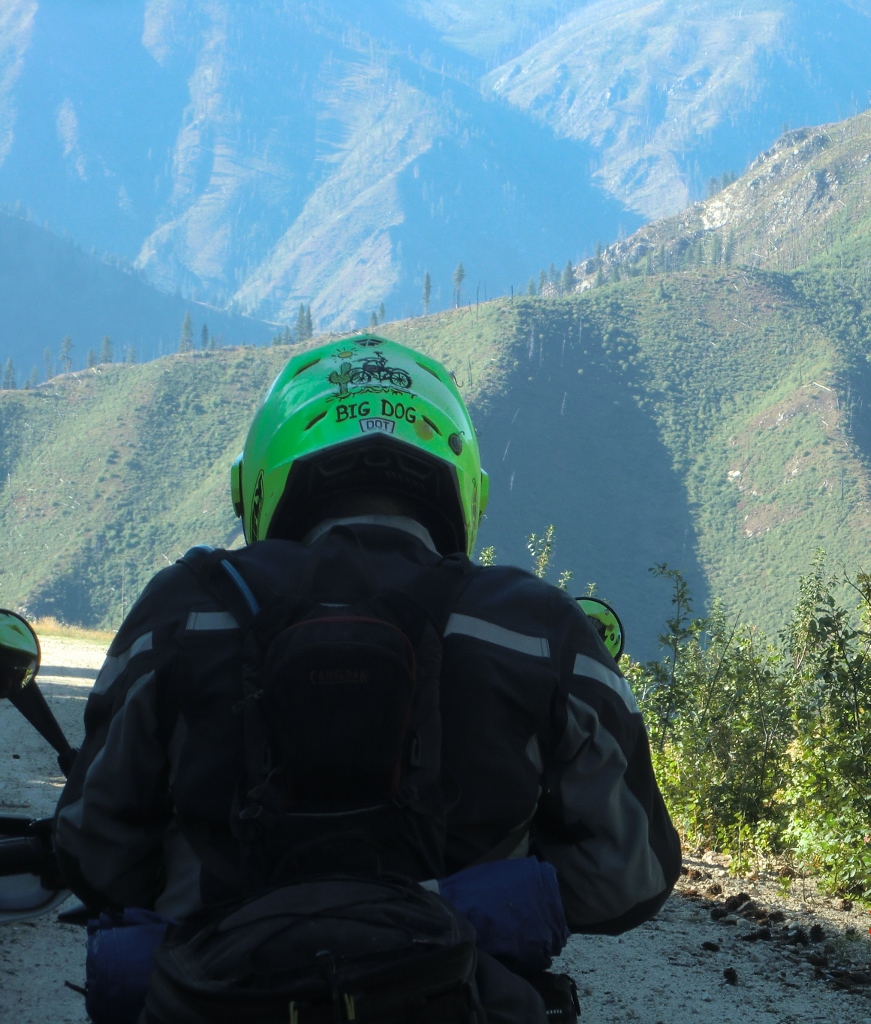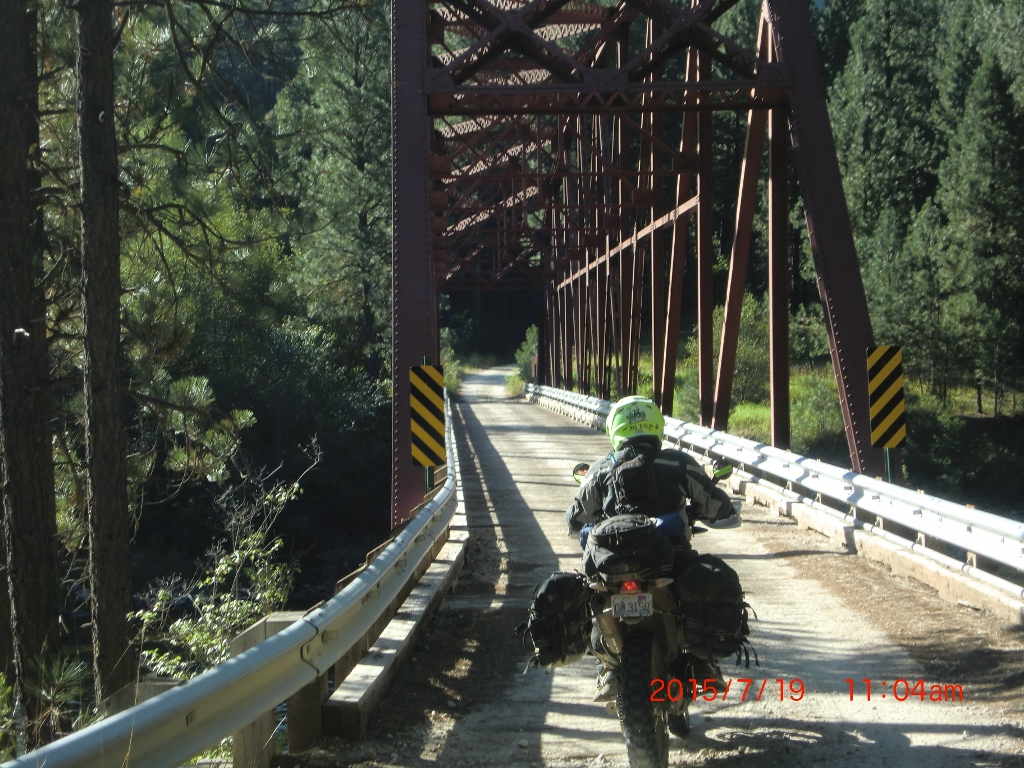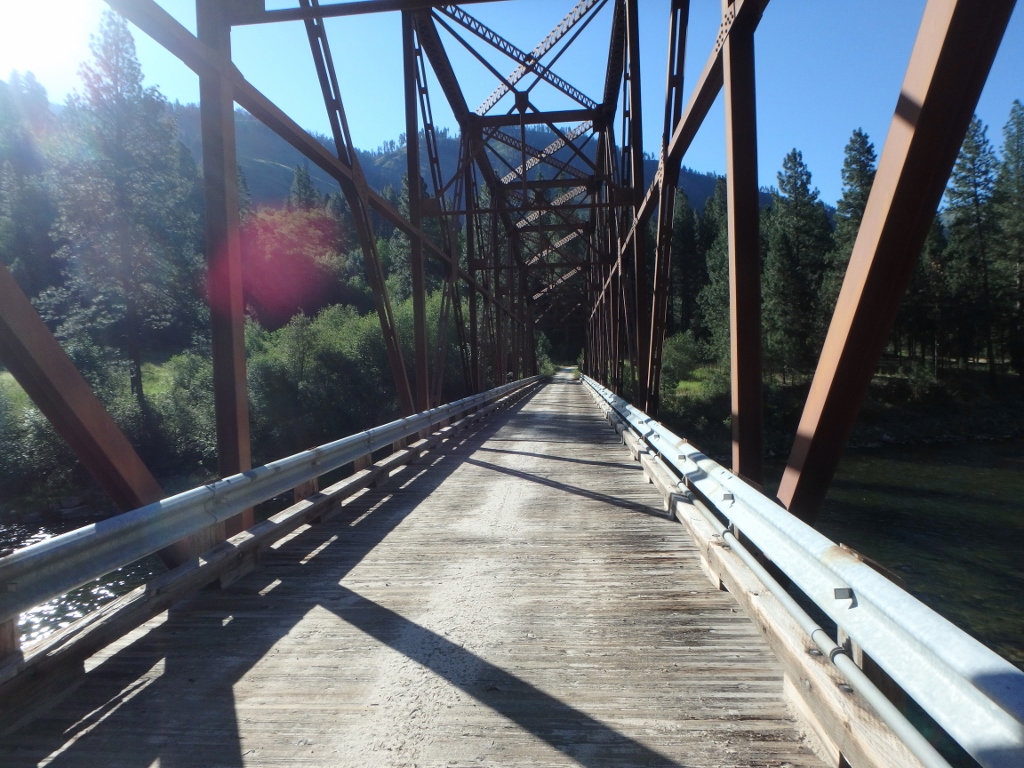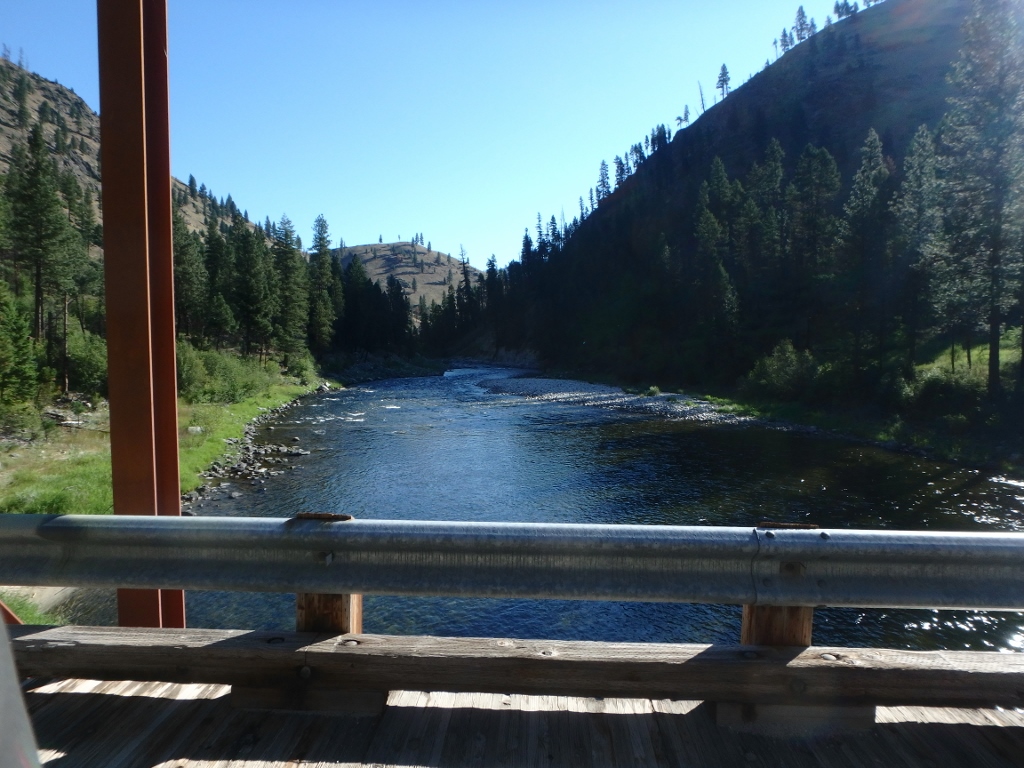 Look in the middle of the road-----those little birds were scampering away---and finally took flight.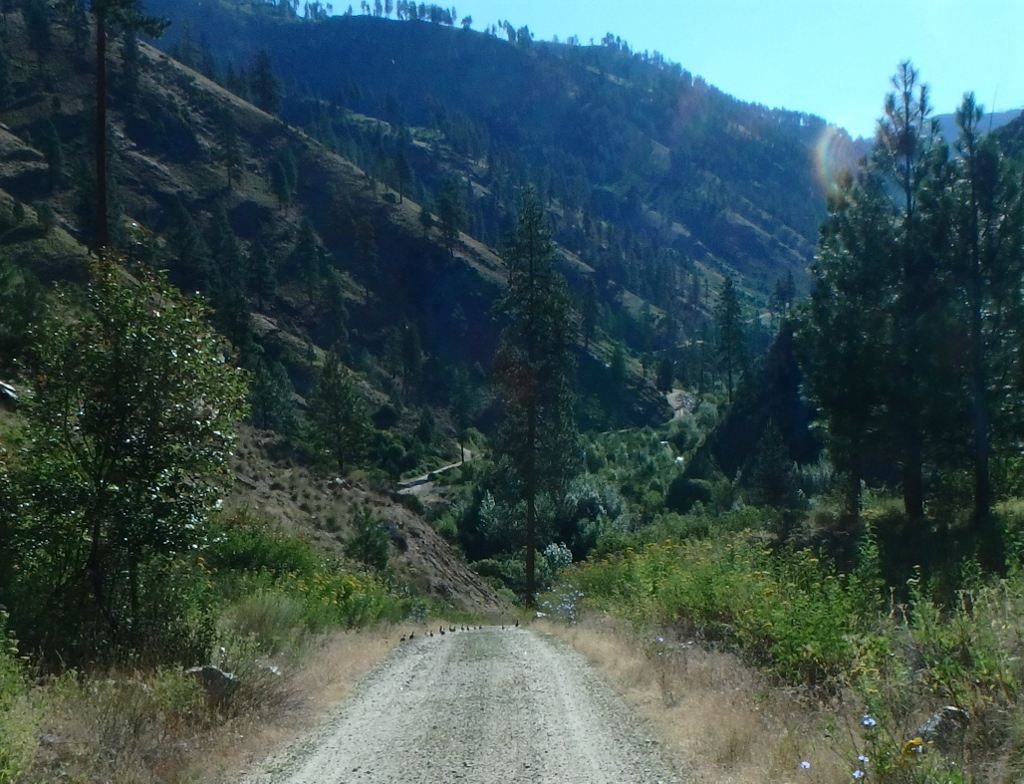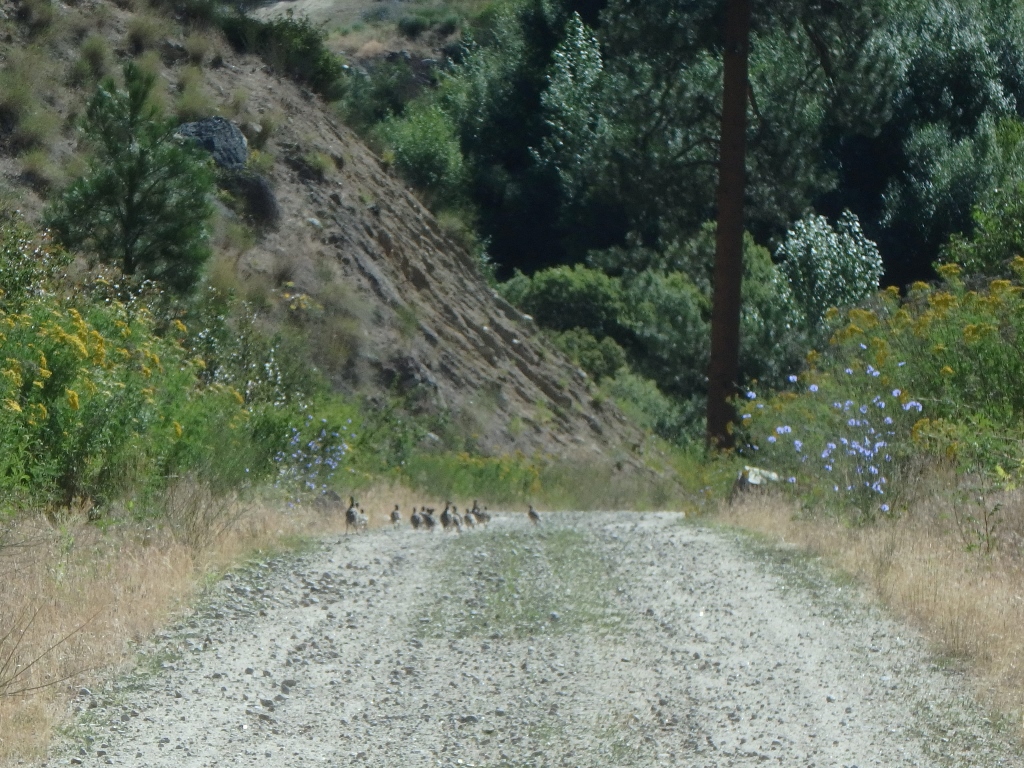 We caught up to "Red".
He was the other guy that stayed in our cabin.
Really nice guy on a KLR 650.
The riding thru here was very remote and on a road that seemed to have not other access for maybe 50 miles---it was awesome.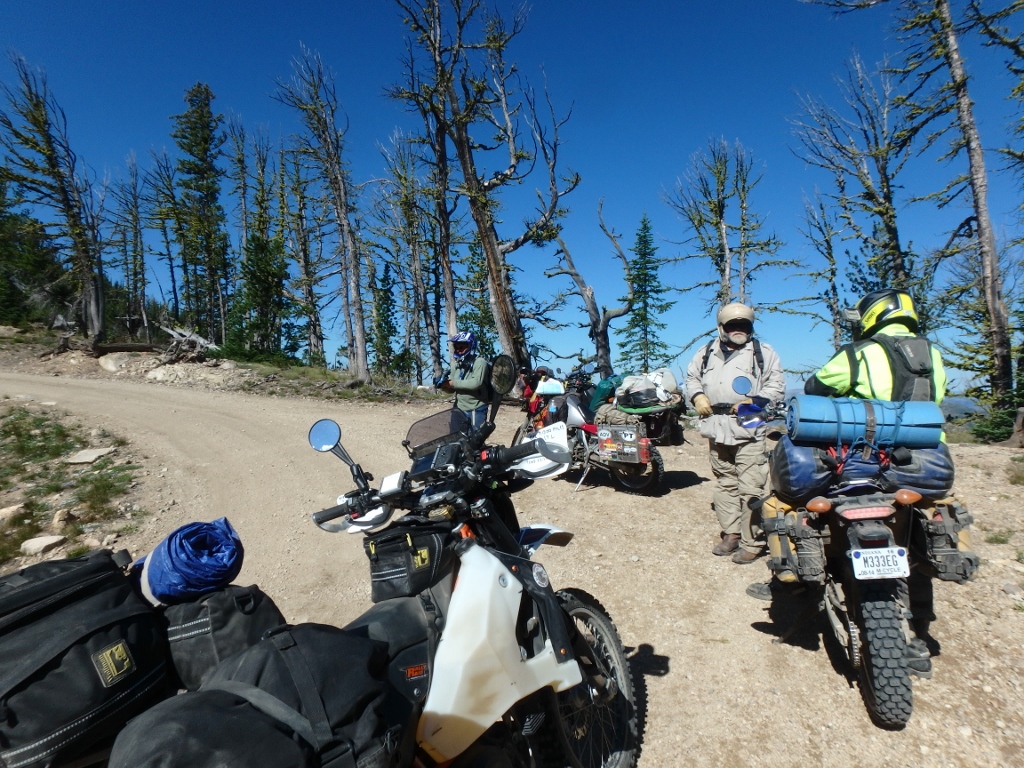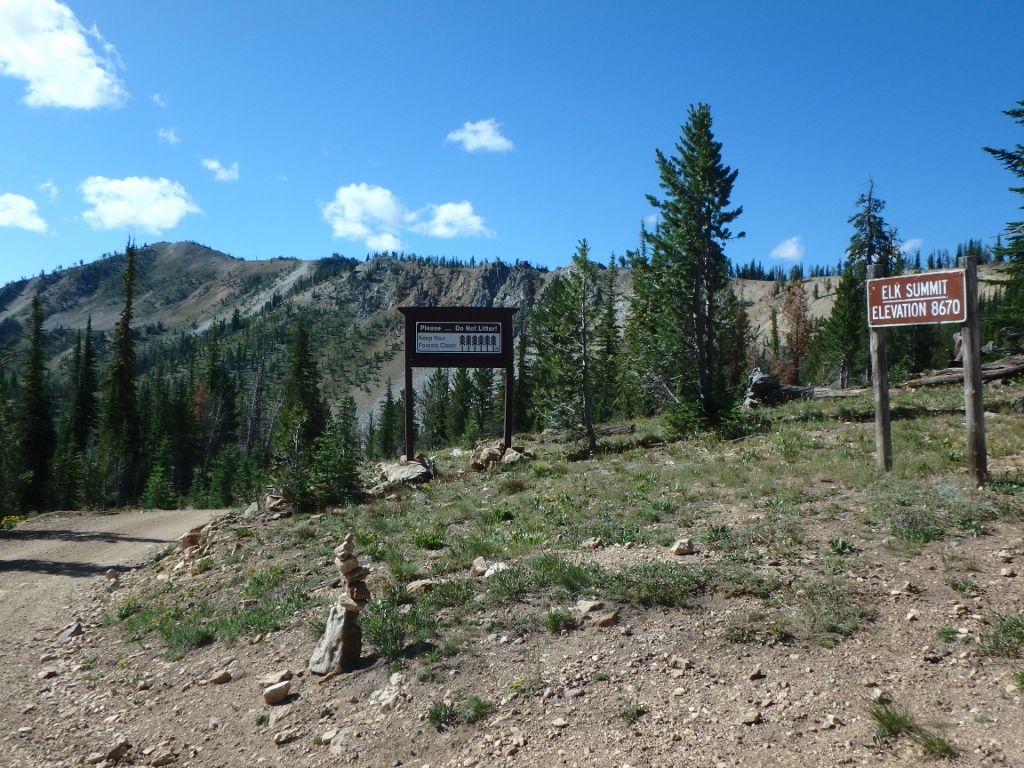 After Elk Summit we dropped down into the little town of Yellow Pine and had lunch and filled up with gas.
We loafed here for a long time.
This is a very remote tiny town but you can get gas, food, camp or stay in a cabin if you like.
Very friendly folks who are open arms to the offroad traffic that passes thru.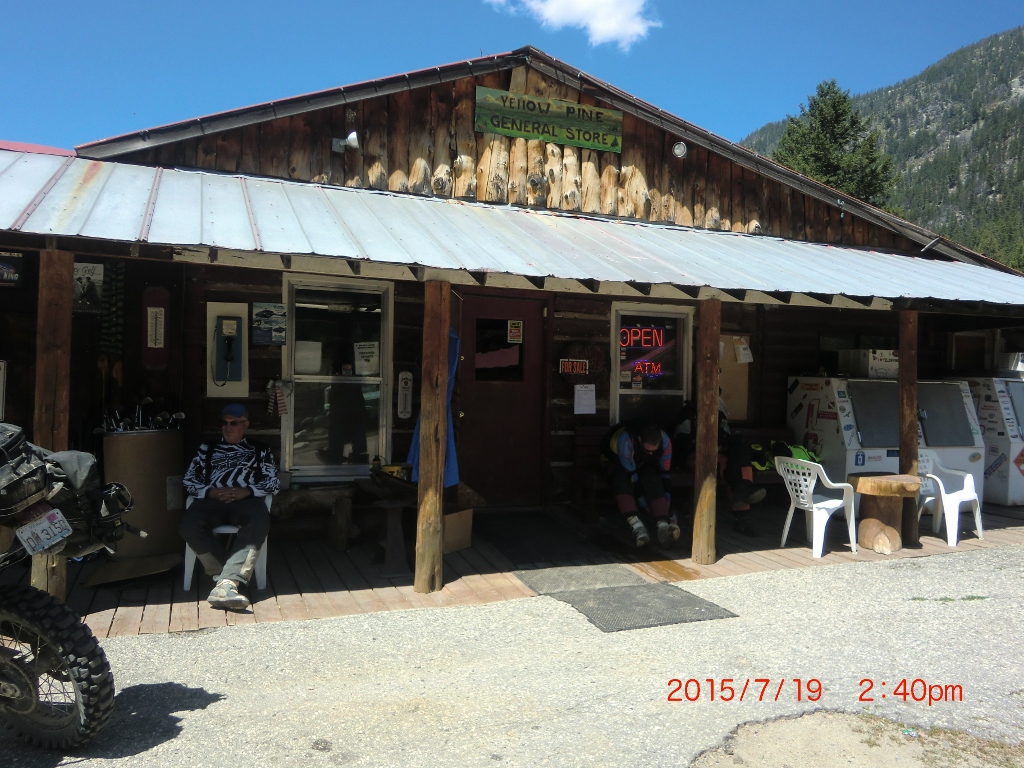 Jerry took these next 2 pictures somewhere on the ride today.
I never even saw them---------guess I better slow down and smell those flowers huh ????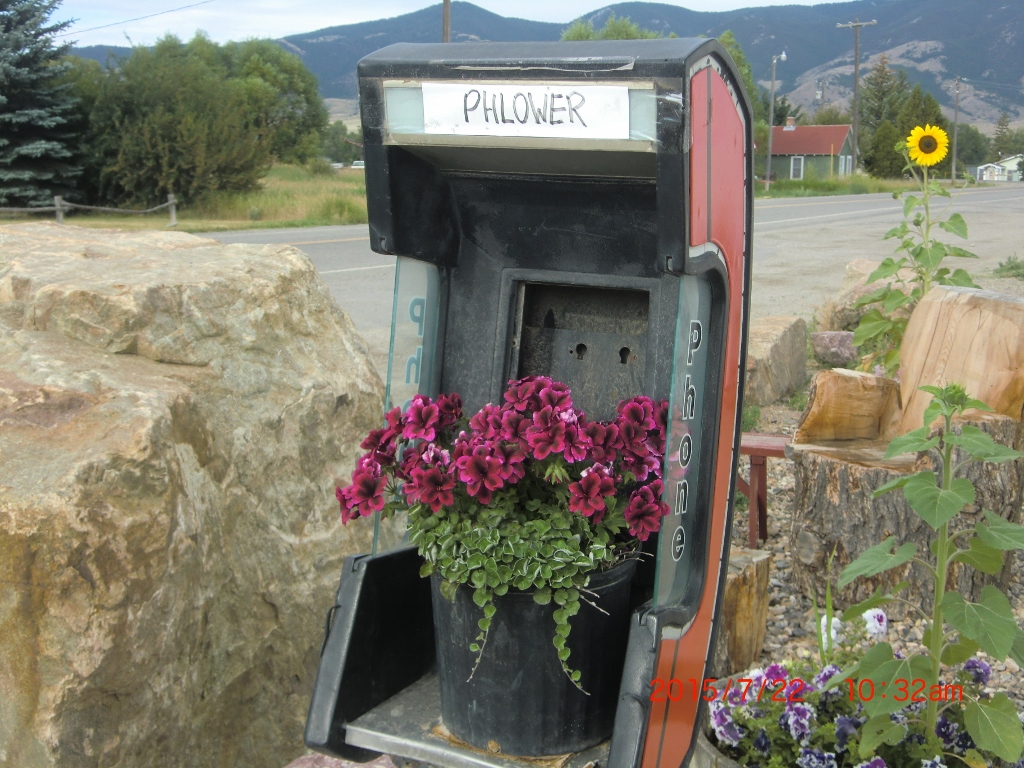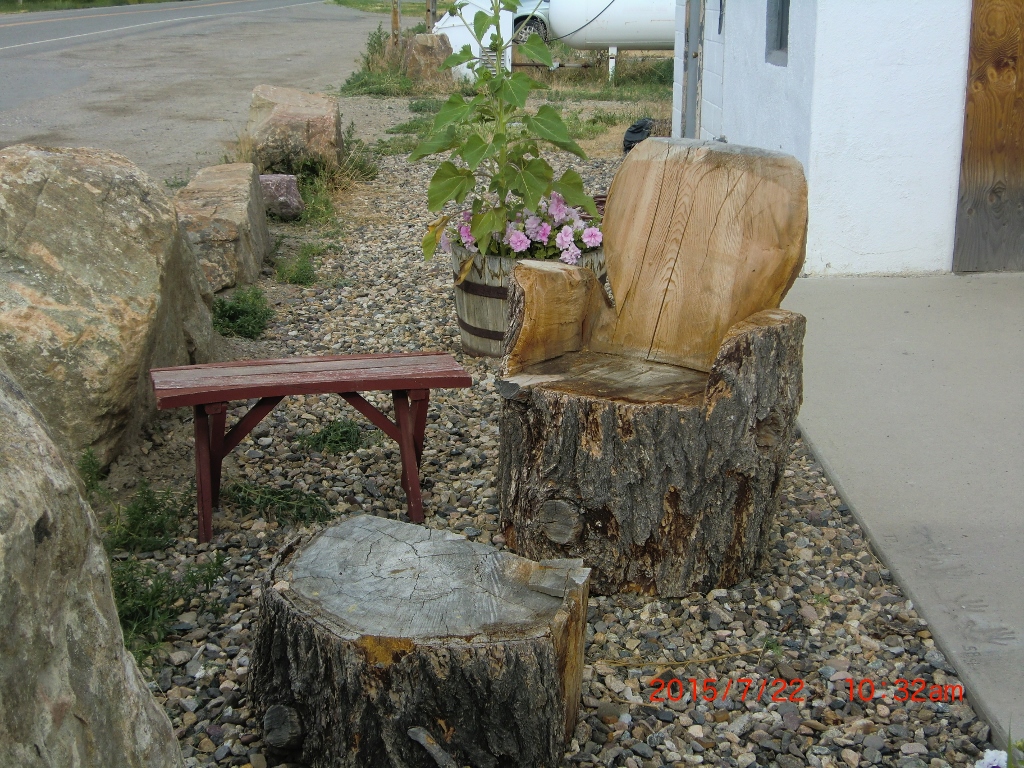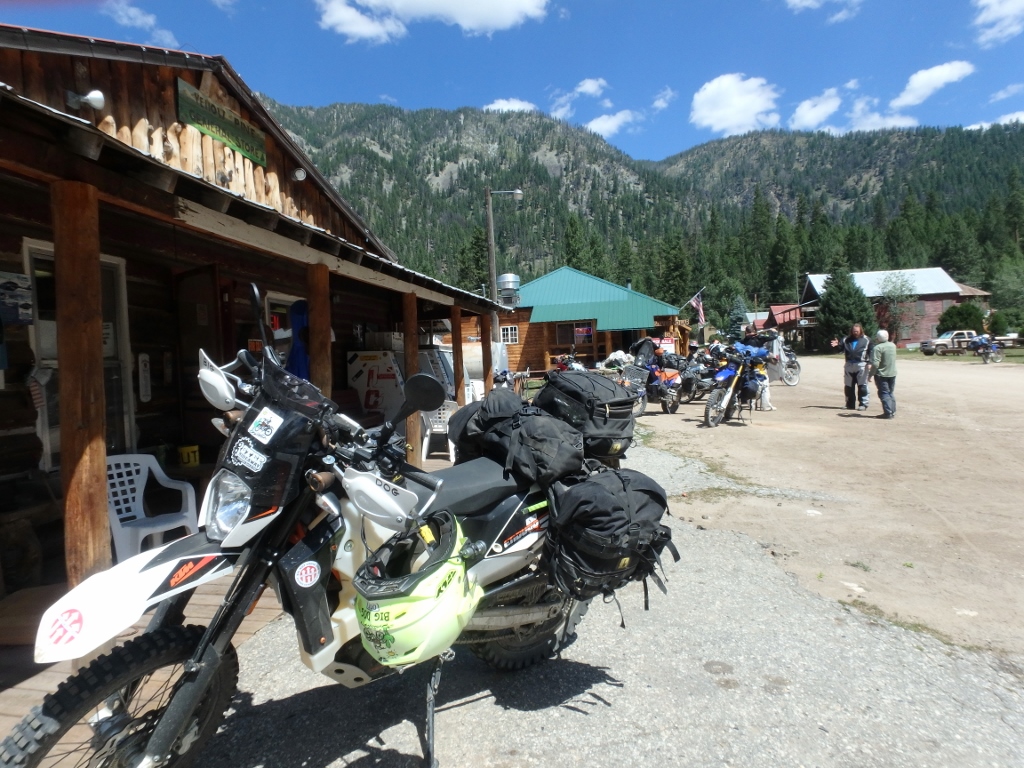 Me and Jerry were the first riders to get to Iron Creek Campground which is about 4 miles West of Stanley, Idaho.
On the very left is my friend "BobBob". He doesn't live all that far from here---so he just showed up and he rode with me and Road Dad for a few days.
He summers near Stanly Idaho------lucky guy !!!!
We had a nice fire that evening---but me and Jerry were lights out by 9PM I'd say.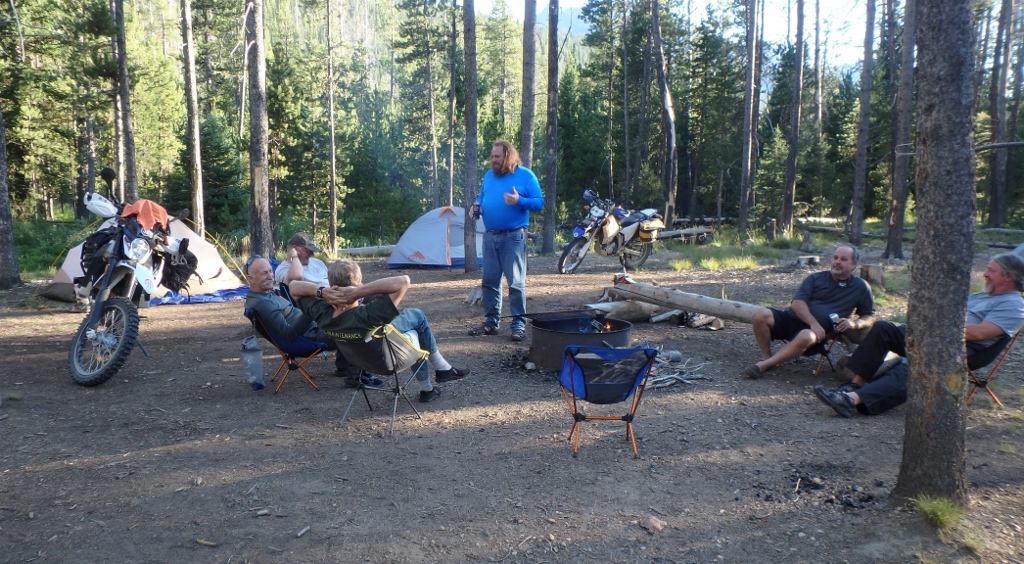 A rough map of our ride today---about 171 Miles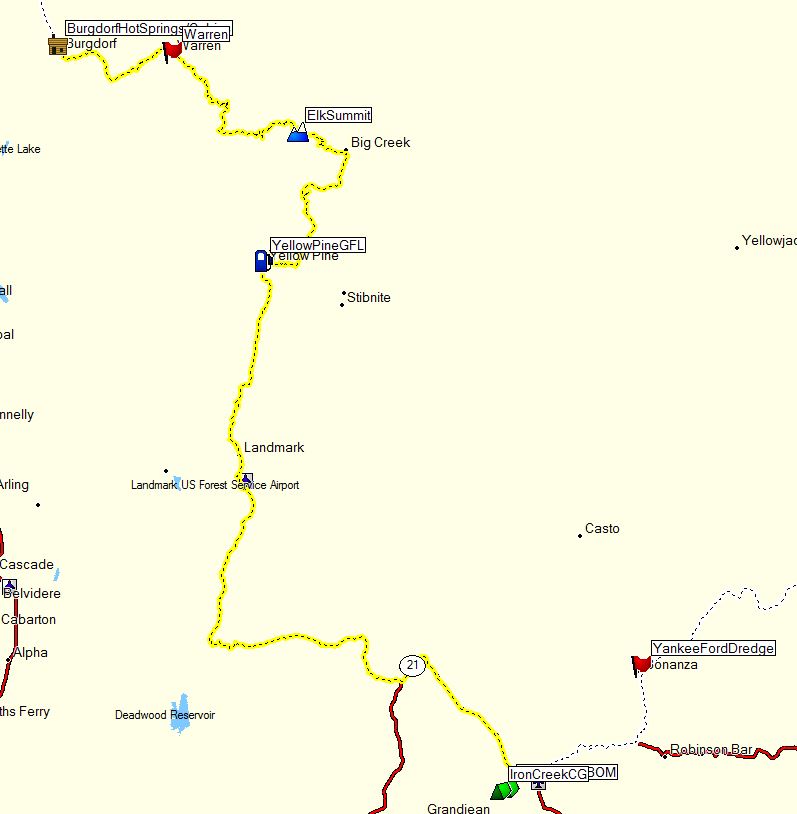 Day 4 on the Montana 1000
I'm gonna bet this is breakfast in Stanley, Idaho--------as it was just a few miles down the road from our campsite.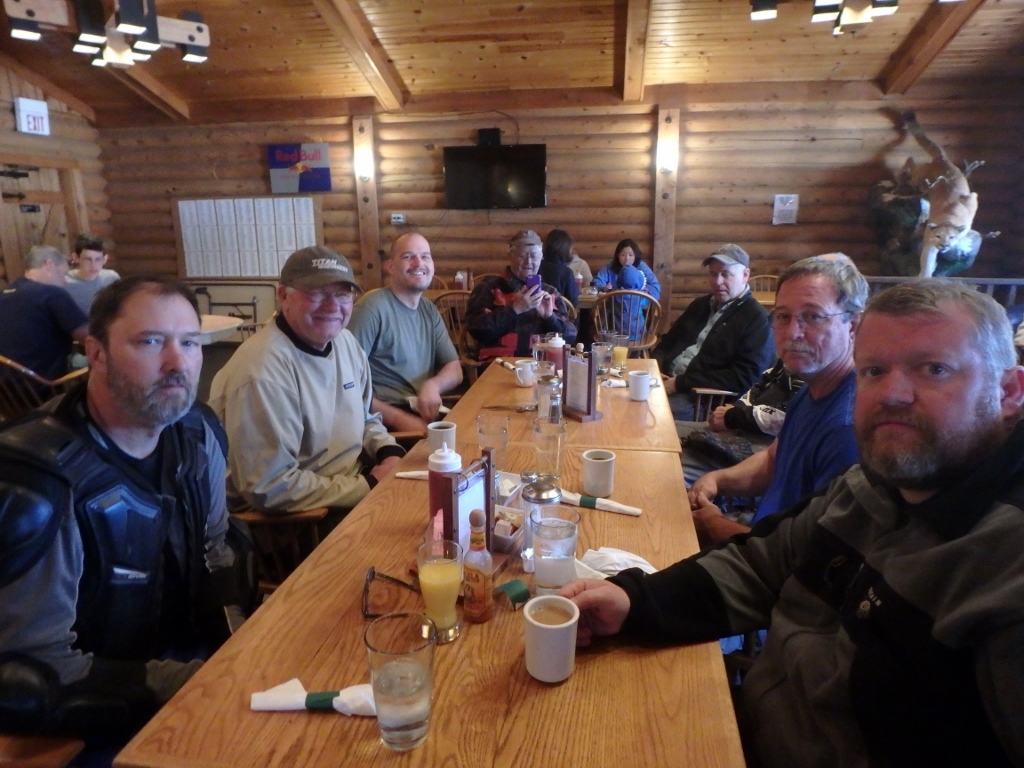 Sunbeam Hot Springs---about 10 miles East of Stanley---------you can't miss it-----or can you ?????
I've been by here before----the hot springs are at the edge of the paved road---how did I not see this before ??????
I'm sure I didn't see it the first time thru here---cause I would have stopped--looked it over and took a picture.
Just to the right of this picture the water goes under the paved road--then down into the Salmon River.
You've got to slow down Mark !!!!!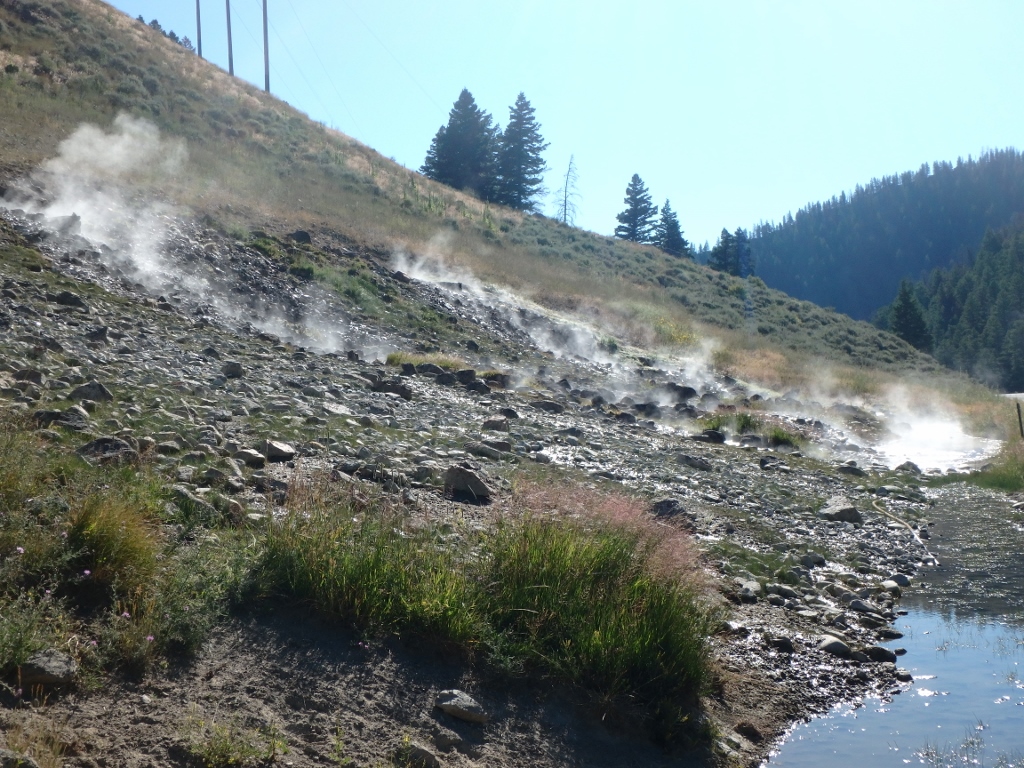 The Salmon river before we turned North on Yankee Fork road towards the Yankee Fork Dredge.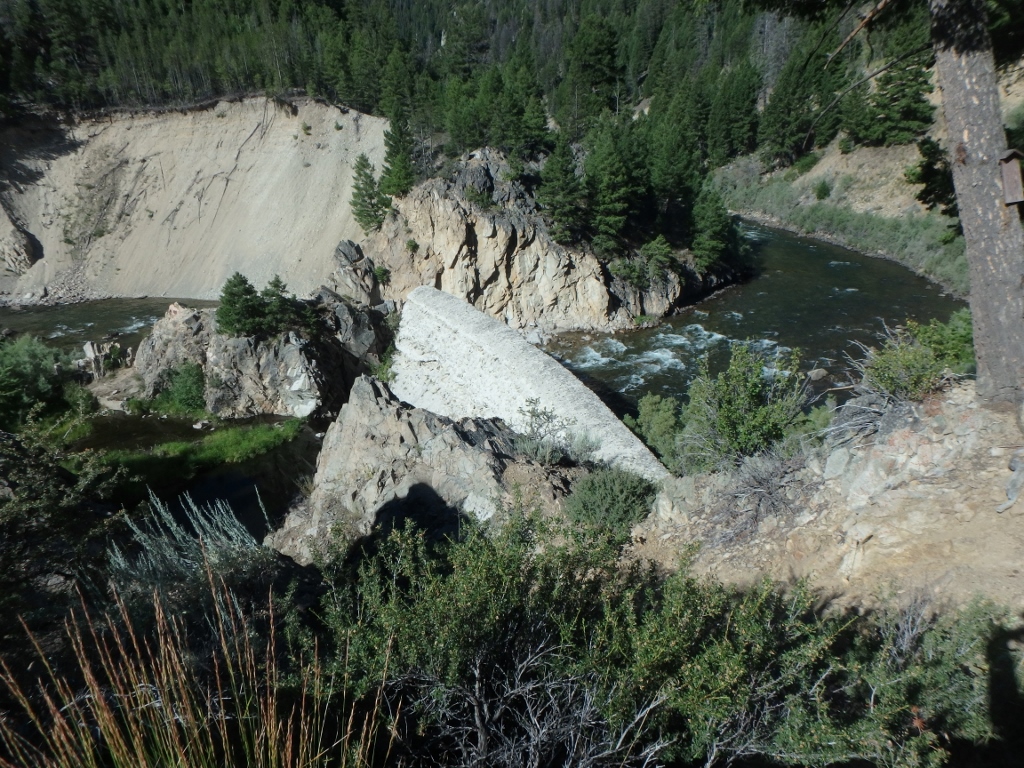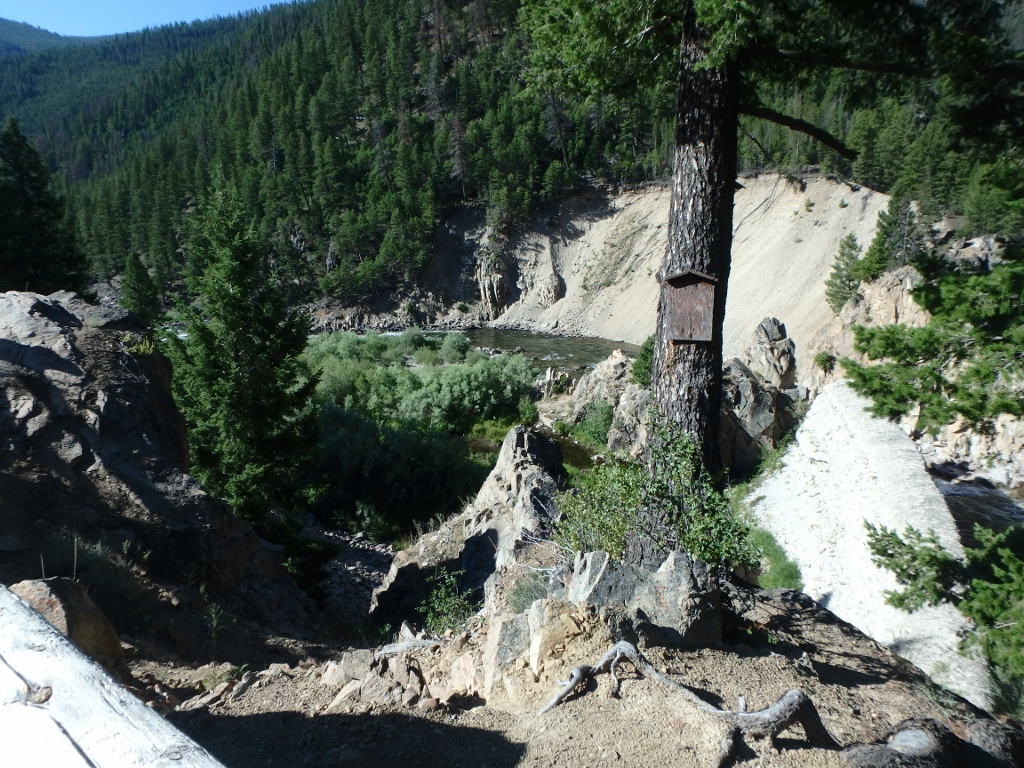 About 8 miles North of the hot springs you start to see the tailings that the dredge left.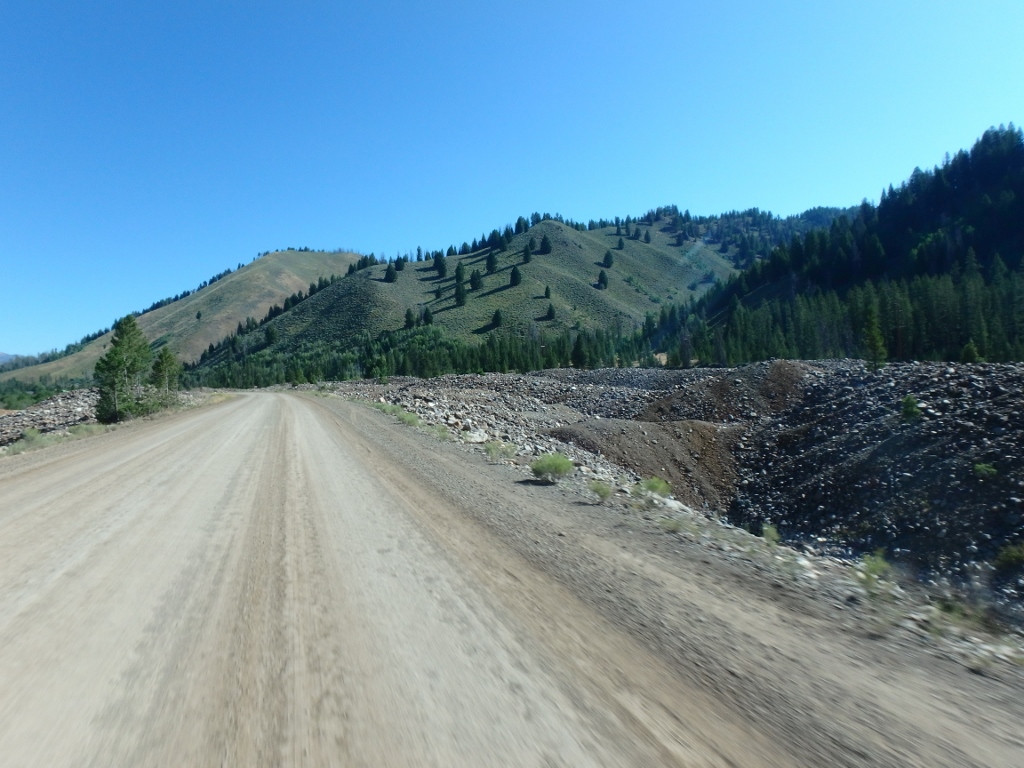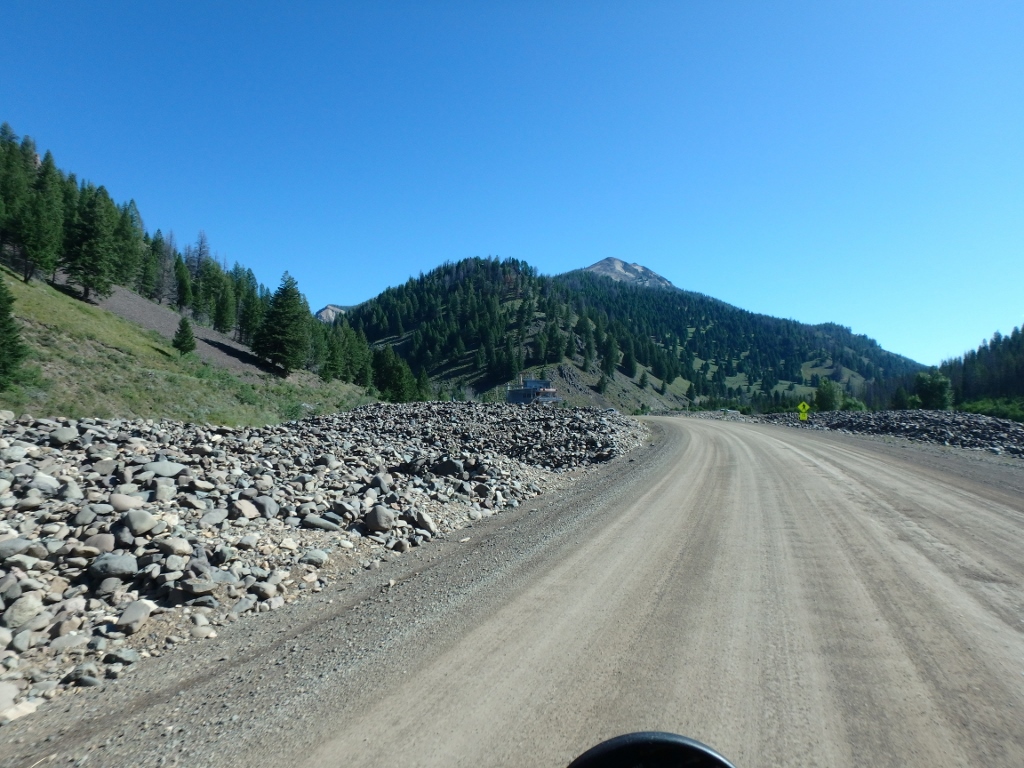 Rather than me type for an hour------google the Yankee Fork dredge and read all about it.
It was diesel powered and ran into the 50's---------I think.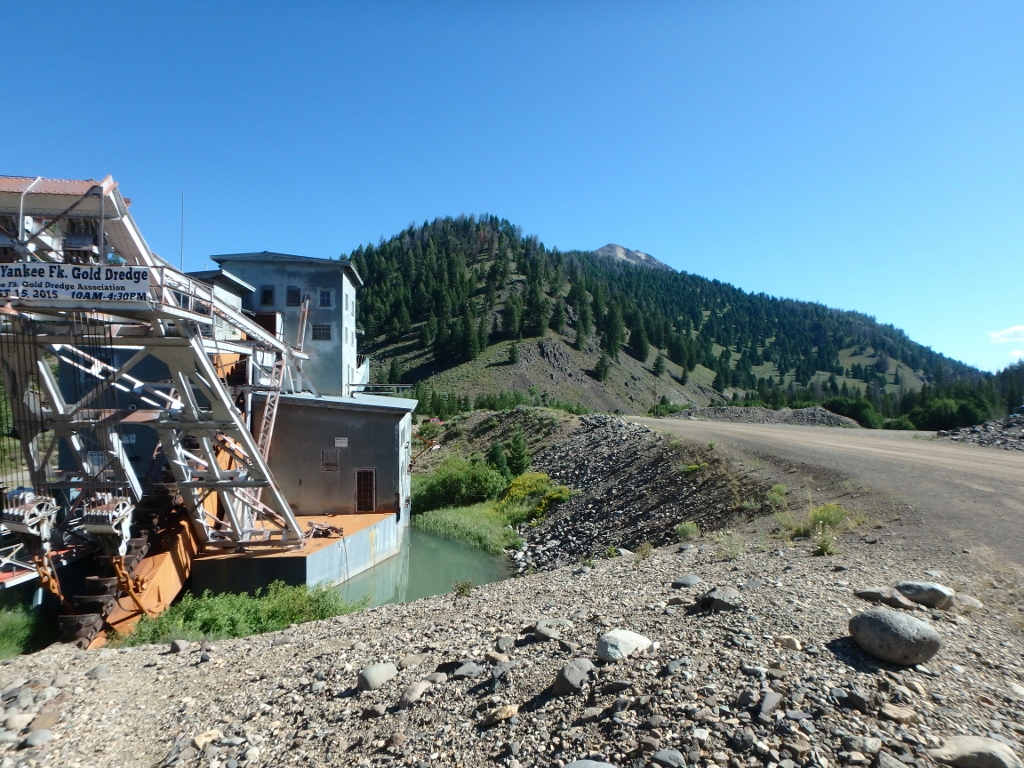 I think this is Mill Creek road and took us East all the way into Challis.
Part of this road was called the Custer Toll road---and travelers were charge a toll-----------google that too.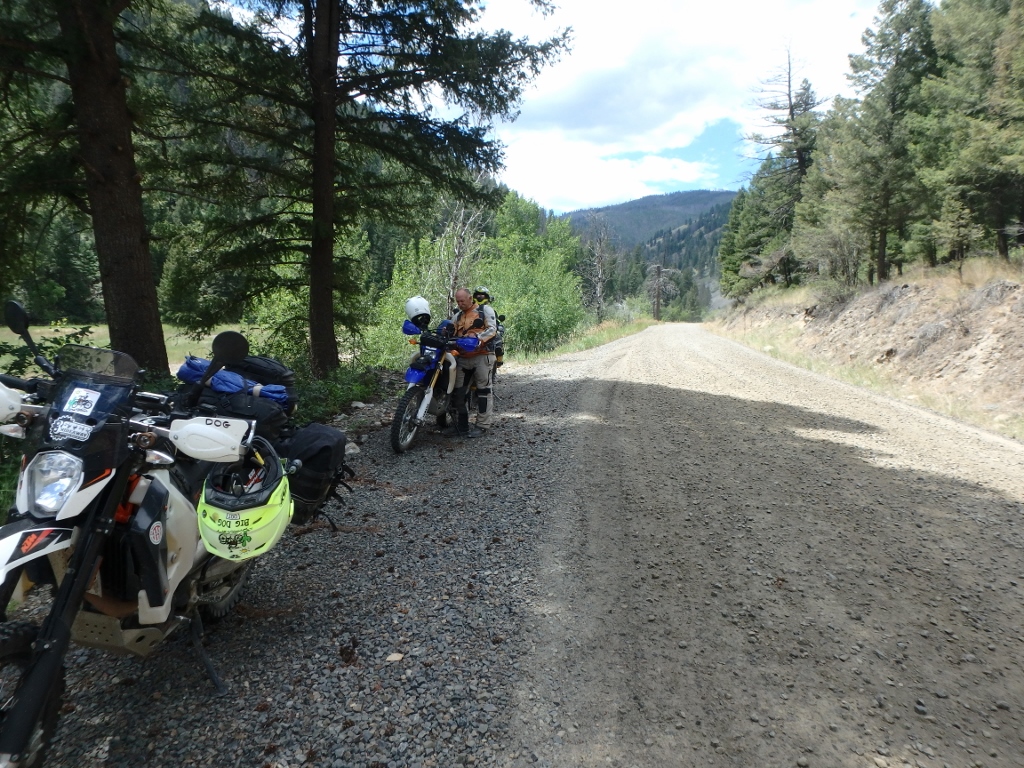 For my wife----just showing her where I'd like to live.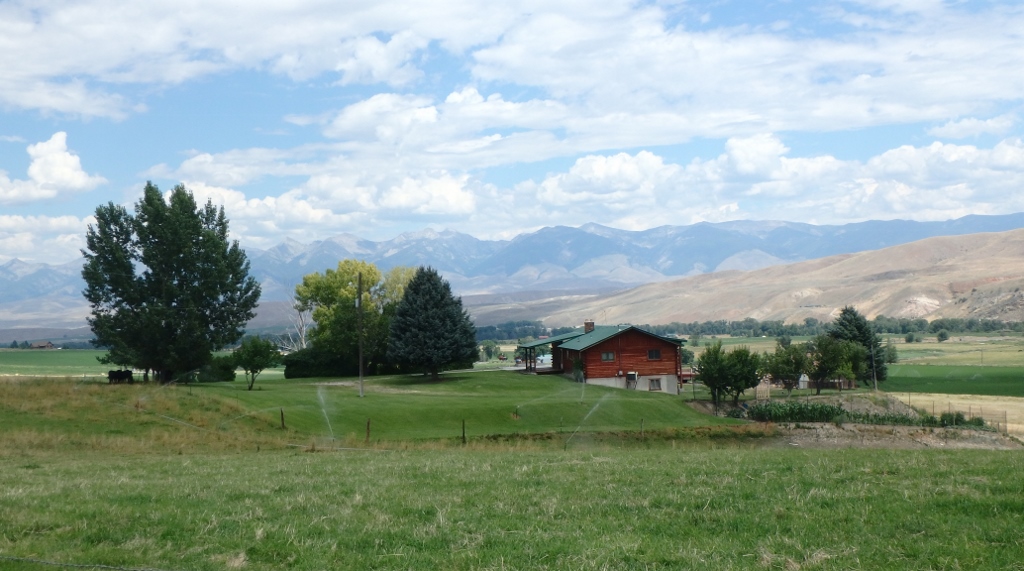 We blew thru Salmon Idaho---got gas and supplies--went by Sharky Hot Spring (I would go there again on my way home).
And headed up the mountain on a marvelous little dirt road towared Lemhi Pass and the route of Lewis and Clark.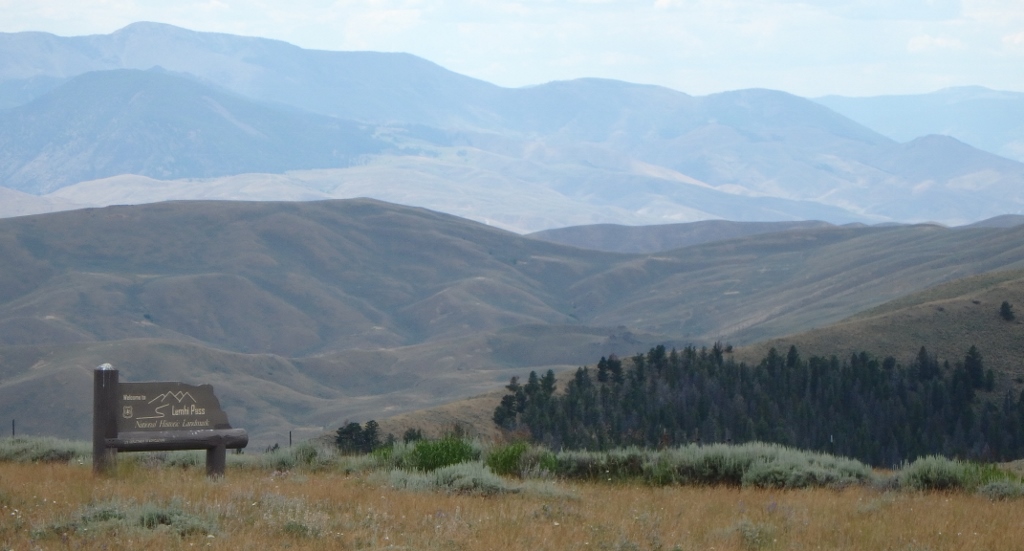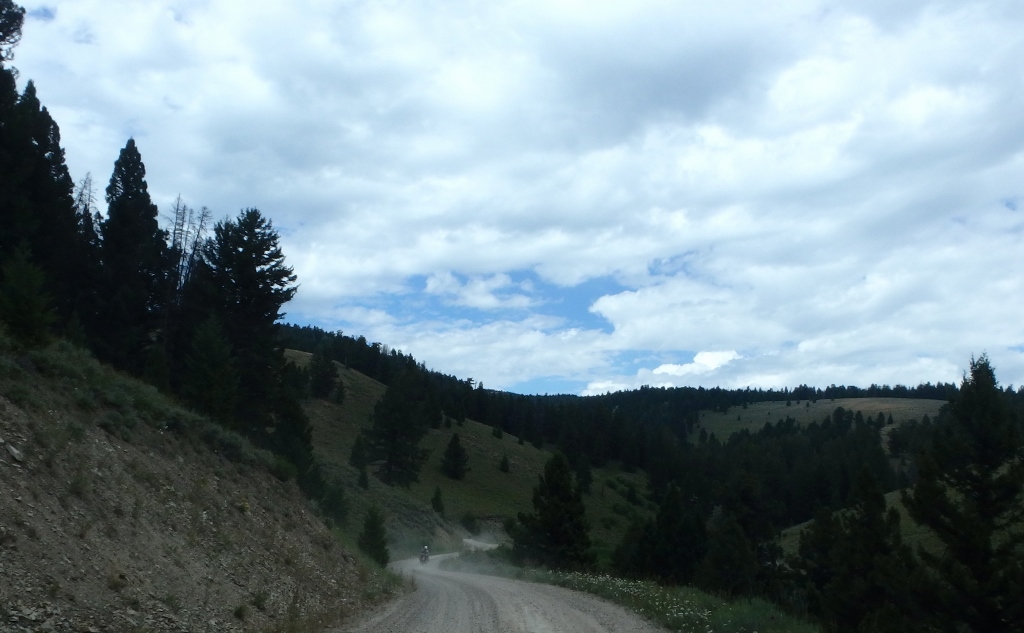 This was on some ranchers property on the East side of Lemhi Pass.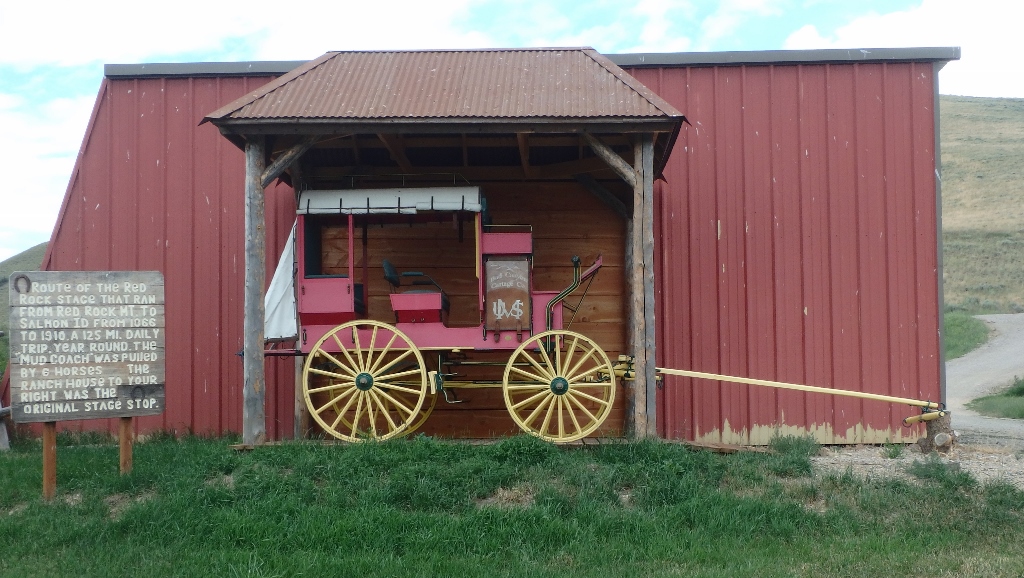 The route today ended at Reservoir Lake campground-----------however I had other plans.
See the Butte just to the left center of this picture??? That is Red Butte----and coming in from the other way it is spectacular as you ride by it.
Horse Prairie Station will be our camping spot for the nite.

What's "Horse Prairie Station" ???????
An old log cabin built by the Forest service out in the middle of nowhere.
They use it from time to time---but mostly it's for rent-------$20 a nite.
It has running water---gravity fed from a spring---a wood stove---propane for the cookstove and lights and a very nice pit toilet out back.
There is plenty of firewood with axes and mauls so you can split more wood if need be.
There are six bunks inside in a seperate room---I had invited the same 2 guys to stay here that stayed with us in Burgdorf, but
they had some issues and never finished the ride---we never saw them again.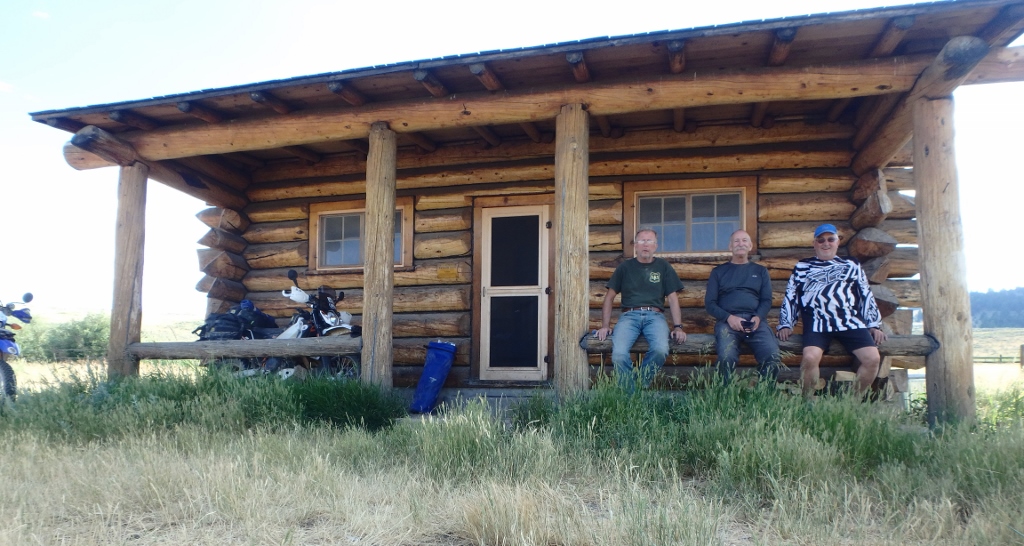 The view from our porch----at least 30 Elk in that herd out there.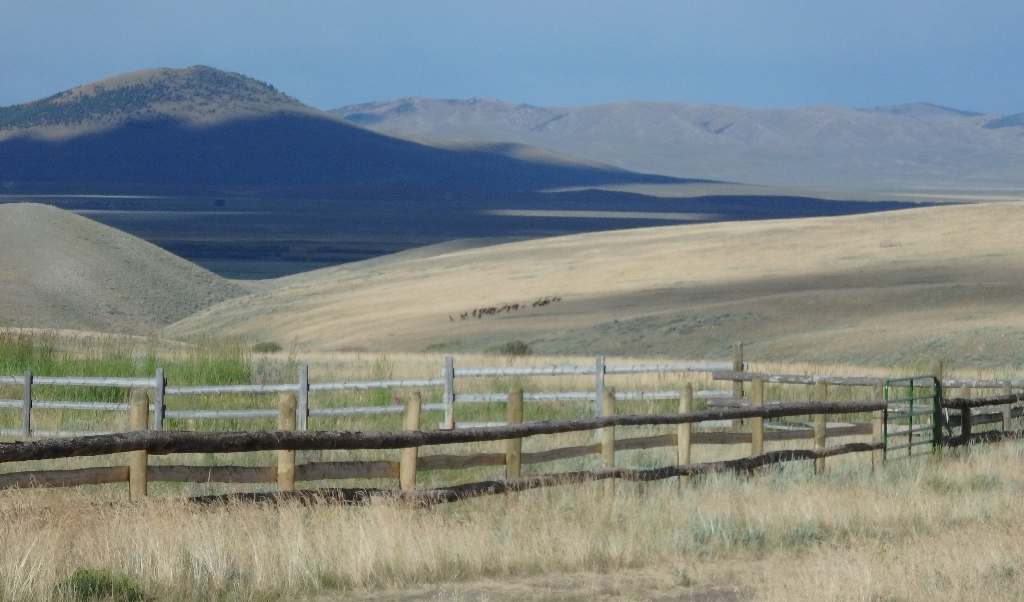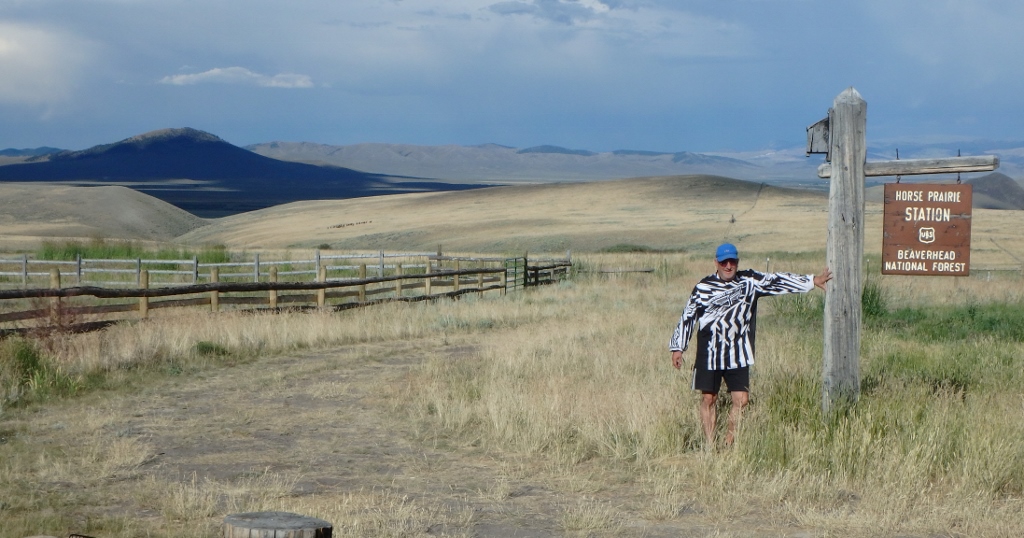 It never got cold enough to start the woodstove---I was so dissapointed.
But we split some firewood anyway for the next guy.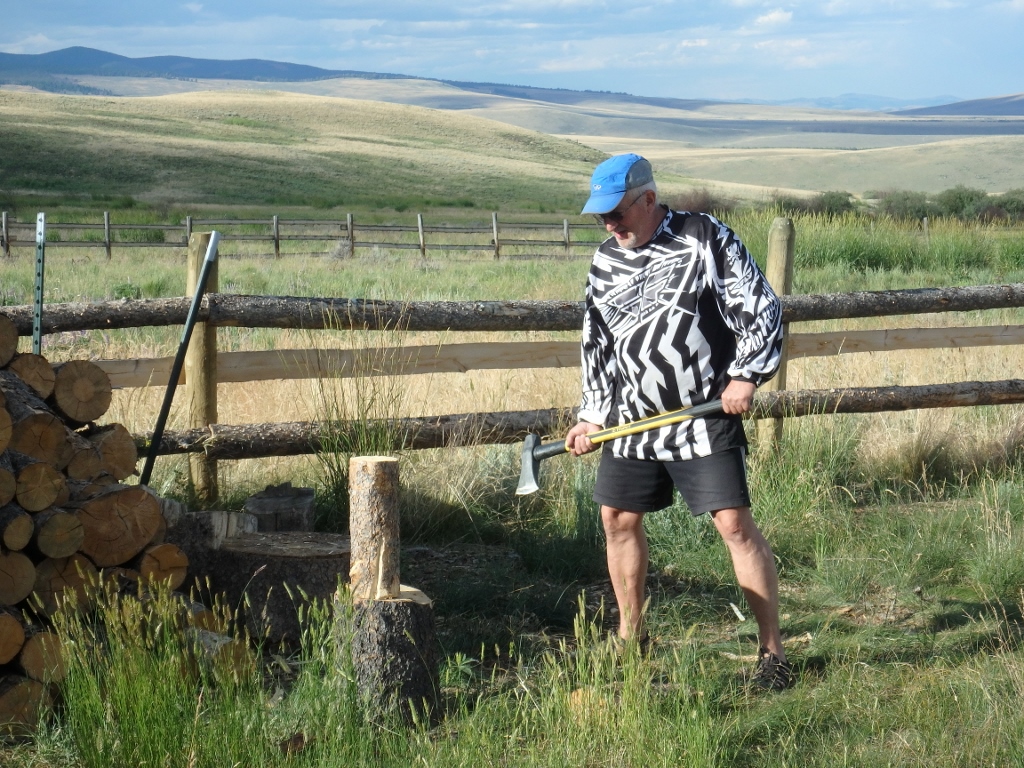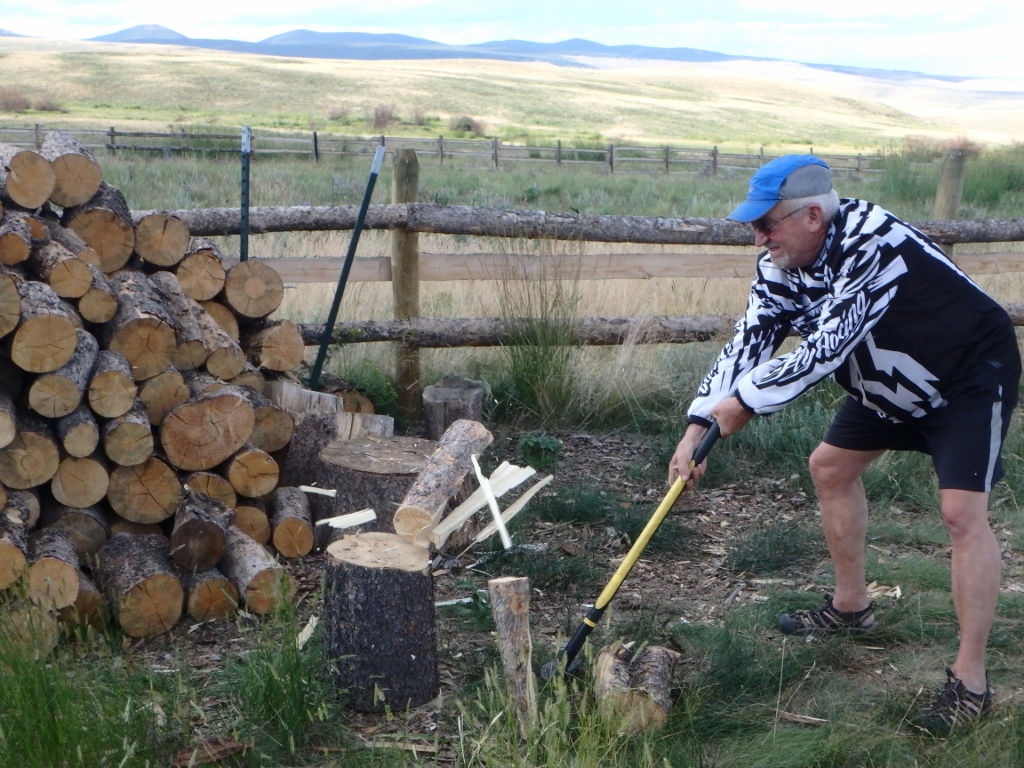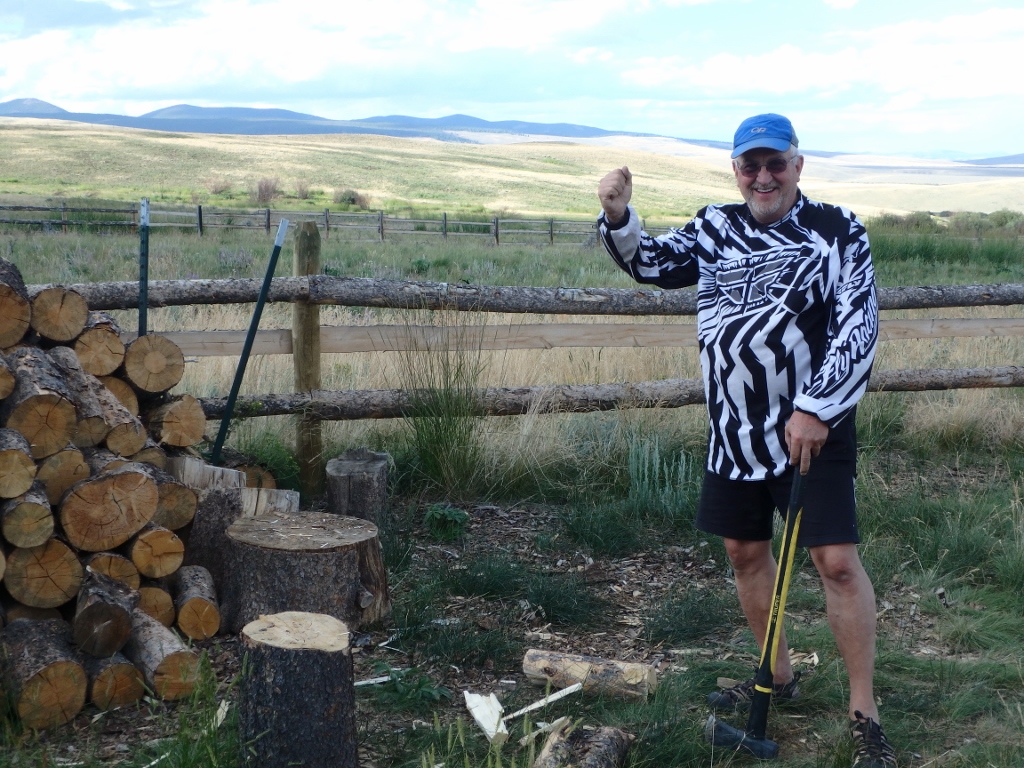 We split what you see on the porch---as there was none there when we got here.
We wanted to make sure we had dry wood if we needed it.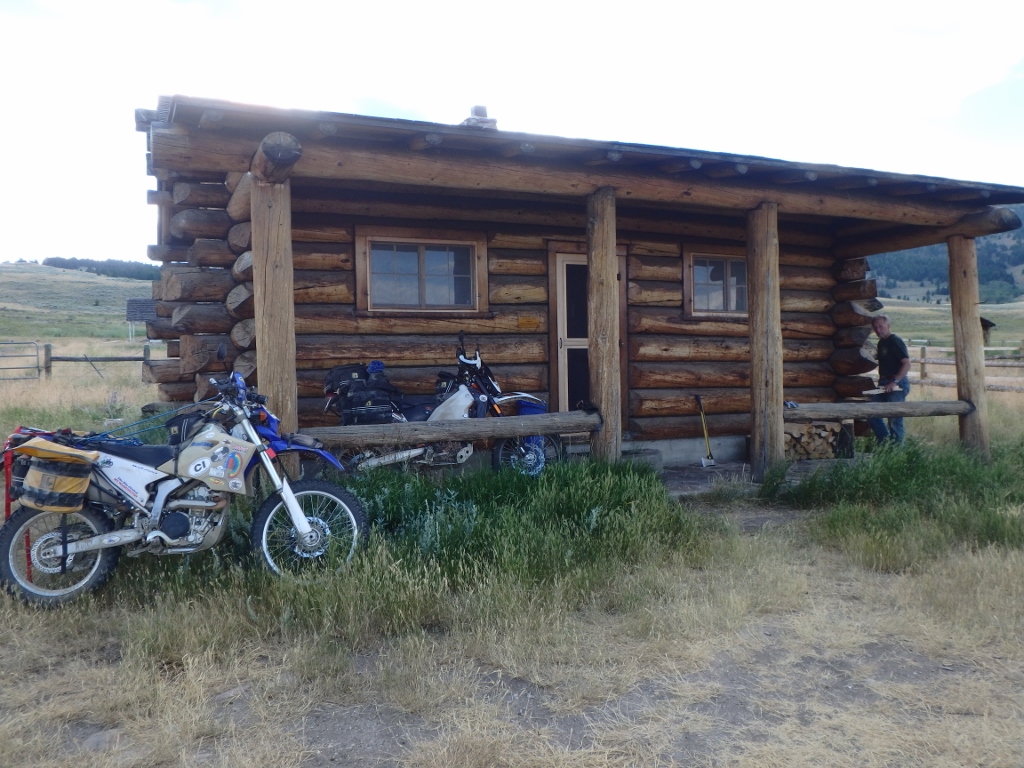 I think these next 2 picture are the sunrise.
The old "Canvas Cafe" was out there about 15 miles.
I ate there in 2004 when I rode the Continental Divide Ride---------it blew away years ago.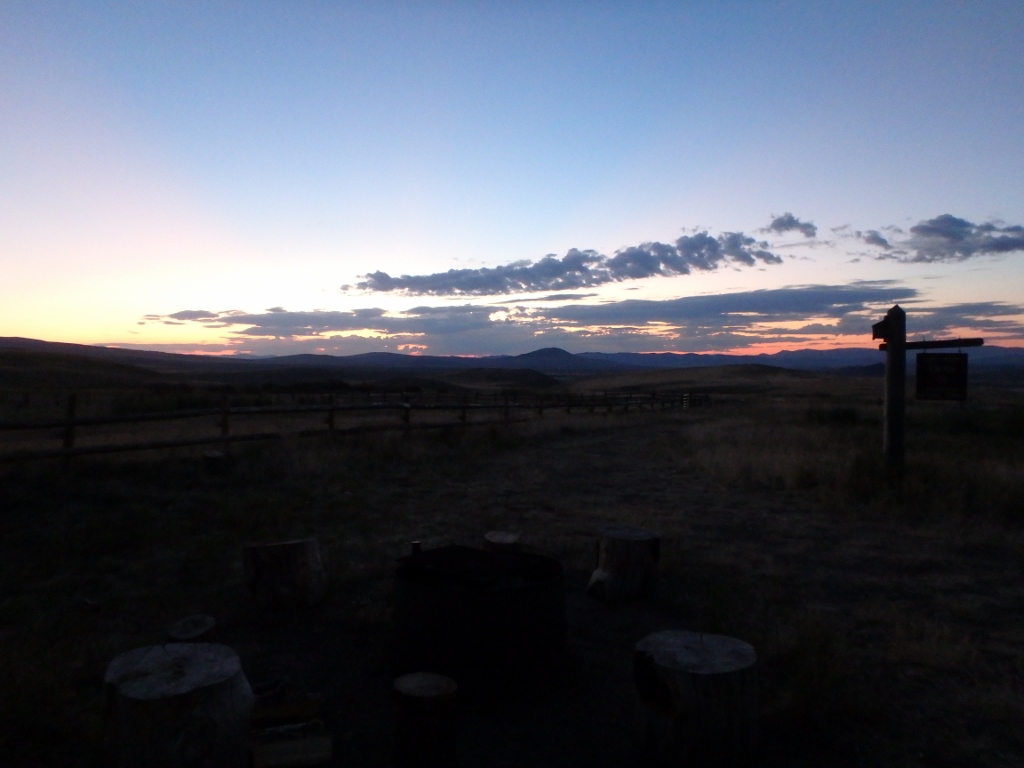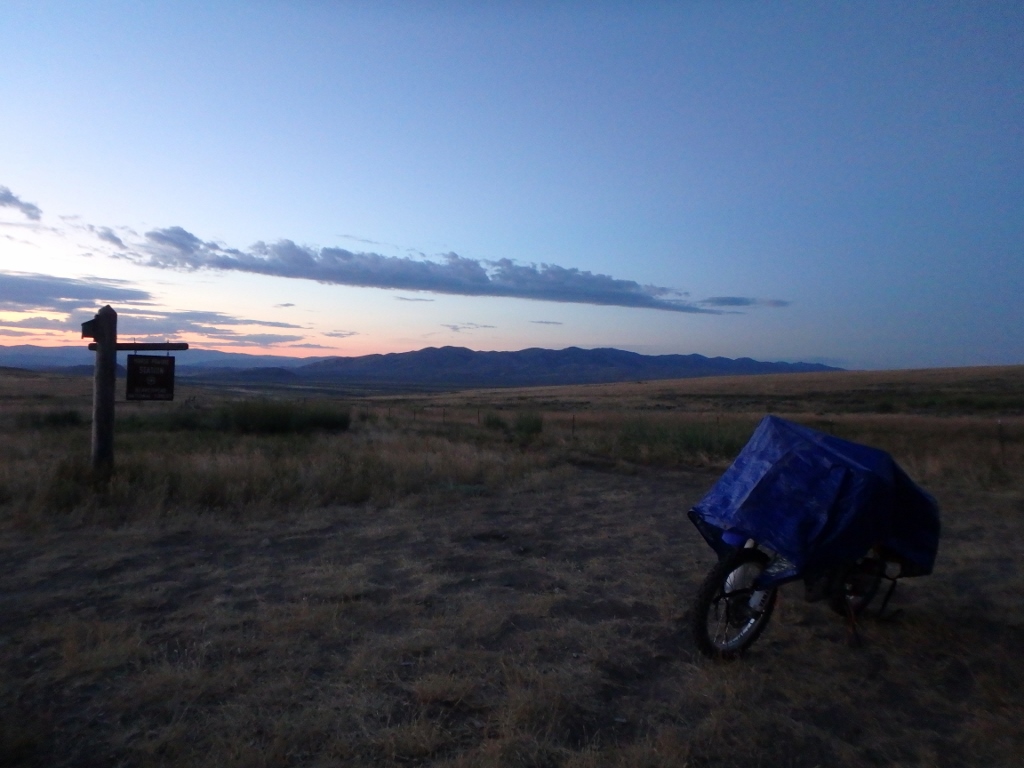 A rough map of our ride today---about 195 miles.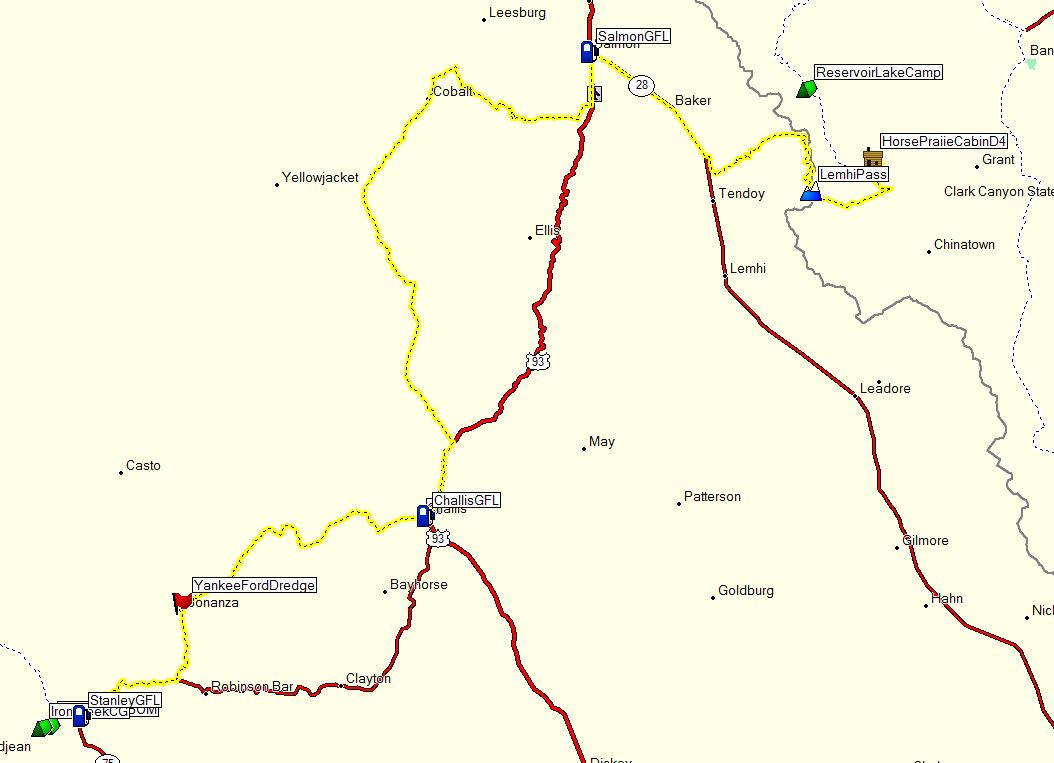 For the rest of the story
Click HERE