Baja 2016 Page 2
Day 6 February 13th, 2016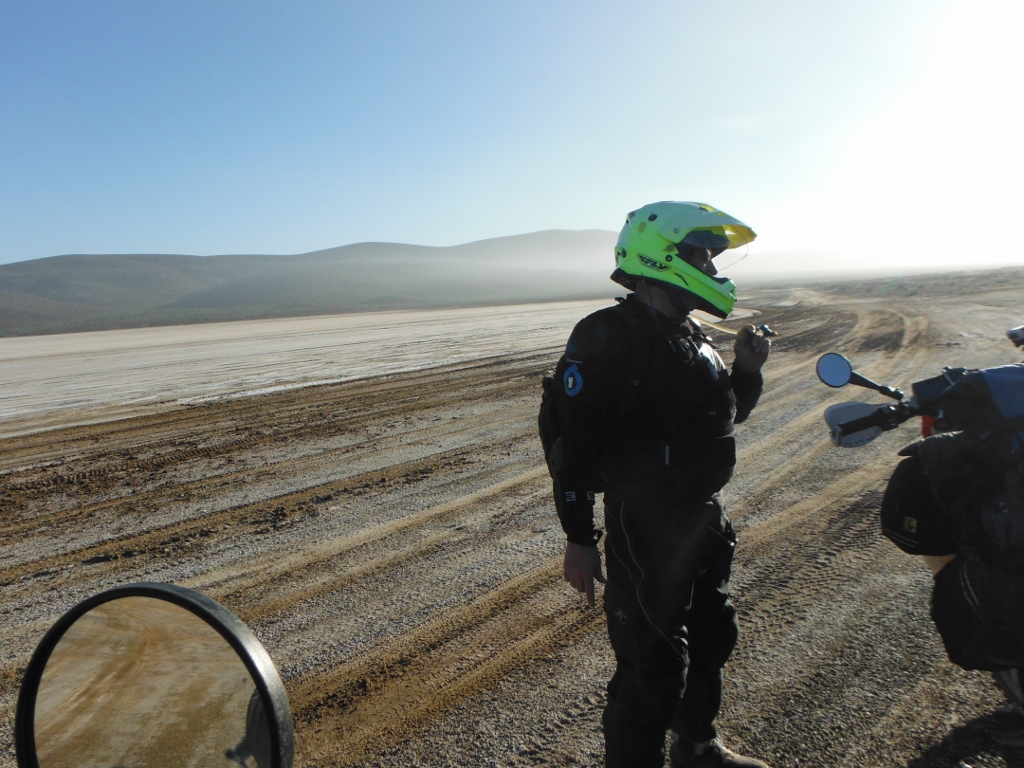 Today we rode along the ocean for miles again in a Southwesterly direction towards Santa Rosailita..
This area was where a lot of surfers go---and we watched them here for awhile.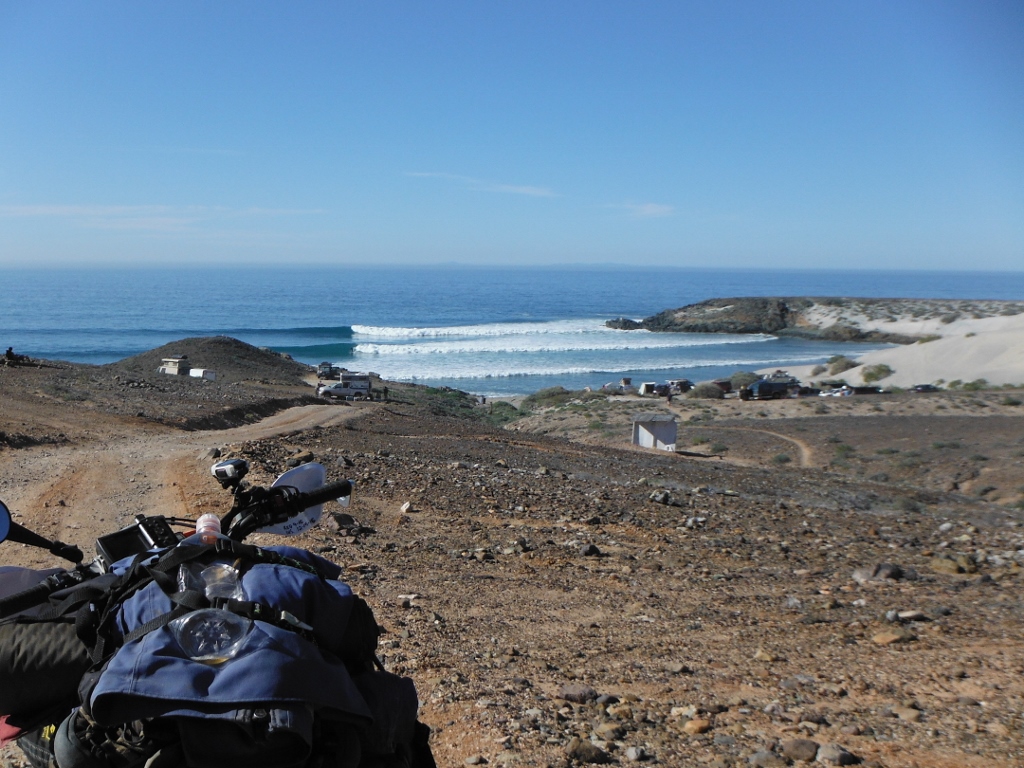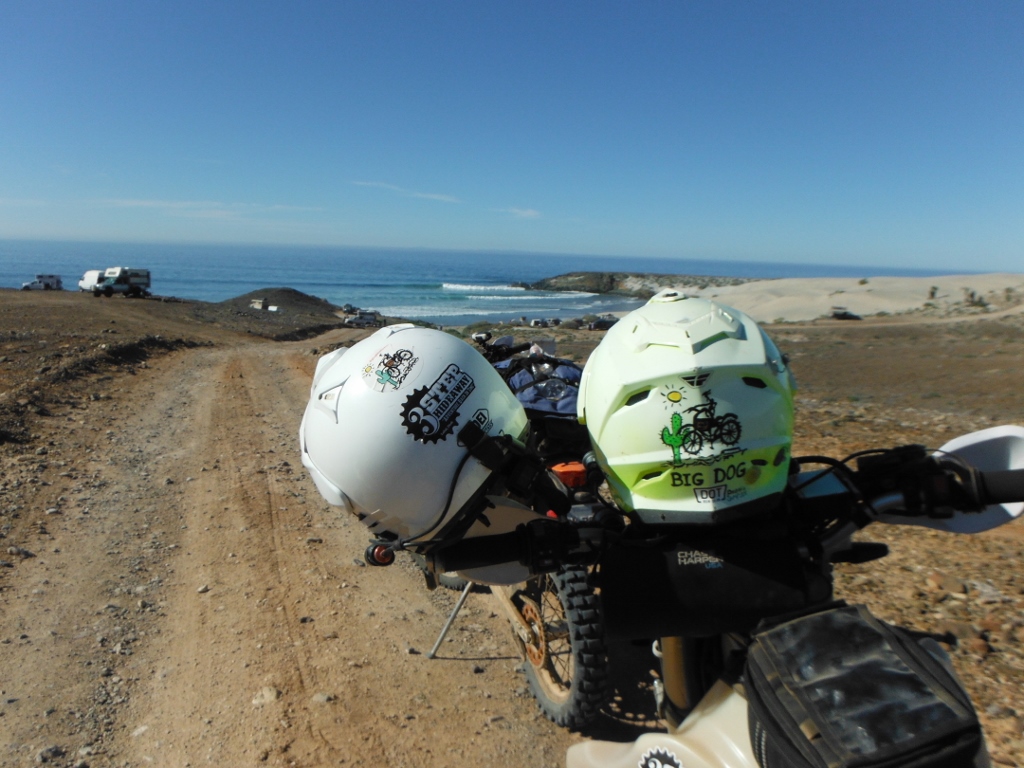 High Five's KTM was purring like a kitten-------or should I say lion.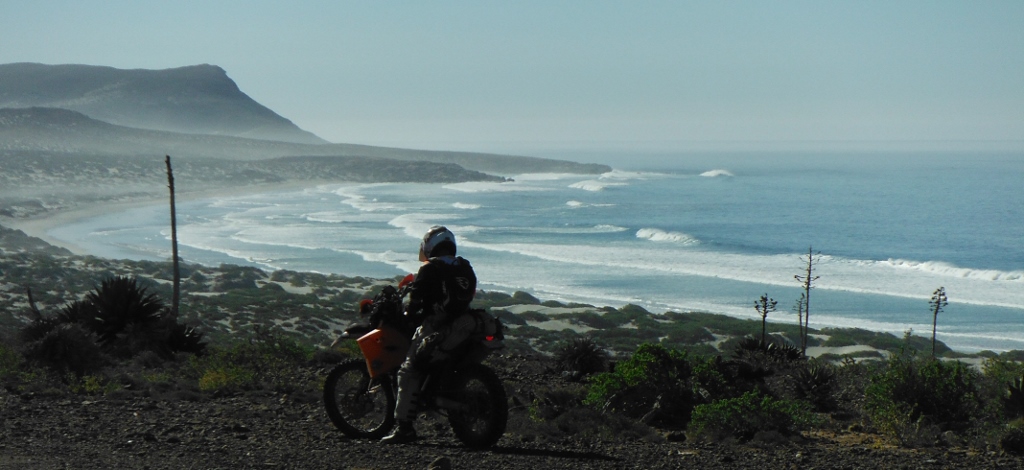 Today we would head East down to the Borja Missioin----but in Rosarito we found a guy who had some gas in the back
of his pick up truck.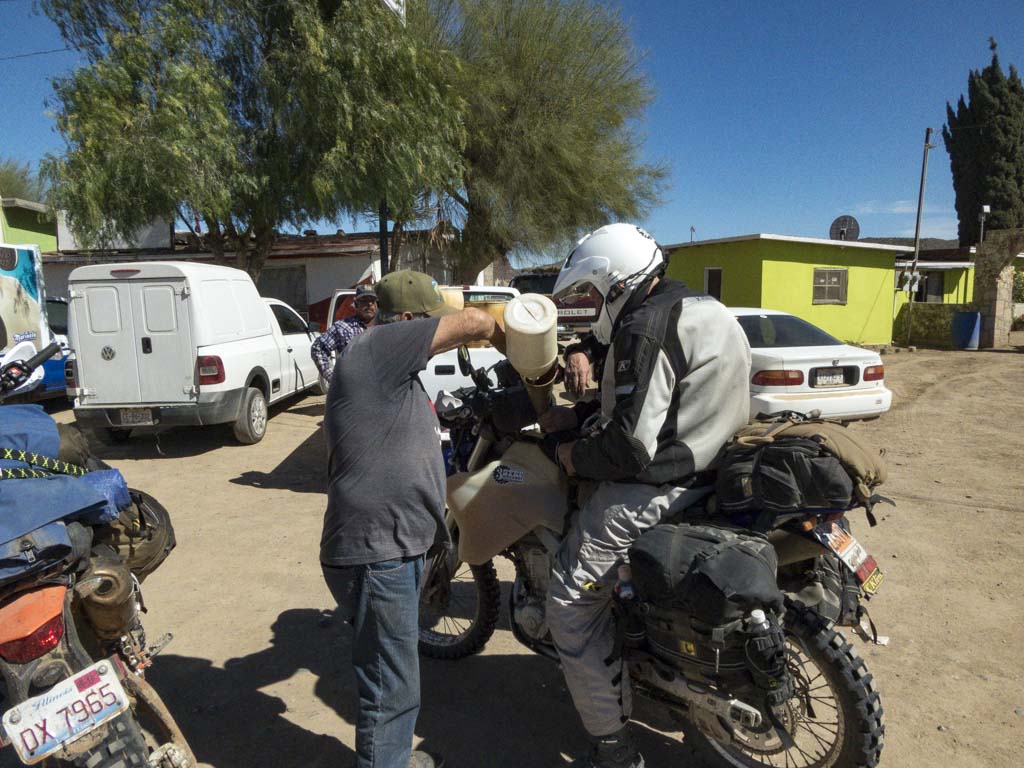 The Borja missioin was built in the 1700's and his magnificent.
Actually the older mission is behind this one and is in ruins---it was made of adobe and there wasn't much left.
It was built in the 1400's.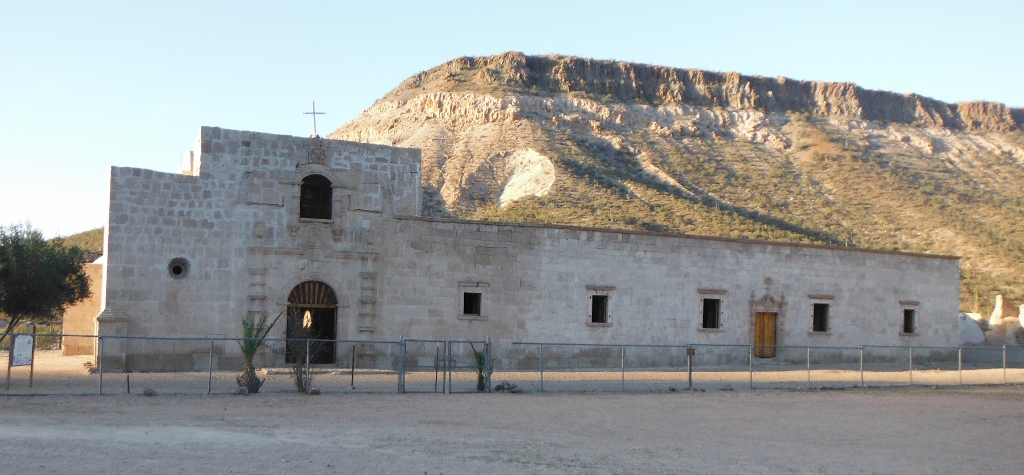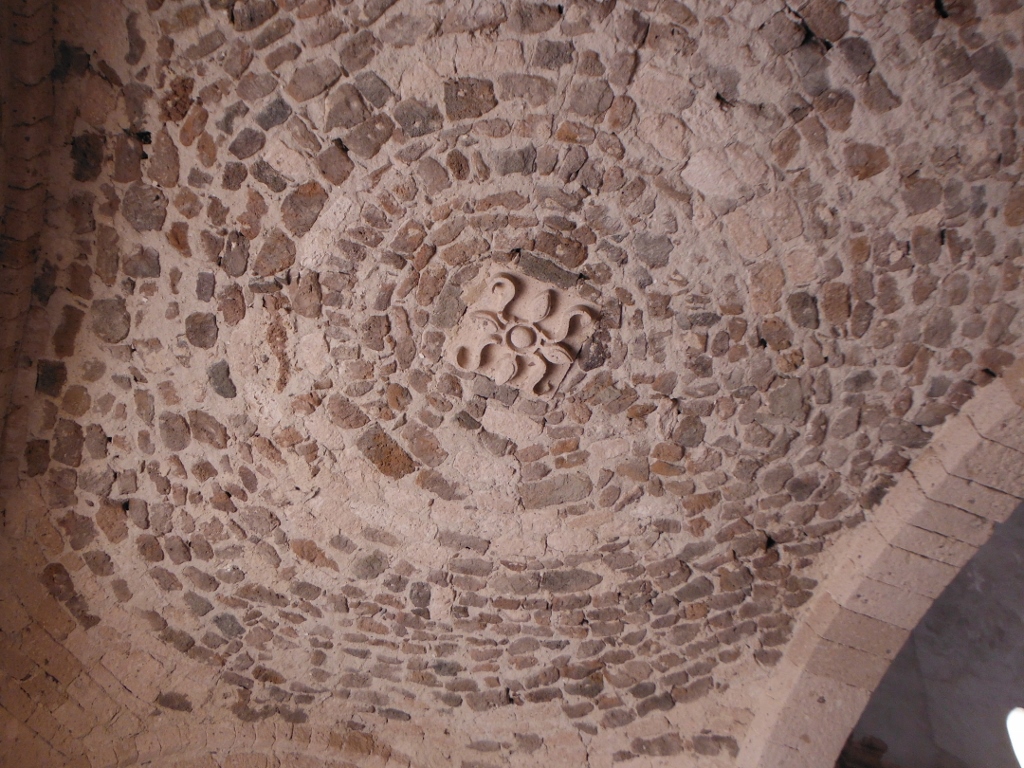 I asked permission (a rarity for me) to ring the bell and was granted my wish.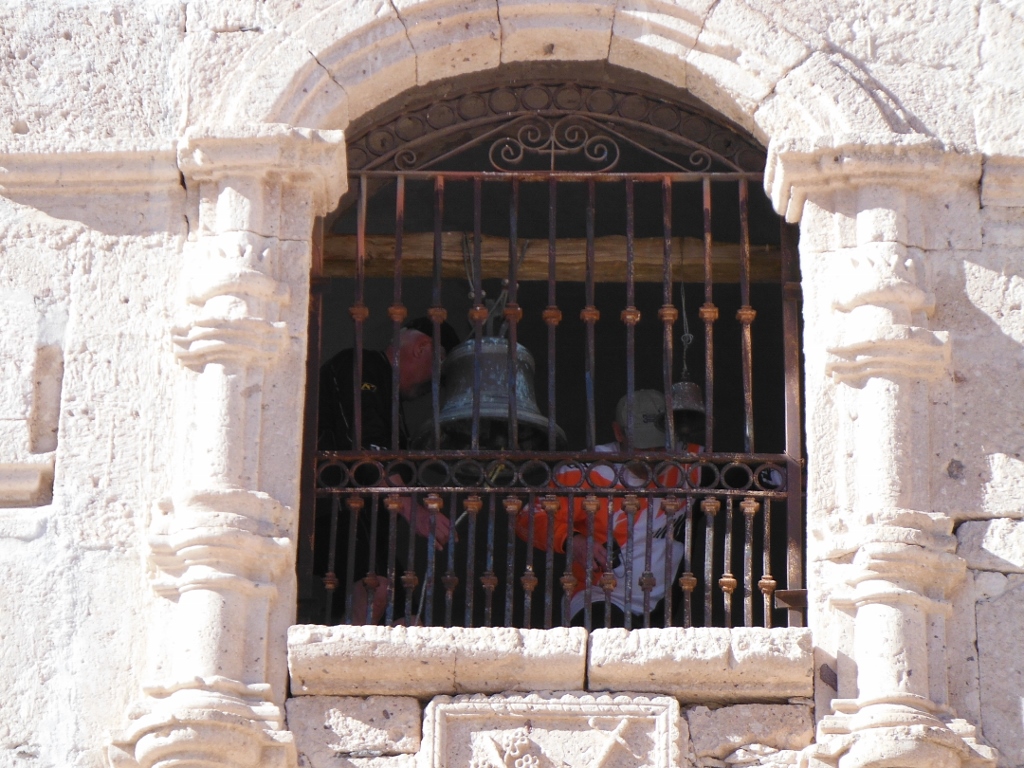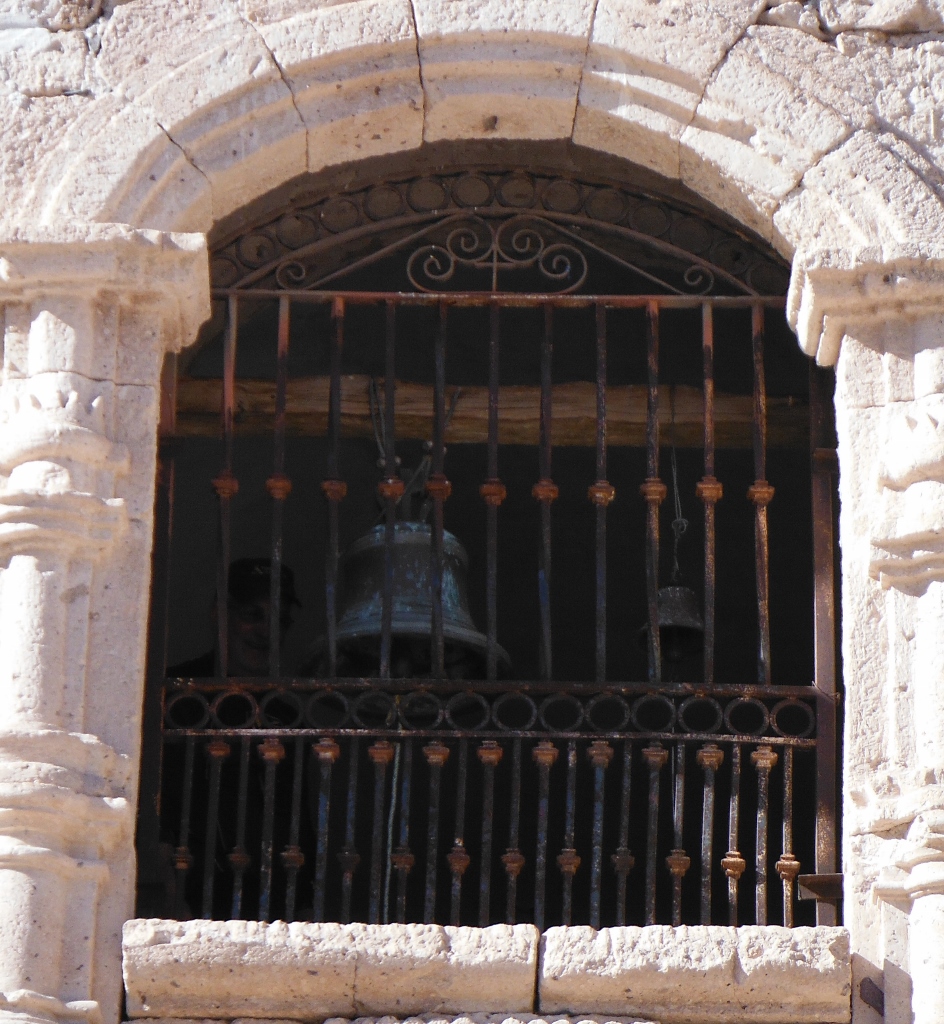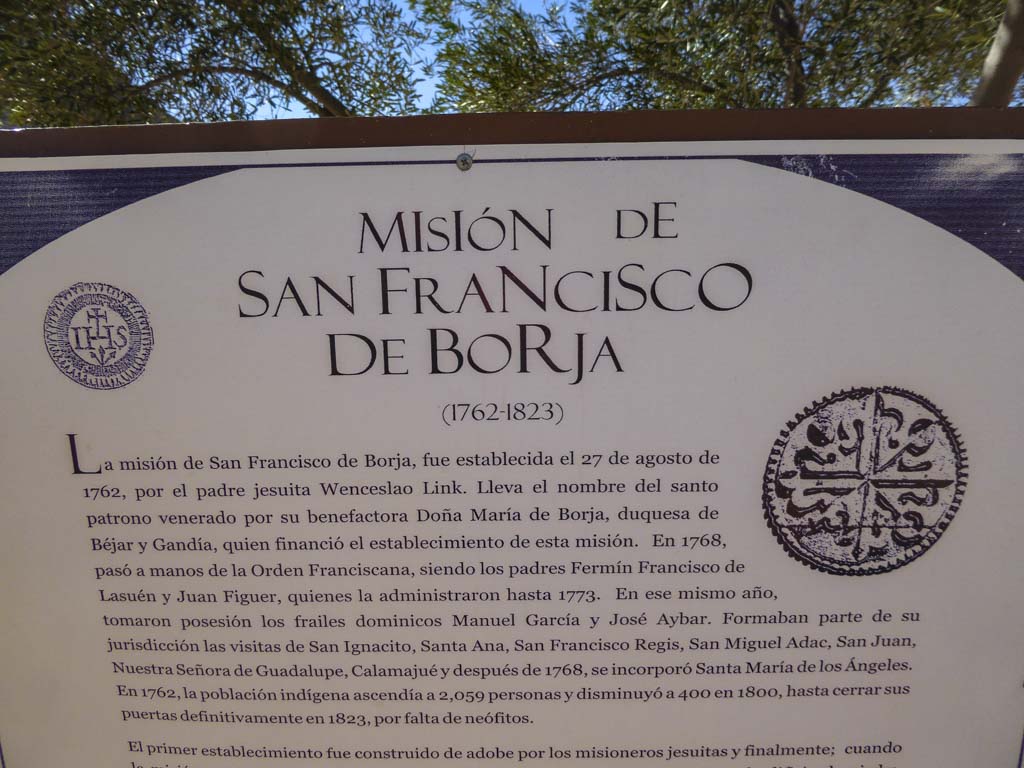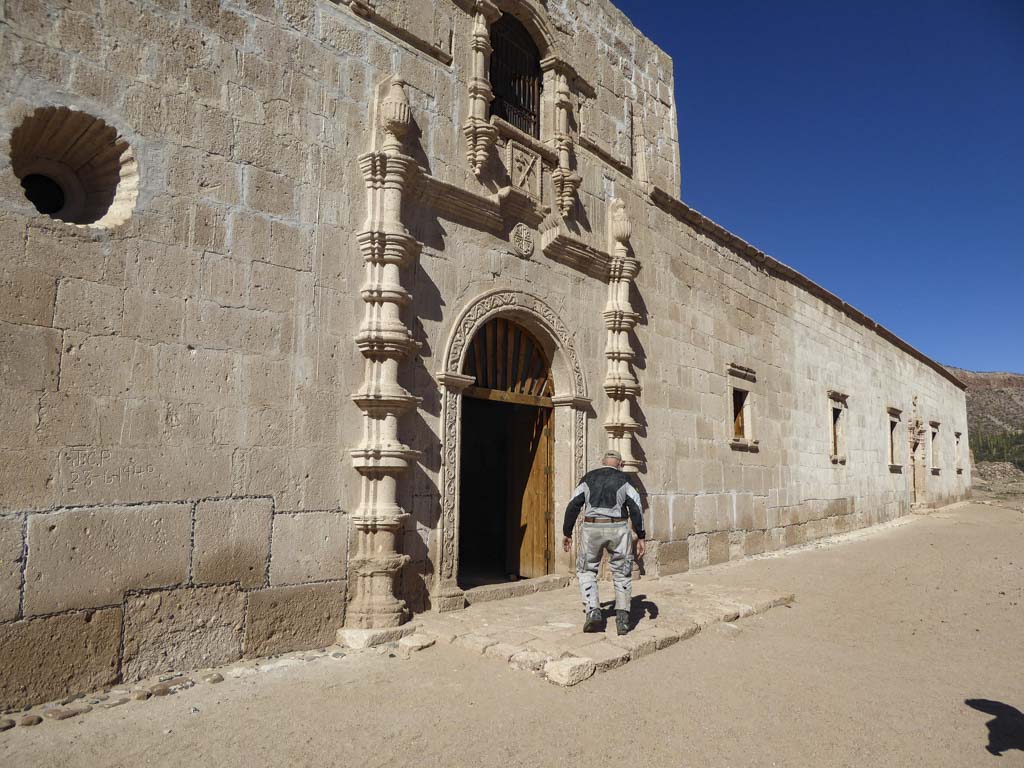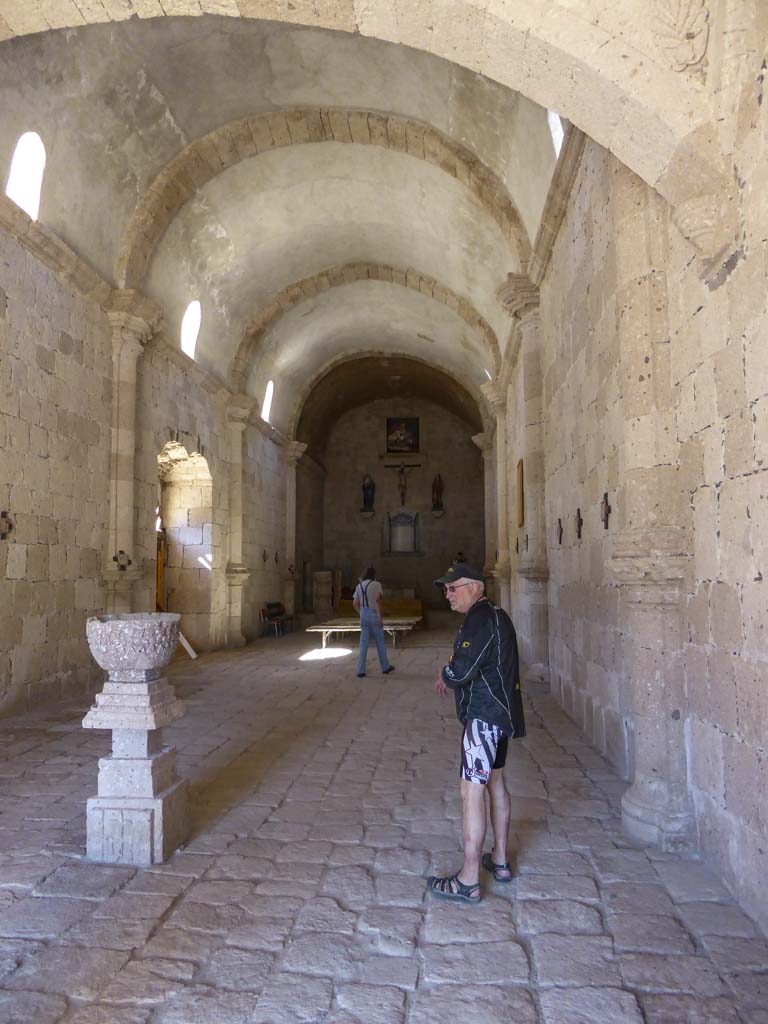 As a brick layer Dingweeds marvelled at the stucture.
He didn't want anything to do with picking up one of these bad boys.
I think this fellow's name was Juan---and he showed us around.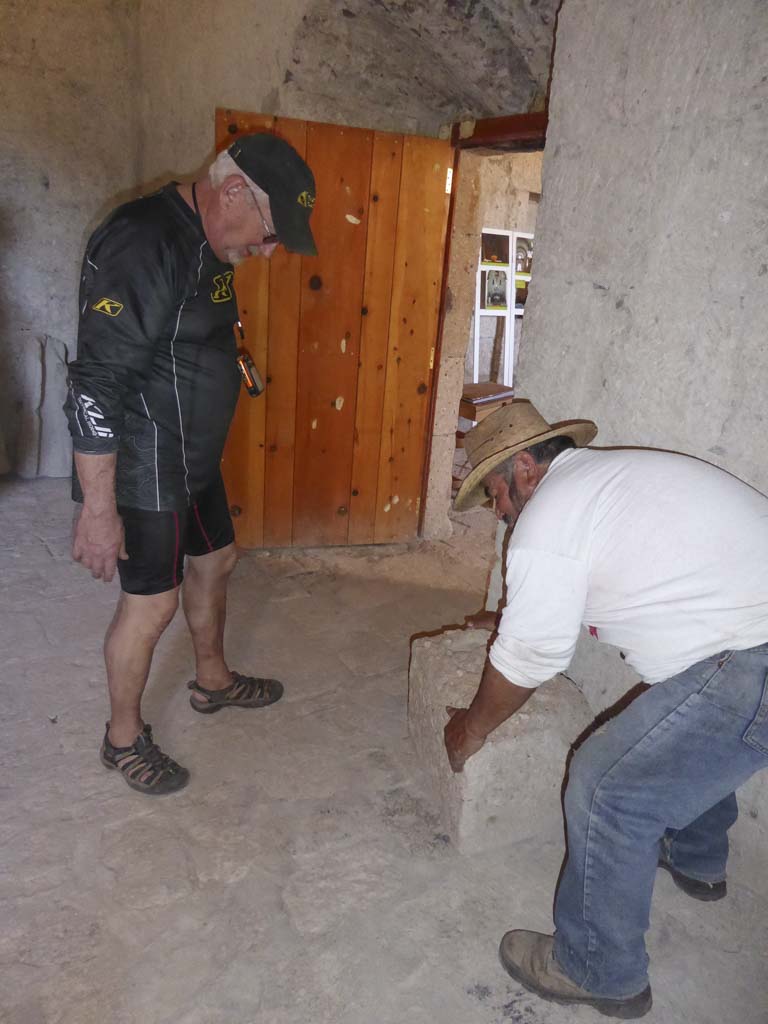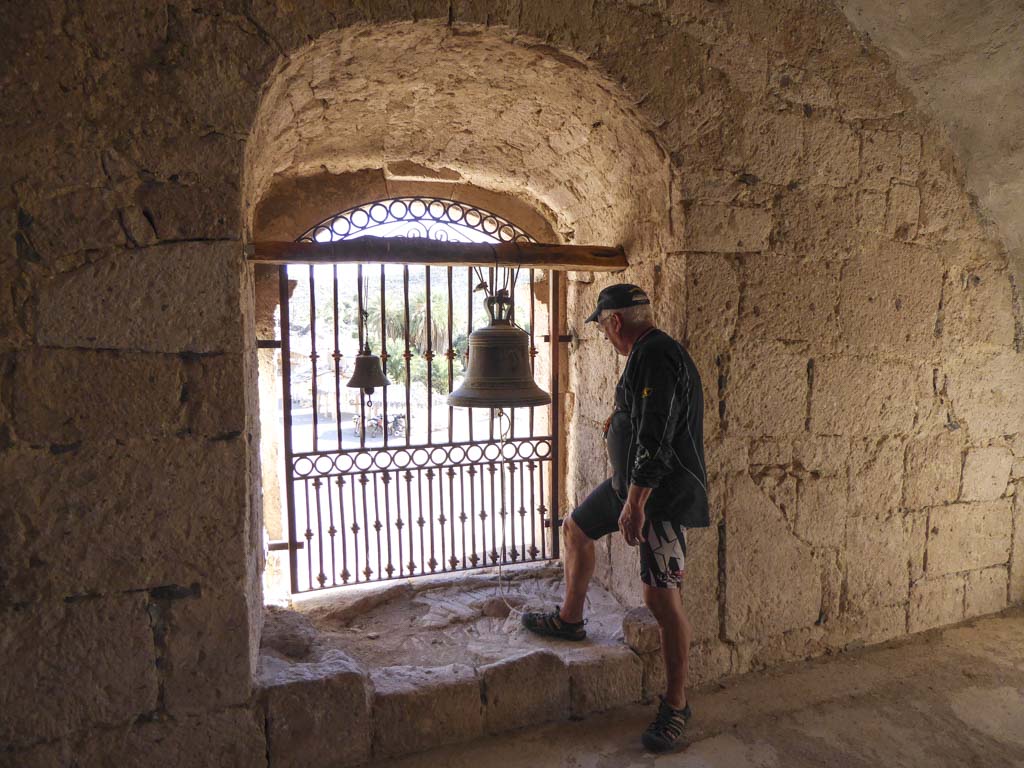 We went up the steep stairs to the roof.
The last time I was here they were laying the stones you see behind us.
Now it's all finished and restored.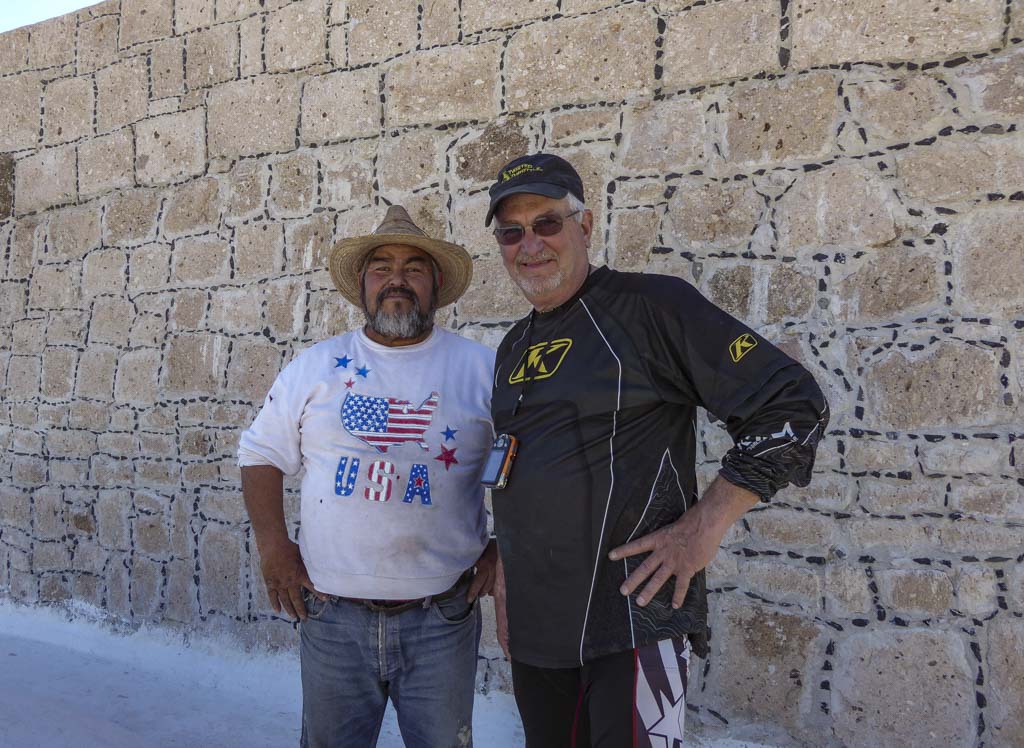 Man was I careful going down these------one little trip and it would be like falling straight down.
No one was allowed up here as it had a sign---but Juan seemed to like us and took us up there.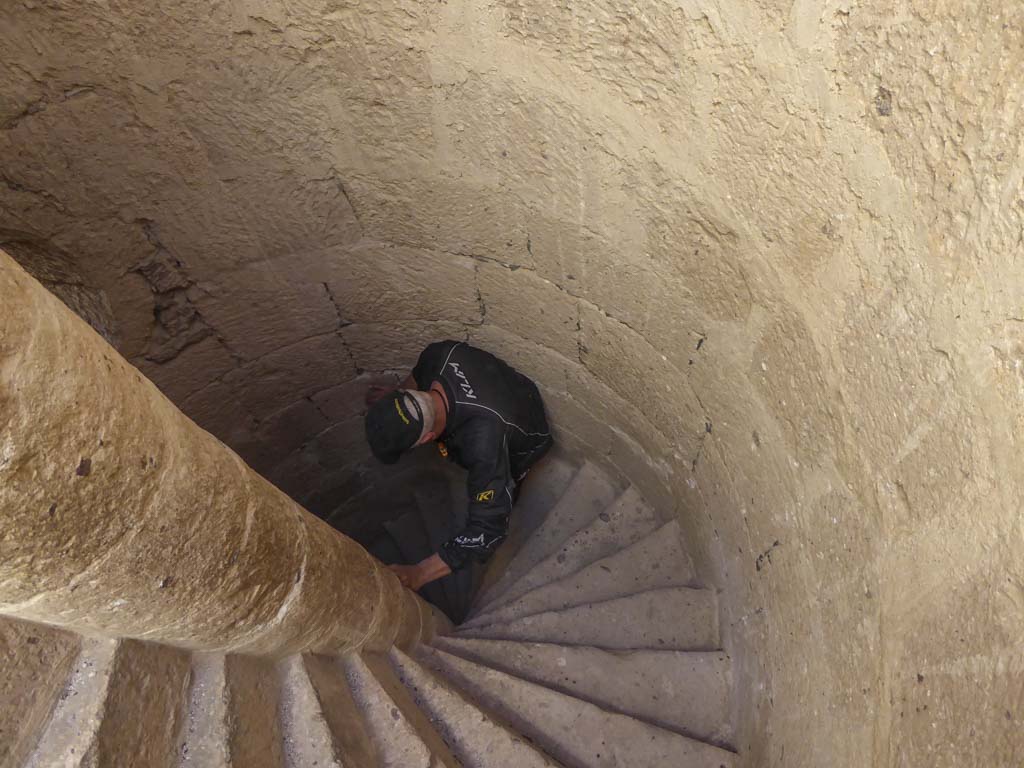 Yeh----------the riding gear was long gone.
And we went for a hike to this hot spring.
There are many springs in the area---and they provide water for the crops they grow there.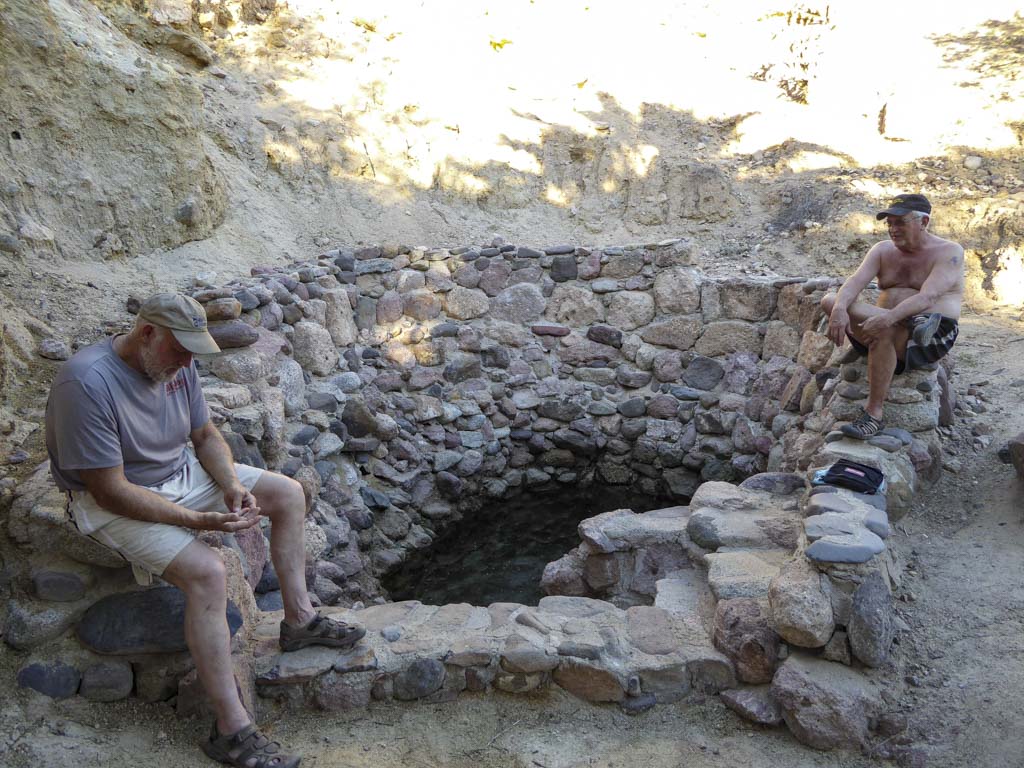 Juan was out weeding and I offered to help out--------for about 10 seconds.
I'm retired you know.
The spring waters are irrigated to these fields.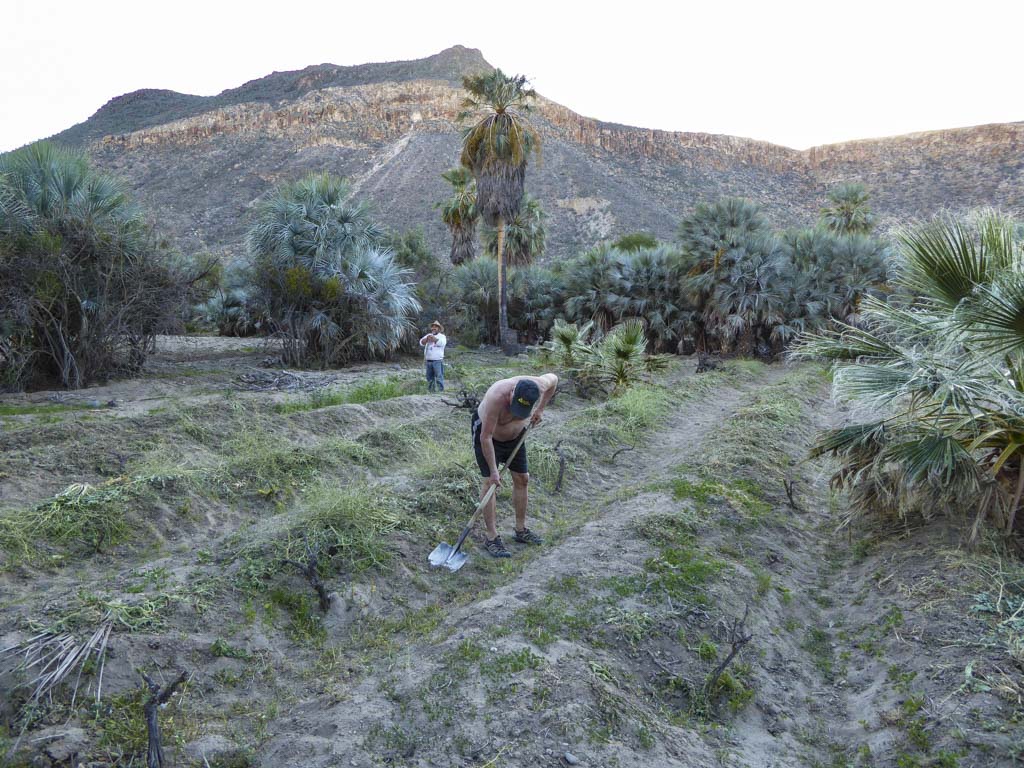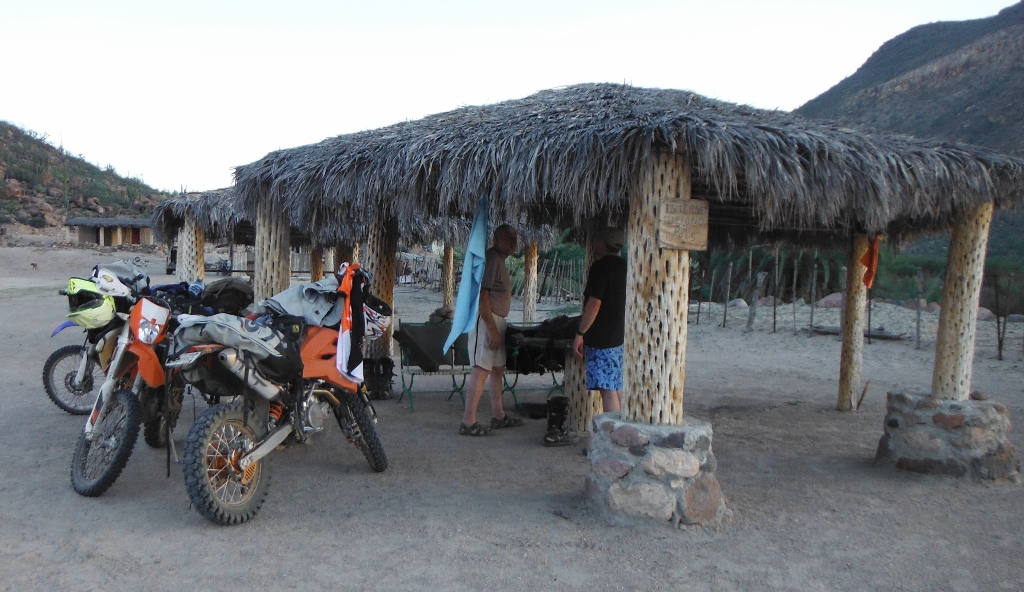 High Five snuck up on me and Dingweeds in the middle of the night.
No tent was needed. It was about 60° that nite. A nice moon and stars to look at---no bugs---no rain---awesome.
We slept under the palapa's for a very small fee.
Even had an outhouse and shower-------we used the shower.
I still had my therm-a-rest that was given to me---thank goodness for good people.
The large wooden poles holding this all up were so neat-----I was never clear on what they were.
Some tree I suppose.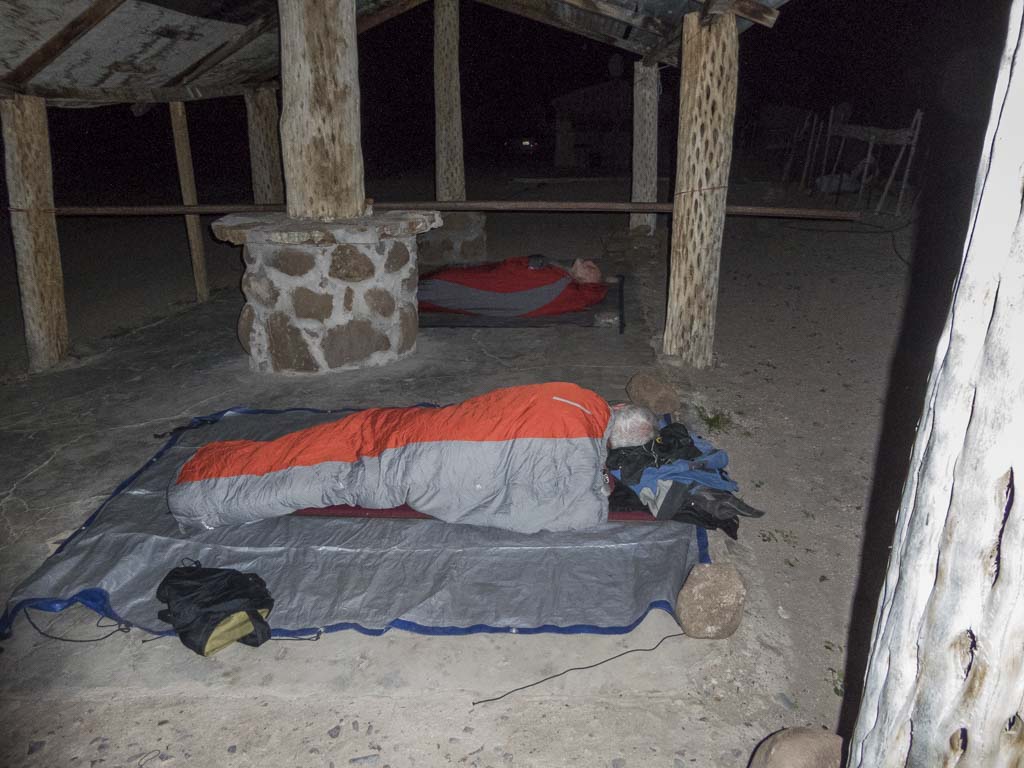 A rough map of our days ride.
You can ride from here on a dirt road North then East to Bay Of LA if you like. It's an easy road we heard.
We get to the Bay Of LA (Bahia De Los Angeles) later on.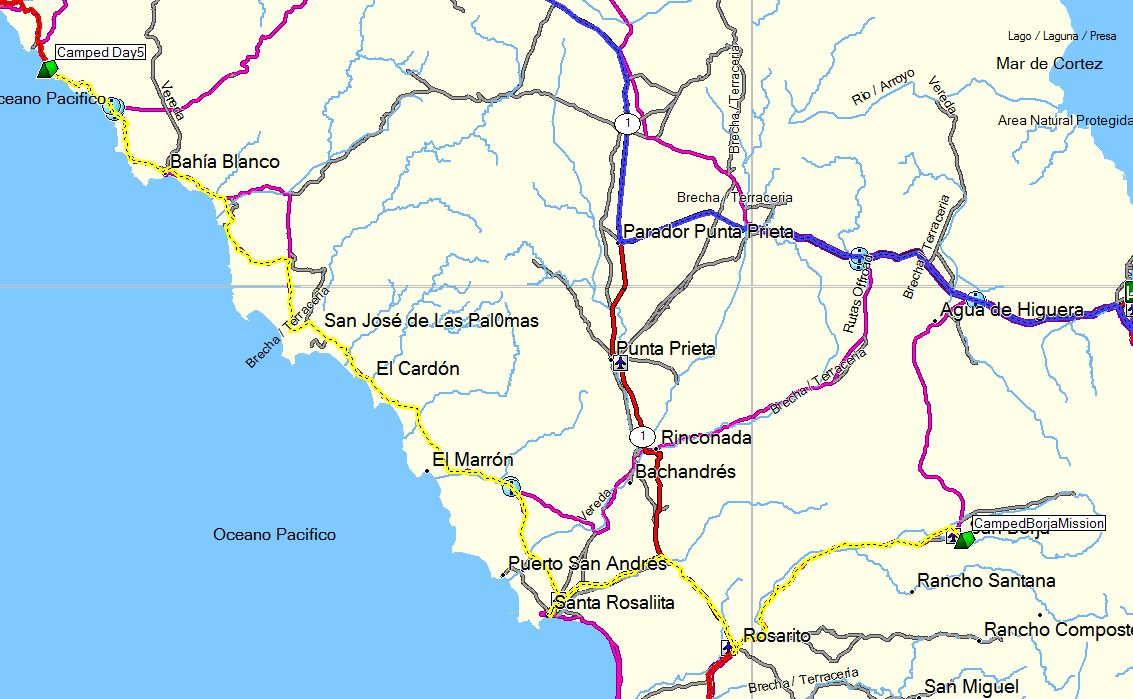 Day 7 February 14th, 2016
The next morning after the best sleep we all ever had we headed back West and had breakfast here in Rosarito and ran into
some very interesting bicycle riders. This guy has ridden his bicycle all over the world and we invited him to eat with us.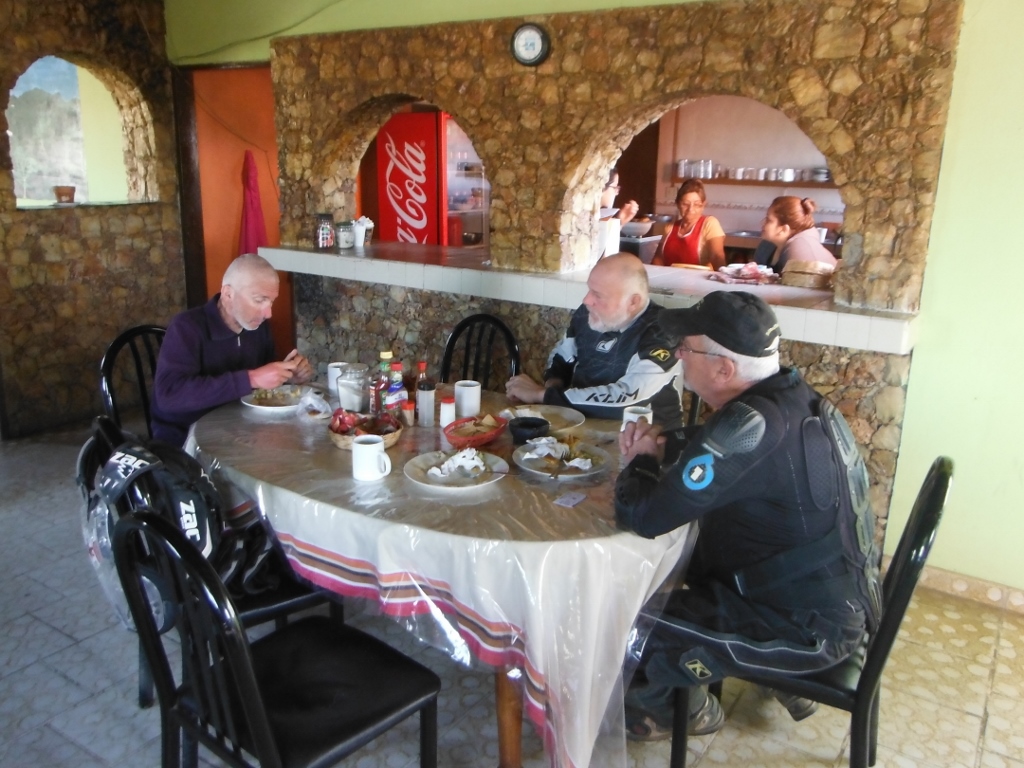 These nice girls fixed us a great breakfast.
They spoke no English---but it all worked out just pointng and grunting-------I'm good at that.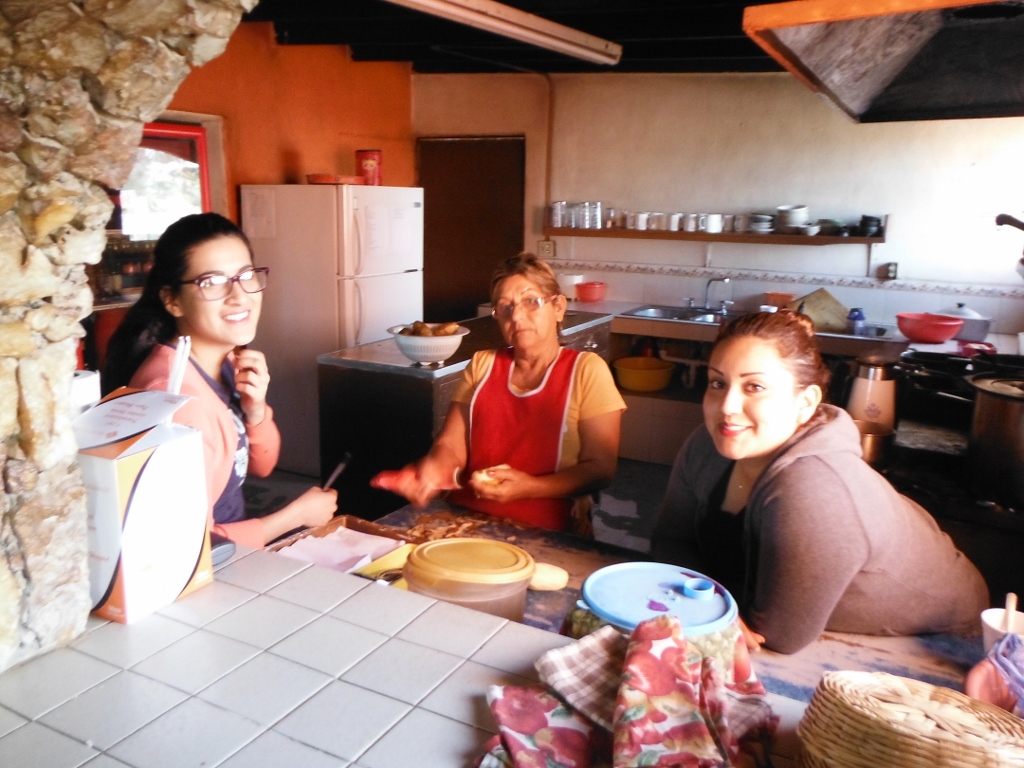 When in Rosarito stop in and have a bite to eat. This is about all there is in Rosarito.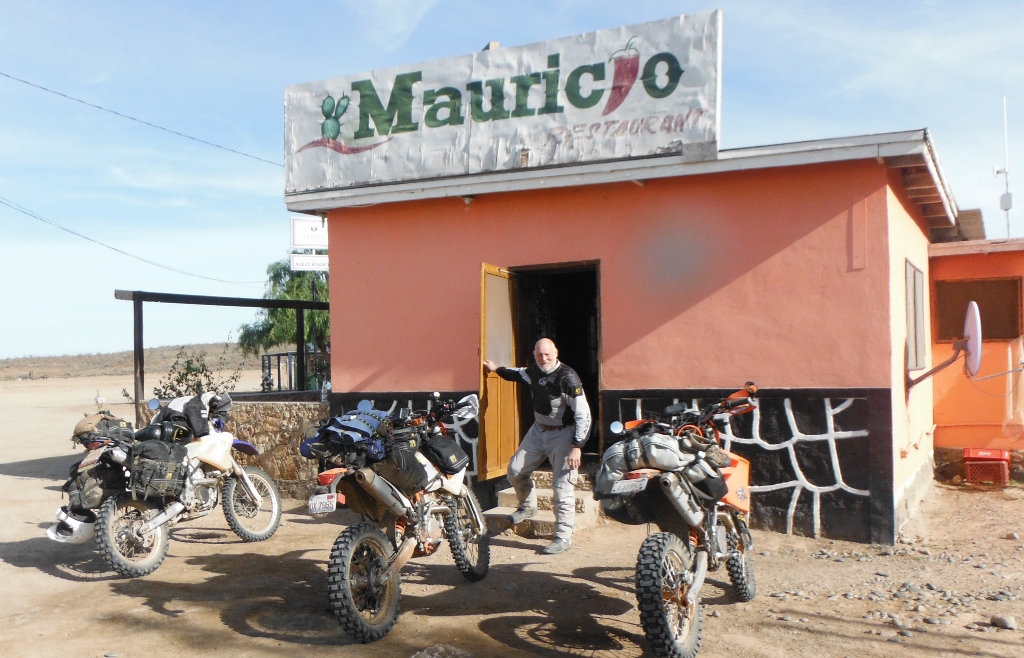 As a bicycle rider myself I wanted to look his bicycle over---and how he had it packed.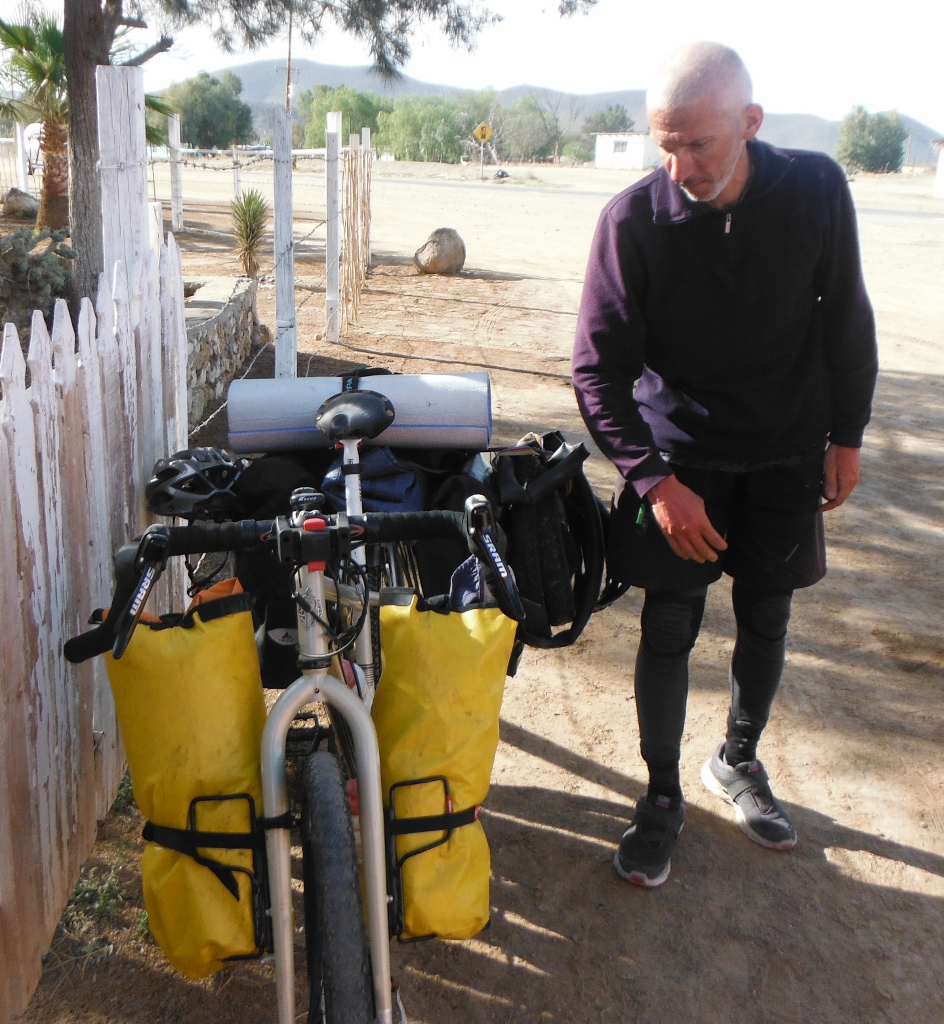 Then these 2 hooligans showed up----------looked like trouble makers to me. :)
They were having the time of their lives and I forget where all they had been and where they were going.
But I forget that about myself all the time.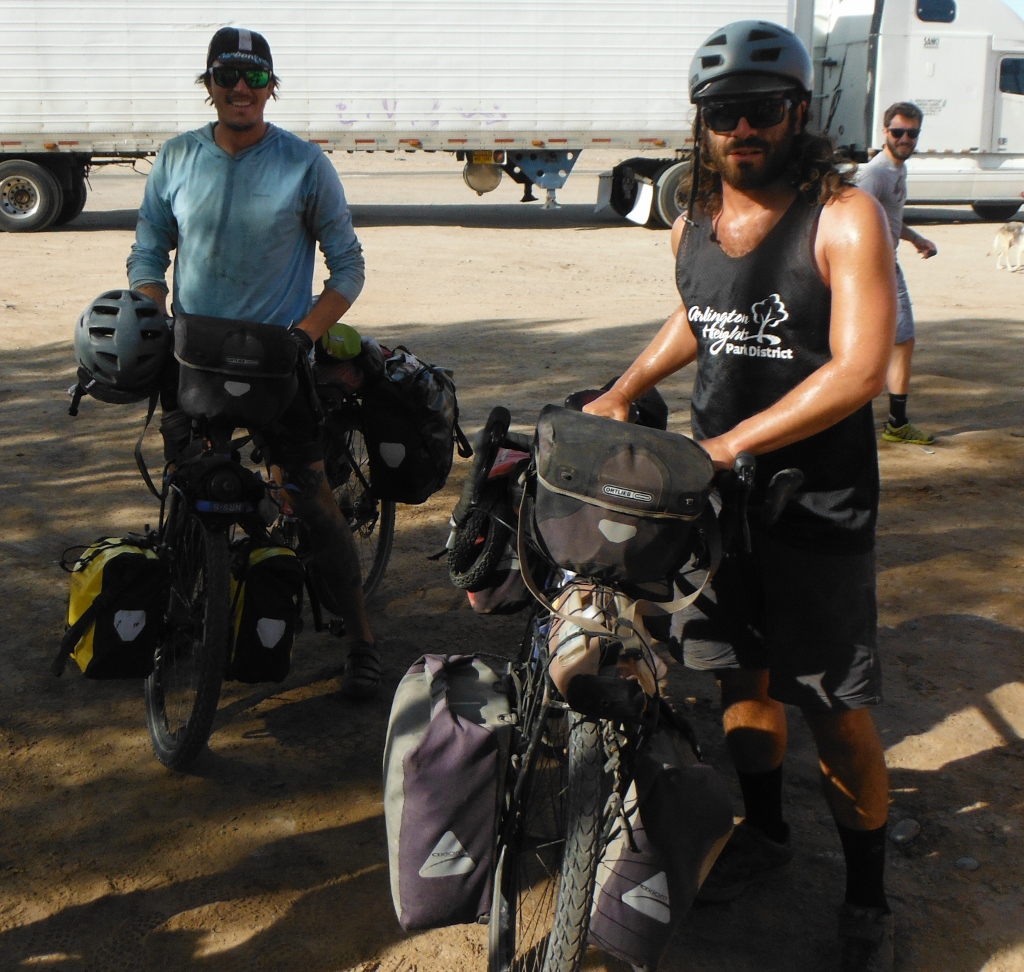 Not knowing it here at the time--but we would end up in Bahia Asuncion today------but we tired of the pavement
and I saw this road cutting across the desert and we went thru this closed gate as 2 old Mexican men passed thru
also and told us riding thru here was "No Problemo"..
Even I understood that-----High Five was getting this Espanol thing down pretty good and began muttering in Spanish all the time.
It was hilarious.
He babbled this weird Mexican accent all the time -----just adding "El" at the beginning and "A" at the end. Spanglish you might say.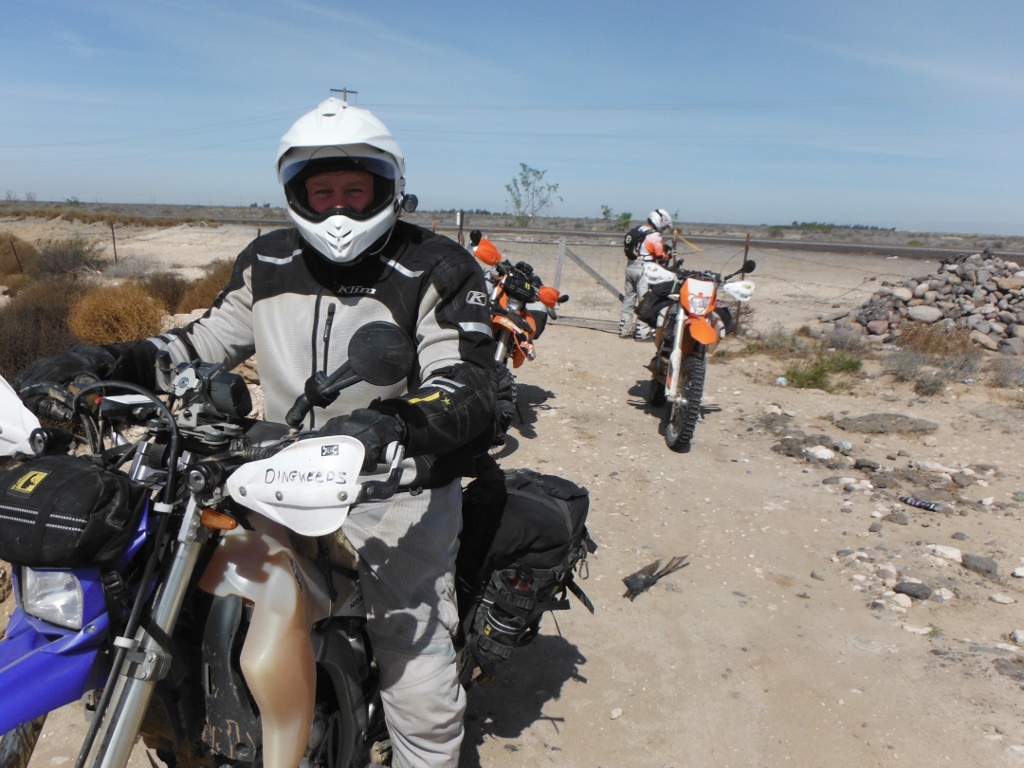 I lit the 350 EXC up chasing those 2 old Mexicans across the desert but never seemed to be able to catch them.
I could see their dust but they were flying---and I soon found out that a Baja trophy truck had absolutely nothing on these 2 old farts
in a very beat up Mazda B200 pickup truck with a 5-speed manual.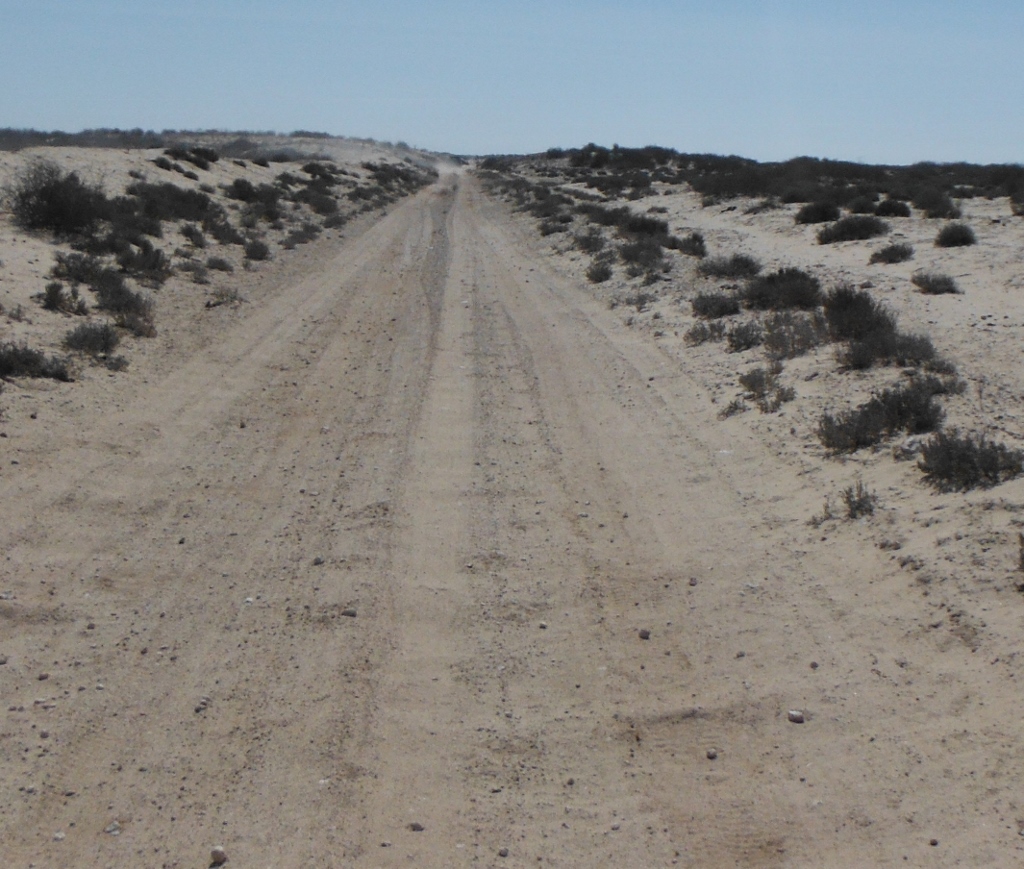 The only reason we finally caught up to them was because they had to stop and pee.
Then we had to stop and pee and they fly by at break neck speed and missed their turn.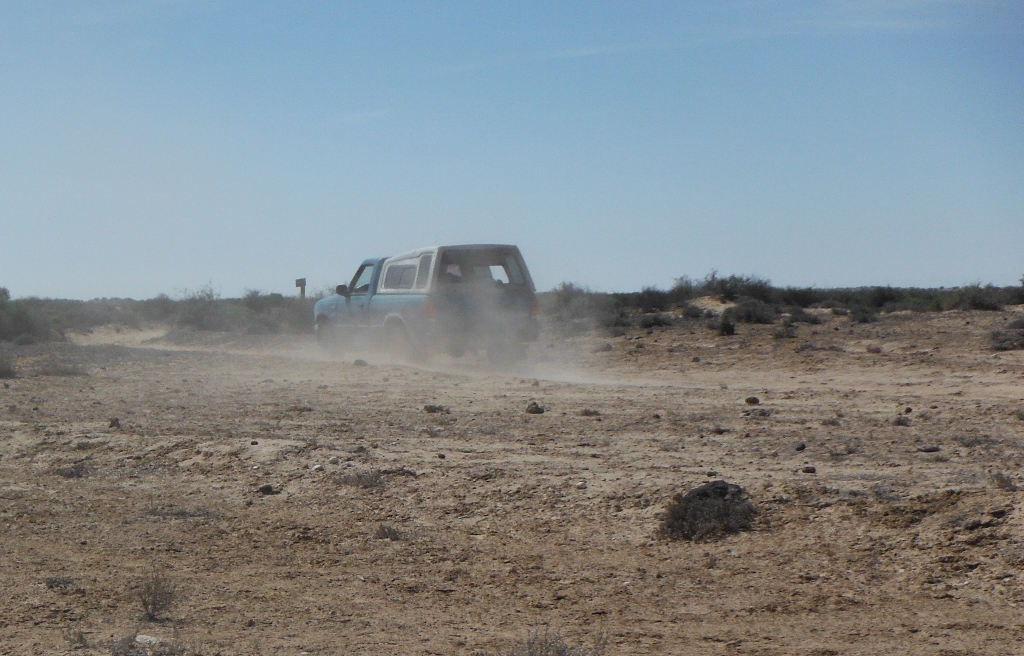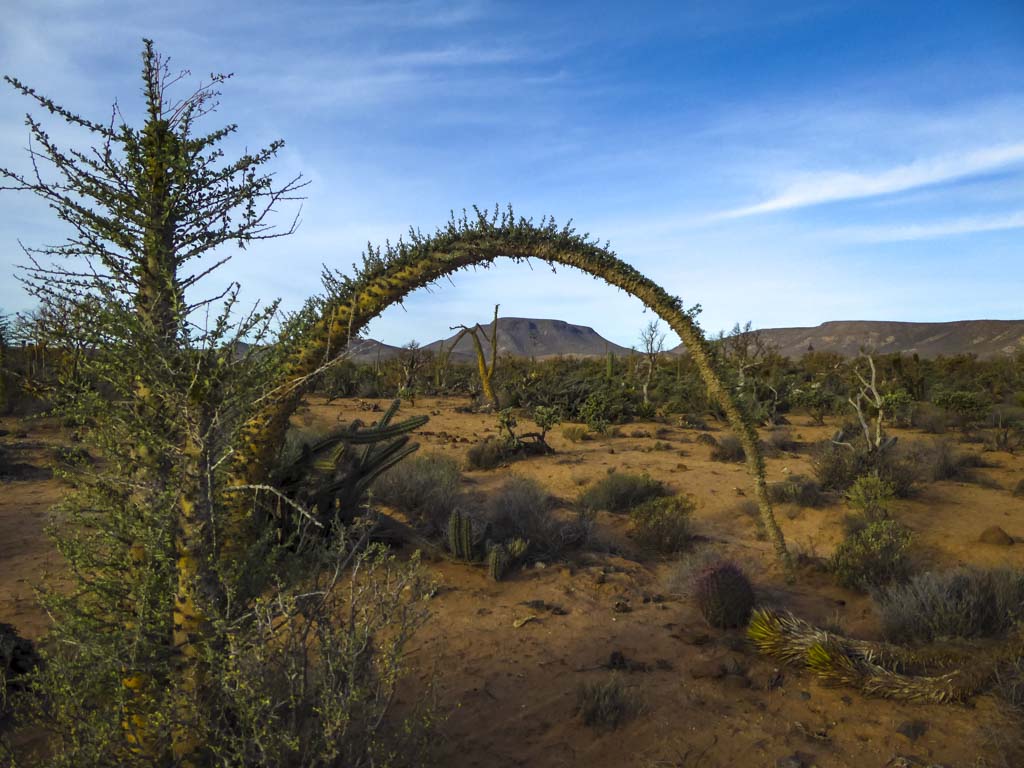 Then they did they almost crashed as they ran off the road and got stuck ----------right by us.
We couldn't leave them----and helped them dig out and gave them a big push.
It was all smiles and big "Moocho Grassy Asses"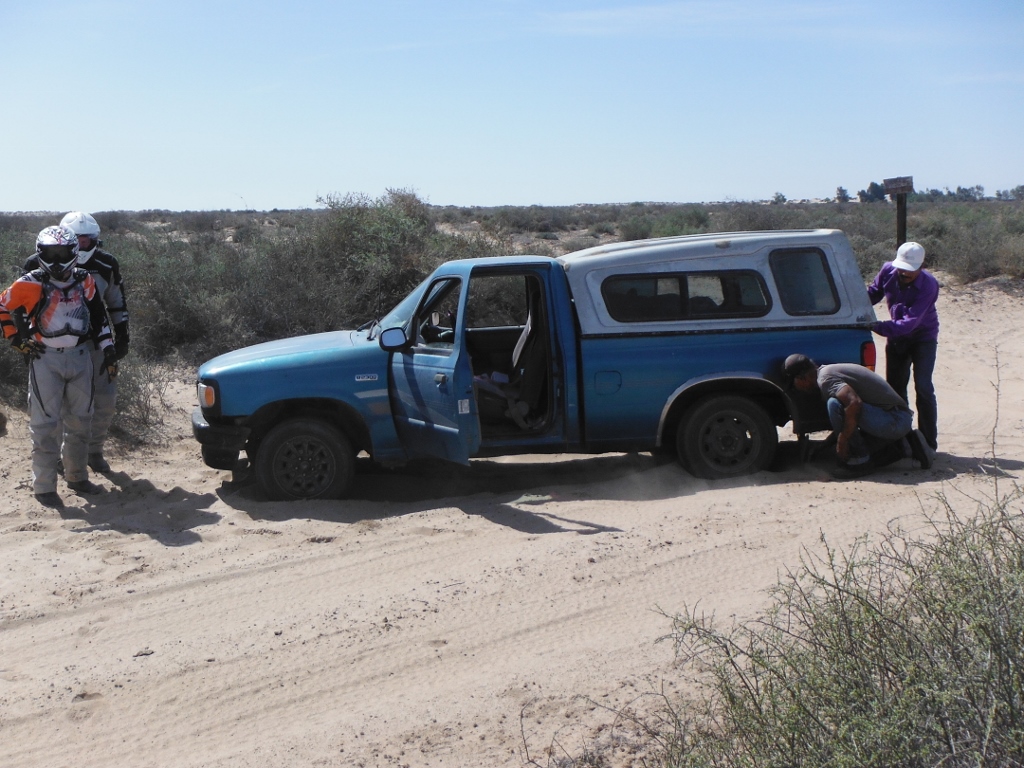 And after 40 miles of fast sand riding we hit the pavement and I was glad we had took that route.
We missed a lot of pavement on the cut-a-cross and had a hoot.
So looky here------the poor guys had a flat.
We tried to help but they had it covered.
More "Moocho Grassy Asses" and we were on our way.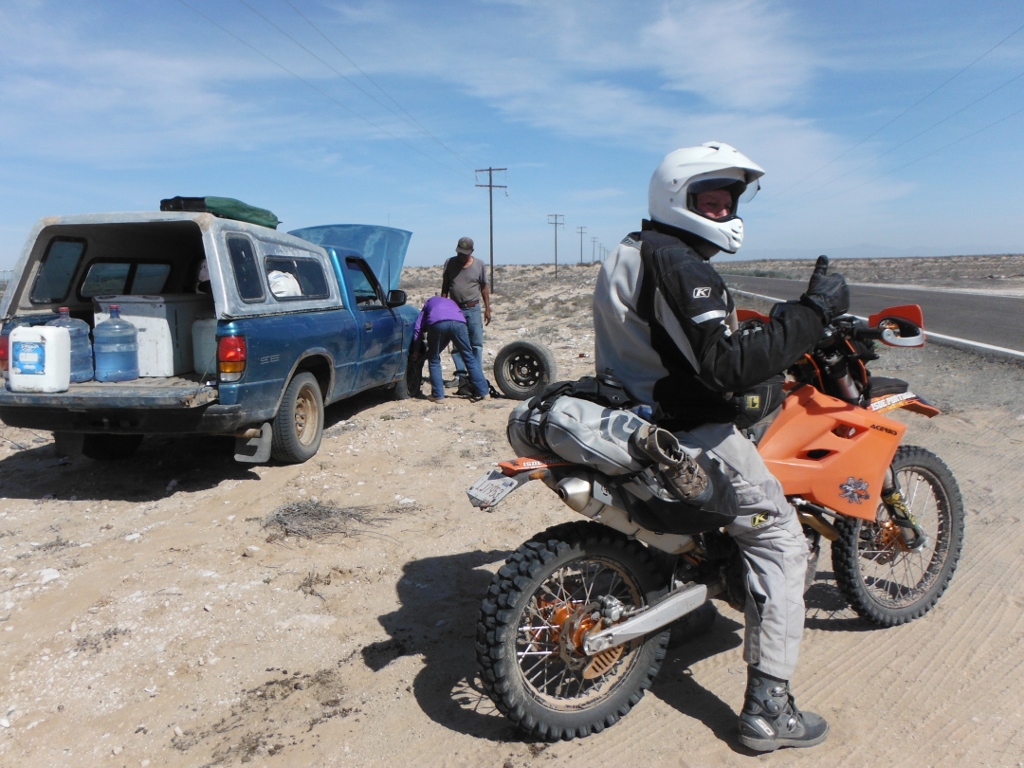 I had another one of those wayponts in my gps I put there 20 years ago----it said "Blowhole Motel Find It"-----------just like that.
Well I couldn't find it no matter how hard I tried so we checked into the Bufadoro Hotel.

Which quickly we found out that Bufadoro means "Blowhole"---------this Spanish is getting easier all the time------so what's a Blowhole you ask ?????
A very good question that needed answering.
I had foung the Blowhole Motel and didn't know it--------man I'm good.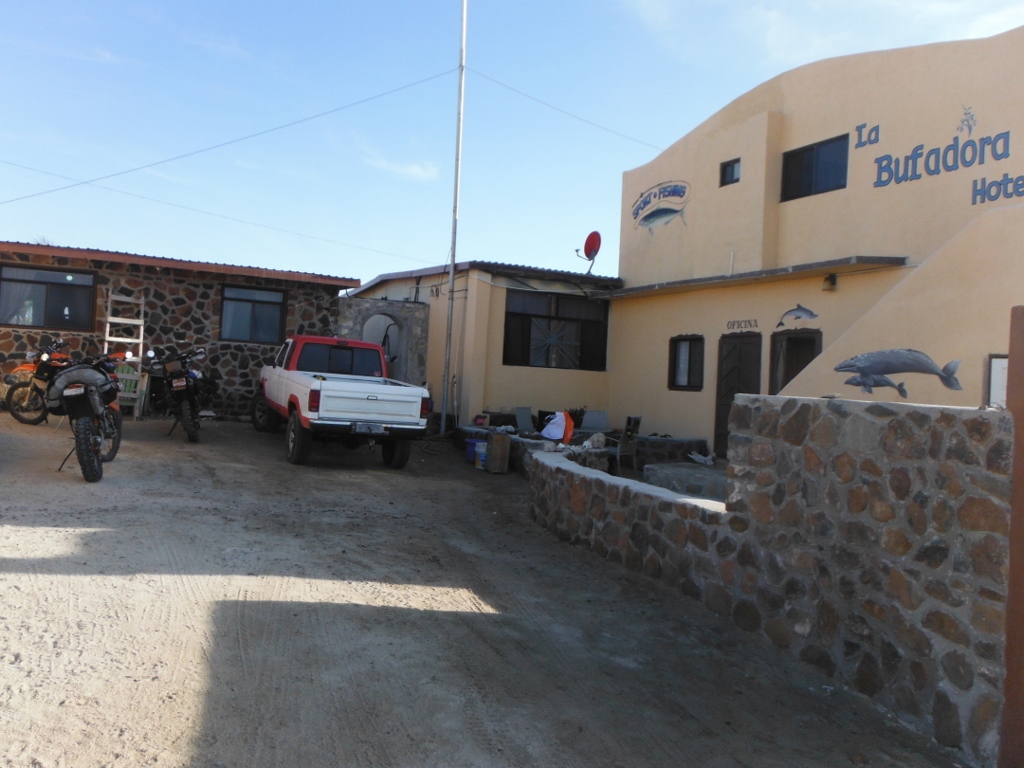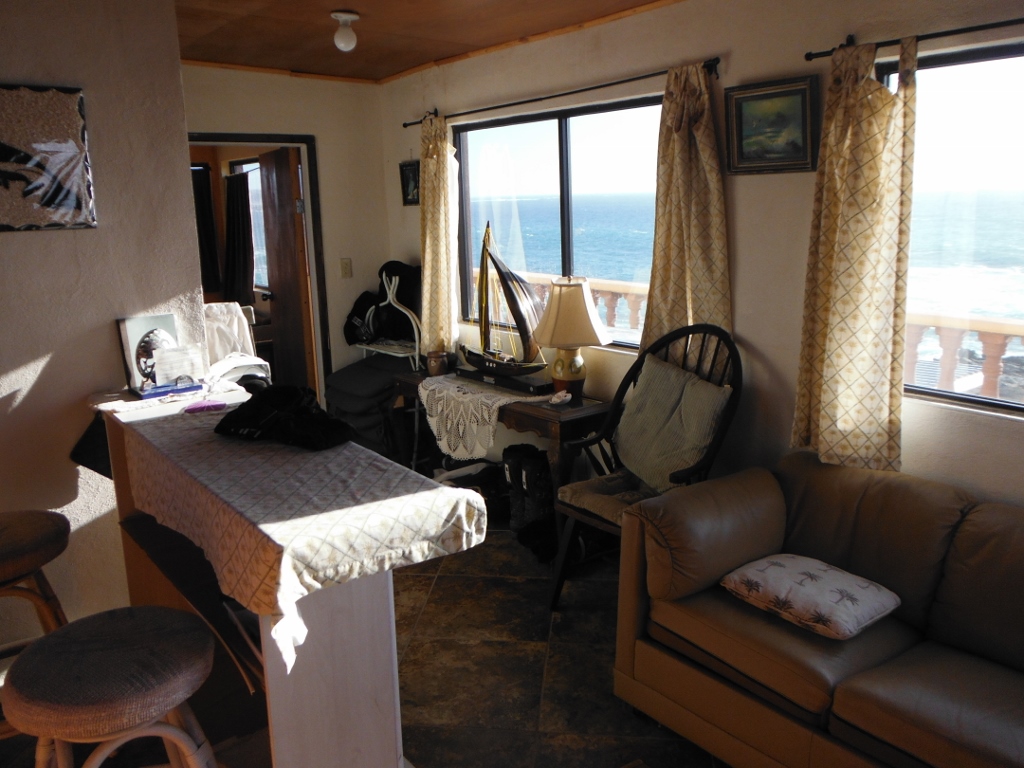 Me and Dingweeds room was on the 2nd floor----------and I didn't ask----I just took 2 plastic chairs and put them on the roof
for a magnificent view of the ocean. And off comes thos pesky clothes. It's summer time down here.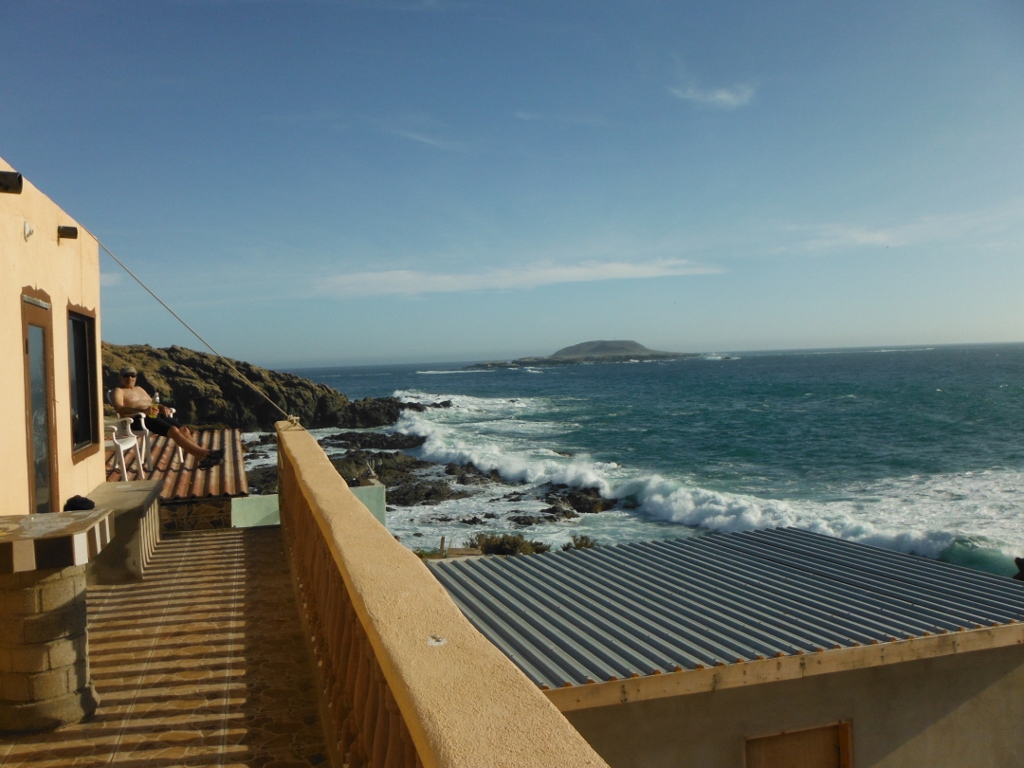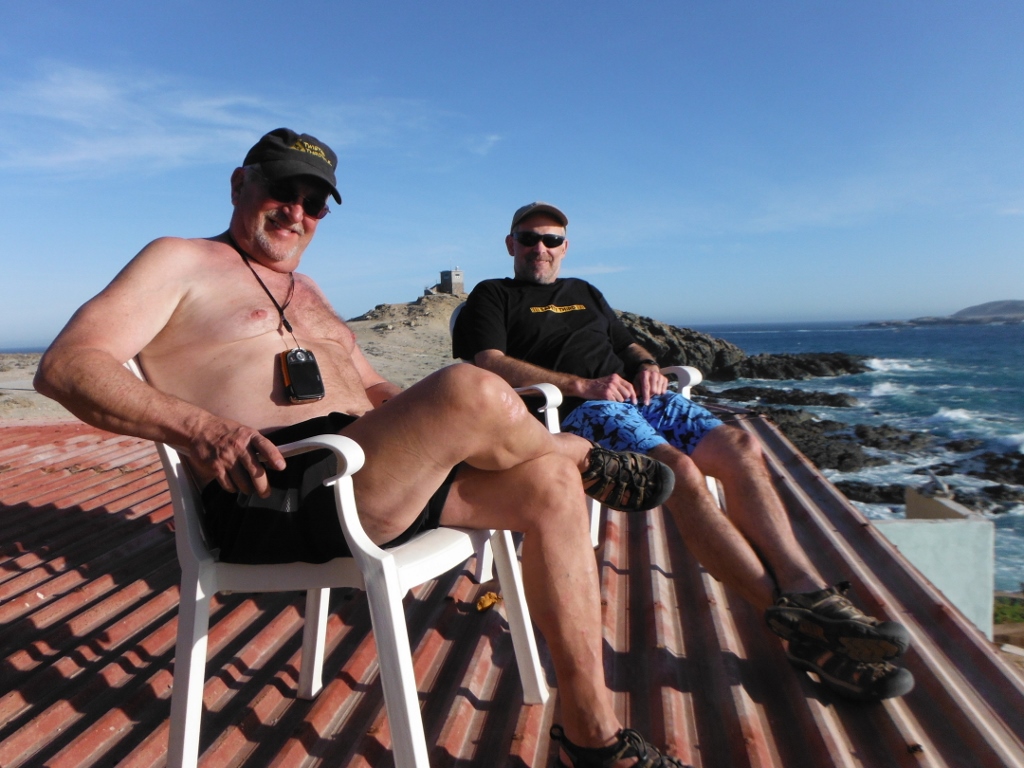 We looked out at the ocean--------and all of a sudden water shoots straight up out of the rocks.
We were at the "Blowhole"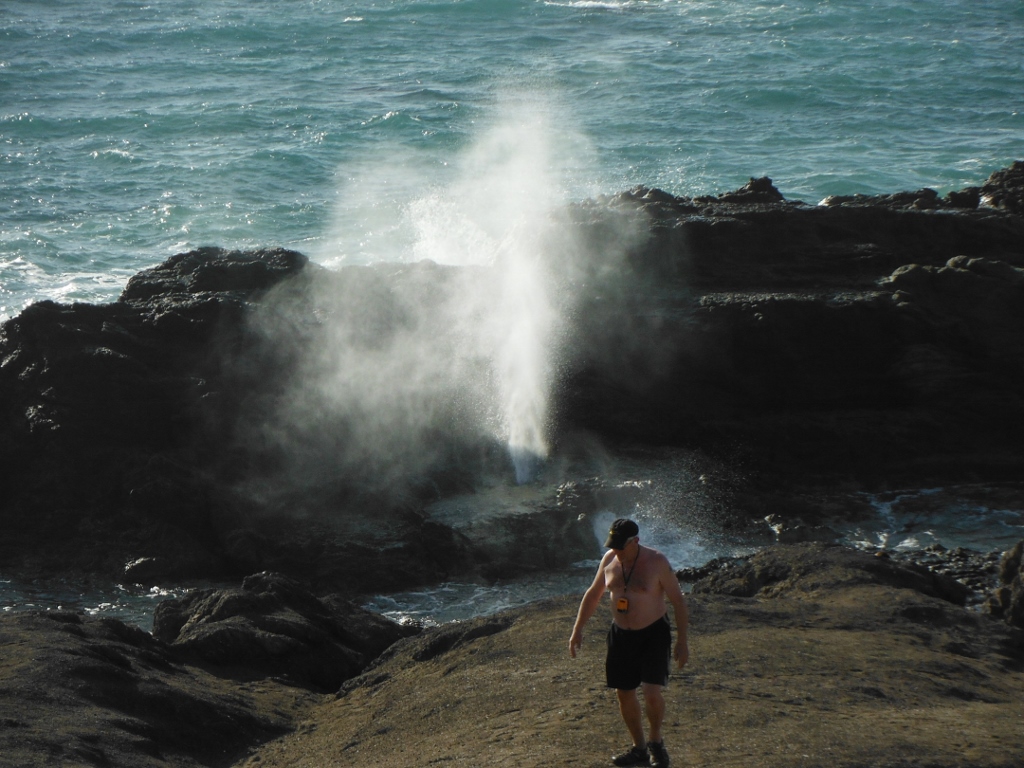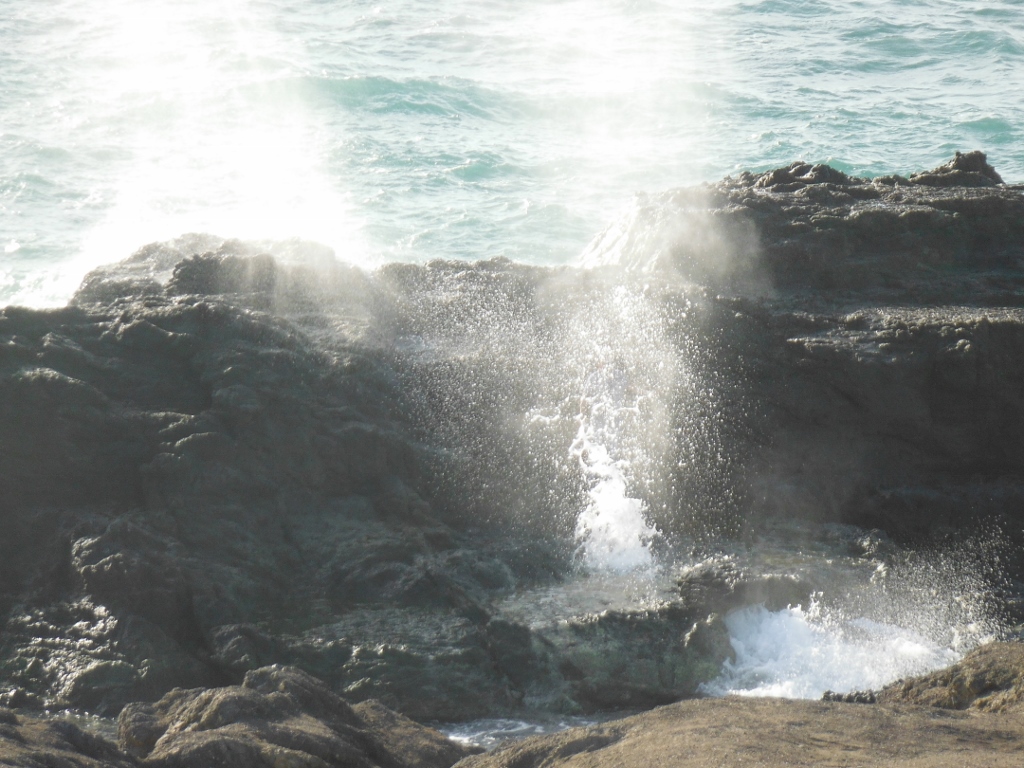 A Mexican man was standing at the blowhole when a rogue wave came over the top and drowned him.
It was hilarious. He's in this wall of water.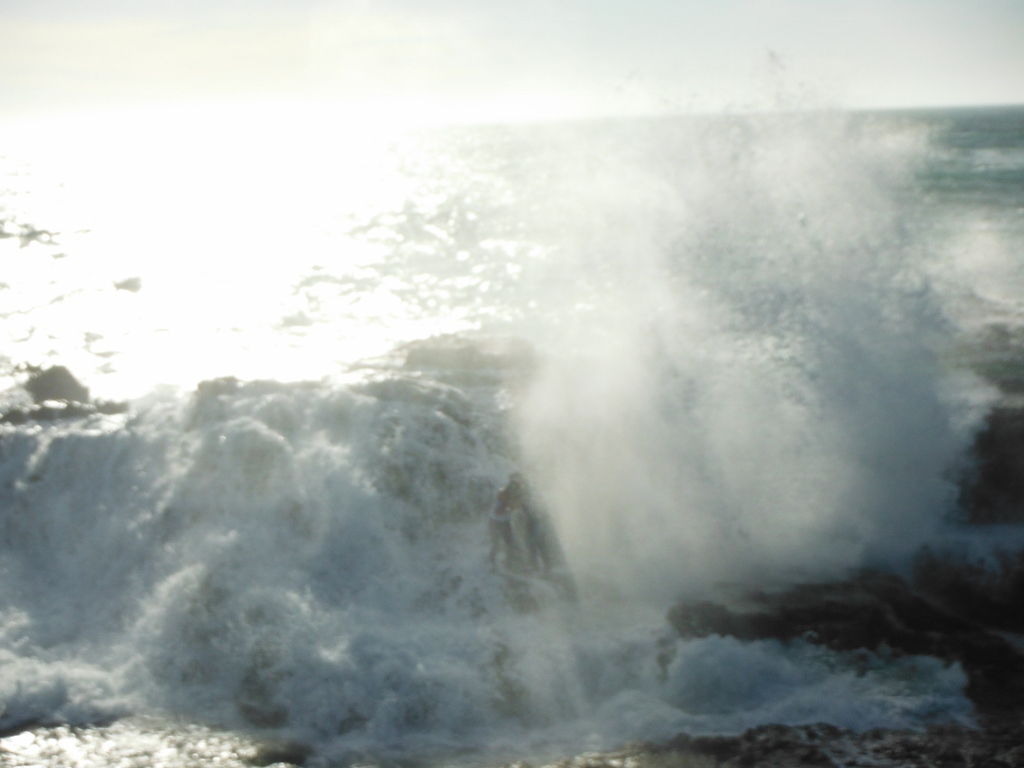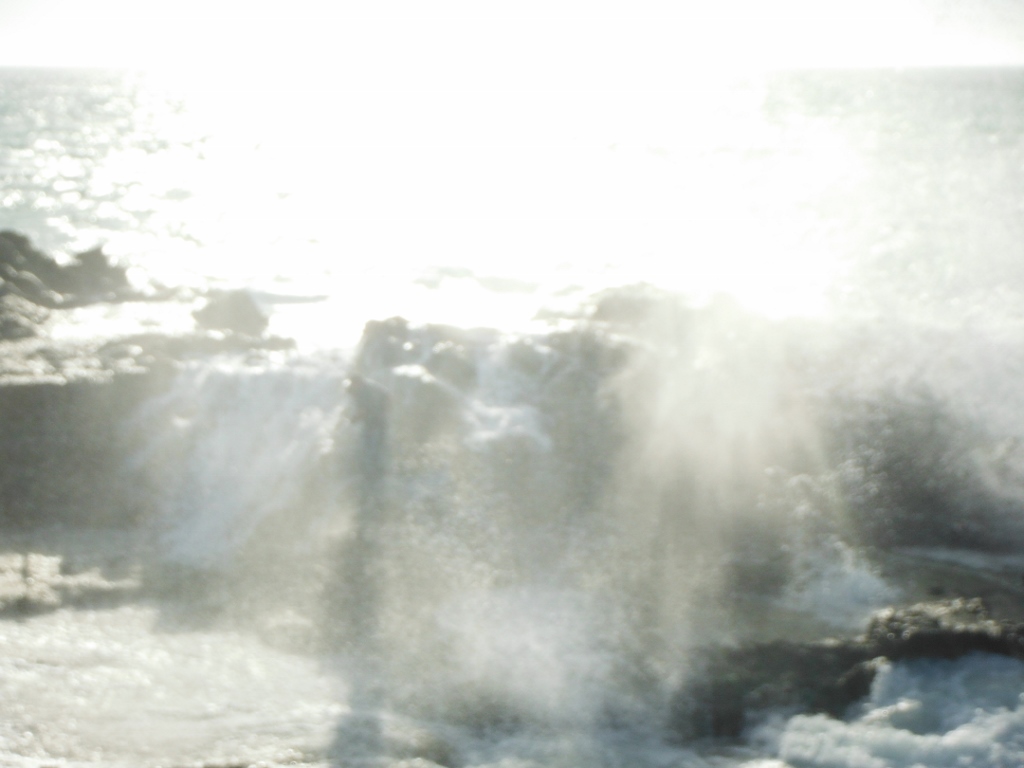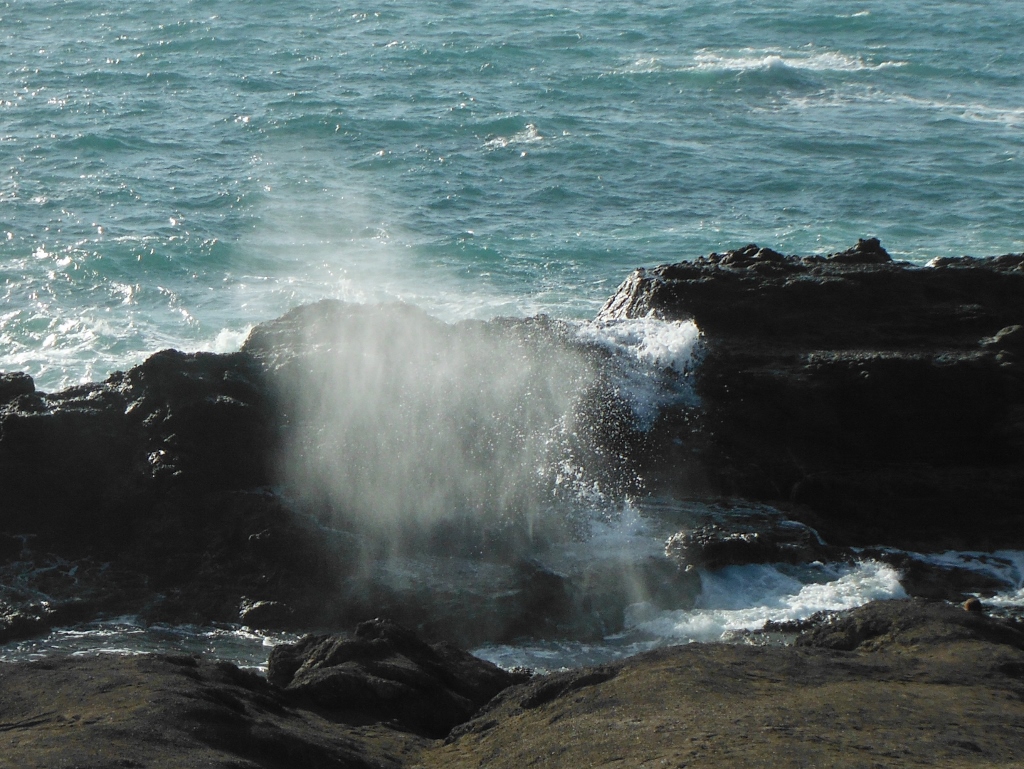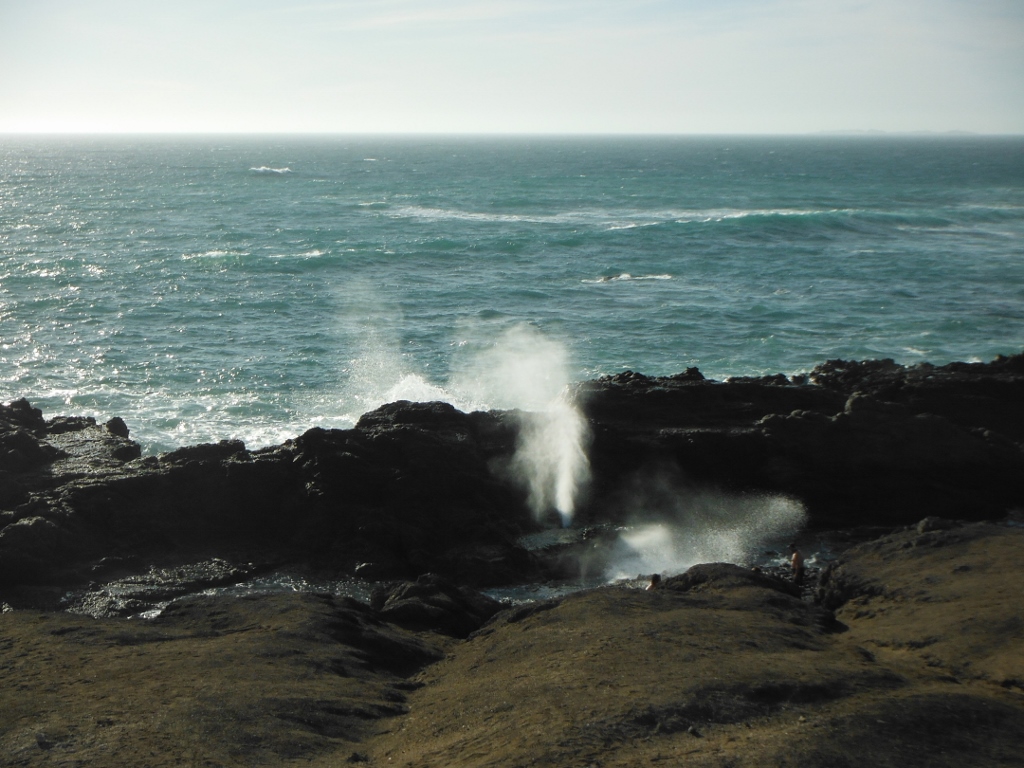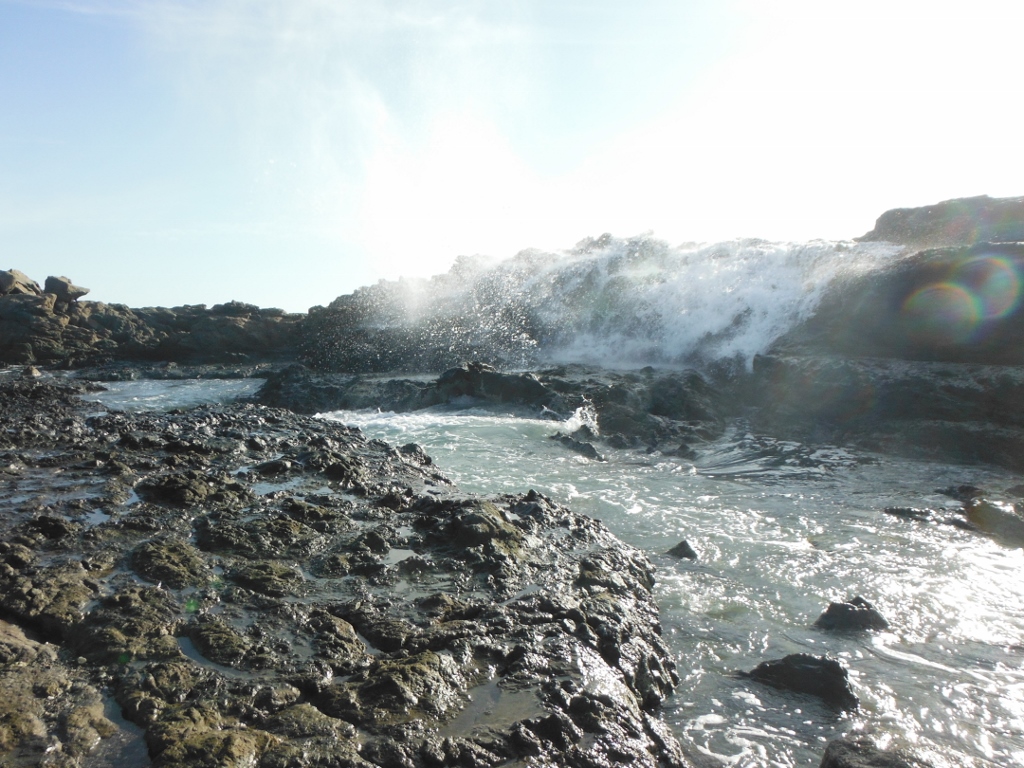 Hi wife and daughter laughed till I thought they were going to bust a gut.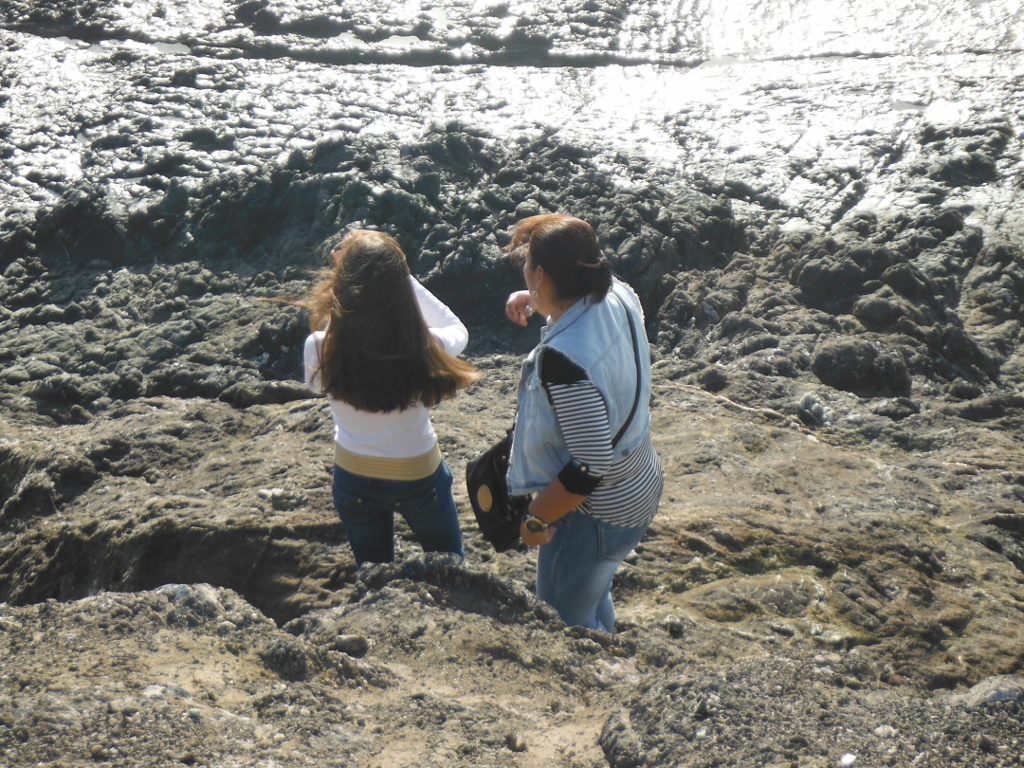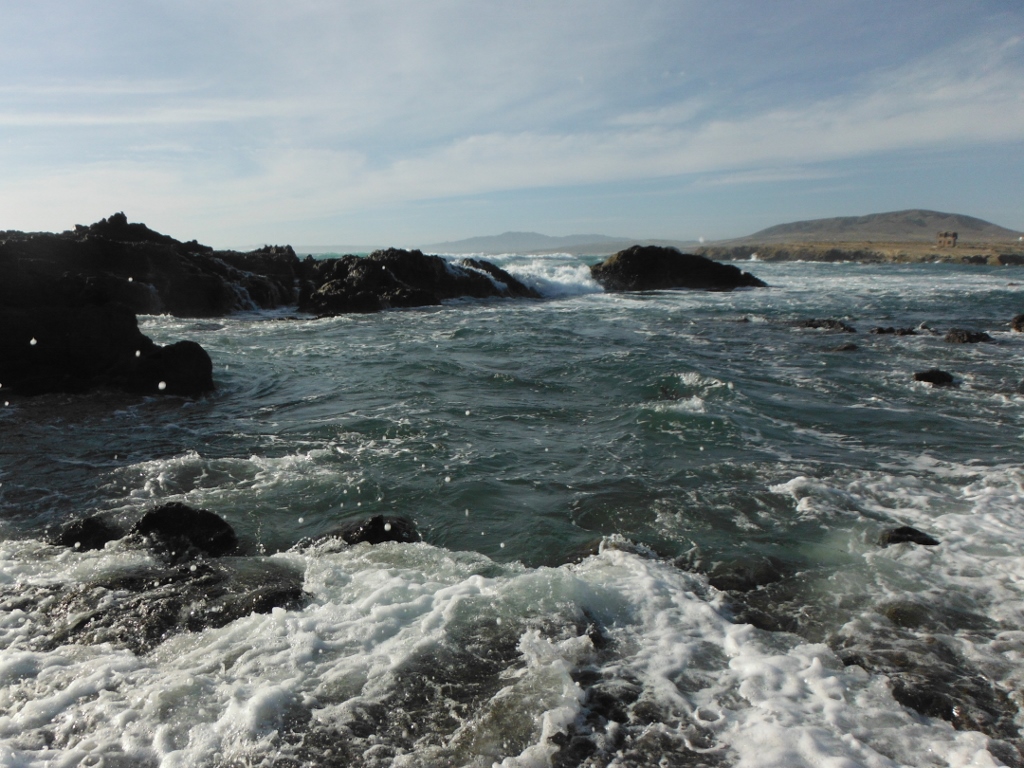 So---------Dingweed and High Five are Hungry and want to go to town to eat.
I just wanted to stay on my rooftop in the sun and watch the sun go down. They said they'd bring me back something but would be back for the sunset for sure.
3 hours went by and no Dingweed or High Five. I was getting hungry by now.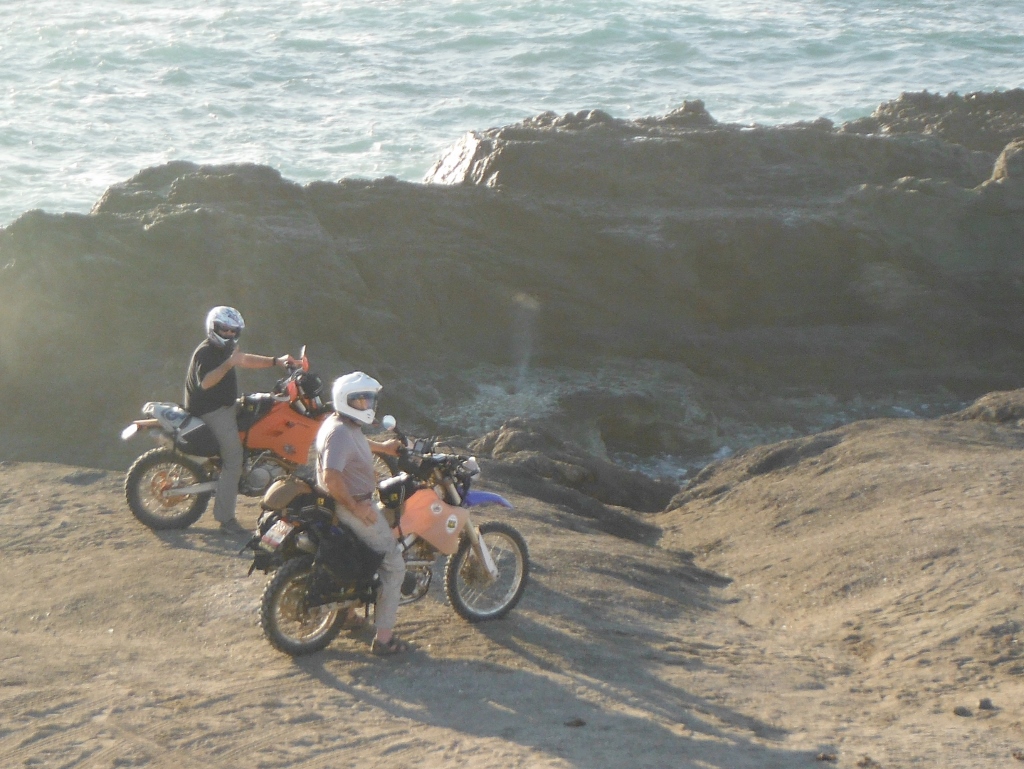 They missed the sunset and it got dark----------real dark----no Dingweeds or High Five.
I was really worried--------turned out they finally showed up and had went to a restaurant that was in no hurry and it took forever to get their food.
And without me leading :) Couldn't find their way back to the motel--------it was hilarious I'm telling you.
Without my tailight in front of them they were helpless :)
They didn't care---they were in Baja and finally brought me back a taco and hamburger.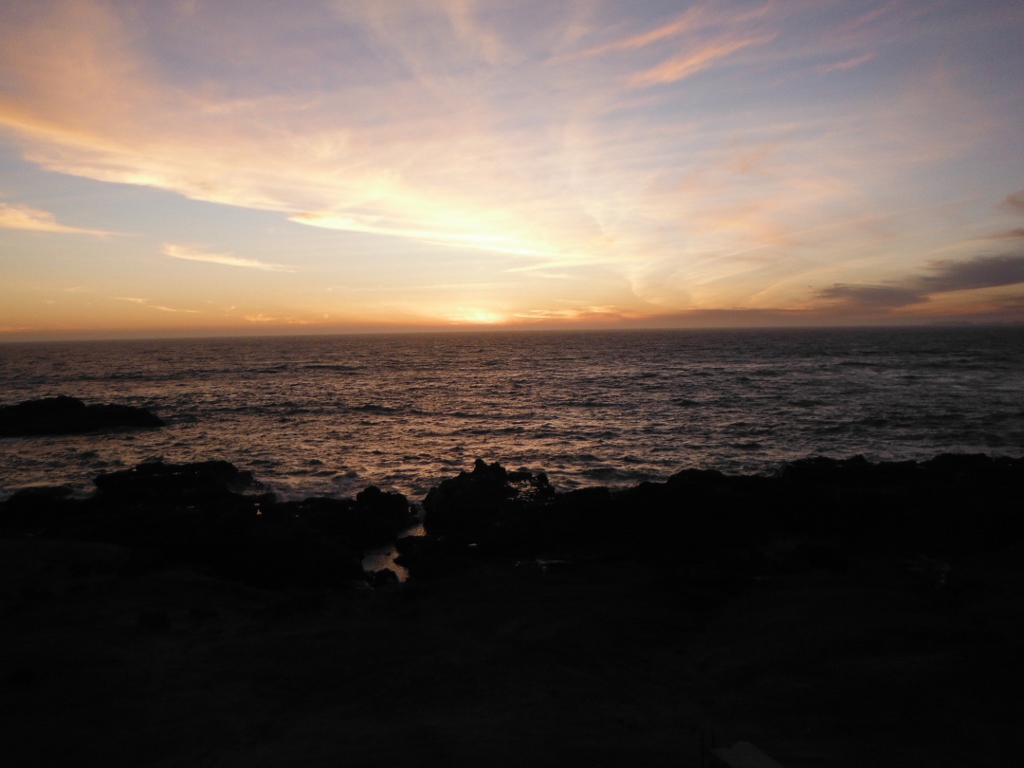 A rough map of ourA rough map of our days ride. days ride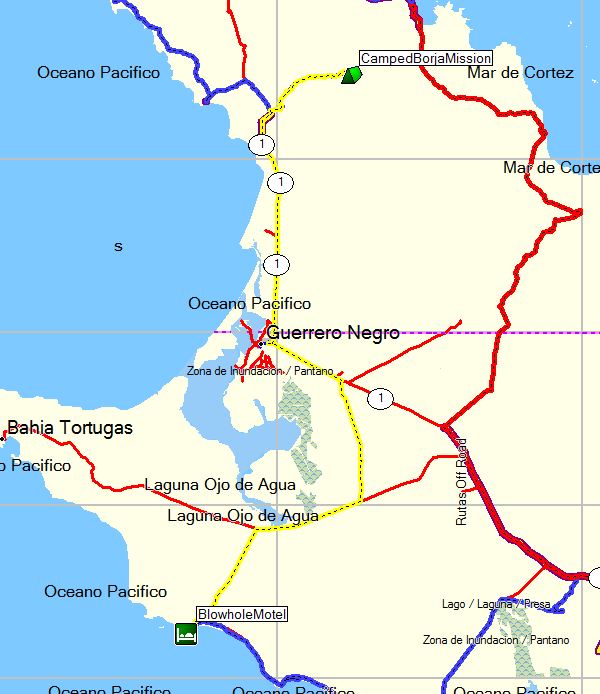 Day 8 February 15th, 2016
Again-------it was very hard leaving the Blowhole Motel.
Sometimes when the wind was blowing hard the spray from the blowhole would hit the windows of the motel------awesome.

So off we ride Southwest along the ocean for quite a bit.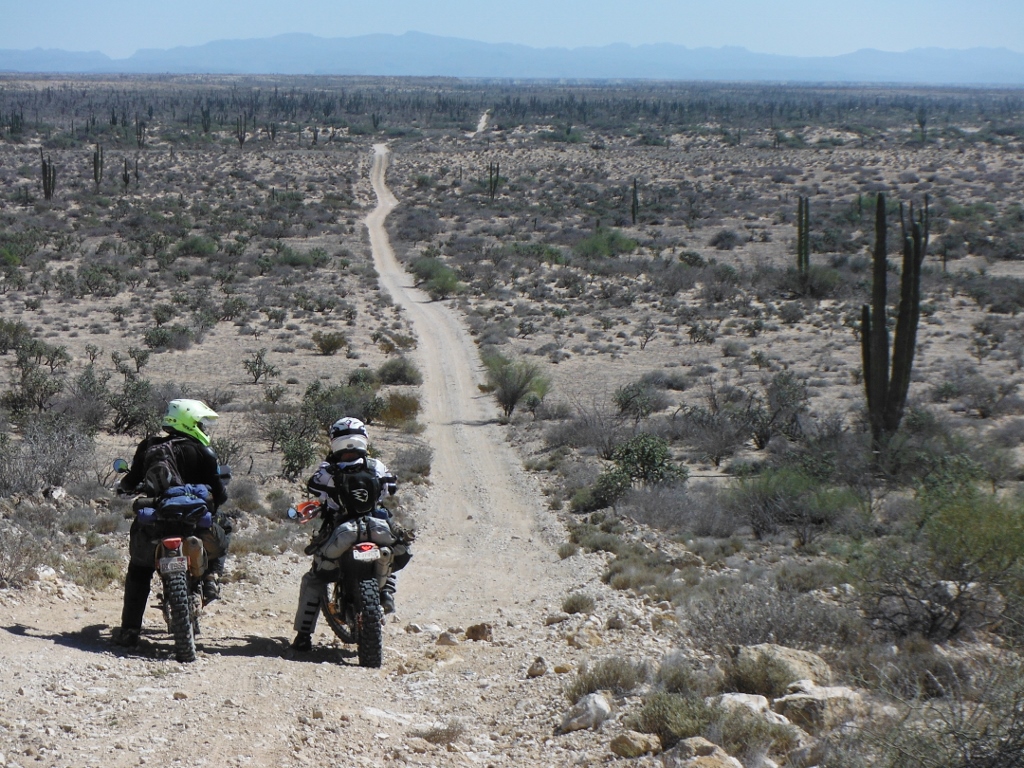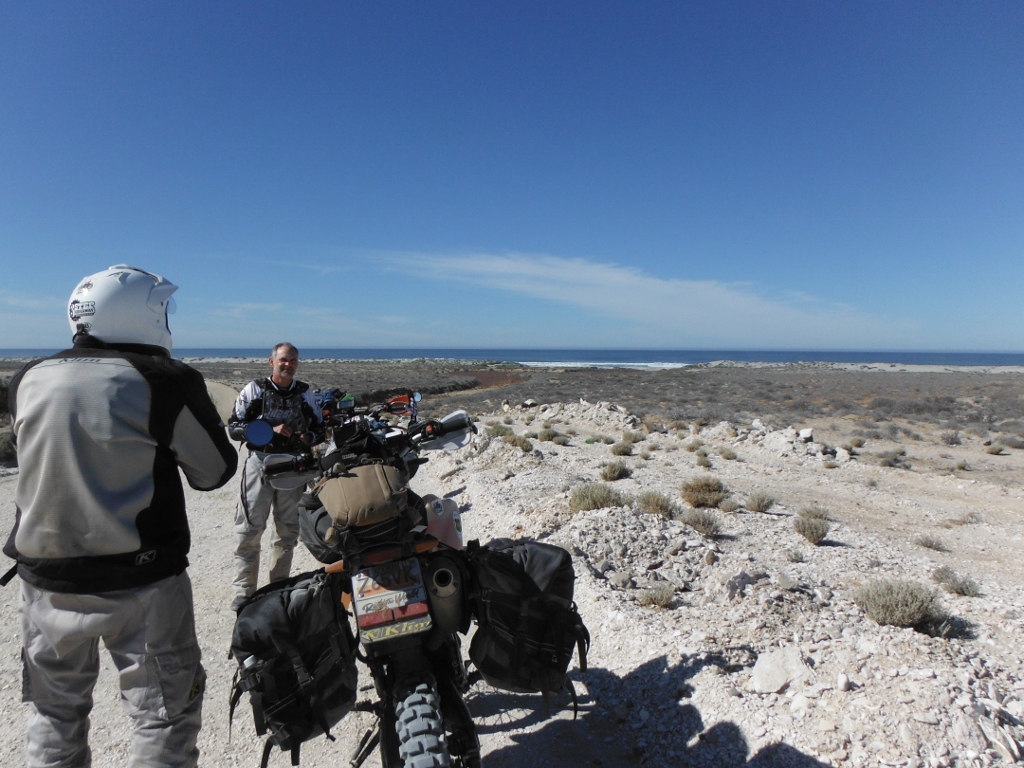 I saw this opportunity to ride on the beach and off I went with Scott and Scott hot on my heals-------we rode fast for miles.
Could they run with the BigDog ?????
I thought I was going fast until High Five blew by me like I was sitting still. I bet he had a smile on his face.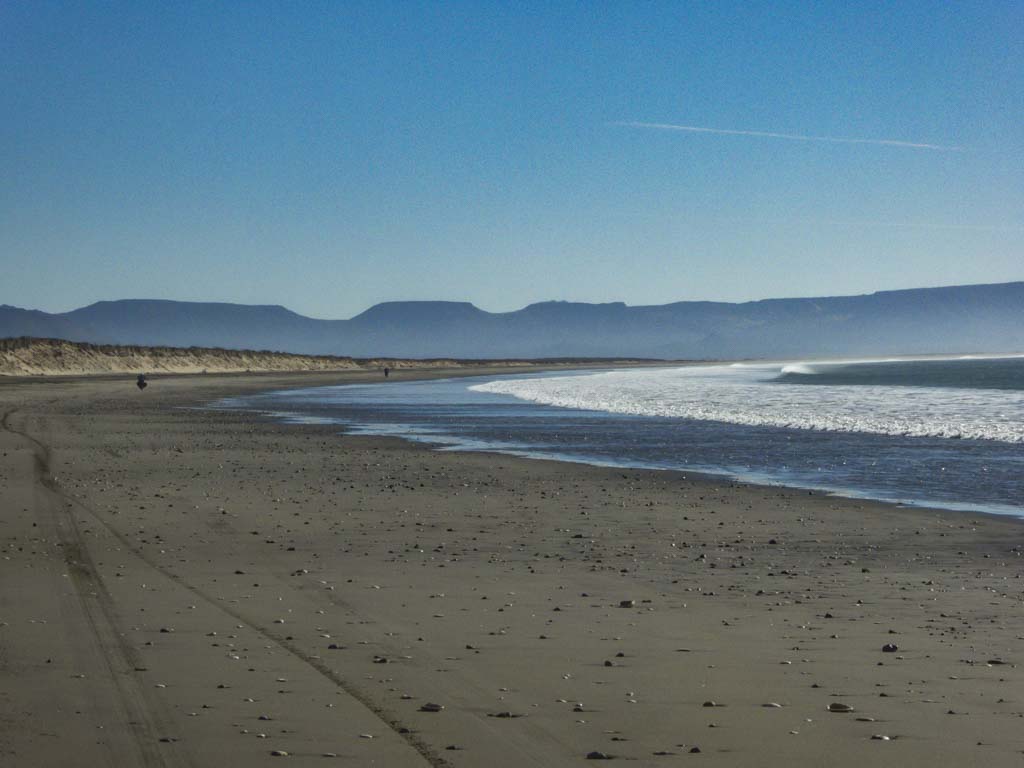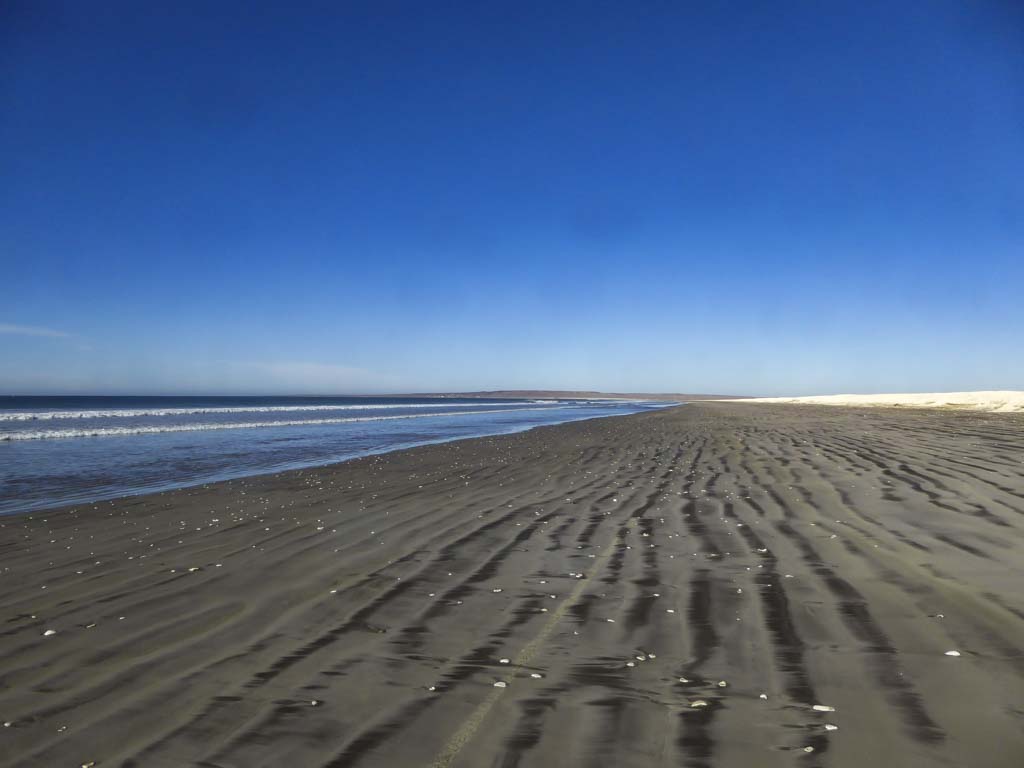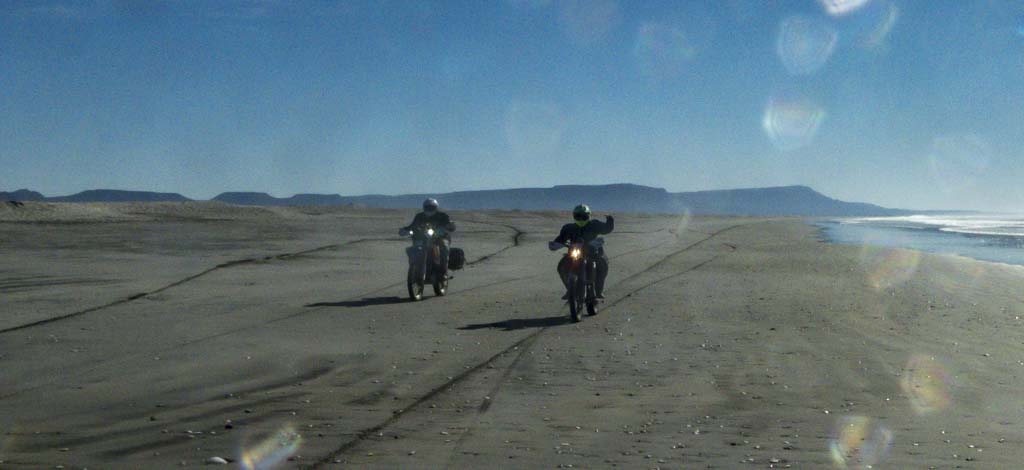 This poor "Perro" was out in the desert.
Perro is dog in spanish.
Poor guy seems to have hung himself-------was this a bad omen for me ?????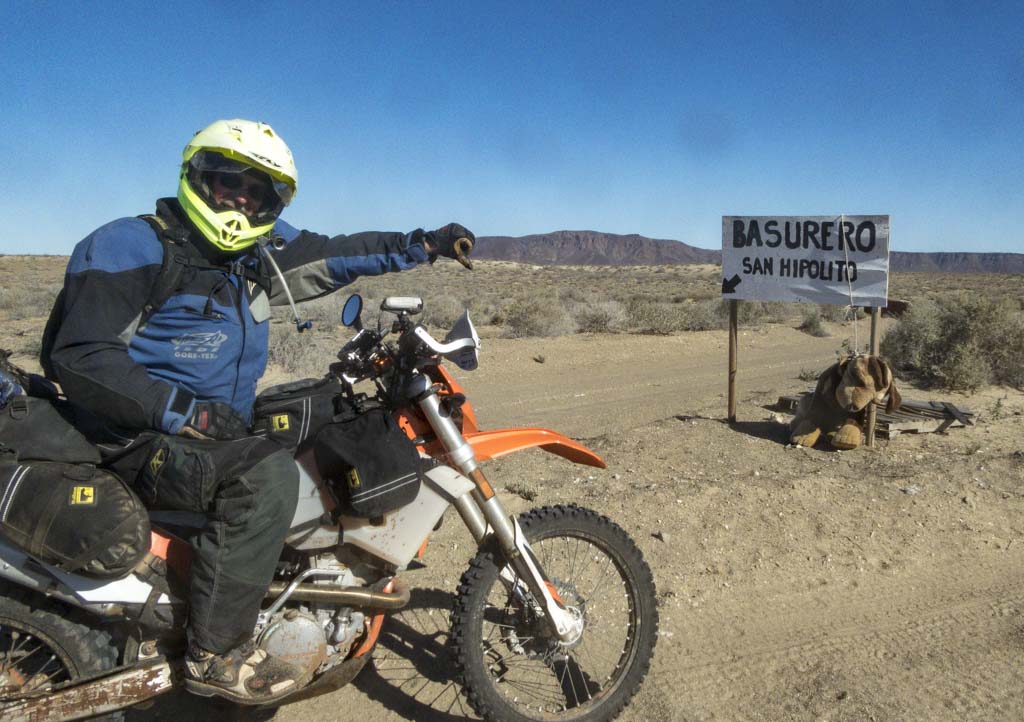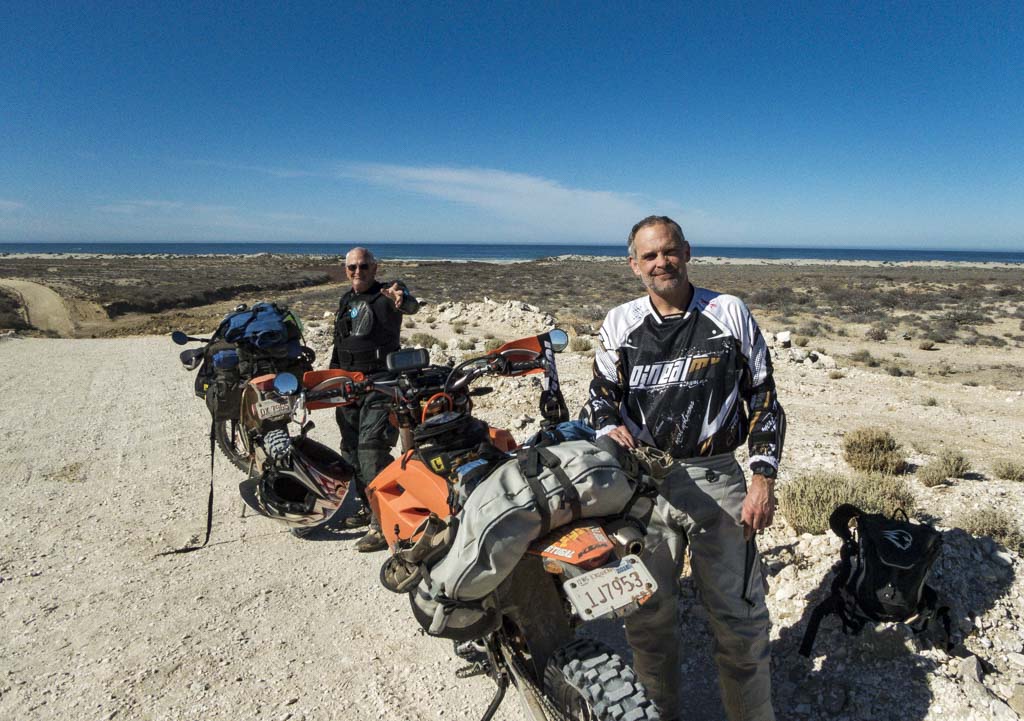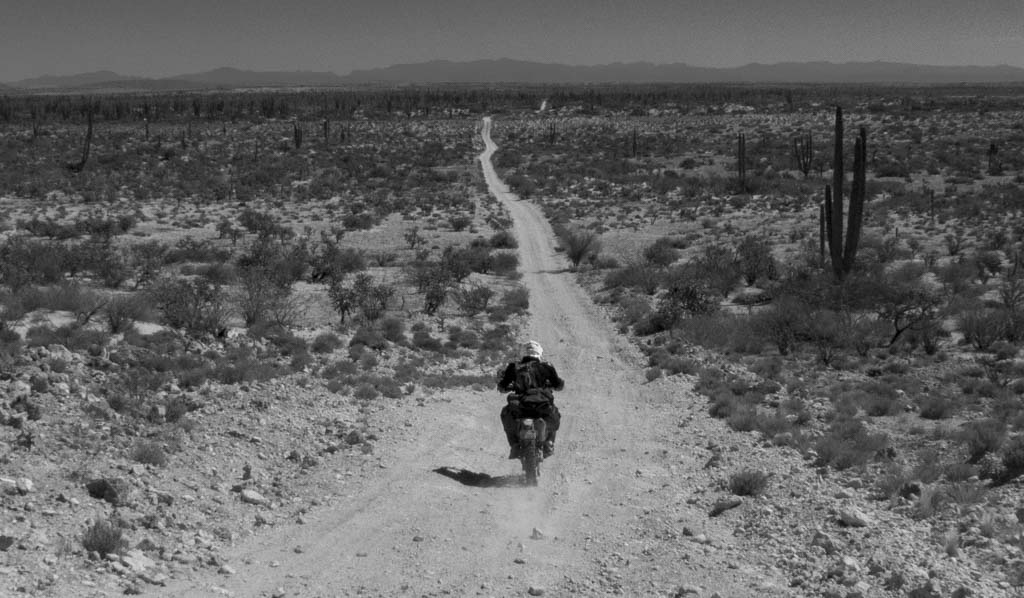 We finally blew into St. Ignacio----------a very nice little town and looky who we ran into.
This is "BigWan" who has some awesome offroad stories on the AdvRider site.
This man is huge and his riding ability is way above most anybody's.
He rides a 990 KTM on stuff I am way to scared to ride on my 350 EXC----------he is "The Man".
I knew him and his buddies were down here--but what were the odds of running into them.
He was a bit gimpy as he had a high speed crash at a speed I've never gotten to ever.
His shoulder was boogered up and he said he might have to ride BMW routes.
He didn't------He's a tuff guy.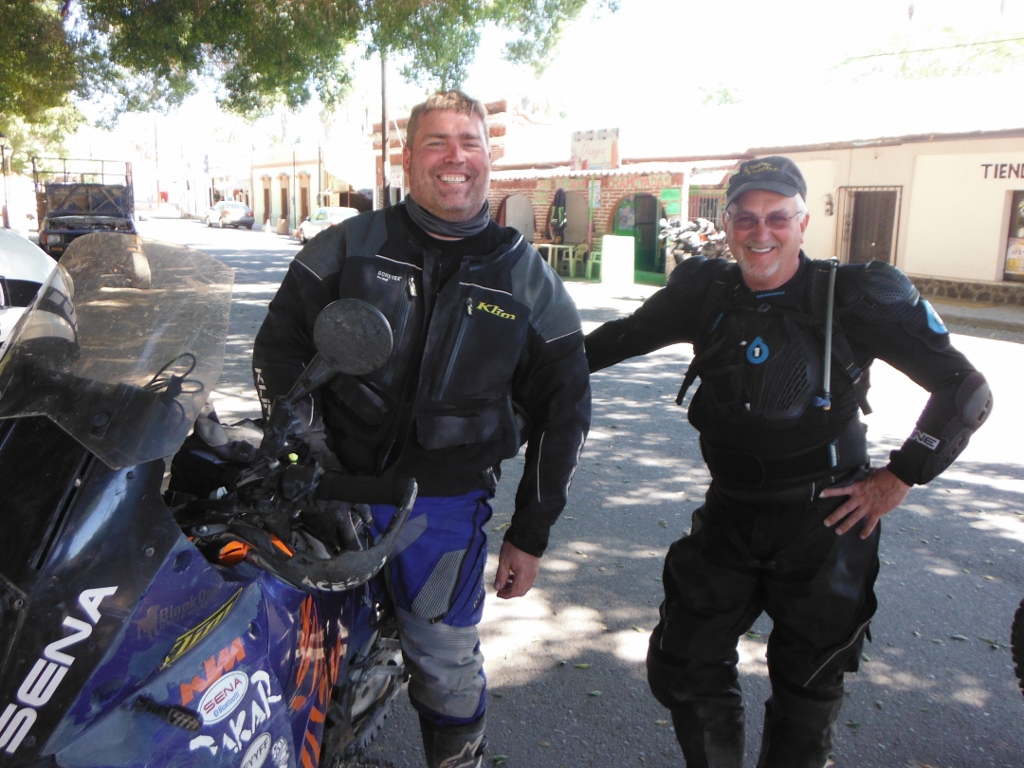 "Big Wan" if you just keep her wide open, keep your feet on the pegs, the front end light and look way ahead
you'll be a much better sand rider"
As he rolls his eyes at me and Dingweeds just grins.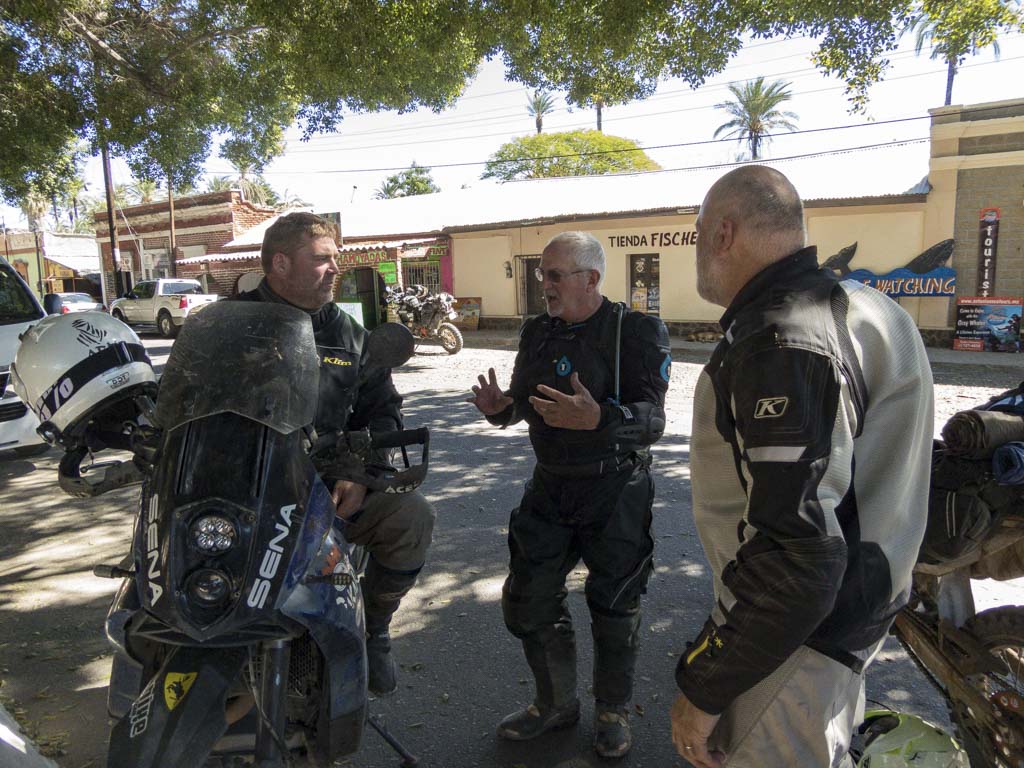 They had ice cream on the square--------that made our day.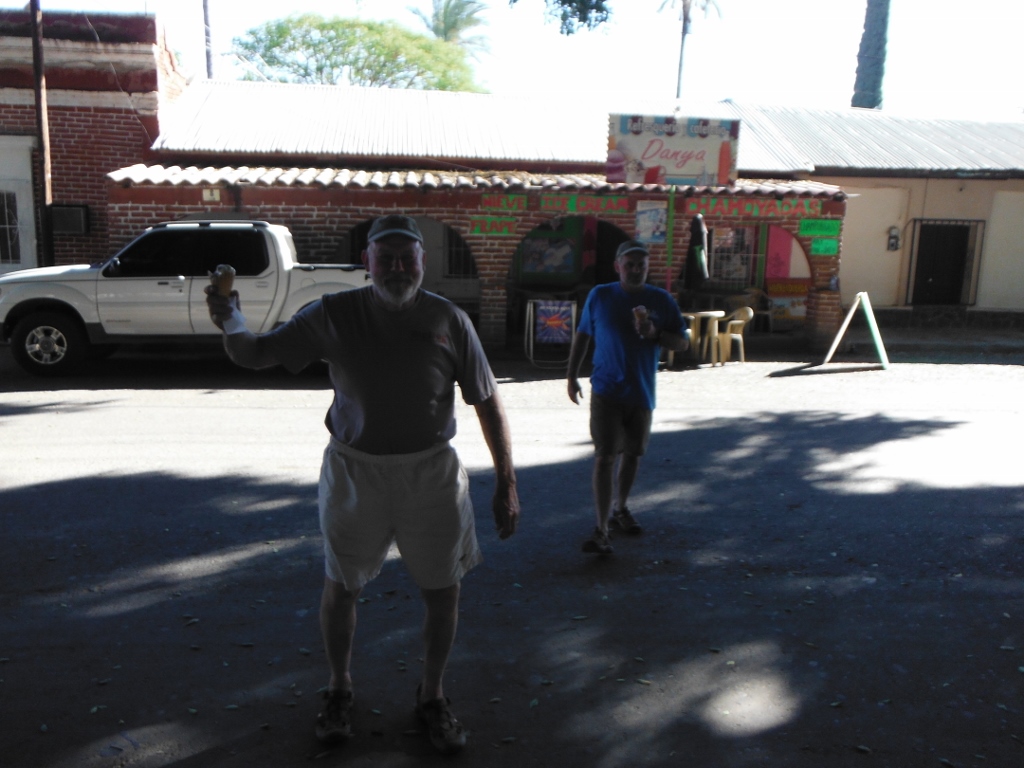 The old church is on the square and deserved a look see.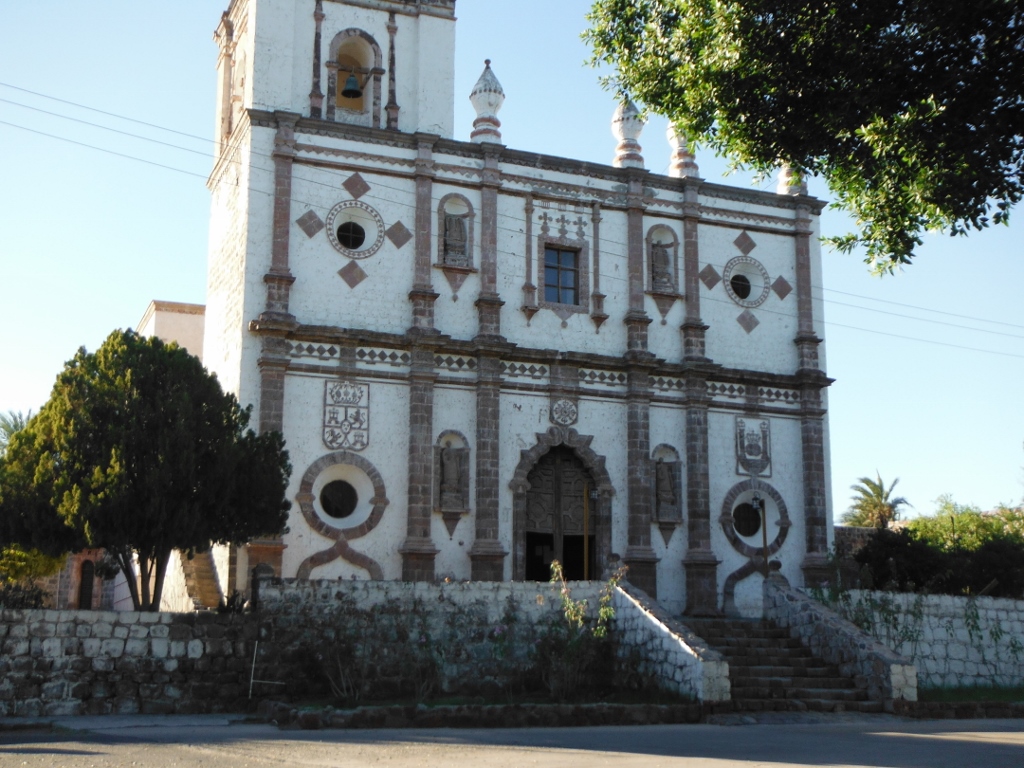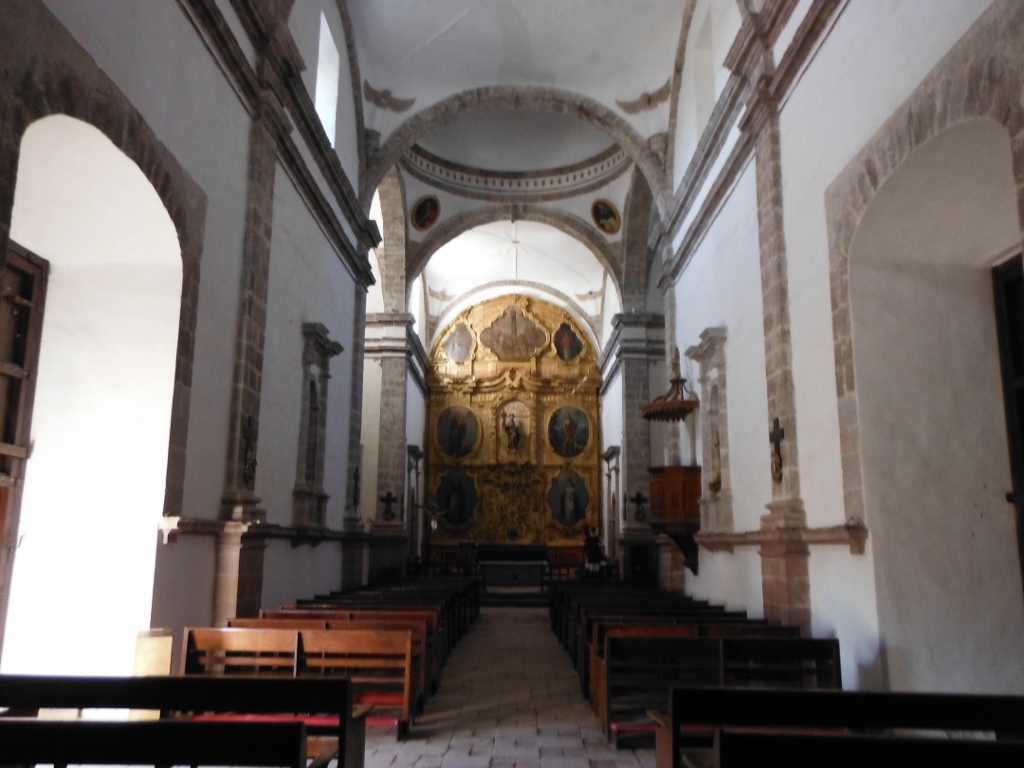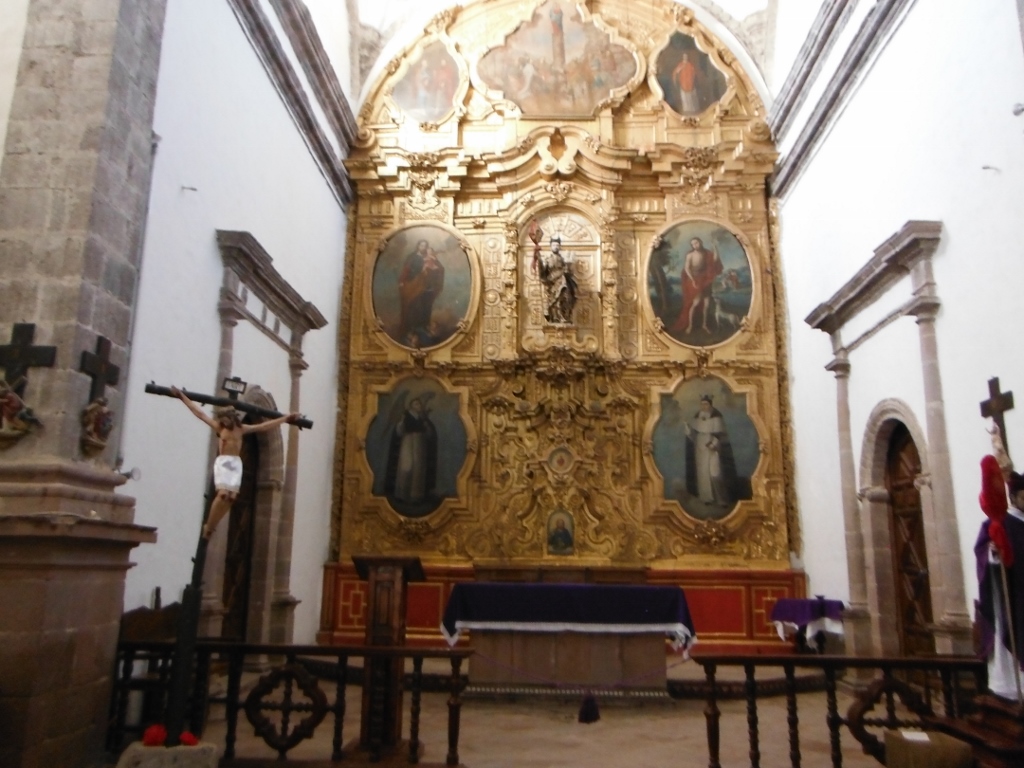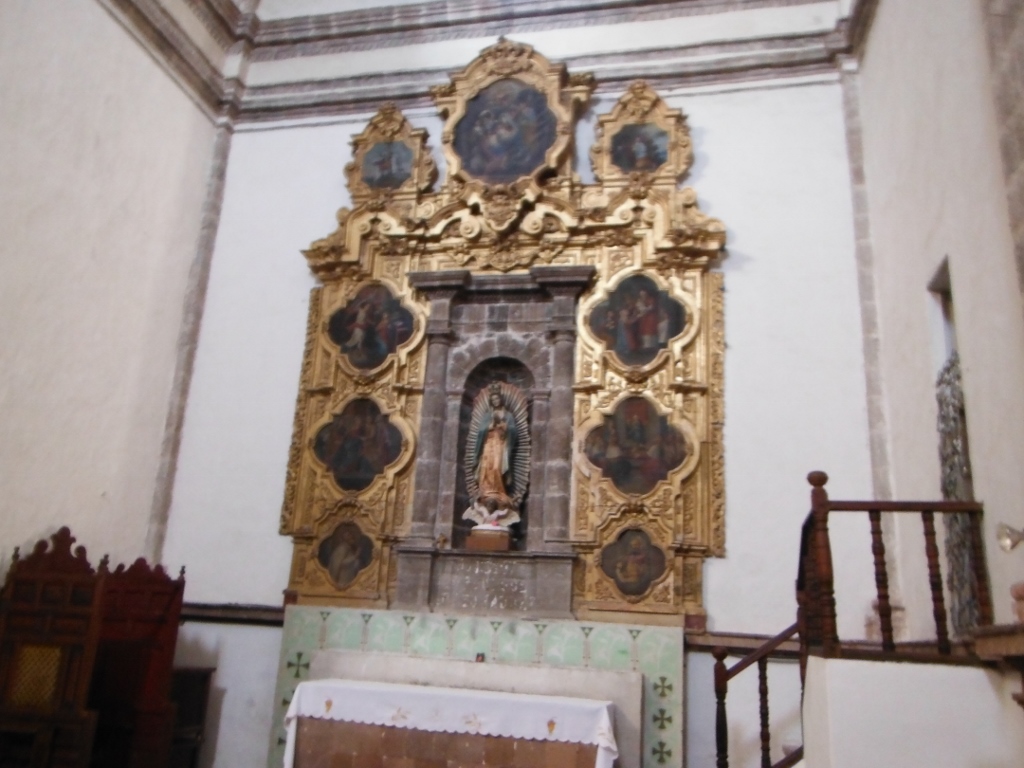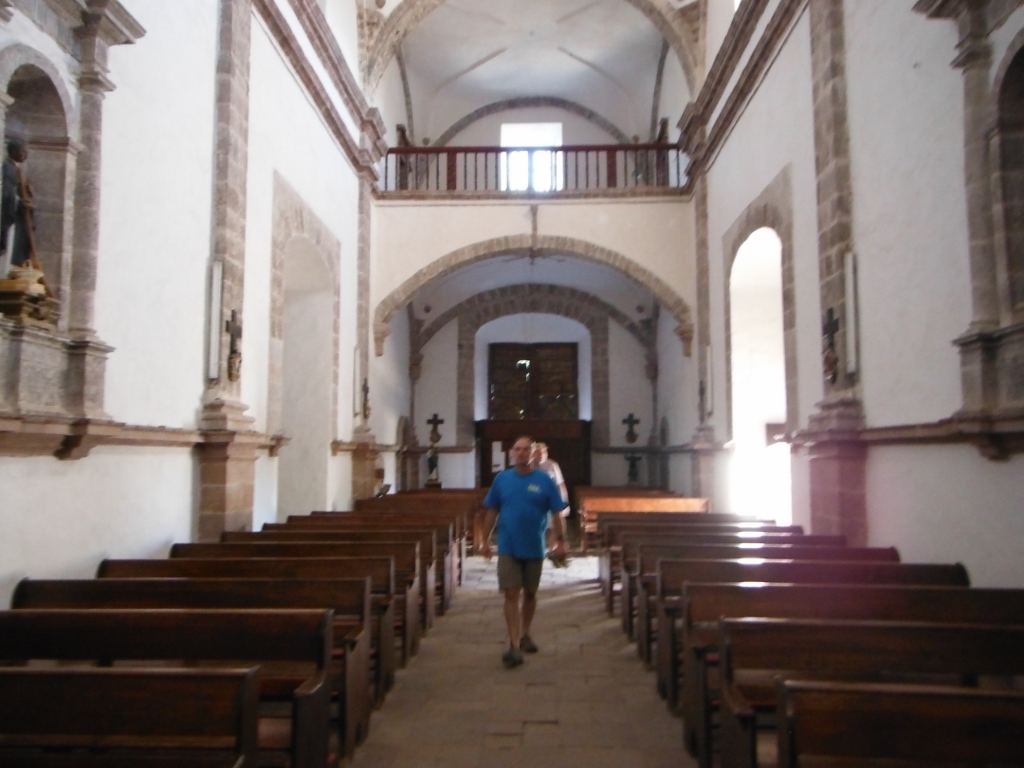 We heard about a new motel----------------the "La Huerta"-------it was walking distance from the old church, the square, and food.
And we ran into this nice fellow (2nd from the left) who had all kinds of supplies in his truck and that let High Five change his oil
with "proper" oil clean his air filter and do some other maintenance. Just another nice act of kindness. I just said "Phew". Let's see if this KTM
can take this long ride with "NO" maintenance-------like I knew my WR250R could.
It did-------astounding.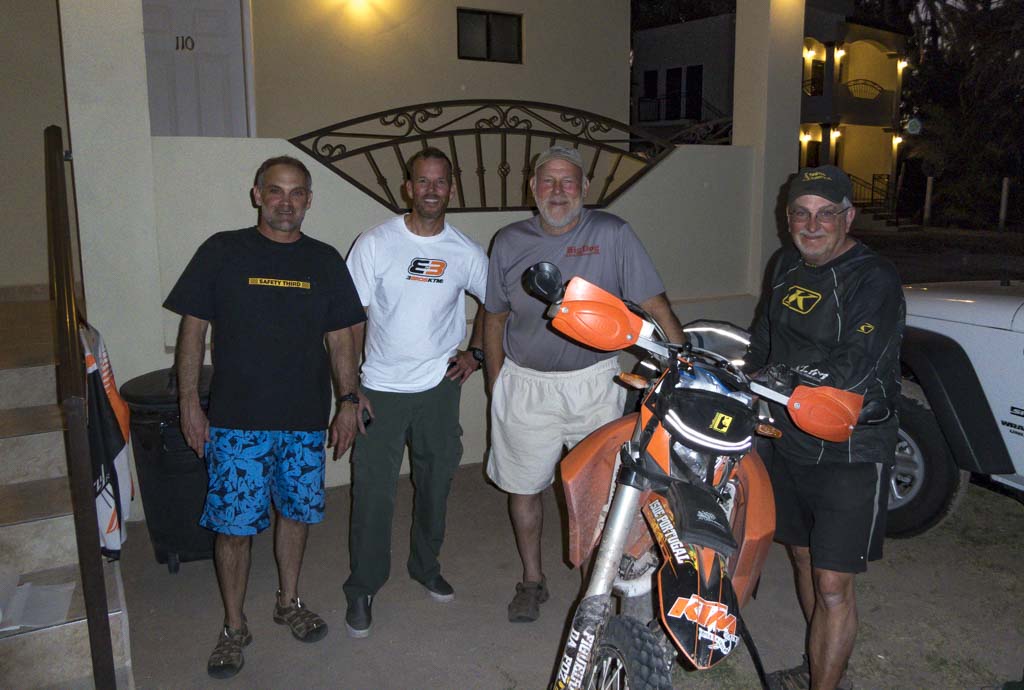 The parking lot filled up with Adventure hooligans and it was full on---way into the nite.
Or so I heard-------I was asleep :)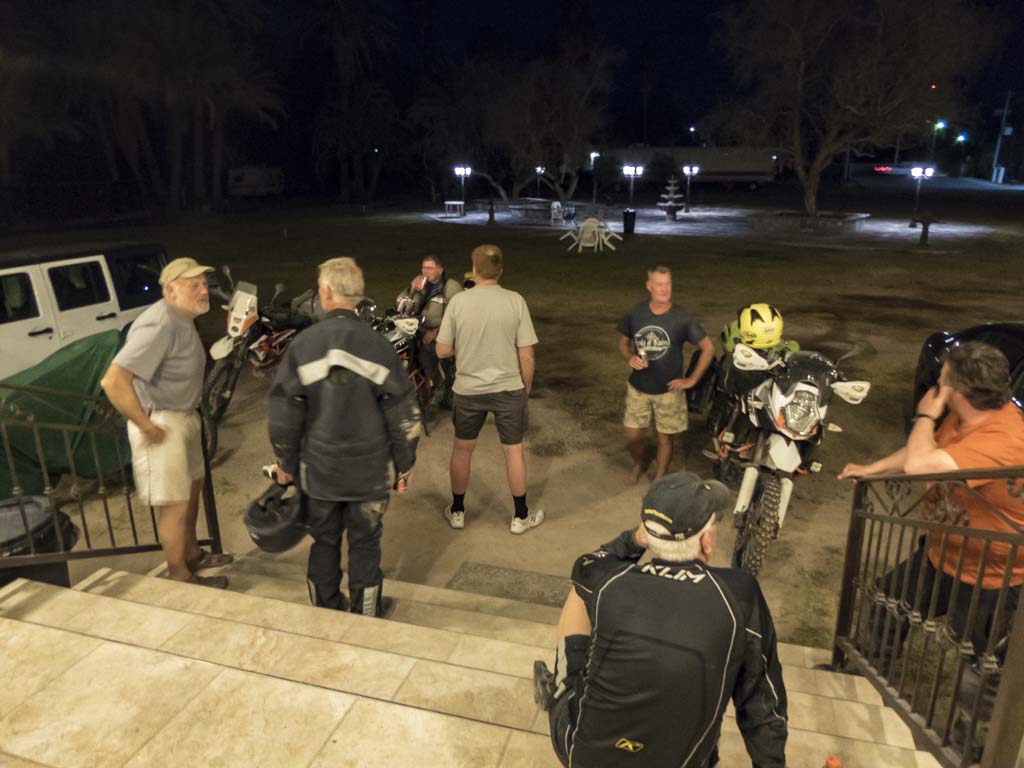 A short video of Day 8
The Video says Day 7---but it's Day 8
A rough map of our days ride.

Day 9 And 10 February 16th & 17th, 2016
This included a rest day.
The ride today was awesome----------a lot of sand riding.
Me and Dingweeds struggled sometimes again but we soldiered on as the High Five just blew by us.
Yeh-----go ahead-------we'll catch up------eventually :)
We had to let the man run with it occasionally-------he loved it.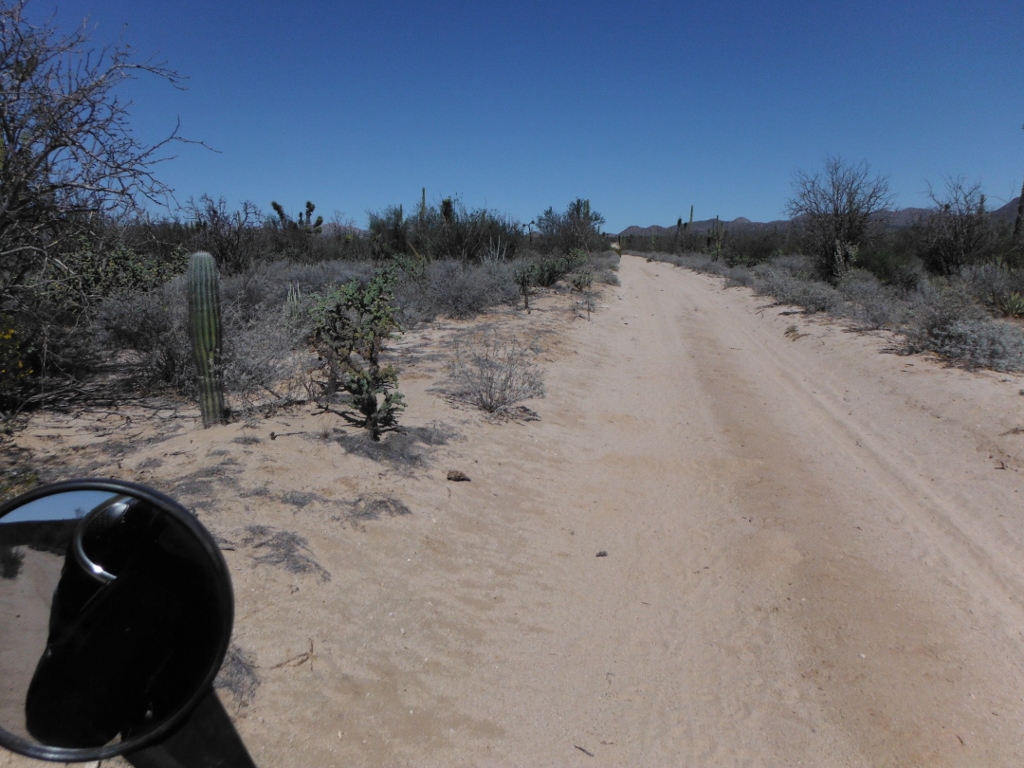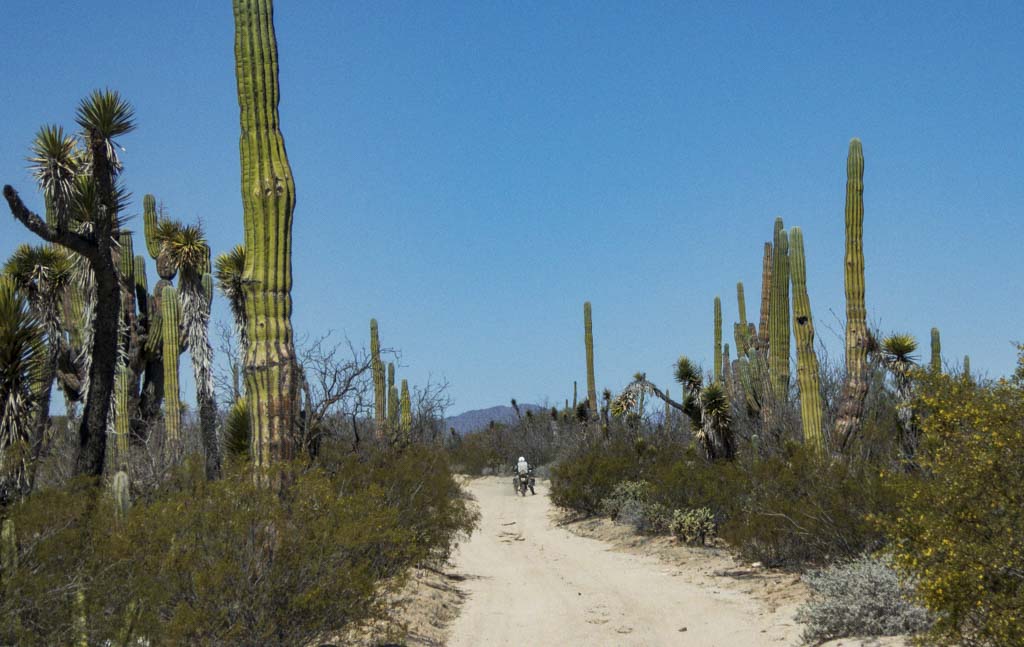 High Five went up this hill which was the old way---and on the other side was a big washout that he didn't
want to try being fully loaded. He got behind me here when I thought he was in front of me.
That always worries me-------but of course he caught us in no time.
We went the easy way----left.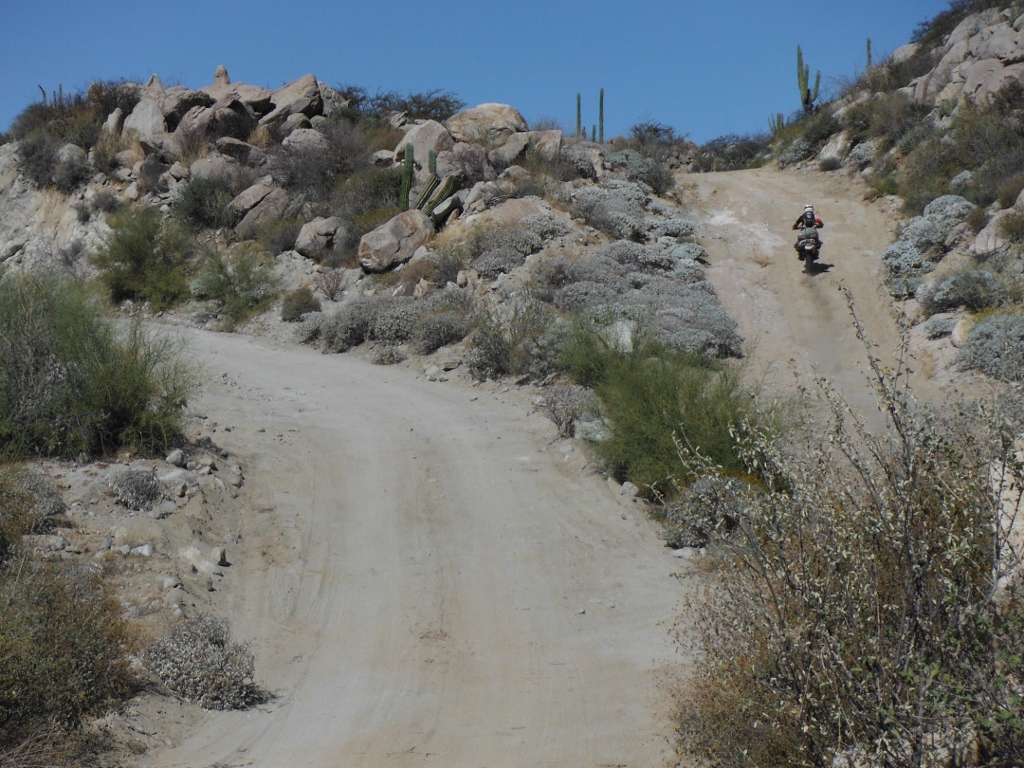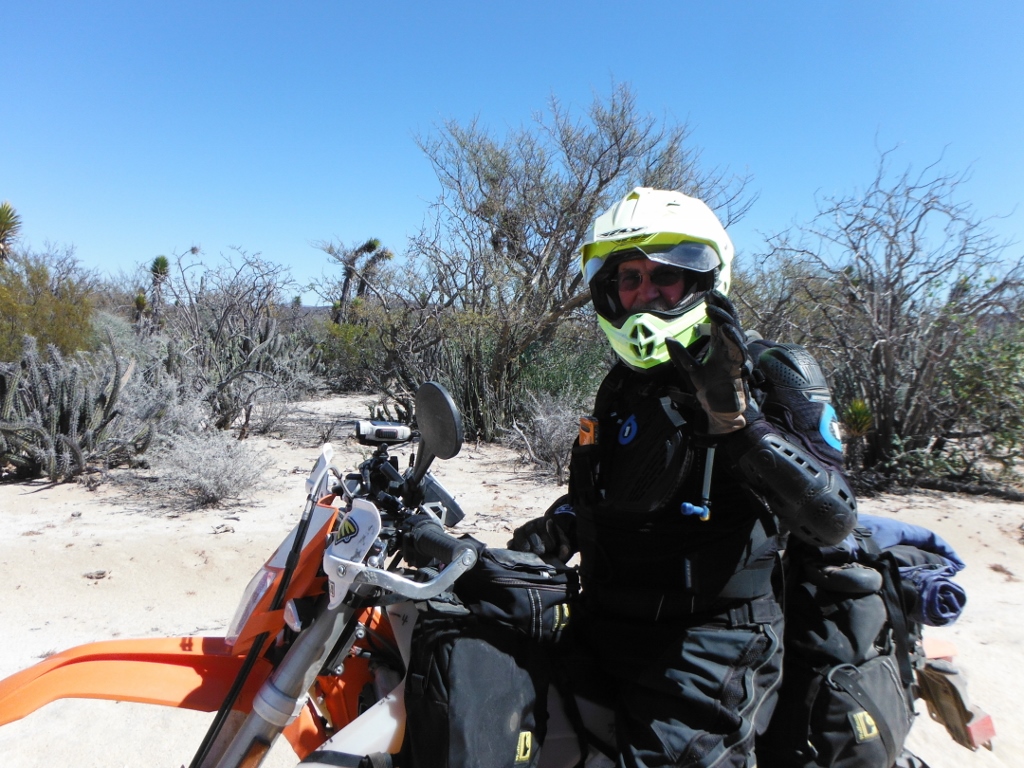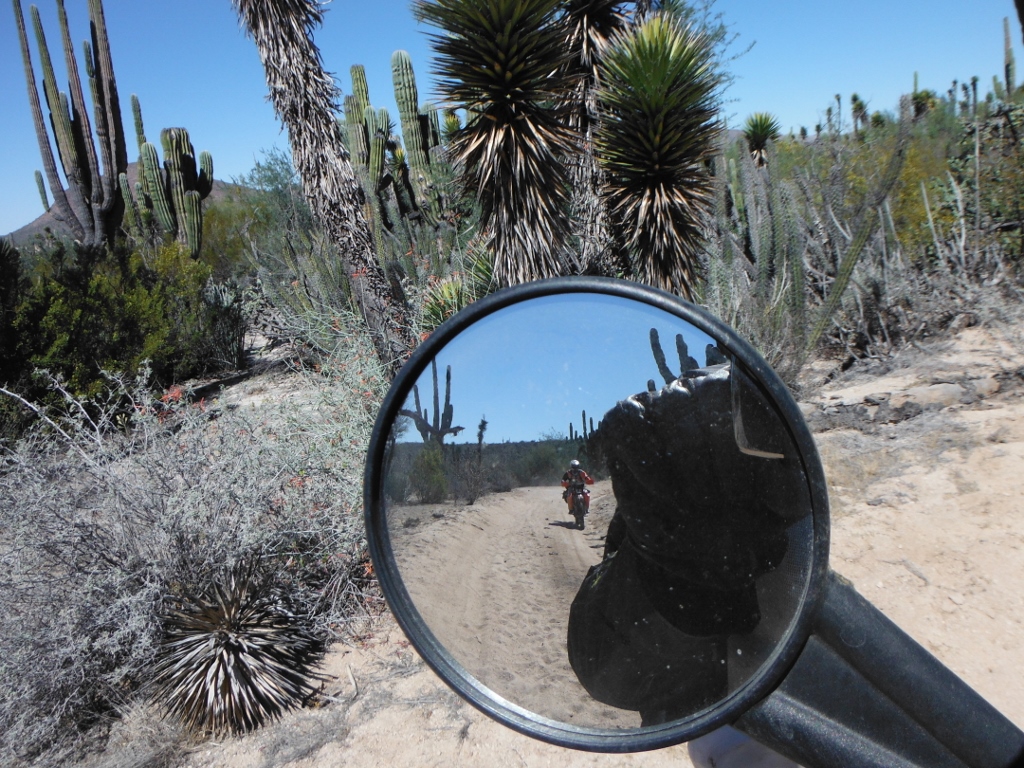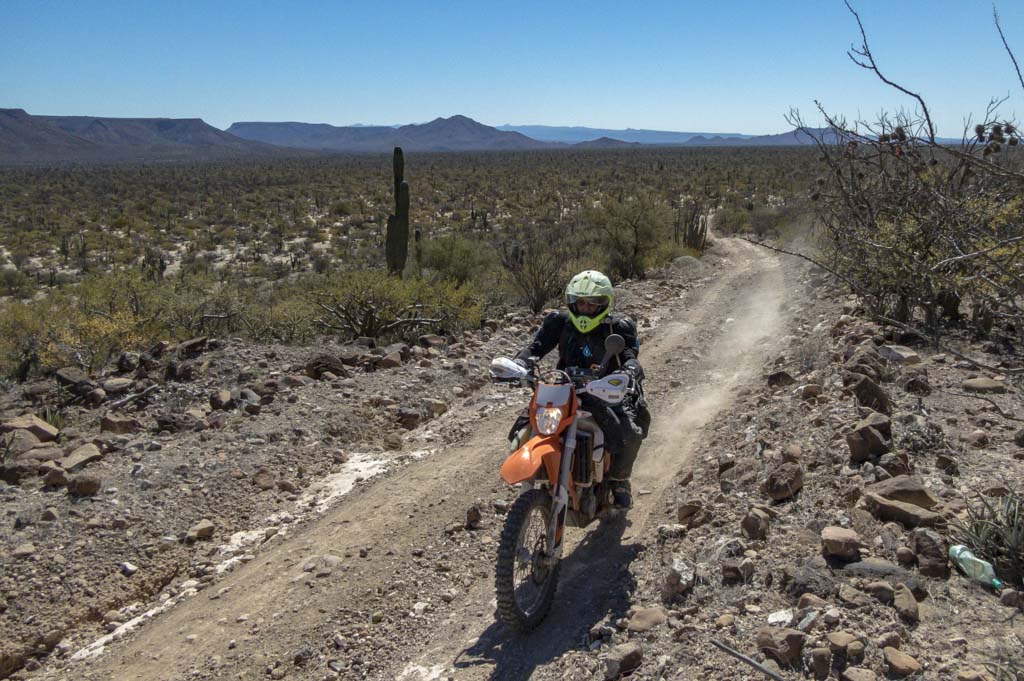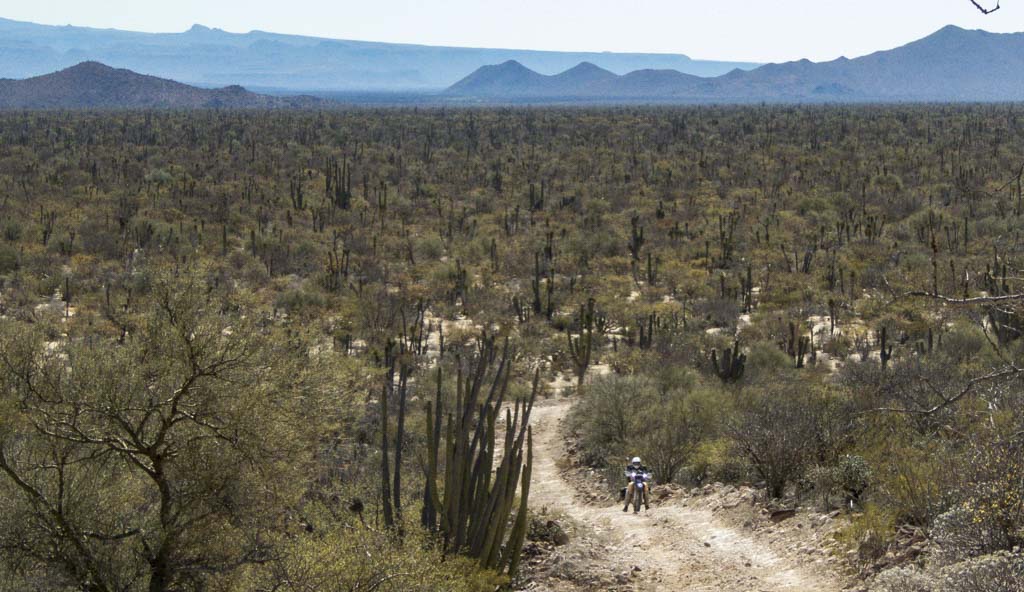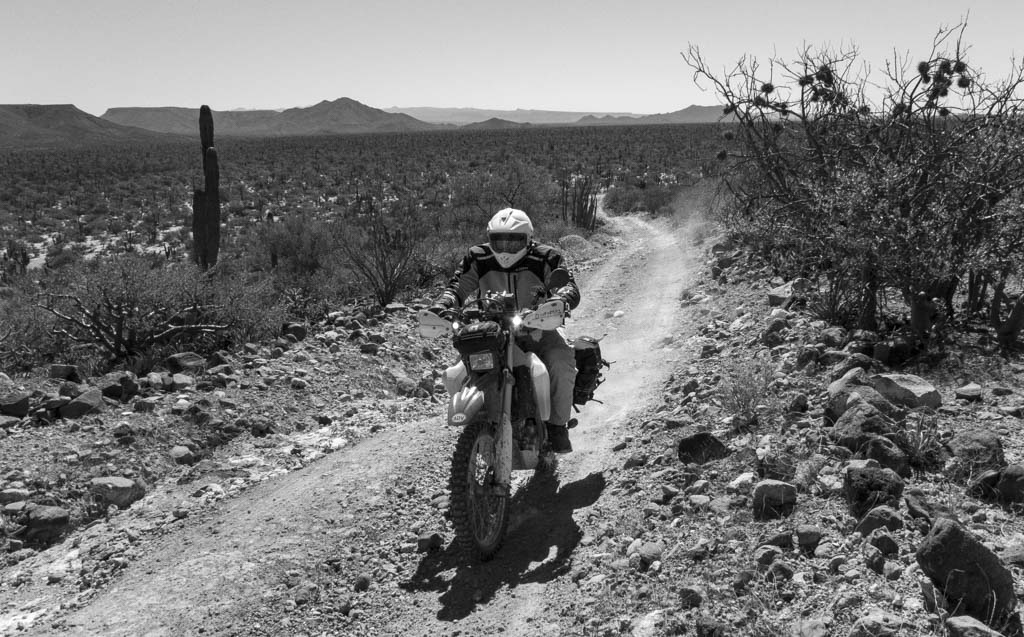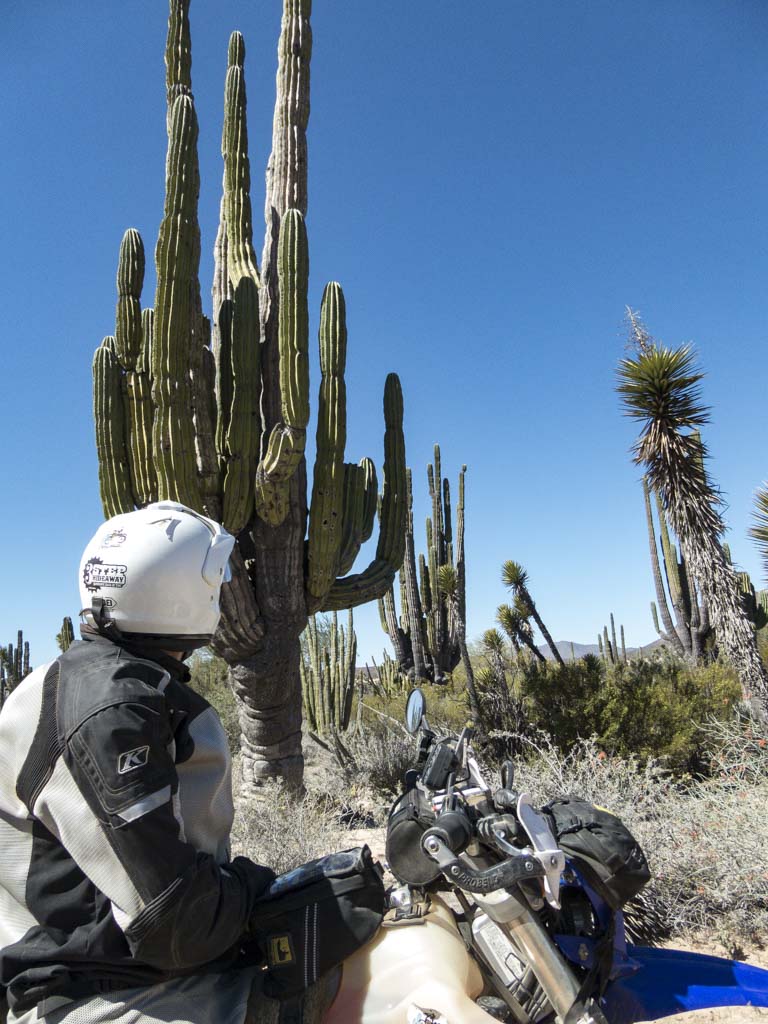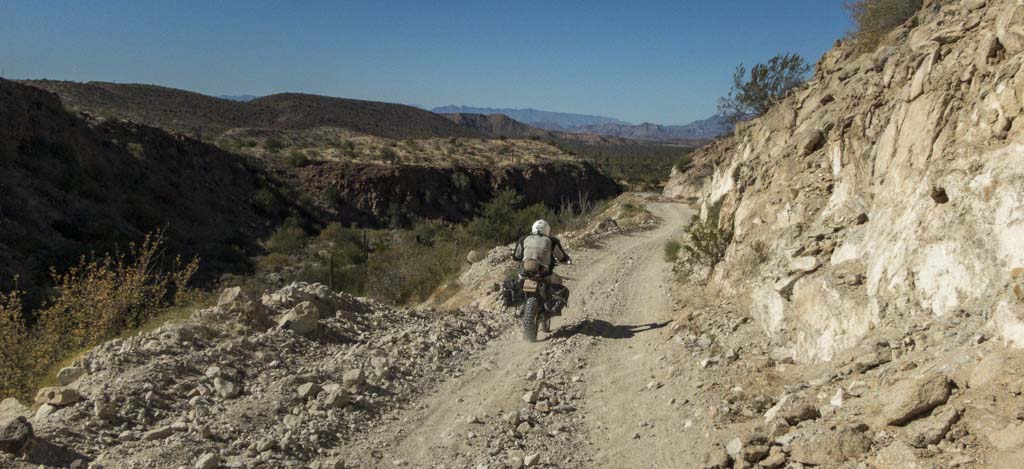 I had another waypoint in my gps----it said "Ledge Camping"------and we found it but kept on riding toward Bahia De Los Angeles.
We passed opportunities today to ride the window rock trail and the Green Door Trail.
Probably was a good thing for me and Dingweeds--------the Green Door trail was so named as there was a pickup truck door
painted green at the trail turn off---------somebody stole it and there's a huge black tire there now.
So now I guess it should be called "The Huge Black Tire Trail".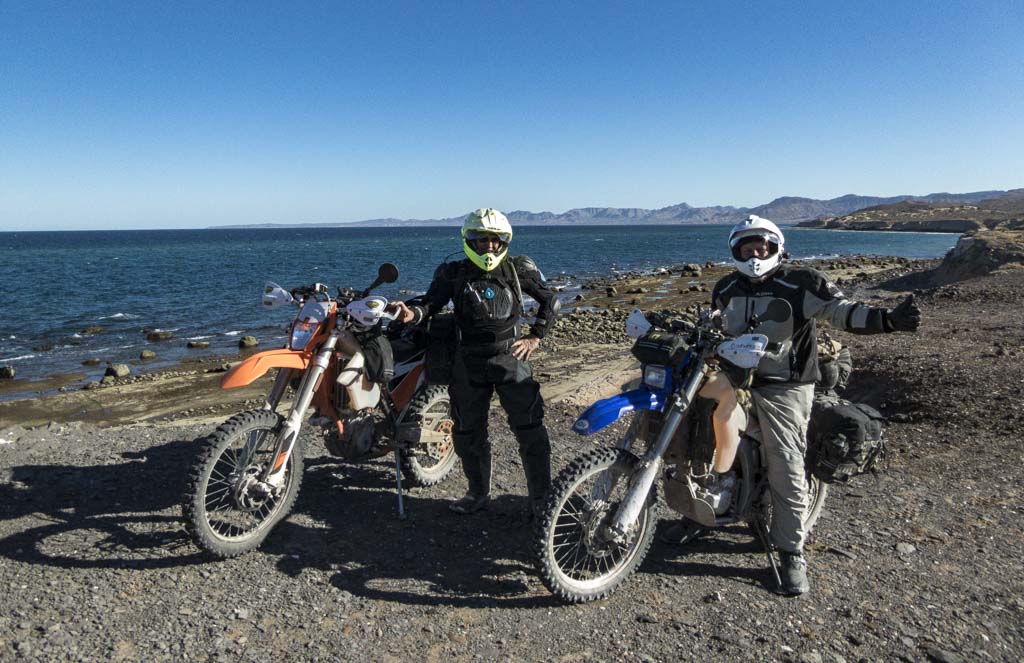 High Five said he didn't need no gps to follow the route----just follow BigDogs dust trail.
One of these days I'll get to old to lead--------and will have to eat dust---get all dirty and stop up my air cleaner.
But for now-------they can't pass me--------they don't know the way :)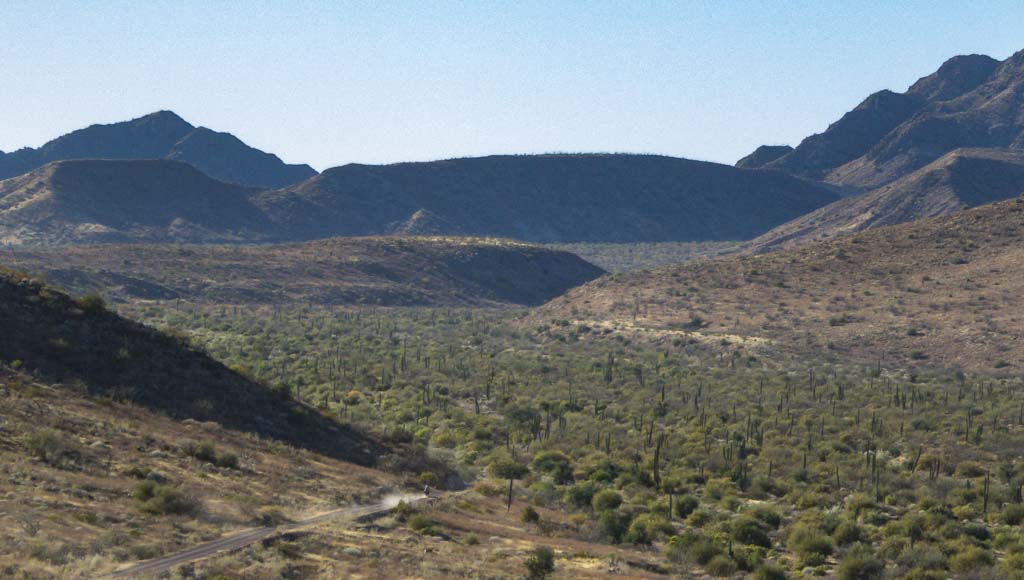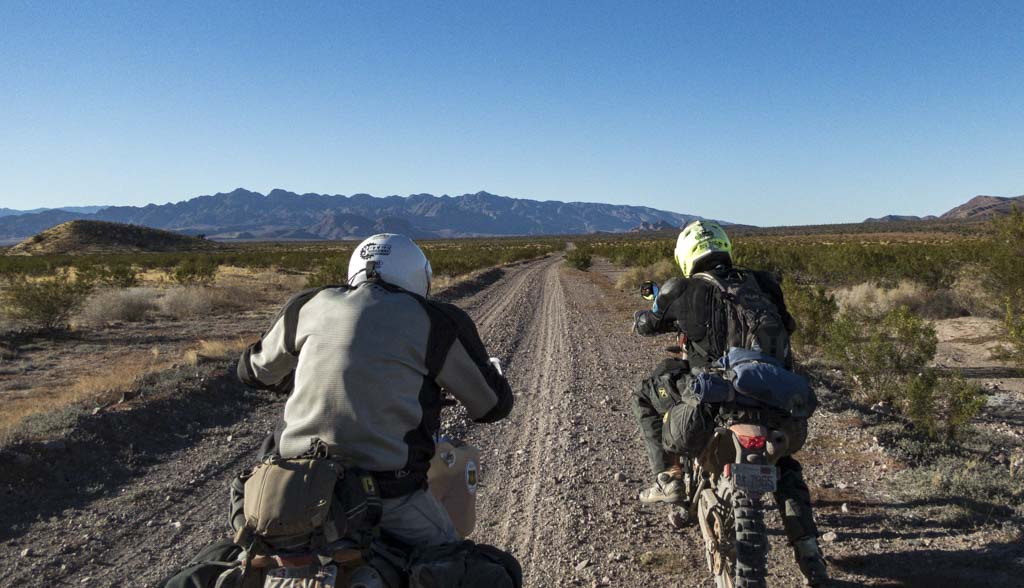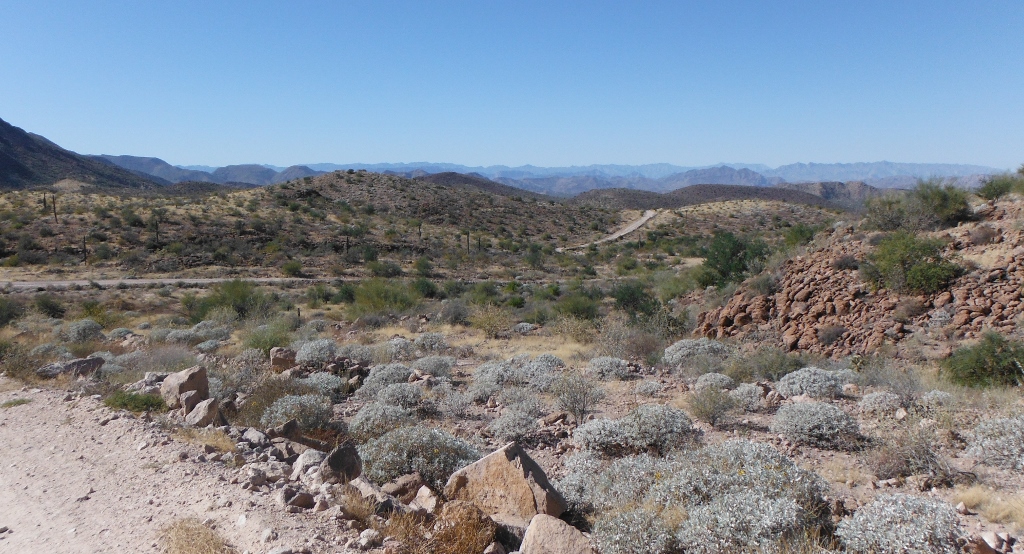 Our first view of the Sea Of Cortez as we approach Bay Of LA.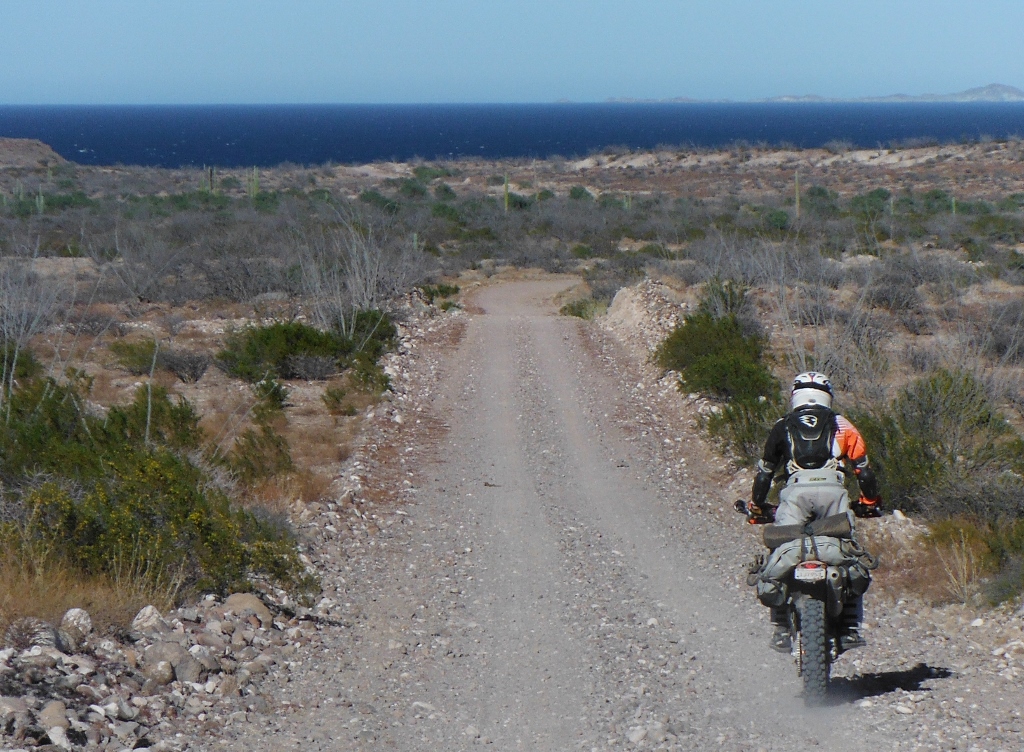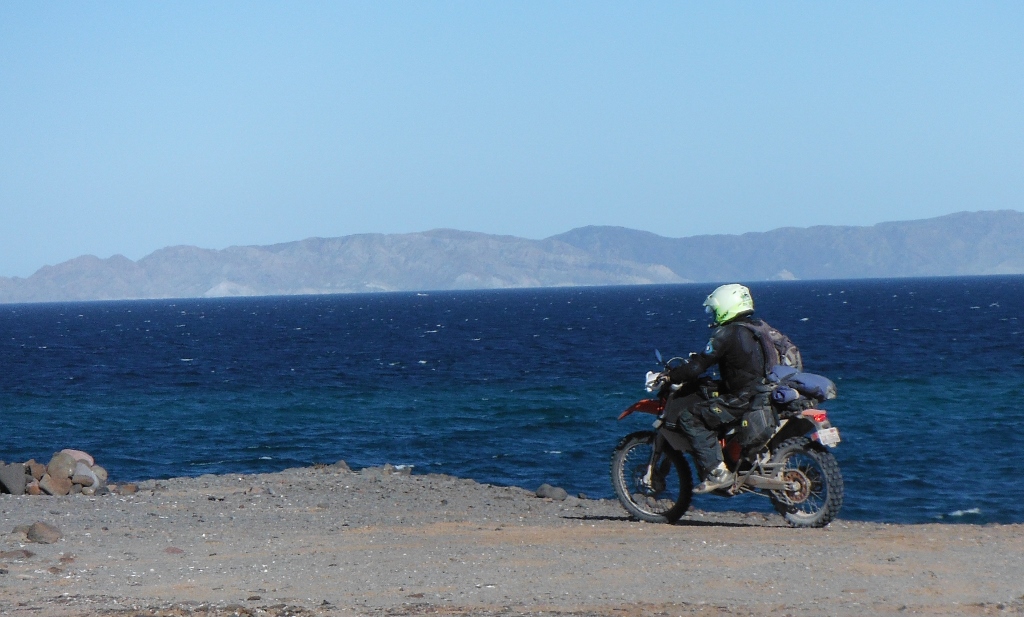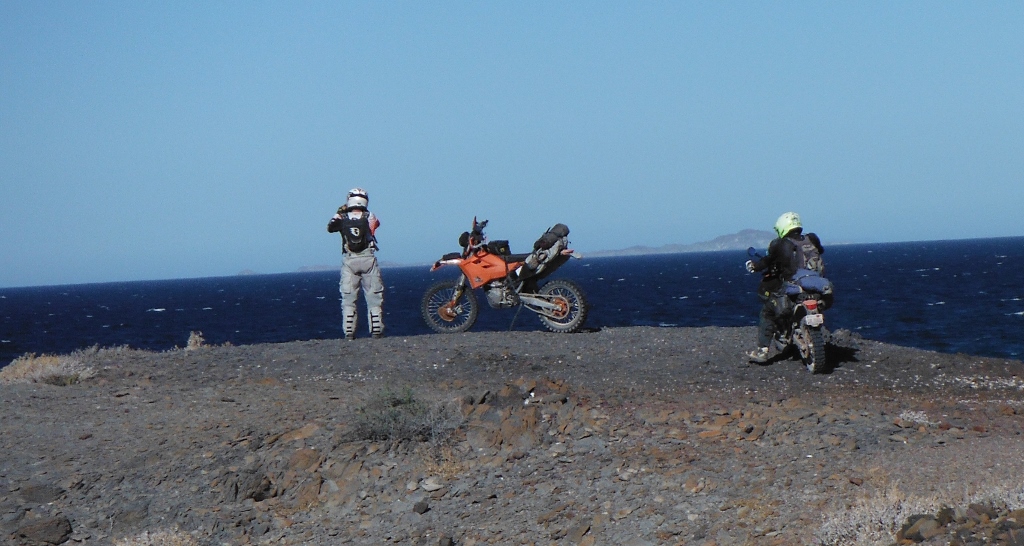 A short Video of Day 9 so far.
We get into town and I hear this honking and pull over and ask High Five if he is honking at me.
No he says----it's that lady in the van across the road.
Meet Rosa----one of the owners of the Los Vientes Motel ("The Wind Motel).
She wants to know if we are looking for a place to stay and starts to tell us where her motel is.
I lose the conversation and ask her to take us there--------it was miles away--way away from everything.
What a nice lady----another act of kindness for us. Everybody is so nice down here. Happy people.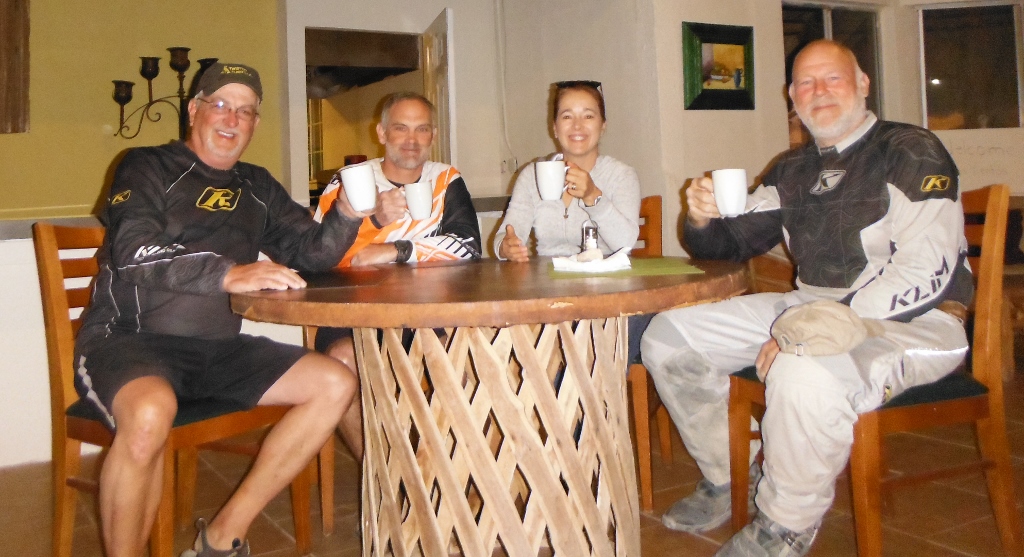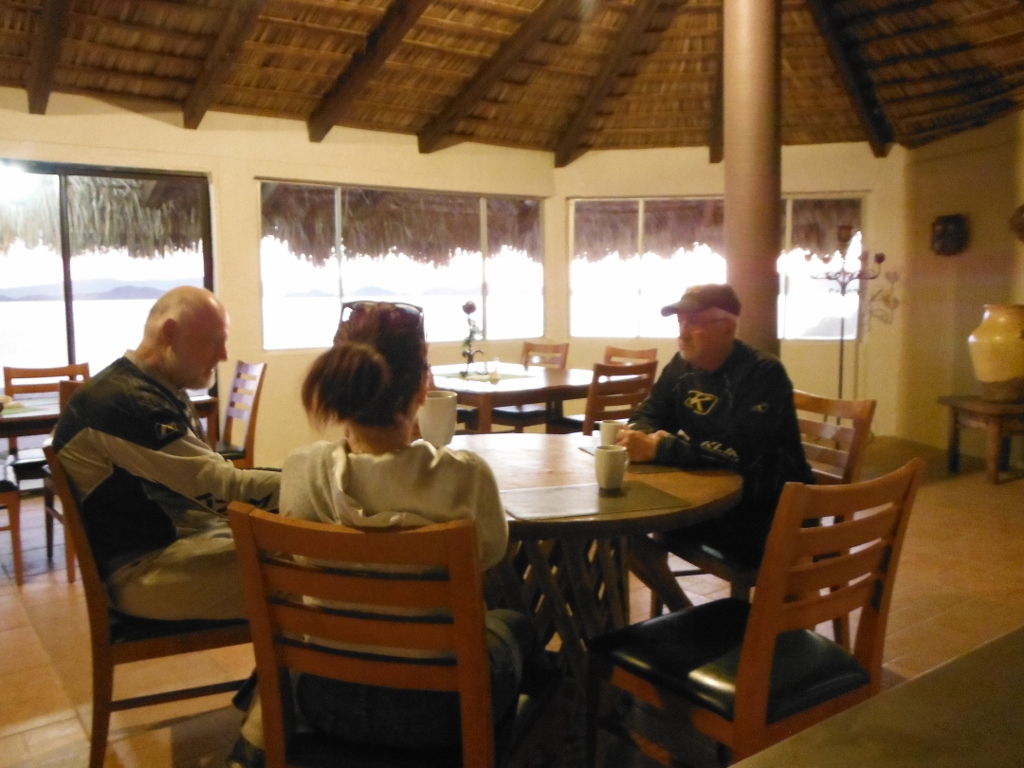 She and her husband ask if we are hungry and look at the dinner they served us.
Little did we know at this time what a great time we would have here and how long we would stay.
I wish my wife (sweet thang) could have clicked her heels together and been with me the whole time.
She would have loved it here.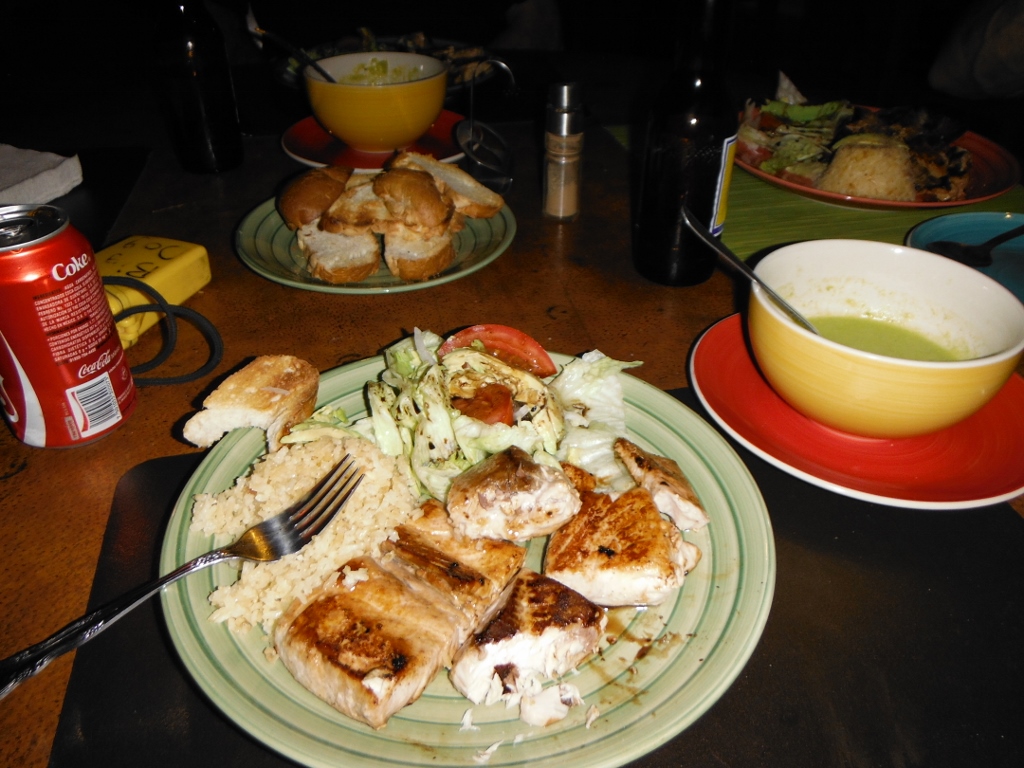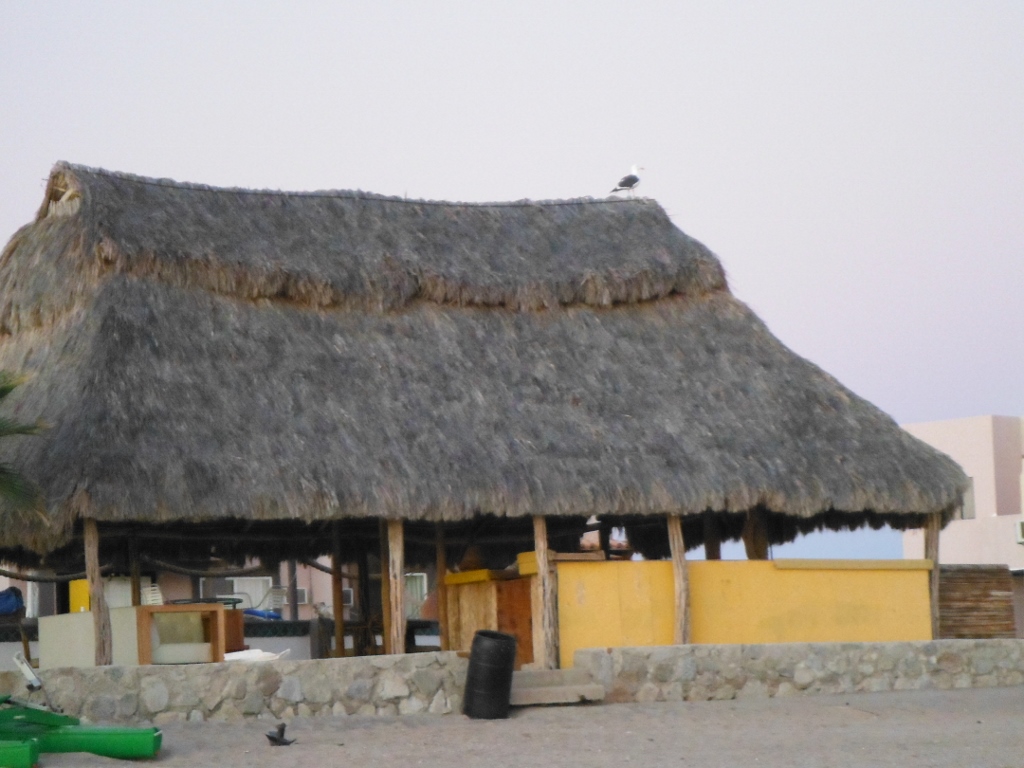 We spied these Kayaks----I've never been kayaking.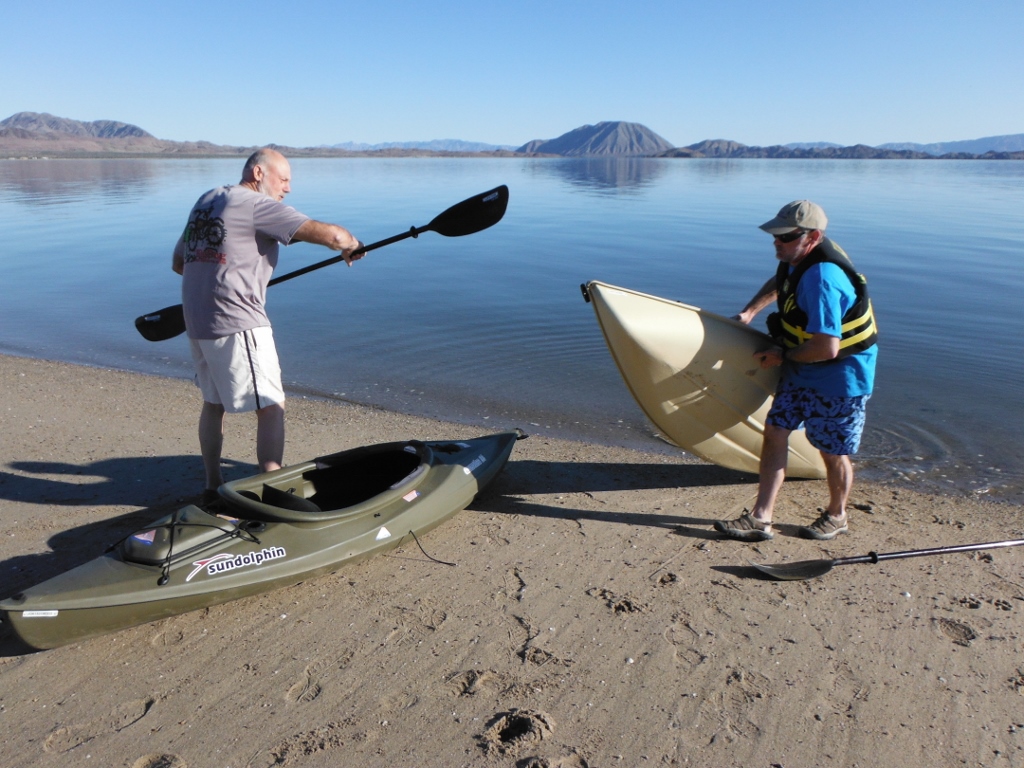 Well I have now
Me and High Five hit the water as dingweeds went for a walk along the beach.
His new hip would have made it difficult for him to get into one of these things.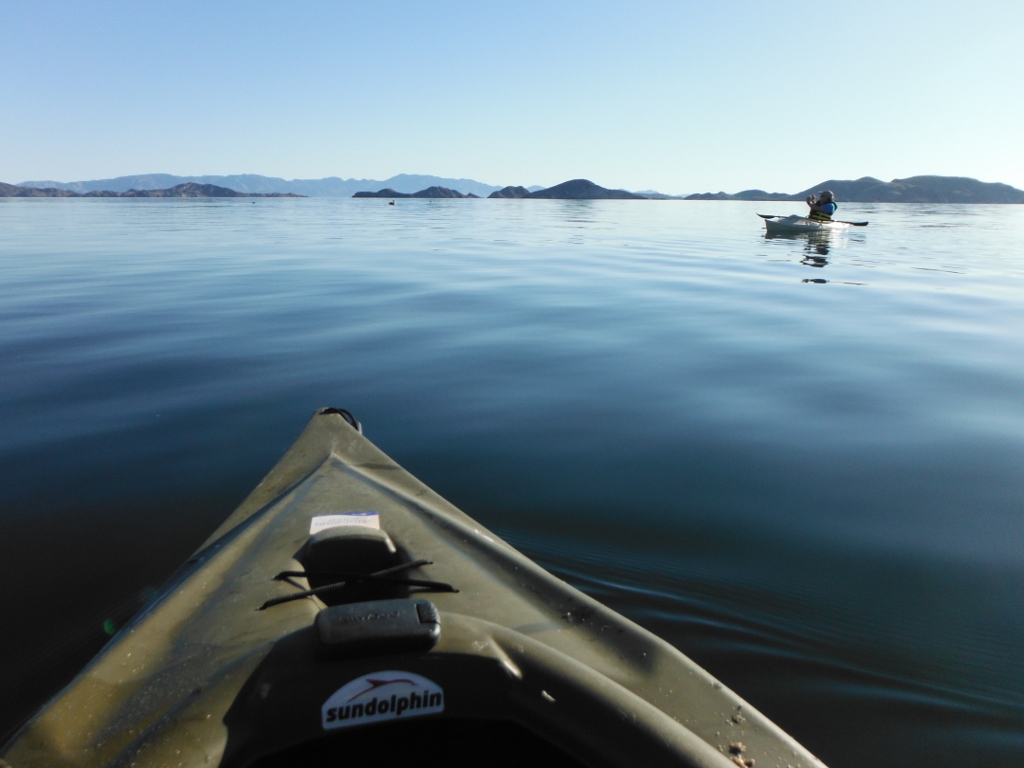 We paddled down the beach and out come the neighbors-------people are so friendly.
and this couple came to the motel later to visit.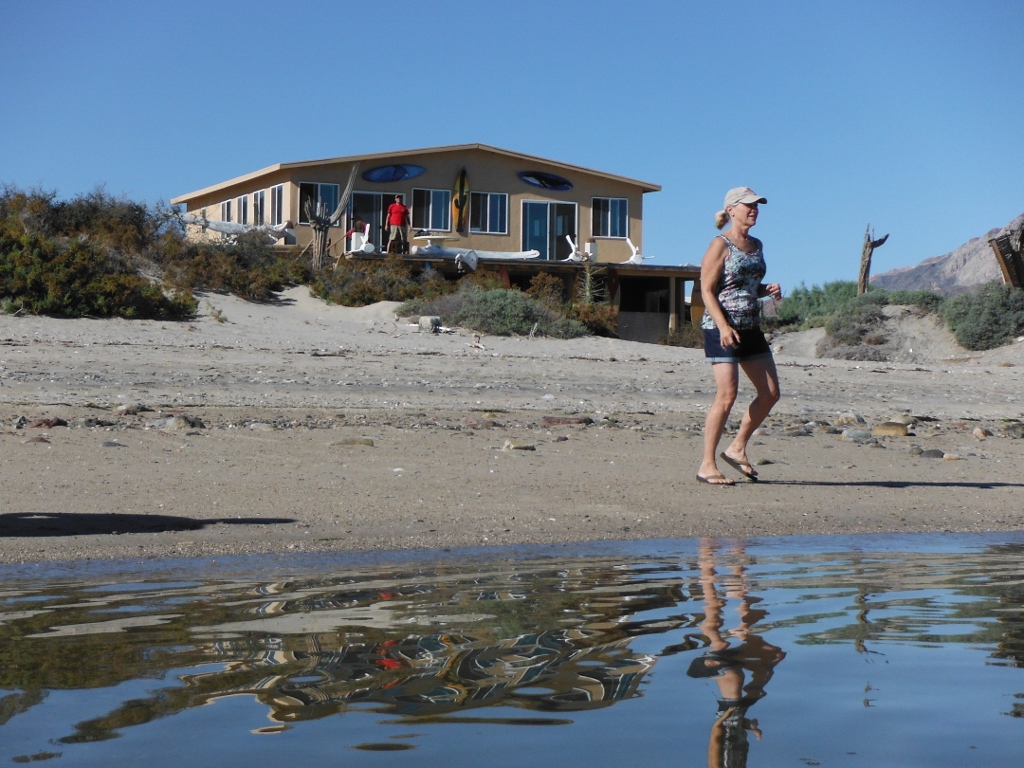 Don't try this at home------------for professionals only---very risky !!!!!!!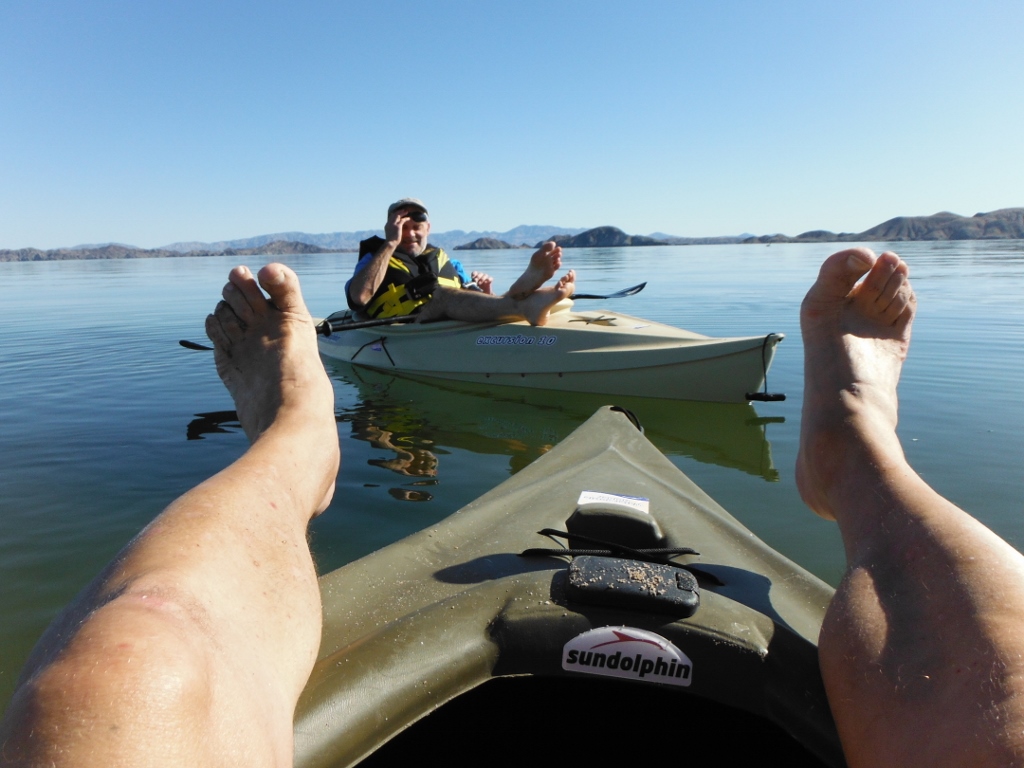 The mountain you see here is actually an old volcano----and the water in front of it is over 3,000 meters deep and is home to the largest whales.
The "Orcas" I believe ????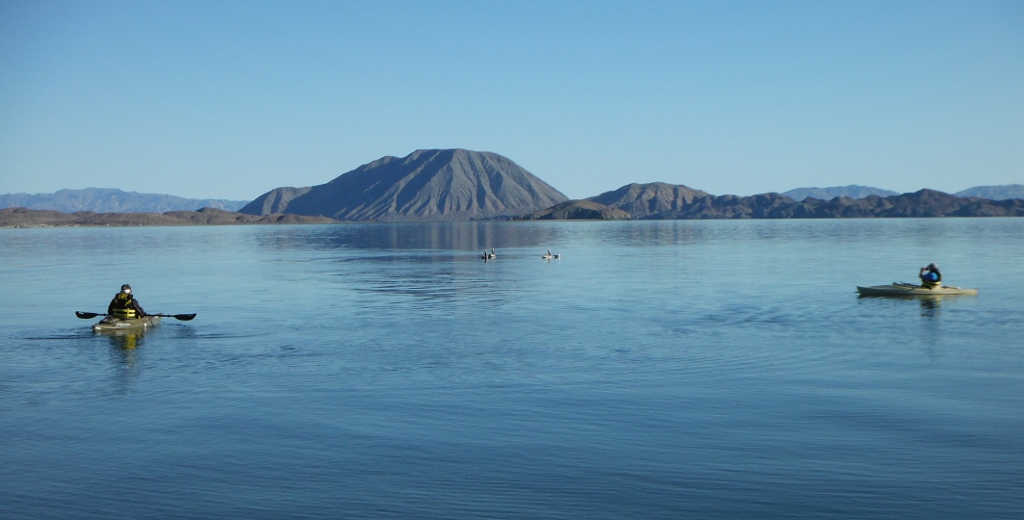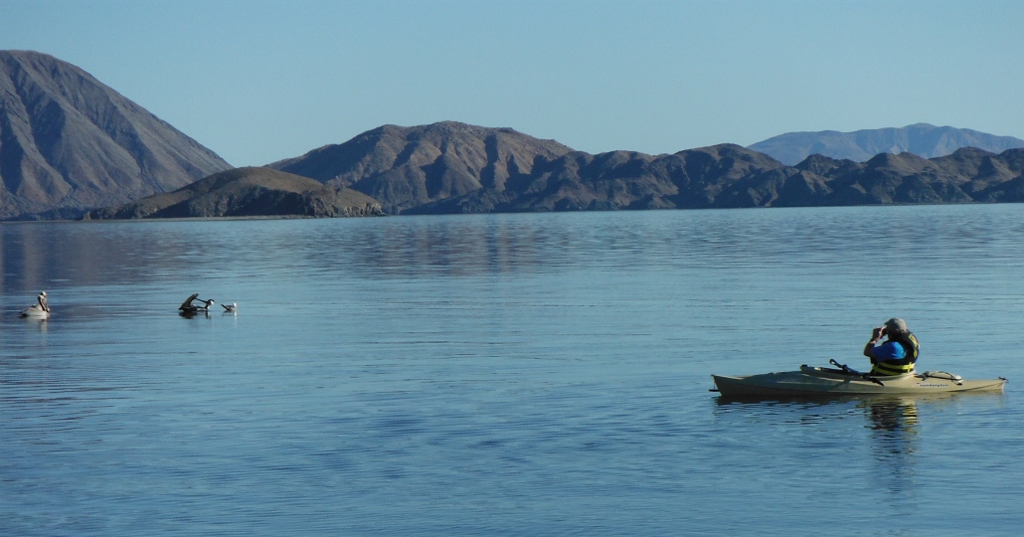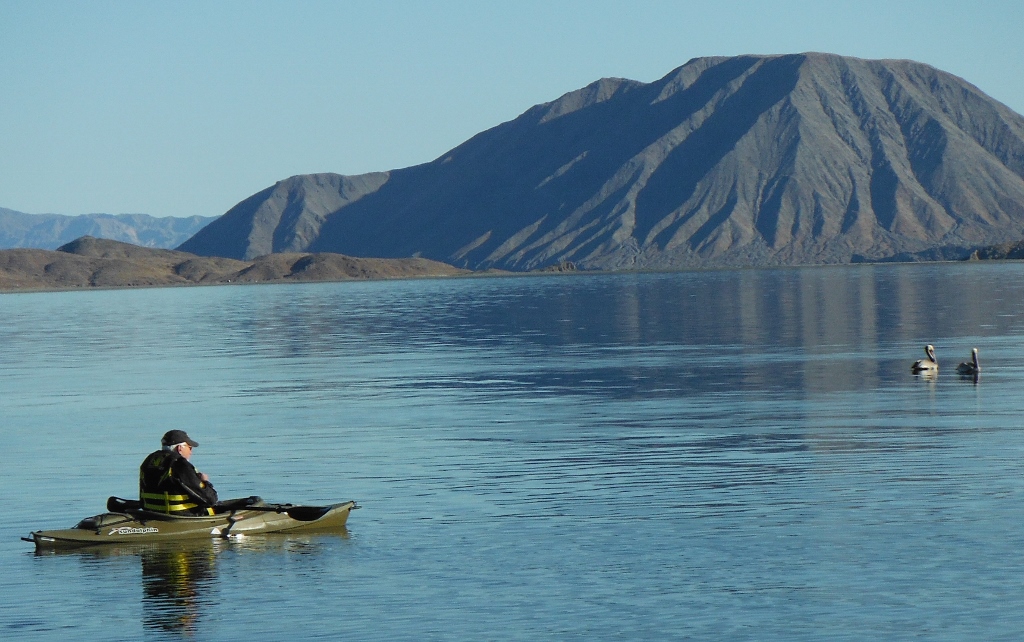 I've never been so relaxed in all my life.
I was amazed how easy it is to paddle and how smoothly and effortlessly these things move thru the water.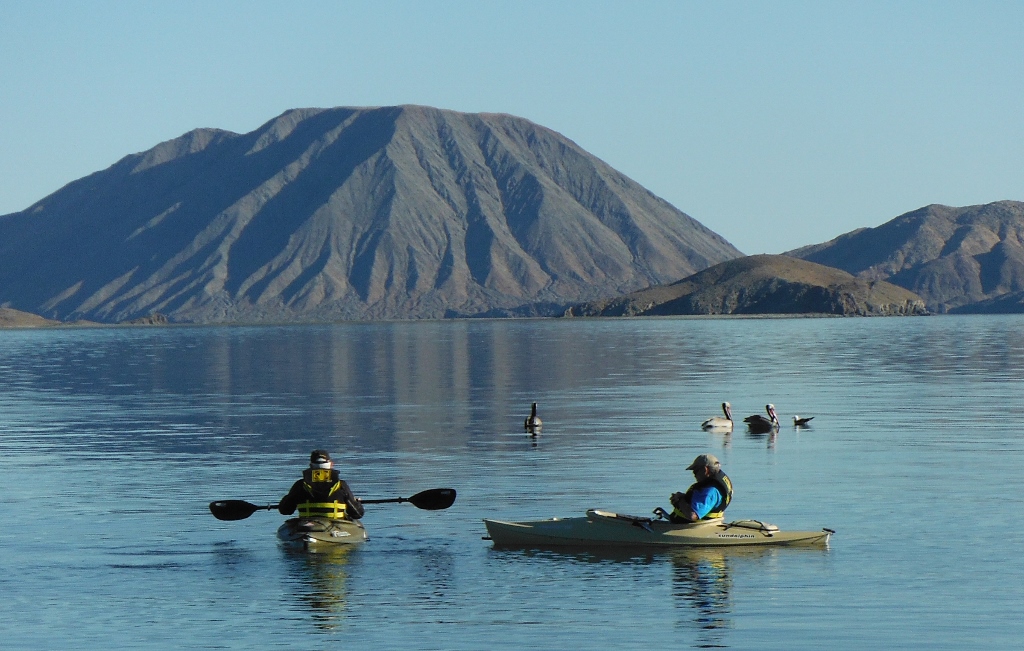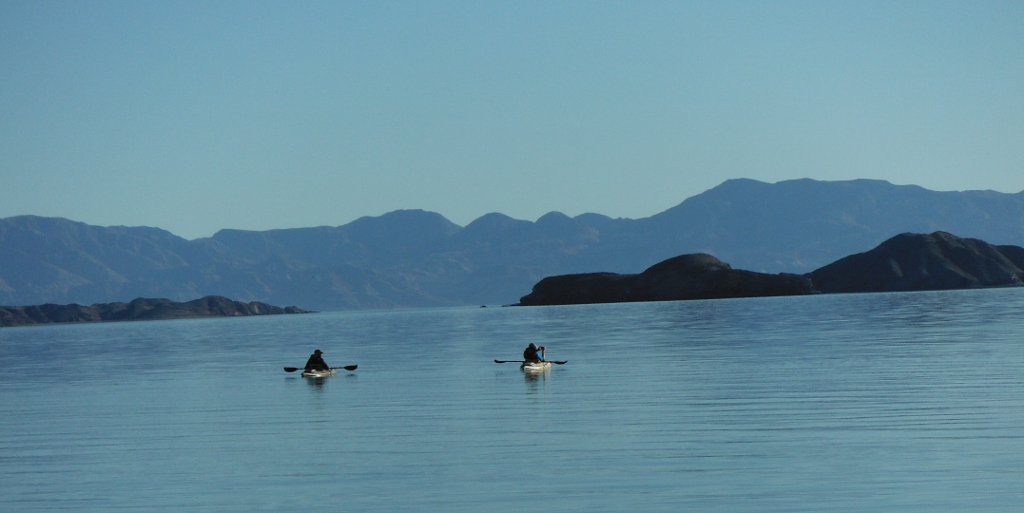 We get out quite a ways.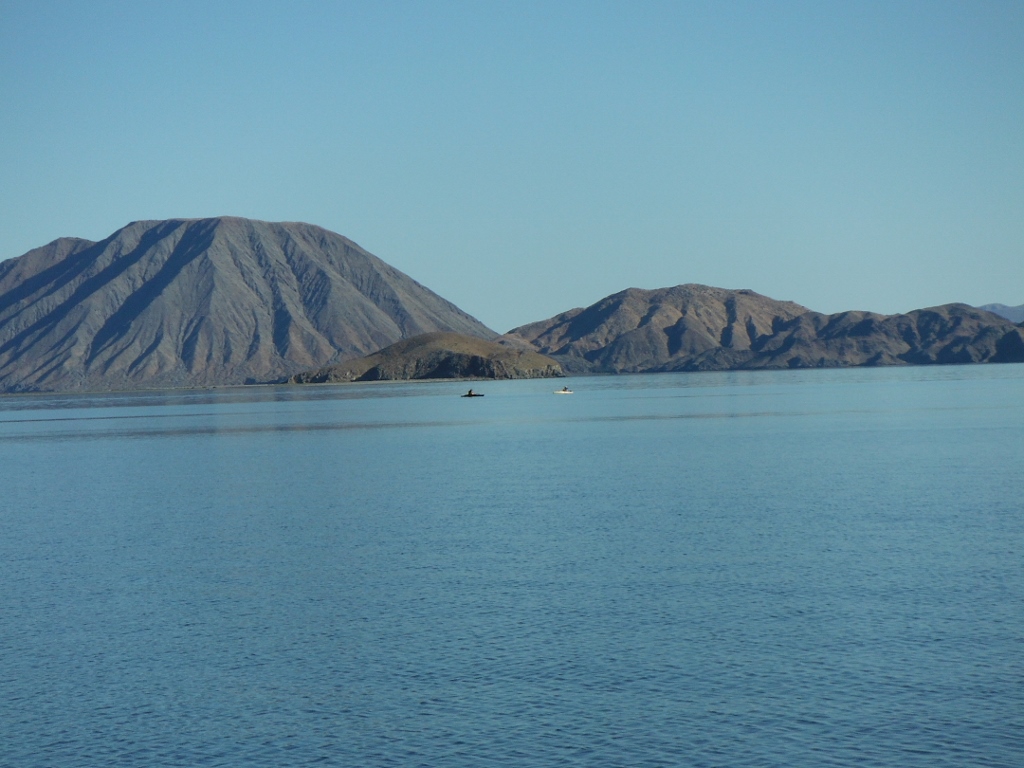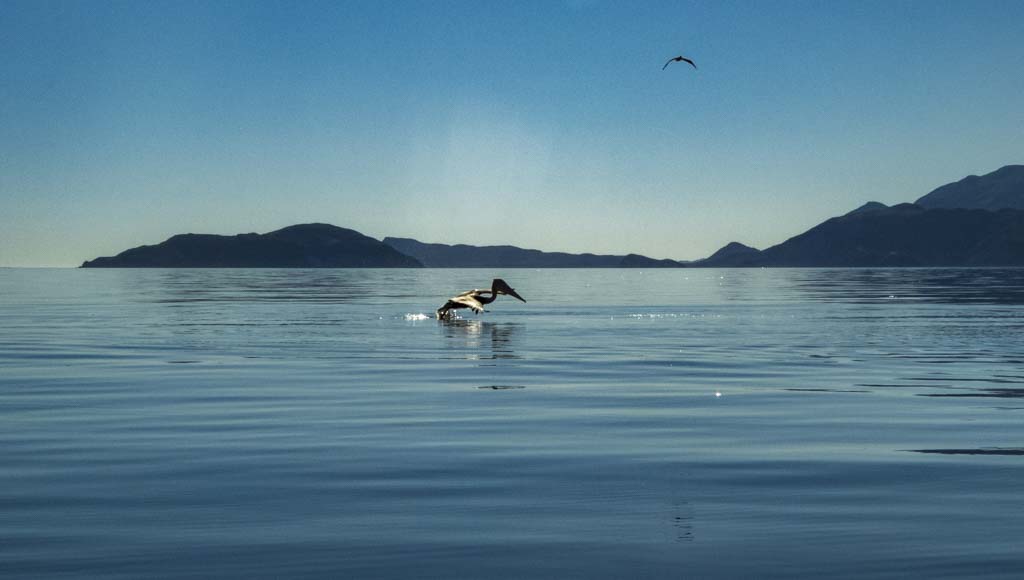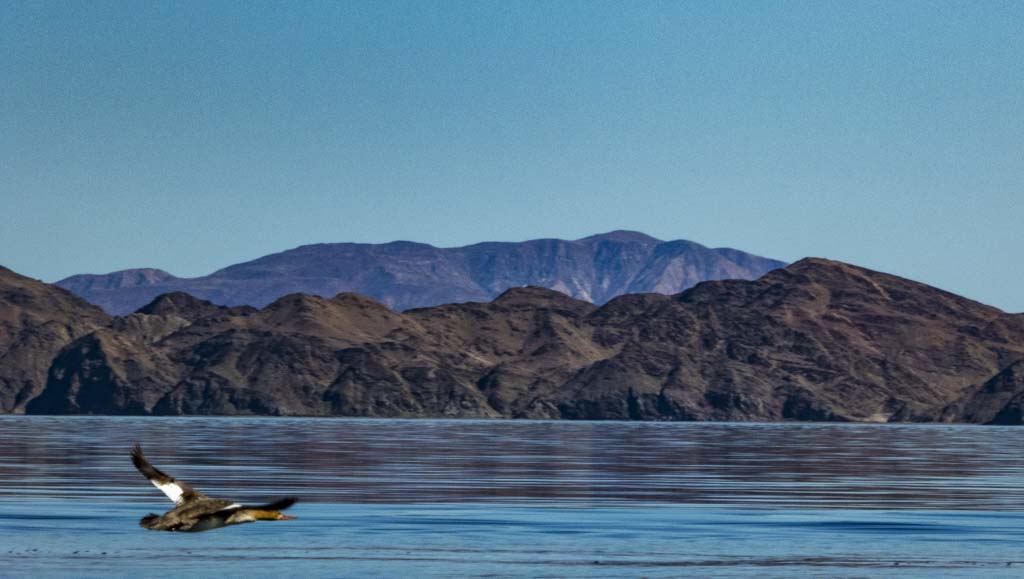 Time for a nap-------------I mean Siesta !!!!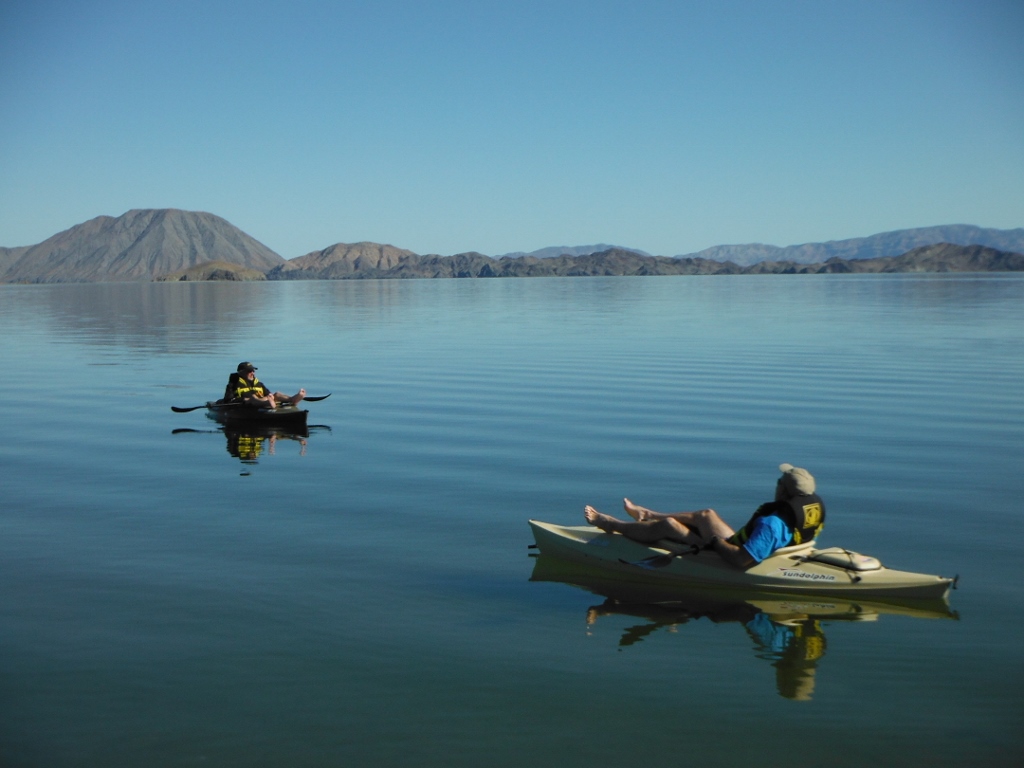 I don't know what came over us----------off come the pants.
Adios Pantelones !!!!!! It was awesome.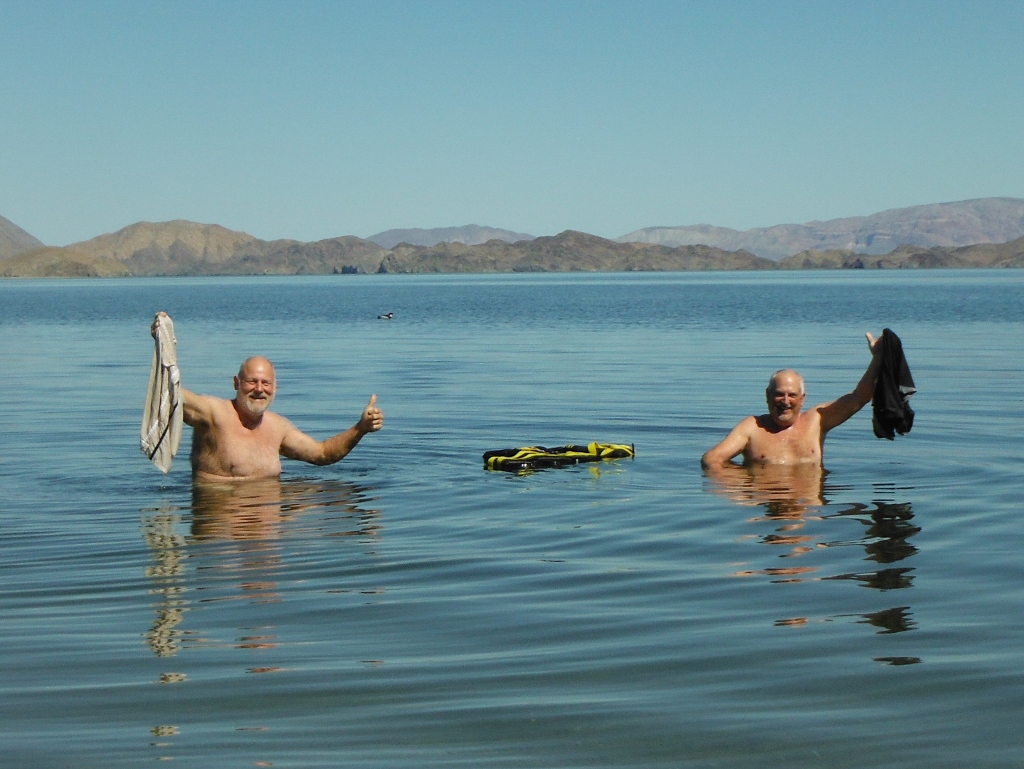 What can High Five say ????
Adios Pantelones---------that's what.
What happens in Baja--------Stays in Bay------------errrrr-------gets all over the internet !!!!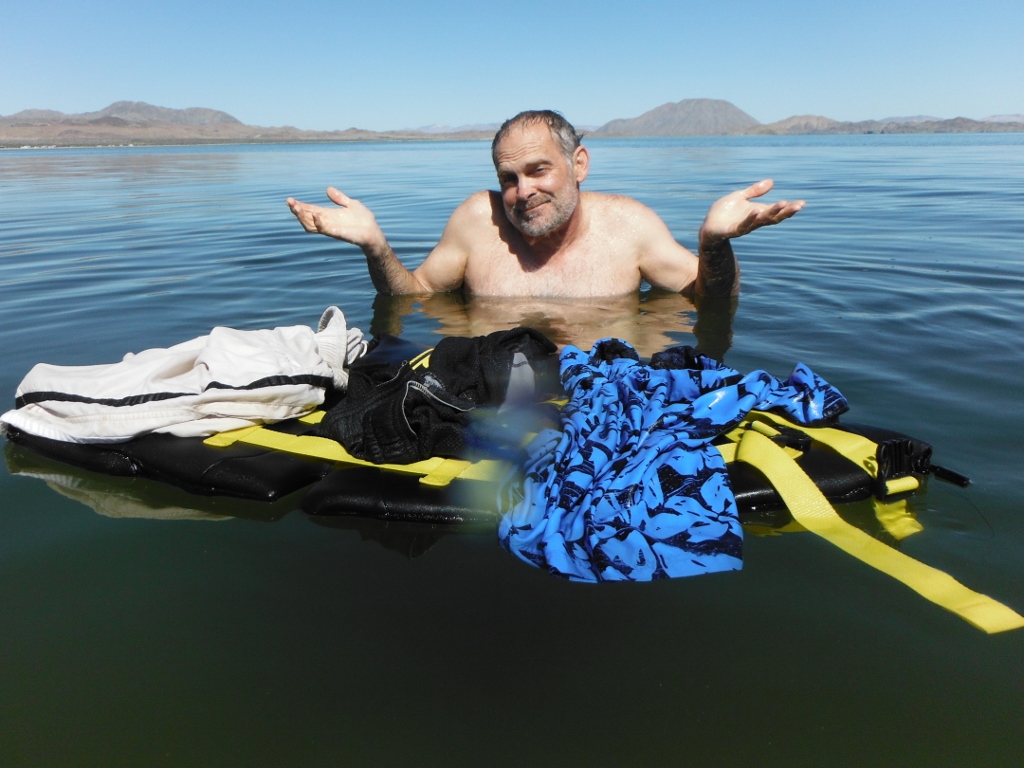 We swim around a bit with our Pantelones floating on our life jackets and they are drifting away----a long ways away
a very long, long, long way.
And I can't help myself.

"Wilson--Wilson---Wilson"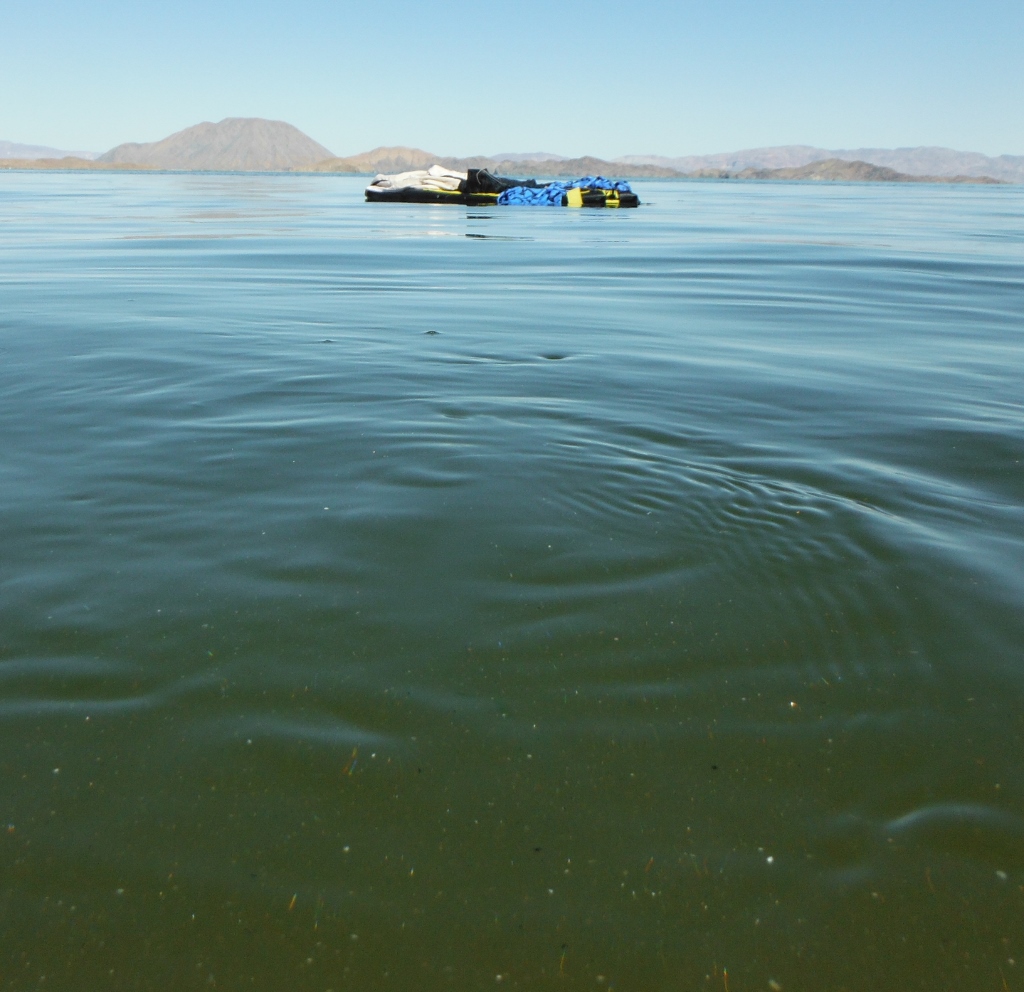 Day 9 and 10--Kayakin' In The Sea Of Cortez
Select HD if you have the speed.
Whale bones------these are about 12' tall.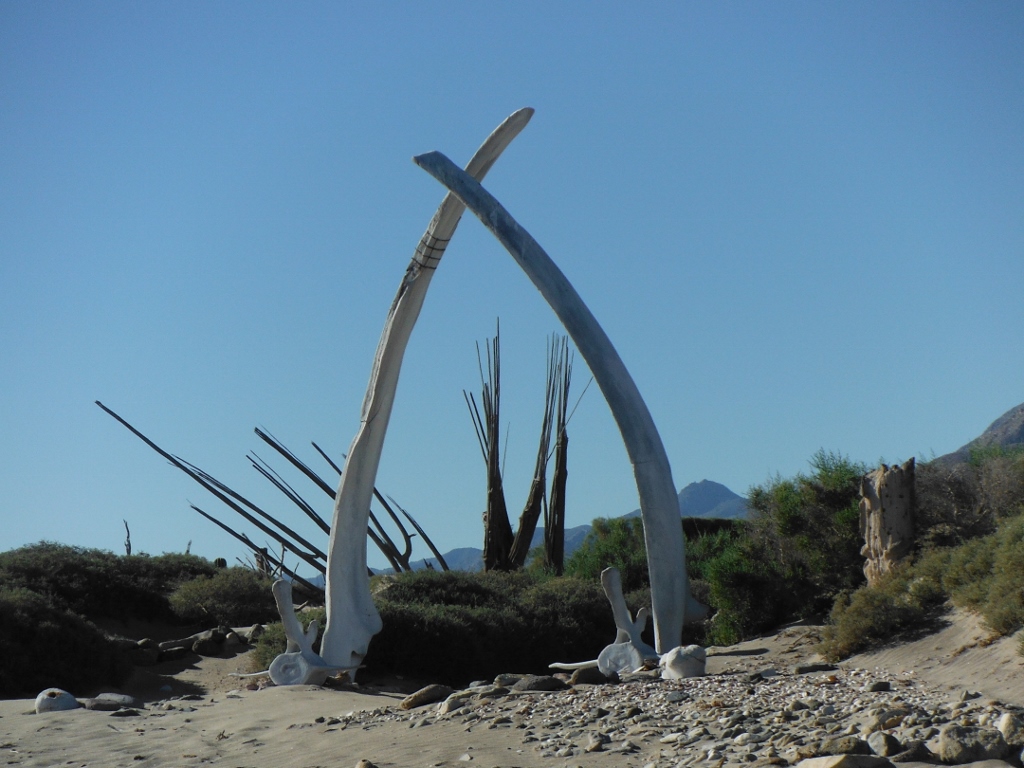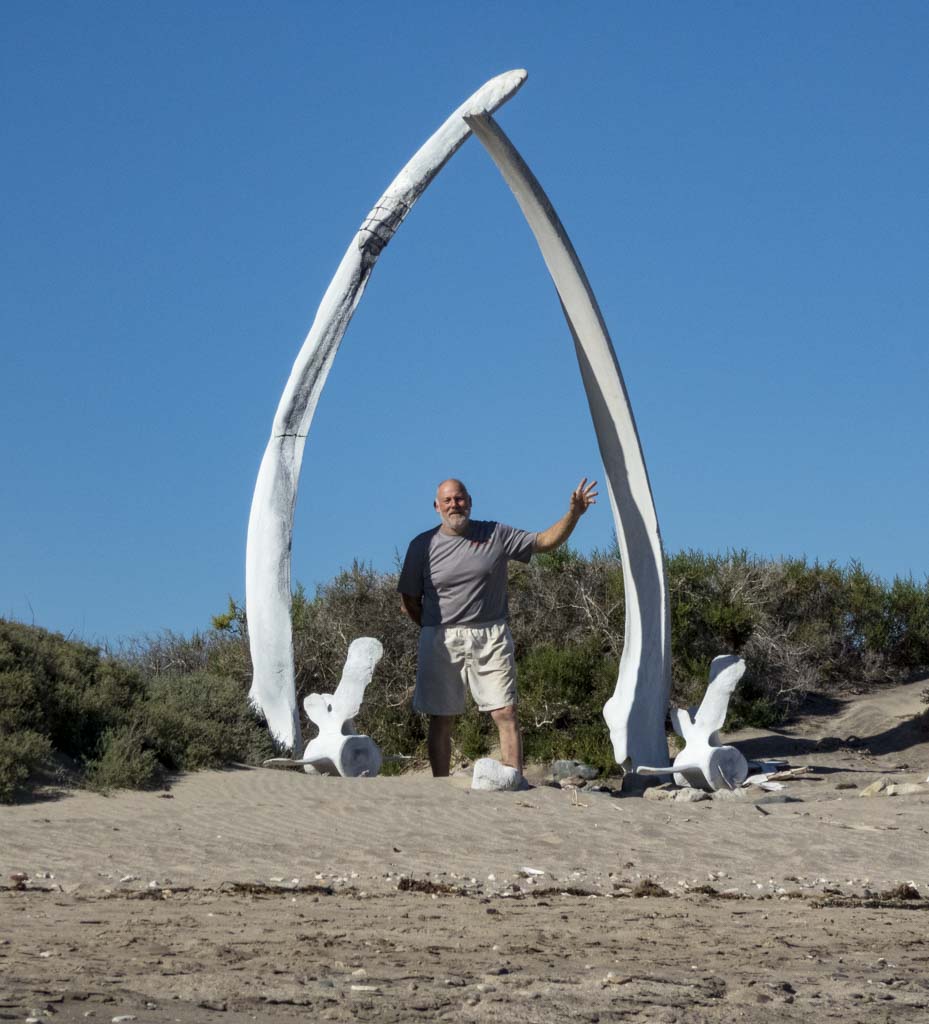 Something happened to this man while down here.
He'll never be the same.
His wife (also called sweet thang) won't know who he is when he gets home.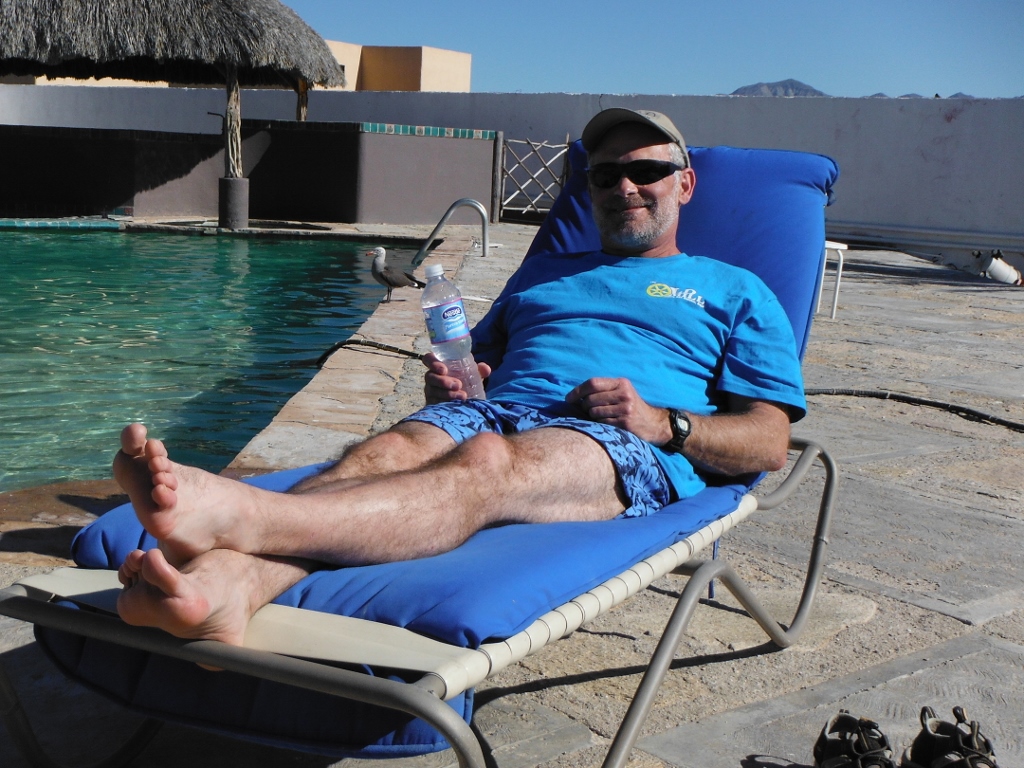 Ok I've had enough of this.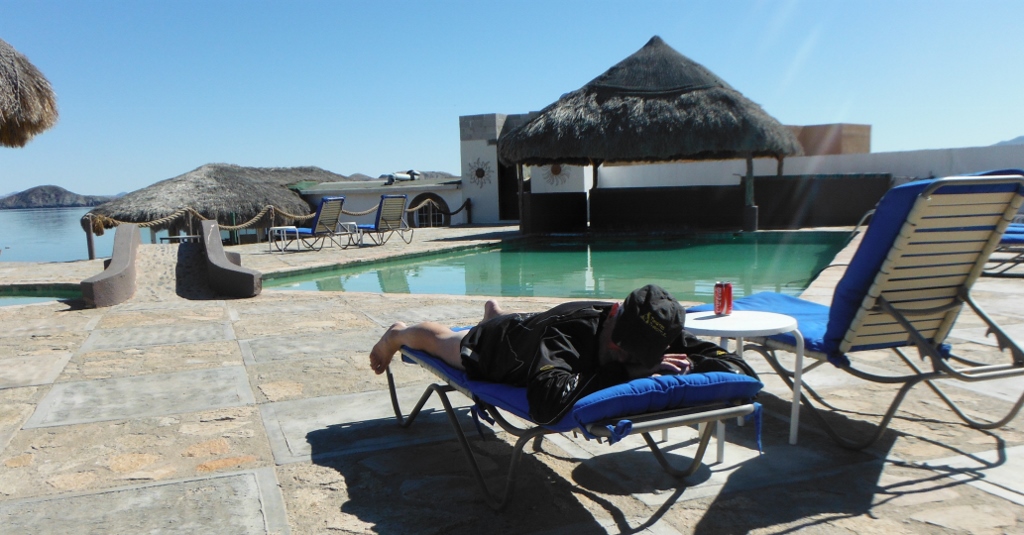 2 siesta's today.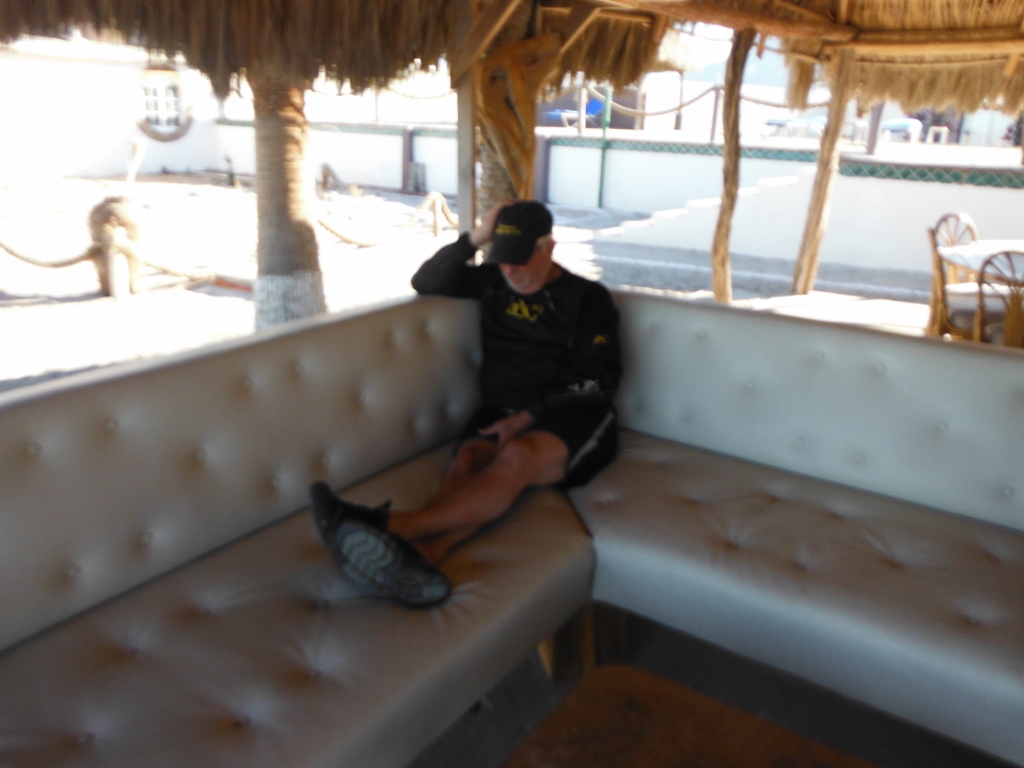 William (on the left) is Rosa's husband and catered to our every need.
I will always remember when I'd ask him for something and he had the same answer everytime--------"Of Course" he would say.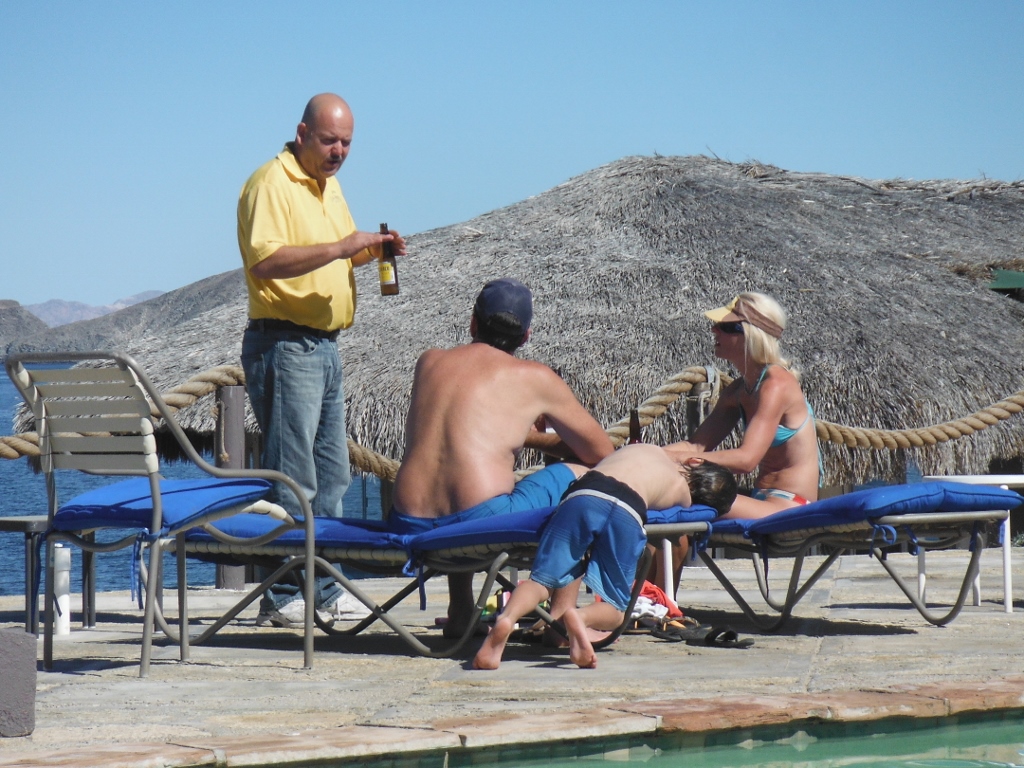 This family were traveling in a big truck with a camper in the bed--and a small dirt bike on the back.
They camped across the water but came here for a few hours.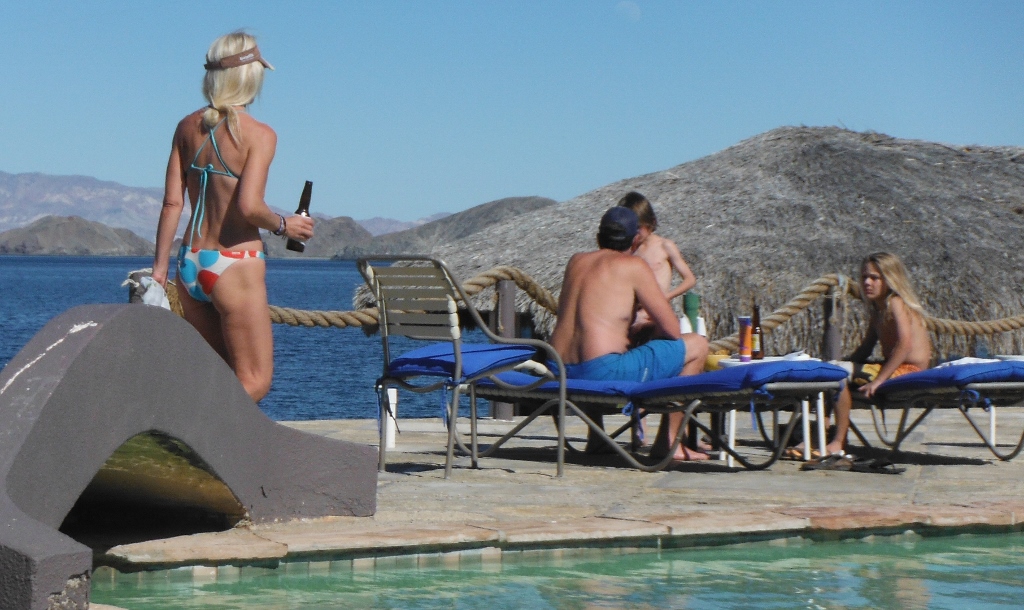 We stayed here for 2 nites.
The sun was going down and I wanted some video of us kayaking.
The only way to do that was to put on our helmets and you the video camera's on them.
It was hilarious as people wondered what in the heck are those stupid gringo's doing ????
I took a lot of video of this ride----and the video of this is just over the top.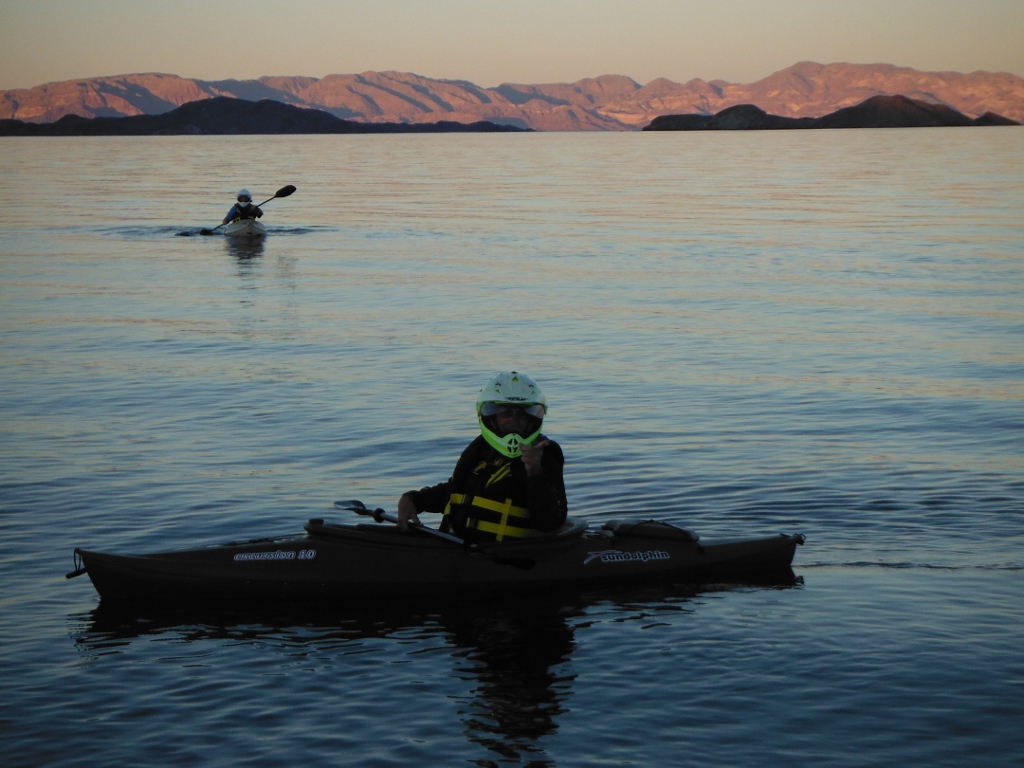 ATGATT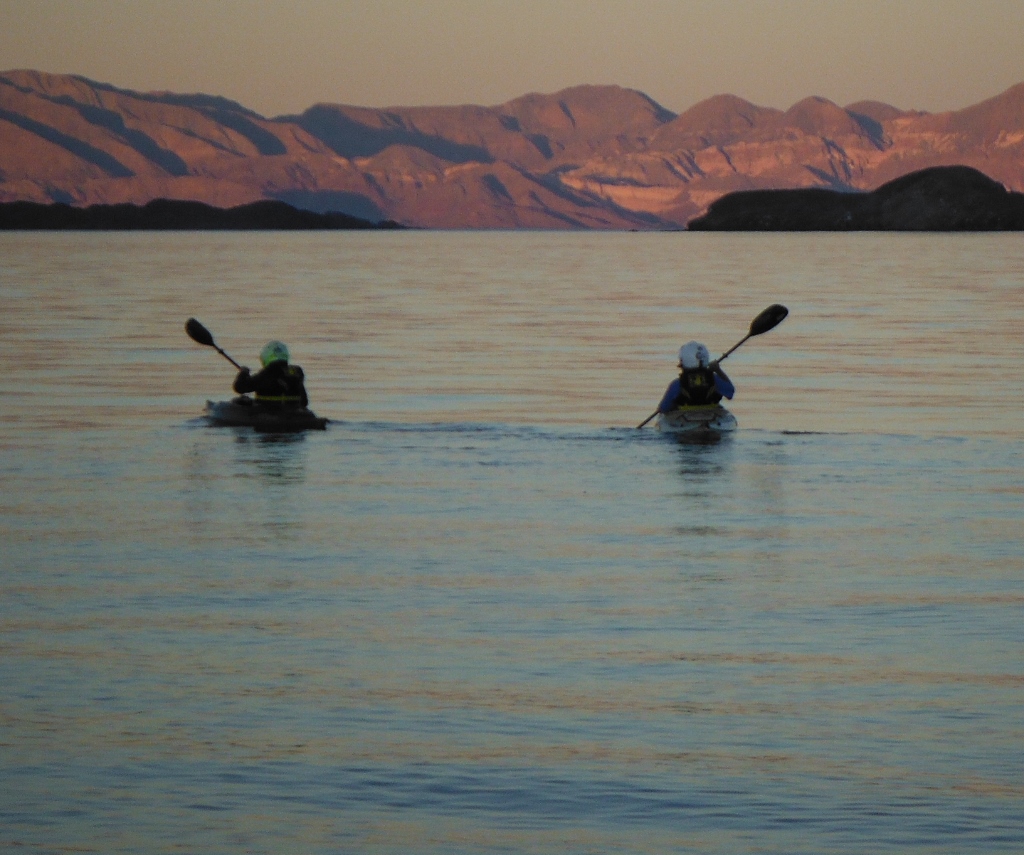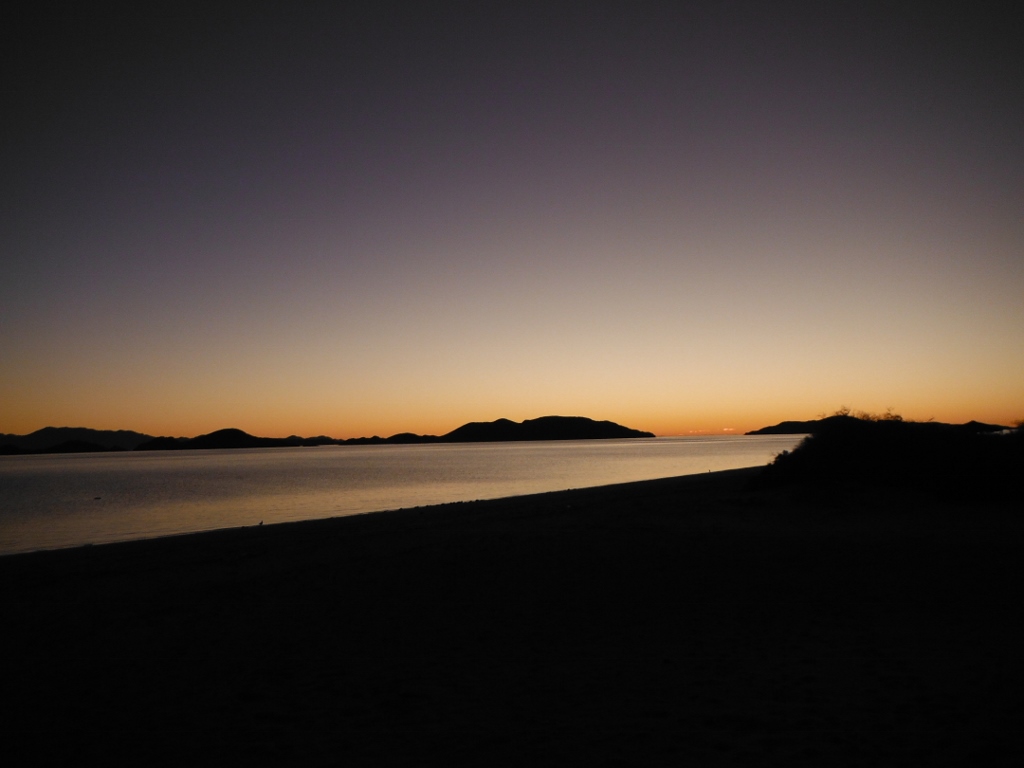 I miss my wife--wish she was here.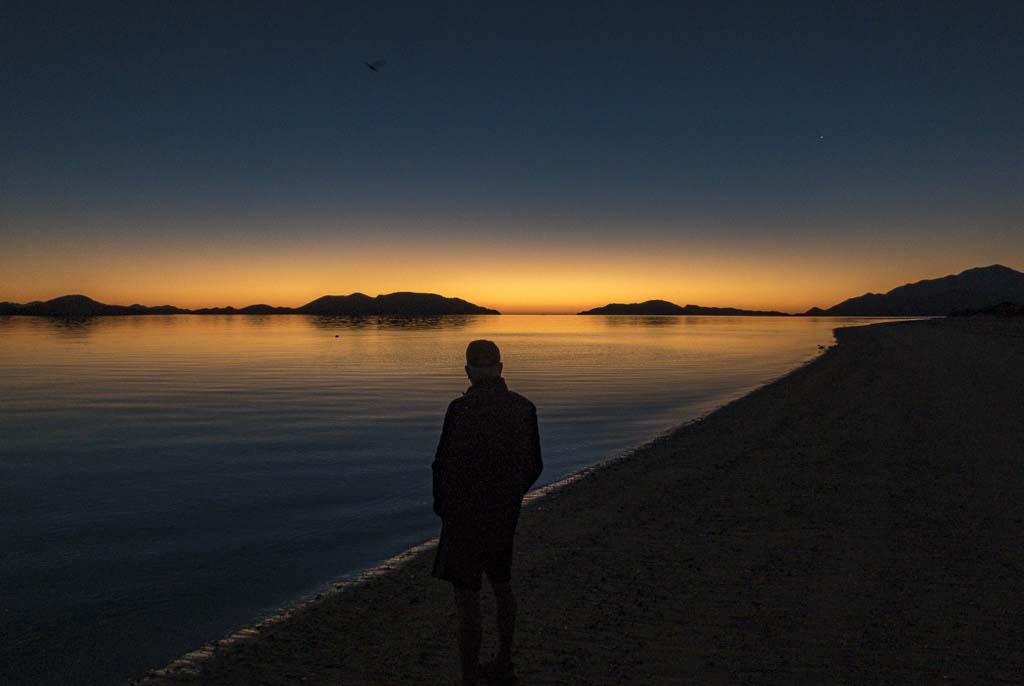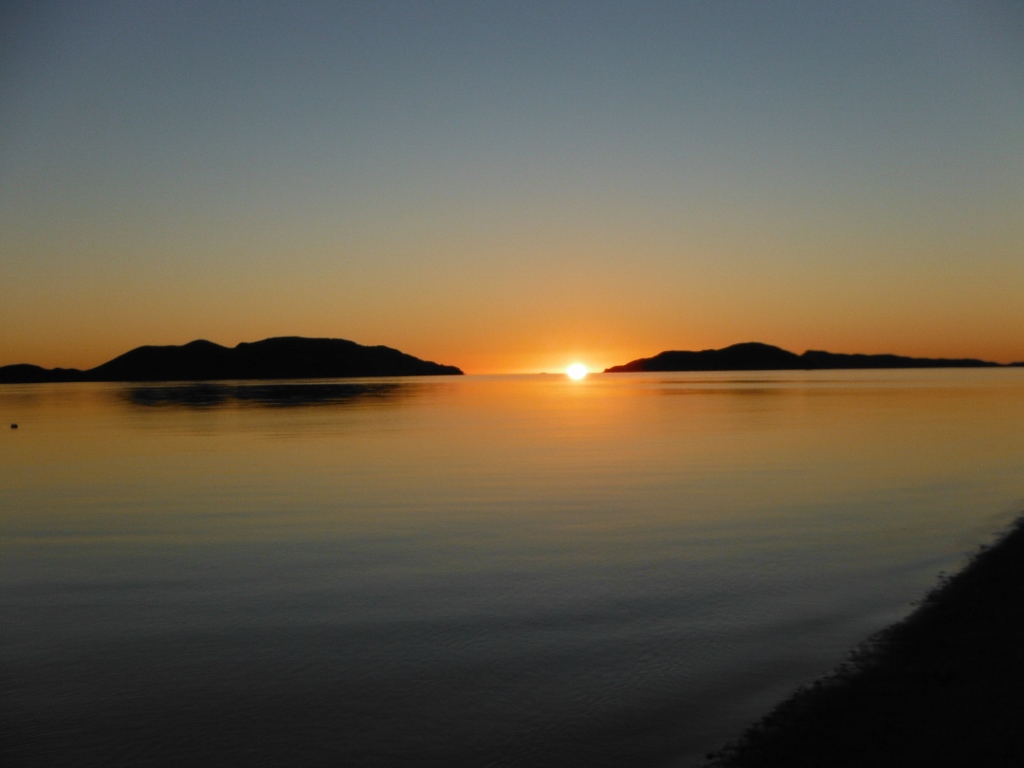 Rosas says what time you want breakfast ??????
Uhhhhhhh----is 6AM too early-----------no problemo.
It goes without saying------we did not want to leave this place.
The rooms we stayed in were very nice.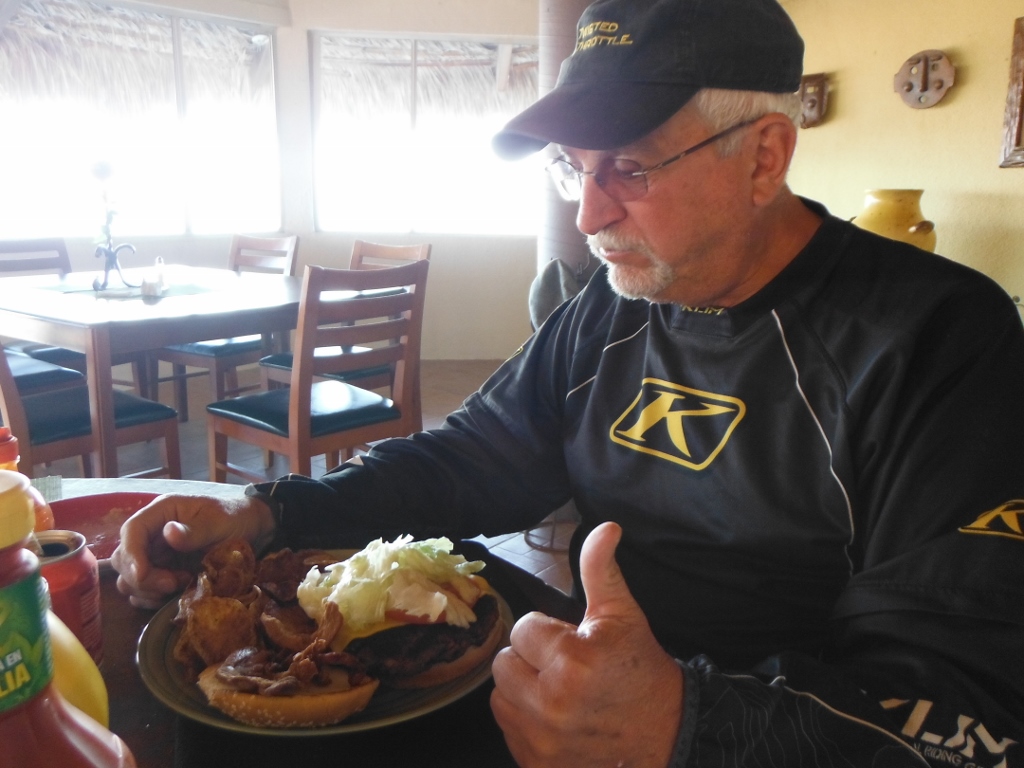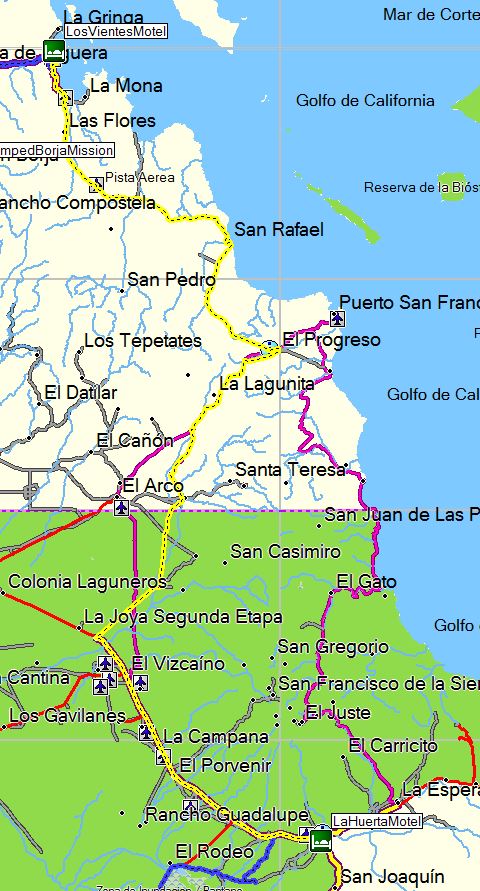 Day 11 February 18th, 2016
Did I say it was hard to leave the Las Vientes ??????
But we did.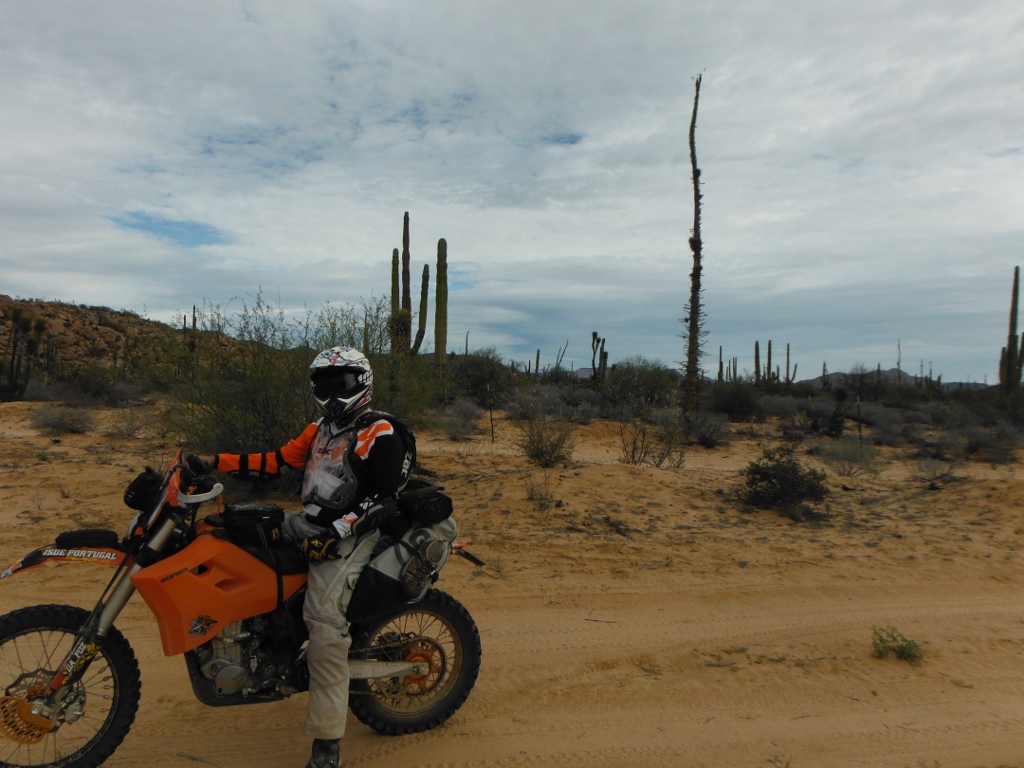 Some serious navigation going on here.
Me and Dingweeds always fuel up together when we ride----my 350 EXC and his WR250R got the same exact fuel mileage.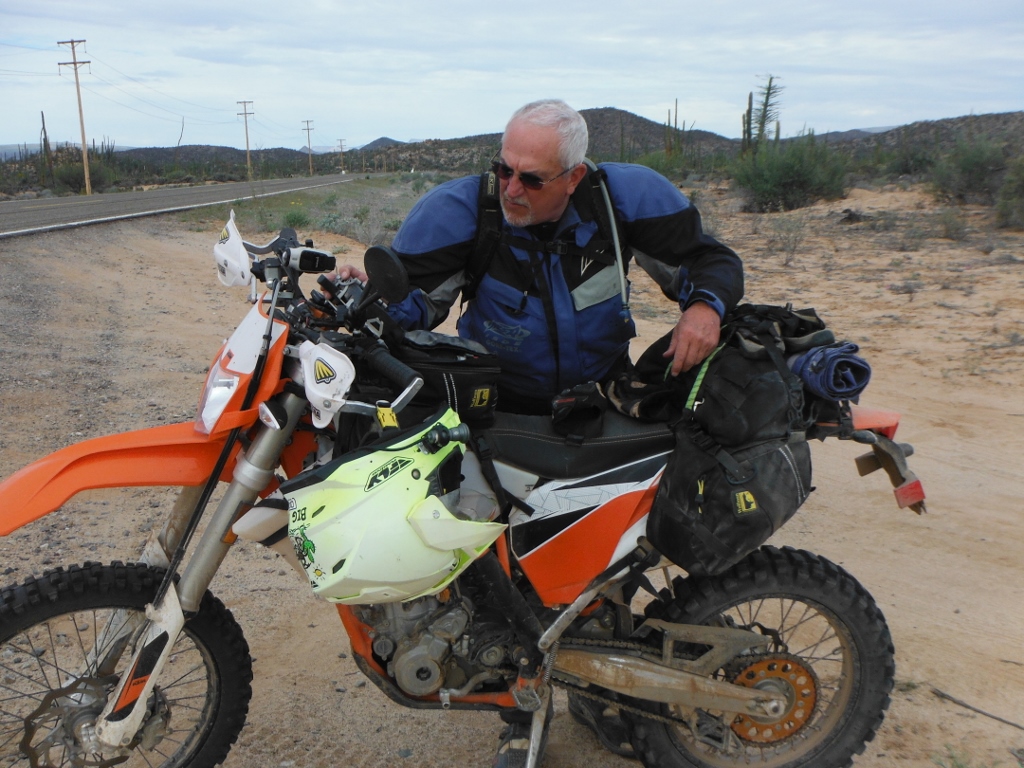 We all really wanted to visit Coco. I had heard he may not be able to stay here much longer and didn't know if he'd be there.
He was in the best spirits I've ever seen him in-------and was laughing and having fun with everybody there.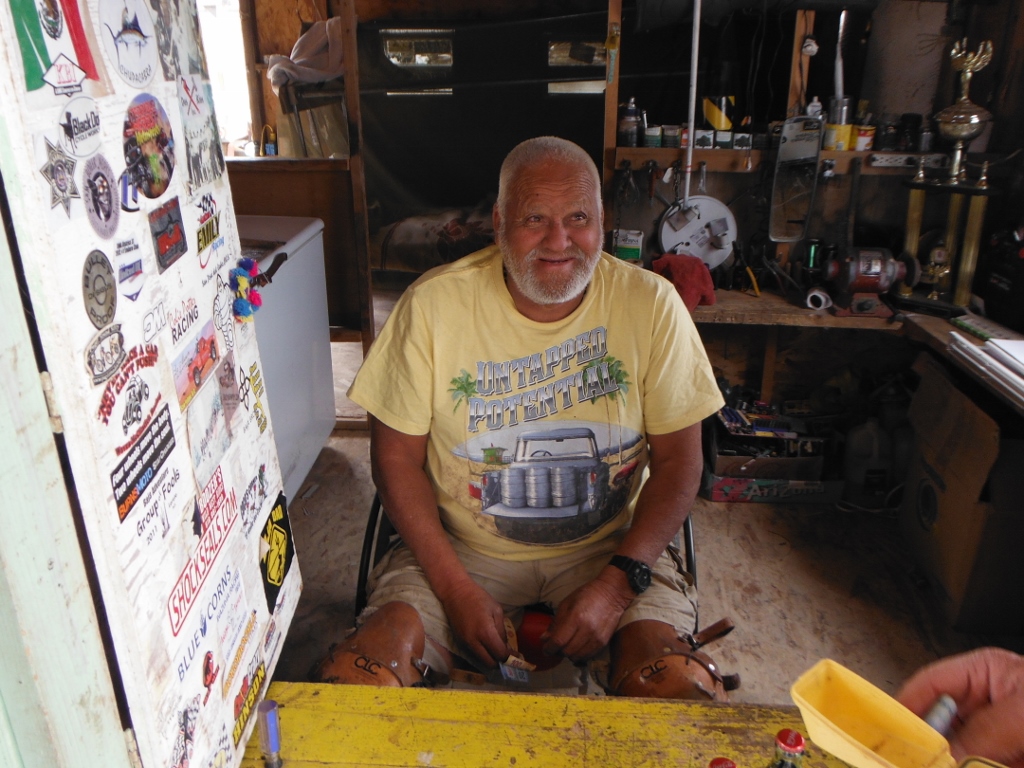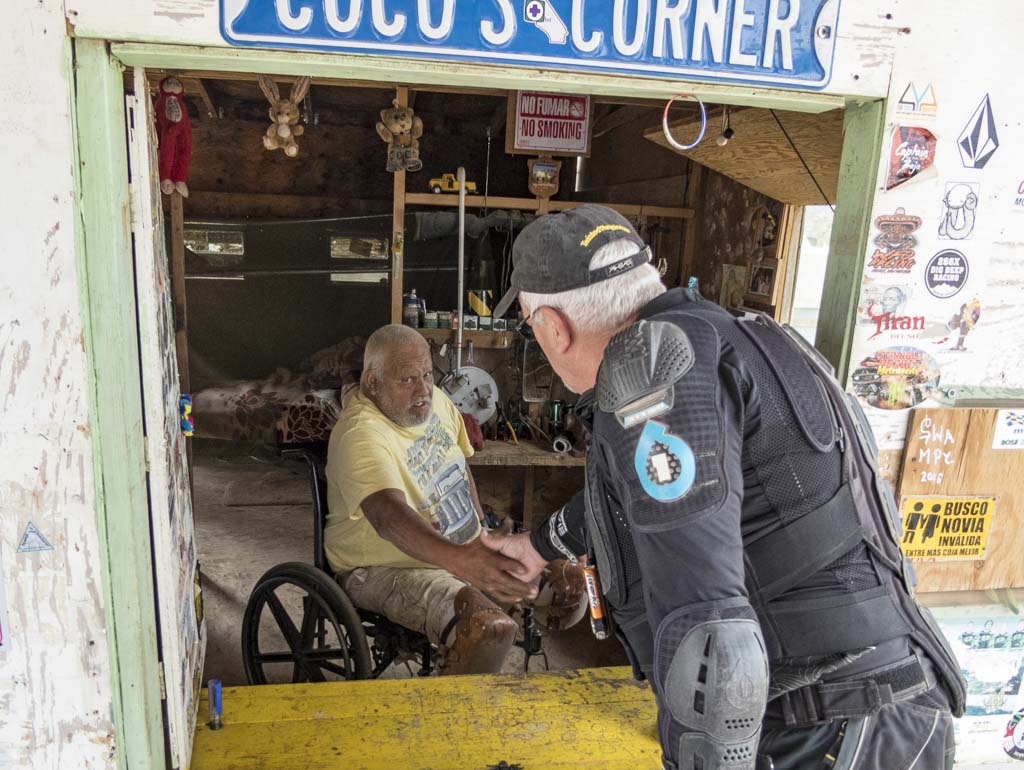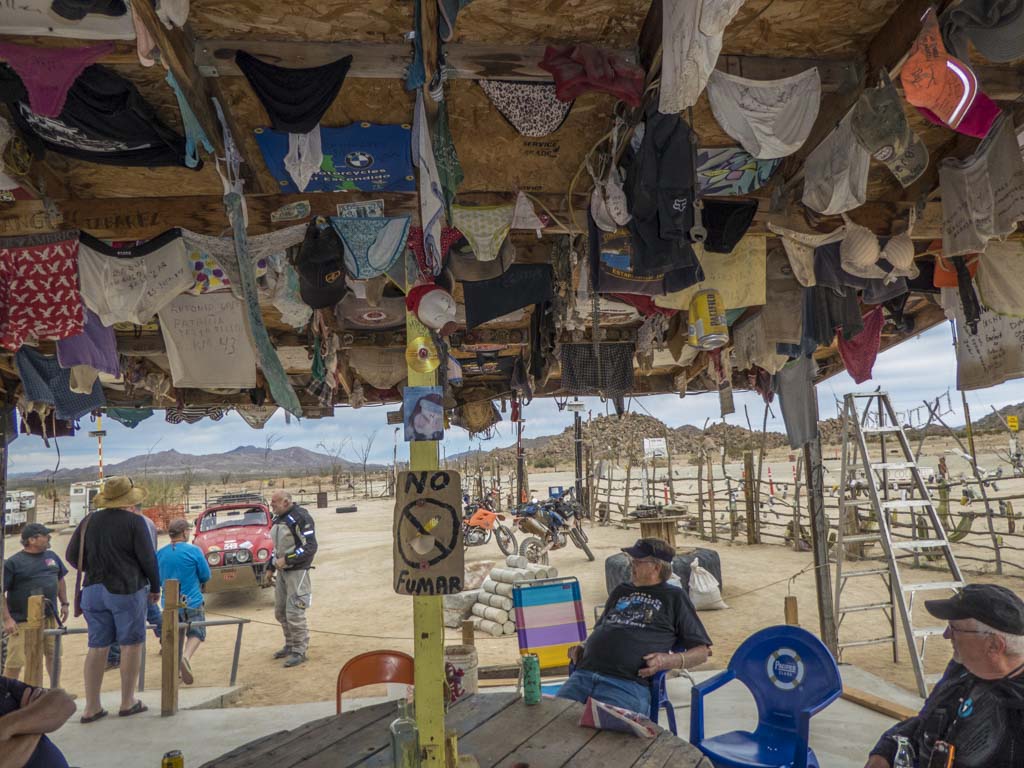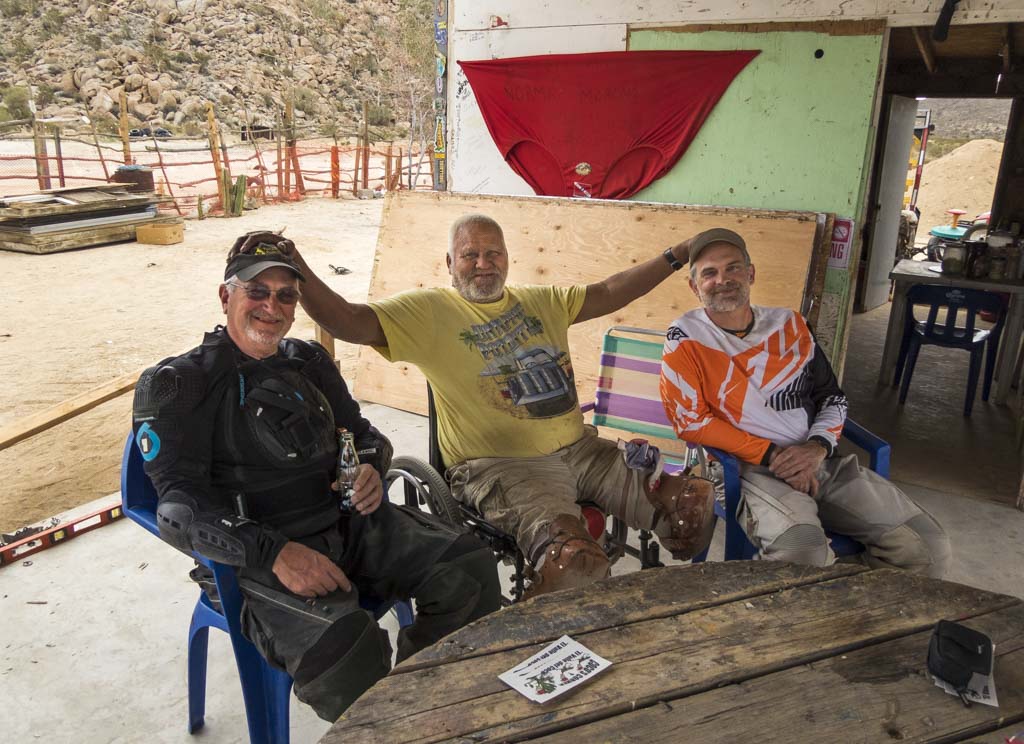 Adios El Grande Pantelones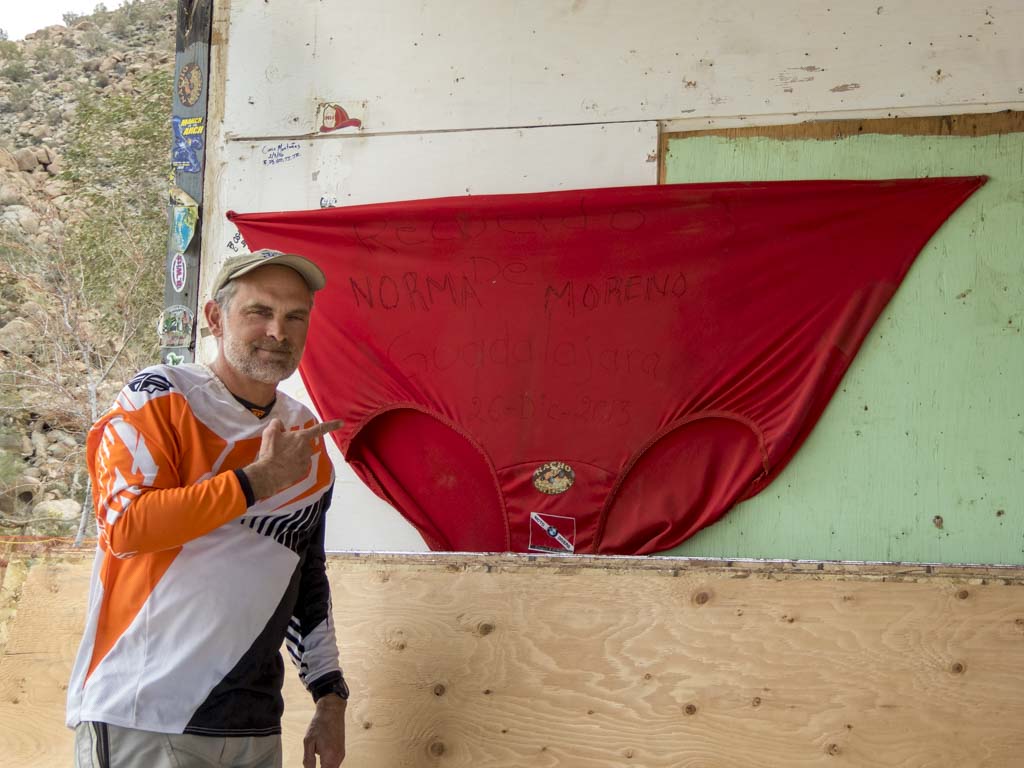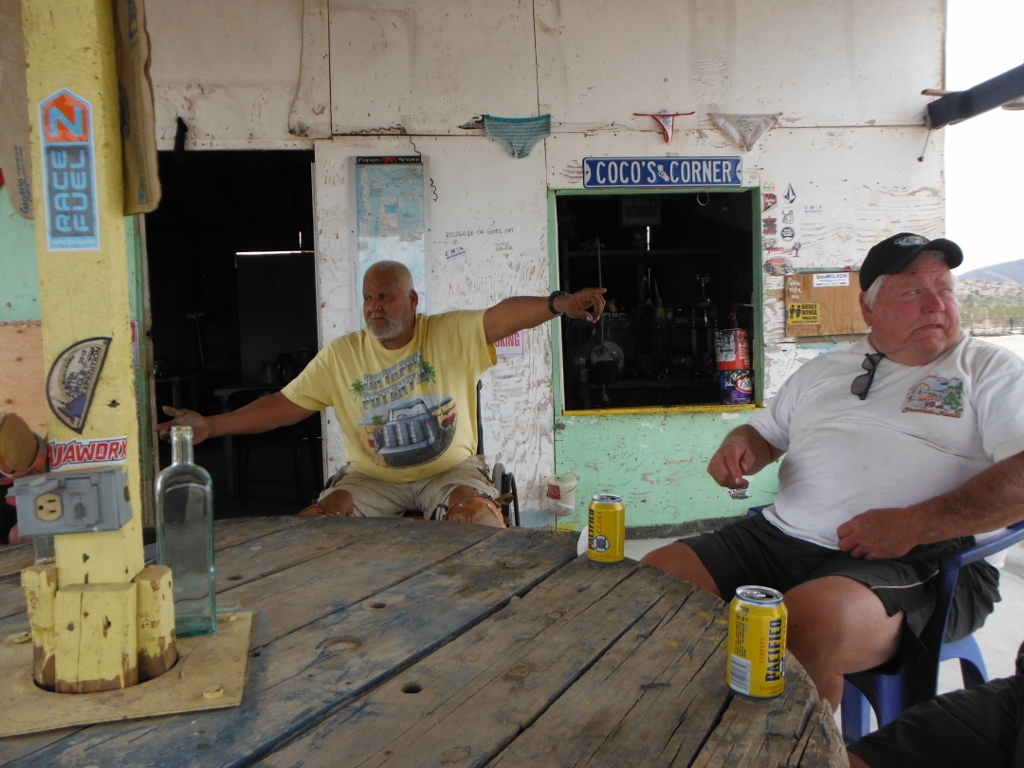 He's pointing to Scott to the TV he had there.
Well one of them anyway.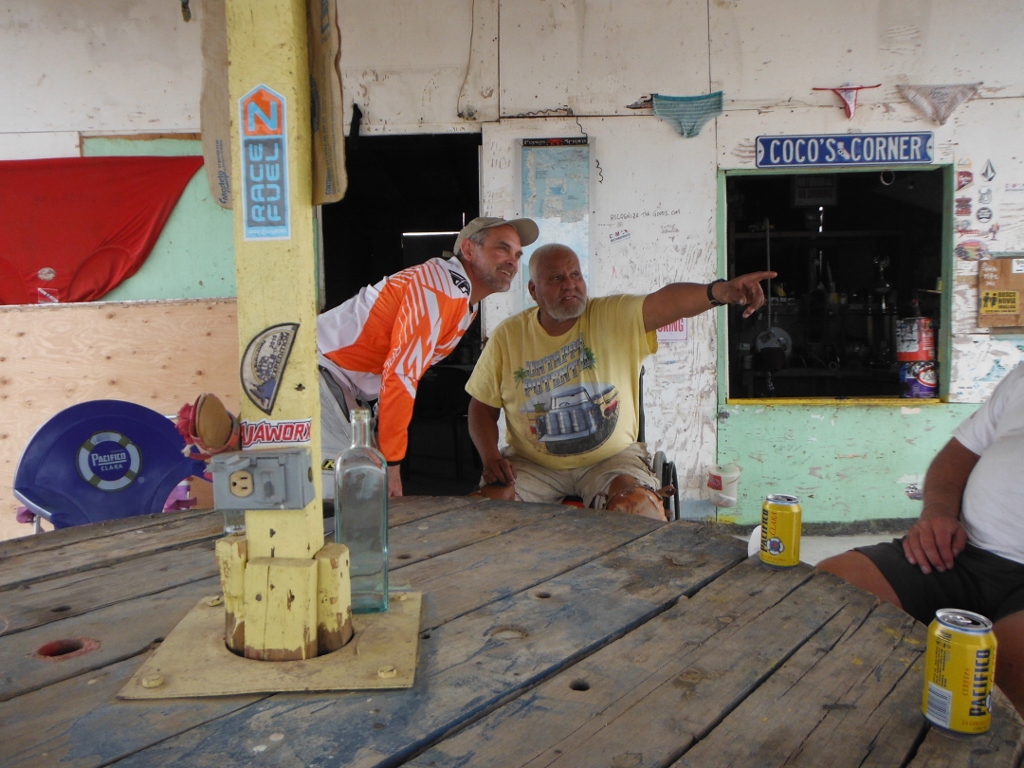 It was way up high.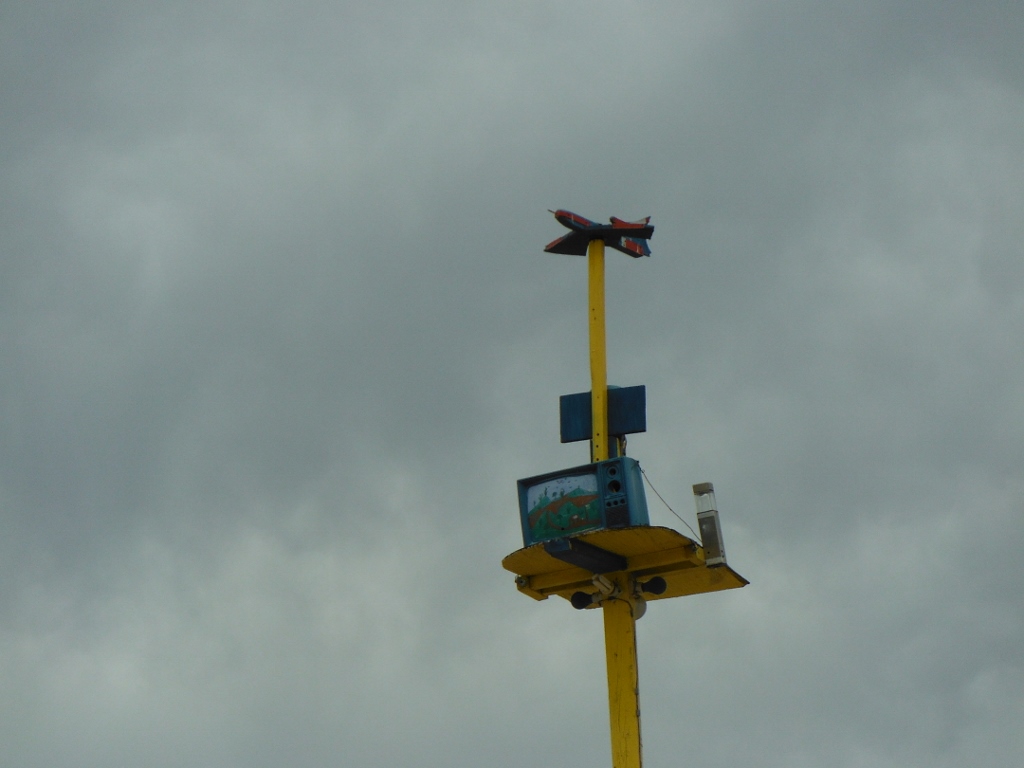 Lot's of people there when we got there-----------we had passed this buggy on the way here on a very rough road.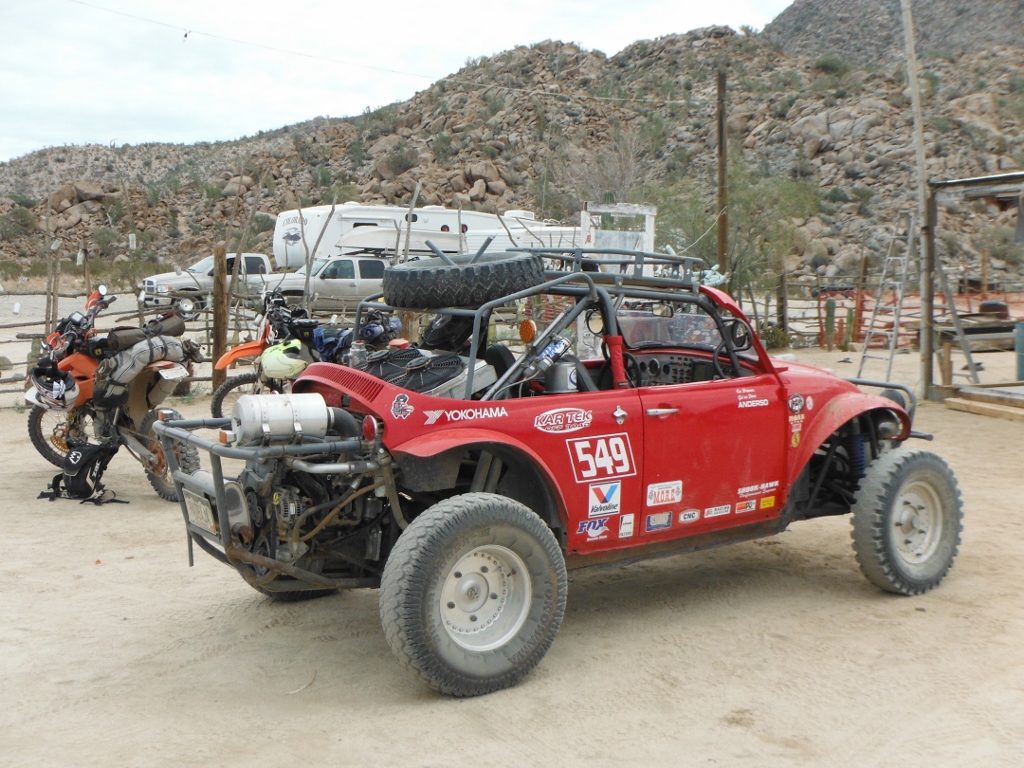 Locals are very kind to Coco---------not just the locals tho------everybody.
The paved highway is very soon going near Coco's place and the nice constructin guys had some concrete left over and poured CoCo a nice concrete pad.
It wasn't there 2 years ago.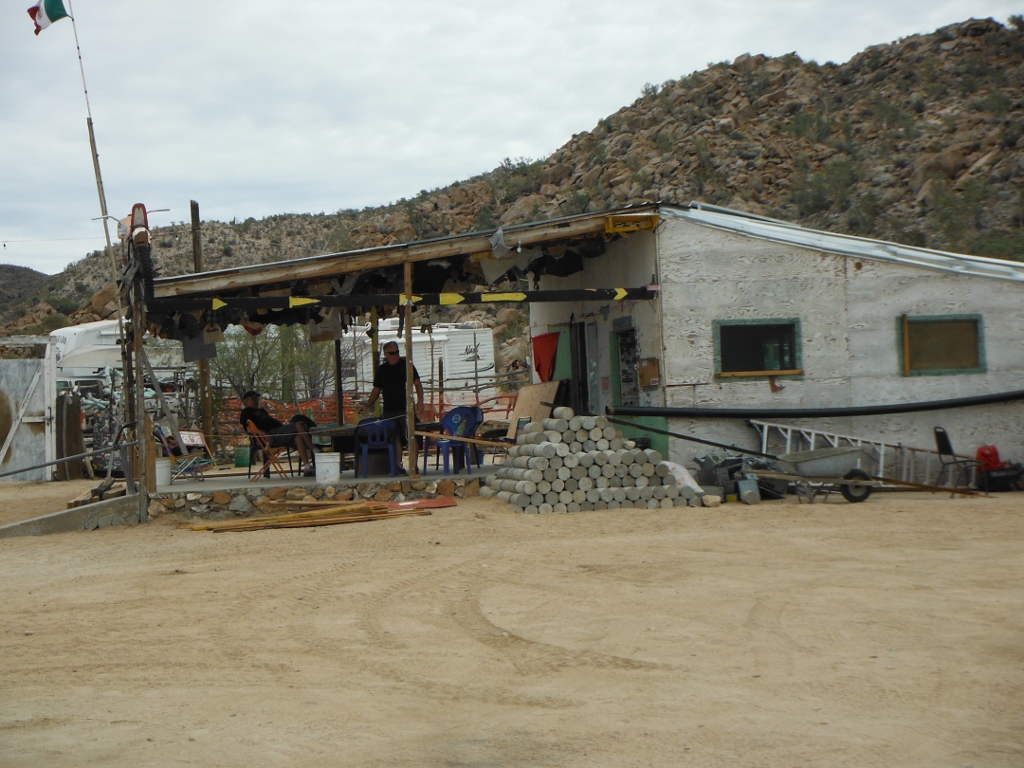 Multi tasking.
I had to catch up on the presidential debates----------"NOT".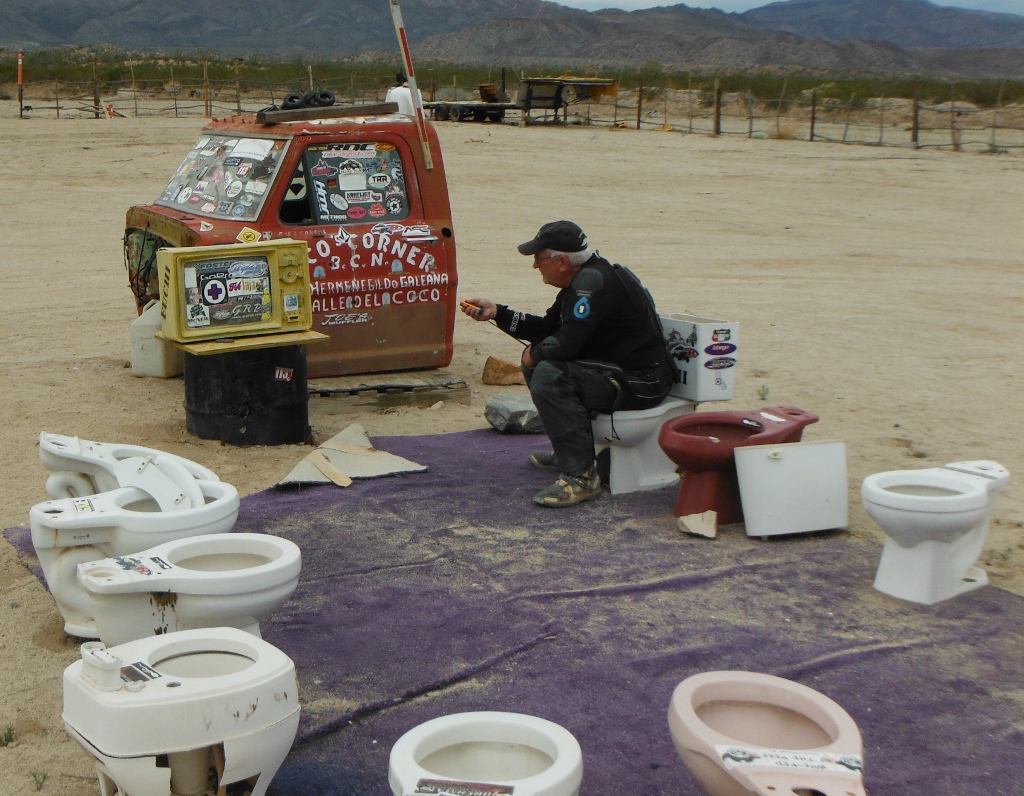 We stopped in at Alphonsinos for lunch.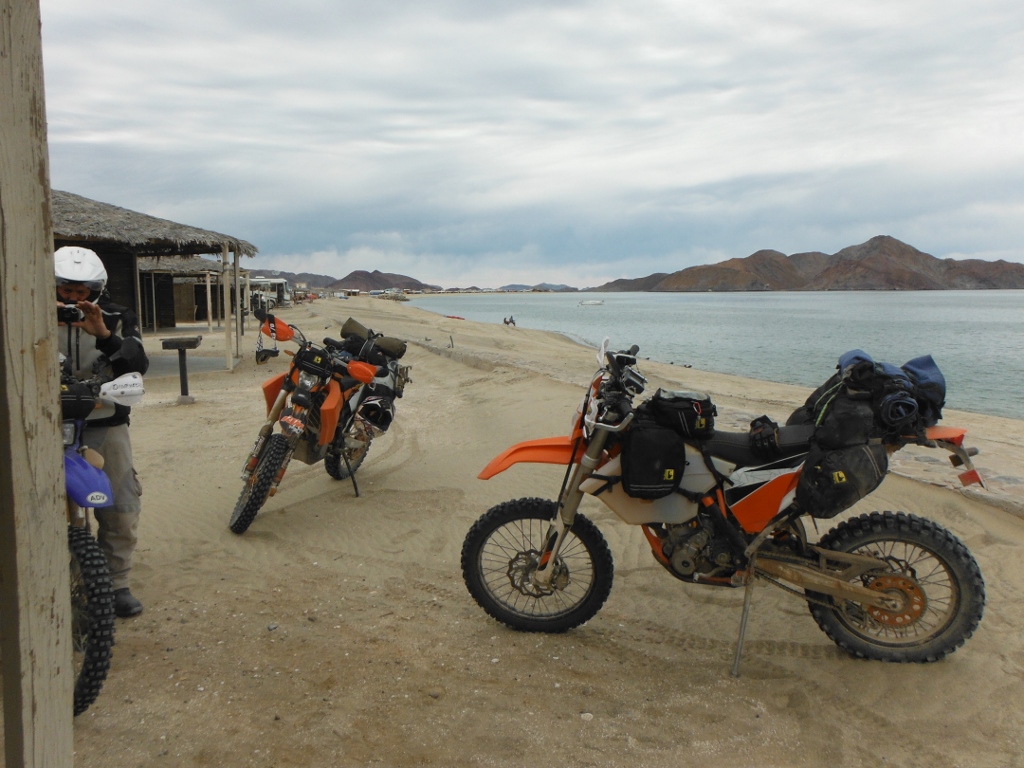 Some people flew in.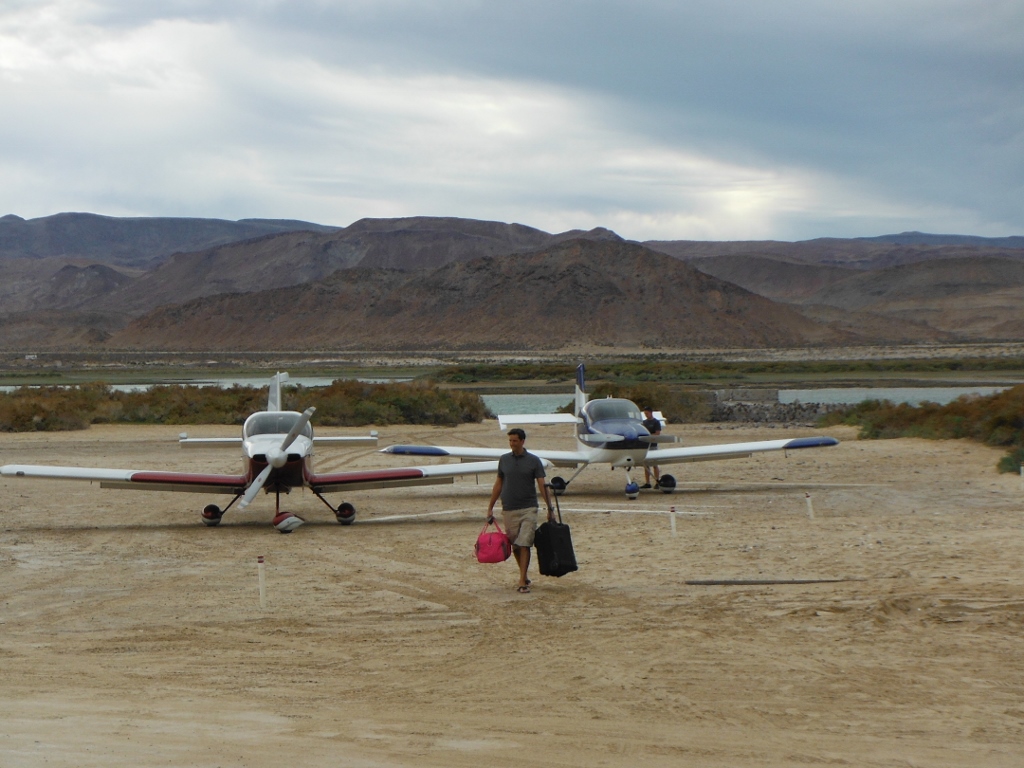 And you could just park your plane wherever you wanted--------it's Baja.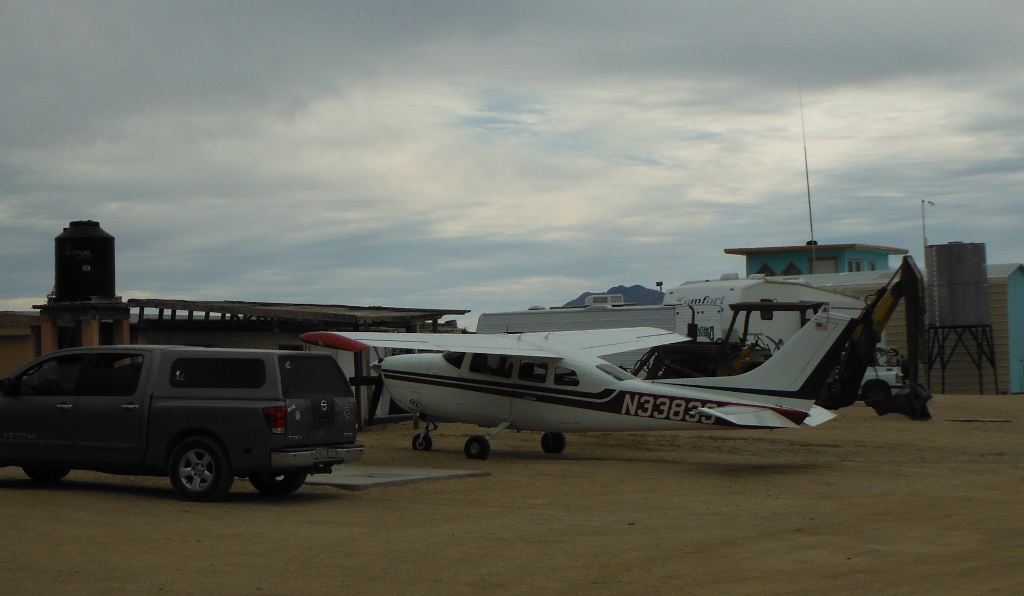 I love the fishing boats---these were out in the harbor of Alphonsino's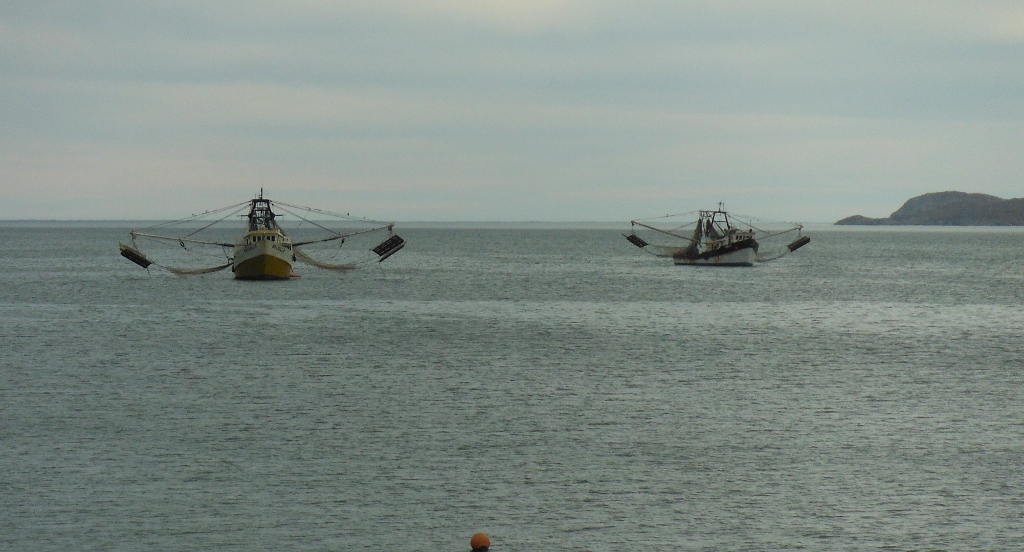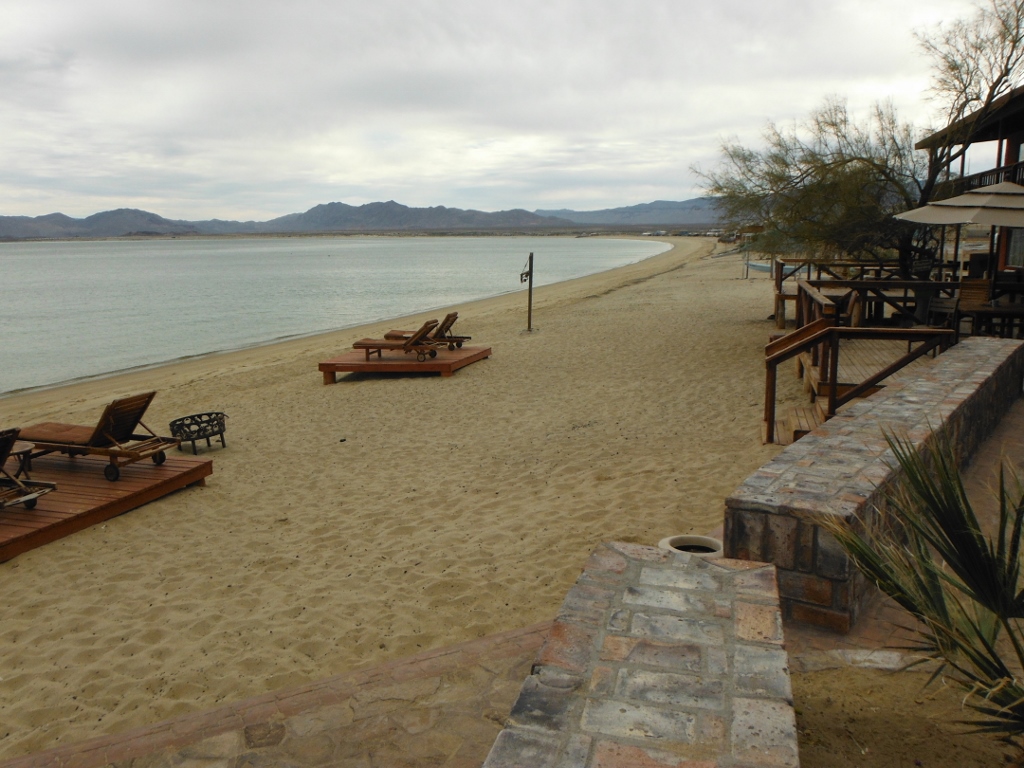 The thinnest flapjacks in all of Mexico at Alphonsino's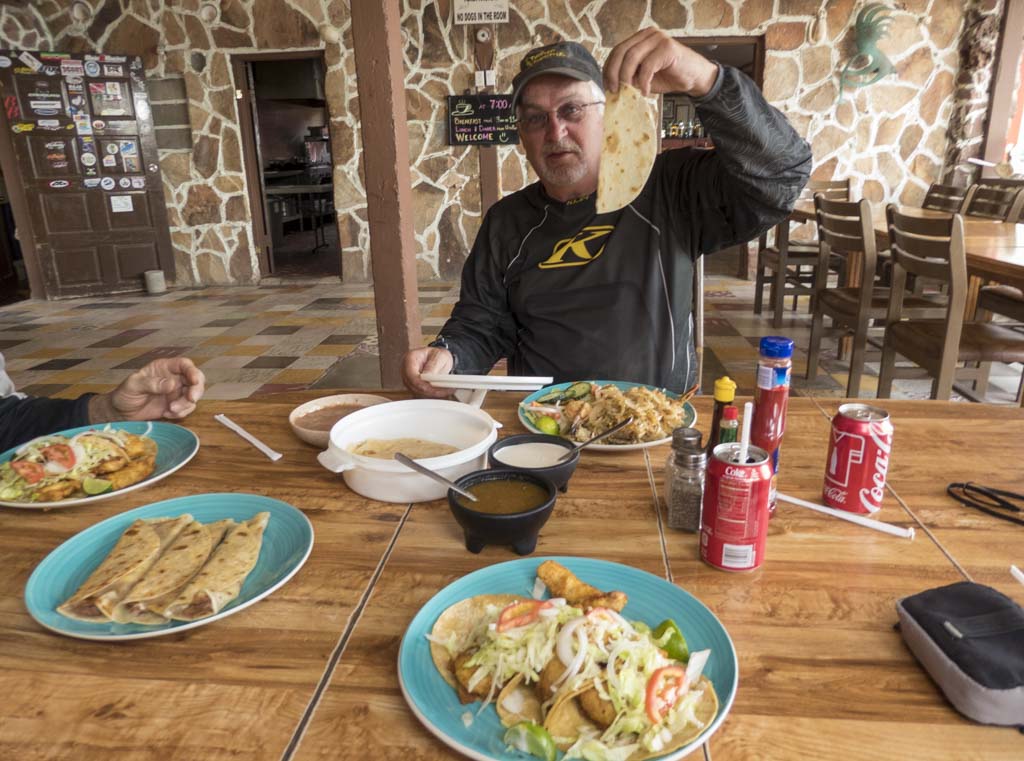 We headed North-----------and I spotted another one of those pesky gps waypoints I stuck in my gps 20 years ago--these things are getting pesky.
It said "Pete's Camp"----------------what was it----------better check it out---after all we had come all this way as Gaspipe used to say.

We camped under a palapa---had a place to camp, eat, take a poop---and take a pee.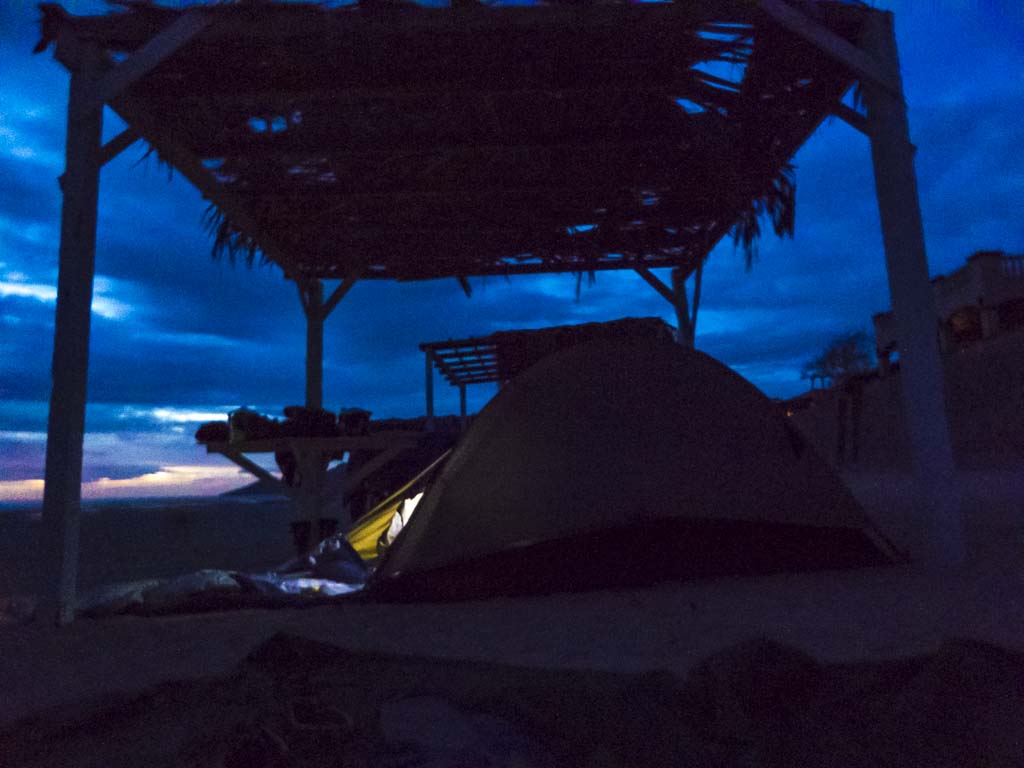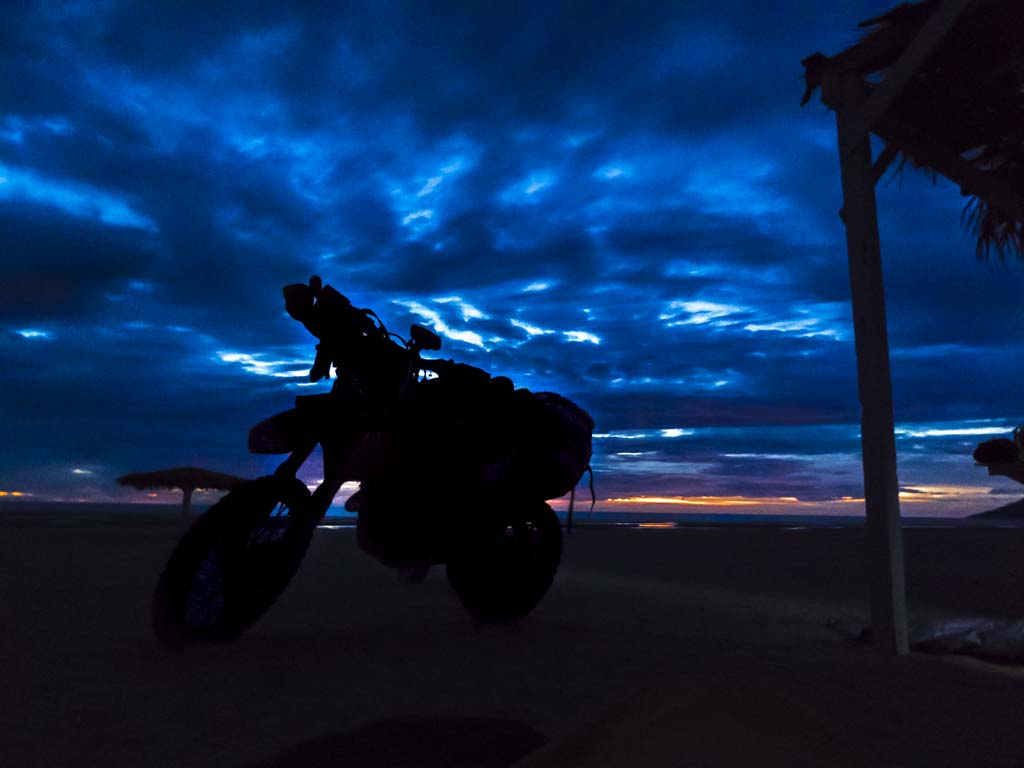 See that truck out there----nice 4-door truck got stuck out there about a year ago.
The tide was coming in and the guy turned down an offer to get it pulled out.
Said he could get it out himself--------well that was a year ago and it's still there.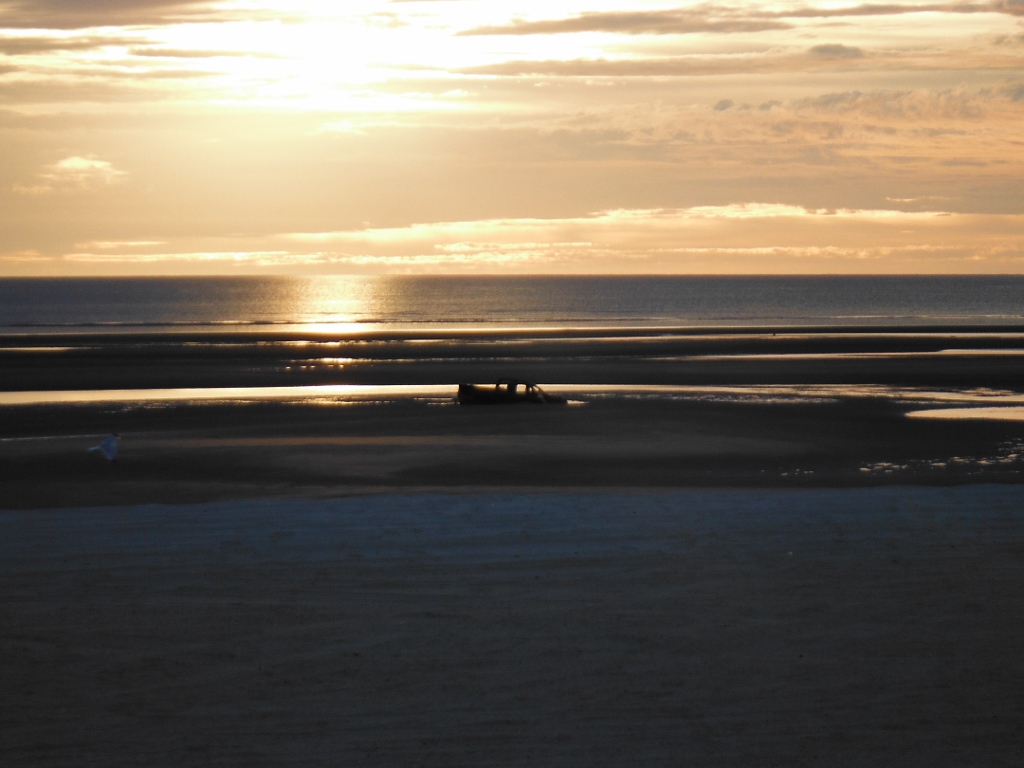 High Five did some nice things with his new camera---------he's an expert photographer.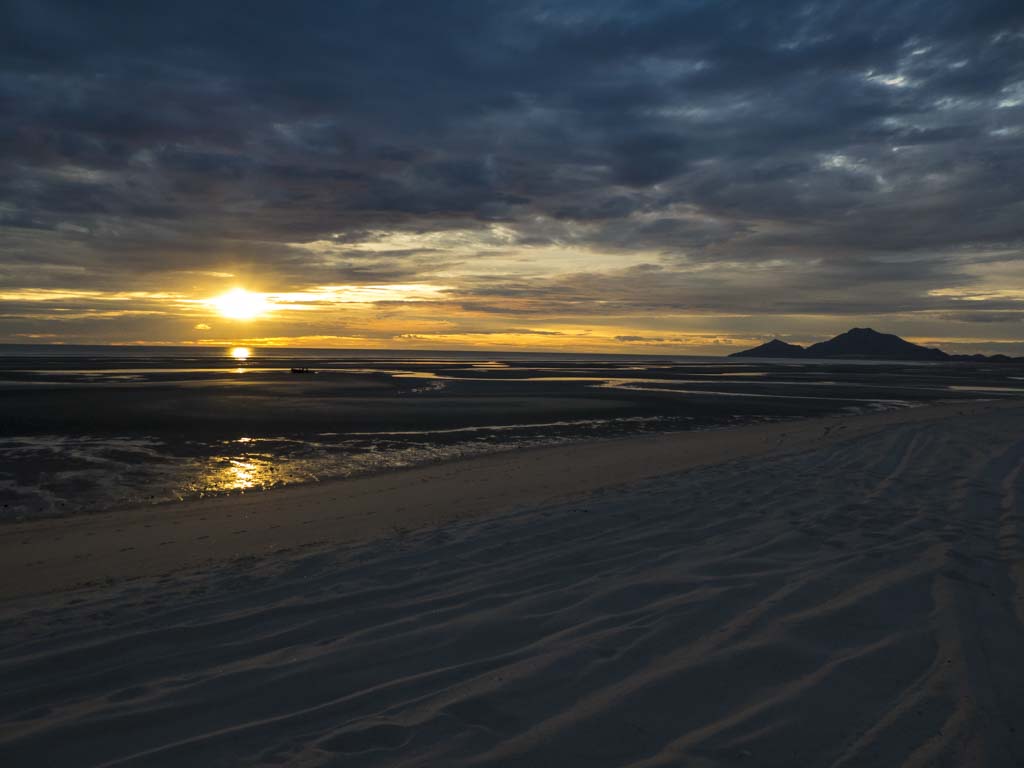 I had a tortilla and the birds figured that out real quick---they became my best friend all of a sudden.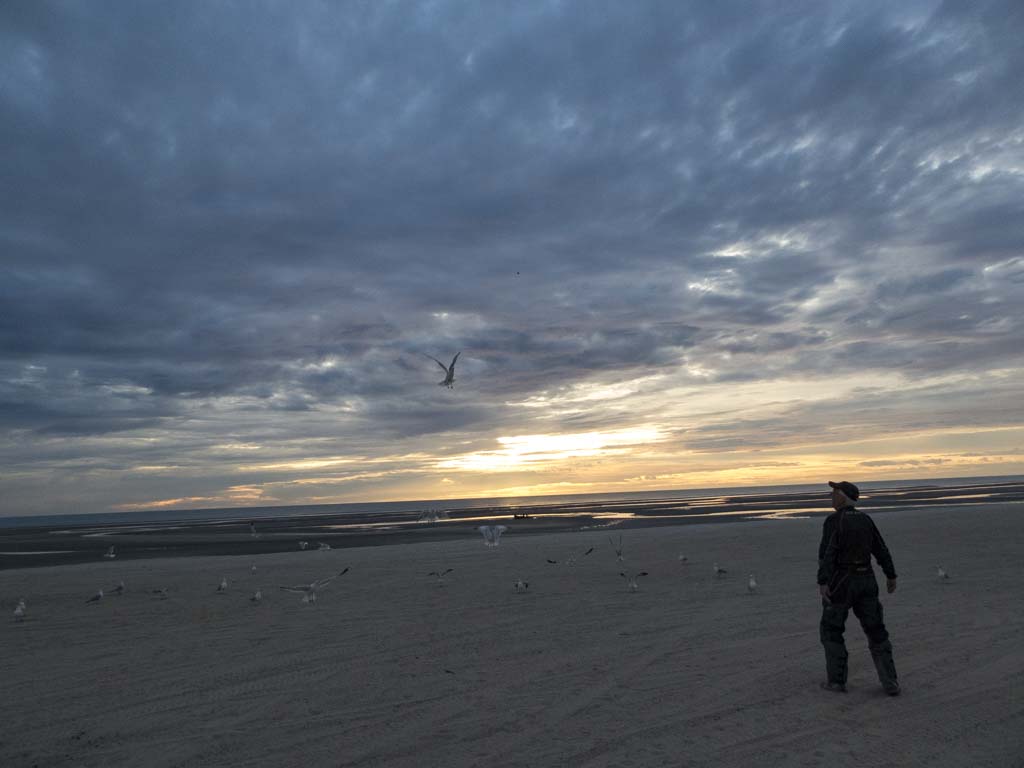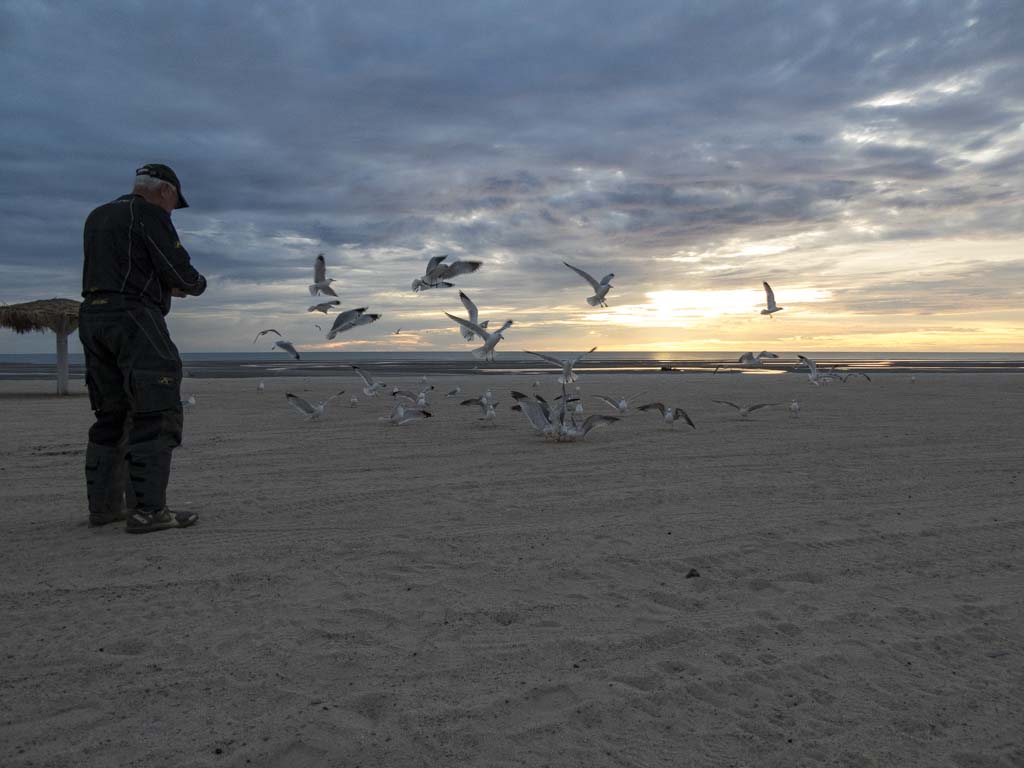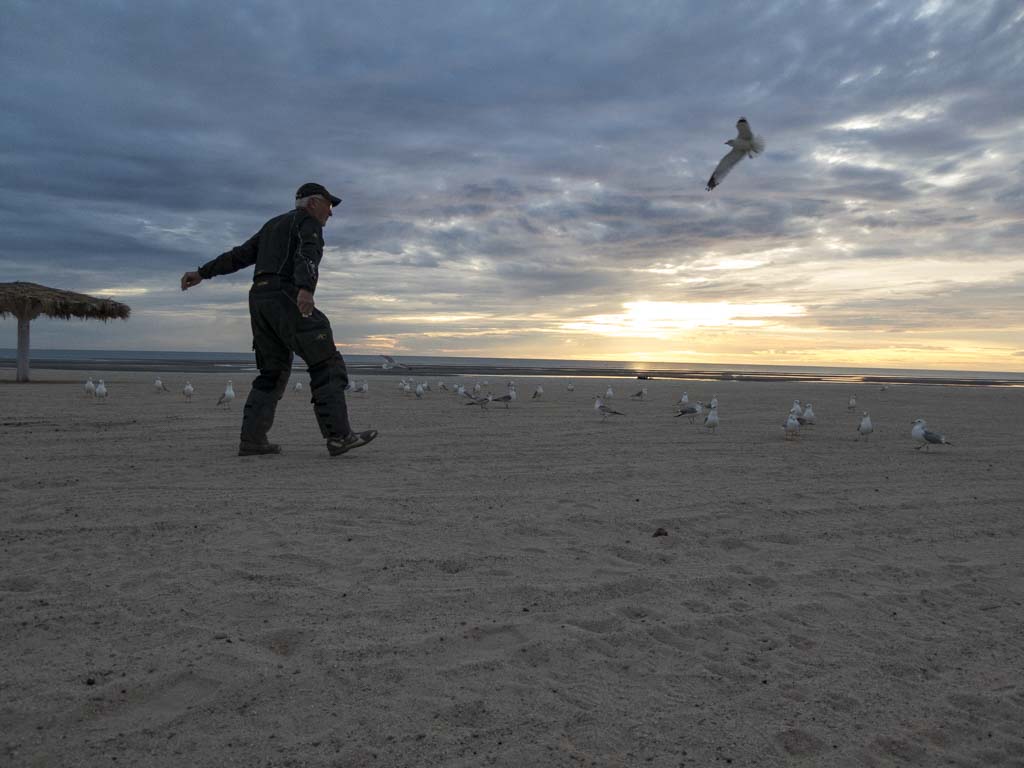 It was a nice night on the beach and the next morning we rode up to the restaurant at Pete's camp and had breakfast.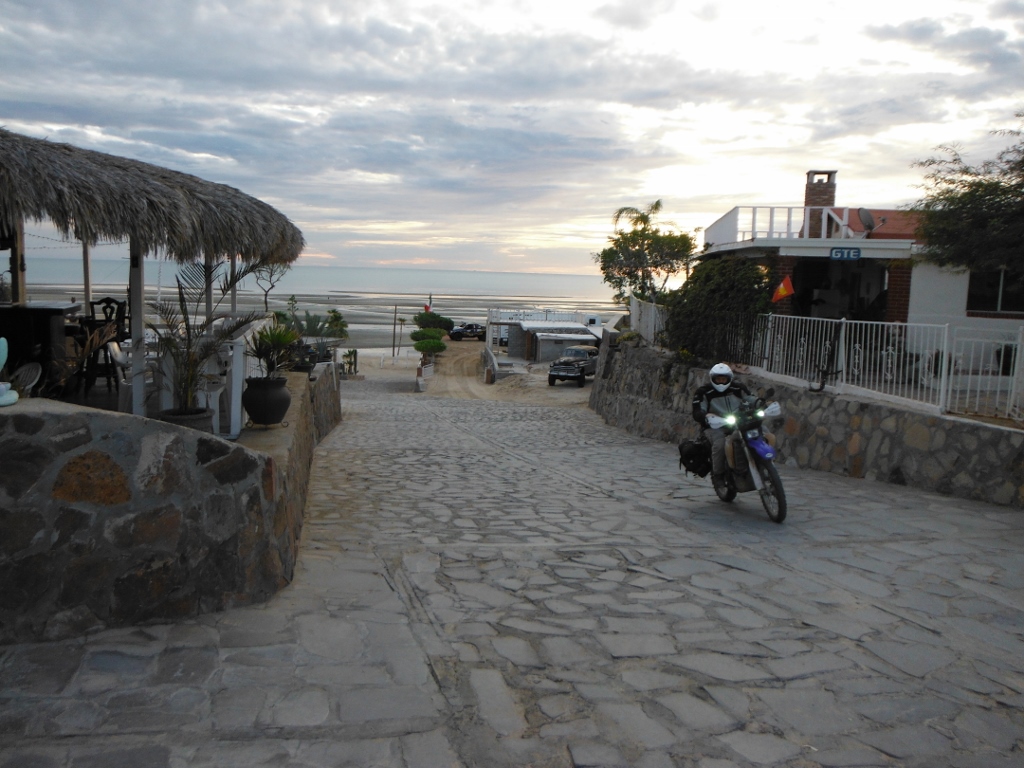 We invited this guy to eat with us---------and he was a hoot.
He was there the day the guy drove that pickup onto the beach and got stuck. He knew all the details.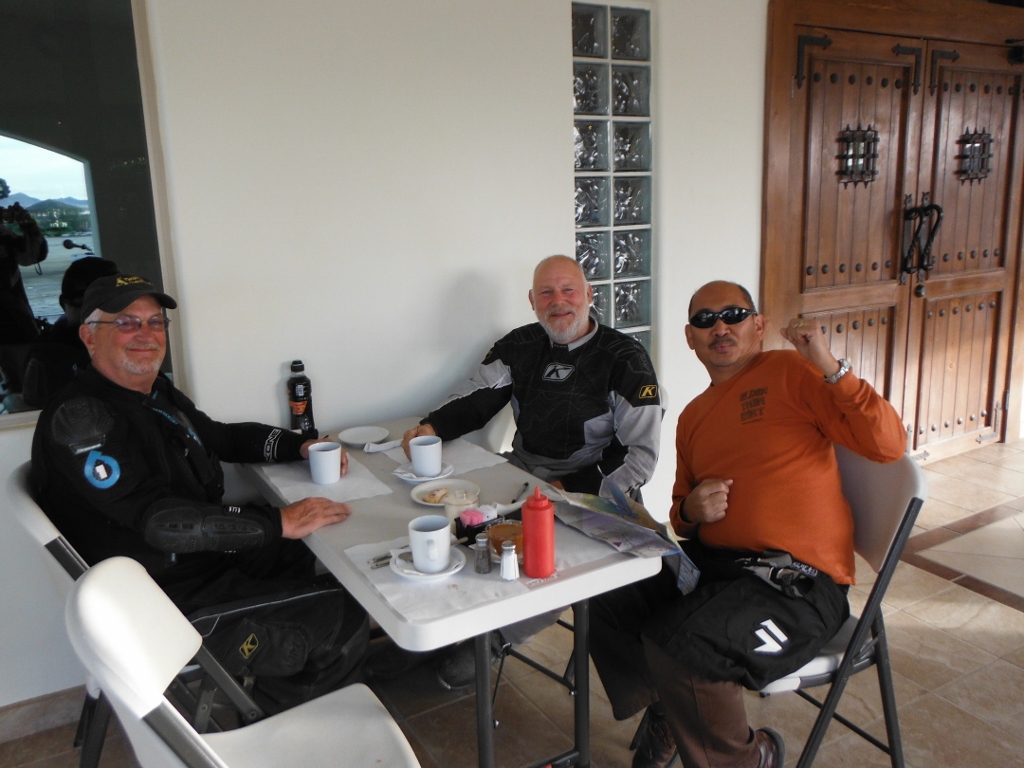 The flapjacks just get thinner and thinner-----------all to the amusement of Dingweeds.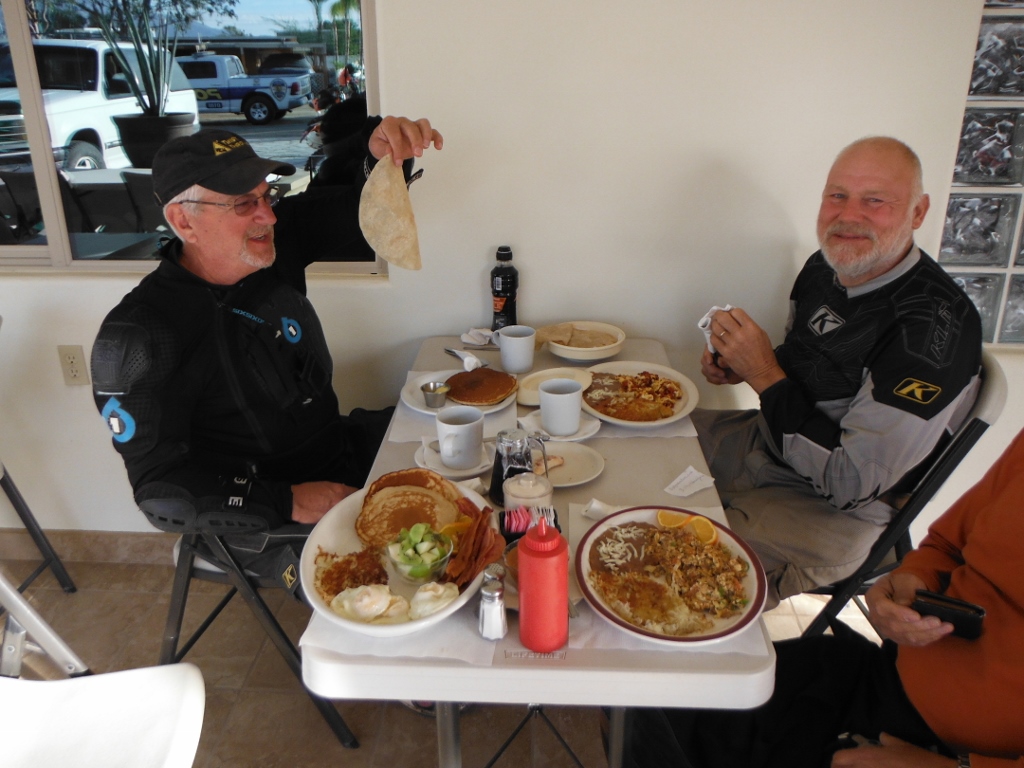 We walked out there to look at the truck------almost got all the way to it before it got mucky.
Yes it was sad to leave Pete's camp also.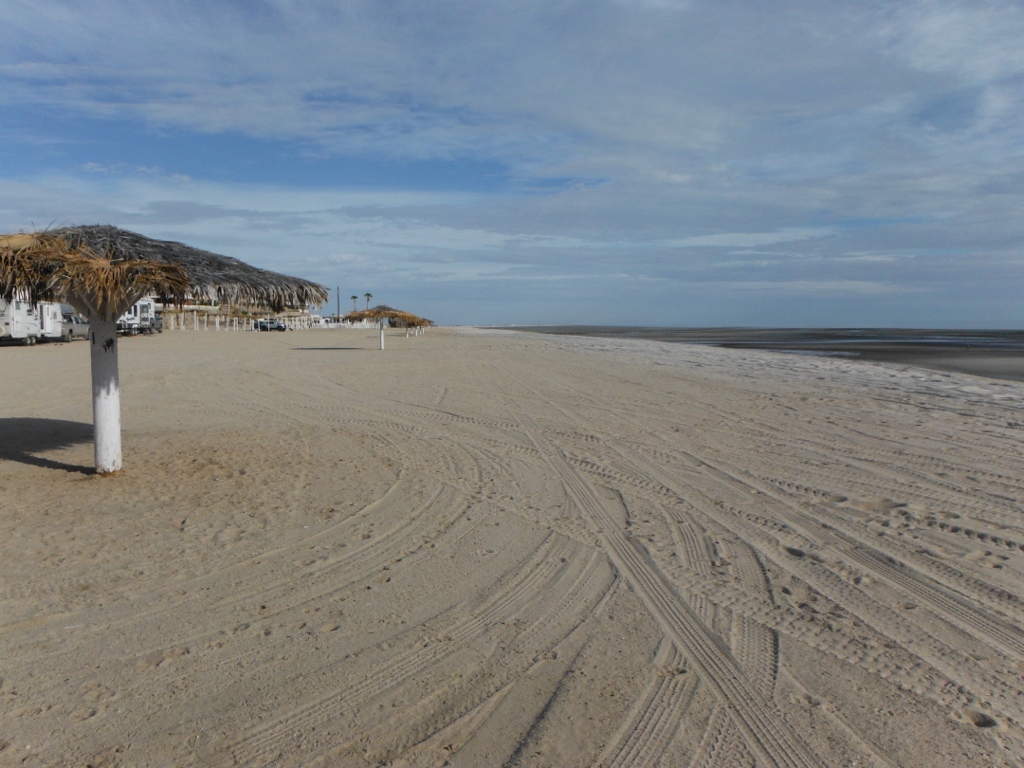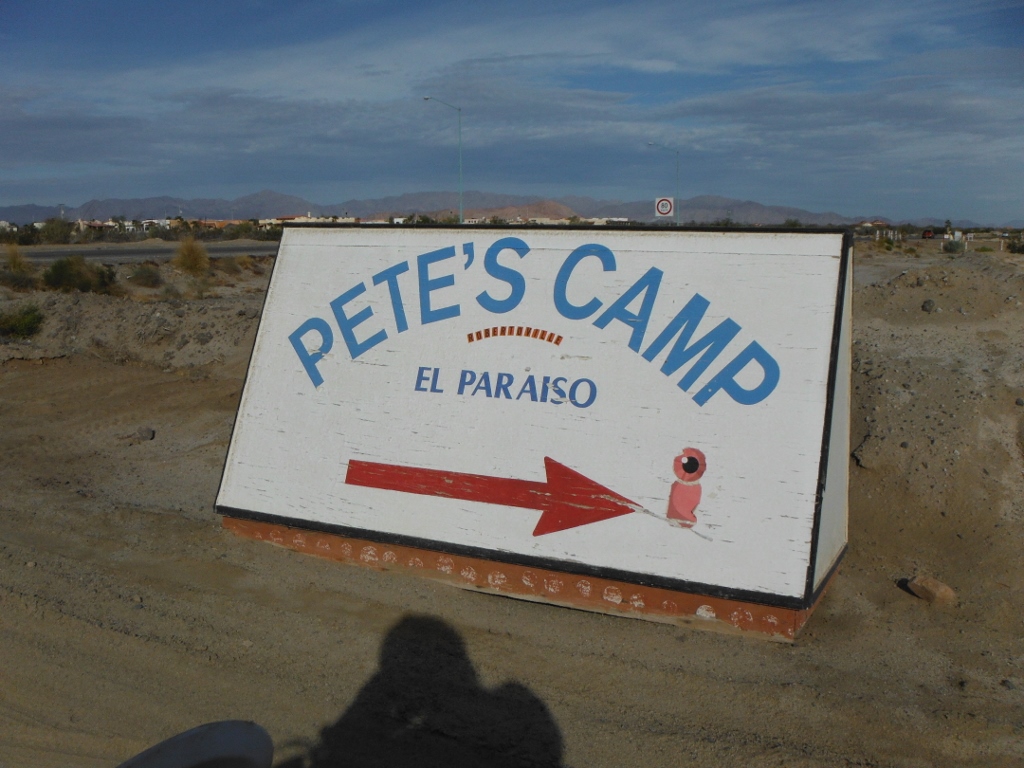 A rough map of our days ride to Pete's camp.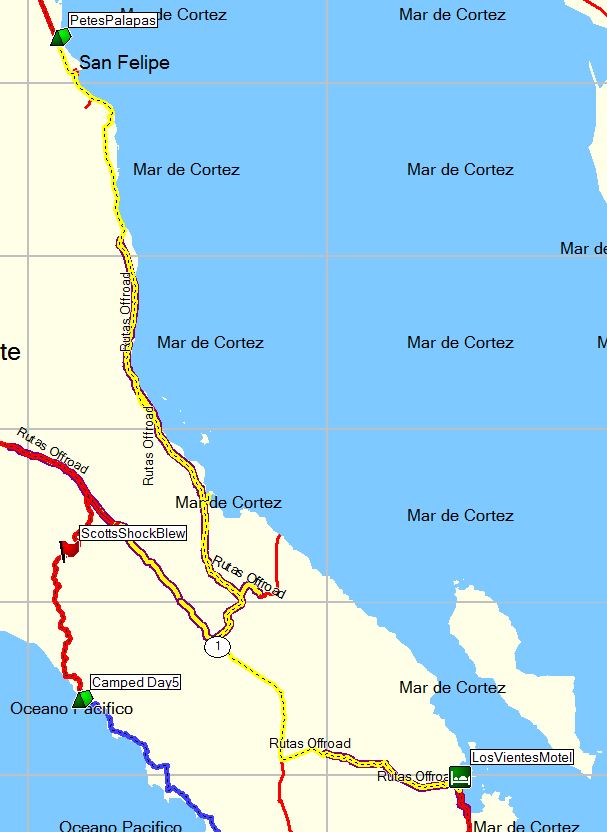 Day 12 February 19th, 2016
Today we might cross the border I thought.
And we headed North then West then North towards Laguna Hanson.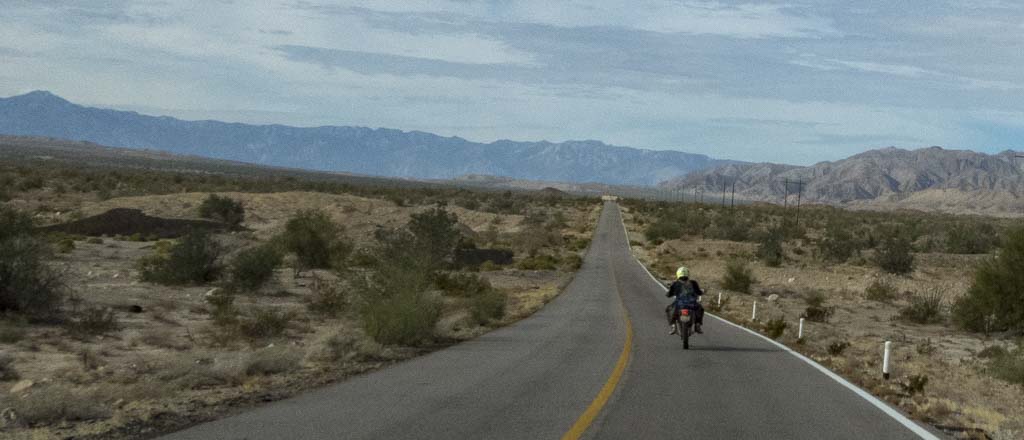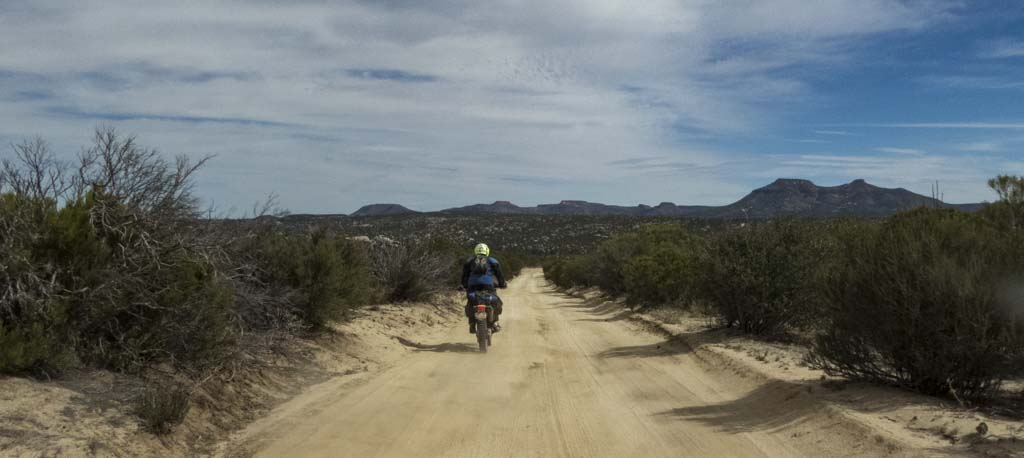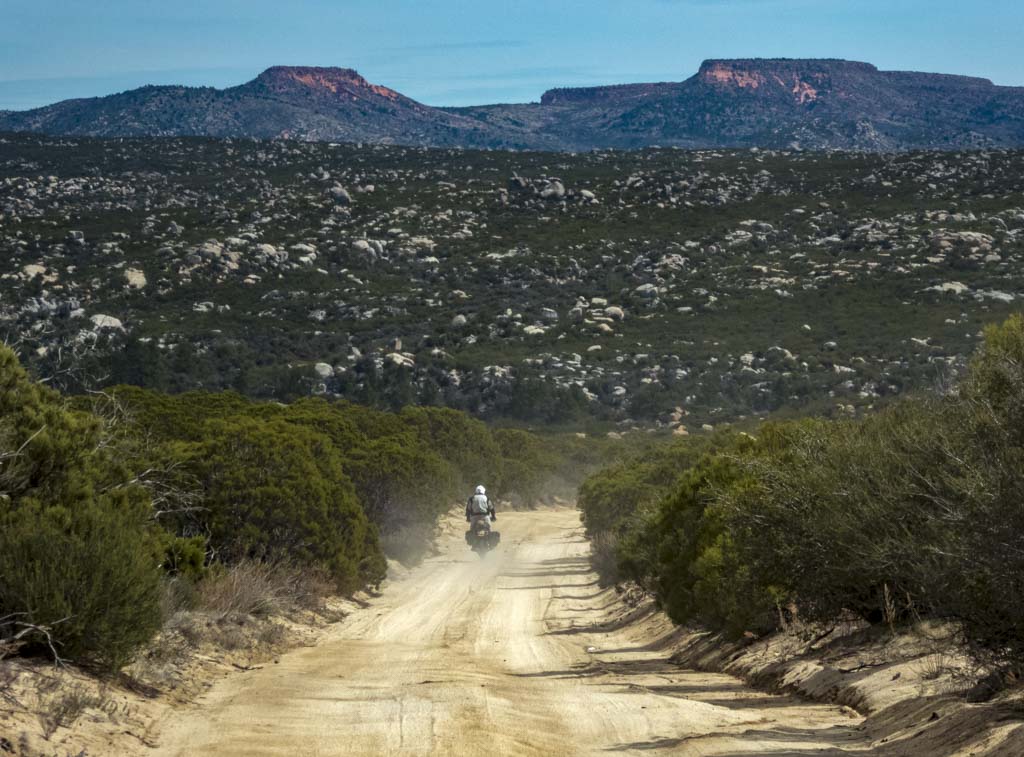 Navigation was a bit tricky and a rancher had closed off one road and I had to find a way around it.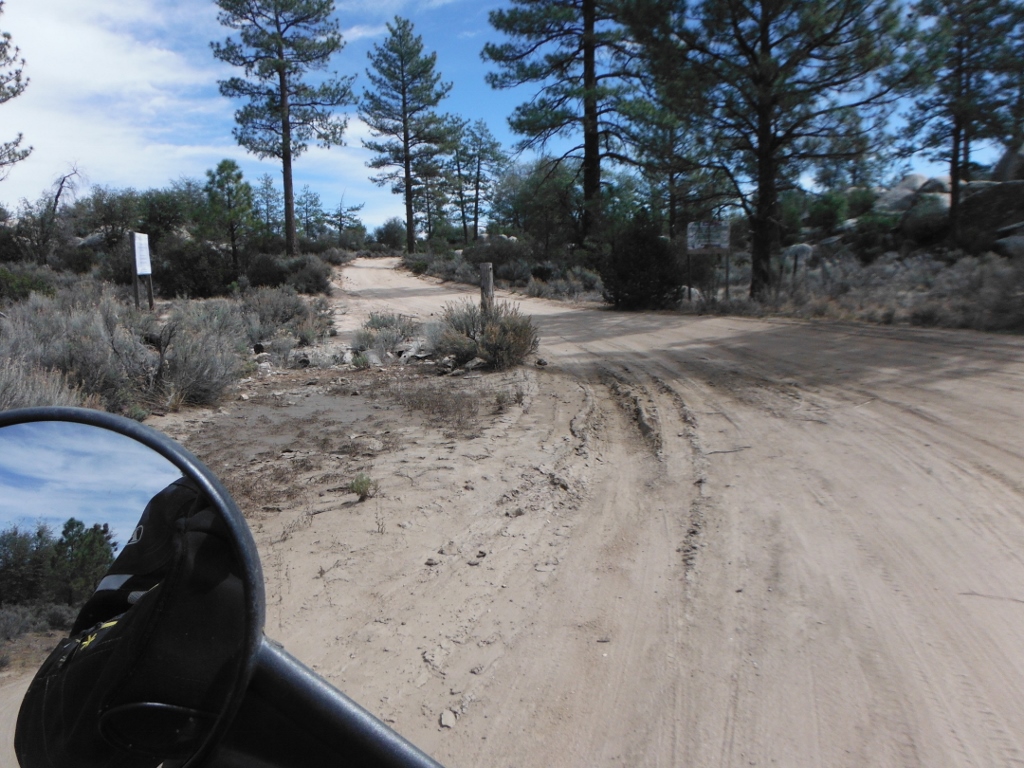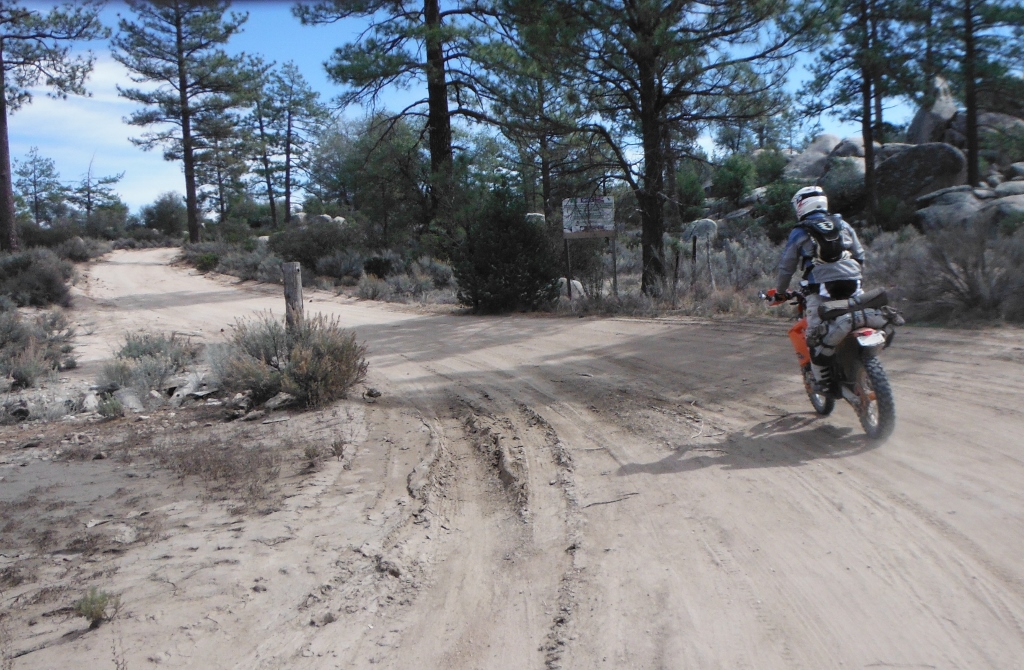 The riding thru here was great and we went up in elevation quite a bit and had to open and close a few ranch gates.
These road were all sandy---but not deep sand.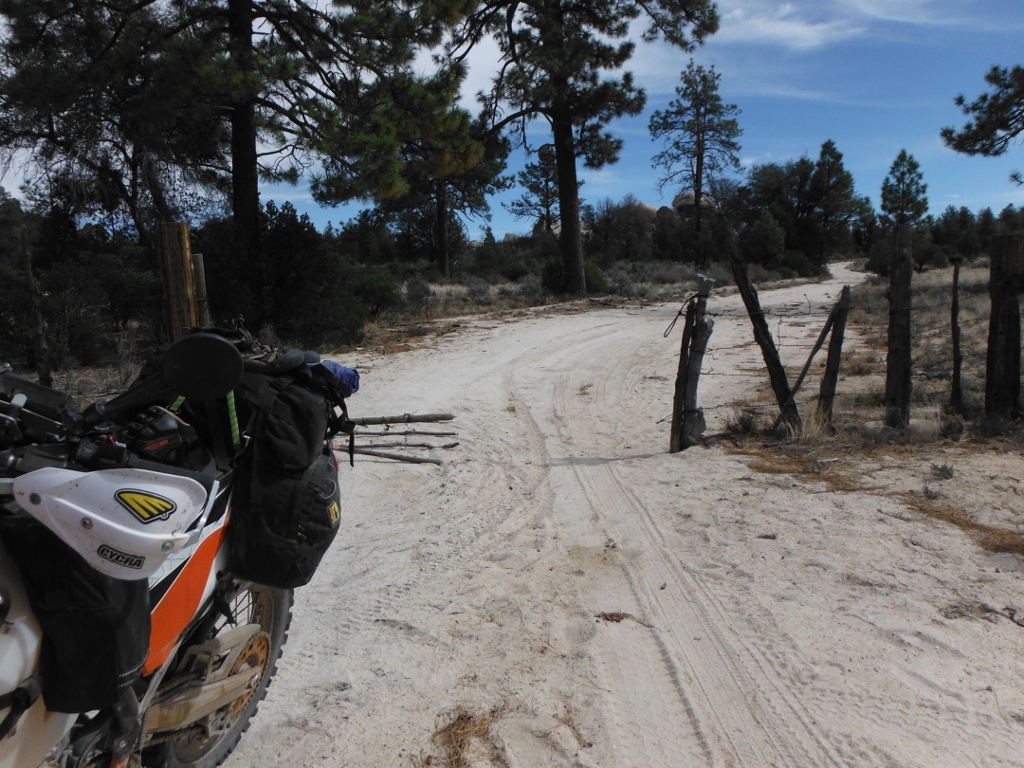 This is the lake at Laguna Hanson.
I've seen it dry before.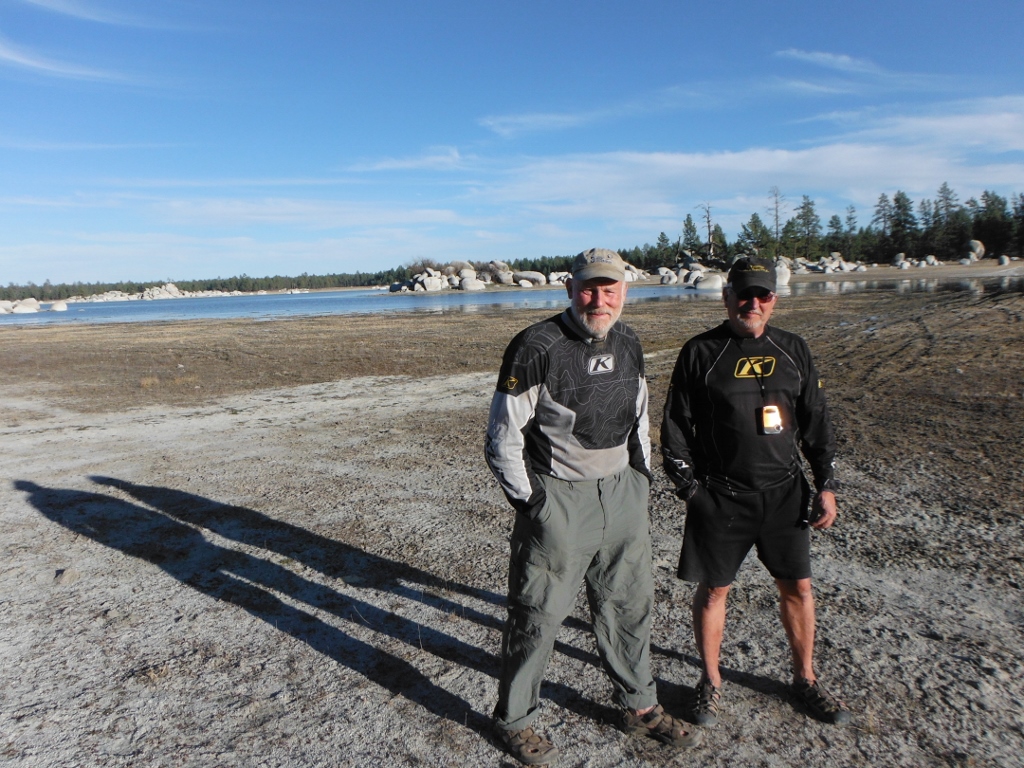 It was about 3 PM and we had put a lot of miles on and one particular bumpy road took a toll on us.
I spied these cabins right at Laguna Hanson and we stayed there.
Pretty simple----some cots and a wood stove-------and a pooper---how handy is that.
It would have been too long of a day if we had rode on to the border--way too long.
So tomorrows ride would be easy and very pleasant.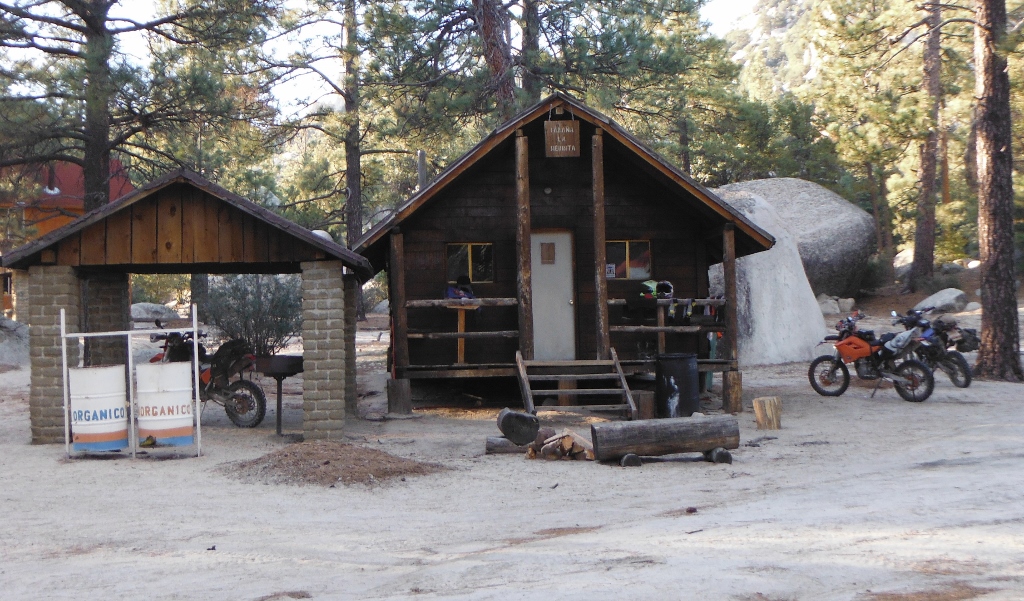 We made ready for a fire----and I loaded some samll wood into the cabin to start a fire in the morning as I knew it would get cold---and it did-----it froze.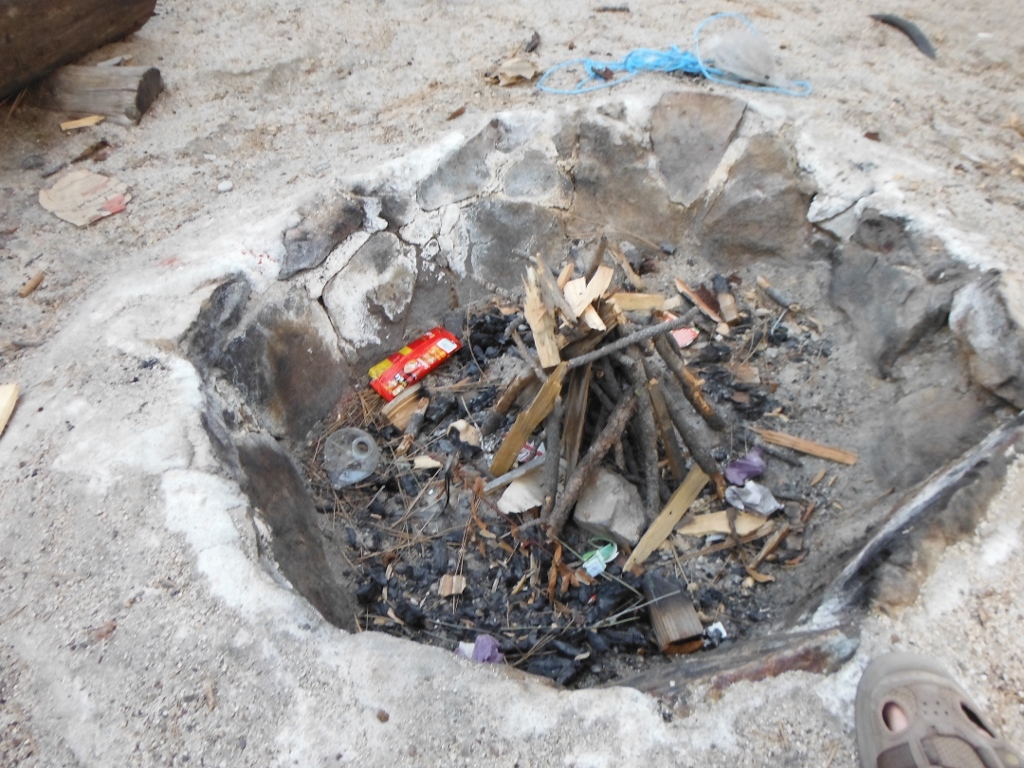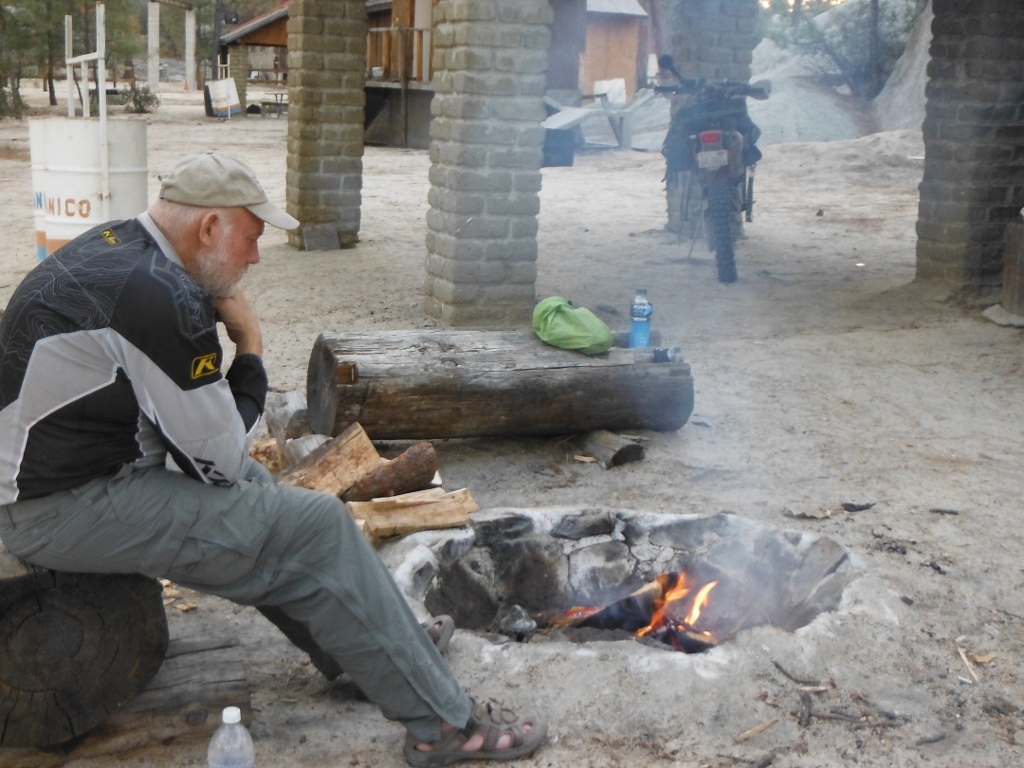 I had some tuna but no spoon or fork----we were packing lite---I mean lite.
So I ate it with the needle nose pliars on my multi-tool. HF thought this was hilarious.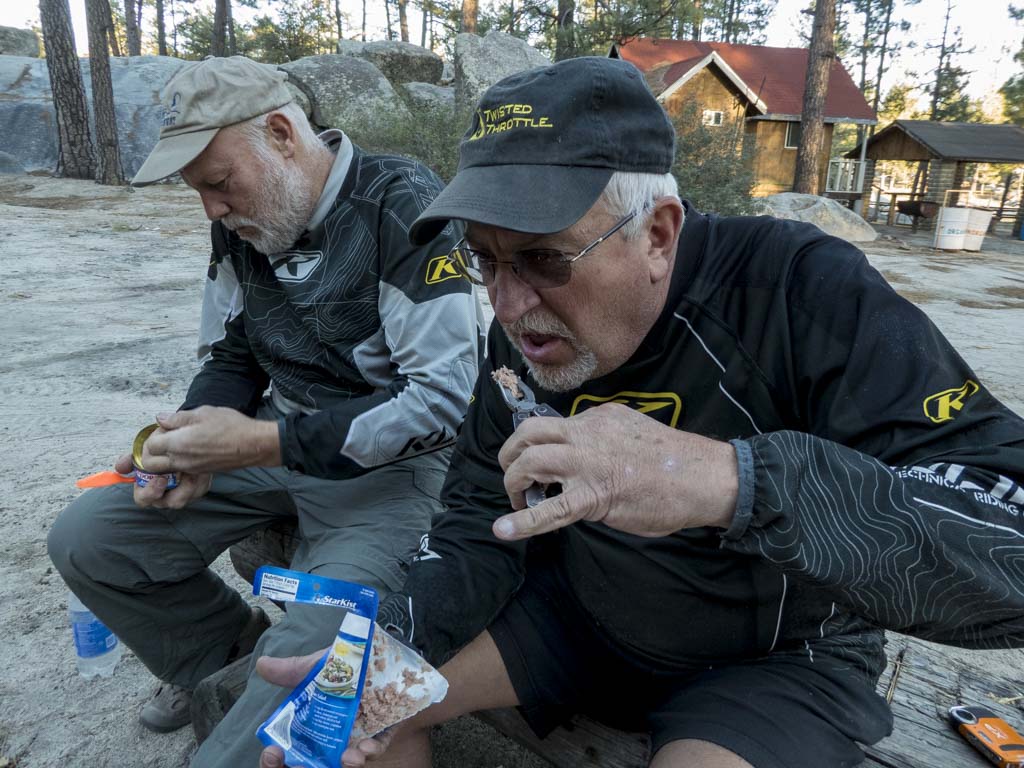 We kept our pants on here.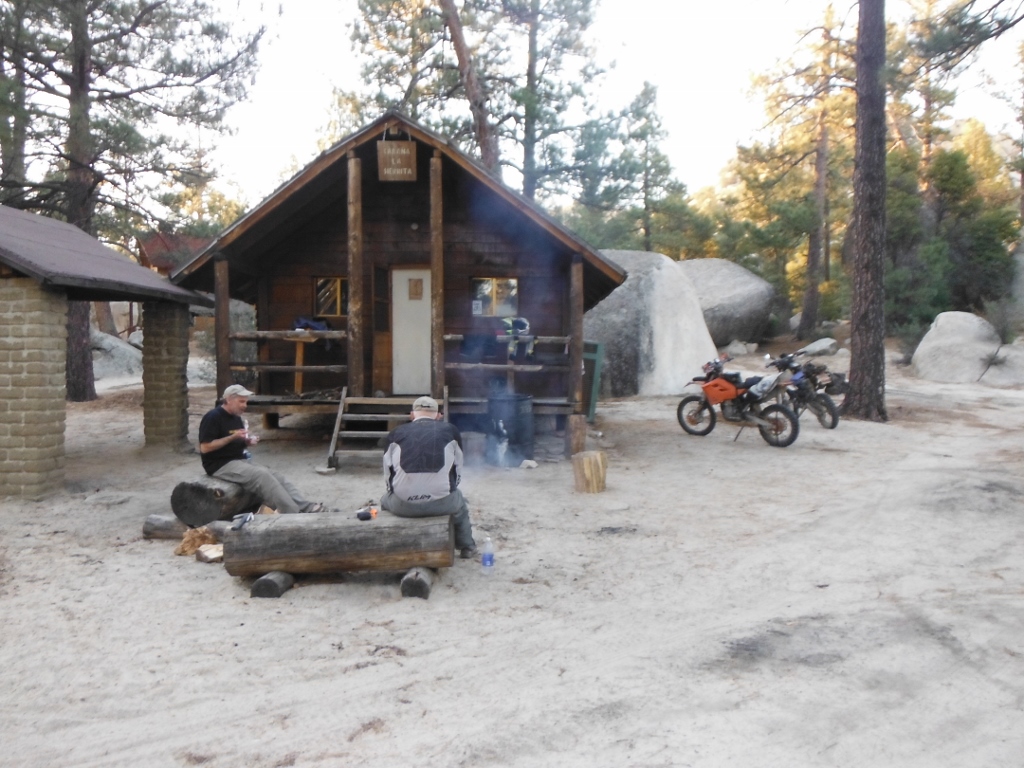 Man look at these tired old buzzards
As the night came upon us I got sweepy.
On this trip we had watched the moon get fuller and fuller----now it was a total full moon.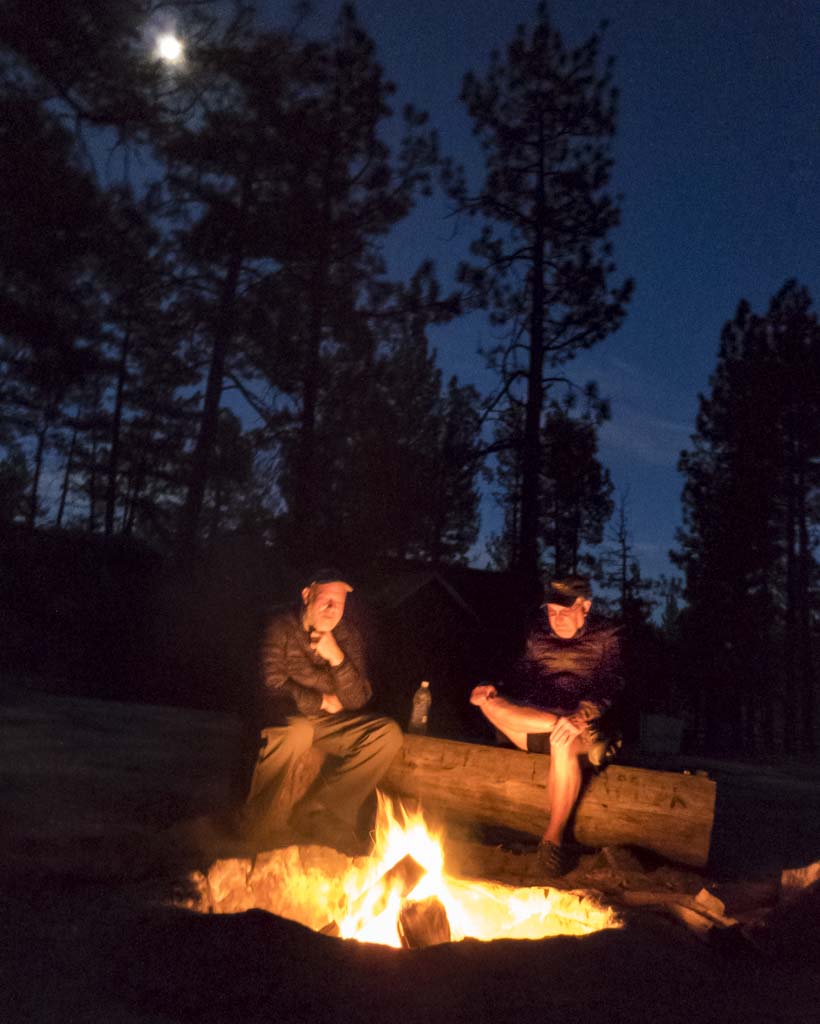 When you see this--------run for your ear plugs.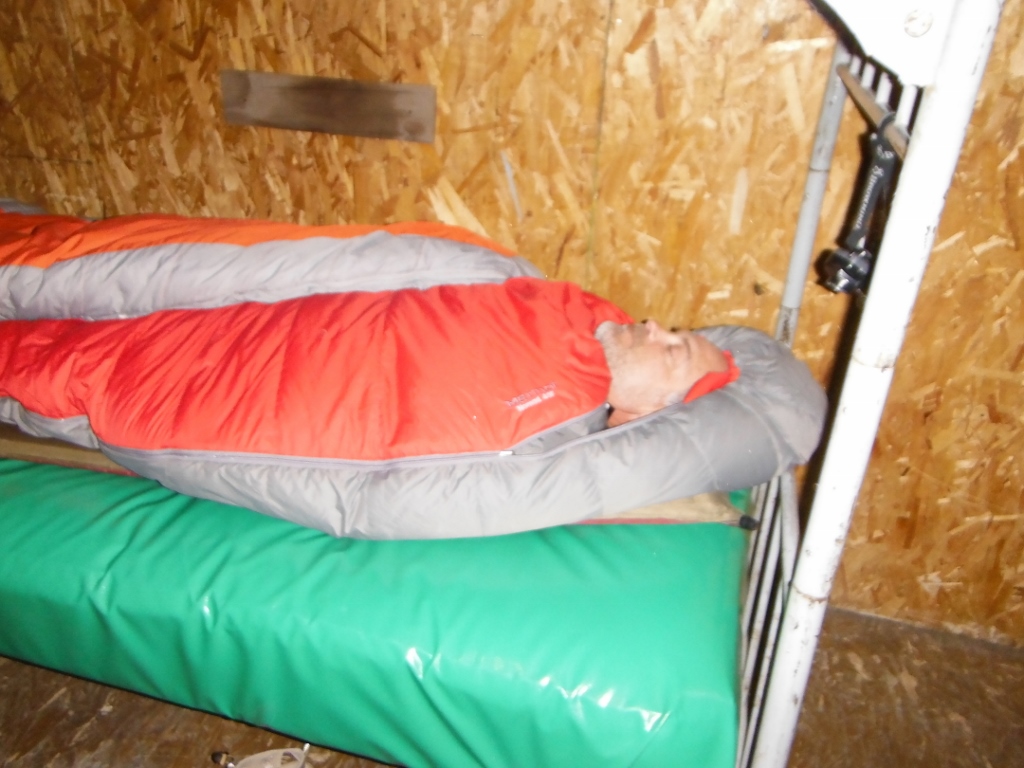 The next morning about 4AM dingweeds gets a fire going-------it's freezing in here and High Five didn't sleep well.
It got nice and toasty and it was so nice to warm up and come in to warm our hands as we started packing up at first light.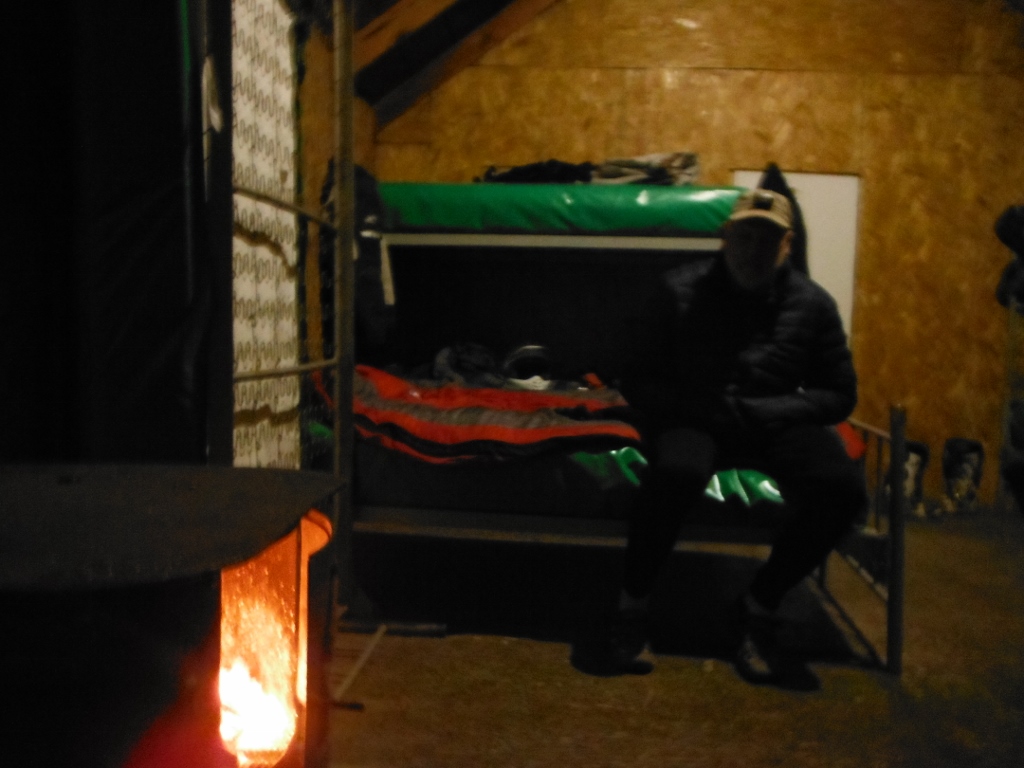 Day 12 Video
Choose HD if you have the speed.
A rough map of our ride to Laguna Hanson---this was a great end to our ride as the scenery was way different
than anything we saw so far.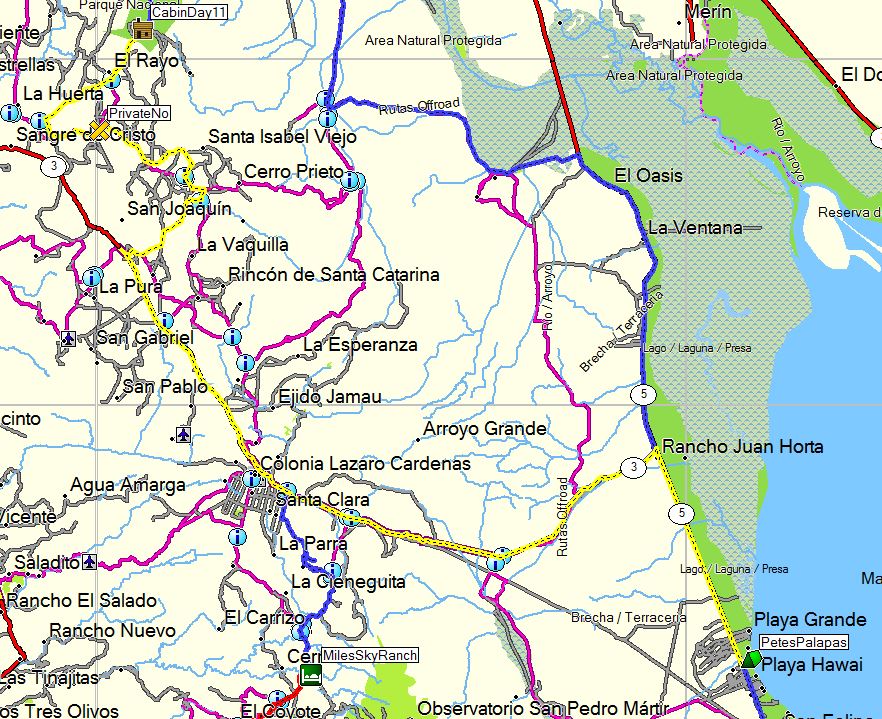 Day 13 February 20th, 2016
It was probably another 40 miles of sandy and rocky mountainous roads till we hit the pavement that wold take us East to Mexicali and across the border.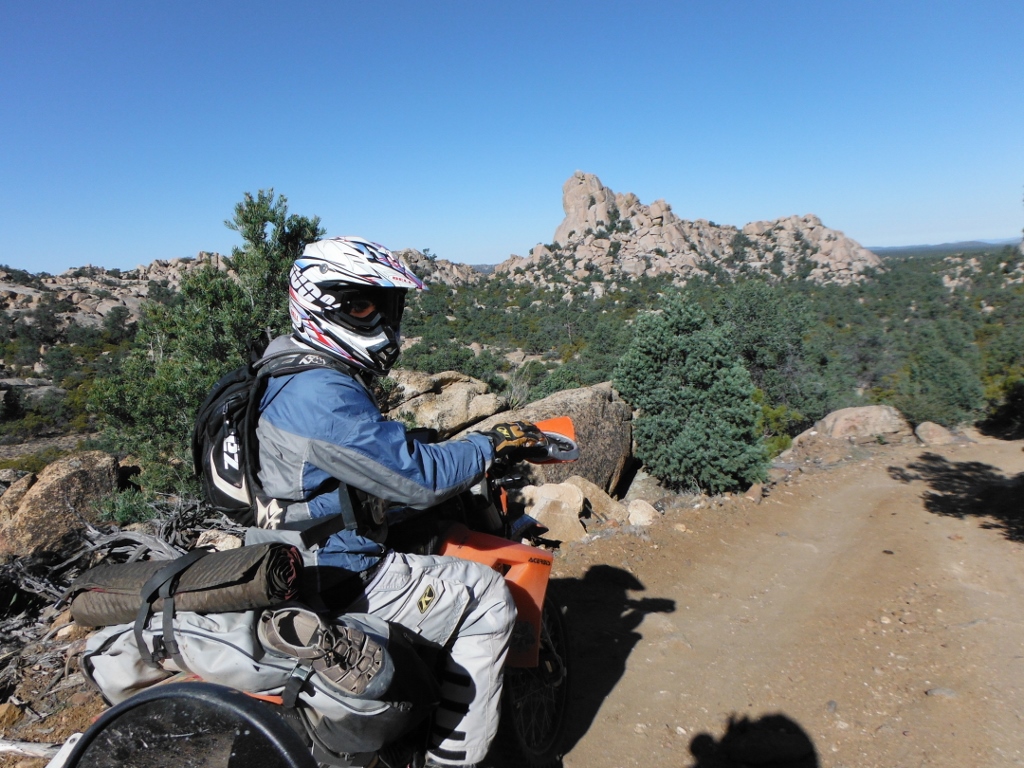 Right at the town of Rumarosa I spied this sign. The guy was a welder and had a shop down this road.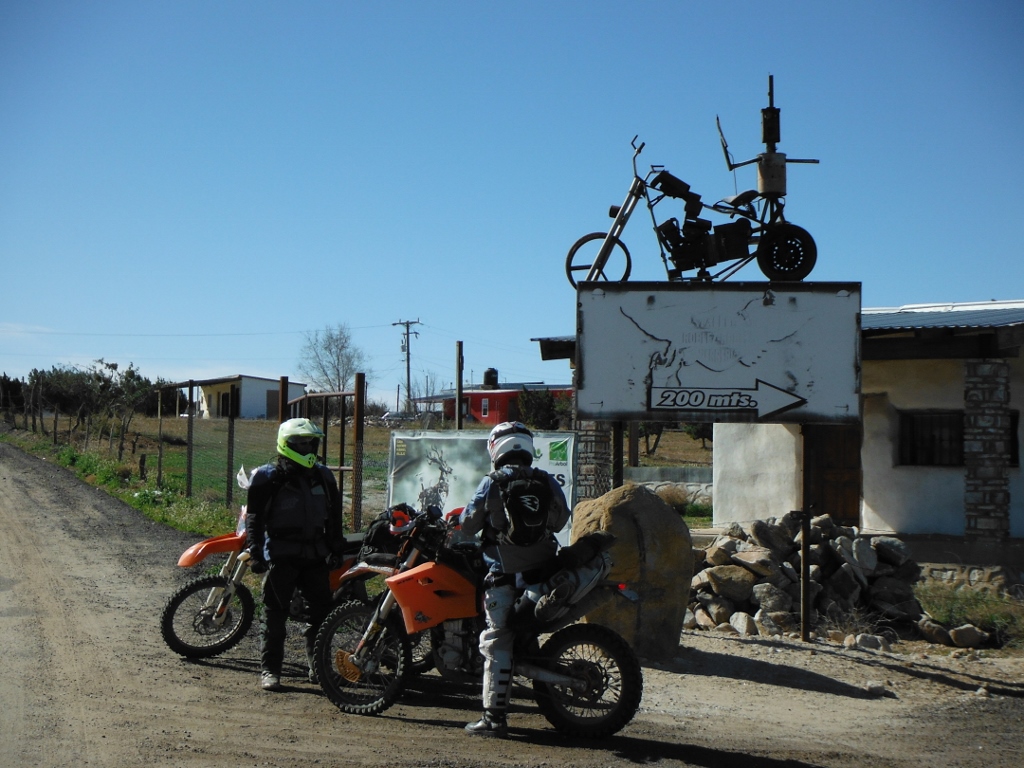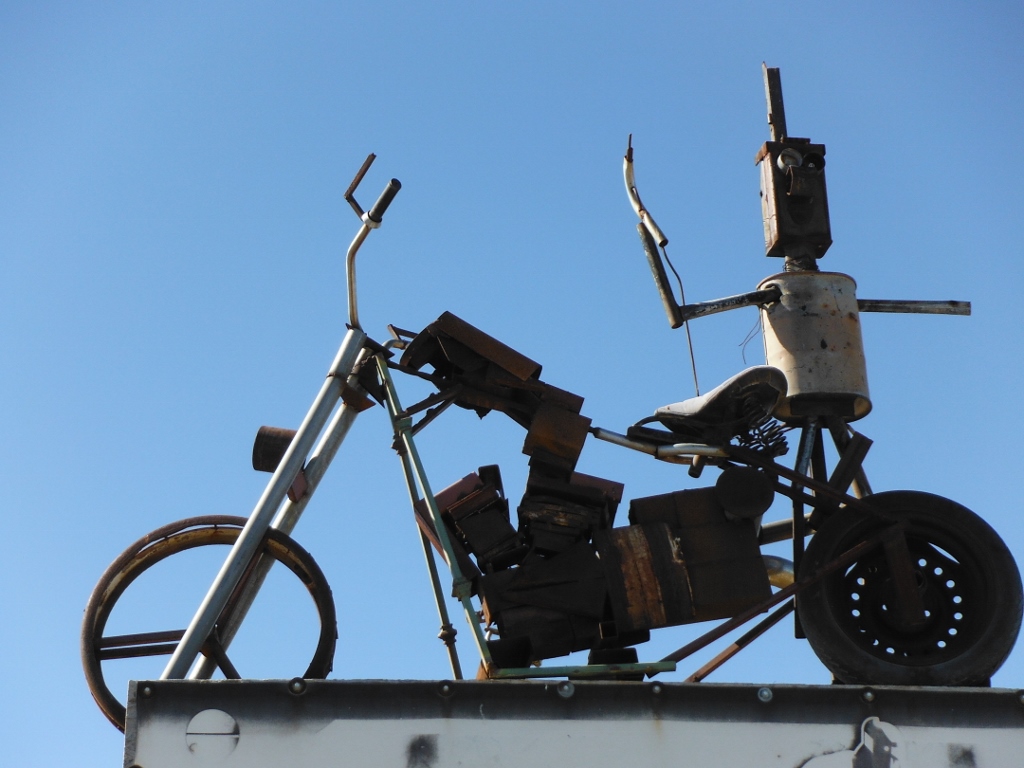 We were starving---as we had only had snacks so far this day.
And we had the best breakfast here-------and just didn't want to leave---and didn't want the ride to be over.
None of us needed to be in a hurry here---and we just got real laid back--------more than ever.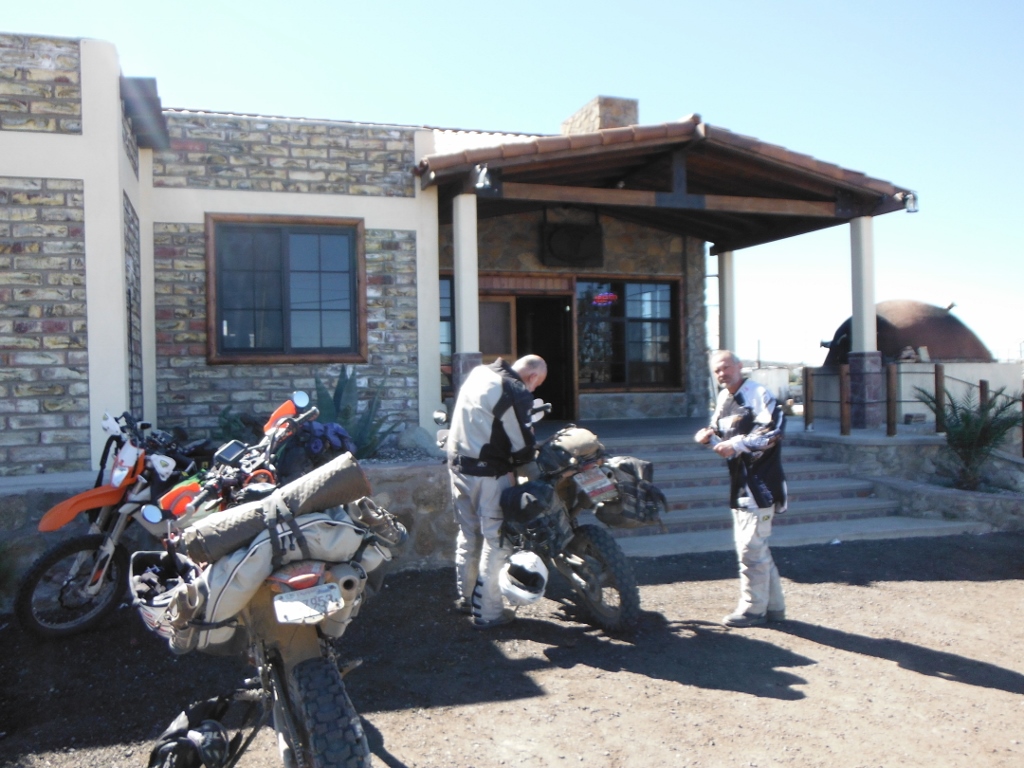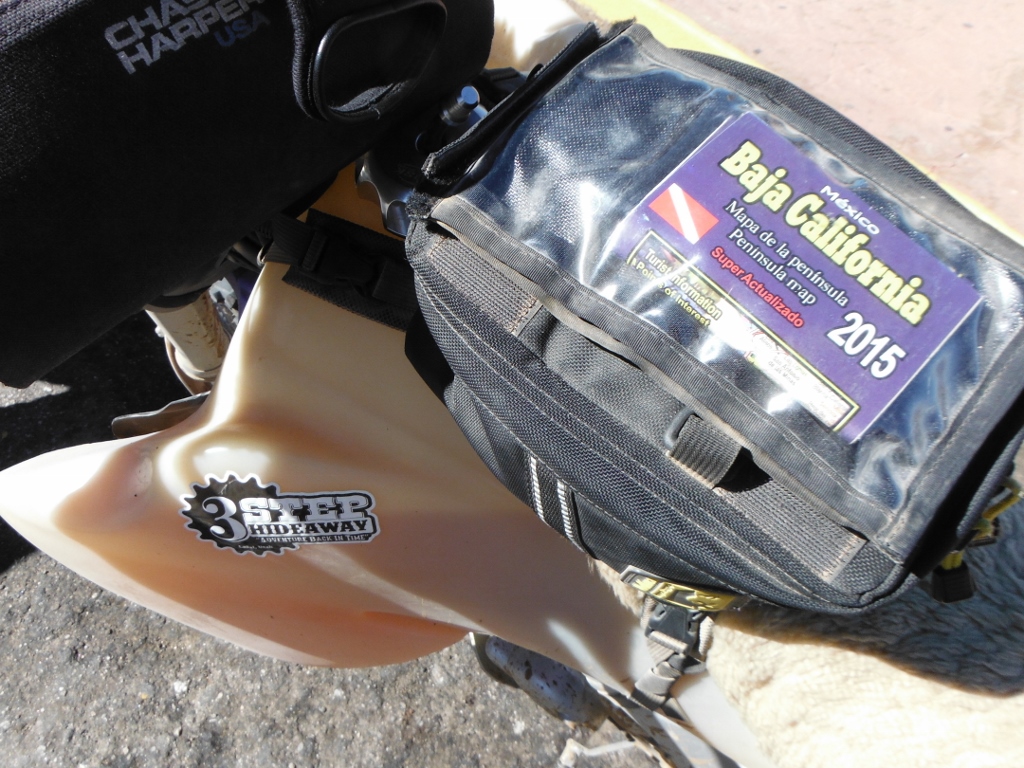 Once in Rumarosa----when you head East you drop down the mountain very fast to the dry lake bed of Laguna Salida.
It's a quick drop---and we took our last pictures and talked of our great ride and all the nice people we met.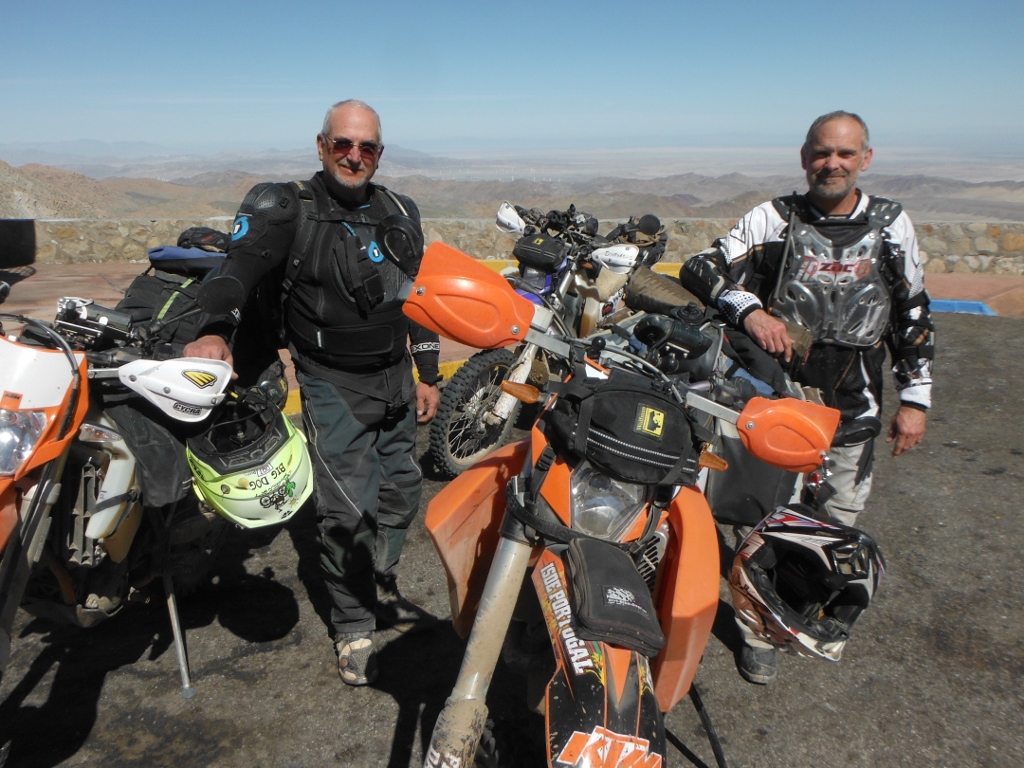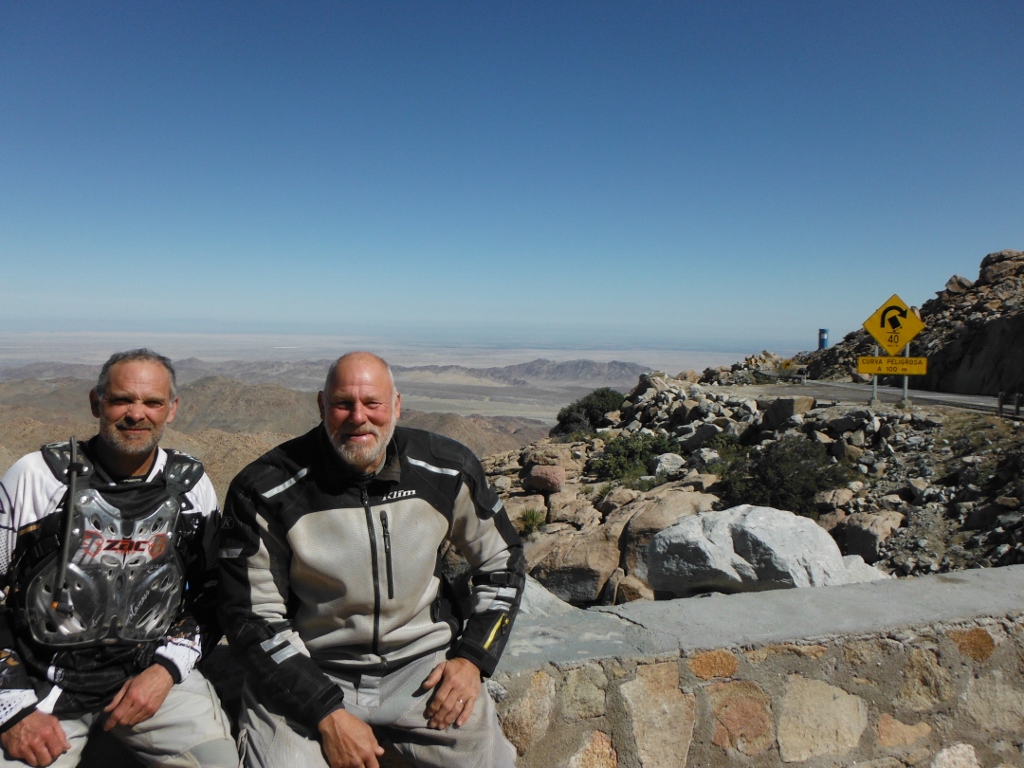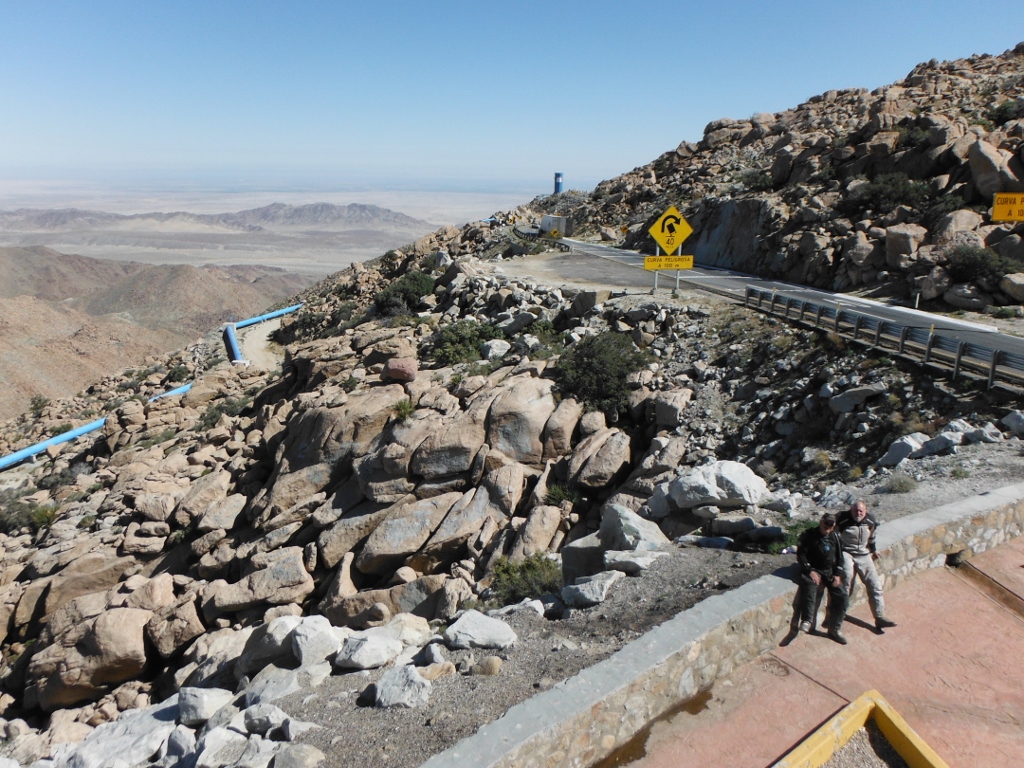 Adios !!!! My friends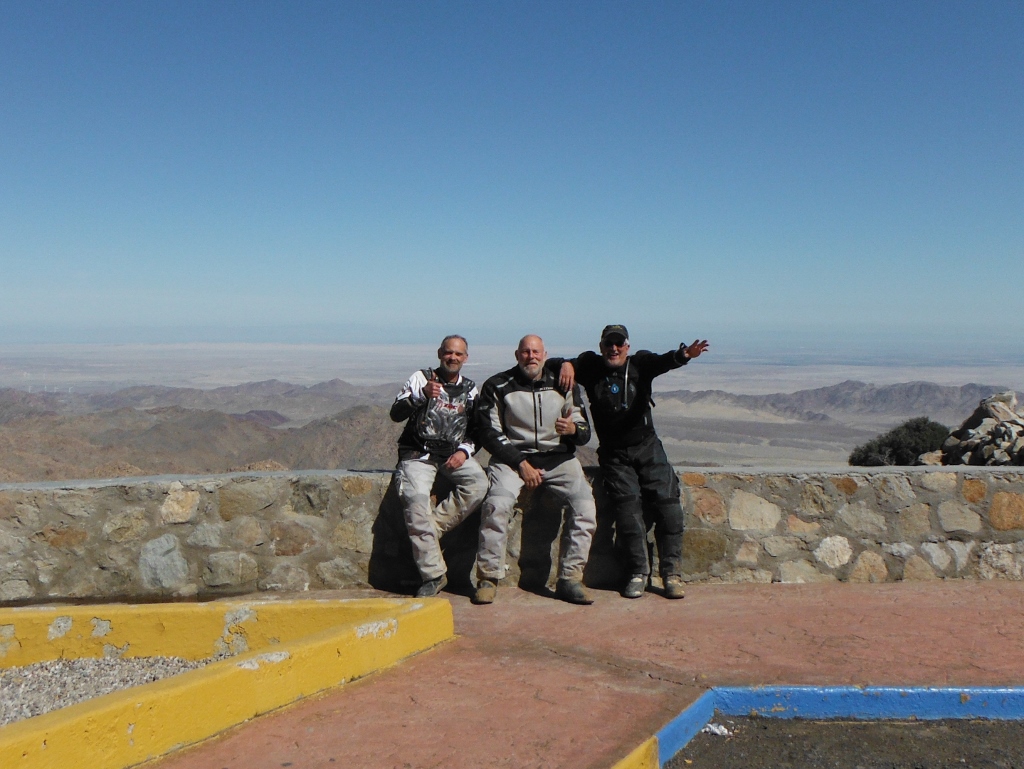 Day 13 Video-----The End
I ran a Dunlop 120/18 606 tire on the rear of my bike---it's about 1/2 wore out.
I used a Kenda 80/100---21 K760 on the front---it looks great still.
Stock gearing. It got about 60 mpg the whole trip.
I used Wolfman tank panniers, enduro bag, E12 saddlebags, Enduro duffel and rear fender tool bag.
A garmin 276C gps with Mexico E32 maps loaded into it.

After getting home I tore into my 350 for maintenance.
After 2,000 miles the air filter wasn't hardly dirty. You can do that to if you'd quit following your buddies so close.
Why do you people do that-------you just get dirty and clog your air filter ??????
Yes--the oil needed changing. Changing the oil in these things every time you ride it is total hogwash------get off the internet.
My 2 minutes in the salt water took hours to get off my wheels and spokes.I won't do that again.
I adjusted the valves to the widest gap allowed before I left and won't even check them again till at least 10,000 miles.
If not racing---checking your valves in these things everytime you ride it is hogwash----get off the internet.
Send hate mail to: BigDogDon'tGiveARatsASS@gmail.com