Baja 2016
Crossed the border February, 8th, 2016
Everyone always seems to give a ride a name---this one is Baja 2016.
Or it could have been called "Adios Pantelones" (goodbye pants----read on).
Or it could have even been called "Several Acts Of Kindness In Baja"
4 riders started but only 3 finish.
If you would like to read this ride on the AdvRider site where the other riders and followers
joined in on the ride and conversations it is at this LINK
Day 1, February the 8th I believe.
Want to give thanks to my riding buddies for their comraderie----never a cross moment on this ride.
And want to thank all of them for sharing their pictures----only about 1/3 or the pictures are mine...the rest
High Five and Dingweeds took---thanks guys.

Riders
Scott Williams--(High Five on AdvRider)--KTM 450 XC-W six days---from Oklahoma.
Scott Stevenson----(Dingweeds on Advrider)---Yamaha WR250R----Utah.
Jerry Mueller---(Road Dad on AdvRider)-----Yamaha WR250R----Indiana.
Mark Sampson---(BigDogAdventures on AdvRider)-----350 KTM EXCF--Illinois.
We've all been friends for years----met on the internet--who'd a thunk:)
Road Dad and Dingweeds decided they wanted more aggressive tires on the front for the Baja sand and put them on in
the motel parking lot in El Centro, California where we all left our tow vehicles at a friends house.
Nice shirt.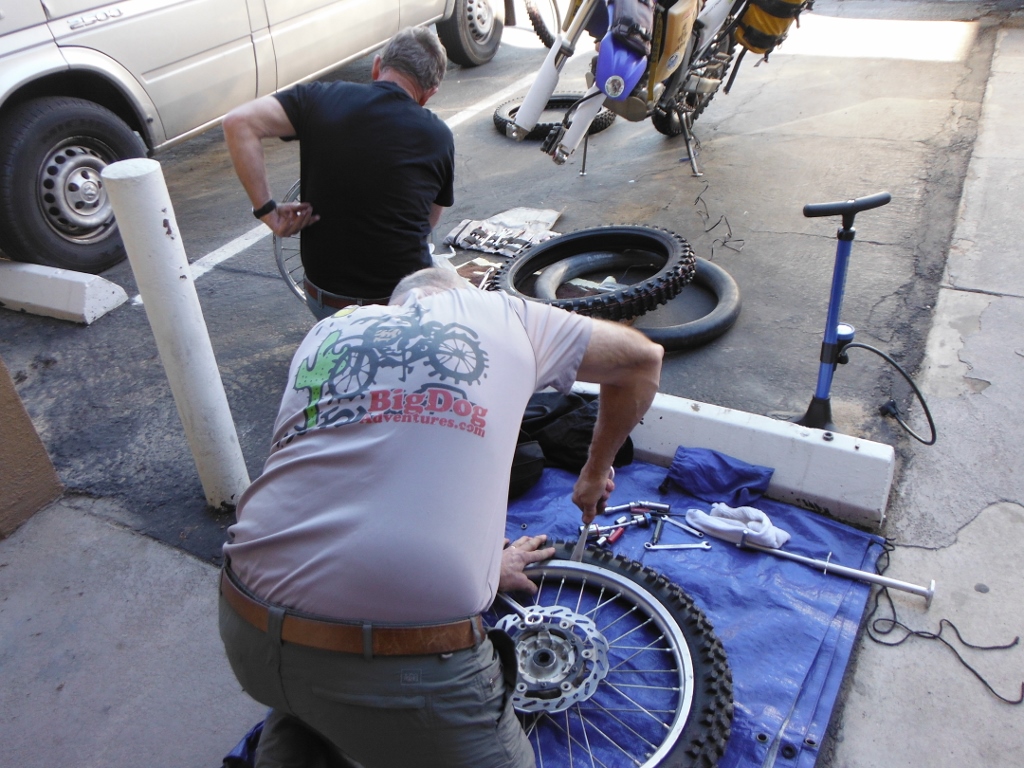 As soon as you shoot thru the border lanes-----hang a left immediately and get your visas's.
About $25 and now you can pay right here.
We got peso's before we crossed---many places to do that---and then turn them in when you come back.
Everything went smoothly and we headed across Laguna Salida which is a dry lake bed towards Quadalupe Hot Springs.
It's only about a 60 mile ride to there, but we wanted to get there in plenty of time to look the place over and soak in the hot springs.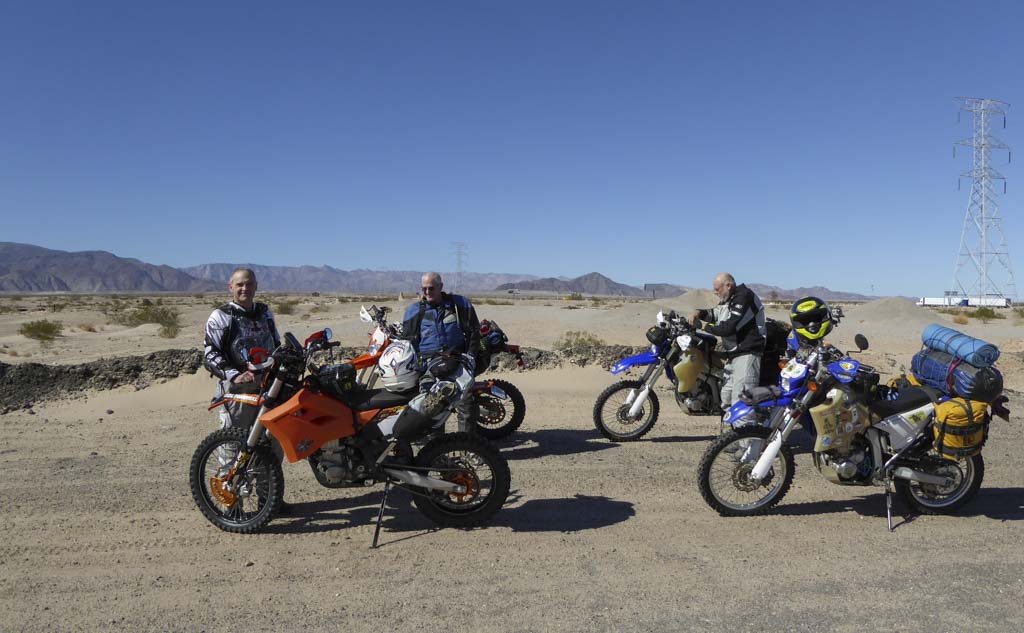 Once you make the turn towards the mountains it's about a 9 mile ride West to the springs.
This is a dead end road-------there are no roads going over those mountains anywhere near here.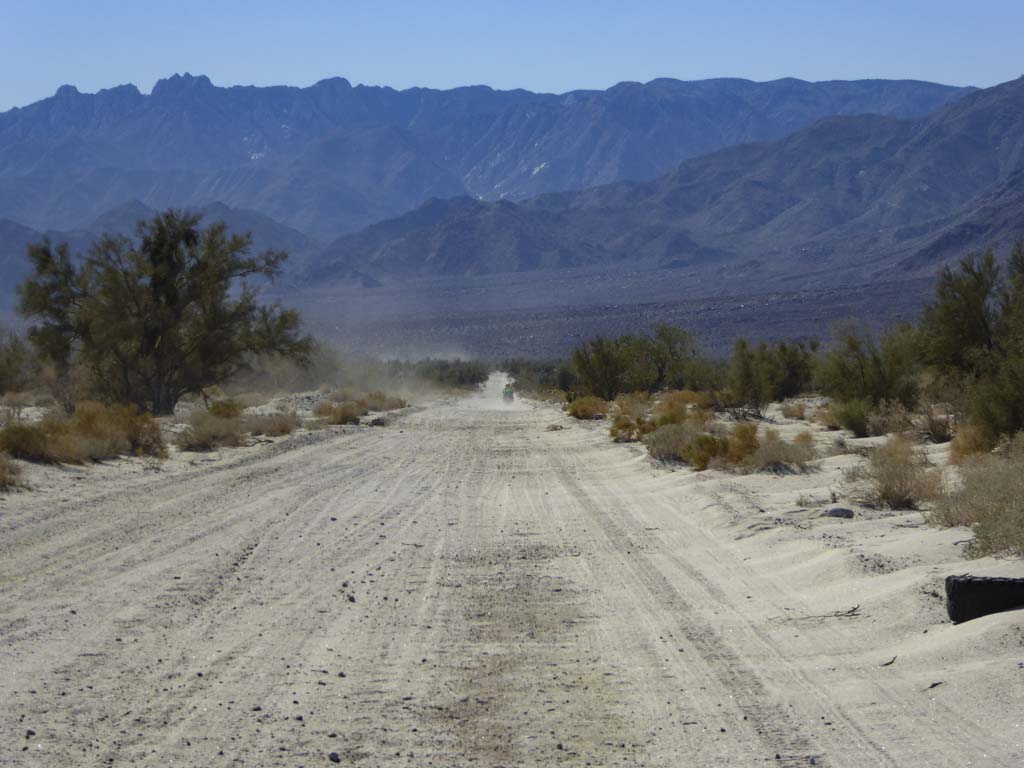 Road Dad has about 94,000 miles on his WR250R----an amazing bike and he is a very good rider.
You can wear him out hiking---but not riding.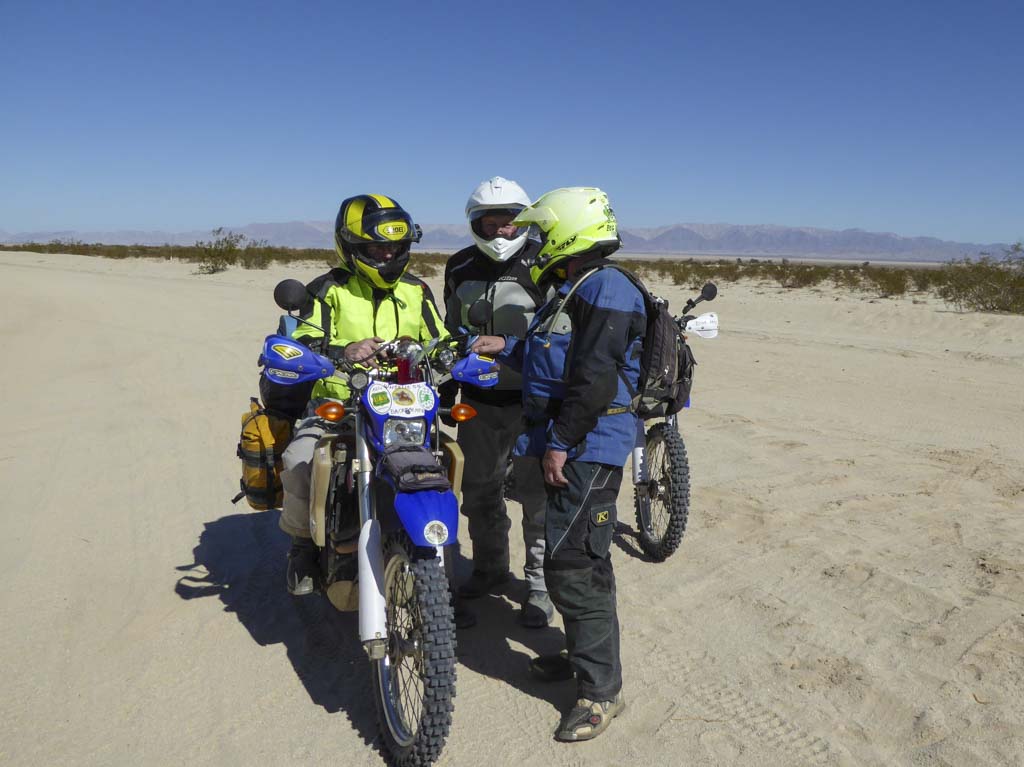 Dingweeds got a 4.7 gallon tank for his bike---which probably actually holds about 5 gallons.
High Five's tank is a 6.6 gallon.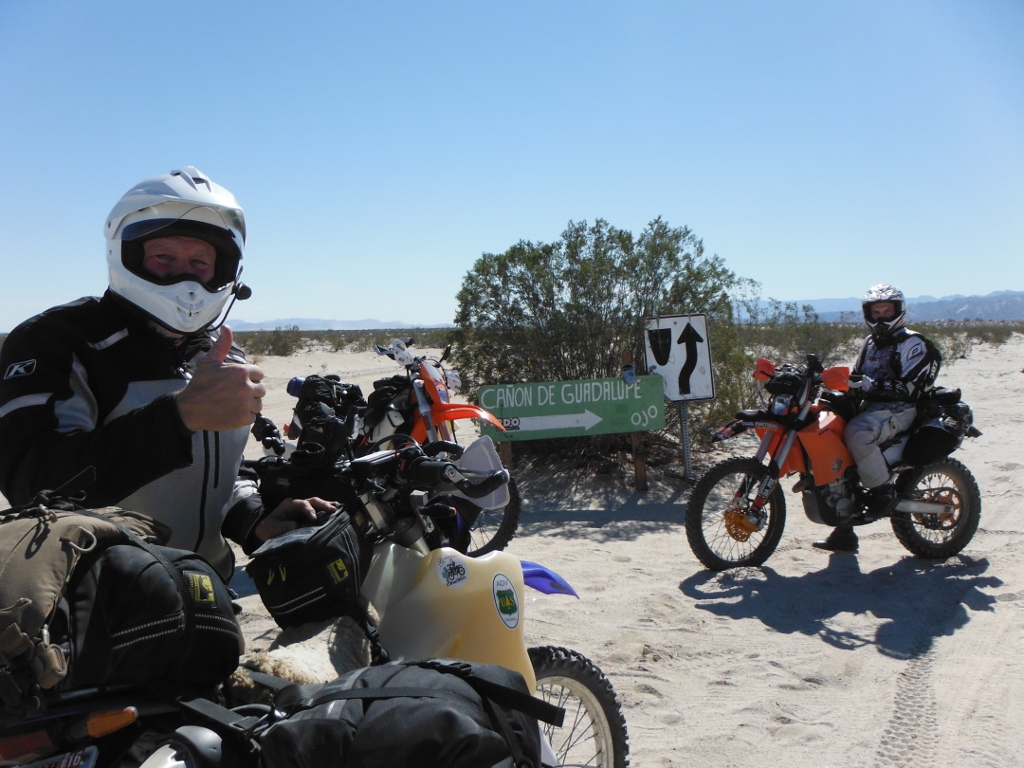 The fan palms and other plants at the hot springs are so beautiful.
All the terrain around here is dry and desolate---especially the dry lake bed.
They get plenty of water from the hot springs in the mountains here.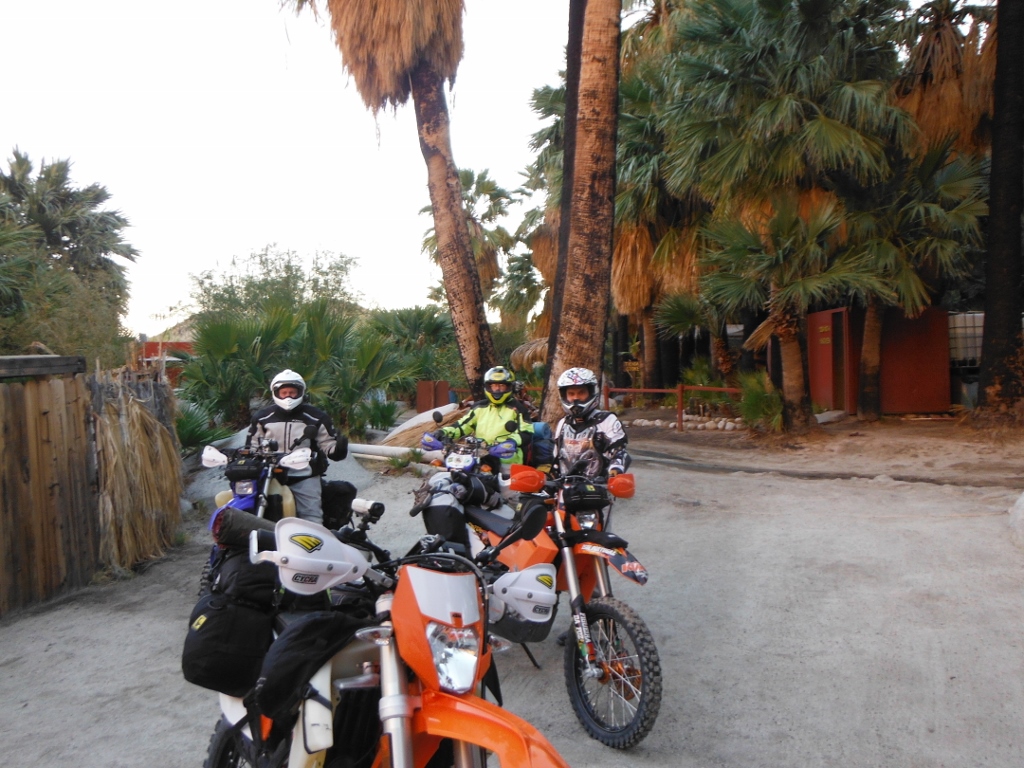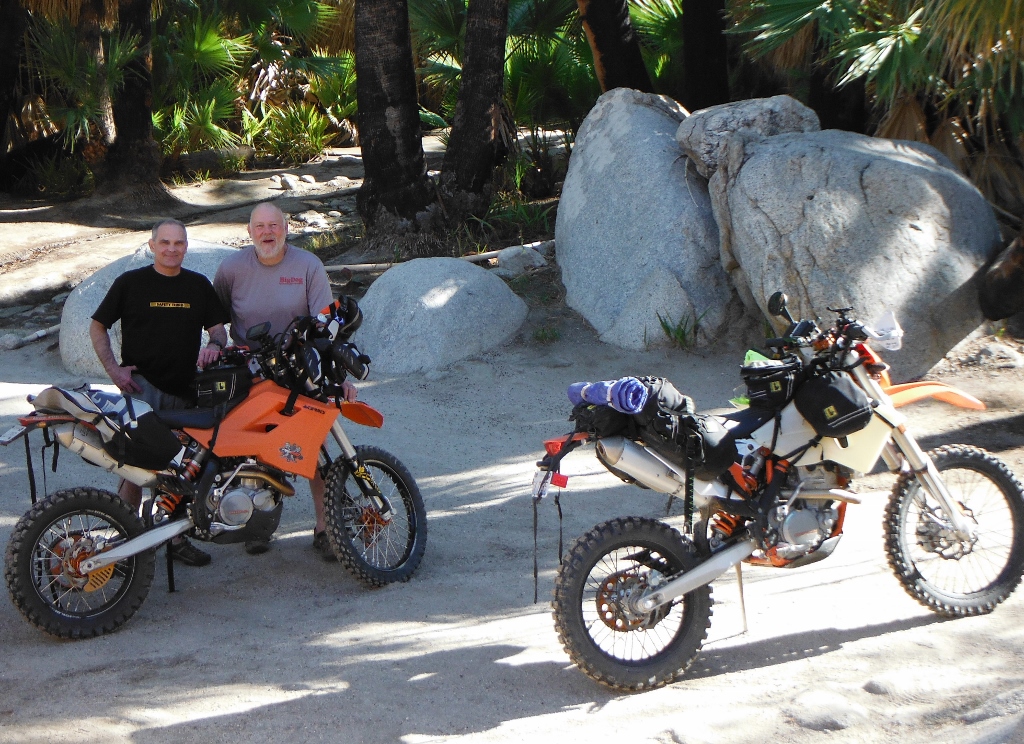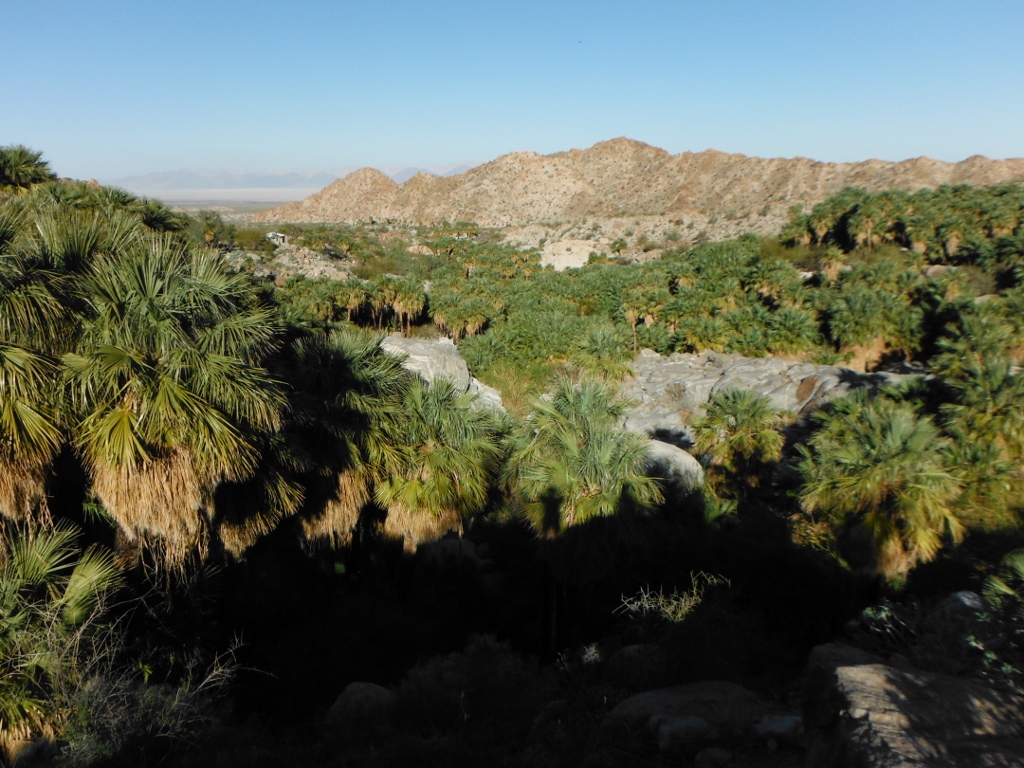 I think everyday we rode down here it got up to about 80° and it felt so good to get some shorts on and be in the sun.
I called my lovely wife (sweet thang) once and told here what the weather was and she says "aw shut up".
It was freezing and snowing at home.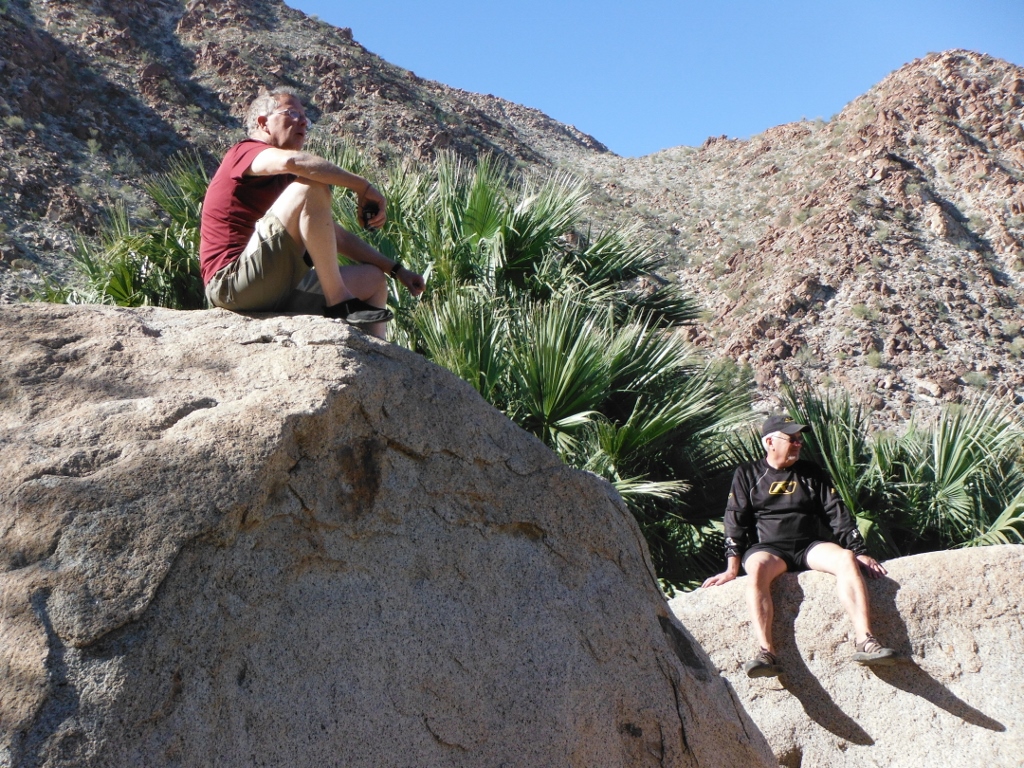 There are many campspots here and all have their own hot tub---perfect temps.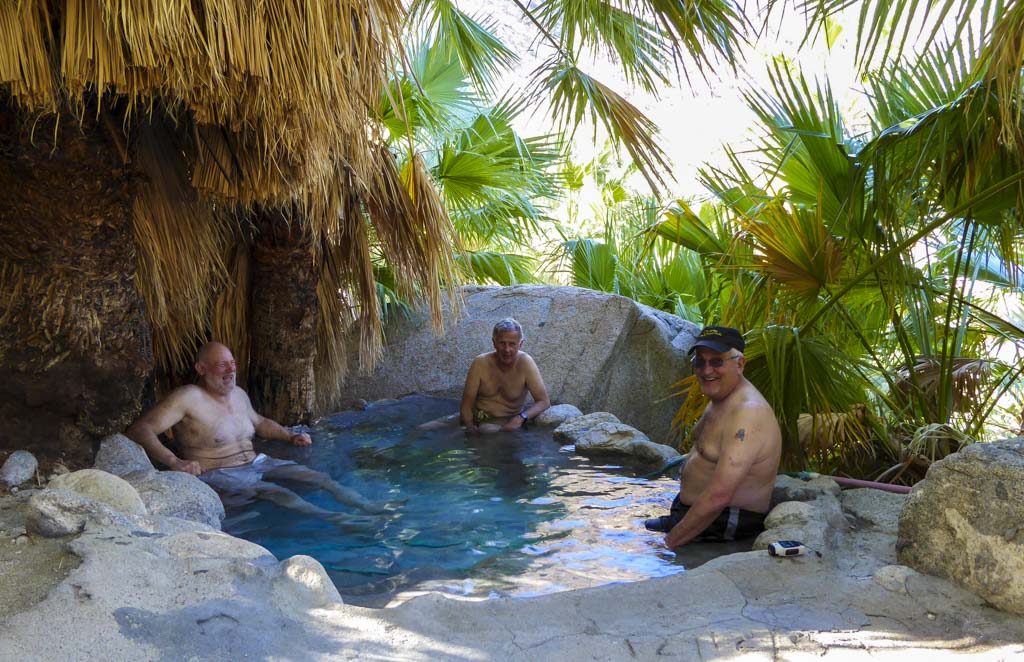 We camped here for about $50 American dollars for all of us.
There are toilets here that get water from the springs-- and the toilets are very warm------but you bring your own toilet paper.
And it goes in the wastebasket.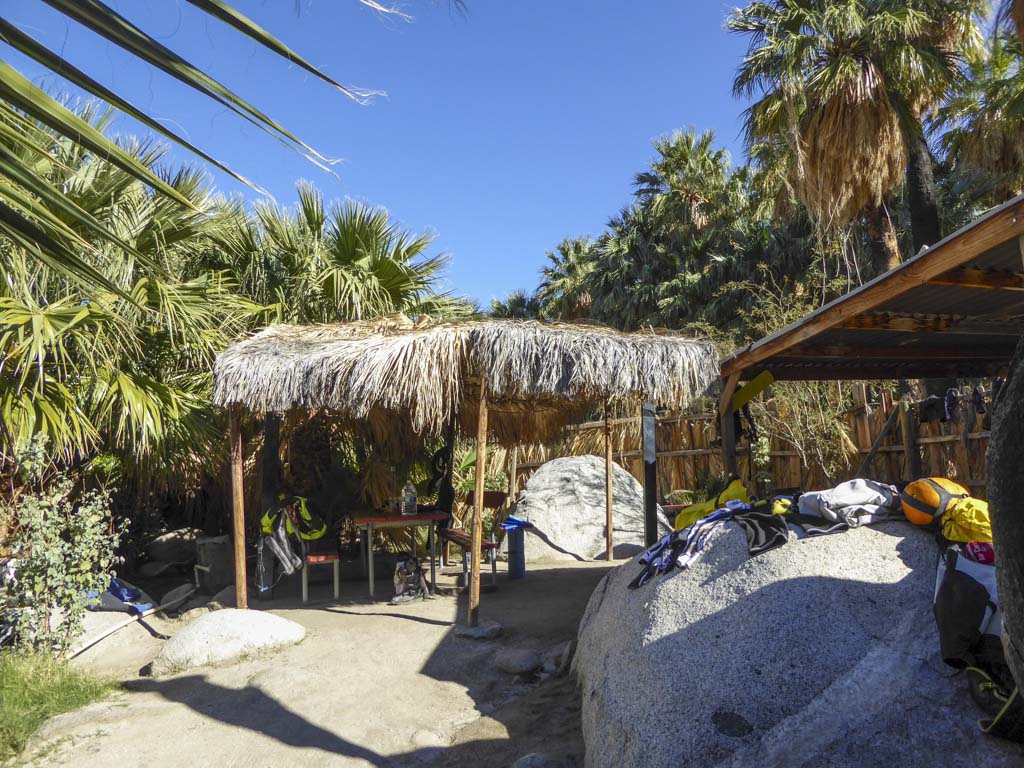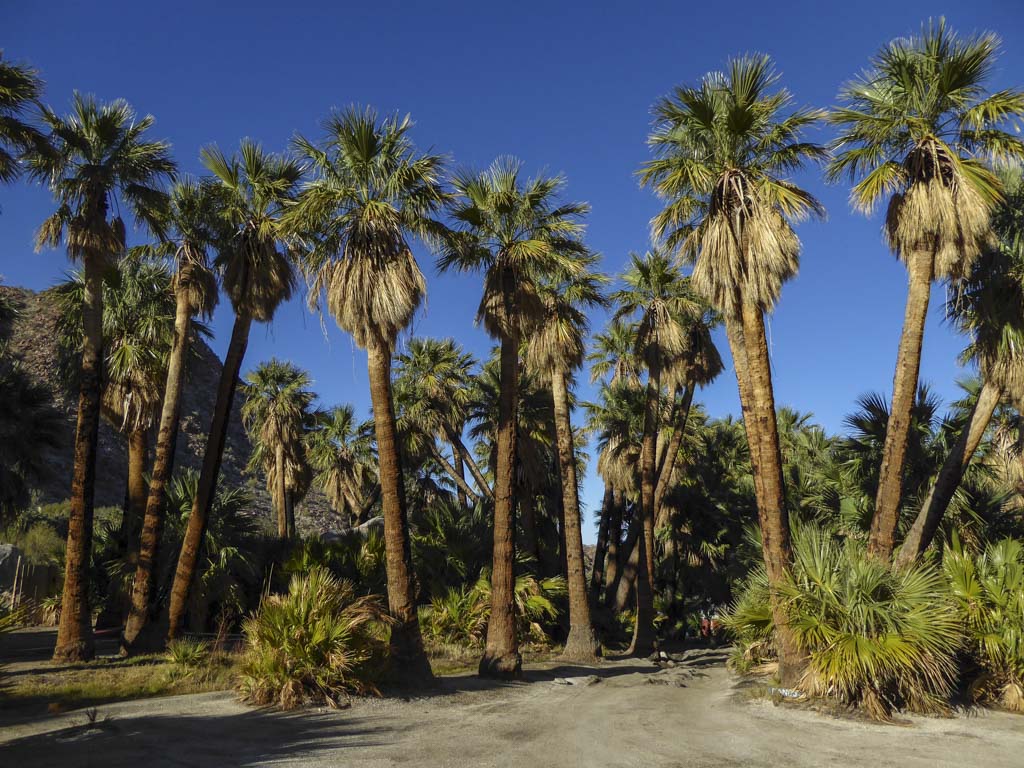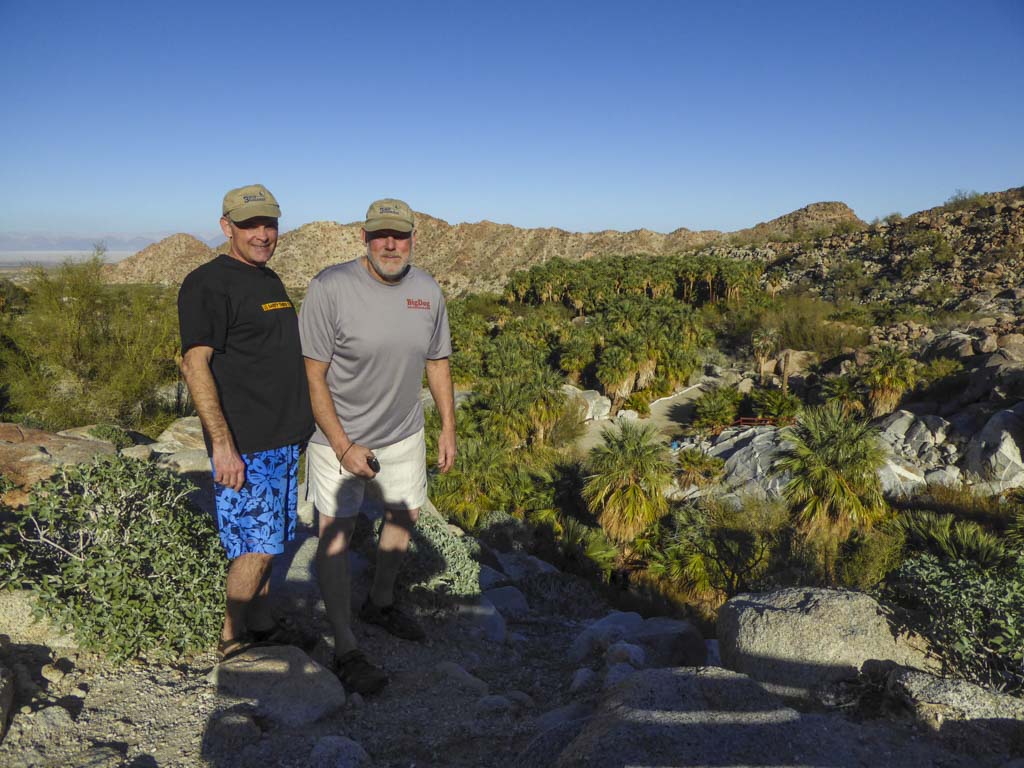 We all went for a big walk----there are several water falls back in here---some we were told take about 3hrs. to get to-------one way.
The last time me and Dingweeds camped here and went for a walk we came back and there were 2 donkey's in our camp
that had helped themselves to all our food---including my toothpaste.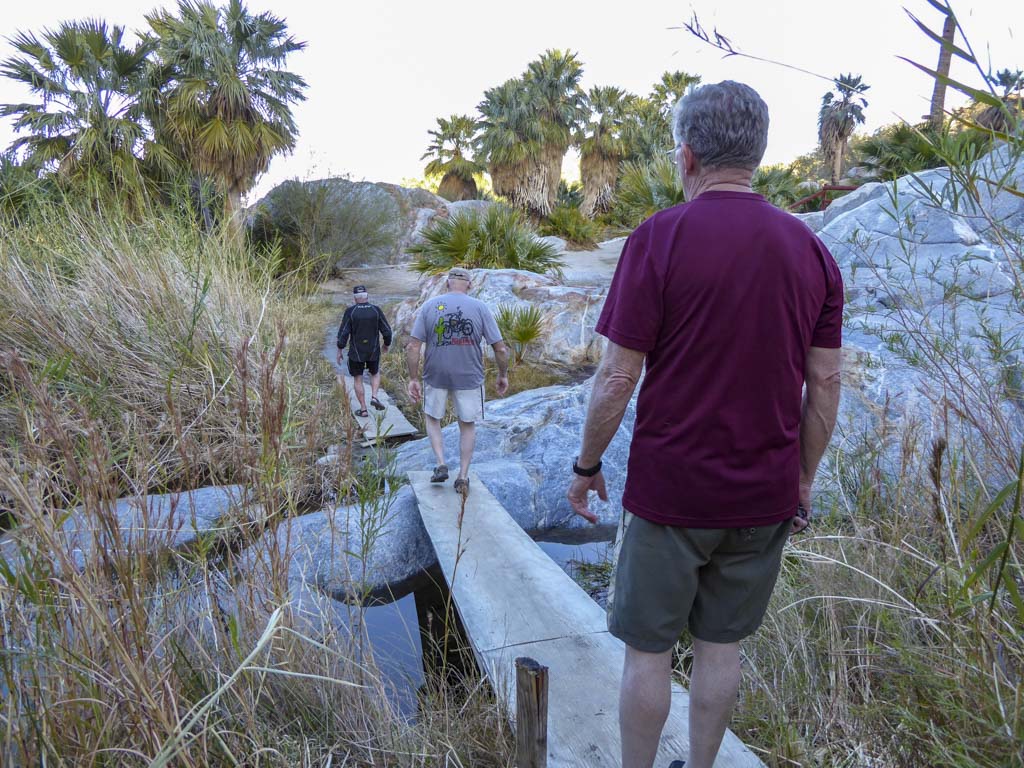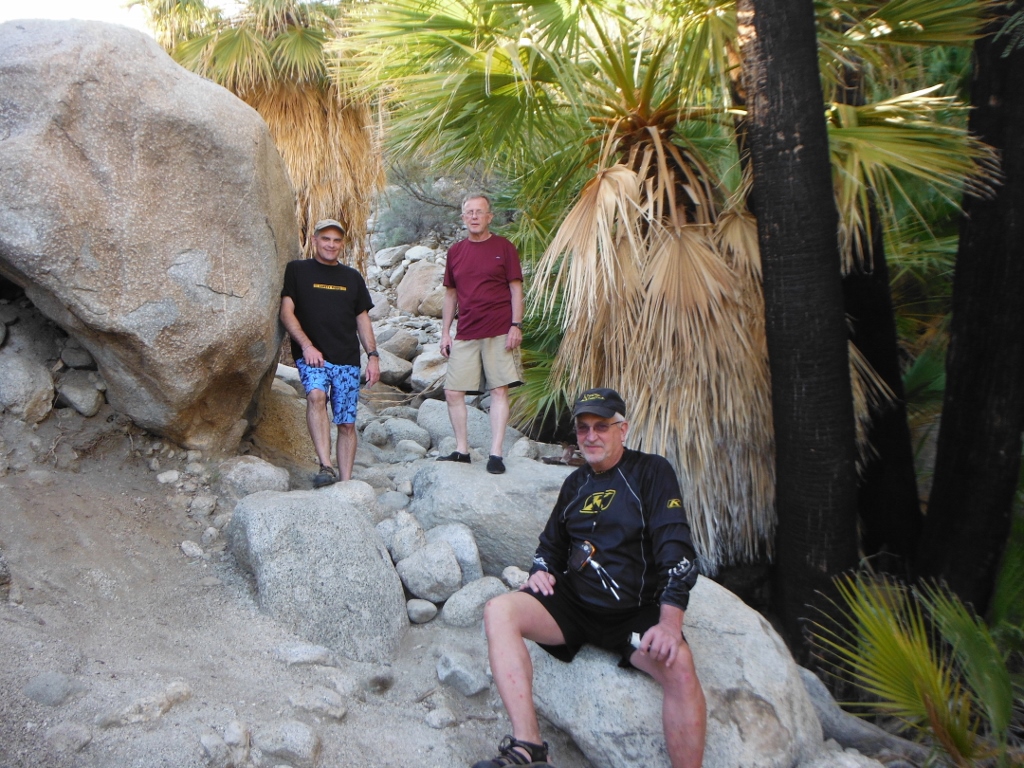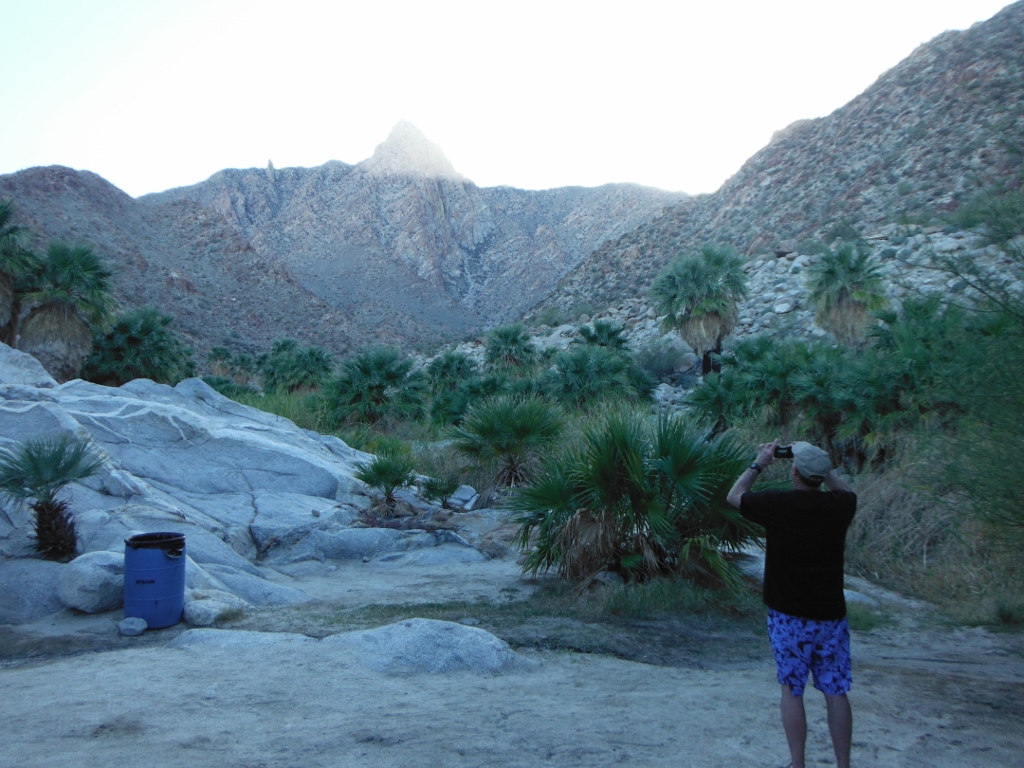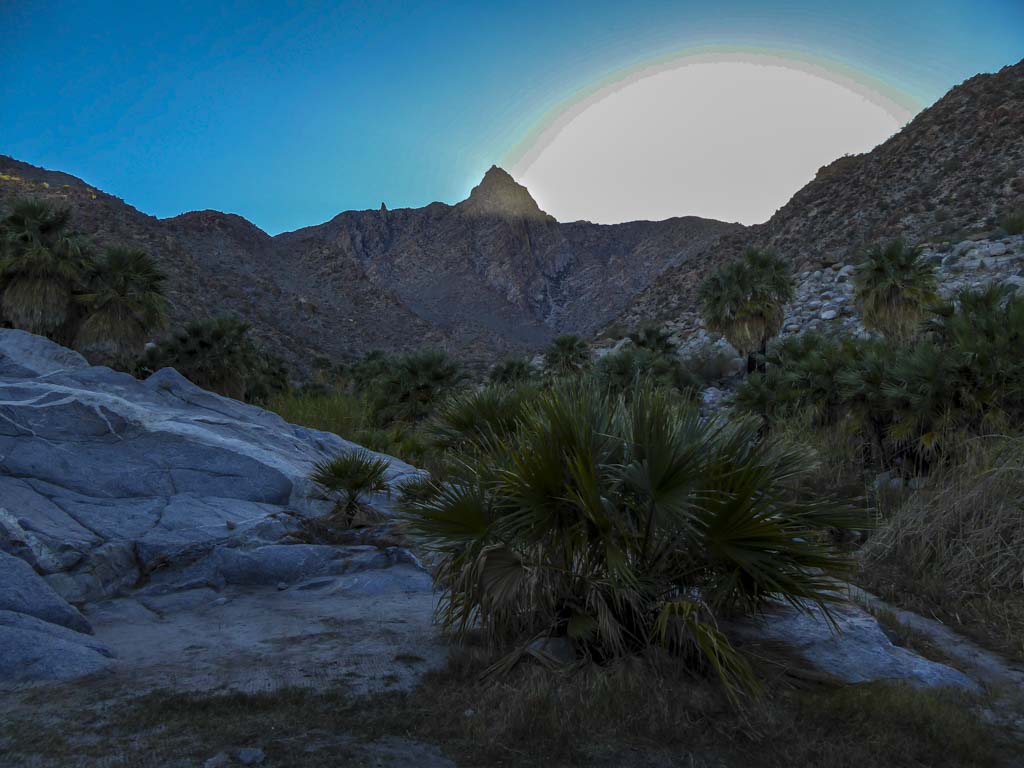 Our first act of kindness.
We met these nice folks camping here and had the best time talking to them and sharing travel stories.
I had lost my air mattress off my bike and went to them to see if I could borrow one for the nite.
They insisted I take a therm-a-rest they had and would not let me pay for it.
Super nice people----this wouldn't be our only act of kindness on this trip.
We found ourselves giving back several times also.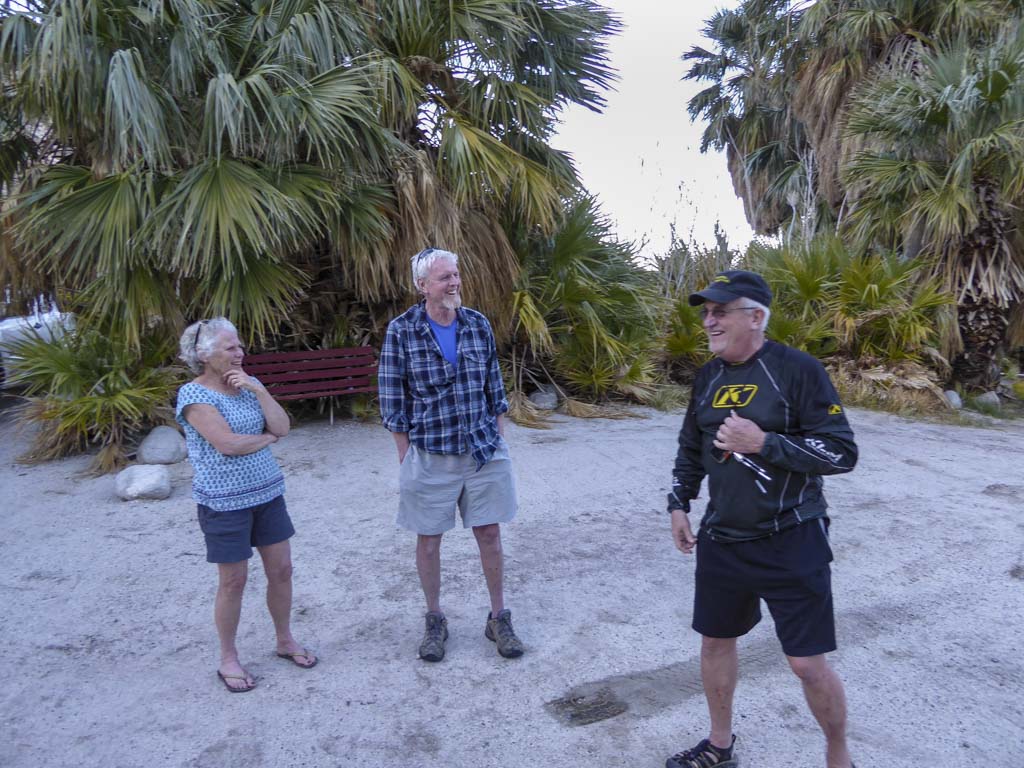 We talked about our ride route------and they showed us where they had been--and we showed them where we were going
and ran into them another day -----------down the road.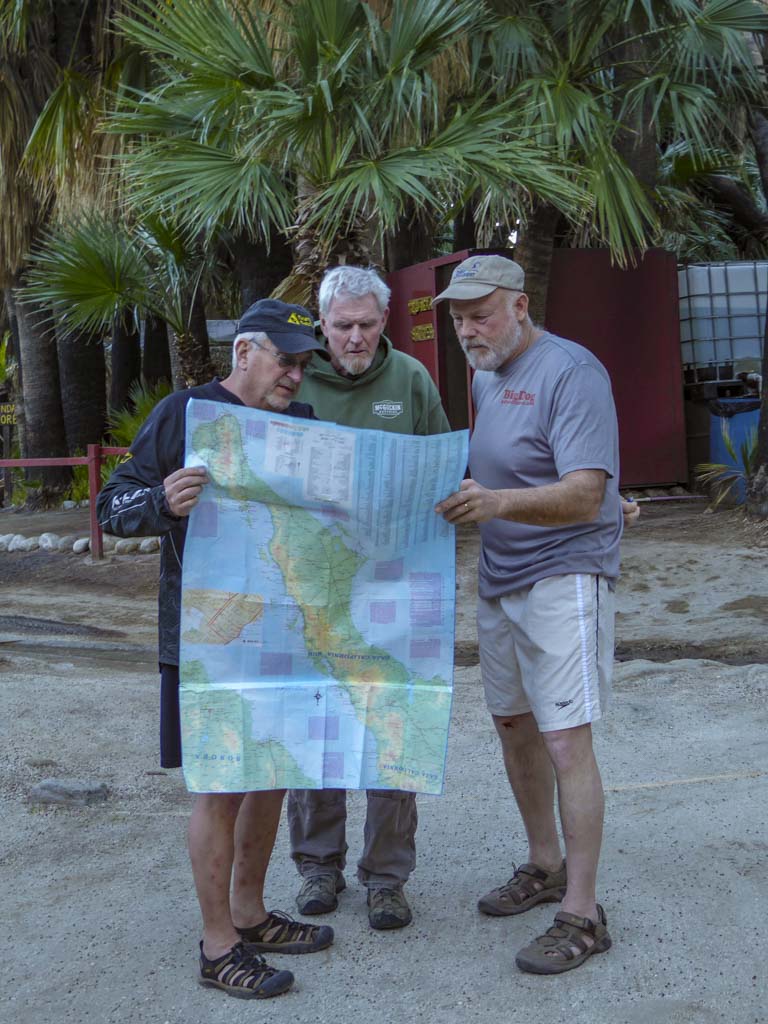 It is super quiet here---------thay don't allow any noise here.
See that plastic pipe on the ground--------it is carrying hot spring water to other campsites.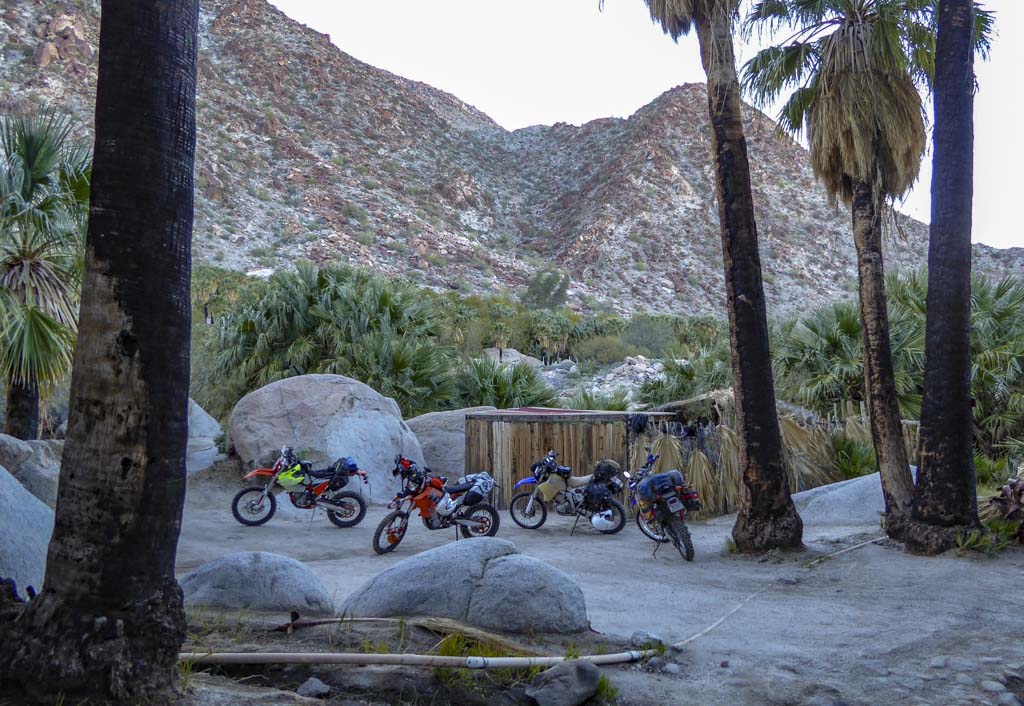 It was nice to have a fire that nite even tho it wasn't cold.
We all just thru tarps on the ground---put our sleeping pads and bags on the tarps and slept in the open air enjoying the stars all nite.
Hig Five did use a Bivvy sack on this ride----and in the end I wished I had brought mine.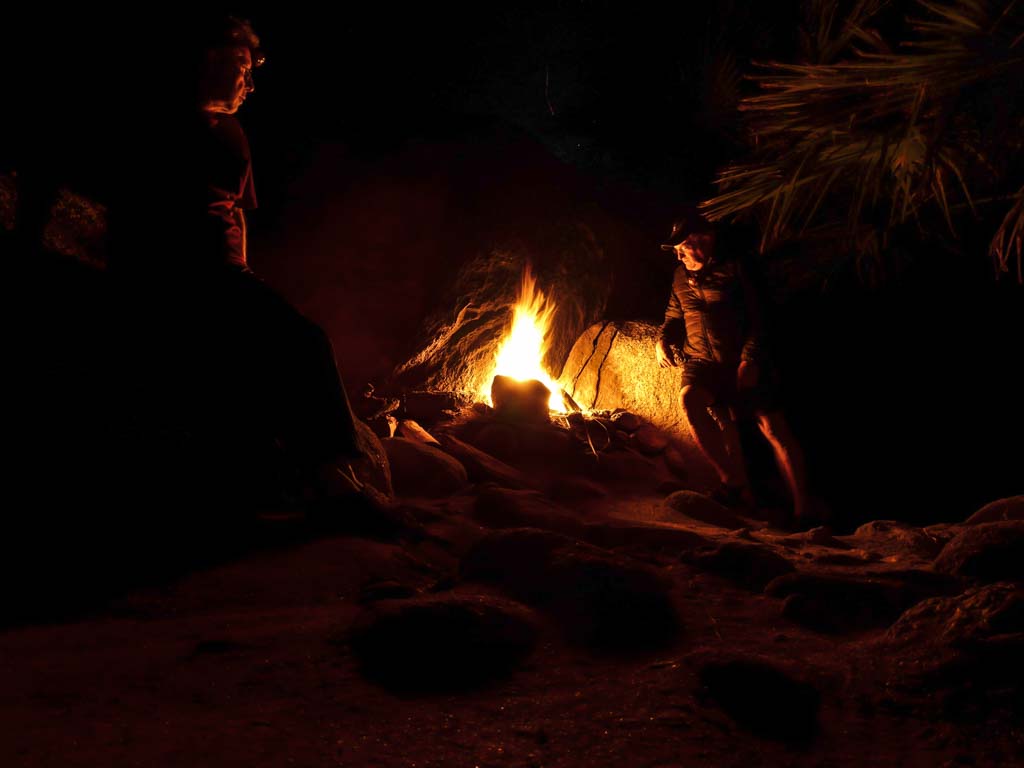 A little hot tub fun----select HD if you have the speed
A rough Map of our days ride.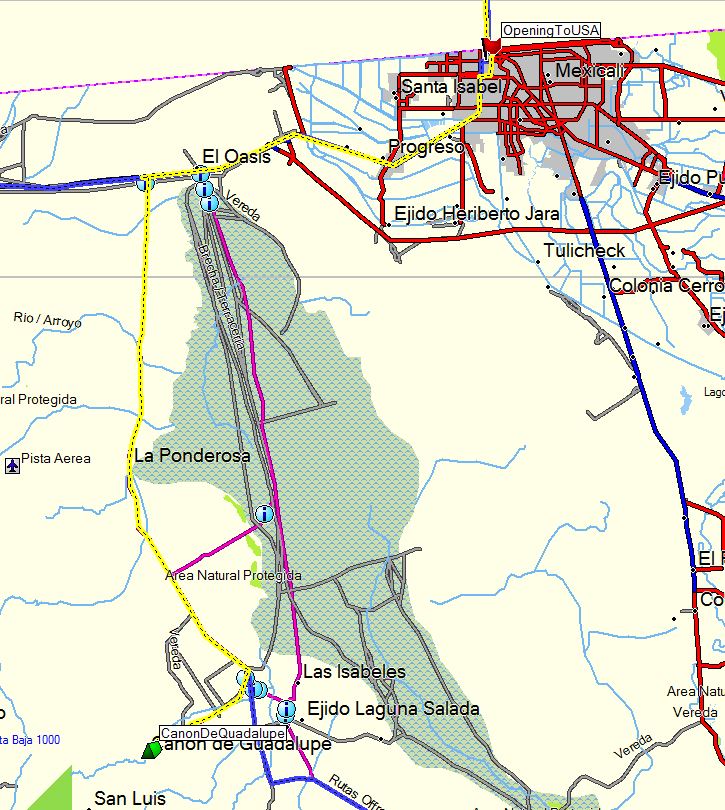 Day 2---February 9th, 2016
We all stirred at first lite---or maybe a little before and headed out South then Southeast across Laguna Salida.
I would take a different route this year from years past. Staying mostly on the Baja 1000 raee course.
There were still arrows and danger signs out there from the race in November.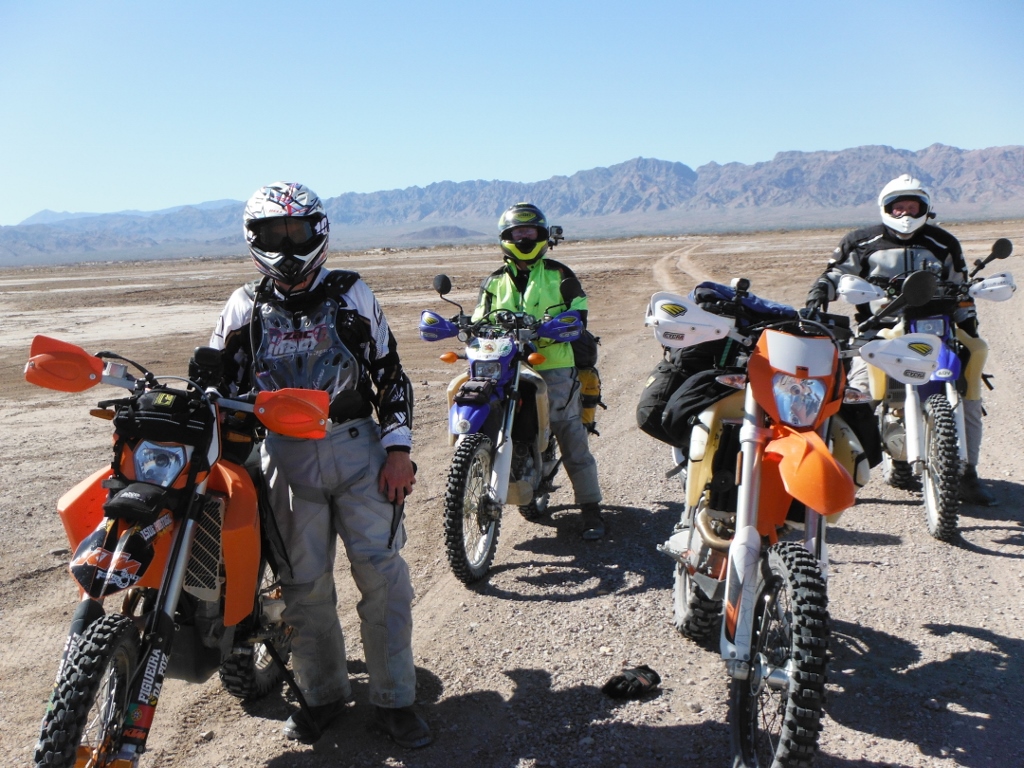 Don't know----I think Jerry is wondering something ???
"Just how long ago did I replaee that pesky fuel pump in my WR250R."
Some of this riding was very tuff---as less skilled riders like myself paddled thru the deep sand.
High Five just let her rip and rode like an expert.
He use to be a pro trials rider and his riding level is way beyond the rest of us.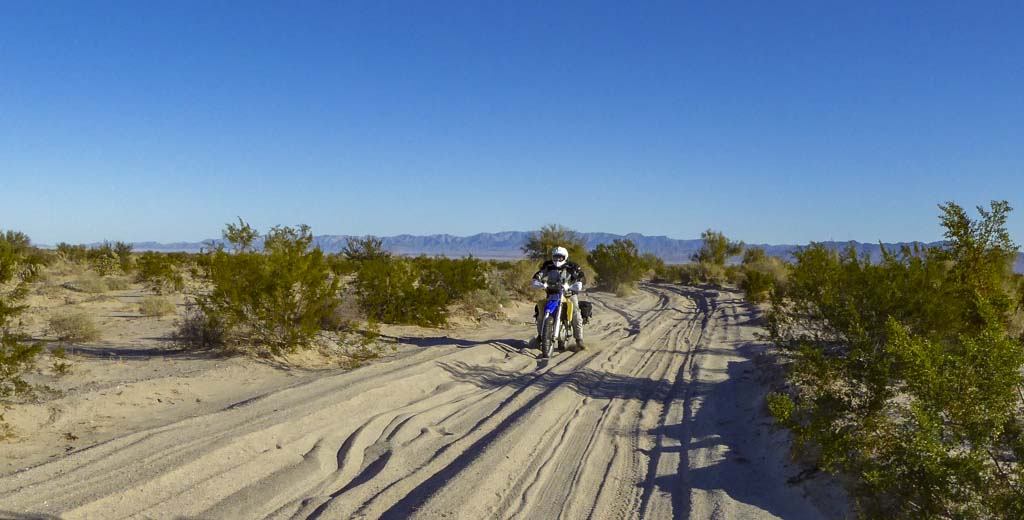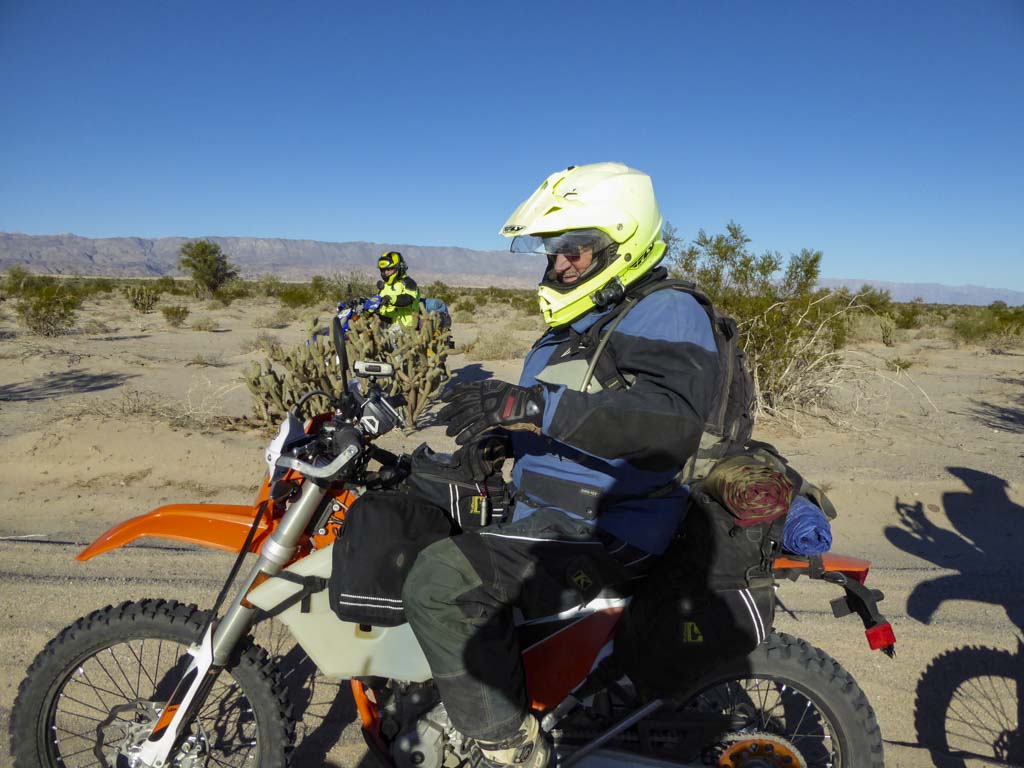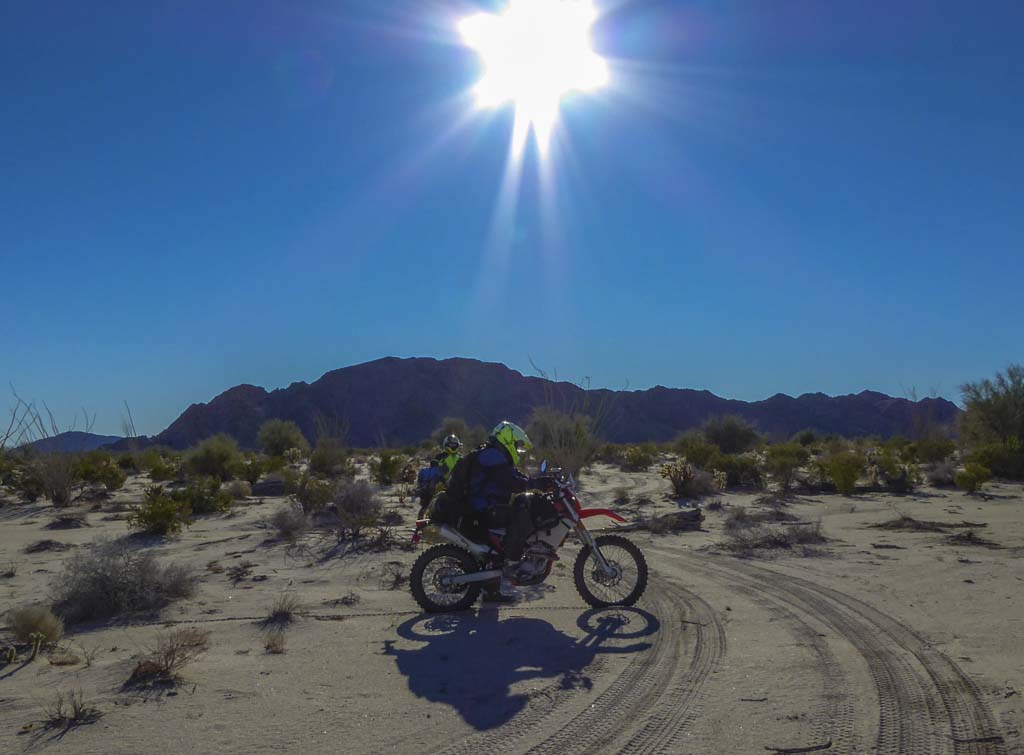 3 of us found ourselves getting off the race course a lot and just finding our own way thru the cactus.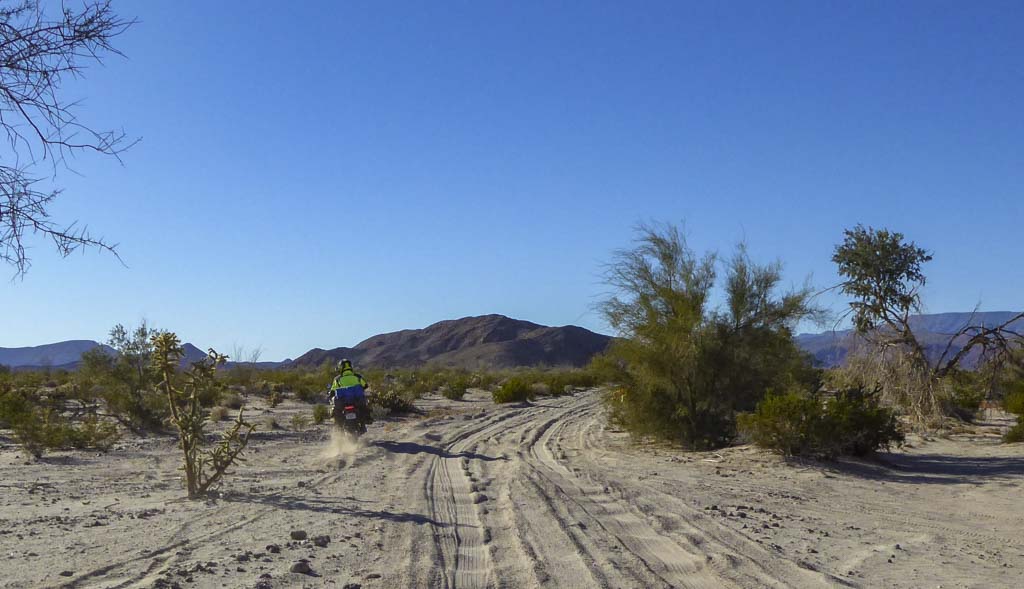 Yes----------I use to be able to run wide open thru this stuff.
I have a better bike now----------so what's up.
Old age----that's what's up.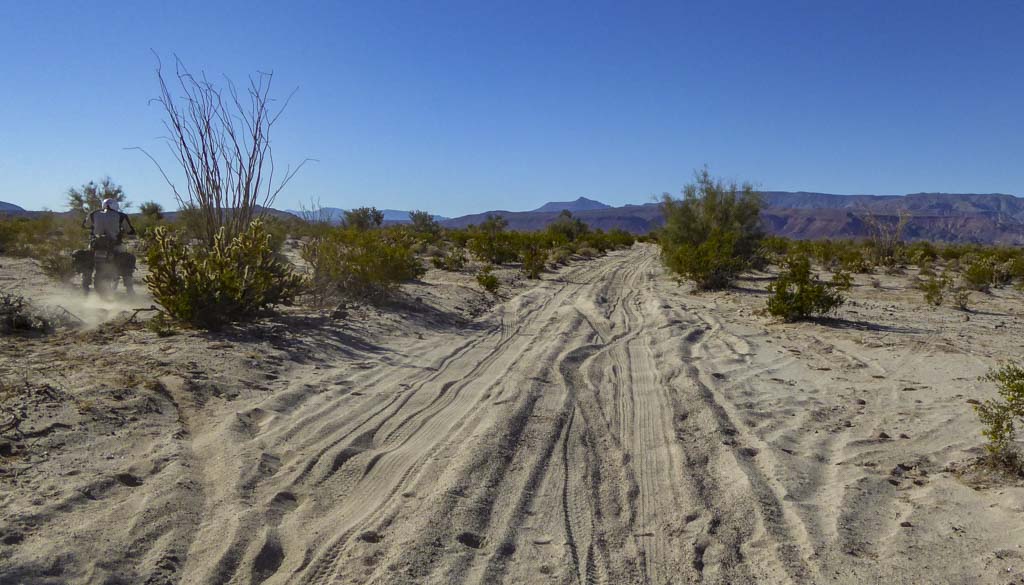 We got out of the deep sand and all of us could ride really fast on this stuff-----man that was fun.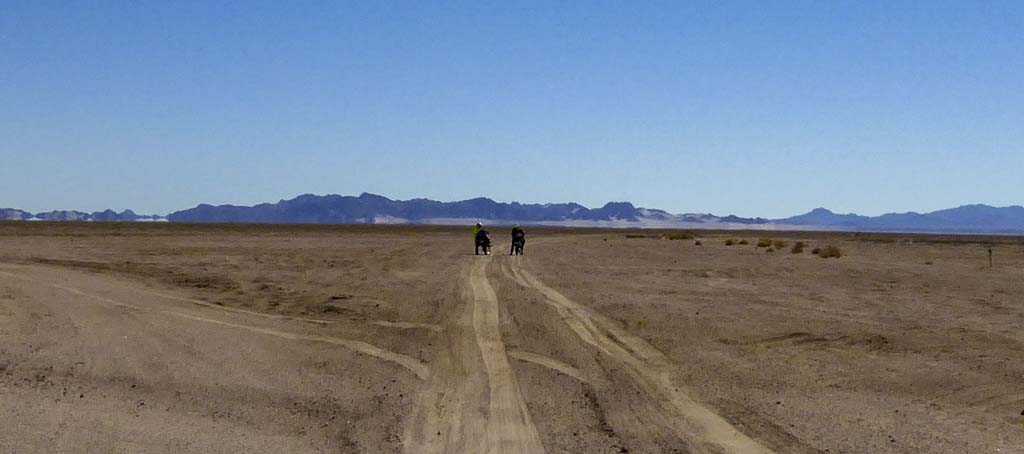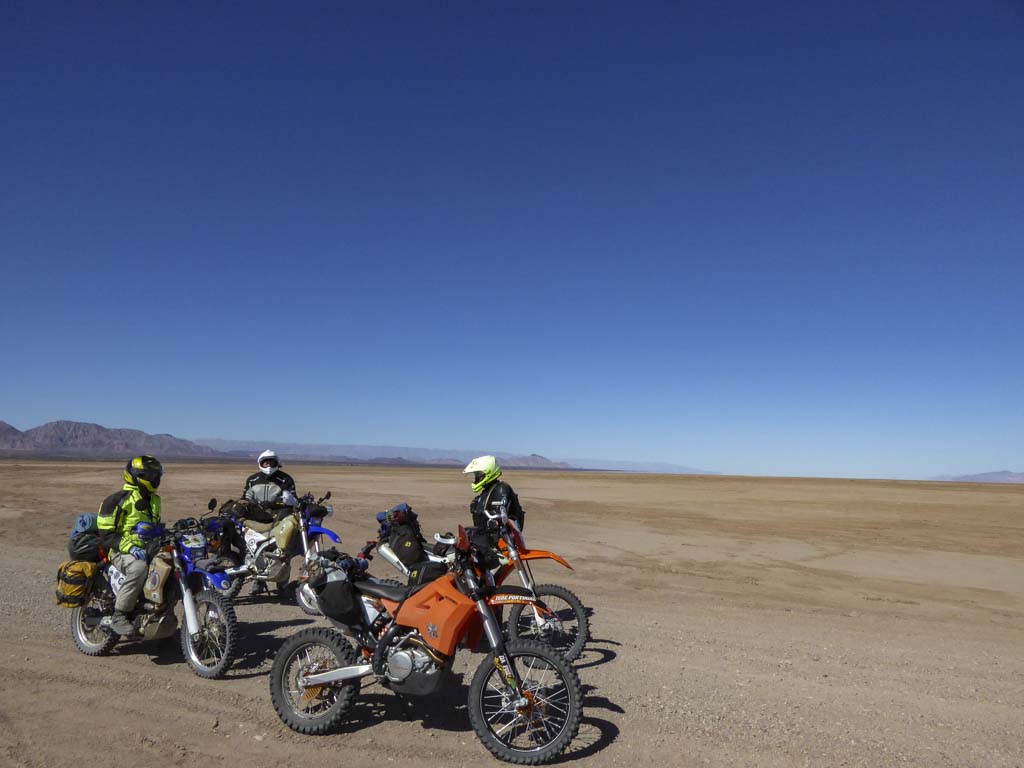 A short video of riding on the Laguna Salida Dry Lake Bed
Select HD if you have the speed.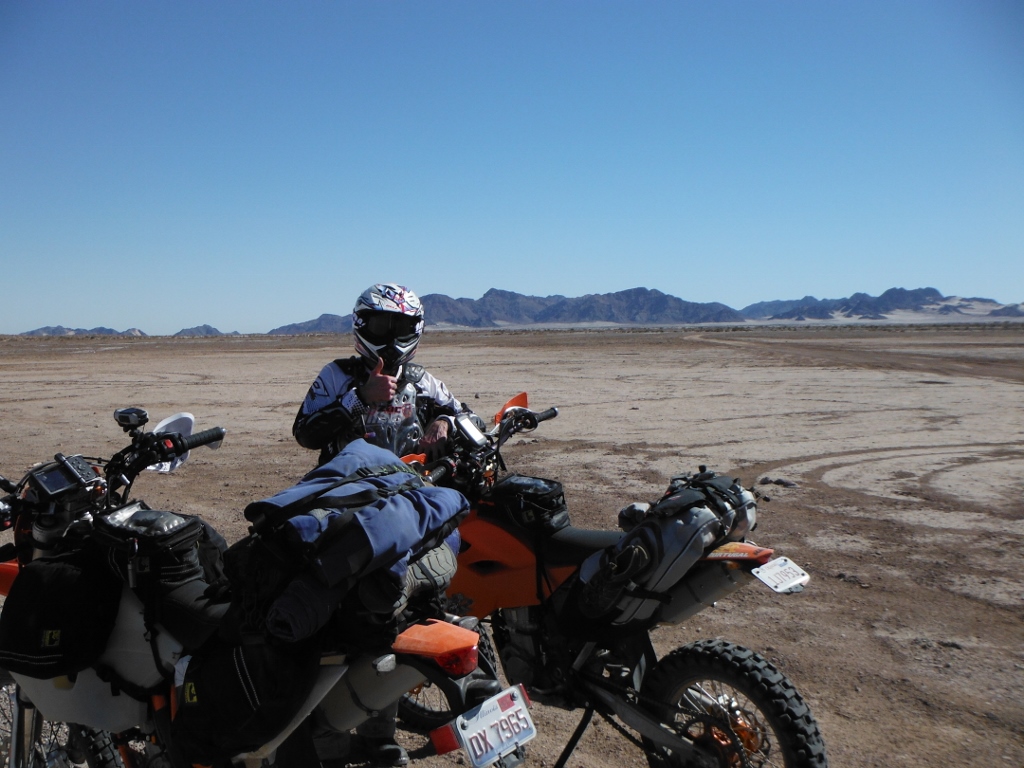 Road Dads fuel pump started failing him and his bike quit many times.
All of us have went thru the fuel pump problems of the WR250R and knew he was doomed.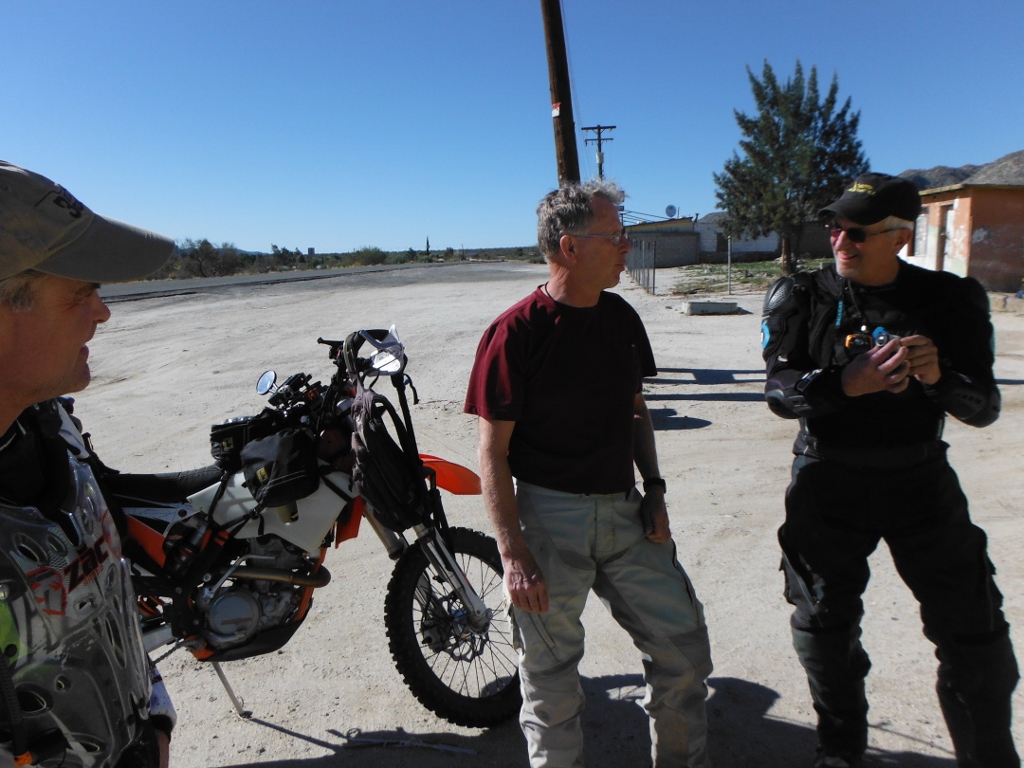 We were all so sad to see Jerry leave us---we talked about options.
But with no communication at all down here----Jerry had to hire the guy on the right here to haul him back to the border.
He spoke no English---and Jerry no Spanish----but he got er' done.
Actually another act of kindness---this little store was in the middle of nowhere---and his bike quit here.
If his bike had quit back in that deeps sand I don't know what we would have done.
Jerry is a lot fun---put's on rides in his own state----and his dry sense of humor just cracks me up.
You cannot out ride this guy.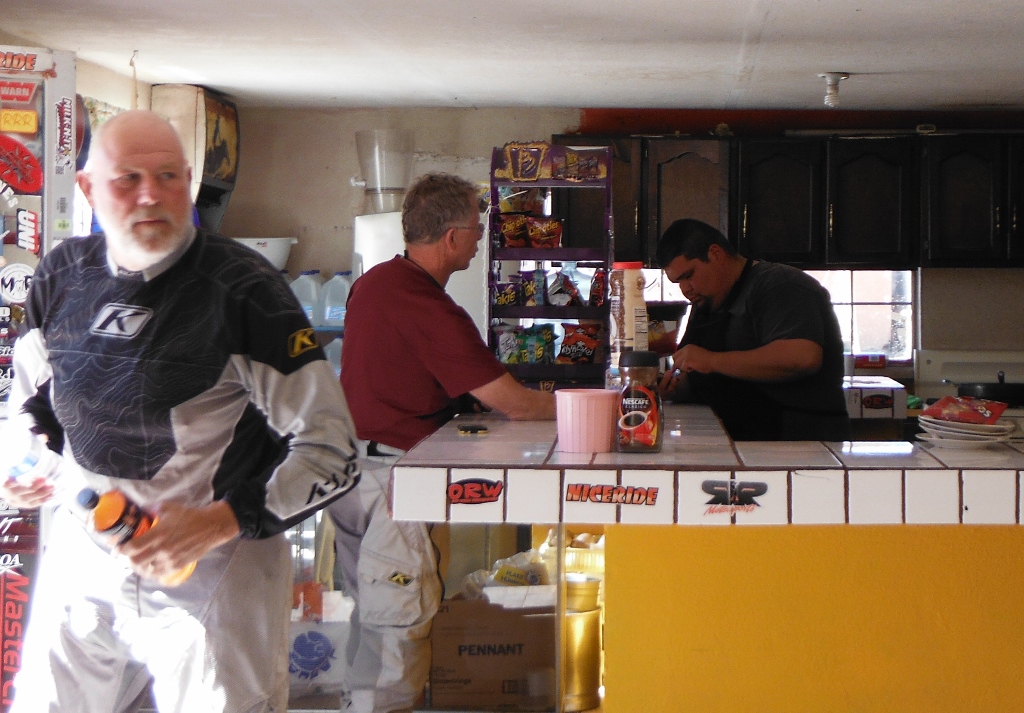 This is how Jerry's bike got back to the border--------dang the bad luck !!!!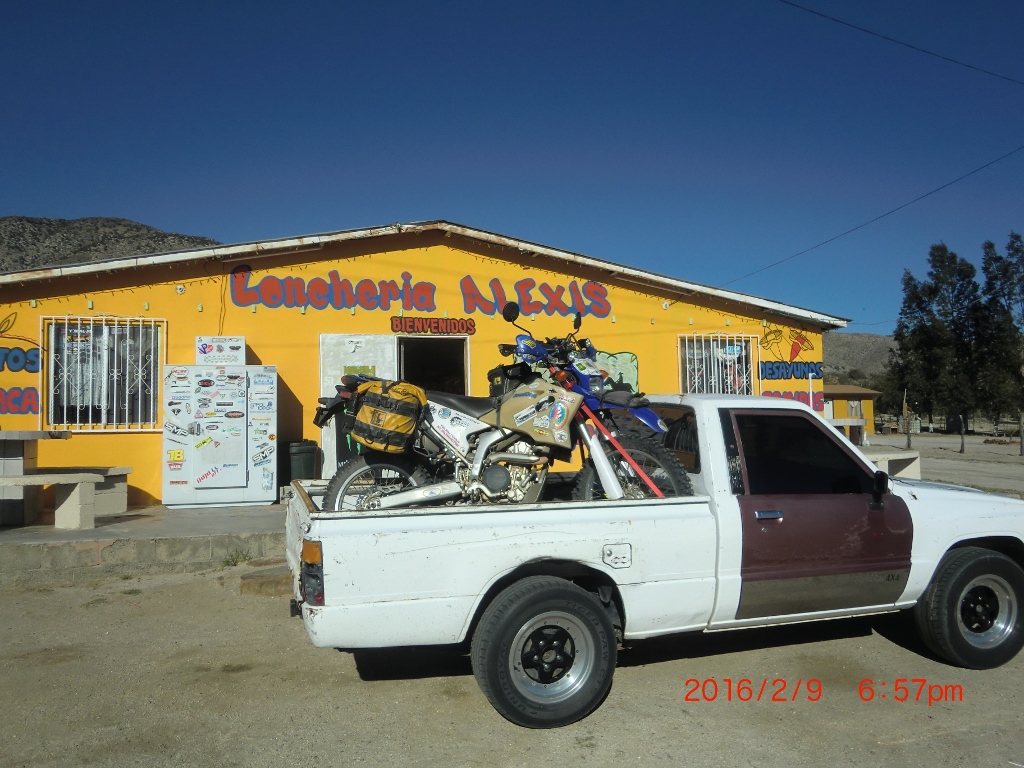 We never make fun of our friends-----but Jerry dug this hole all by himself--------and we obliged to throw him in it.
He took 2 pictures of our bikes as we started this ride.
The first one----the bikes that he said would make the ride without problems. We have many witnesses to this statement.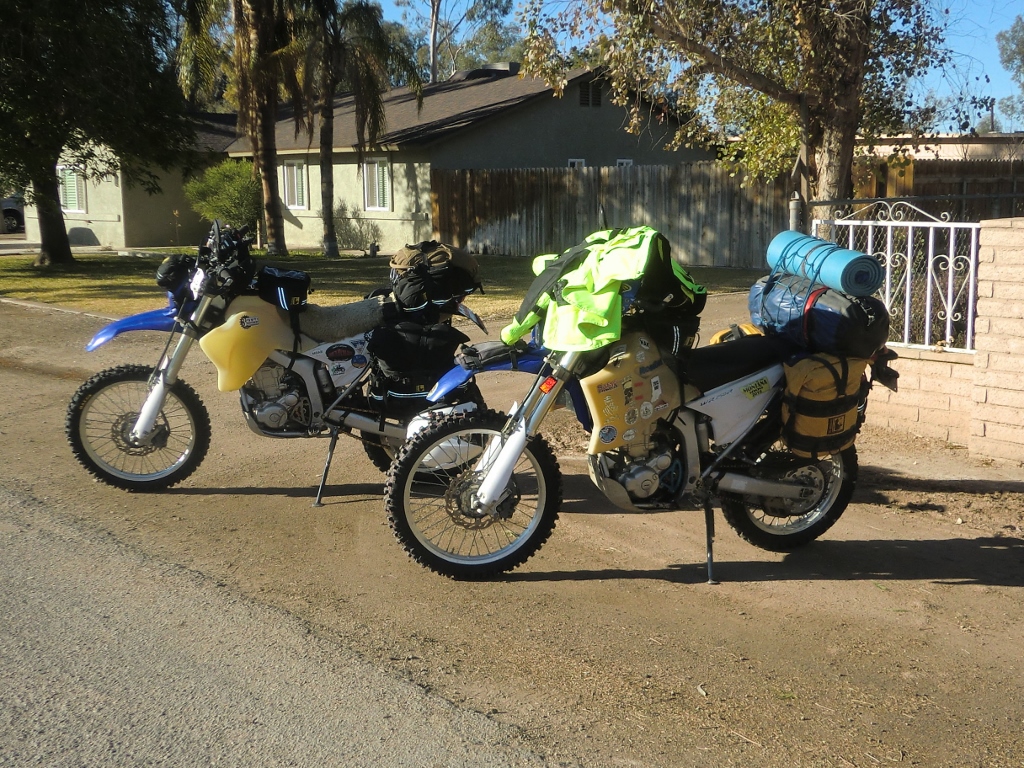 And the 2nd picture he proudly claimed--------here are pictures of the bikes that would leave parts all over Baja and the riders would never seen again.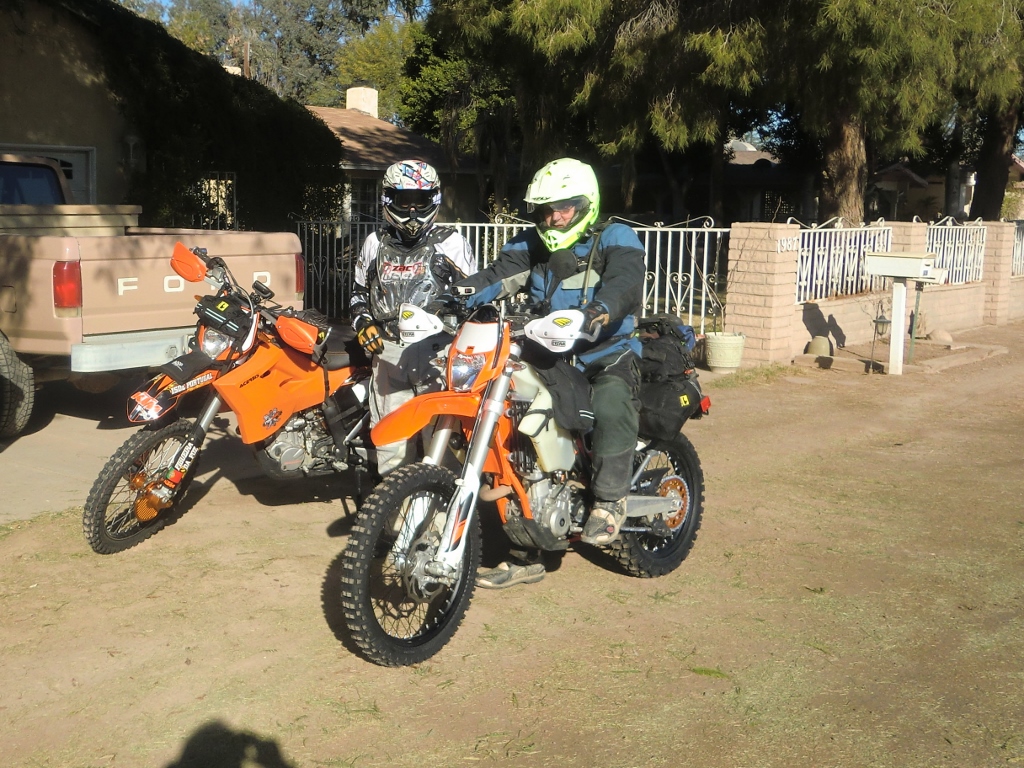 We headed towards Miles Sky Ranch as it was getting late in the day.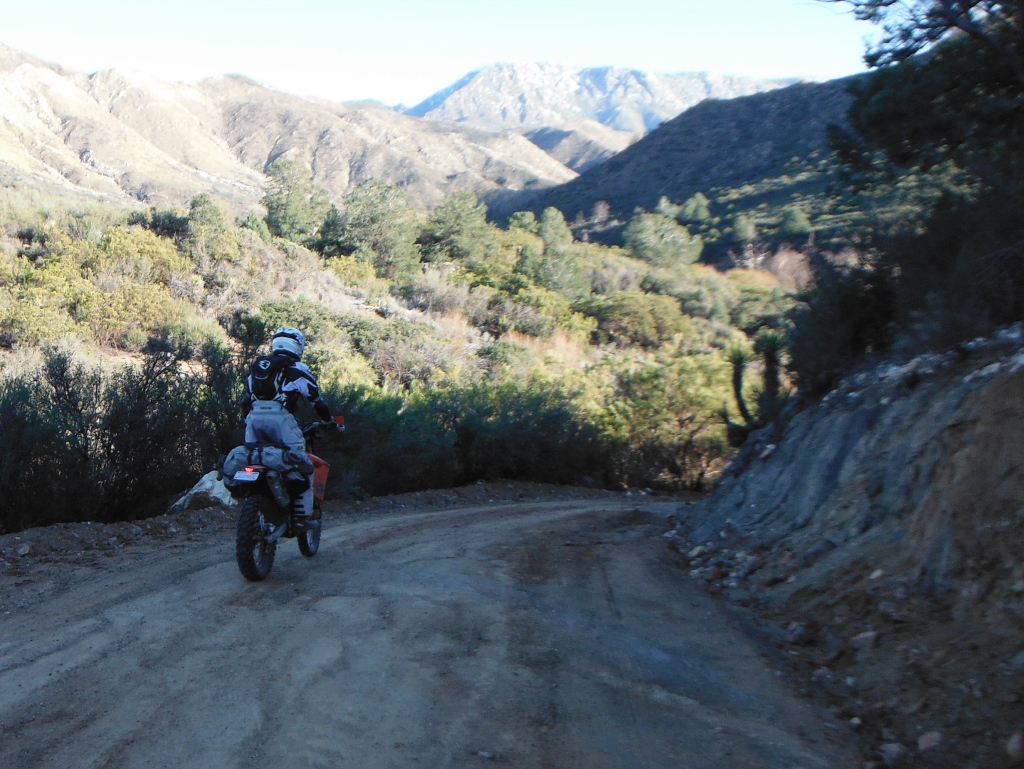 I found a really great route to Miles after getting gas in Cardenas on route 3.
A different route than I have ever taken before-----it was awesome as we head up into the mountains
towards Mikes Sky Ranch.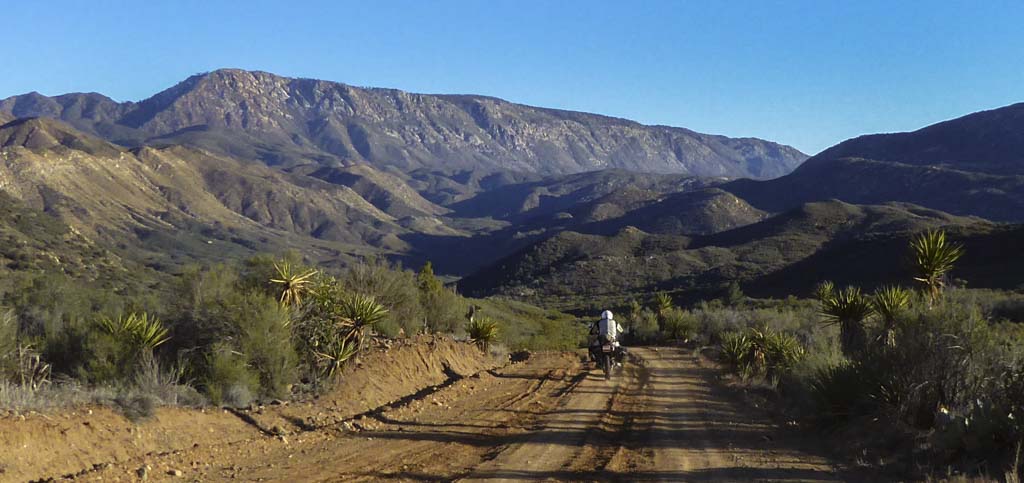 It's hard to find a place to put a sticker at Mikes----------People have been putting them there for years.
But Dingweeds managed to find a hole and got a "3 Step Hideaway" sticker on the pole.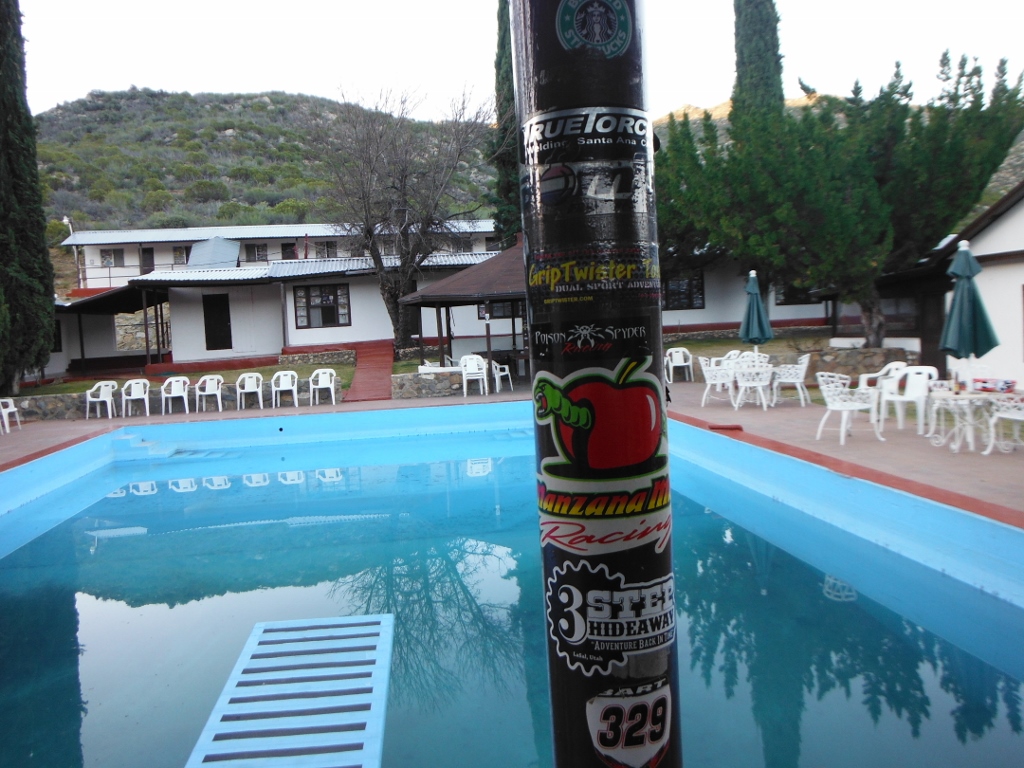 For those that don't know----this place was originally built by a few rich hunters who even had a landing strip nearby.
There's a diesel generator that provides power from 6---9PM and then it's lites out.
Dinner and breakfast is served to all guests.
Be there on time or don't eat.
And looky who I ran into----the nice fellow that gave me the therm-a-rest.
He and his wife knew that we were heading here and it was so nice to run into them again.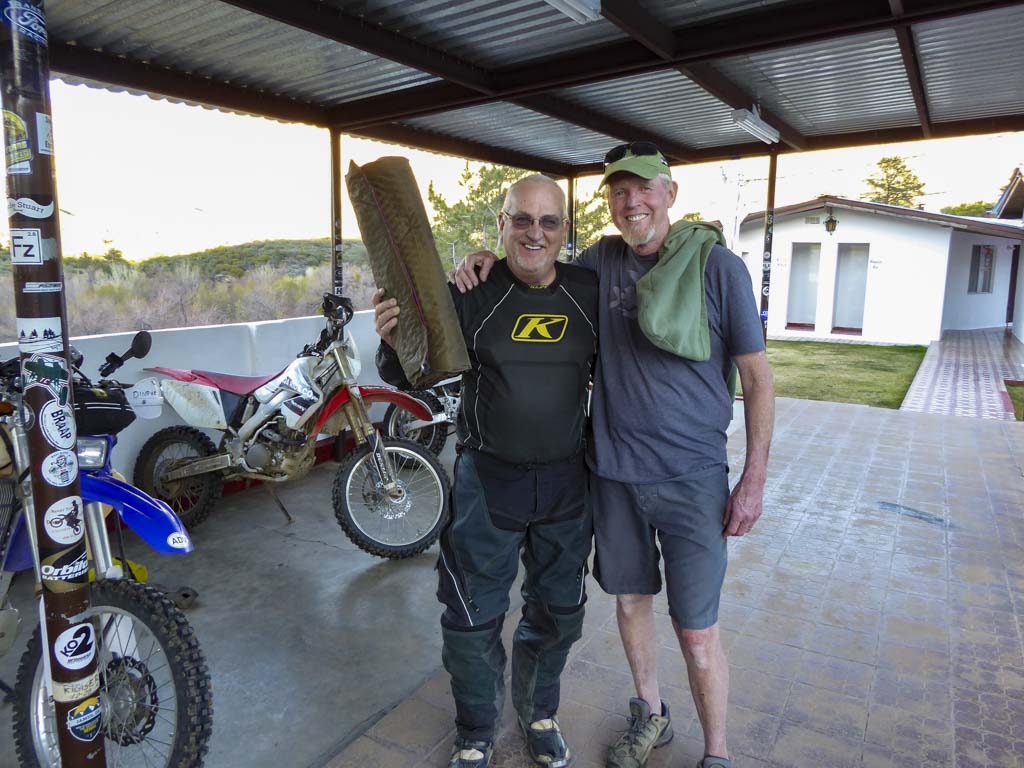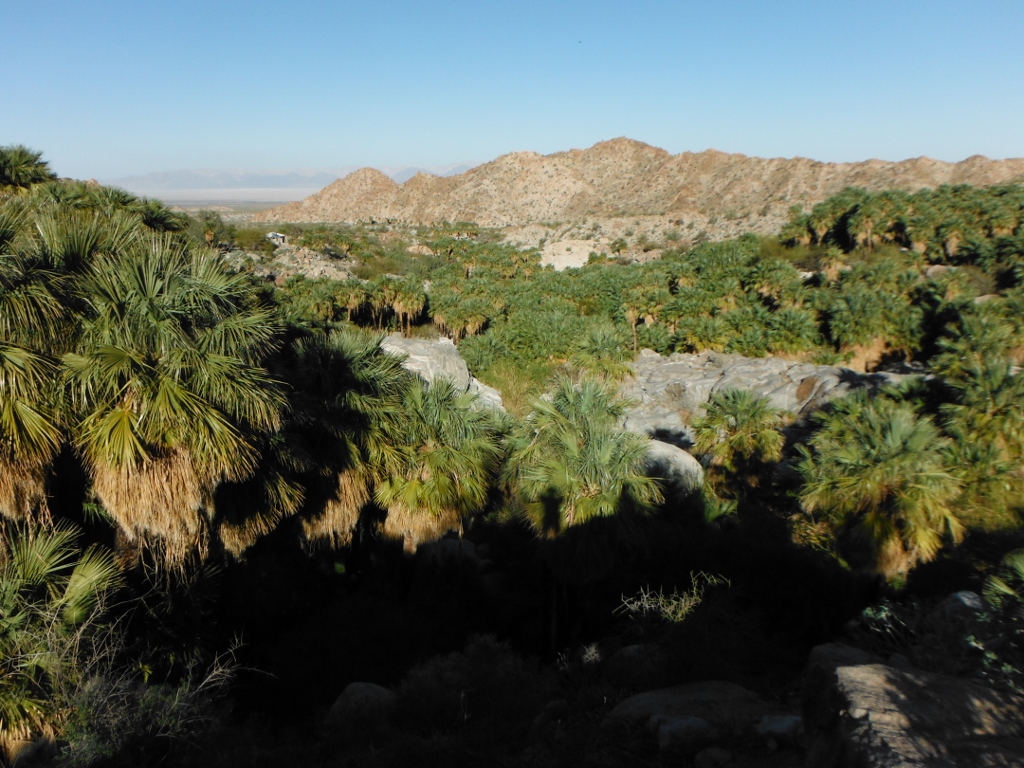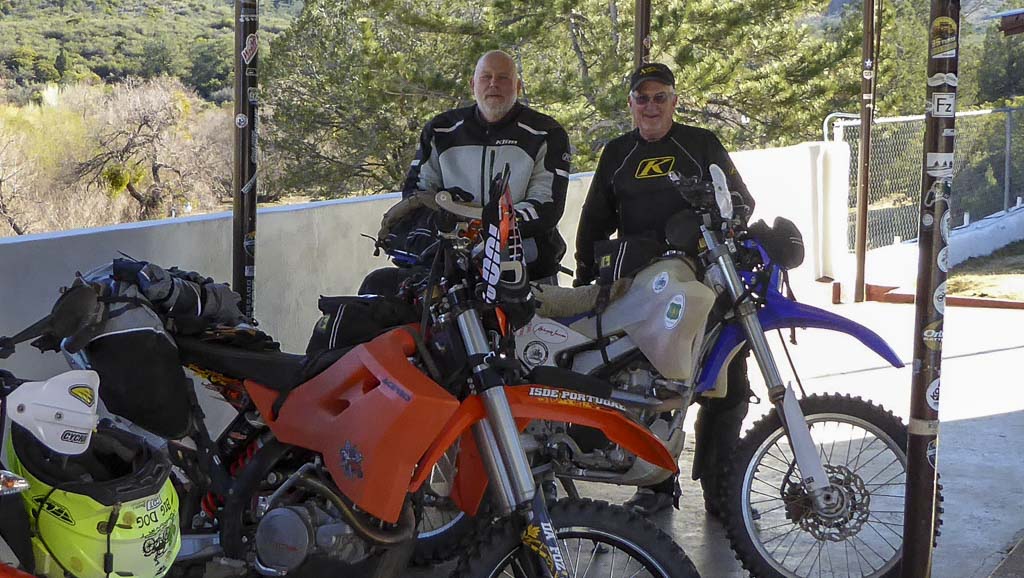 The rooms have these neat little oil fired heaters in them.
There is never a need for air conditioning at this altitude.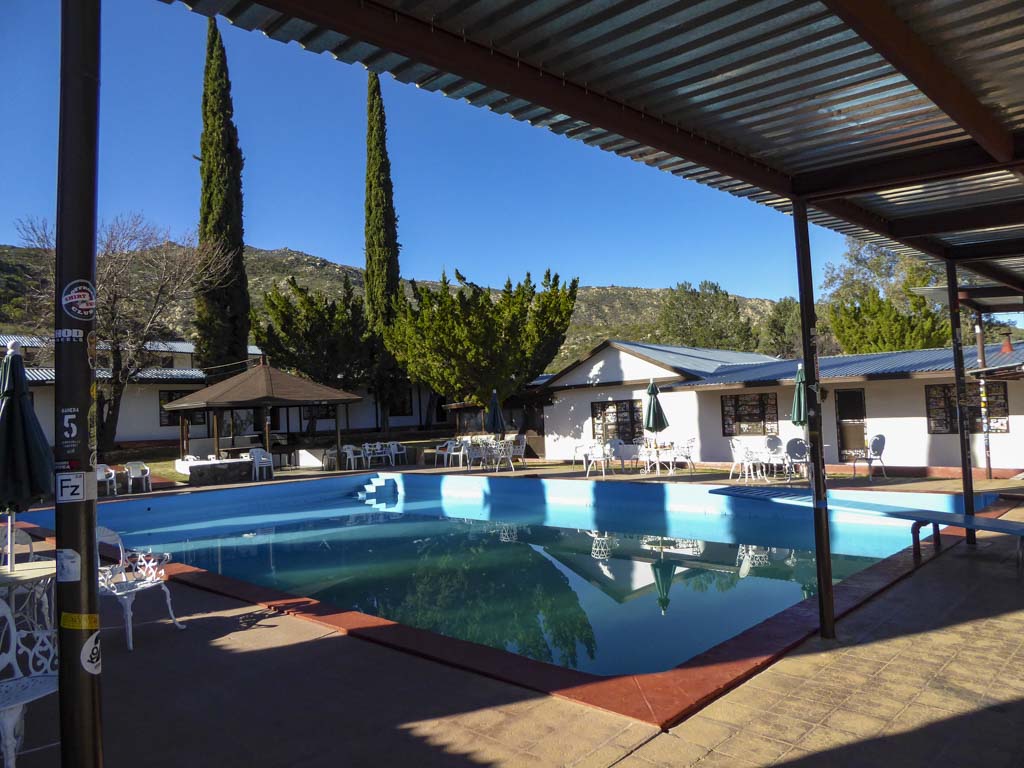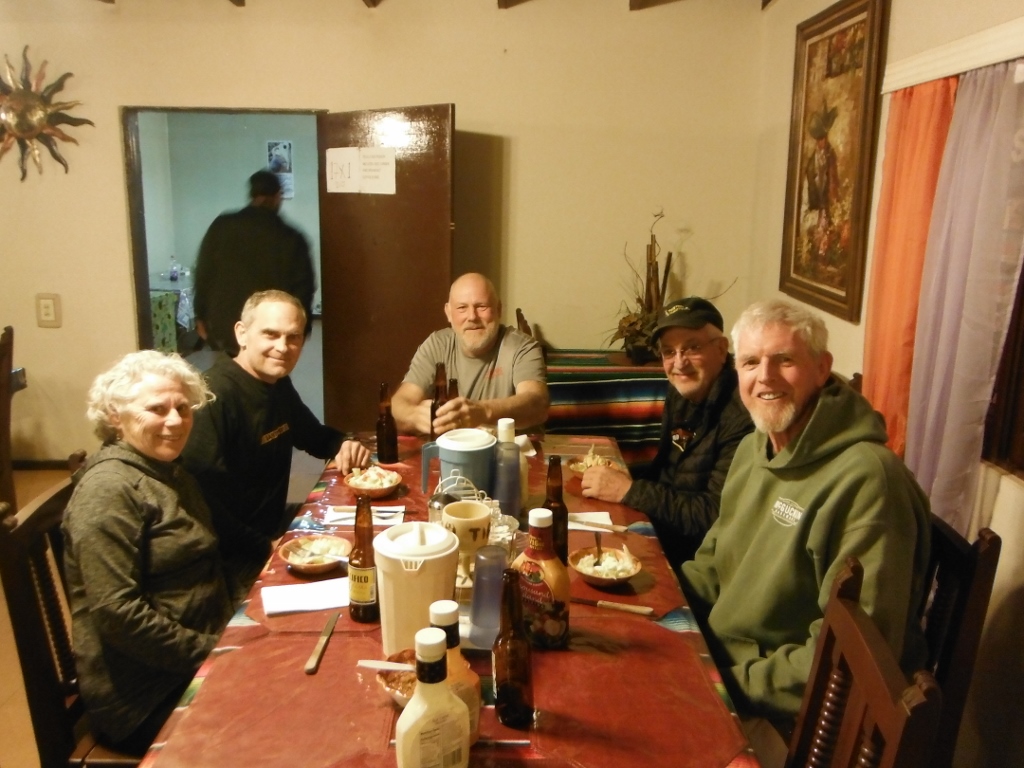 Dinner is served----and I once again got to enjoy the thinnest flapjacks in all of Mexico !!!!!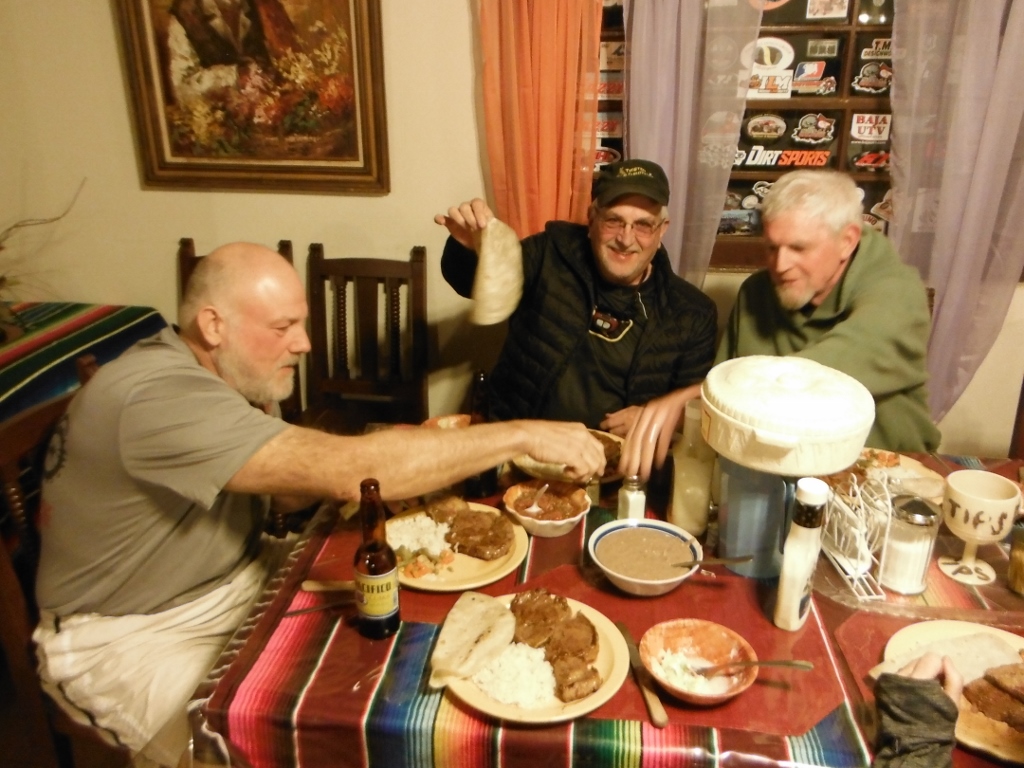 This is not ordinary food----------the steaks were tender, juicy and delicous.
There are 50 restaurants in my hometown--------I can't get a steak this good at any of them.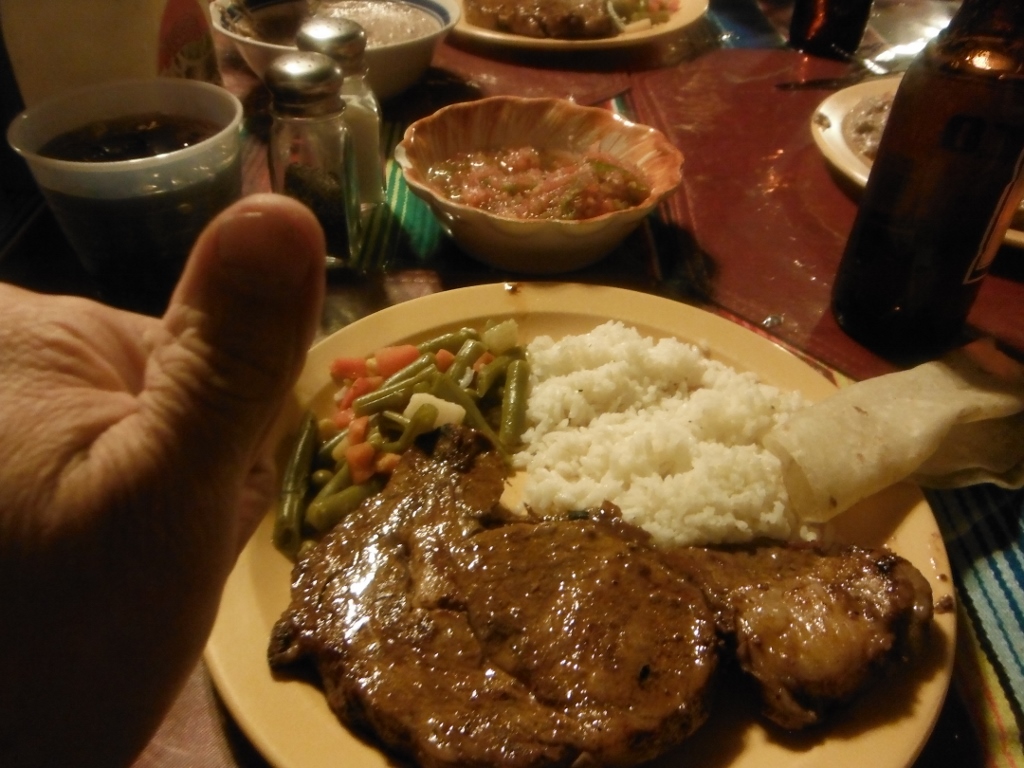 Here's a short video arriving at Mikes Sky Ranch
The sound is awful again as I hadn't started using my normal helmet camera yet.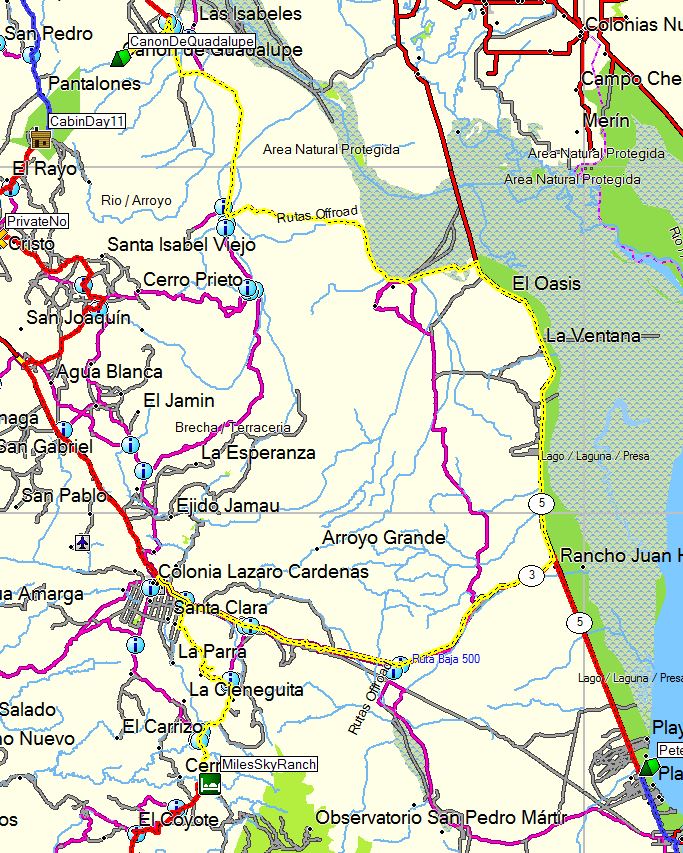 Day 3 February 10th, 2016
After breakfast we are ready to leave Mikes.
This year I guided these guys on a completely different route out of here.
The one we rode 2 years ago was pretty brutal and Dingweeds broke his ribs.
So off to the Southwest we rode toward the Coyote Ranch.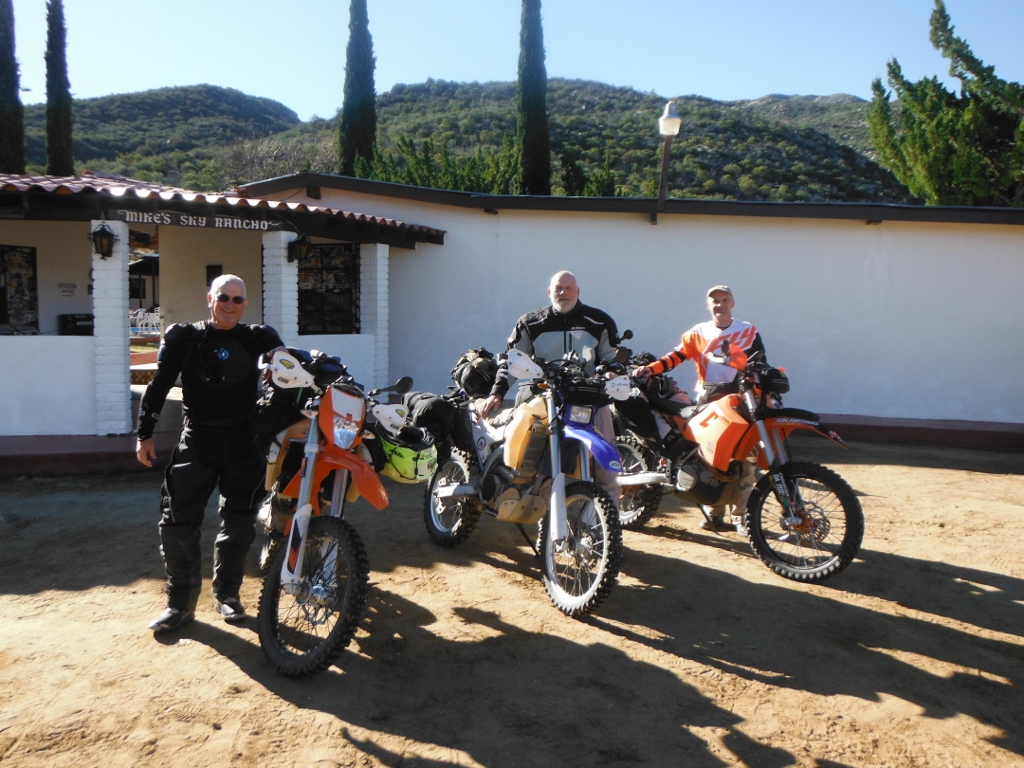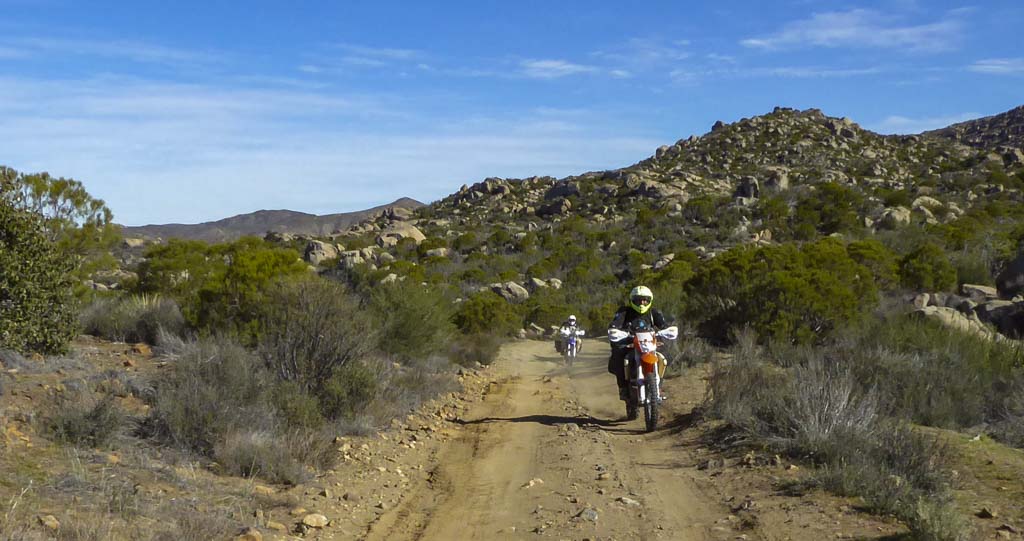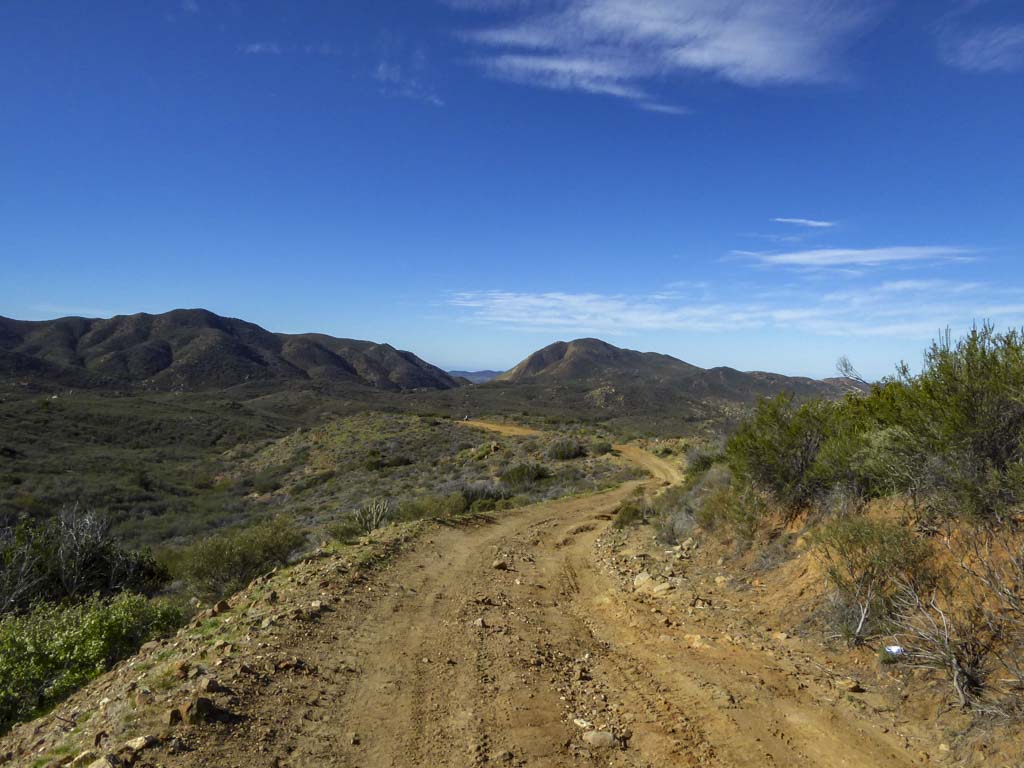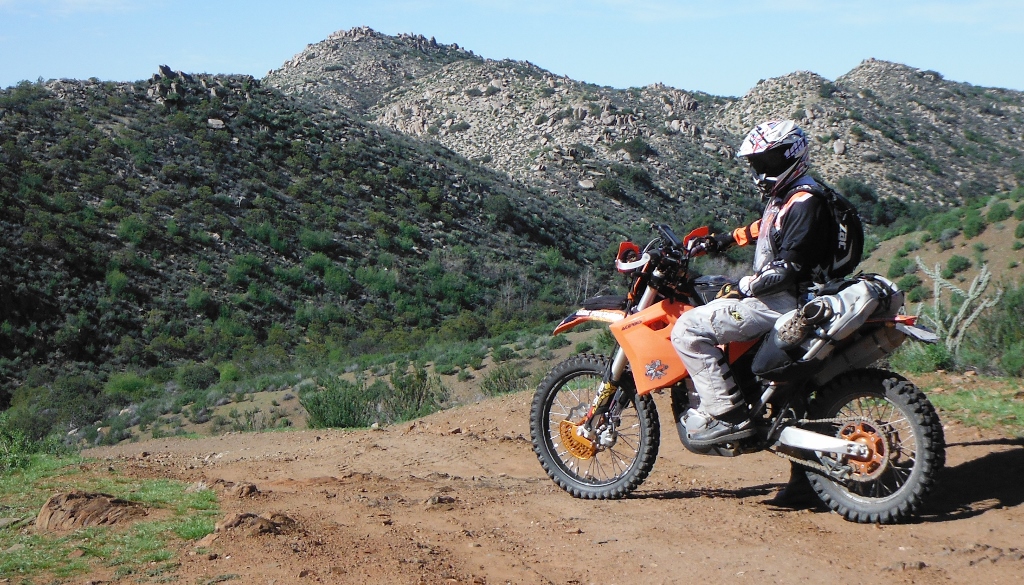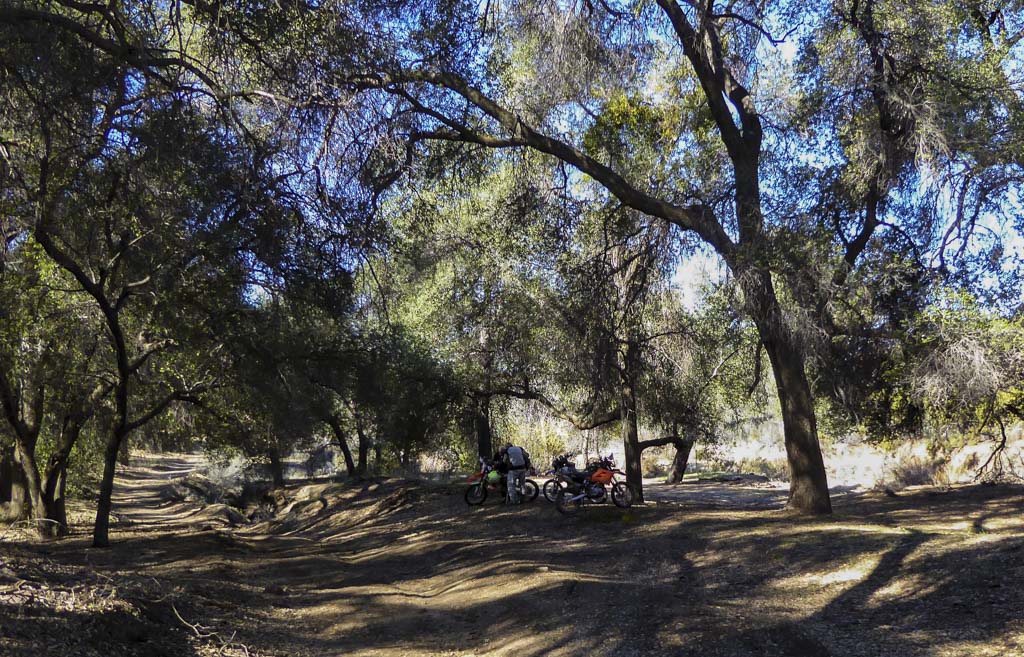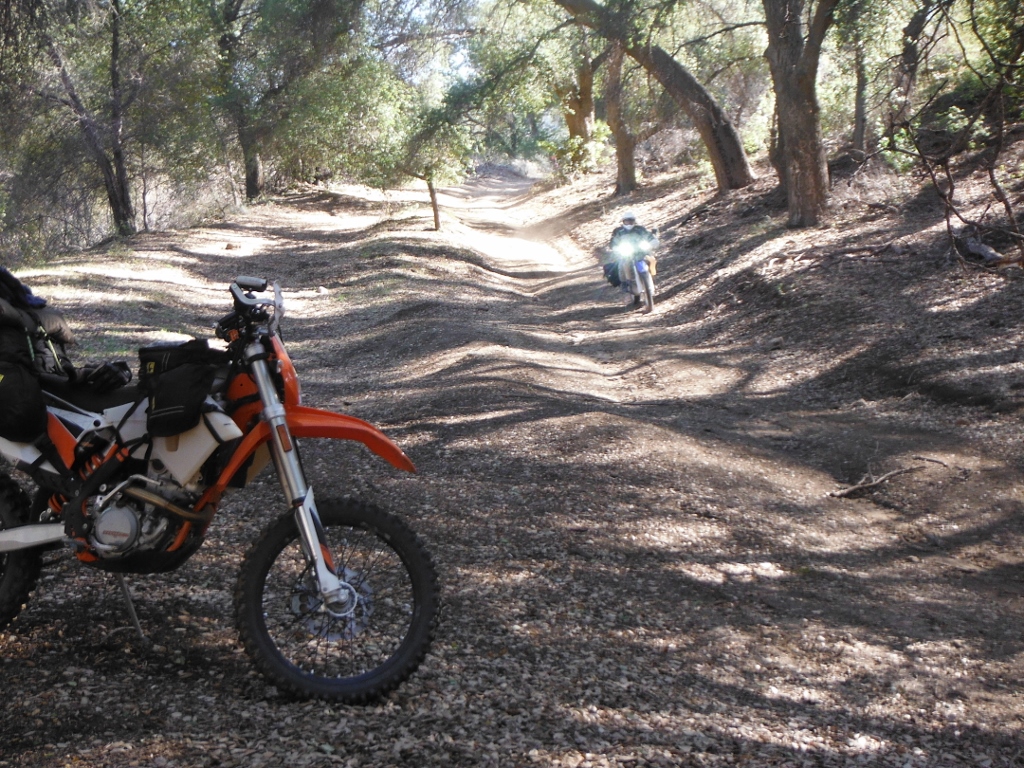 The riding was absolutely magnificent.
Much of it would have been impassable for us if it had be real wet.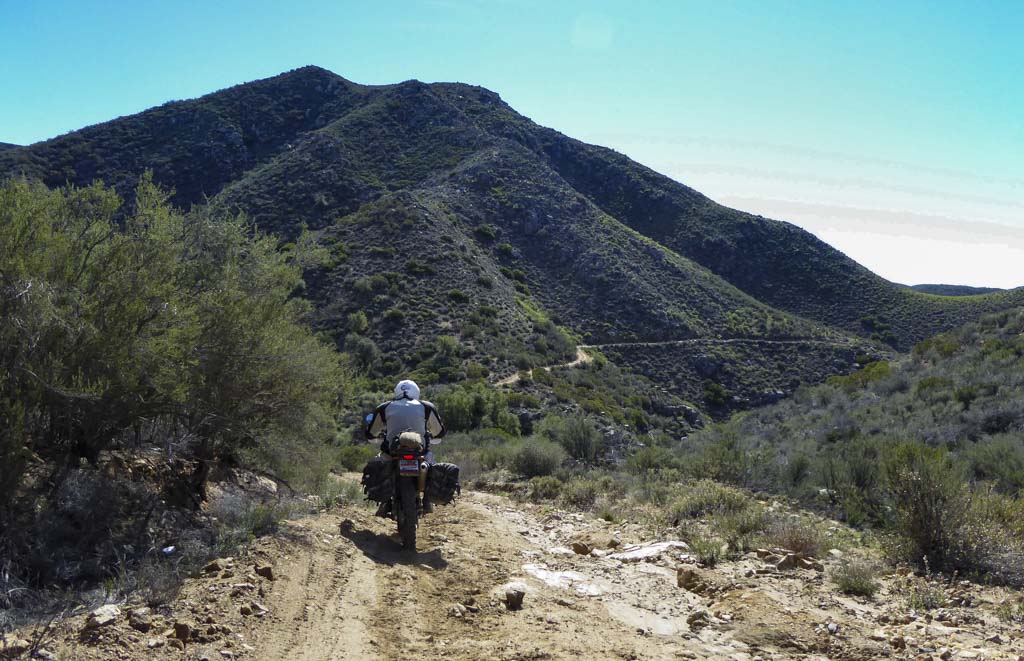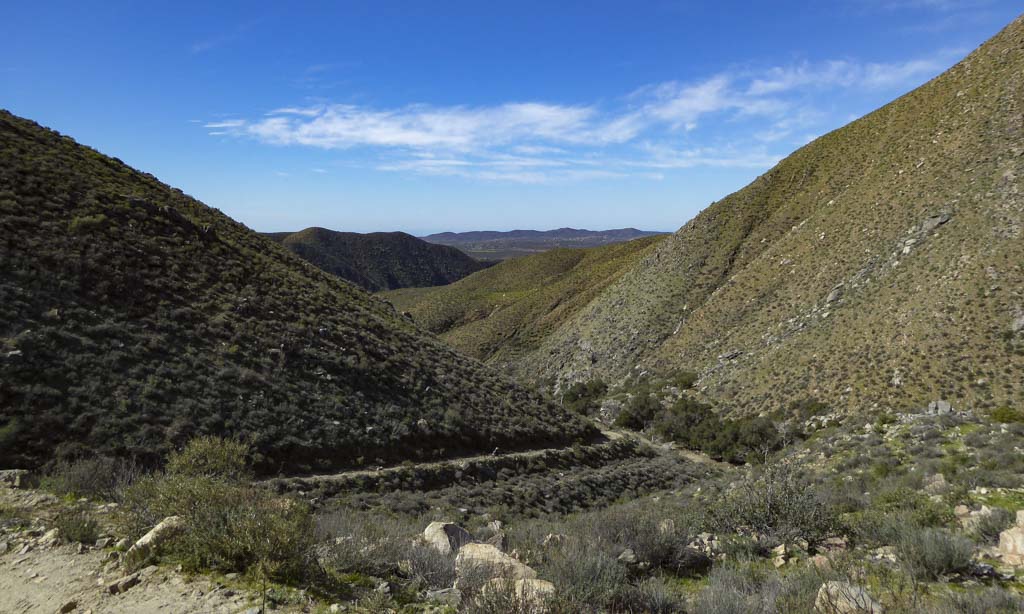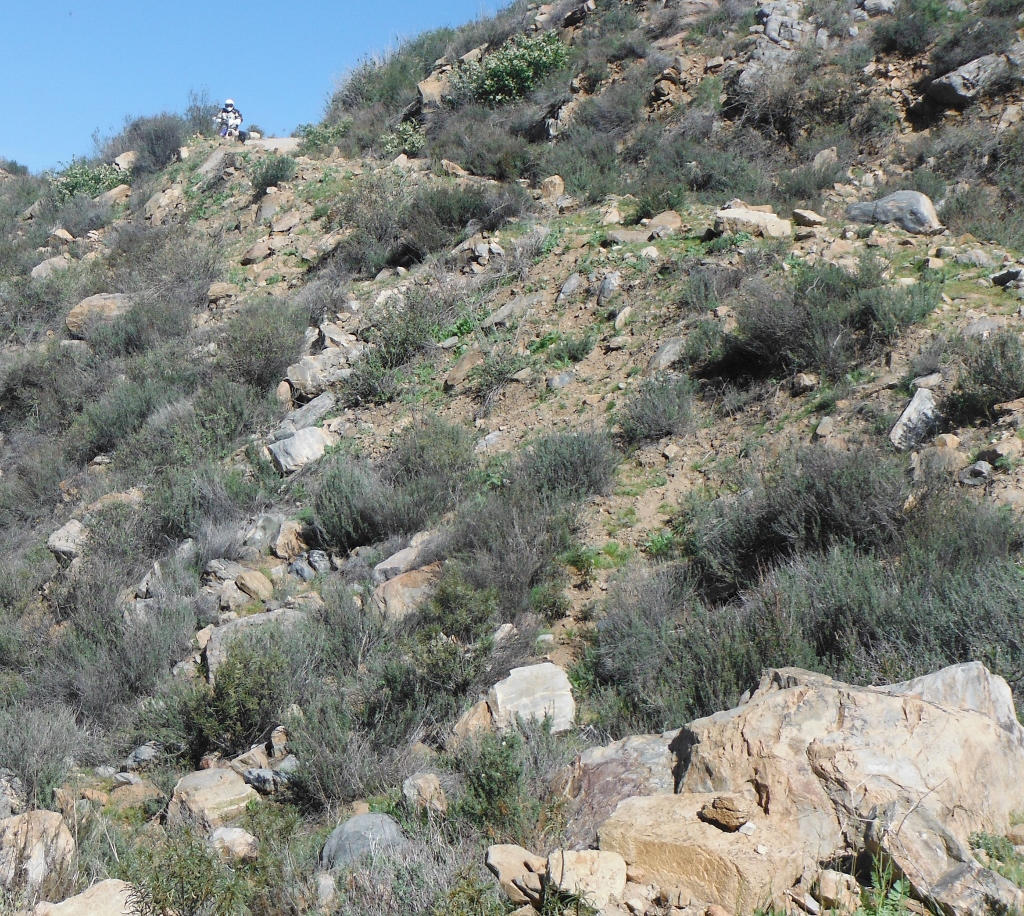 A lot of the roads were littered with baby head rocks that kept you on your toes.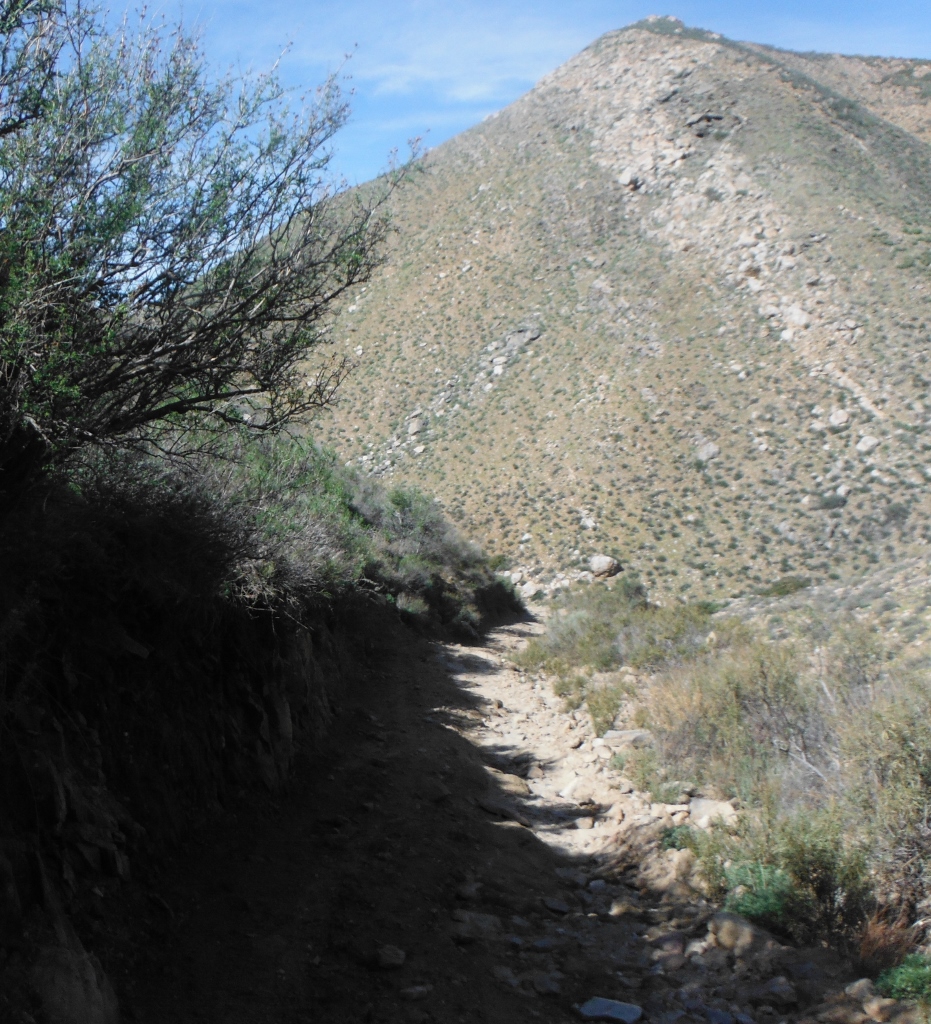 Dingweeds go down hard after getting in a deep rut.
I did the same thing but didn't go down.
The rut was easy to avoid but we both wandered off in it---we just weren't paying attention.
Dingweeds has a new hip and we both thought he was hurt.
But he's a tuff old dog and got up unscathed.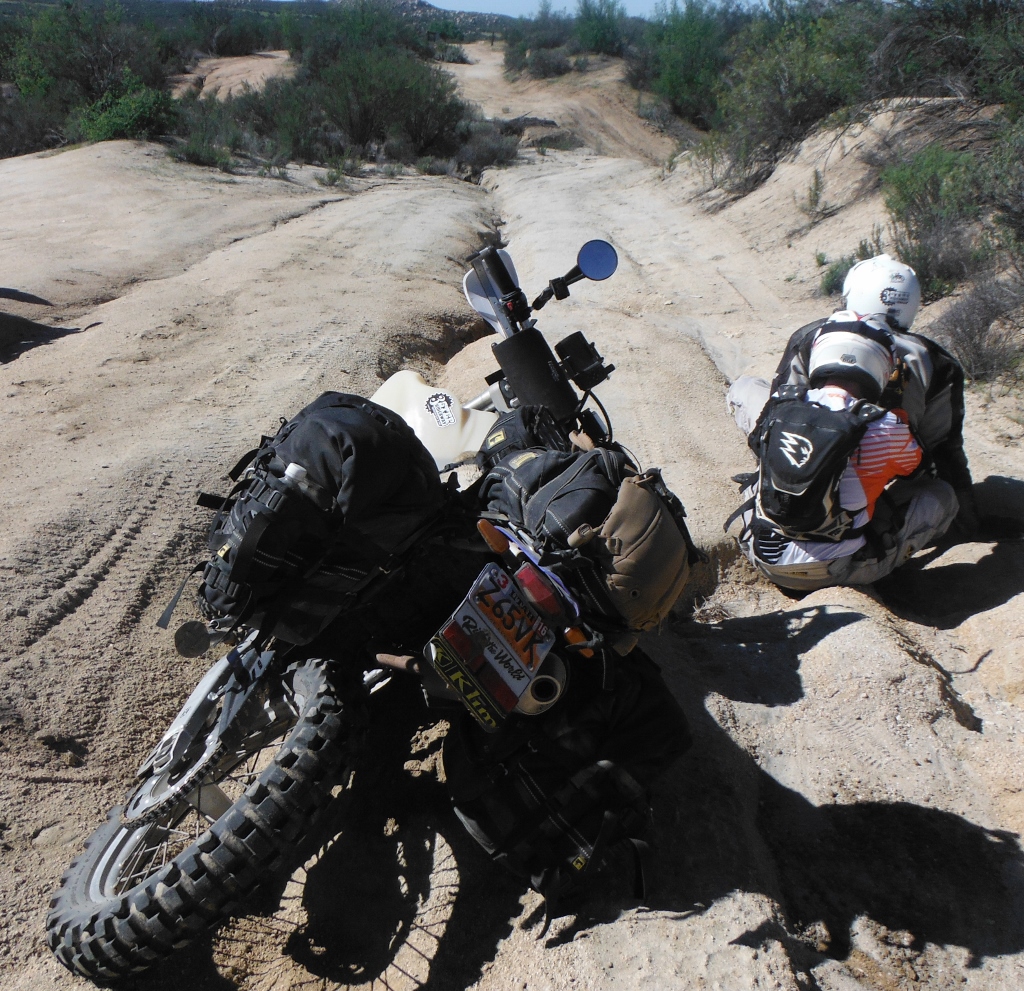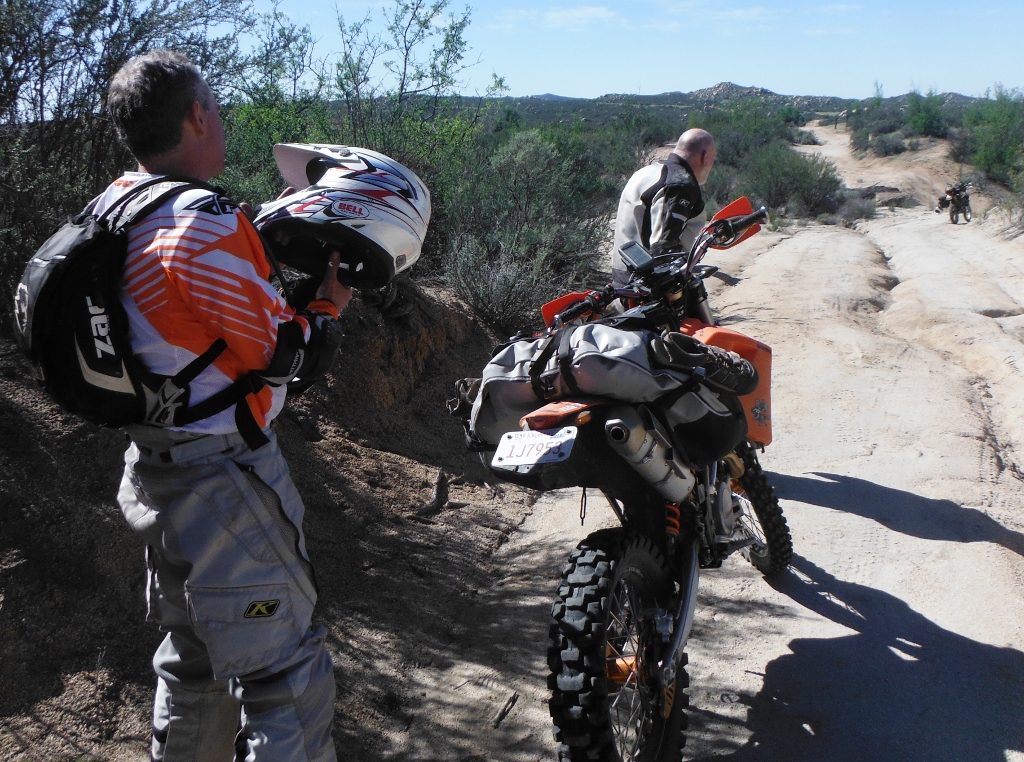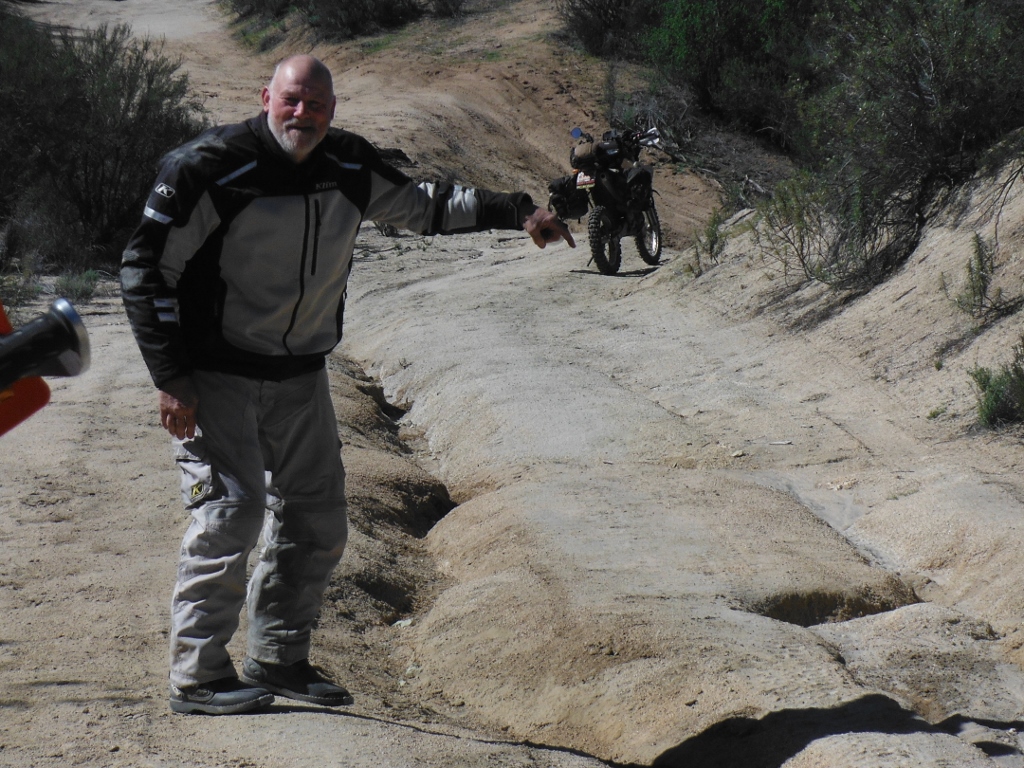 We arrived at the Coyote Ranch----a working ranch that has cabins for travelers.
I'd seen the place before and passed by---but this year we rode thru and it's a super nice place.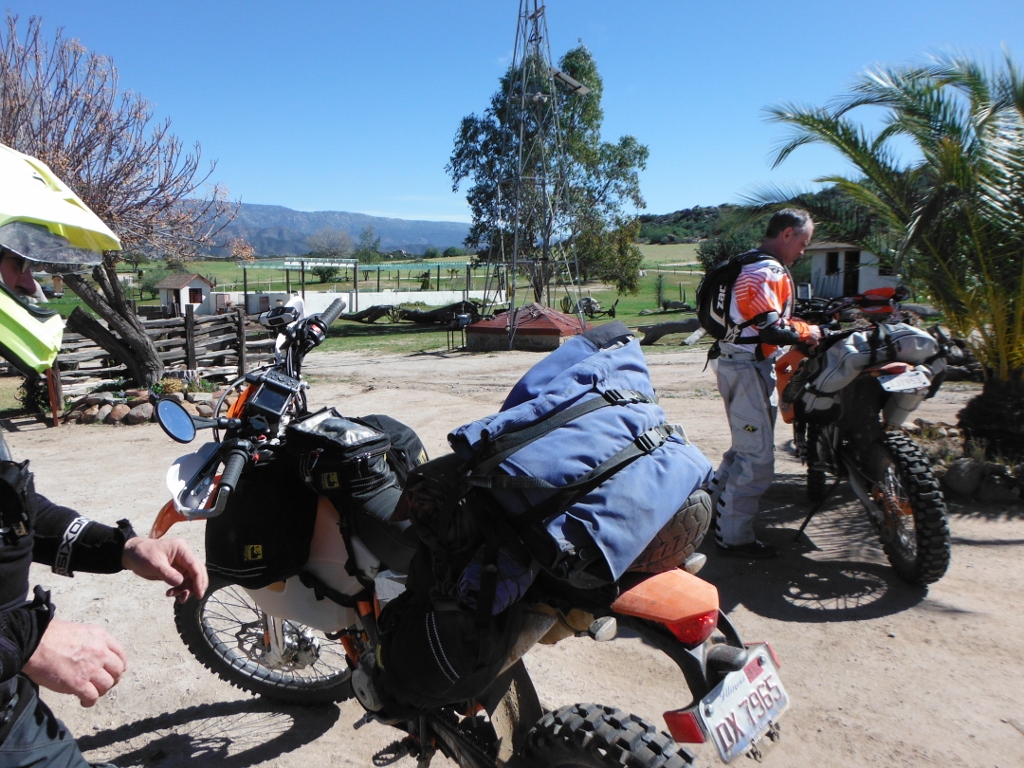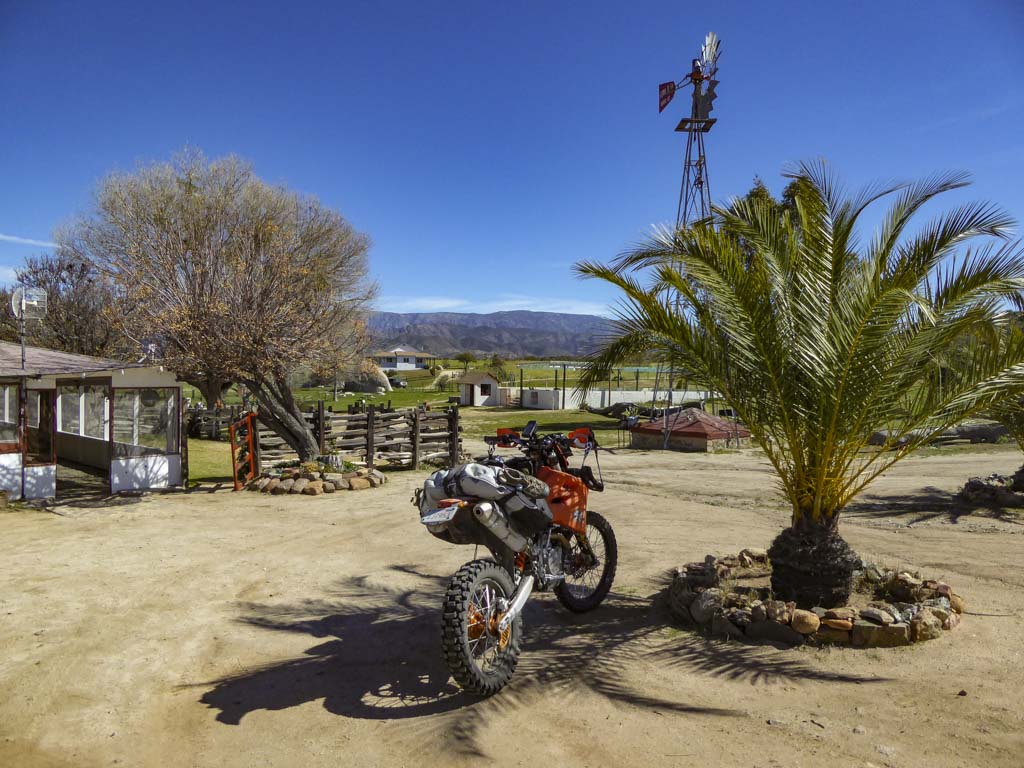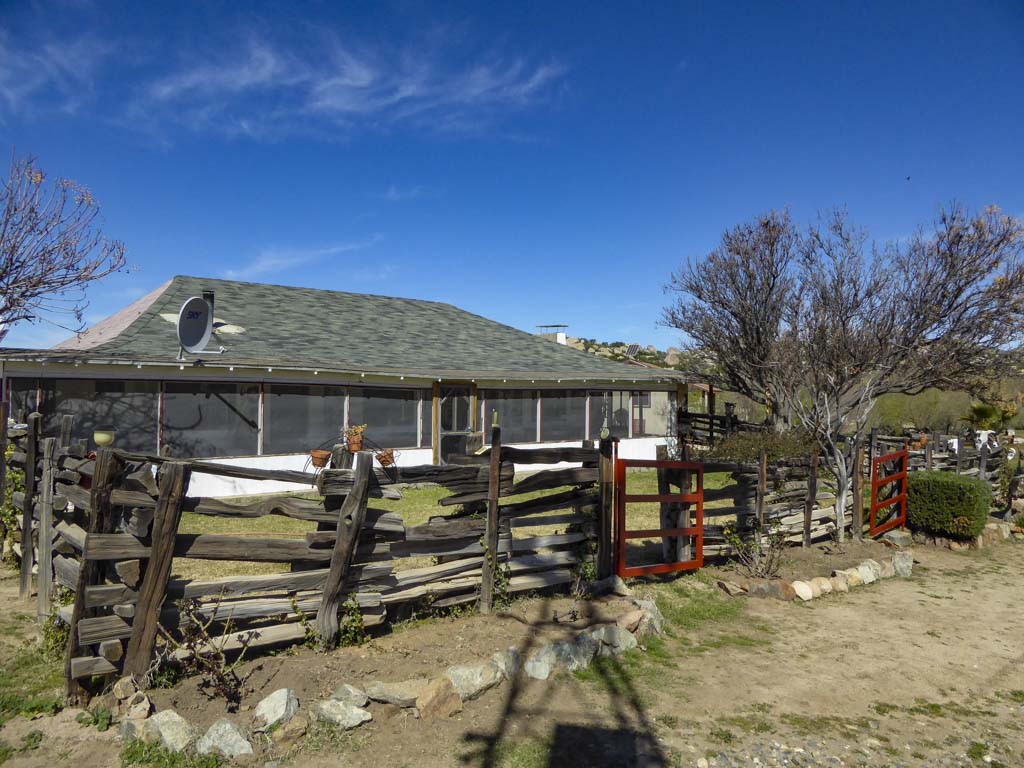 We had ridden right passed where Dingweeds broke his ribs 2 years ago.
This nice fellow here provided us with some cokes and we took a long break here.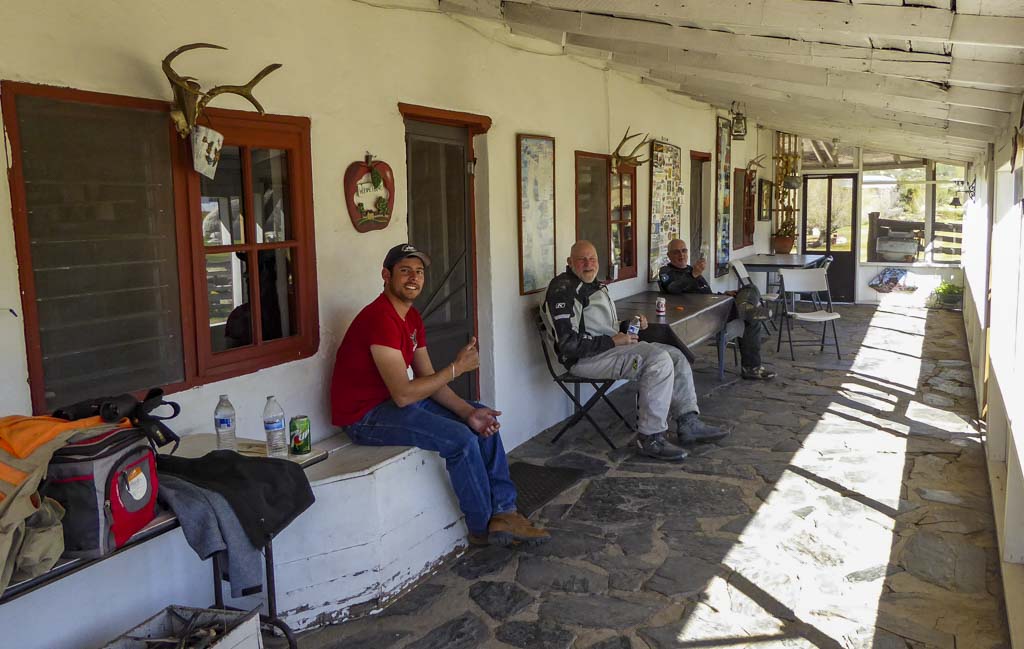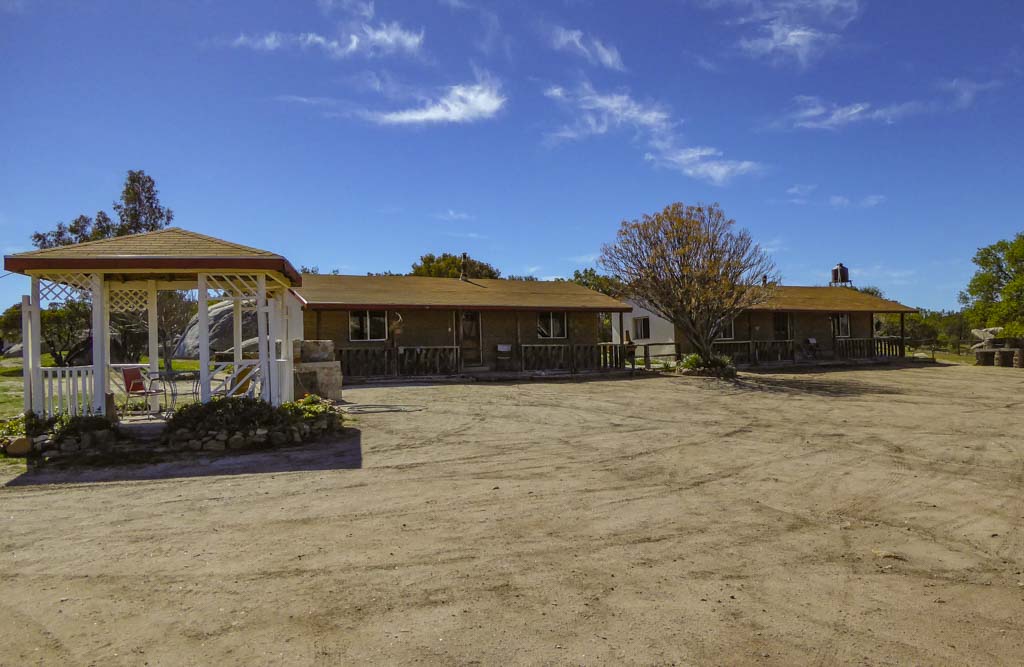 This plant is 5' tall and beautiful.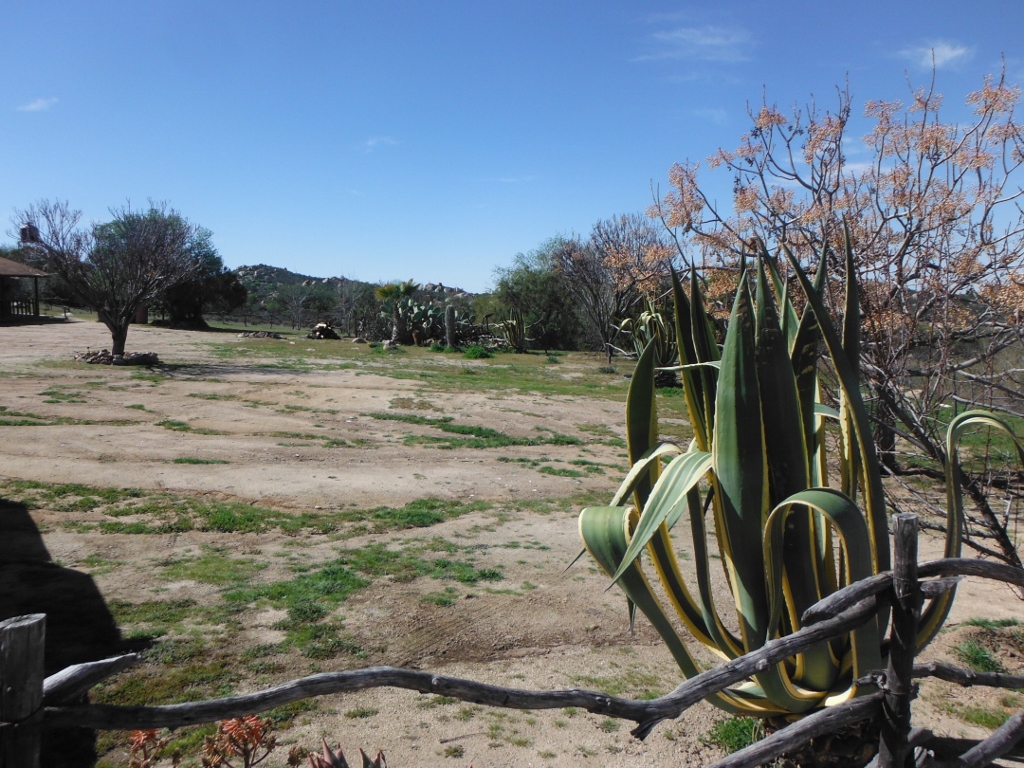 We crossed paved route 1 later on-----fueled up and headed straight West toward the Pacific ocean past some farming.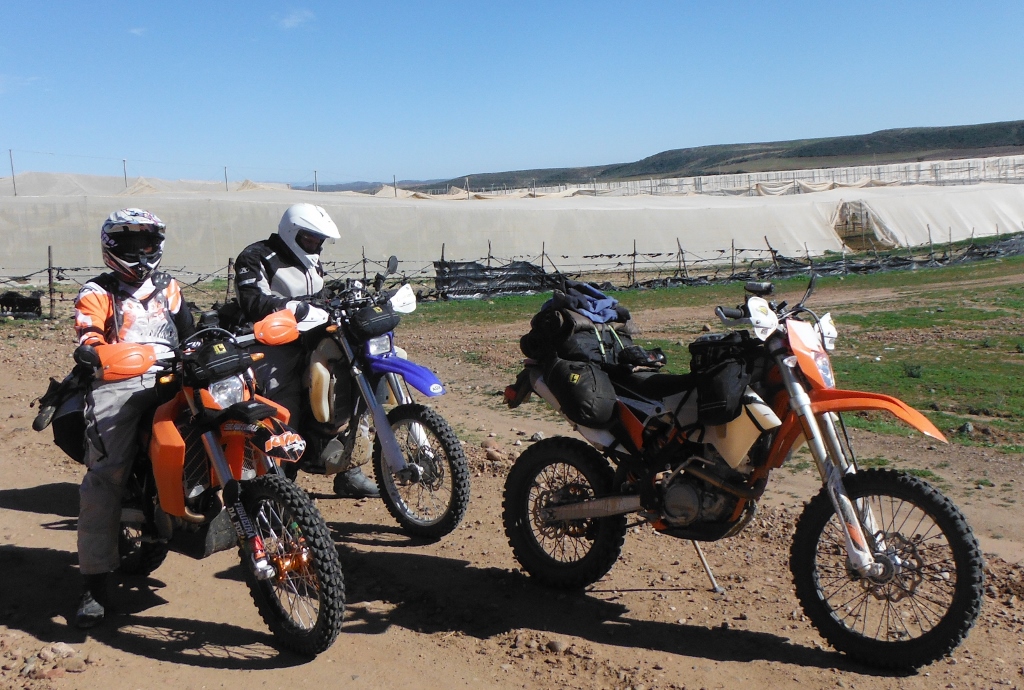 We rode a good 15 miles South right along the ocean. The smell of the sea was invigorating.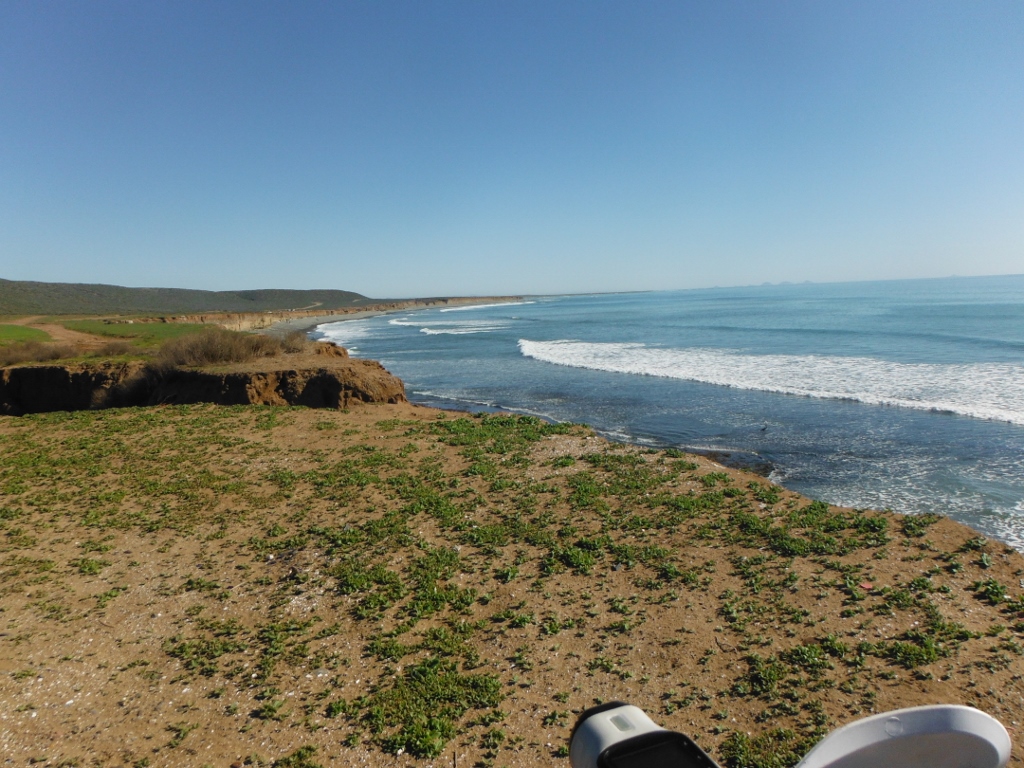 I remember distinctly how enthusiastic High Five was at being at the ocean.
We would be at the ocean a lot on this ride.
Beautiful temps everyday---and not a cloud in the sky.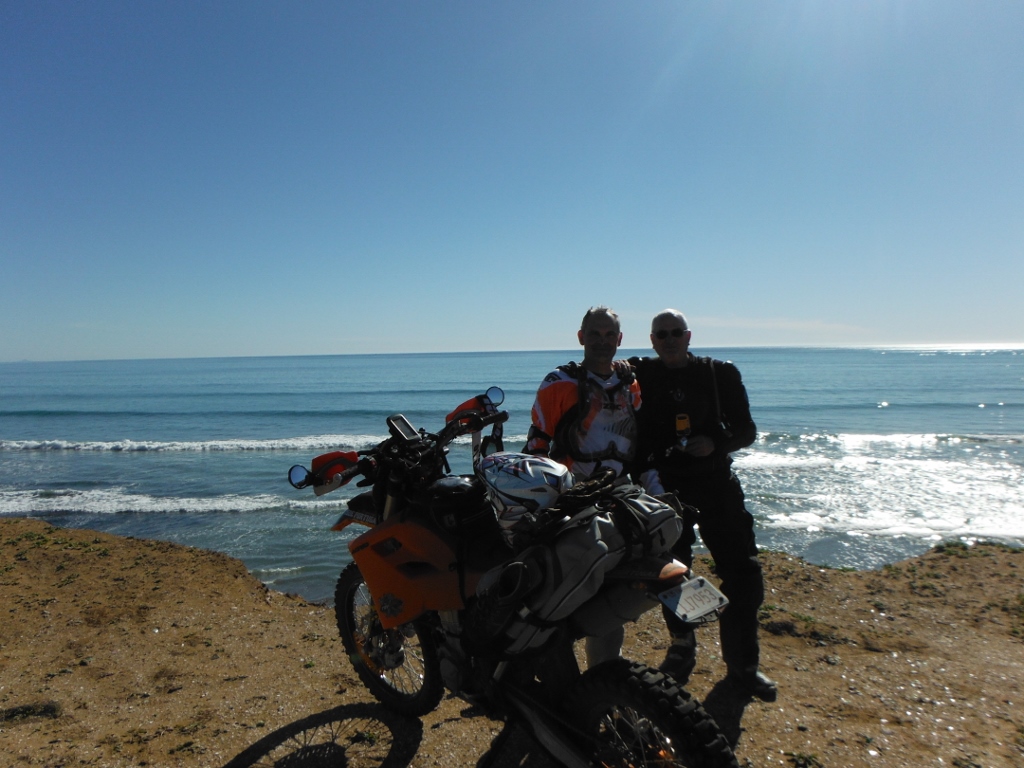 We passed by this very old shipwreck near Campo Turisto Punta San Juanito.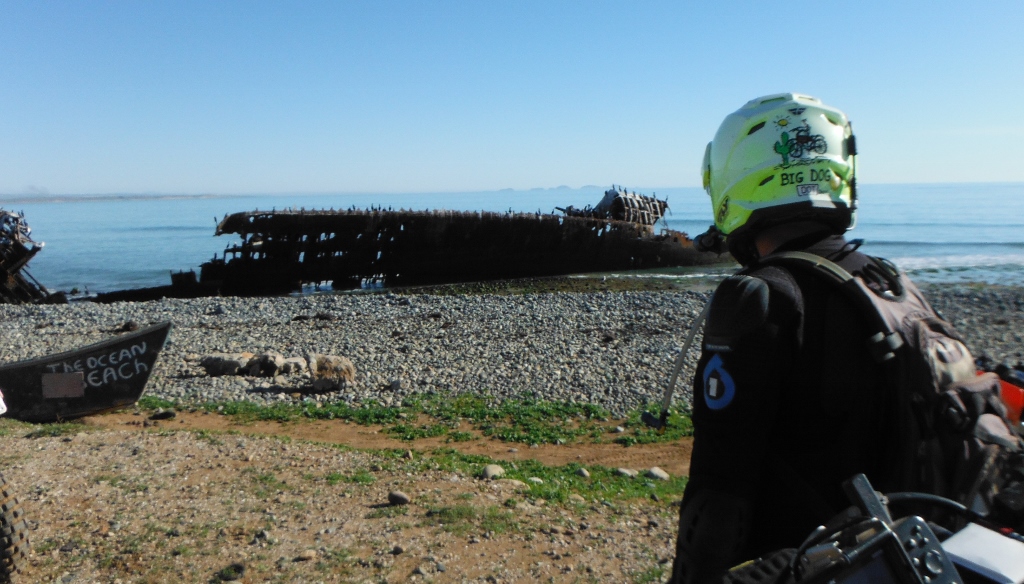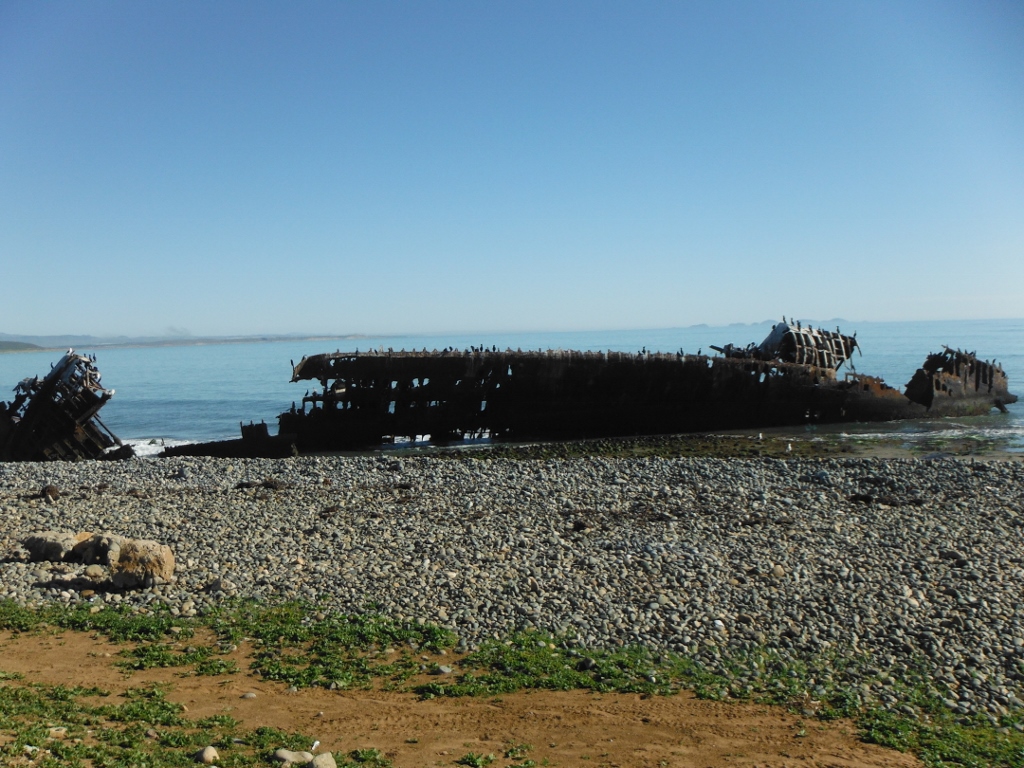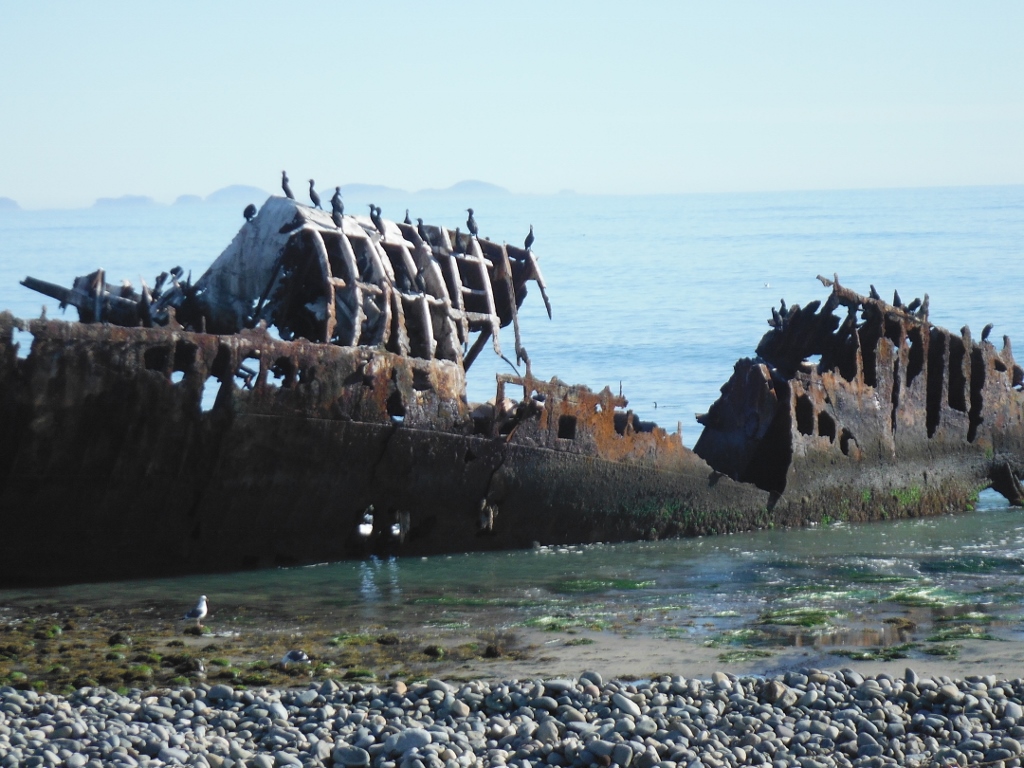 We were very lucky to get down this 15 mile stretch along the ocean.
There were about 5 spots the road was completely gone.
I don't know how some of the vehicles we saw got out here----maybe there were trapped till the road got fixed.
This go around wasn't too hard. Look at the construction of the old culvert.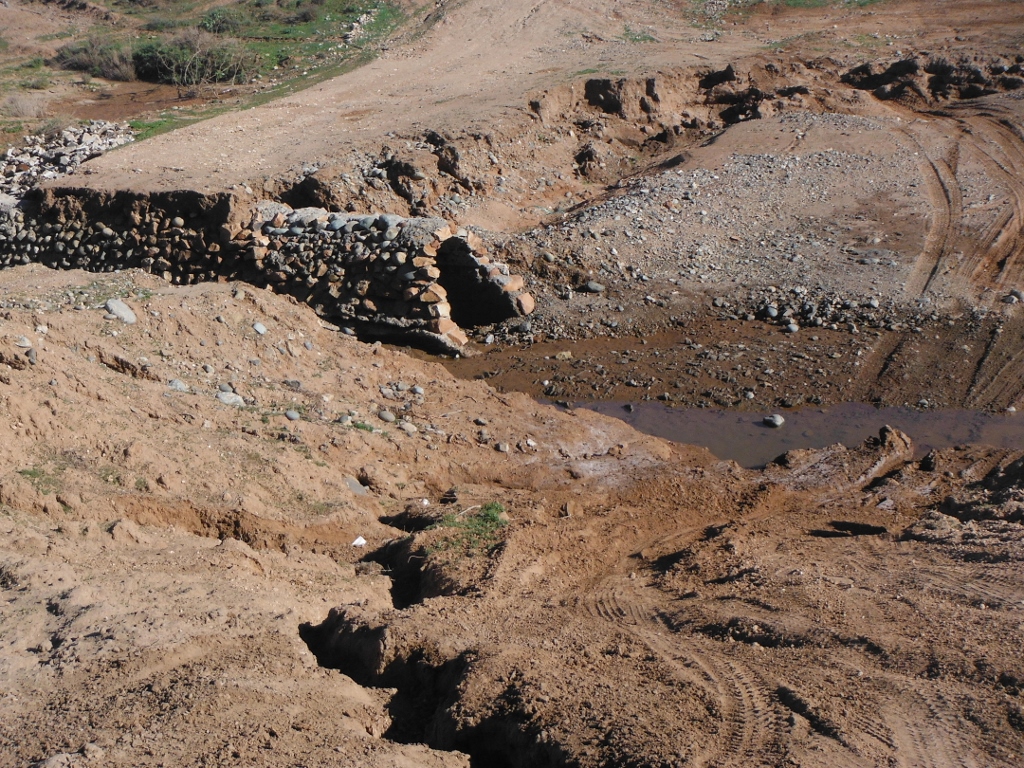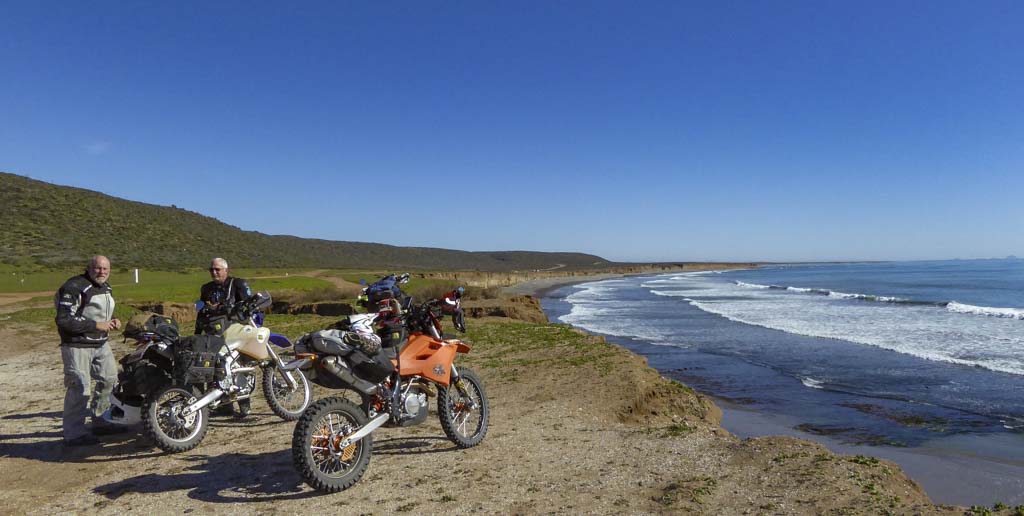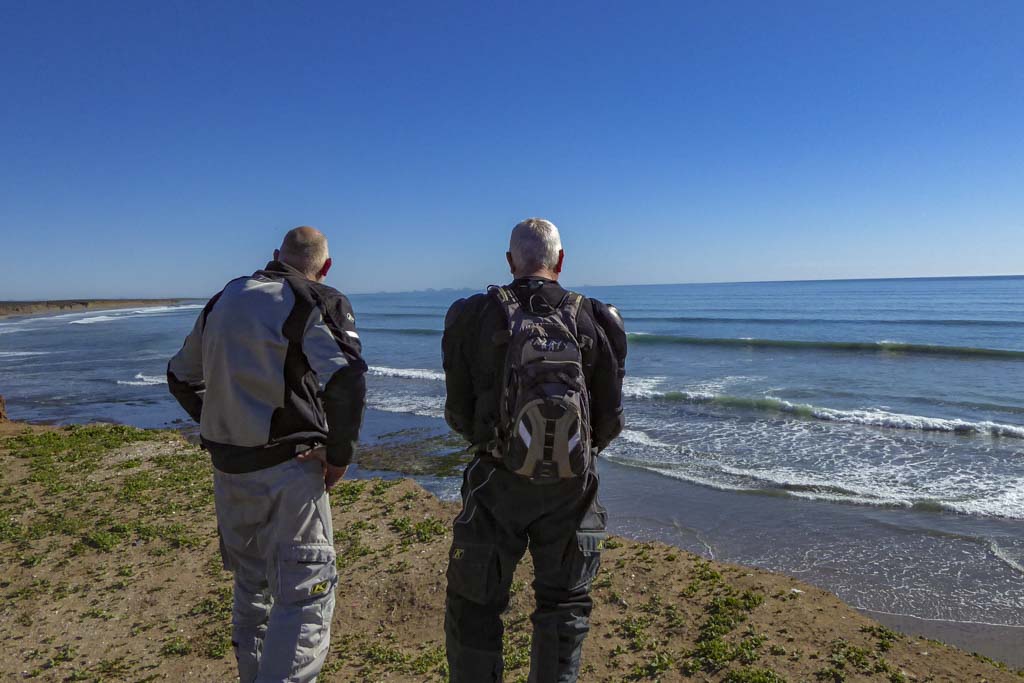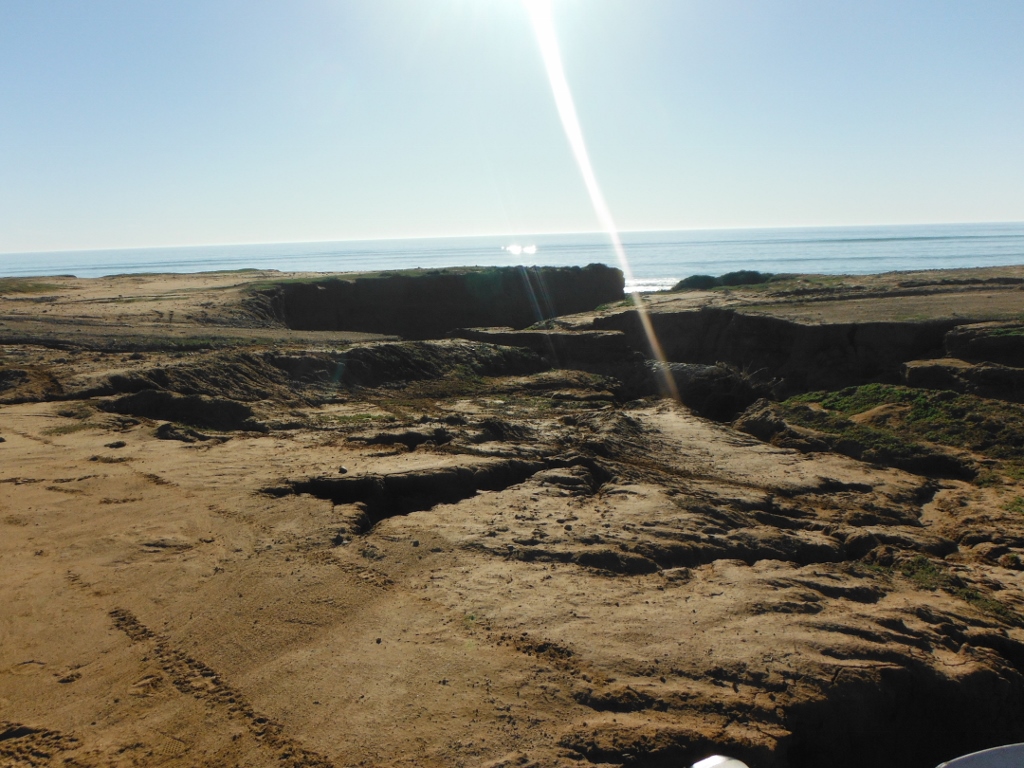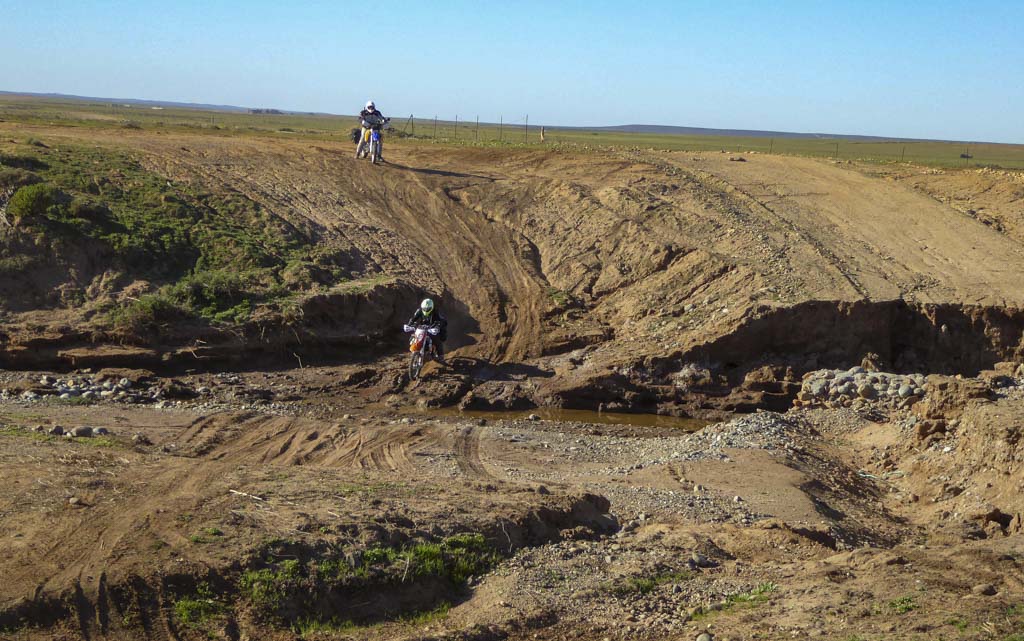 None of us ever did get up this.
I finally gave up and went East beside the creek for about a 1/2 mile and found an easy spot in a farmers field.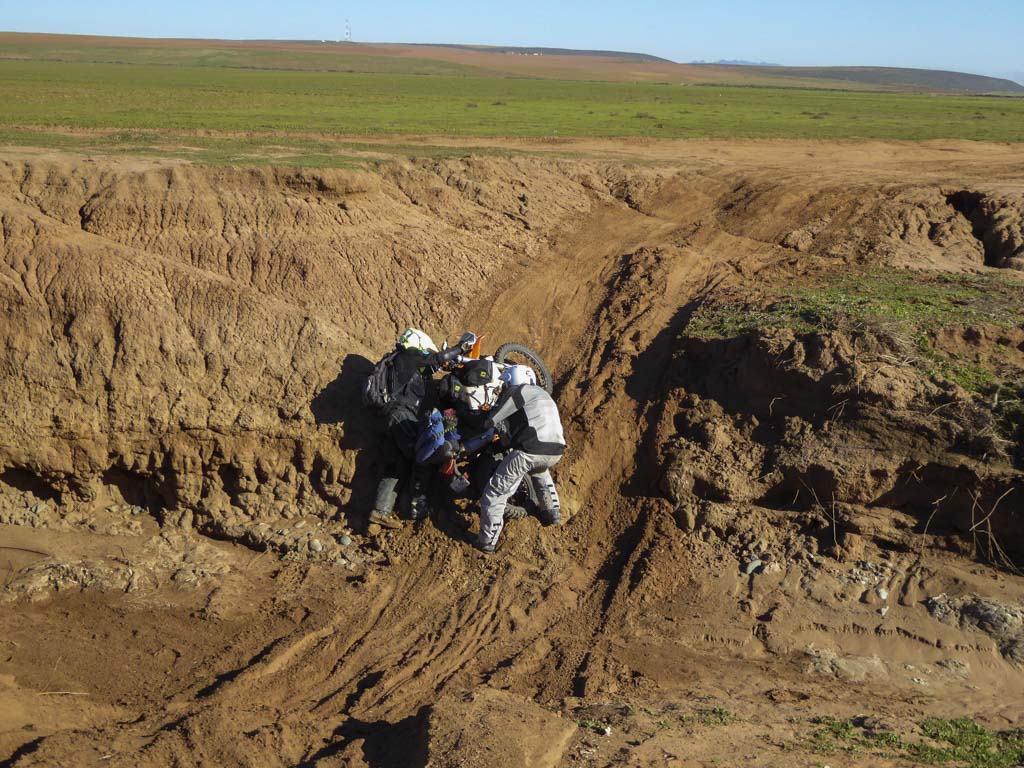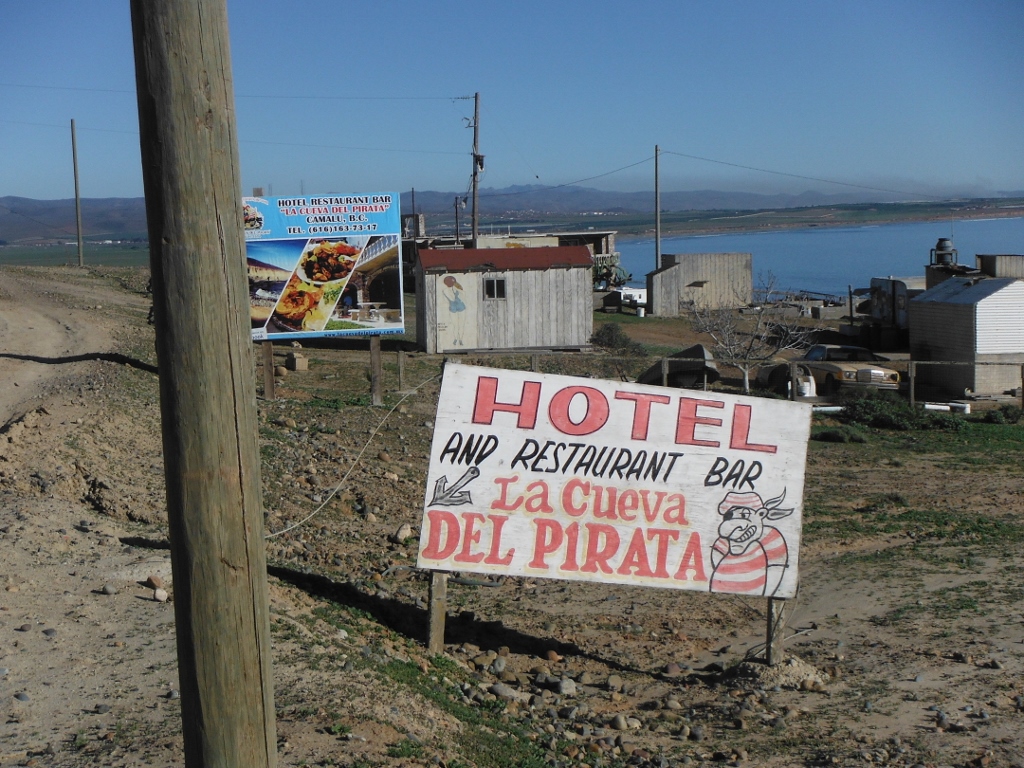 Knowing this was down the road-----I had started to think we'd never make it with all those washouts we had to cross.
But we holed up at Pirates Cove-----------a pretty nice place to stay that has been left unfinished for years.
Nice big place and we were the only ones here.
The restaurant was open and we ate dinner----I don't know how they keep the doors open.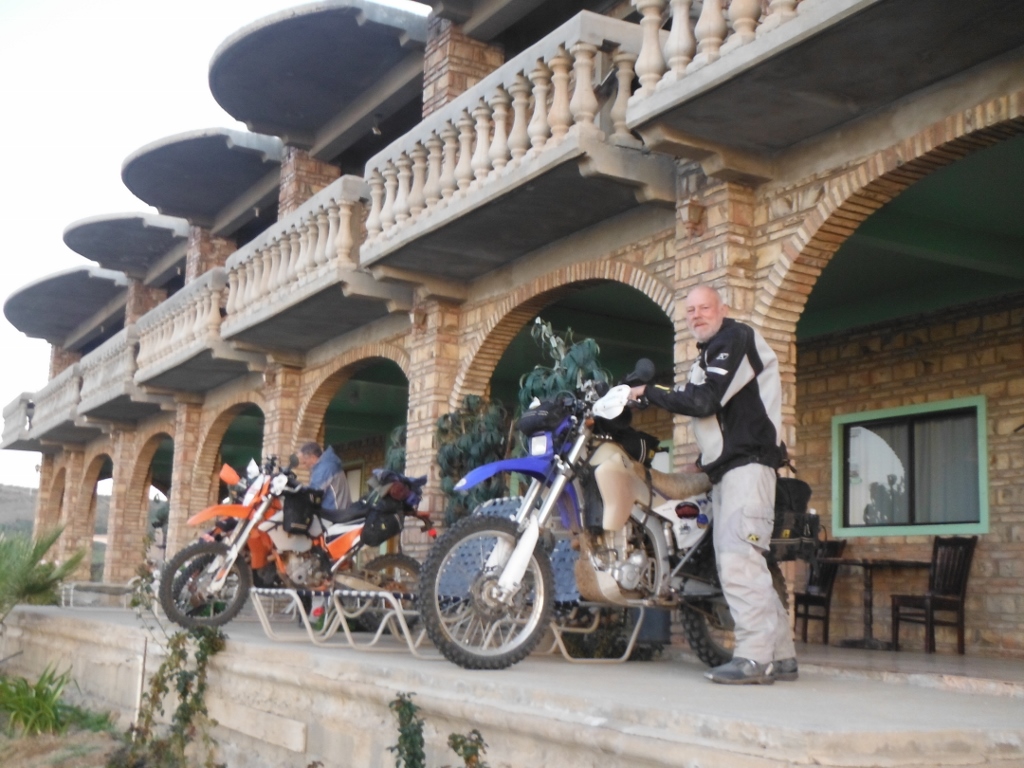 This place is just a bit West of Camalu on paved route 1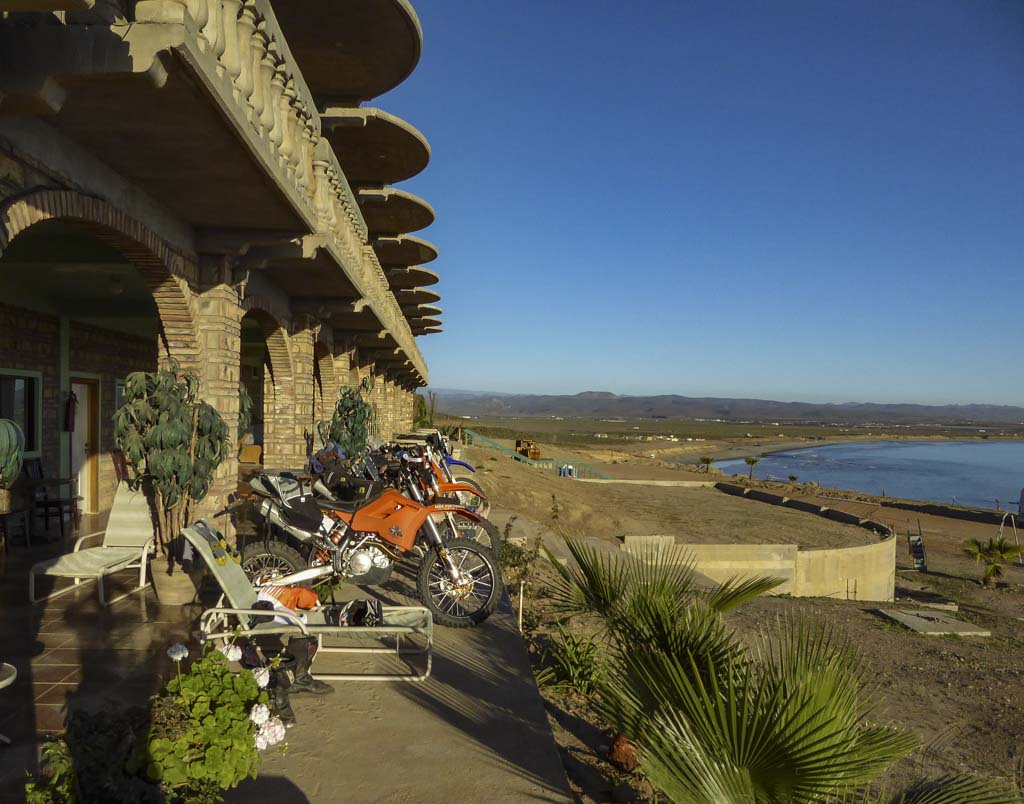 Again---- we stripped down to what we thought we could get away with and enjoyed the sun, beer and a coke for me.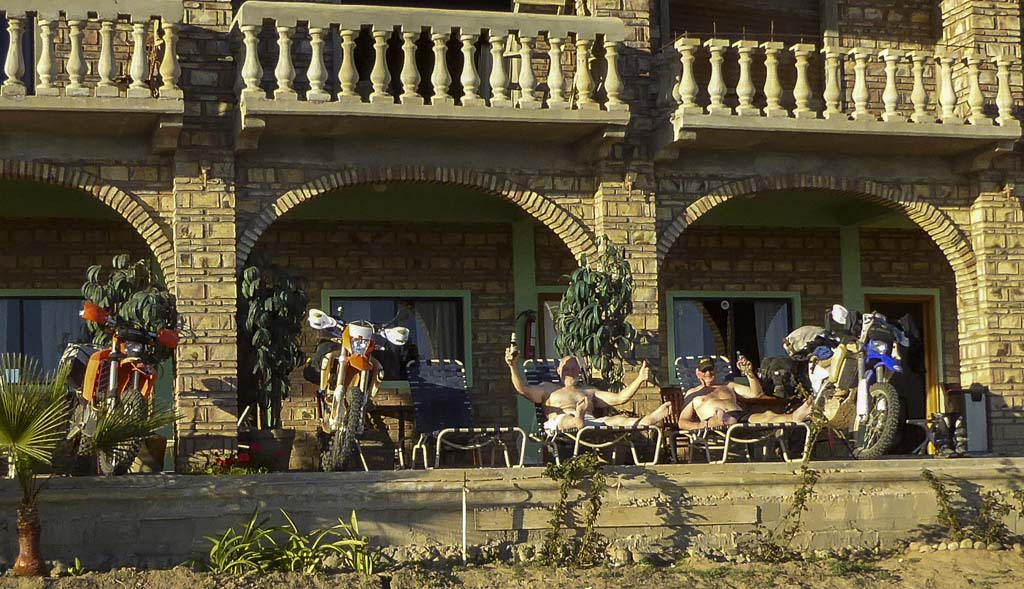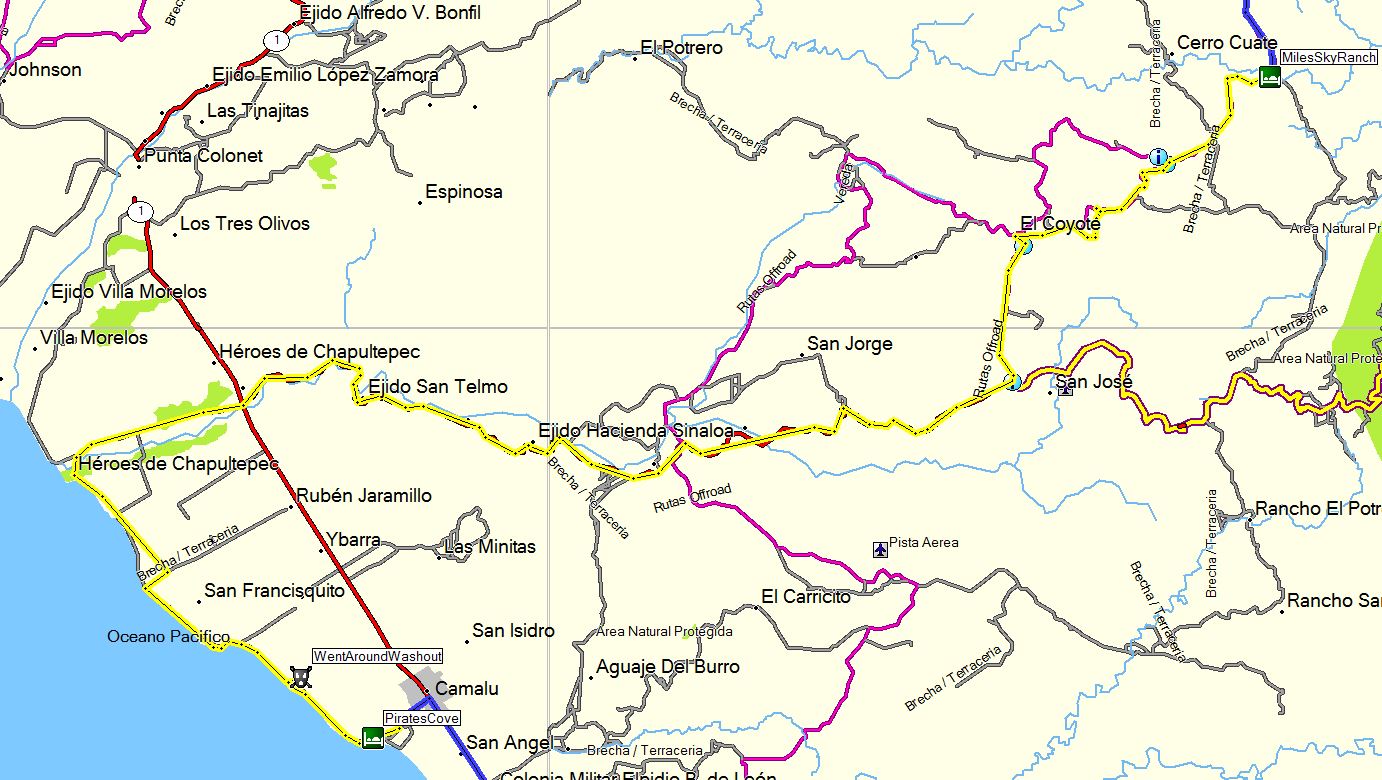 Day 4 February, 11th 2016
The next morning in Calamahu we got gas and got our bikes polished.
He didn't beg-----He was so nice and I admired him for trying to earn some money---and working for it.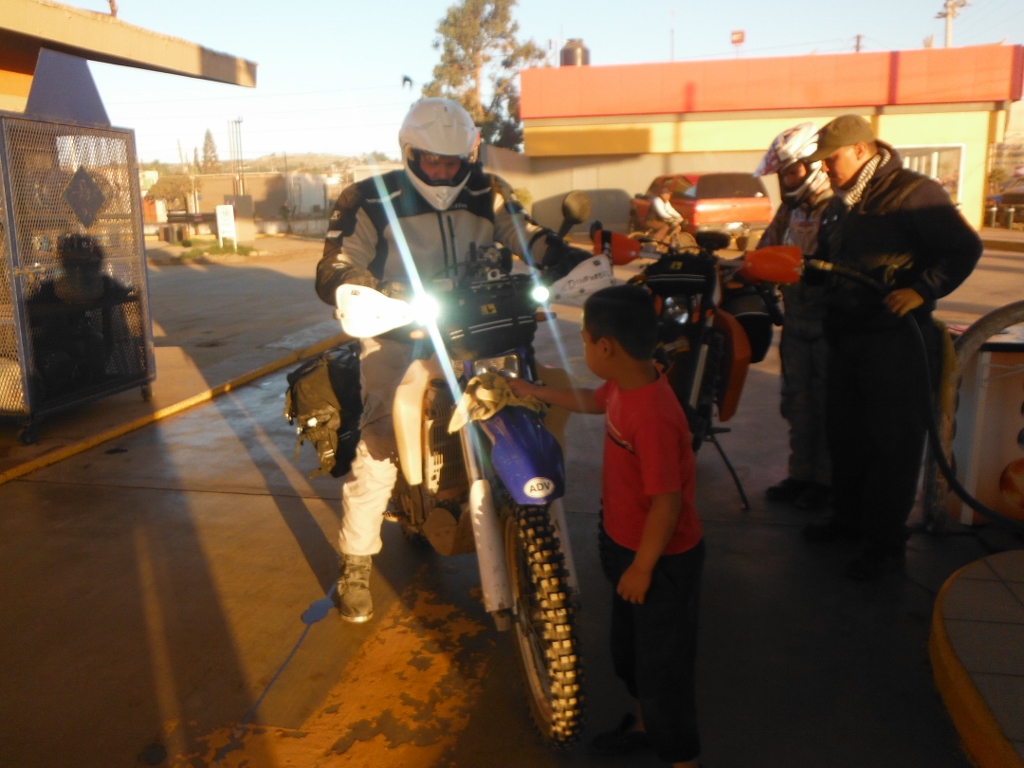 Yeah-----that seat definitely needs polished.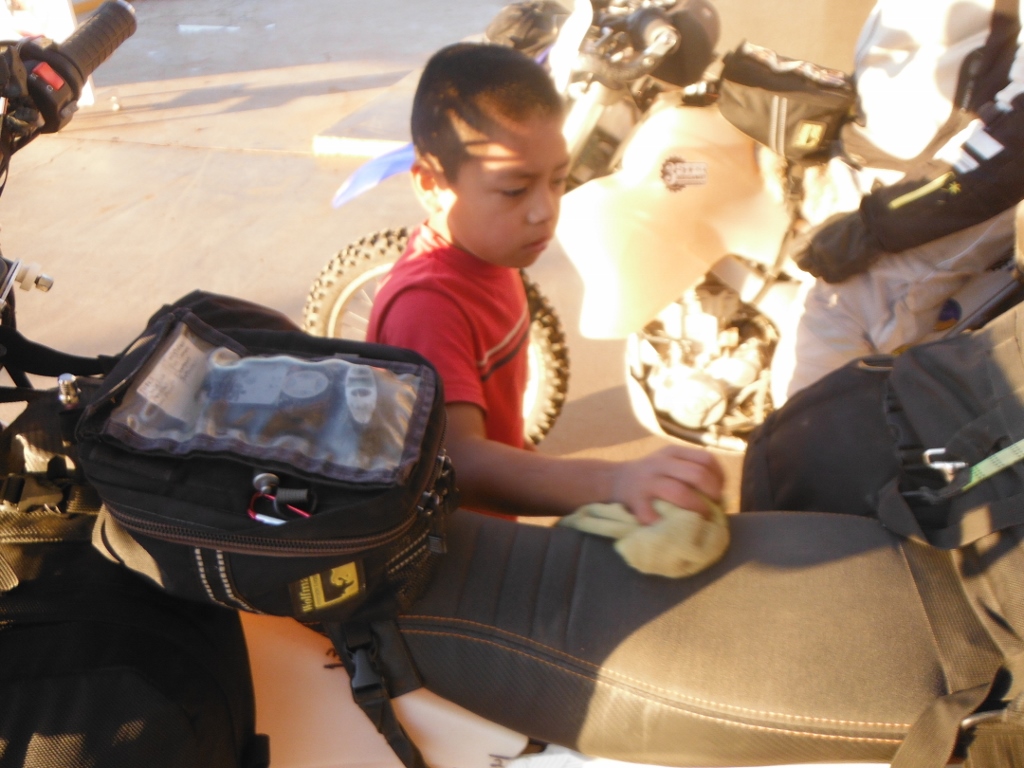 We had breakfast here---and the owner (pictured) was the nicest guy I ever met.
And fixed us some type of cinnamon coffee that was out of this world---------I had 3 cups.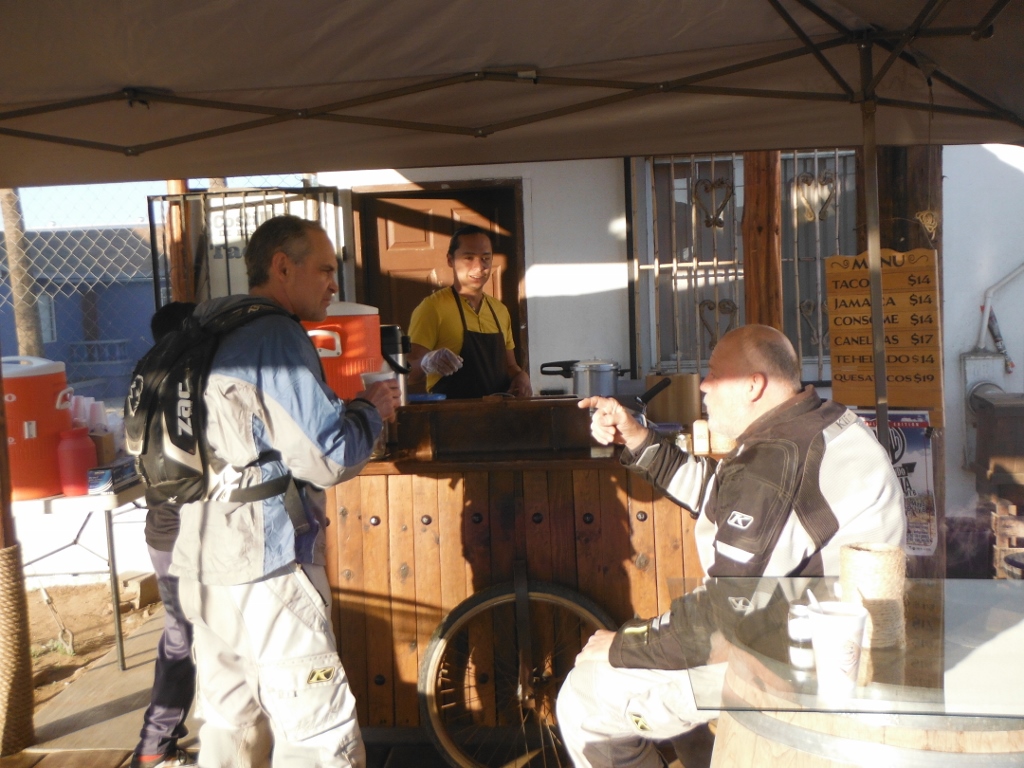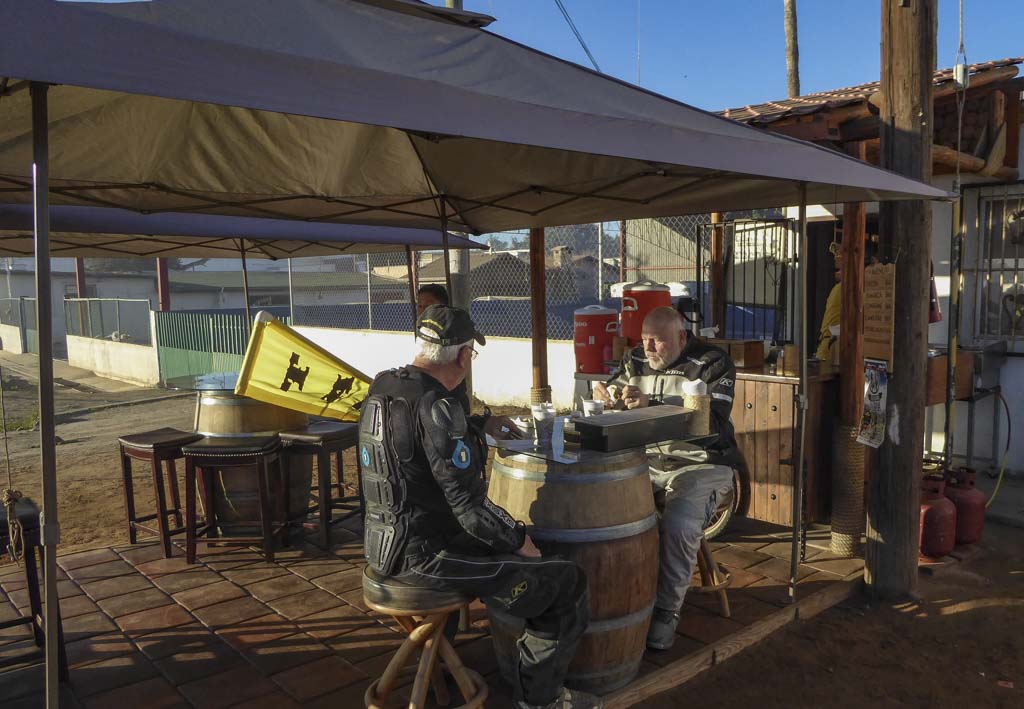 And off into the dirt we went into an area that was a natural area.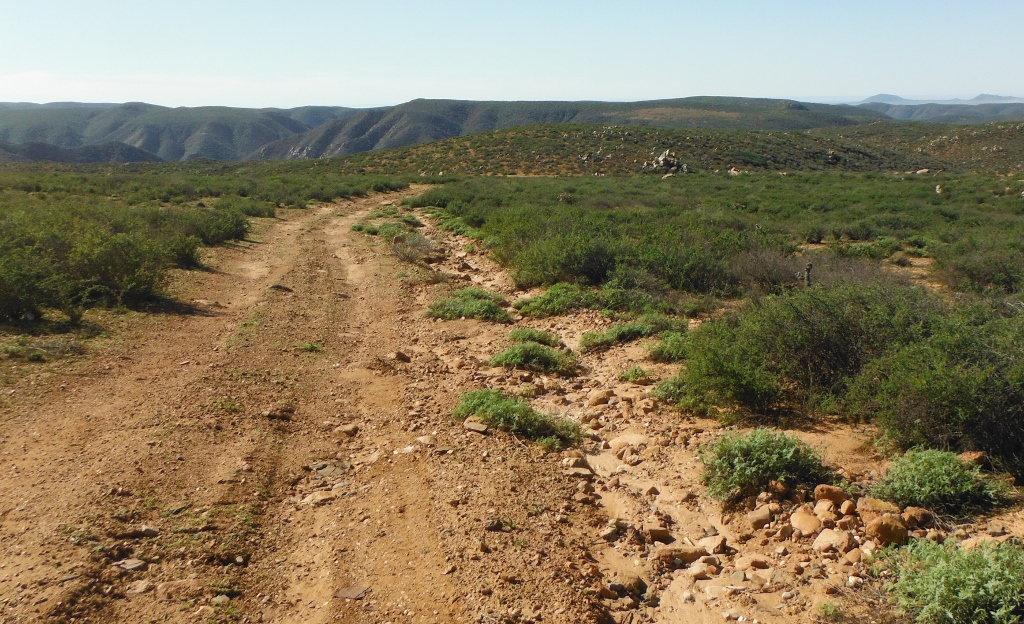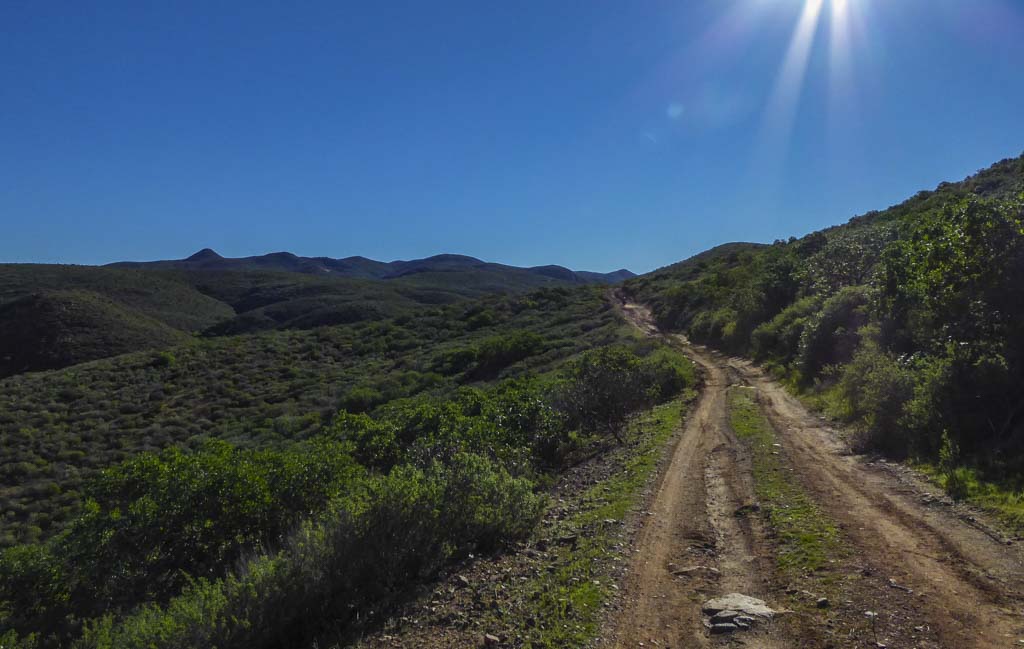 2 years ago-----------we turned around here----as Dingweeds ribs were broke and he was in extreme pain.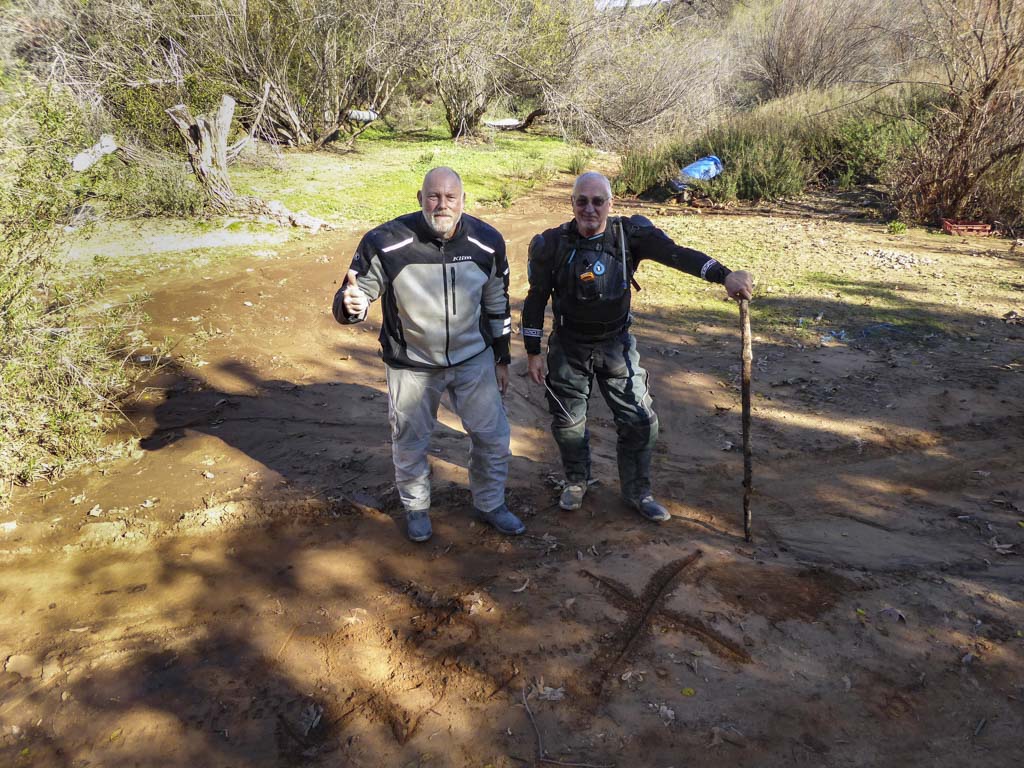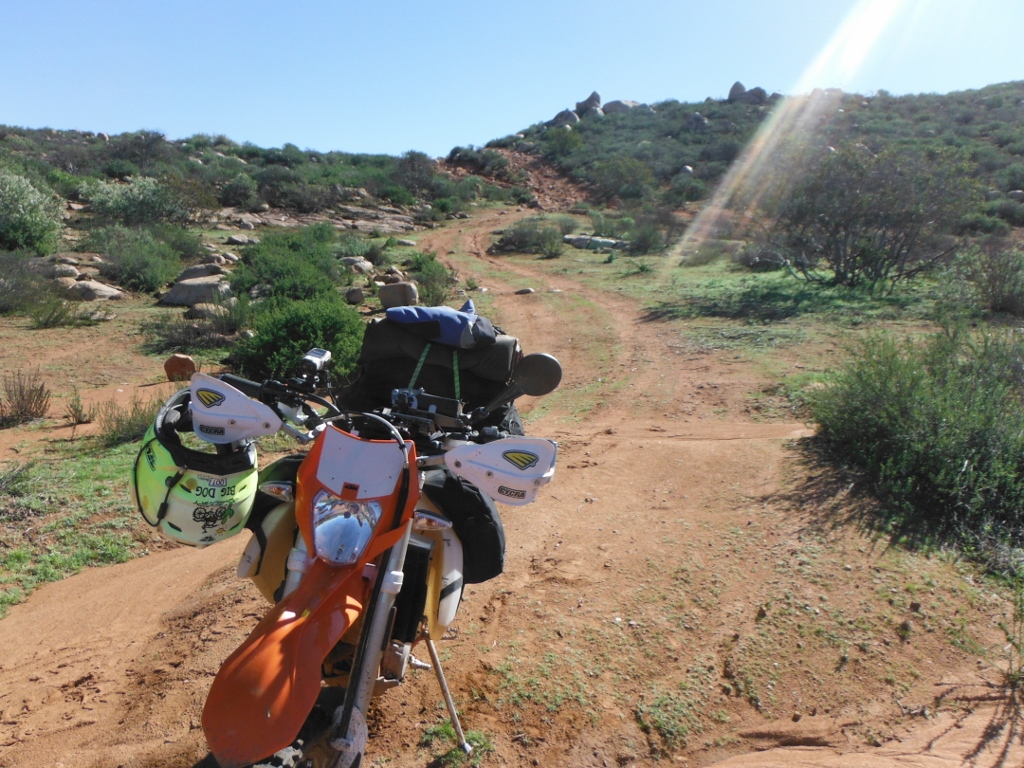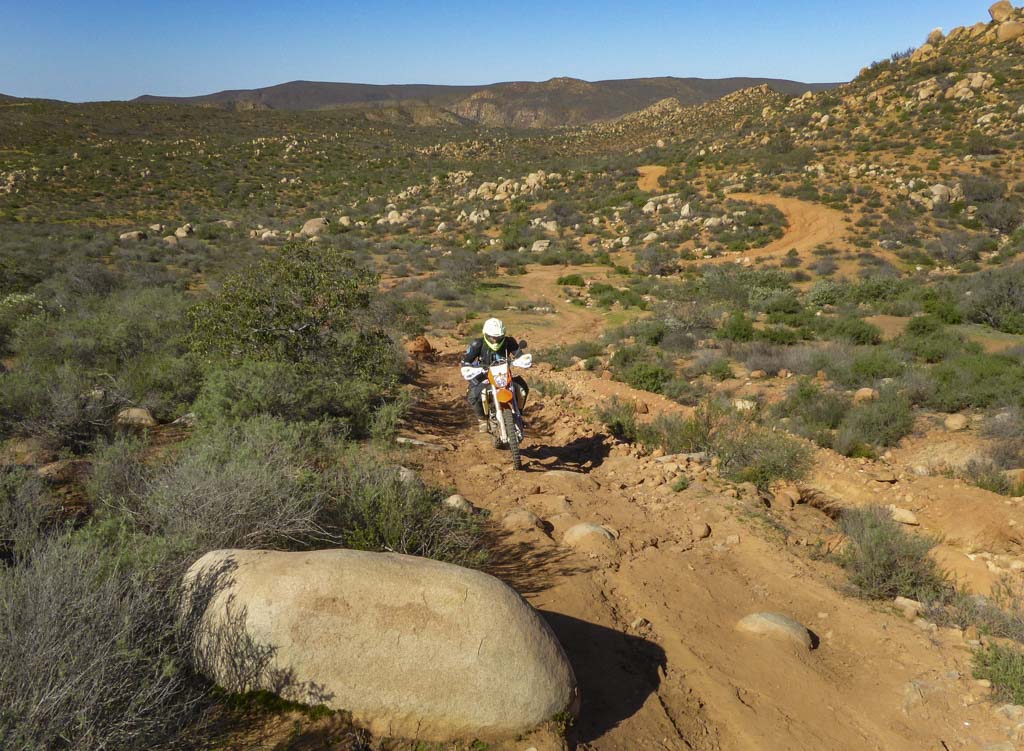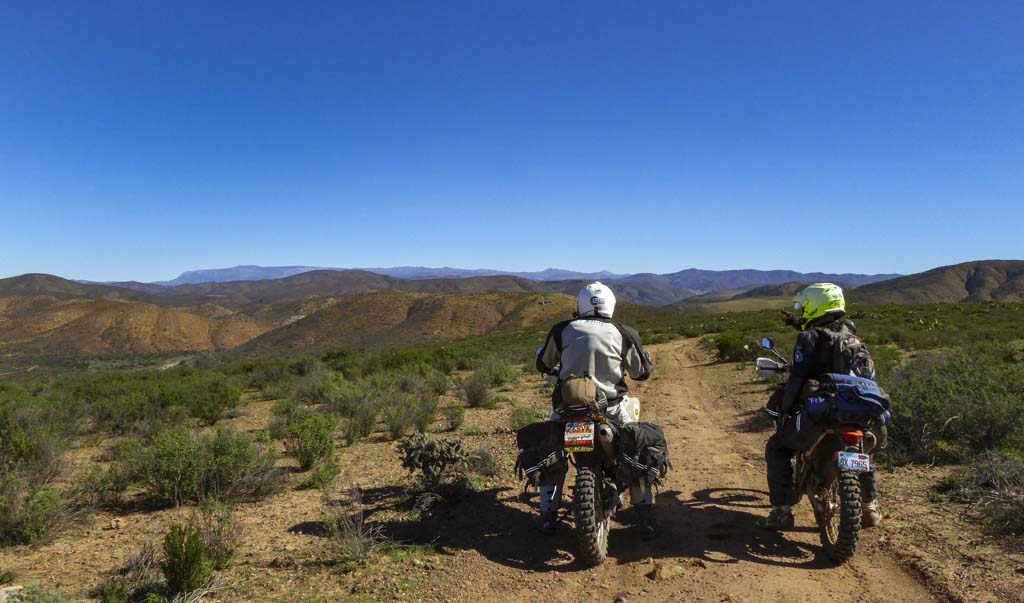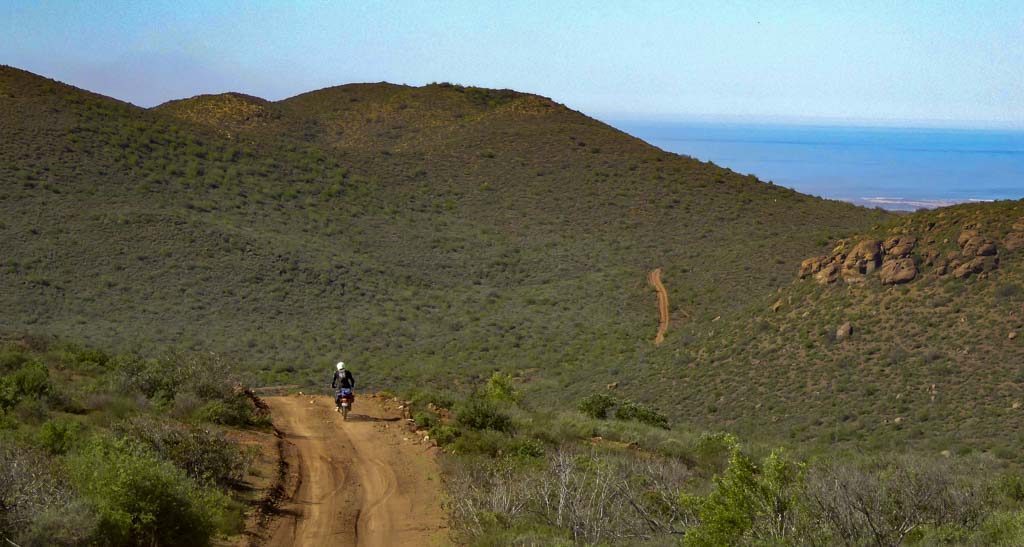 I had a waypoint in my gps--------------"The Old Mill"
I guess I put it there 20 years ago----what was it ?????
So we went there and it was so nice.
We had a great dinner and stayed there for the nite.
It was right on the ocean.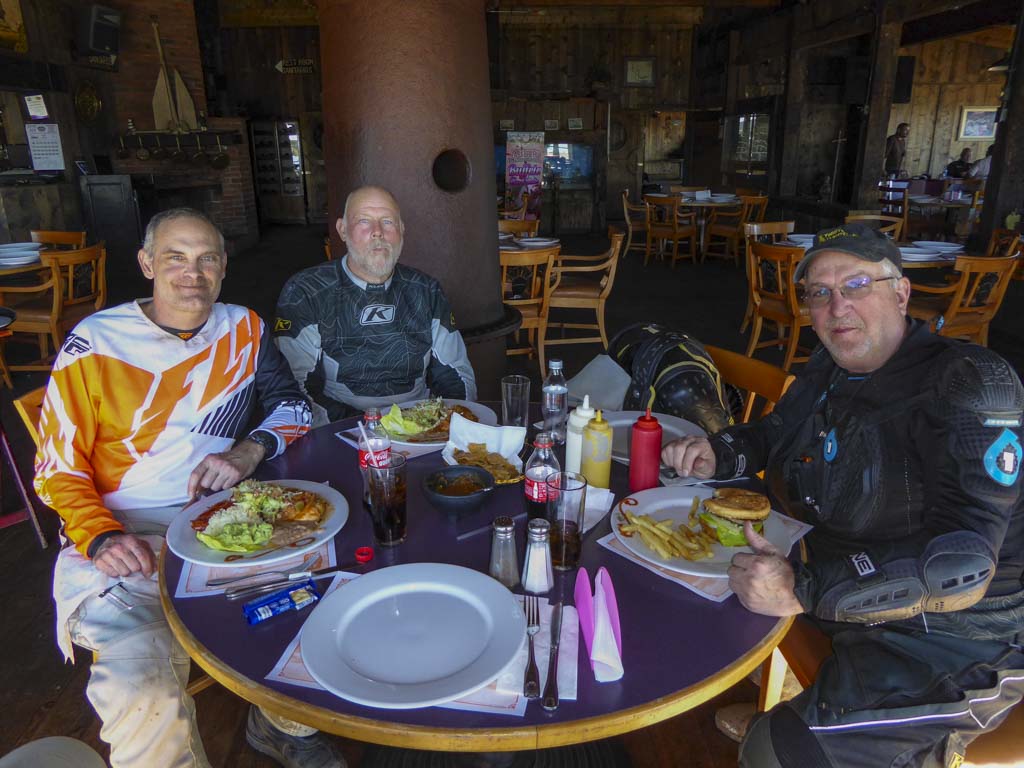 Our waiter waited on us hand and foot.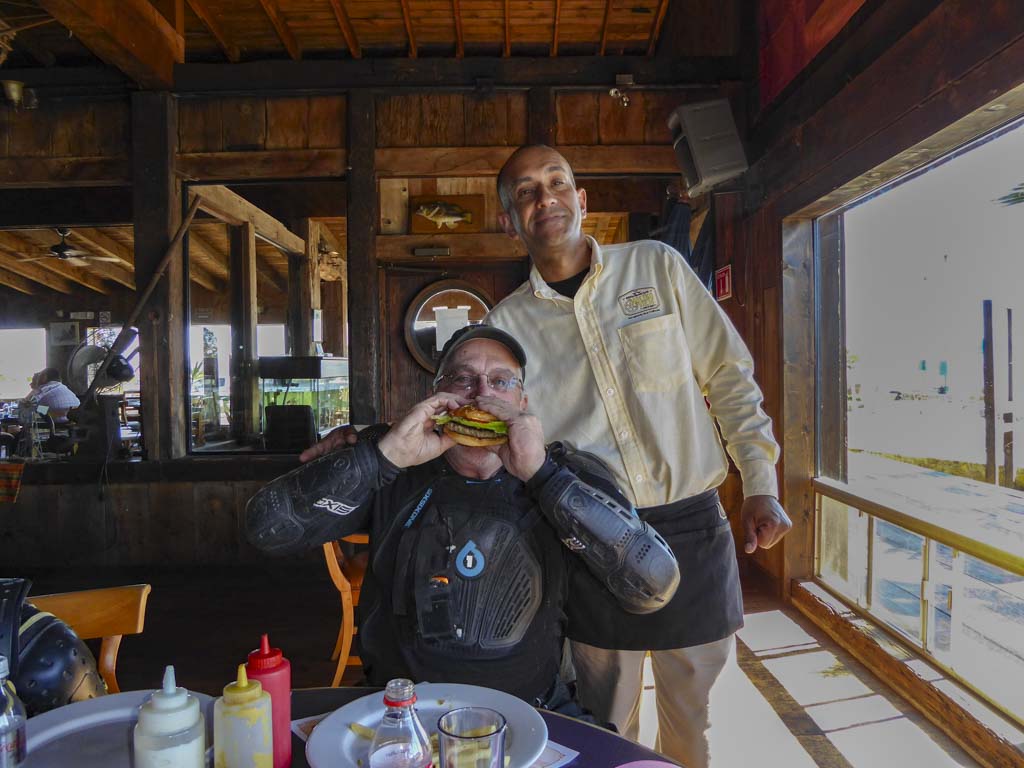 So off come the clothes----------AaaaHHhhh------Baja.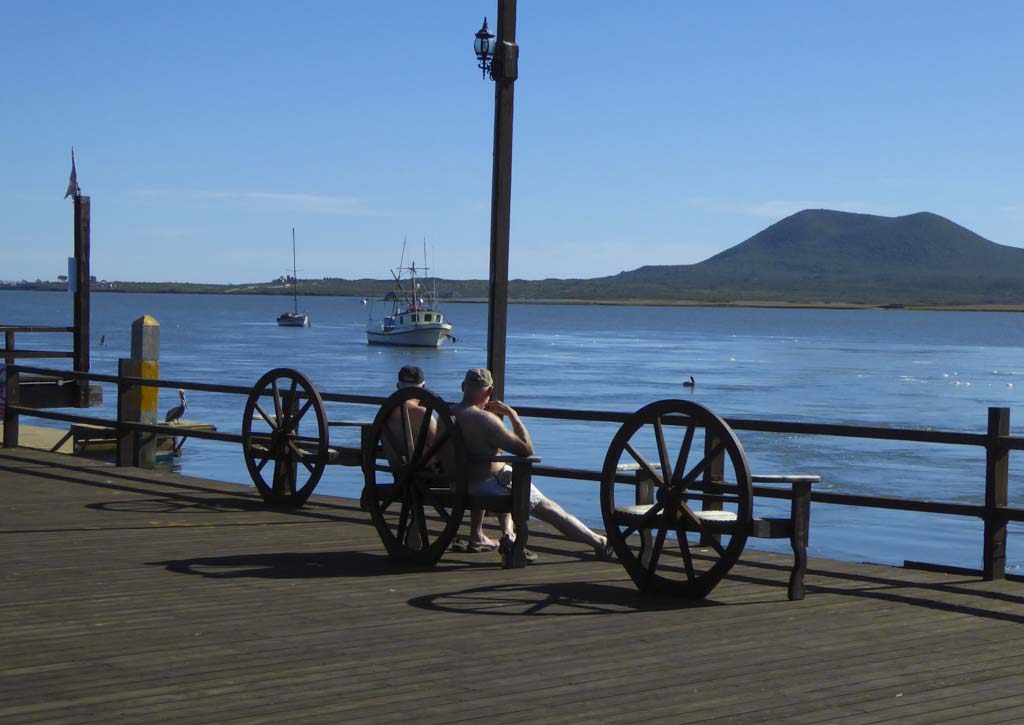 This place was an old Mill at one time----and a lot of the old equipment is still there.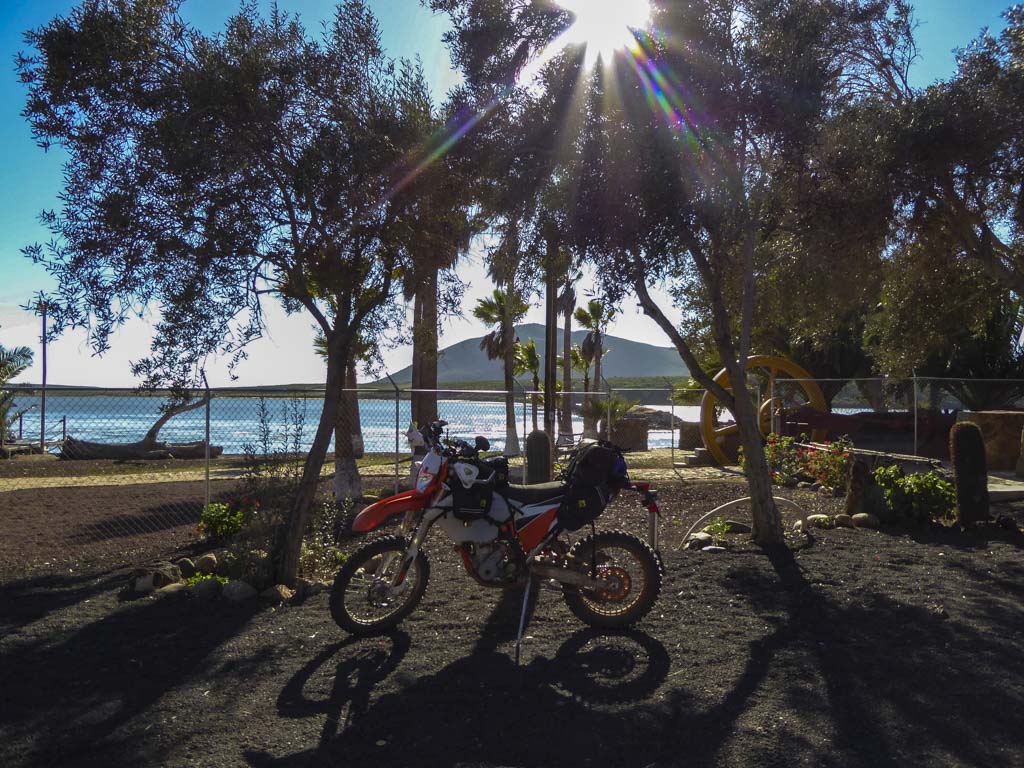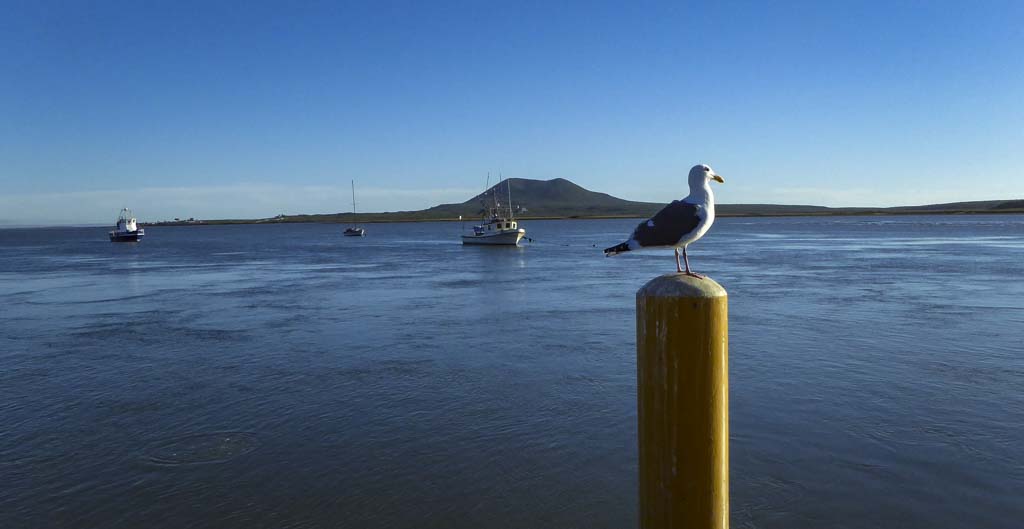 Right out there----the tide going in and out powered the Mill.
It flowed very fast and looked like a river-----very clever.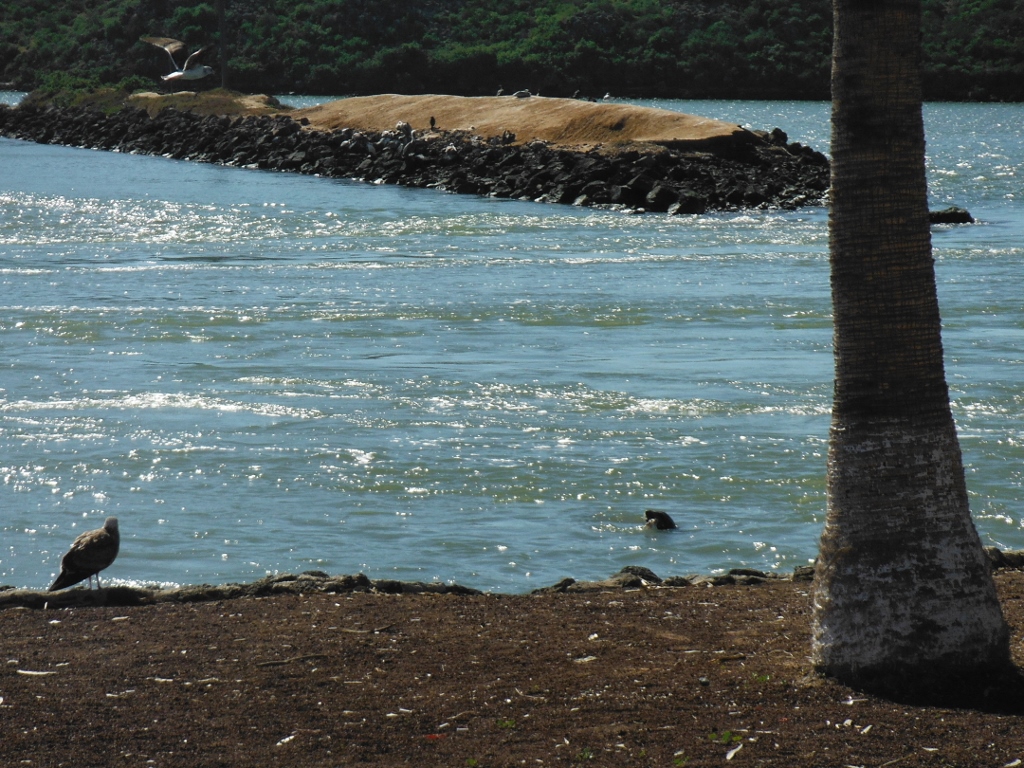 This sea lion entertained us----and when it came up with a fish in it's mouth these birds tried to take it away from him.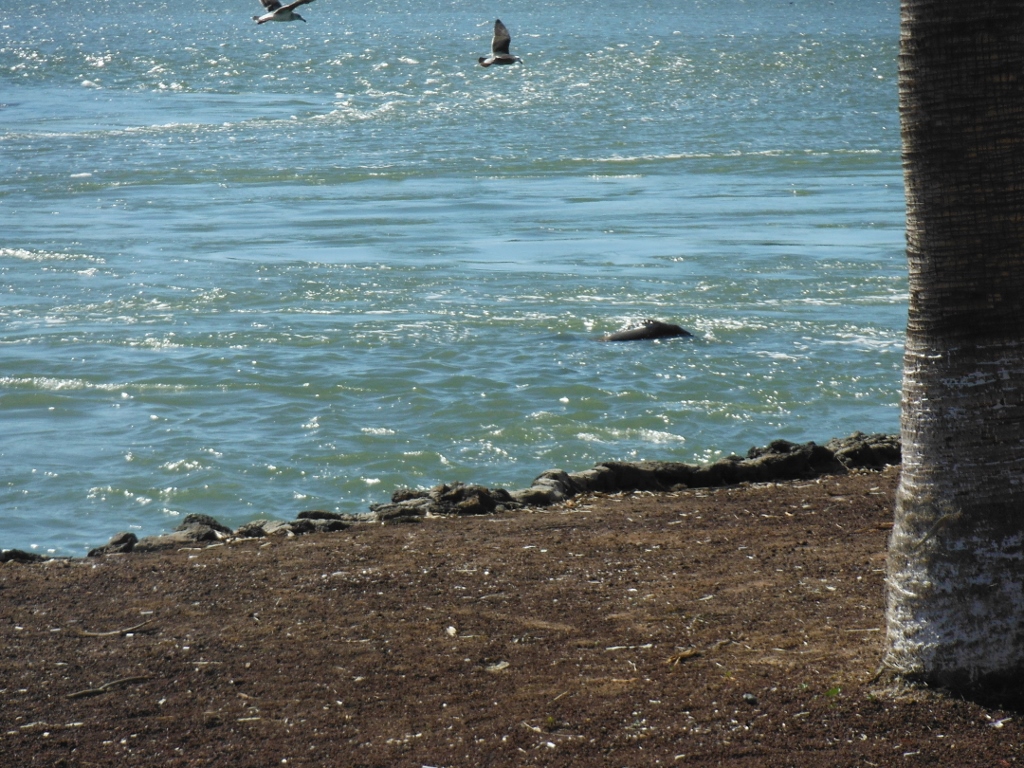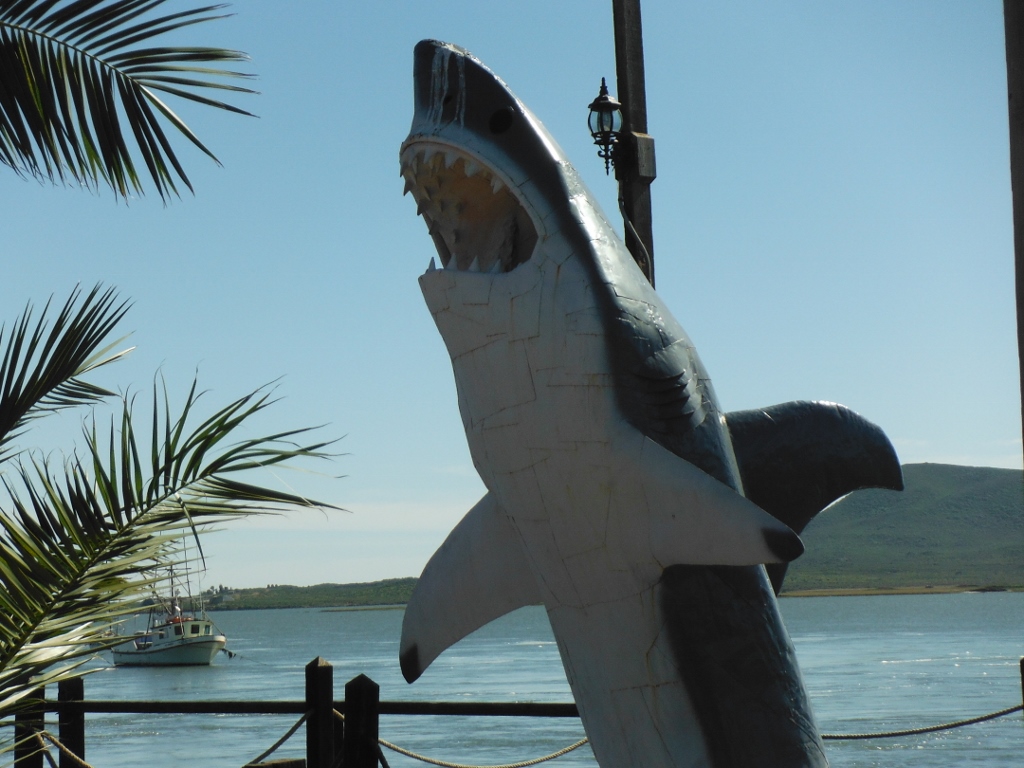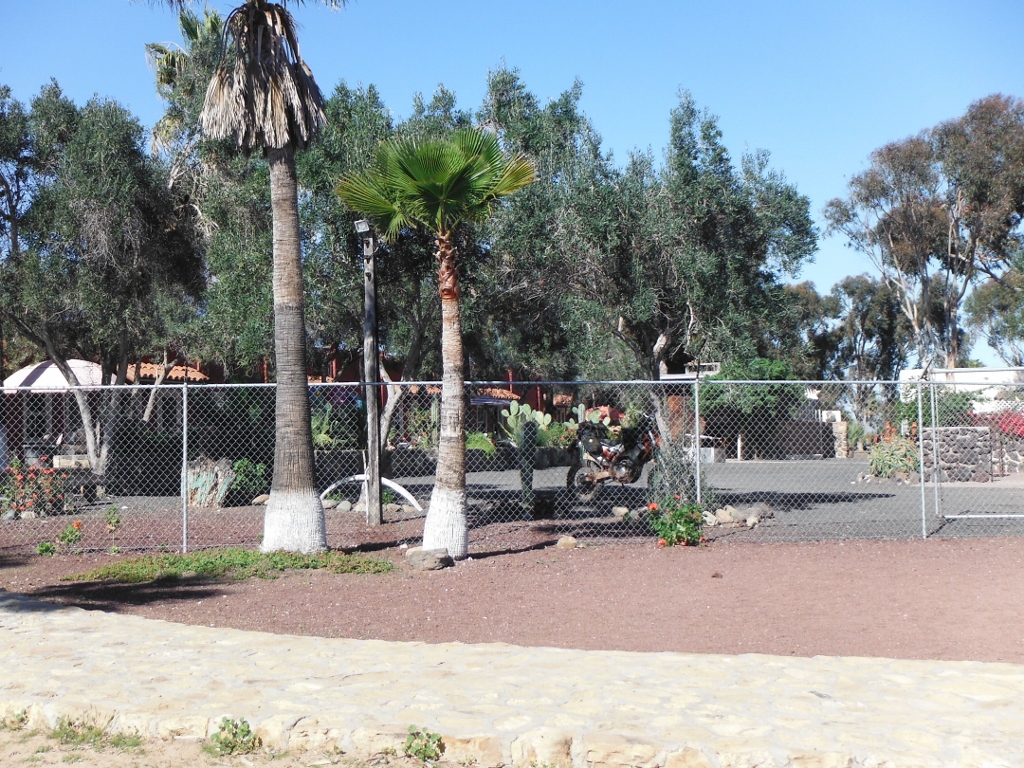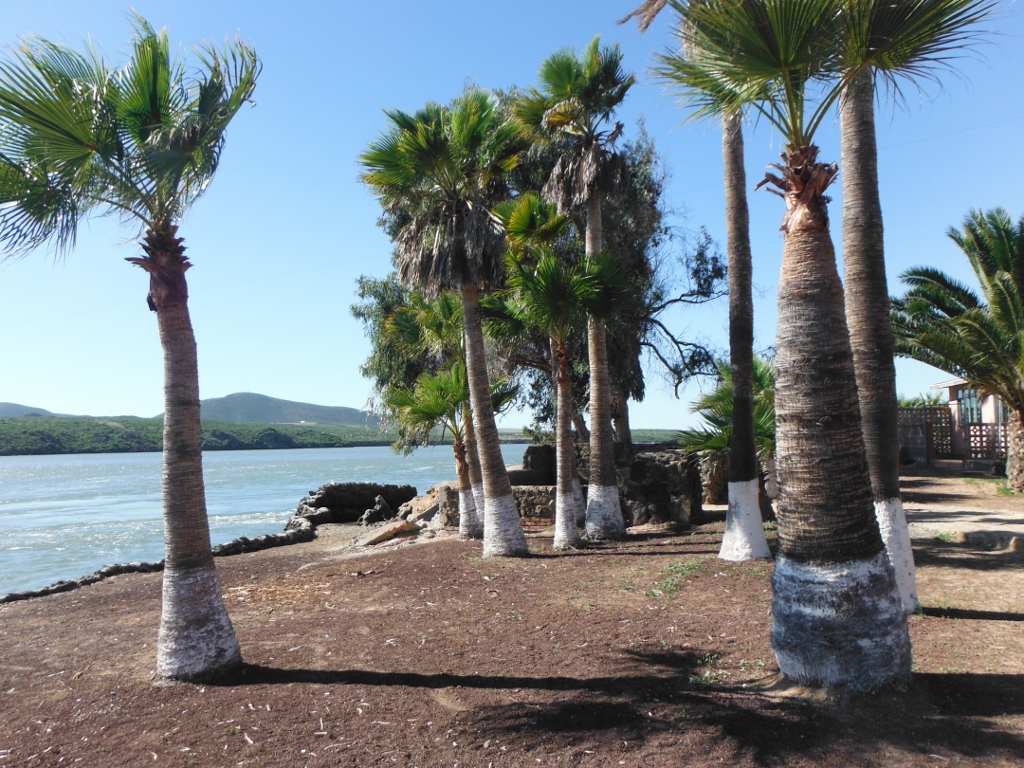 Some of the old workings.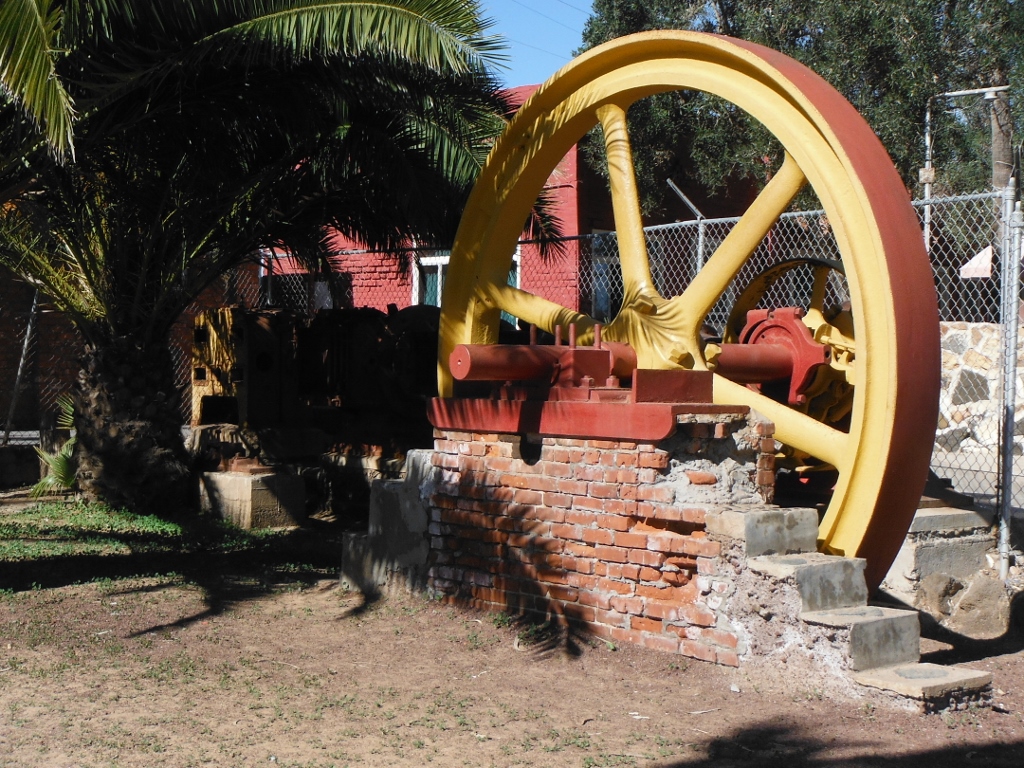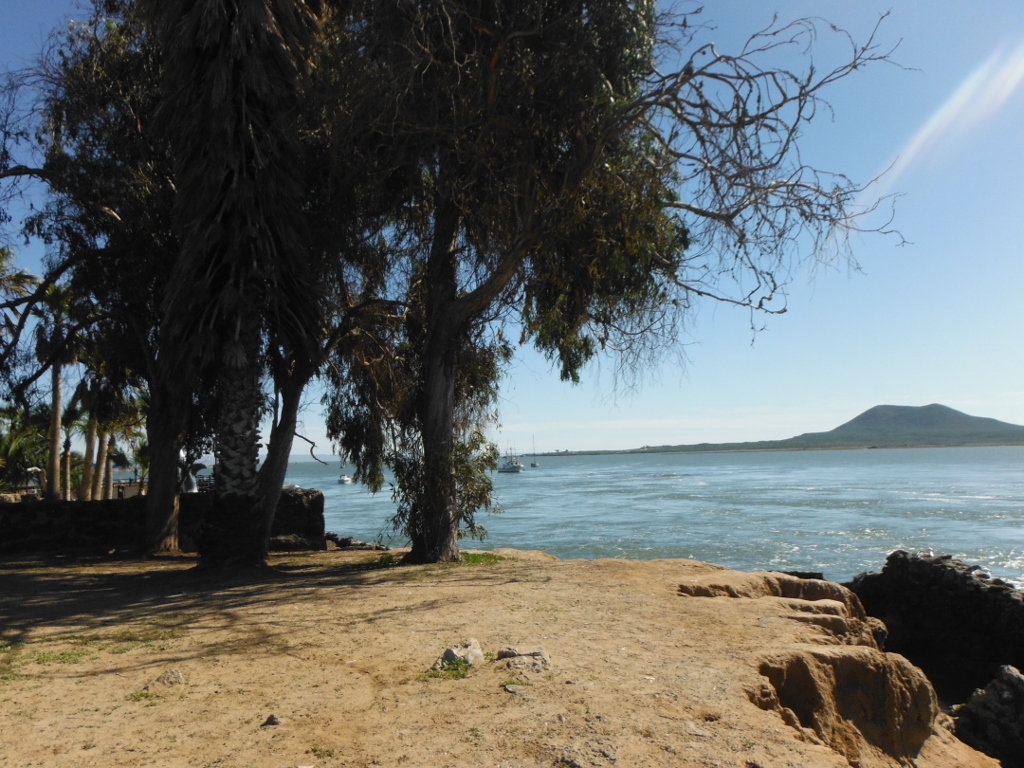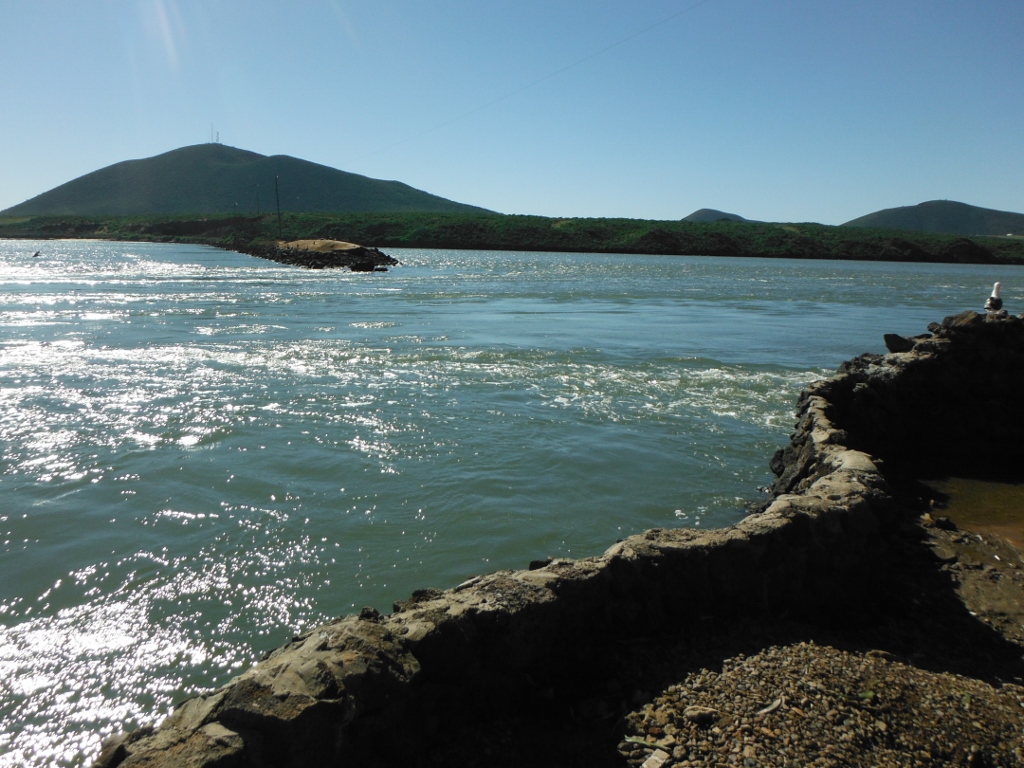 A few fisherman were here.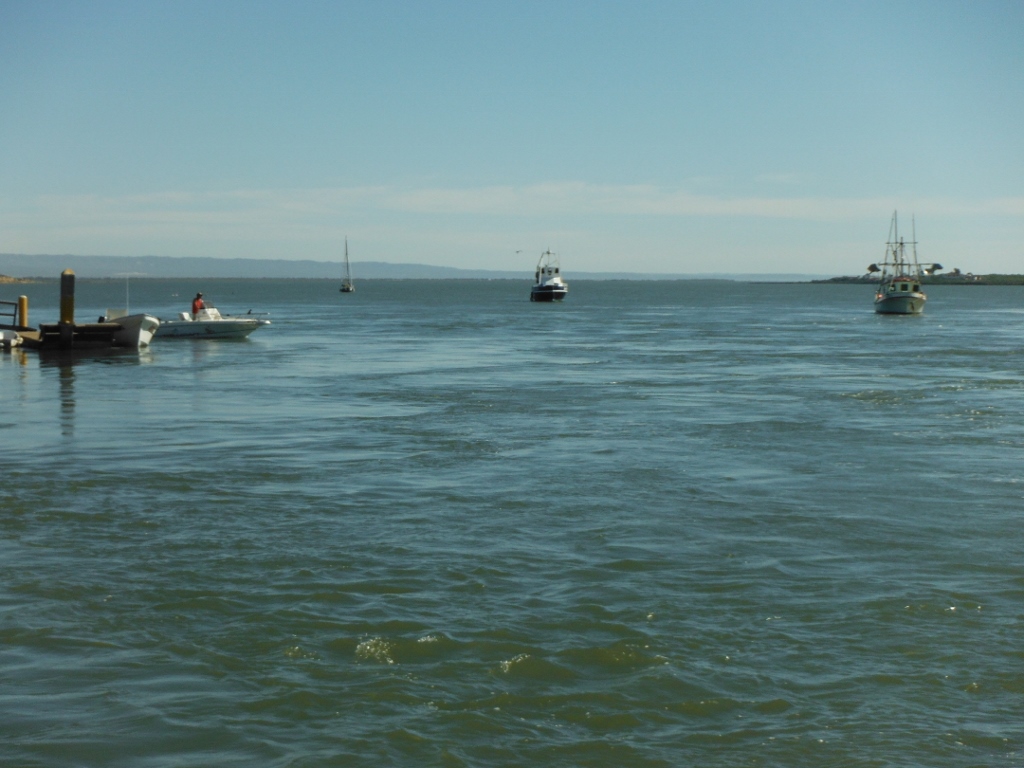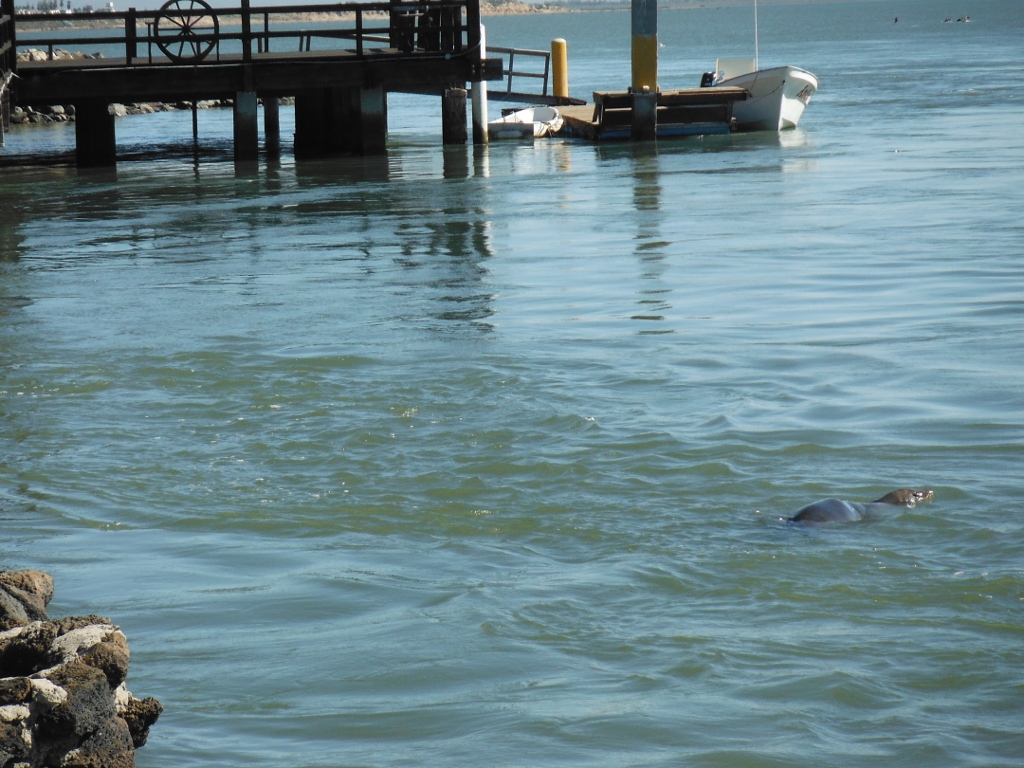 The deck of the restaurant was enormous and we stayed out here past sundown.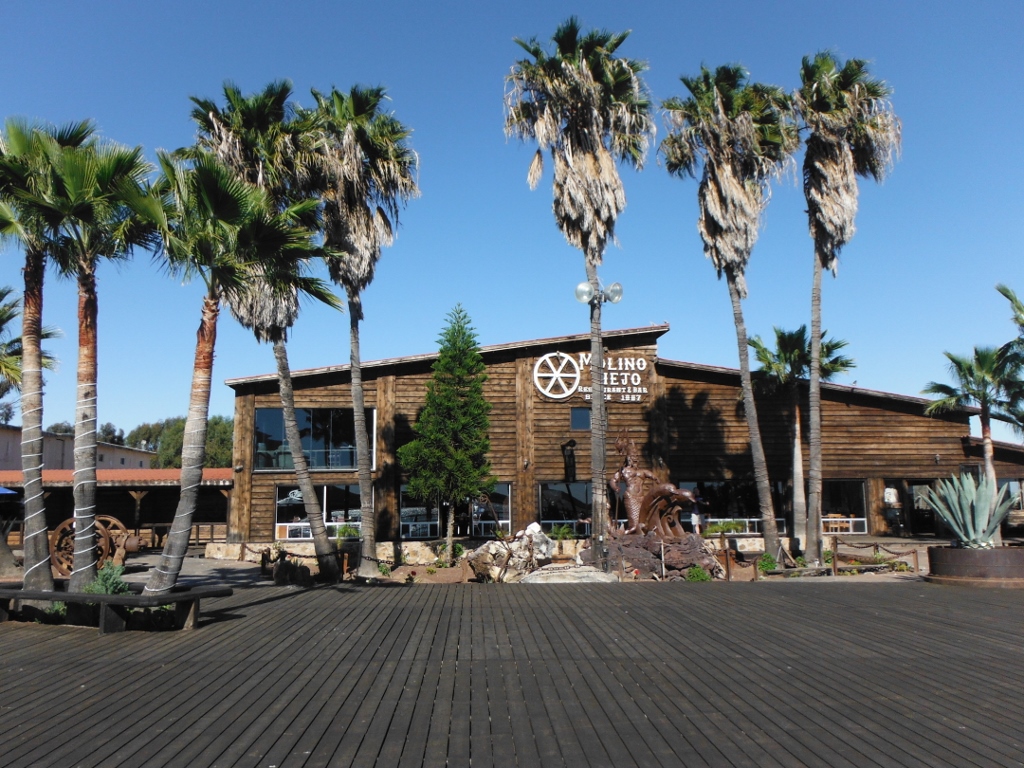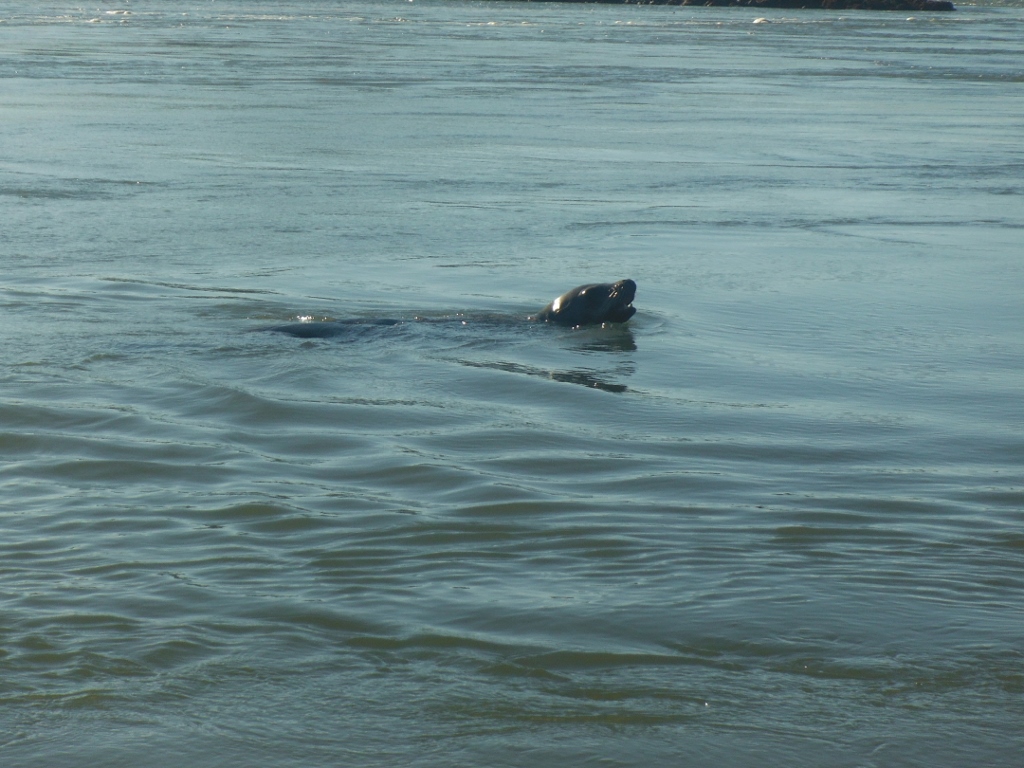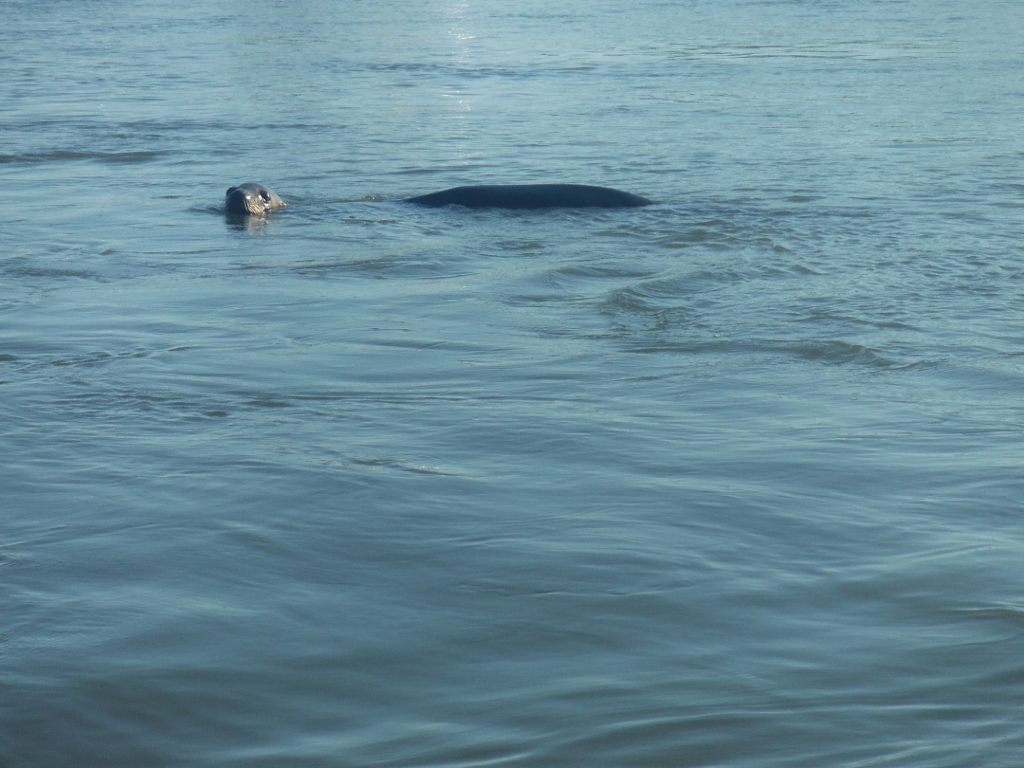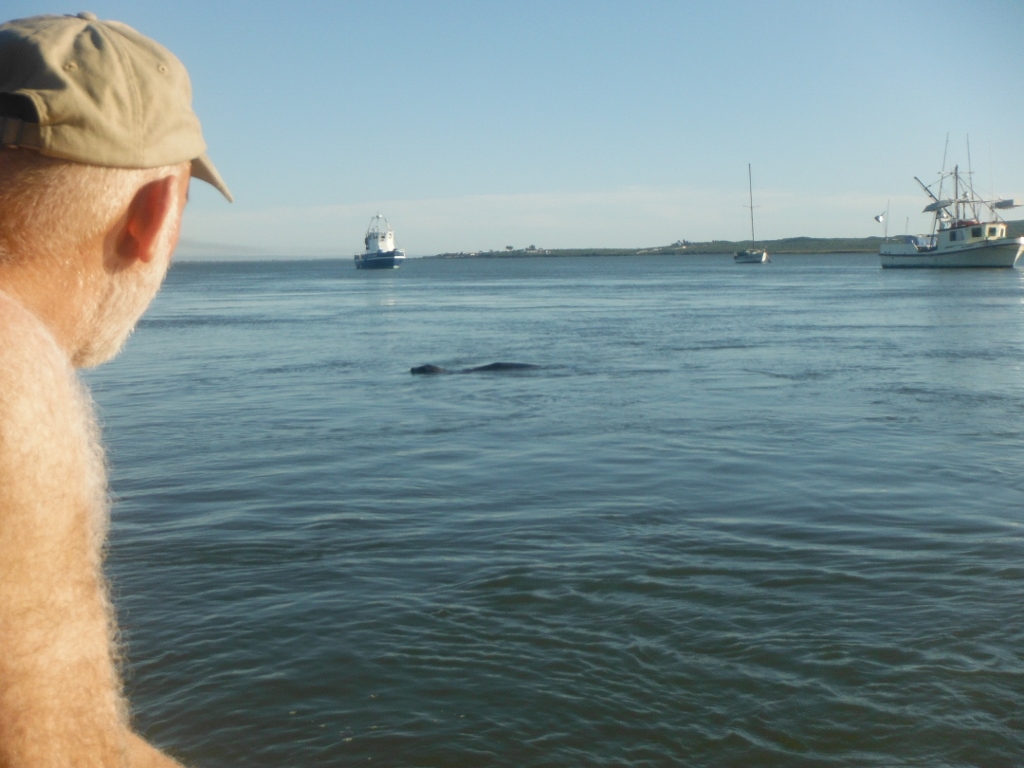 Quoted from the Old Mill Website
Welcome to the Old Mill Hotel, located in beautiful San Quintin, Baja California,about 200 miles south of the
international border at the headwaters of San Quintin Bay. The Old Mill is named for the wheat mill established
by the English colonists around the turn of the 19th century. Many pieces of the original machinery still remain on the premises.
A long drought forced the English to abandon the mill. Then in the late 1940's, the Mexican Government established a cannery at the location where tuna, sardines,
and mackerel were canned until the early 1970's. Al Vela,
the cannery manager at the time, along with his wife, Dorothy, started a modest hotel that
catered to fishermen and hunters and from there the Old Mill evolved into what it is today.
The San Quintin area enjoys spring-like weather most of the time. Temperatures rarely go above 85F during
the summer months and in winter the days are mild with cool nights. Rain can occur Nov-Feb.
For the fishing enthusiast there are yellow-tail, yellow fin, dorado, bonita, shark, halibut , rock cod, black and white sea bass,
and marlin in the waters off the Baja. San Martin Island and Ben's Rock are two popular destinations off of coast.
There is a launch ramp on the premises at no charge. Pangas (boats) and cruisers are available from area sportfishing businesses.
The prices vary depending on the size of the boat. A fishing license is required of all persons on a boat.
There is excellent goose (Black Brandt) and duck hunting on the bay. Season: Nov 16-Feb 28. Hunting is allowed only on Friday,
Saturday, and Sunday. Pangas and guides are available in the area and of course gun permits and hunting licenses are required.
Besides fishing and hunting, there are opportunities for sight-seeing, taking photos, bird watching (the bay is a bird sanctuary
where over 168 species winter each year), visiting an oyster farm in nearby Bahia Falsa,
claming, hiking, kayaking, canoeing, riding your all-terrain vehicle, swimming, reading,
sun bathing, and just plain relaxing in the peaceful environment.
We have ample parking for your car, boat, rv, or atv in our security gaurded lot.
There are a number of very good restaurants nearby with very reasonable prices.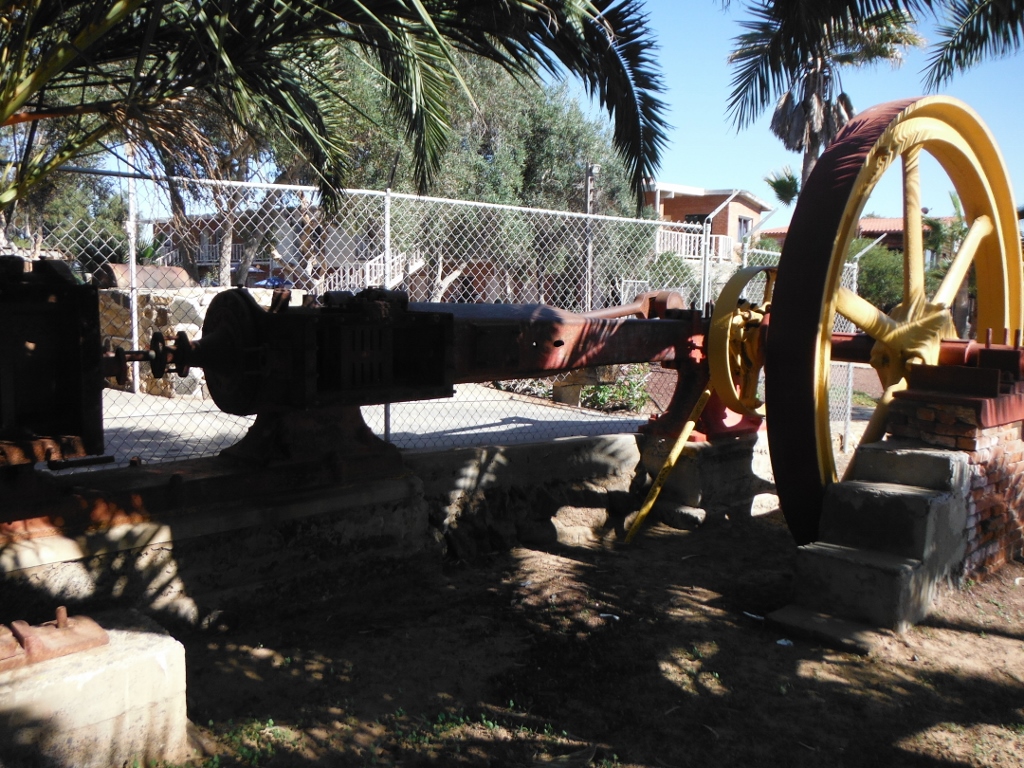 Here's a short video of Day 4
It was a relaxing stay here and we didn't want to leave.
Here is a rough map of our days ride.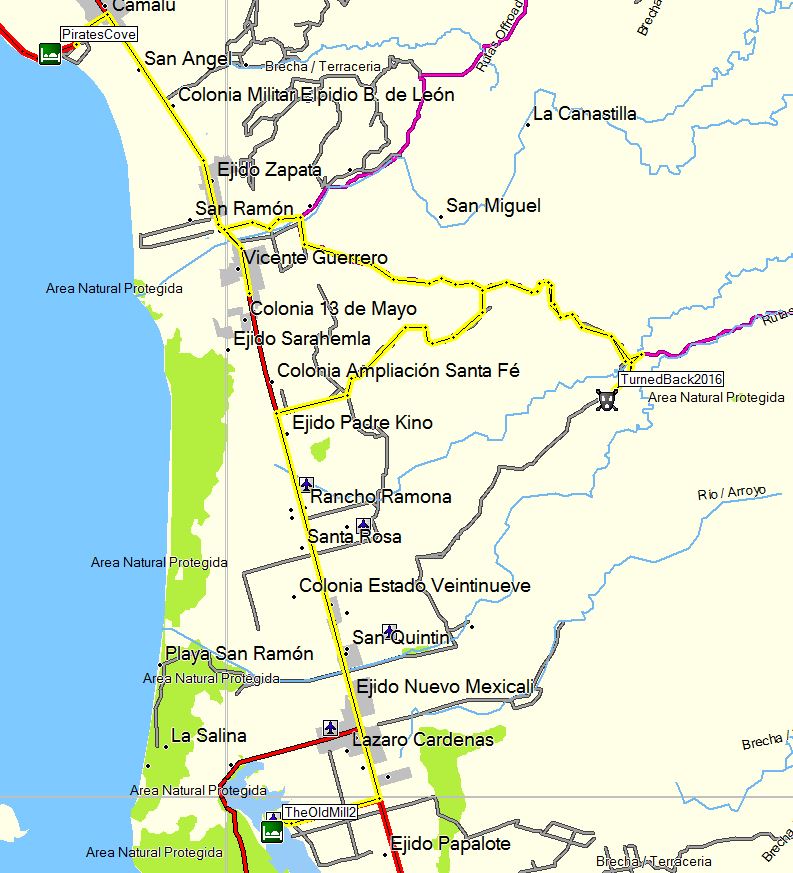 Day 5, February 12th, 2016
We left the Old Mill early and headed Southeast on 1 to Rosario where we got fuel and breakfast at a small cafe beside the road.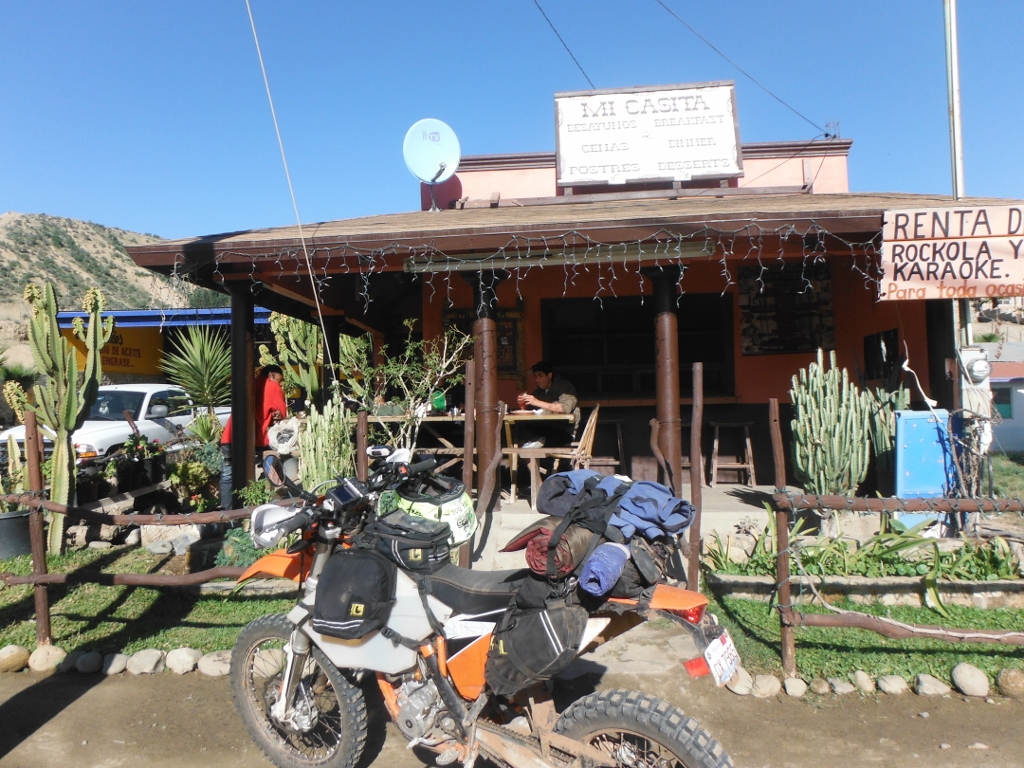 They had seating inside but we opted to get outside on the porch.
They had some thin flapjacks here too---my favorite.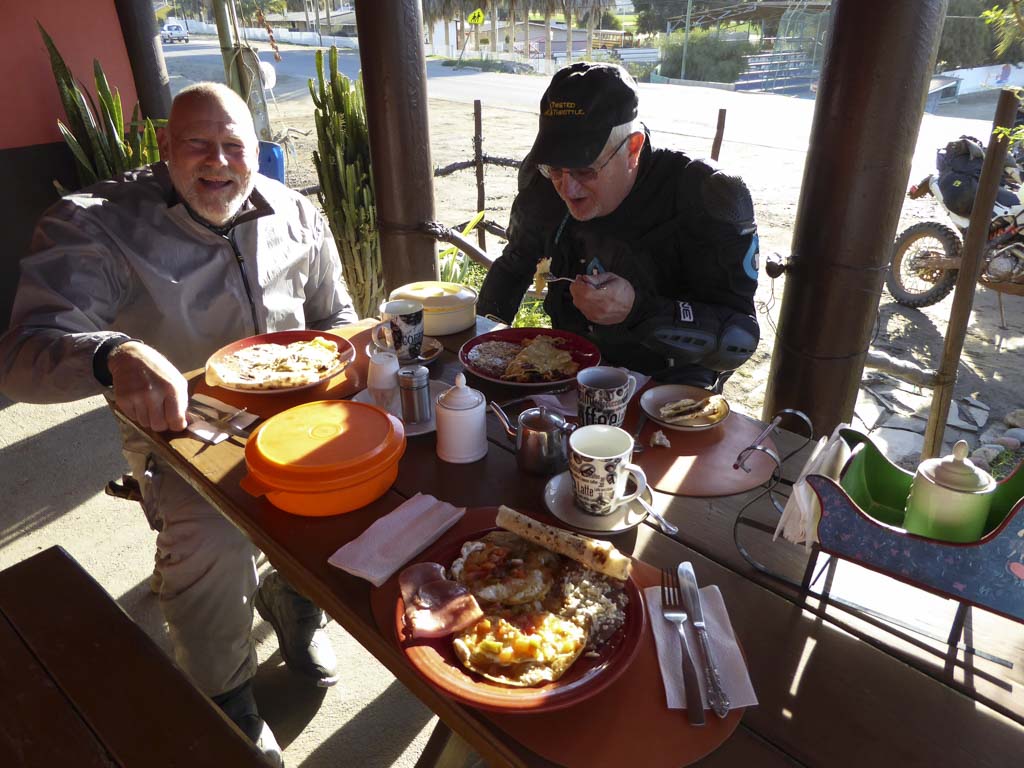 We cruised down route 1 and got gas again in Catavina out of gas cans and were glad to get it as we
were headed out into the unknown Southwest toward the Pacific ocean again.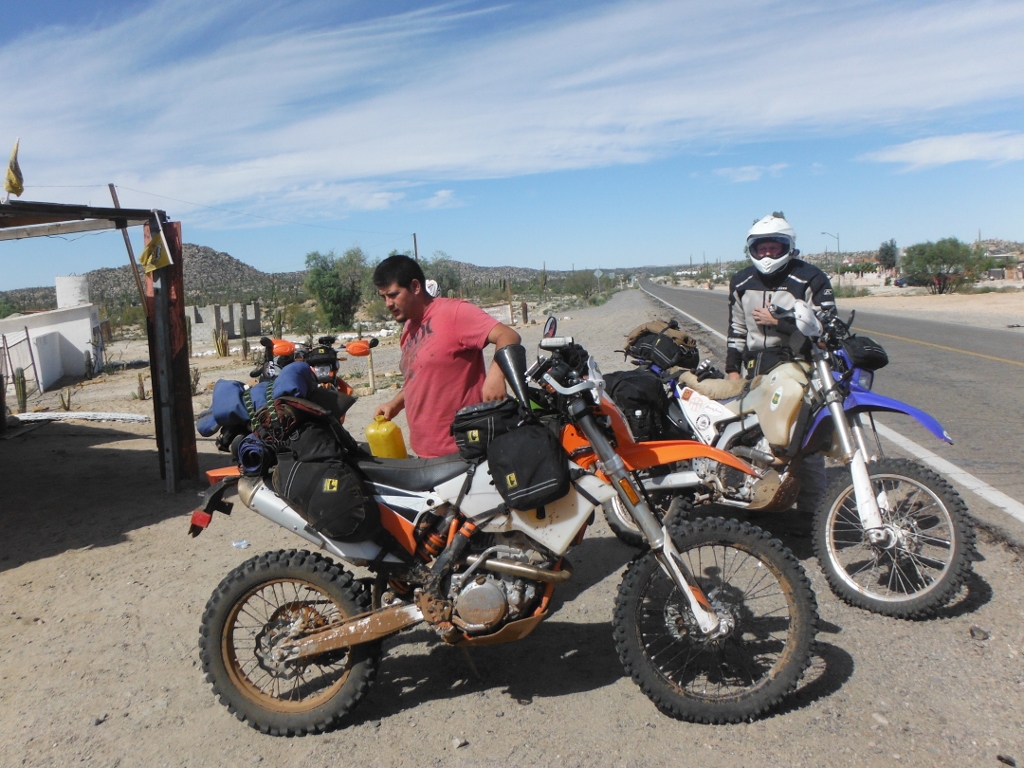 This guy was there on his big BMW------and I told him "Nice Hat".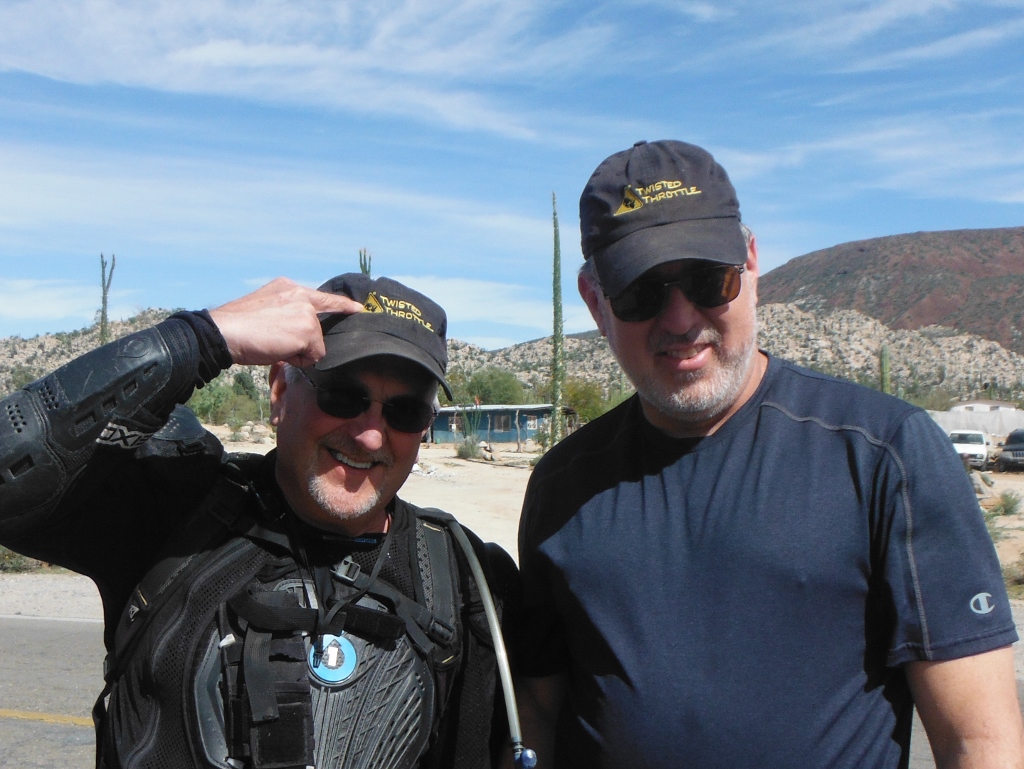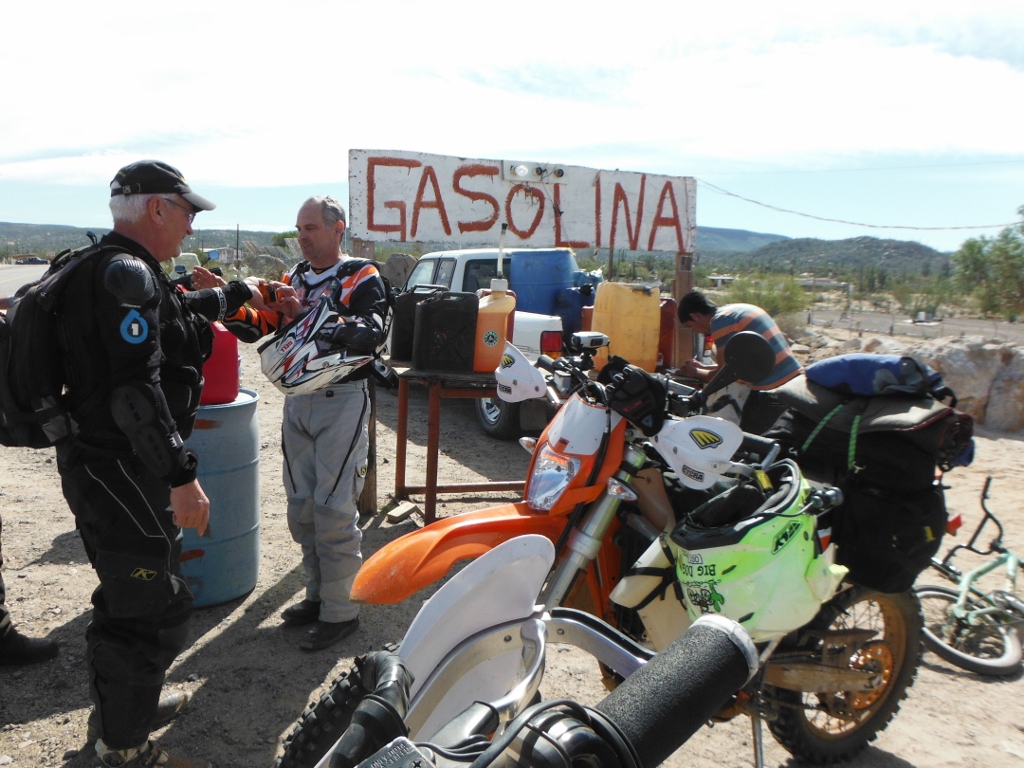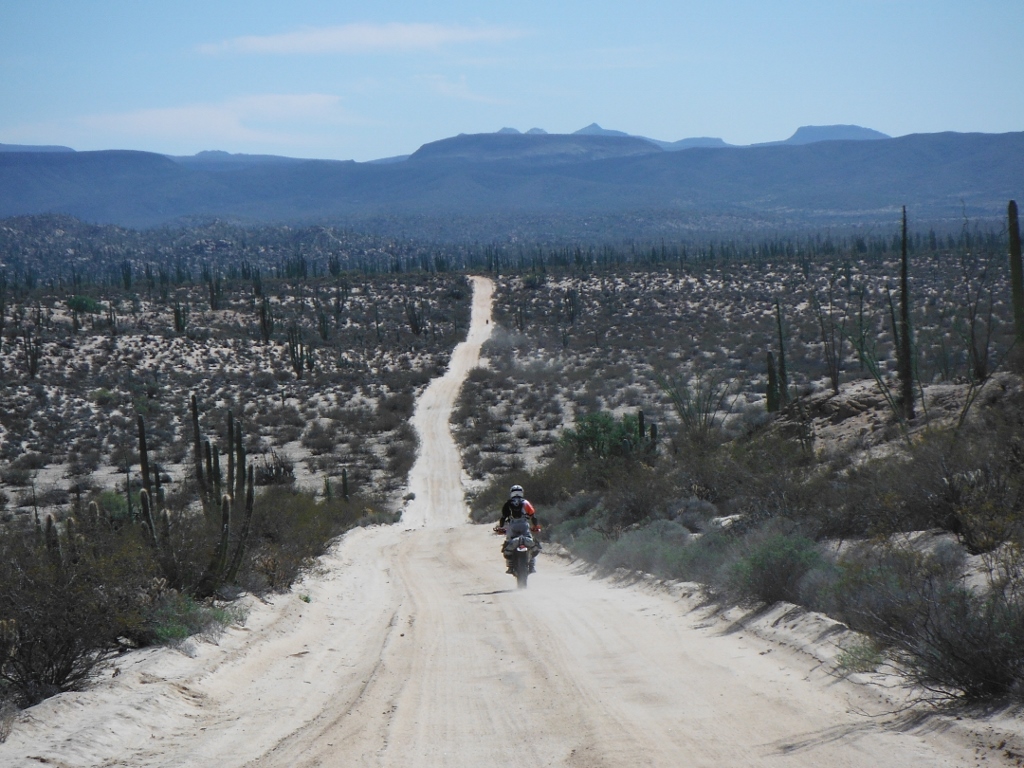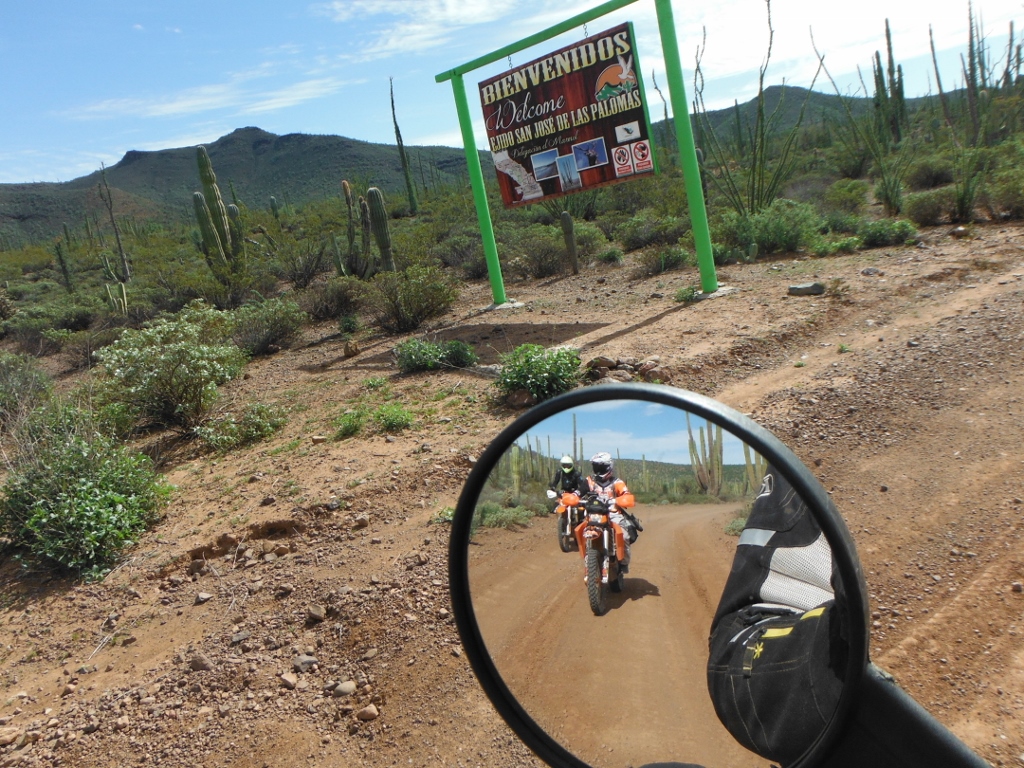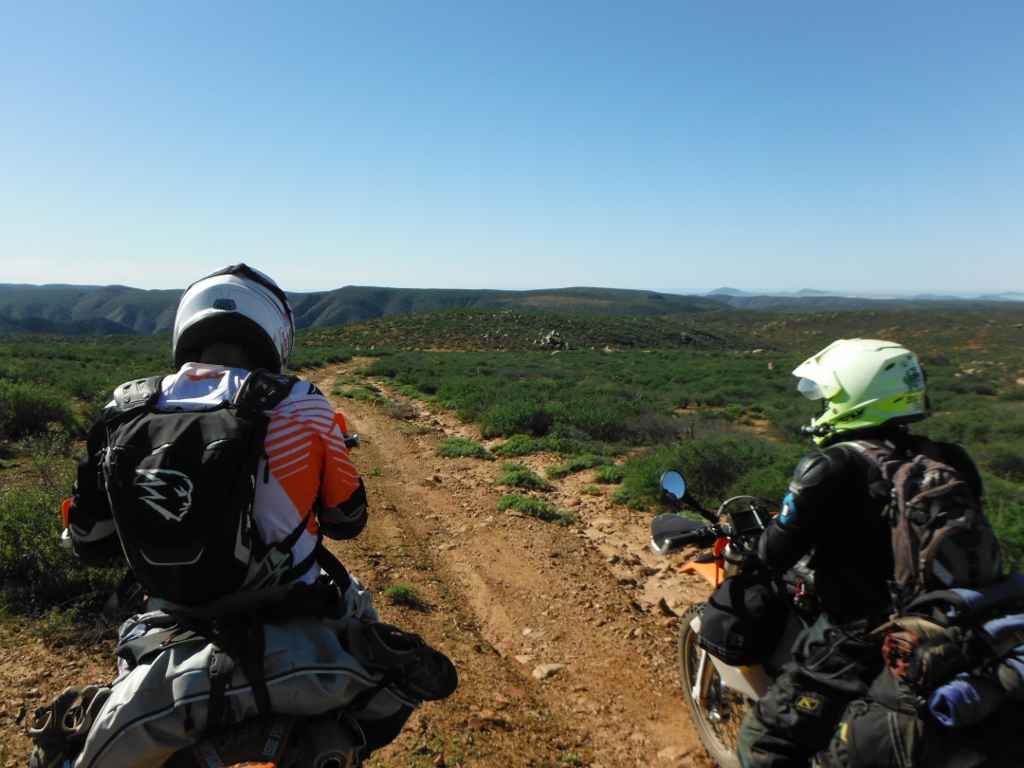 This is a very pretty area----and the you don't see the sea until you go over the last mountain range.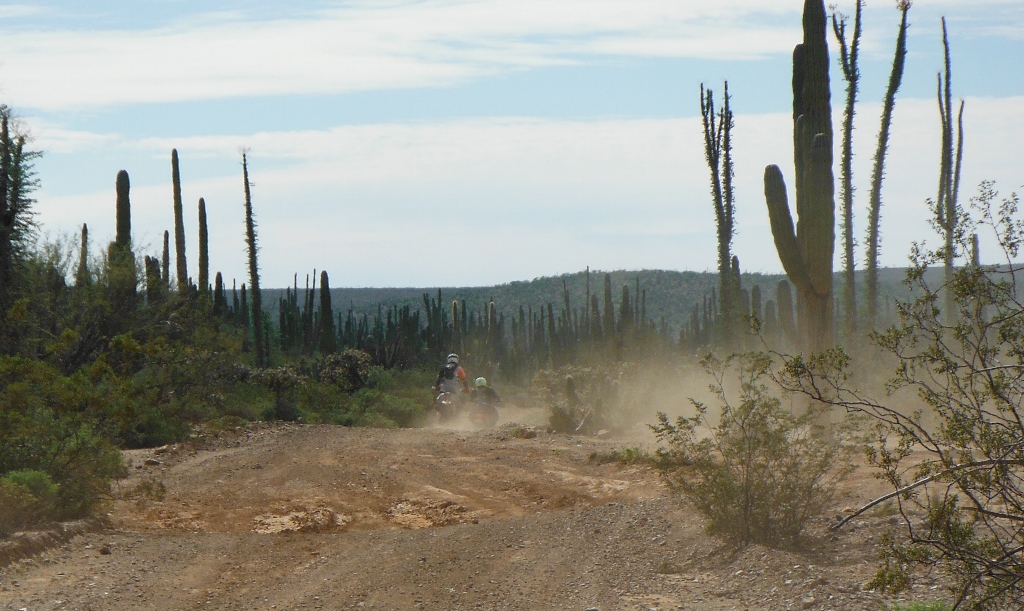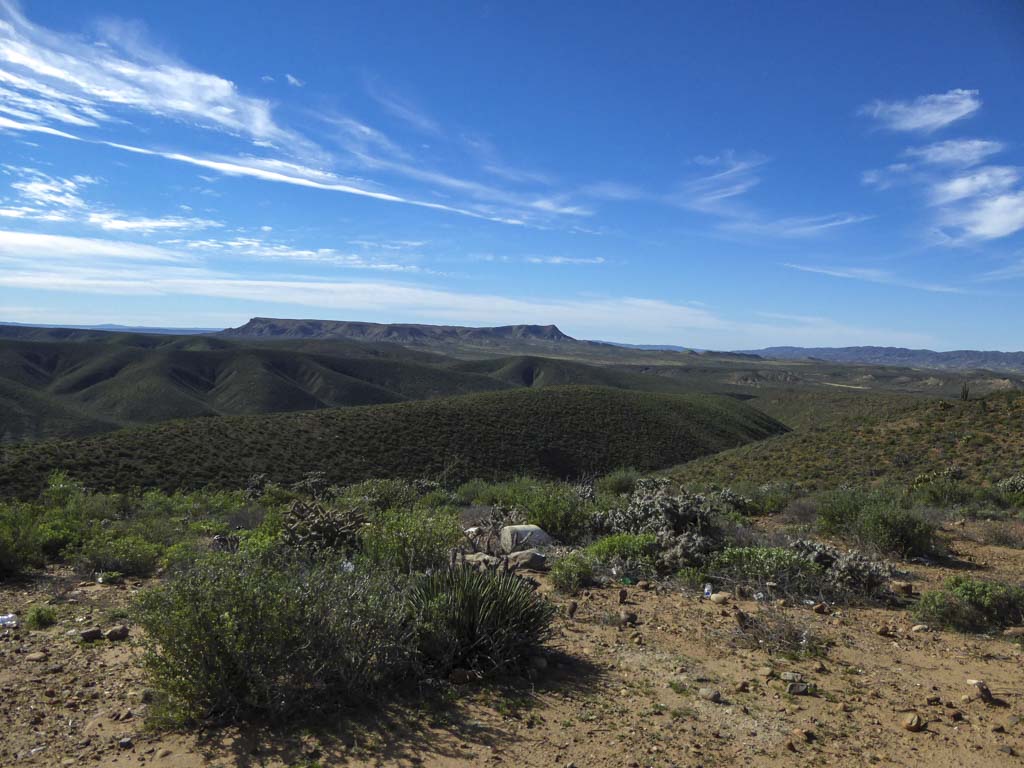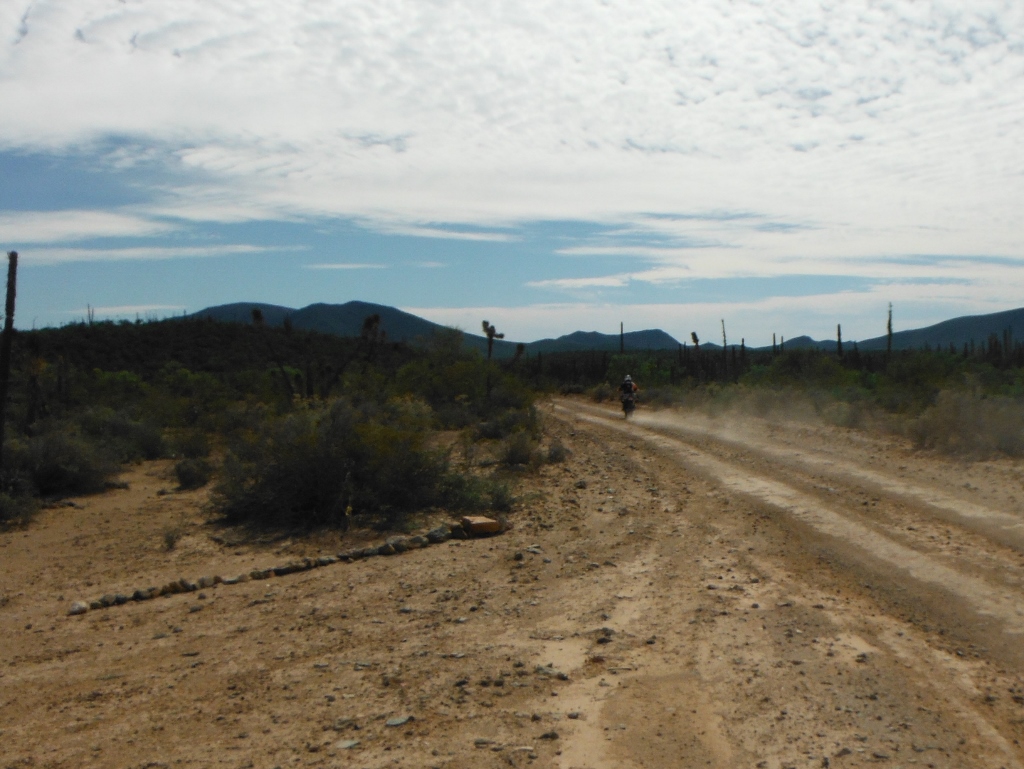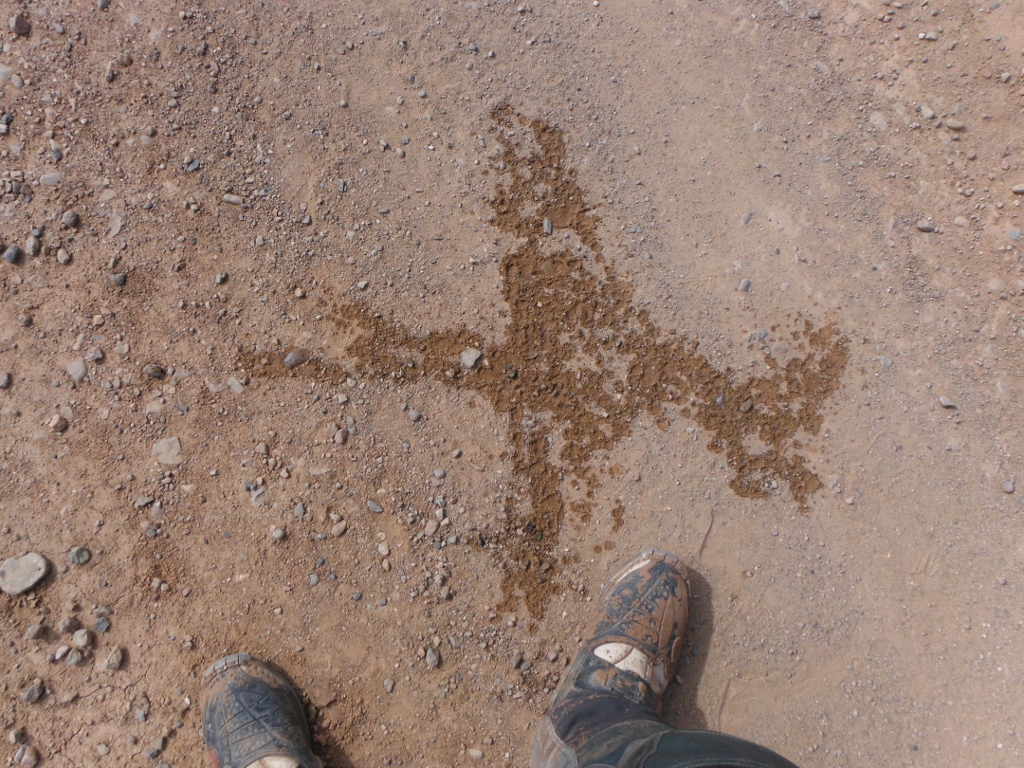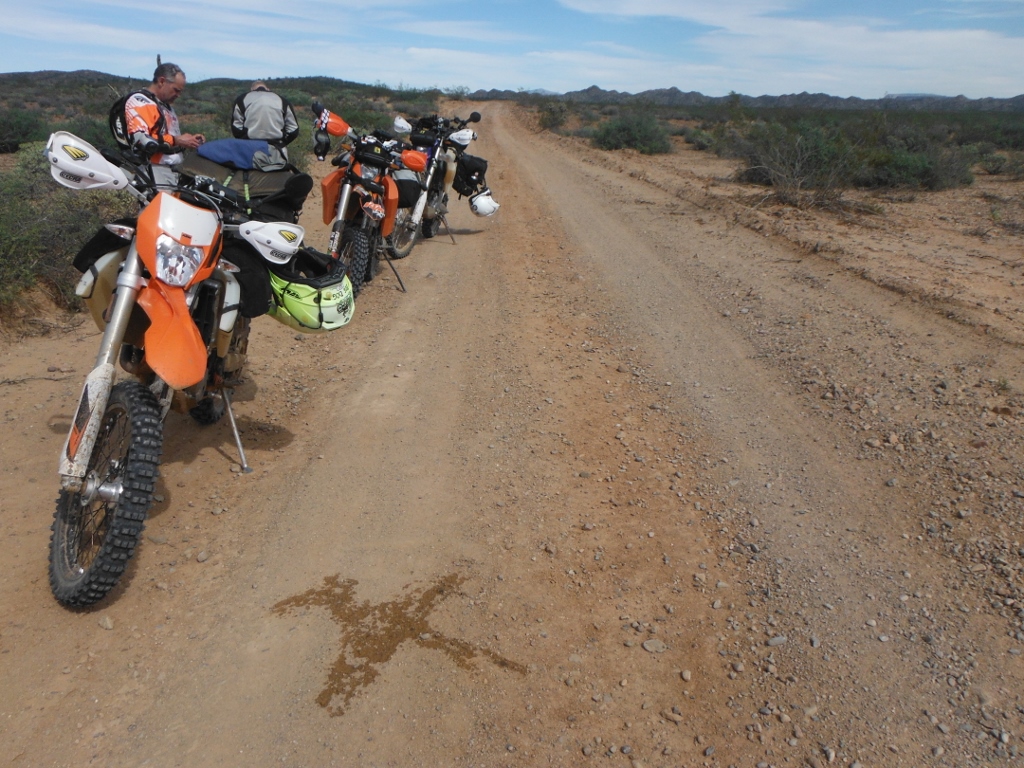 OK what's the wet spot ????
This is where dingweeds rear shock blew 2 years ago and we were forced to go home.
So this was a milestone for us.
X marks the spot----and great place to pee.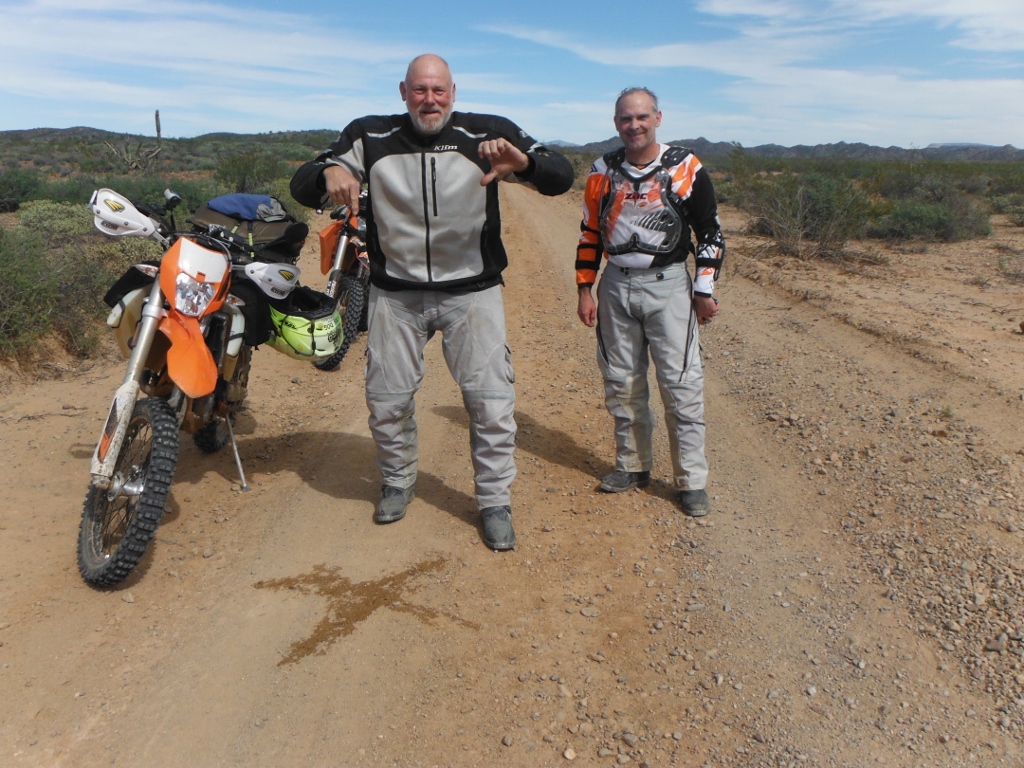 After crossing this line that High Five drew---we were in new territory.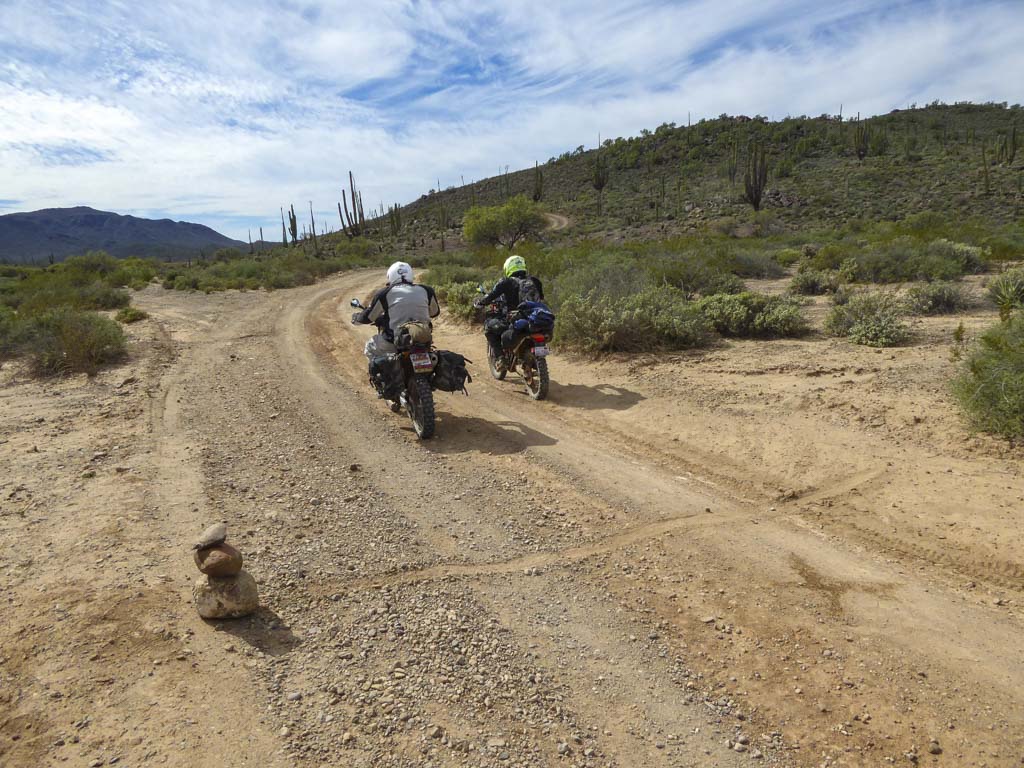 Well I didn't blow a shock----but one of my forks started weeping a bit of oil and I stopped to clean the seal
with one of those fancy smancy seal cleaners and it stopped leaking.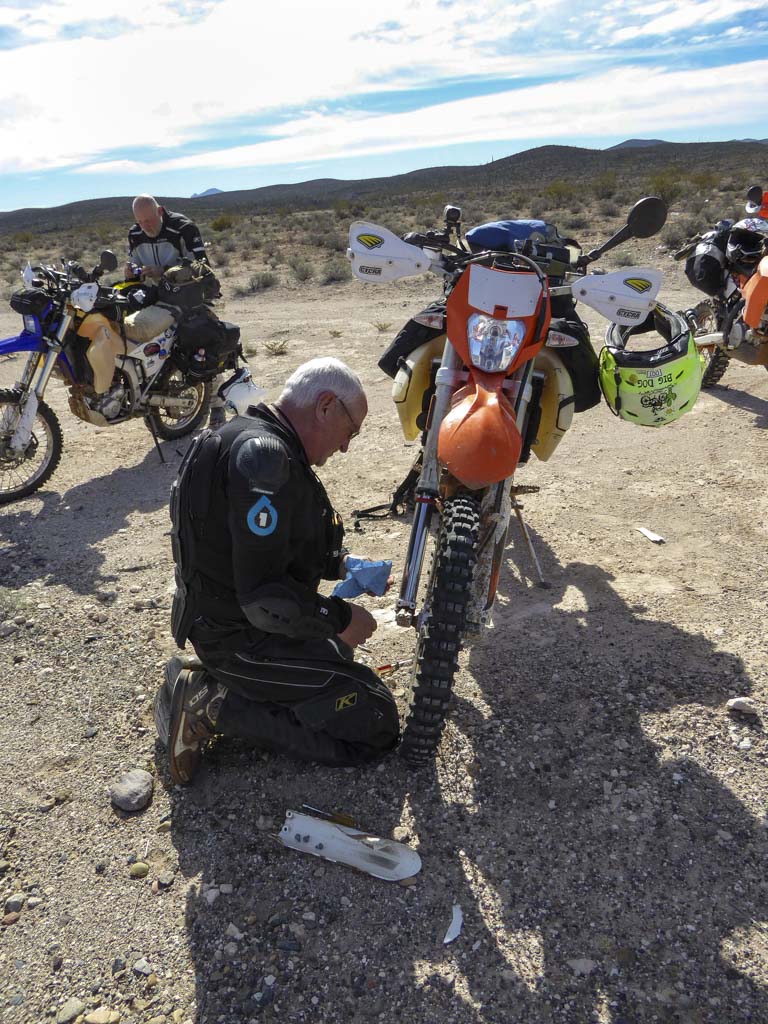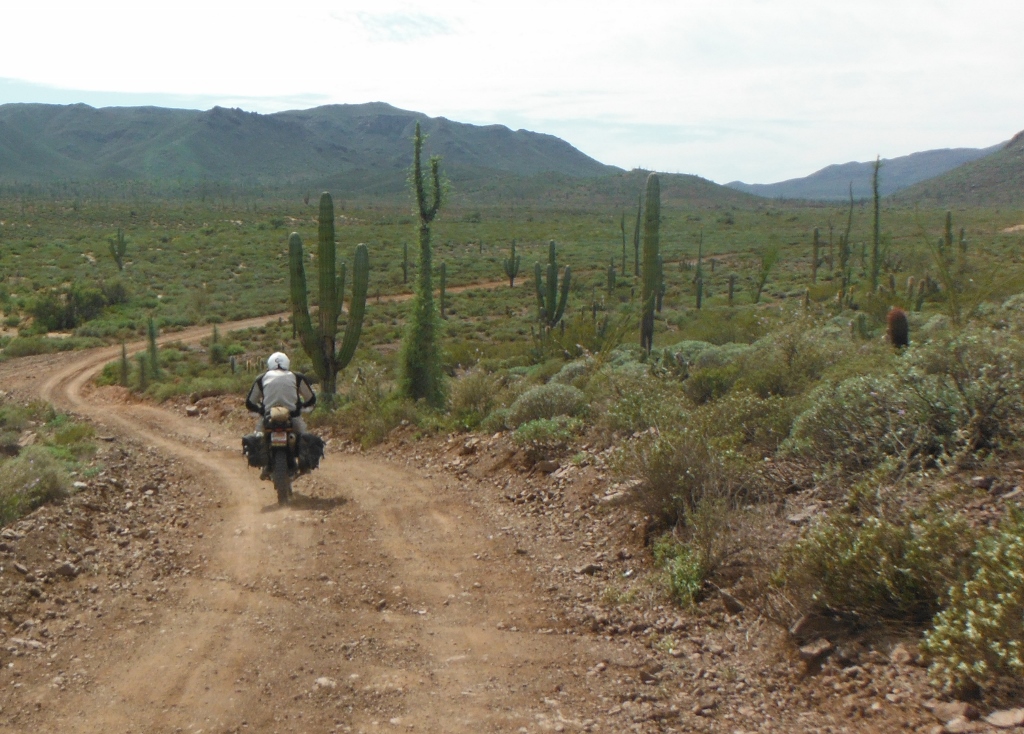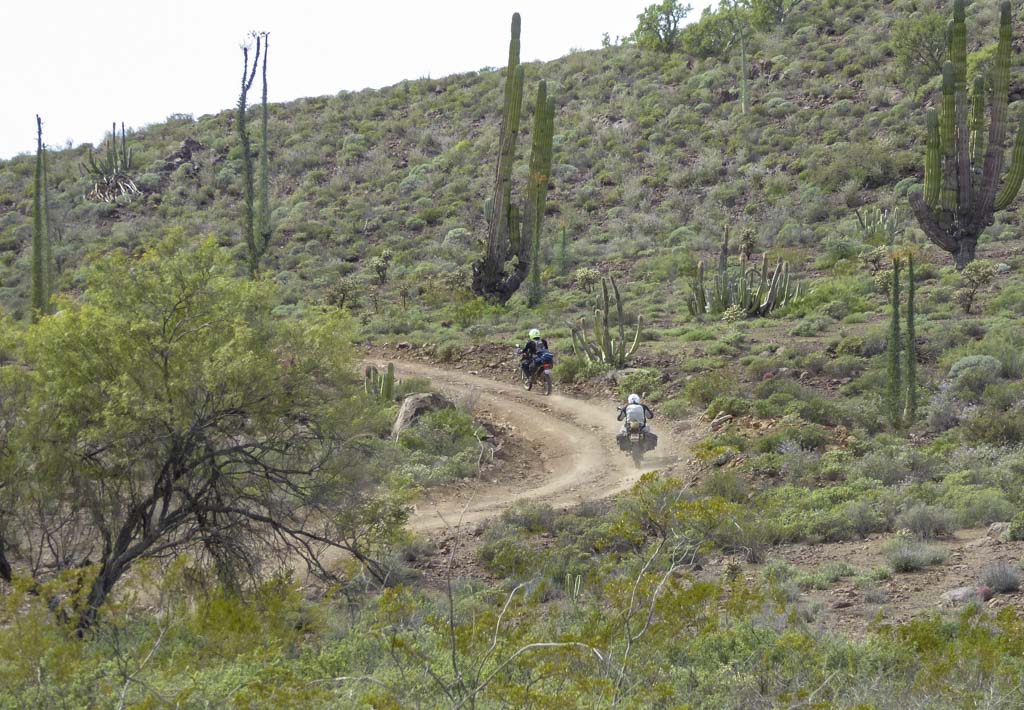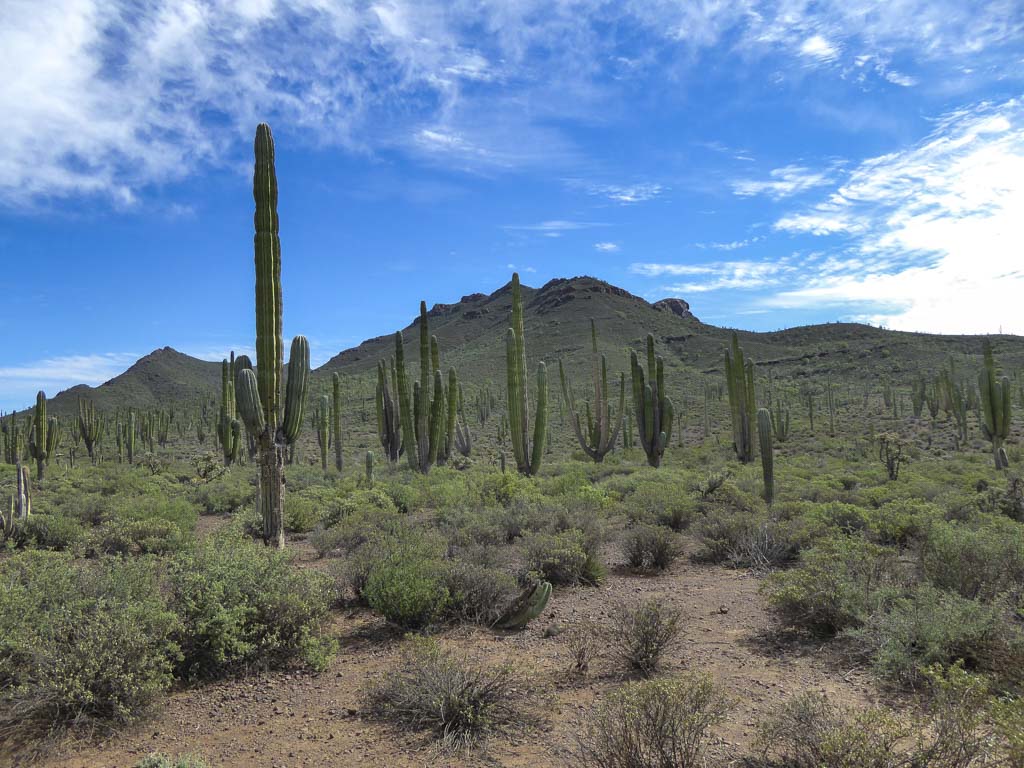 The greenery was outstanding------about 2 weeks before we got down here they had some very heavy rains.
Washed out some roads----but left some nice greenery.
Now how inviting is this----------I just love the big cactus's.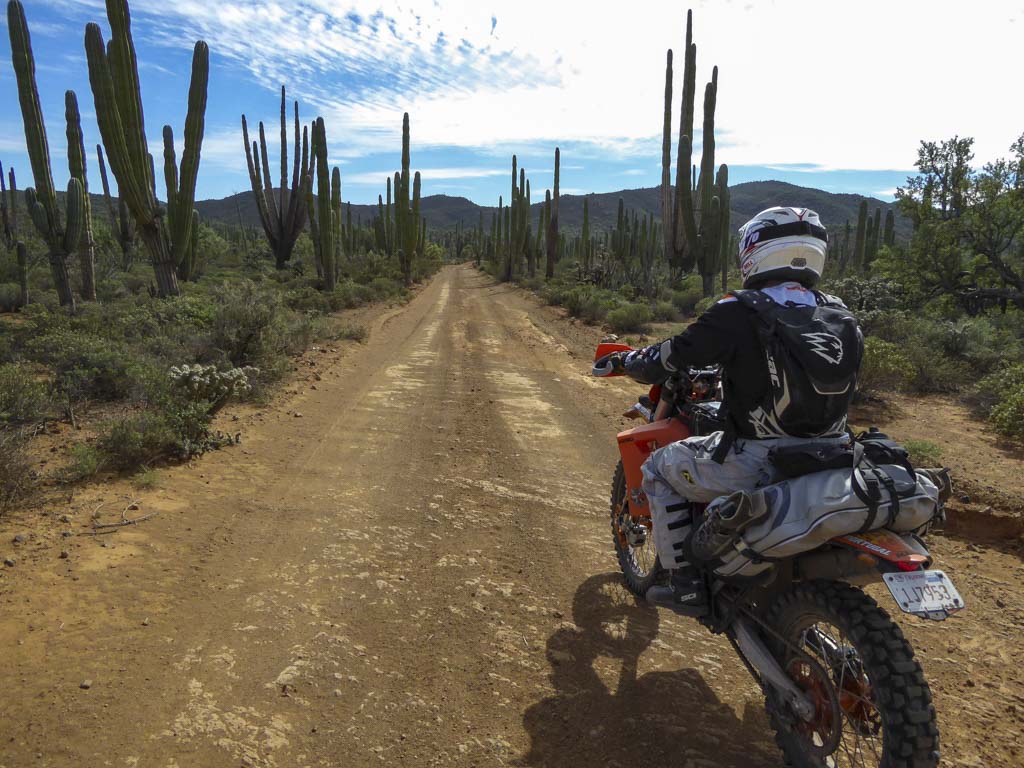 When are we going to see the sea------we are so close---where is it.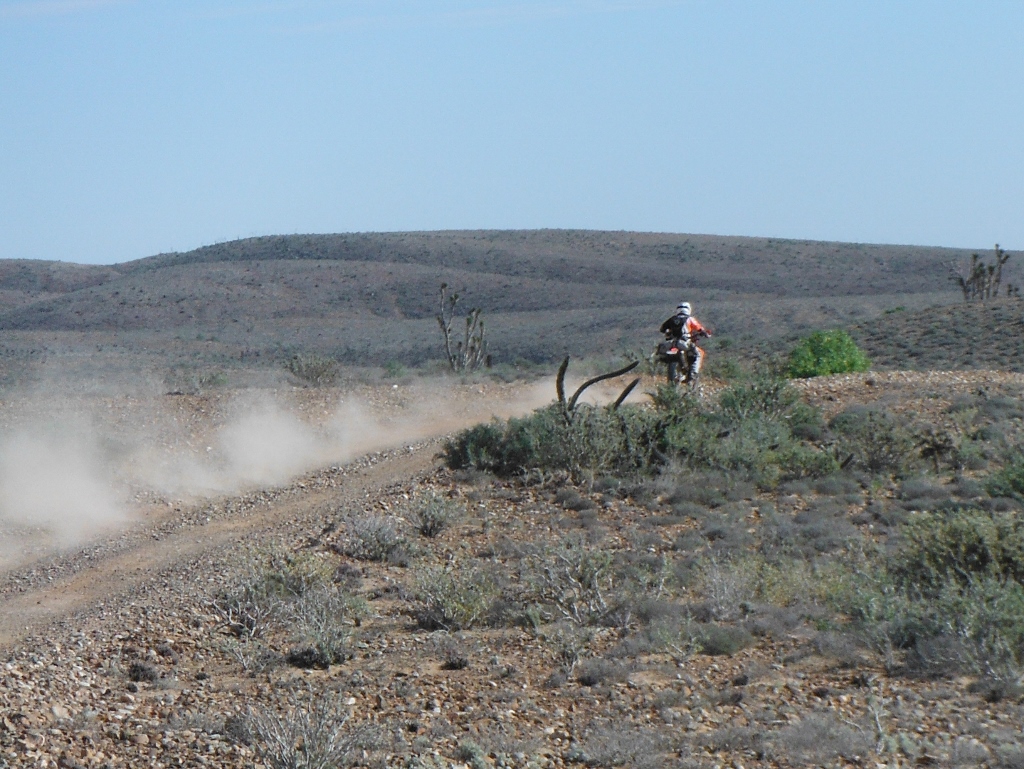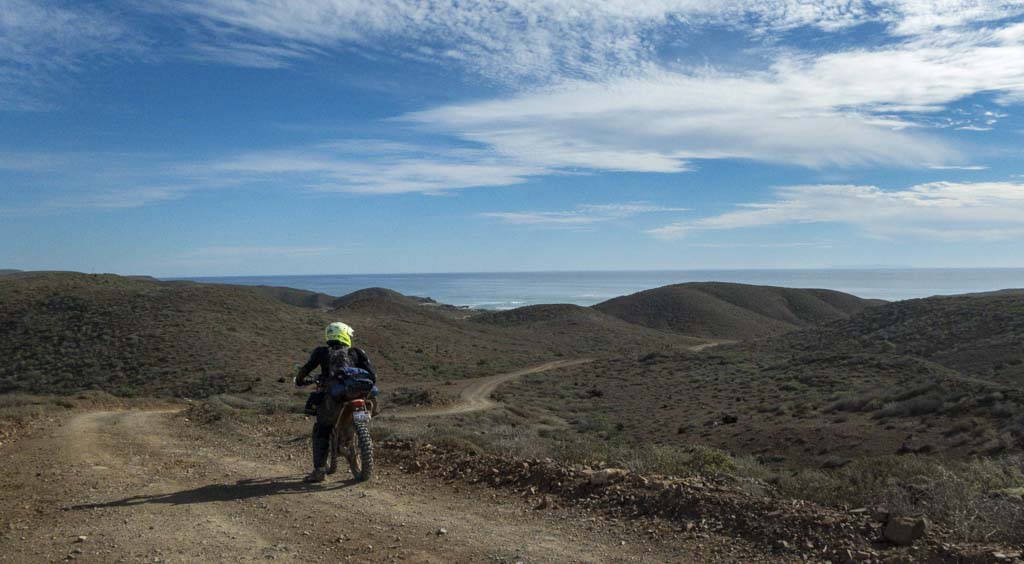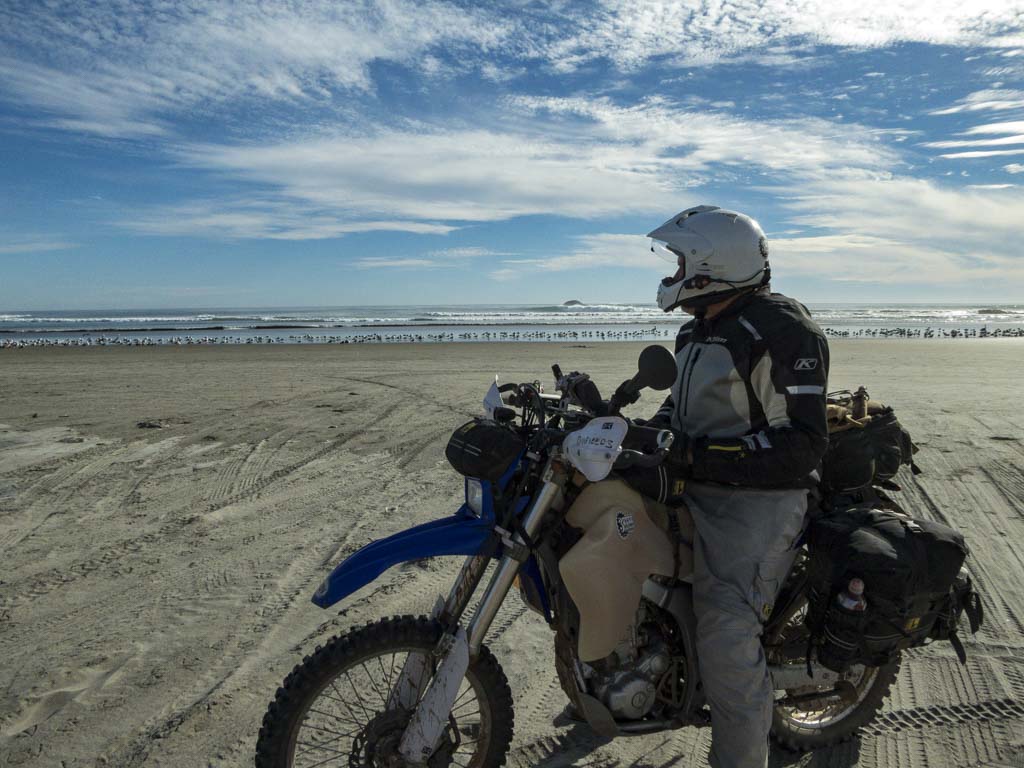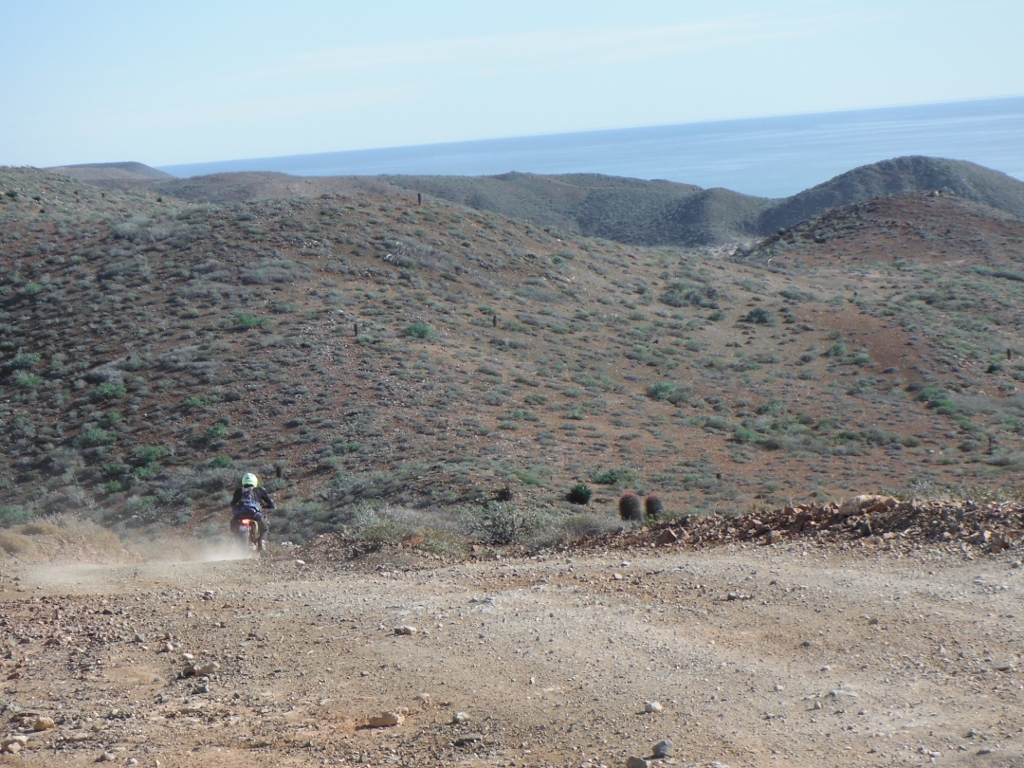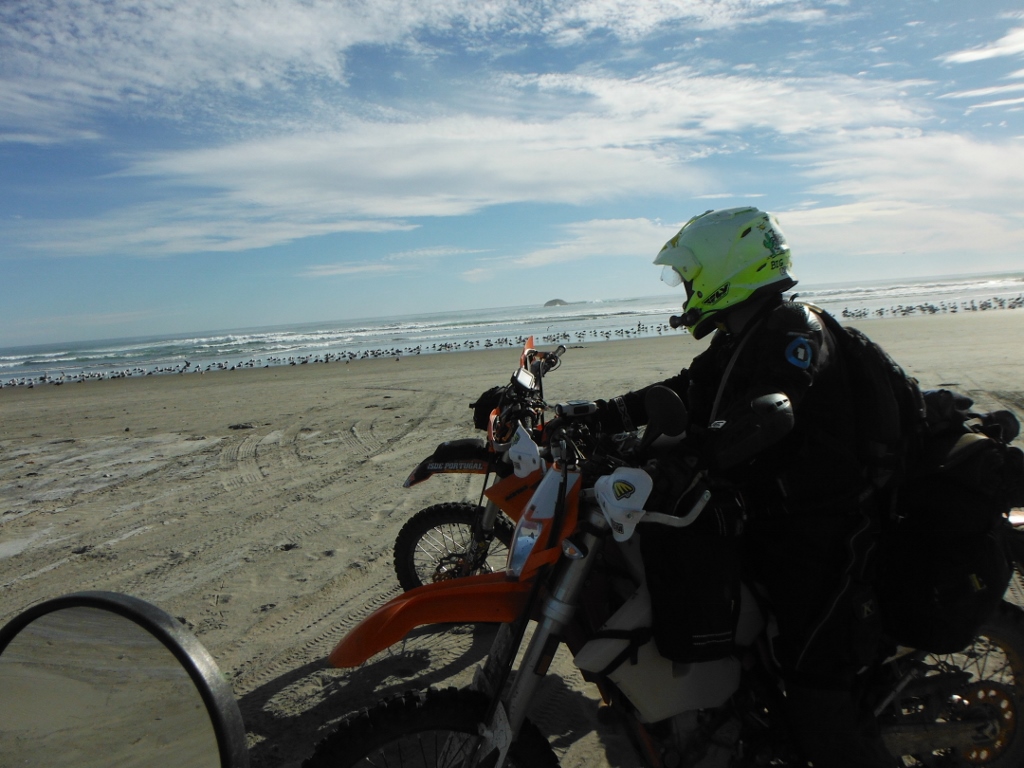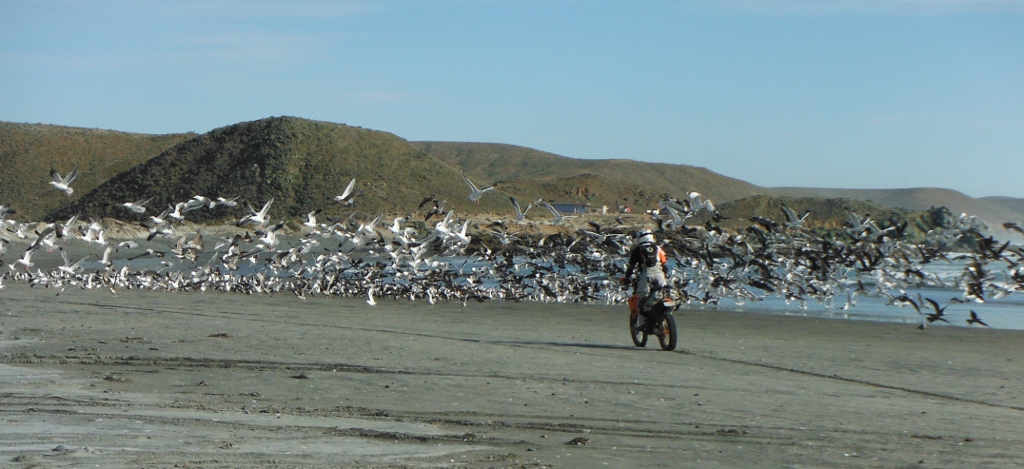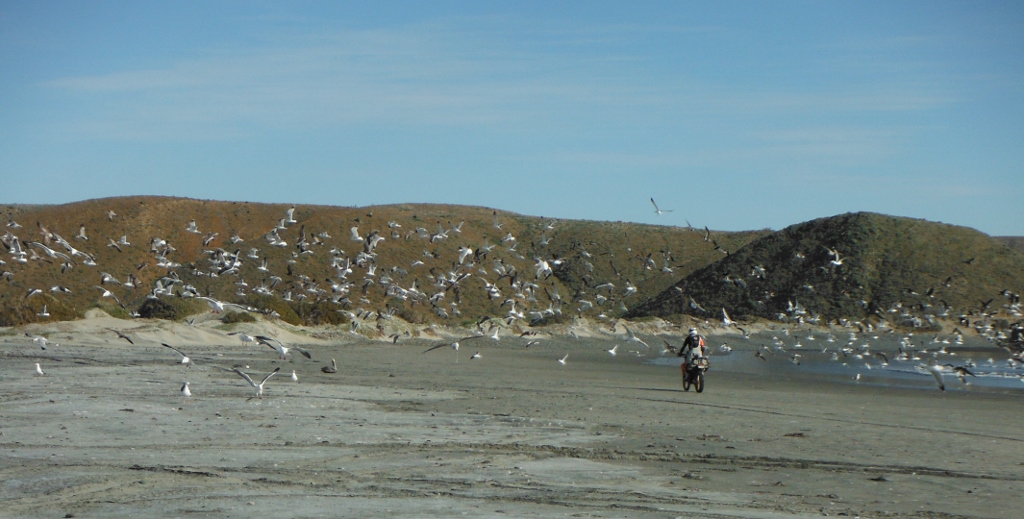 It was getting late in the day----and rather risk riding further and not finding a good camp spot
we stopped here. The sound of the ocean here was almost deafening and sounded like rain was pounding down on our tents at nite.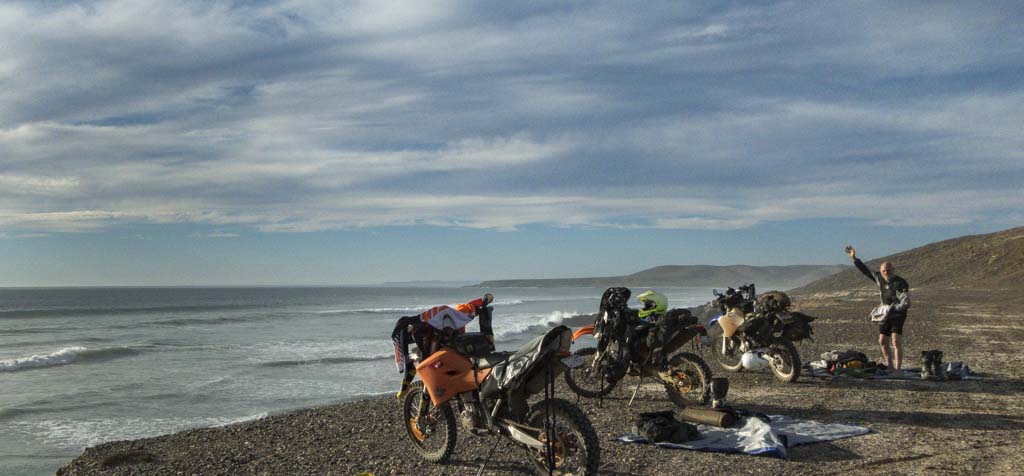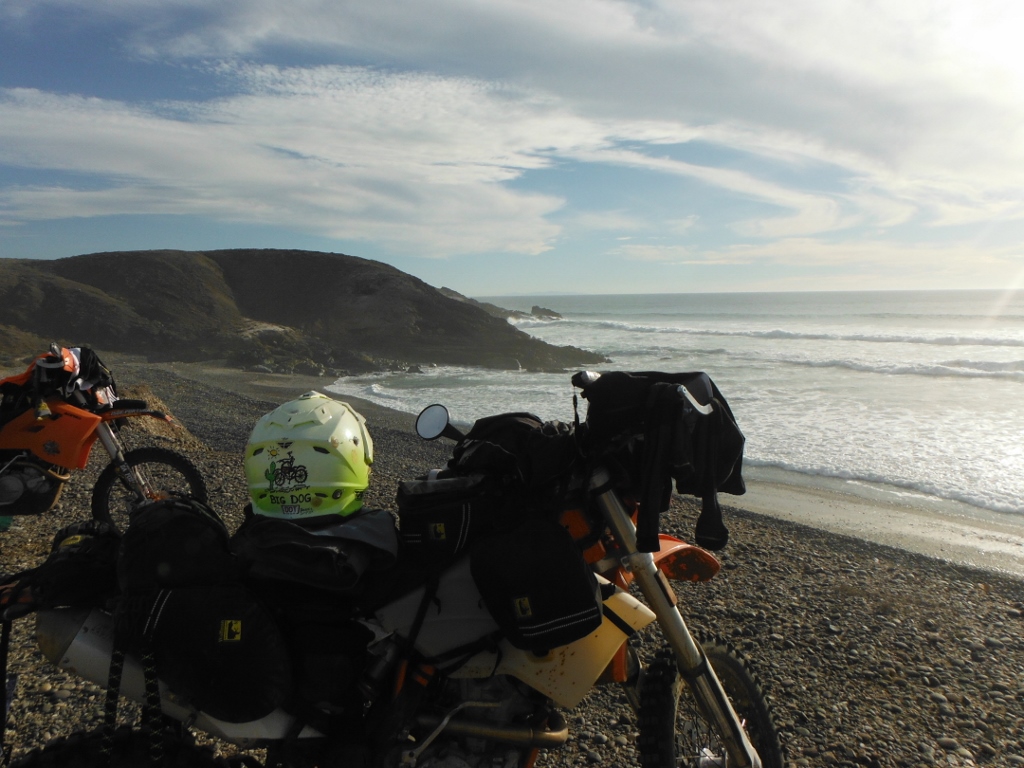 Me and Dingweeds rolled out our "Dingweed RP3000" adventure tarps.
Available at the finer adventure stores everywhere.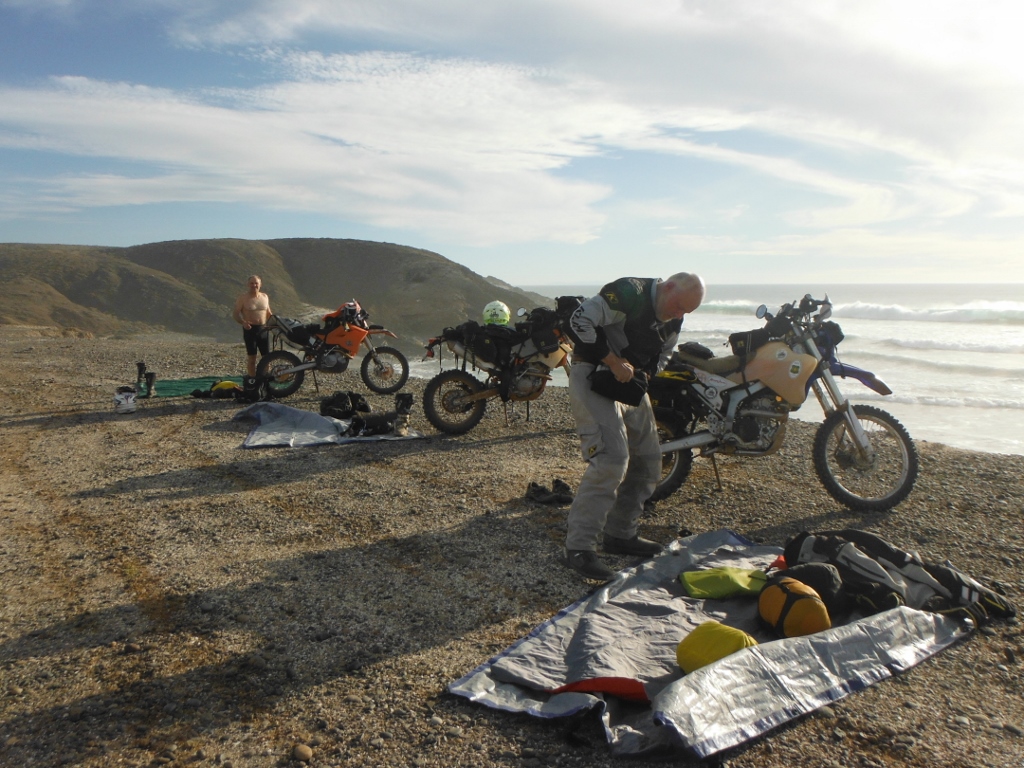 High Fives KTM had stalled once today and probably was just a vapor lock thing.
He checked things over and all was good----and it never did it again.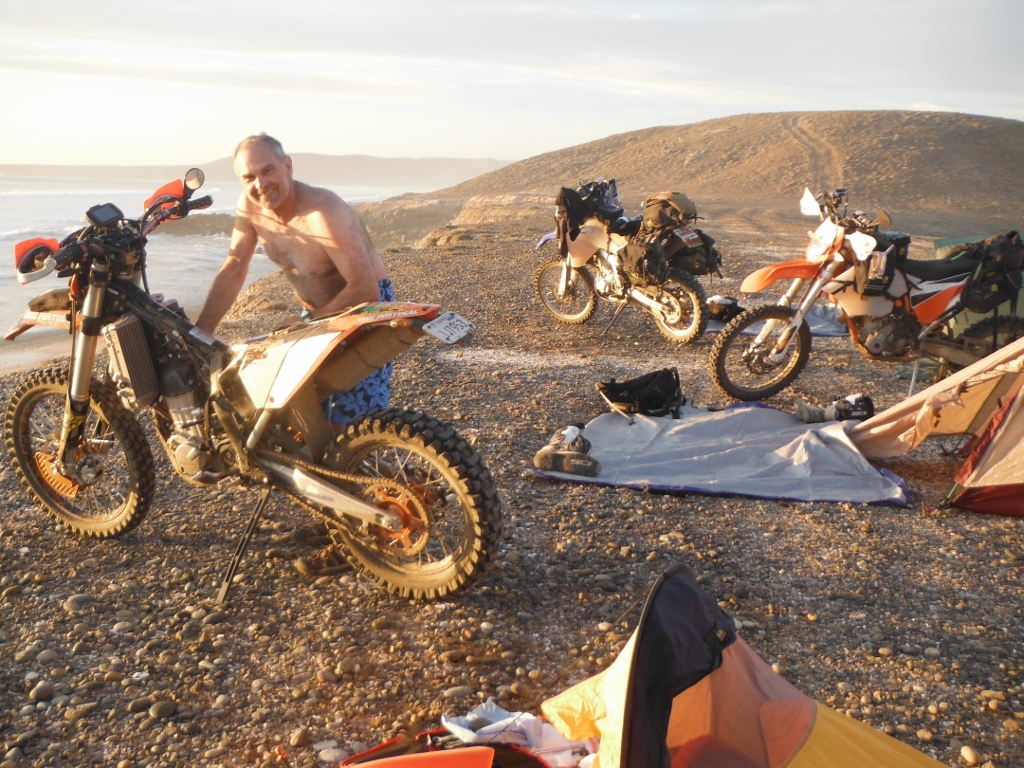 And as you can see----it was warm and off comes those pesky hot riding outfits.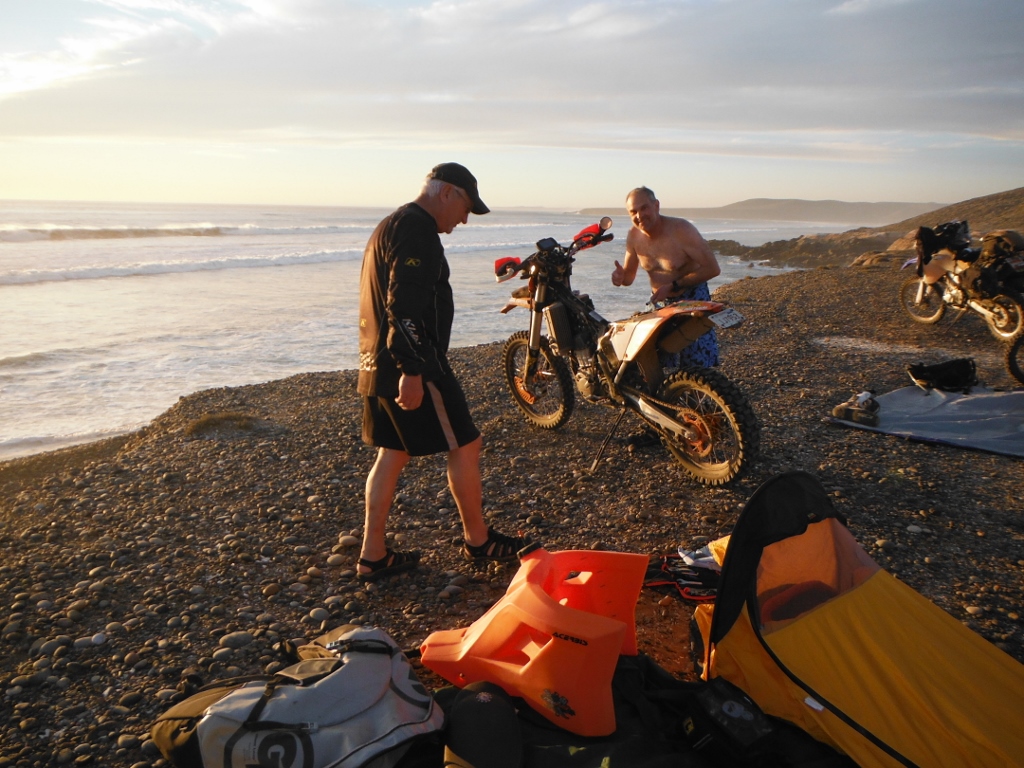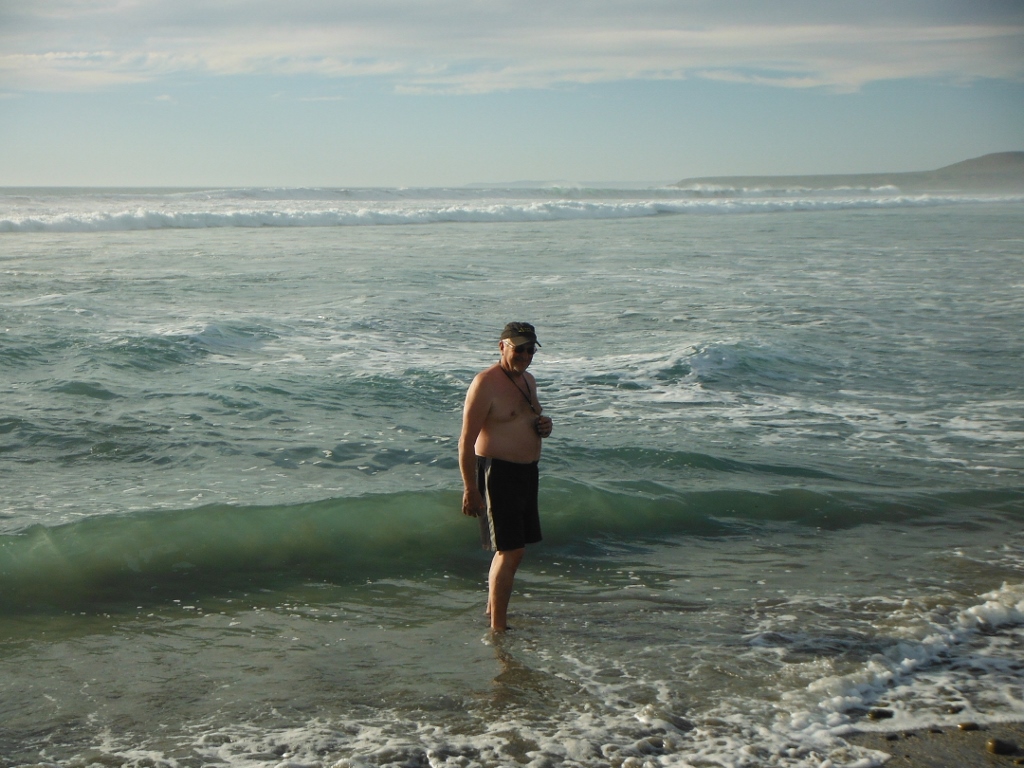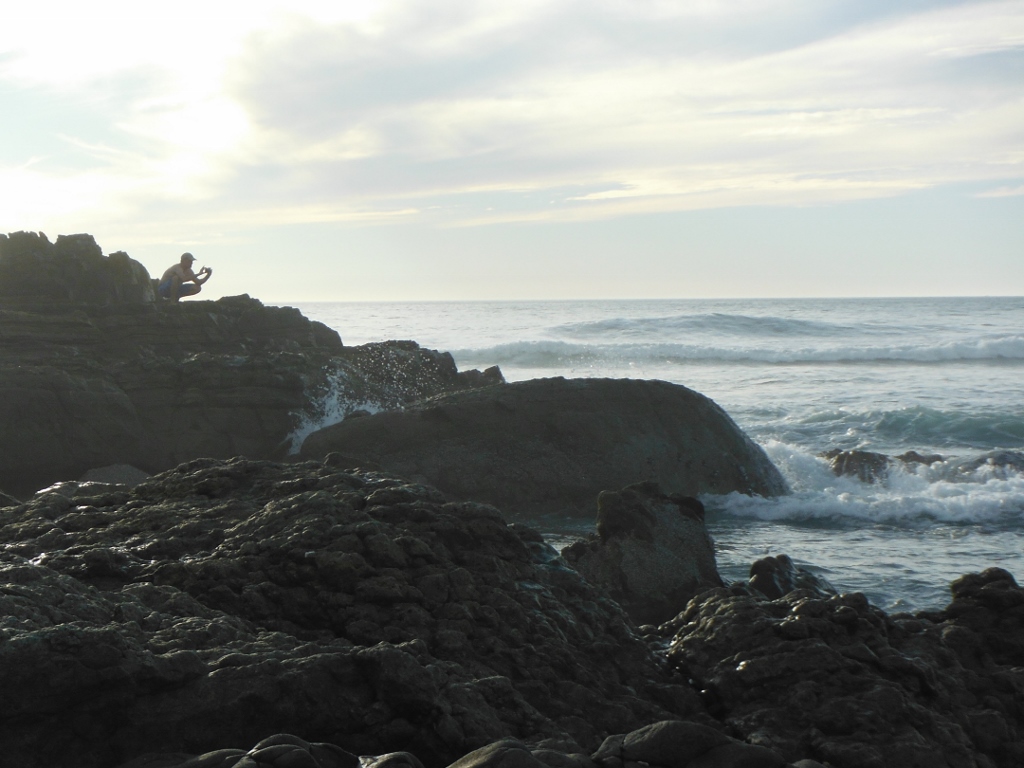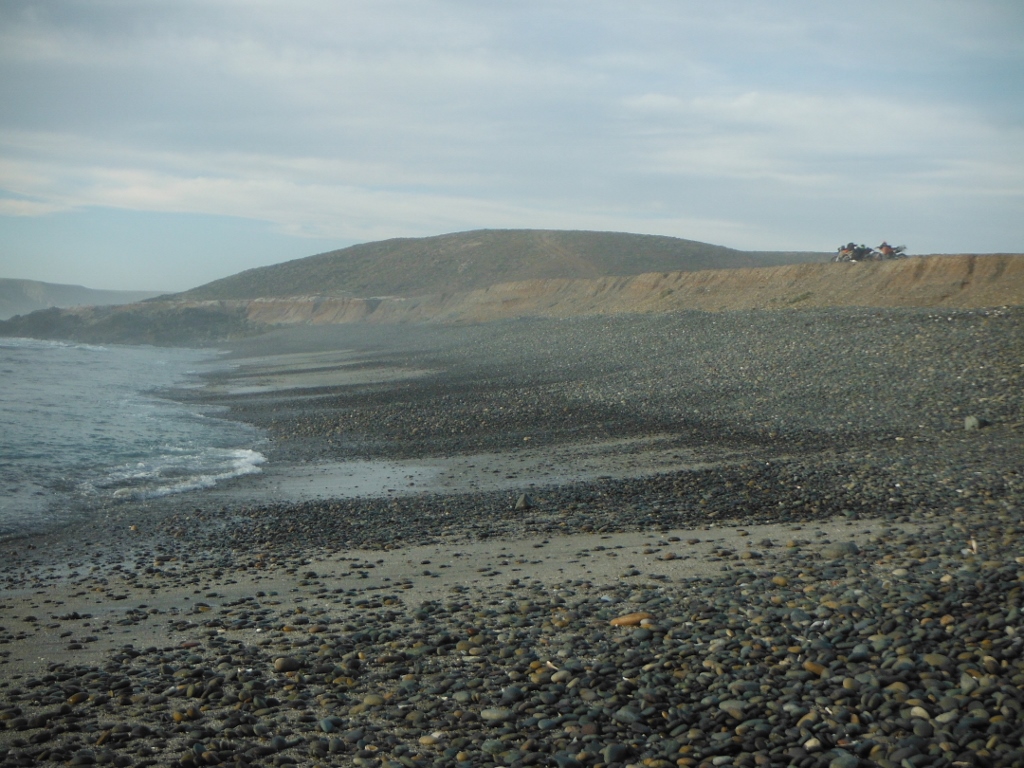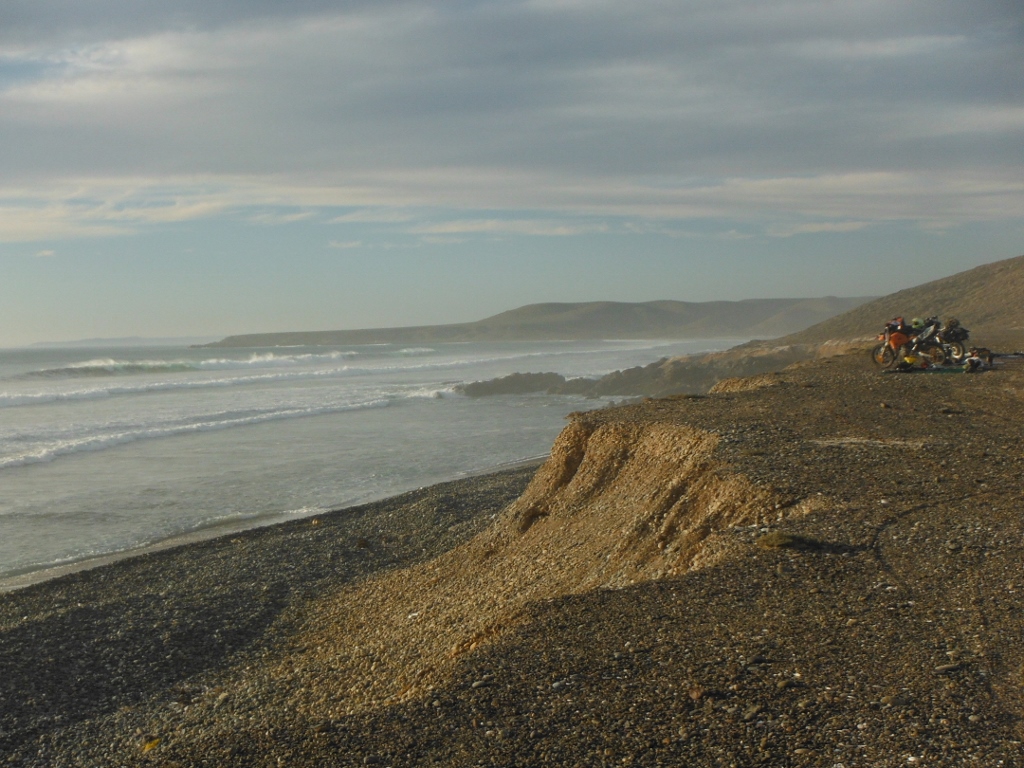 Ah Baja----as I said the ocean was extremely loud----and when you woke up to pee at nite you would have swore it was raining hard on your tent.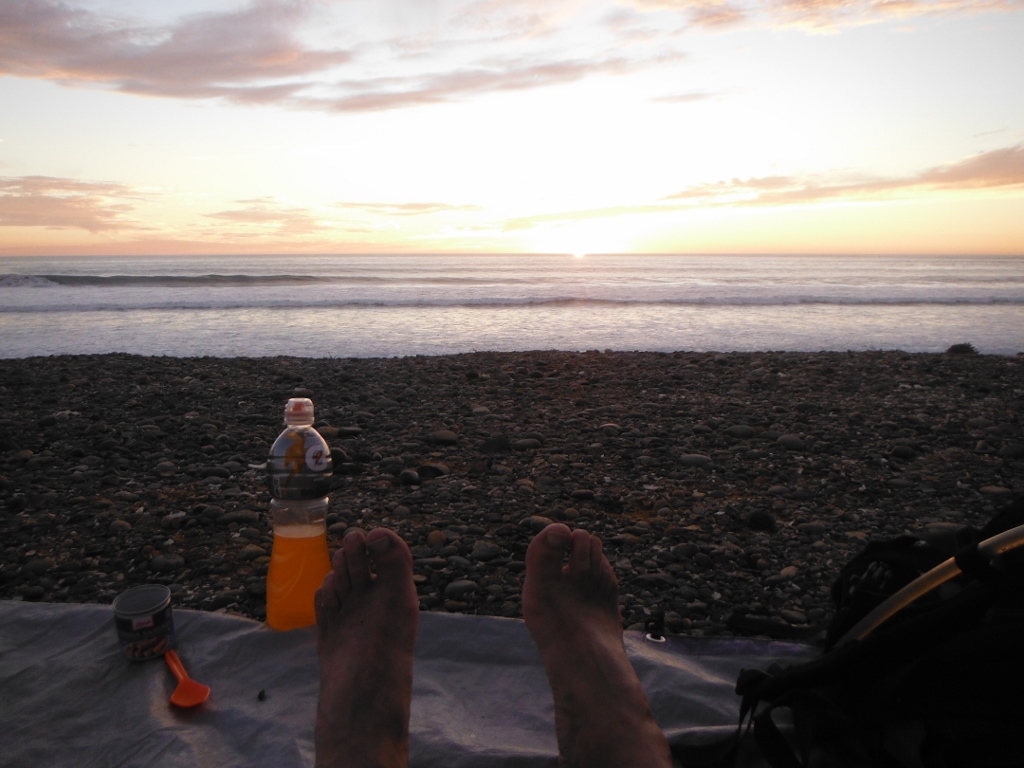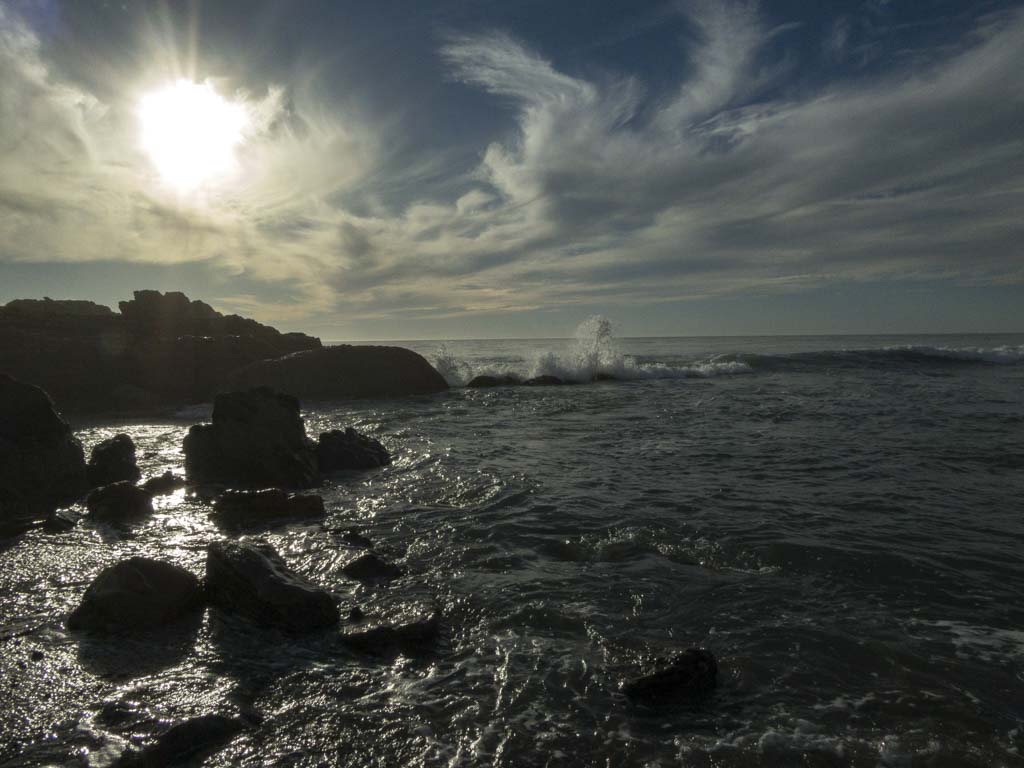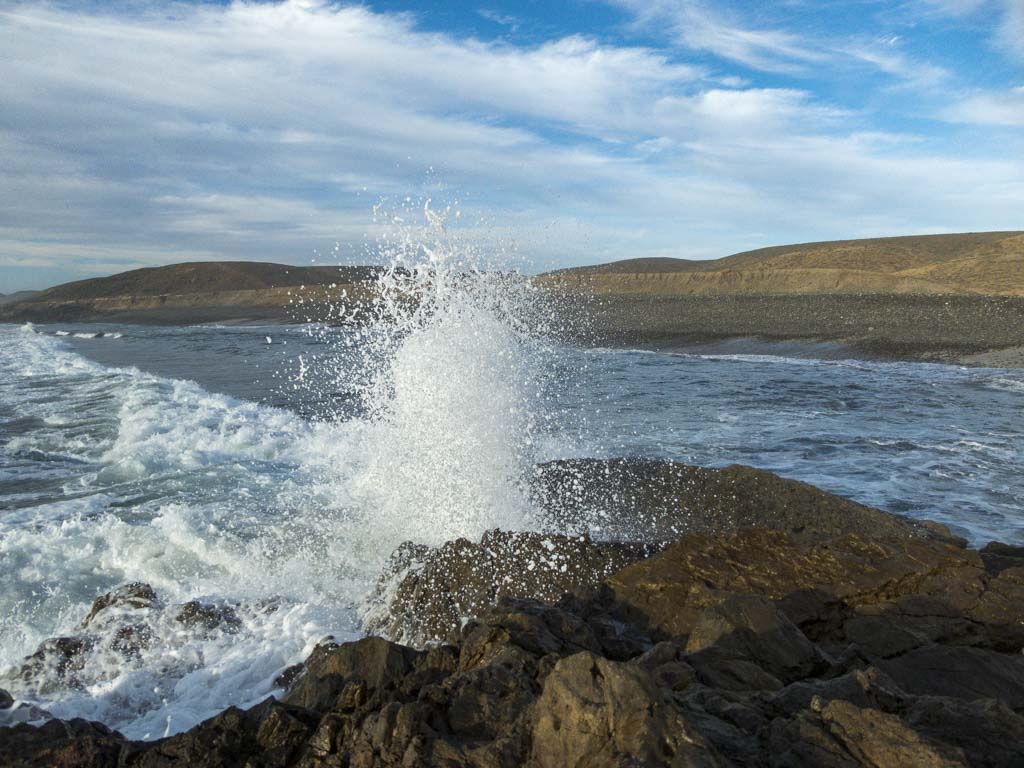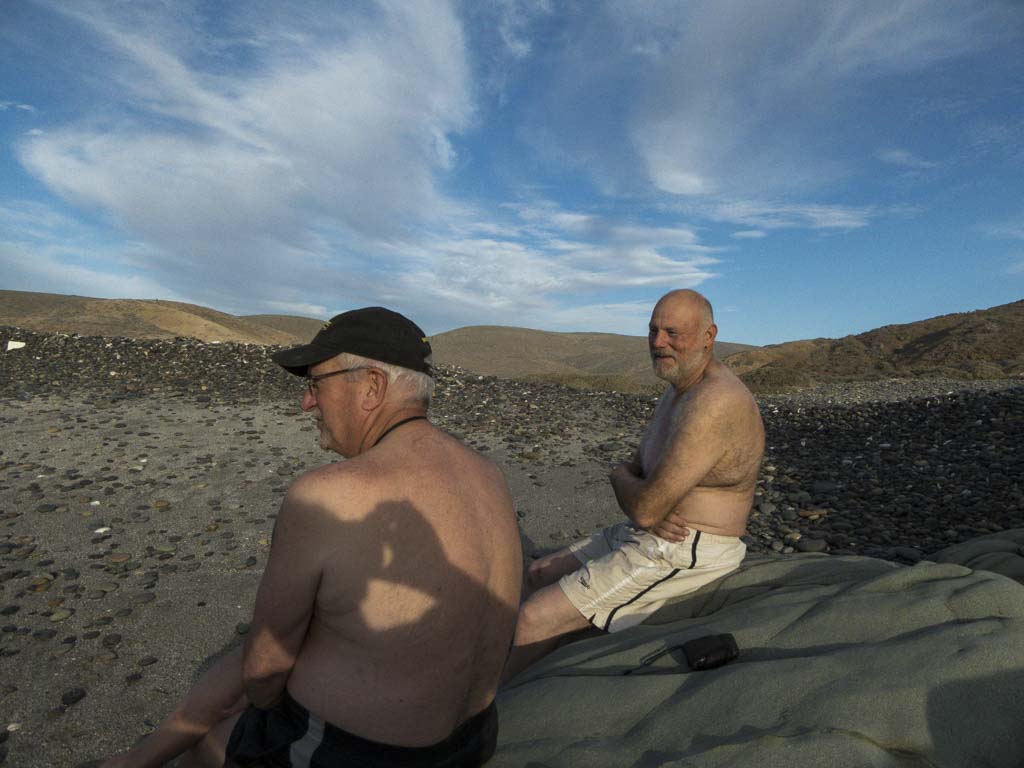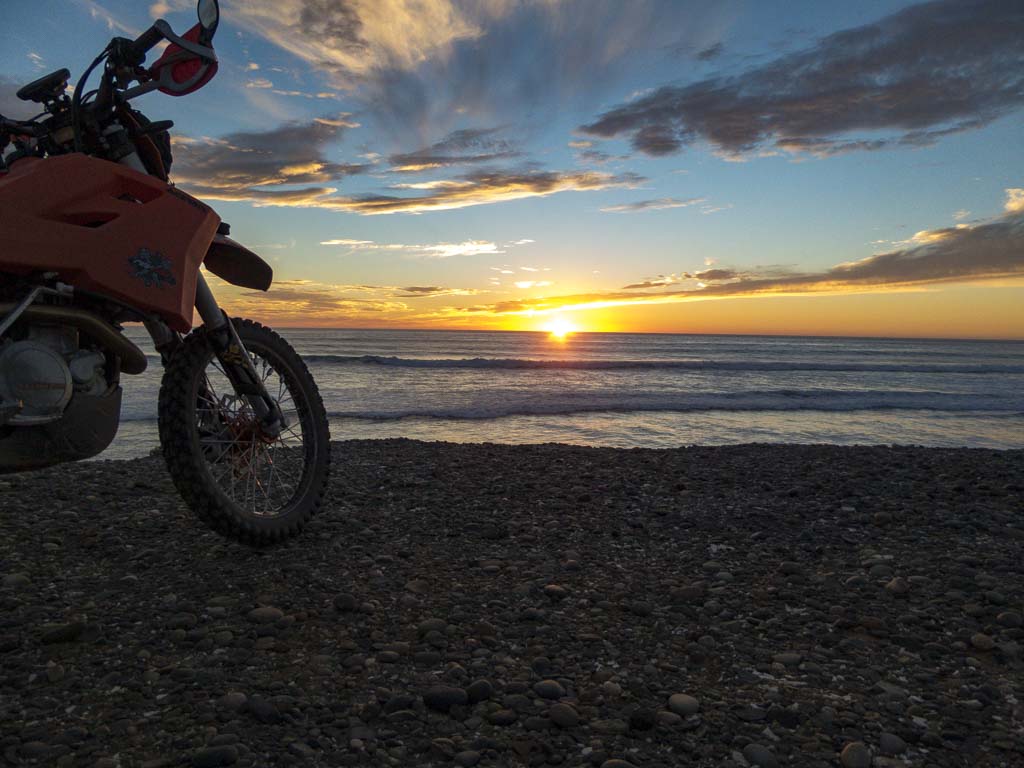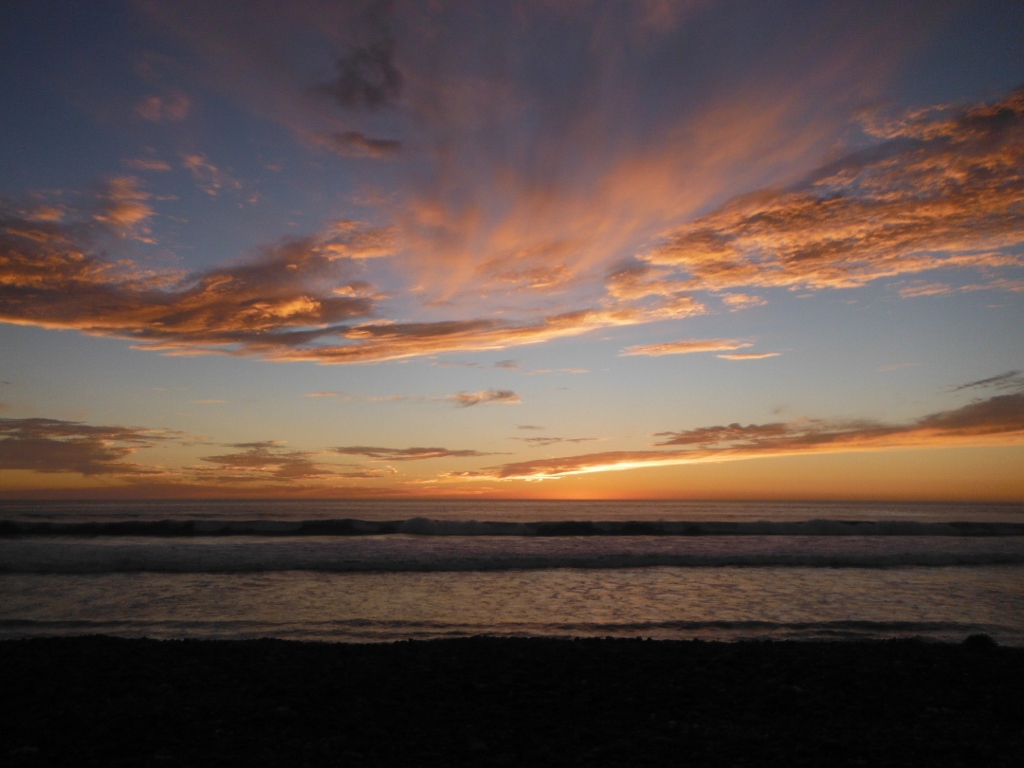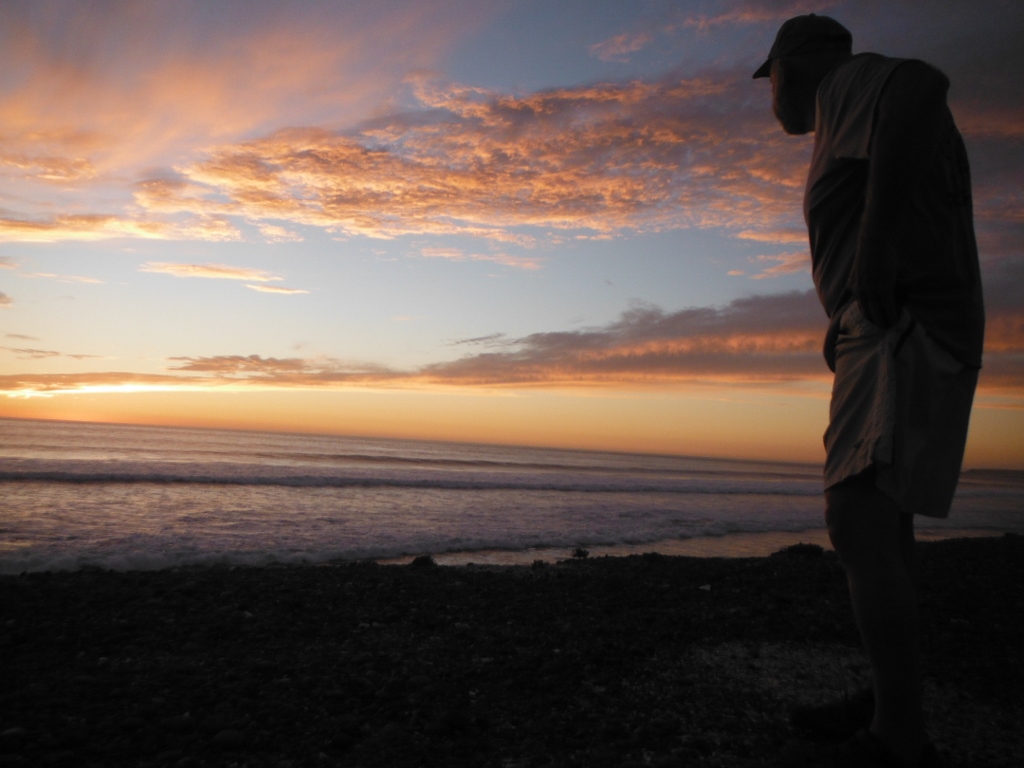 Here's a short Video of Day 5
A rough map of our days ride today.