Buzzez's April Fools Ride
April 1st thru the 3rd, 2005
3 days in the Arkansas Mountains
And we cross a river--we never should have attempted !!!
We all get soaked on this ride--and we all fall down--are we having fun yet--you betcha'
Buzzez picks us up in Bixby, Missouri at "The Old Time Country Store" just as we had finished breakfast. We hit the road and stop for a break and snack. Monty Moore from Woodlawn, Illinois is pictured here on his pretty new BMWF650---Monty is in training for his biggest ride ever---the "Continental Divide Ride".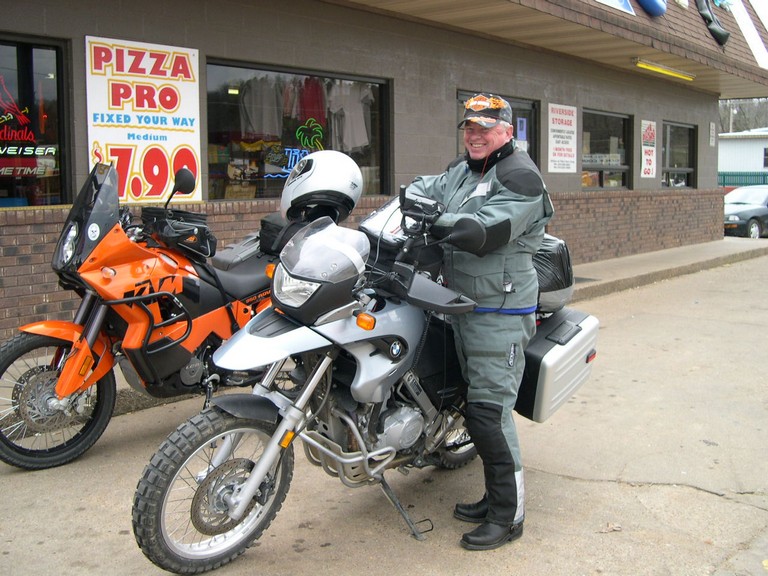 Buzzez (right) is the instigator of this ride----I had just met Buzzez and I knew right a way he was going to be a hoot----Don't he have little ornery look ????? His buddy Honz is rubbing his belly as it is growling for a cold beer---or even a warm one I think !!!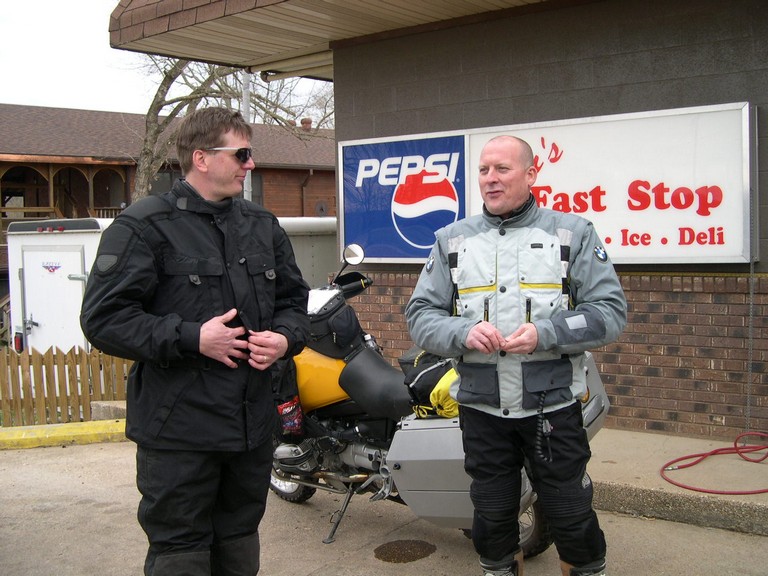 Buzzes and Honz were setting a pretty hard pace but I (Mark Sampson) saw this old Grist Mill beside the road and had to stop for a nice photo opportunity for the Mill and my 950. Buzzez said "Yeh---when I get old, I may start that scenery thing--maybe". It was pretty cool out and cloudy but we didn't hit any rain all weekend---although we all get soaking wet---more about that later on.
This is the Hodgson Mill which is spring fed and is located at
N36°42.481' W92°16.002'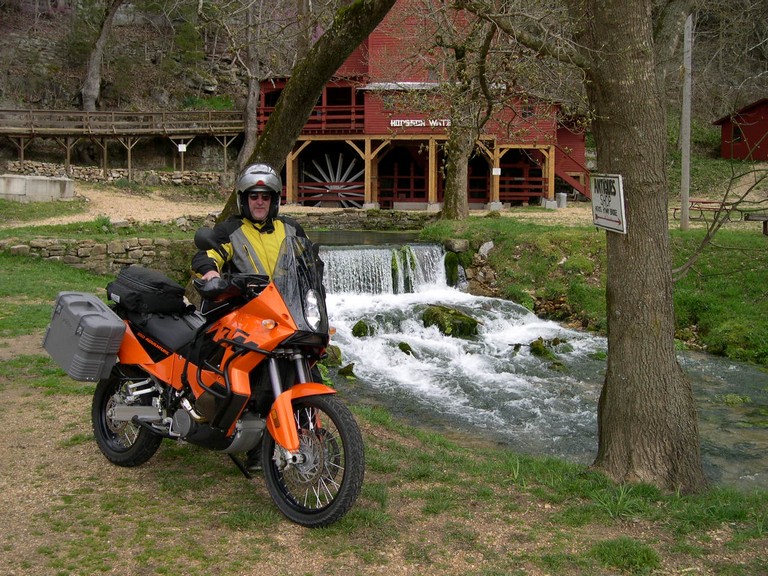 Buzzes said he new a great cafe for lunch---and good cafe's are just hard to find. The food was great. I of course made a "Cafe" waypoint for future use. We all were running our heated grips and clothing and were nice and comfy. The Arkansas Mountains are coming up.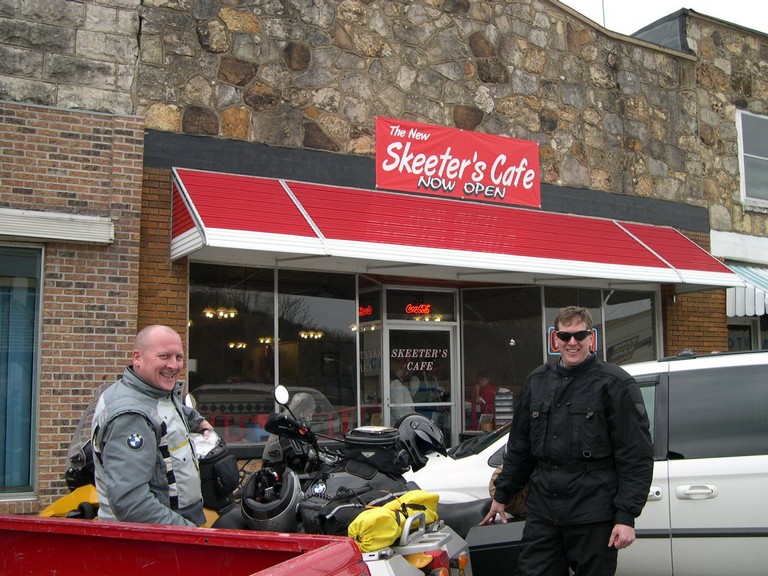 But first Kevin Sweet has to get wet---the first of more creek crossing than we could count. Kevin's KLR is waterproof---and there was much more water to come. Kevin had to wring the KLR out a little all weekend when the other bikes hit the road---but he hung right in there.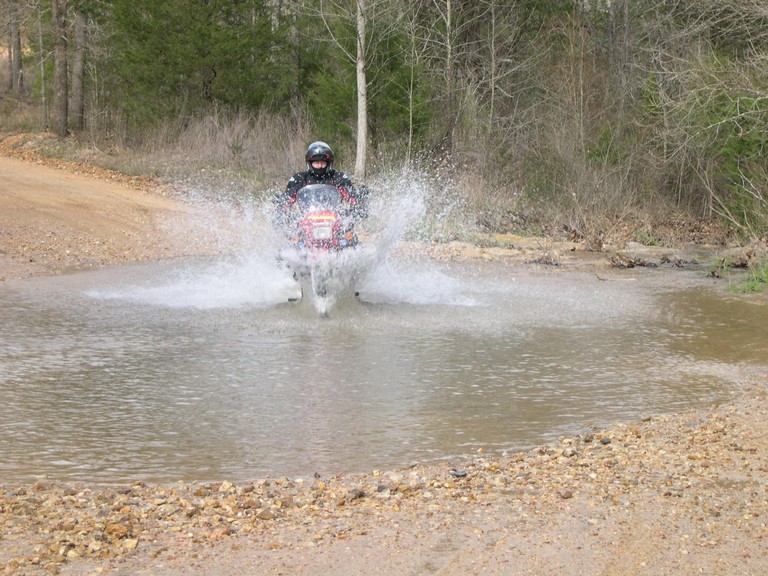 The mountains come into view---I love Arkansas----nice people wherever we went and it is pretty sparsely populated. We rarely ran into a vehicle on any of the roads we rode on.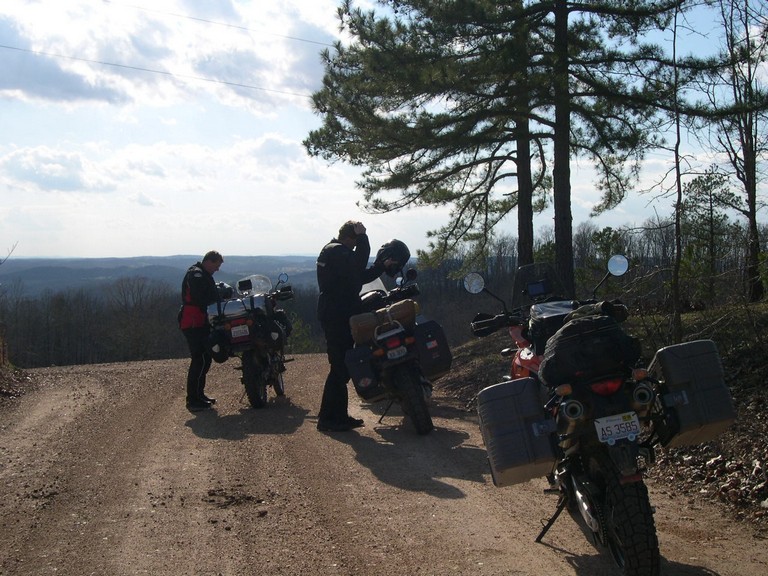 I think this poor guy wishes he never got out of bed this morning---he's got a
"Hang--Over"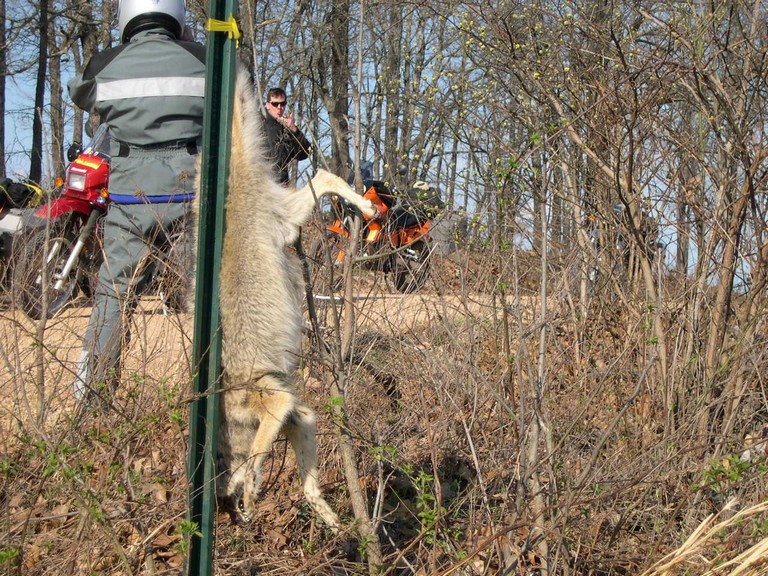 Here's Monty enjoying the mountains---Monty was way less experienced offroad than the rest of us---but he was to show us all up bigtime later on-----"You go Monty". Monty is a pleasure to ride with and has a great smile 24/7. Adventure riding has opened up a whole new door for him and he's having a hoot. I introduced him to adventure riding just a few short months ago and he hasn't been able to sleep since.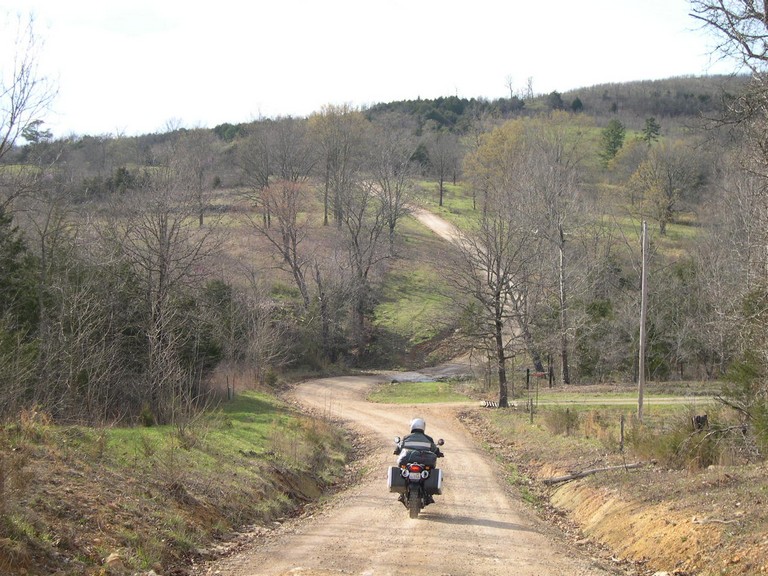 We come upon the Buffalo river and ride right along it on this lonely one lane road for miles---our route says we will cross it shortly---boy were we wrong.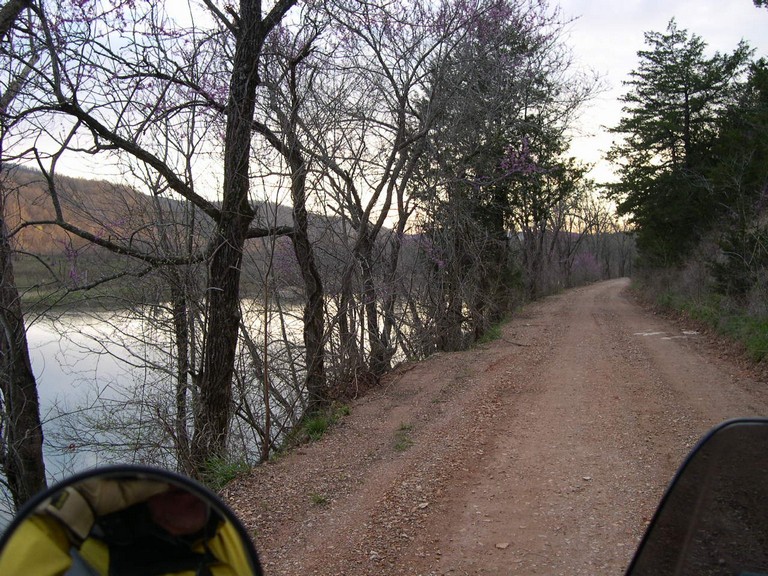 The sun is setting and there is no crossing this river---our campsite and destination for the night is 20 miles on the other side of the river in the Richland wilderness area----we never make it.
April Fools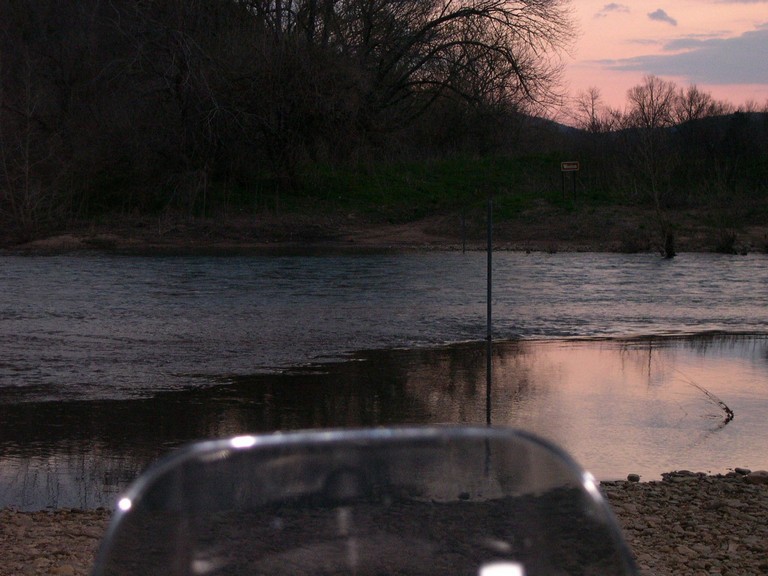 It's Saturday morning April 2nd----we all froze our butts off last night and I forgot my sleeping pad--it was a tough night. We camped right on the Buffalo river which is just below the bluffs--it was a beautiful place but we couldn't wait to start riding and get warm !!! The sun hasn't popped over the ridge yet, and when it does it quickly warms up and is a perfect day for riding.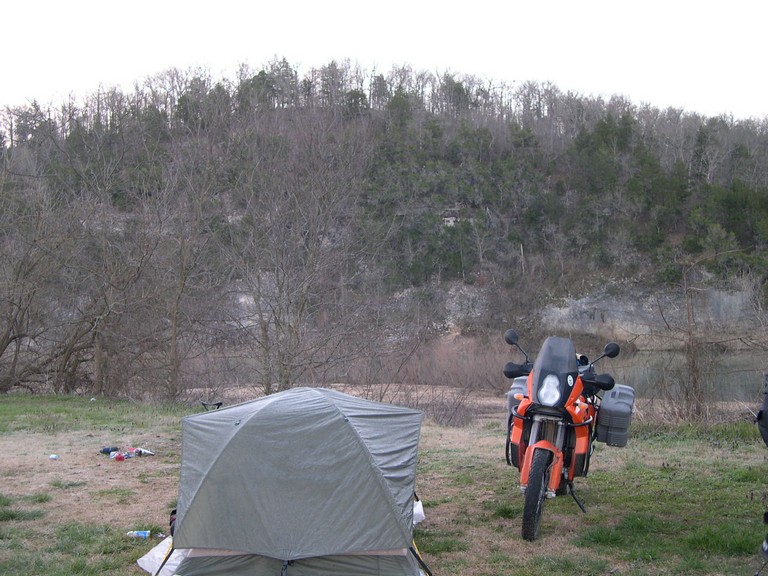 Kevin just can't stay out of the water it seems !!! These concrete low water crossings looked slicker than snot, but none of them were. This is just Northast of Gilbert, Arkansas and we are crossing Tomahawk creek.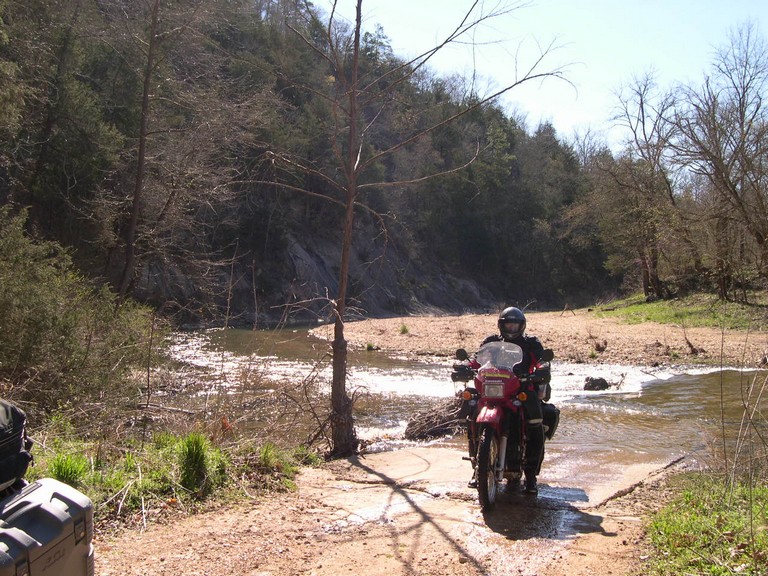 It was miles and miles of one lane dirt roads and many creek crossings----whoops--"BigDog" down.
"Don't pick you bike up yet Buzz--I'll help ya' " ------Click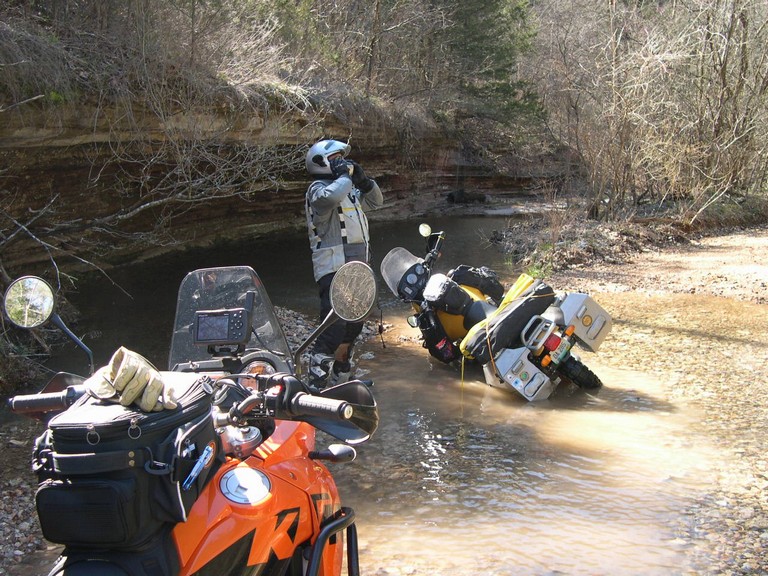 Were a day late---but we find Richland campground. This is the most desolate area of Arkansas I have ever been in and nobody was around. The Richland Creek was a very pretty blue.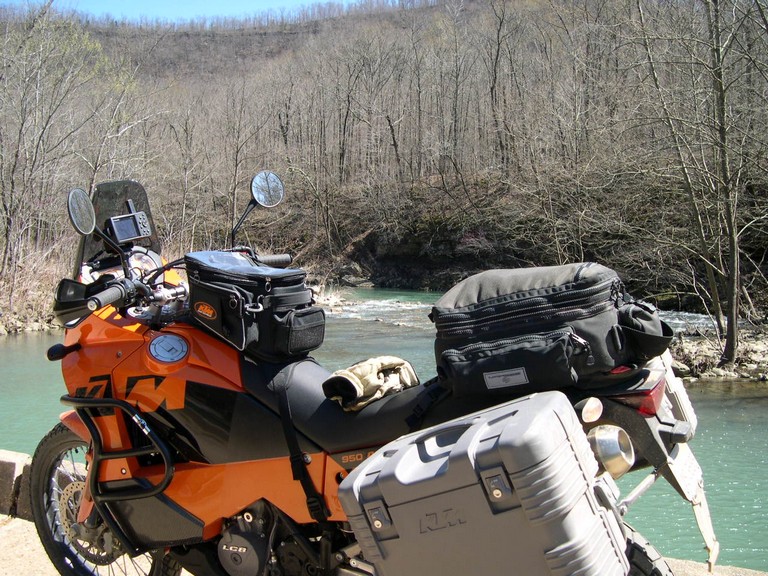 We cross Richland Creek here on the bridge---what we didn't know is that we had to cross it again and there was no bridge----to be continued !!!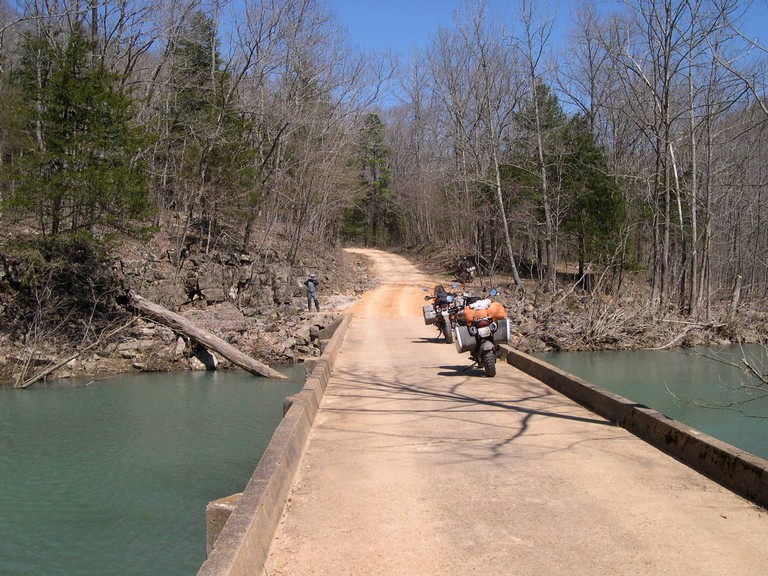 Honz celebrates with a warm beer--we just knew his sadllebag was going to explode before the weekend was thru.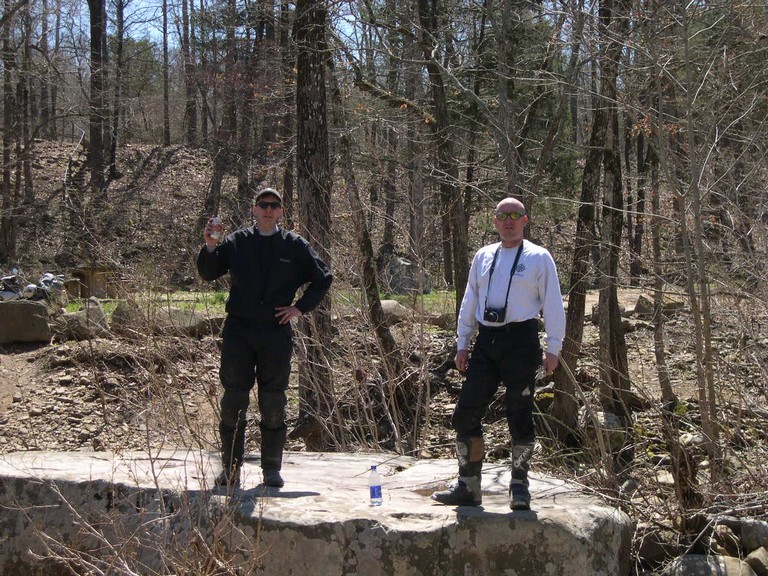 "Don't try to get up Kevin--I'll help you !!-----click
He couldn't---he was pinned and couldn't move.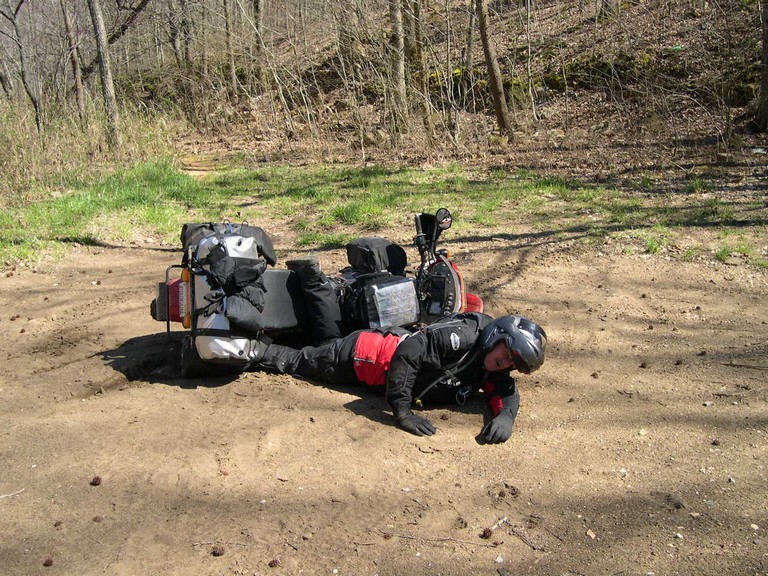 Holy April Fools---this is no joke !!
Are we men or mice ??
Are we adventure riders or weeny's ???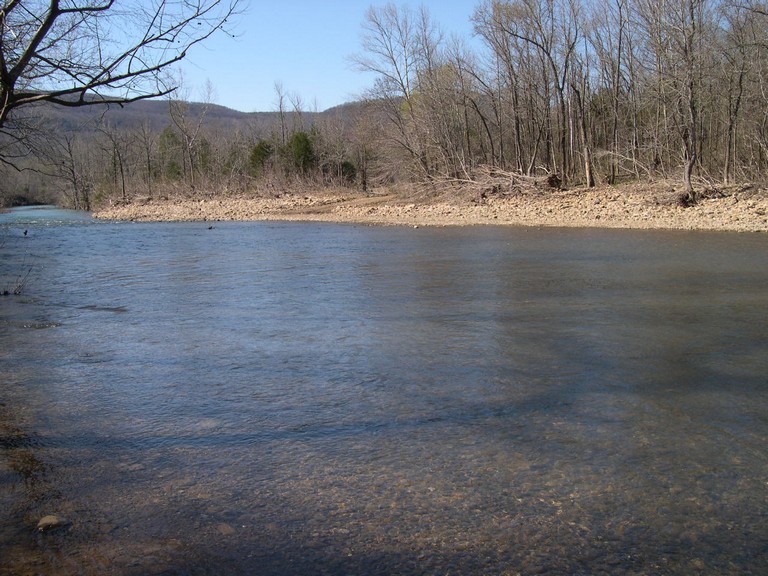 The testosterone is flying everywhere---who will go first---or who---will go at all !!
Energy was in the air and we paced up and down the river bank for 30 minutes when I made the statement "we really shouldn't attempt this crossing as the odds are that one or more of us is going to get wet--or worse".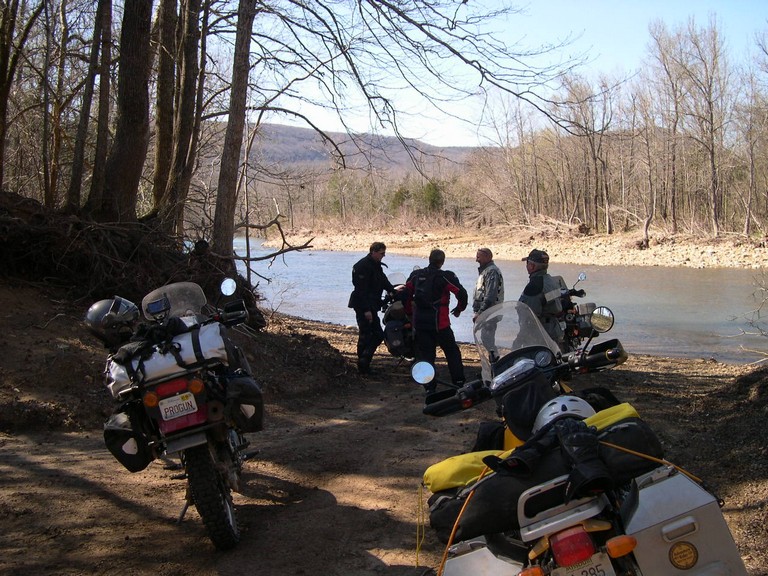 That was all it took----"Mr. Testosterone" is firing up his Beemer. I should of known---I wish I had a picture of the air intake on his 1150---he had run a tube from his air cleaner intake up the side of his windshield--you can barely see it in this picture---this ain't his first river crossing.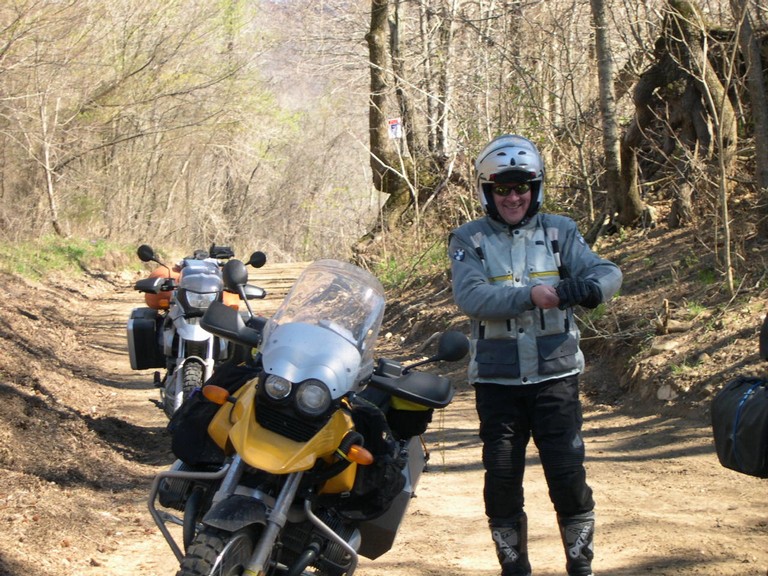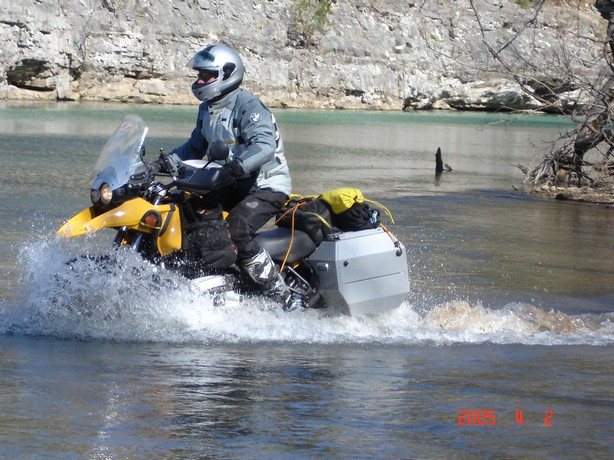 This is how you do it boys--glub--glub---glub--girlgle girgle---slurp--hiccup !!!!
Ride that pig--------yeeehawww !!!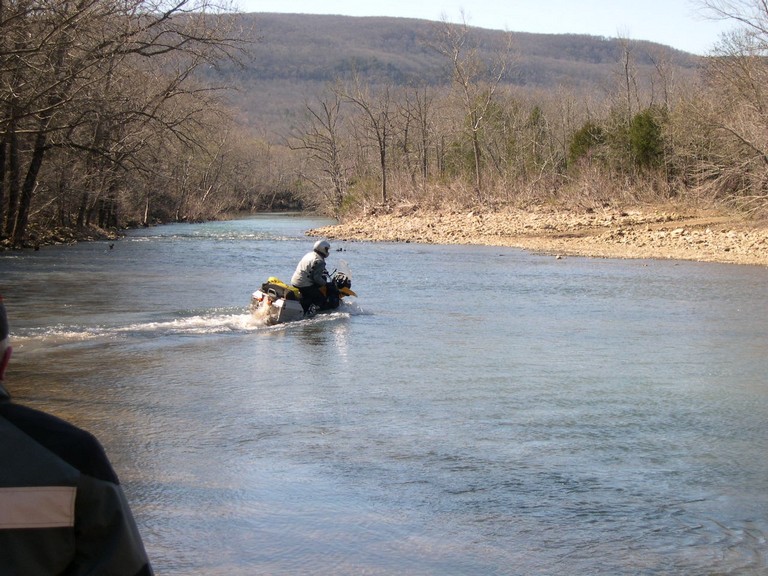 Well----the testosterone is melting away.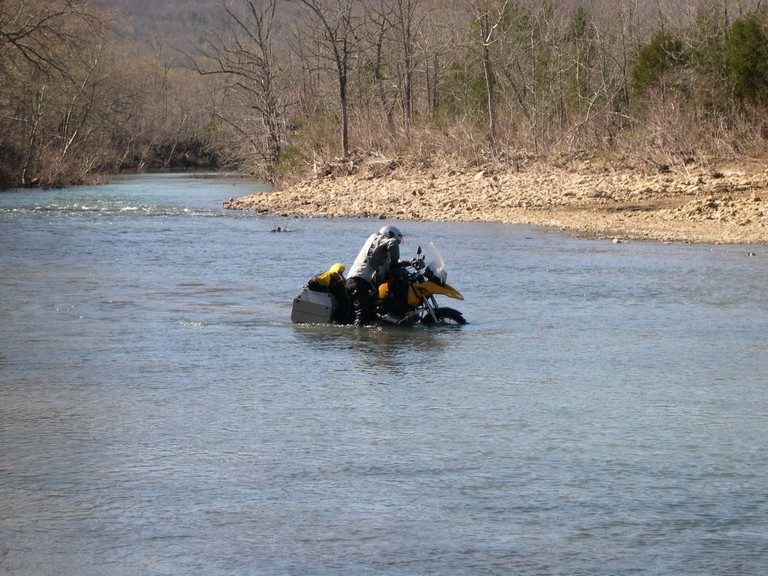 Kevin breezes right on across with nothing more than a couple wet feet---the bike sputtered once but spit it out and thumped right on across the river.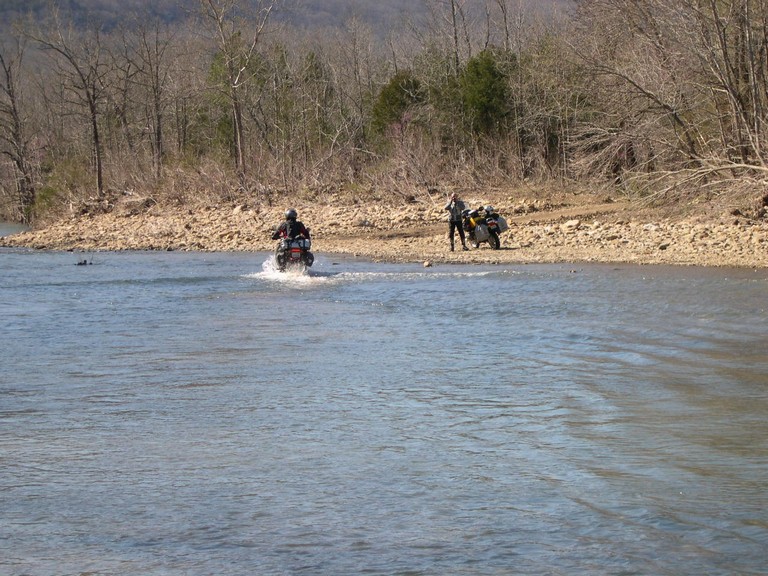 Monty is the King tho---never even gets water in his boots--and he's wearing Harley Davidson boots no less !! He's ready for the Divide now---arghh arghhhh arghhhh. His 24/7 smile was bigger than ever and lasted the rest of the weekend.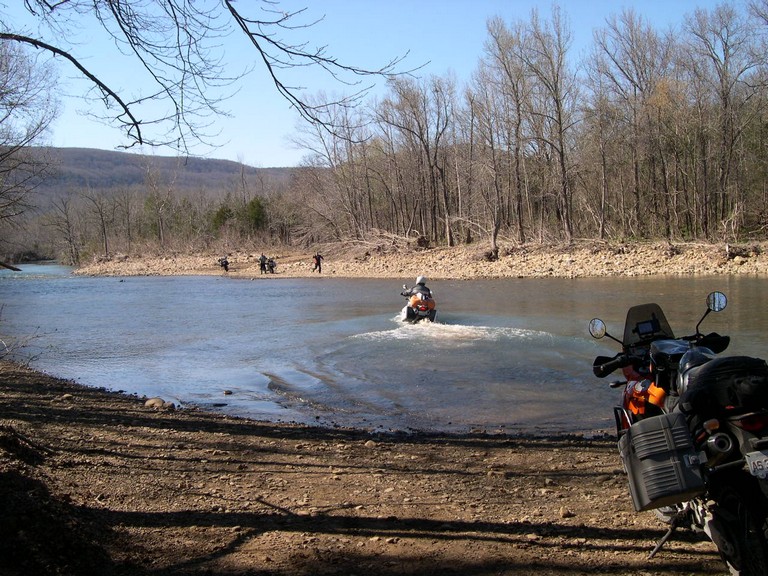 Honz hit the water at 42mph---he sucks some water in and it quits--he was lucky as it finally fired and he motors on across. You can see Buzz wading out in the river as he is chasing Monty's glove that was floating away--that glove wasn't meant to survive--wait till you see what happens to it later on !!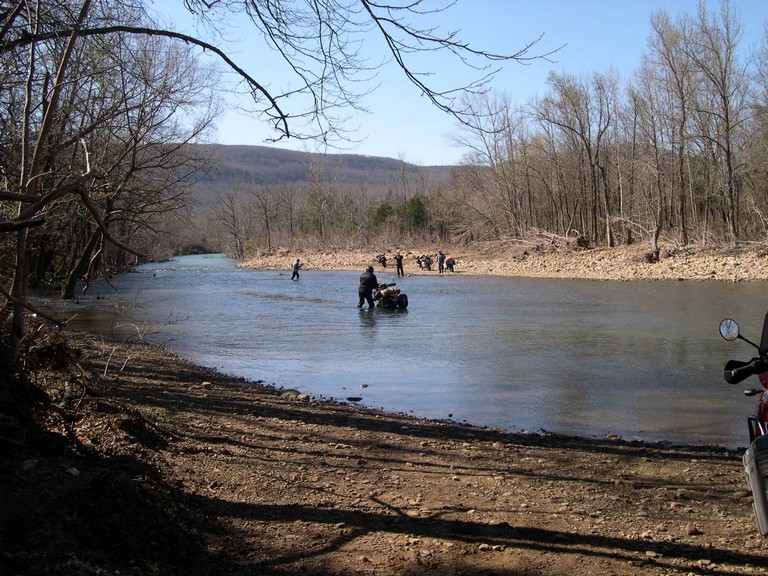 My Turn----Dang, my brand new KTM--yes I was nervous.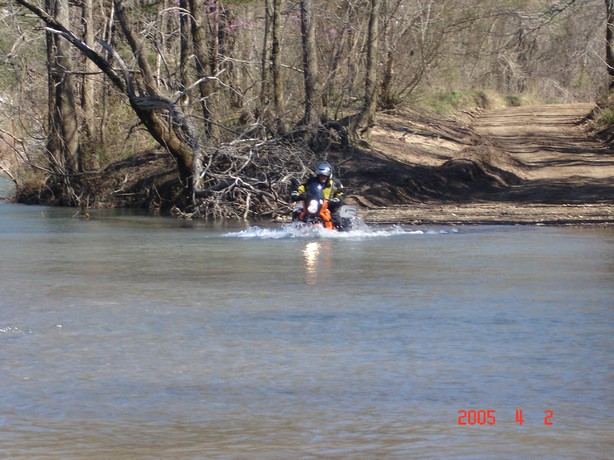 She's a sinkin'--somehow I kept it running and hopped back on. The water pushed me down stream--I didn't think I was ever going to get to the other side.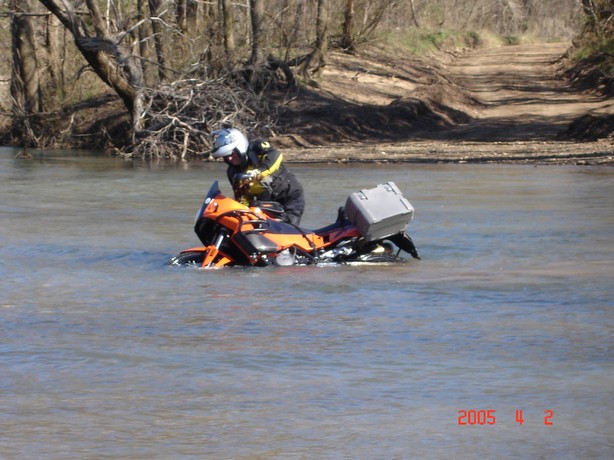 It needed a bath--we were all soaked now--except Monty.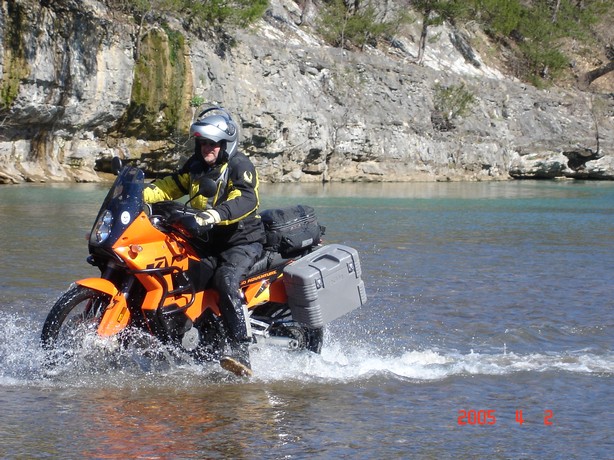 Yes that gortex is great stuff.
We come to another much deeper river and have to turn around but were lucky and took another road that took us up into the mountains again East towards the little town of Snowball in the valley below.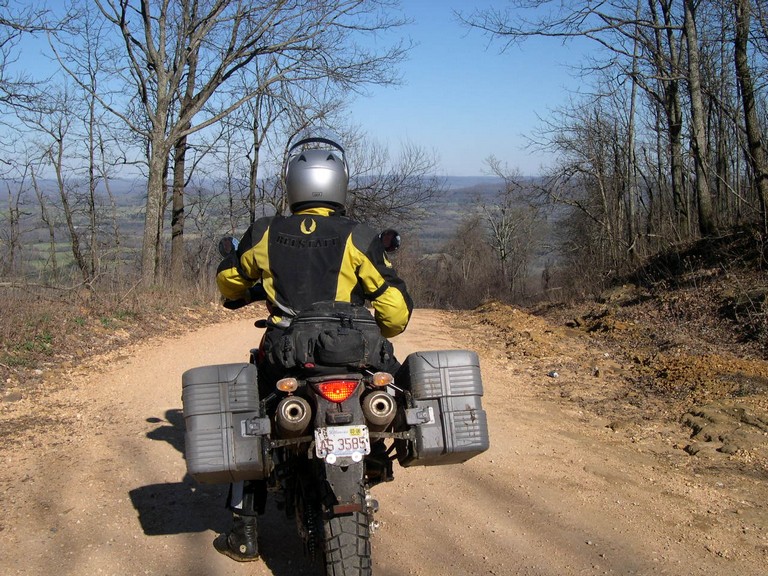 Monty's poor glove--it fell off his bike and got in the chain and looked like swiss cheese---a slow and painful death---ahhh, he don't need those old Harley gloves anymore anyway !!! You see that smile----his $135 Harley gloves have been made into mince meat--and he's still smiling.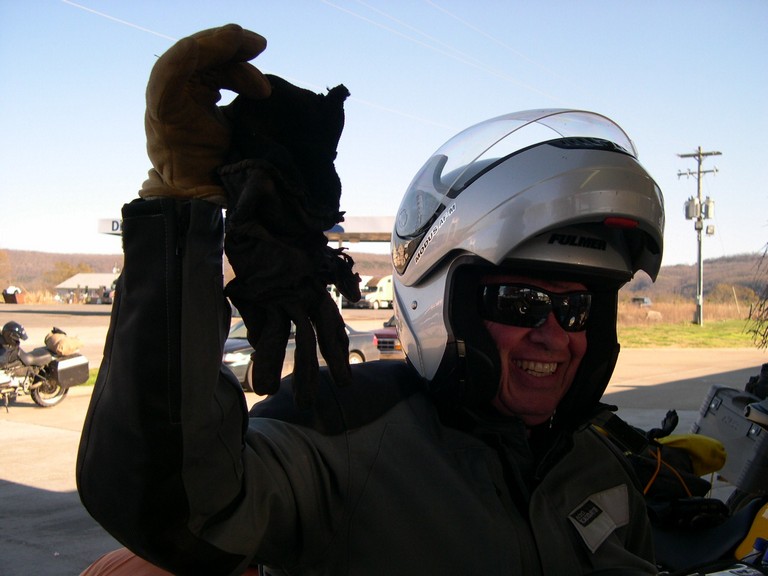 Monty went off in the woods to take care of a little job and my magic marker fell out of my tank bag and attacked his panniers.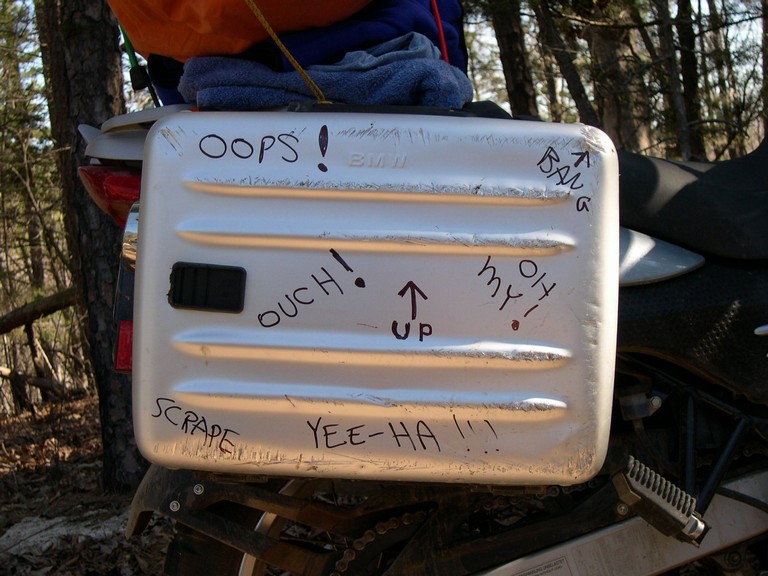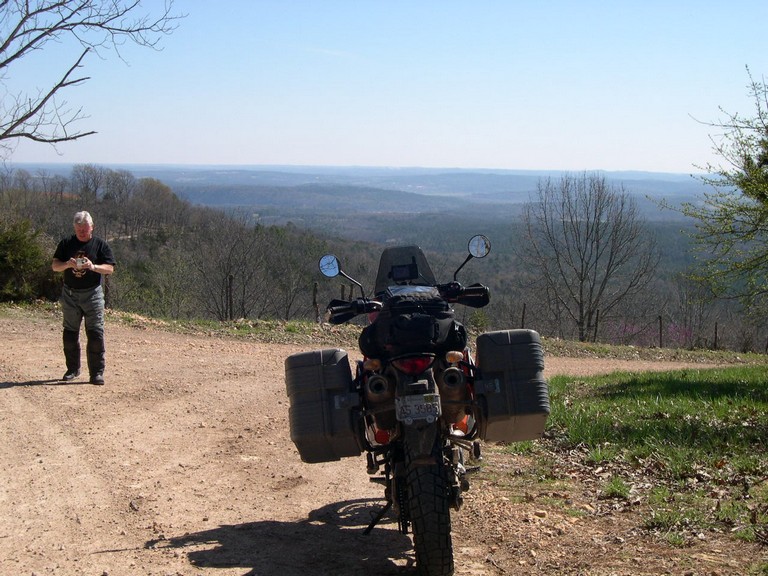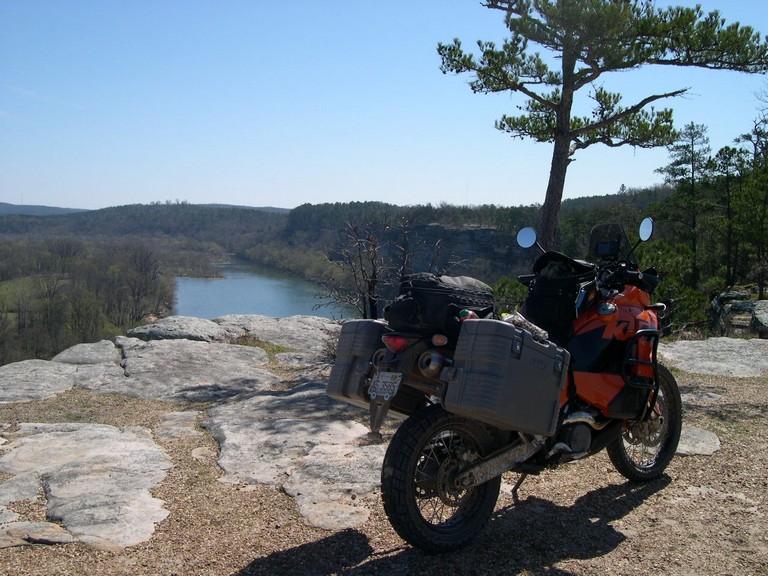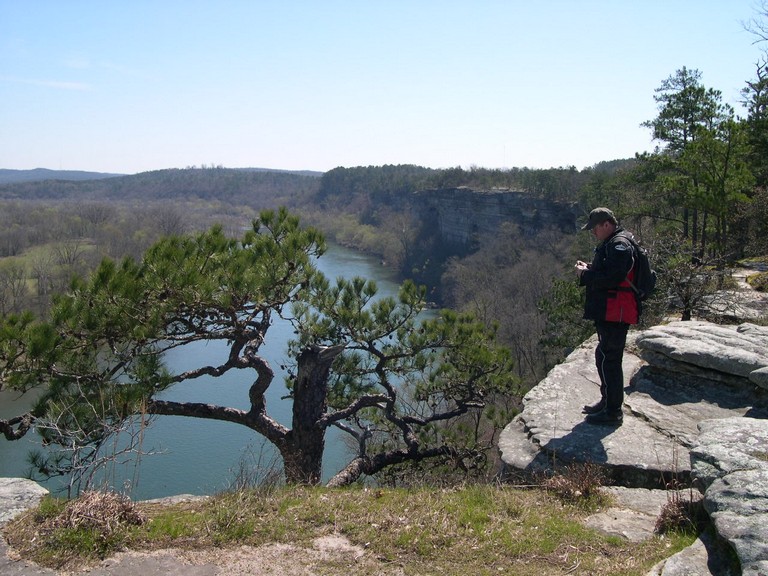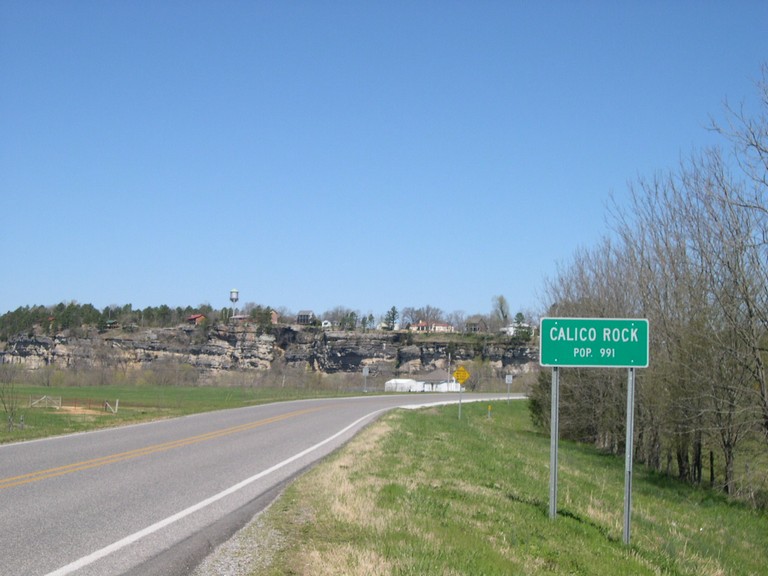 Before crossing back into Missouri we stopped at Mammoth Springs which is a site to behold. As Kevin was filling his water bottle we noticed a sign---"Do not drink the water"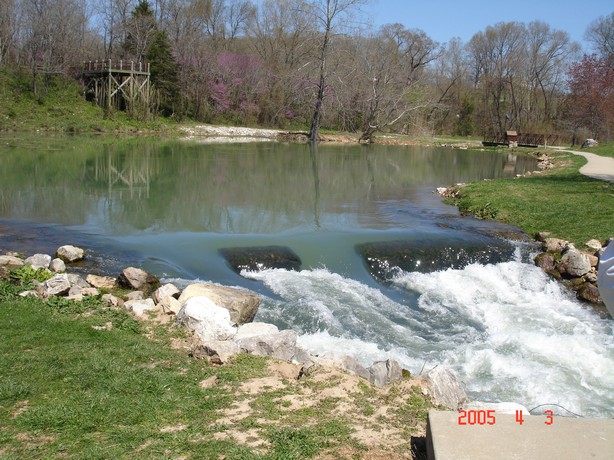 The camera got a shot of us 3 as we crossed the Chester bridge back into Illinois.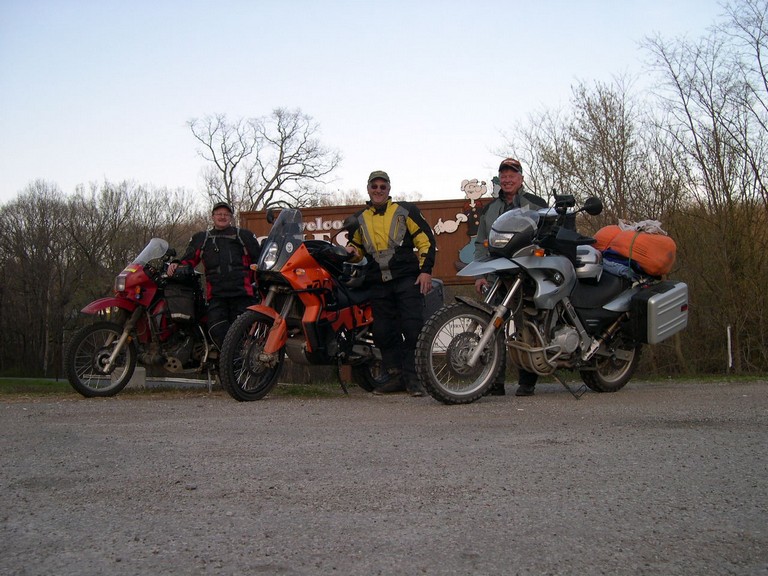 Chester, Illinois
Home of Popeye the sailor man---"I am"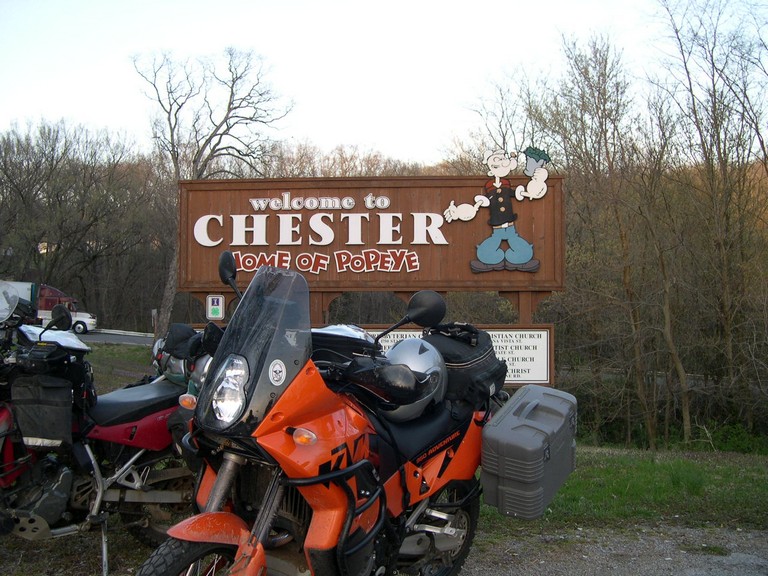 Back- My Homepage