Day 22
Of our 27 day trek
8-7-10

Today starts the first day of my favorite 2 days of this entire 27 day ride.
The riding was completly new to me and was to be extremely tough but rewarding.
It would test us to the limit---and reward us with some of the best scenery and neatest things I ever say.
And to share it with my friends Rick and Scott made it even better.

Breakfast was had at this cafe in Jordan Valley, Oregon--by far the best food of the entire ride.

Getting a room here in Jordan Valley was an experience I will never forget.
The gas station next door to the motel with no windows is where you checked in.
Except the guy working at the station was so busy he had no time to check you in. It wasn't his fault--he was
extremely overworked and it was almost an hour to get a room key. Most people would have blown a gasket----but
you don't know me-----I don't have a watch--don't know what time it is--or even what day it is and didn't care.
I patiently watched life in Jordan Valley and had a hoot doing it yakking to who-ever came thru
the door------an interesting hour in a small town---I cherish those times.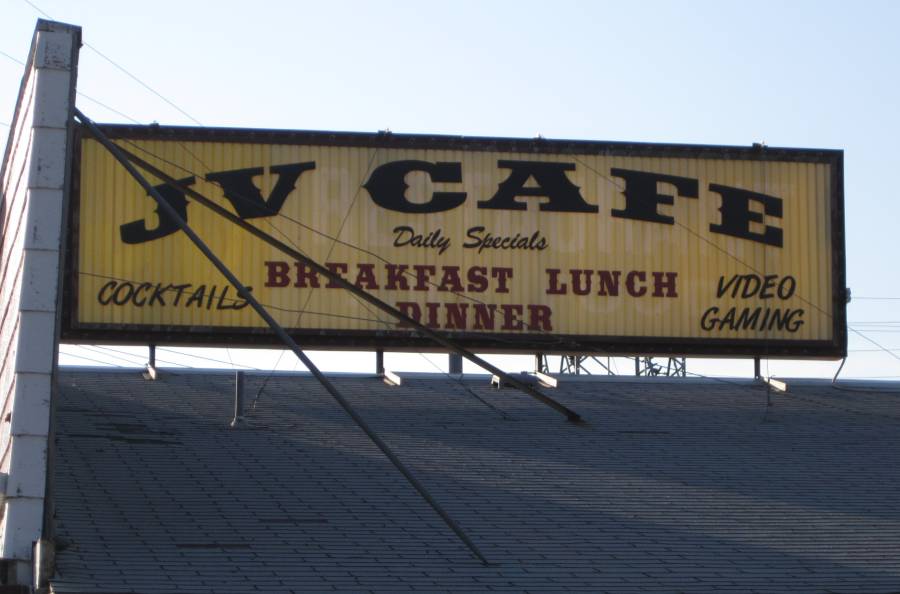 Out of Jordan Valley Oregon we went East very briefly and crossed into Idaho and ran South for a lot of miles
on Pleasant Valley road and the riding is very easy and beautiful.
We got comfortable with the easy terrain and got in a groove.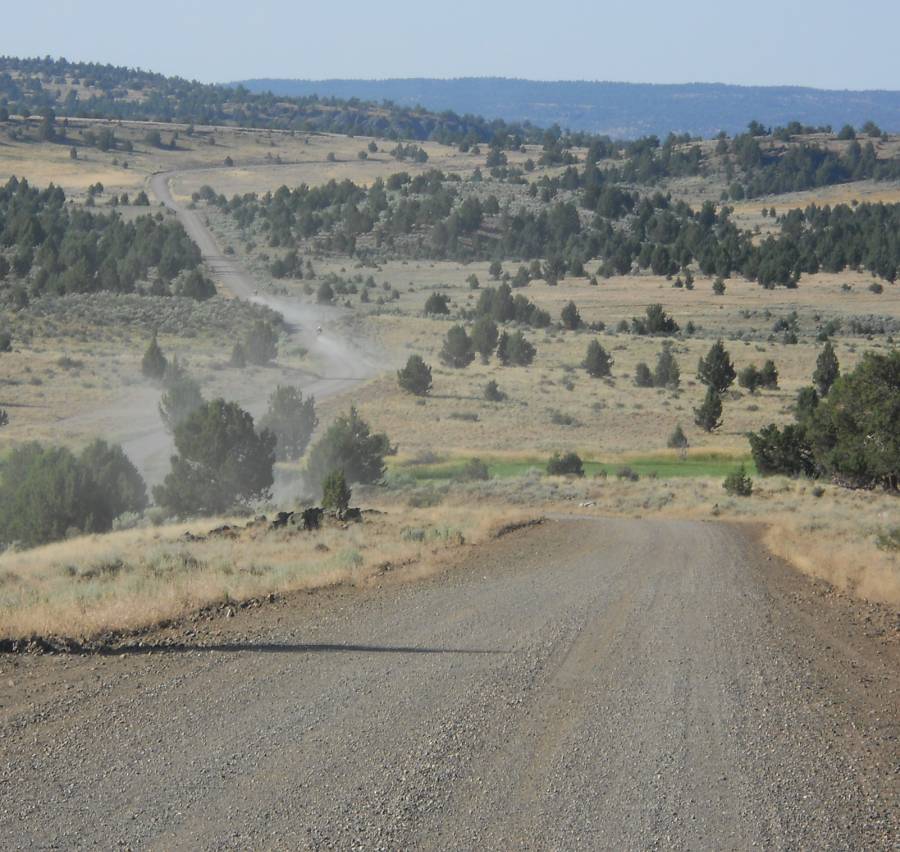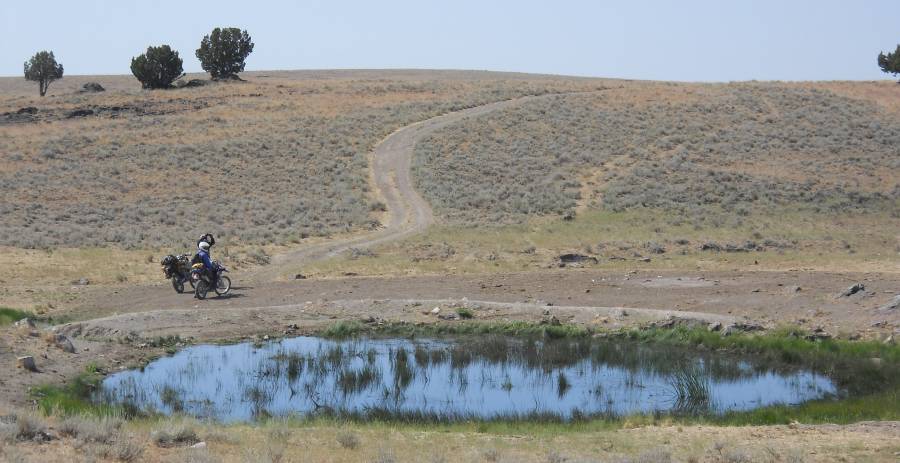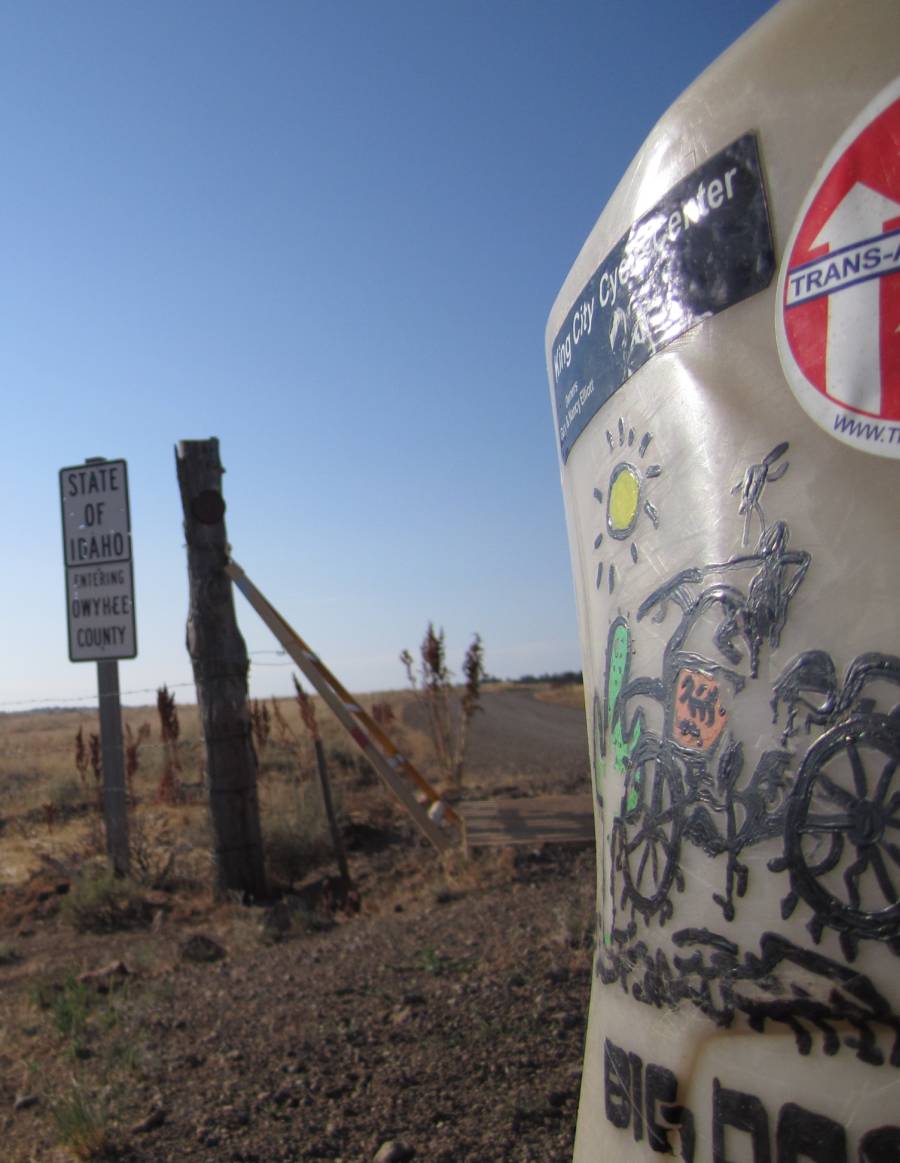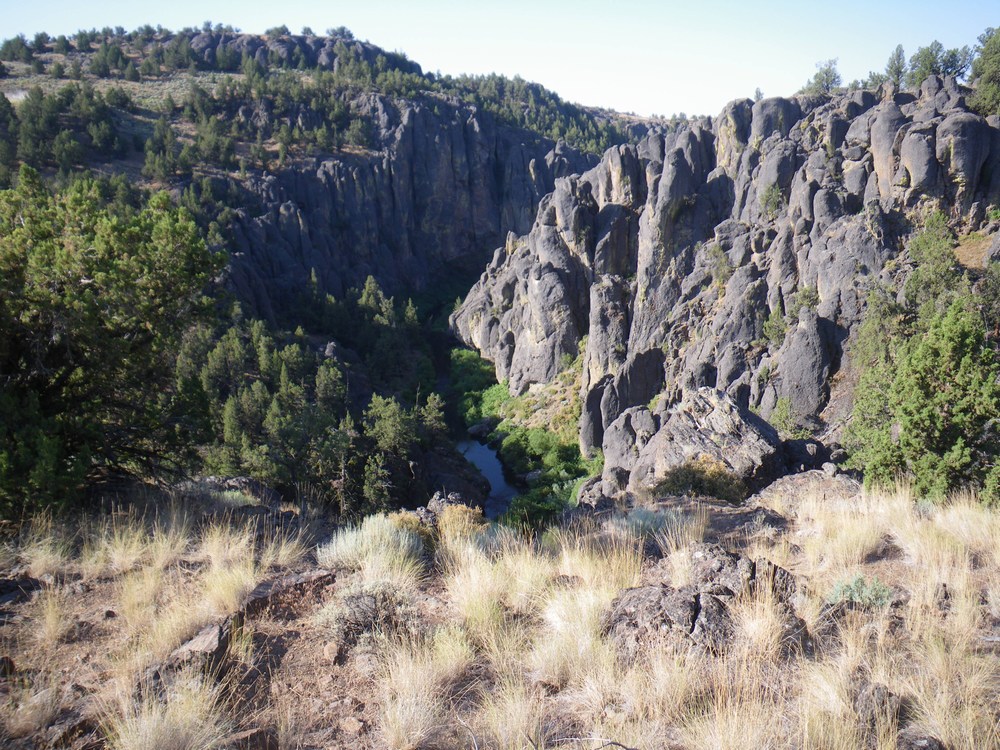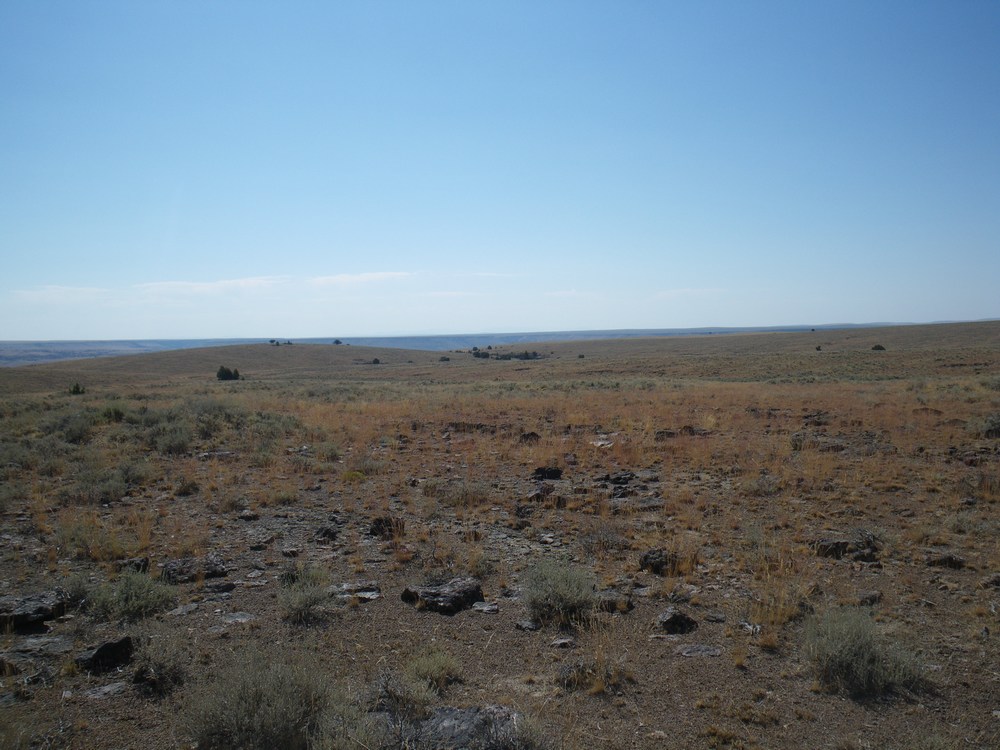 Ricks bike was running fine as long as he kept a charged up battery in it.
We would later on a narrow trail run into 2 guys going to their mine claim in the area of Juniper
Mountain elevation 6,761ft. which we get very close to.
We weren't far behind them here and I think they found this rattlesnake just before we did.
It was a fresh be-head and tail.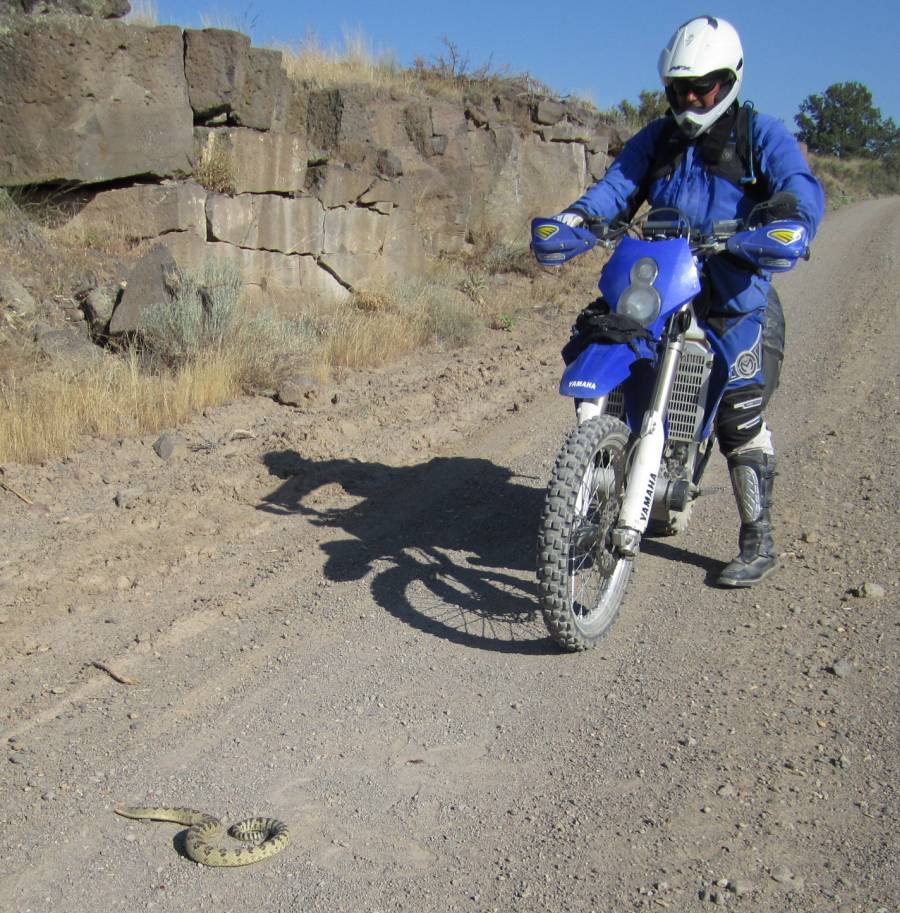 Some people just kill every snake they see---I say leave them alone.
We are heading down to one of the neatest places on this whole 27 day ride.
I think the difficulty getting down there and back out the other side added something to the flavor.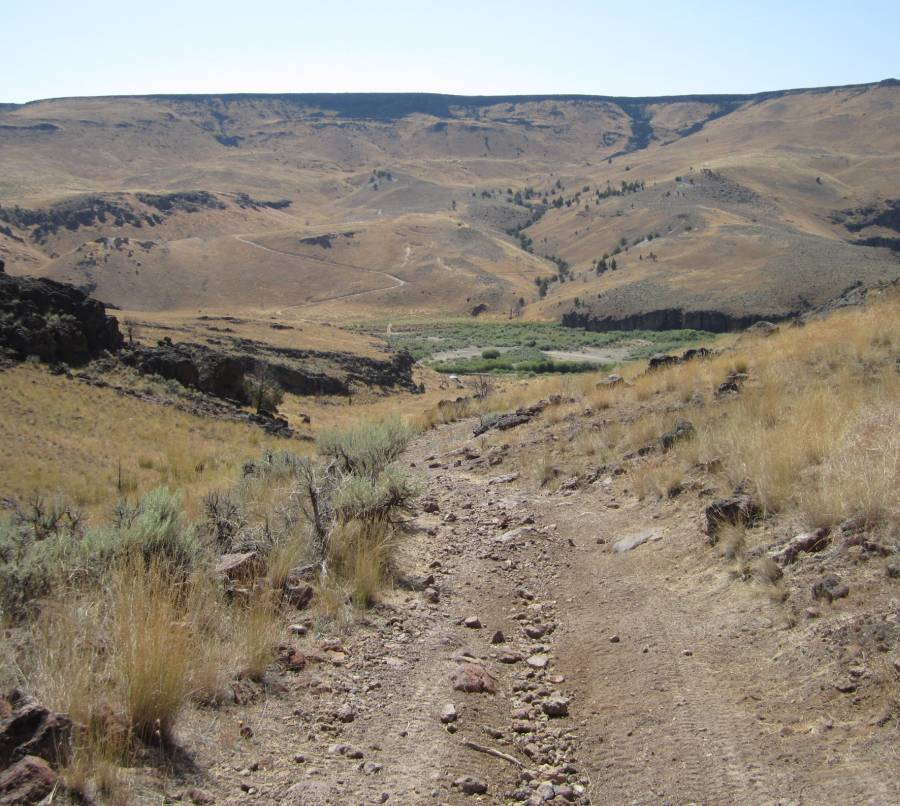 It's called Crutcher's crossing and you have to cross the Owyhee river
which is impassable a lot.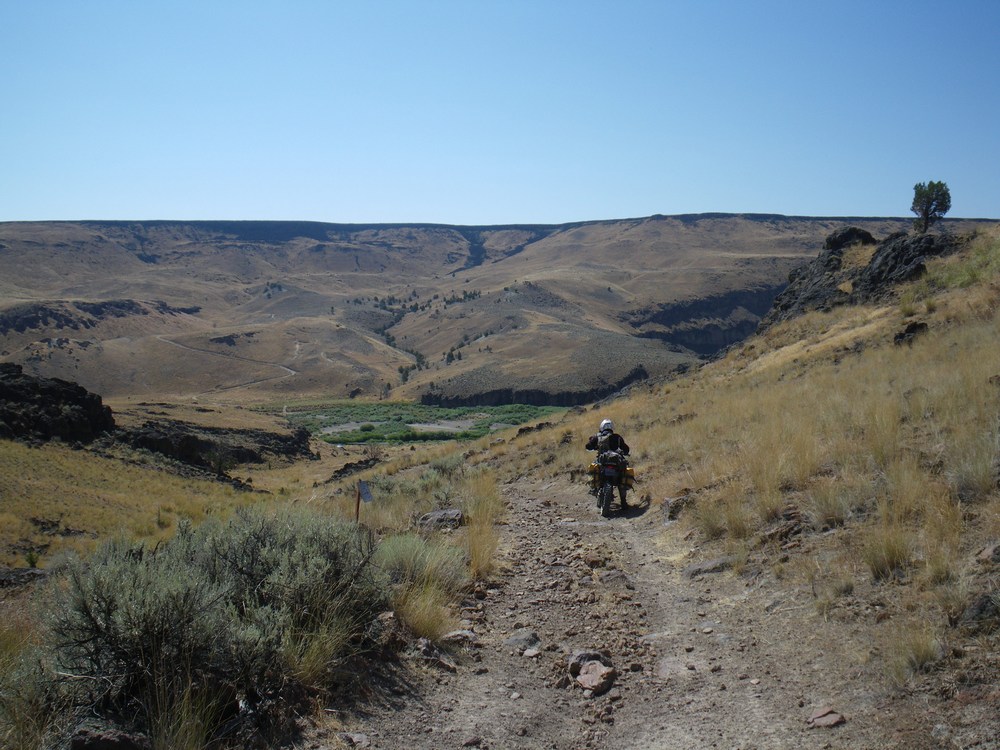 We have no pictures of whats beyond my lens here--but it goes about as steep down as a motorcycle can traverse
and the rocks and shale are loose and you go skidding down----then you come to 2 adjacent rock ledges where you have
to gas it---pop the clutch and jump down the ledges--remember you are already at a huge downhill angle.
This took some confidence in what I coud do on a bike---not much.
It you just rolled over these ledges you would have endo'd.
This is why Martin Says to bring a plated dirt bike on his routes and don't pack anything. We were over that limit.

You don't need horsepower to do this-----you need a light bike.
Your mistake if you come thru here will be looking at these pictures and thinking it's not that hard.
I don't think I could climb up it---probably be 3 guys pushing one bike.
I was running my helmet cam down here and just knew I was filming my first biff with the camera running.
I watched it and you can hear my fear.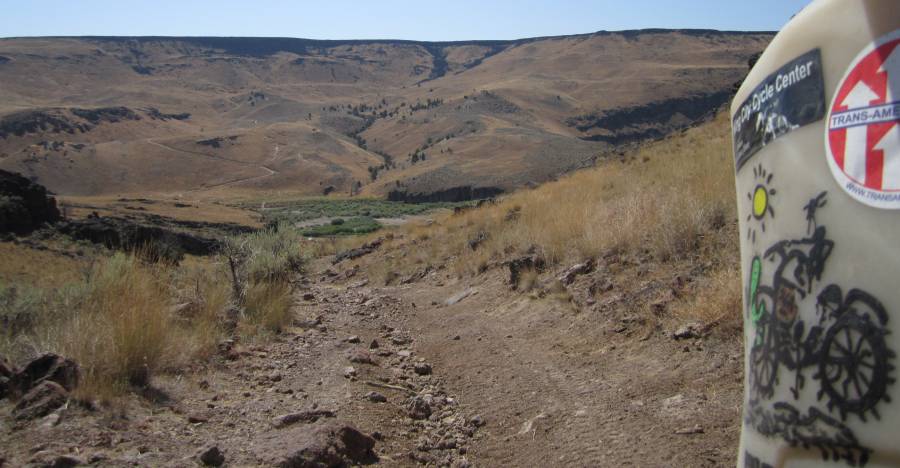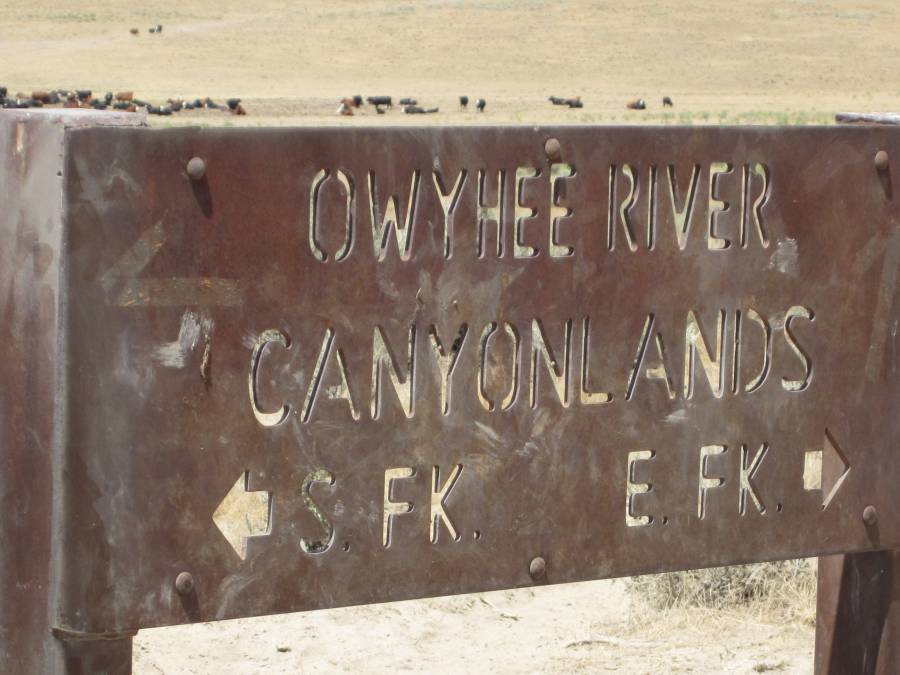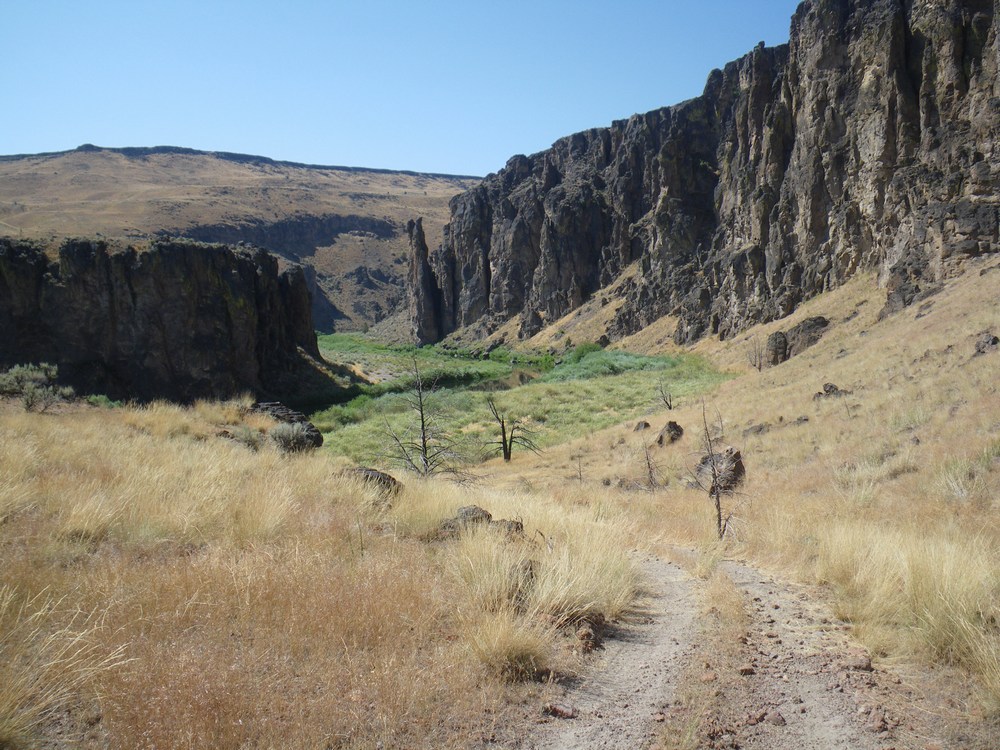 The Owyhee river in between those canyon wall was just awesome and we stayed here quite a while and soaked it all in.
I was still shaking for awhile after coming down that hill---it really and truly scared me.
If I had biffed it--I think I might have broken something.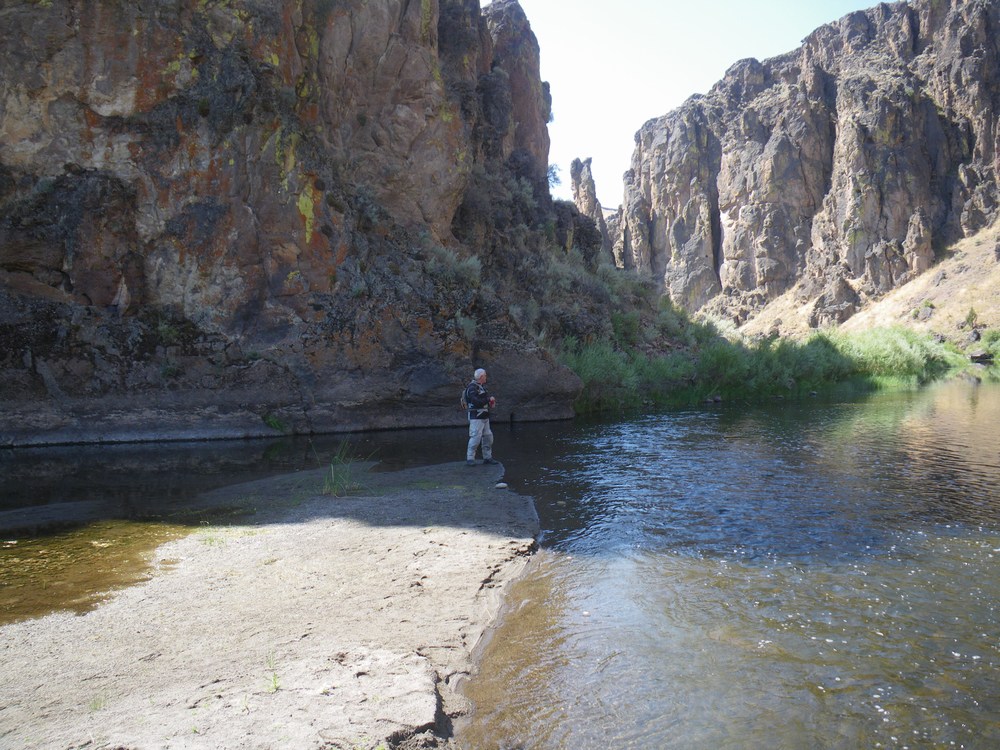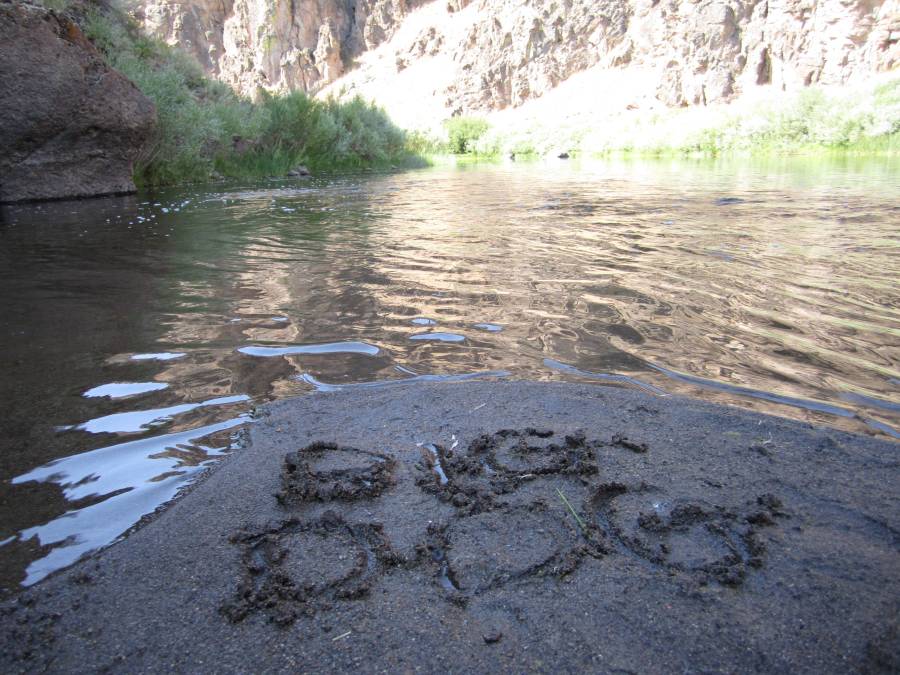 Coming out the other side was about 200ft. of deep sand where I had to get my rear tire spinning
and keep grabbing gears to keep moving. Again the pitures fail to capture this as they always do.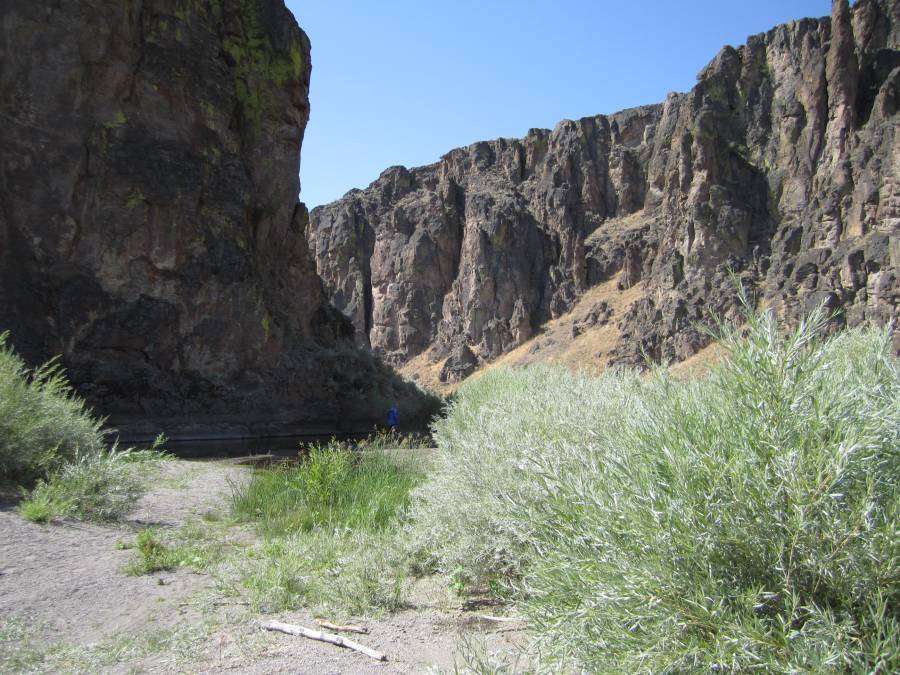 Then we had to climb out of the canyon---this picture looks so much easier than it was.
Some of it was way off camber and I tried to stay out of the loose rocks and ride the off camber dirt.
Rick was watching me and just knew I would lose traction and slide out---but I didn't and he followed
my lead up the hill on his 450. My rear 606 did it's job very well.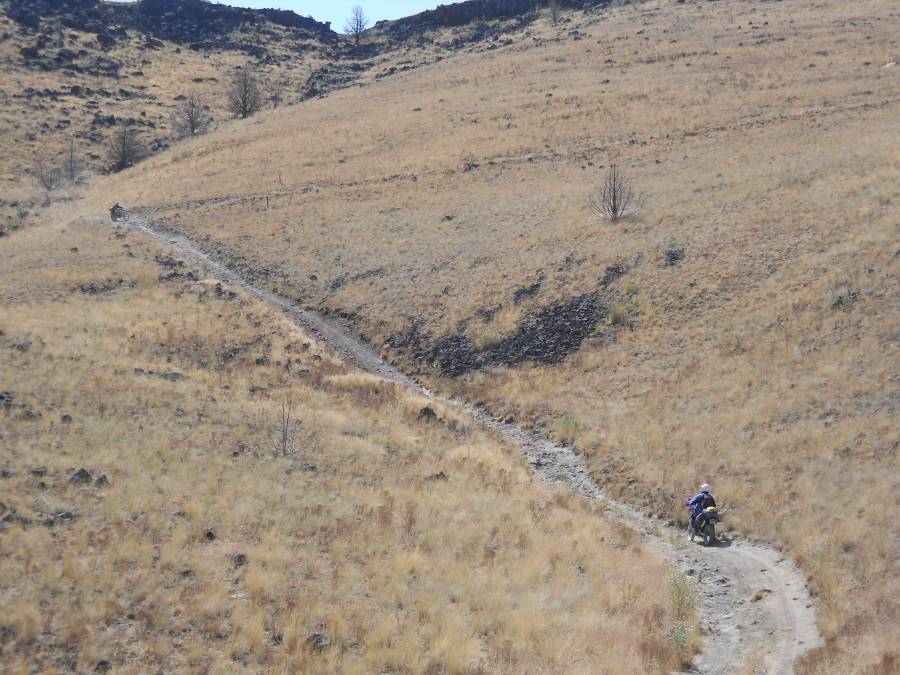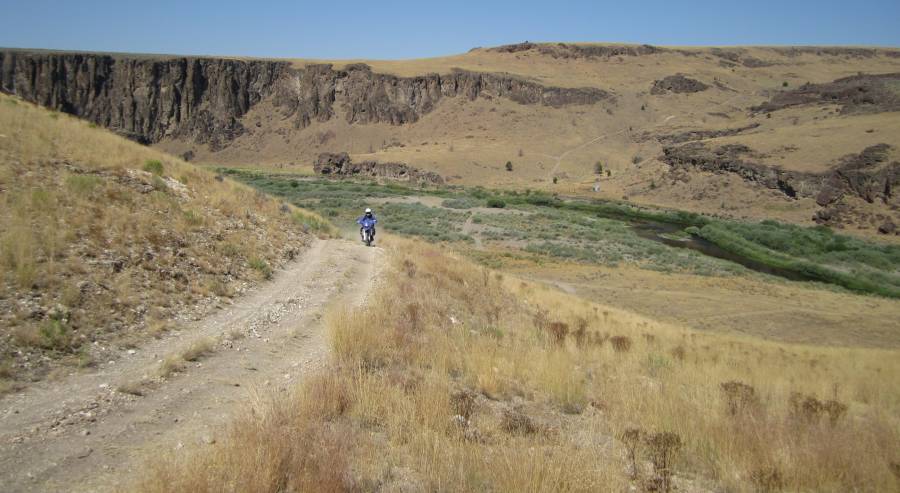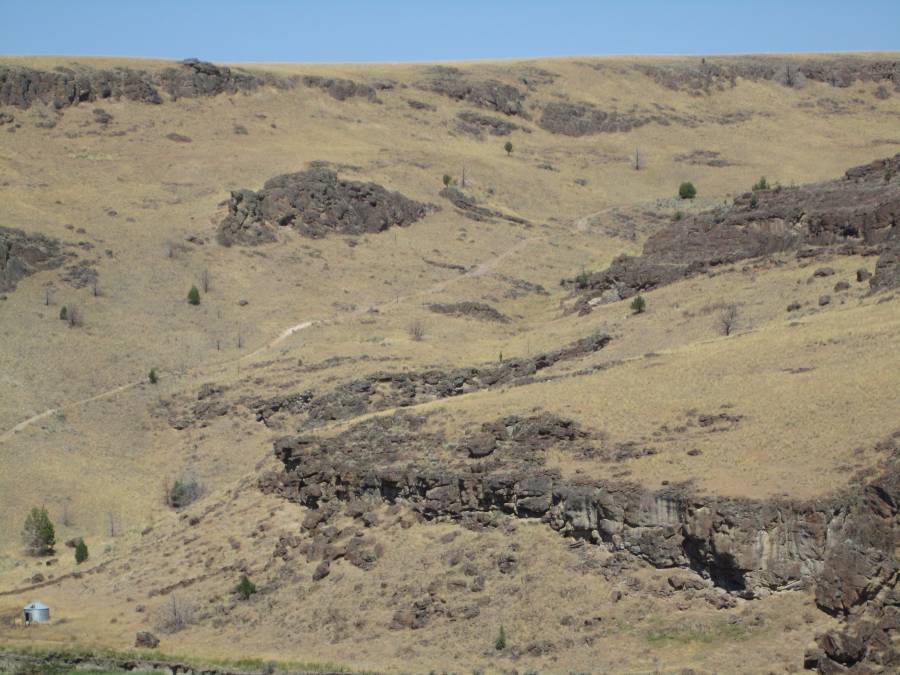 This is the last part of the long climb out of this canyon---it took a long time to get to here.
Lot's of baby head planted rocks--lots of loose shale and rocks and it was very steep in places.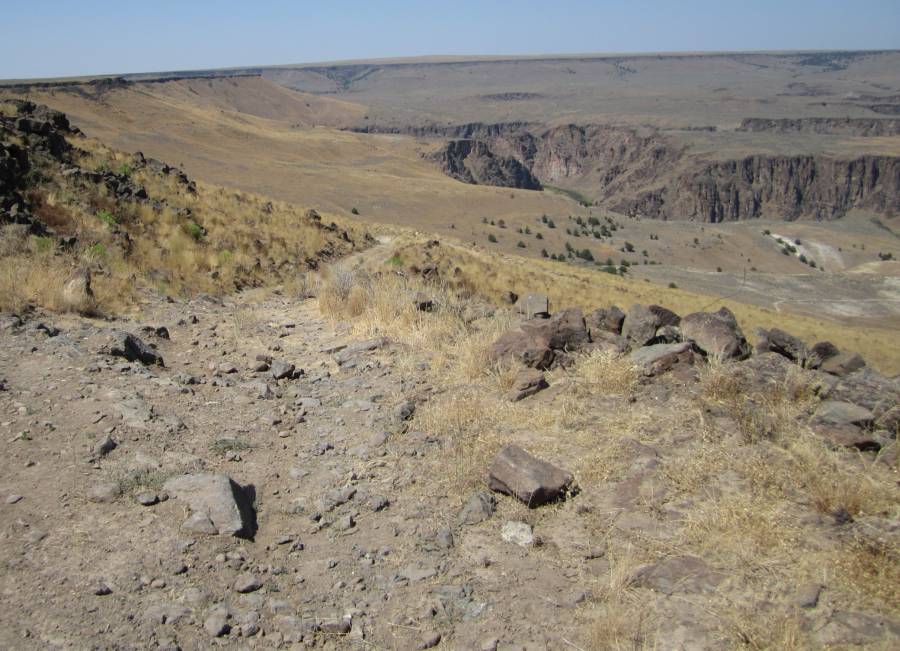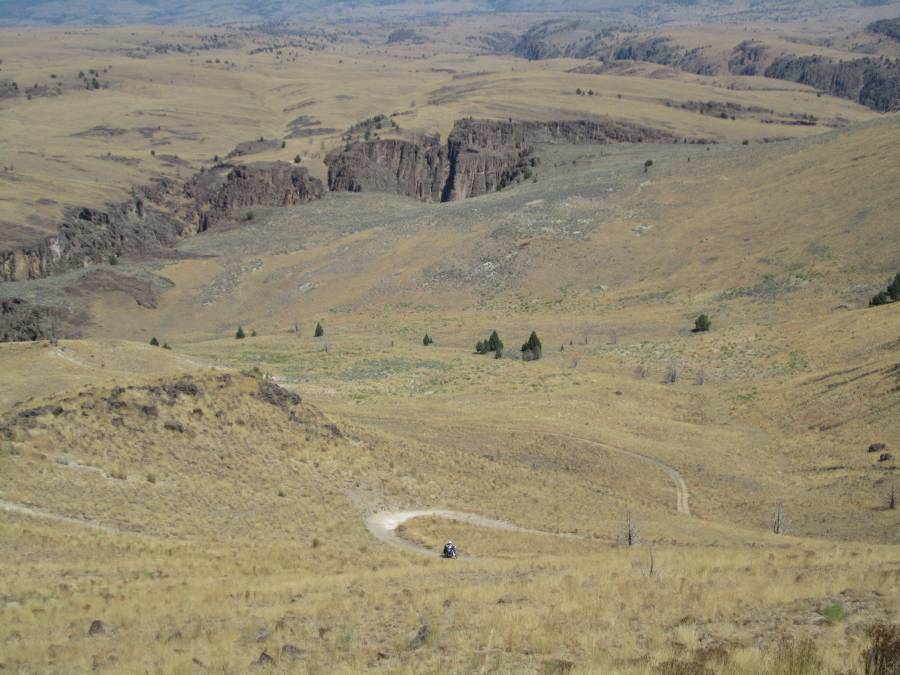 Scott summiting the last climb out.
Man this was great I thought---as I looked back down the canyon and finally quite trembleing.
Yeh---it would have been easier on my lighter 520 EXC unladen with camping gear.
I don't care -----I won't travel that way--makes you worry about getting somewhere.
I didn't care if I got anywhere.
There are several options on Martin Hackworth's T2 route----the others are much easier
and do-able on bikes such as KLR's or maybe bigger.
This route is the main route and not the optional ones. Take note of that.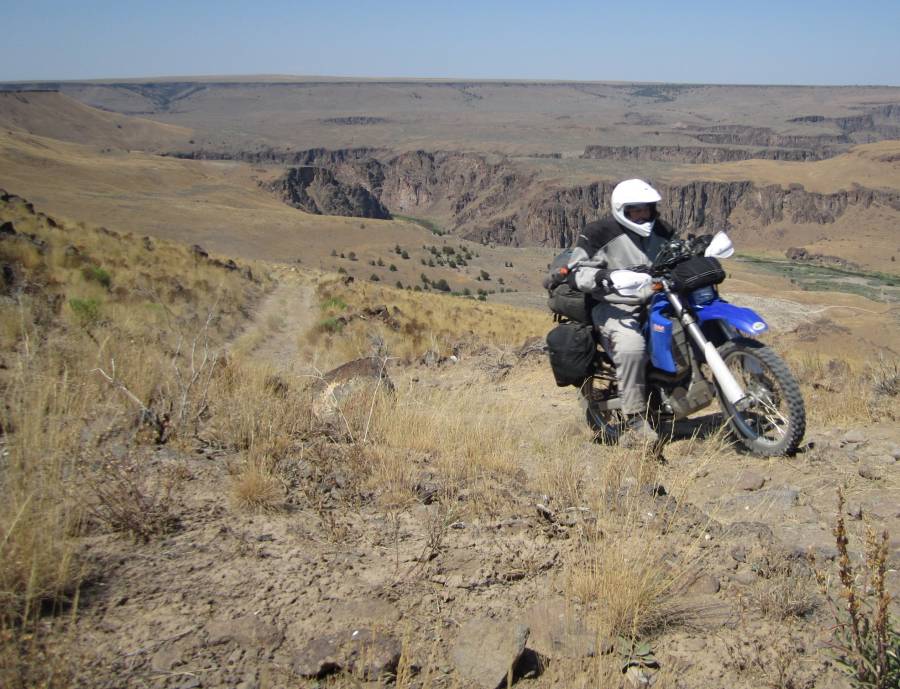 We rode this stuff for what seemed like 30 miles.
You'd top one hill and there would be another.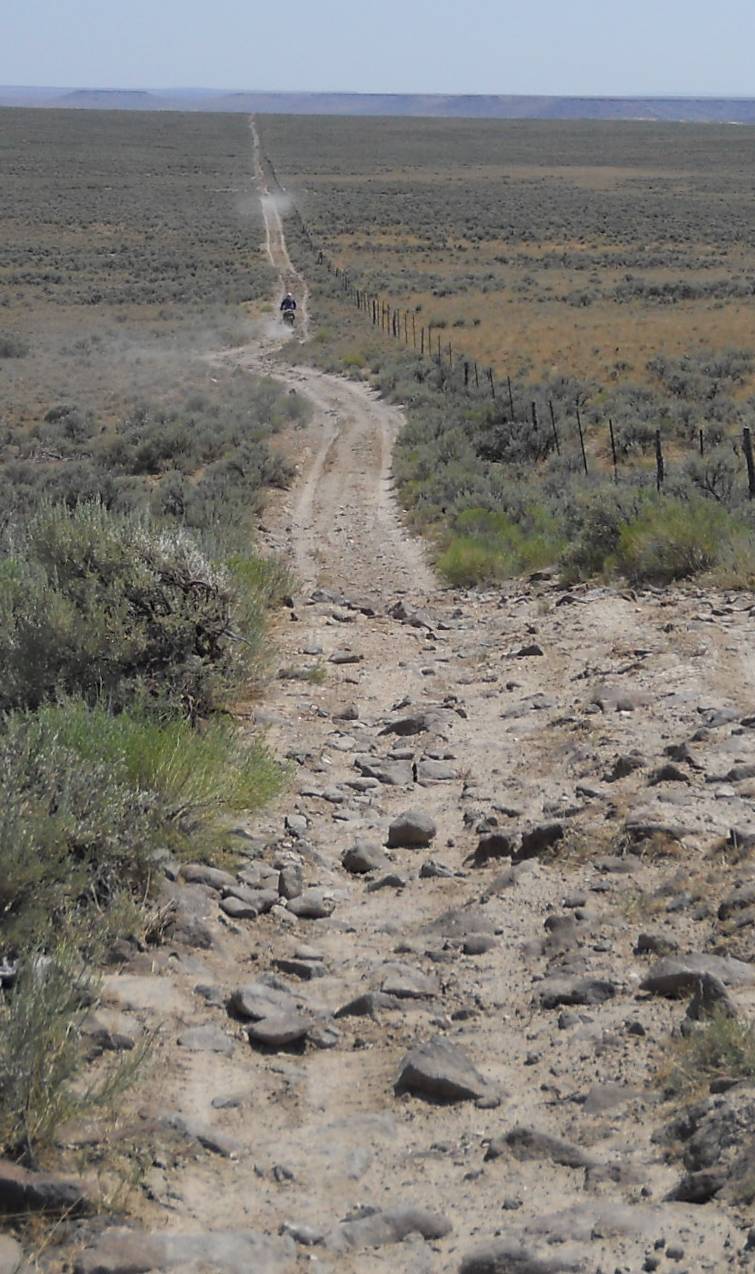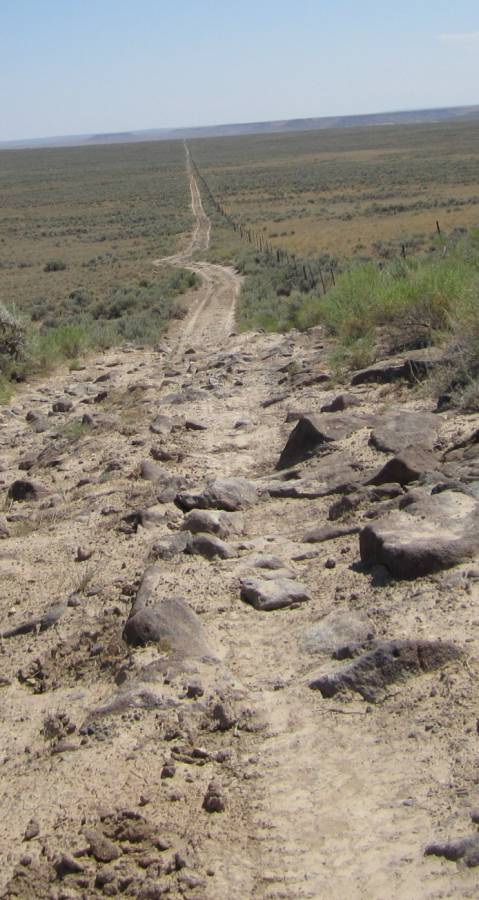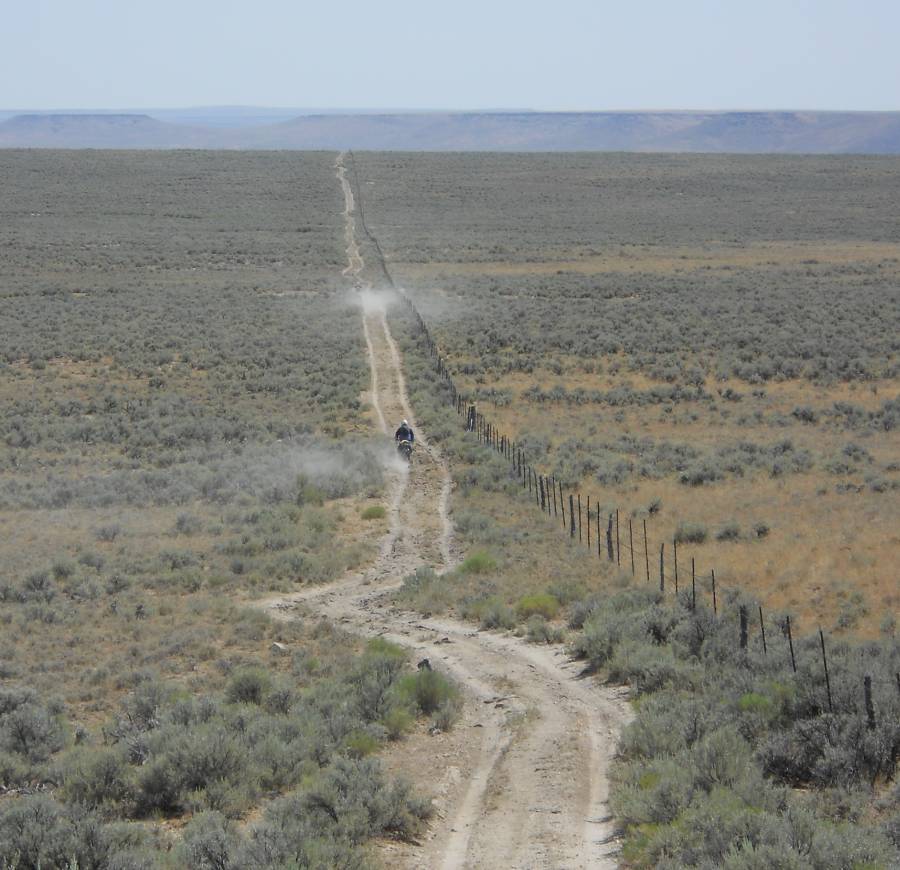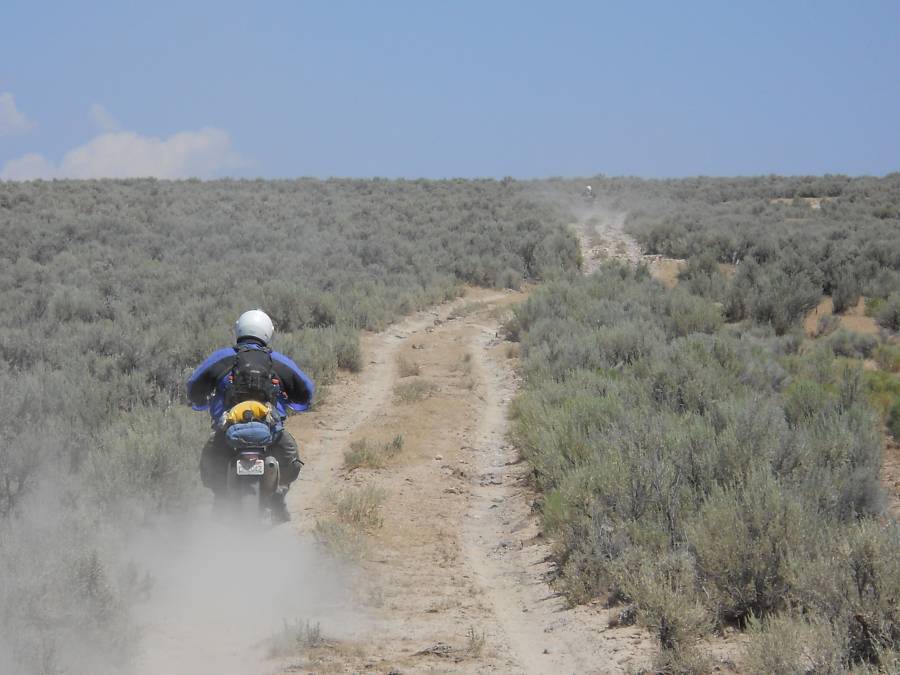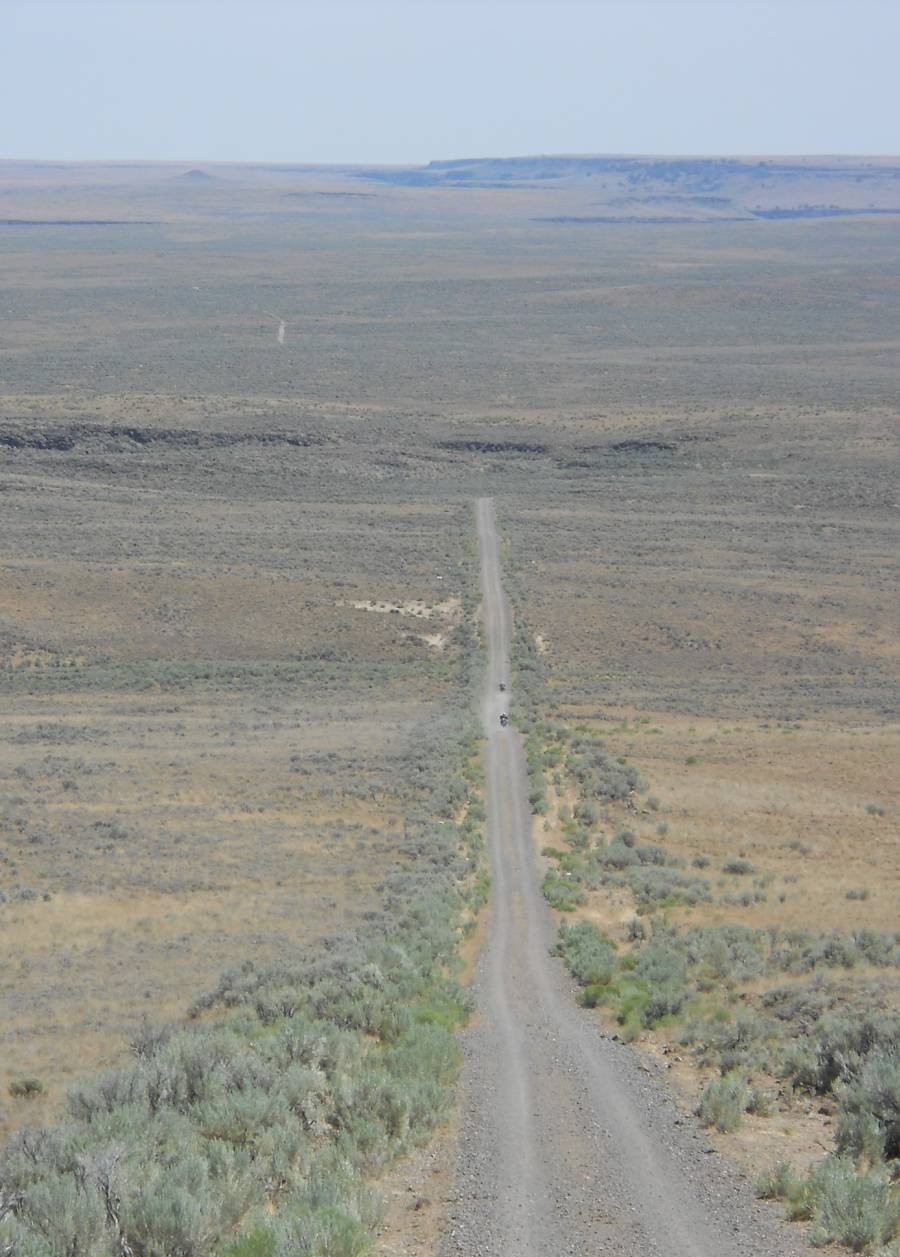 Some parts in here we had a hard time finding the trail----sometimes it would disappear.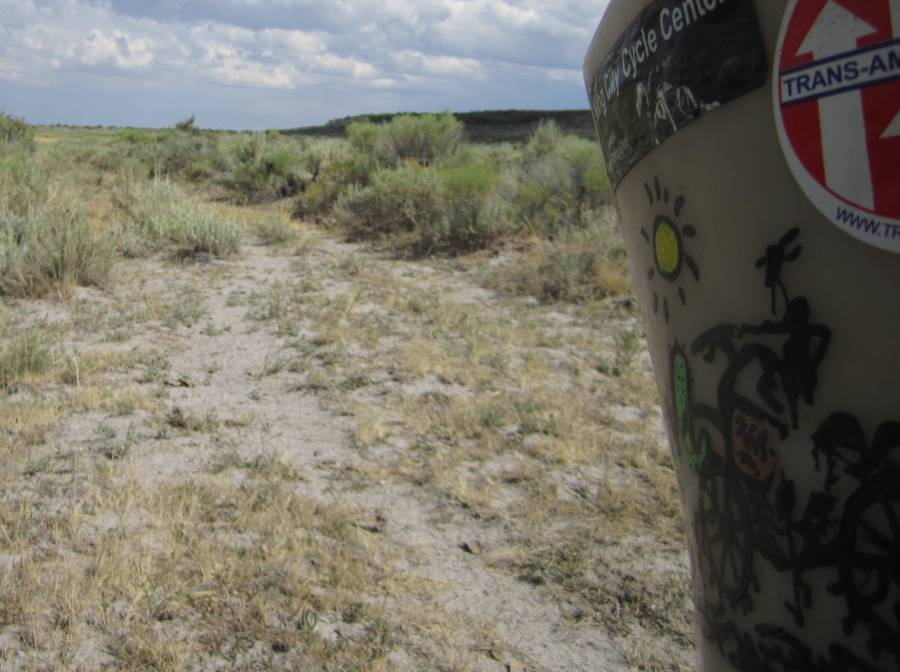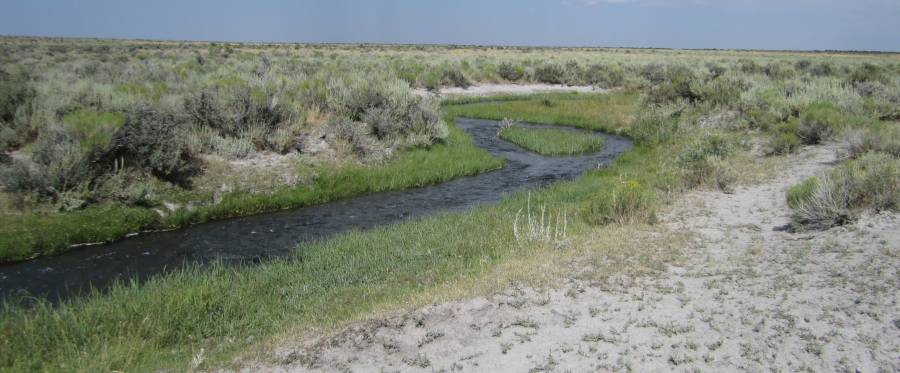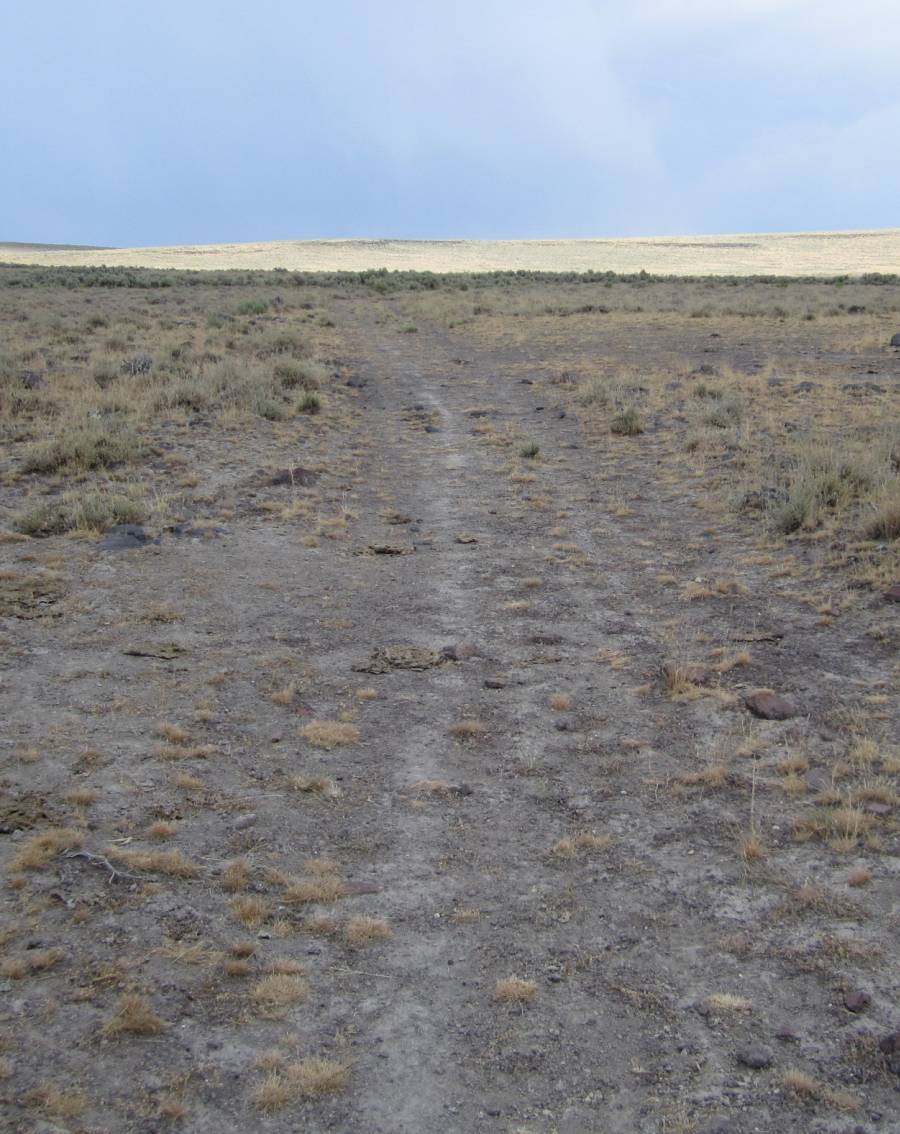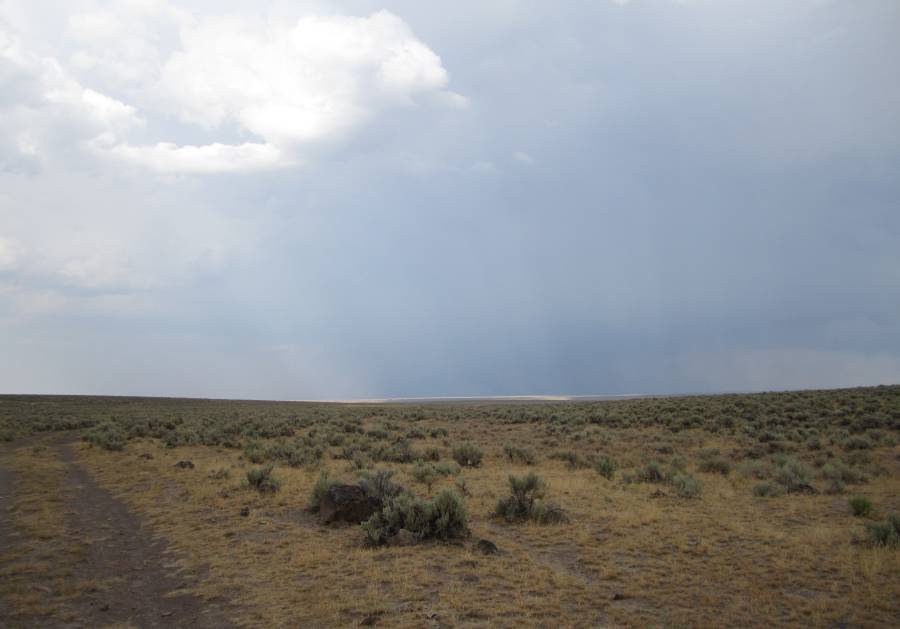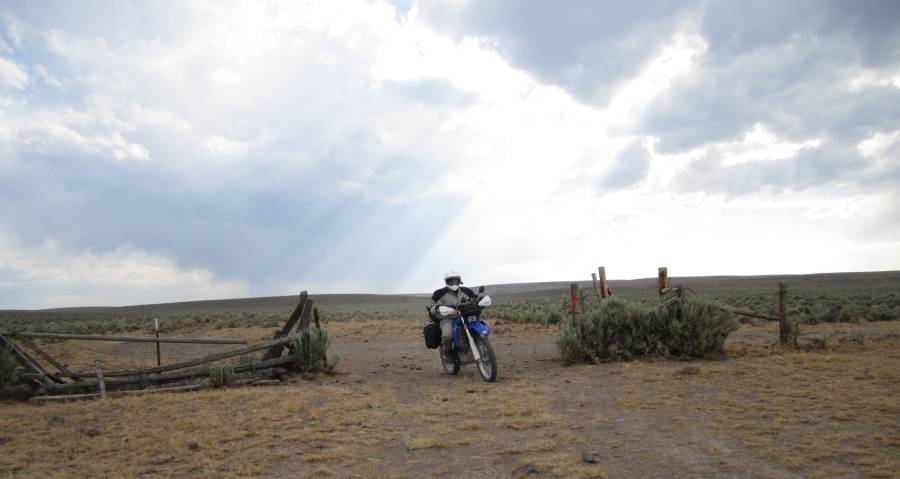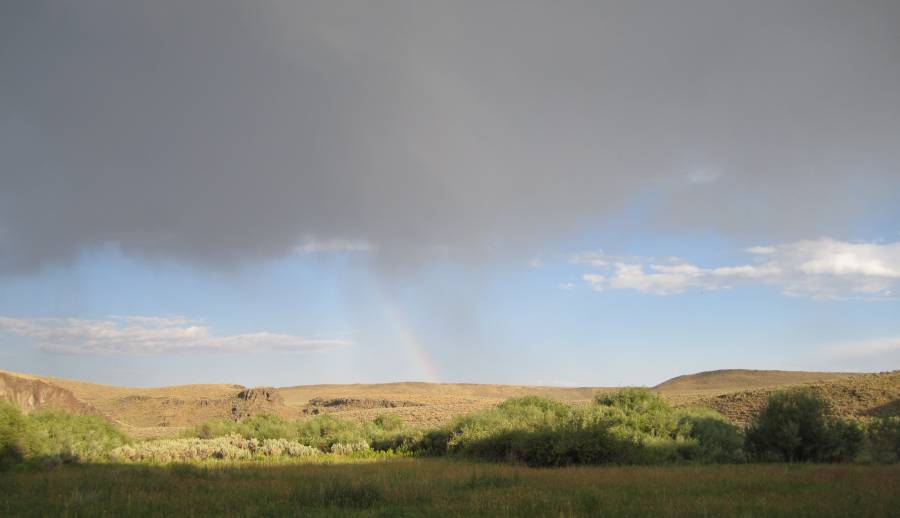 Me and GasPipe looked this camp over years ago while riding thru this area on and easier route (Rowland Rd. I believe)
and we kept going---but guess what--- I marked the spot with a waypoint as a possible campspot. I'm doing this all
the time while I ride. We were on our 950's on that ride.
I spotted the possible camp waypoint on my gps and we would only have to get off our route about 3 miles.
I thought I remembered what it looked like and I was right--just as I remembered.
For years these waypoints that I have been dropping all over the US and Mexico have been coming in handy.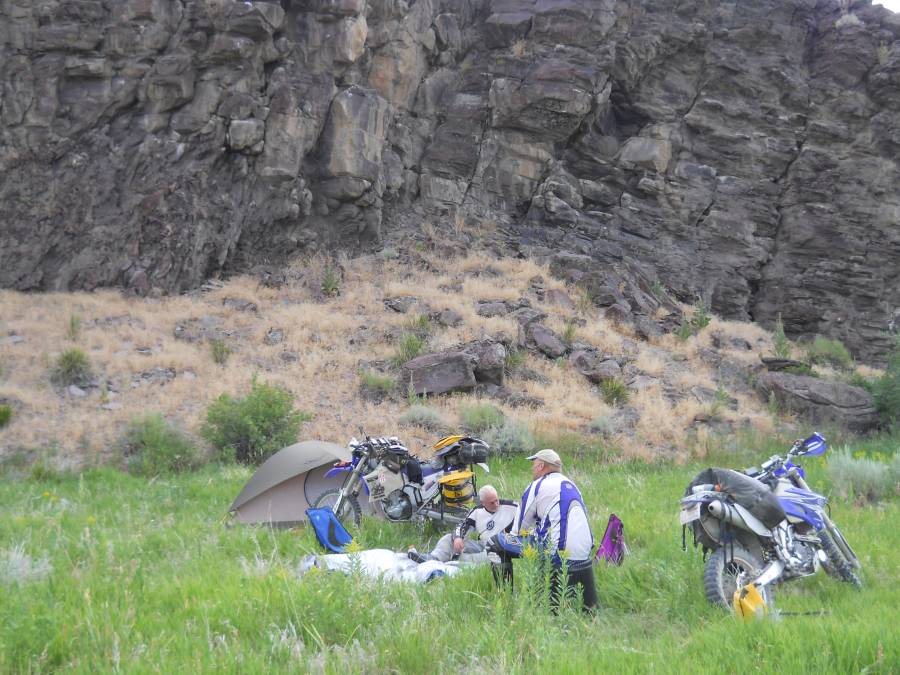 We cooked a great jet-boil meal as the sun went down and that's when some big birds started making roost on the
cliffs above our head----like Indians or buzzards waiting to attack.
Oh they did all right-------dropping huge poop bombs------I couldn't believe it.
Rick said he knew exactly what kind of birds they were as he had experienced this before.
He called them "Shit-A-Gallon" birds------sounded right to me as we laughed.
When I got home and zoomed in on this place with my Garmin Roads and Rec mapping software--this place was marked
as the "White Homestead"
I swear there was an old small log building here the last time I was here--but it wasn't there.
I guess it was an old Homestead---nice place and it was on Sheep Creek.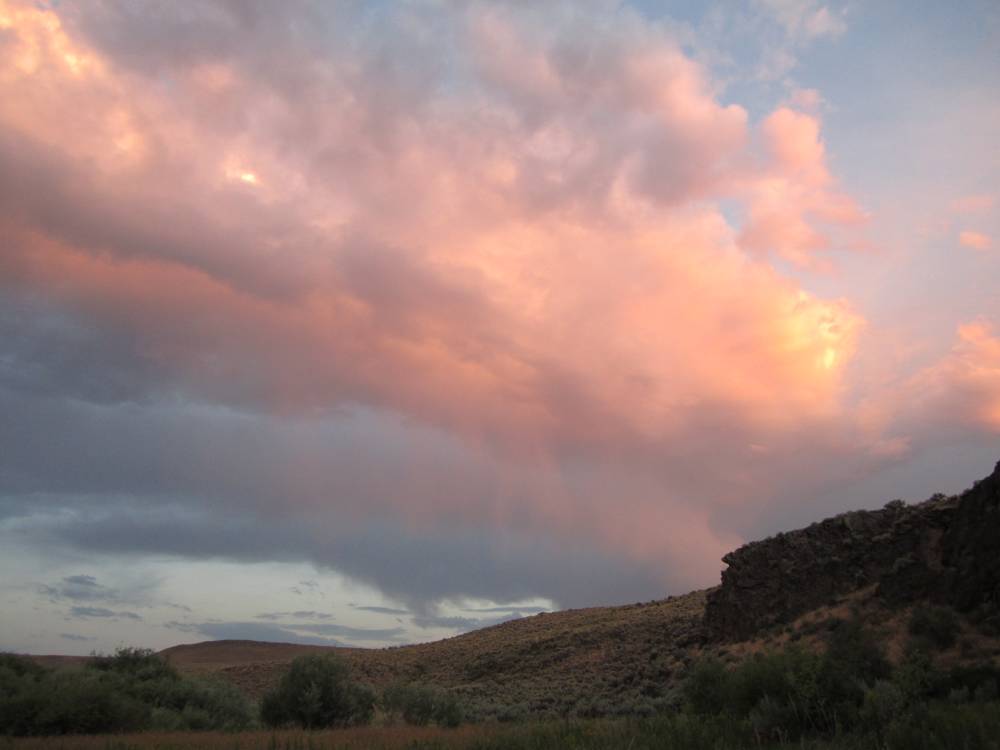 Come here Agnes---come here ole' gal.
Don't play hard to get.
Come to daddy---yeh.
ZZZZZZZZzzzzzZZZZZZZZZzzzzZZZZZZZZZZZZZzzzzzzzzzzzzzZZzzzzzzz !!!!!!!!!!
Day 23
8-8-10
Camp in Idaho to Almo, Idaho

The Best Day Of The Whole Ride
Need I say we were riding early--after a Jet-boil breakfast as there were no towns near us.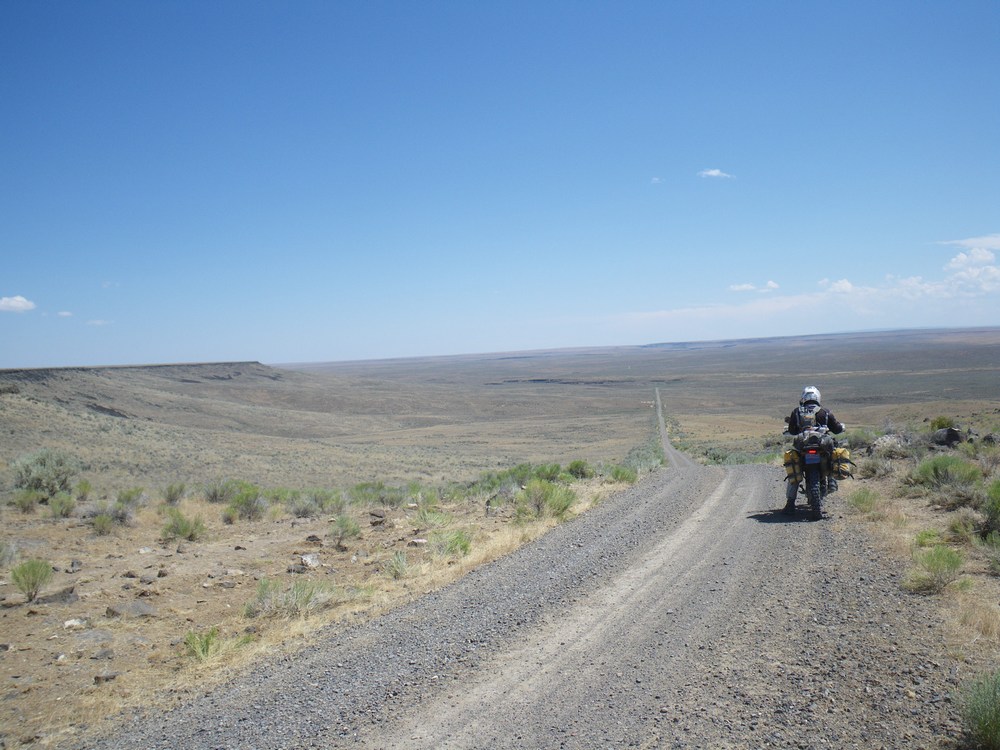 Ok---I've decide this was the best part of the trip.
It wasn't but about 20 miles into our ride we came to this big deep canyon---and yes, our route would take us down in
it----but we had no idea what was down there----one of the neatest things I ever saw.
Just before we started the drop into the canyon there was an old dwelling you can see here on the left.
There wasn't much left of it.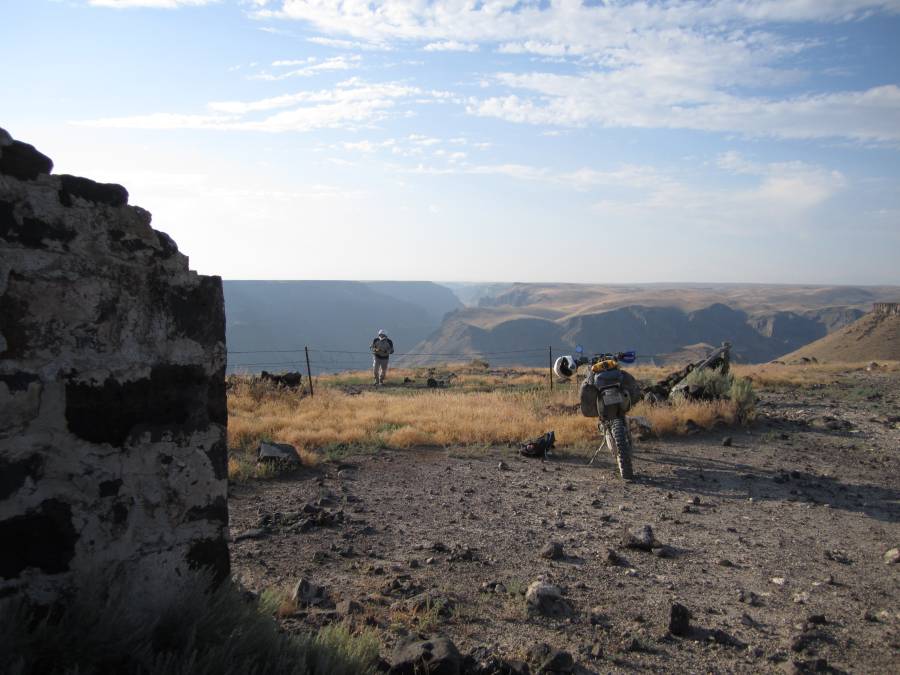 Look at this road dropping into the canyon---it's obviously steep and rough and you couldn't see what was around the corner.
I was a little skeptical as what I'd run into and maybe not be able to get back if it was real bad.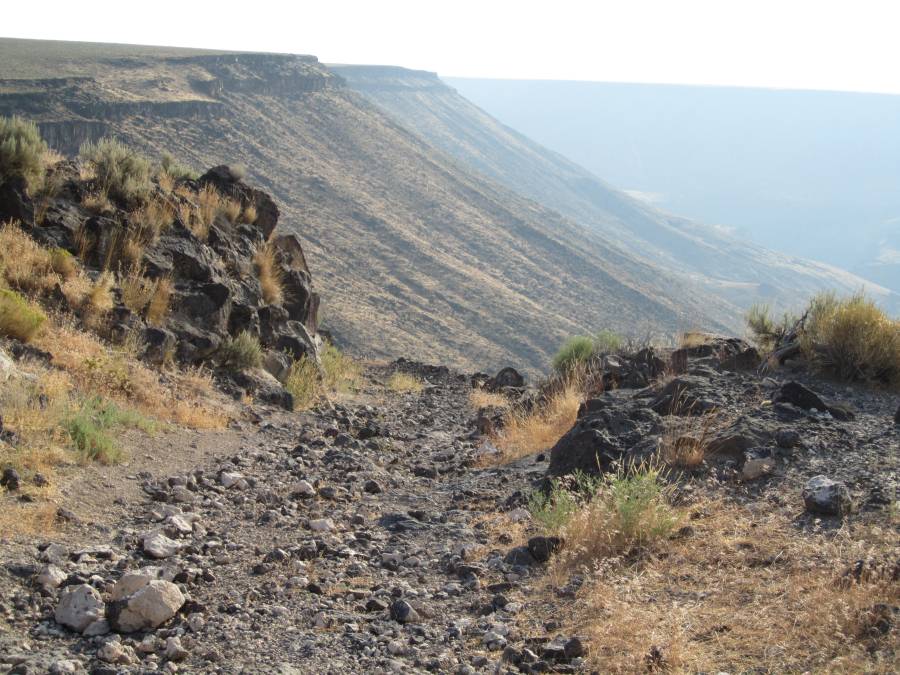 I think this picture deserves some kind of award.
Finally -----a picture that shows the steepness and loose rocks--and loose shale---and the cliff.
We went down this. Rick got this picture as he looked back.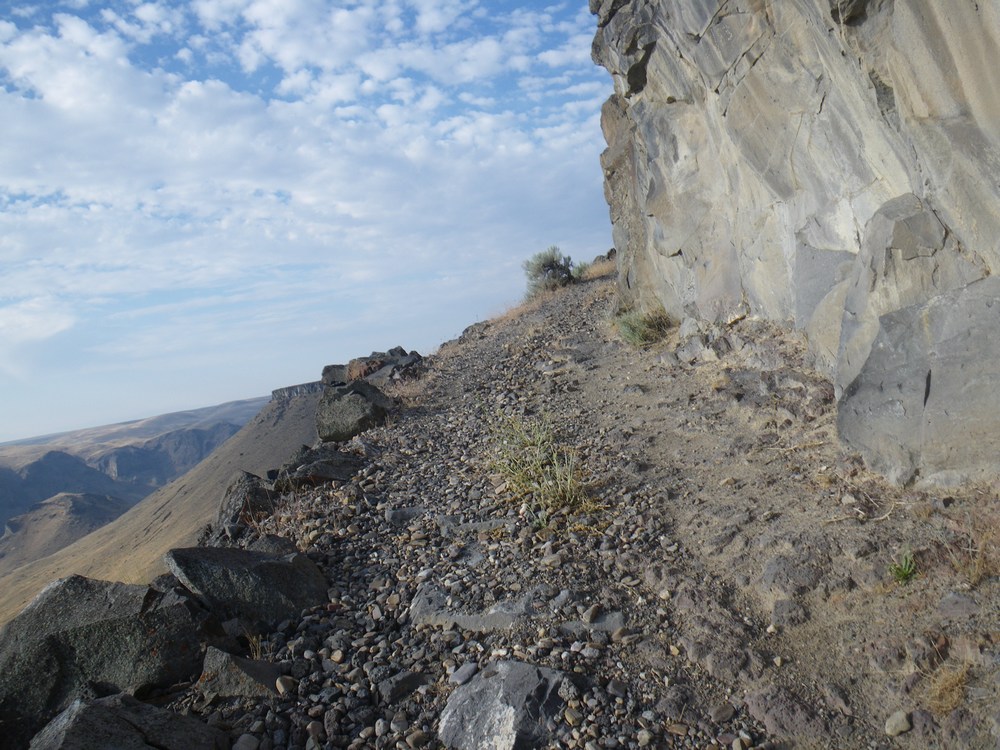 Then big planted rocks---but the scenery---just over the top.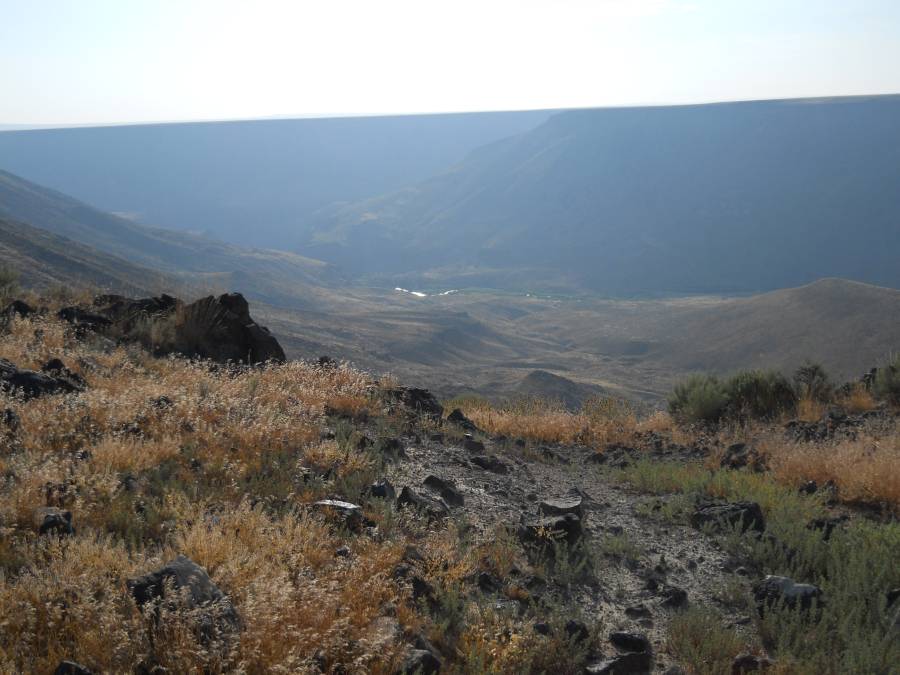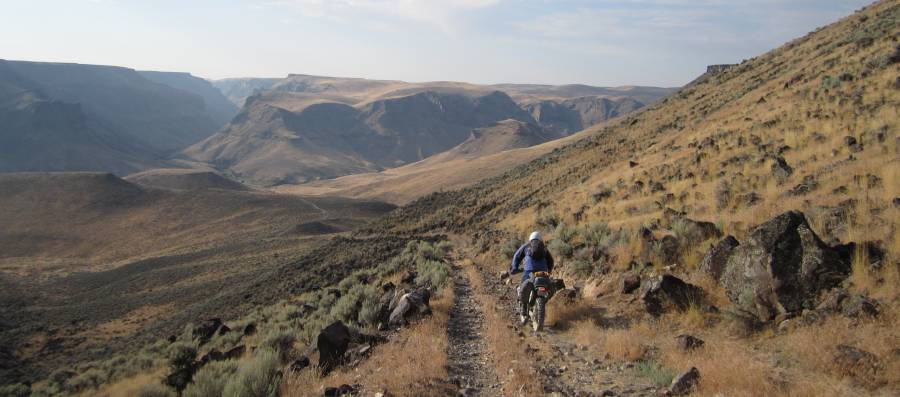 Almost to the bottom of the canyon we came across another old dwelling.
Who know how long it was that somebody lived here.
The Bruneau River was at the bottom---could we get across ???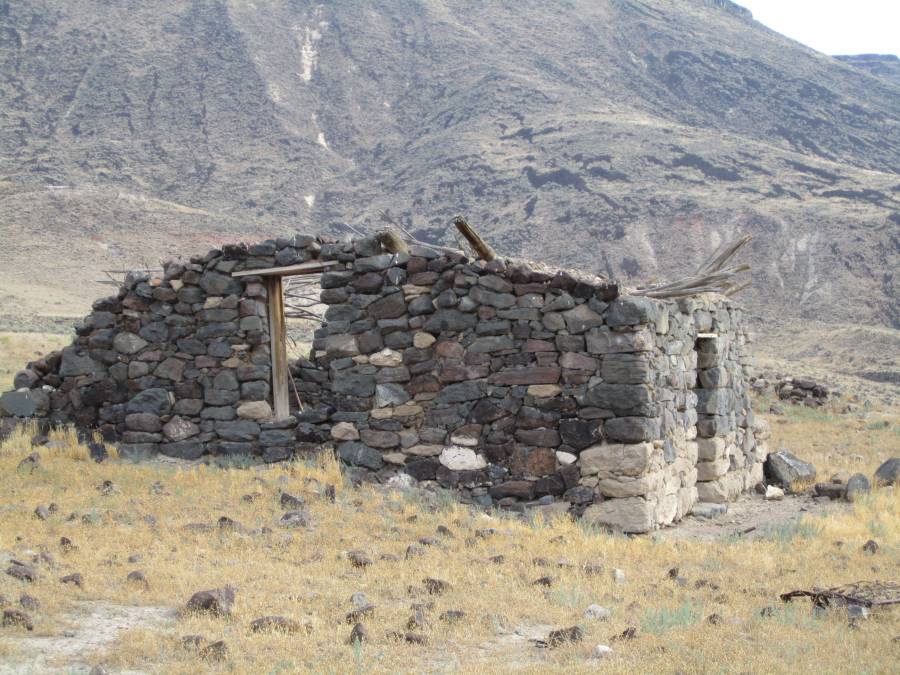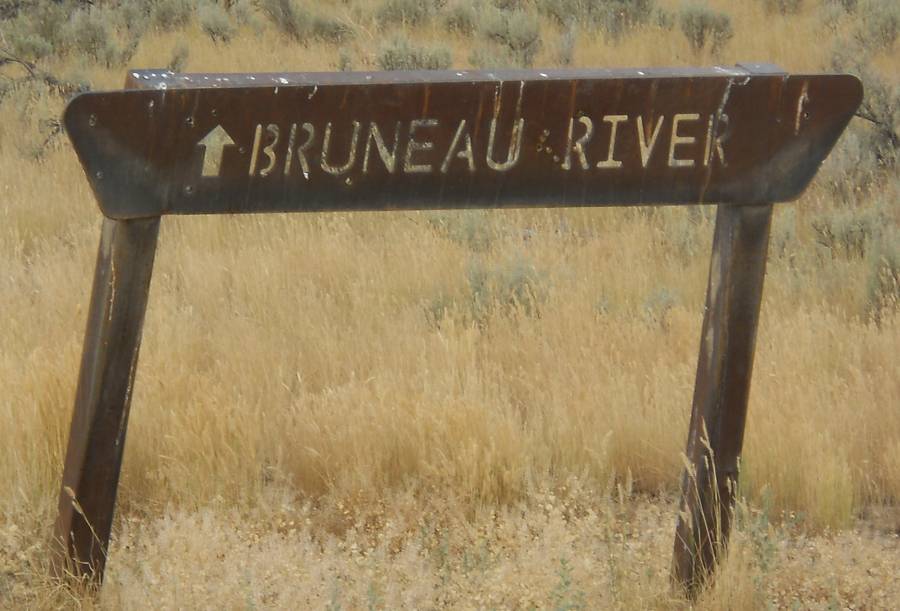 The Bruneau River is beyond us in this picture. See the smoke ?? We thought it was somebody's campfire.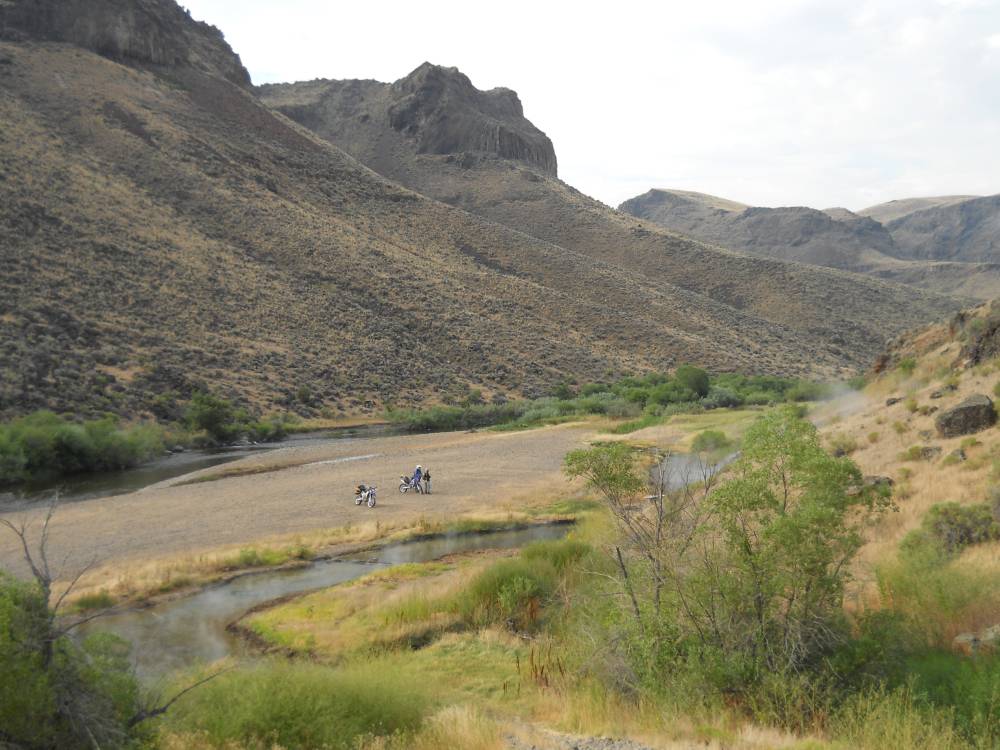 The water in front of us in the above picture is hot water from this spring.
We had no idea this was down here.
Hardly nobody comes here------it's to hard to get to for most.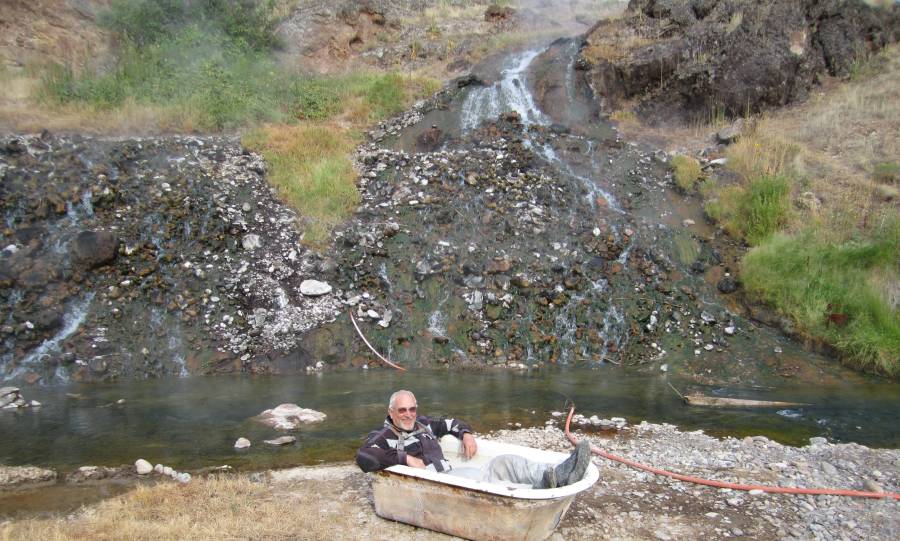 The water was too hot to get into-----I don't think you could last 10 seconds--it was that hot.
A huge volume of hot water was gushing out of the cliff.
This hot water mixed with the Bruneau river and made the perfect bath water temperature--all by mother nature.
We had to ride thru the hot water creek to get to this spot------not that big a deal ---but the heat and humidity you felt riding thru
it sure got your attention.
Sure neat how the water pretty much came out of one spot but then spread out real wide.
I've never seen anything like it.
This place is called "Indian Hot Springs"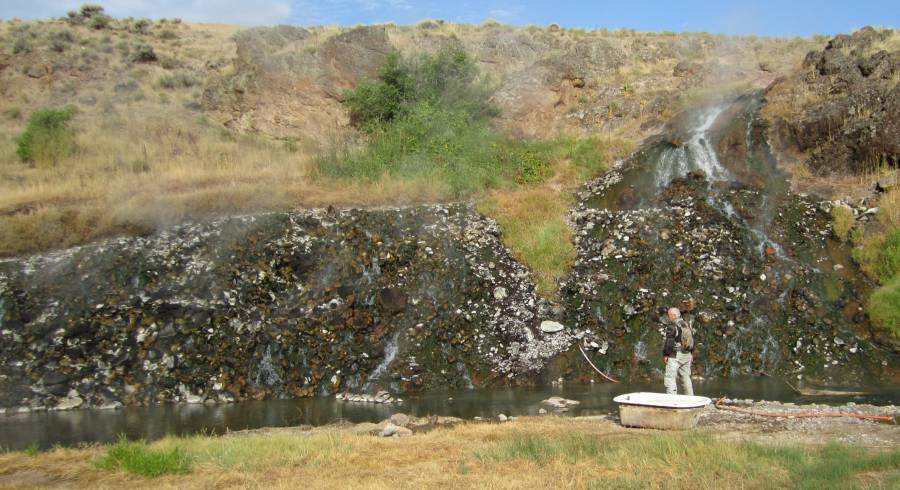 This broken down bridge goes over the Bruneau River and we all rode over it.
I hoped that today wasn't the day it would fall in.
The Bruneau River looked crossable in one spot to the left of the bridge in this picture.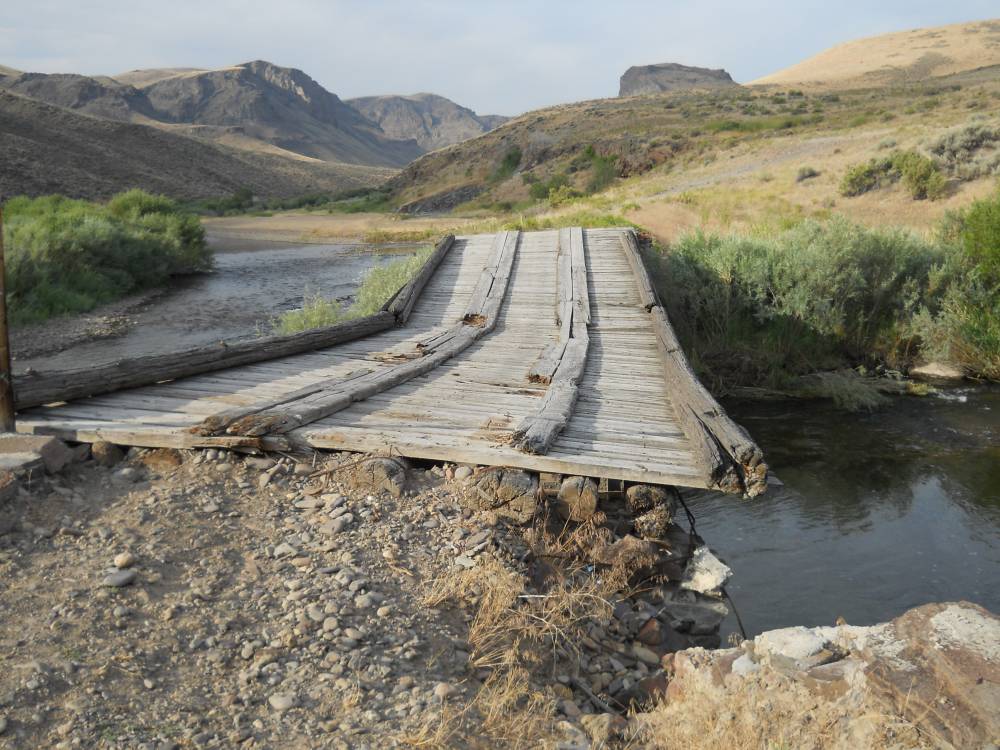 We rode less than one mile and there's this old Chevy truck.
The contraption in the bed of the truck is what fascinated me.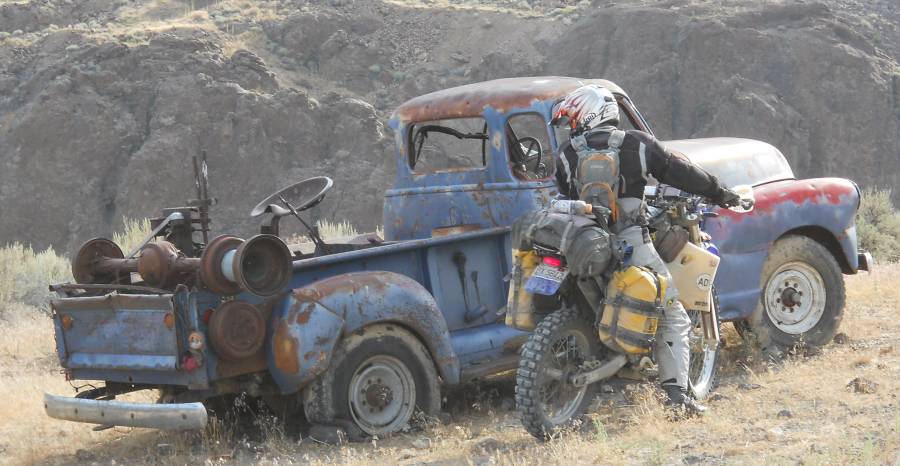 The truck motor powered all this gizmo---It was all homemade obviously--wish I knew what it did ?????
Looks like the rear-end maybe might have had a belt drive on it ?????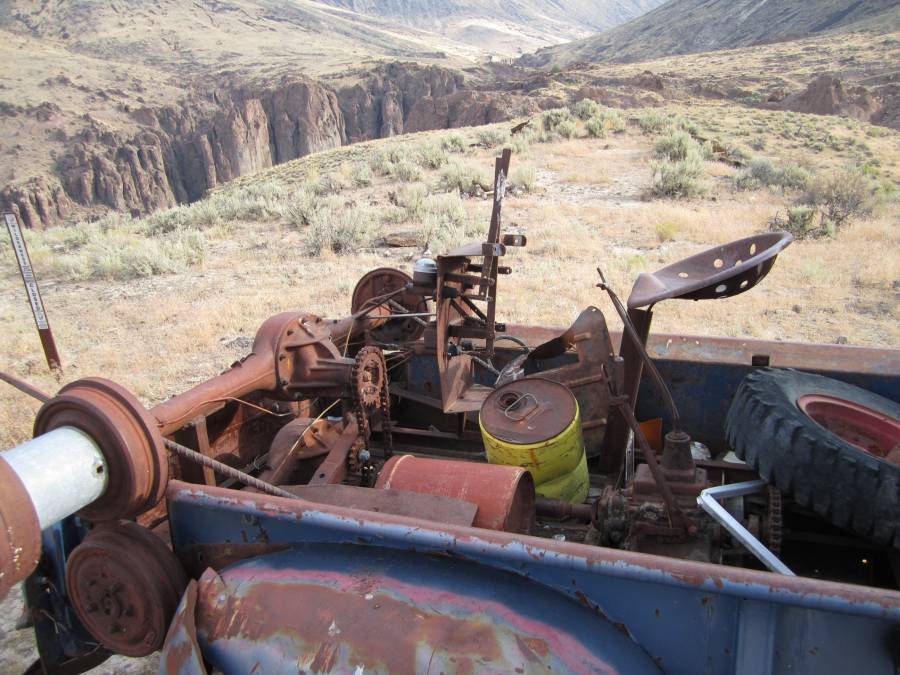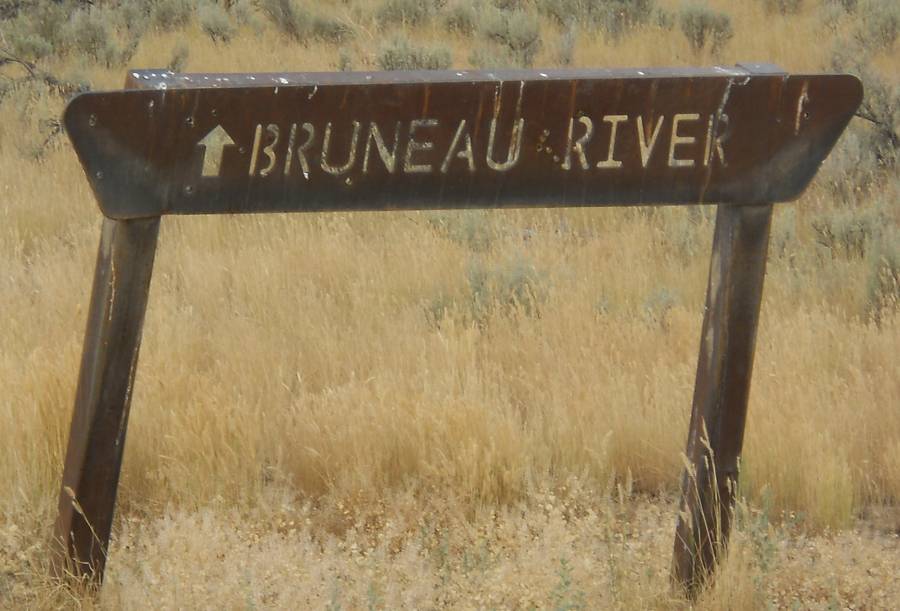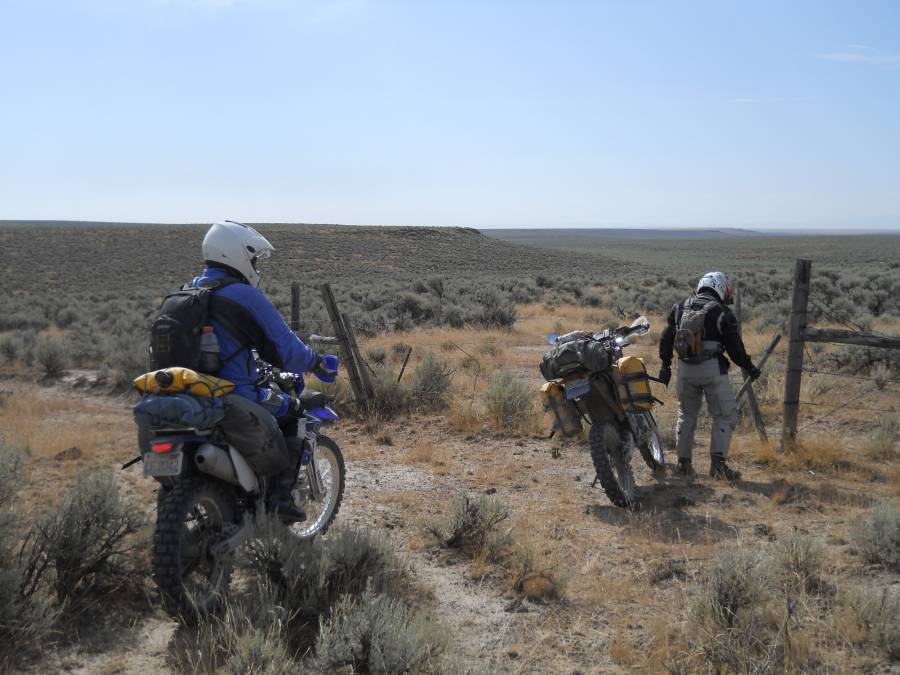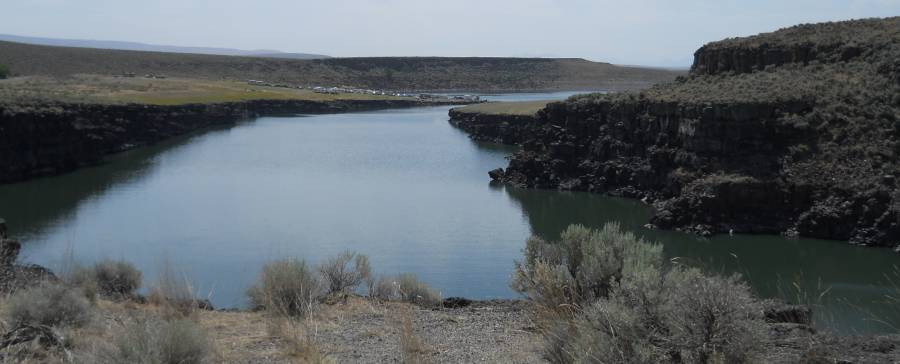 This dam astounded us----it's one lane and you have to watch around the curved dam for oncoming traffic.
It's hard to see and I bet a lot of people have to back up. Not much traffic out here.
This was on Salmon Falls creek which made Salmon Falls Reservoir.
There's a leak in this picture---see it ????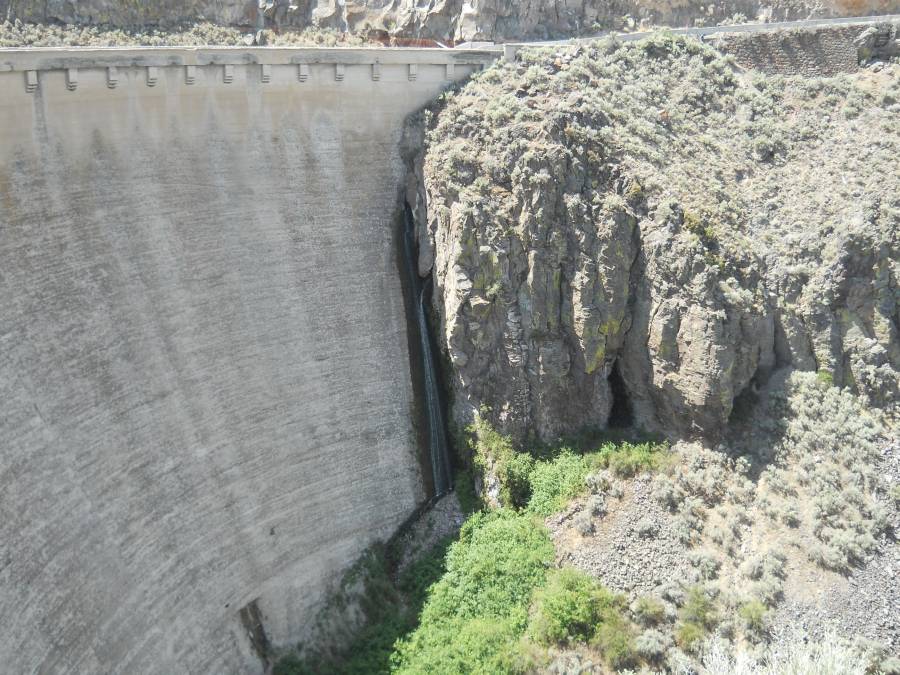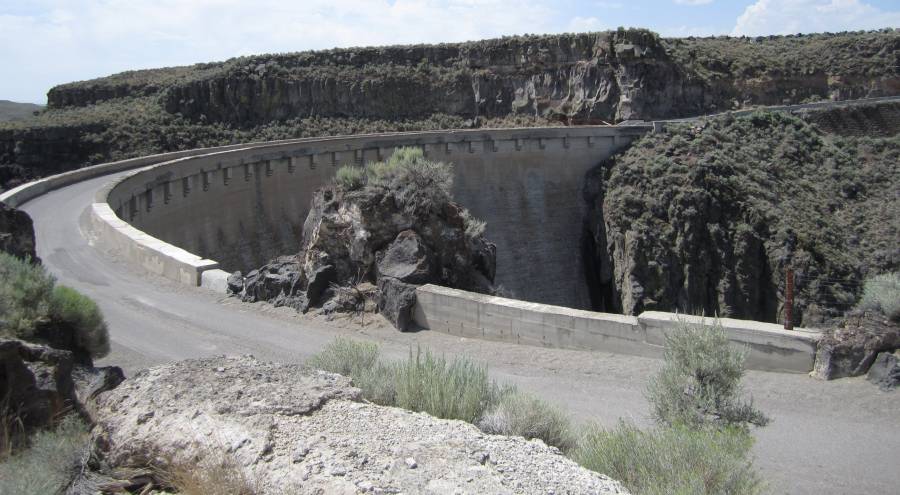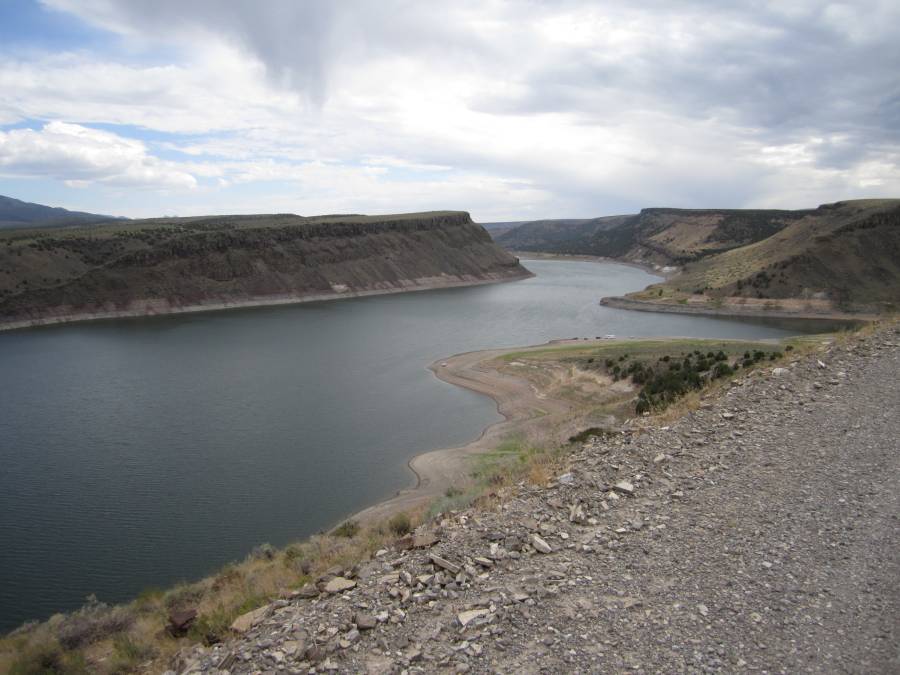 The trail turns to sagebrush and is difficult to follow.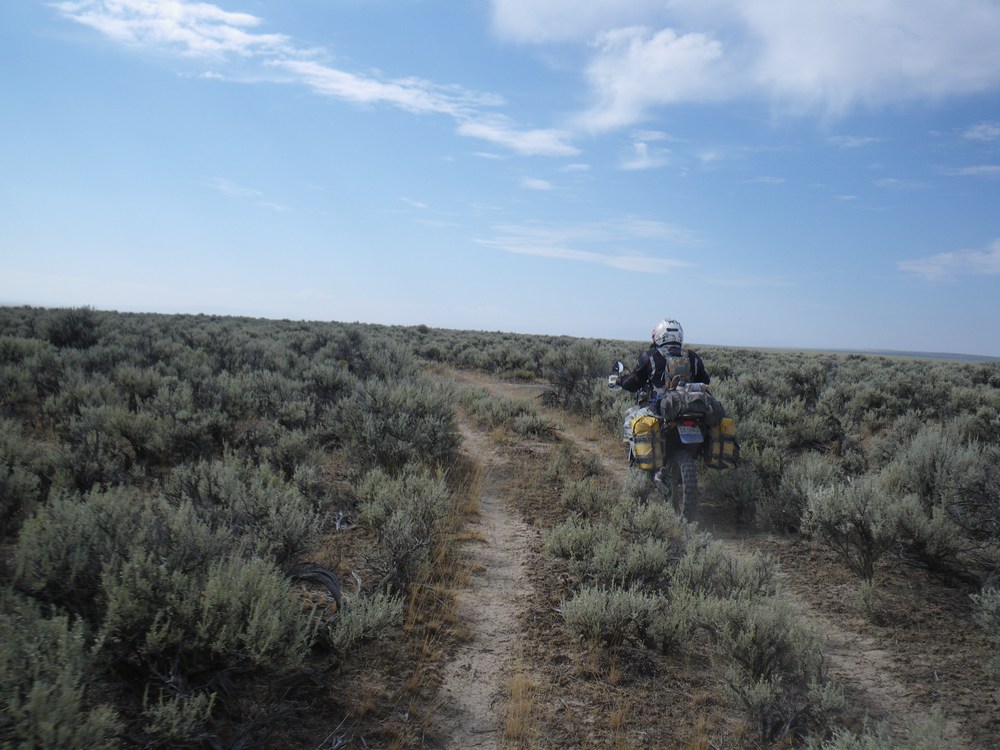 Later we skirt many mountains above 7,000 ft.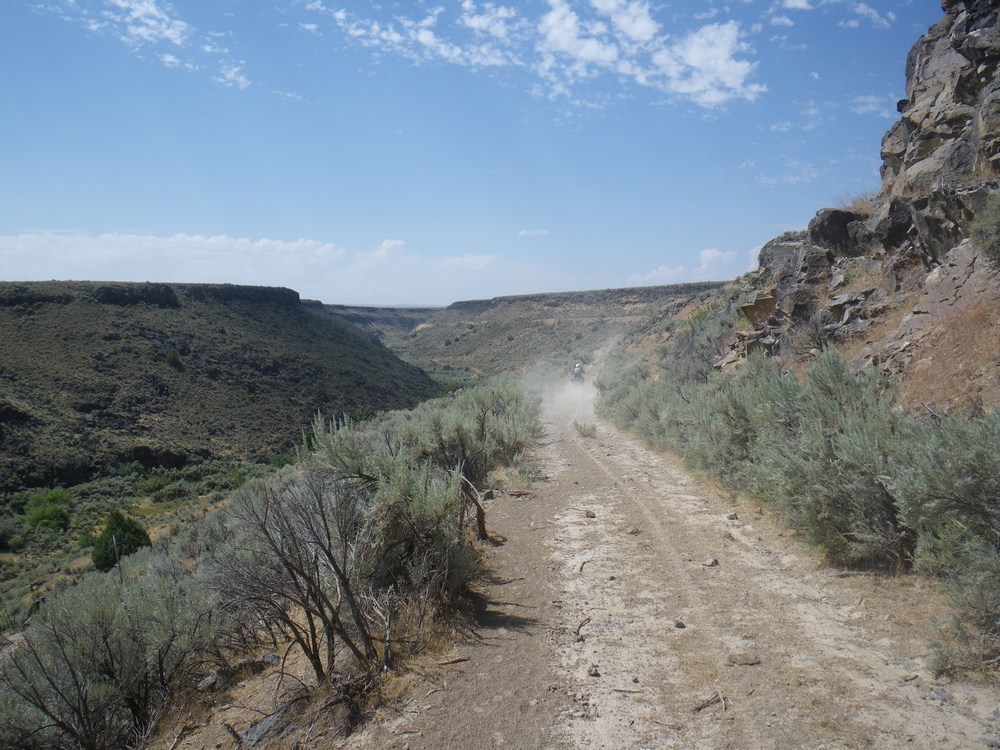 We stopped somewhere and I heard someone mention the City Of Rocks---I had no idea what this was or that we
were even going thru it on our route.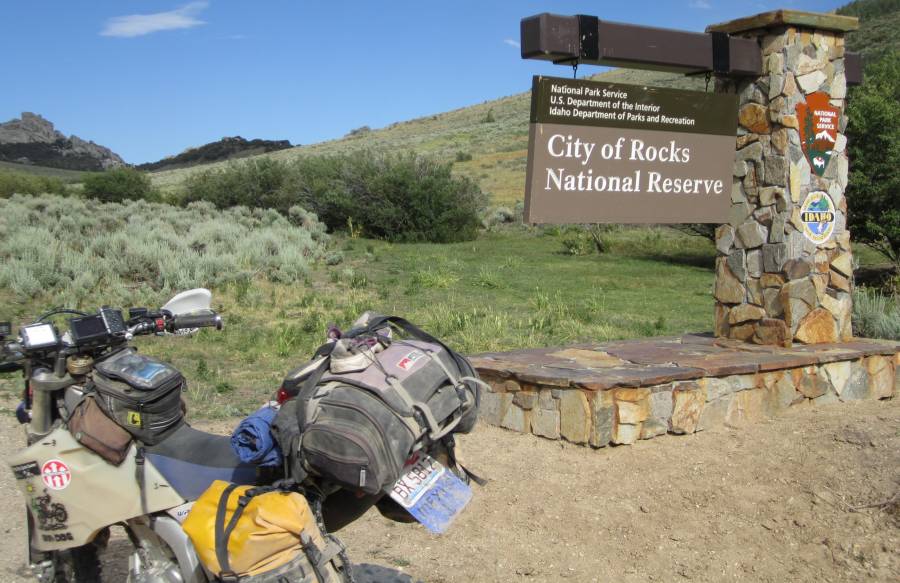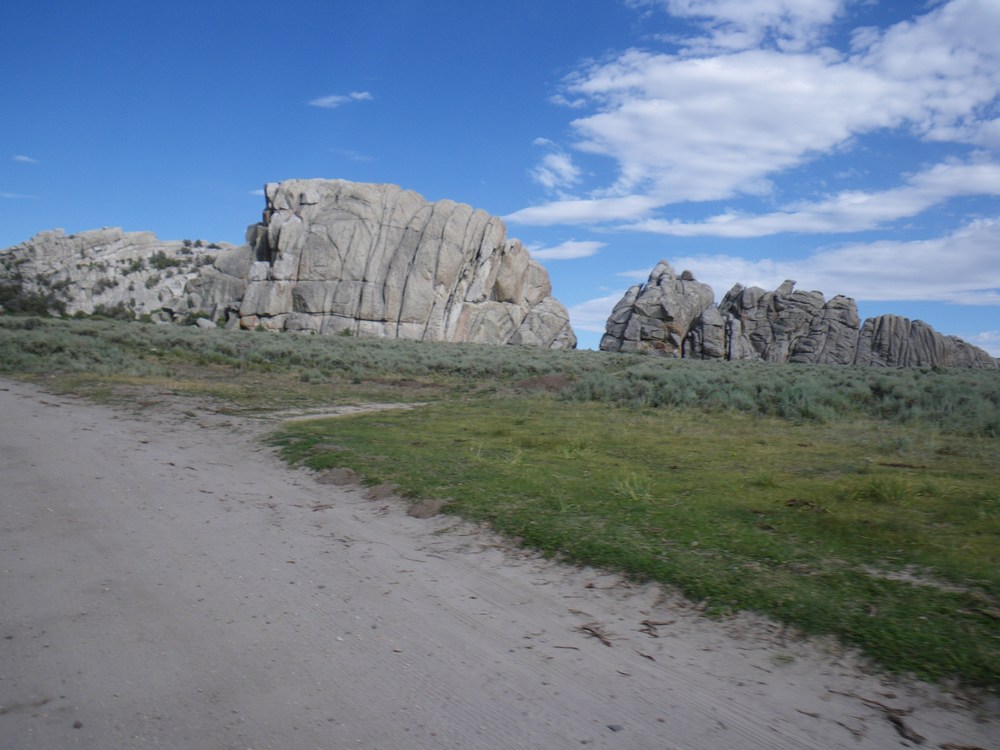 There were a lot of primitive campsites in here---really neat ones nestled in the rocks.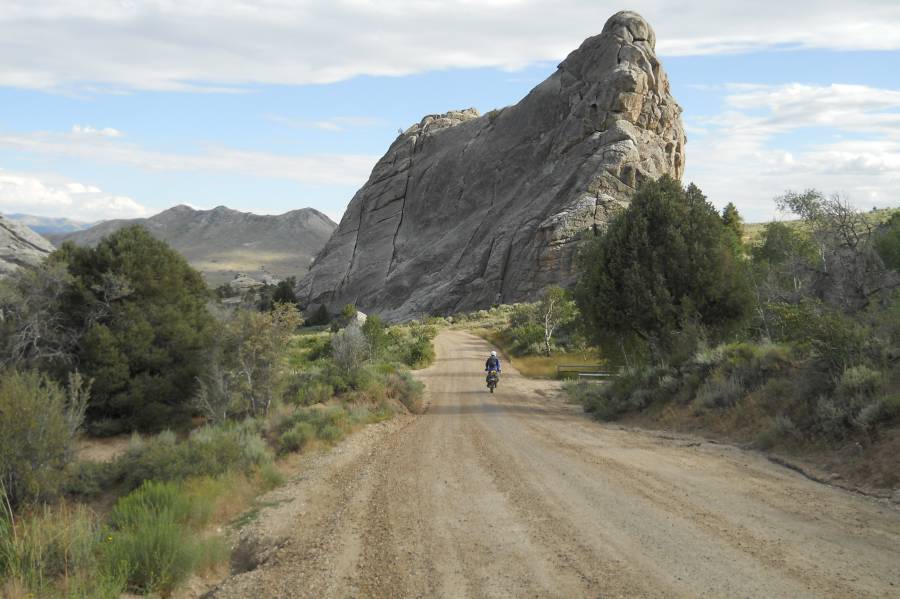 We were kind of in the mood for a bath and ended up in Almo, Idaho----a very tiny town.
But amazingly they had this nice place to eat and stay.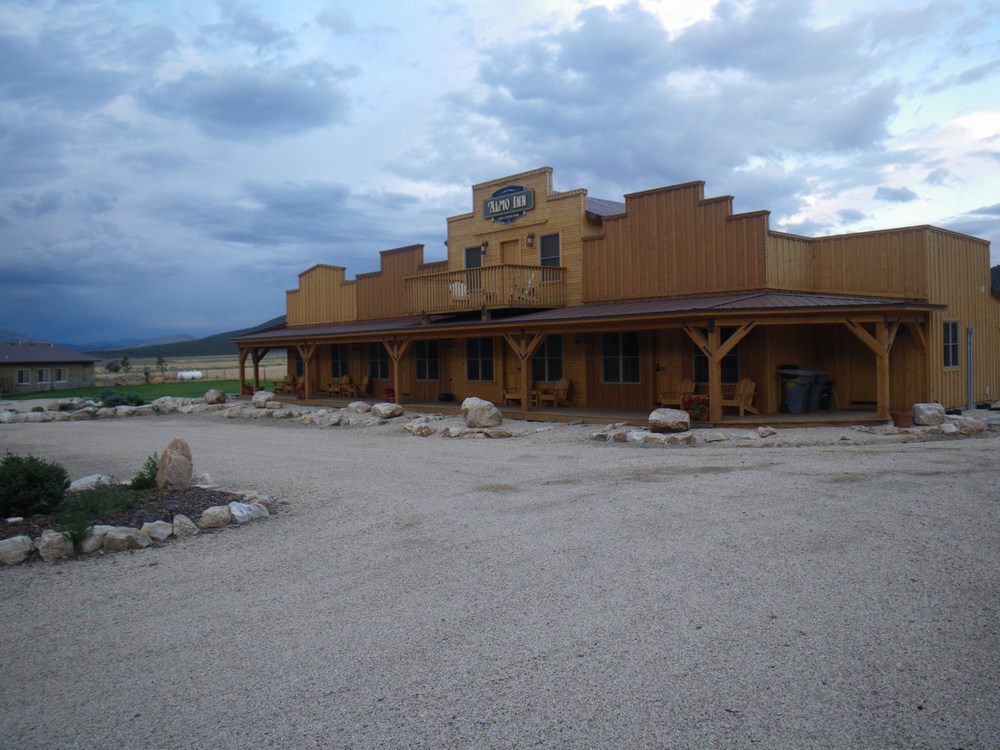 We had a really nice little cabin with 3 beds.
This was a very relaxing night.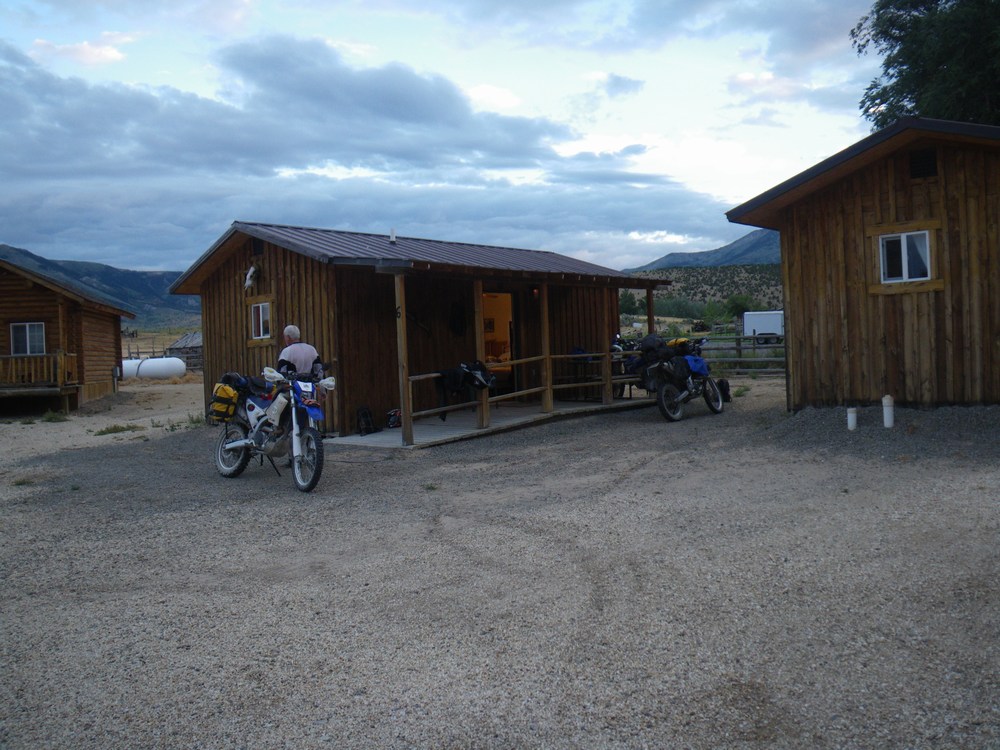 I couldn't believe this---Jr. Brown is one of my top 5 favorite guitar players.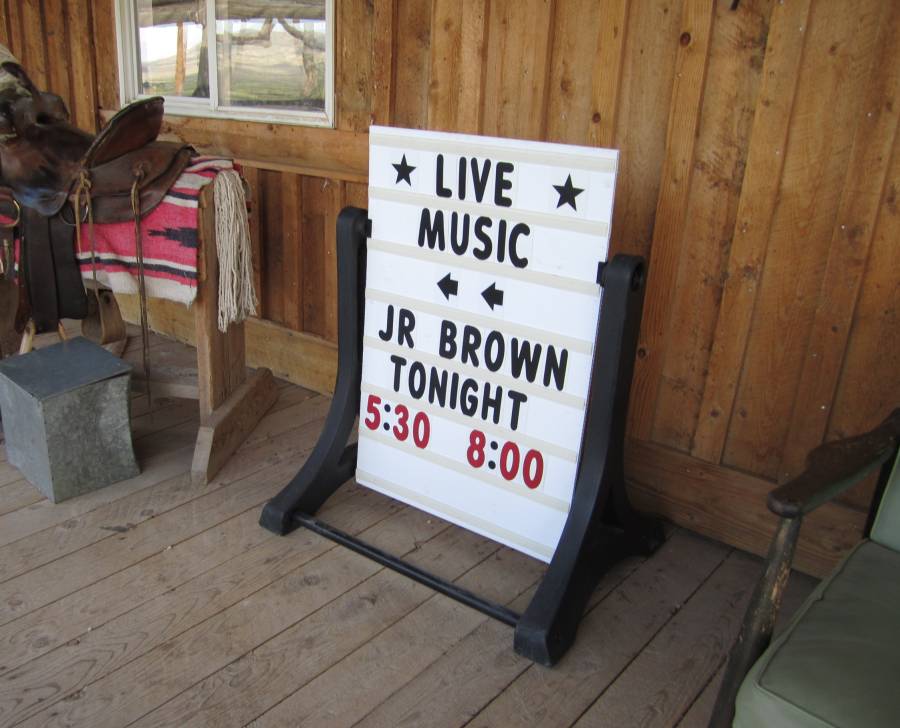 Whoops---not the same Jr. Brown I know.
He was very good tho---poor guy did the Nashville thing forever---got sick of it---and just quit.
He was very good. I kind of felt sorry for him.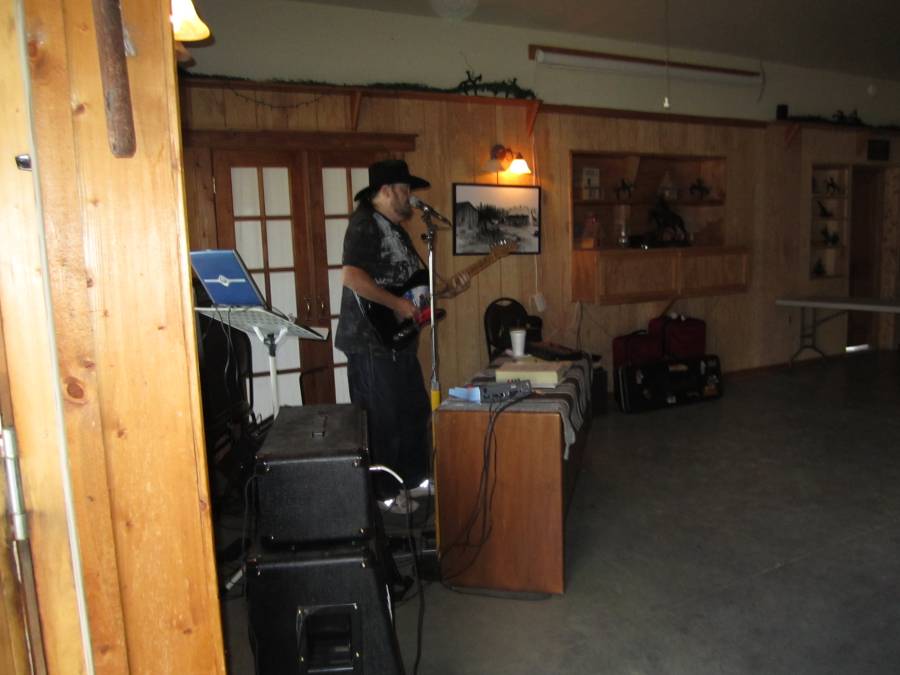 Ricks not the only fancy dresser in this group----he lost his tennis shoes on the trail and all he had was his
moto X boots.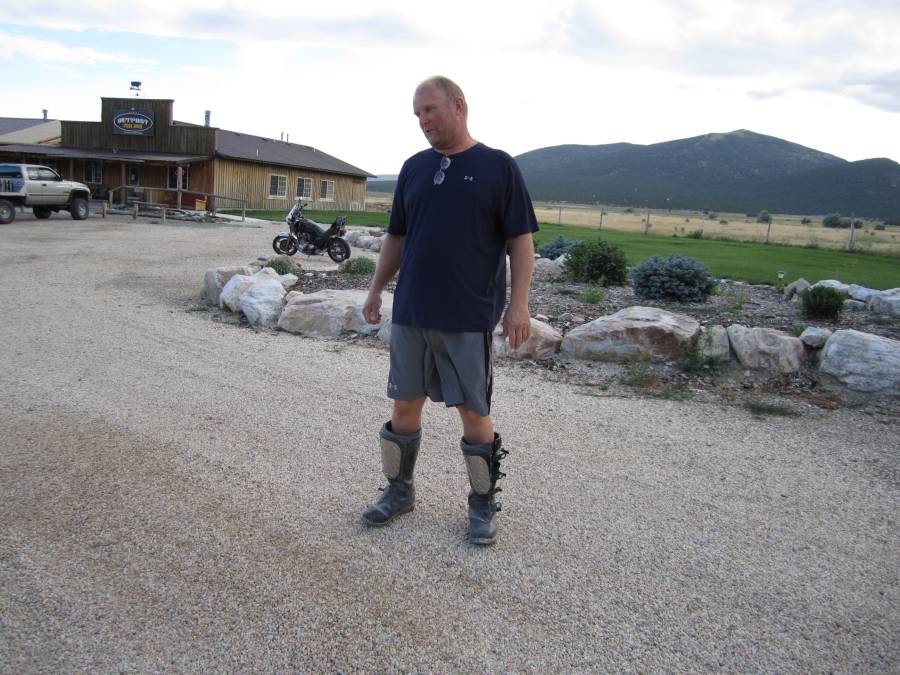 176 Miles for the day
Day 24
8-9-10
Almo, Idaho to Pocatello, Idaho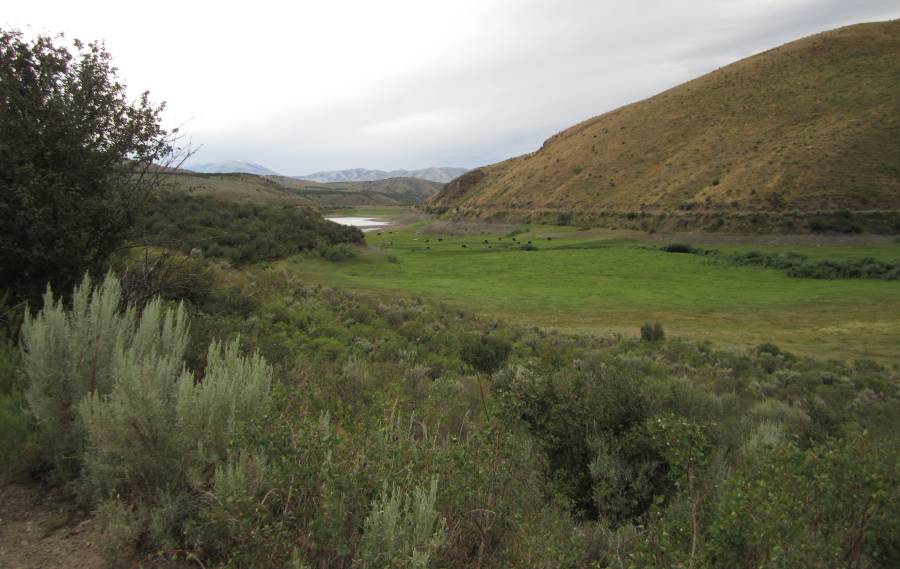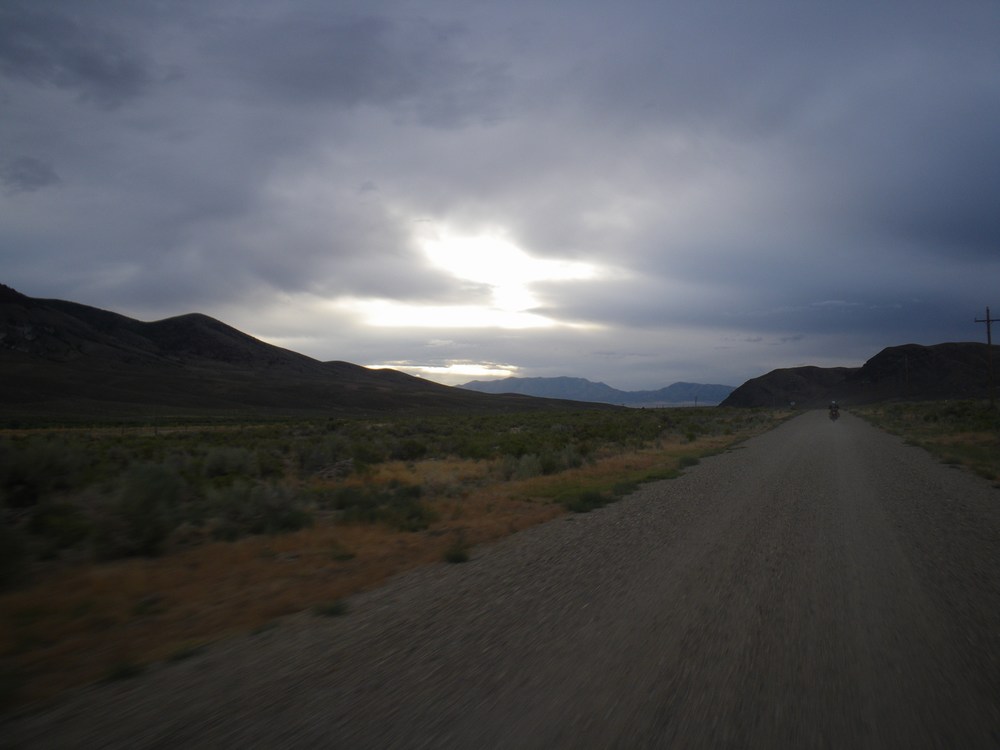 We headed West then North---then Northwest and went down into BigCanyon.
I remember this road well--just damp dirt and fast riding.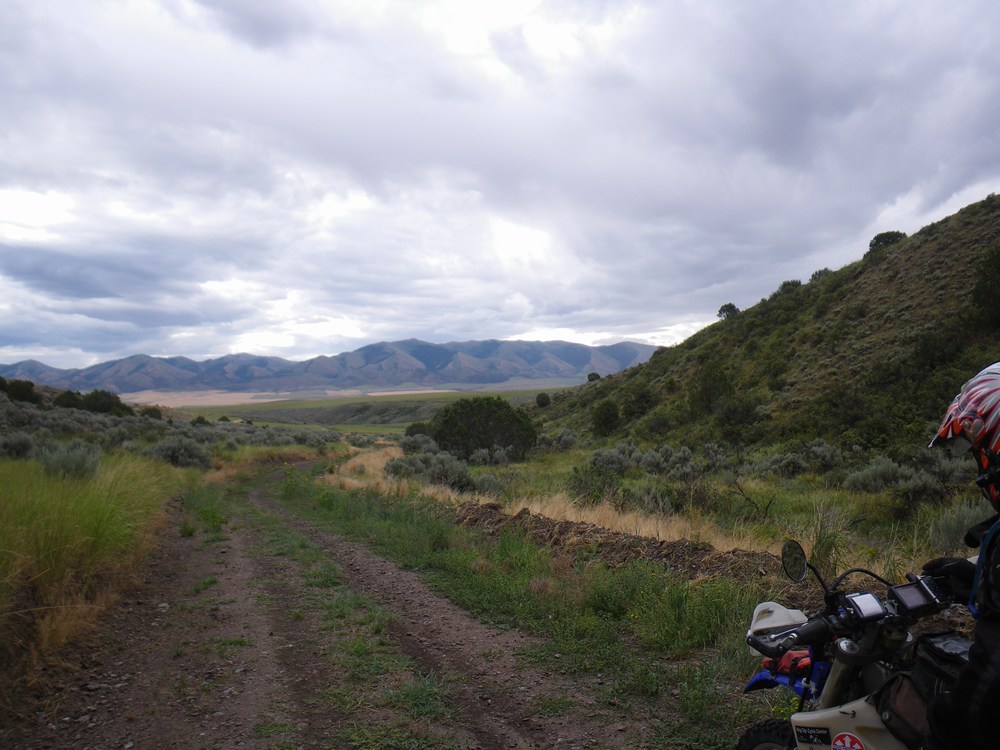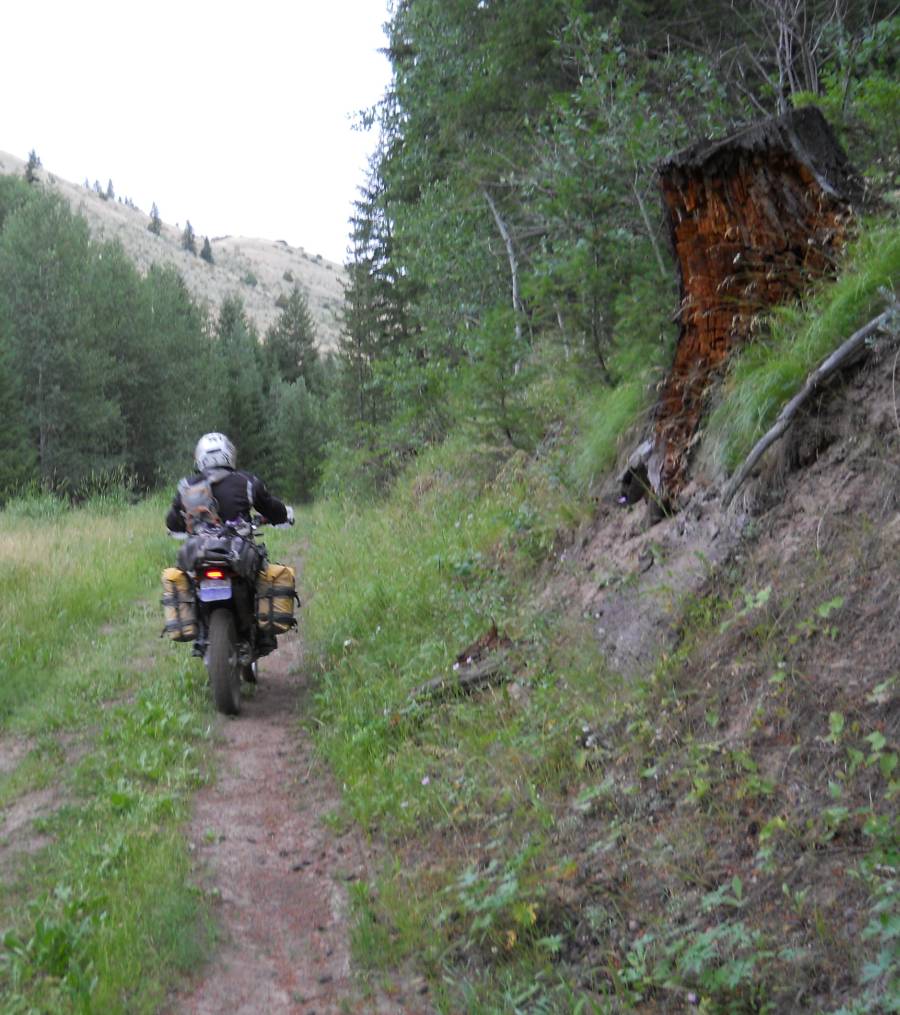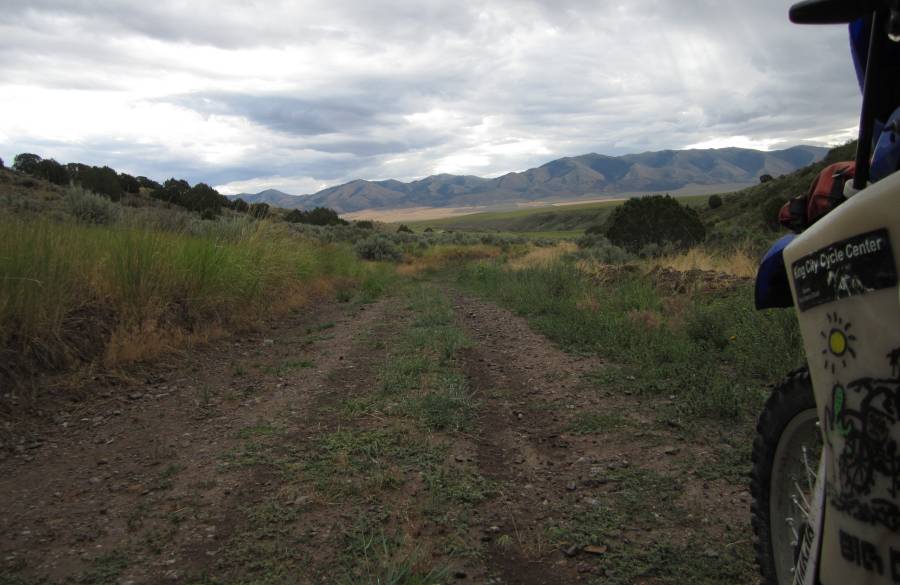 We got close to Pocatello----very close----I have beaten Martin Hackworth---I've ridden his trail
and am still alive--------but what's this------we can't get to Pocatello..
We not with my scared butt in the way---I'm blocking the trail which is one small goat wide.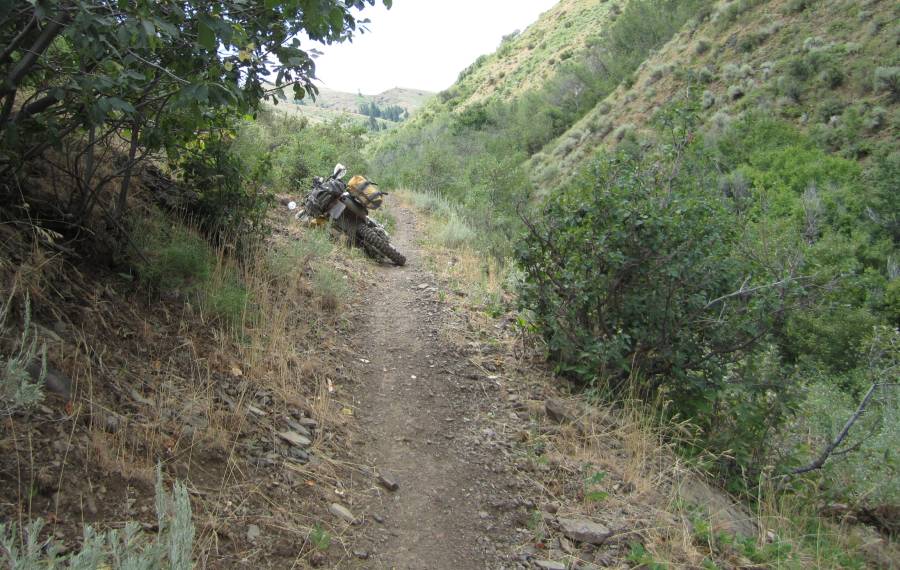 A little farther there is nothing to catch you-------nothing. Nothing Na-da Nothing.
I was shaking. One lean to the right and you and your bike are a gonner. History---a big bloody blob.
We had ridden all this way-----only to be stopped here.
Thing is---I walked around the corner hugging the left and it got worse-----holey crap--a goat couldn't walk this.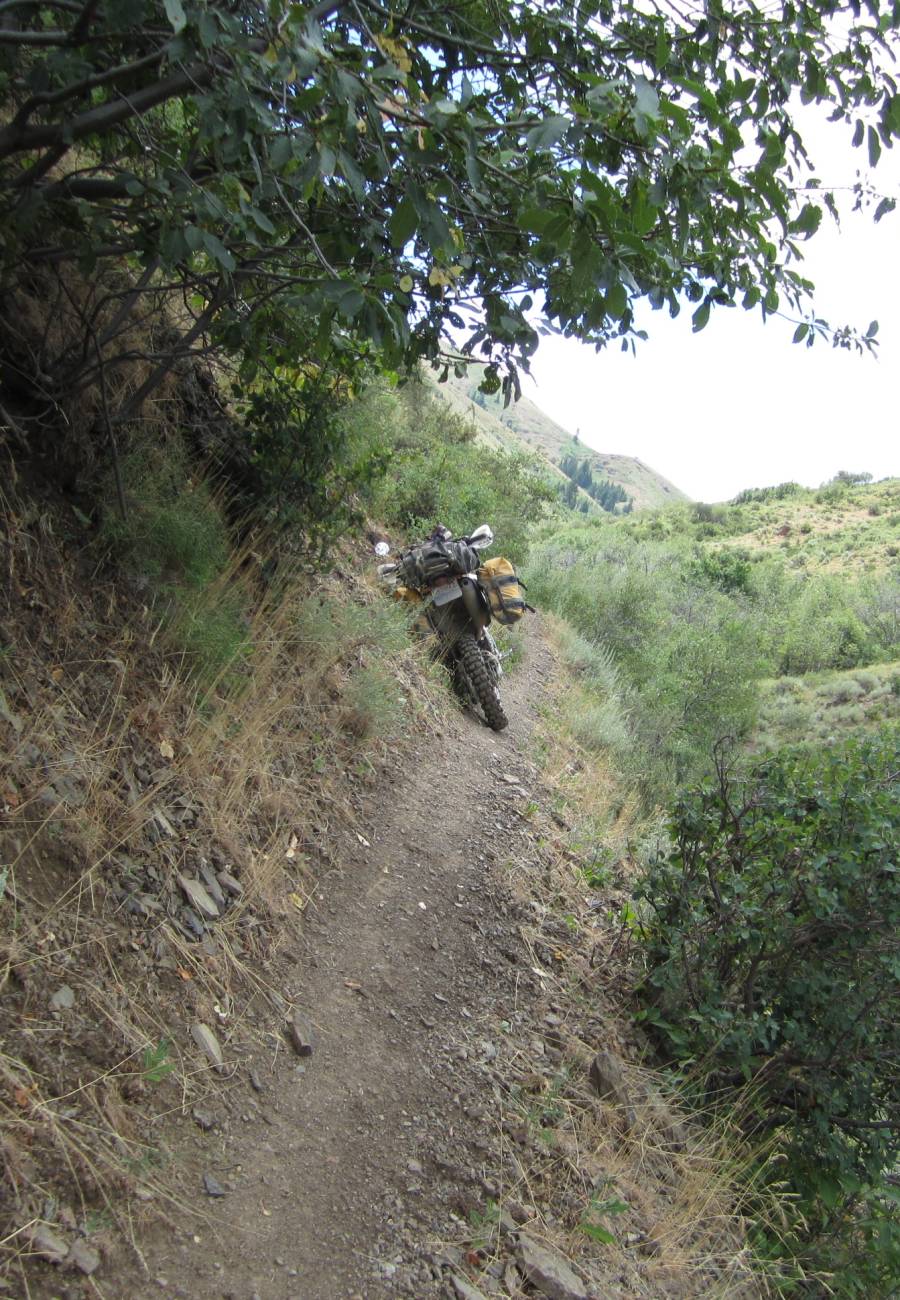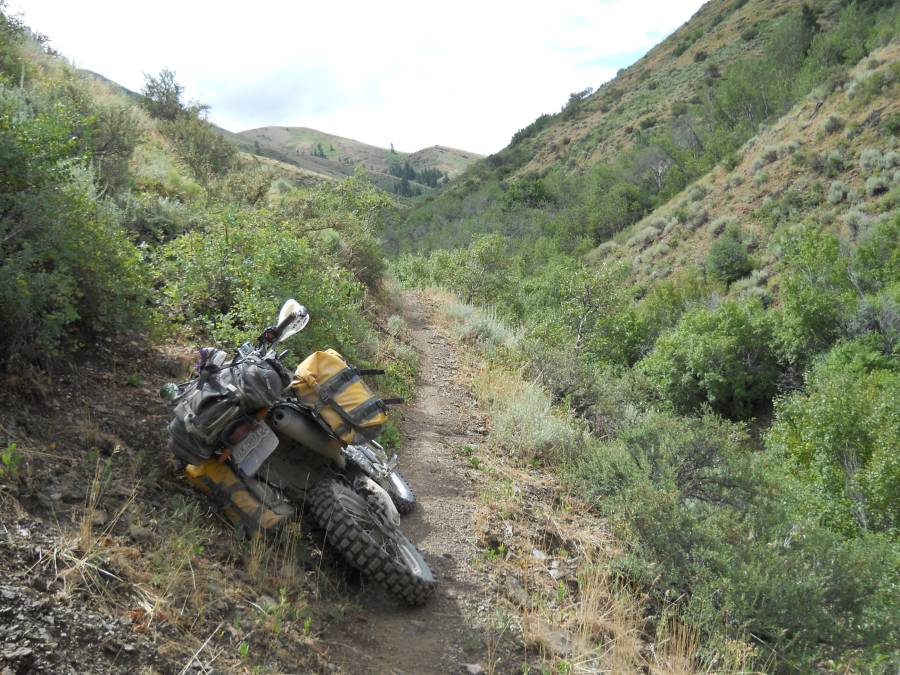 I announced I wasn't going one inch farther---not one.
But------you couldn't turn around.
It was going to take hours to push 3 bikes backwards back to safe ground and I feared one of us would go off the
edge in doing so. Long story short we found a big sage brush on the bad side of the trail and backed each
bikes rear tire into it and pulled the front tire around ------in effect turning the bikes around.
I was so shaken I asked Rick to ride my bike back on the narrow trail. I hated to ask--but it didn't bother Rick like it did me
or Scott. Martin Hackworth had beaten me------but not killed me.
I bet he's laughin at this one.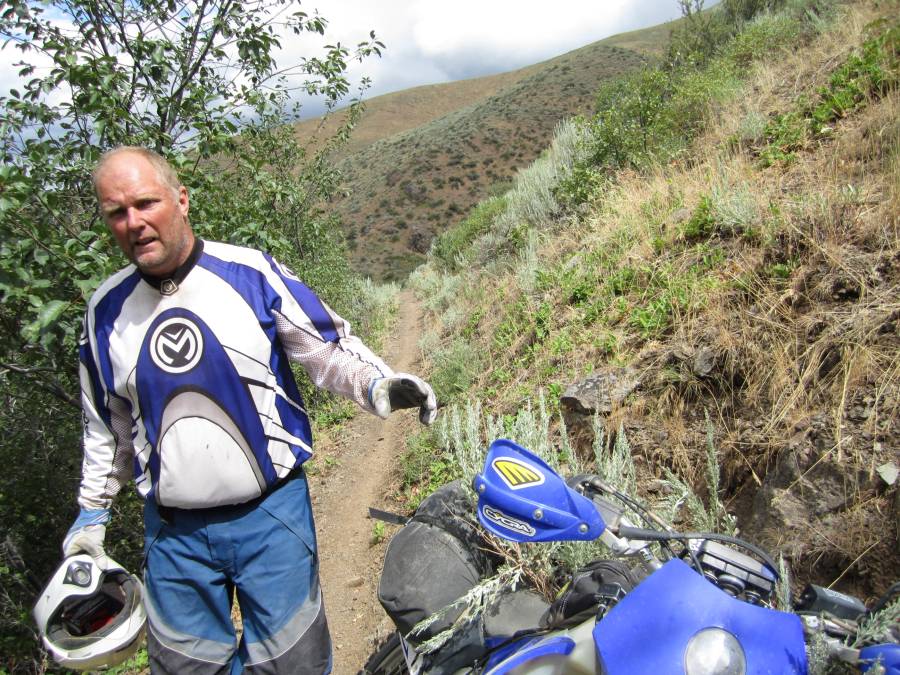 We waddled into Pocatello with our tails between our legs and I called Martin to have lunch.
He said "when you coming to Idaho" I said "Today"
He said "Where you At"----I said "Pocatello Cafe"
He said-------"sit still--I'll be there"
Martin Hackworth pictured right.
Look at that evil smirk---he was surprised I showed up alive with all limbs attached and and not one leg a
bloody burned up stump.
Of course I'm kidding here----I was estatic meeting Martin and all 3 of us were kind of spell bounded with
his tales of riding. This man is an animal of a rider. We are cut from totally different cloths and would make horrible
riding partners----I applaud him for asking me to ride the TID this year with him--but it would have been painful for him
to have to wait on me.
But me and him have is respect for each ---that was the way I felt anyway.
Martin has ridden a heavily modified XR650R for years---but has built a Honda 450 now.
He travels the route we did hard, fast and light--by himself carrying nothing but water and a few tools.
Thanks Martin---a pleasure to have met you.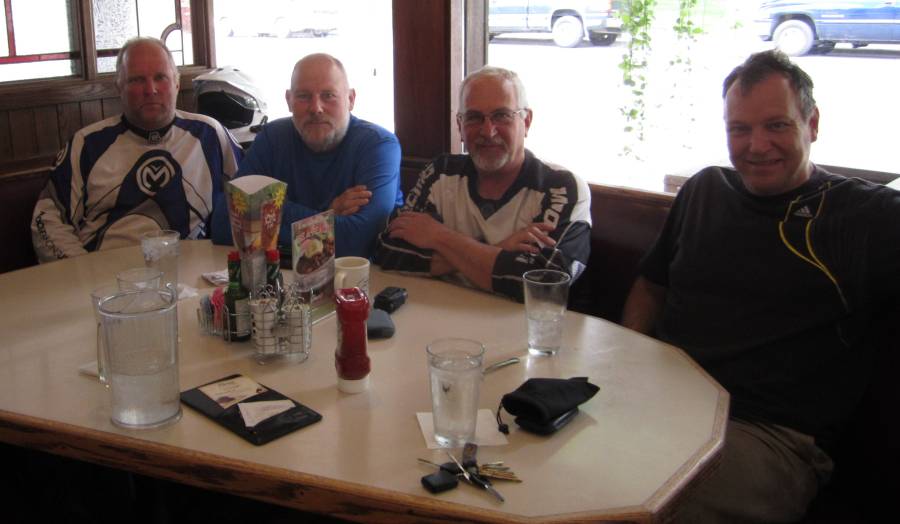 We stopped by Martin's house which is on the Tour Of Idaho route and signed the TID book.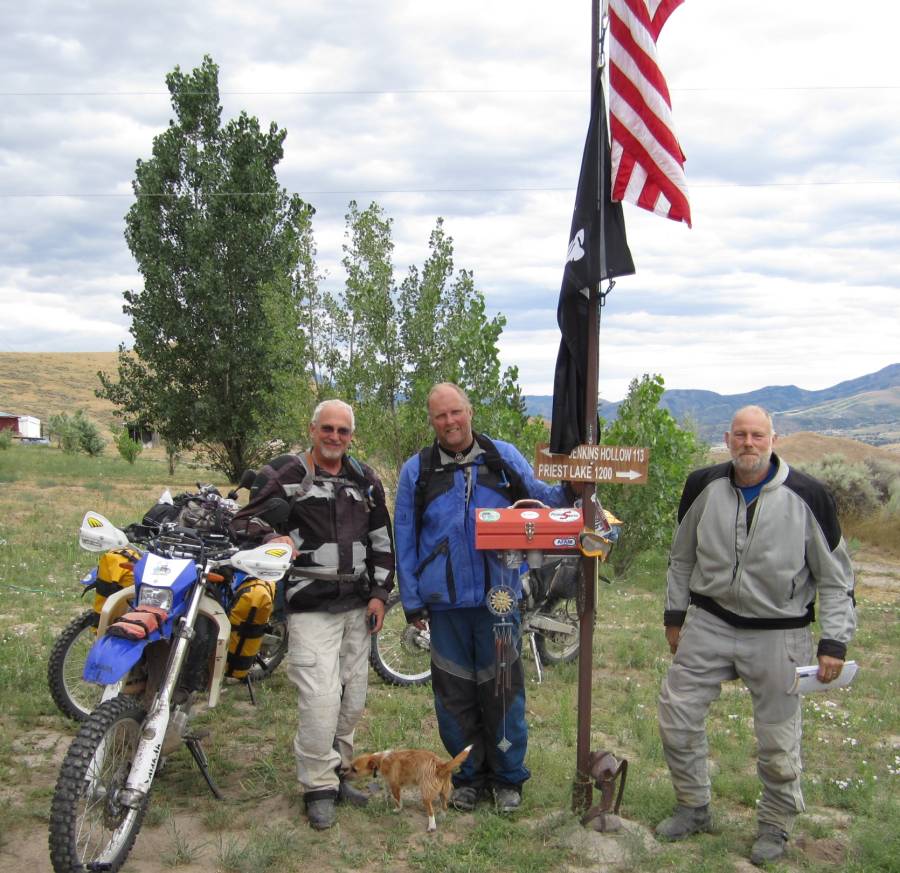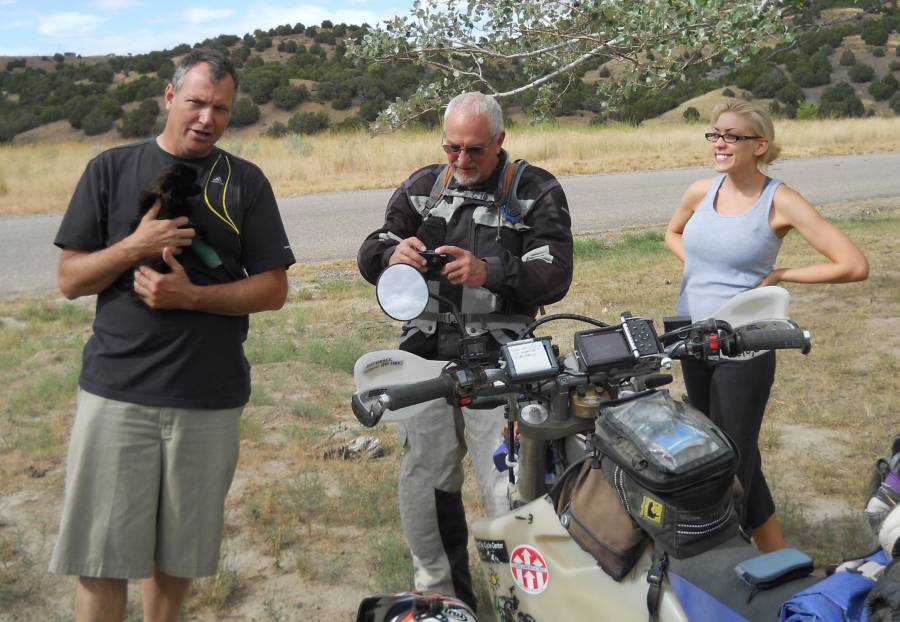 So I picked up 2 stickers on this ride--you've got to have stickers.
Motorcycle Jazz.com my new favorite sticker.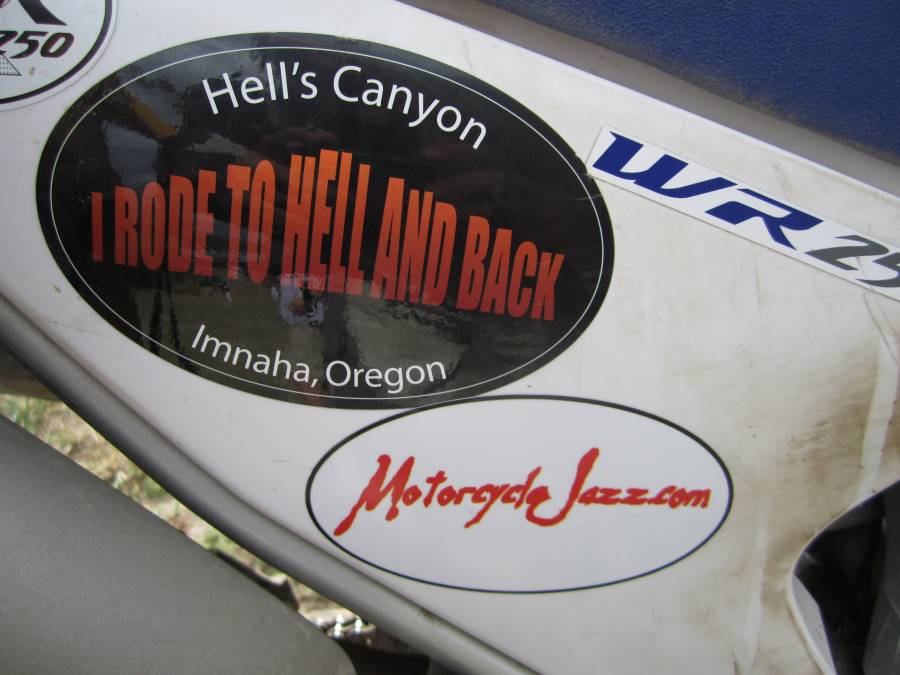 Me and Scott were both wearing the new Sidi Rain boots----Scotts are falling apart and we
repaired them with Shoo-Goo to finish our ride---remember ------there are still hundreds of miles of this ride left.
In the Restaurant as we were leaving I see this fellow.
My hero----man this guy was huge--better stand back---or else.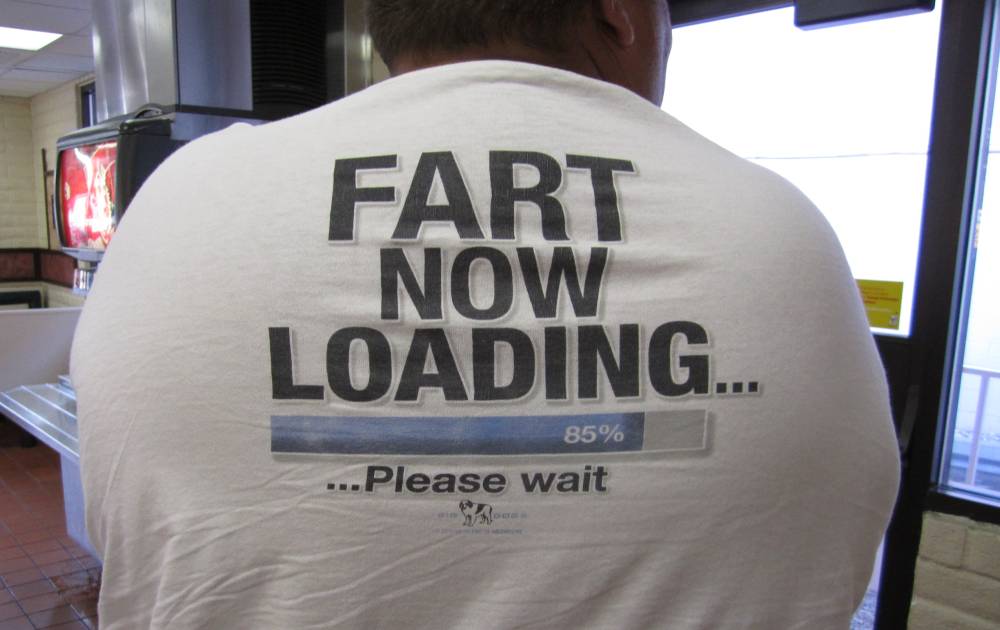 Day 25
8-10-10
Pocatello, Idaho to Camp in Wyoming
We headed East the next morning out of Pocatello still following the T2 trail.
We first rode on Imnan Creek Rd. then NF Caribou--some being not much more than an ATV trail.
In fact there was one particular really tough climb we did that was probably what did my riding
buddy in last year----Lefty was on his KLR and it was just way to heavy and it was shortly after that
hill------which he crashed on that he decided to head home.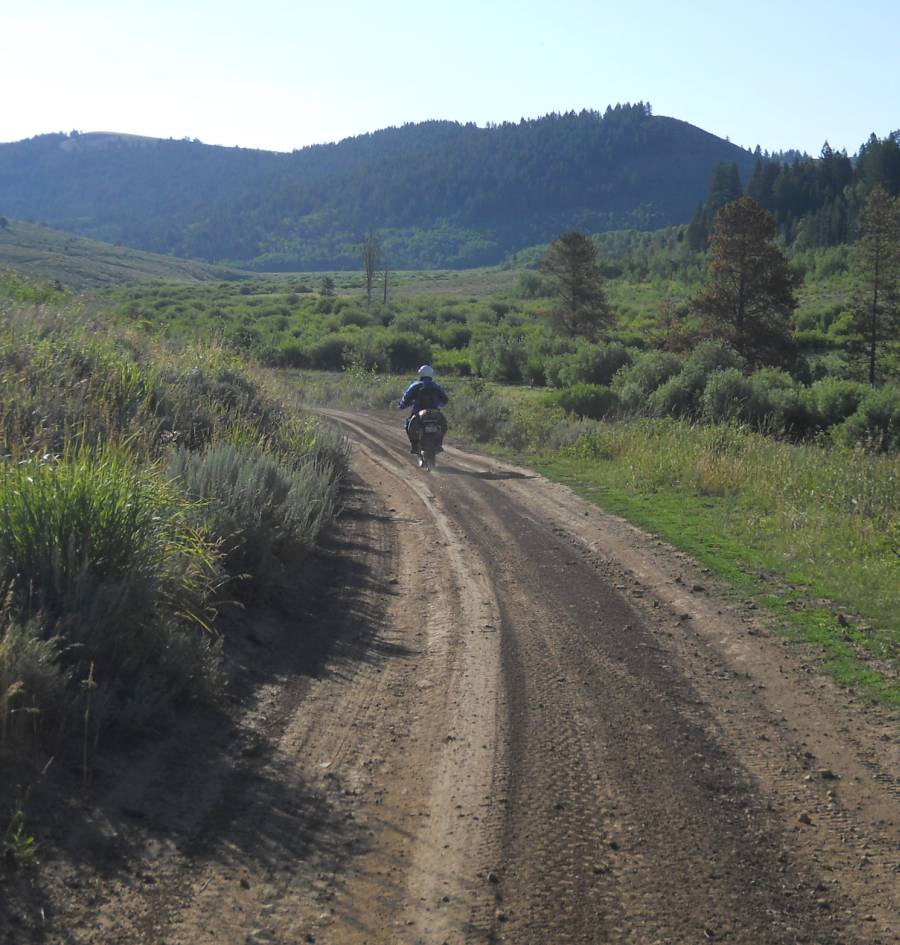 I know I felt like a little kid riding thru this water---it was pretty cool out but I didn't care.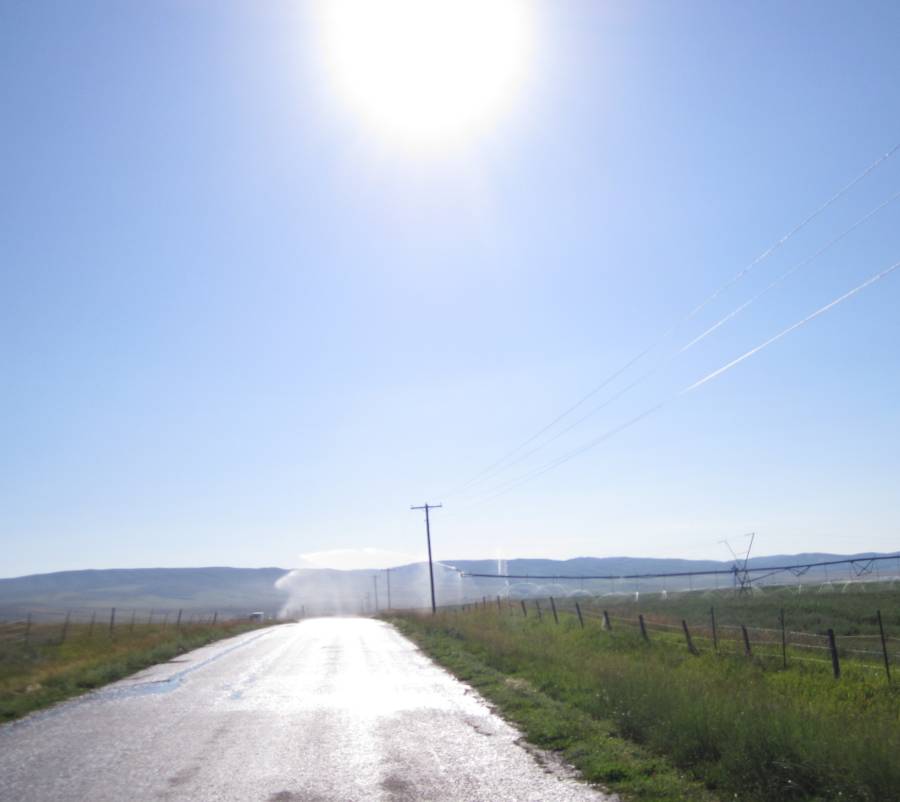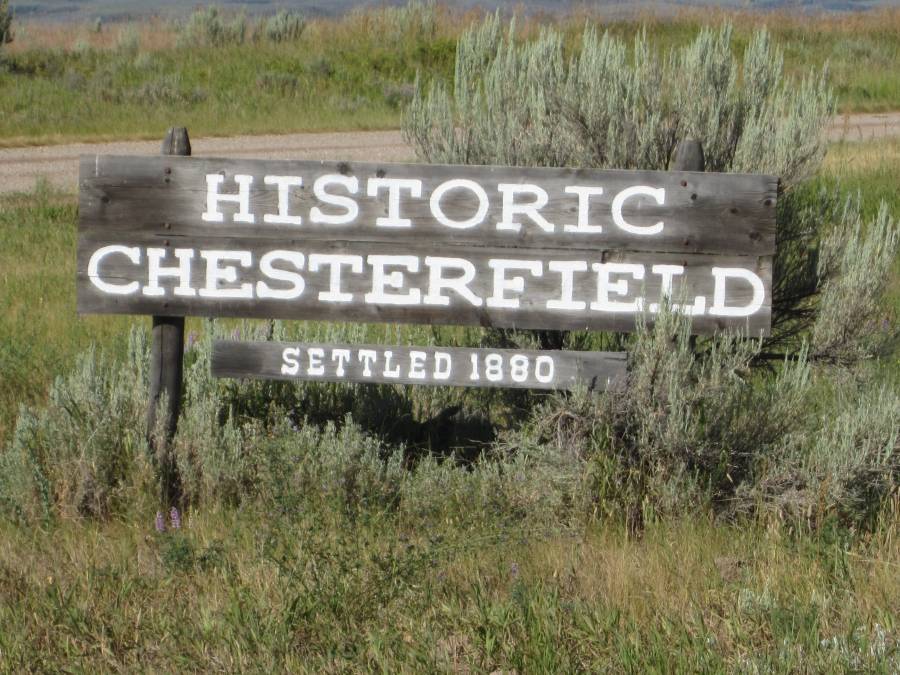 This old town has so much history-------I'm just going to shut up and let you enjoy you stroll
thru Chesterfield, Idaho. It felt like an old town Josey Wales would have rode in too---killed a few people
then rode on.
I wish we had time to bury them fellas.
To hell with them fellas. Buzzards gotta eat, same as worms.........Josey Wales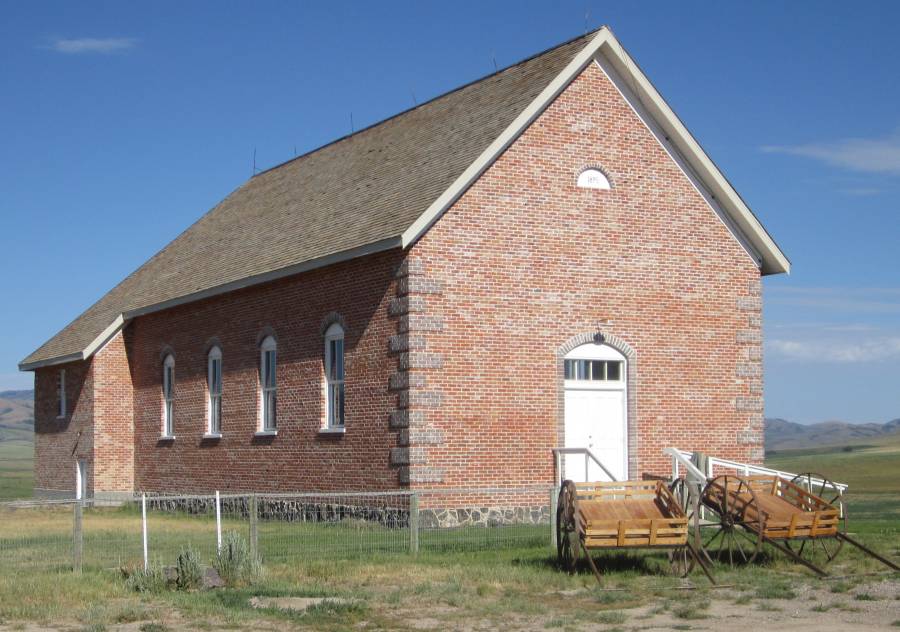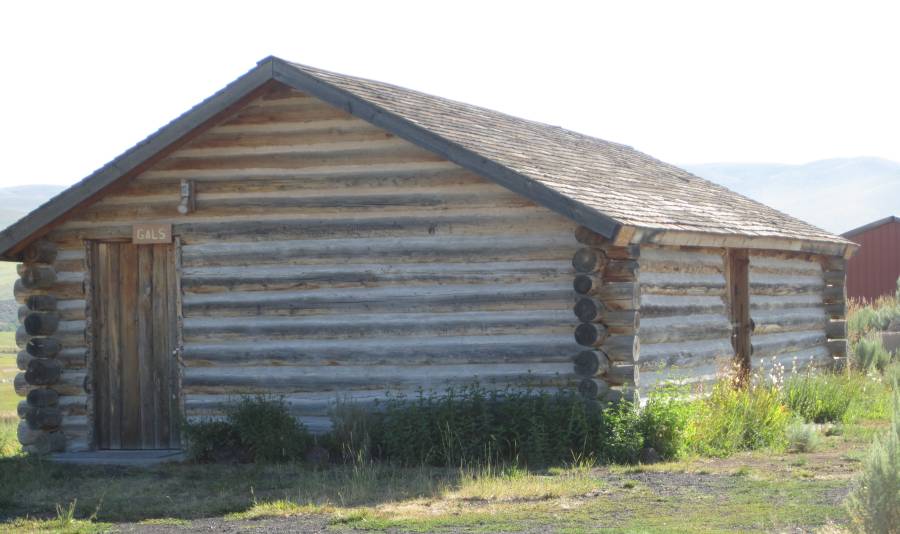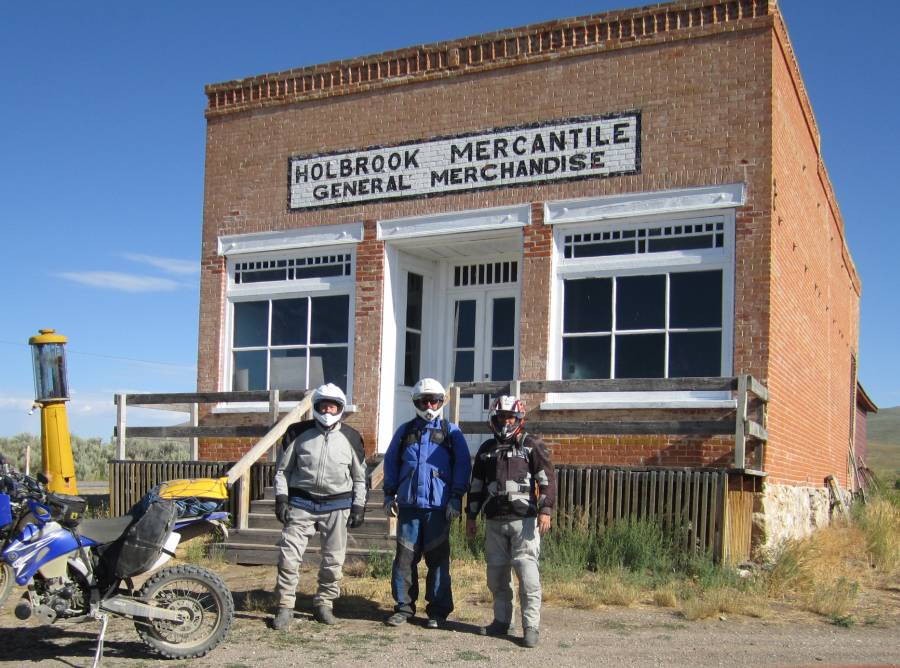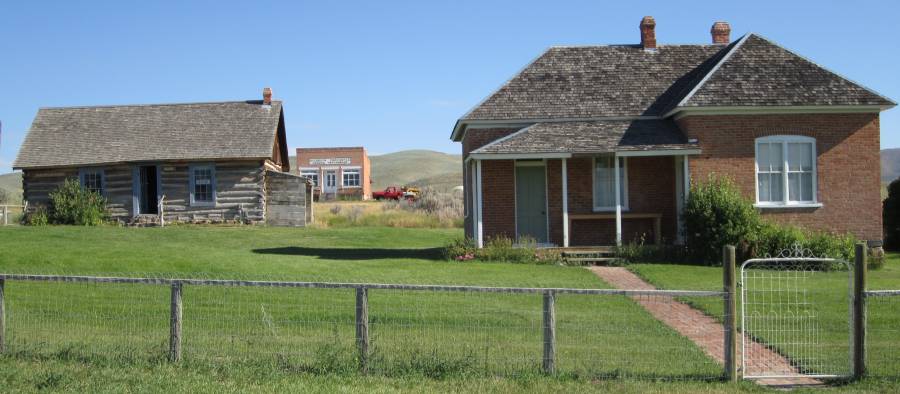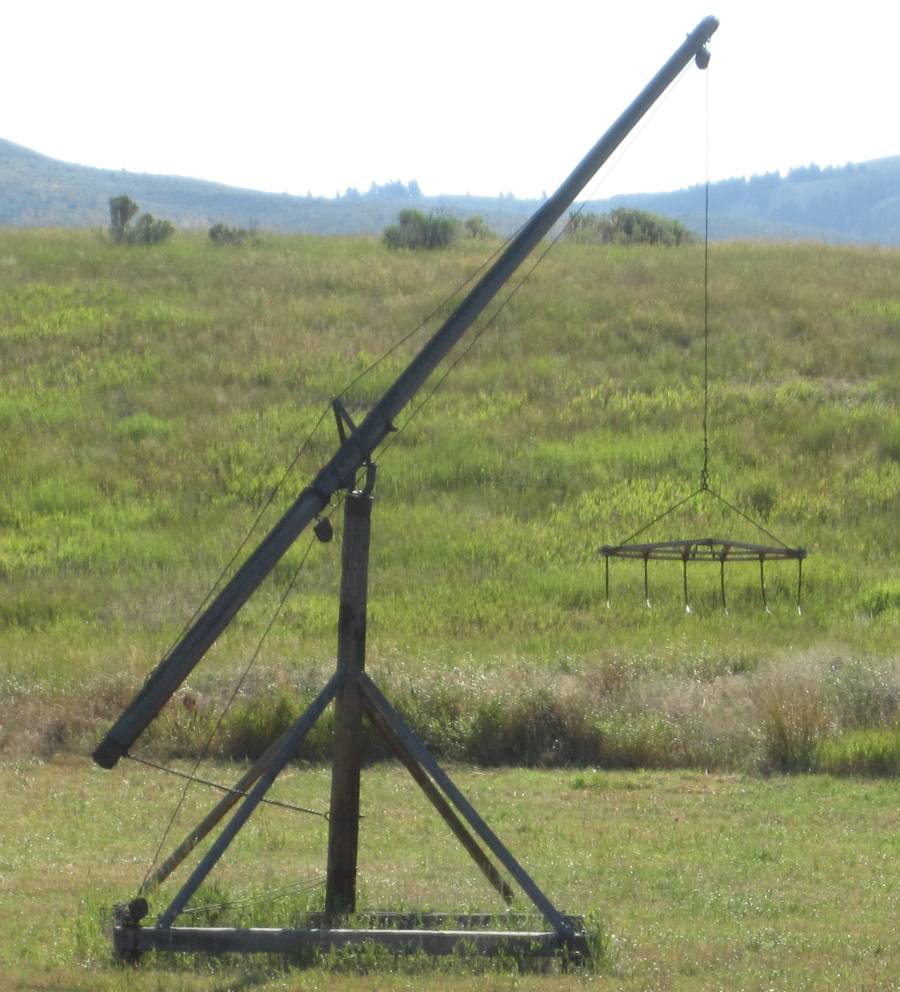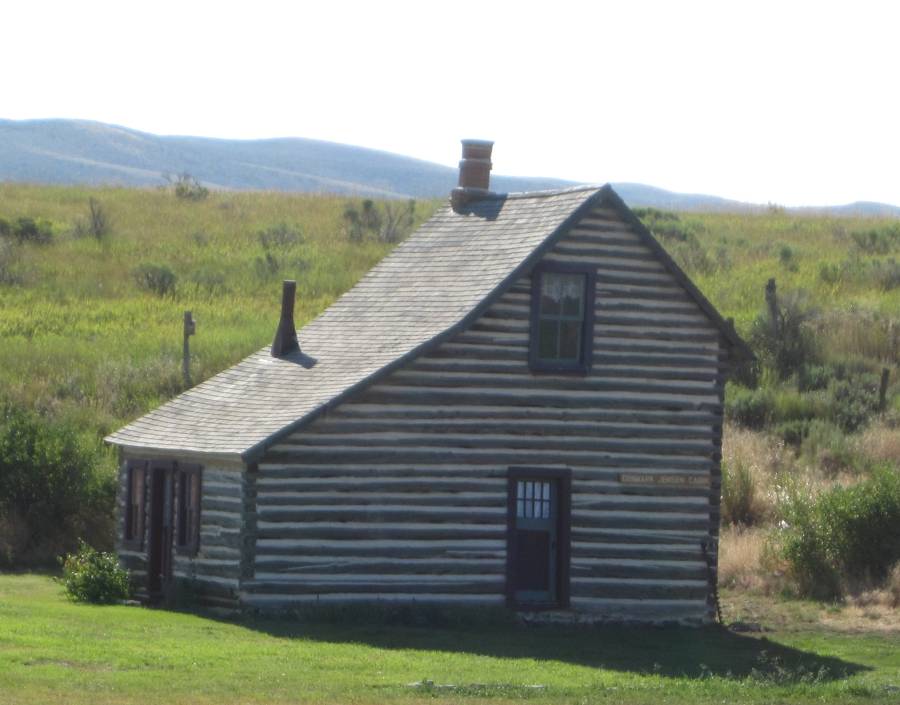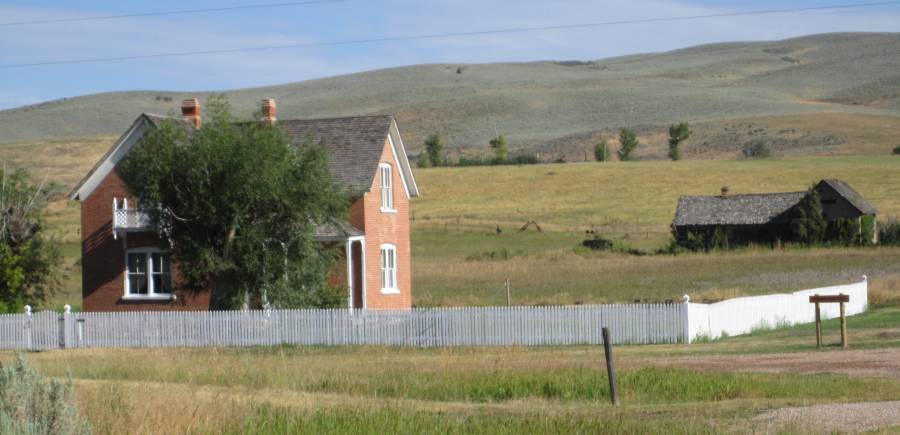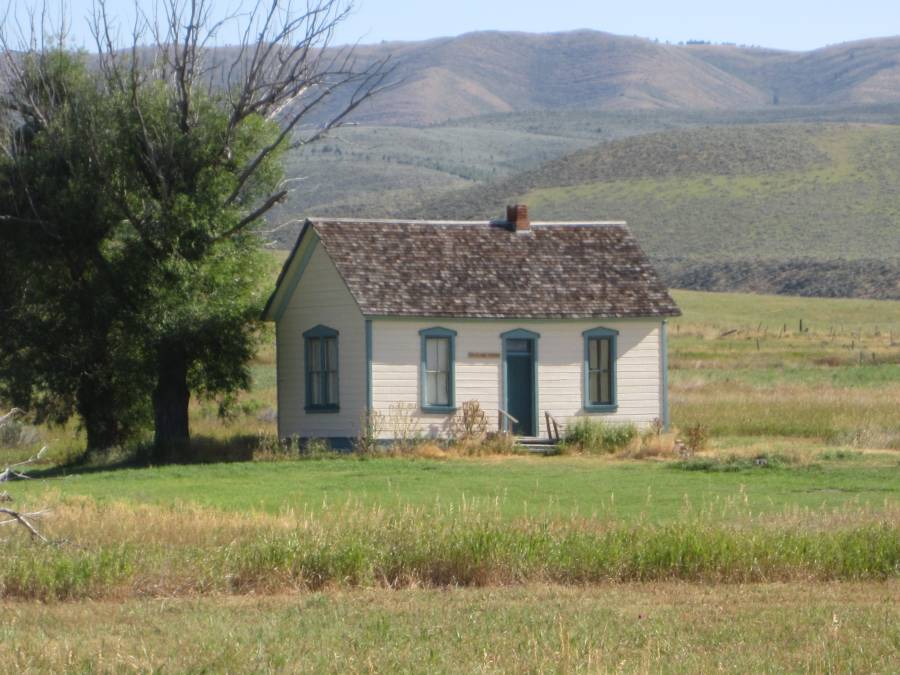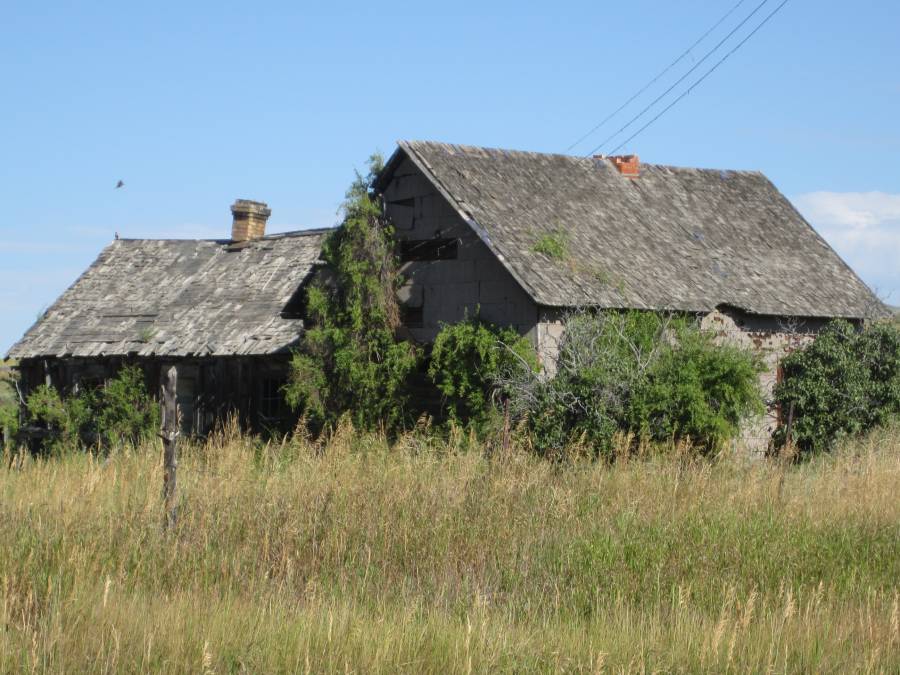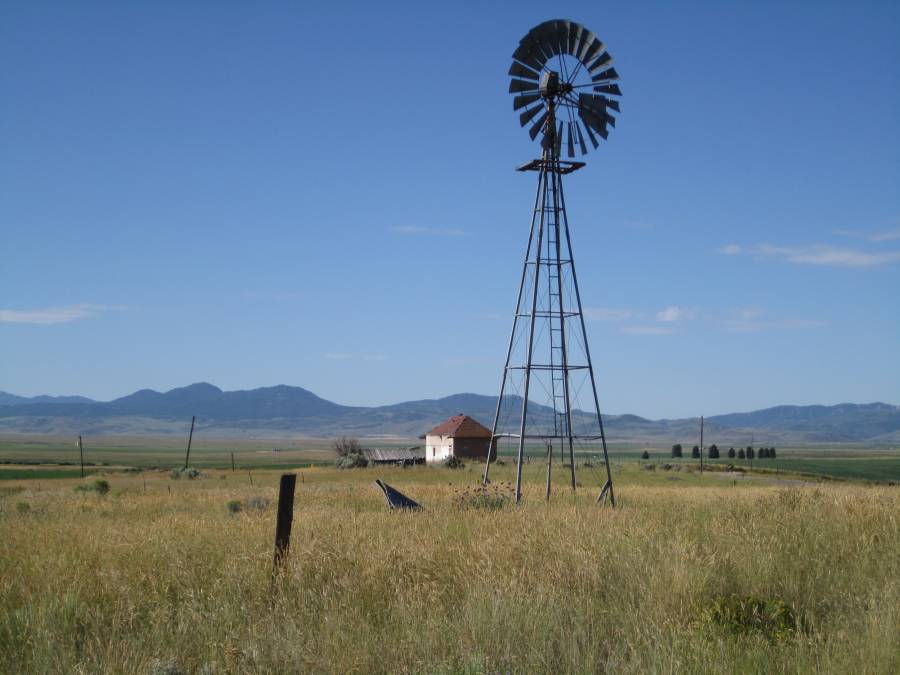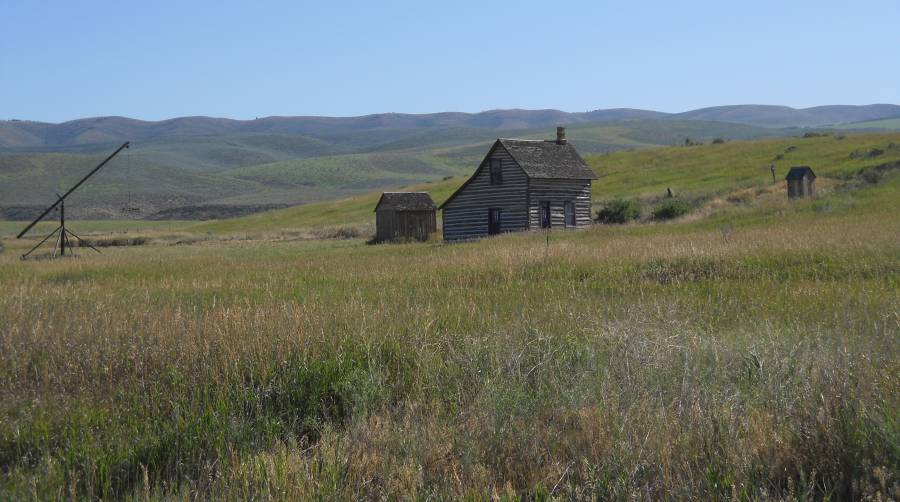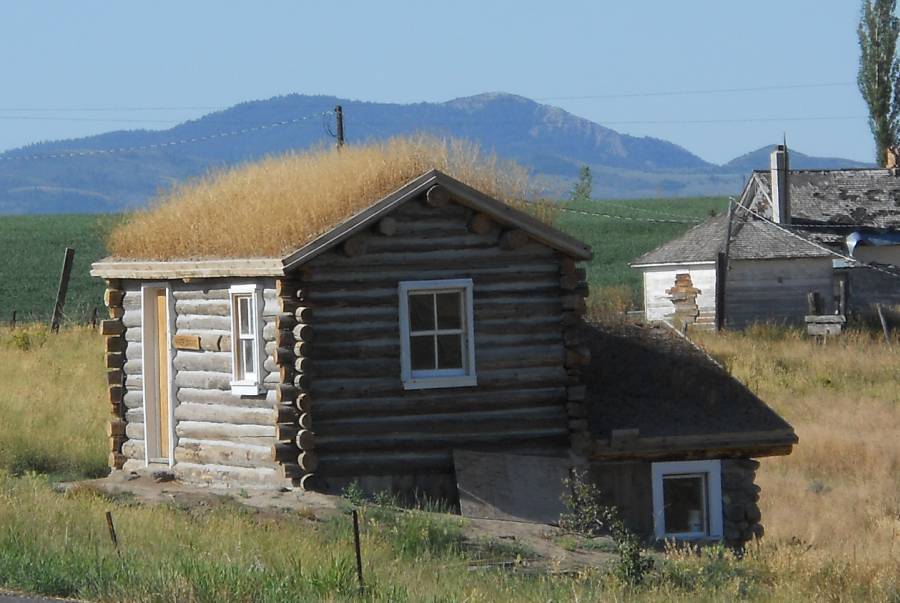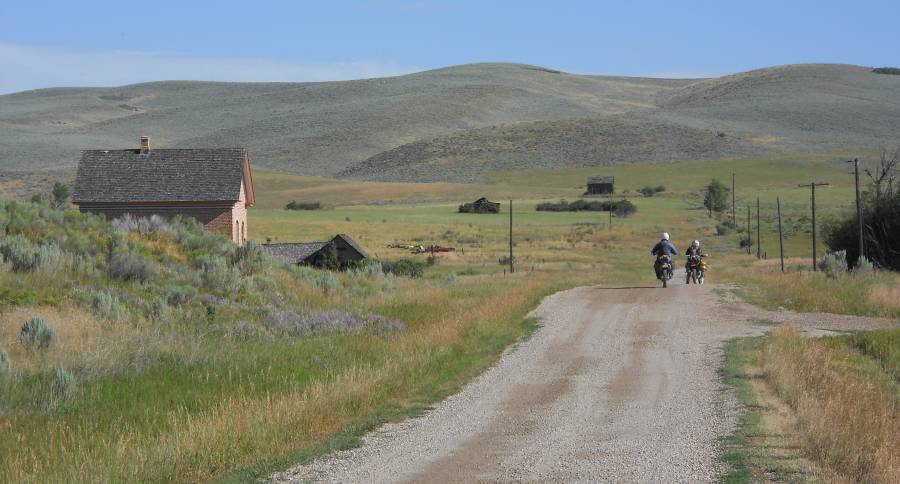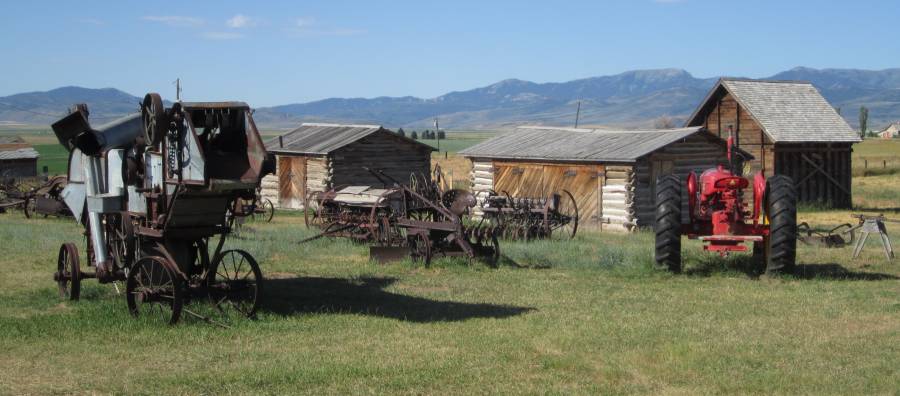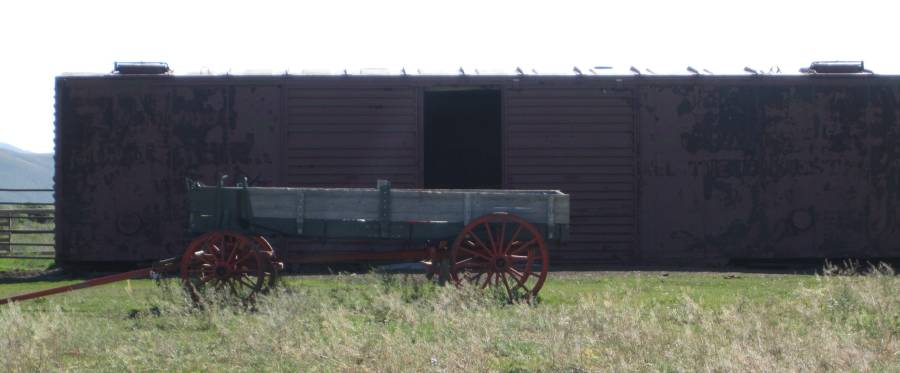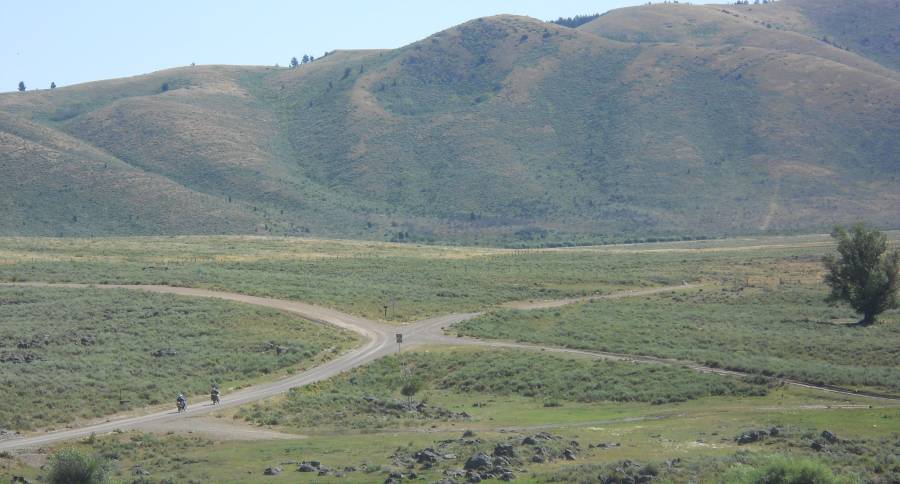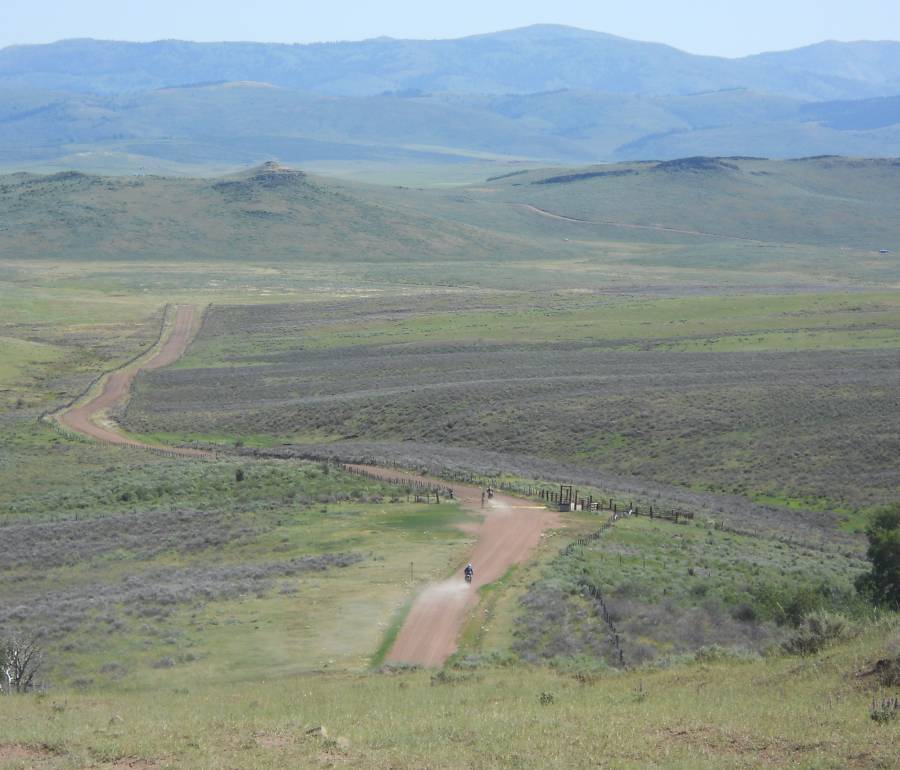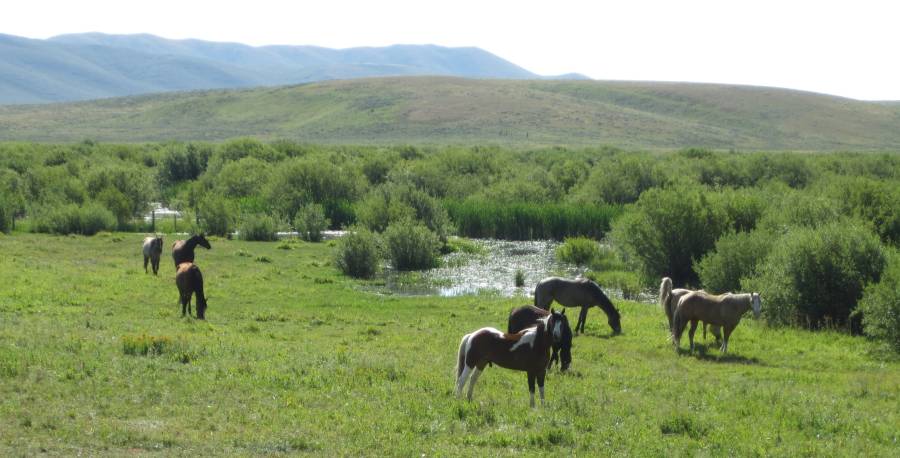 Corral Creek on Corral Creek Road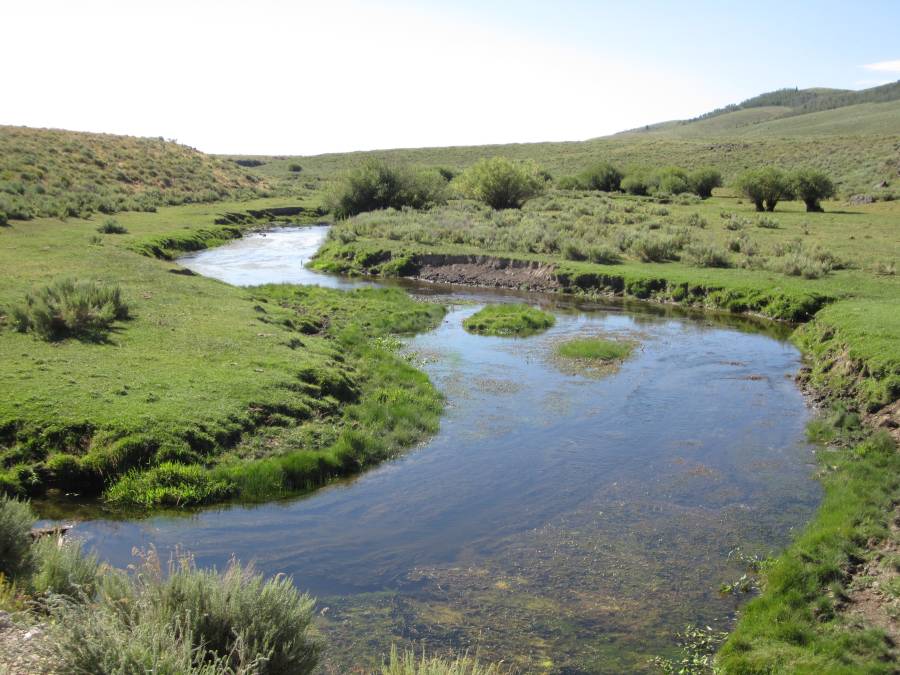 We turned North then East around Blackfoot reservoir.

Look at those boys over there: tied-down guns. Bounty hunters. Come out of a war, got no other way to make a livin'.
Every last mother's son of them wants that money you got on Wales' head. Now, you and me didn't ride all that way for that.
I don't want to hearWales dead... I want to SEE Wales dead. ........Josey Wales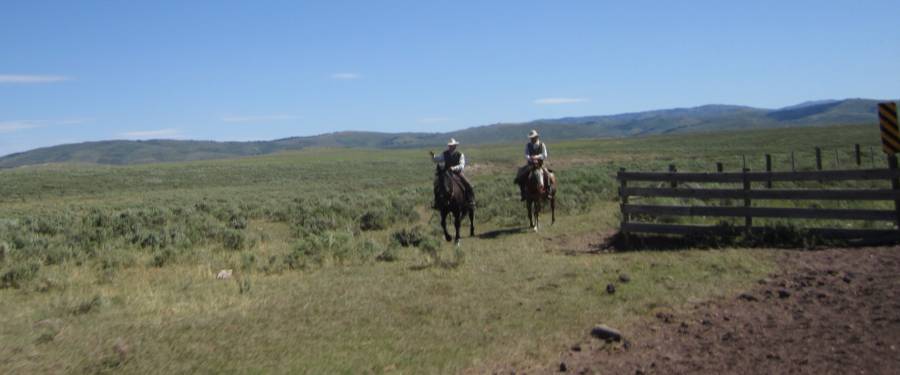 This is Palisades Reservoir just South of Alpine Junction.
We took this picture off a bridge.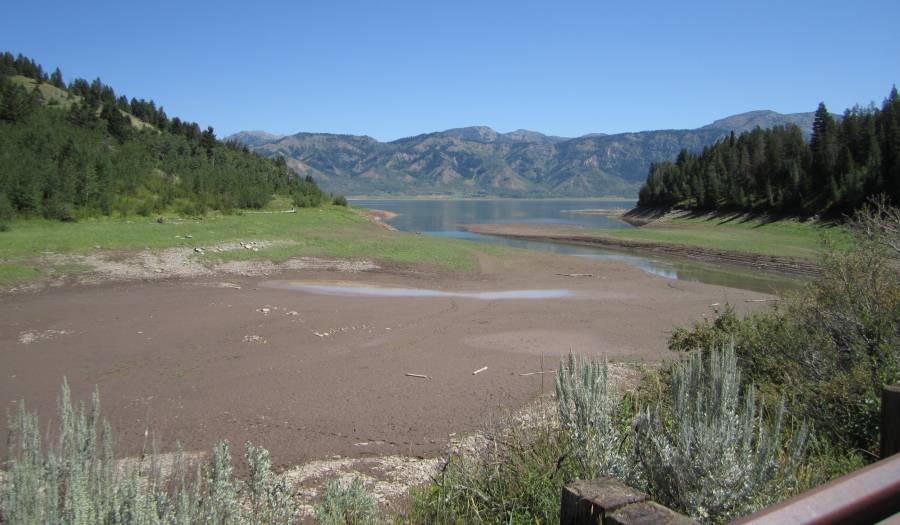 I had a flat here---and this is where Rick on the 450 would leave us.
His truck sadly was not far from here and it wasn't practical for him to continure riding with us.......he ask us if
we needed help with the tire and we said no--it would be no problem.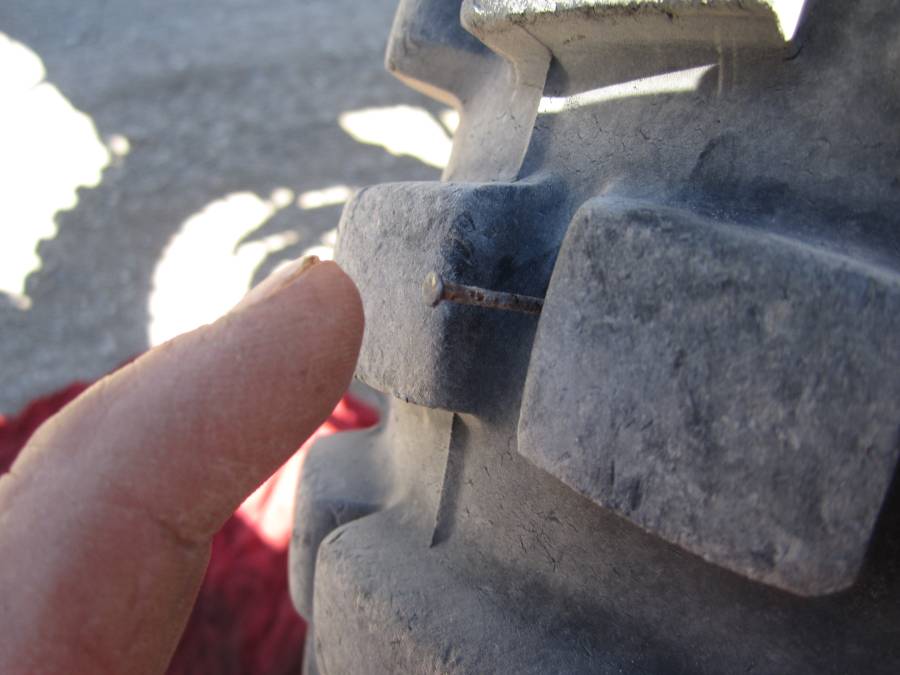 Me and Scott tied into the tire---the tire was nice and warm and was so easy to get off.
20 minutes later we were riding after we put a 21" tube in the 18" tire.
It got me home.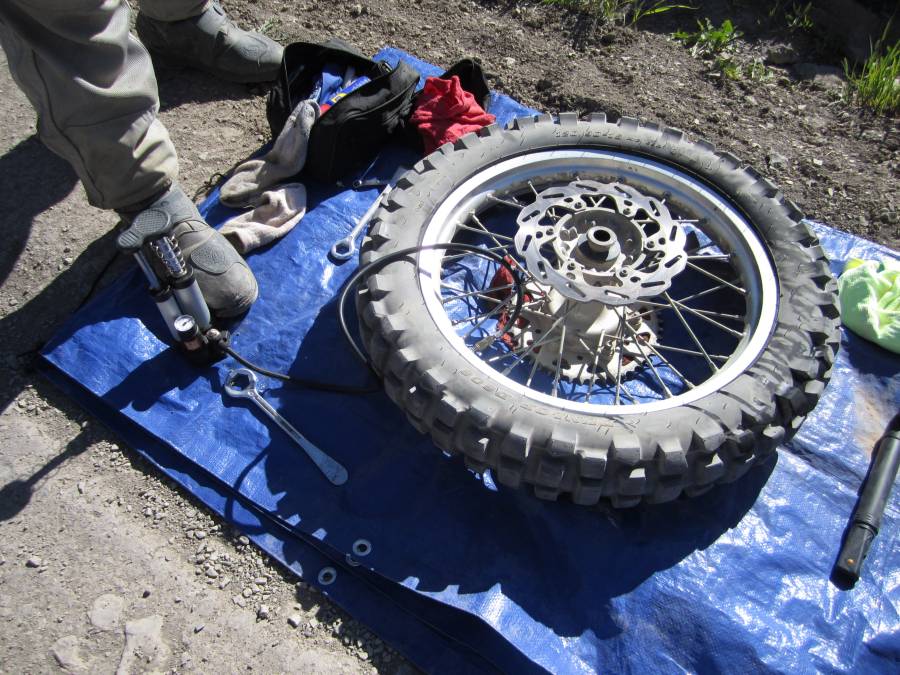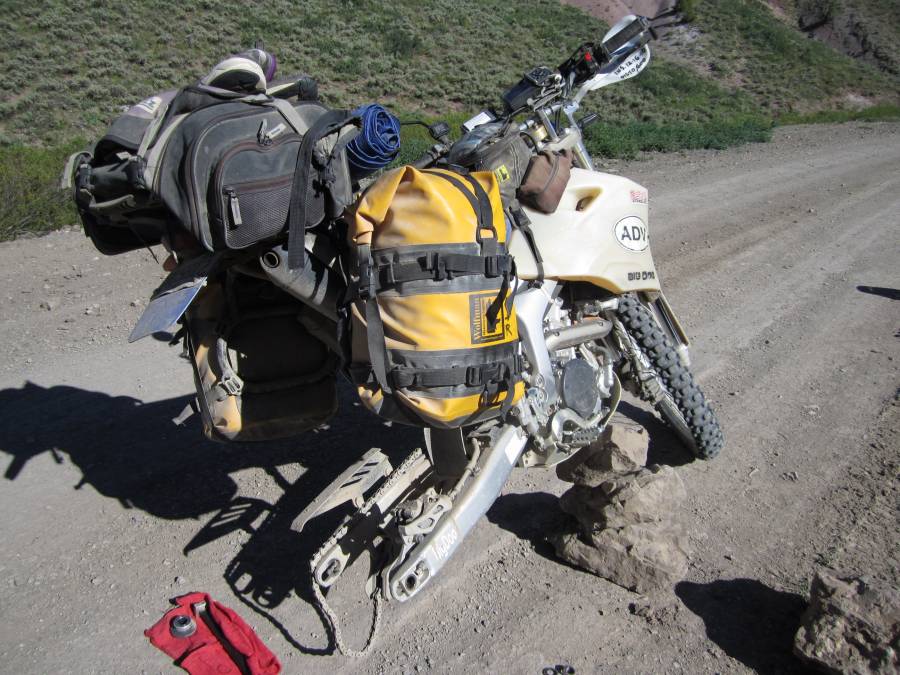 Running down along LaBarge Creek on LaBarge Creek Road we were scoping out campsites----with wood.
We found this spot right beside the river--it was just a place between the dirt road and the creek---so
we got free camping and free firewood.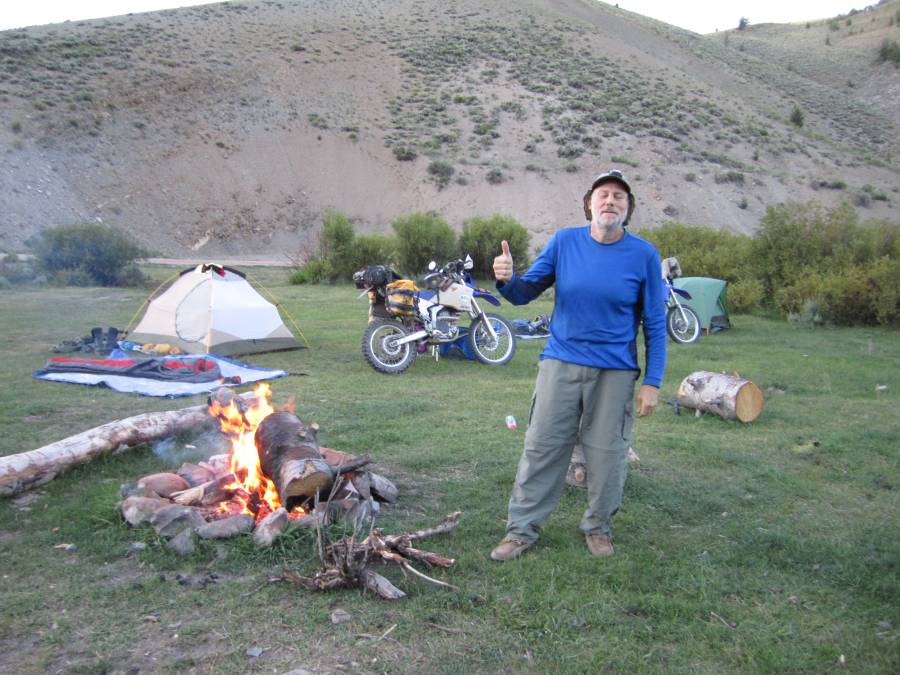 The "All Nighter" log---we had several.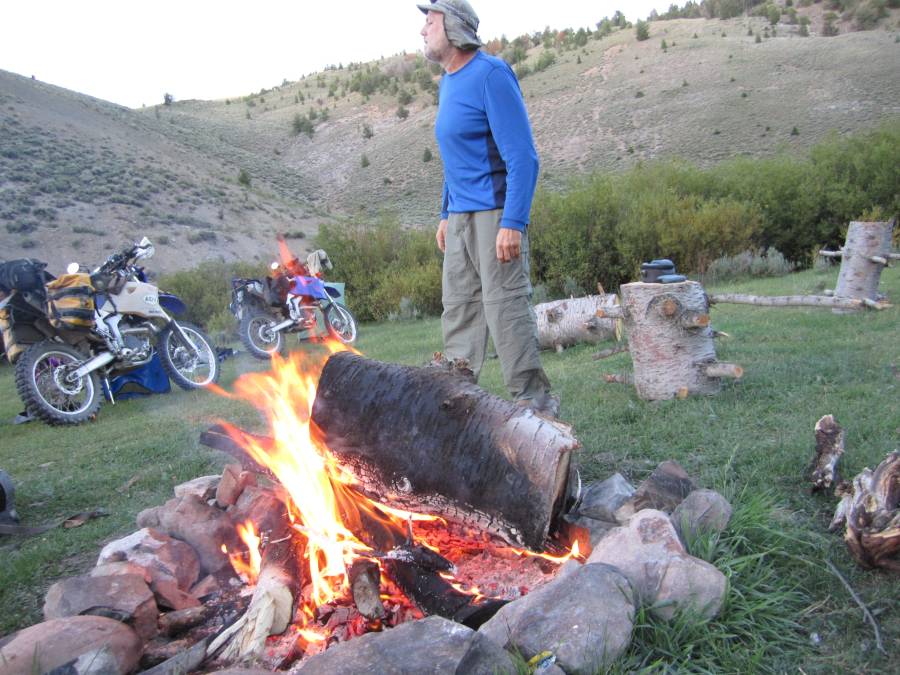 Free bath too-----Man I loved this.
We both needed a bath and took one in the creek right before the sun went down.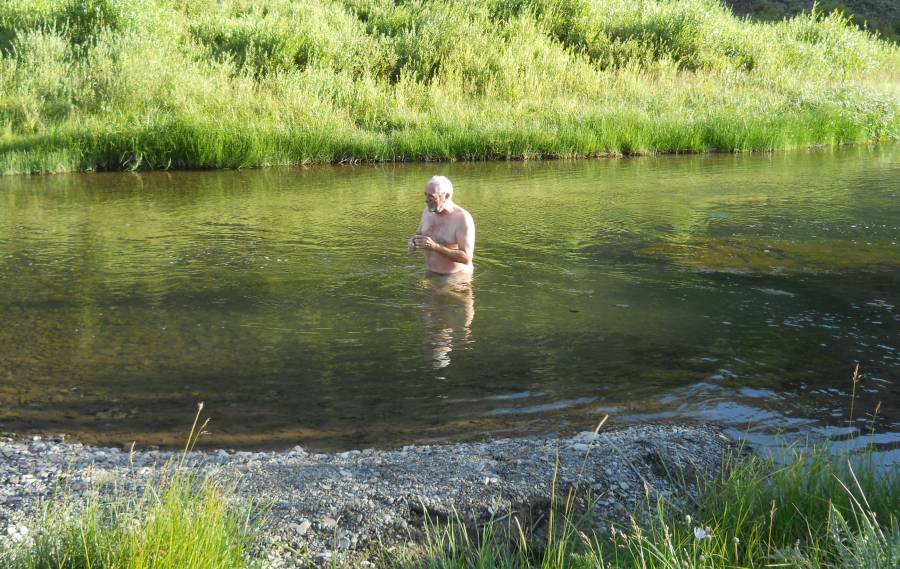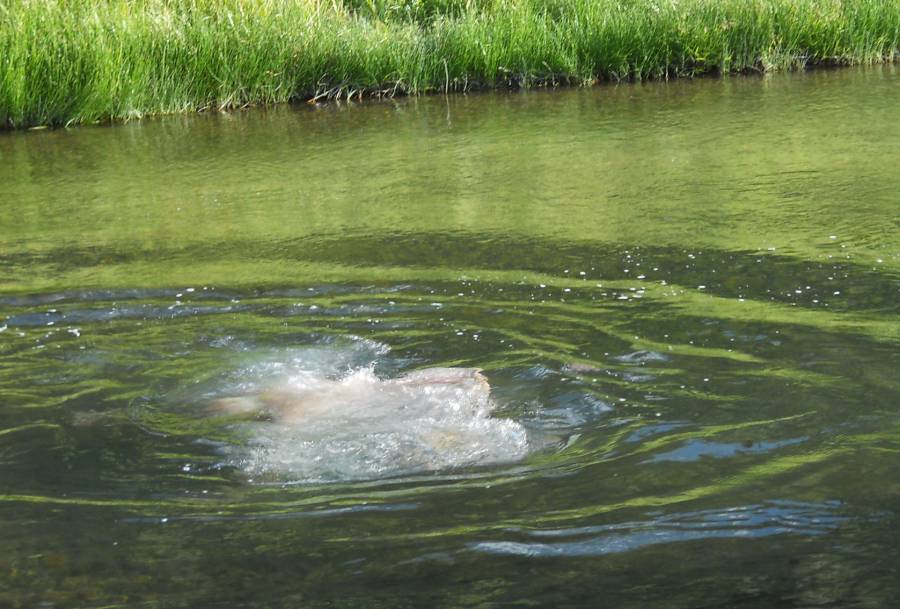 After my bath.
Now there's a happy and contented face.
I think I hear Big Agnes calling me.
It got down to about 25° that night----but Agnes kept me warm....she did.
++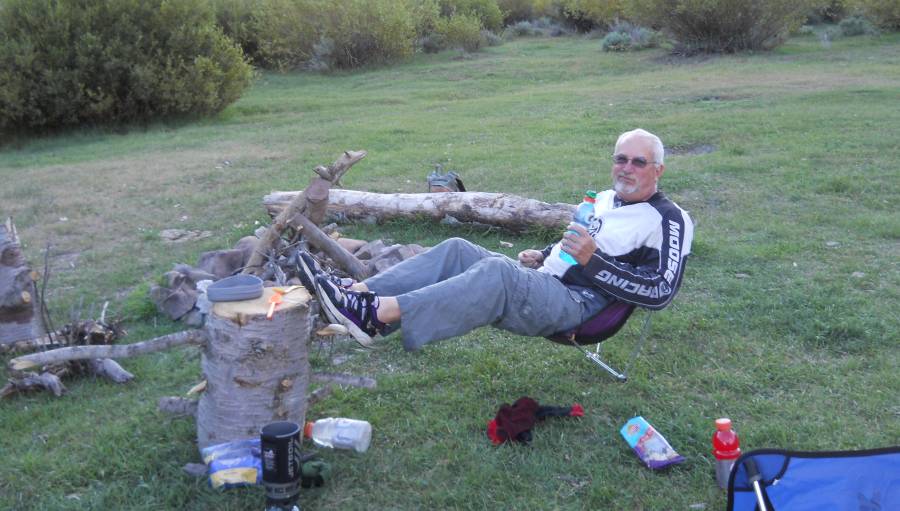 It was sad to see Rick go-----he had a big revelation going on this ride.
He realized finally what I did years ago----and never understood till this ride. He was thru with riding around
in circles and now after visiting Idaho understood why I wasn't so enamored with Colorado anymore.
The solitued of Idaho is just on a whole different level.
207 Miles for the day
Day 26
8-11-10
Camp to Dinosaur, Wyoming
I had know idea today was really going to be special.
We would run across something that I had attemped about 8 weeks prior to this trip and failed.
But this time----we did it !!!!!

We left Dinaosaur early with no breakfast--they didn't open till 8AM
Me and Scott open at 5AM---what's with the world ?????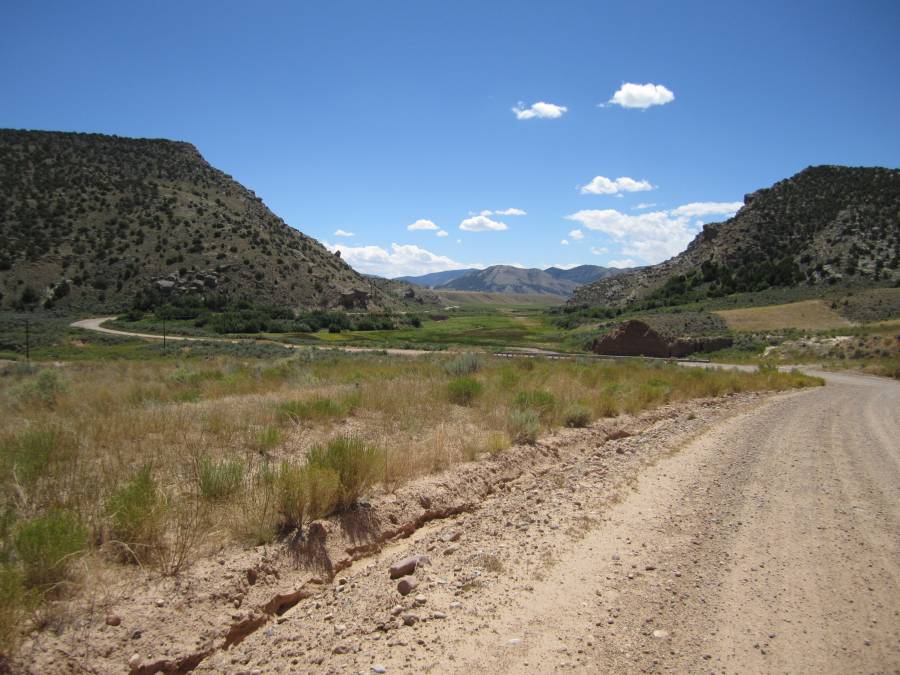 We are still winging it---totally---just kind of picking good roads and scenery and meandering kind of South--kinda.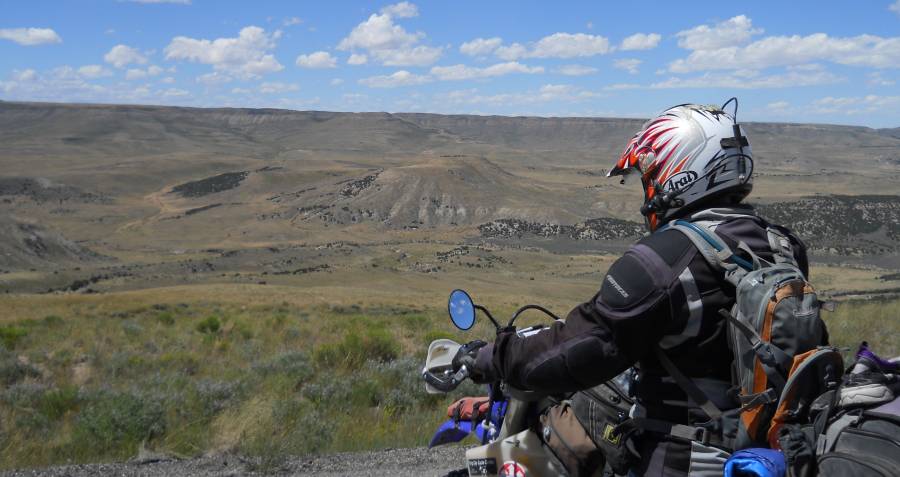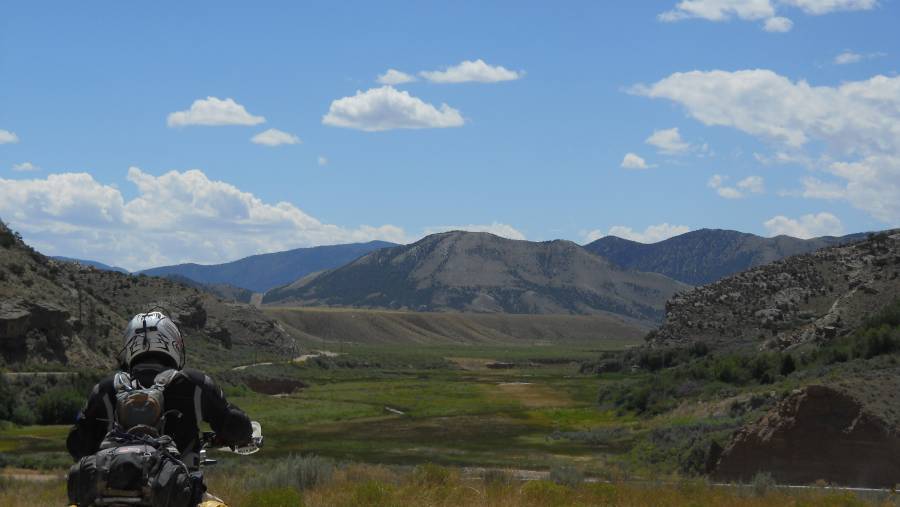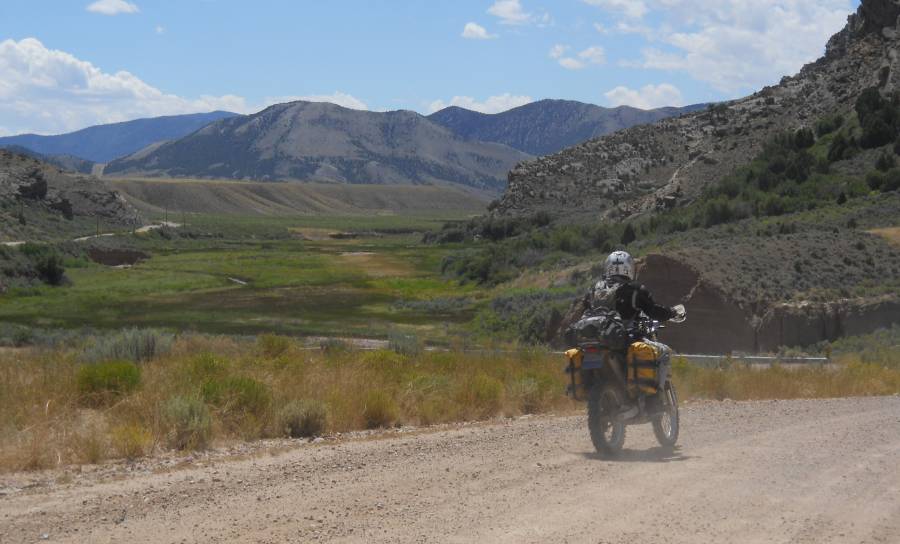 About 8 weeks or so before this day I was on my 950 and tried to go over an old swinging bridge on my 950.
I was alone and found the thing but it was closed for construction--but I got to see it and it was magnificent.
Me and Scott got kind of close to it and I ask Scott if he wanted to see it and he say oh yeah !!! He
had seen my pictures of it------that ride is on my website. So we headed out of Wyoming--thru the Northeast corner of
Wyoming and into Colorado and the Green River came into view---we were approaching the bridge from the
other side this time and I knew we'd couldn't cross the bridge----but at least Scott would get to see it.
So here it is----it is magnificent, but alas--still under construction.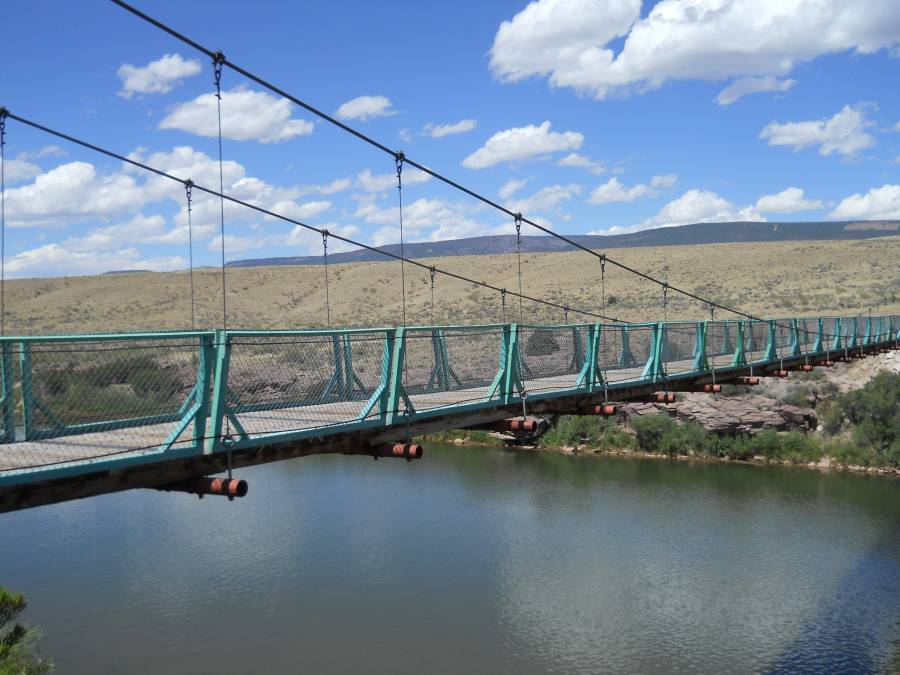 The construction workers were on the other side and it was quitting time---so they walked toward us
and locked the steel gate on the other side before doing so.
I had no idea of the good fortune that was coming our way.
See those 2 concrete pillars--the last time I was here that was a huge hole in the ground.
You would't believe all the concrete that was under what you can't see.
Seems they were re-anchoring the steel cables.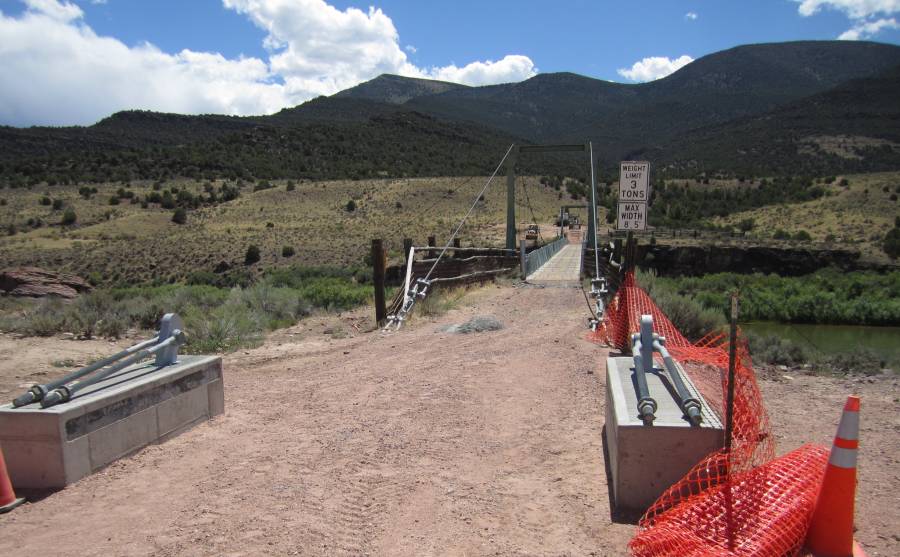 I love this guy-----he asked "You guys want across" ???????
Well----uh--uh--uh-----yeh !!! You mean we can ??????
He walked all the way back and unlocked the gate and let us ride across the bridge.
Man I thanked him I bet 6 times--now we can ride thru and keep going South the way I came in
the first time I was here and couldn't get across.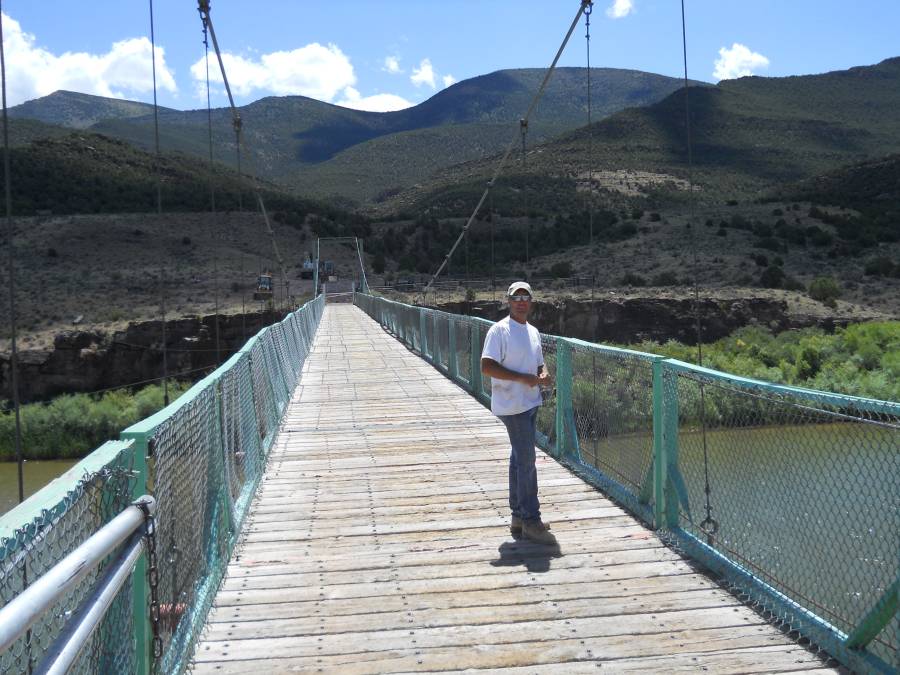 View off the bridge.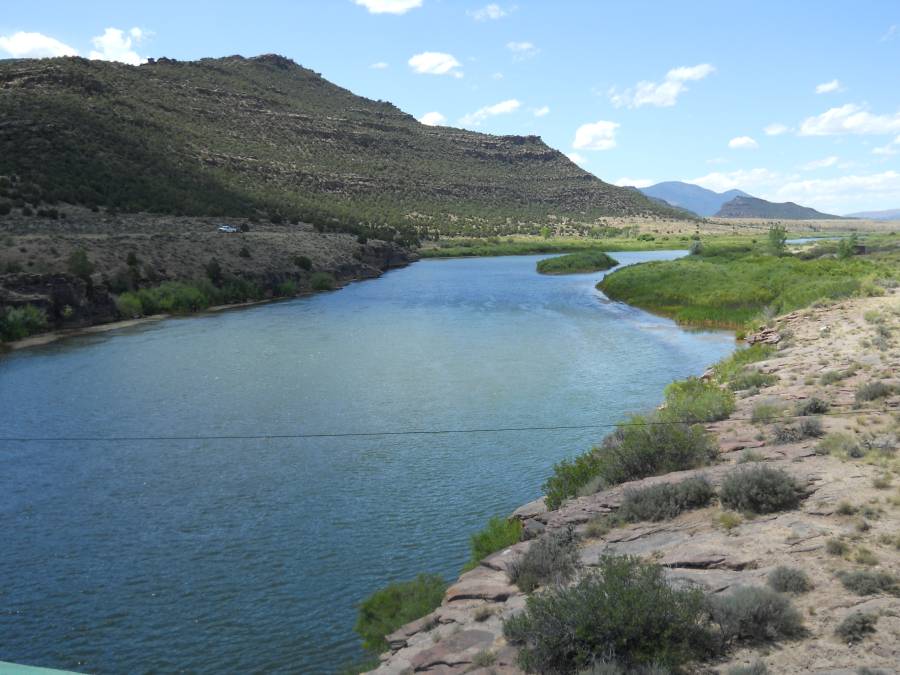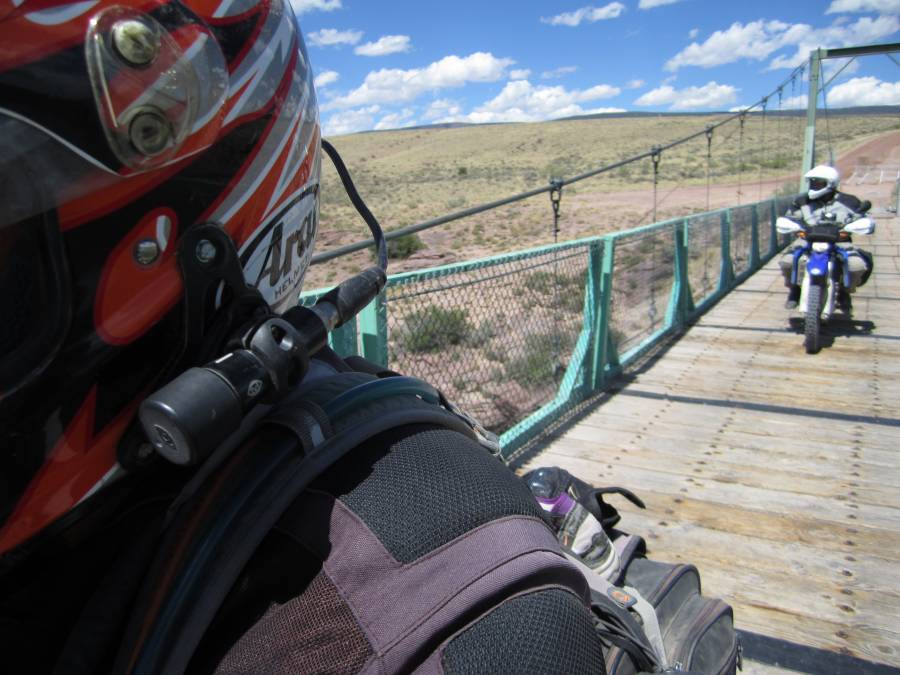 We are both on the other (South) side and you can see the locked gate--the same one that blocked me
a few weeks ago.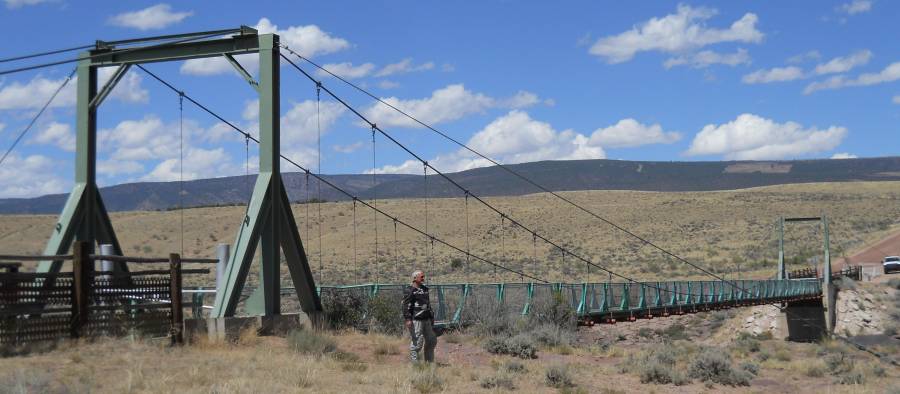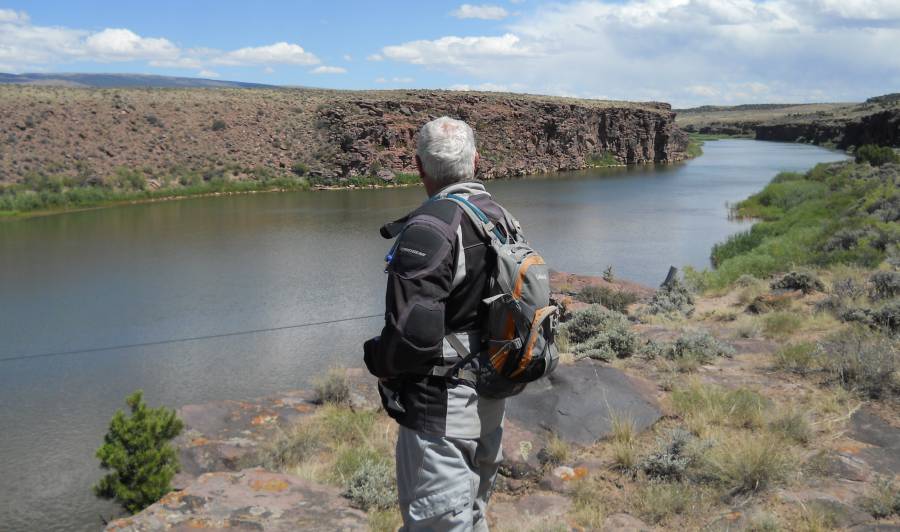 There was about 60 miles of dirt road heading South and West back into Utah.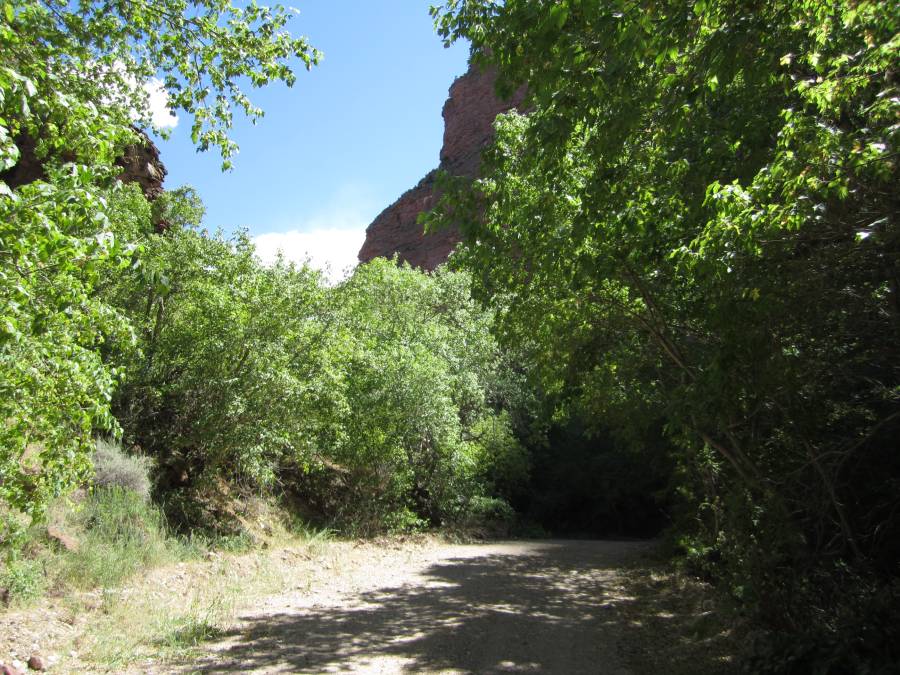 We hit the pavement and went East back into Colorado to the town of Dinosaur and stayed at the same motel
I did a few weeks ago. While getting gas in Dinosaur before we got our Motel Scott noticed a rivet in his tire.
I said-------"You might as well pull it out now and see what happens"
HHhhhiiiiiiiiiiiSSSSSssssssssssss.
Flat number 2 of our ride---and we used another 21" tube.
We were down to just having one more 21" tube between us and Scott was a little nervous.
We had patches---but they just don't seem to work anymore.
I never patch a tube anymore if I have a new tube.
I used to prefer patching them--years ago they would hold forever--not any more--must be
something in the water-----global warming ??????
The very nice lady who owned the Motel even did our stinky laundry and would not let us pay her.
Tell her--BigDog sent you maybe she'll wash yours------probably throw you out.
I bet you won't get any free ice cream either !!!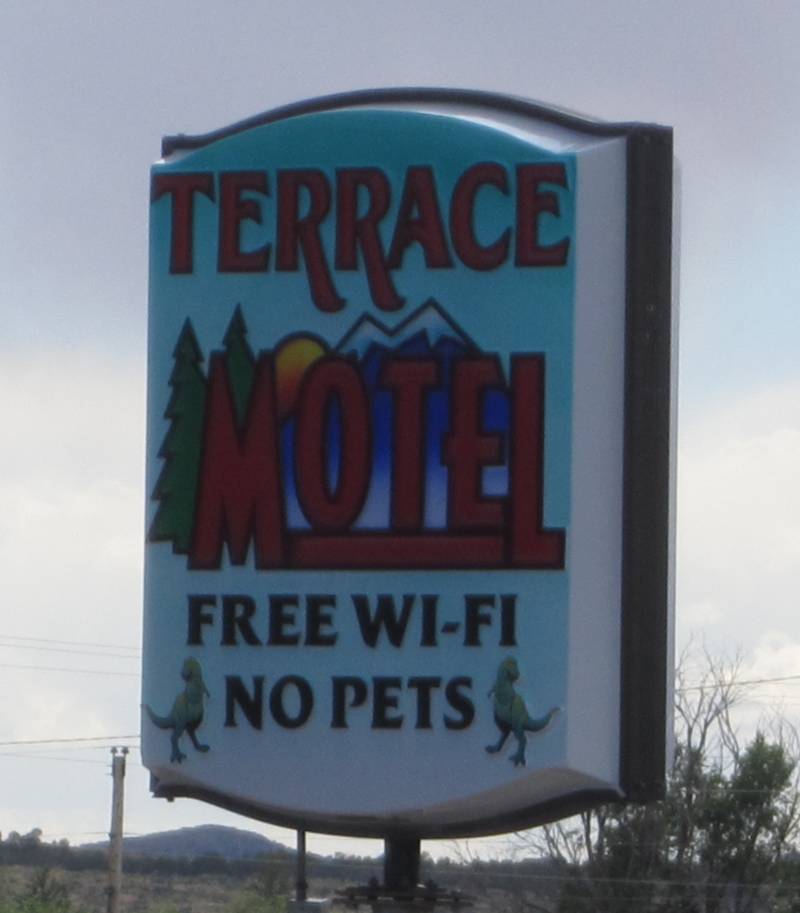 240 Miles for the day.
Day 27
8-12-10
We didn't know it was going to be our last day---but it was.
This picture was actually taken the previous evening as a storm passed thru Dinosaur, Colorado.
I had never even heard of a double rainbow---we scrambled for our camera's but just caught it
as it was disappearing.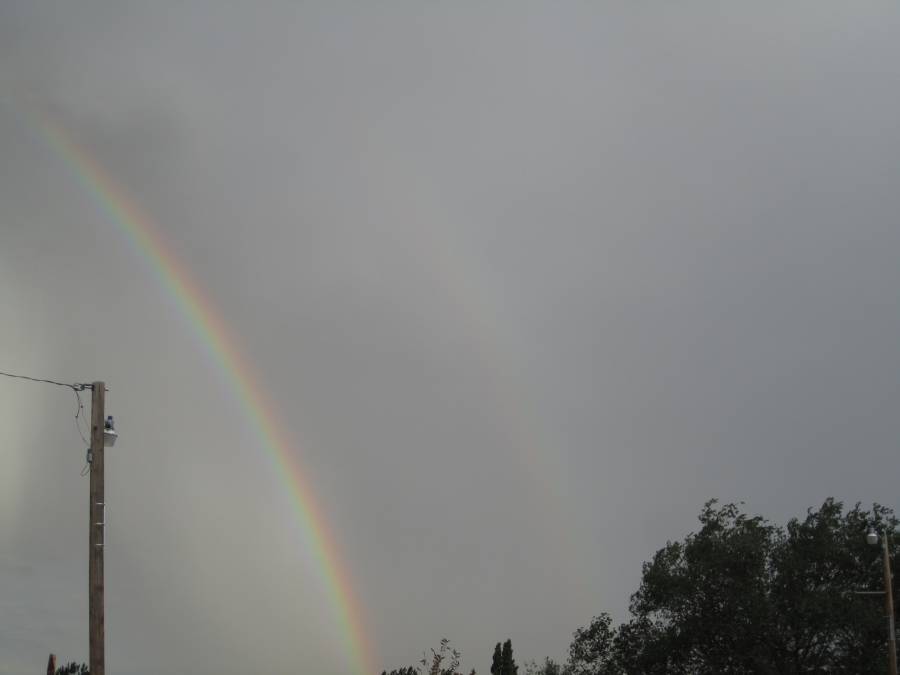 We headed Southwest very early on CR-21 towards the tiny town of Bonanza and entered back into Utah.
We rode right thru this neat tunnel over a railroad that was electric---I'd like to know more about
this railroad.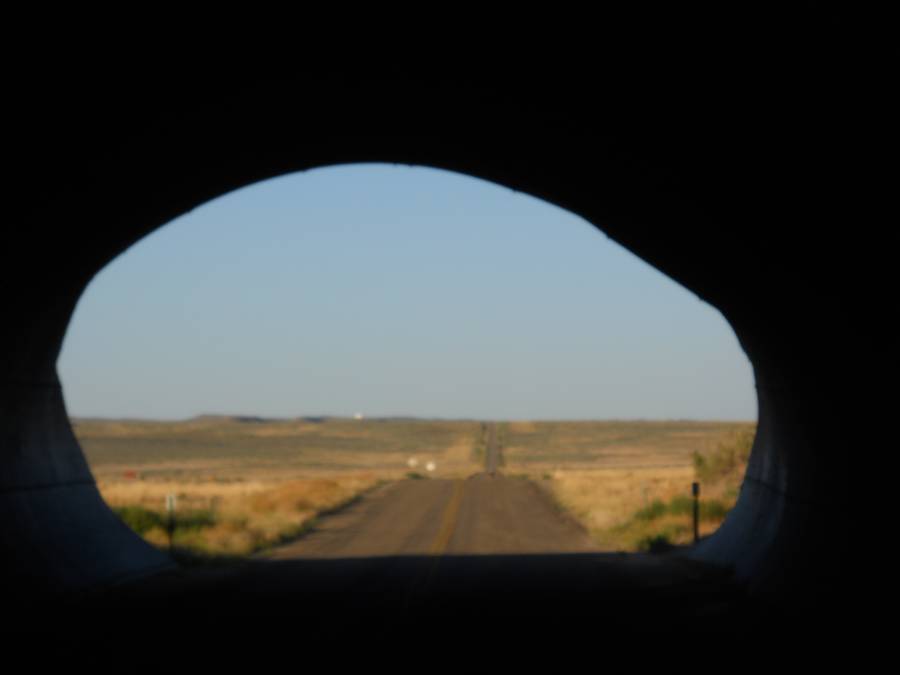 I plotted a route over Baxter Pass which was in Colorado and was many dirt miles away.
I'd also like to know how this creek got it's name.

We also passed thru the ghost town of Dragon, Utah---population nobody.
Not much left there except a bunch of history and we would be riding on the old railroad bed that went thru Dragon,
and over Baxter Pass-------we could find no evidence of the railroad and were amazed that there could
even have been one-------but history says it's so..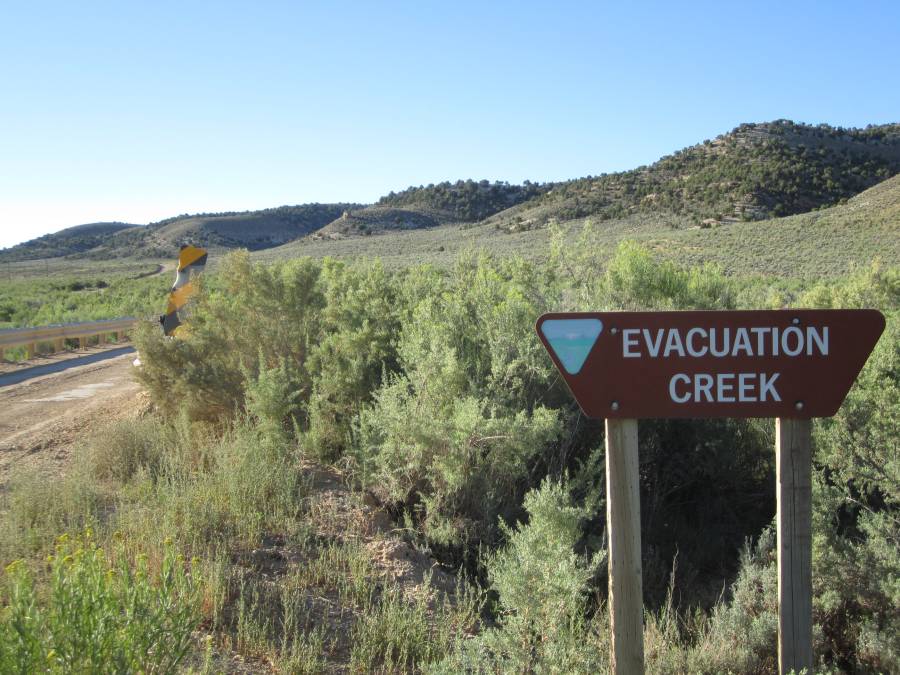 As soon as we passed thru Dragon we crossed right back into Colorado.
Now I like this a lot better than those big "Welcome To Colorful Colorado" signs we've all seen everywhere.
This is what you get on a lonely dirt road.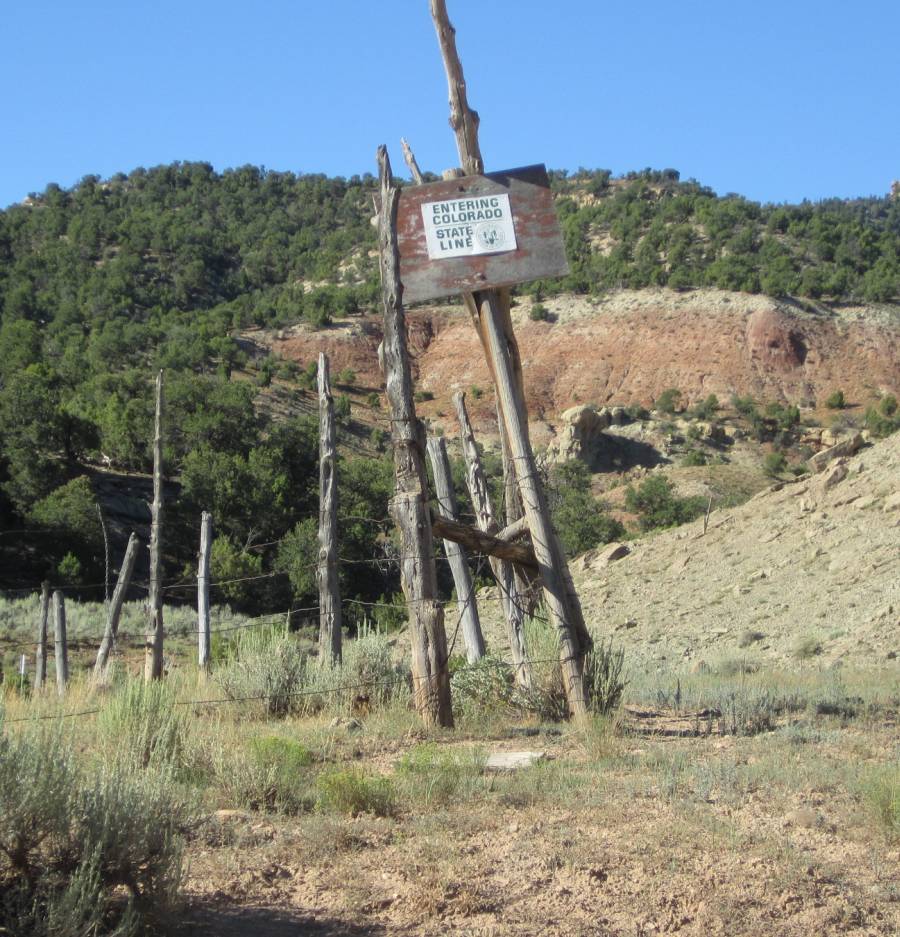 Evacuation Creek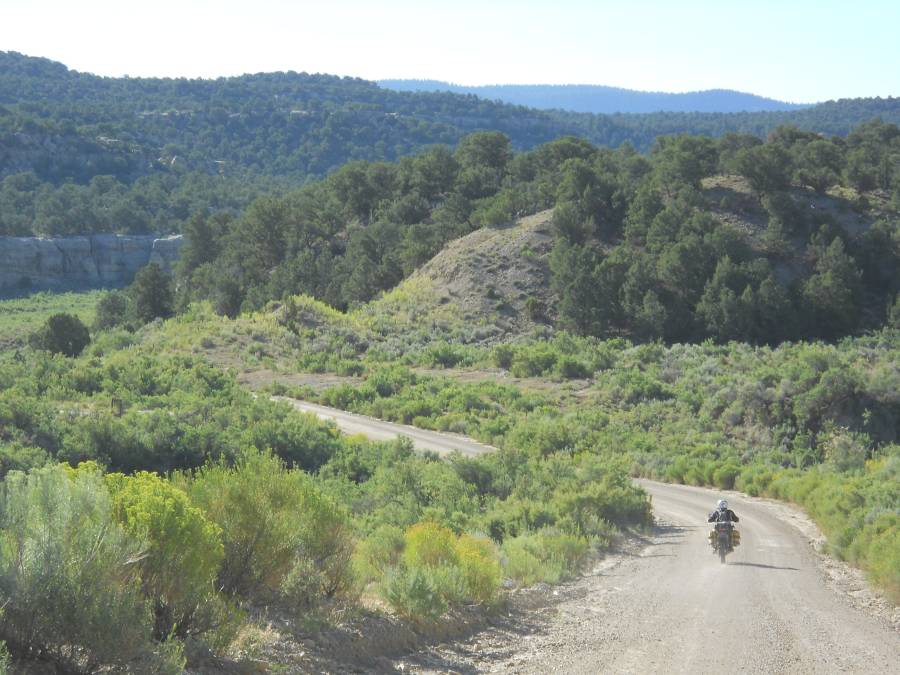 I can imagine this being an old railroad grade--but the steep switch backs we climbed over Baxter pass
would seem to have been impossible for an old steam locomotive to climb.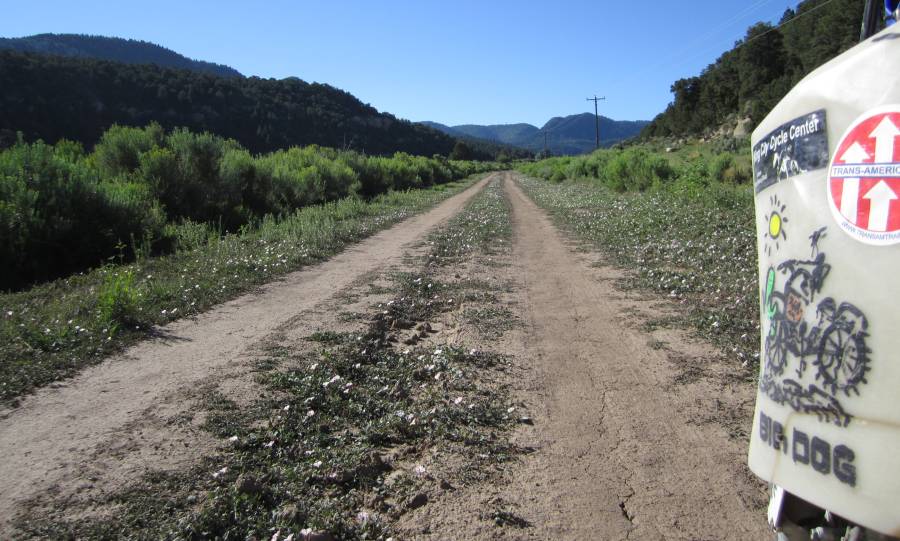 The summit of Baxter Pass looking South as we start the 15 mile descent.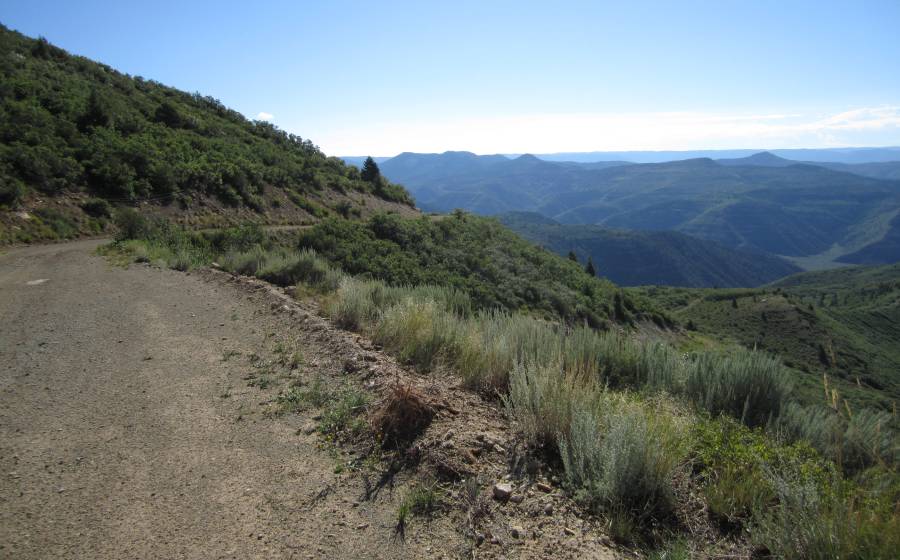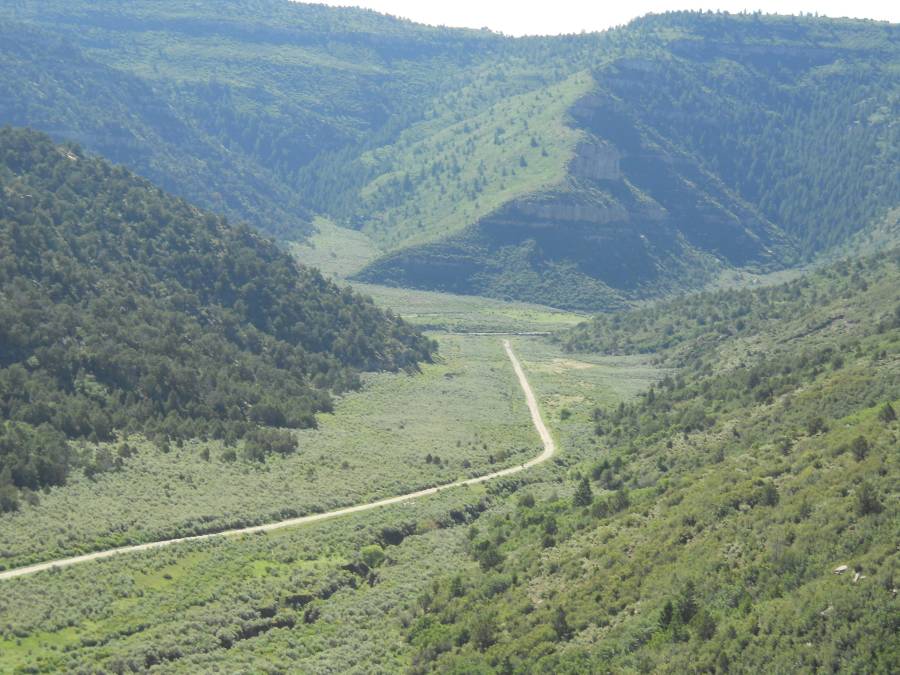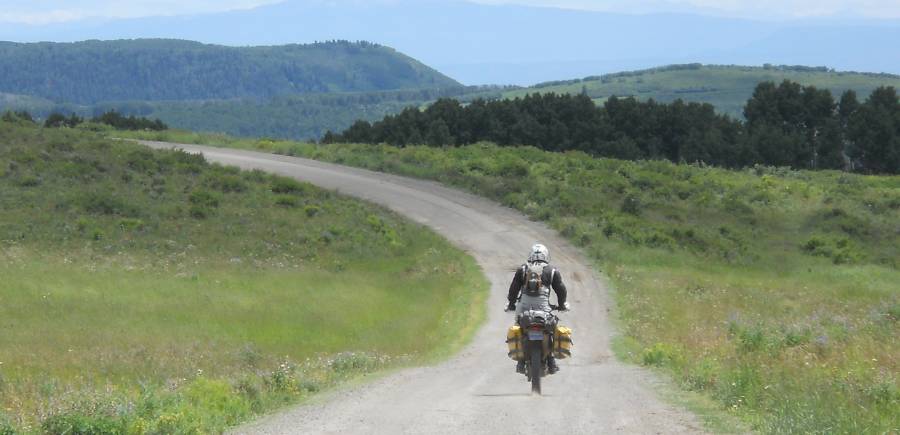 60 miles before and after the pass--this is the only building we saw.
I don't know what it was--maybe a church ????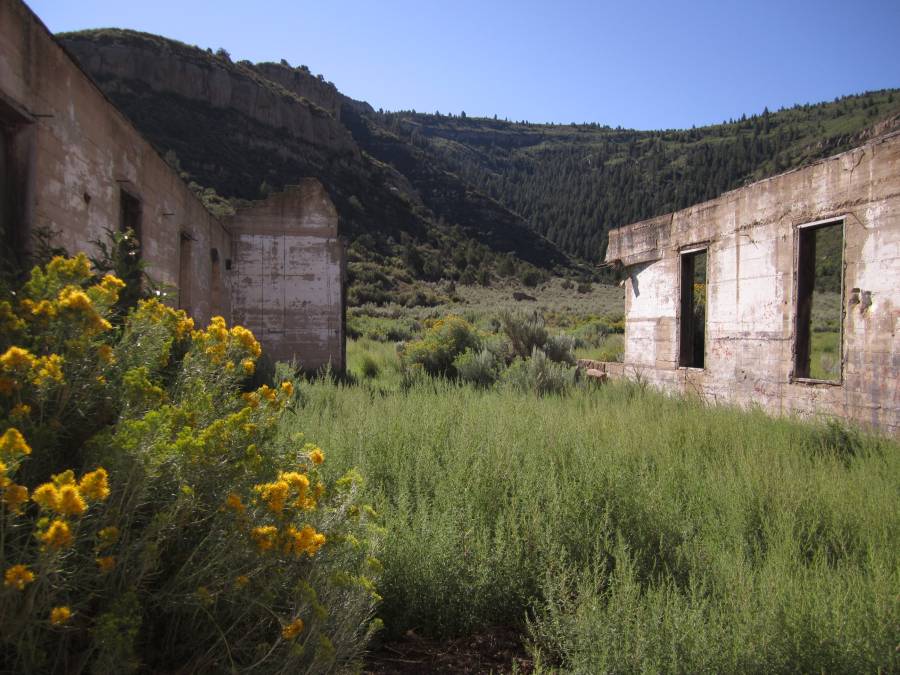 Heading much further South we climbed upon the Uncompahgre Plateau and stayed above 9,000 ft. for
I bet 70 miles heading Southeast on top of the Plateau.
Columbine Pass on top of the Uncompahgre Plateau
The distance to destination on my gps is my son's place in Durango---we doubted we get there today.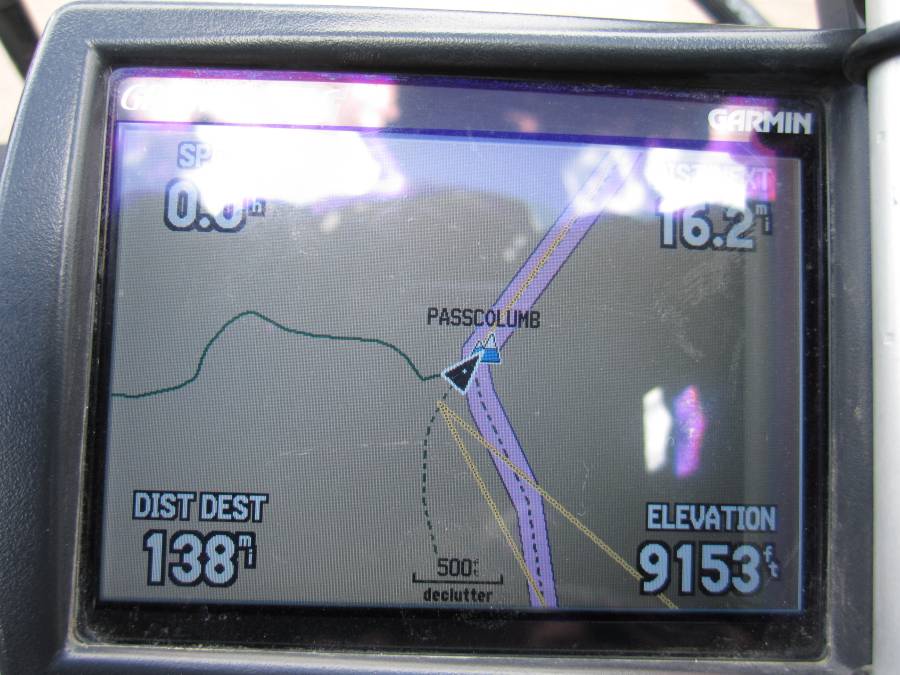 We went right across pave hwy 62 and headed South on the Last Dollar road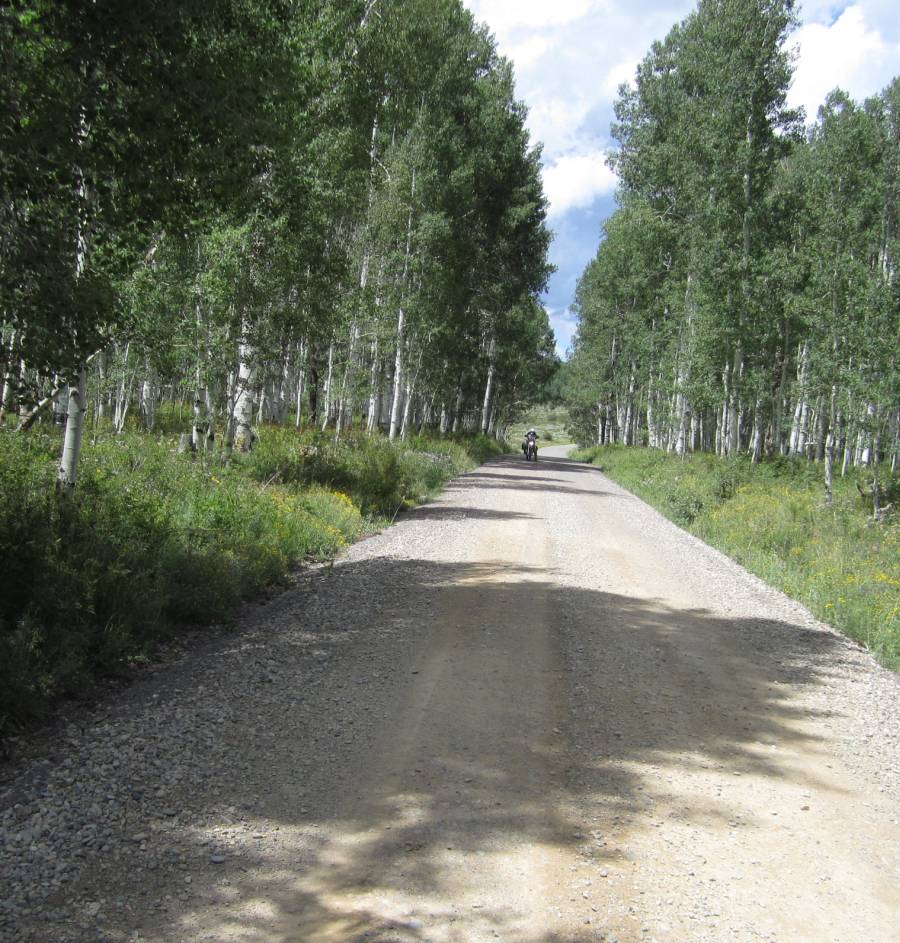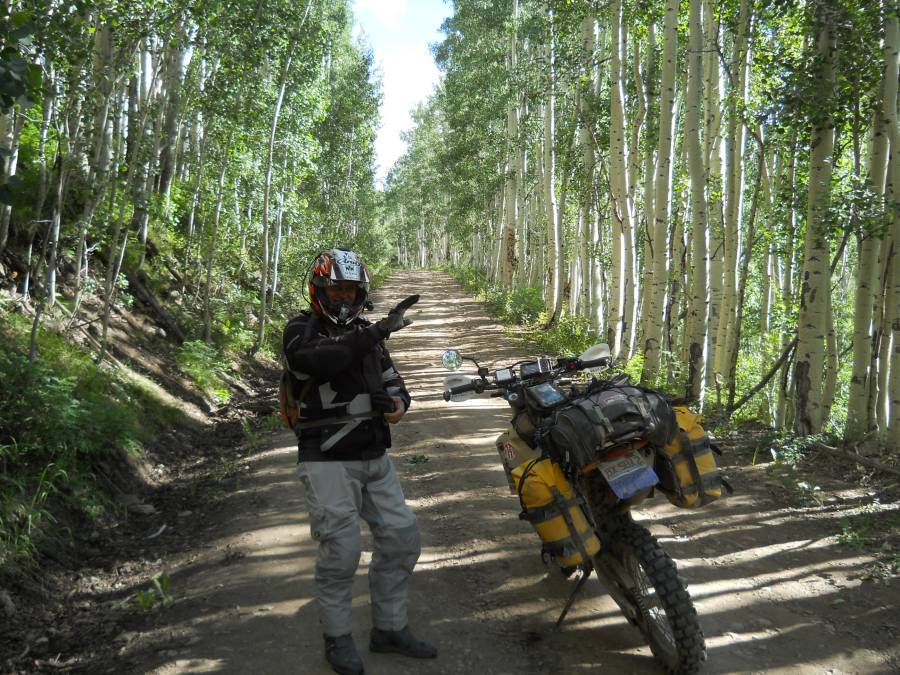 There is absolutely nothing 3 ft. farther in front of my front wheel------nothing.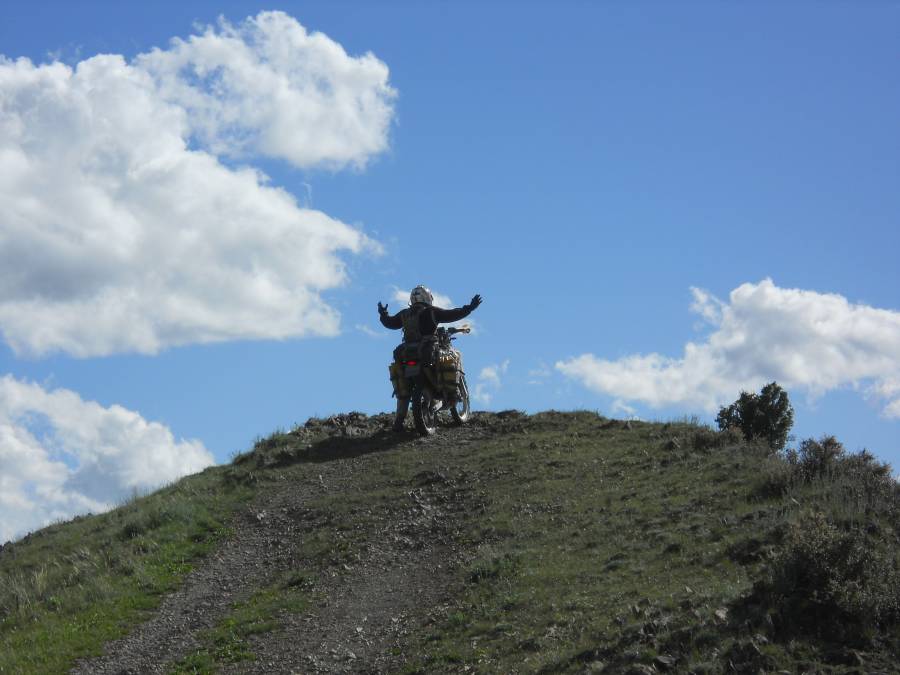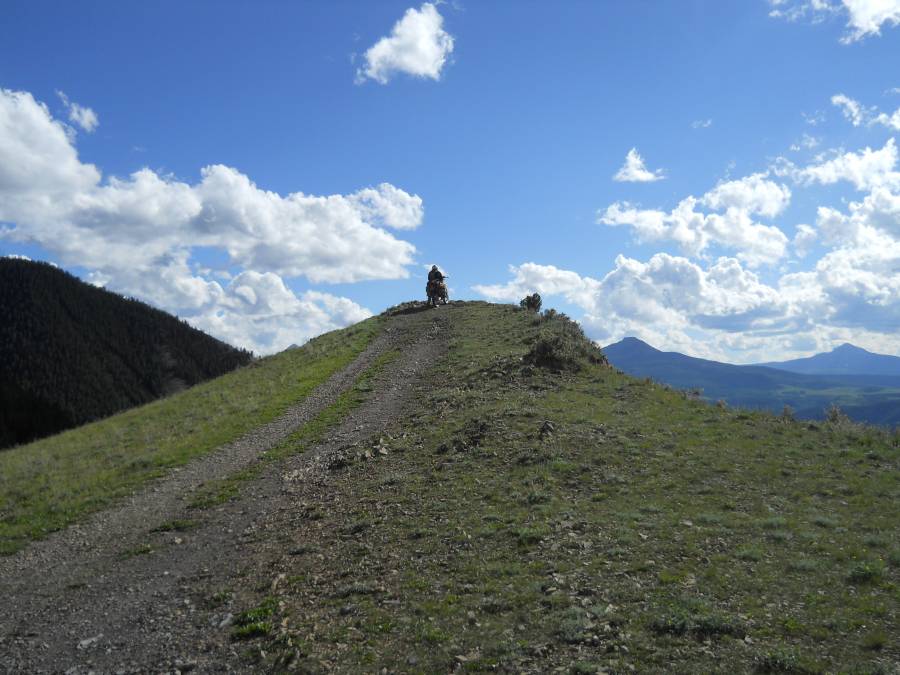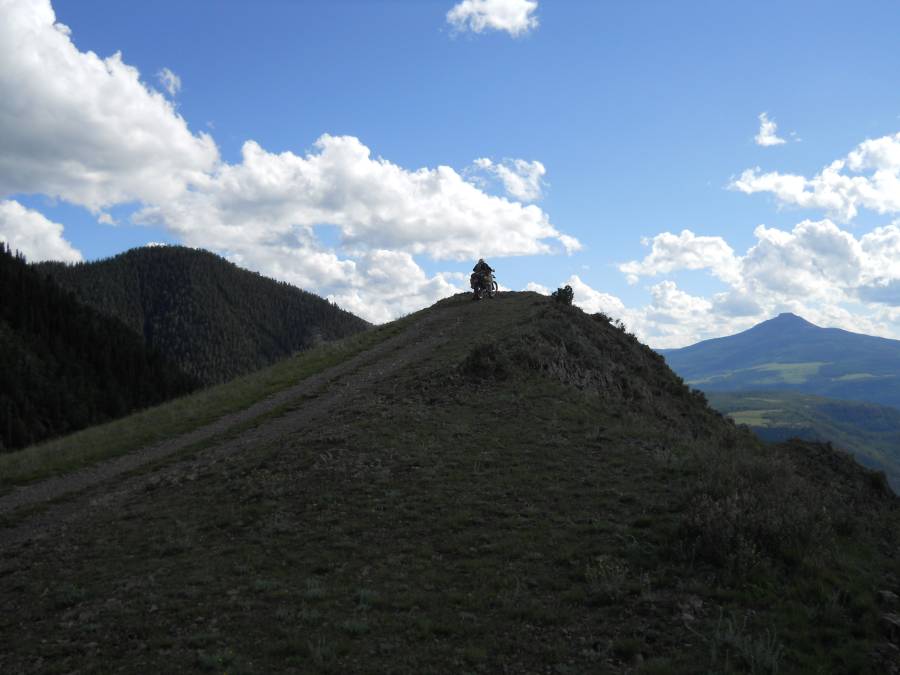 My view over the bars---straight down hundreds of ft.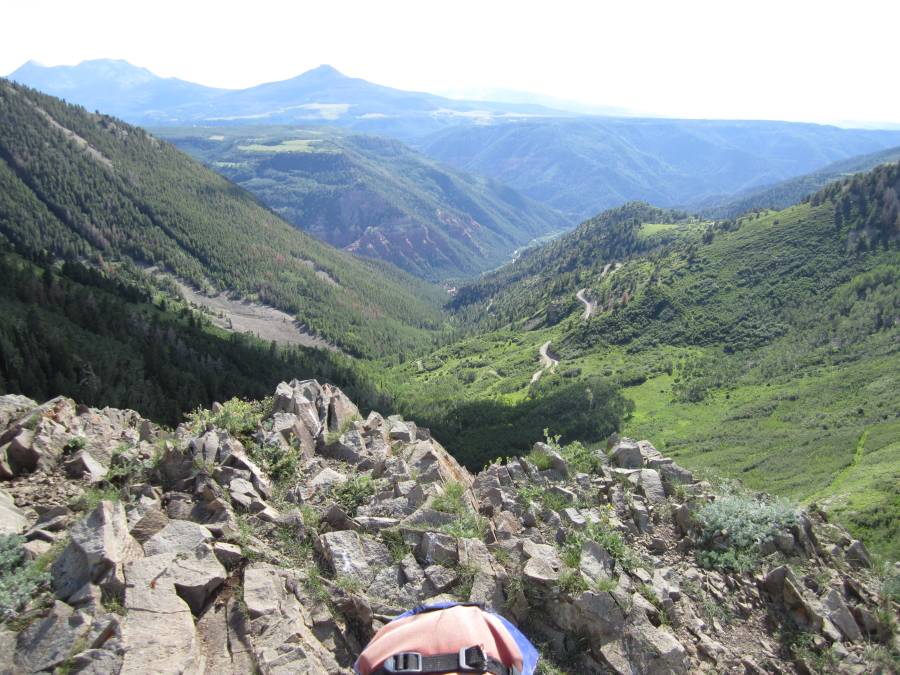 These fellows showed up while I came back down the edge of that cliff.
They were having a ball and were some of the very few adventure riders we ran across this whole ride.
Especially ones riding terrain like we were riding.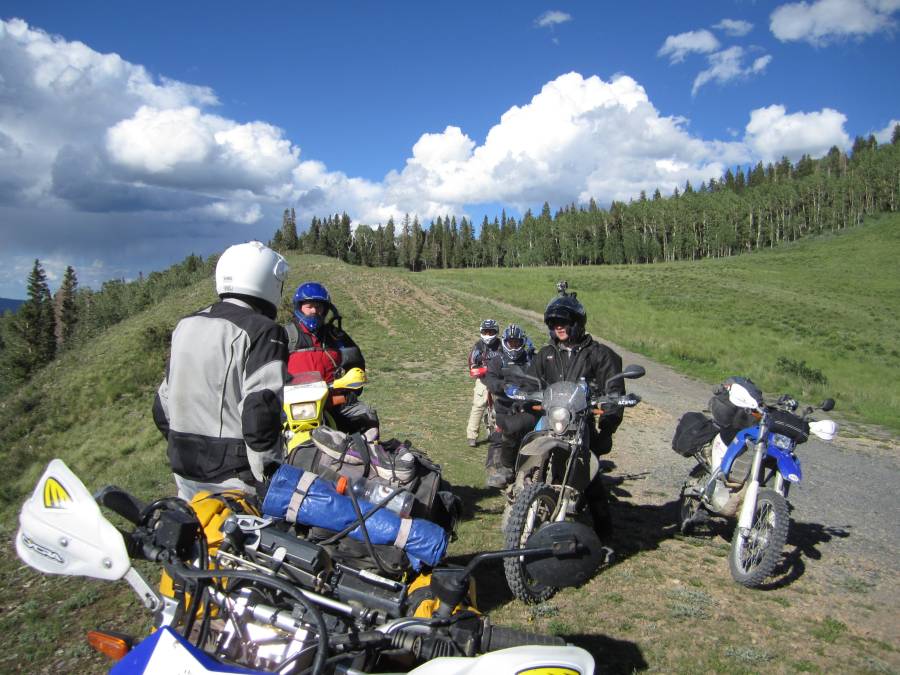 They had some very well setup bikes.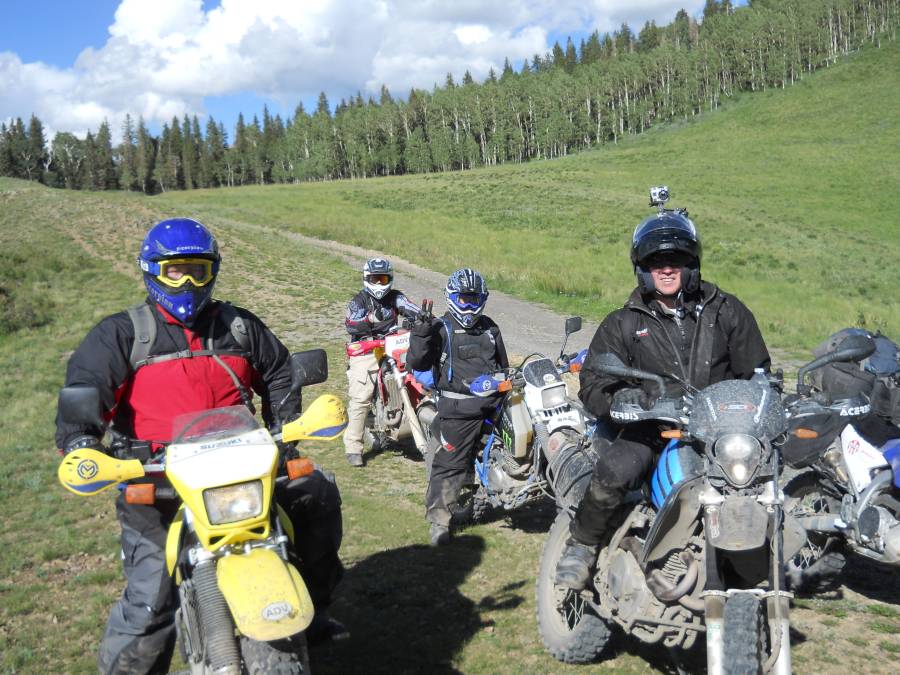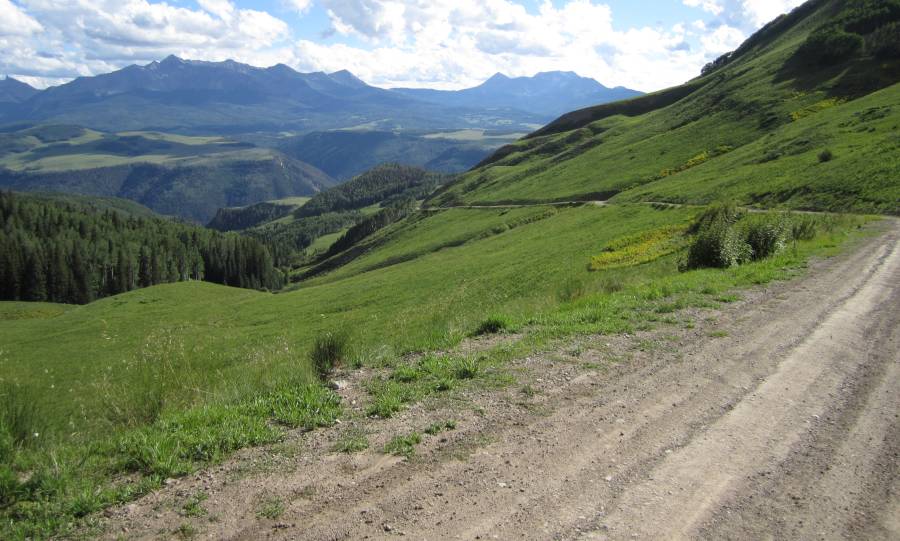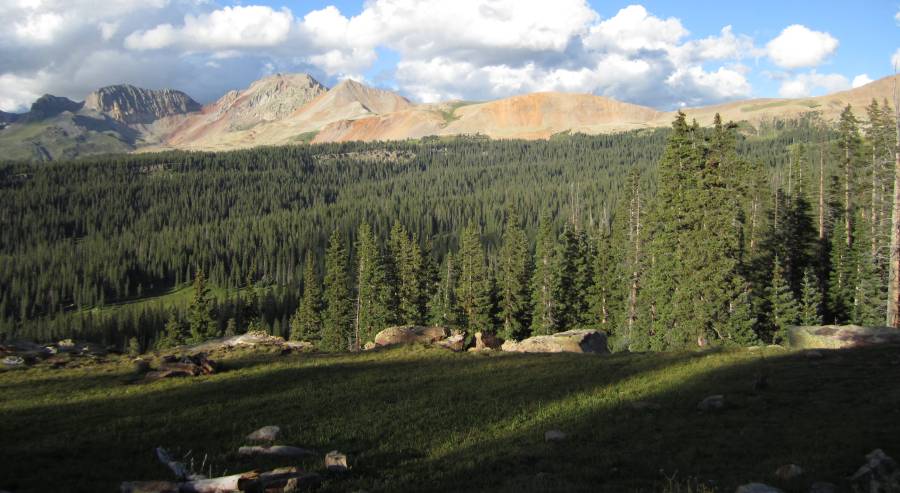 We found a dirt route over Bolam Pass----I've never heard of this pass and have never heard of anybody talking about it.
It's pretty gnarly in places---in fact very gnarly.
This is probably about 70 miles North and a little West of our destination for the night------Durango, Colorado.
Dang it----we had a destination---well we did about 2 hrs. before we got there anyway---before that
it was anybody's guess where we'd end up.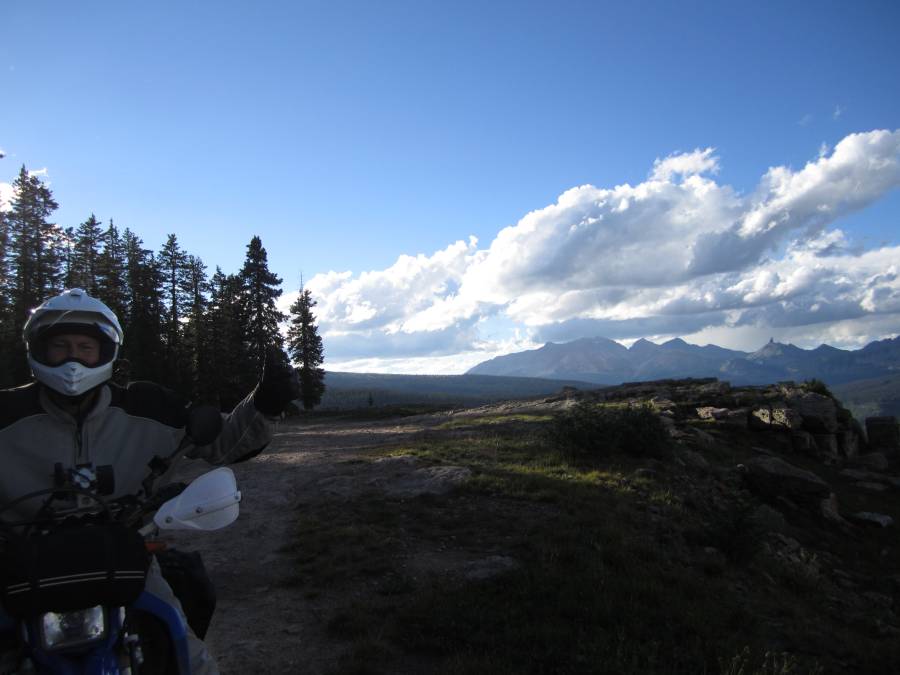 After 332 days for the day-------our biggest day by far---we made my son's place in Durango.
He has a condo overlooking the old downtown area and the steam train depot which me and Marty had ridden
not that many weeks ago. Scott had rode it also with his wife when I went home to bury my mother the first time
I was out there.
I had the key to Marty's condo---but guess what-------he'd moved and wasn't even there!!!!!!!
He'd made another business deal and was off to get started with it but still had left most things there and we
had the place to ourselves.
We spent the next day relaxing---re-living our ride--washing our bikes and sprucing up Scott's bike for his ride
back home in Tuscon.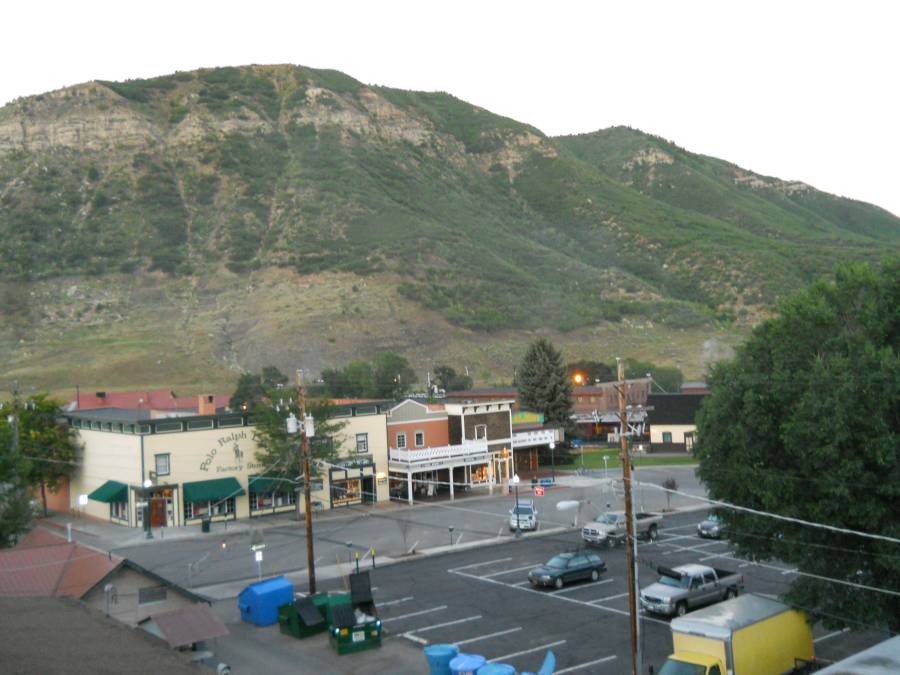 What a ride it had been--the biggest ride by far that me and Scott had ever done.
Whose to say we ever get to do something this epic again--may never happen.
This whole year has been by far the best riding year of my life----no question.
Scott made this very special for me---what friends we've become---and we met on the internet !!!!!
Now it's home to our loving wives who have been so worried about us and keeping track of us with our Spot Trackers.
5,300 miles on my odometer----over 27 days.
Thanks again to all the kind folks helping us out with parts, a place to do bike repairs, donuts, coffee,
and most of all----their friendship. And thank you BigAgnes !!!!
I buried my mother just before this ride--and she always said to me.
"Son......You'll have very few real friends in your life"
you were so right mom---I made a few more on this ride.

I always ask myself each night before falling asleep..........
"Did I do everything I could today" ????? Yes I did.
This boy (Dingleweeds) was brought up in a time of blood and dying and never questioned a bit of it.
He never turned his back on his folks or his kind. I rode with him... and I got no complaints.
Josey Wales
And I'm prouder than a game rooster to have rid with ya'