Mex/Can Day 18
We start heading South 8-3-10
We spent the day hoofing it to my buddy Burts (and son's) boat repair shop.
We had ordered lots of stuff and would spend most of the day installing them and having a hoot at Burts shop.
Left to Right: Mark Sampson, Burt Gunn, Rick Horton, Tim Gunn, Brad Gunn, and Scott Stevenson.
I had met Burt first while riding the Continental Divide ride years ago--and again down in Mexico.
We've never ridden together but have become friends as I've enjoyed Burts company and all his tales
of adventure travel. It was so nice for him and his son's to take the time out to help us out.
They provided refreshments----tools--a bike lift---oil and good times.
We spent 1/2 the time working and 1/2 the time talking bikes and travels. We had a ball here.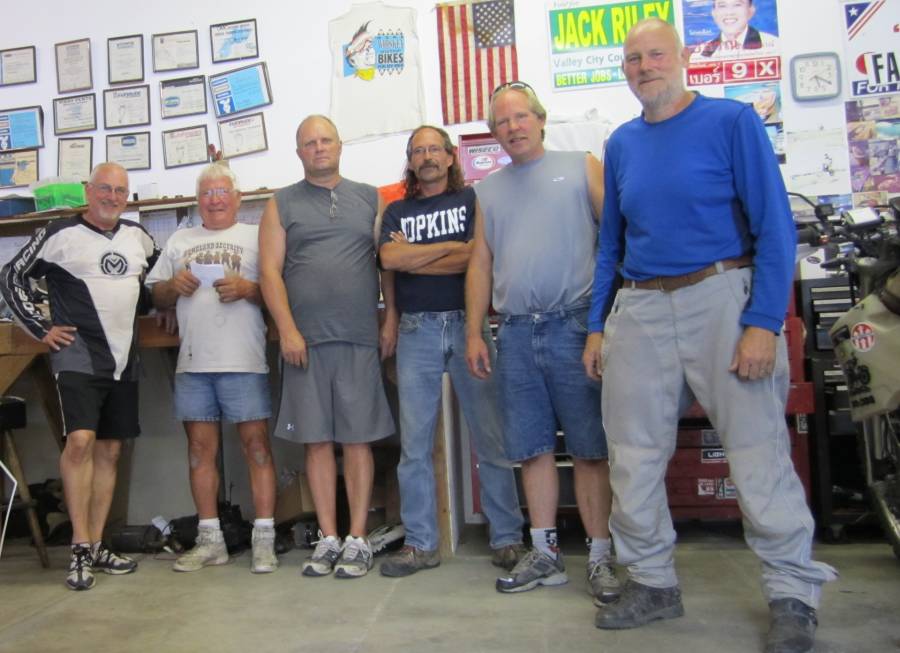 This shop was old school----very old school---lots of pictures on the wall and stuff everywhere--neat stuff.
This picture of Burt in Mexico on the wall caught me eye. If I remember right Burt is 74 years old and is one
tough dude----and the thing I remember about him most is how happy a guy is.
It's nice to be around happy people.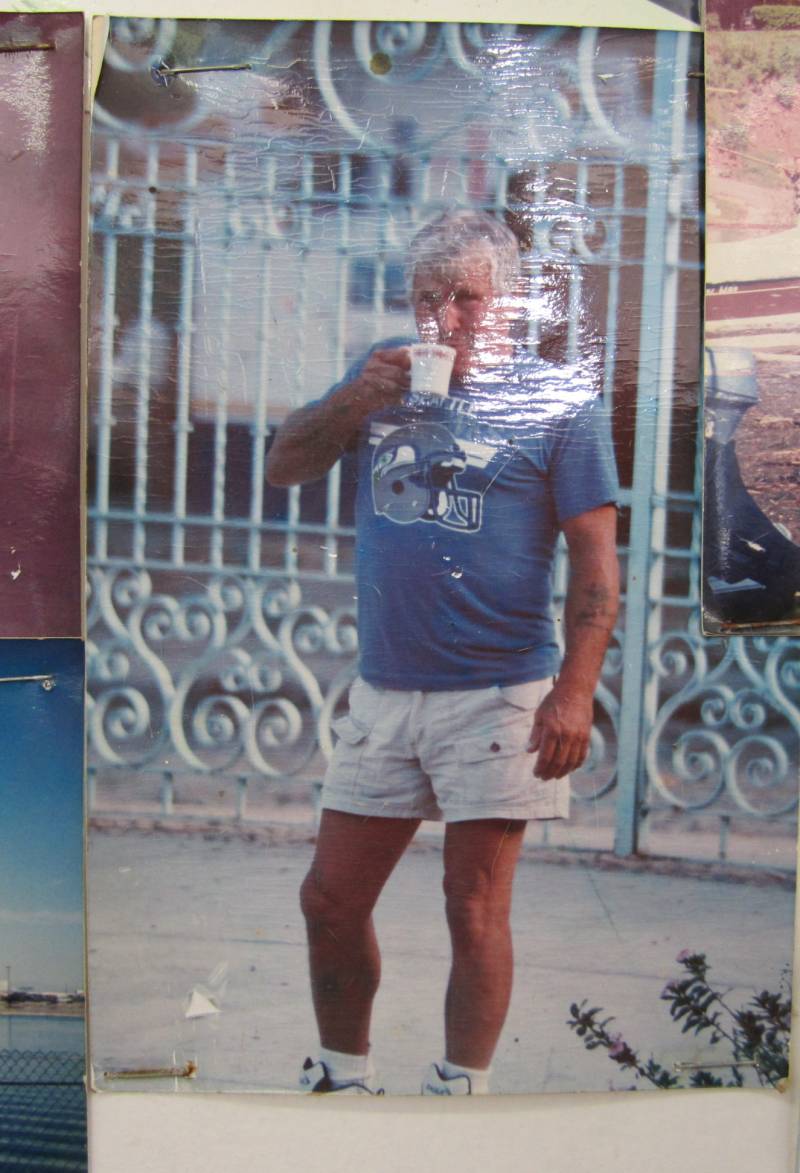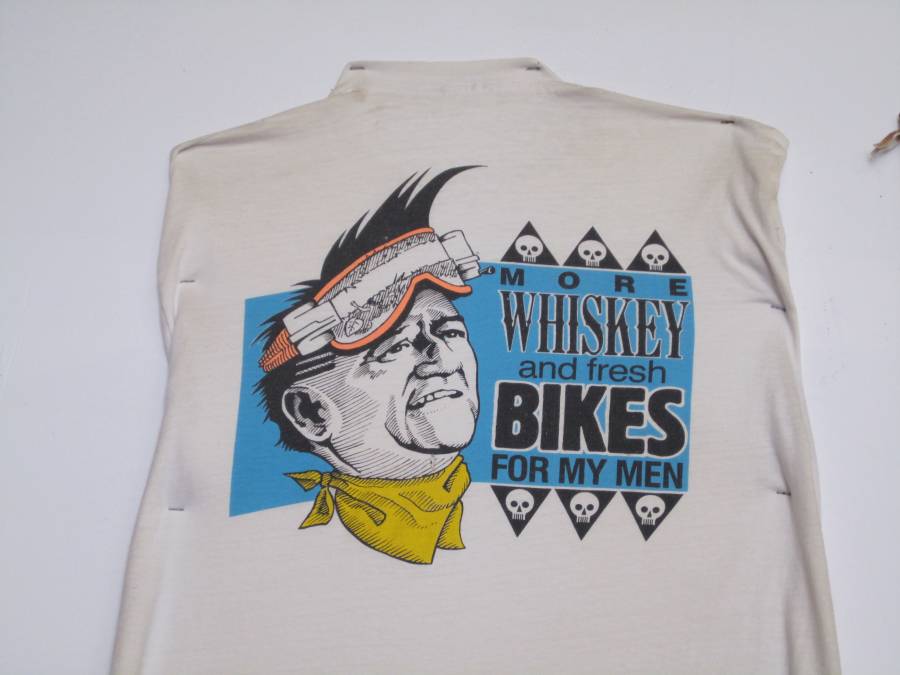 They had quite a few neat old bikes in the shop---really neat stuff.
This one caught Ricks eye as he races vintage offroad bikes.
This bike is unrestored and and almost has no miles on it-and it ran perfect.
It's a 100cc Hodaka dirt Squirt. You could pick these things up and carry them across rivers.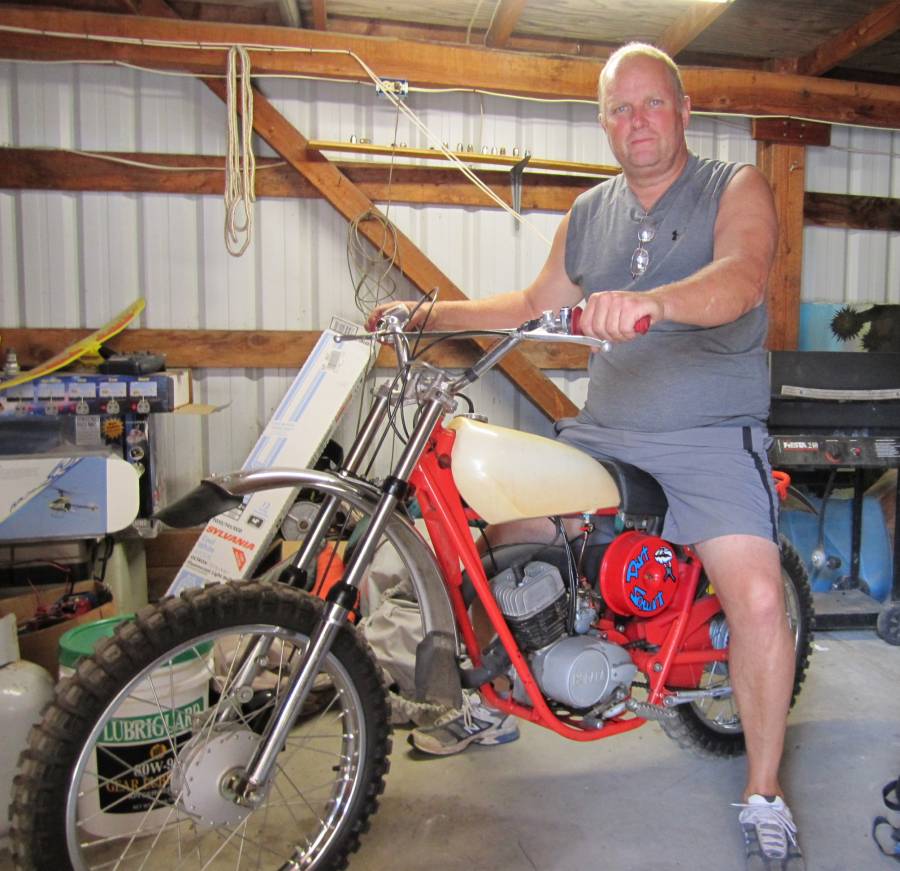 Ricks Dilemma-----We had found out that Ricks aftermarket stator wasn't charging his battery---and his aftermarket HID
headlight had quit---and it was the second replacement--both Trail Tech items and Rick was not happy with them.
So Rick had ordered a new stator and headlight and is installing them now. He also installed a new battery and
changed his oil.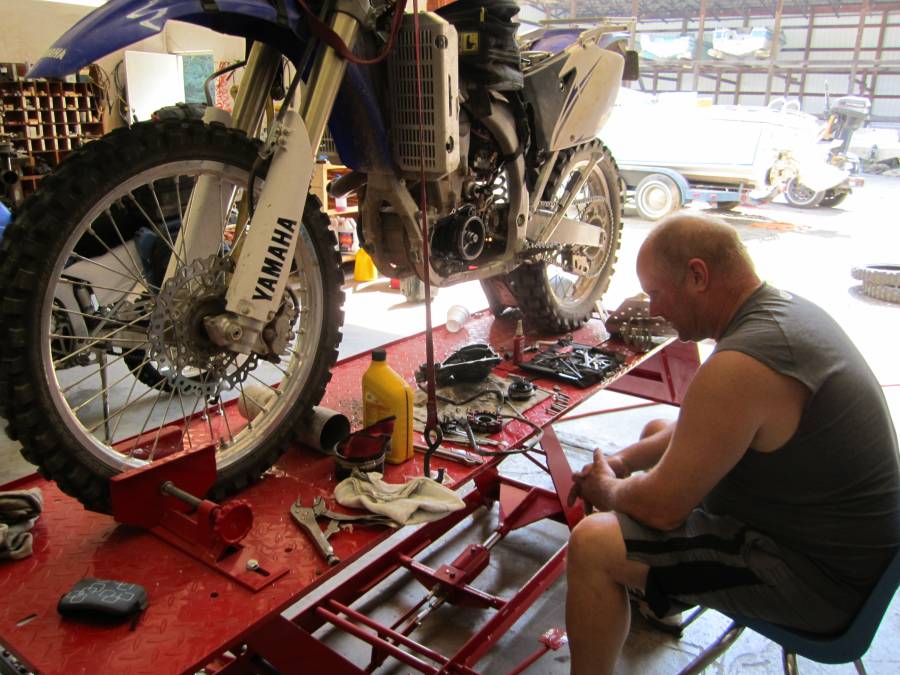 A guy can get mighty thirsty working like this.
Burts son was into remote control helicopters--- and flew one around the shop.
Man I wish I had one of those when I was a kid.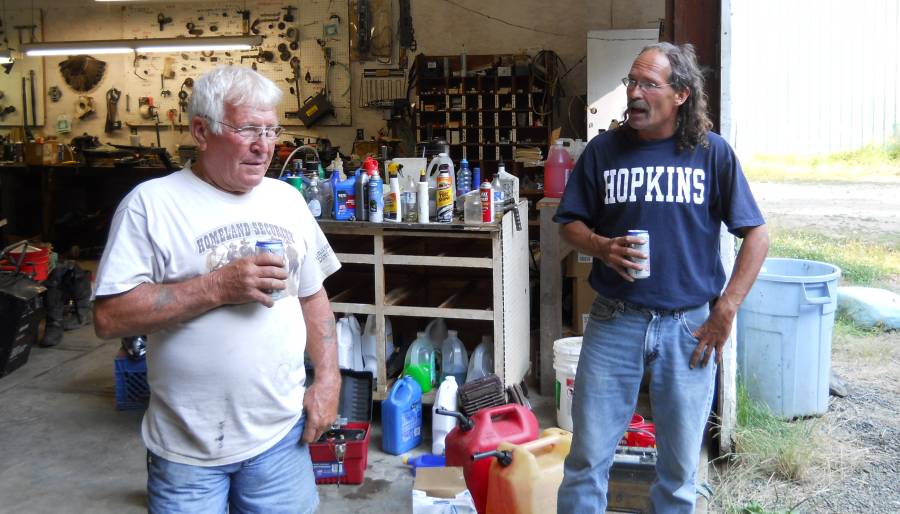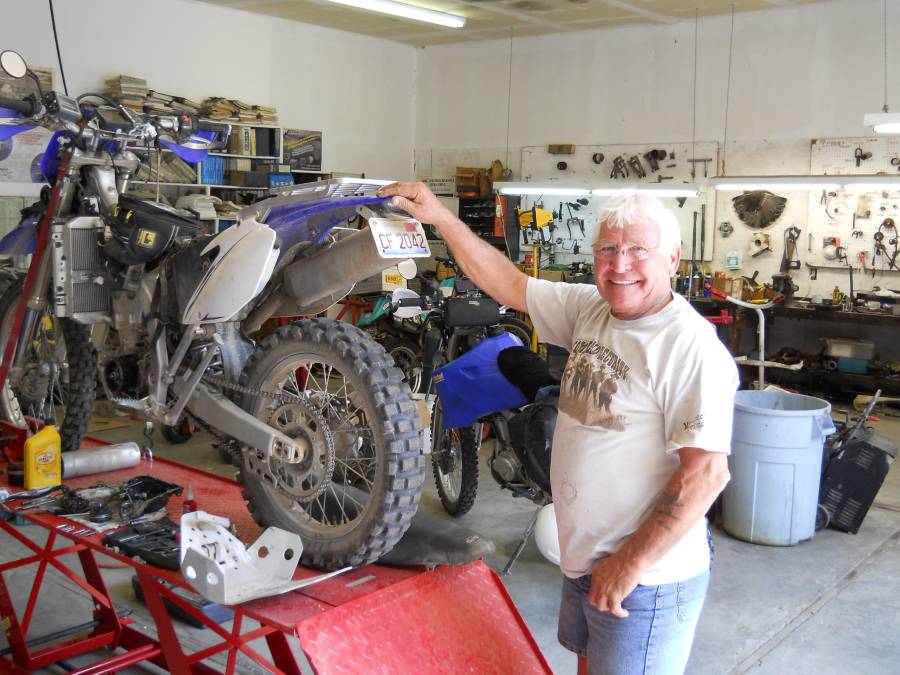 Everything was installed and Rick was done---except his new stator still wasn't charging the battery ????
And his headlight still didn't work--they sent a new light but not the ballast.
And they sent a new stator but not the rectifier---Rick was not happy.
Rick had 2 batteries with a full charge and a small battery tender and decided he'd continue riding with us
and hoped the batteries would last a day or 2 before needing charging--they did and he finish quite a few
days of riding with us till he had to go home.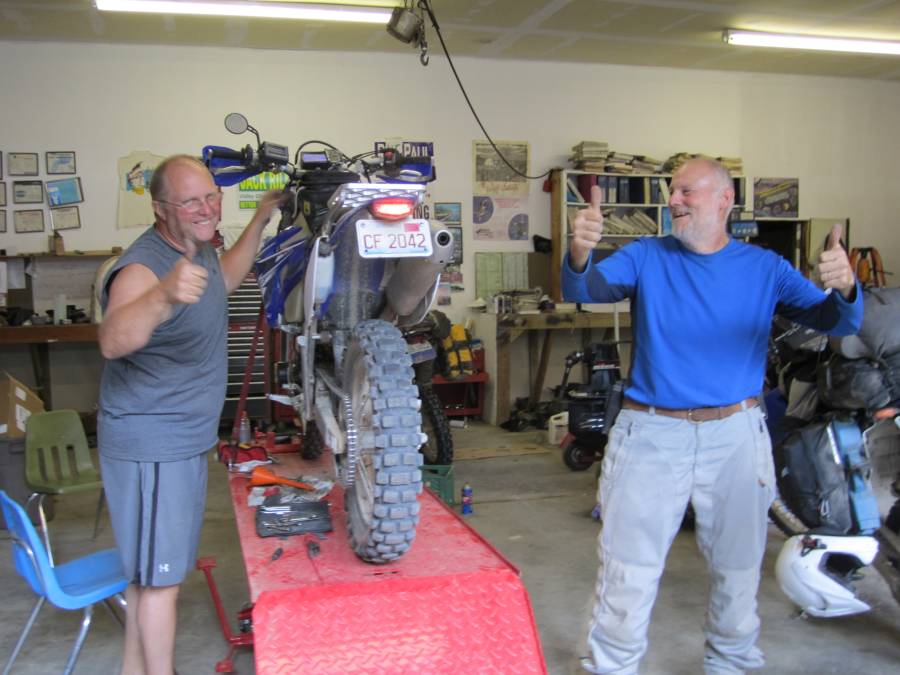 You can put your own caption on this picture.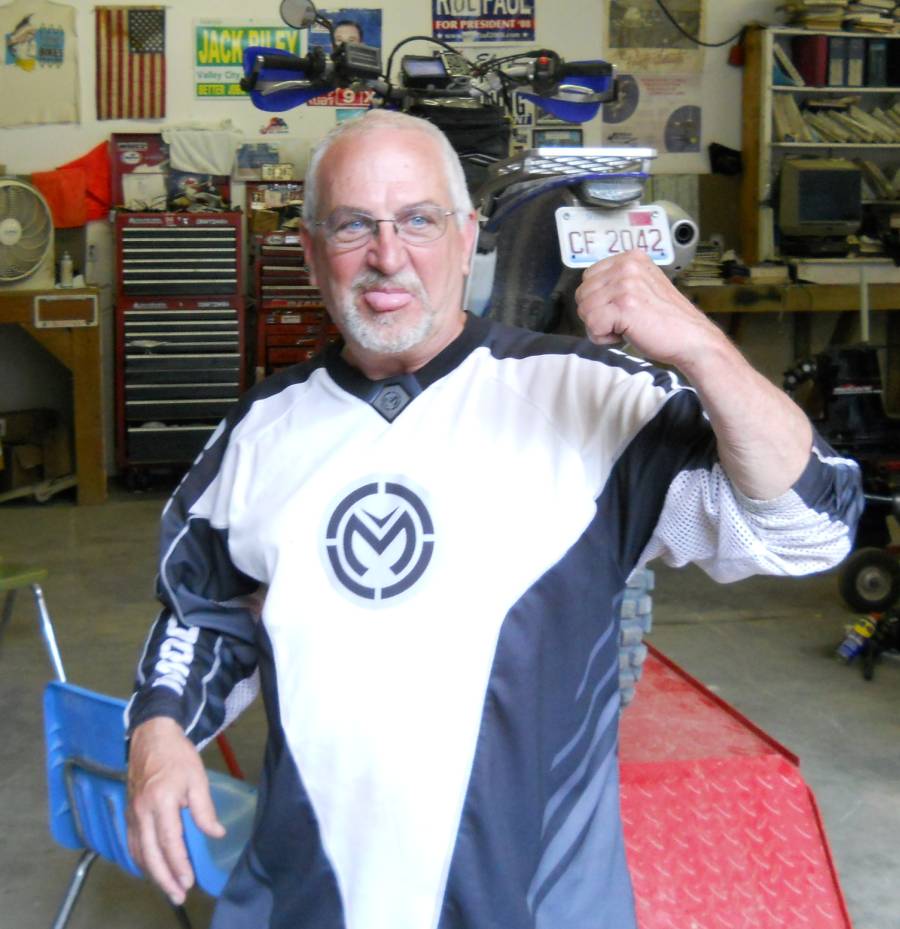 A little smack was in order.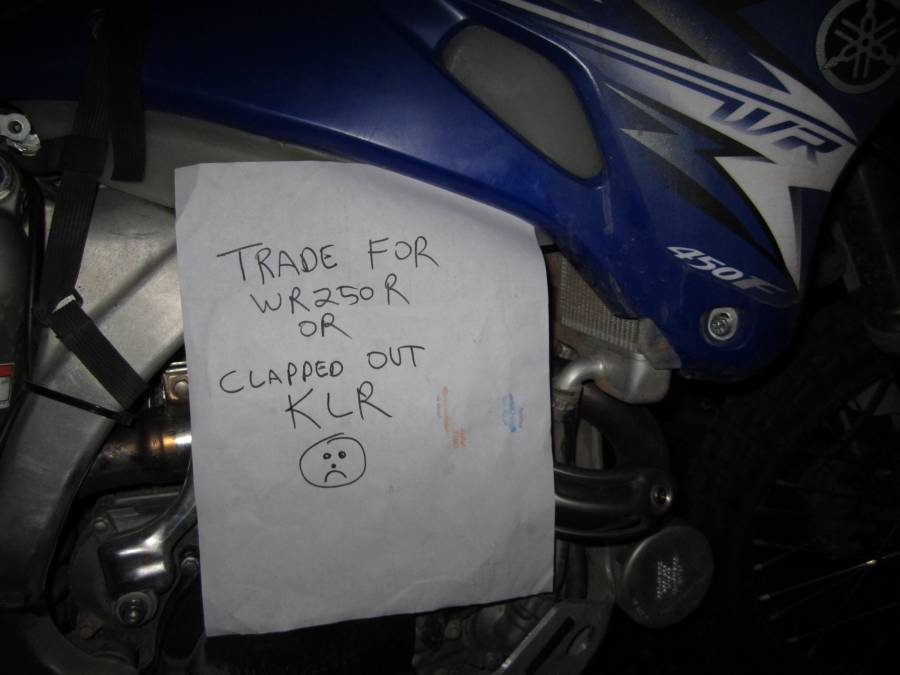 The little tiny town of St. Marie was not far away and we found the last room in town--right on the St. Joe River.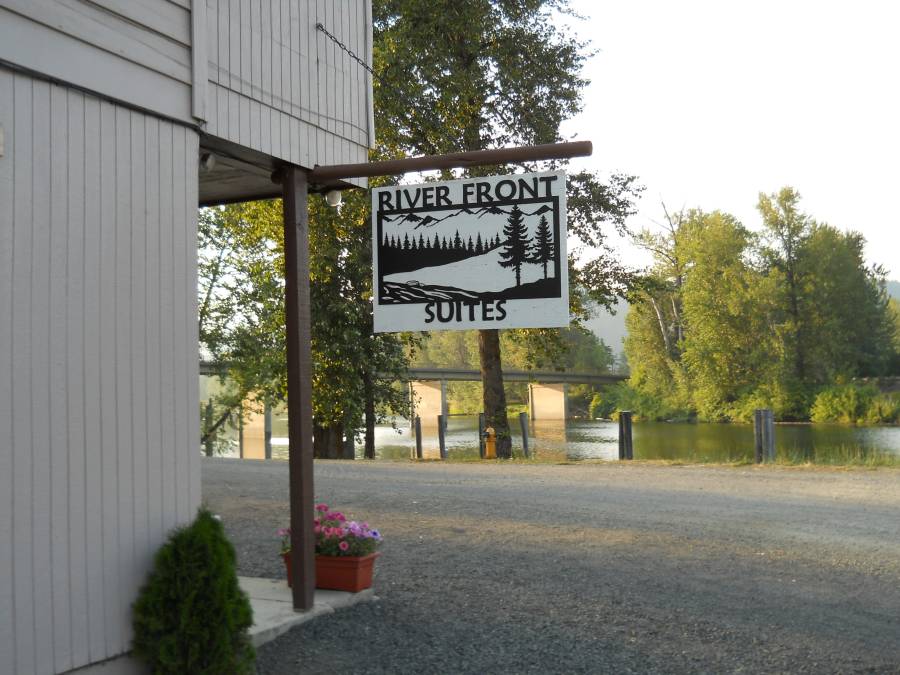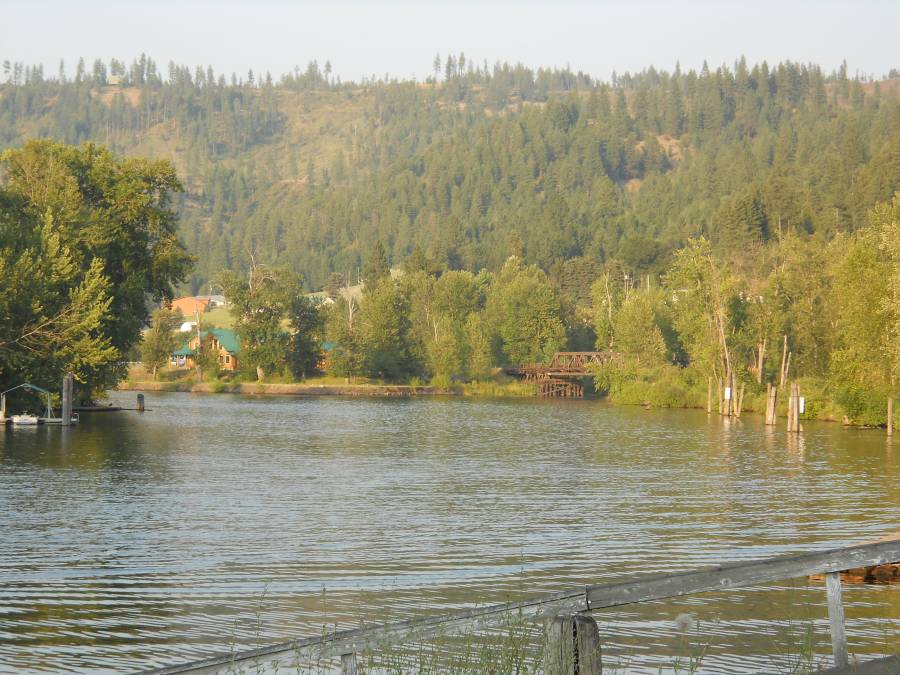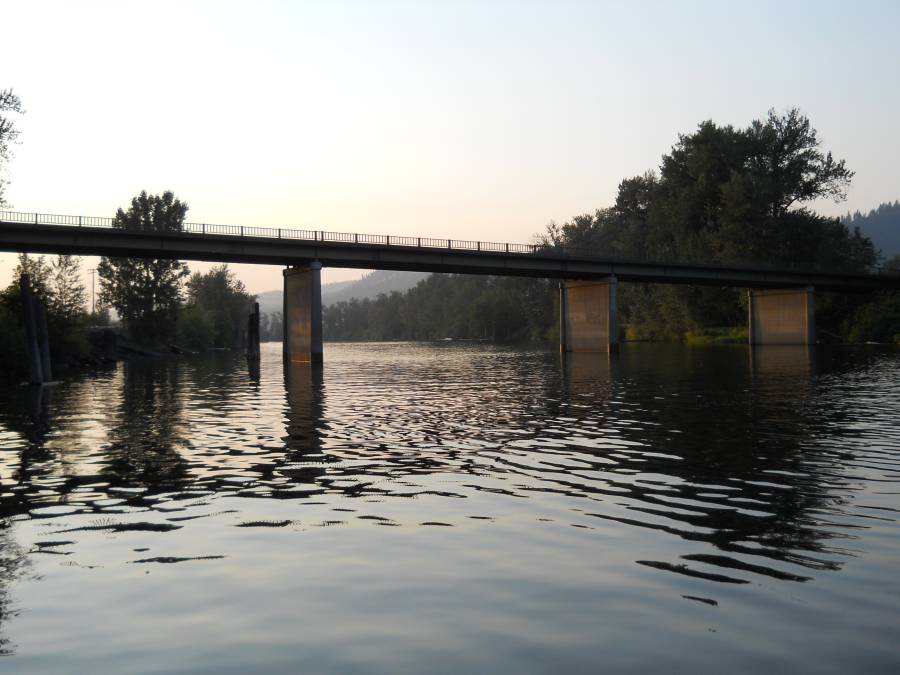 Day 19
8-4-10
The Adventure continues as we make tracks for Hells Canyon in Oregon.
We are just winging it now towards Hells Canyon which is a long way off yet.
Scott picks this neat road out of Priest River that runs right along the St. Maries river.
The road was like this for miles running along the river and the railroad.
We were so glad Rick was back with us and he was having a ball.
This was St. Maries River Road.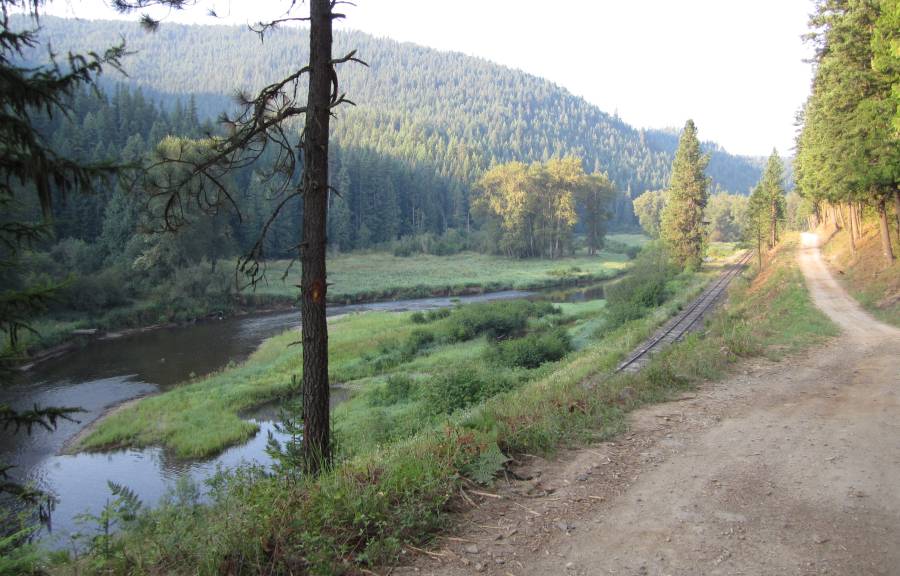 It gets tighter and tighter--but do-able.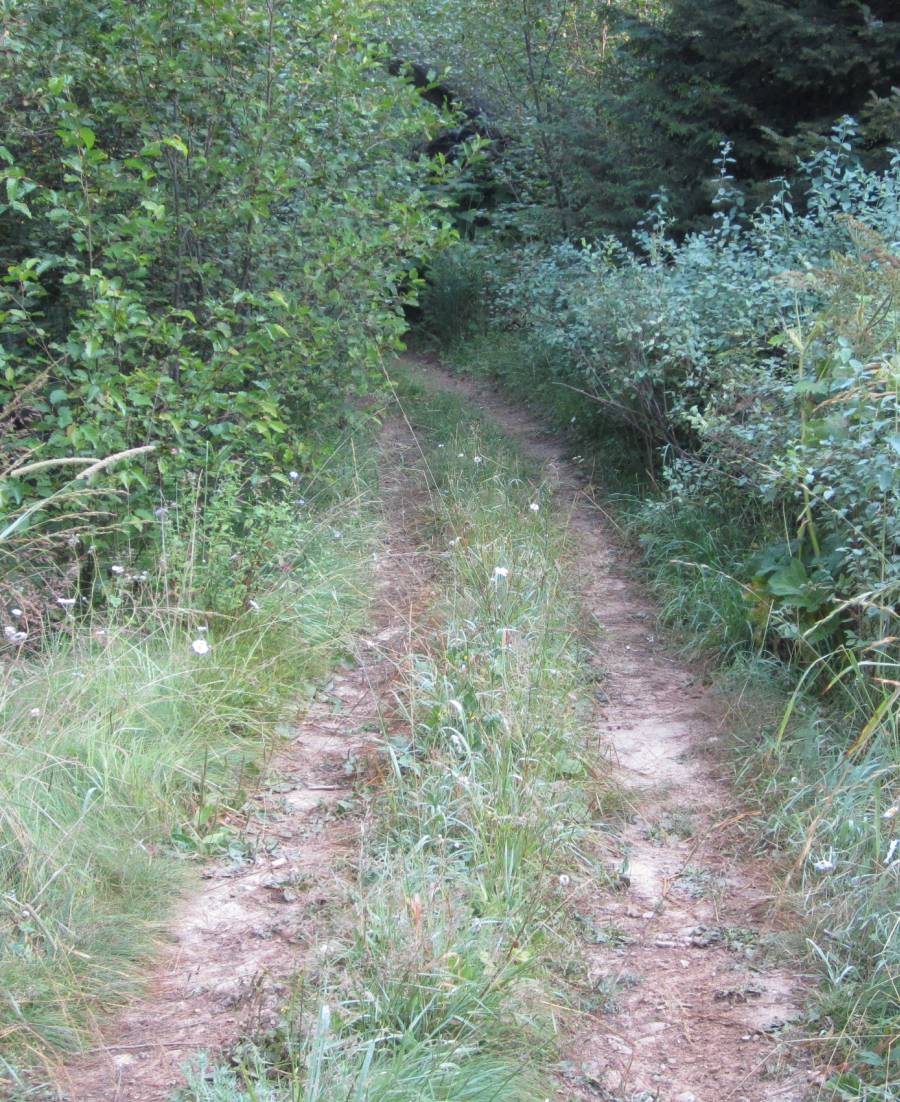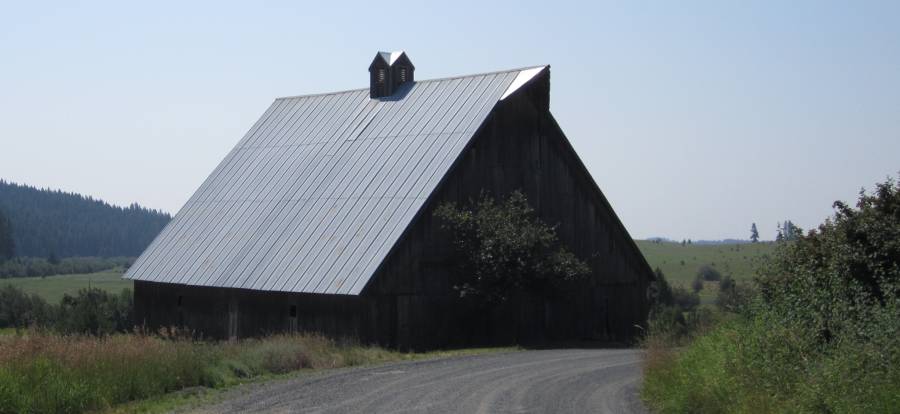 DingleWeeds is leading us and leads us down what used to be a road---and I smell a rat ????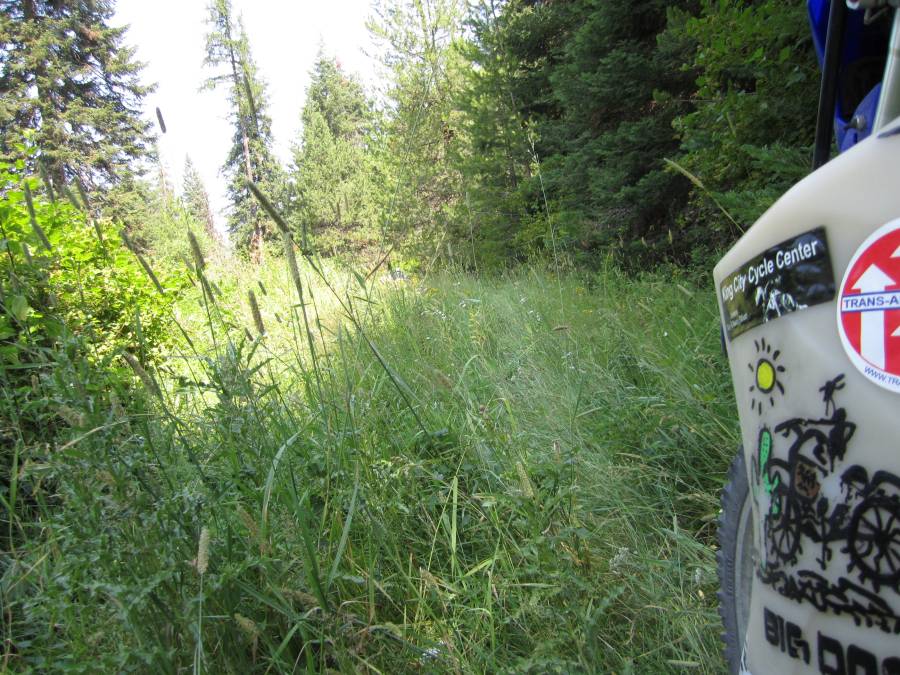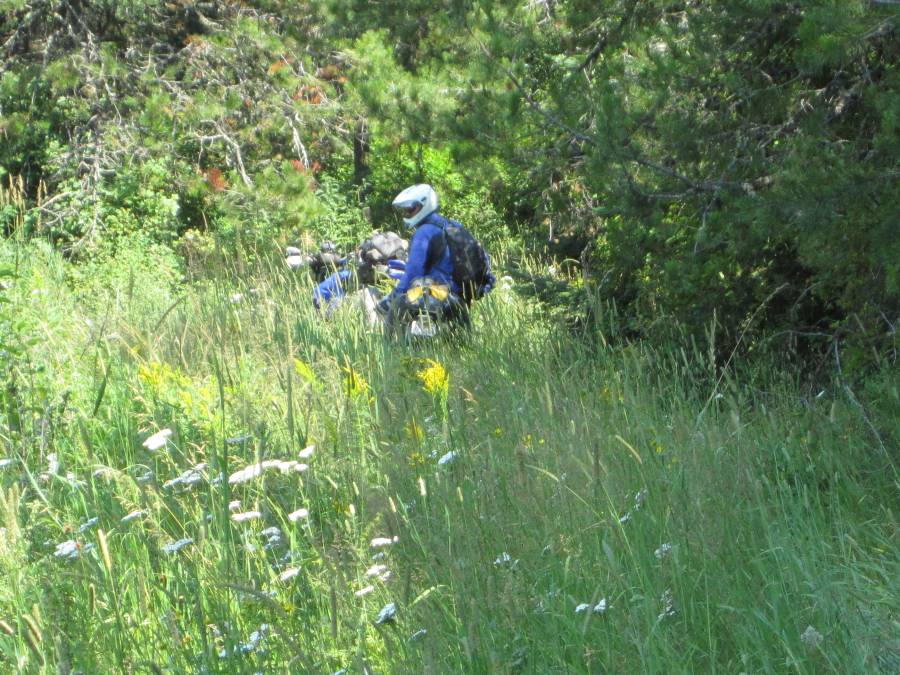 I get it figured out before Scott tells me-----we had went by a no-trespassing sign and the road was just gone.
That's when I remembered Scott said he would like to go by and see the property he owns in Idaho---he hadn't seen it in
10 years. He used to live in Lewiston Idaho.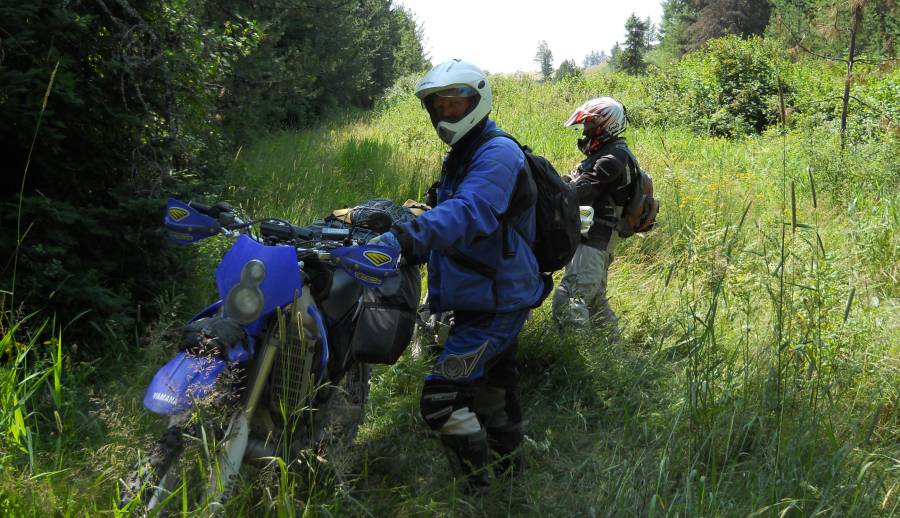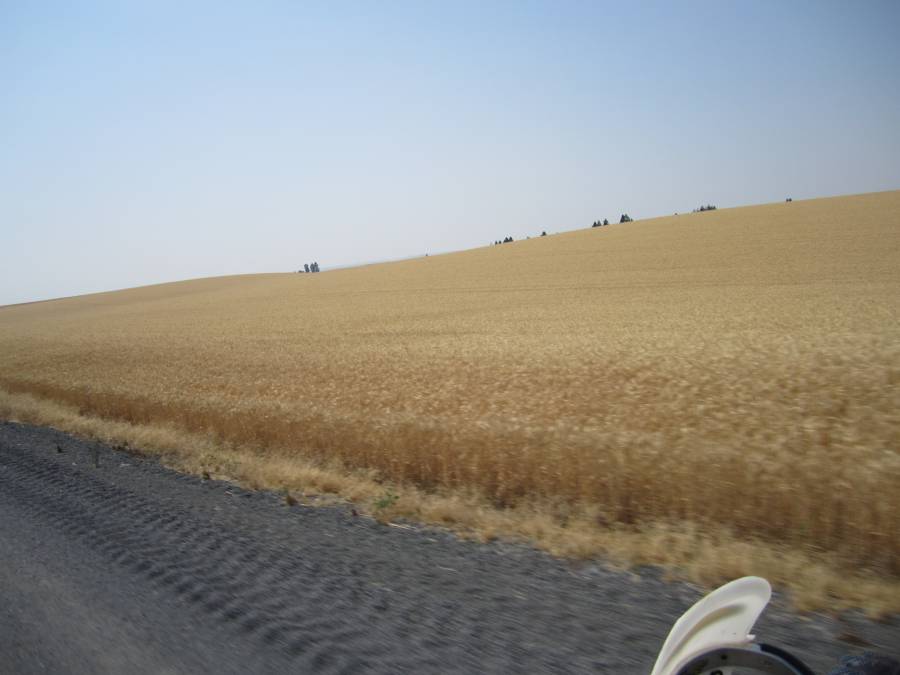 Scott took us on some great roads towards Lewiston that were high enough in elevation to keep us cool.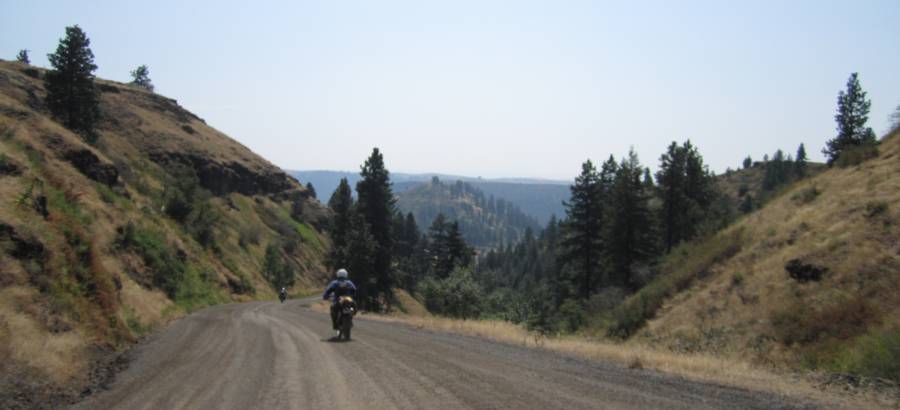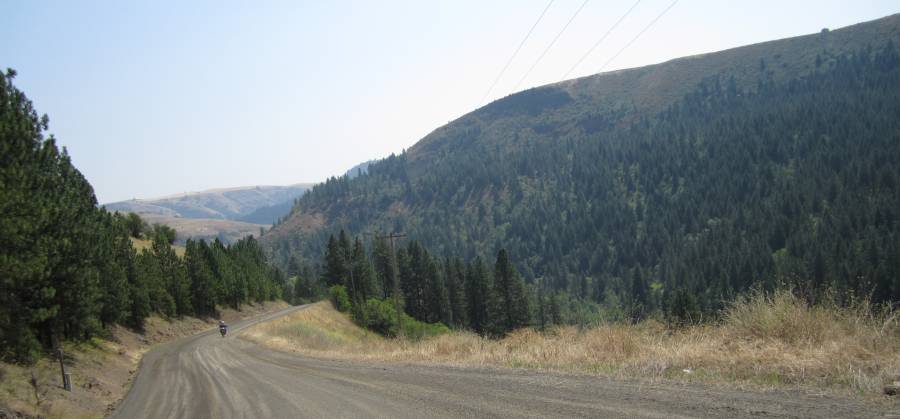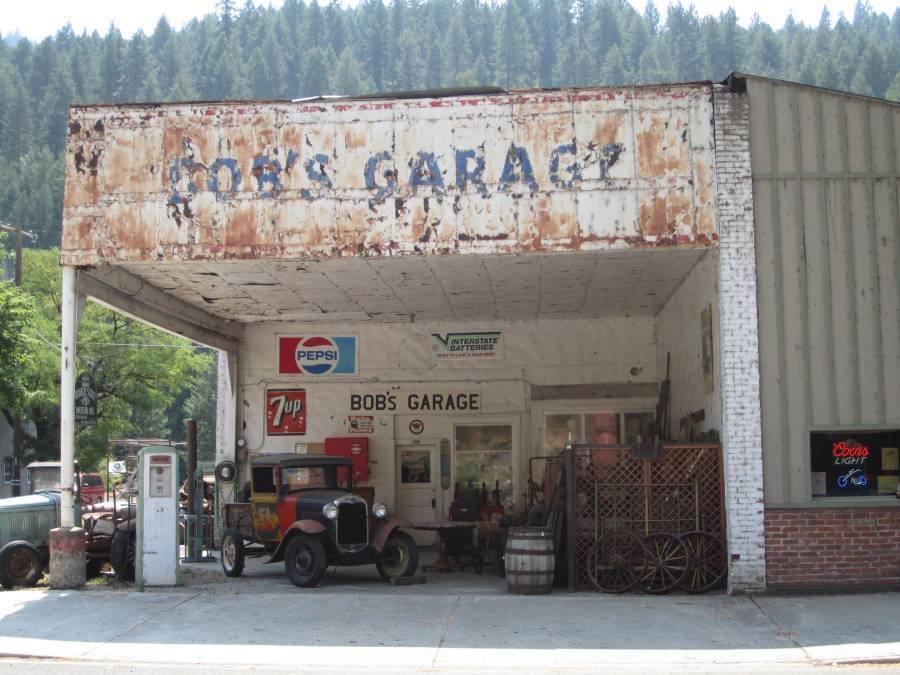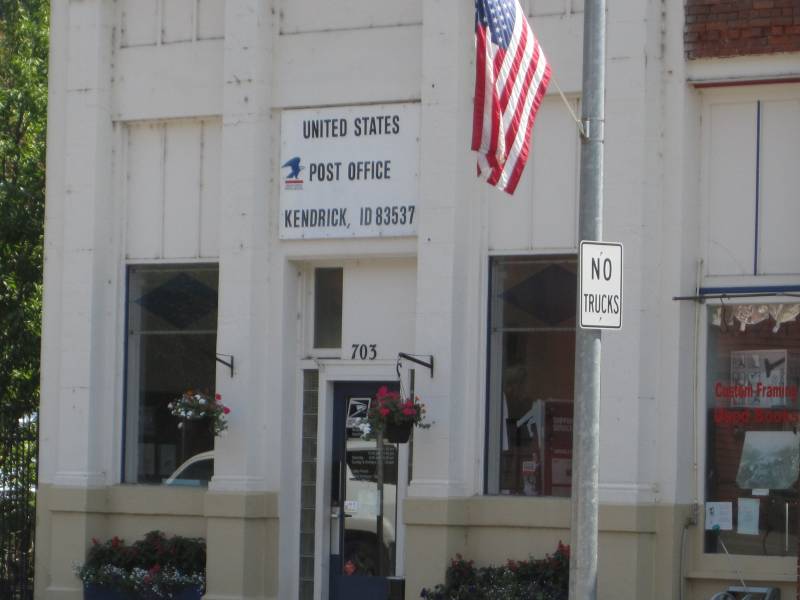 Stuff we saw on the way.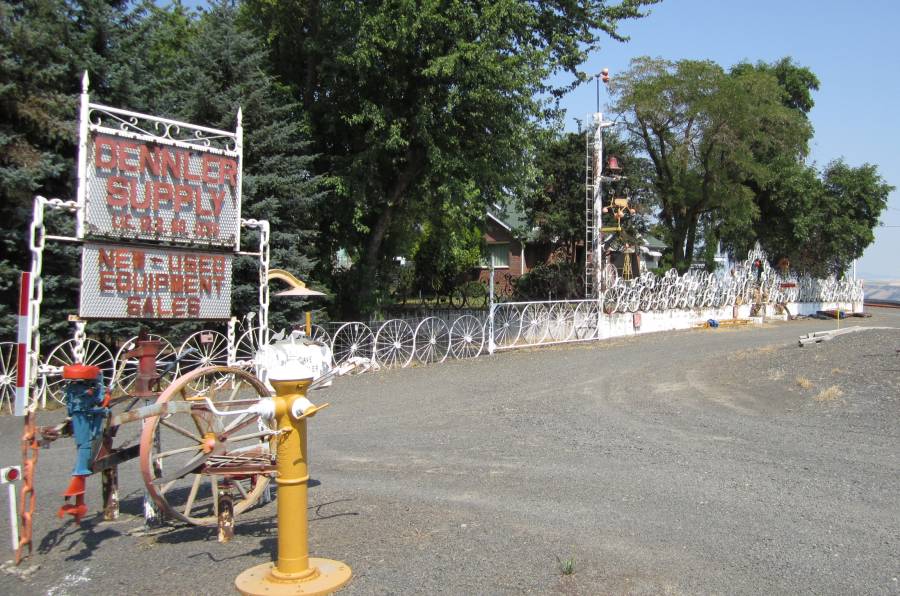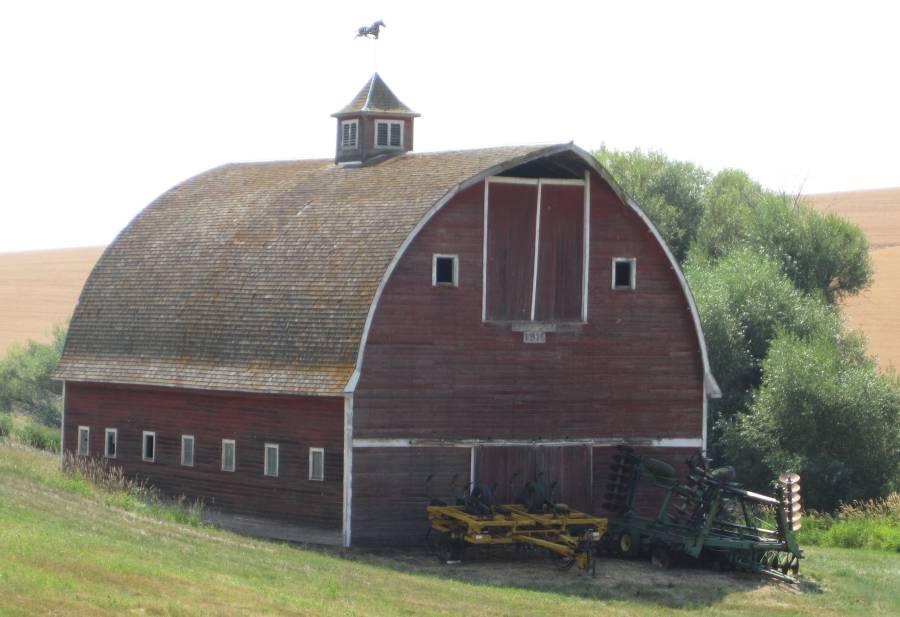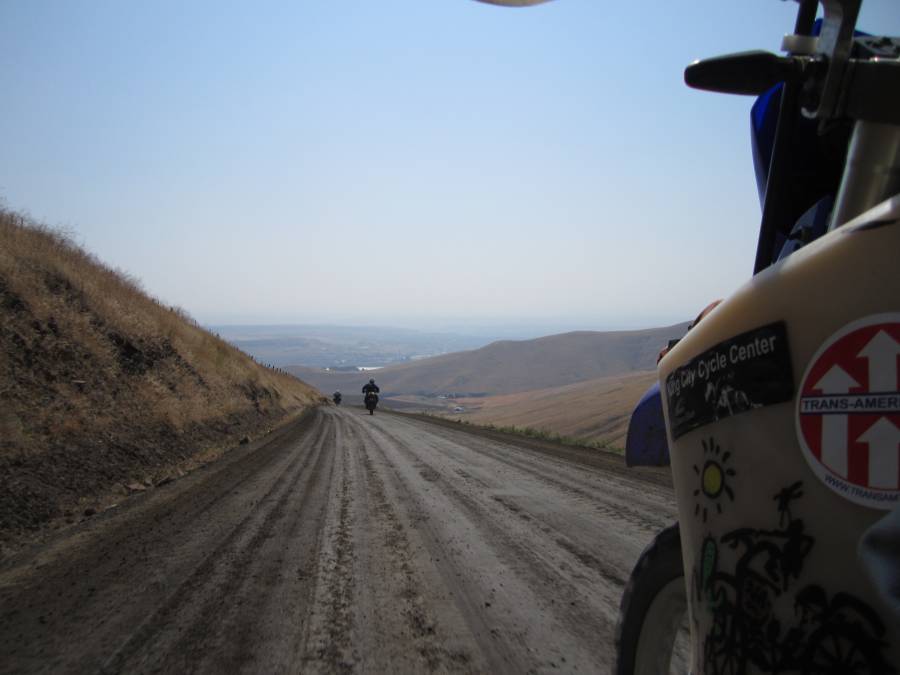 We dropped down into Lewiston, Idaho. Scott had done a great job today leading us here and kept us up in the mountains
until we had to come down.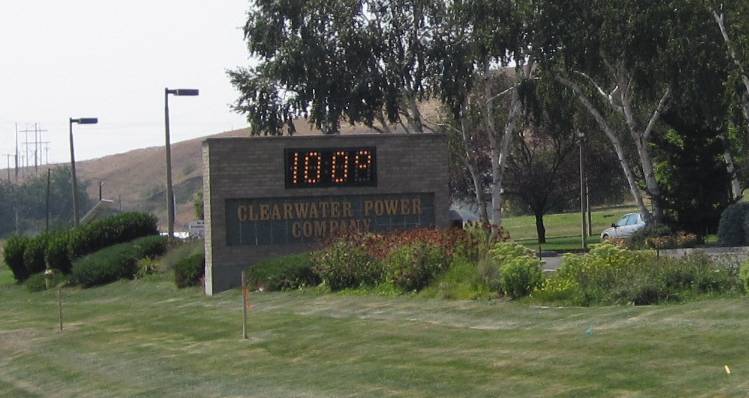 139 Miles for the day.
Day 20
8-5-10

Lewiston, Idaho to Imnaha, Oregon

Our first glimpse of the Snake River as we start running along the West side of it.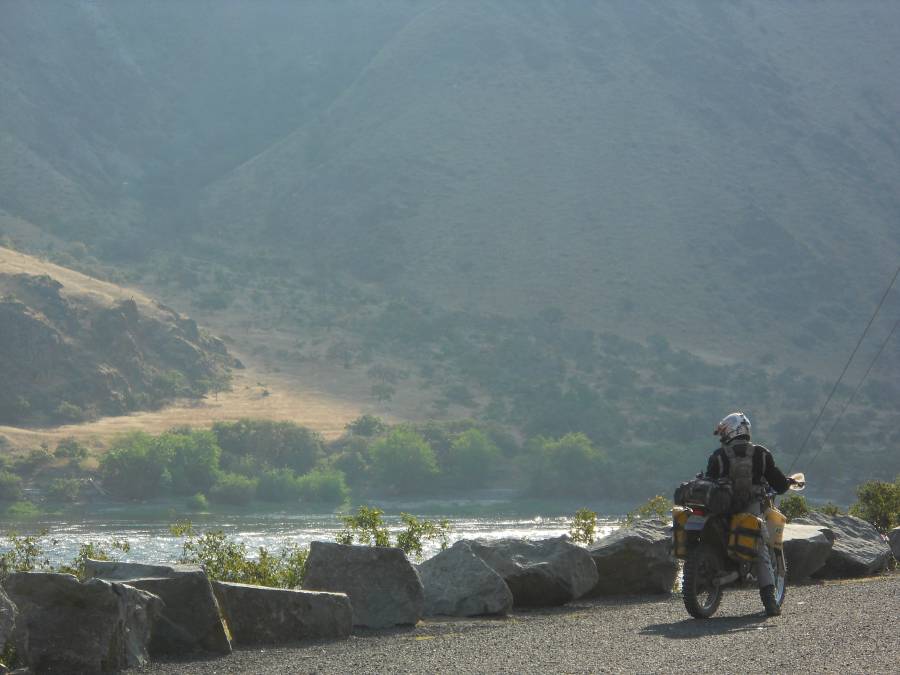 The road soon turned to dirt---and deteiorates with each mile.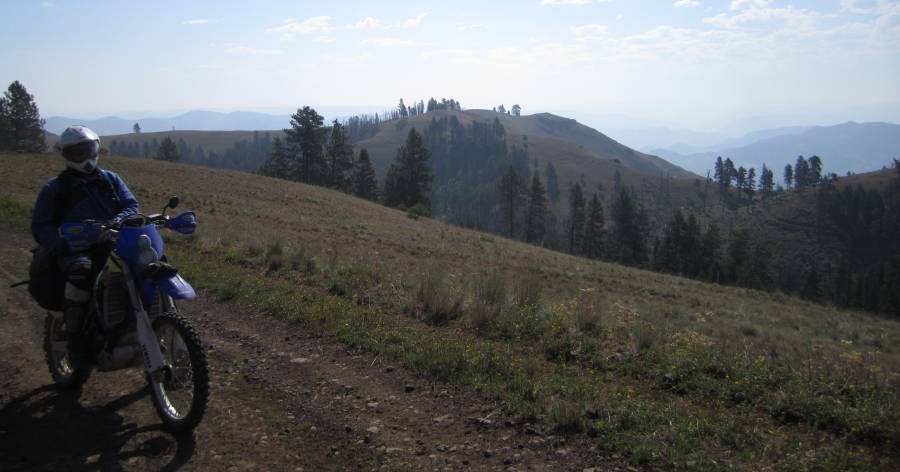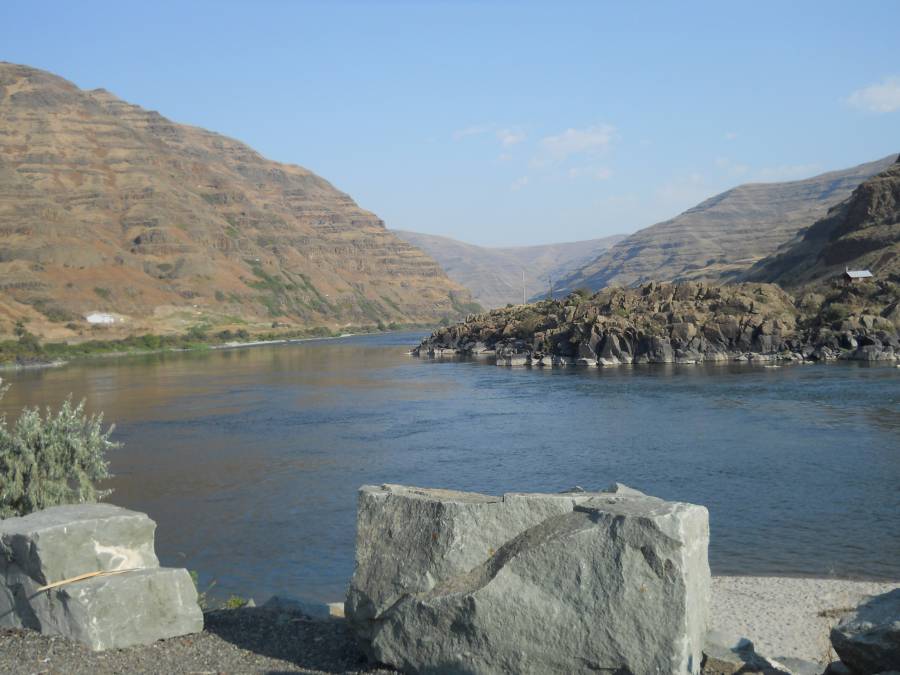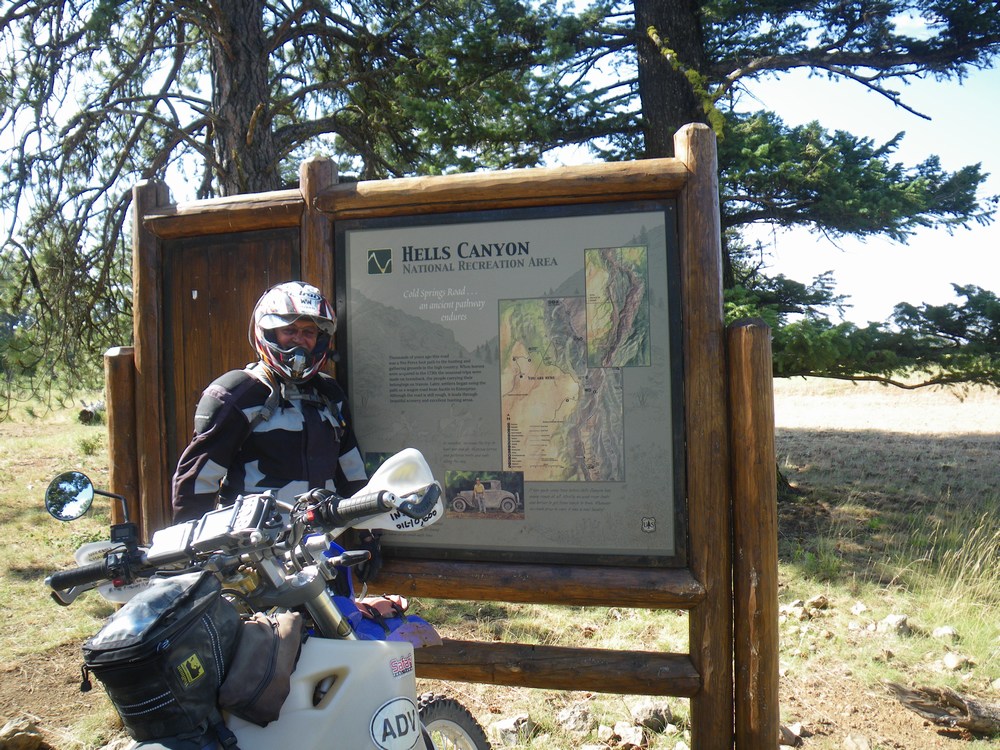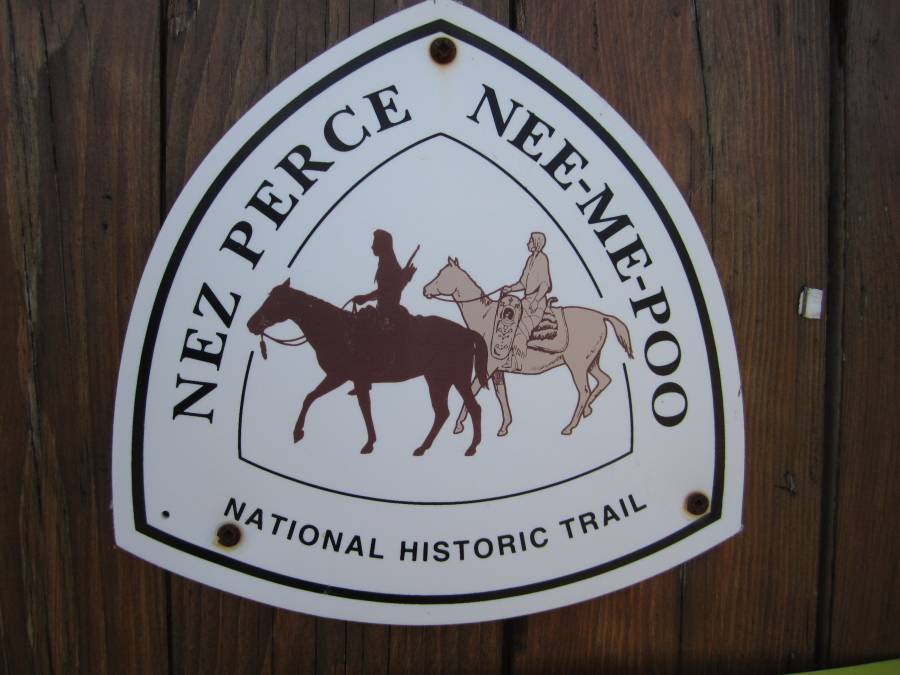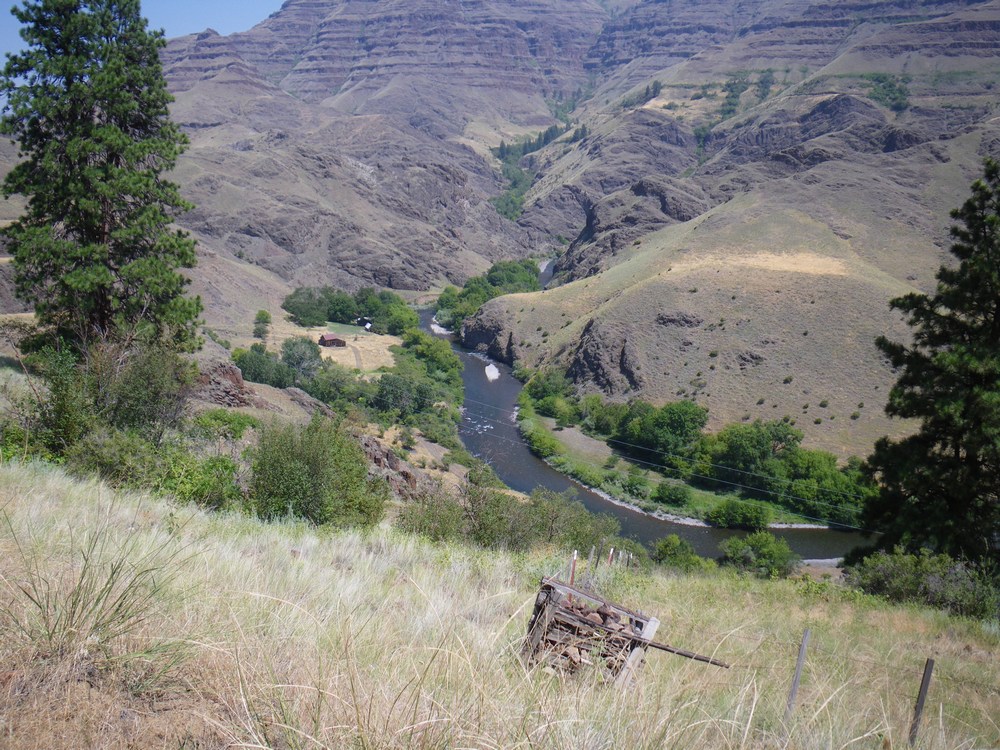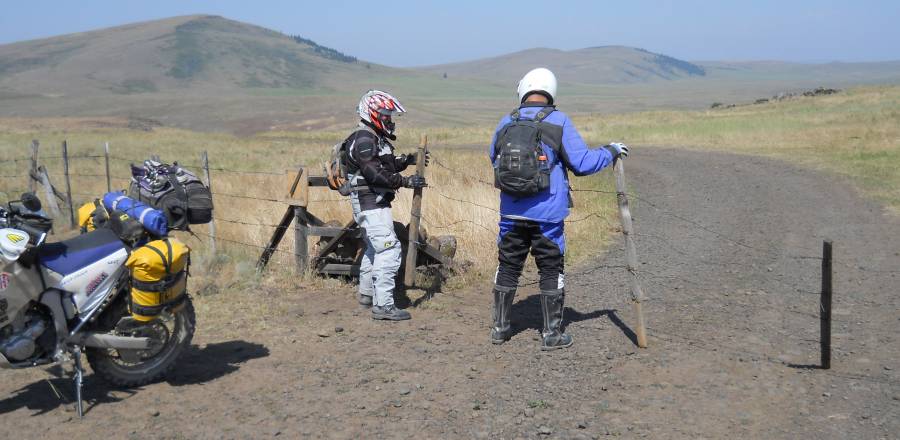 Imnaha, Oregon-----pronounced Im--nah--hah......with an Indian accent.
Population---not too many.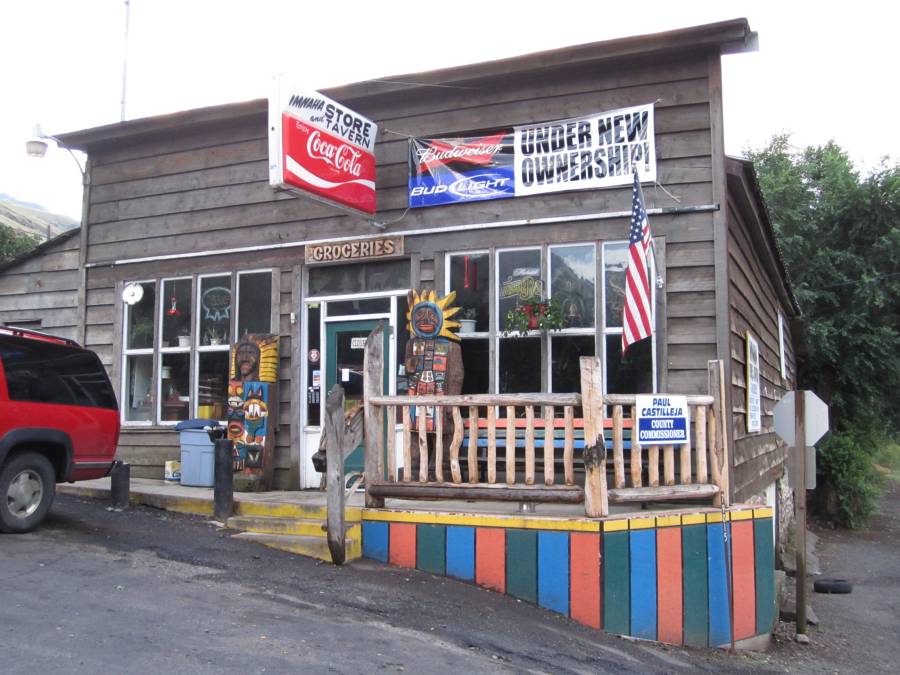 We ate in the store a couple times and the food was great.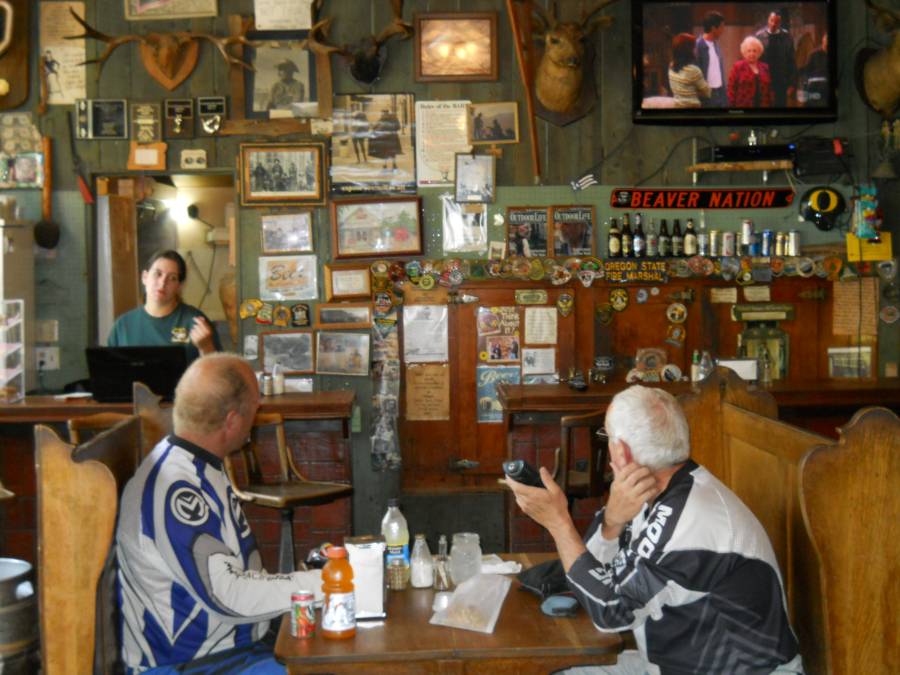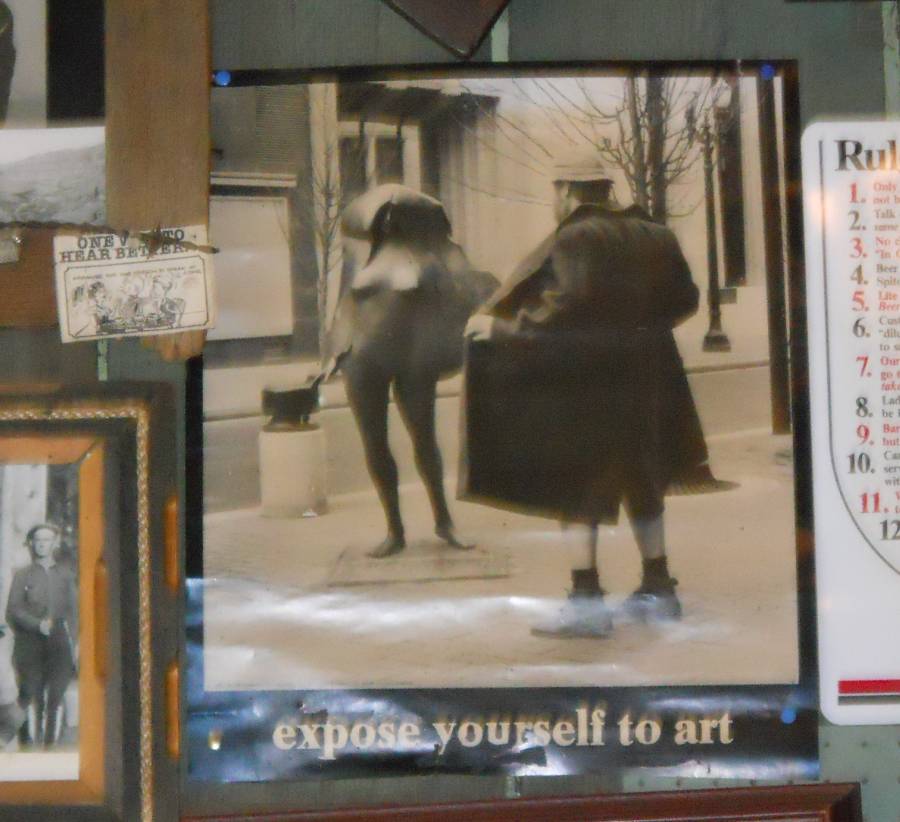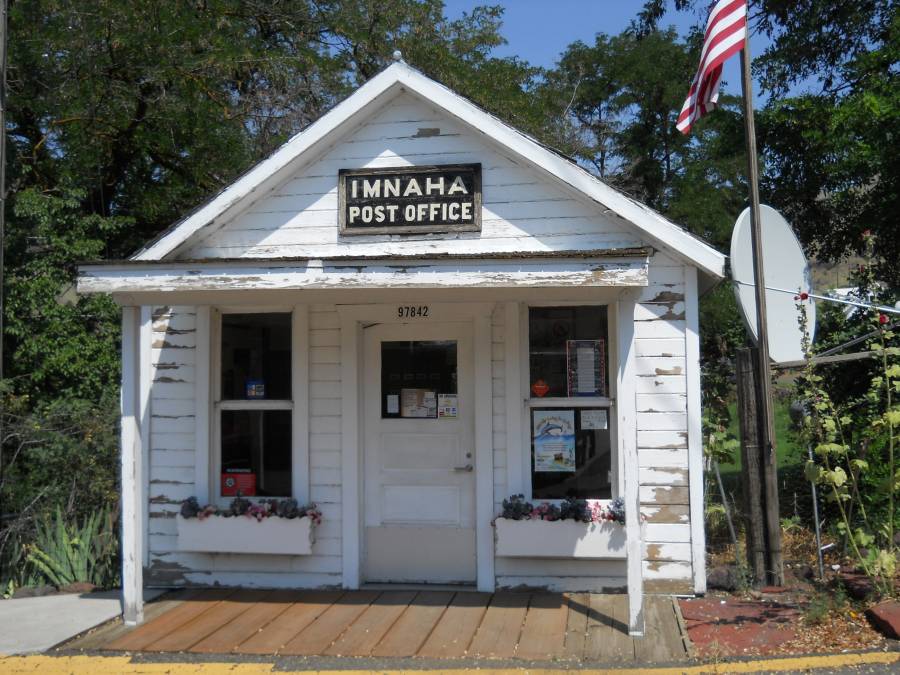 Dave and Sallie were the owners the last time I was here and were some very nice people.
I was saddened to learn they no longer had the store---but they still lived nearby and visited often.
Wish I could have seen them again.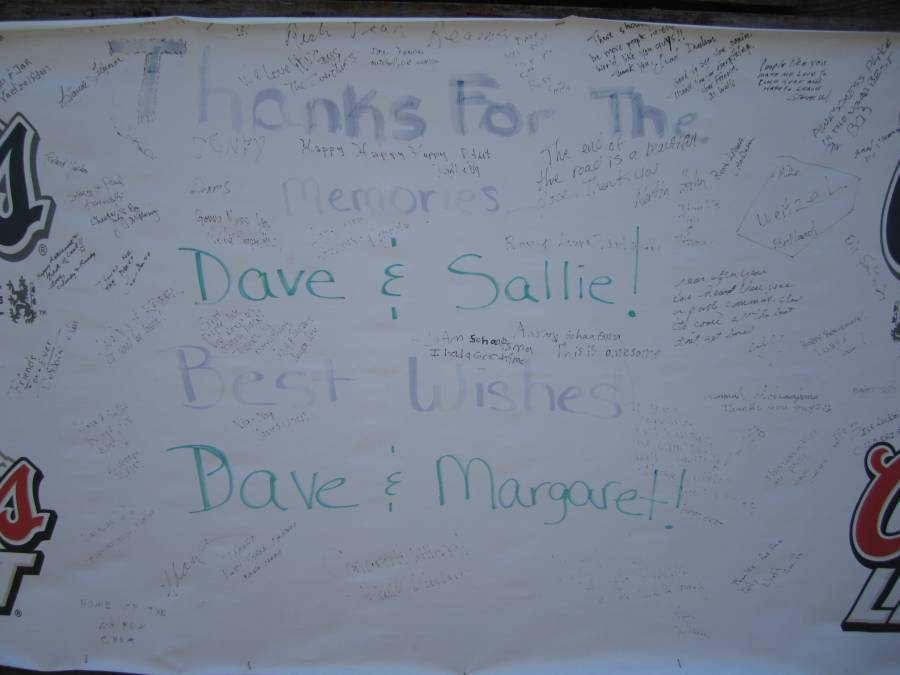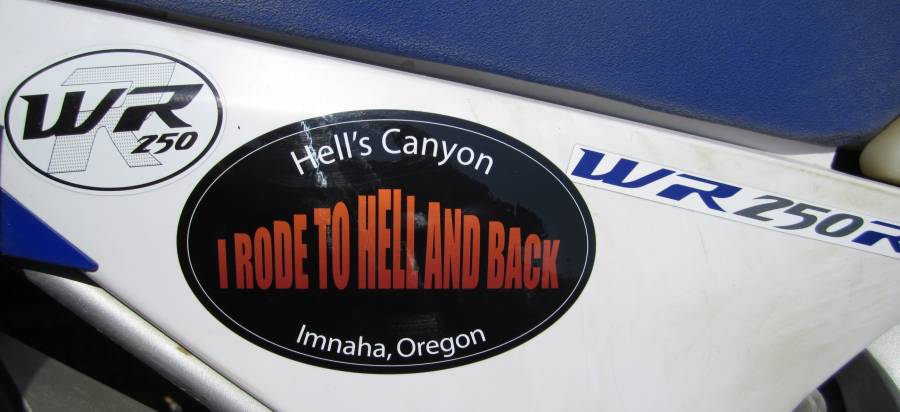 It's a 32 miles one-way dead end road down to the bottom of Hell's Canyon to Dugbar.
I'll shut up as you ride down with us.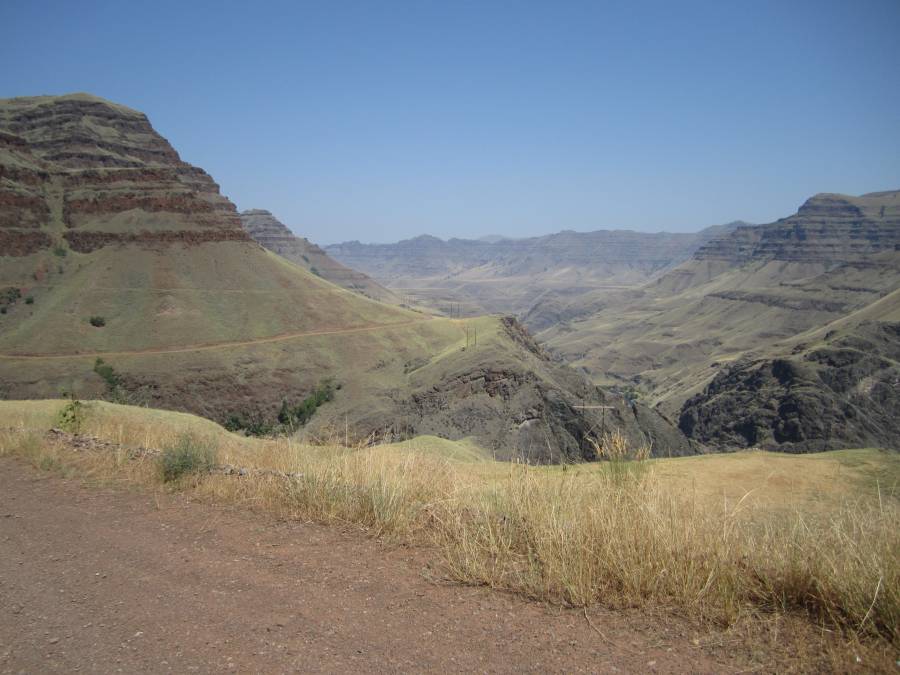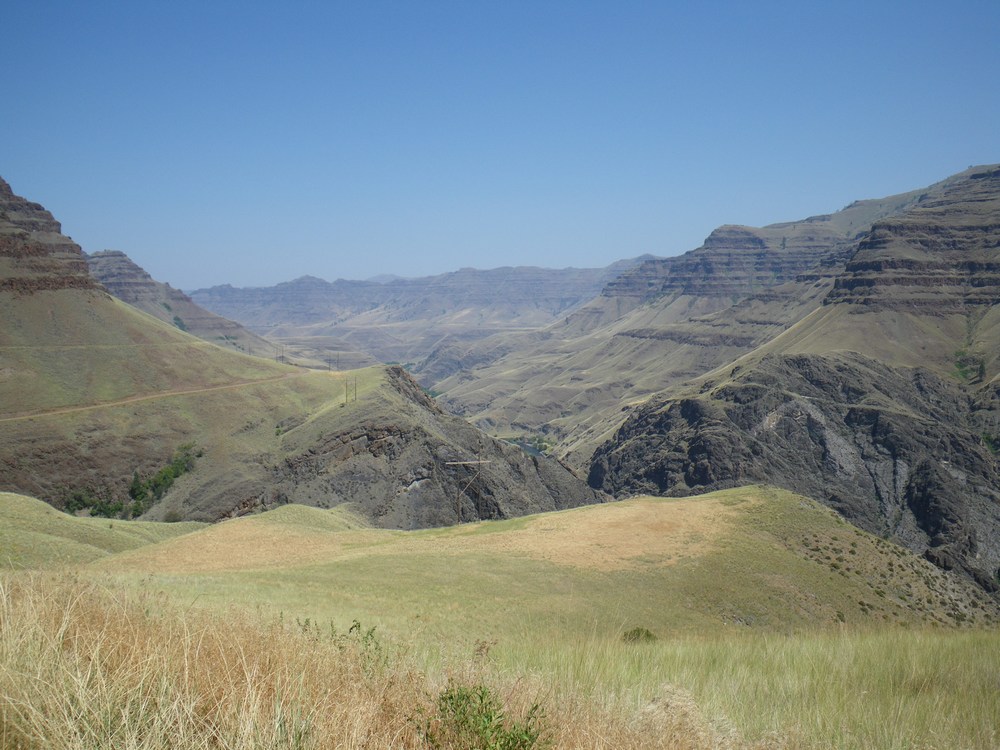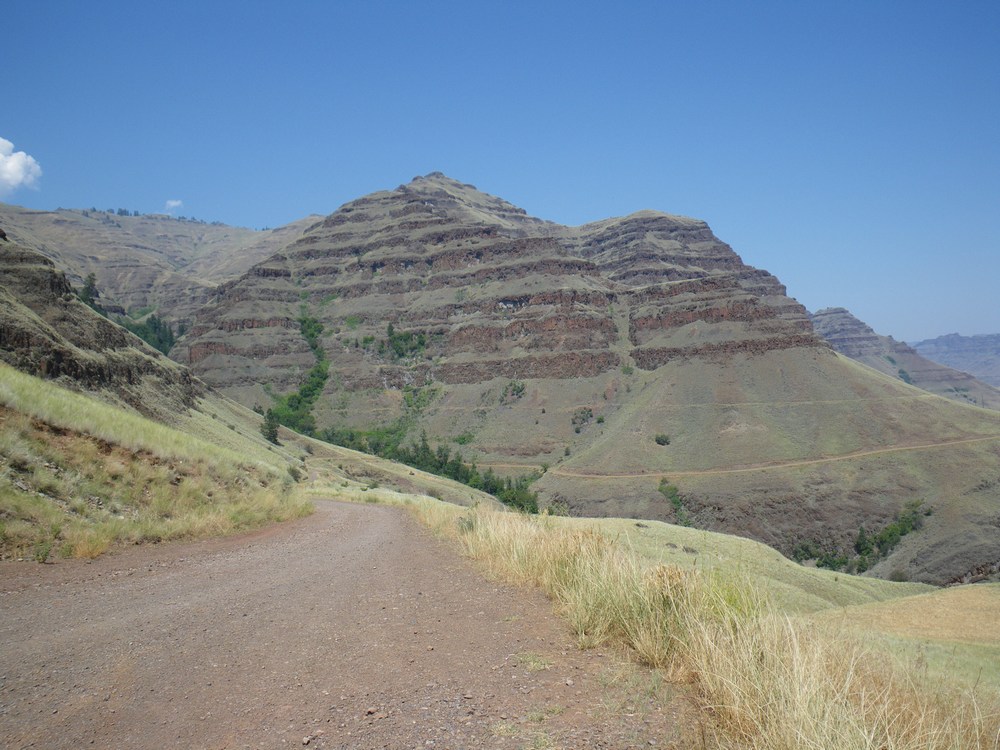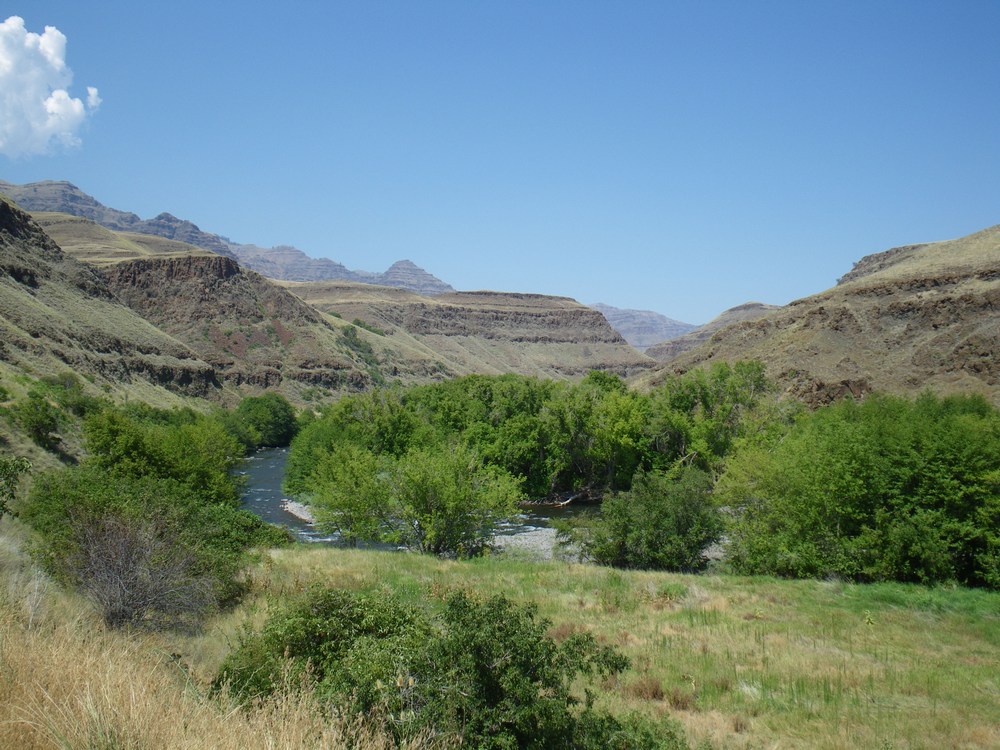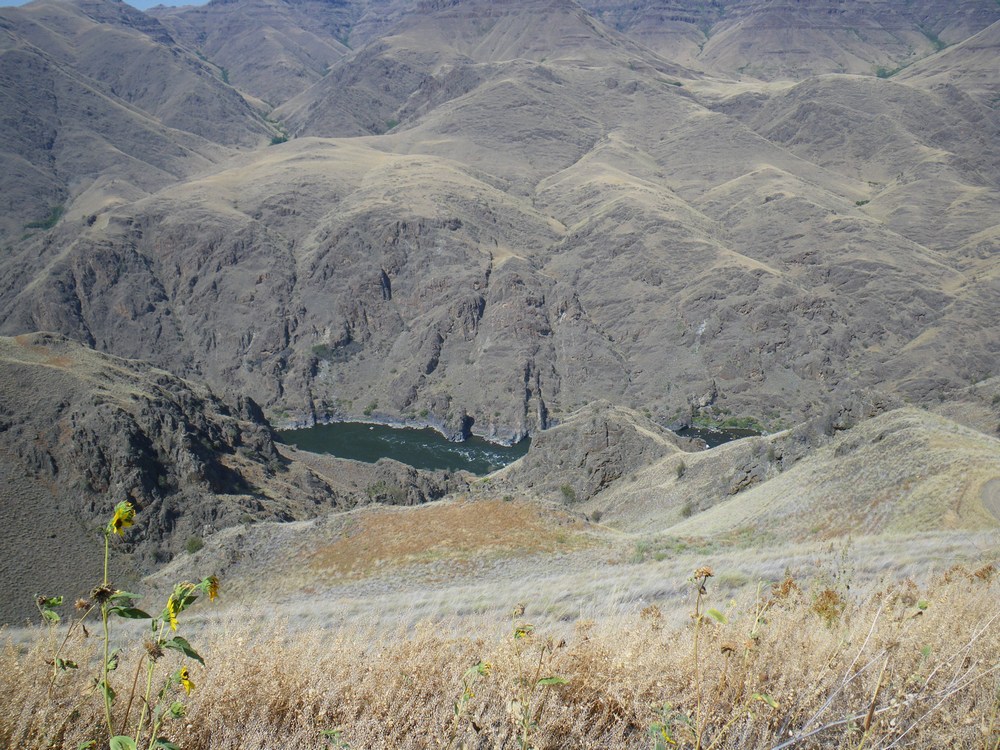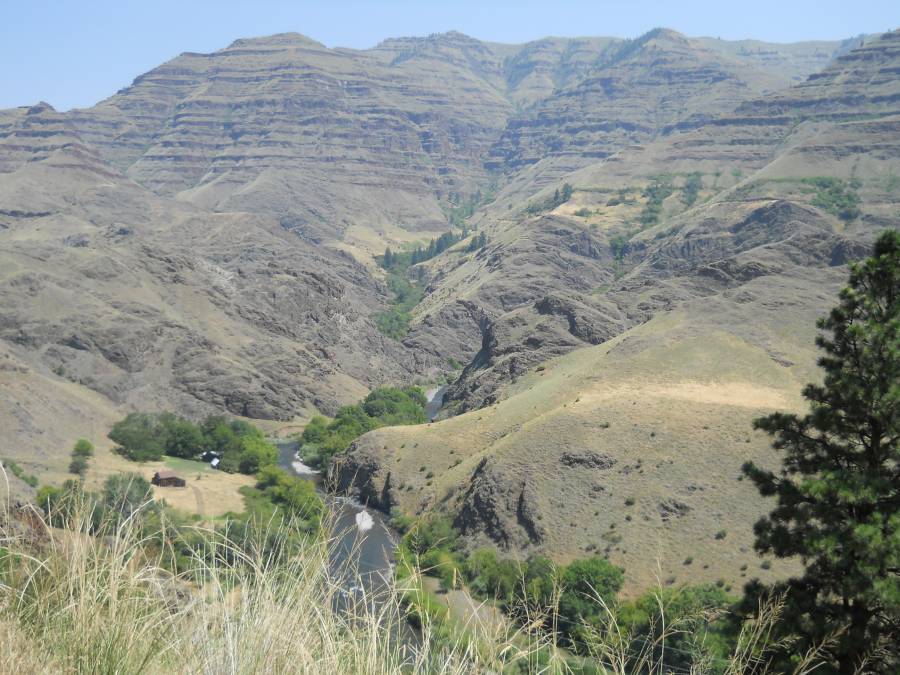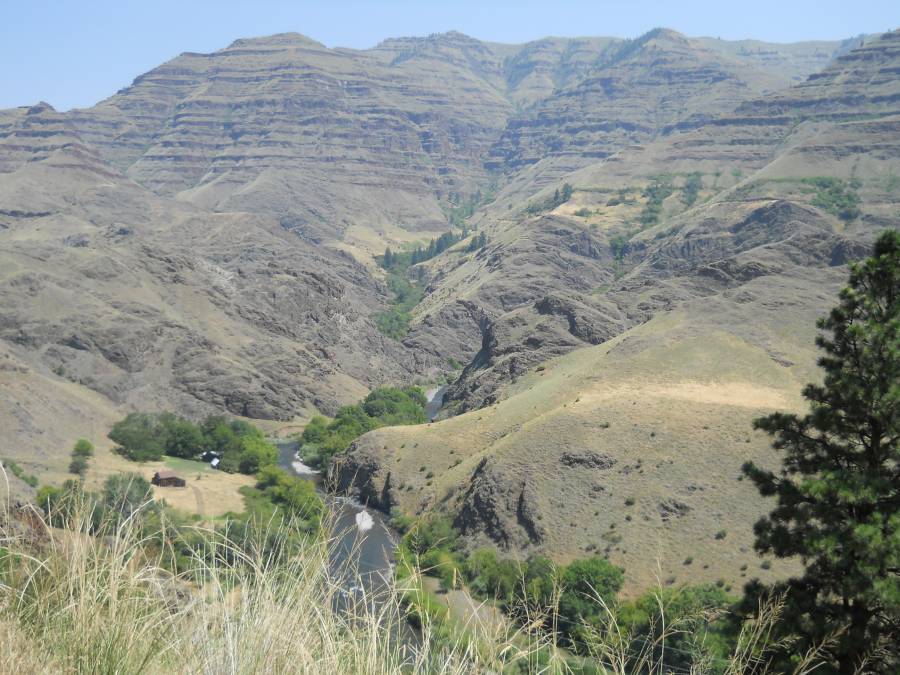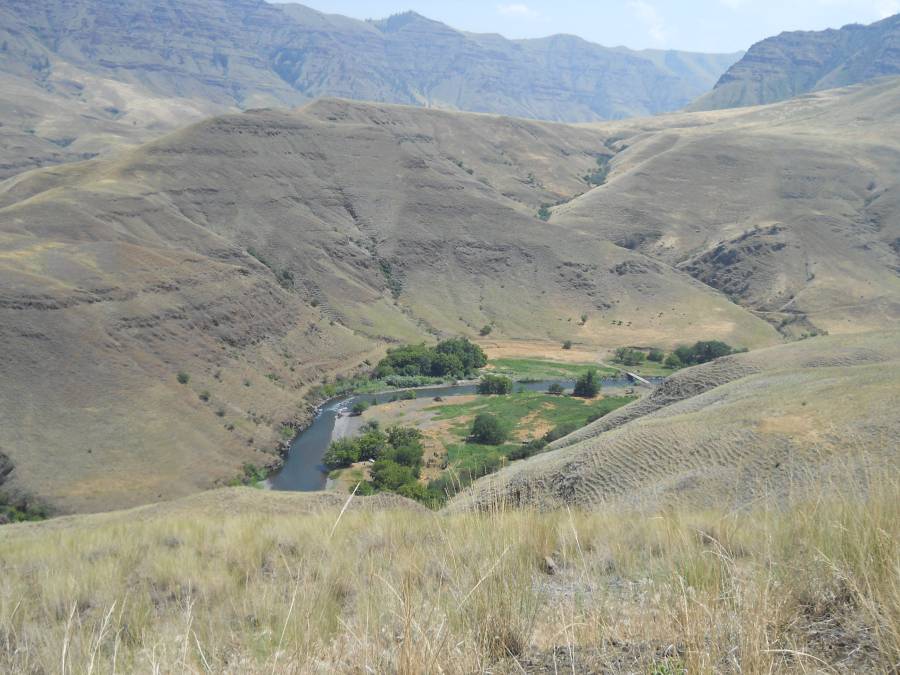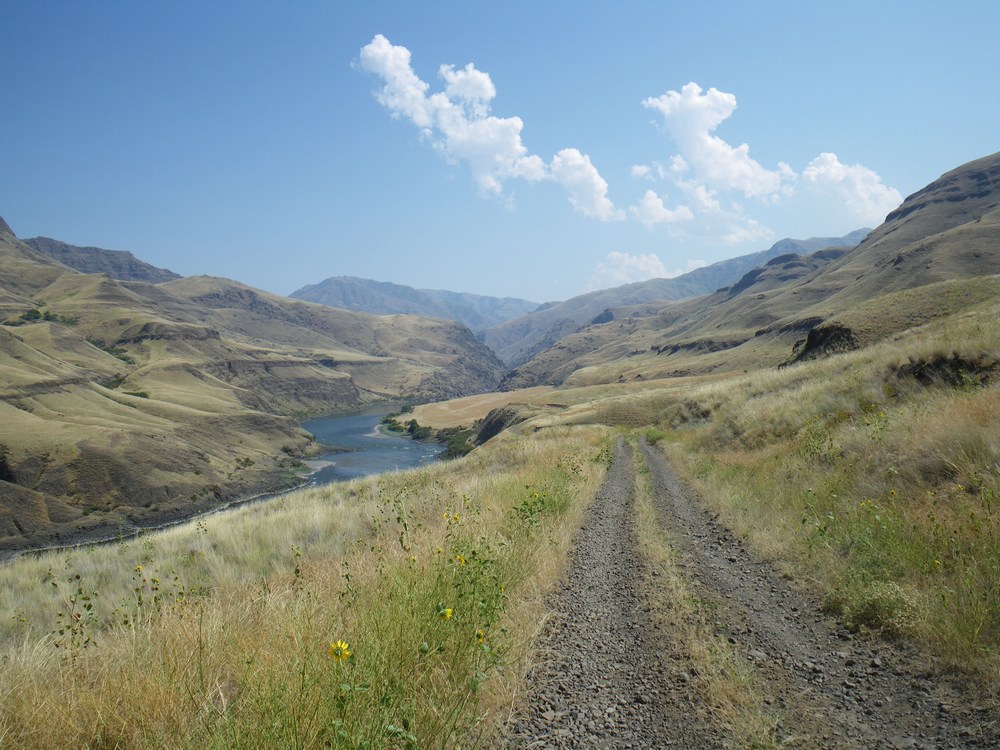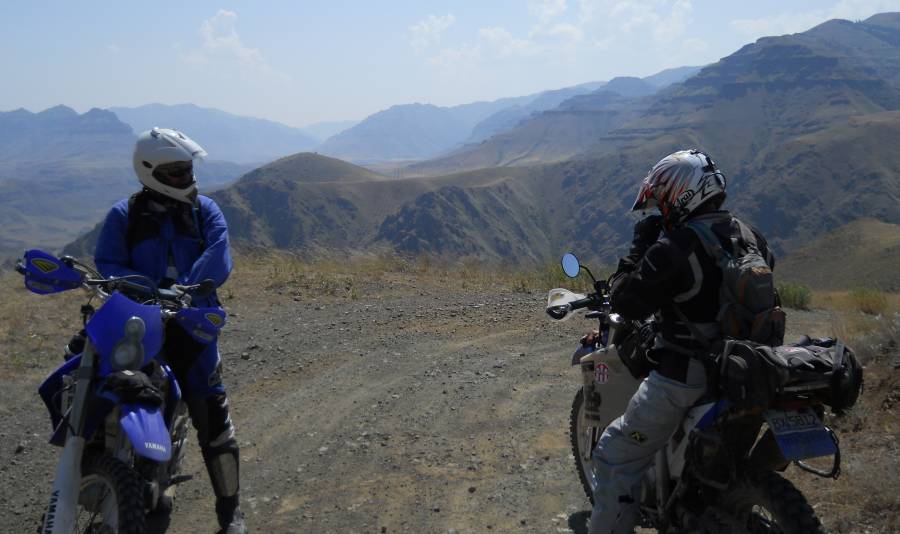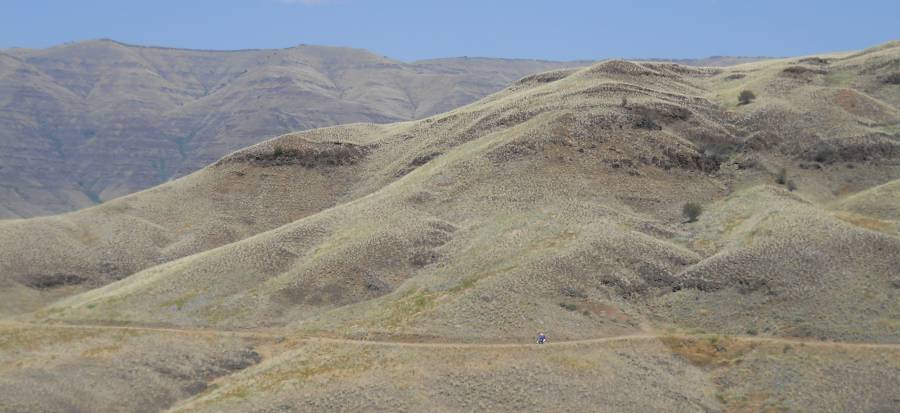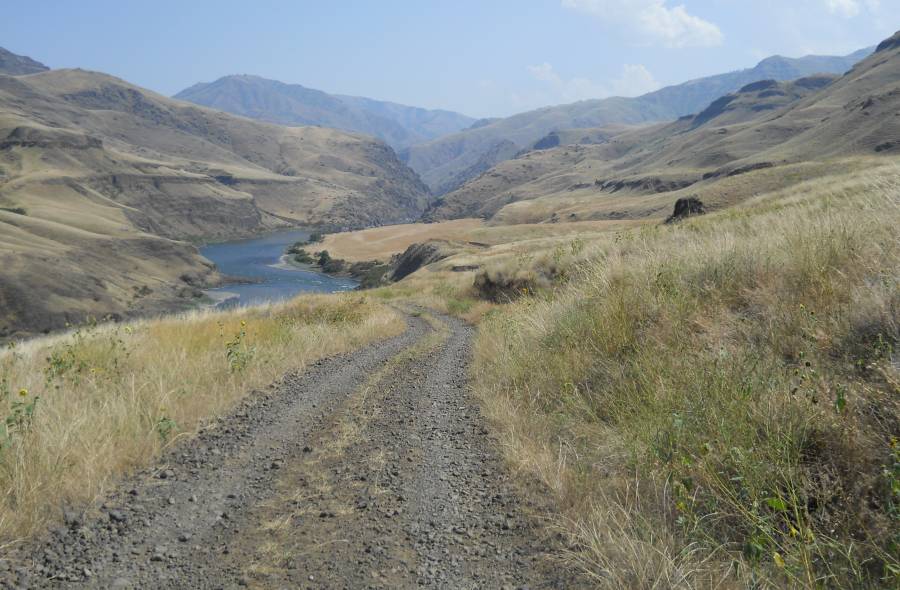 This mailbox is not on a road---the mail is delivered by boat----and the mailbox faces the river.
Cept---there ain't nobody there to get mail--or much else.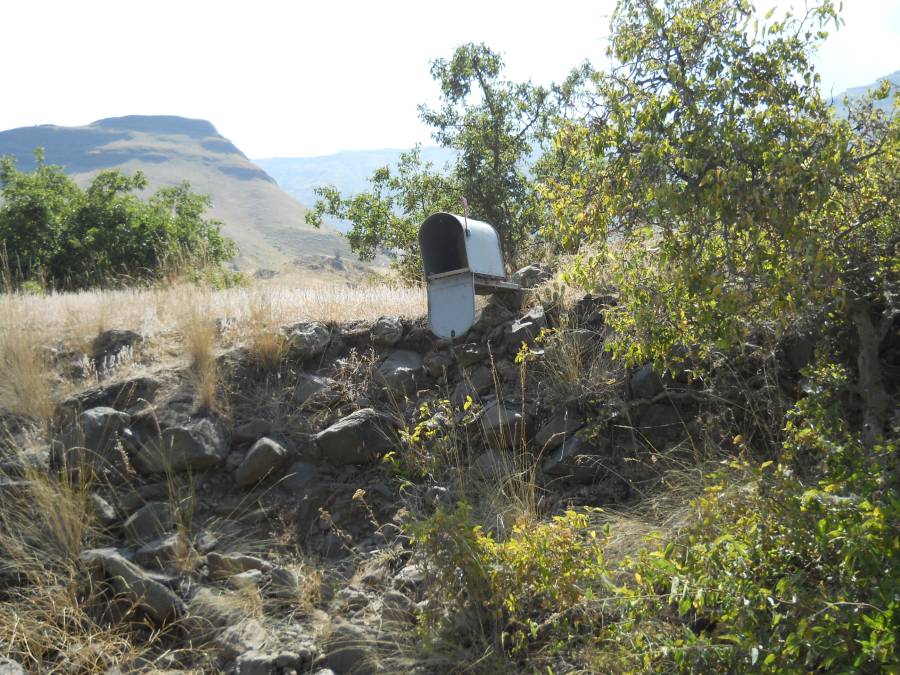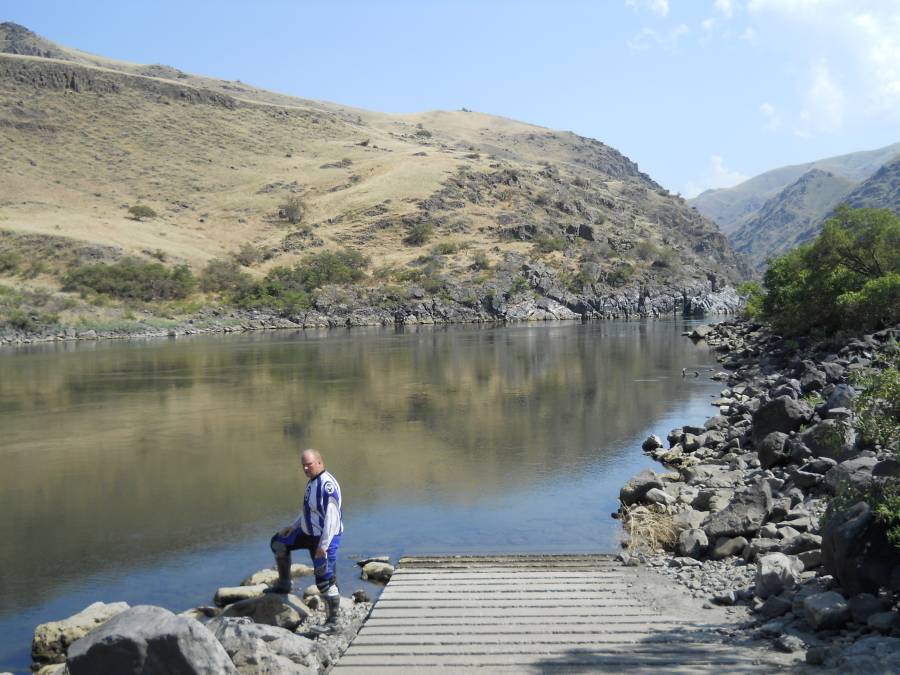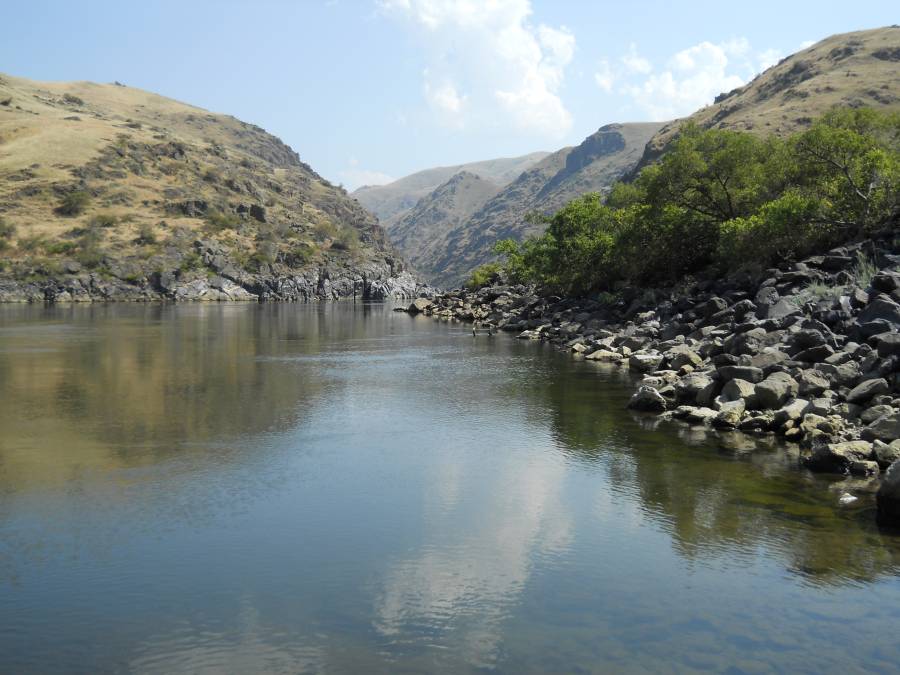 We we all got back to our little cabin for the night in Imnaha we got to enjoy a magnificent hail storm.
It was amazing-----glad we were out of it--it lasted for 30 minutes.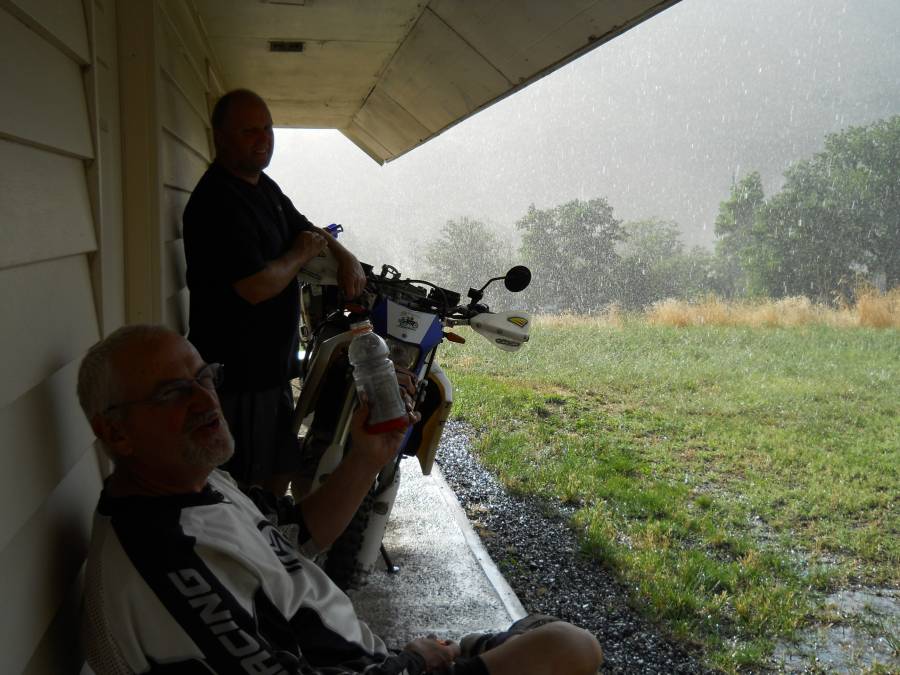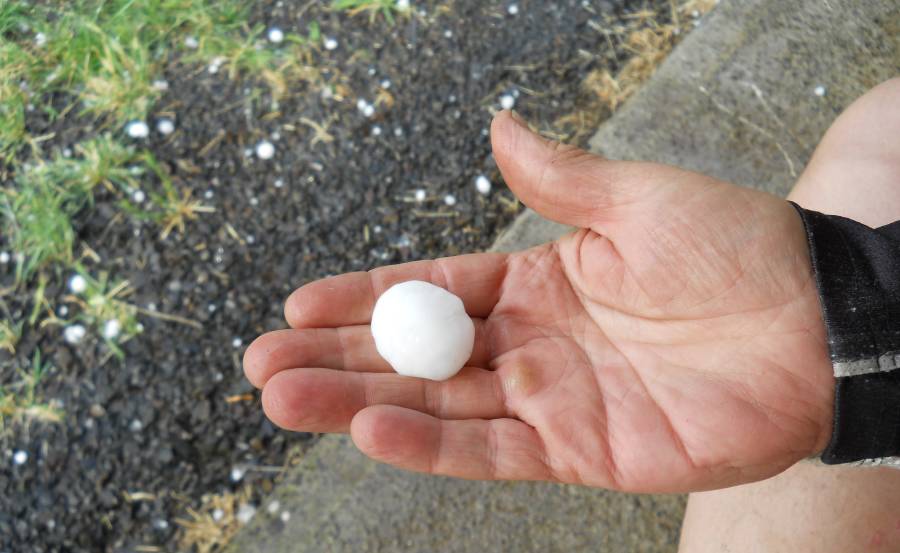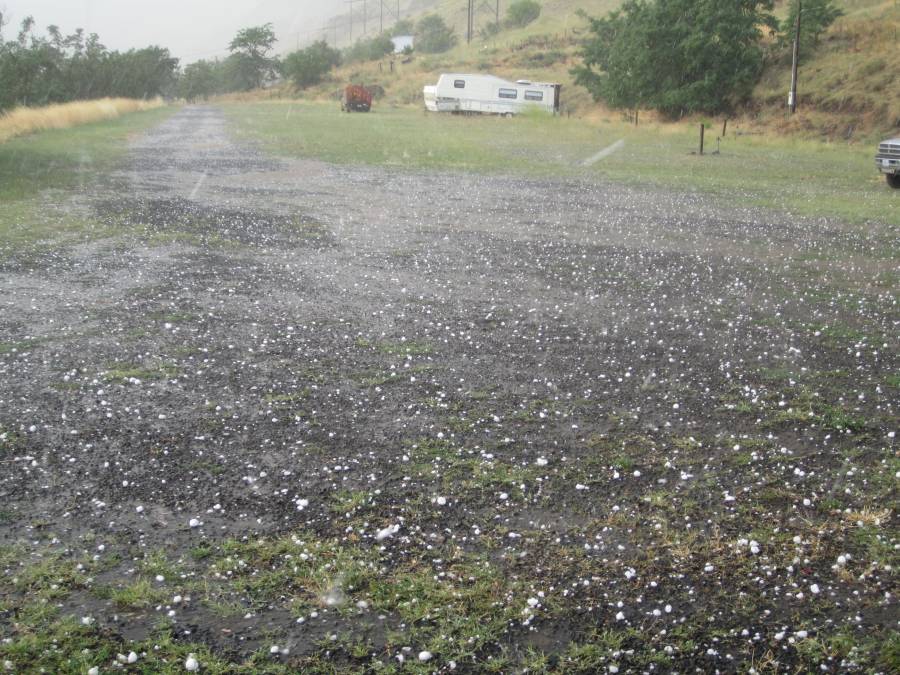 About 200 Miles for the day.
Day 21
8-6-10
Imnaha, Oregon to Jordan Valley Idaho
We headed South out of Imnaha, Oregon-----a hard town to leave and ran right along the Imnaha river
on a slightly damp road with no dust----this runs right thru Hell's Canyon Recreation area.
This whole area is a fantastic area for the adventure rider to visit and explore around as it's not
your usual touristy place. Just dirt roads---you won't find any paved roads, motor homes and only 3 rooms
to be had in the whold area. And a lot of the roads aren't suitable for a low clearance vehicle.

And no KOA-------THE DEATH OF CAMPING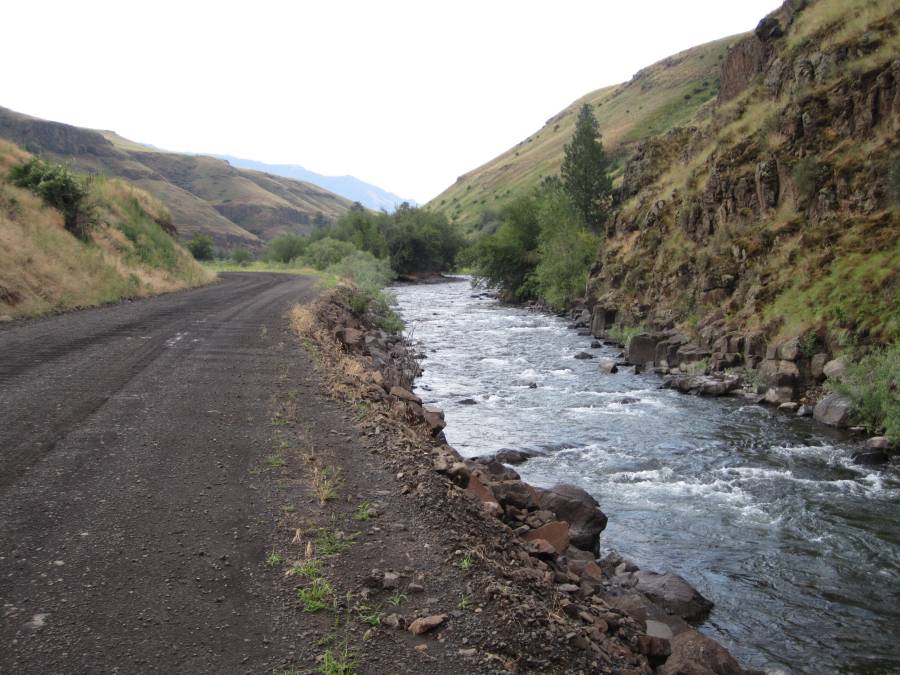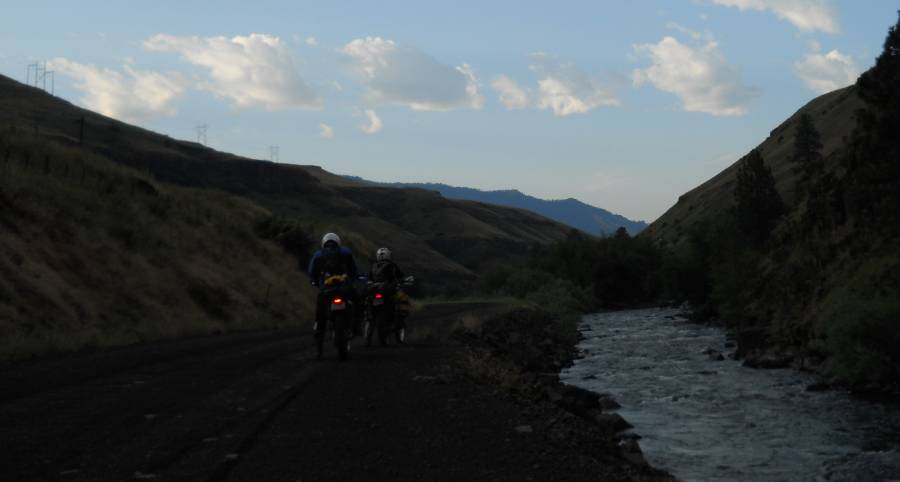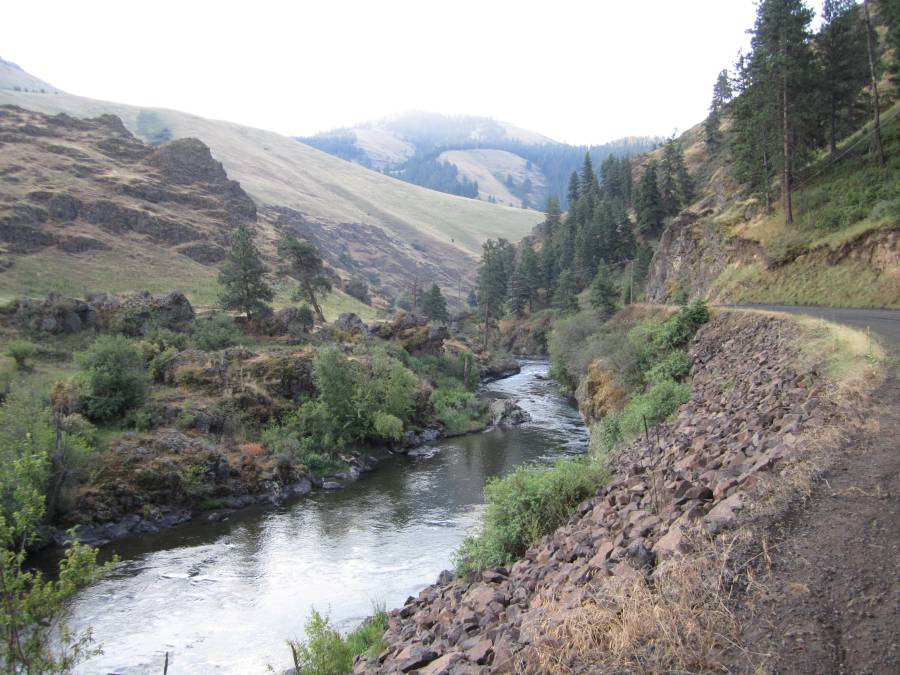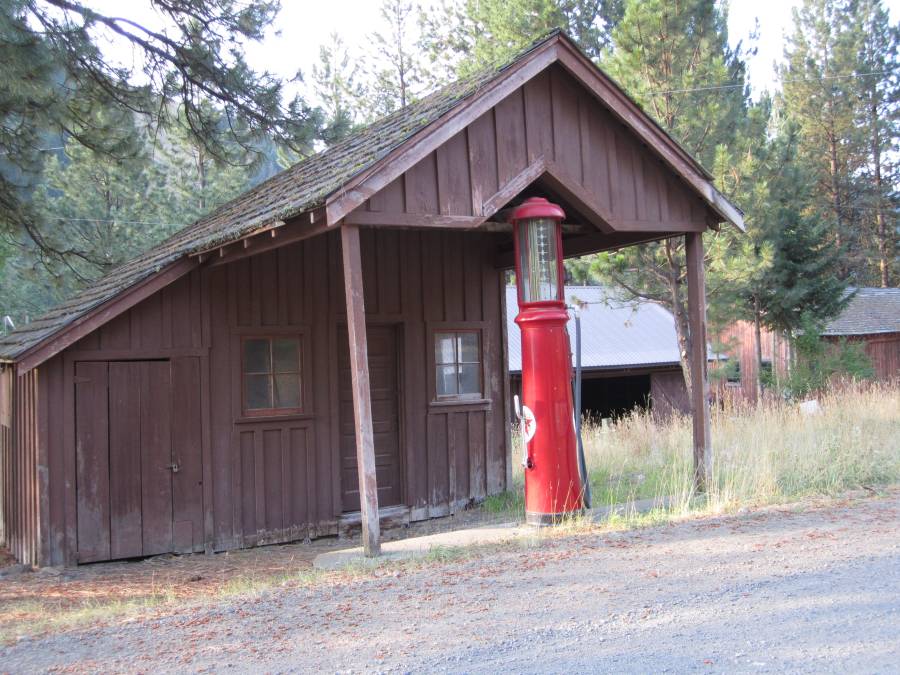 The next few pictures we ride Hess road down the mountains to the Snake River again.
This is a very steep descent in places.
It wasn't long ago some gal was on here 650 BMW and got to sliding down this mountain
and ran off the road and had to be rescued----I don't think she got hurt, but she needed help to get
her bike back on the road.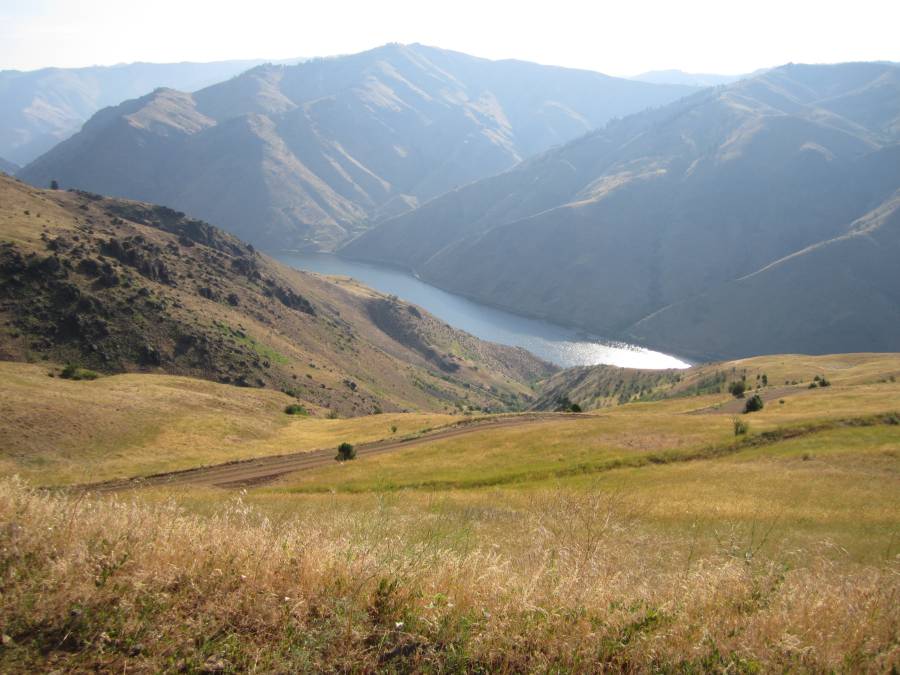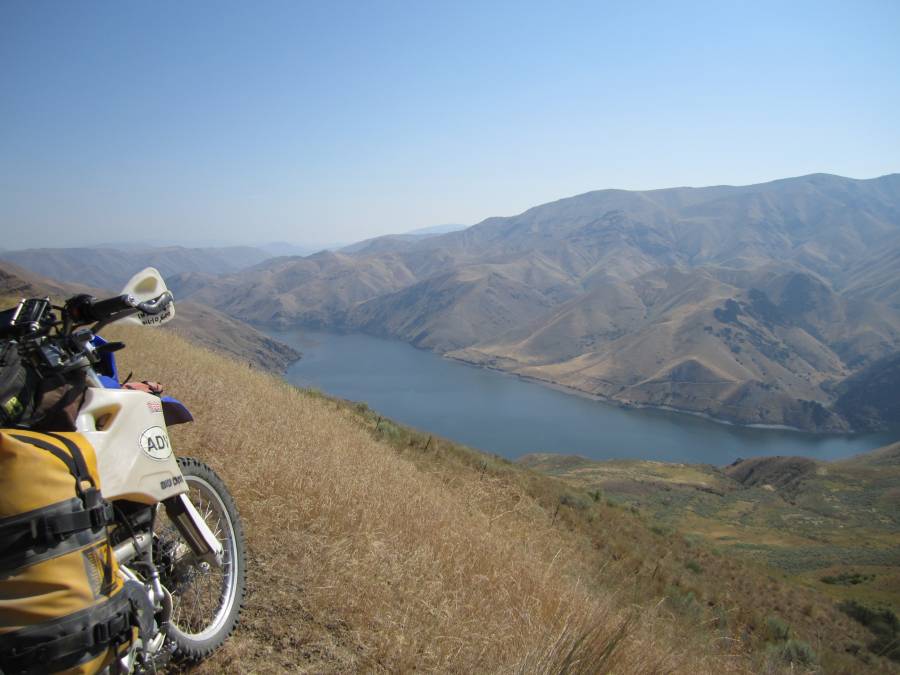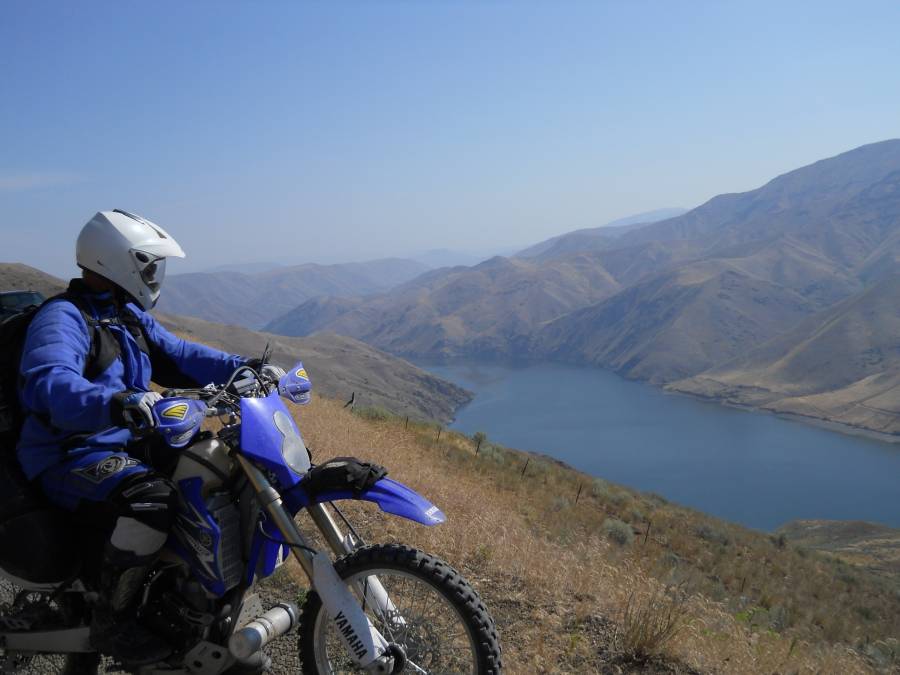 I'm not sure--but I think this was the little town of Huntington, Oregon where we ran across this nice fellow
and he was dry docked----and he wasn't goning to be satisfied till he got this thing in the water.
The boat was a reproduction but was in very bad shape---and this nice guy has made it his mission in
life to get in back in the water. I never met a more enthusiast fellow in my life.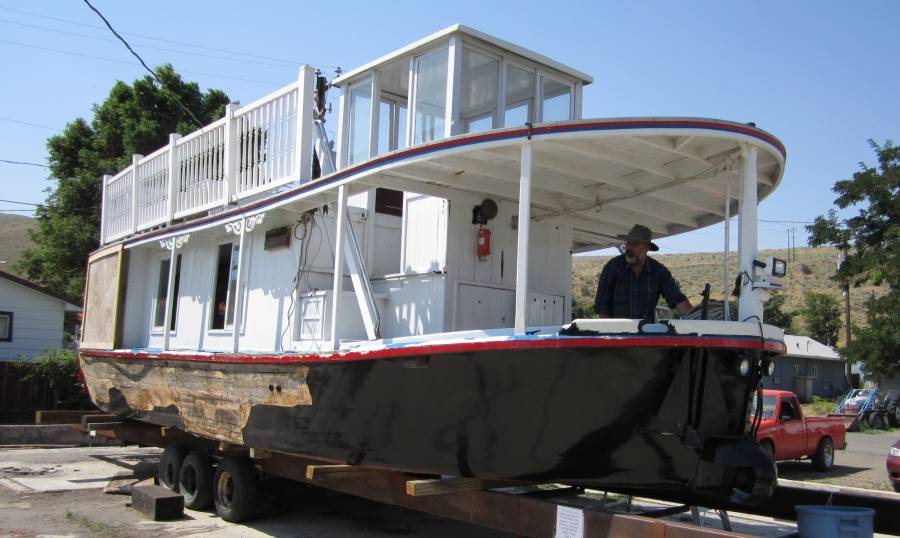 The boat is no longer steam driven---it has a diesal motor that powers a hydraulic pump which in turns powers a
hydraulic motor that turns the paddle wheel.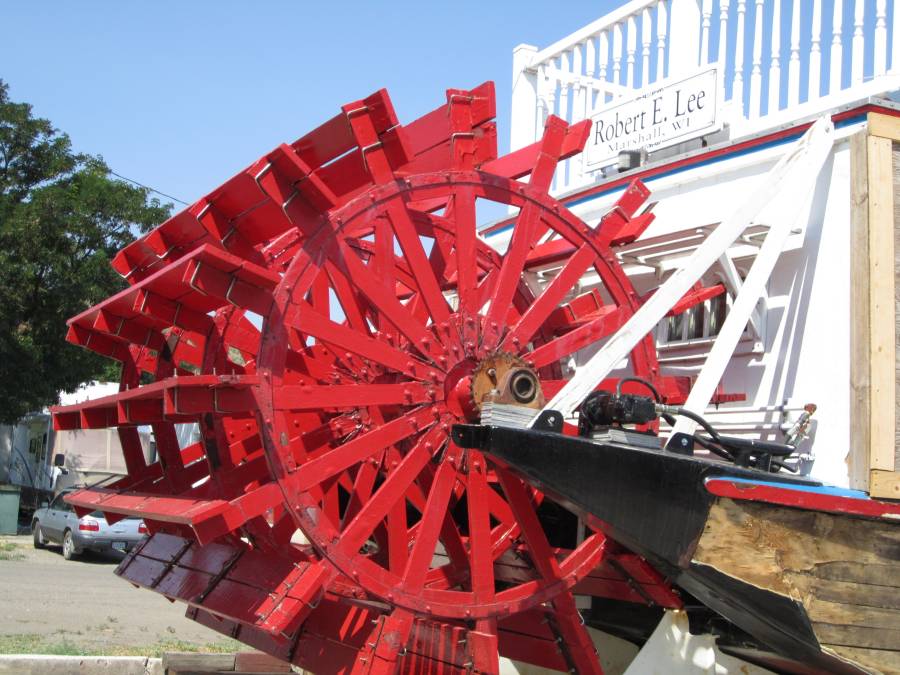 This is on the front of the boat and is a small hydraulically driven propeller that steers the boat.
I don't know if all paddle wheel boats had these--but it's what steers the thing.
It was very interesting and the nice guy told us every detail about the boat.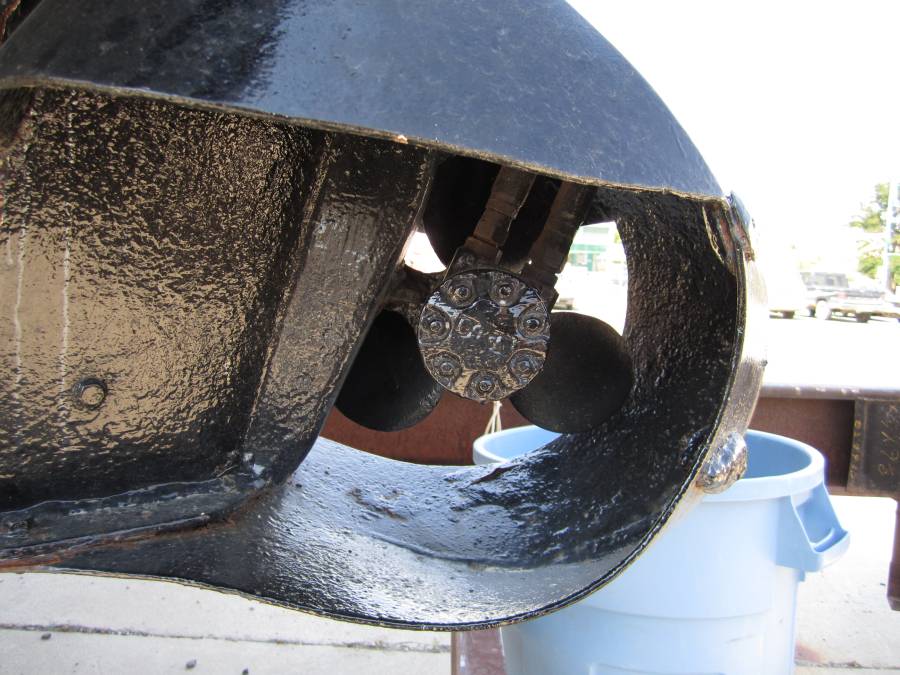 Be sure and eat here.
The people were so nice and the food was great.
I think we got a very late breakfast here.
I don' waite on breakfast to go riding---if there isn't any place to eat breakfast I either fix it myself with
my Jet-boil or ride until I come across something---and if I don't--------I don't.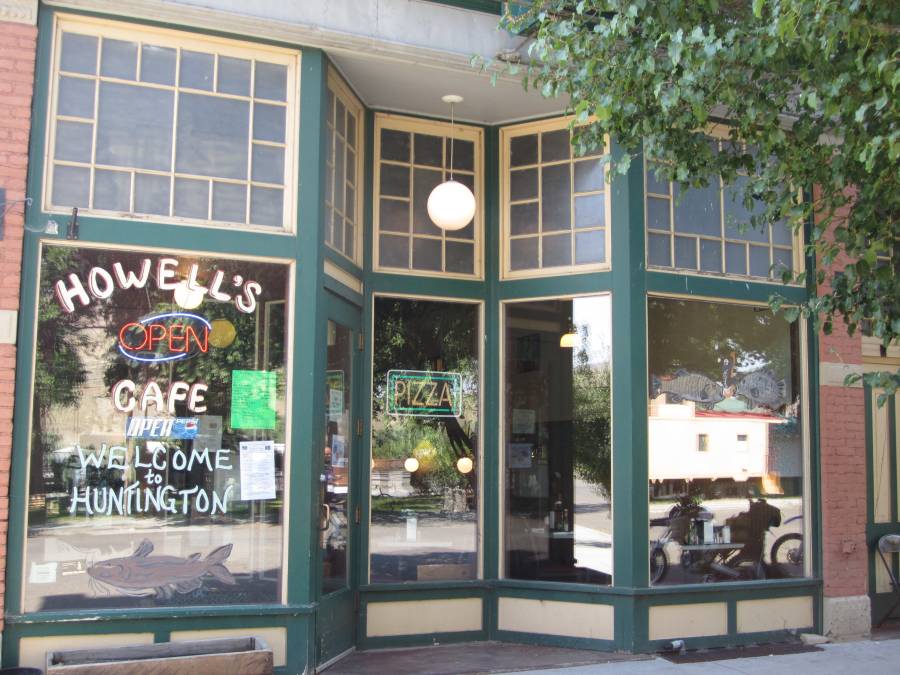 Scott found us this neat road which is called Succor Creek Road heading South and we reluctantly leave
the Snake River. We are still in Oregon.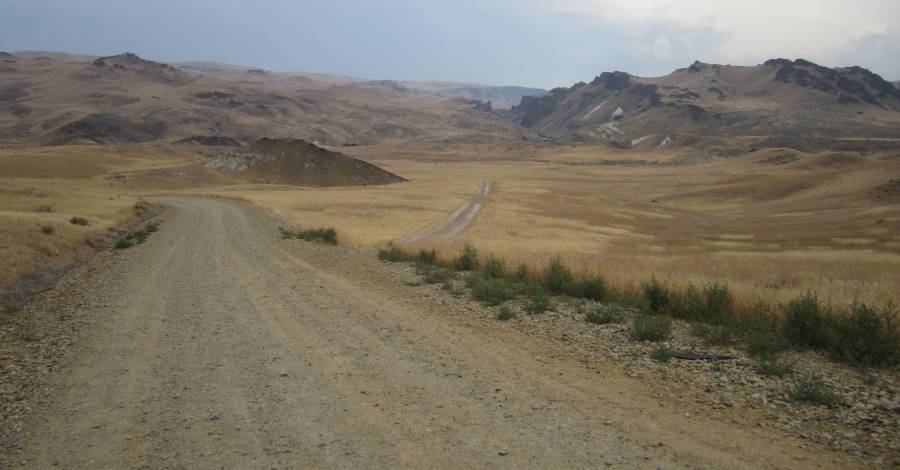 We run thru Succor Creek recreation area---and again---dirt roads and nobody.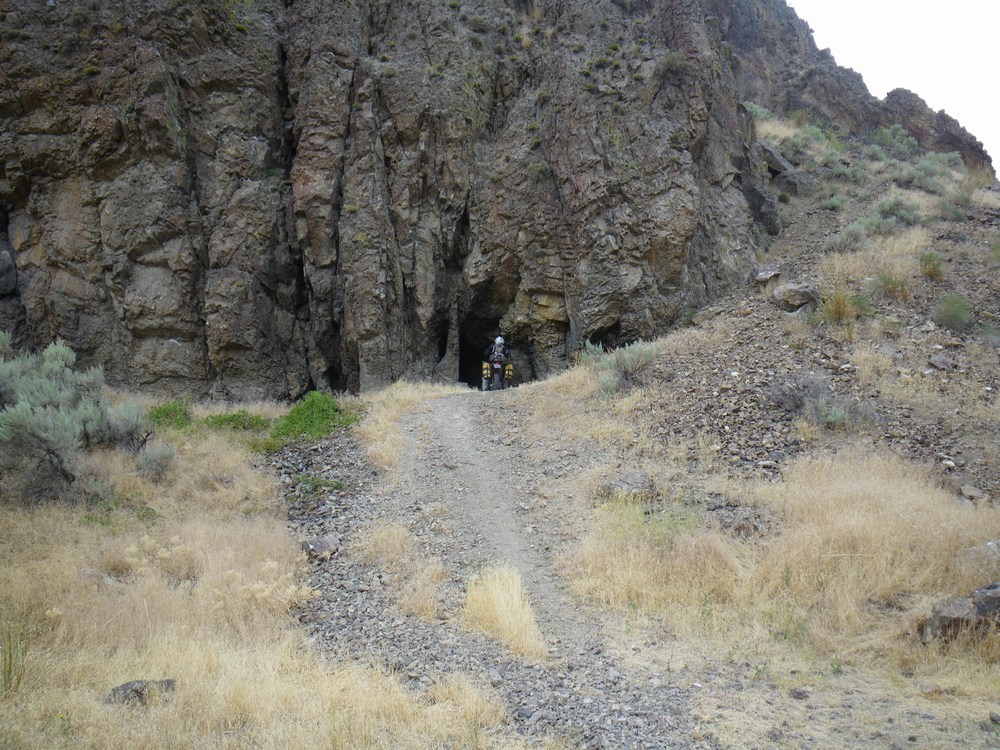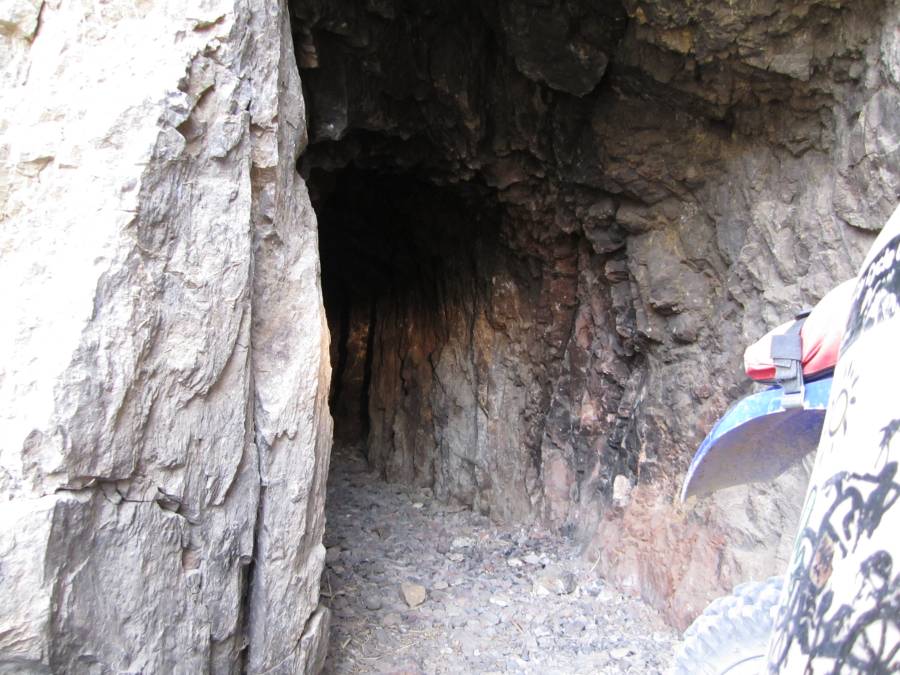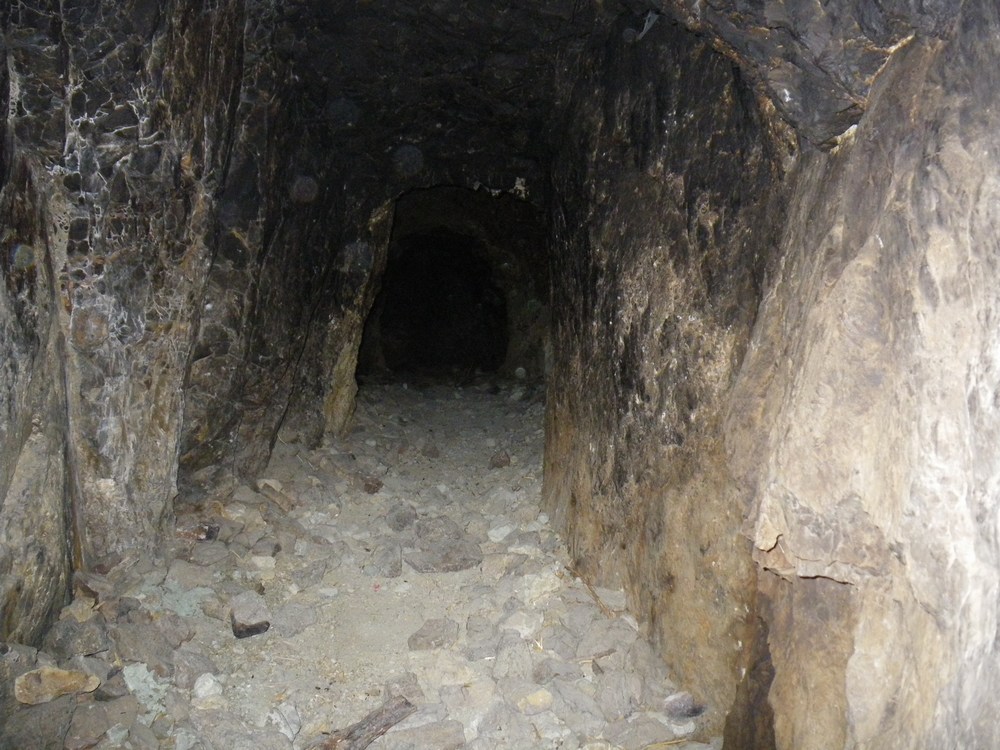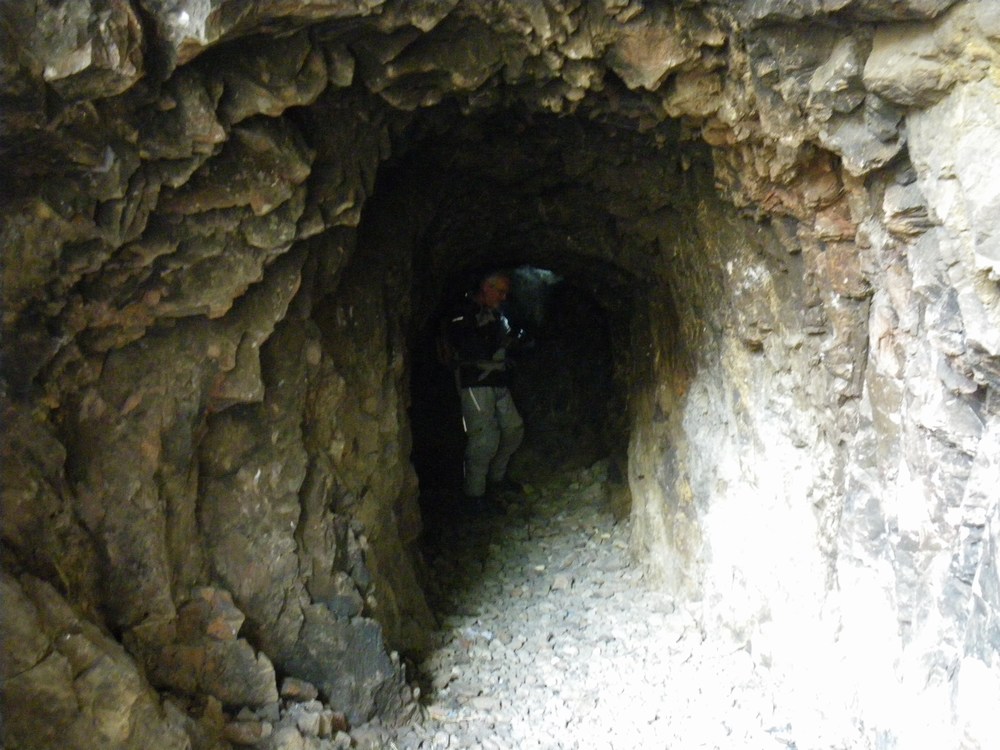 This area is a lonely treasure------don't tell anybody about it.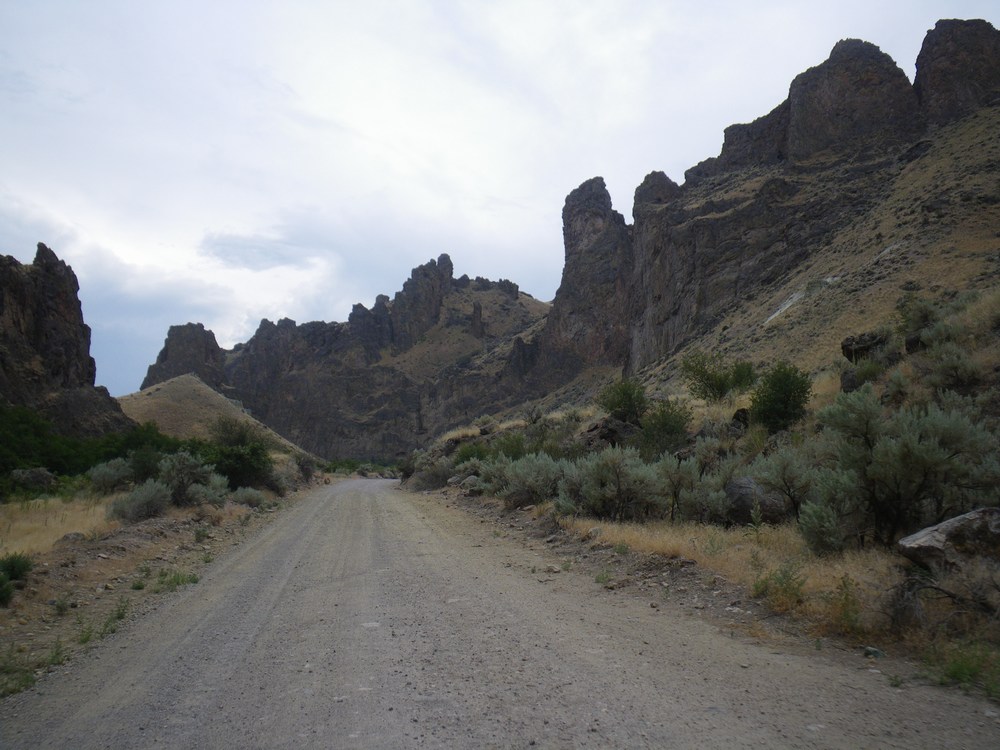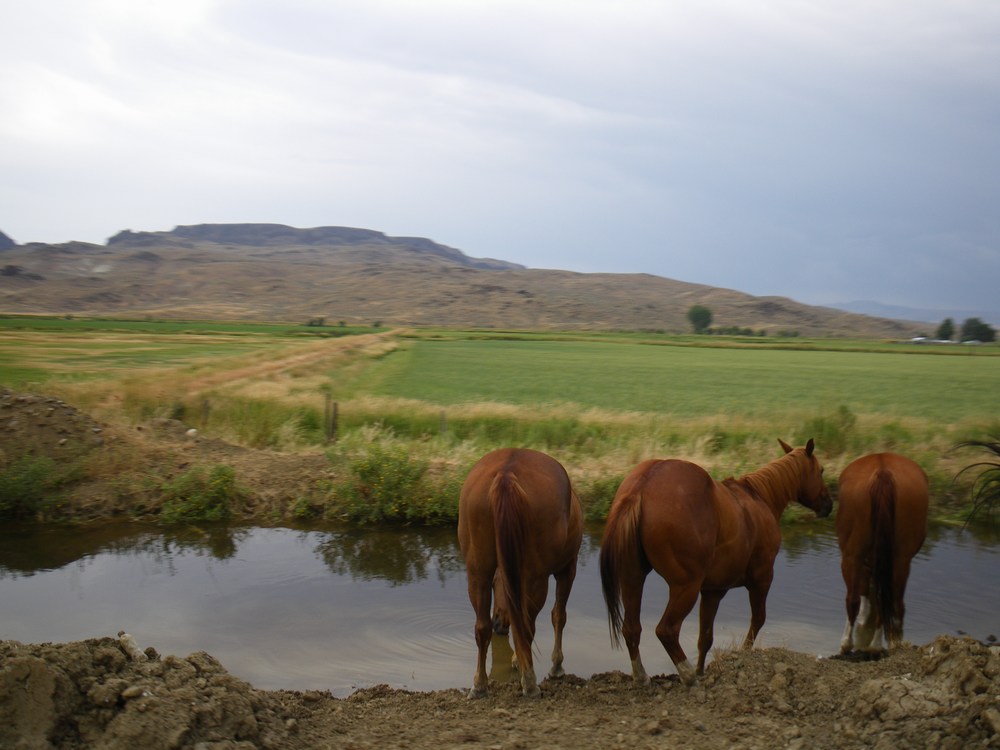 It rained everywhere except on us.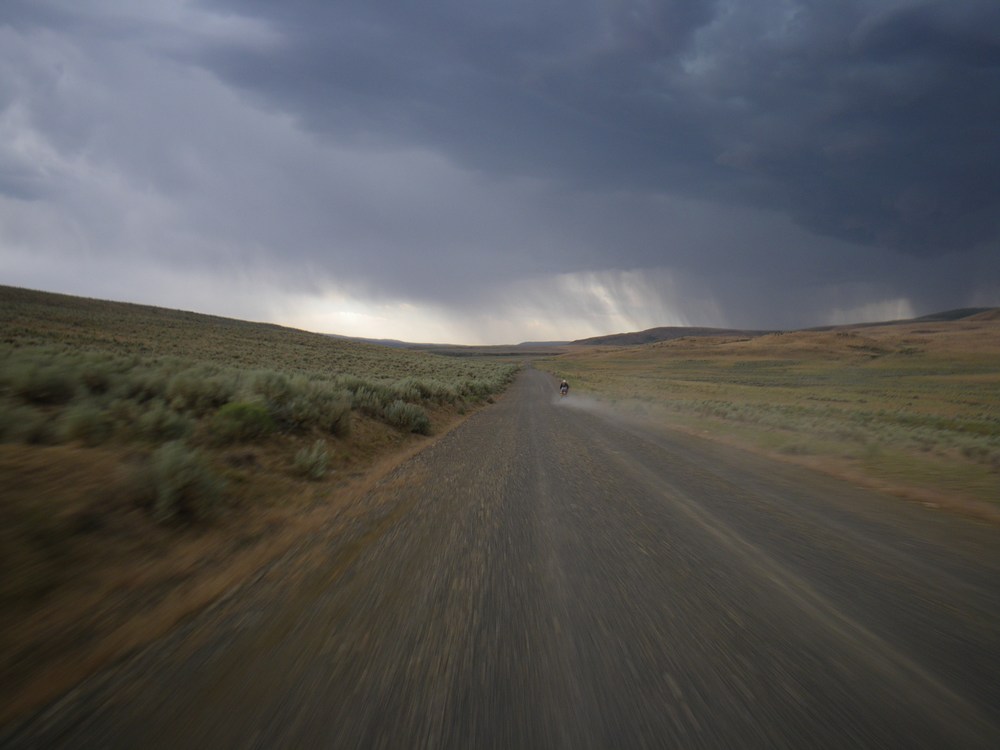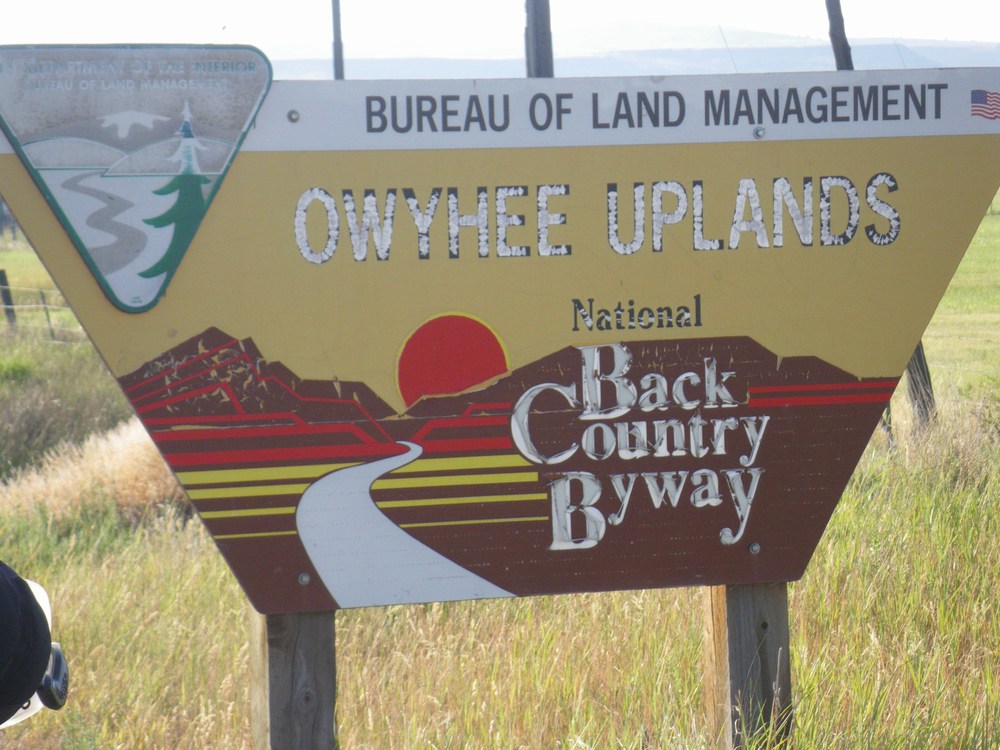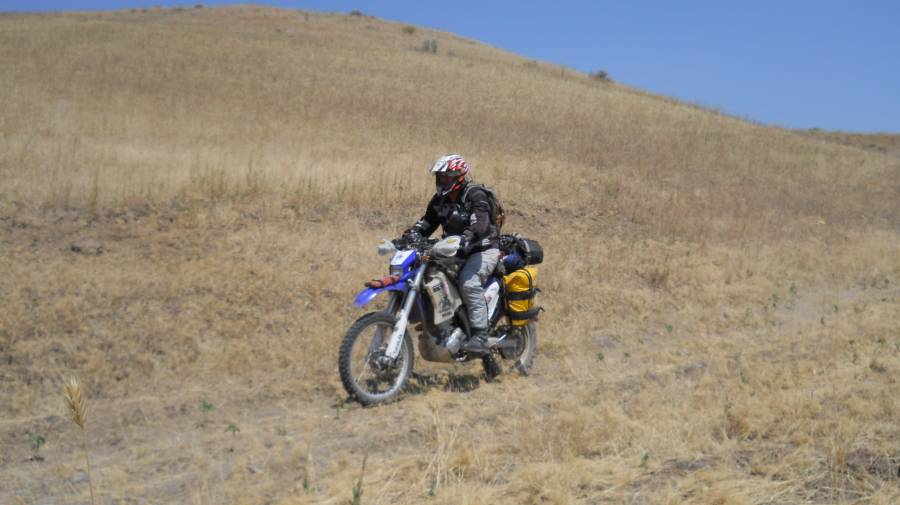 We ended up in Jordan Valley Oregon---right on the Idaho, Oregon border.
266 miles for the day.
On to Day 22
And the East West portion of the Tour Of Idaho known as T2
Click HERE