Mexico To Canada and Then Some/cont'd
Utah/Day 6
7-22-10
Page, AZ to camp at Lost Creek Lake, Utah
Today weather would be awesome as we headed North into Utah and skirted the Western edge of
the Glen Canyon Recreation area initially and turned down the "Smokey Mountain Road" towards
Escalante, Utah an all dirt route---mud when wet in places--some of the route is impassable when
wet---I'm guessing you understand that now--after our Arizona fiasco.
I will mention that a lot on this ride.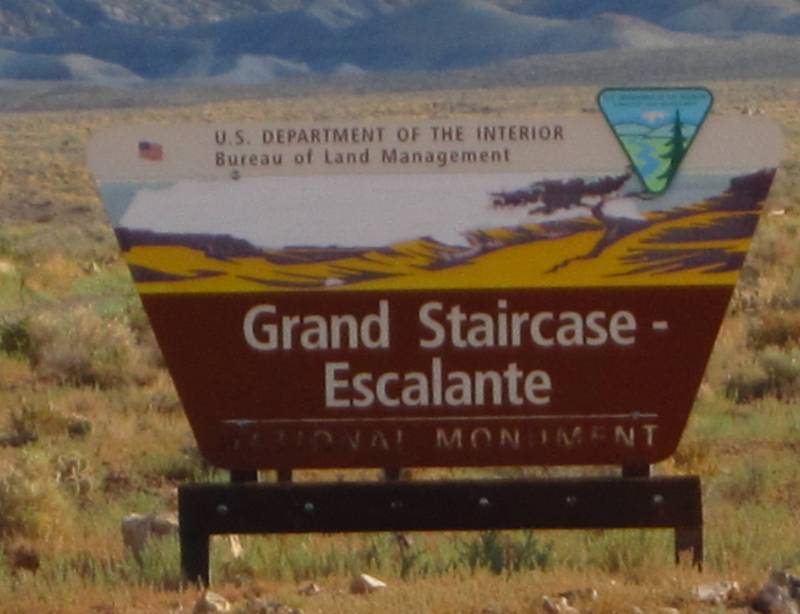 This is a very long route through here----be very prepared as there is nothing and maybe no one
out here to help you. It is an extremely beautiful ride-----extremely. I'm going to guess it's almost 90 miles of dirt
between Page, AZ and Escalante, Utah. We saw not one living soul out here--just us and the wind.
Intitially we had to slop thru this right as we got on smoky mountain road....
but never saw anymore of mud this bad.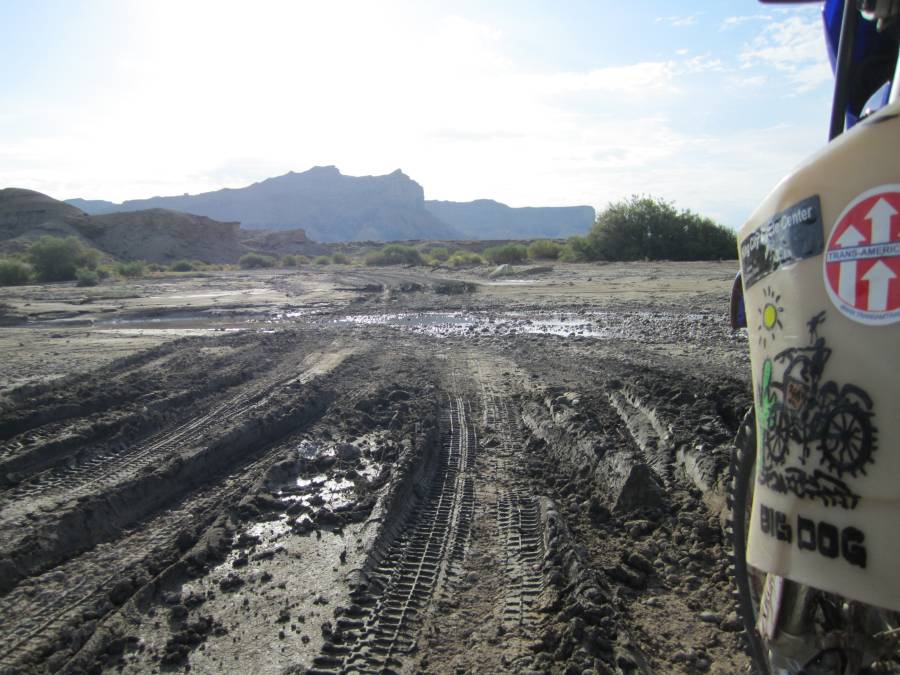 Me and Scott were running Dunlop 606's on the back and Pirelli MT21's on the front.
They did a fantastic job on this ride.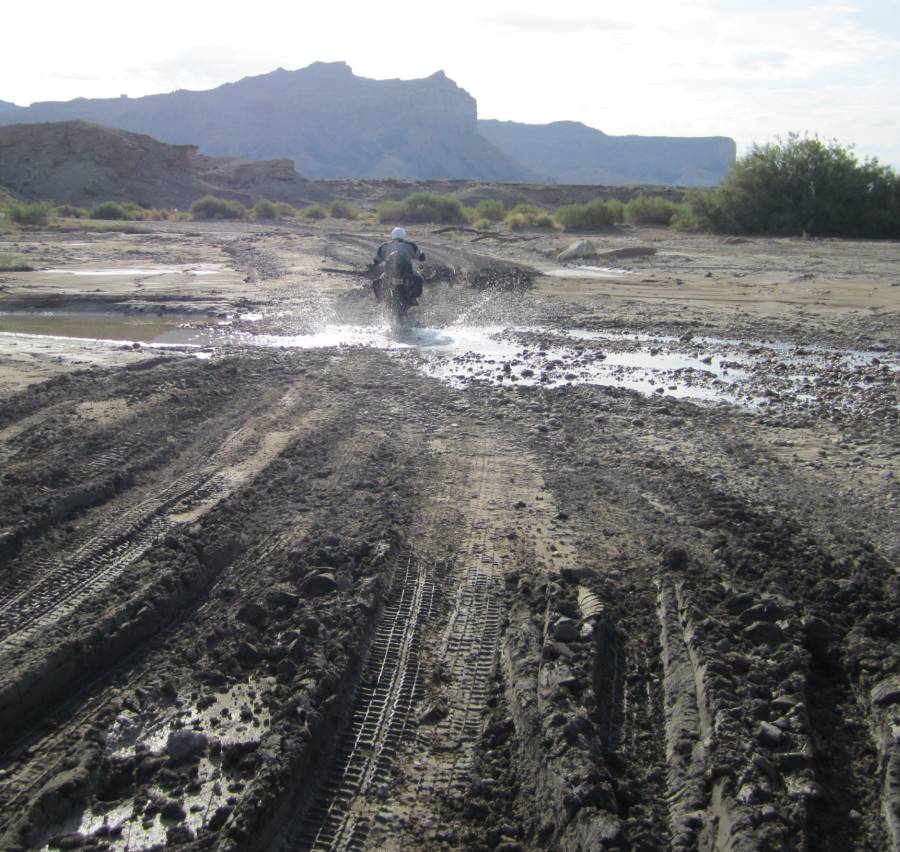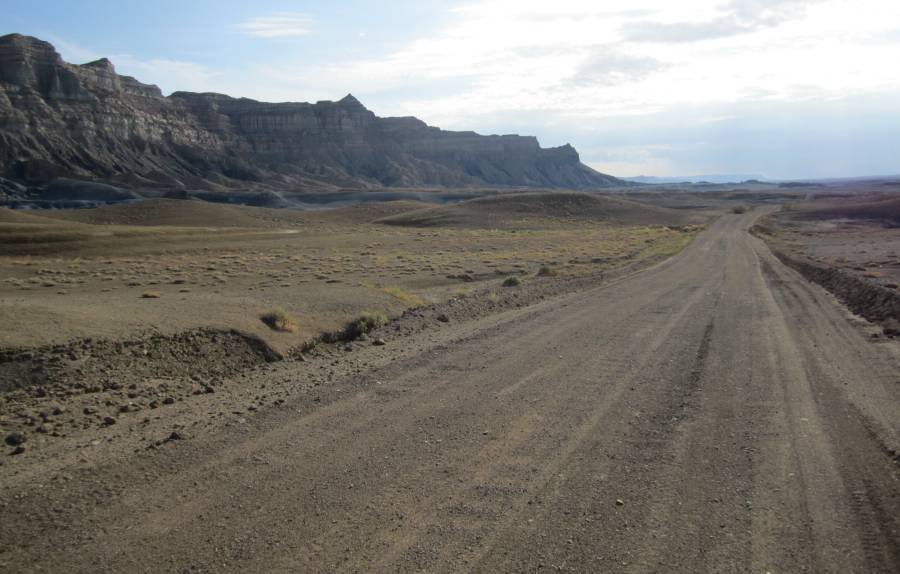 I'm going to guess we have climbed up on top of Smoky Mtn. in this picture.
It's elevation is 5,761ft.
This is looking back the way we came.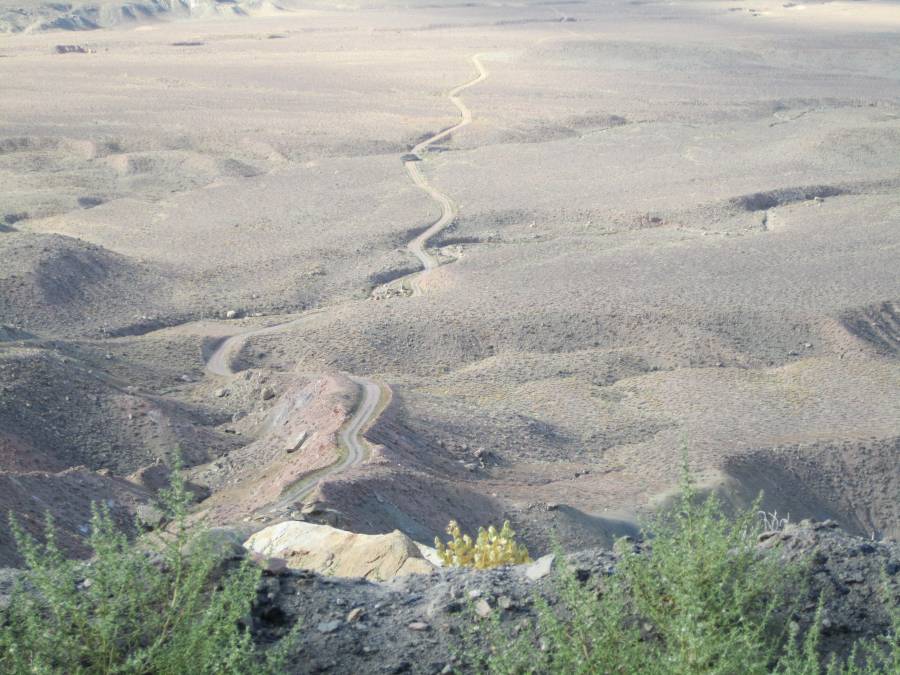 The deep red canyons opened up for us.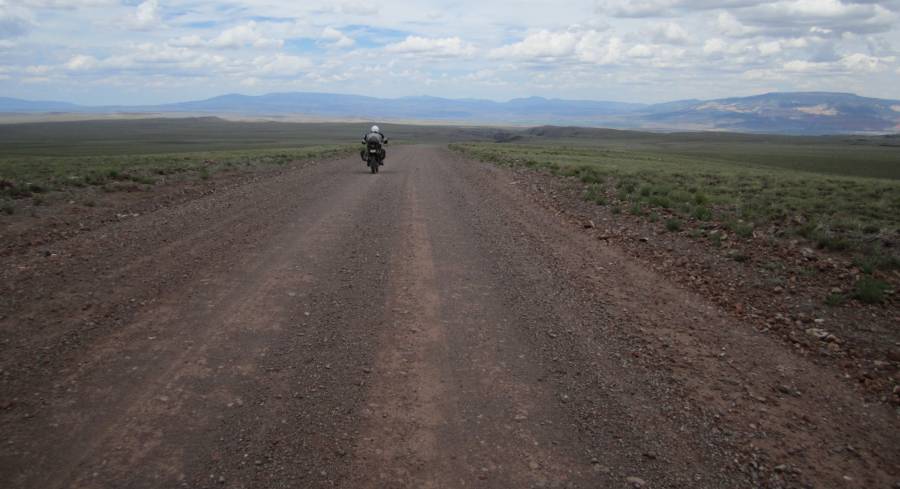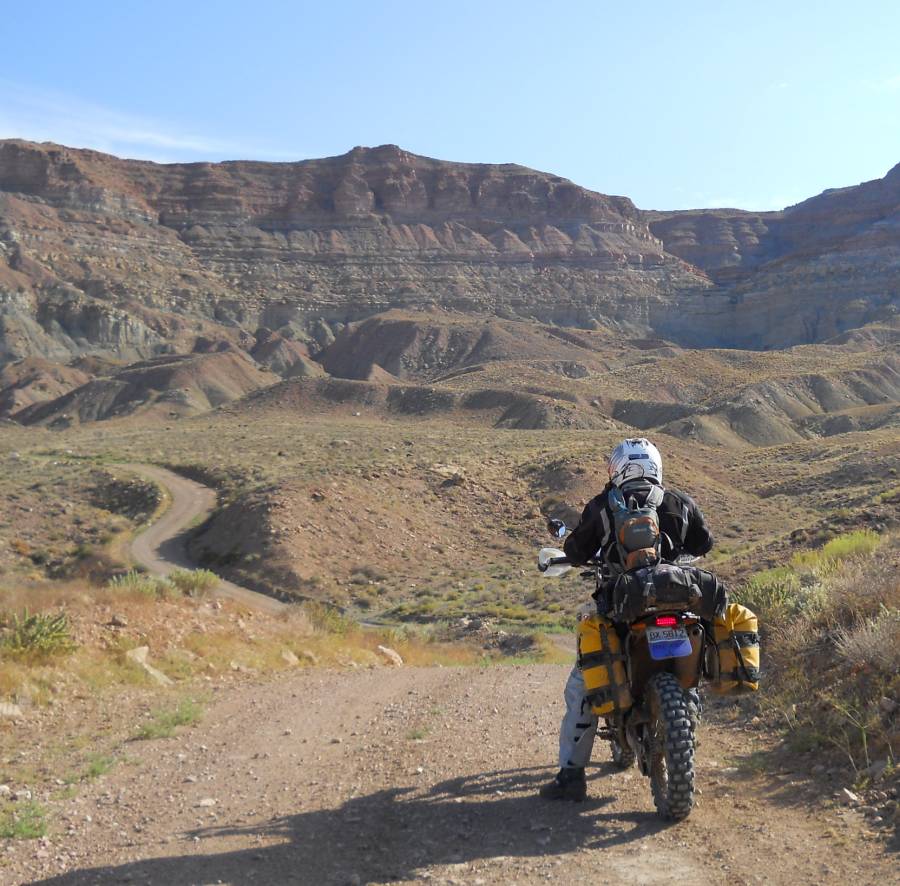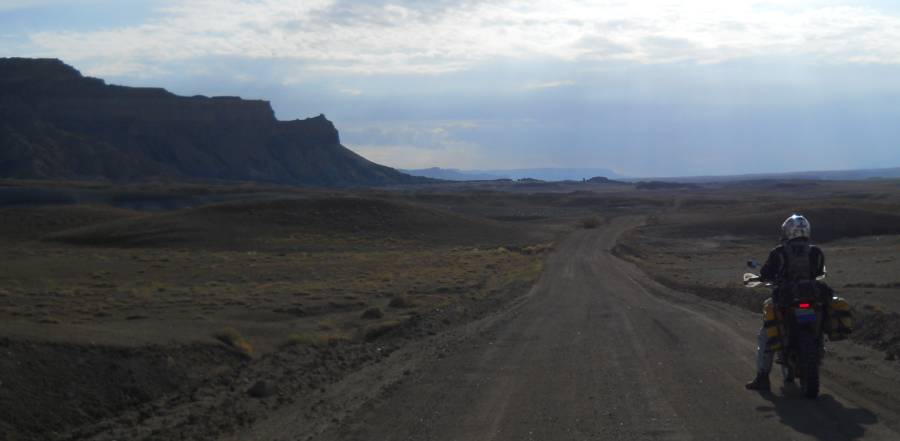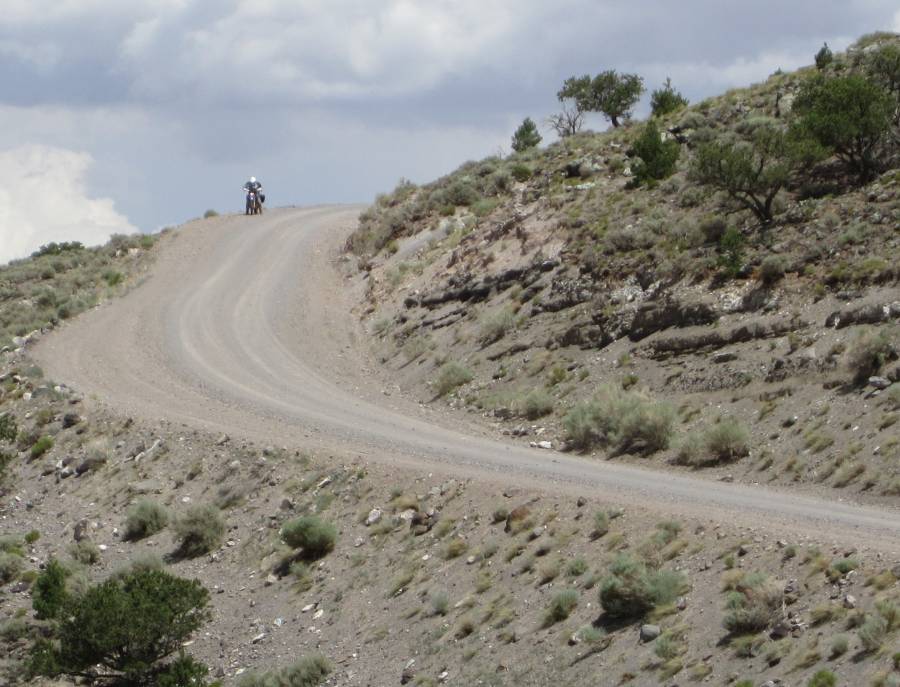 We had a great lunch and got gas in Escalante, Utah and rode on North. I think this is on NF-154.

I haven't said------but we never had a destination each day-------none. We were prepared to camp at anytime we pleased
and did. The sun told us when to hang it up for the day and we never pushed on to get a motel---it was
either there-------or wasn't didn't matter.
We always had plenty of gas and never let gas or the thougth of a motel tell us which way to go.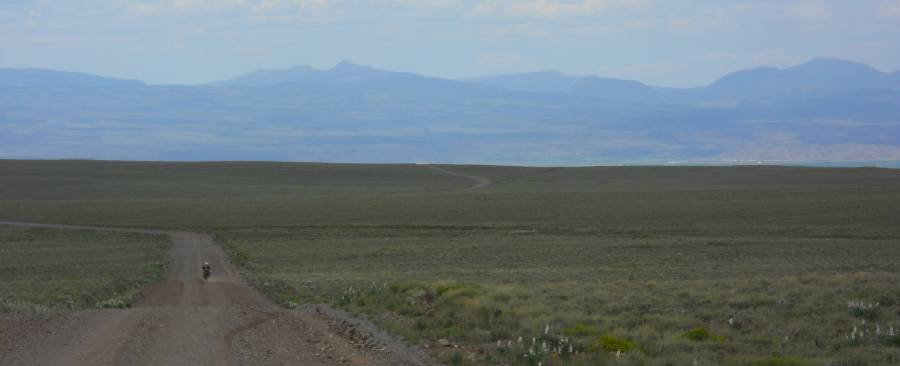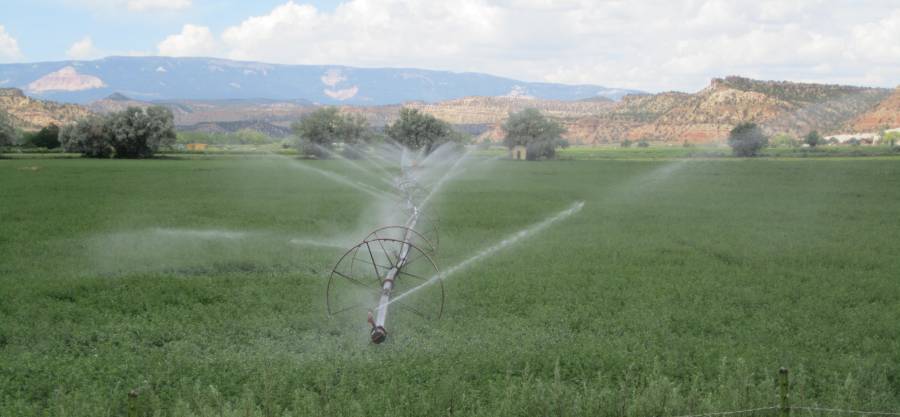 Just North of Johnson Valley Reservoir on NF-319 we spotted this lonely lake down in the valley.
We searched for a campsite with firewood and found it---it also had a great view of the lake.
The lake is called Lost Creek Lake and leads into some pretty rough dirt trails.
The elevation here was right at 10,000 ft. and it was really nice and cool.
If you've only experienced the canyonlands of Utah you may think this can't be Utah.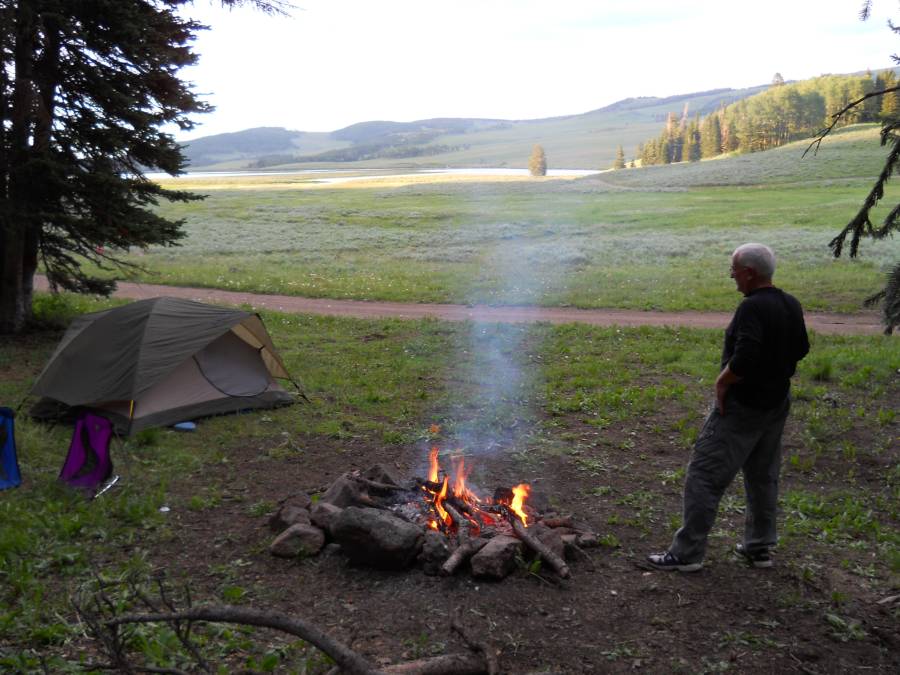 I was to learn a lot about Scott on this trip-----he had read all my stories and was pretty familiar with me I think
but I was just getting aquainted with him---people would ask where we met. I'd hate to tell them on the internet, just
didn't sound right. But he was an avid outdoorsman and hunter and I learned a lot from him.
He was the most willing to camp guy I have ever traveled with----never once got the stink eye from him when
I mentioned it-------he relished in it-----and I did to. We camped a lot and always had fun.
We always packed enough food for at least a couple days--we had to be careful about keeping enough water
with us---as we not only drank a lot of it---we cooked with it. We never passed water or gas up.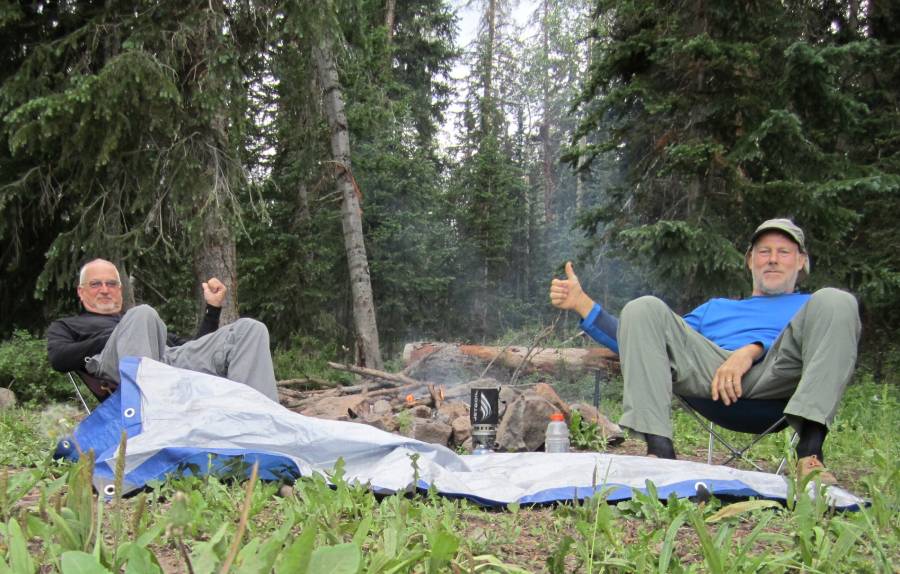 We crawled into our tents and Big Agnes sleeping bags and it was lights out.
We pretty much always were asleep about 1 hour after sunset and always up before sunrise.
We were extremely in tune travelers----I knew I'd find something I didn't like about this guy
they call "DingWeeds" on AdvRider..........HHHhhMMmmmm--but what was it ???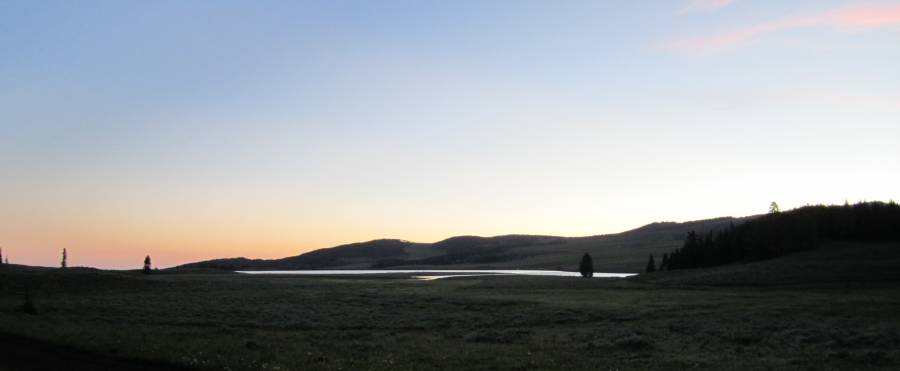 180 Miles for the day
Utah/Day 7
7-23-10
Camp at Lost Creek Lake to Camp at Strawberry Reservoir
It all started out so innocent----a purple line laid out at DingWeeds (Scott) house which was shown on
our gps's. Seemed pretty easy with the AC running and a comfy desk chair.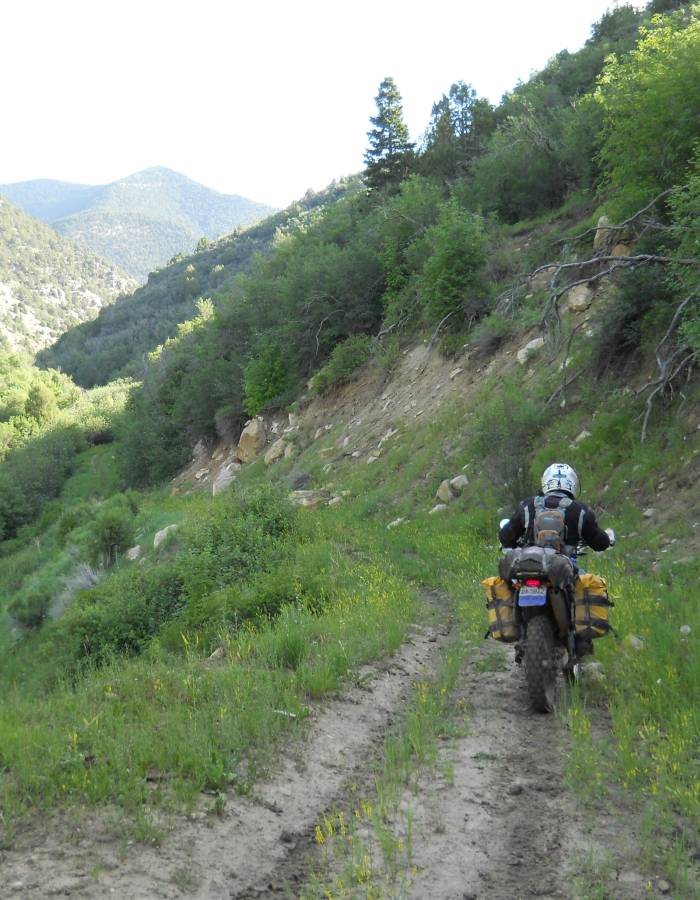 Hey this is suppose to be a forest road ?????
This trail became totally impassable and I re-routed the best I could and took over navigation,
not that I could do any better---but I'd give it a go.
We rode in this stuff for many miles--too many to go back.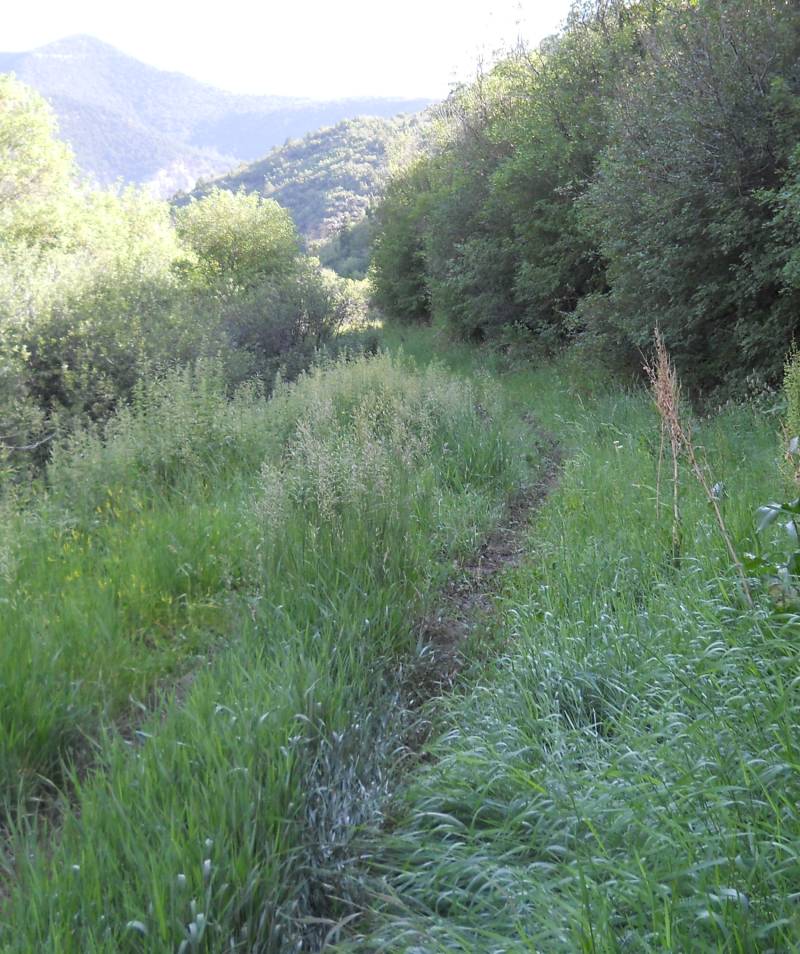 We had some nasty rocky deeply rutted downhills before this that were extremely difficult.
If I would have went for my camera it would have been all over for me.
I feared the worse---we weren't getting out of here and shivered at the thought of going back and making
those nasty climbs. This would happen repeatedly throughout this ride.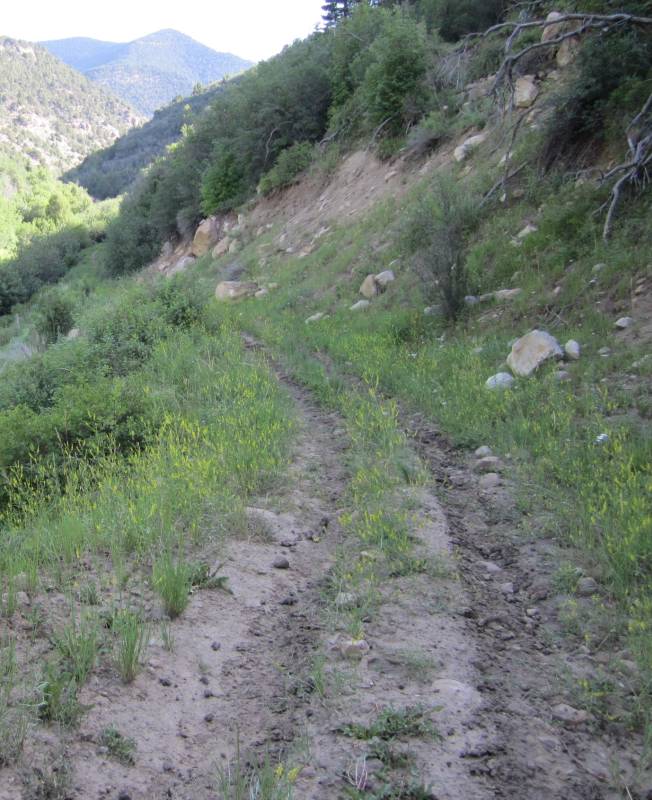 Heck the interstate is down there------we are free and clear !!! I even see a dirt side road !!!!
We are going to get out of here after all------or are we????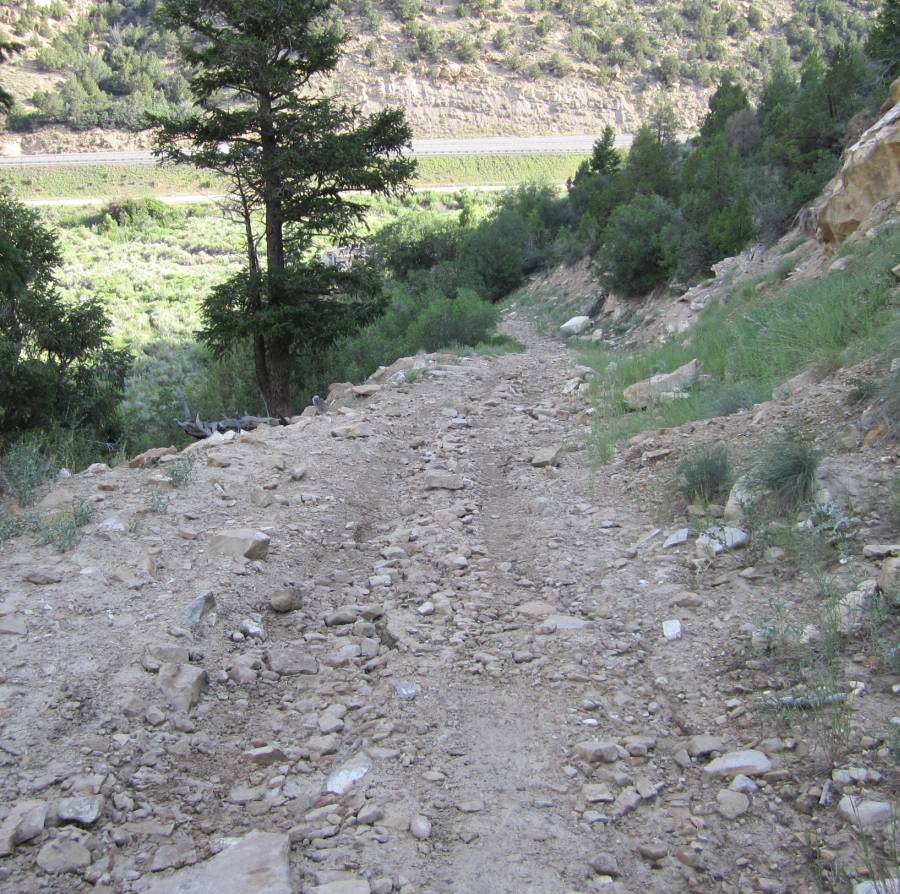 I saw this bridge from above finally but had missed seeing the creek-----it was absolutely not do-able---the creek that is.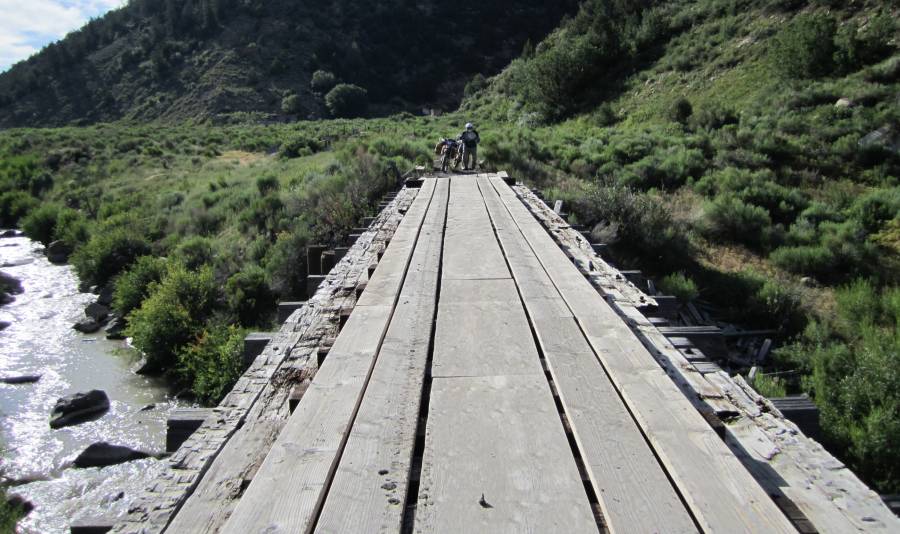 And at the other side it was gated----locked up tight and big timbers and rocks keeping us from getting all the way across.
We weren't going back---no way !!!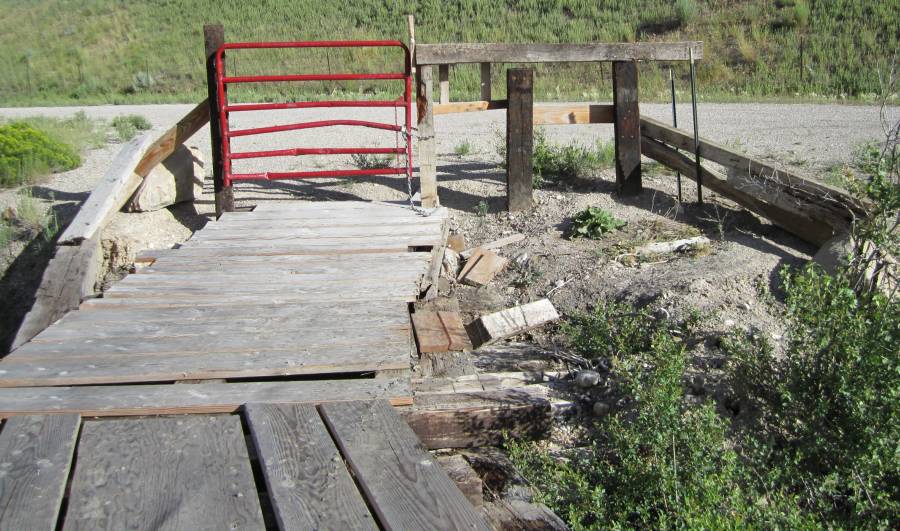 We worked our butts off moving some big timber out of the way all the while hoping the
state troopers swirling above us like buzzards wouldn't catch us.
We made it across and replaced the timbers---took a break---had a gatorade and
whipped out a couple big ole' smiles.

Dingweeds: "How in the hell did you find our way out of there ???
BigDog: Dumb stupid luck-----that's how.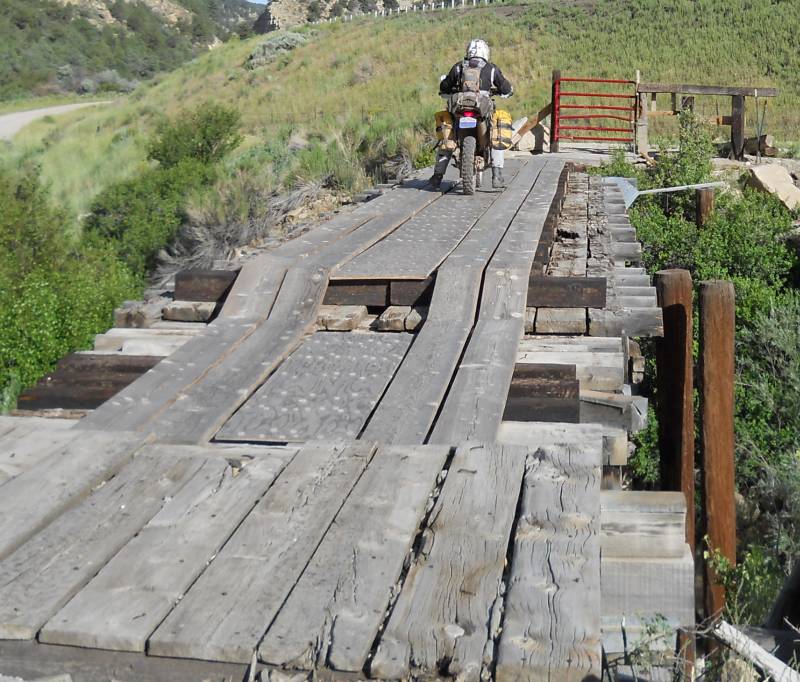 We went under the interstate on the dirt frontage road and headed North on Conculsion Rd. and hadn't gone
one mile when we found this stone dam and waterfall.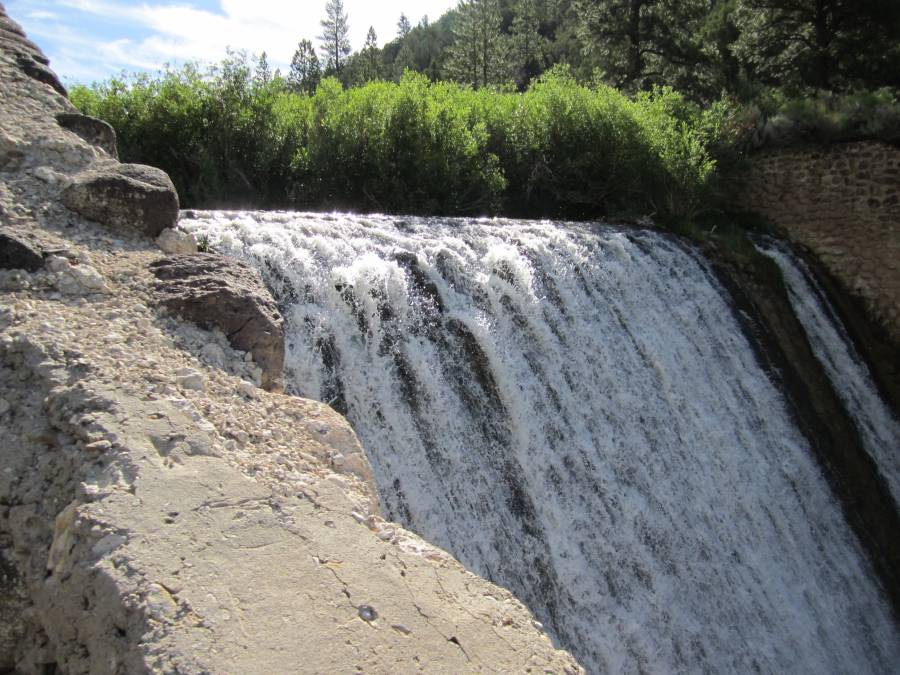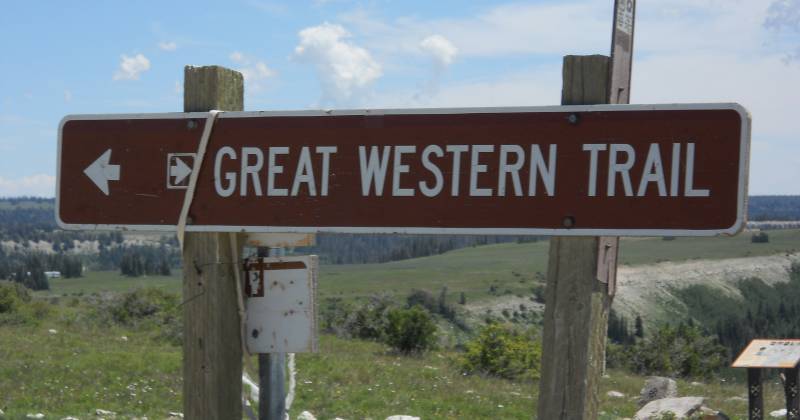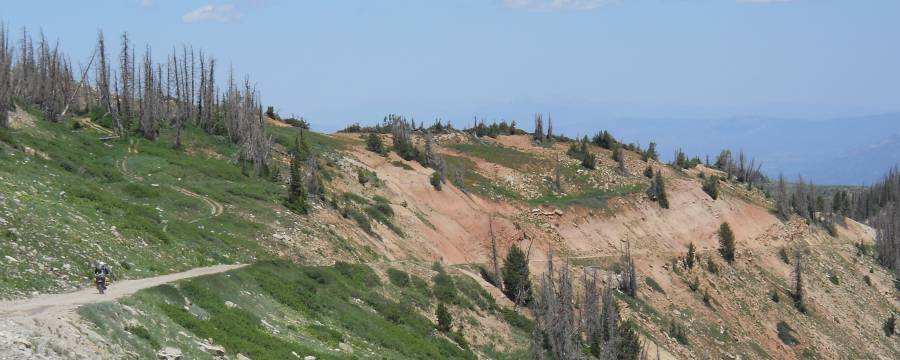 I don't think me nor Scott had a clue what a magnificent road we would be riding for the next 50 miles.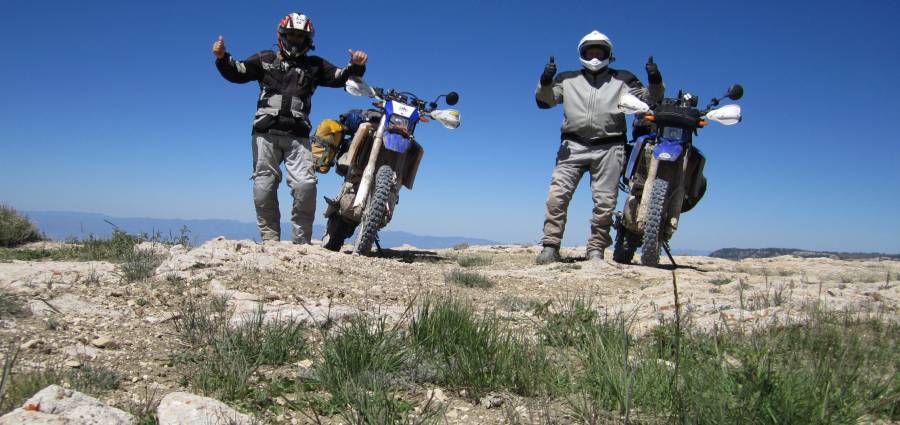 Looks like I'm gettin' too old to mount up---whoa boy---I said whoa boy.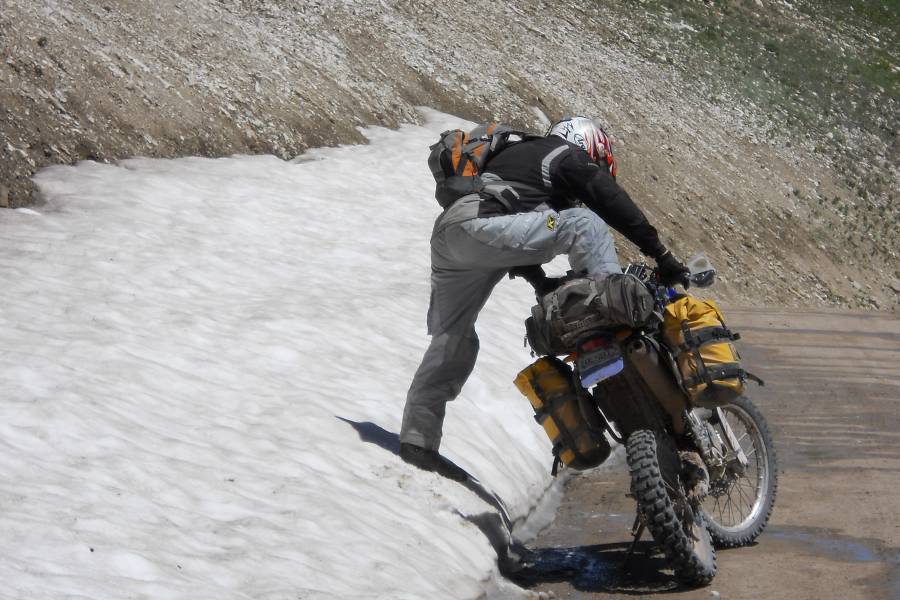 This road went on what seemed forever and was mostly over 10,000 ft.---and you
know what that means--------cool and no humidity.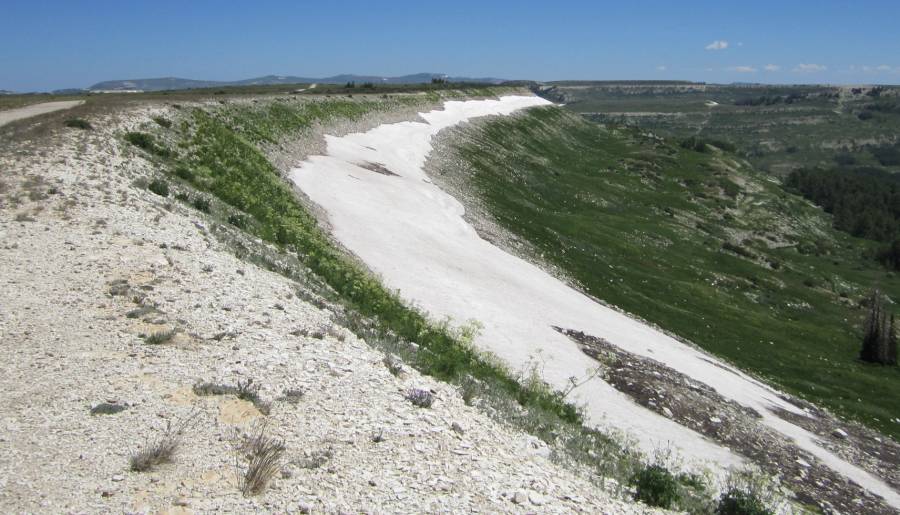 Where were we you say ????
And all dirt !!!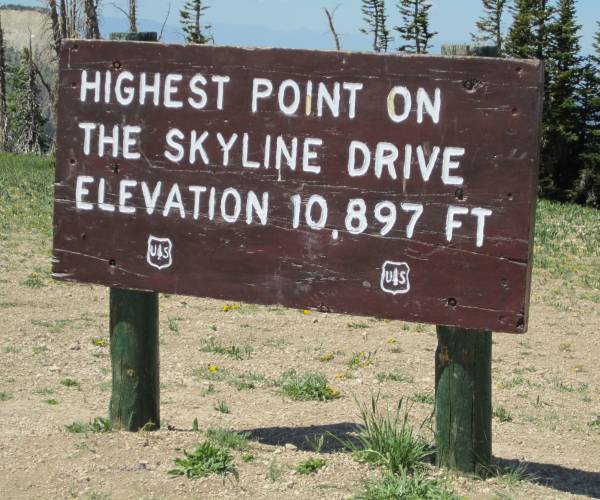 "Hey Benny you come out---We got us a Josey Wales here"


"Are you gonna pull those pistols or whistle Dixie"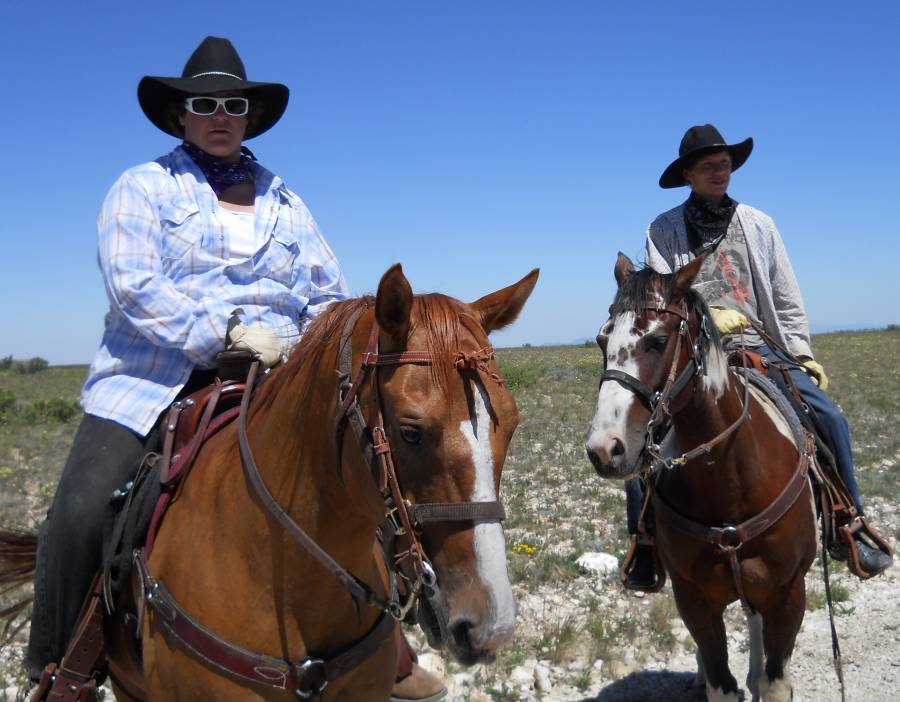 Lookey here Lige---We got us a Josey Wales.
Shoot him Abe--shoot em' now---shut up lige.
Now, you see------You pull his teeth and he's as harmless as a heel hound.
Watch him Lige---he's as mean as a snake and twice as fast.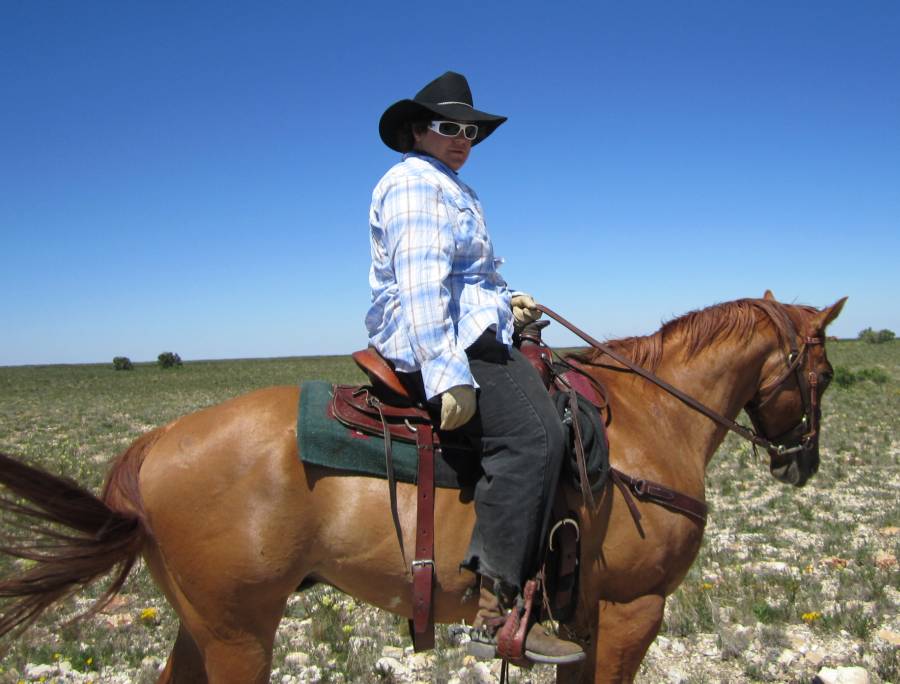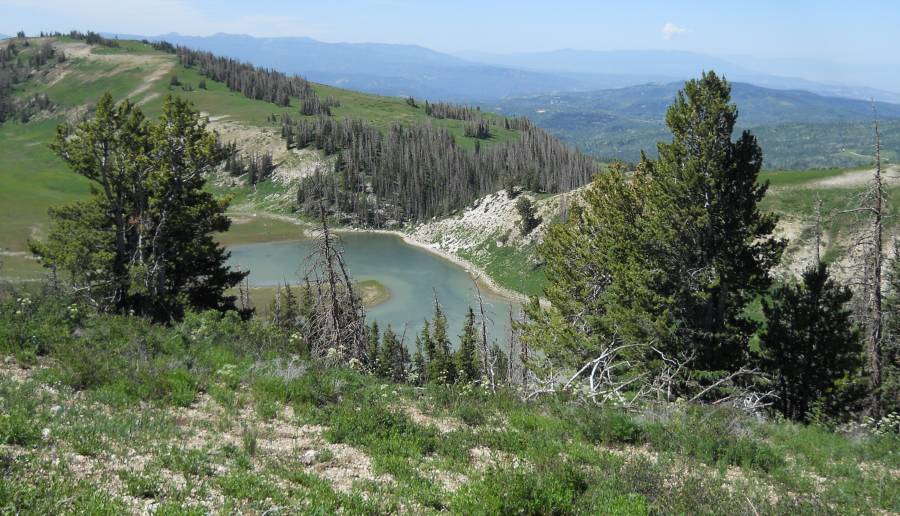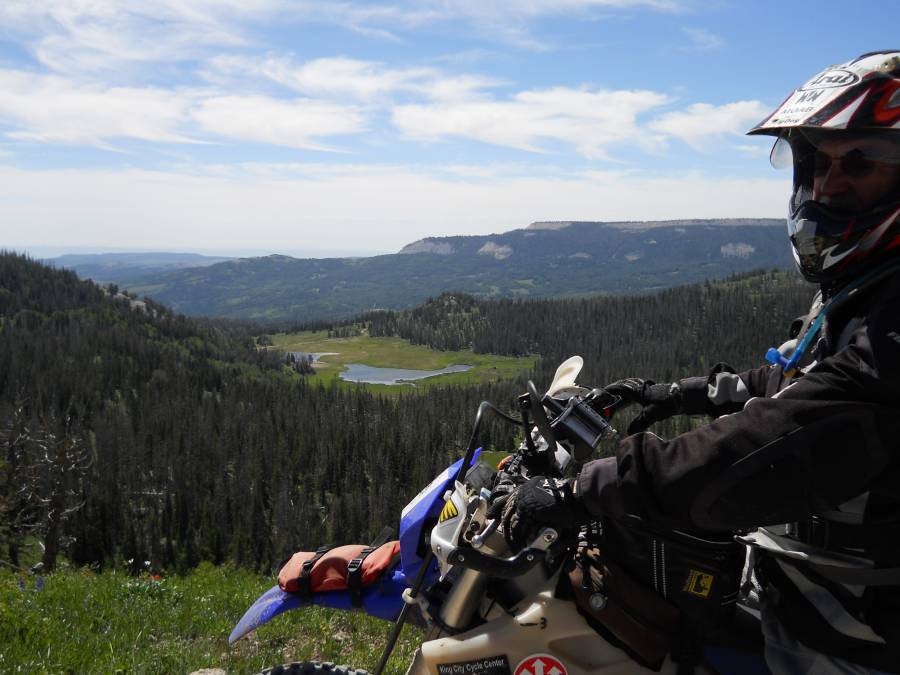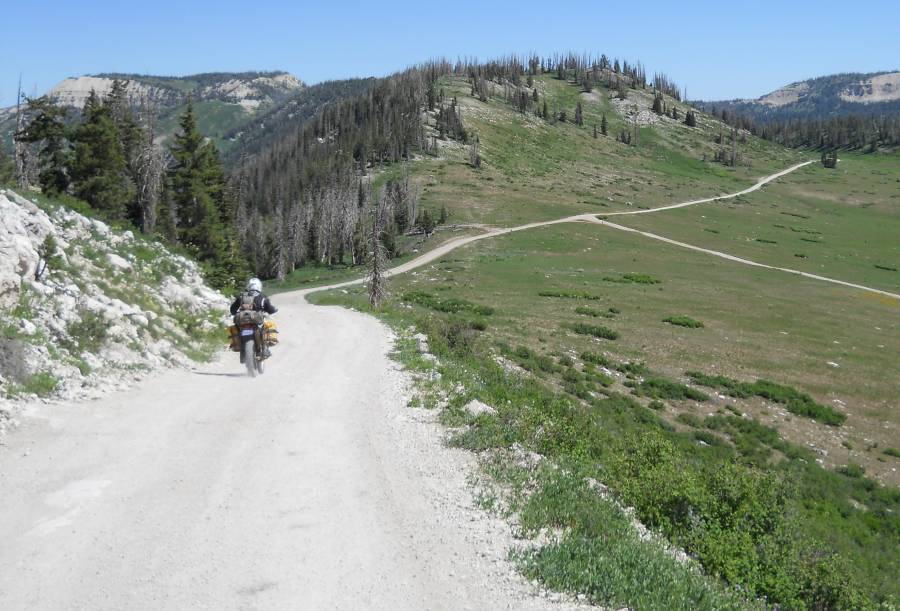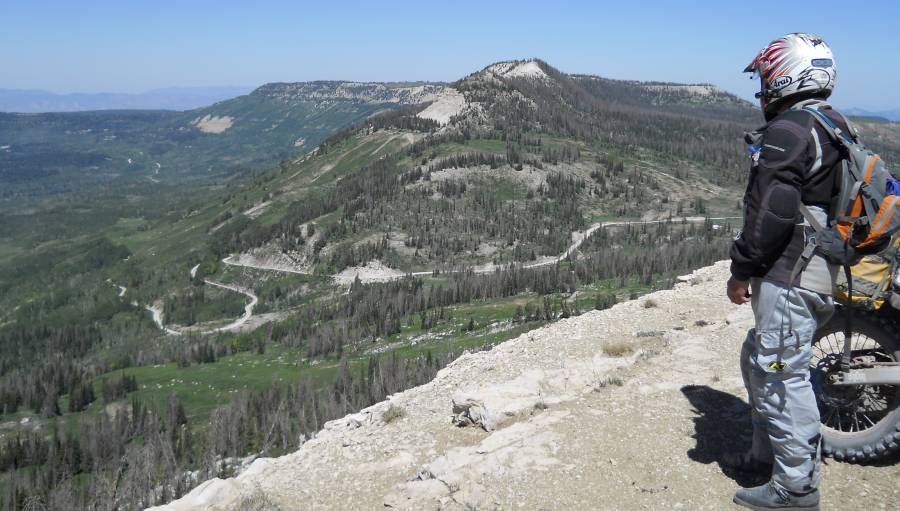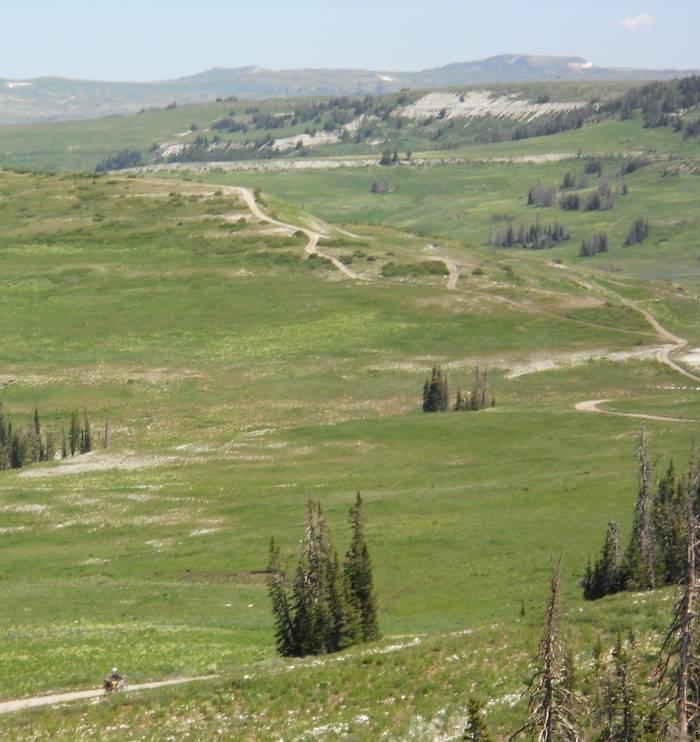 I just can't take it anymore---I'm goin' home.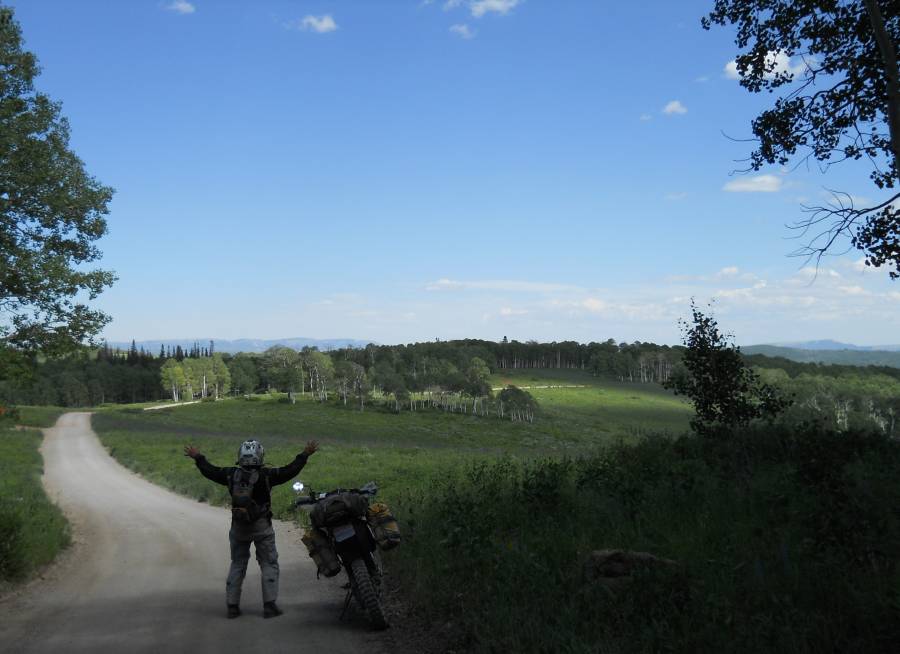 We camped at Strawberry Lake for the night--which ain't near nothin' really.
I feel Big Agnes calling me.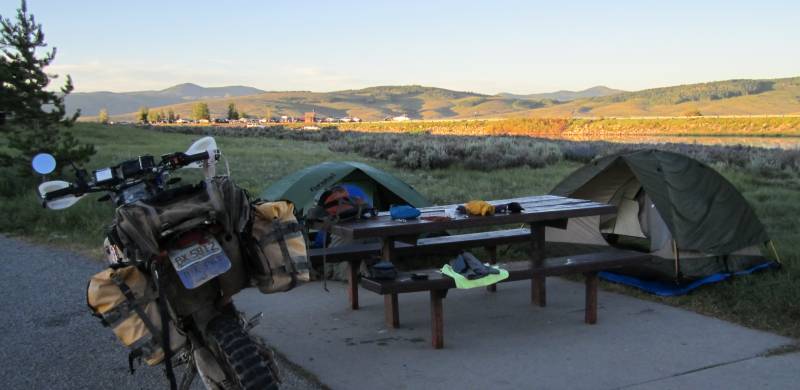 Who's BigAgnes ????
My sleeping partner that's who.
I've never been so comfortable camping in my life.
If your buddy's had of these he wouldn't give you the stink eye about camping so much.
Here's the air pillow which slides into it's own pocket.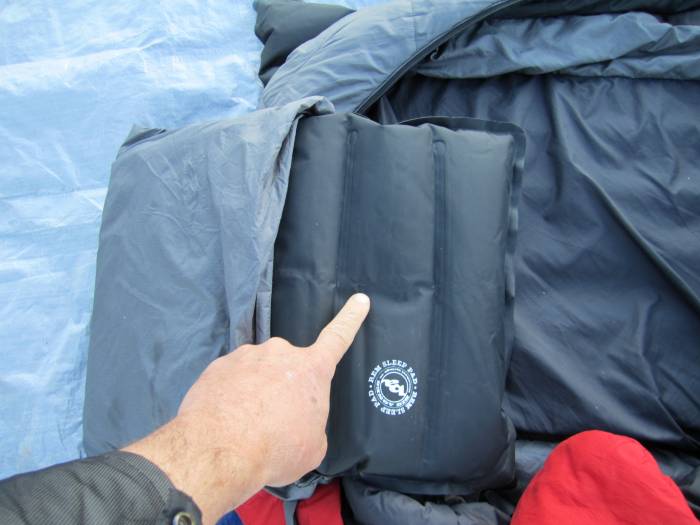 Here's the insulated air mattress that also slides into it's own pocket.
My BigAgnes "Farwell" 0° sleeping bag has no insulation in the bottom.
The pad is the insulation.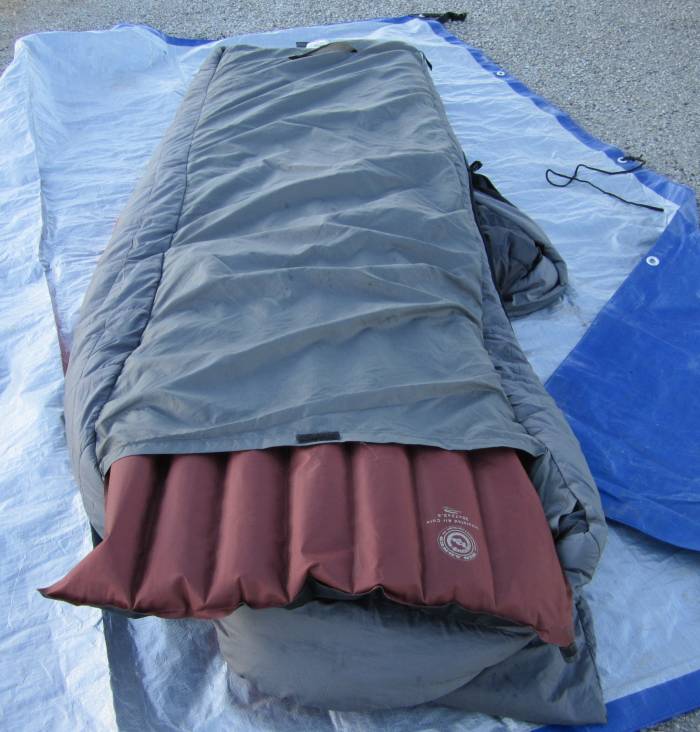 ZZZZZZZZZZZZZZzzzzzzzzzZZZZZZZZzzzzzzzZZZZZZZZZZZZZZZZZZzzzzzzzzzZZZZZzzzzzzz
ZZZZZZZZZZZZZZZZzzzzzZZZZZZzzzzzzzzzzzzzzzzzzzzzzzzzzzzzzzzzzzzzz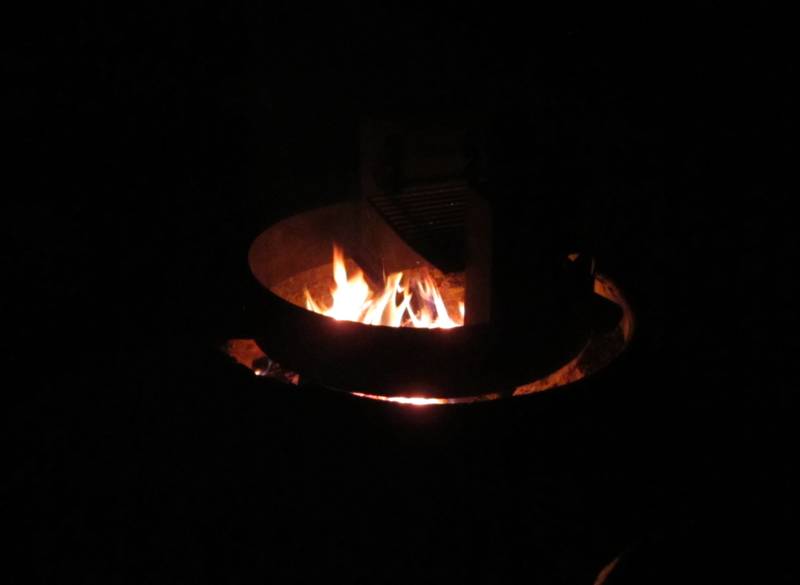 180 Miles for the day
Utah/Day 8
7-24-10
Camp at Strawberry Lake to Evanston, Wyoming
We rode up over Soapstone Pass at about 9,000 ft. --it was beautiful up there.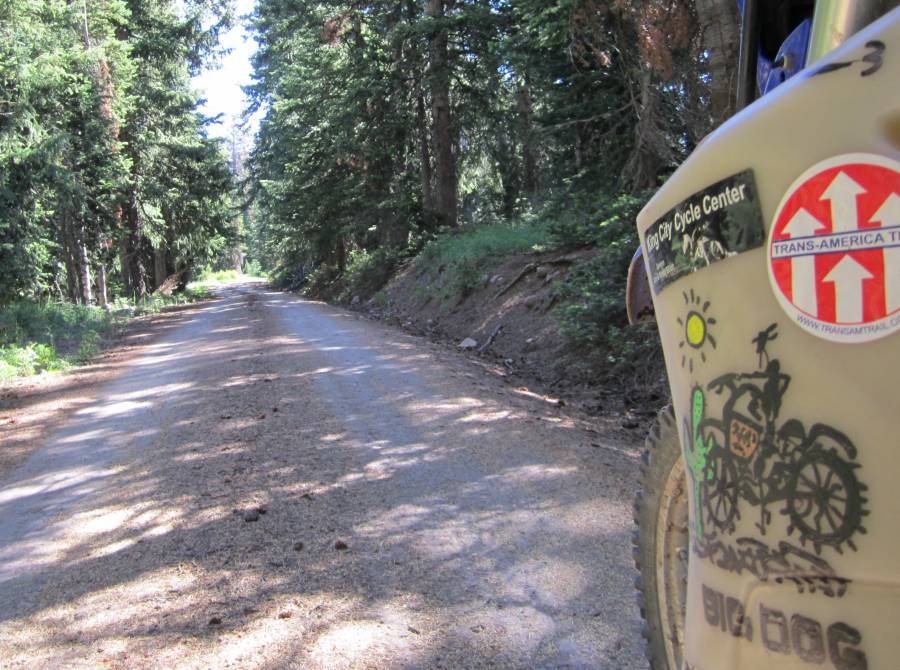 Alright boys--I've got the BigDog blocked in.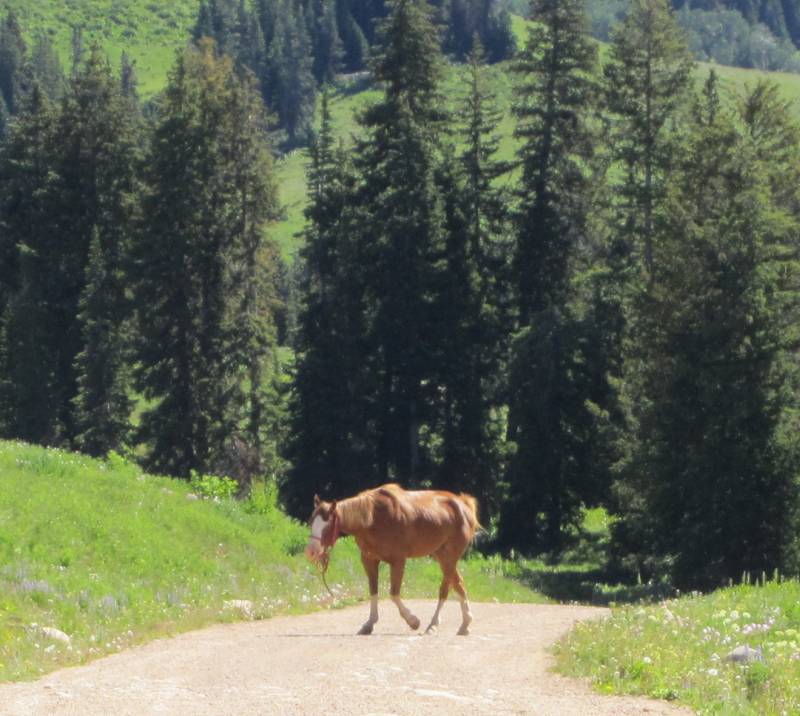 Are you ready BigDog-----Here's what we call the Massourah payback.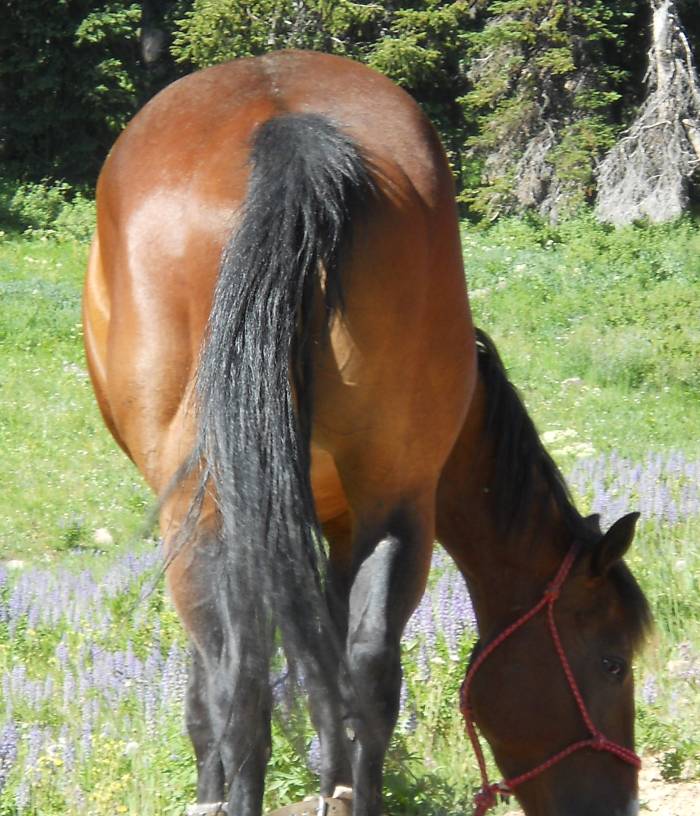 Here's some of your own medicine-------BigDog

It was the little rocky dirt road running up the mountains beside paved route 150 where we encountered an
extremely hard rocky climb. It was as tough as climbing Taylor Pass in Colorado from the South.
If your let off you were done. When your hands had become completely wore out and numb and you
needed a break you'd look up an see you had to keep moving or go to the bottom and
start over. We stopped to get our breath after this one.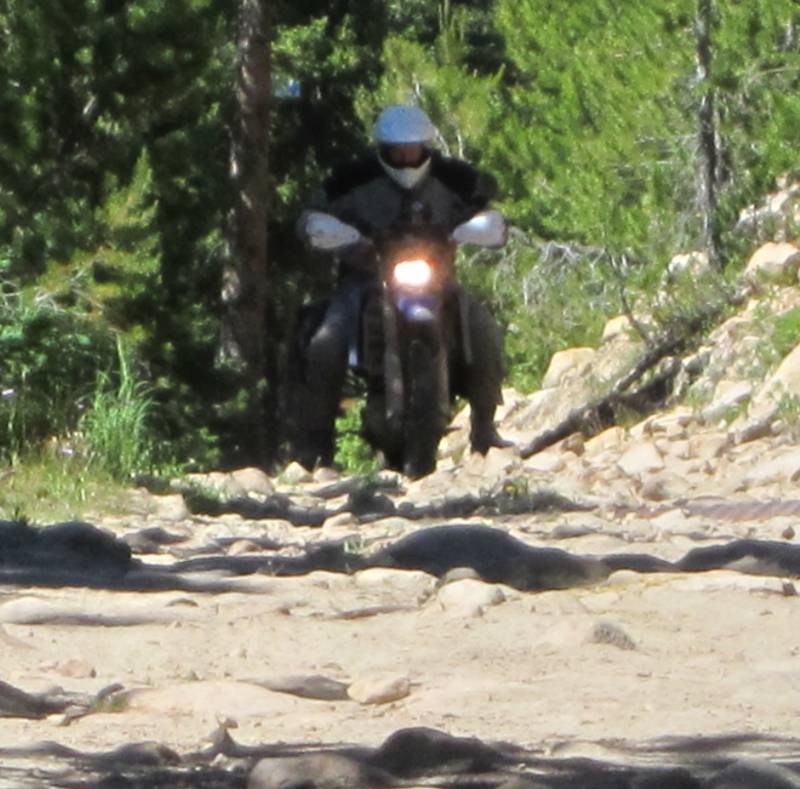 What beautiful scenery----I want to go back.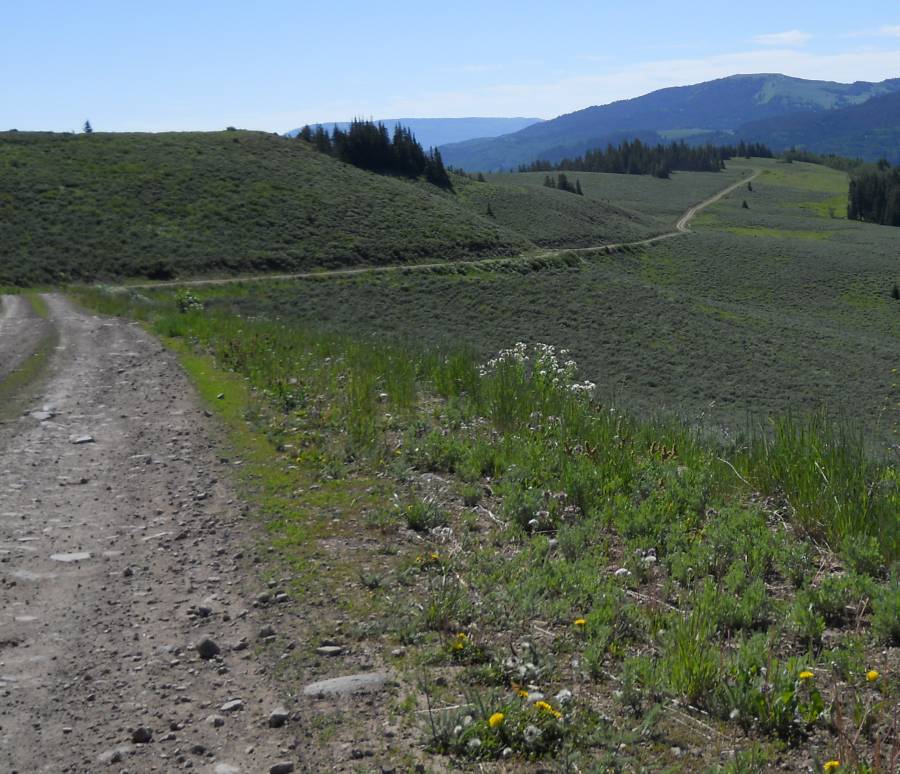 This small pond caught our eye and the camera's eye---I'm standing in 3" of water.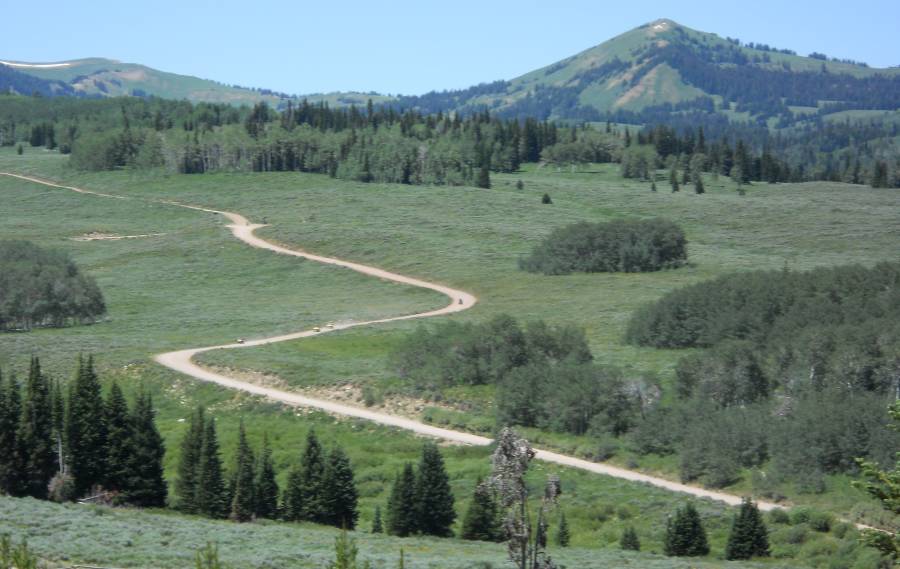 We got on some pretty gnarly trails and took a lunch break.
We got out the jet-boils and had some ramen noodles and a gatorade.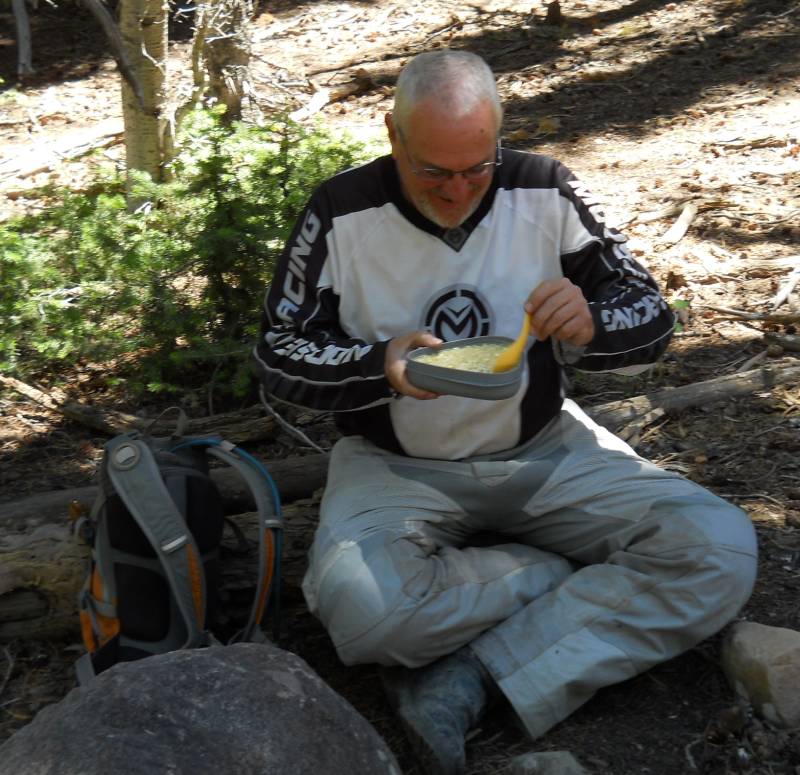 Today was a pretty short day of 152 miles it seemed and I had been in contact with my hometown buddy Rick Horton
who was watching our movements by looking at our spot messengers signals on his laptop.
We had been out running him but he finally caught up with us as he had hauled his WR450F in his truck
and was ready to ride with us. He was in Evanston Wyoming and we met him there and had dinner
and prepared for tomorrows ride.
Day 9 Wyoming, back into Utah
and then into Idaho
7-25-10
Here's me and Rick.
I've known and ridden with Rick since the early 70's.
He an A class enduro rider but has quit racing pretty much except for an occassional
vintage race where he races an old Husqvarna.
He's is an excellent rider---way beyond me and Scotts skills but has (as I did quite a few years ago) tired
of riding around in circles on day rides. He's been wanting to go with me for many years and finally got the chance.
He had never done this kind of riding before and I was astounded how well his bike was setup and how
good his traveling gear was----heck he figured this all out the first time-----I'm not sure I have yet.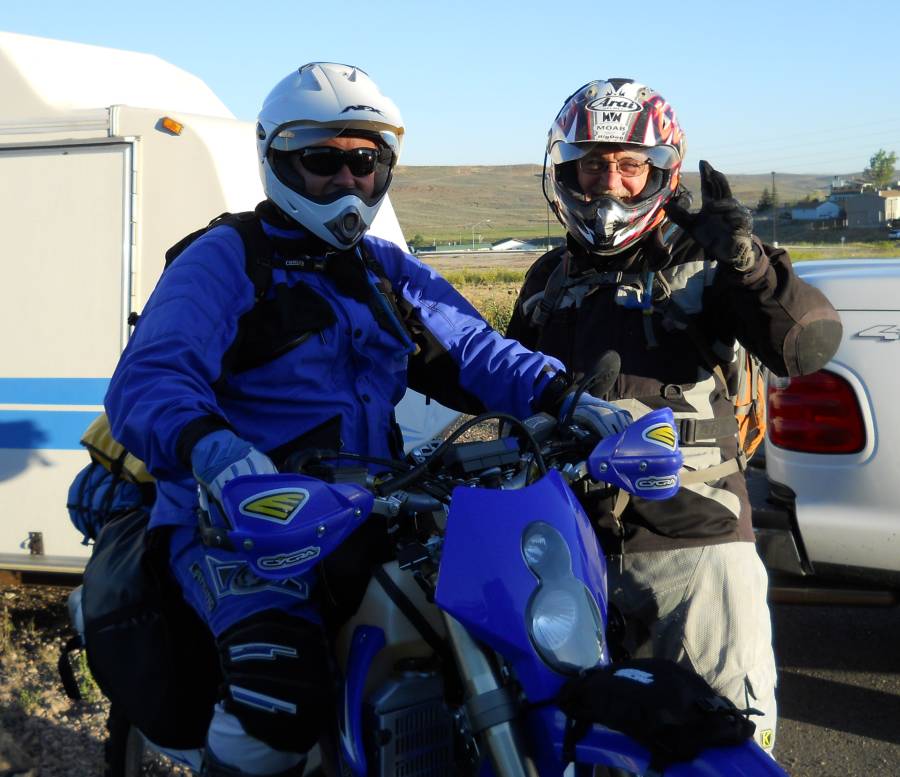 He had a 3.7 gallon tank on the 450 and carried 2 gallons in this unique gas bladder--sold from Just Gas Tanks.
It works and was real handy and light. When empty it folded up into nothing and weighed almost nothing.
It was very well made out of some very tough material.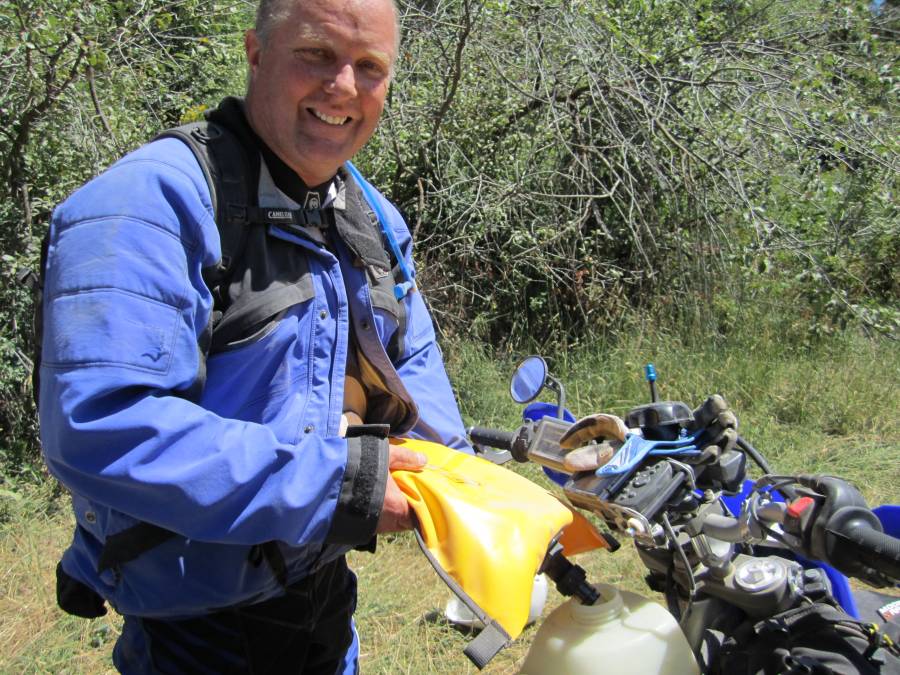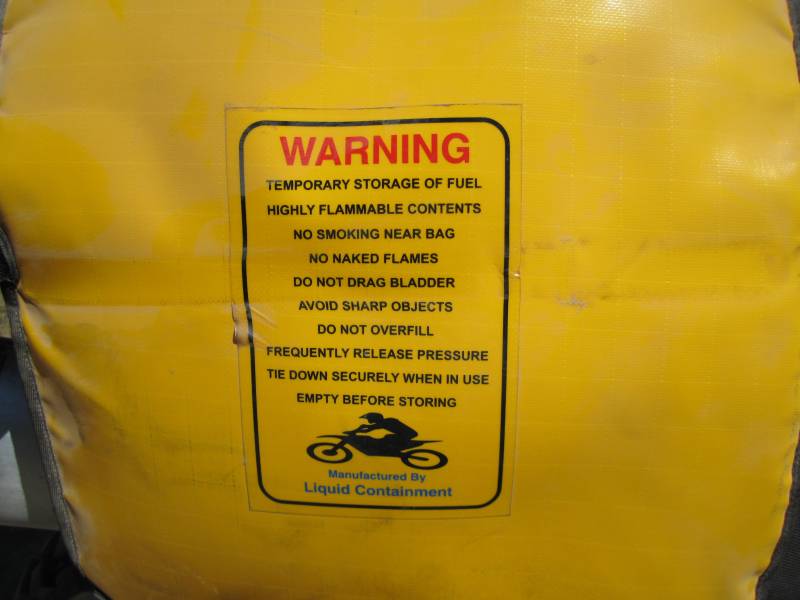 We had several re-routing issues with locked ranch gates and made a slow start to some good riding.
But it finally came.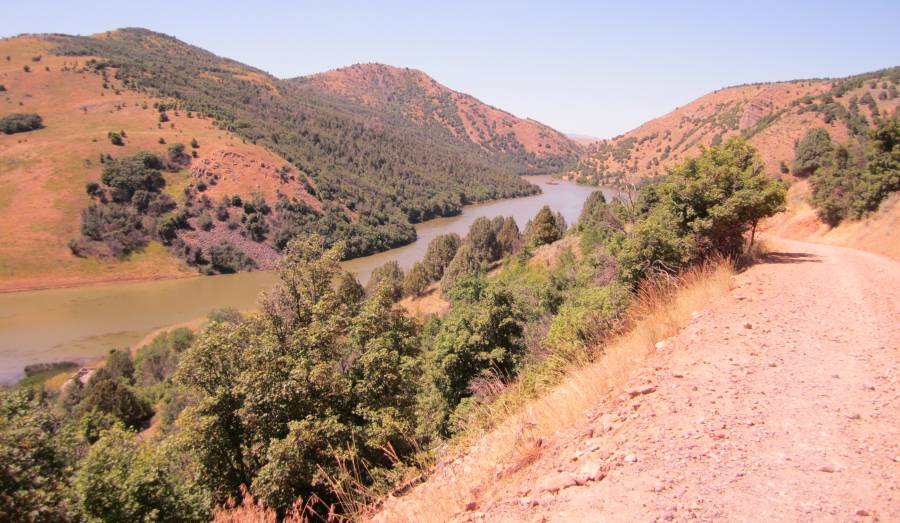 Scott got this quick shot of a momma moose and a cub.
It's blurry--but he was trying his best to get it before they disappeared.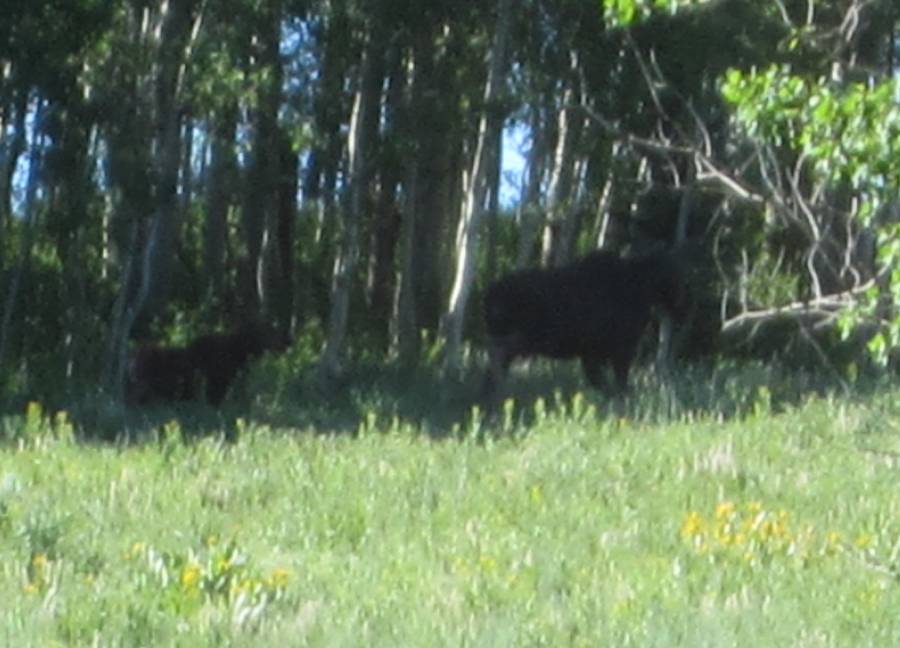 And as luck would have it--a few minutes later he got these 2 in the pond.
That one looks huge.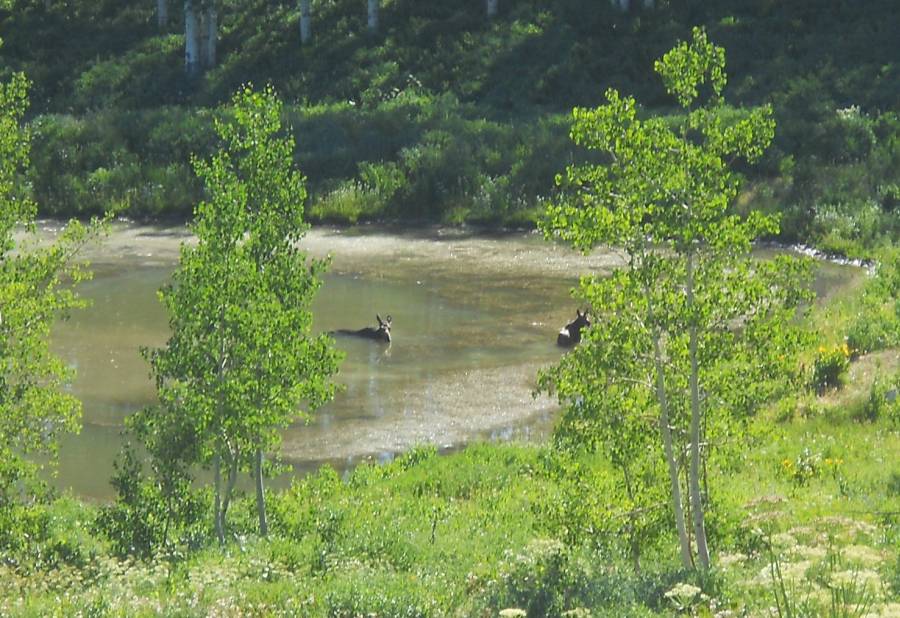 It was in here we were following a route Scott laid out---one of those purple line thingy's
done at home. It was great riding in here but got us almost in trouble.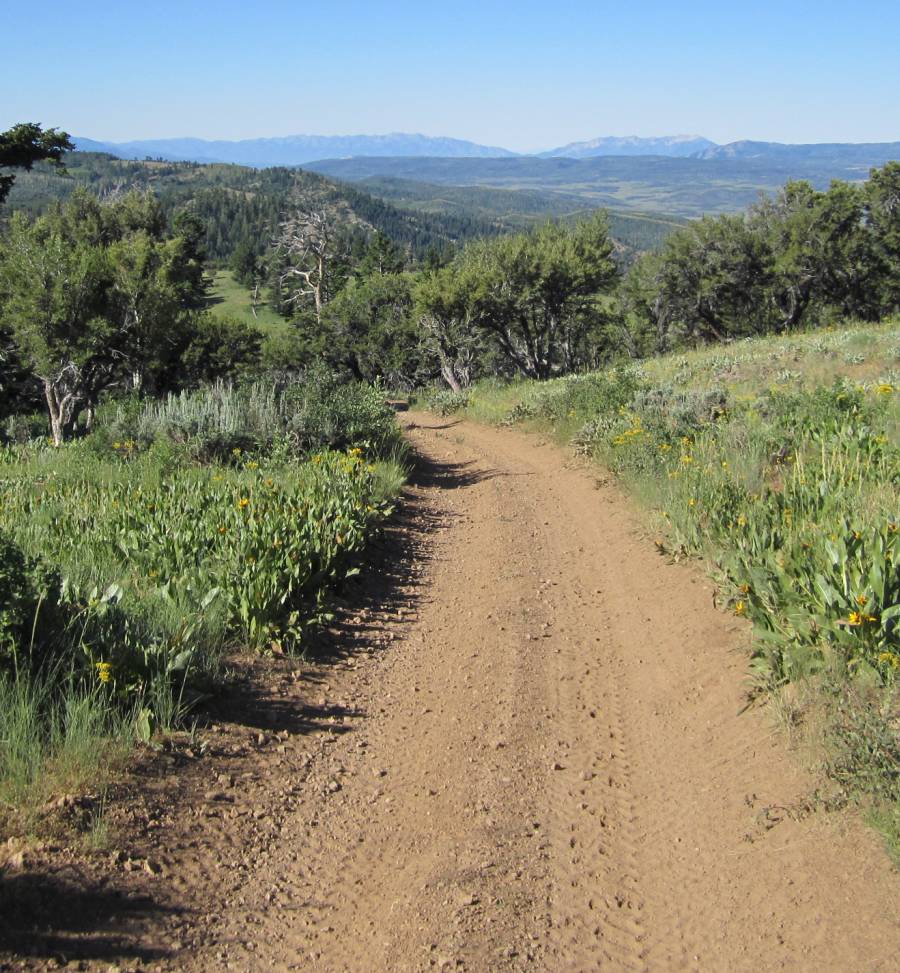 Somewhere in here on a very steep downhill I went over the bars. The dirt was so dry it was just
about 4" deep of powder-------too much front brake wadded the front wheel up and over I went.
Rick was right behind me and was new to this---so he didn't take a picture.
I was head over heels and the bike upside down and sideways--it was hilarious.
It was to be my only fall on this 27 day ride.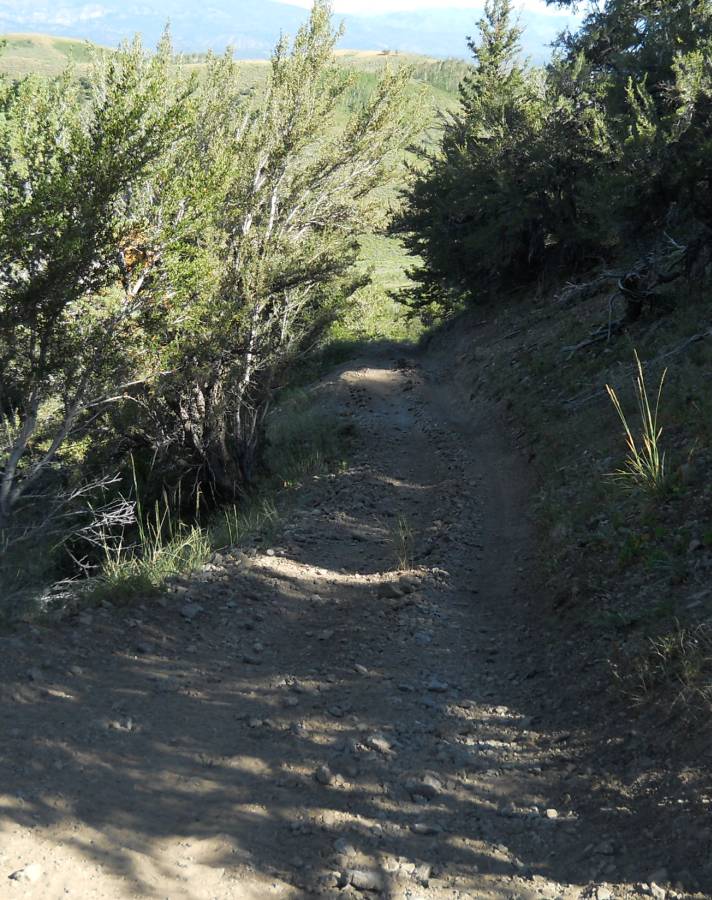 Somewhere in here we got on private property I guess. We had a ball on the tough terrain in here and it was a blast.
We had ridden for many miles and when I went over this hill and down the mountain I was faced with a locked
gate----a real nice locked gate---a fence---a really nice fence--a good one.
The gate was a hundred yards away and I motioned for Rick to look---as a lady pulled up in a fancy SUV
and started to unlock the gate. I didn't want to go back and pulled up and asked for forgiveness rather
than permission. As she was unlocking the gate I apologized for trespassing and told here we didn't know
it till we got here----I asked her if we were trespassing and she answered yes and opened the gate.
I asked if we could pass thru and she said yes----and we did-----she seemed unconcerned ??
We marveled at how we had arrived at the only minute in the day that we could get out of there.
It would have been very hard to go back. We got down the road and moved on.
The opened gate led us to Ant Flat road and we went North of course.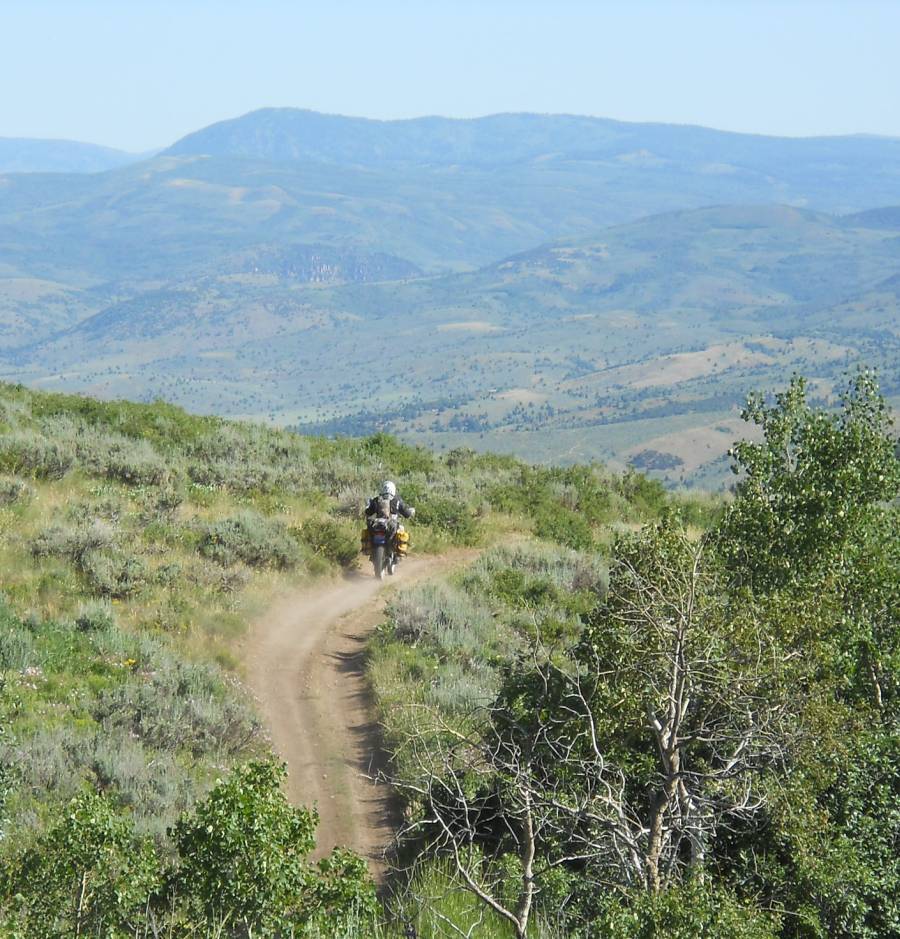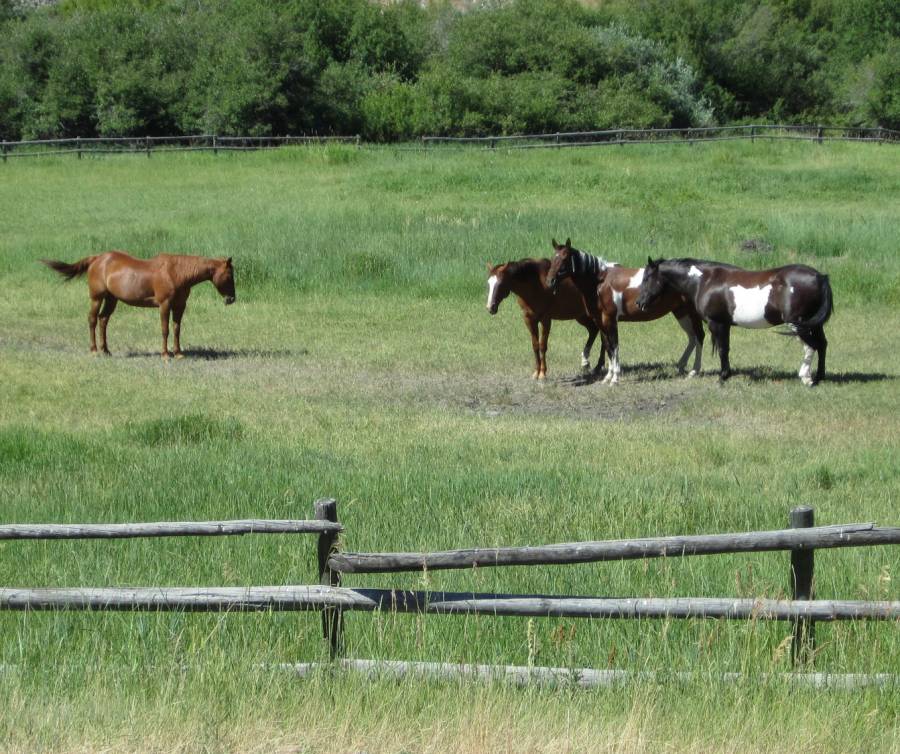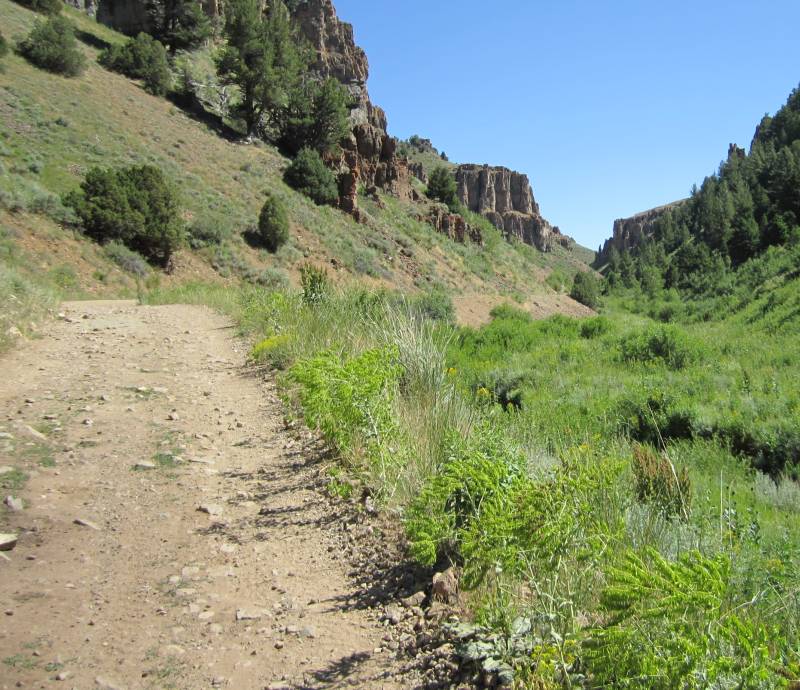 This sign made us laugh--it says "You are Here"
Well where's that ???????????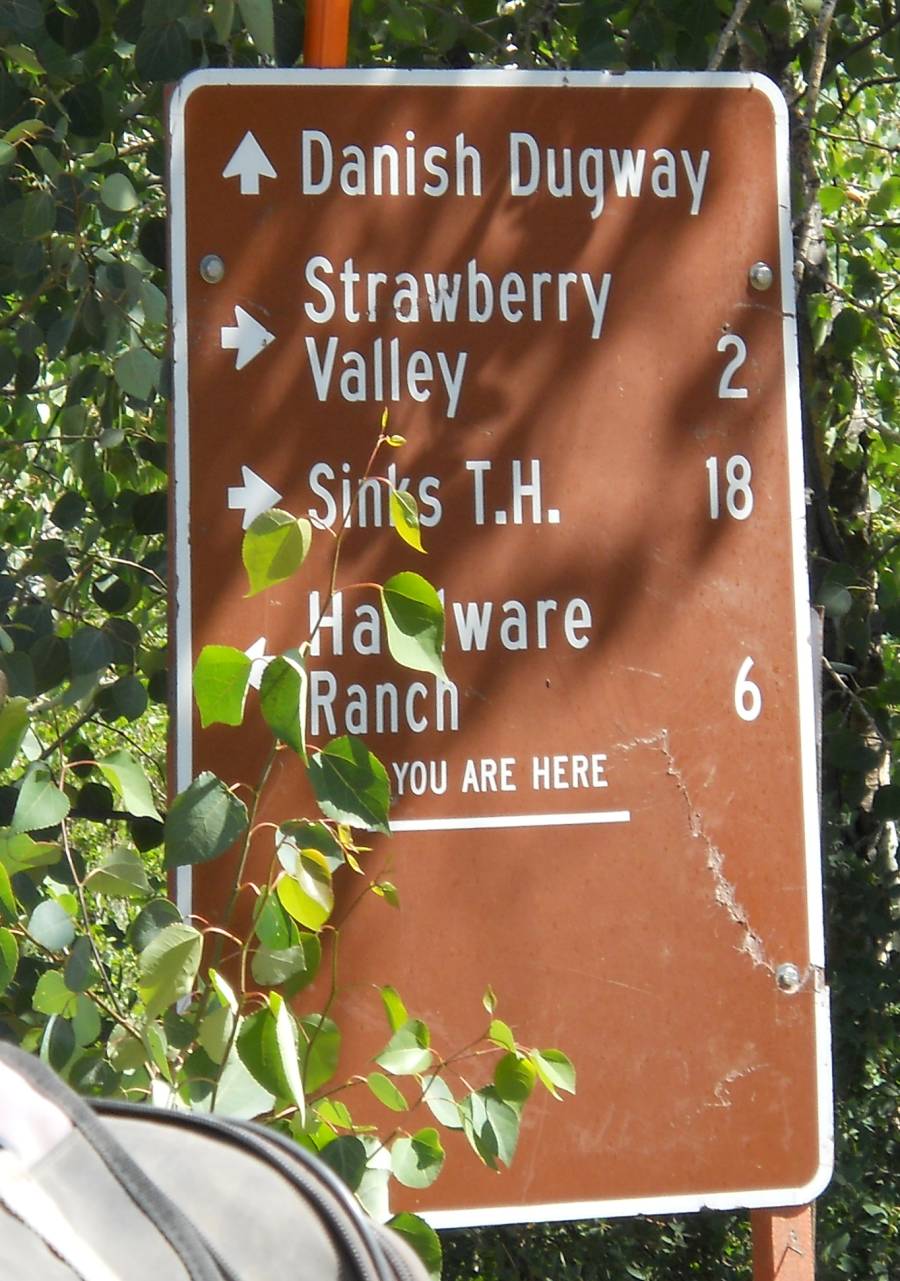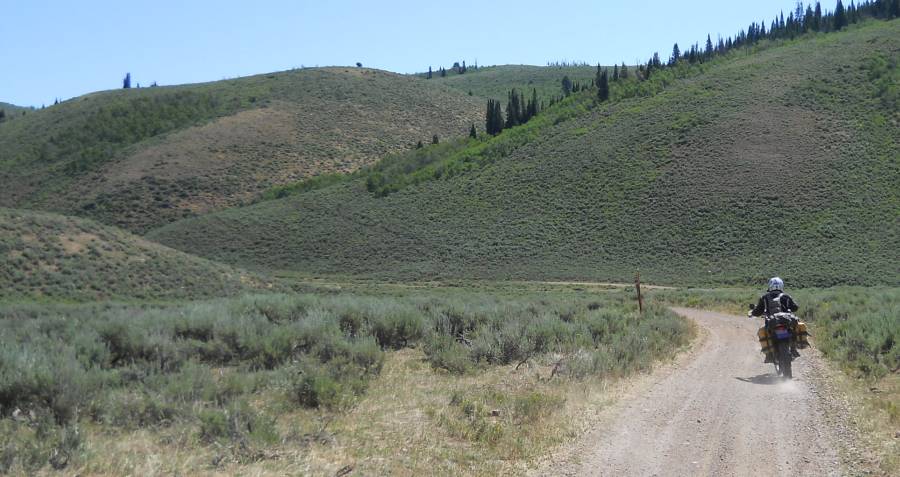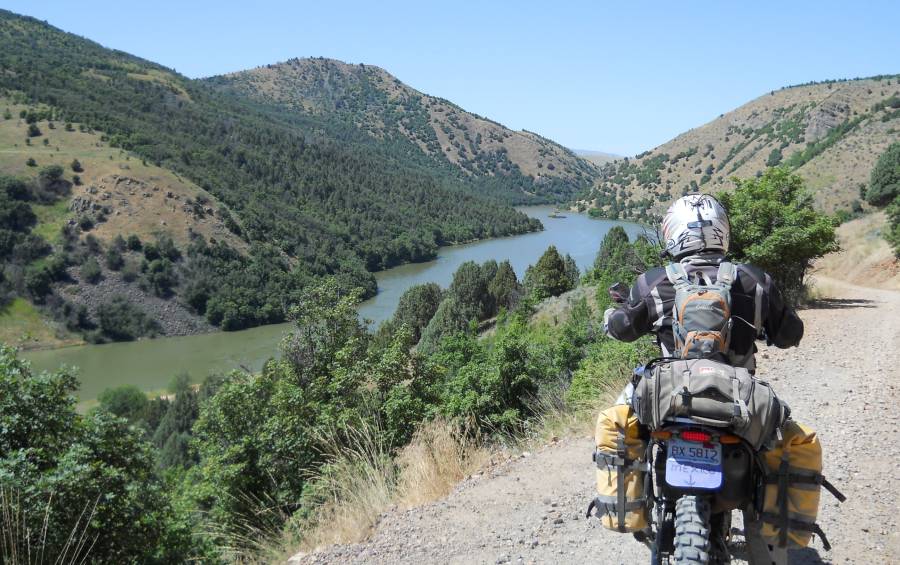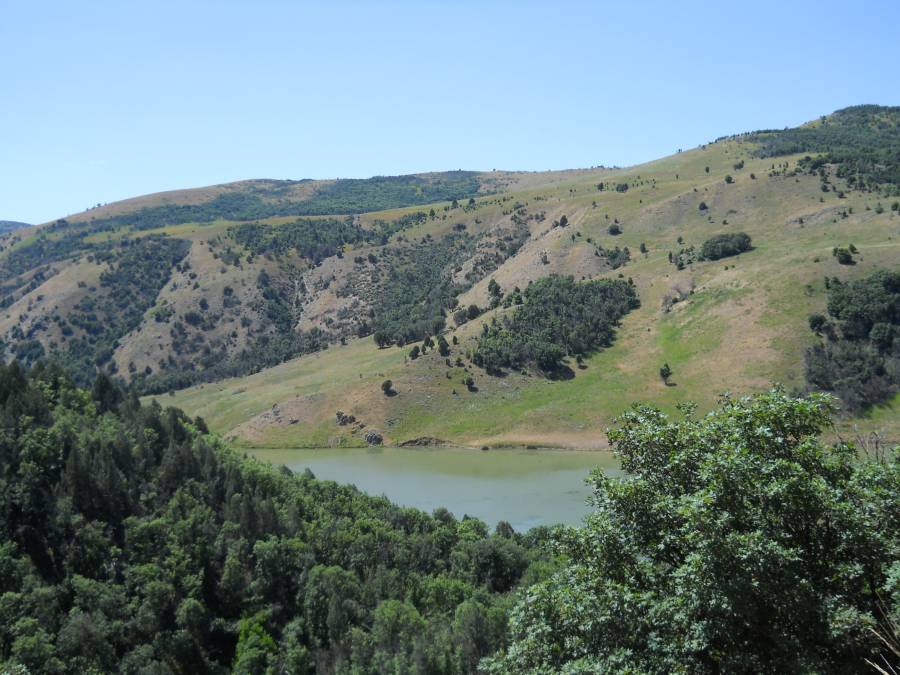 Our day ended in Pocatello, Idaho at the Thunderbird Motel---nice folks.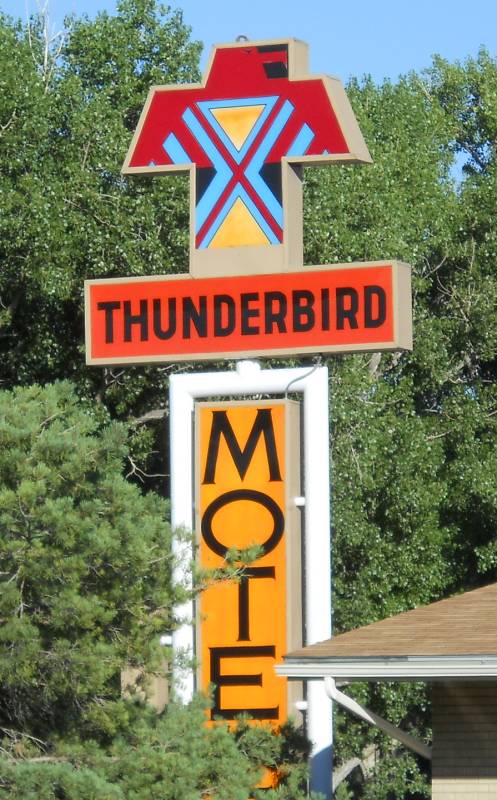 It was 236 miles for the day.
Tomorrow was much anticipated for me.
I've tried to ride the Tour Of Idaho trail twice. The first time I was very close to finishing it
and got injured---burned my foot with gasoline very badly. The second time my riding buddy got sick
right at the start of it and had to go home. I wasn't comfortable riding thru the largest wilderness area
in the lower 48 by myself where there was no cell service and very limited gas--and very few people.

We would accomplish way more than that on this ride and see some really neat stuff and
meet some great people. I
We would also come face to face with Martin Hackworth who laid out this
Tour Of Idaho ride. Sometimes I've kidded Martin has been trying to kill me---and I'll continue this
in the cheek commentary---just for fun. Yes he's going to get a 3rd chance to do me in---and sometimes on
this ride I thought it was--as we rode not only his original T1 route but the lower T2 route.
There are several options on the T2 route--the one we took was much tougher than the T1 route.
Martin tells me only a handful ---maybe 10 people have ever completed the T1 route.
Most went home with their tail between their legs and never really running the whole route.
It's not easy--most didn't listen to Martin's words.
"Bring a plated dirtbike" nothing more.
On to Idaho's----Tour Of Idaho
It's a 1,300 mile dirt route from Southern Idaho to the Canada border.
Click------HERE