An epic 2 hour DVD video is available now of this ride.
Part I covers all the way from Mexico to Canada

You Can purchase this video HERE
You can watch a free sample (trailer) of it HERE

We rode 5,300 miles thru Arizona, Utah, Idaho, Montana, Wyoming,
Washington, Oregon, Nevada and Colorado on our WR250R's.
It's gonna be a long story as we completed a new route from Mexico to Canada.
Actually the Idaho part is not ours---thanks to Martin Hackworth from motorcyclejazz.com
who laid out the Tour of Idaho route which has taken me 3 tries to finish. We finished the original T1 route
and the new T2 route both on this ride.
But this ride is way more than that---we then rode back to Durango Colorado all on dirt also,
then my buddy Scott rode on home to Tuscon putting in many more miles. After getting to the Canada border
the return trip was even more exciting and took us to some really neat places.

Arizona/Day 1
7-17-10 Tuscon, Arizona to the Mexican border in Lochiel, Arizona and back to Tuscon.
Since Scott lived in Tuscon and this is going to be the biggest ride of our lives to date---we decided to do a shakedown
ride and would ride to the Mexican border and back to Tuscon and make sure we had things dialed in.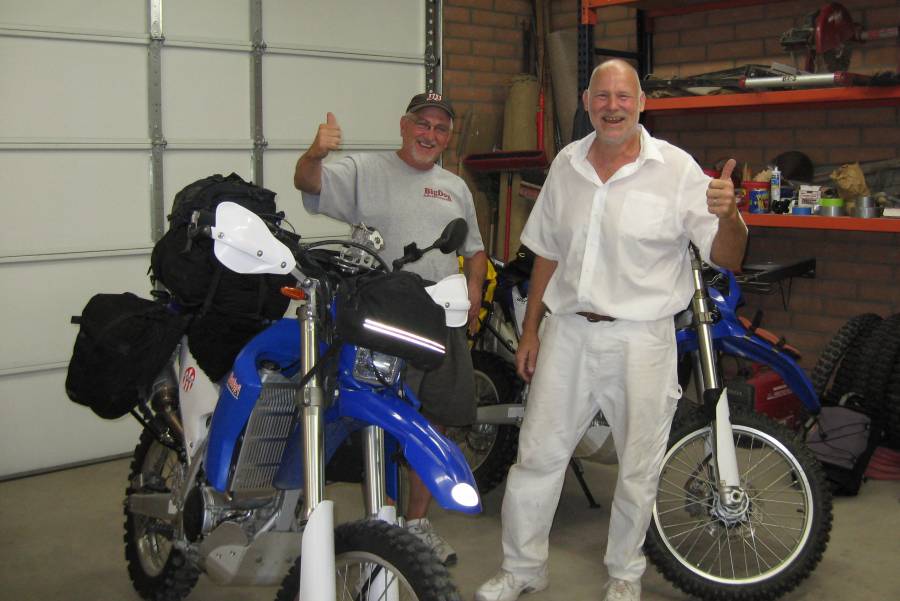 Just for this first day we where to have a good friend of Scotts join us. I knew of this guy on the AdvRider site.
He goes by "Emmerson Biggun's" on there and his real name is John. I didn't know he lived next door to Scott.
He's famous for several things---one being an owner of a WR250R and the other for making some neat mods
to his Yamaha. Since these bike come equipped with a very small gas tank he made a rack to hold a 2 gallon
rotopax auxiallary gas tank and sold them---Scott had one attached to his bike.
So over comes John and he's not flying helicopters over the border today and he joins us.
So off we go to the border--which proved to be very interesting.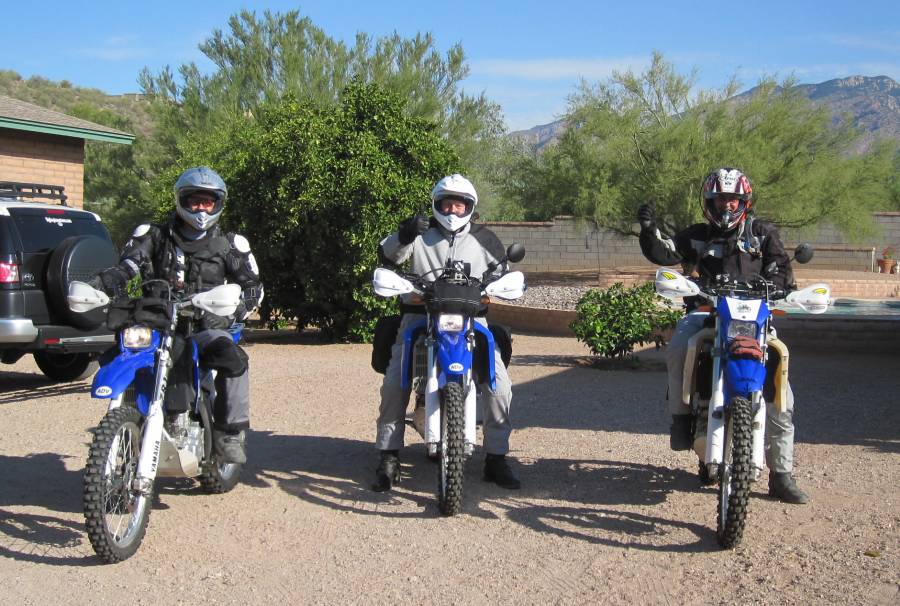 I didn't pull any punches with Scott and told him all along I was worried about surviving the Arizona heat on the start of this ride.
He was used to it and reminded me how to keep hydrated--so we always packed plenty of water and a gatorade or 2.
We immediately climbed into the mountains South of Tuscon and overlooked the beautiful San Rafael valley and got
up to around 7,000 ft. where is was really nice and absolutely no humidity---I worried for nothing.
A good friend of mine (Rick Horton) from my home town had this same worry and decided to join us much
farther North.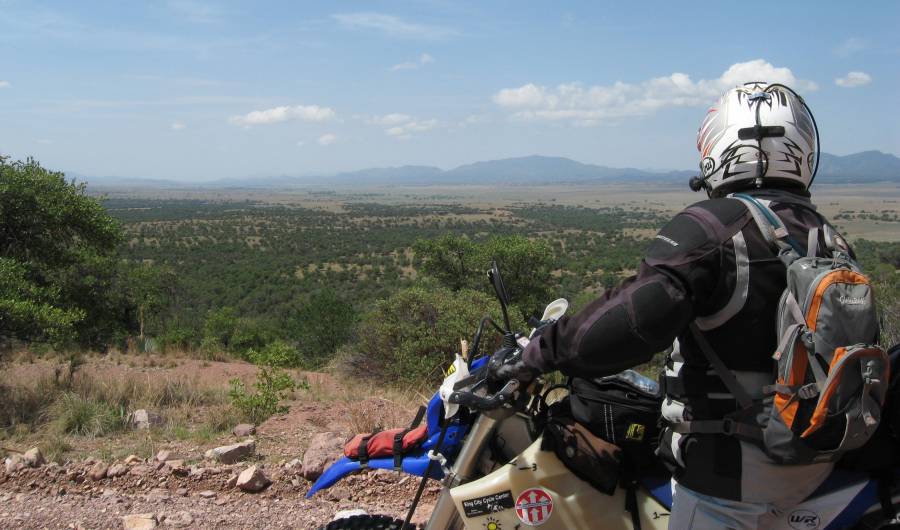 Old Mexican Border Crossing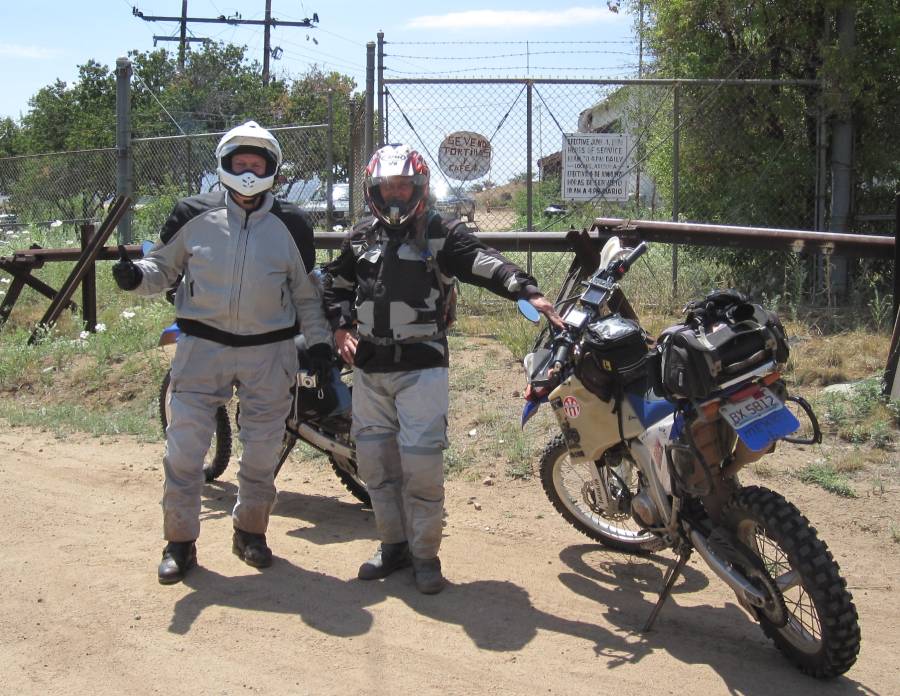 John took me and Scotts picture at the Mexican border in Lochiel, Arizona which is an old now closed border crossing.
We didn't think anyone lived here and knew we didn't have to worry about Poncho Villa',
but we were soon to find out one pissed off Mexican didn't like us there--as he yelled at us from his porch--seemed
he had moved into the old border control station on the US side and had taken claim to where we are.
He ran in the house------and we ran on down the road. We would have more trouble at the Canada border,
but that's a later story.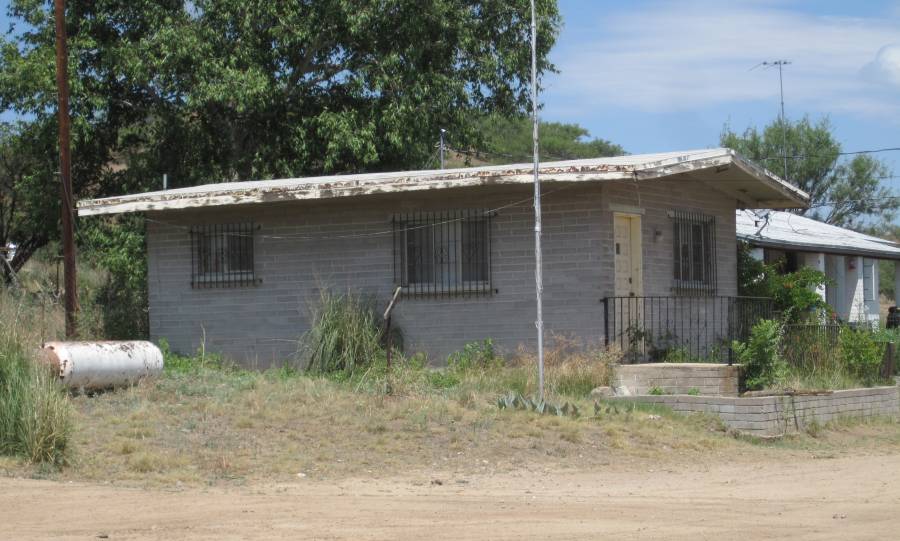 We rode North on the Dusqesne Rd. then the Harsaw Rd. to the old townsite of Harsaw, Arizona.
John (Emmerson Biggun's) pictured to the right.
I was wearing my Kilimanjaro Air Jacket on this ride and it was great the whole ride.
It kept me cool with the liner out--and warm and dry when I put it in.
Temps on this ride would go from 25° to 108°---it took me half my traveling life to learn how to prepare for
a ride with such varying temperatures.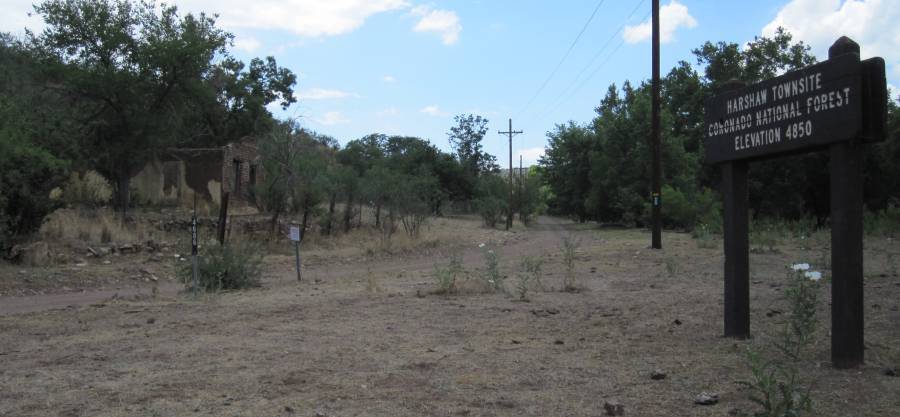 Harshaw's post office was established April 29,1880 and discontinued March 4, 1903. The Hermosa mine
was the mainstay of Harshaw.
Located in 1877, the mine was shortly operated by 150 men and a 20 stamp mill. There were boardinghouses,
saloons - 30 of them, hotels,
corrals, blacksmith shops, stores and more.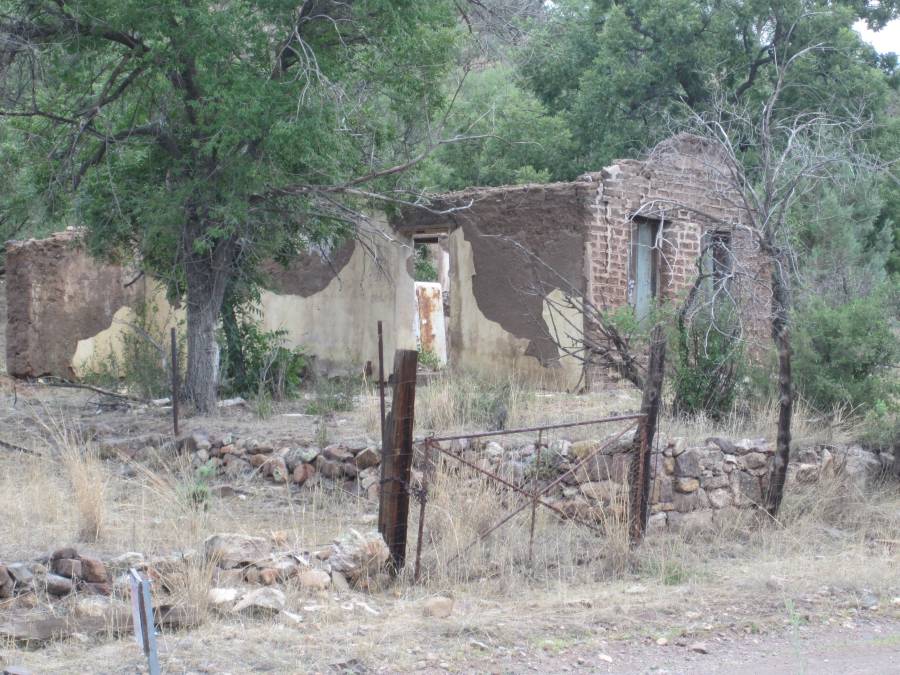 Today all is left is the building above and this cemetery.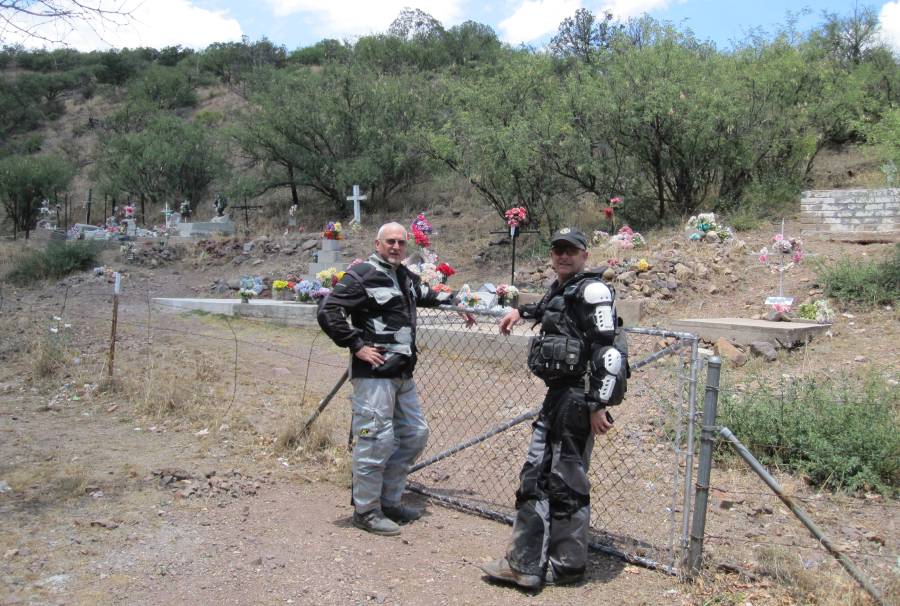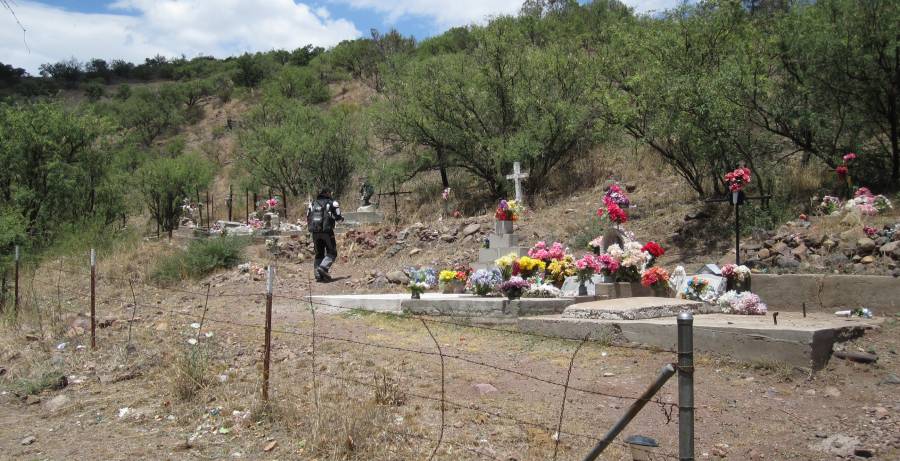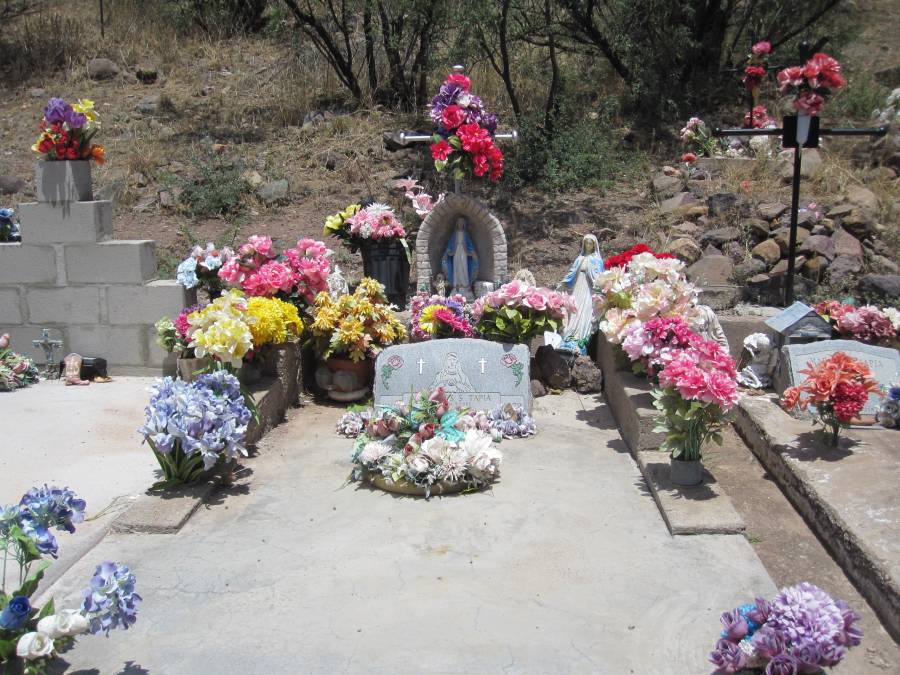 We ride North back toward Tuscon on a different route.
Arizona is Scotts home turf---------I've ridden in Arizona a lot but let Scott do pretty much all of the
navigation in Arizona.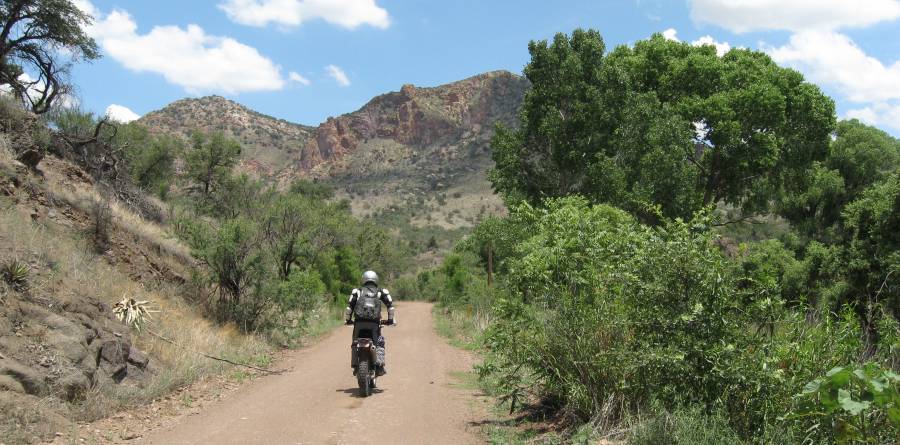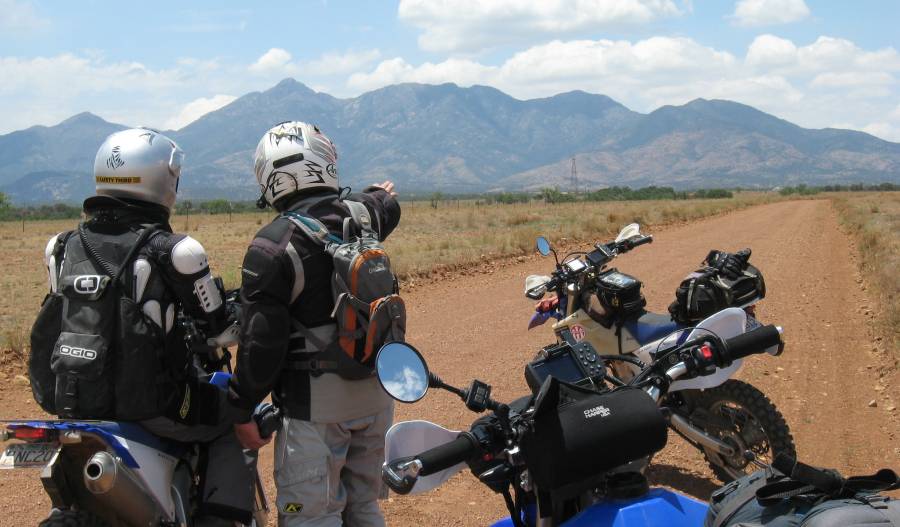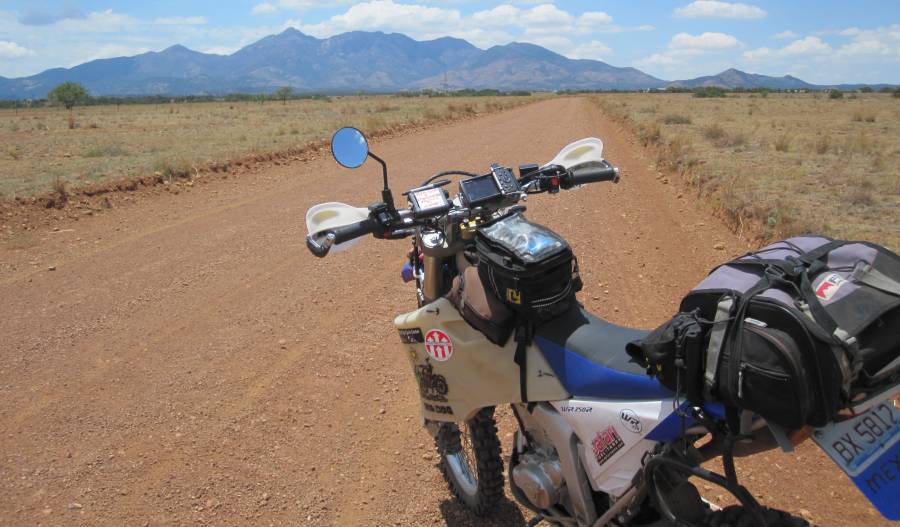 Patagonia had gas and a gatorade and we rode North and found this old mine.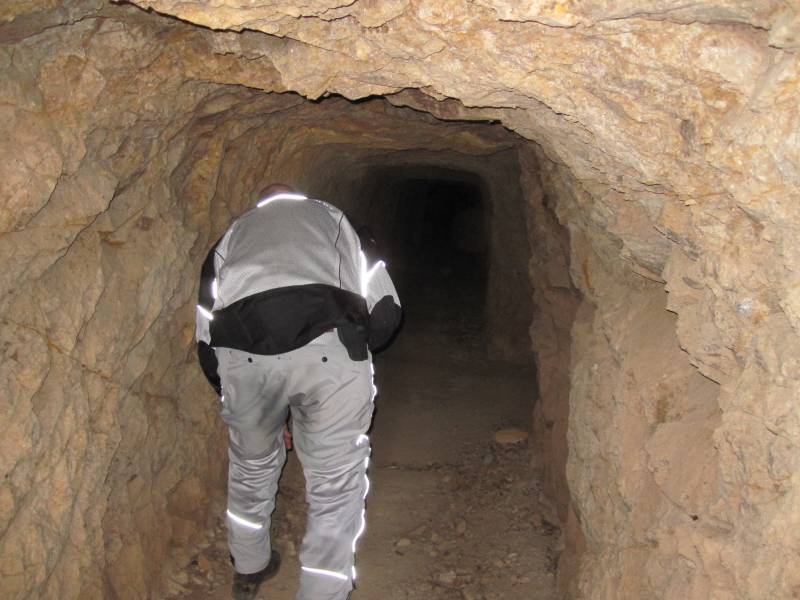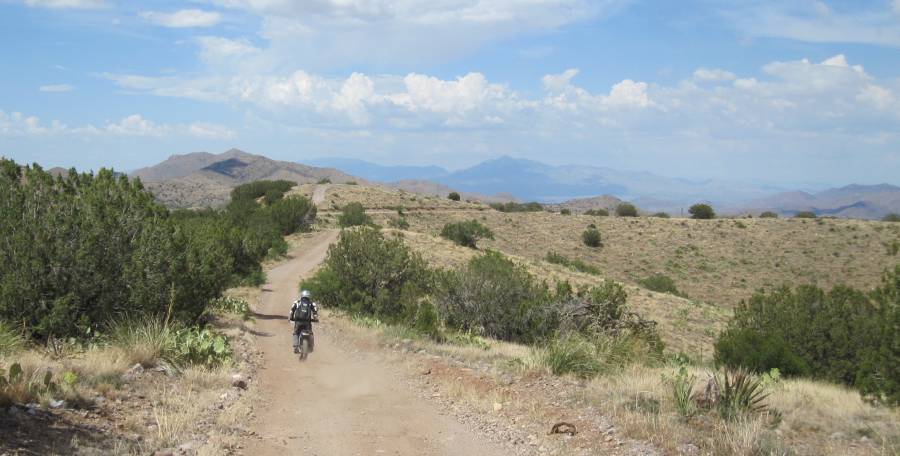 There is no breaking traction or reckless driving------beyond this sign.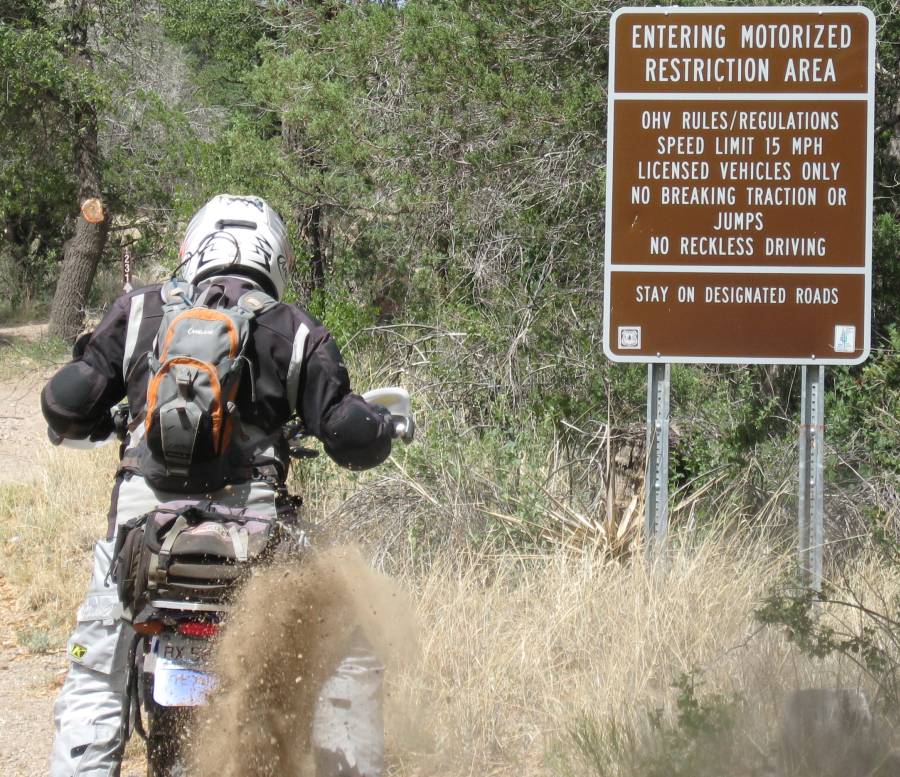 We rode 199 miles today---and ended back at Scotts house.
Tomorrow we'll head North and Scotts wife will not see him for a month.
Mine had done without me for much longer than that.
206 Miles for the day
Arizona/Day 2
7-18-10
You can just imagine the excitement me and Scott felt as we left Tuscon------a month on our bikes traveling
unsupported on dirt bikes to some extremely remote parts of the country.
"Were In Heaven Man"---a favorite quote of mine from Woodstock.

A little scary too-----would we get hurt ?? Would our bikes break down ?? Would we crash and break
out bikes ?? Would me and Scott get along ??? Would our wives leave us ???? Could we do this ??
How many flats would we have ?? Would Scott put up with my constant farting ----or join in with me ???
Good questions---that deserve an answer.
No---kinda---kinda--yes---no--yes---2----oh, yes !!!
I knew we'd take way more pictures than on any other ride I've ever done.
I came up with a very simple way to keep track of pictures me and Scott both took.
Each day we would both take a picture of my rollchart with the date on it.
It worked---saved me a lot of work. I also jotted down lots of stuff--mostly info on waypoints I saved
to my gps.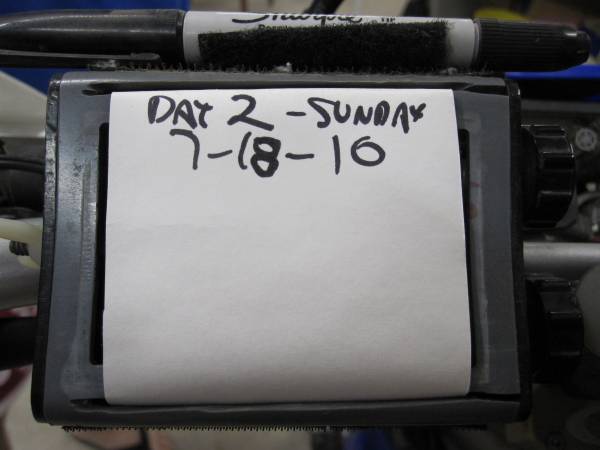 We rode Northeast on the Redington road.
I had been on it last year when it was wet and slippery---today it was marvelous.
However---this didn't last long.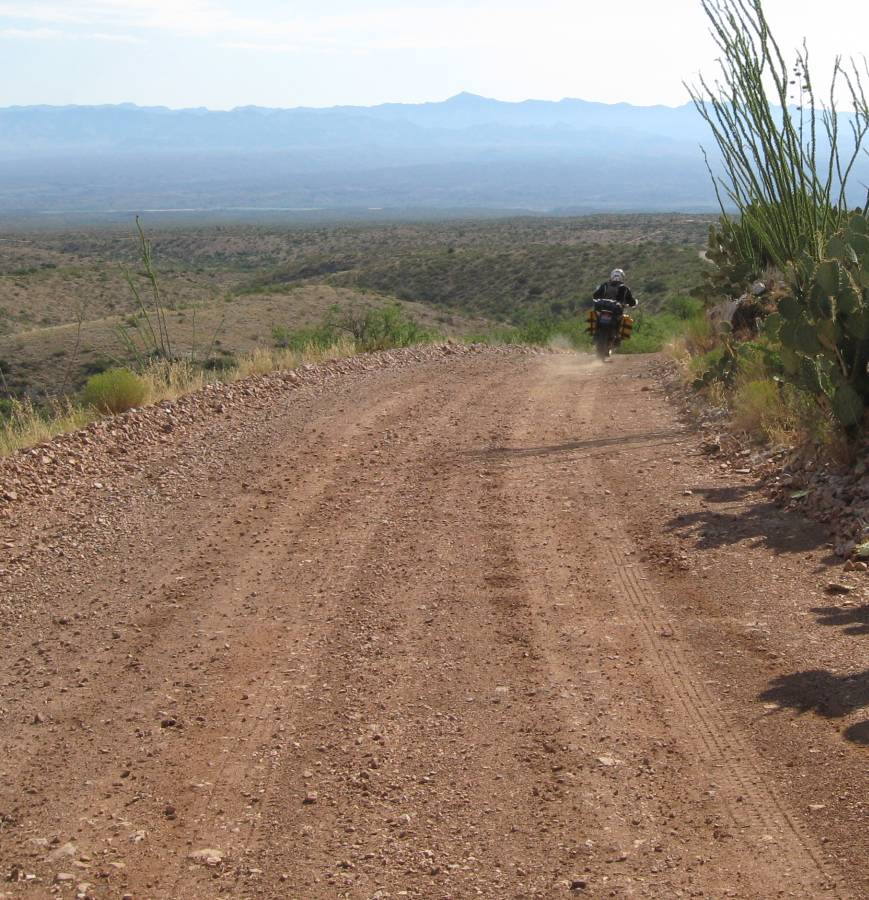 I took lots of pictures of the Sequaro cactuses-------you've heard me say it before---I love those things.
I knew not to far down the road they'd disappear and be only a memory------or a jpeg.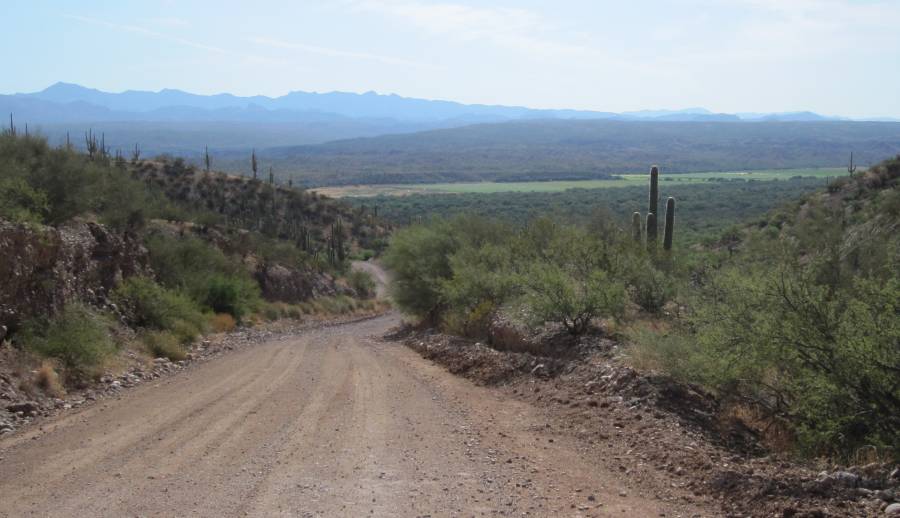 Scott led me at a nice pace down Redington road and this was just hilarious.
One was a Dunlop 606 just like I was running. How did someone put it up there ????
Hell------we might need that tire ????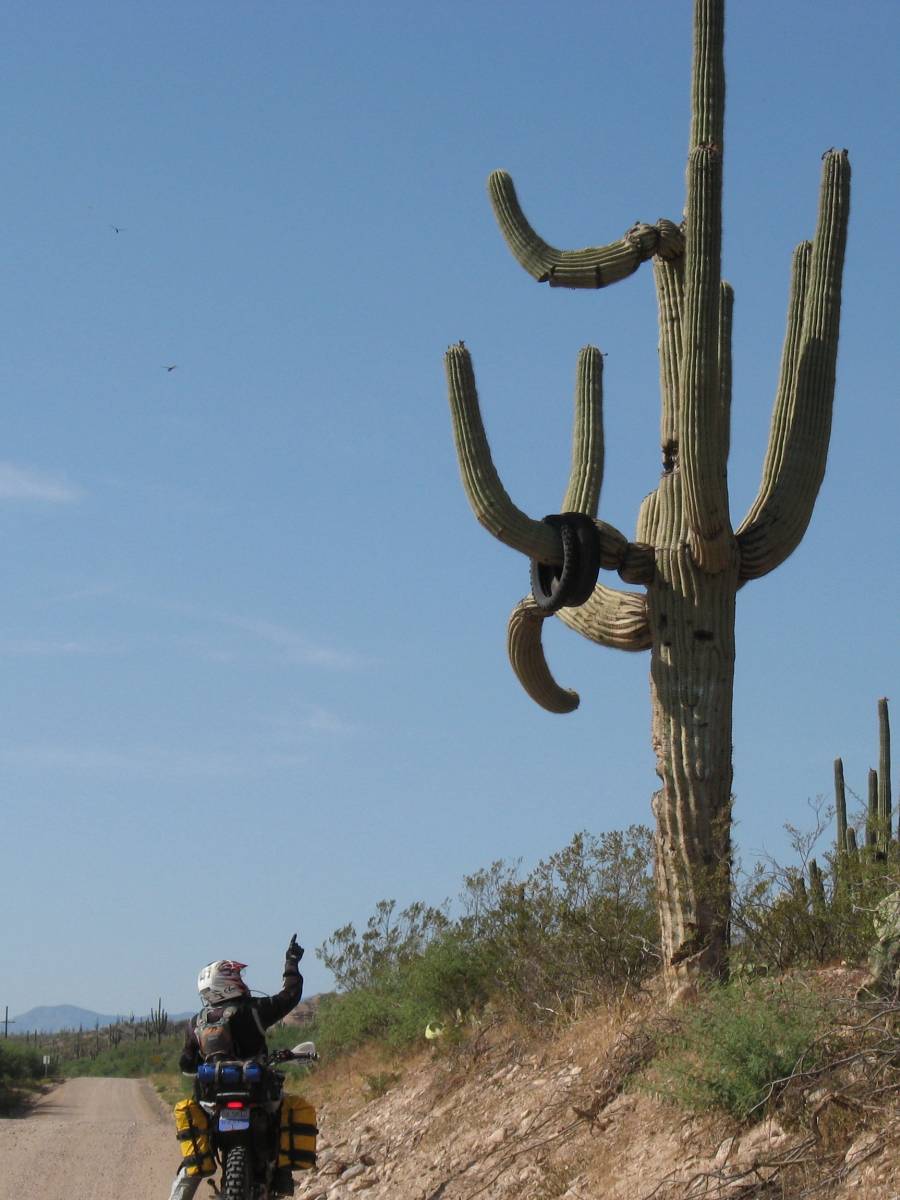 There's a bike in there somewhere-------find it.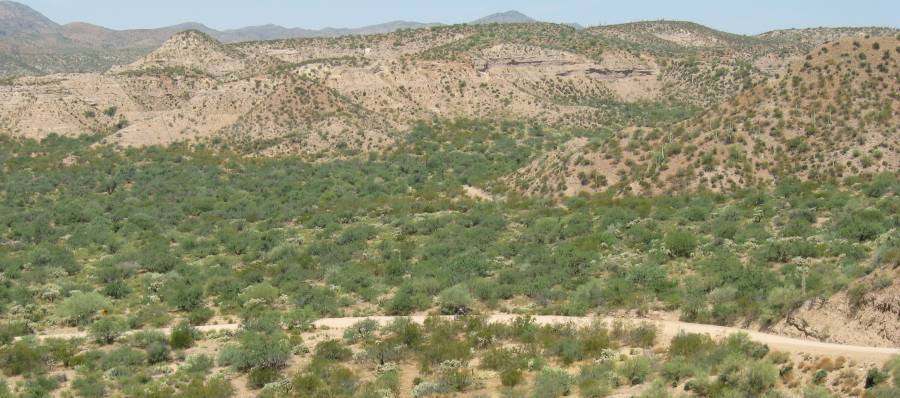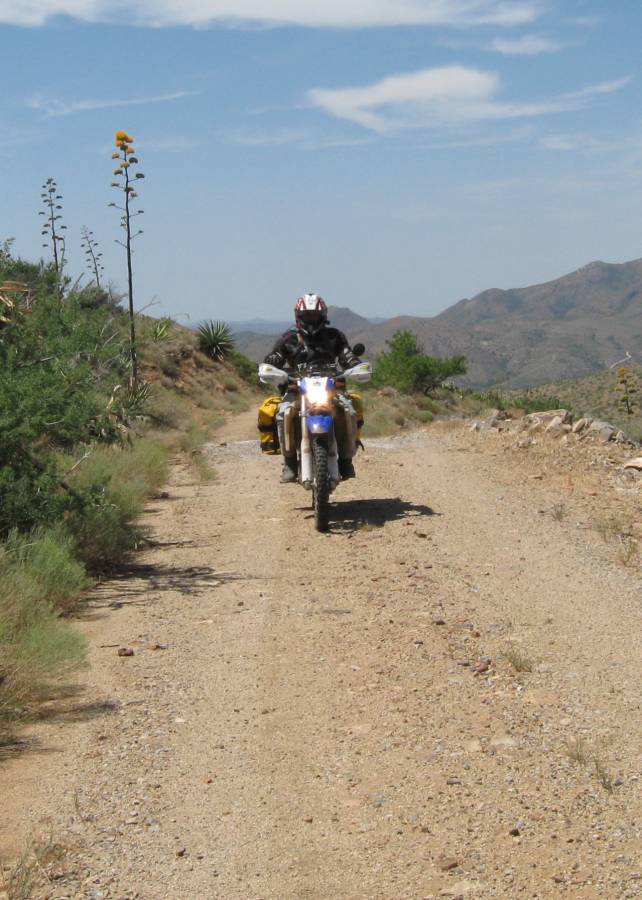 I think the San Pedro river is down there somewhere.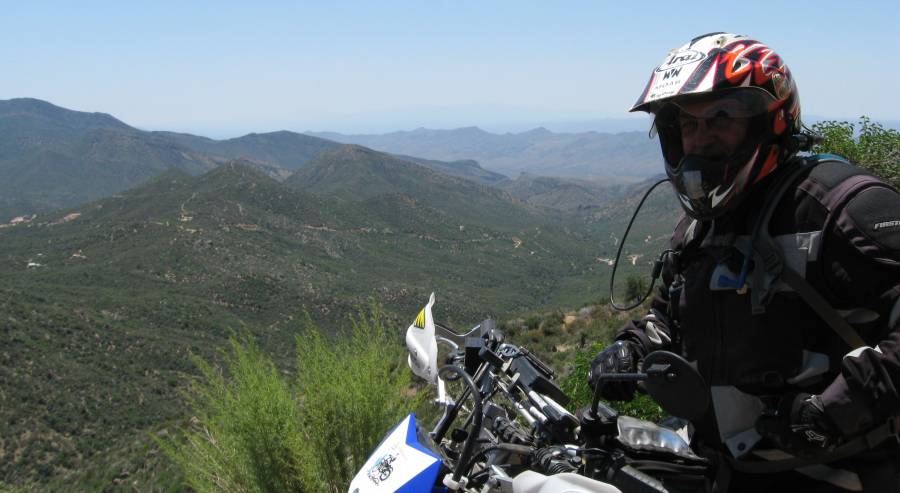 I should call this year-------"The Year Of The Rattlesnakes"
Never saw one in the wild in my life-----but saw several this trip and the trip last month with my son.
He was serious and poised to strike---but slithered sideways off the road while keeping his eyes on us.
The Sequaro cactuses are a protected plant in Arizona.
They only grow in a relative small part of the world. Mostly Arizona and Mexico.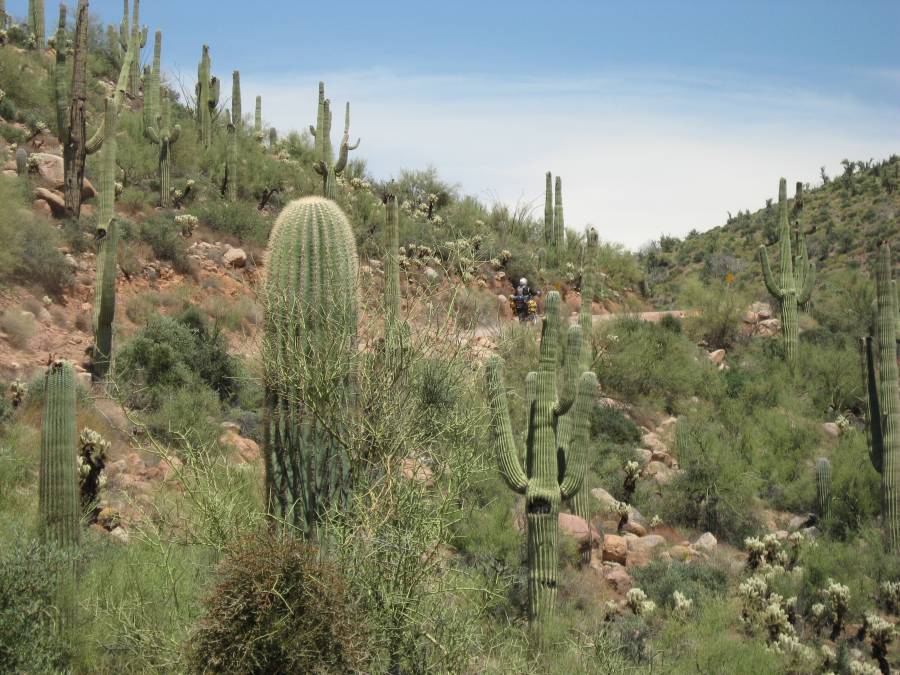 I was very hot----but no humidity and it never bothered me.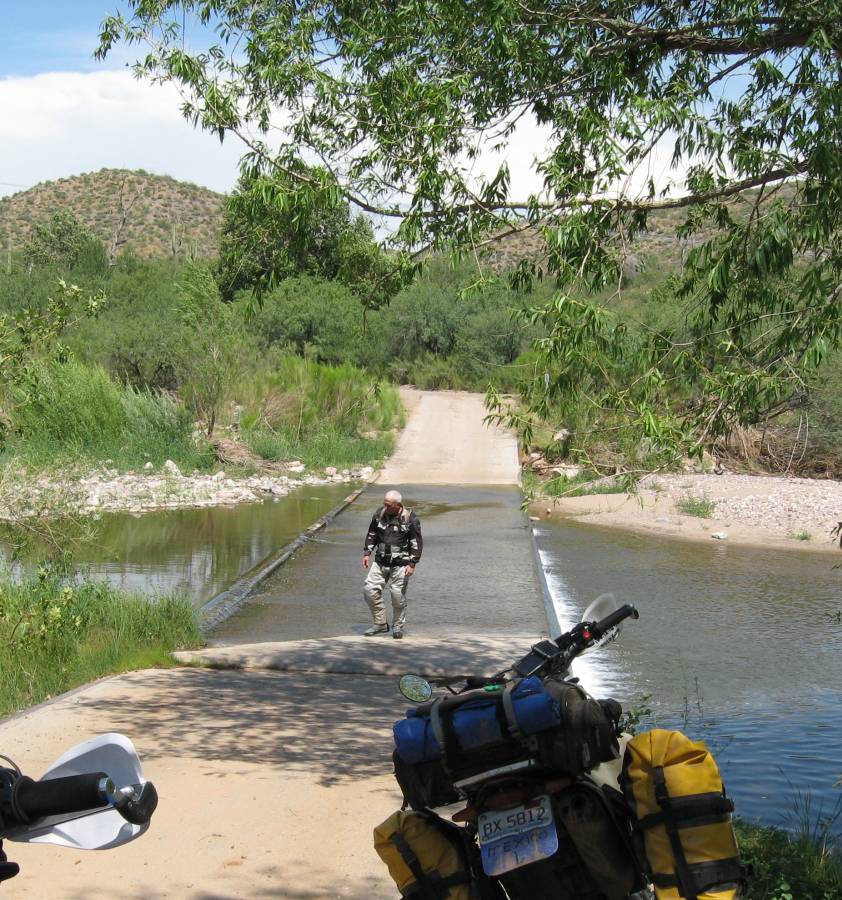 But a cool splash felt so good.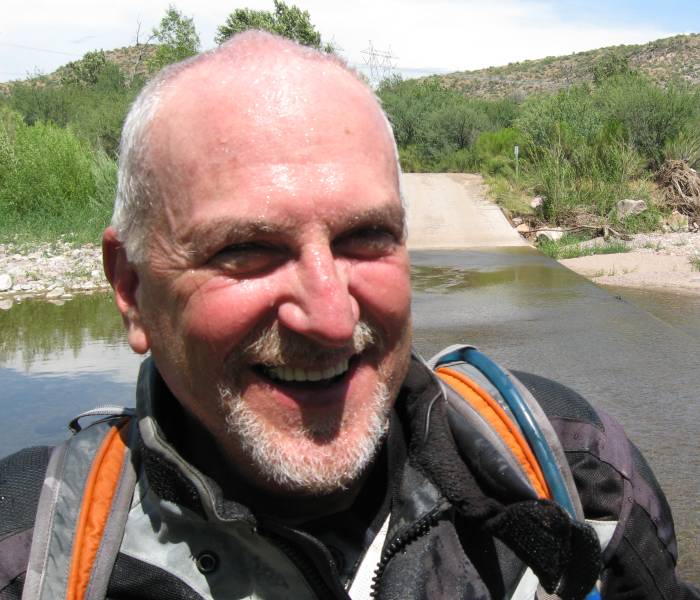 This lone cactus stood about 30' tall and grew right out of the huge rock.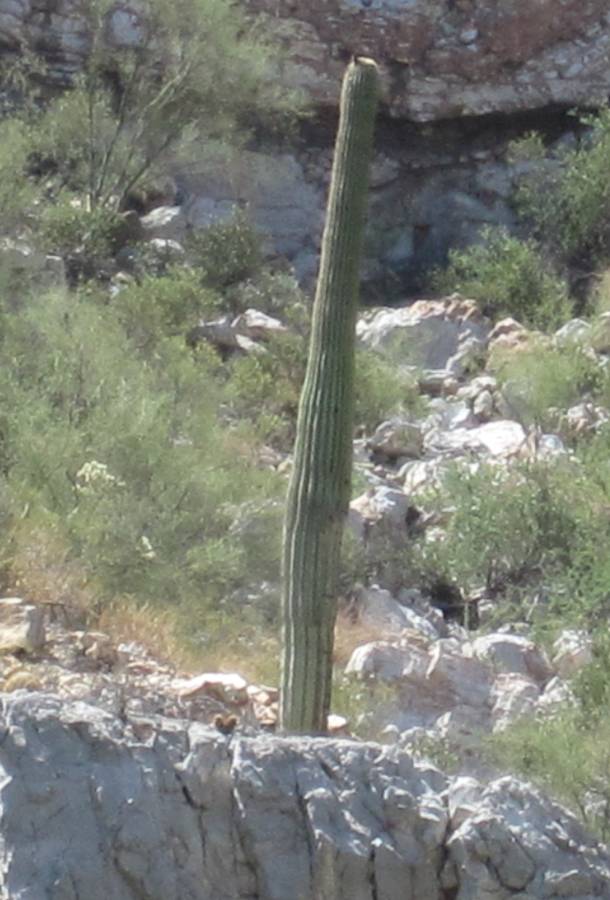 This plant was huge--maybe 20 ft. tall and so colorful.
Scott said it was a century plant.
We were so lucky to be in the desert after Arizona had experienced some records rains earlier this year.
It was alive with color.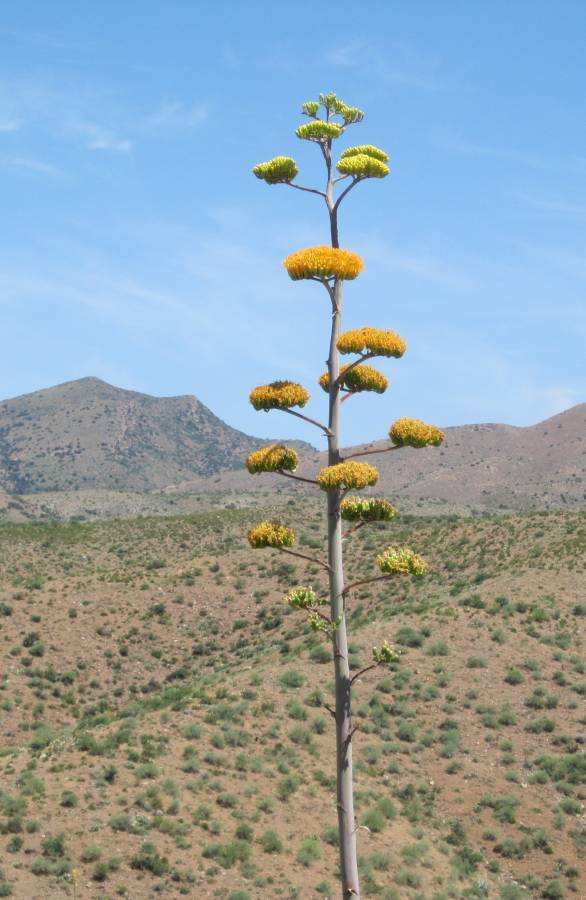 I loved the route Scott had plotted out for us thru here.
The riding would get difficult-----but fun and we would have to open and close some gates.
Scott is packed heavier than me--but had some thing I didn't, that came in real handy.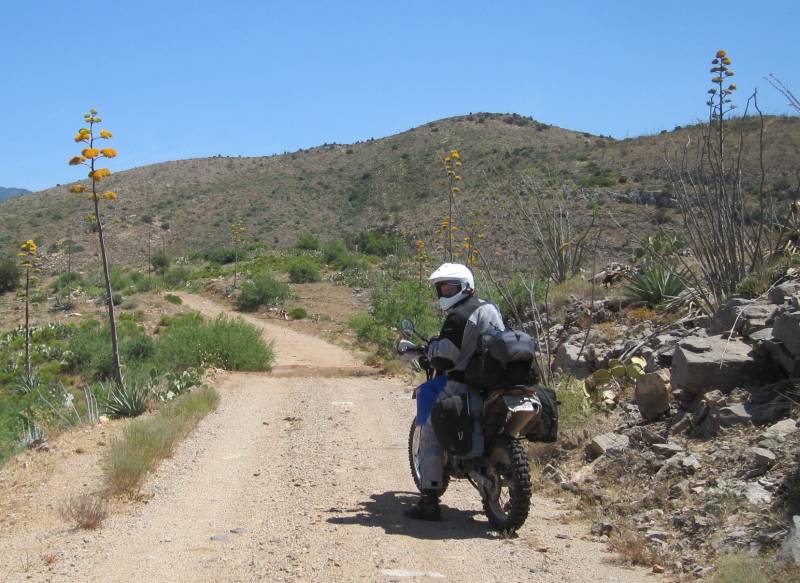 We ran across these people broke down. A couple and an 4 month old infant. It was a very bad
situation---they 4-wheel drive broke---and rear leaf spring broke and they had come thru some
really bad terrain---it was hot and they had little water and this was the middle of nowhere.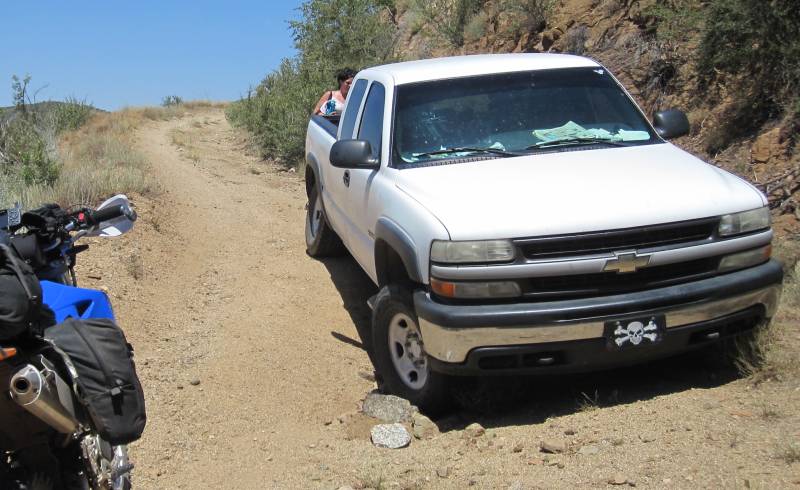 If they could have turned the truck around (impossible) they might have drove out. We gave them some water
and promised we would get help for them and did. Help was sent----but getting a vehicle in there to get them out
was going to be tough and expensive. The bad part is she told him to turn around long before this and he didn't.
She wasn't happy. I'm sure when we left it got pretty ugly.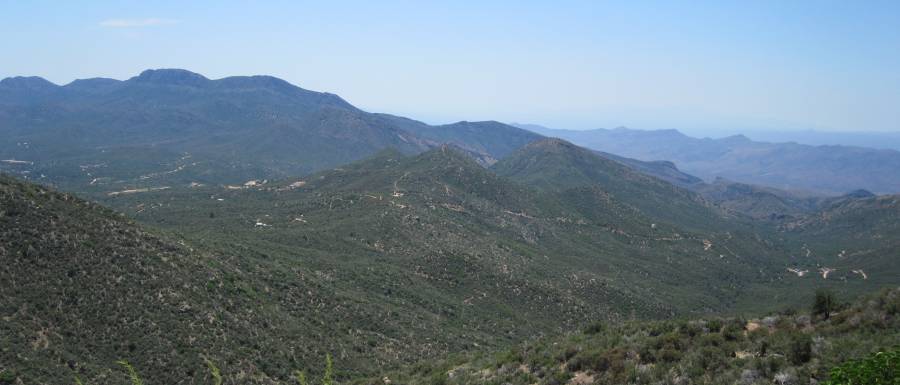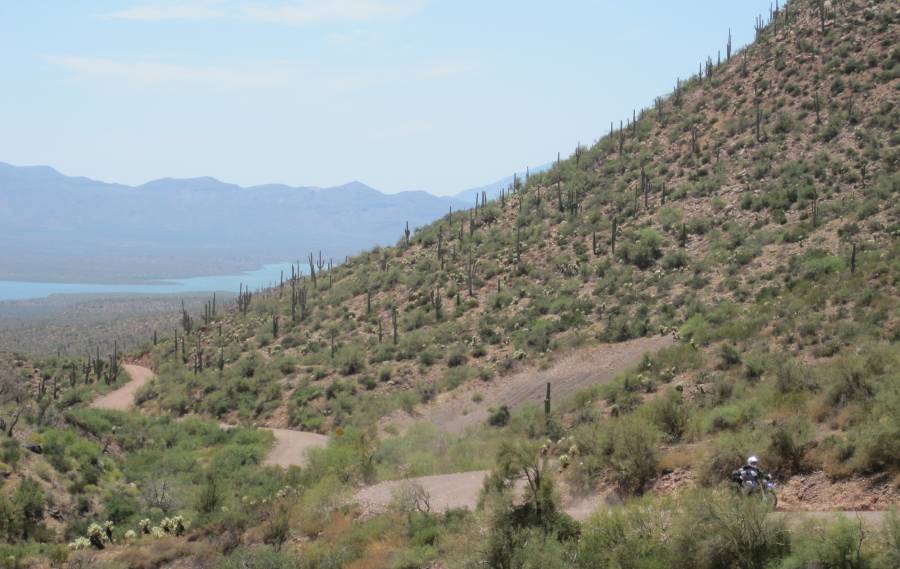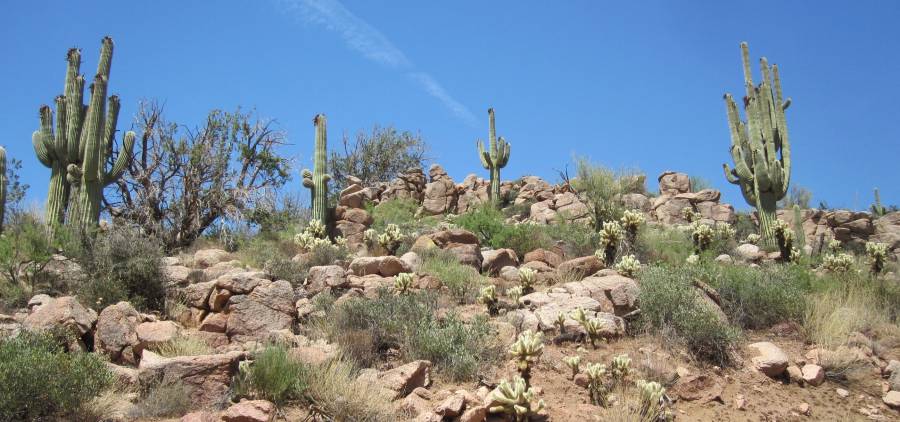 The beginning of the end-------for today. Impasable when wet----you've surely read about it--or experienced it.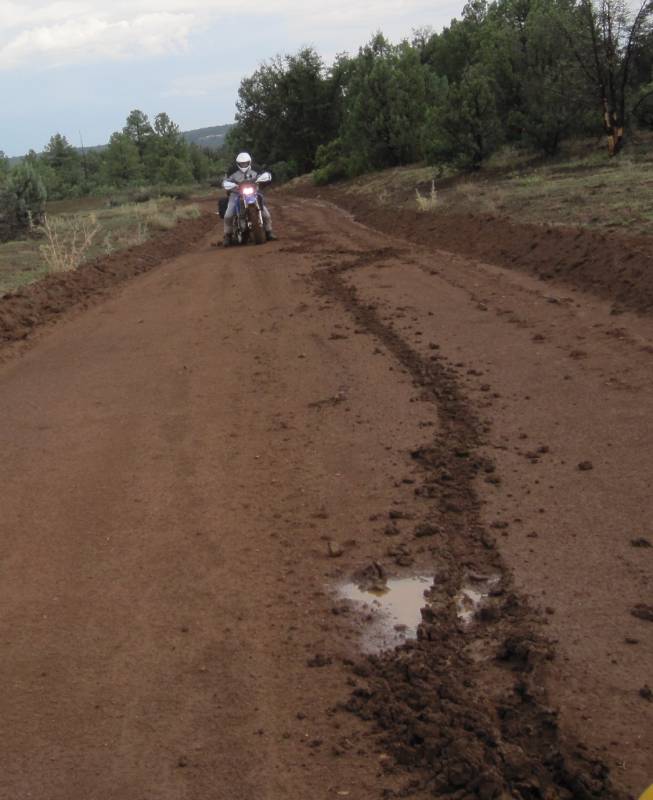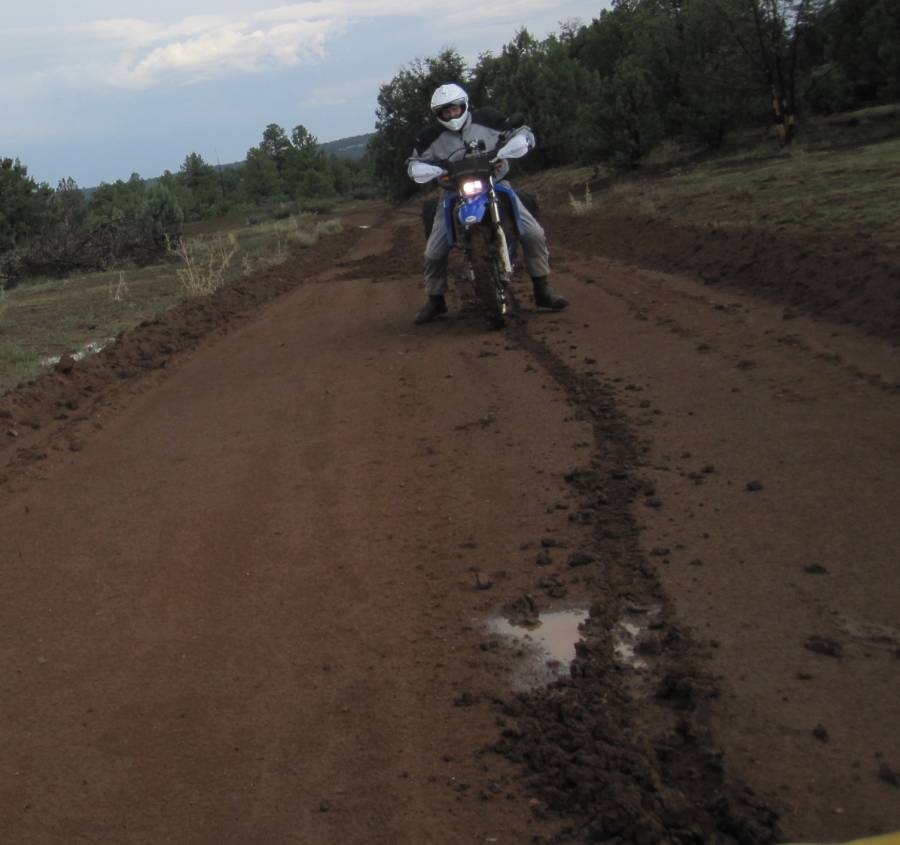 I'd tell you where we were at but we weren't near anything----nothing, nada.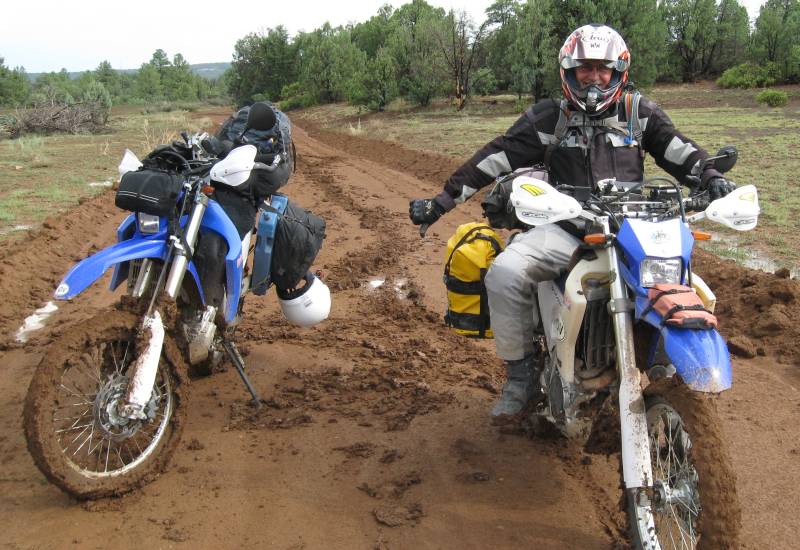 There's a front tire in this picture ---------somewhere.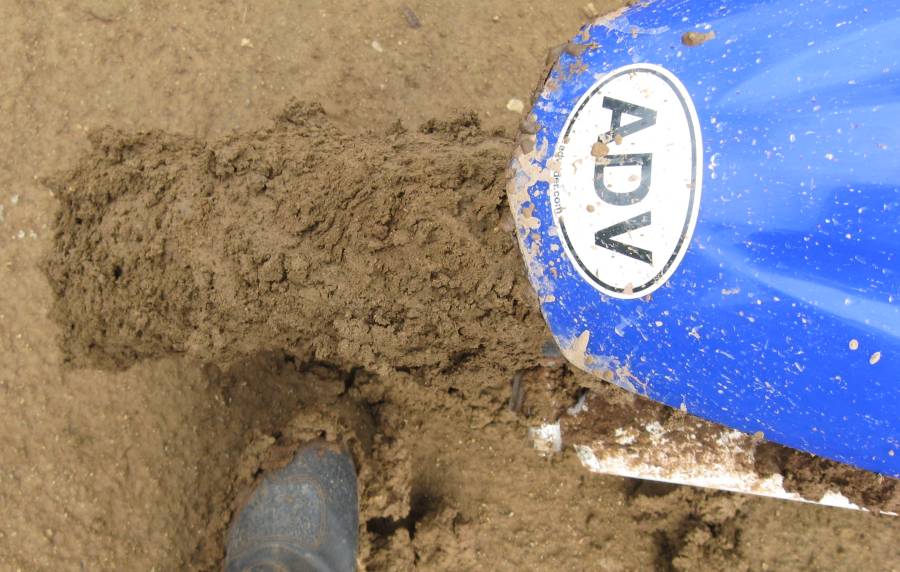 The bikes wouldn't move---you can clean them---10ft. later same thing.
While walking the mud was so sticky you would grow an inch with each step---I've been in this
situation before-----hundreds of miles of roads we would ride on this ride had this potential if it rained.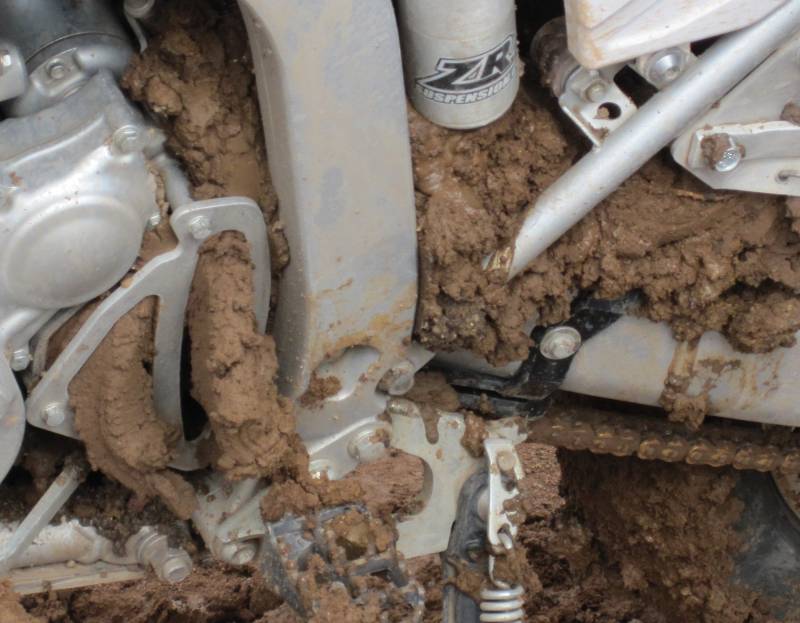 We had no choice-----set up camp and wait for the road to dry. It was late in the day anyway---
did I say it was drizzling, thundering and lightning all the while we put up our tents.
This is where I knew me and Scott were going to be great companions. We barely knew each other and now
we're put to the test---a big test-----what's going to happen now ????
We called this camp..............
"Camp.....Endeavor To Persevere"
We thought about it for a long time, "Endeavor to persevere." And when we had thought about it long enough, we declared war on the Union (mud).
Quote: Indian Lone Watie---Josey Wales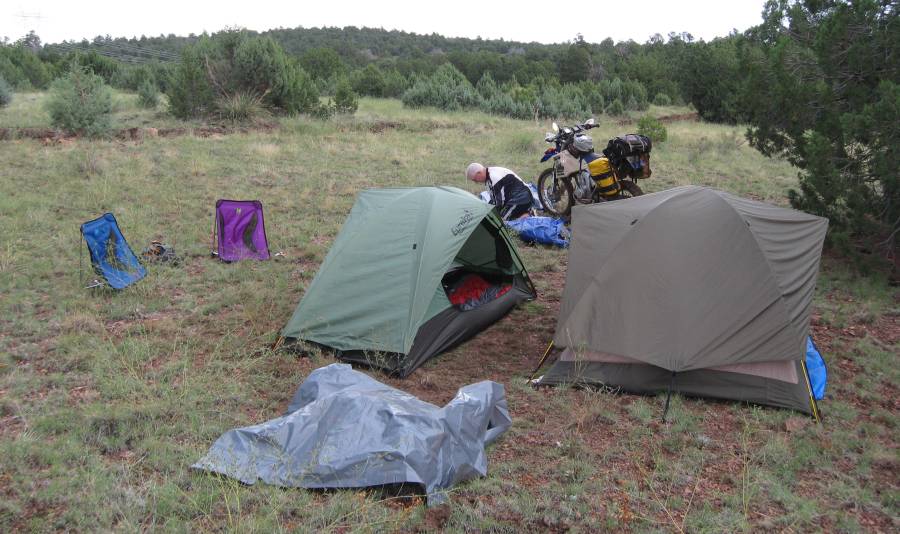 The mud was completely imbedded with small stones----enough to wedge in your countersprocket and lock things up.
Scotts rear wheel was locked up for more than one reason. He didn't really know it was locked up and was spinning his rear tire--------except it wasn't spinning !!!
Nice shirt Scott !!!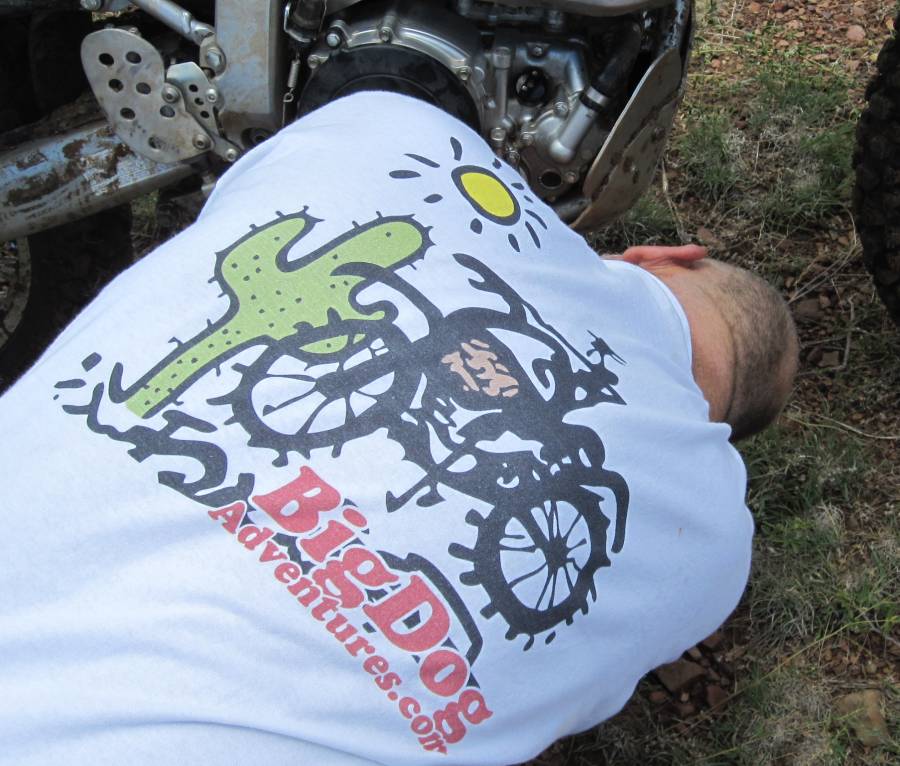 The clutch was completely fried------Scott felt so bad and was embarrased at what he'd done.
He'd spun it at full rpm and it went quick. He kept apologizing to me and I had to tell him to stop apologizing.
Shit happens and I might be next. We'd work together and get thru this.
Honestly it was no problem----our friendship was growing as we both kept a smile on our faces the whole time--I know
we must be sick !!!! We had the best time laughing about the whole thing and cooked dinner in our jet-boils
in our tents and yacked for I bet 3 hours before me snuggled up to BigAgnes and fell asleep.
Yes it was a rough start for our ride. We didn't say then--but we knew we were a great team and
whatever happened from now on---we'd work together with a smile and soldier on.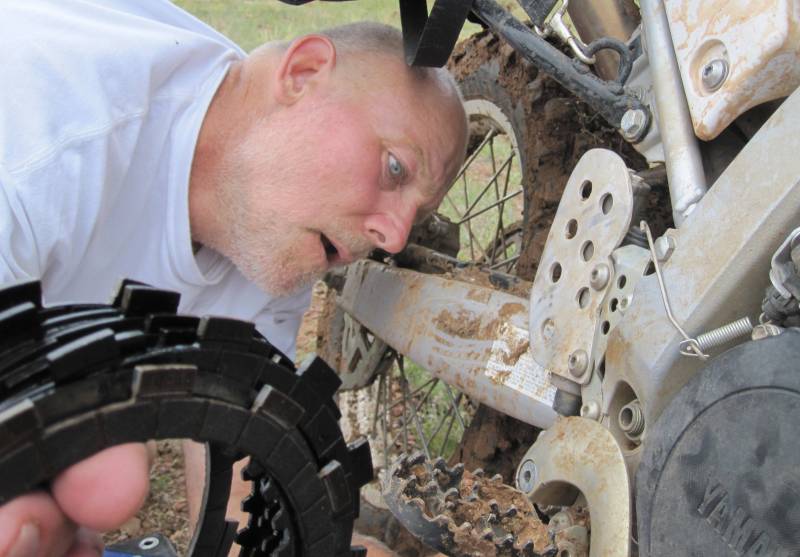 "Now remember, when things look bad and it looks like you're not gonna make it, then you gotta get mean.
I mean plumb, mad-dog mean. 'Cause if you lose your head and you give up then you neither live nor win.
That's just the way it is."
Quote: Josey Wales
Warning: if you've never watched the movie "Jose Wales"---do not proceed any farther
or you won't have a clue about a few things---besides it's the best movie ever made....
even tho it's in color. I rarely watch a movie that's in color---usually not worth watchin'.
199 Miles for the day.
Arizona/Day 3
7-19-10

So what now---cry and go home ??? Starve to death at camp endeavor to perservere ???
Get on the ground and throw a fit ???? Press "SPOT's" rescue button and have a helicopter
pull our sorry asses out of here------"HELL NO"----get on the cellphone and call
"Phone A Friend"---better known as Bill---that's what----were not completely
without skills and we have a 3 days supply of toilet paper. We can do this--yeah !!!!
I can't believe we had cell service---but just barely--and that's all it took.
Bills (on the right)--a very good friend of Scotts---long story short----John (Emmerson Bigguns)
took the clutch out of his WR250R ---gave it to Bill and he brought it to us in his 4-wheel drive truck.
By 11AM we were on our way---the clutch took 10 minutes to put in. Scott did an oil change
also--------it was completely burned up and smelled bad. Bill had left Tuscon at 4AM to deliver the parts
Scott needed----us old guys get up early !!!!!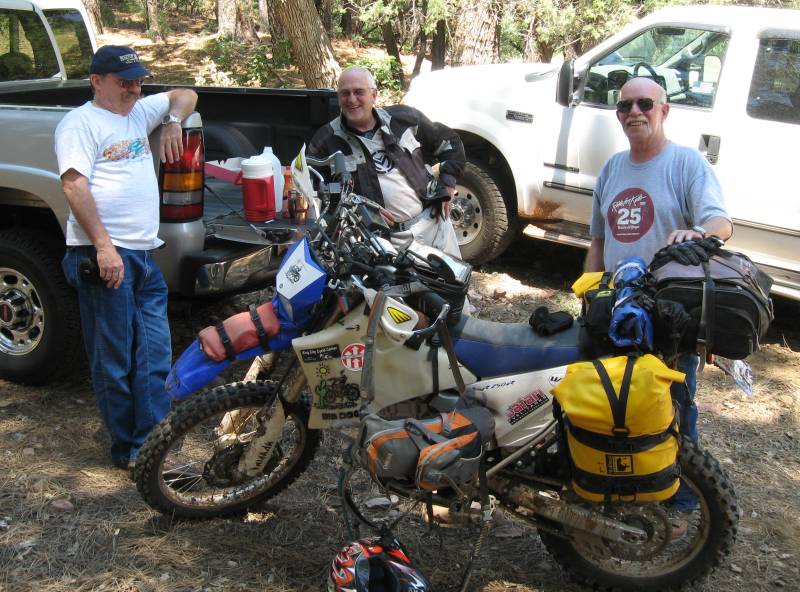 So where did these donuts come from---from heaven -----that's where---"Were In Heaven Man".
Actually this couple to the right of Scott were waiting for us and they had been following us from our SPOT messenger
gps thingy's. Lot's of people were---and John had got on AdvRider and we got all kinds of offers for assistance
and a clutch. Bob saw from the spot meessenger we weren't moving and were in the middle of nowhere.
Did I mention they had hot cofffee ????? Thanks Bob---and his wife--very nice people who ride.
We were riding along our route and there they were beside the dirt road we were on.
Hey---we're going to live after all !! They even had water---we were out---very bad.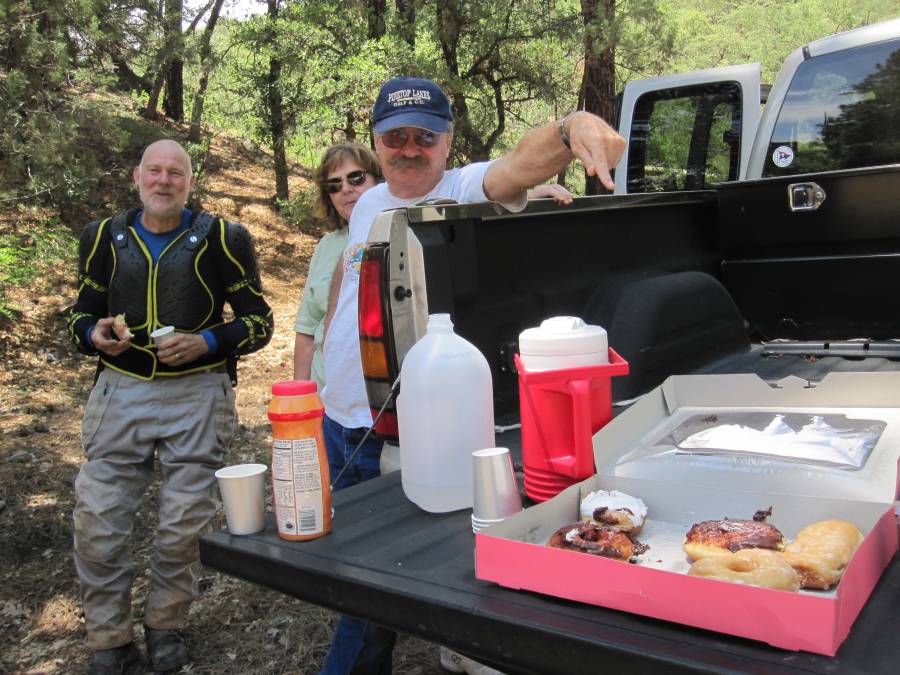 We got a late start riding as we rode North----the riding became more spectacular and I had forgot
Scott's route would take us on the dirt road called the Mongollon rim---pronouned "Muggy--Own"
----about 150 miles of dirt bliss overlooking the valley down below. I've ridden the road at the bottom
2 times---but was foiled both times from getting on top of the rim because of deep snow.
Today was the day I got to finally ride it. I was estatic !!!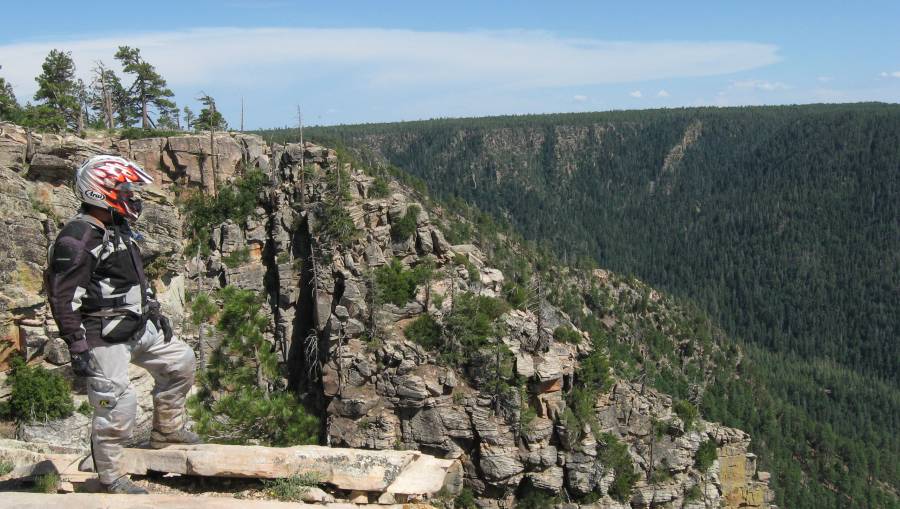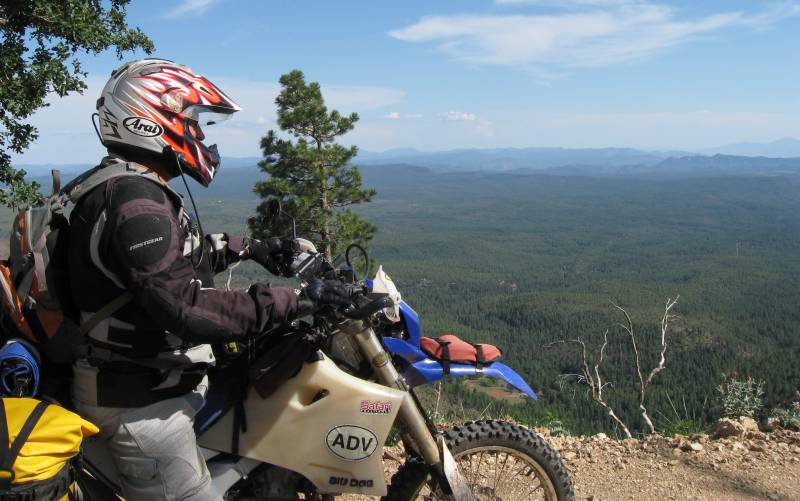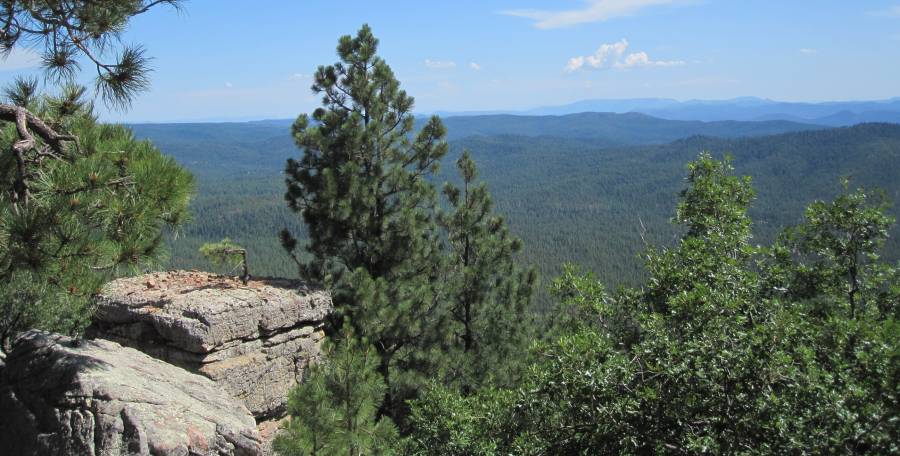 Thanks Scott---Scott looks like a big guy in this picture--that's because he is.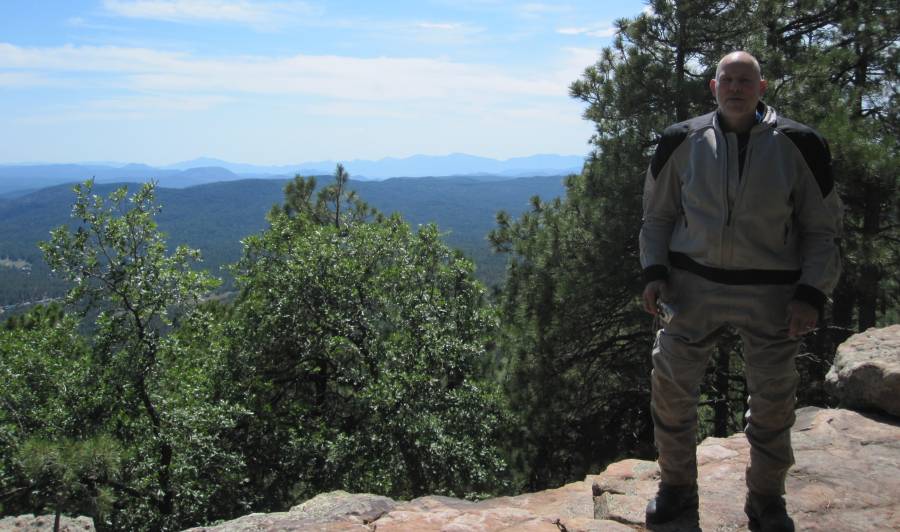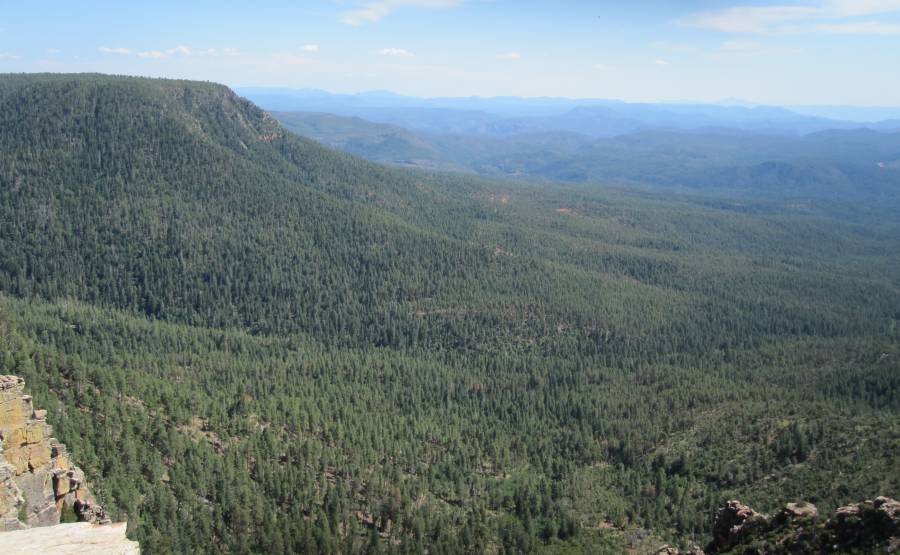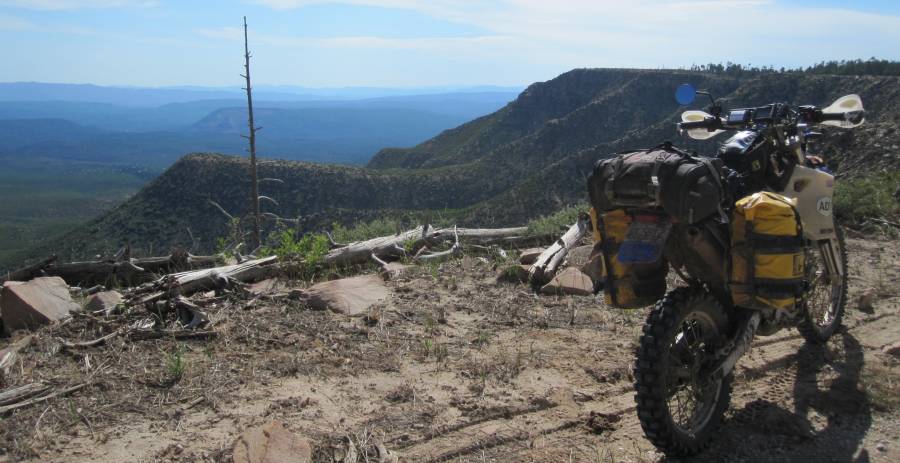 We ended up in the very tiny town of Strawberry, AZ and got a room.
No air conditioning---they don't ever need it here.
A really neat cafe was attached and there were 2 fireplaces inside if needed.
The last time I was here there were roaring.

I did a little washing in the shower and then put my socks in the drier.
79 Miles for the day.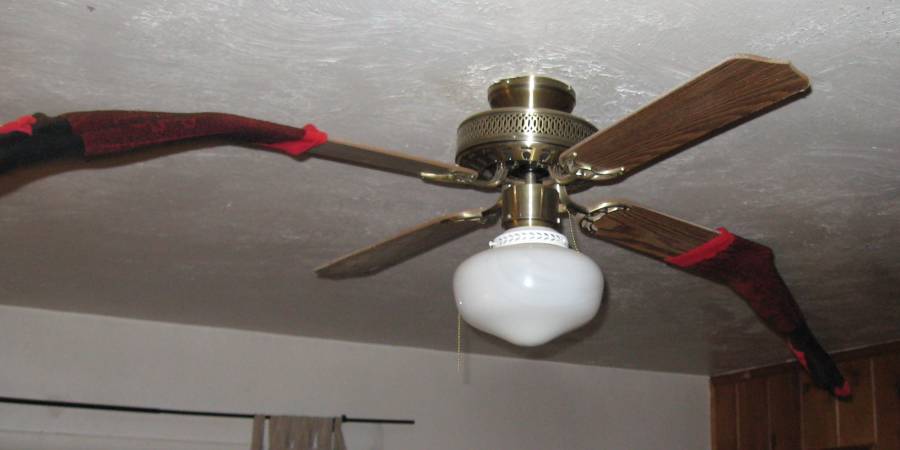 Arizona/Day 4
7-20-10
Strawberry, AZ to Flagstaff AZ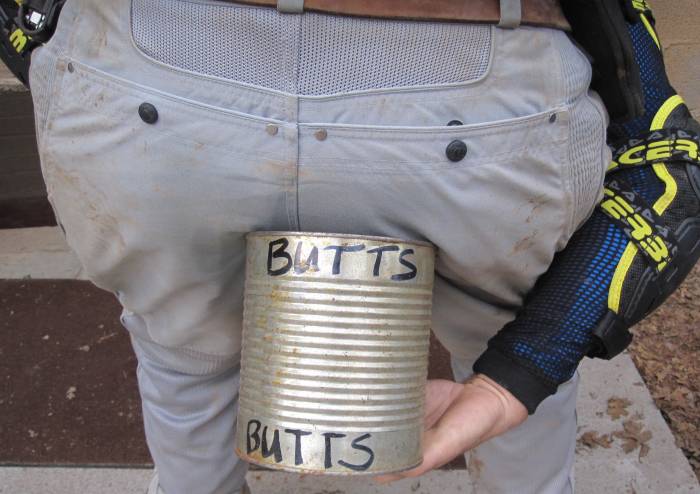 We had breakfast in Pine, AZ which is just couple miles South of Strawberry AZ.
The cafe in Strawberry didn't open till 8AM the sign said---we don't wait on 8AM.
Our days always began at first light---or before.
Were we in a hurry ??? Certainly not !! A hurry to go riding--certainly !!
Me and Scott neither one had a watch---and never knew what time it was or what day it was.
We rode by the sun only.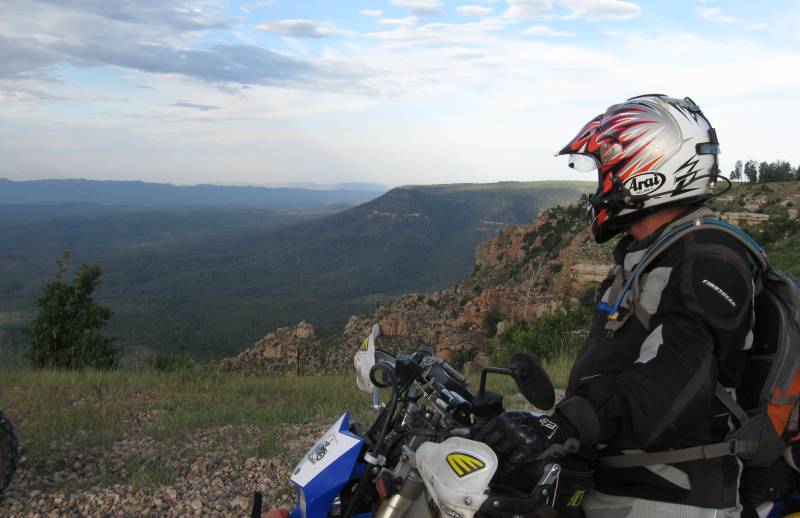 I think this is where Scott was leading us into his old hunting grounds.
A very steep downhill was to the right of those rocks---very steep, and rocky.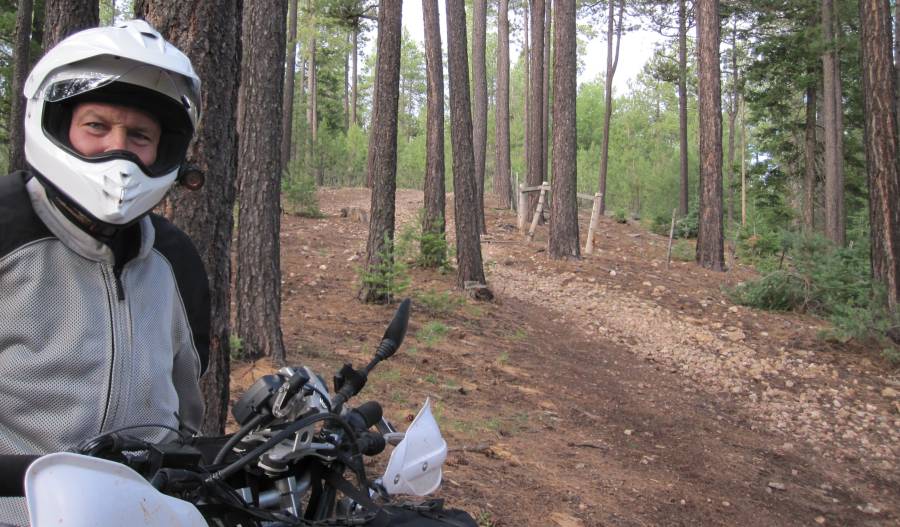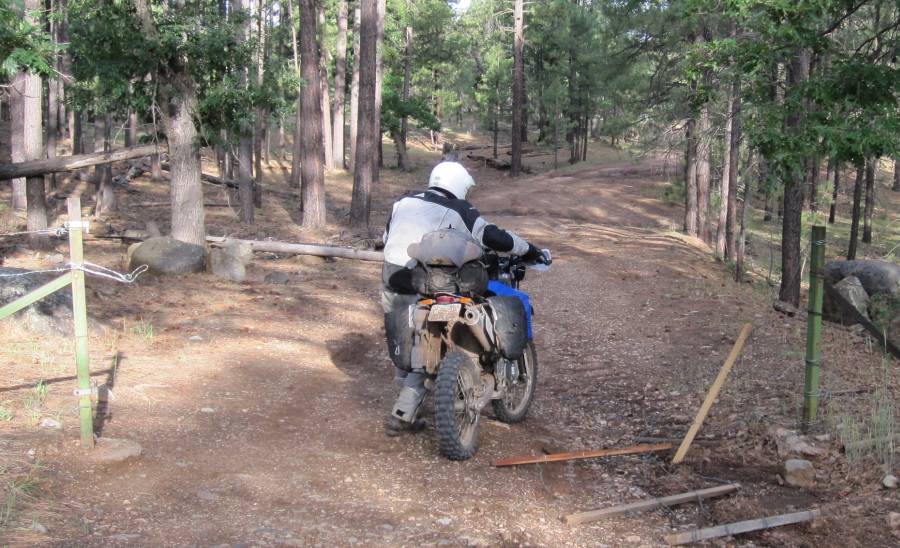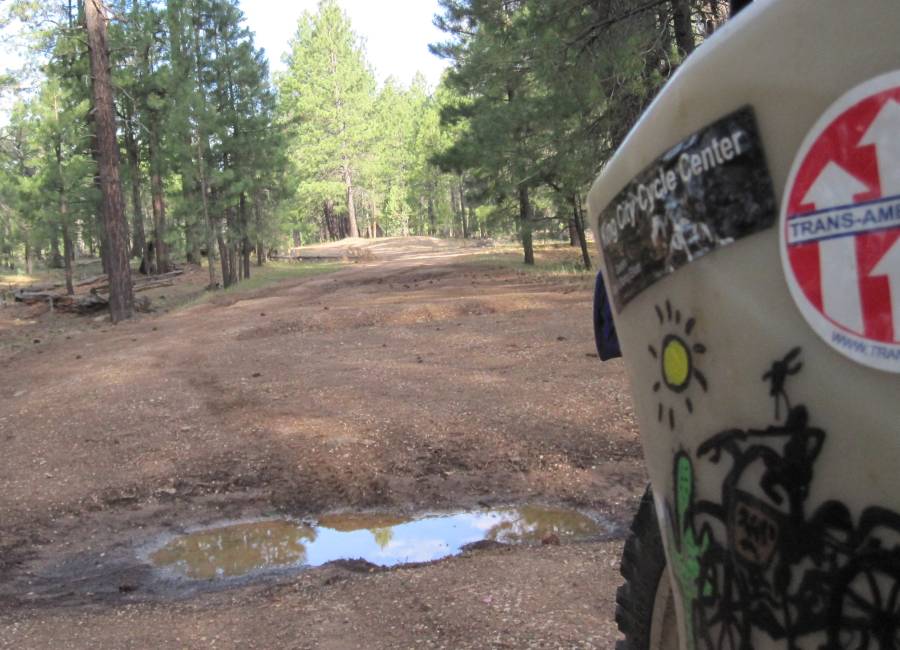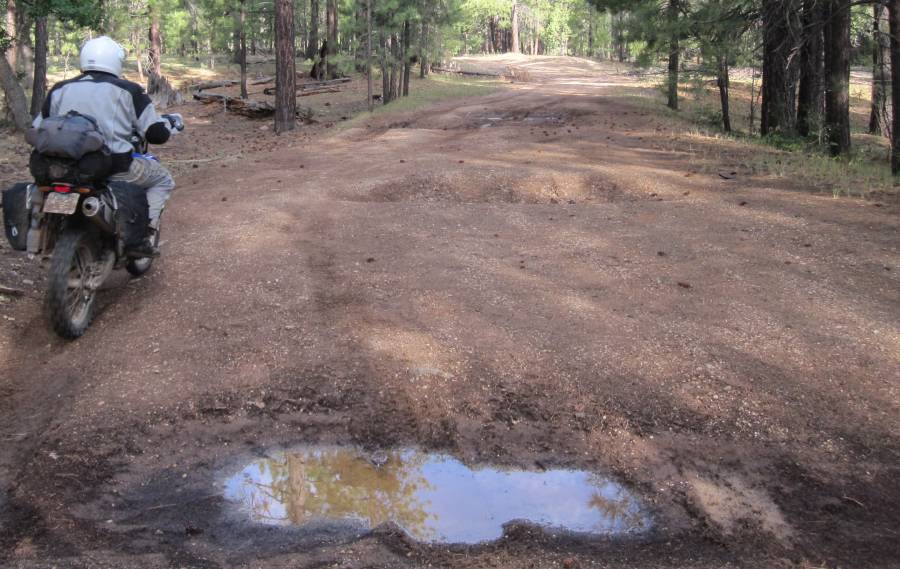 I was so much fun in here---no dust---a few big mudholes to pick good riding lines around.
It was somewhere in here that Scott killed the huge Elk that hung above my chair in his living room.
It was so big I was actually afraid to sit in the chair---and questioned him once just how it was mounted.
I wasn't sure one 1/2 bolt was enough to hold it--I noticed he didn't sit under it ???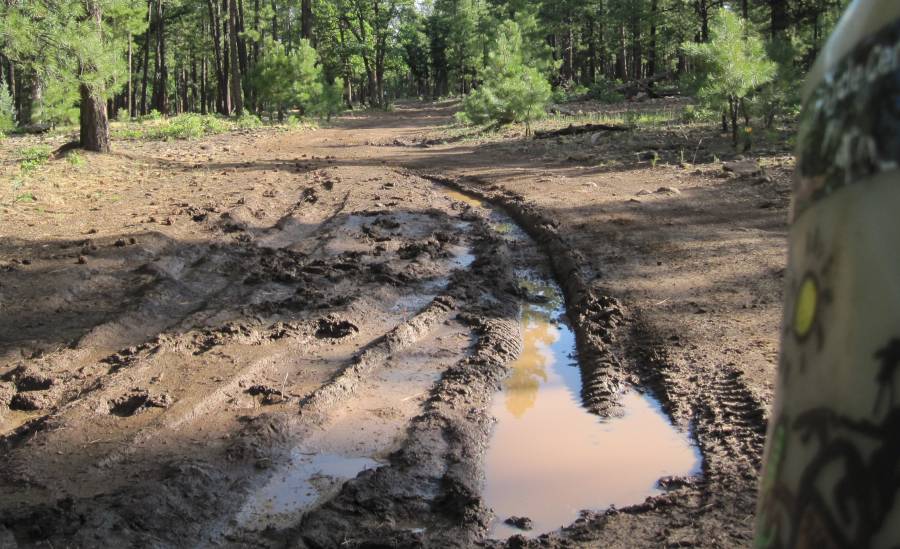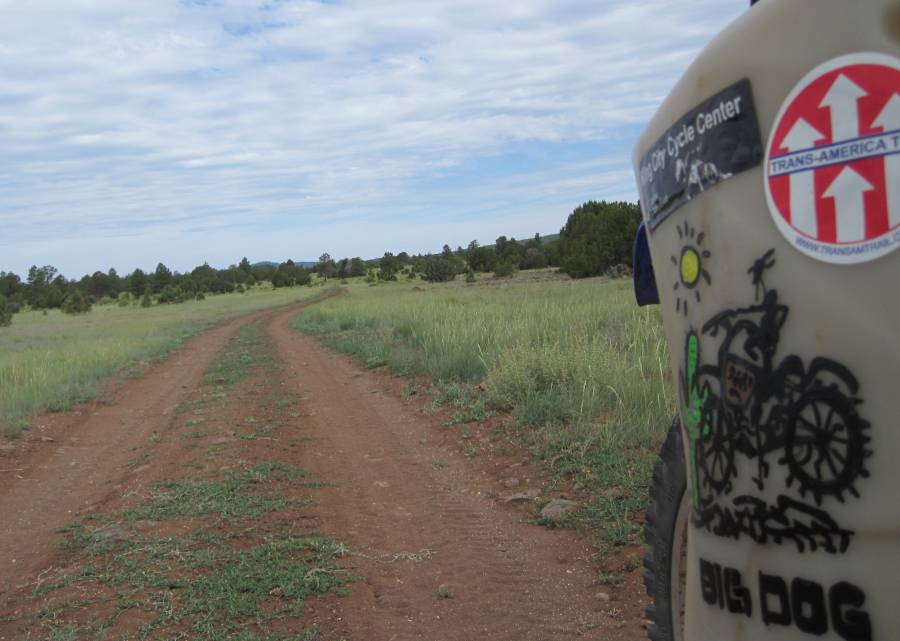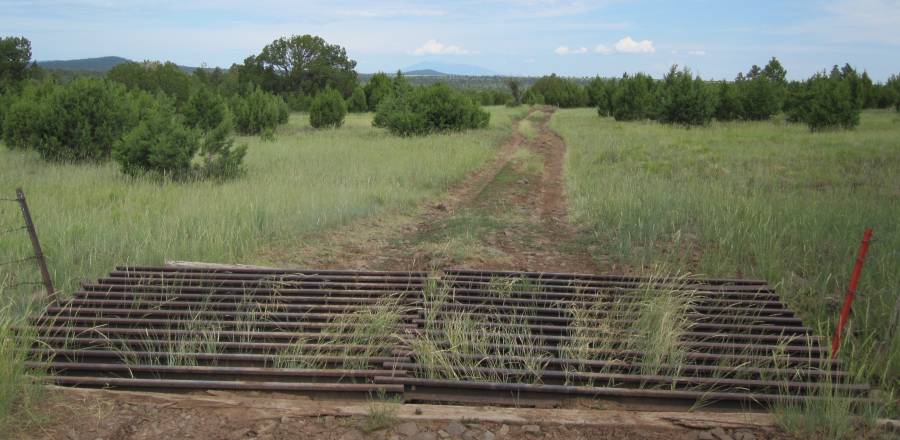 It was somewhere in here we passed Long Lake.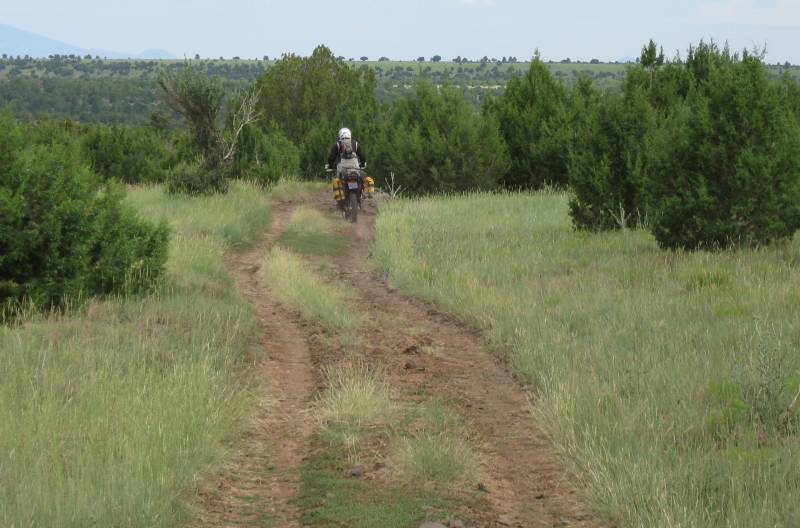 We's stop occassionaly whenever we felt like it a down a gatorade under a shade tree.
I used to hate gatorade--but have gotten to really like the stuff.
I use to thin it down in my camelback riding my bicycle.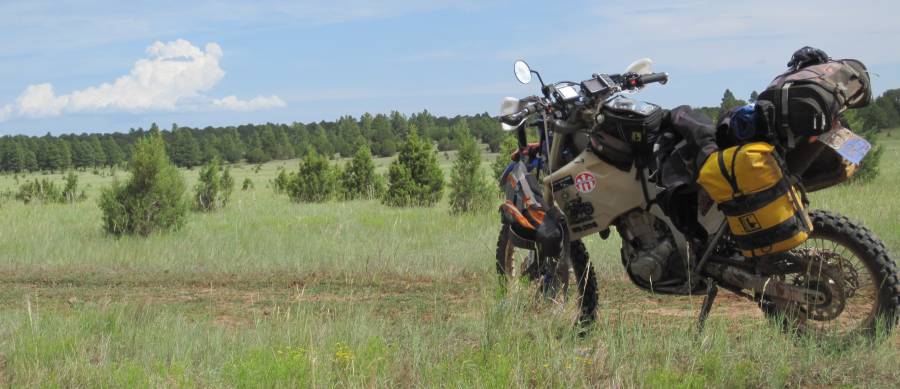 This was the last picture I took with my camera !!!!!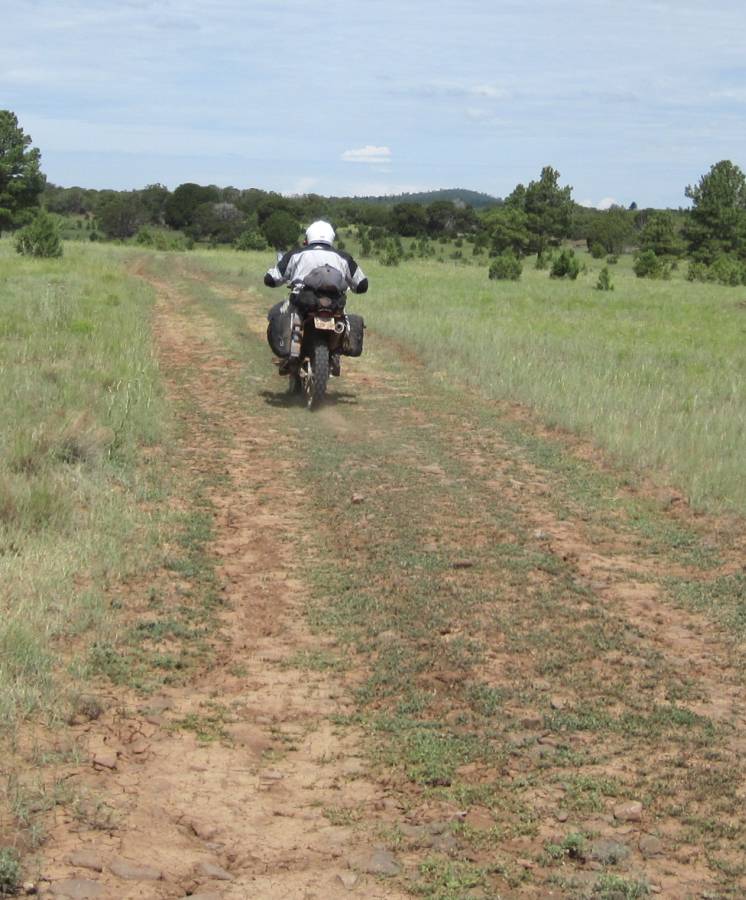 I dropped it---but didn't notice it for awhile--this is the 3rd camera to meet an early death by me lately.
It was toast -------but the SD card wasn't, so my pictures were saved.
We look for it for 2 hours in the rain, and probably ran over it looking for it.
Scott found it after I had really given up.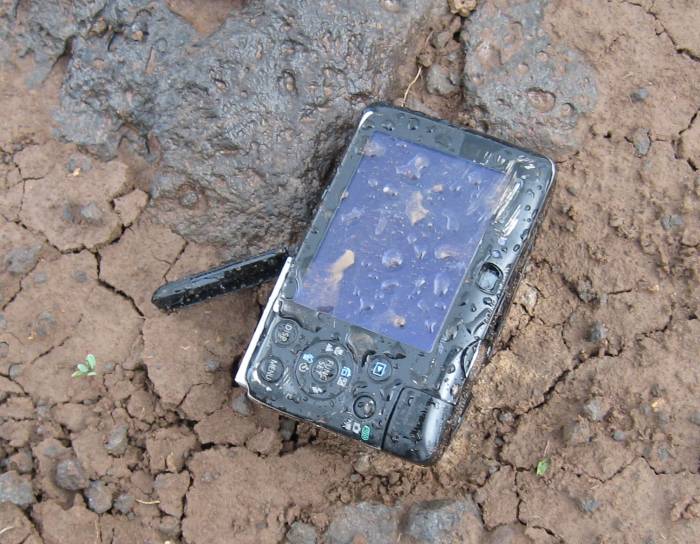 The Arizona monsoon rain gods had rained down upon us and were trying
to dampen our spirits---they failed miserably.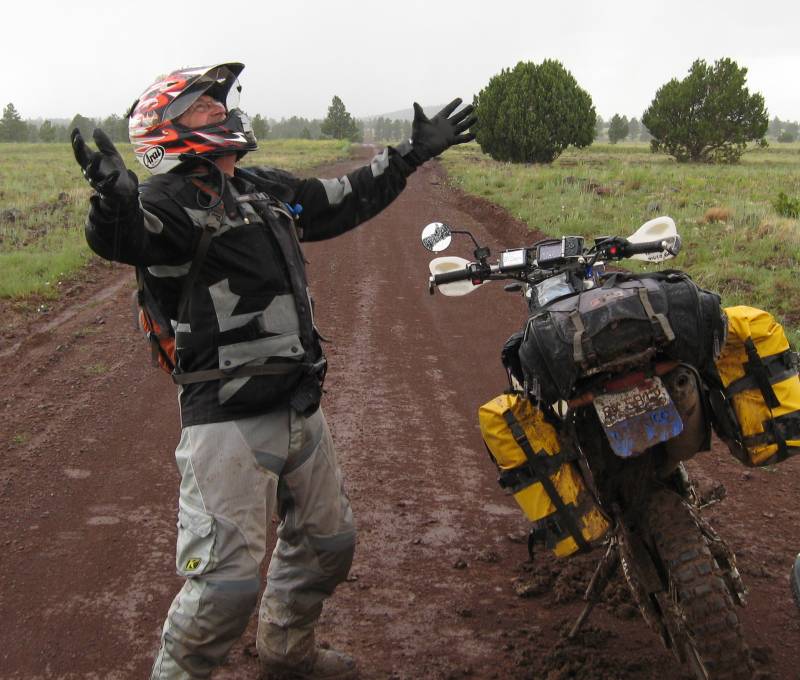 We hole up that night at a motel in Flagstaff---I needed a new camera and so did Scott as
the moisture had gotten to his--so we both bought new cameras and washed our bikes
as they were a complete mess and we were carrying pounds of mud.
130 Miles for the day.

Arizona/Day 5 Our last day in Arizona
7-21-10
We headed North out of Flagstaff at daybreak on AZ 180 and turn Northeast on Hart Prairie road--a dirt road.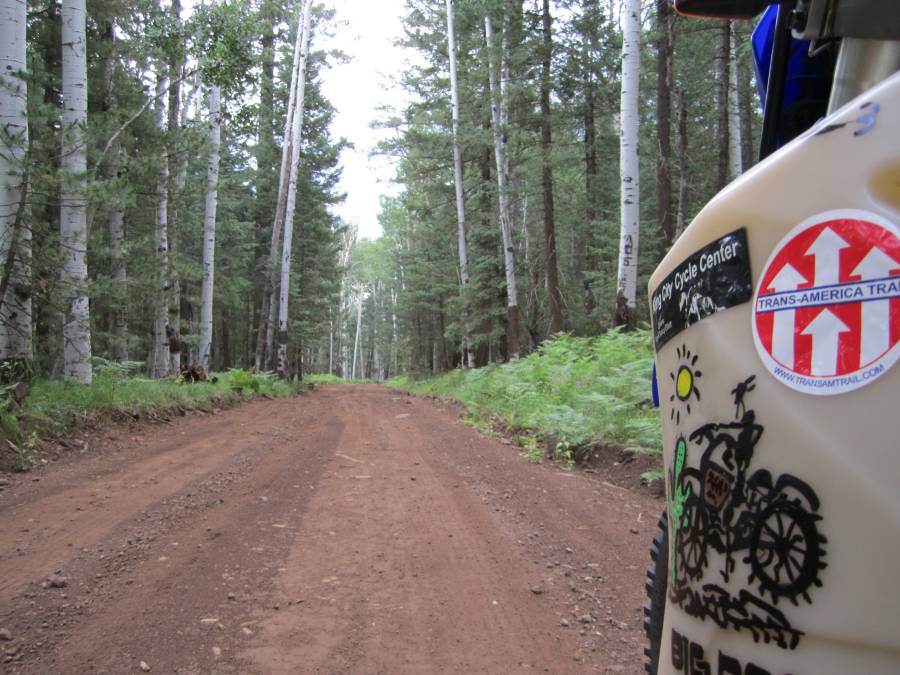 2 pokes at the gps and off we went in another direction.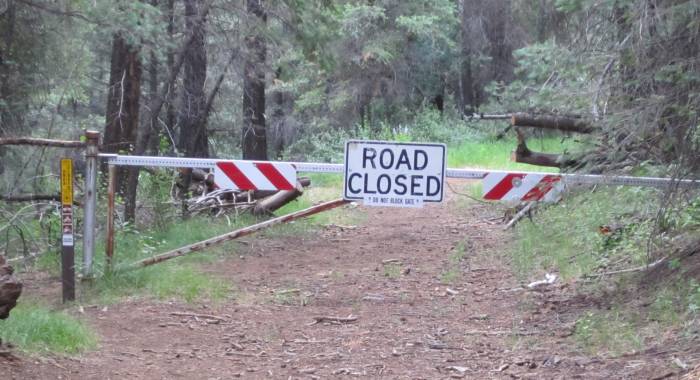 Somewhere before Deadman Wash I laid down a waypoint called Rough Road---no pictures I guess ??
I do believe the next few pictures are on the Arizona trail--I had no idea it existed.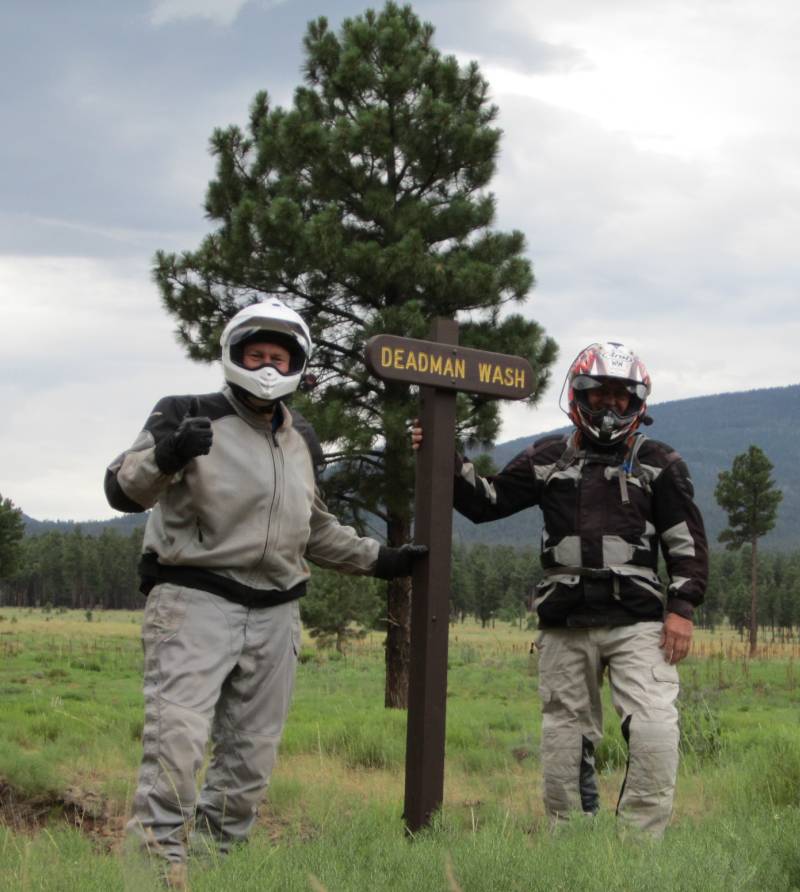 Hell---we had survived "Endeavor To Persevere" mud---lightning, rain, more mud,
we weren't going to let Dead Man Wash scare us away----hell--we had "phone a friend" !!!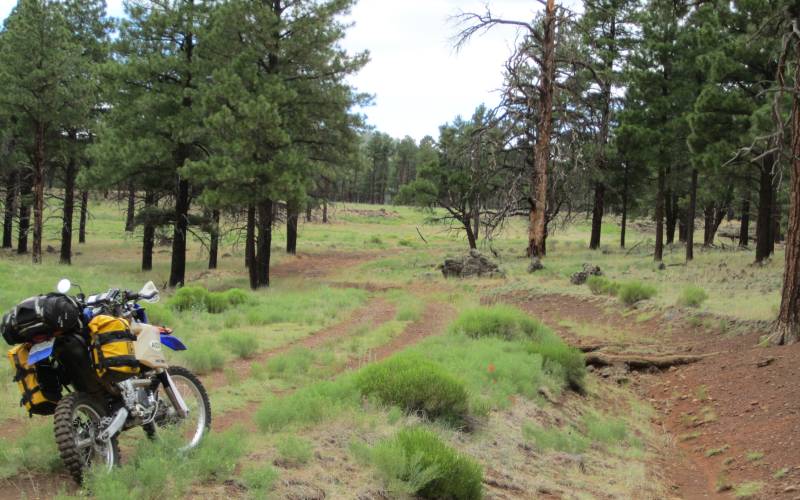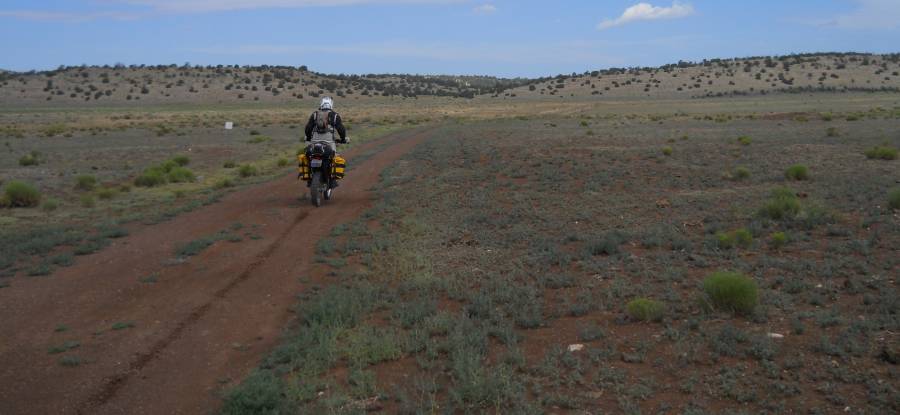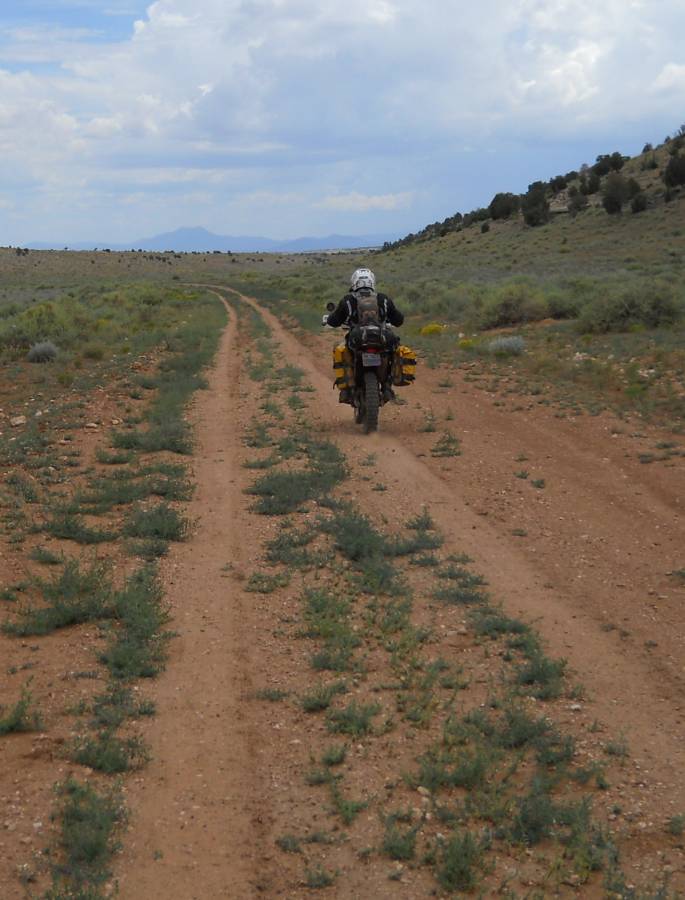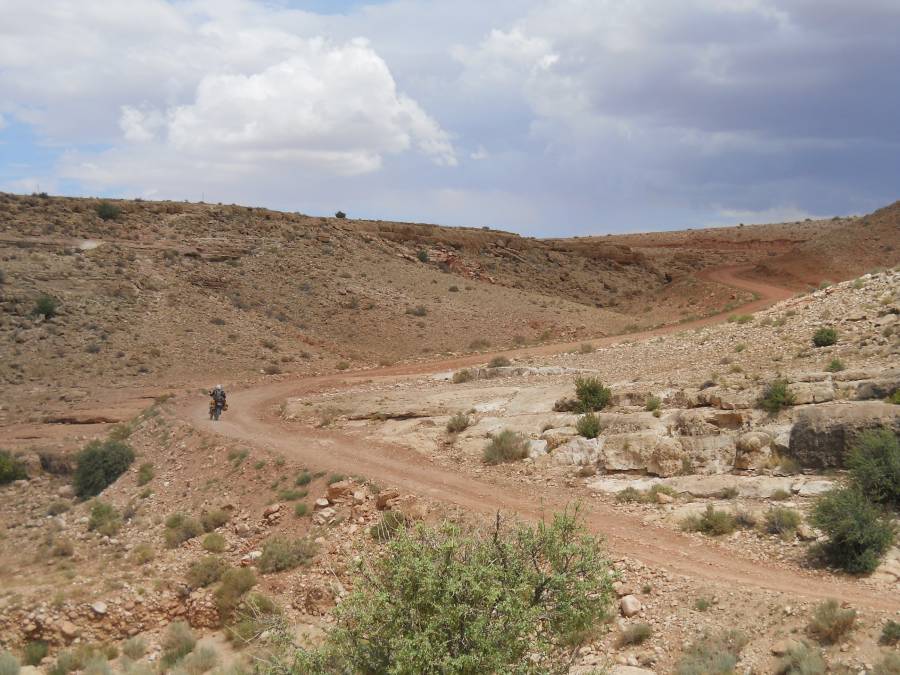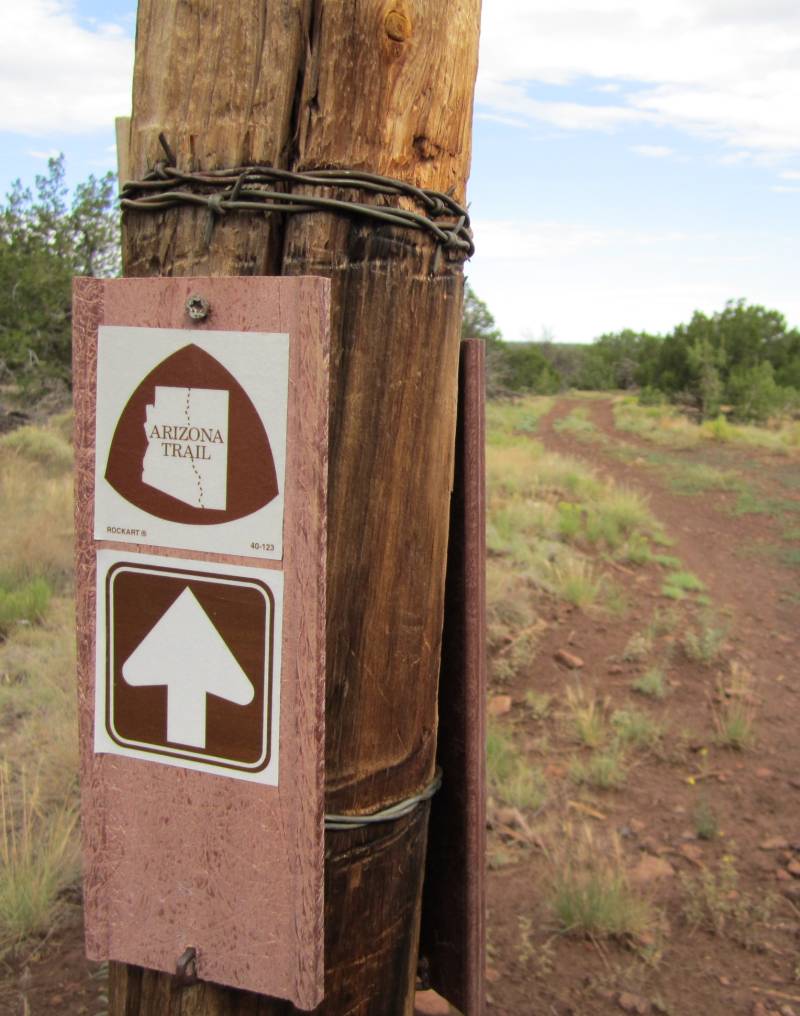 It was just gooey enough in here to keep you on your toes and not do anything stupid.
Boy--my bike sure looks nice a clean after the car wash--bet that won't last long.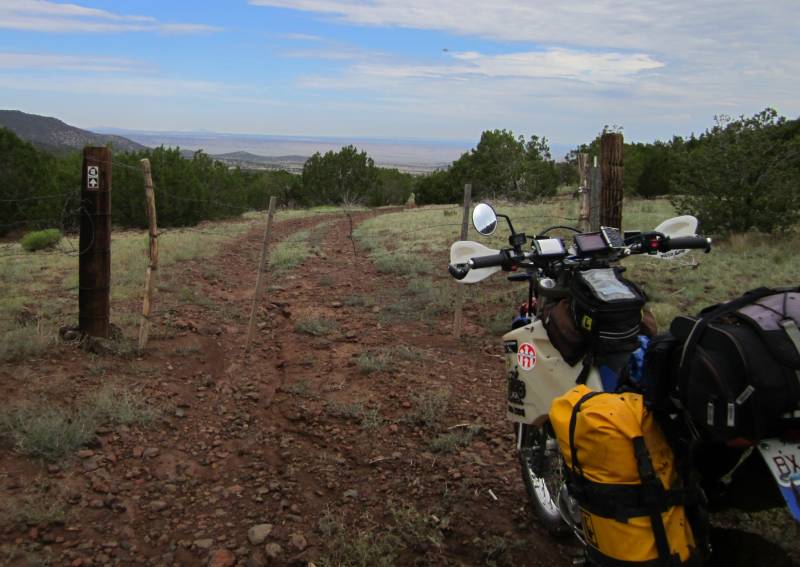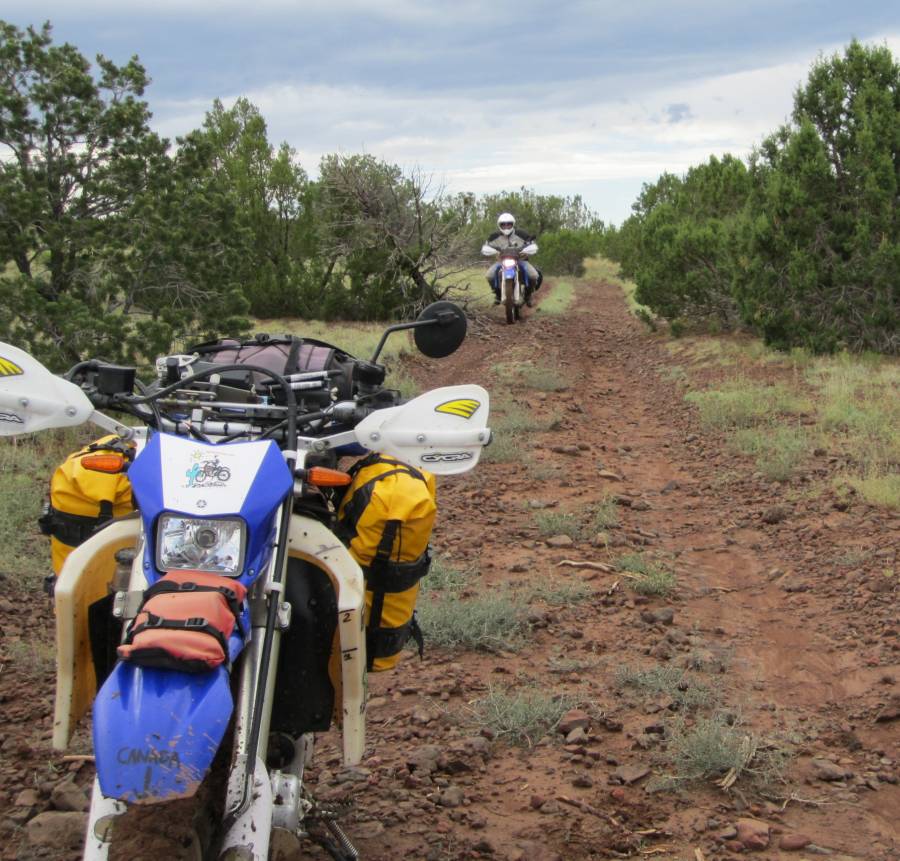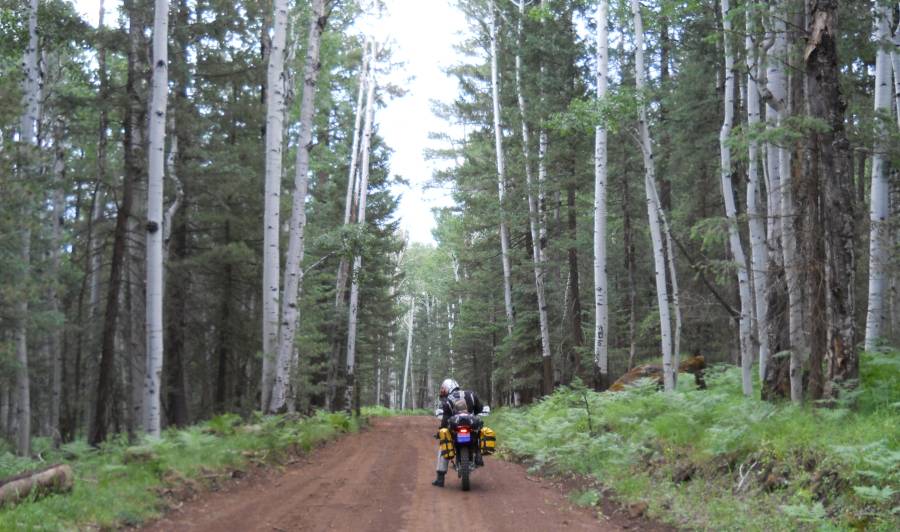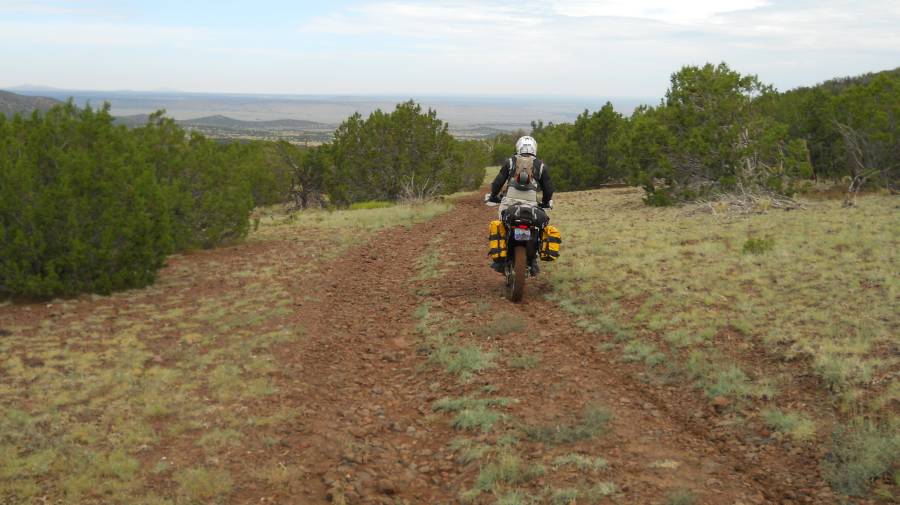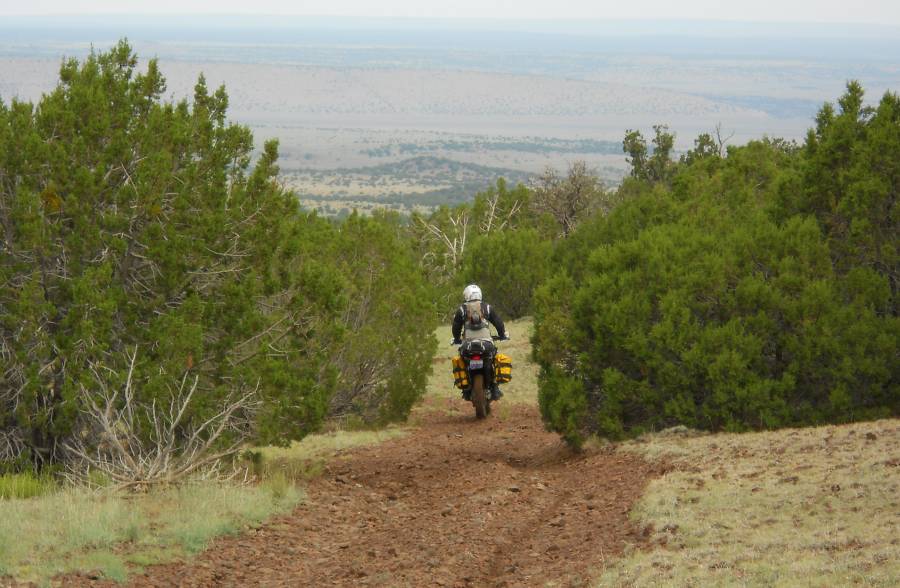 Pretty cool little bit of history we ran into.
We were just skirting the Navajo Indian reservation a lot today.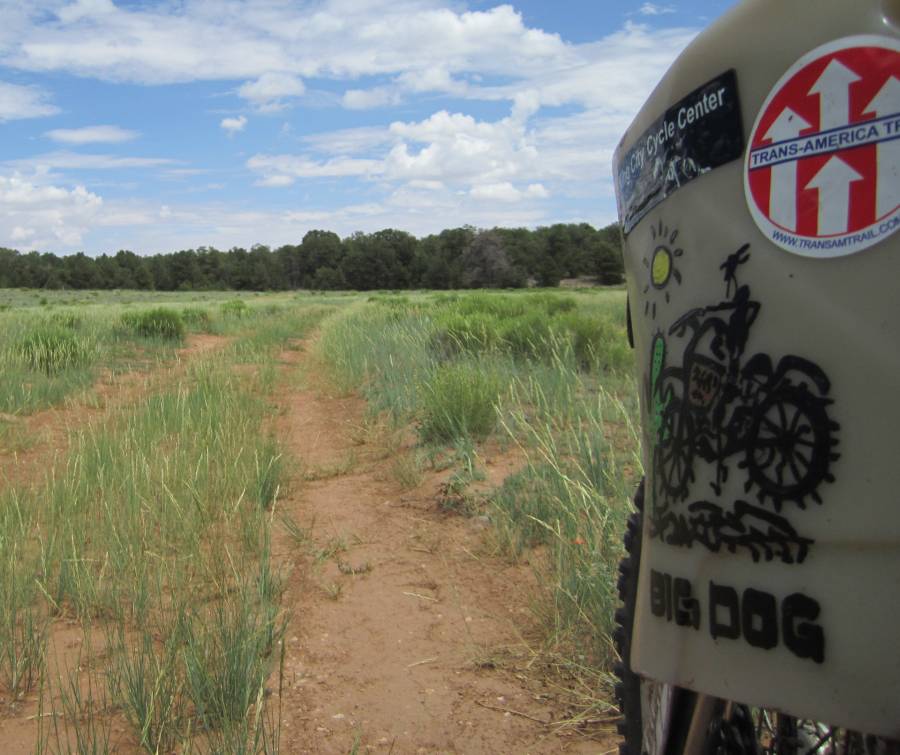 We never waivered from the route we laid out unless necessary--but a lot of it today was
on the Arizona trail.
Scott takes the left line.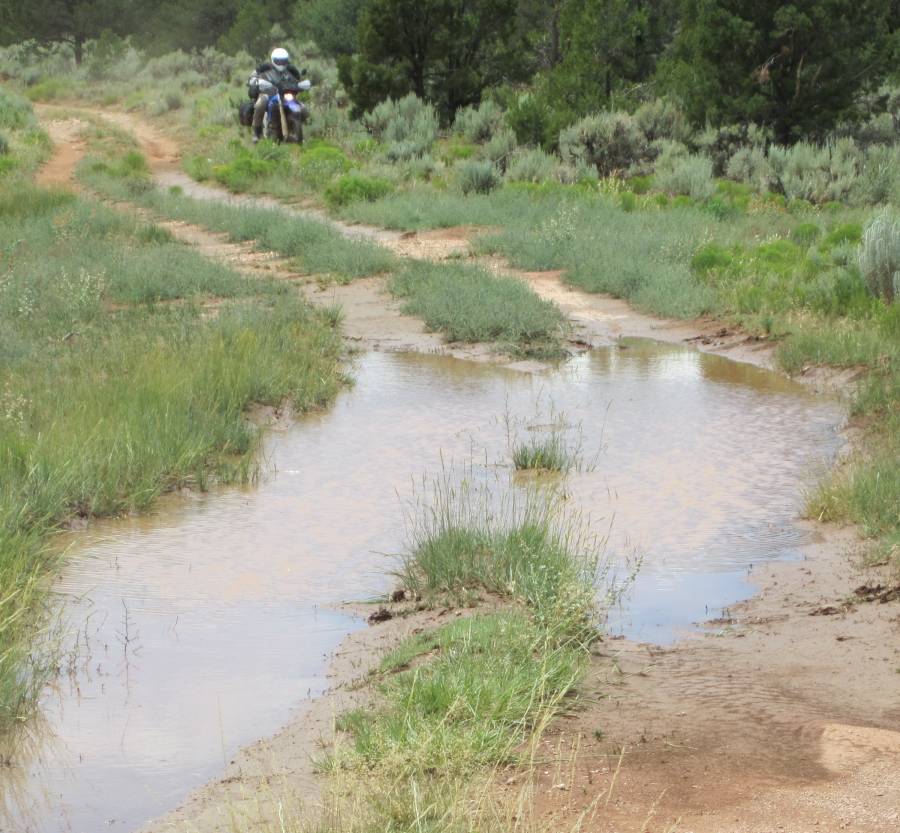 But probably saw my right line and figured I'd made it through. They were a lot of holes like this today.
We made it around all of them without getting stuck.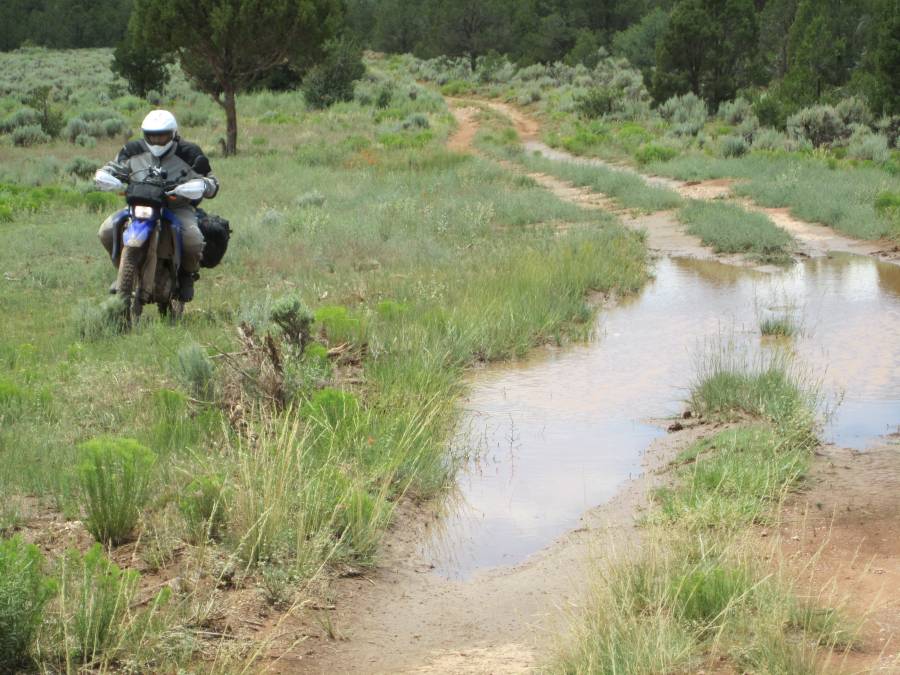 The Grand Canyon was coming into view as we skirted the Southeast side and rode
up into the mountains for a look see up high..
We would have none of the tourist areas.

We were very high on a mesa here--and as you'll find out later.............
Scott knows his shit.
My wife looked at this picture and said "What is it ??--The Moon ???---Is it Real ???
Awesome view that just dumb-struck us.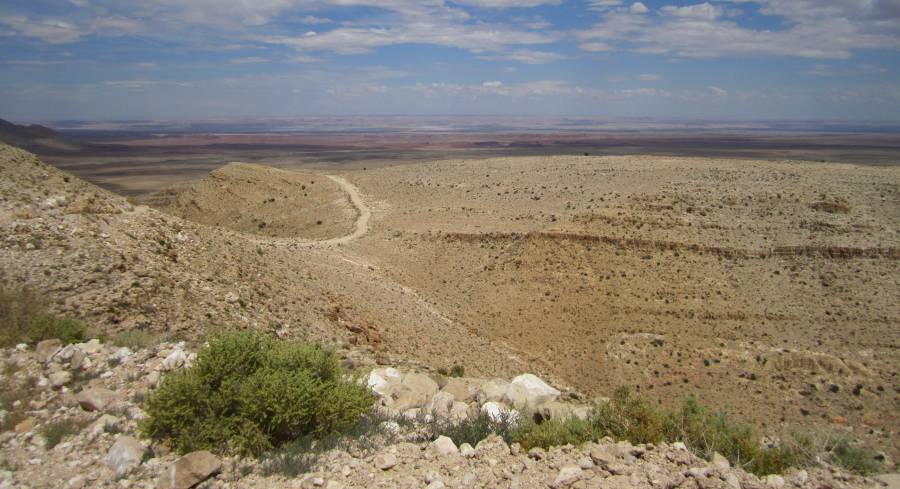 This was all just South of paved route 64---which we would have none of either.
A storm chased us for miles---Arizona just wasn't going to let us go until it did us in.
But we endeavored to persevere.
Scott had warned me of the heat and humidity that came with the late summer monsoons in
in Arizona---they chased us out of town and clear into Utah.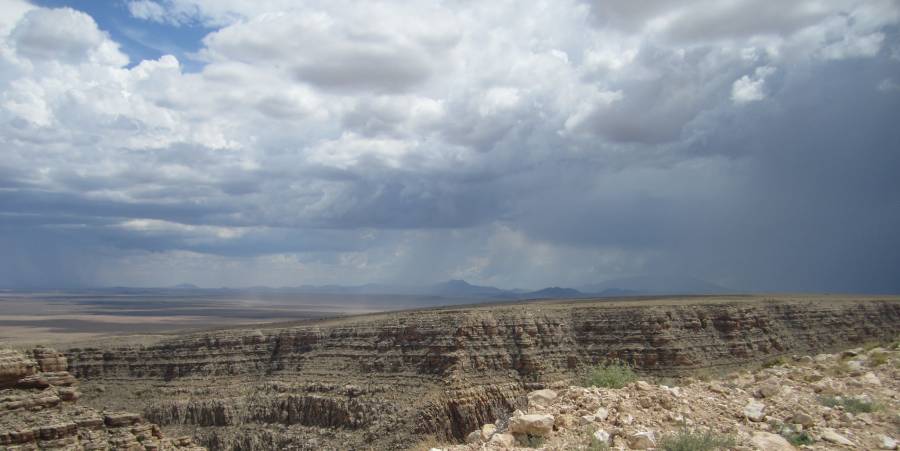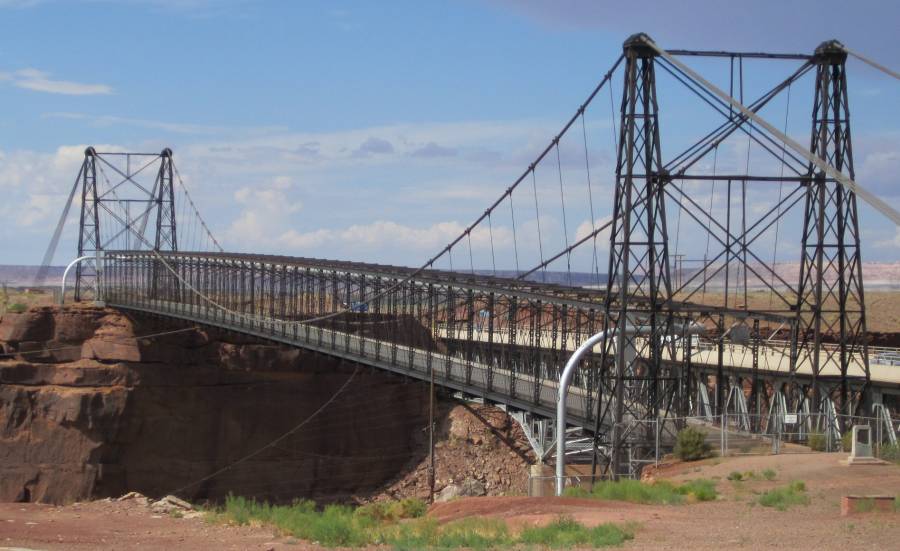 I think this old swinging bridge is over Lake Powell in Page AZ where we holed up for the night.
217 Miles for the day
This is all of Arizona so follow the link below to go on to the Utah portion of this ride.
Click--Here