A BigBike ride on my Africa Twin out East 2016
Mostly this took place in the Appalacian Mountains
and the ride started on September 23rd, 2016
I rode solo on this ride and the bike performed flawlessly---and as an avid bicyclist I ran across several rails to trails.
When I got home me and my wife went back out camping in our van and rode some of those,
but that's another story on my website. Man we had a good time doing that.
I actually burnt up quite a few miles on the interstate as they say-----to get out of town.
I went East across Indiana on I-64 for about 170 miles or so before venturing off on some 2 lane
roads and looky what was in some guys front yard. No explanation needed I suppose.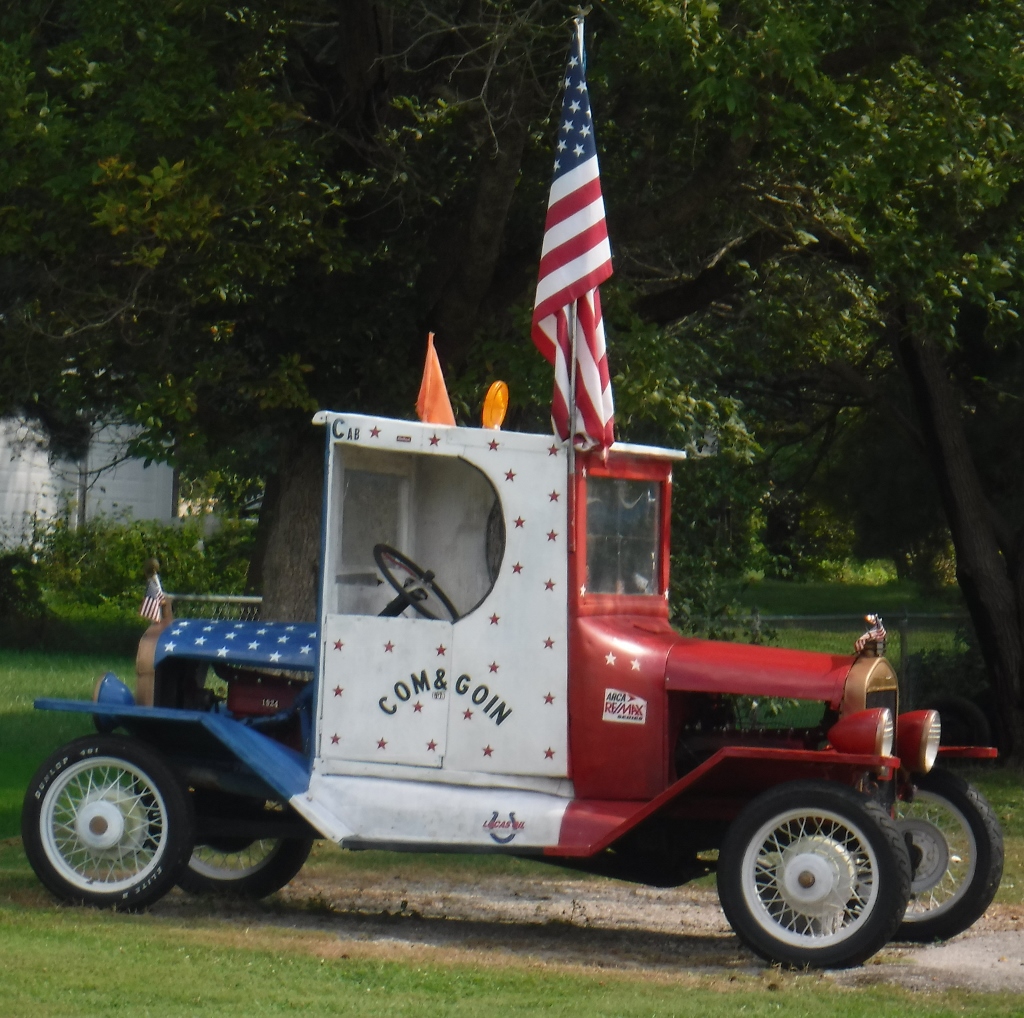 I skirted around the sprawling city of Lewisville, Ky.
Have a bad taste in my mouth for an AdvRider that lives there.
Screwed me out of about $5,000 years ago on a bike trade and I can't let it go.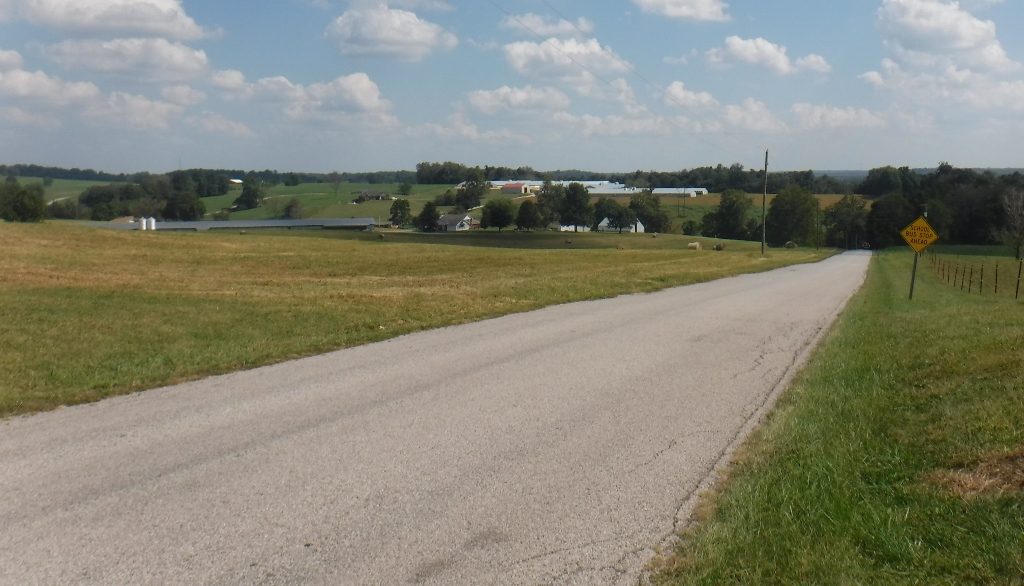 The weather was awesome---I had brought all my cold weather gear---including my heated vest just in case.
I turned North on Indiana 135 and broke off more Easterly on some lesser roads.
I had bought a Montana 610 a while back but it took me forever to learn how to use it and trust
it as the first Montana's that came out were extremely problematic---but I had no problems.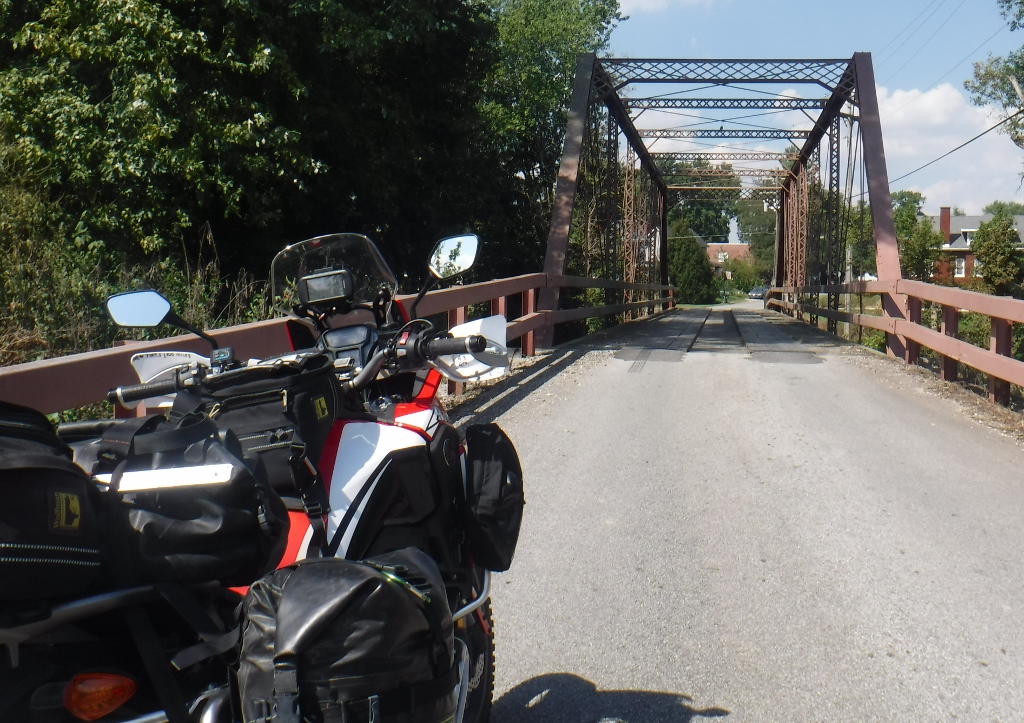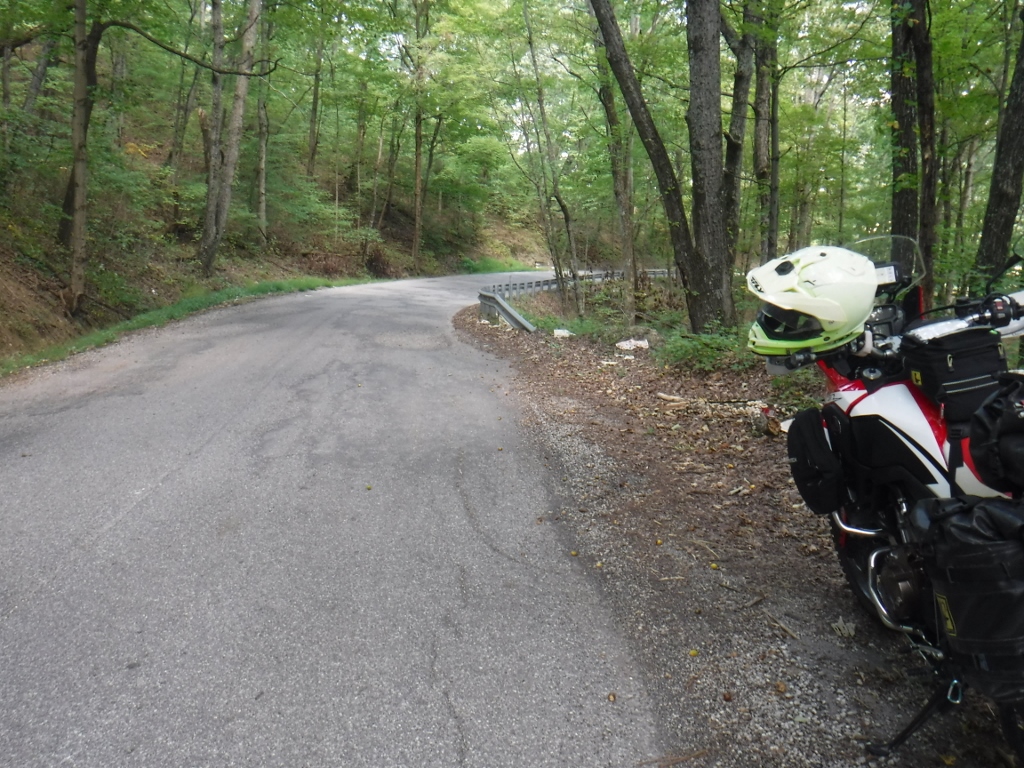 As you'll get tired of hearing-------I saw a waypoint of a covered bridge on my gps that I had created years ago---and went to find it.
And after I got there----I knew I'd been there before-----sometimes a re-curring theme.
This is the Leota covered bridge---they are almost always named after the creek that
they are built over.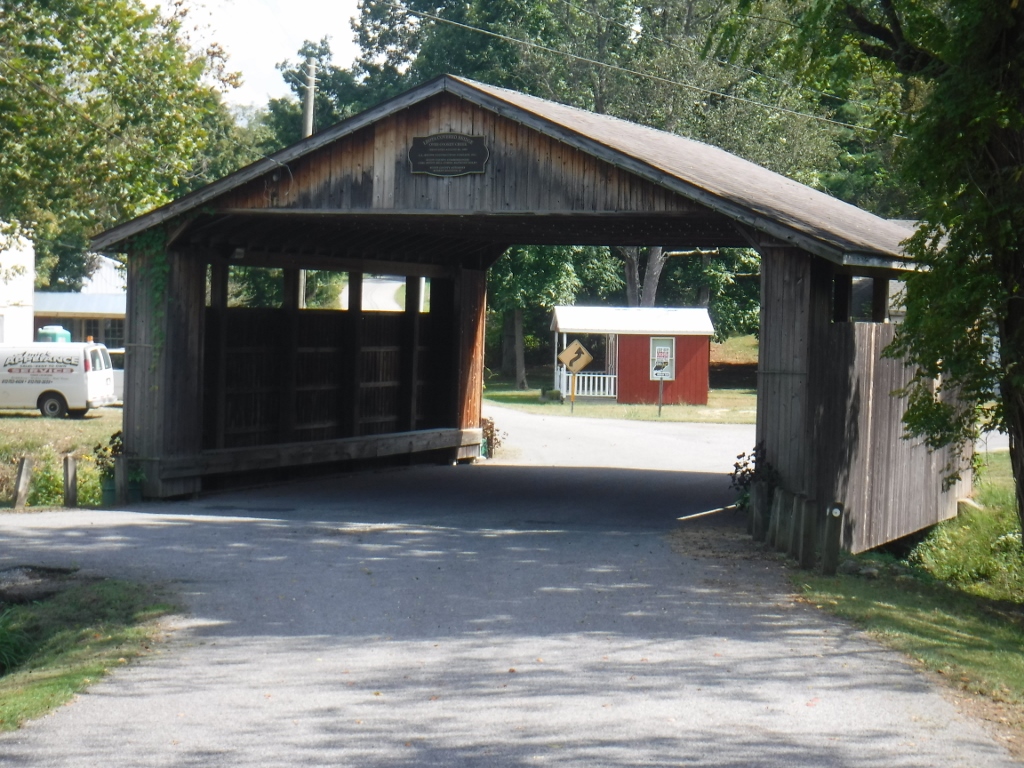 These are quilt designs---painted on barns all across the country--each one different and unique.
I saw a hundred of them on this ride.
After a google seach I found this:
"The concept of barn quilts began with Donna Sue Groves and her wish to honor her mother, Maxine, and her Appalachian
heritage by having a painted quilt hung on her barn in Adams County, Ohio."
And the rest is history--they are everywhere in rural America.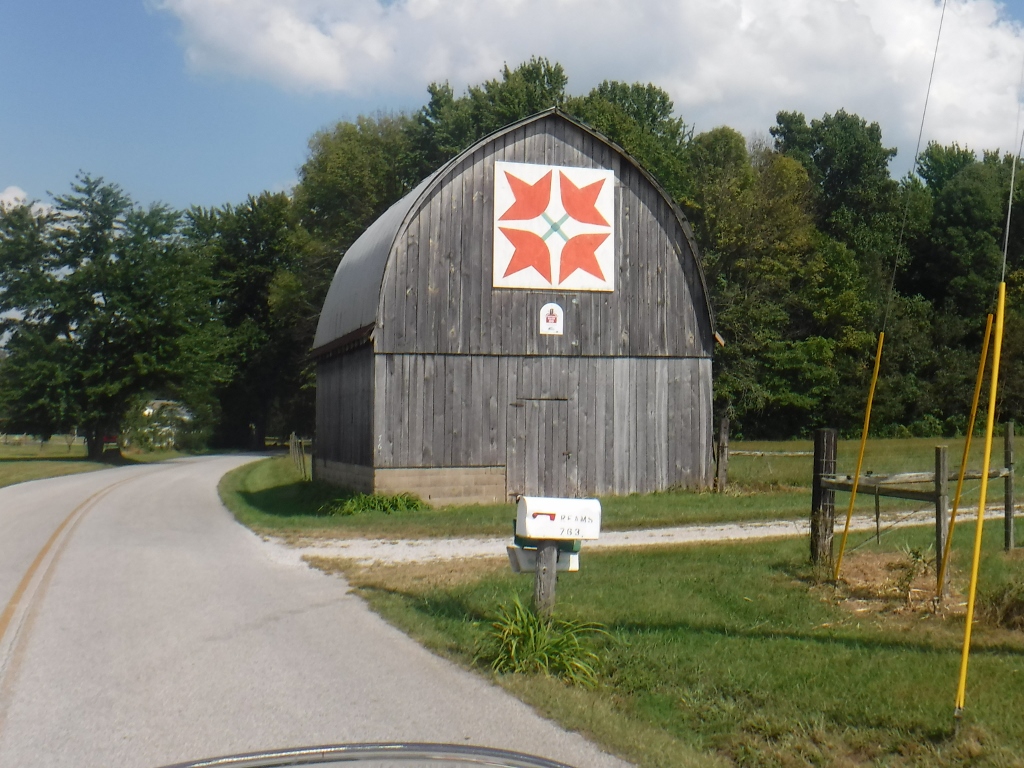 Further East I rode along the Ohio river for miles and rode the the historic town of Madison, Indiana--then much
further East (hey these big bikescan cover a lot of ground) I saw a "ferry" waypoint on my gps ---never
been to it. This was in a very old river town
of Augusta, Ohio.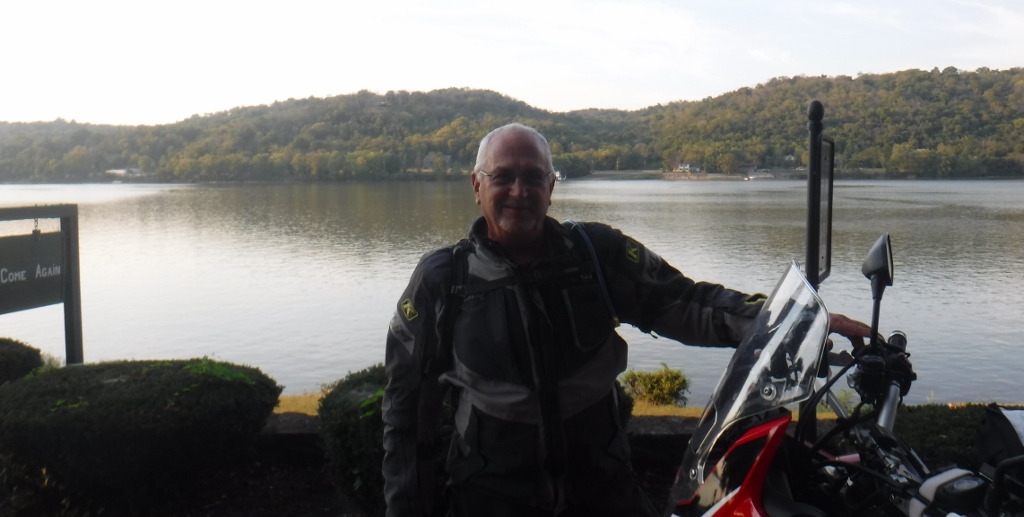 I wanted to stay here--but there was no camping and the bed and breakfast was booked up.
So North across the Ohio I went and rode Southeast hugging the river.
I think it was a free ride.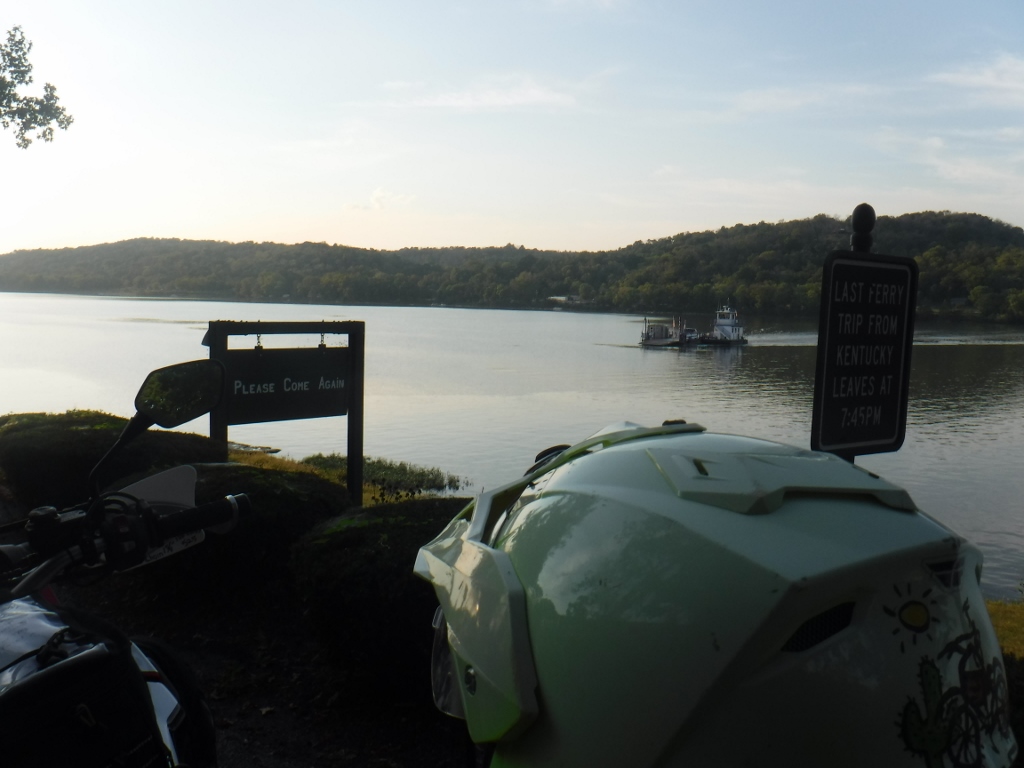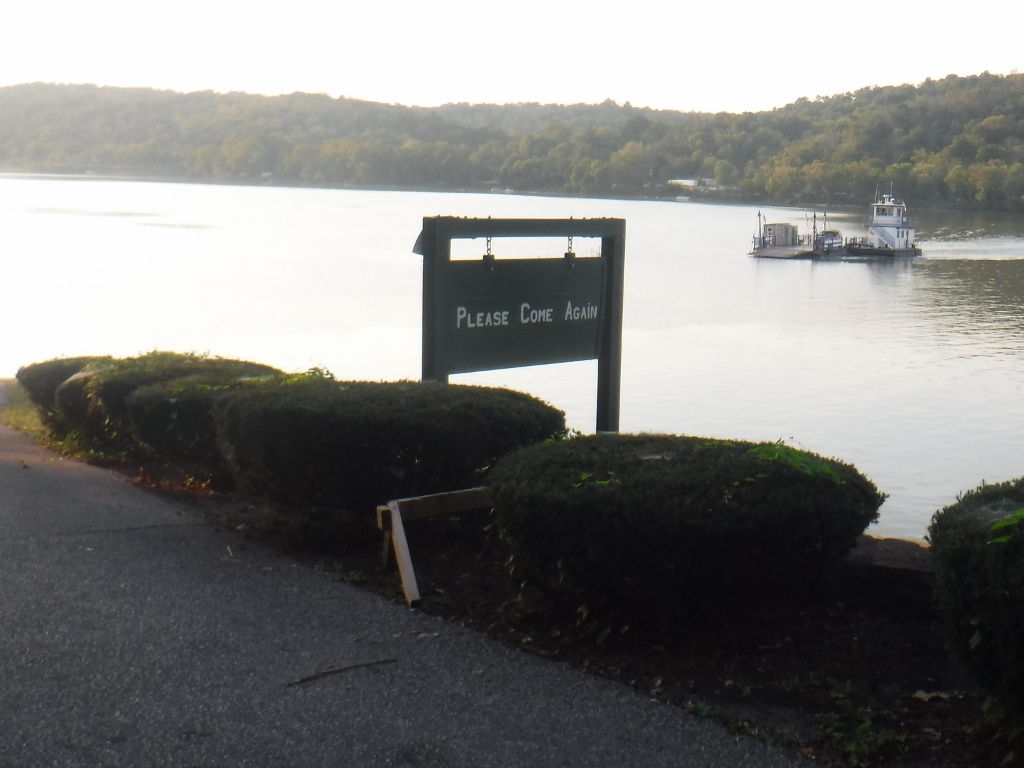 So I ended up here in Aberdeen, Ohio which is right on the river.
I've never had a problem parking my bike under motel overhangs.
No one seems to mind.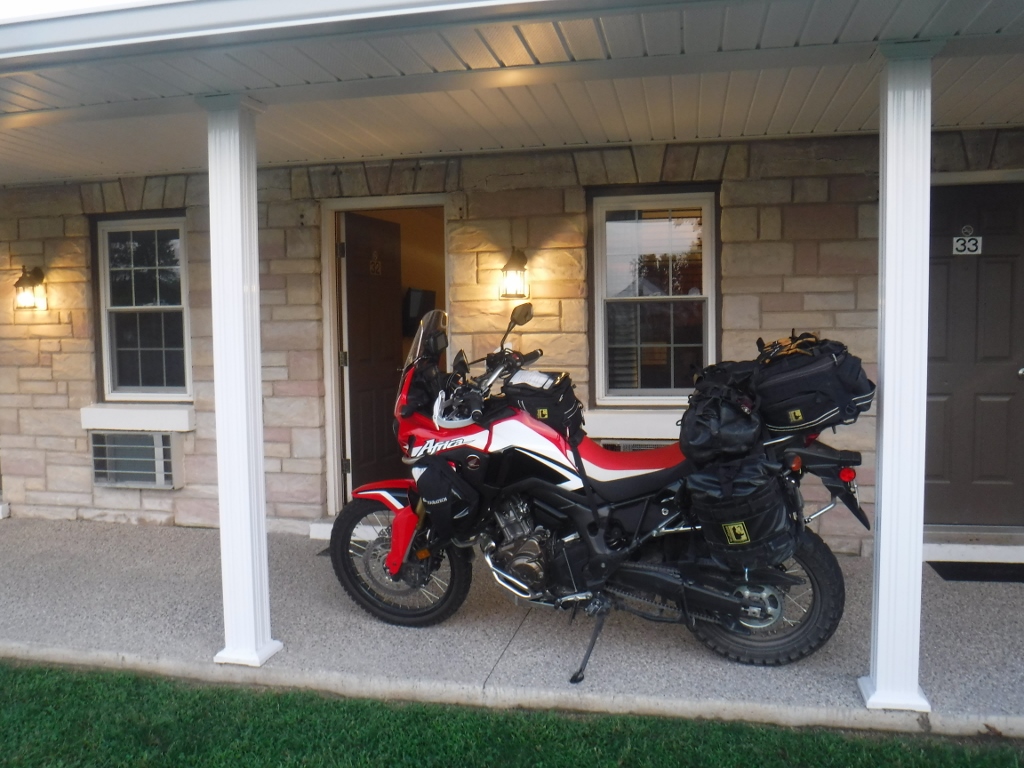 Here's a short map of my ride today.
Normally I clean these up for easy viewing but wanted to show what was in my gps.
My gps while traveling is always like this---looks crazy----it's not.
Full of waypoints of places I've been-----or want to go to and it gives me options of where to go
or maybe where not to go. In my travels--no matter where I go or what state I'm in my gps screen is full of------------stuff !!!!
Usually keeps me from going where I've already been which I try to avoid.
The barely visible yellow track thru the middle is the way I went.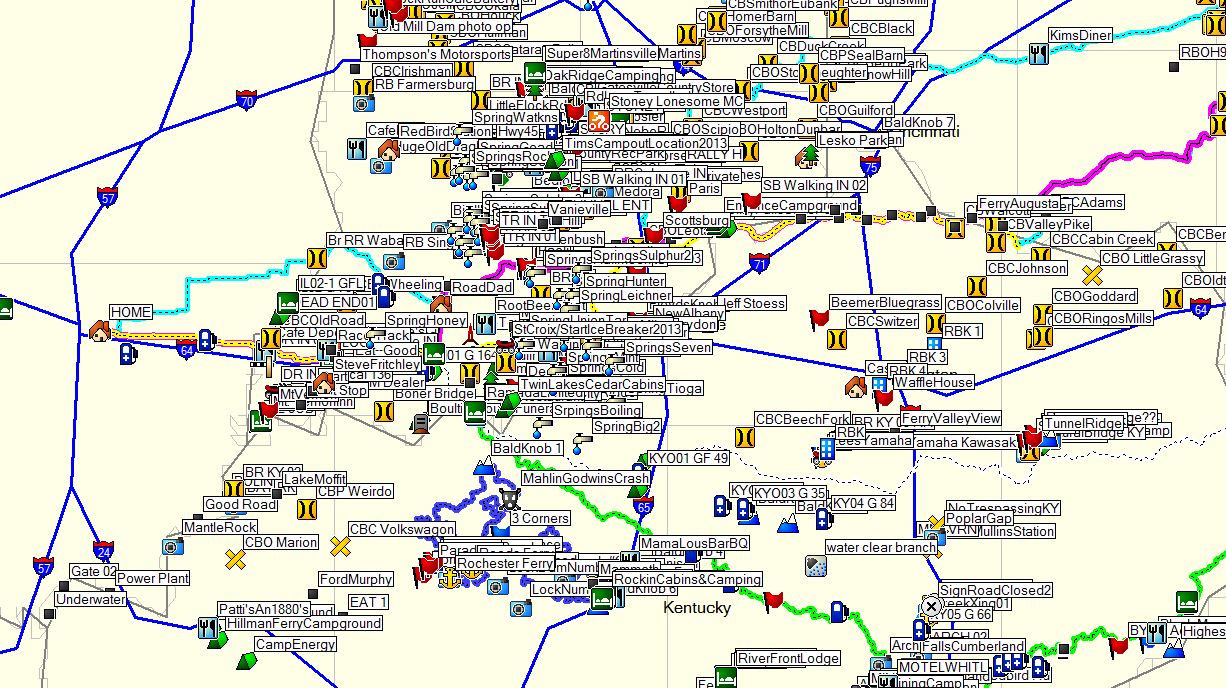 Here's a short video of todays ride
Next Day
Aberdeen, Ohio to Zanesville, Ohio
Looks like I stayed at the Brownds Motel in Aberdeen.
Nice place and nice people.
Doors on the outside like they are suppose to be and a cool old neon sign out front.
A mom and pop at it's finest.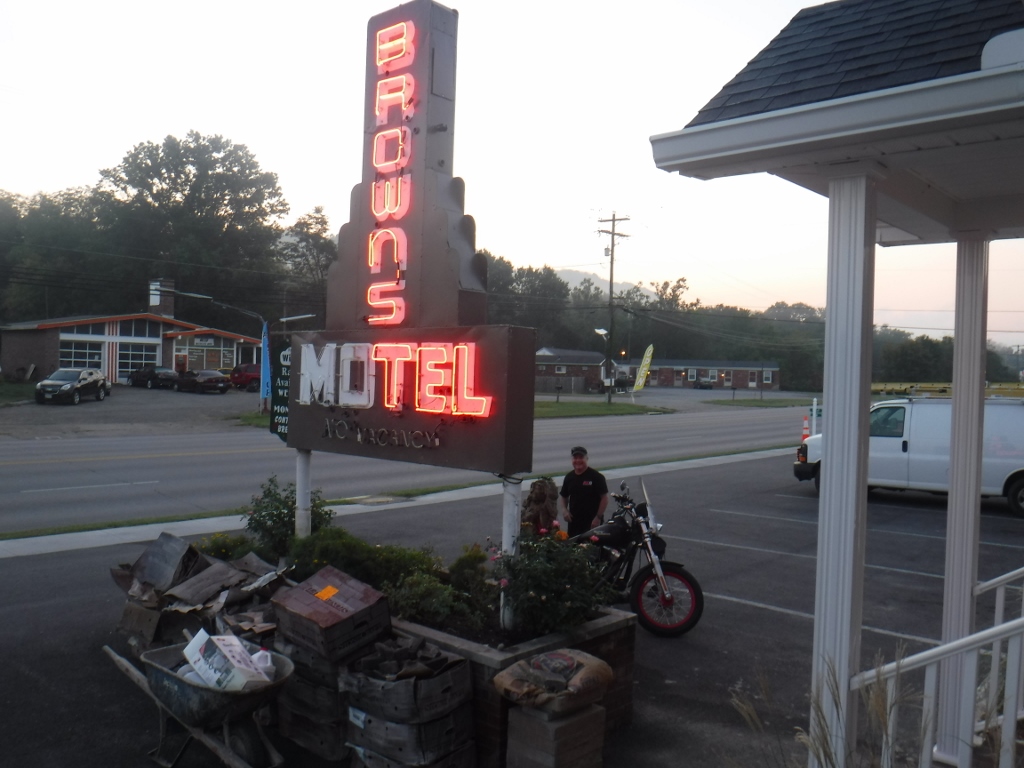 If you looking for nasty trails, mud, big rocks, huge hillclimbs, ruts, more mud and much
calamity---better quit reading this story right now. I have smaller bikes that are much better for that
than the African Twin. I was alone---on a big bike and wasn't planning on any of that.
Shortly I found another covered bridge and it had a quilt painting on the side of it.
I didn't take a picture of all the quilt paintings----they were everywhere---but beautiful
and I stopped to look at them all.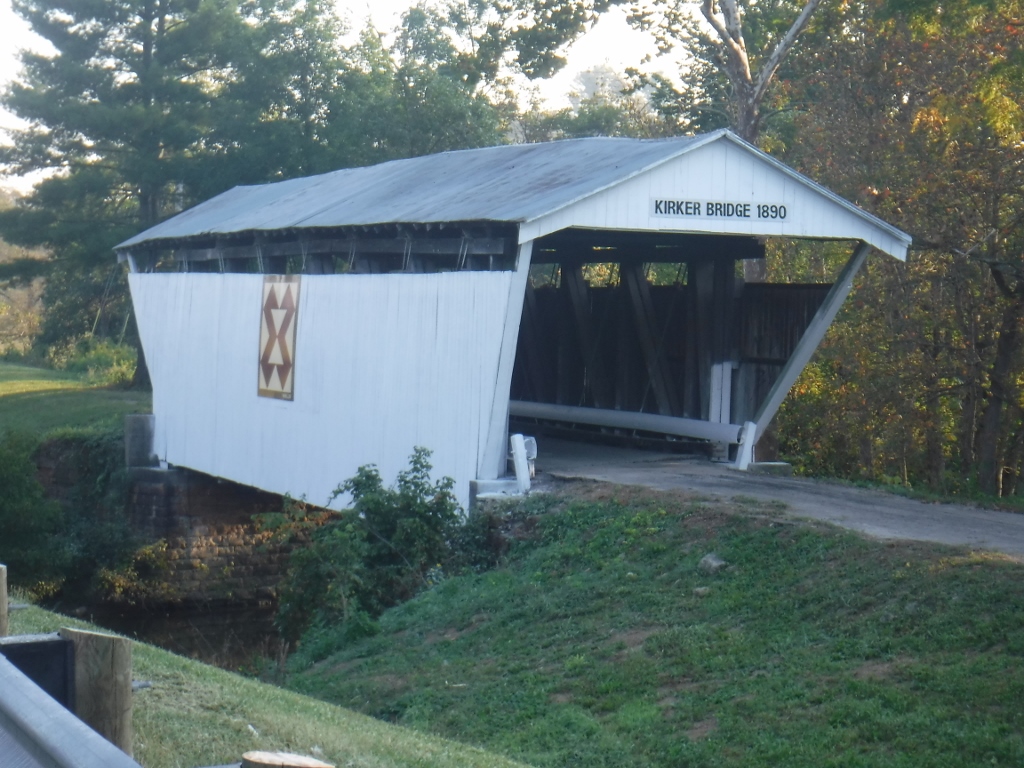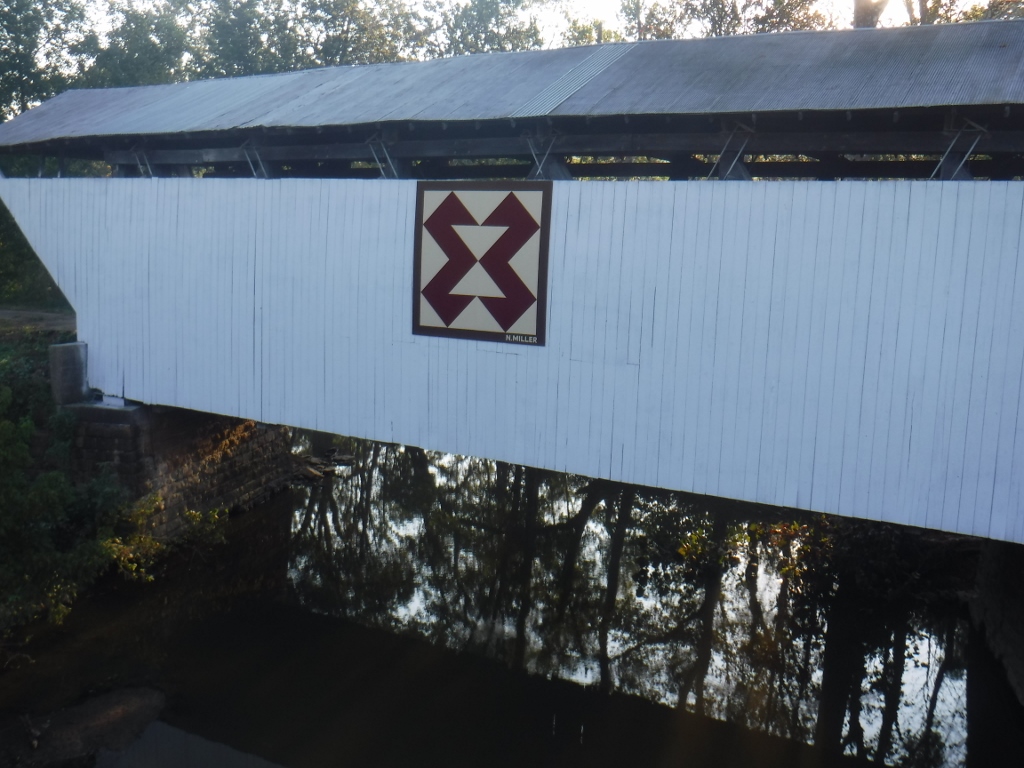 I was heading Northeast now---just totally winging it hoping something cool would show up.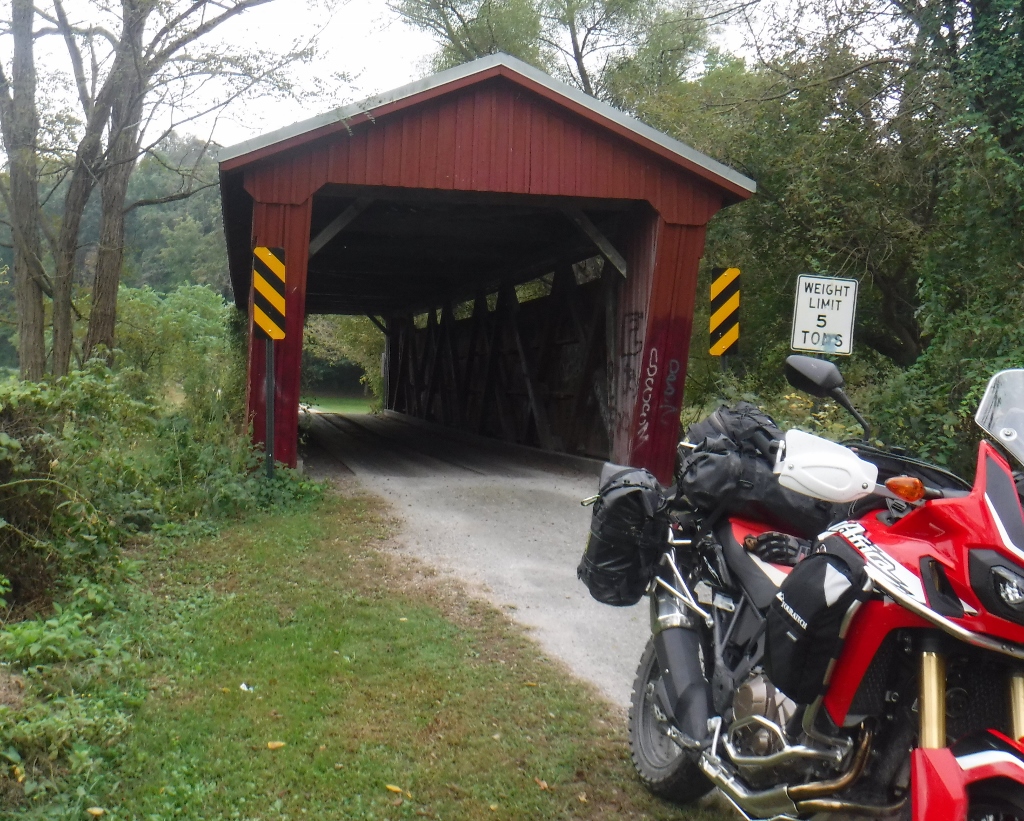 This will do nicely !!!!
I was amazed at how many covered bridges I'd find on this ride and how many of them
were still open to traffic.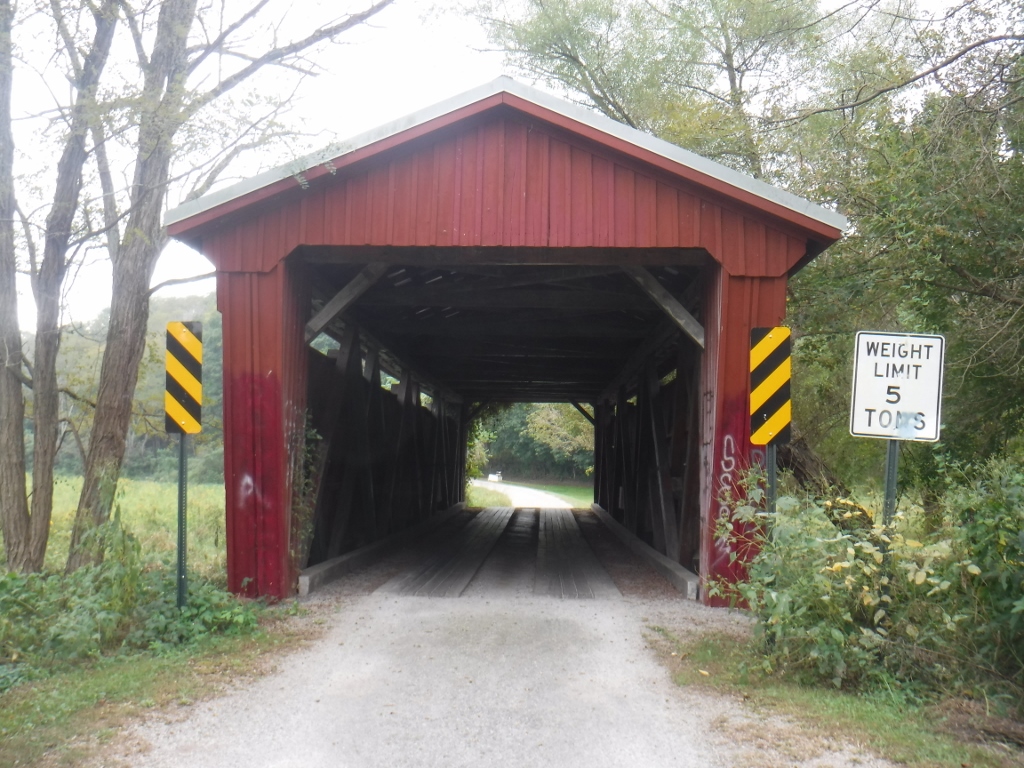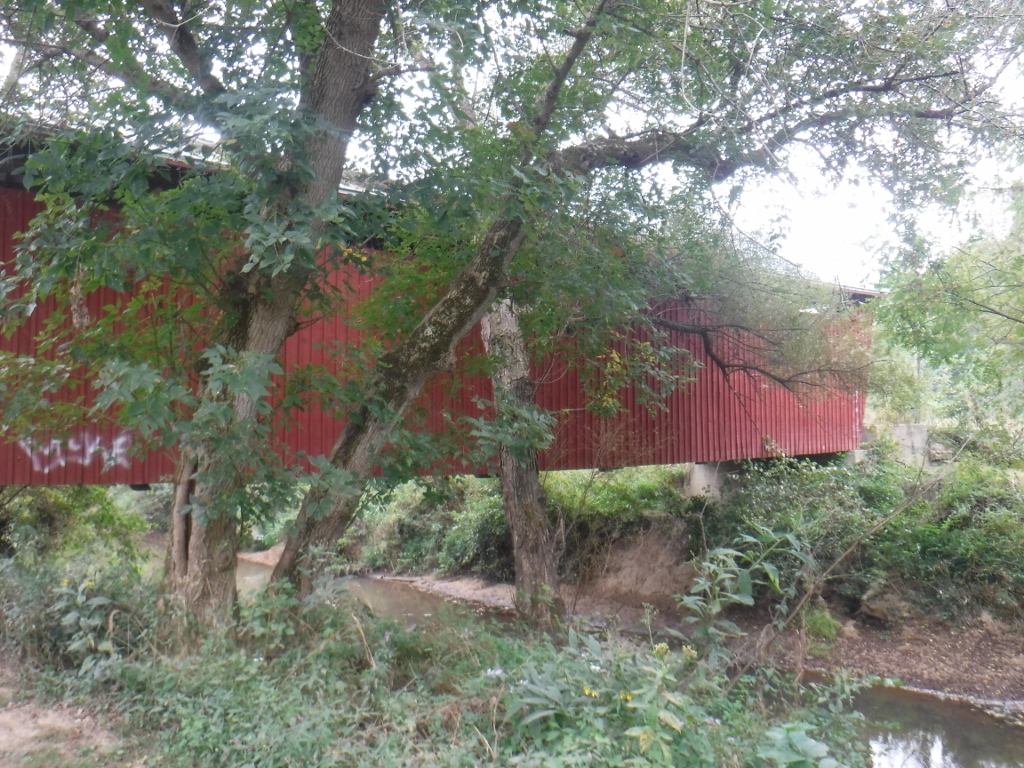 I tried to keep the bike off the main roads and lucked onto some really good stuff.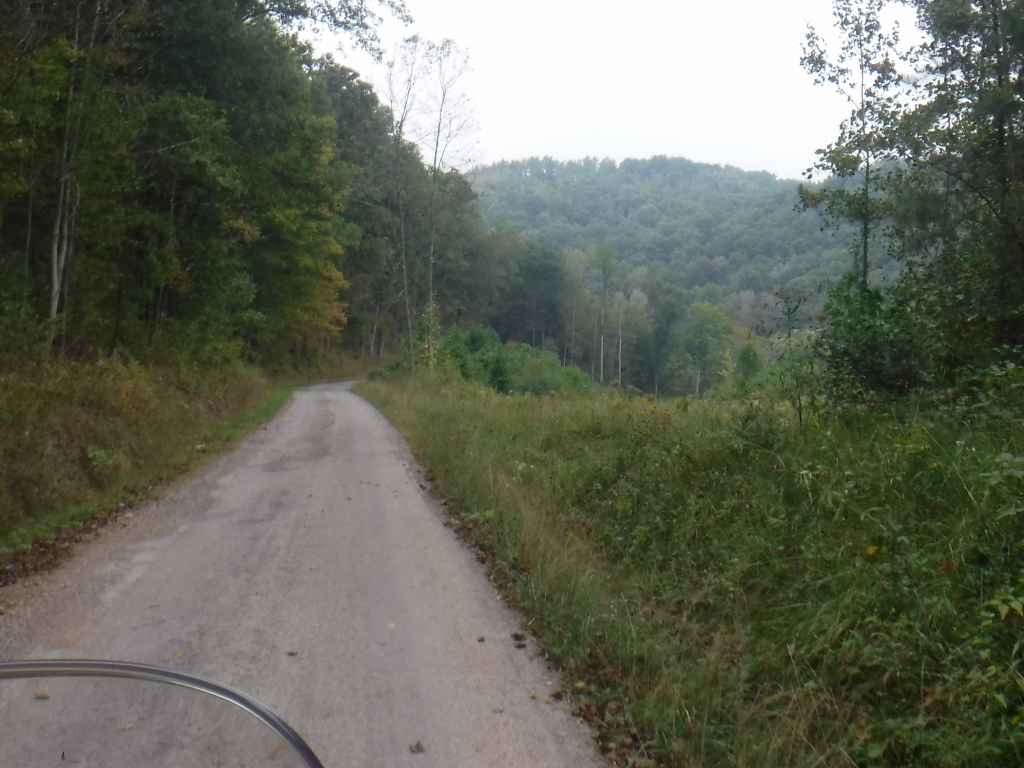 Bingo !!!
That's a tiny sucker.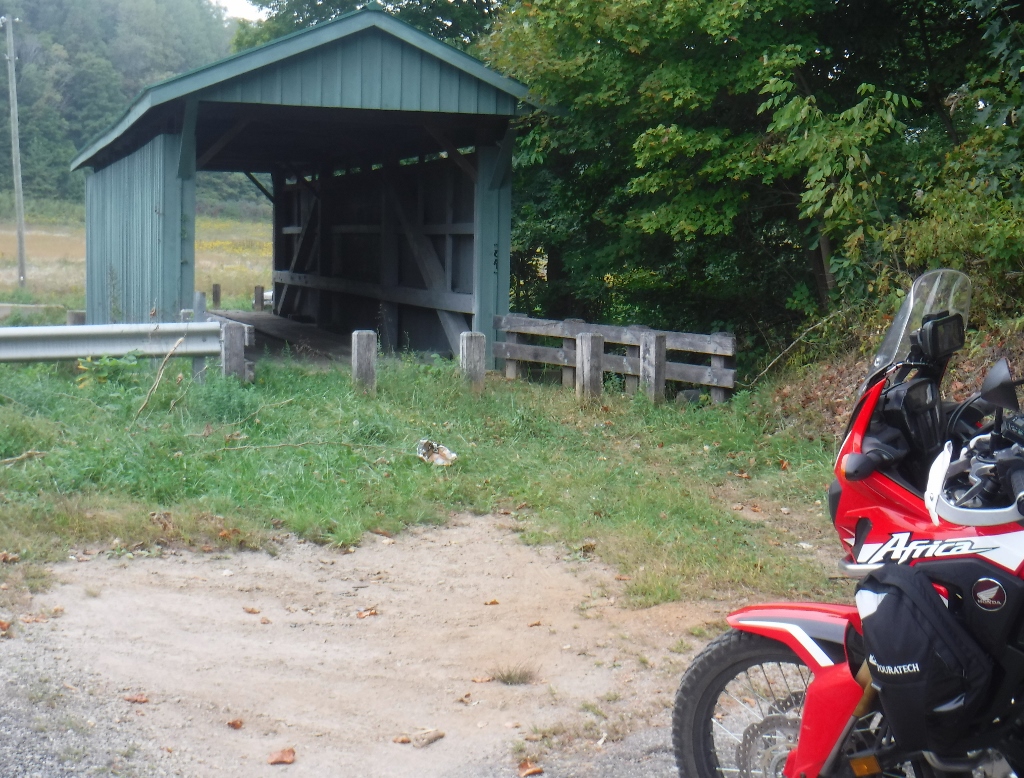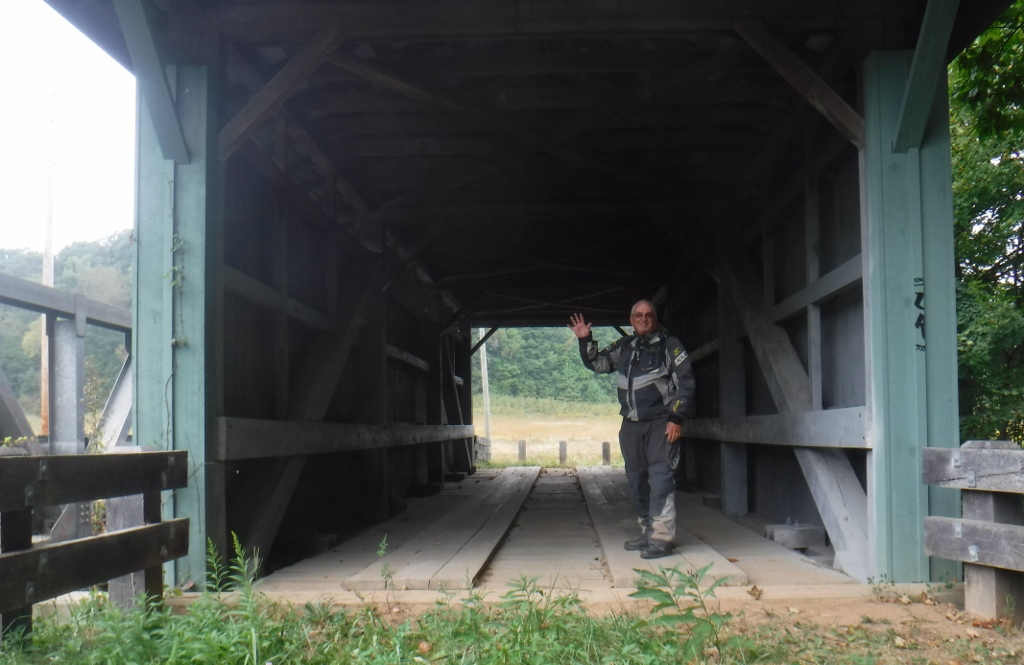 Don't rush thru the pictures------there's a story to be told.
So right before I left I made my "REAR" rim tubeless with the "Outex" system.
Yeh--------it worked fine.
But did I make the front tubeless (I had the kit)----------------NO. !!!!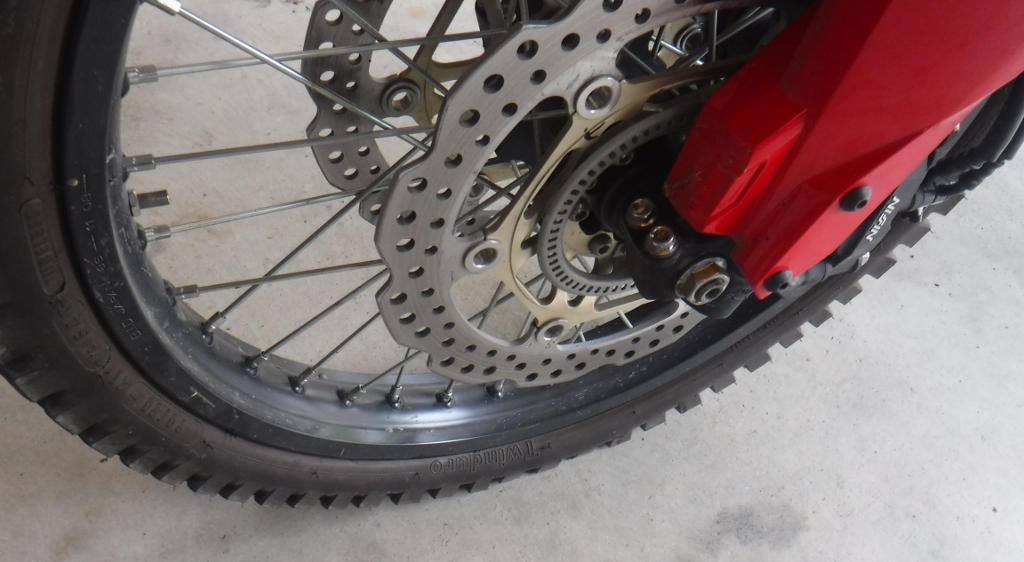 This is a great story----I had the flat about 300 yds. from this guys house.
And I needed help----his wife was mowing the grass and I was afraid to approach her out here in
the boondocks cause I was afraid I'd scare her---and I waited.
You know how people are that watch too much TV--they get that way---scared of everybody.
She caught site of me and here she comes and asks if I need help ??? "Yes maam--I do"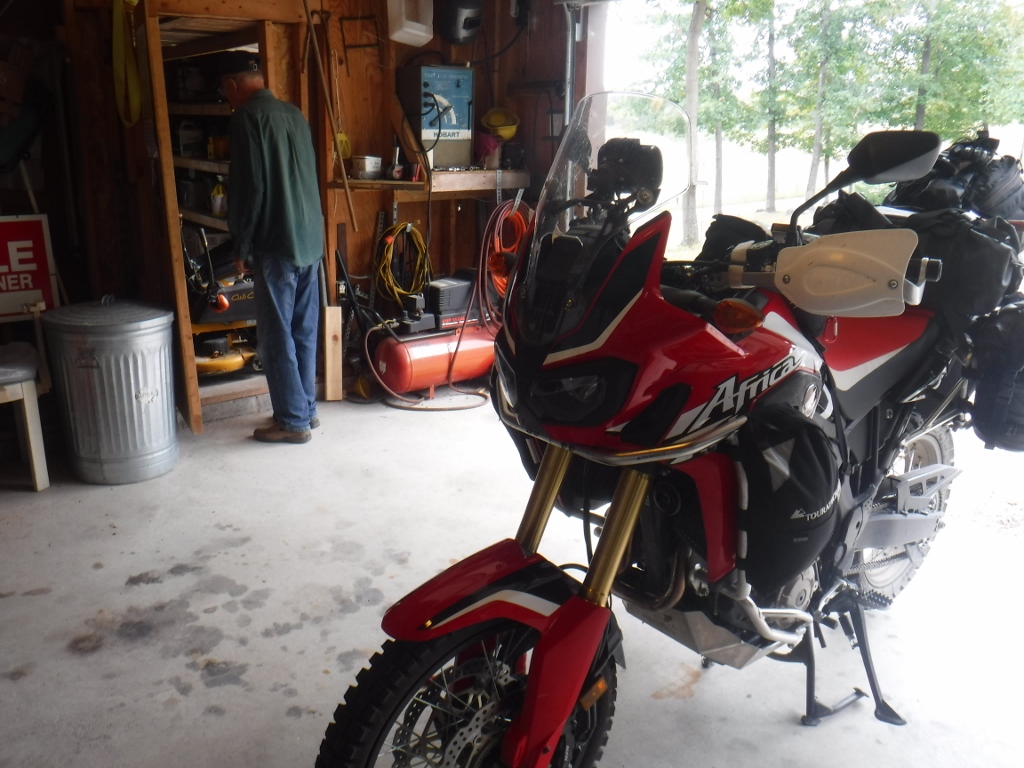 So why would a very experienced Adventure rider like myself need help fixing a flat front tire.
It's easy---and should only take 20 minutes----right ????
Found out------I forgot my trail stand to hold the front wheel up----and overlooked a couple
socket sizes I needed to get the front wheel off.
This guy had everything---such a nice guy---and he helped me while his wife finished mowing the lawn !!!!
I did have a new tube and a compressor---and he had a hydraulic jack and a big compressor !!!!
I would find good people everyday on this ride.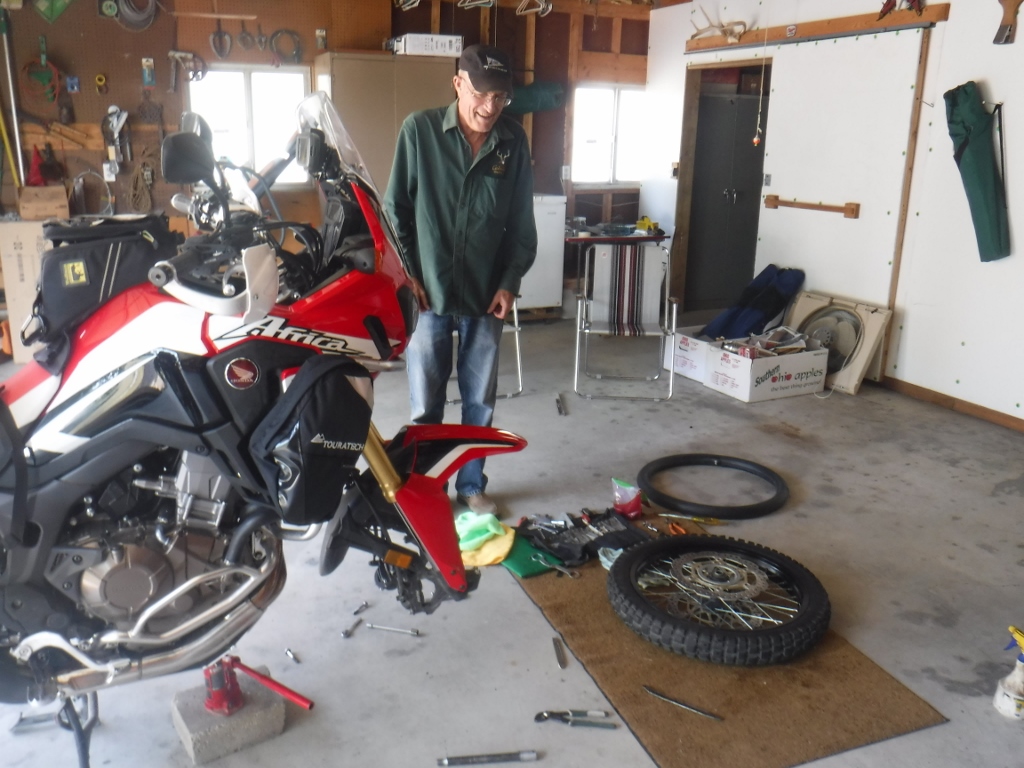 And off I went a bit warm and sweaty after the tire change.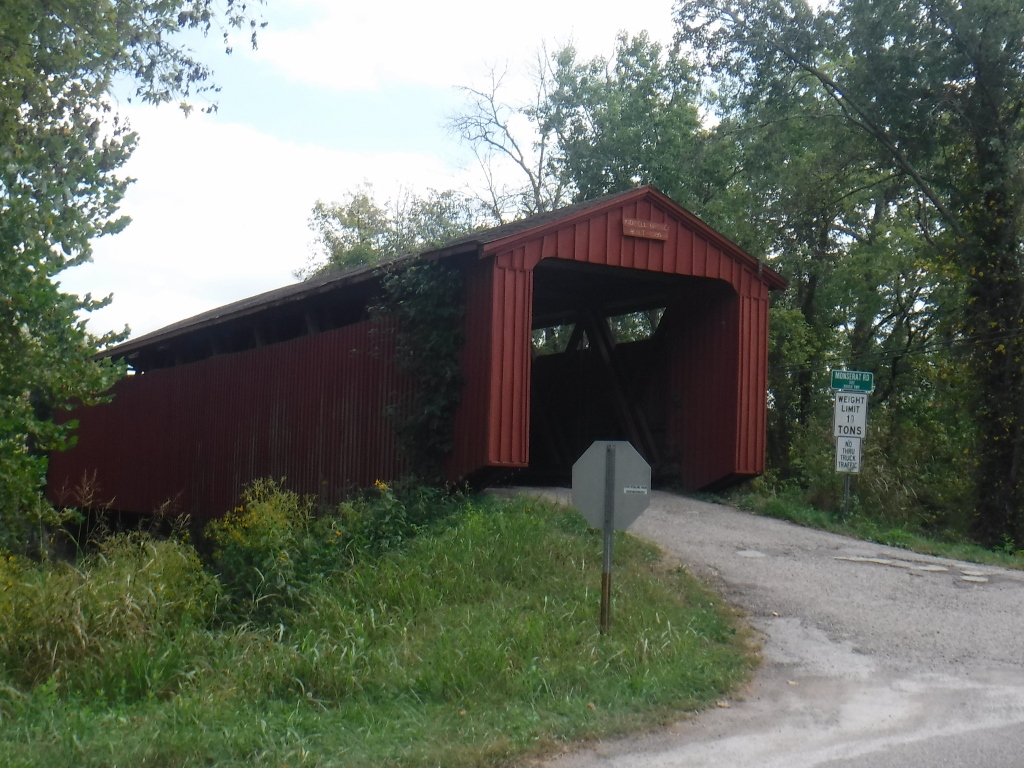 Gettin tired of looking at bridges---------better go read something else.
My new rear Heidenau 150 rear tire was doing great---I was hoping I'd get a nail in it.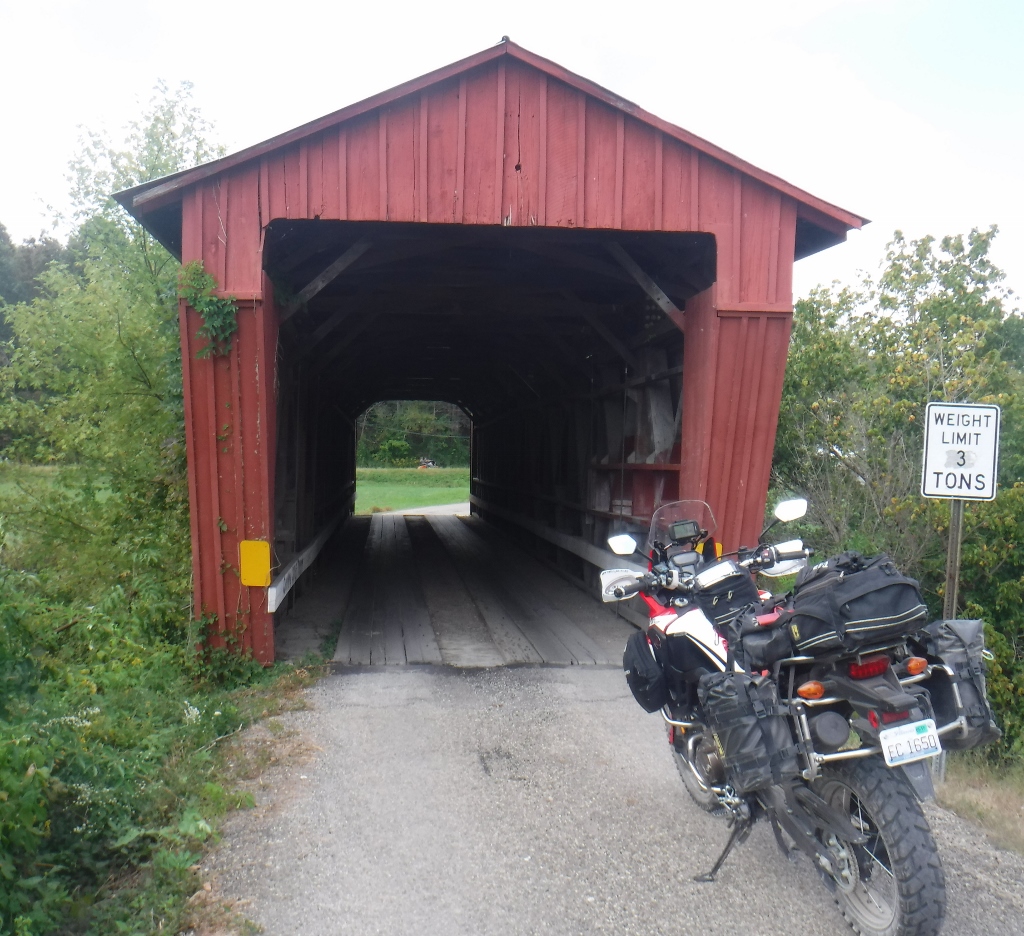 Google Rendville, Ohio

I saw the tents and people in this little town just off the main highway and saw something was going on
and I have to admit my first thought was "food". I was hungry.
And I was right------got off my bike and a nice black man grabbed me by the arm and drug me over to
the food table--------all kinds of food. Wouldn't take a penny for it.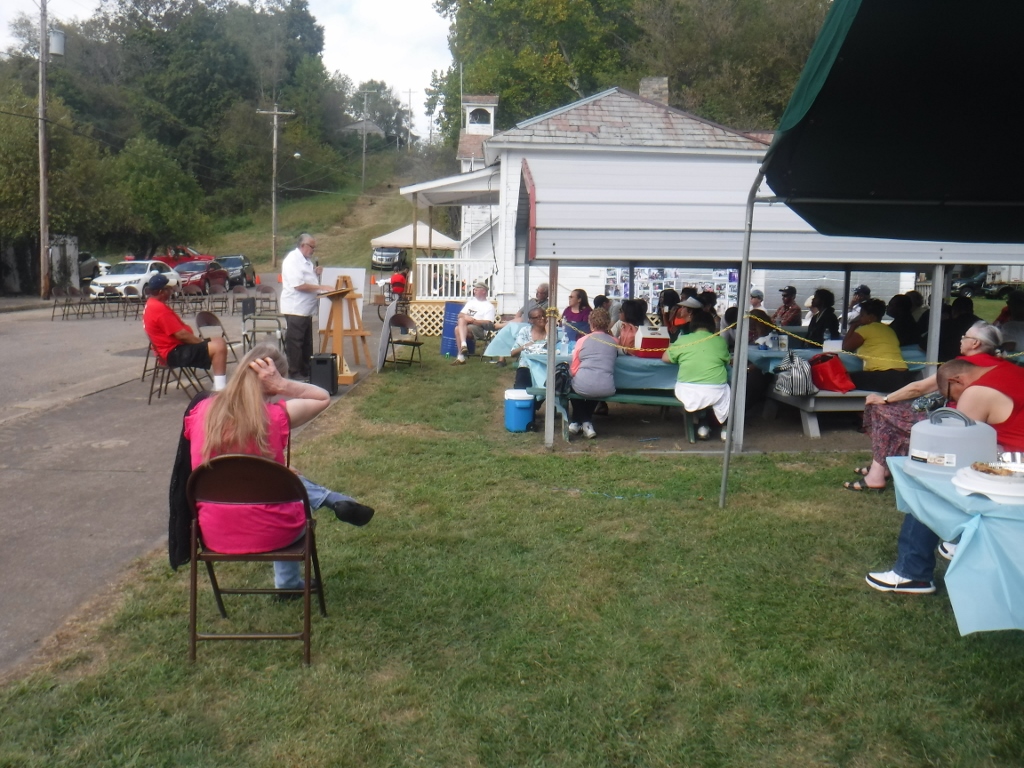 So what was going on here---lot's of white folks---lot's of black folks just enjoying the day and
I sensed something was going on here without anybody telling me and I was right.
And everybody was over the top friendly to me as I strolled around enjoying talking to many folks.
Why can't we all just get along ????
See way back when there was a nearby town (walking distance) and a coal mine.
And racial tensions here boiled over from the hiring of black workers and a bloody battle in-sued.
These people were on a healing mission and have this celebration once a year and I was lucky enough
to join in on it. So please google this town and read about it----it's gut wrenching and heart warming.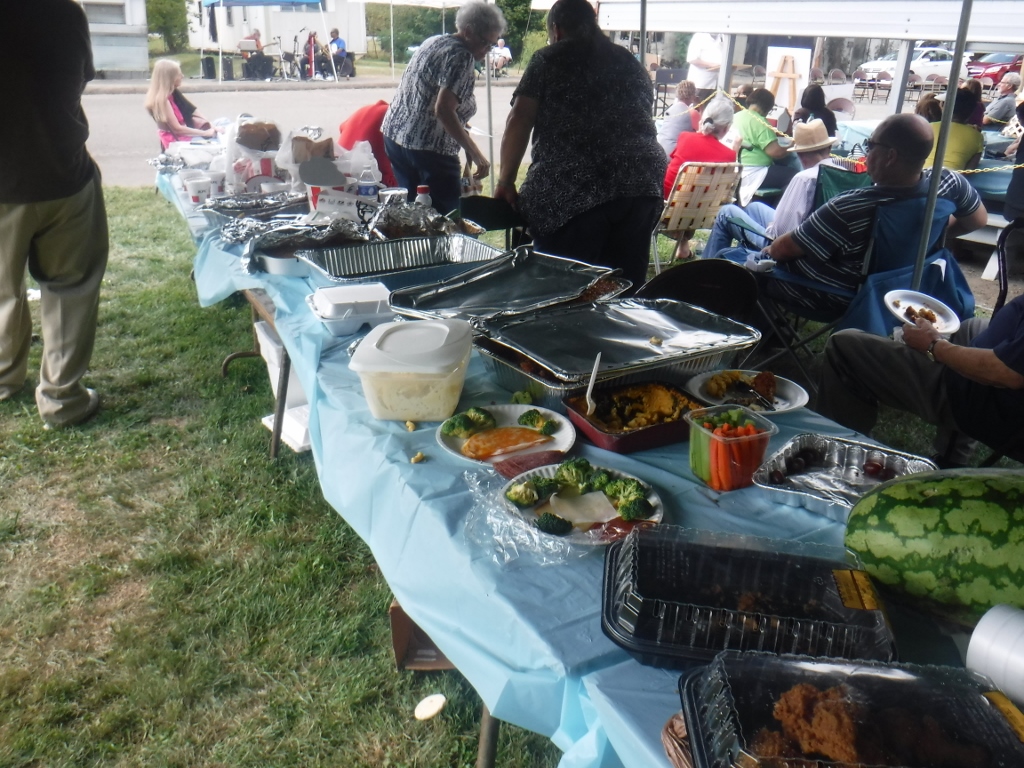 I also have to admit when I saw this place I thought that there might be music------and I was right.
I sat here in a lawn chair and listened to this huge black lady wale out a tune and sat there
crying like a big baby----she was awesome---and loud---she didn't need no PA system.
I told her she made me cry and she said "that's the best compliment I've ever had".
And gave me a big sweaty hug------I left this place feeling all warm and fuzzy.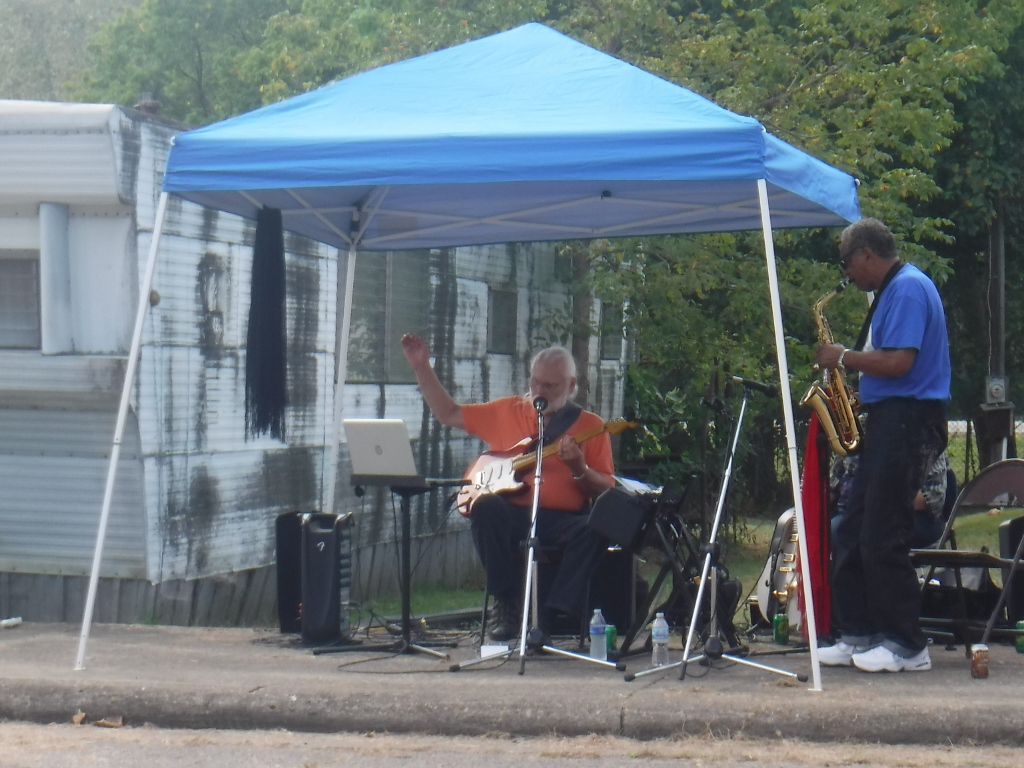 I ended up in Zainesville, Ohio that night. I got a tip there was a highway South out of there that rivaled the dragon.
Highway 555 it is.
Here's a short video of today's ride.
Next Day
Zainesville, Ohio to Babcock State Park in West Virginia.
So it was South on paved and very twisty hwy. 555 out of Zainesville.
I burnt that road up.
And as you can see--------it was day 3------a very easy way to keep your pictures on order.
I should patent that idea ????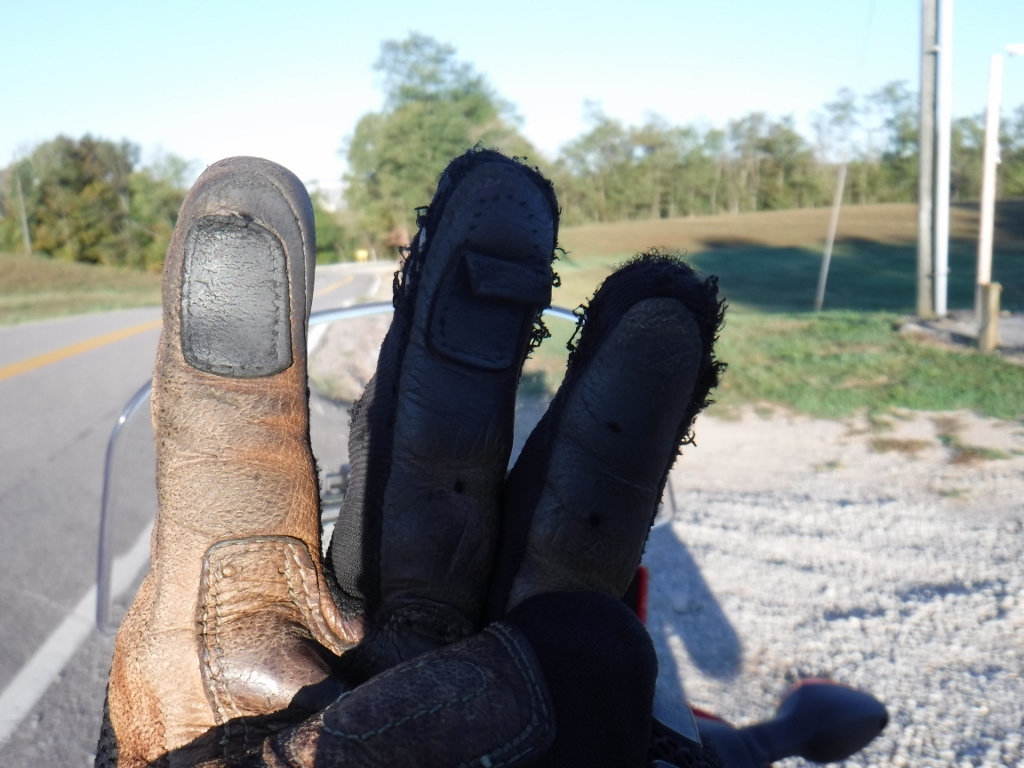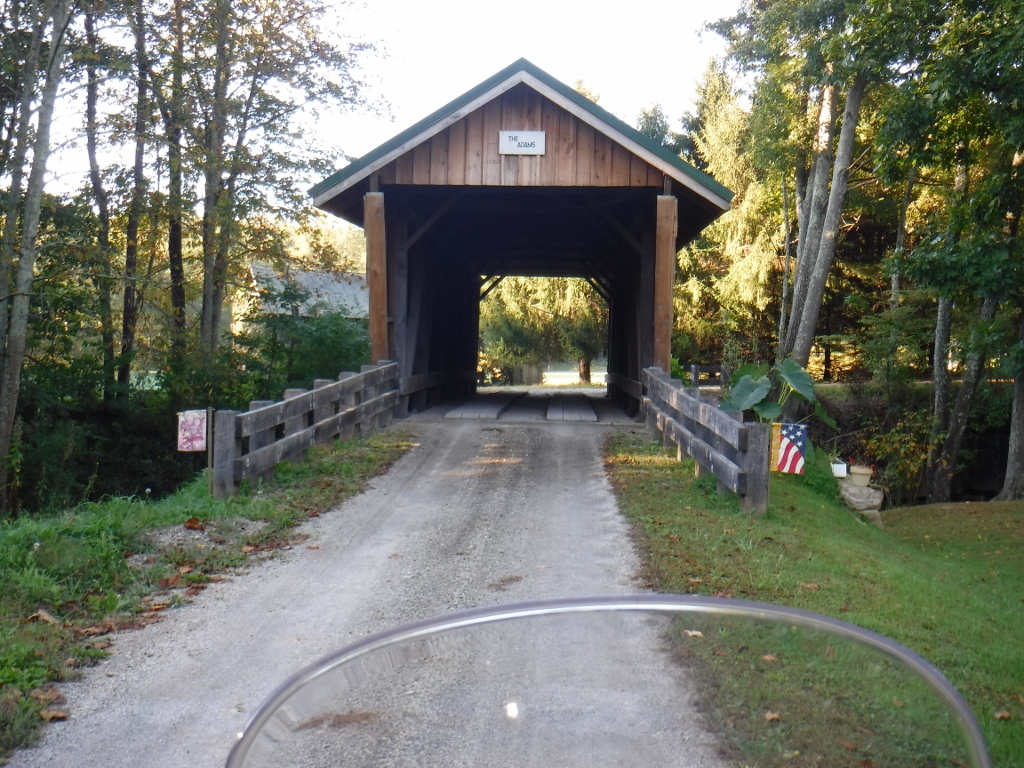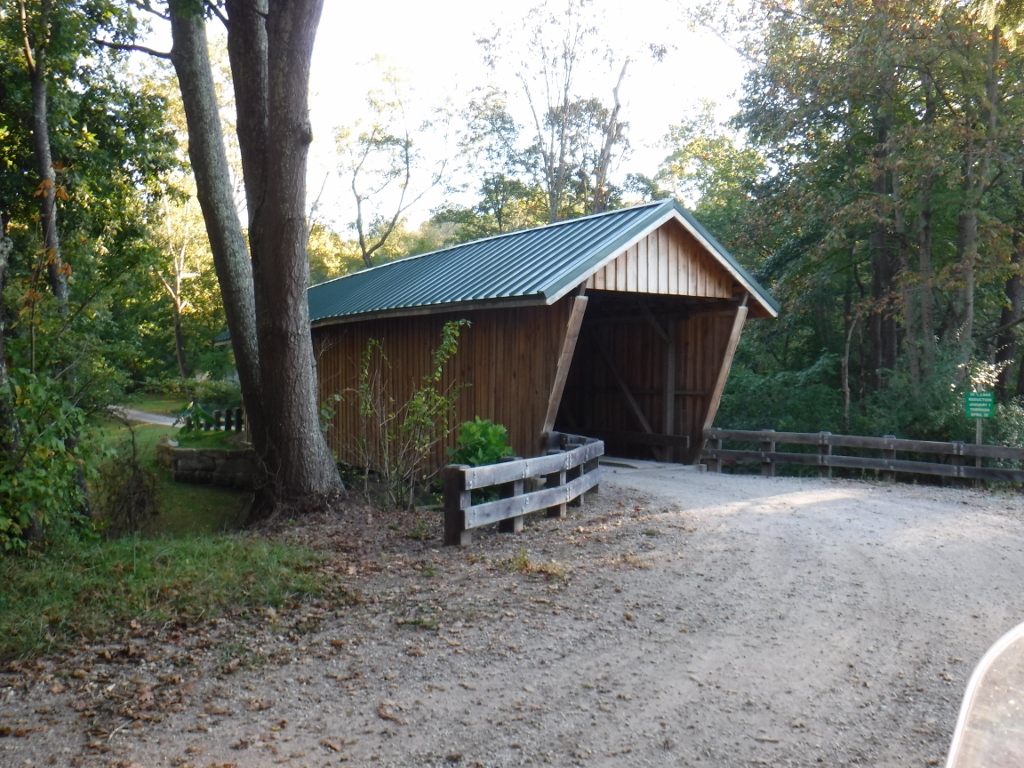 Almost always covered bridges are on nice little gravel roads.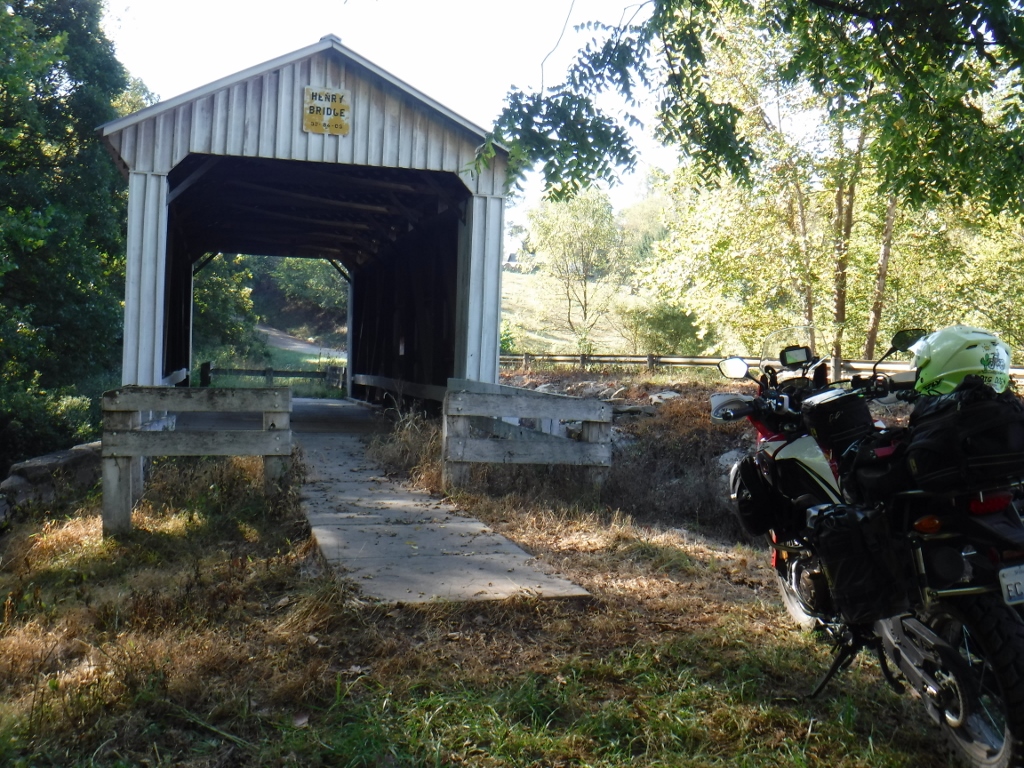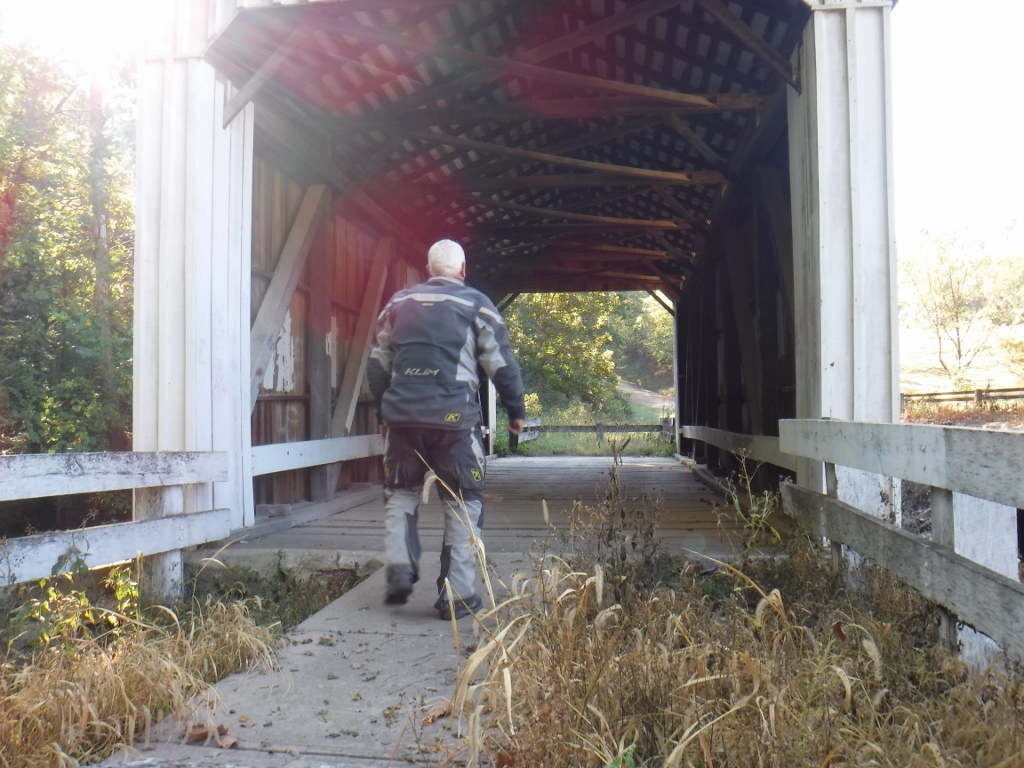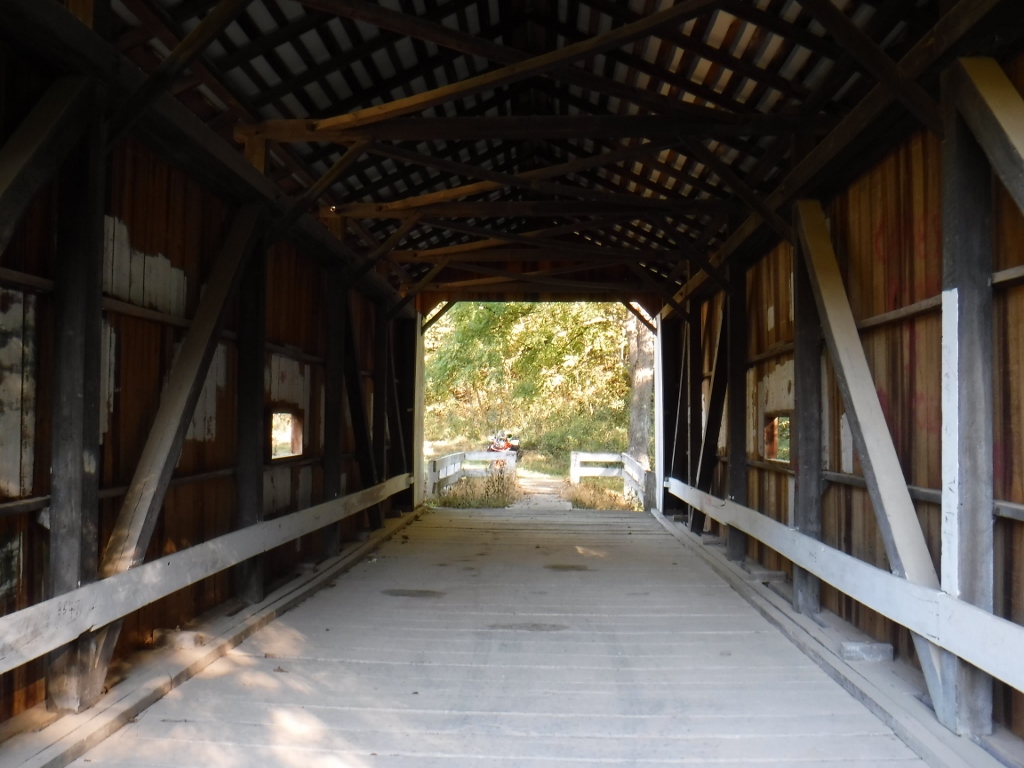 Most of the bridges I saw on this ride were smaller than what I'm use to seeing in other
parts of the country.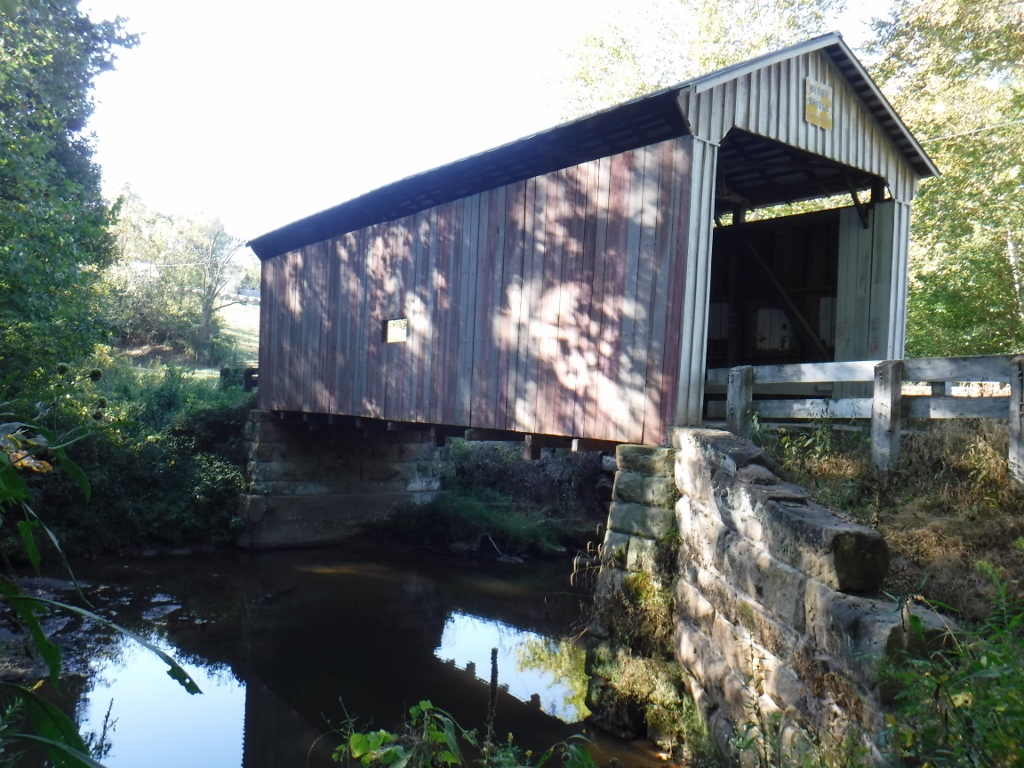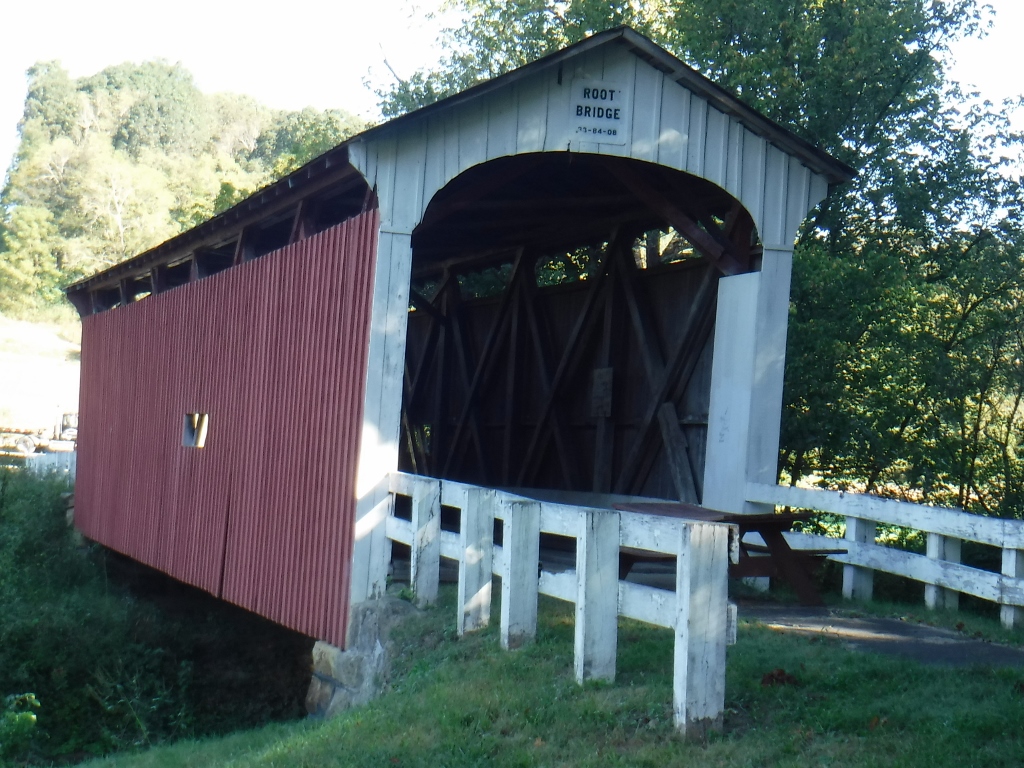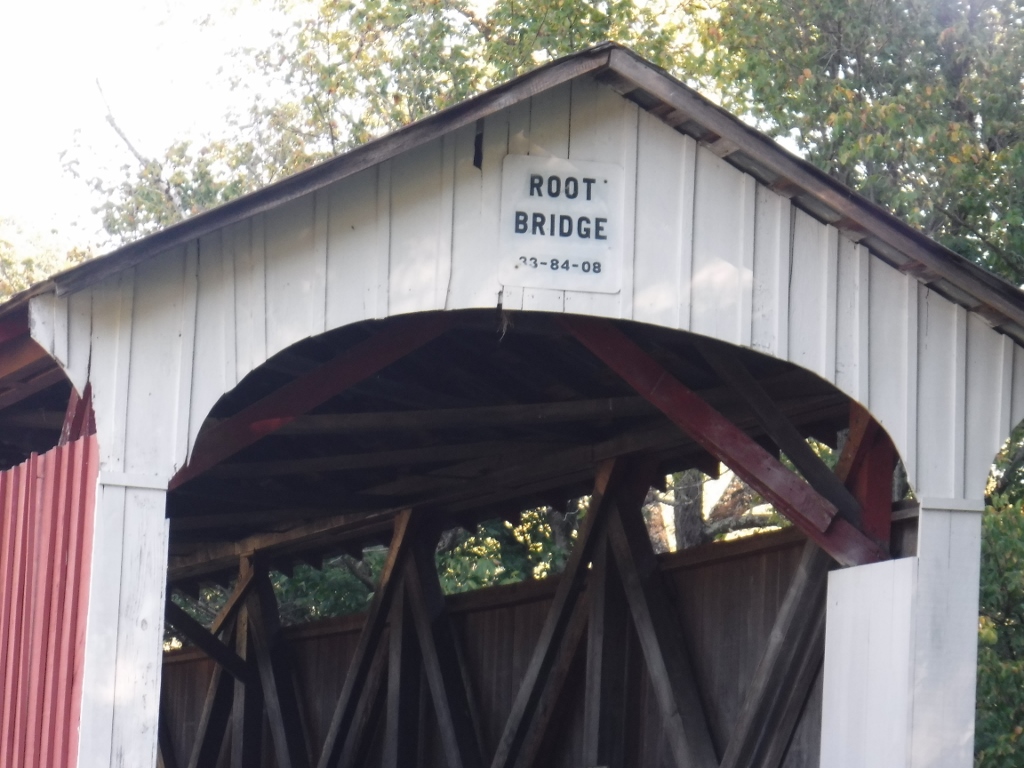 I crossed many a rails to trails bicycle paths on this ride and made note of each one.
As I planned to bring my wife out later and ride them---------and we did.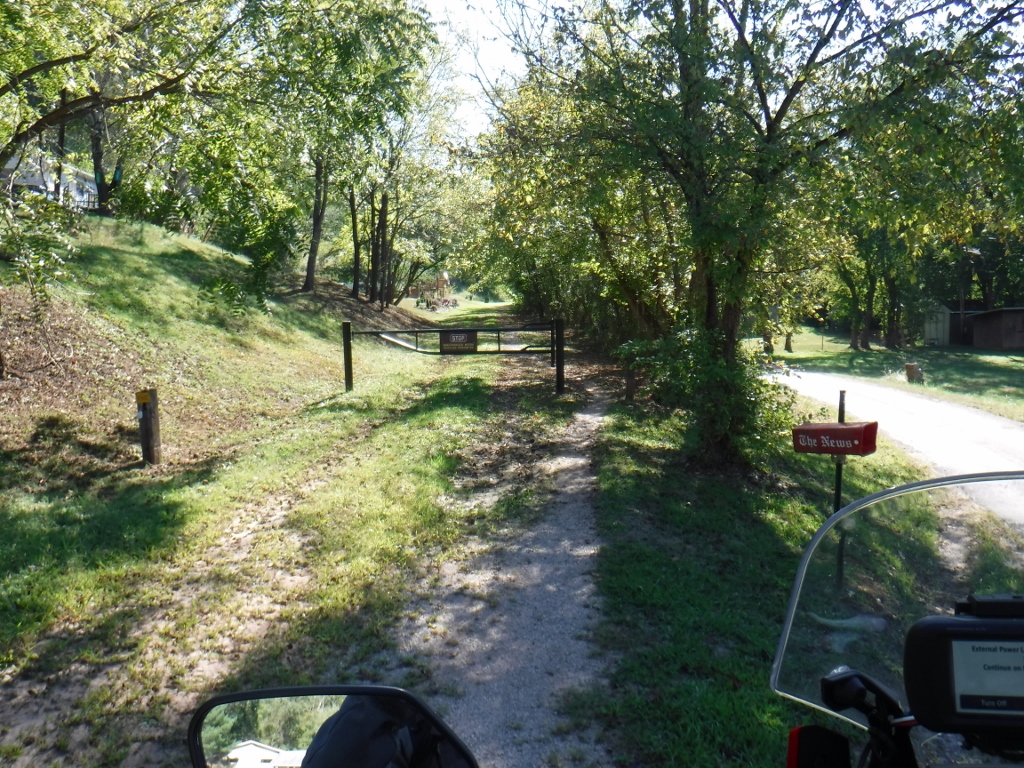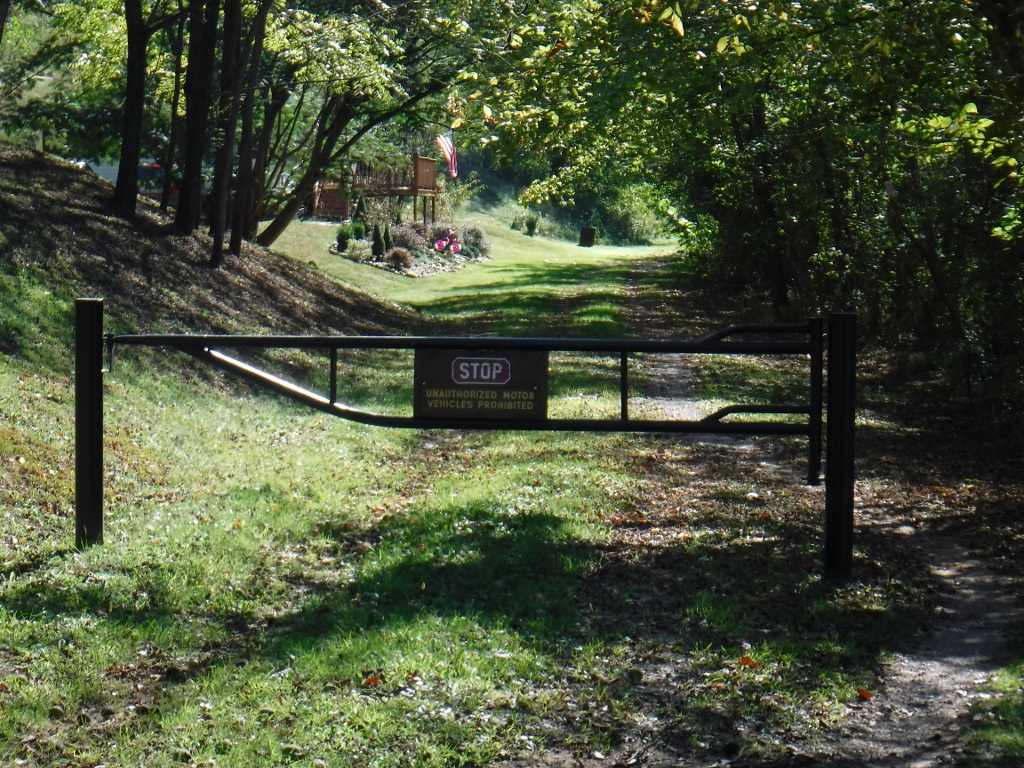 Bicycle path---and old railroad bridge.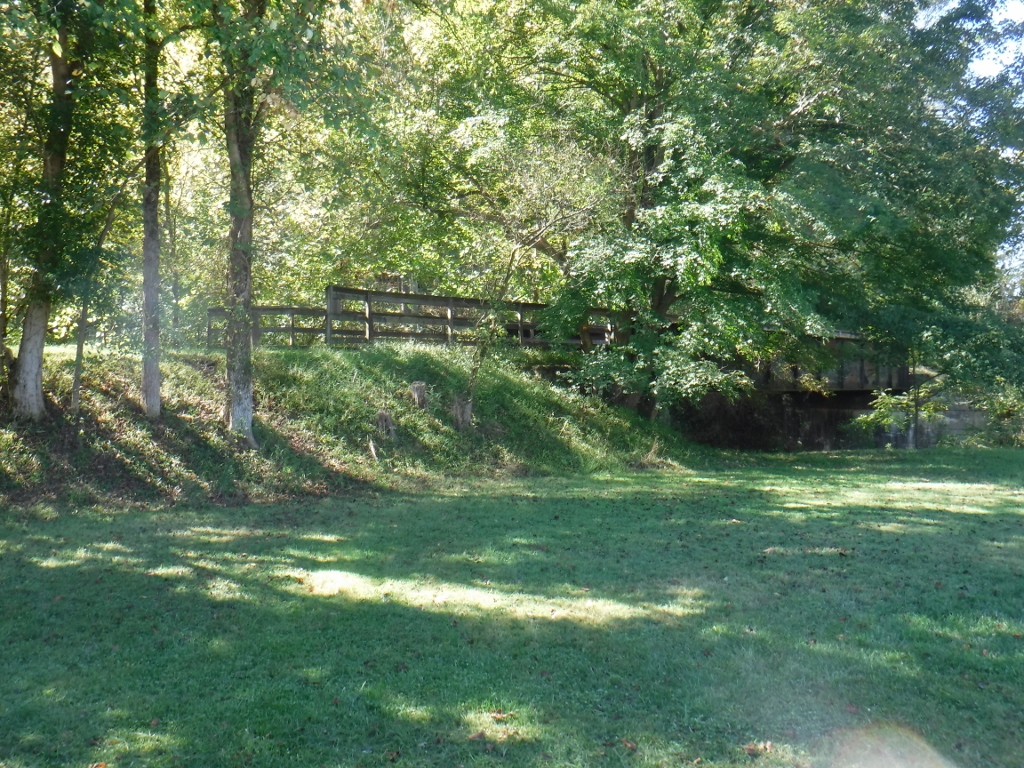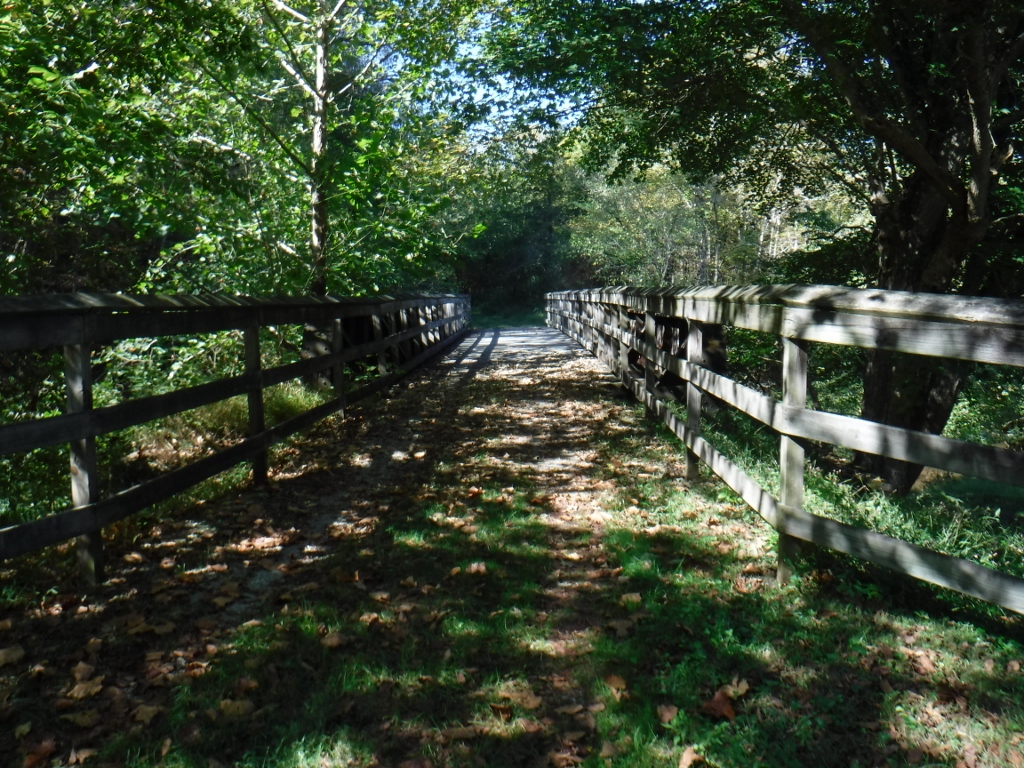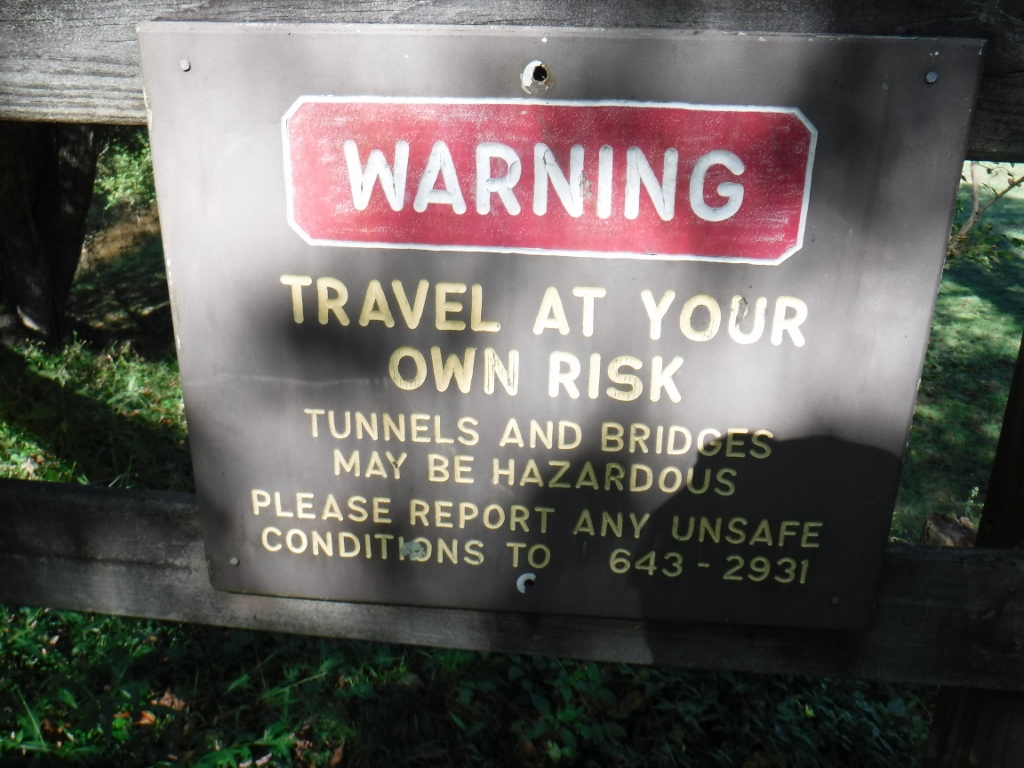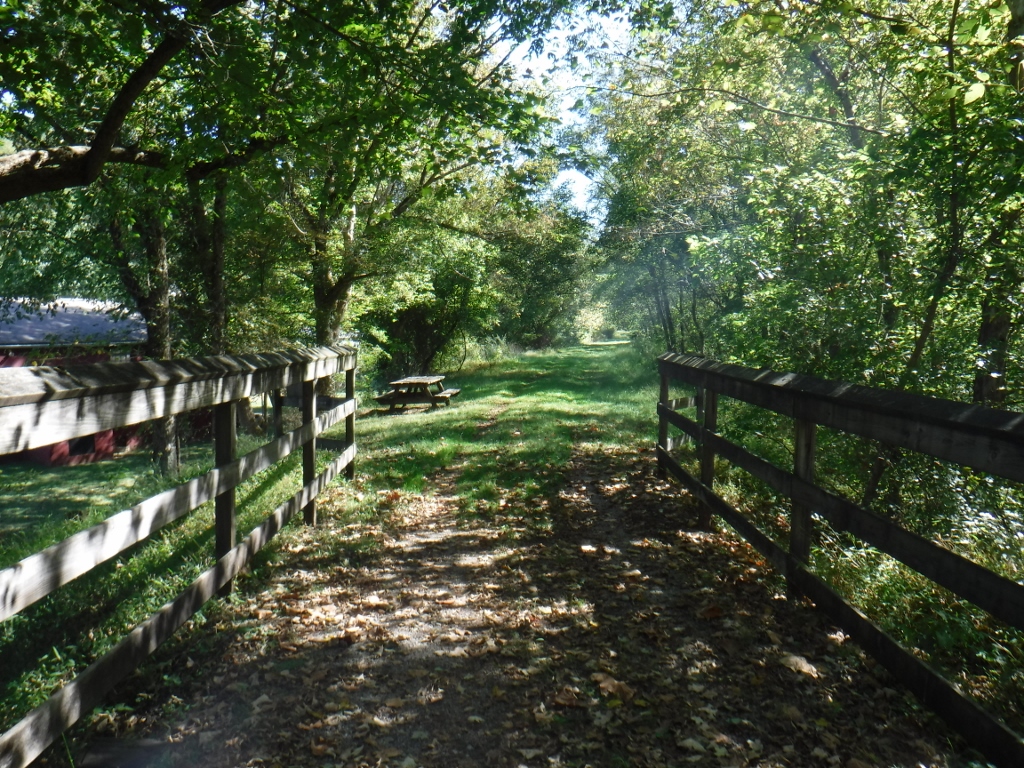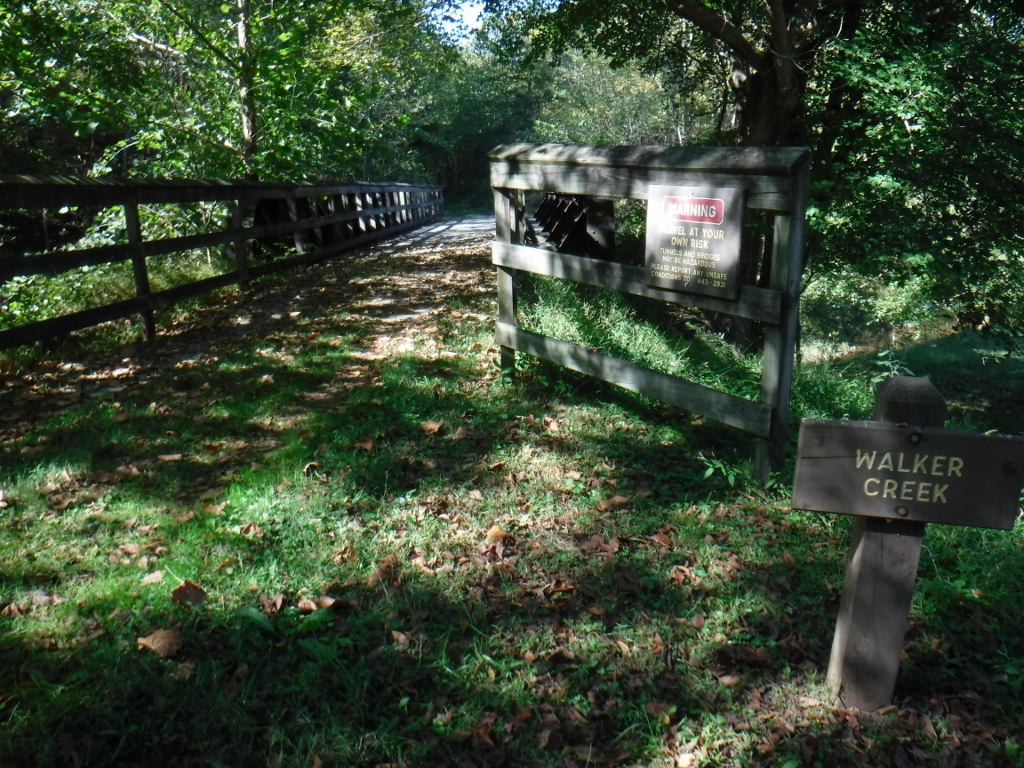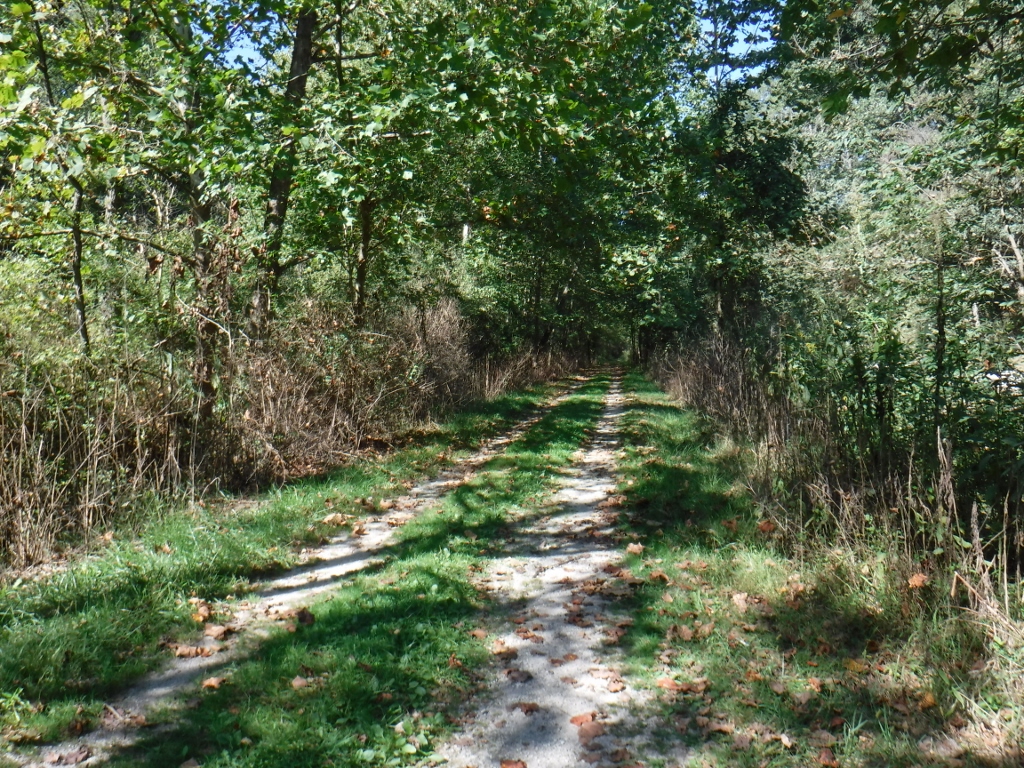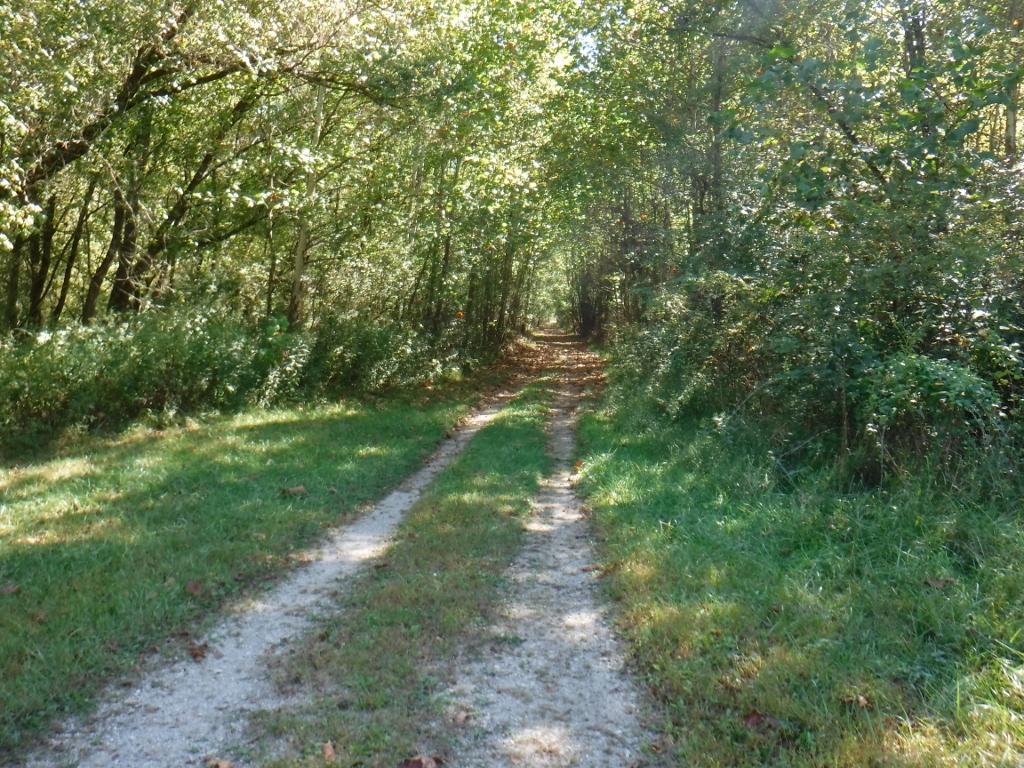 I was on a paved road and blew by this suspension bridge and made a quick U-turn and rode over it.
This was not in my gps--------it was just there----I am a magnet to old bridges---but you knew that.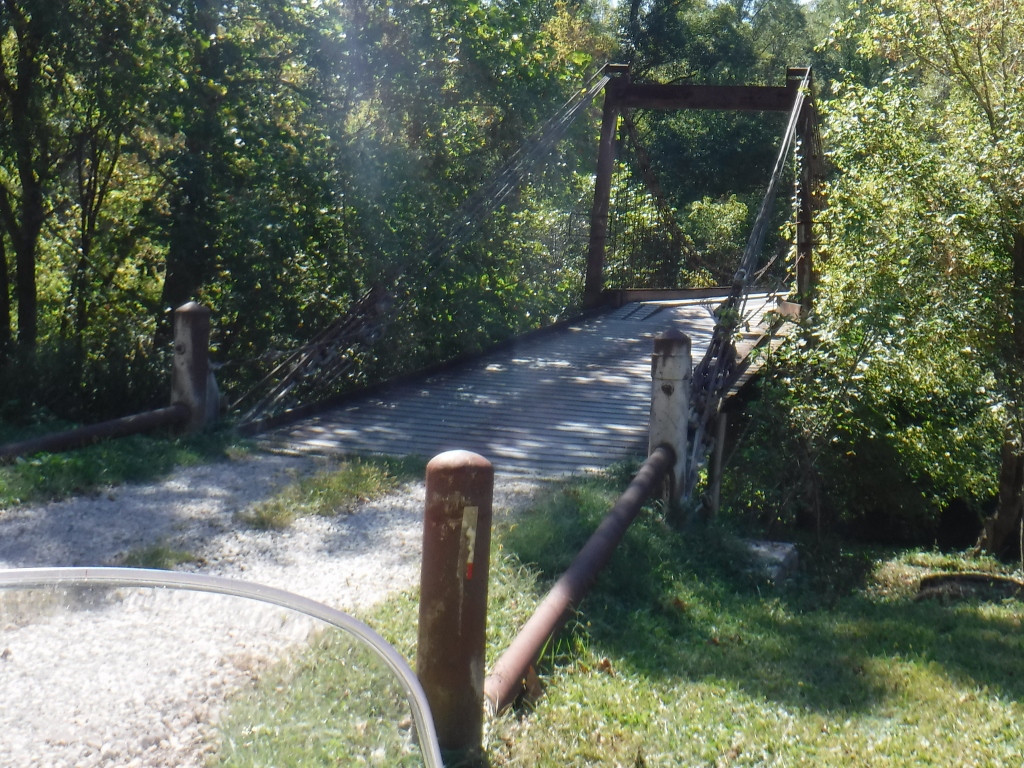 I spent some time here at this walking bridge beside the road.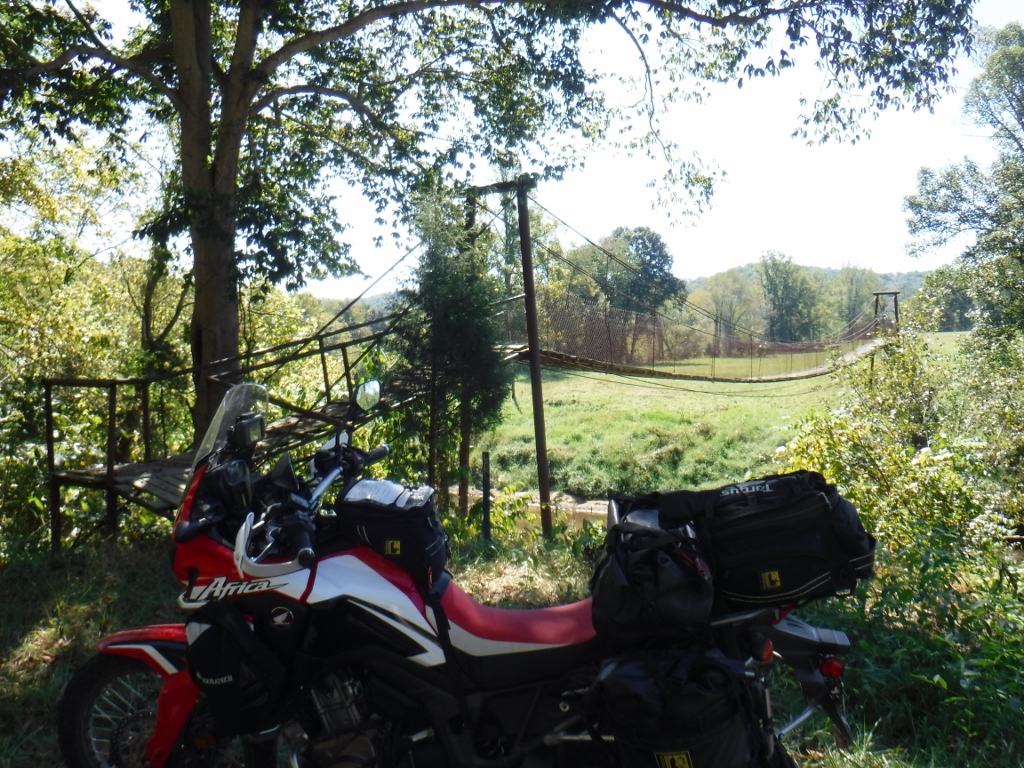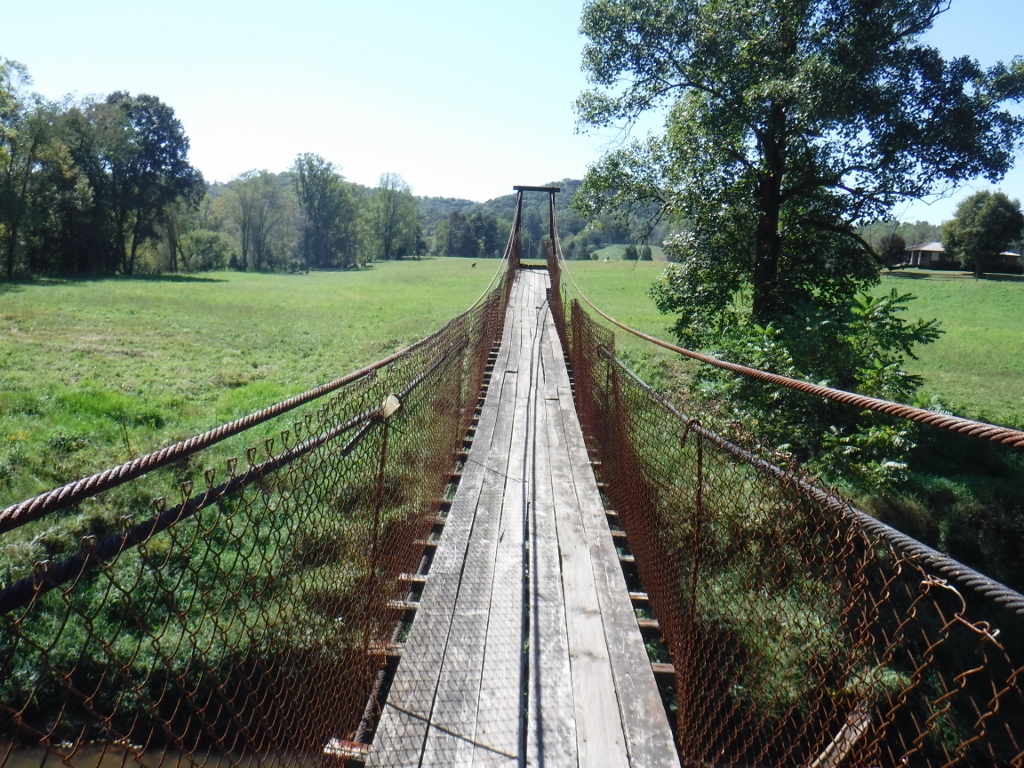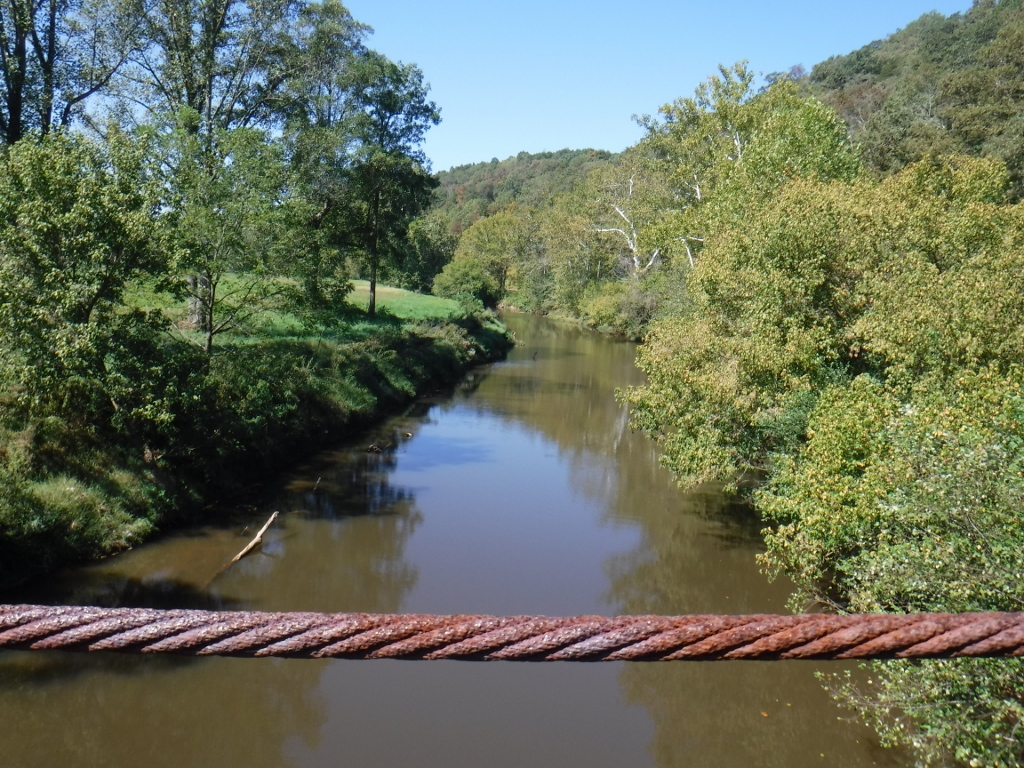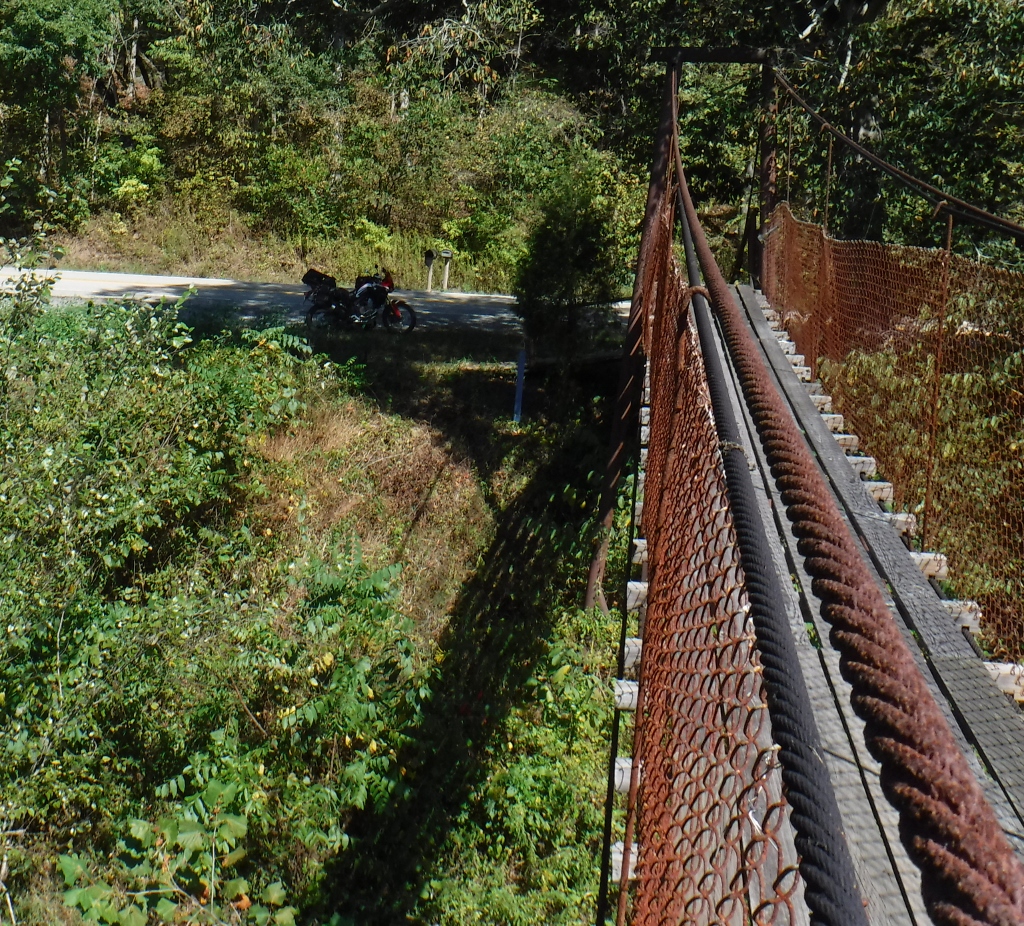 It was in fine shape----and needed used.
So I obliged.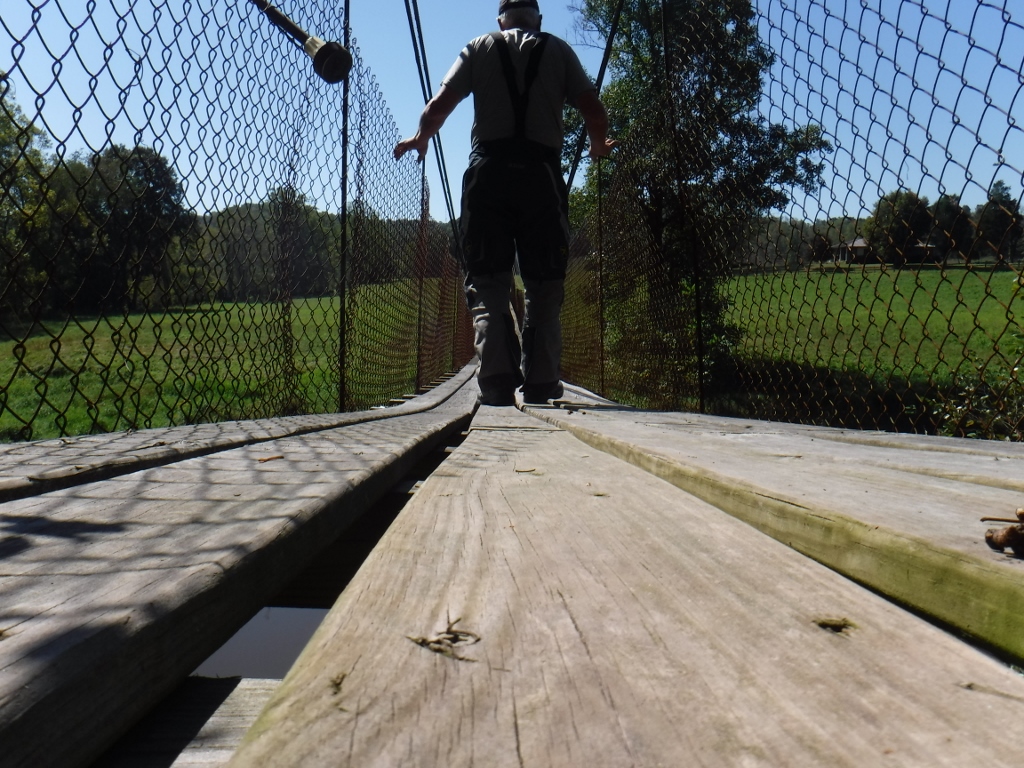 This is in the town of Gauley Bridge.
Lot's of history here from the civil war days.
Google it if you want------it's very interesting.
Me and my wife drove thru here on our bicycle ride a few weeks after I took this picture and we
sat on a bench beside the river and had a nice rest and picnic.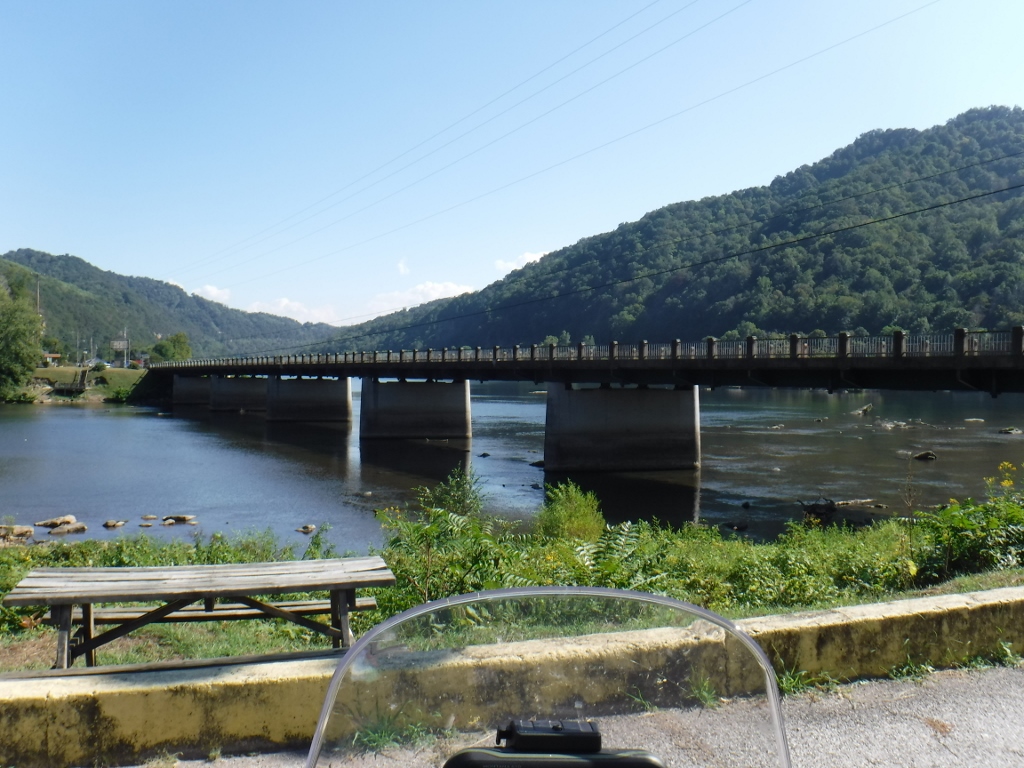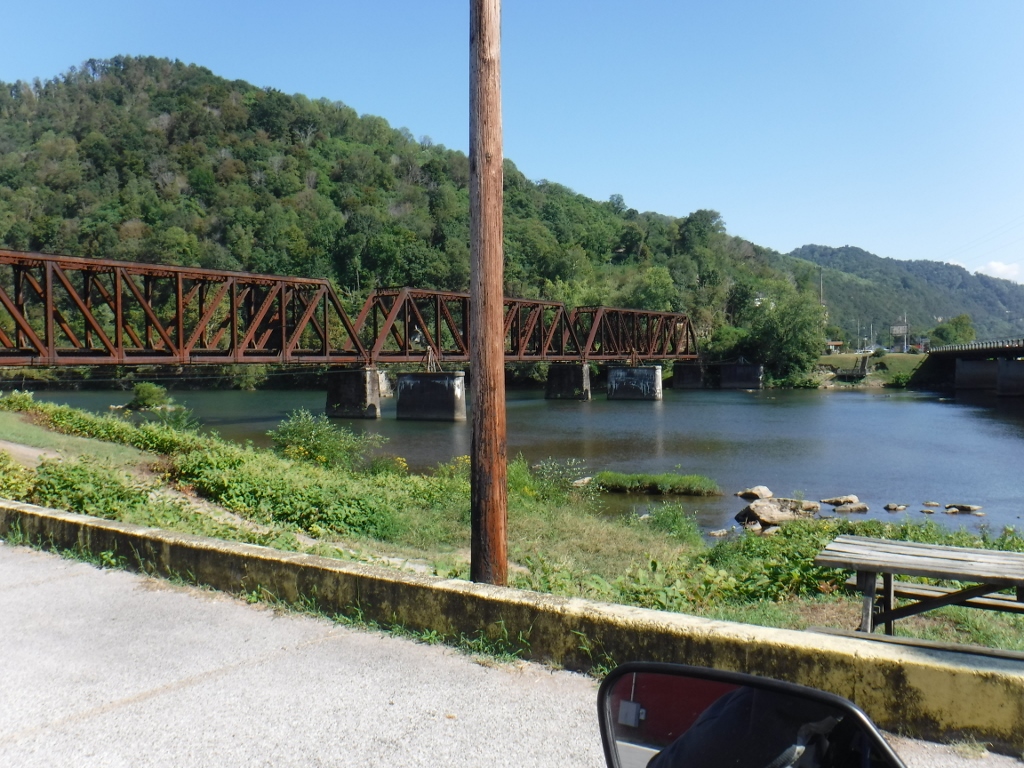 It's seems I went South all day today.
Babcock state park and the New River Gorge bridge was on my radar.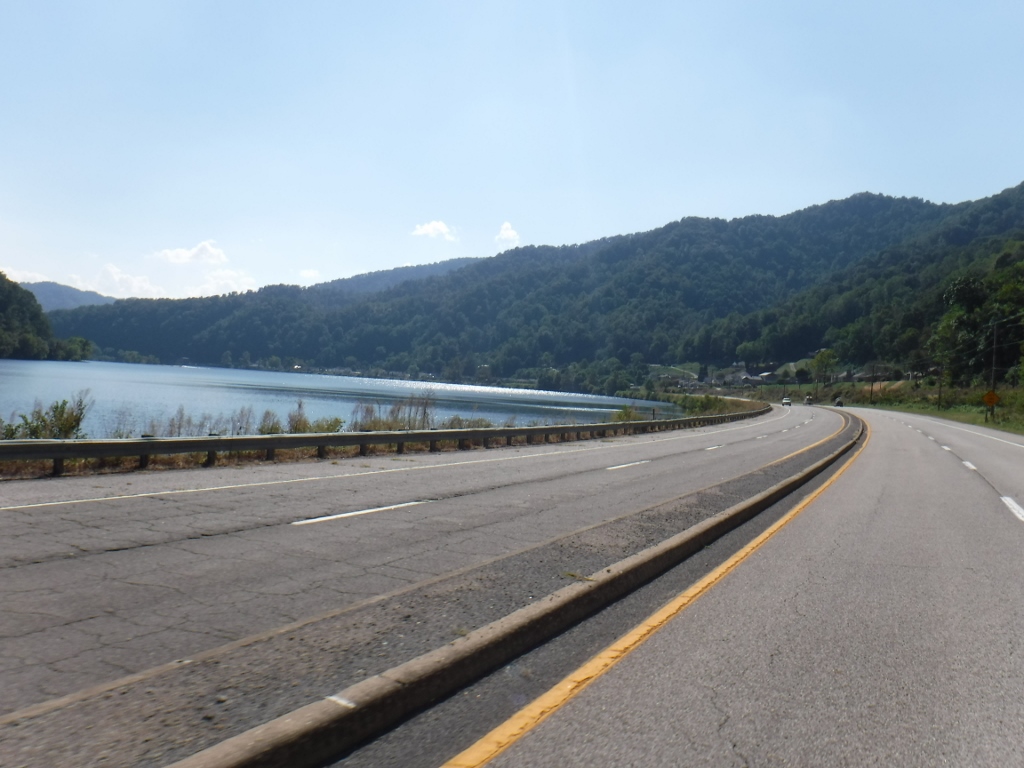 This bridge was just South of Gauley Bridge.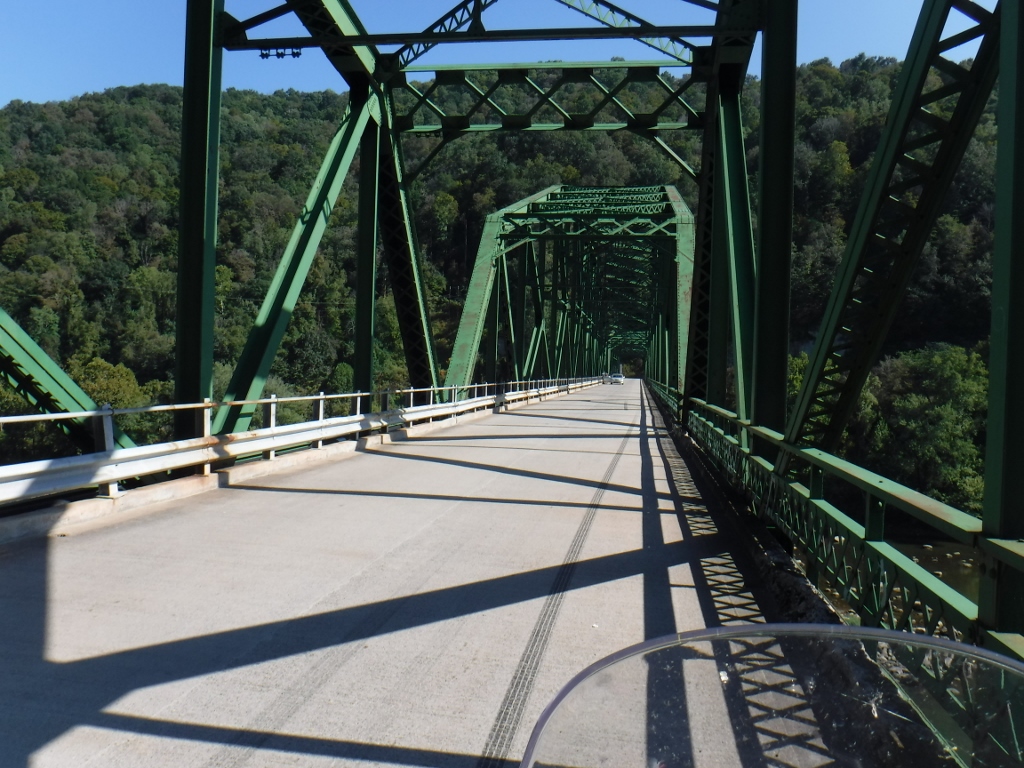 And soon I was riding over the New River on the New River gorge bridge.
A monster of a bridge---of course I had to go under it and ride the old one lane road that people
use to have to use. This new bridge made a one hour crossing of the gorge into a one minute affair.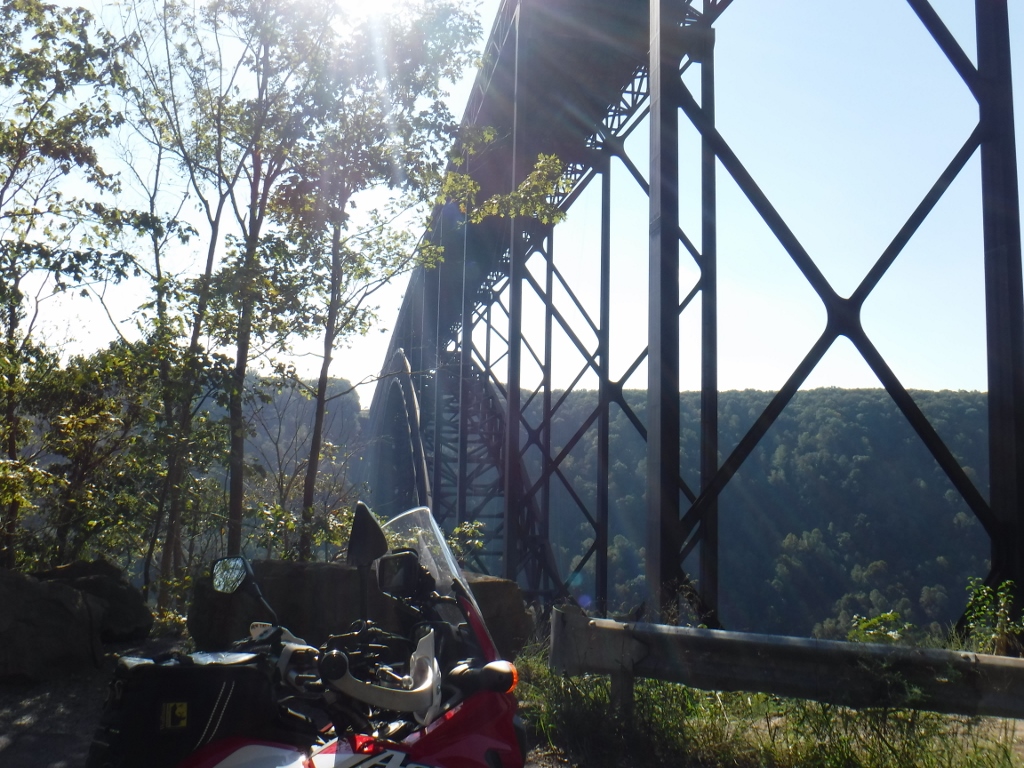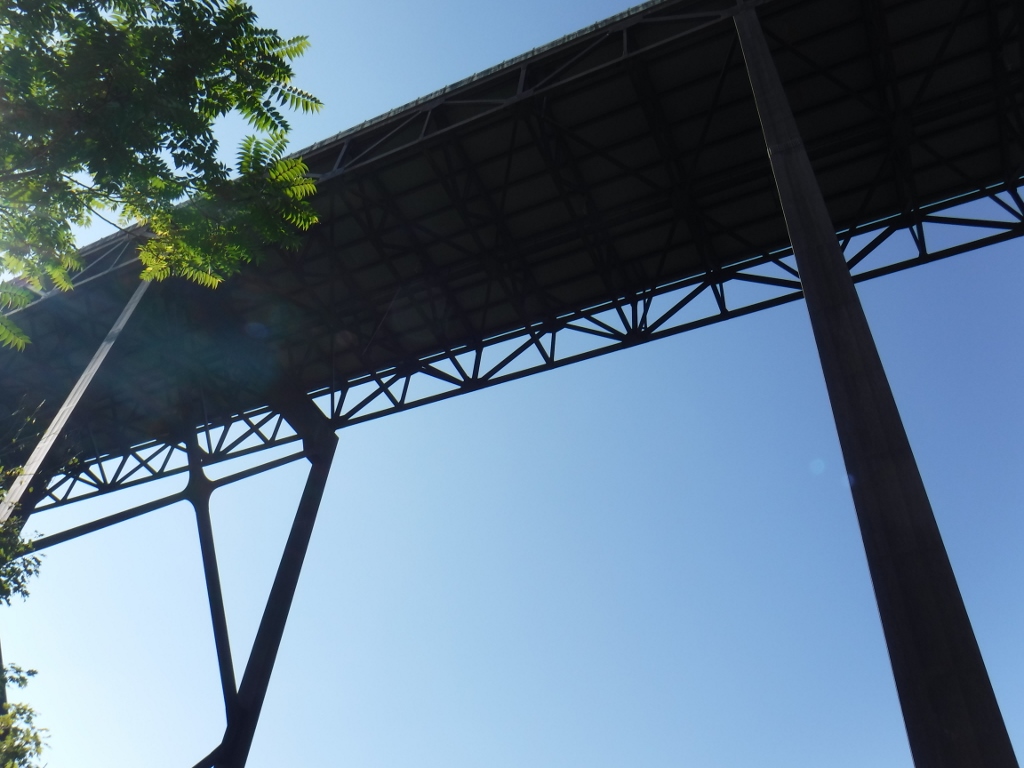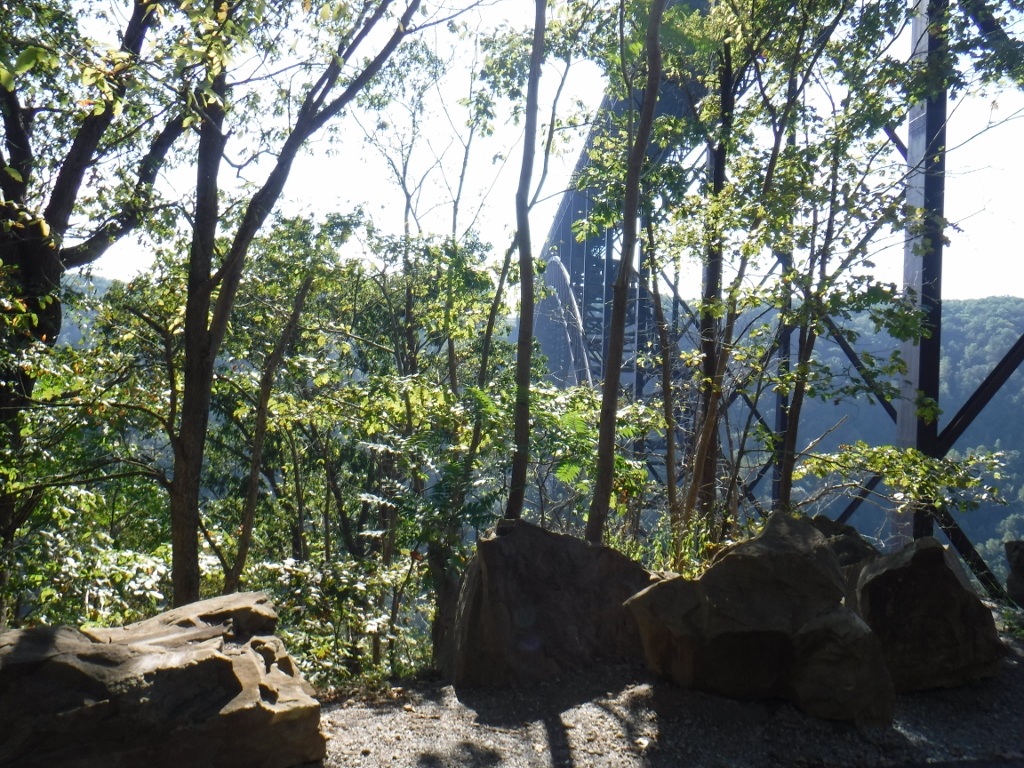 And this is the old one lane bridge down at the bottom of the gorge.
It's so neat to still be able to cross the old bridge.
In the old days it was 2-way traffic---------it had to be.
But after making the new bridge it made good sense to make this old route one way as the steep
switchbacks were just one lane wide and there were many 180° turns.
Yes------it's the "New River"------but history says it's one of the oldest river in the U.S.
A few weeks later I rode my bicycle down under the bridge on this same road----I was passing everything
on the road on my mountain bike------man that was a hoot.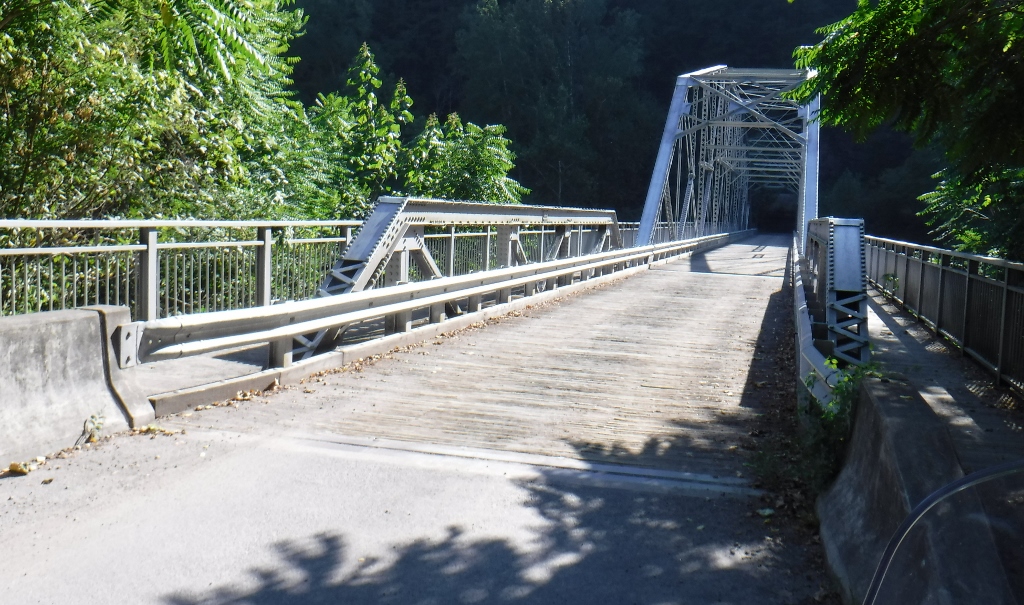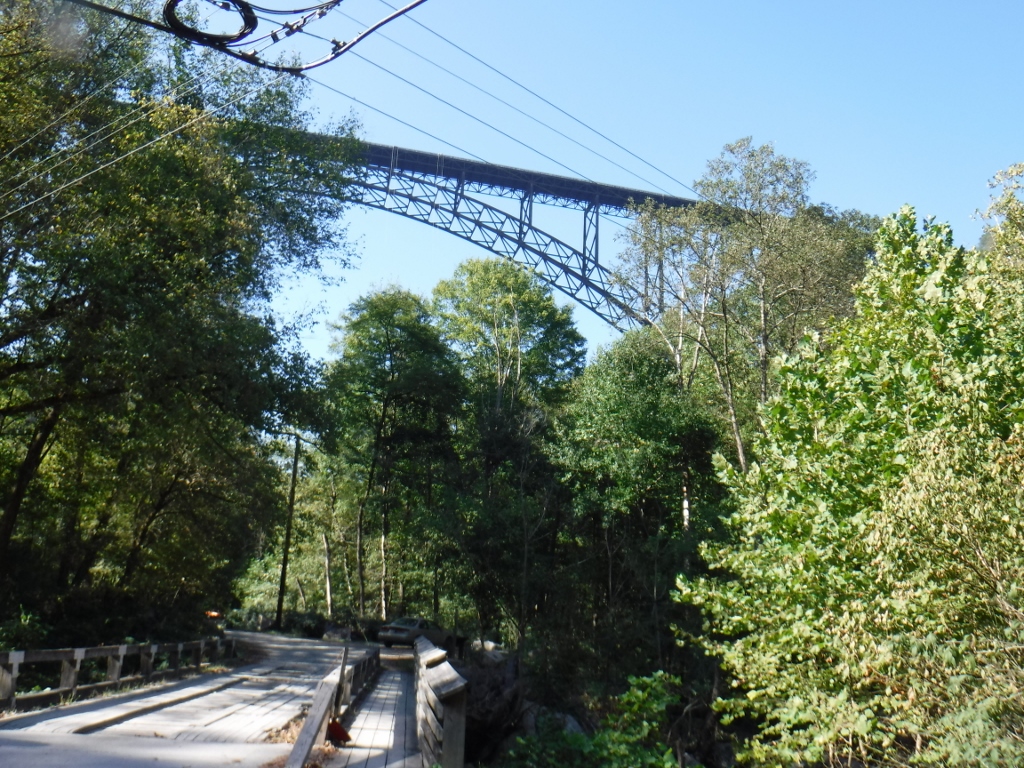 I made it the 20 miles or so to Babcock state park and this guy wheels in on his really nice BMW 800GS.
I told him to do something goofy------------and he sure did a good job--------really nice fellow.
They wouldn't let 2 tents on one site------so we camped in adjoining campsites and we both
had some firewood but I said why don't we have one fire------and we did.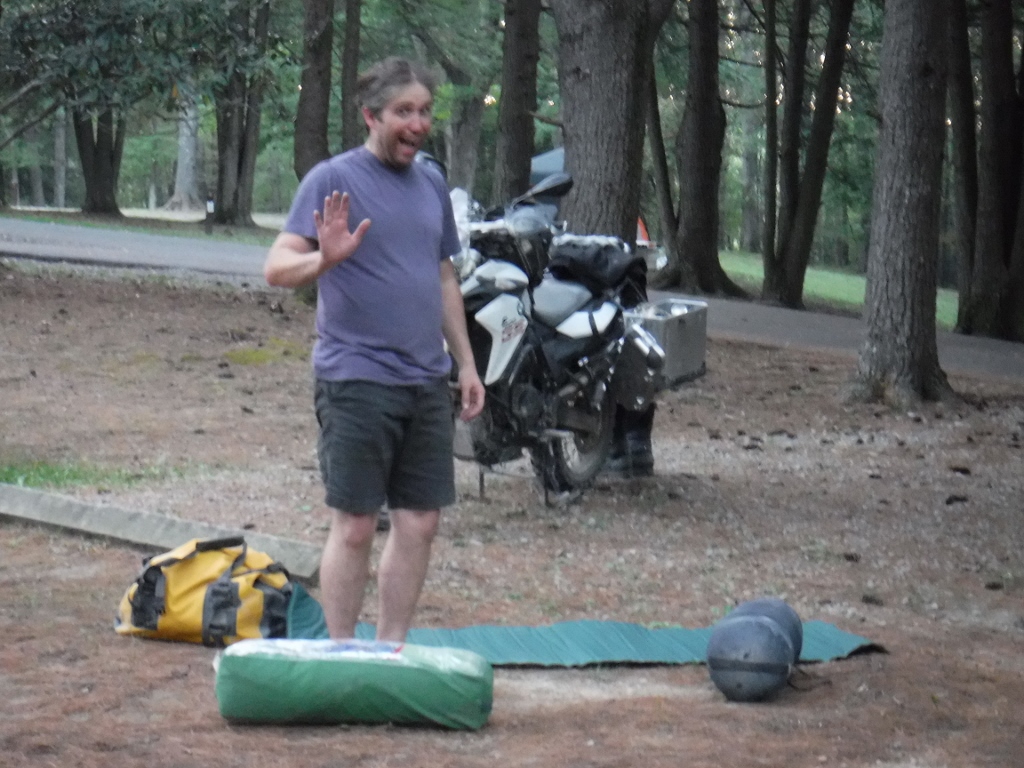 Here's a short video of todays ride
Next Day
Babcock State Park to Motel in Franklin West Virginia
Hmmmmm---what day is it ?????
Day 4 !!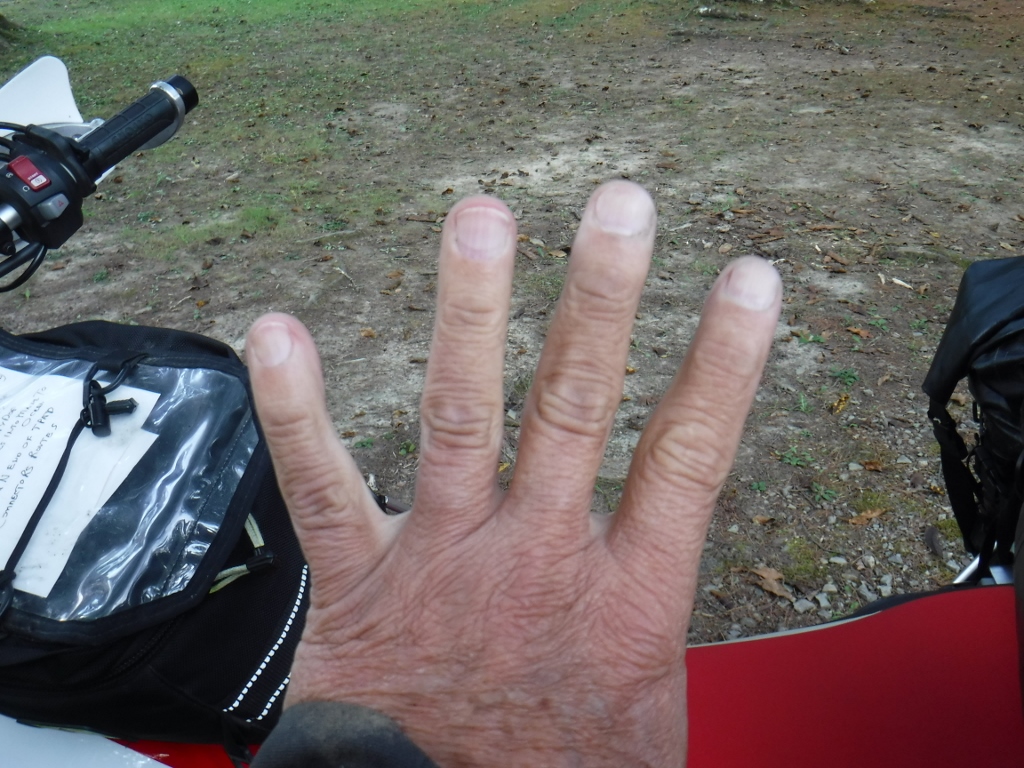 Me and my camping broke camp early-------I rode off first and waved by.
Had a nice shower here--------almost forgot that a bear wandered thru last nite !!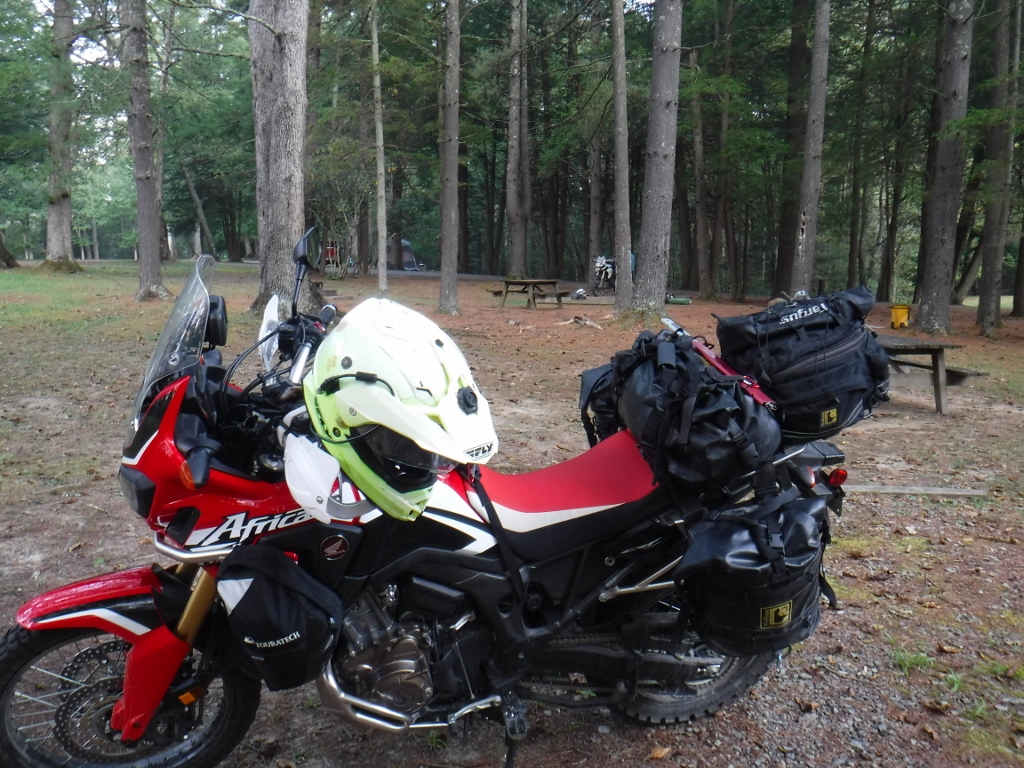 I just like saying Momongahela----------can't spell it------but like saying it.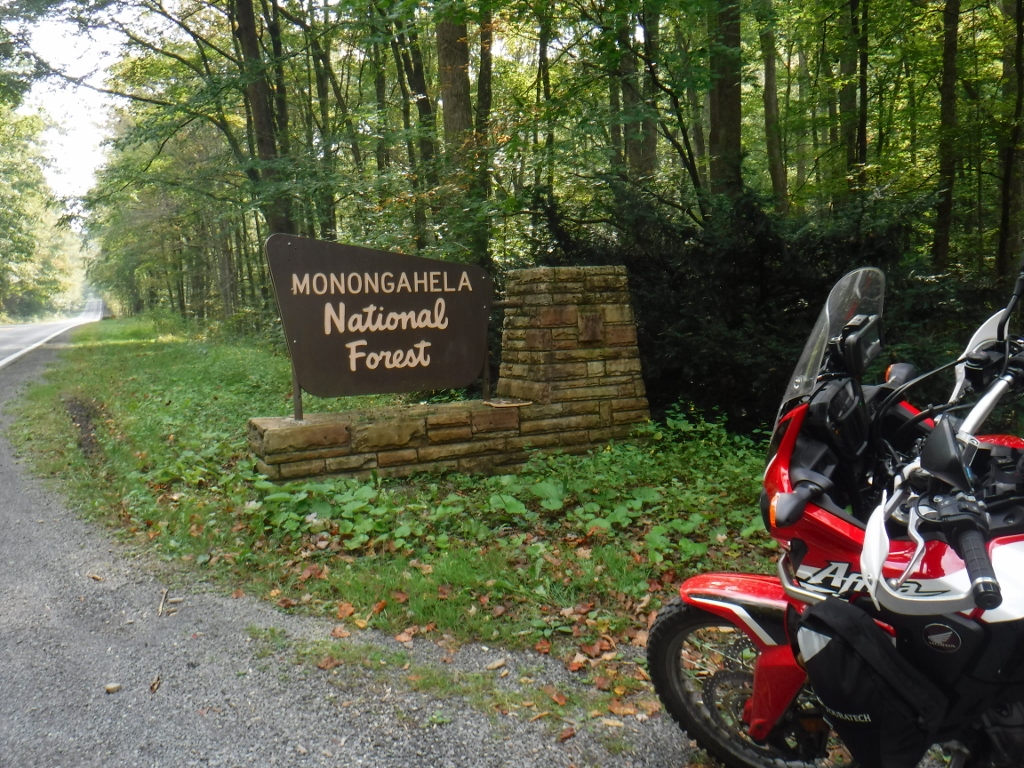 More artsy fartsy quilt paintings.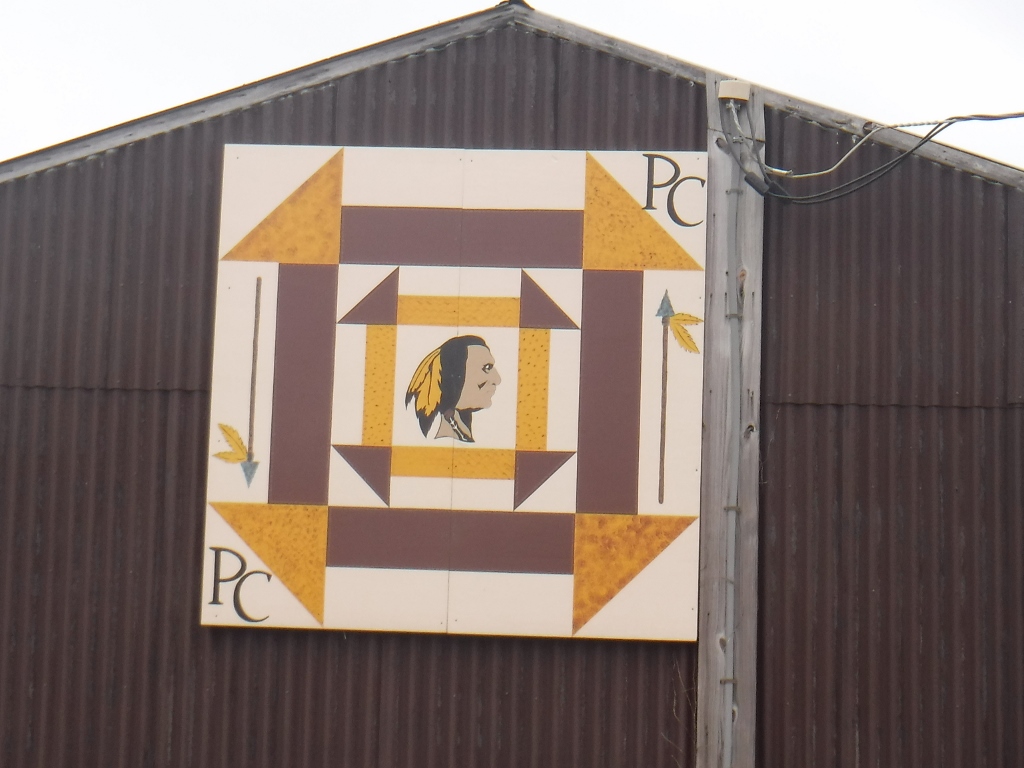 And I cross the Greenbrier rails to trails bicycle trail------man that looks inviting.
The Southern part of this trail is washout from floods---but they hope to have it fixed next year.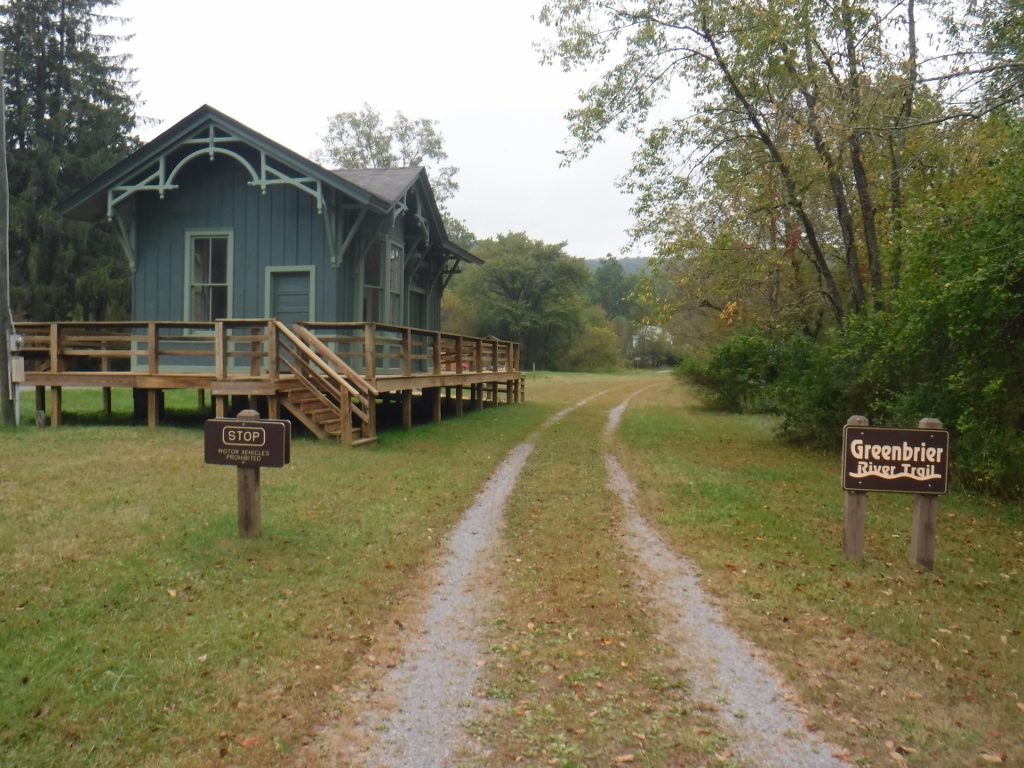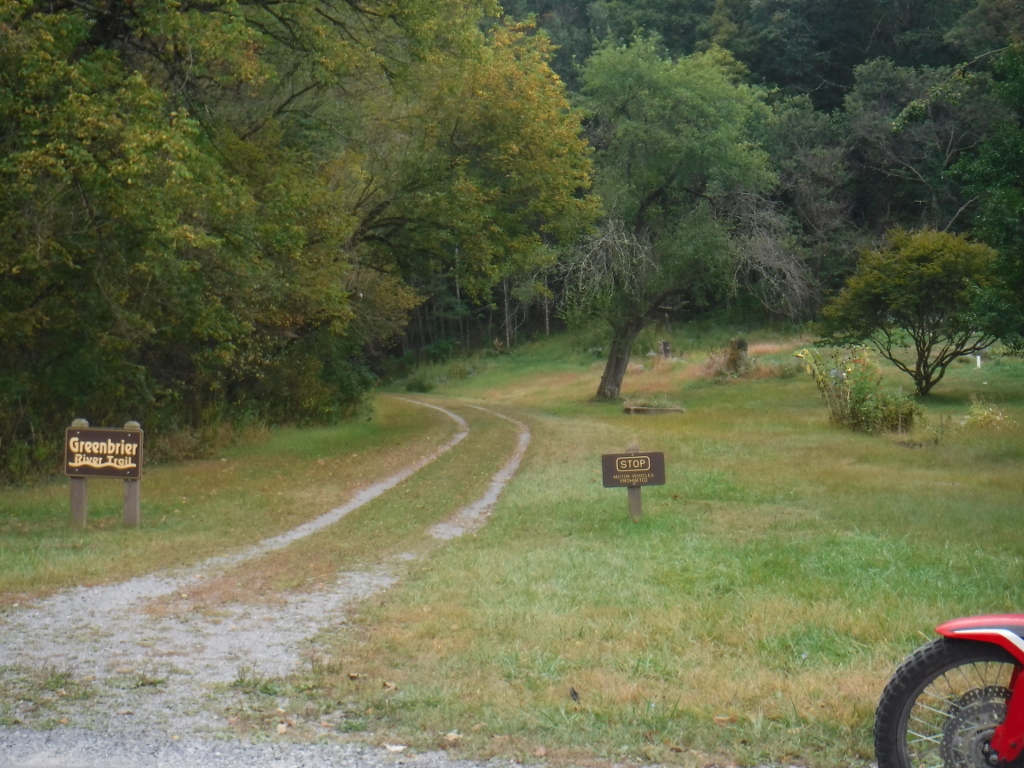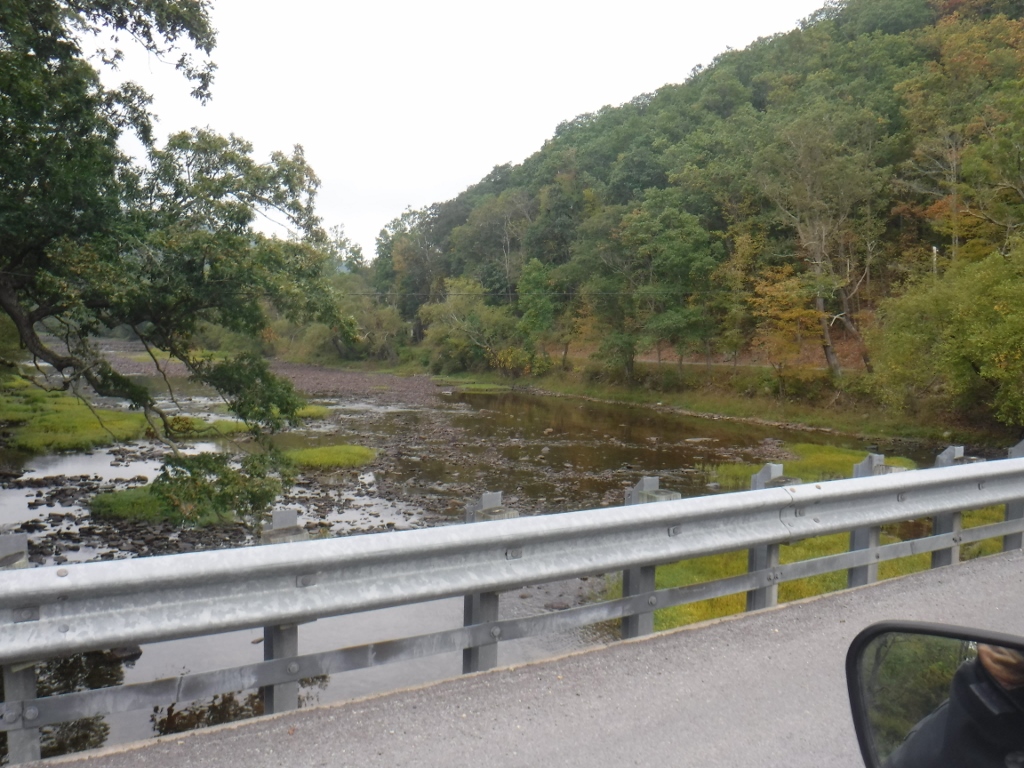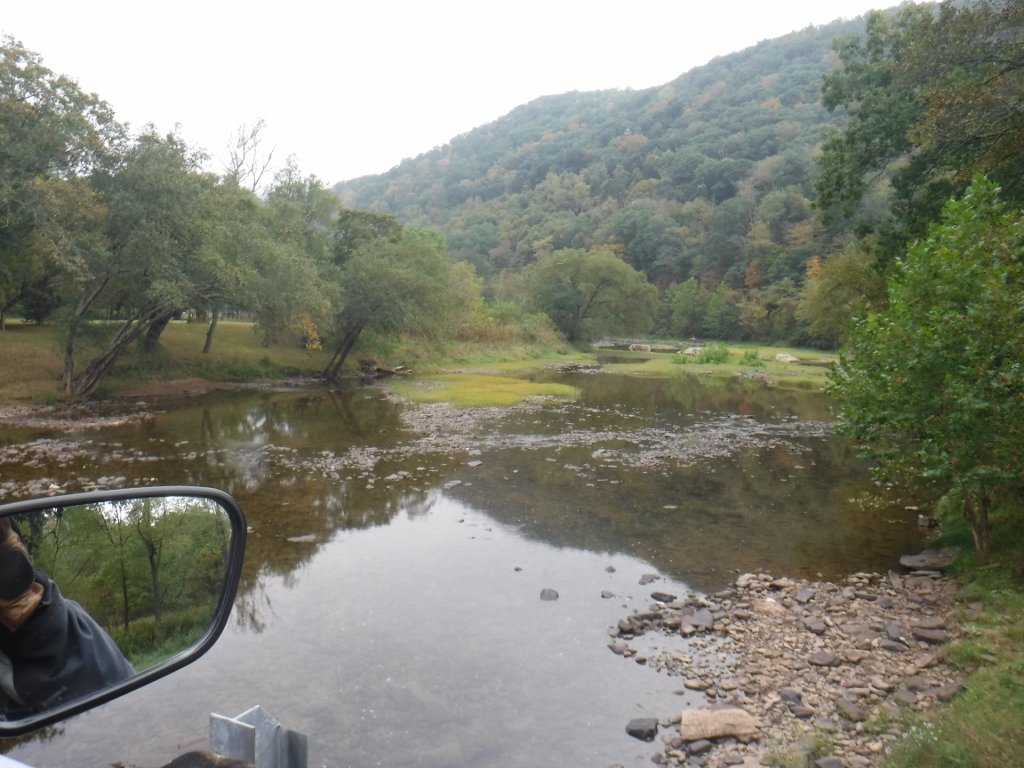 The leaves were just starting to turn.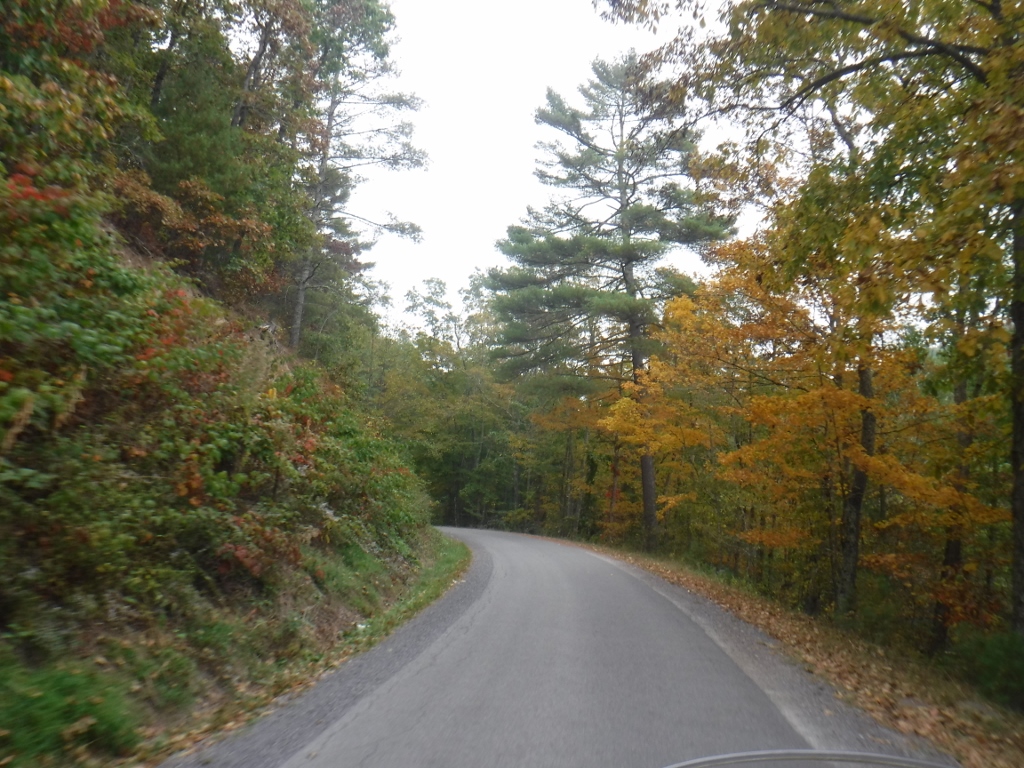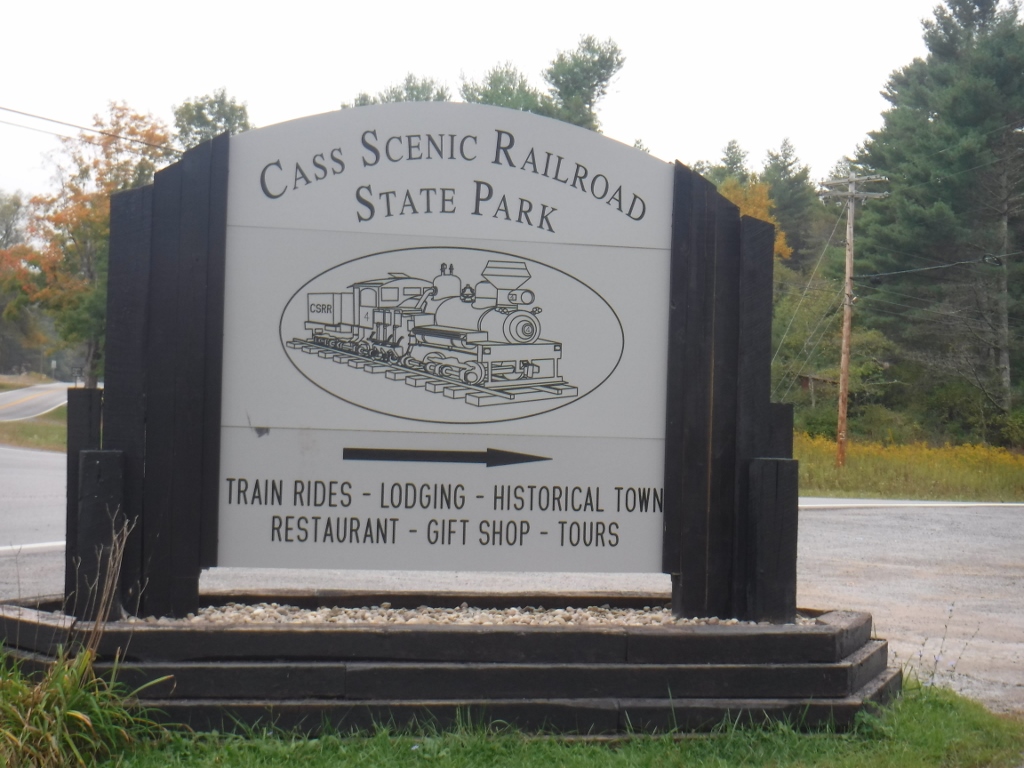 I ended up the day in Franklin, West Virginia.
There is no place to put "NO" in front of the word Vacancy at this motel.
Lot's of rooms ---------pretty nasty--I think most people don't stay here.
I rode one half block without my helmet on for pizza that nite and got pulled over.
No ticket---but he put me on surveillance the rest of the nite.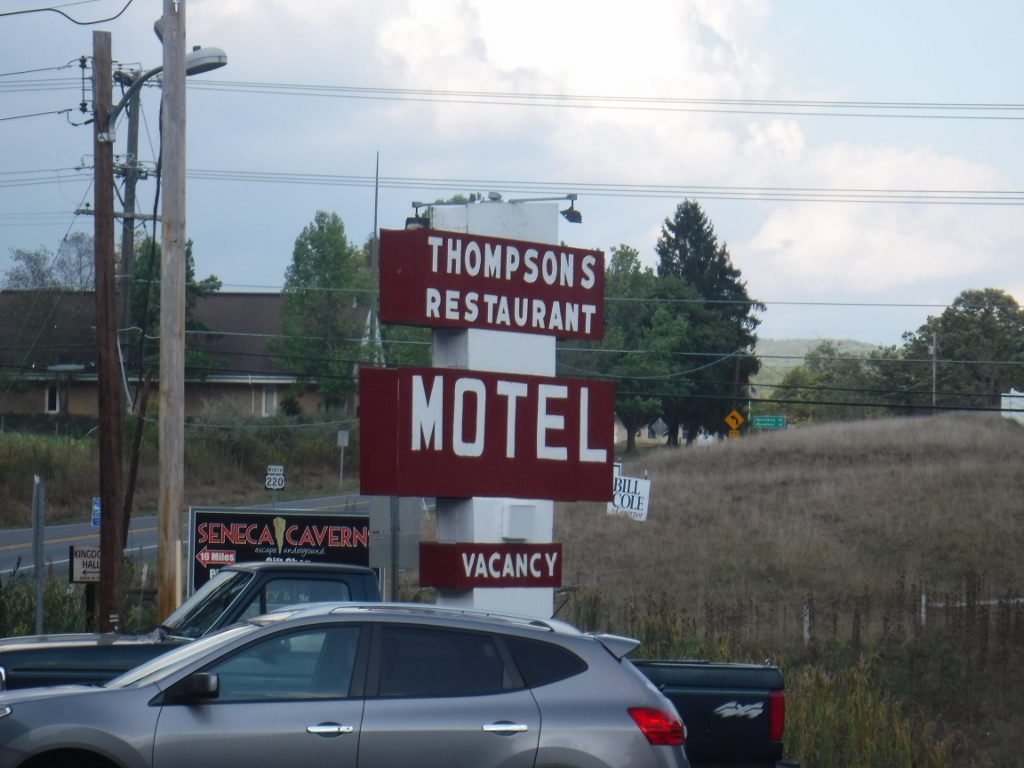 Here's a short video of todays ride
Next Day
Franklin, West Virginia to Waynesboro, Pennsylvania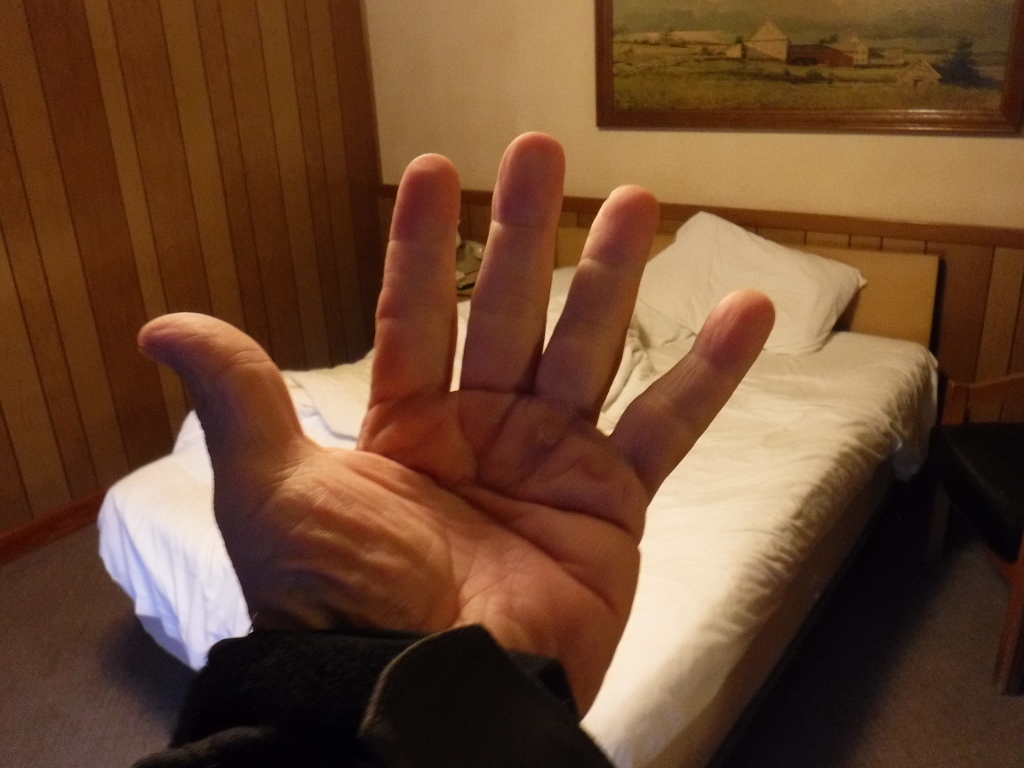 The day started off kind of muggy----very high humidity-----even at night with very heavy dew.
I ran along the Hawes river for many miles.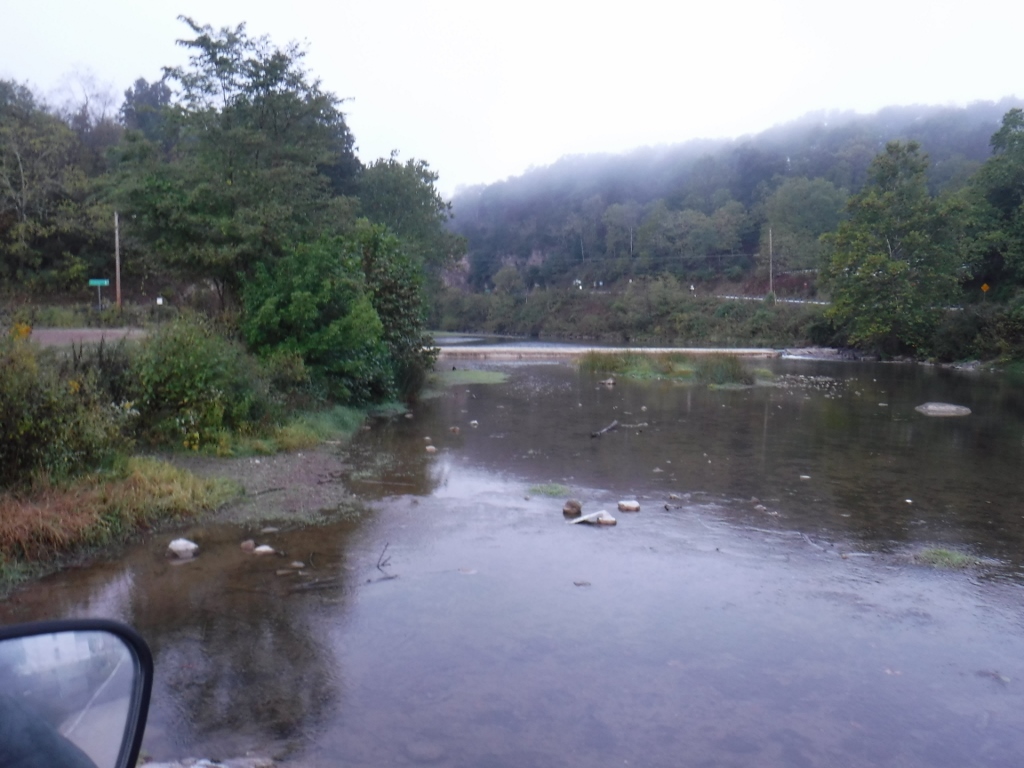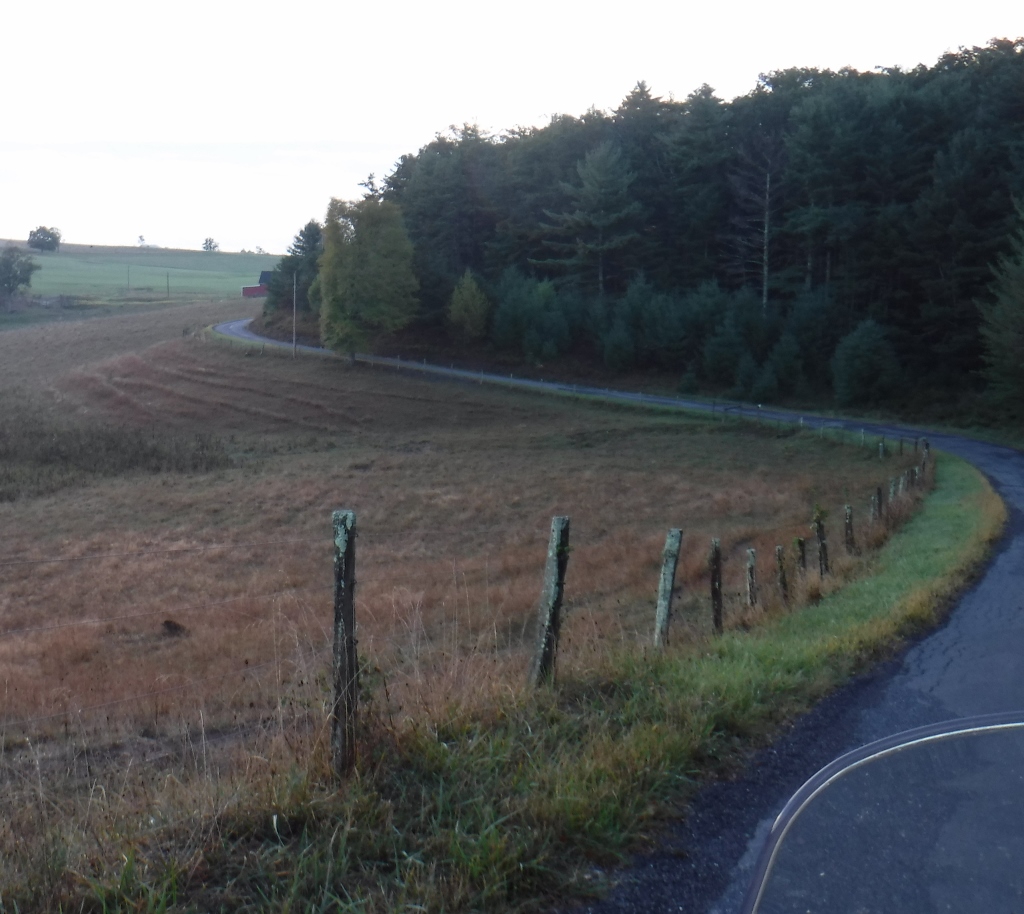 This road was especially nice---many creek crossings but as you can see----no water.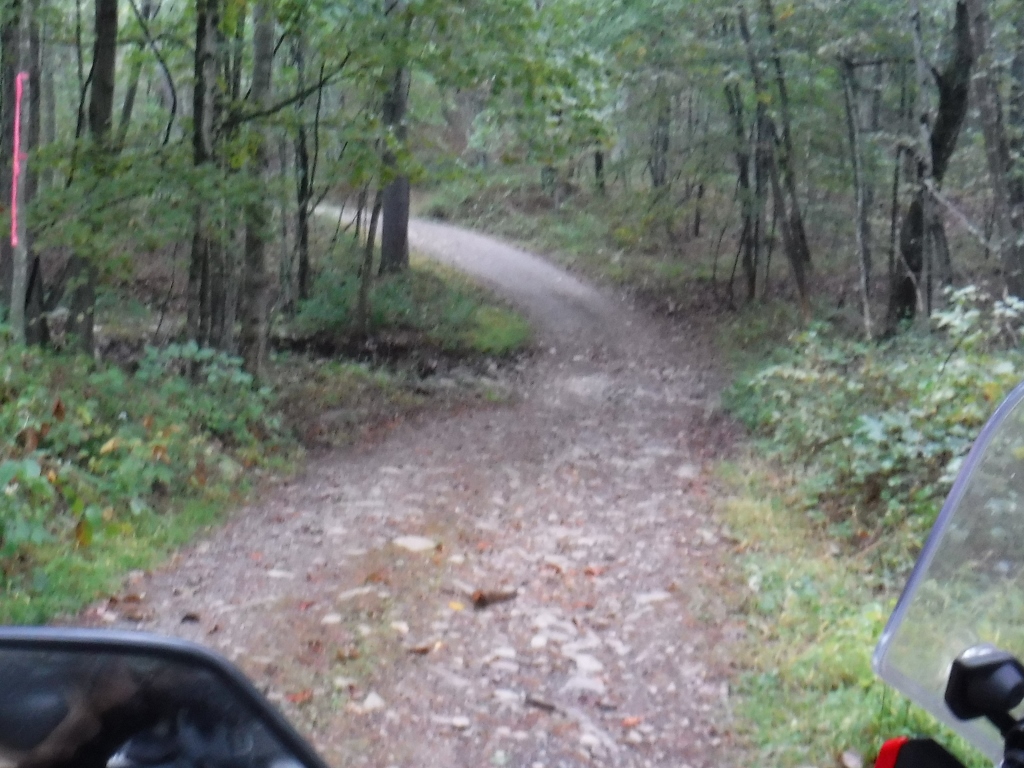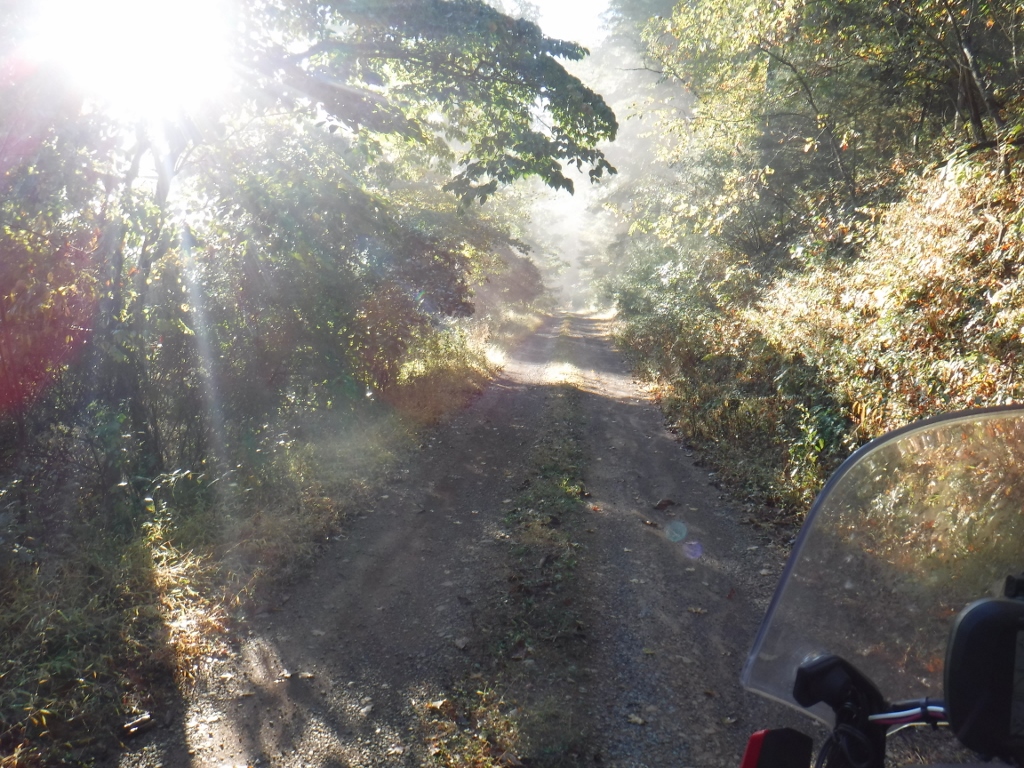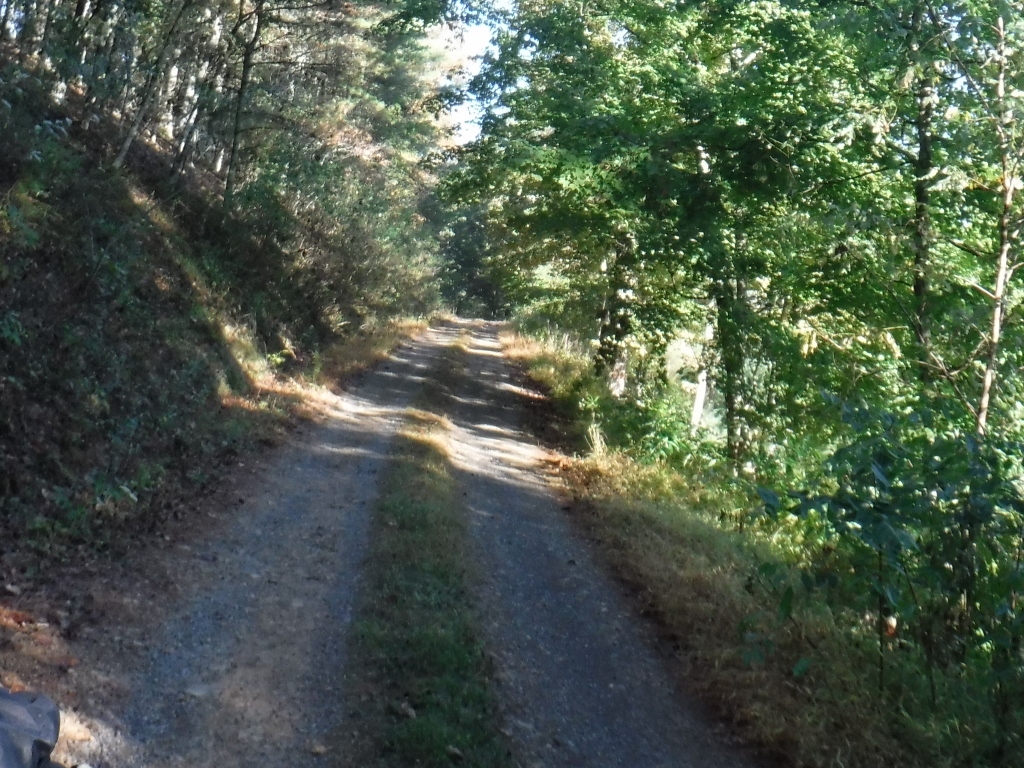 The rising morning sun sure messes with your vision in situations like this.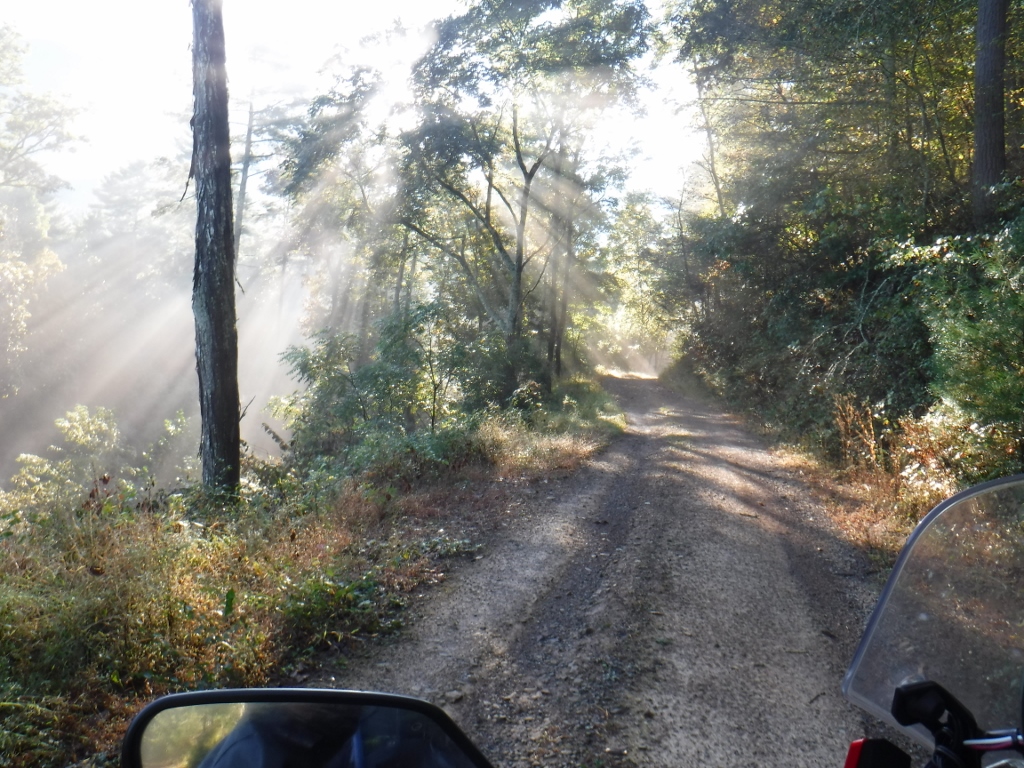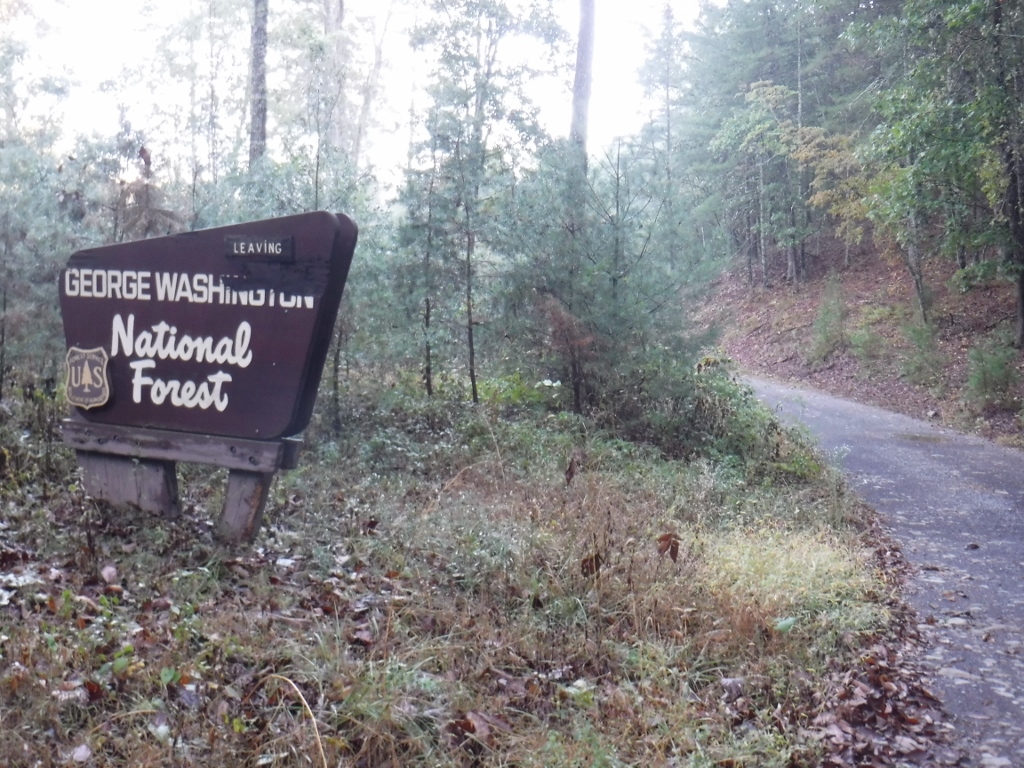 There was a beautiful lake below and I thought I'd get out my new camera tri-pod
and walked down to the lake.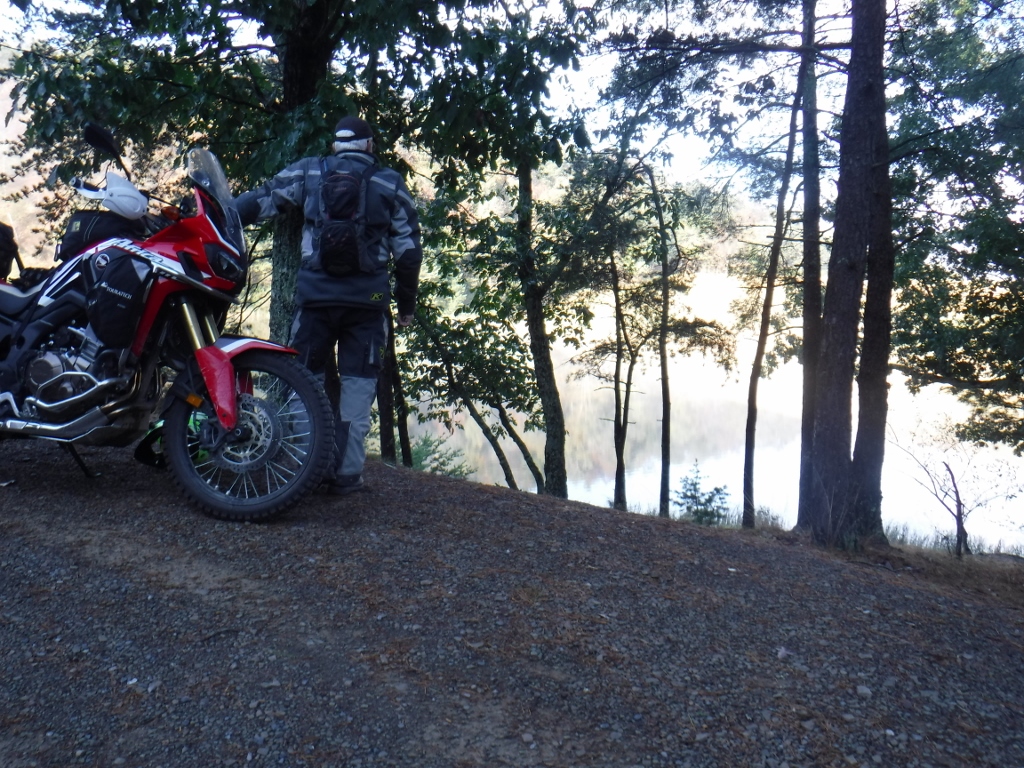 I got a couple good pictures of the geese taking flight.
On my mapping software this lake is called "Dam Number 9".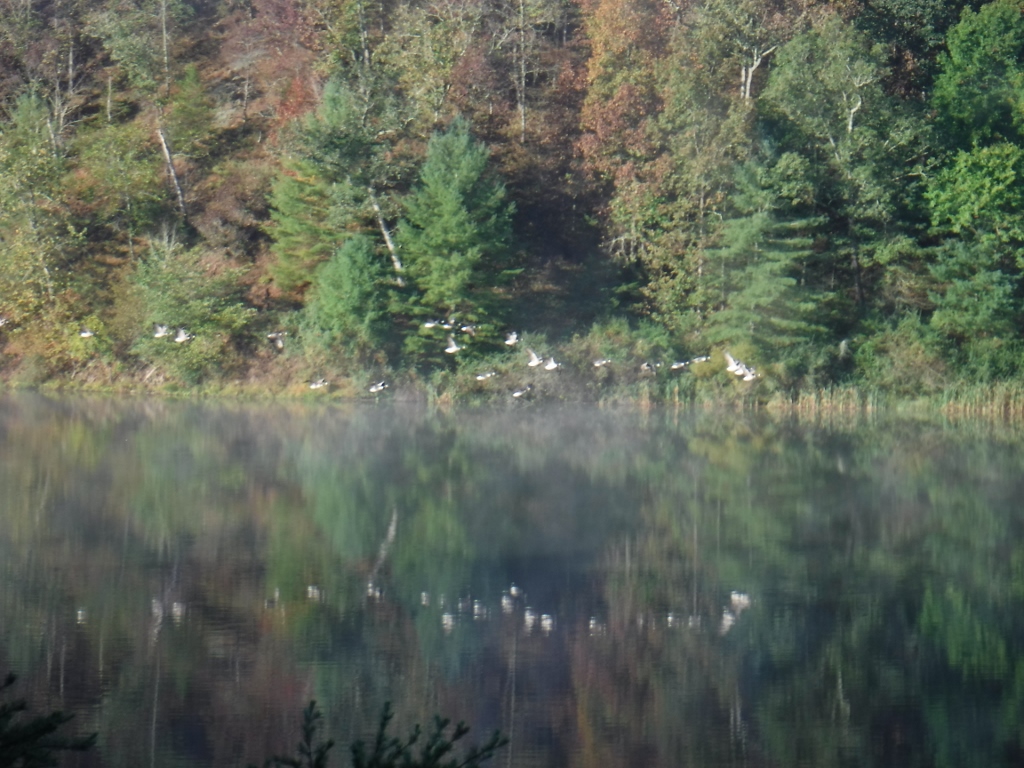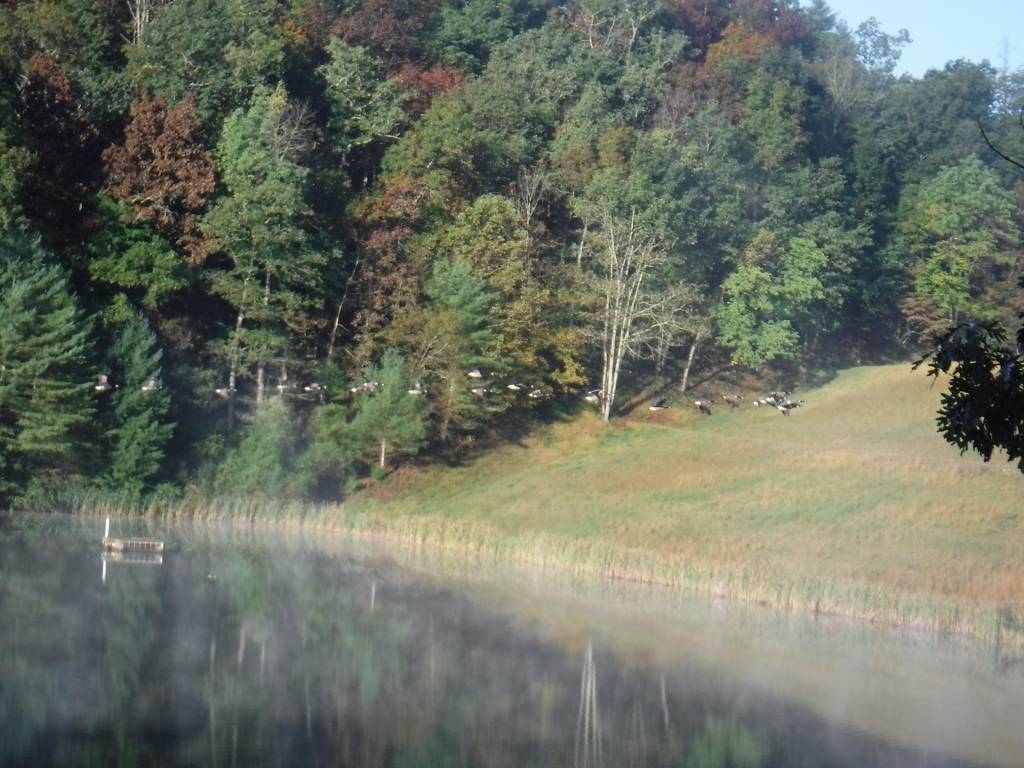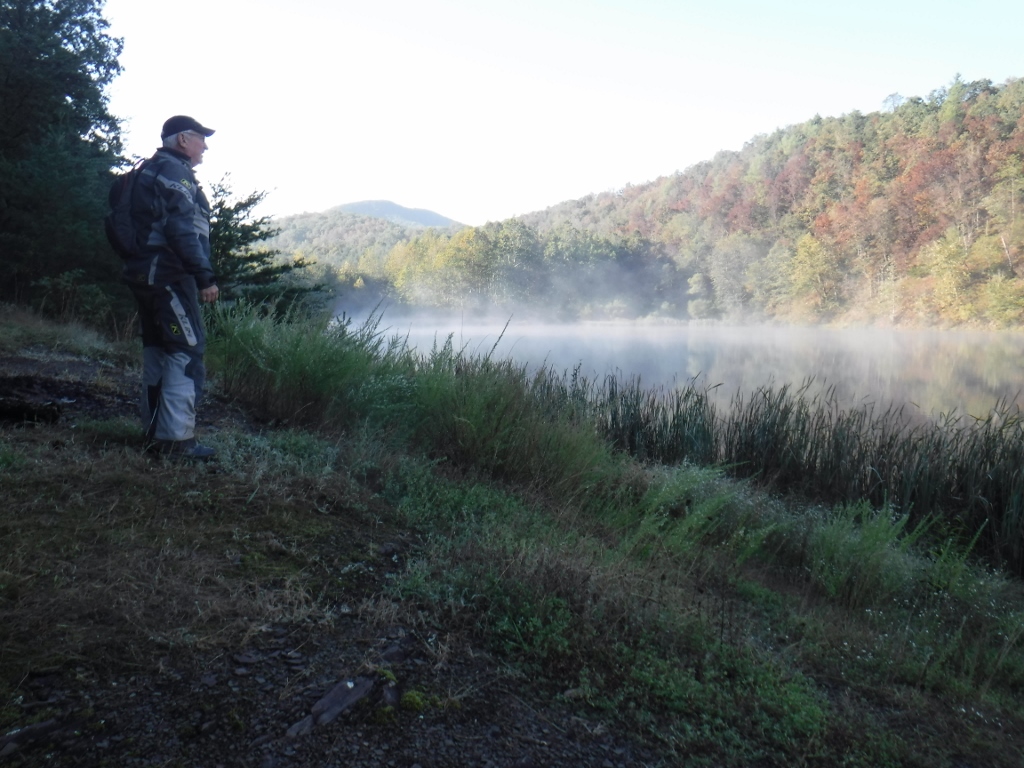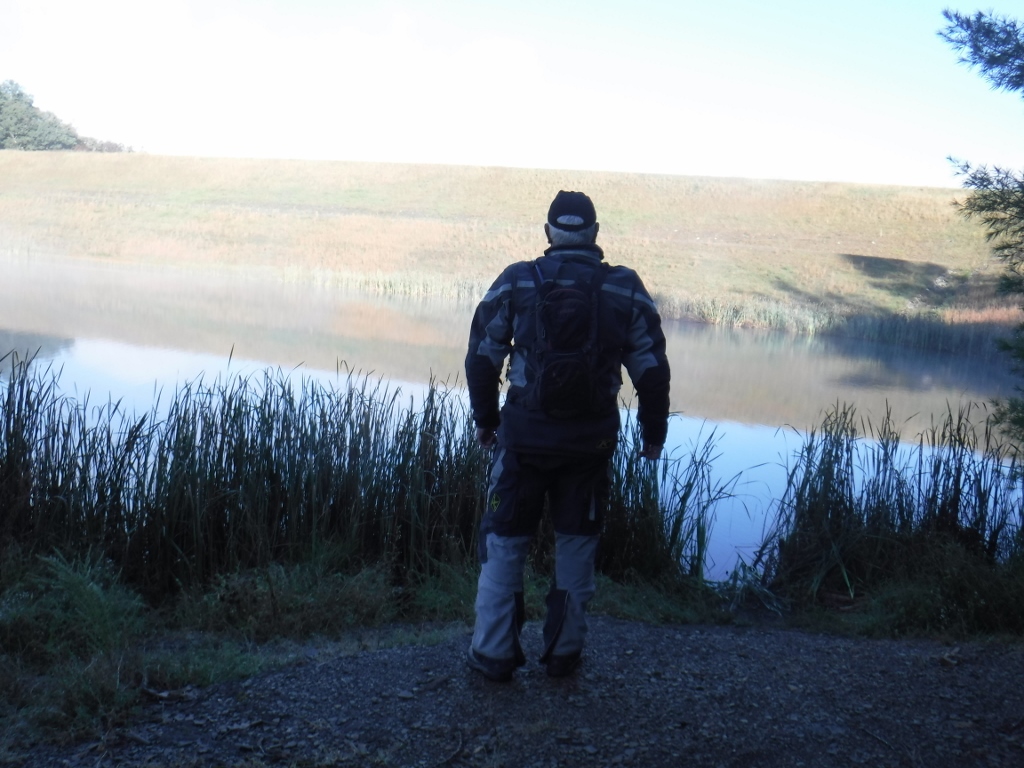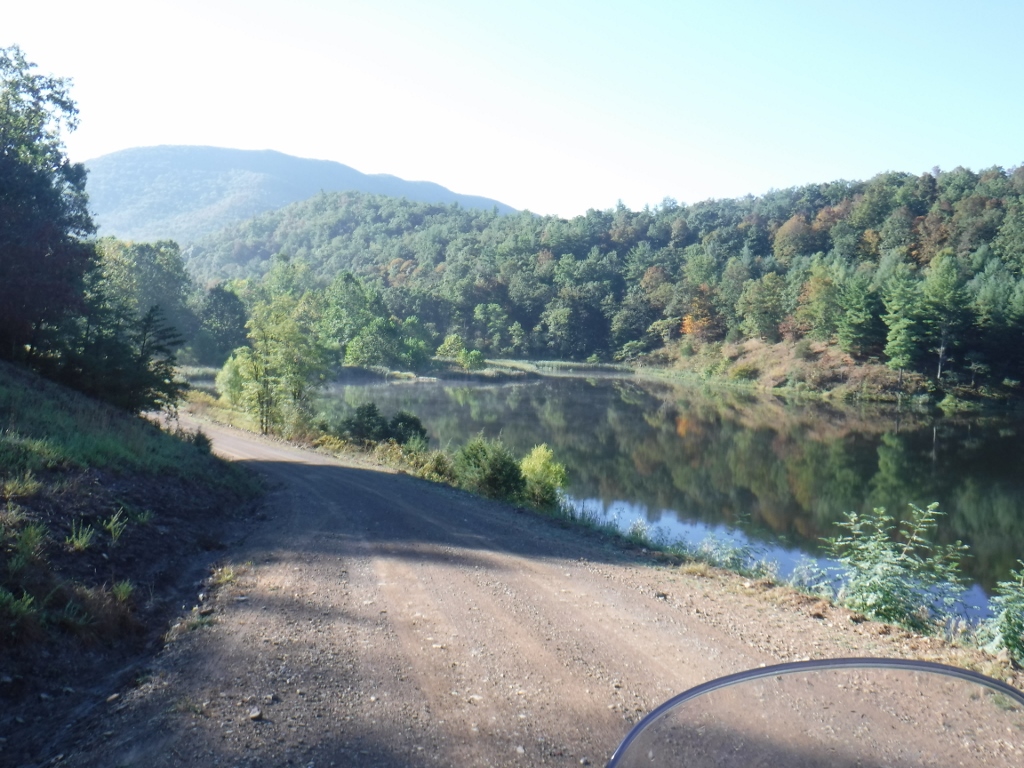 My highlight of the day is stopping at this old store in the middle of nowhere.
I was wanting a cup of coffee and a snack and parked my bike.
This is Bergton---population 8 I guessed.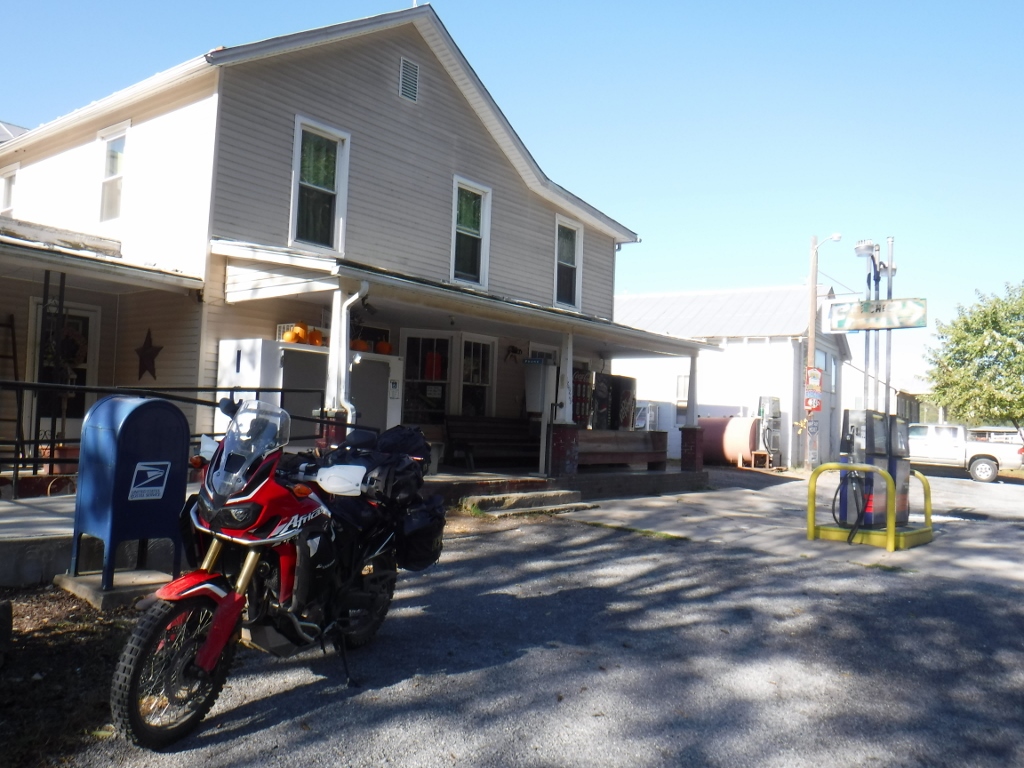 I went inside and got me a cup of coffee and they insisted I use a real cup.
I chatted with the locals inside for half an hour at least---had a honey bun too and then
went outside and me and this feller talked about stuff for another 1/2 hour on the church pew.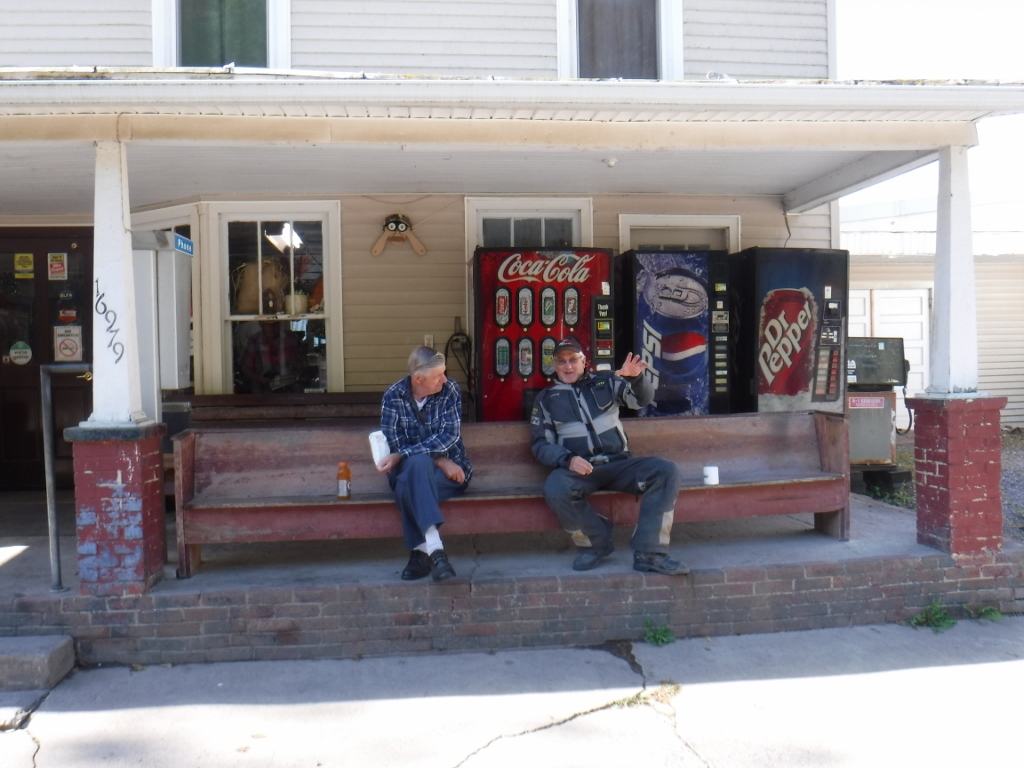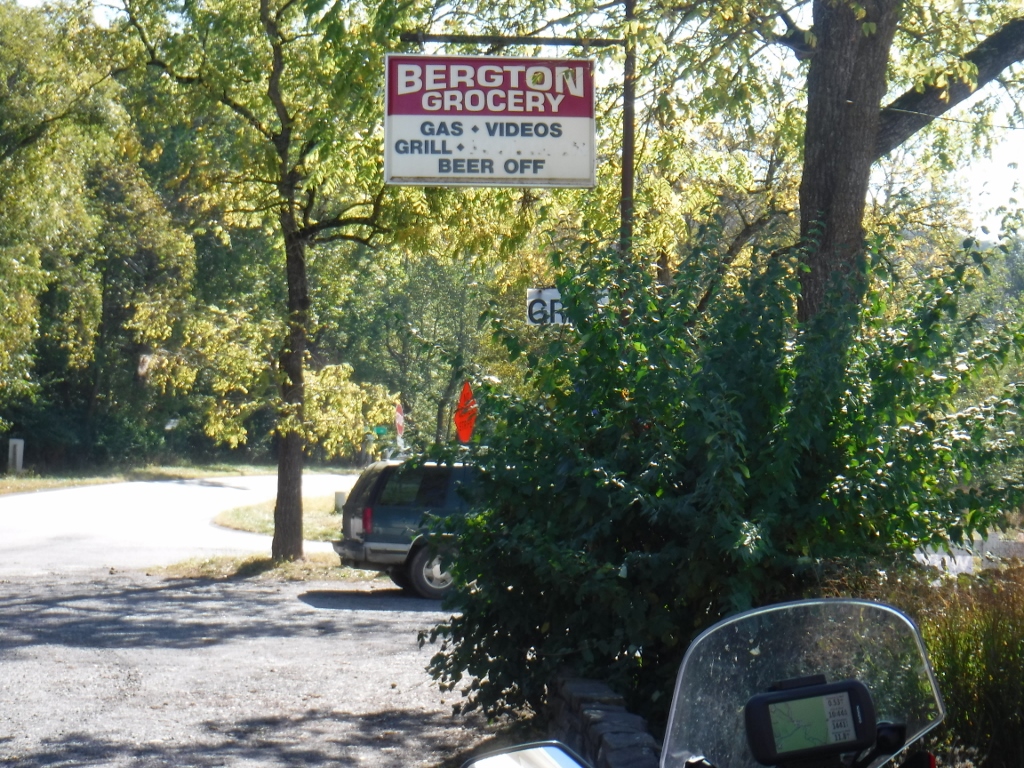 Just a few miles down the road I turned down this road cause it looked inviting and went thru
what was left of Dovesville, West Virginia.
Population 4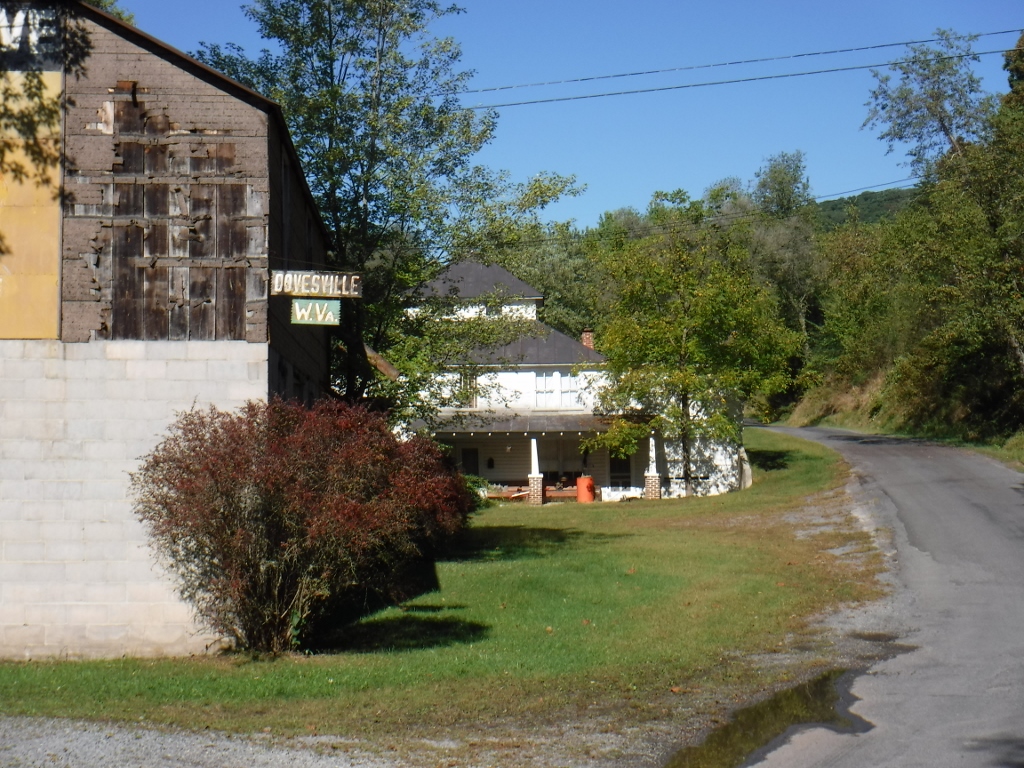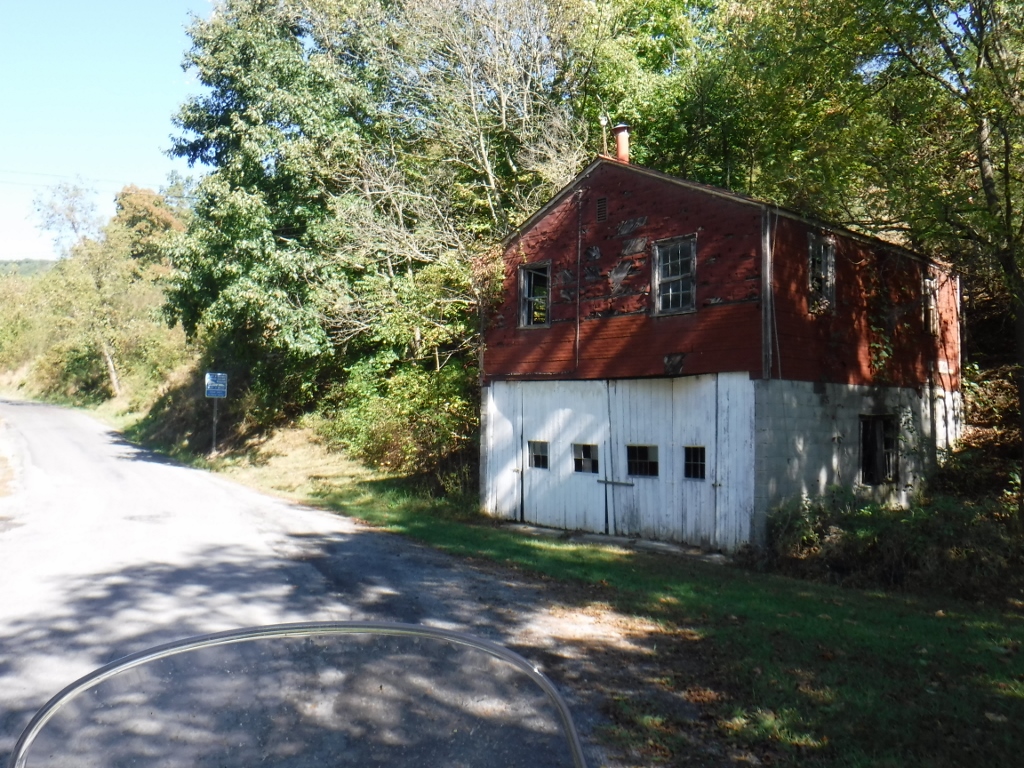 Besides lots of waypoints in my gps I had a lot of tracks loaded too and got on the TET a few times.
The Trans Eastern Trail-------and headed for a waypoint that was called "Moores Ford" and kept
seeing signs warning me of this dangerous crossing. I road for 15 miles down this one lane road
figuring I'd have to turn my heavy beast around----but I wanted to see the ford.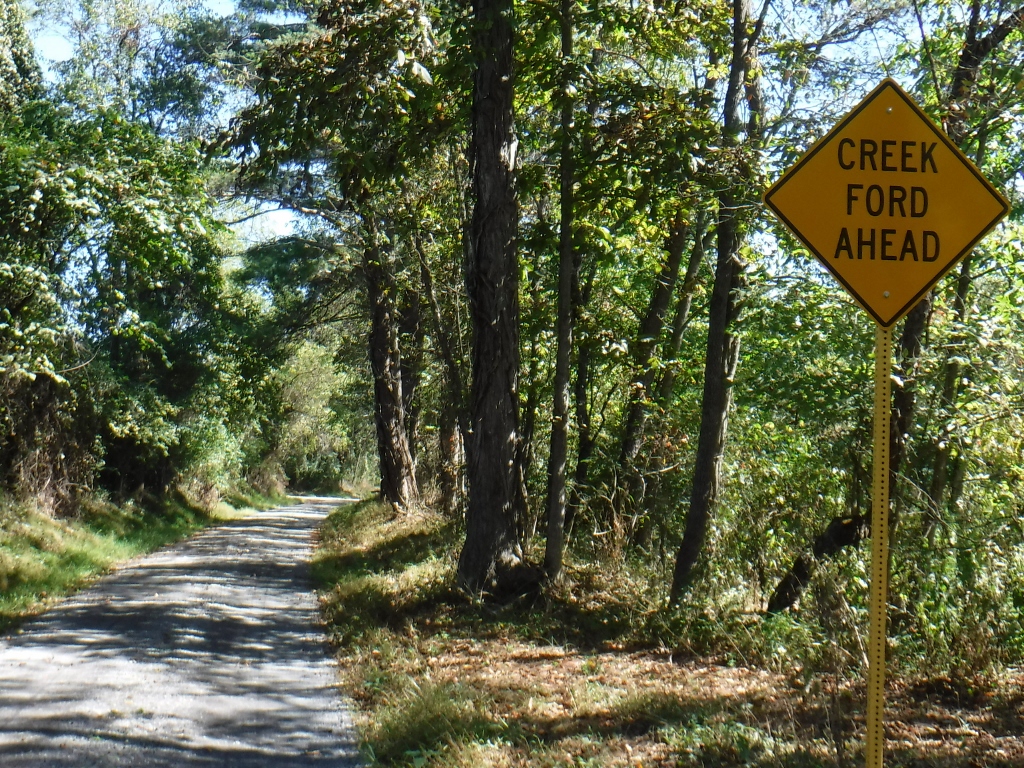 Pffffftttttt----piece of cake-----------the Africa Twins first creek ford across Cedar Creek.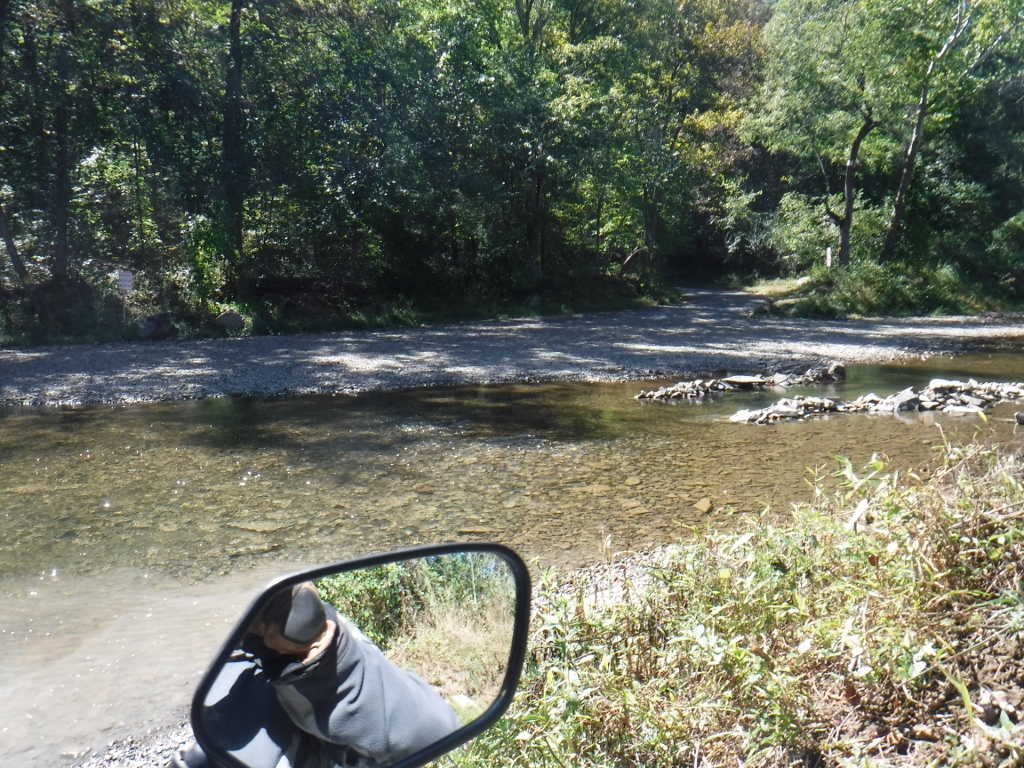 I sure wish I knew what these were------------I saw markings just like this many times---sometimes
many miles apart ?????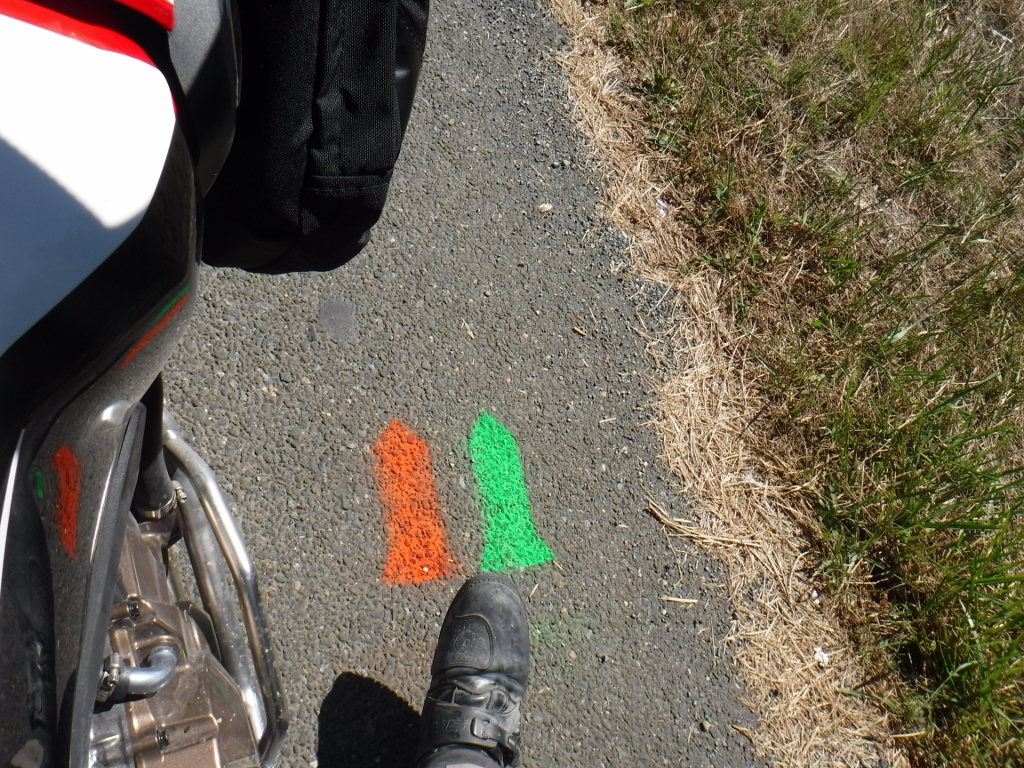 This reminded me of the "Rustic Roads" in Wisconsin.
Designated byways usually made of gravel thru some very scenic country side.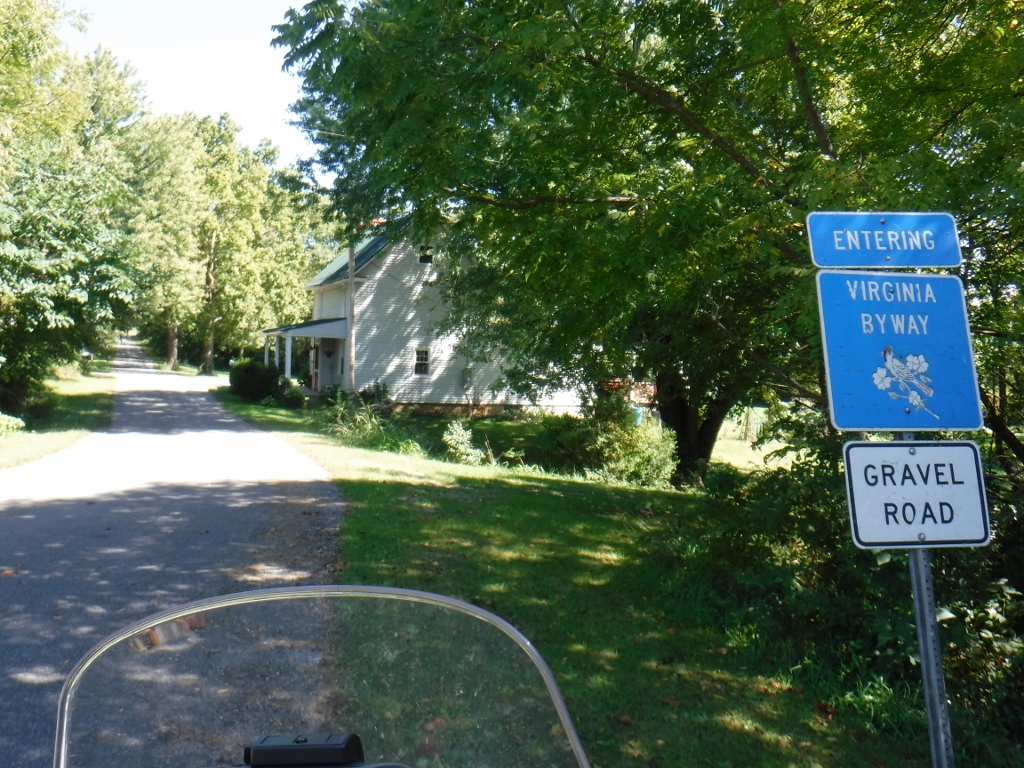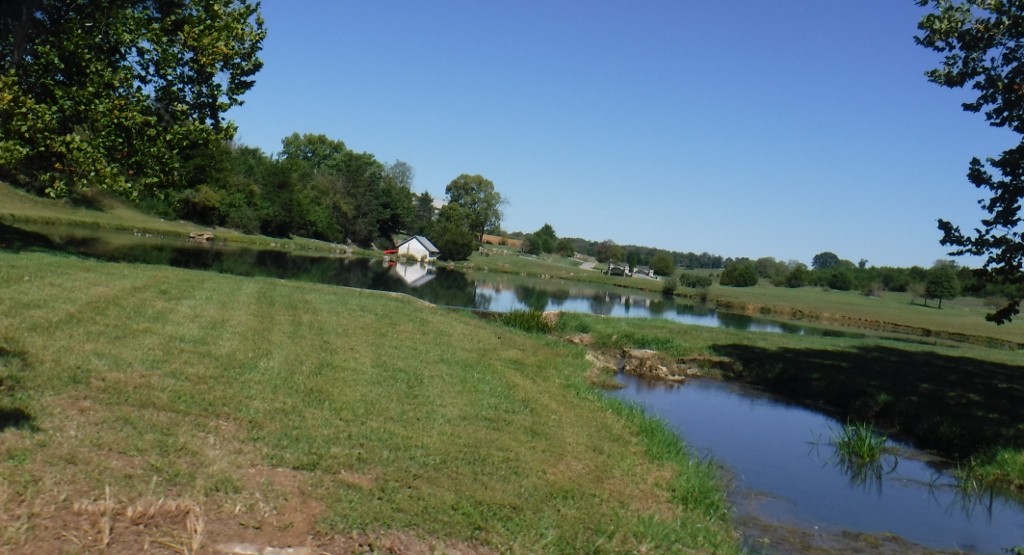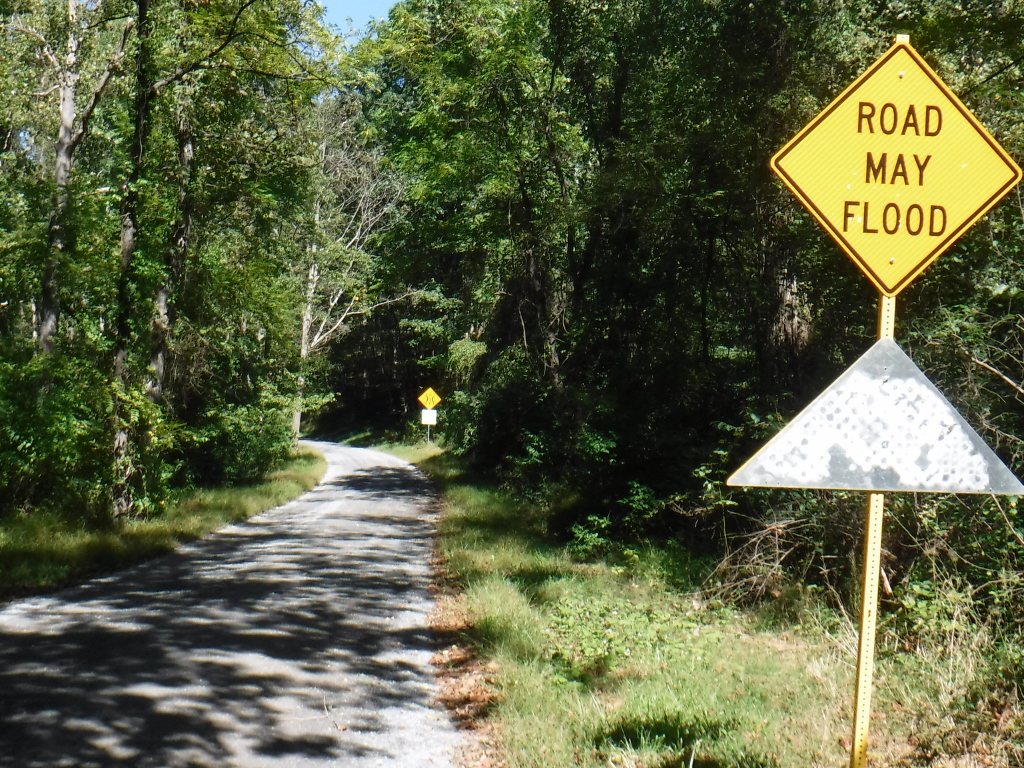 Don't guess I've ever been in Maryland before and this surprised me as I really hadn't been
paying attention where I was at.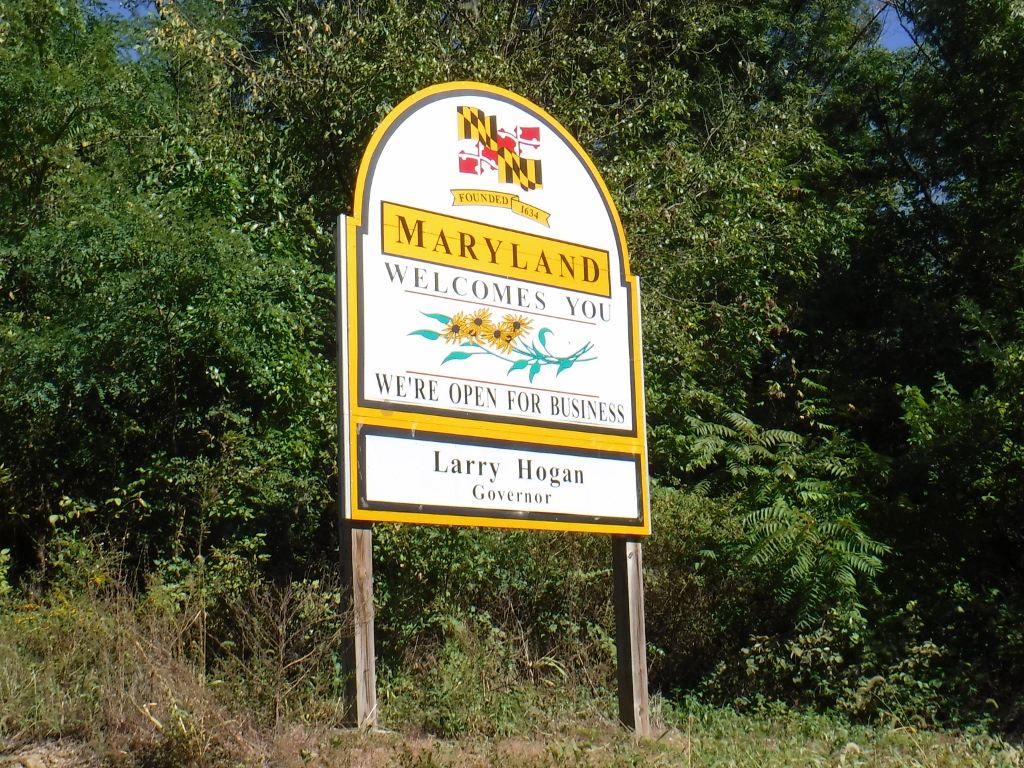 Pretty unusual yard decor.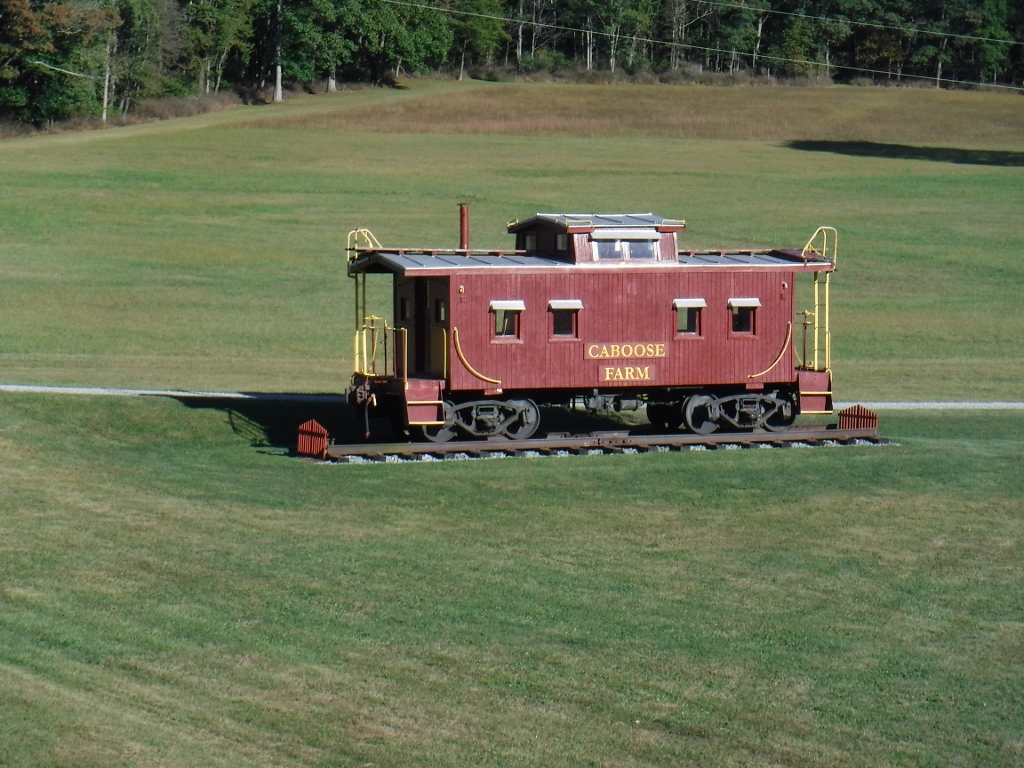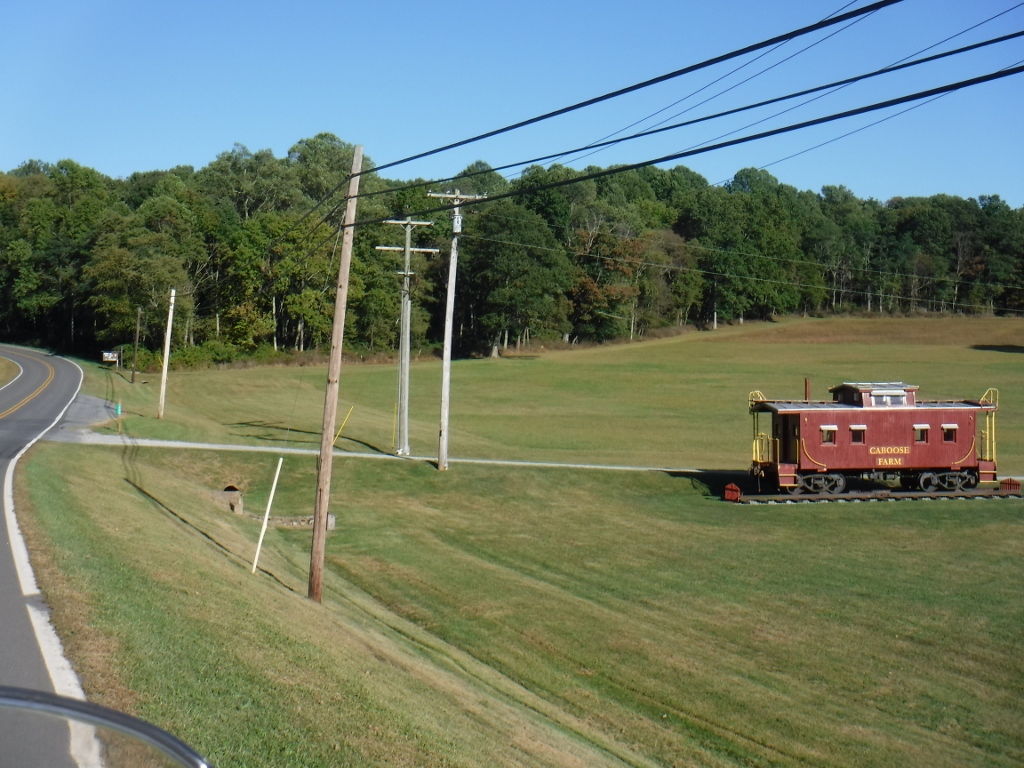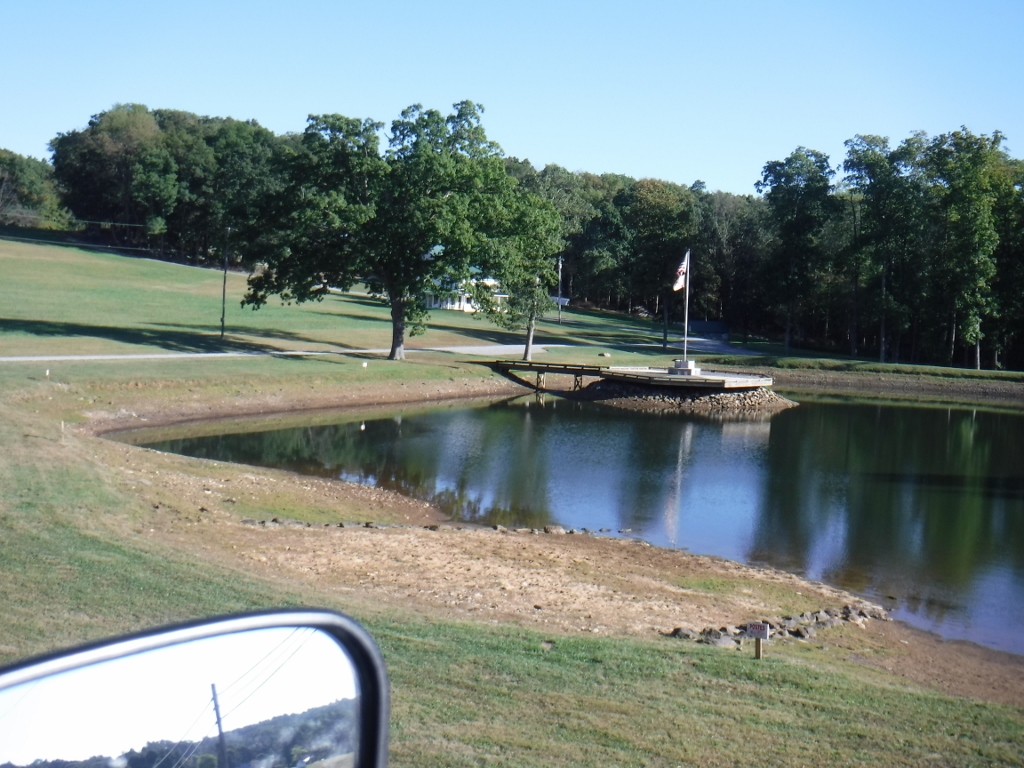 Well----Maryland didn't last long and I was in Pennsylvania at the Mason Dixon Line.
Always heard of the Mason Dixon Line---guess I better google it and find out just what it is.
I never paid attention in history class.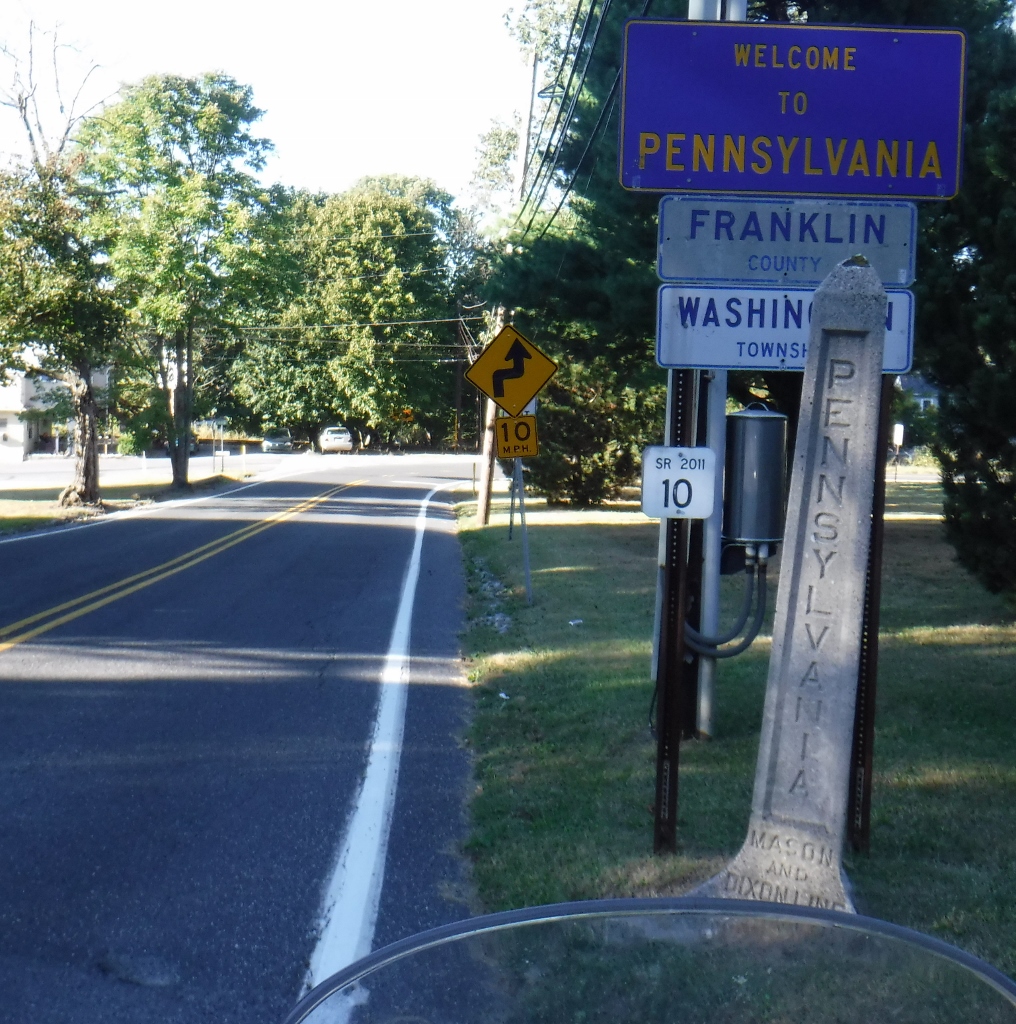 Here's a short video of that days ride.
Click HERE
For the rest of the story.