Africa Twin---Montana, Idaho and Wyoming
July, 2016
After only owning this bike for maybe 4 weeks or so----I got it outfitted the way I wanted and hauled it and my WR250R
into Montana and spent 9 days on the WR riding the Best Of Montana ride------story on my website.

After that I unloaded my Africa Twin and me and Rick Horton headed to scratch an itch that had been burning on my backside for years.
You know-----------things to see---things to do---people to meet---roads to travel on--wind in your face,
wandering here and there.
I only had a few hundred miles on the bike and wondered how I would like it when done. I was in love with it so far.
I'd had a couple transalps in the past-------one a friend ripped me off a few thousand dollars buying it-------nuff said about that.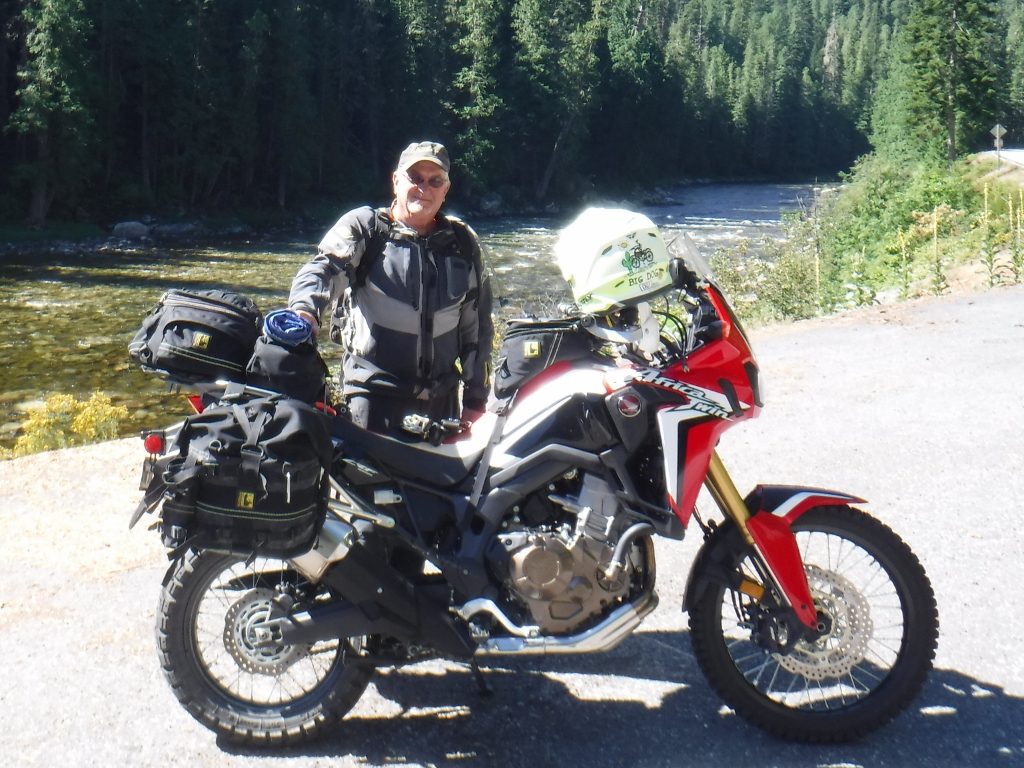 We rode West from LoLo Montana on route 12 along the Salmon river.
I had ridden with Rick several times in this area on rougher stuff on smaller bikes---this time we'd be on big bikes.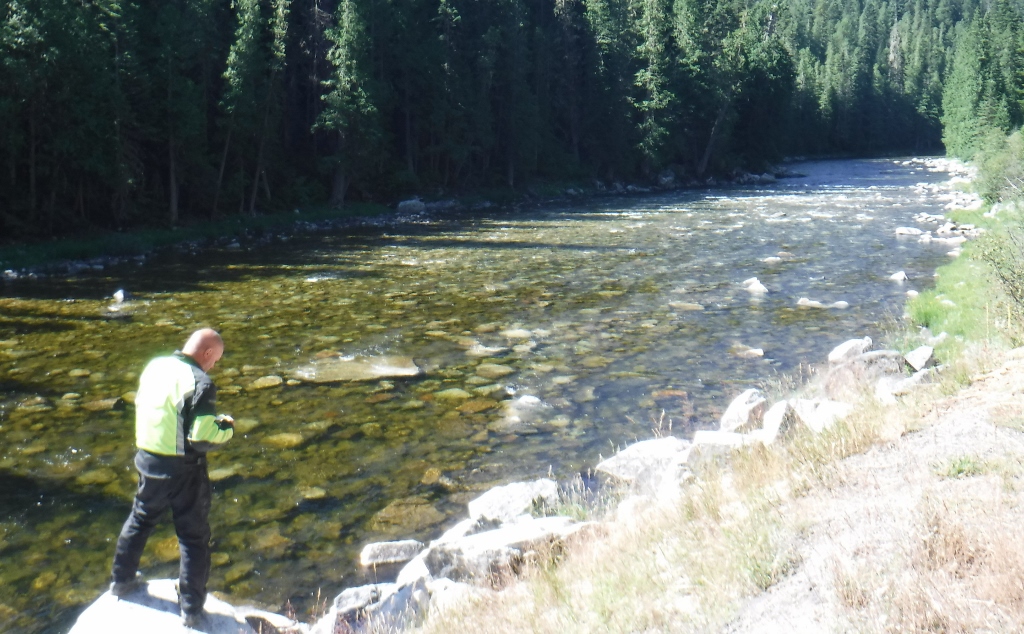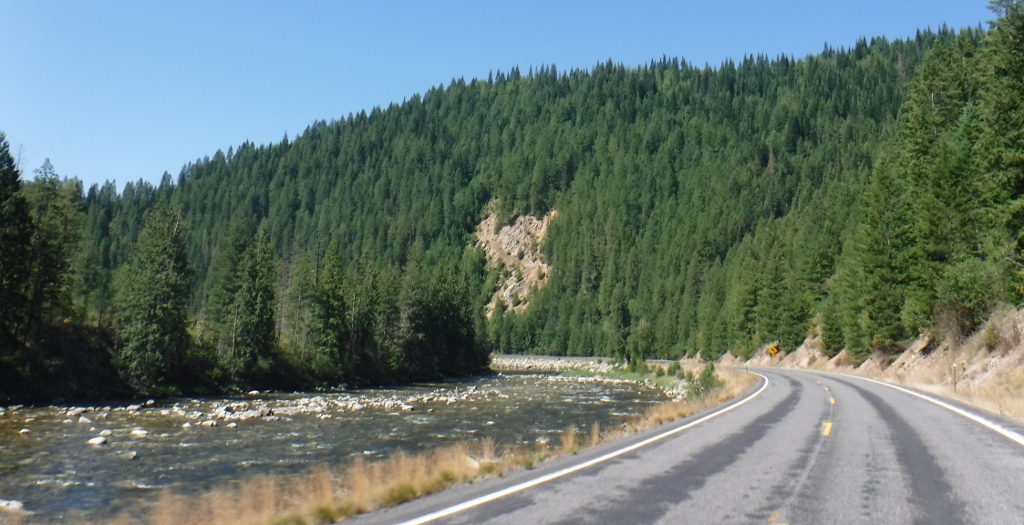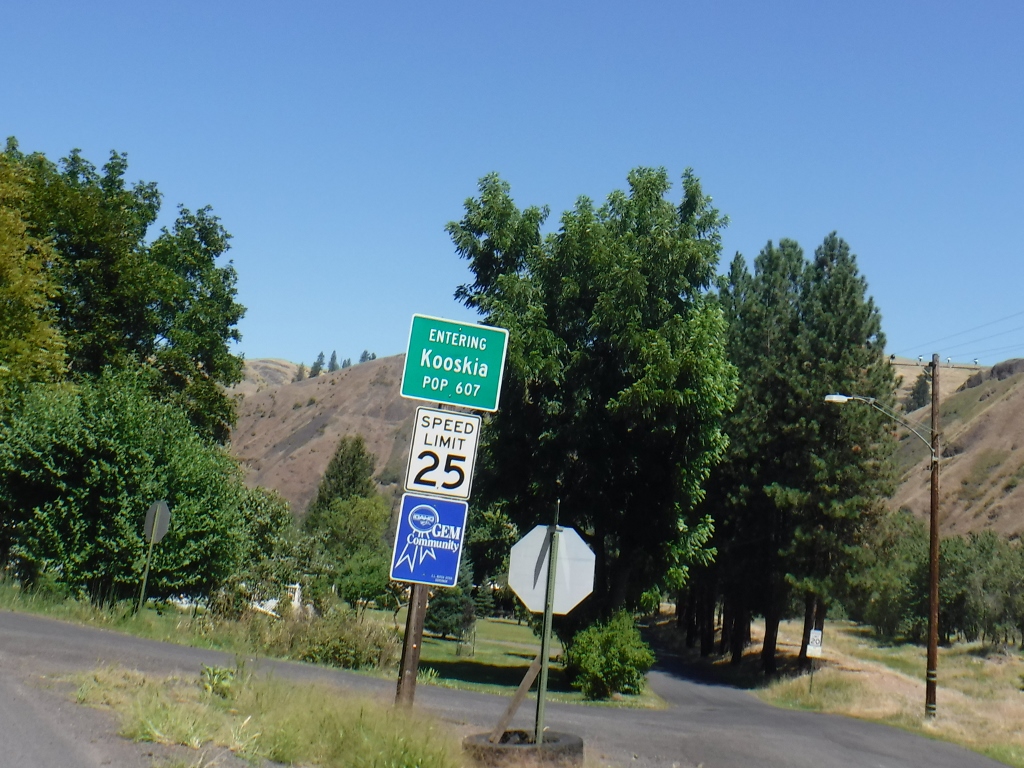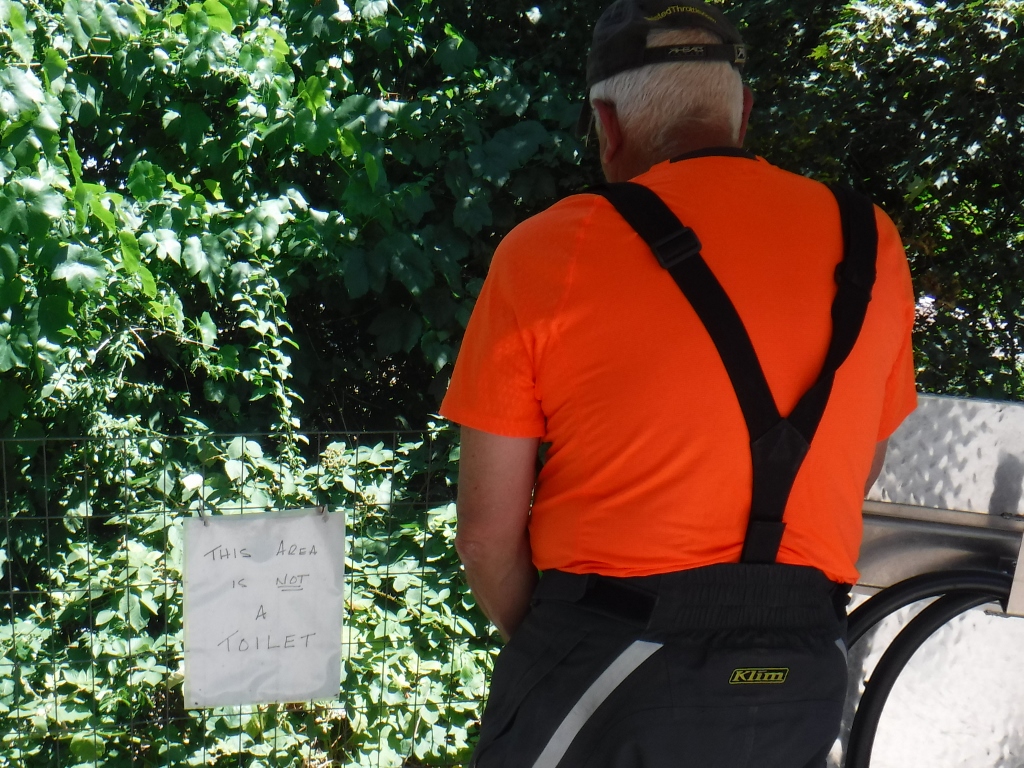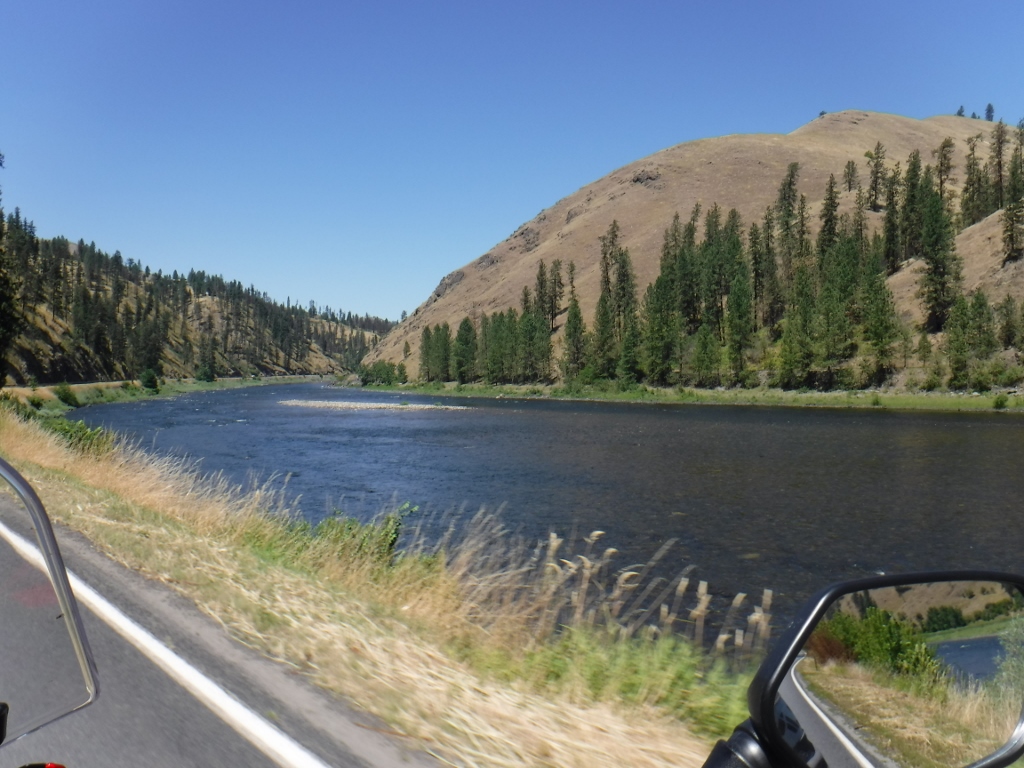 We are both retired and were pretty much meandering-----that's what is know as "Dont' care where we are going" to you workin' folks.
And don't care if we get there--------wherever that is.
But we ran into interesting stuff and I kept the 500 lb. bike on stuff I was comfortable with.
I have 3 other bike much faster better handling and easier to ride on difficult terrain.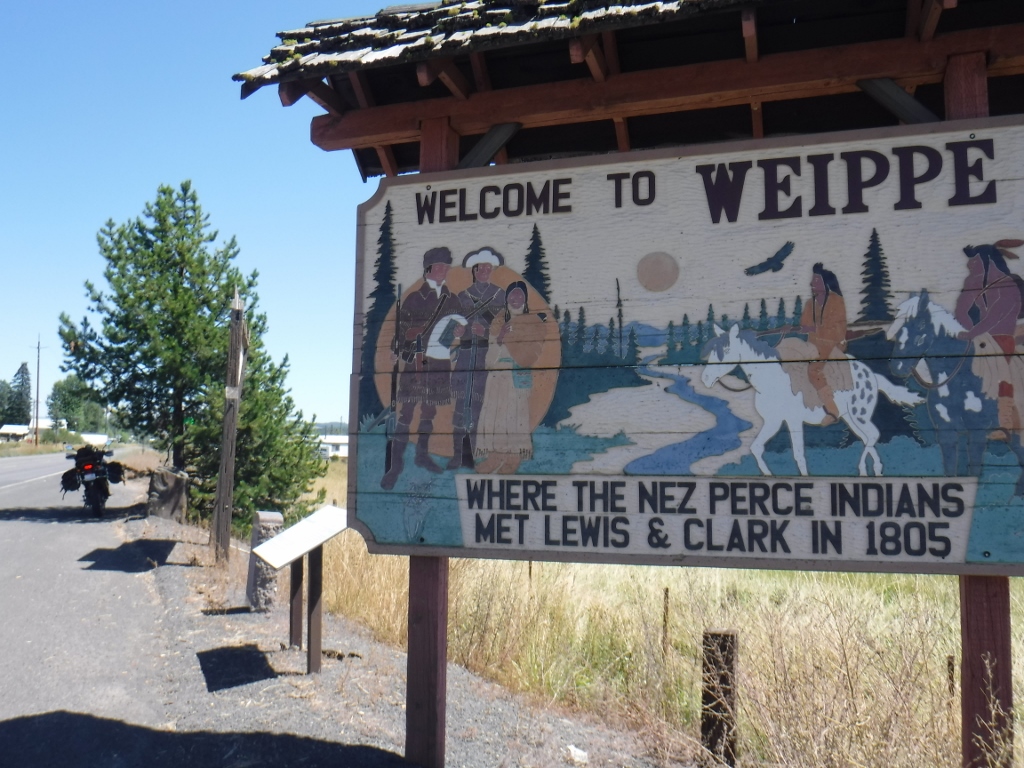 Rick came by the house one day and saw my Africa Twin in the driveway.
He took if for a test ride and was gone a long, long, long time---and I took a nap.
Came back almost out of gas and hopped off the bike and asked me.

"Mark----can you get me the phone number of the dealership that you said had an African Twin in stock" ???????
I did----it was just about 45 miles away.
A phone call was made---a deposit was made right then and there on the phone and he picked it up the next day..
And that's exactly how it happened. He was that impressed with it.
And Rick is not a road rider-----one of the best offroad riders and racers I've ever known.
I learned long ago not to try to keep up with him on the trail------I'd be finding myself over the handlebars everytime.
So I am truthfully mystified that he even wanted a bike like this and told him so.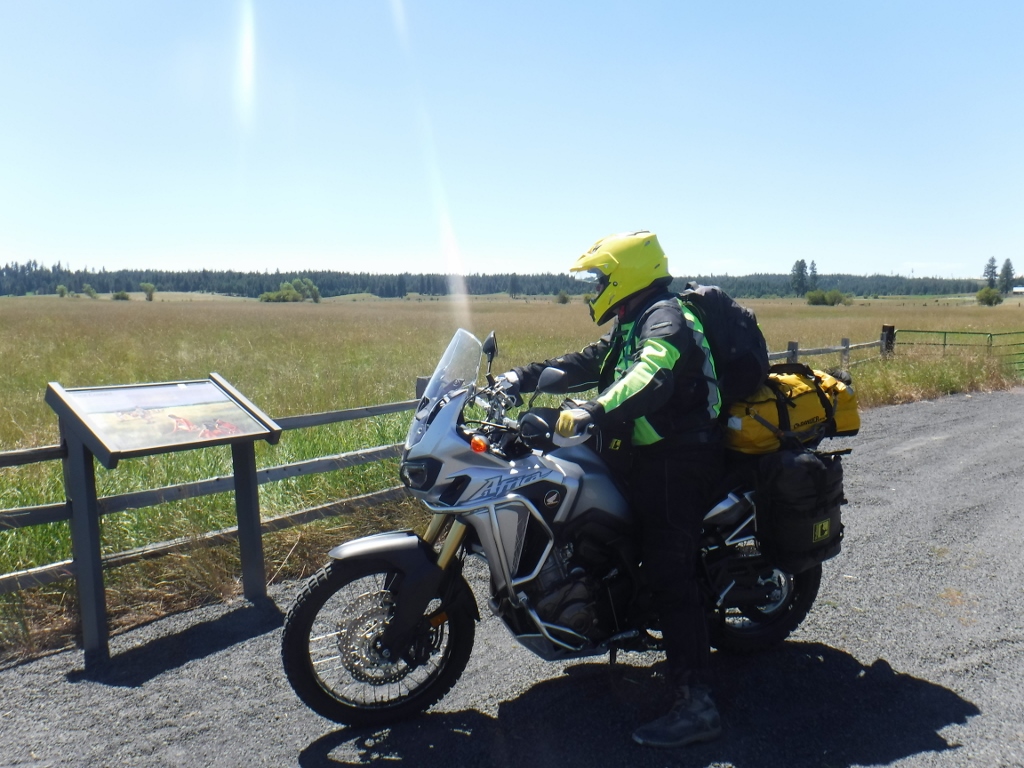 This place I had to hunt for---but found it.
It was the exact location Lewis and Clark made contact with the Nez Pierce Indians.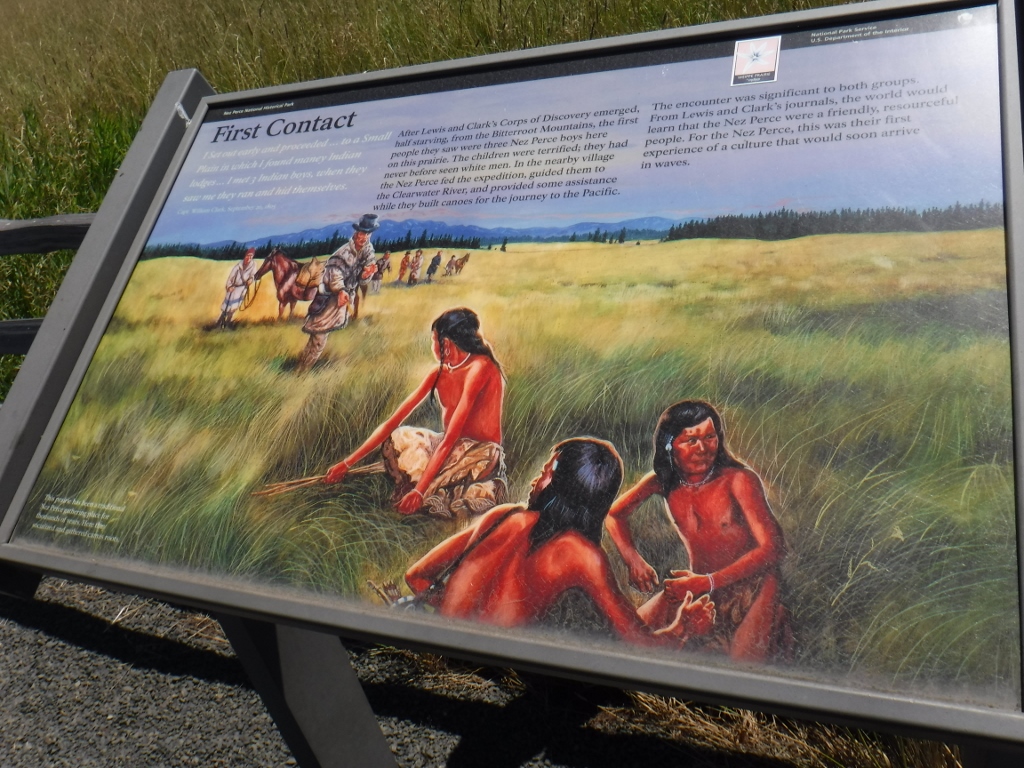 Got this off my bucket list-------even tho it wasn't even on it !!!!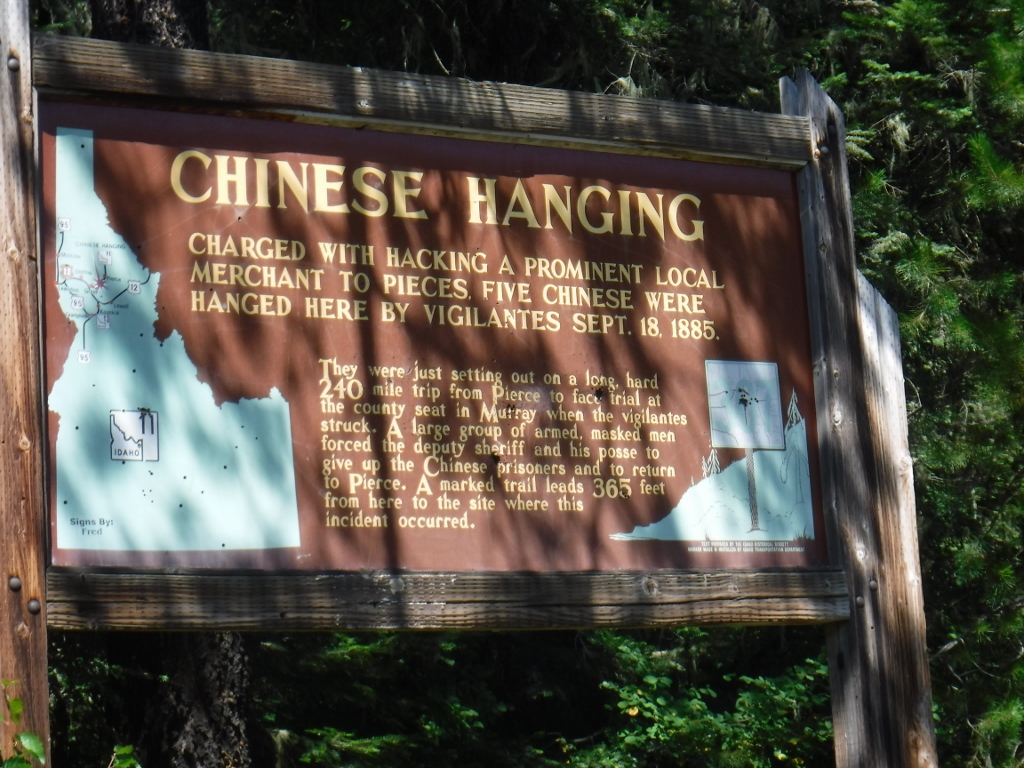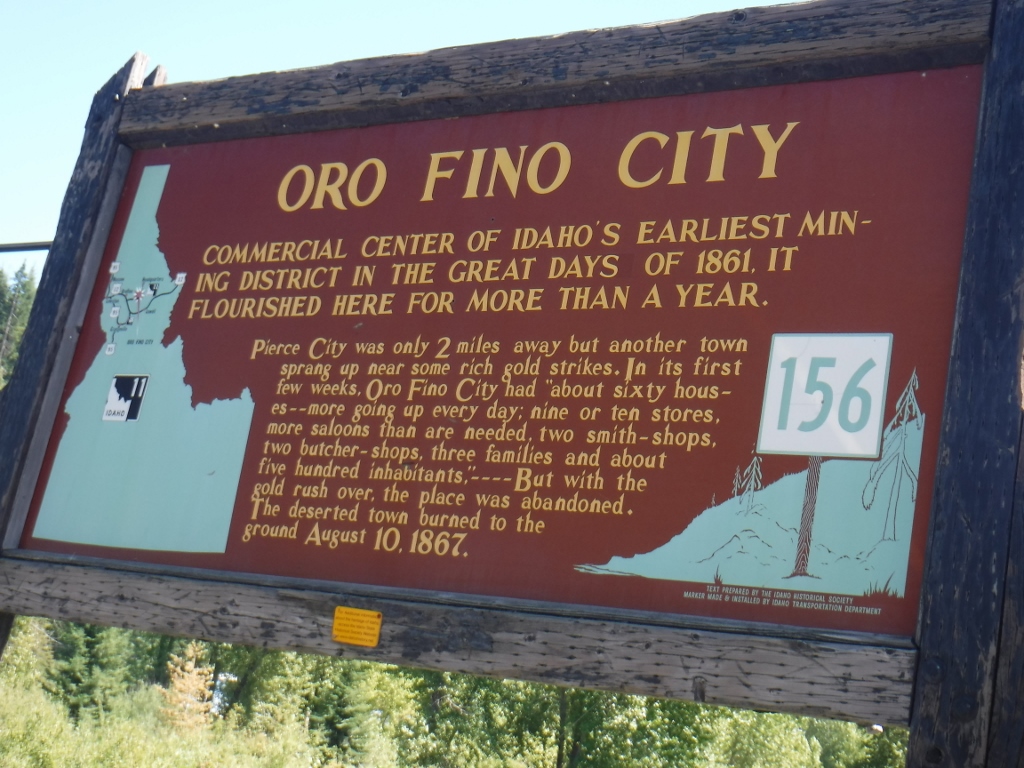 We ended up in St. Maries, Idaho at this Bed and Breakfast.
We gave a call to a ZipLine Company in Coeru D'Alene, Idaho to zipline on a fantastic zip-line I'd heard about.
I't just didn't work out------we were going to have to leave our bikes in downtown in a paid downtown parking
lot all day while we did the zip.
All of our stuff would be exposed for theives and I bowed out------and Rick agreed.
They were safe here in this little town----we left all our stuff on our bikes knowing they would be fine-------I just felt it.
Everybody in town knew the ederly (my age) couple that lived here and anybody that messed
with this place would be hunted down.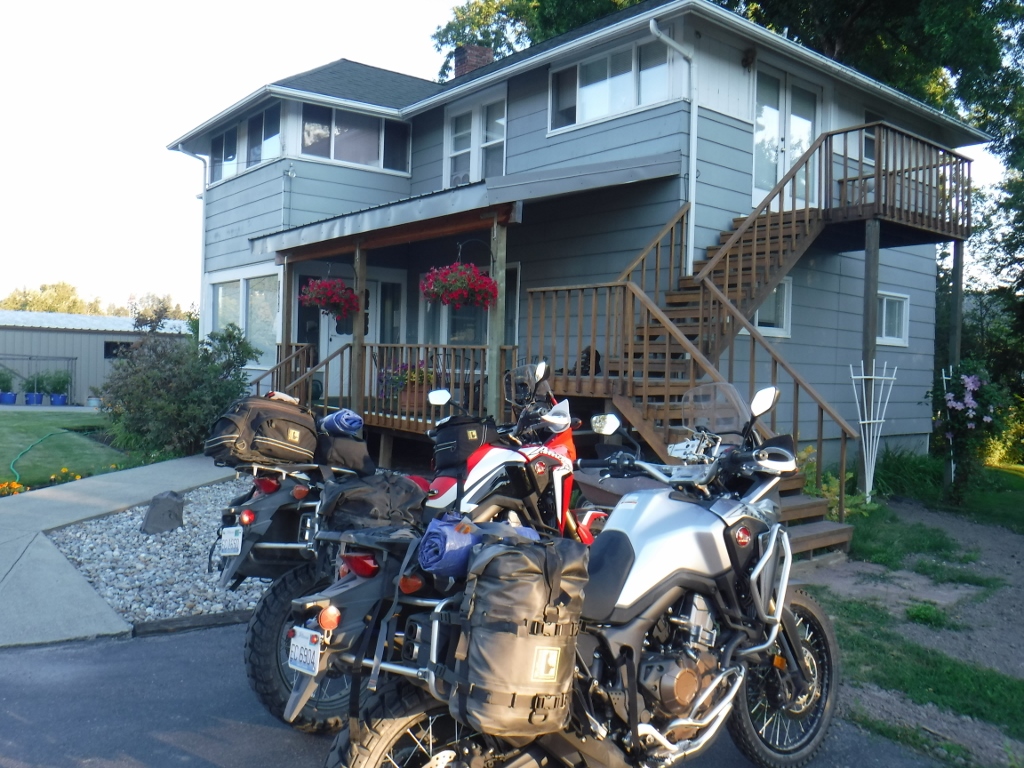 $50 each-----private room and bed for each of us---and breakfast served the next morning.
You don't order what you want---------she fixes somthing and you eat it-----or get your
knuckles wacked with a wooden ruler.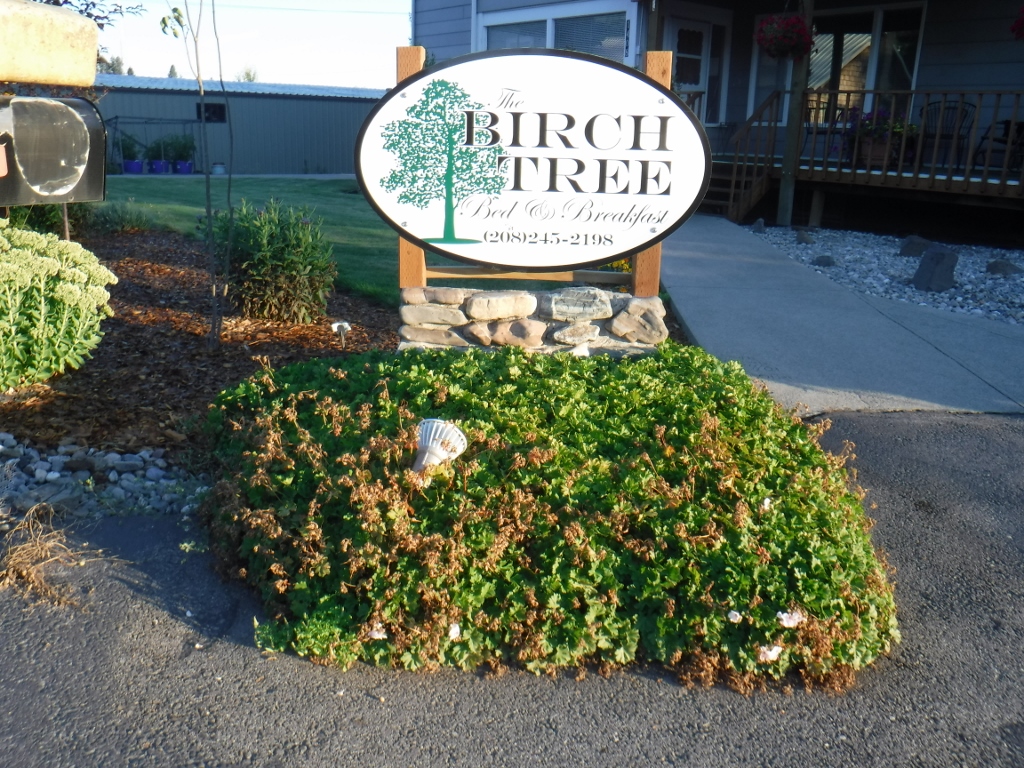 When we first walked in I asked if the place had air conditioning ????
She said "Don't need it----I'll turn on the whole house fan when the sun goes down and
you'll soon be pulling the covers over your head"
"Yes Maam"
We went to sleep early ----they left us alone and we did them.
Oh yeah she said---'Breakfast at 7AM---if you aint' there I'll throw it out"
"Yes Maam"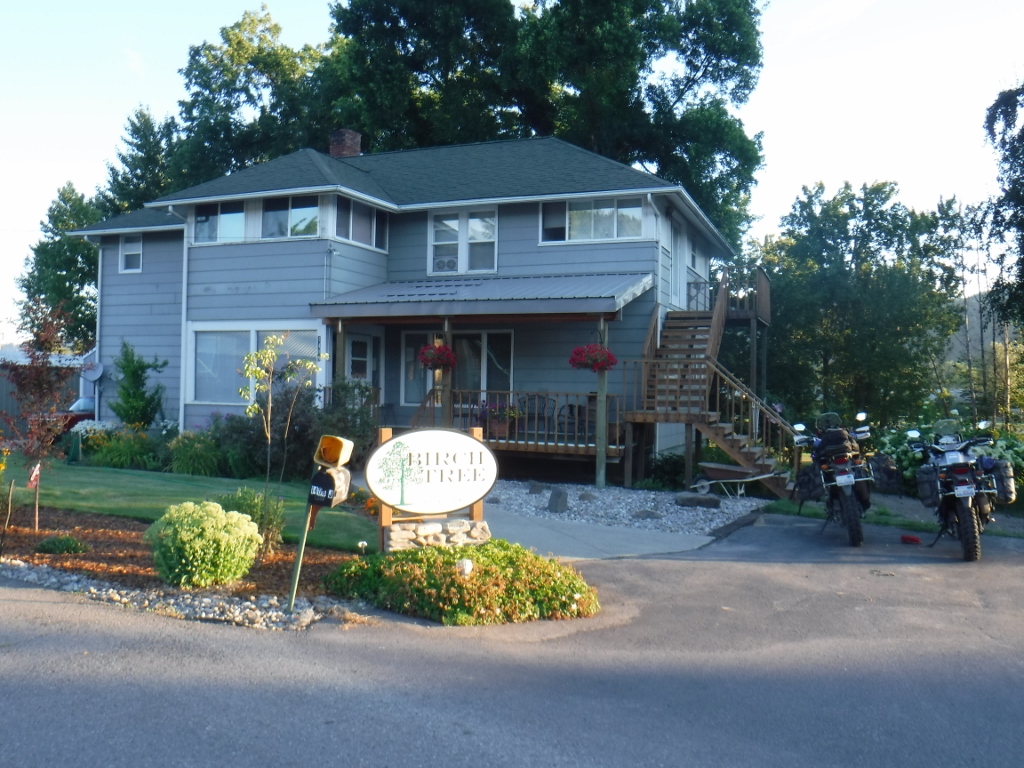 Our breakfast setting.
She-----------"where you guys going" ????
Me--------"I don't know"
She------"drink your coffe and juice"
"Yes Maam"

My first bed and breakfast--------so relaxing.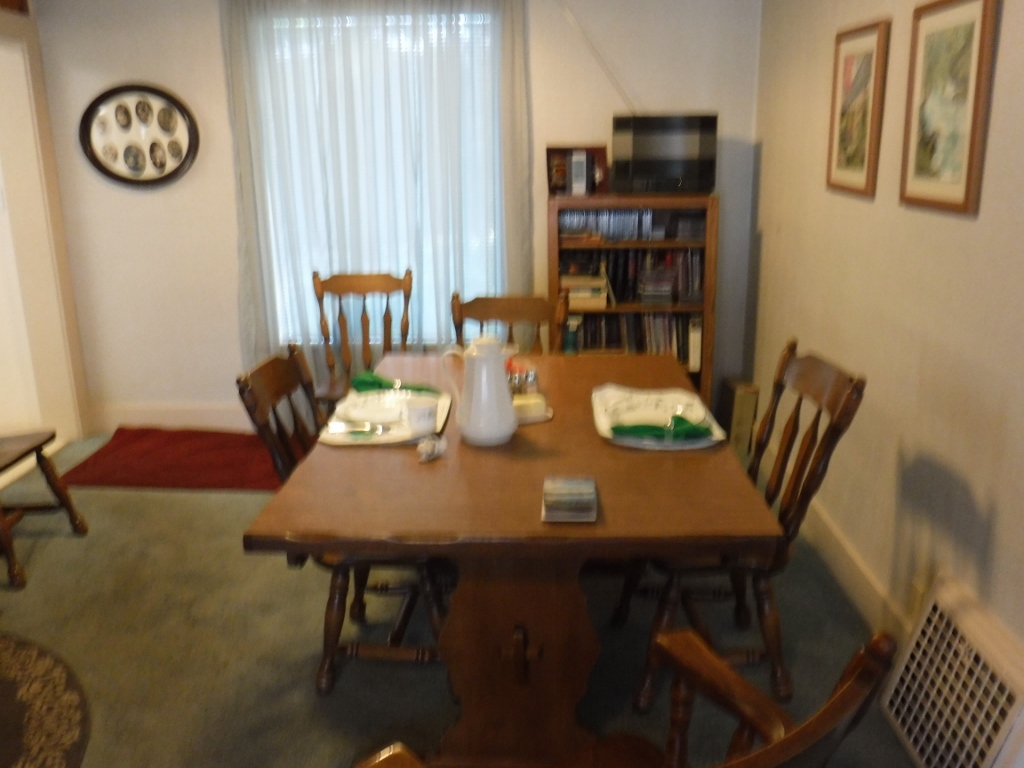 By the way St. Maries is where I spent some time in the ER after injuring my foot on my first
attempt of the "Tour Of Idaho" years ago.
A short Video of the days ride.
So which way we going next Rick asks------------"I don't know"
He don't care and I don't either.
But we head Northeast toward Glacier National Park making good use of the 1000 cc parallel twins
and the oh so smooth 6 speed gearbox.
We pass by Cave, Kilarney and Rose Lakes on the way.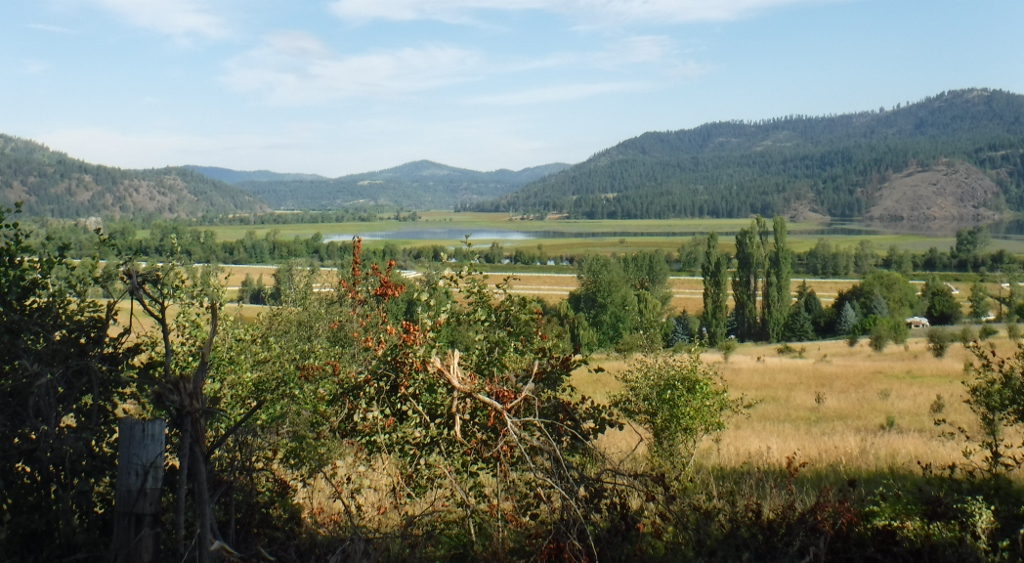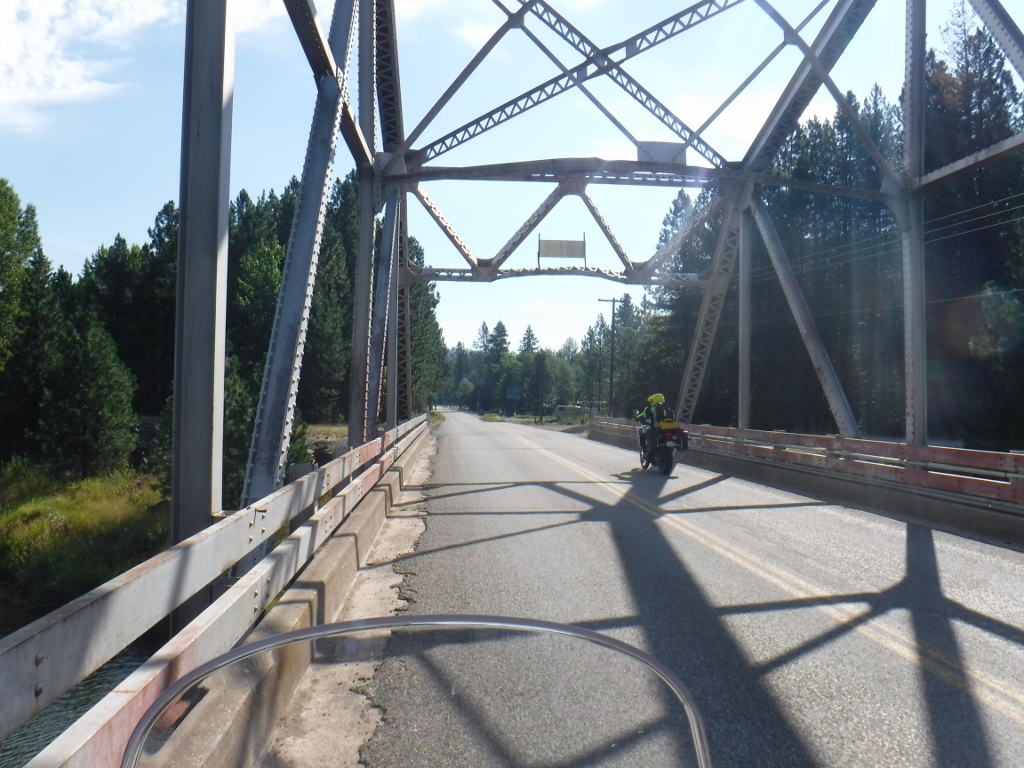 Yes Dr. Rock-----I've stepped into the gps 21st century---before it was over with.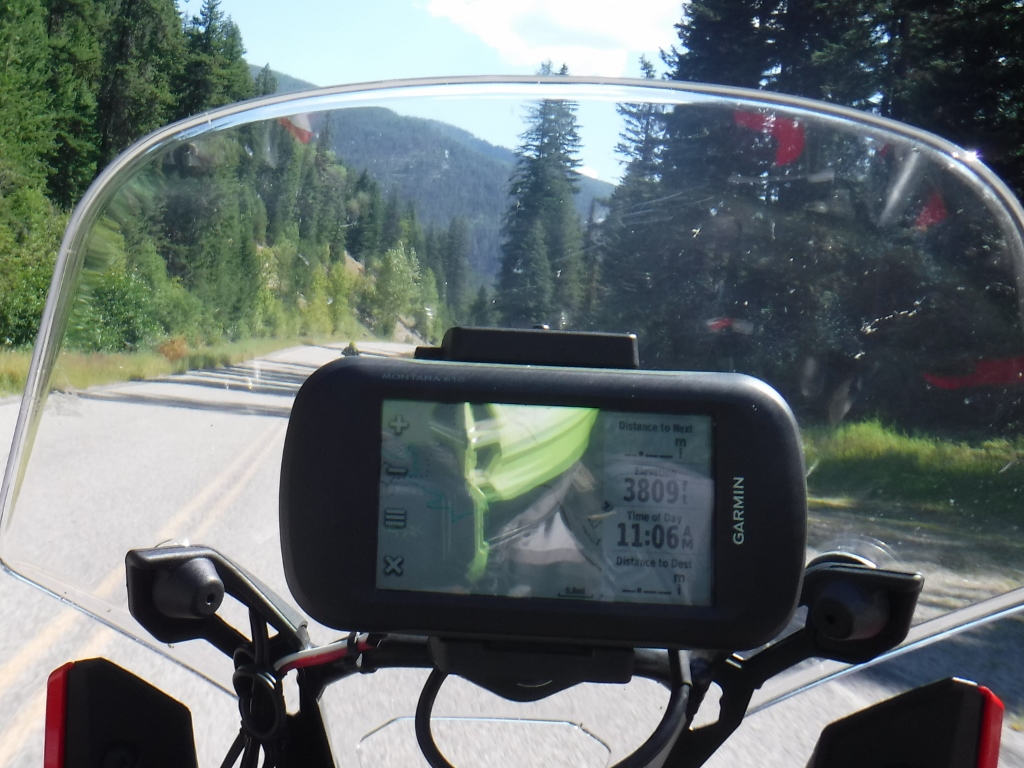 I think this might have been the Coeur D'Alene river.
Rick was wishing for his fishing pole I think.
Been the perfect place for a bath----the water looked way over our heads in spots.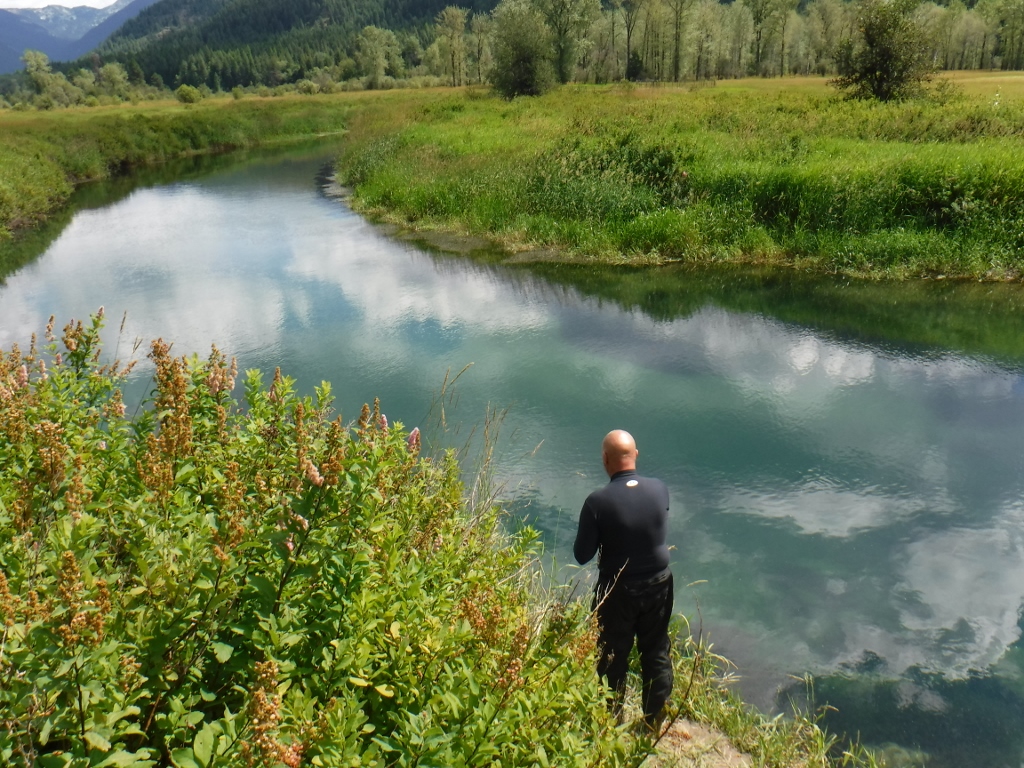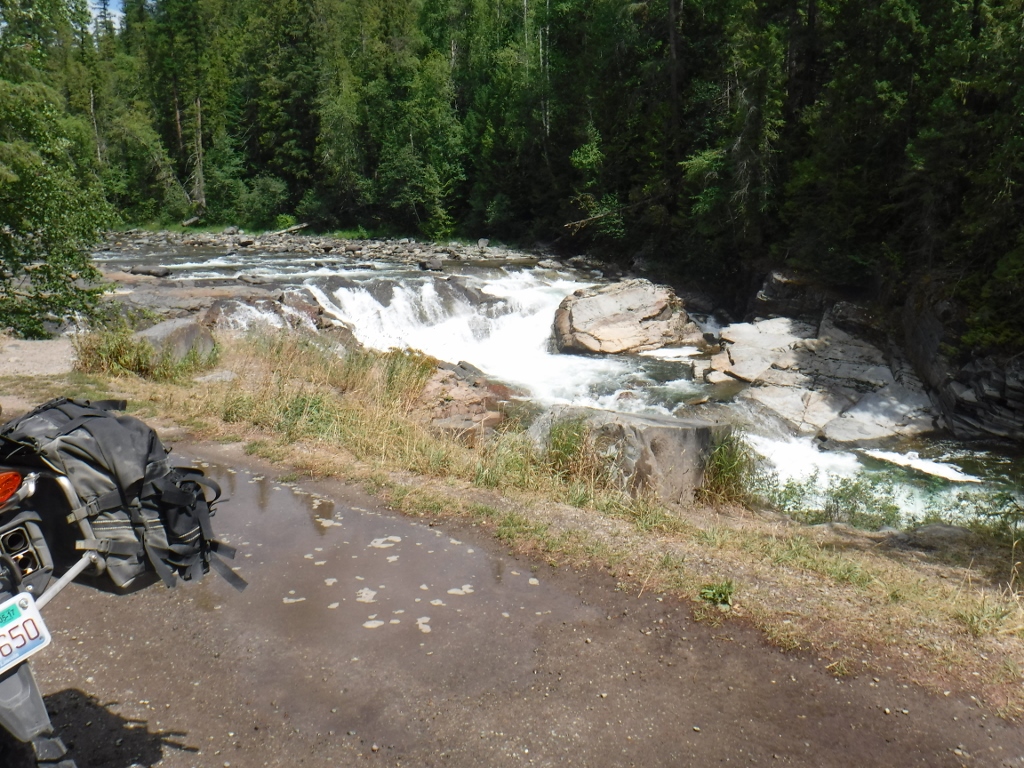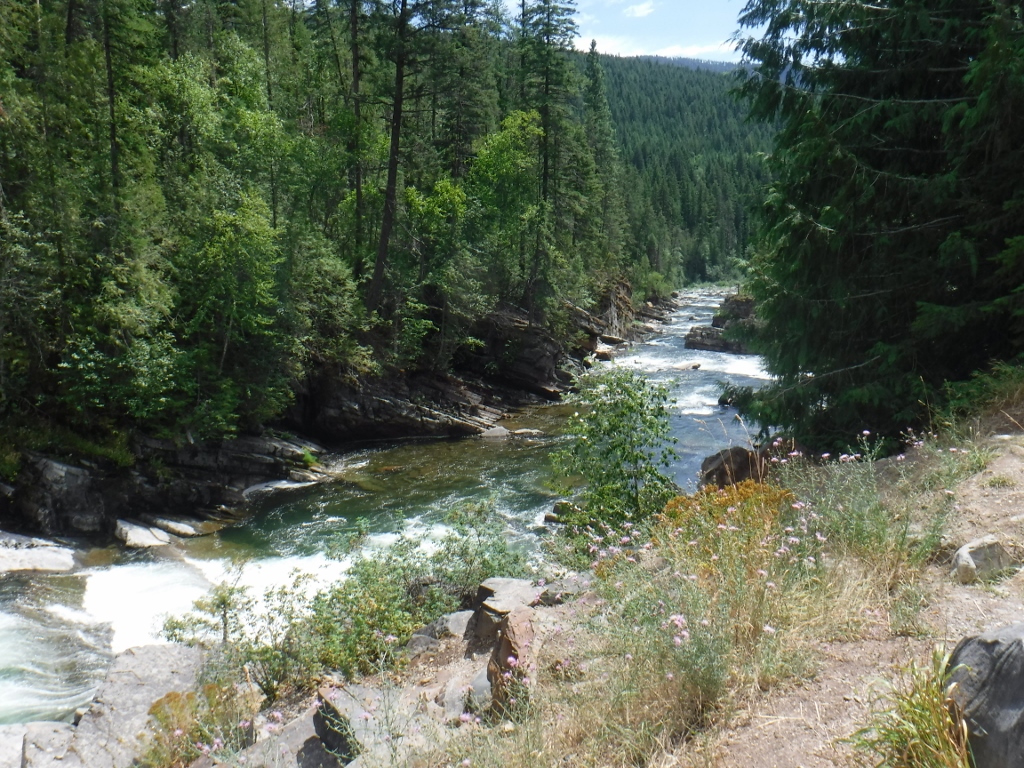 We stopped and took a break at this really nice forest service primitive campsite---they were everywhere.
Rick took a nap and got the crick out of his neck by putting a ball under it and laying flat on the picnic table.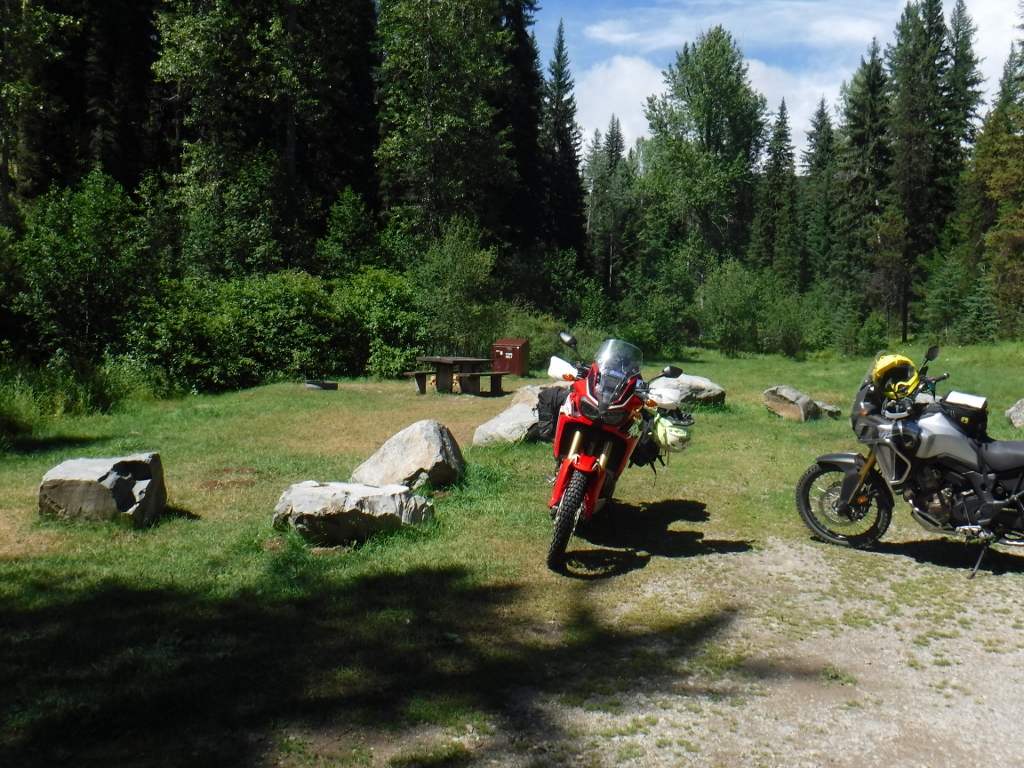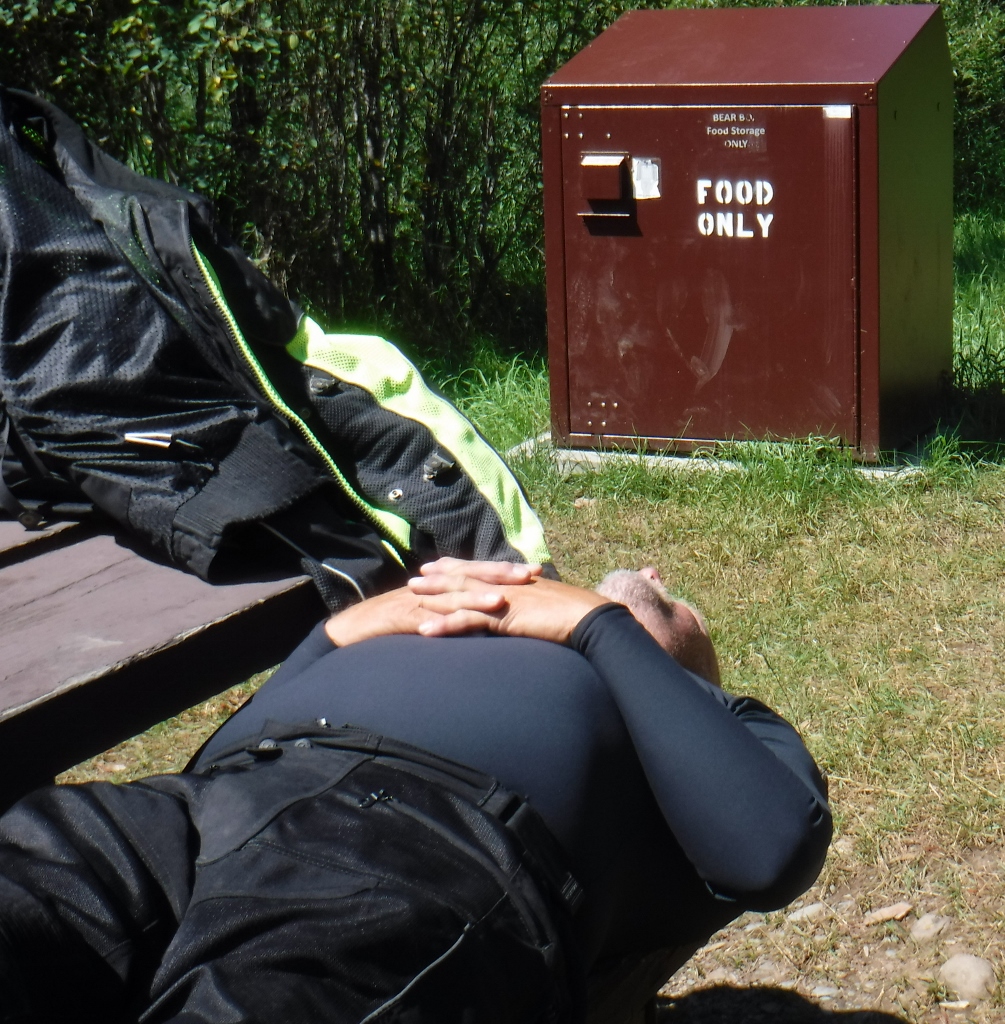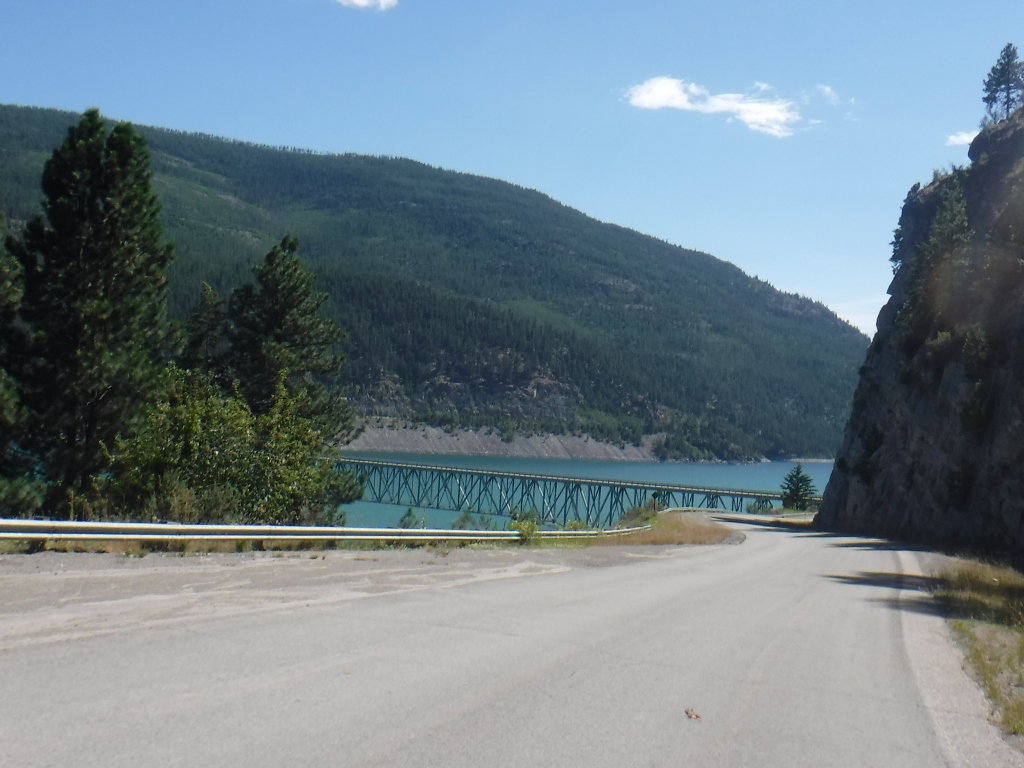 This has to be the bridge over Lake Koocanusa where we intersected route 37 on the East side.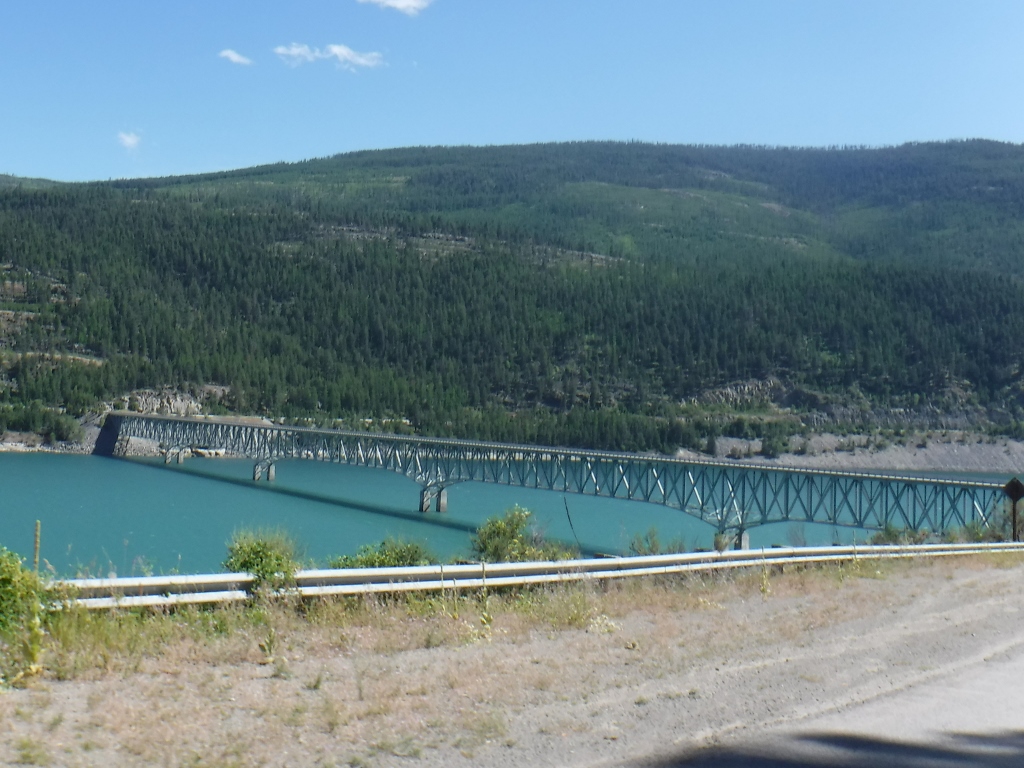 We ended up in Eureka , Montana at a nice cheap Motel.
People riding the great divide route will pass thru here.
It's just 7 miles South of the Canadian border.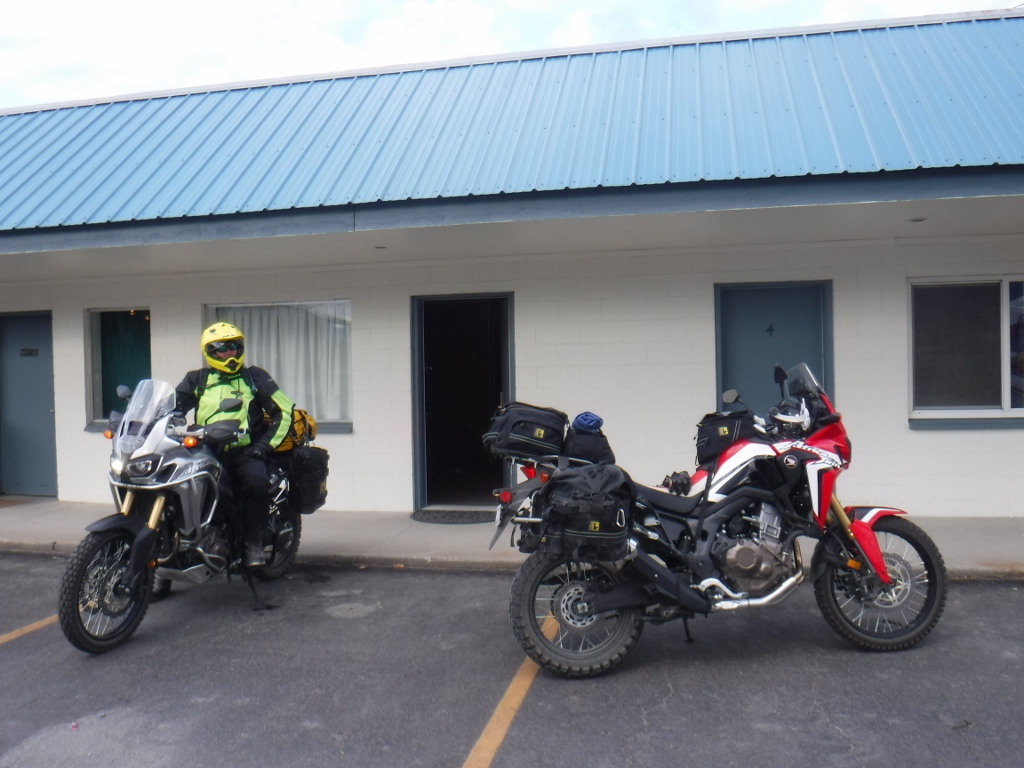 A short video of todays ride---Select HD 720P if you have the speed.
I had a jillion track logs in my gps from previous rides---not intending to re-ride them but used them for reference.
However I did use my CDR tracks to get us over to Polebridge-----where we'd head South into Glacier
National Park ---------a place I thought I wanted to go.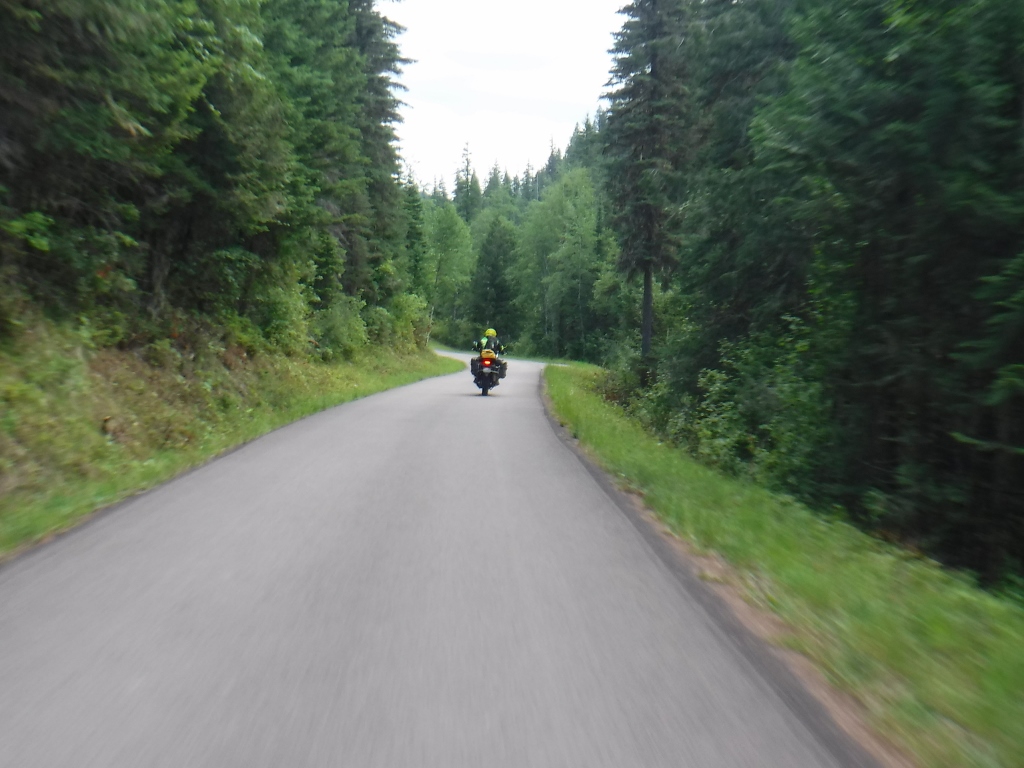 So now were are on the traditional Continental Divide trail again----was on it on the WR a few days ago
in a different place.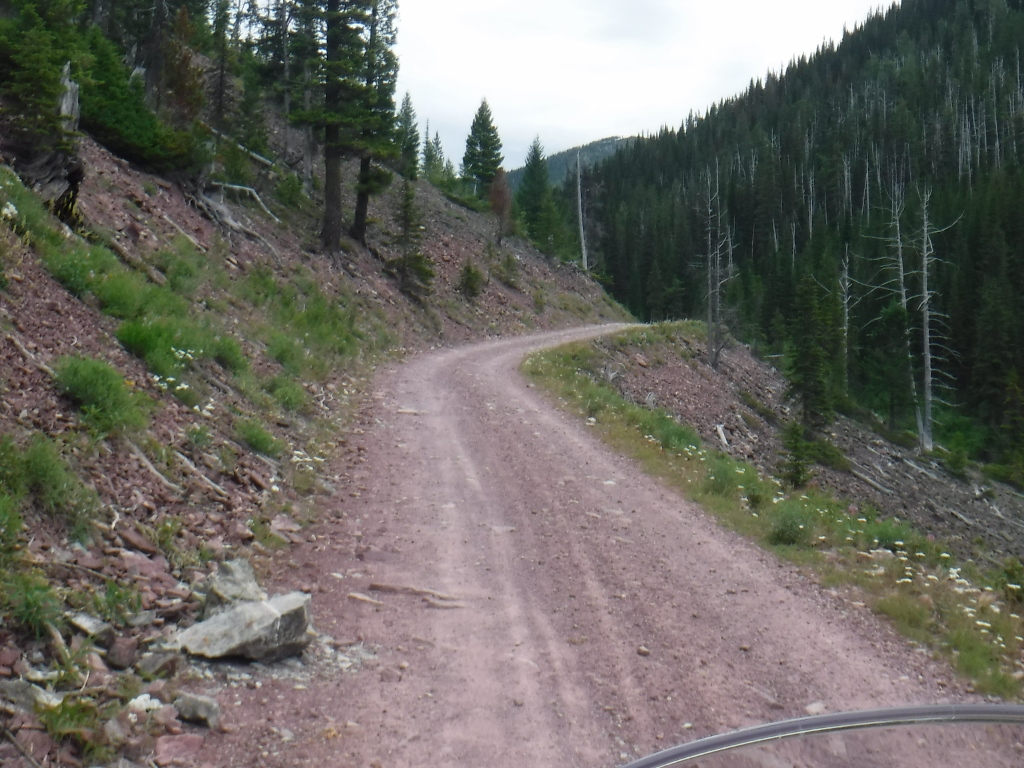 The much needed rains had blessed this part of Montana also----and brought out the bright colors.
No----for the hundreth time--------my headlight is "NOT' burned out.
One LED headlight is low beam and both come on for high beam.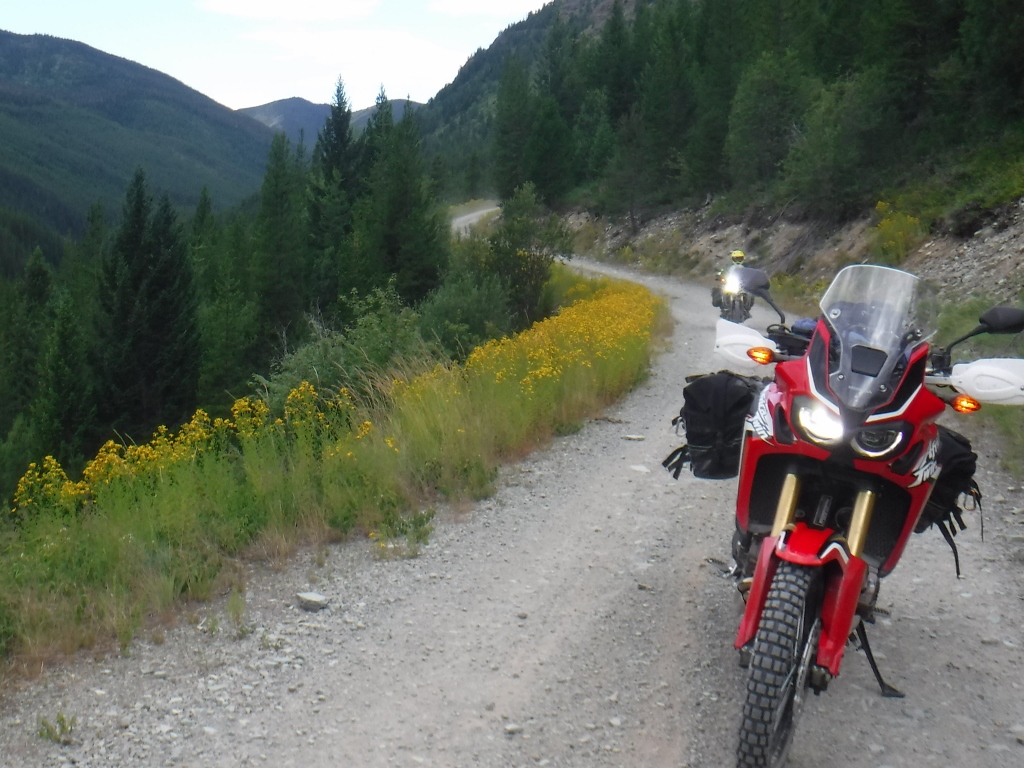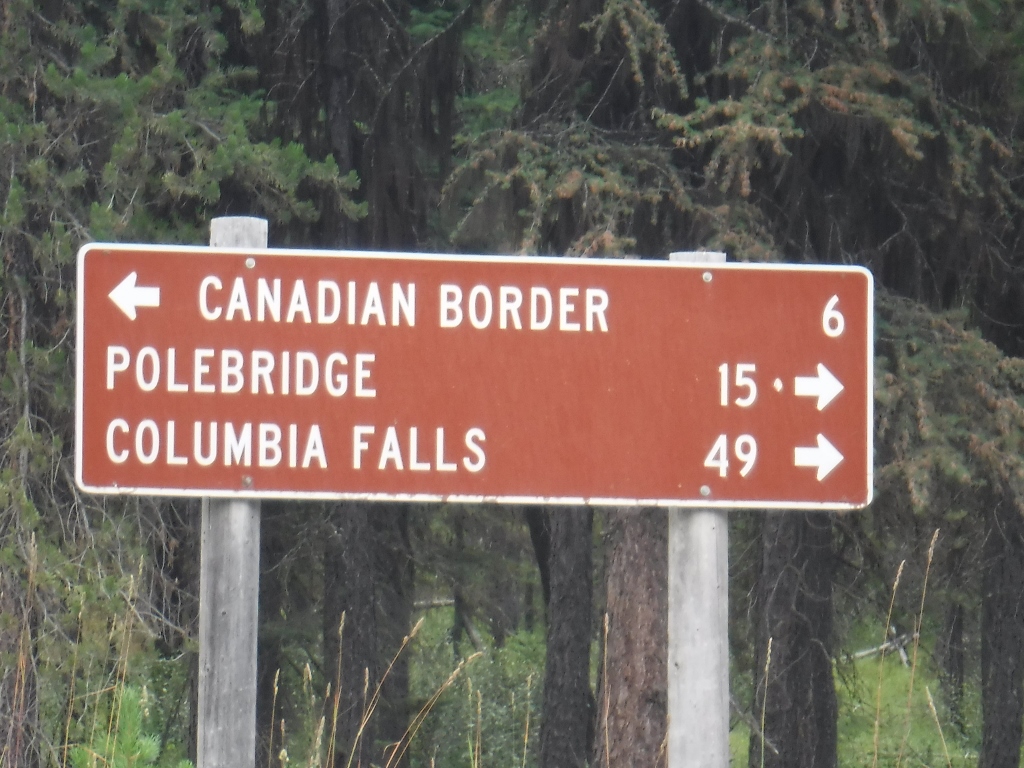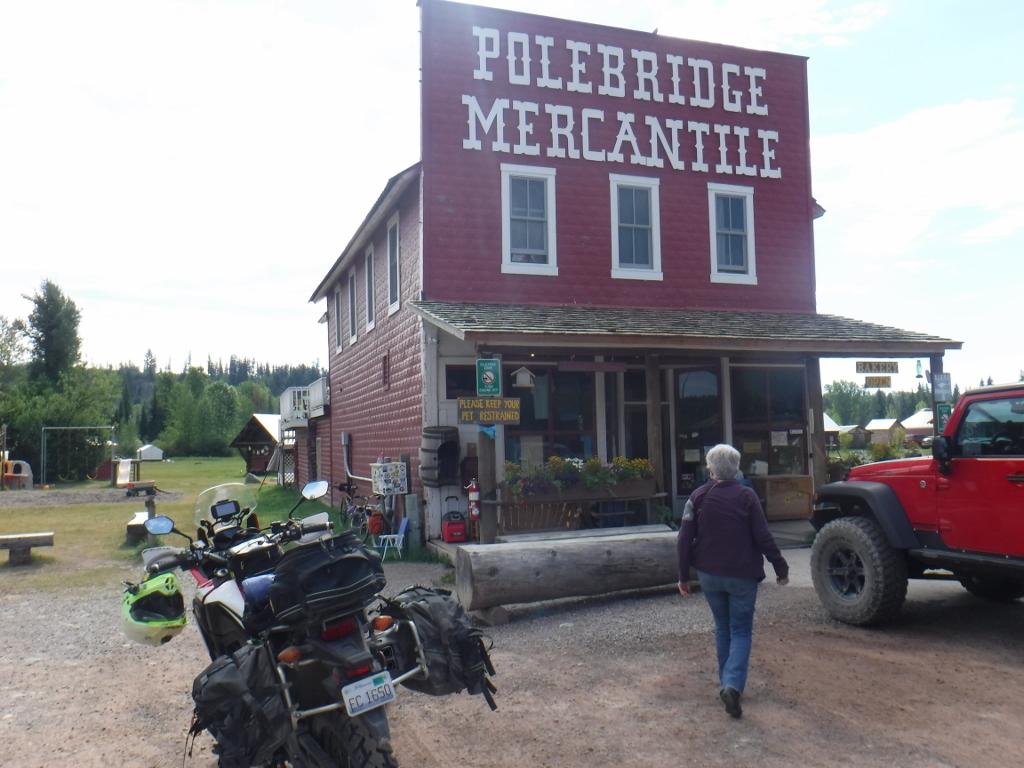 Yep this is what you stop here for-----------I can't believe he ate the whole thing.
There are cabins here and a hostel.
See the bicycle riders in the background-----------many come thru here.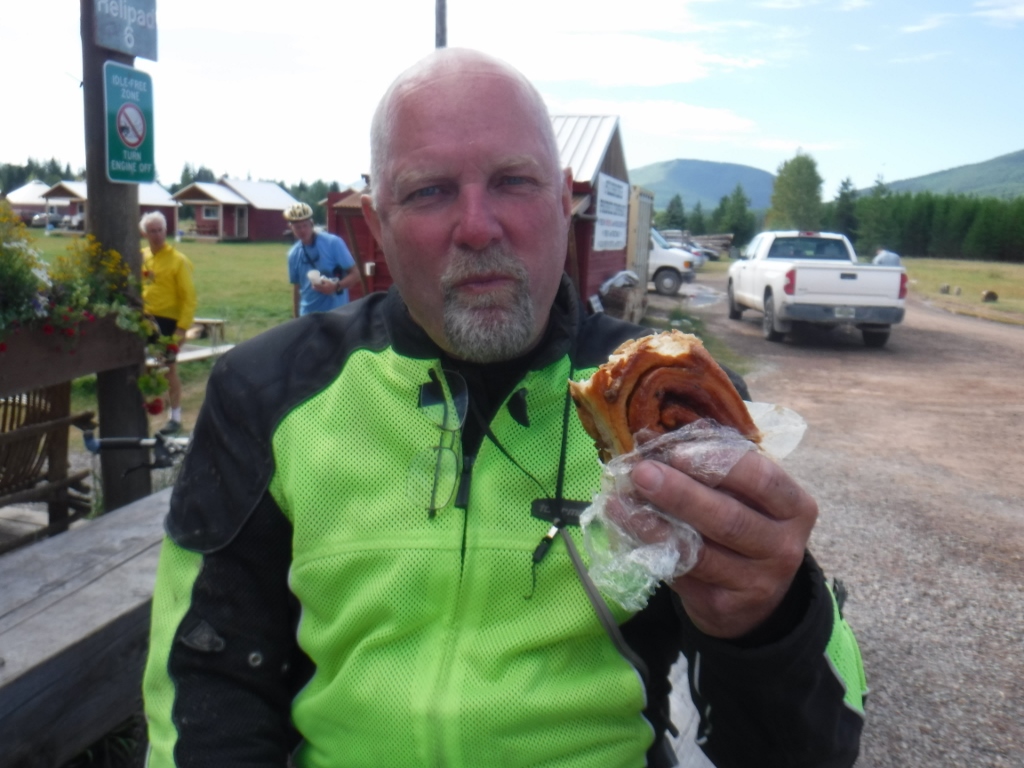 This goes over the North Fork of the Flathead river and into Glacier to the entry port---where Rick pays $25 and I pay
nothing---------as I'm old.
As soon as we pass the entry port there is a sign saying road closed------why didn't he tell us that ?????
There was nothing to do but turn around and go another way further West of the road we wanted to to get into Glacier.
So Rick spent $25 for a 1/4 mile ride. This guy was not friendly at all---I would have fired him.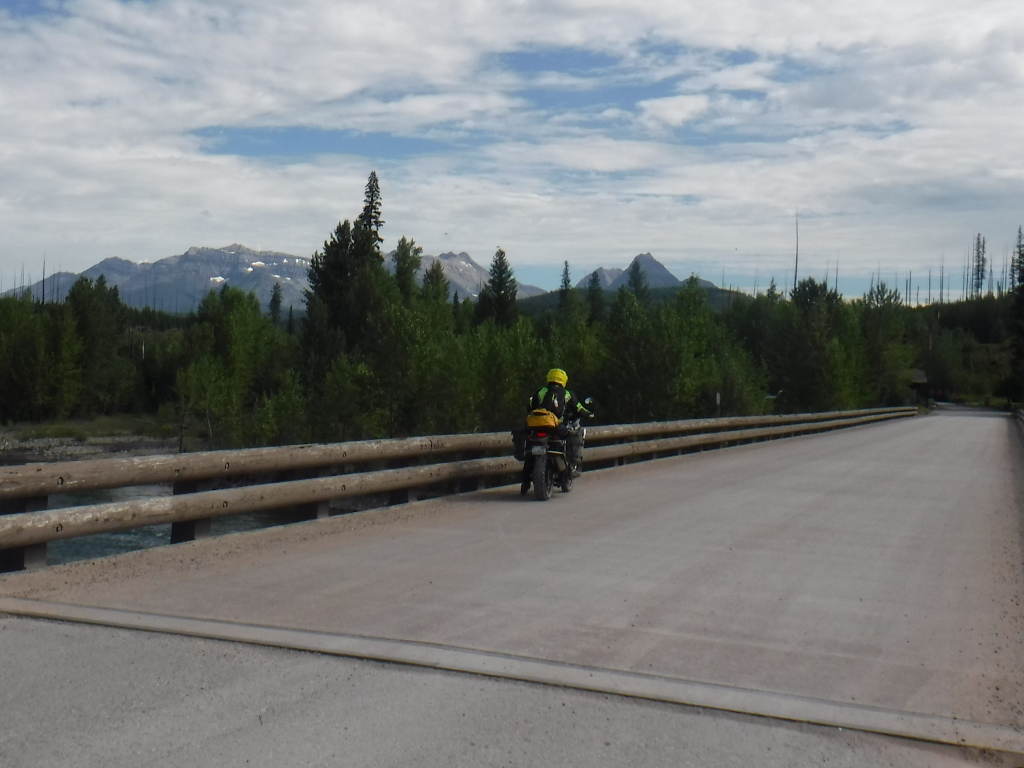 So this is National Forest Development road 210 heading South.
It was fun--------I'm bettin' it will be paved soon after the motorhome crowd gets to whining about it.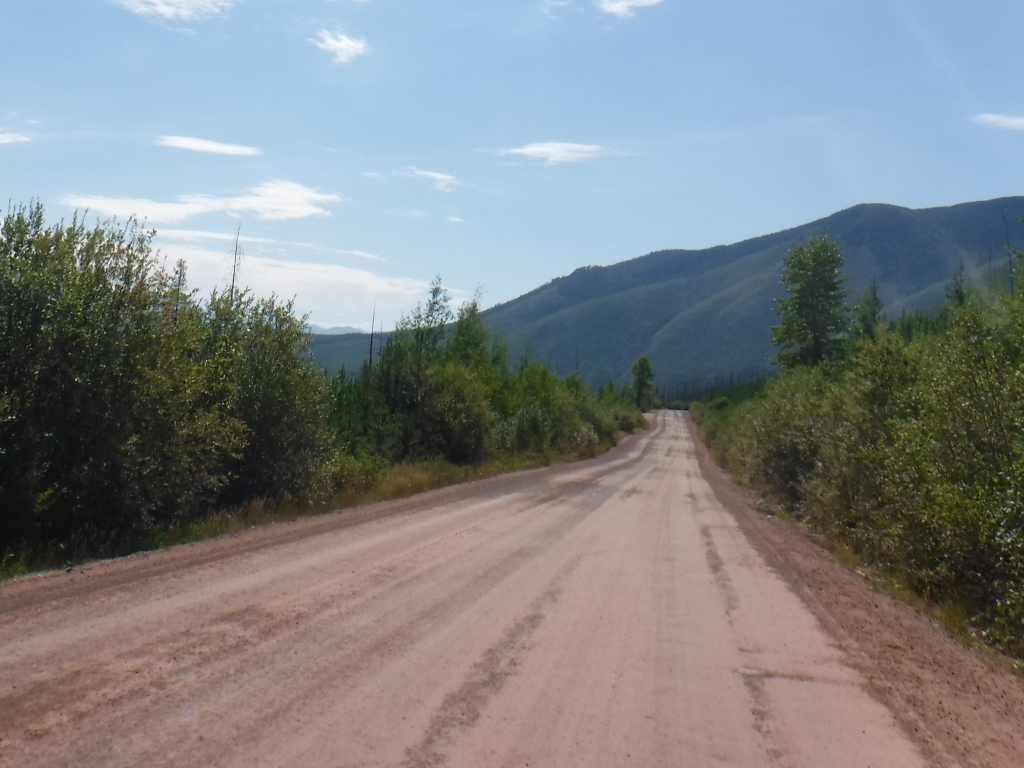 This is Lake McDonald and there was nobody on that Forest Road till we got here.
Campgrounds are all full.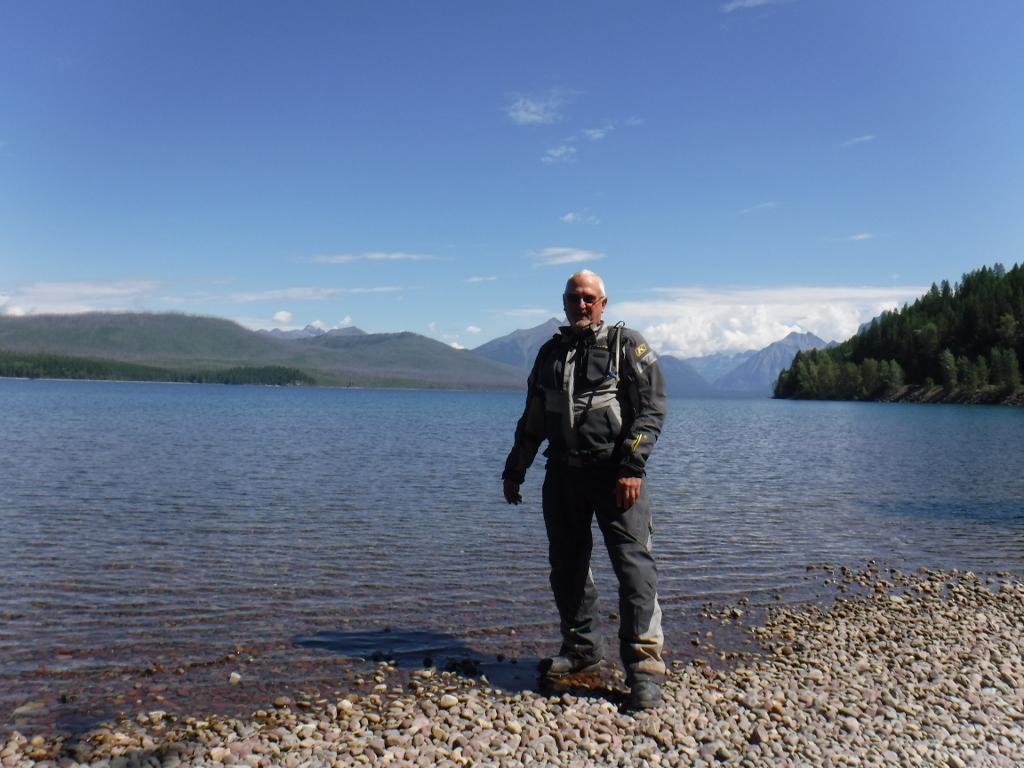 So we started going East on the Going to the sun road and I anticipated some
fantastic views and wasn't disappointed ---------kind of.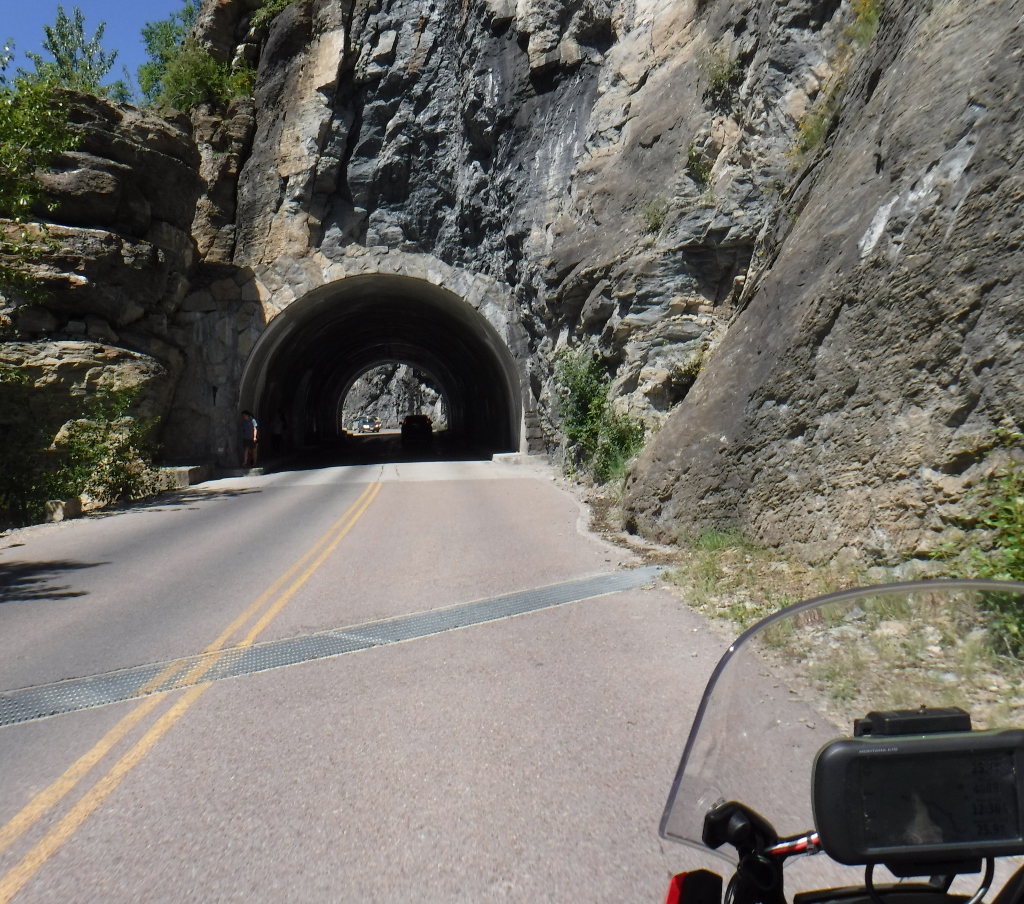 Logan pass in Glacier only gets to about 6,700 ft.
For some reason I was expecting 12,000 ft. after hearing all the stories of snow up here all summer long.
This was closed a month ago---about the time a guy got killed here riding his mountain bike.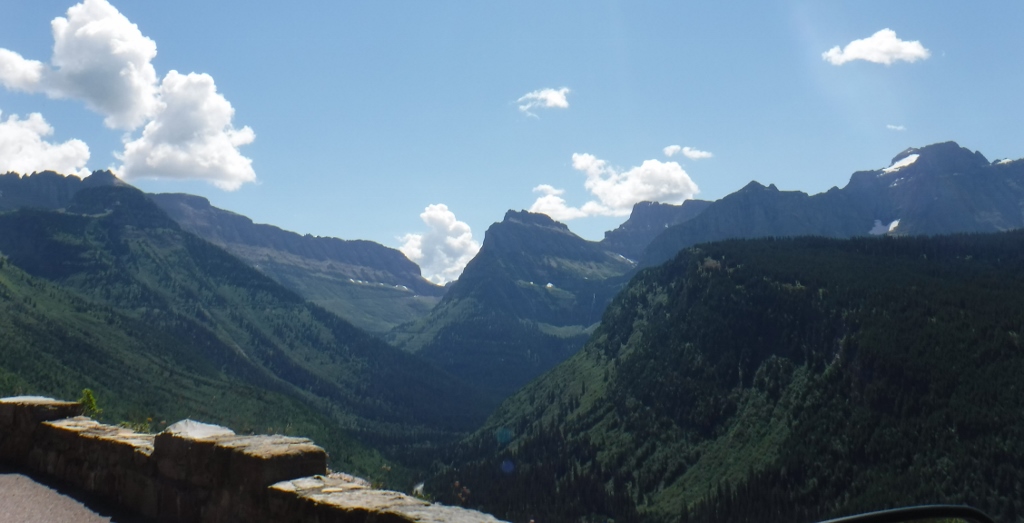 If you don't look close you won't see the road.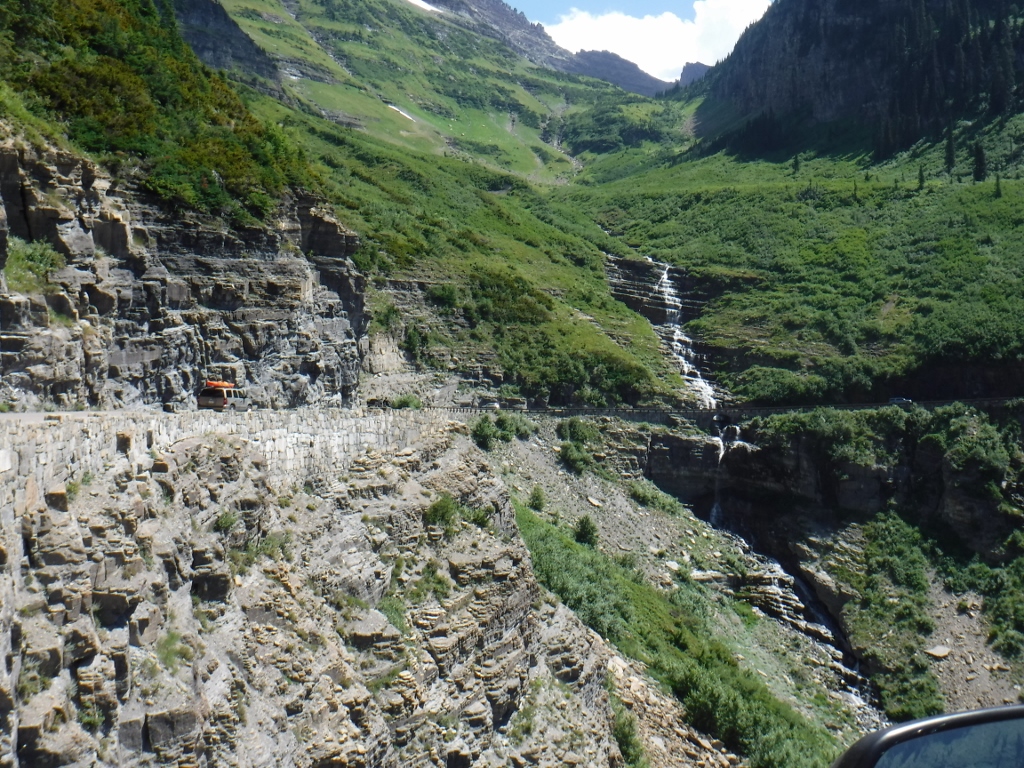 This was called the "Weeping Wall".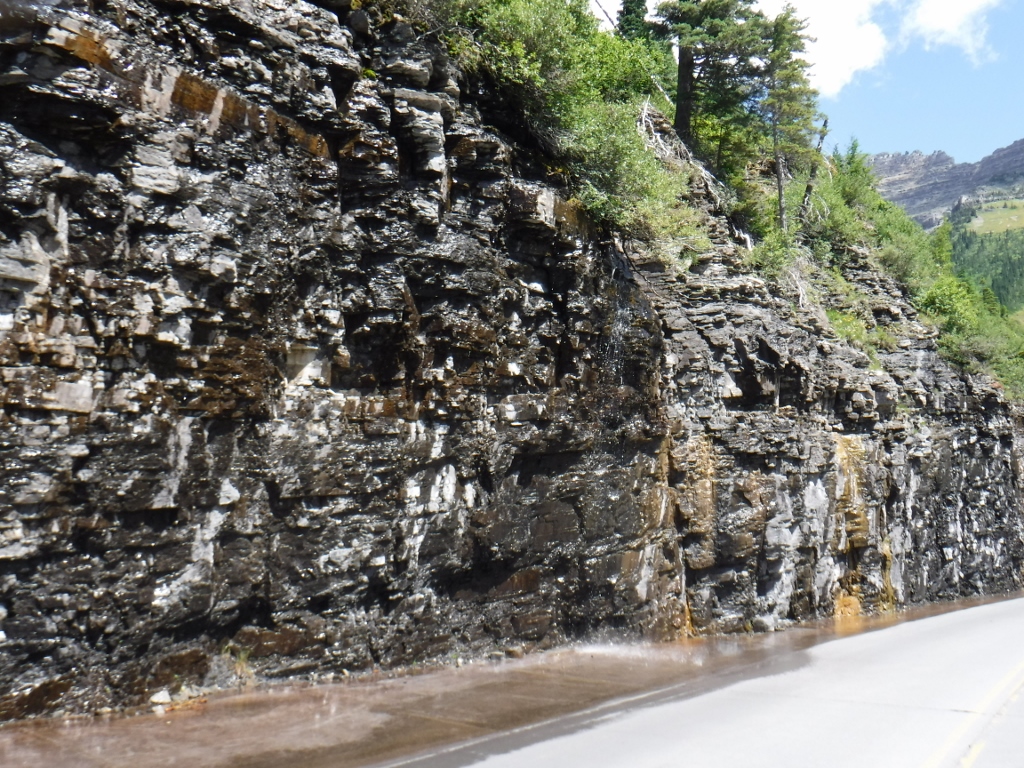 We didn't get to stop and use the many pull offs to stare at the beauty---they were all full of cars.
We didn't get to do the hike we wanted to here at the pass----the parking lot was full and they wouldn't let us in.
Thanks for the $25------but don't stop.
You city folks will feel right at home here.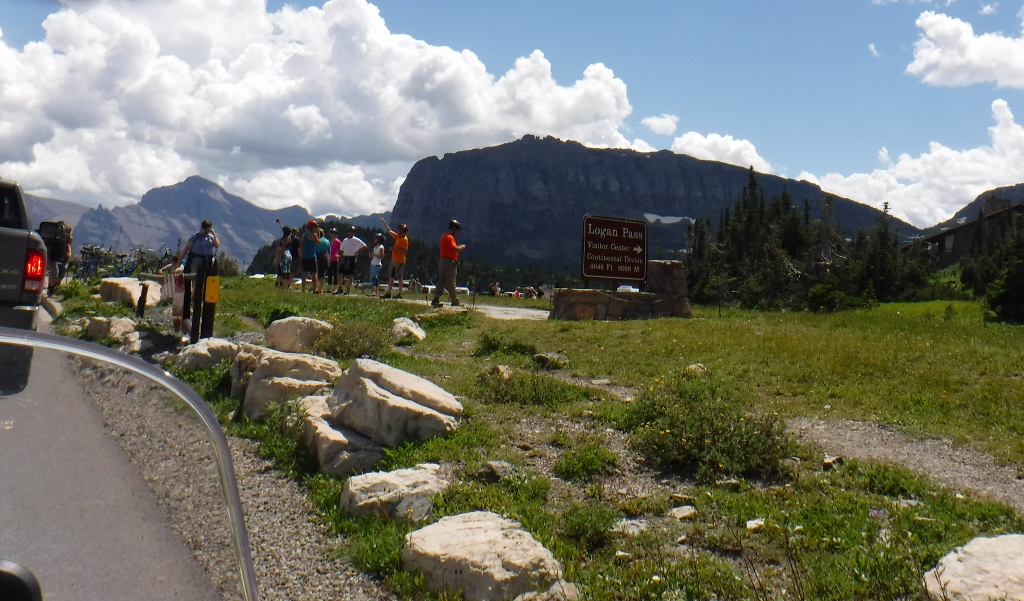 So without being too Sarcastic------------we found the neatest road with hardly a soul on it
just out of the park.
This might have been on the Heart Butte Cut-Off road.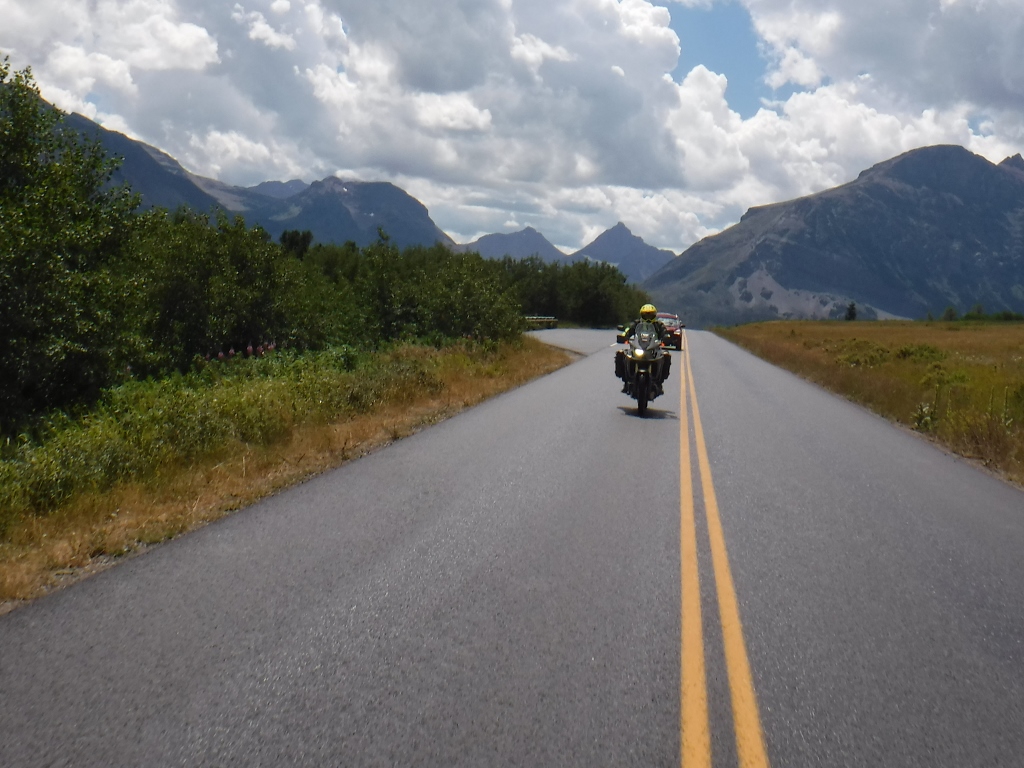 At a high pass I spotted this on a trailer and had too look at it.
I just knew it was a military KLR------but it's a 3 cylinder Yamaha ???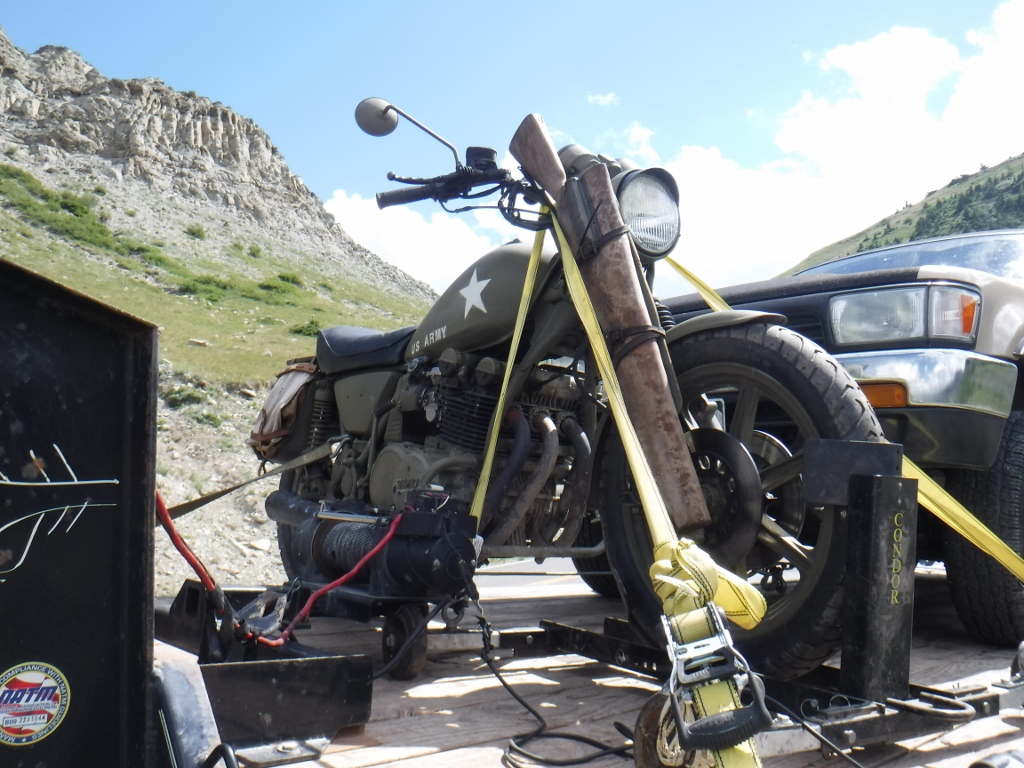 Somewhere out here I came very close to center punching a very big black bear------and shortly after that---a deer.
Wild horses everywhere.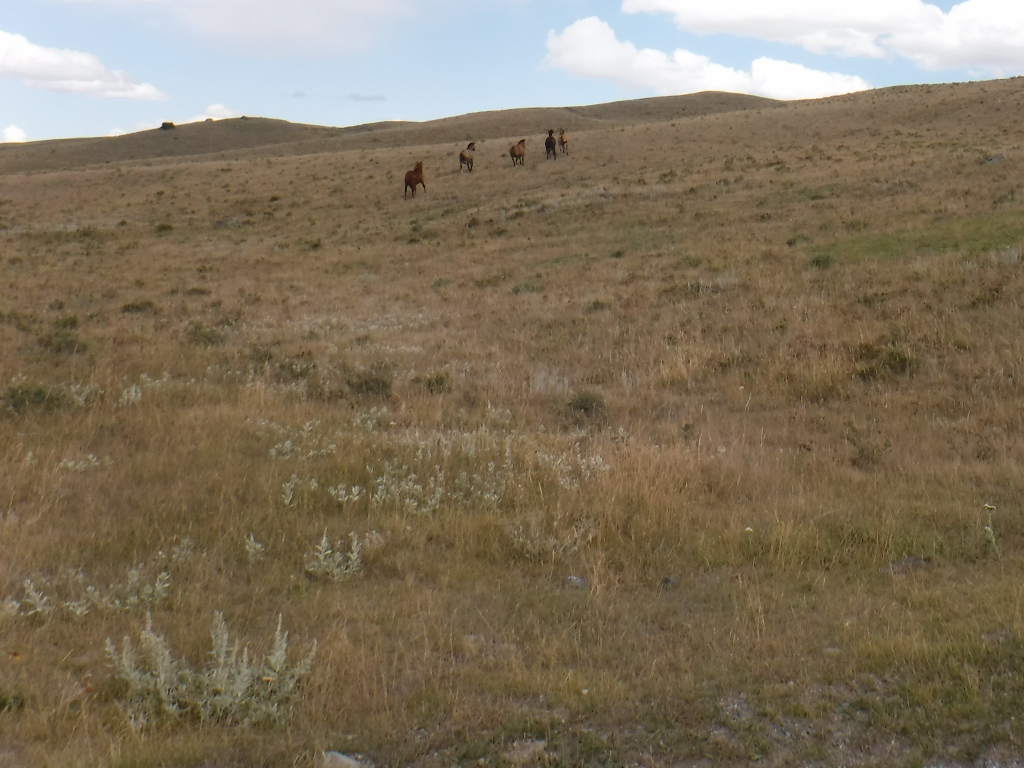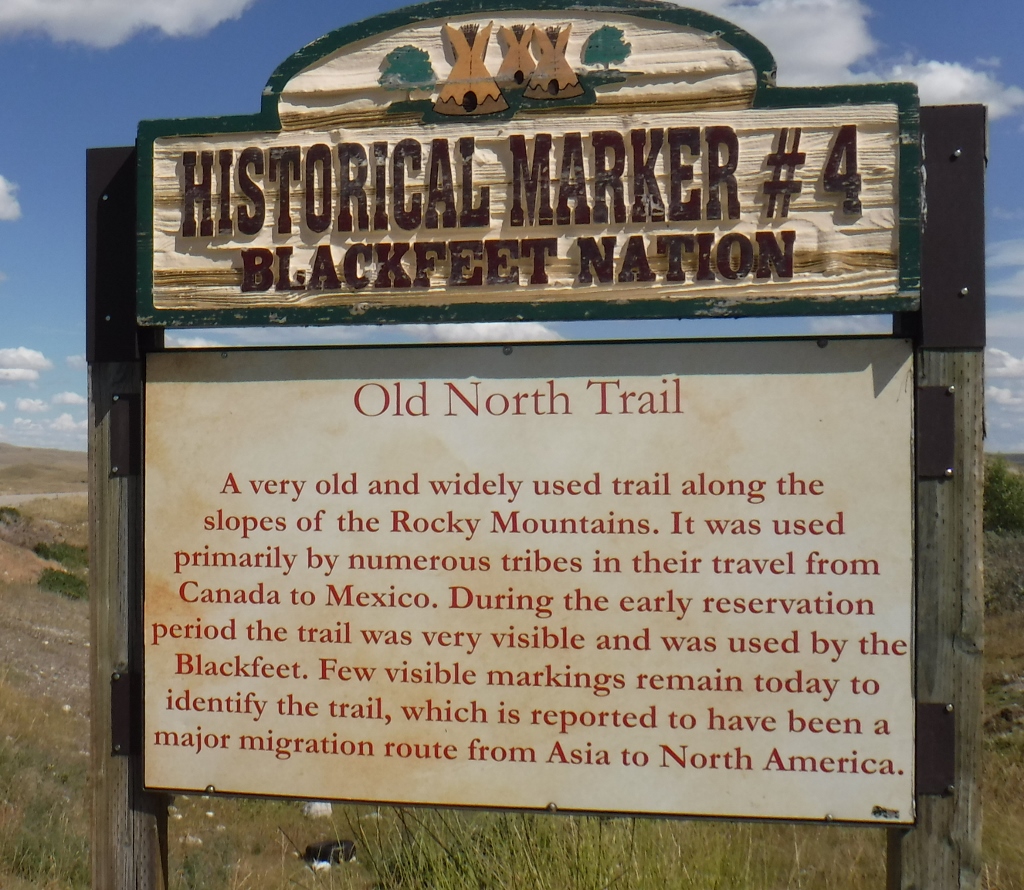 The skies were looking very juicy and a big wall of rain was moving in.
I asked the sheriff if there was a place to camp knowing there was nothing else in the little town of Dupuyer.
Don't ask me to pronounce it-------it's French------really.
He said we could camp in the park with the grizzlies or stay at the motel across the street-------------OK
Grizzlies?????? He said this area is thick with them and there are hardly no black bears.
The Grizzies come into town all the time he said.
It just didn't look like Grizz country to me.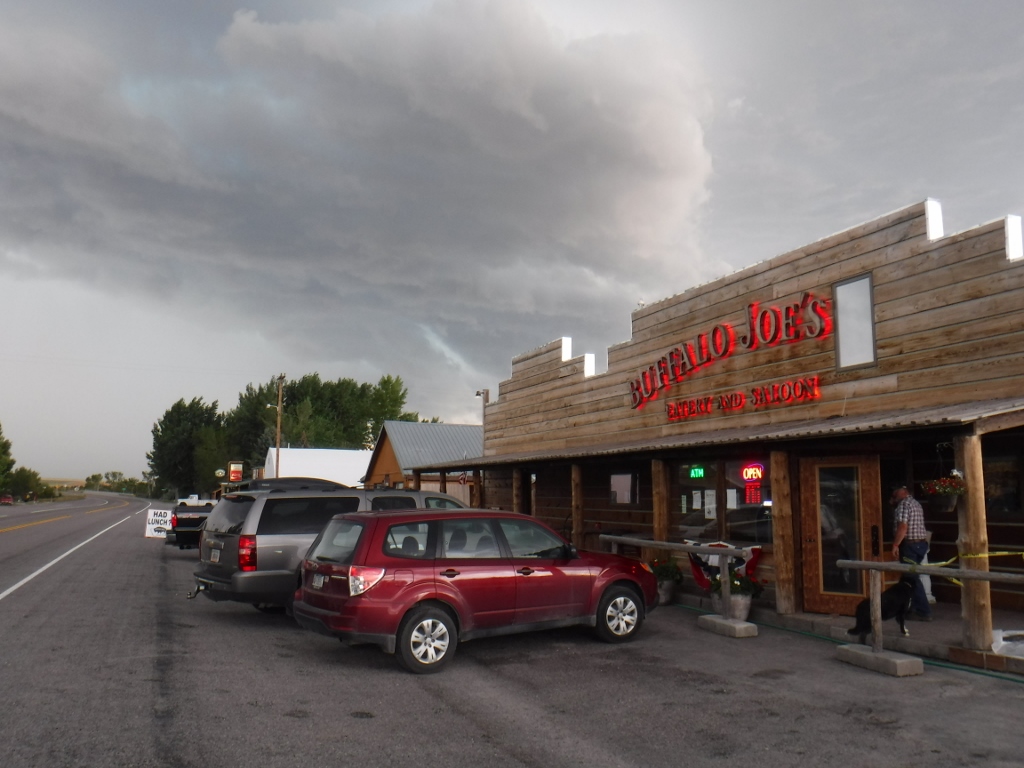 It's hard to tell what this is---but as you first step into Buffalo's Joes joint you step on this bear
trap----and it scares the crap out of you.
Thank god it's under glass.
See my feet at the bottom of the picture ???
That thing could break your toes off right above your knee caps.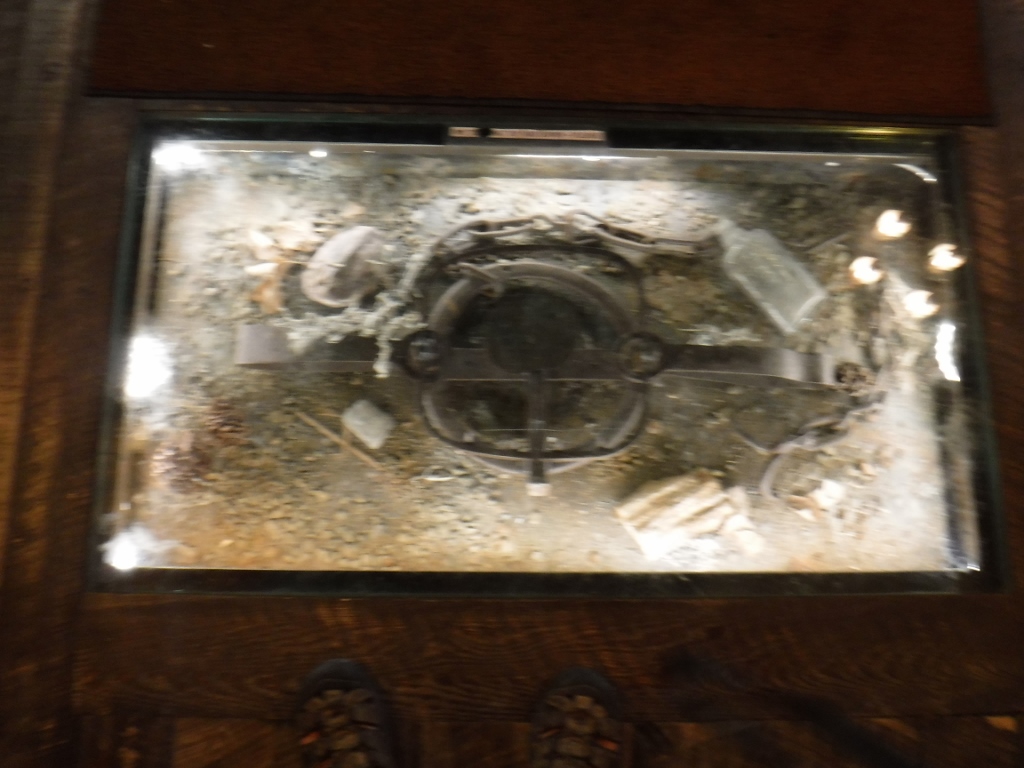 We had a hoot in here and ate with the cowboys--------real cowboys.
We didn't get thrown out but I felt I needed a cowboy hat.
"Where you from boy" ????
"Illinoyzzzze" I said sheepishly.
"Where the hell is that" ?????
Somehow we didn't get our asses kicked.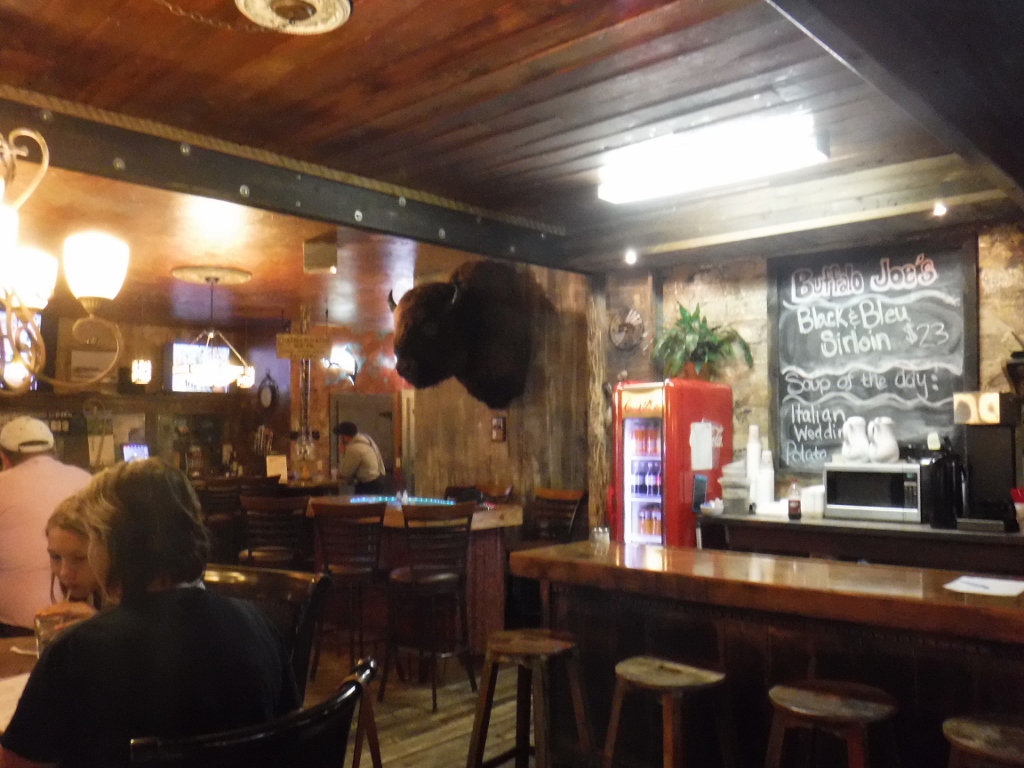 This place was nice.
DooooPooooAire, Montana
See---I can speak French !!!!
A short video of todays ride
So the next day we ate breakfast at Buffalo Joe's and headed out on an unpaved road kind of
Southwest---then South---then East---the Southeast--then
South again-------well you get the picture.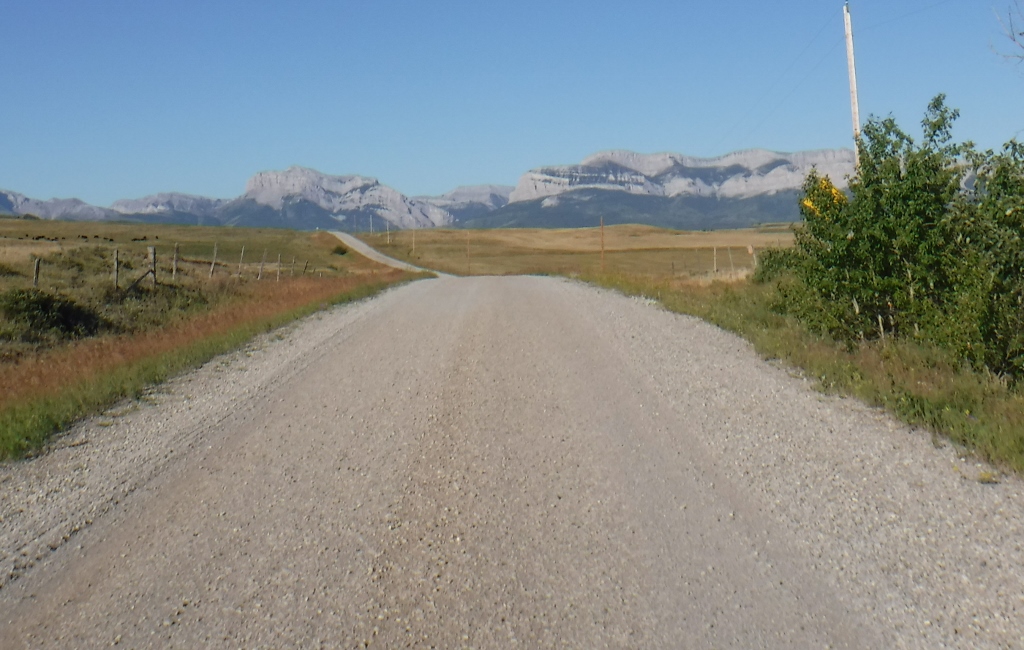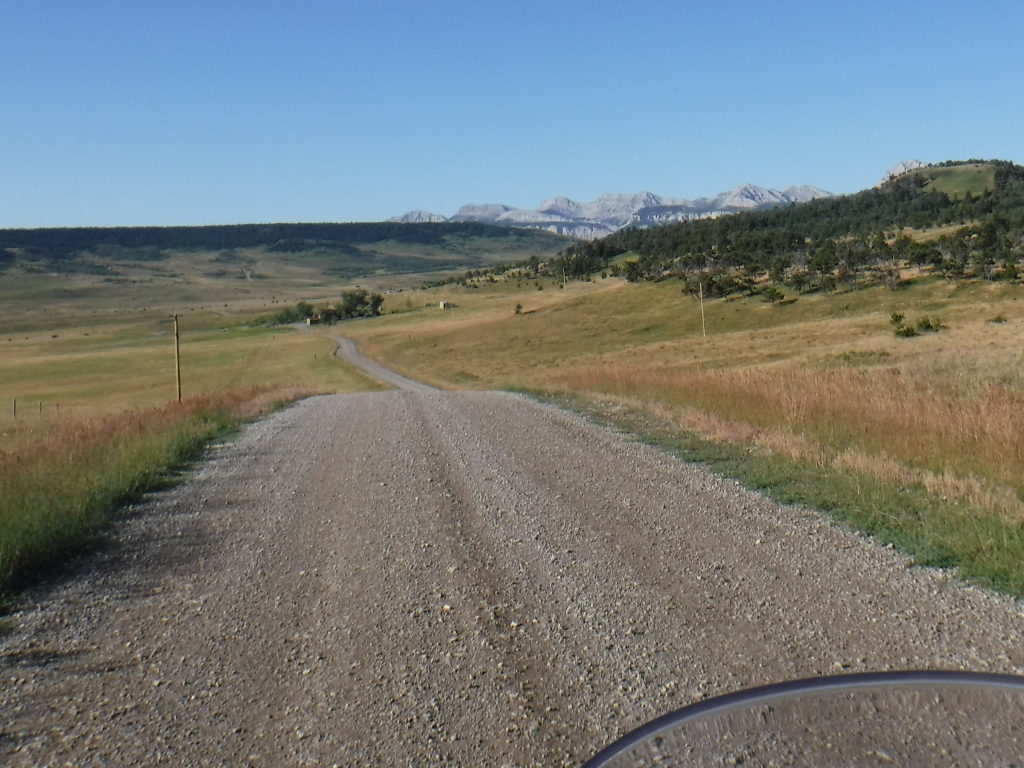 Oh man I'm lovin' this---we grabbed our lasso's, and spurs and let the ponies run.
You'll never catch me now Josey Wales.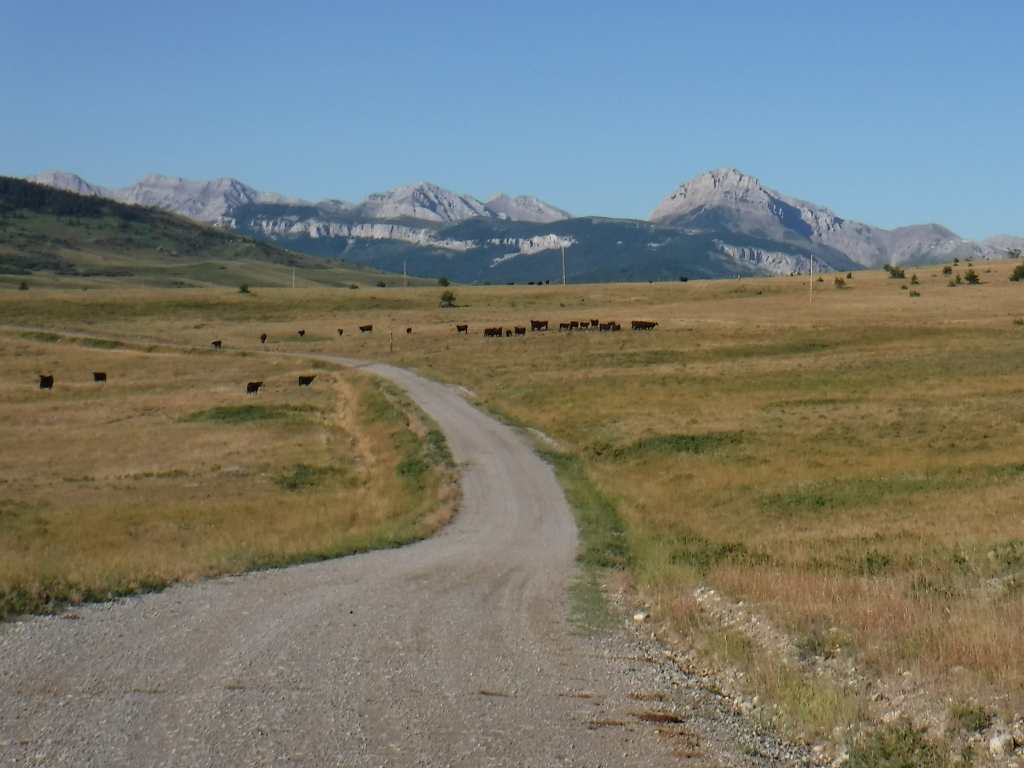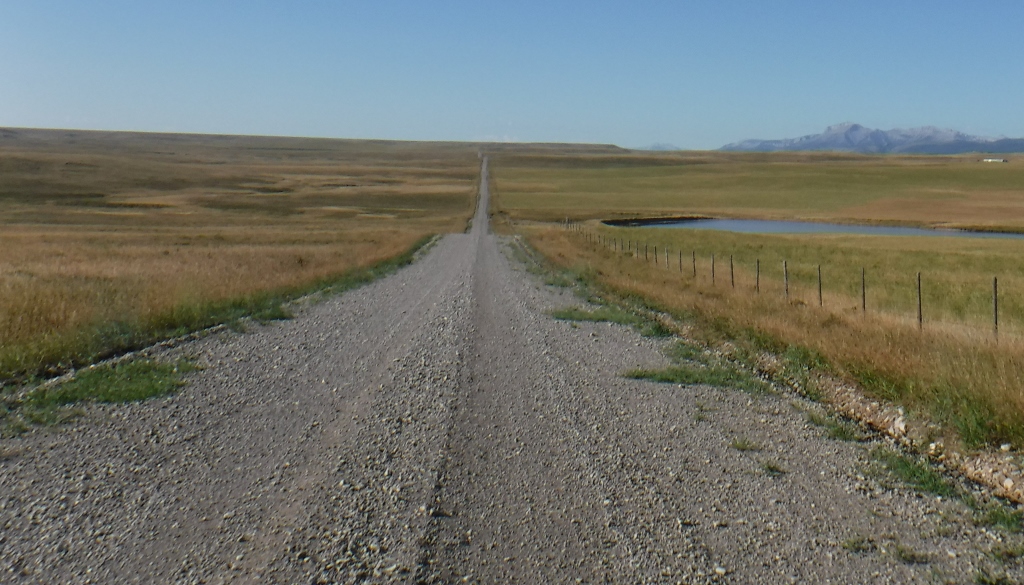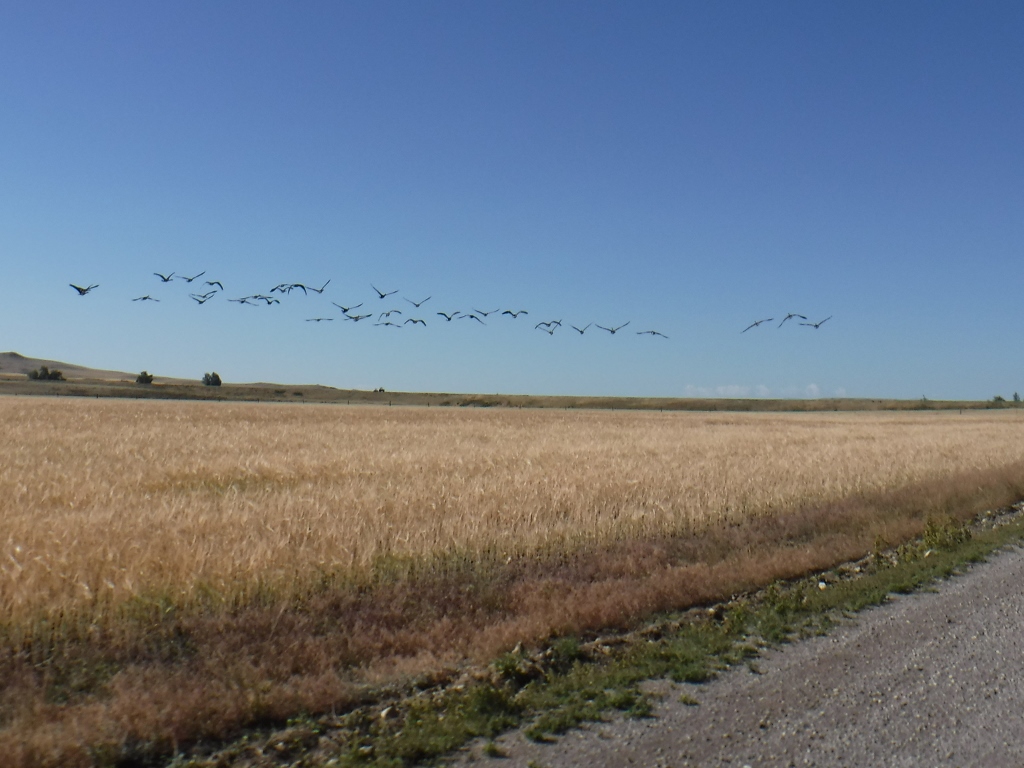 Some where on the road we passed Bynum Reservoir.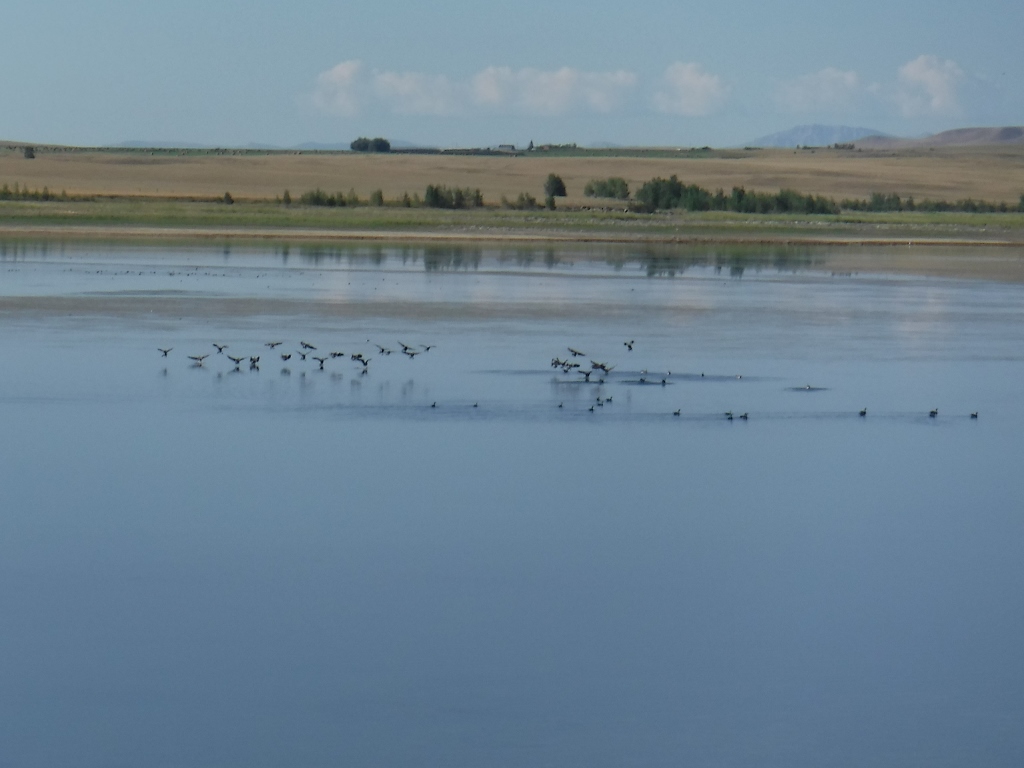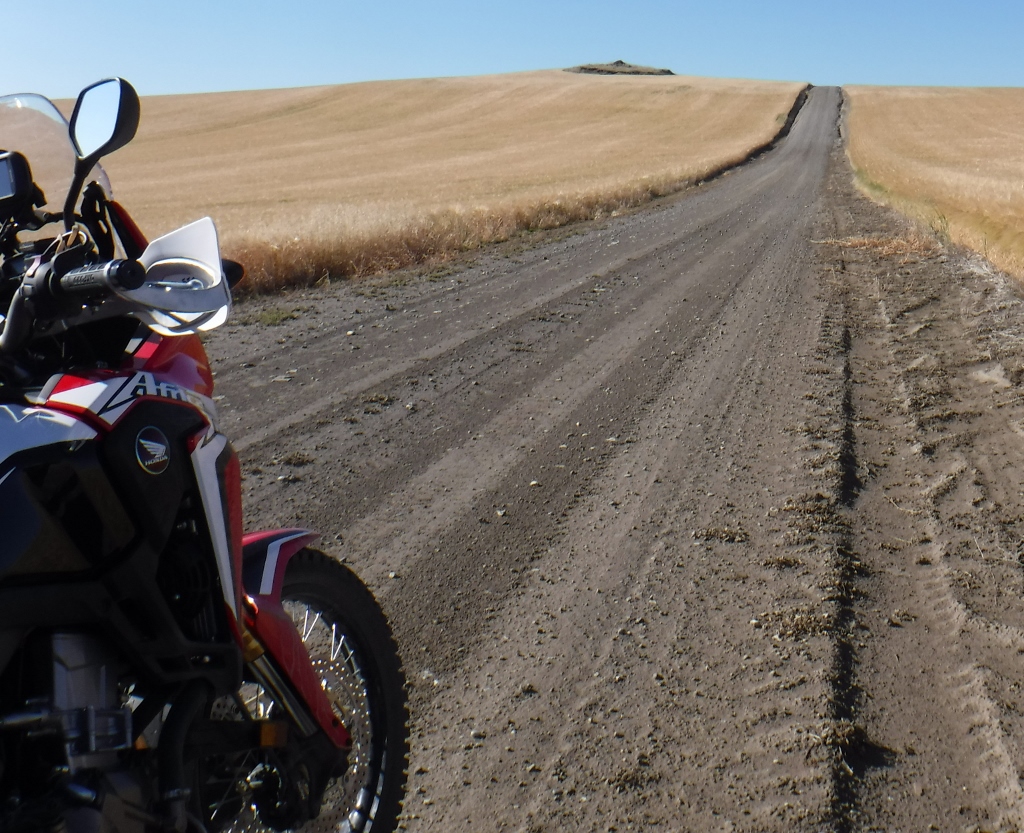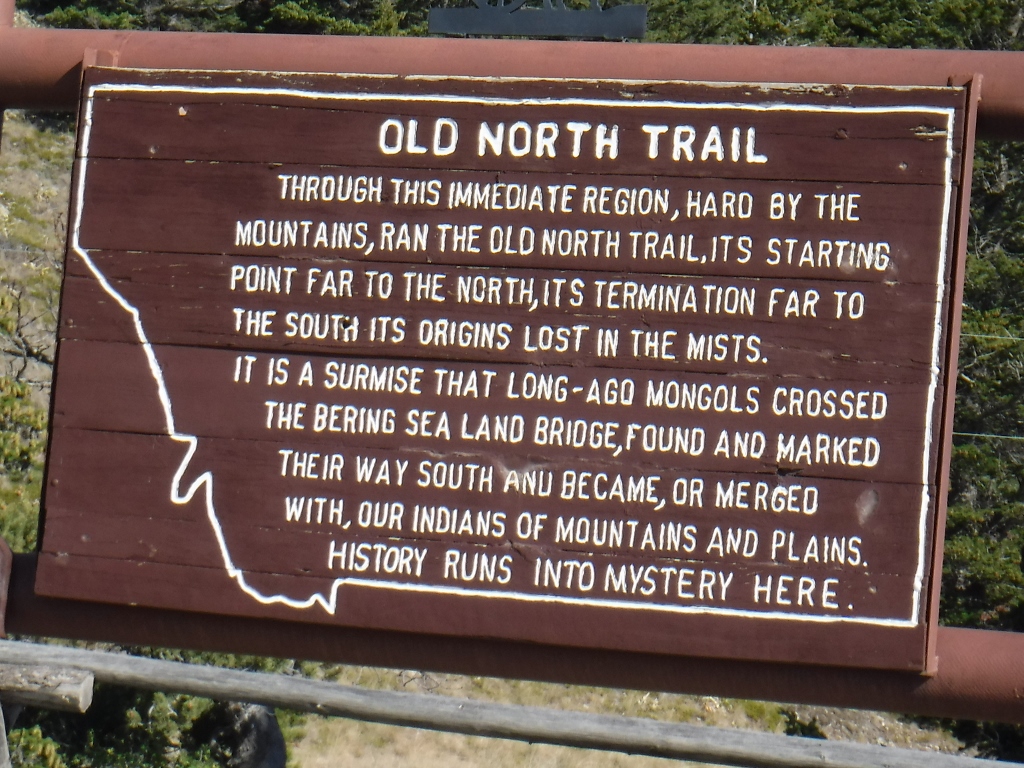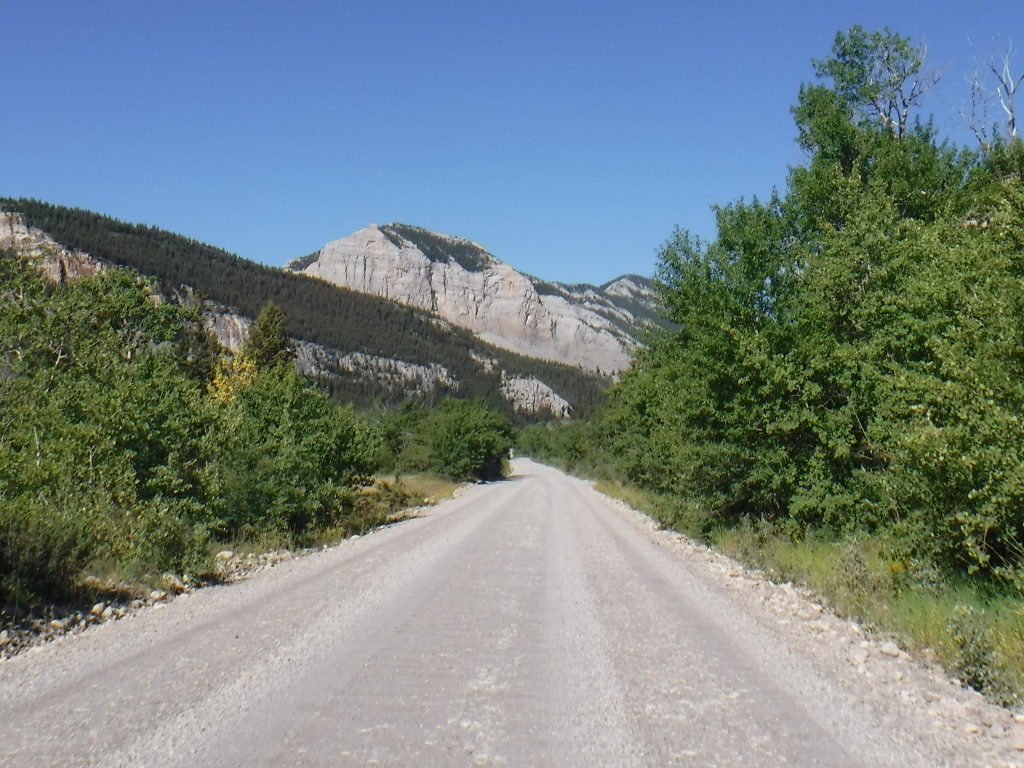 There were grizzlies every where in here we were told by campers.
No black bears---the grizzlies ran them out.
In the town of Augusta, Montana Me and Rick split up.
He was headed West to the coast---down the coast---visit his daughter in California----see the
redwood---visit the 3 step hideaway
and who knows what else------I expect him to have over 10,000 miles on his brand new African Twin
when he gets back to Illinois.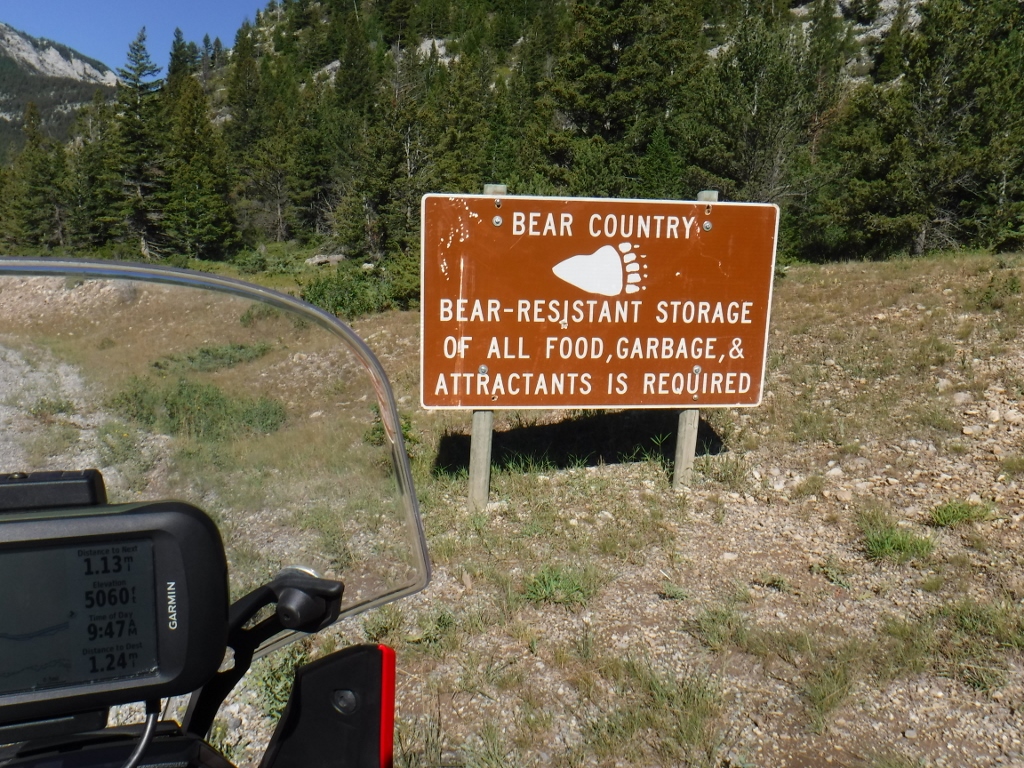 And somewhere just West of Chotea Junction I find this bridge.
Yes----I have a knack for this.
Don't know how I aquired it---but I have it.
I'm alone now---be careful BigDog.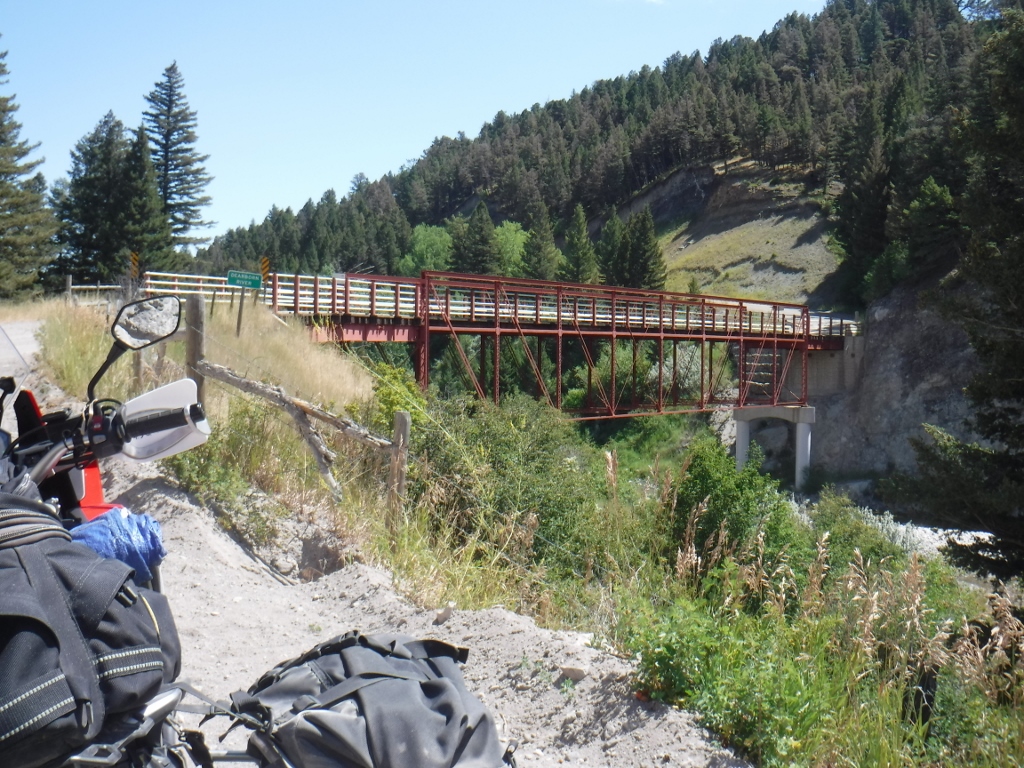 OK----another waypoint I put in my gps mapping software probably 15 years ago----------and here I am.
Why you ask ??? Not because it's a mountain pass----it's because it's the place of the coldest temperature ever recorded in the
USA-------in 1954.
And I saw on google earth a picture of a sign up here that stated that.
But------------it was gone----------I wasn't happy at all--------all this way and somebody stole the sign.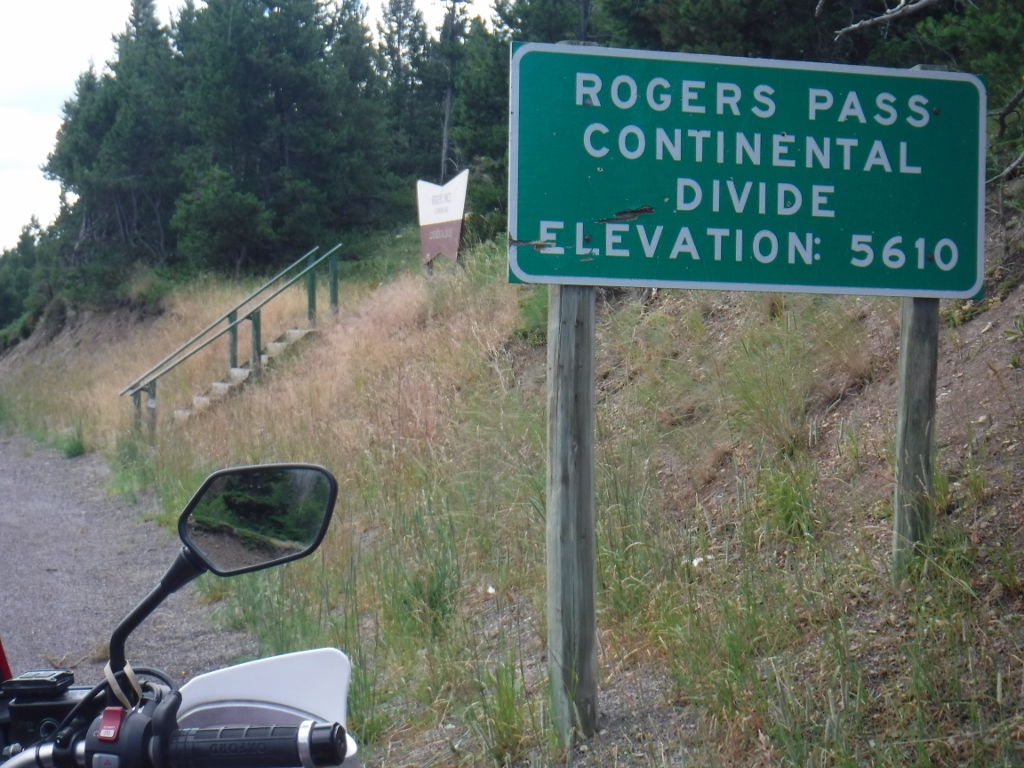 Not so fast BigDog-----------1/4 mile down the road and there it is---------I apologize to the guy that didn't really steal it.
The year is 1954---but my big head is in the way of that.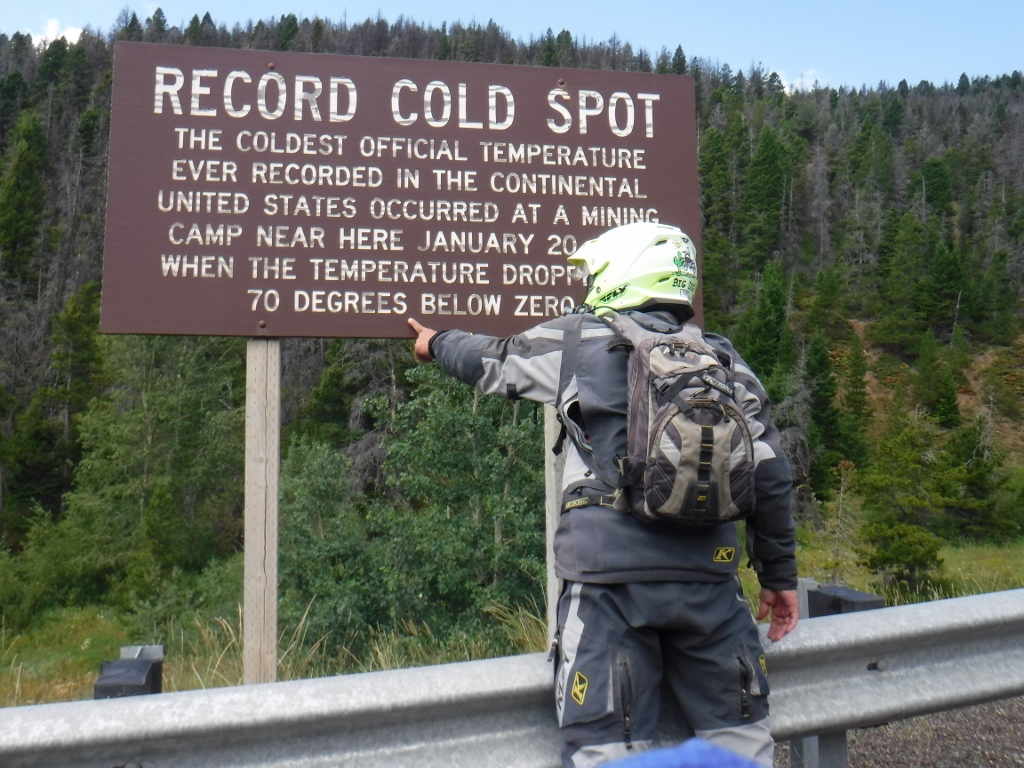 I don't even remember this---------but I guess I went over it cause here's the picture.
So another thing off my bucket list that wasn't even on it.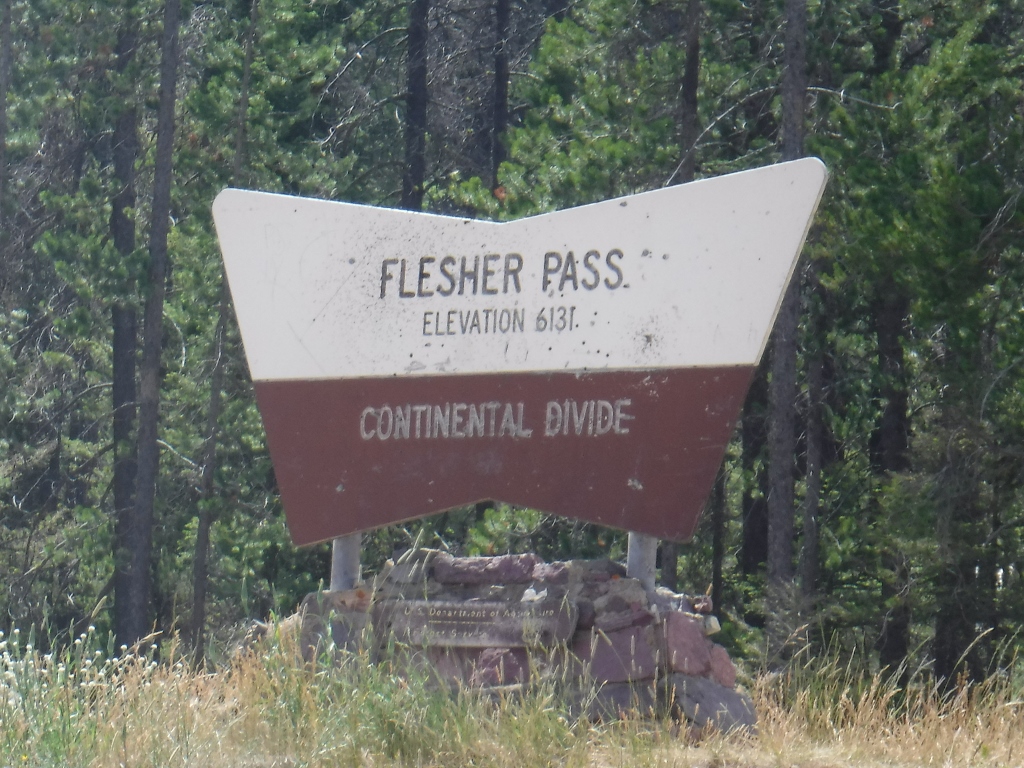 On a map you may find this little town---------Canyon Creek.------or maybe not.
This is all that is there and please stop--------and sit a spell--------I did.
I spent an hour here talking to the owner and a visitor about this place.
And we talked about what I was doing.
Gotta poop ??? They've got you covered.
Hungry ??? They can do that too.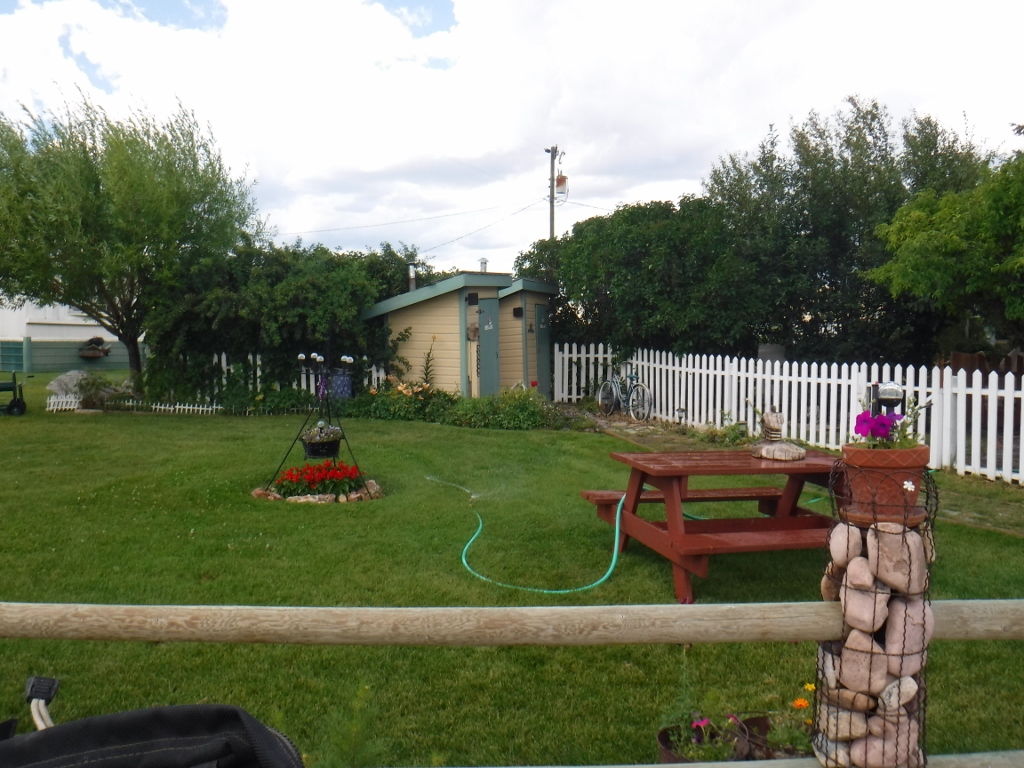 I hope I'm telling this right--------this is the owner and yes it is a post office here too,
This is the oldest continueously operating post office in Montana------now smoke that in your pipe.
Super nice people here and there was a gas pump out front as I remember.
You'll not find friendlier folks anywhere.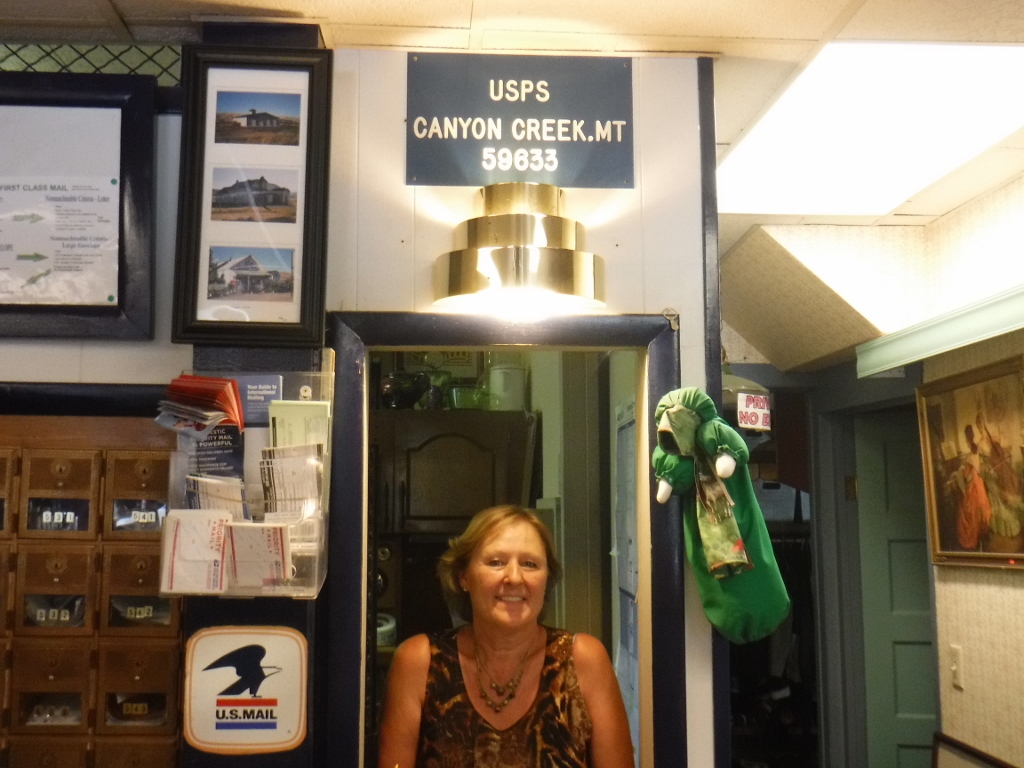 I ended up in a motel in Townsend, Montana for the nite-------I went to Sulphur Springs and that little town
was full of partiers and wasgetting busier by the second------I found lodging but got the heck out of there
as a huge concert and party was going on over the weekend.
Someone said Wynonna Judd was gonna be there---------so that's a big show.
Here is a short video of the days ride.
On the way up to Montana me and Jerry got real close the Bear Tooth Pass and the Chief Joseph highway-----I've heard these
are 2 of the best motorcycling roads in the United States.
Jerry wanted to drive the vans over these passes and I said no way-----I'm going to be on a bike.So we went around them.
Maybe I never would have went over these paved passes on my smaller bikes---the the AT was perfect.
But first I had to get there---and found this "Cut-A-Cross" road------West Bridger Creek road
Southeast of Quebec, Montana ifyou can find that on a map.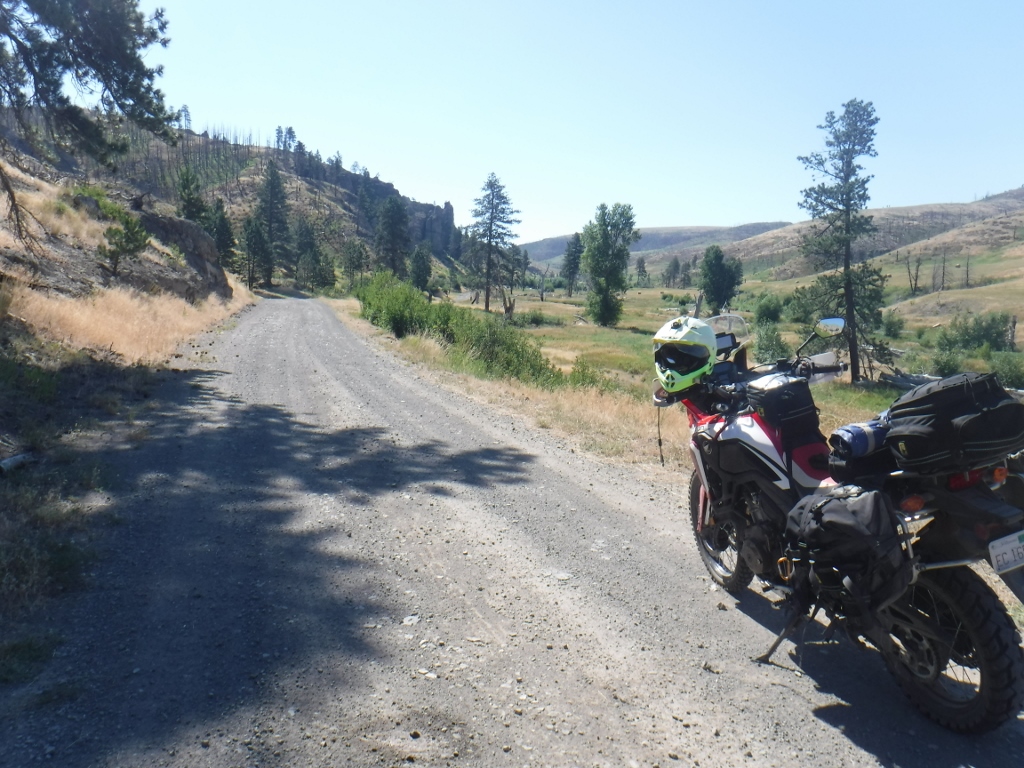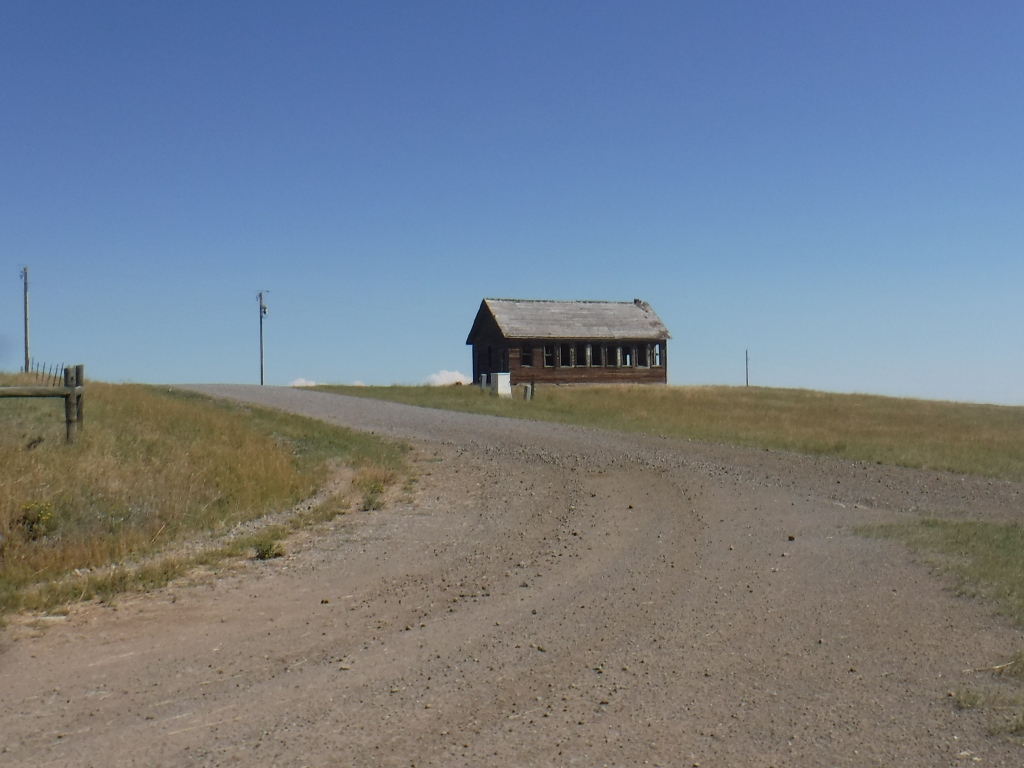 Looky at what you can find just wandering around.
I guess that's what Lewis and Clark did.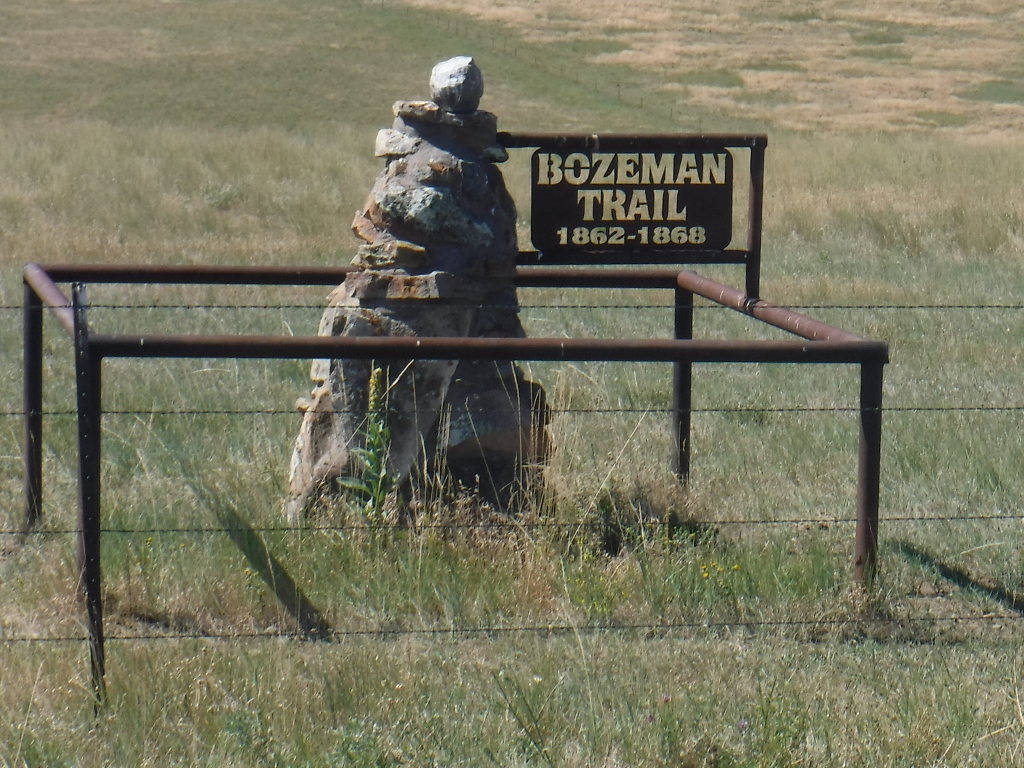 This old bridge spanned the Spring Creek and was West of Absarokee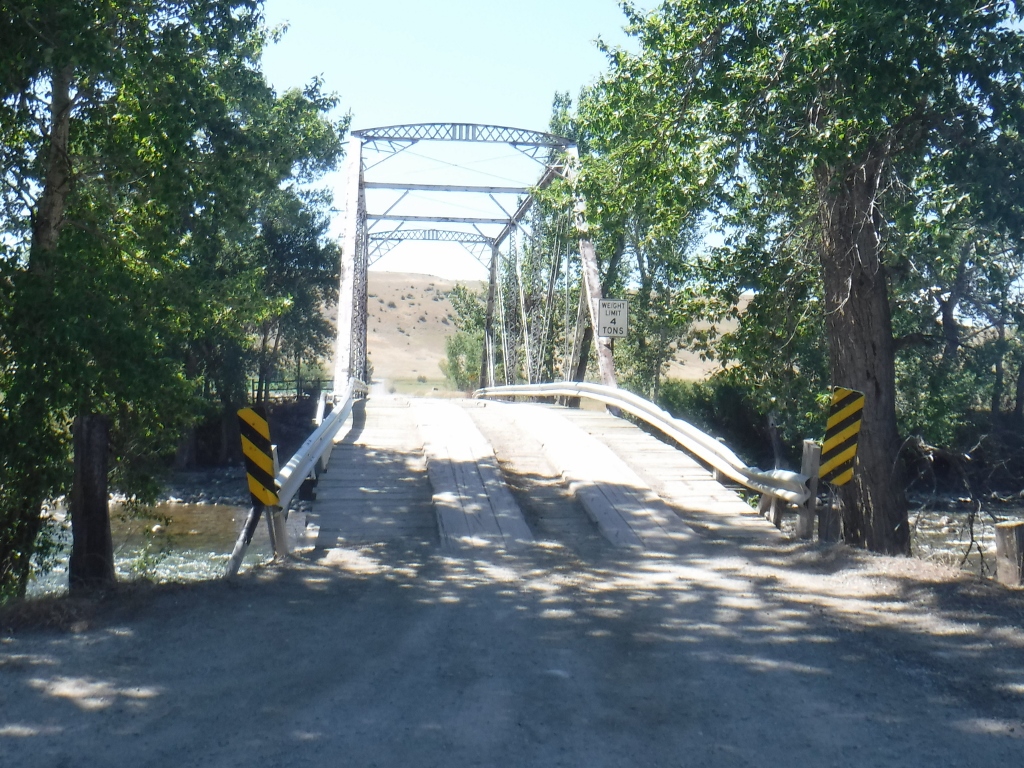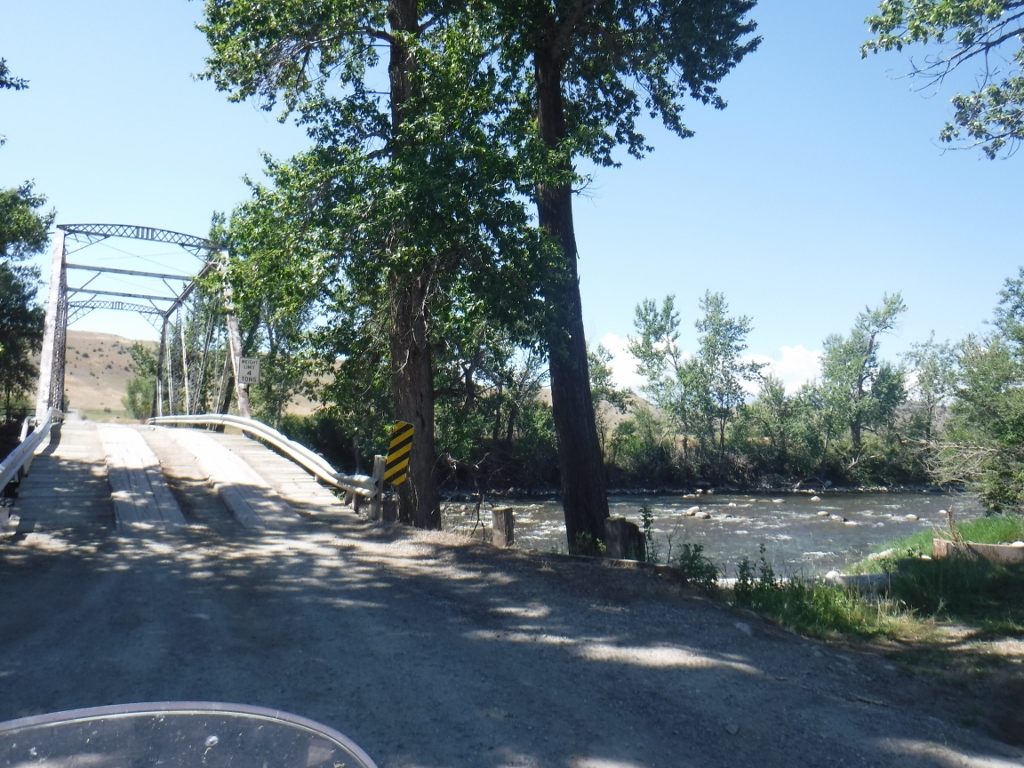 I intersected paved 78 and ran south into the town of Red Lodge and invited myself to eat lunch with these 2 brothers.
We had tacos in town and parted our seperate ways----------nice guys.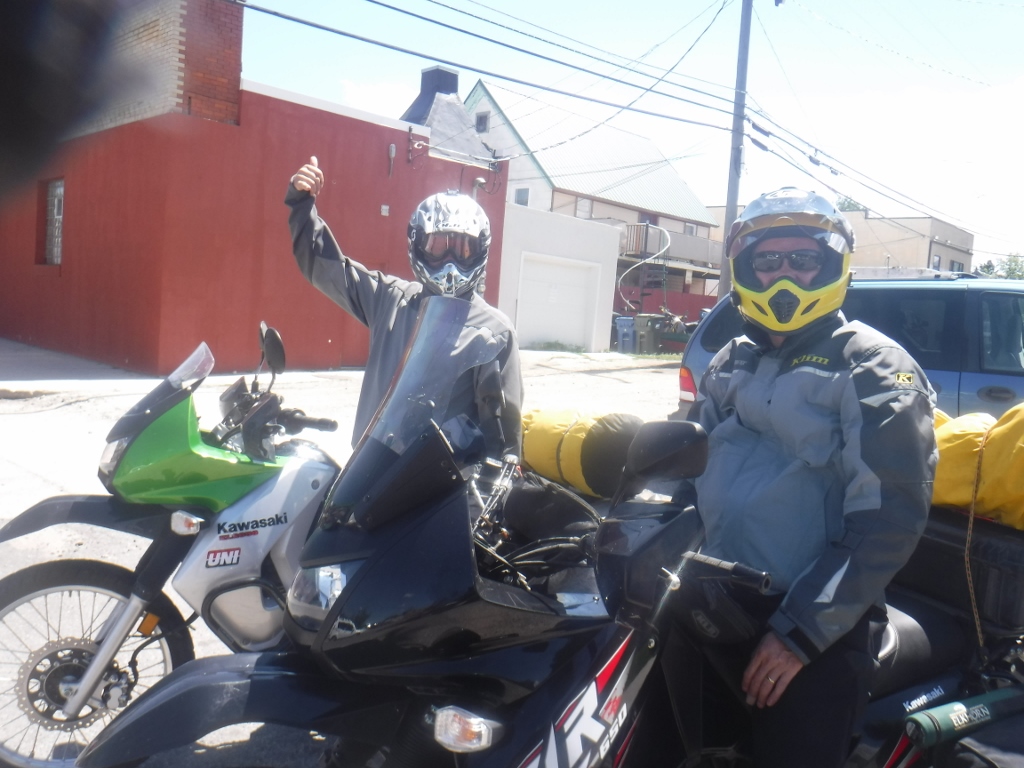 Look at the switch backs on my gps as I rode up to Bear Tooth Pass.
Elevation 7,600 ft. here--------but it gets much much higher.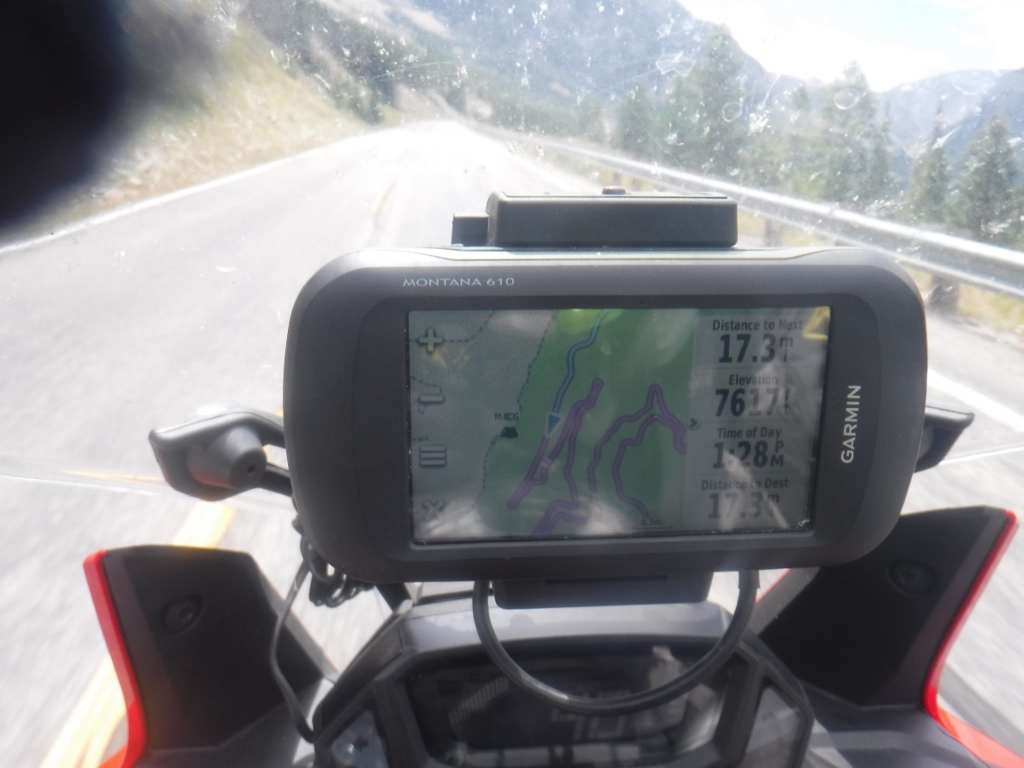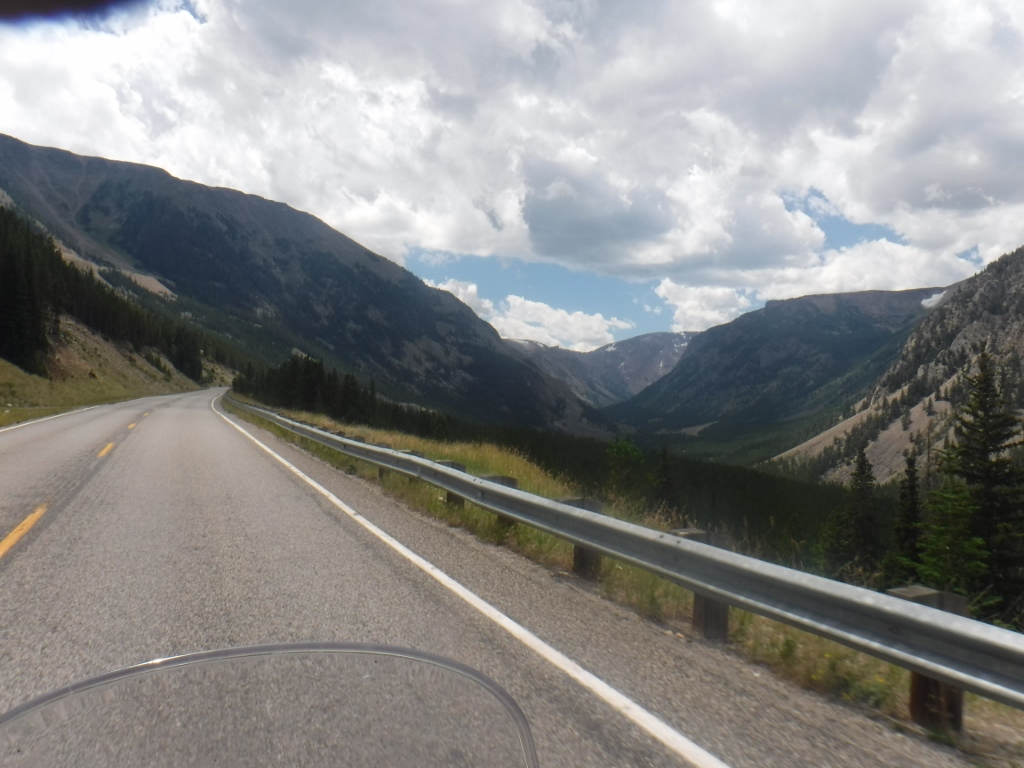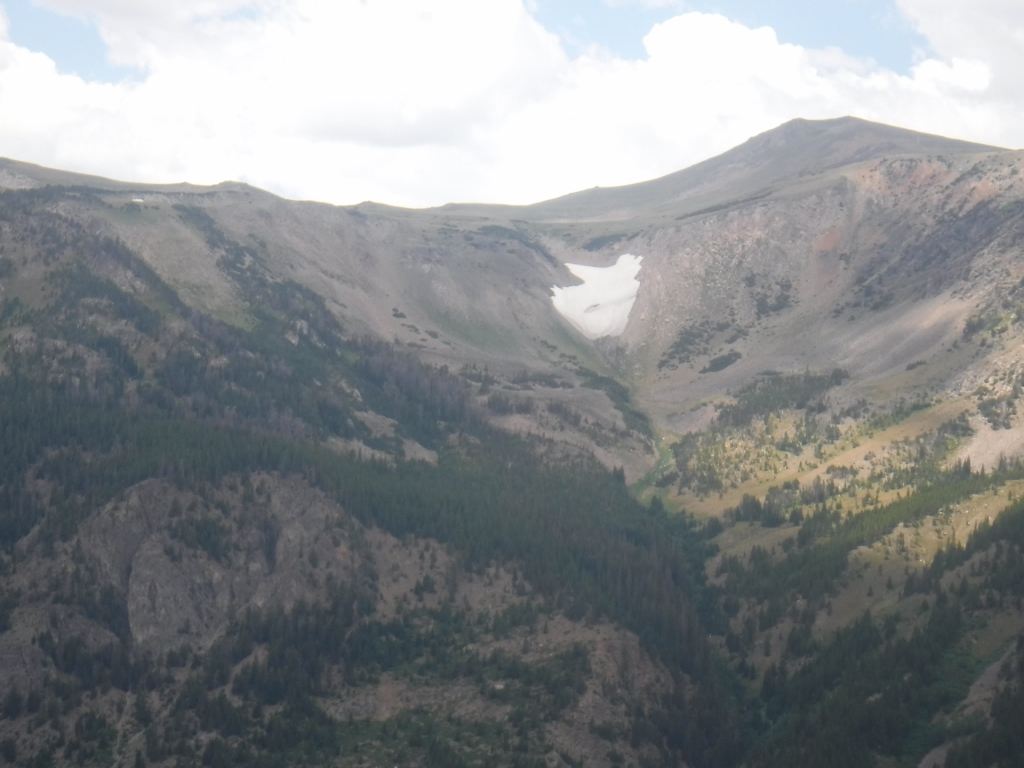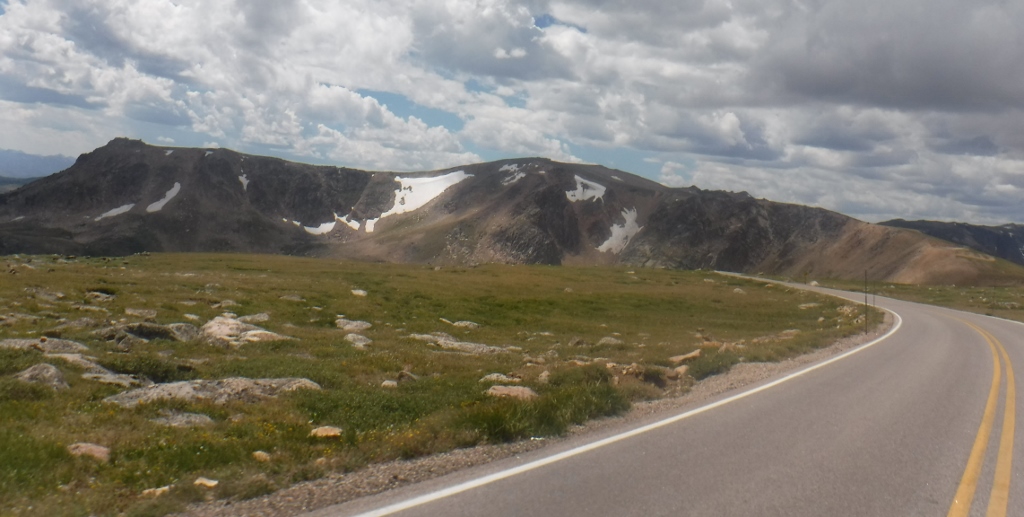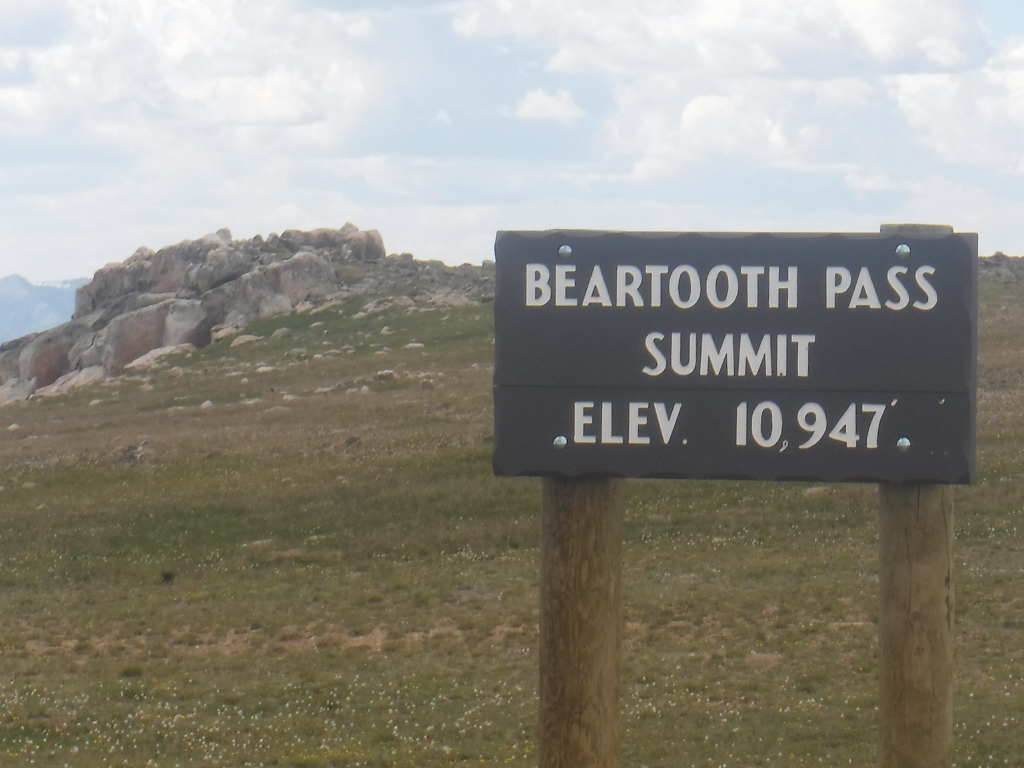 It was pretty chilly up here.
The little windshield on the AT keep the wind off of you really well--------no buffeting either.
I couldn't tell any loss of horsepower with the bike-----but it's got way more than I need anyway.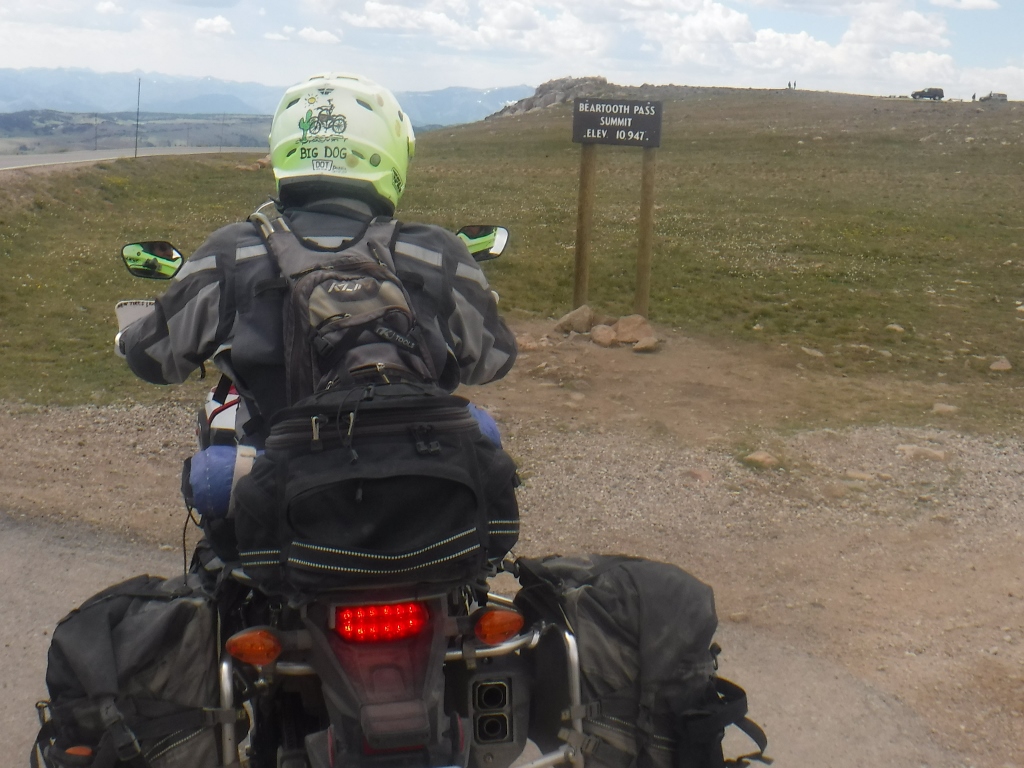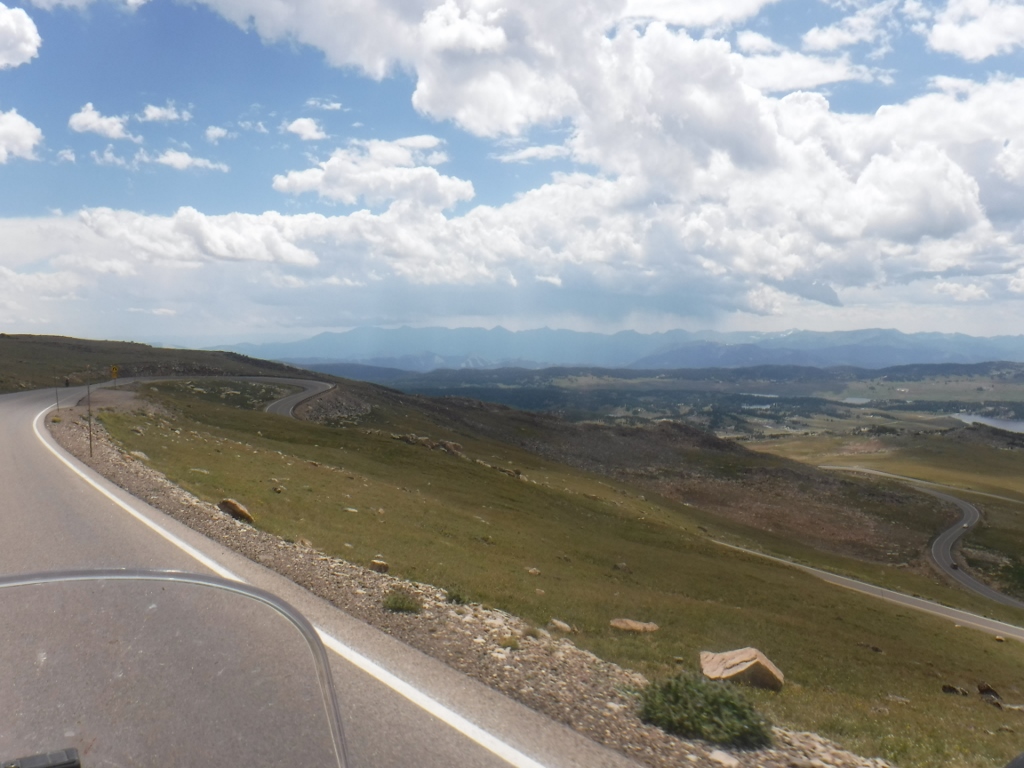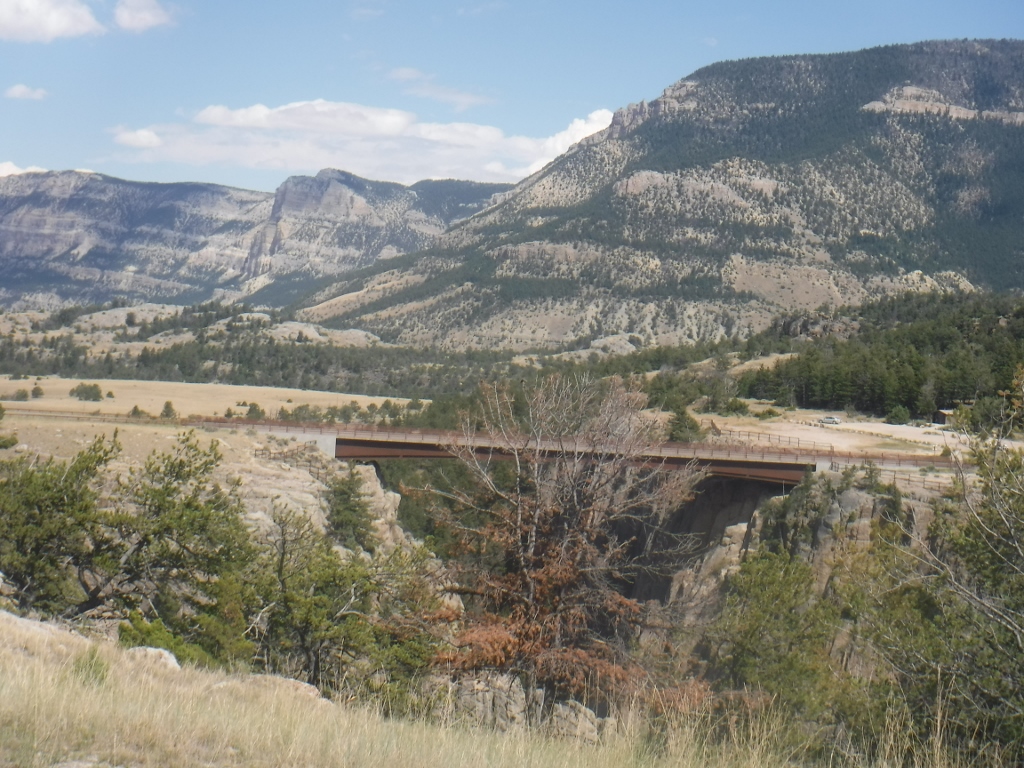 I stopped at a little campground to take a break--have a snack and try to not get eaten by a grizzly.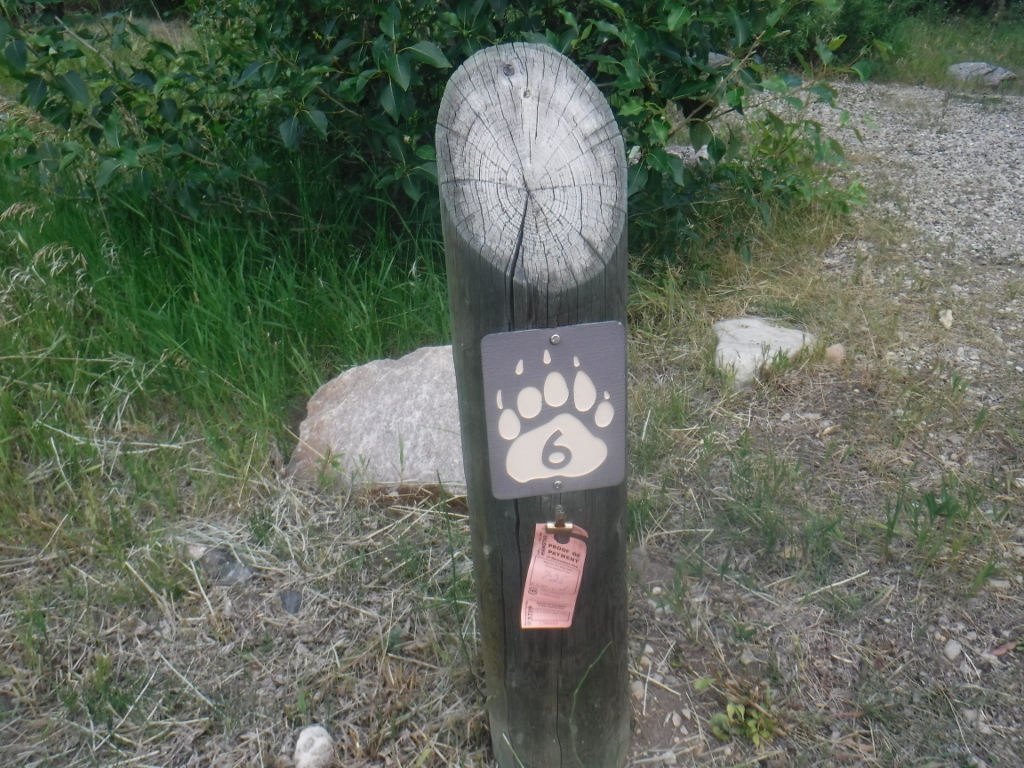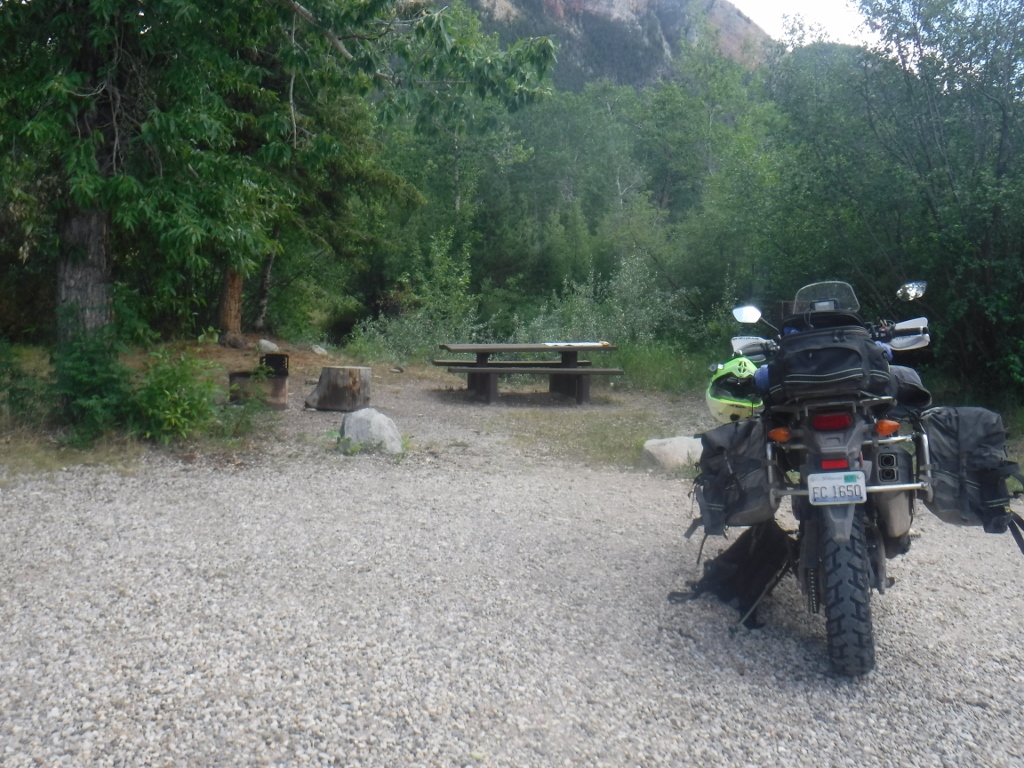 After riding Bear tooth pass highway I rode the Chief Joseph scenic highway.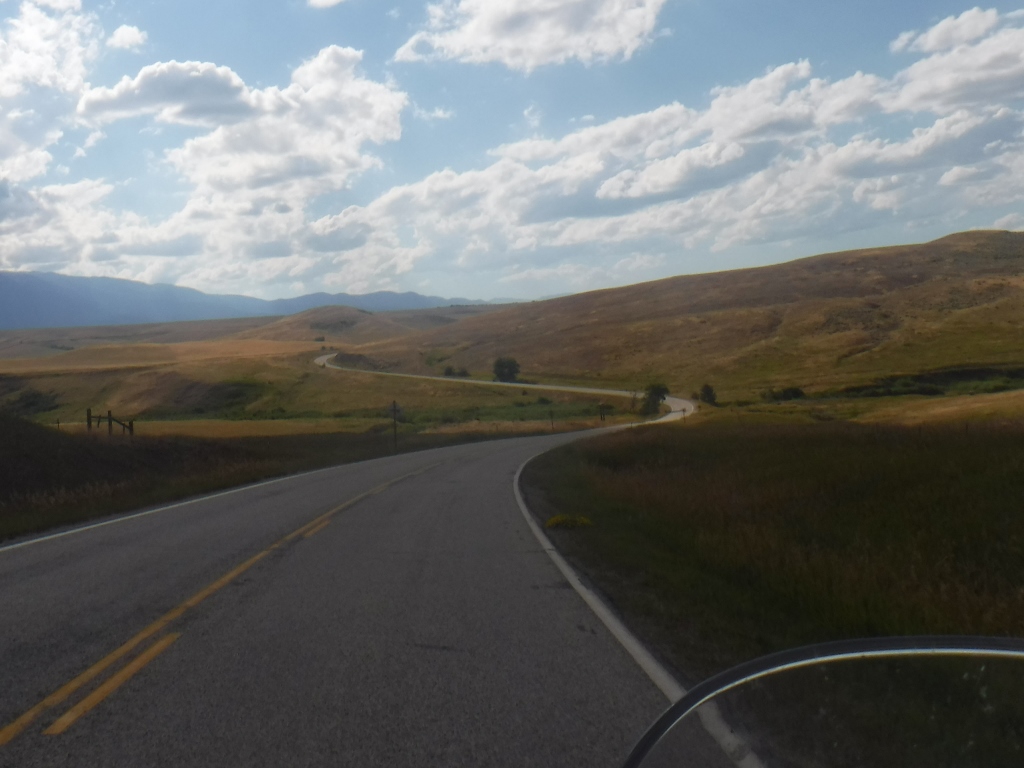 I ended the day at the Lazy J motel in BigTimber, Montana.
Big Timber is really not big at all--------nice little town.
Some guys tailgating in front of their room were cooking brats and burgers and fed me---very nice of them.
They offered up a beer but I don't really like the stuff.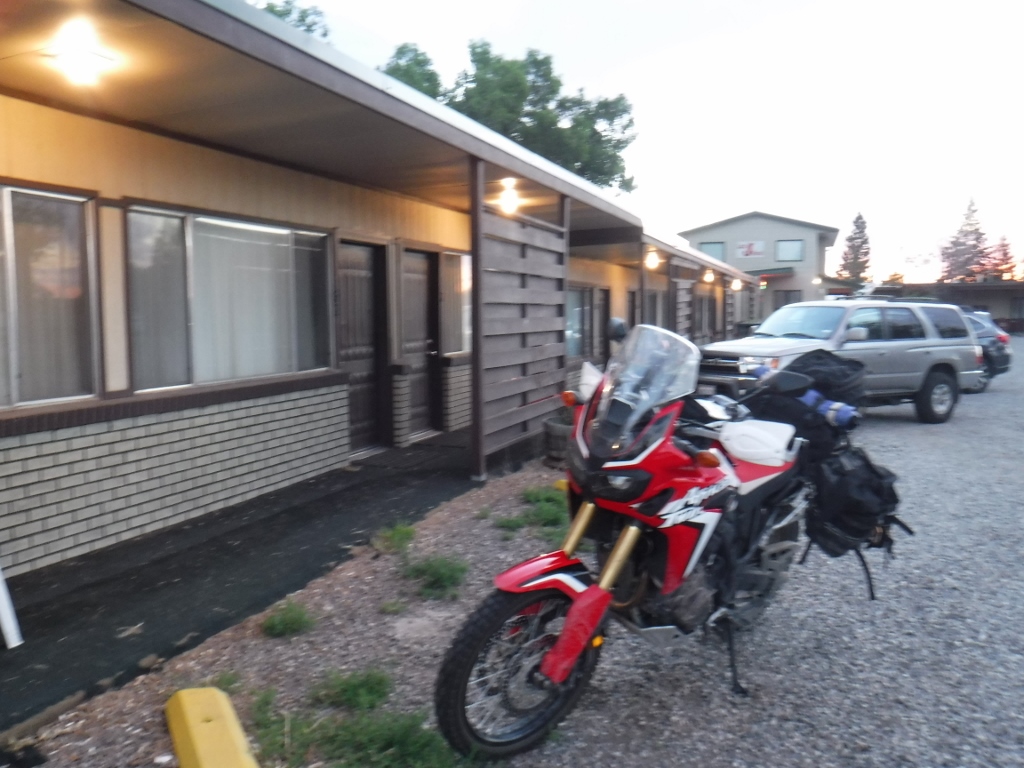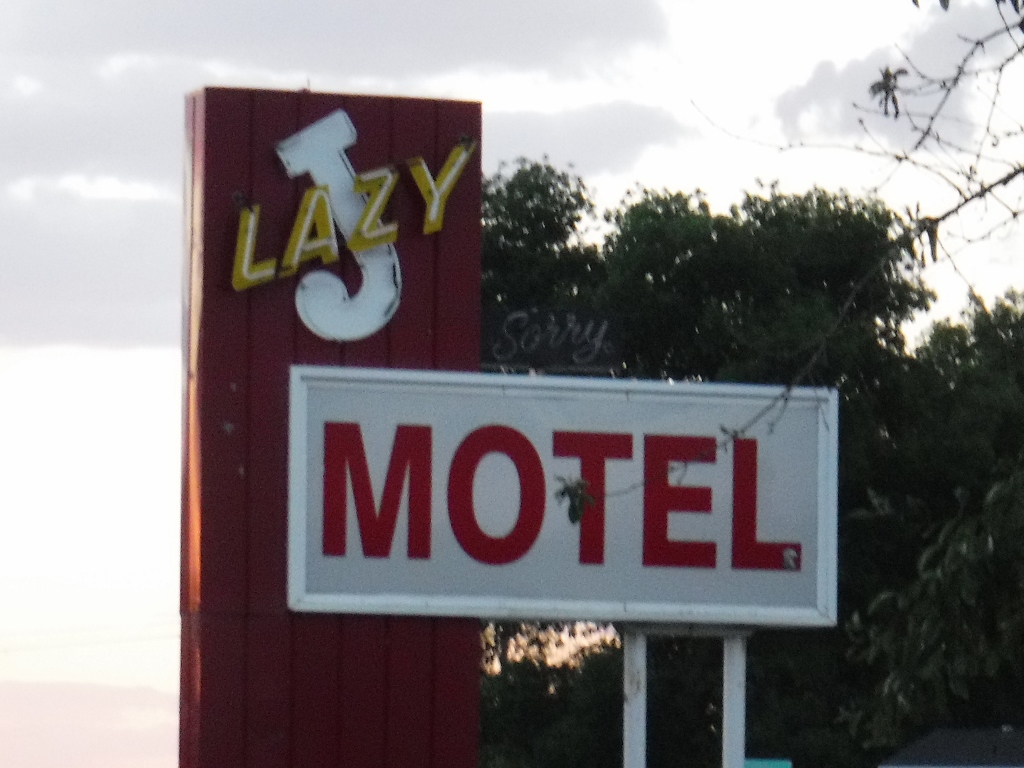 Here is a short Video of the day.
This next day I made it back to my van in Stevensville, Montana and tried to find some
unpaved fun stuff on the way.
Skalkaho Pass road came into my mind.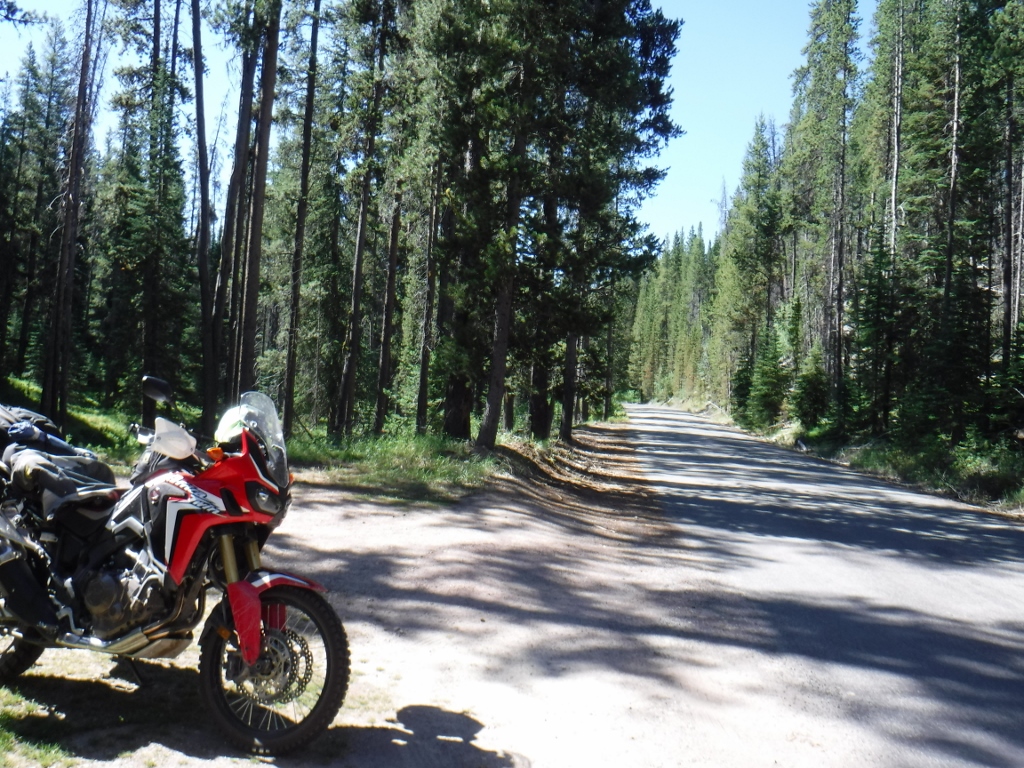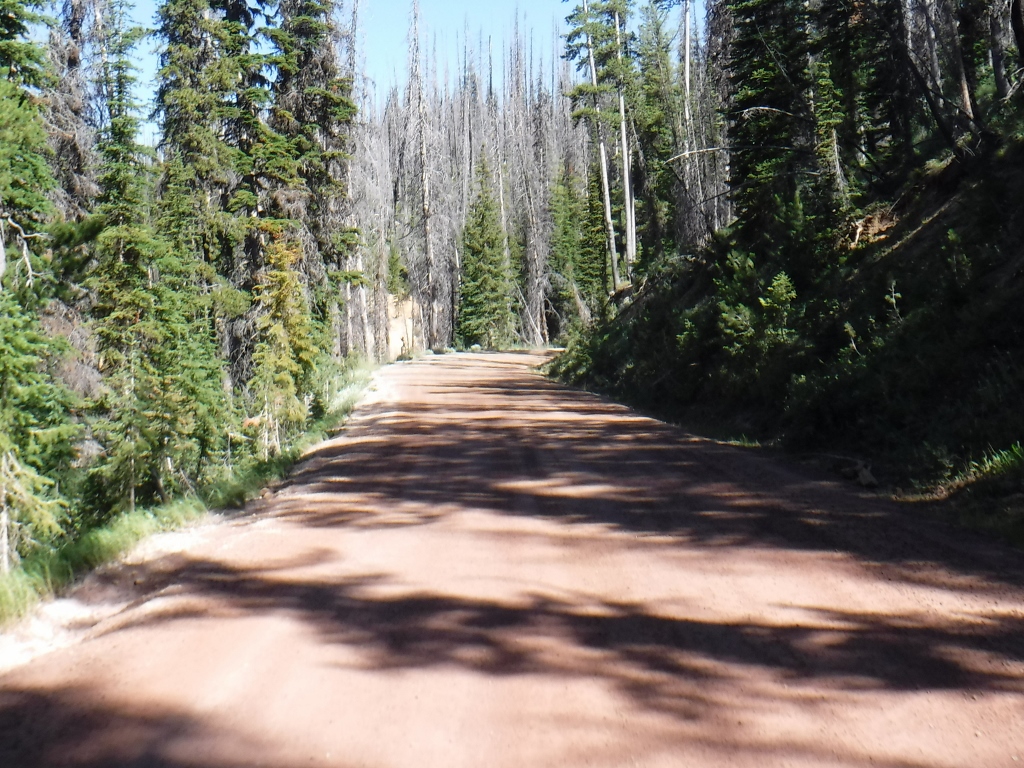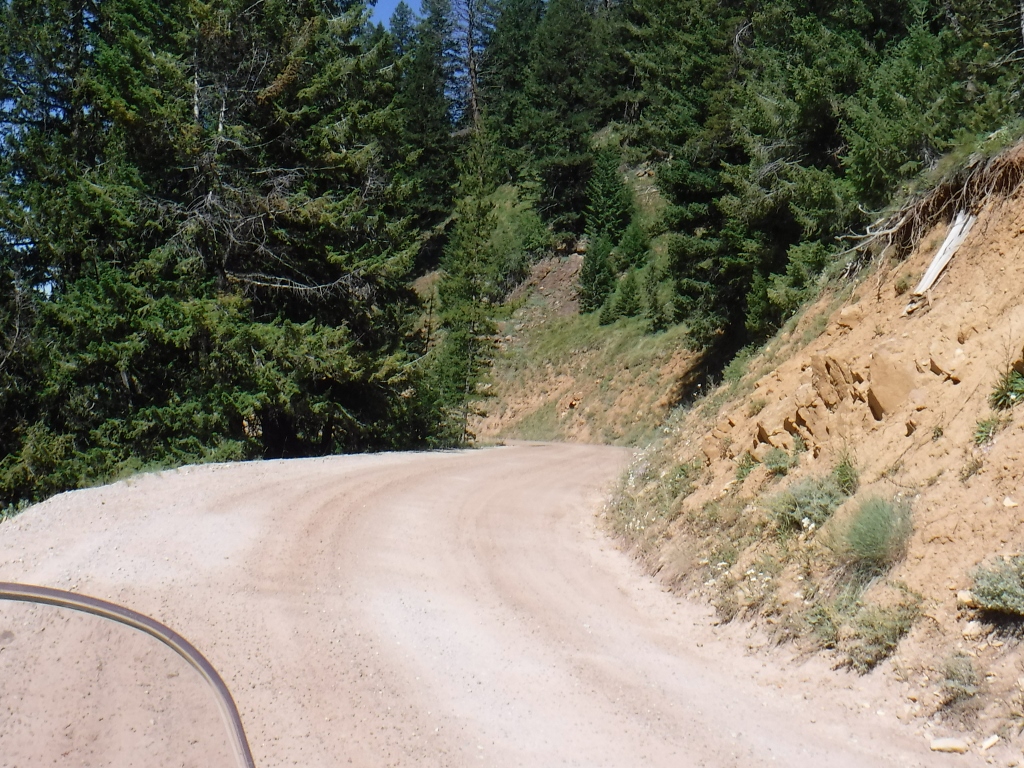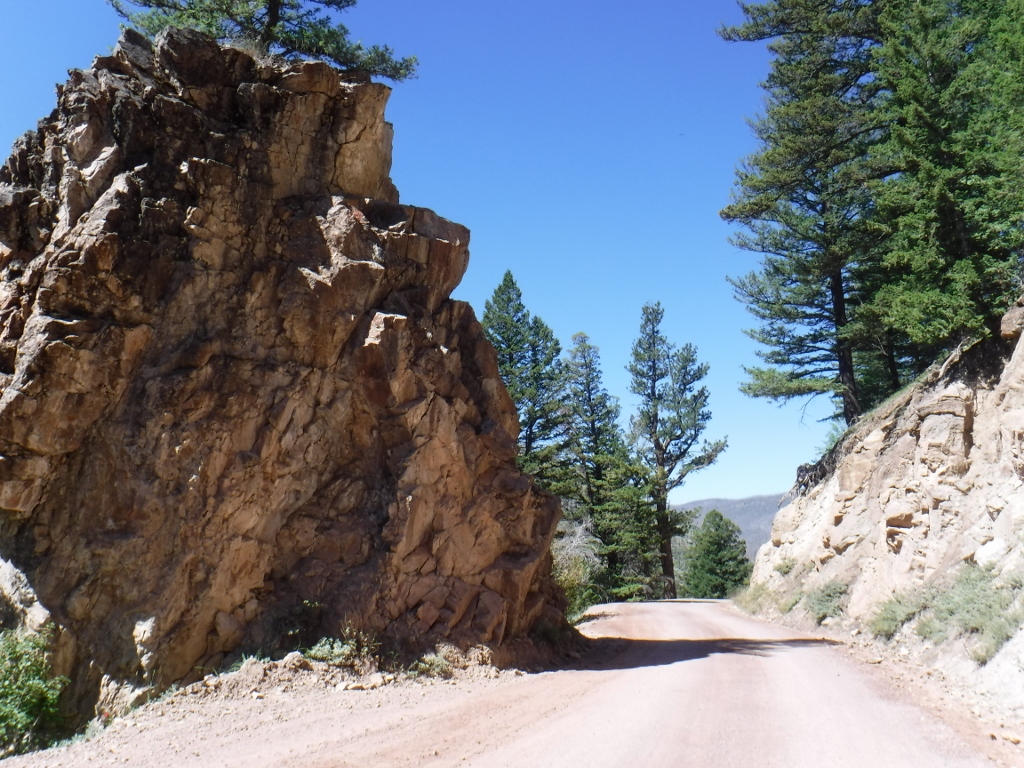 Which led to Skalkaho Falls----and I remembered-----------I've been here before--------dummy.
I remember seeing this art on the side of the road in Stevensville----------so stopped for a picture of it.
Lot's of pipes----------bet that thing was loud.
Here's the last video of this ride.
I loaded up my bikes at Rons house------he wasn't there as he was out riding.
And I wanted to soak in these hot spring again that me and Jerry did last year.
Nobody was there.
This is on the Lemhi pass road down a dusty dirt and gravel road----I know it looks all modern--but it's out in the middle of nowhere.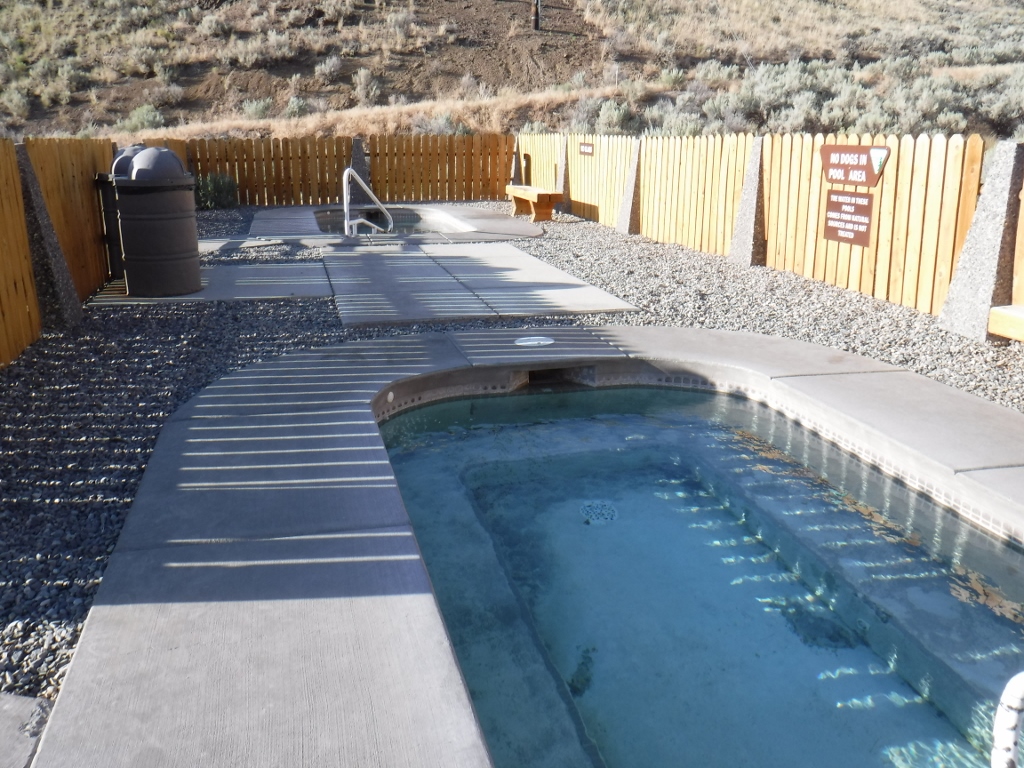 Look ma no hands.
Adios Pantelones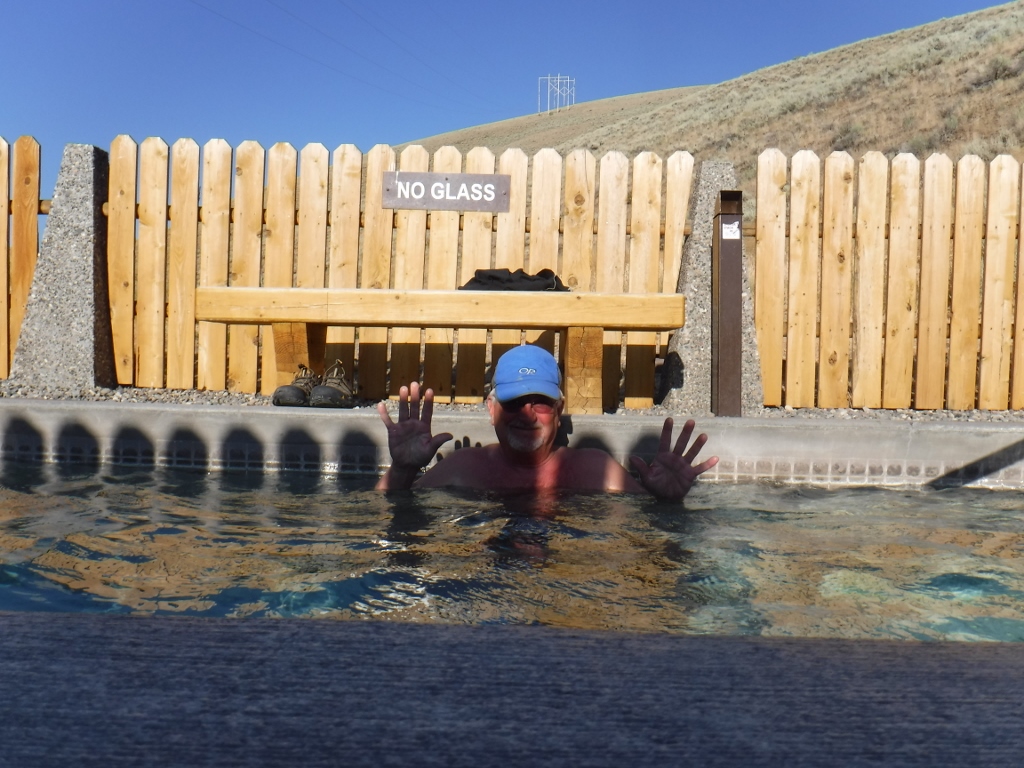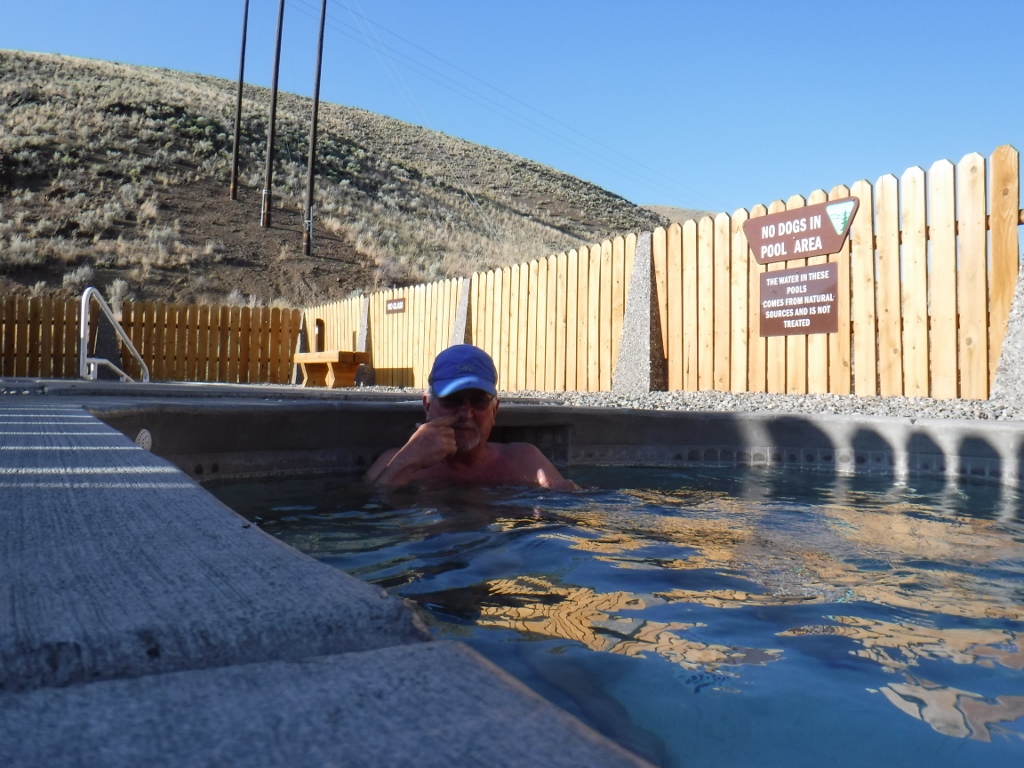 I stayed here until the sun set completely and drove farther South and camped by a river in my van
as it got nice and cool that night.
It was time to go home.
What a great time I've had---and bringing the 2 bikes let me do some extra things
I couldn't have done on just one.