Day 7
February 27th, 2014
Camp in Big Bend National Park to Presidio, Texas
These were just off the main gravel road to designate the campsites.
My camp was camp De Leon.
I thought they were tombstones !!! Heck---maybe they were.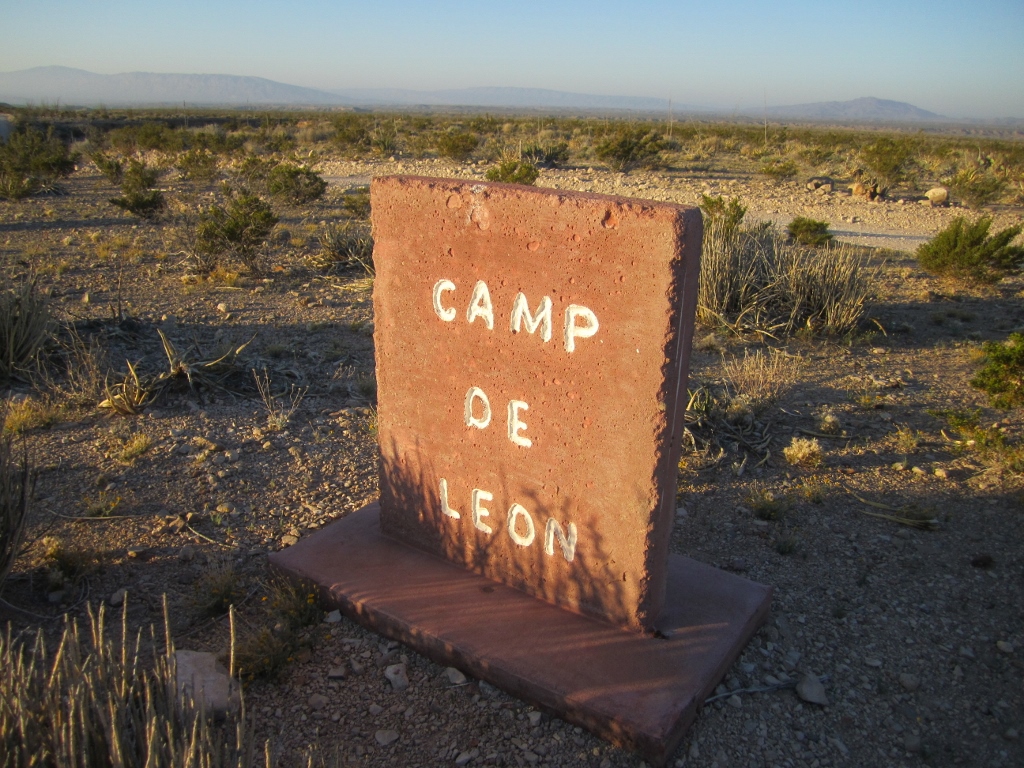 I head Southwest on the closest road to the Mexico border.
And it started out real easy--but had it's moments.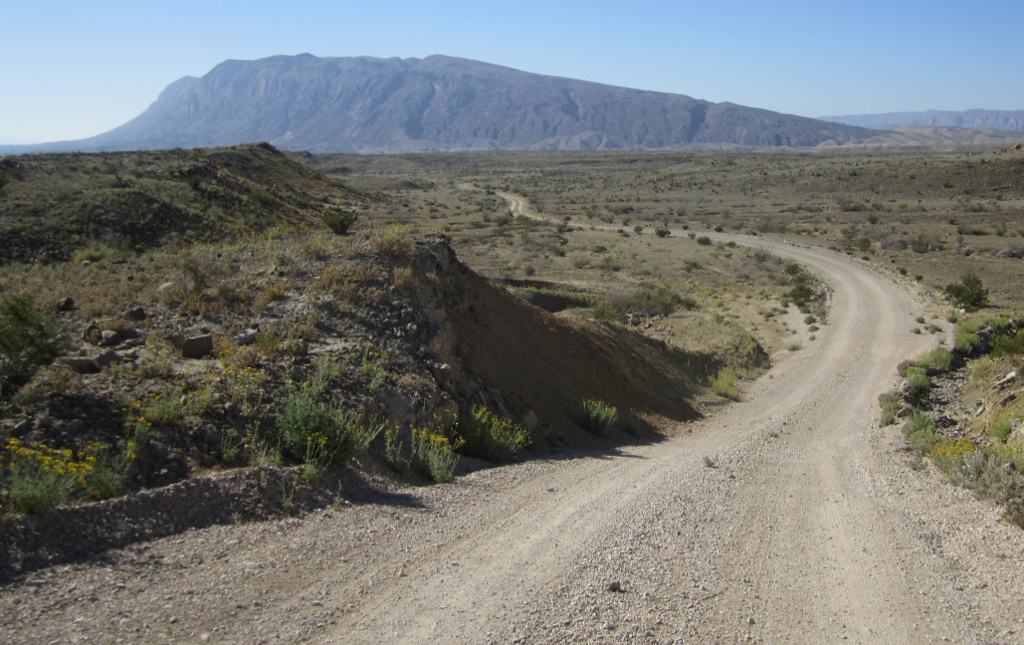 Thesee next 3 pictures were taken with my Garmin Virb camera on my handlebars.
It takes great pictures---and just the push of a button without really taking your hand off the handlebars----pretty handy.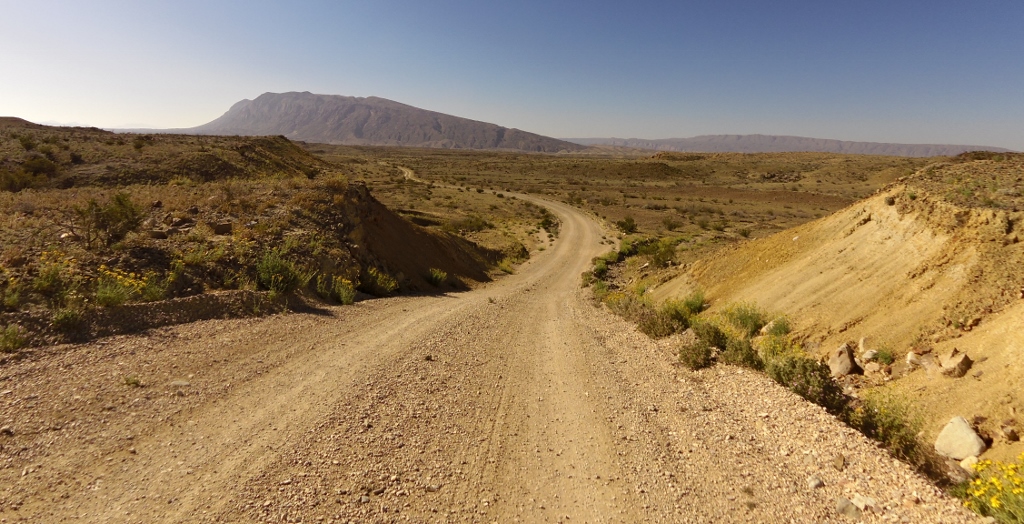 Stutter bumps---the Husky ate them up.
I'm really getting to like this bike.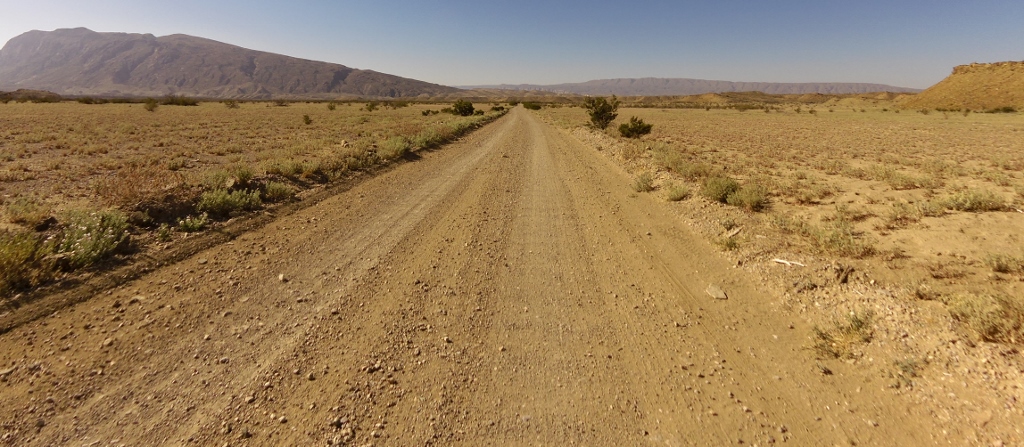 What a beautiful day it was.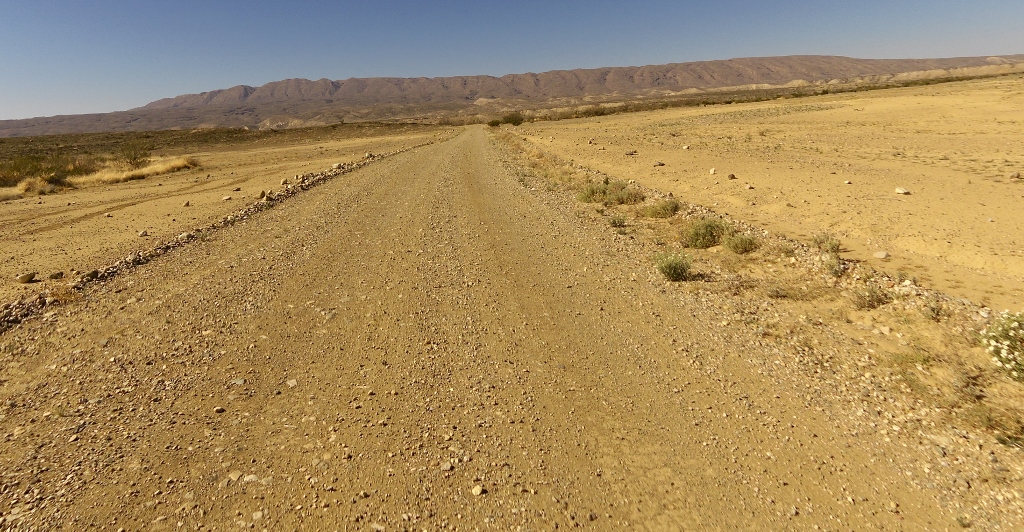 Border patrol came to check on me---heard the "BigDog" was in the area and was known for illegal border crossing.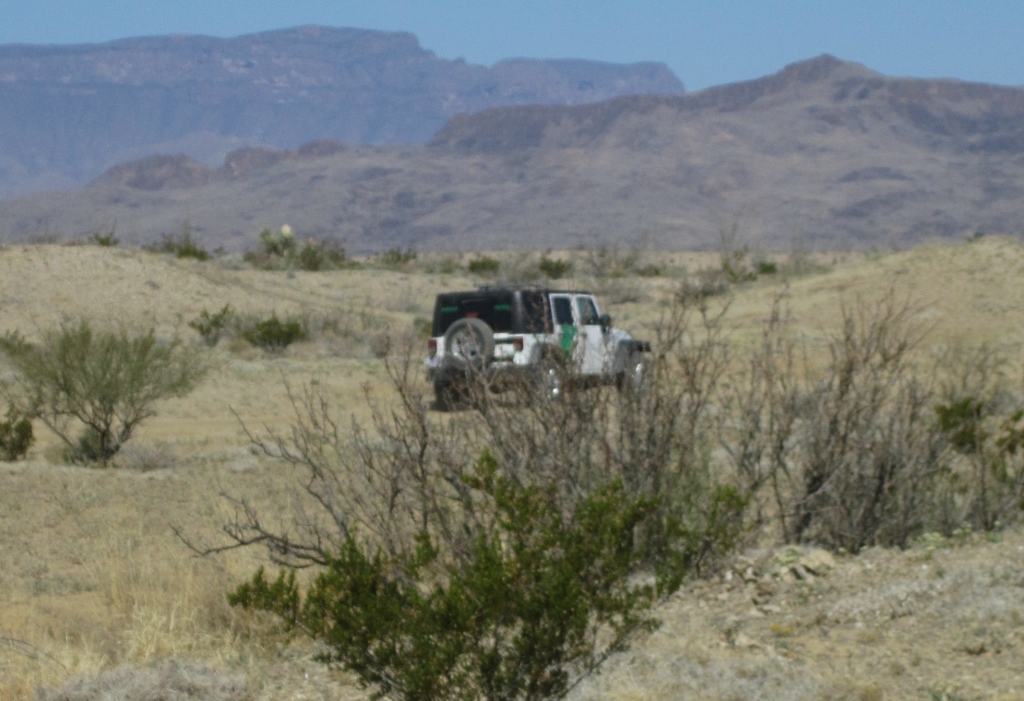 No shame falling down in this stuff on a 400 lb. fully loaded bike. I didn't but was lucky---I'm just not that good in this stuff anymore
and admit it. Plenty of pictures of me down on the net. It happens to us all.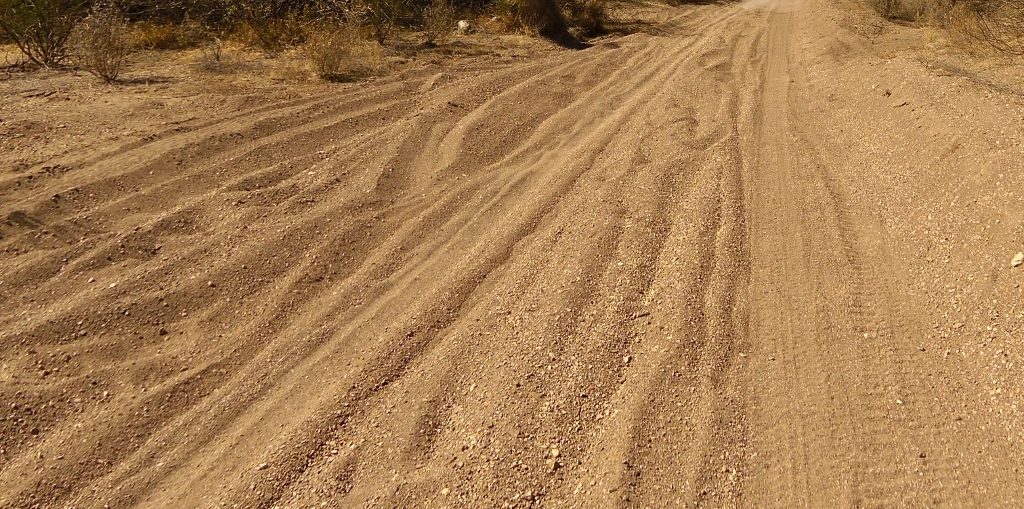 The Mariscal Mine came into view.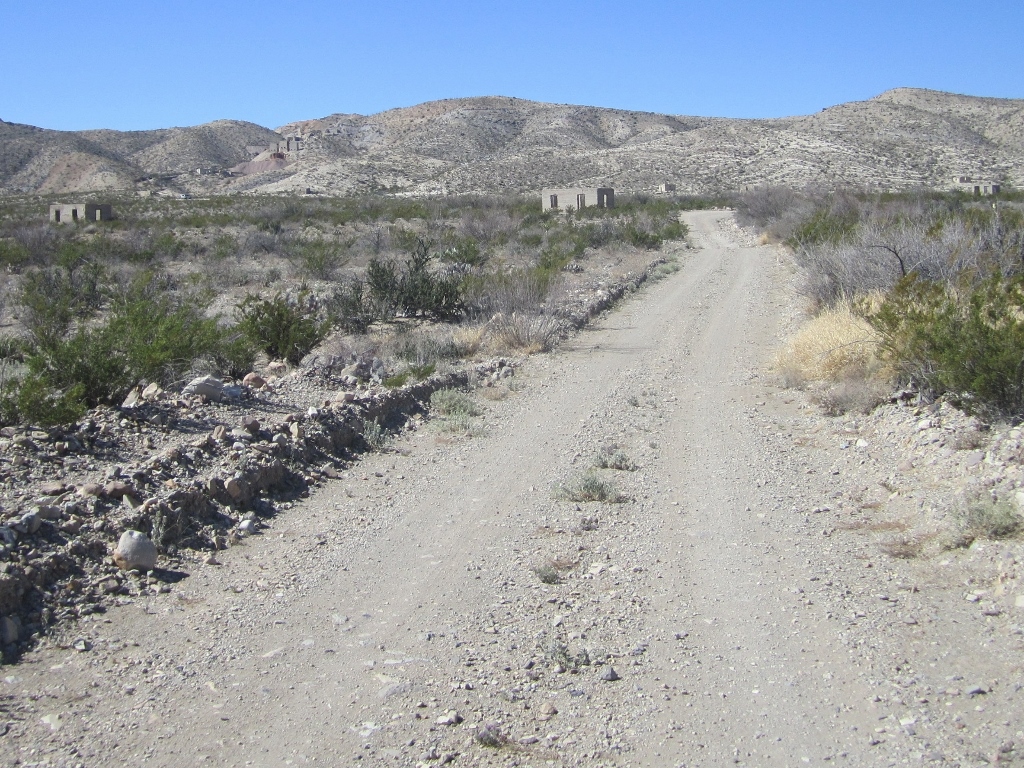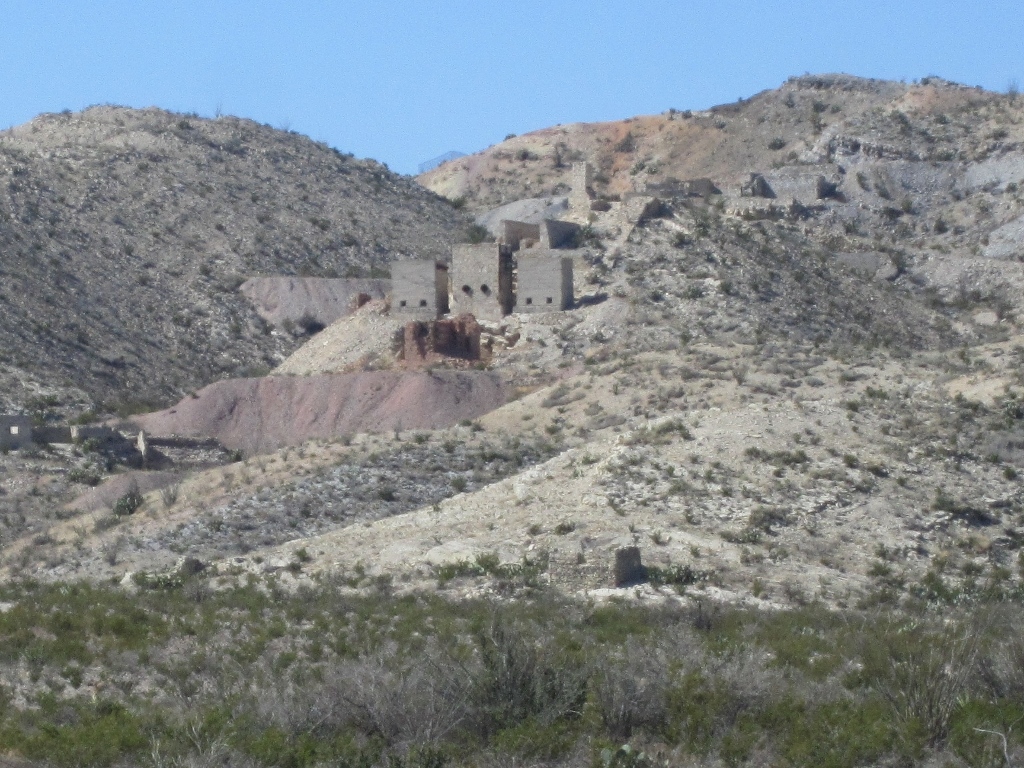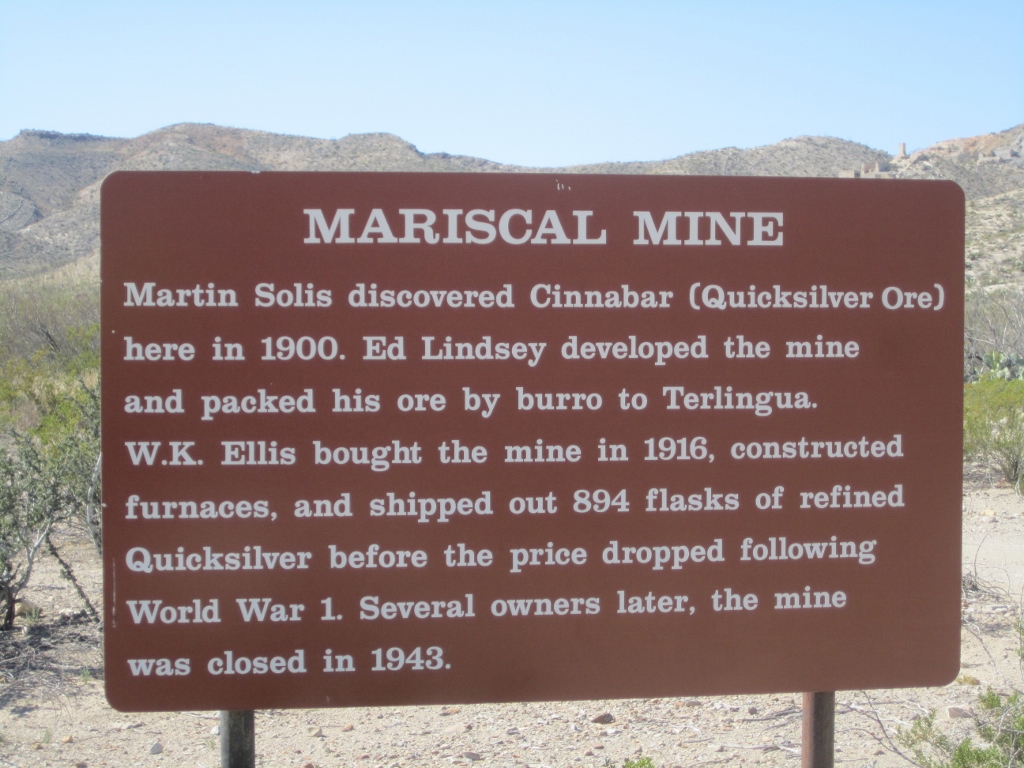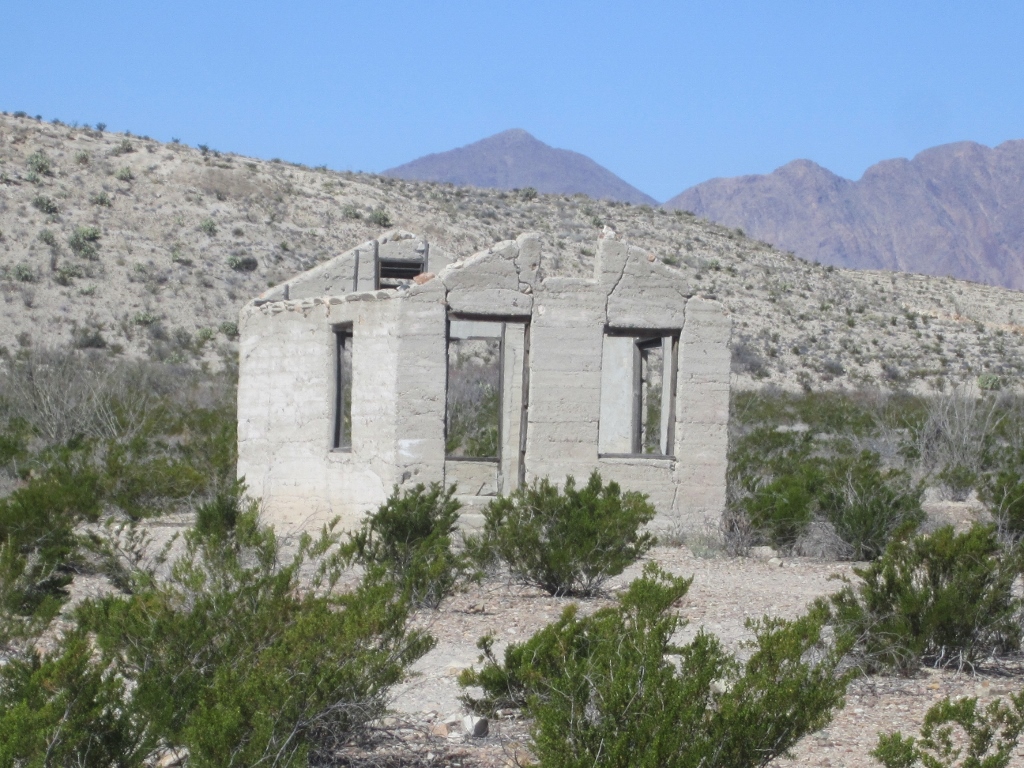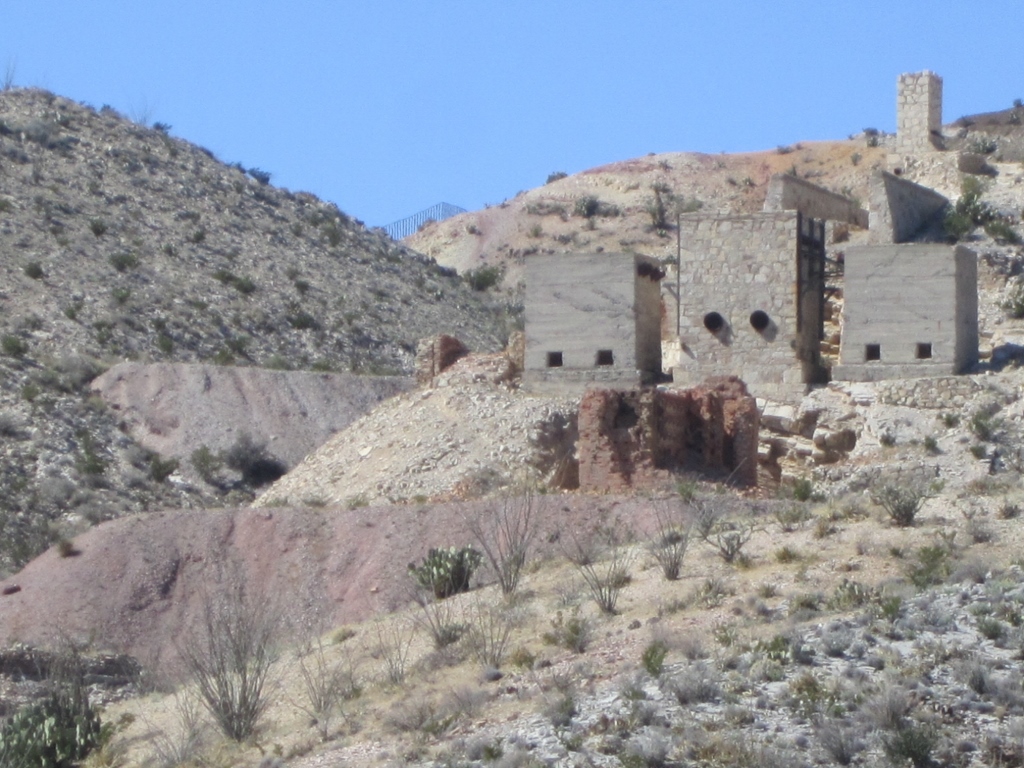 If you go 200 ft. South of where I'm at---you'll be in Mexico--and you'll step in my poop pile.
No disrespect---just had to get in the bush a bit.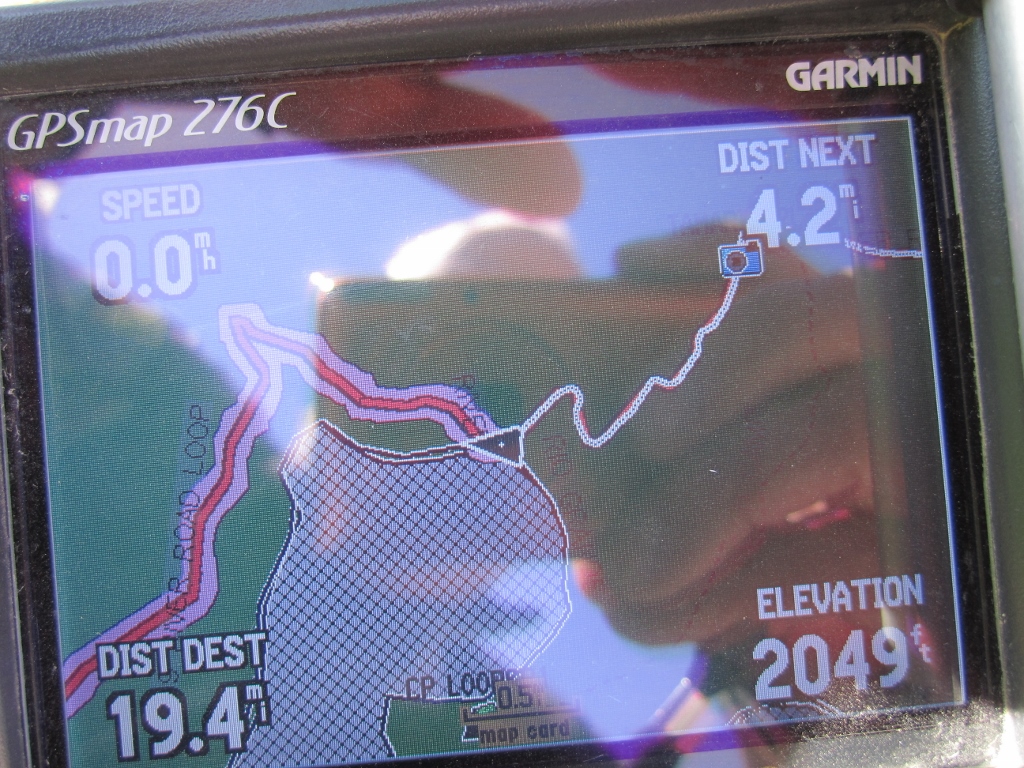 Out there in the Abyss--watch your step.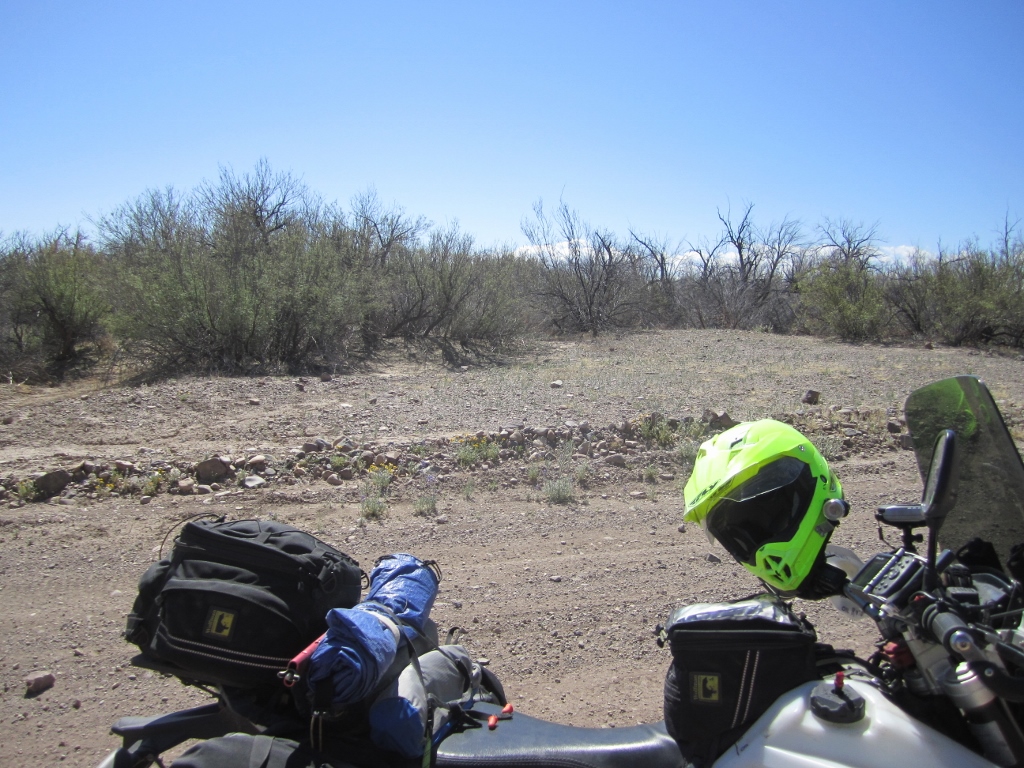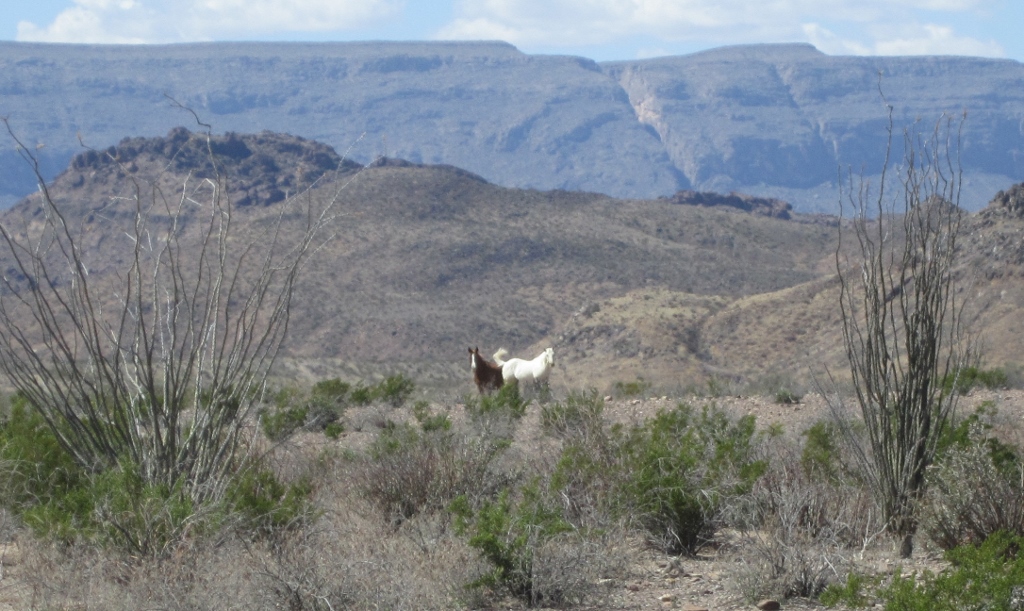 The road turned straight North to the pavement that would take me to Presidio.
This was so beautiful thru here and was really easy riding.
On the way.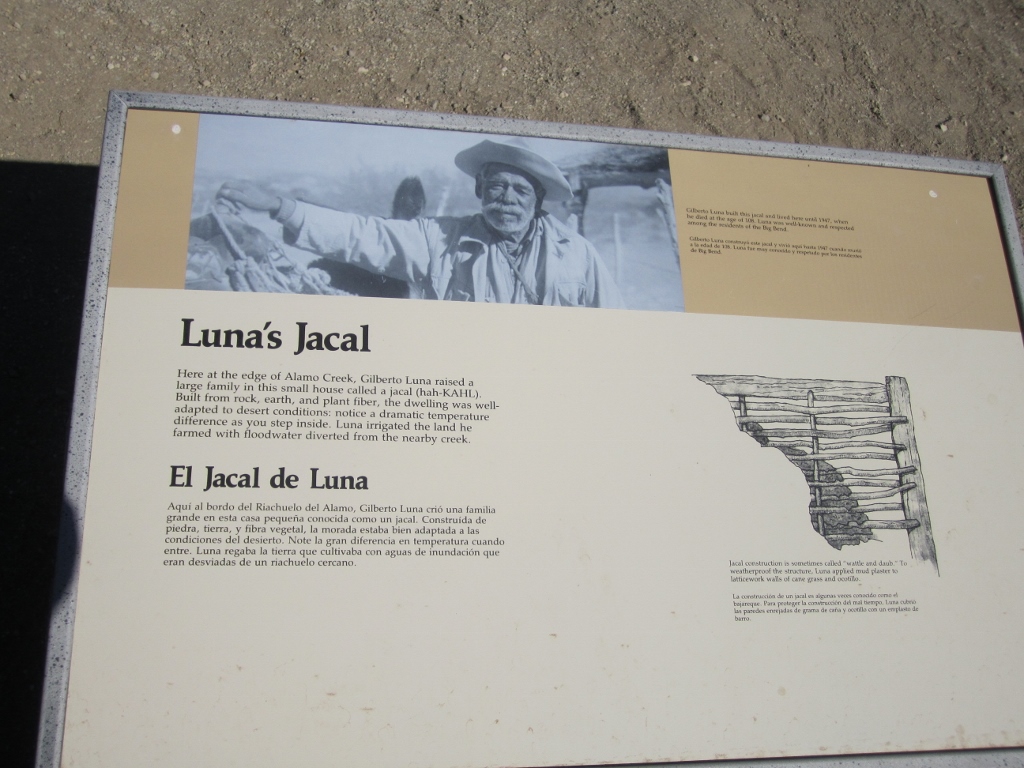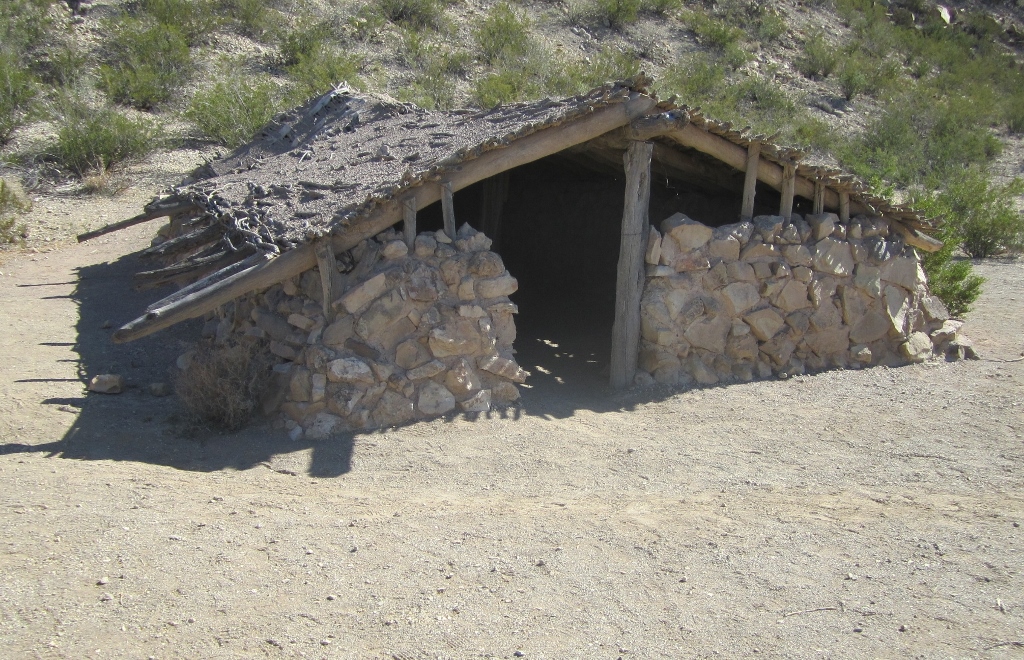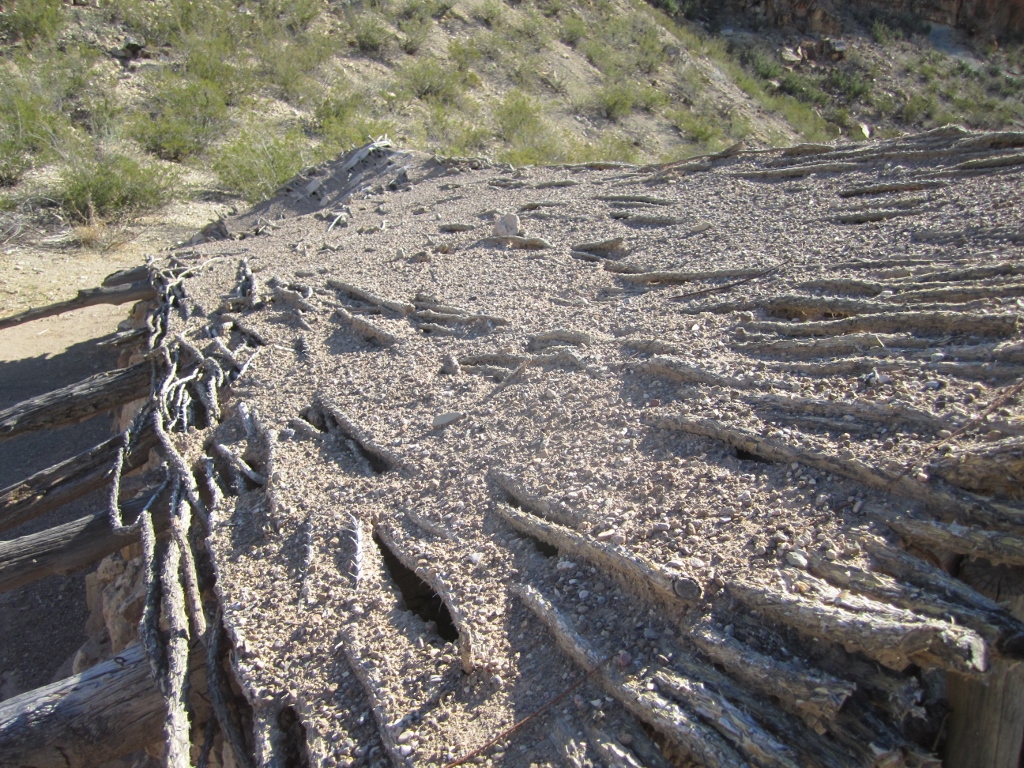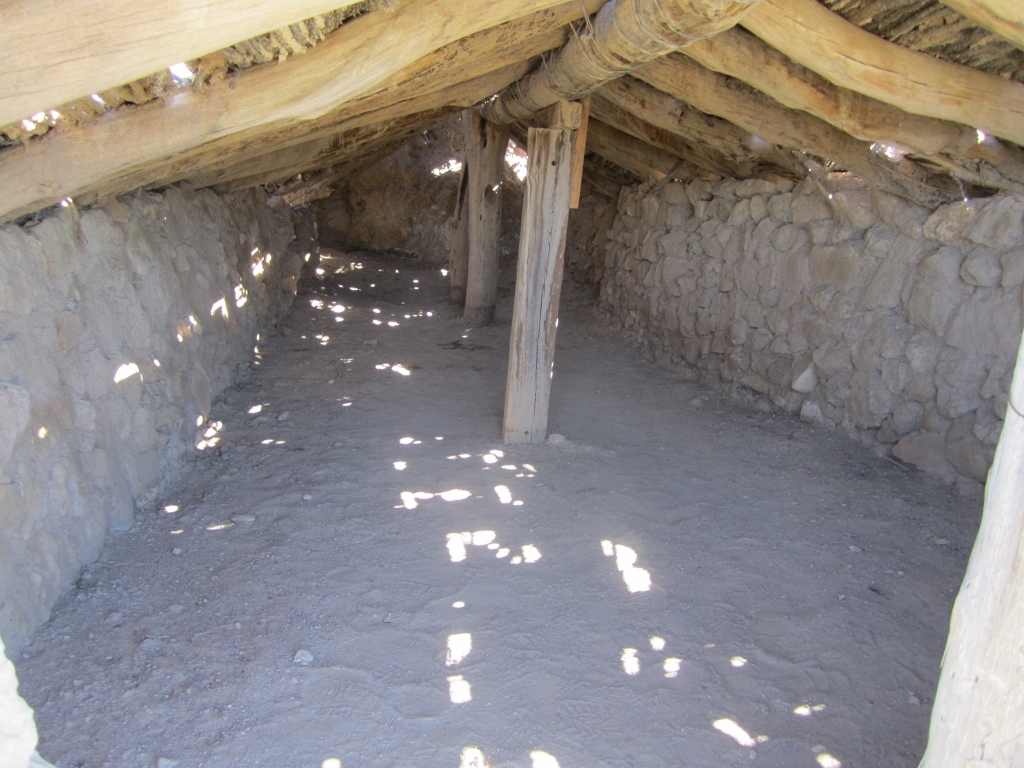 Pygmee People ?????
Who took this picture you ask ??? My camera--that's who.
Long walk in 10 seconds without falling down.
The Klim badlands pro jacet and pants I was wearing was perfect for this ride.
And rare adjustment of a vent zipper was all that was needed.
I don't wear this in extreme heat--I wear a pressure suit--and put a goretex shell over it when the weather turns nasty.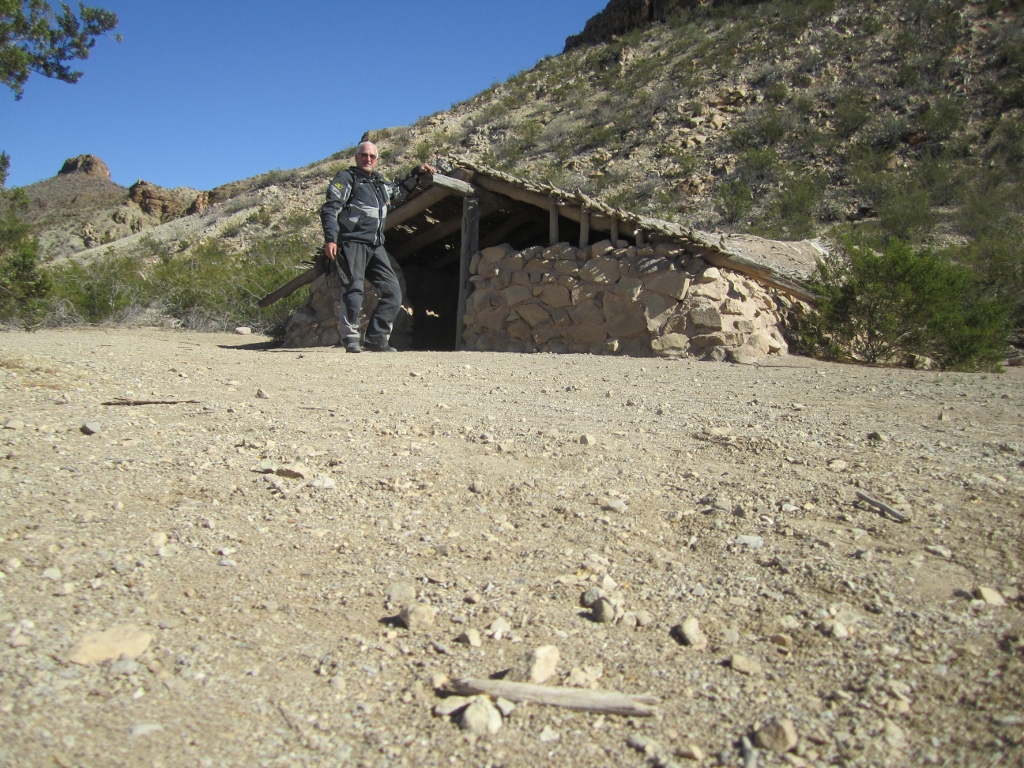 The paved highway to Presidio is one of the best curby mountainous roads in the US---route 170.
No pictures in the fun sections
I went by this sign and knew I'd be there tomorrow.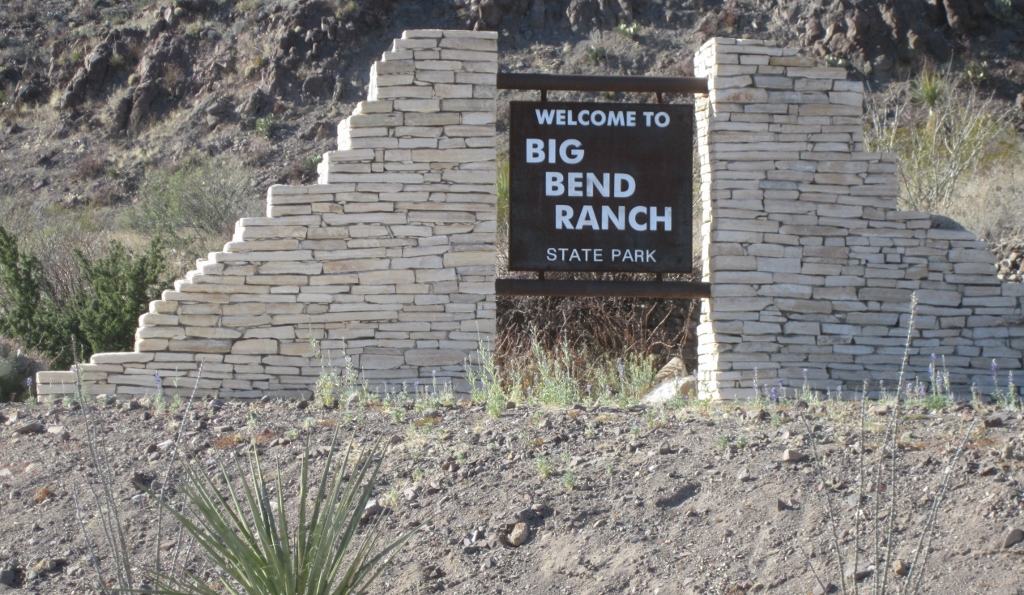 A rough map of the 155 mile ride today.
I ended up at the 3 palms motel in Presidio where I hauled many a bike to and left my tow vehicle when doing trips to Mexico.
Usually the motel is full of dirt and adventure bikers-----------it was empty. Too scared ??? Not me.
Day 8
February 28th, 2014
Presidio, Texas to camp in Big Bend State Park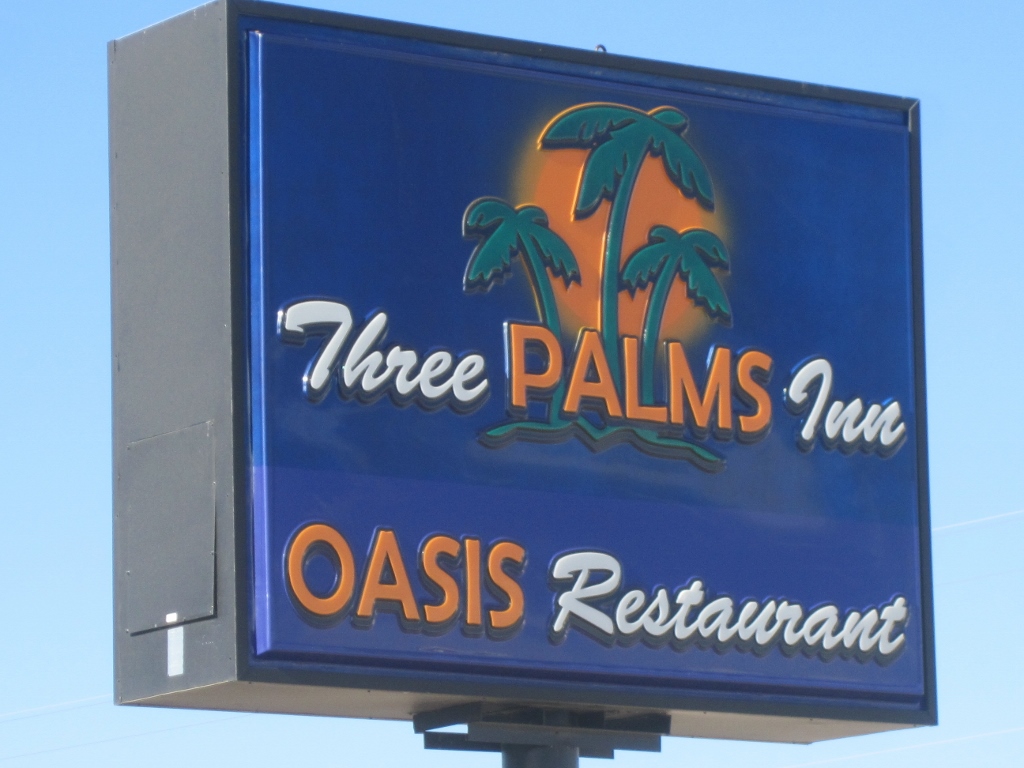 Headin' into Big Bend State Park--------stupid me---I just found out there was a state park right before I left ?????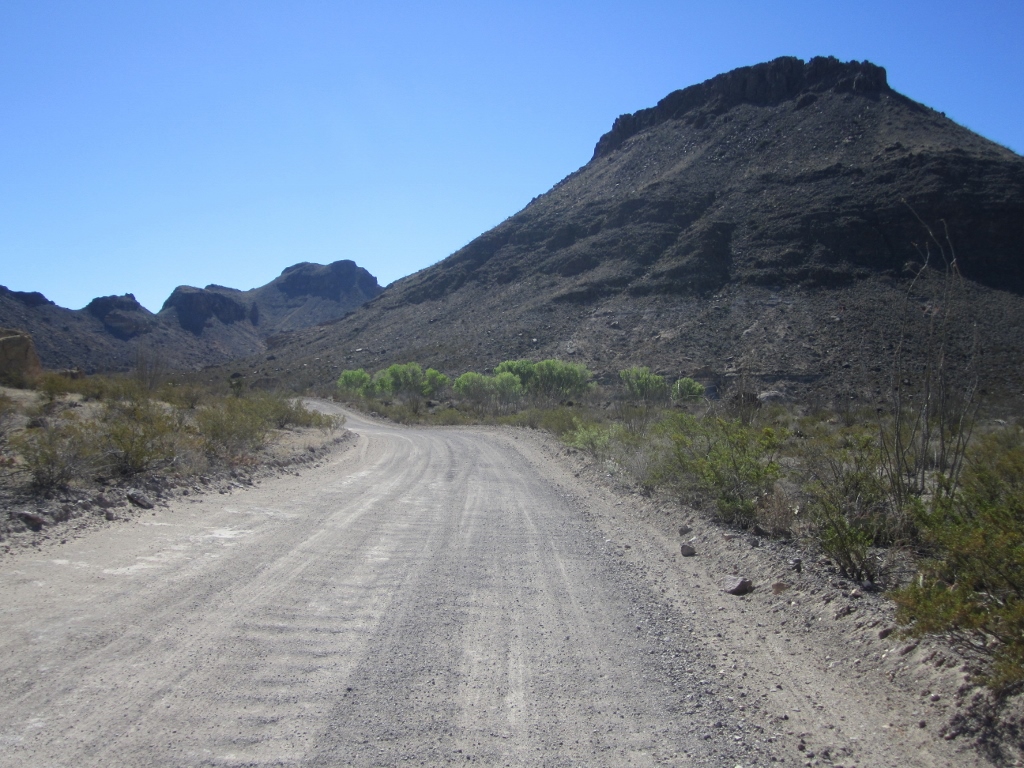 It was nice and warm out---so I tried to find a shade tree--------------well there wasn't any----for 200 miles in any direction.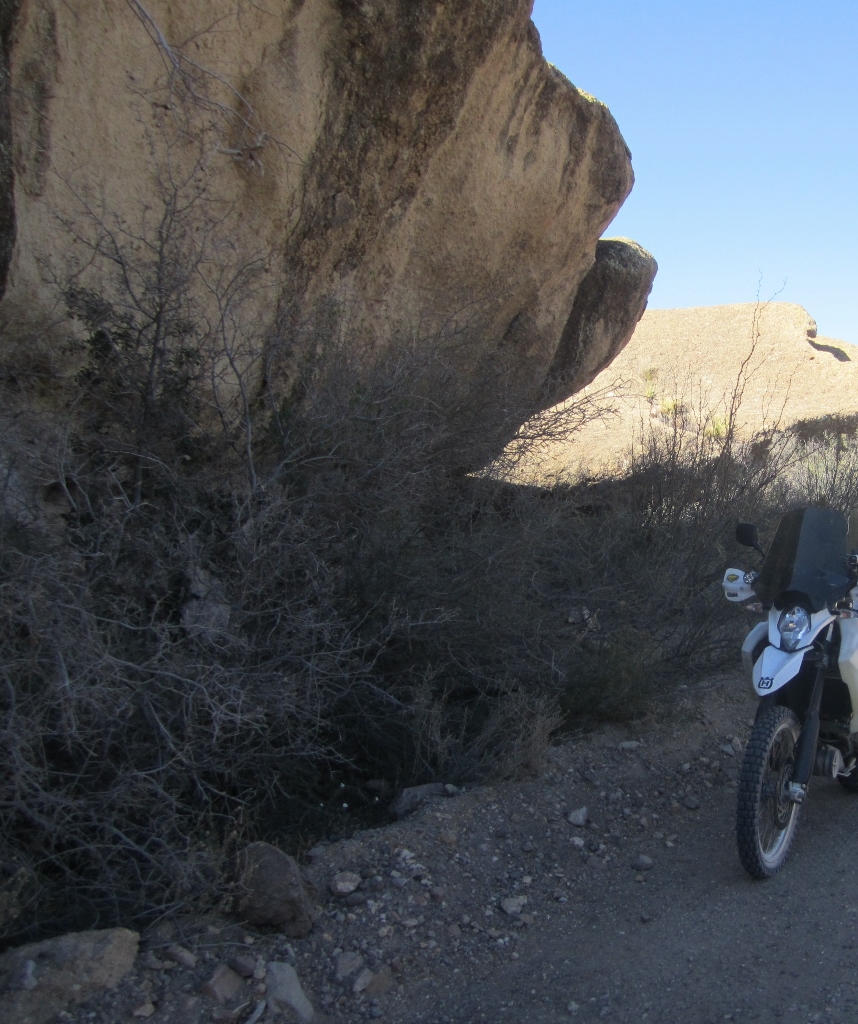 Indians had been here. Pretty cool that no one has bothered the writings on the stone.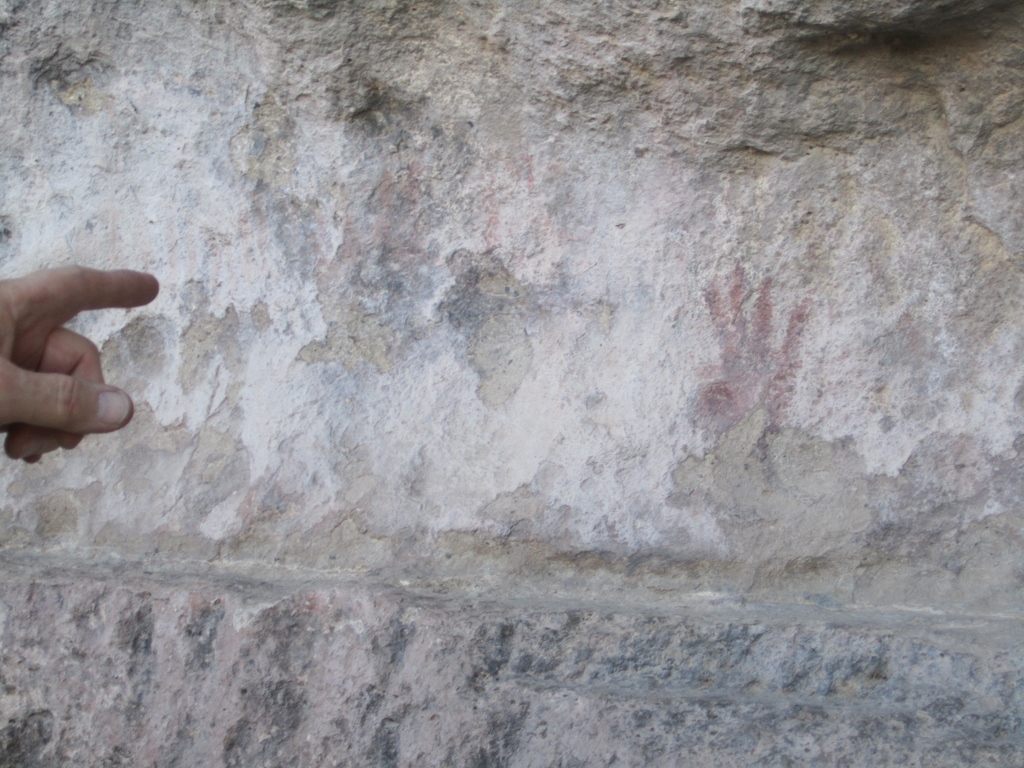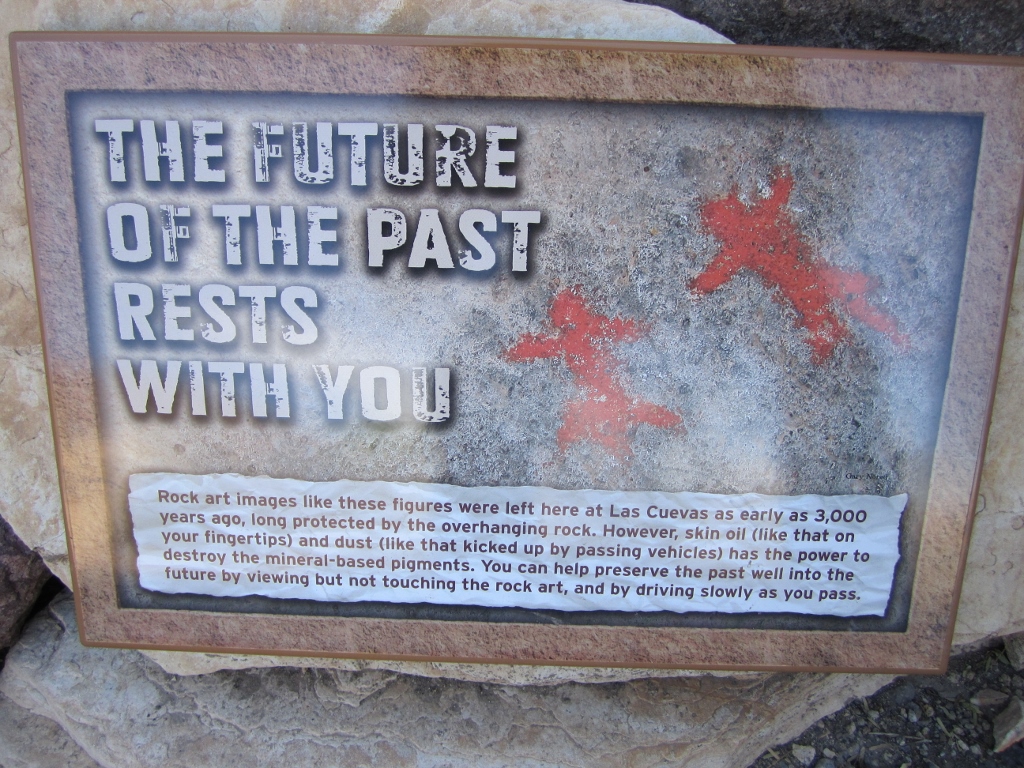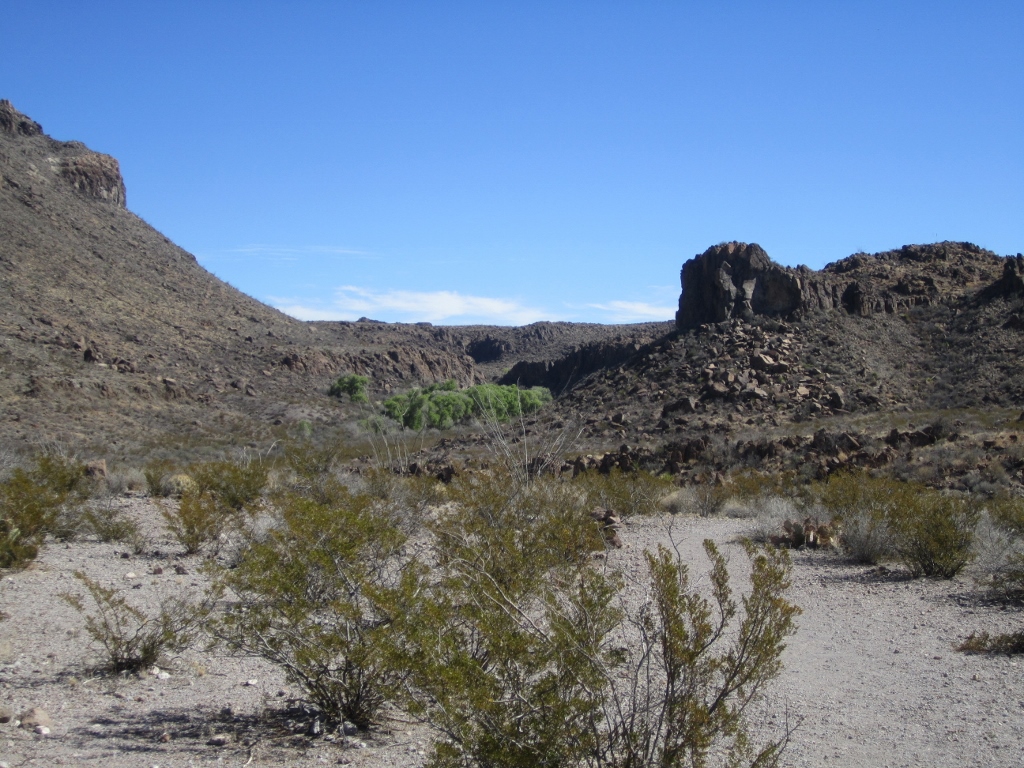 Here is the Sauceda Visitor Center Ranch.
Here you can get campsite permits----use the bathroom or shower, stay in the bunkhouse----or stay in the Big House---and
get some water and info---realll nice people.
And I've never been to any state or federal park that were so open arms to dualsport riding in the park----I was amazed.
I was to find out that pooping in the bush was "NOT" allowed.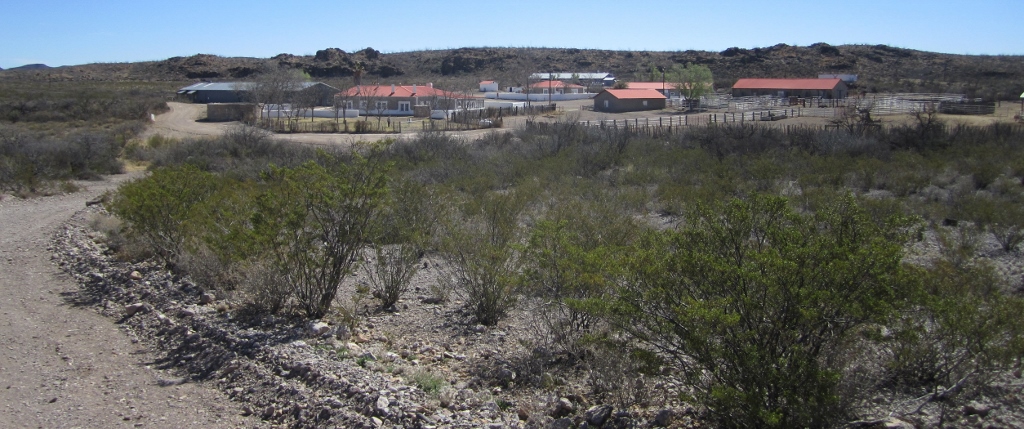 The bunkhouse----about $47 per person. To get a meal you had to reserve that a day in advance.
There is no gas anywhere near this place and you are warned that when entering.
Just getting to the Visitor center and back out is about 70 miles of gasoline---let alone riding all over the places.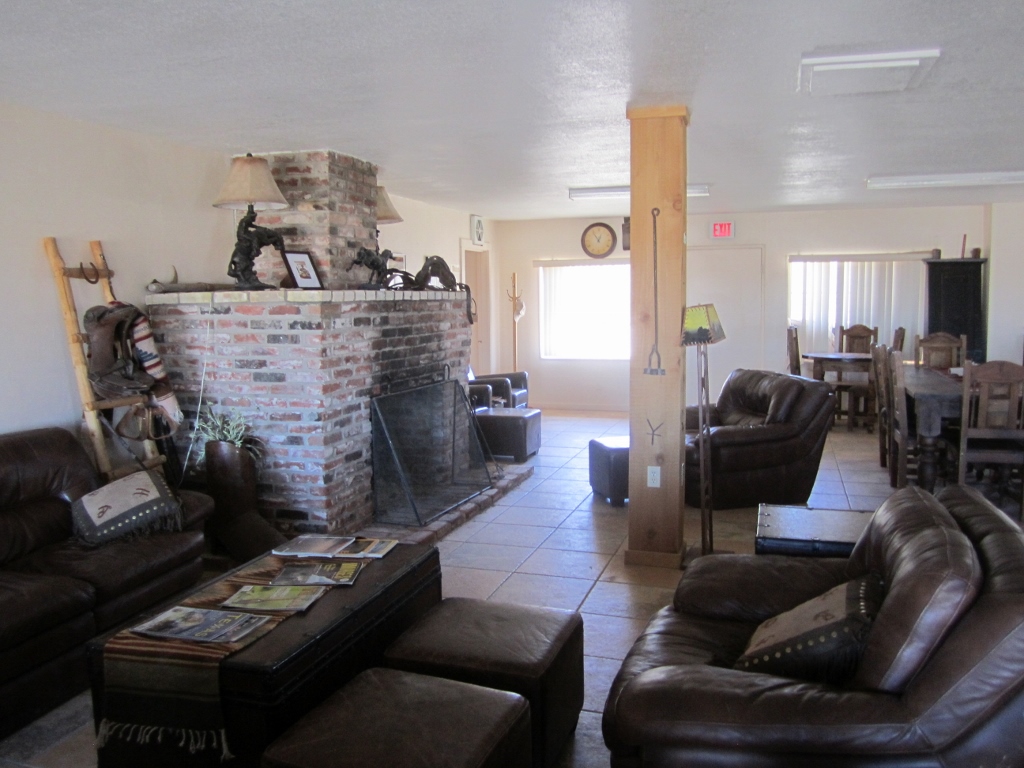 Full commercial kitchen.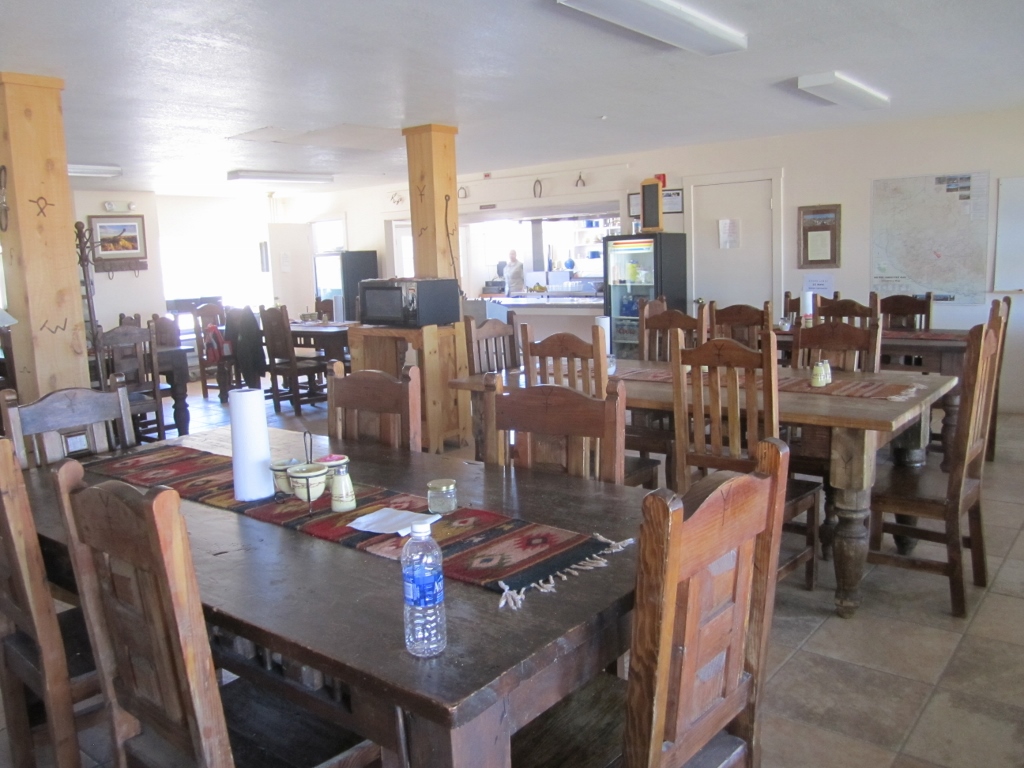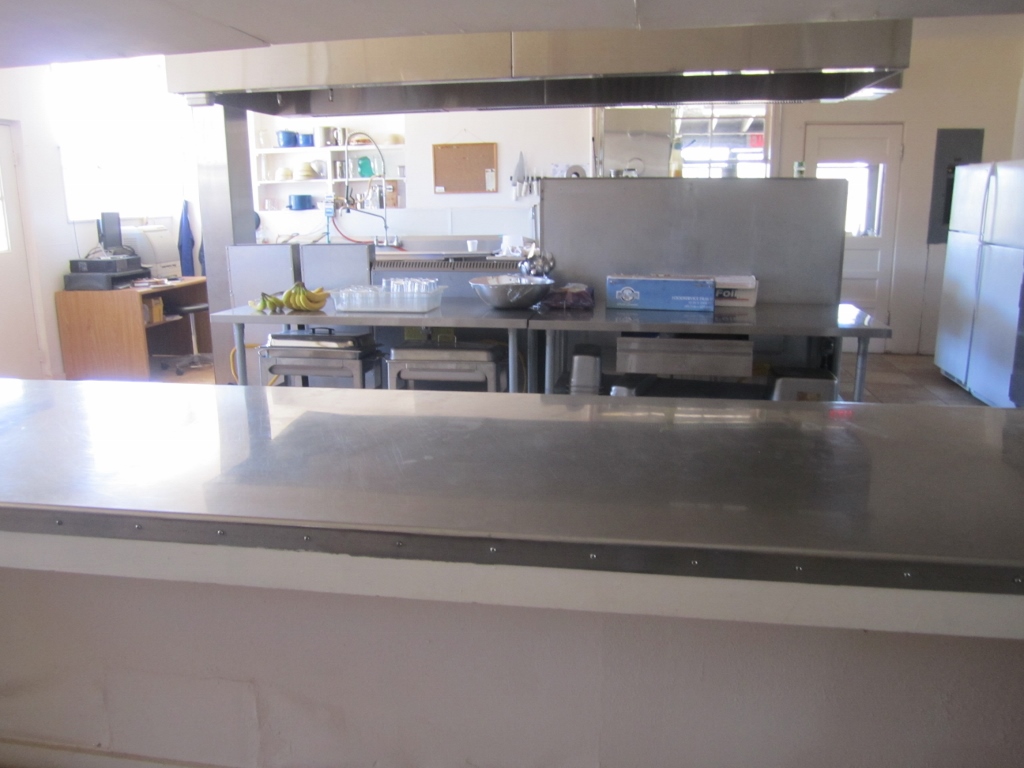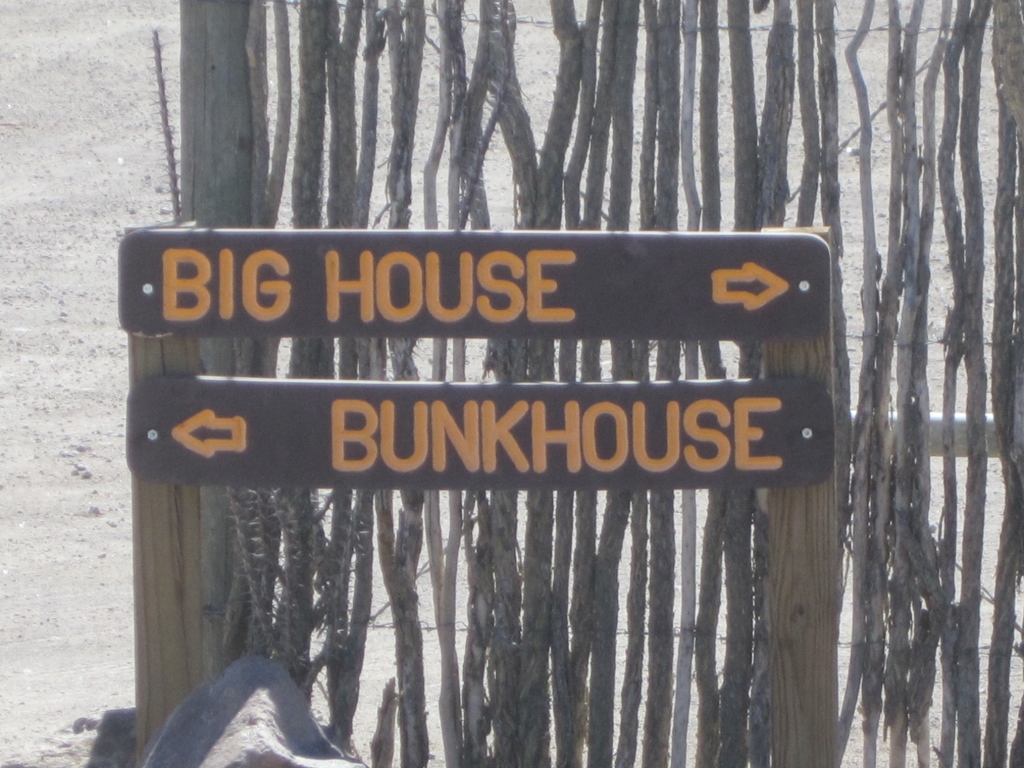 I set up camp and I went for a walk.
Something I'm going to do a lot more of on rides.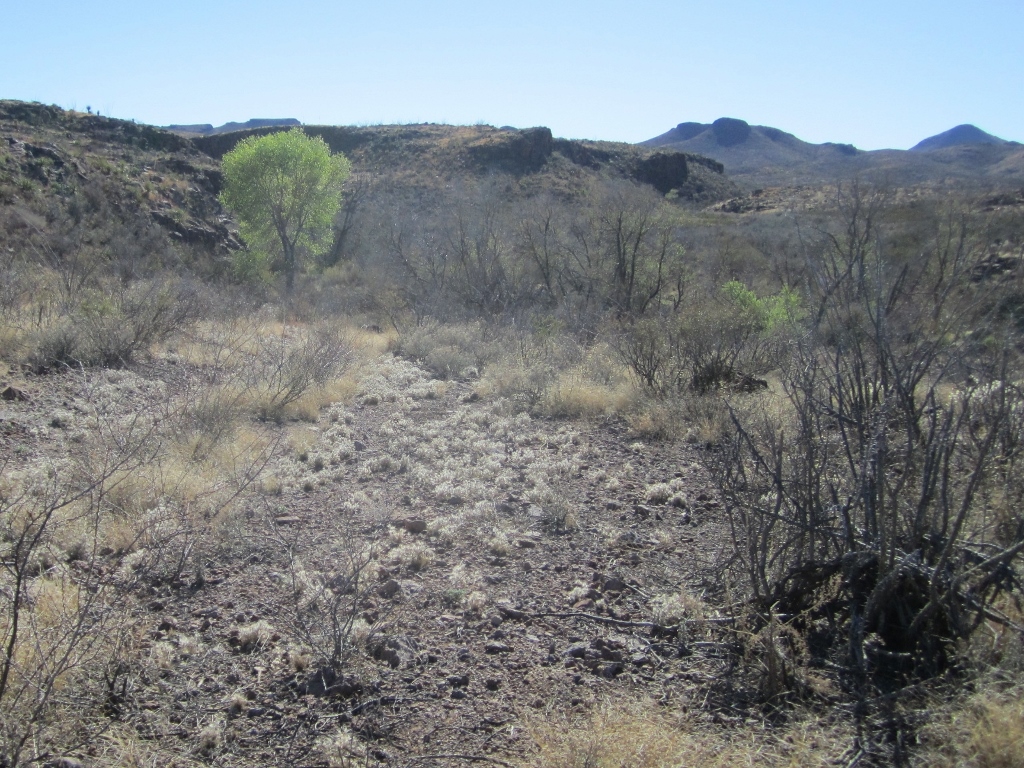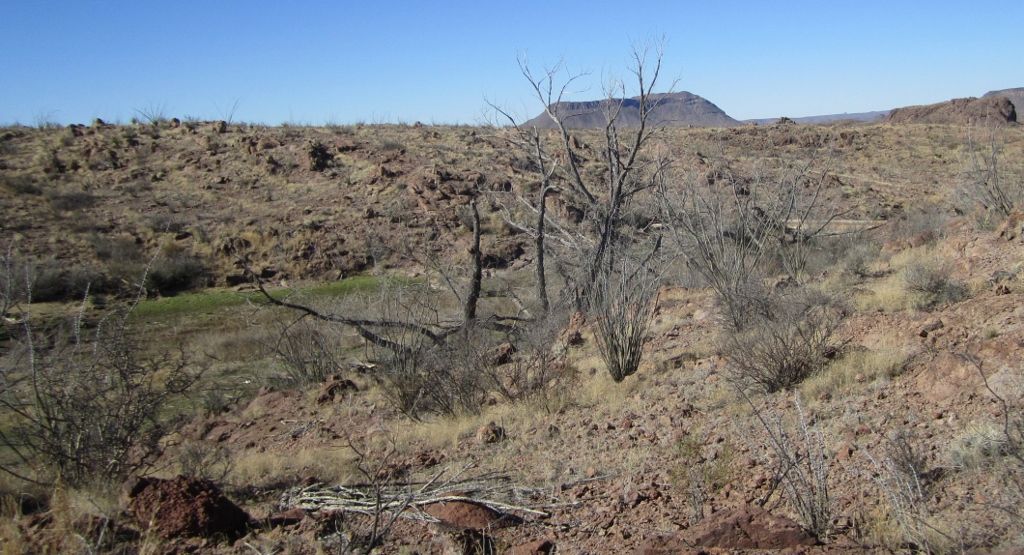 I walked quite a ways and took a walking stick which I poked at the ground and made noises with it as I walked as
rattle snakes were everywhere.
As sat her for an hour and played baseball with small rocks and my rattle snake stick--the more I played the worse I got--so like golf
I gave up.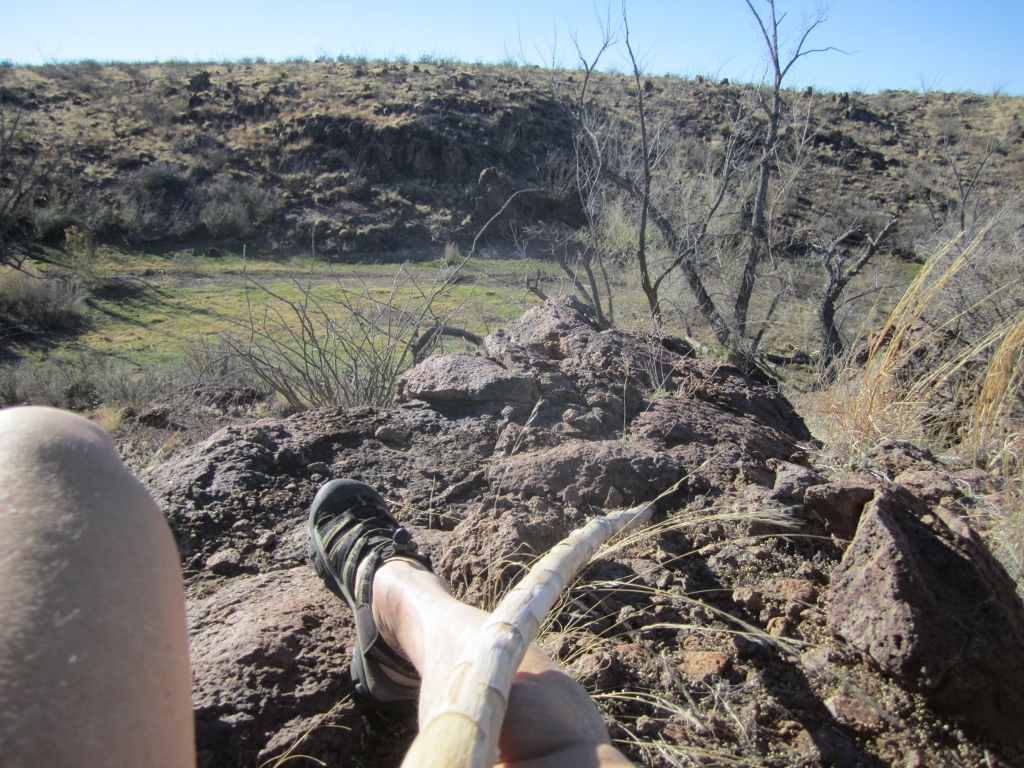 Lookee what I found. I was a little nervous walking on the dam.
It's an old dam built by a rancher to make a pond for his cattle.
The pond is pretty much filled in over the years and is 20' deep in dirt now.
All the ranches were bought up by the state---which is now Big Bend State Park.
A rough map of the 72 mile ride today.

Day 9
March 1st, 2014
camp in Big Bend state park to Marfa, Texas
I knew there was some pretty tough riding in the park and I went for a careful ride.
I wasn't sure here what to do at this sign---found out later if you paid to get in the park----you have paid your permit--this sign is not clear on that.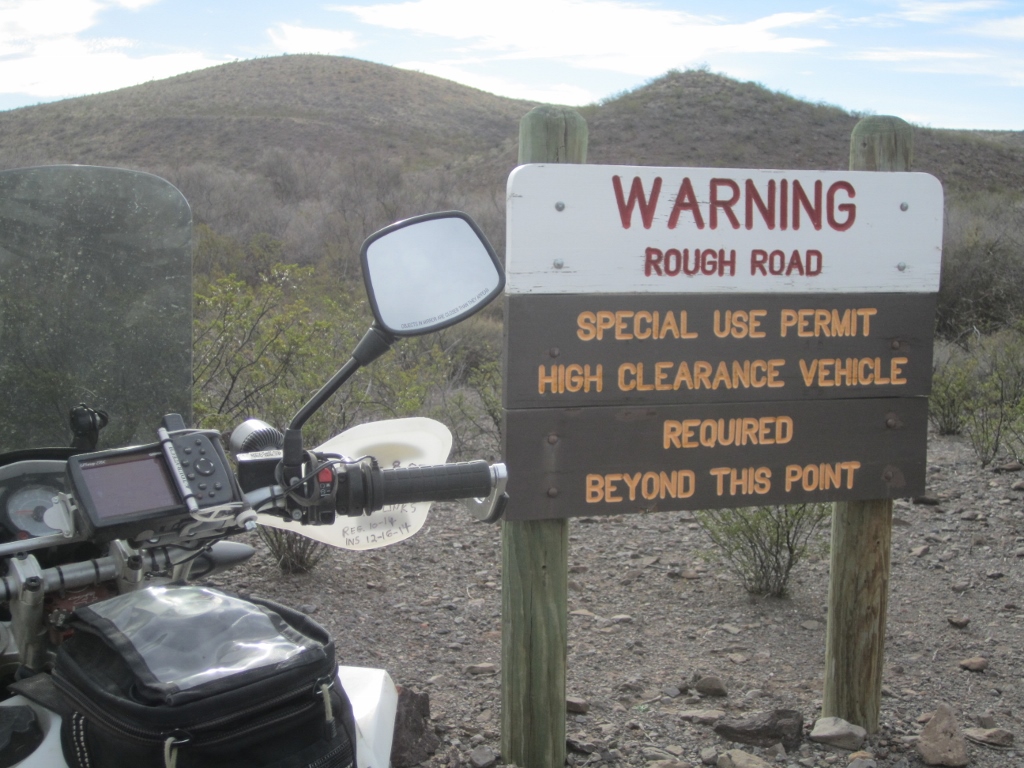 Down a pretty rough trail you'll come to this sign--on the other side it says "Nowhere"---pretty funny.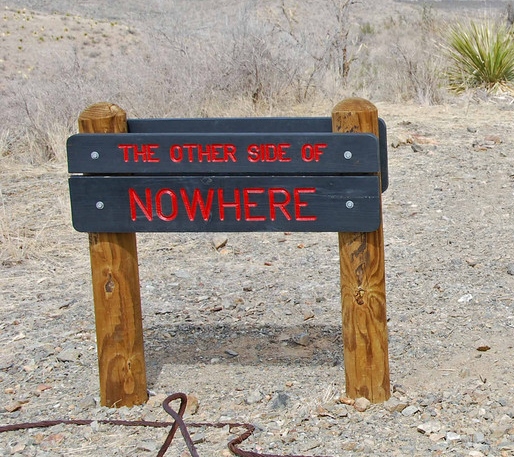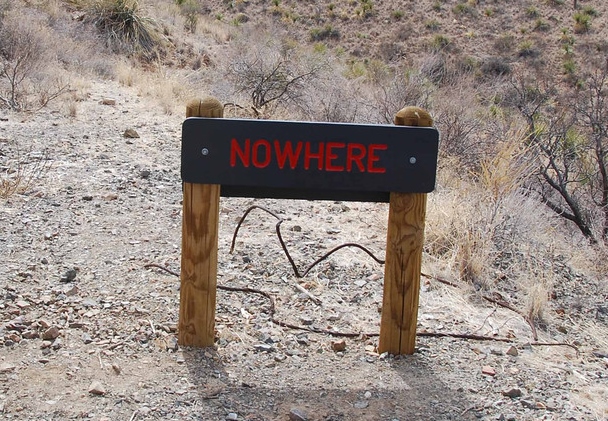 And the Solitario Volcano is in the park.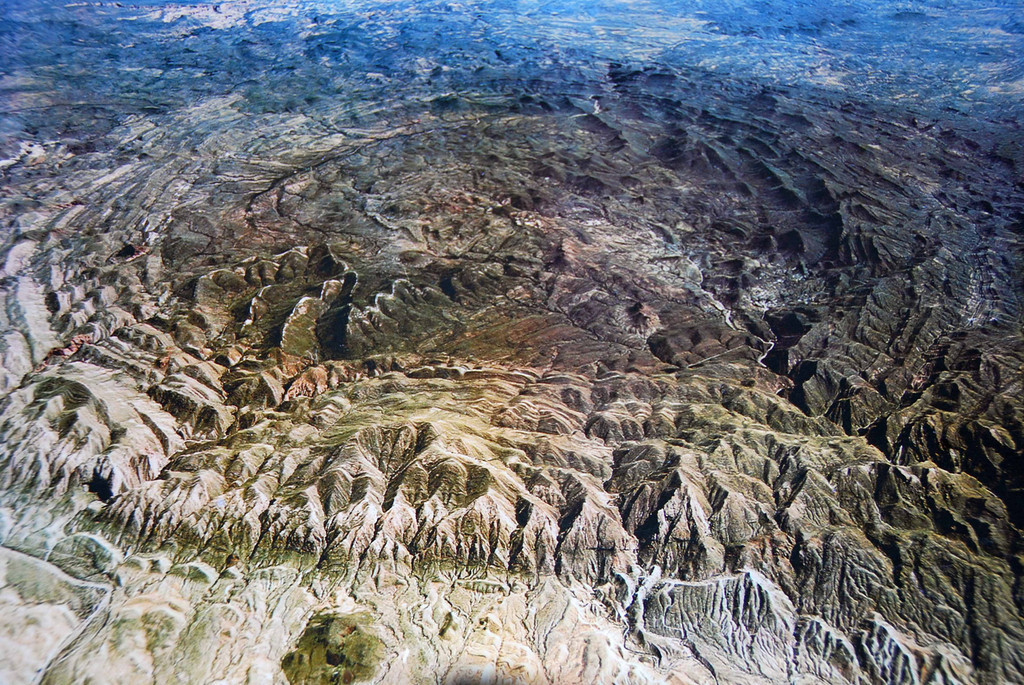 I have to admit---being alone on some pretty rough stuff---and on a heavy bike I got nervous about where I was at and the fact nobody
knew where I was at--and help may not find me for days---and retreated to the easy stuff back to camp.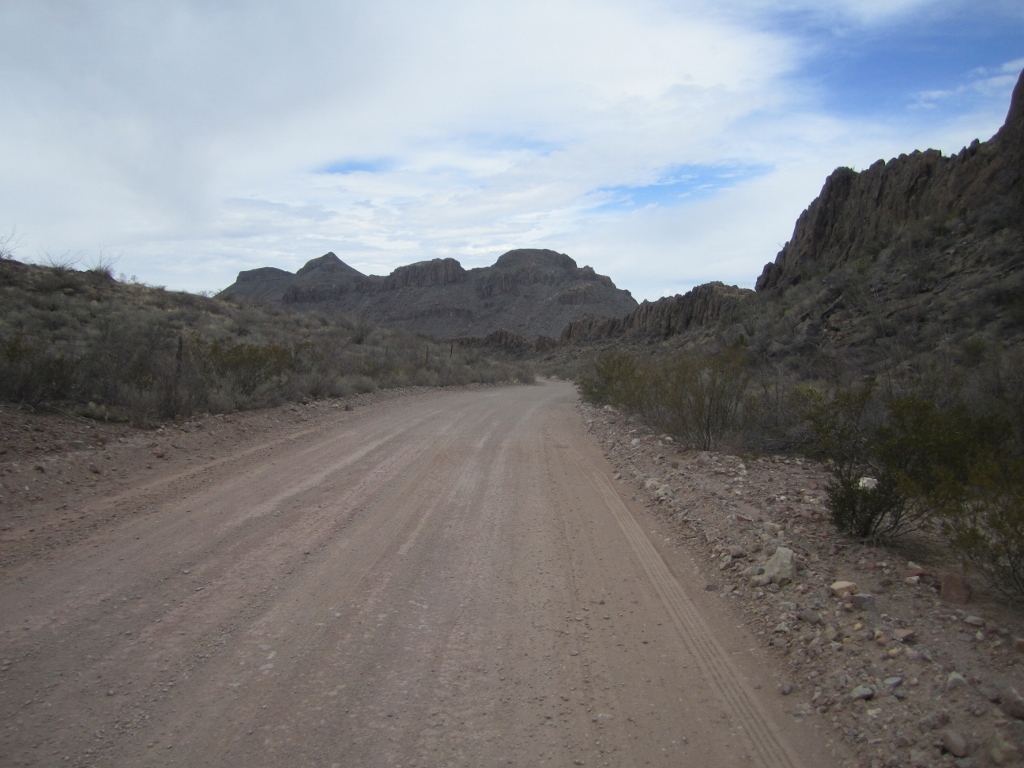 The ride going out of the park was spectacular---you couldn't see these views without stopping and turning around going in.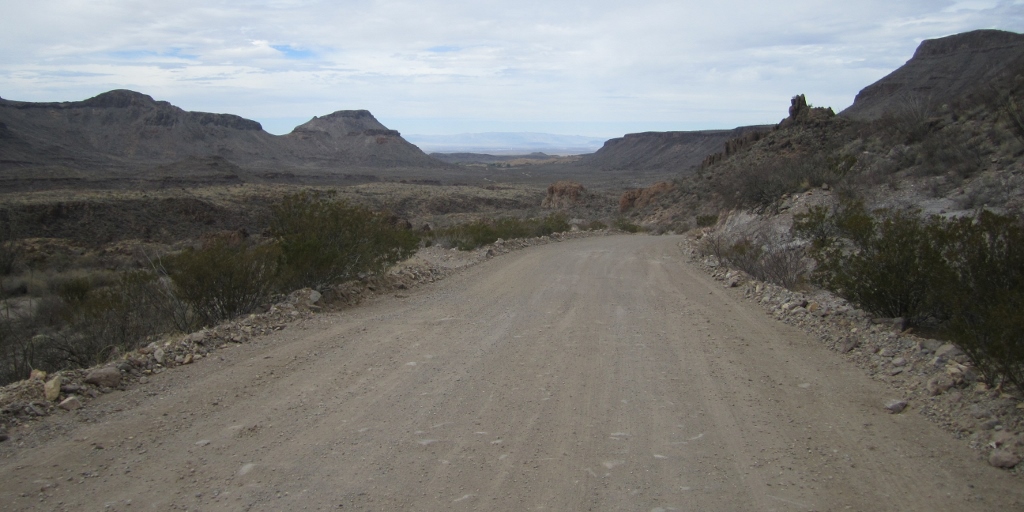 I beat it North to the town of Marfa, Texas on a dirt road.
I went about 8 miles East of town in the dark to see the famous Marfa lites. No one to this day can explain the strange moving
lites near the horizon ---they are there every nite and many people show up to see them--and yes I saw them.
Didn't know what to think ????? I'm not a UFO or Alien believing person----but boy is my wife--she would have liked to have been there.
She sees UFO's around our house often.
A rough map of the 85 mile ride today----I was anxious to visit Marfa--a very historic town and the famous alien lites seen every nite at the edge of town !!!!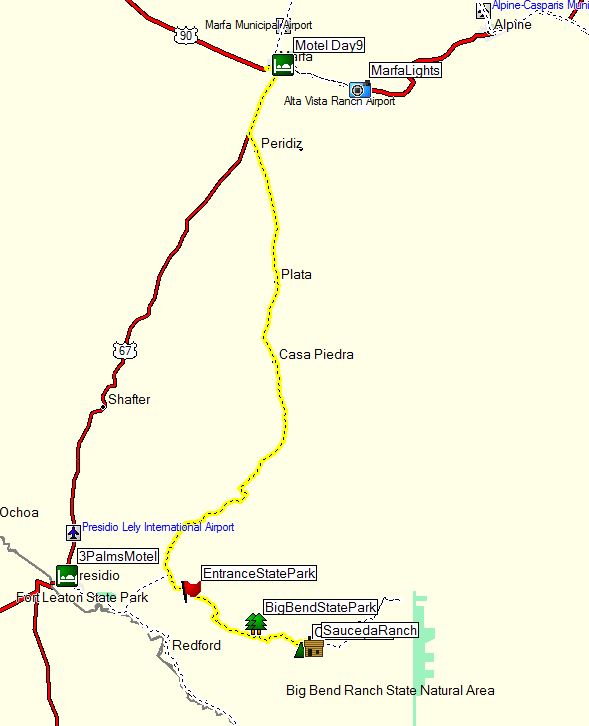 Day 10
March 2nd, 2014
Marfa, Texas to Fort Davis, Texas
The next morning I rode all over town taking pictures and looking at stuff in Marfa.
I wish my wife could have been with me and we would spend a couple days poking around.
You may get bored looking at my next pictures. But I thought it was neat.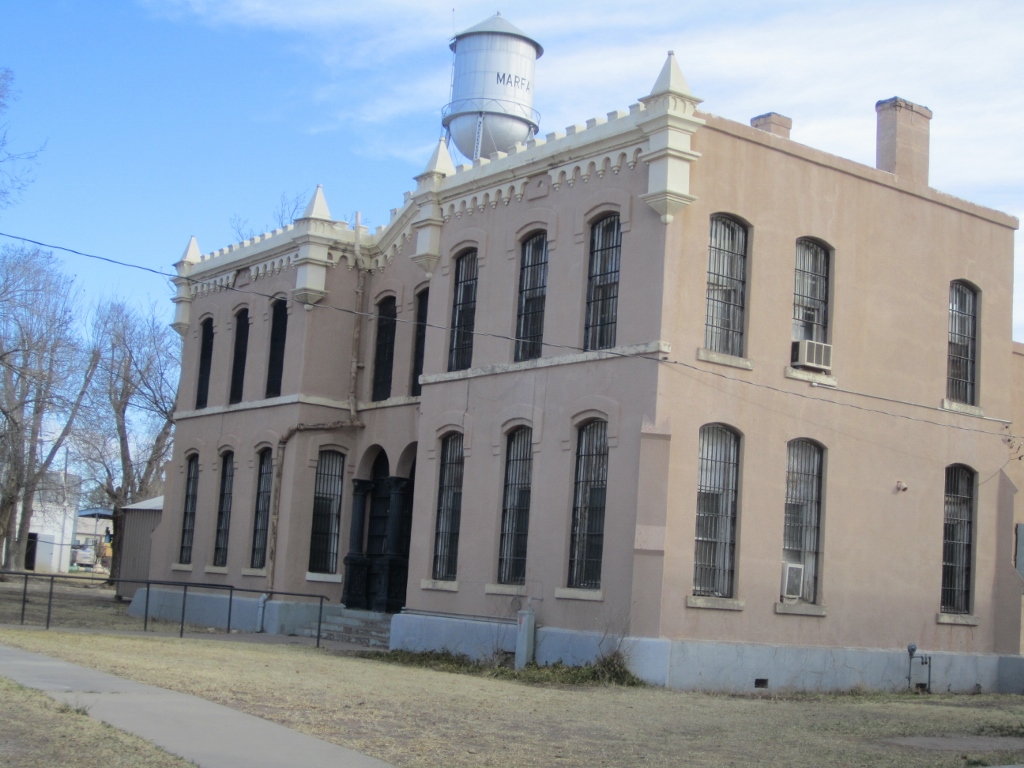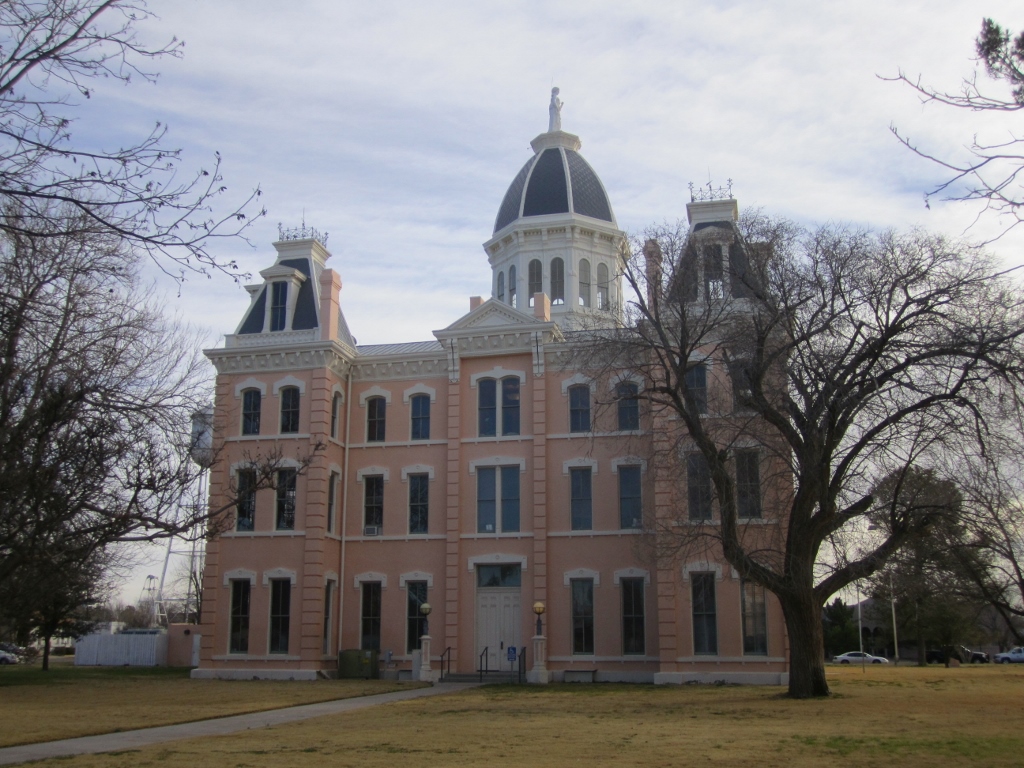 You can get on an elevator and go to the top of this--but not on Sunday--dang it.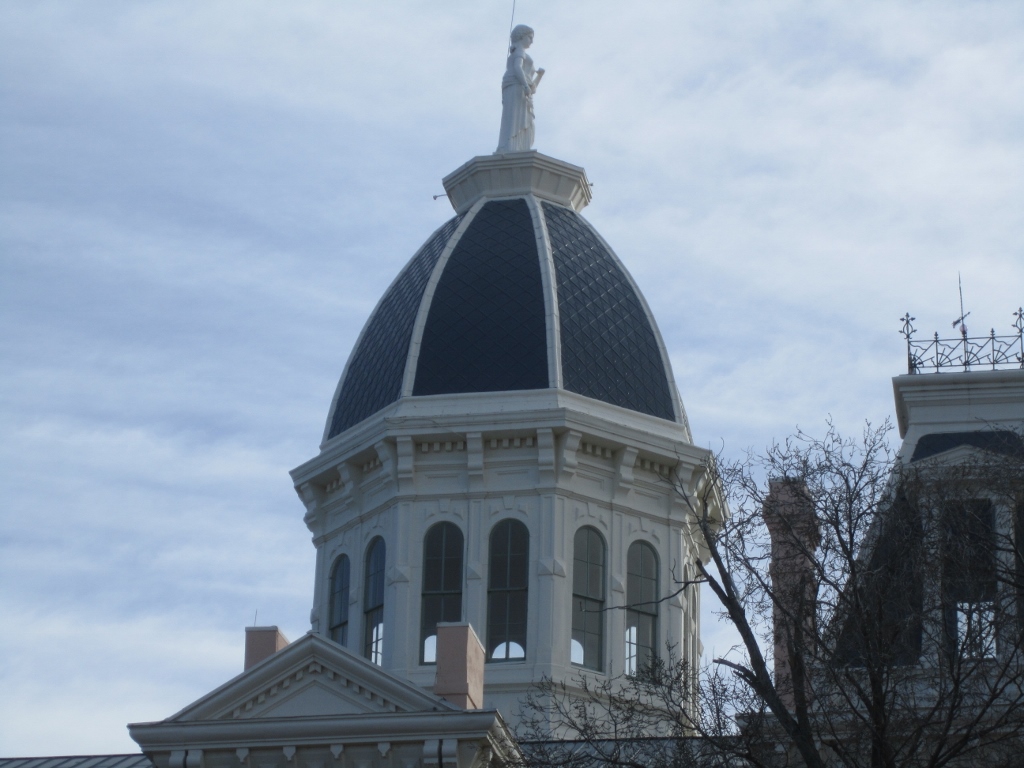 A very famous hotel and restaurant visited by Liz Taylor, James Dean and Rock Hudson making the movie "Giant".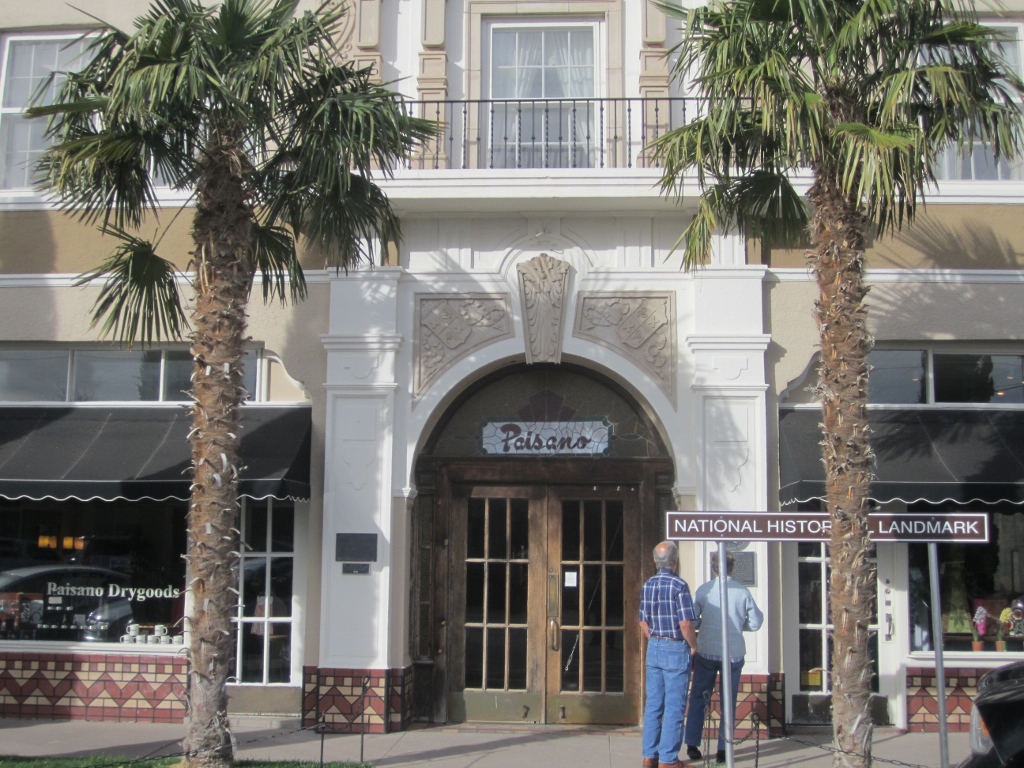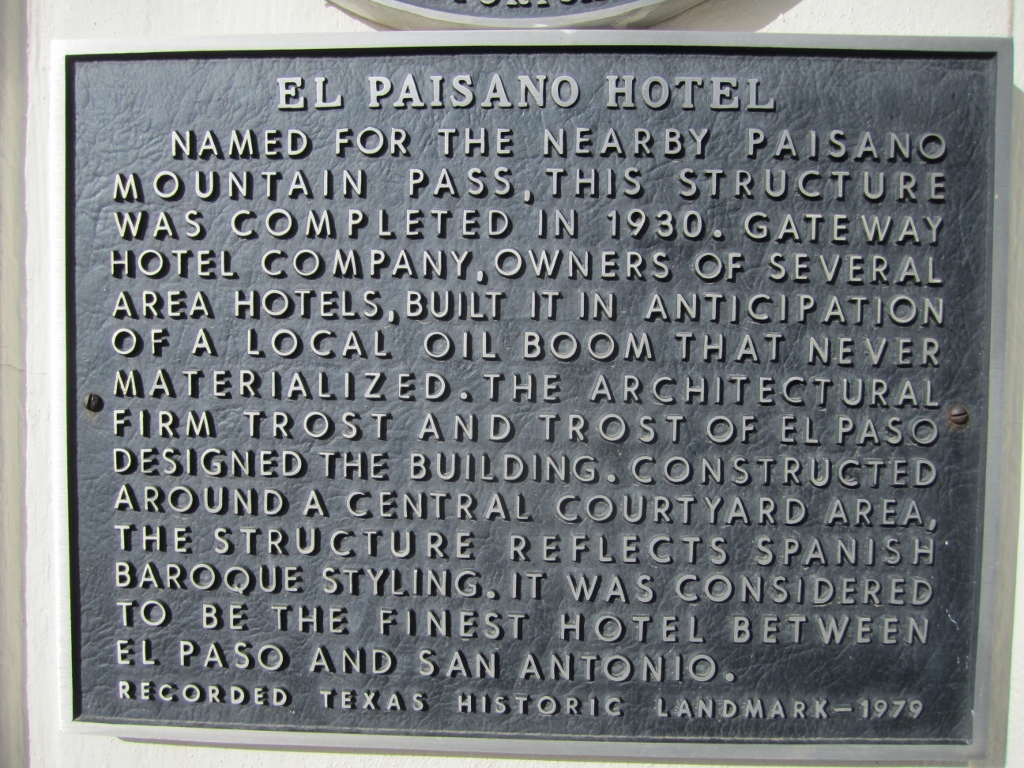 OK OK---I took all these pictures for my wife----------honest !!!!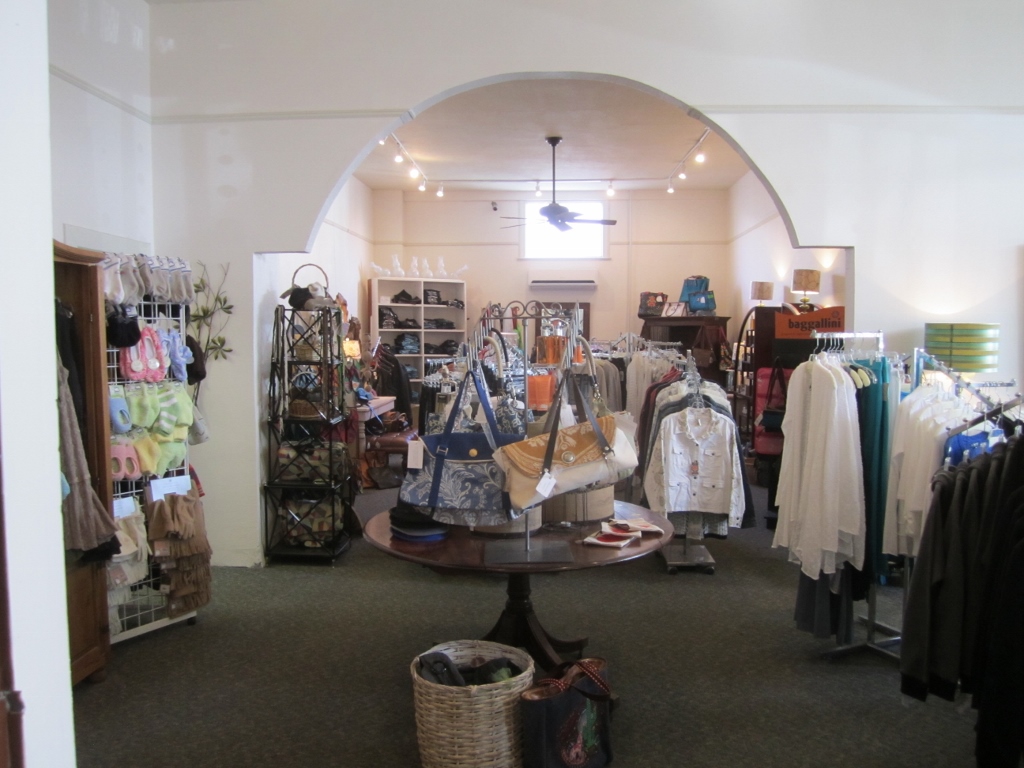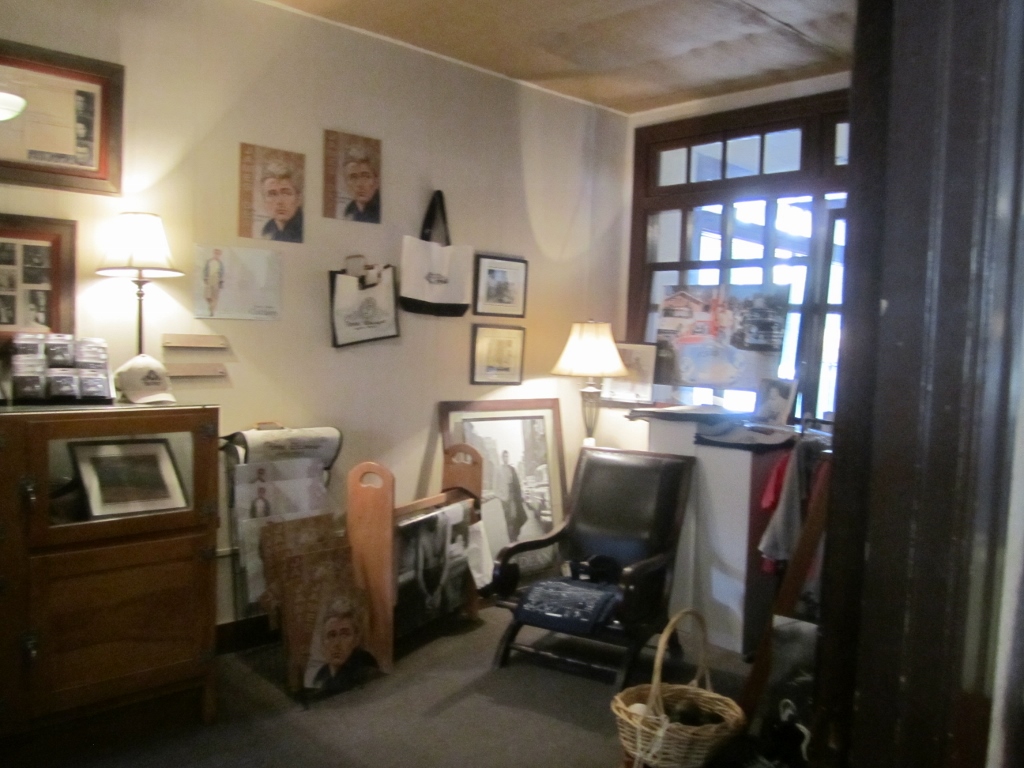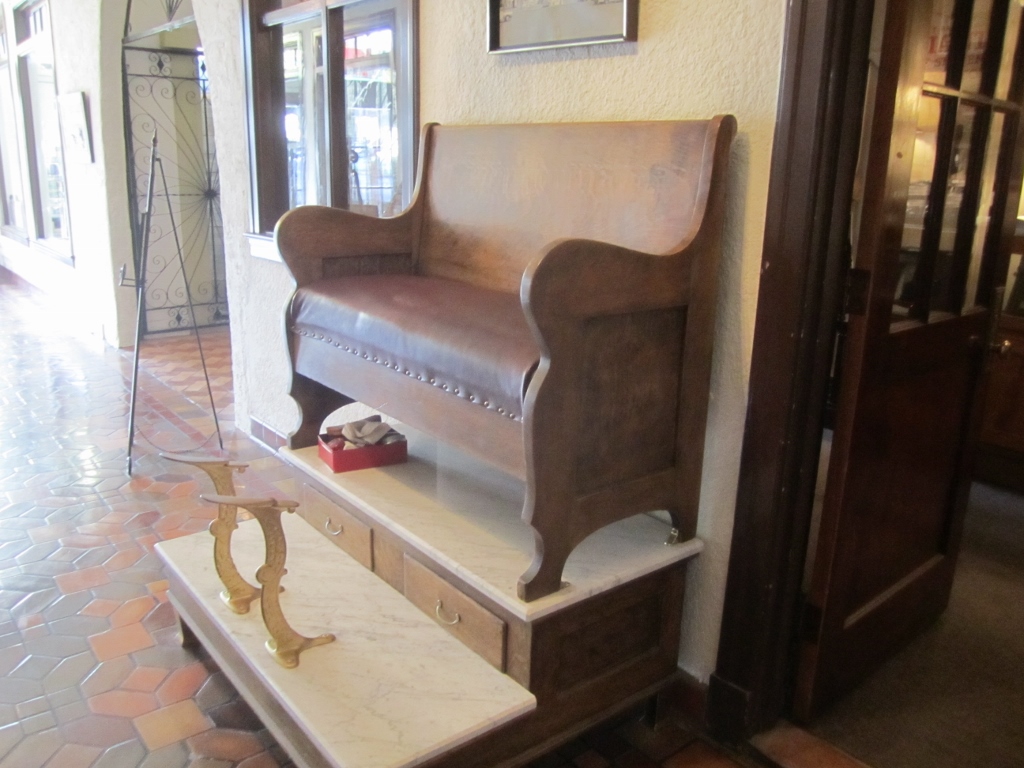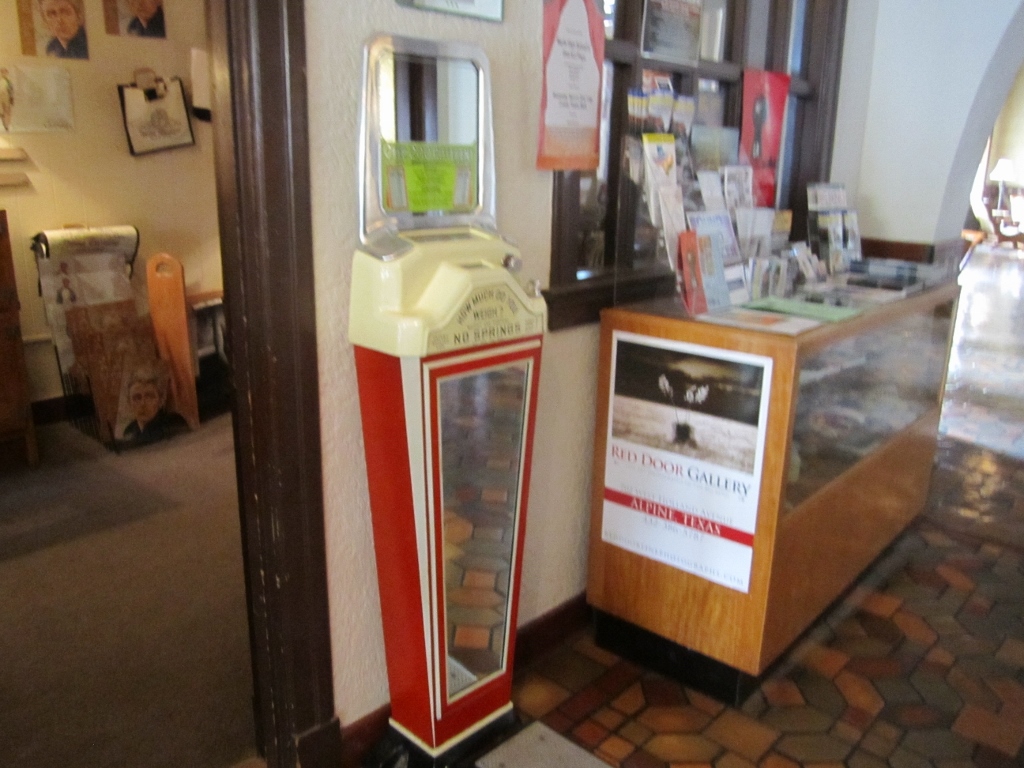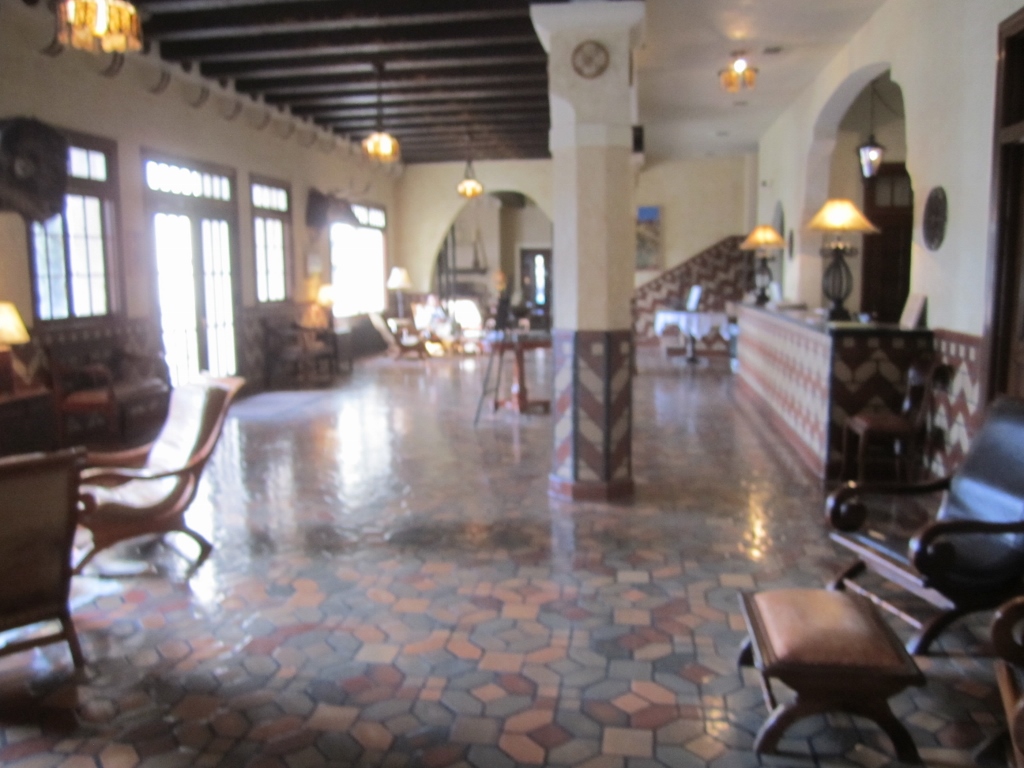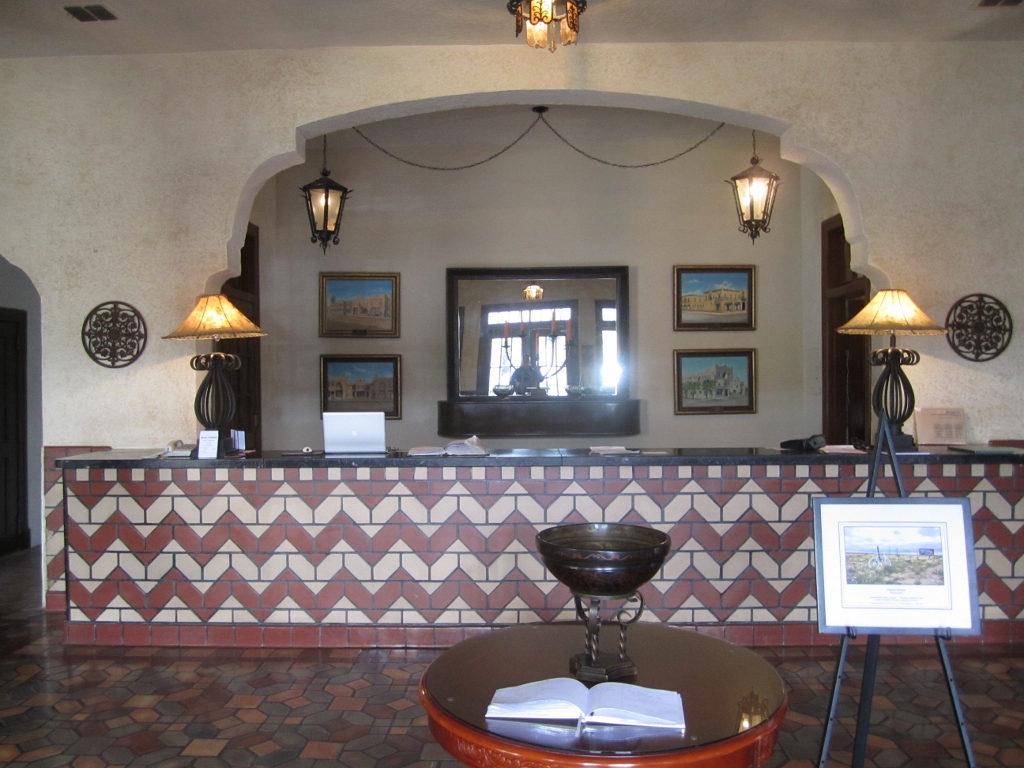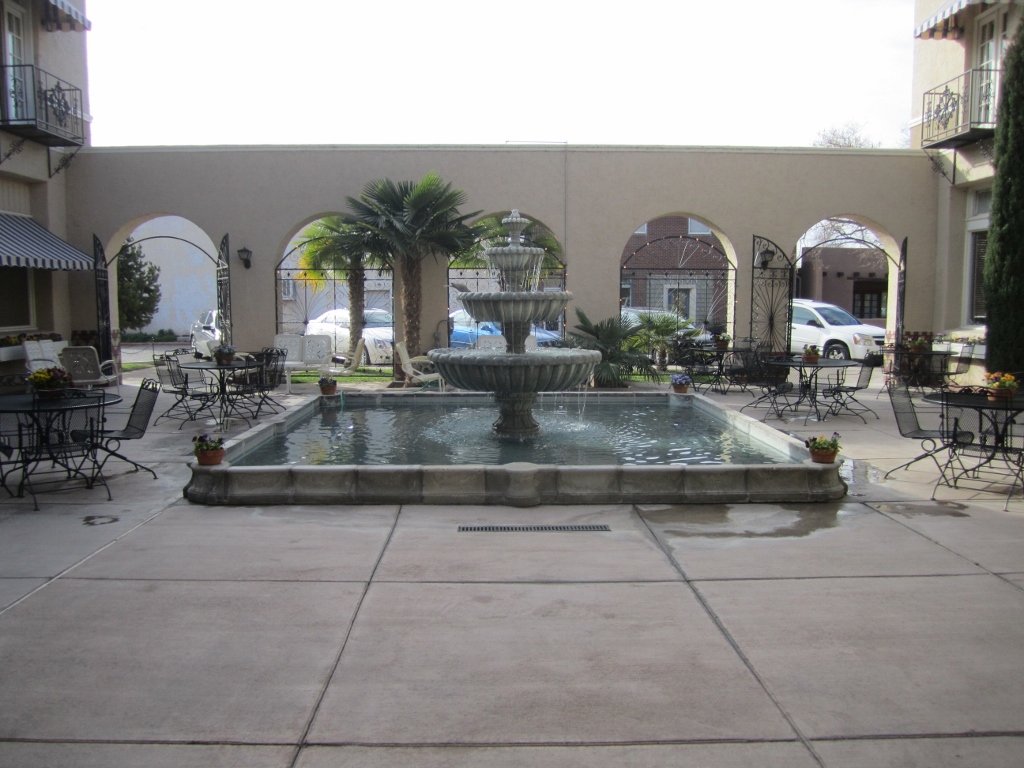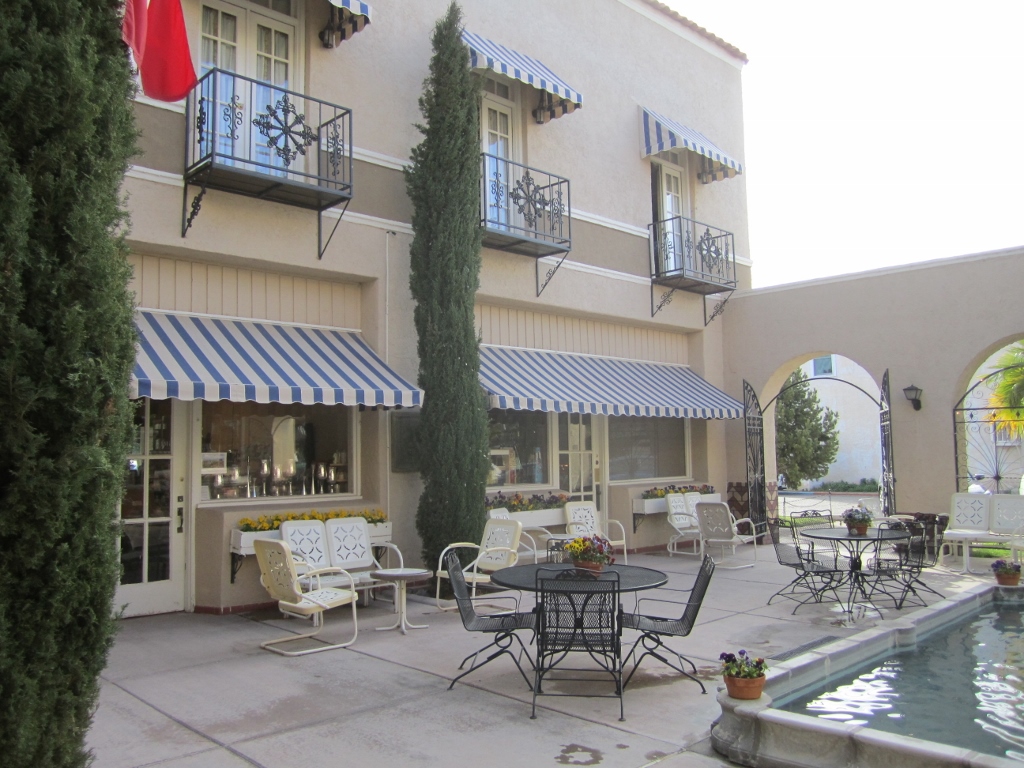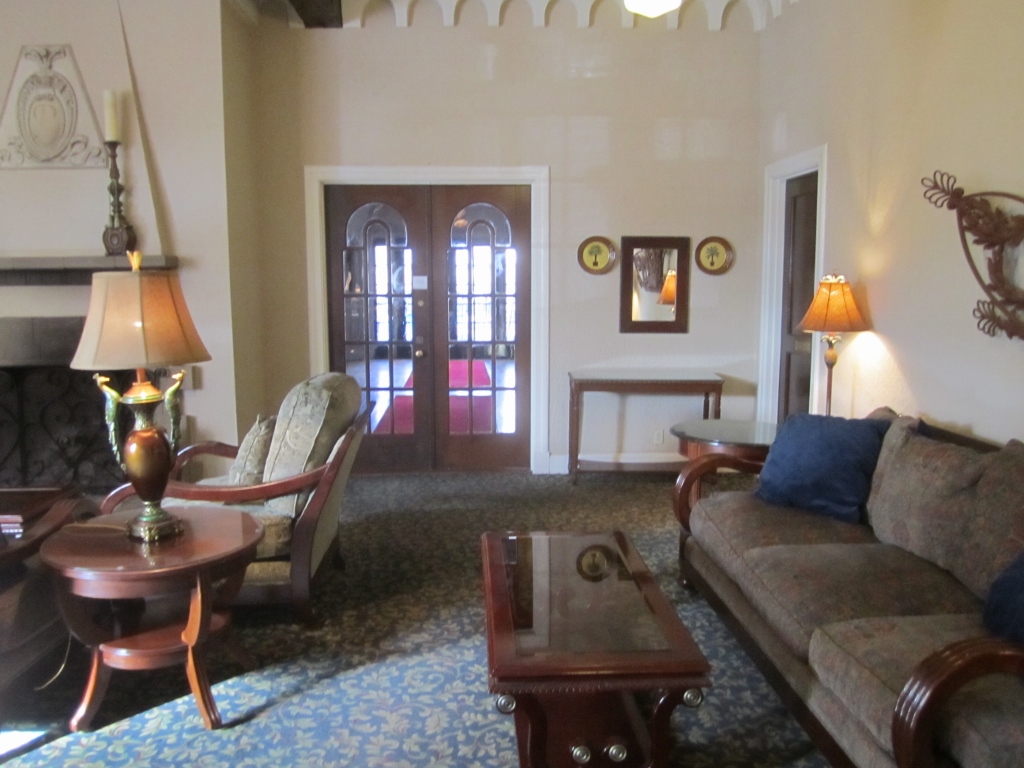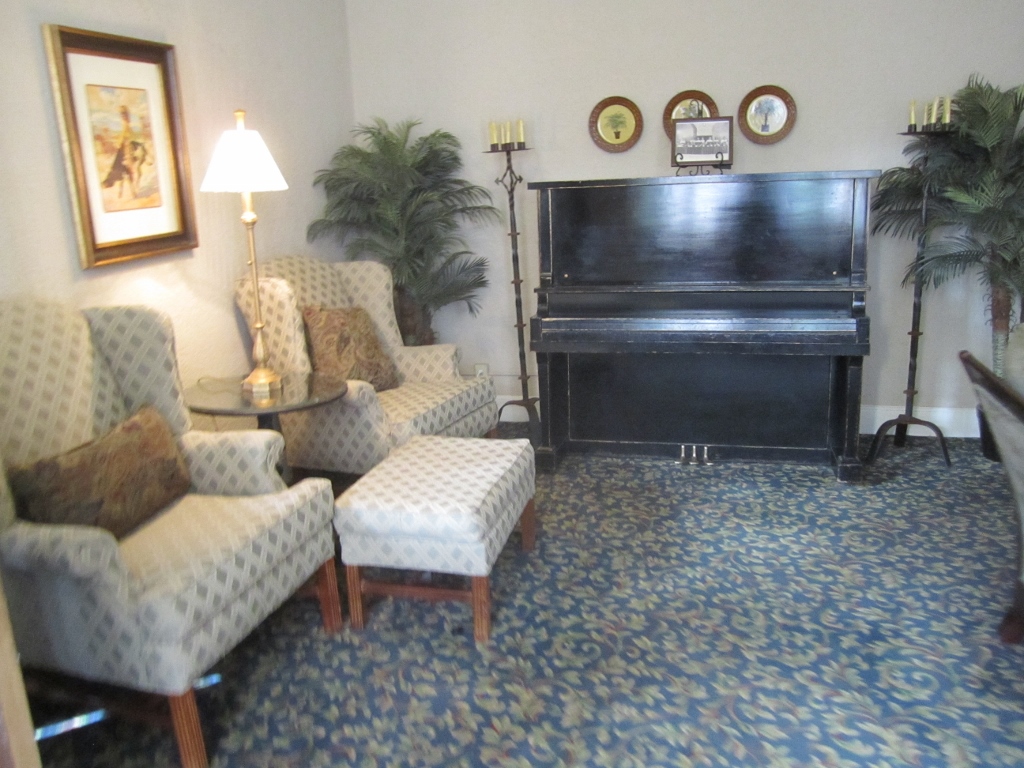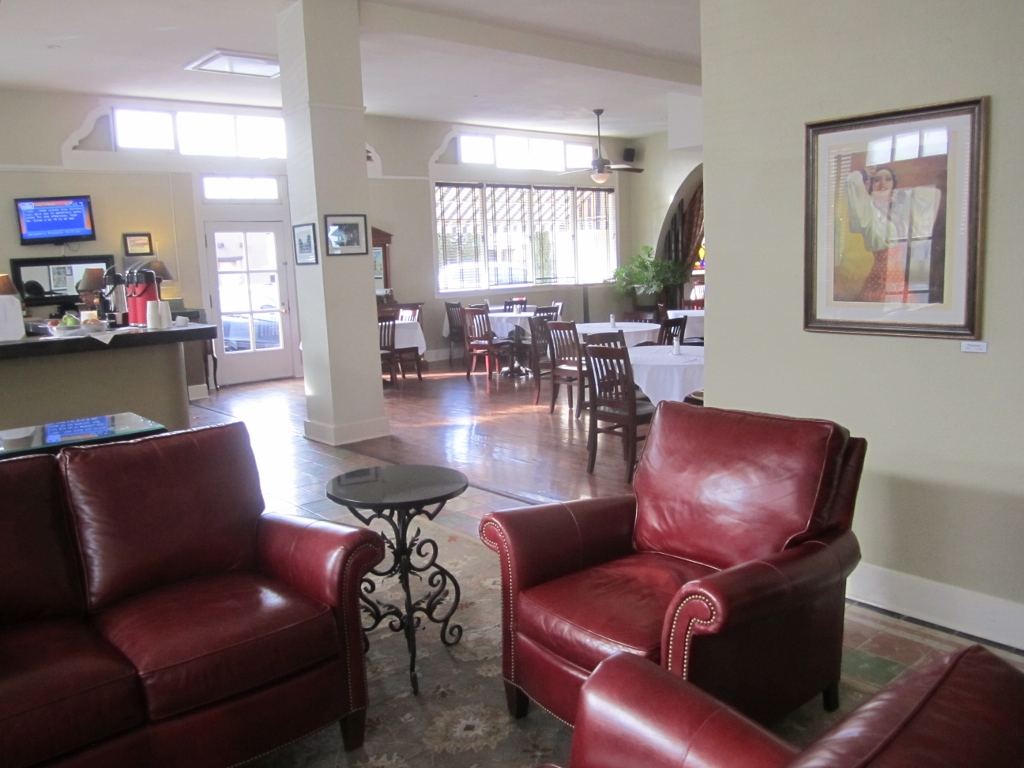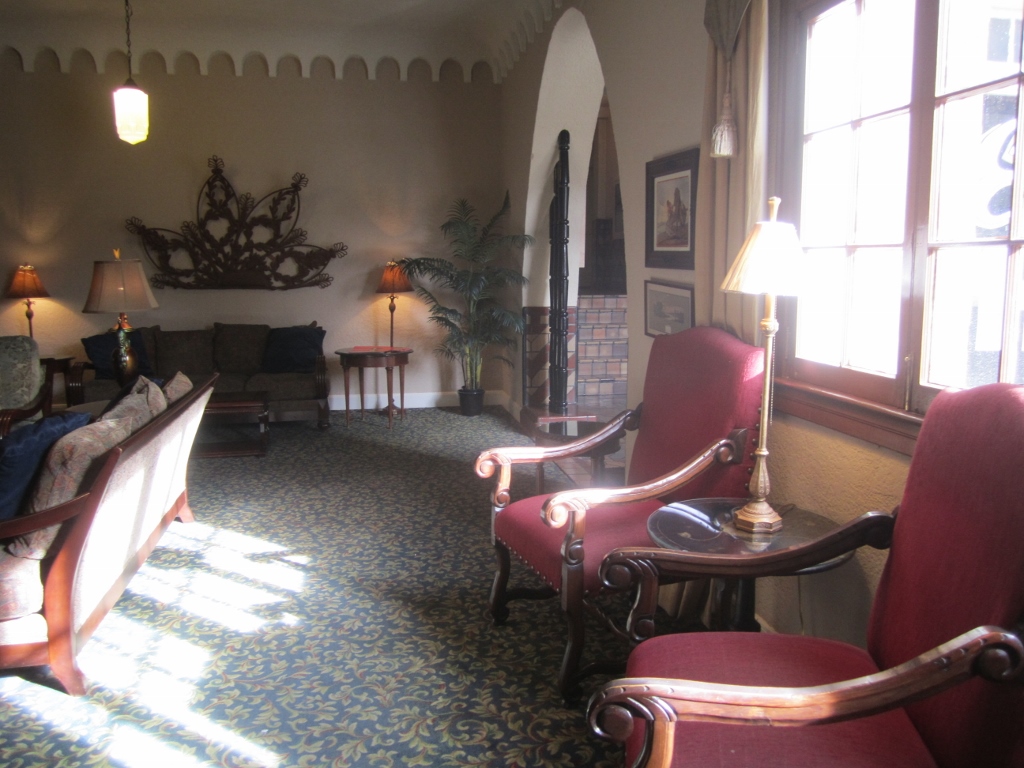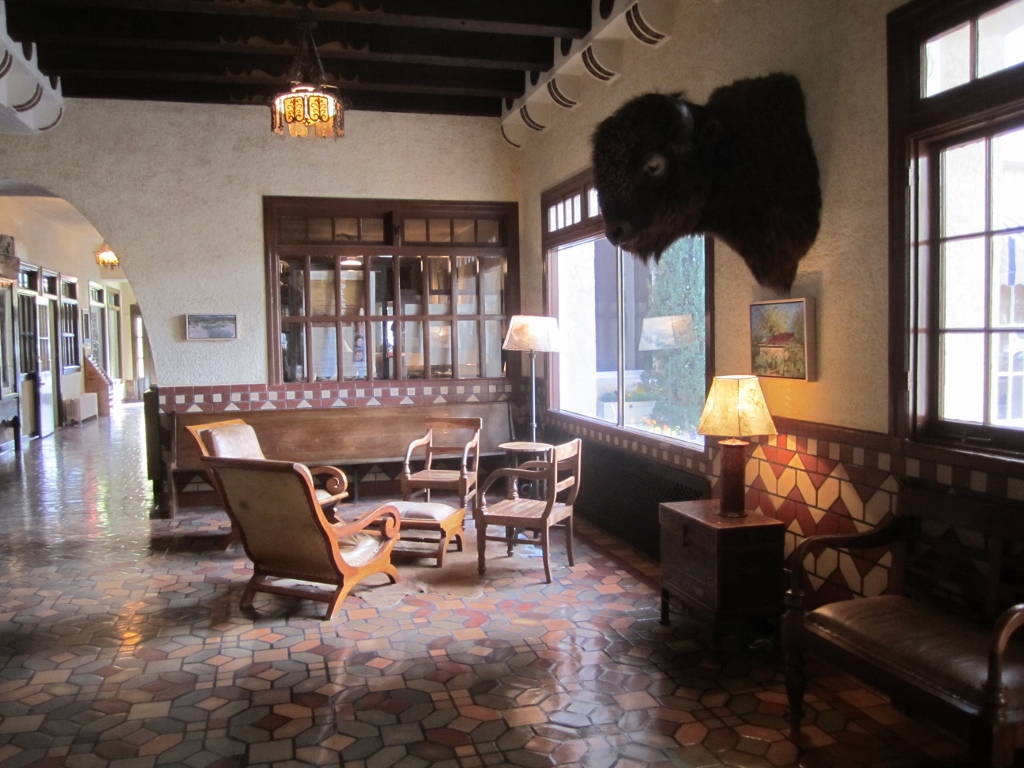 This a shot from the movie Giant---that house built for the move is no longer there.
Tourists over the years stole it piece by little piece.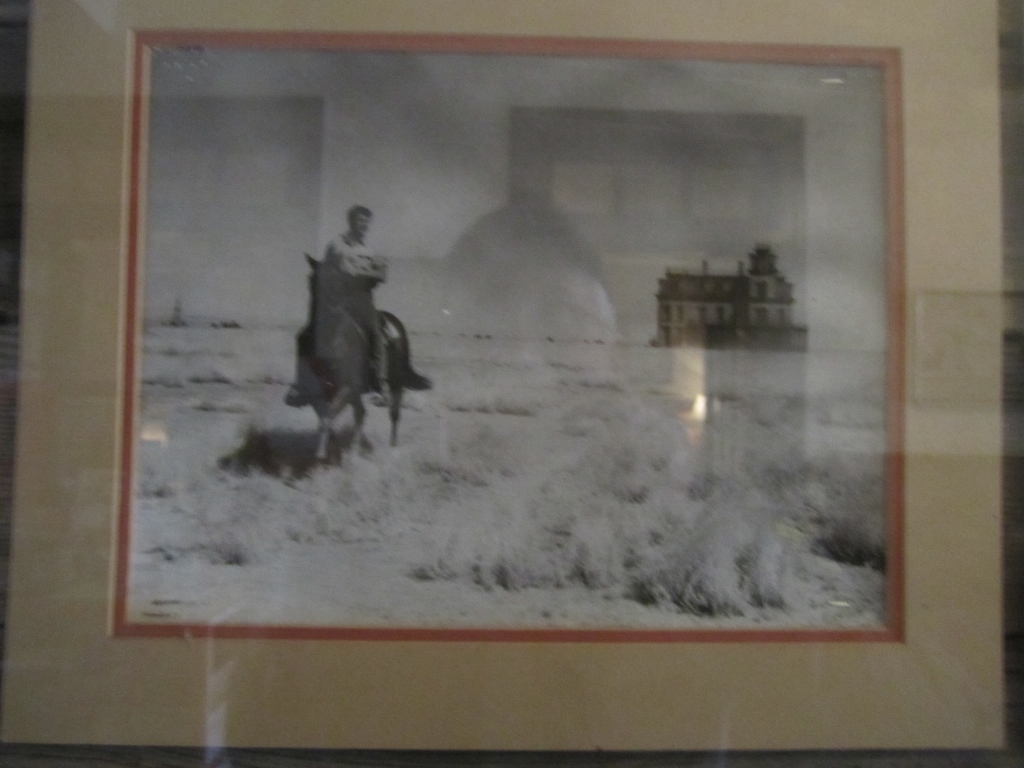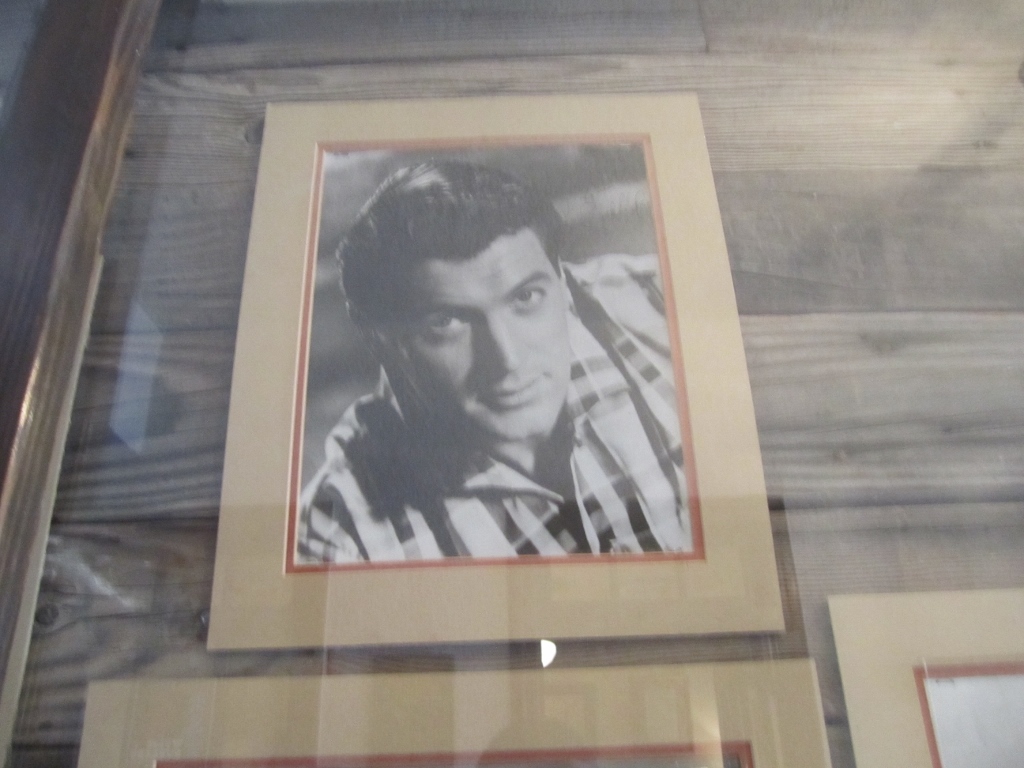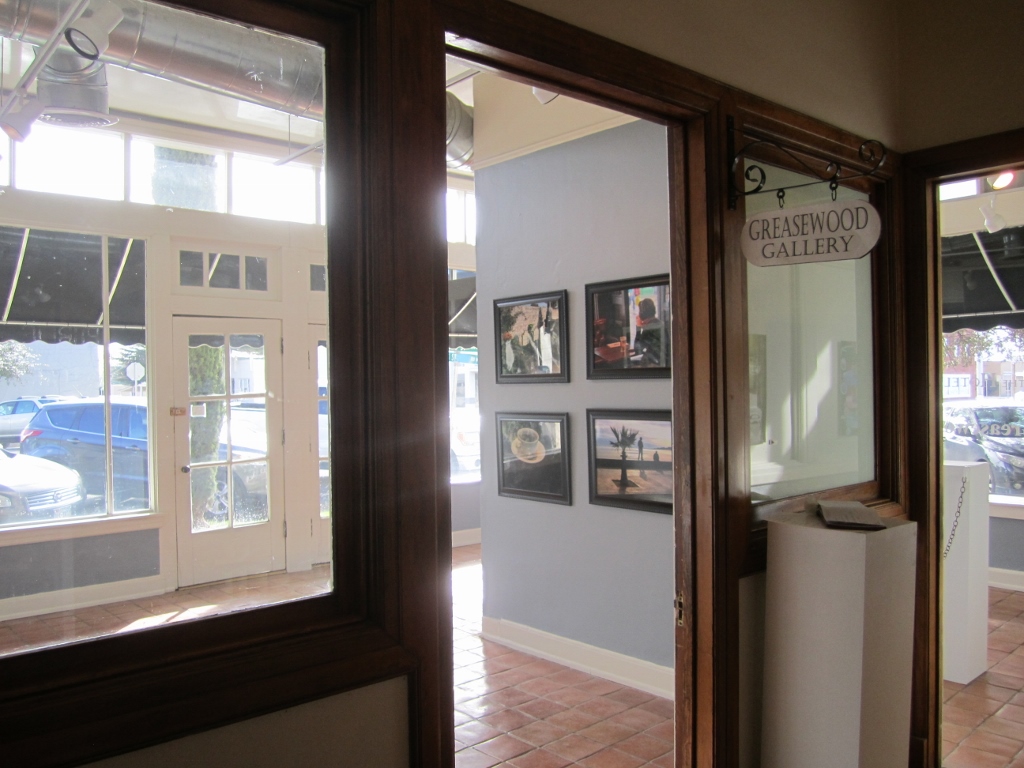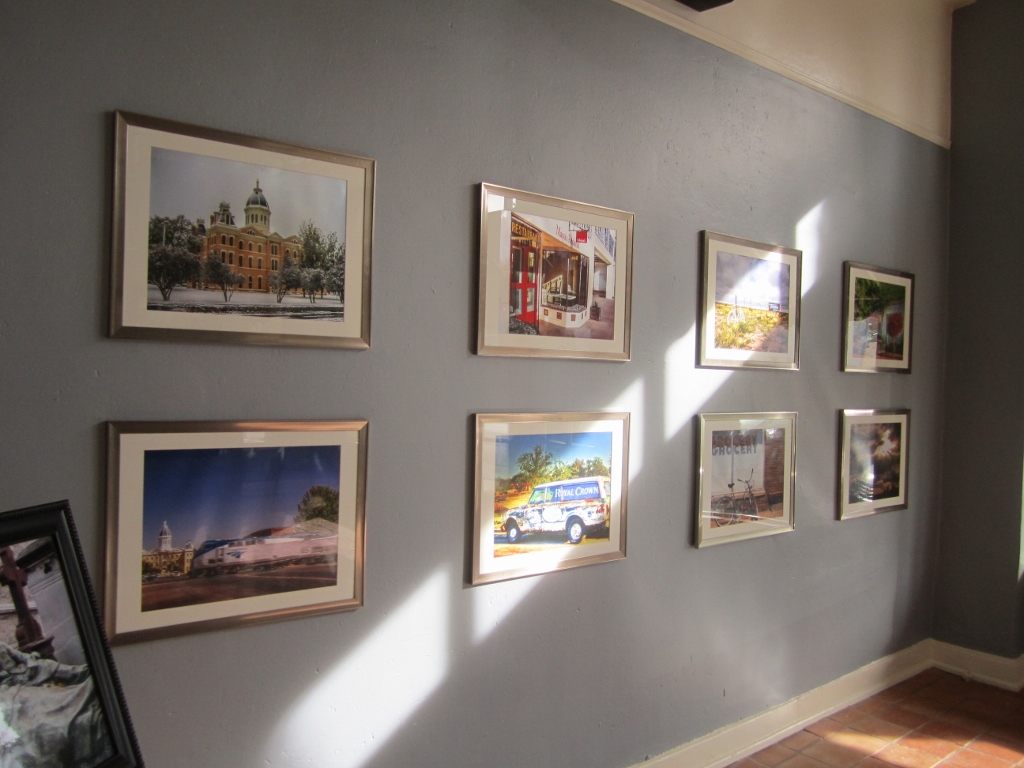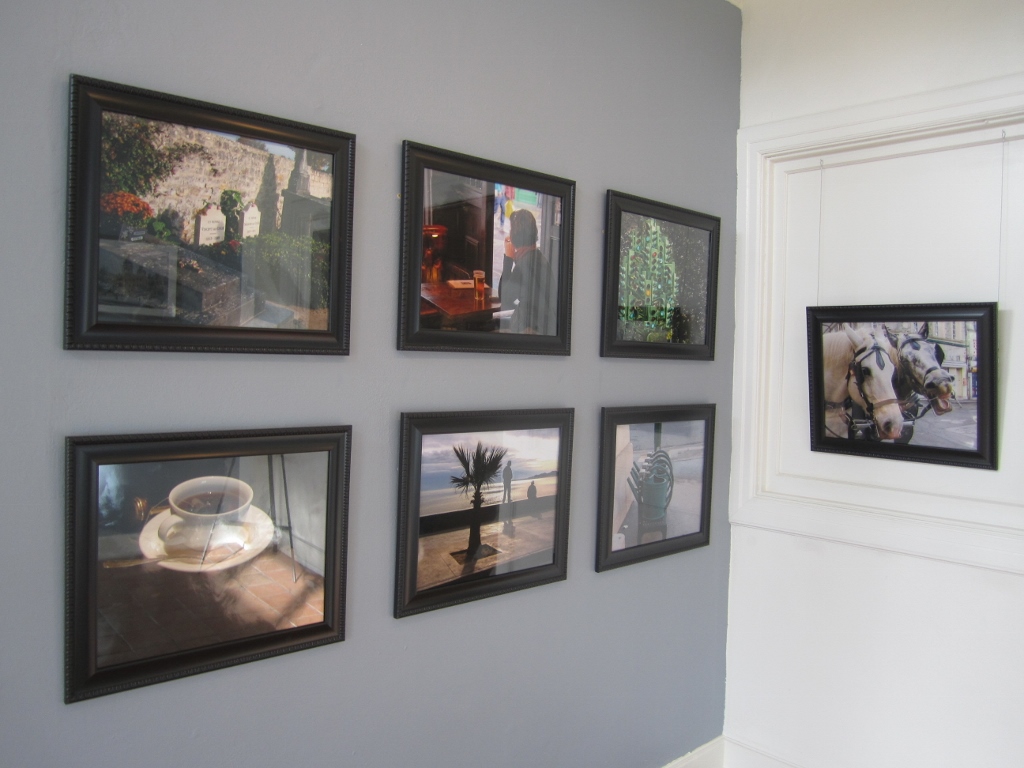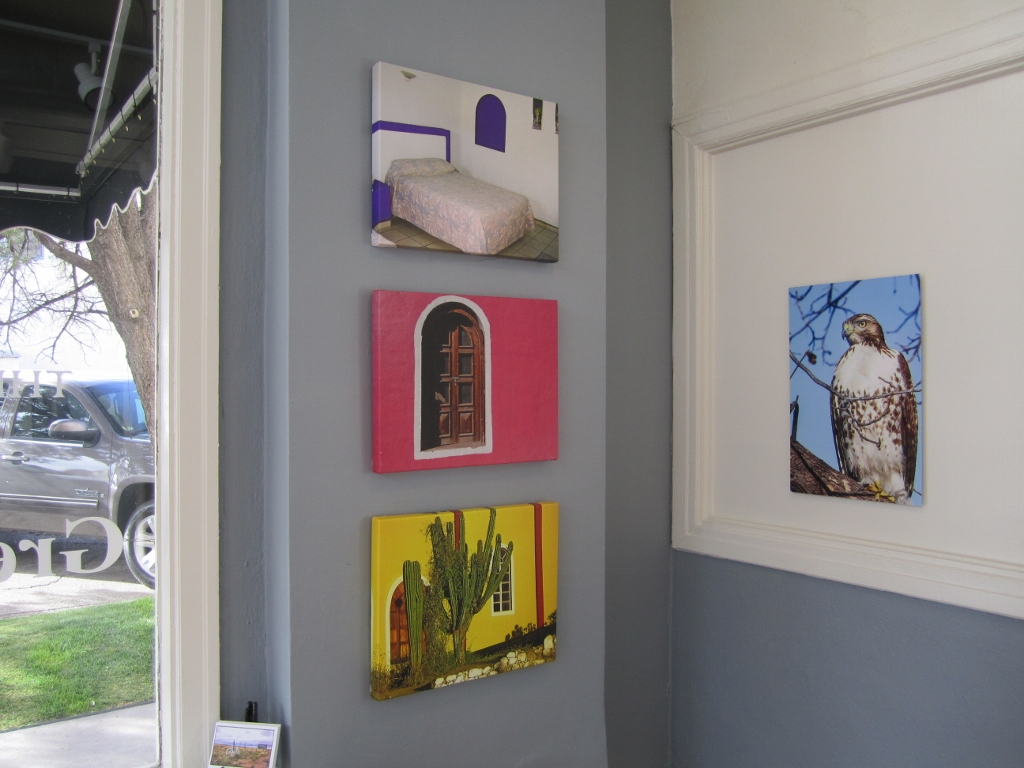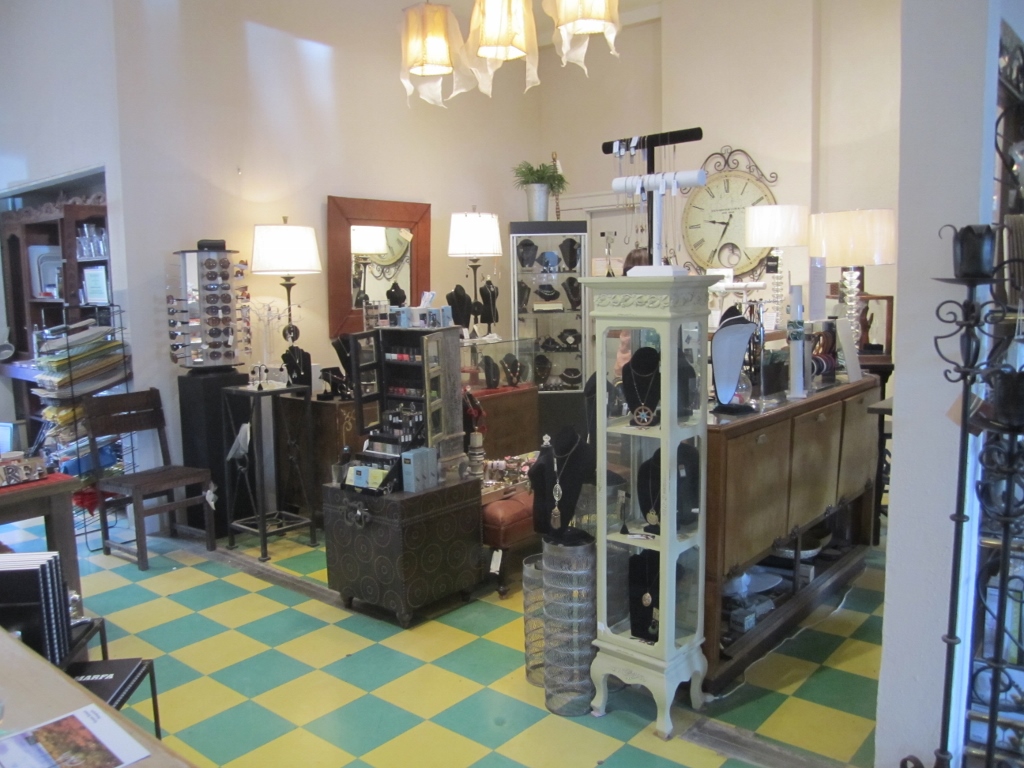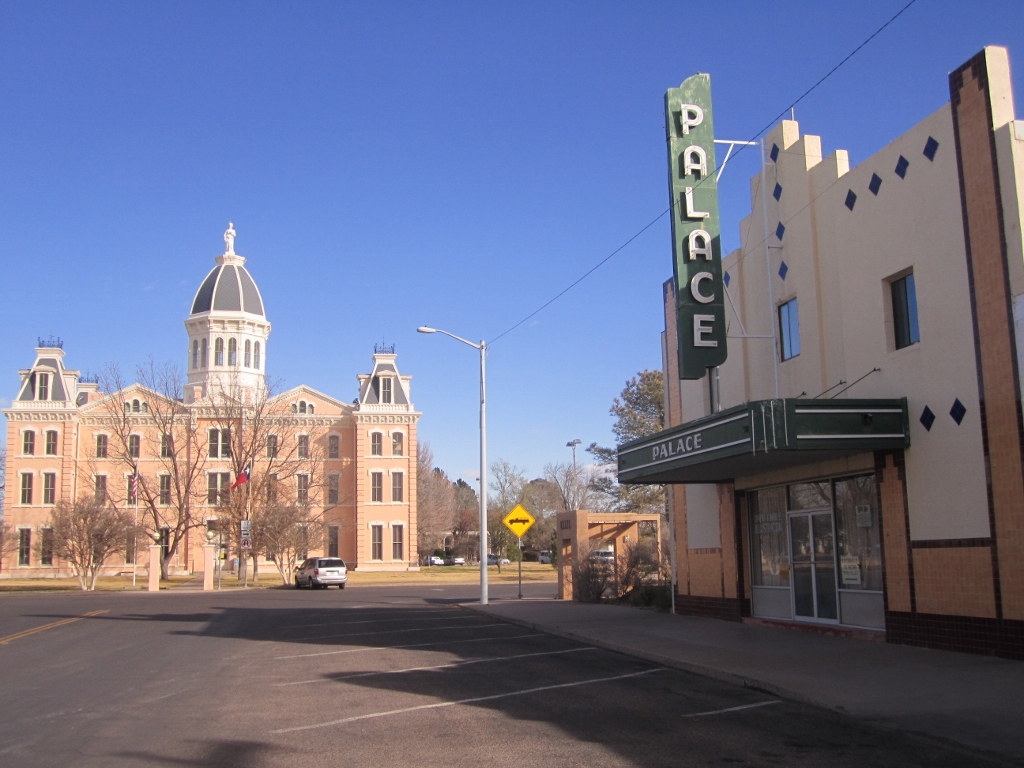 A really great shot of the downtown area---neat little town---full of history----I liked Marfa.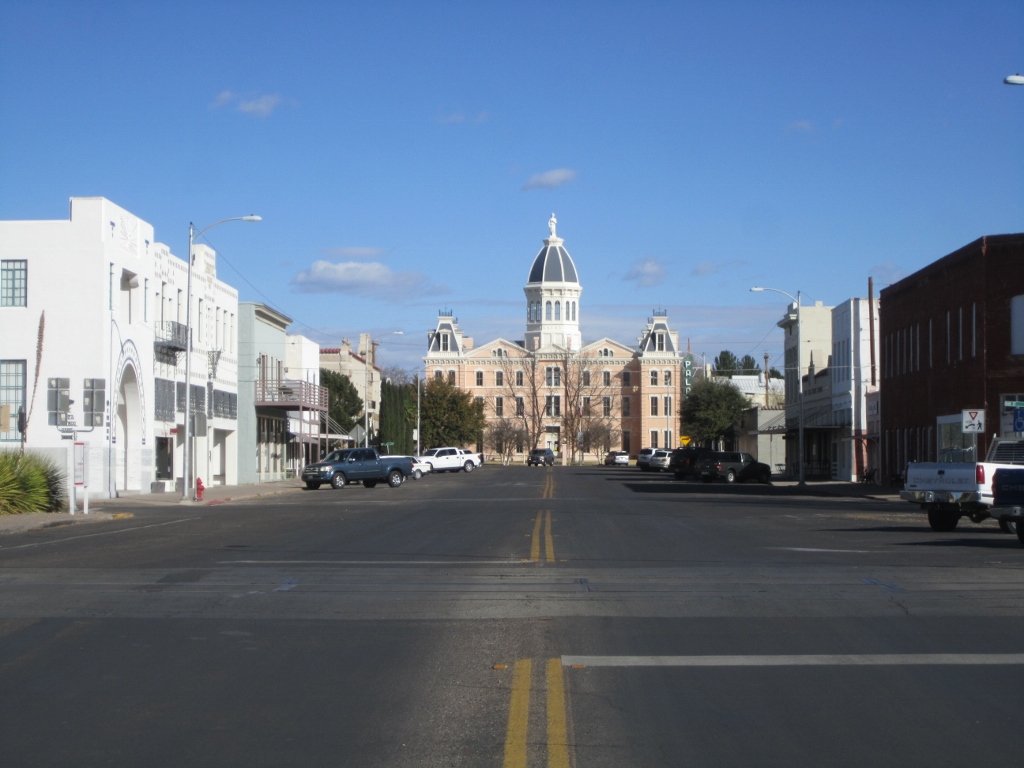 I headed North out of Marfa towards Fort Davis and there was a whole herd of Javelina's across the road.
They sneered at me and just dared me to hit them---which would have been like hitting a semi truck tire.
There was about 15 of them across the road when I first saw them.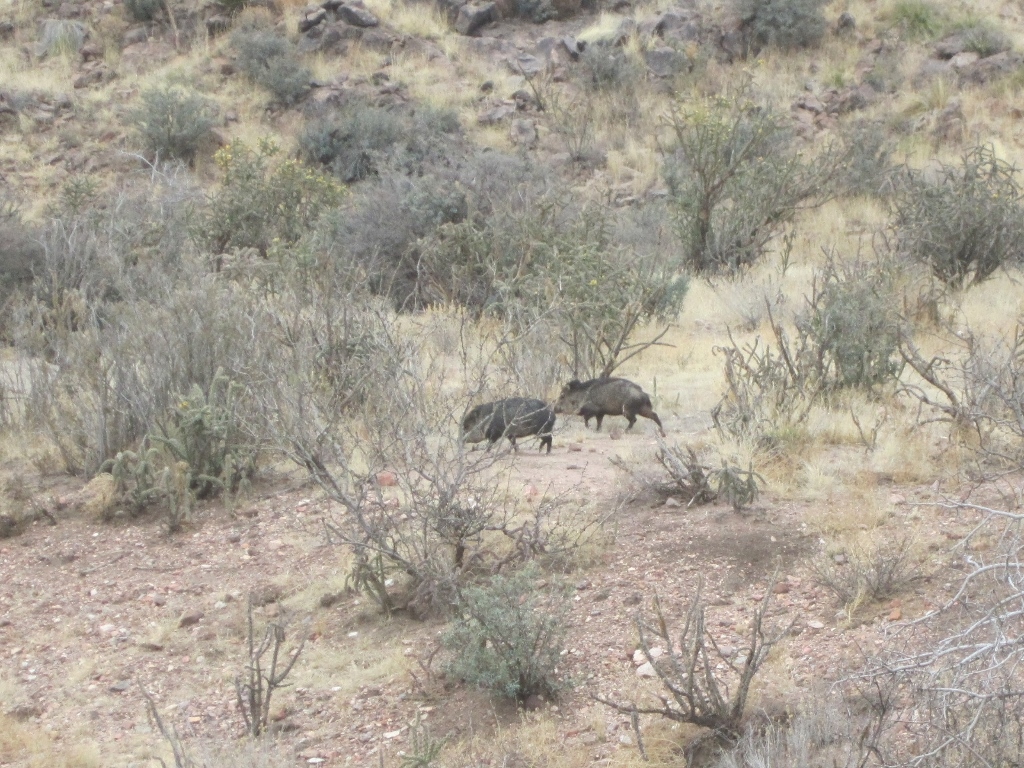 I rpde for miles and miles and miles and miles to see this place.
I wasn't leaving Texas till I saw this place as I didn't believe it really existed--in the middle of nowhere near Valentine Texas on route 90.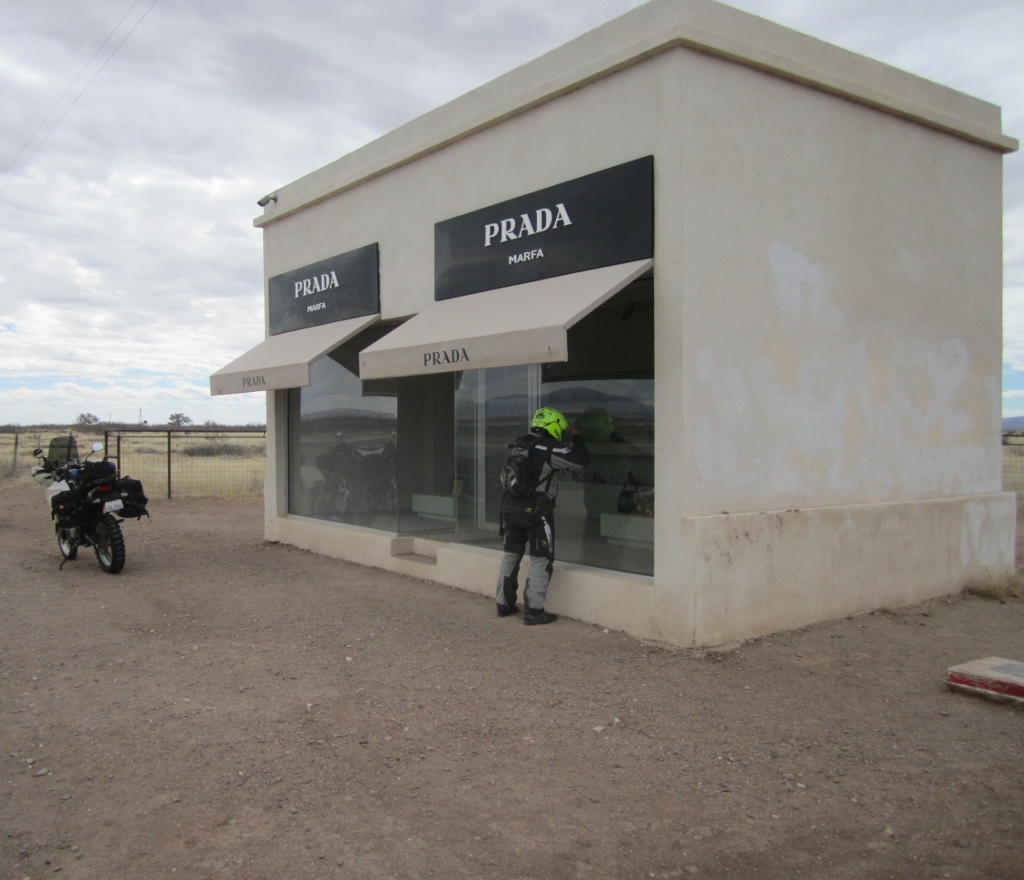 Yeh--a store for womens shoes and purses---just where any adventure rider would dream of going.
Been there--done that--check.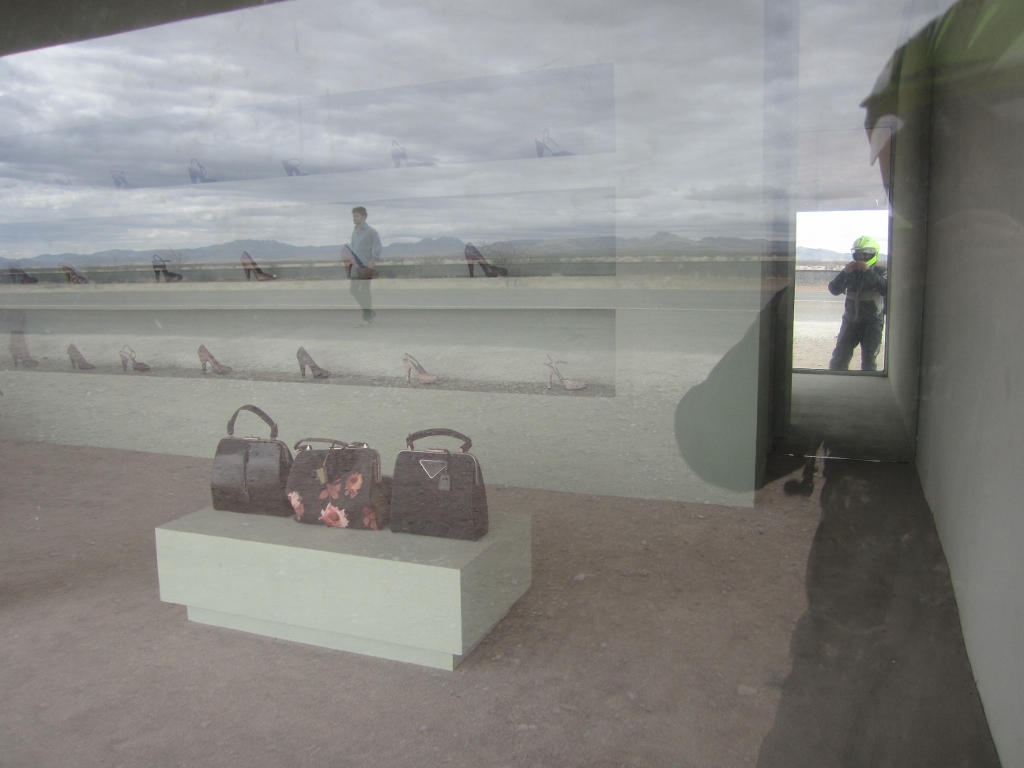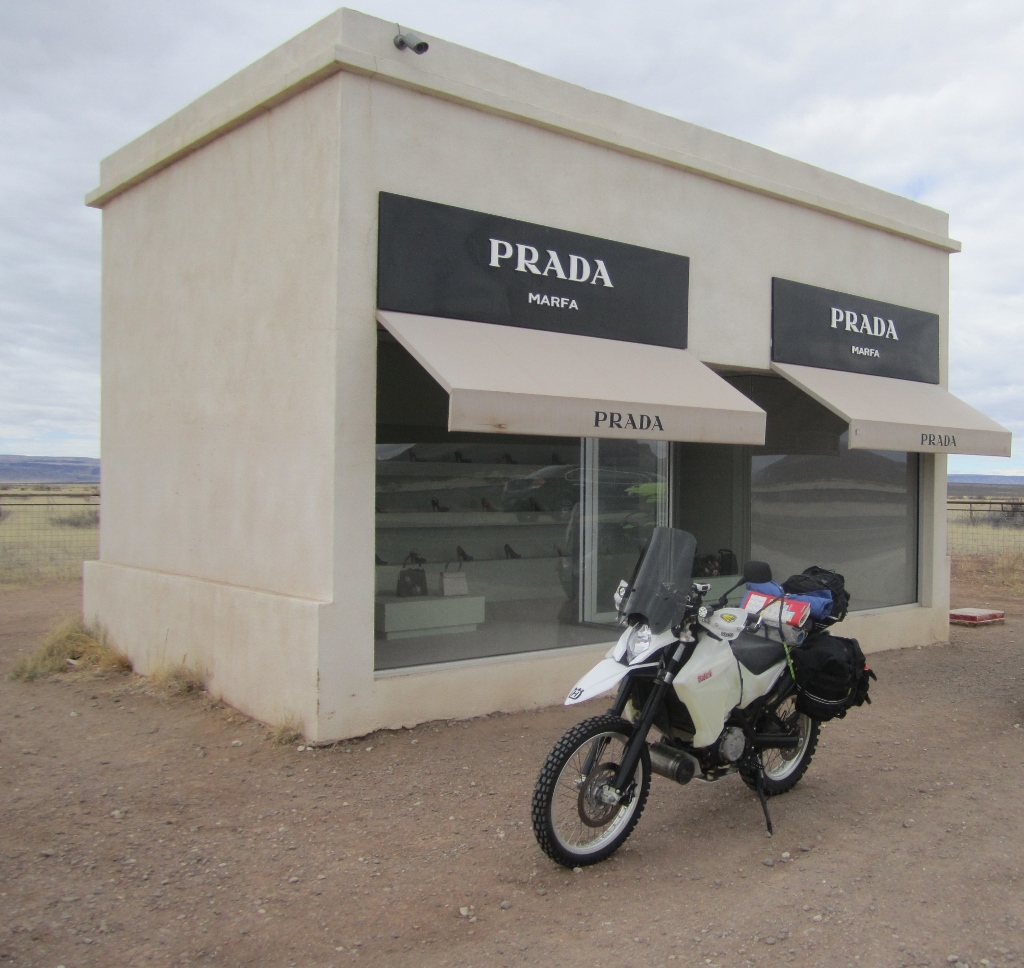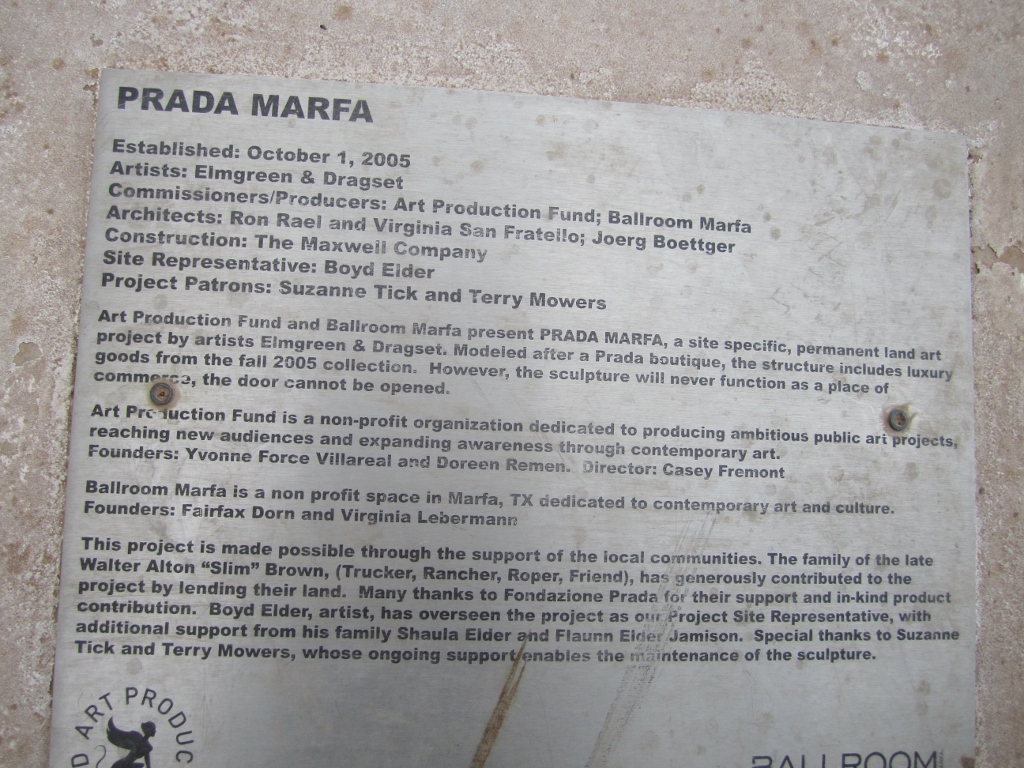 Cruising around Valentine was a hoot.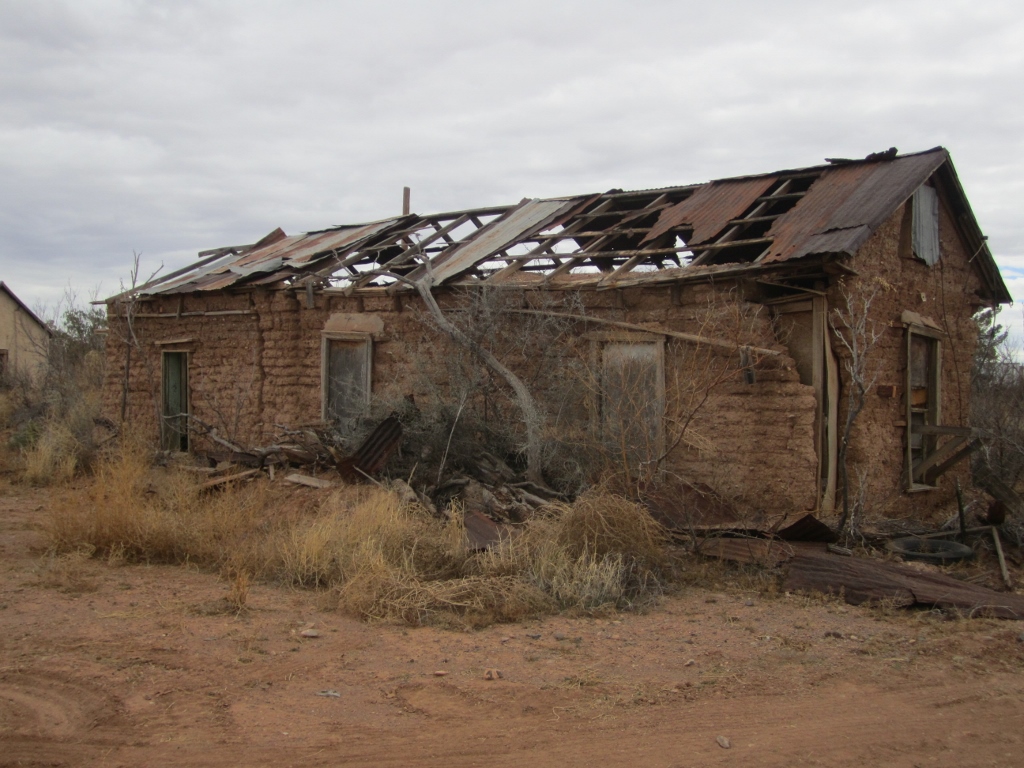 My first glimpse of the observatories---------could I get up there ?????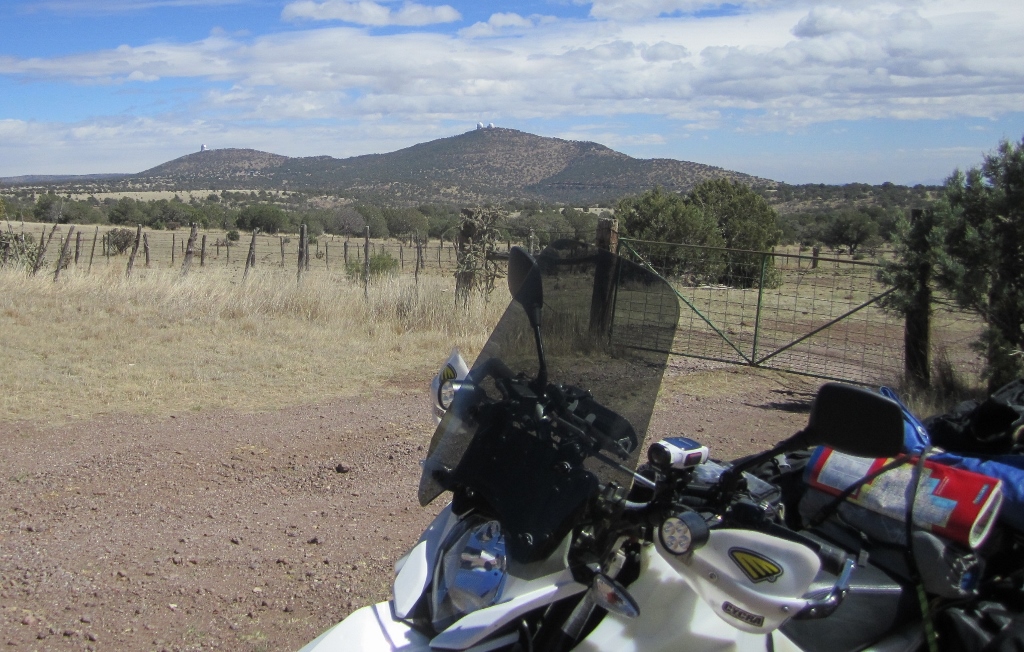 They are so far away---and so high.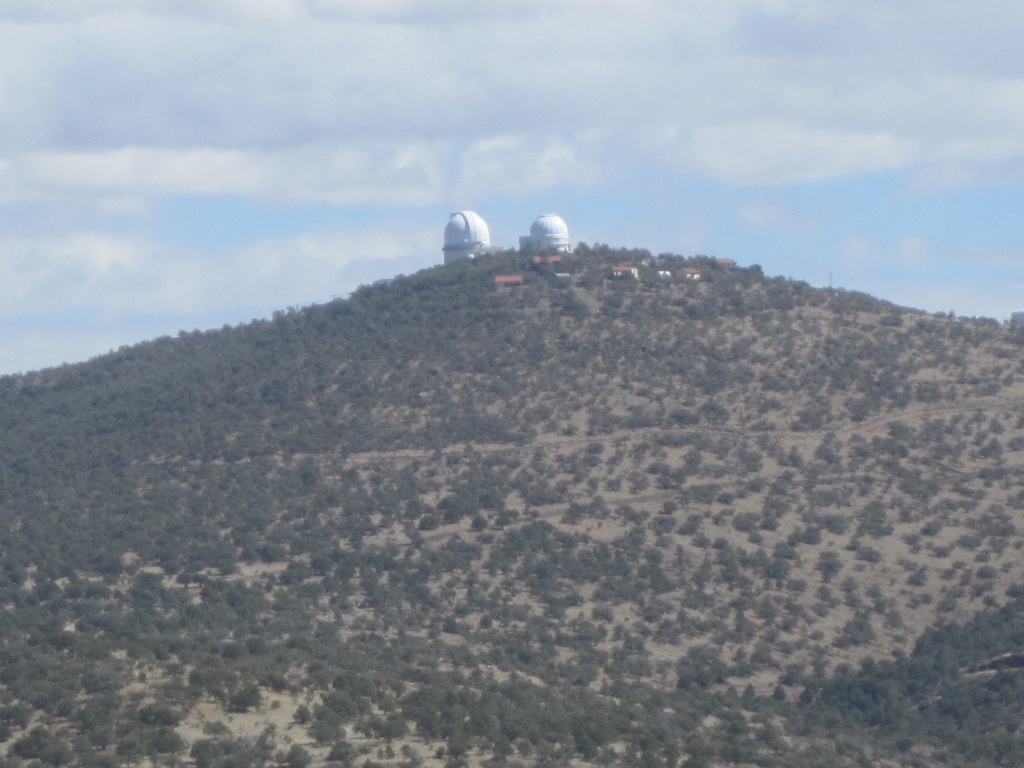 Well not now.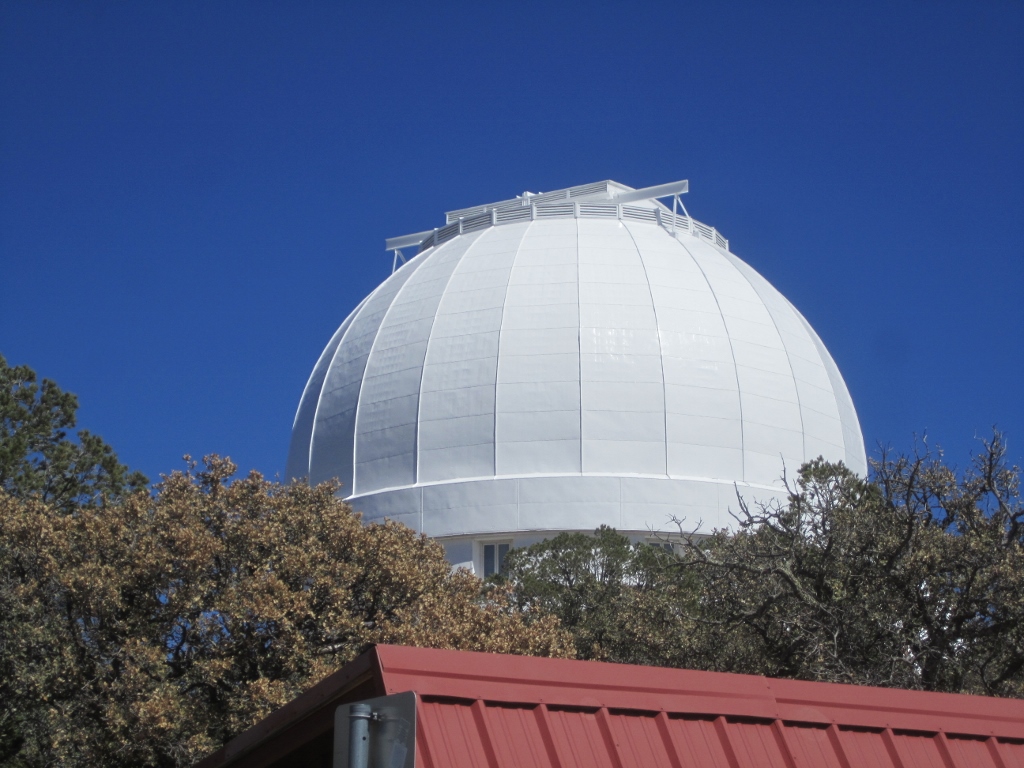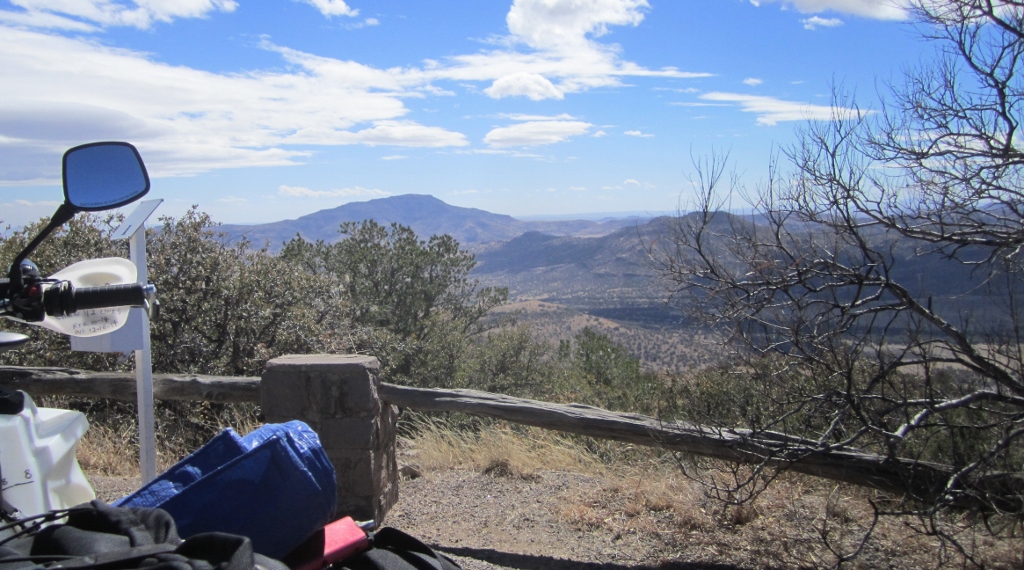 This was fun !!!!!
The ride around these mountains was just awesome---what nice day I had.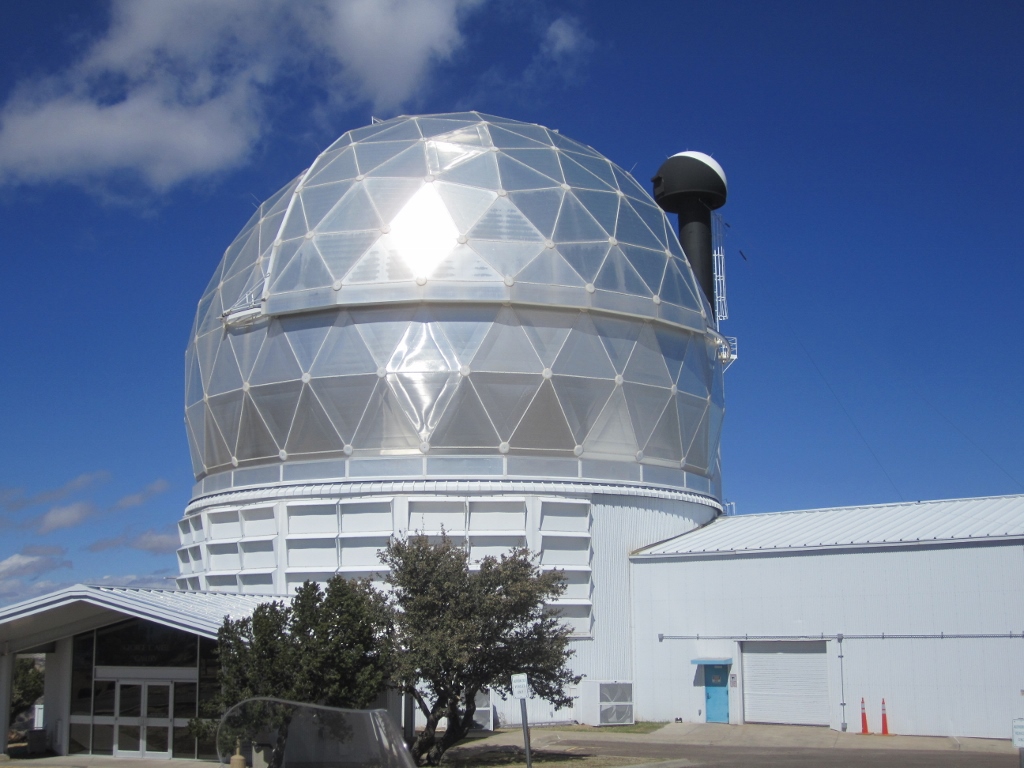 I rolled into the very historic town of Fort Davis, Texas and ate dinner here. Highly recommended.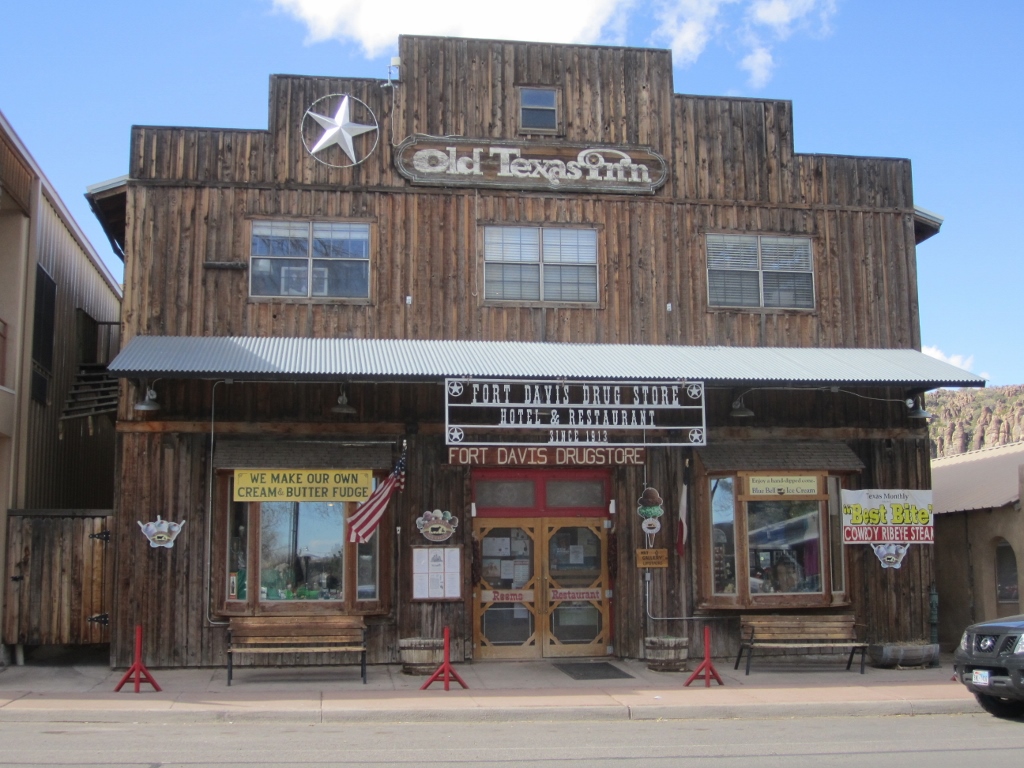 They had a gallery upstairs.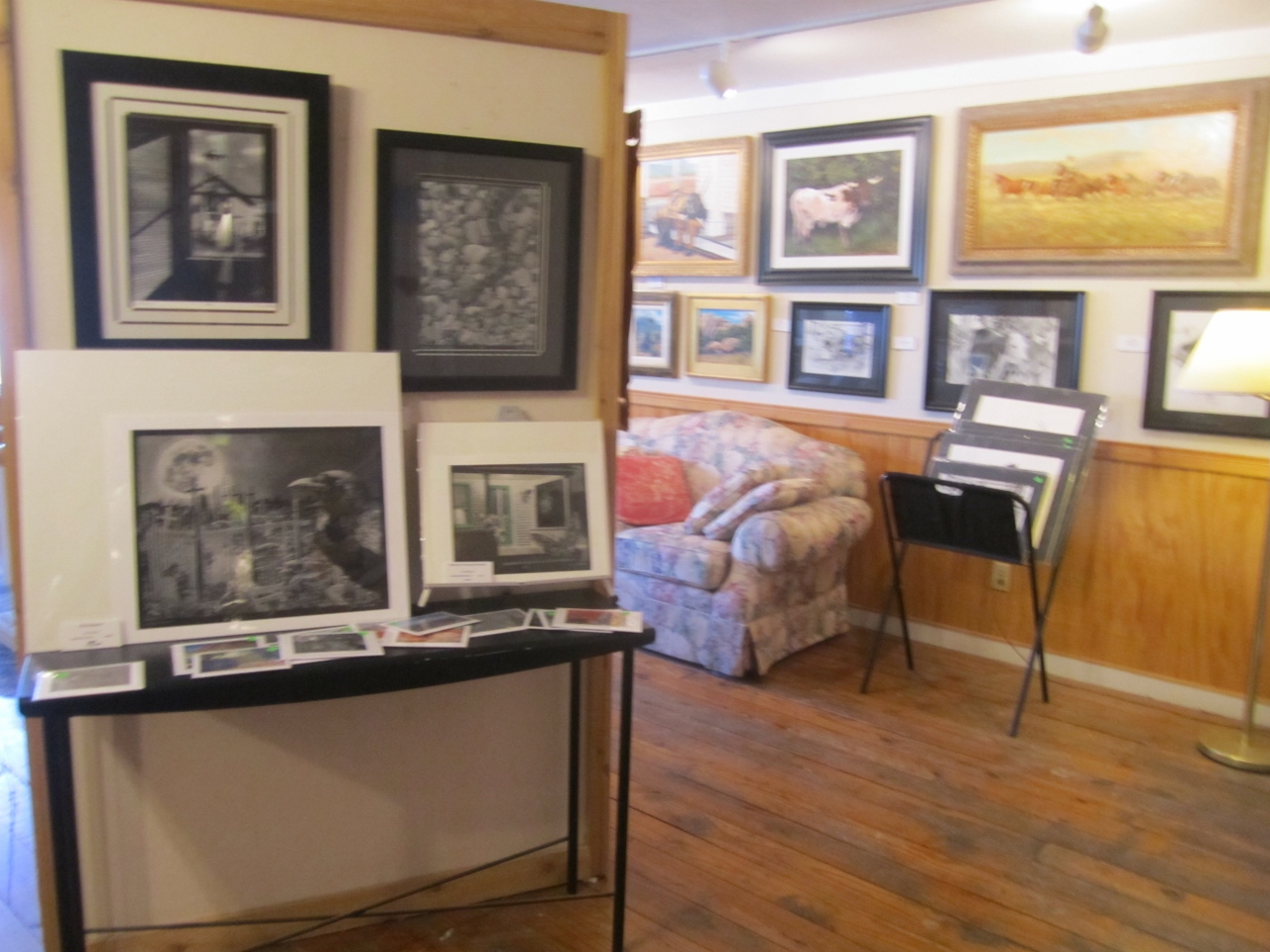 After dinner I headed back to my campsite in the state park--a really nice campground
and it got super cold that night.
Here's a map of the ride today.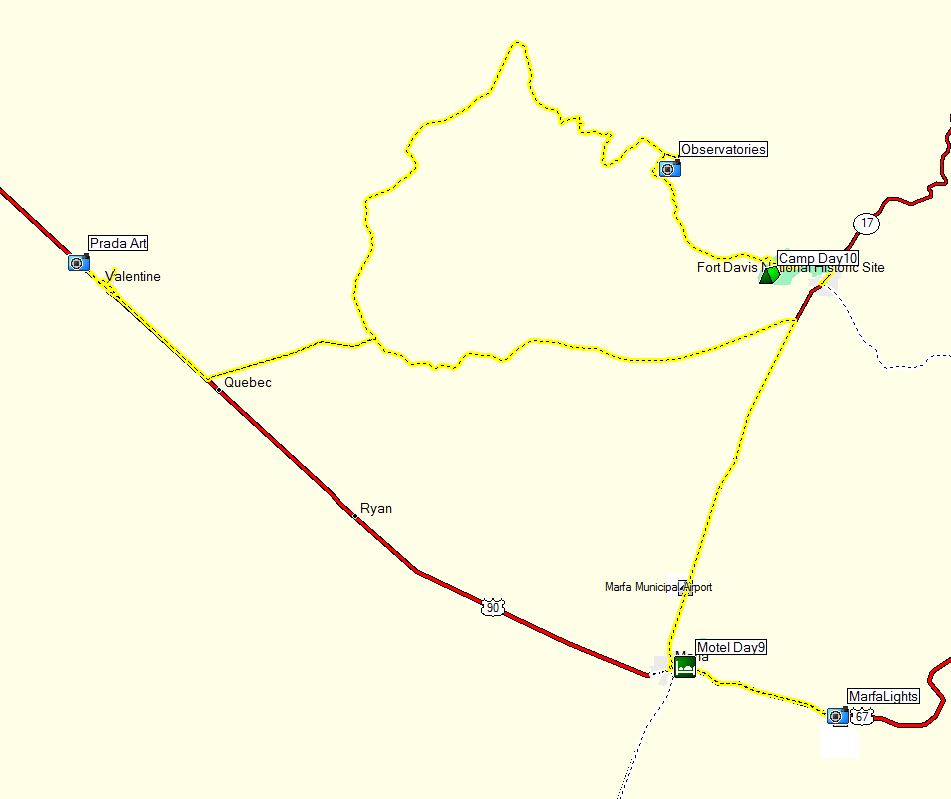 Day 11
March 3rd, 2014
Fort Davis, Texas to Junction, Texas
I can't believe I don't have any pictures of the camp last night--it was real nice---but froze.
It was tough breaking camp and after I did I high tailed it back to the Drugstore for breakfast.
The mens room was a hoot and the food was great again.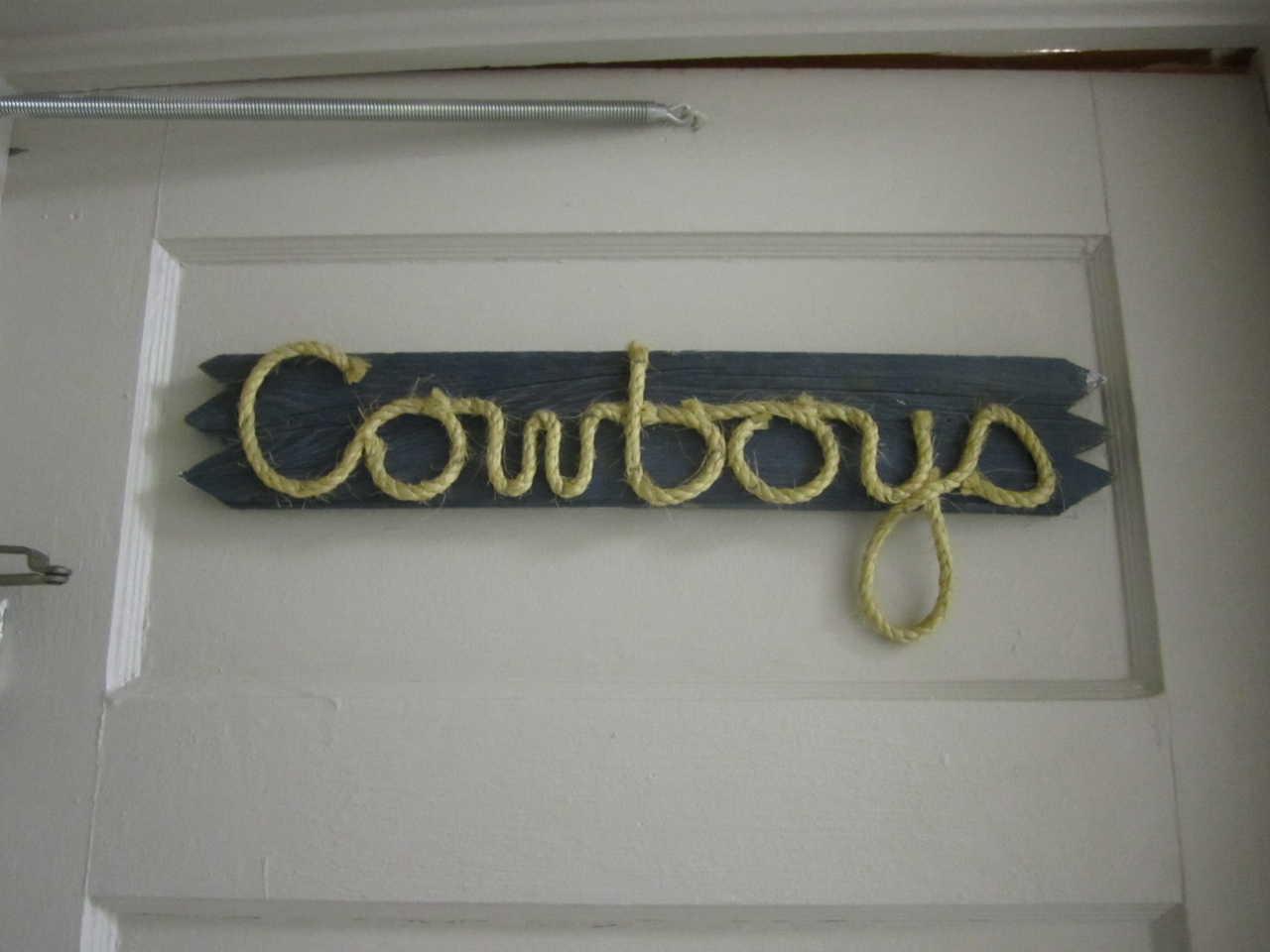 The Lavatory in the mens room.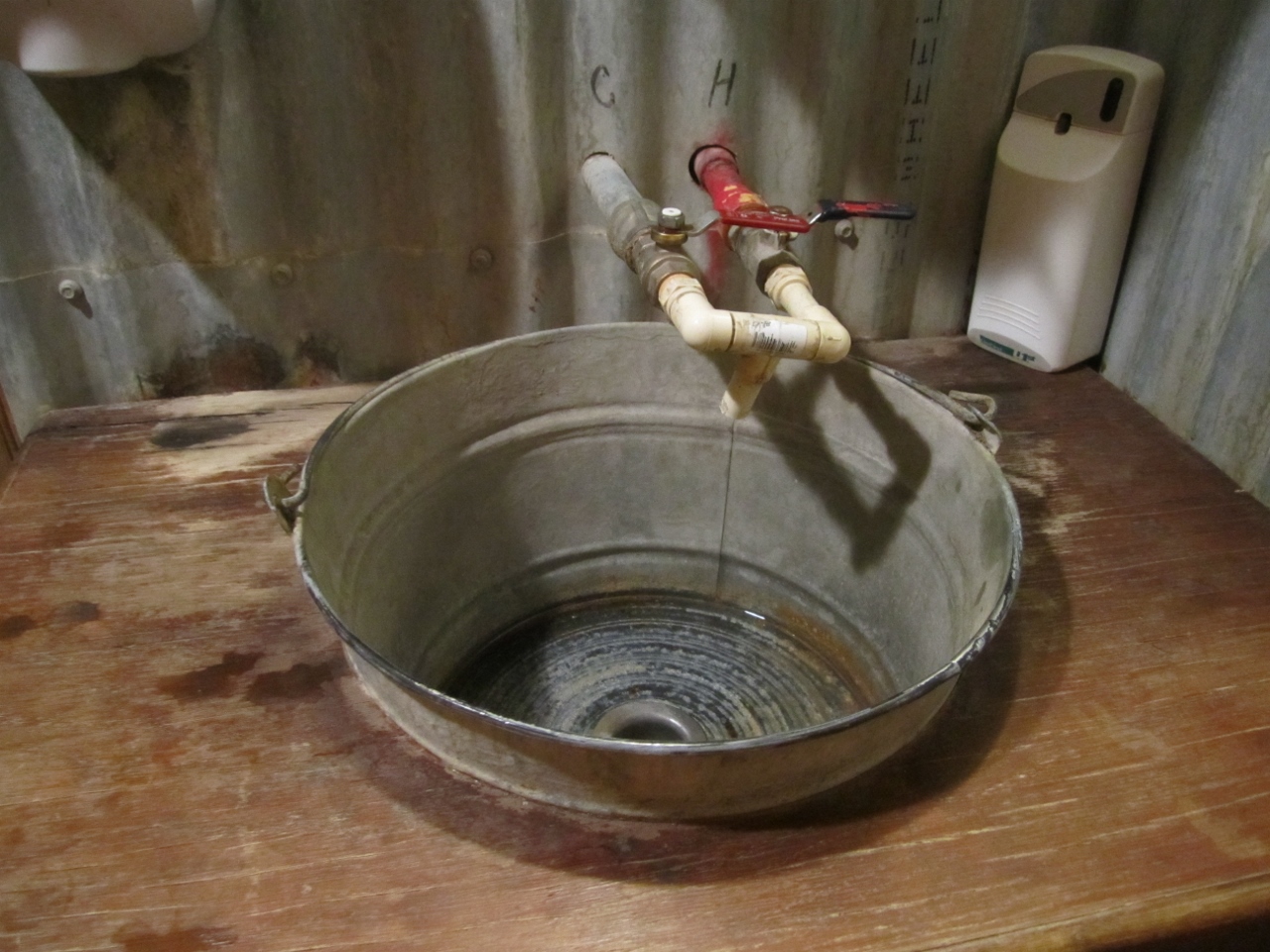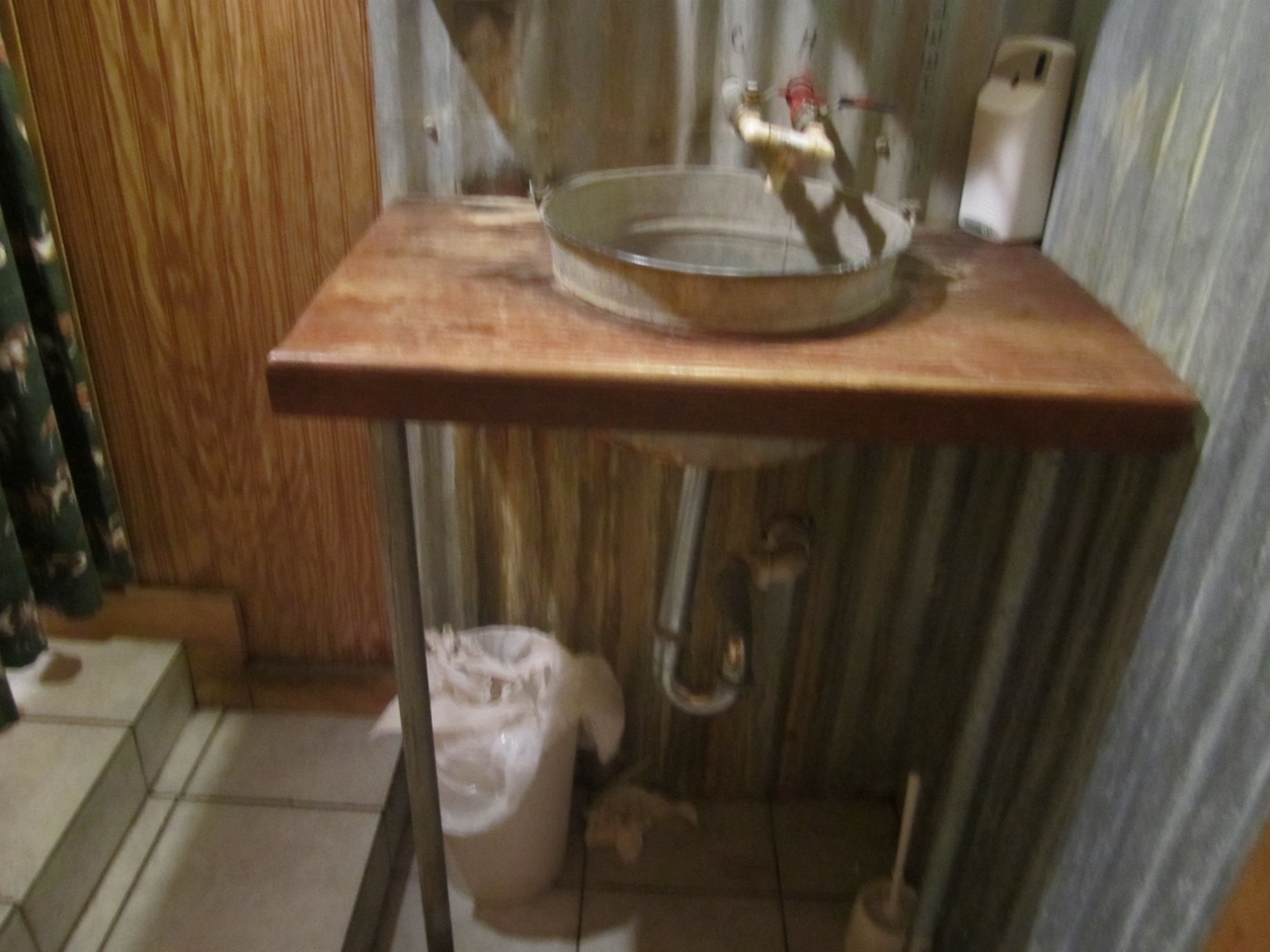 Lot's of privacy here.
As a retired professional plumber I just thought it was hilarious !!!!!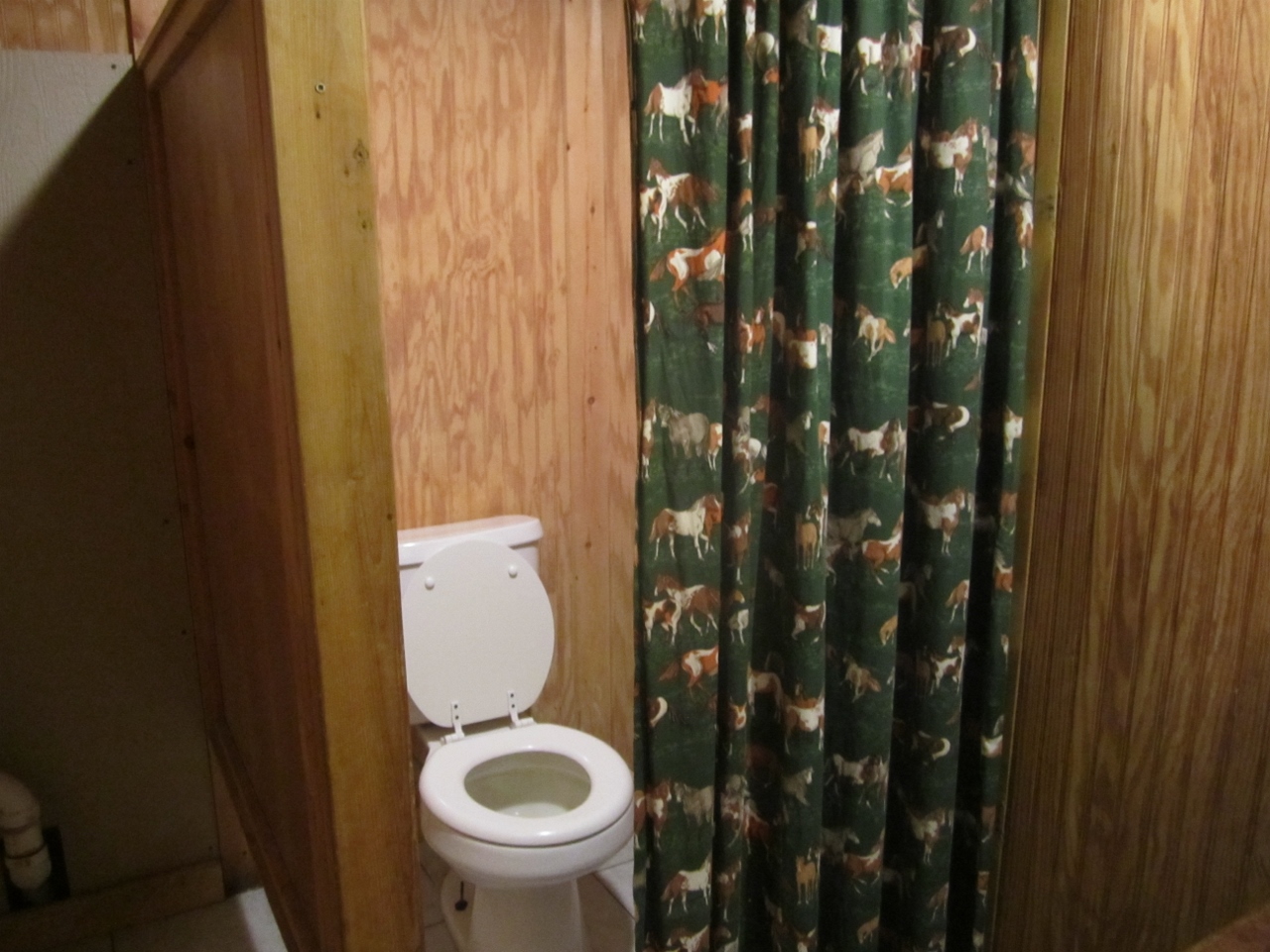 The weather was turning bitter cold again---I couldn't believe yet another blue Northerner was ceeping in.
So I ended up in a motel in Junction, Texas after 348 miles--dang weather--I was sure I'd have none of this--but I sure did.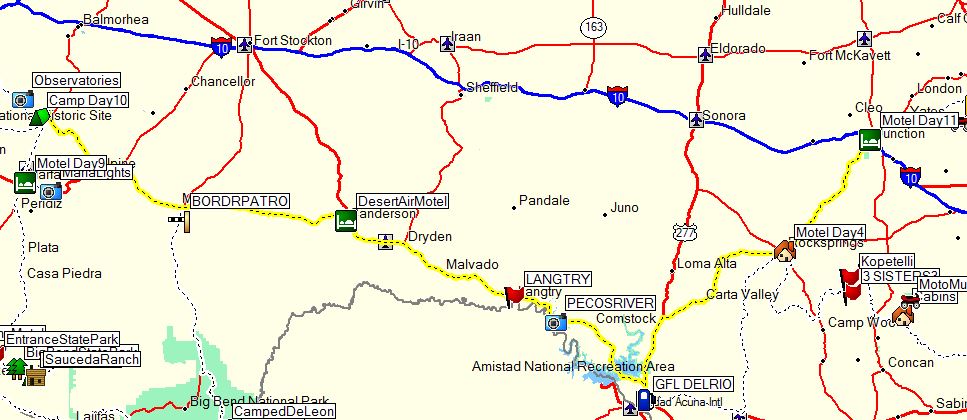 Day 12
March 4th, 2014
Junction, Texas back to Barefoot Campground and my Sprinter van for the ride home----which was hairier than
anything I did on this whole ride.

It was just a hundred miles back to my Sprinter the next morning--but it was in the 30's all the way. I had to stop and warm up a few times even with heated gear.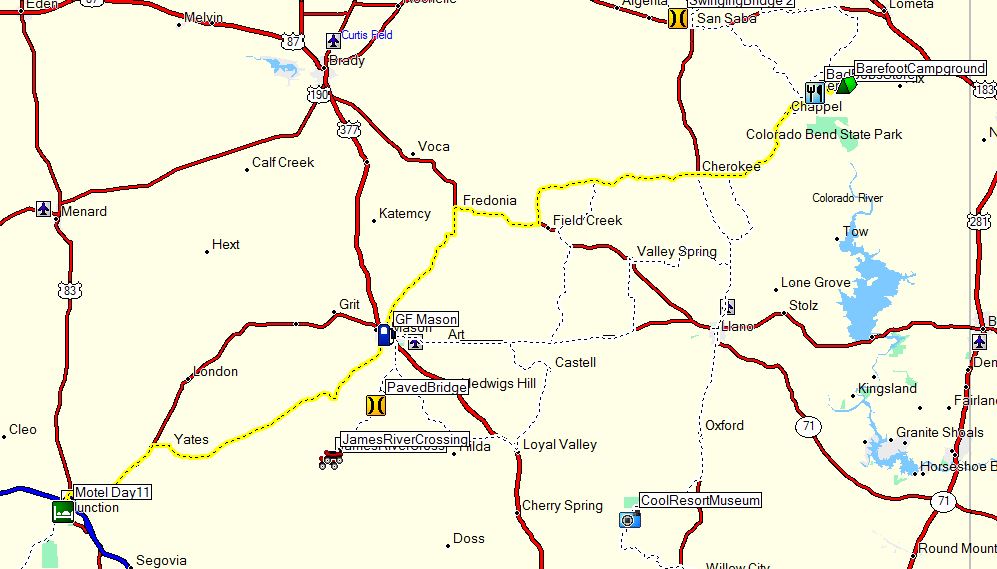 After this trip to Texas---a short time later I went back to visit places I didn't get to on the first ride.
Hope to write about it soon---but I've been busy riding.