Texas Hill Country
Winter 2014
I made 2 seperate trips to Texas this winter--here is the first one.
The entire nation was experiencing the most brutal winter since a lot of people could remember.
And for a motorcyclists---- this is brutal on me.
It was time to head South to Texas and warmer weather----if I could even get out of town in the ice and snow.
Turned out--------getting back was almost impossible---more ice and snow.
I hauled my bike down to warmer weather and unloaded.


I would be taking my 2013 Husqvarna Terra TR650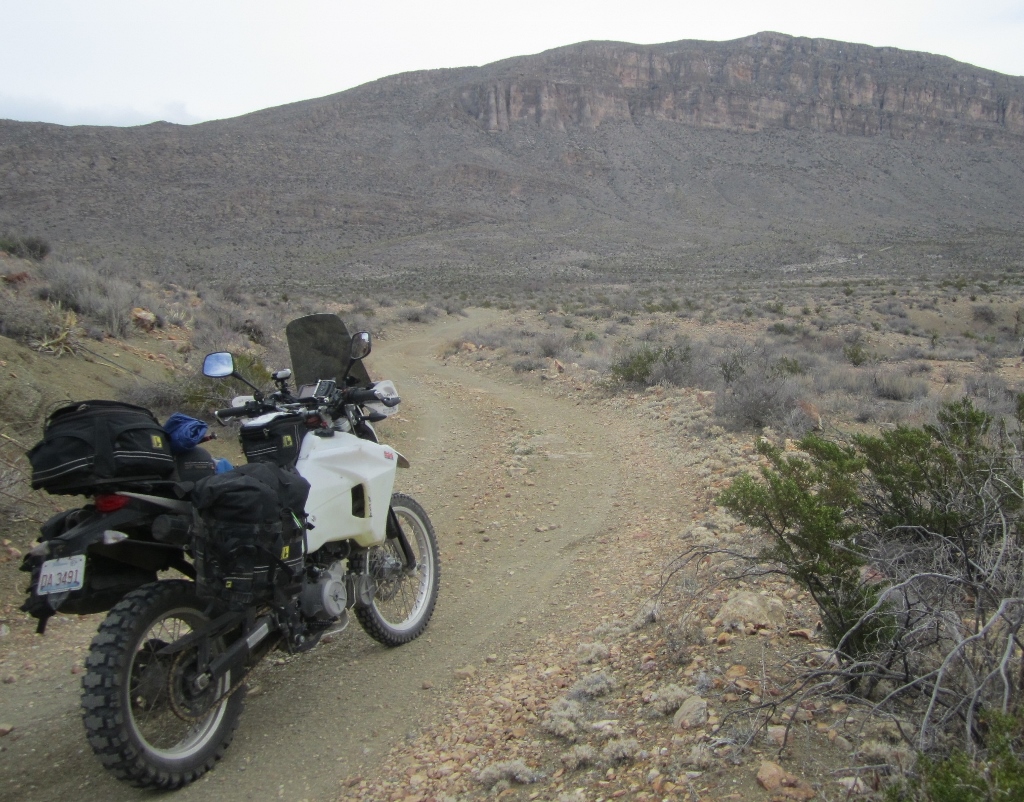 I hauled it to the "Barefoot Campground near Bend, Texas and Bend State Park.
It is a private campground right on the Colorado River. I found out there are 2 Colorado rivers--this is not the one in Arizona and Utah.
The town of Bend is where the waypoint "BadBobsStore" is.
He's an ornery dude----and is famous for his "Bad Burger"----over 10 dozen sold nation wide.
Bend, Texas----------population 1----------but just when his store is open--then it's zero.
What town is it near you ask ?????--------no town. You might find it on a map---might not.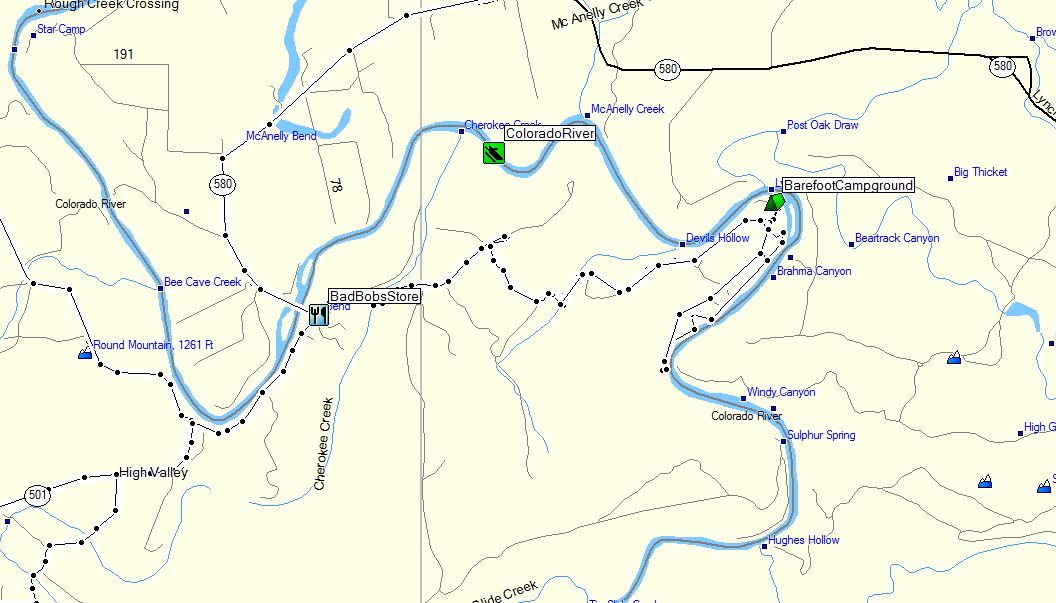 I stomped in the store and kind of over stepped my welcome-----and
blurted out "Who's Bad Bob" ?????----------he didn't shoot me---and I was afraid to tell him I was from Illinois when
he ask----which he did-----with one eye open. "Where you from Boy" ?????
My stupid smile saved me I guess.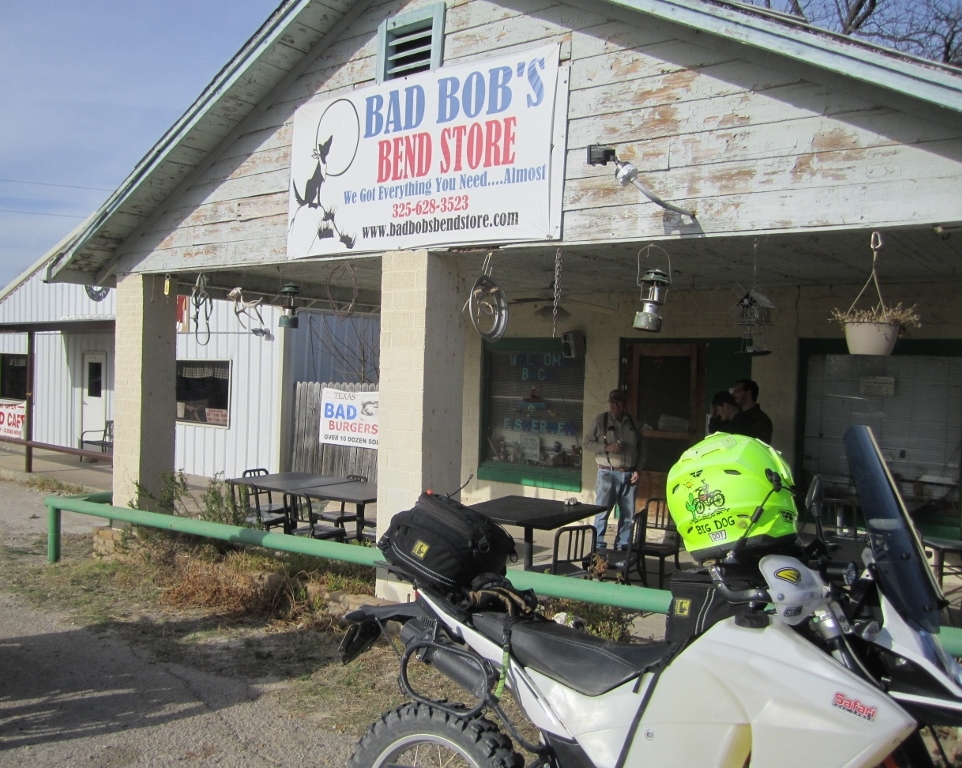 His claim to fame is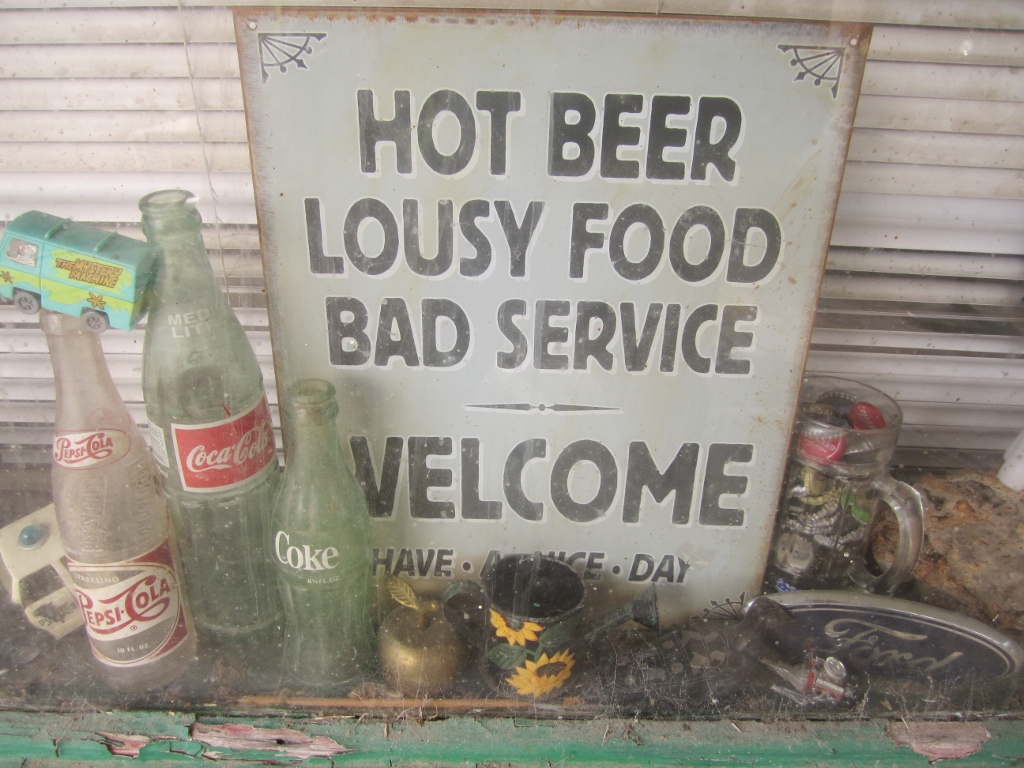 You gotta' start somewhere.
I decided I wasn't all that hungry anyway.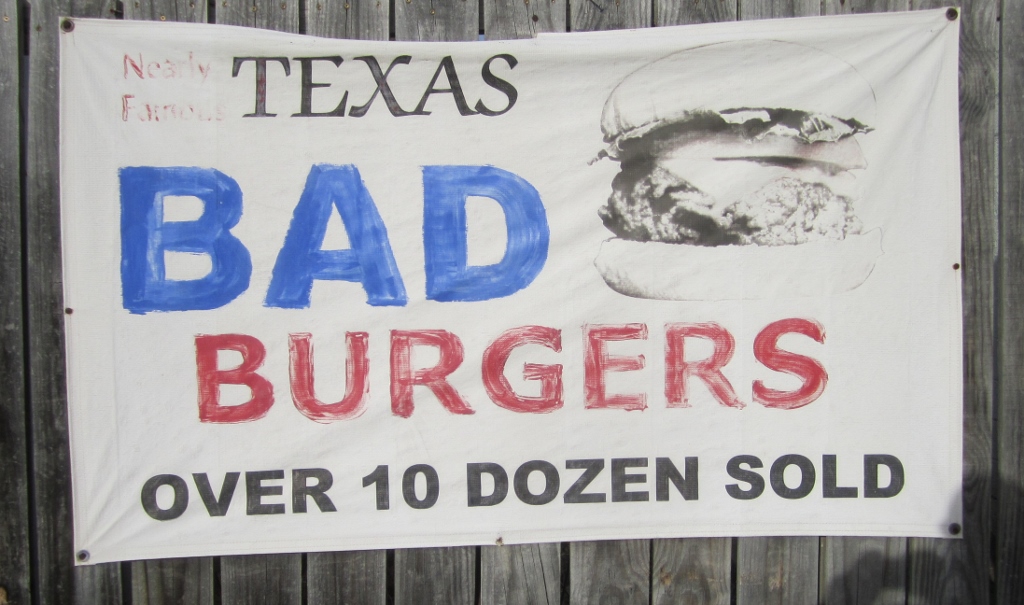 I beat it on down to the campground and had the place all to myself----well the first night anyway.
It was miles back to the campground and I settled myself in-------the road going back to the campground was awesome and was
all on a private ranch.
After I unloaded my bike I still had time to go for a nice ride-----and I would find the only swinging bridge in Texas.
I would camp here 2 nights before leaving the Sprinter and heading
out with just the bike---leaving the Sprinter at the campground until I got back--whenever that would be.
So after I unloaded I took off for the Swinging Bridge.
Feb. 21st, 2014
Barefoot Camp---back to Barefoot Camp
The Regency Swinging Bridge. It was awesome and still being used.
The Regency Bridge, locally known as the "Swinging Bridge," is a one-lane suspension bridge over the Colorado River in Texas. It is located at the intersection of Mills
County Road 433 and San Saba County Road 137, both gravel roads, near a small community called Regency. The bridge saddles Mills and San Saba counties.
The bridge has a span of 325 feet (99 m) and a wood surface. It was built in 1939, with most of the work being done by hand. The bridge was restored in 1997, with
then-Governor Bush attending the rededication service. This was a major event for the community of around 25 people.
Vandals set the wood surface on fire on December 29, 2003, burning a hole in some planks. The bridge has since been repaired and reopened to traffic.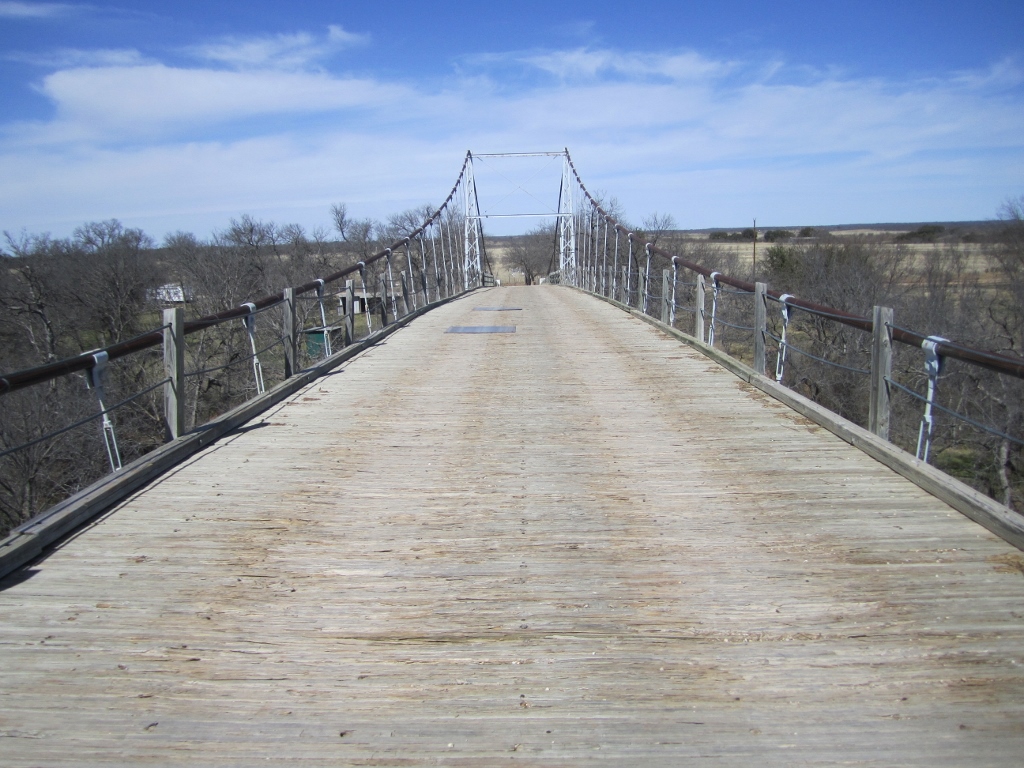 Extremely rare construction using many straight wires banded together instead of a cable.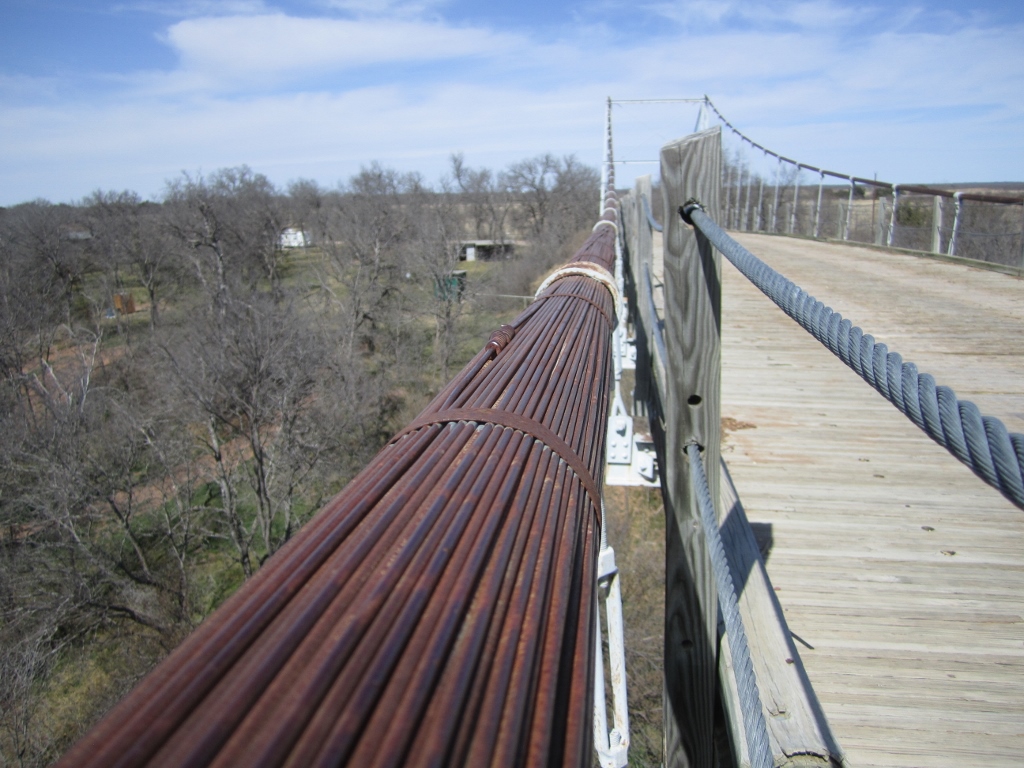 I have seen several swinging bridges with this same cable in southern Missouri---all of them were built around 1910 I think--some still standing.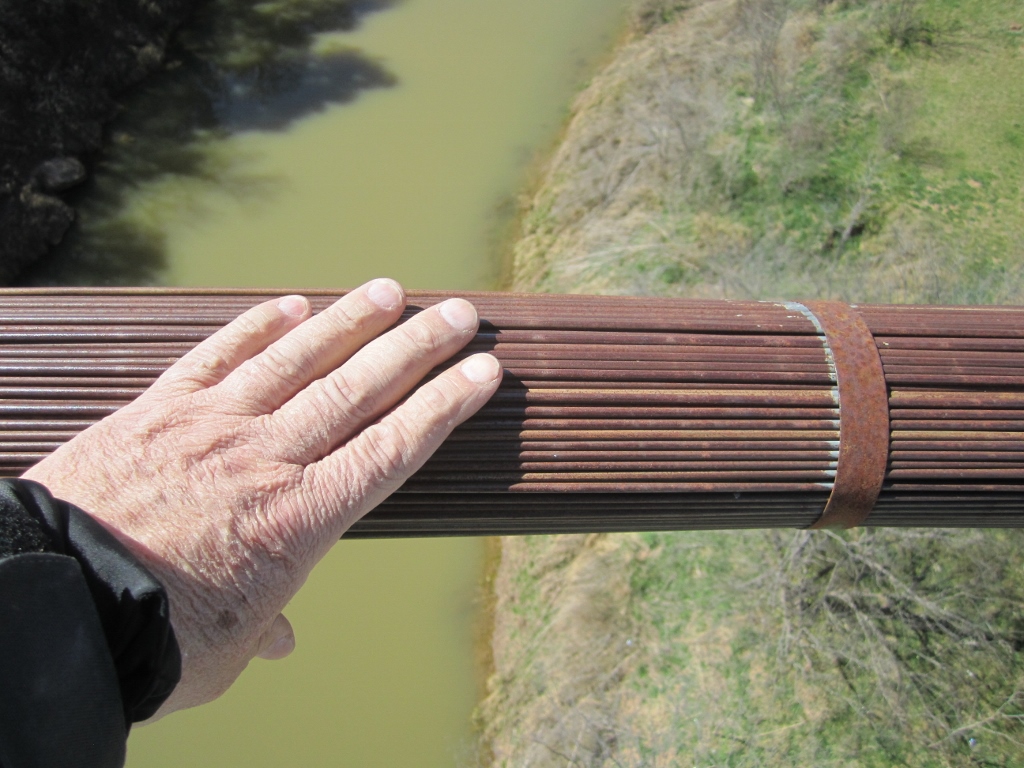 It's spans the Colorado River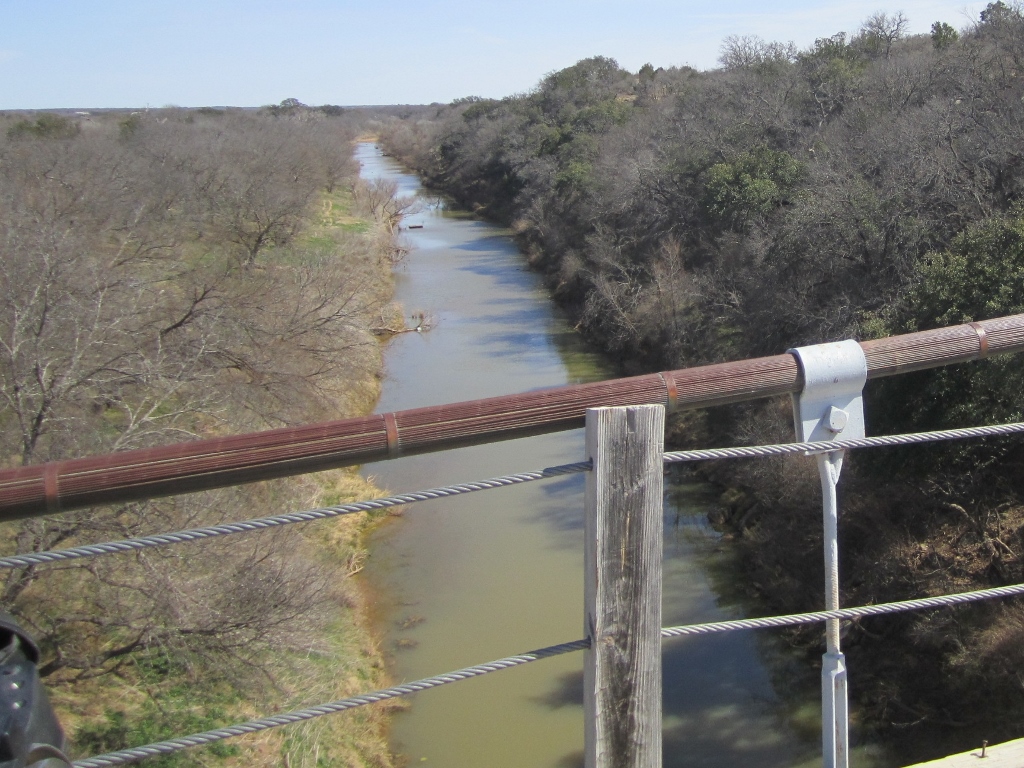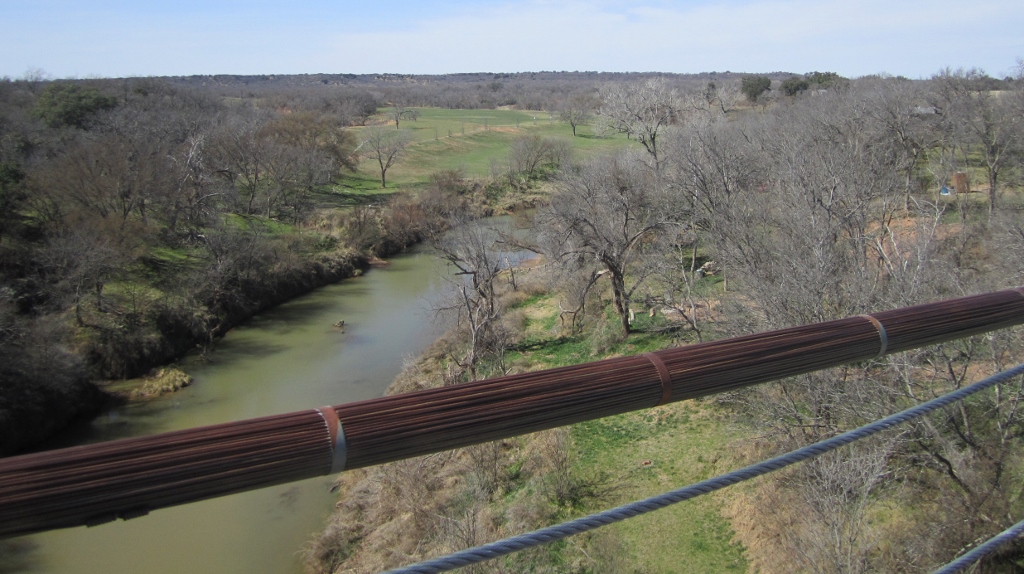 After that bridge I just winged it back to the campground on a dirt road I could find--happy I found the bridge and it was still there.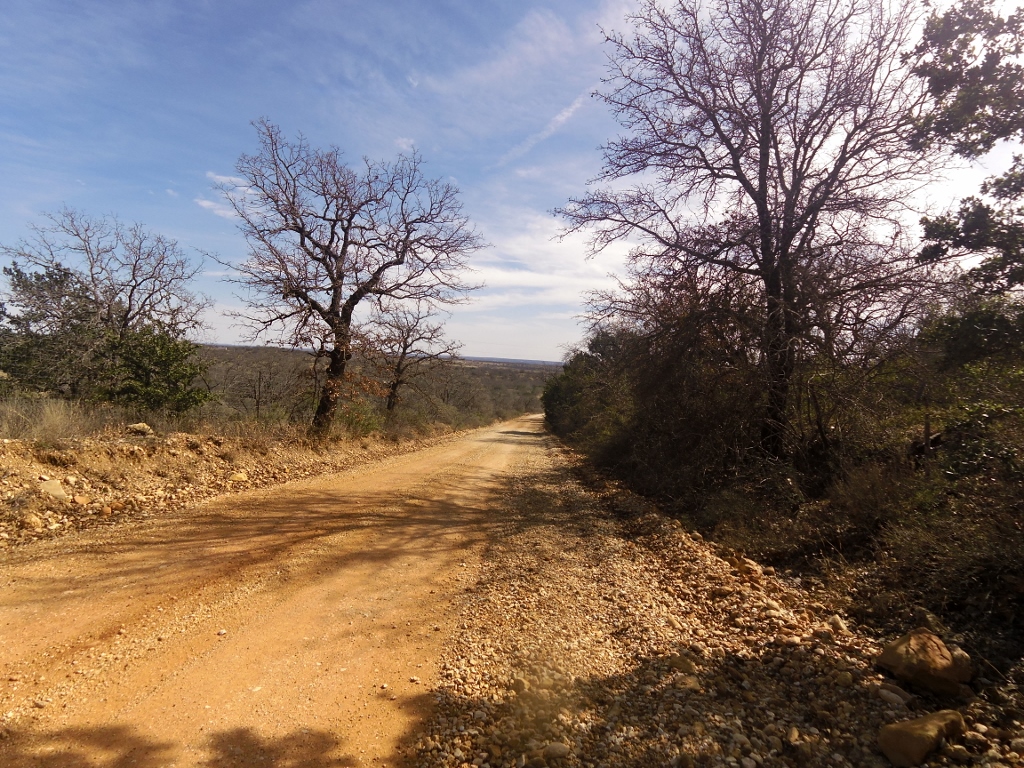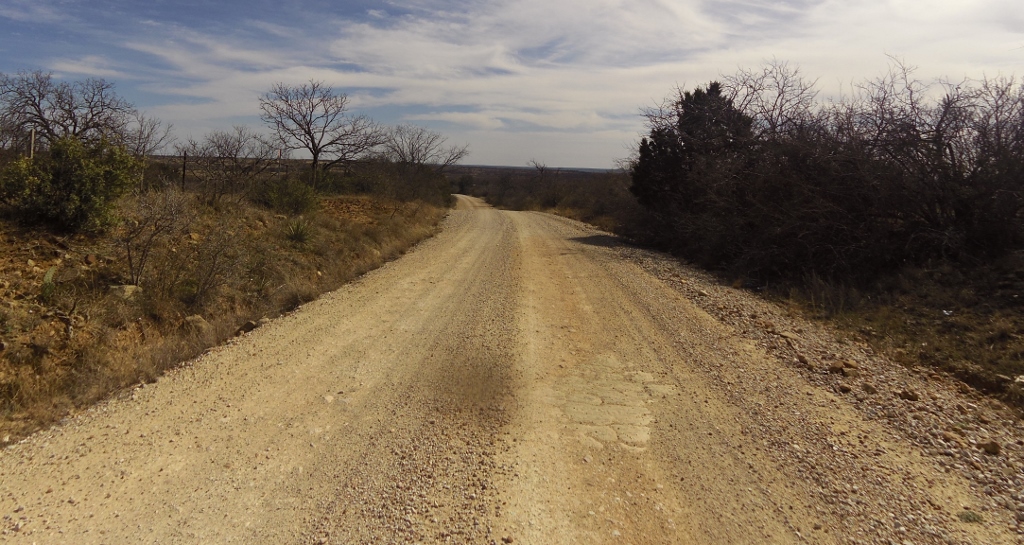 I traveled for miles and miles in nice sunny warm weather enjoying ever inch of the ride.
Still glowing with excitement over the only swinging bridge in Texas...........................
What's this ???????????????
Another swinging Bridge !!!!!!
I had been lied to it seems. How many more were they ?????
I just happened upon this one---I had no idea it was there.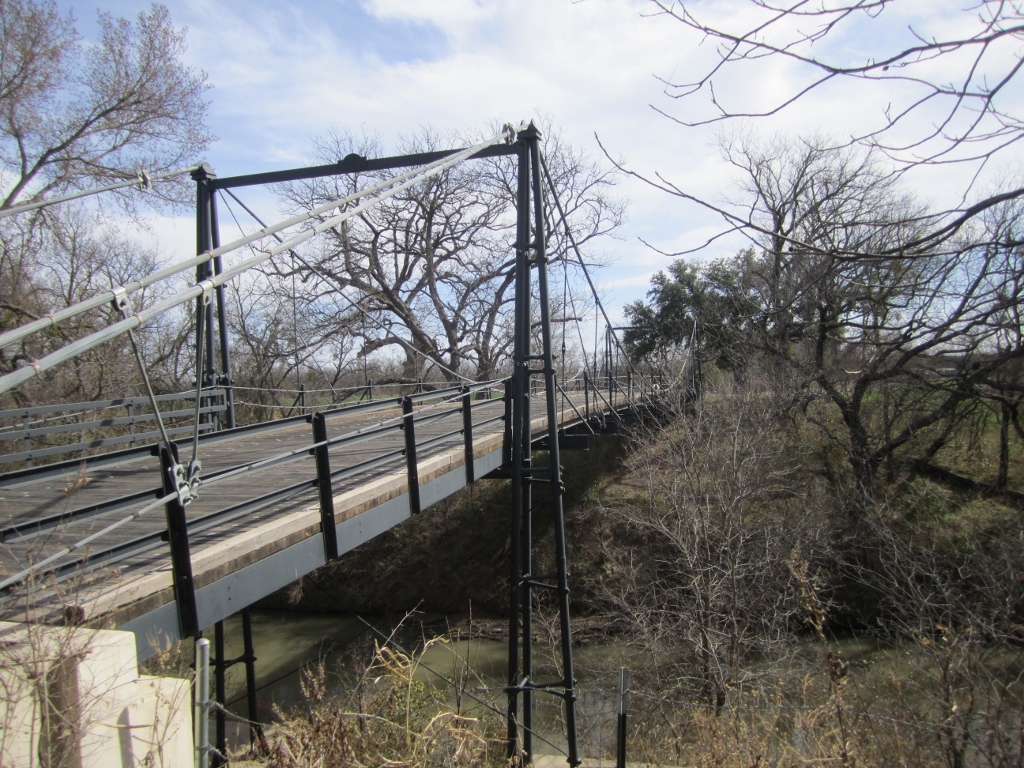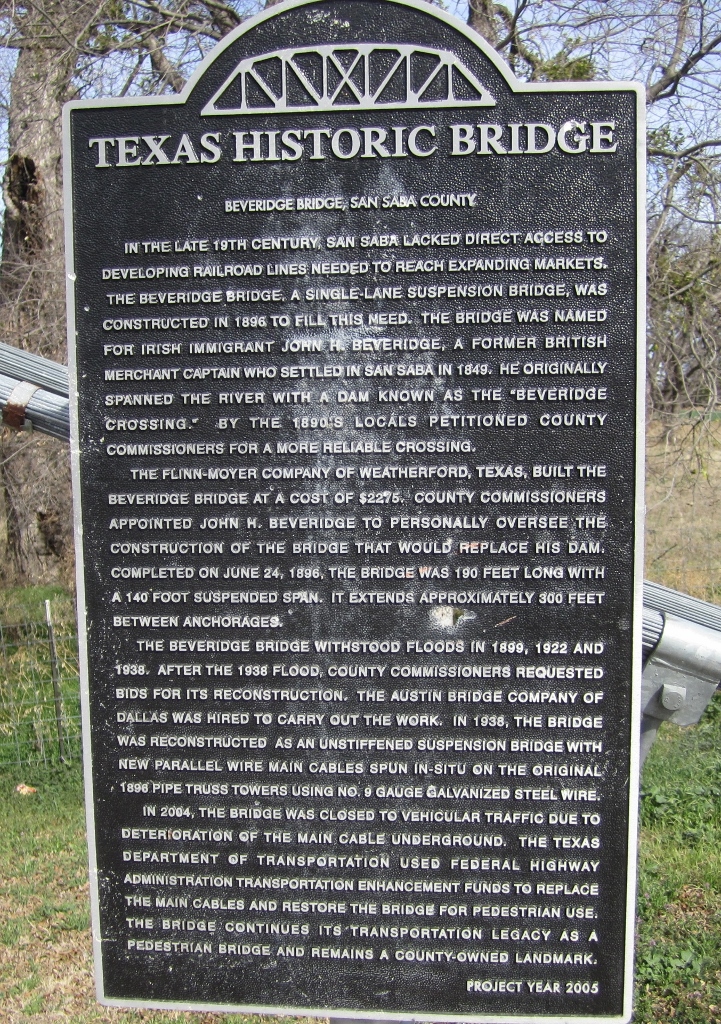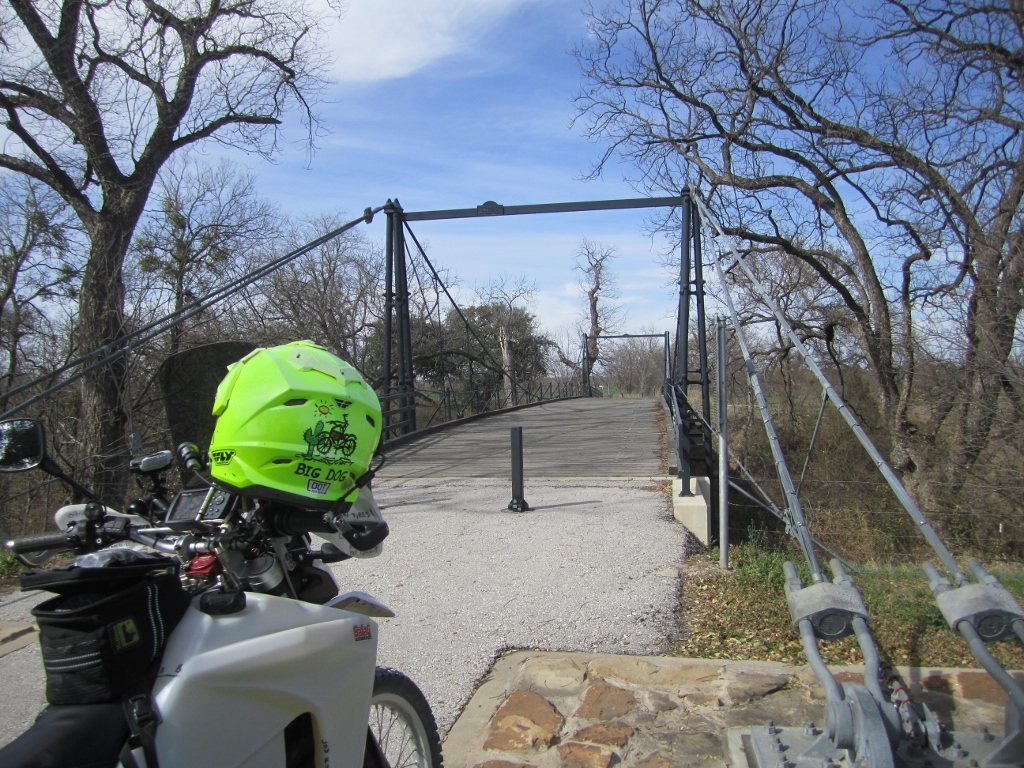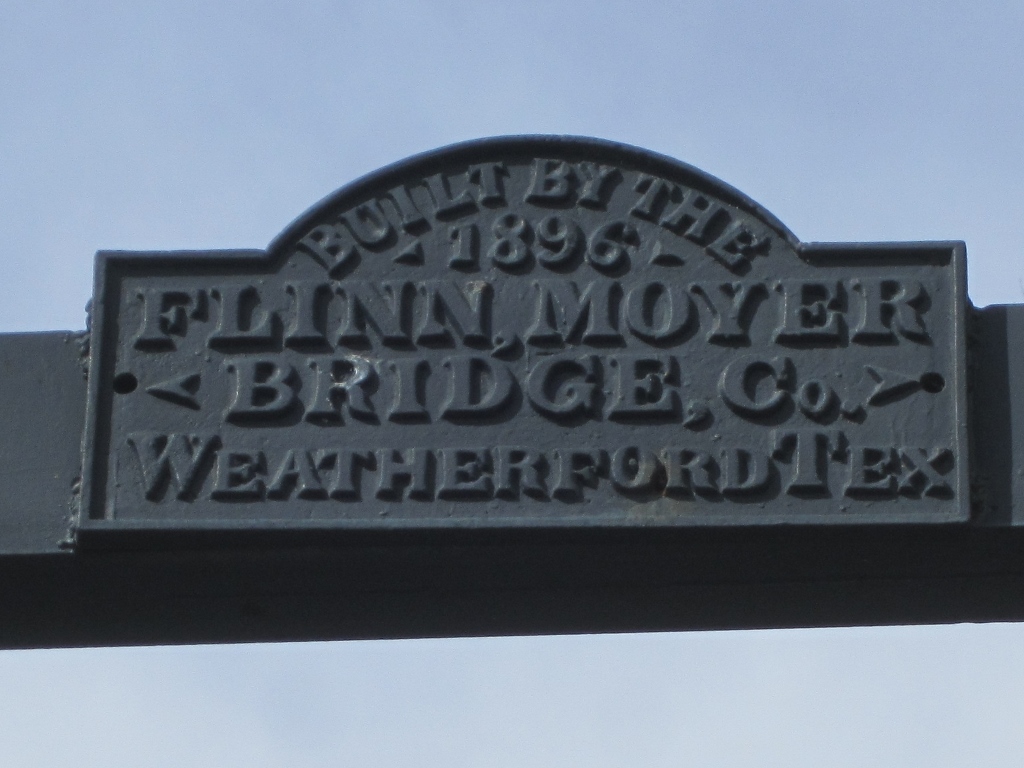 On the way back I found this neat old steel bridge further down the road.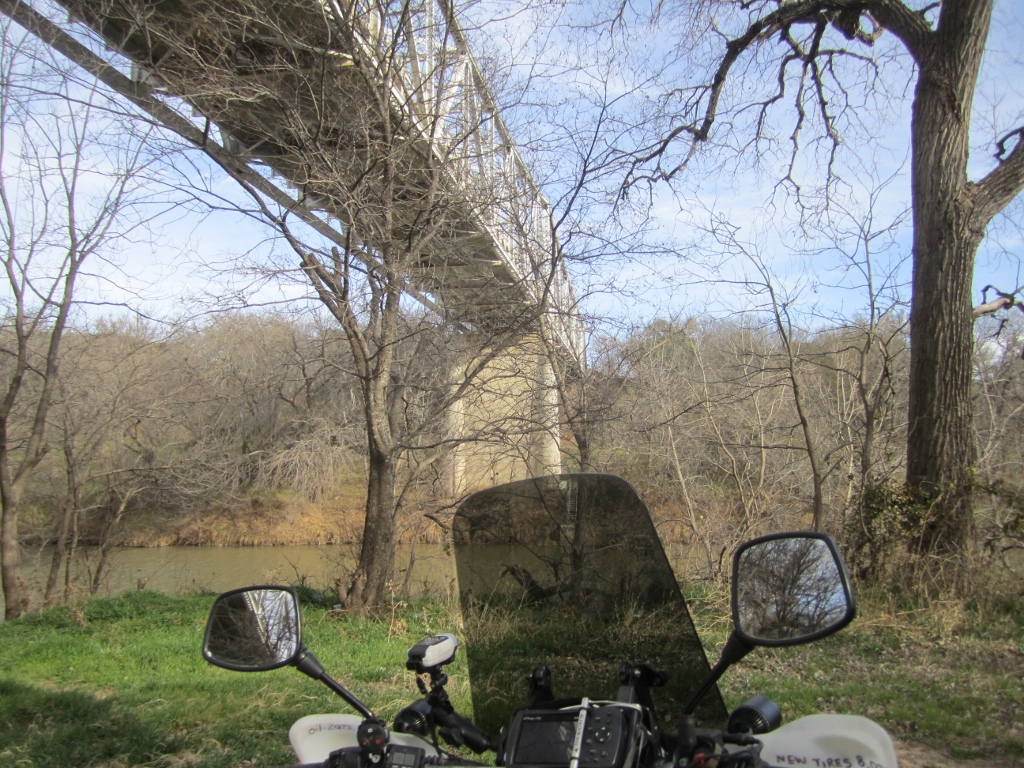 Here's a rough map of my first days ride---I didn't start riding till noon I think.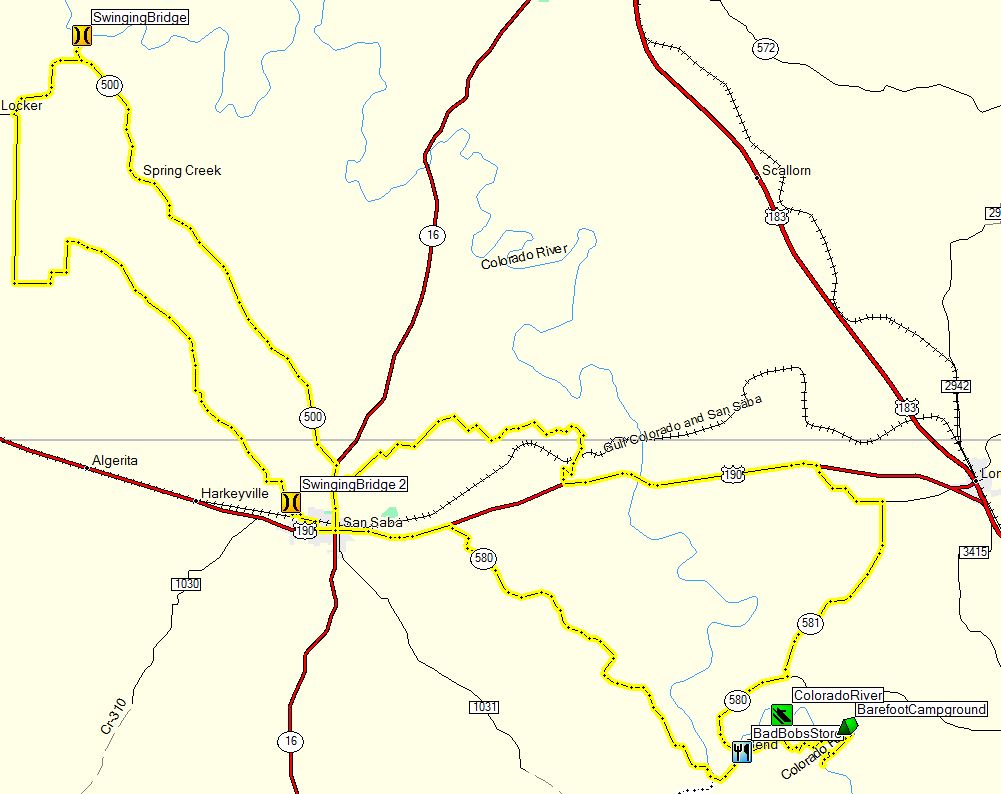 Day two--February 22nd, 2014
Barefoot Camp---back to Barefoot Camp
Today I had just 2 objectives---ride on some neat backroads and see the James river crossing.
The sunrise at camp was awesome and I owe it to my very good friend Scott Williams (High Five)
for telling me about this campground. He came down here on his BMW not that long ago and stayed here for a few days.
Good friends are hard to come by.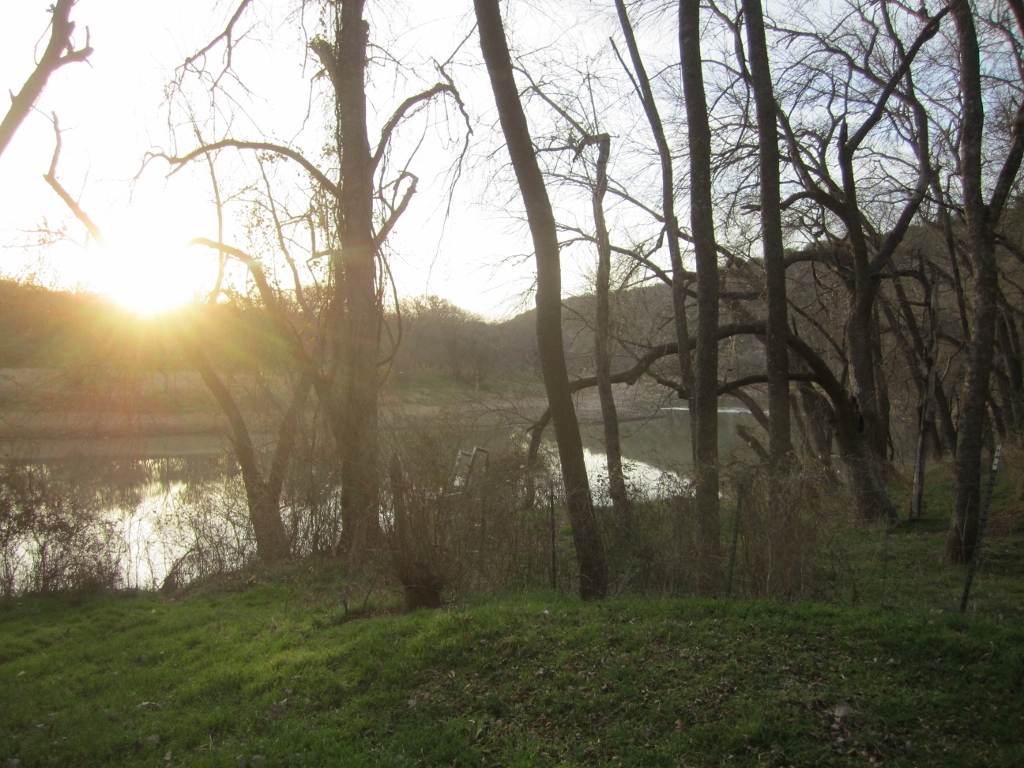 I had a really nice campfire last night which broke the chill.
Camping without a fire just isn't the same.
Why do we just stare at the flame---I don't know---but I love it.
I left the campground early and would return again that evening to it.
So I just winged it on any nice road I could find towards the James River crossing.
I love these steel signs.
I would love to have something like this in my yard------the wife---not so much.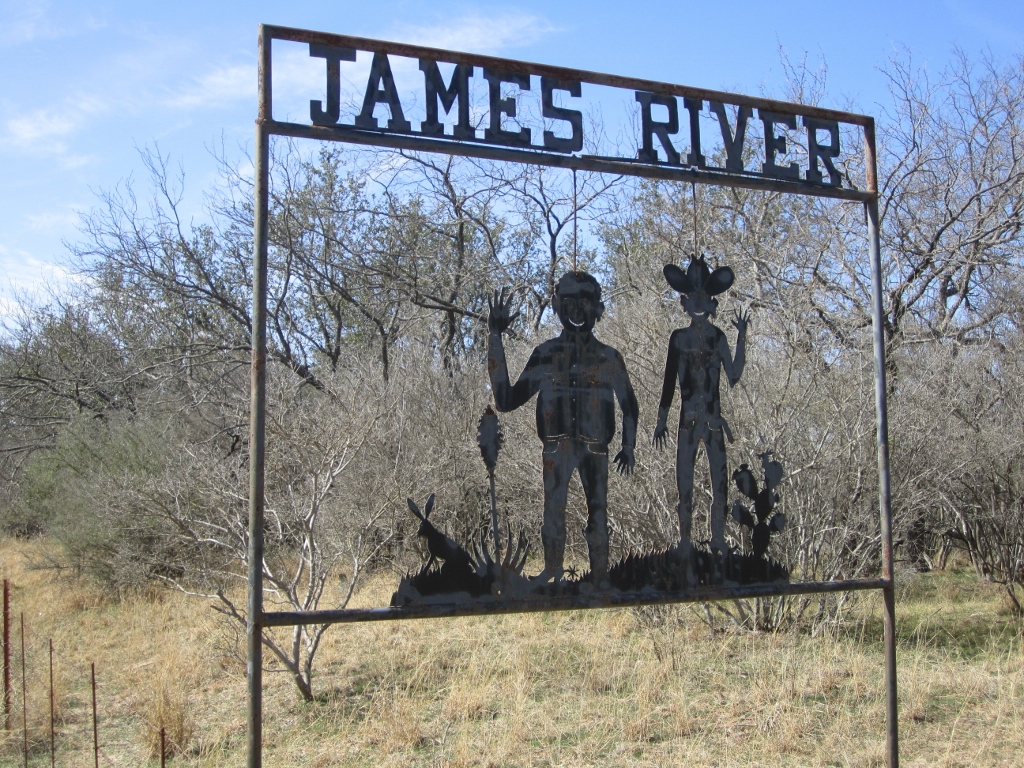 I was estactic to be at the Jame River crossing---I've seen pictures of this crossing for years but
now I was here.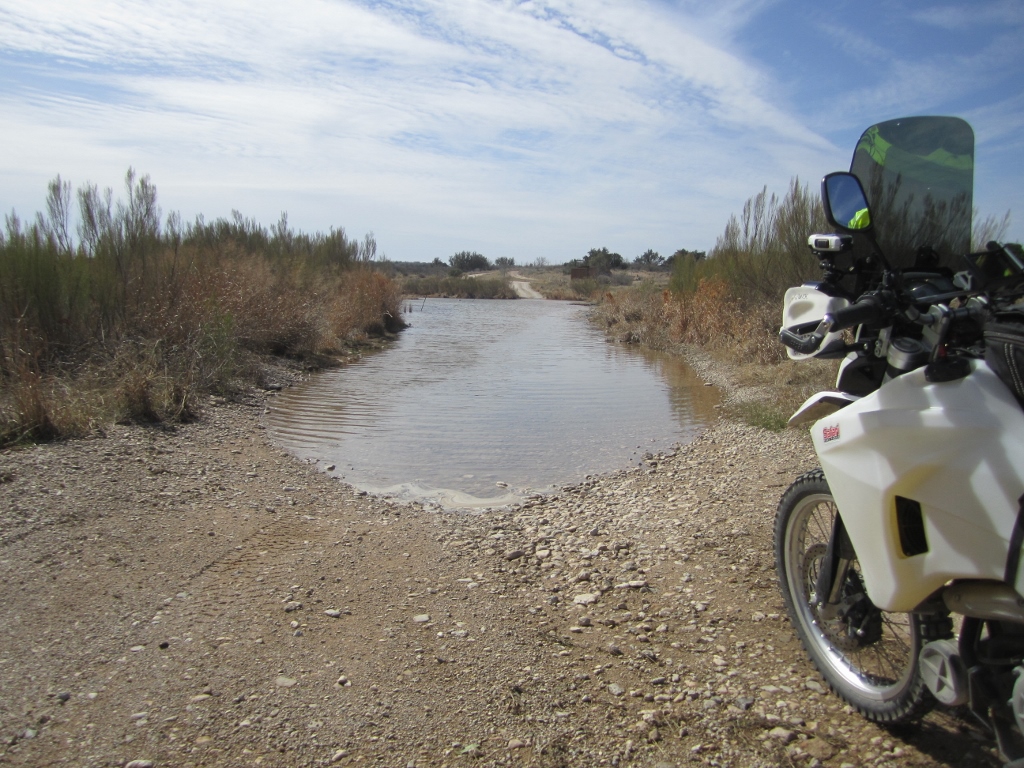 It is a very long---but very shallow crossing.
It's a natural solid rock crossing-------not poured concrete---kind of looks like it tho, but it's not.
I did not cross the river and headed back the way I came making several small creek crossings on the way.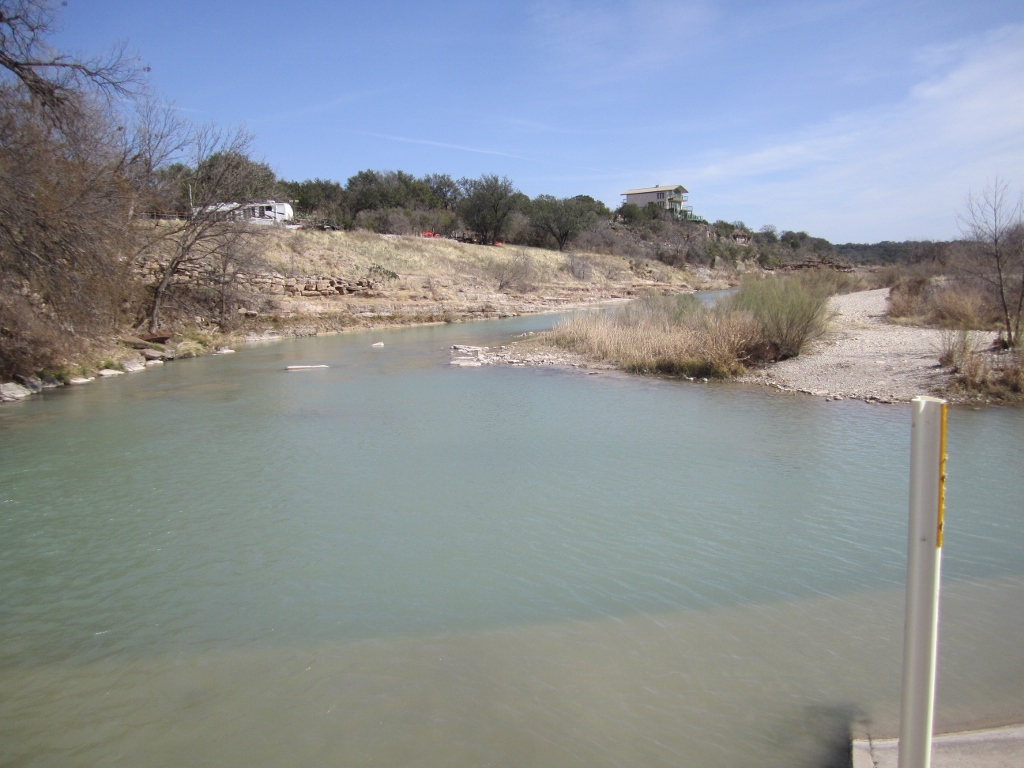 I was just beginning to get a feel for the Texas Hill Country I had read about for years.
I'm at a loss where I ate lunch---might have been at a crossroads near Castell, Texas.
Anyway it was a hoot as I ran into these Texas Adventure riders at an outdoor open air barbecue.
We had a hoot here.
Not sure they was a town here or not----just seemed like a nice little corner stop to me.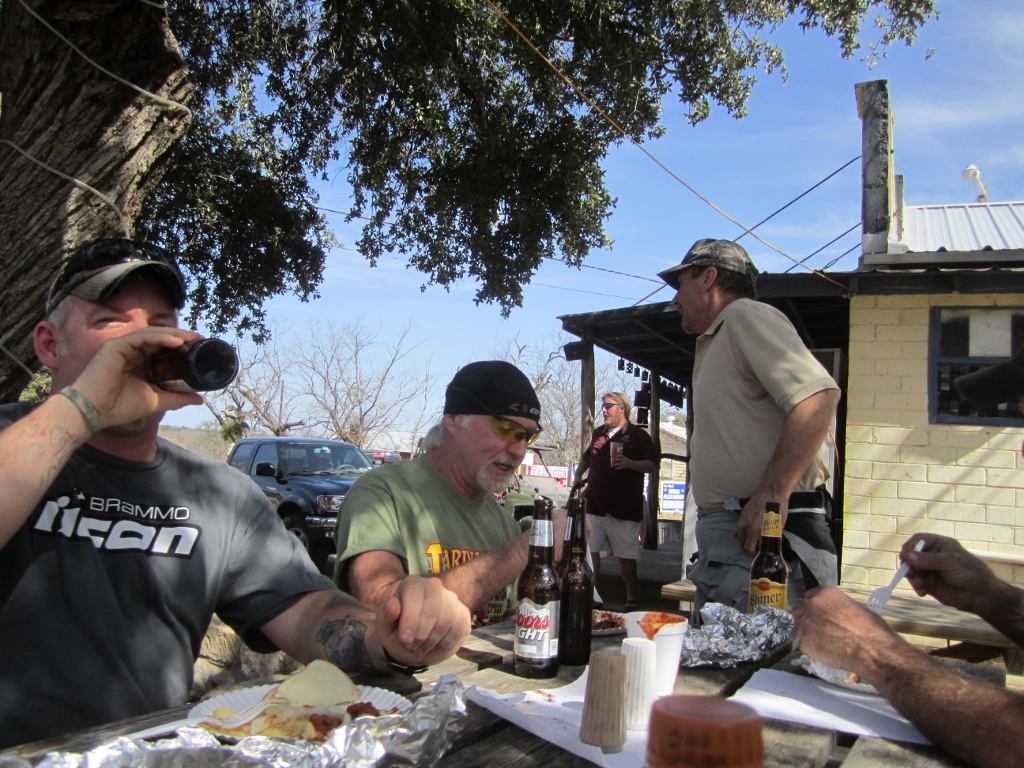 A rough map of my days ride of 197 miles.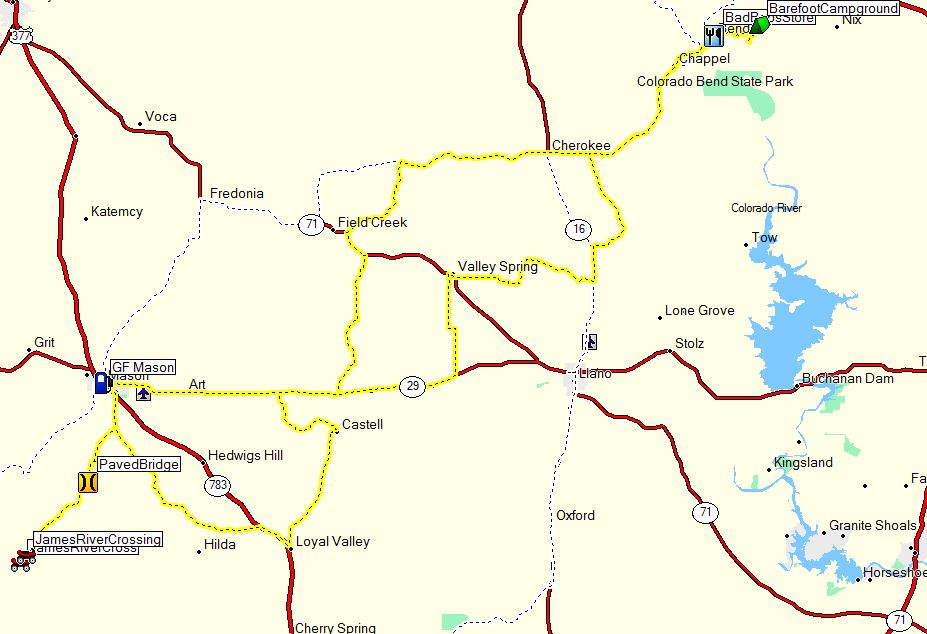 Day 3 February 23rd, 2014
Barefoot Camp to Kerrville
I had just mounted this 9 gallon Safari gas tank to my Husky before leaving.
It was a good feelling to have plenty of gas in some of the places I went.
Gas is heavy------pushing your bike is 3,000 times heavier.
It also protects the radiator very well------and if you don't want to or don't need to carry 9 gallons of fuel------don't fill it up.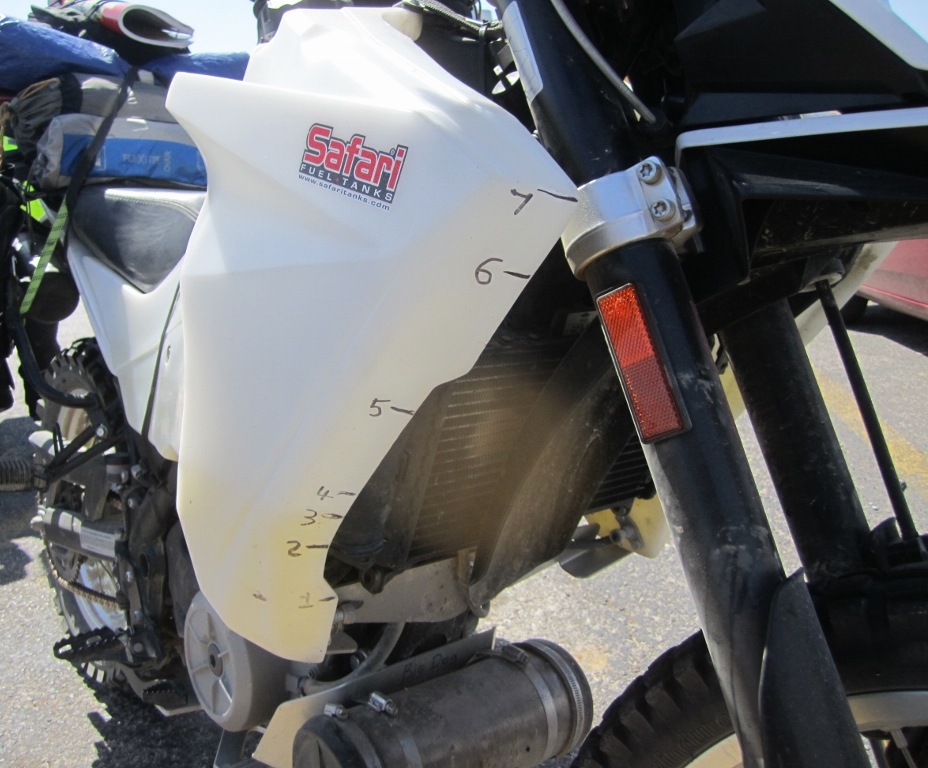 I headed South and would not come back to the campround till the ride was over.
I had left my Sprinter at the campground and the nice people there wouldn't take any money for doing that-------really nice folks.
Cool place I rode thru.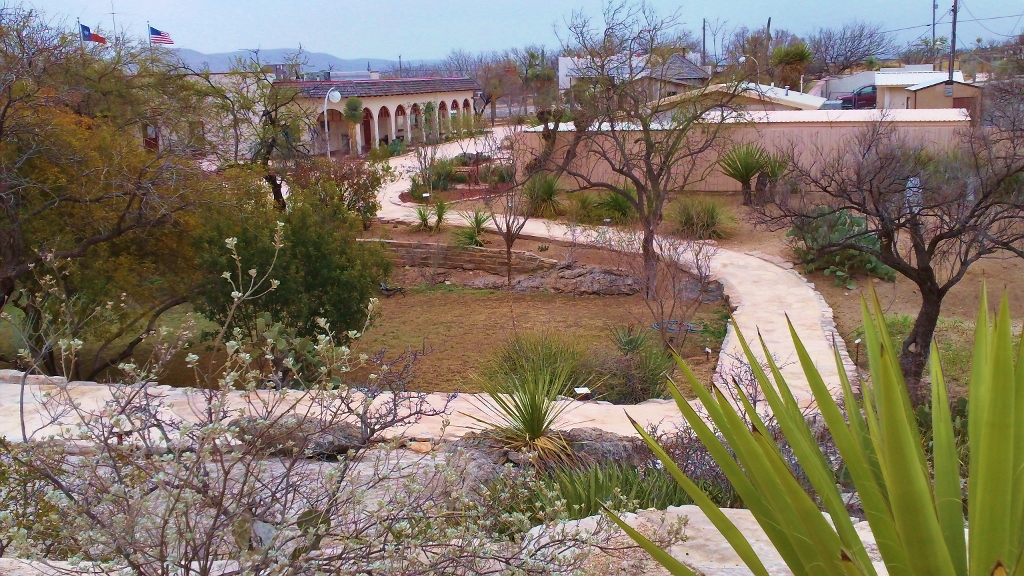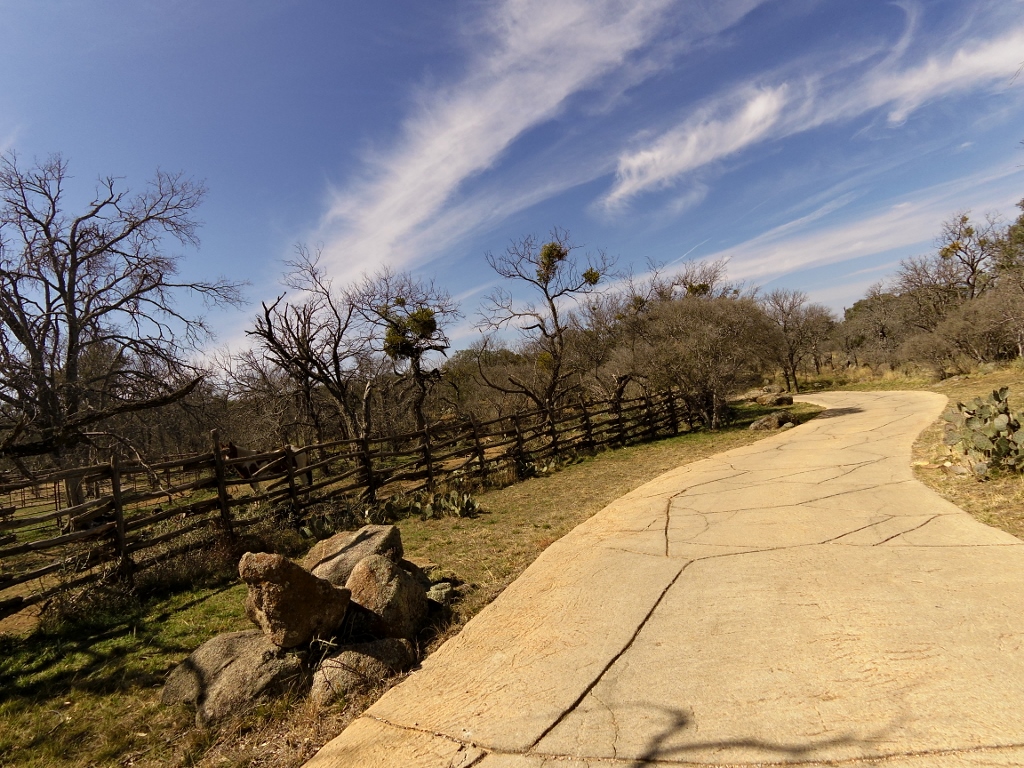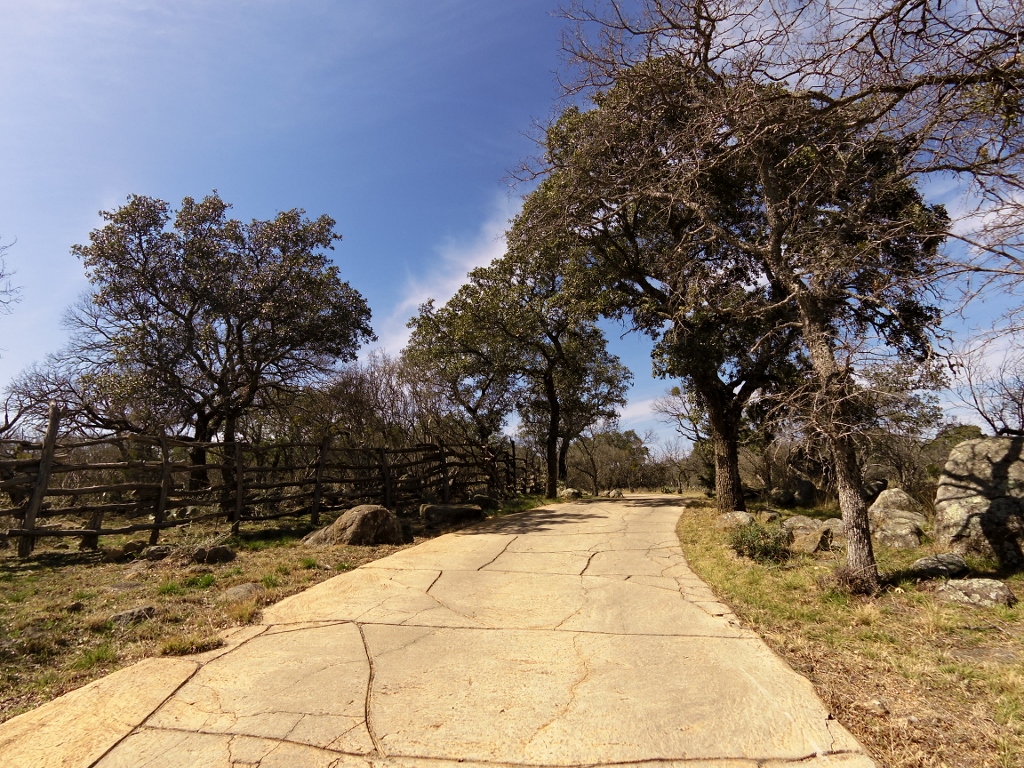 I went by this State Natural area and there was some big beautiful rock formations and some good hiking.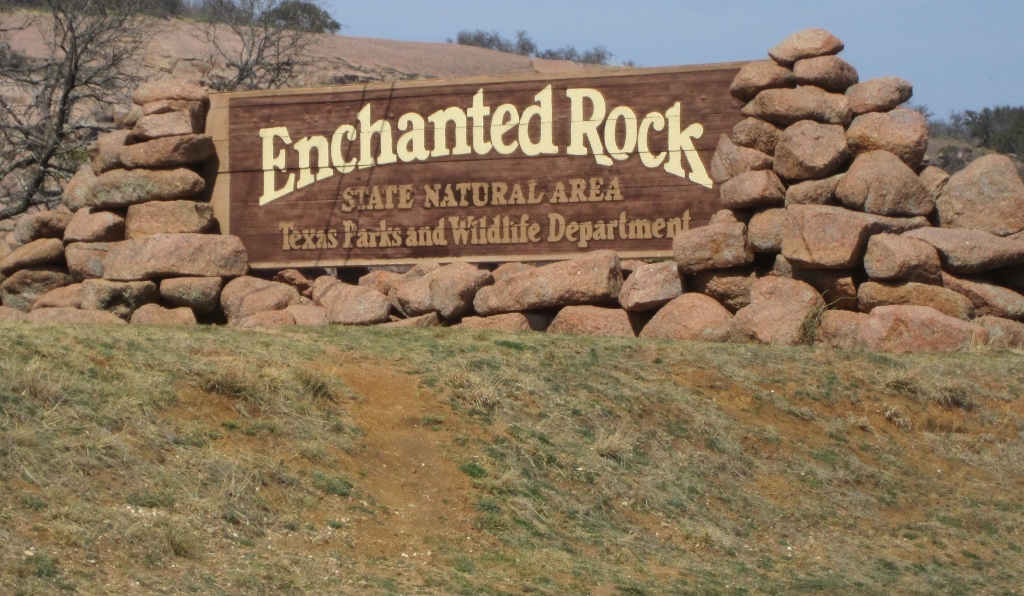 From there I set my gps to navigate to Luckenbach, Texas.
But usually never follow the way it wants to go------I go the way I want to go---just winging it towards Luckenbach on any road that looked good,
whether it went that direction or not.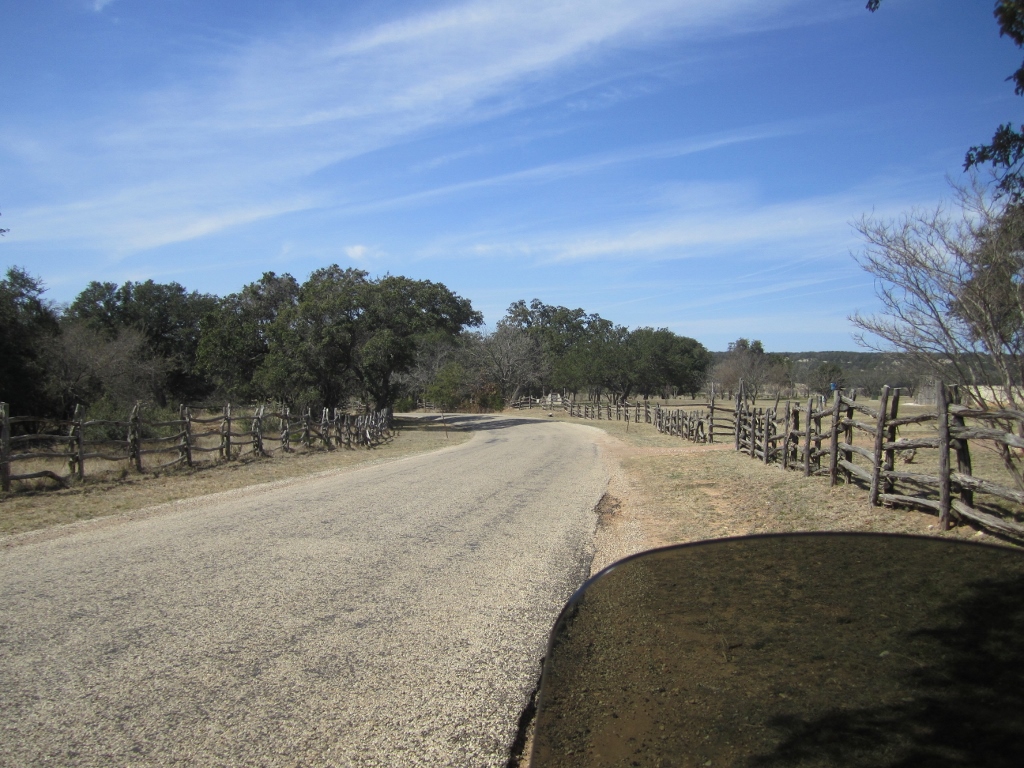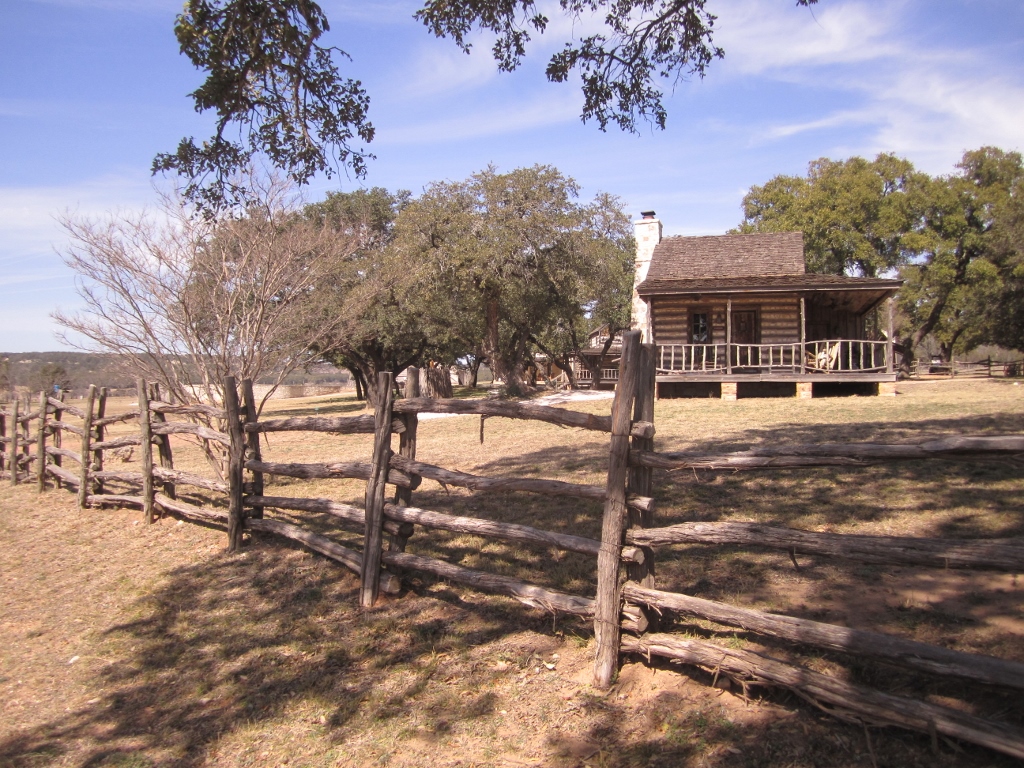 I'll try not to show anymore of these signs-------I saw a jillion of them. Maybe 2 Jillion.
It's rare for the flooding to happen------but when it does--------ho-chi momma !!!!!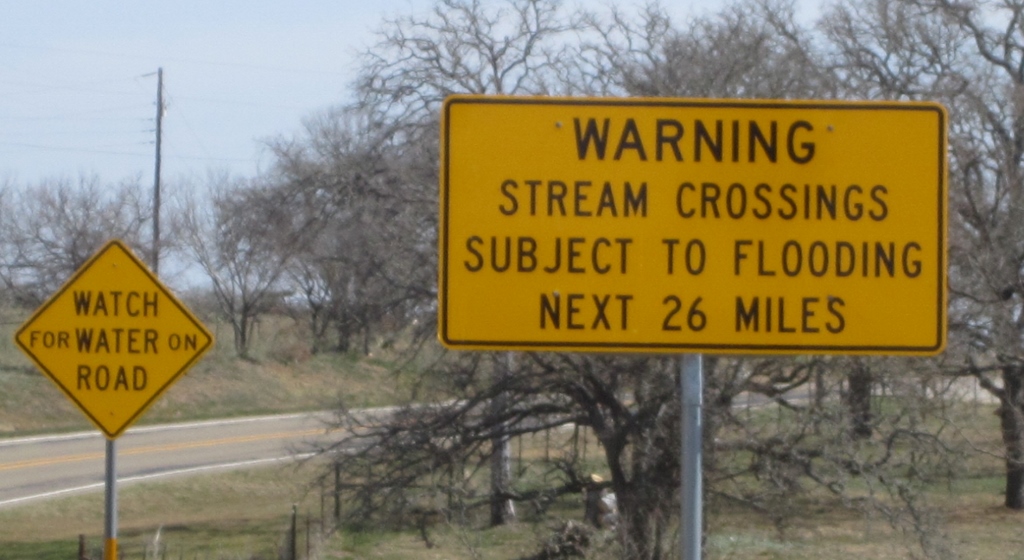 I really had no idea of what Luchenbach was all about.
And had no idea if it was a sprawling metropolis or little deserted town ?????
I just knew Willie, Waylon and the boys had been there.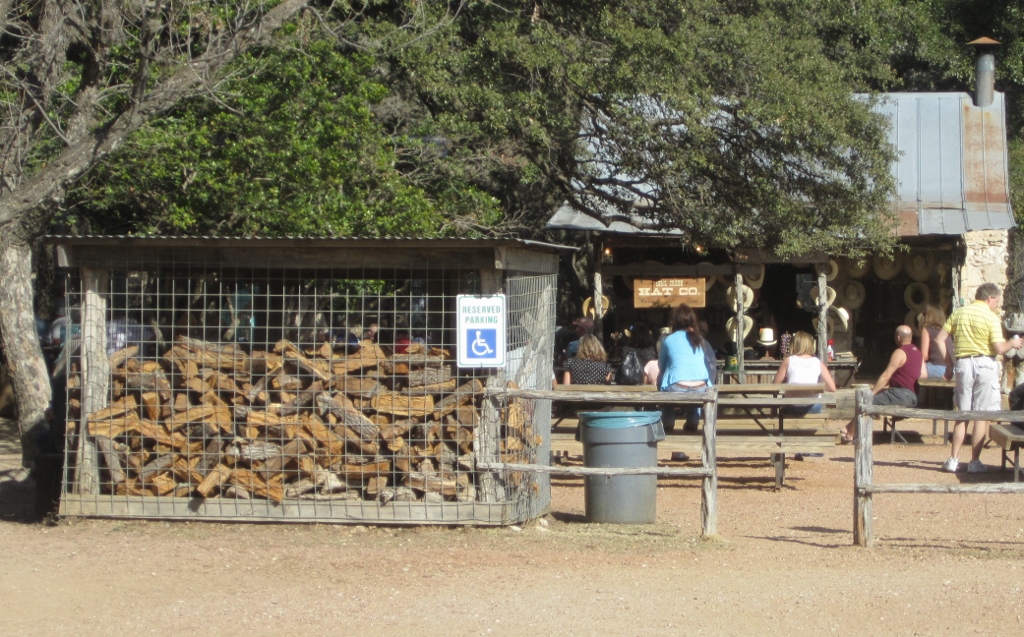 The place was crawling with motorcycles. Anything and everything was there--------even one Husqvarna.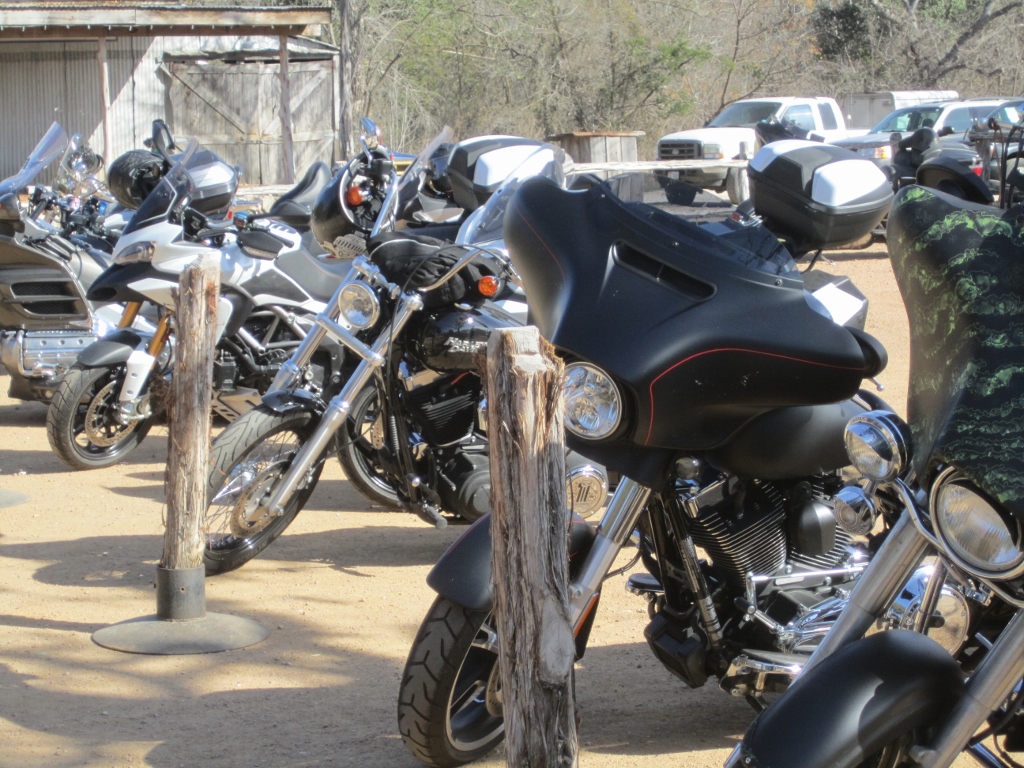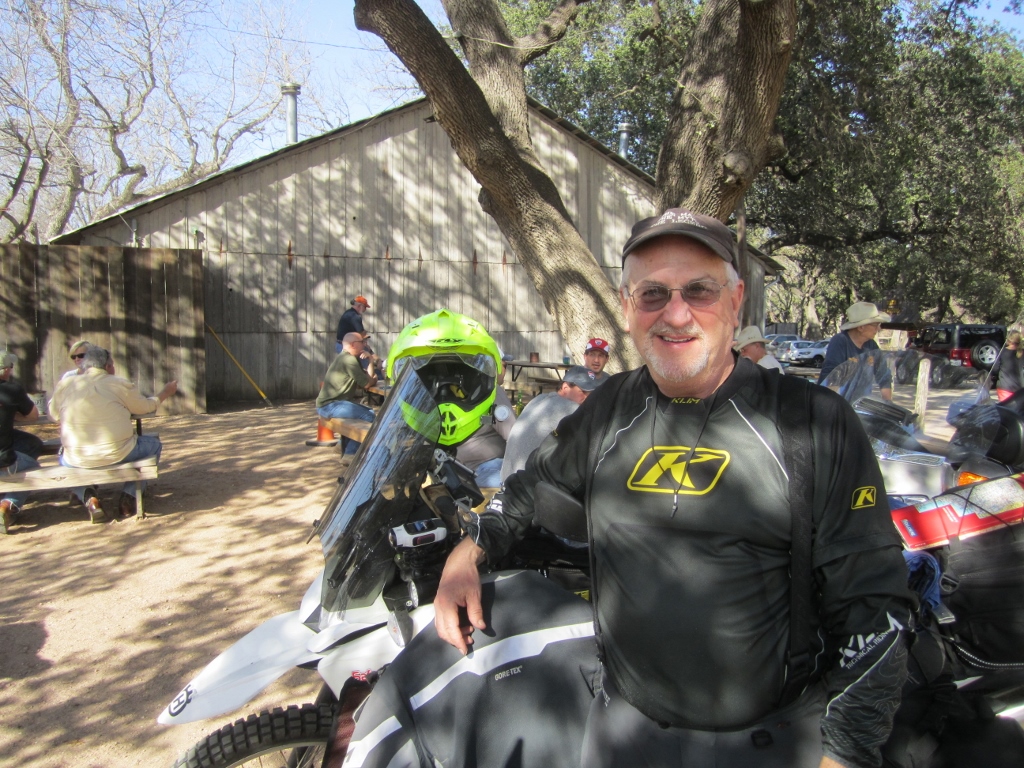 Just a tinly little settlement---I don't know the population of Luckenbach---but it couldn't be more than a handful of people living there.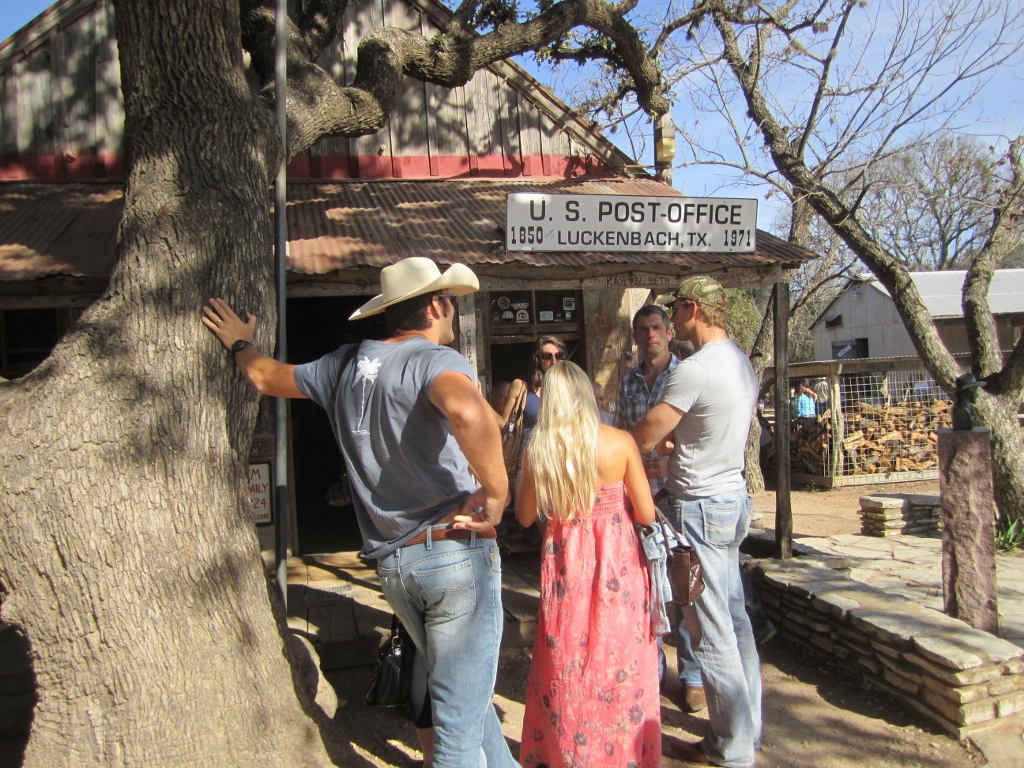 A root beer sounded good to me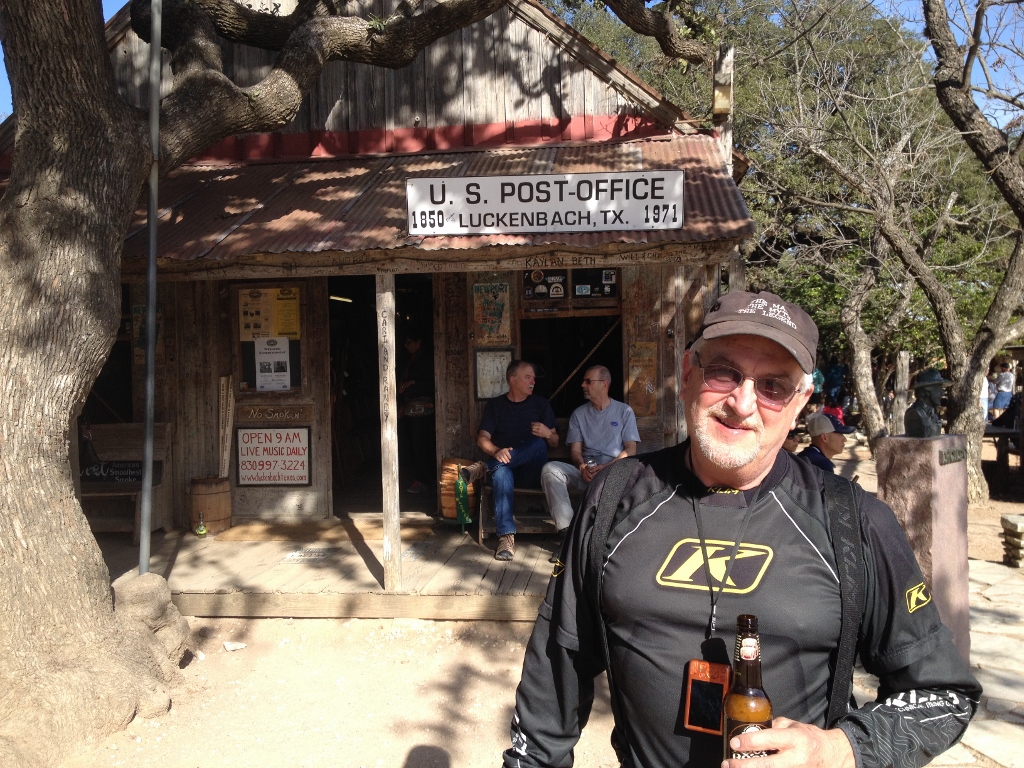 But here was the highlight for me------the music.
These people were awesome and were as good as any singers and players you've seen anywhere.
And it was free----while I drank my root beer.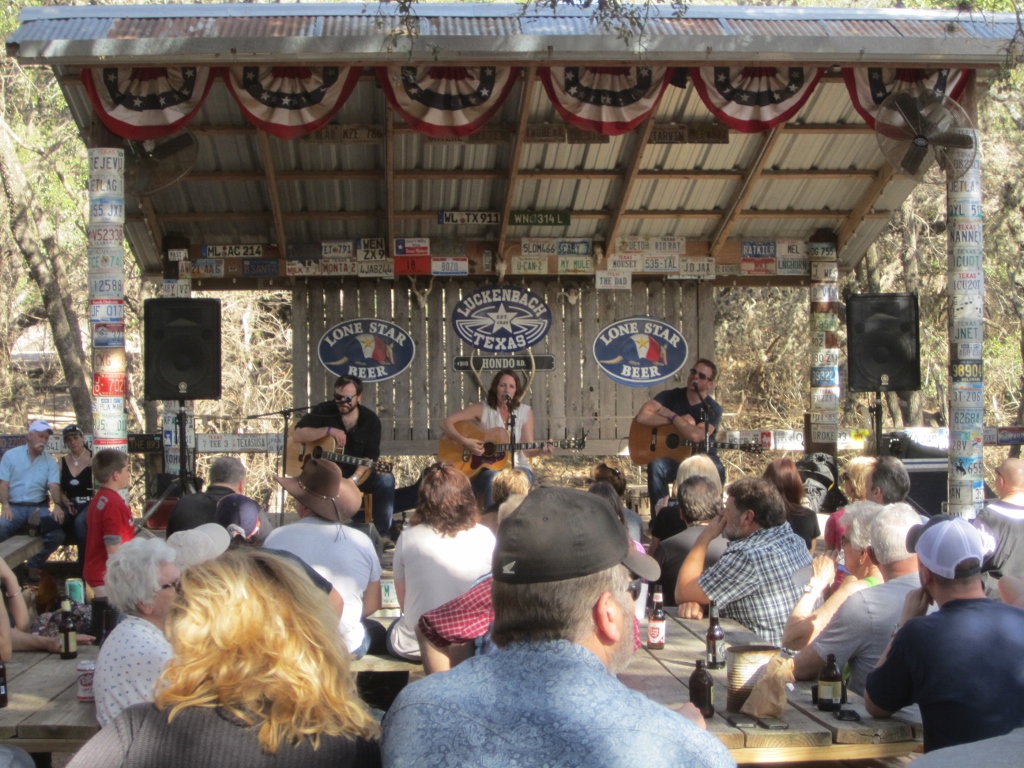 Roosters roamed all over the place--you had to watch not to step on one--------constantly crowing all day long.
They had no clue what time it was. They were hilarious.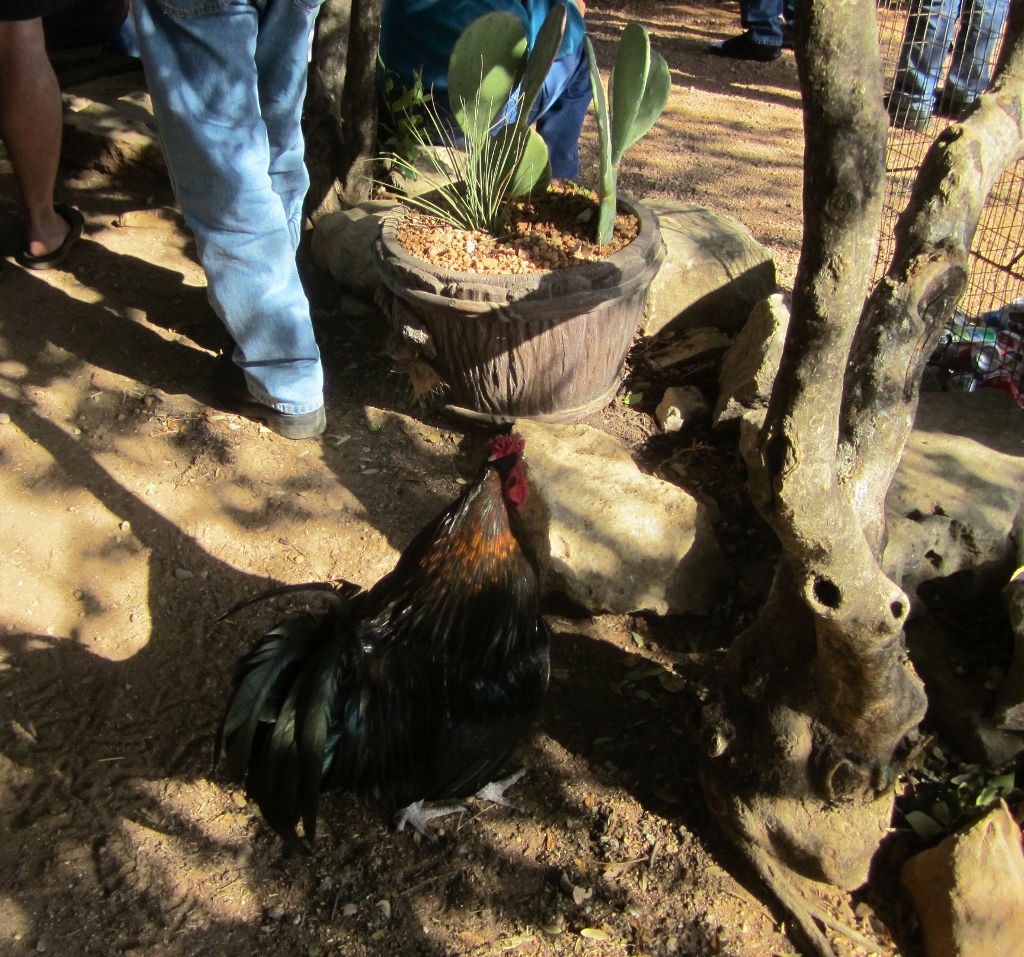 This guy was up to no good I'm sure !!!! Where was his parents ????
Reminds me of -------------me.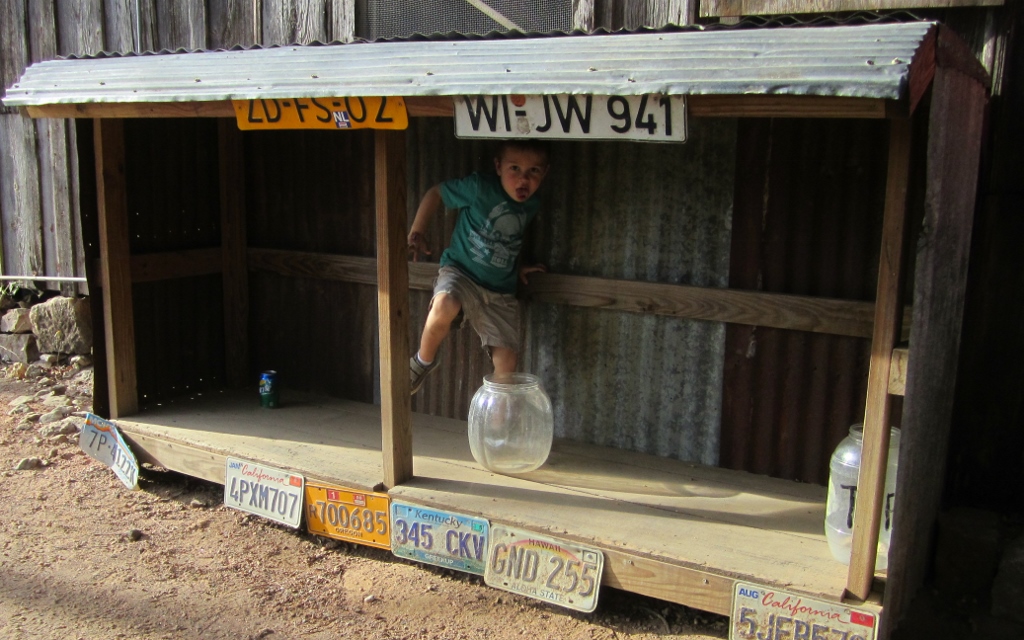 This was so funny-------these guys were some really big burly guys--------with tatoos-----and muscles---and cool sunglasses.
Somebody was takng their pictures when a person who I'm sure didn't know them blurted out--------"That picture wouldn't be worth
lookin' at if the cute girl wasn't in the picture".
Everybody laughed.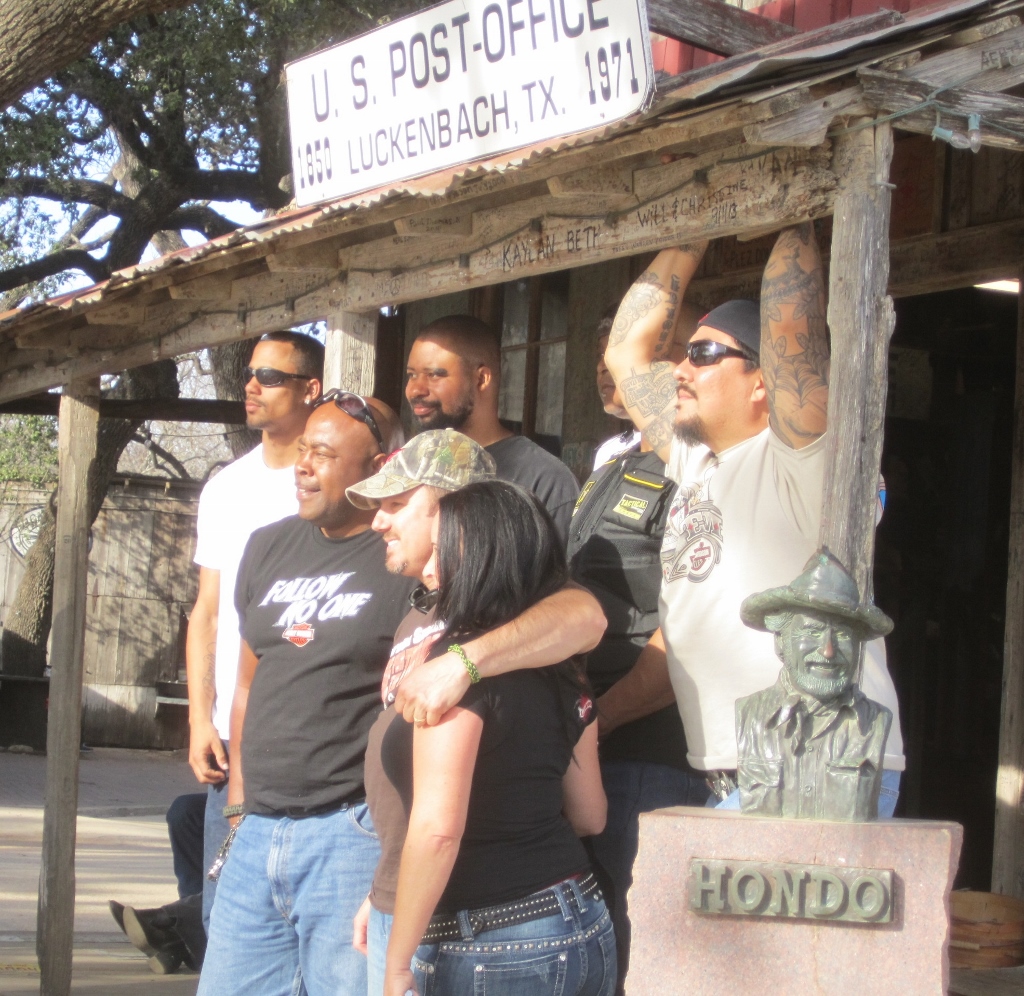 This guy was mean---and I gave him some space.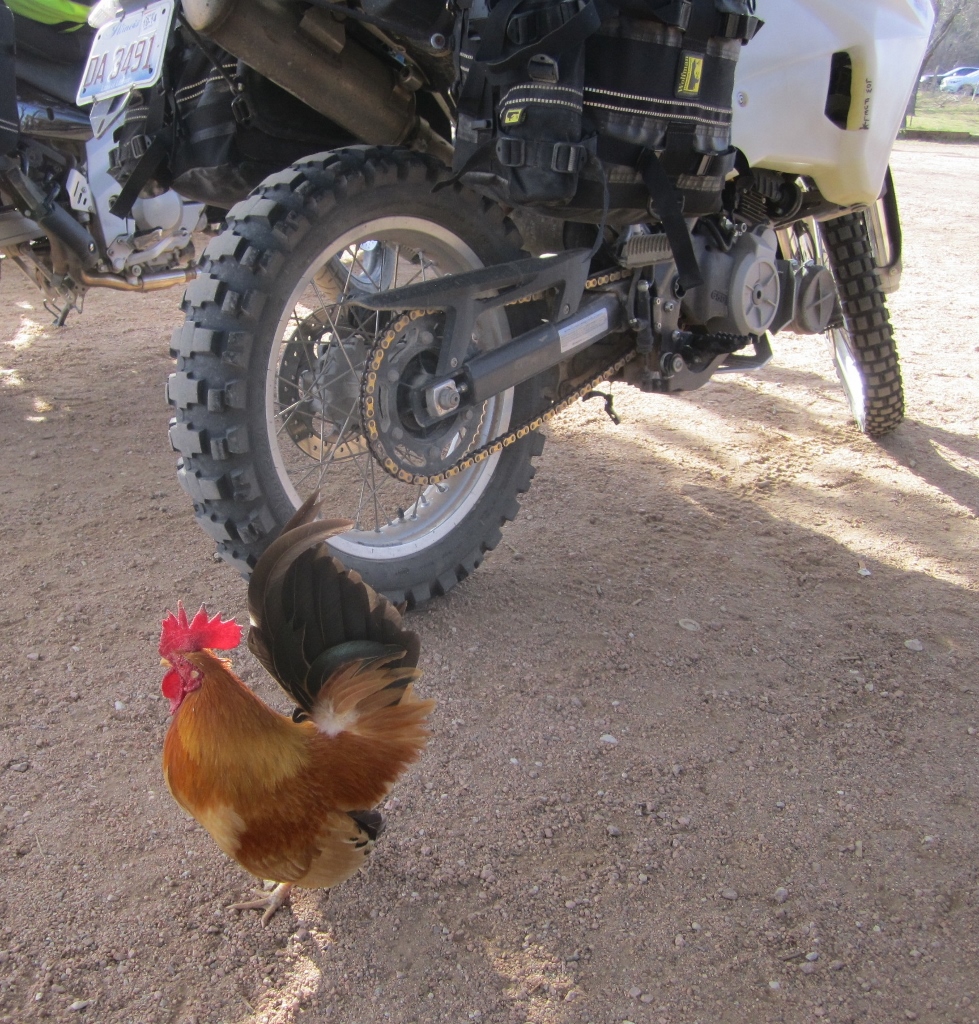 Huge Bull-------the music was just awesome and I'd wished I had gotten there much earlier and just spent the day there.
But I made the most of it and did stay for a few hours------I was just totally mesmorized by the music.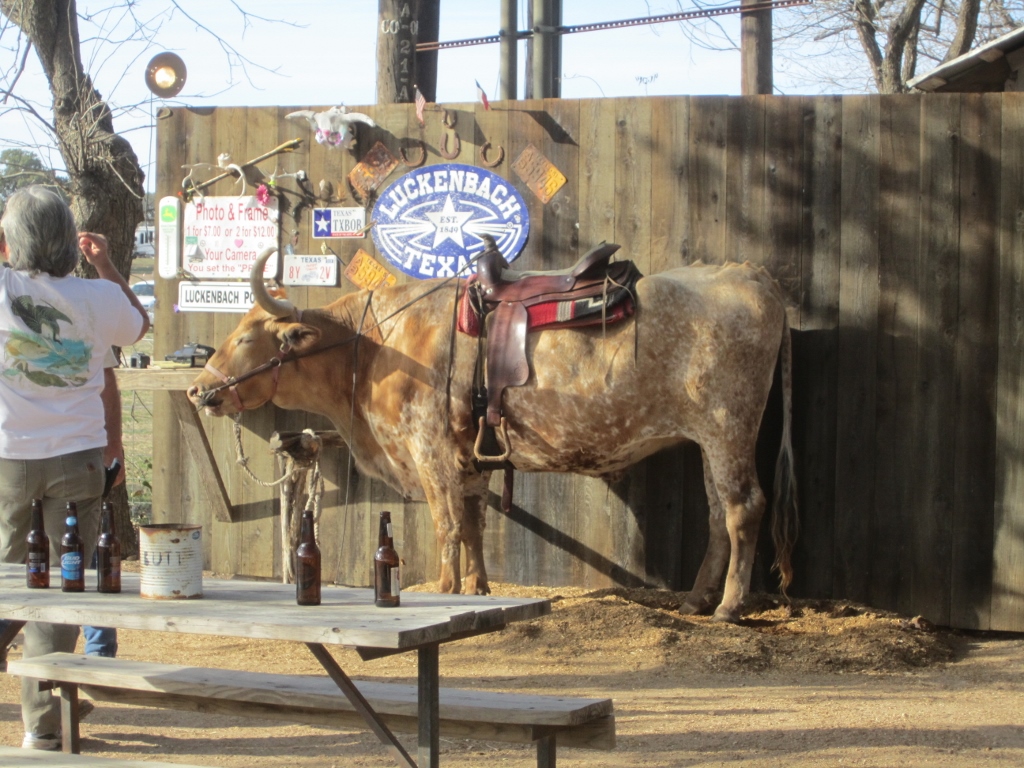 So right before I left for this ride---I was probing around on google earth and found this place----worth the stop.
It's an old abandoned railroad tunnel.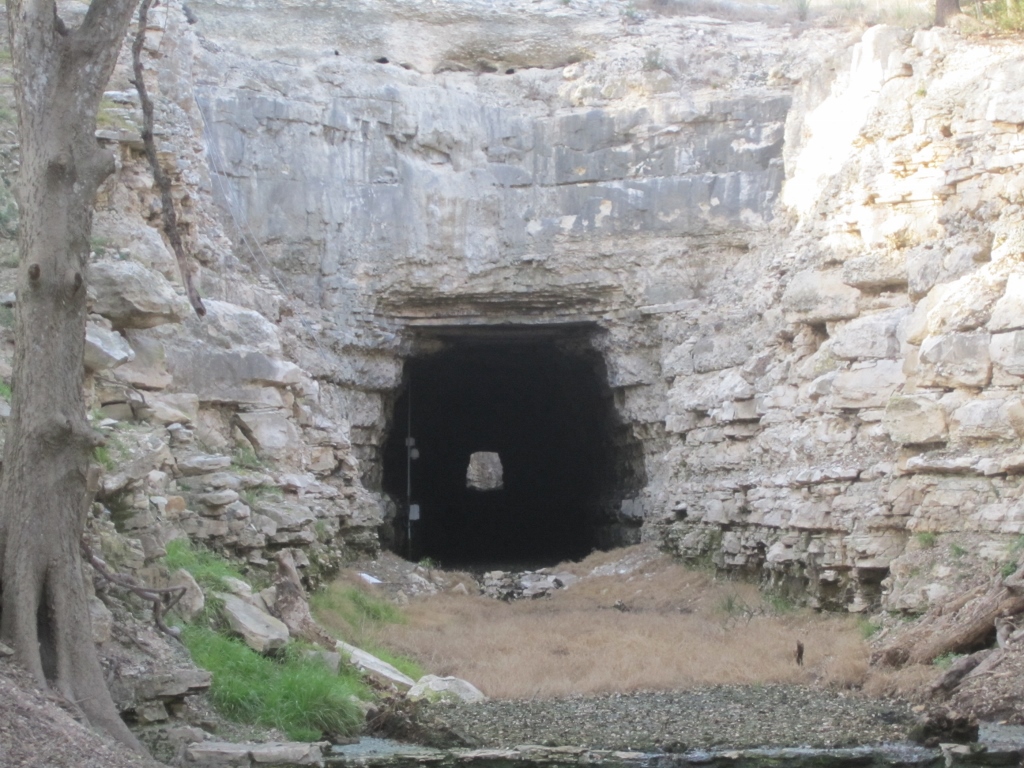 The bats have taken over the tunnel and our a protected species.
Going past this barrier would get you thrown in jail.
There was a bunch of benches for viewing the bats when they fly out.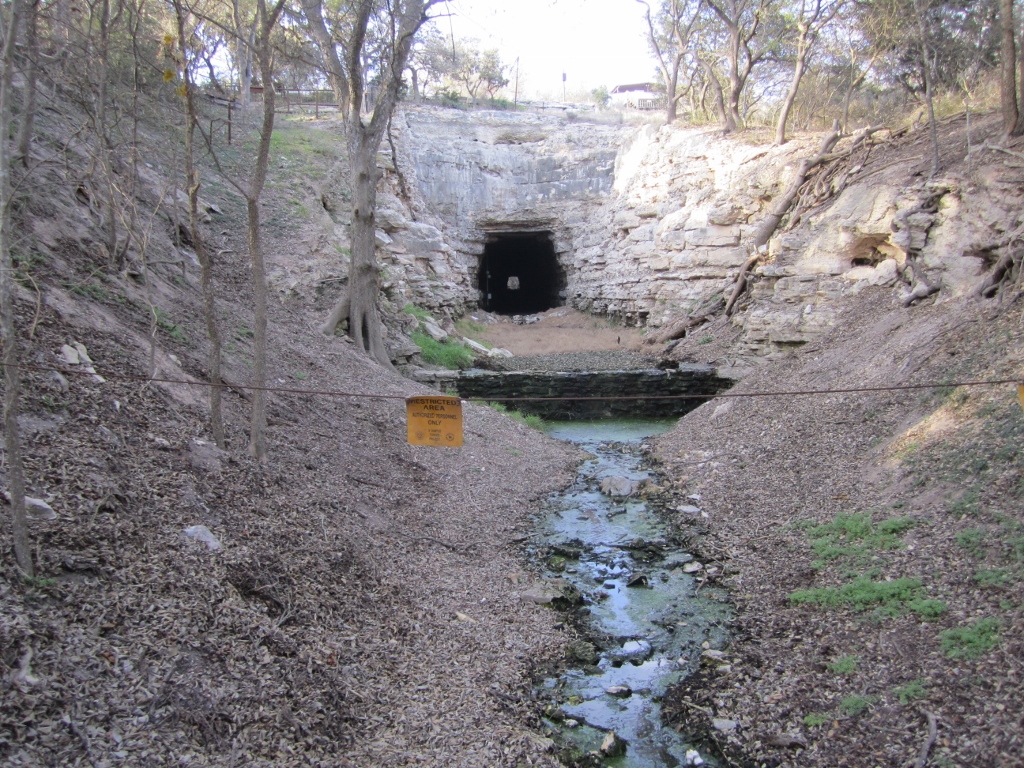 Looking South was the old railroad bed.
Looked like a good place for a walk.
I hiked to the bottom.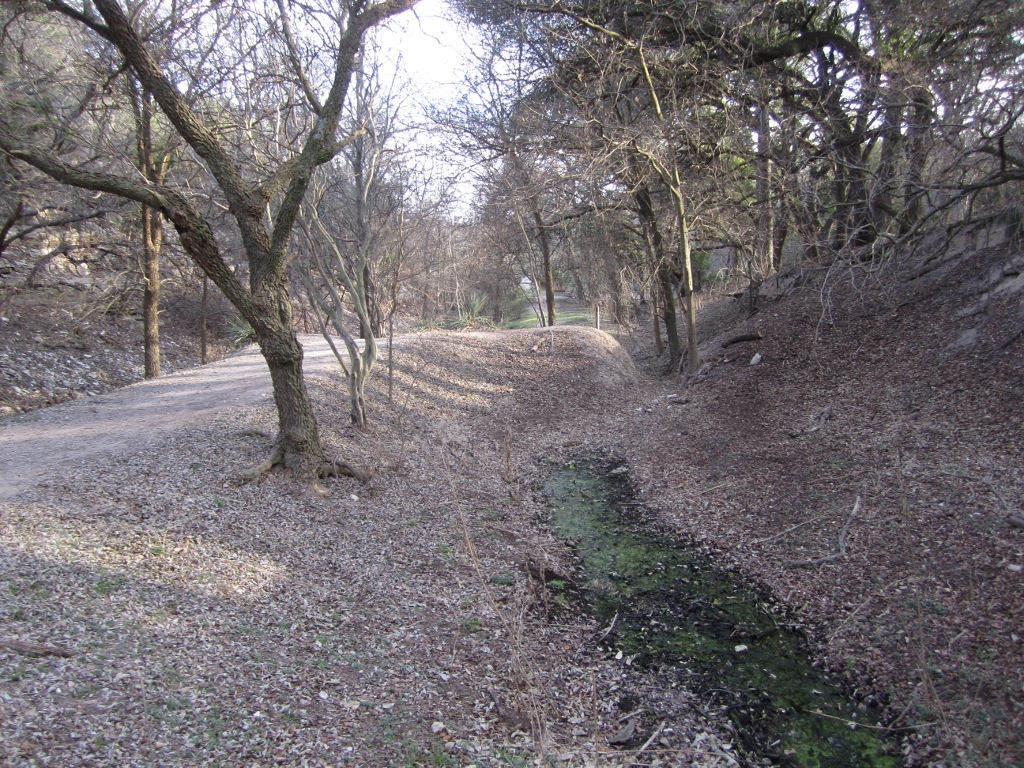 Pretty neat place-----glad I stopped.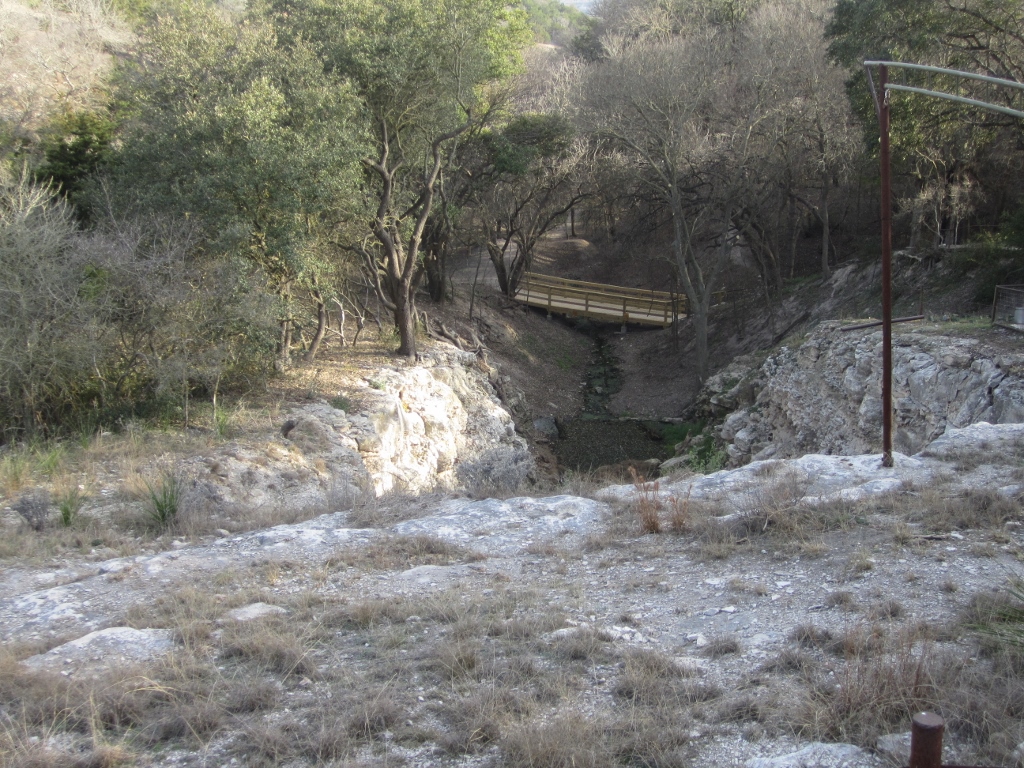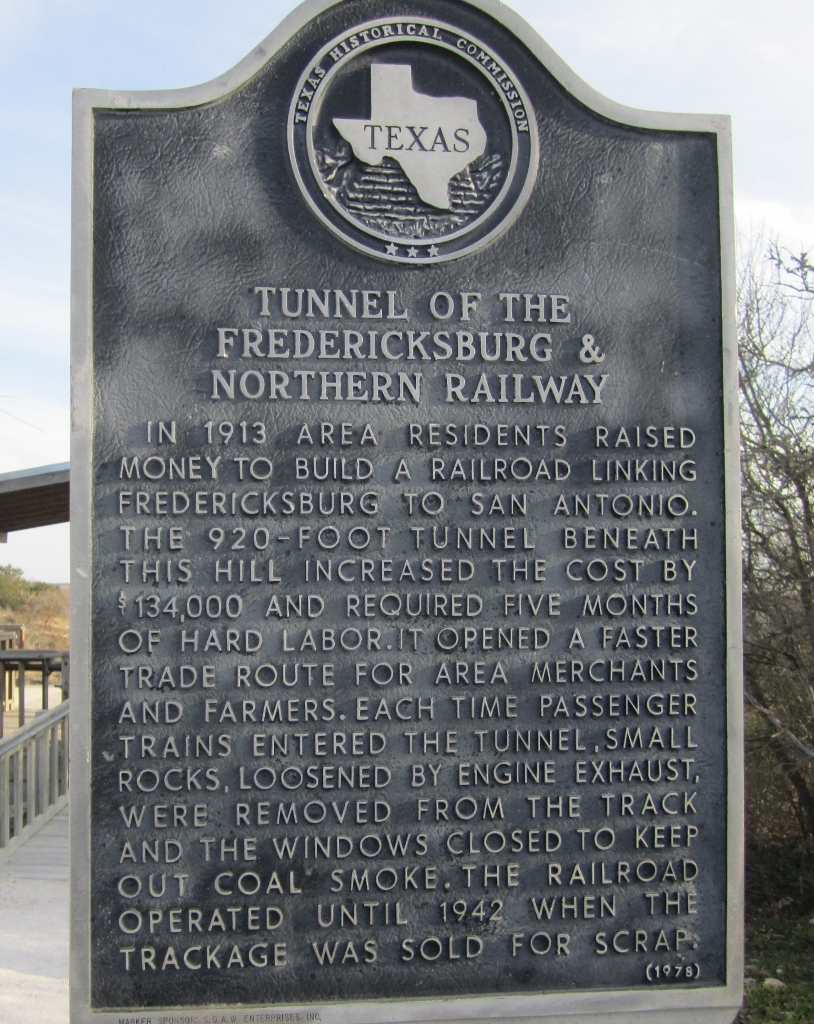 A rough map of the ride today----about 162 Miles.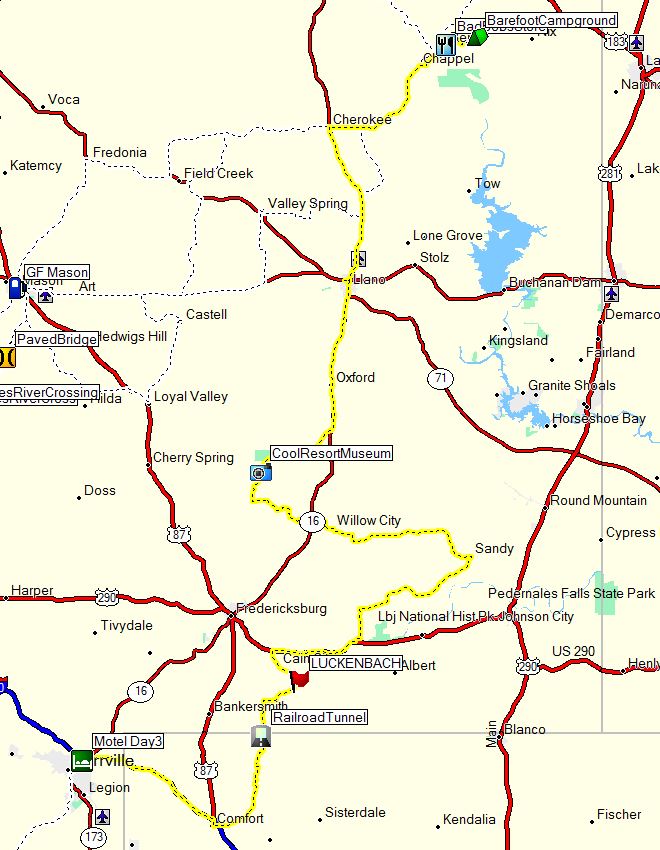 Day 4 Feb. 24th, 2014
Kerrville to Rocksprings
I blew out of Kerrville early and headed Southwest on Rt. 16.
The paved roads in the hill country are awesome----I enjoyed all of them.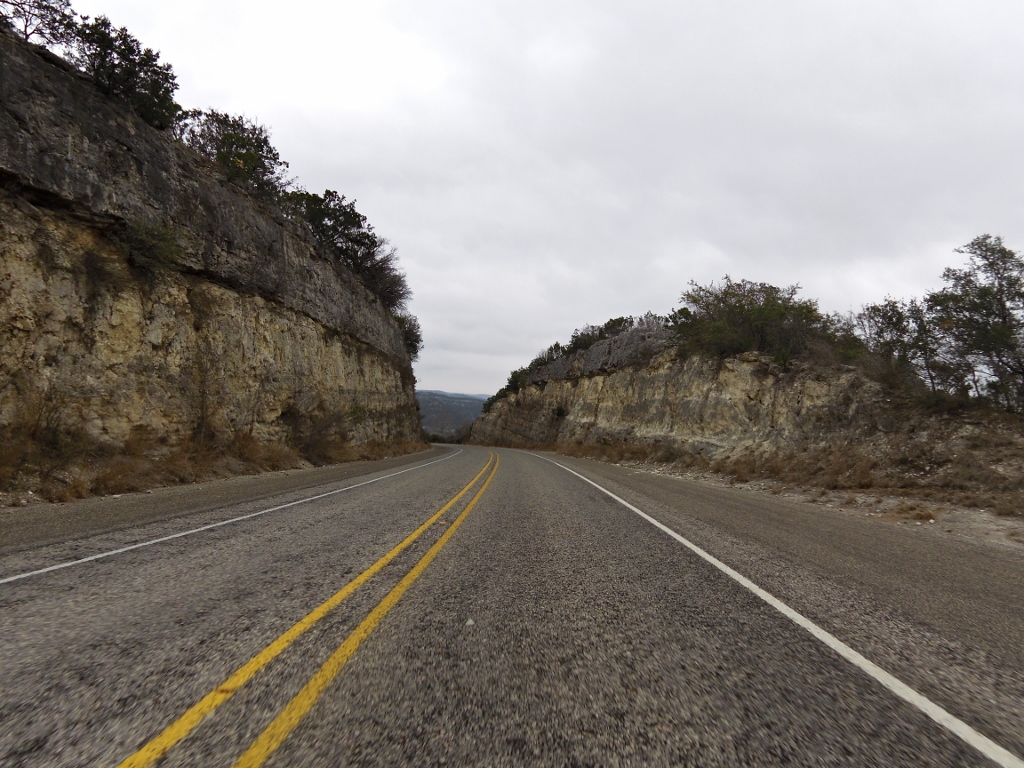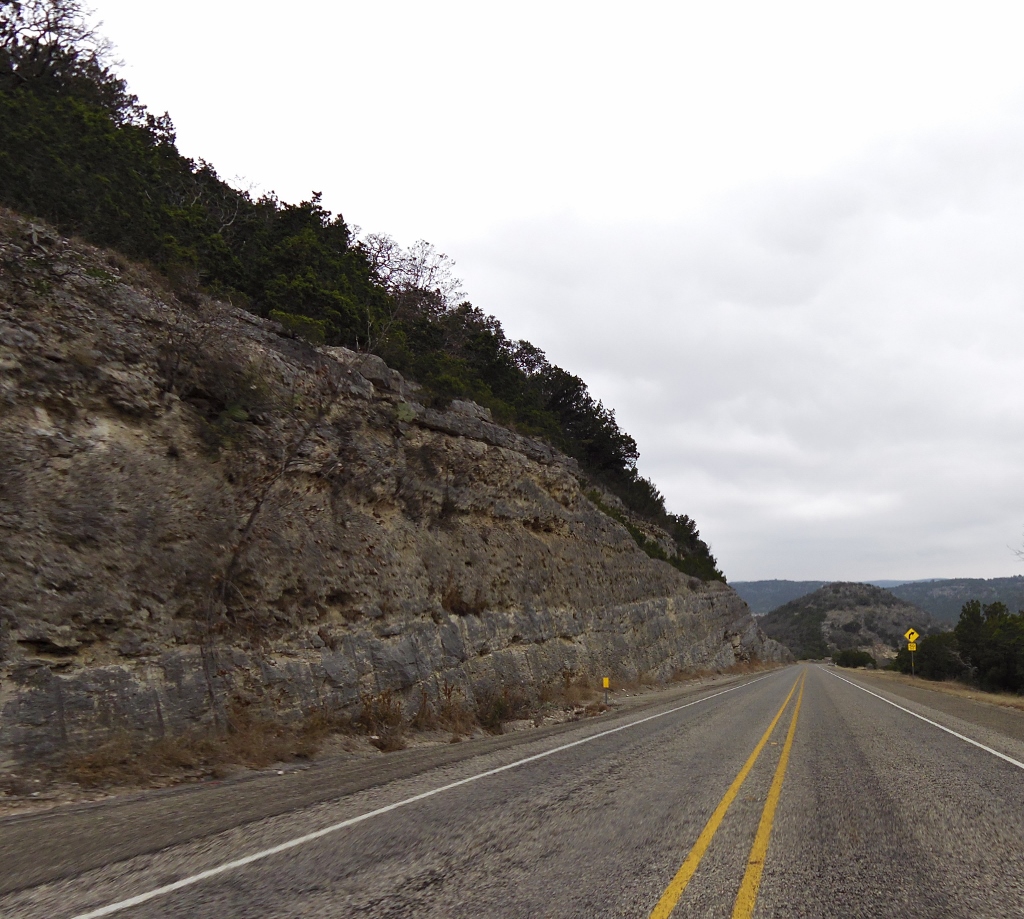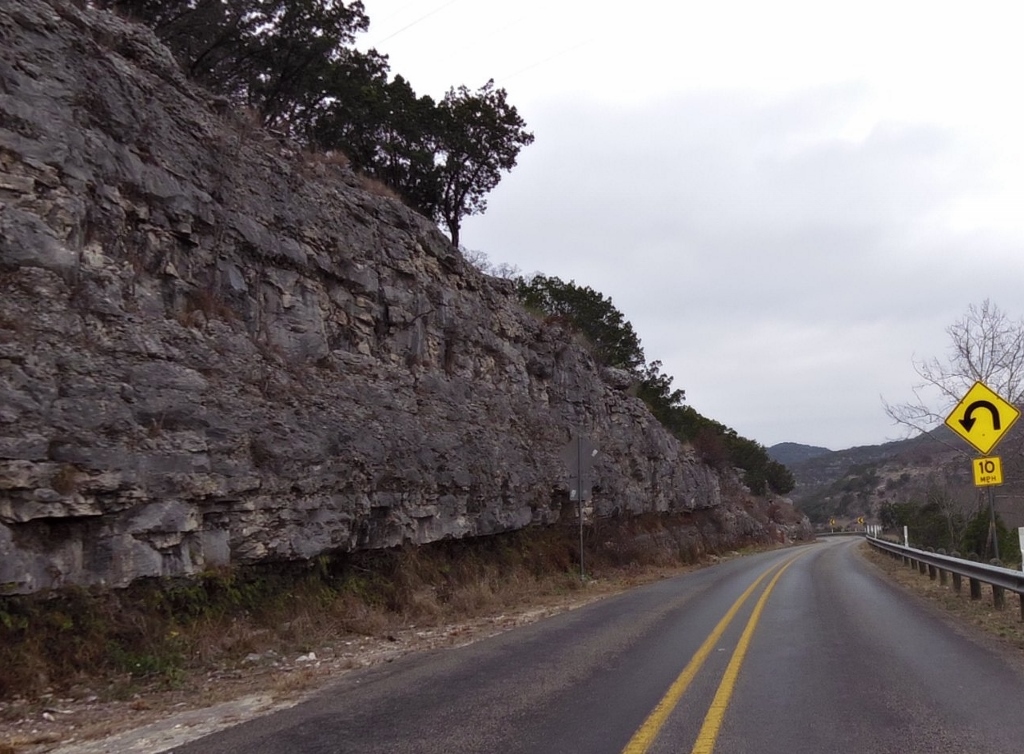 I stopped for a break beside the road and had a snack.
I walked down to this creek and just thought this all looked really neat.
Man was it dry wherever I went--but plenty of water in this creek.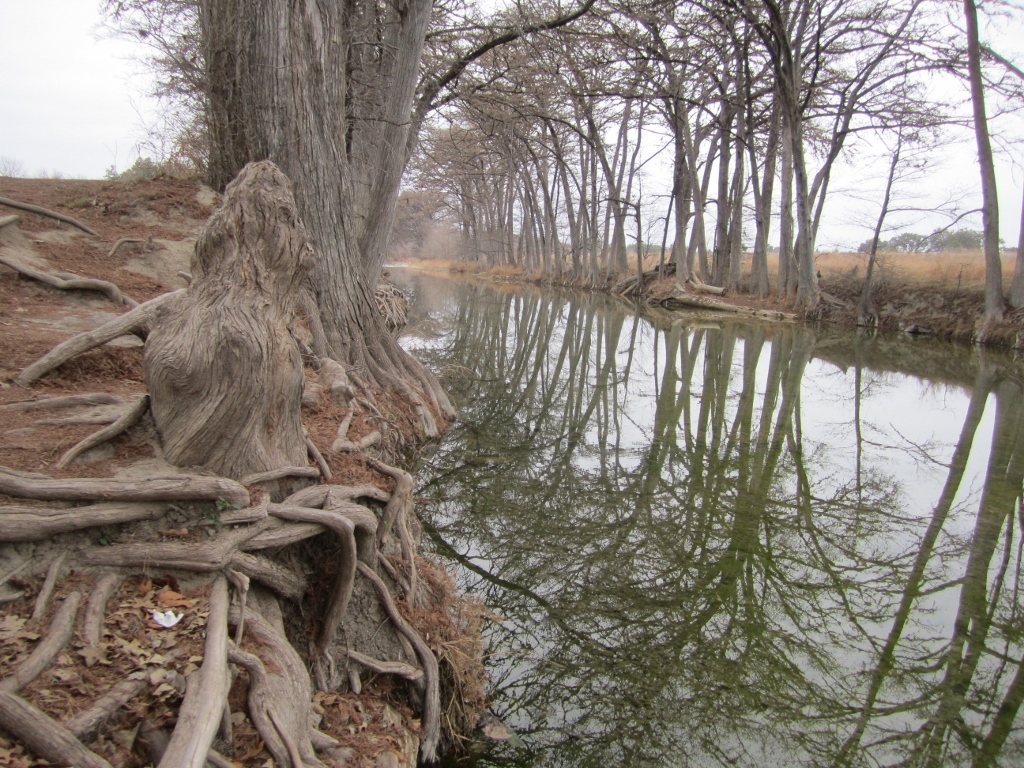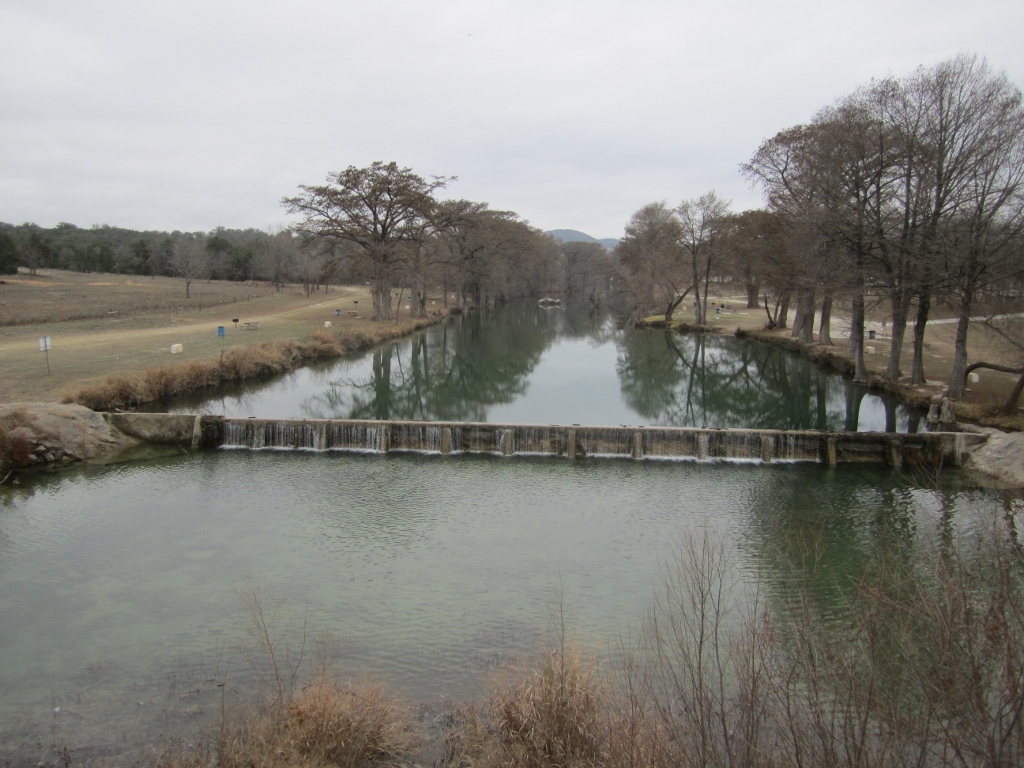 I just saw this dirt road on the gazetteer I had----and since the dirt road went in between the bigger roads--- I chose it-----just winging it mind you.
One of my favorite navigational tools I use a lot.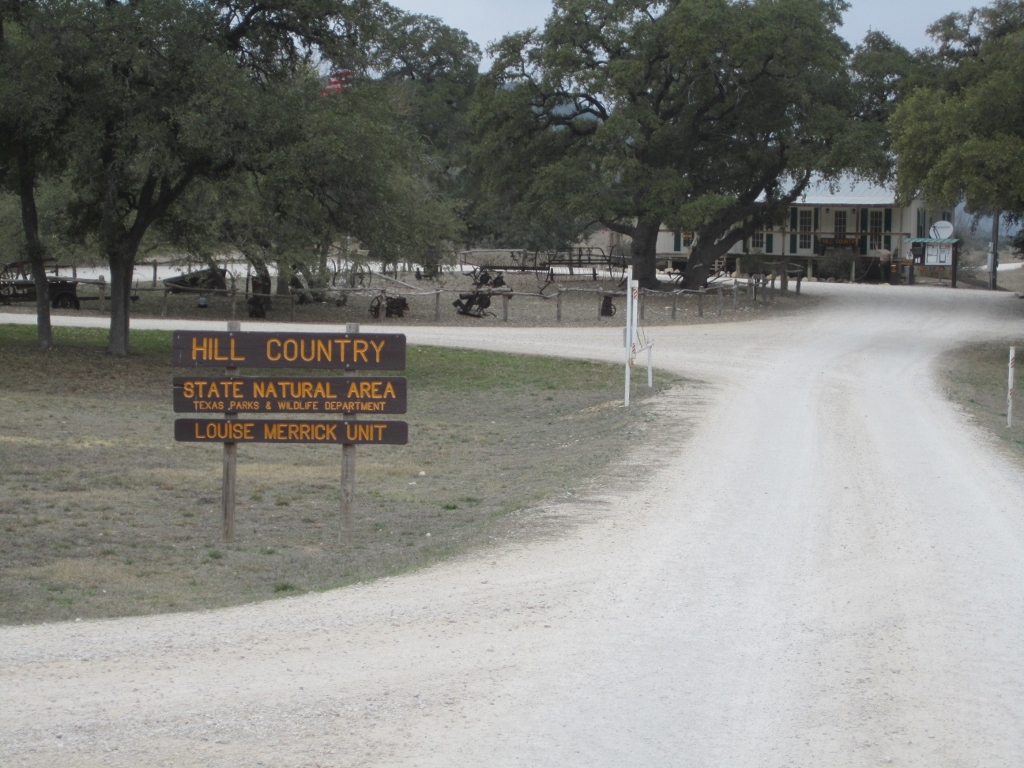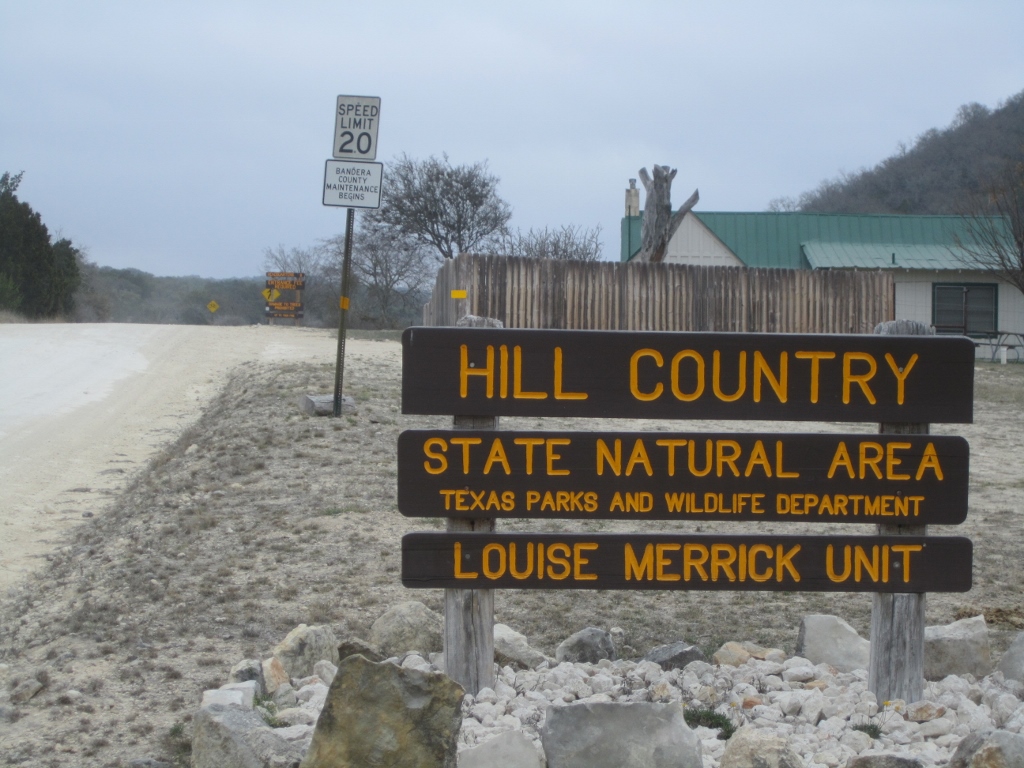 A dirt road for miles and miles------------and miles.
Then I went by this place that had a sign on it "Predator Control"
I think that's what it said.
Made for a bunch of unhappy coyotes.
It stunk to high heaven here.
Life is different in Texas.
I did I tell you about the friendly people-------not one butthole the whole trip-----what nice people in Texas.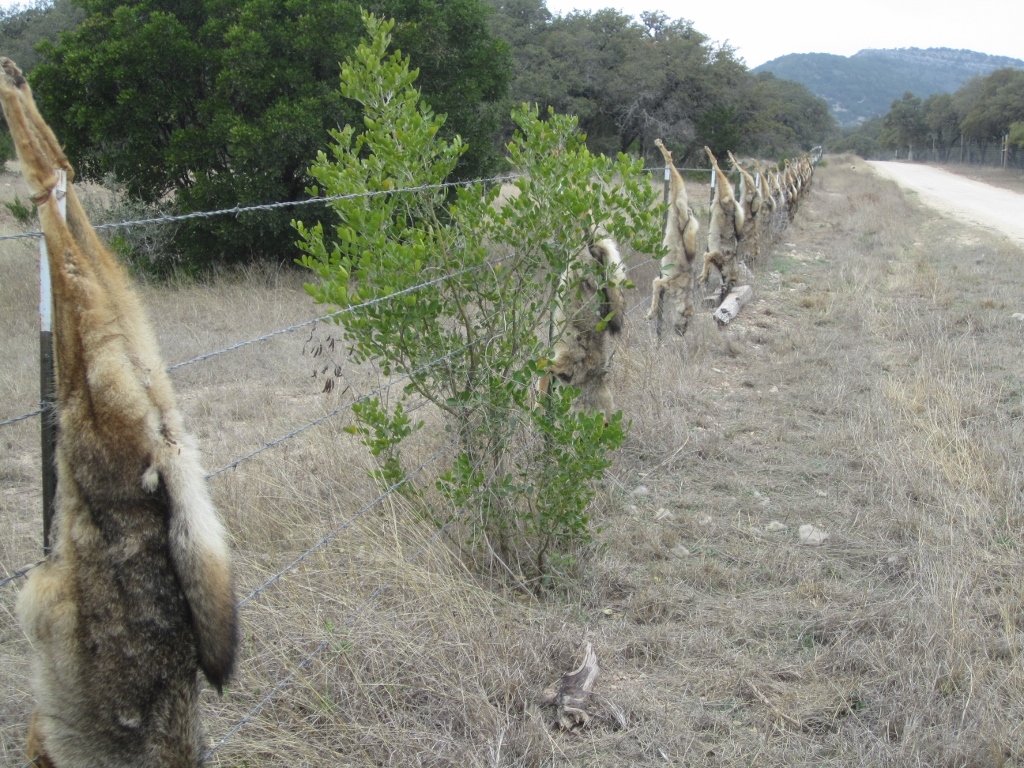 This place sadly was closed and wasn't going to open for another few days.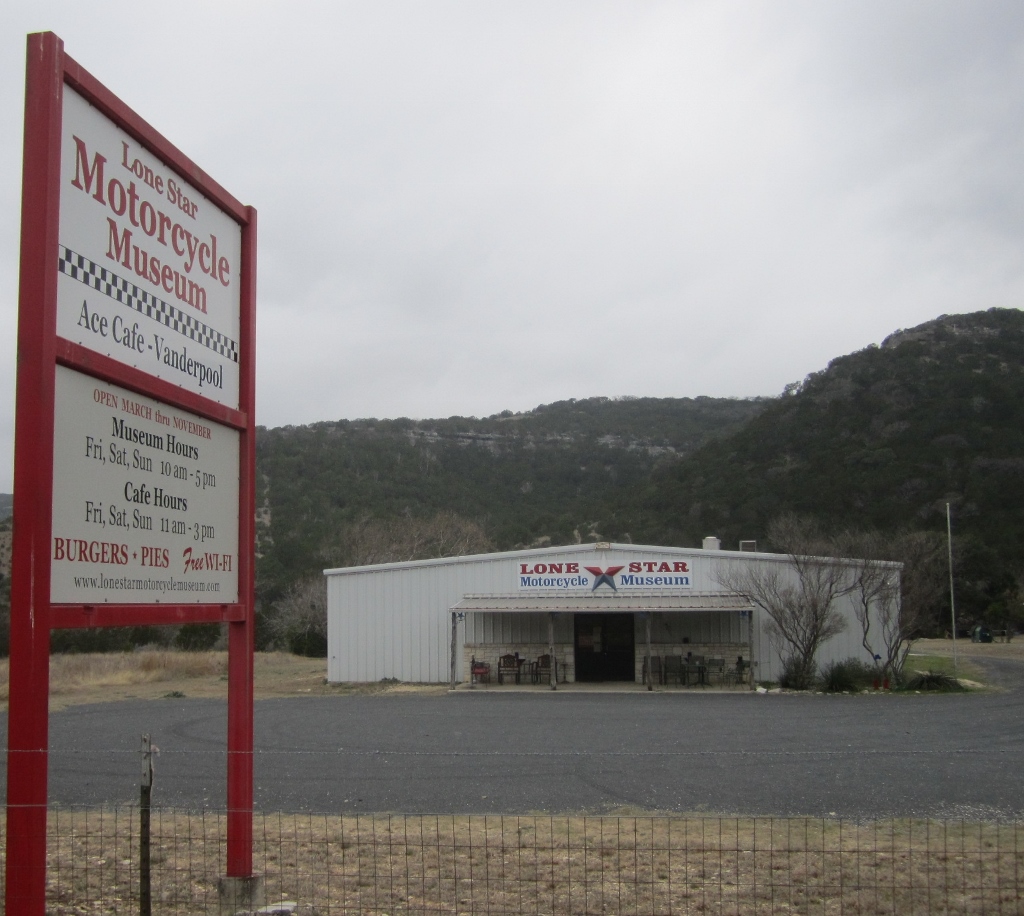 I think it was in Leakey, Texas I found the "Hog Pen".
I parked my Hog out front and had some barbecue----------Texas style.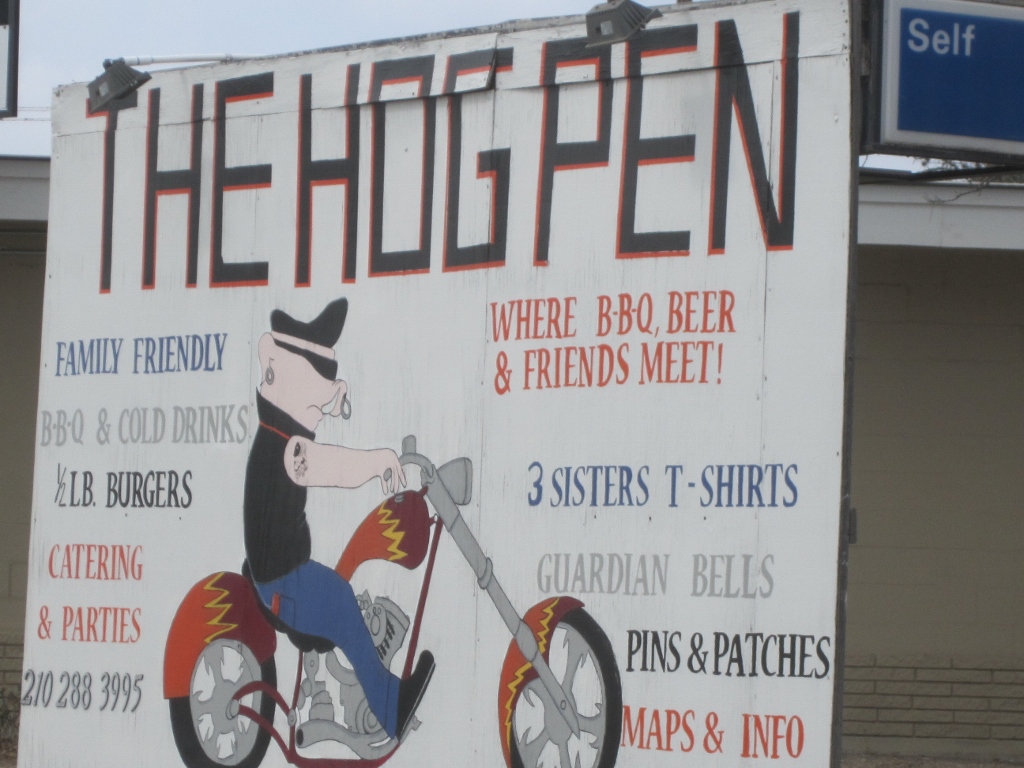 I don't know if I'm gettin' fat or just have a mouth full of barbecue.
He had some neat old bikes layin' around--mostly Japanese bikes.
Any seasoned Texas Hill Country traveler knows about the highways called the "3 sisters".
Twisty paved roads------awesome---as I head North on paved 336 planning on riding all three.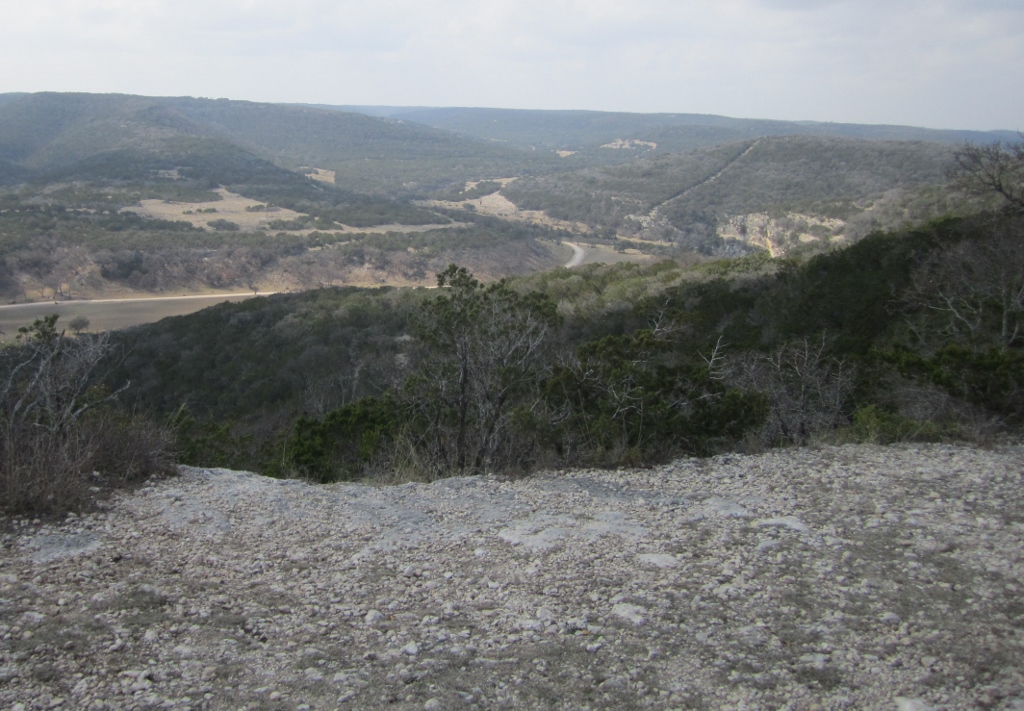 Well----until I spied the only dirt road connecting paved 336 and 335---and spoof----I'm back on dirt.
It got a little rough thru here and I came to a neat ranch gate.
I think this was Bullhead road and I was headed Southwest.
I didn't go thru the ranch---just by it.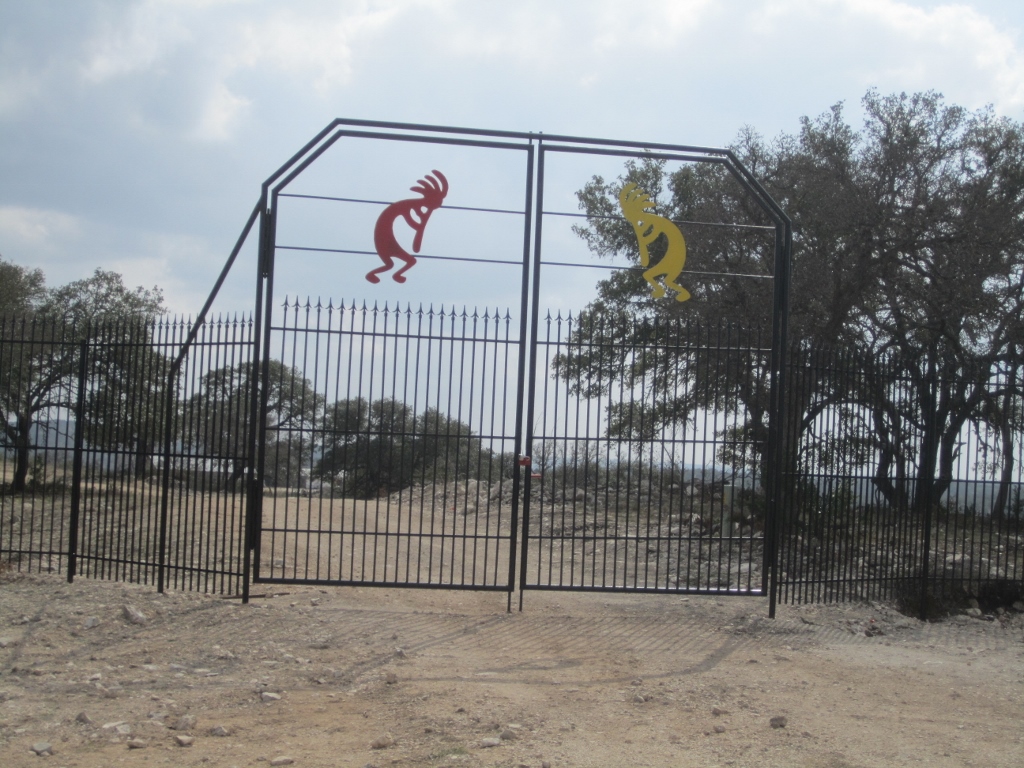 It was really nice and the weather was perfect----remember I came out of the ice and snow of the Midwest--so this was nice.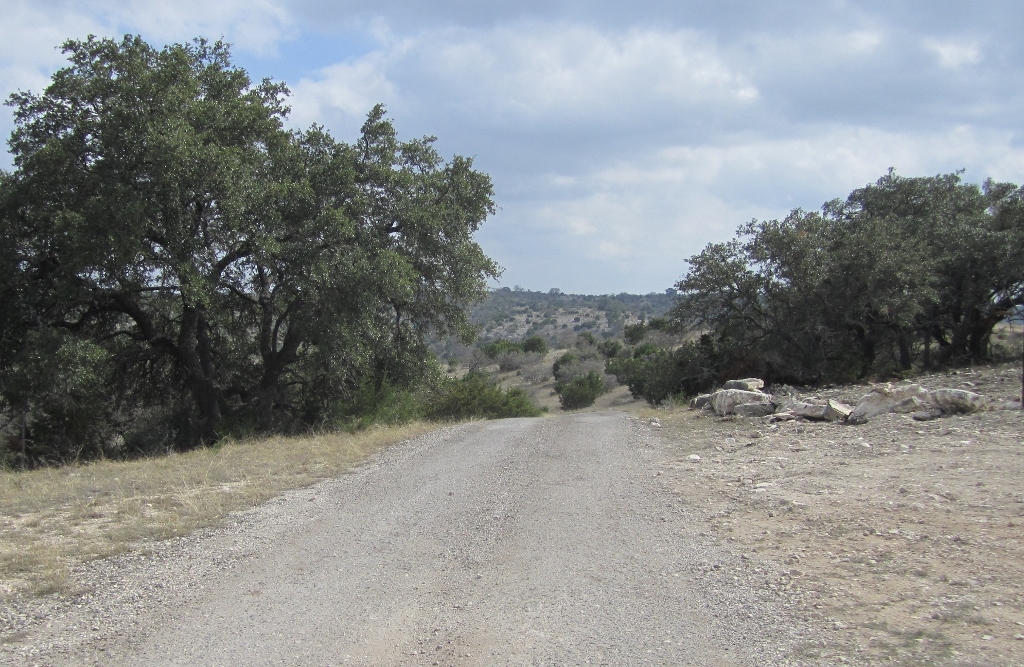 And then the "Bump Gates"
What's a bump gate---I didn't know----but found out really quick.
You bump them with the big steel bumper welded on the front of your diesel pickup truck and it swings way out of the way---then
you run thru real fast before it smacks the side of you truck---and easy maneuver with practice.

Problem is --------I didn't have a pickup truck---or a deer ramming steel front bumper.
There is no lock---or chain---they are all open for bumping.
I think Iwent thru about 15 of these-------it got fun after I learned how to do it without getting off my bike.
I put my front wheel up to it--stopped--then gassed it swinging the gate way wide---then zoomed thru before it hit my bike.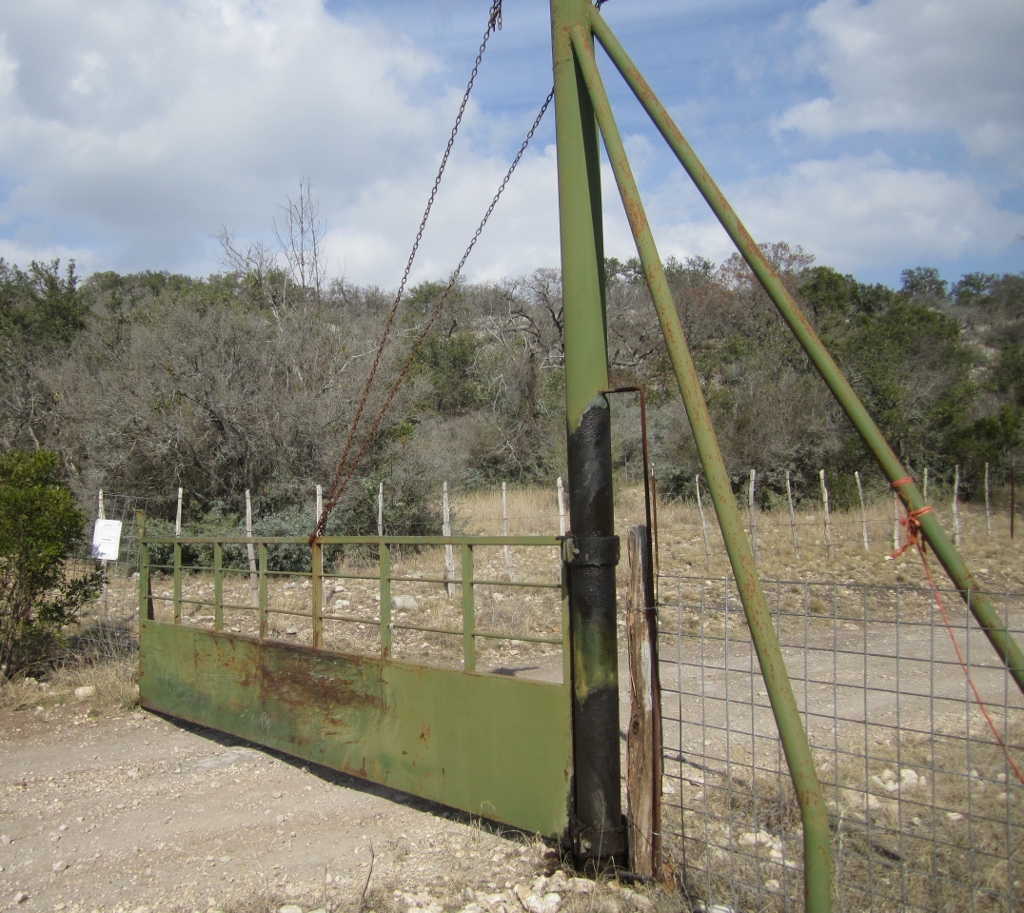 The most fun road of the entire trip---a ton of creek crossings.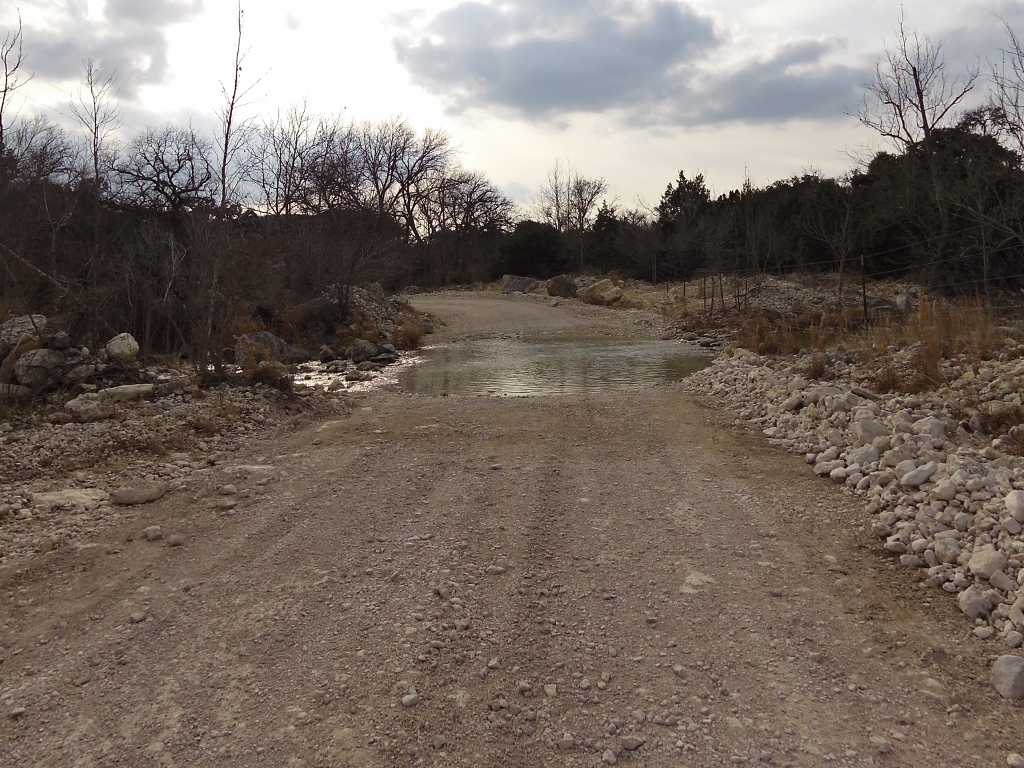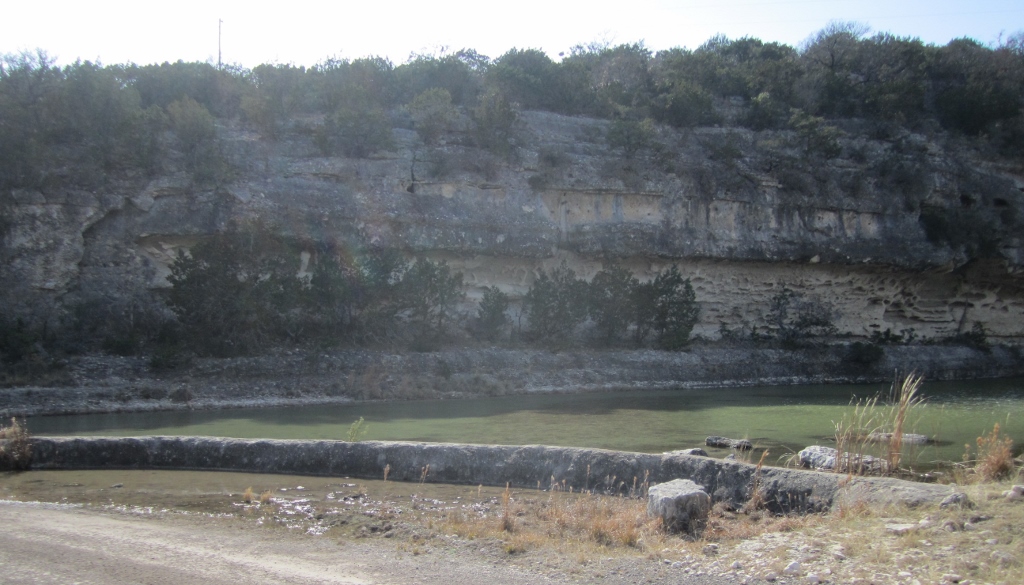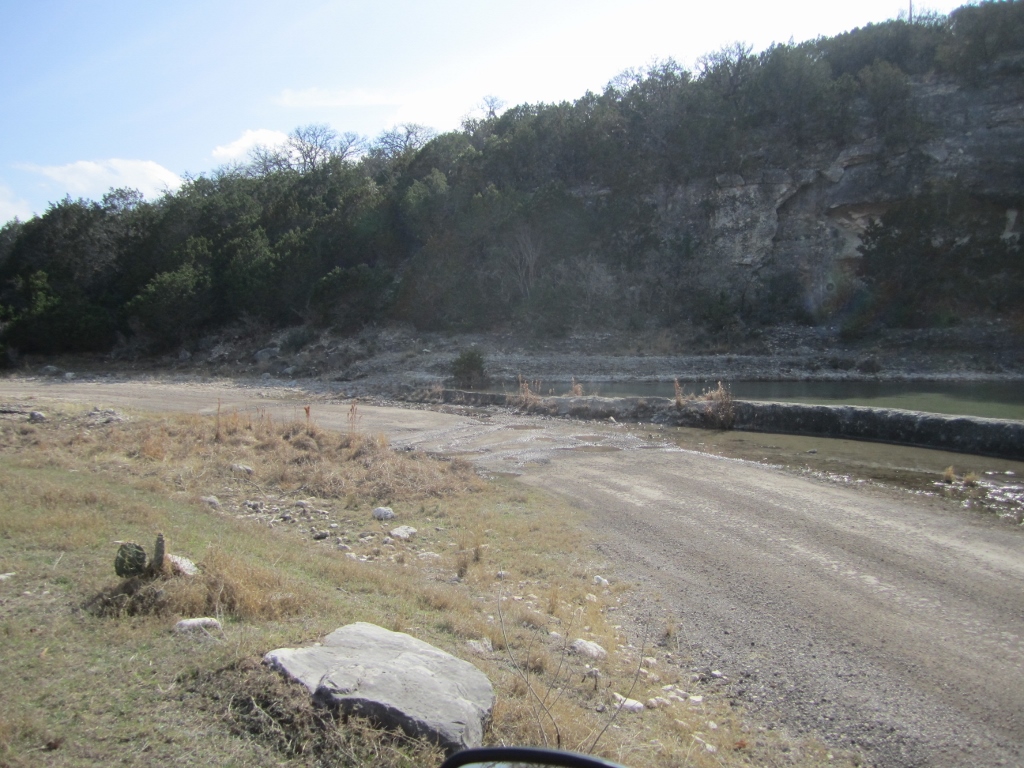 After going thru a whole bunch of bump gates not knowing what they were called--I came to this sign--so now I know.
Wait till I get home and tell the guys about the bump gates--------a lot of fun they were.
I bumped the gate pretty hard and swung it open and ran thru before it came back----it was fun.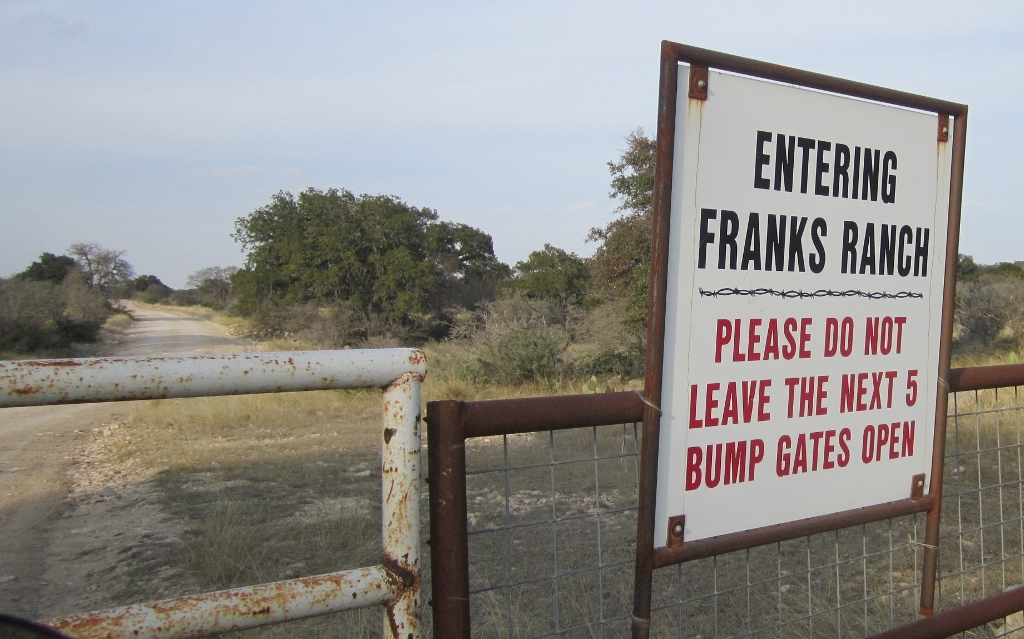 Bump gate number 14.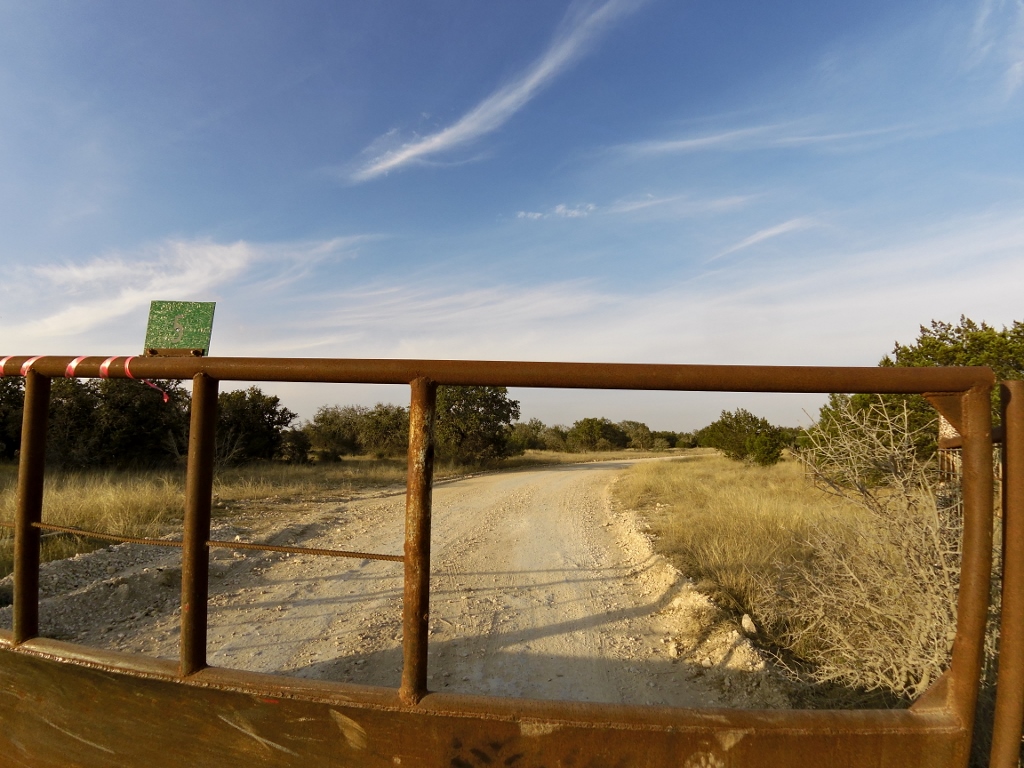 Man these Texas folks are so friendly. I didn't see anybody out here---but I wanted to give thanks--------"Thank You"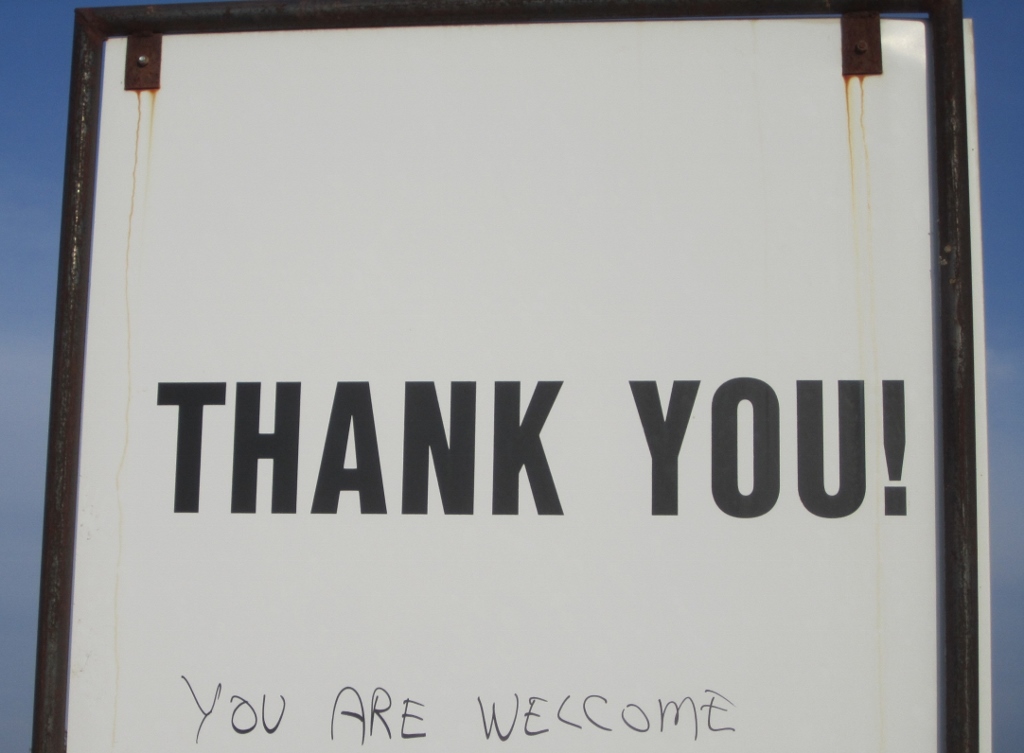 My Husky is sporting the newer Wolfman "Rocky Mountain" saddlebags.
I kind of like the old expedition bags better.
A "Wolf Tail" is on the back.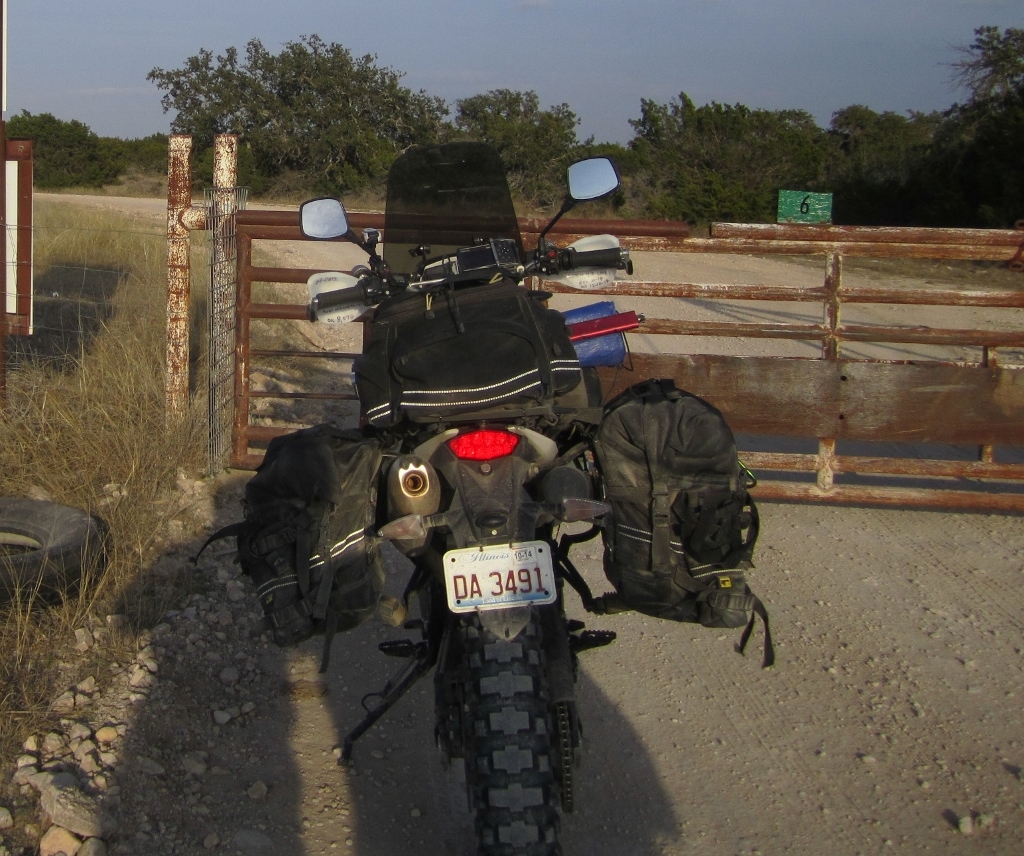 A rough map of the 209 mile ride today.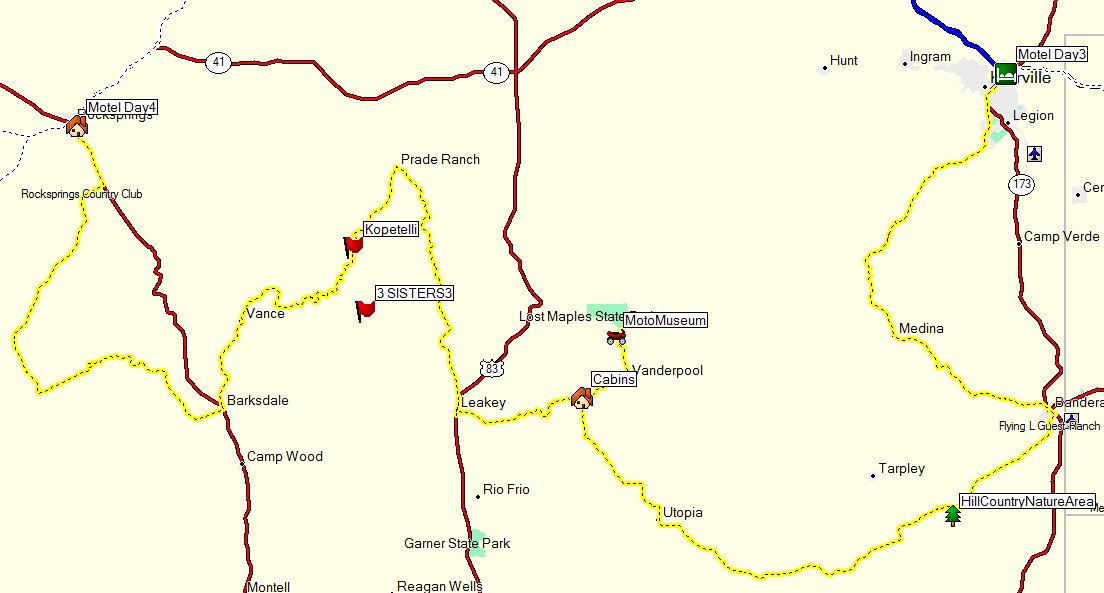 Day 5
Feb. 25th, 2014
Rock Springs to Sanderson
I stayed at the Sorrells Inn------real nice folks.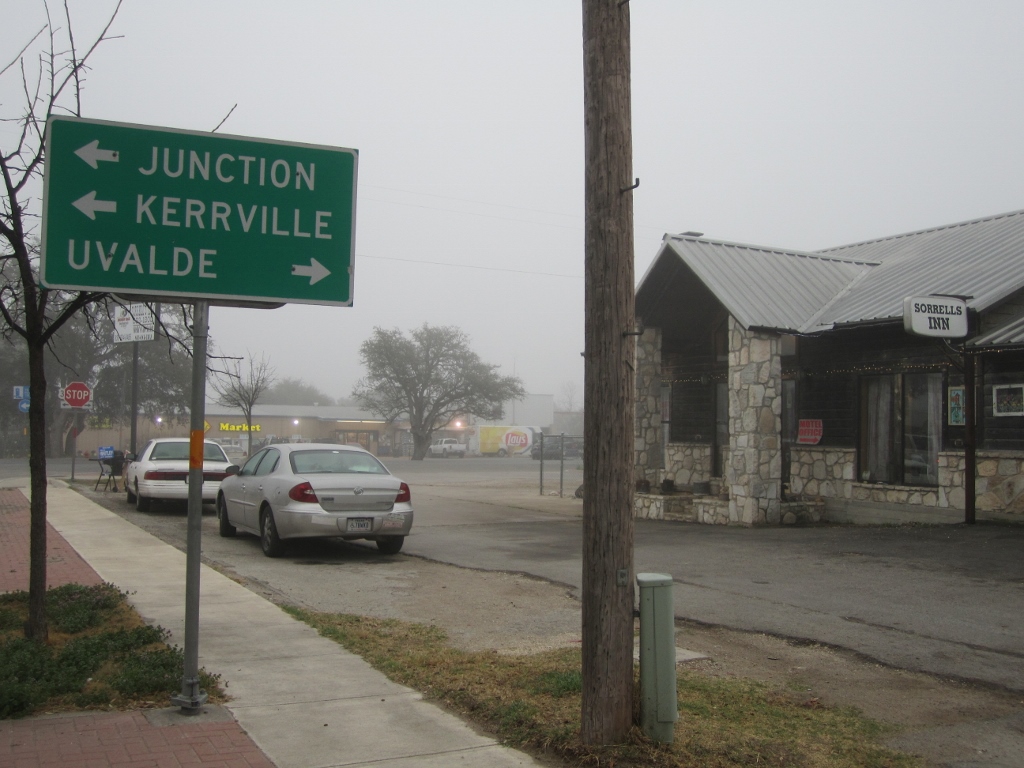 I blew out of Rocksprings on the Texas Pecos Trail----well----------hwy 674 anyway.
Then West on 90.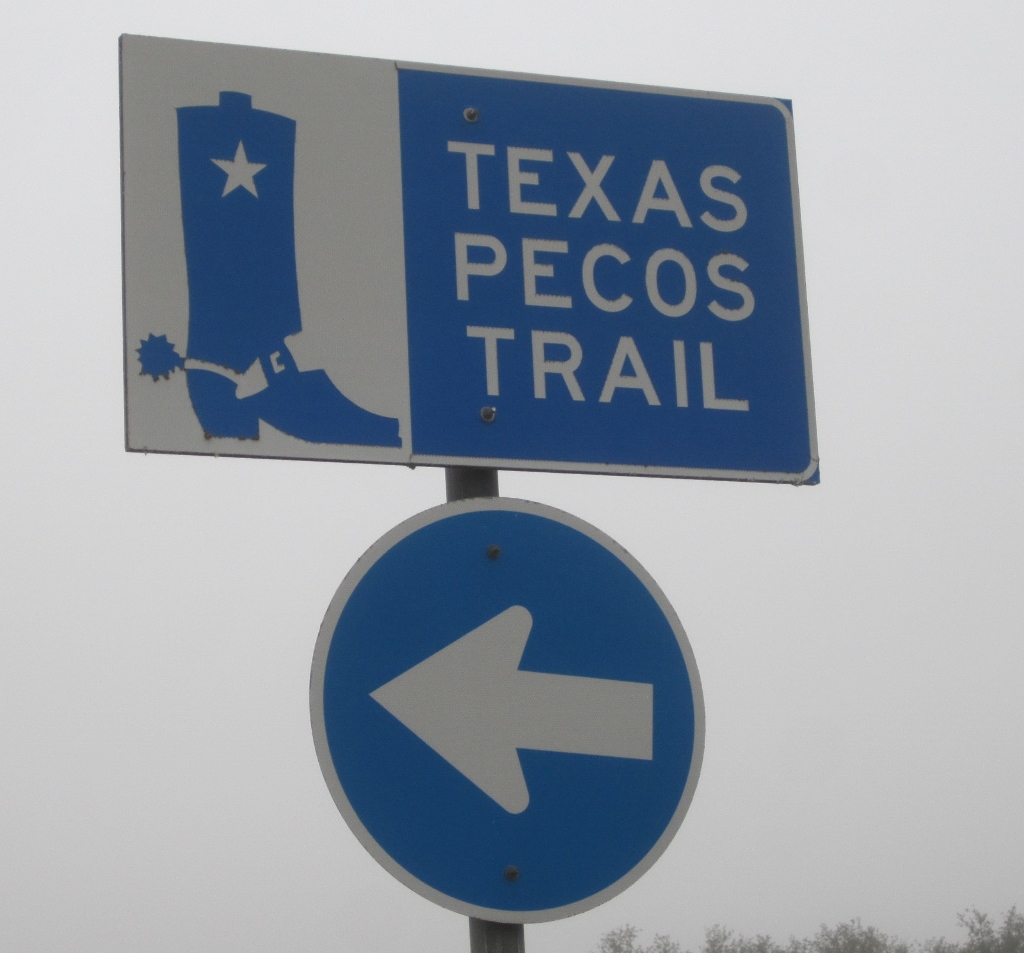 I had to Pee.
I hate peeing in toilets---it's just not natural and I always avoid it at all costs.
And it's bad on the environment------3 gallons of potable treated water to flush a cup of Pee---it just ain't right.
We should do what they do in Mexico and flush our turds and pee with non-potable water---makes way more sense.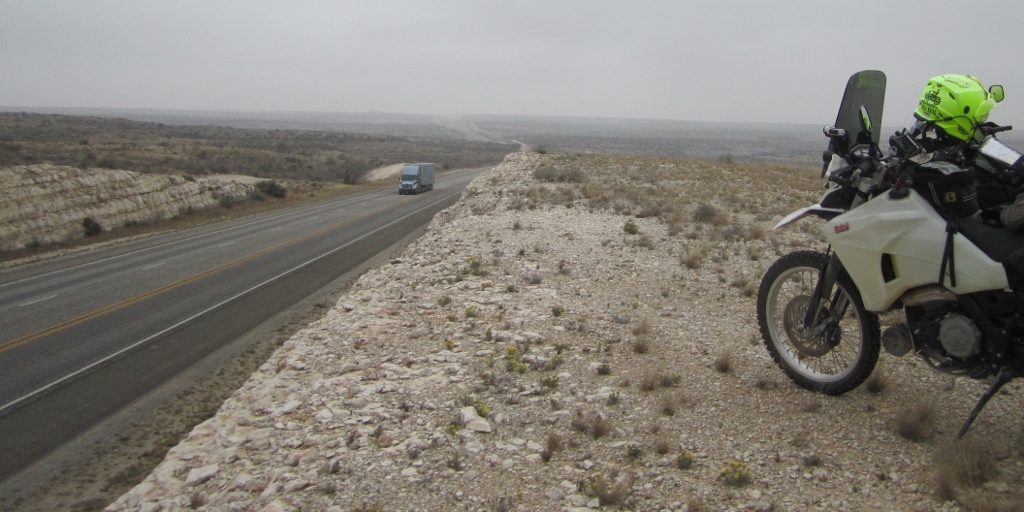 Signs, signs----everywhere signs---------a total waste of taxpayers money.
There is absolutely no need for any of it.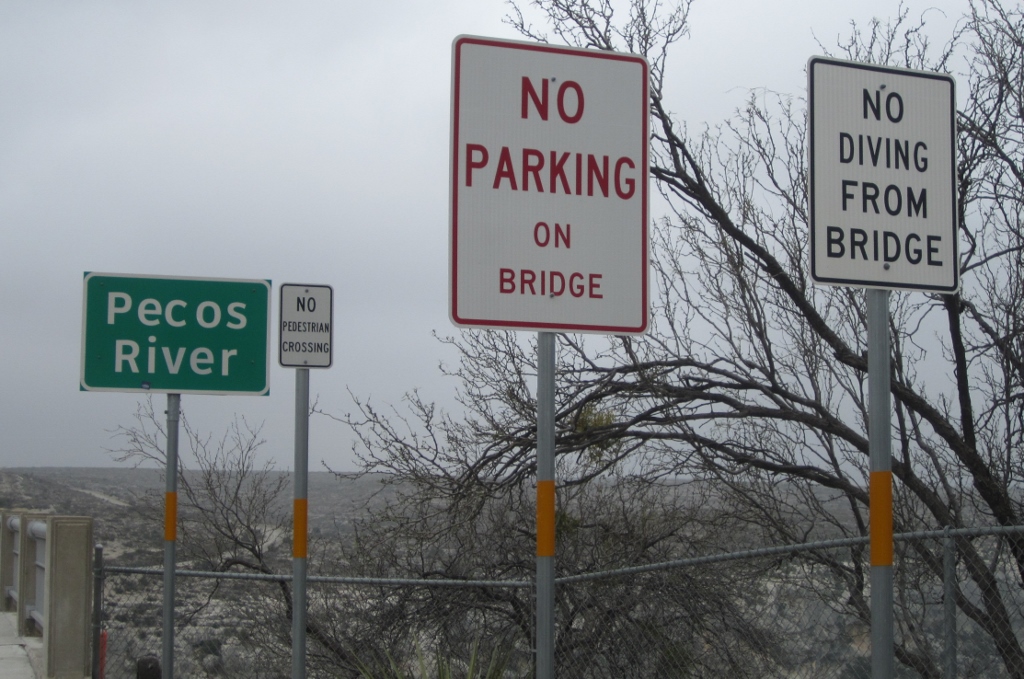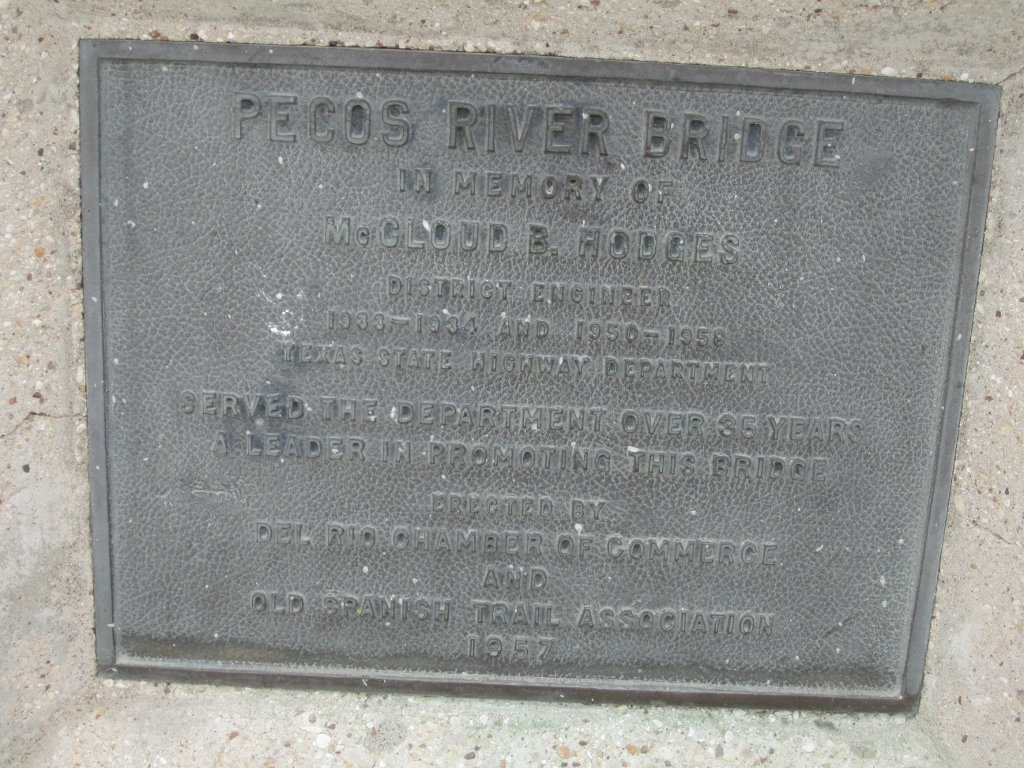 The mighty Pecos river---well at least that's what the sign said.
A really beautiful site right on the Mexico border.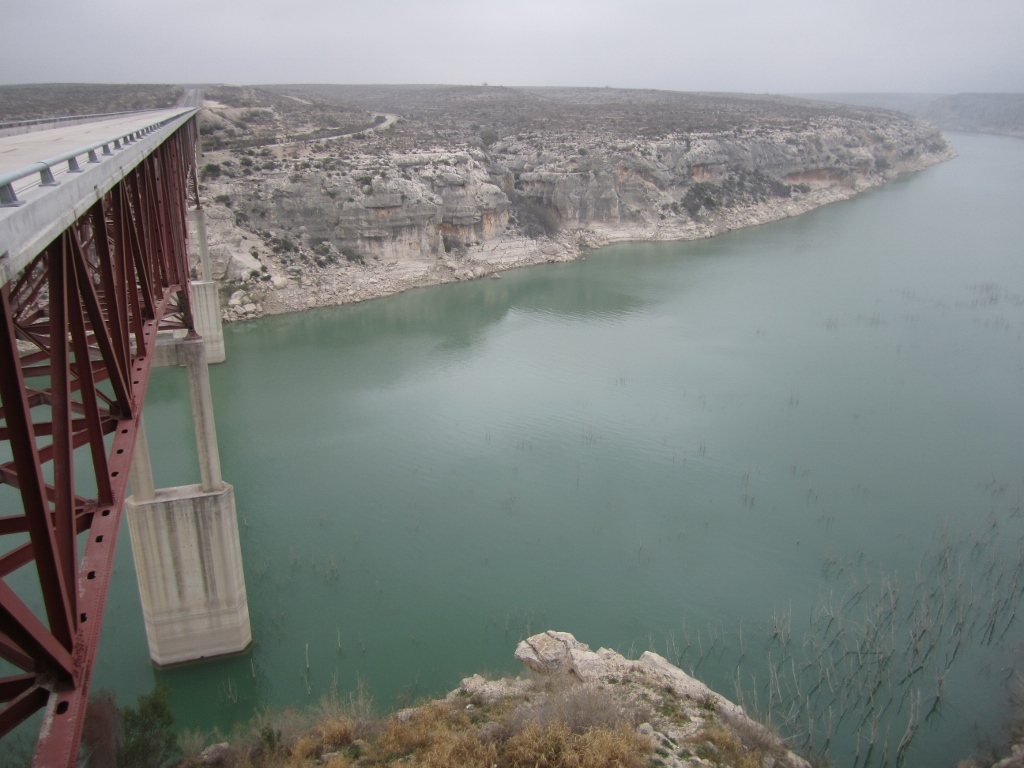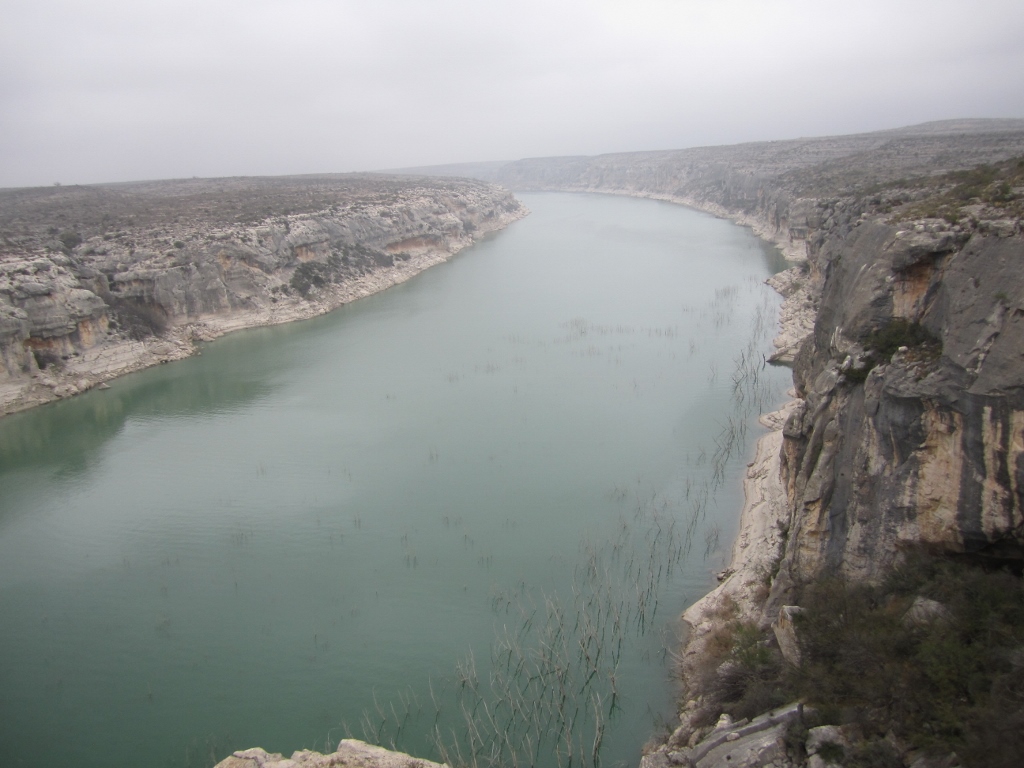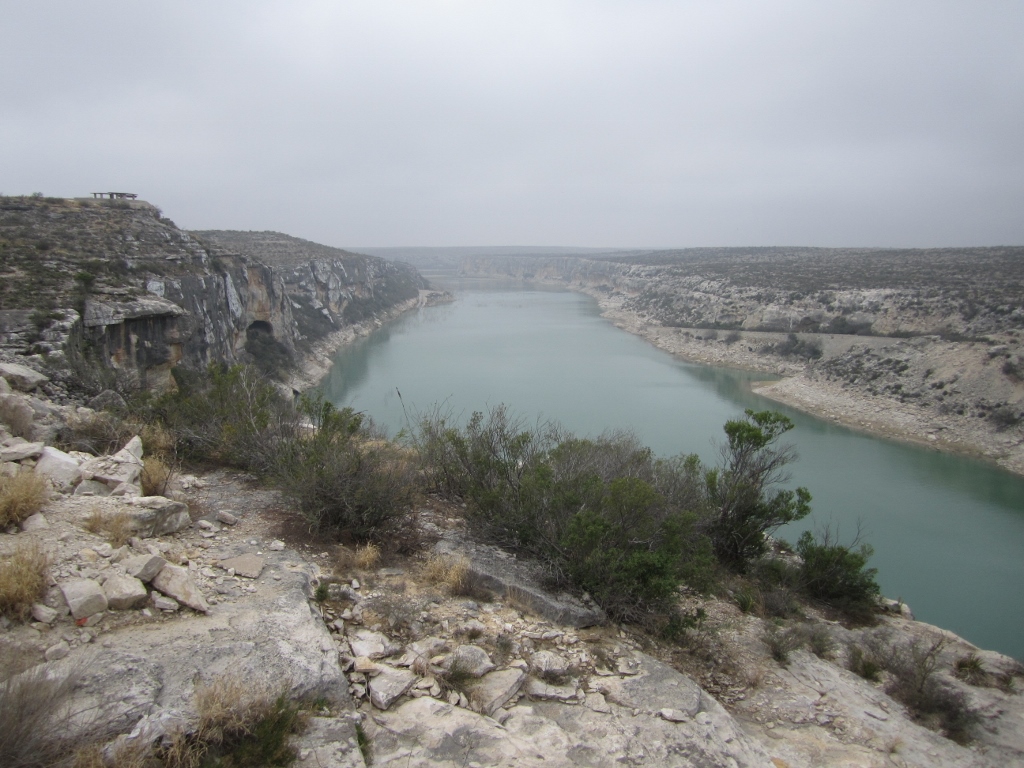 Right before Langtry I spied the "old" road----and "old bridge" and a beautful river below.
I just couldn't imagine how long it took and how much force it took to slowly grind those rocks smooth like that.
I'd never seen anything like it.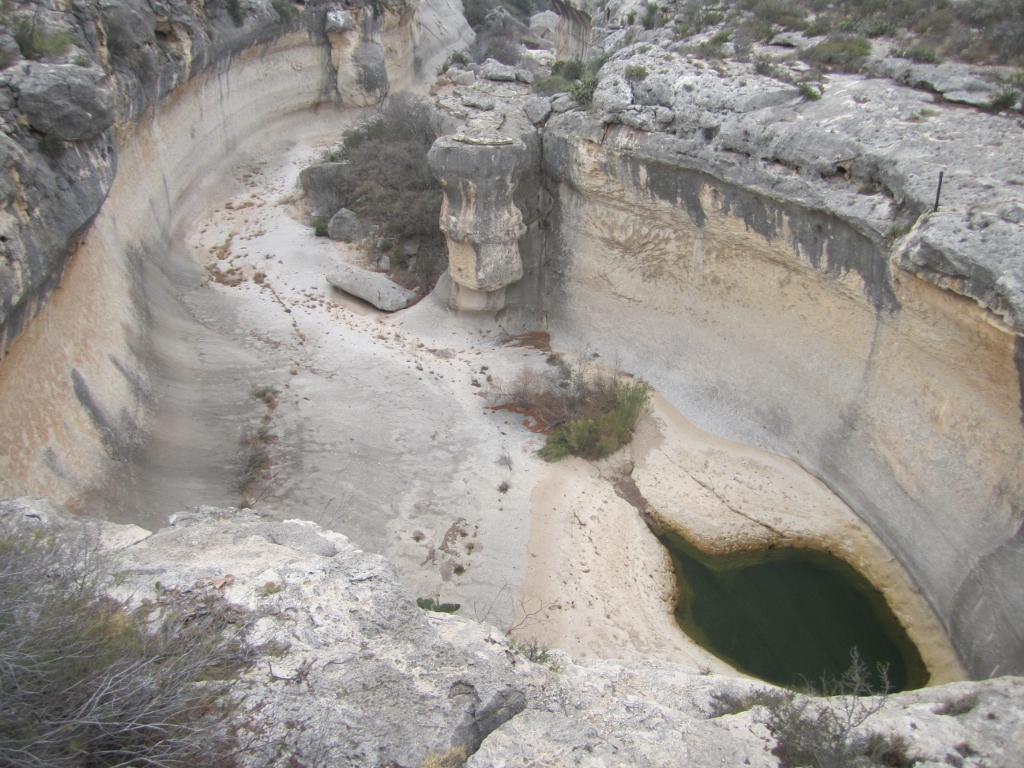 You can see the new bridge here that I went over---and this gives you a good perspective of just how large that rock river is.
This is right before you get to Langtry going West.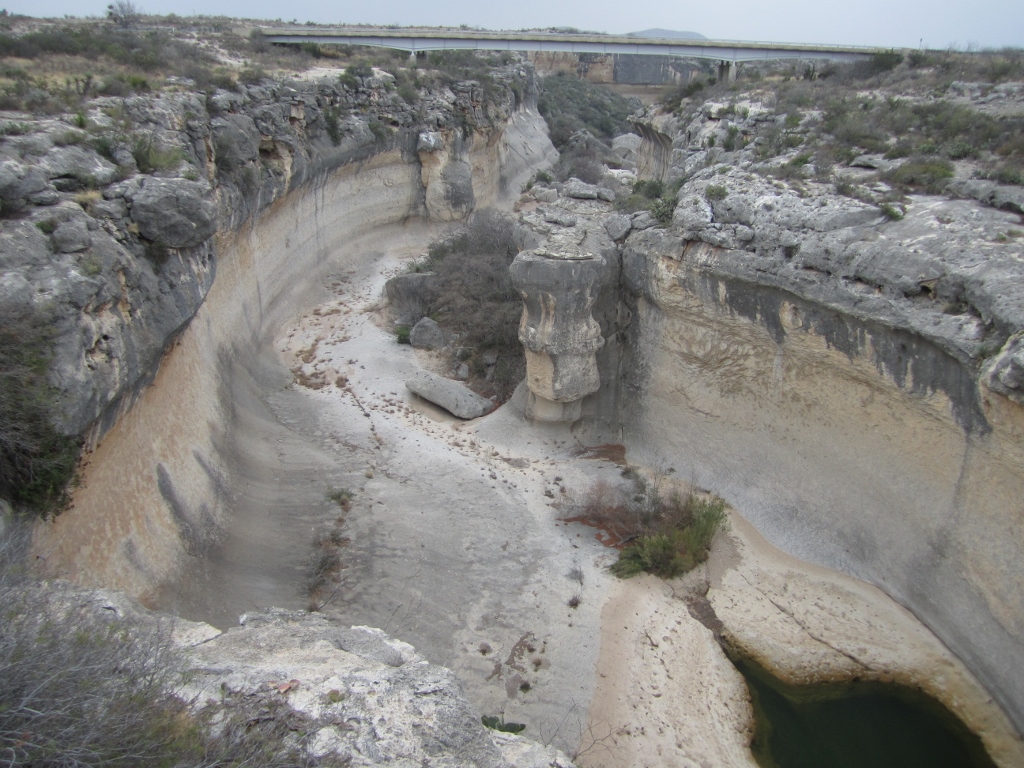 The "old" road---according to a sign-------said I was trespassing-----I mean who cares ???????
It's all because of lawyers misusing the system making everbody scared to death for you to do anything.
If we fell off the bridge ----------so what. It's are own stupid fault and nobody is responsible except us.
Kind of like to ride across that------it might have been live ??????
If I get run over by a train it's my own stupid fault-----nobody to blame except me.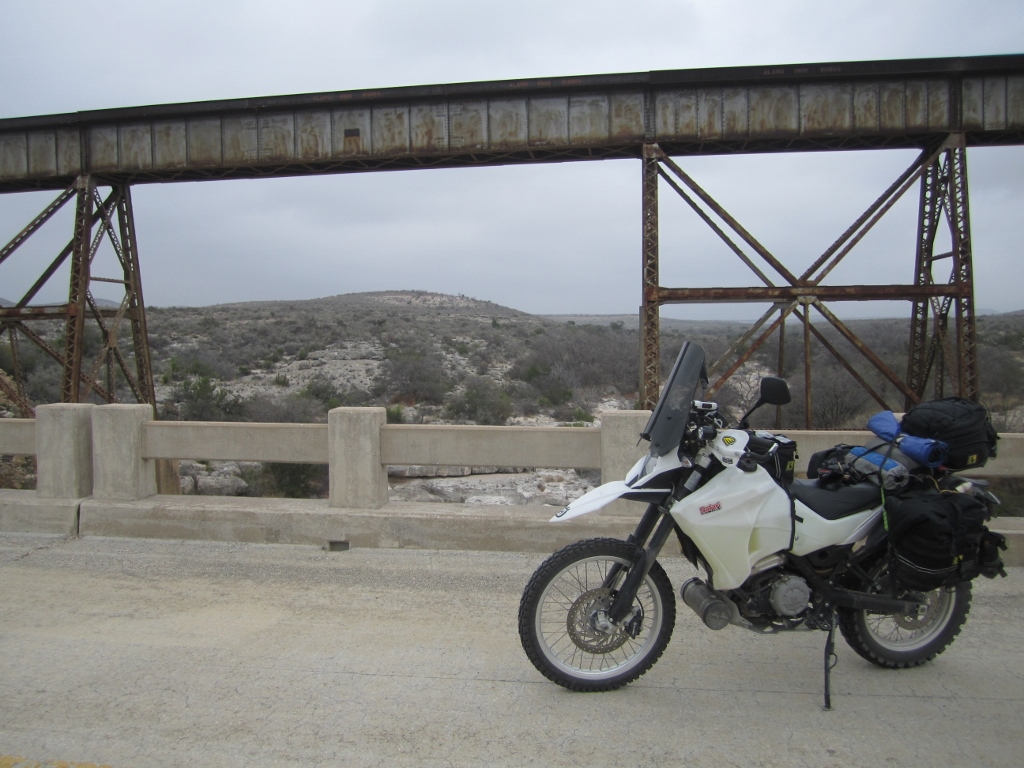 I had to ride East down the "Ole" road as far as I could go and then come back.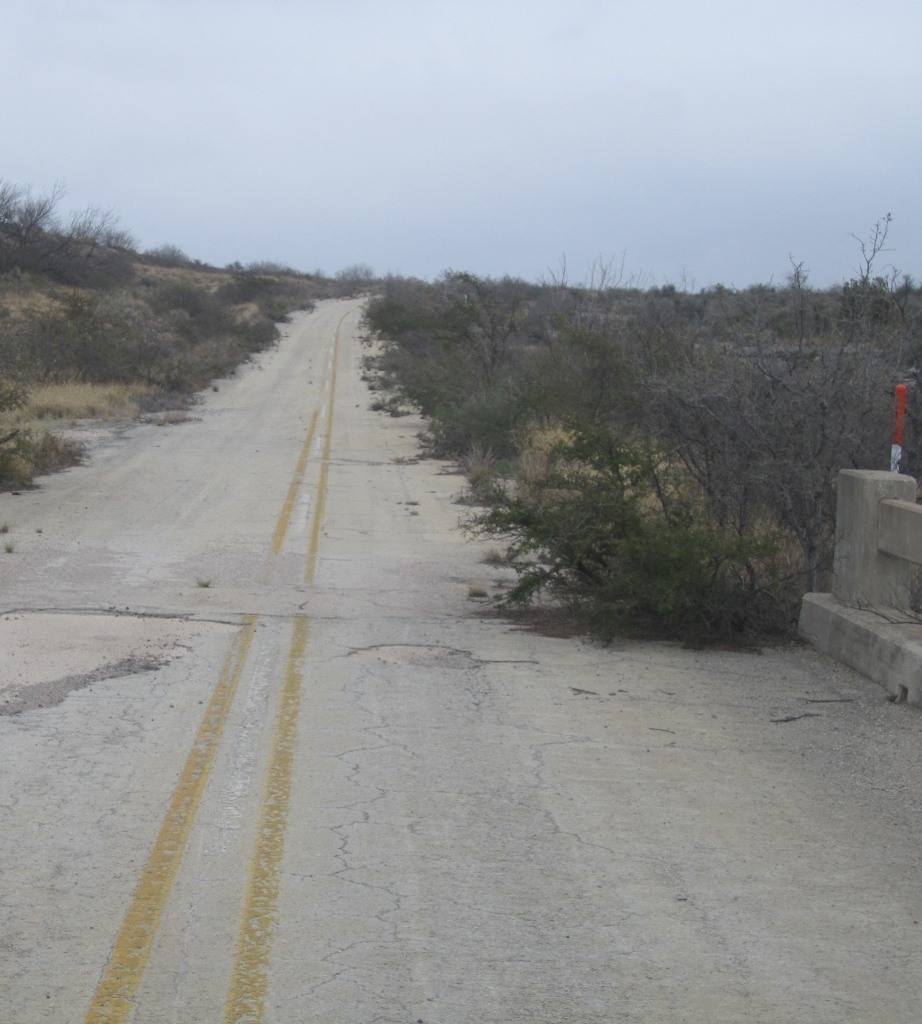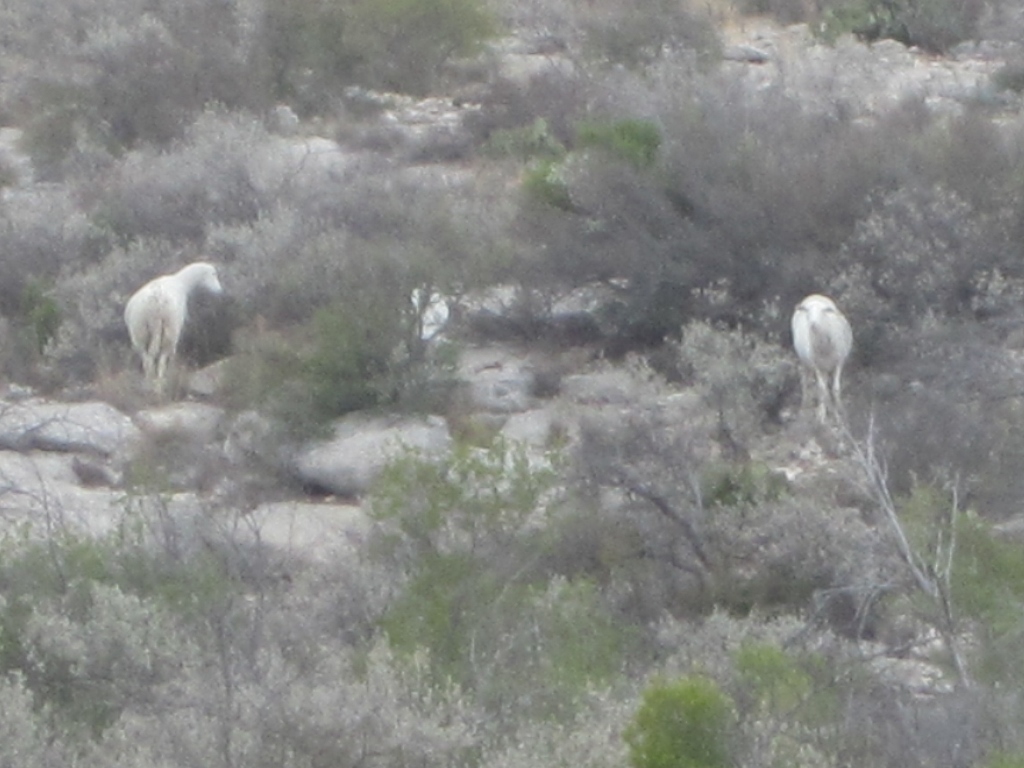 What's in Langtry you ask ??????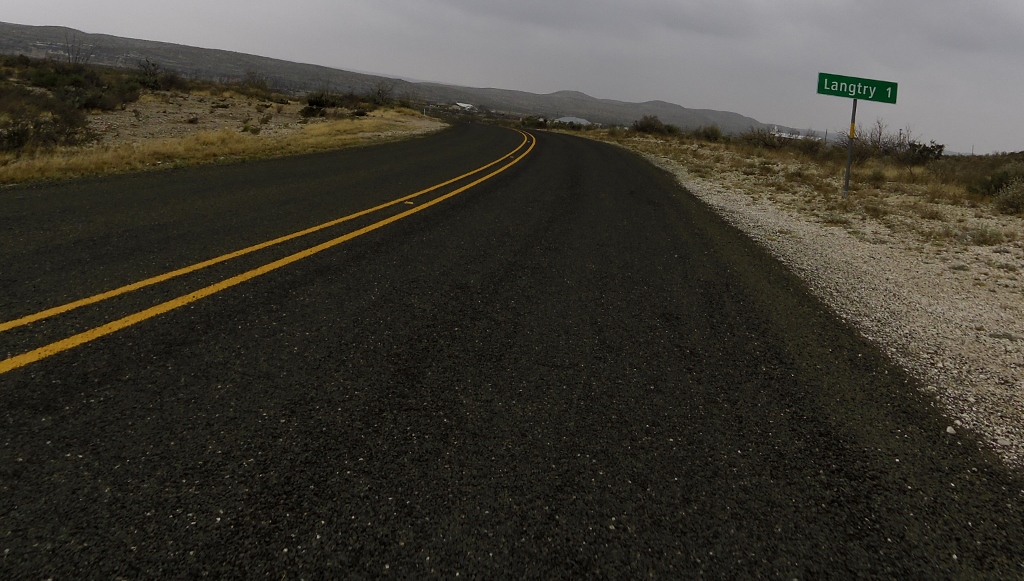 I smelled some more roses (cactus actually) here in Langtry at Judge Roy Beans last place of employment.
There was lots to see here and I spent 2 hours here looking at stuff at a very laid back, slow, relaxed pace.
Retirement is killing me.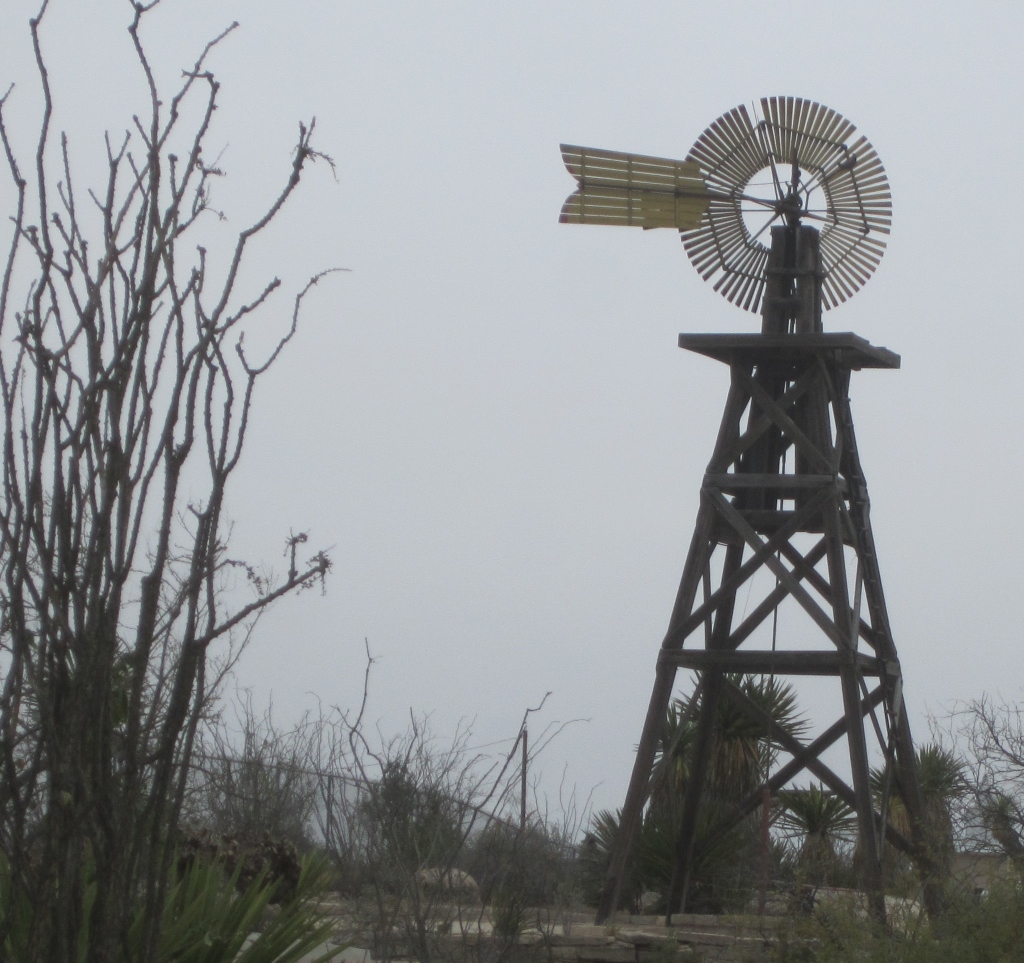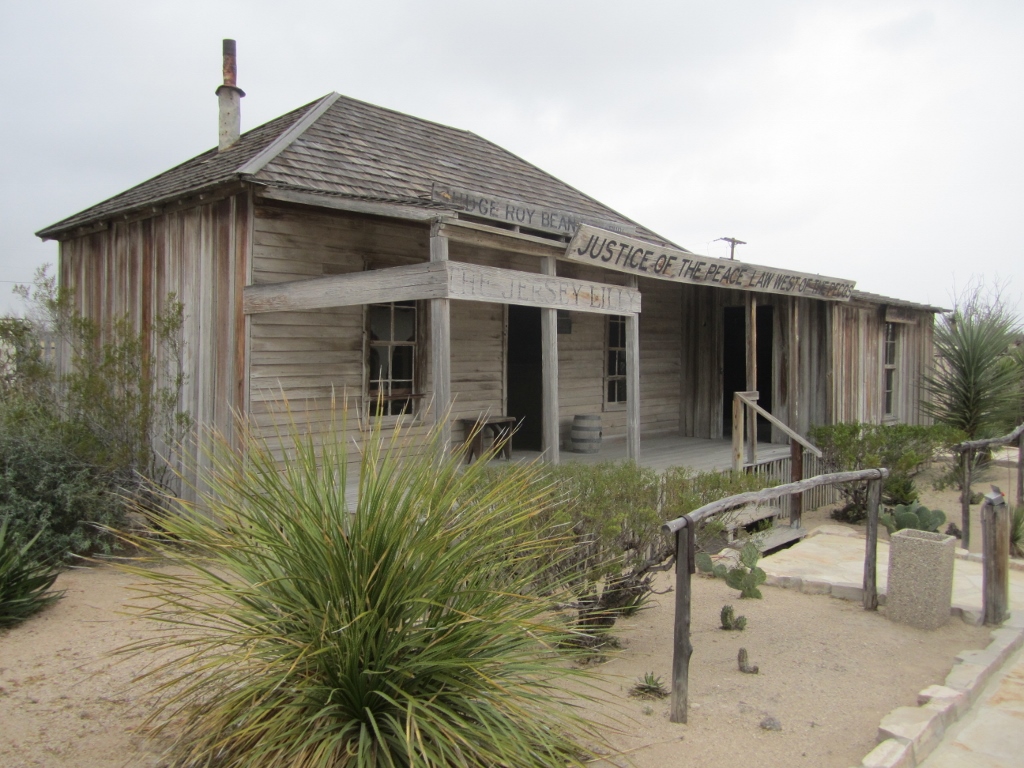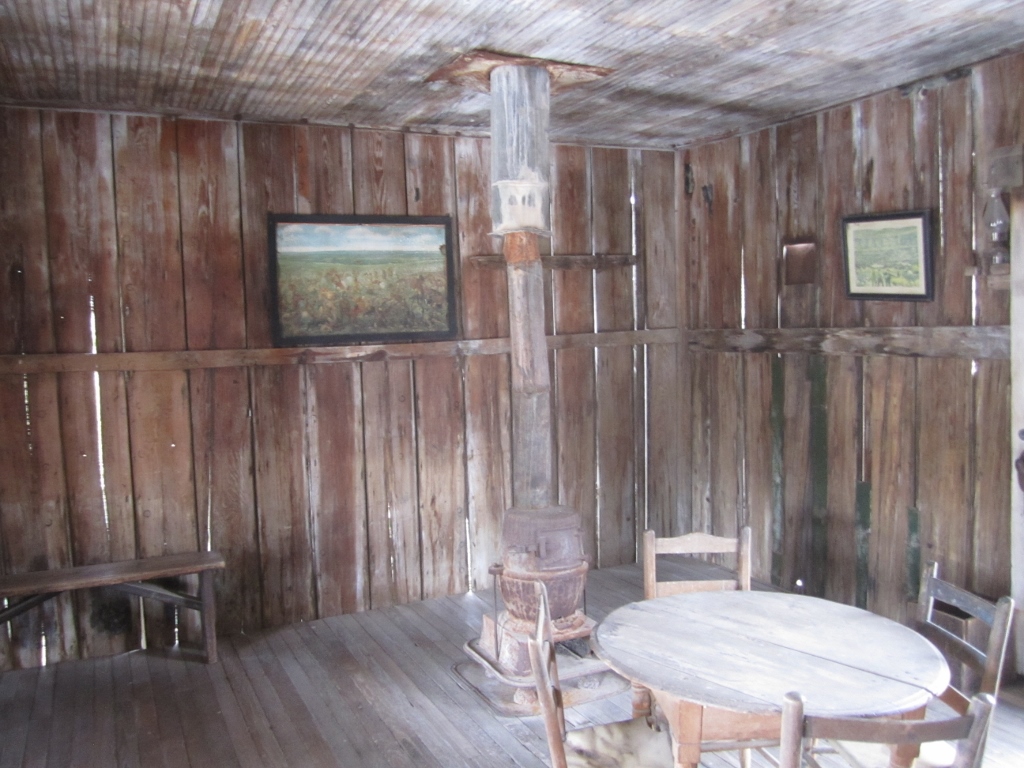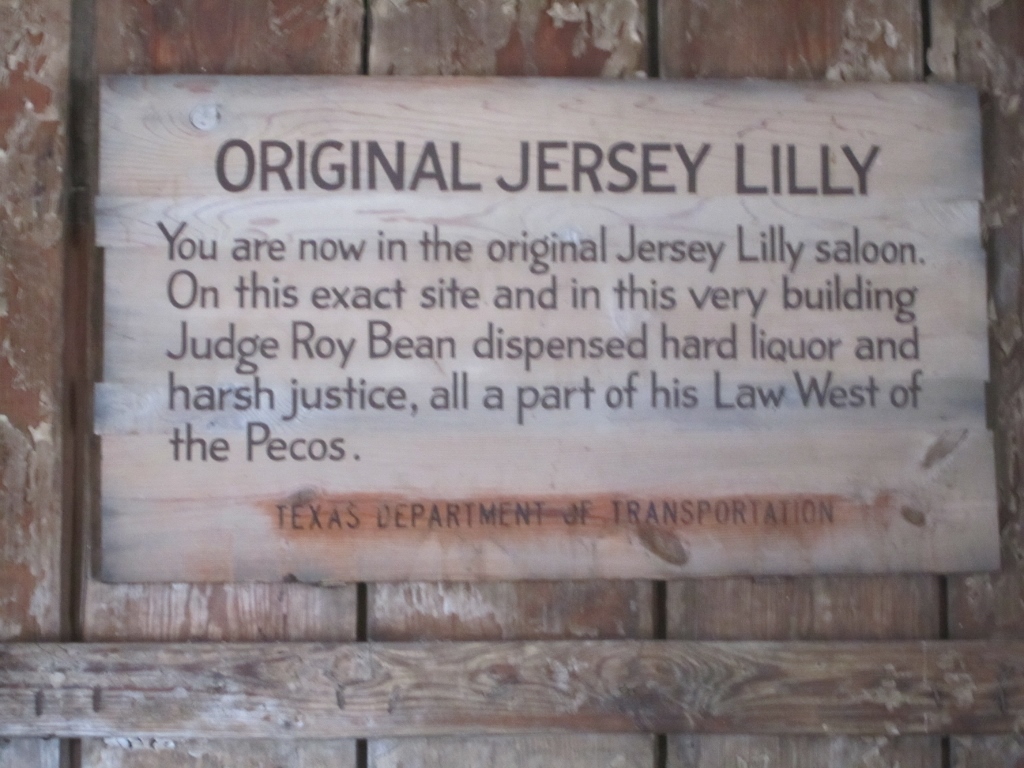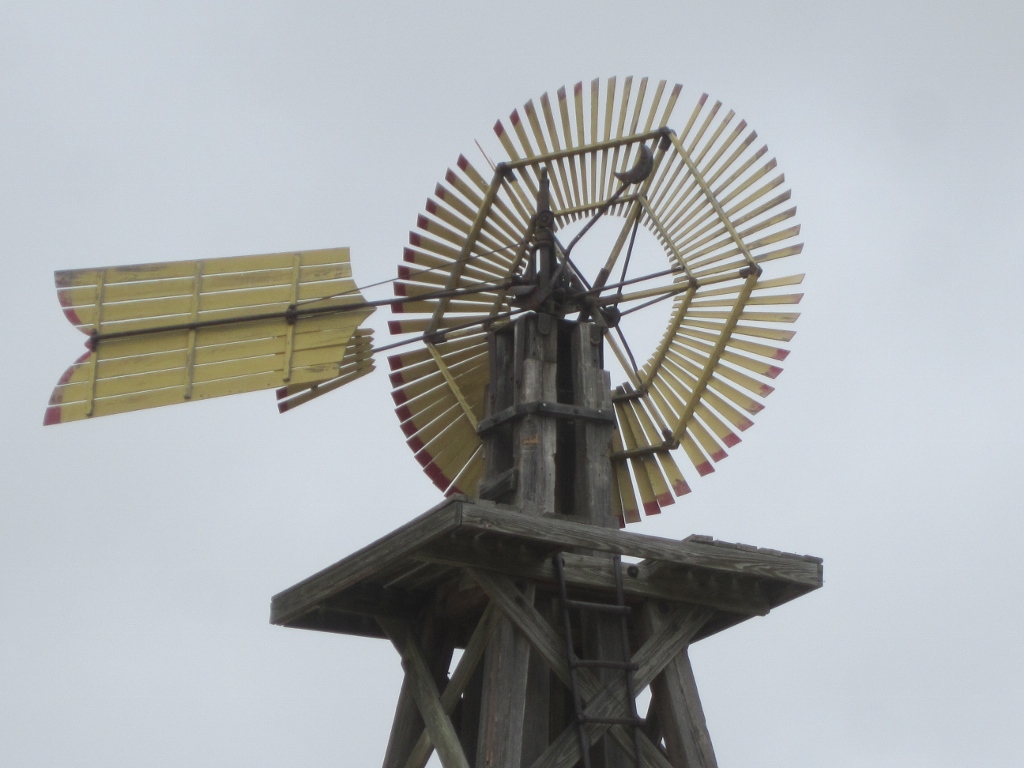 They had the nices display of desert plants here ---and beside the windmill this fascinated me the most.
For those that never get to the desert I think you'll enjoy these pictures of these beautiful plants.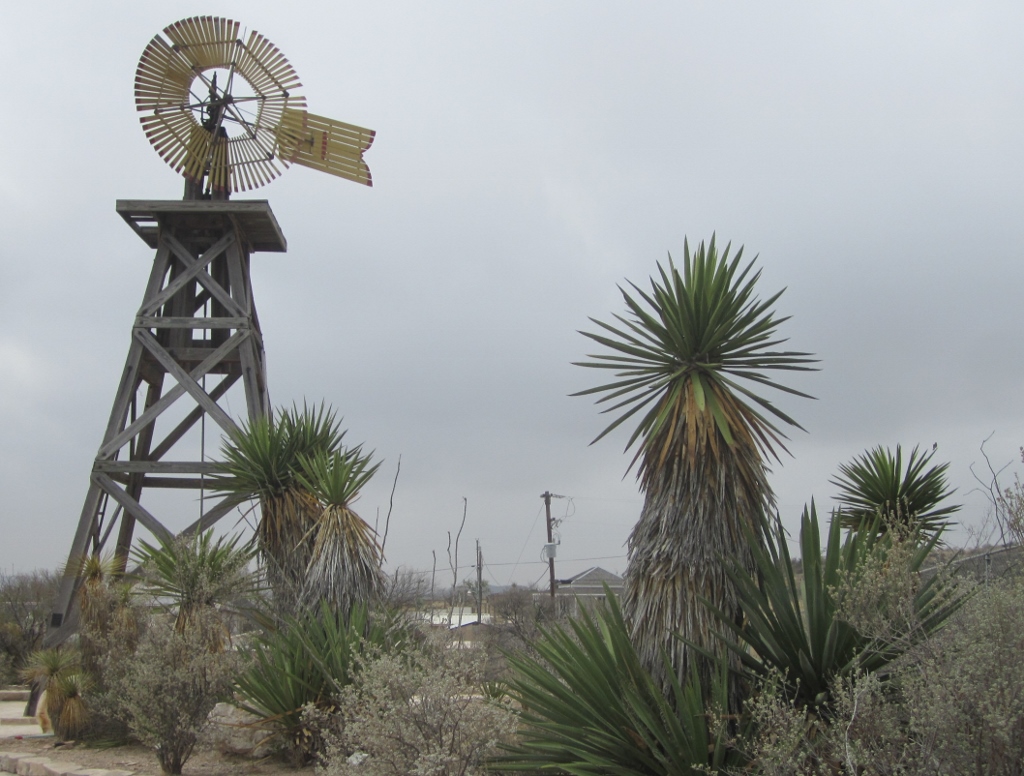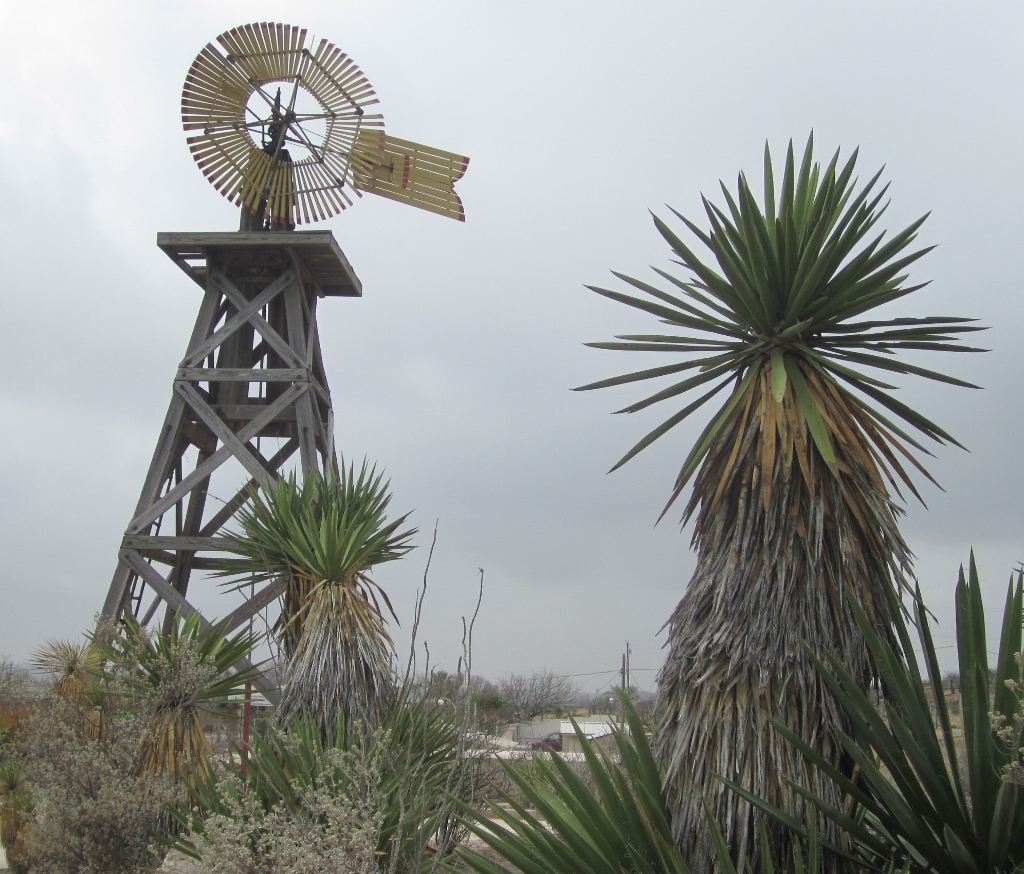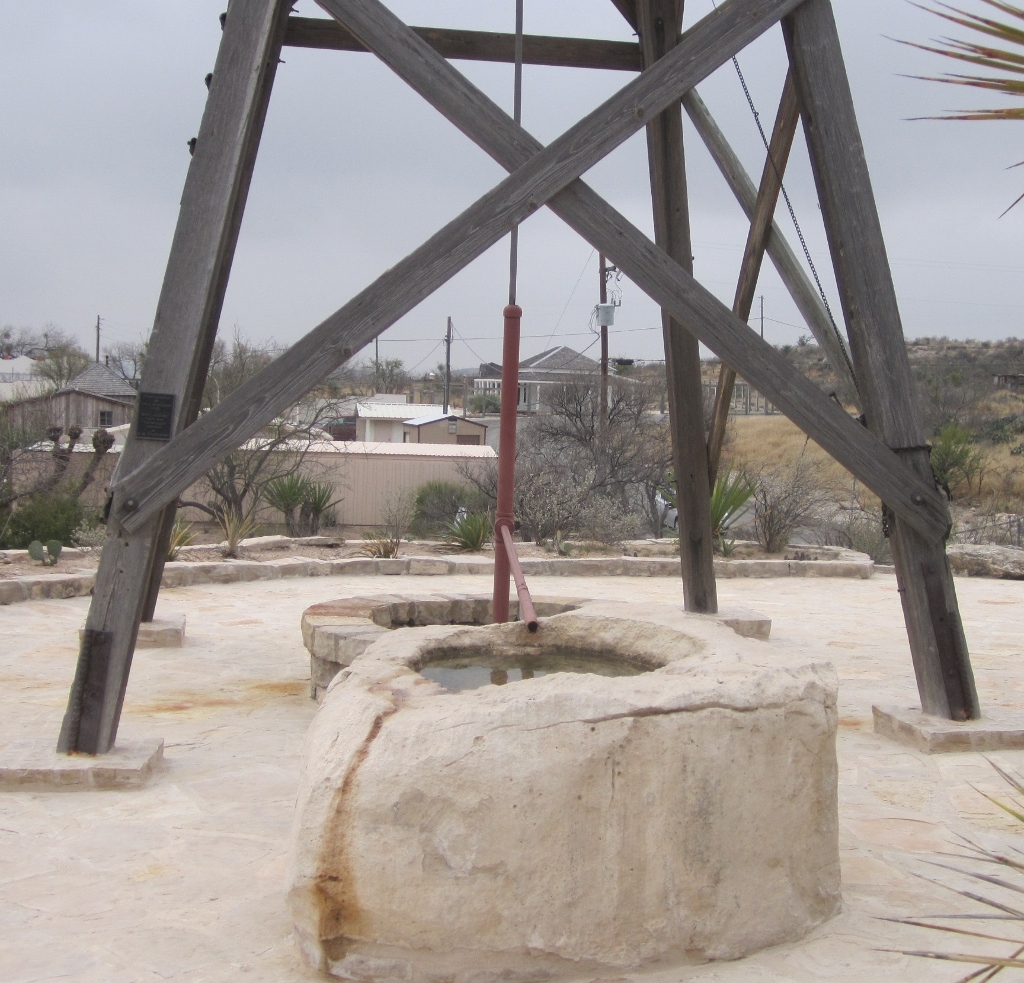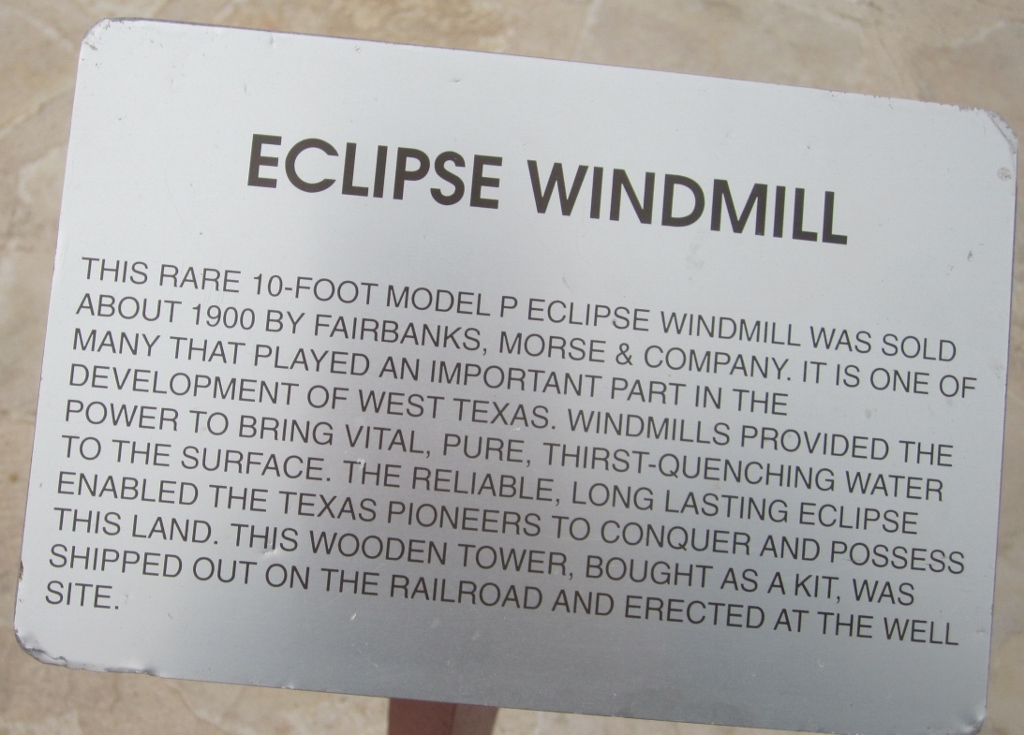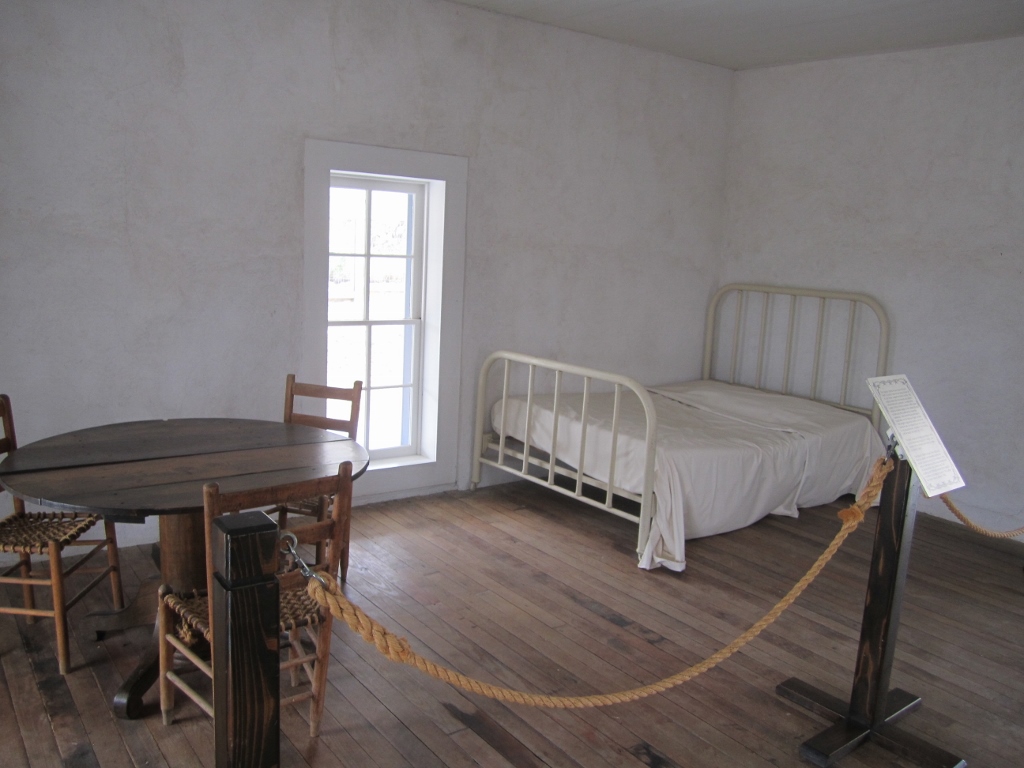 I ended up in Sanderson at the Desert Air Motel--------there were a ton of cheap Mom and Pop motels in this town
all fighting for your business--all of them pretty old-----but nice.
I chose this one--guess why ???? And there was an old KLR sitting in front of the office that hadn't ran in years. The
tires were flat and the paint was faded almost white. Probably would still run----you can't kill those things.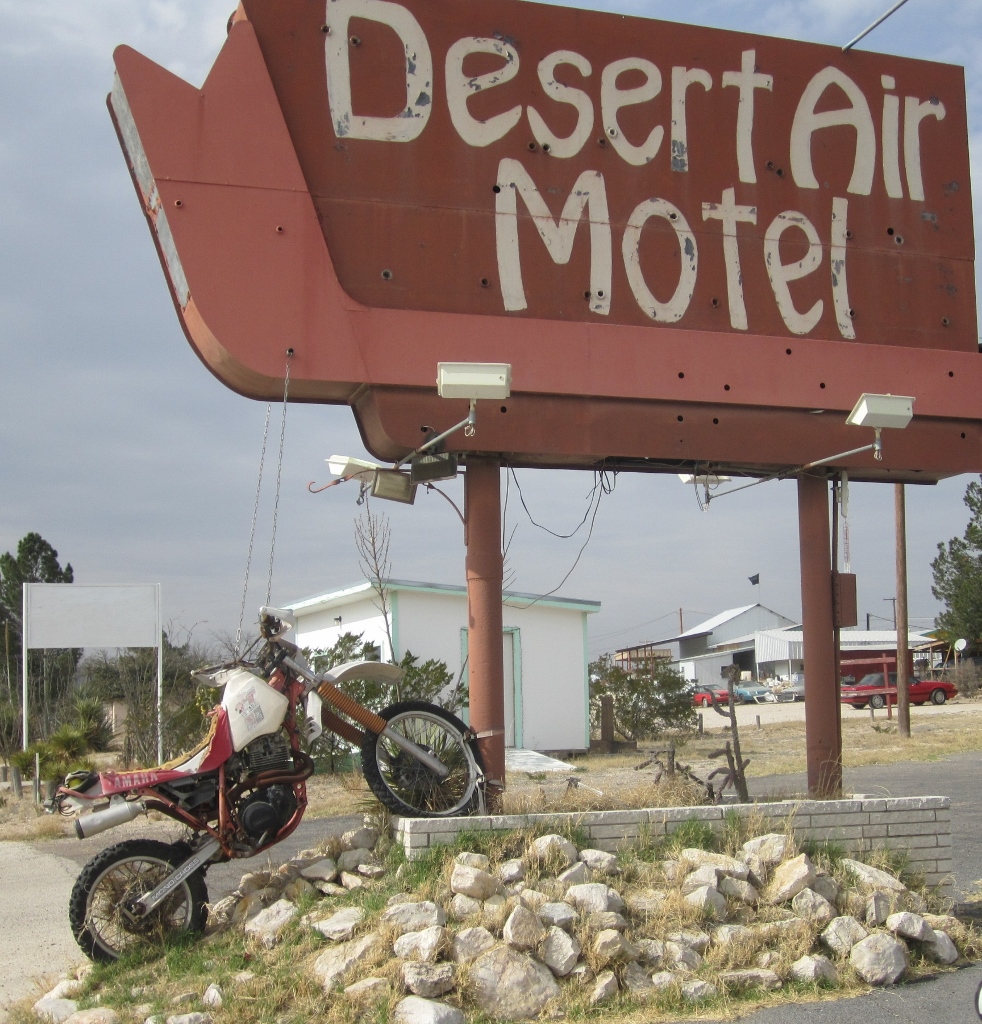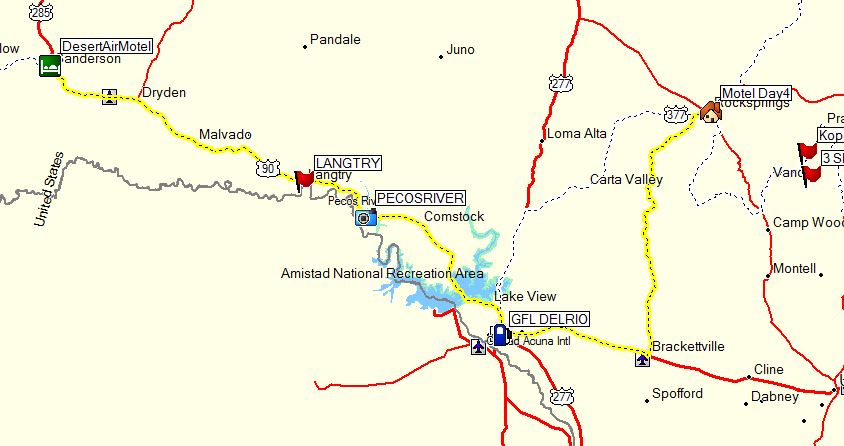 Day 6th
February 26th, 2014
Sanderson, Texas to a really great campsite in Big Bend National Park
It had rained during the evening and then all night---and was still raining in the morning----and the bottom had fell out of the thermometer
I saw this all coming and almost always in a mom and pop with outside doors you can put your bike under the canopy.
Try that at an inside door motel.
Stamp out inside door motels. Someday they will be gone---and hopefully I will too.
I rode out of Sanderson going East on 90 in what was very close to be a freezing rain---but it got better as the day wore on.
I then turned South on 385 towards Big Bend National Park.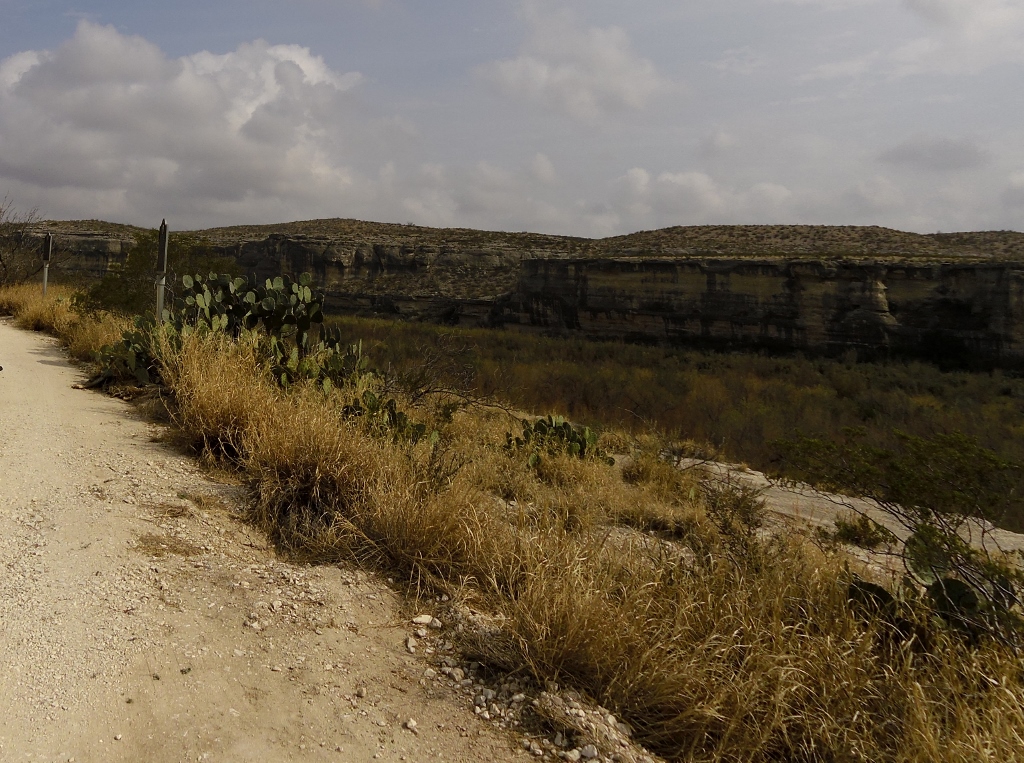 Hopefully leaving that weather behind -----I was wanting to camp.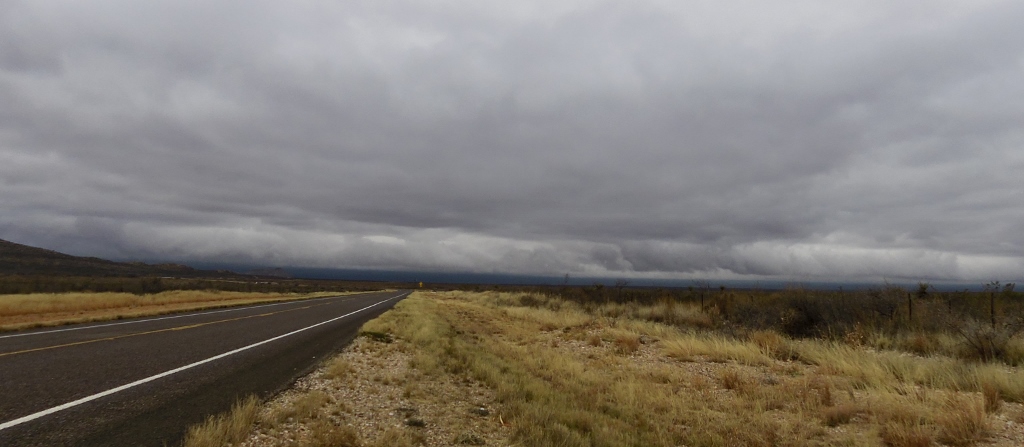 Big Bend is expansive-----very much so----and oh so beautiful.
I was so happy to be able to use my "Geezer Pass" for the first time----it had been a long time coming and I had earned it.

What's a "geezer" pass you ask ???? It lets us old folks into National parks for a lesser fee--maybe it was free---I'm
so old I forgot.
And reduced camping rates.

I turned down "Old Ore Rd" and it was just a 2-track-----but got pretty tough in spots.
This is what I came for and hoped all the riding would be like this.
Loose rocks--hill climbs---sand----baby heads------was easy on the Husky.
The Husky Terra is nota trail bike---but this isn't what I call a trail.
Some of the new riders do.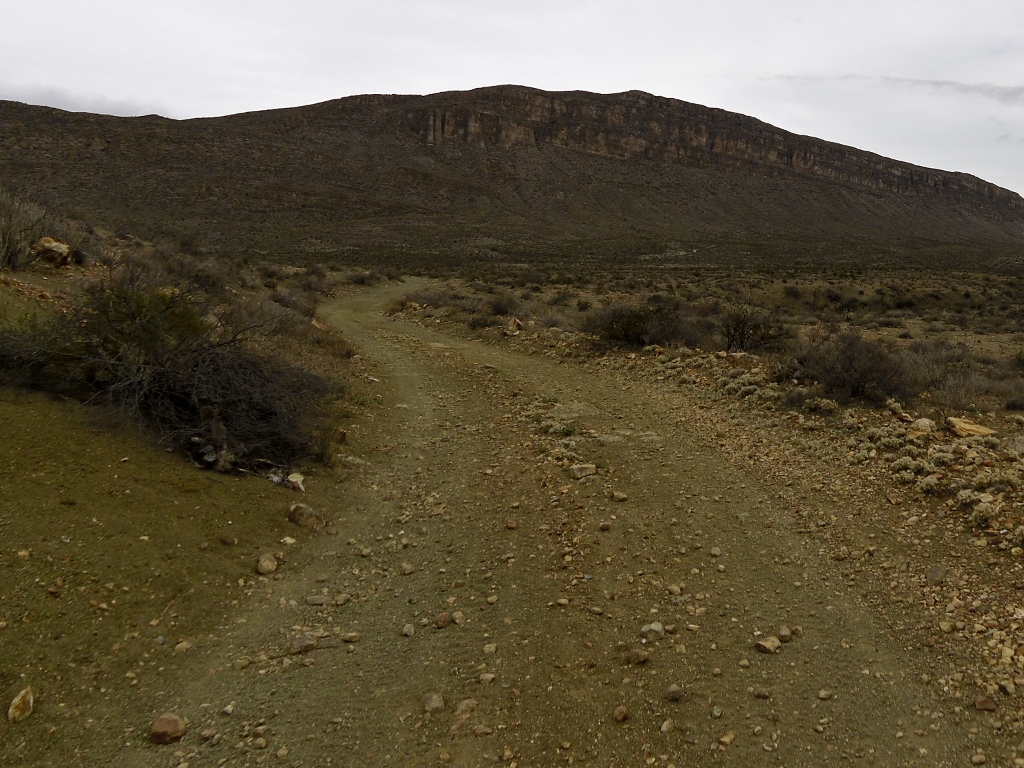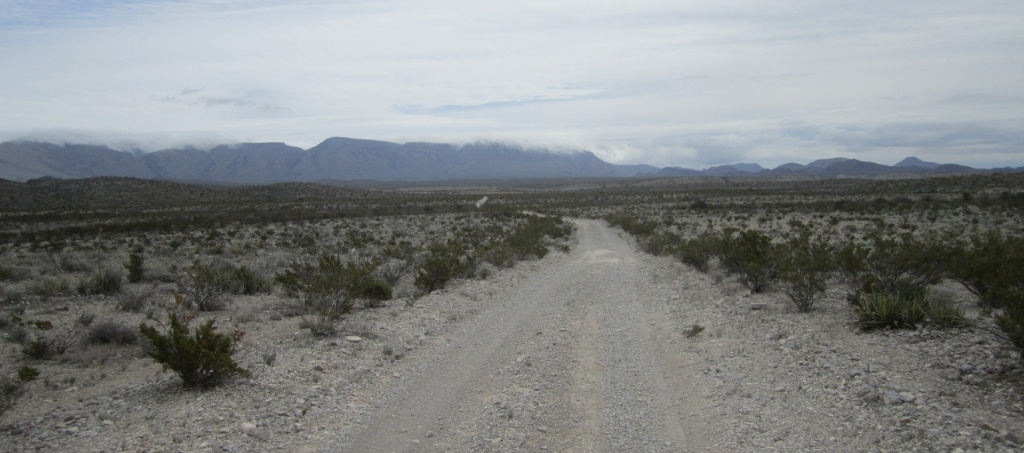 It had warmed up quite a bit and camping tonight would be great-----been greater if I could have had a fire.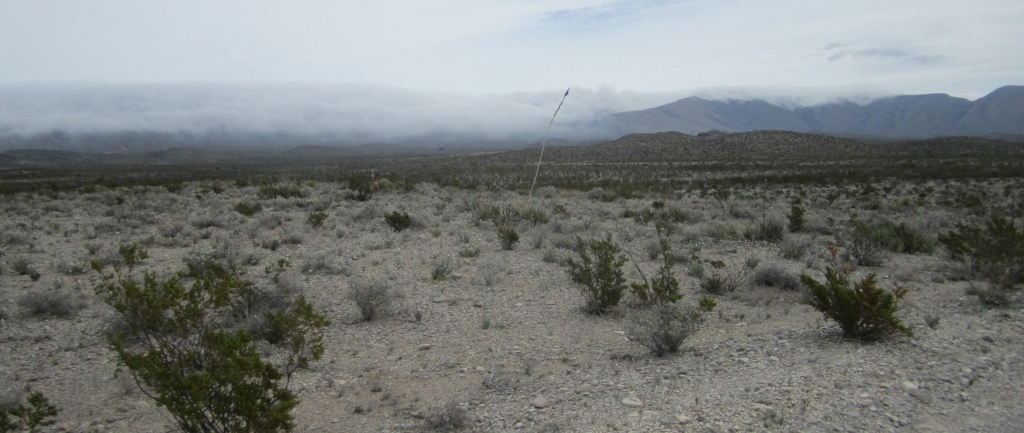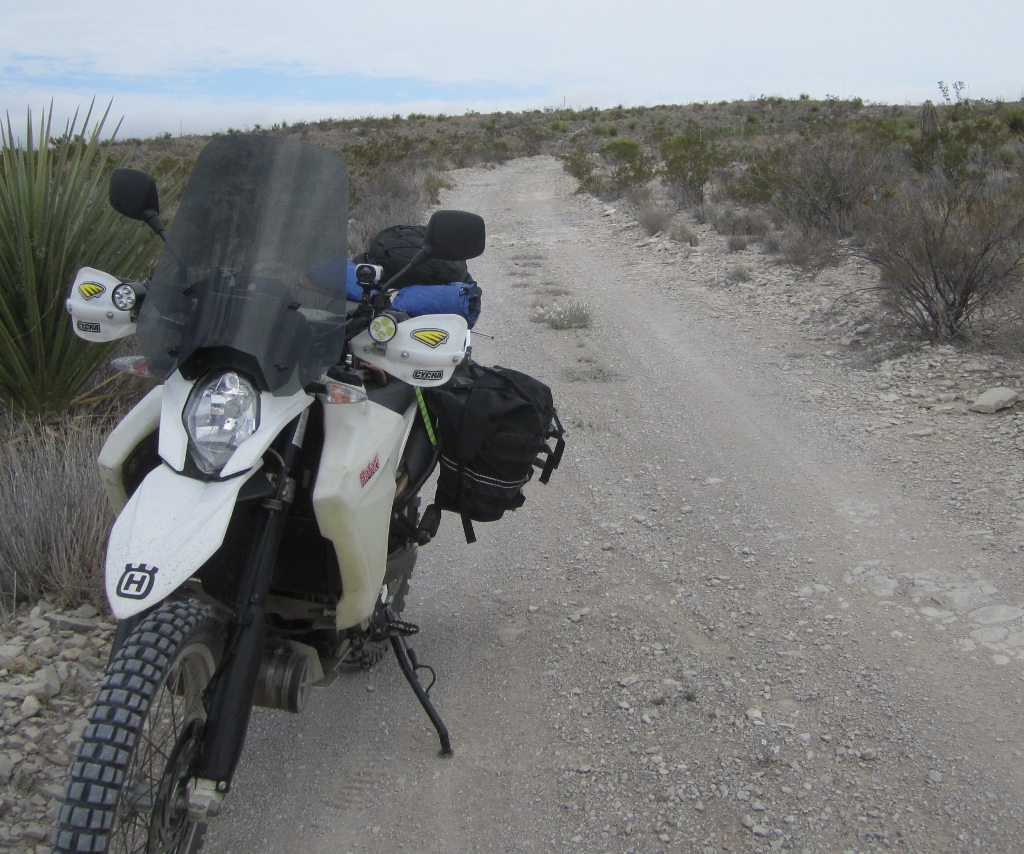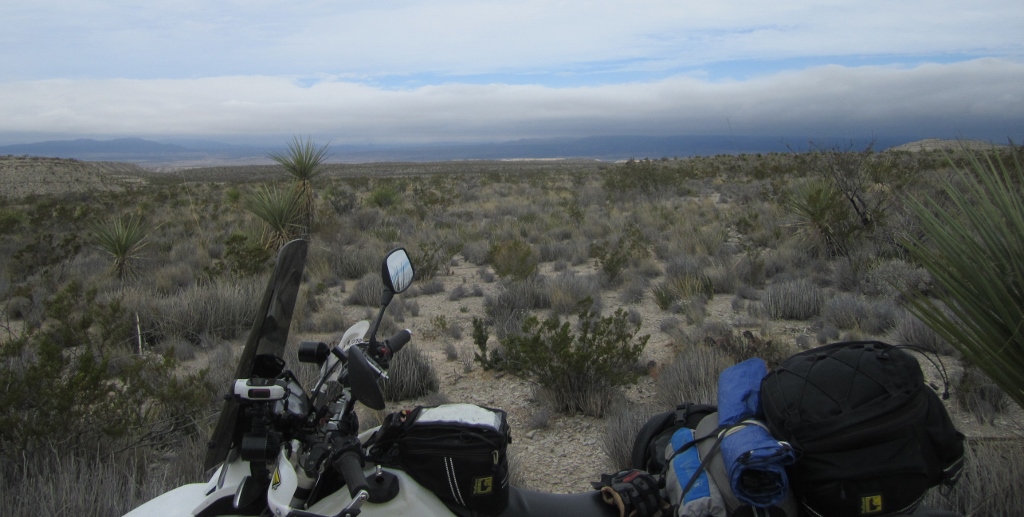 You have to go to the visitor center and pick out a campsite on a map---and pay for it there.
Pretty inconvienant at the very least---but I got one close to the visitor center and it wasn't so bad.
The campsites are so spread out and remote I suppose it would be really hard for someone to come around and collect camping fees.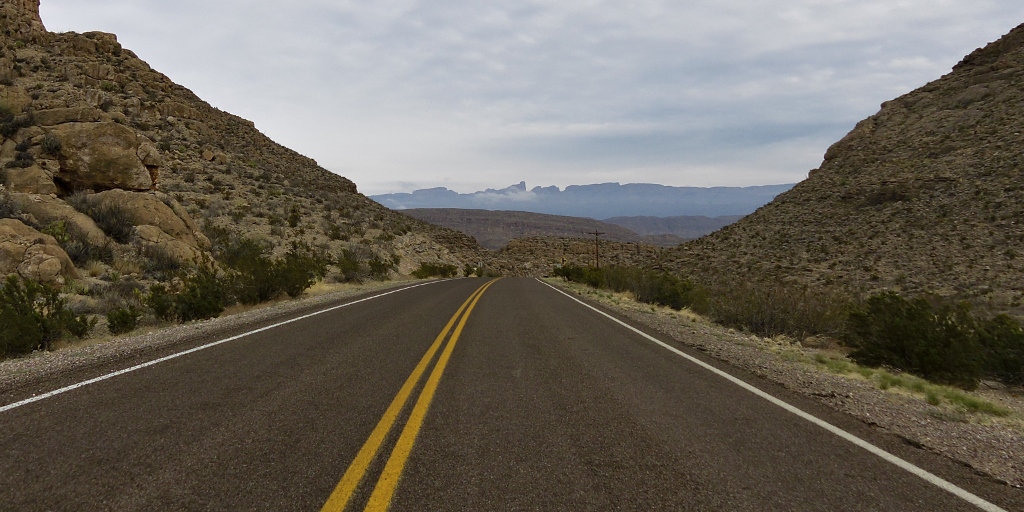 On the way to the visitor center which is very near the Mexico border.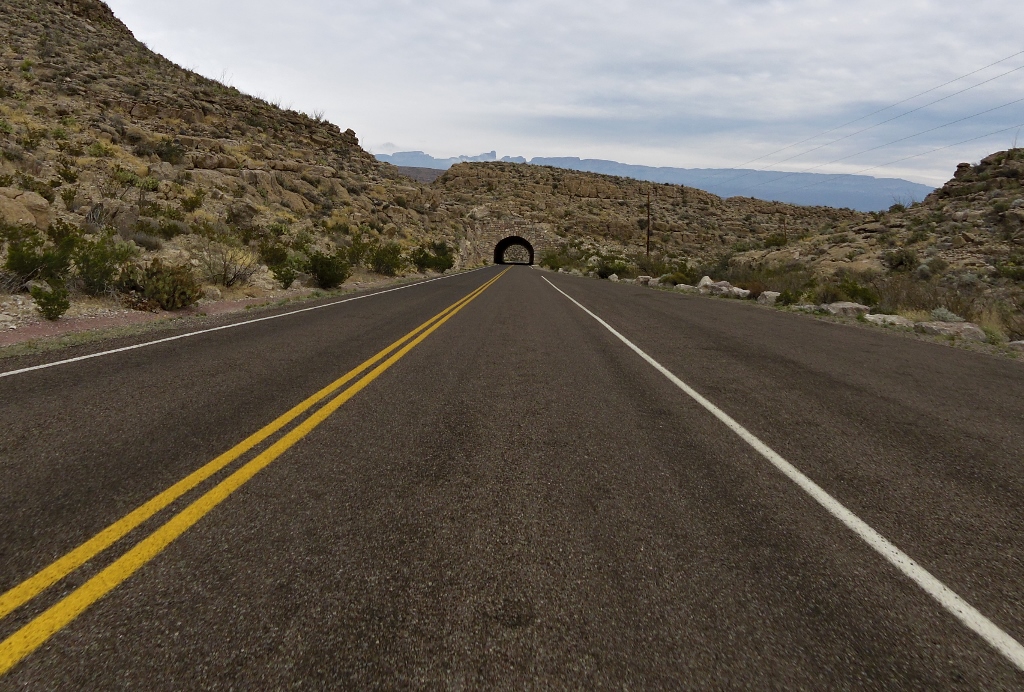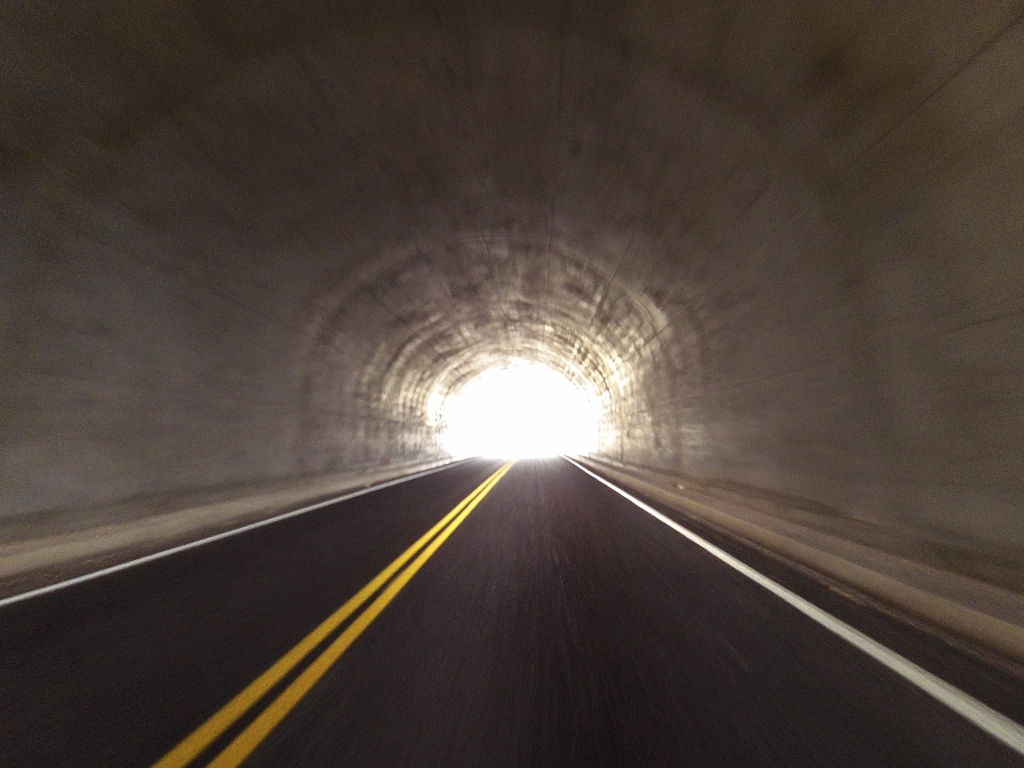 And back to camp.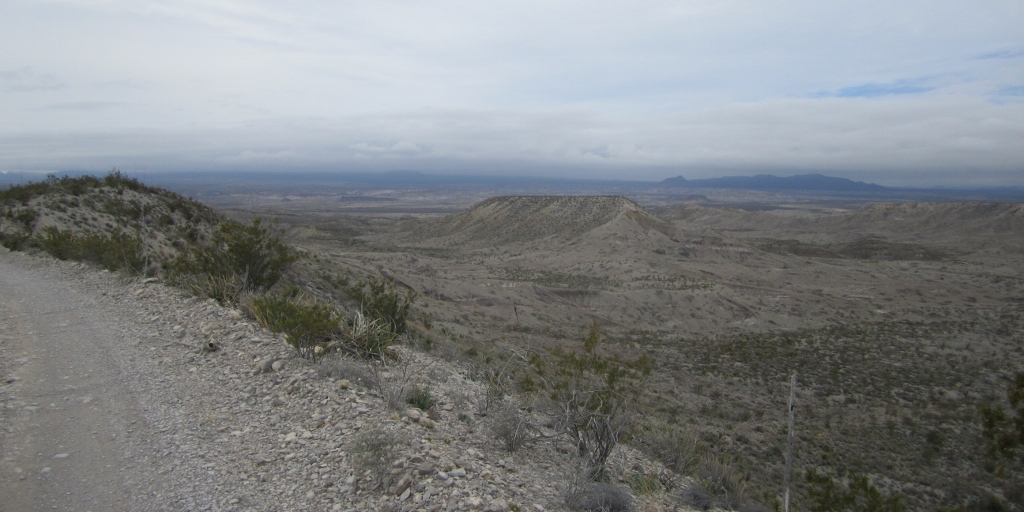 How these plants hang on in this dry environment is beyond me.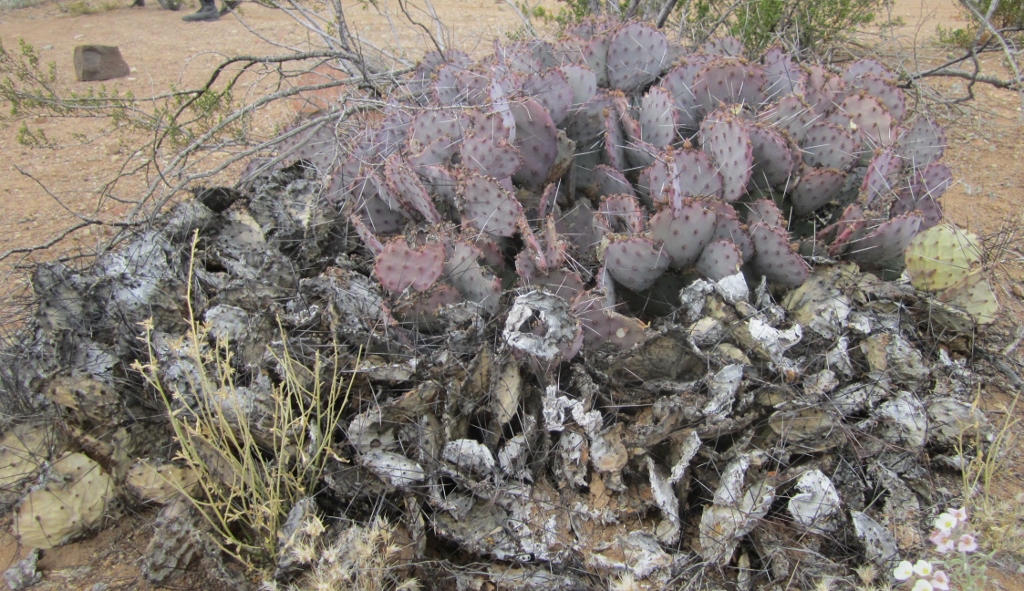 Good thing I was done riding-------I only had 438 miles of fuel left !!!!!!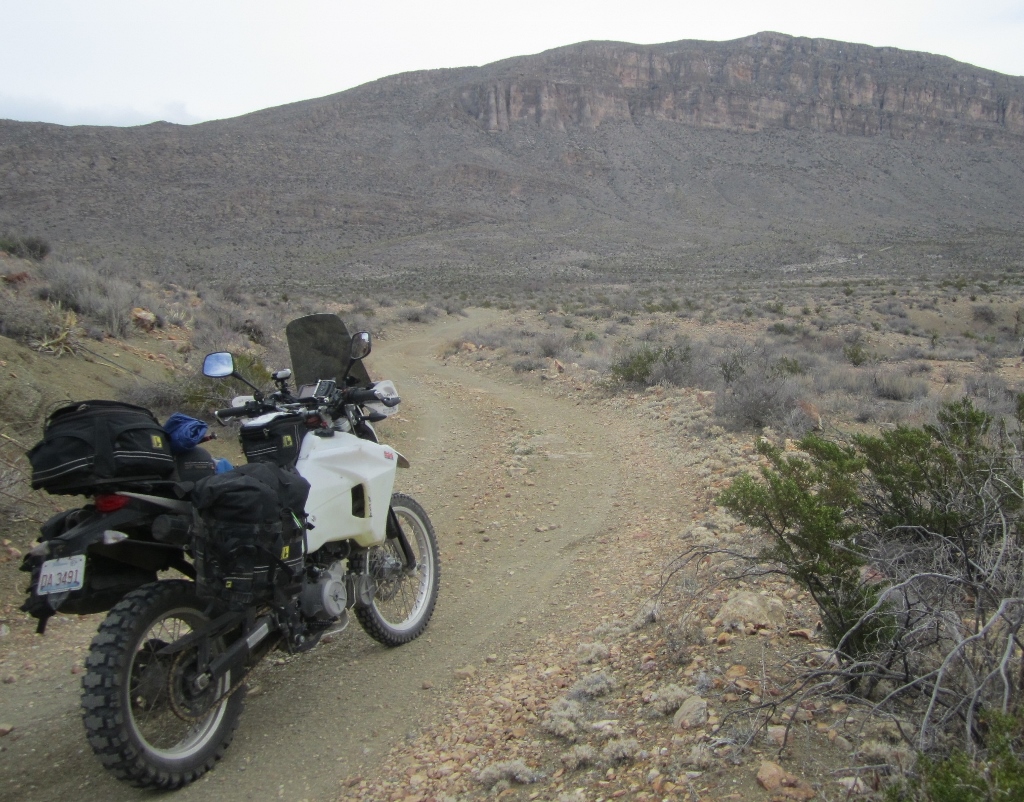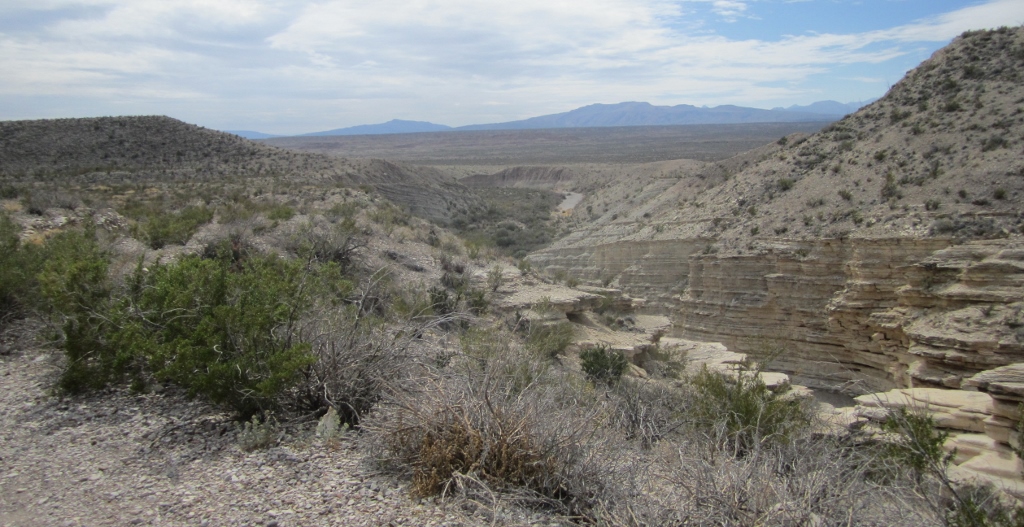 All the campsites are off the main gravel road quite a ways--------you are not disturbed by any travel at all.
Really nice---and I do appreciate being able to have a place like this to camp and ride.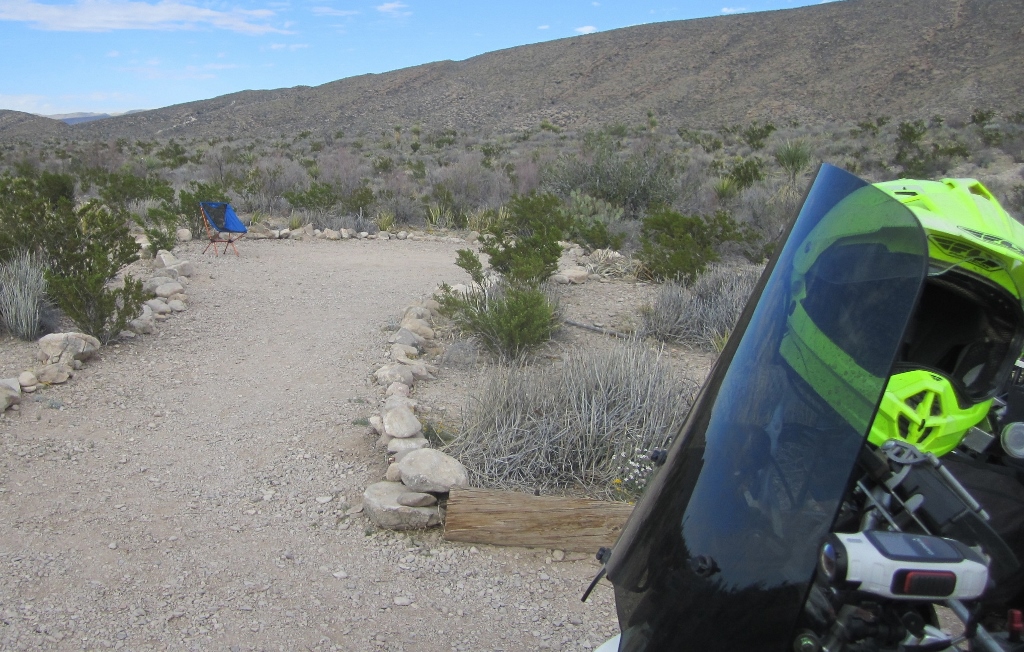 Suns going down and it's picture time.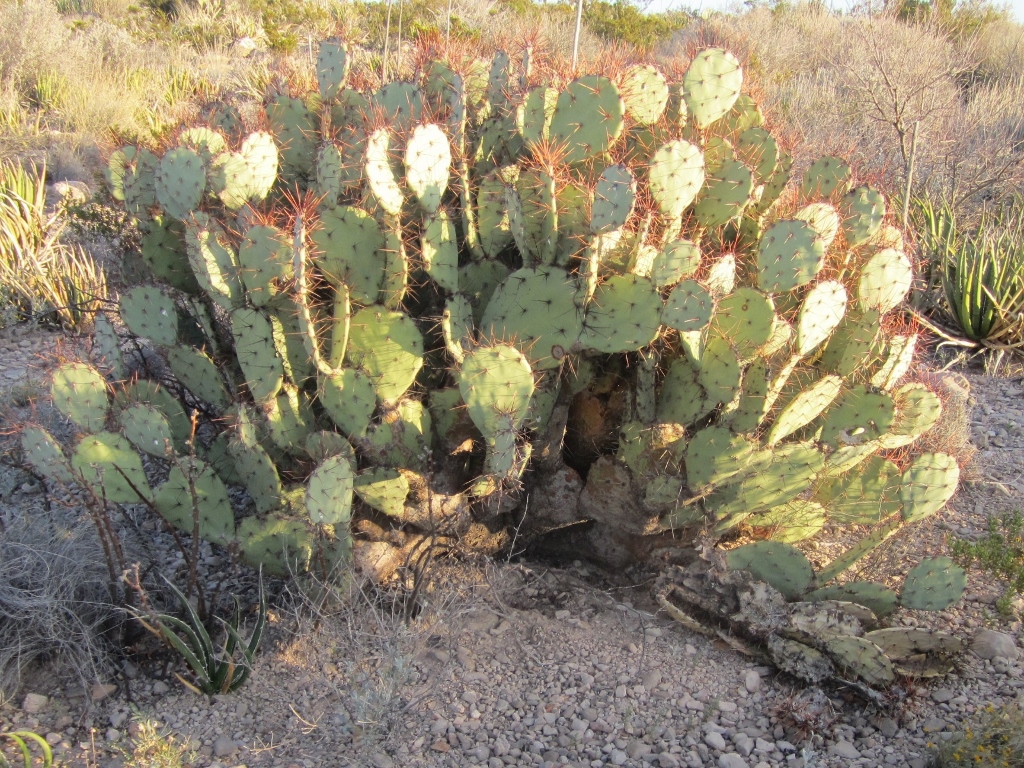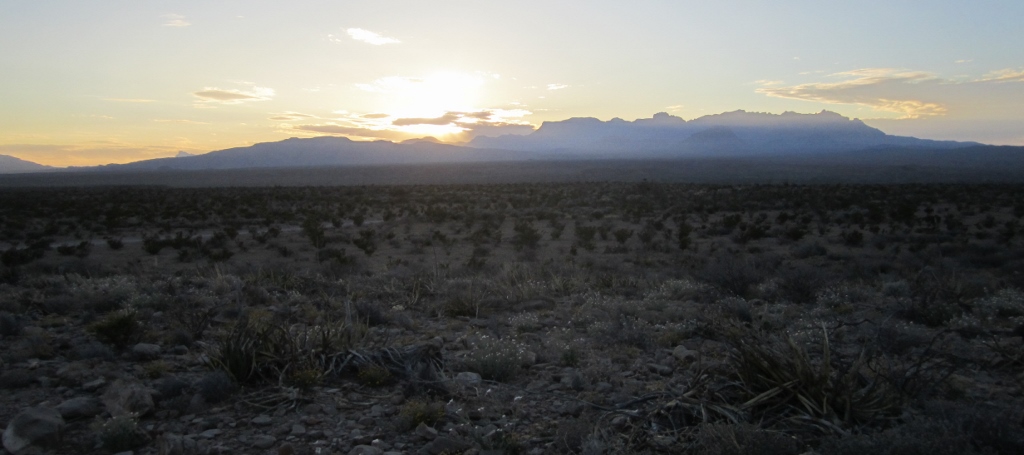 I grabbed my chair and went for a walk to a high spot for a picture and the temperature was dropping fast.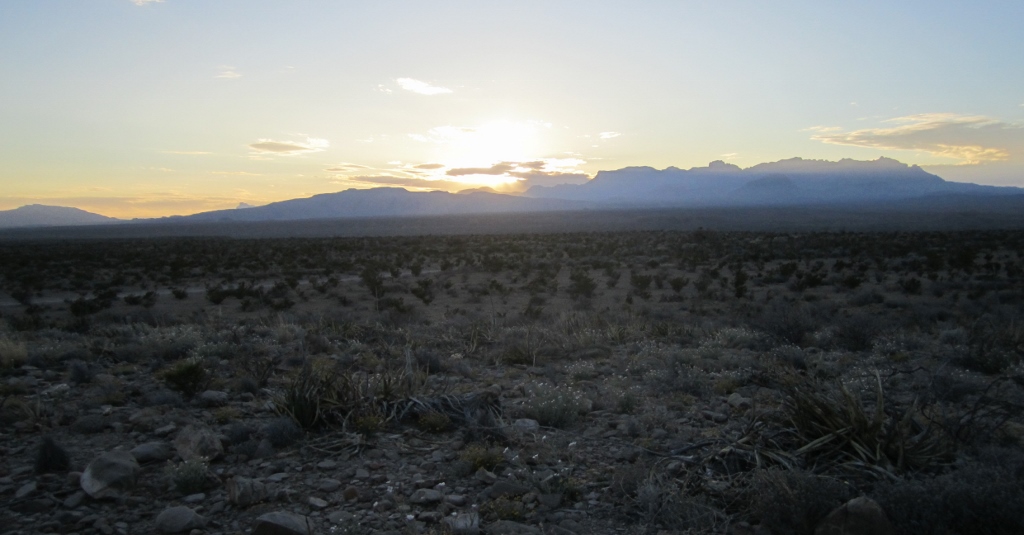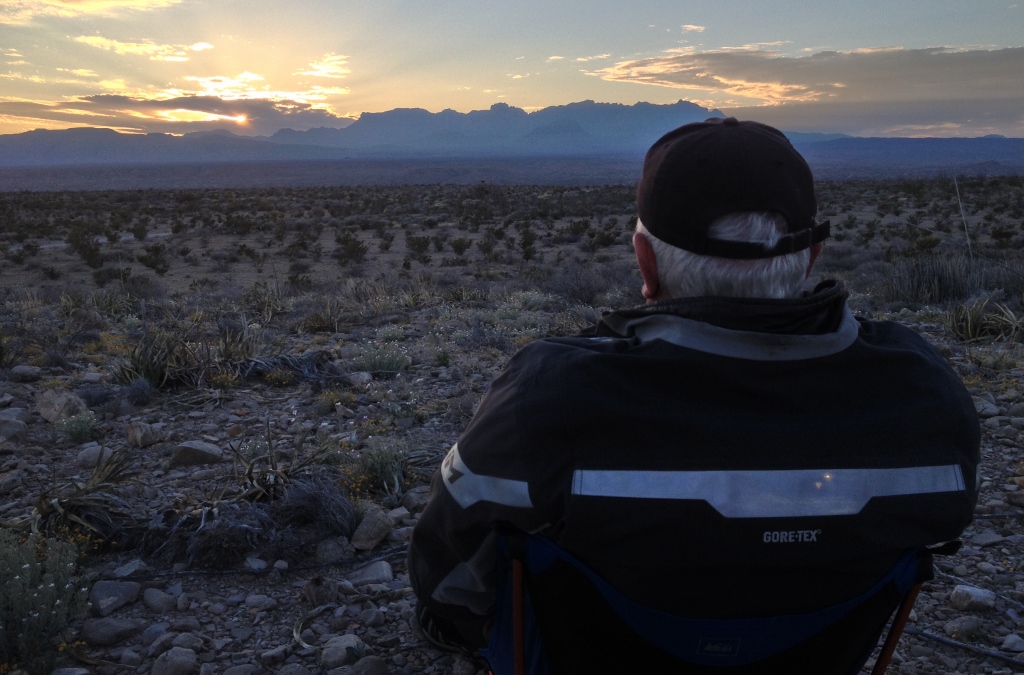 A rough map of the 147 Mile ride today.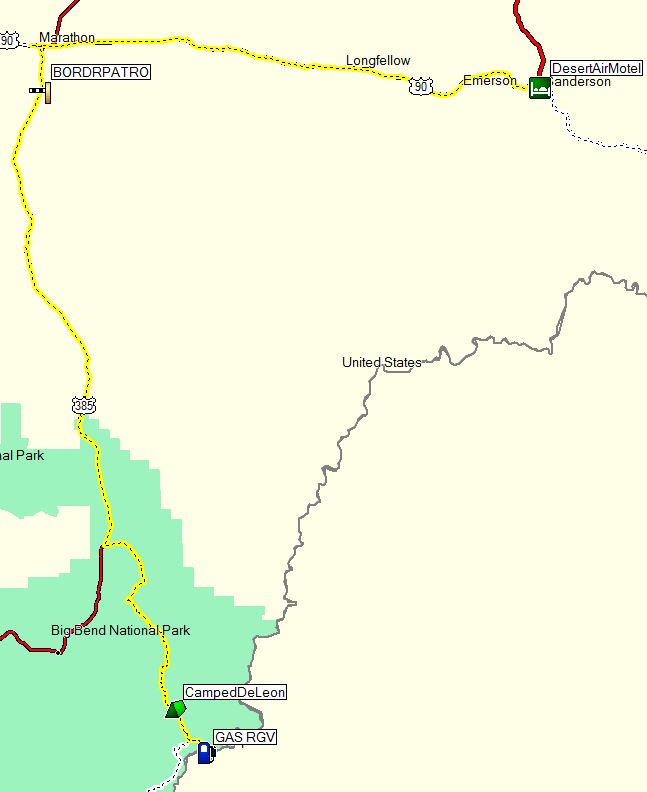 On to Day 7 Click HERE