3 Step Hideaway--Mobius 13
If you would like a DVD video of this ride---just pop me an e-mail about your request
and we'll go from there---$30
And a gps file will be included also.
My Email

April and May of 2014
This trip is all about my trip to Utah to visit my friend and riding buddy Scott (Dingweed)----and help him and his wife Julie
out with their upcoming grand opening on their newly aquired adventure ranch.
This will also include a lot of riding in Utah-----mostly with Scott, Dr. Rock and Francine who were ending their latest
"Mobius" ride at the ranch.
On that ride we all enjoy one of the most scenic rides any of us had ever taken.
When I arrived there was much work to be done--Scott and Julie had worked hard all winter getting things ready for the
open house on May 3rd, 2014-----but there were a few things left to be done.
We worked from dawn to dusk one day laying flagsone steps between the cabins, tee-pees, bath house and Cantina.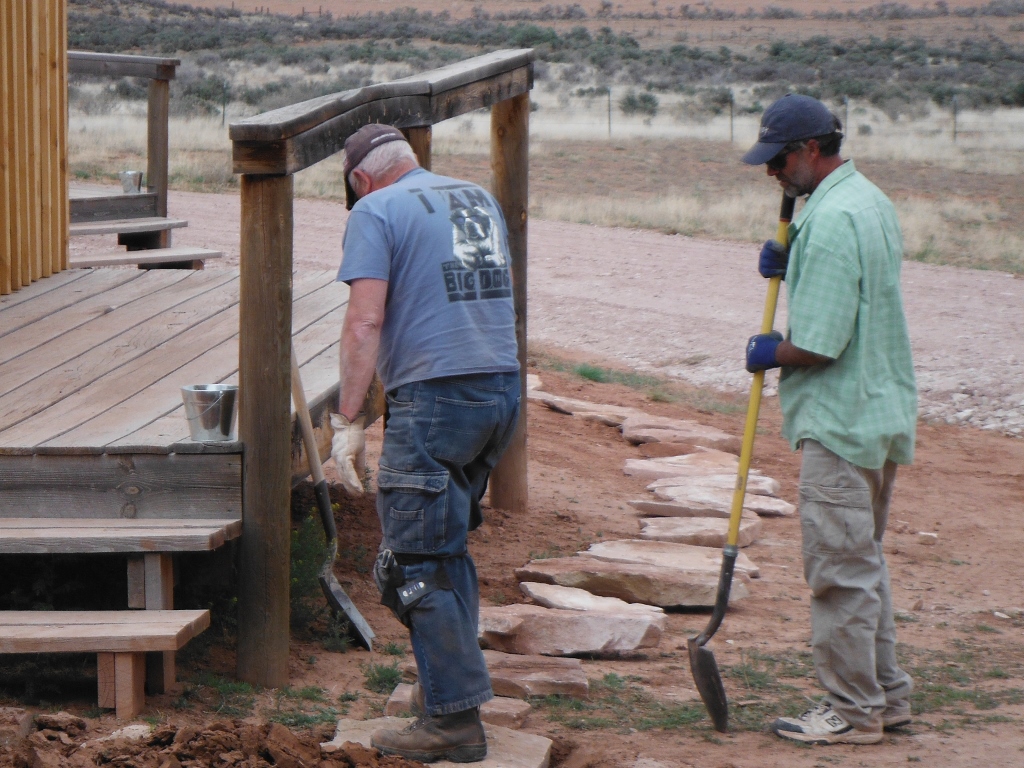 We loaded several loads of flagstone from the nearby hills into the old Ford pickup--unloaded them at the ranch--spread them out,
and dug them into the dirt. It was hard work, but I enjoyed every mintute of it.
First hard day of work I had done since retiring 2 years ago.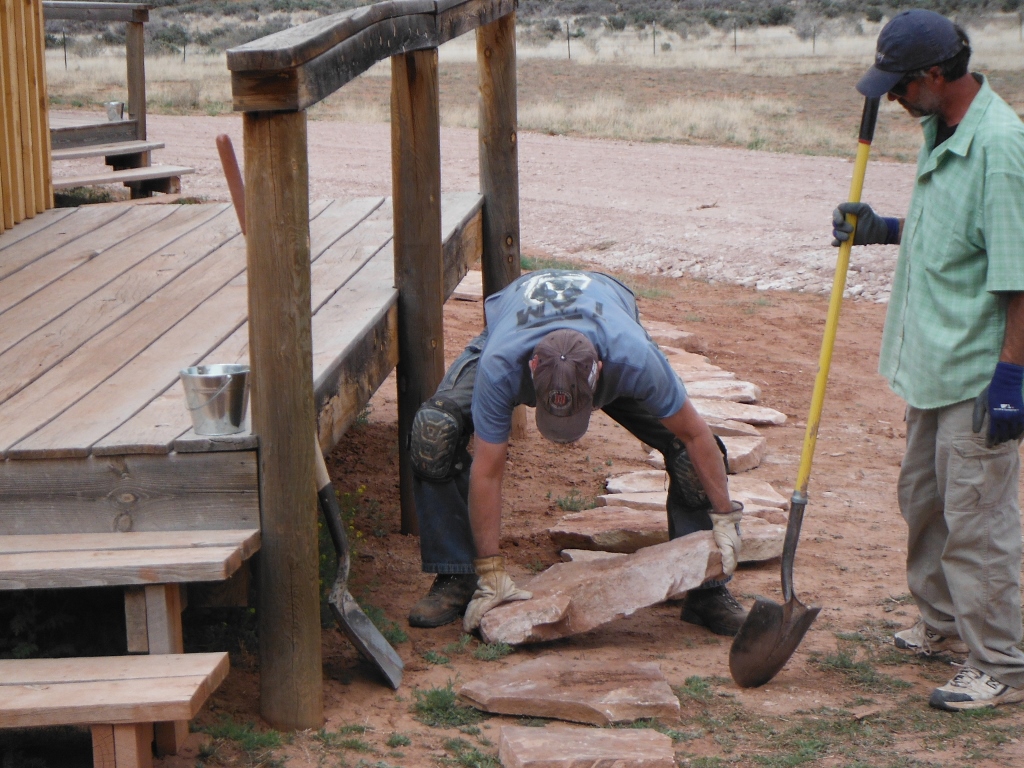 We worked on many things---made some plumbing repairs--split firewood---did some maintenance work on the solar system,
all all kinds of other stuff.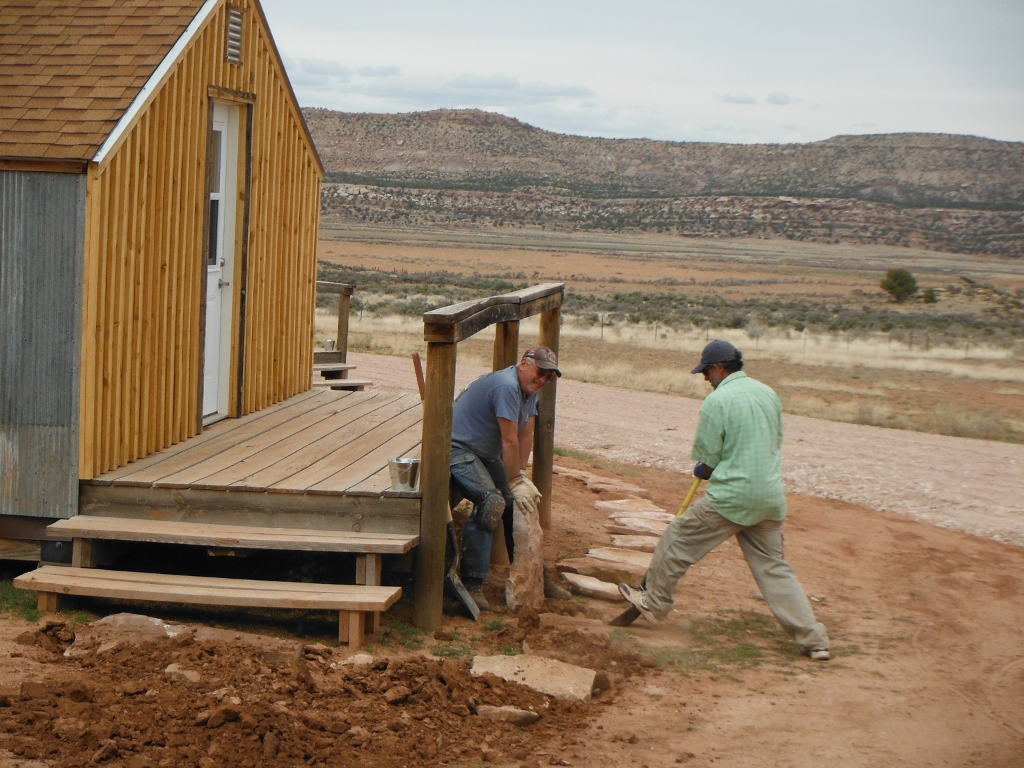 After all that work we had worked up one heck of an appetite---and had to go out and fetch up a few pesky "Wabbits".
It was my first time hunting, cleaning and eating "Wabbit"--or any other animal.
Julie made "Wabbit" chile out of them and it was oh so tasty.
"Wabbits" were thick as flies on a hot summer day in the Midwest.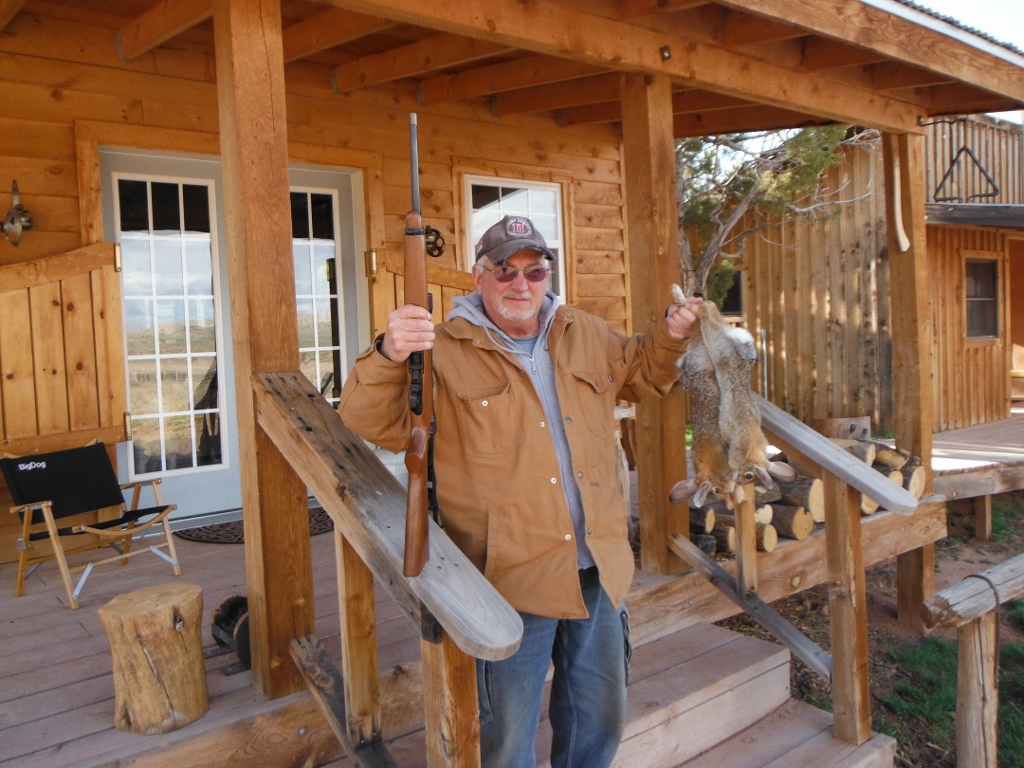 Dang wood peckers kept trying to peck a hole thru the roof of the bath house.
We had to put a stop to that.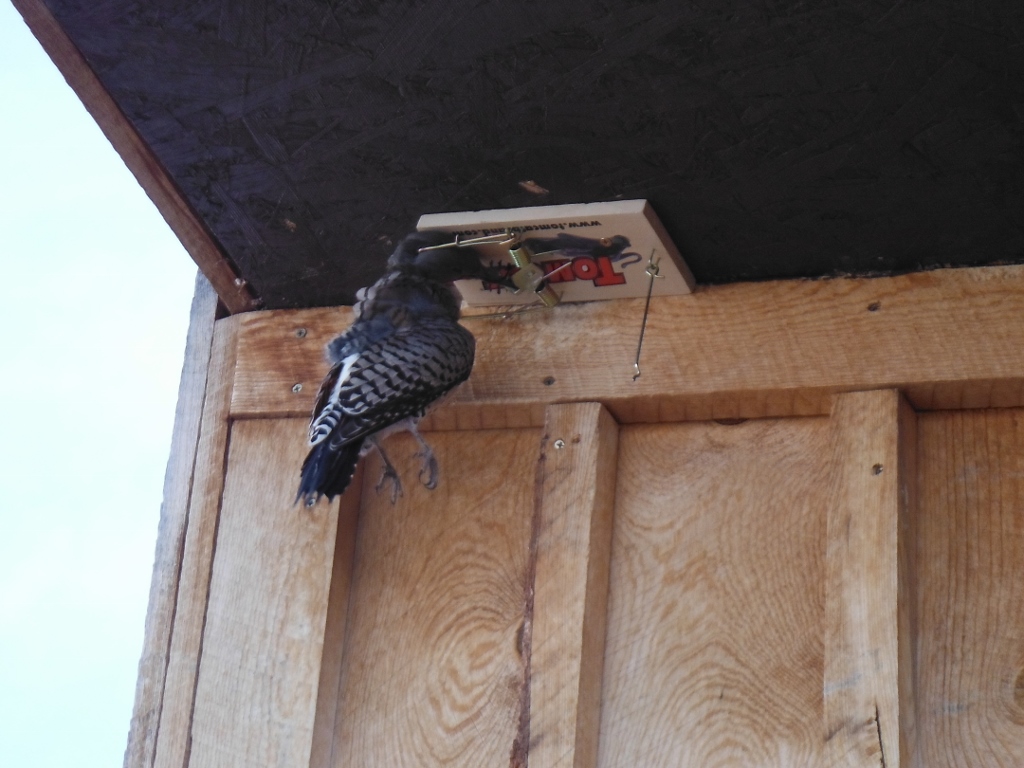 After all that--------it was time for a nap.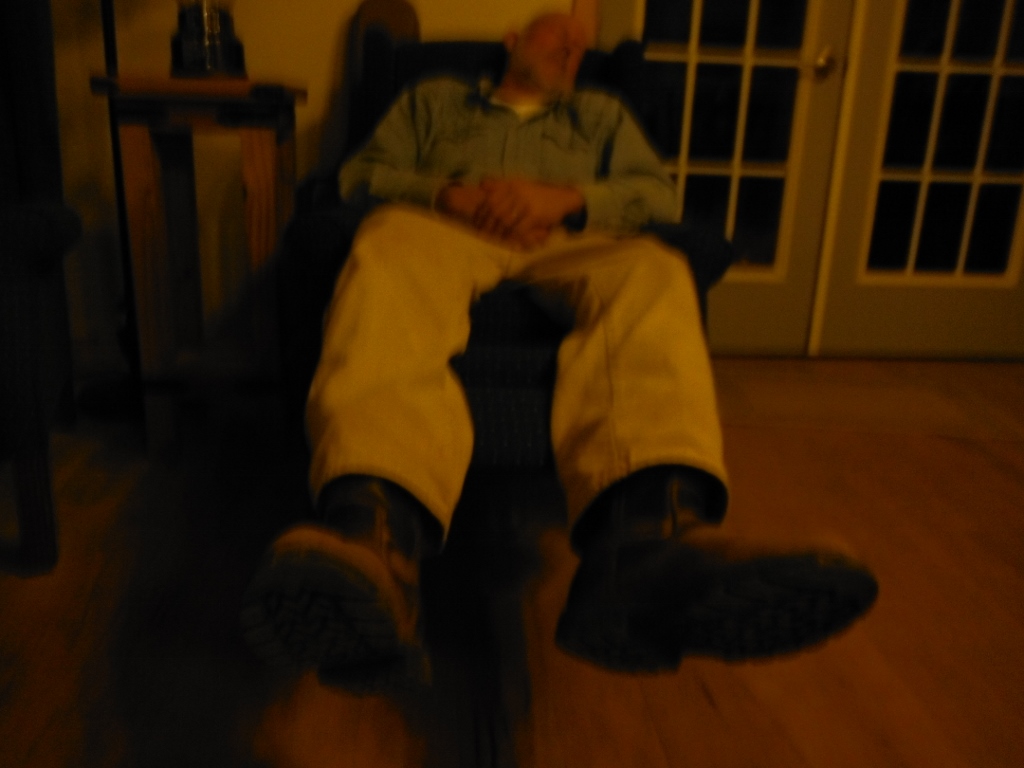 4-22-14
After a few days of work me and Scott took off from the ranch and headed West to meet up with the "Mobius" riders
Dr. Rock and Francine. We have ridden with them several times before and always enjoy the awesome routes Dr. Rock
lays out.
Scott was riding his 2010 tried and true Yamaha WR250R with way over 50,000 miles on it.
Me------- I was riding my brand new 2014 KTM 690 which was barely broken in.
Would it hold up to the famous WR ????
We spent 2 days booking it all the way across Utah to meet the Mobius riders in St. George, Utah.
But would spend many more days than that---- riding back on some awesome routes Dr. Rock had laid out.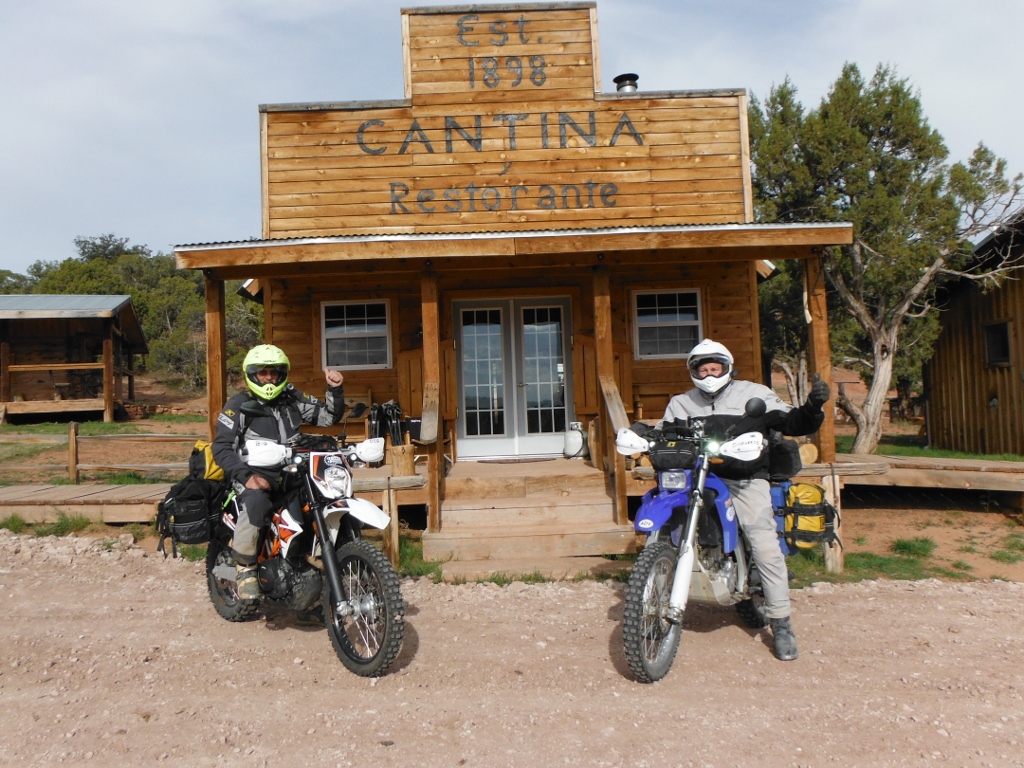 So after a few days of piddling around me and Scot headed West to me Dr. Rock and Francine in St. George, Utah and ride back
to the ranch with them.. We watched their progress on their gps spot tracker to try and intercept them.
We had allowed 2 easy days to get there and that riding was very scenic.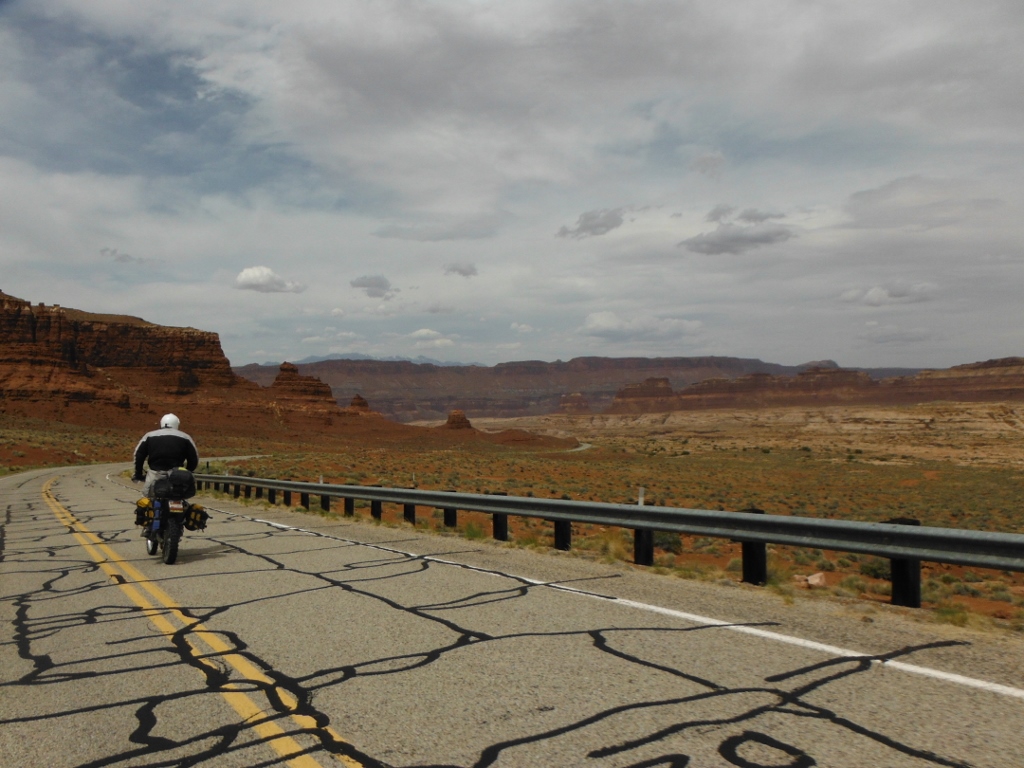 Of course we were both packed for camping and cooking ------as we always are.
Me and Scott were so glad to be back riding again together after our last ride ended short when he broke
his ribs down in Baja.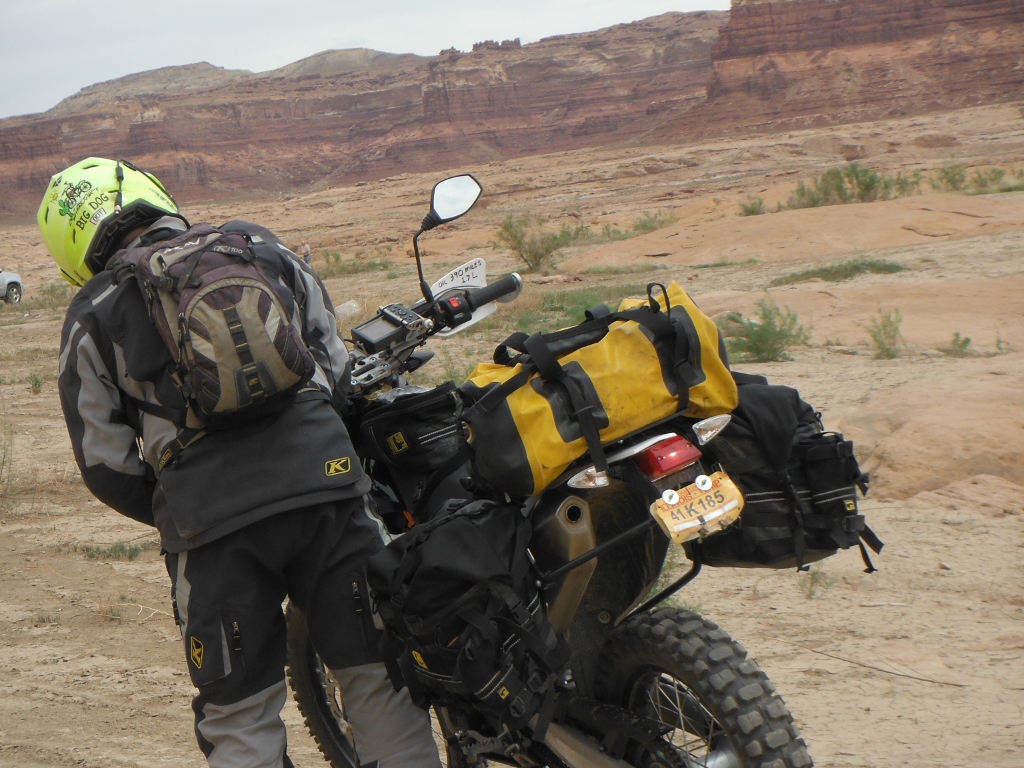 Years ago in this area---I marked a remote campsite and saw it on my gps---so we pulled over to give it a look see.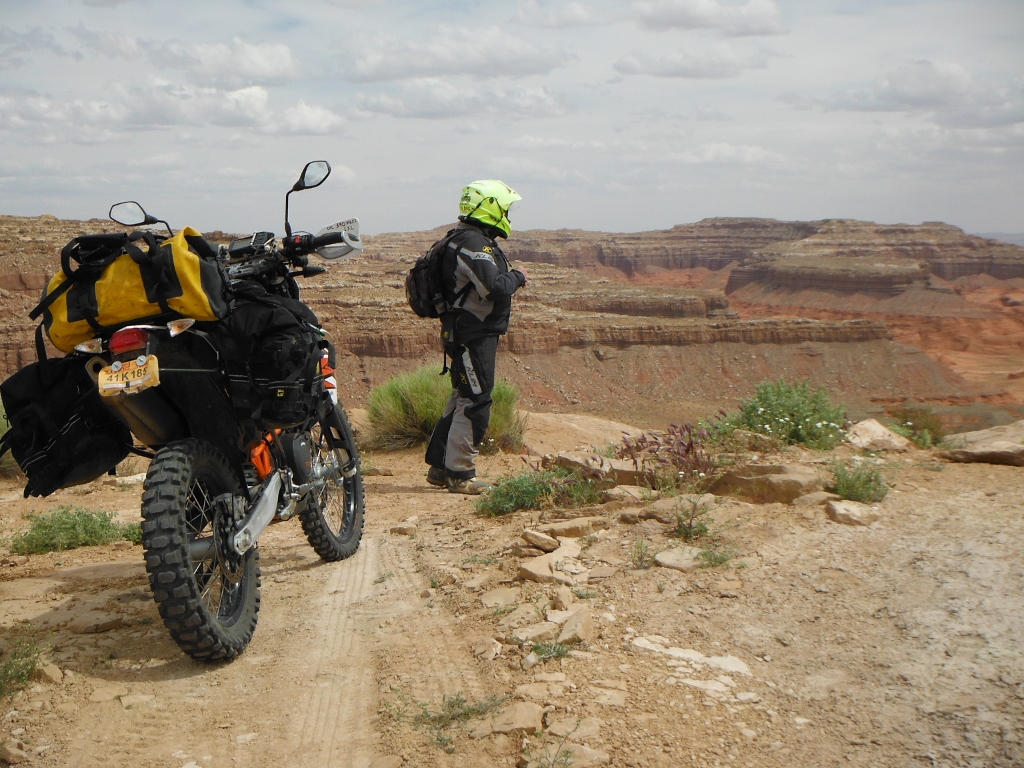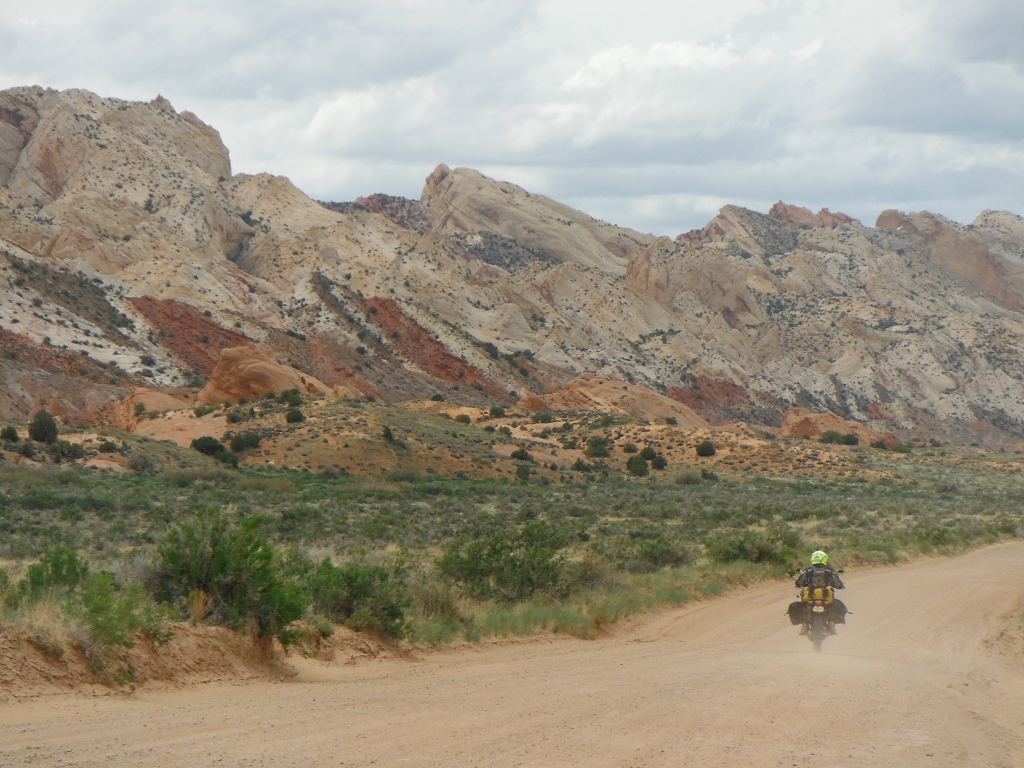 At Hite we got gas and crossed Lake Powell (Colorado River) and continued West as the winds got dangerously strong.
I was really worried about crossing the bridge it was so strong.
The river was so low and we just couldn't believe it.
Too many humans sucking the water out of the Colorado is the problem-----not the lack of rain which is always to blame---
nobody wants to face the real truth---------it's just not popular at all.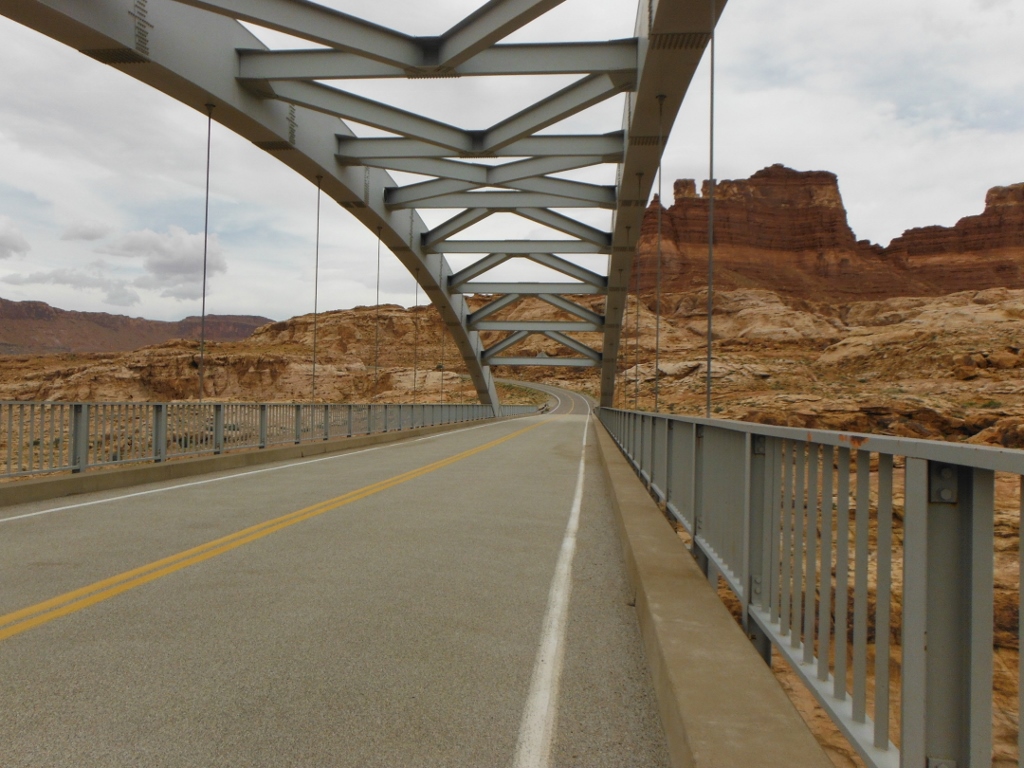 Snow was in view almost always on this ride.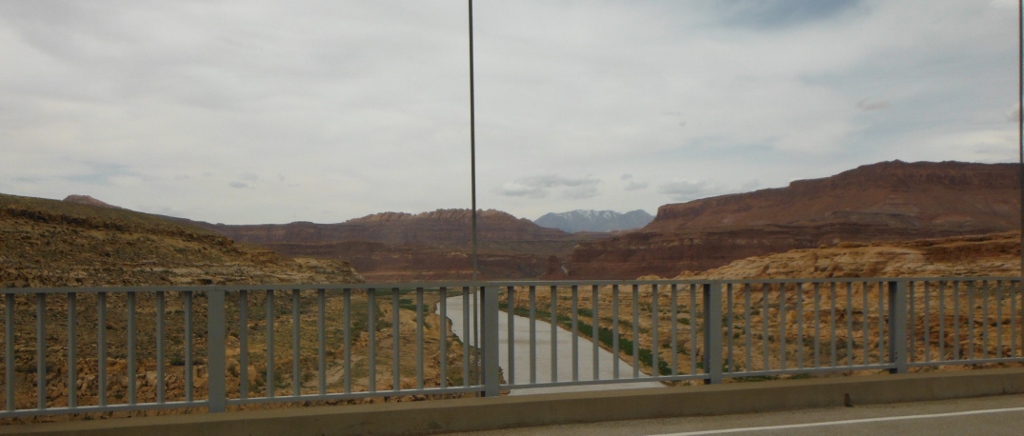 After crossing the bridge we pulled off and went down a dirt road to the river---normally this would be under water.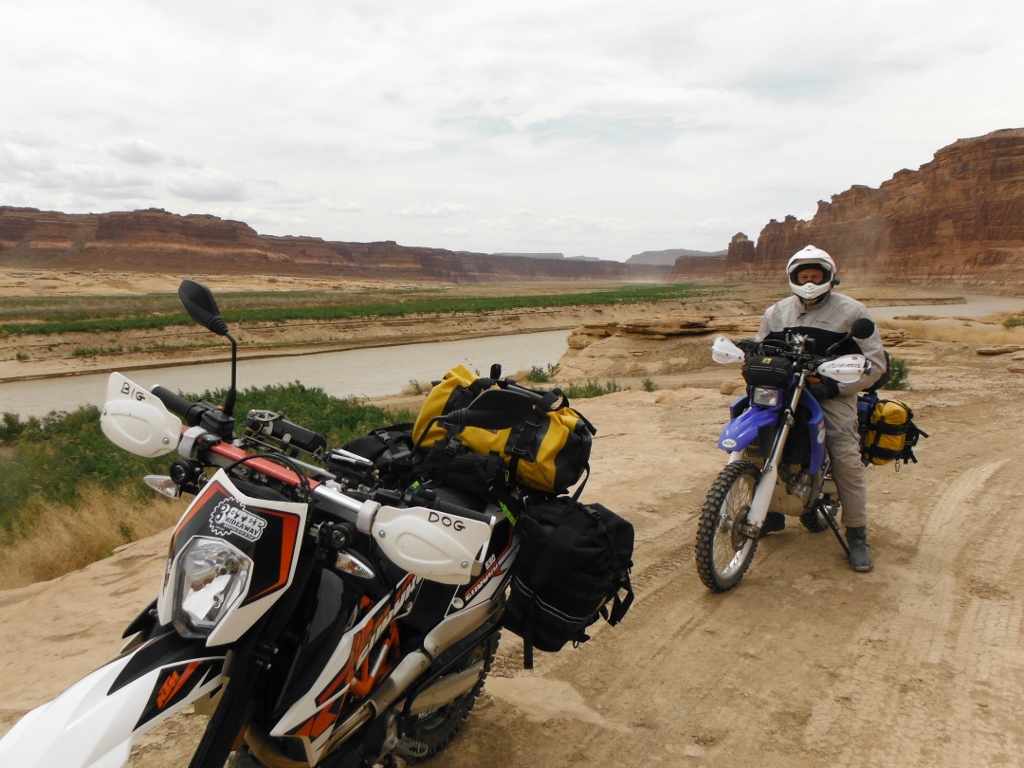 Those huge things floating down river are tumbleweeds-----huge ones.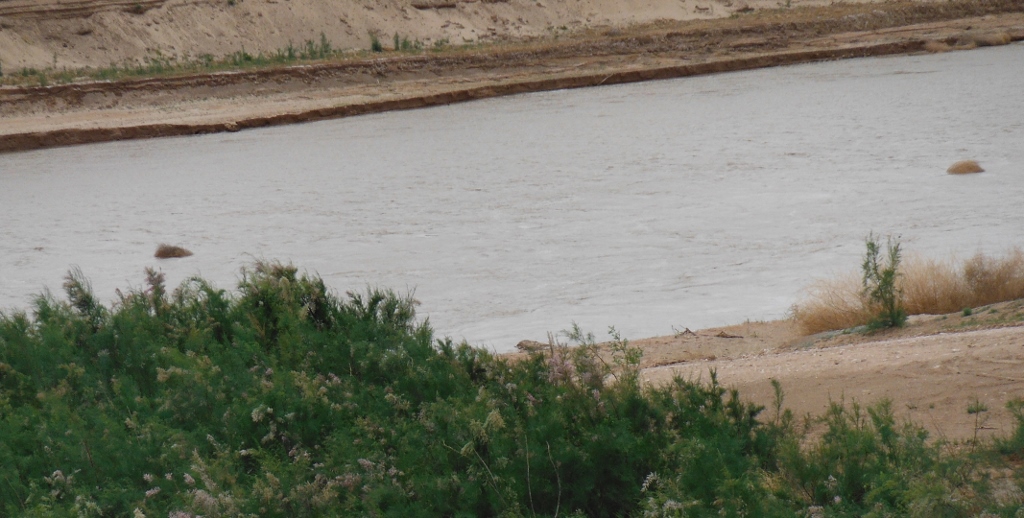 Me and Scott approaced this scene on the highway------and for both of us it was a gruesome reminder what happened to Francine
the last time we road with them---when she crashed on the Old Mojave road and had to be air lifted to Las Vegas.
Which is why their trip started there---that's where they left their bikes.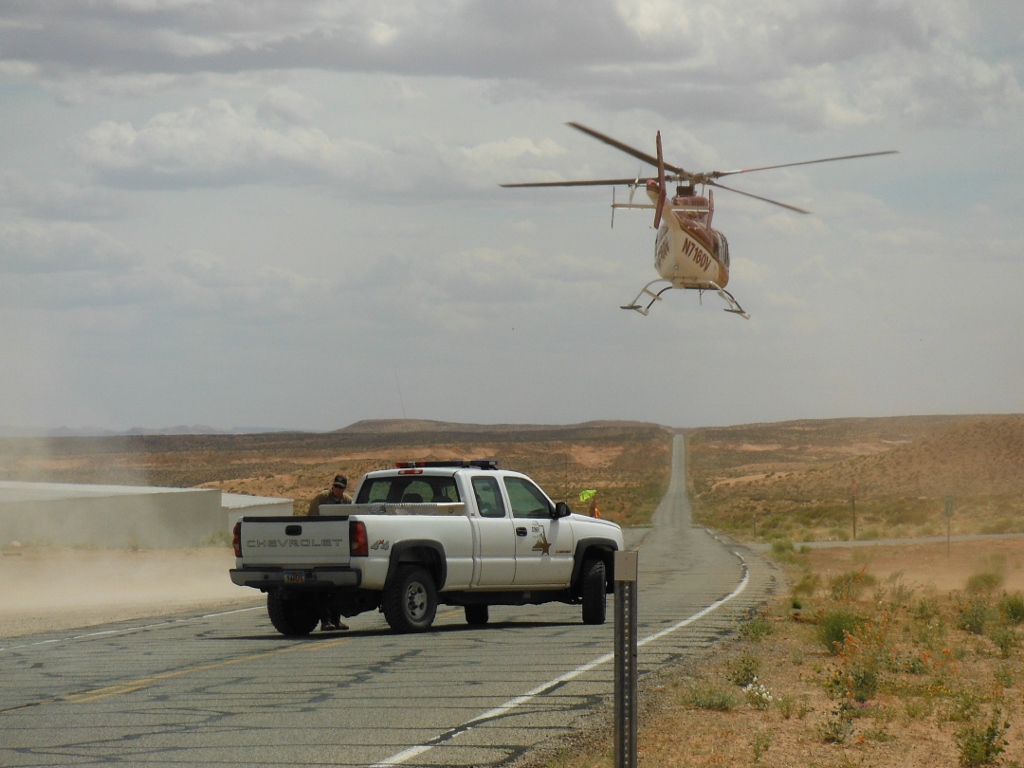 The scenery in Utah is like no other place on earth.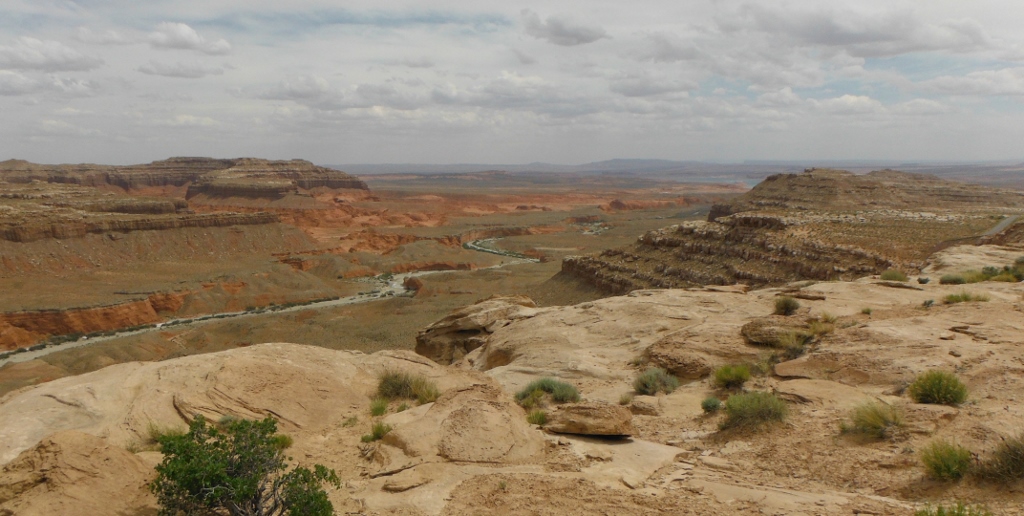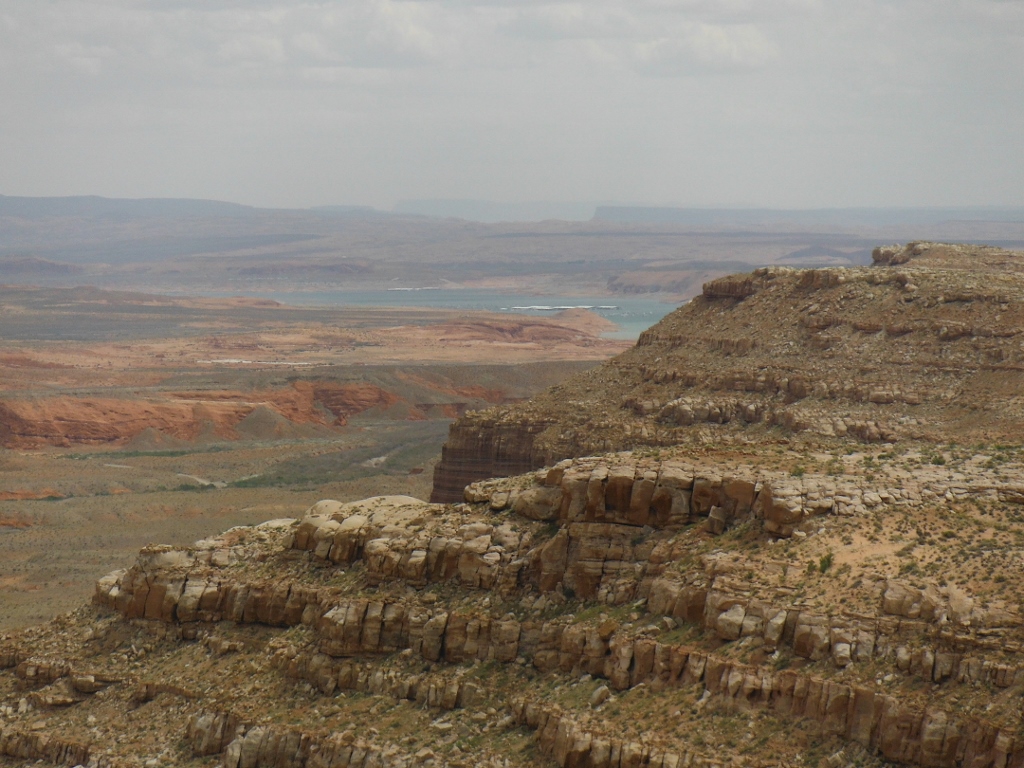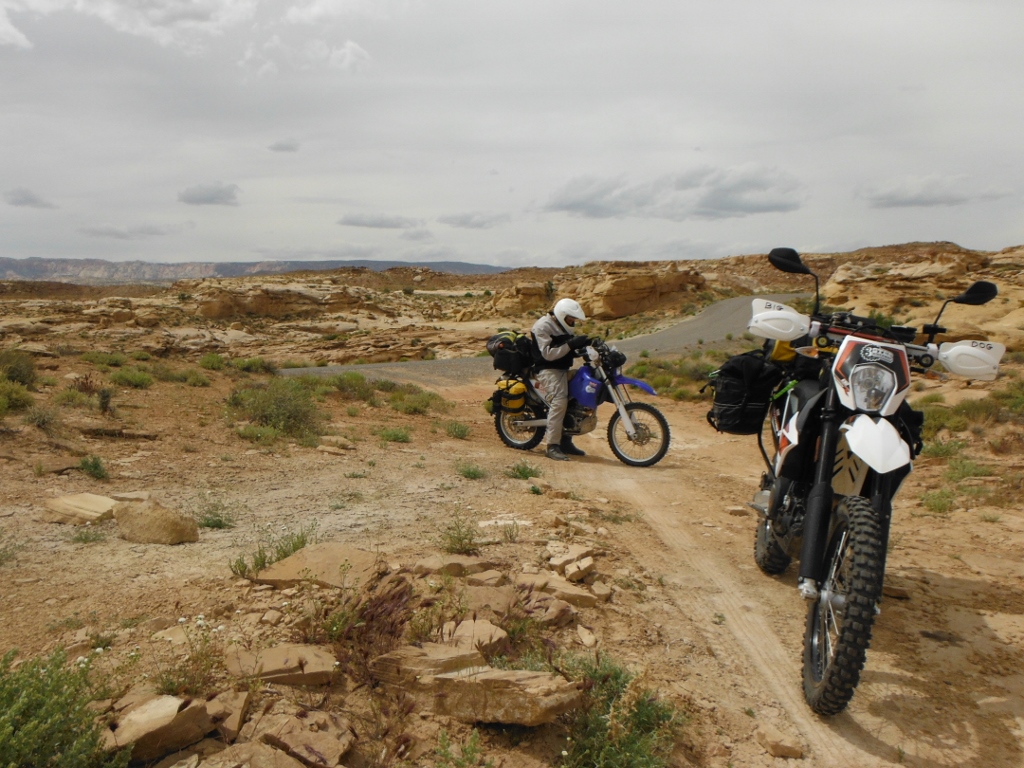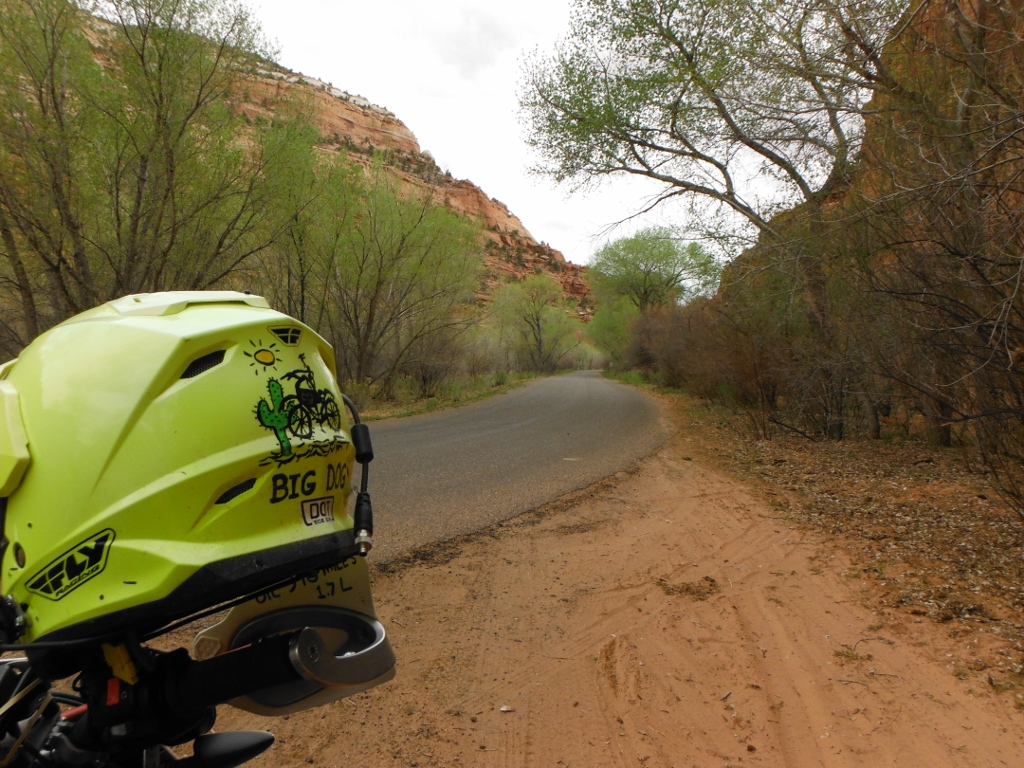 Yep---the KTM was still doing fine-----even tho it didn't even have a throttle cable ????
Throttle by-wire they call it.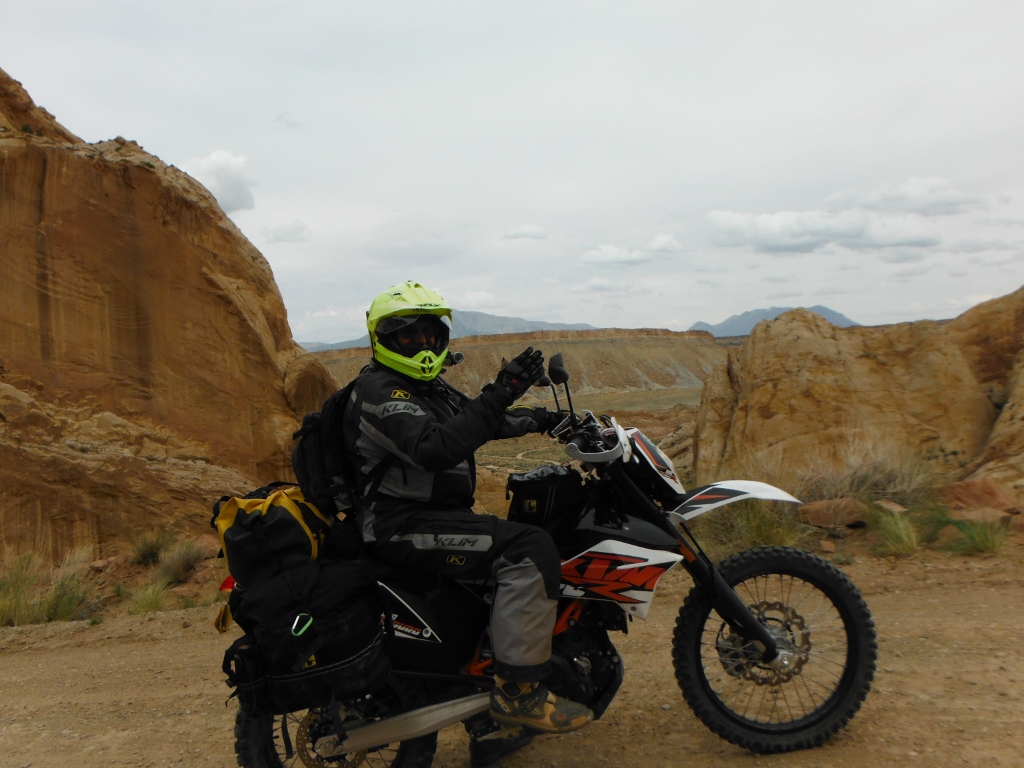 We stopped here on the Burr Trail and had no idea we'd be stopping here again on the way back.
Doc knew of a really neat slot canyon--on the way back we hiked it.
We would hike more than once on this trip.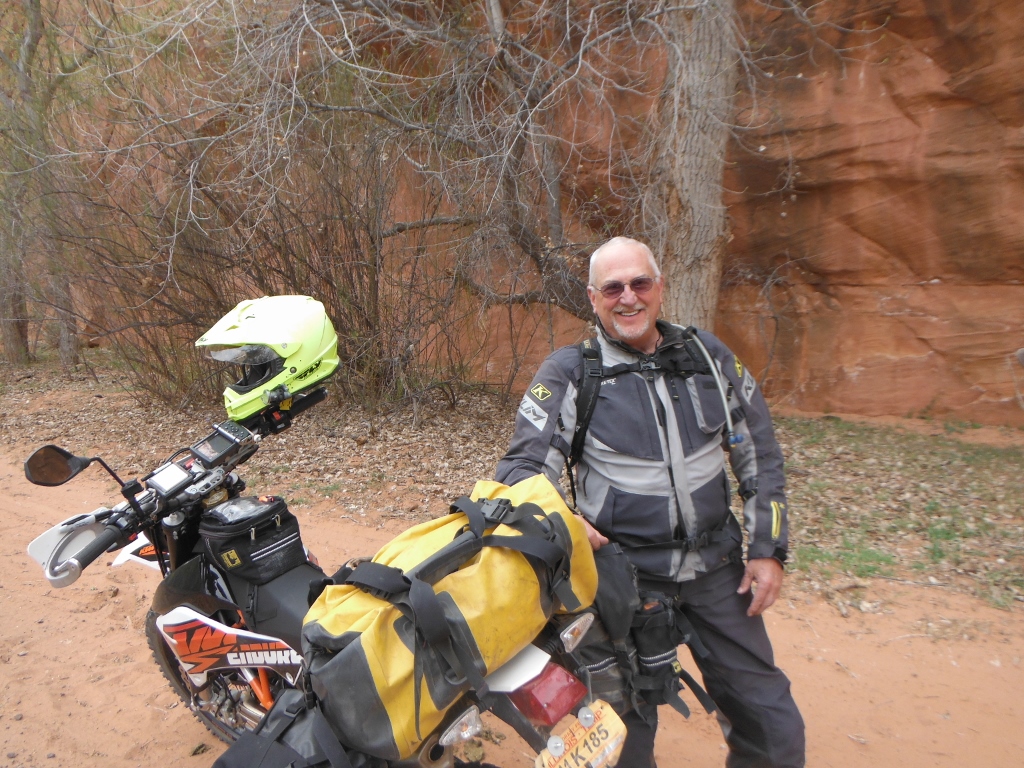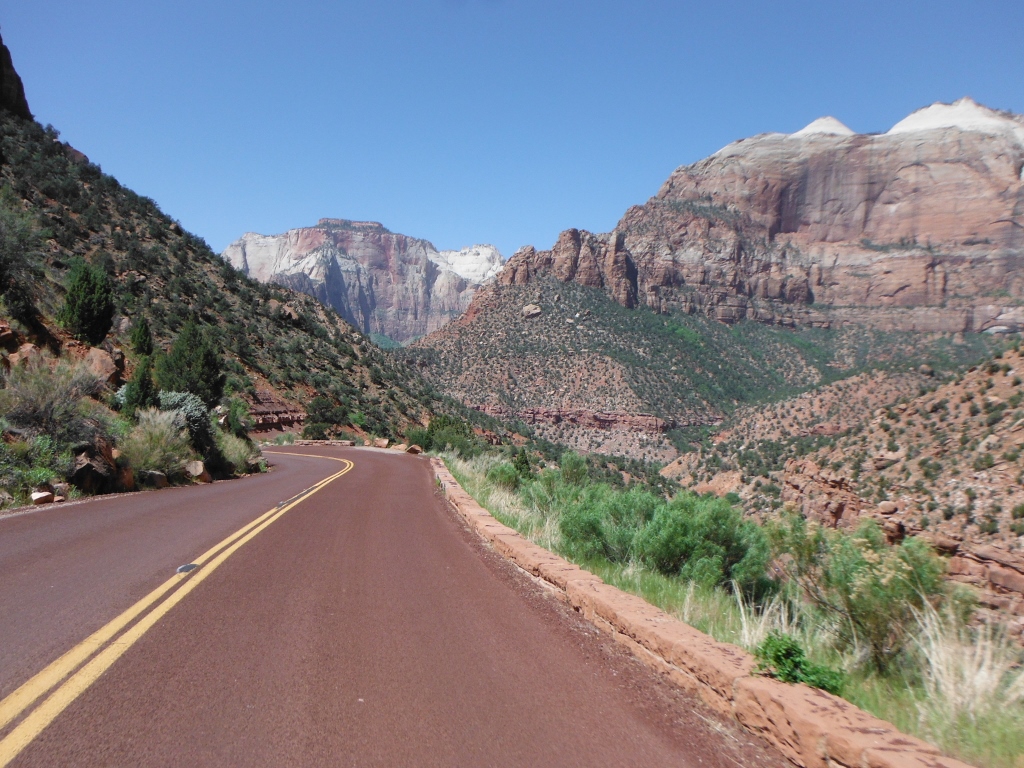 Escalante, Utah would be our stopping place for the day---but in Boulder we had dinner here and it was awesome.
Not much in Boulder----2 restaurants and a 24 hour gas station---but not many people live here.
The weather had been great despite the late afternoon winds.
I was lucky to even get out here-------I hauled my bike out West from Illinois and was lucky to get over the icy
Colorado mountain passes.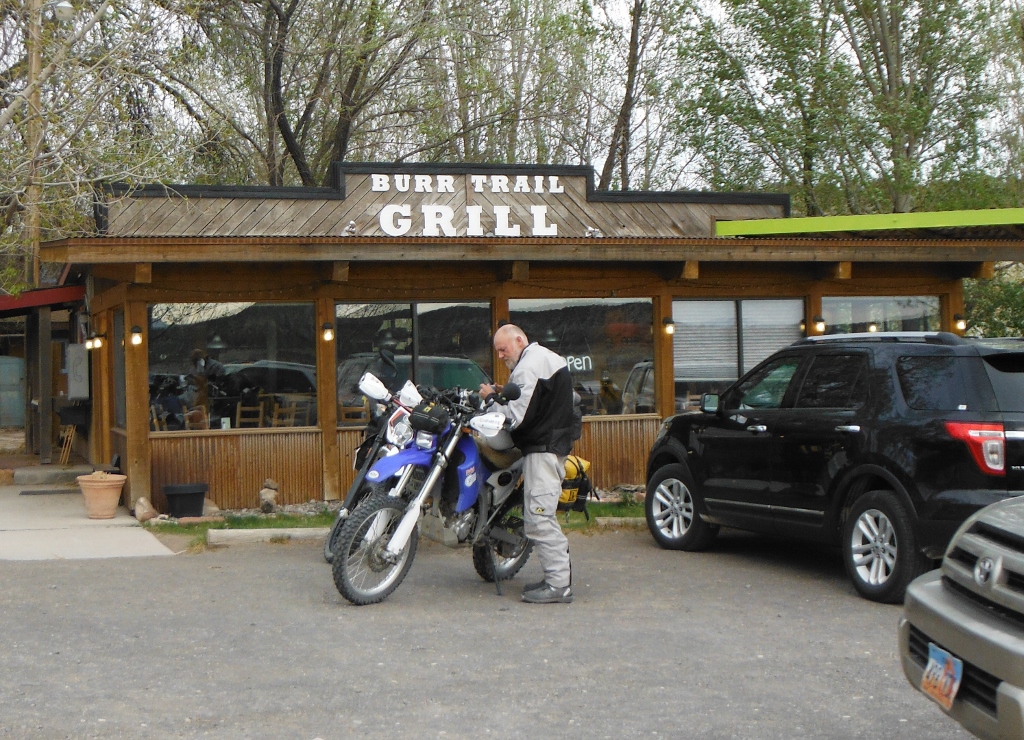 A rough map of our ride today---about 279 miles. Our track today is the yellow one.
The others are the return trip.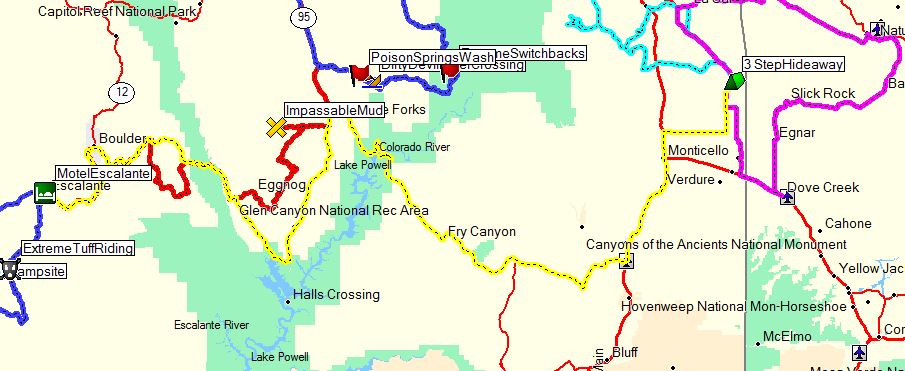 4-23-14
Escalante to St. George where we intercept the Mobius riders with almost perfect timing.
The day was mostly road riding. I had never been thru Zion national park---so that was a treat for me and
I think Scott had been thru here before..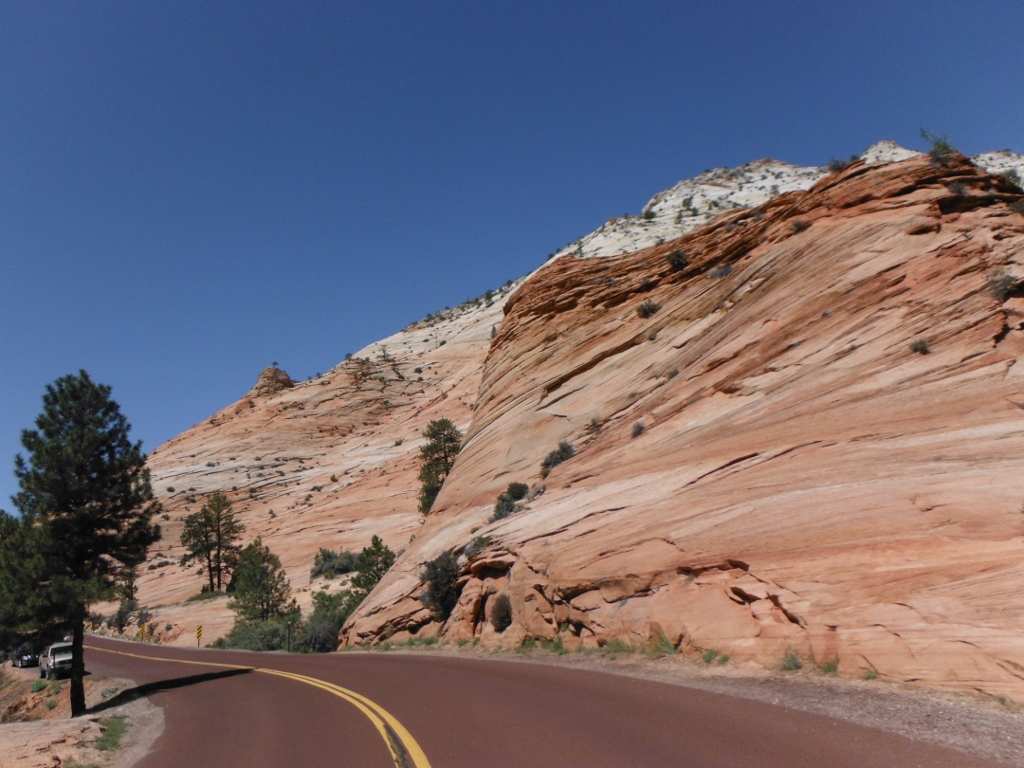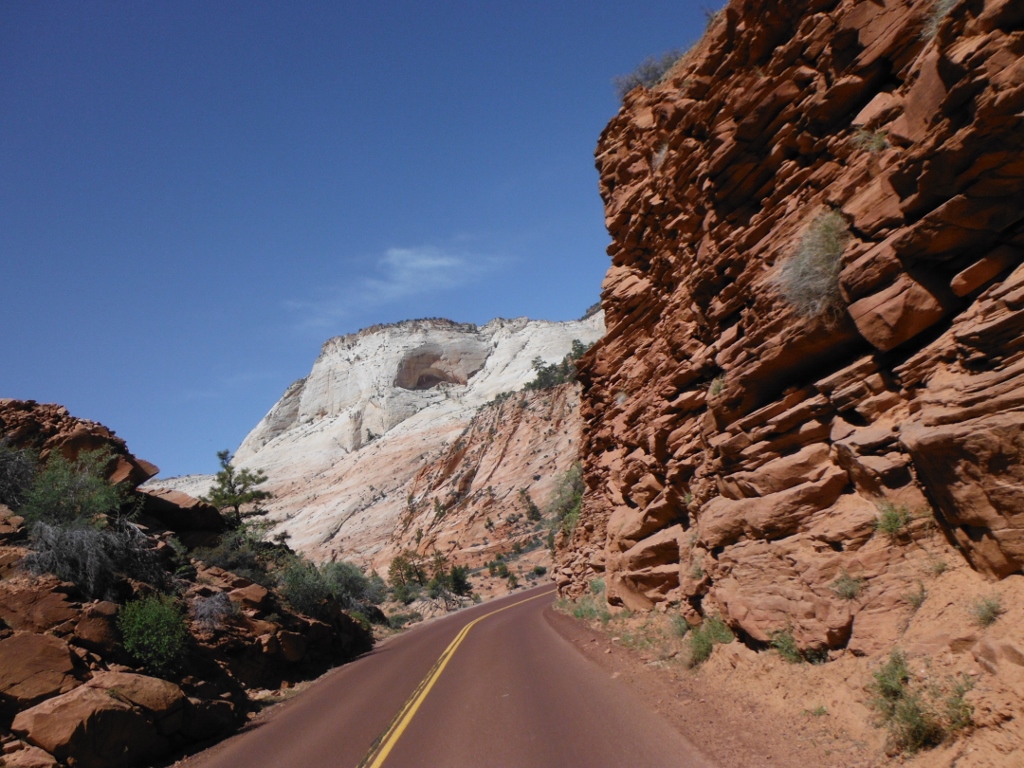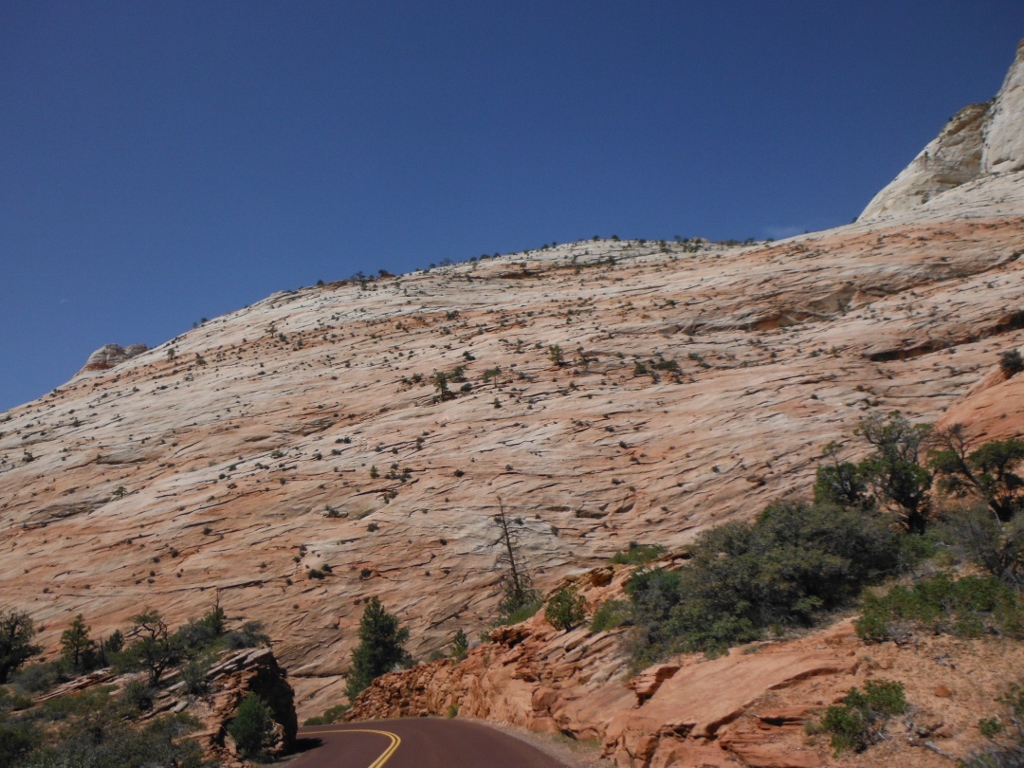 There was a very, very long tunnel. If a motorhome wanted to go thru they had to stop 2-way traffic and let it thru
so it would have the whole tunnel width to get thru----I guess 2 of them wouldn't be able to pass side by side.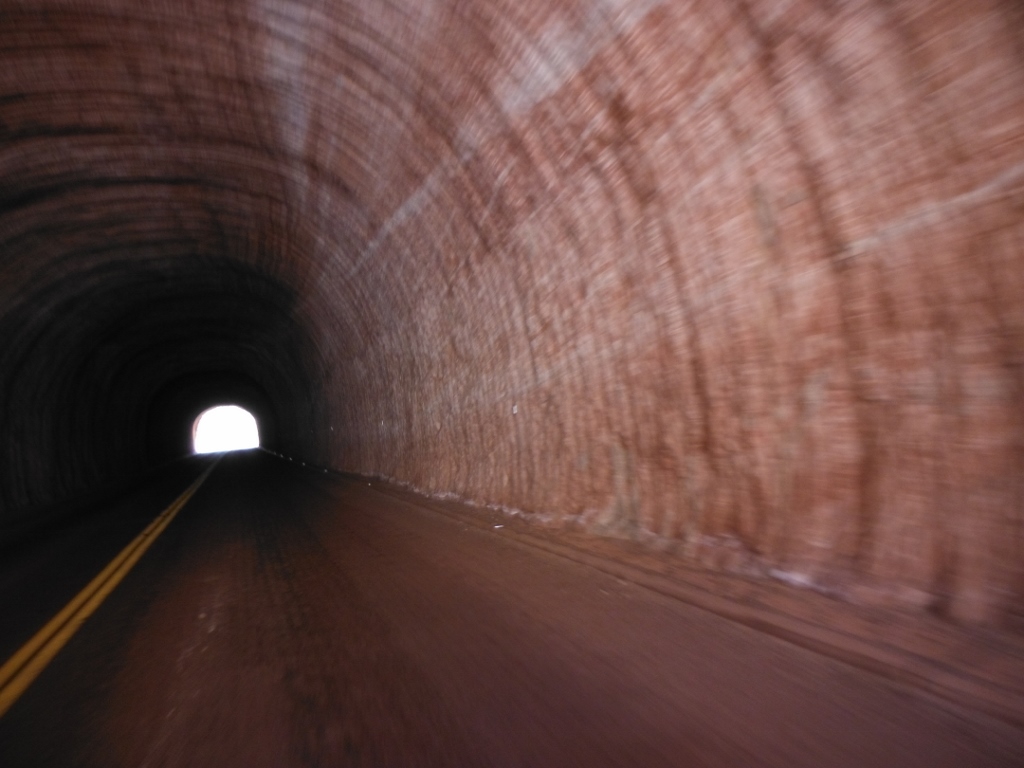 I think this is a different shorter tunnel.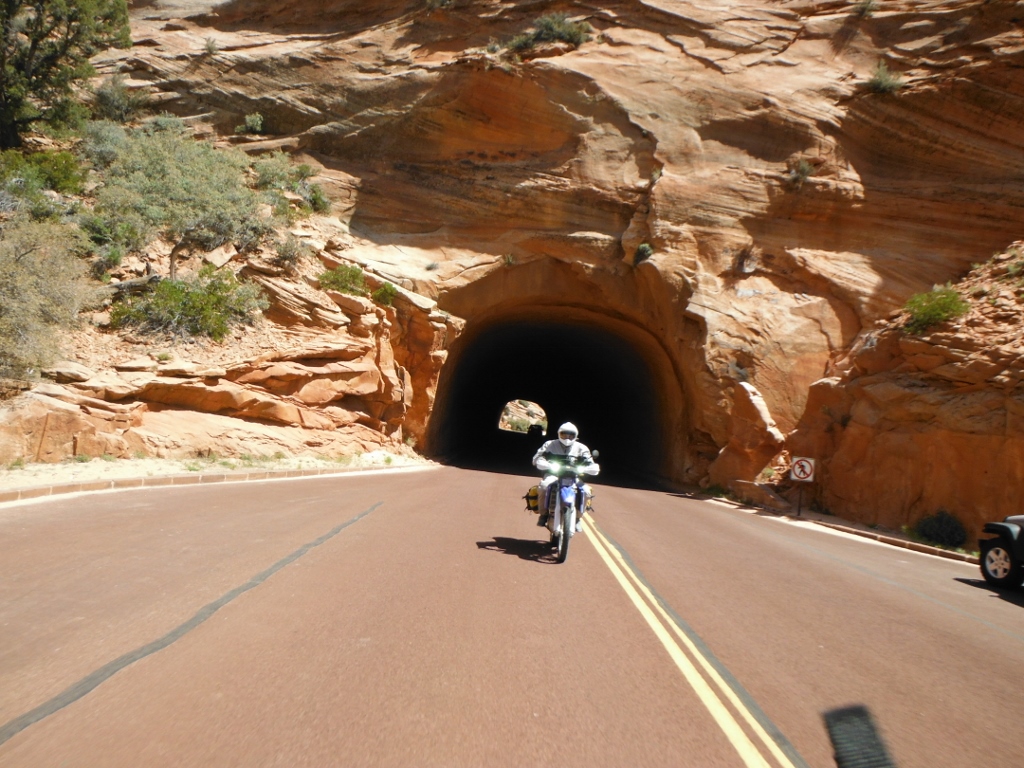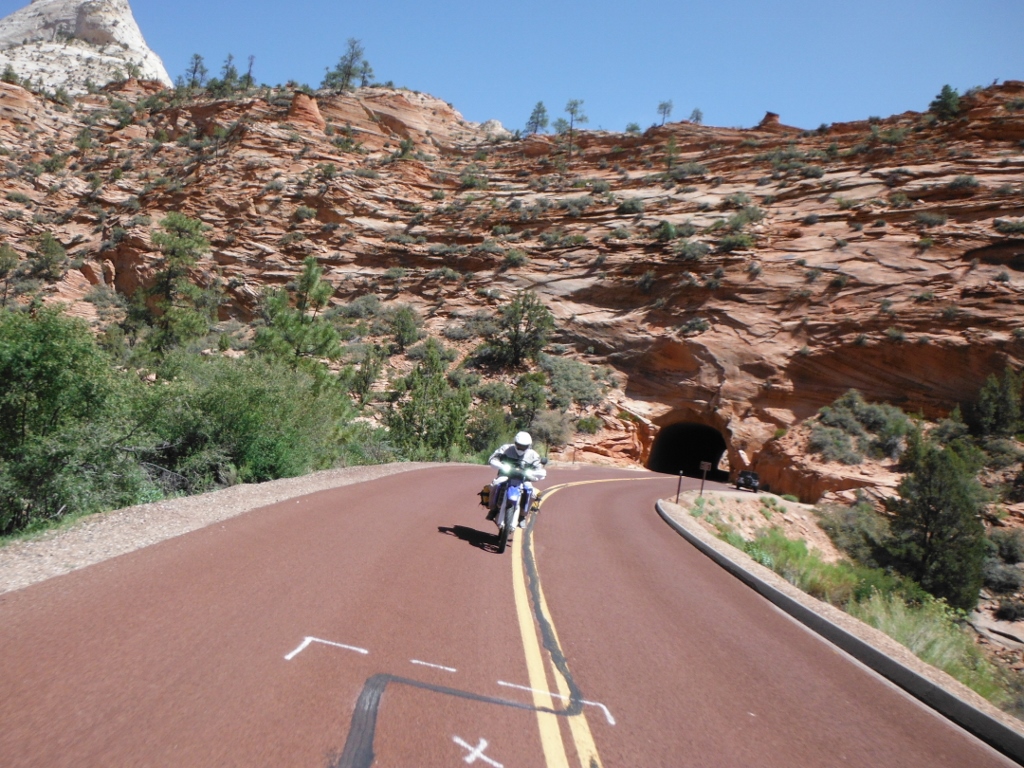 Me and Scott got to St. George and fired up my smart phone and saw exactly where Doc and Francine were by looking at
their spot tracking device page on the internet. We were about 3 hours early and just waited here for them to get here.
Doc had this gas station marked as a gas stop on his route------it was funny when we got there---the gas pumps were long gone !!!
It was smiles all around to be riding together again--------They had been riding for days going thru Death Valley before getting here
and had a very hard day in some high winds and were ready for a motel----so we got one in St. George and talked about
old times. Francine had actually gotten blown over by the winds---approaching 50mph---that had to be scary.
We had no idea if they would be alone or have many riders following them.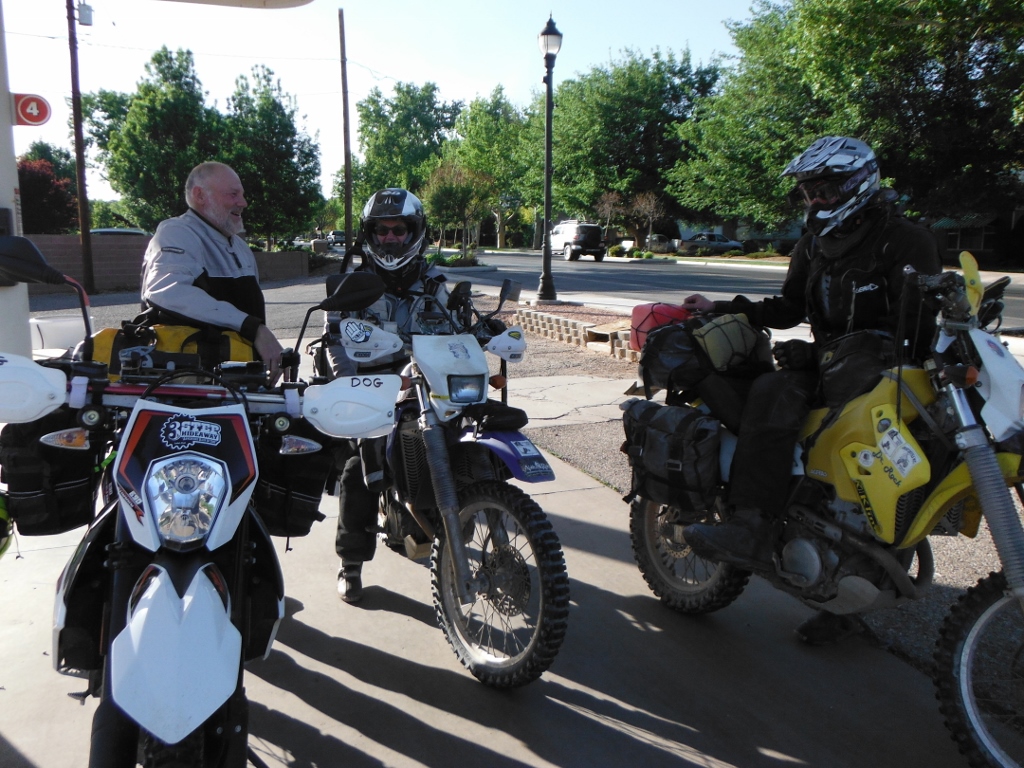 Parking our steeds at the motel---and then we went out to eat---after our showers.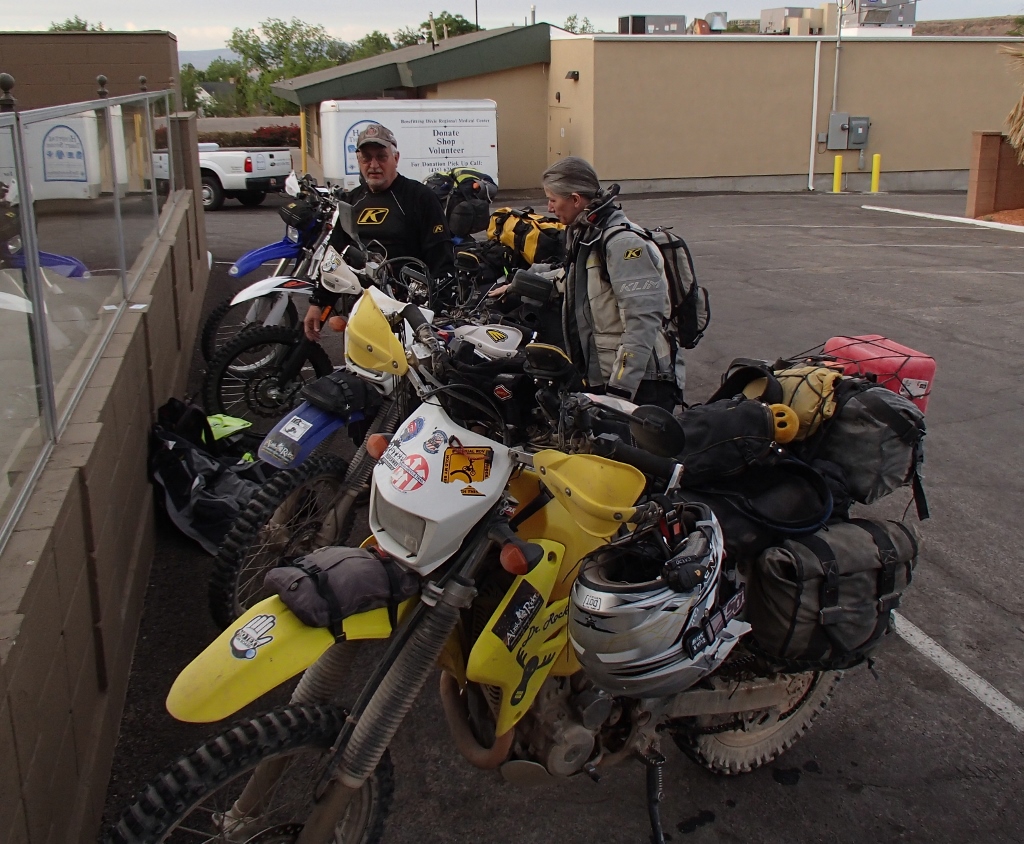 The yellow line was our route today-----very easy riding and about 164 miles.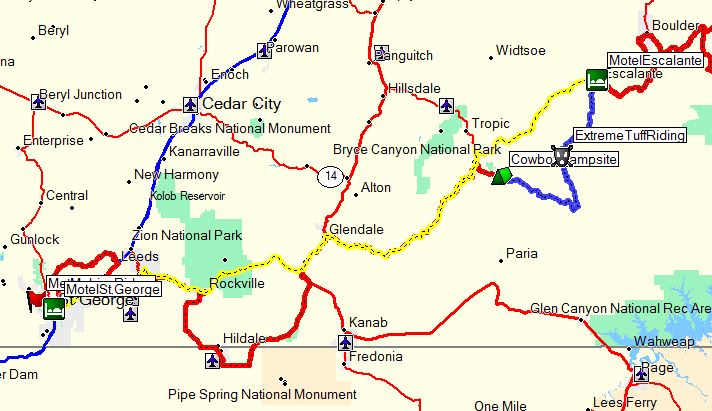 4-24-14
St. George to a remote campsite.
Now the good riding would start as we headed North out of St. George on a dirt road--it was great riding right off the bat.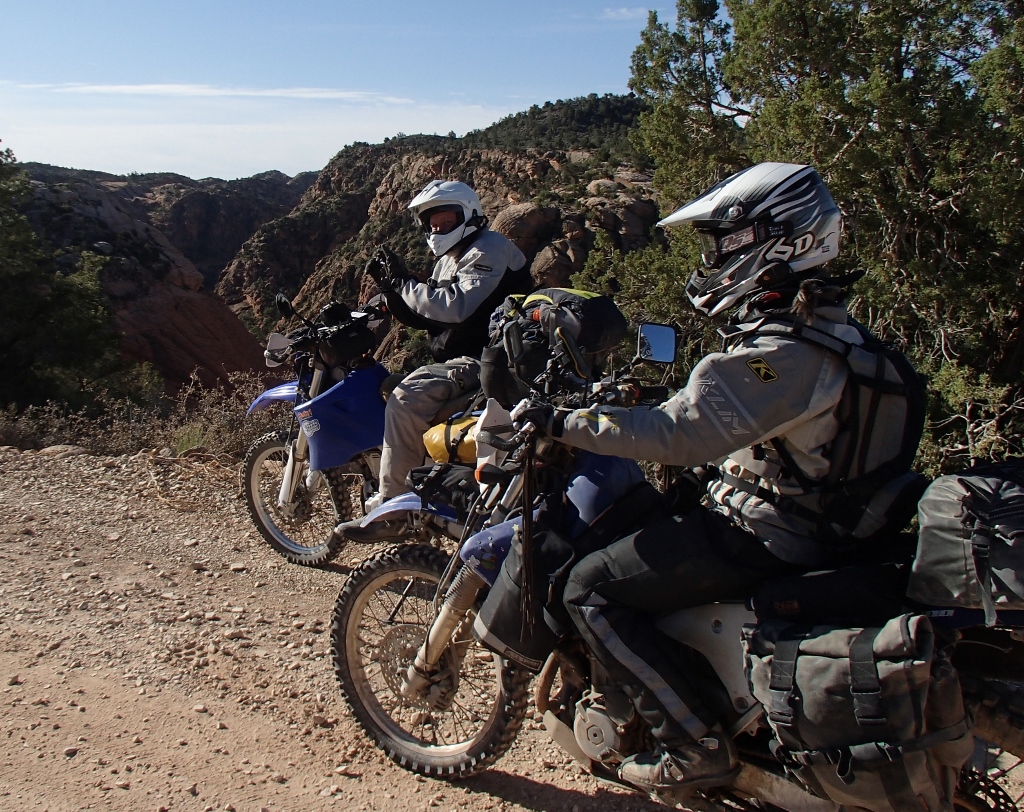 I think we rode North out of St. George on Dump Rd. and opened and closed many gates if I remember right.
The road climbed and we got views of St. George from high above at times.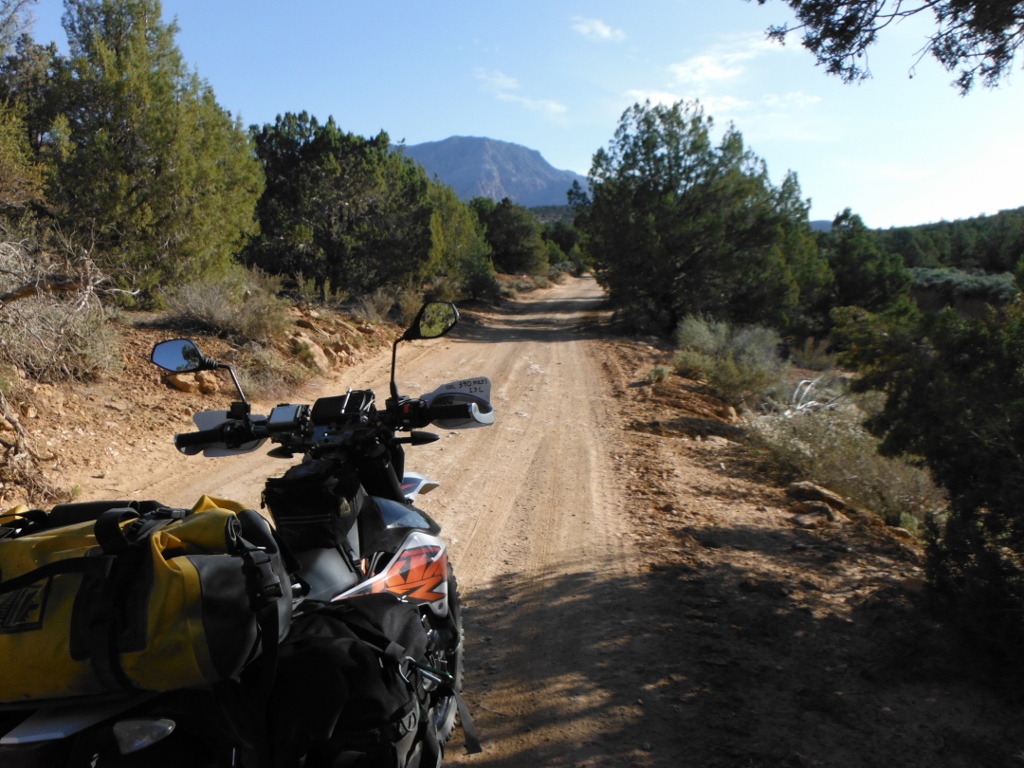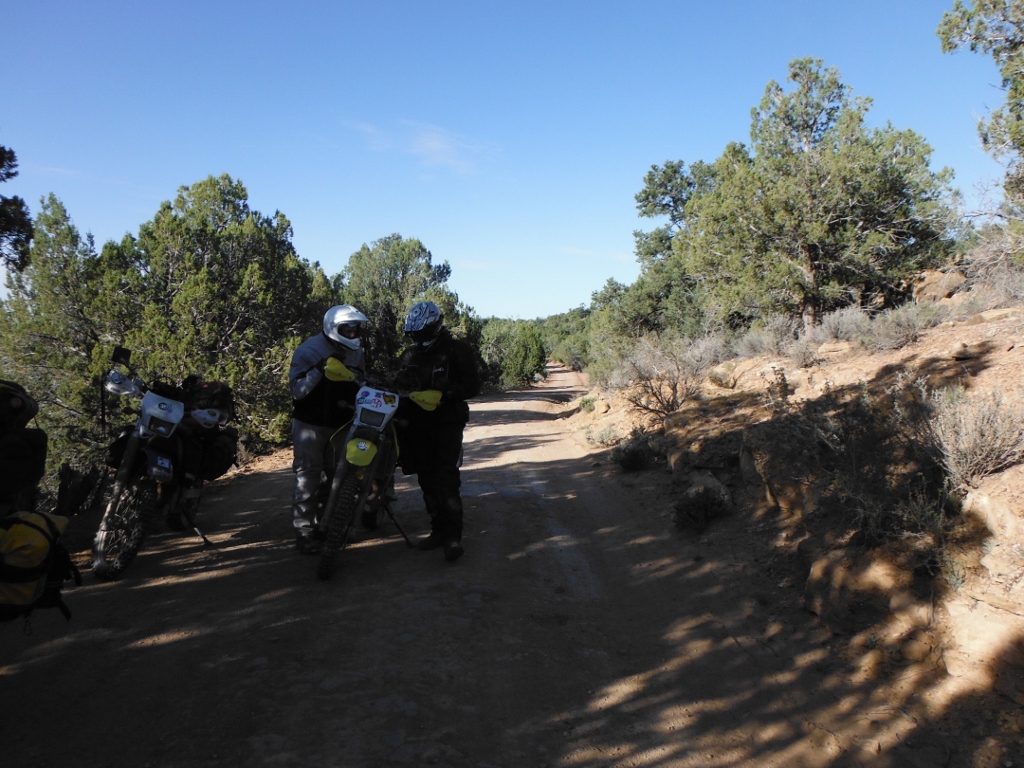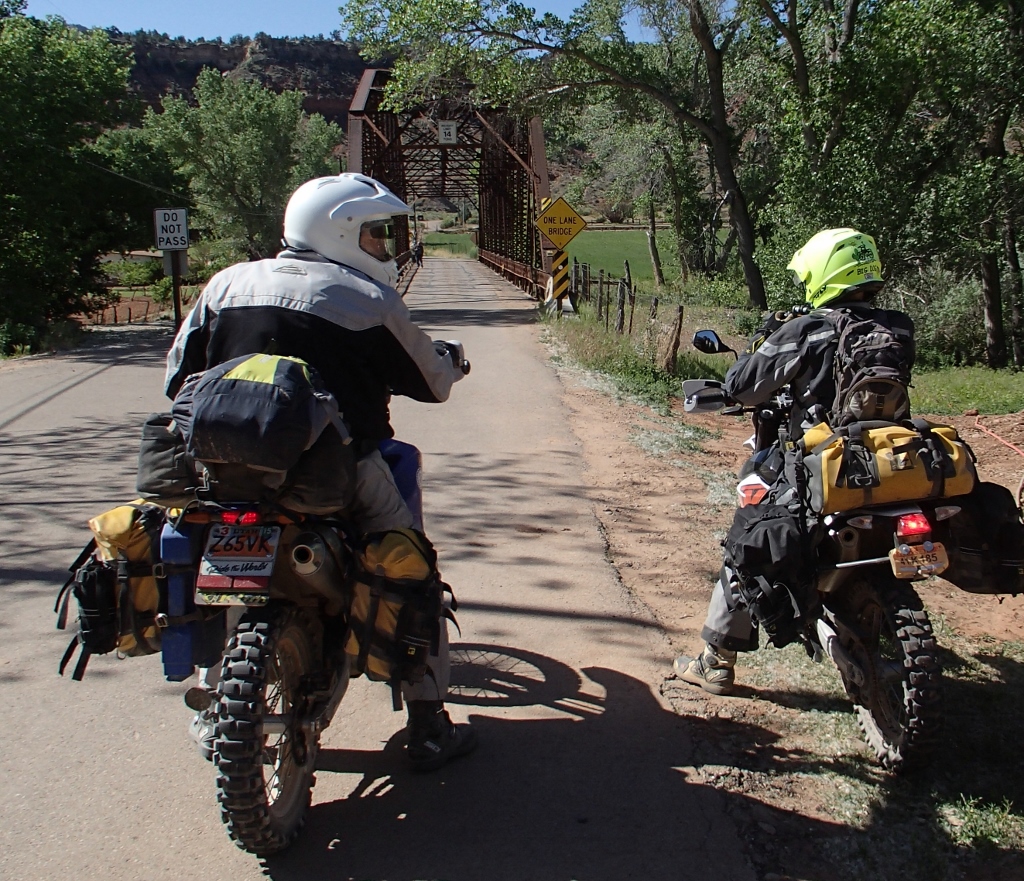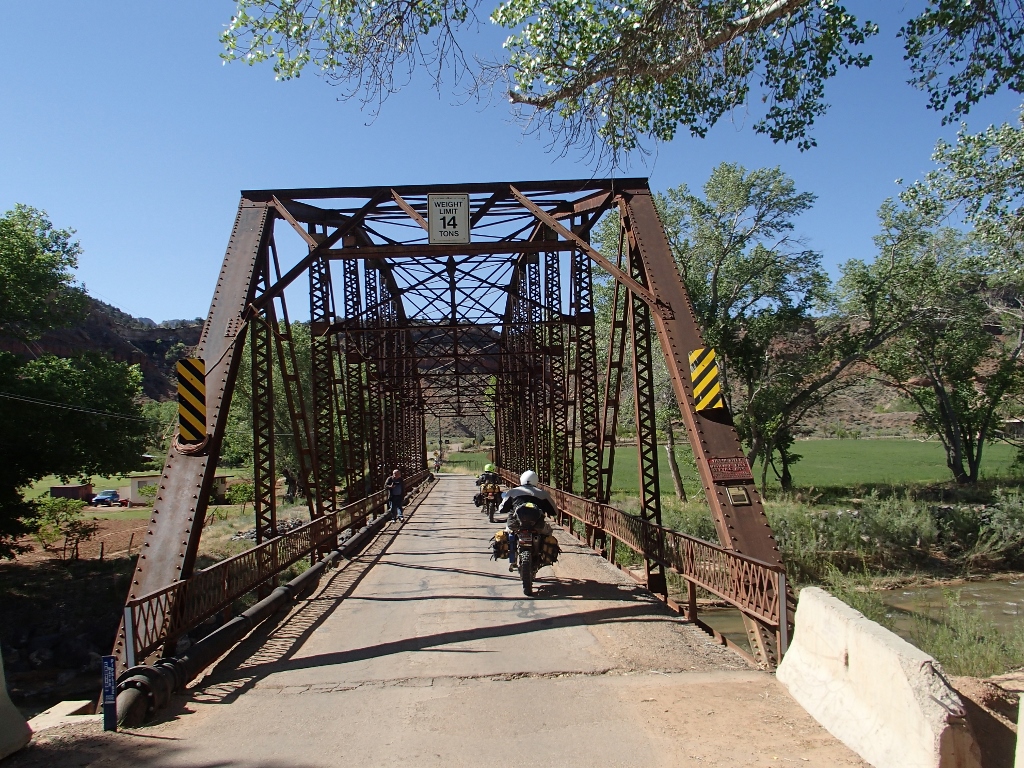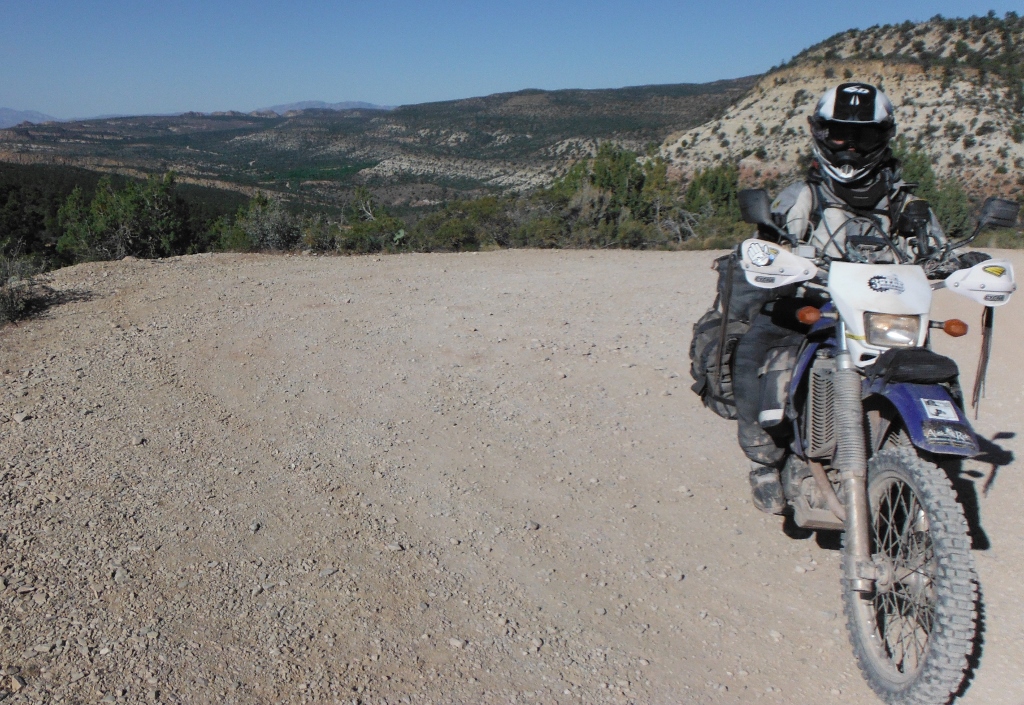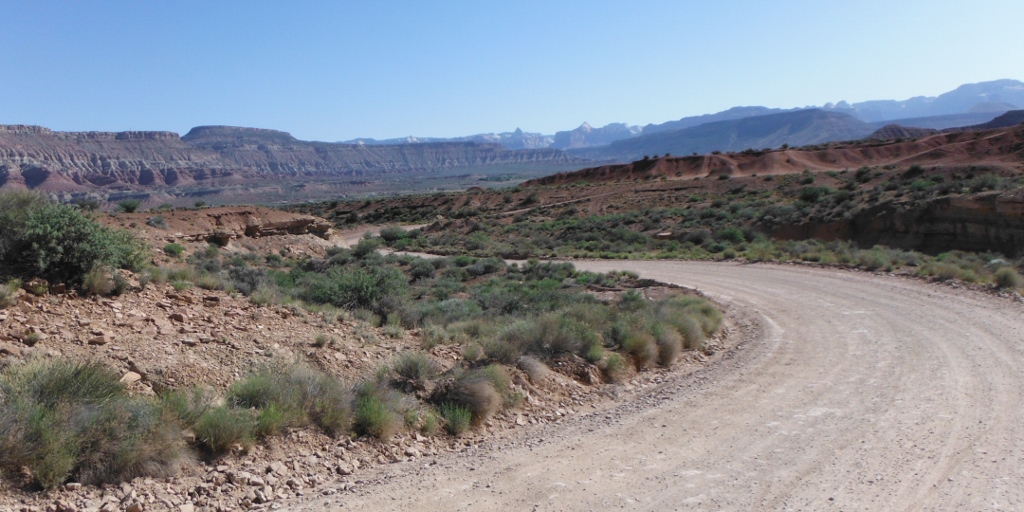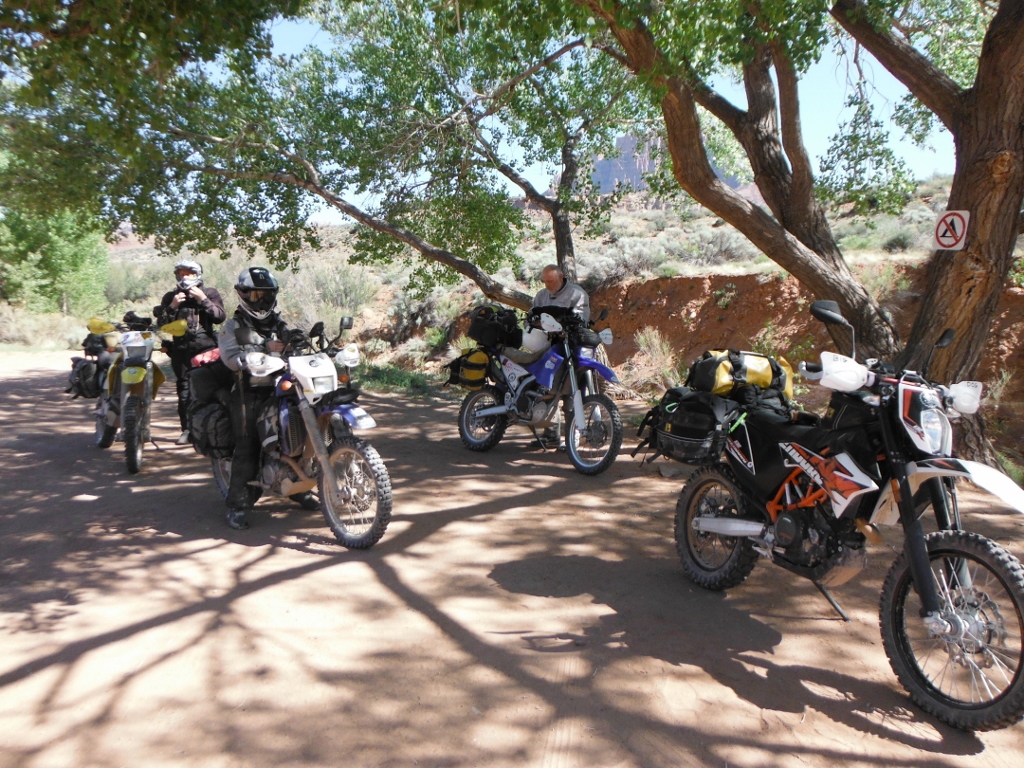 It was really perfect weather----but when we stopped we still tried to find a nice shady spot.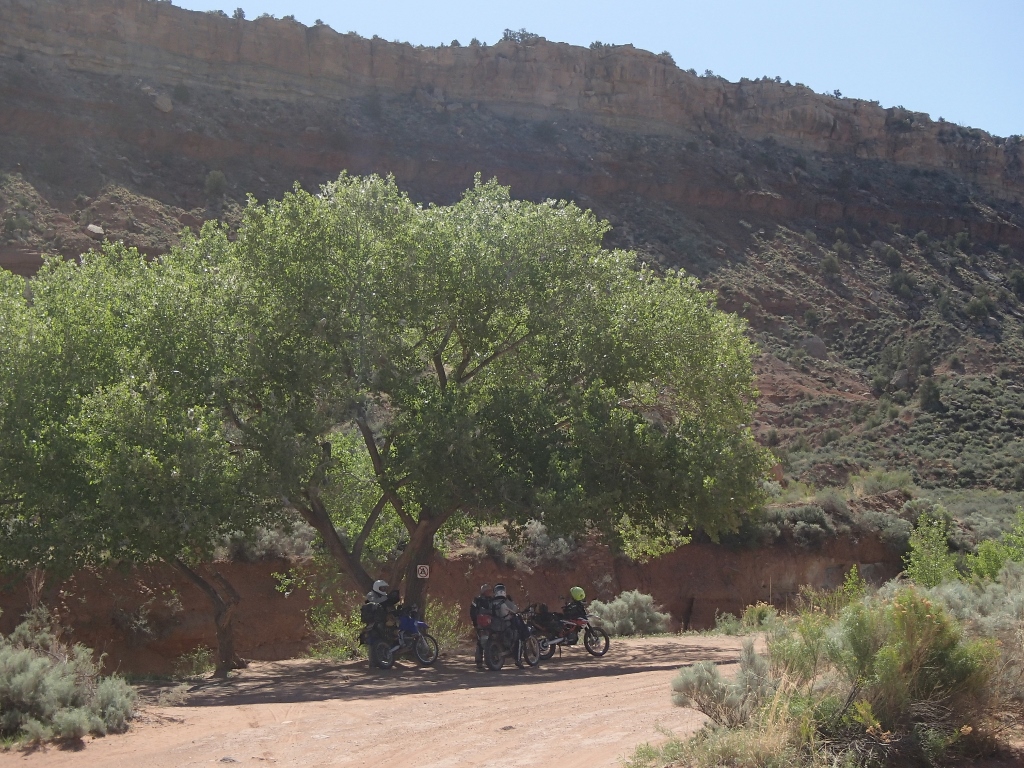 Gotta keep the sun off my balding head too !!!!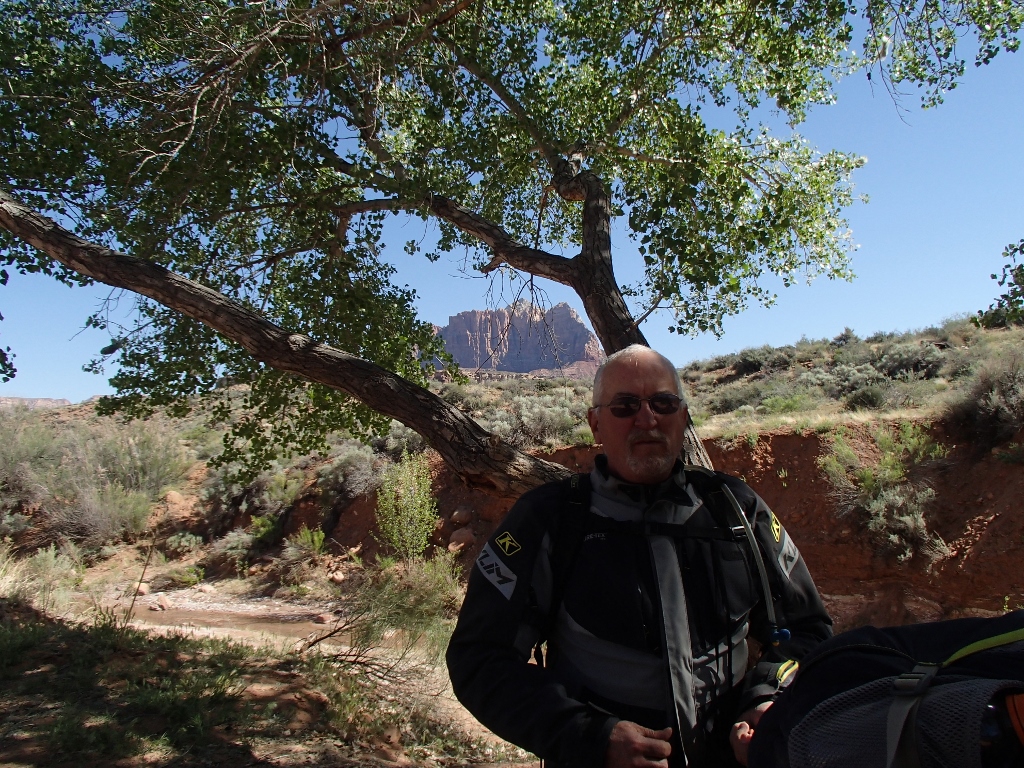 I have a thing for old bridges----and windmills.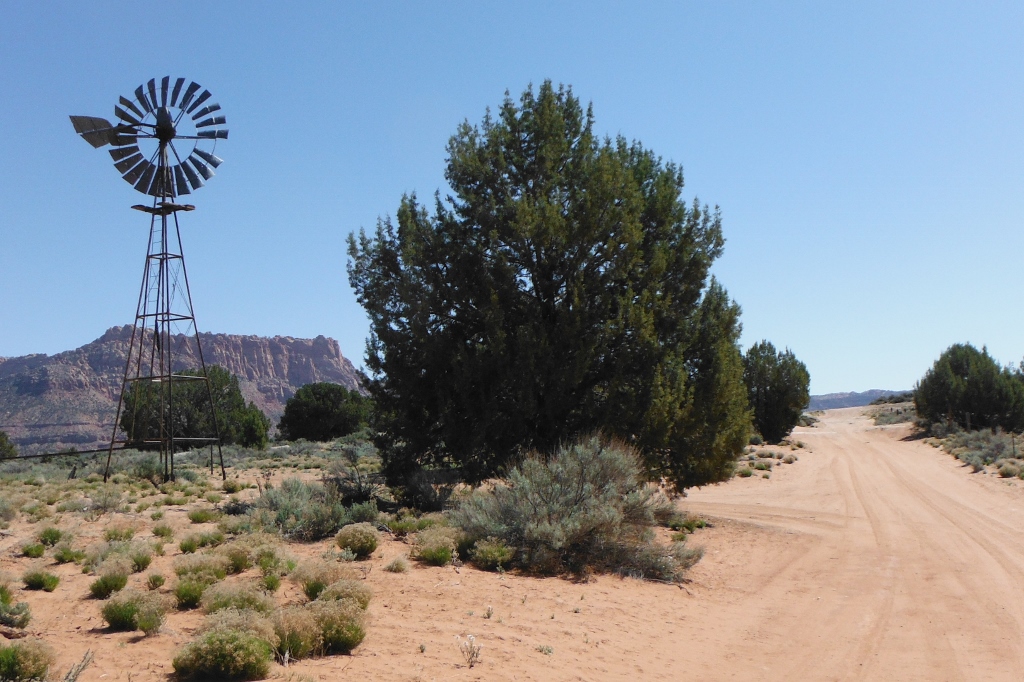 Doc and Francine both carried empty 2 gallon gas cans---they needed them before meeting up with me and Scott.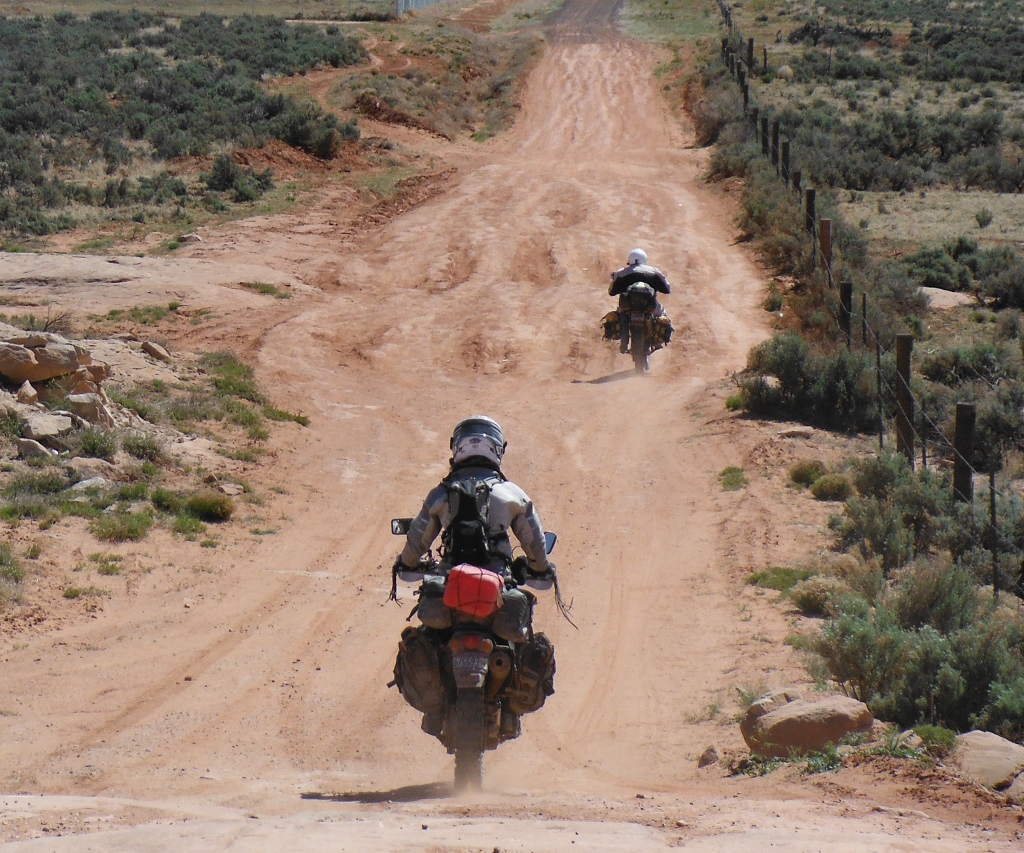 OK-------sit back for a story---------a very good one----and really funny---I'll try to make it short.
Dr. Rock always tries to pay for groceries-----and it's always a battle to try and take you turn at paying---he always wins it seems.
We go in here and spread out---picking up this and that----and the manager approaches each one of us and says "it's on me" ???
What ??? So we knew Doc bribed him with a credit card (not so---read on).
We get to check out and throw it all together---about $40 worth of food to cook at camp.
The cashier won't take our money---says it's "on the house". What the heck is going on ??????
We all thought one of us paid for it and wouldn't tell---that clever Doc got us again----------(no------read on).
So 2 days later I call my wife and tell here about the incident---and she laughs---------it was
"National Pay It Forward Day"
And we were clueless-------now how funny is that. Gave me that warm and fuzzy all over feeling.
This was in Colorado City, Arizona by the way.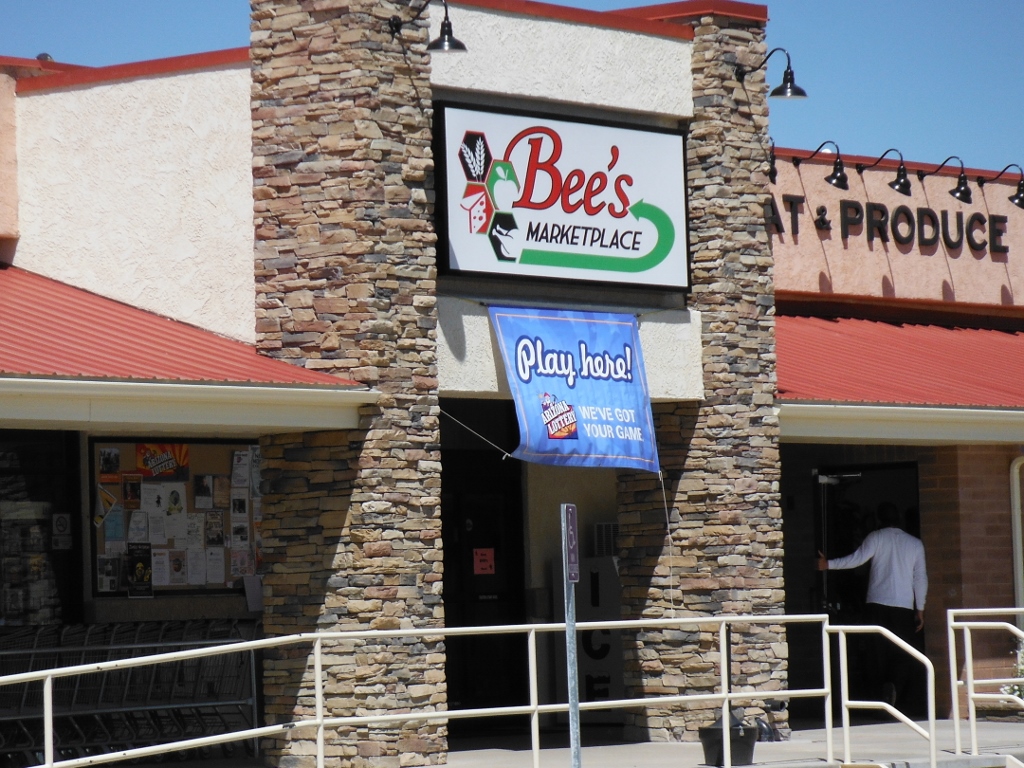 Never been there--------I don't think ????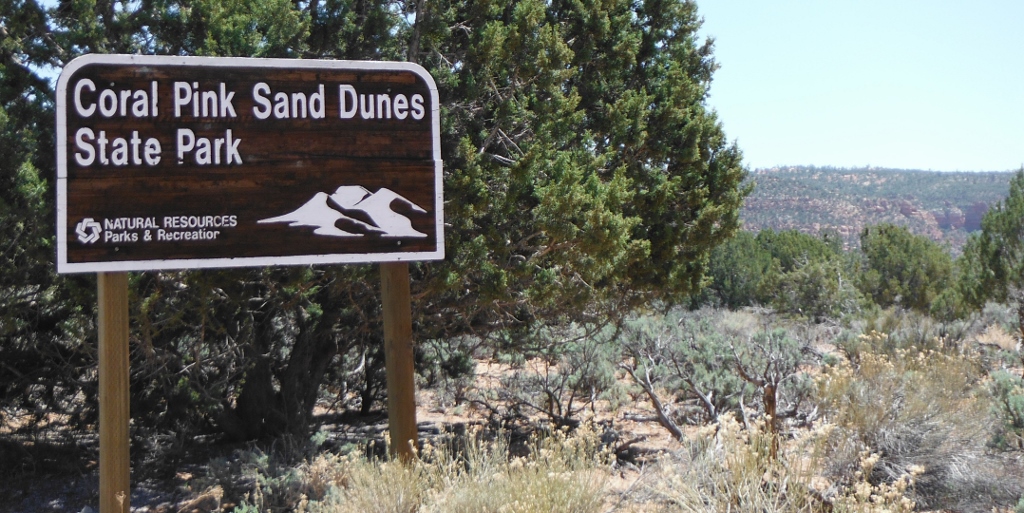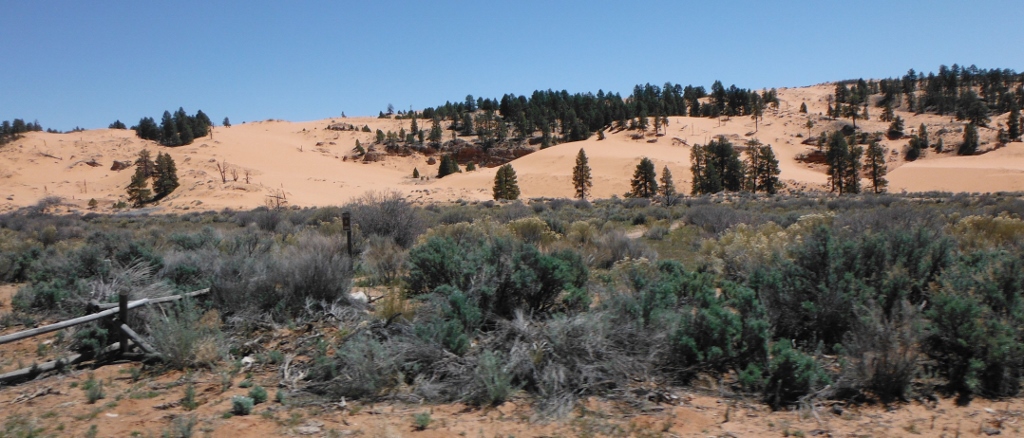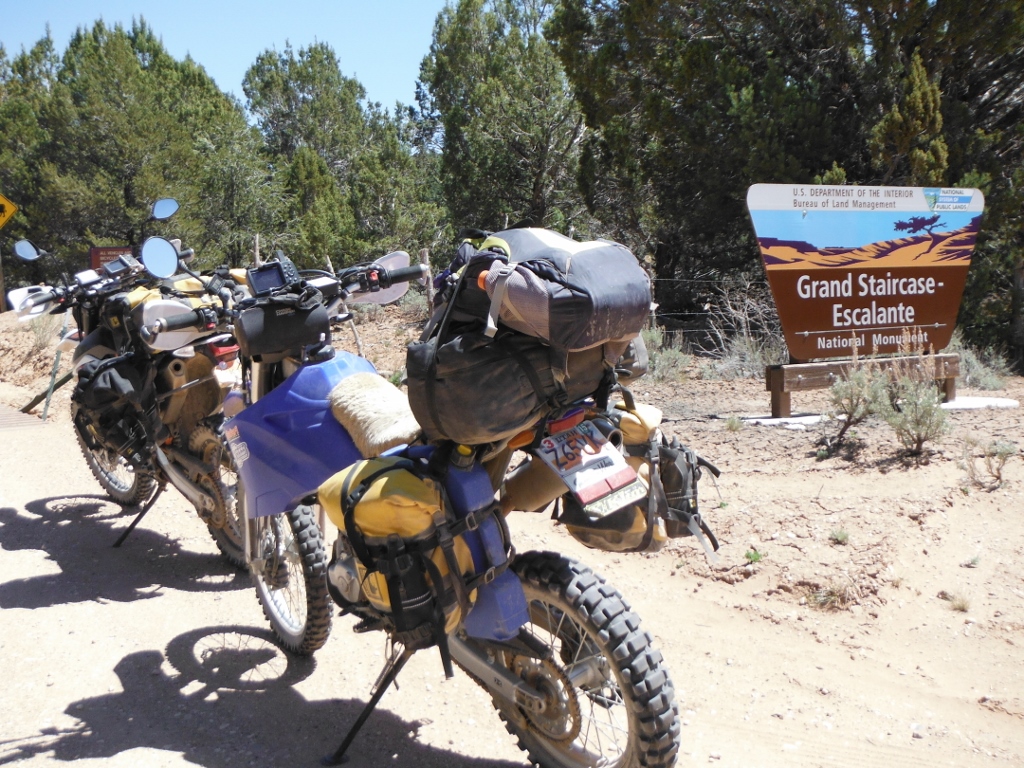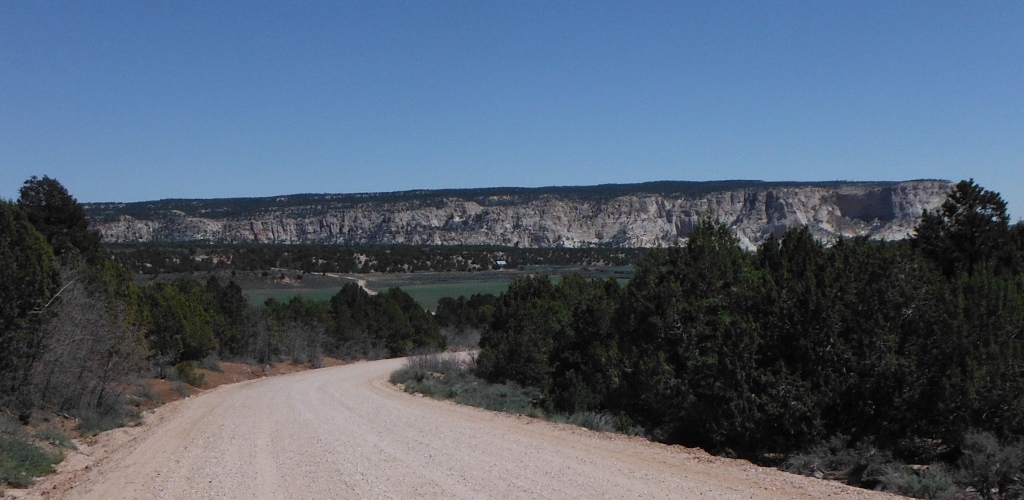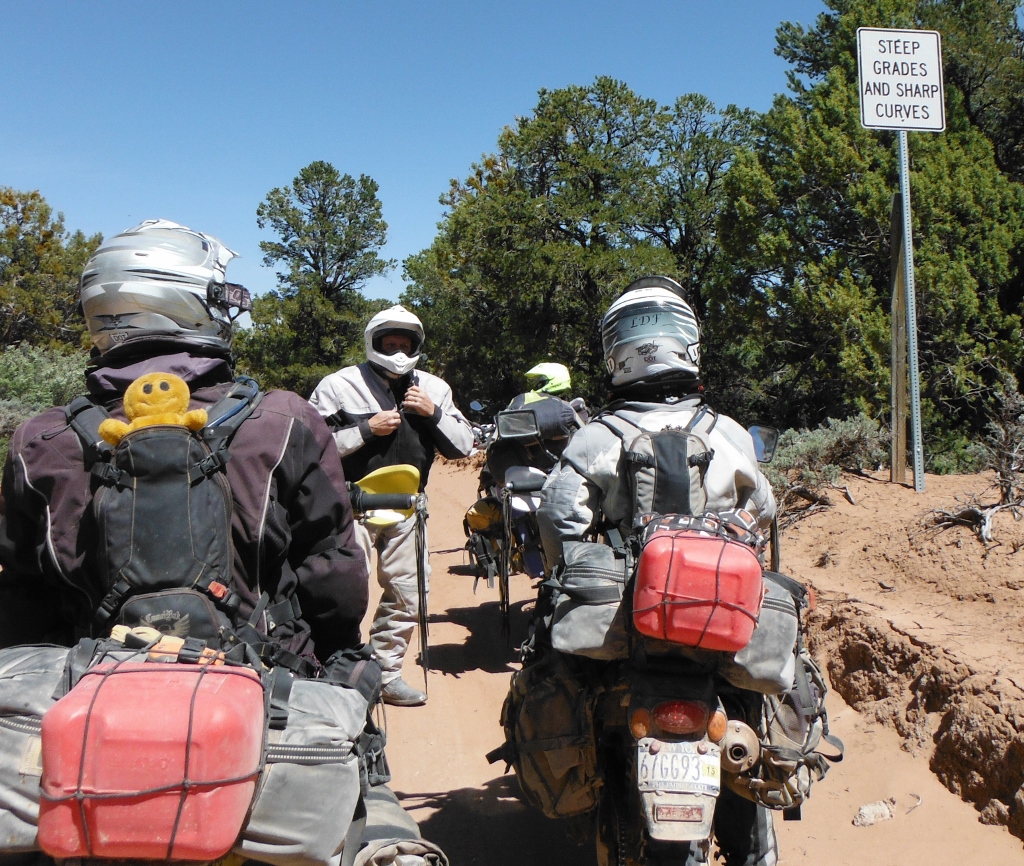 Now it's time to go hiking--------never been much of a hiker but am getting into it.
And I've been bringing shoes with me lately that I can short hike in.
It feels good to get out of the boots and riding gear and take a walk-------I'm going to be doing lots more of this.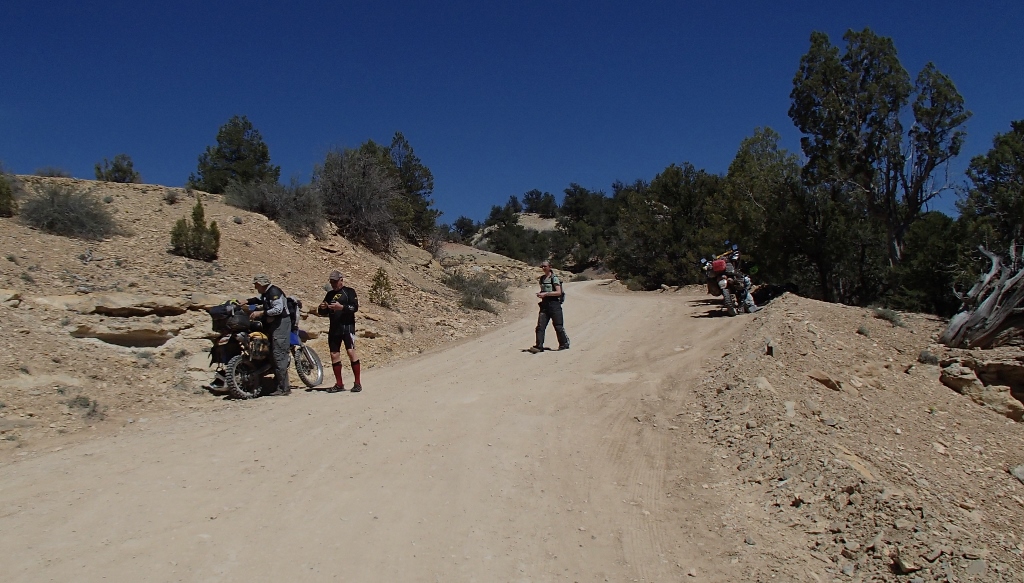 So we are at "Bull Valley Gorge"
A very deep slot canyon-----it's a long ways down---and very narrow------and pretty.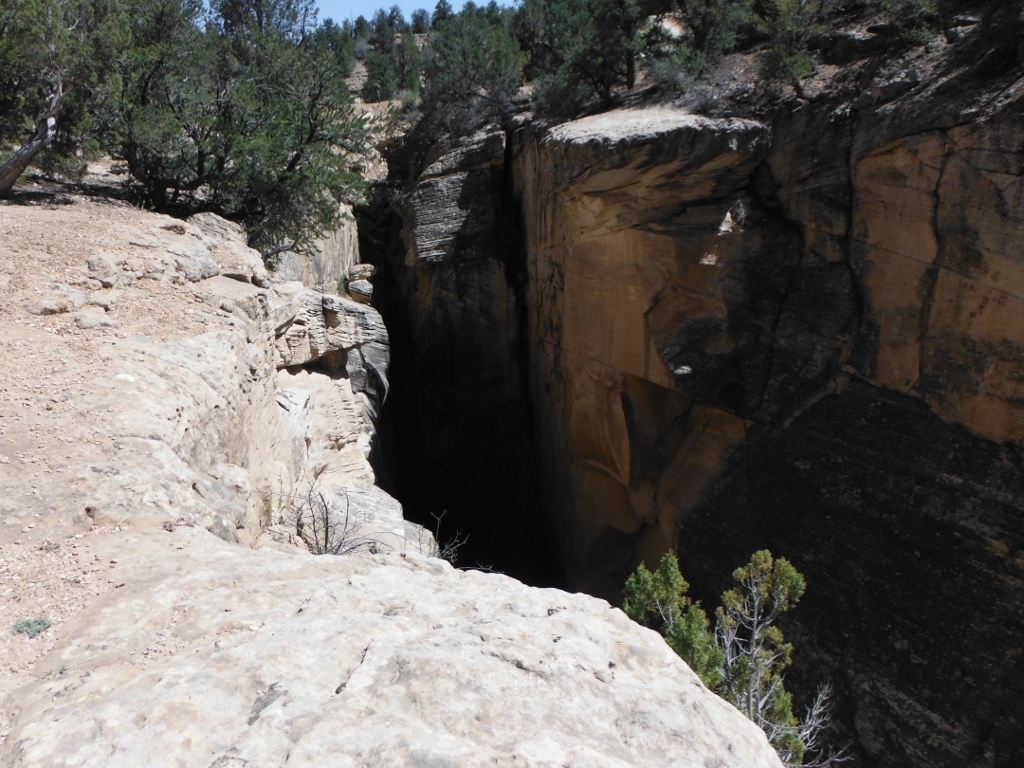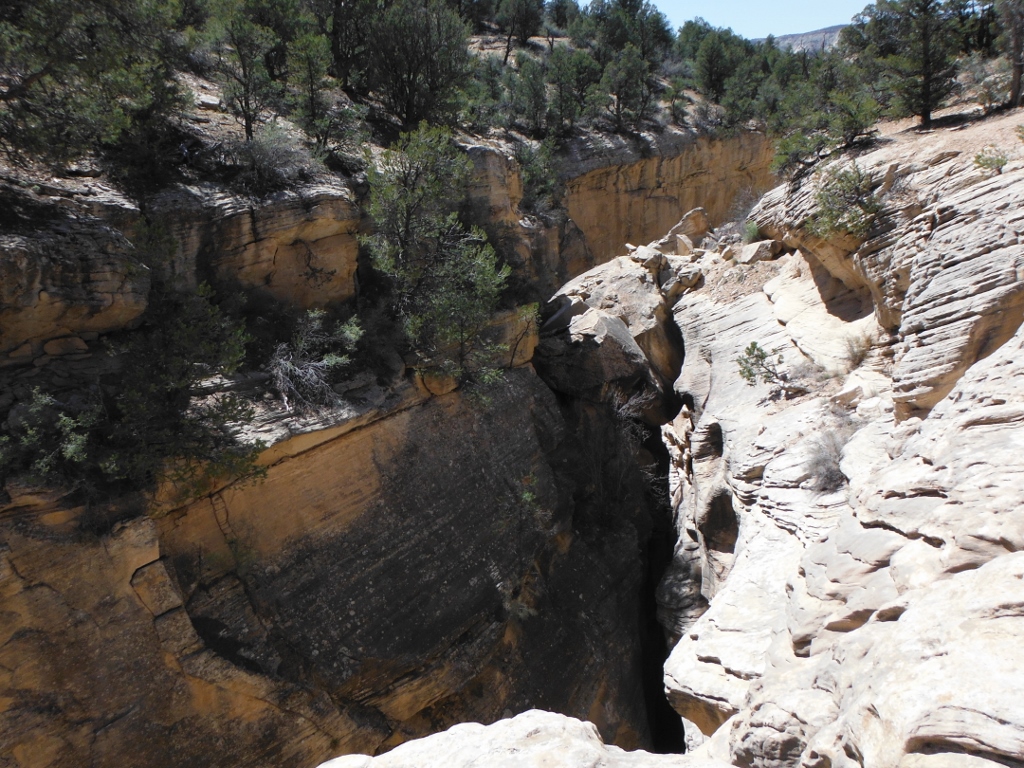 Doc wasn't sure I bet that I'd want to do this-----I was estactic.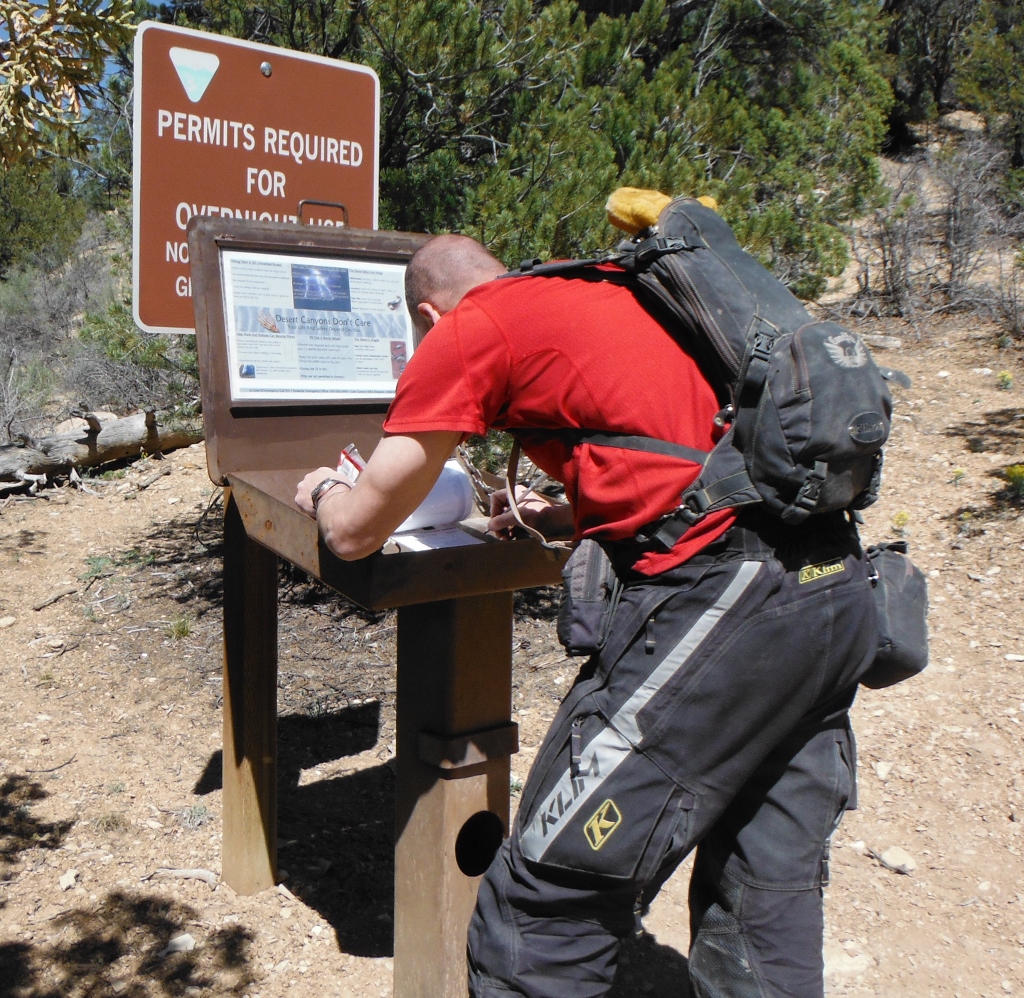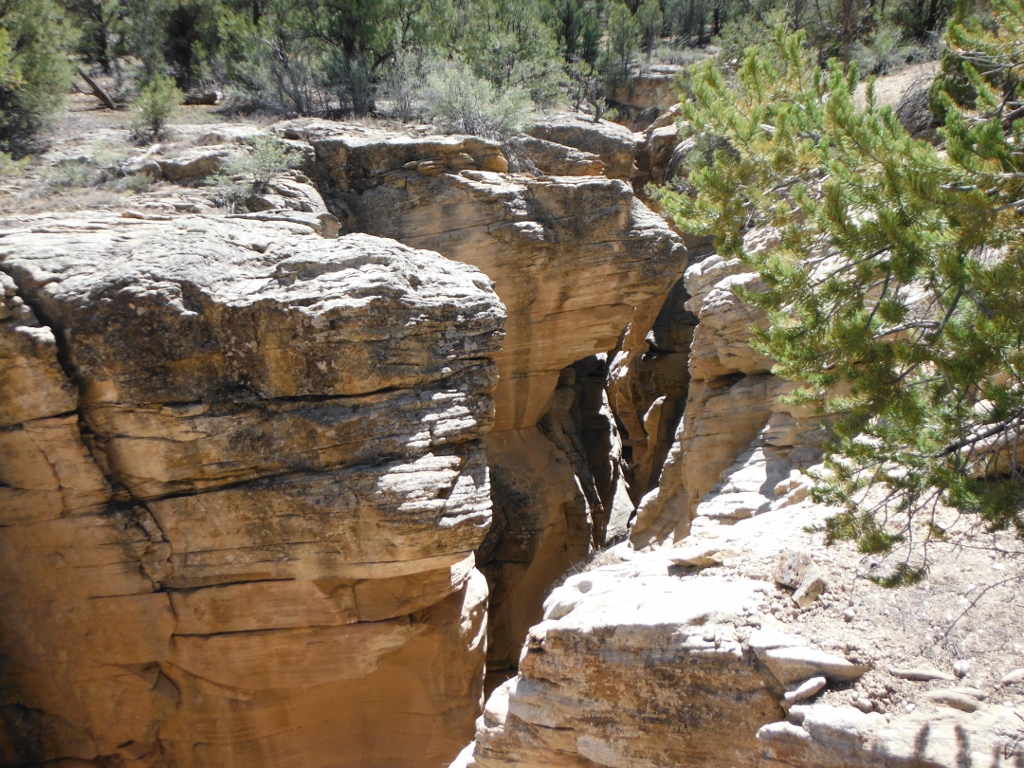 We hiked for about a 1/2 mile on top before we could get to a place to get down into it---this was going to be fun.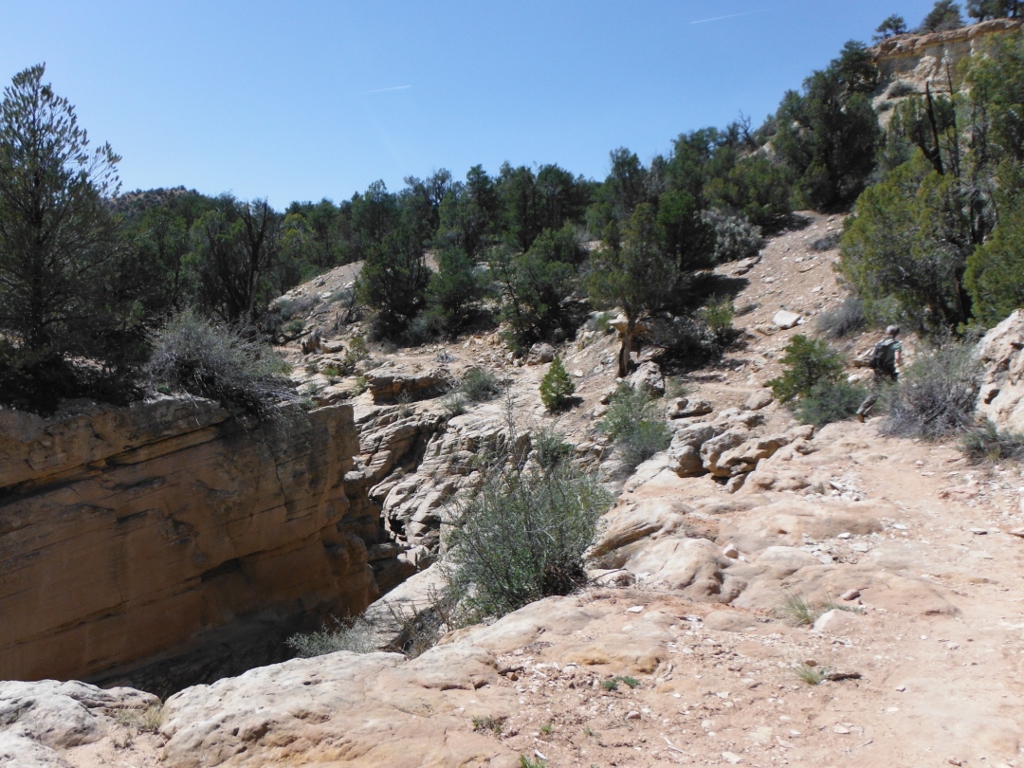 We found a very shallow spot to get down in it----not real easy for and old guy with no slot canyon hiking experience.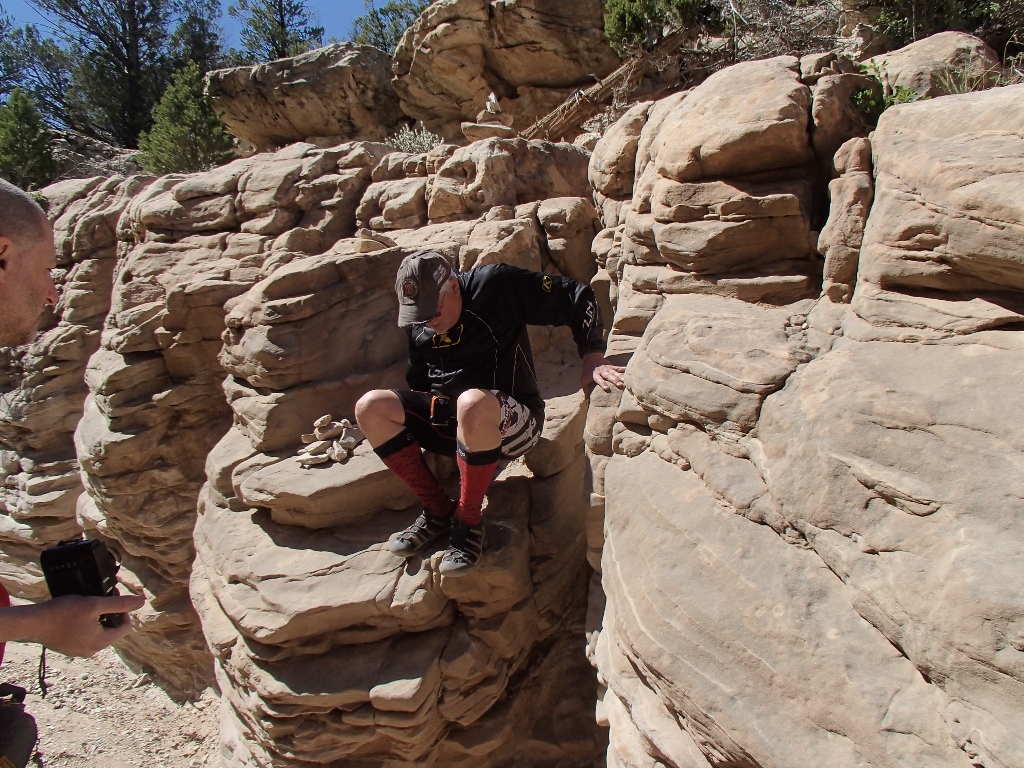 It's gets deeper and deeper and deeper--------and prettier as we hike back toward the bikes and the road that
goes over the slot canyon.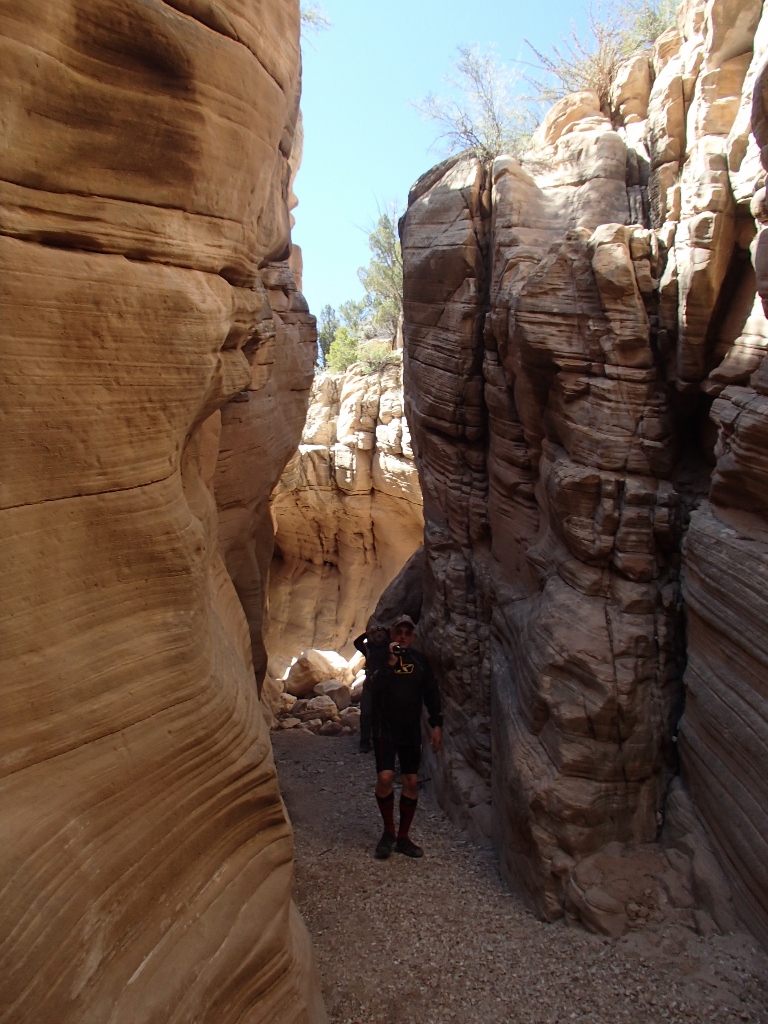 Francine continually tells Doc he's crazy---but we all plod on with his leadership.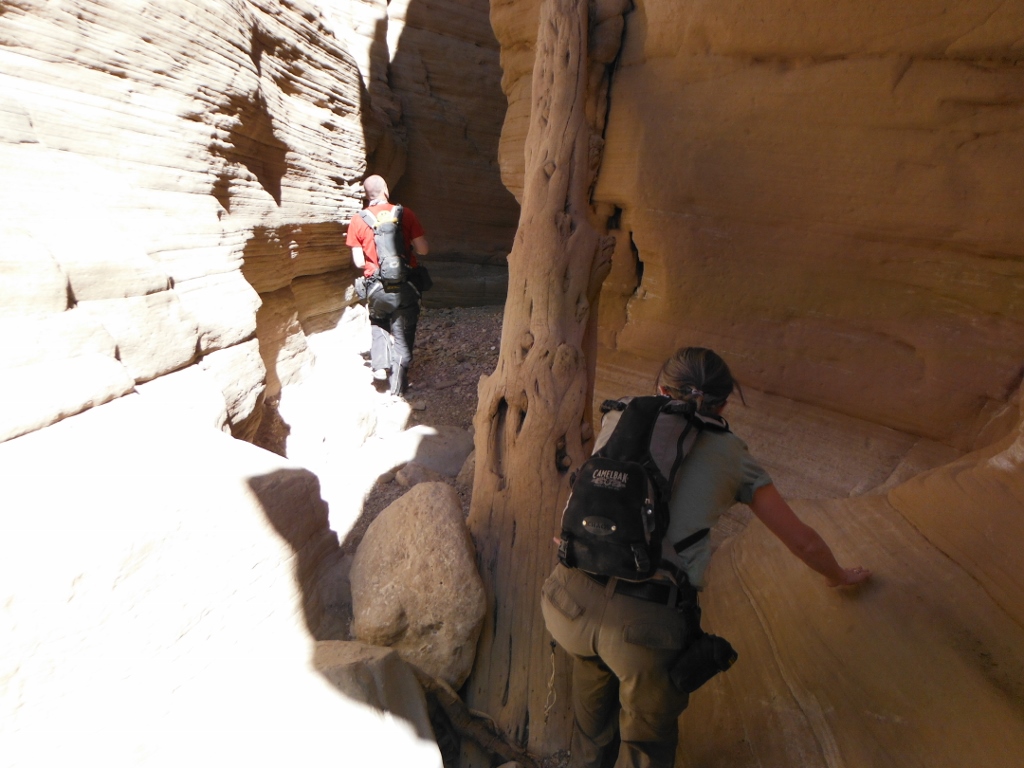 This was hairy----and I pondered how we'd get back up.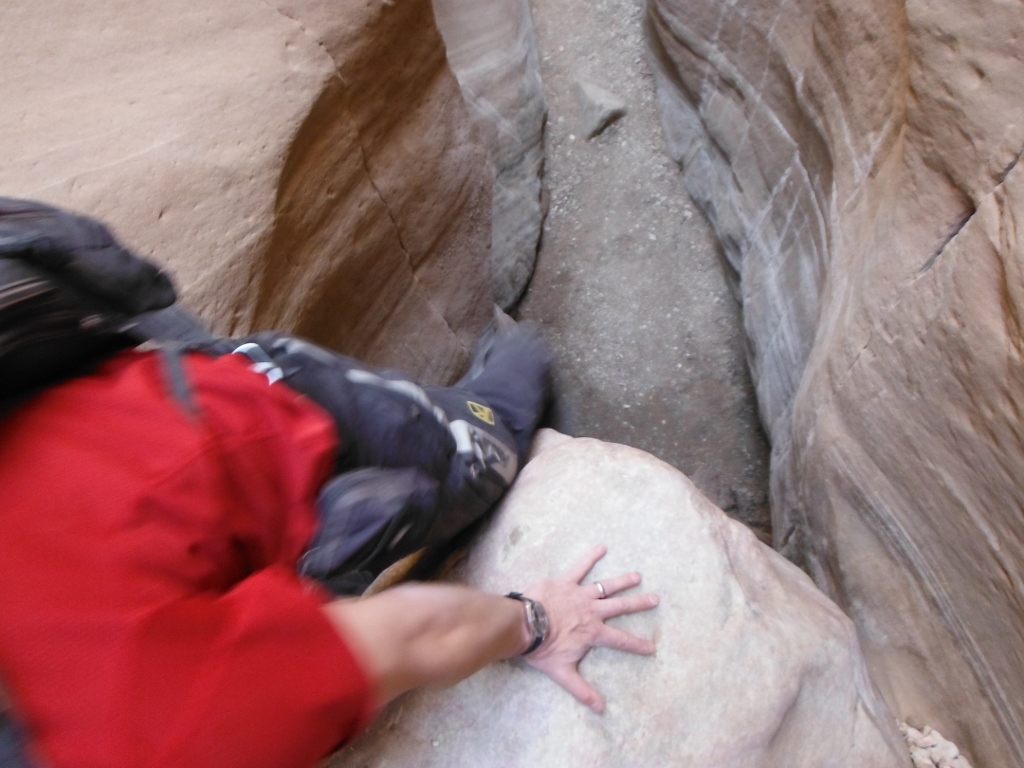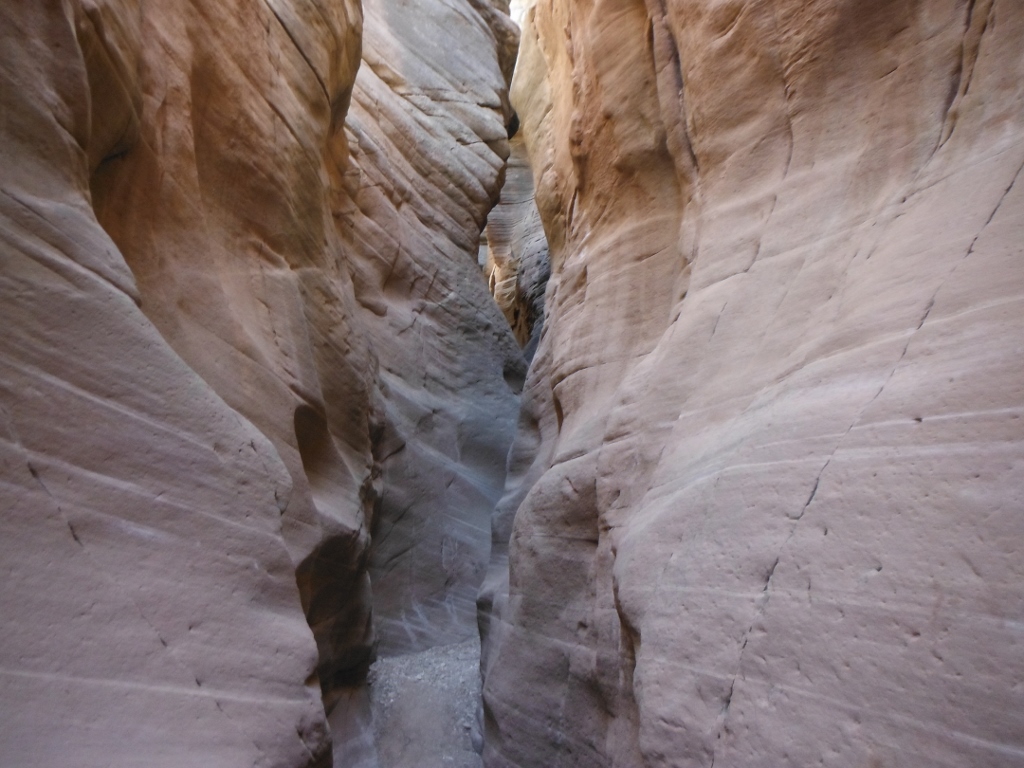 Dingweed is thinkin'---------WaaaaaaaaaaaaaaaaHoooooo !!!!!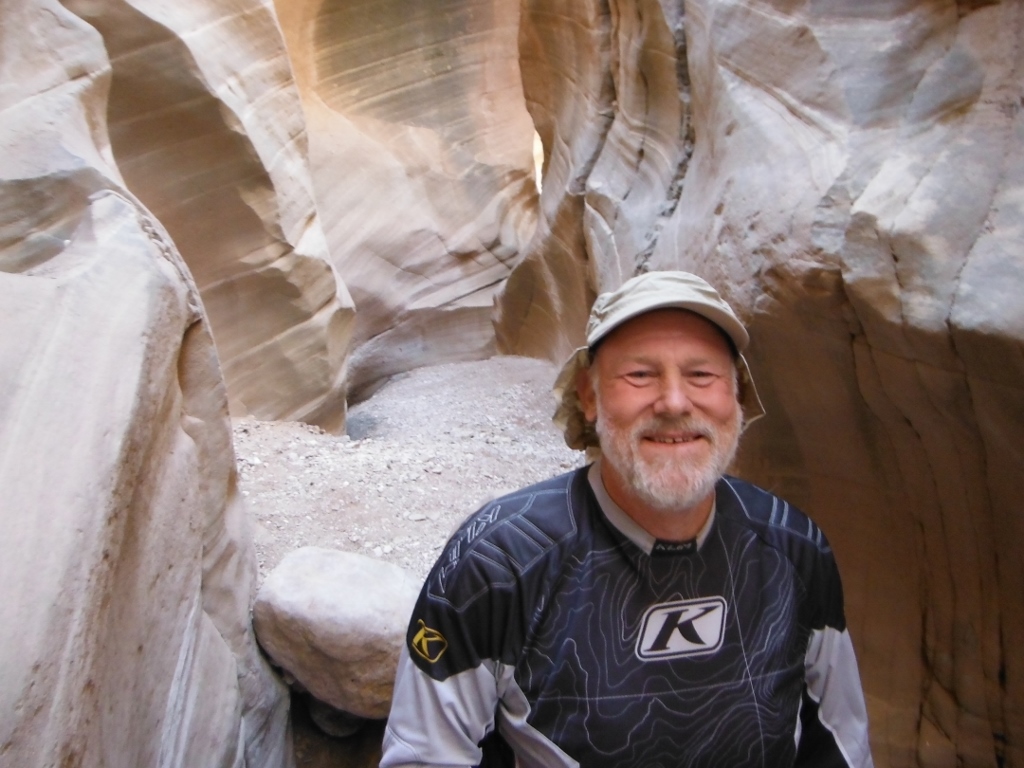 Now the thing I haven't told---I may not have the details or dates right.
But this is what happened here back in the 40's or 50's.
A pick-up truck went off the bridge and dove down into the slot canyon-----a whole family of people.
It wedged itself tight in the canyon about half way down-------everybody died.
They got the body's out but left the truck.You can still barely see the truck.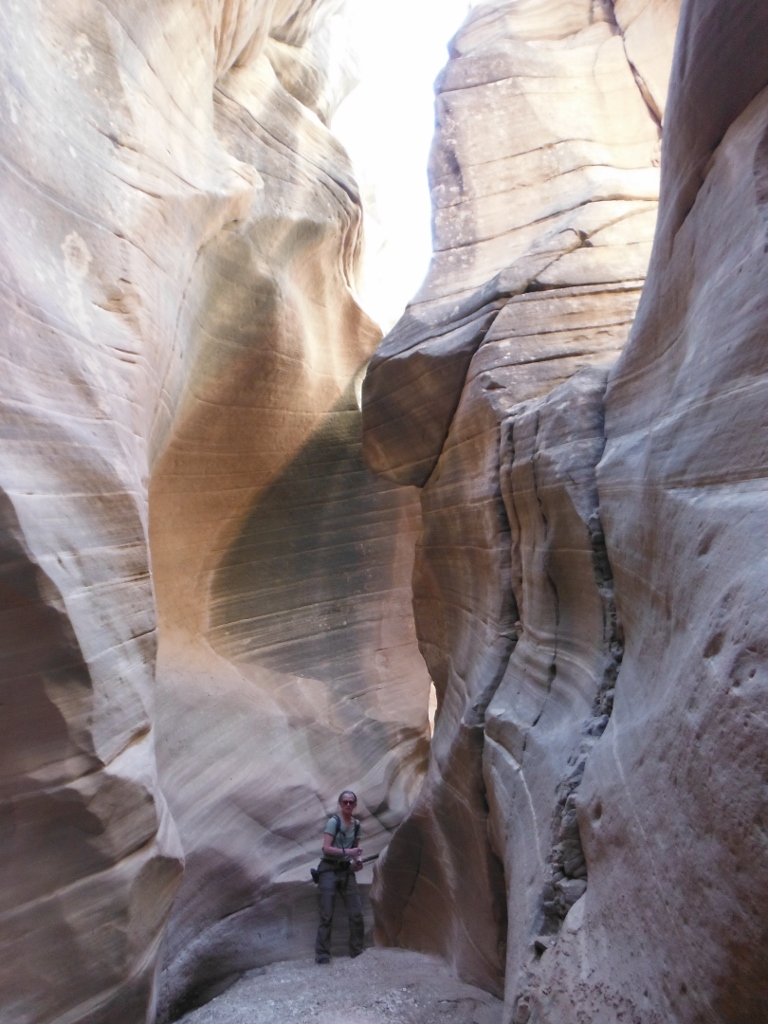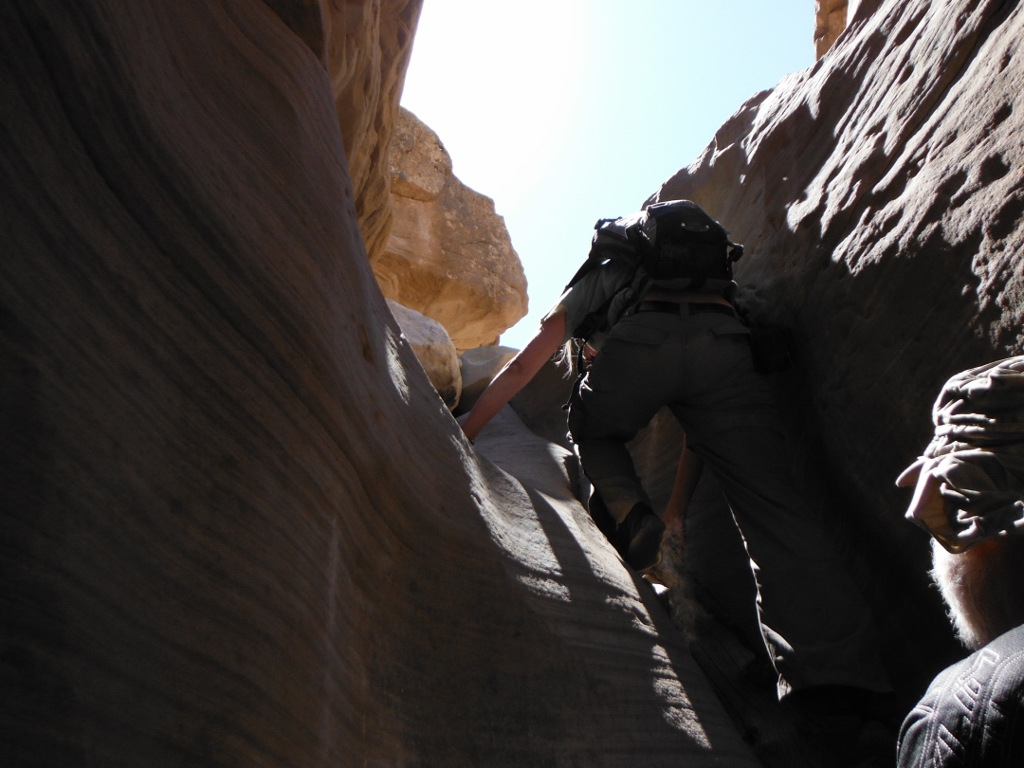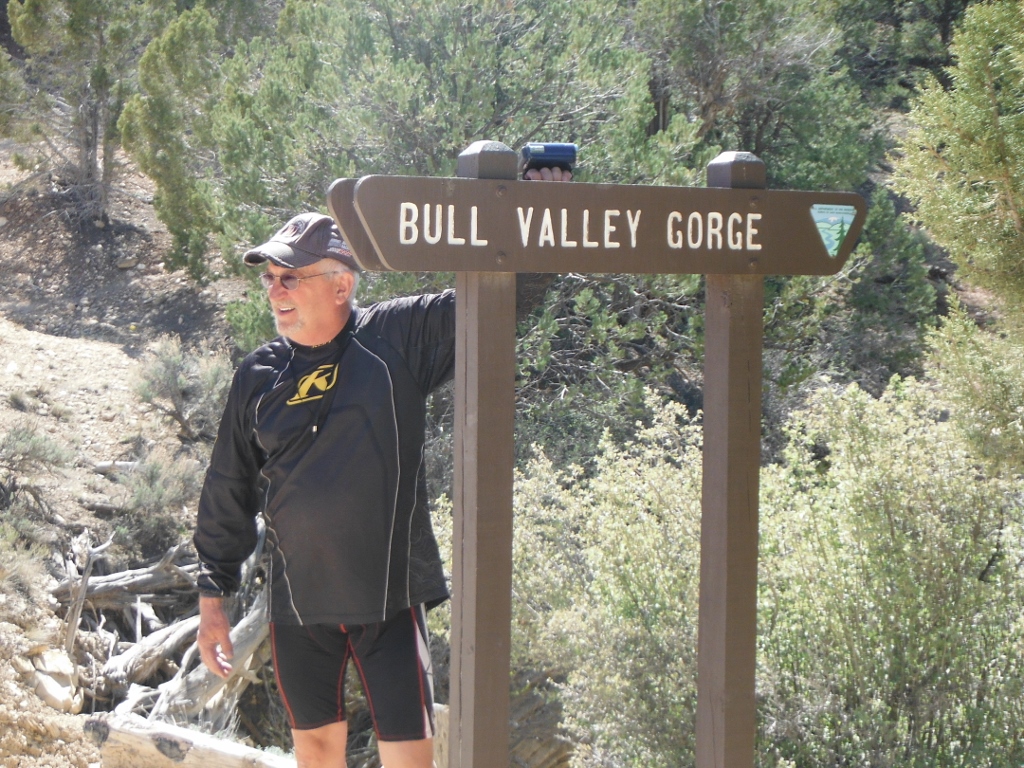 I was suiting up and Francine is laughing at me.
Seems I put my right boot on before sticking my foot into my pants.
It's bad getting old---one of these days I won't be able to find my way home I guess.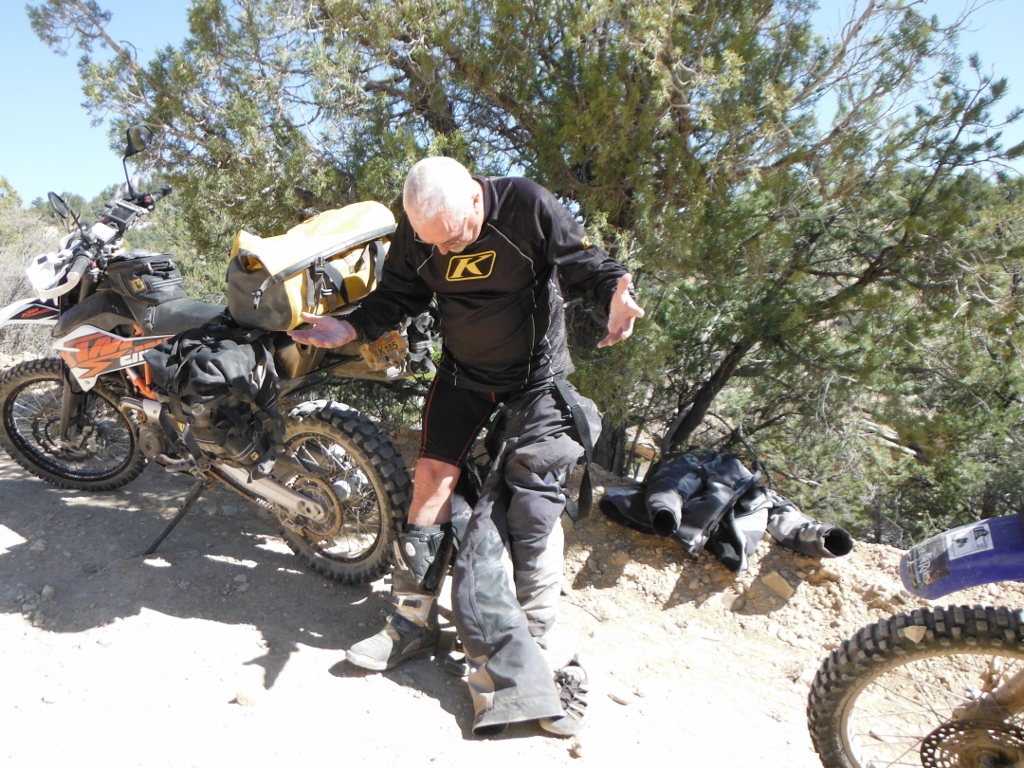 Kodachrome Basin State Park camping is all full the sign says.
We probably wouldn't have liked it anyway.
Took the first sandy road Souteast of there and Francine found this spot------cowboy camping at it's best.
I'm changing clothes------wonder I didn't fall off.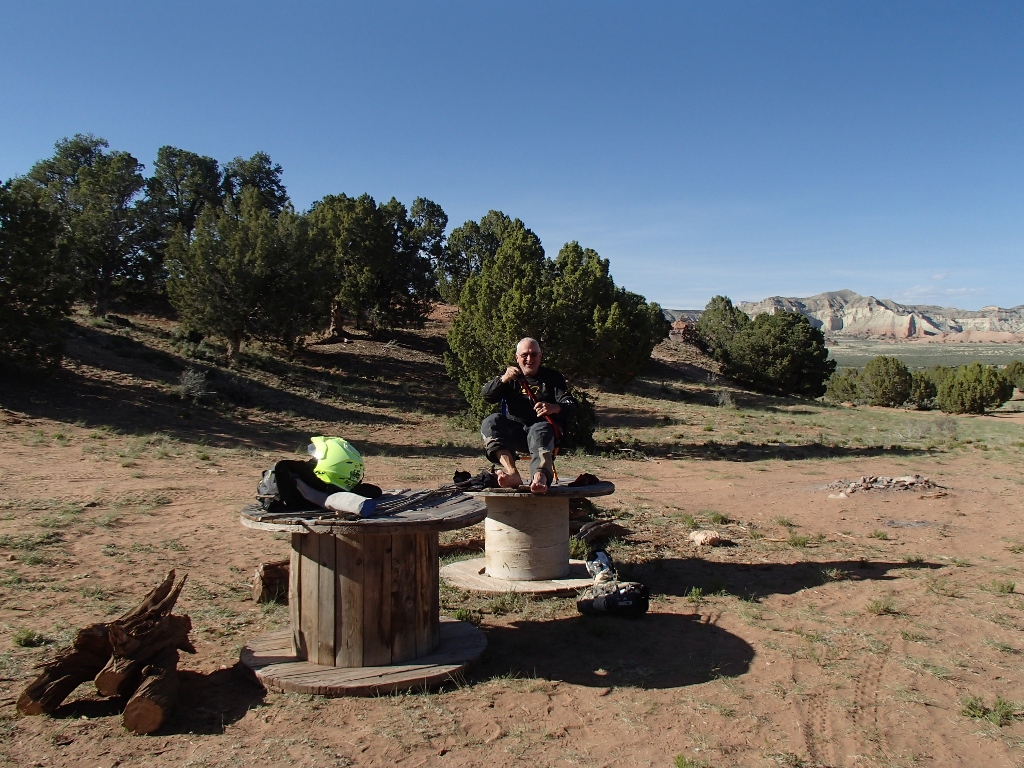 We've got a nice campsite--a view---a picnic table---drinks---a fire---and hot chocolate (with additive).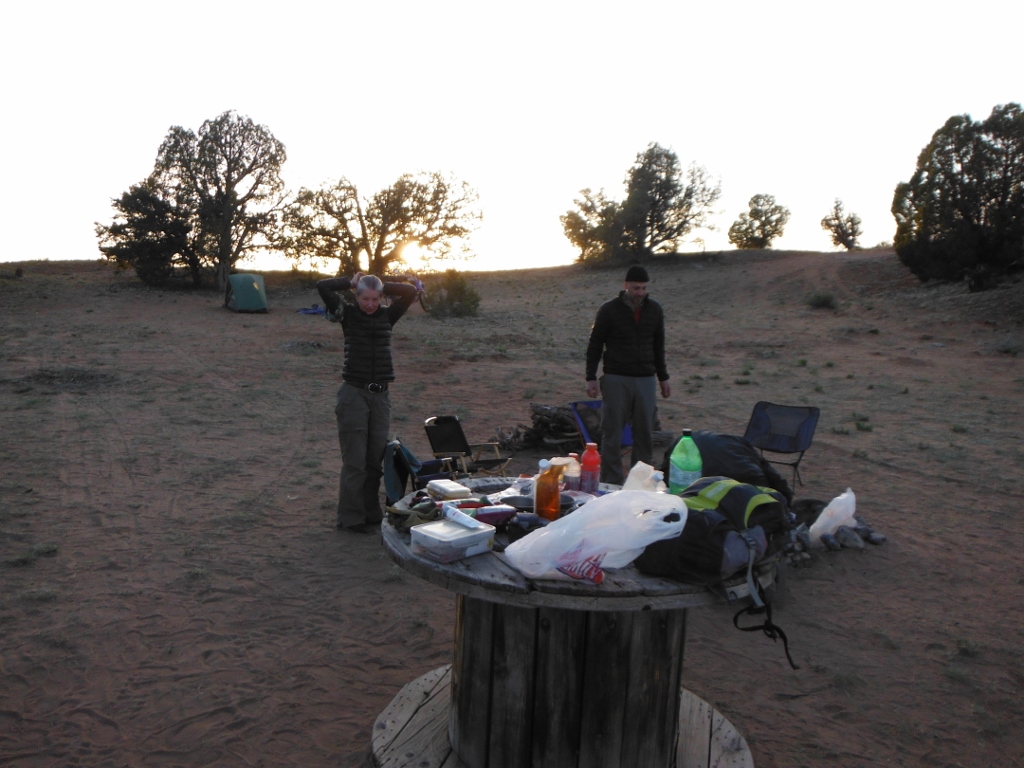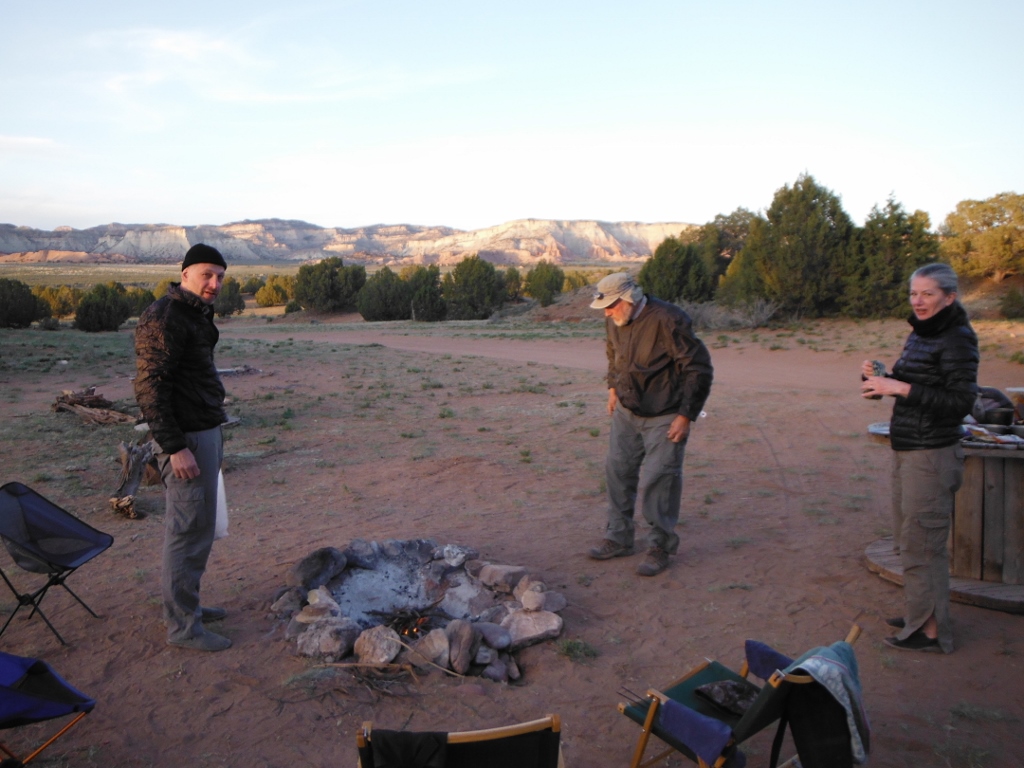 It got really chilly that night---and we all stayed close to the fire for hours after the sun went down.
Brats anybody ????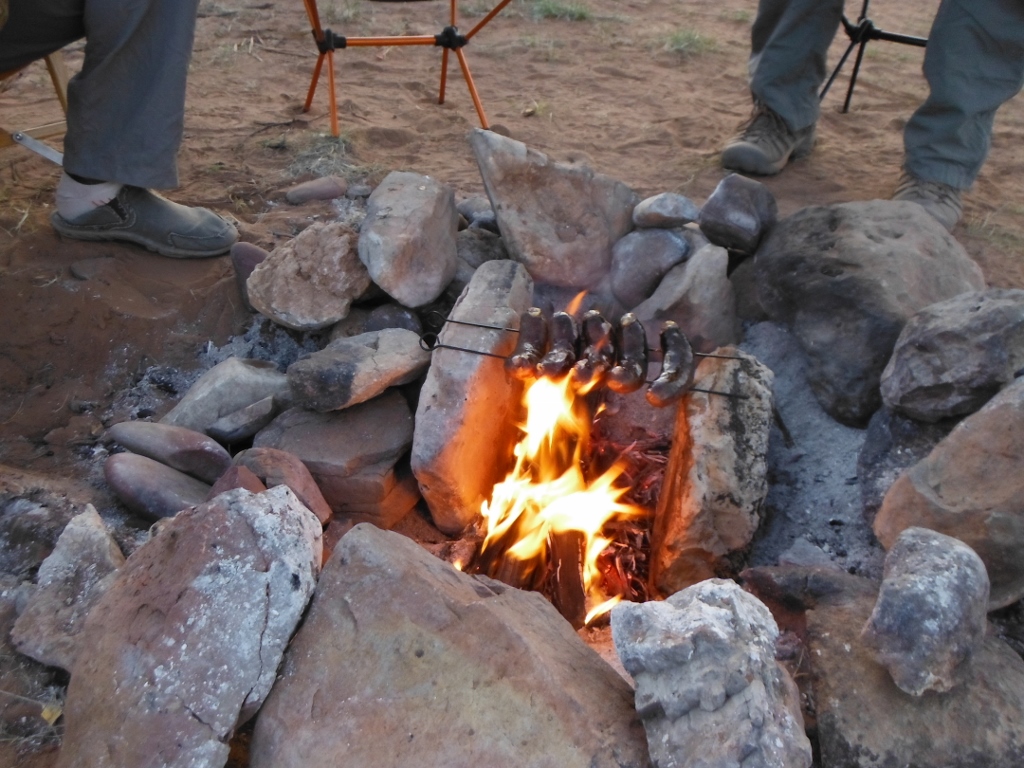 And our view !!!!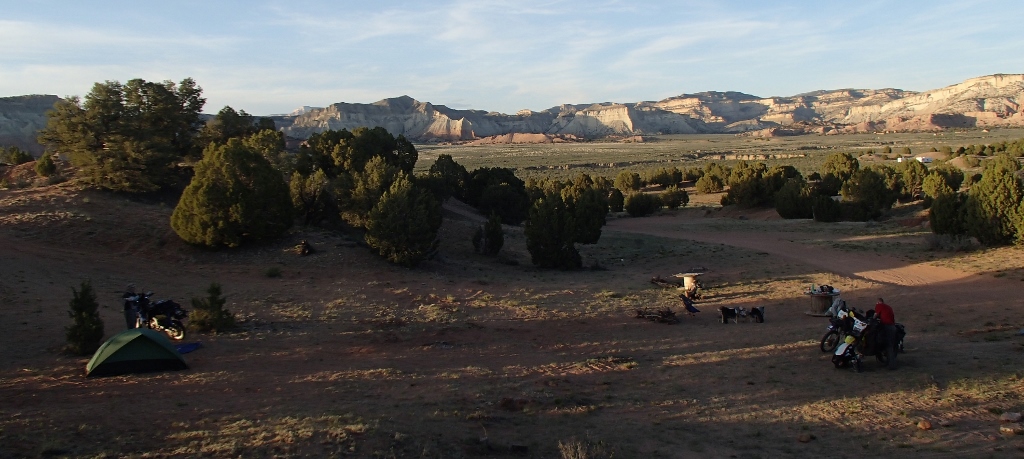 A map of our route today------about 183 miles.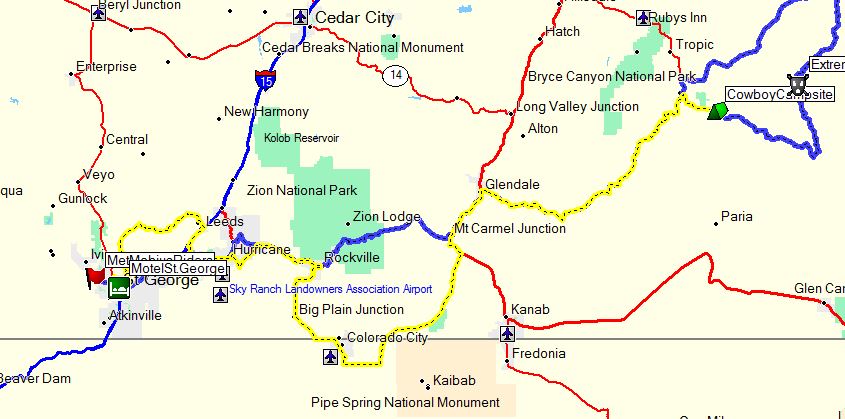 4-25-14
Camp to a Motel in Escalante as the rains move in.
Today was going to be a day that all 4 of us would never forget.
For all of us--one of the toughest days ever spent on a motorcycle.
It started easy enough as we followed Dr. Rocks route and I stopped and asked if anyboyd would like to see a really neat arch ????
And it was barely off route-------I think it's visible at the end of the road below.
Grovesnor Arch----I was there in 2002 and remembered it was one of most beautiful arches I've ever seen.
And it's kind of off the beaten tourist path--------maybe way off.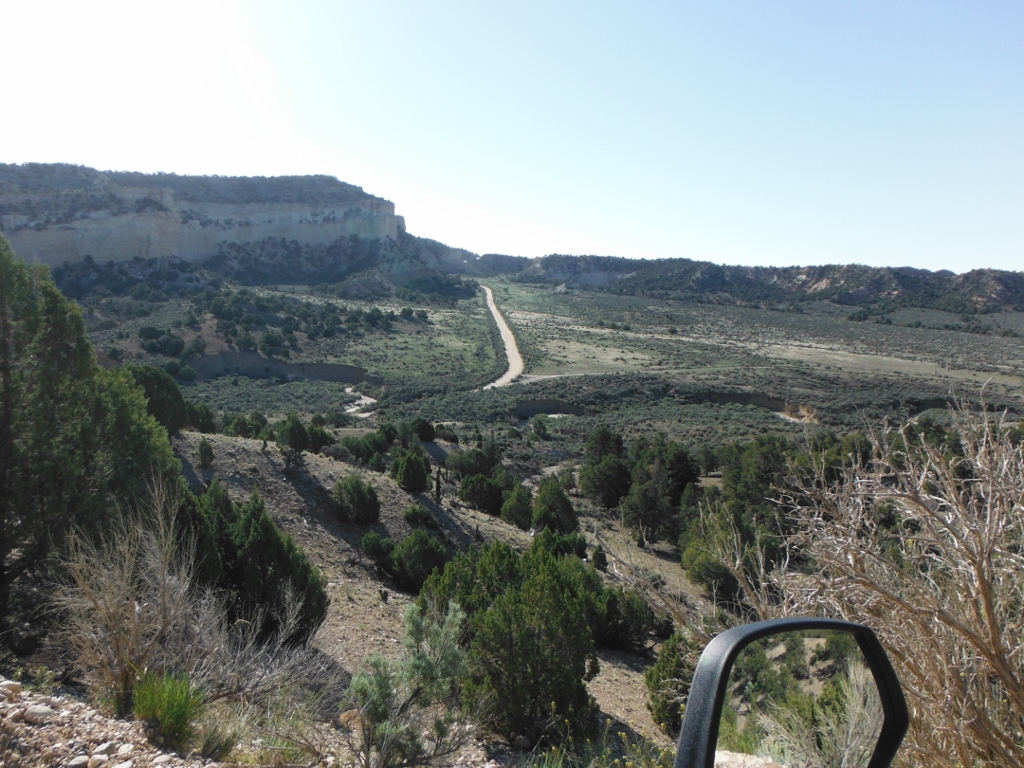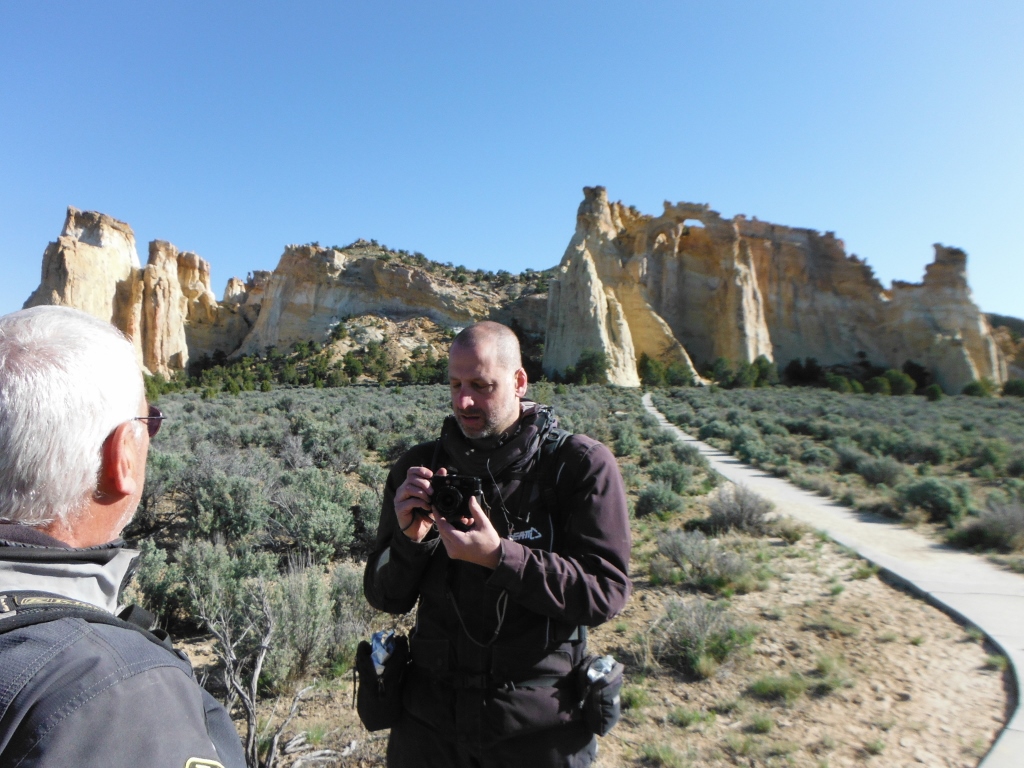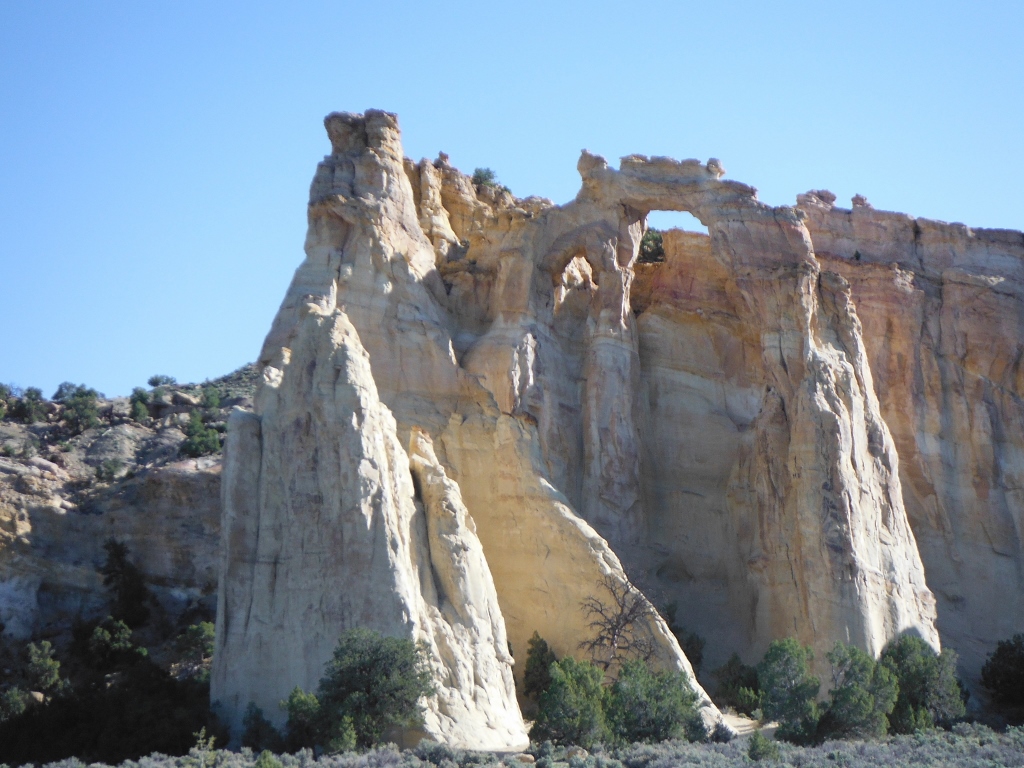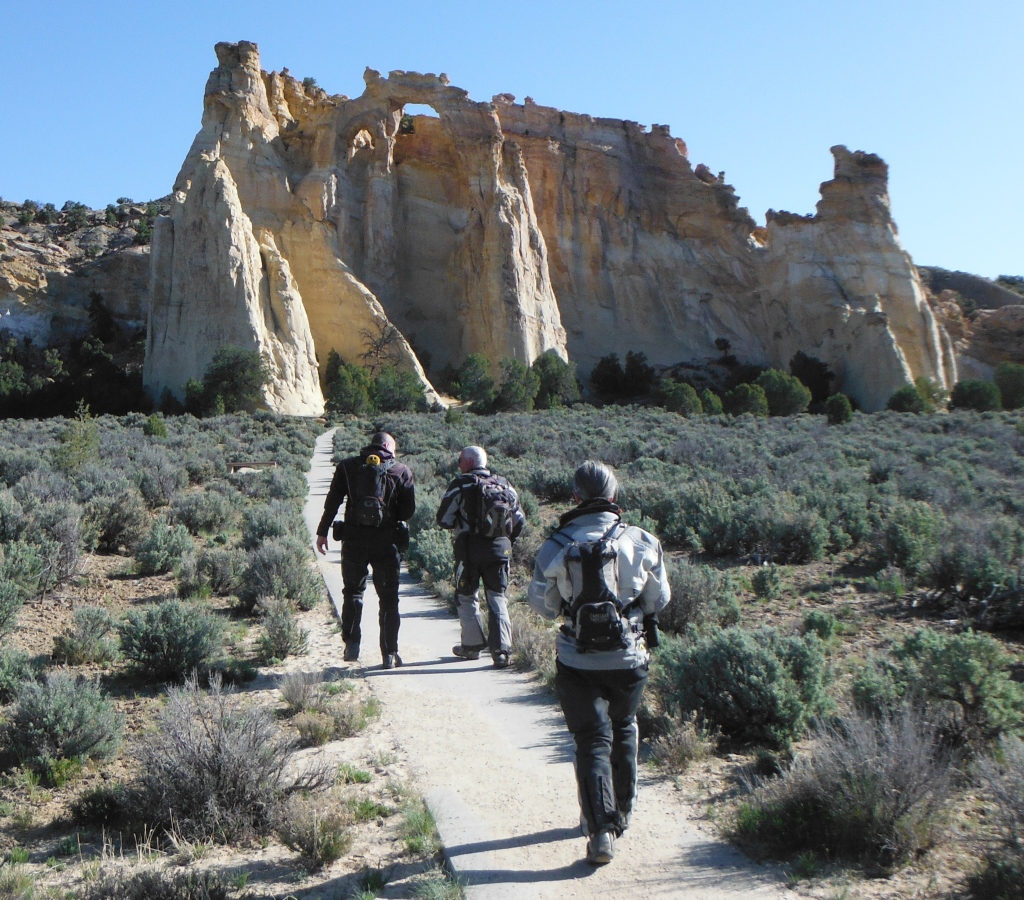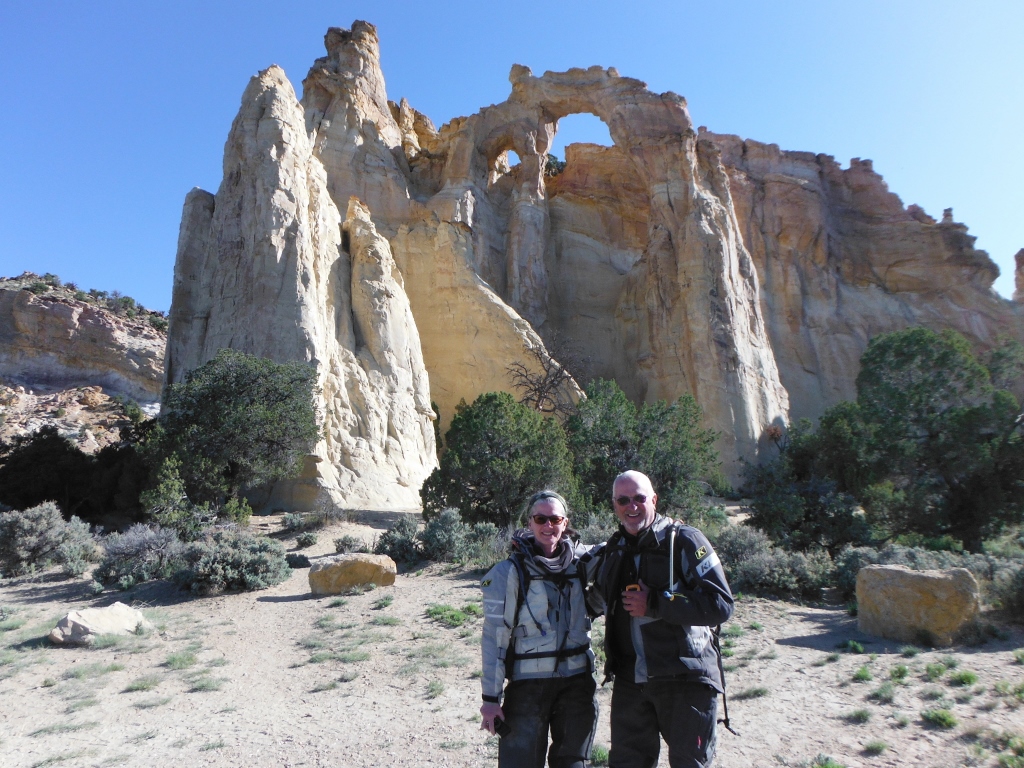 It's just magnificent---and nobody around.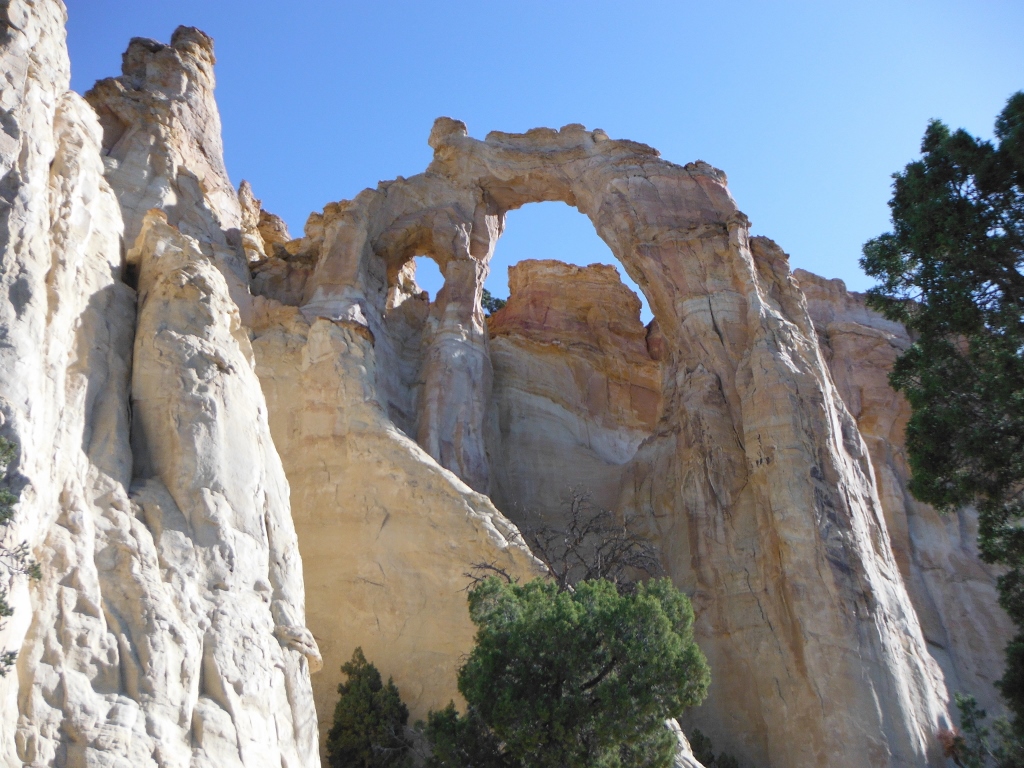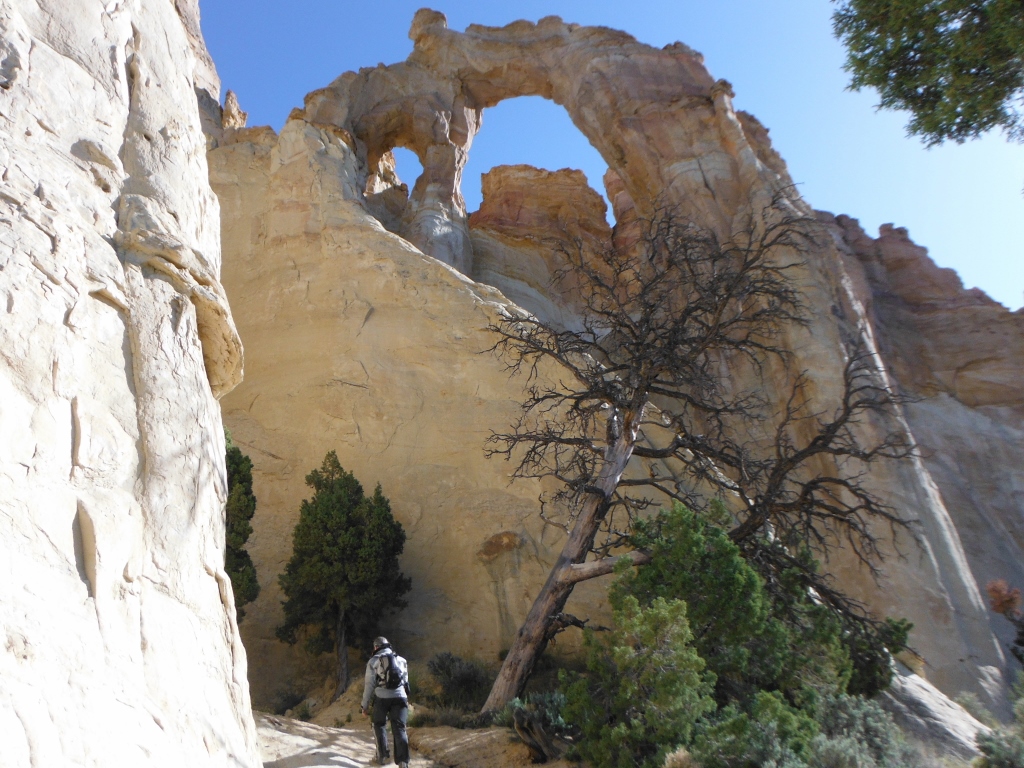 A sad picture for me.
Me and Kenny Gibbons in 2002 at the Grovesnor Arch. Kenny died not too awful long after this picture.
We rode from Moab to the North Rim of the Grand Canyon on that trip.
RIP Kenny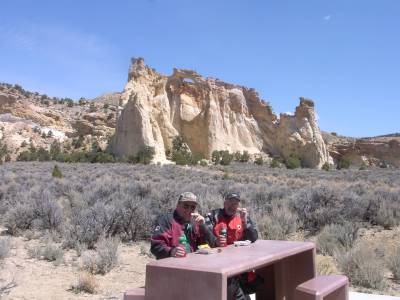 What in the heck is Scott looking at ?????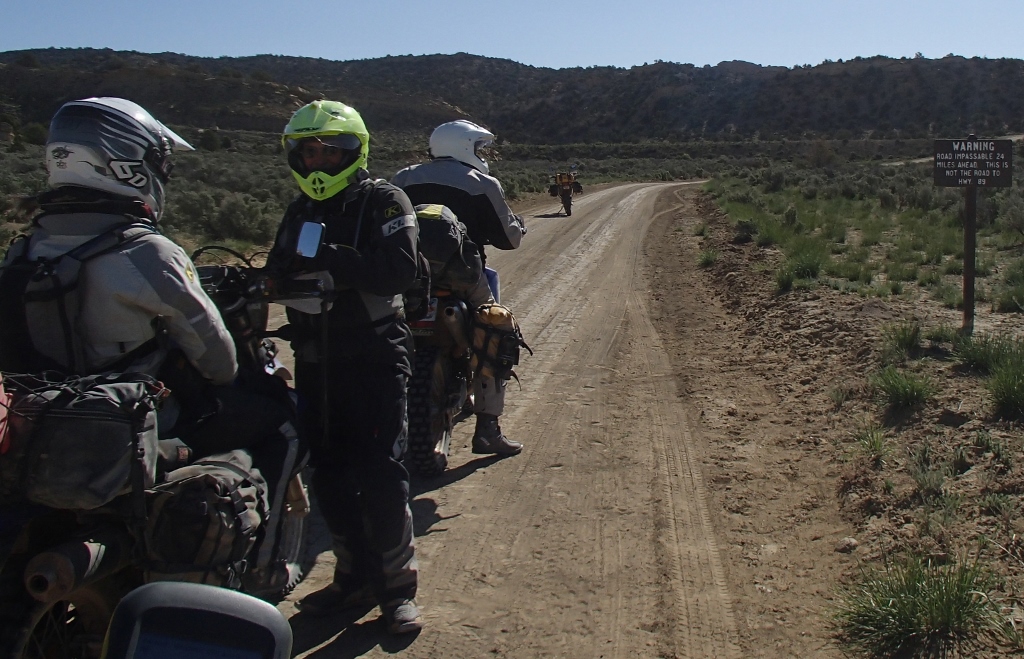 There was much discussion here---and Francine asked the question---"Why are we going this way" ??? A good question.
To the deaf ears of 3 men full of testosterone and full revving motors----how bad could it be ???

Actually Doc---was wanting a short cut as he had intel that where he was wanting to ride was washed out.
And I popped in and said I knew a "Cut-A-Cross" that I had ridden in 2002 and it was easy----------in 2002 mind you.
14 very long frickin' years ago.
I think the road had the word Death in it tho ????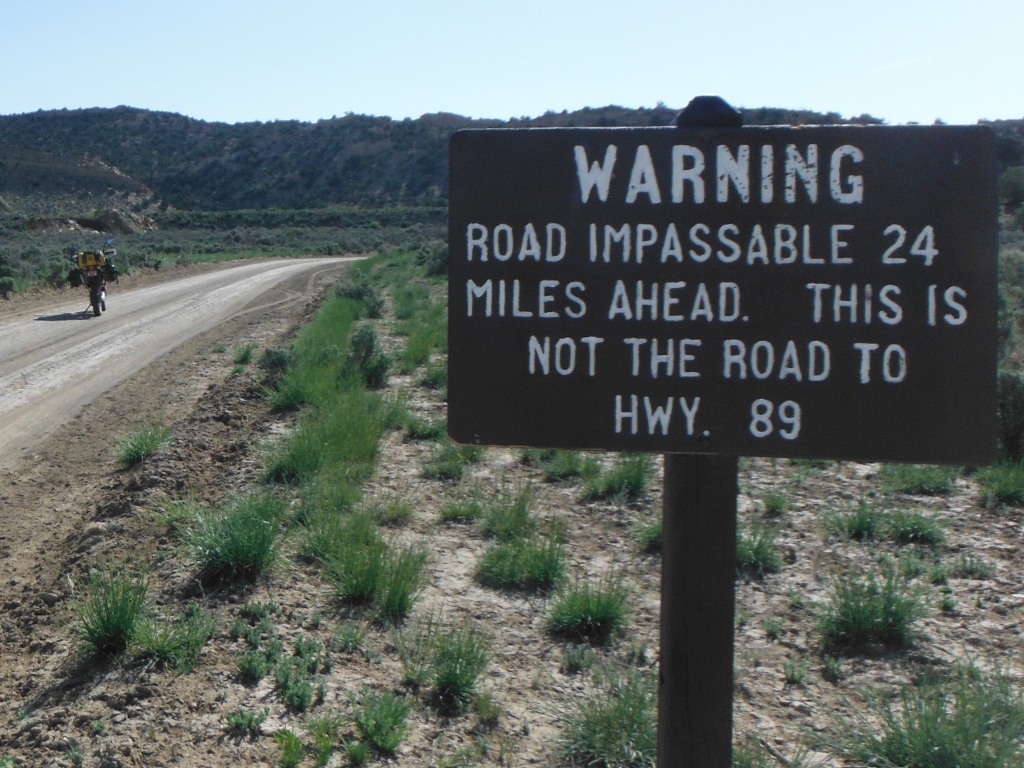 I had been leading all the time on this ride---and it seemed proper I guess that I should lead us thru the Cut-A-Cross on a road
I had ridden 14 years ago---------mind you---I have slept since then---and was much younger.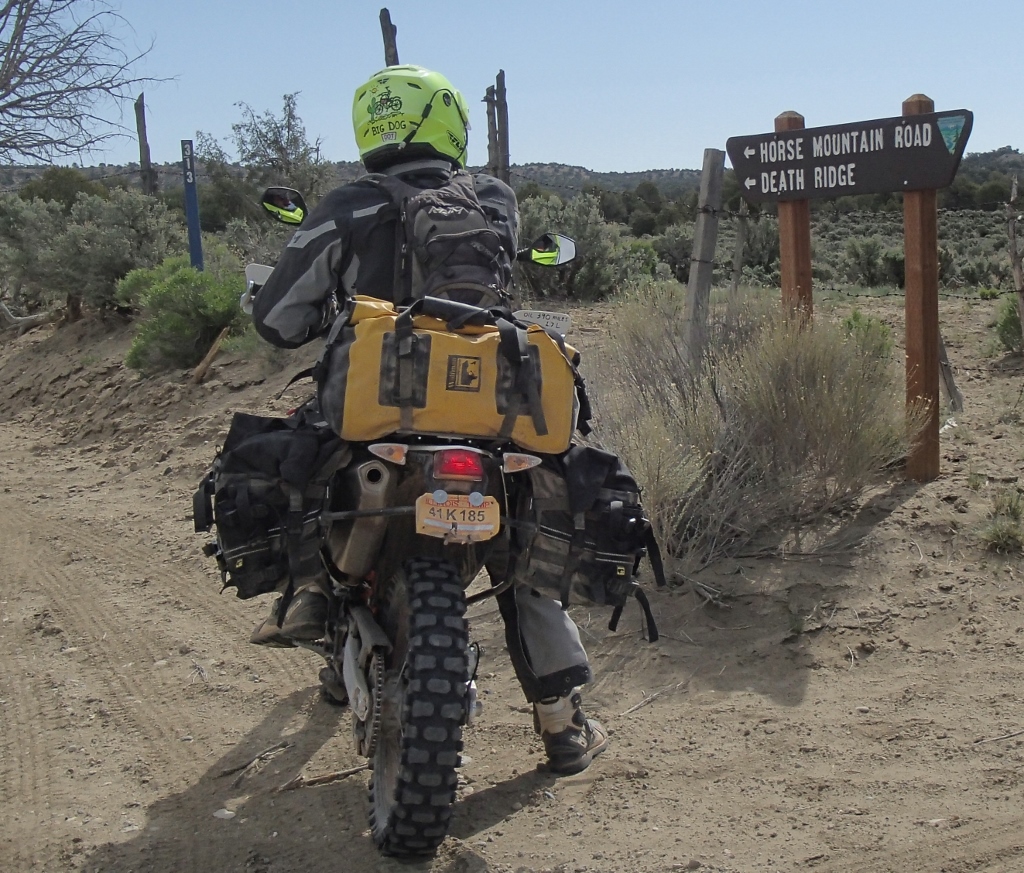 And then this warning sign.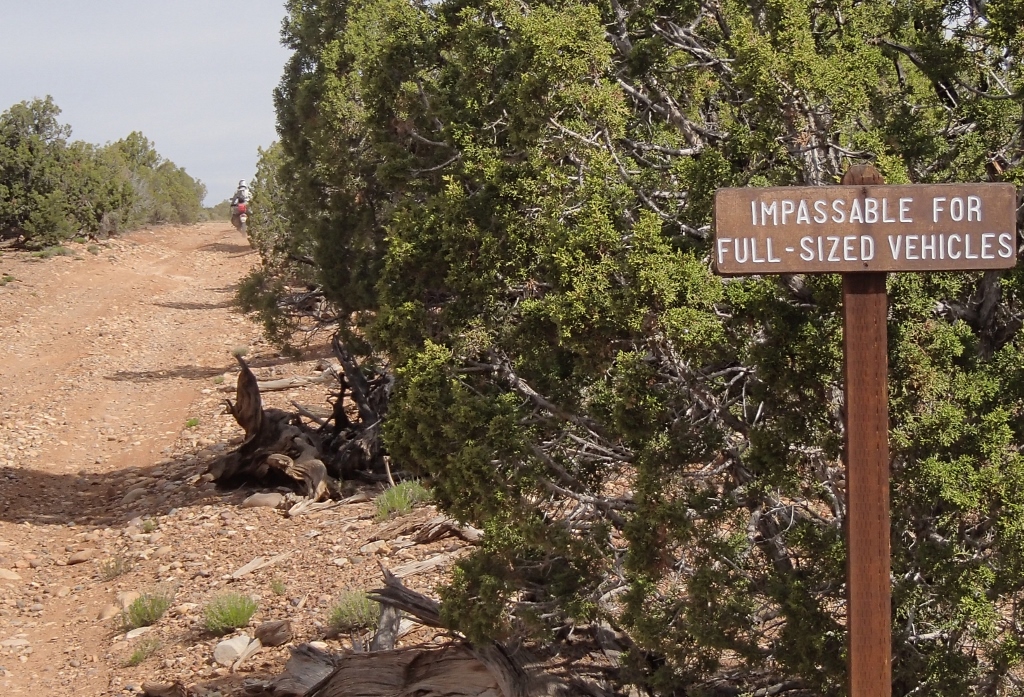 Right off the bat the road ran extremely off camber on this narrow ridge-----go too slow and down the cliff you go.
The easiest part of the next 12 miles which took us 4 hours.
You had to ride this pretty fast or suffer the consequences.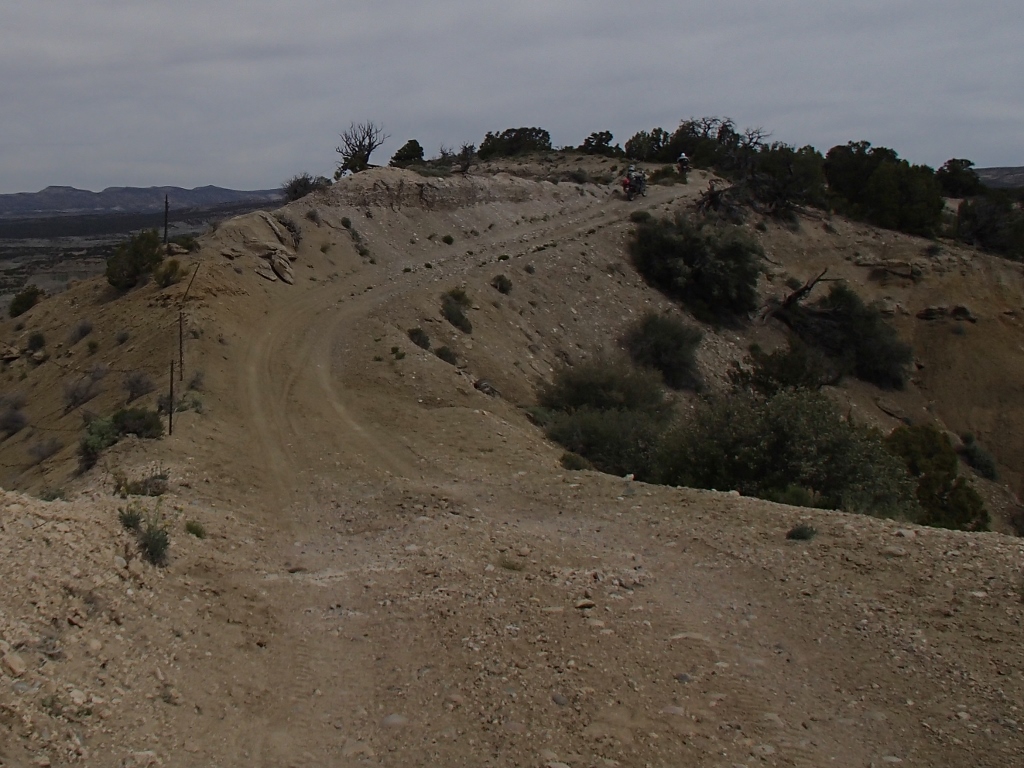 See those jeep tracks behind Dingweeds ???
It would be the last tracks we'd see for 12 miles of hell-----that is a drop off behind Scott and we all had to bulldog down it.
Jumping is not an option on a fully loaded bike.
This wash we dropped into was severely damaged, washed out and a 1/4 mile wide.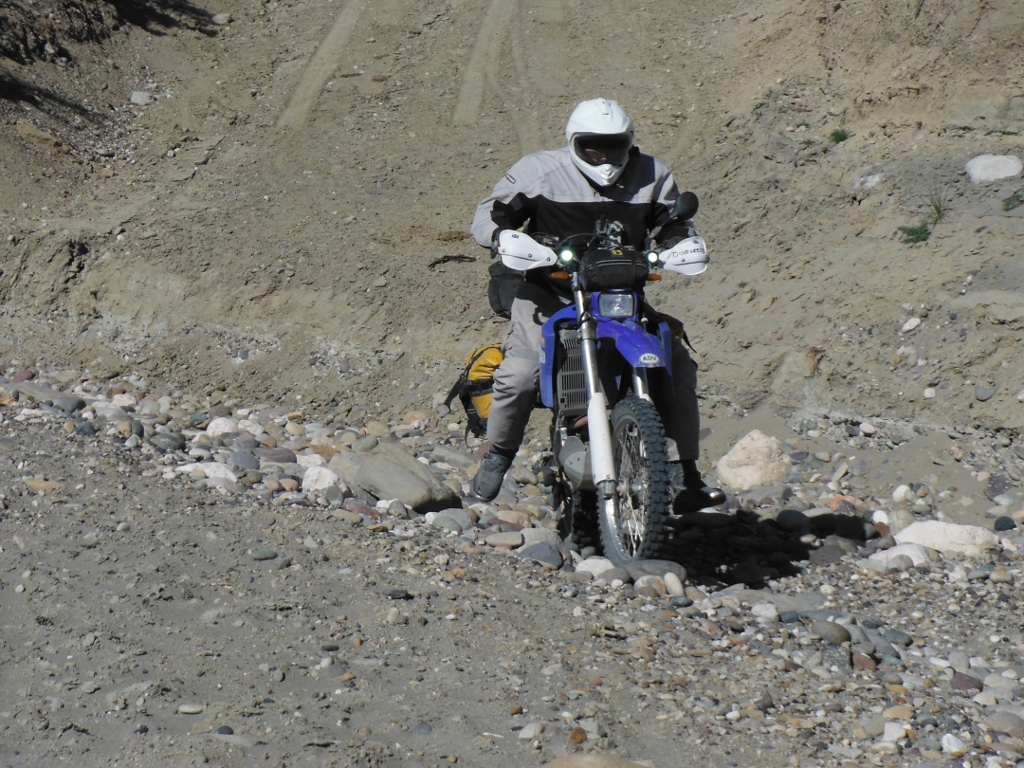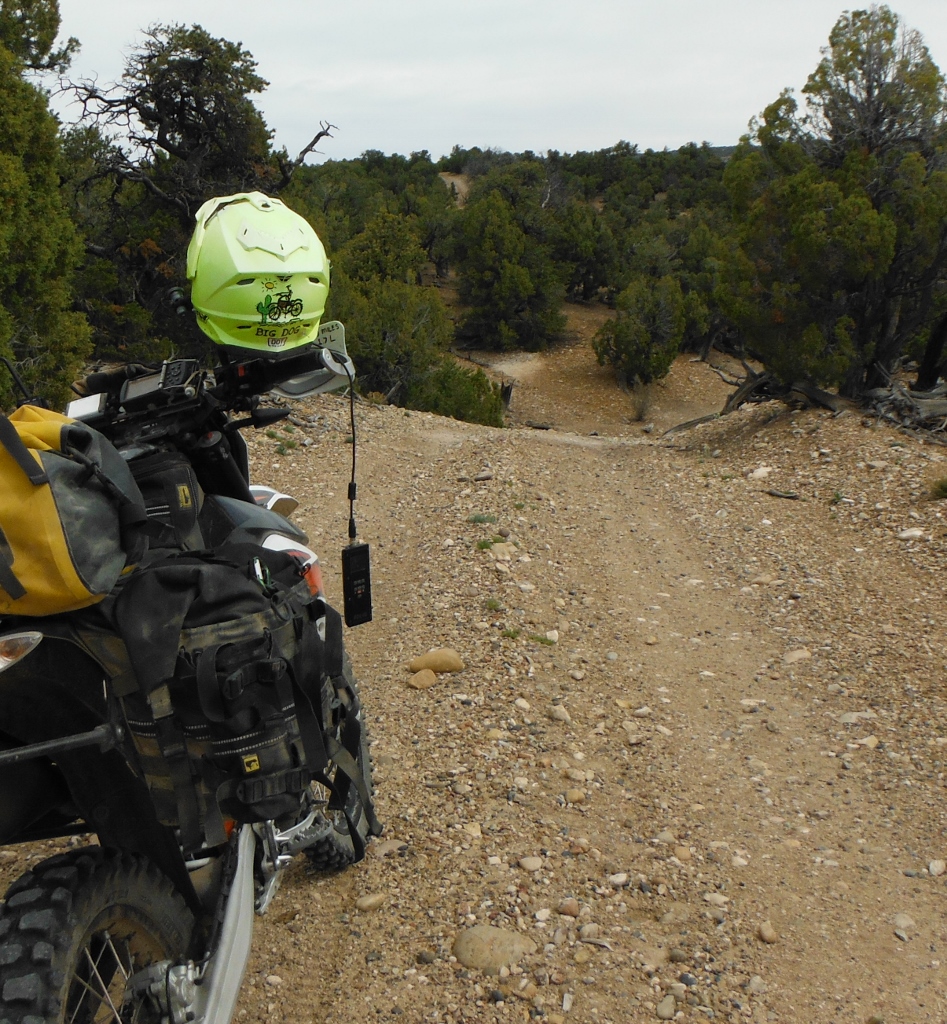 There were at least 500 places to fall into-----and break a leg---and just die.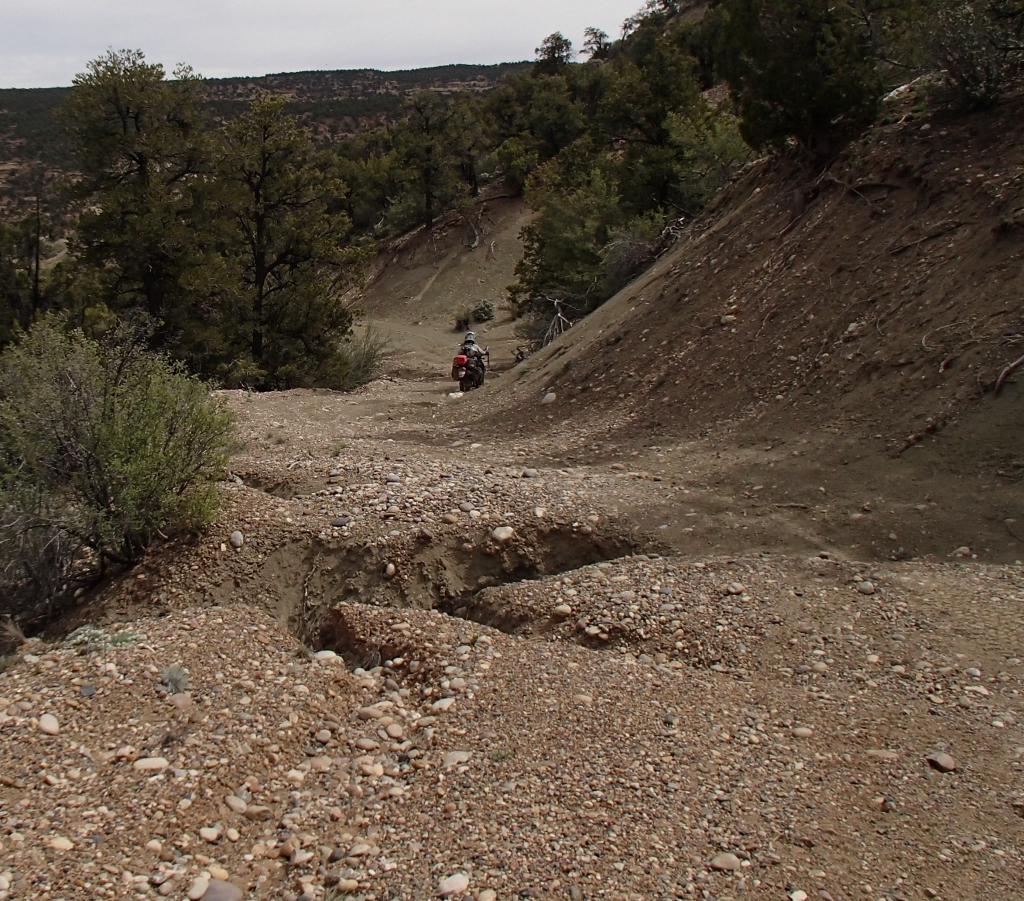 Somehow---these picture show the steepness of the terrain--most pictures never do.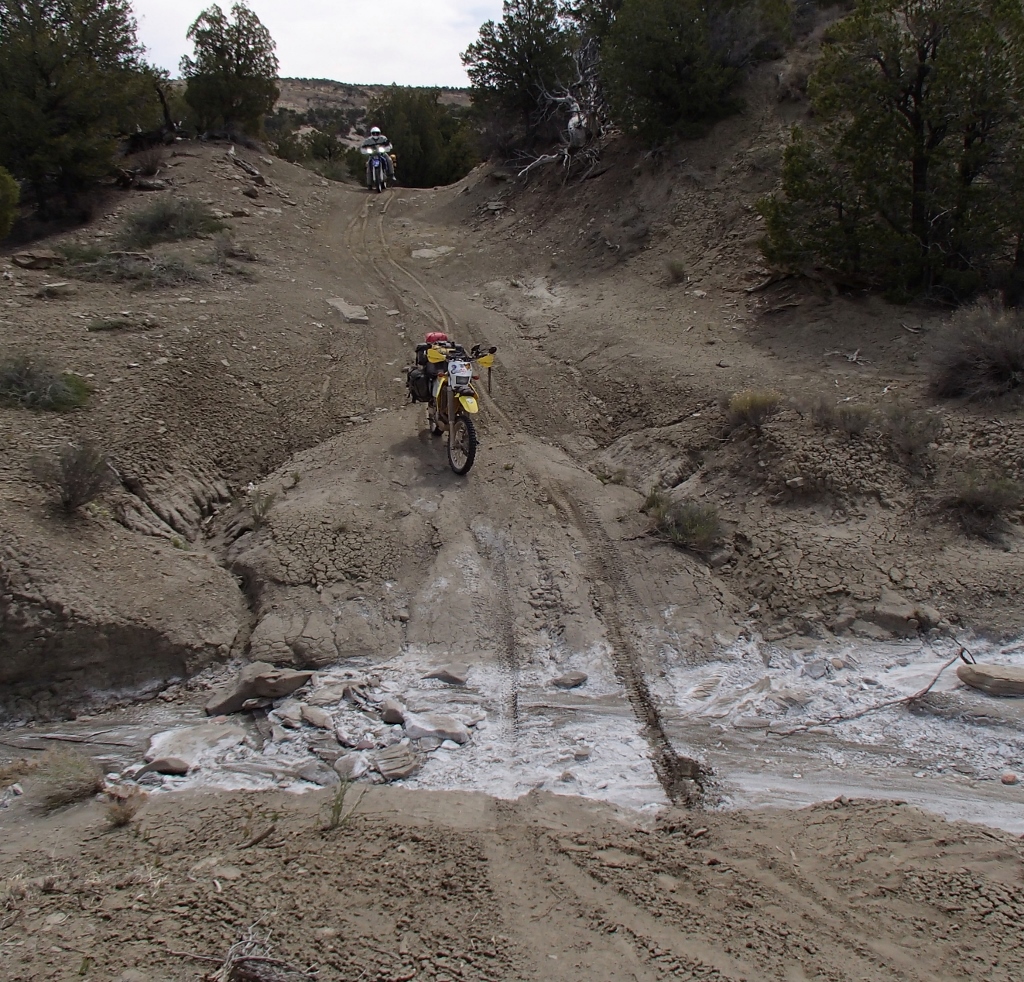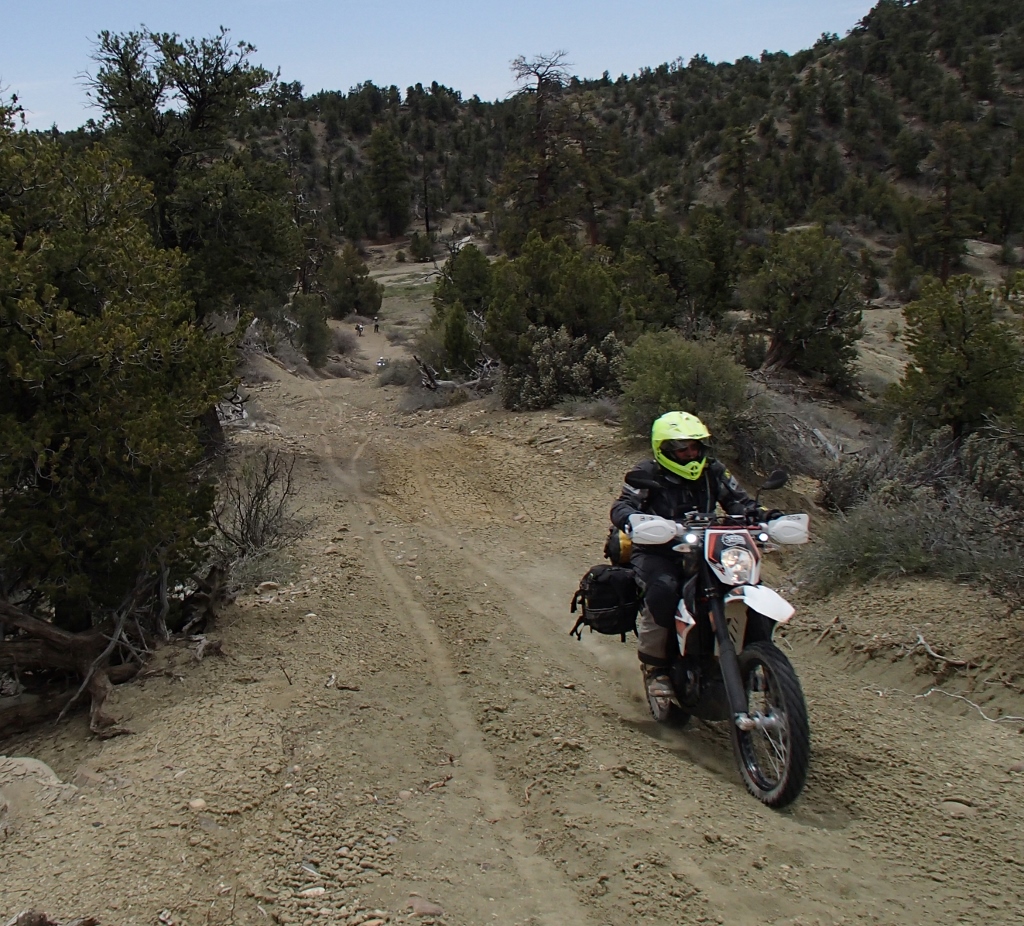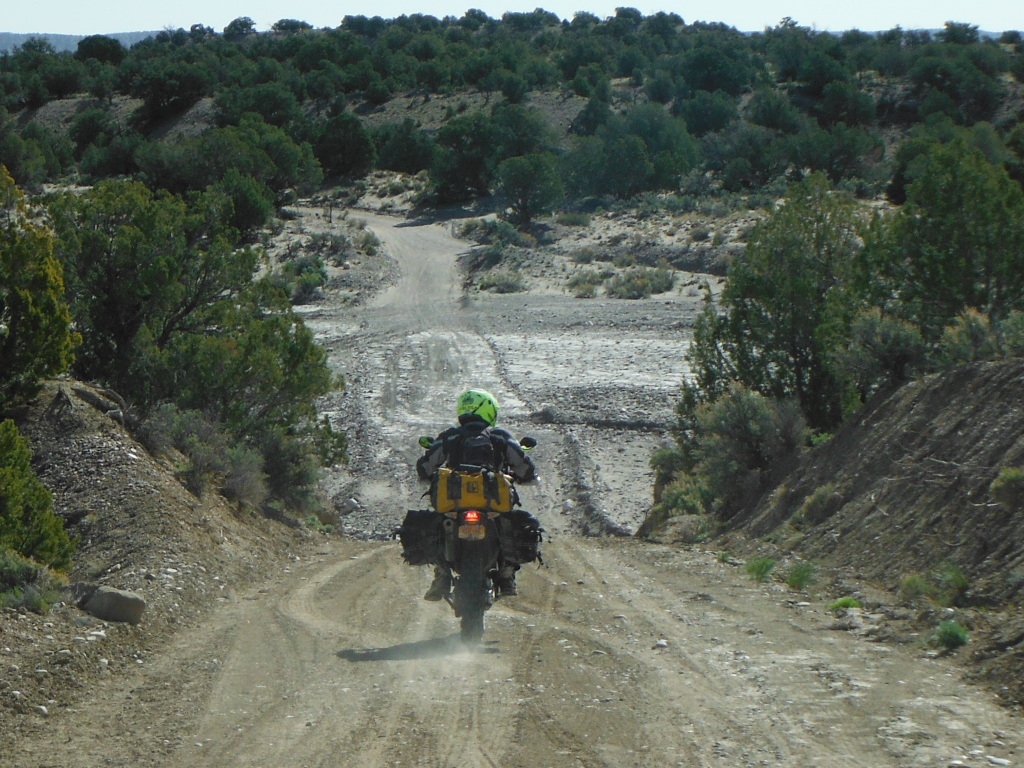 Better stay to the left.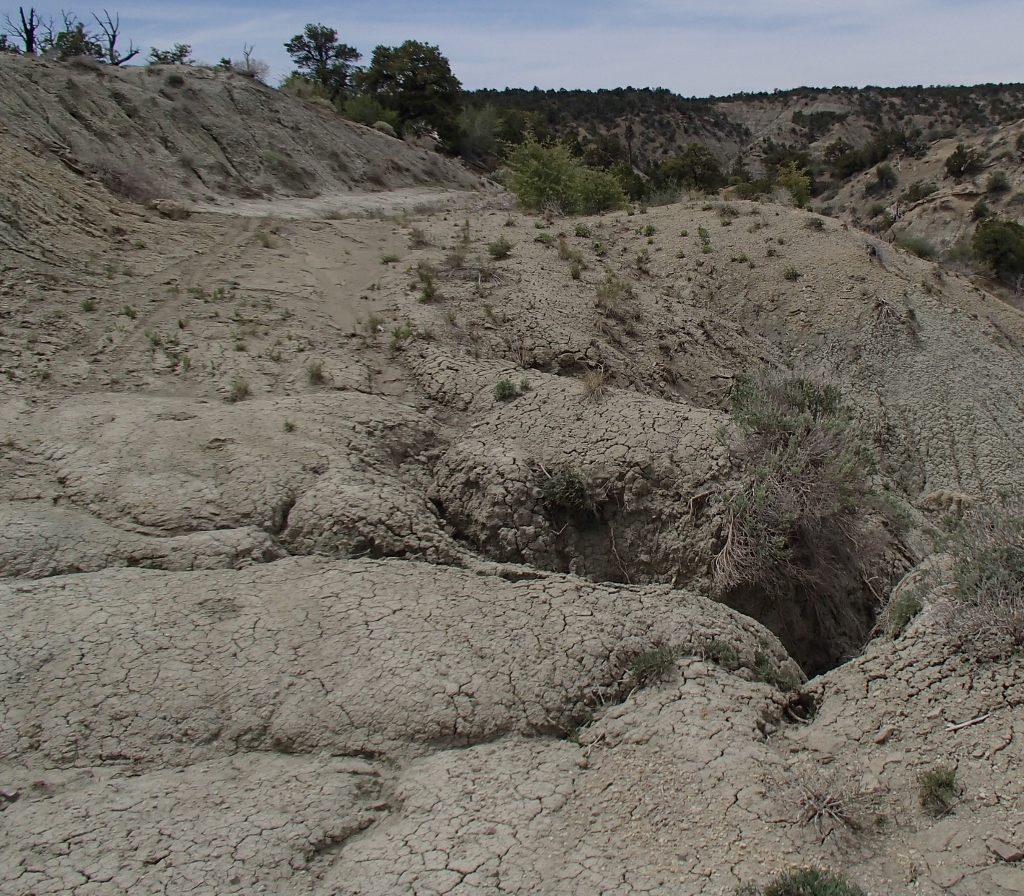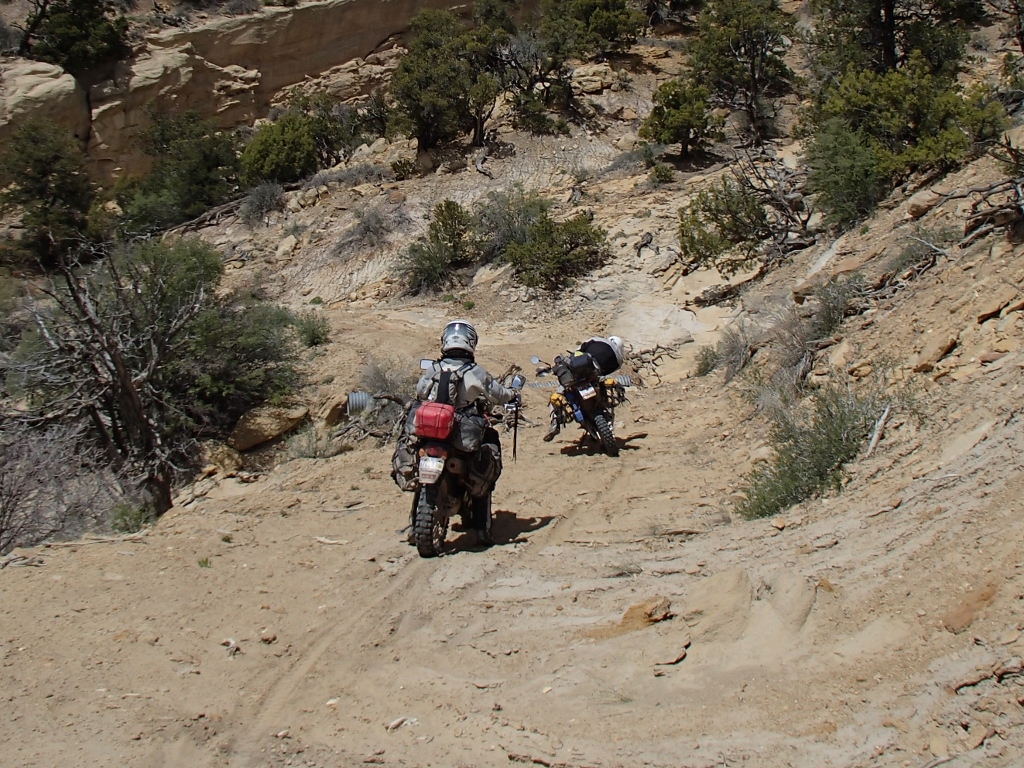 Pic your line very carefully---keep some momentum---and commit to it------------------------or die.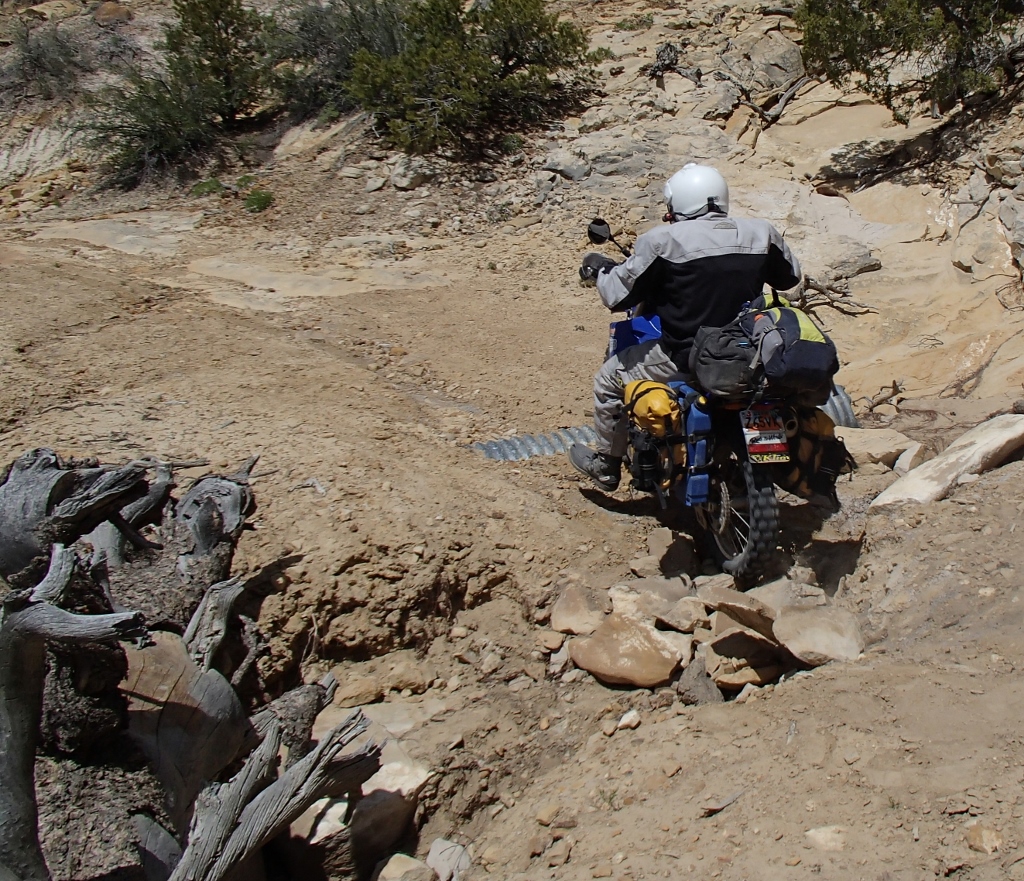 Our bigger bikes had nothing on Scotts WR250R----and I knew that --as I have one.
Wads of horsepower is of no advantage in stuff like this.
And weight is a severe disadvantage.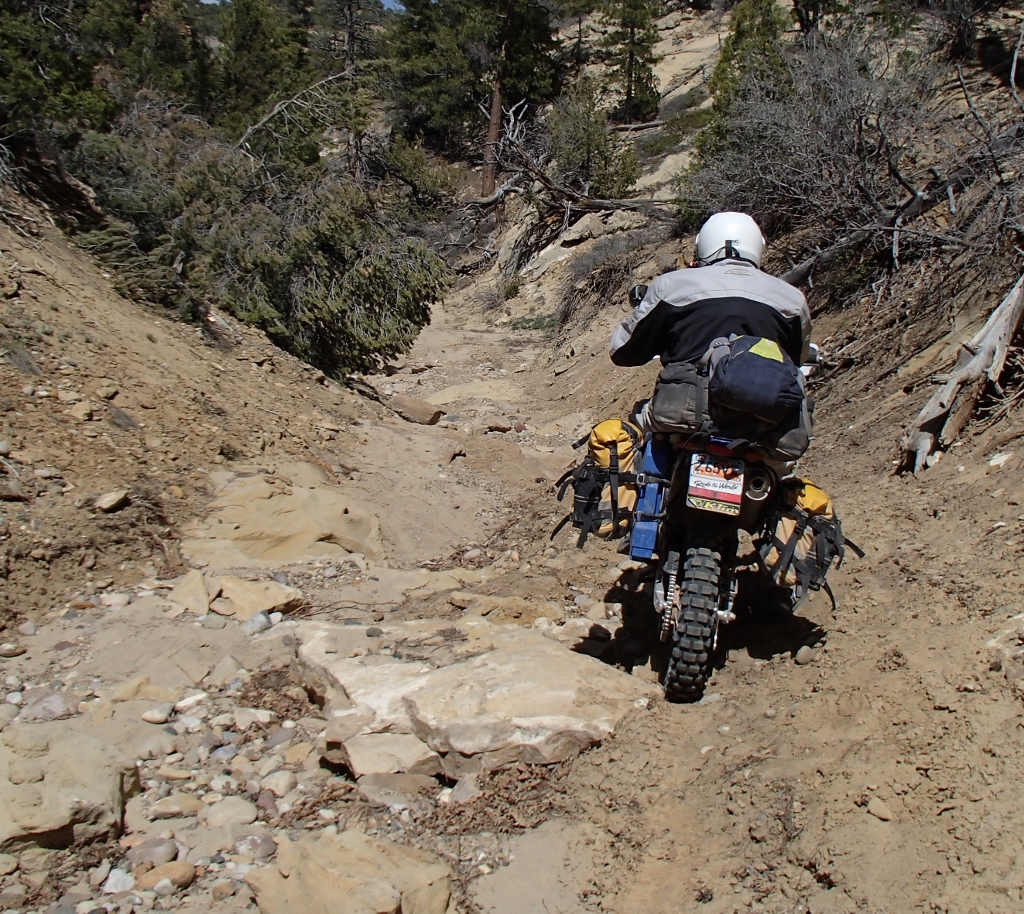 I pulled up to this first---and walked it.
We discussed going back--but didn't have sense enough to go back.
You can't see it---but I placed rocks in the rut to the right-----otherwise you'd have end-oed into it.
So going down--if you hadn't walked it------you had know idea of what was around the bend---if you got that far !!!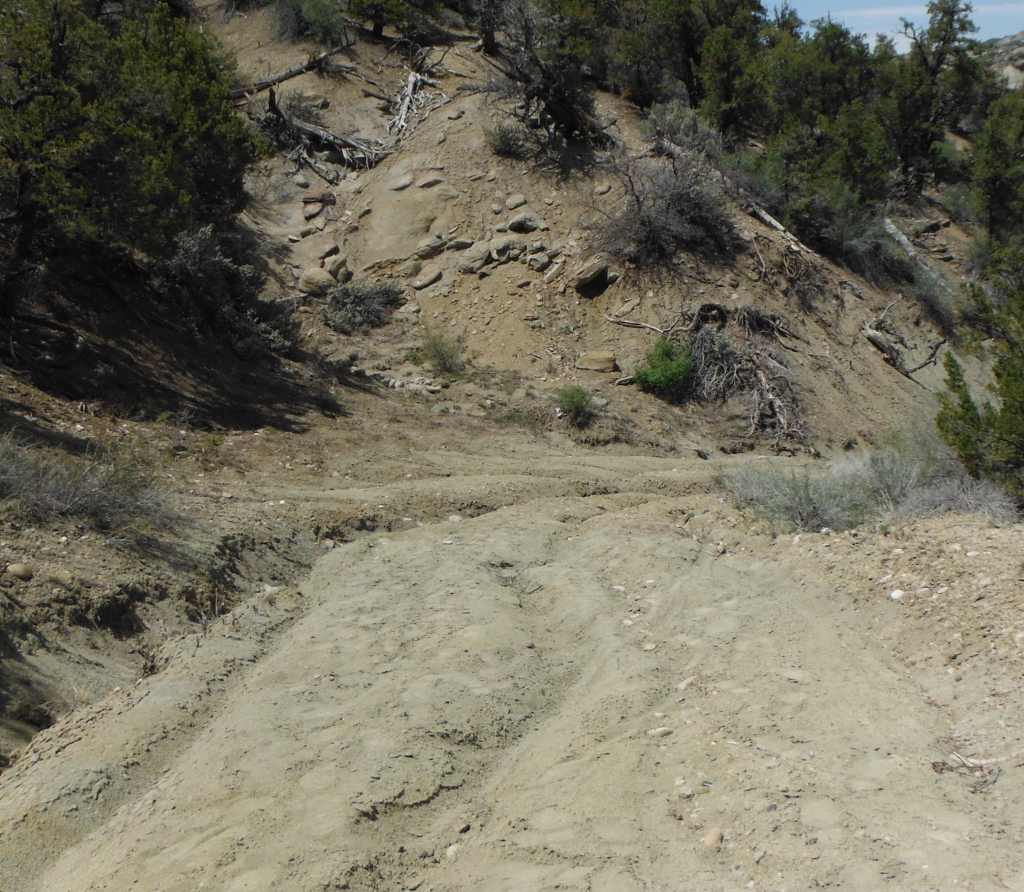 I was hiding here---and Francine never even saw me as she went by.
I guess this was salt ?????? It was soft.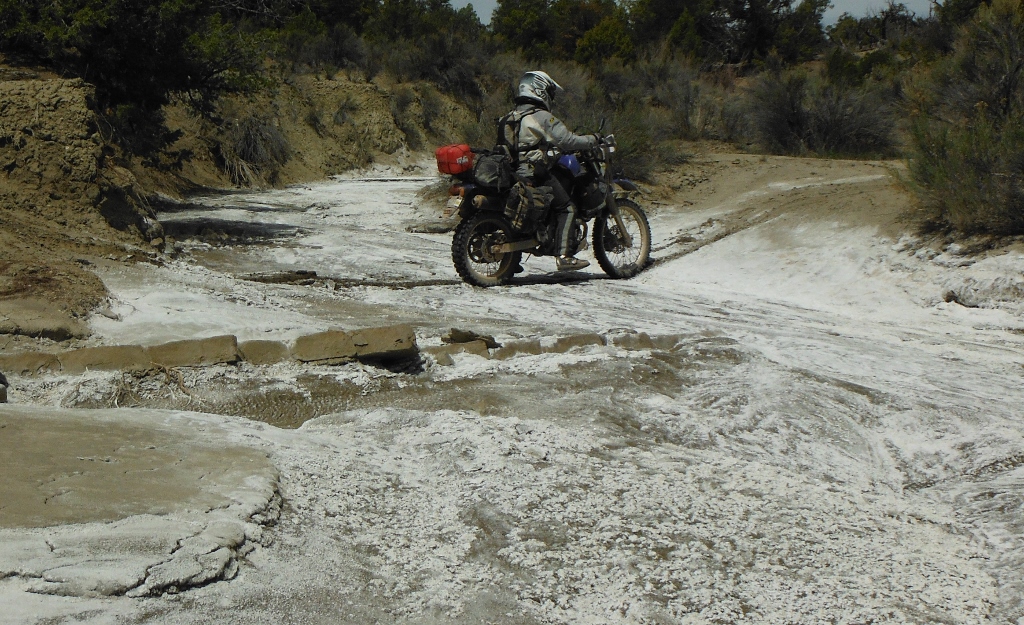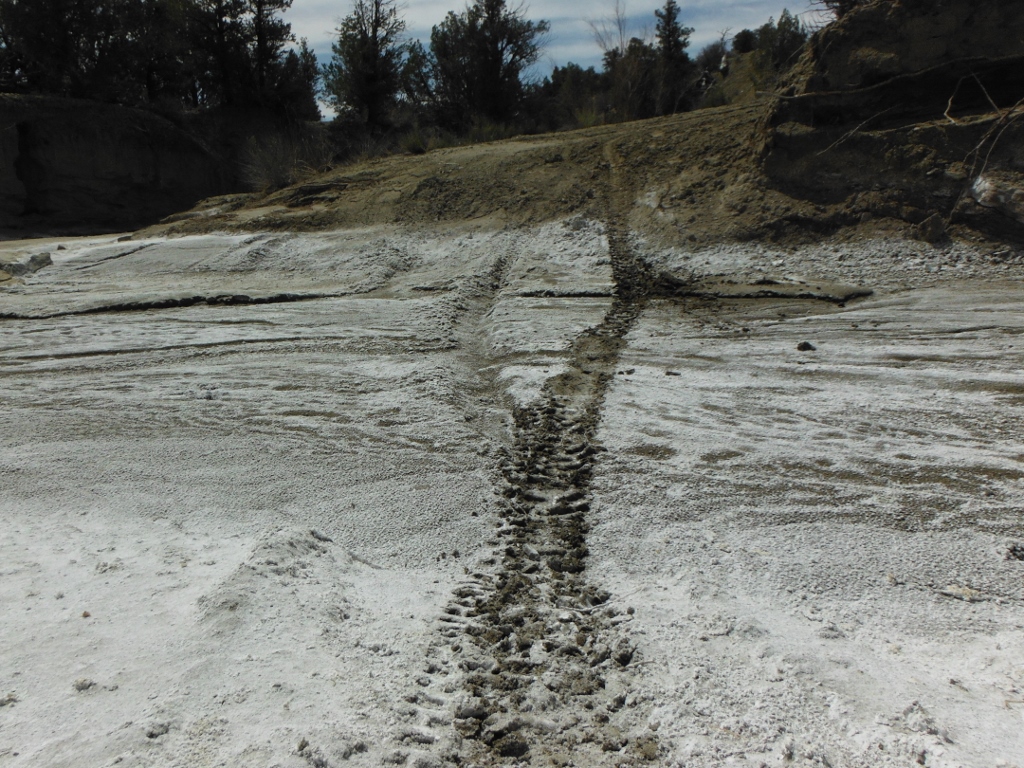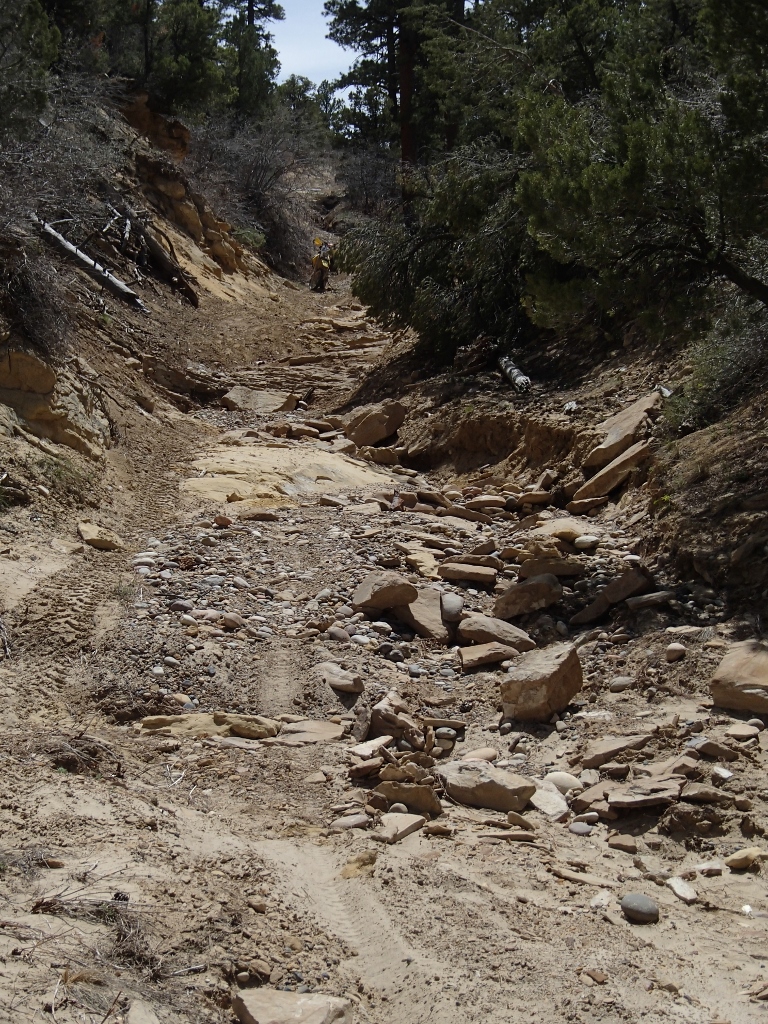 Many more places to misplace a foot and break your leg----you tried to keep moving and never need to put a foot down.
Which makes for very anxious moments.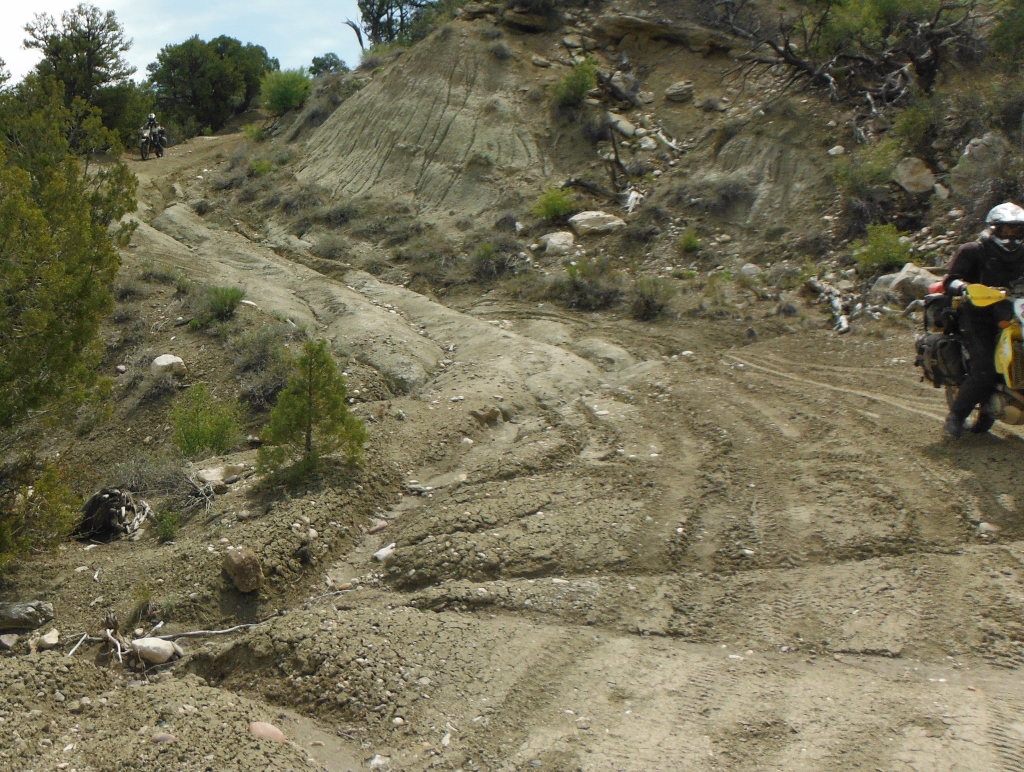 I finally hit a big graded road and waited for the others to catch up---and when Francine got here I thought she was going to dismount and
kiss the road. We had to help each other out at times on that road. Many times all of us struggled to breathe trying to ride that tuff
stuff so slow. Sometimes pushing your bike after getting stuck in a rut. Nobody got mad---had a mental breakdown or had a real crash.
Several tip-overs-----they were unavoidable.
We were extremely lucky to have gotten thru there without an injury or breakdown.
We talked later if a bike broke-----you couldn't hire anybody to go in there and get it---you might have to leave it.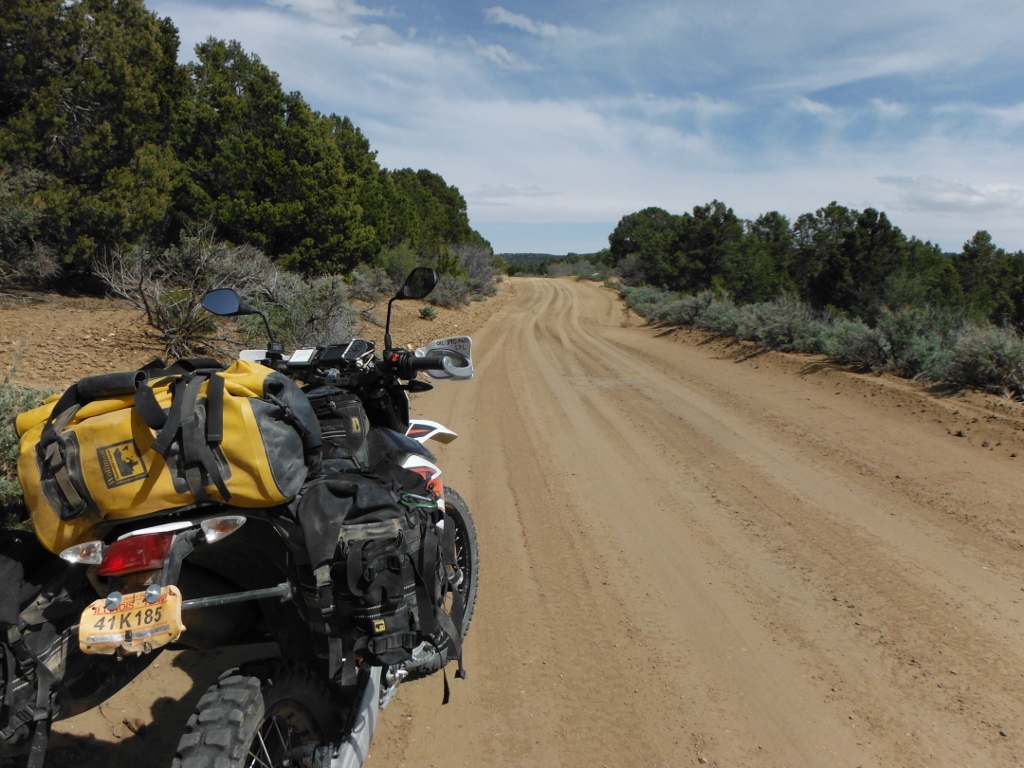 And finally at the Motel I had a high speed get-off. Or should I say my bike did.
We were checking in and the 40mph wind just blew it over.
The kickstand on that bike is too long----I shortened it as soon as I got home.
Or maybe ----------it was just tired---I know I was.
I think the bike laying on it's side sums up how we all felt.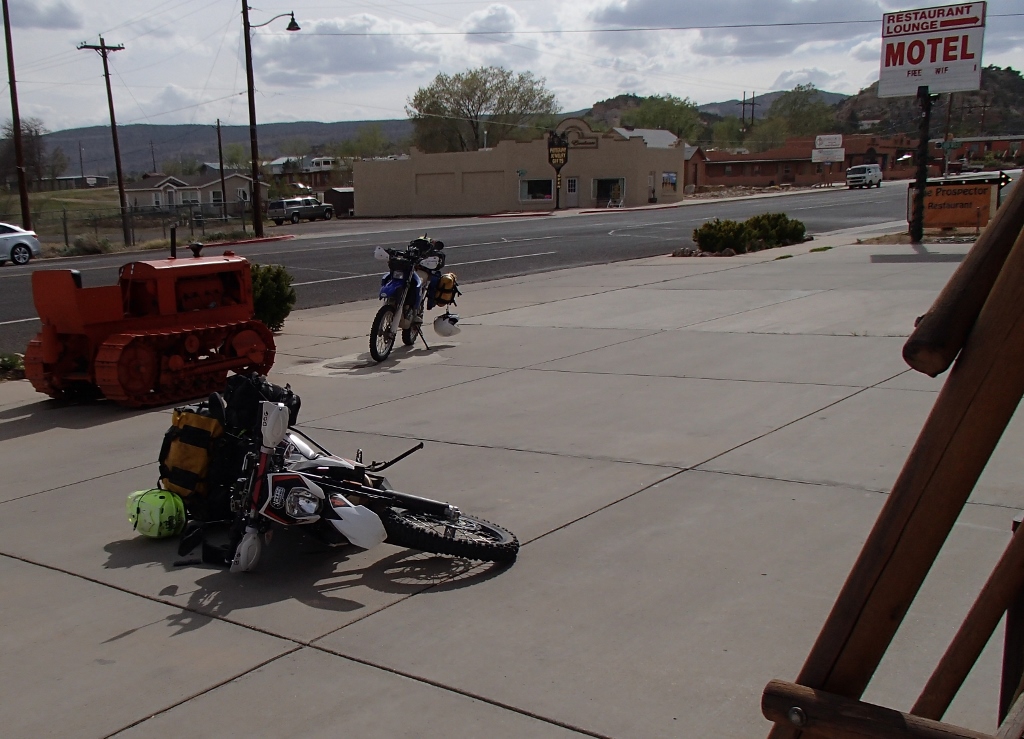 55 miles in 8 hours--a map of our ride.
Only 12 miles of it was the extreme stuff.
I don't know how our clutches survived it.
Looking at the map--you may thing we were on the Smokey Mtn. Road--we just intersected it
when we got close to Escalante.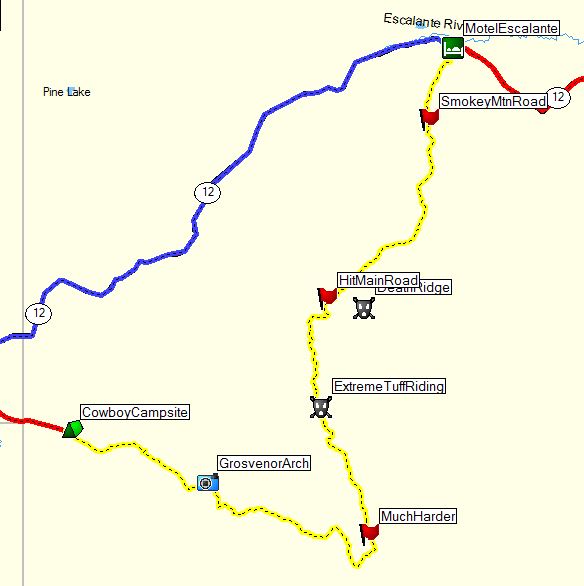 A huge rainstorm blew in that evening----and it rained all the next day.
Where we were going would be impassable when wet----so we stayed here an extra day.
Which after we did get riding---we found out it was the smart thing to have done.
For The Rest Of The Story
Click HERE