Hoosier National Forest Ride
Indiana's finest back roads
Fall 2011
My buddies Jerry Mueller (Road Dad) and Tim (Woodsrat) have been putting on this 2 day ride in the
Hoosier National forest for years----they take you thru the most interesting and scenic places in Indiana and try
to change the route up each year as much as possible. This year the ride was over 200 hundred miles each day--and if
you dally'd to much during the ride---you'd arrive in the dark.
We started in Martinsville, Indiana and I bet 40-50 riders showed up for the ride and we all broke up in small groups.
Not much left of Silverville---better go there before it's gone.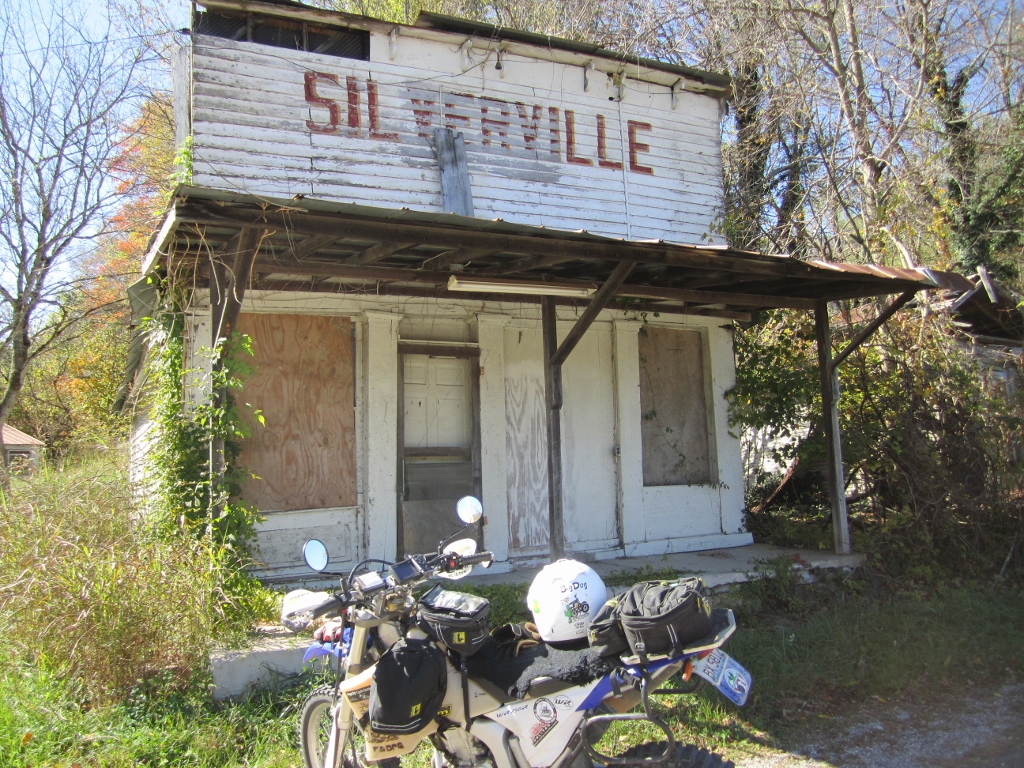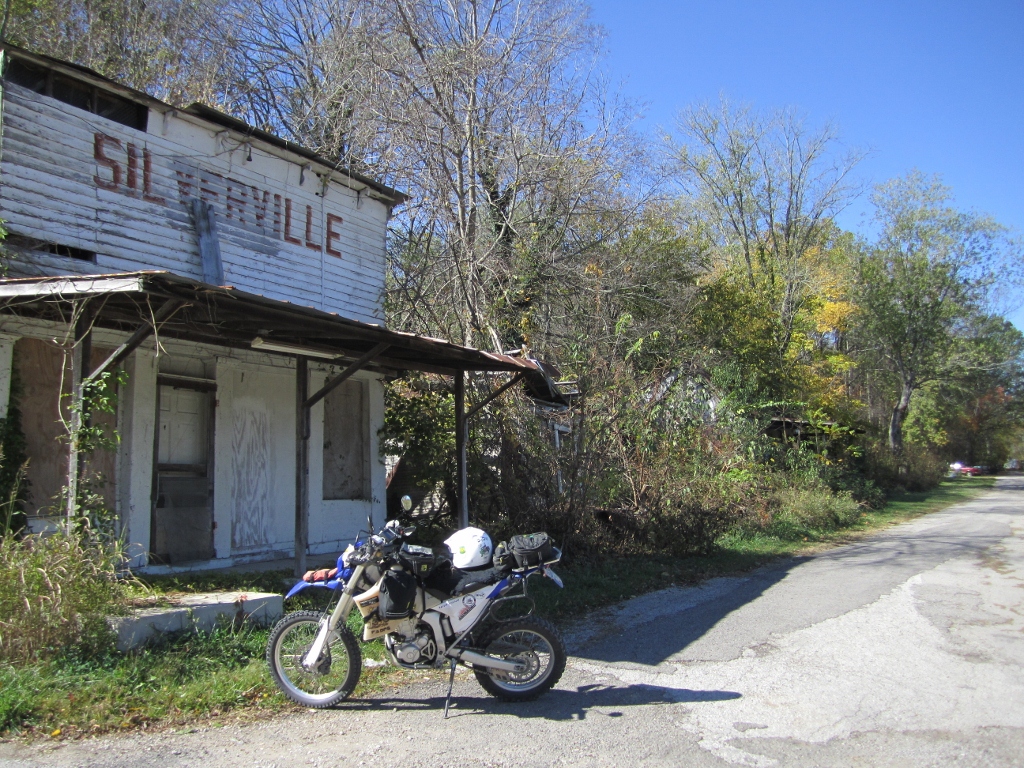 We headed South toward the Ohio River and I proudly displayed the illegal and unauthrized Hoosier National forest ADV sticker Jerry gave me.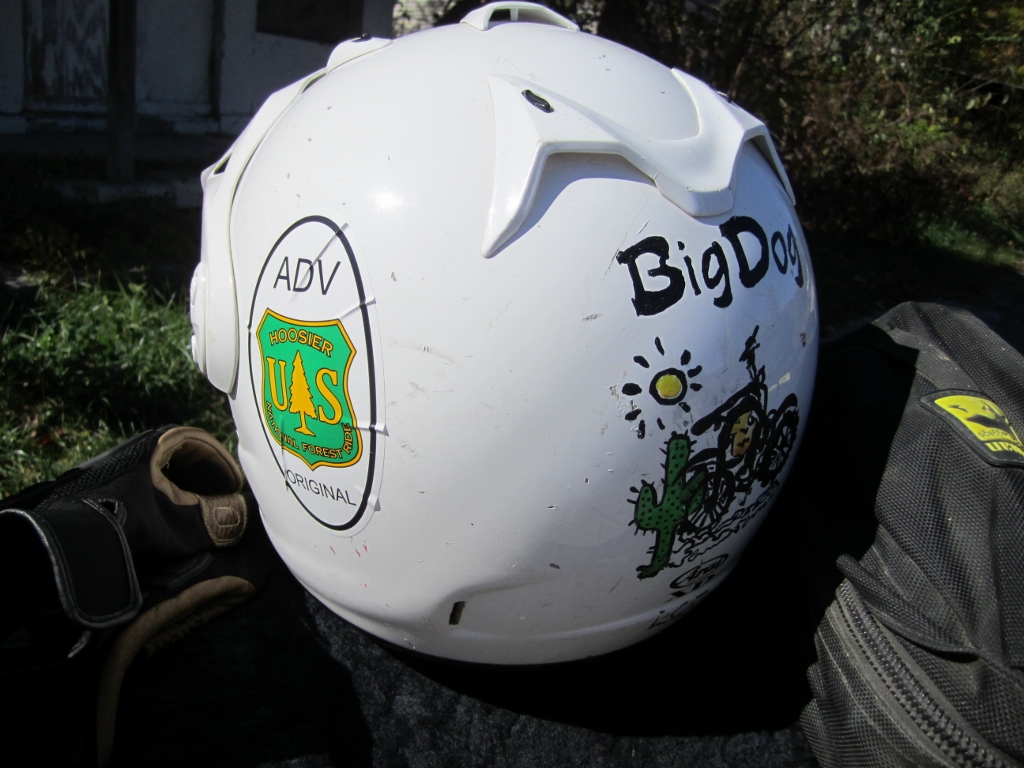 We lo and behold we found a covered bridge (in the background).
But there was no way you was getting by these outlaws---these guys were having a hoot riding the backroads
of Indiana on their Harleys.We had fun talking to them.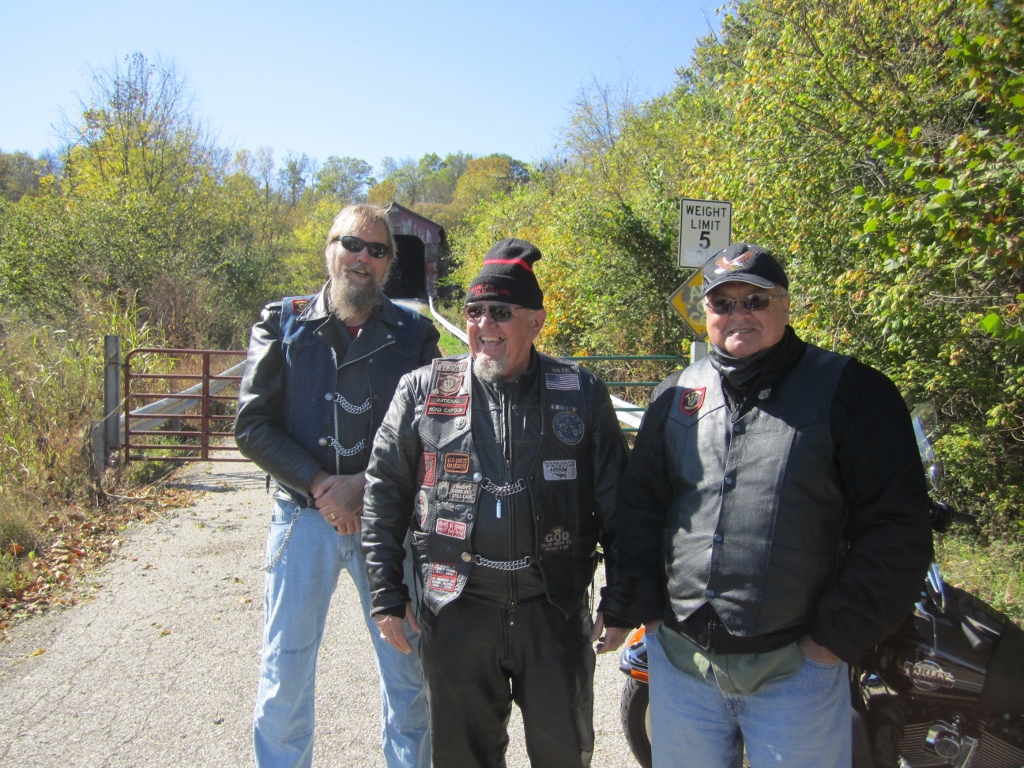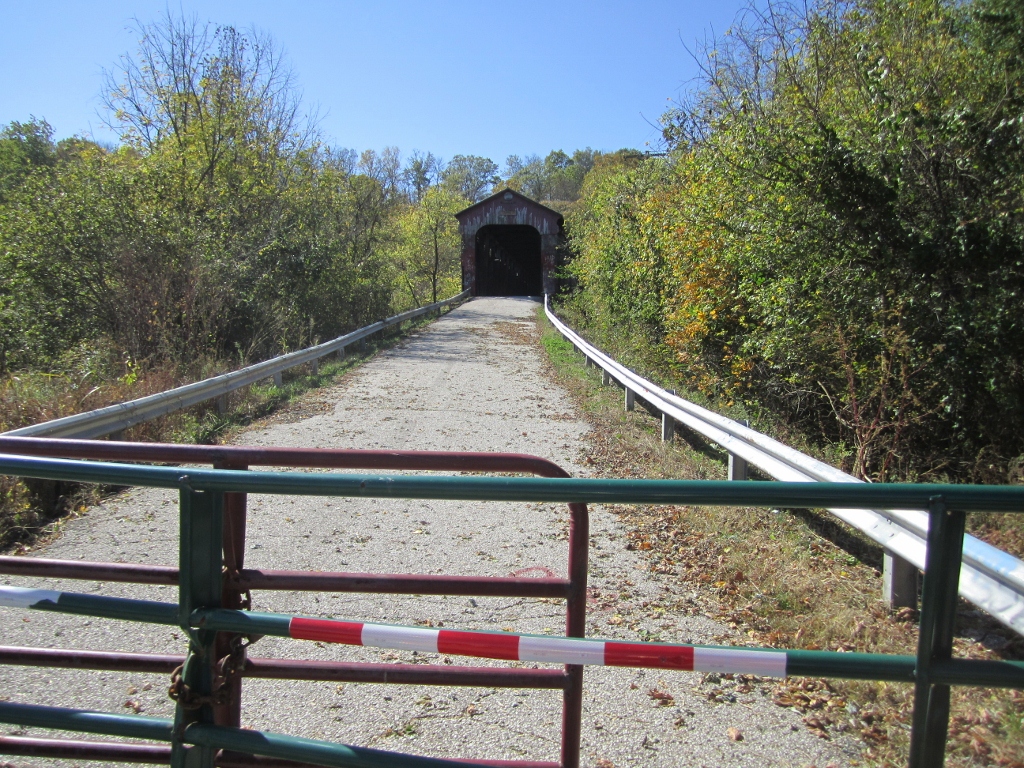 The last time I was here the bridge was still open to traffic---but they have shut it down and built a gazillion dollar by-pass bridge
around it---I don't have the stomach to show you a picture of it---it is god-awful.
Jerry made the comment-----"If they would have spent only 2% of what they spent on the new bridge they could have fixed and
maintained the old bridge for a gazillion years. Now it's left is dis-repair to rot away.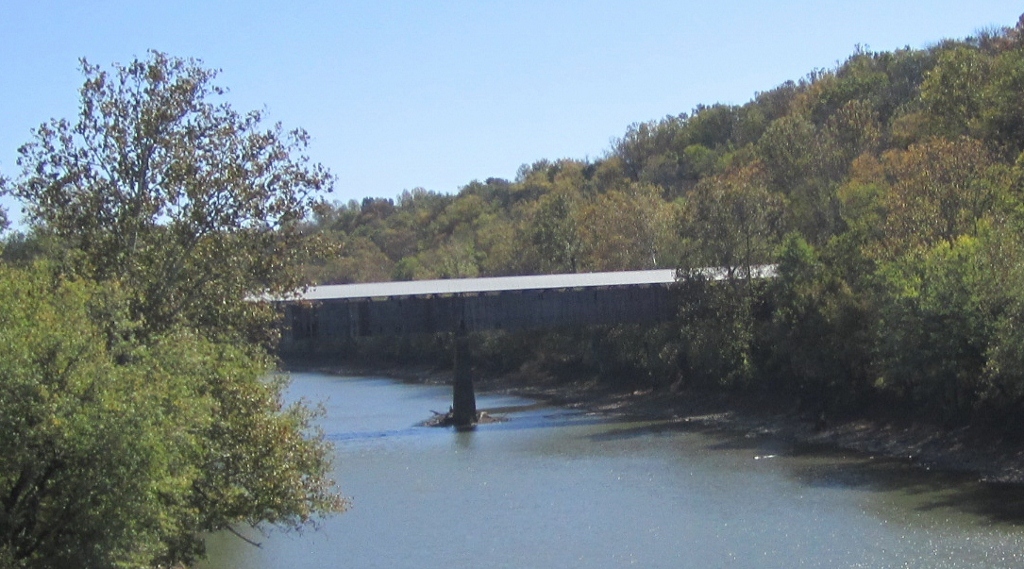 We were just putzing down a lonely backroad near French Lick Indiana.
I couldn't resist looking over this rig----I could just see Matt Dillon grabbing Miss Kitty around the waist and helping
her out of the stagecoach in Dodge City, Kansas.
I'm a huge old Western fan but had never seen a real stage coach up close.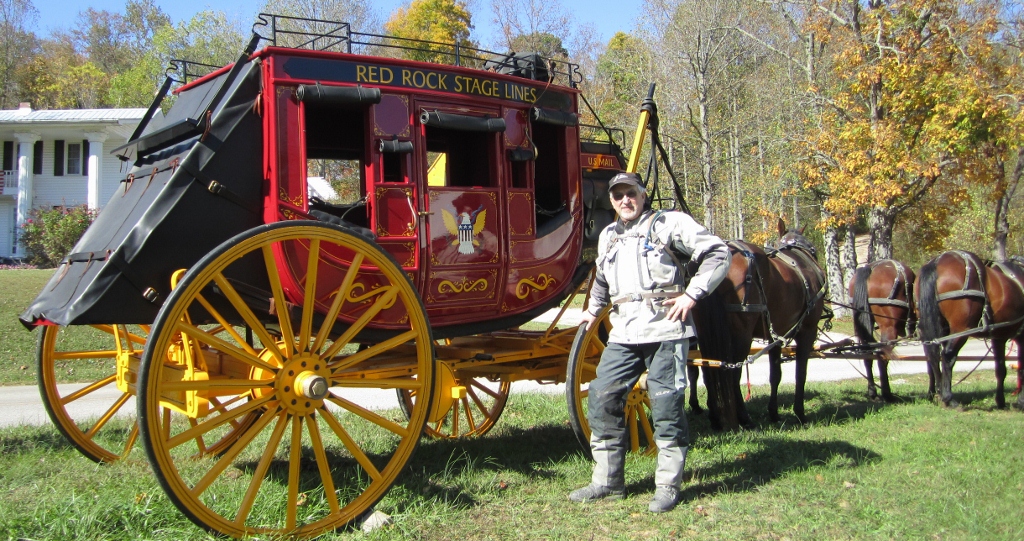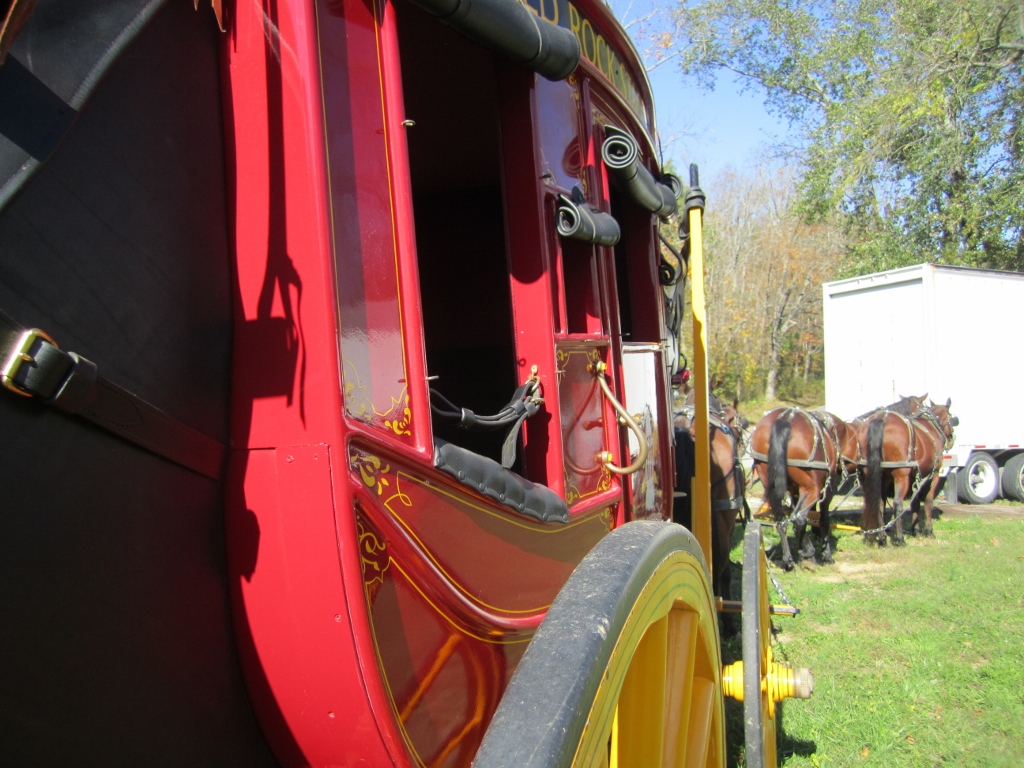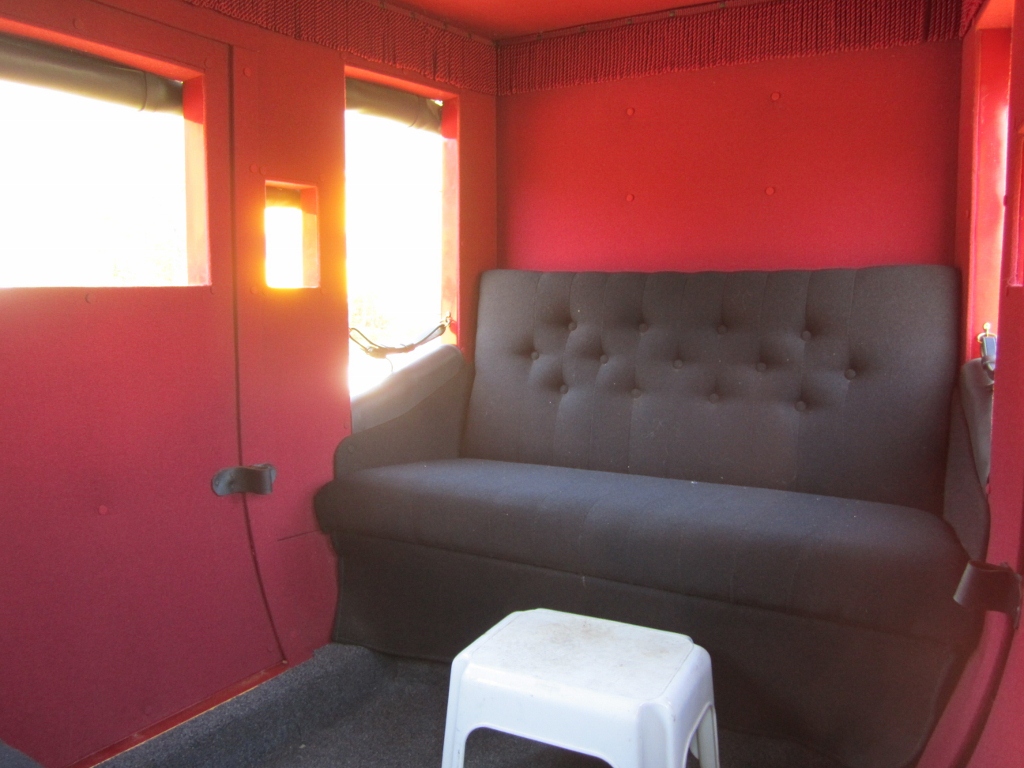 Met a lot of nice folks this weekend.
Just one Horse's Ass.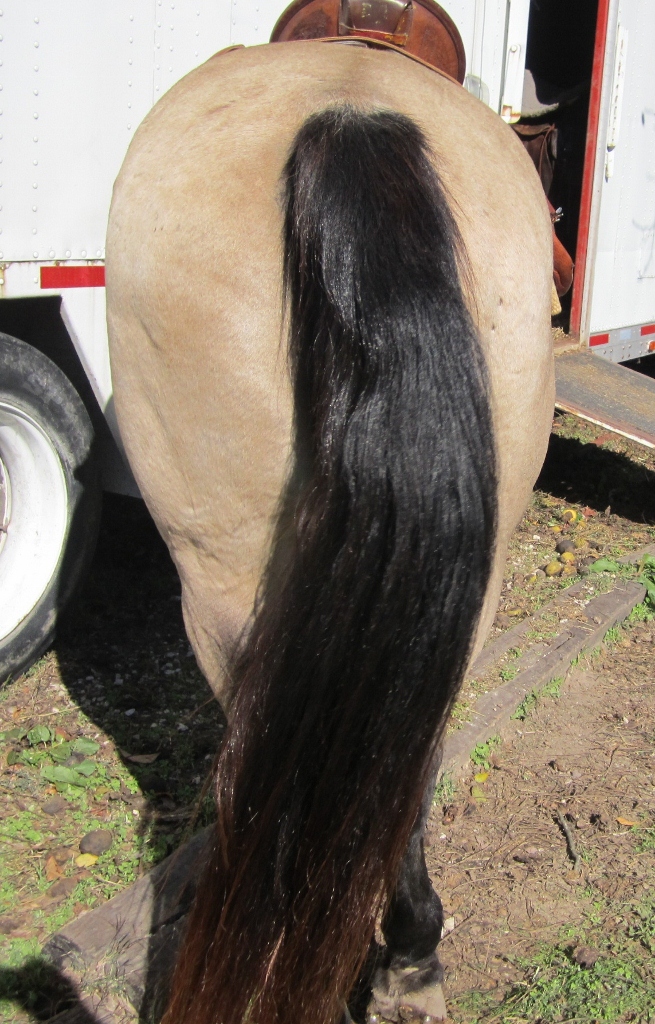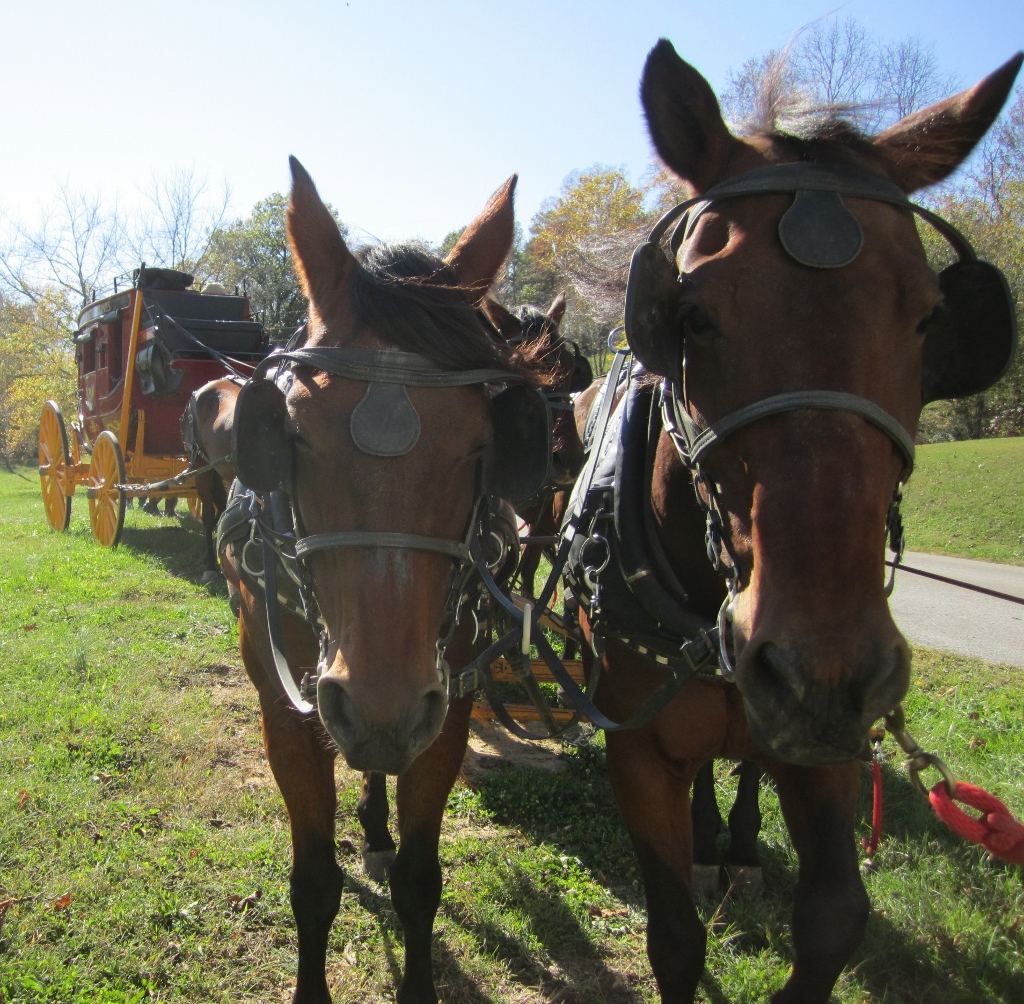 Jerry---"Pull My Finger"
Cowgirl-----"Oh no, I don't think so"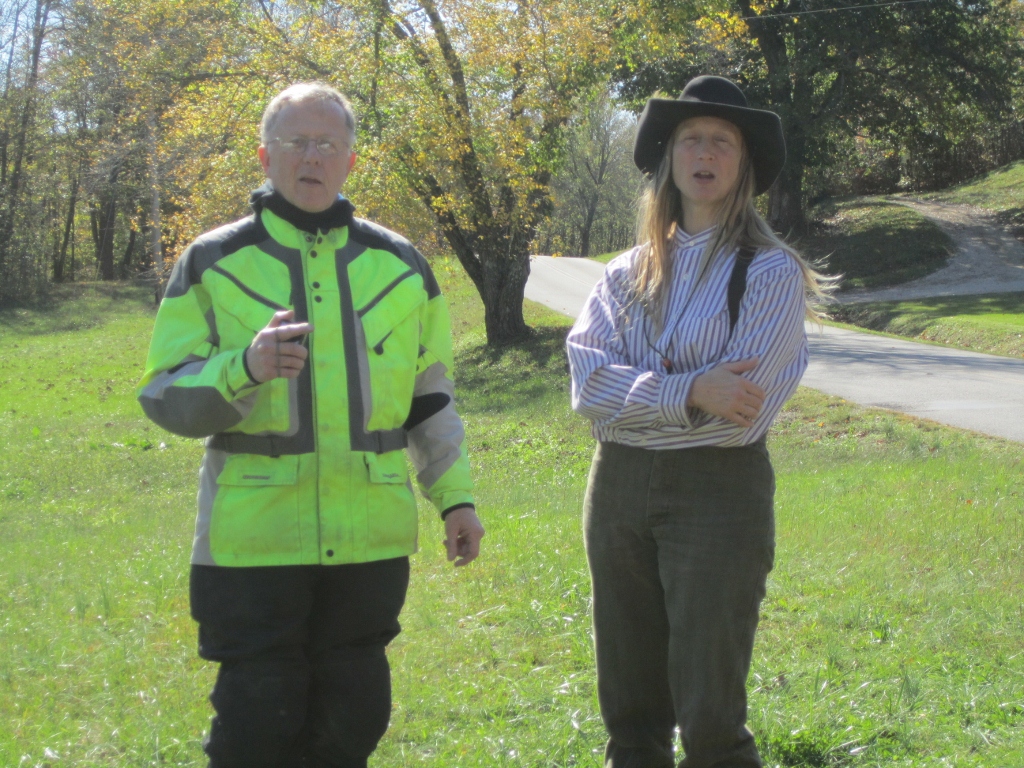 This old coot here drawed down on Jerry---but Jerry's such a sweet talker.
This fellow here runs a wild west show and builds these old stagecoaches by hand and sells them.
Also---there is an old steam locomotive in French Lick (which I have ridden) that runs right by here
and this guy and his outlawas stop the train and rob the passengers at gunpoint--what a job.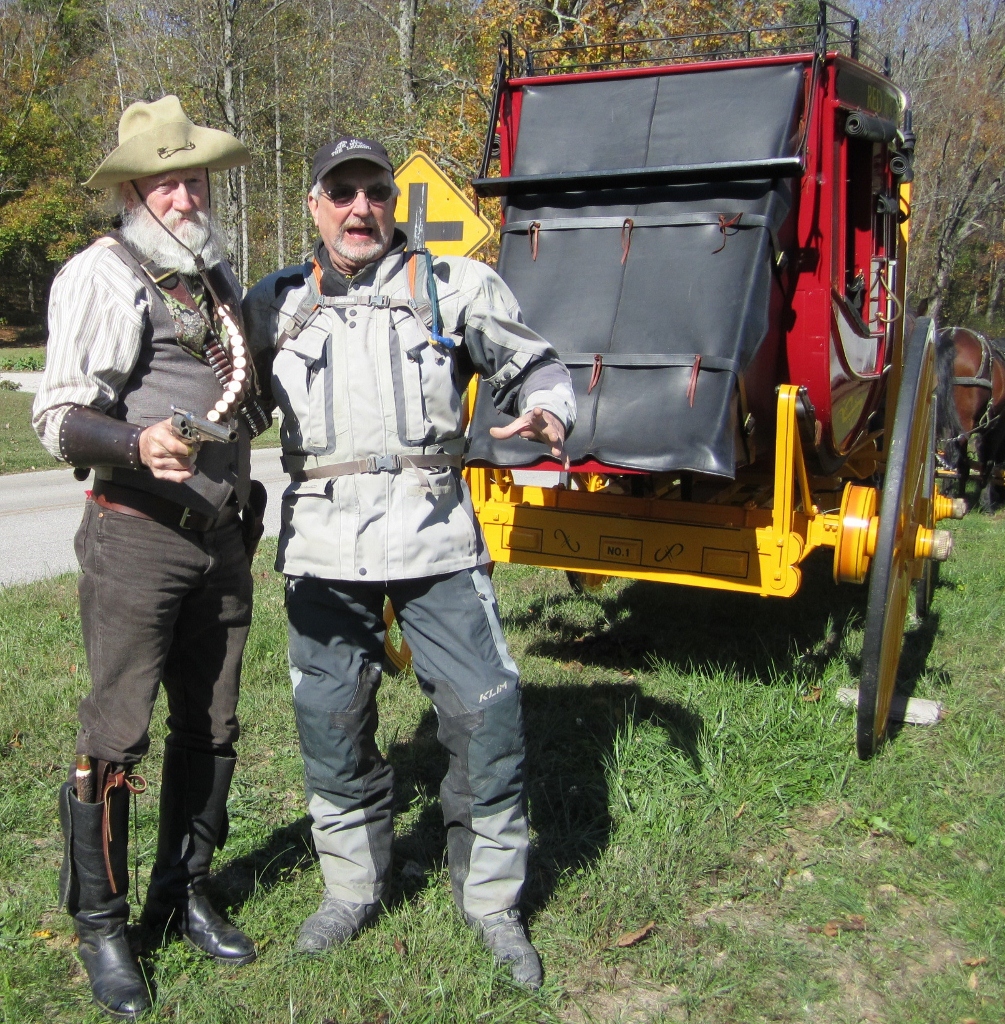 Jerry Mueller (Road Dad) on the left.
I think Ferrel Ceasar on the right.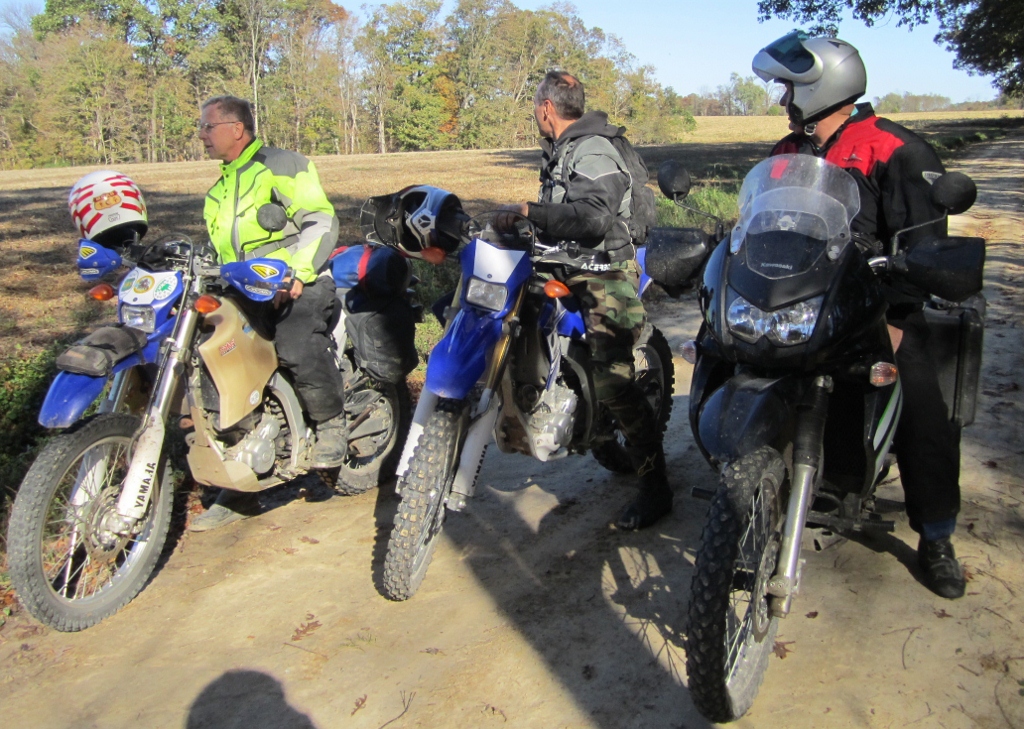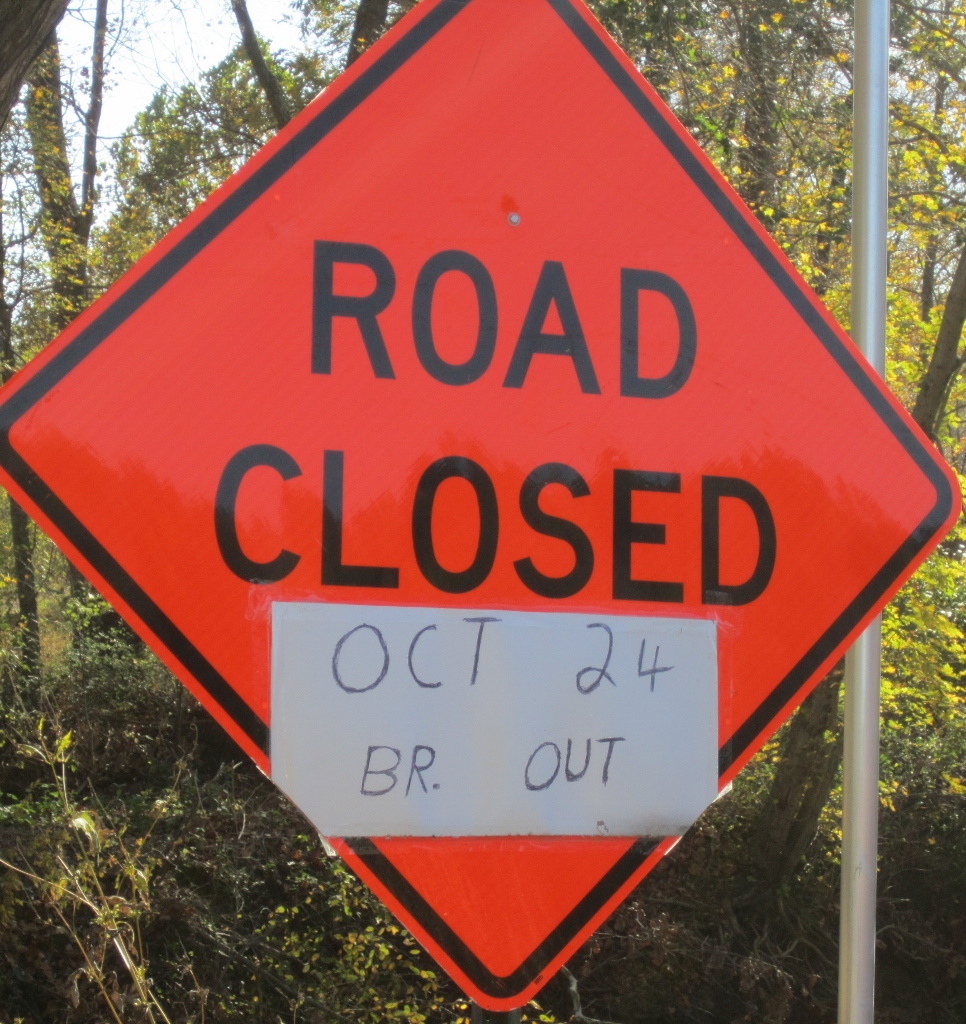 I love riding in the fall while harvest is going on.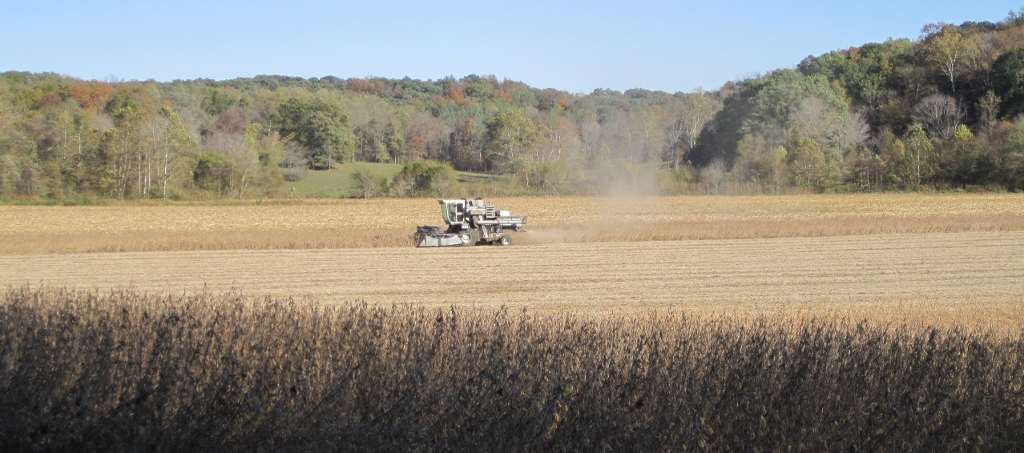 The Huffman covered bridge.
Poor thing---so lonely rotting away beside the new bridge.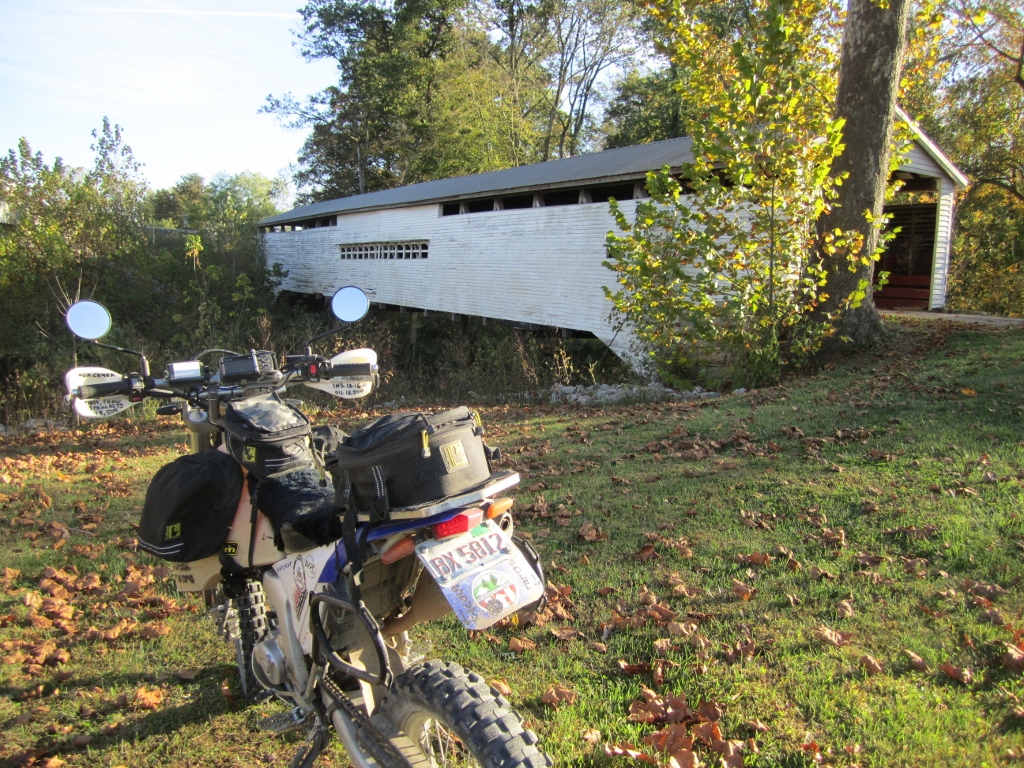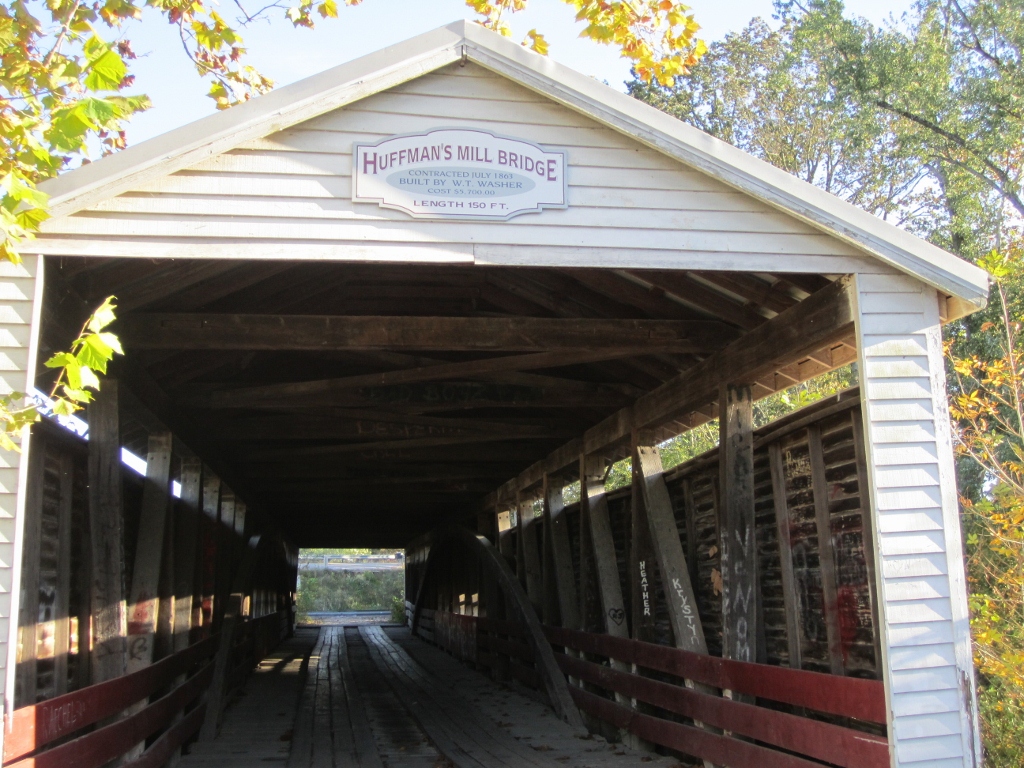 The day ended in Tell City, Indiana right on the Ohio River.
Here is Tim (Woodsrat) who rode what he calls the "Money Pit"
It's is a 125cc four stroke---but he built the whole thing and would ride a crazy speeds down gravel roads and
nobody could hardly keep up with him.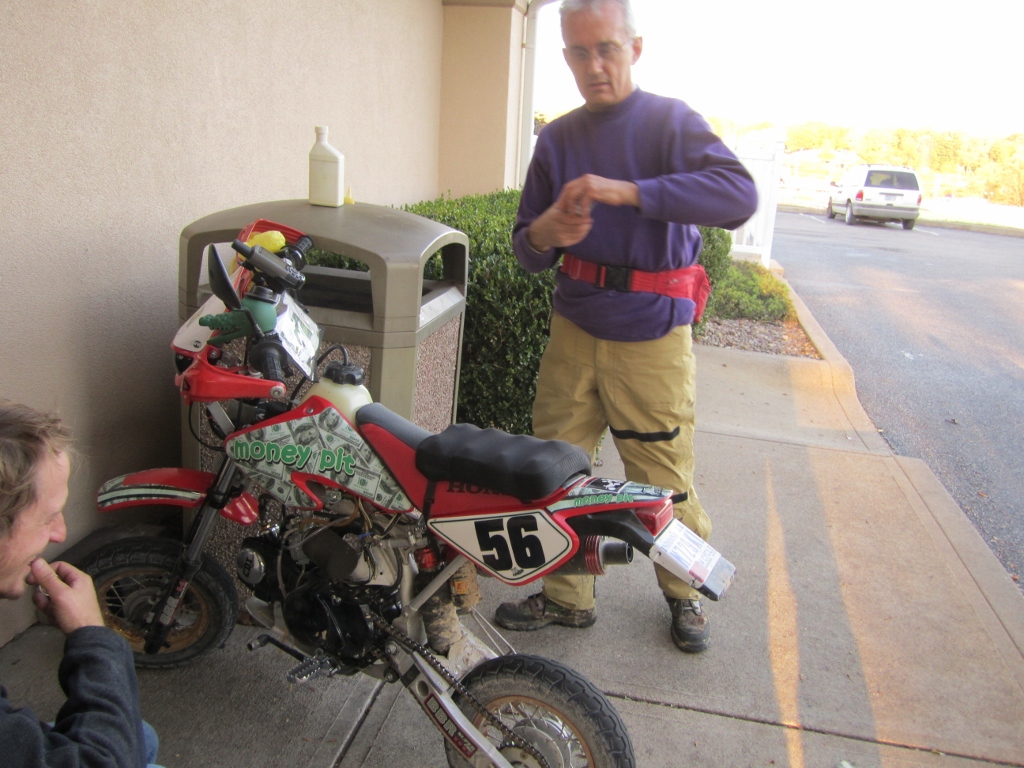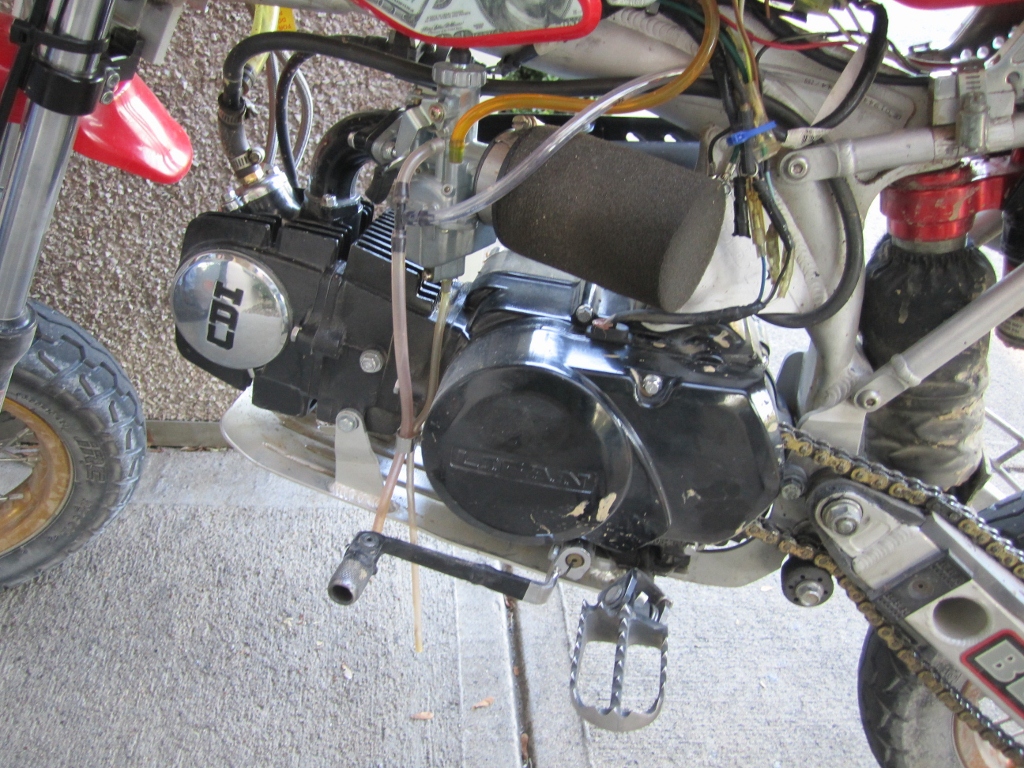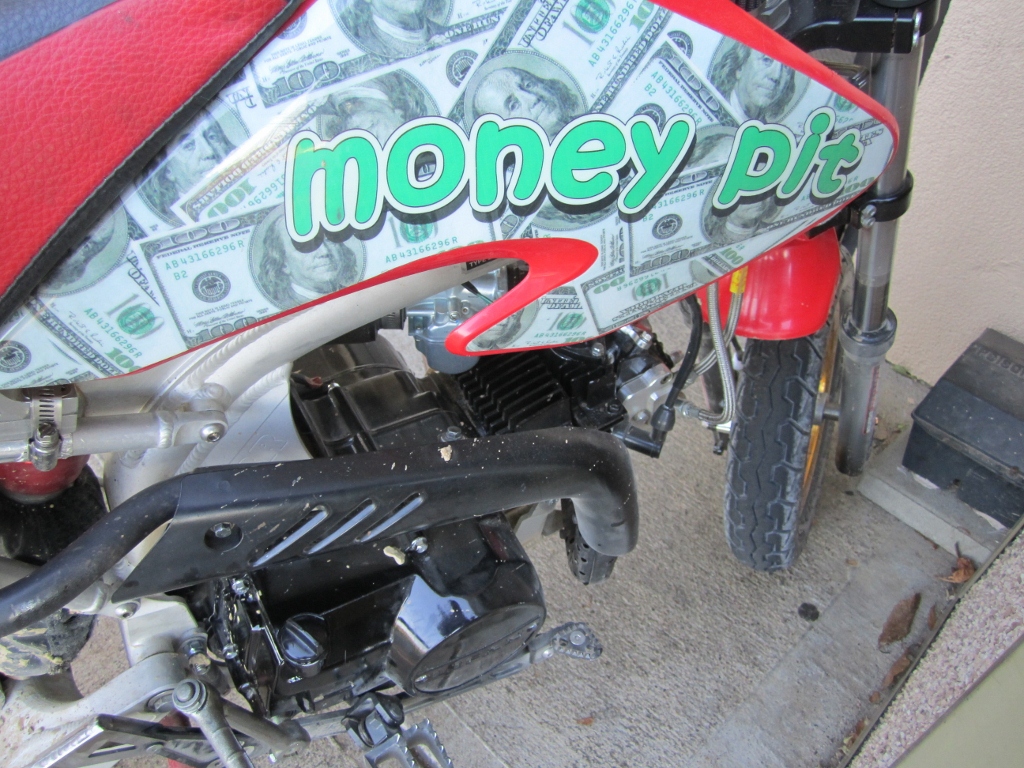 The next day I think me and Jerry started off alone heading back North to Martinsville--but on a whole different route.
This road was closed-----well,........kind of.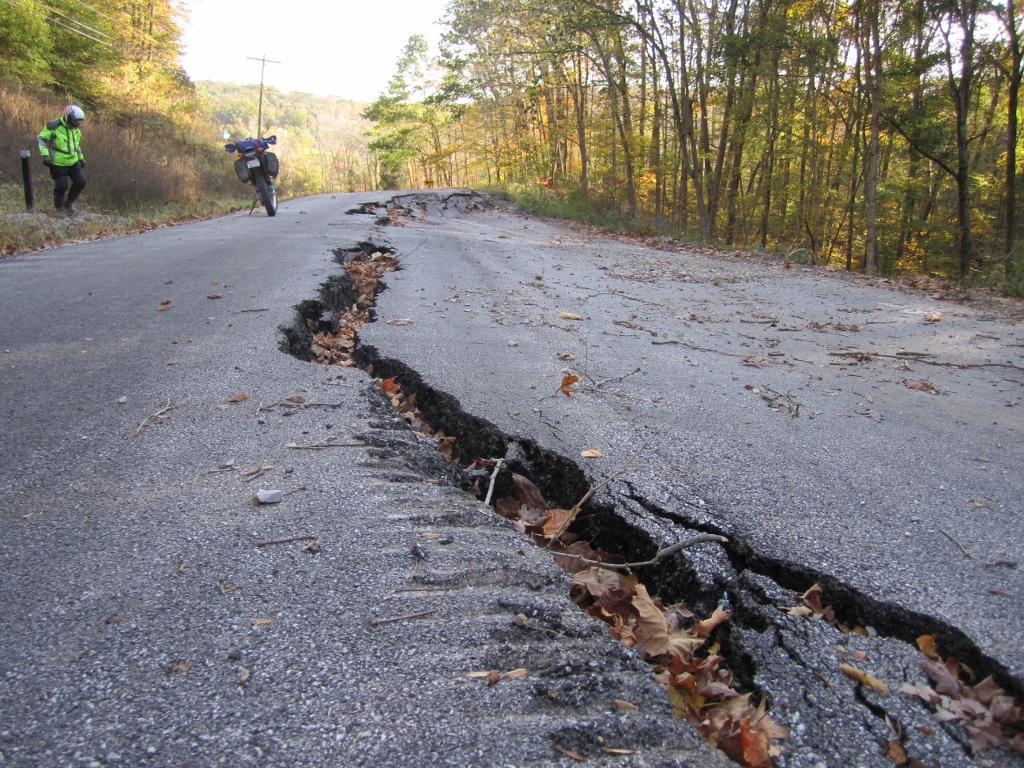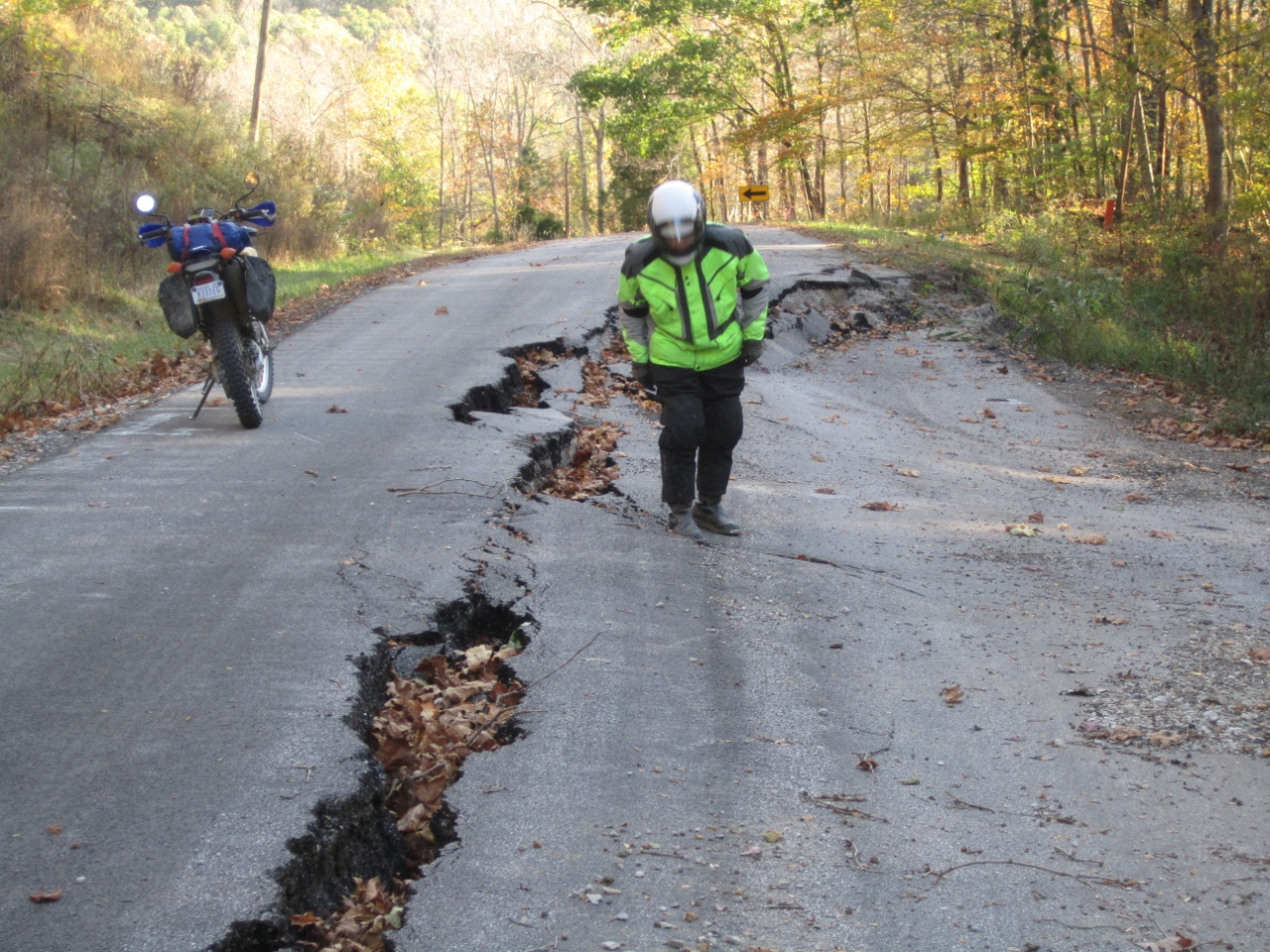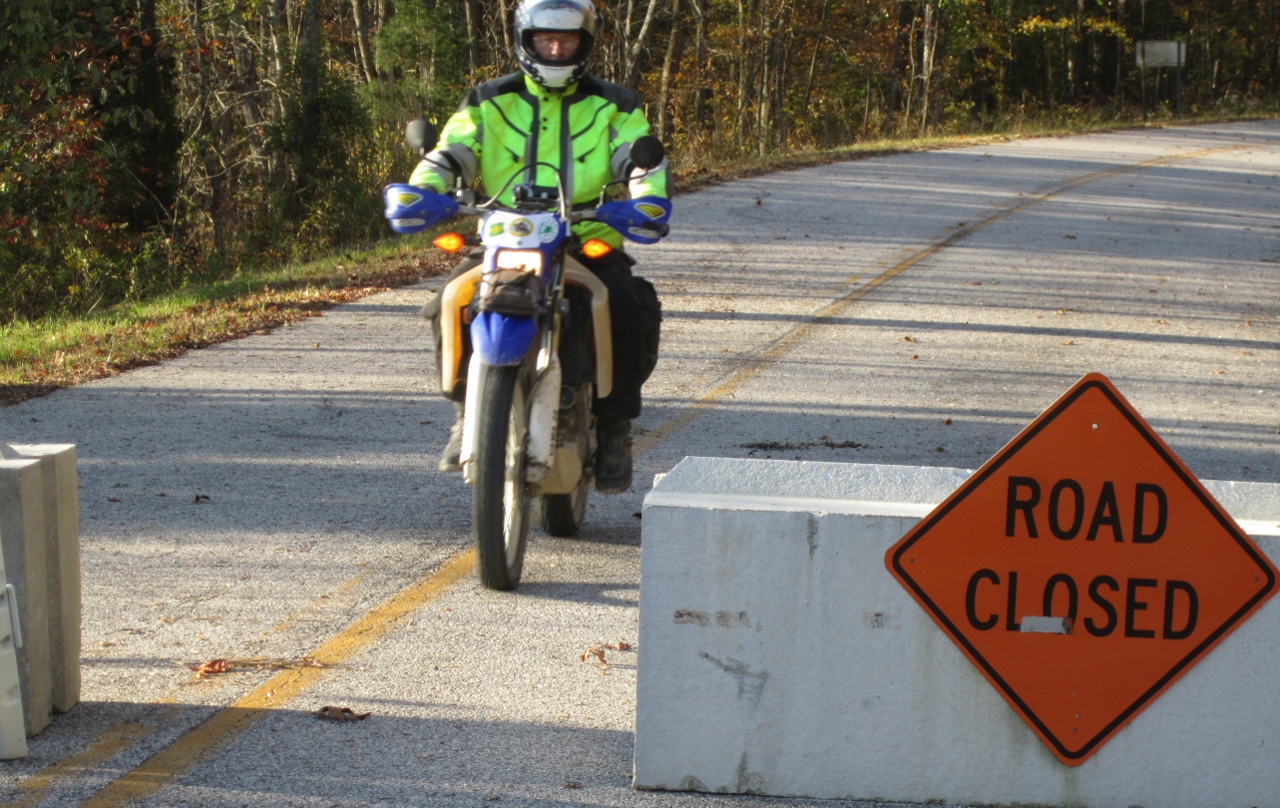 I guess this guy just got tired of us Dumbasses going around the road closed barrier.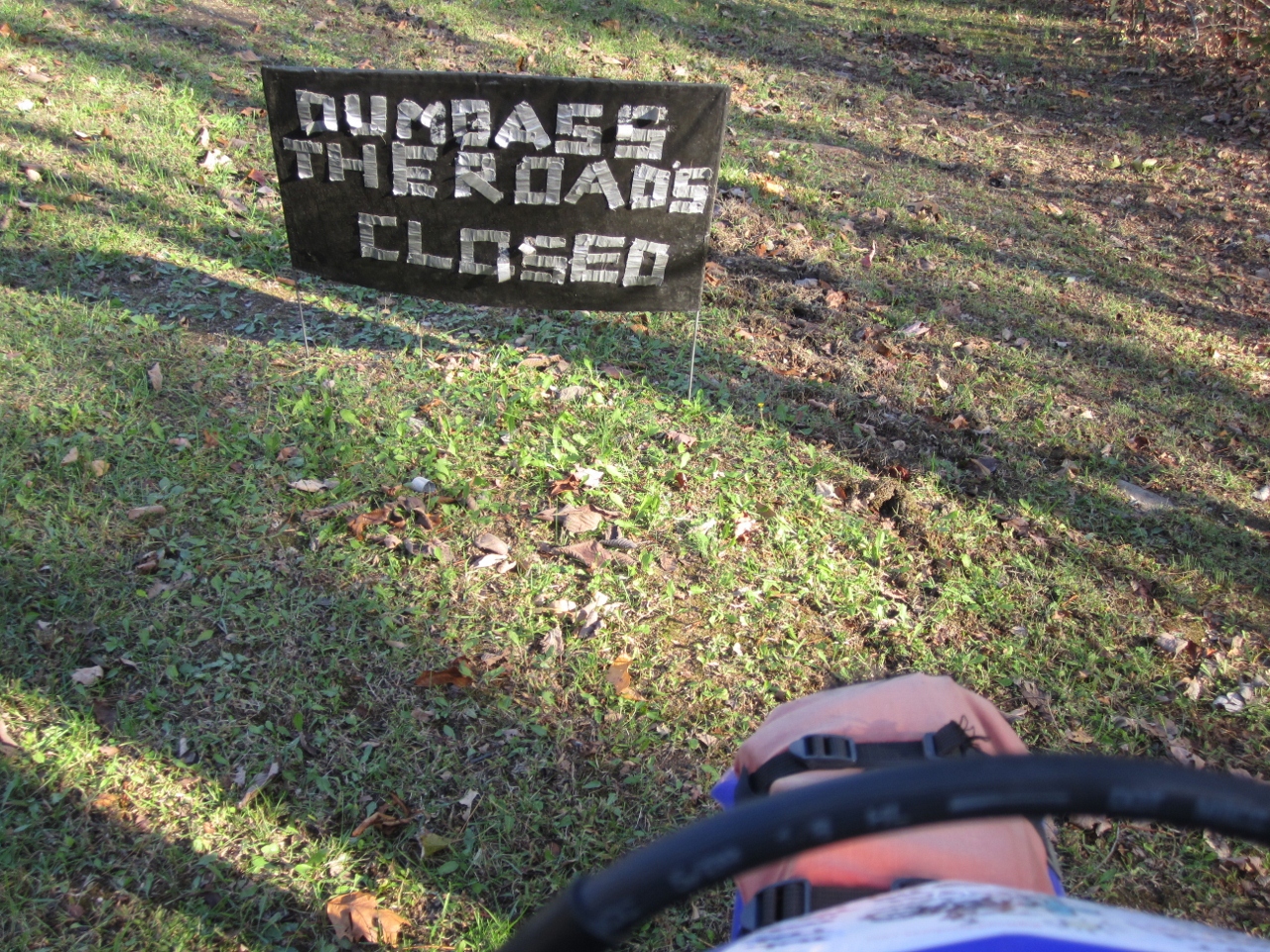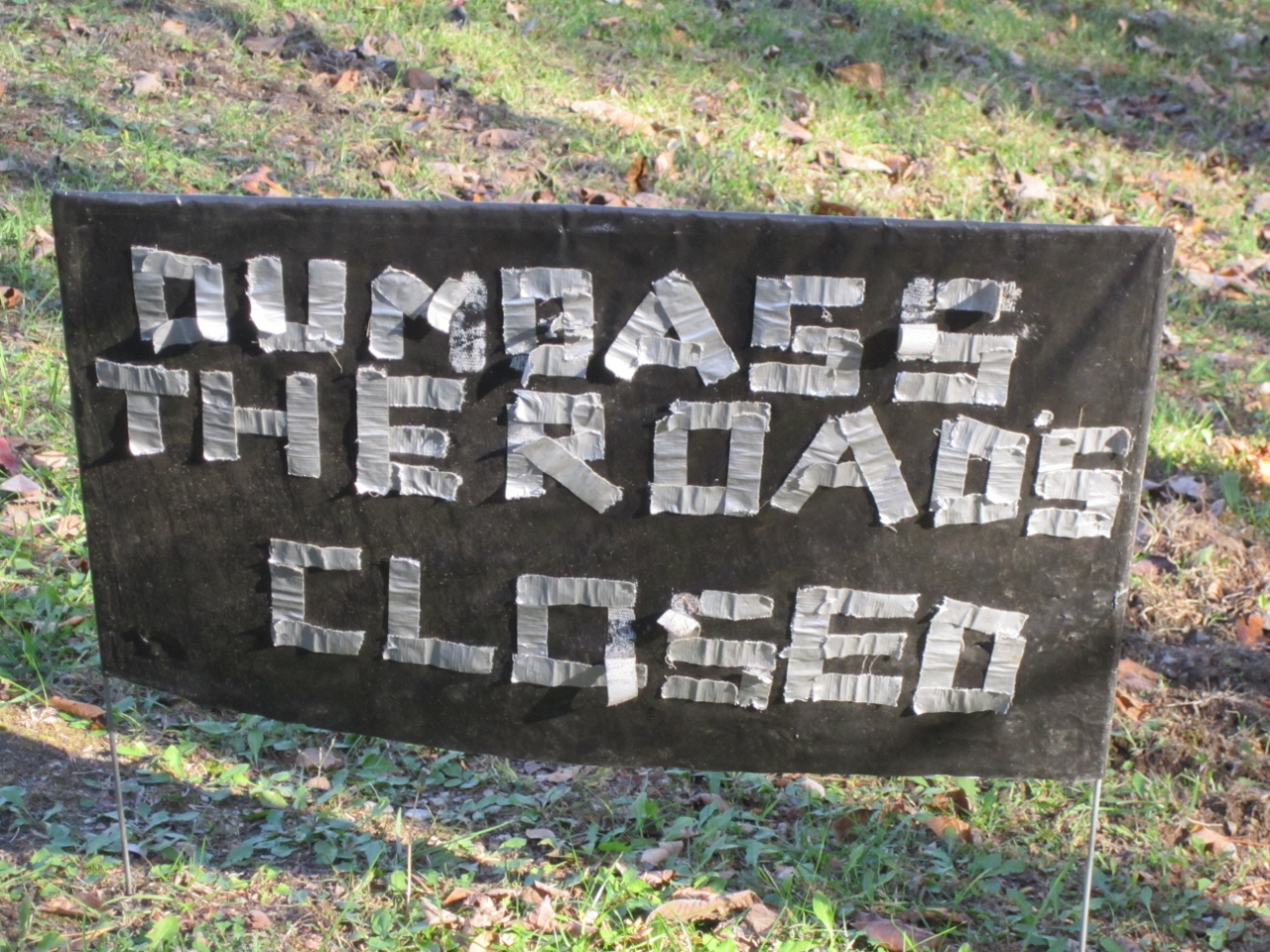 Riding alone with Jerry--who lives in Indiana and knows every dirt road in the whole state---also knows where the neat stuff is.
If he hadn't slowed down to show me this beside the road I would have never seen it.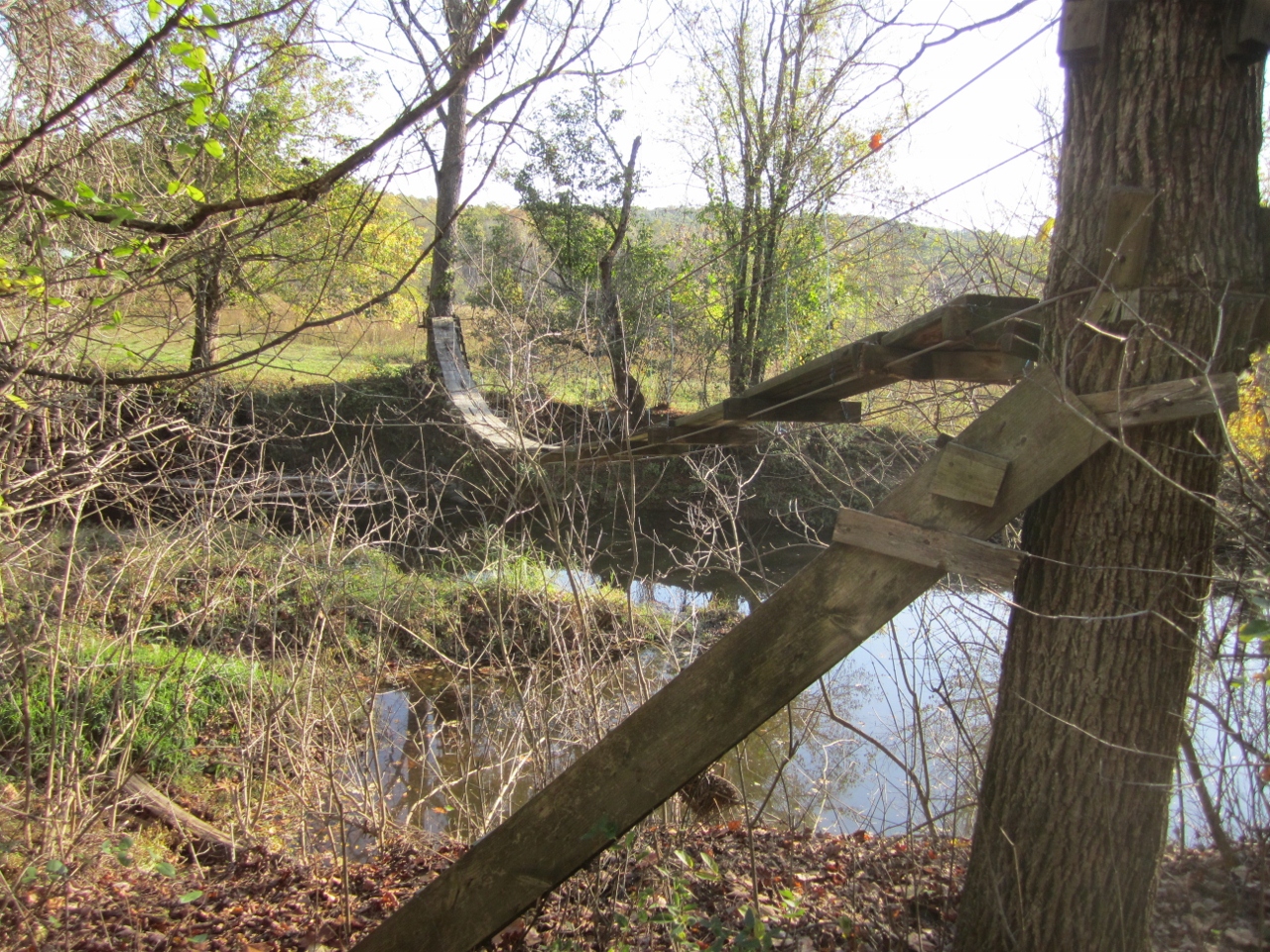 Today almost got hot---it got near 80° I think today. Not that hot--but it had been so cool lately it just seemed hot.
Jerry's got over 30,000 miles on his WR250R---I have about 27.000 on mine and we love these things.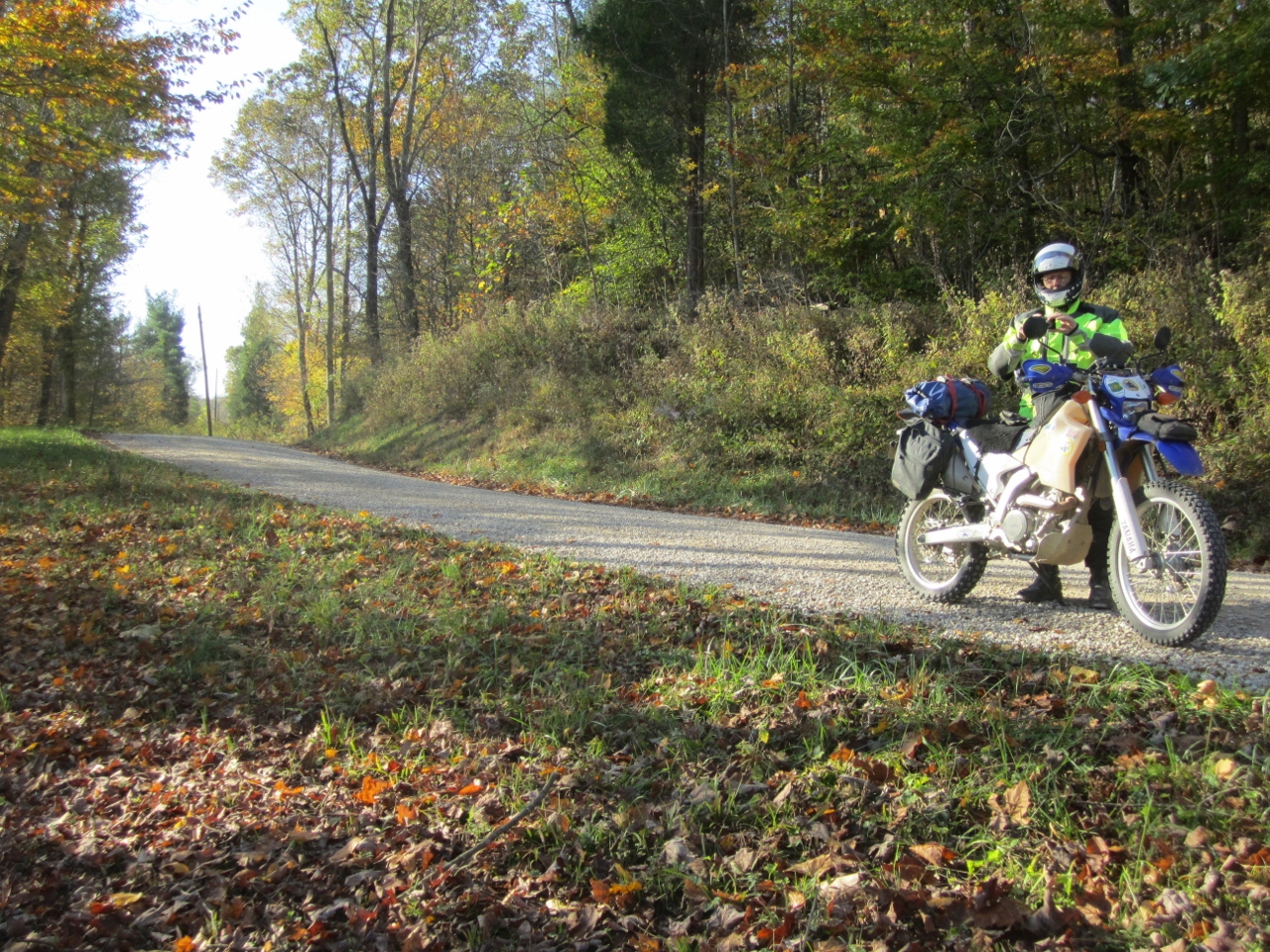 Since we didn't have a pack of riders following us--we got to take a single track side diversion to some neat rocks.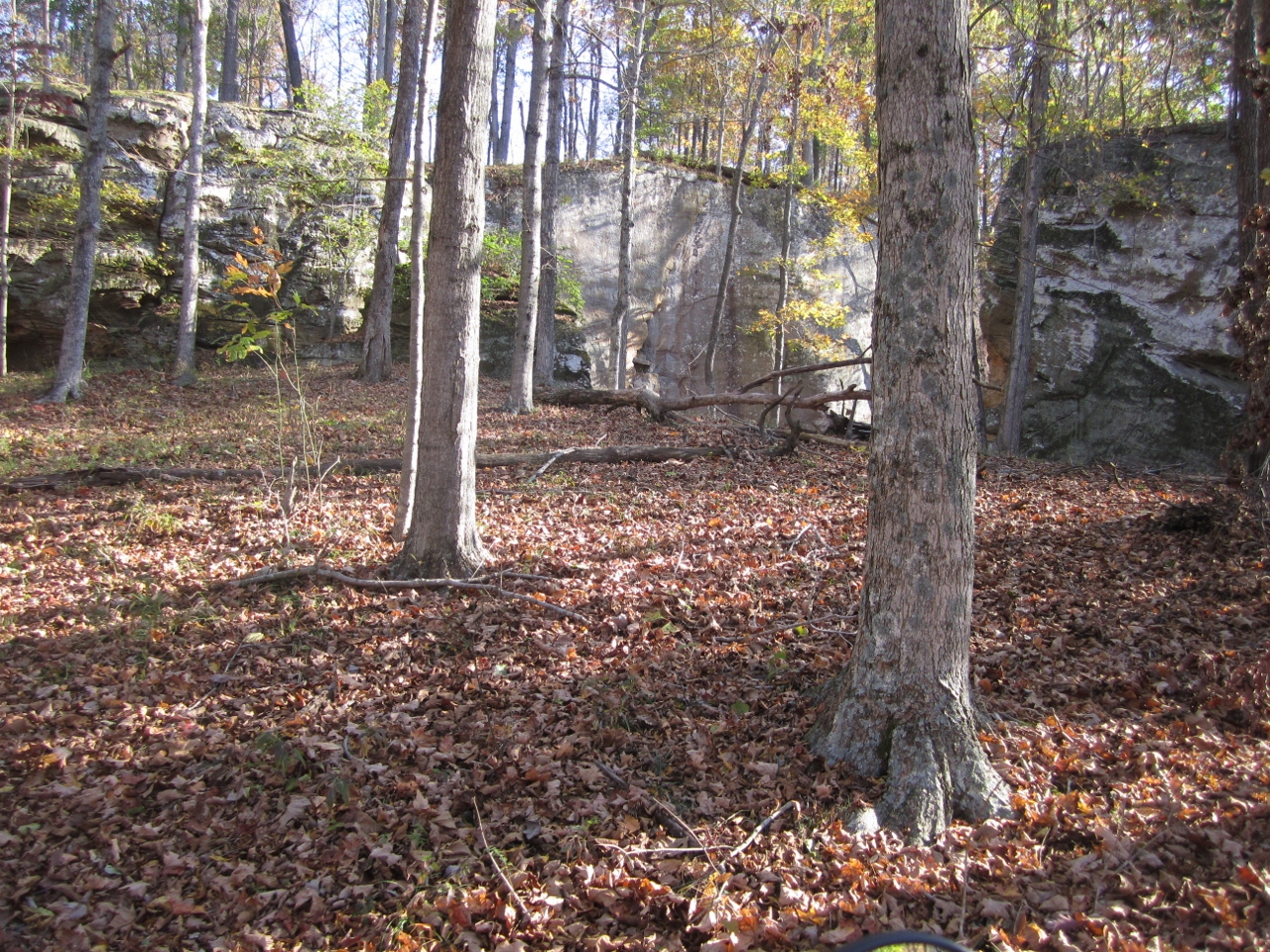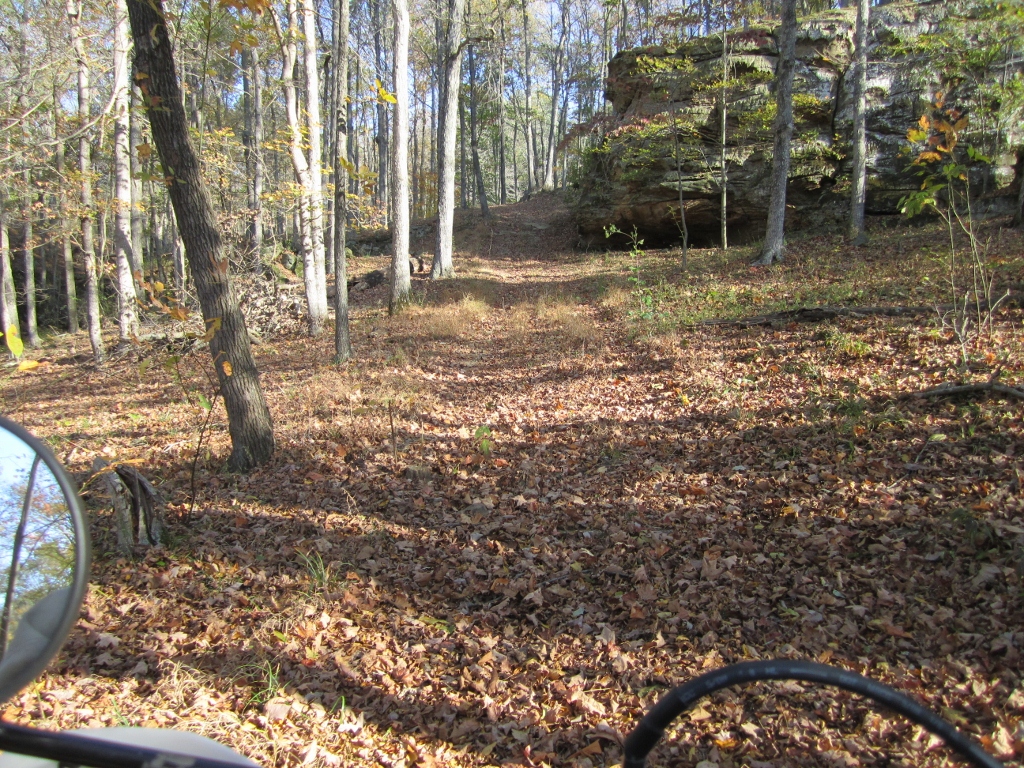 Guess how long this tunnel (culvert) is ???? Nope.......Nope.....no......Nope...not close.......guess again.
No...........OK-------one half mile long ---and it went caddy corner under interstate 64.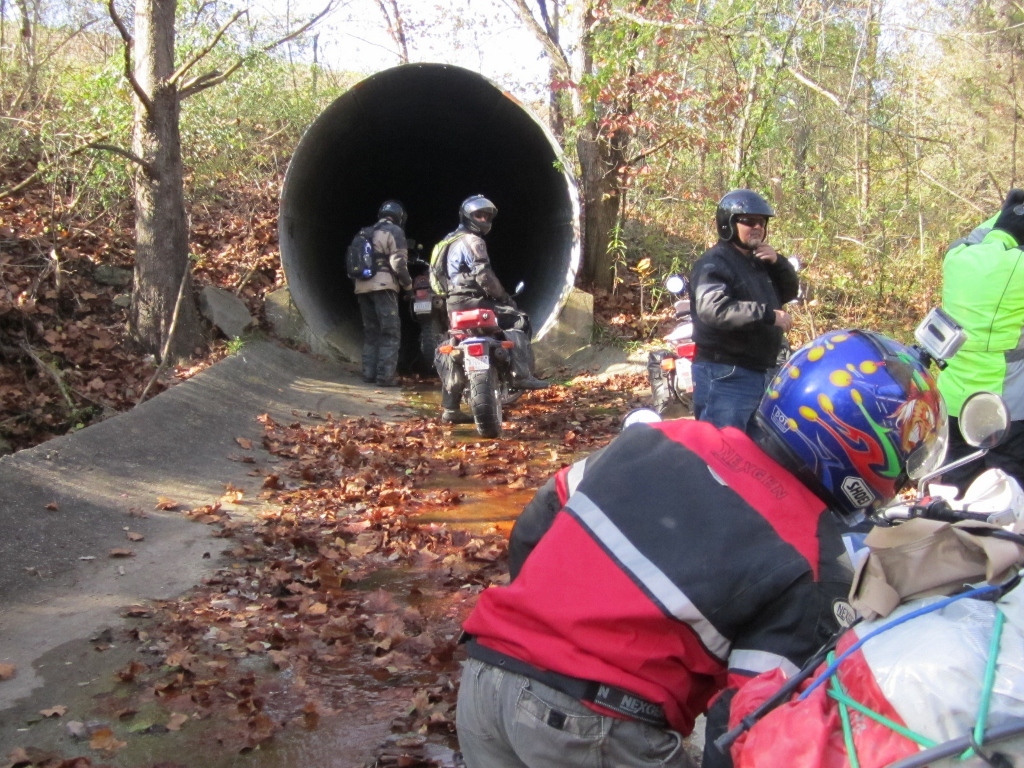 I had no idea we were going to ride thru it.I thought we just got down there to look at it.
Look how tiny the light at the end of the tunnel is.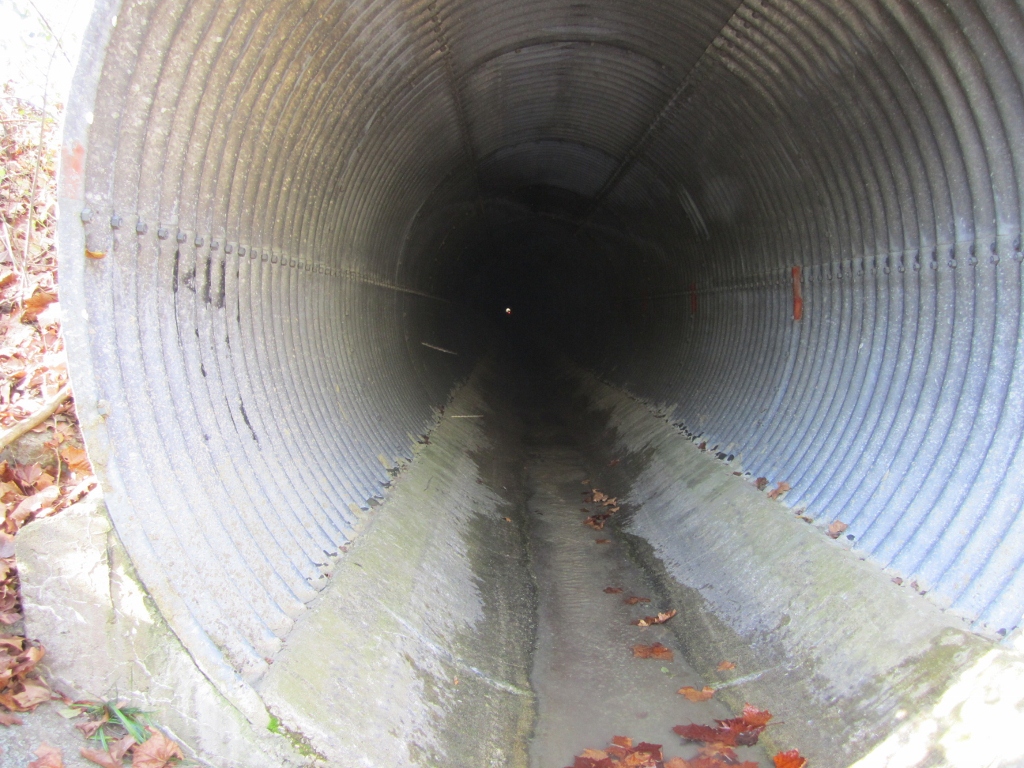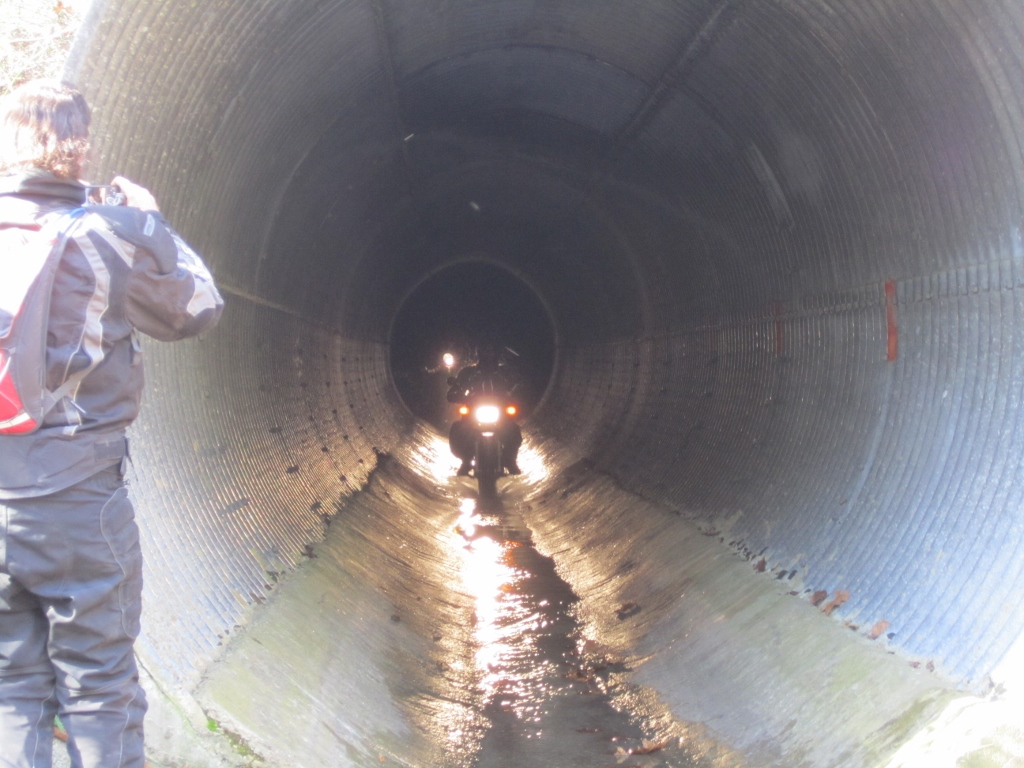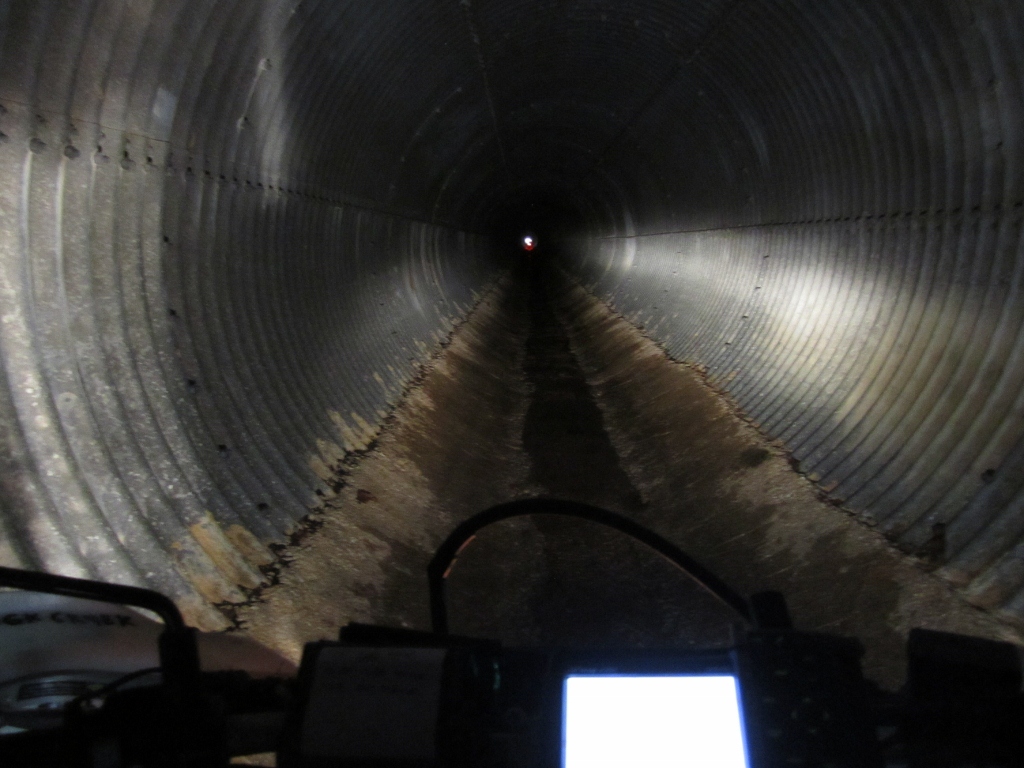 This might have been the little town of Birdseye.
Jerry had all the rootbeer float he could stand.
Just can't hold his liquor.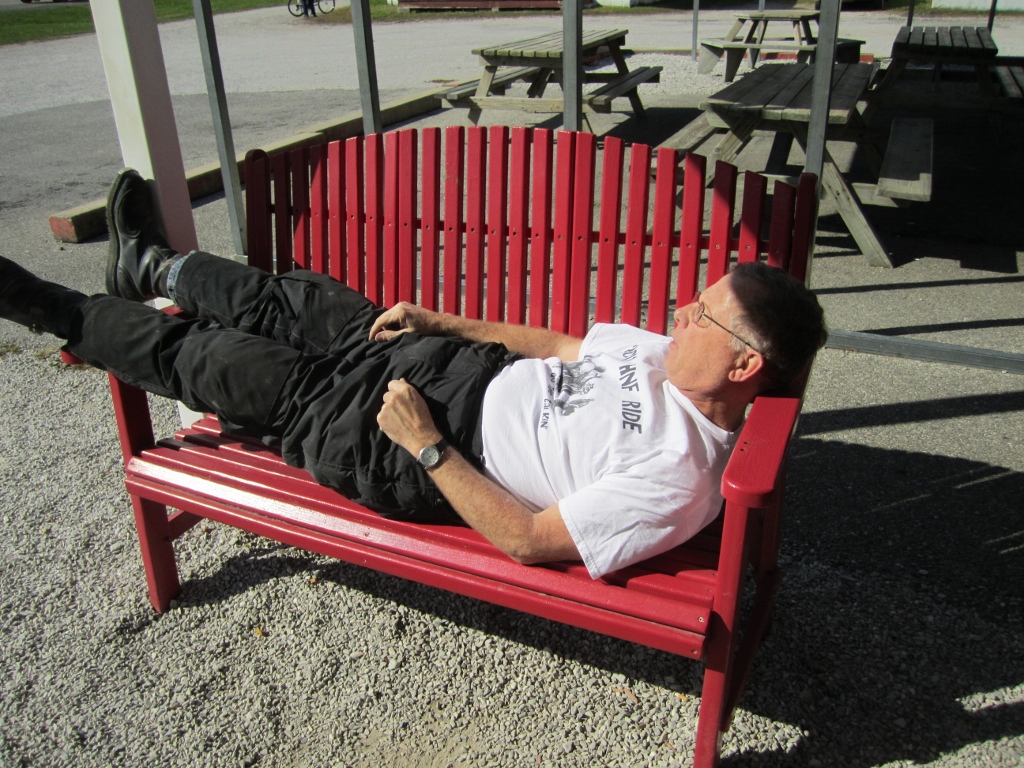 The shirt Jerry has on has a story---it's a picture of all of us stopped by a cop last year on this ride.
And Jerry was forced to do all the talking.
Seems some jackass (actually a lady--JackAss--ette) called the cops on all of us as all she saw was a bunch of
stupid young kids riding illegal dirt bikes by her house--and we were intercepted down the road.
I think they should have arrested her.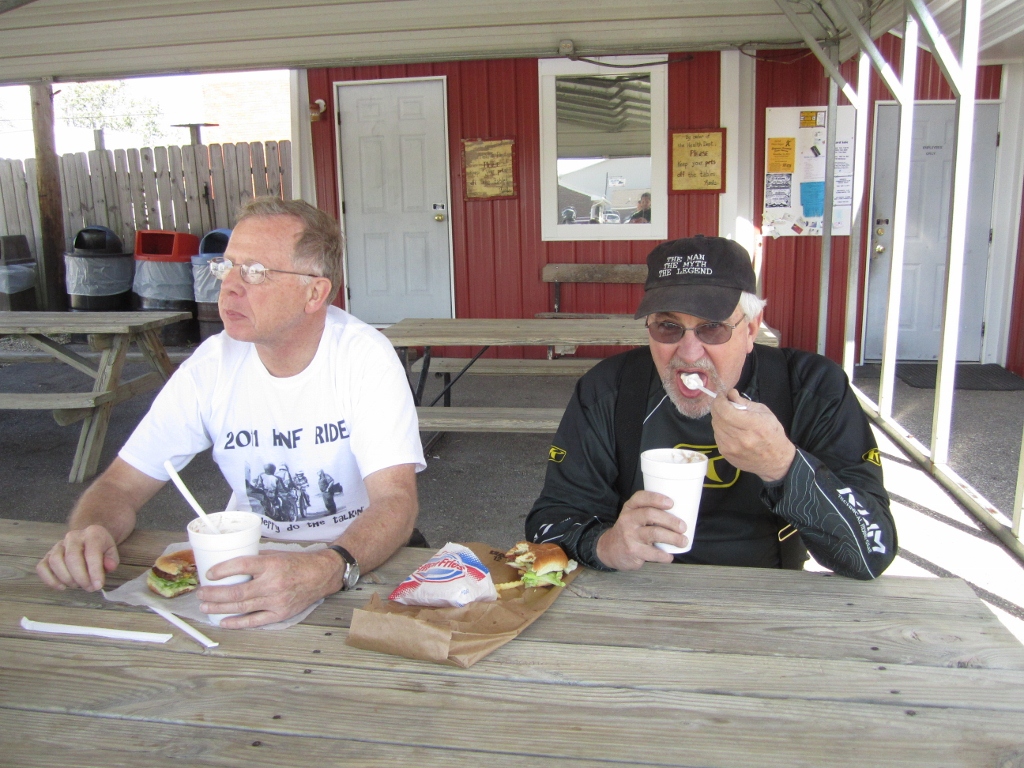 We got joined by a few more riders---most everybody were on small bikes--but there were a few bigger bikes.
BMW's, V-stroms and such.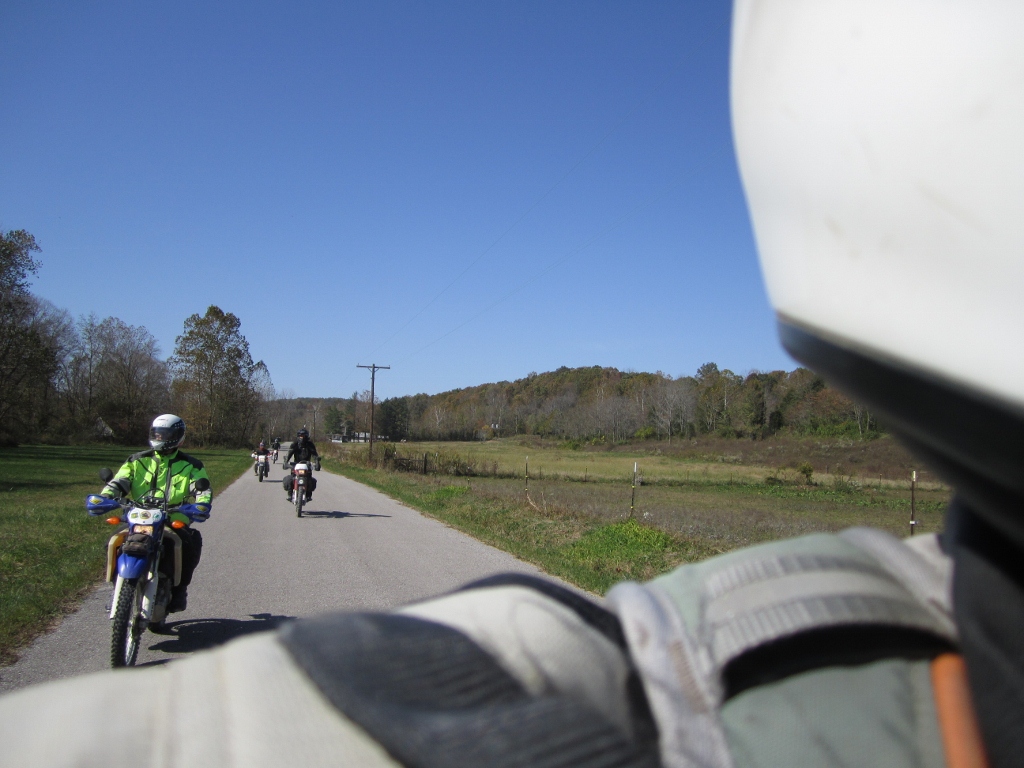 I really like this young fellow----don't remember his name.
He wasn't your typical snot nosed kid---a real gentlemen.
Most young people don't want to talk to old farts like me and Jerry--but he was a real nice guy and I enjoyed his company.
He had just got married----he was a small guy and rode a Yamaha TW200--a really nice bike.
And he was a good rider.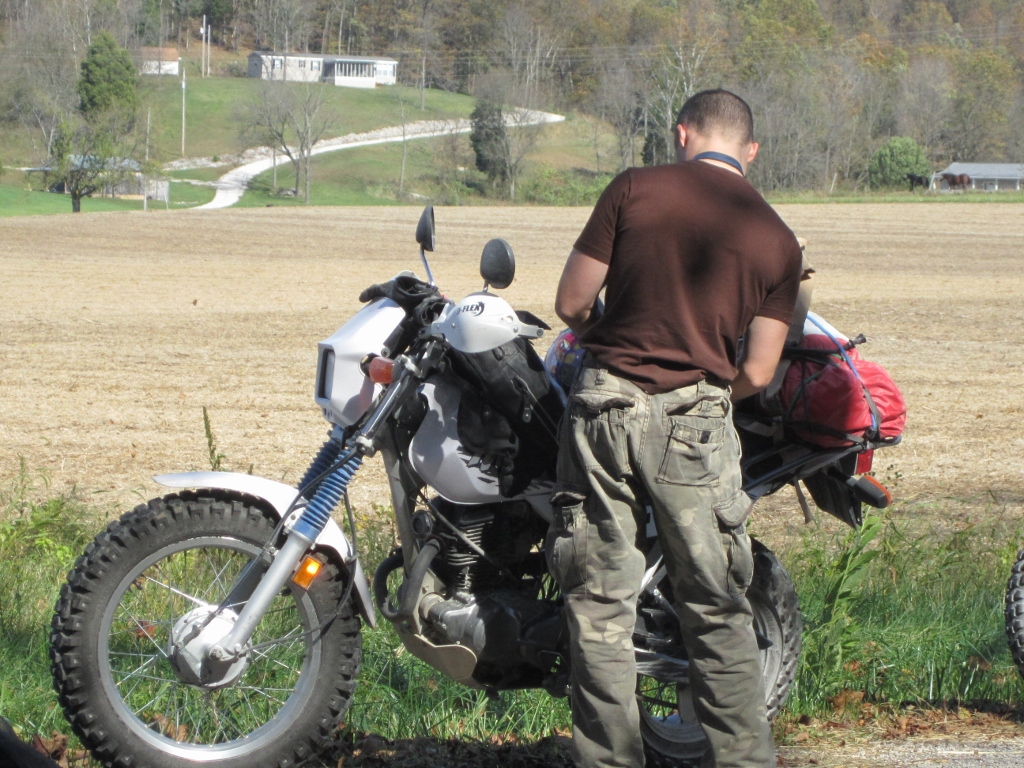 Forget this fellow name too ??? Rode an XR400 and was a good rider.
He was riding behind me and shooting video---I was totally unaware of this.
I out braked him in a corner and he went out in the weeds with the video on and killed his motor.
It was hilarious and is at about 2:48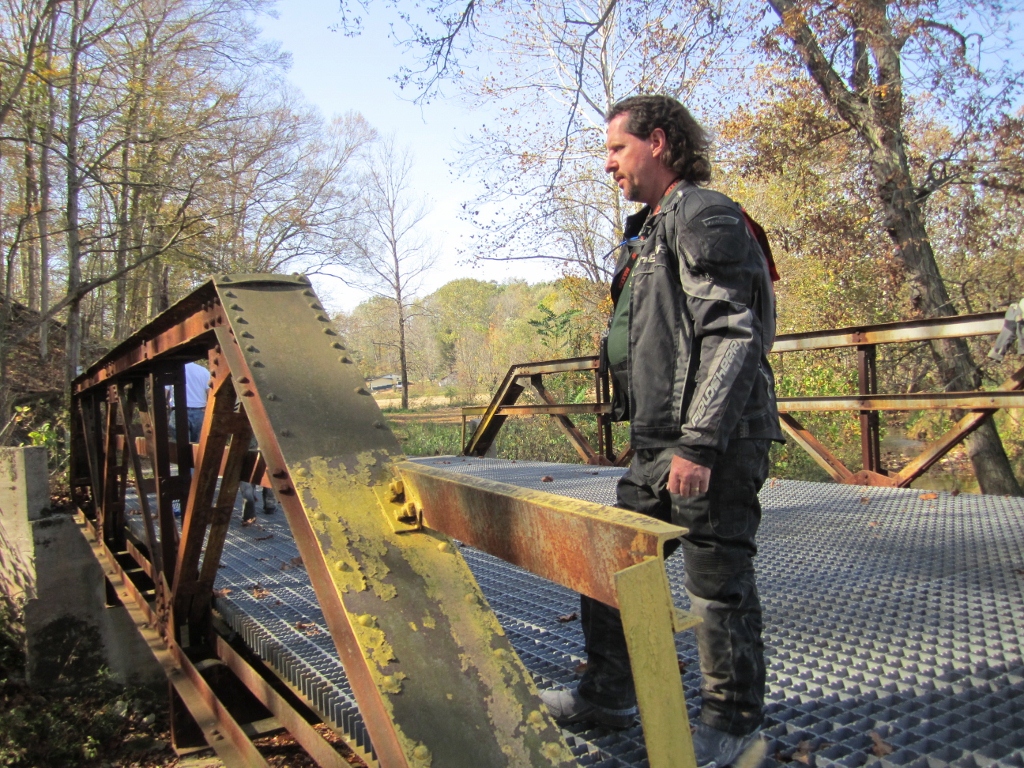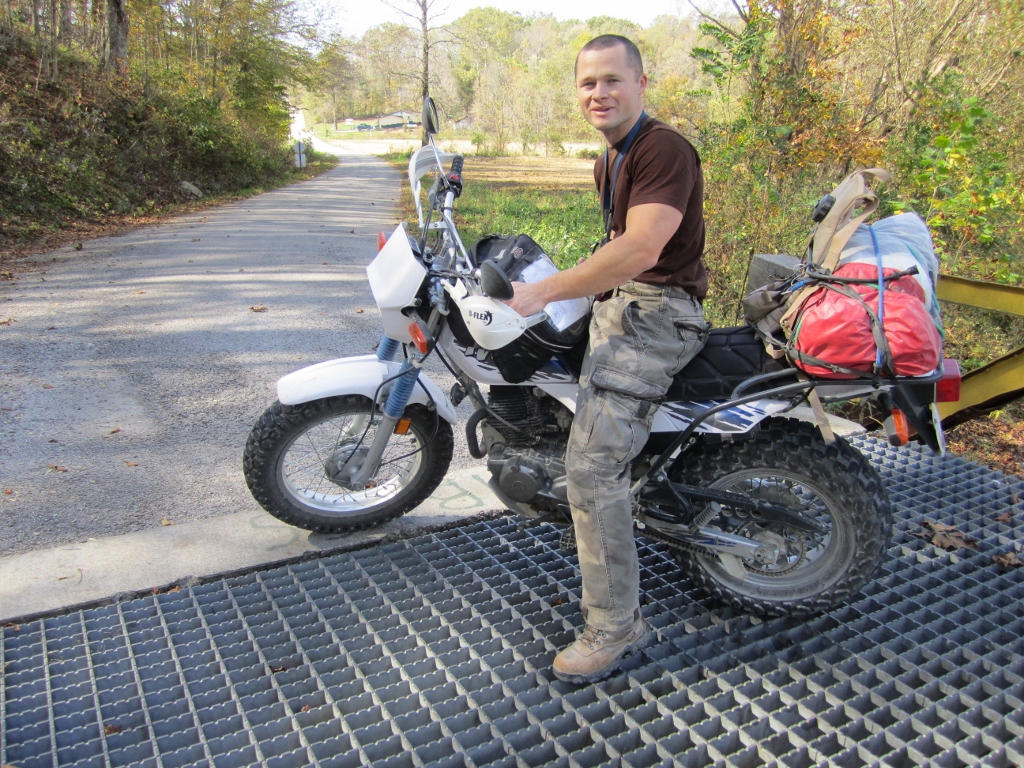 Me and Jerry found a spring beside the road.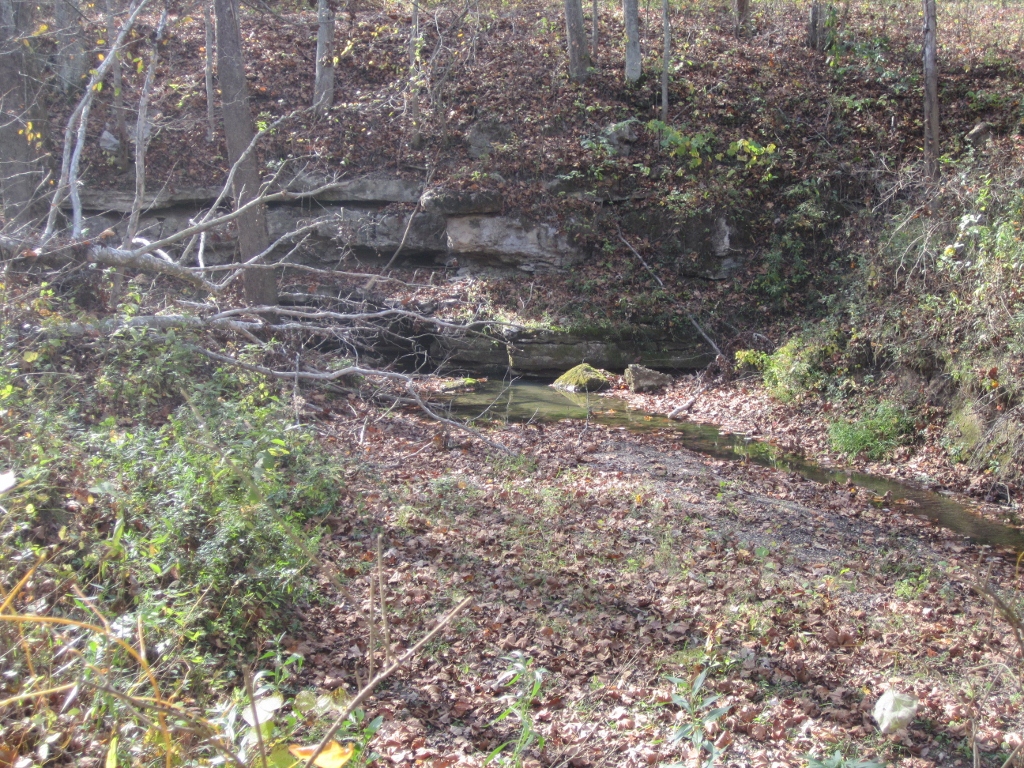 A few miles Southeast of Monroe lake is a little cafe and gas station called Crazy Joe's---neat place.
Jerry found this 1977 Honda 750 automatic behind an old door off a car.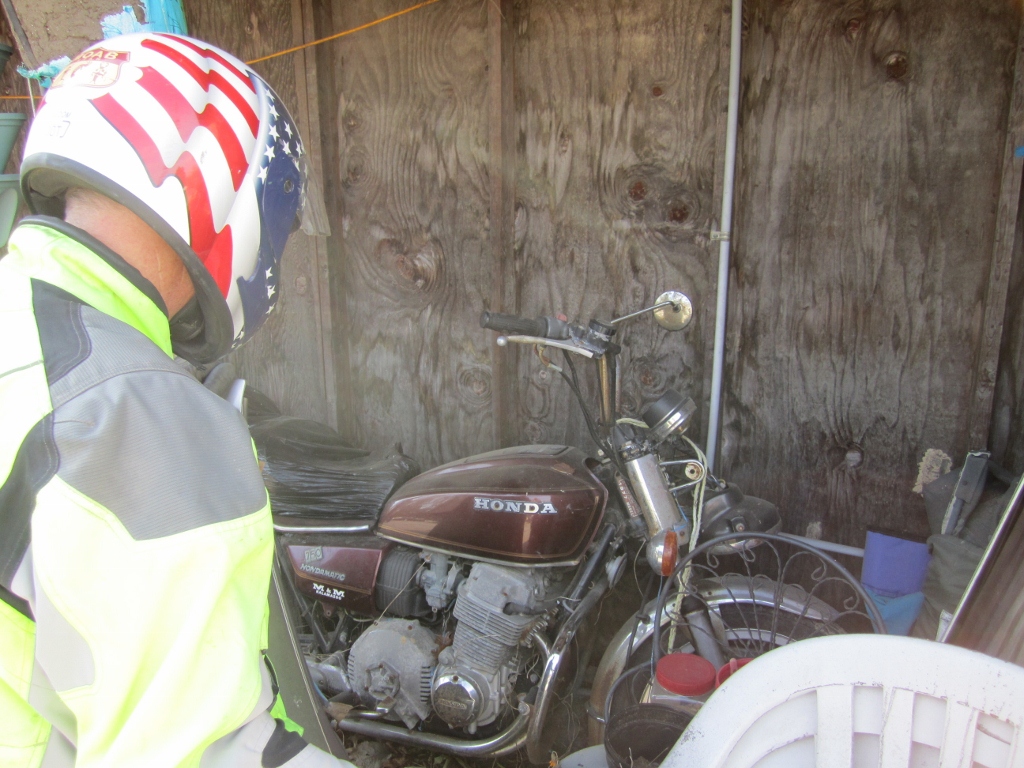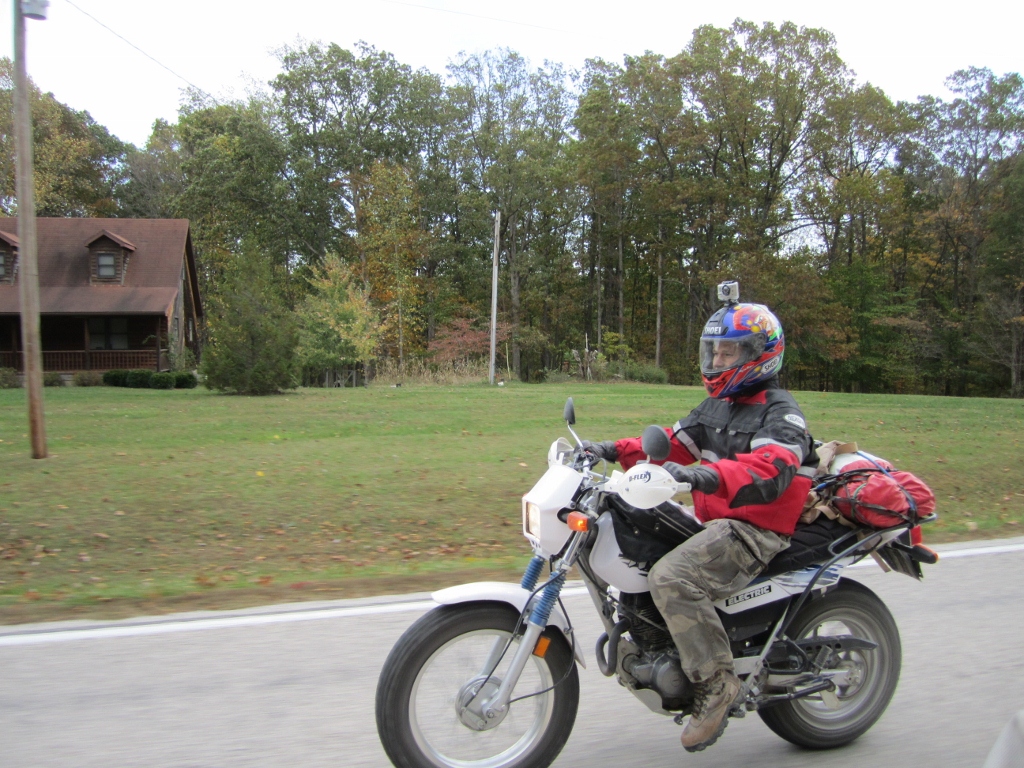 The ride was over 200 miles each day of gravel, dirt, pavement and if you didn't keep moving or had problems you would
be riding in the dark. Here's the stats for the whole ride.

Give Southern, Indiana a look-see--you'll be pleasantly surprised.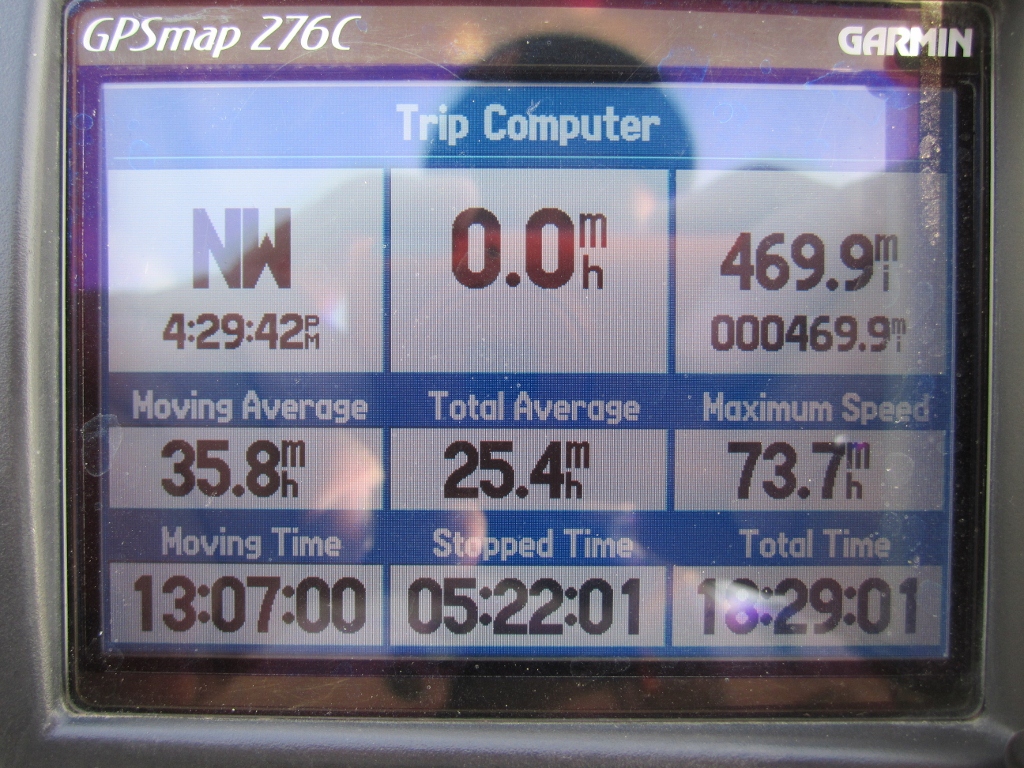 Had to leave my bike and tow rig with Jerry---as I had to catch a ride down to Baja where I had another bike waiting.

Yeah---right !!!!!