4-27-14
Escalante to Hanksville, Utah

So---we stayed at the motel an extra day as this weather haunted us all night and the next day.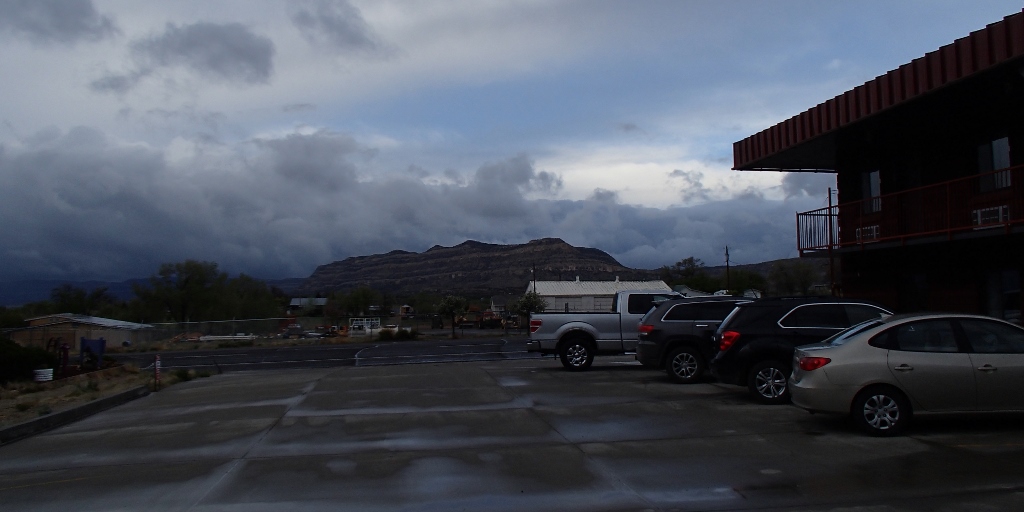 We had a hoot all day----resting up--shopping the 2 outdoor stores in Escalante and eating.
The guy on guitar was very good and we had a really good time here---and the food was great.
He played a song I liked and I told him so--------and became his newest best friend.
When we took off the next day--------it was freezing.
The white stuff you see on the ground is ice.
In my travels I remember getting pictures just like this all over the place-----an irriagtion system going with ice on the ground.
Pretty neat and beautiful..
I had an electric vest and was cozy warm---but heard no complaints from anyone.
And they had the good manners not to make fun of me !!!!
Scott (Dingweeds) took out ahead of us as he had to get back to his ranch to do some work there.
We saw his tracks here and there---but our steeds were no match for the Dingweeds and his WR250R.
Were pretty good riders------"But we ain't no Dingweeds"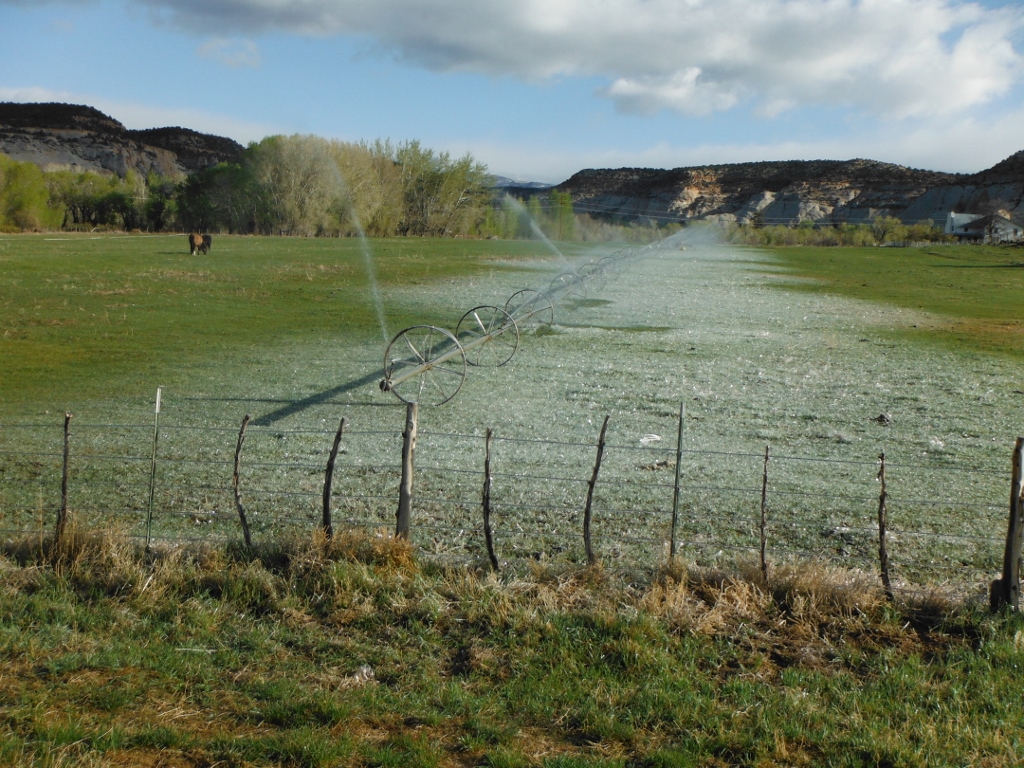 We head toward Boulder and the famous Burr Trail.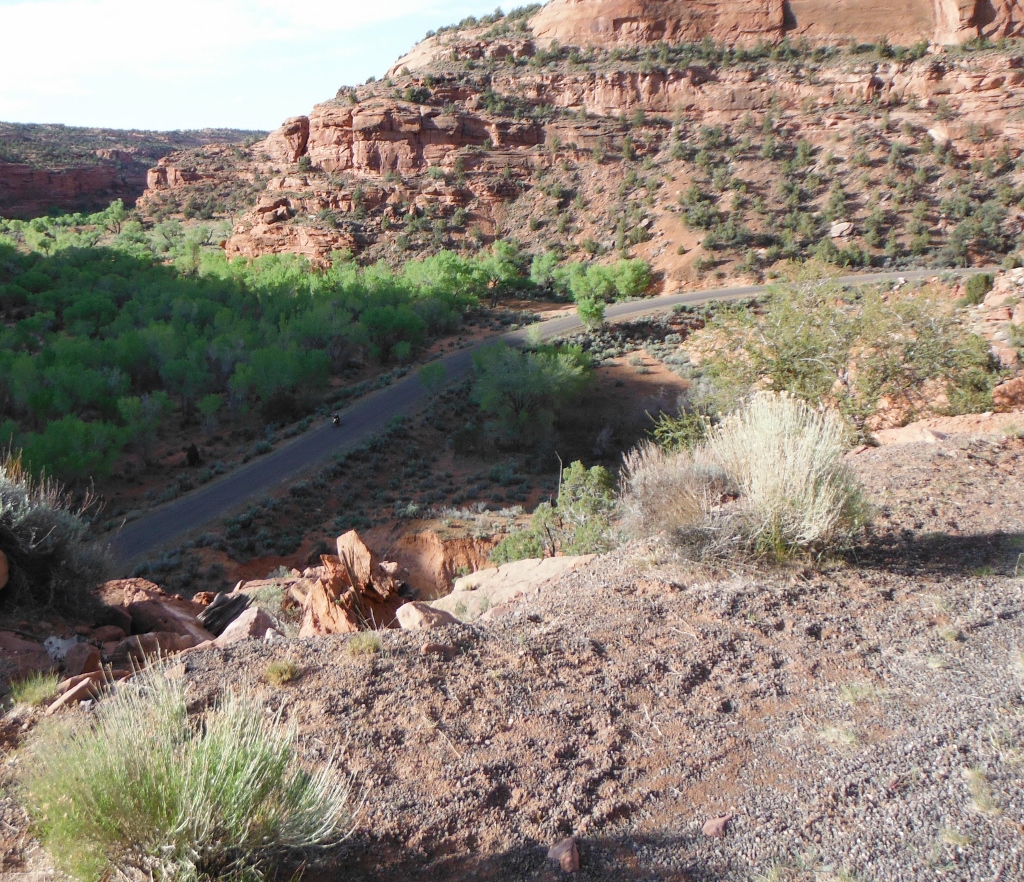 Now on the Burr Trail we stopped at this slot canyon.
Man is this thing neat---right beside the road.
I've been by here many times on other rides and me and Dingweeds rode by here on the way to St. George just a few days ago.
Never knew this was here-----got to slow down---what a treat.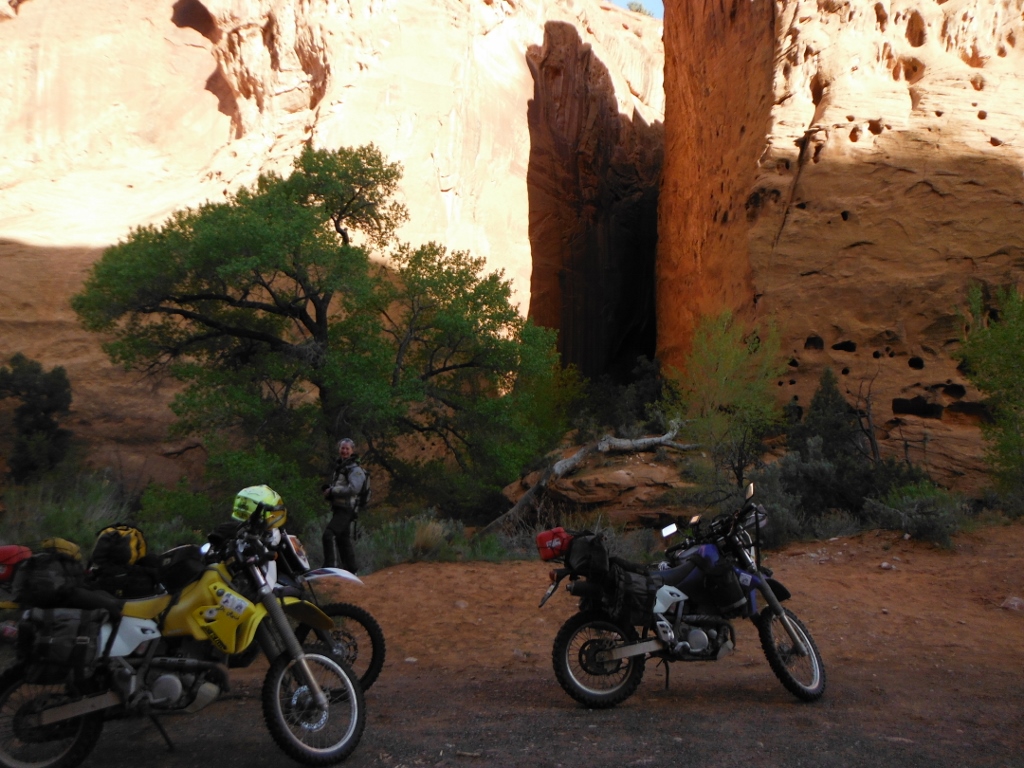 I have no clue what all this means. Pretty important stuff for somebody.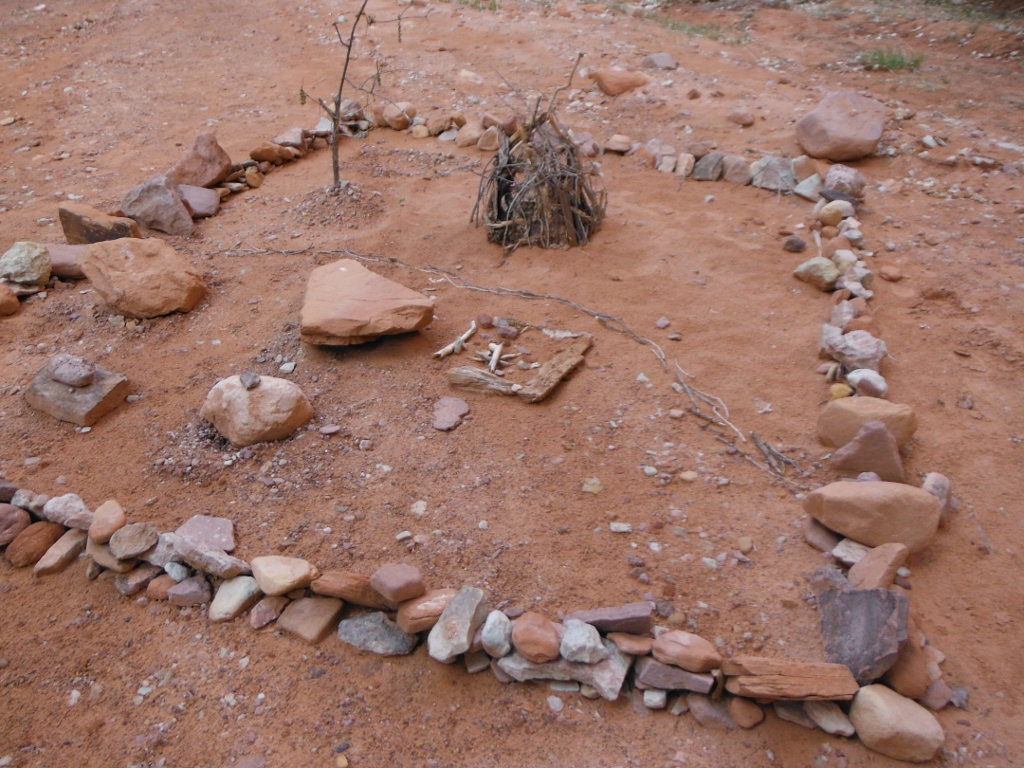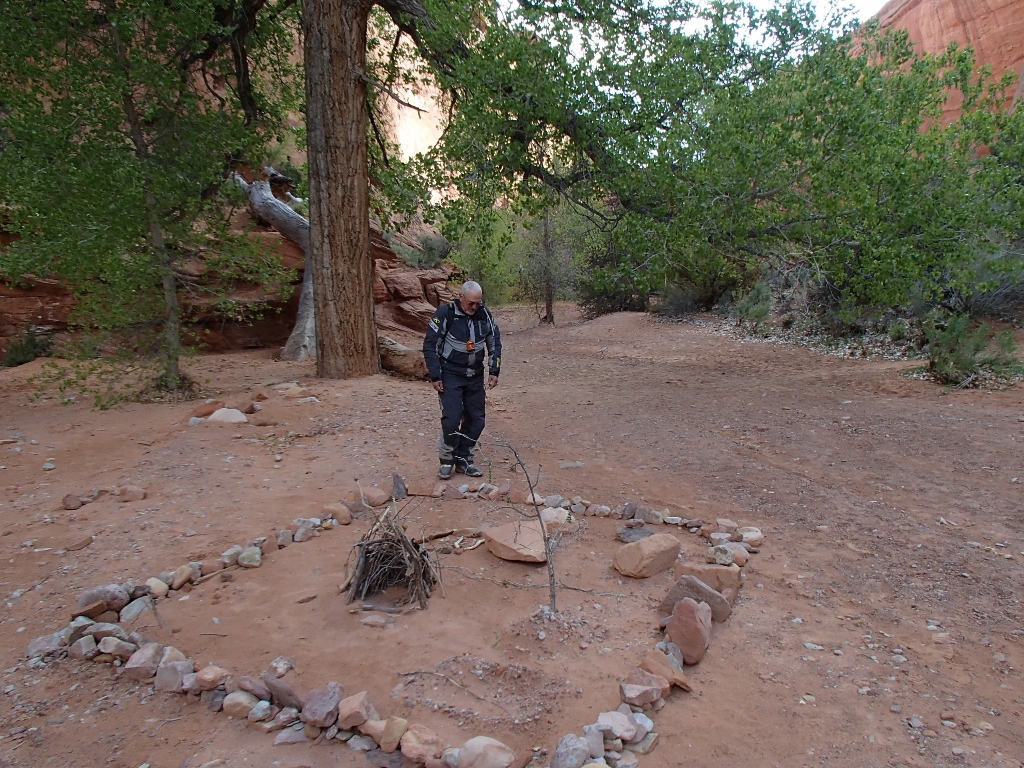 This was all right next to the paved portion of the Burr Trail.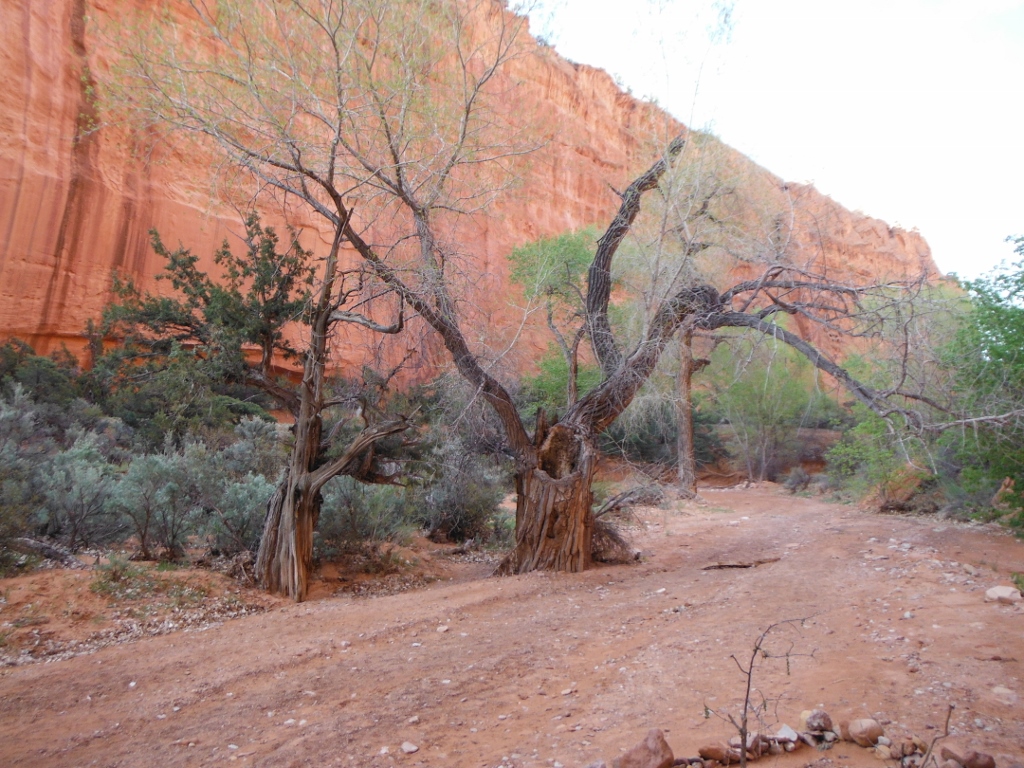 So we all went for a walk into the slot canyon.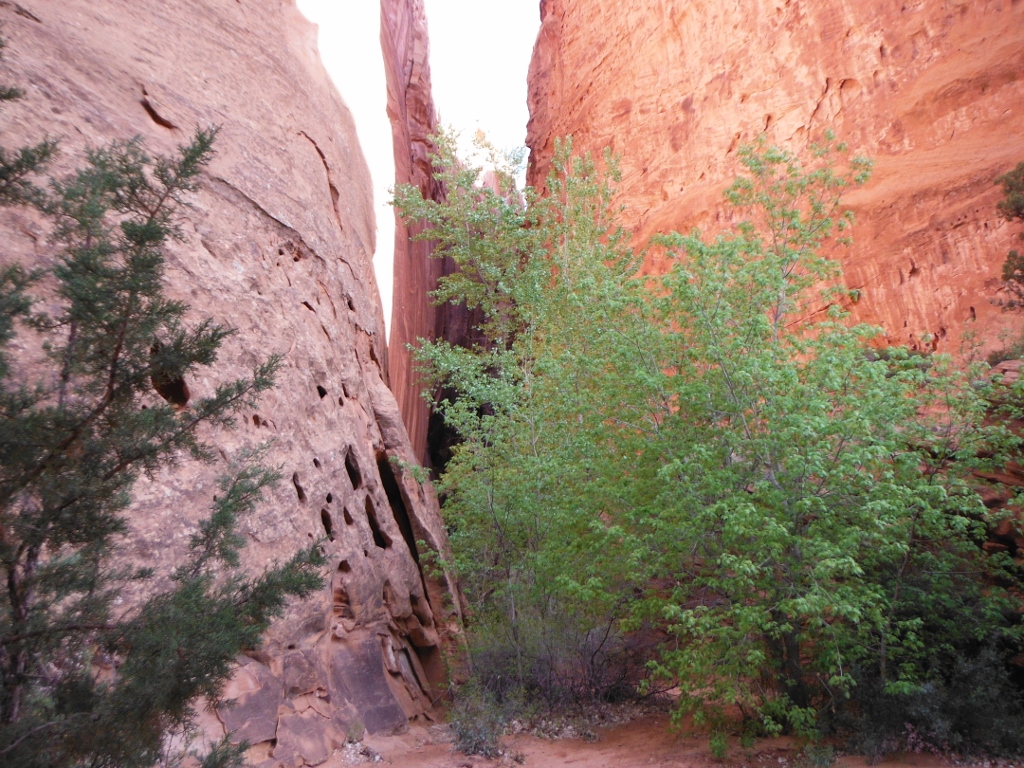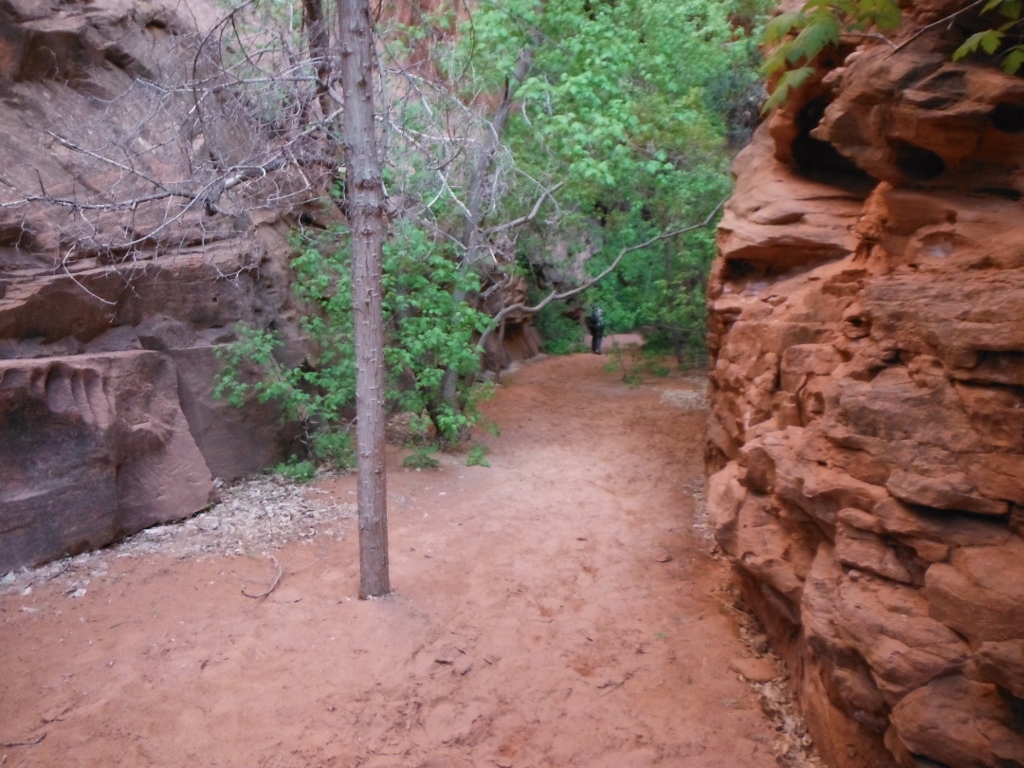 It was a short walk and was a dead end.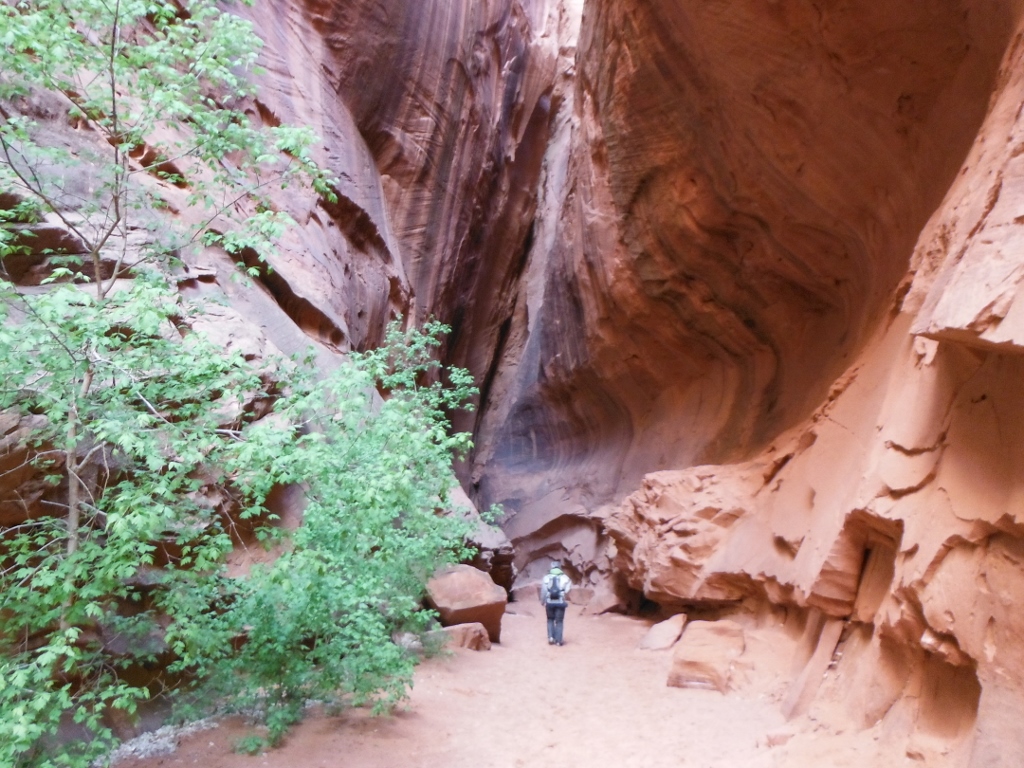 Looking up at the dead end.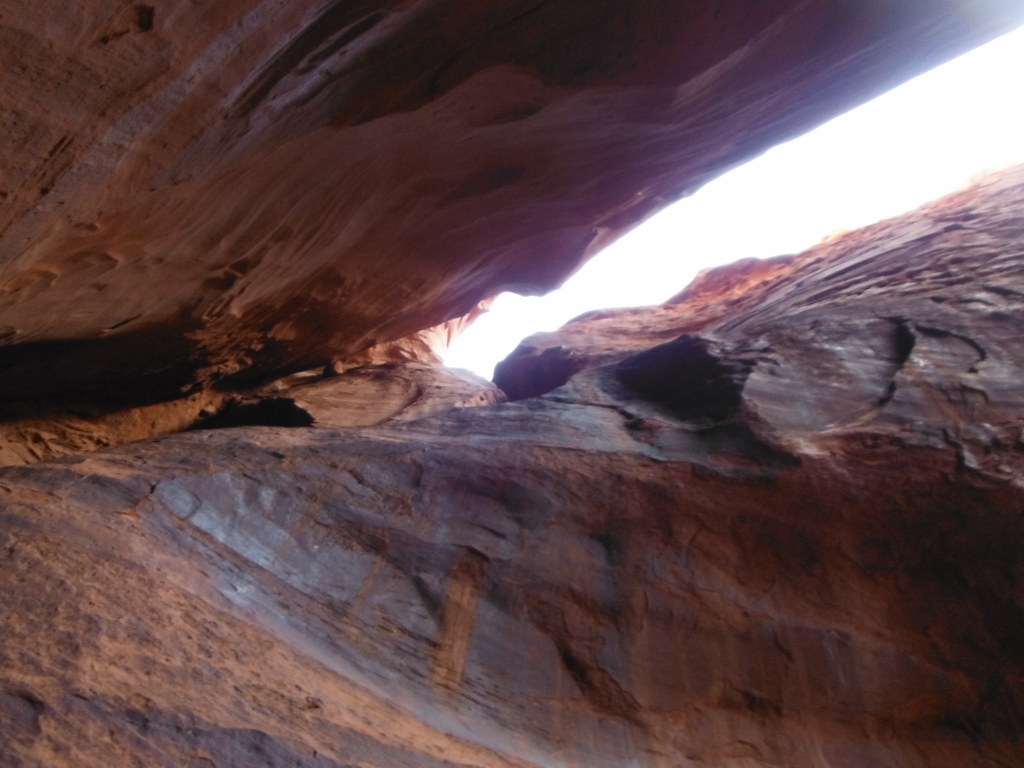 The burr trail and our bikes are out past that tree.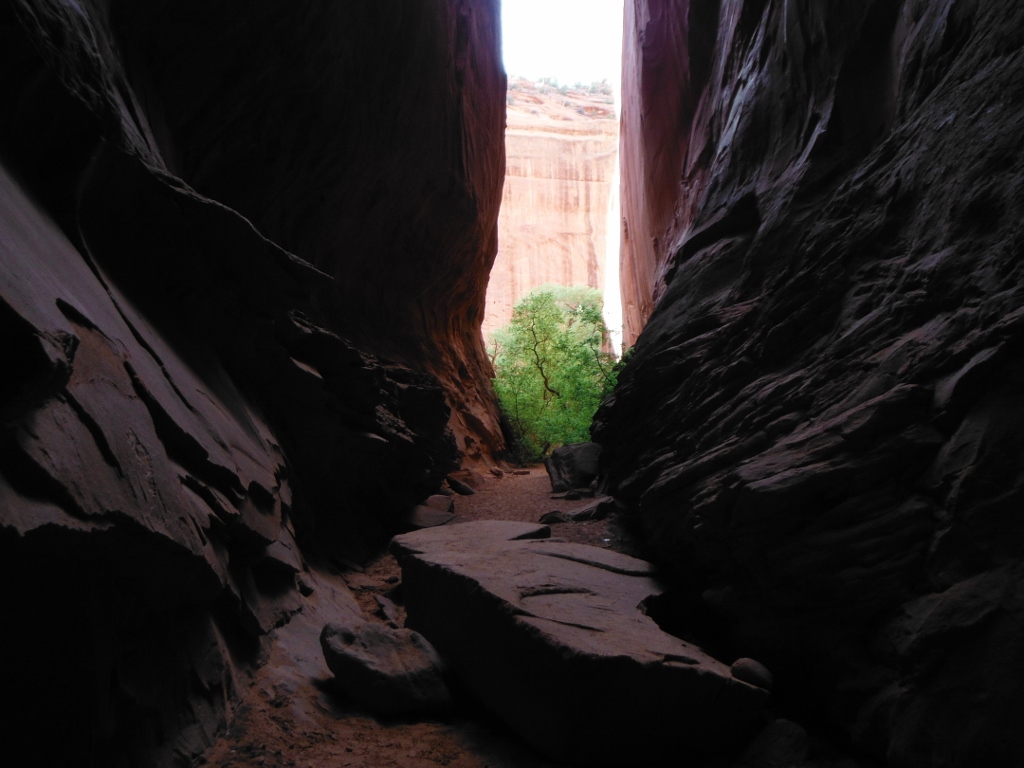 This slot canyon is not marked with a sign-----you just have to know it's there----we had a waypoint !!!!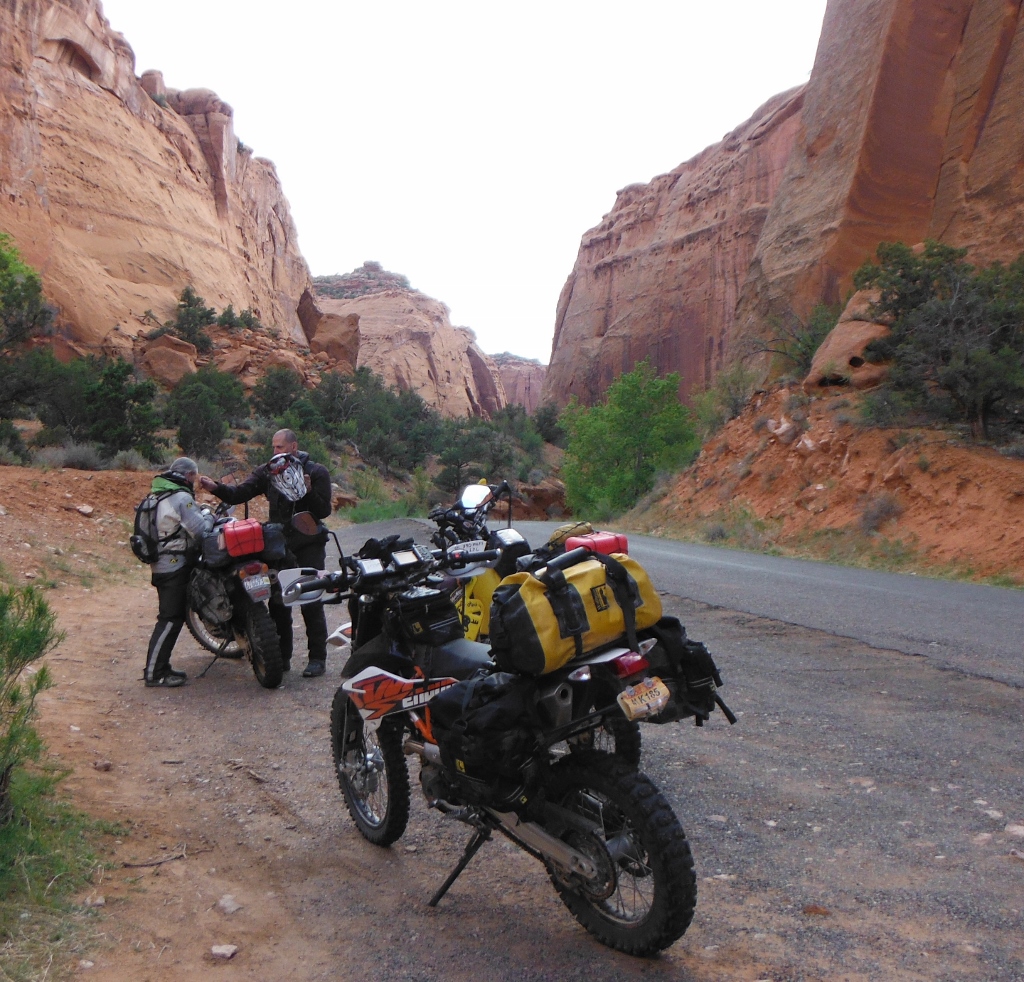 Before we descend the famous dirt switchbacks of the Burr Trail we turned off on what is called
"The Wolverine Loop"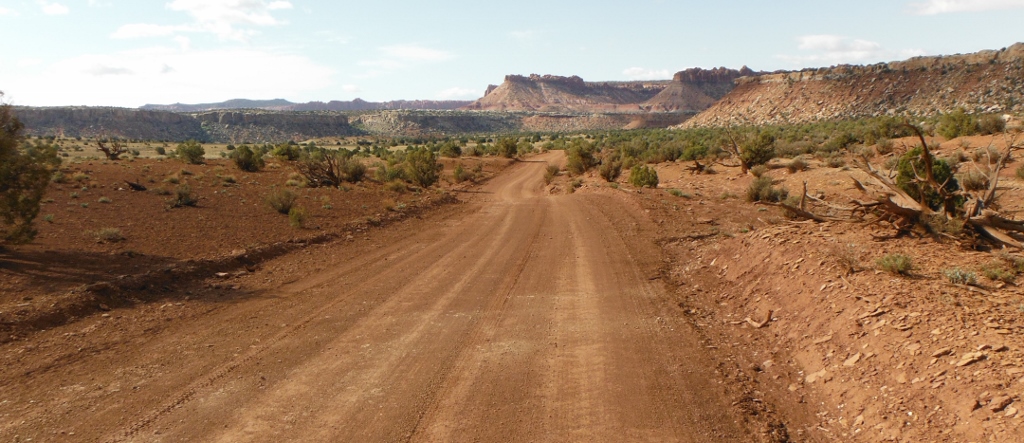 About 12 miles of awesomeness. Big Bike friendly---but not boring.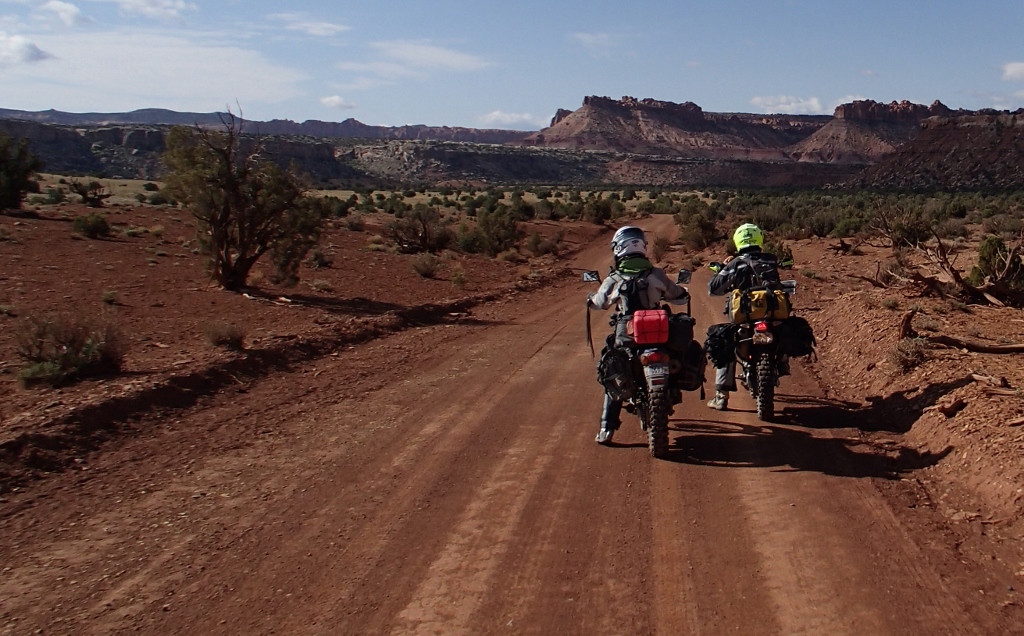 Dr. Rocks video camera is not a helmet camera.
It's built into his goggles---------see it ?????
Pretty handy--------I think it takes pictures too.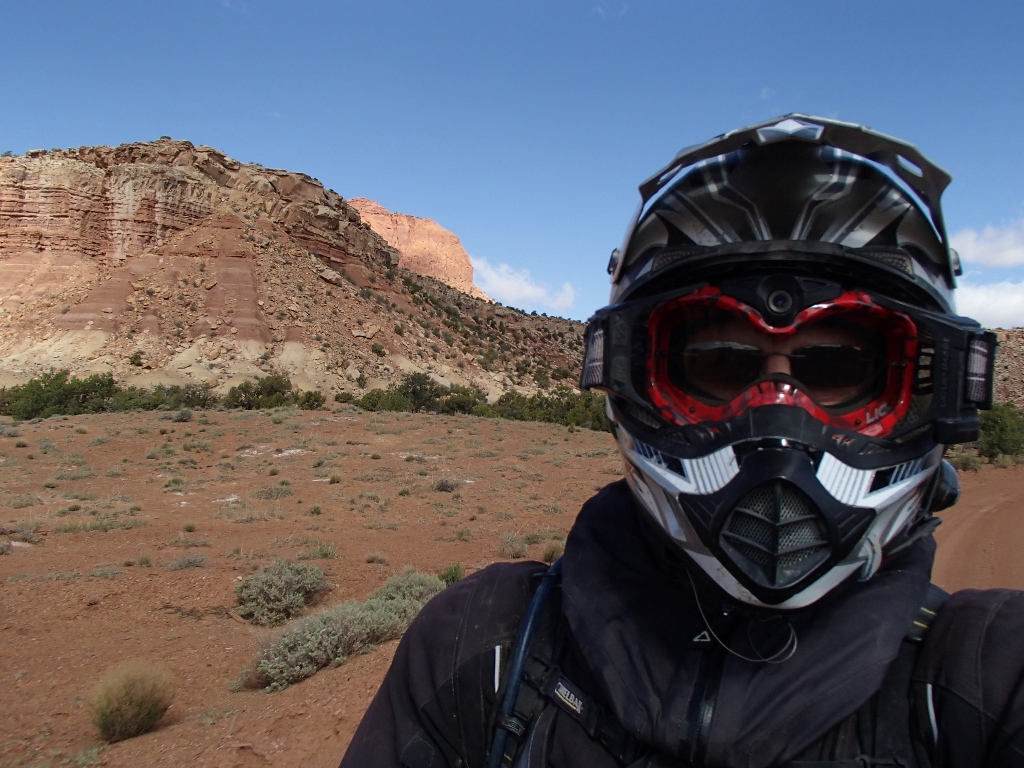 More Wolverine Trail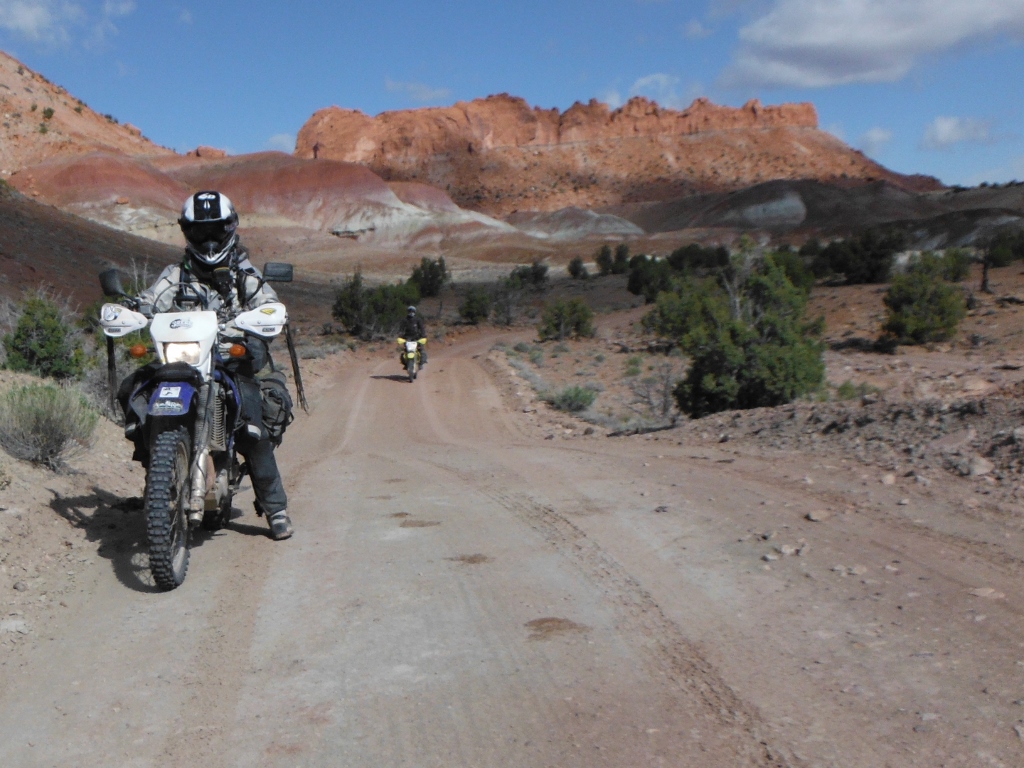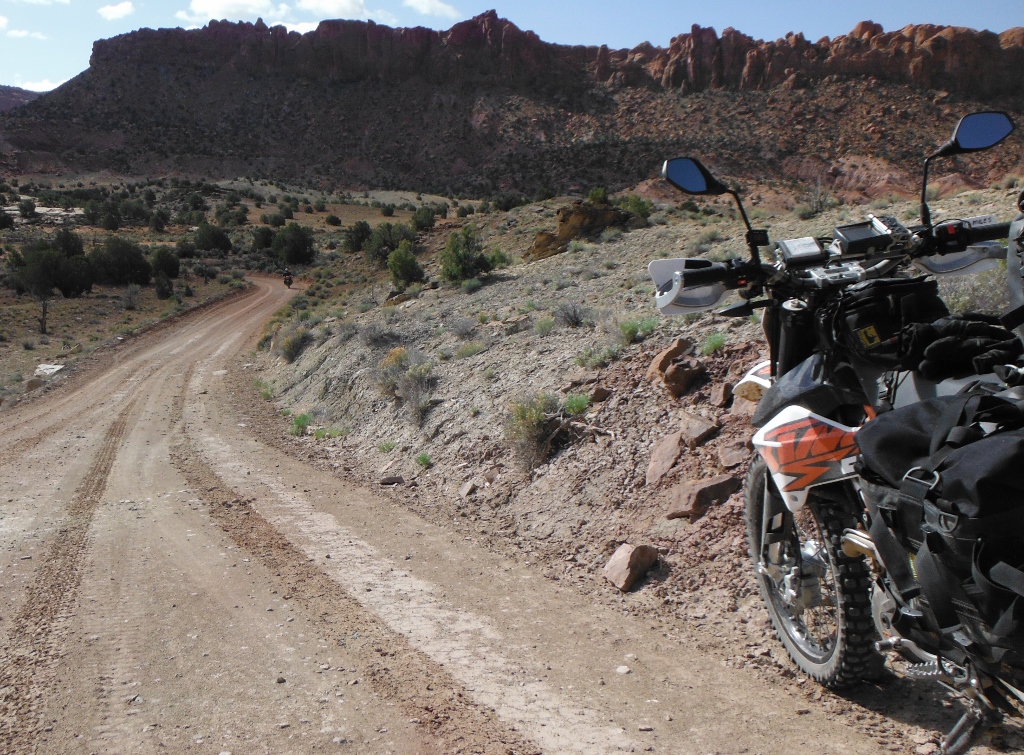 I don't think I've ever been on the Wolverine trail before.
We exited it and intersected the Burr Trail again and went down the switchbacks.
I don't think Doc and Francine had ever been down them before.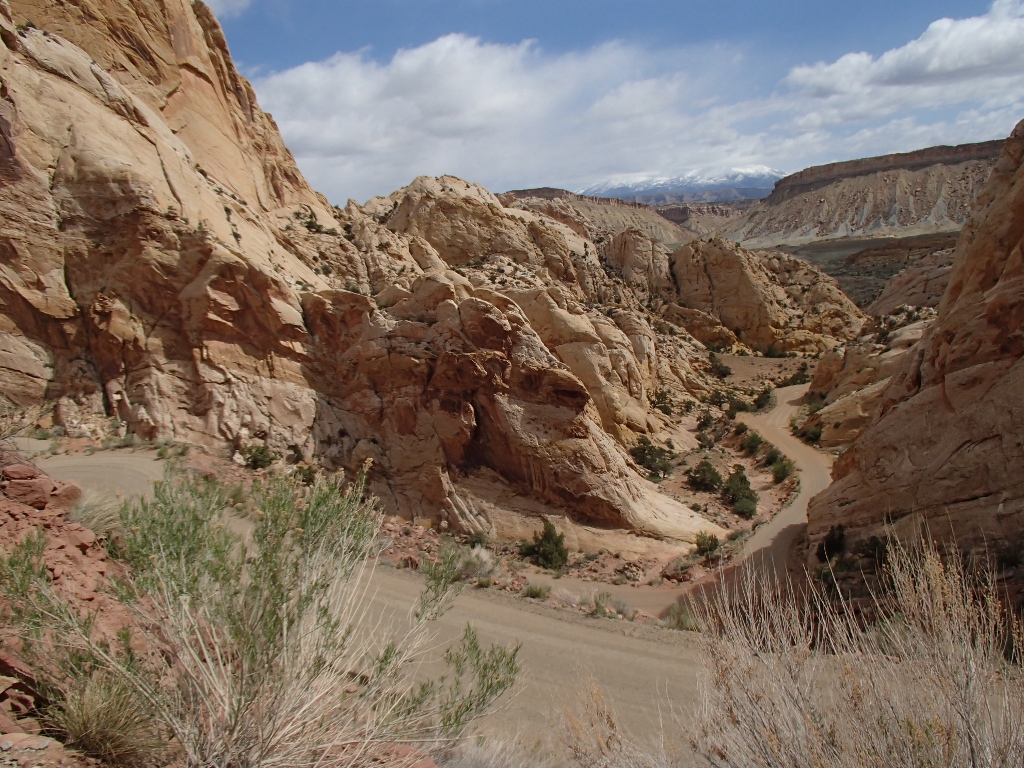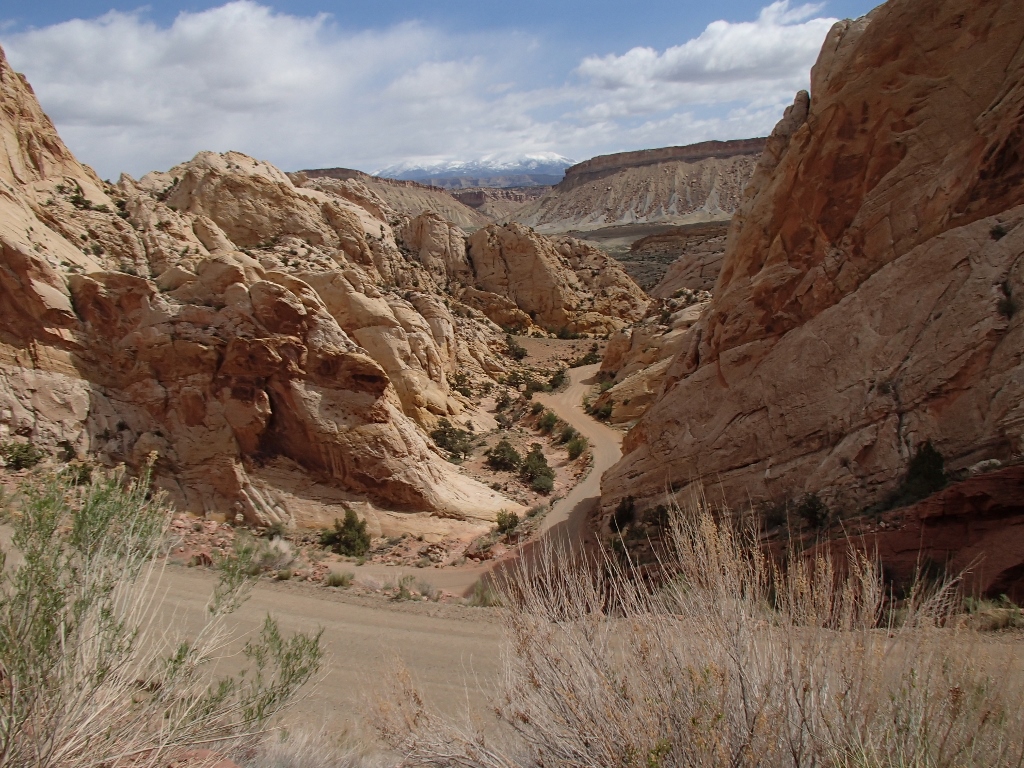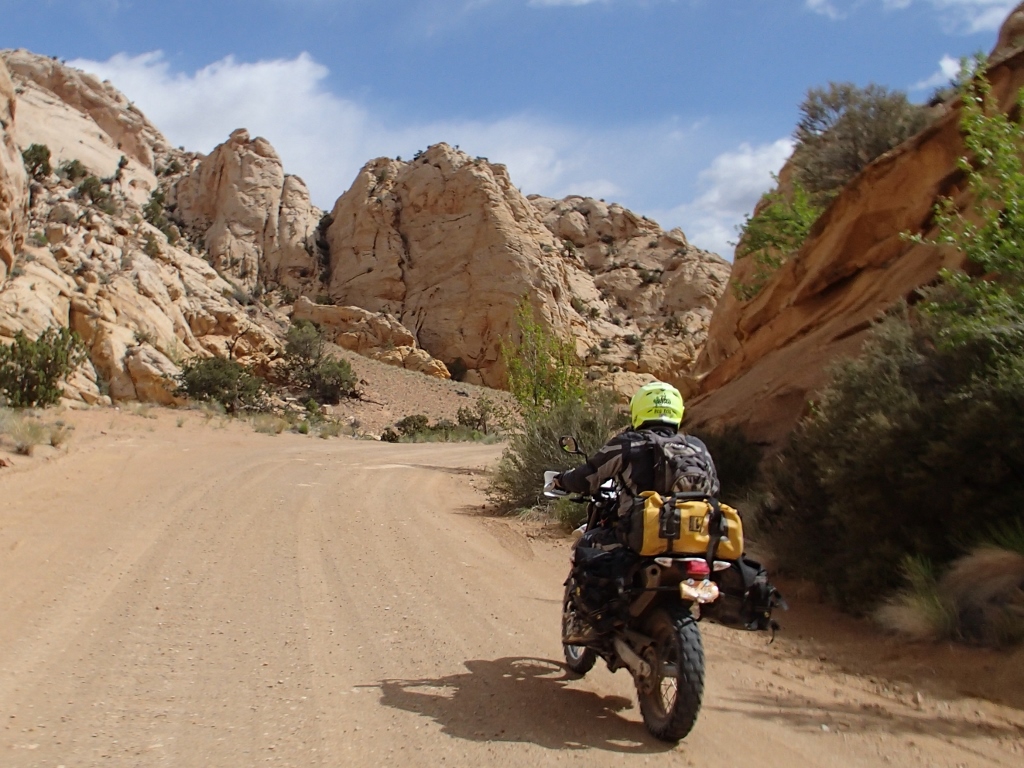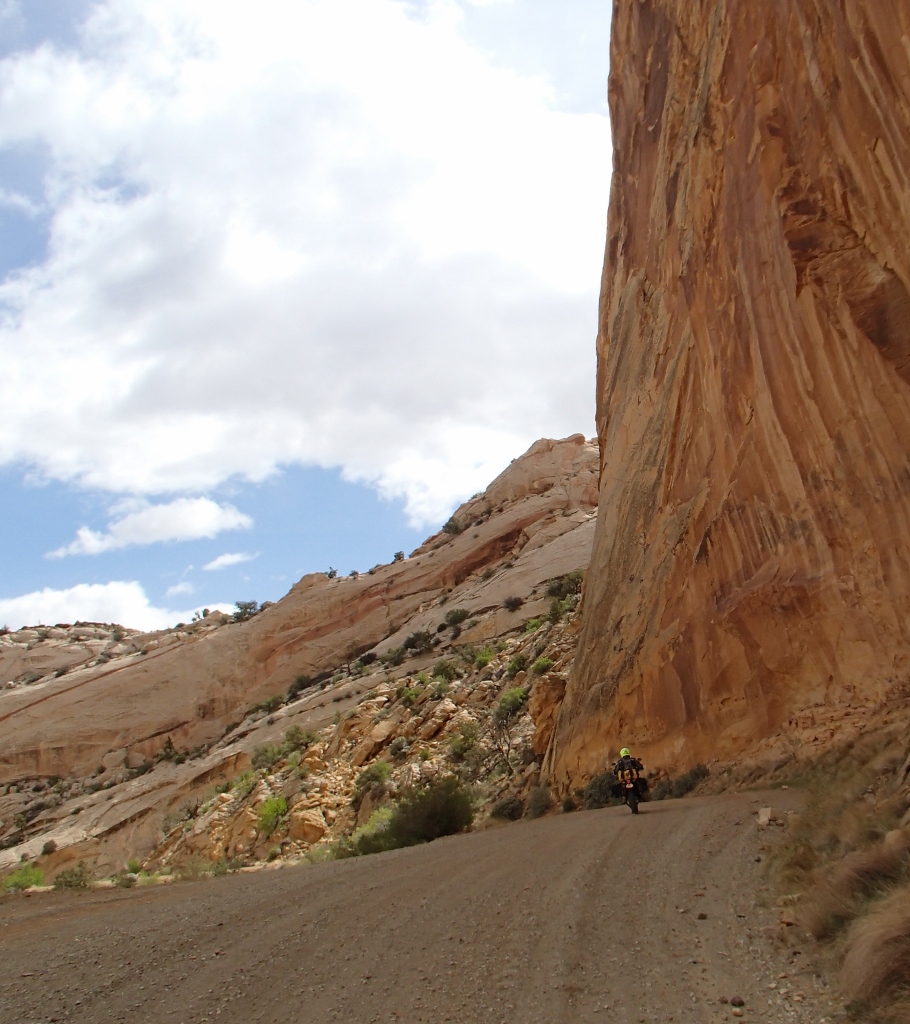 At some point we turn off on another road and head toward Stanton Pass.
I had never been over it---the Mobius riders had tried it on another ride but the road was washed out.
So today was the day.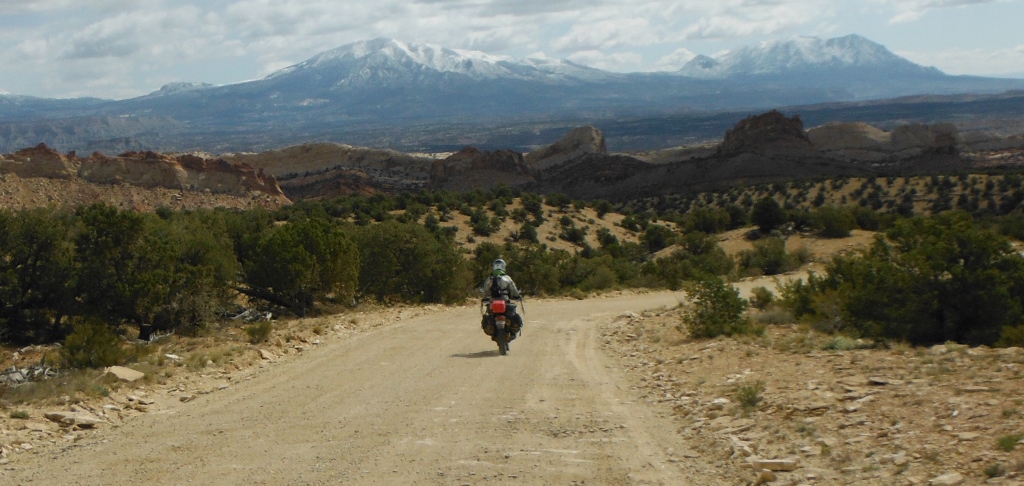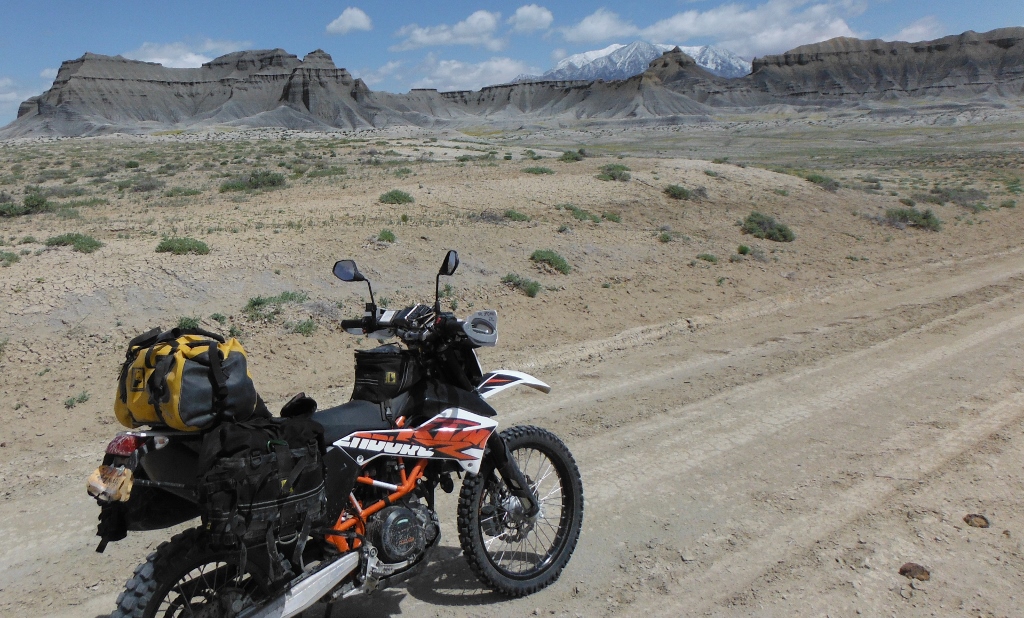 The contrast here between the moutains and these rocks was outstanding as you can see.

All of the snow you'll see in the next few pictures was snow that happened the day before---which was rain at the lower elecations.
And was the same storm that came thru Escalanted while we were there.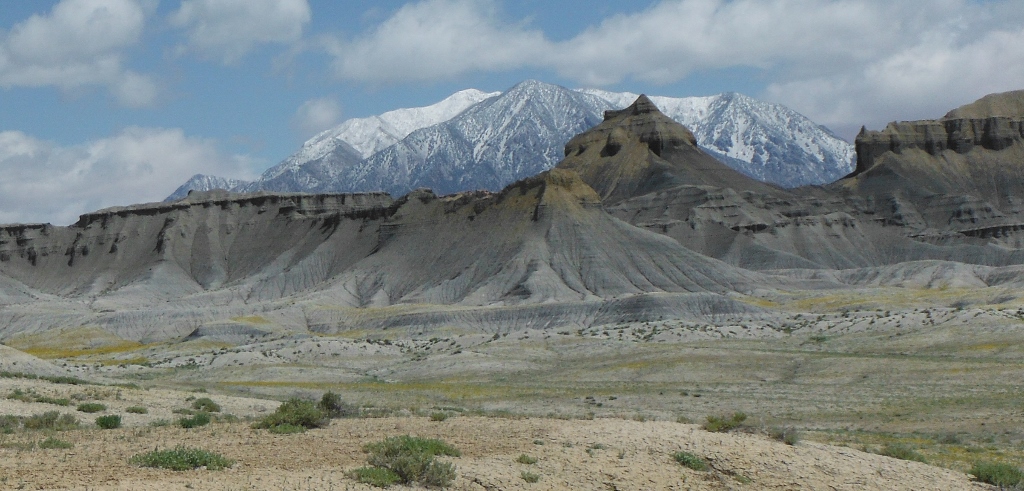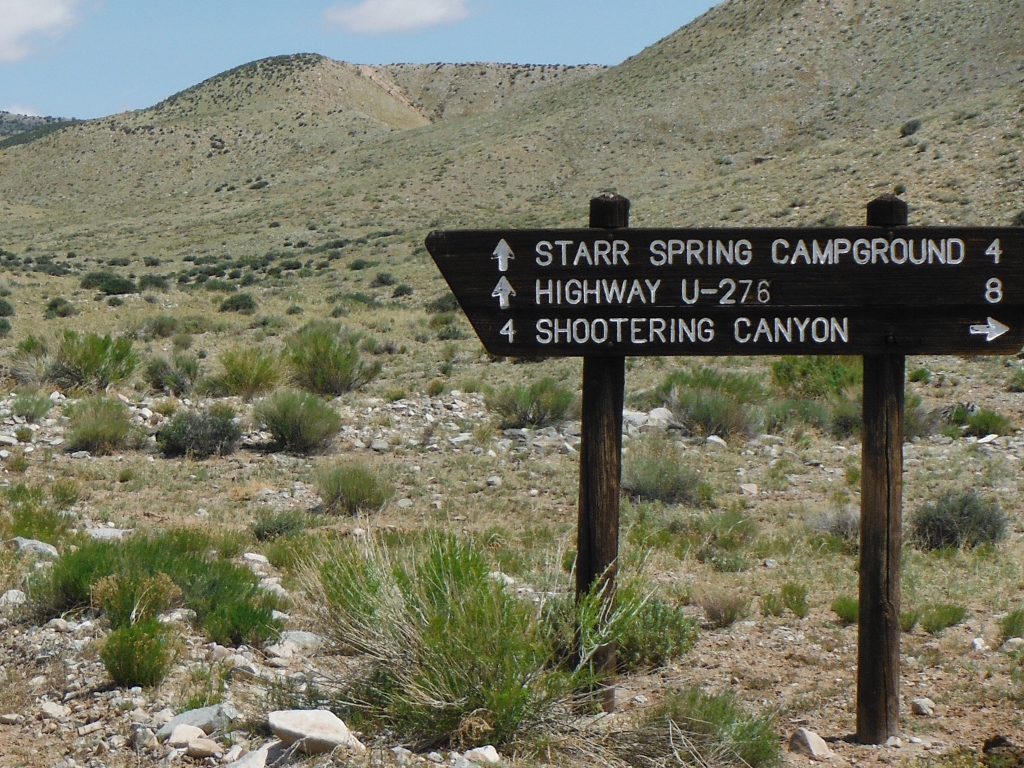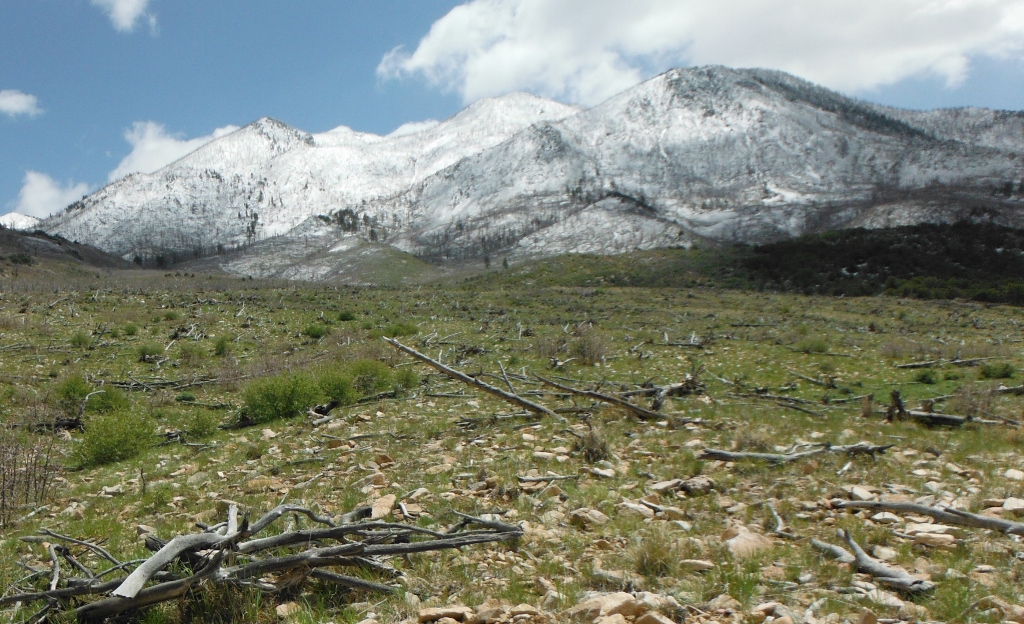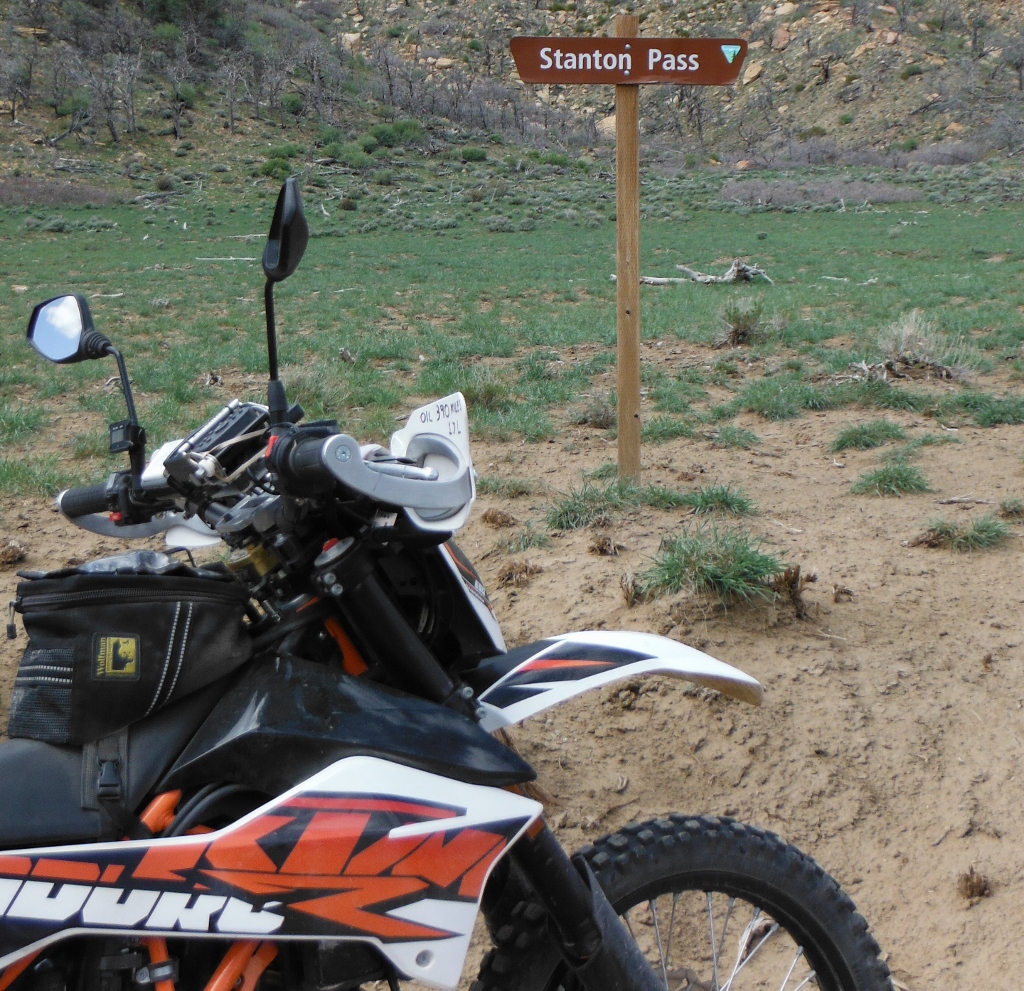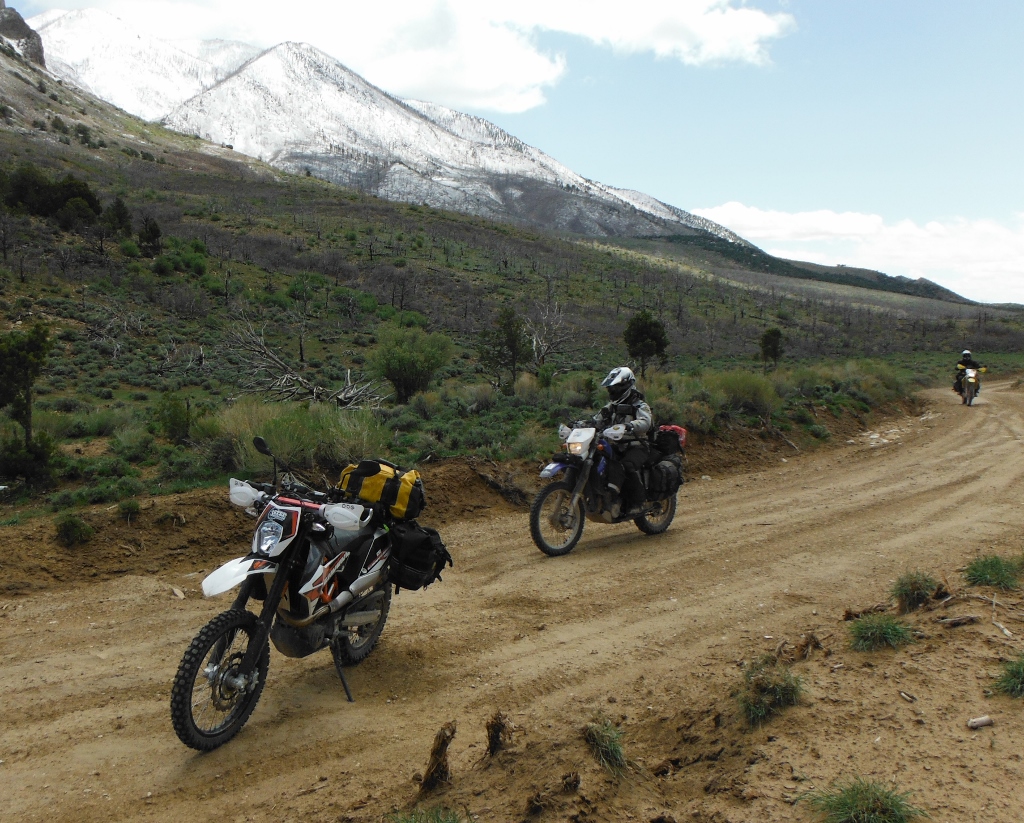 The riding had been really awesome and sllightly challenging.
We were at very high elevations and I got complacent with the dirt not being muddy------------until now.
It was starting to pick up on our tires and I knew what was coming.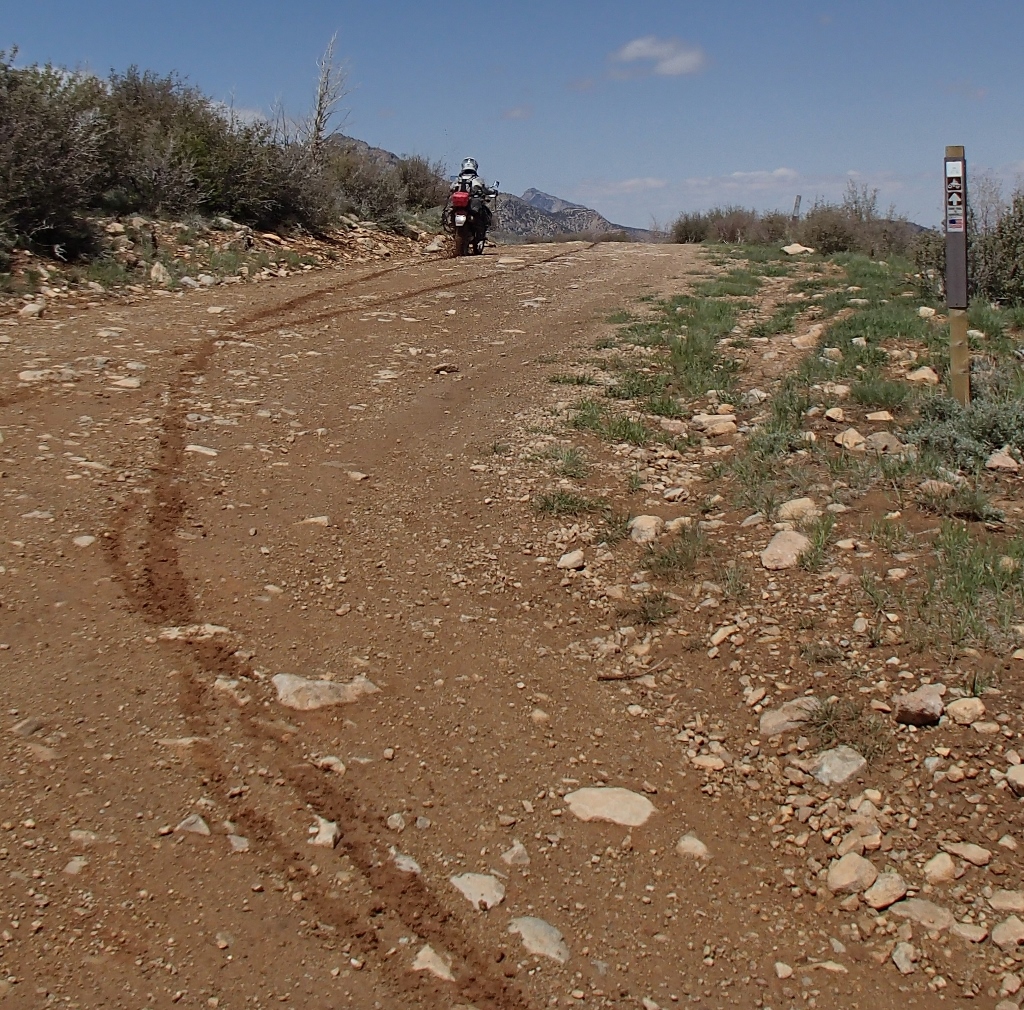 Francine and Doc smartly didn't go any farther---unfortunately you can see my tracks as I did go on a bit further.
And the mud was so bad---I almost couldn't make it back.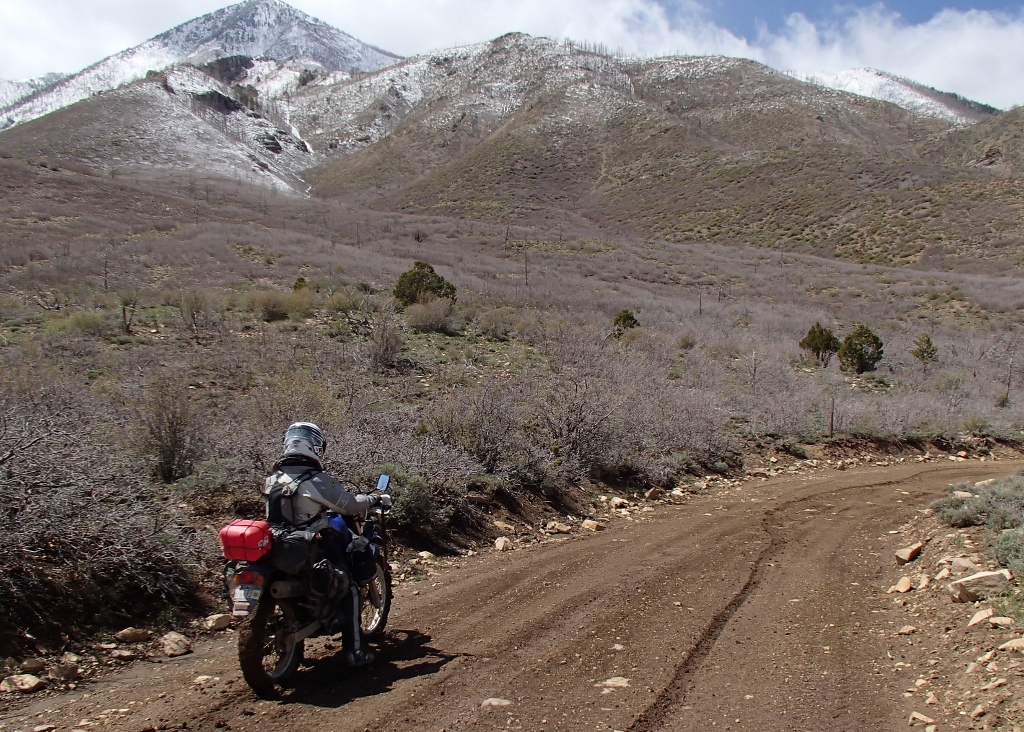 We had to re-route-------thank goodness we had a way out without going all the way back.
Wikieup pass would have been next----but was not to be.
Doc grinned at me and said "Sorry I got your new bike dirty" .
He's so funny !!!!!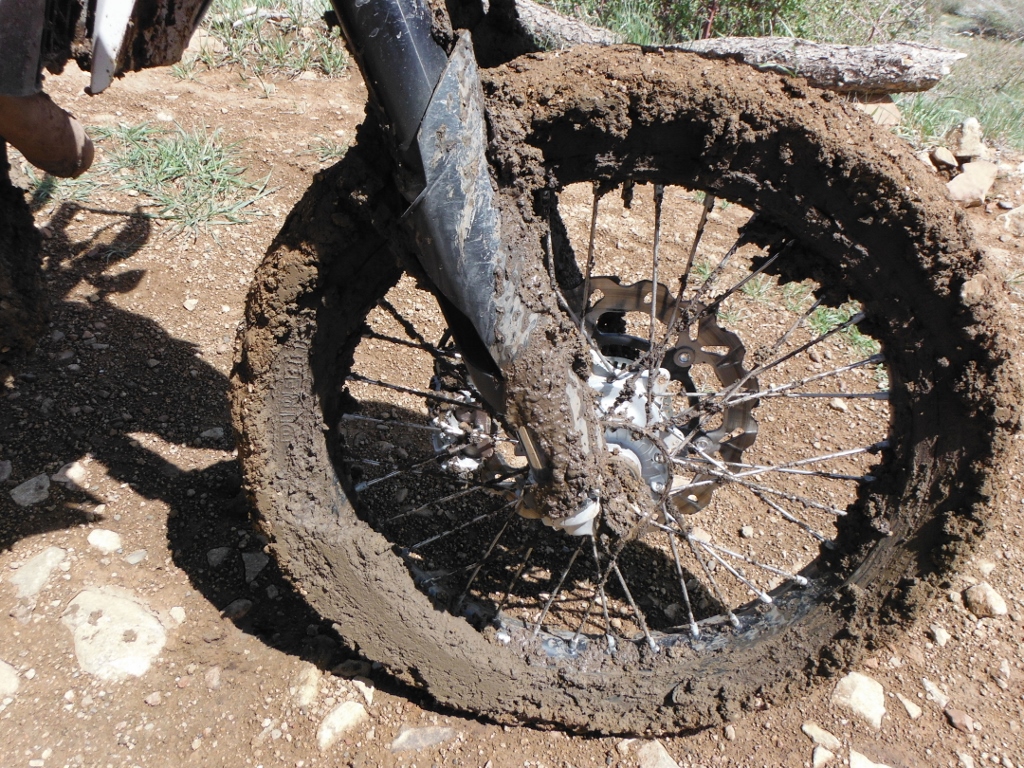 We've got some pretty sad looking faces---probably after seeing inside our motel rooms. It was pretty bad.
This was in Hanksville, Utah-------not much there.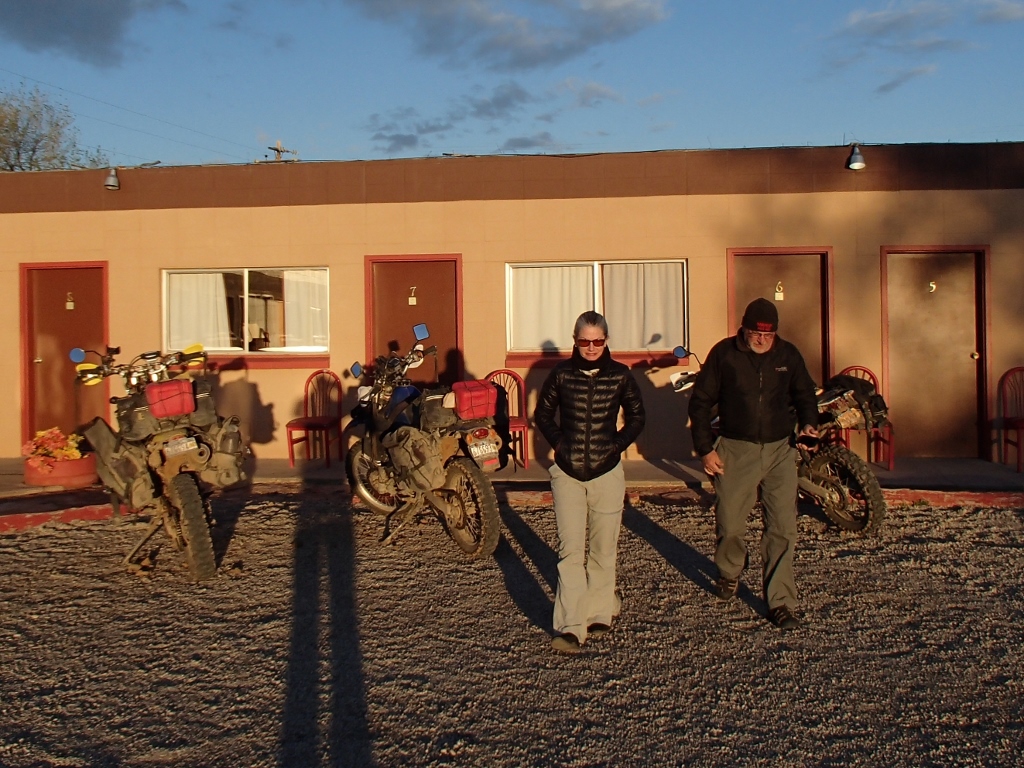 A Map of our ride today----about 175 miles
Todays ride was awesome----but tomorrow would be the best day of all.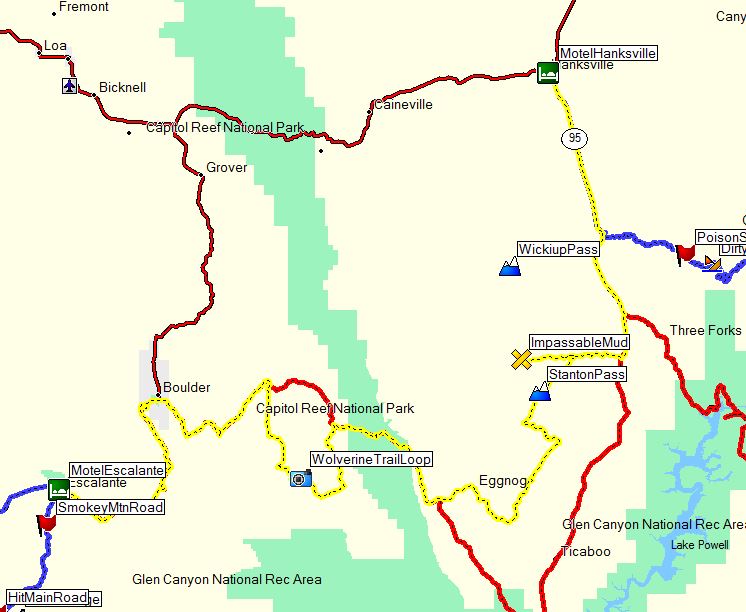 4-28-14
Hanksville, Utah to our Campsite
Today was a day of extreme uncertainy.
We would have to cross the Dirty Devil River to ride this 128 mile day.
We had heard lots of things about this crossing ---and had heard it's not do-able when the water is up and that it is fast
flowing, wide and the water is dirty-----as the name says. And we had no idea of the difficulty of the route. Just a bunch of here-say.
17 miles South of Hanksville, Utah look on the left---this is what you see looking East as you enter Poison Spring Wash Rd.
which leads to the Dirty Devil River about 20 miles down the road----------sounds all so scary and mysterious.
It's starts out very easy-------doesn't it always---before all hell breaks loose.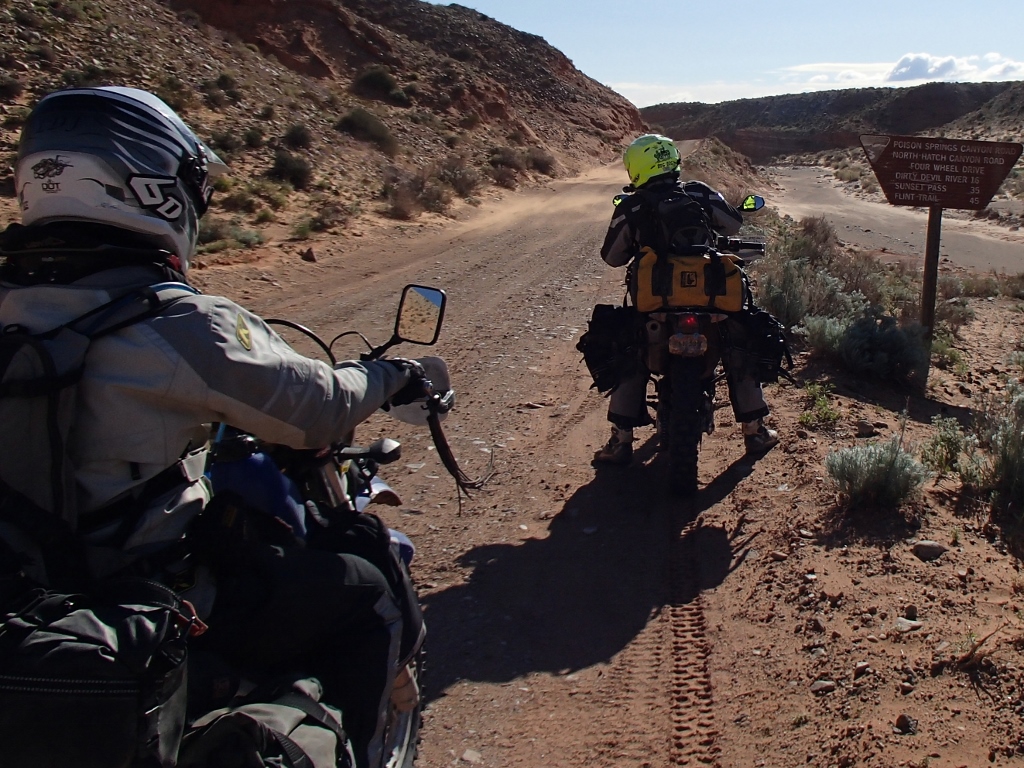 So off we go and it was so different than I imagined.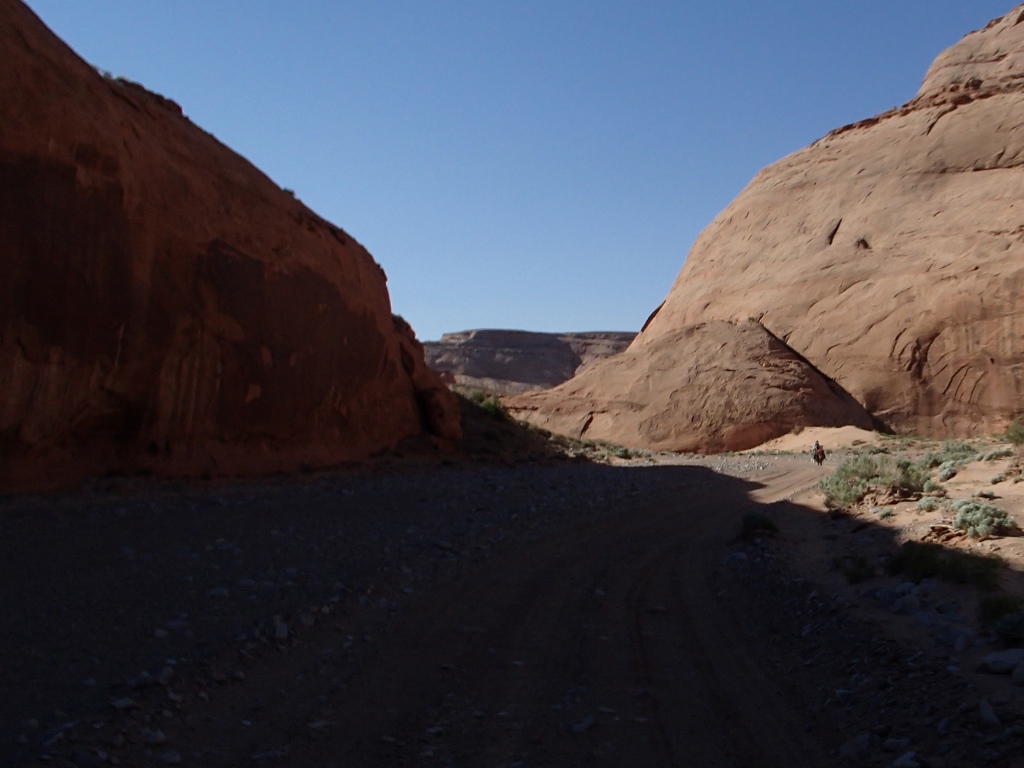 You ride right in the wash a lot---sometimes dry.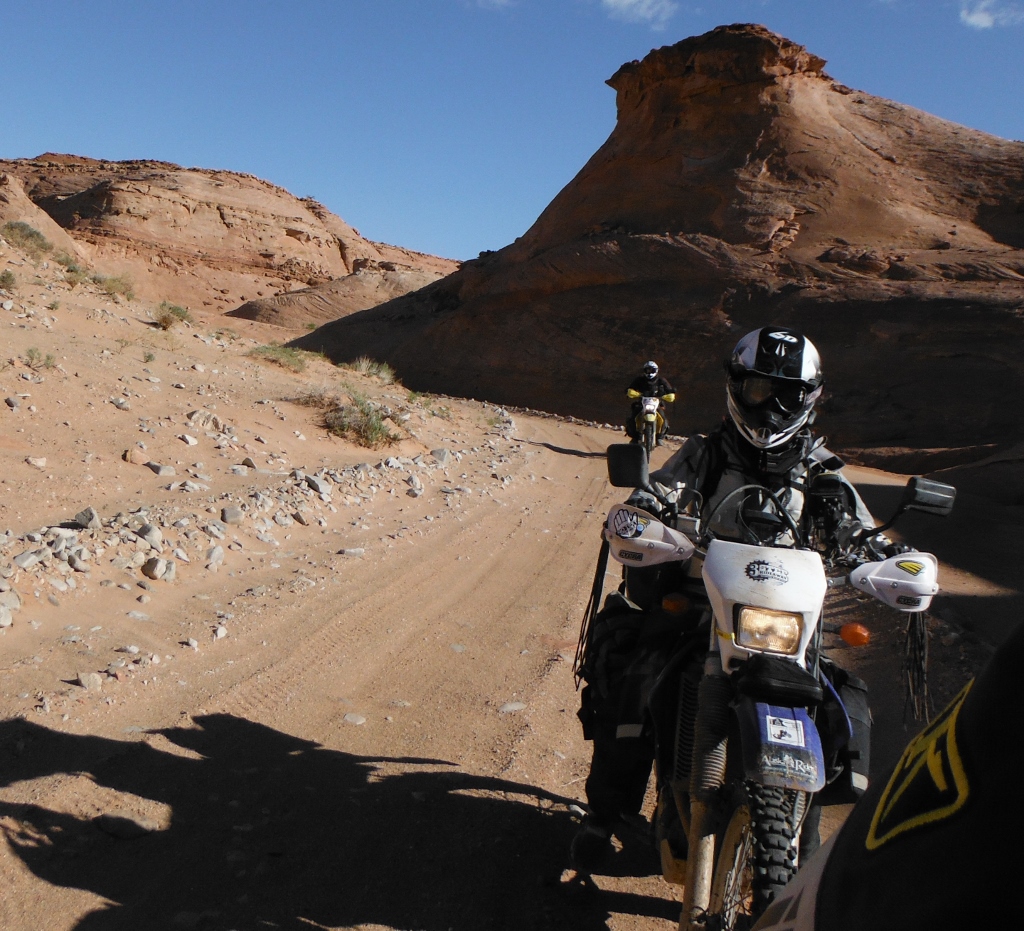 And sometimes wet-----we rode thru so much water before the Dirty Devil River it had us all worried.
We dialed are weather controllers in------65° check-----Sunny ..check.....no wind..check----no dust..check.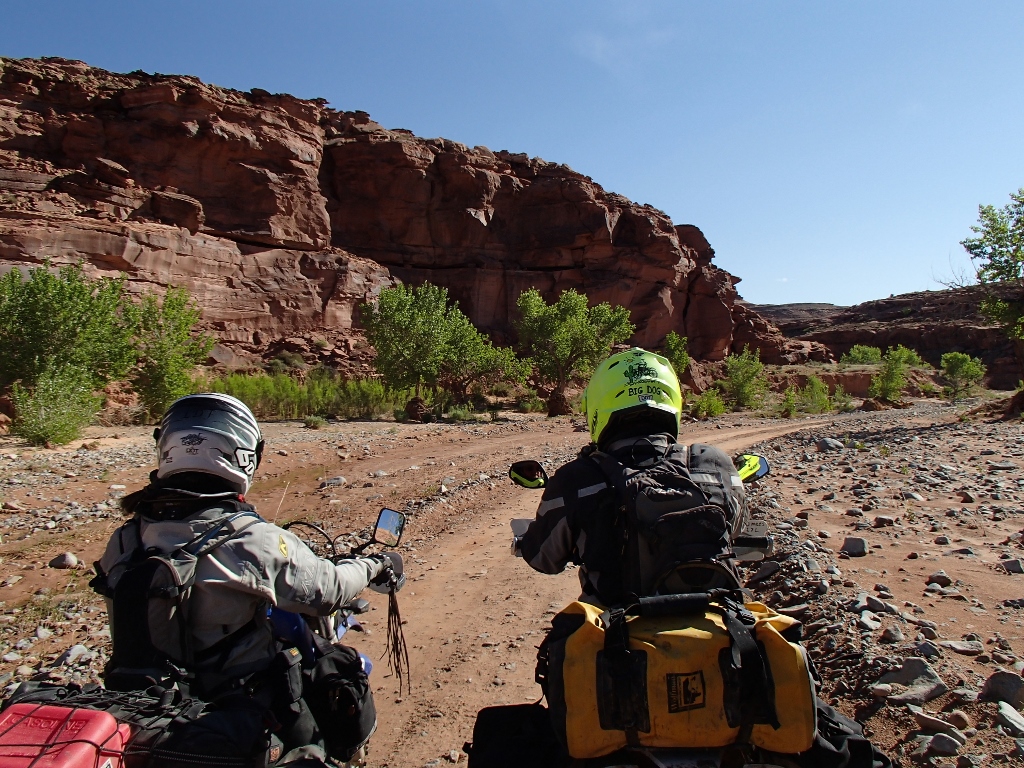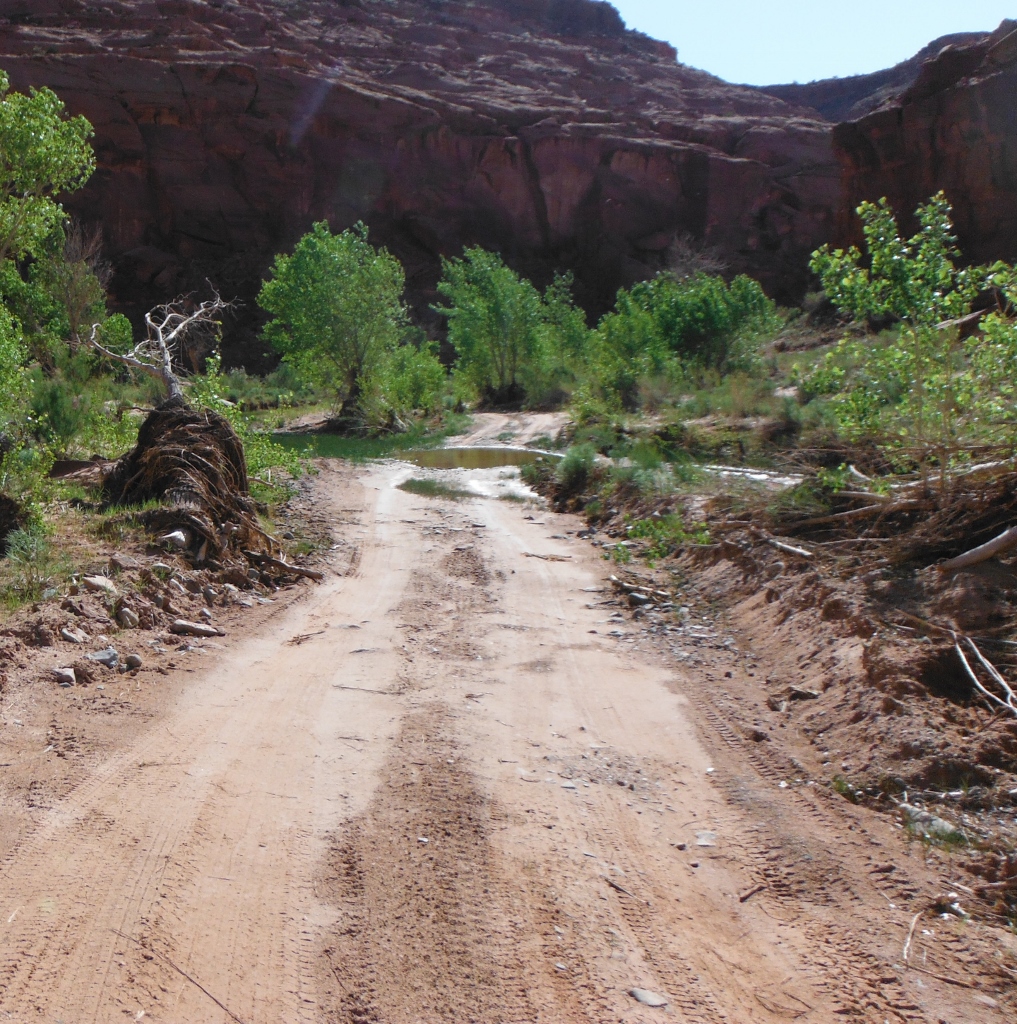 I just for some reason did not expect this incredible riding and scenery.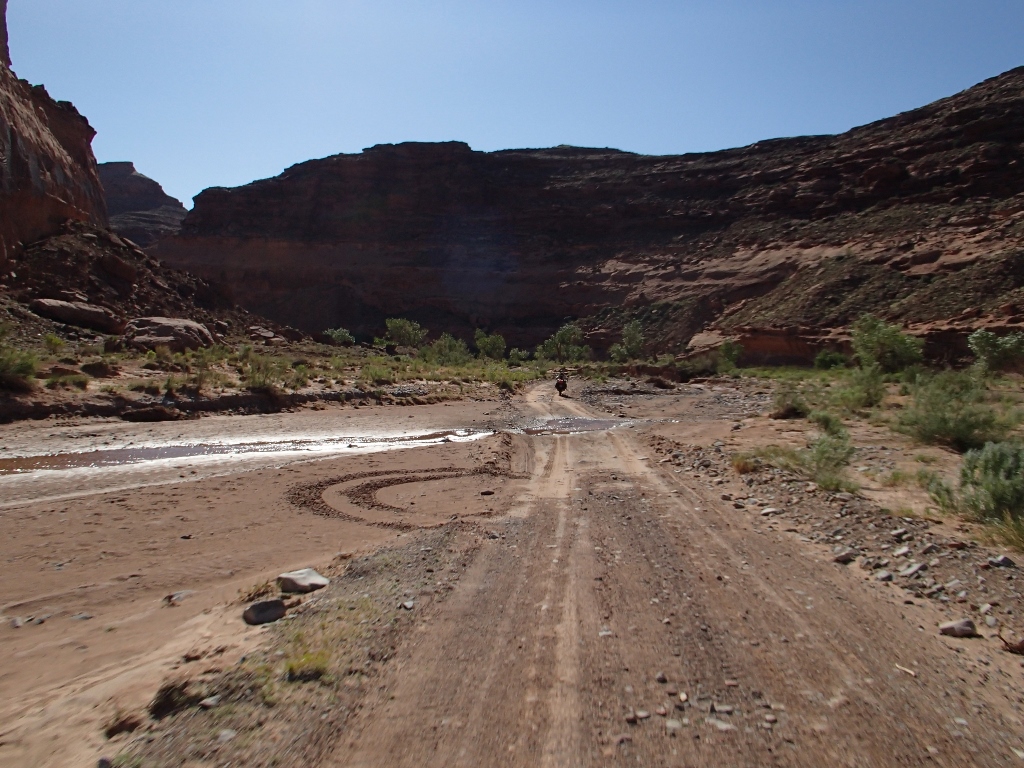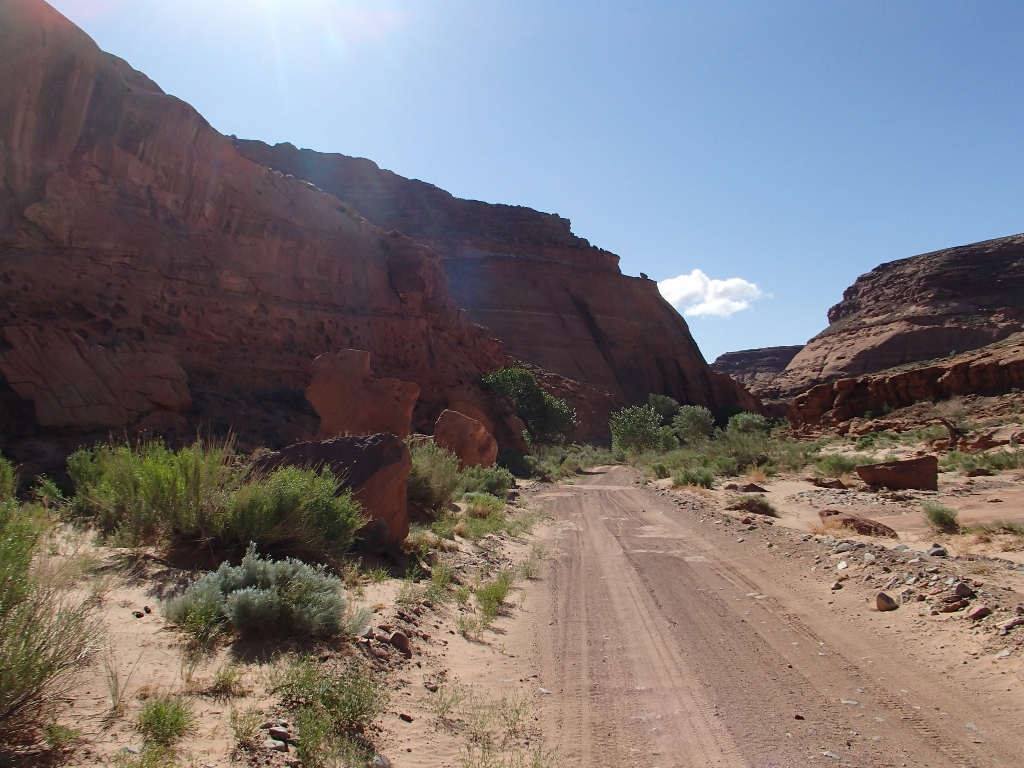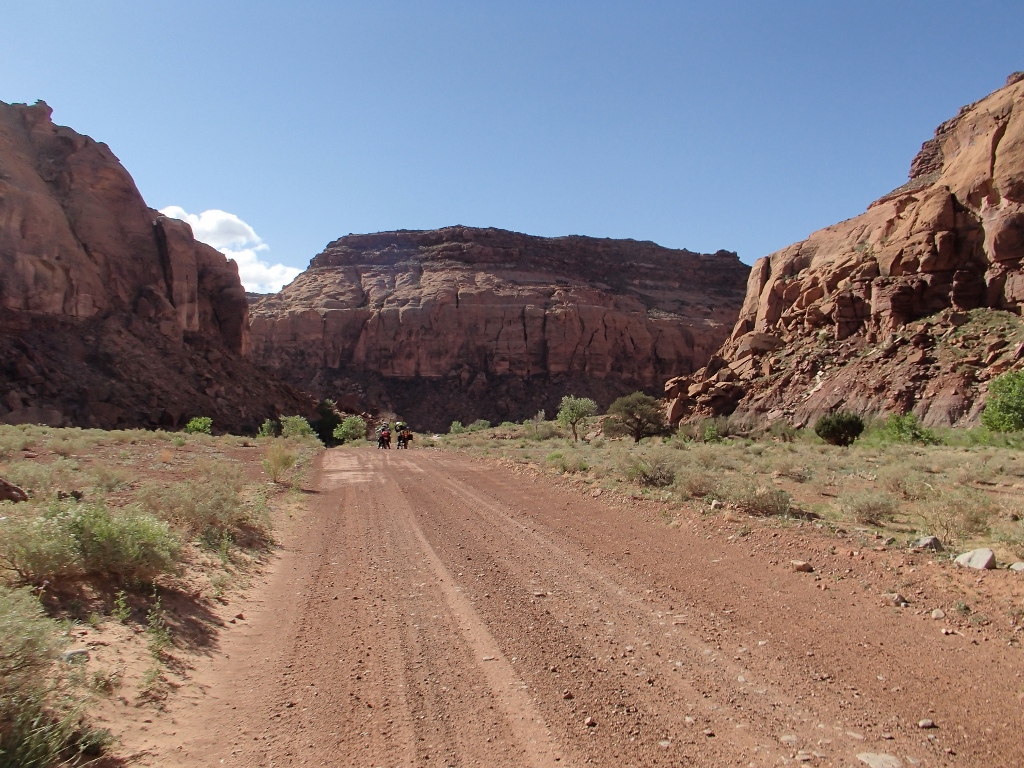 A little sandy in spots but it was never deep sand.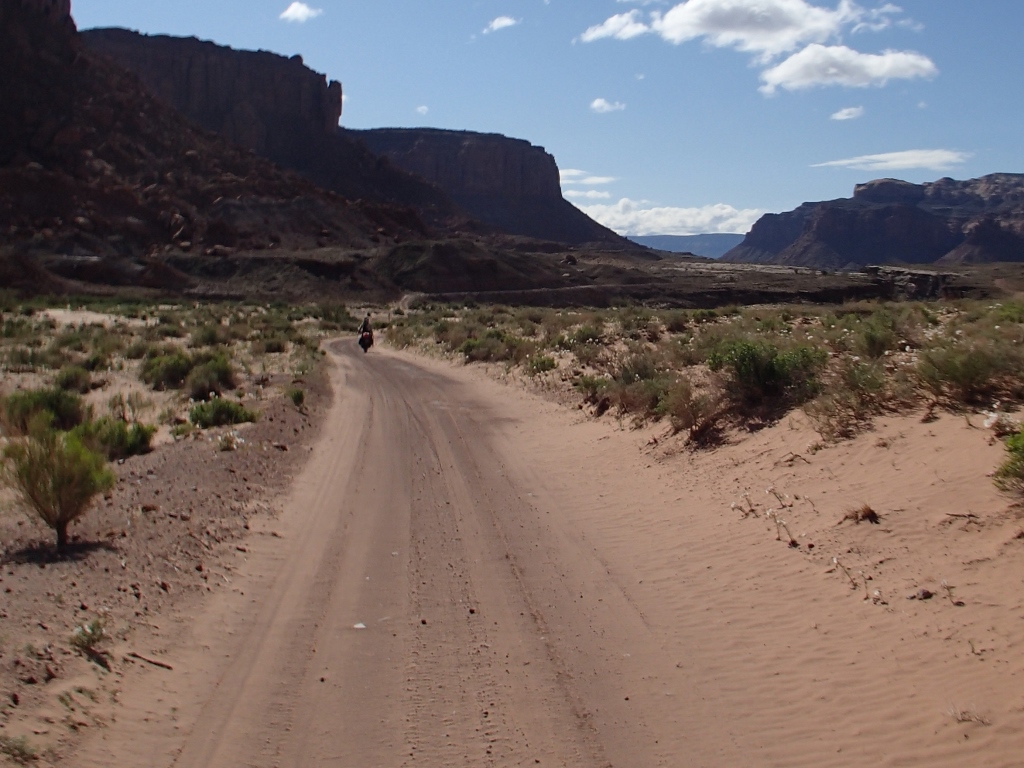 So what's up ahead-------the Grand Canyon ???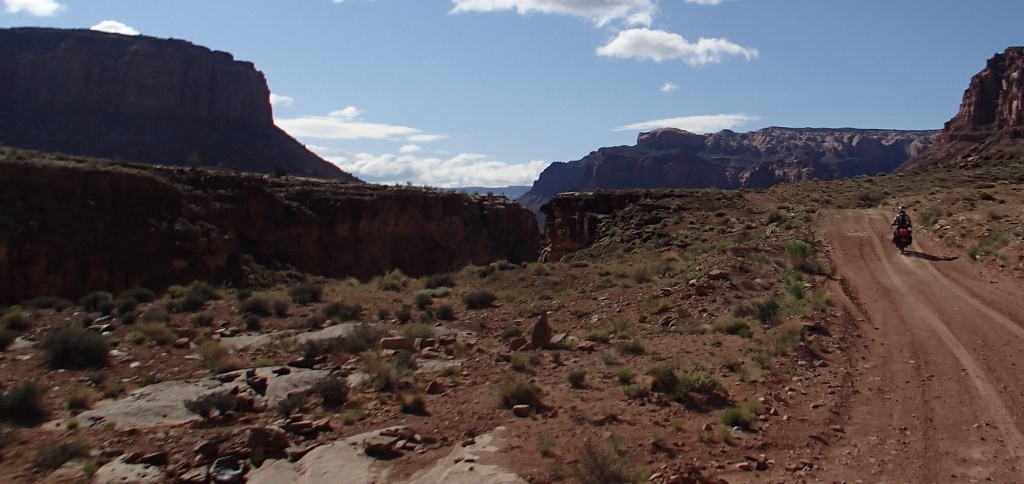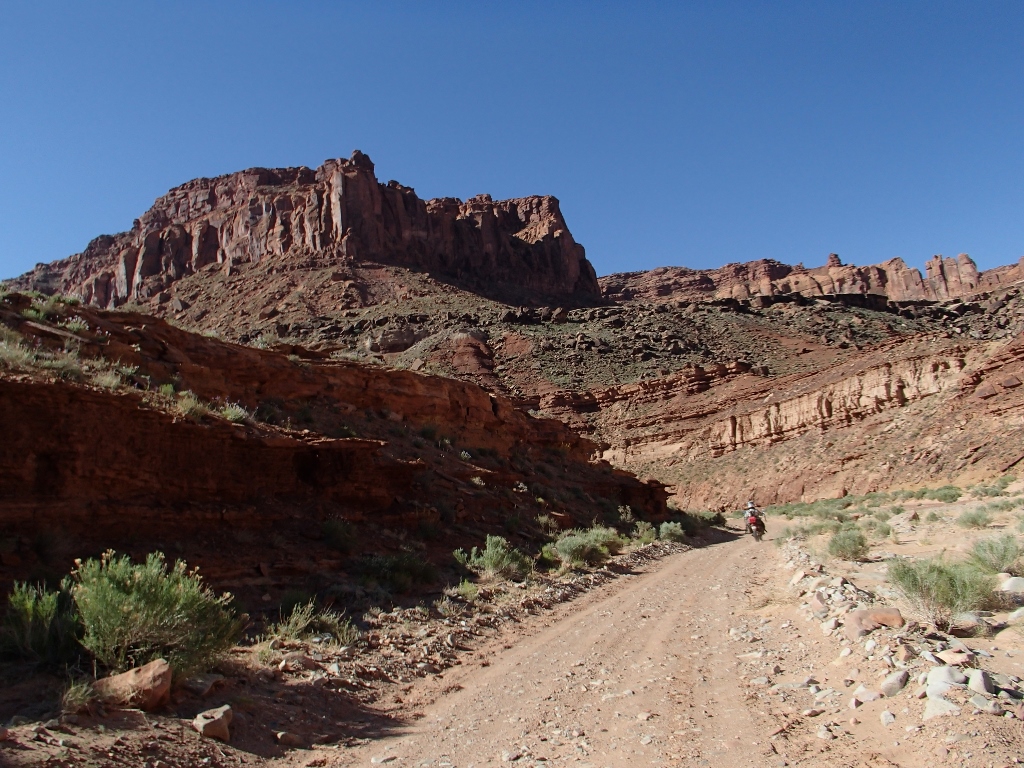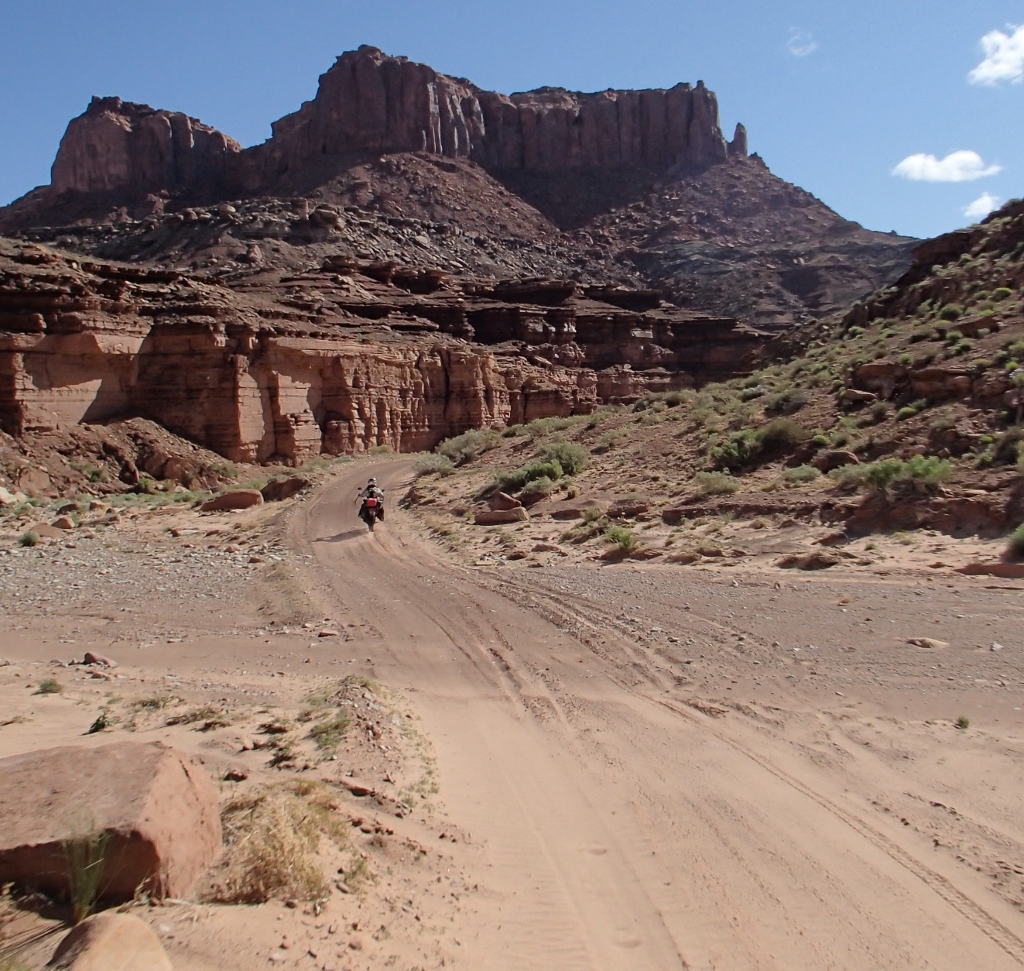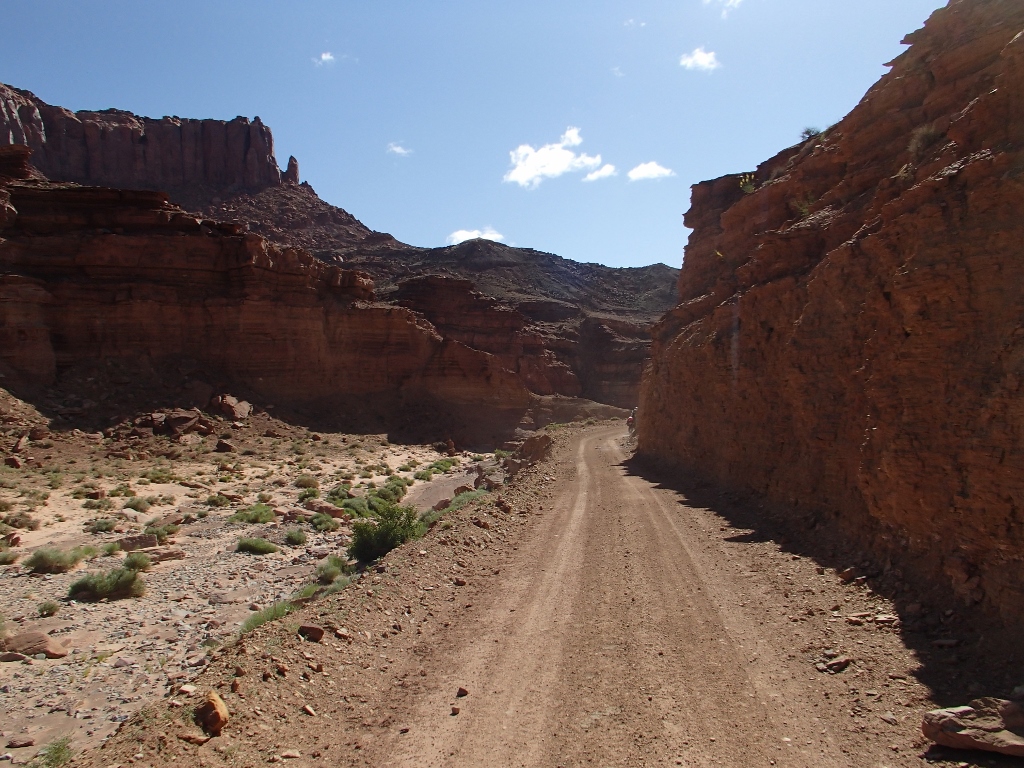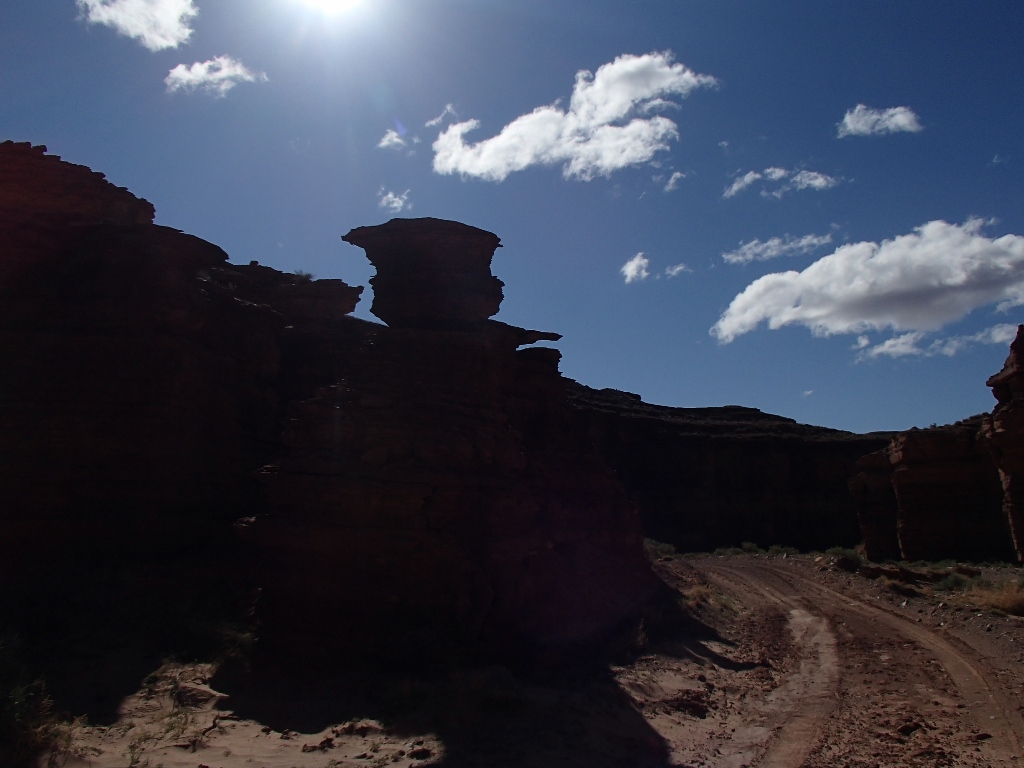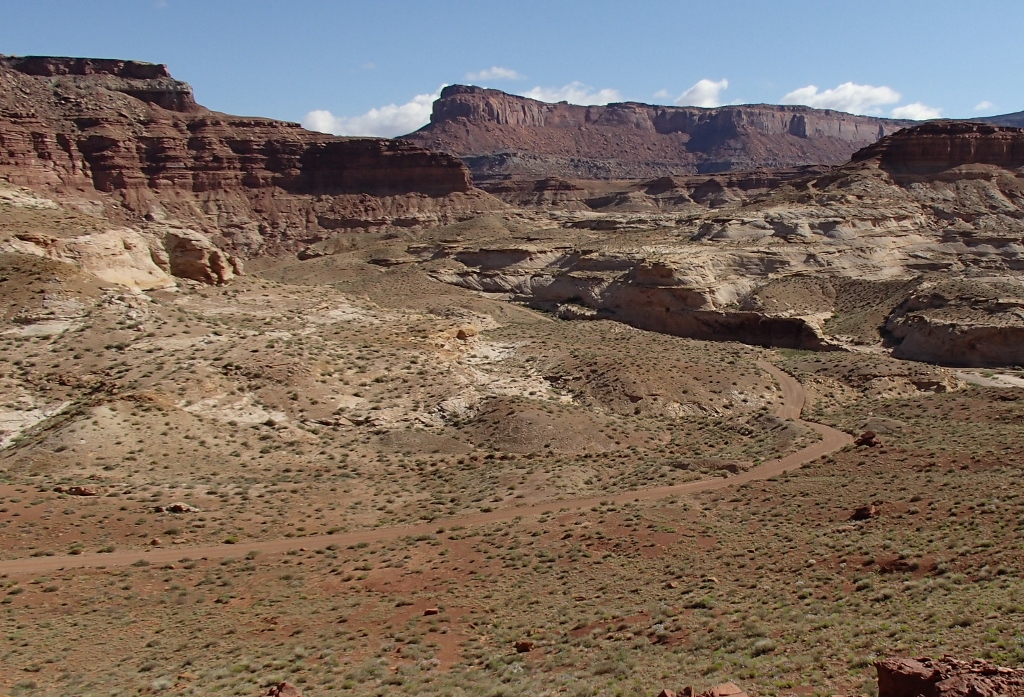 I thought I had about 170 miles worth of gas.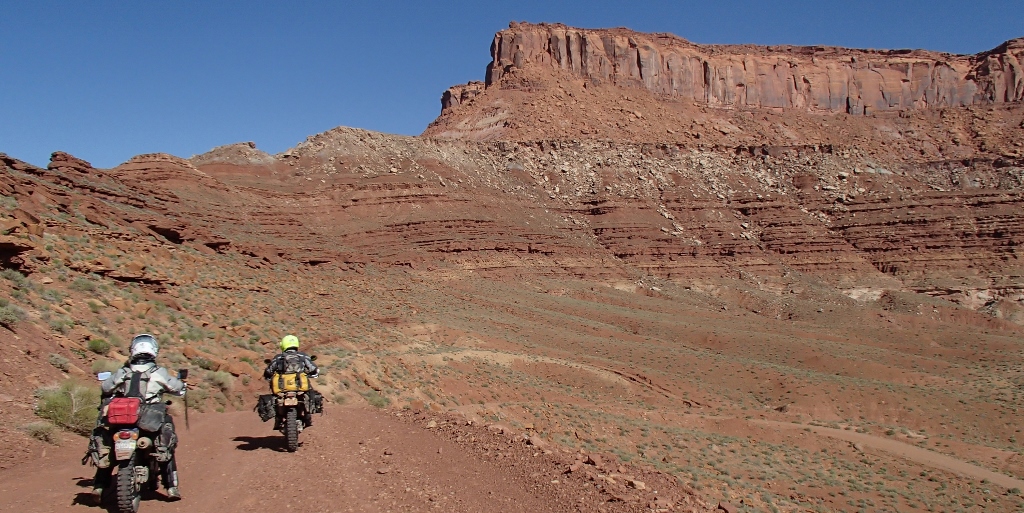 I was far out front and got to the dirty devil first and my heart sank.
It was wide, dirty and fast moving and I knew we'd have to go back. Dang it !!!!!!!
There was no way I was diving into that river on my bike----no way.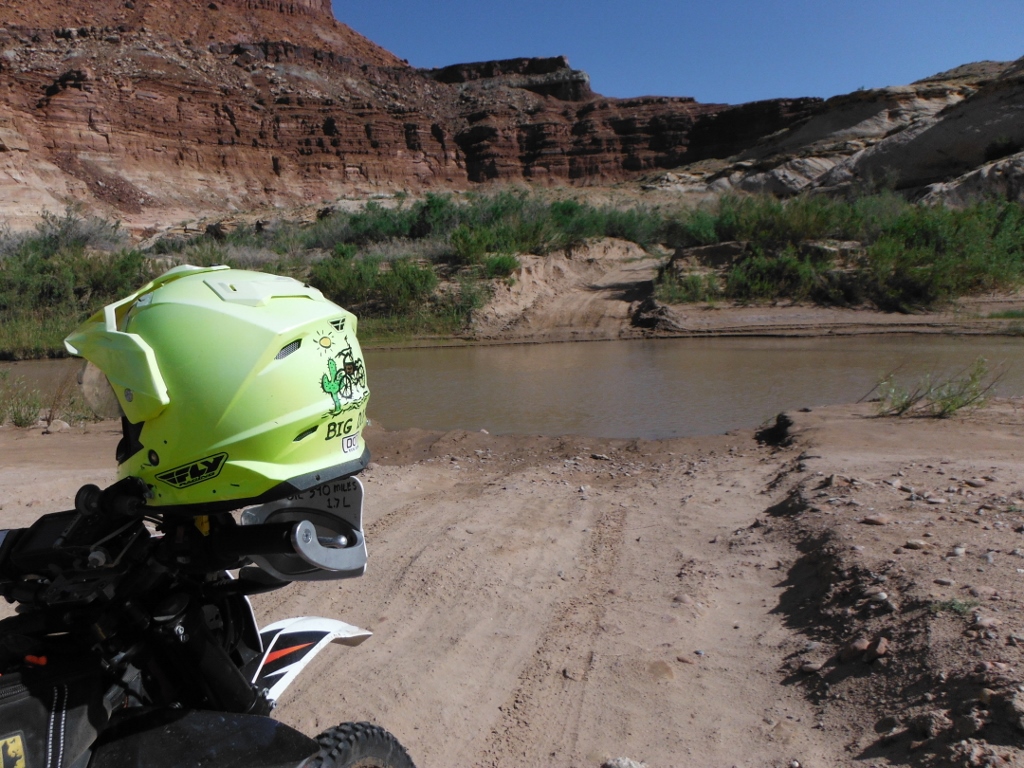 The Doc did the best thing------stripped down and walked it---the water was really cold (he said anyway).
I laughed so hard I almost peed my pants----most of it was 6" deep---a short spot maybe 14" deep.
And a good bottom with no big rocks to knock you over.
This was just today-----don't come here and think it's always this shallow.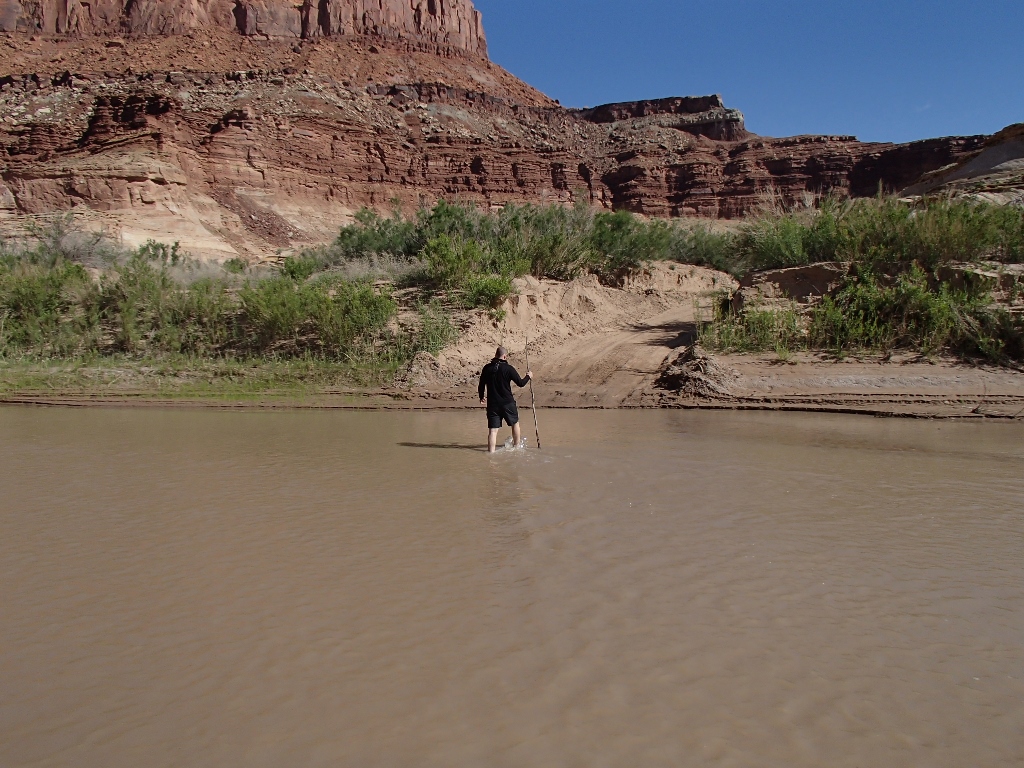 I was the first to cross after Doc waded across. He takes care of me. Him and the Dingweeds.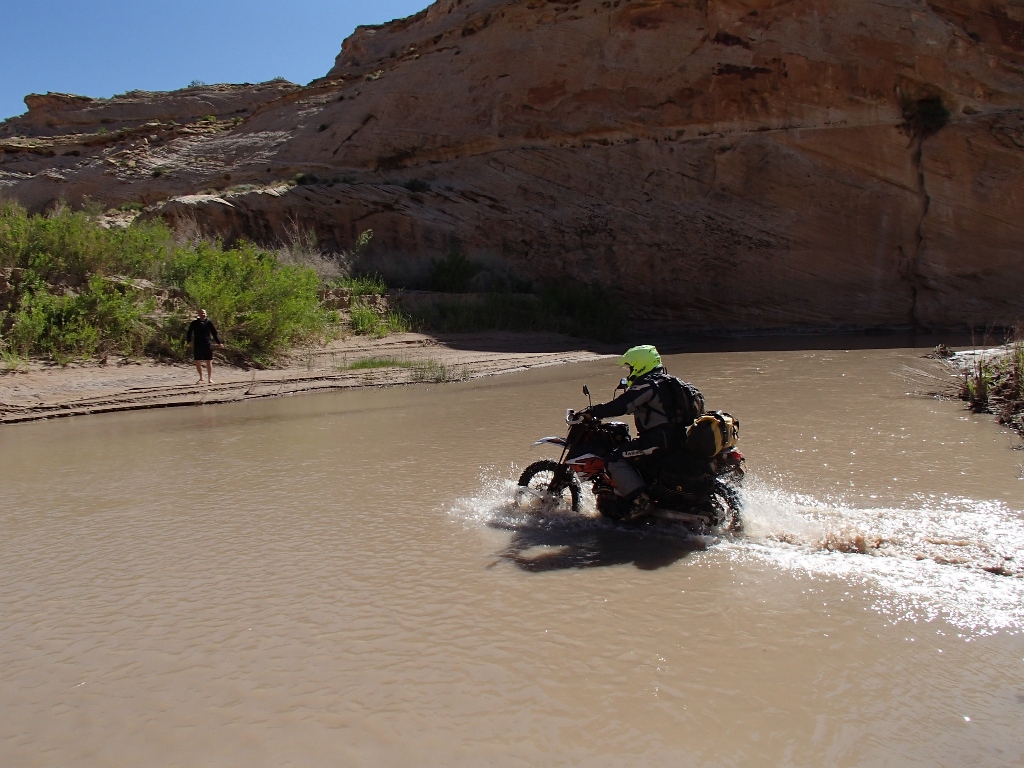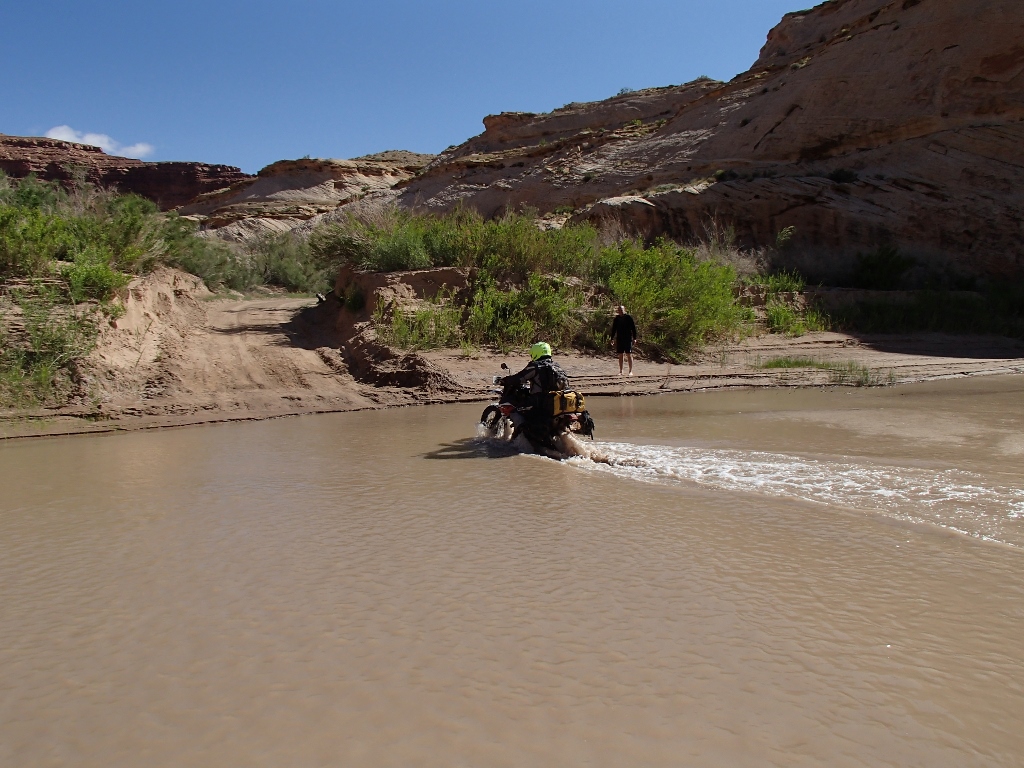 ATGATT unless you are Dirty Devil River Crossing-------it's in the rules------read em'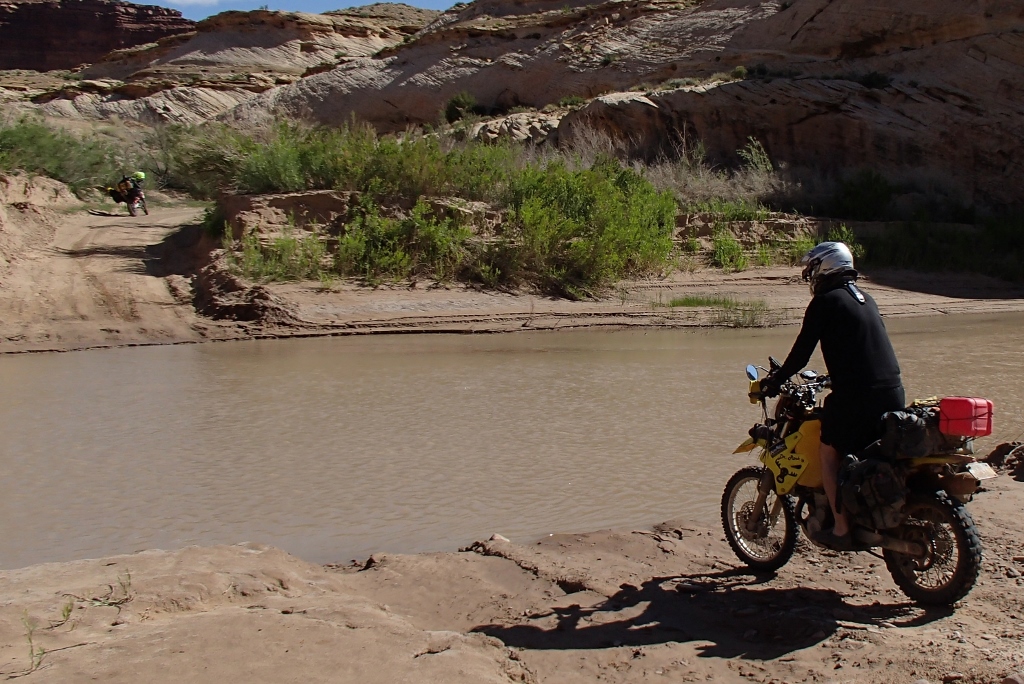 Here's a short Video of the ride up to and across the Dirty Devil River.
If you select 720p and HD it will look much better.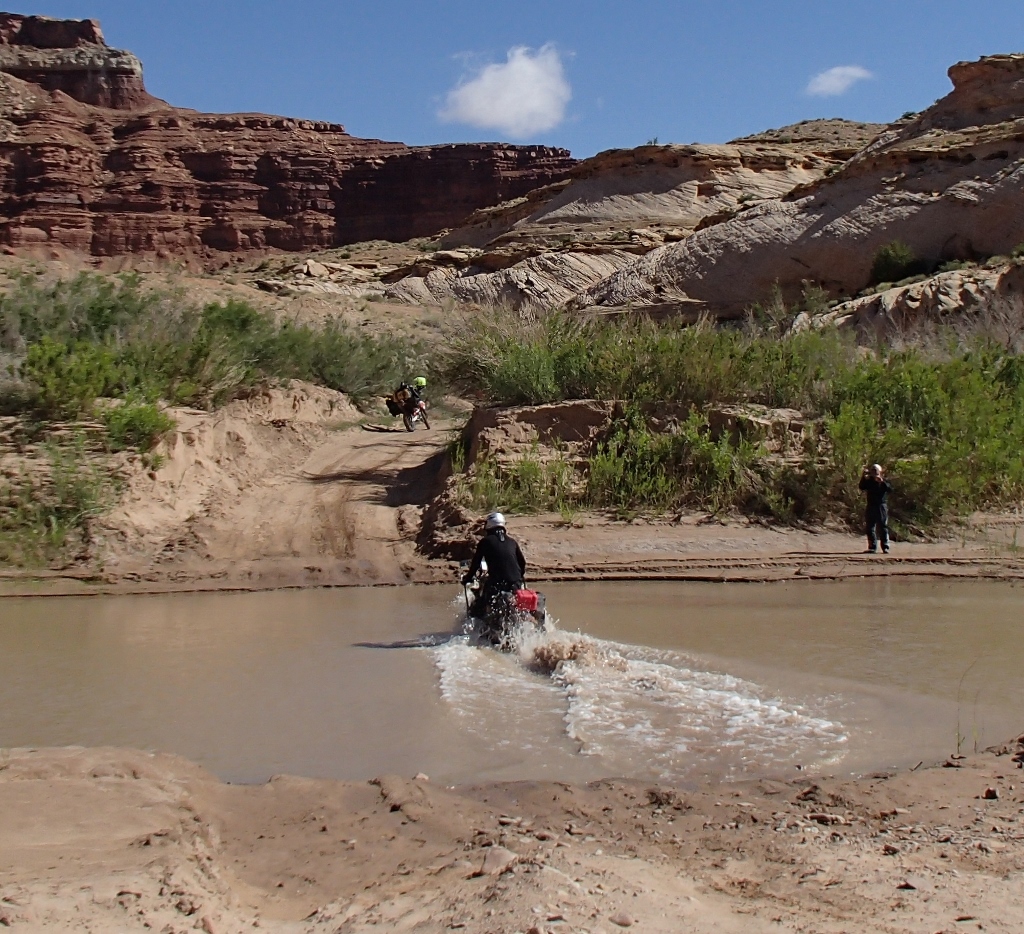 Across we were all so estatic.
Wahoooos ----all around.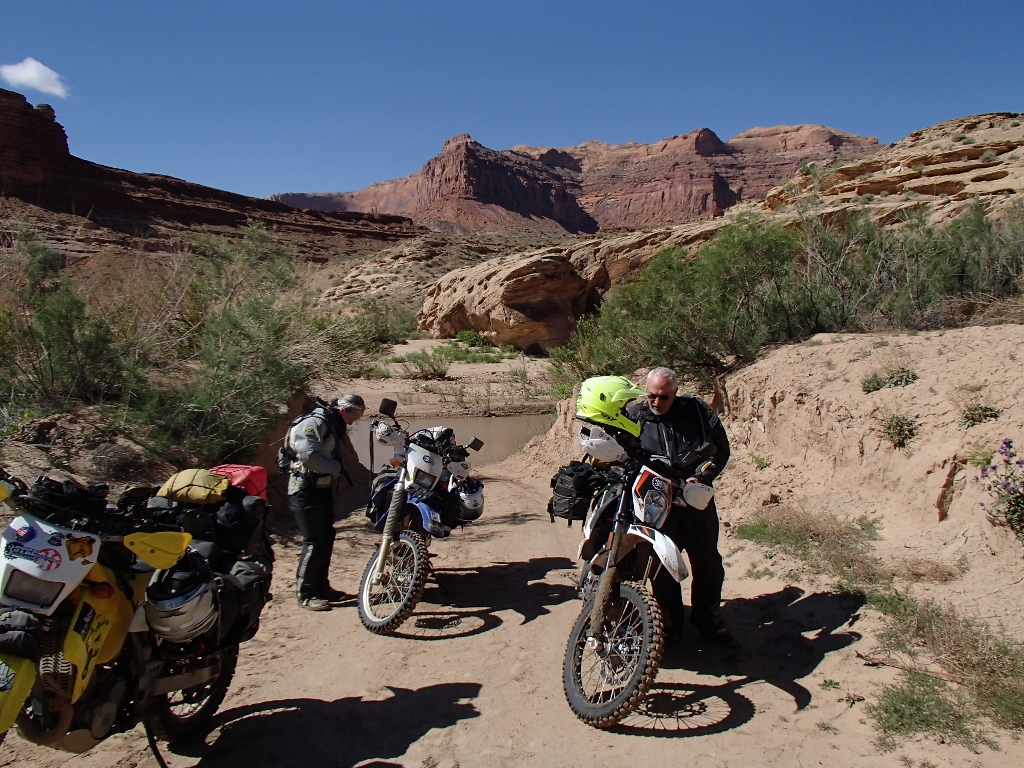 Bucket list---Dirty Devil River Crossing---------CHECK !!!!!!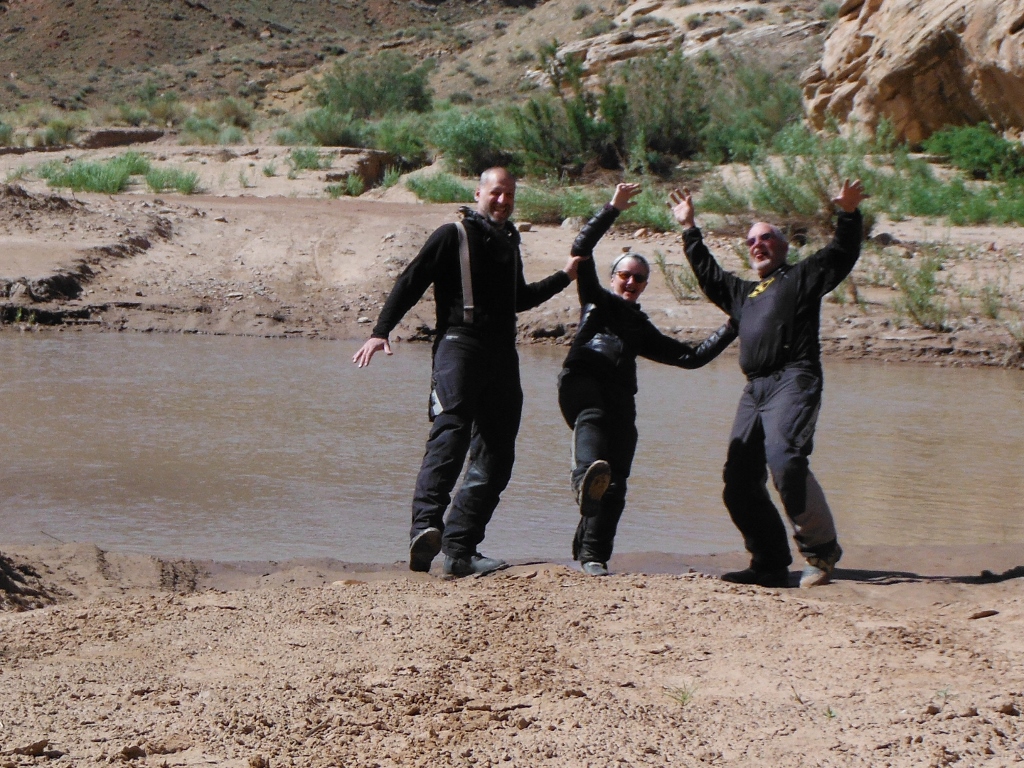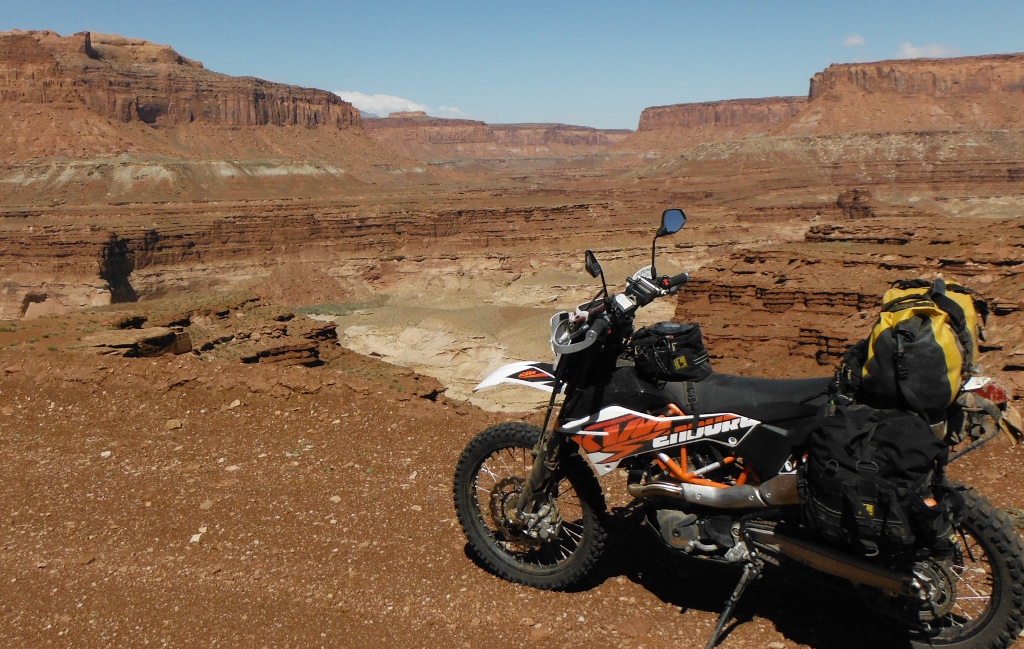 More awesome---ness.
I think this climbed up to Sunset Pass at 6,712ft.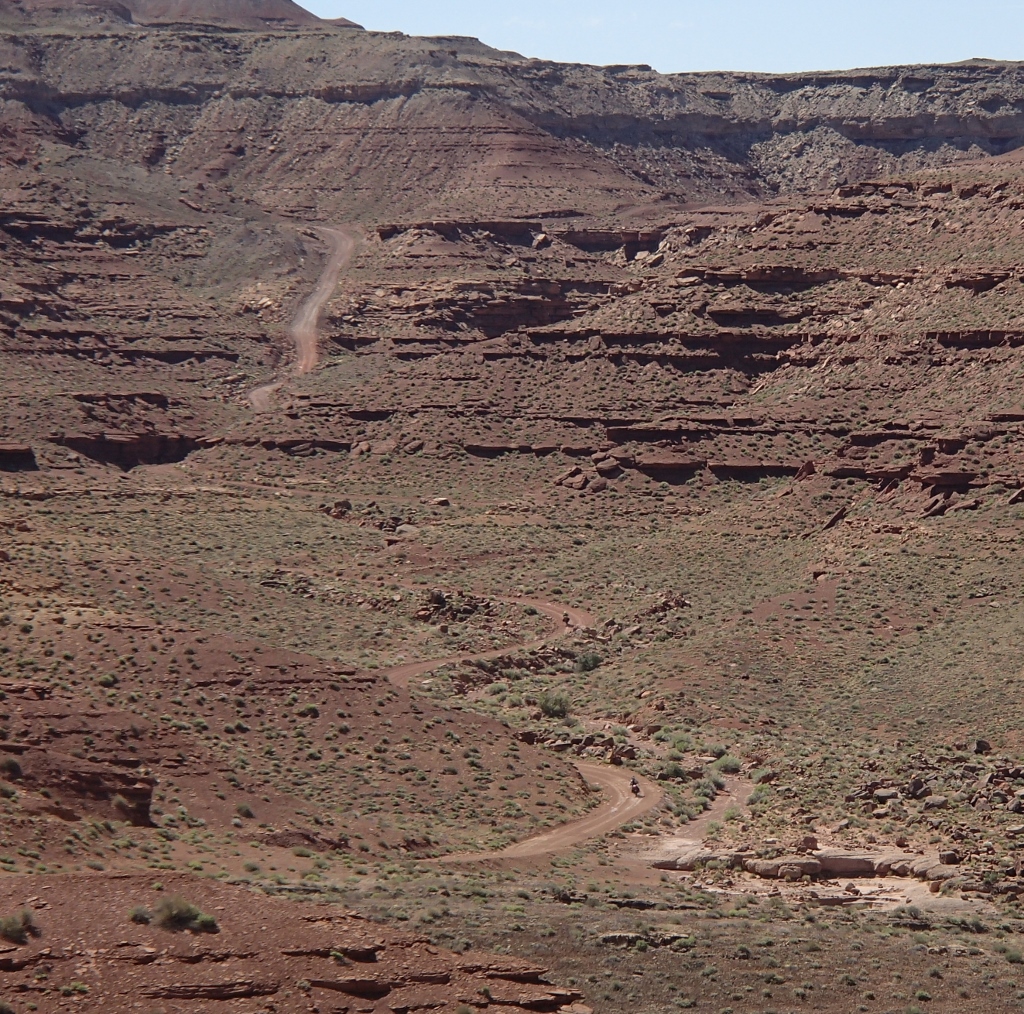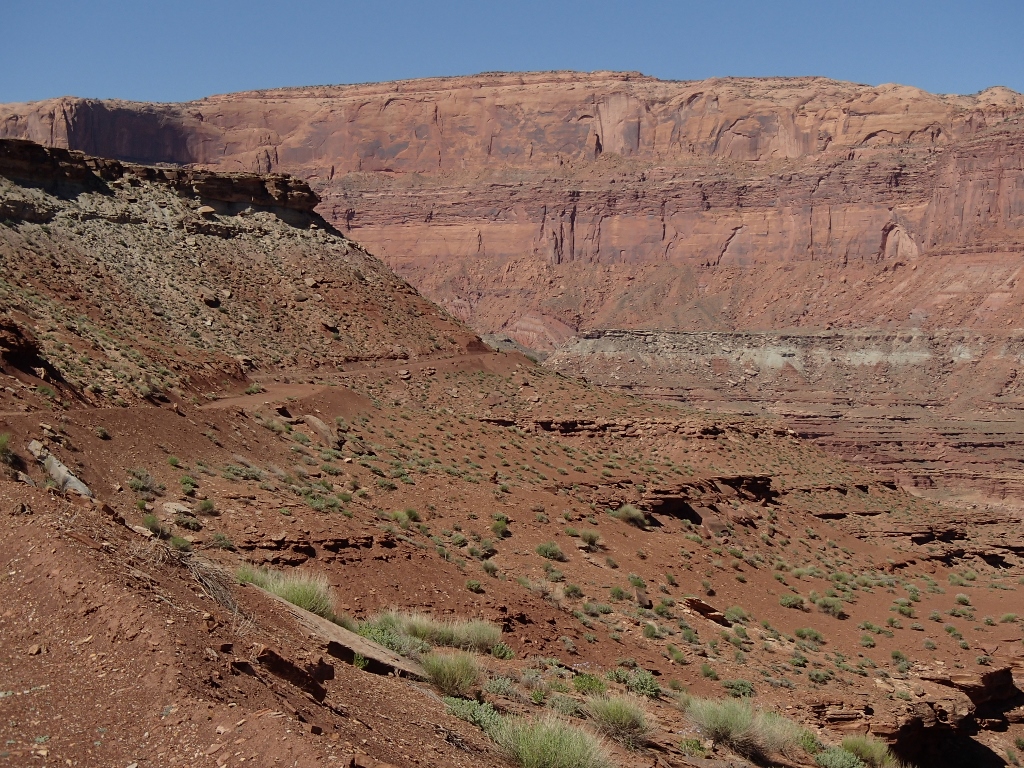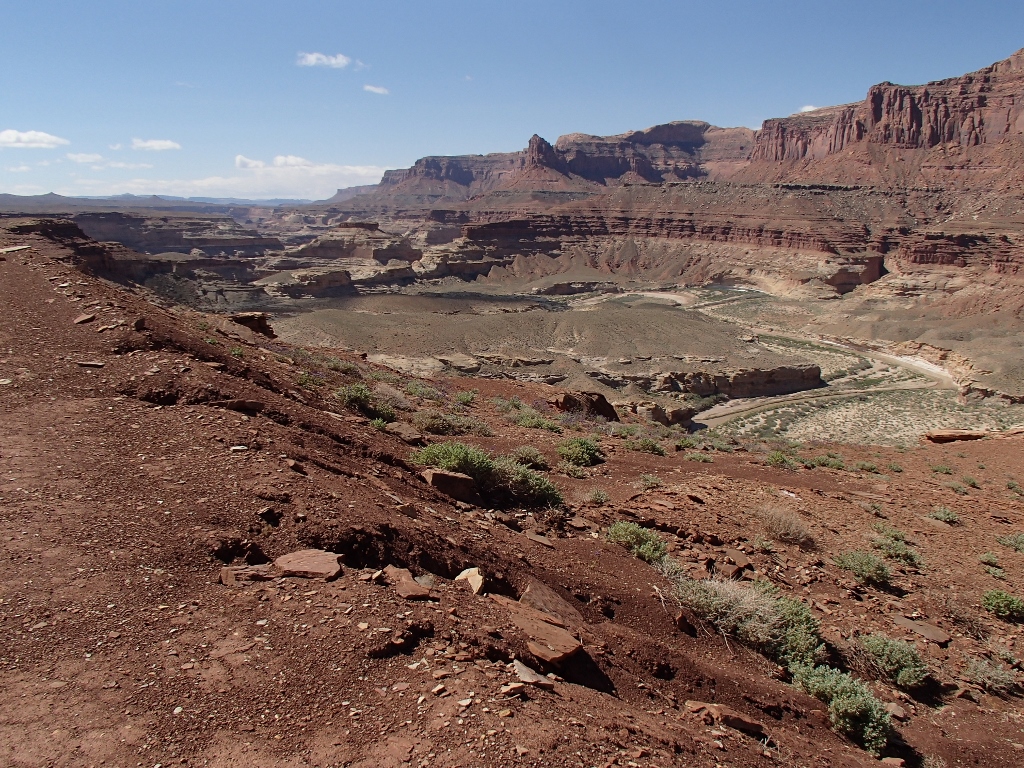 I came around the corner and saw that washout--but didn't see the go-around. It was easy.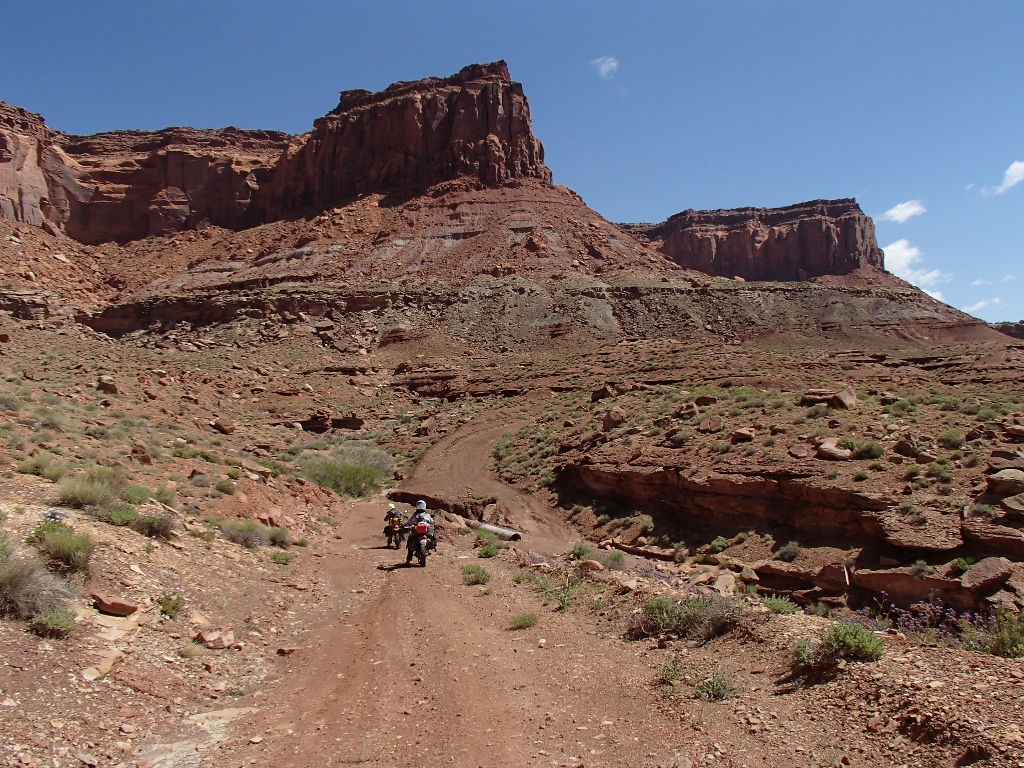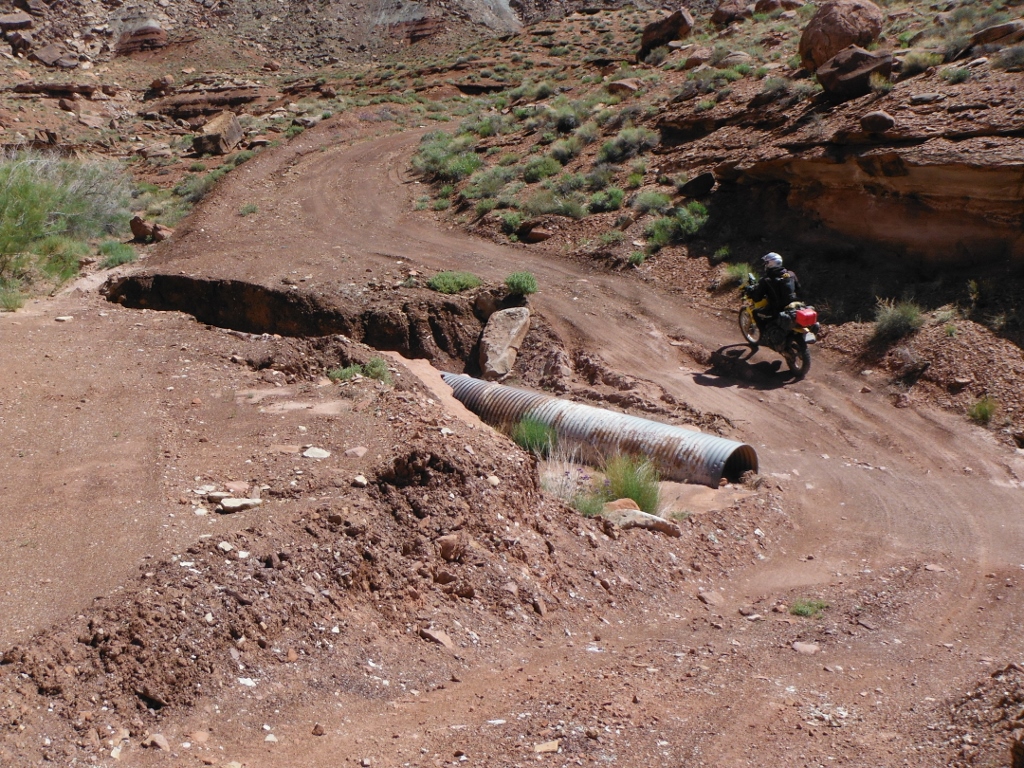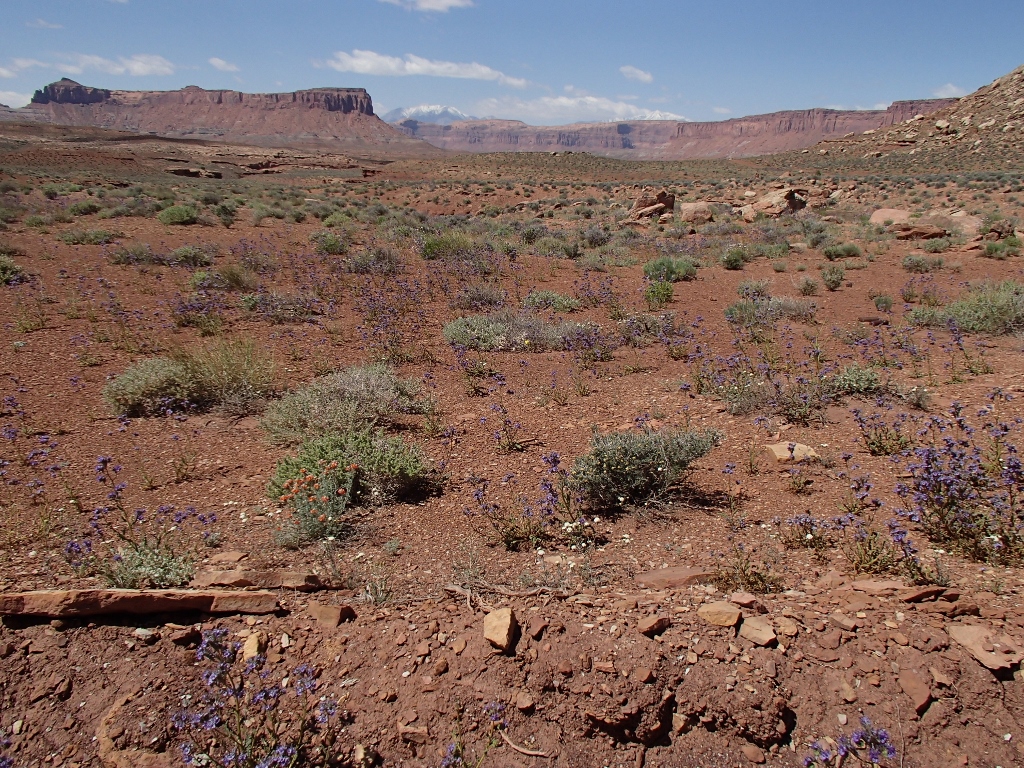 I had a waypoint for this Hudson Car that was left back in here. You can see it on google earth which is how
I knew it was there-----I buzzed right on by and didn't see it-----but Doc got the picture.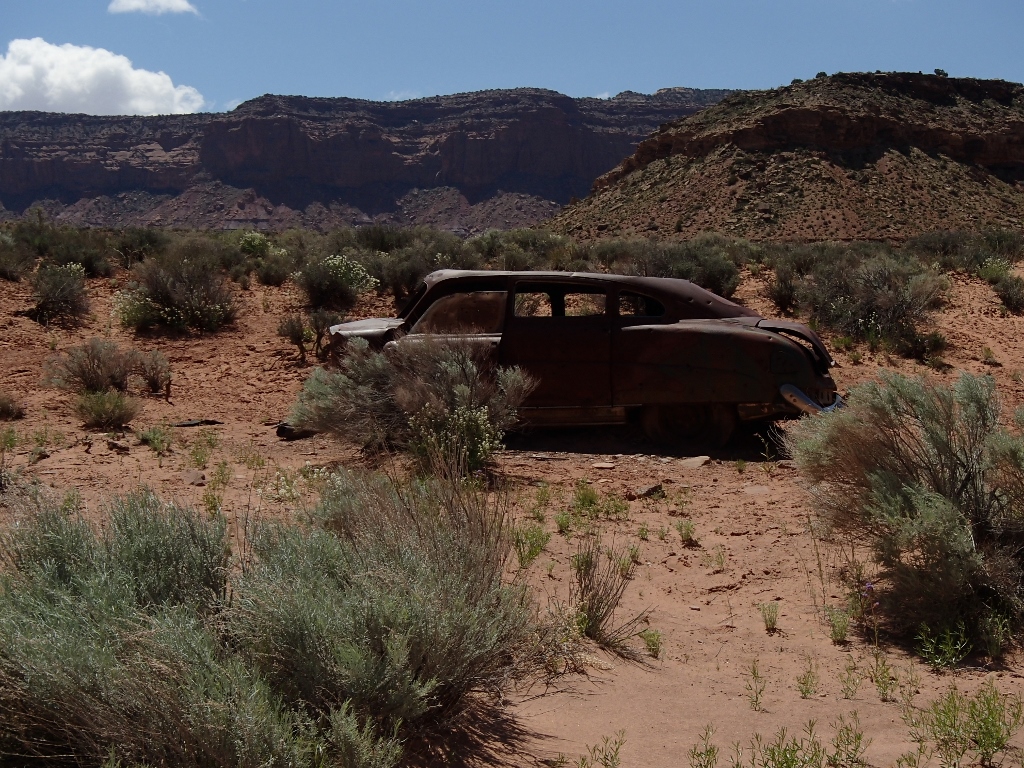 It's actually a trailer-----can't imagine how it got back here.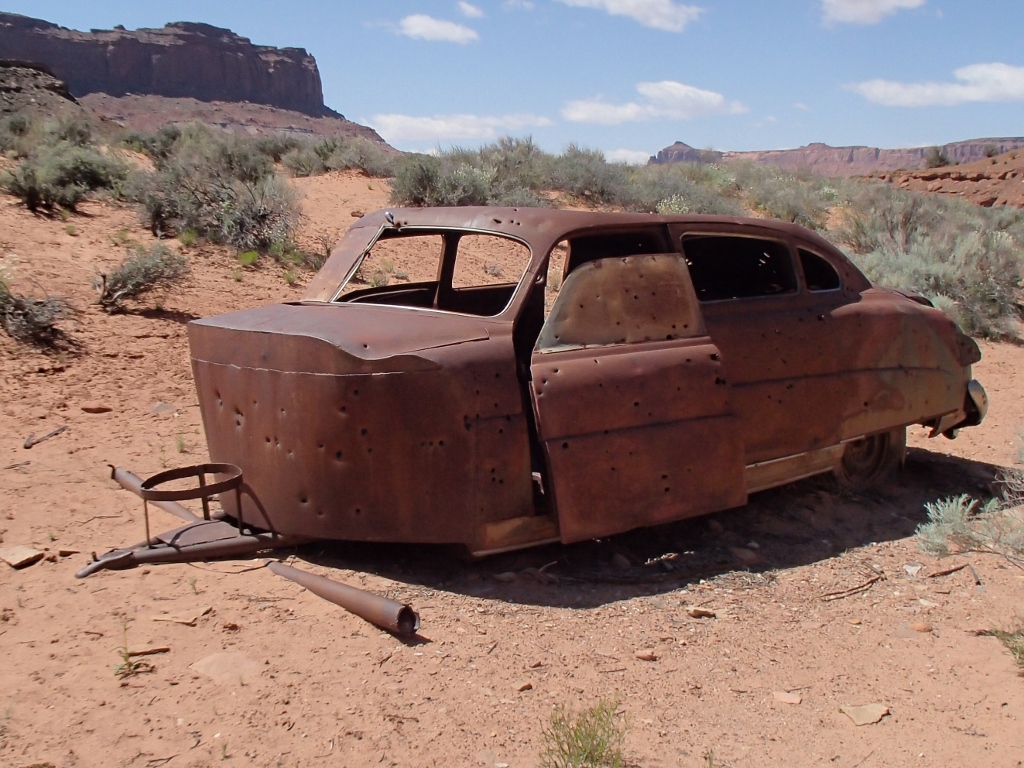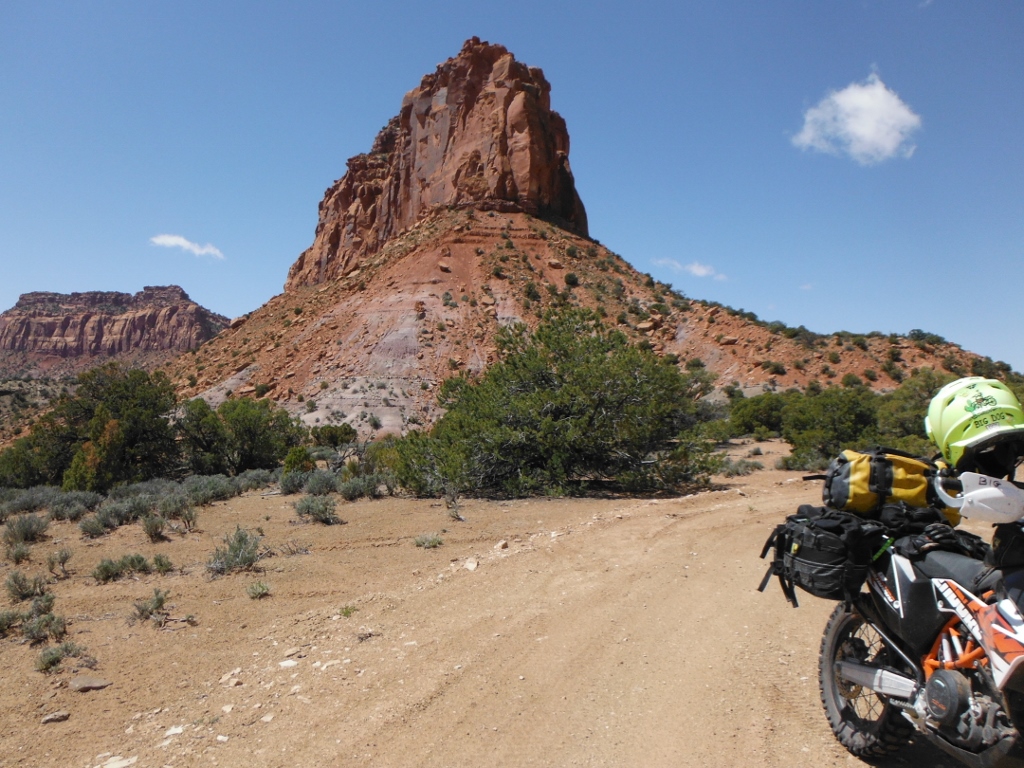 Sunset Pass was really steep and Francine walked up it.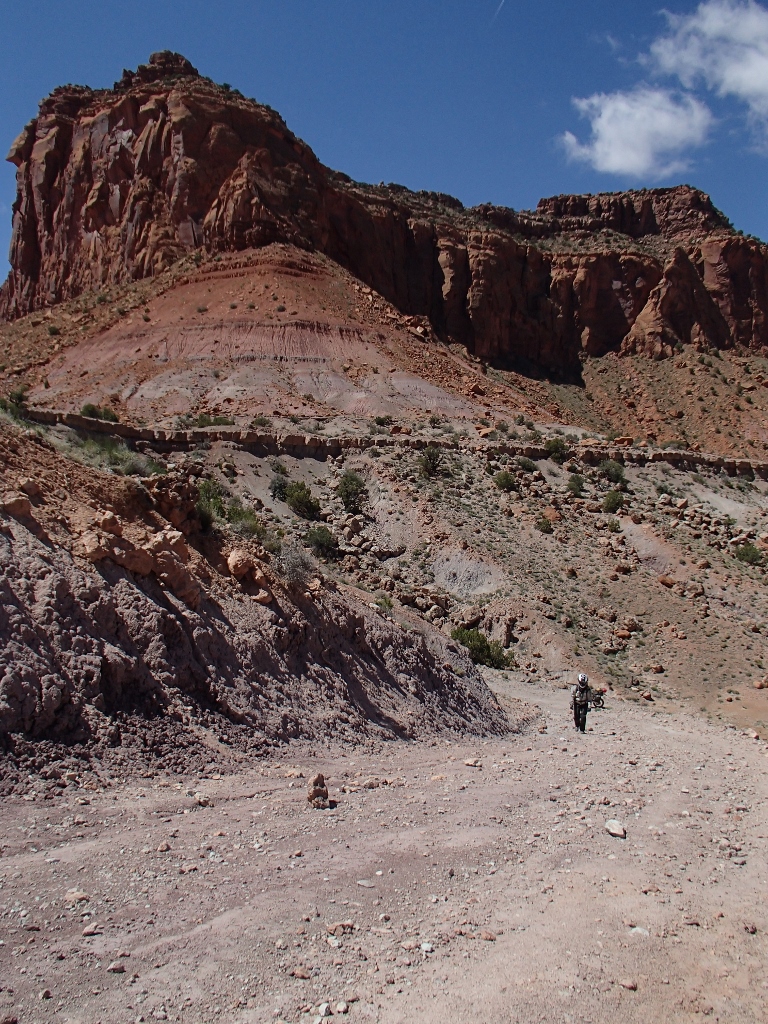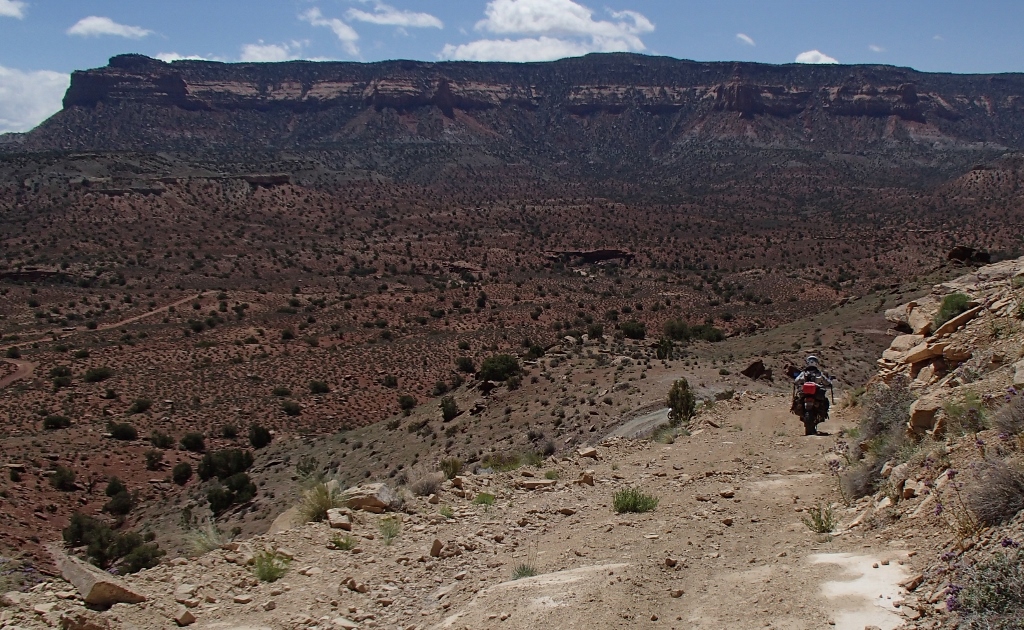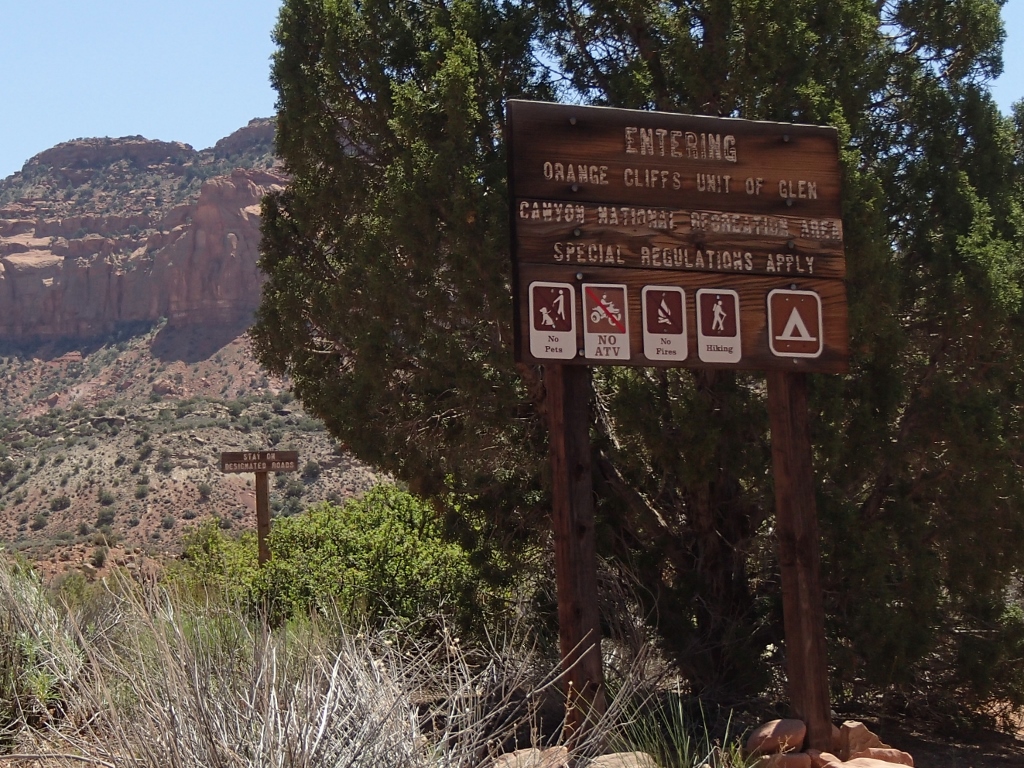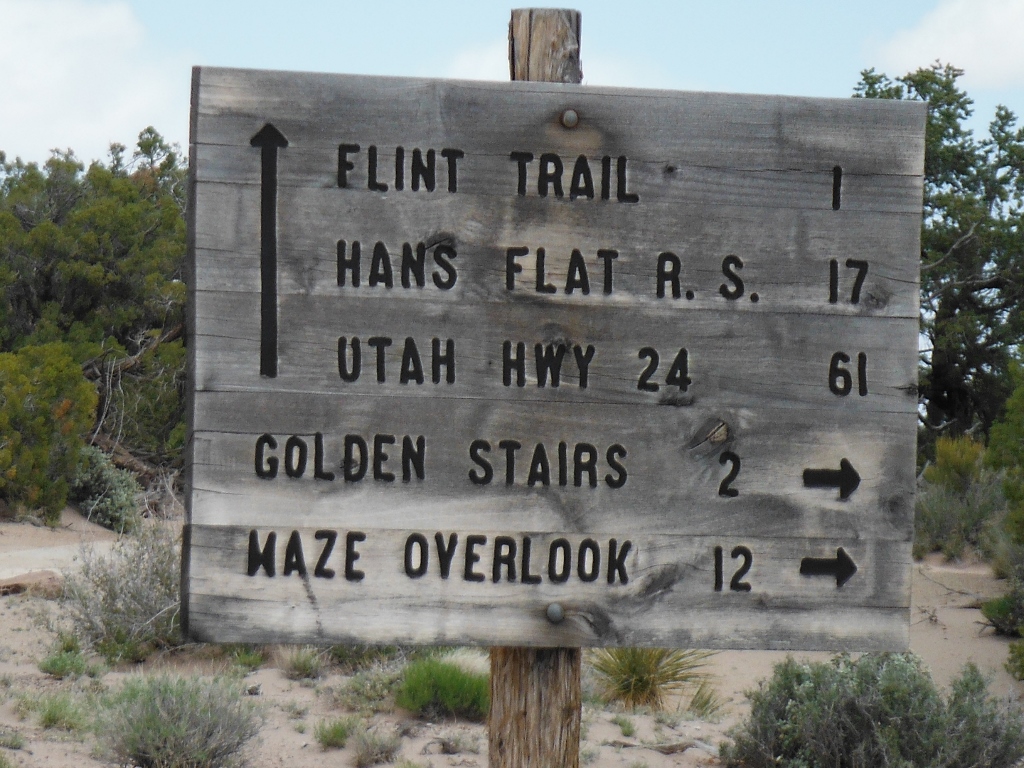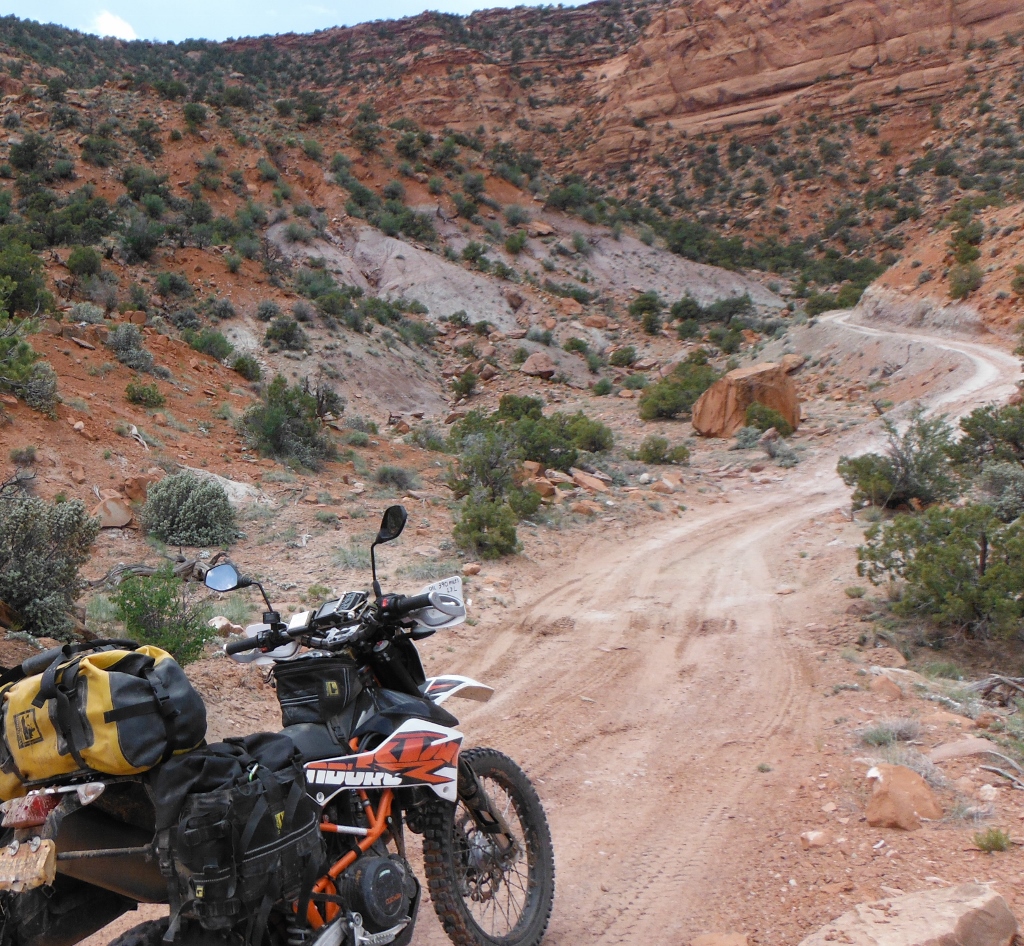 We came over the pass and into this flatland before our route turned North.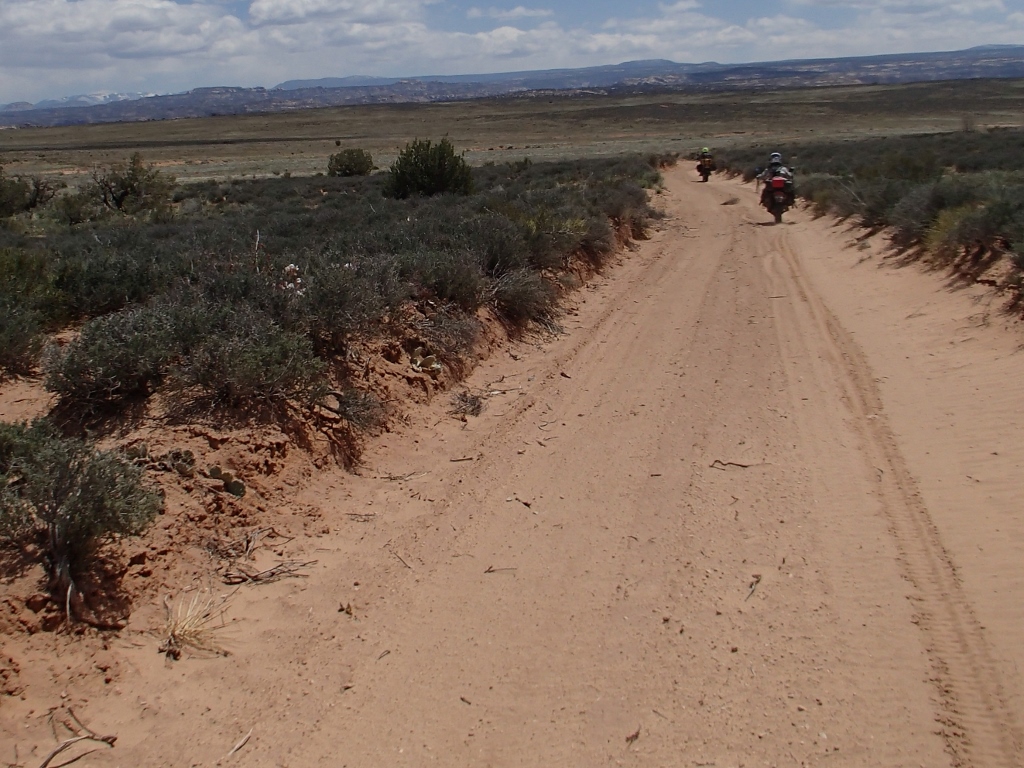 And then back up we go on some awesome switch backs.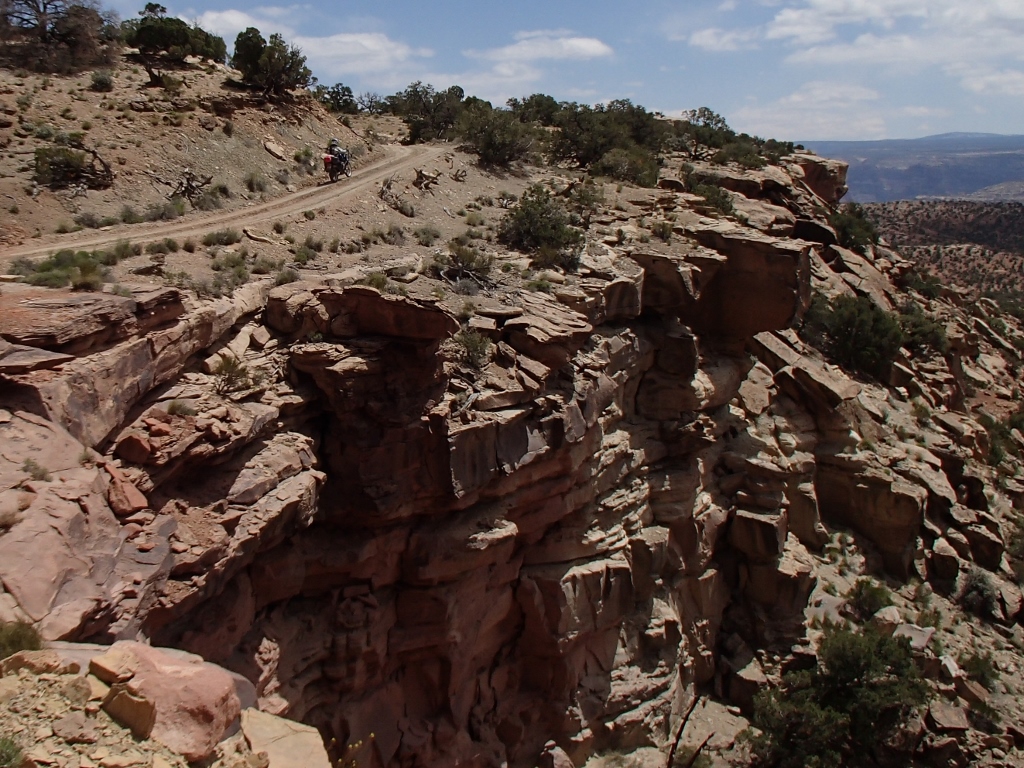 Looking East the Colorado river is out there somewhere---and the white rim trail on the other side of it.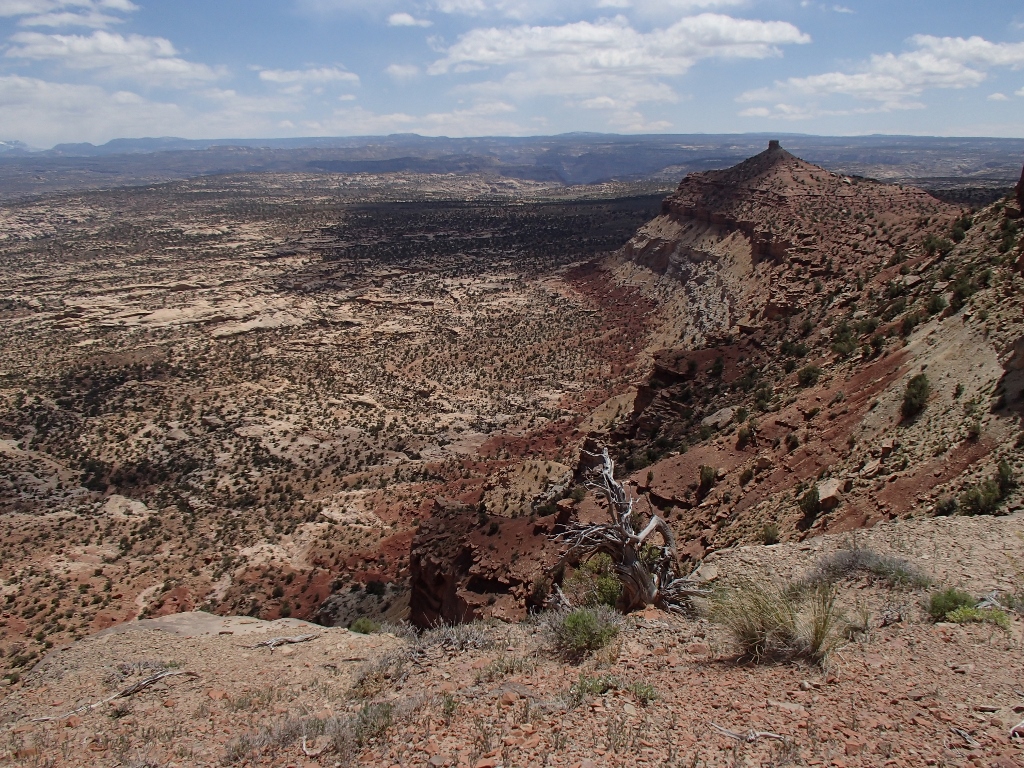 It was about a 1,000ft. climb up the flint trail switch backs.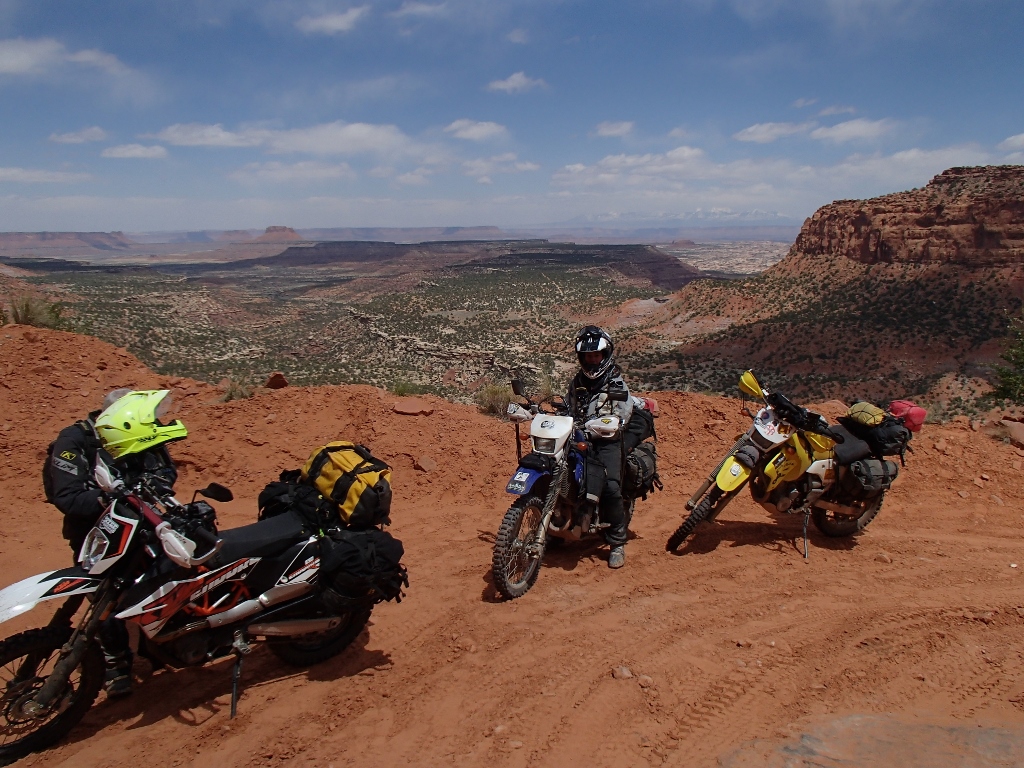 About a steep a climb as you'll ever encounter with many 180° switchbacks where you might have to stop
and reposition you bike.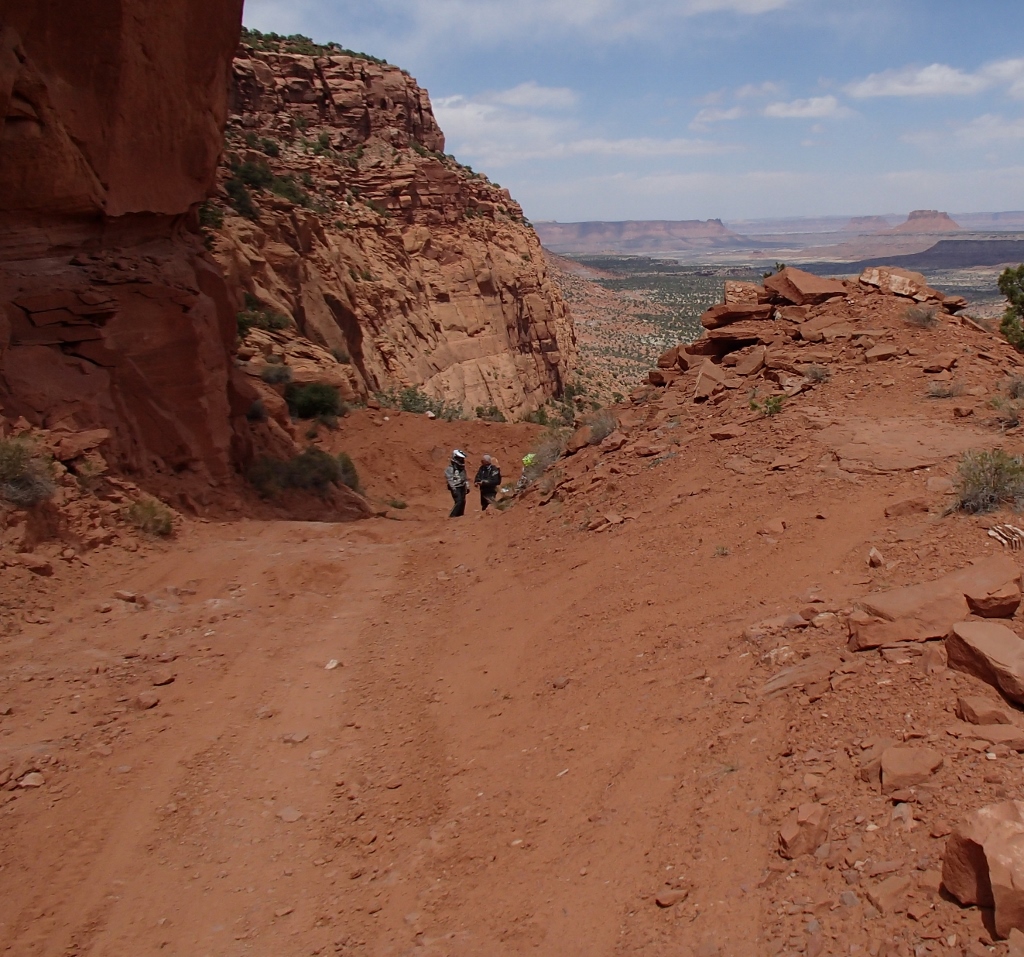 I don't know how this narrow road stays together---it was just sandy dirt with some embedded rocks.
This here was extrememly steep----doesn't look like it tho.
If two jeeps met---I don't know what they'd do ???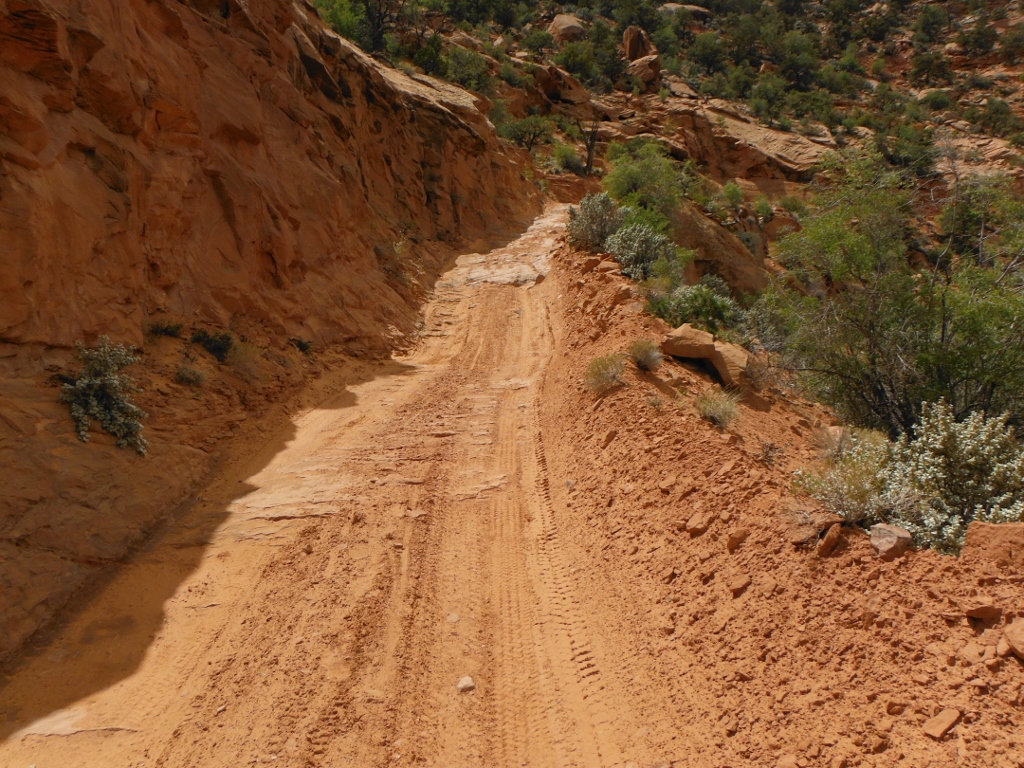 At the top we hit the Hans Flat road---fast running ---but the sand was tricky.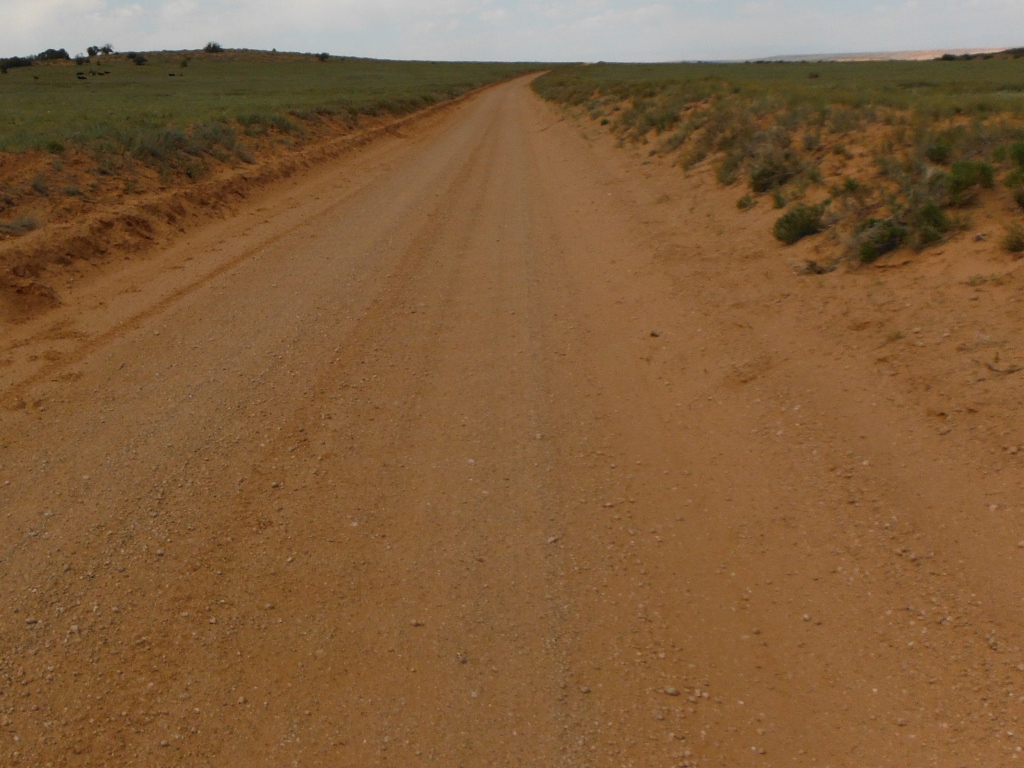 No nuthin' here.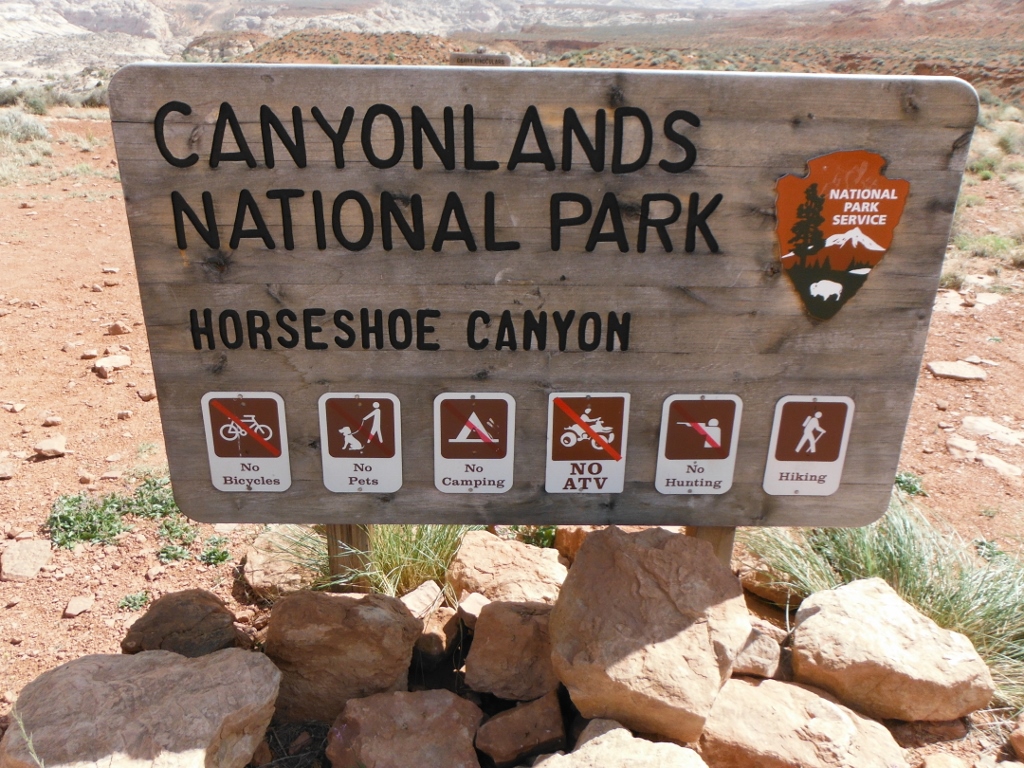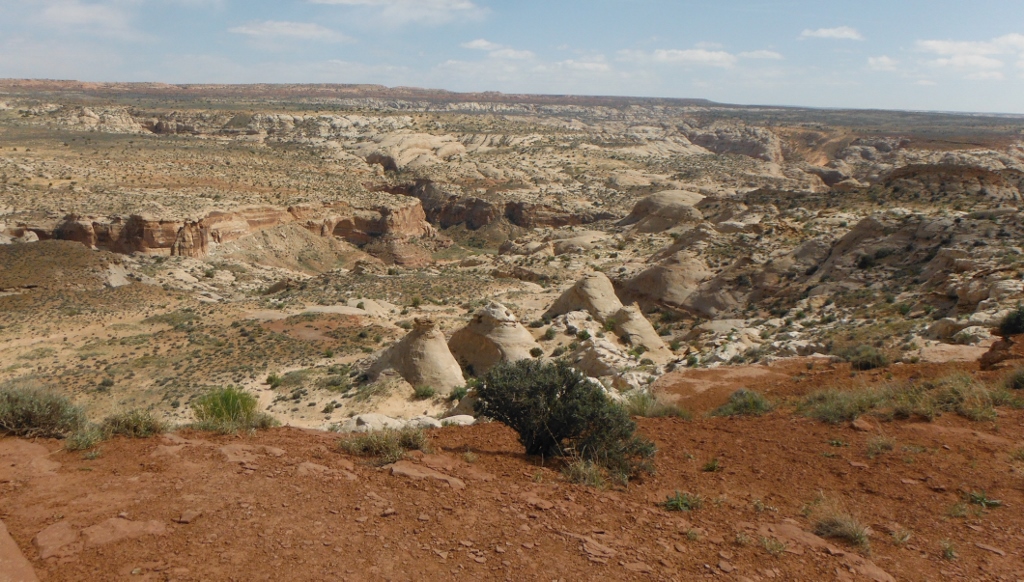 We hunted for a campsite and right before a bridge over the San Rafael river Doc turned down the sandy dirt road
and there was a nice campsite. The wind howled and it was hard to set our tents up.
But it finally subsided and we had a nice campfire and meal.
I used my SVEN SAW again---it was invaluable on this trip for cutting firewood.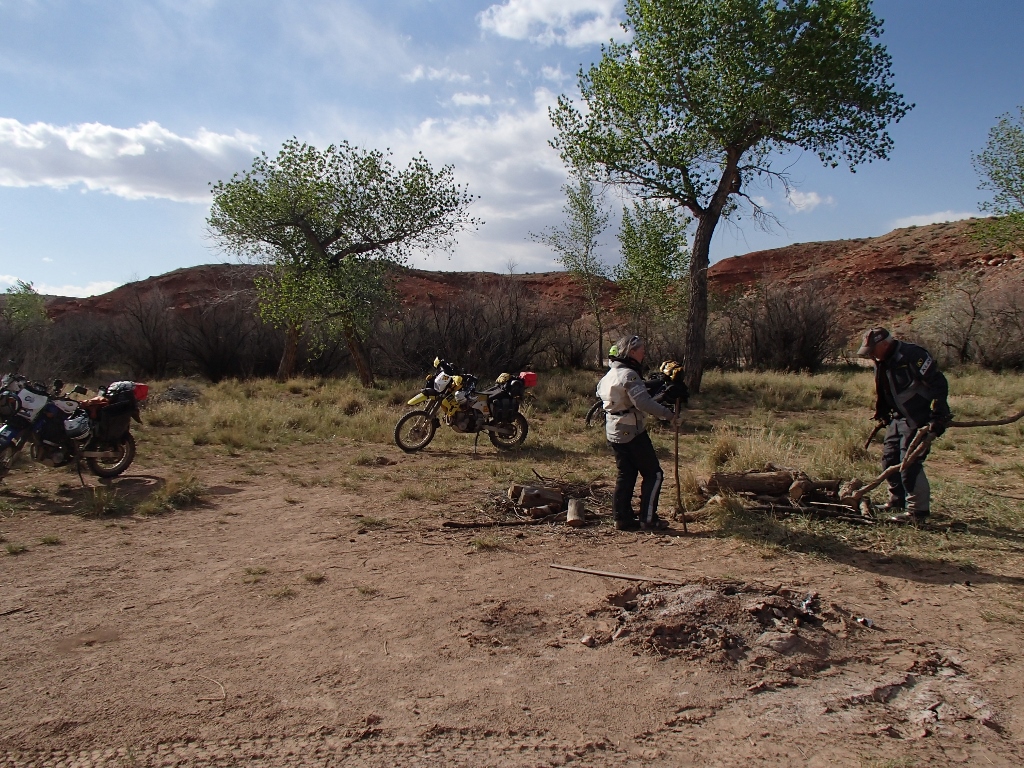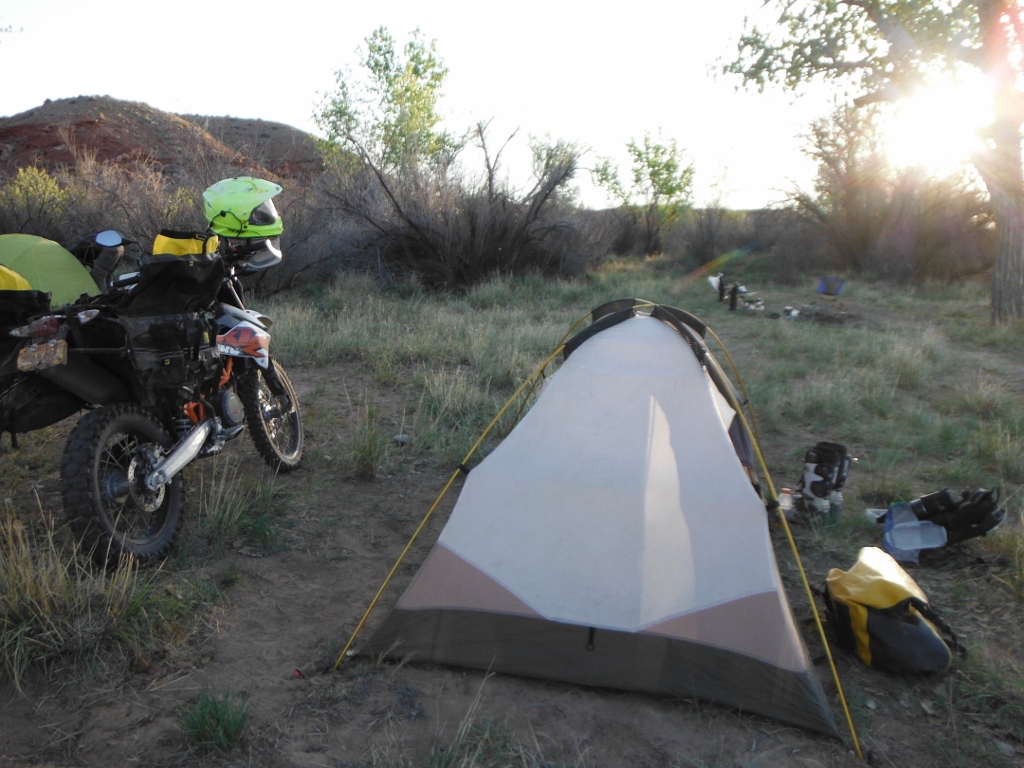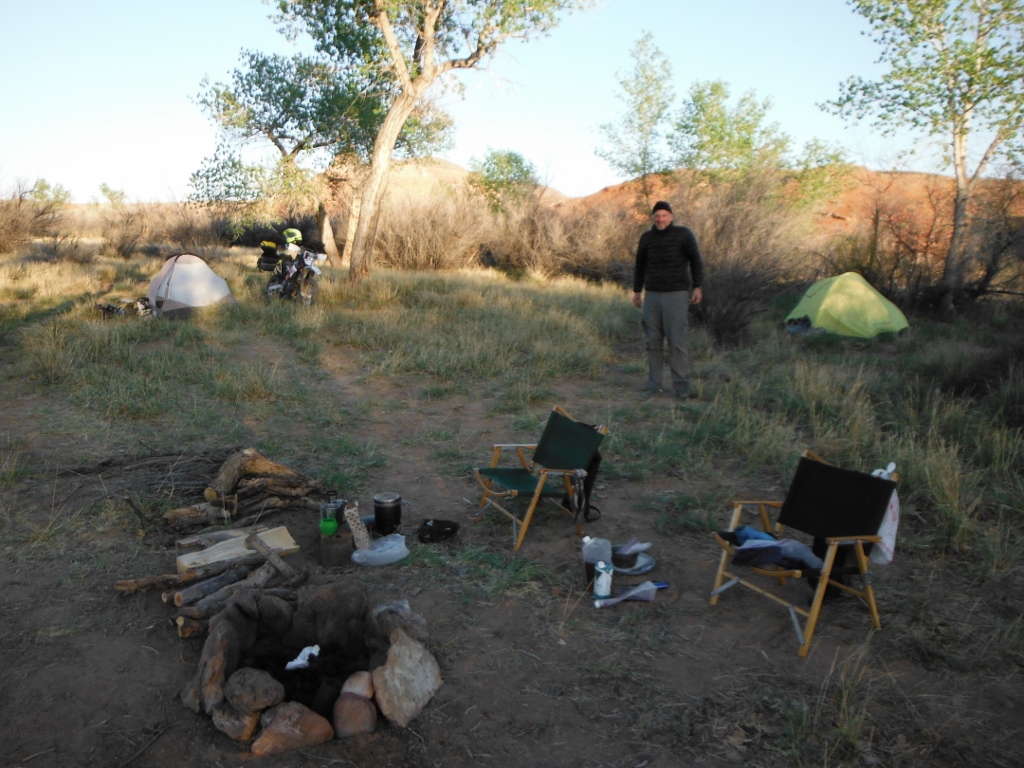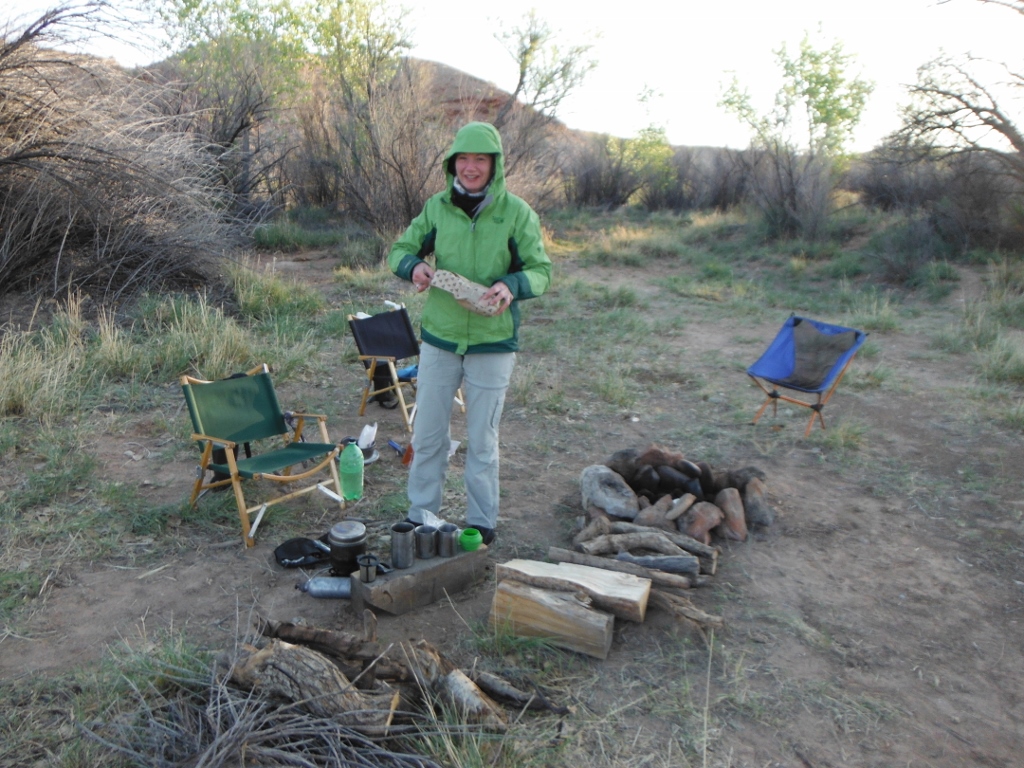 I kept hearing this owl---------and finally saw it.
They laughed at me----wasn't no owl----a dove--and it's mate was nearby as they coo-ed to each other.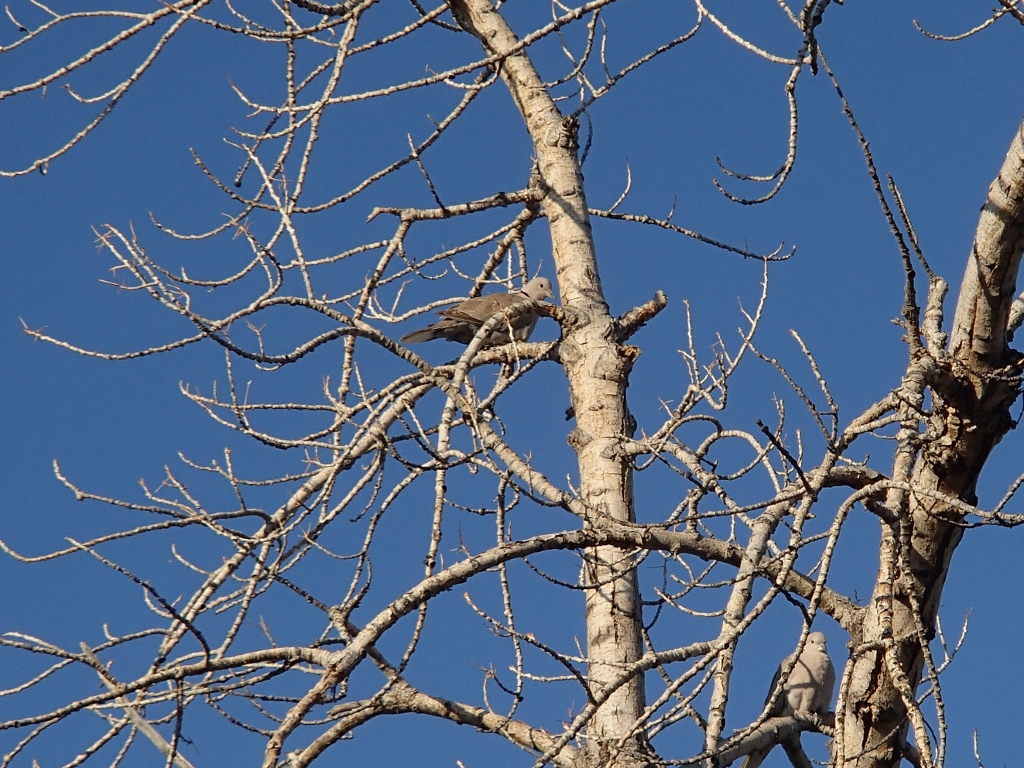 A map of our route today--about 128 miles.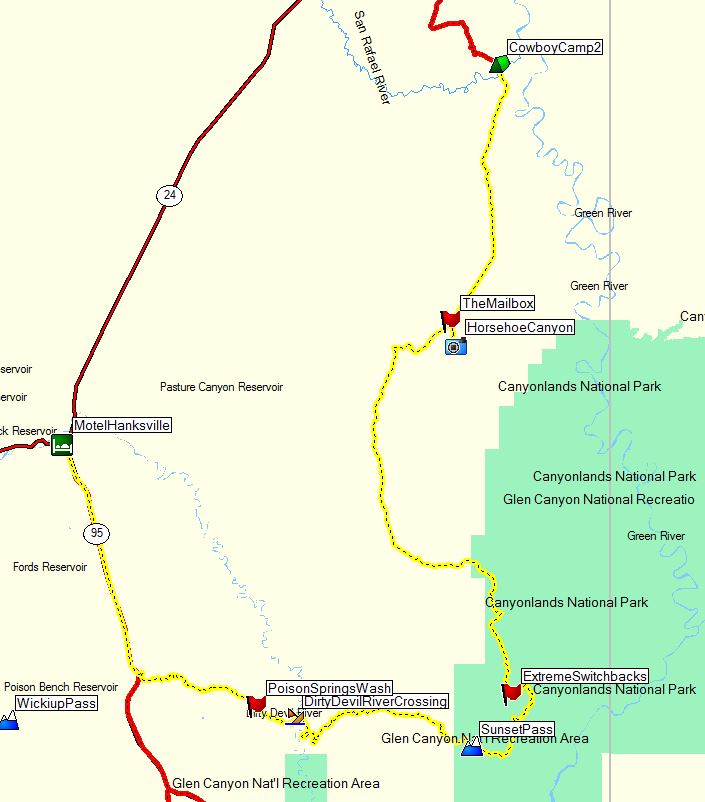 4-29-14
Camp to 3 Step Hideaway
I seem to remember we broke camp slowly that morning.
We had all day to get to the 3 Step Hideway and knew the riding would be easy.
First thing tho---I run out of gas.
The previous days ride and todays ride to a gas station was 159 miles. My 690 ran out at 153.
But Doc had some fuel bottles and he didn't make fun of me.
I'm not use to riding a bike that won't go at least 250 miles. It has a 3.2 gallon gas tank and my gas mileage
wasn't so hot on that 153 miles I guess.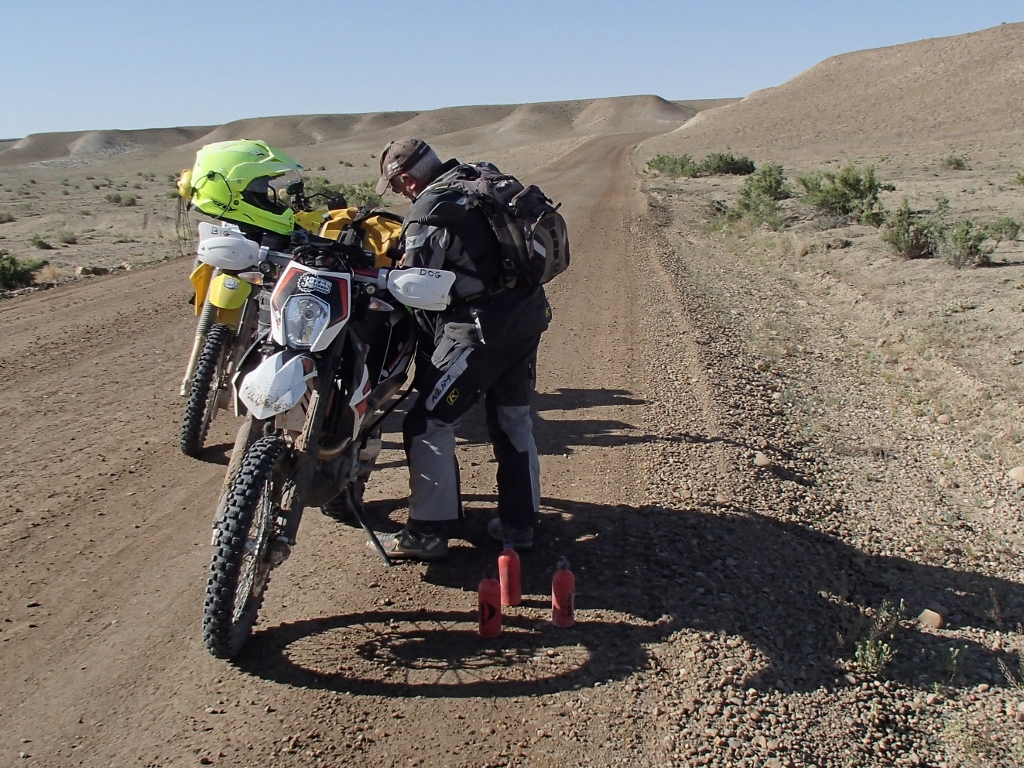 Our route took us due North into Green River, Utah where we filled up with gas.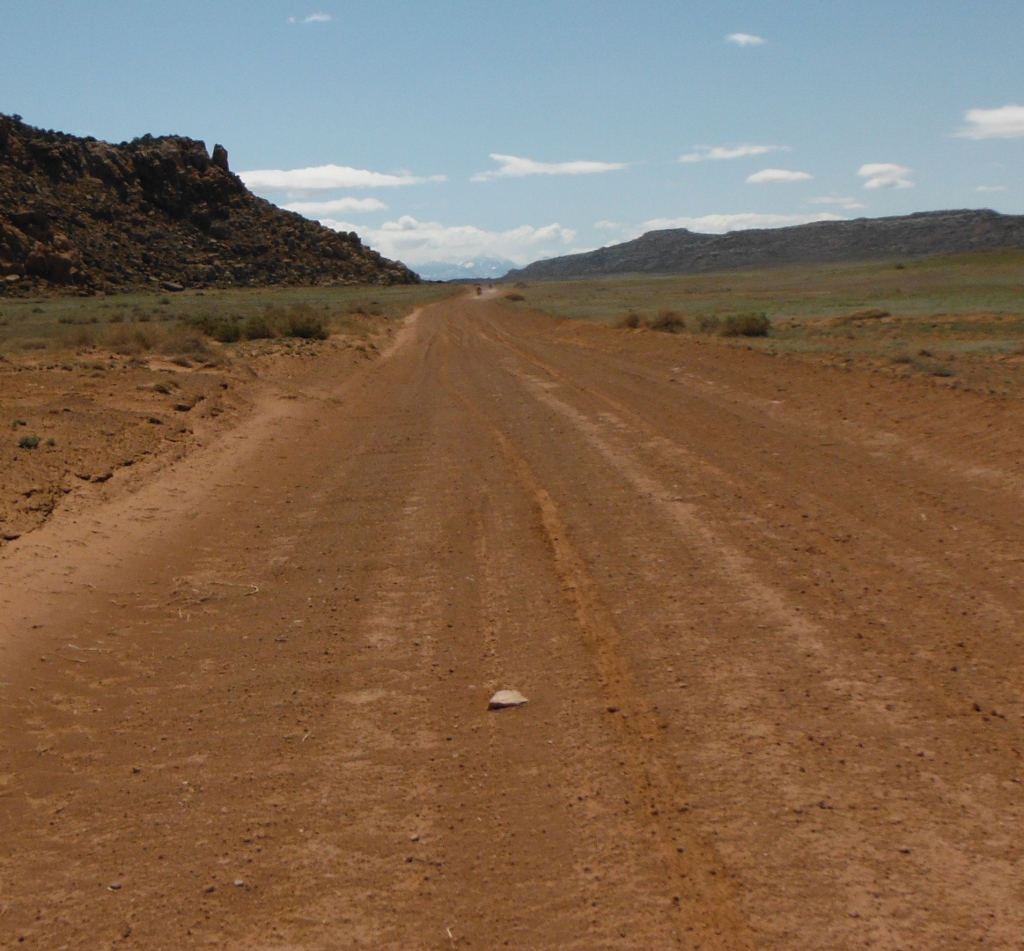 This was some good riding North of I-70 before we turned South toward Arches National Park,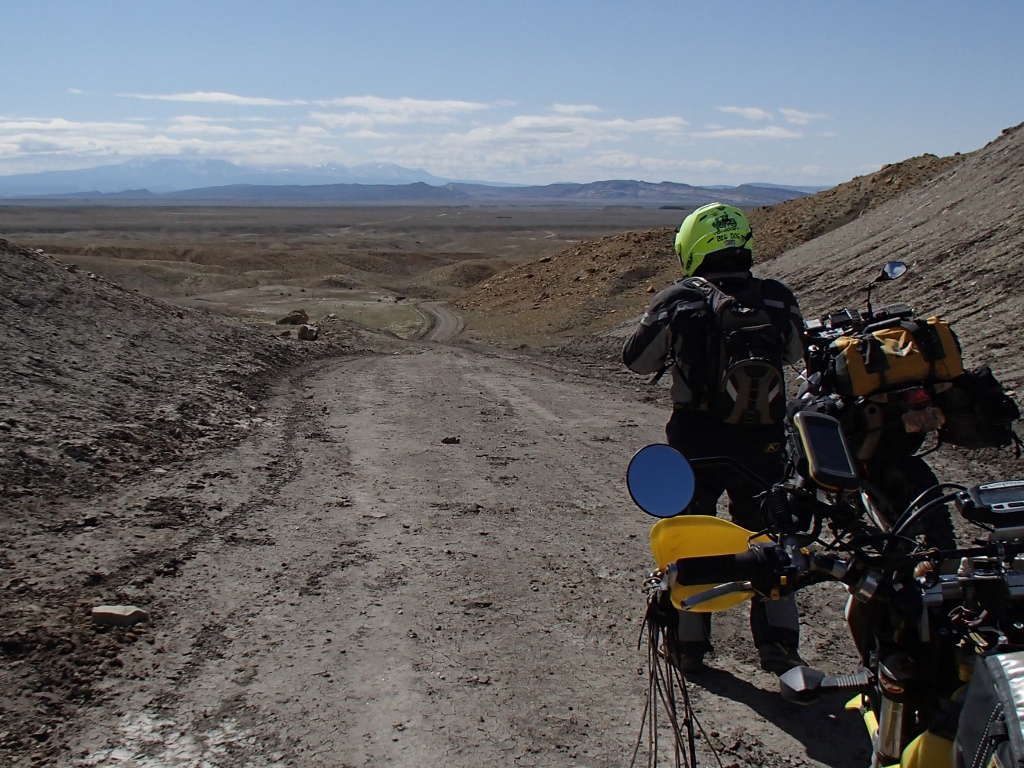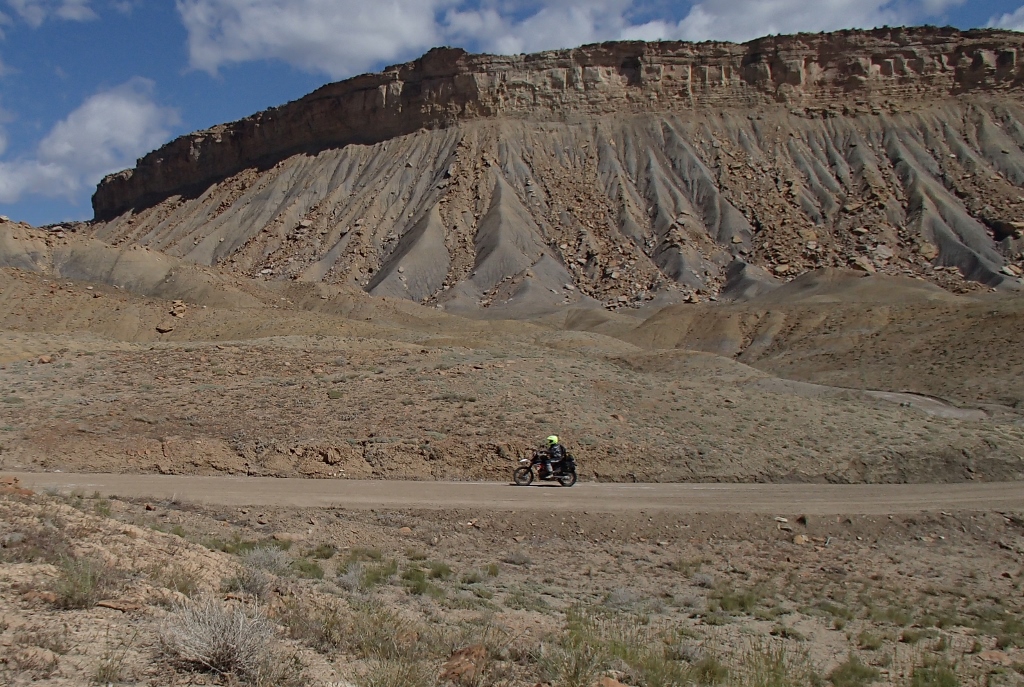 I had never been on this road and didn't know there was a dirt road heading into Arches from the North.
I'm sure those are the Lasal Mountains in the distance.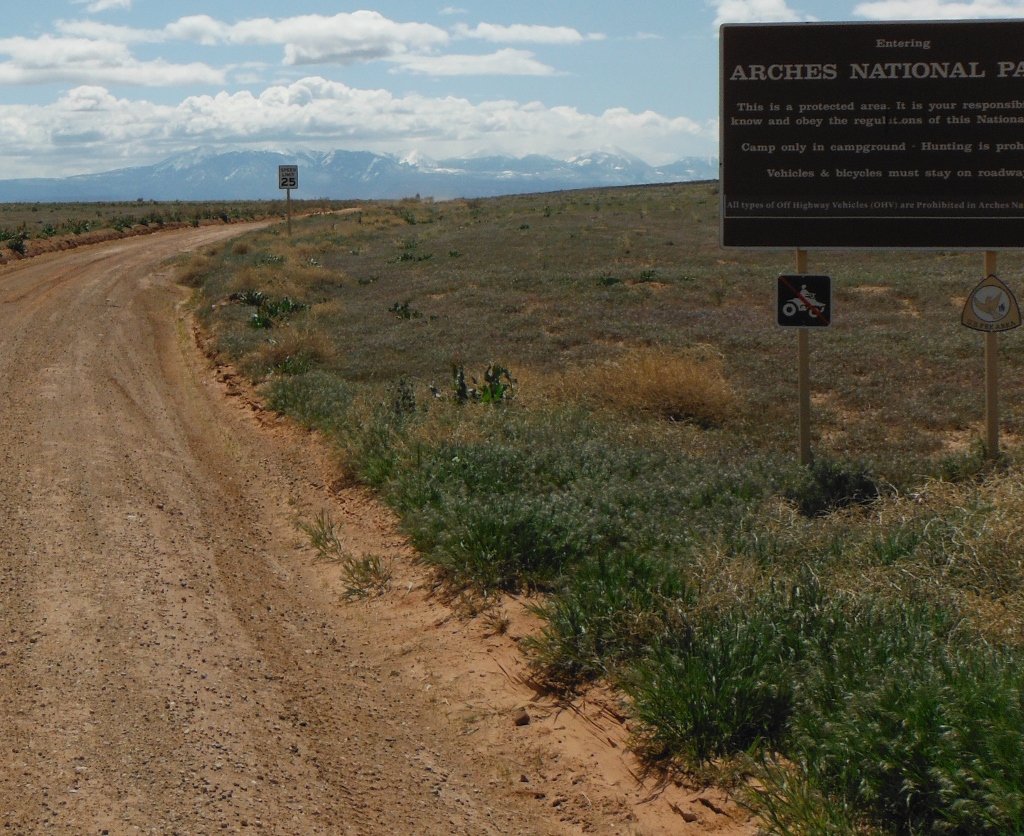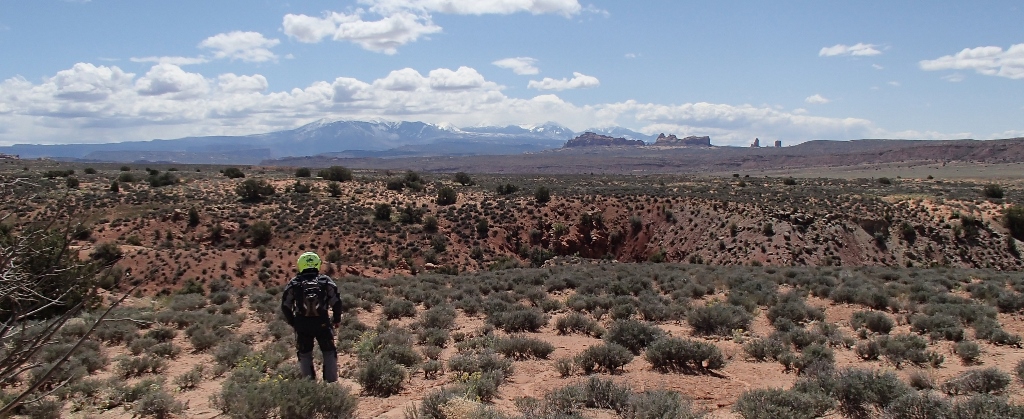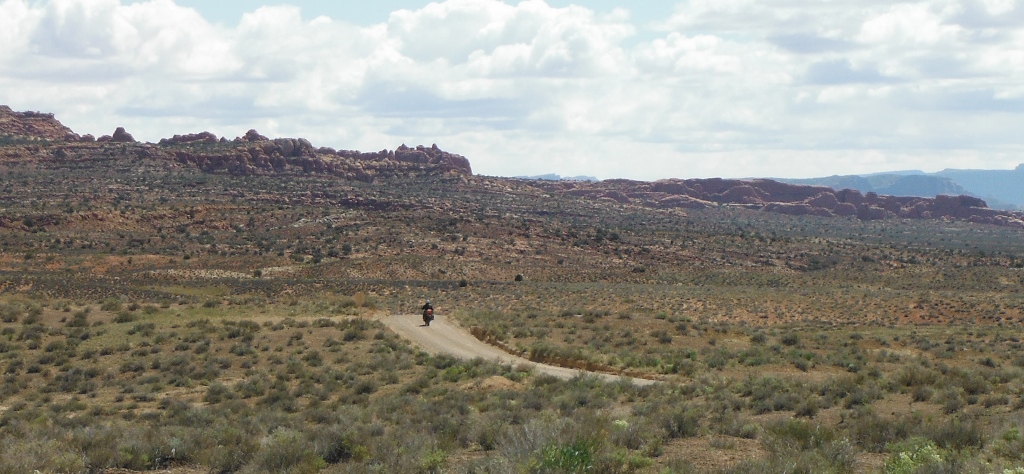 It is beautiful in Arches but it was really hard for any of to stomach the pavement and bumper to bumper motorhomes after
being out in the bush for so long.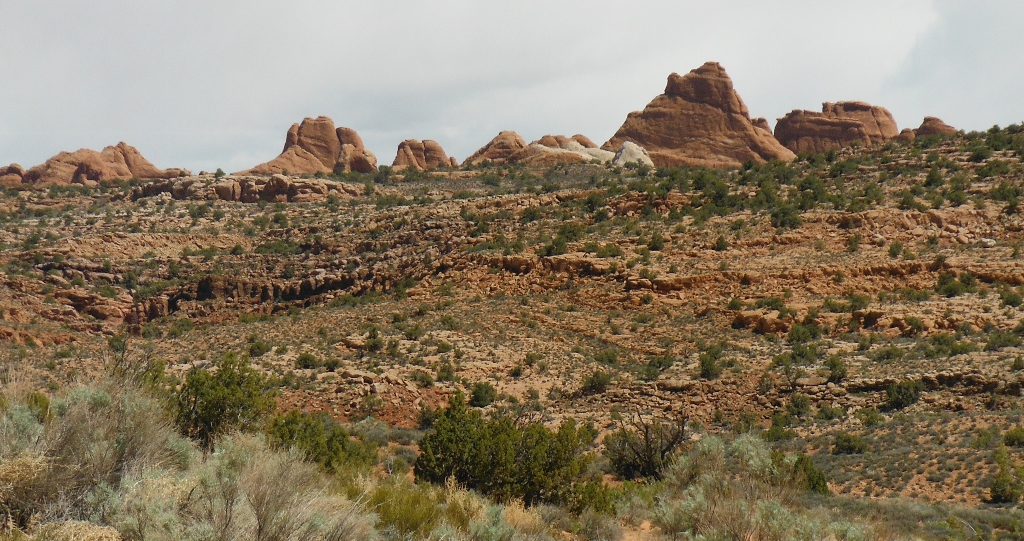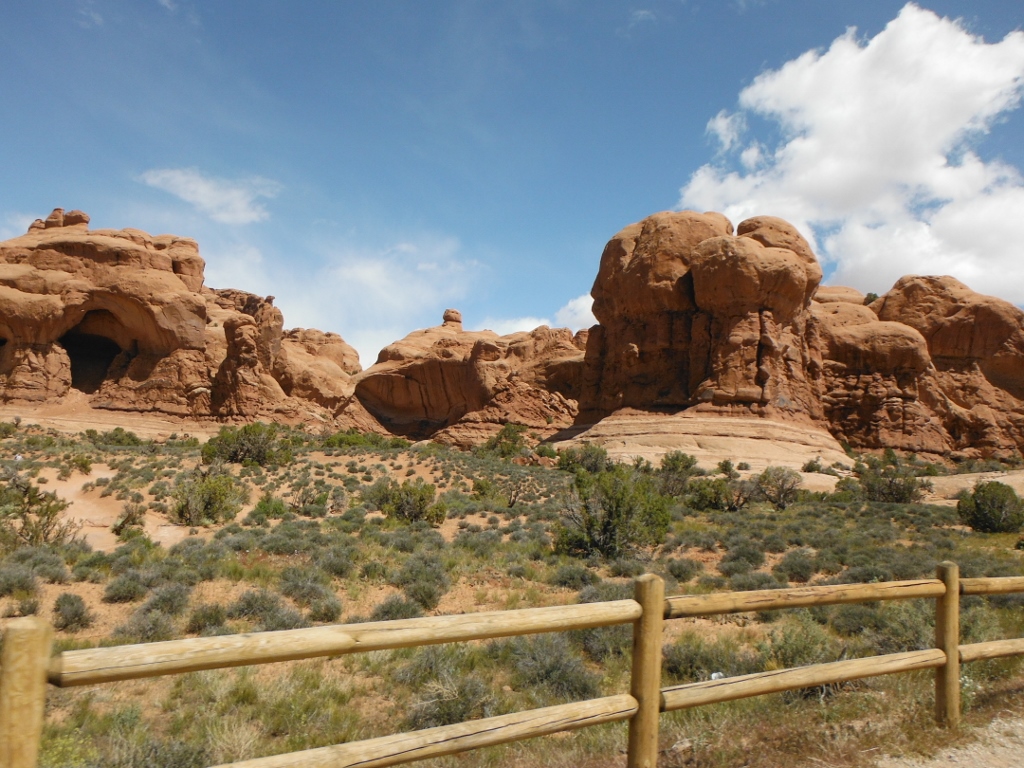 But Arches was no match for the zoo of Moab----we got what we needed and got out of town fast.

We were getting really close to the 3 step Hideaway and the temperature had dropped drastically---probably in the 40's.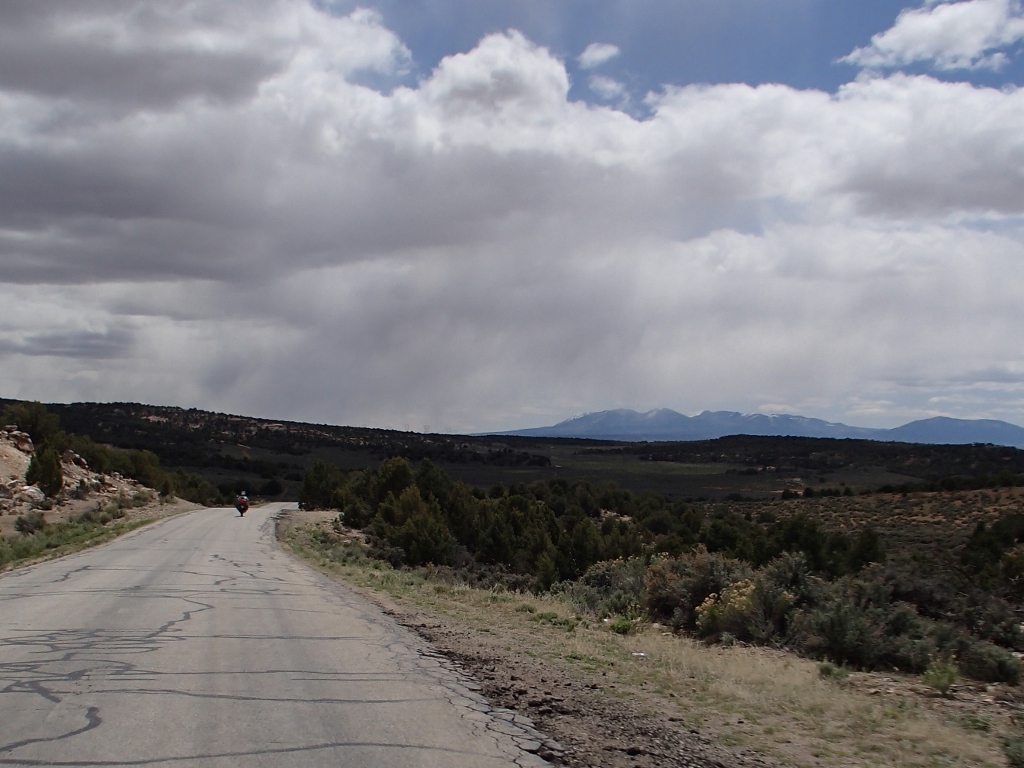 As we rolled into the 3 Step Hideaway it started snowing on us--just barely---but it was that cold.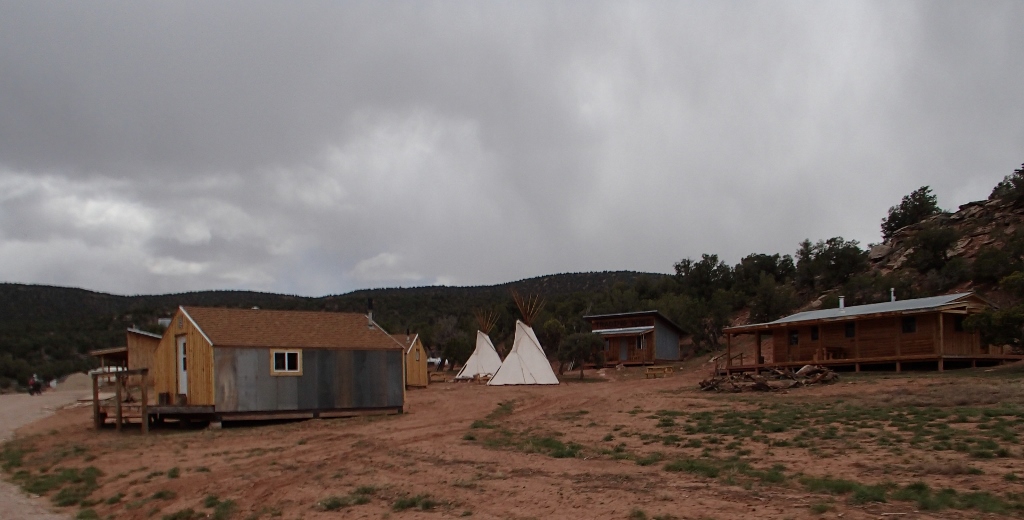 Scott ran out to greet us---it was good to be back at the Cantina and Scott had the woodstove going inside.
It was like coming home to all of us.
We needed a bath pretty badly and we had a nice dinner that evening and crawled into a warm bed.
Another superb ride with the Mobius riders----it was awesome.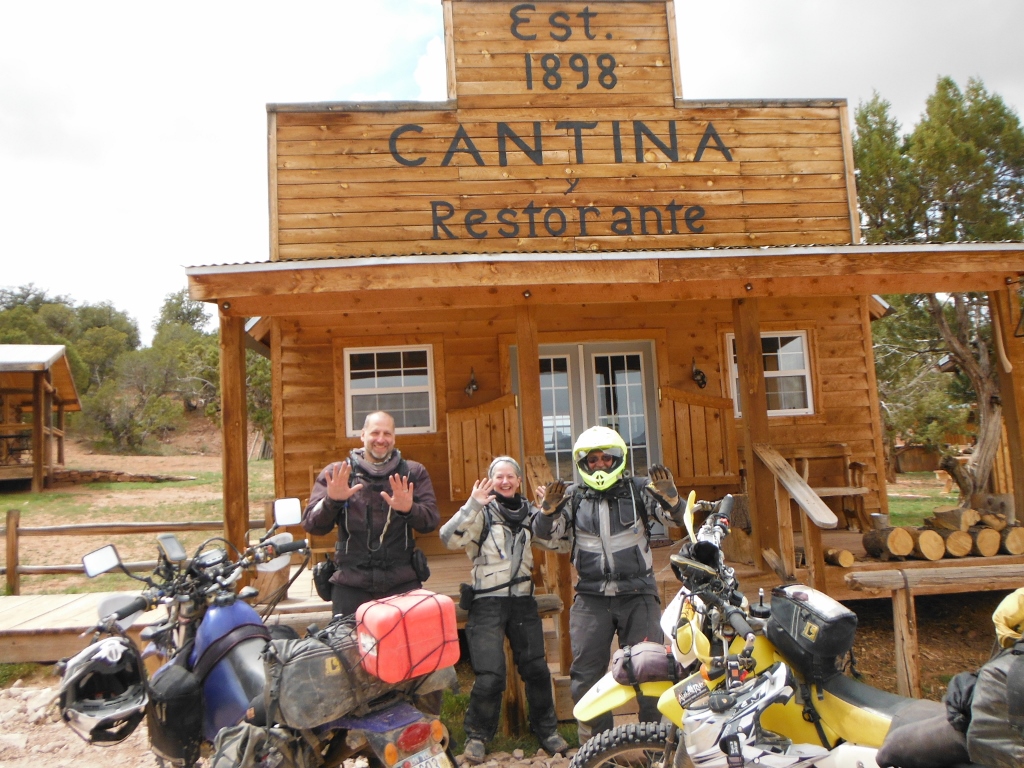 A rough map of our ride that day---about 150 miles. The Yellow line is our track.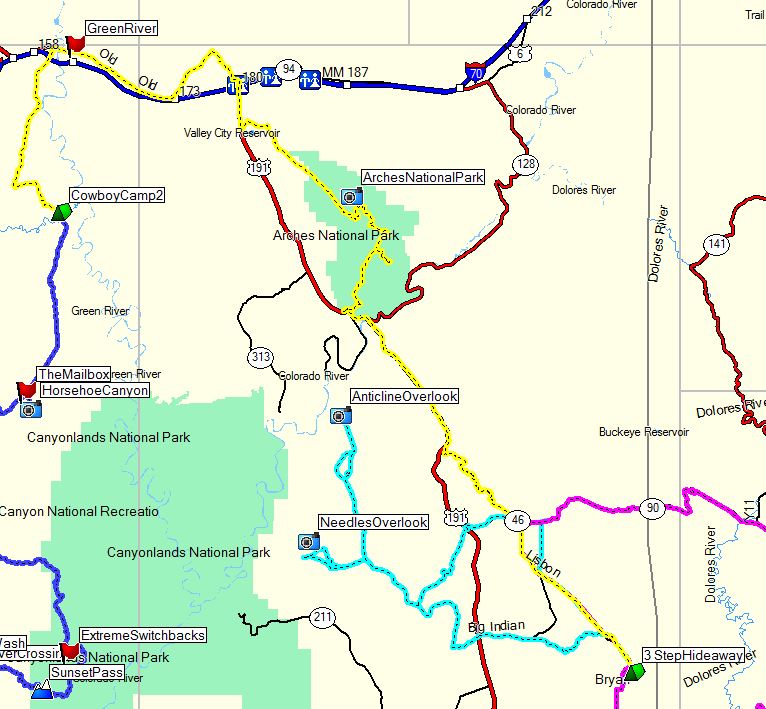 May 1st, 2014 (I think)

I think the next day we all just laid back and took it easy.
We had a good time talking about the ride and was fed very well at the 3 Step.
John showed up (Emmerson Bigguns) on AdvRider on his KTM 450EXC and me and him took off for a day
by ourselves for a day ride to a couple of places I'd never been.
We headed Northwest towards the "Needles" and "Anticline" overlooks.
These would overlook the awesome Lockhart basin Southwest of Moab.
On our way.............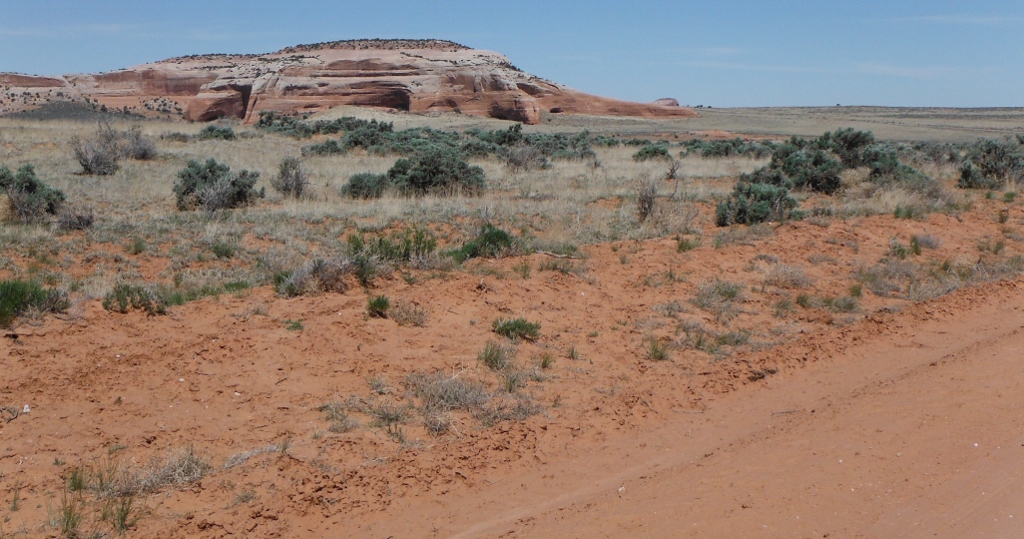 This is the Needles overlook----I found a dirt road to a remote overlook away from the paved overlook.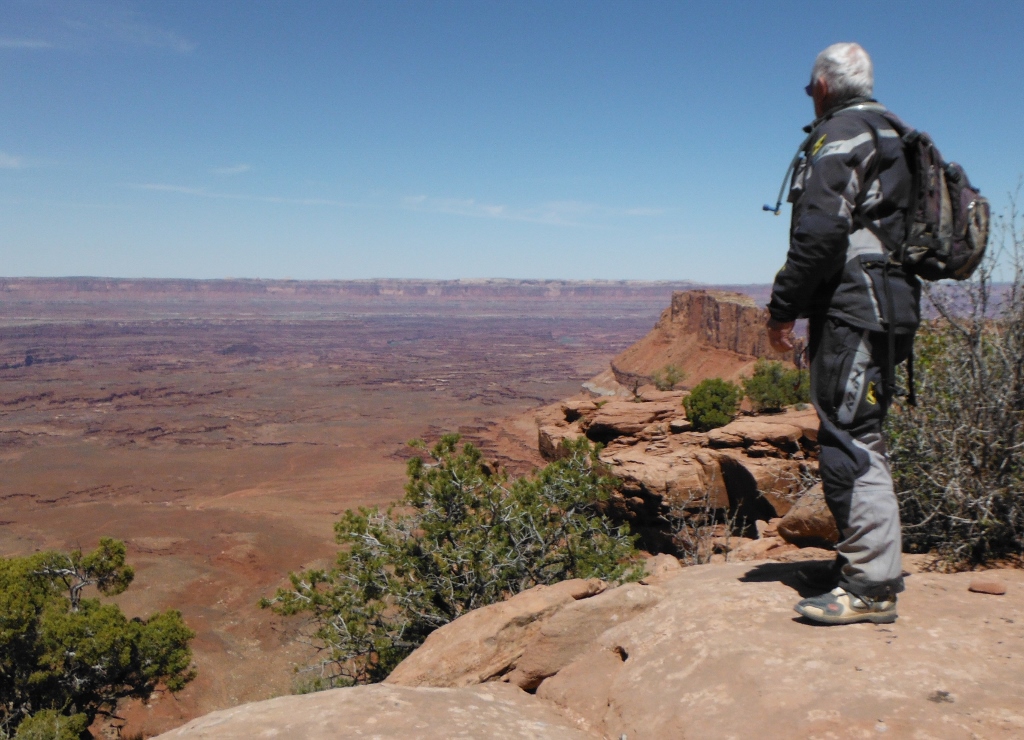 John was happy to get away from work and ride his dirt bike.
Him and Scott were next door neighbors in Tuscon before Scott and Julie bought the ranch.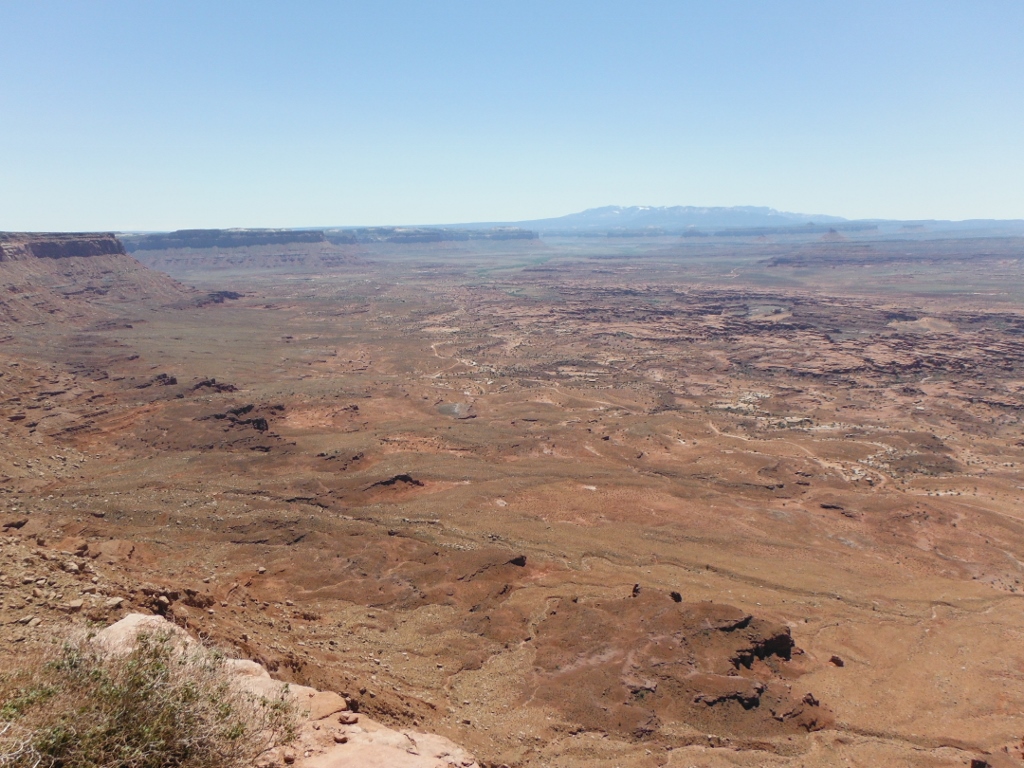 The Lockhard Basin trail is way down there.
I rode it back in 2001 ----and was on a Suzuki 400DRZS.
Me and a buddy rode from Moab to the North rim of the Grand Canyon and back on that ride.
That story is on my website.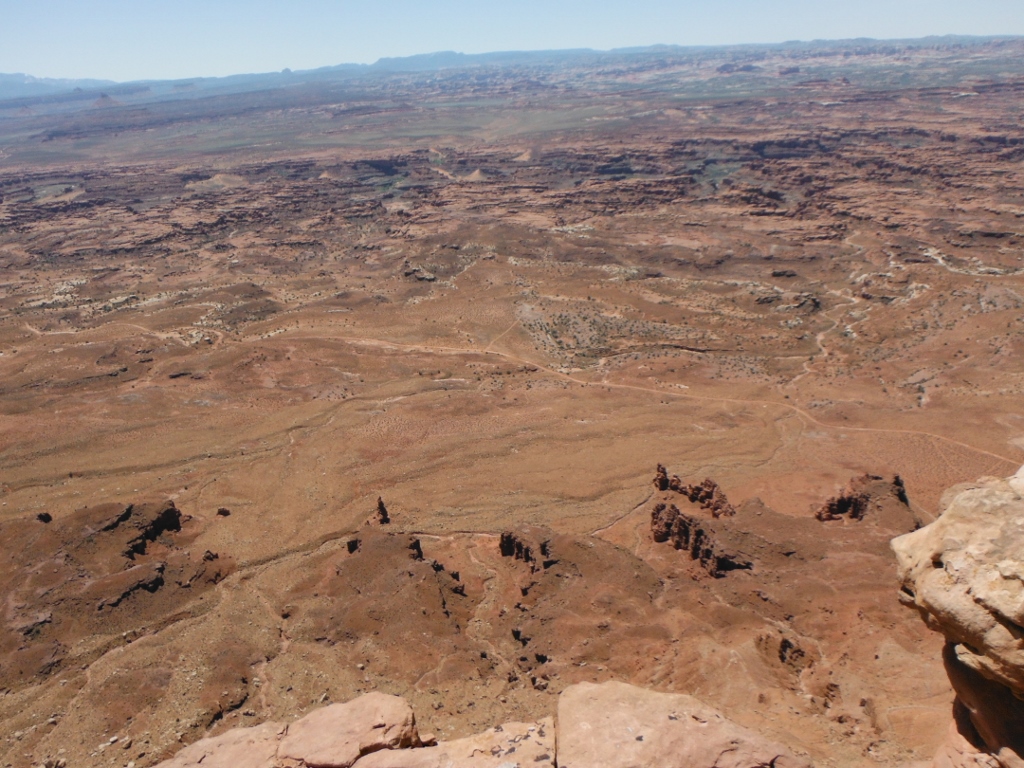 We then headed to the Anticline overlook on this gravel road.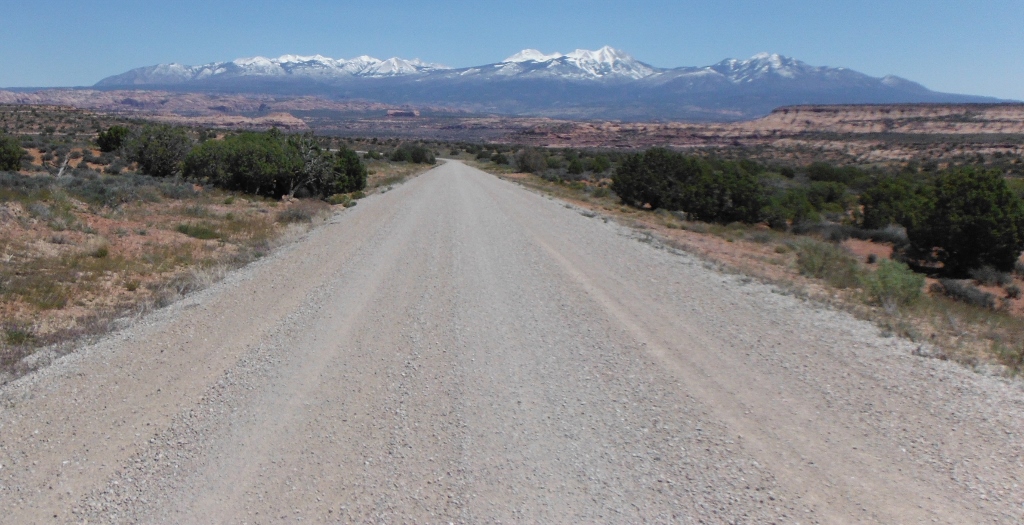 John and his KTM450EXC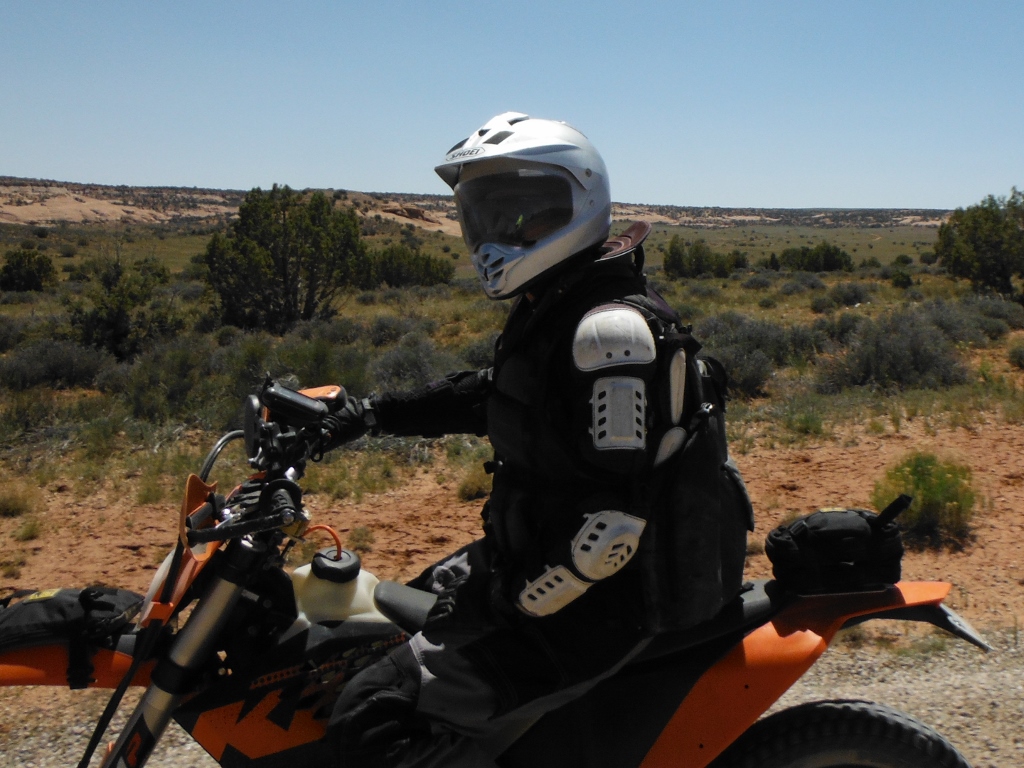 This is looking at the Anticline---I think that is a salt mine down there.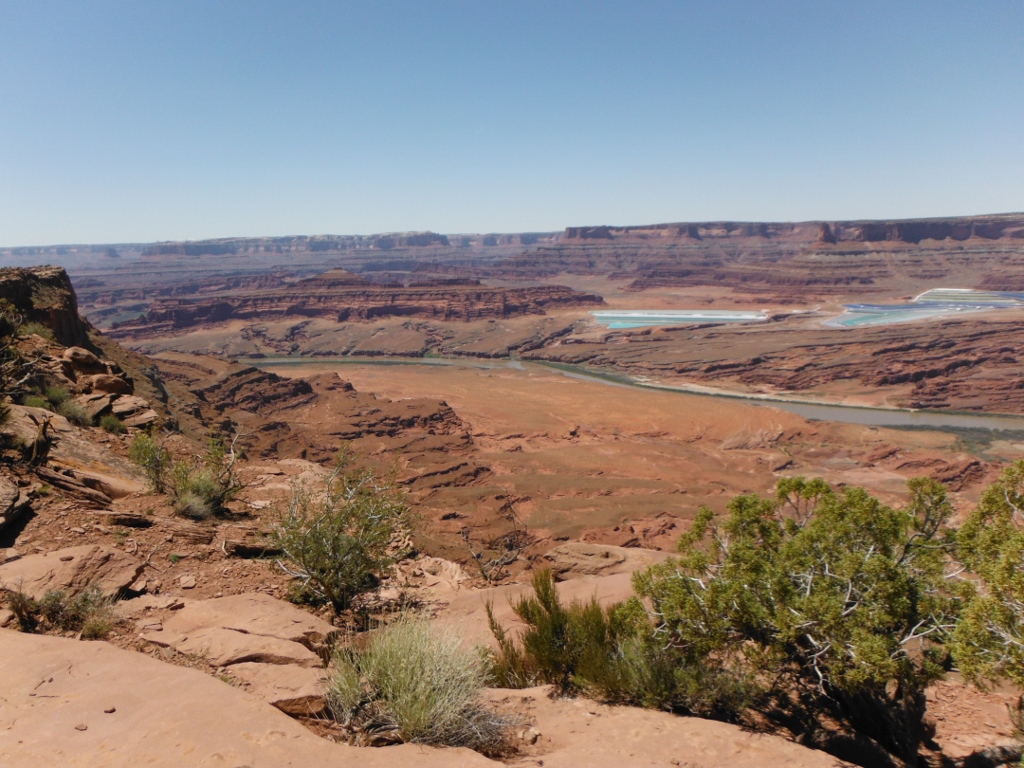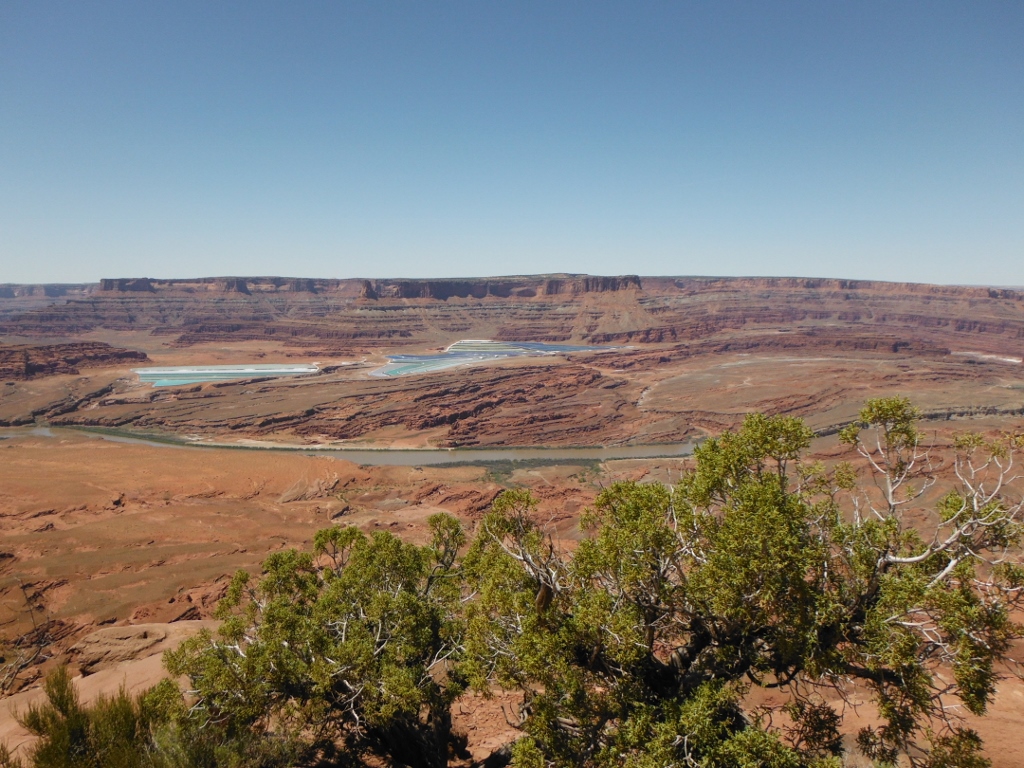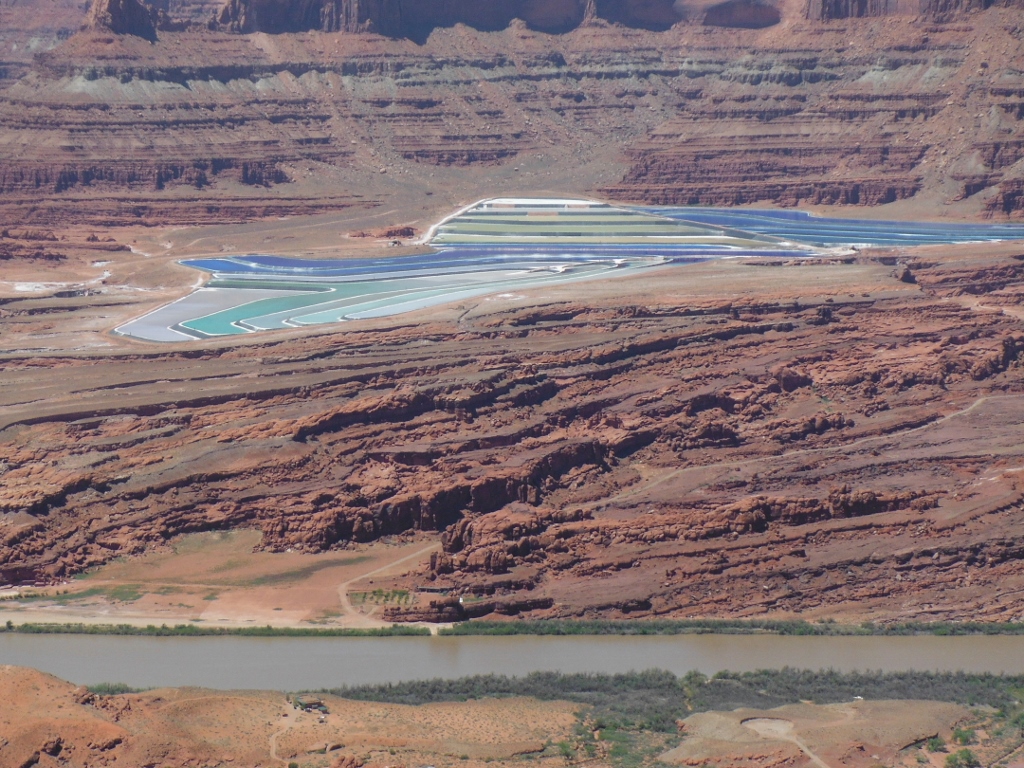 The Lockhart Basin trail is down there also.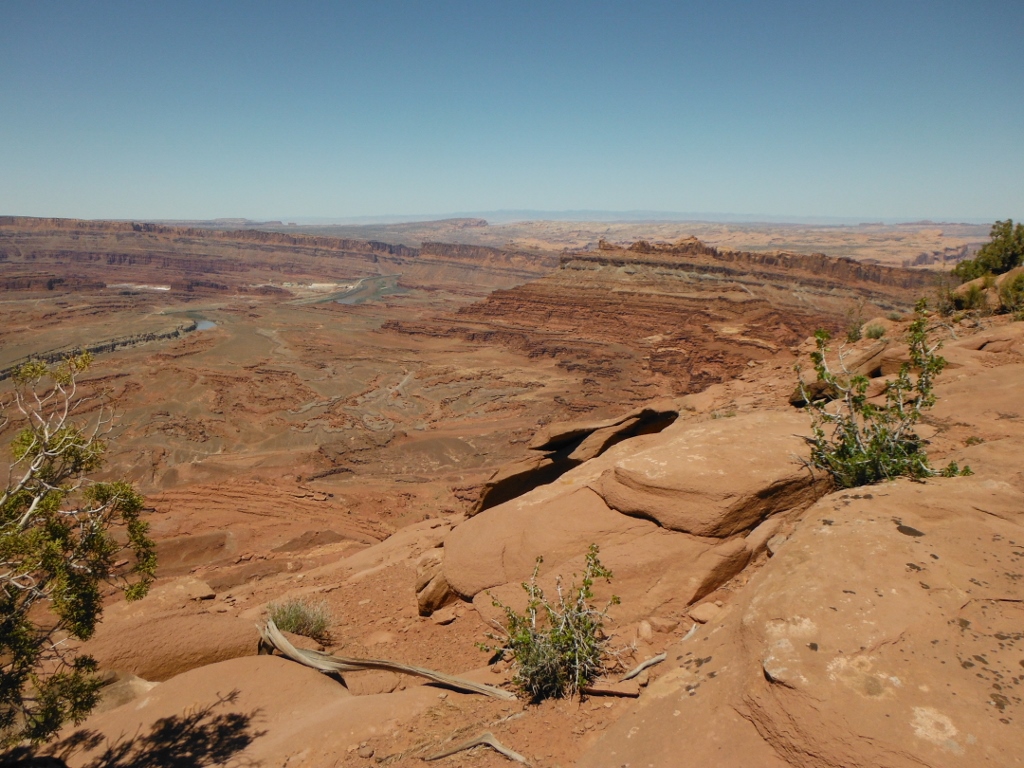 You can plainly see the trail in this picture.
It sure was neat seeing the trail I rode 13 years ago from up above.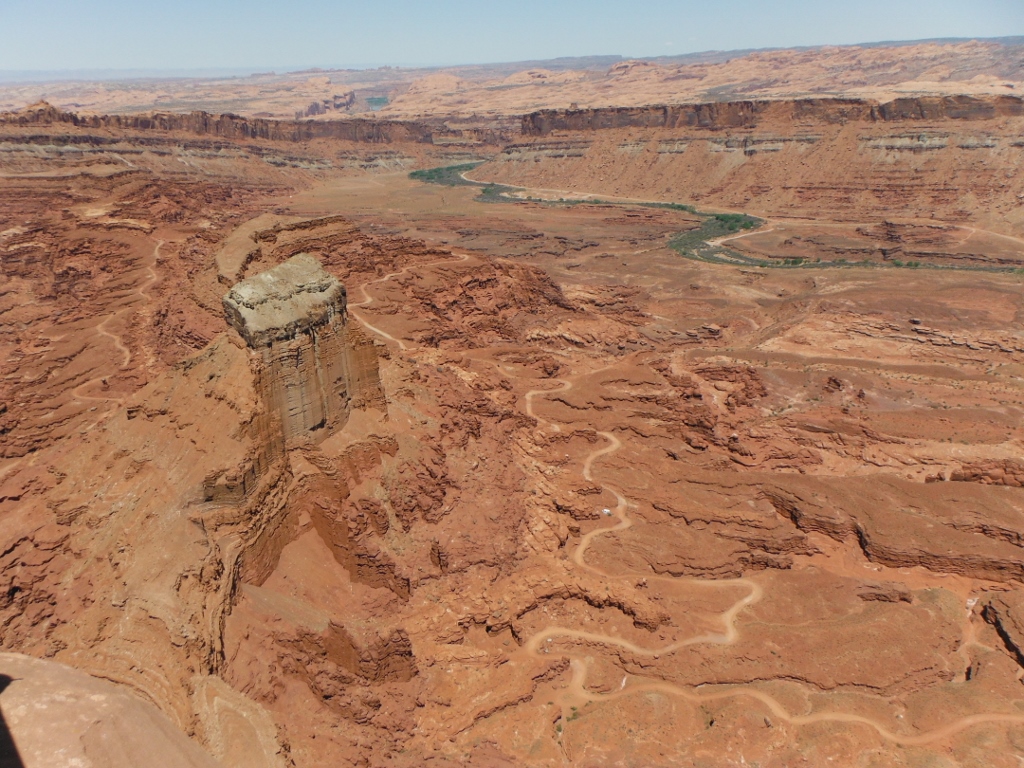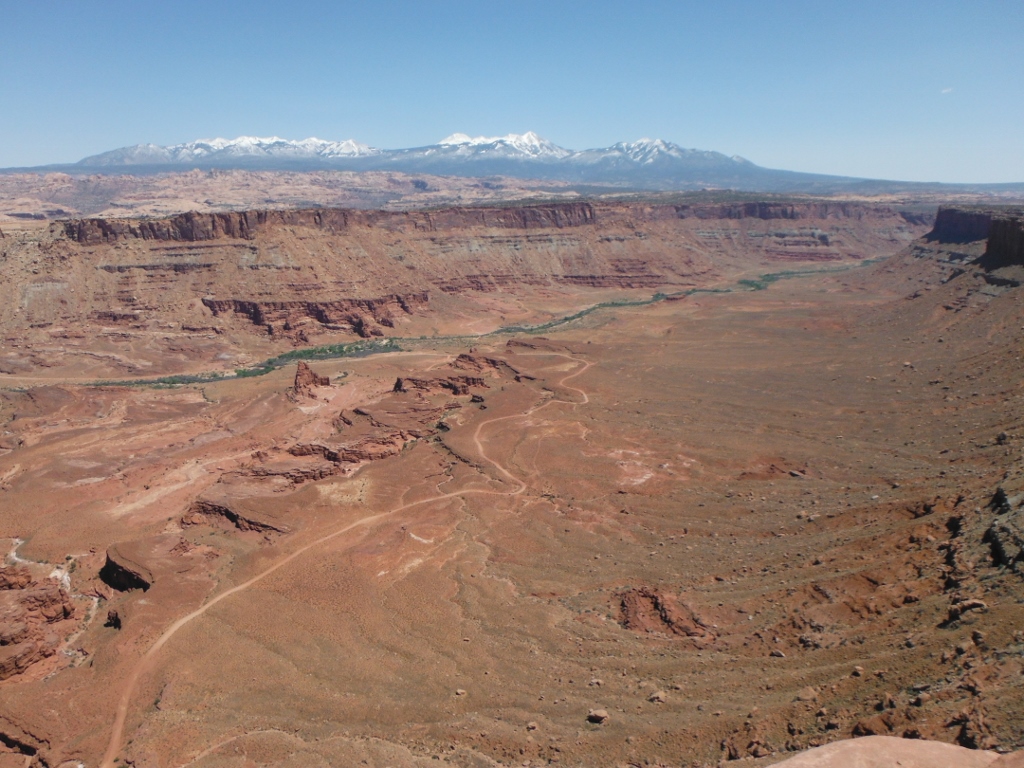 A map of our ride that day------141 Miles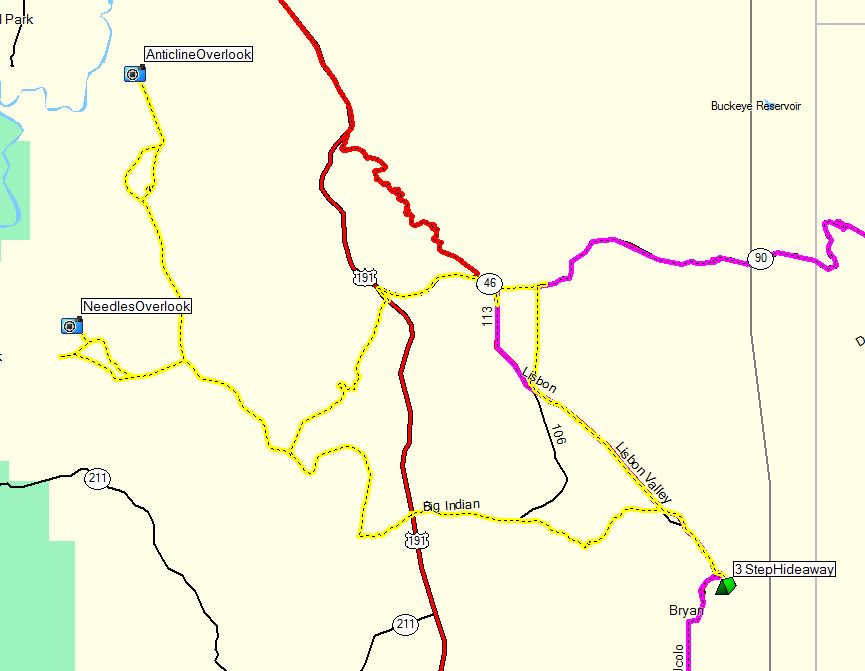 The next day we all were still itchin' for a nice ride---and Scott took us all on a really good ride that actually ran into Colorado.
Francine sat this one out ------so it was just us guys.
Me and John had almost identical Mercedes Sprinter vans and had hauled our bike to the ranch. It was 1,400 miles one way for me.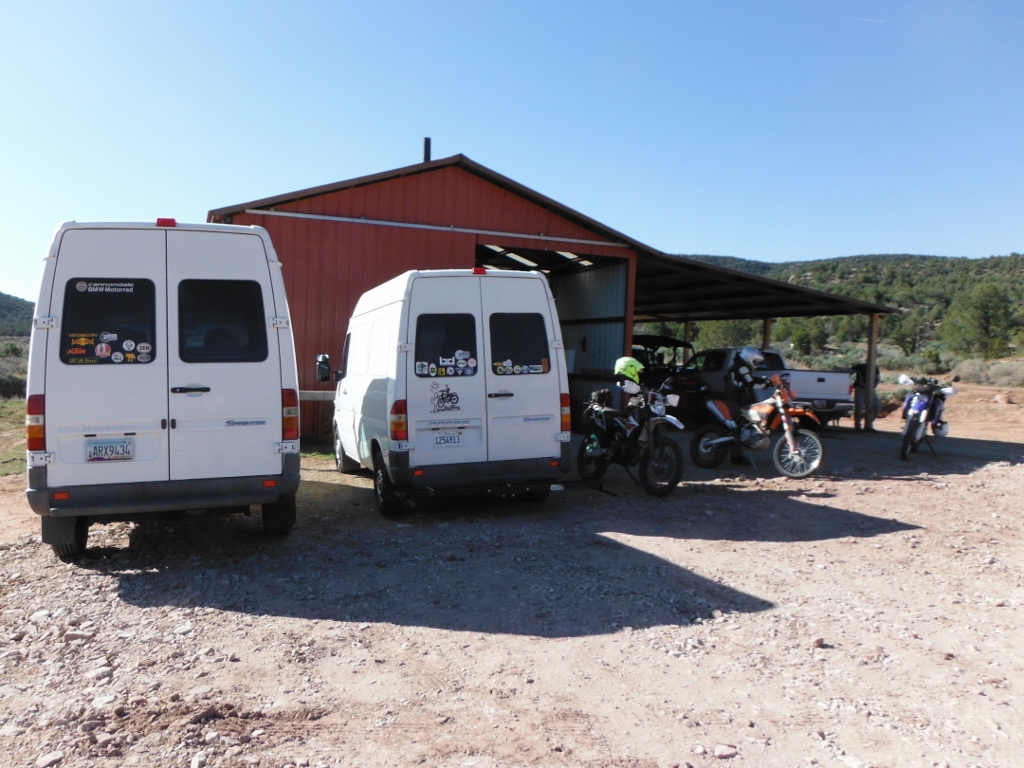 Right off the bat John thought his KTM had a flat----it was really low---we aired it up and it was fine after that ??????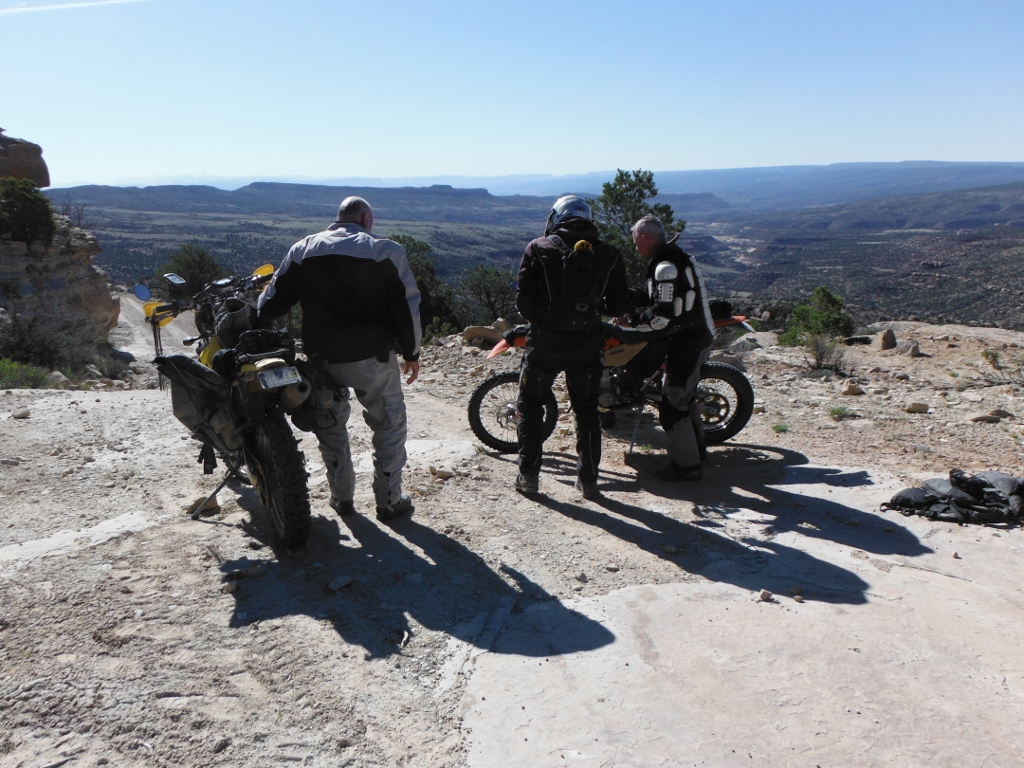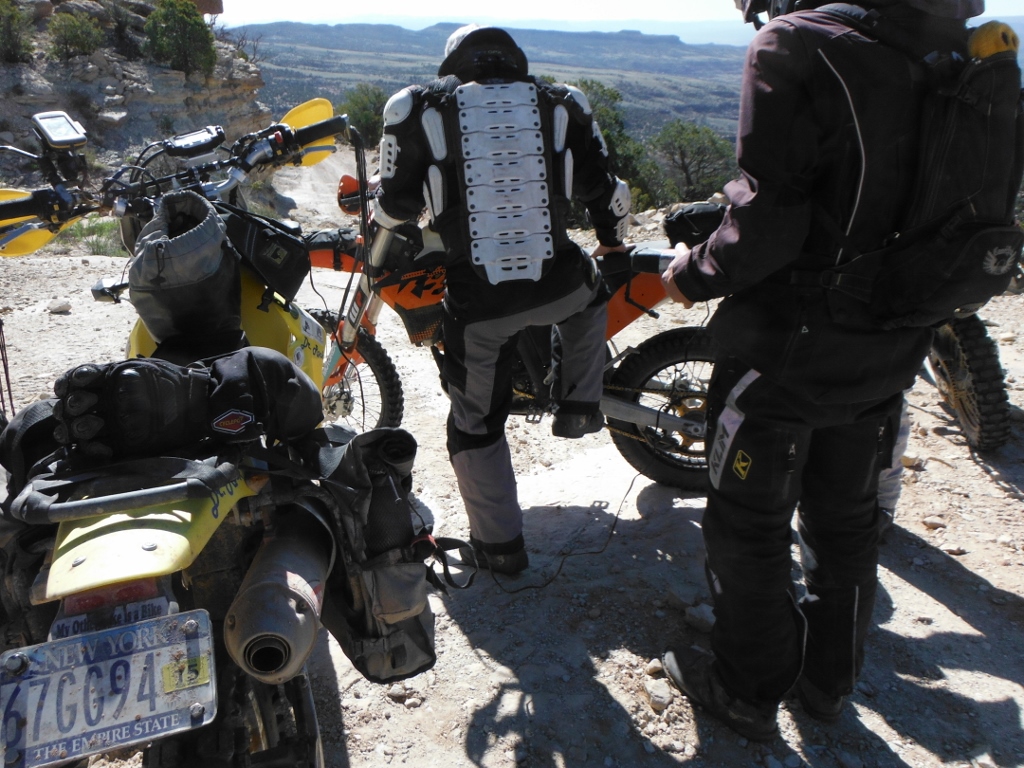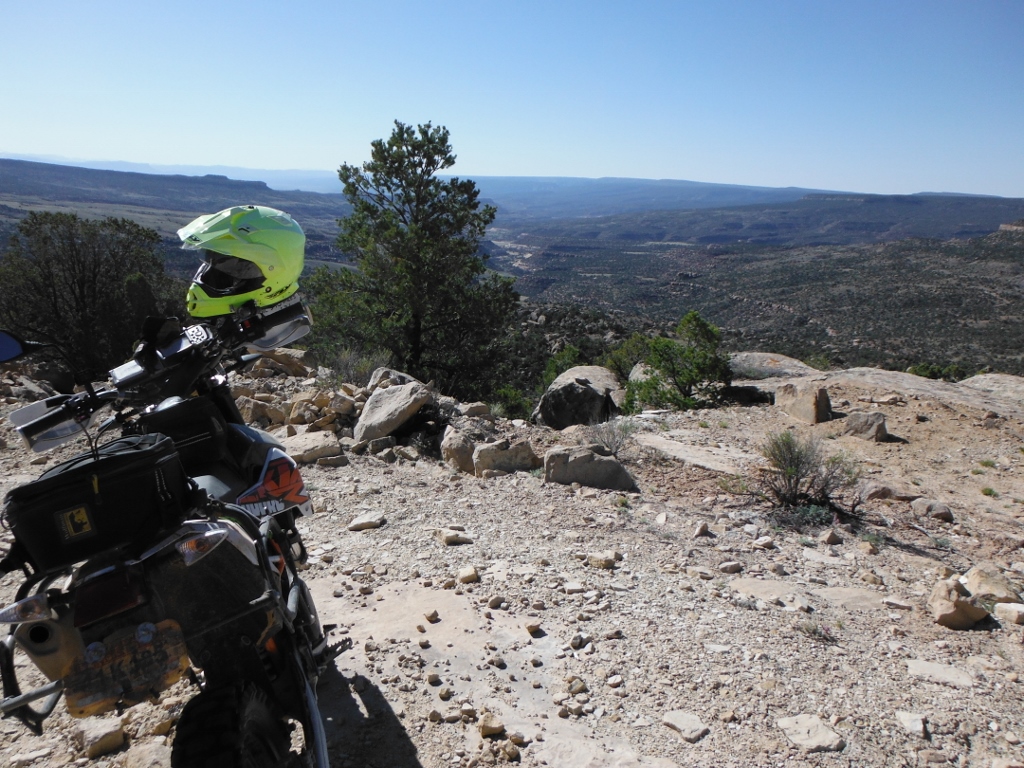 This turned into a really great ride----and I was amazed at the really good route Scott had laid out.
Some of it was really tuff---lot's of rocks---mountains switch backs--it was awesome and right in Scotts backyard.
I called it "Scotts A-Loop"
Scott thought big bikes could ride this---I wasn't so sure---my pics don't show the rough stuff.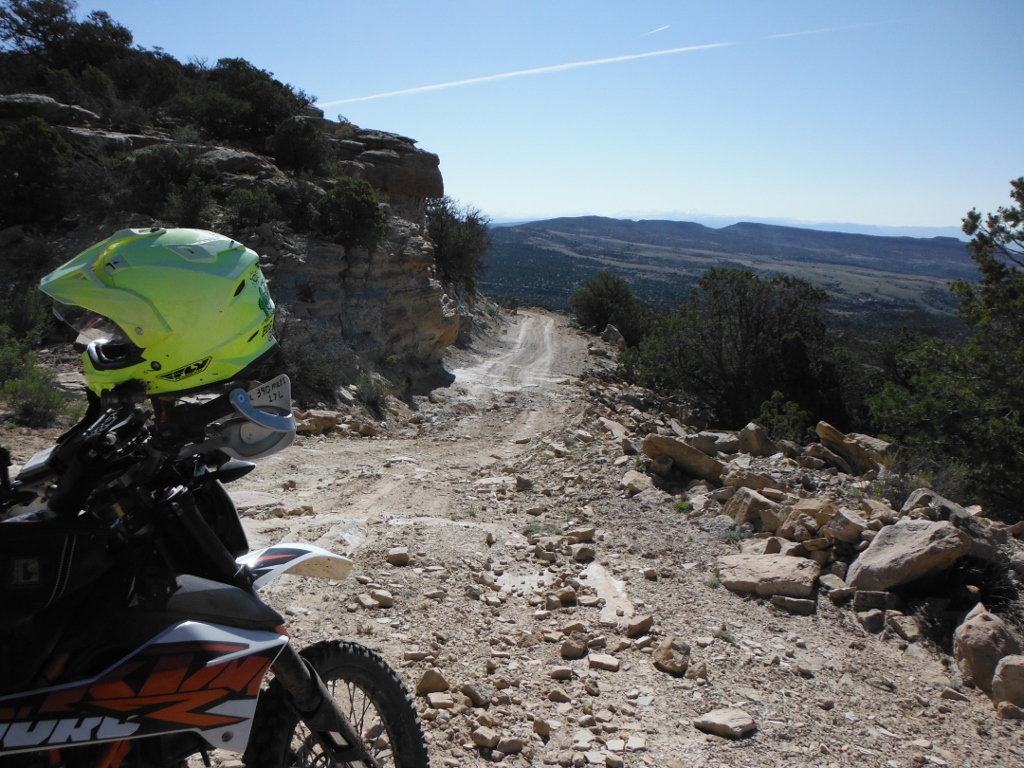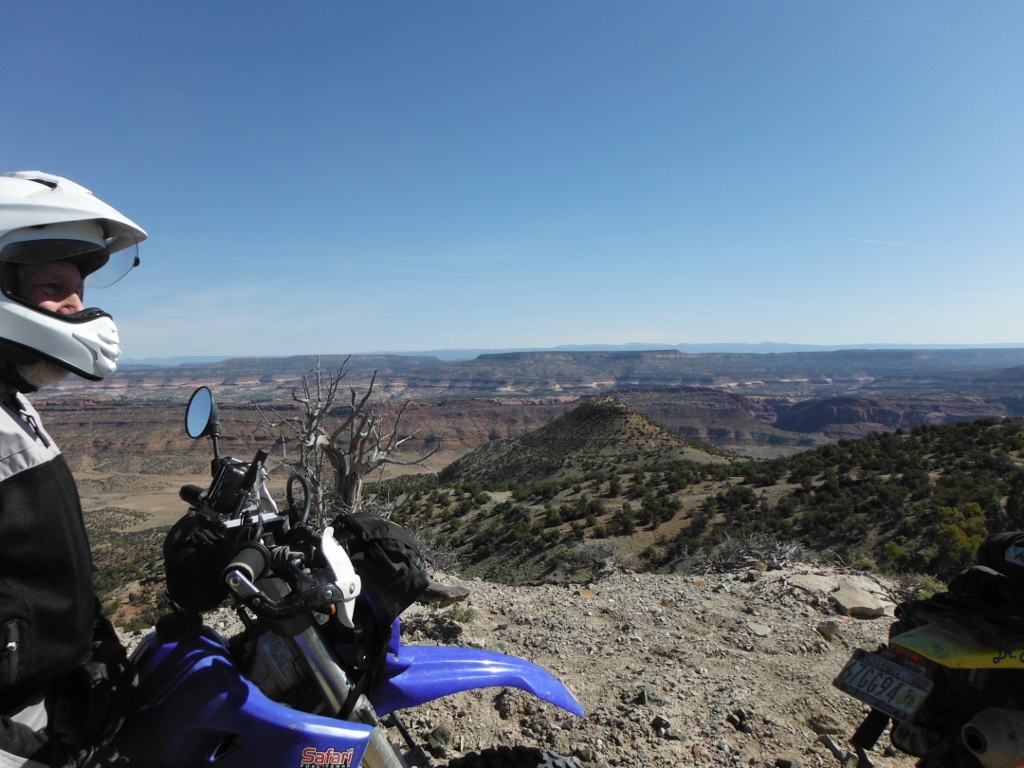 We crossed the Dolores river on this old bridge.
I saw this old bridge on google earth before we came out here---but wasn't sure it was still there.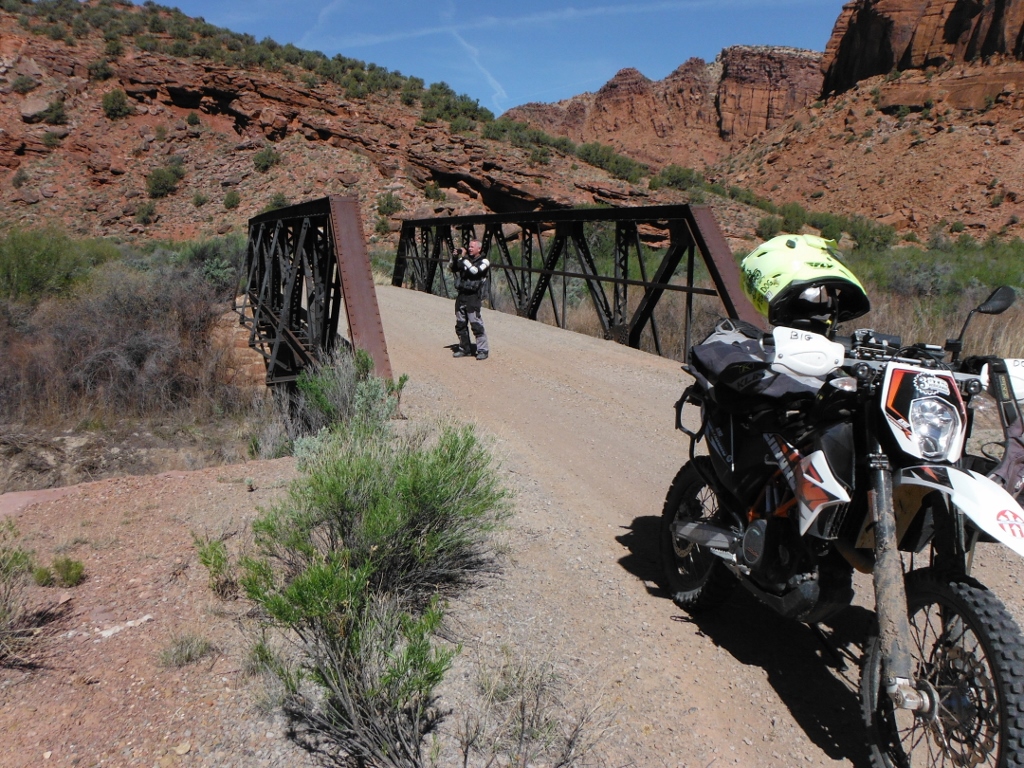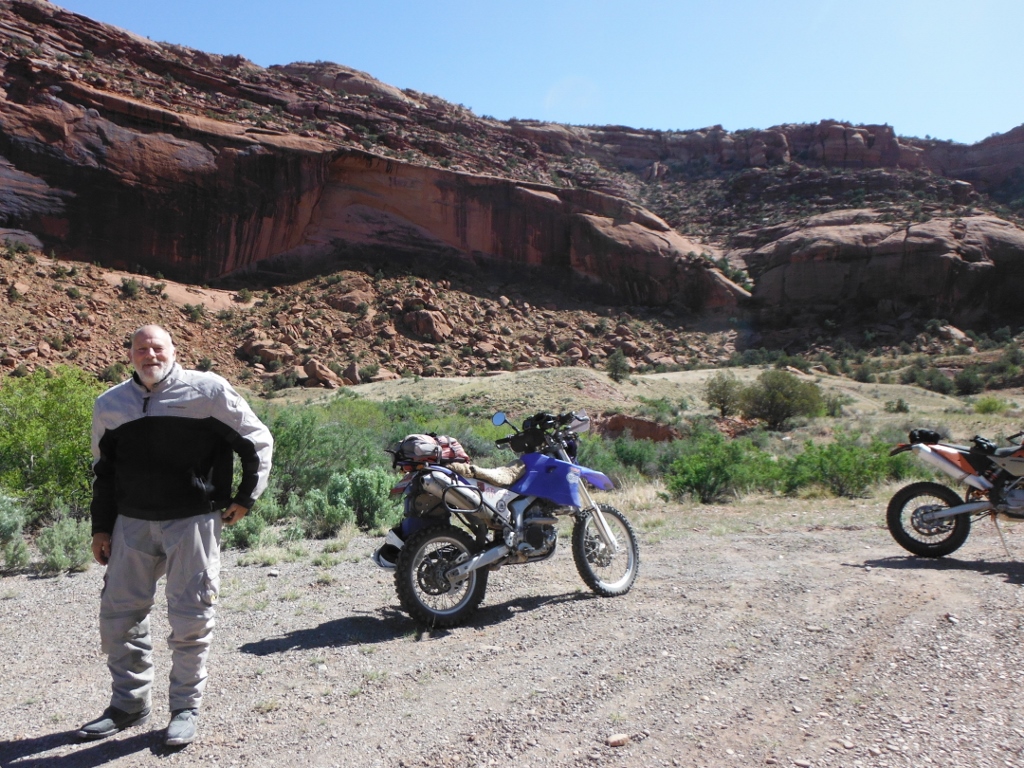 Other than running out of gas once------my new 690 never wimpered once.
It ran like a top the whole time---and had way more horsepower than I knew what to do with.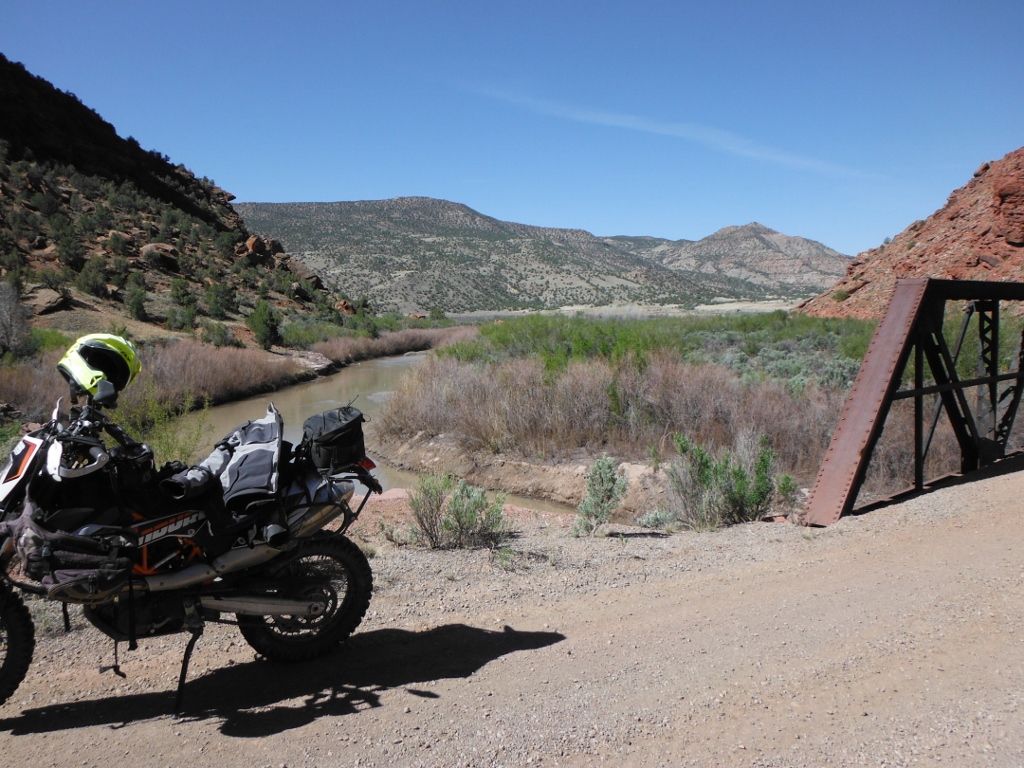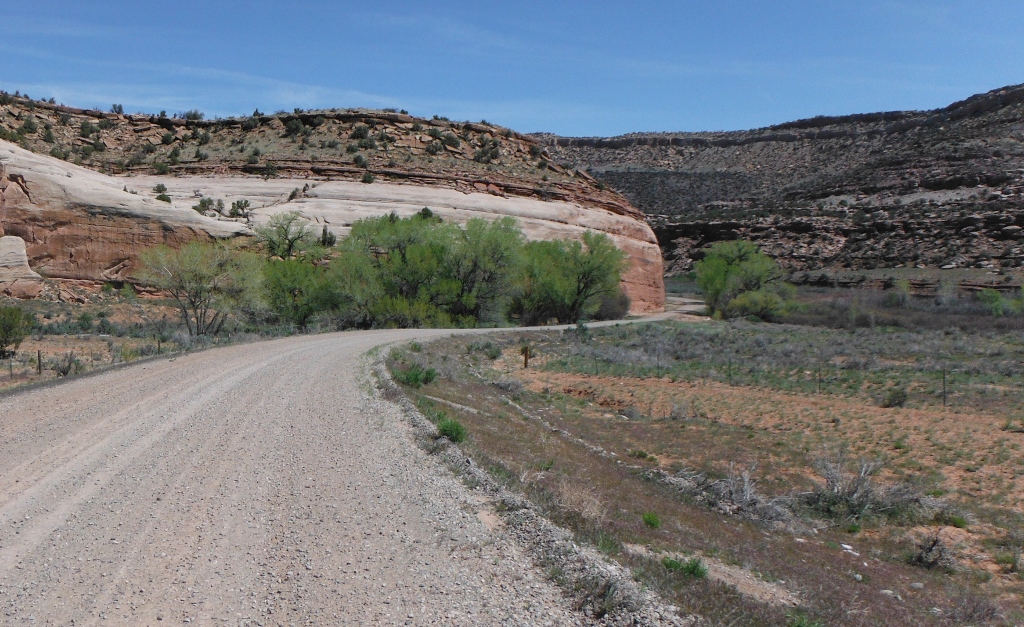 Back at the ranch---we tied our horseeeees up !!!!!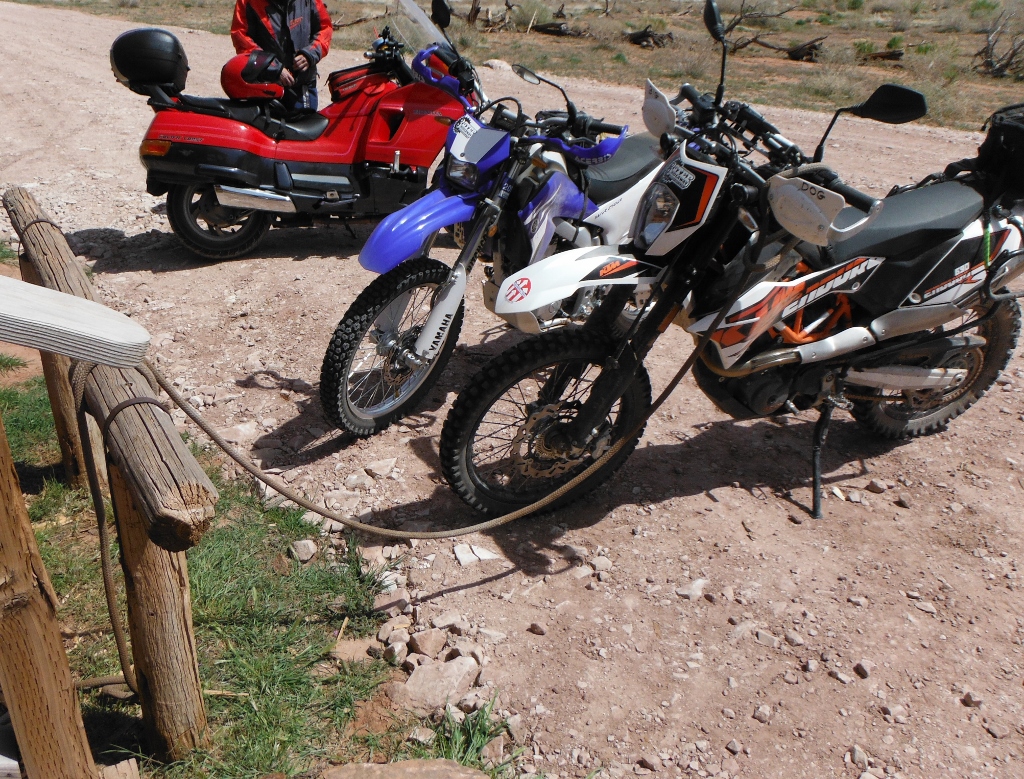 3 Step Open House---The Big Day
The band showed up--these guys were a hoot !!!!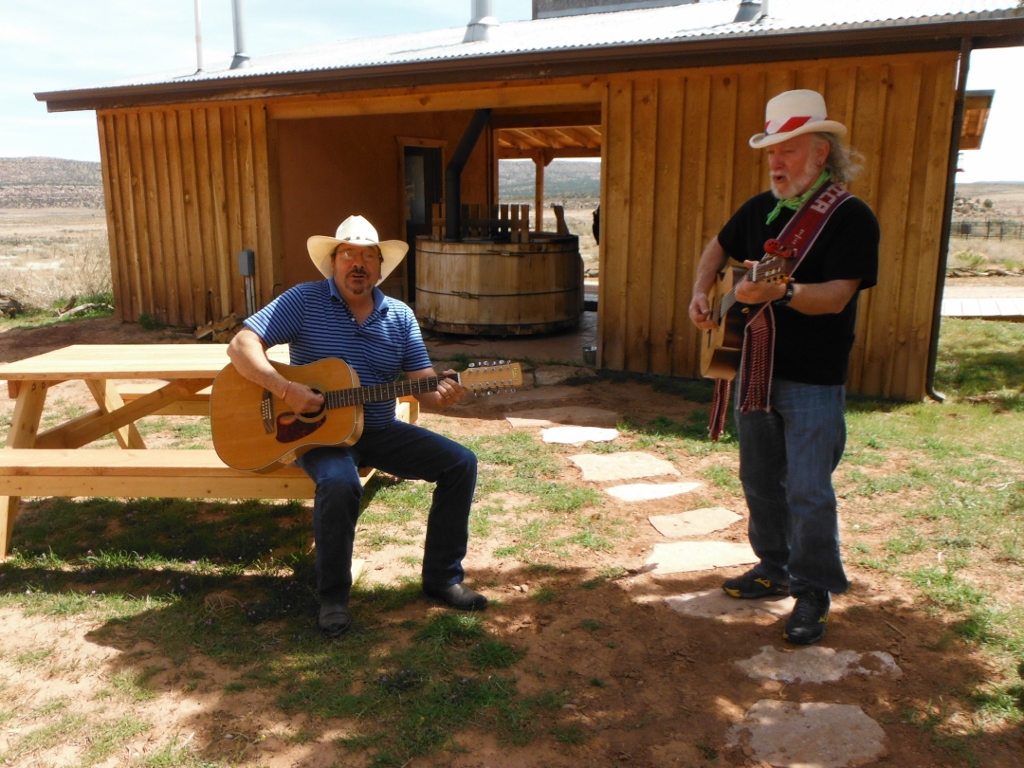 Lot's of people came and everybody looked over the ranch and had lunch as the band played.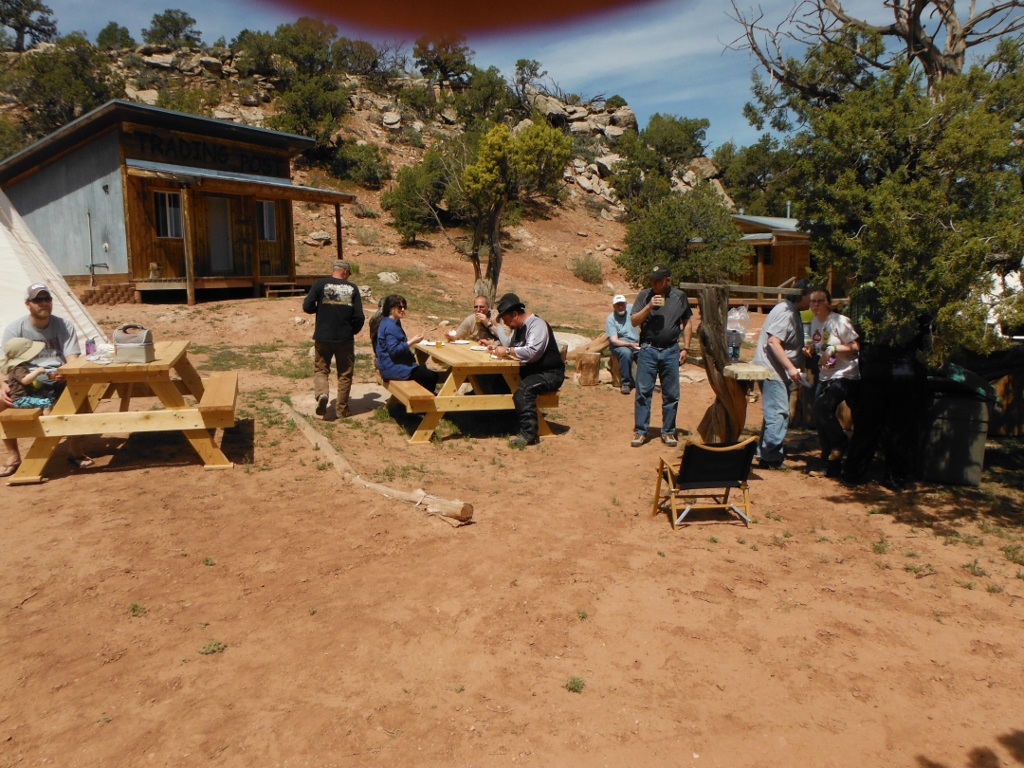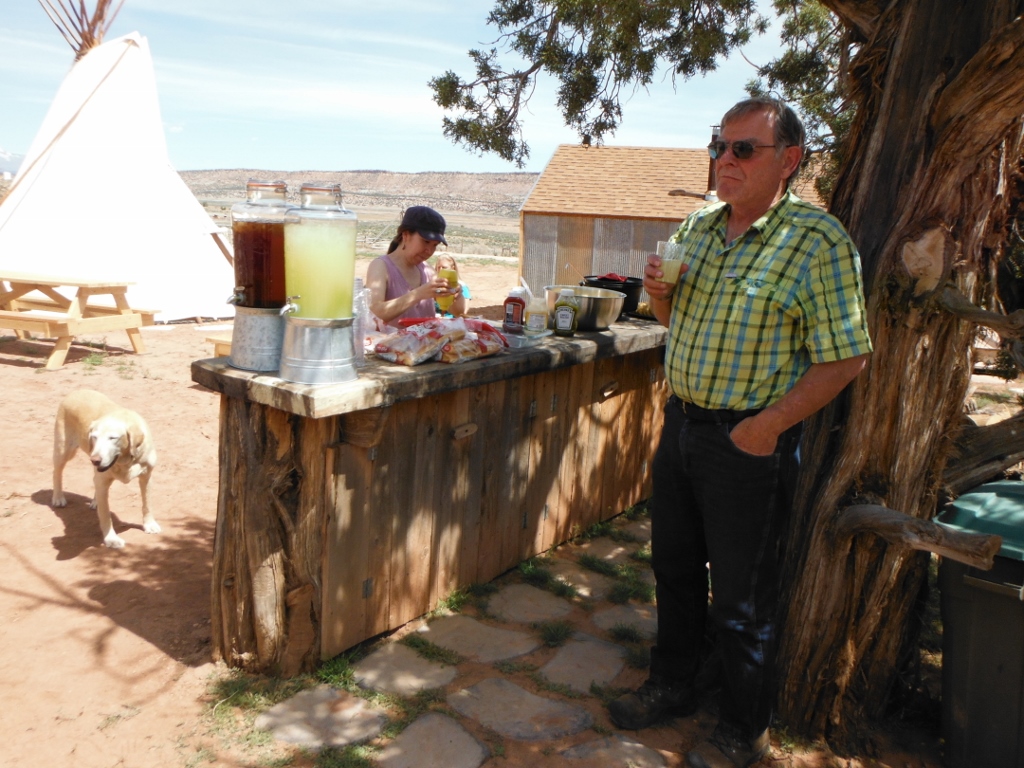 I think the guy on the right was a neighbor of Scotts ???
His mustache had to weigh 5 lbs.
He was a real cowboy.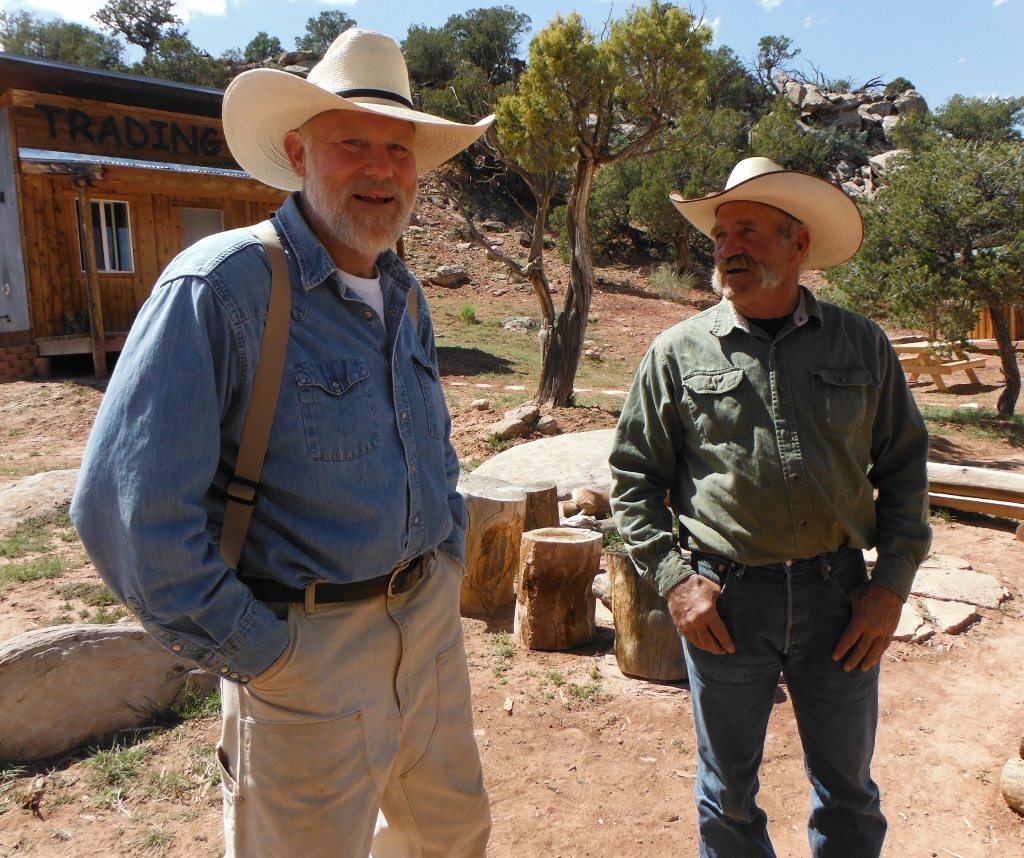 I joined in with the band and probably played about 10 songs with them.
I was so glad I had brought my guitar.
Before the open house I played it every evening in the Cantina while I was there.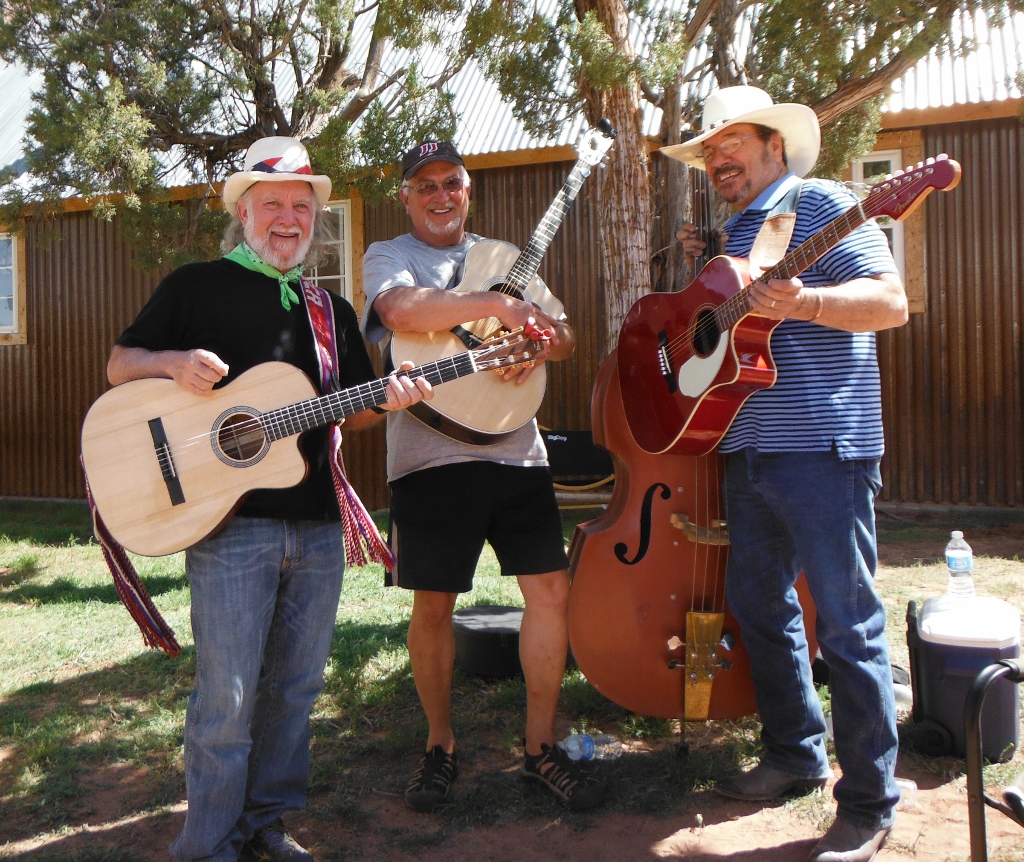 We even had back up singers.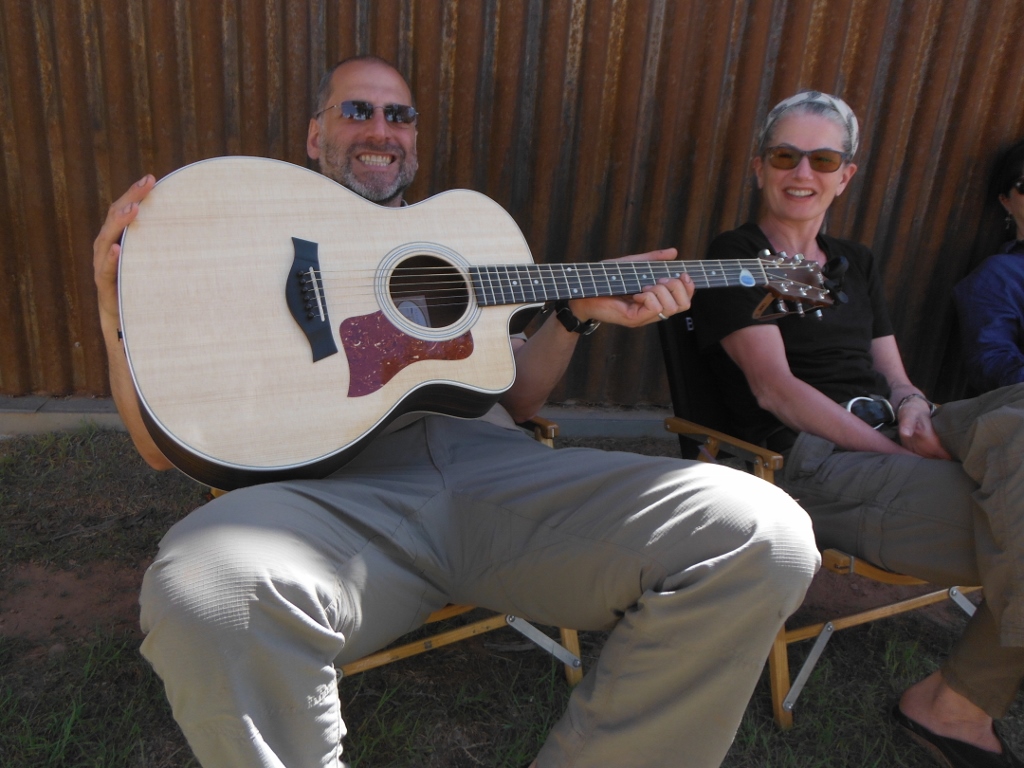 This is Julies (Scotts wife) HOG.
We went for a day ride on the pavement with her. She hadn't ridden in a long time and really had a good time.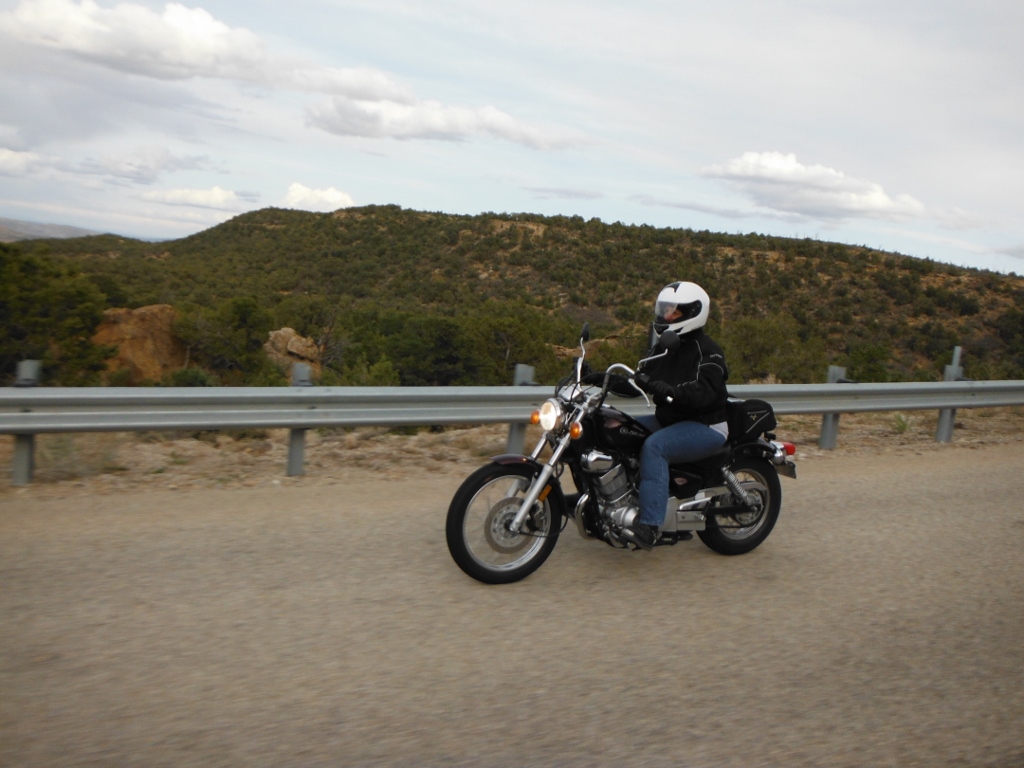 All this made Dingweeds tired---and he took a nap.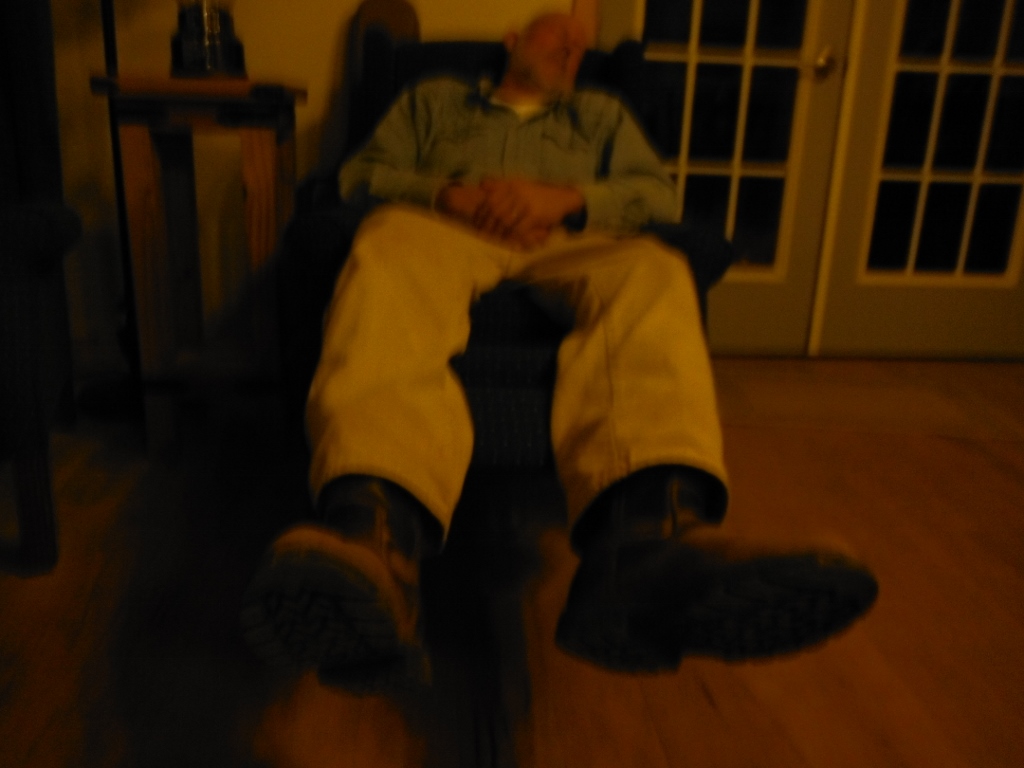 Woodpeckers didn't last long at the ranch---when they started peckin' holes in the roof.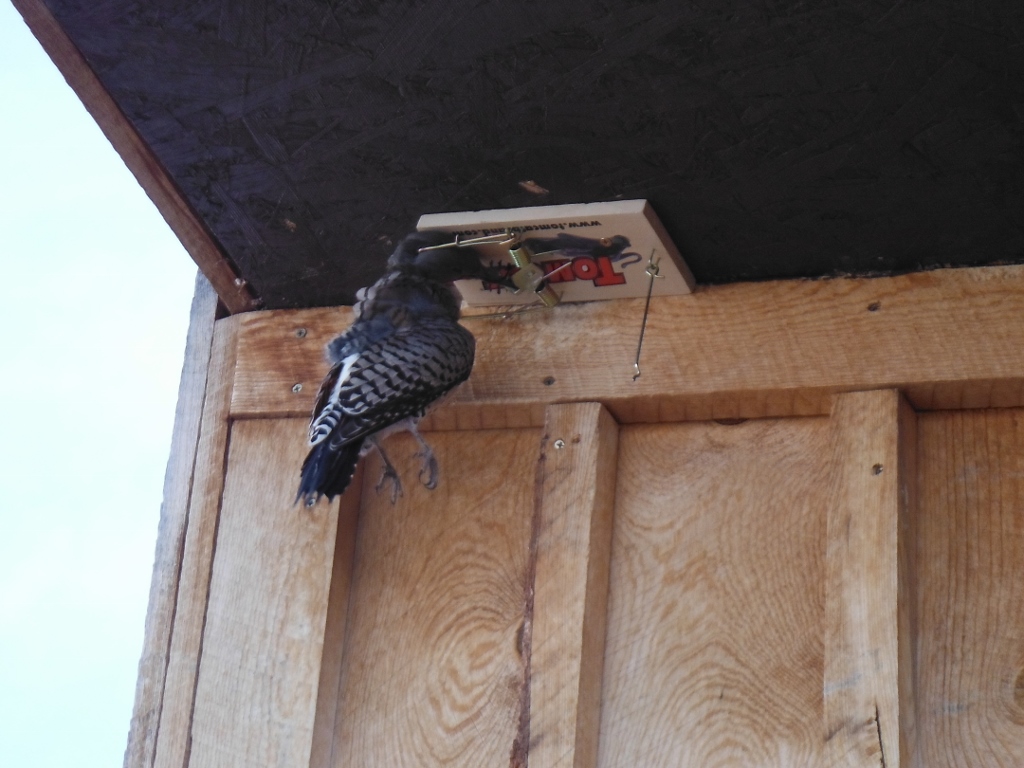 The next day after the open house I sadly headed home.
Life on the ranch was so relaxing---unless you were a woodpecker.
End Of Story