Day 9
April, 14th 2013
From Stellas cabin in Death Valley to a campground in Panamint Valley
It was hard leaving Stellas cabin-----especially for Scott---I thought for awhile he was just going to stay there and move in.
But we headed down into the valley again and past some old mines.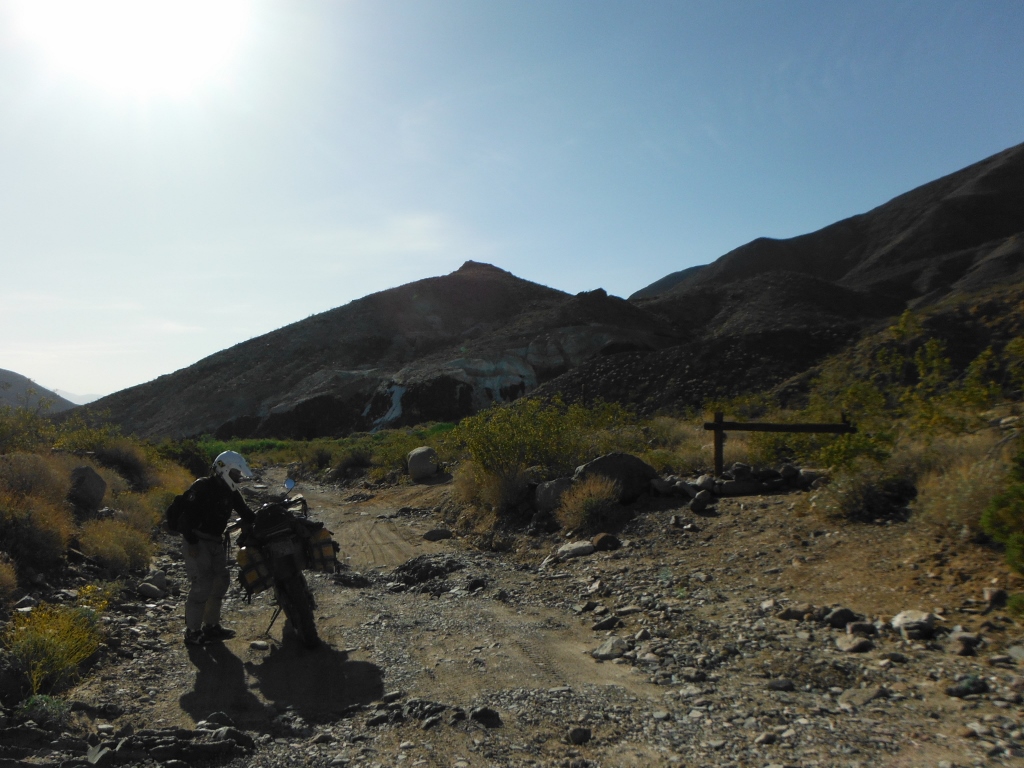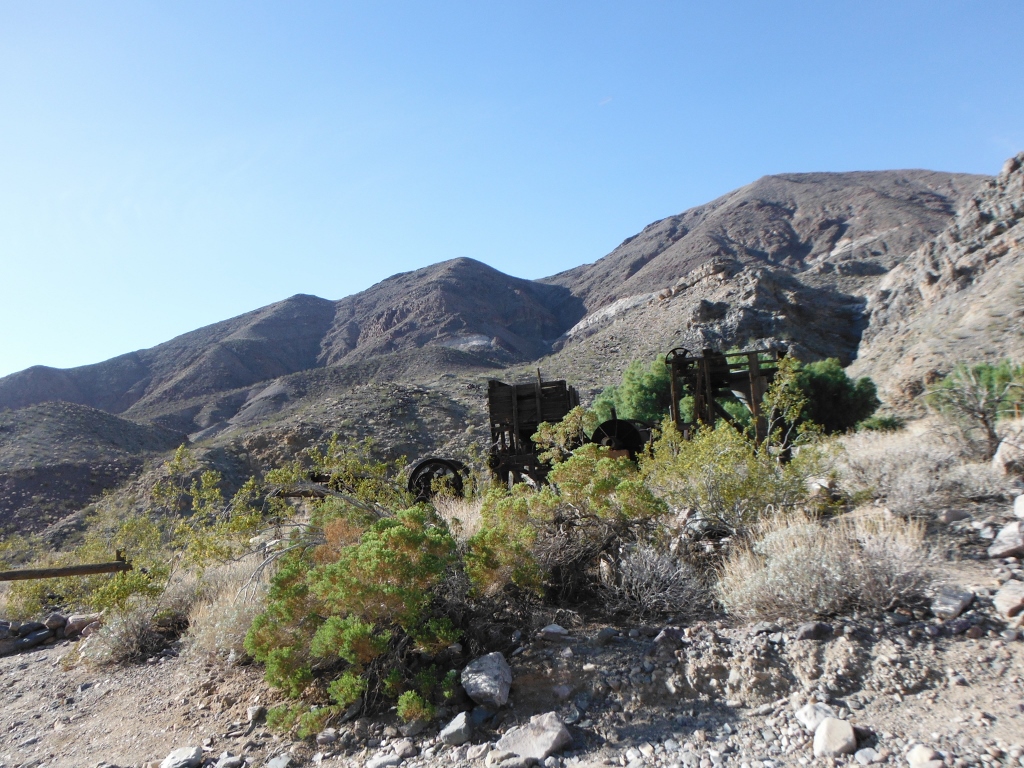 The wind wasn't blowing---but there were no tracks on this road North towards Furnace creek.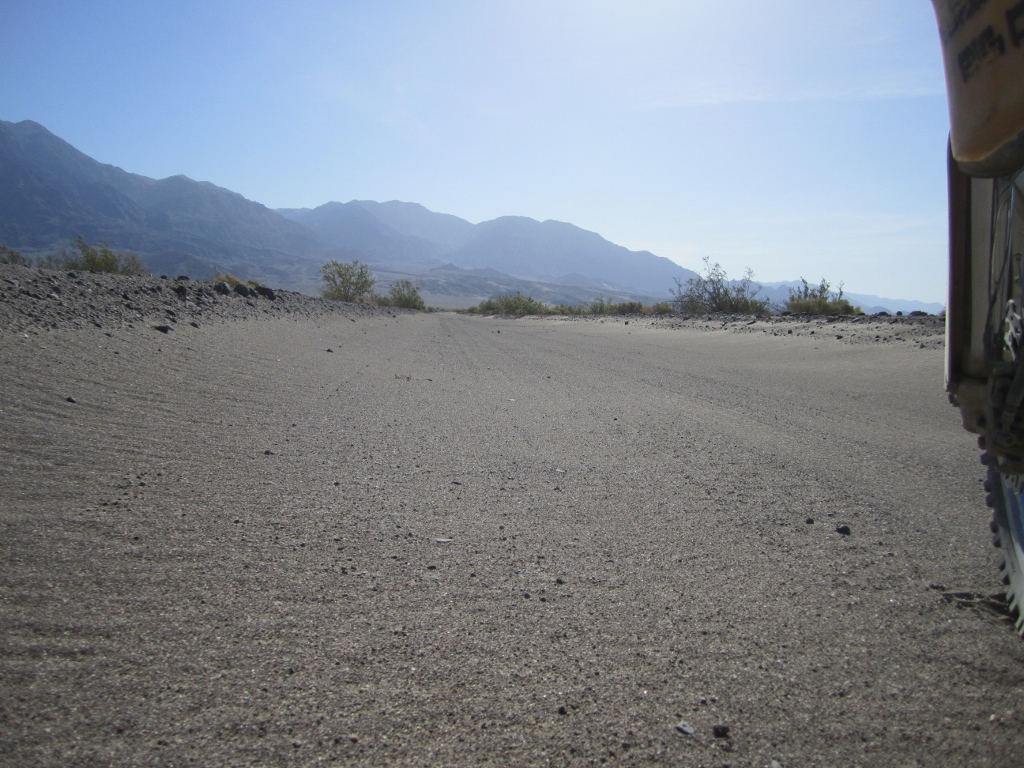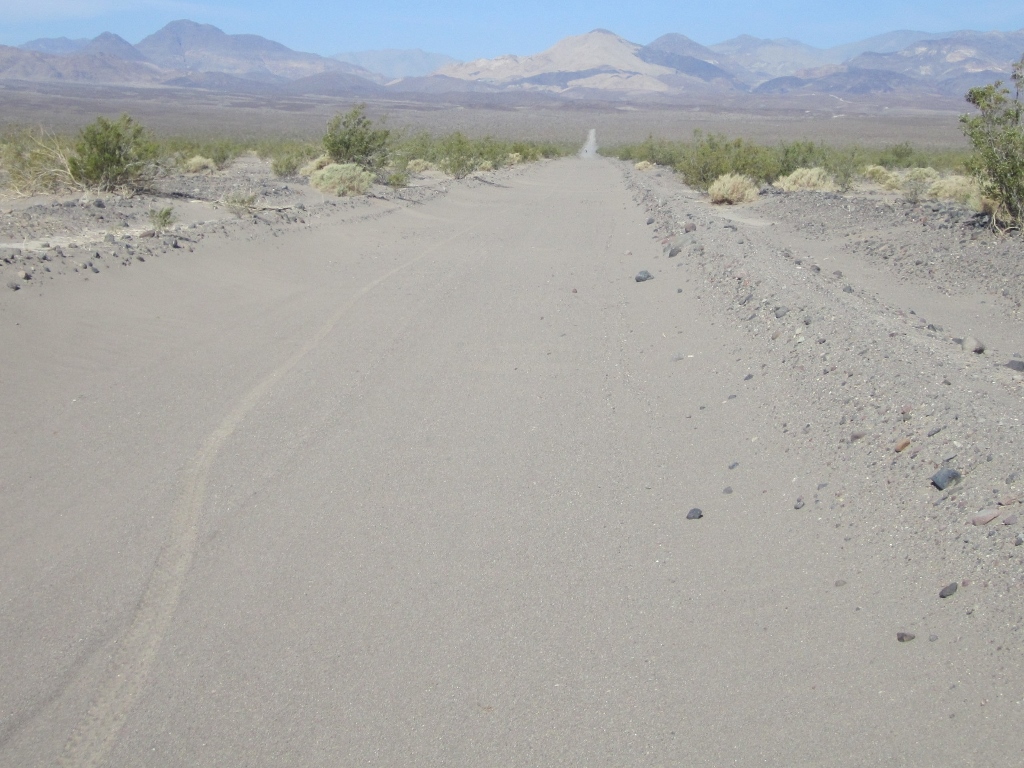 What we saw on our way to Furnace Creek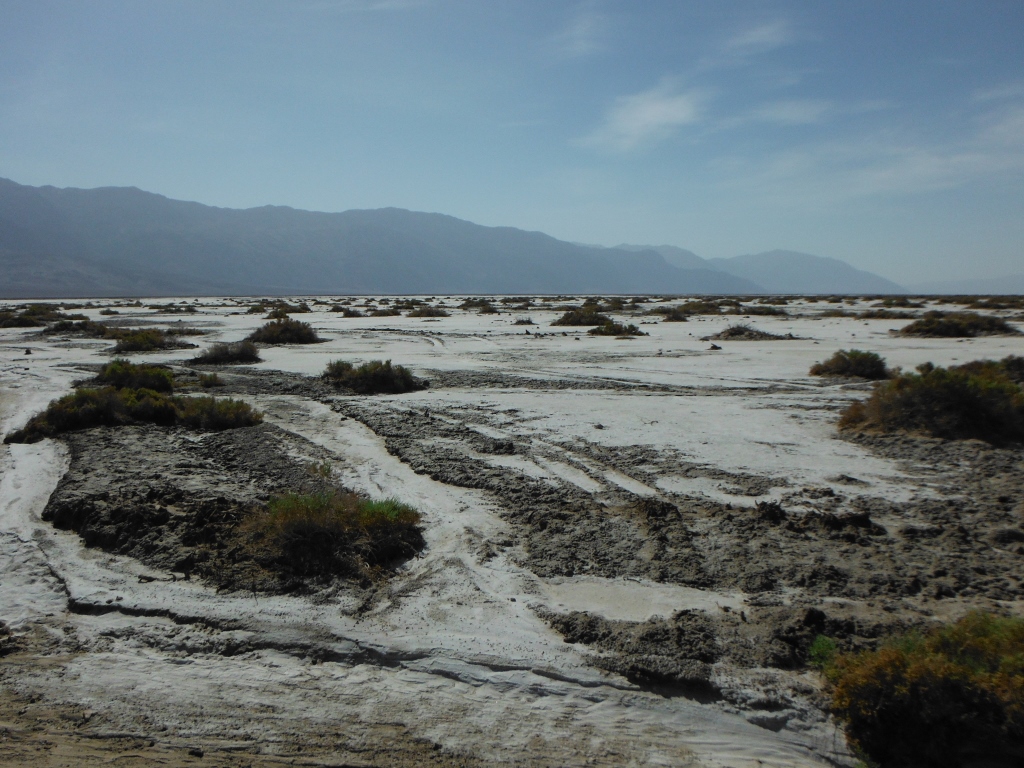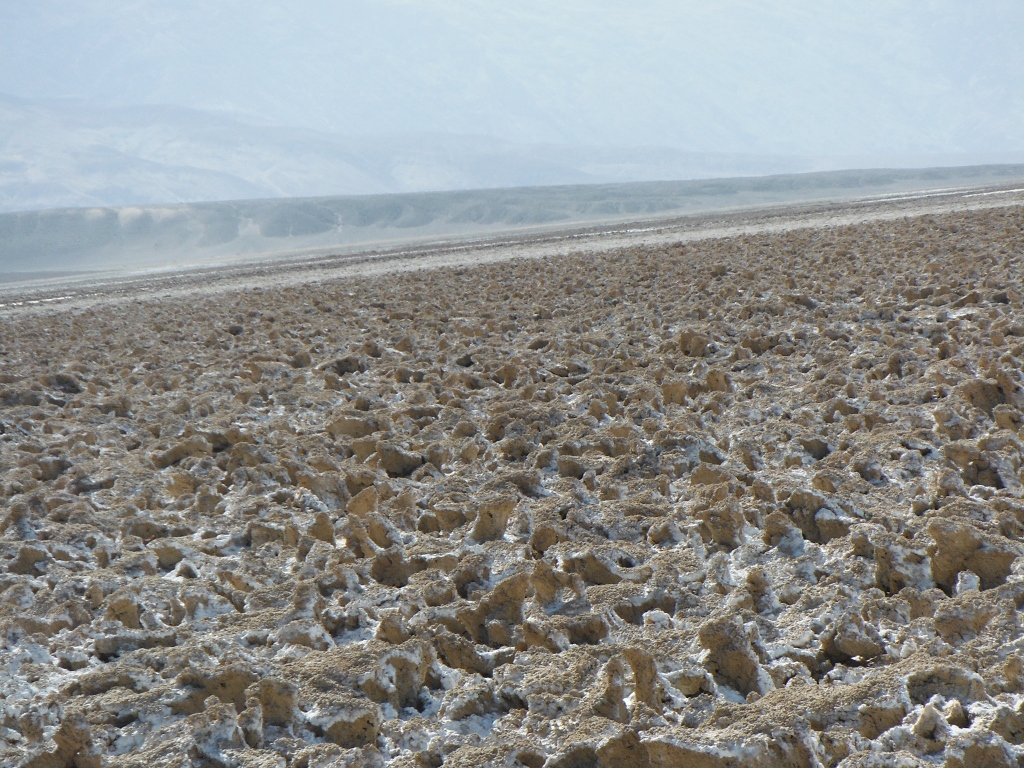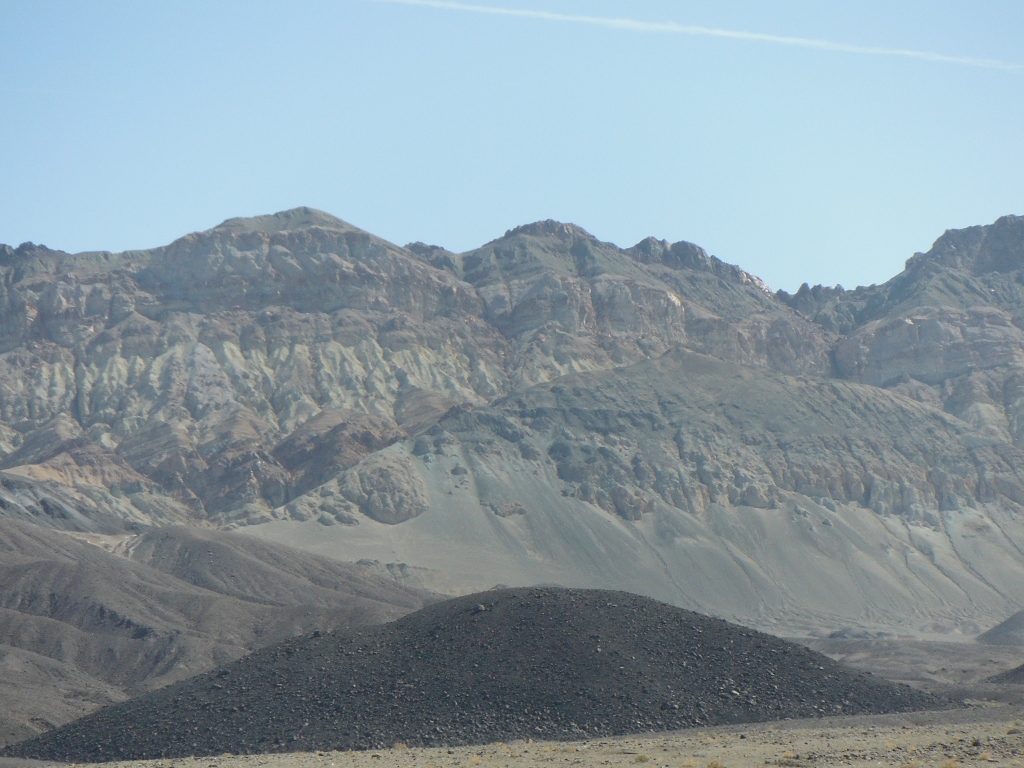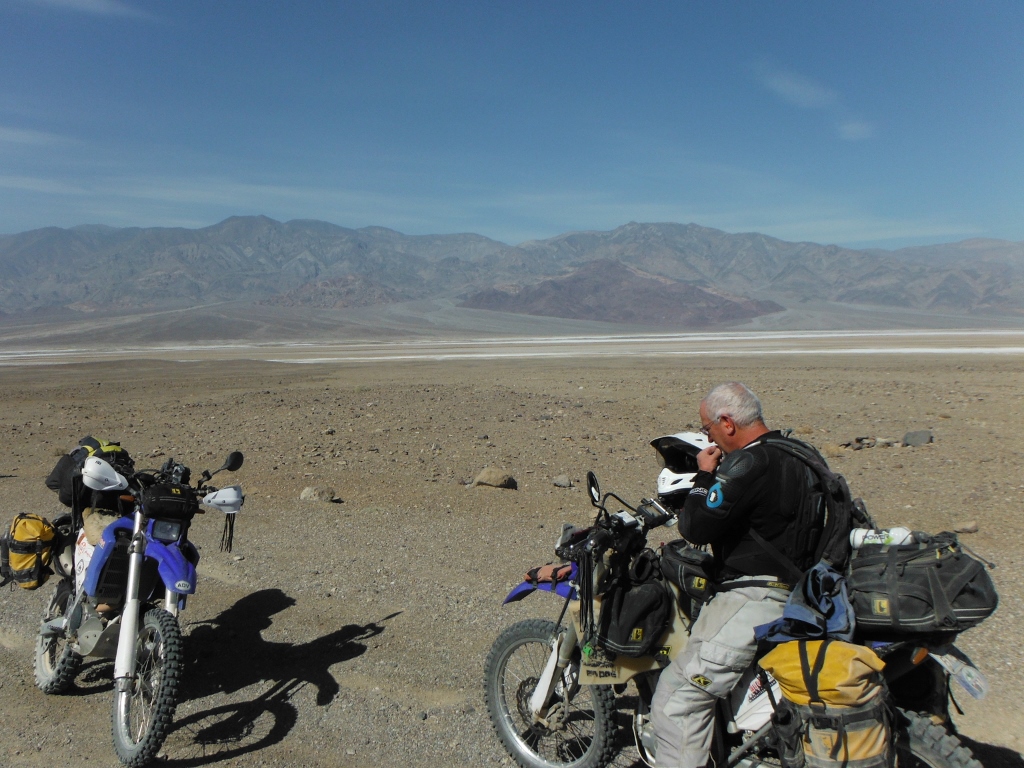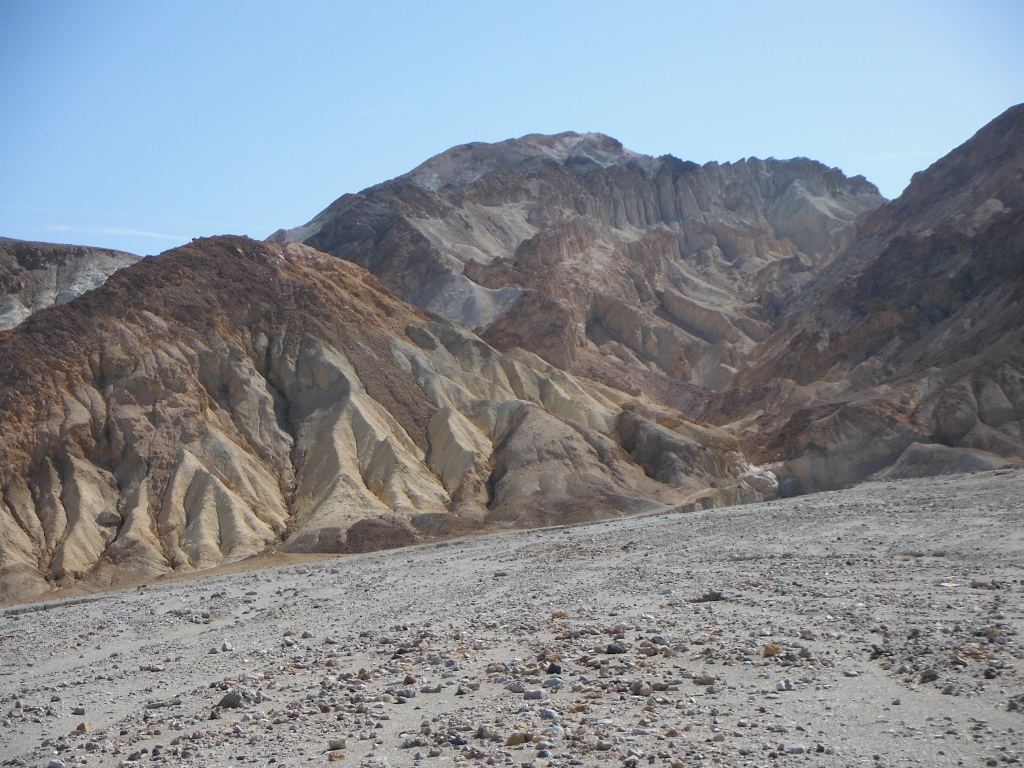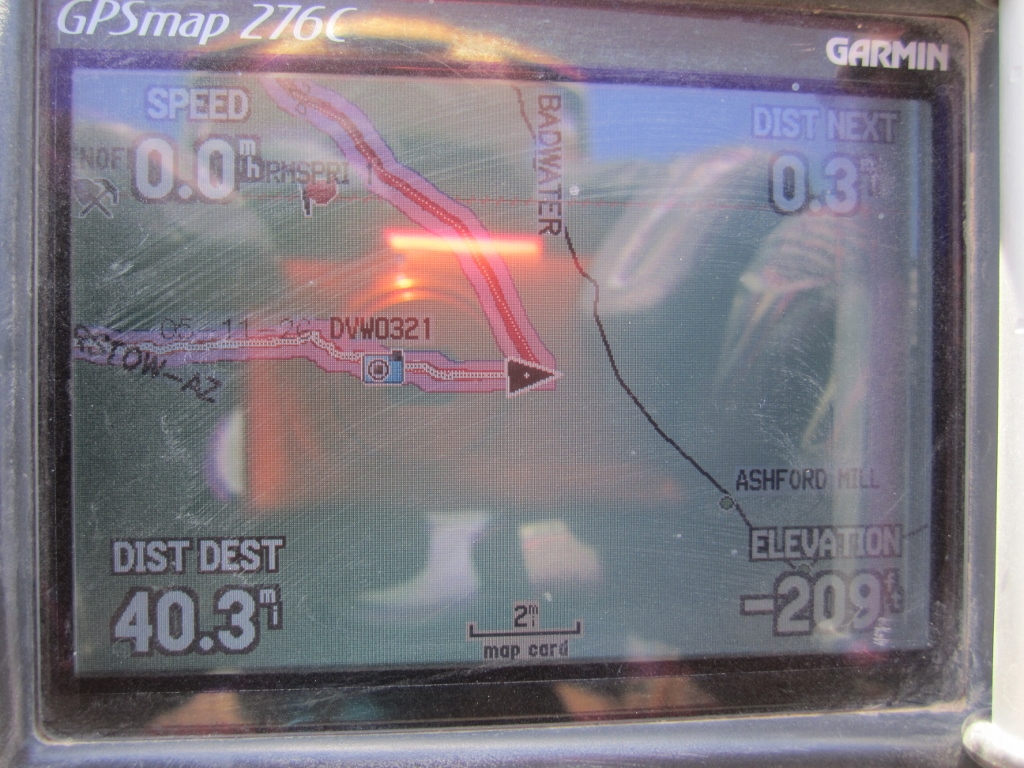 The Furnace creek area is really small------but touristy and high prices pre-vail.
It was a tiny oasis if you'd call it that---but from where we'd been it felt like a big city and we wanted out after getting gas.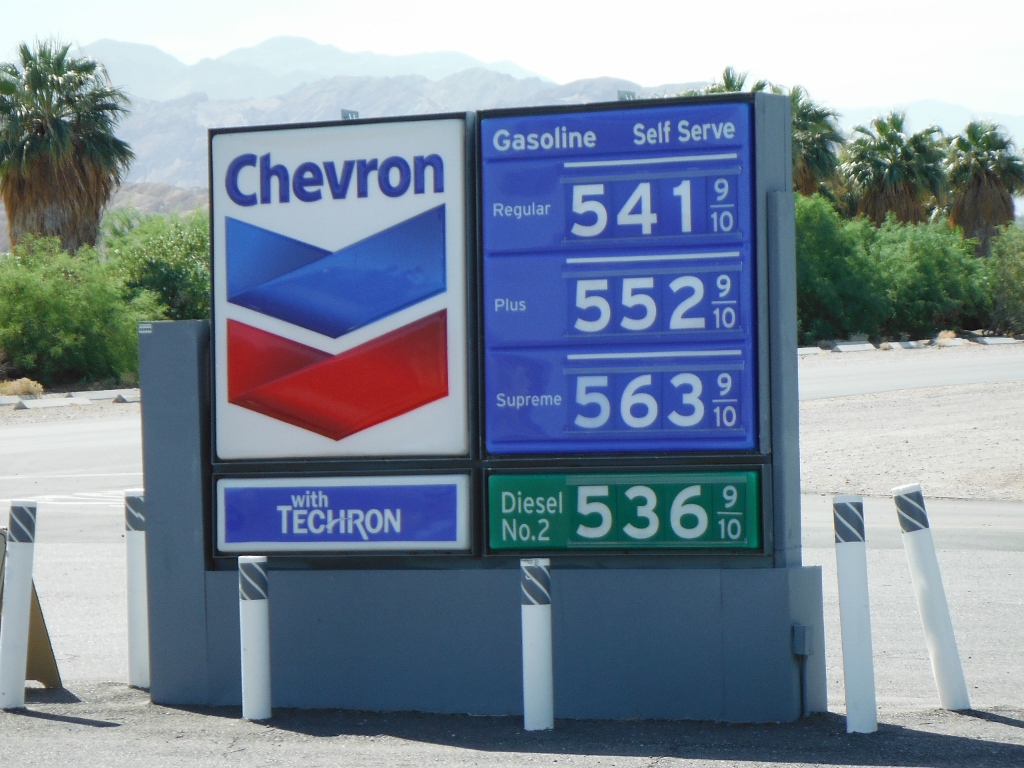 Titus Canyon was on our radar now----and I assumed it was going to be a tough ride and hoped we'd get thru.
As I heard it was a tight ride thru a narrow canyon.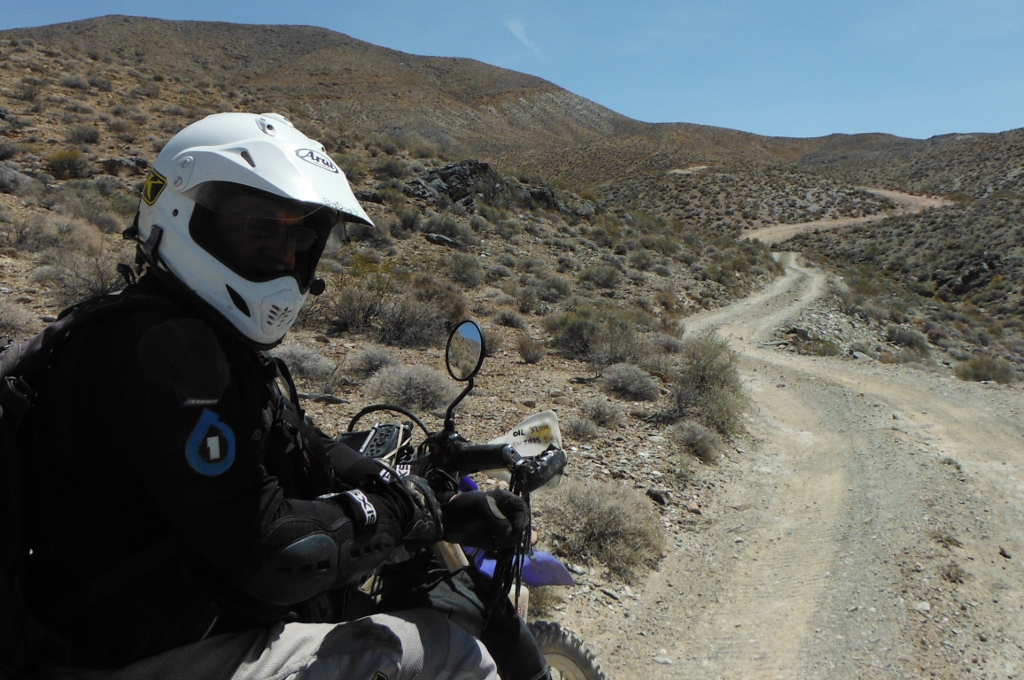 We approached from the East and climbed switchbacks forever.
Traffic on this road is marked one-way only. Another reason for me to believe it might be very tough riding.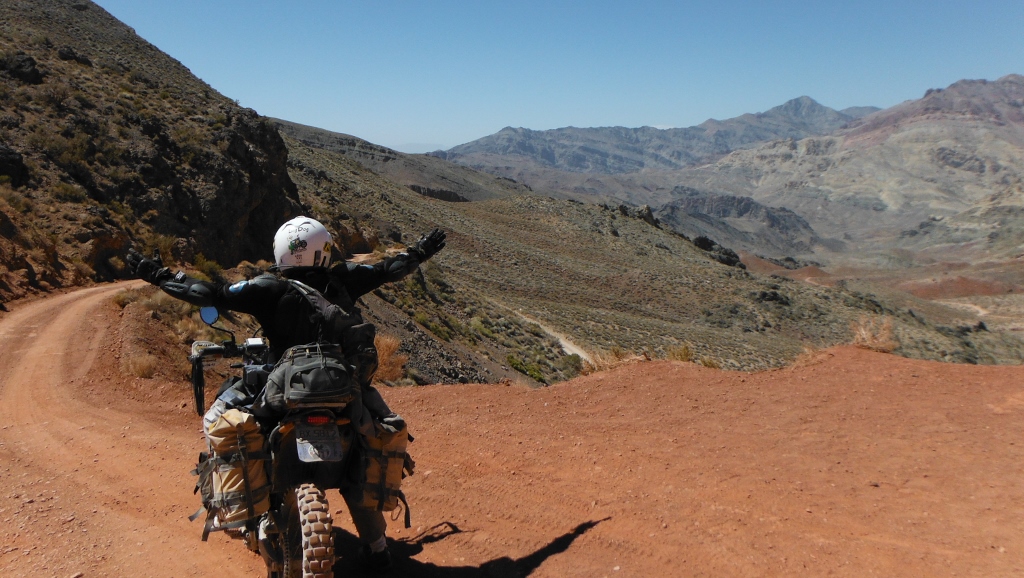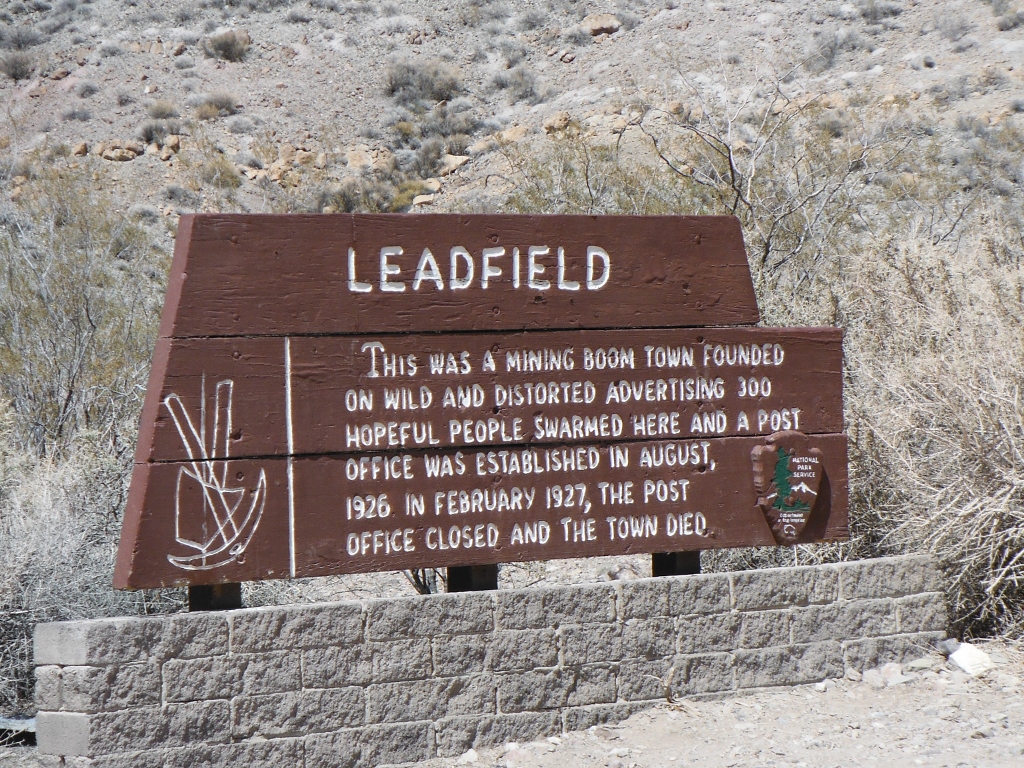 We ran in to Glen Cambell on the way up !!!!!
Not really---but after me telling him he looked like him he said he gets that all the time. If he had a told me he was Glen Cambell
I would have believed him. Real nice couple enjoying a ride thru Titus canyon in their jeep.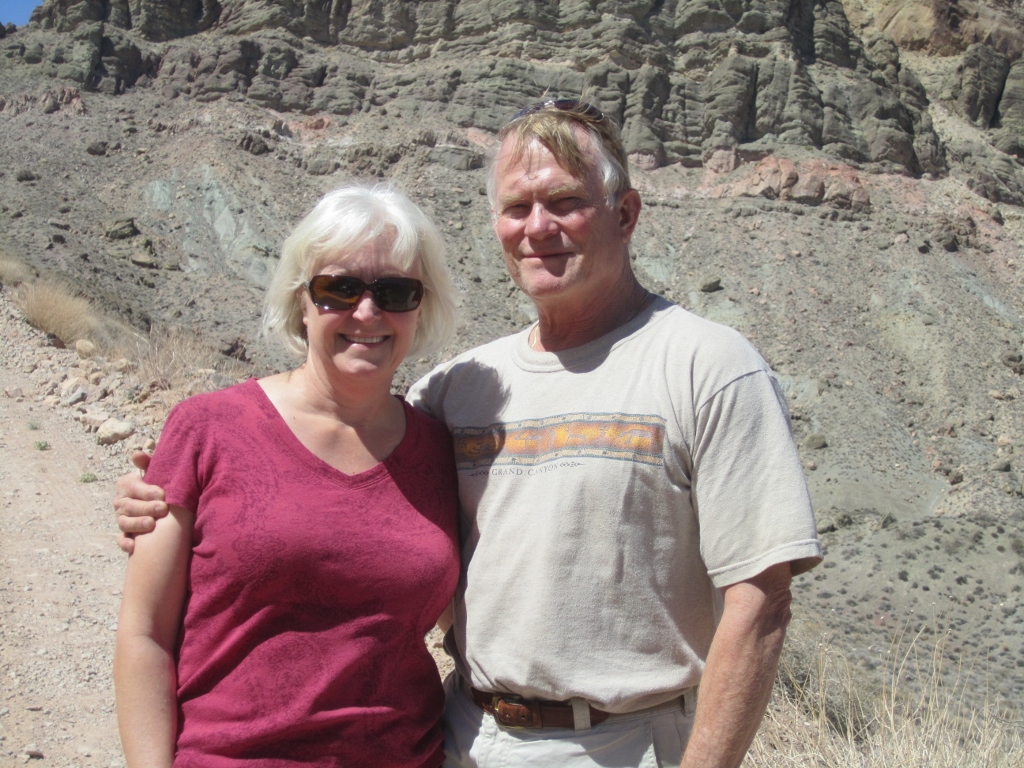 I was appalled that the riding was very easy------even a BMWGS could ride thru here. Heck maybe a mini-van.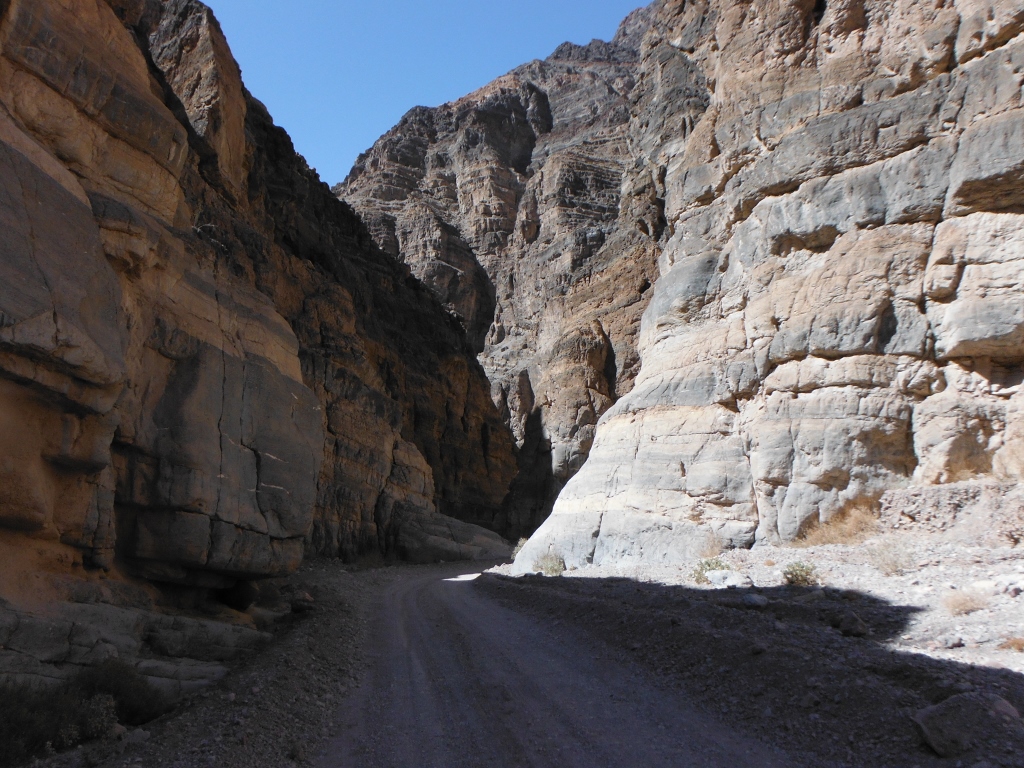 I got way ahead of Scott as he was taking pictures and I stopped to wait on him here in the shade.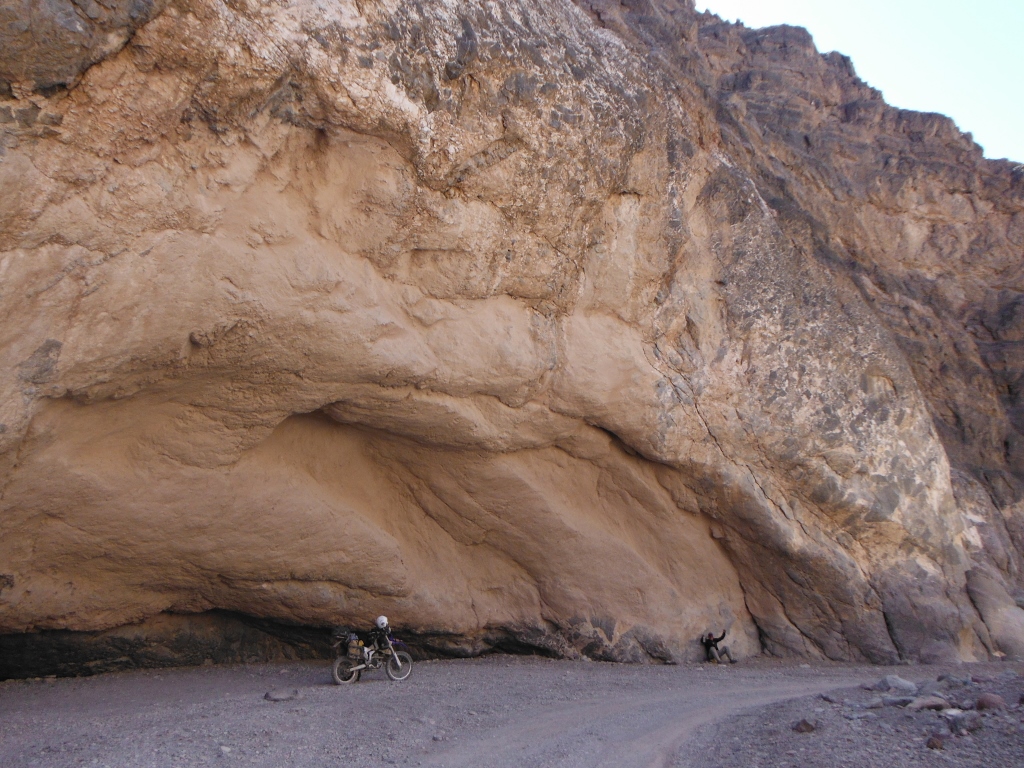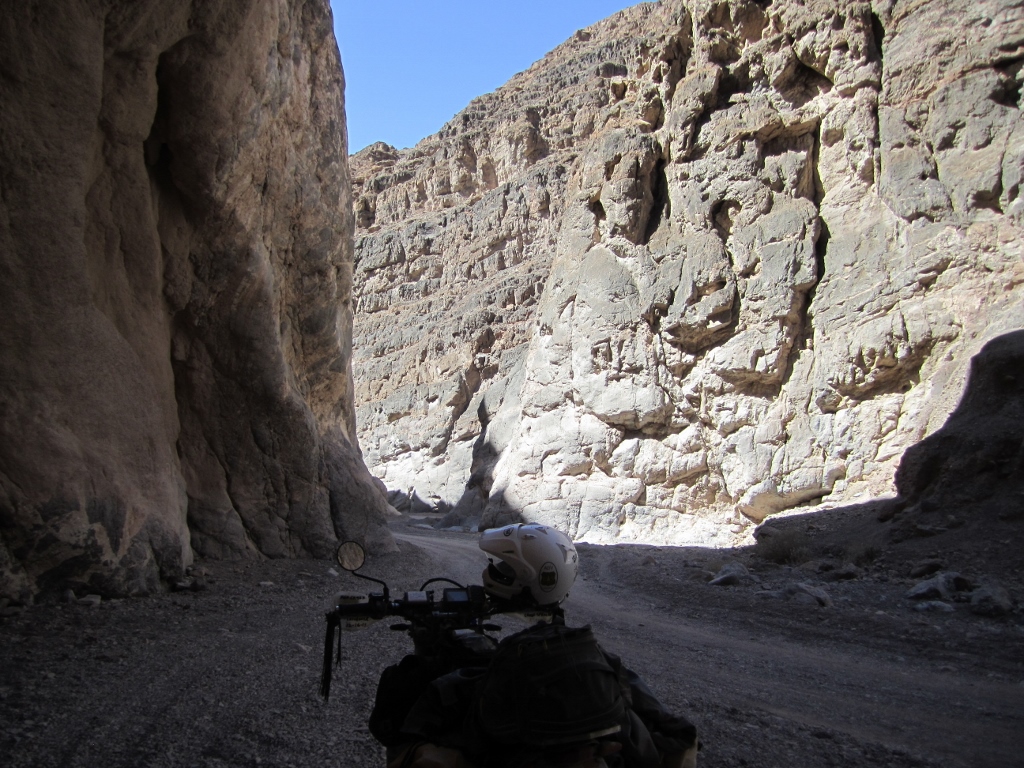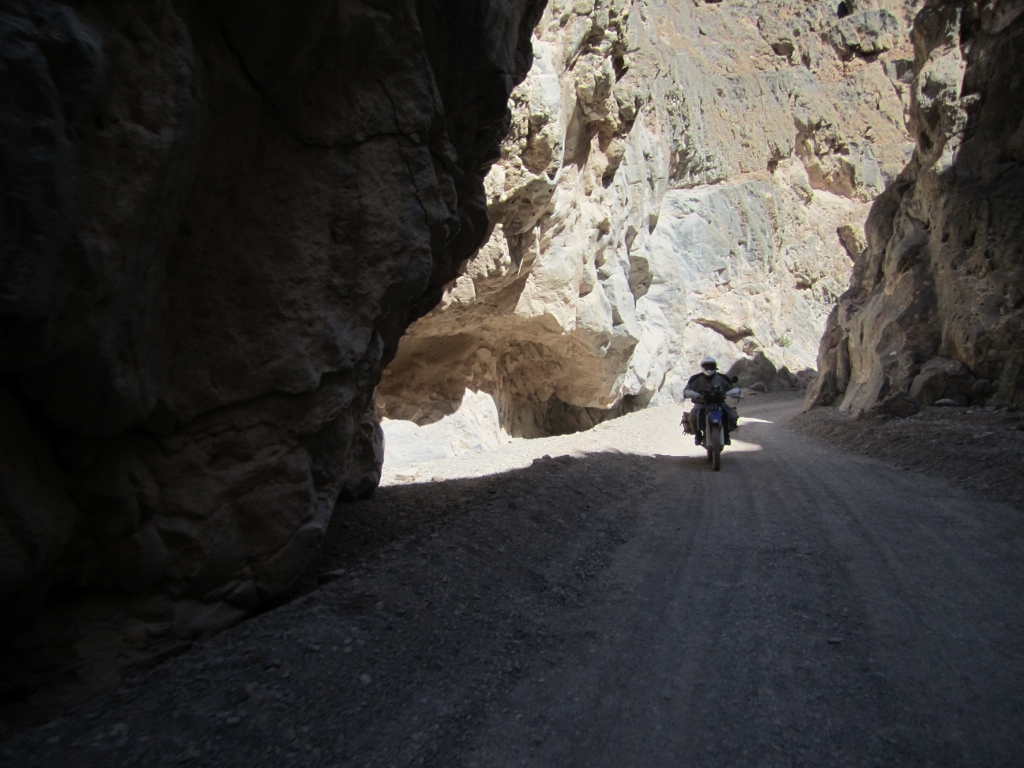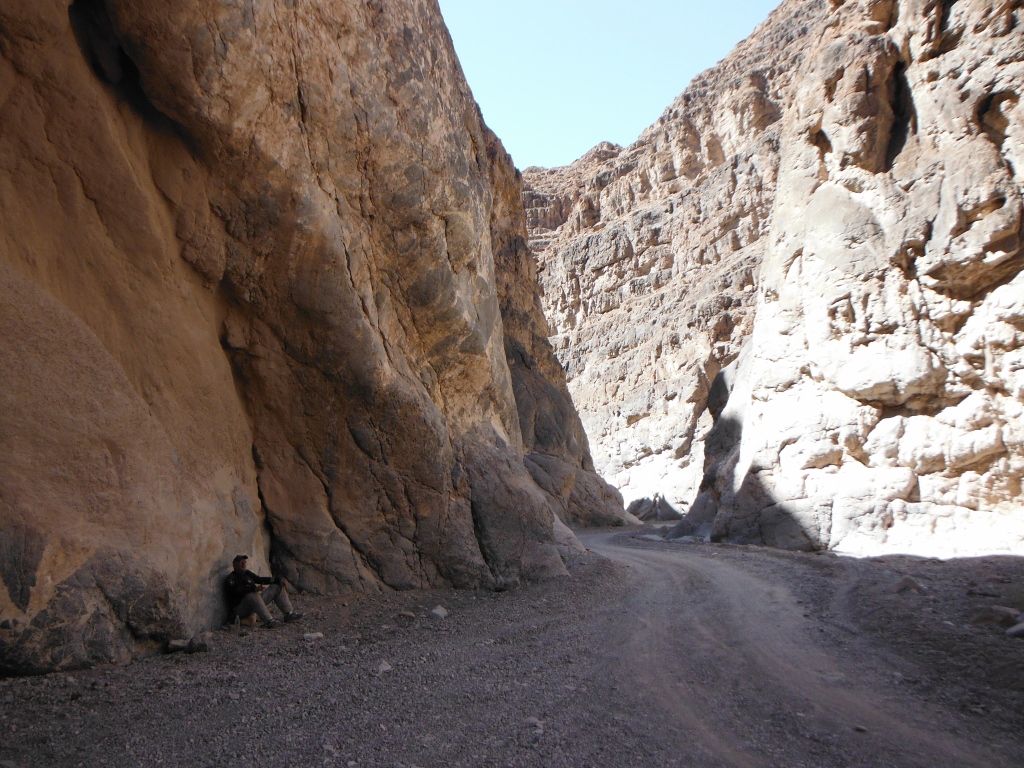 And it was here---- as we exited Titus Canyon heading West the canyon opened up and we descendrd down to the desert floor again.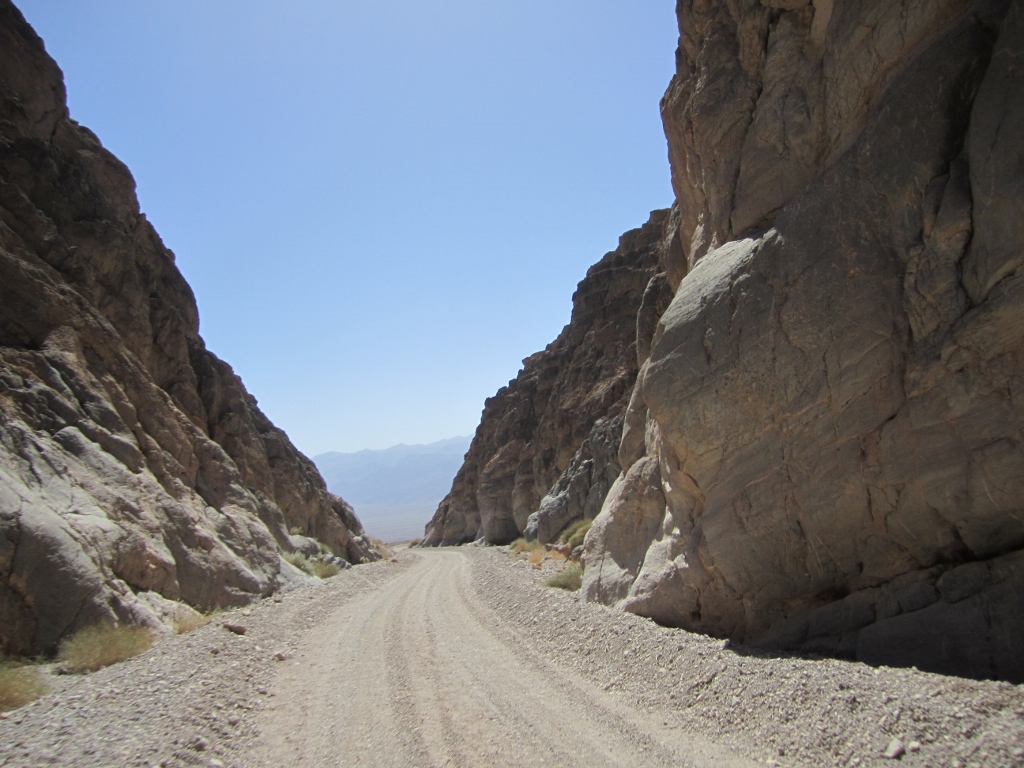 And the Ubehebe Crater came into view---I forgot we were going by it--------holy moses !!!!!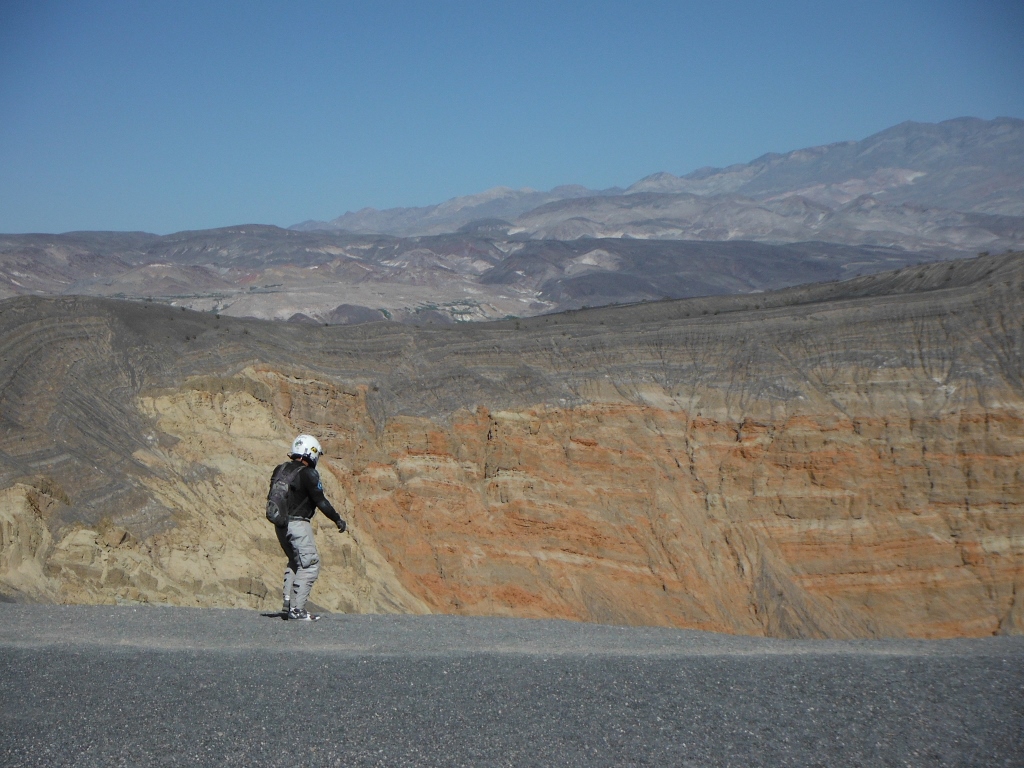 I think it is a mile wide and is a volcanic crater.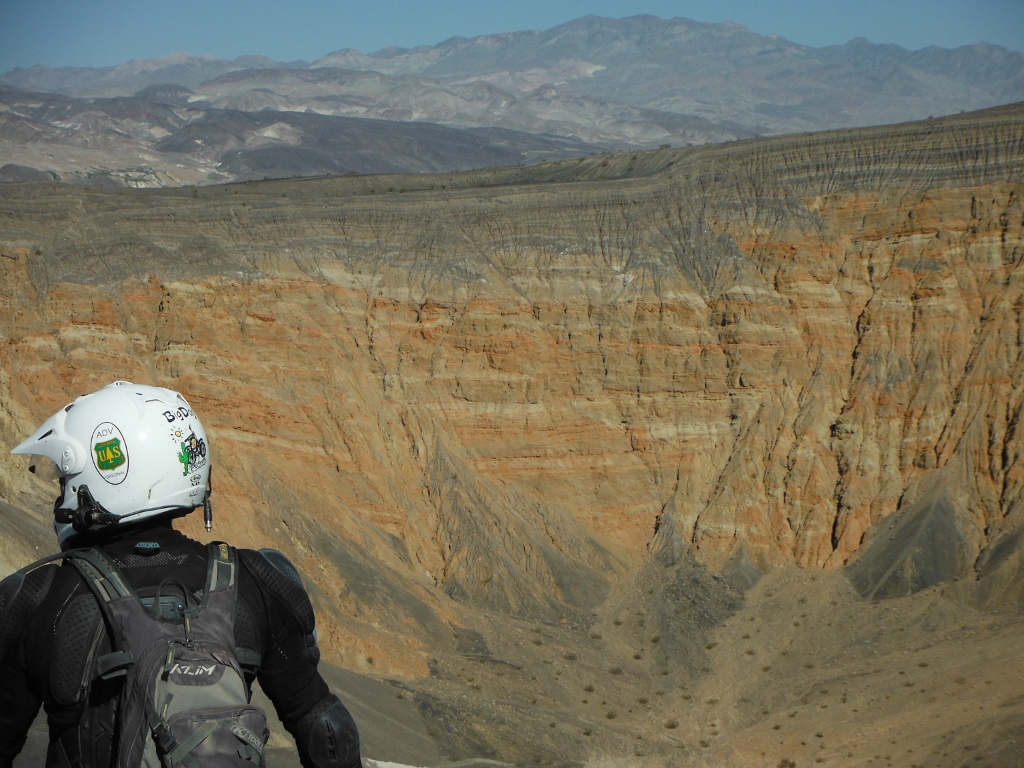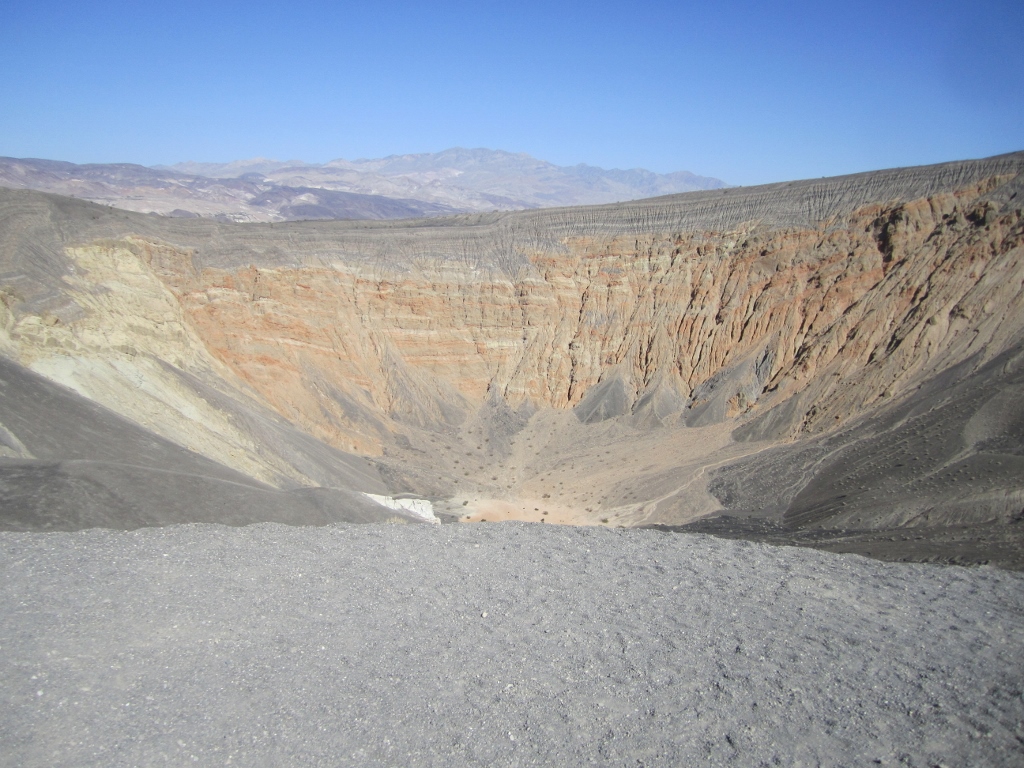 Here is the bottom of it. It's probably illegal--but I pondered if you could ride down it---might have been too steep but it looked do-able to me.
But riding down there would ruin it. What a magnificent thing.
I've seen a zillion pictures of this thing--------none of those mattered now---------we were here and I'll never forget being there.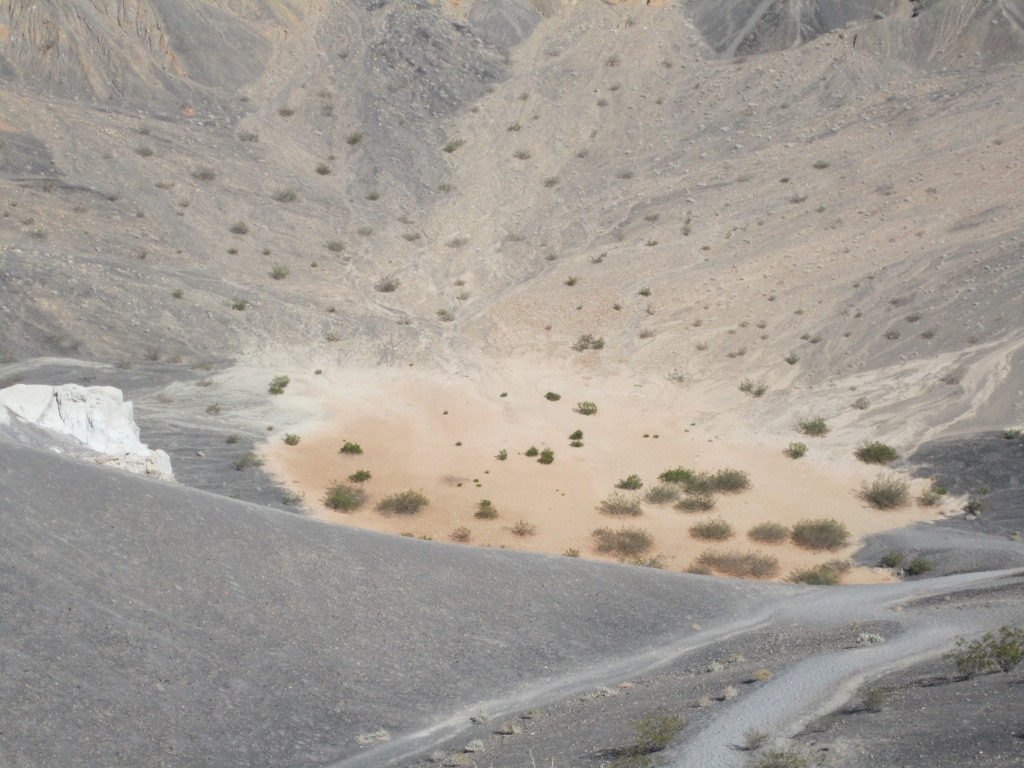 I've seen pictures of this----none of those mattered either-----------we were there.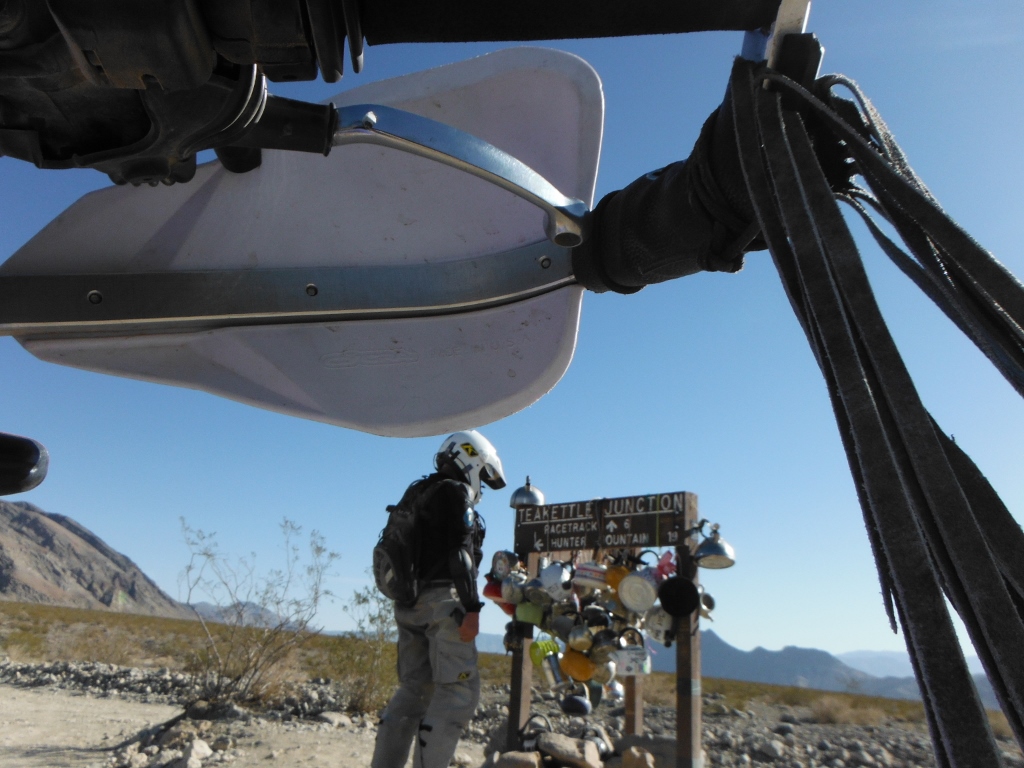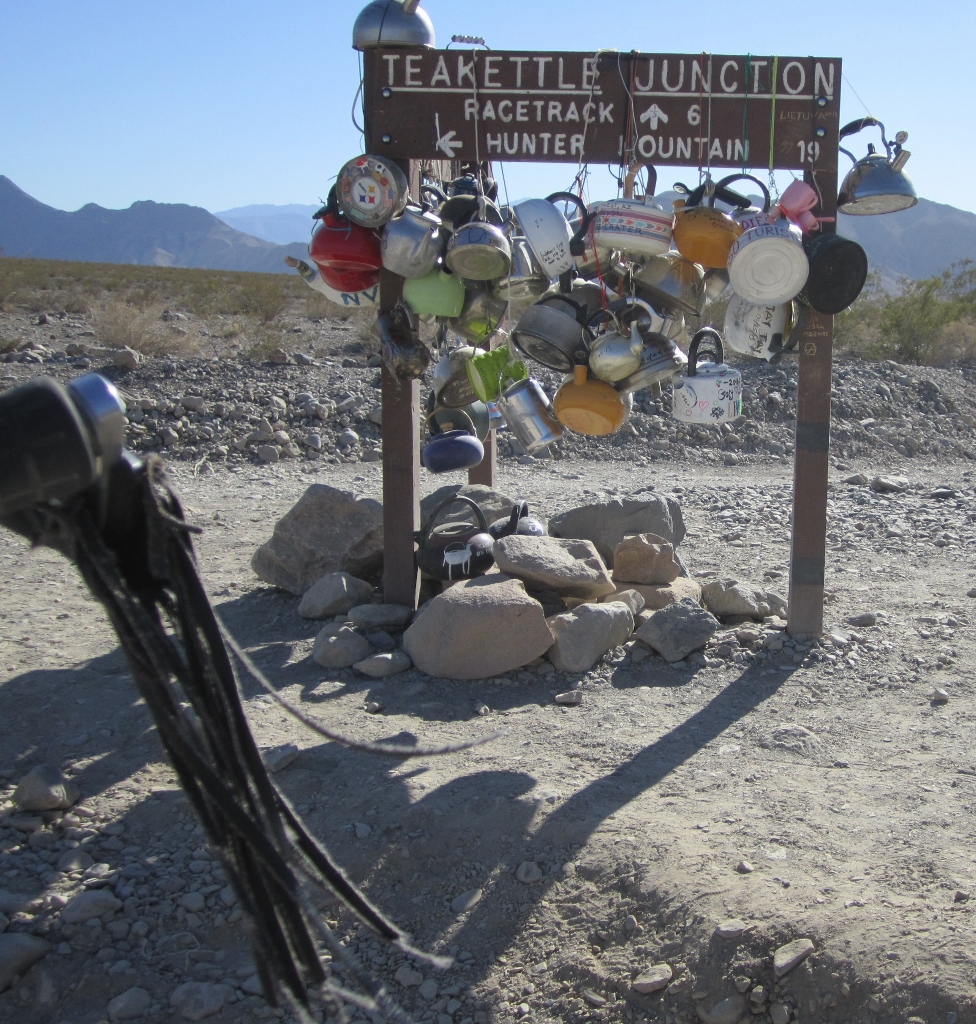 My big fat permanent market did it's thing---as it always does.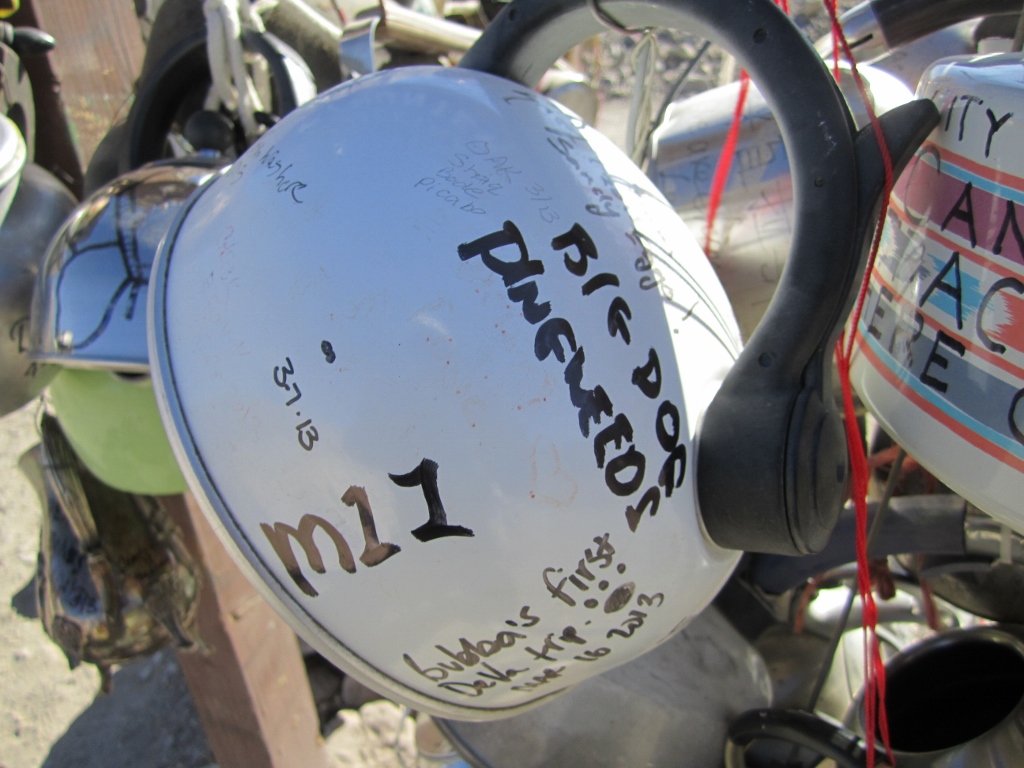 Oh--my god-------------the racetrack is in view.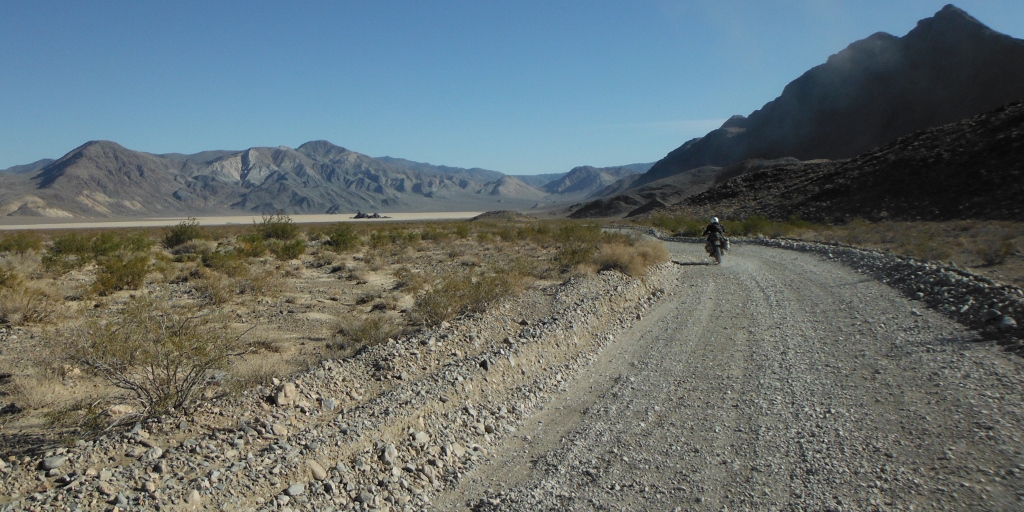 The big rocks out on this flat surface are said to move when the winds kick up and the ground gets wet.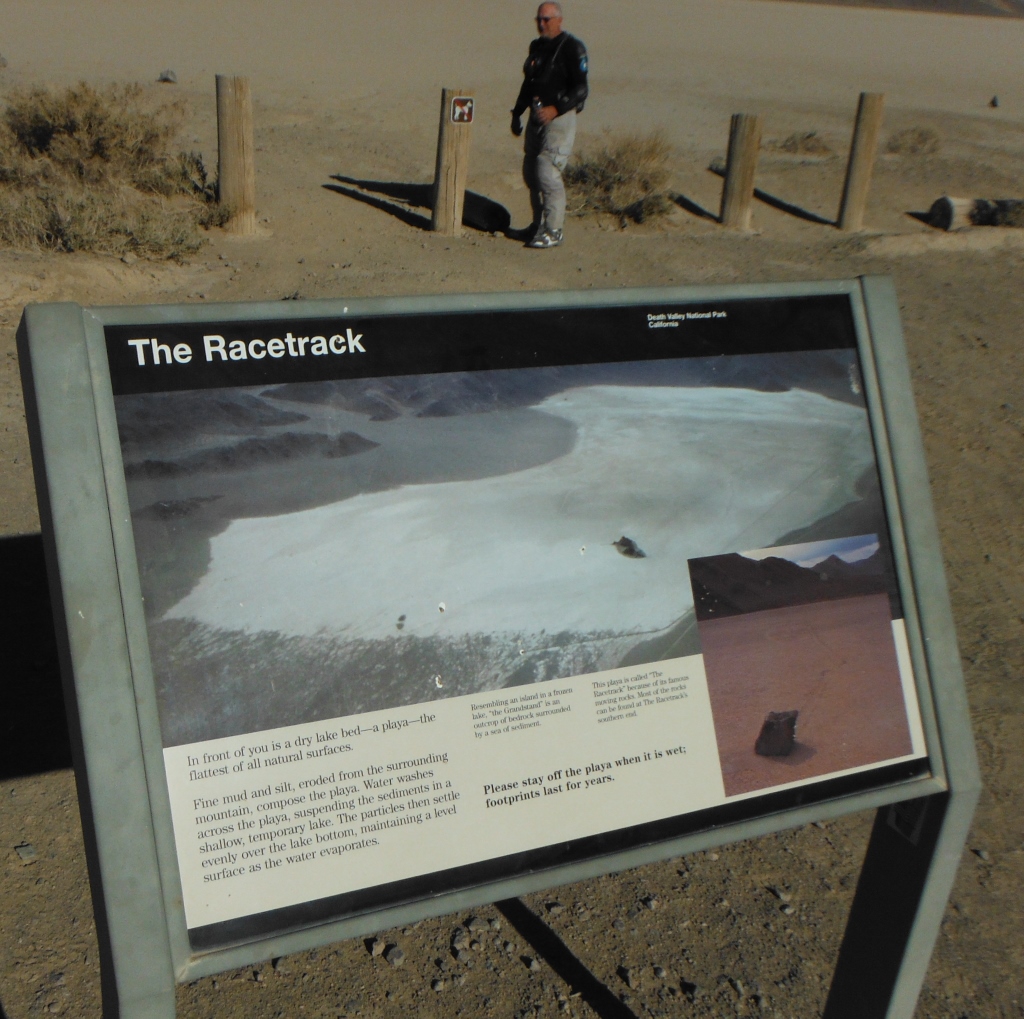 Here's one of those magic moving rocks and you can see how it has slid in the mud.
But----------there was no moisture or wind today---dang it------I wanted to see them move.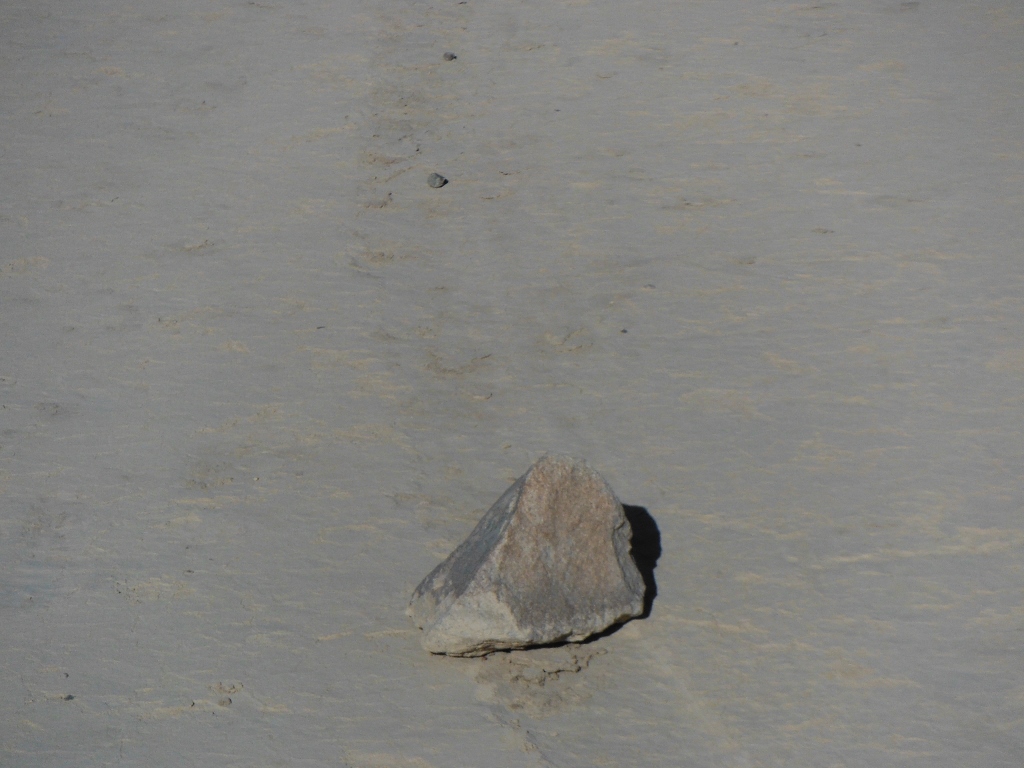 What's this crap------------------no dogs allowed----------I took offense !!!!!!!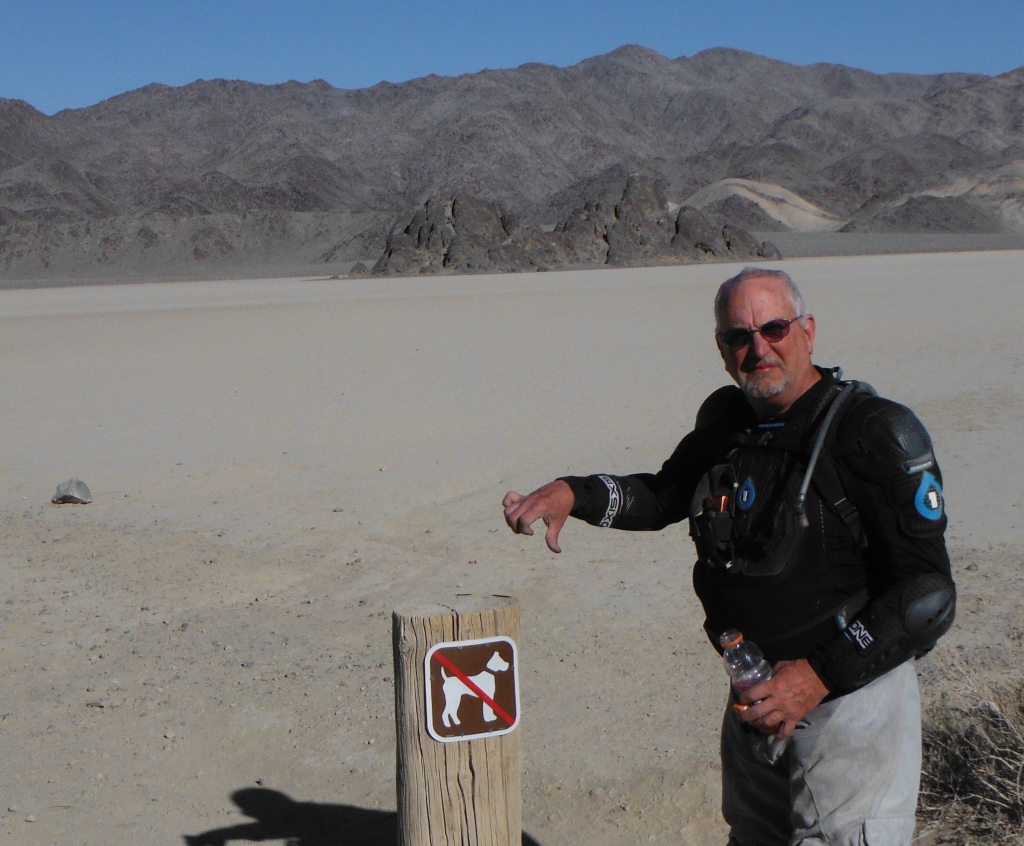 Let's see-----------no dogs-------no rain-----no wind------------I was thinkin' real hard about all this and came up with an evil plan.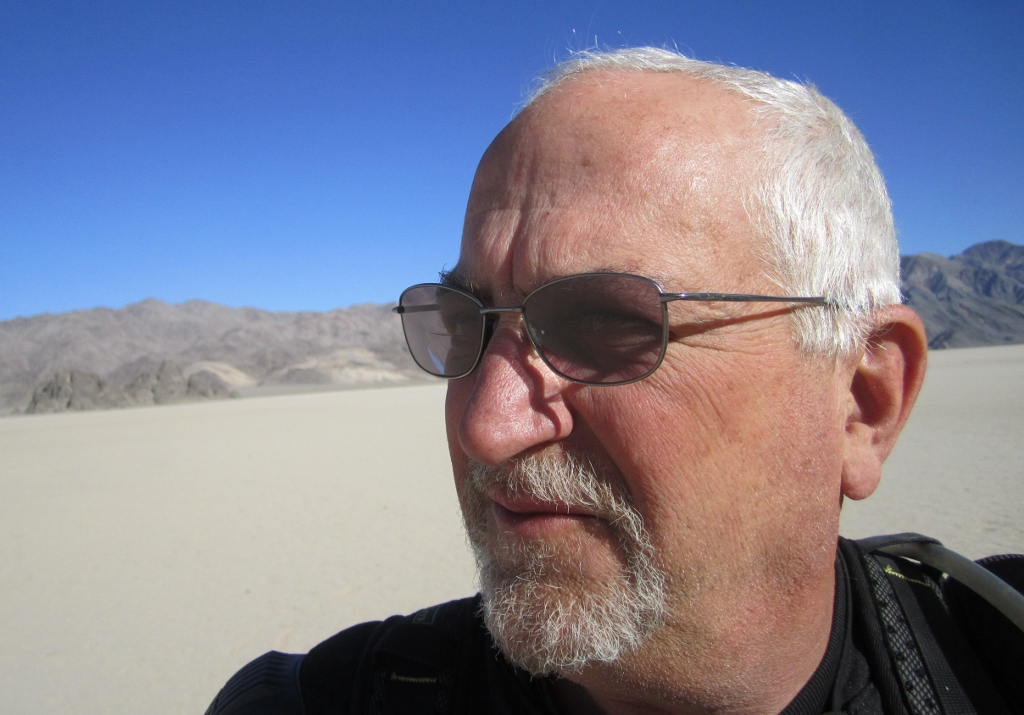 All of a sudden a downpour in-sued.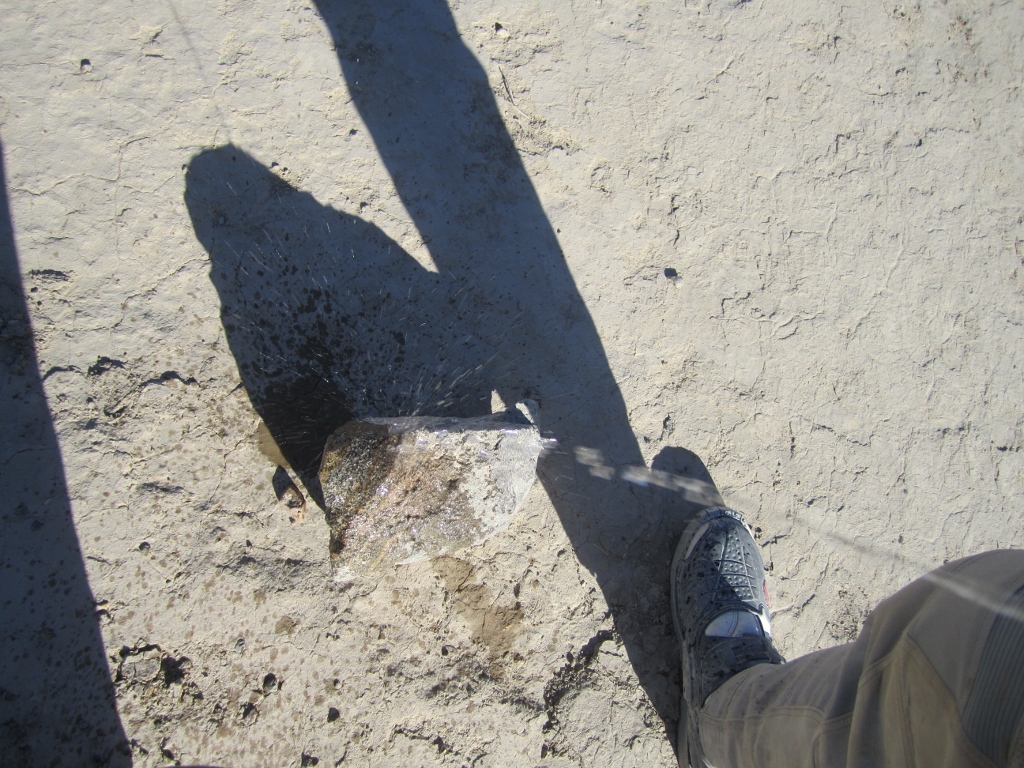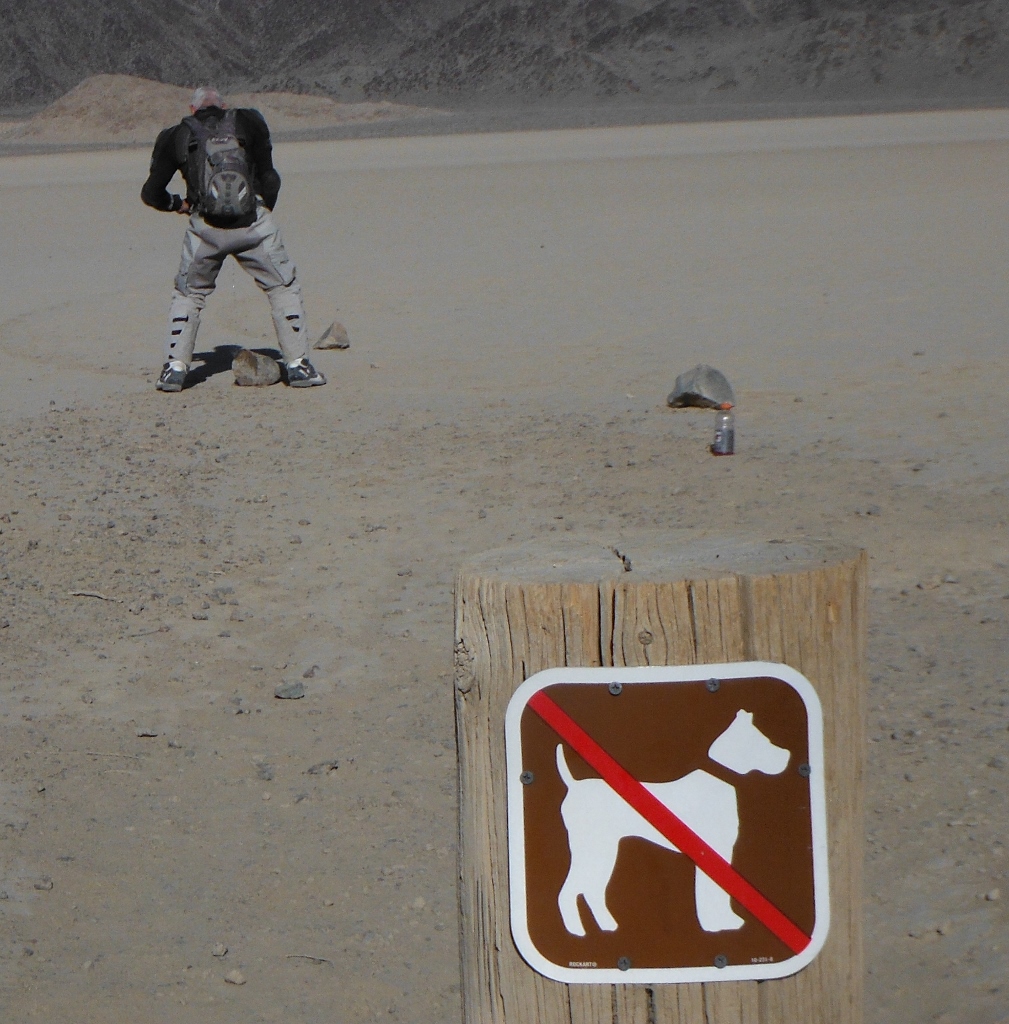 An unbelievable wind picked up--and sure enough------the rock moved !!!!!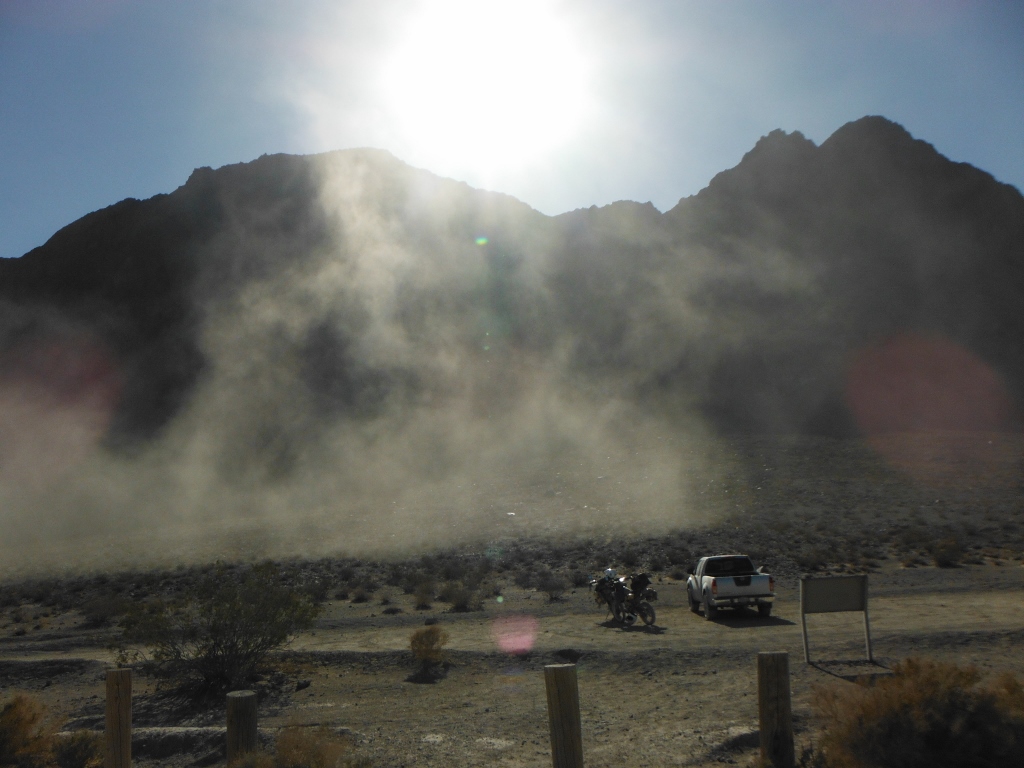 Well-----I guess we wore our welcome out at the racetrack and moved South towards Lippencott pass which I had no
idea if that pass was hard or not.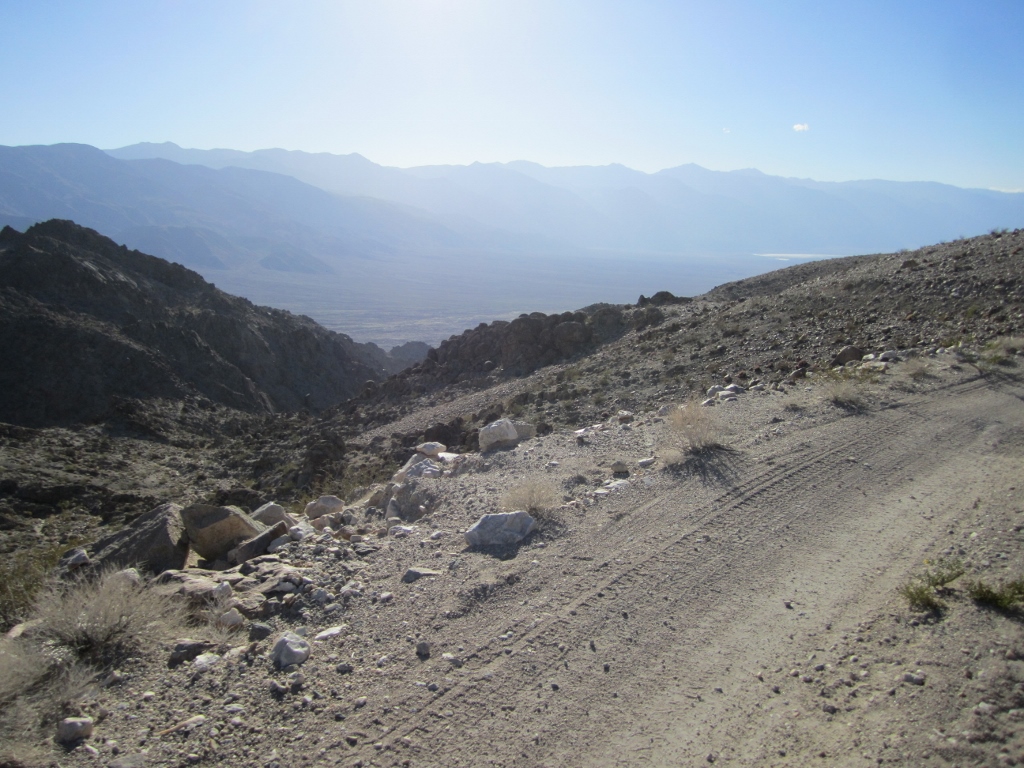 It was a hard rocky dangerous descent down Lippincott pass and we found an old mine on the way.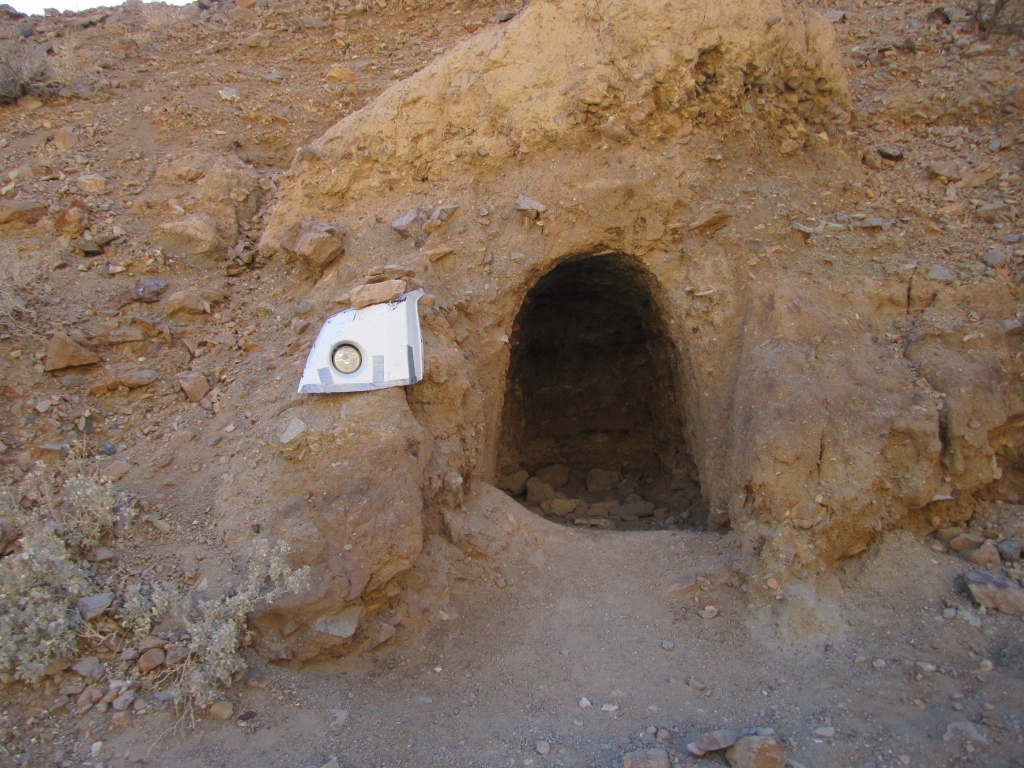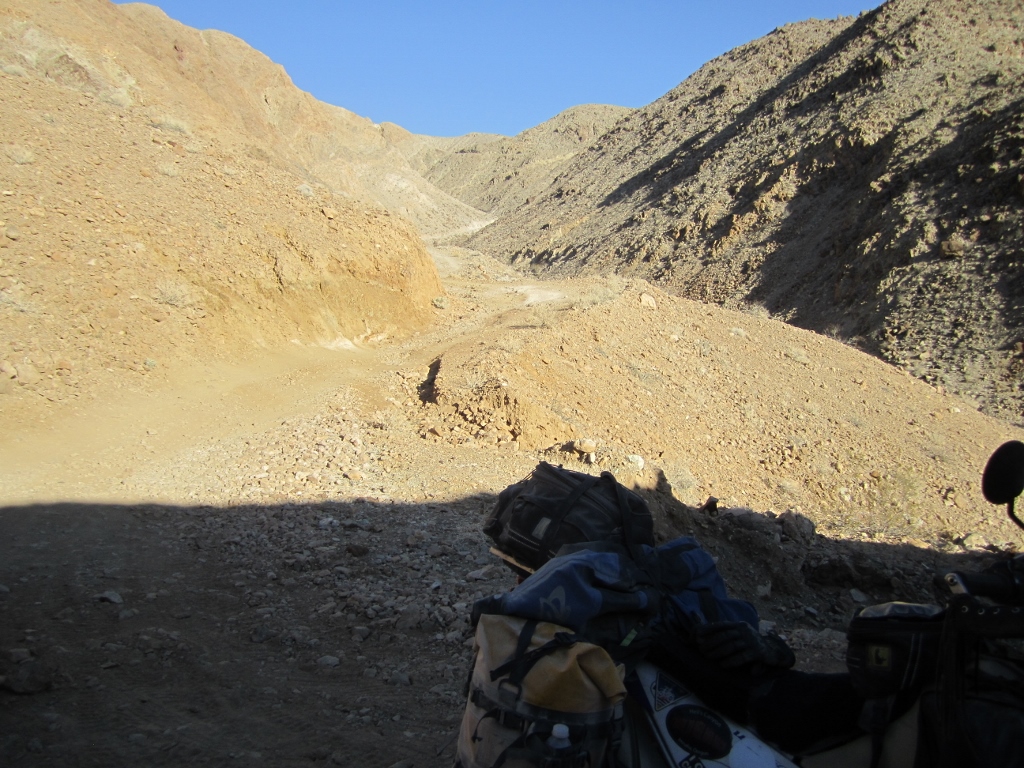 It got real tough in places----and it would have been so easy to get your front wheel deflected off the rocks and go over the edge.
At one point I stopped and waited for Scott to catch up and suggested we not let each other out of our site.
It was scary in places and down the mountain we went.
We would end up down in the valley you see below---and the sun was going down.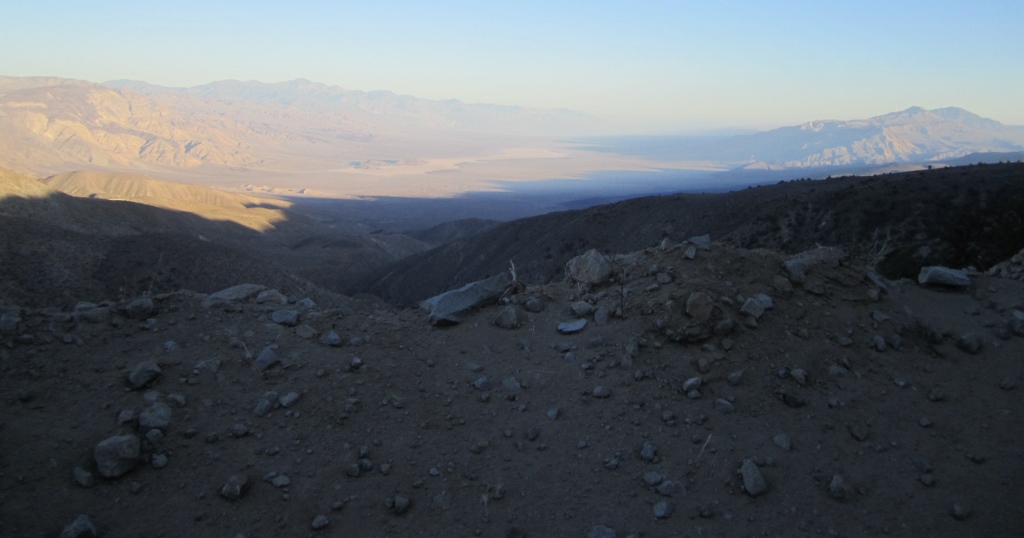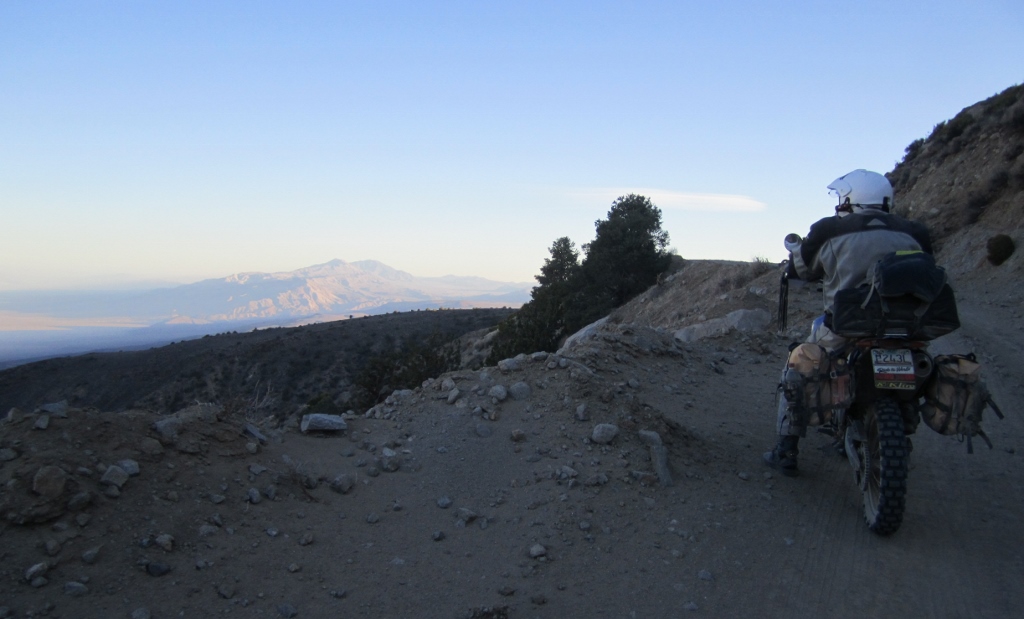 We came from and over those mountains you see in the background---it was a long descent and then we rode on the road you see
and it was extremely rocky and we were appreciating our steering dampers.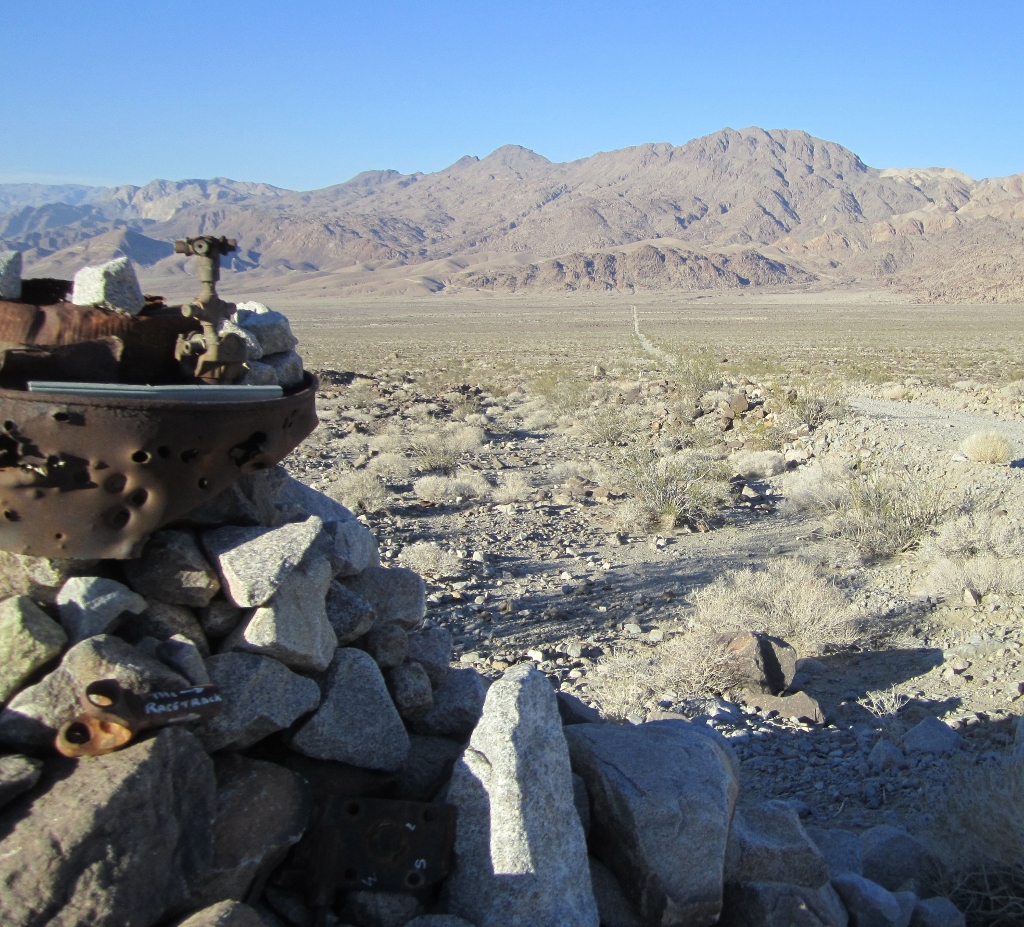 It was getting late and we had no idea of where we'd end up for the day and we scurried towards Panamint Springs.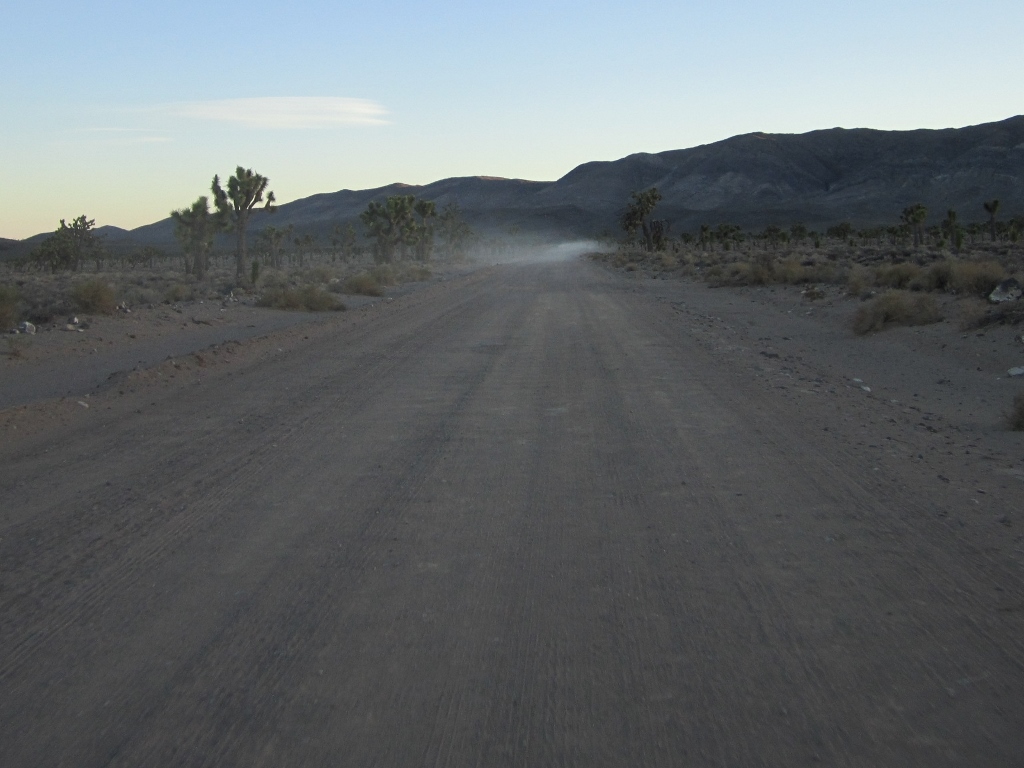 Right as we got to a main road------the way we had come from was closed. No sign was seen from where we came.
we had been riding for 40 miles on a closed road.
We made it to Panamint Springs right at dark and found a campground.
It wasn't the crappy touristy busy place at all like Furnace Creek was.
We barely made dinner across the street from the little tiny campground we found-------the restaurant was getting readly to close.
We got a nice dinner and camped ---------and they had a shower----------and gasoline.
About all there is there---------I liked Panamint Springs.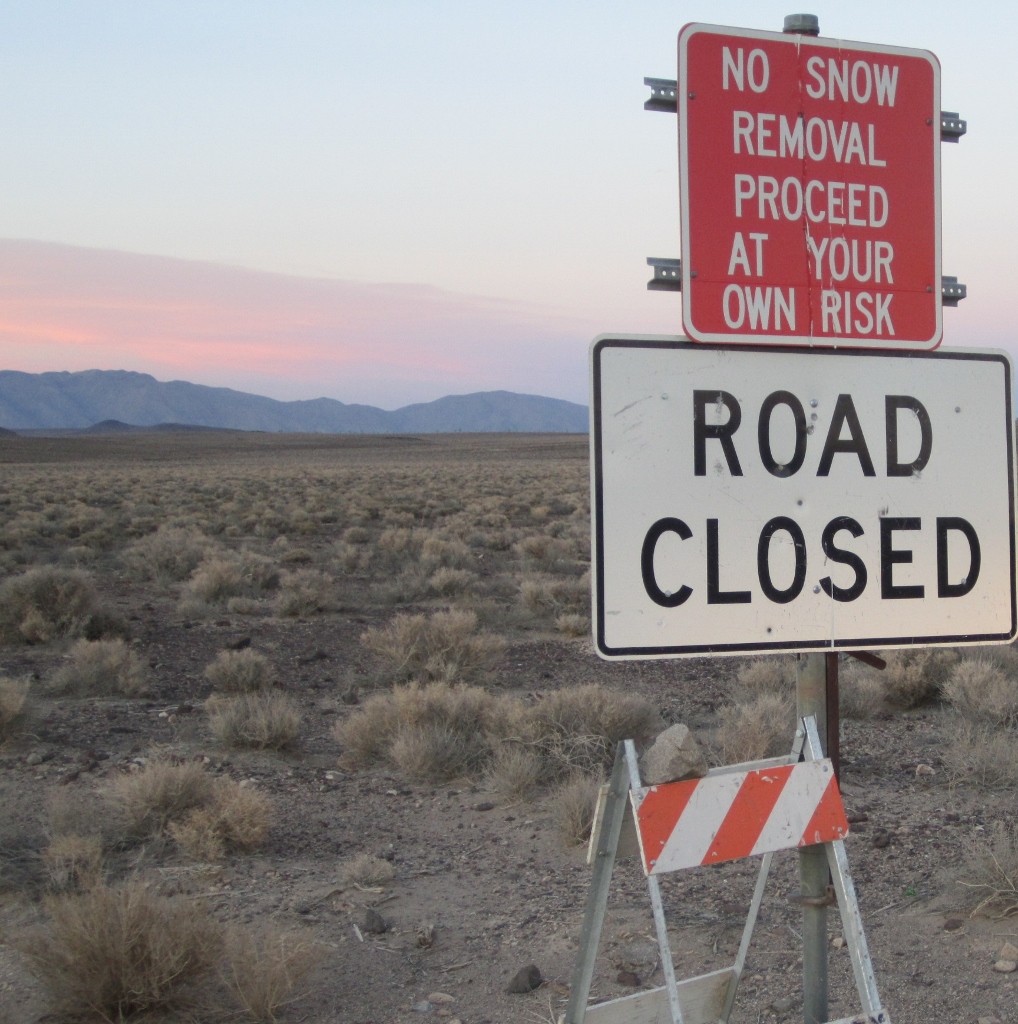 A map of our ride today---about 228 miles.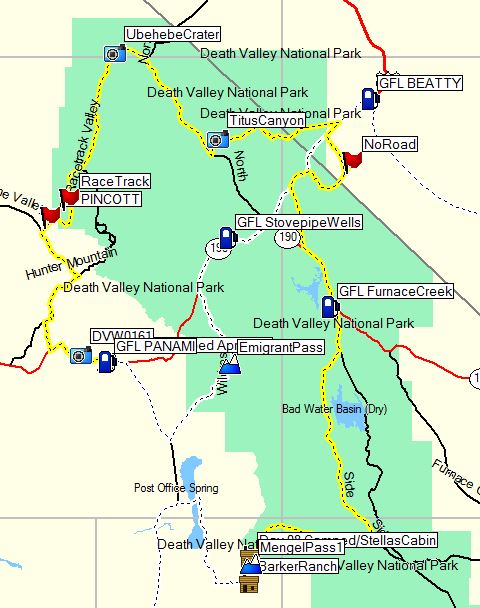 Day 10
April 15th, 2013
Panamint Springs to a motel in Mesquite Nevada
This was our camp in Panamint Springs.
As I said------it was nice and we got a shower here.
It was up in the elevations a bit so wasn't hot at all---real nice night to sleep out and camp.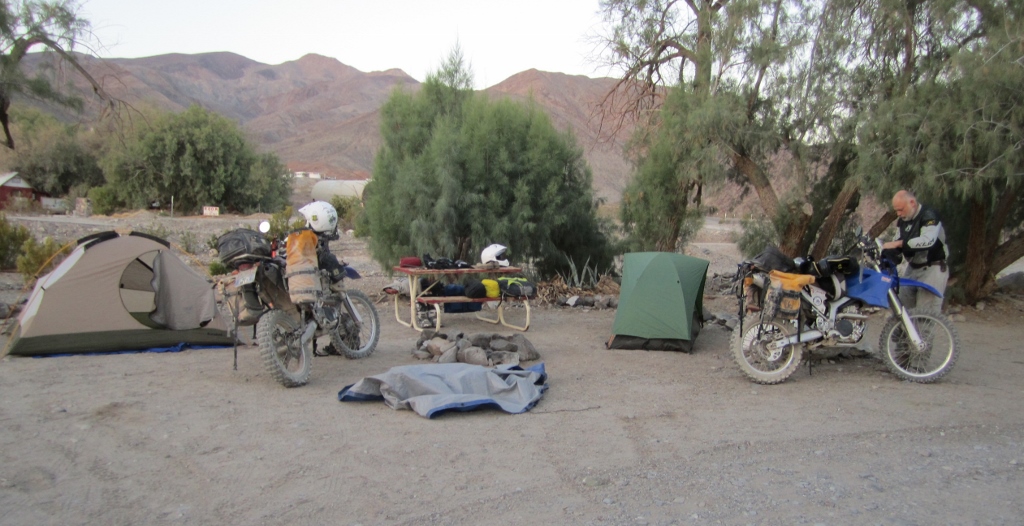 Right across the street was a great restaurant---we ate dinner and breakfast here.
Besides the little gas station that was about all that was in Panamint Springs.
Good place to relax and stock up on supplies.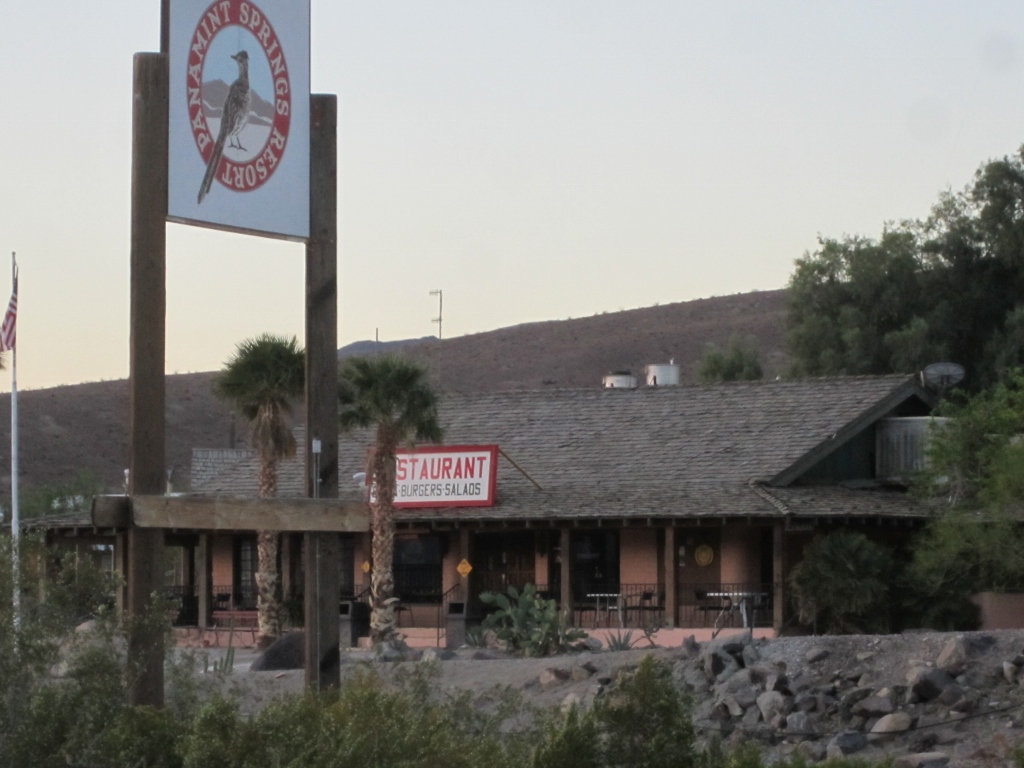 We rode the paved Emigrant pass road. It was a nice curvy mountainous road.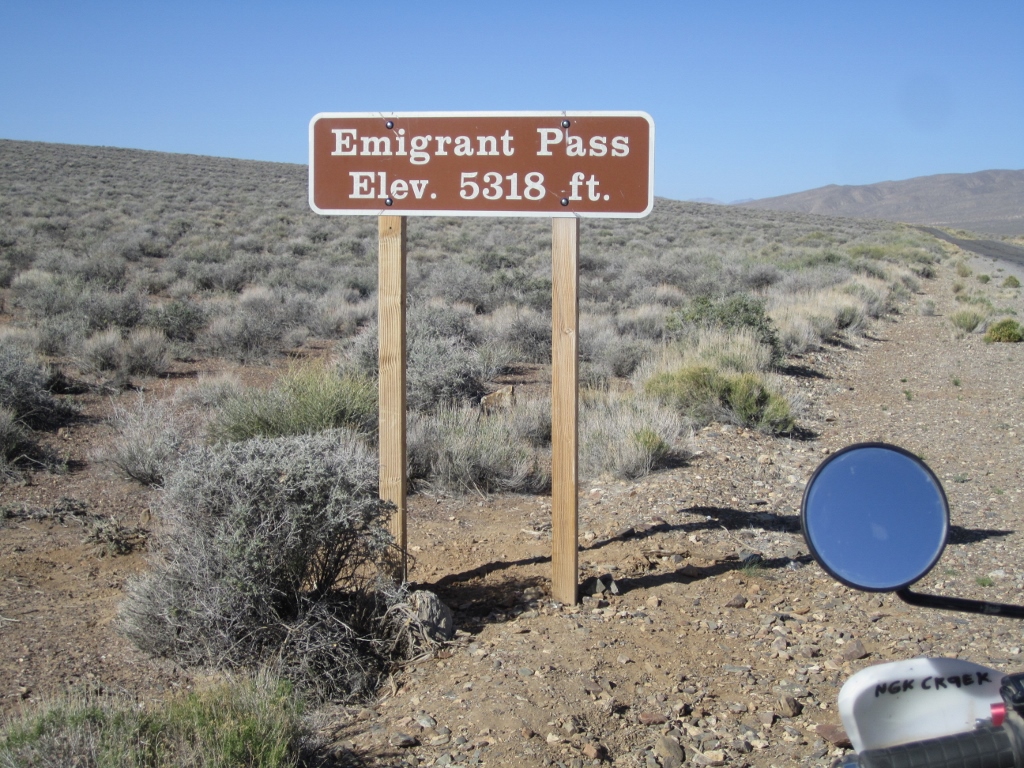 On the way we by-passed a route that Dr. Rock had laid out for us as we figured out it didn't go thru
and this is where it came out and it looks like they want it to go back to nature.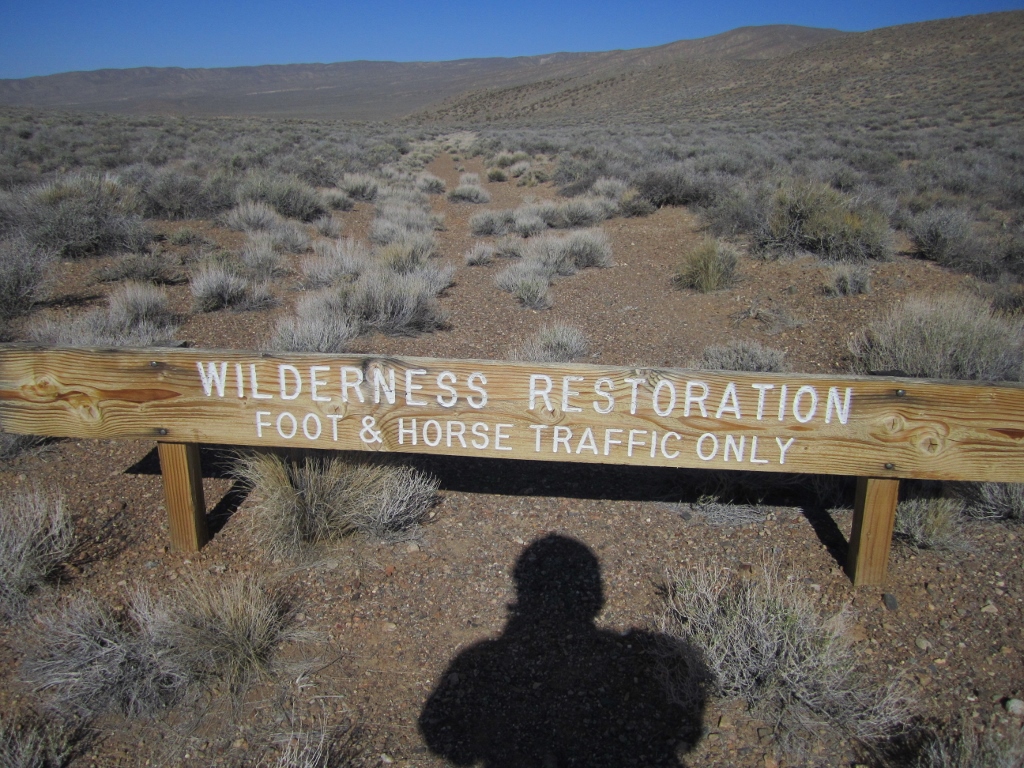 Maybe this was in Beatty Nevada ???????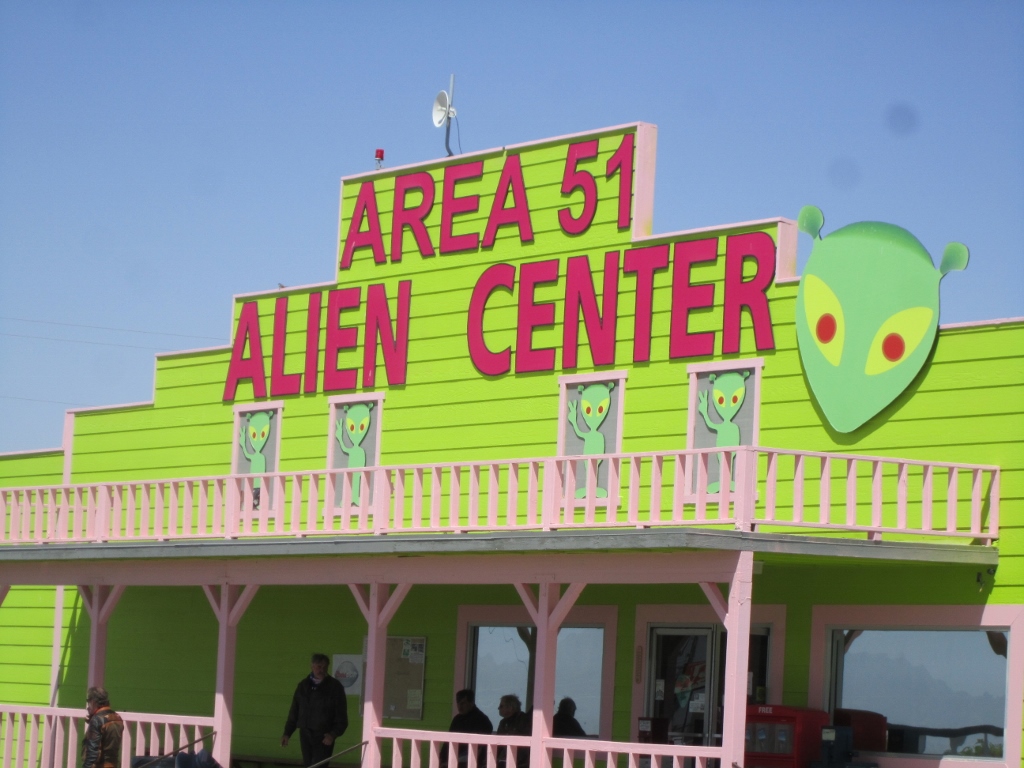 And this was out back-------we didn't take the free tour.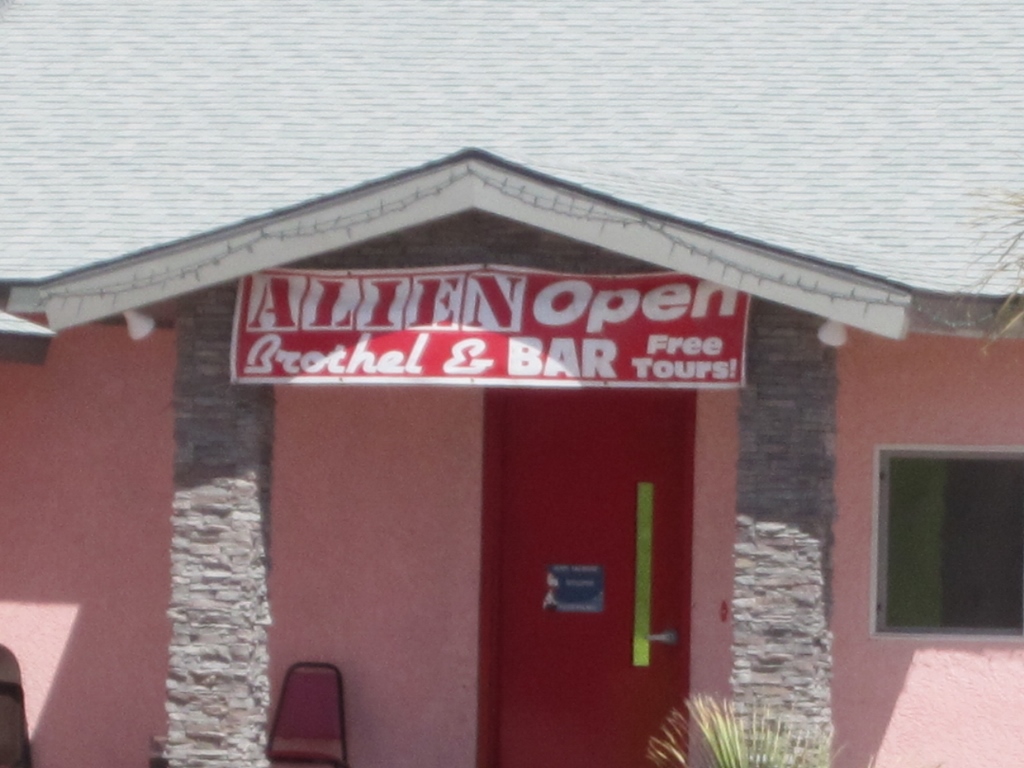 There were so many favorite parts of this trip---but this lonely route thru the desert North of Las Vegas was so different.
There is nothing out here for many miles.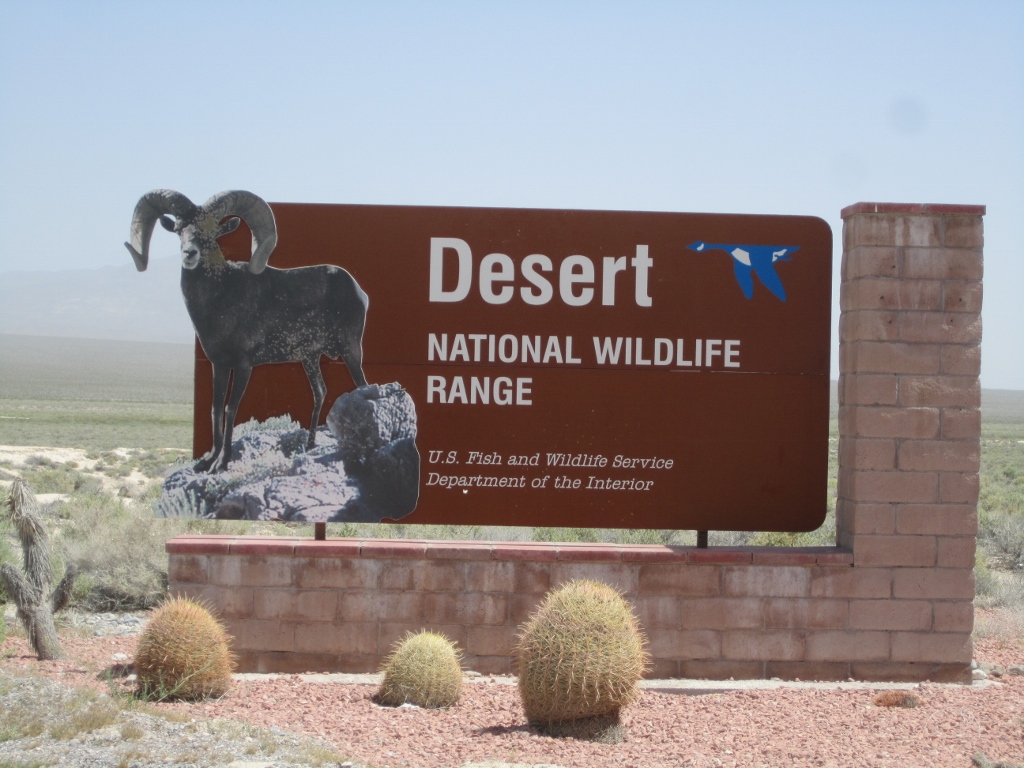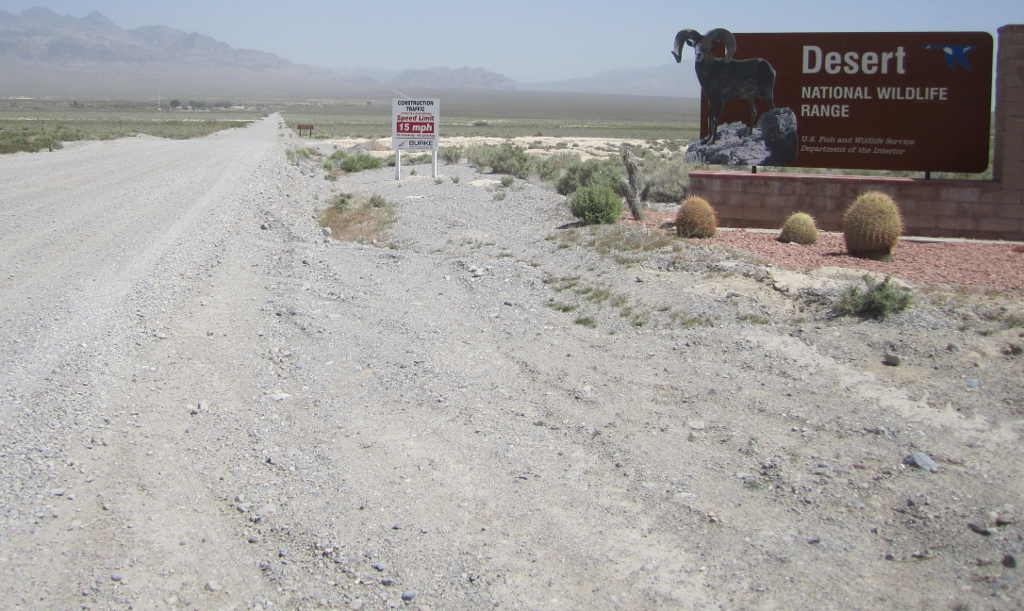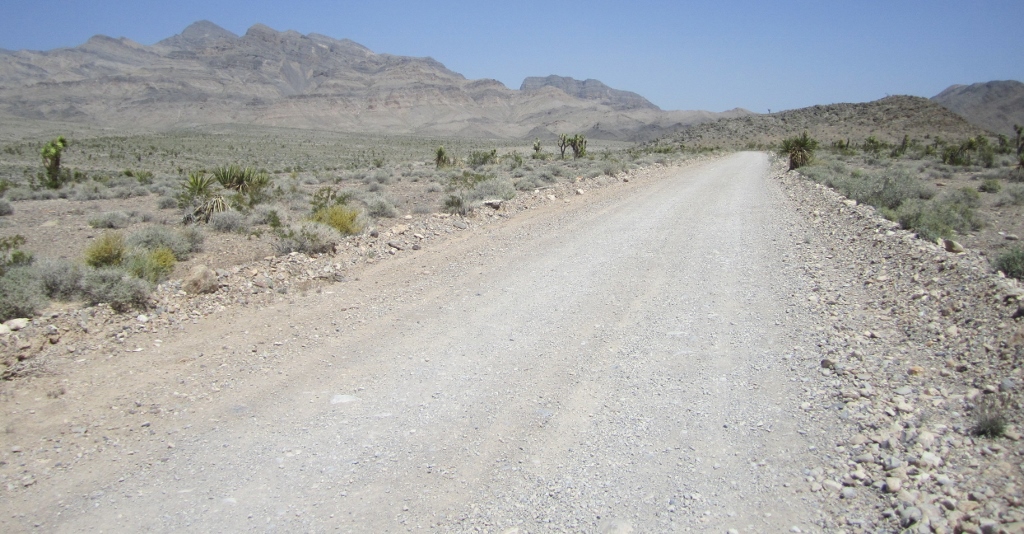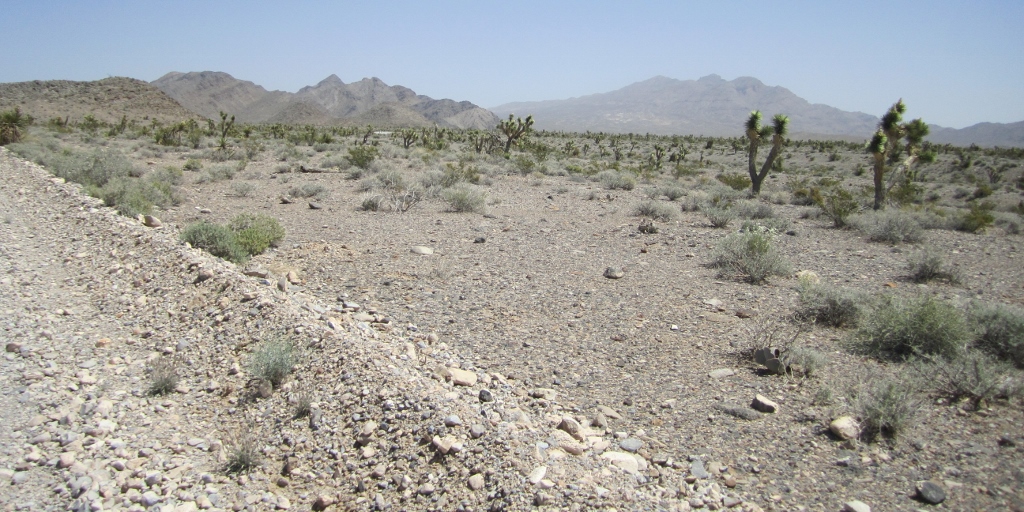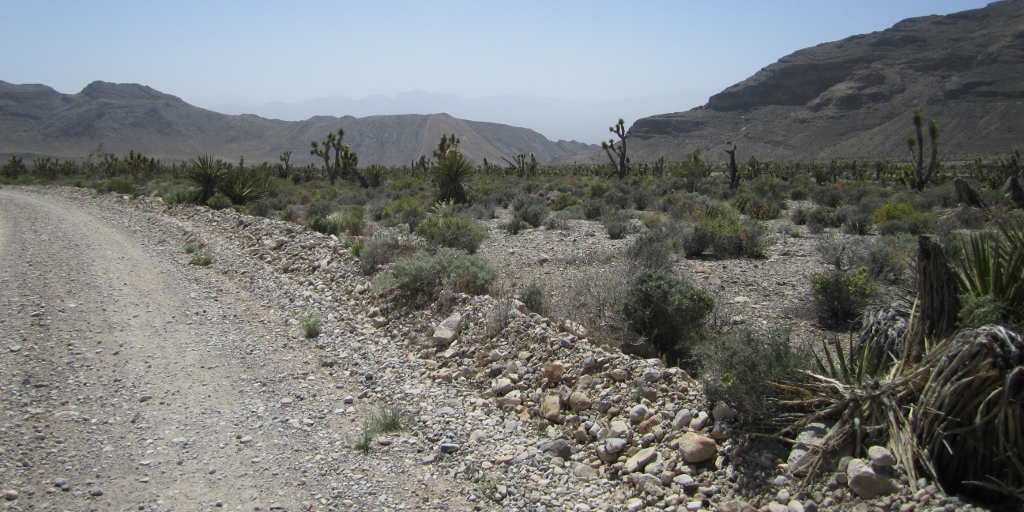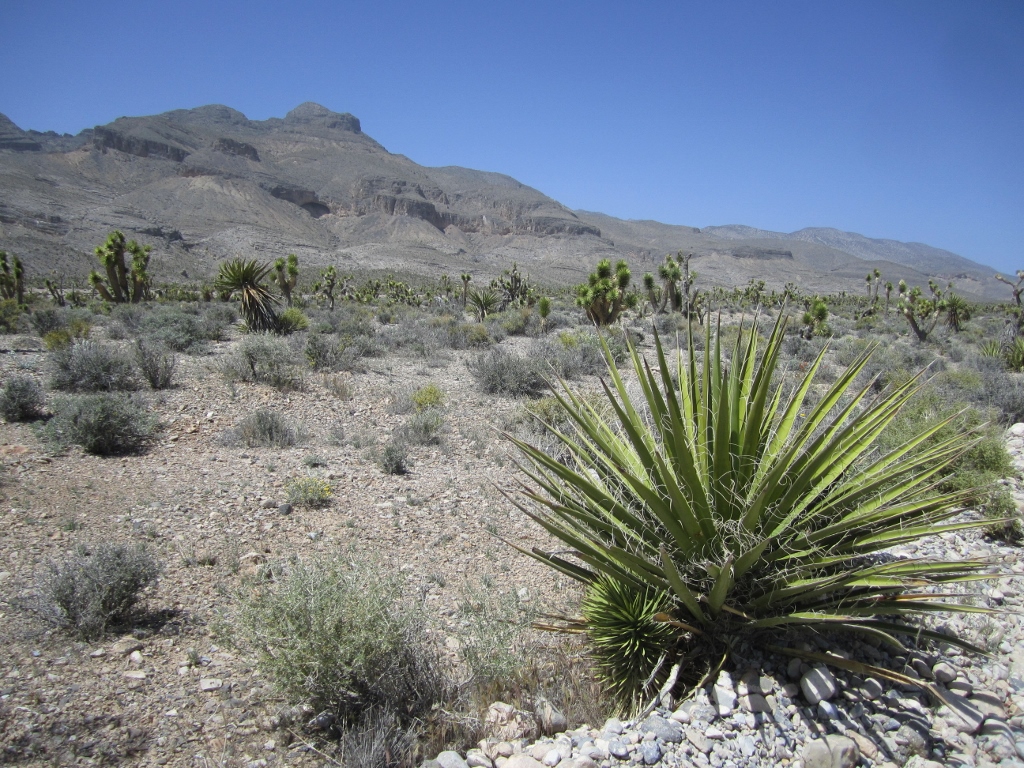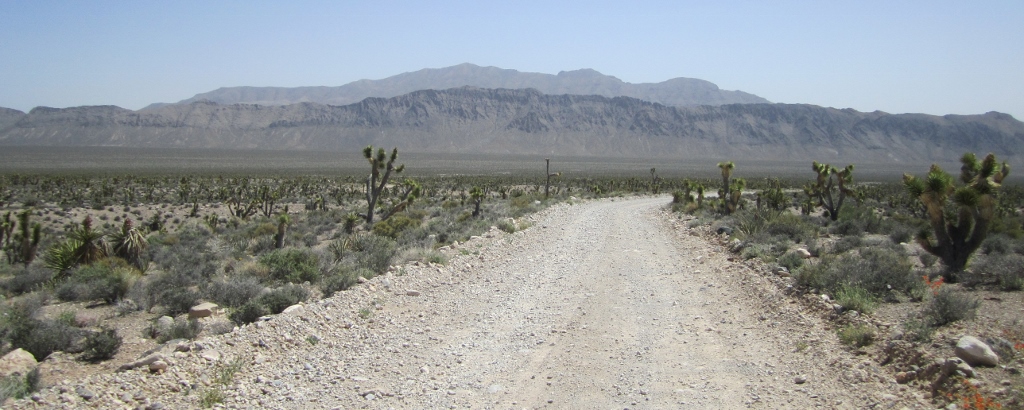 And if you didn't know what kind of plants those were---------I didn't---------here's your sign.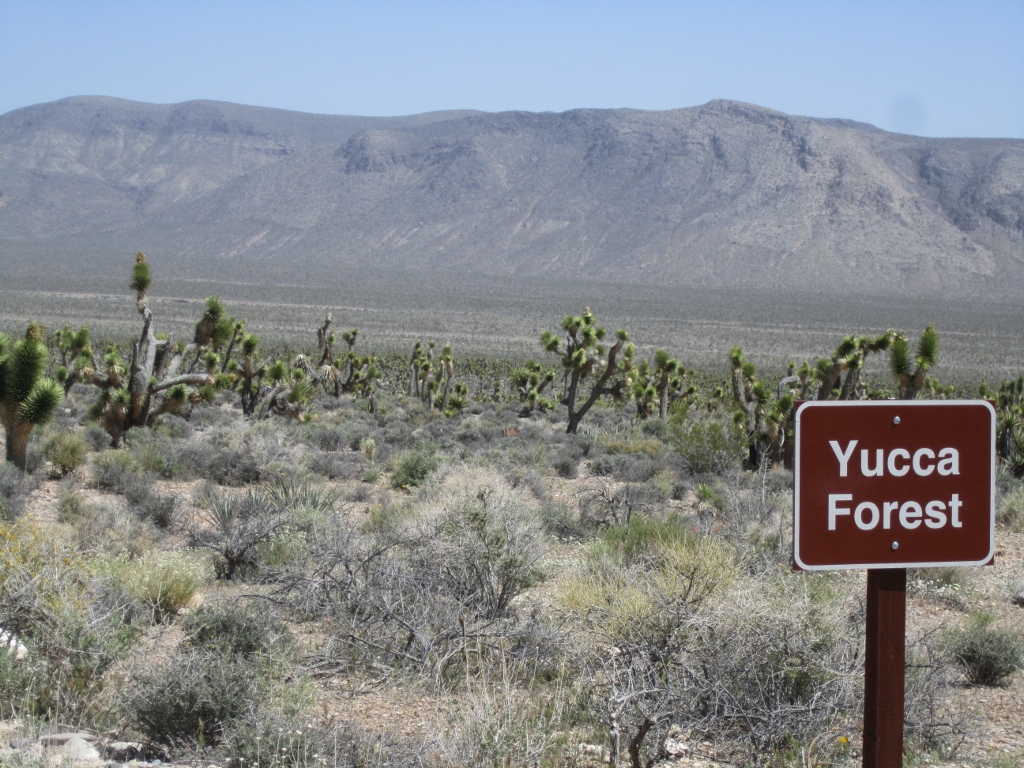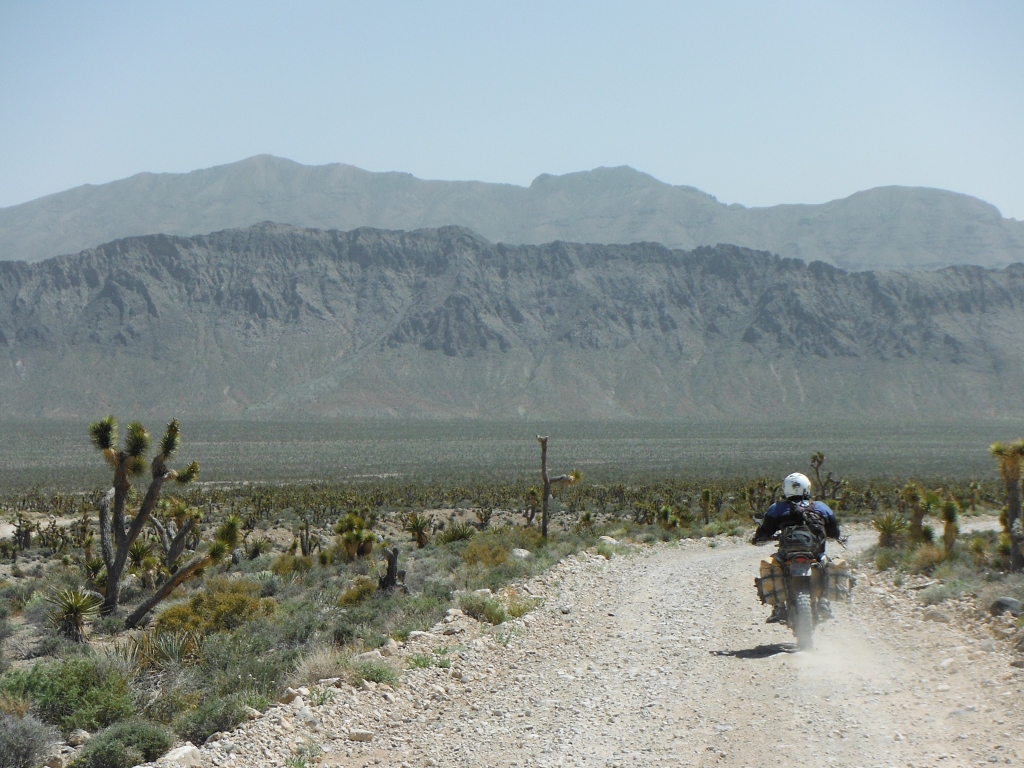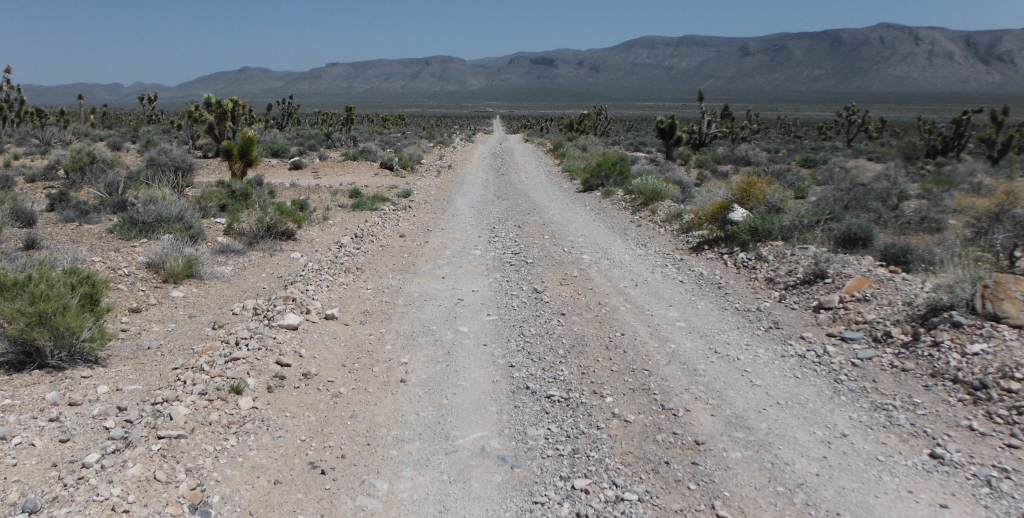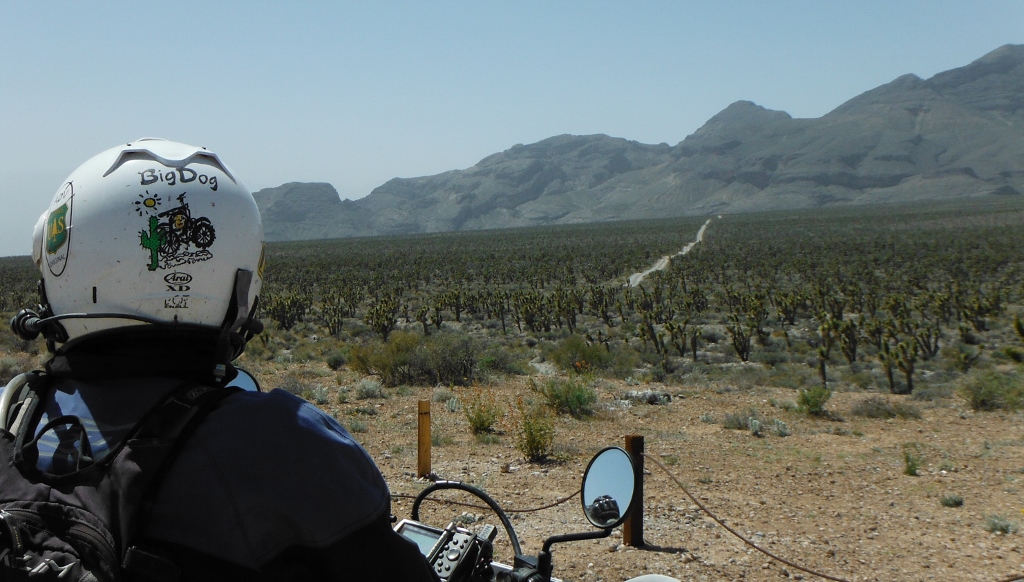 We rode a lot of straight roads thru this area---then we dropped into a narrow twisty canyon.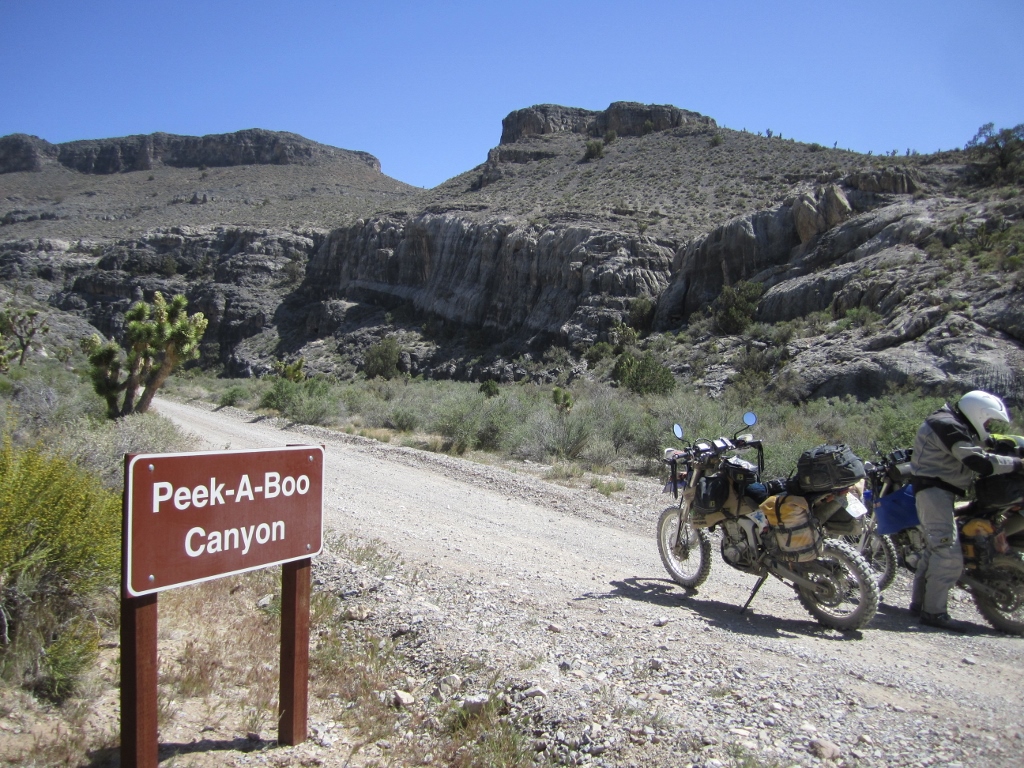 In the Desert Wildlife Refuge we got on Mormon Pass road at high elevation---at least for the desert it is.
A lot of this was thick pine trees.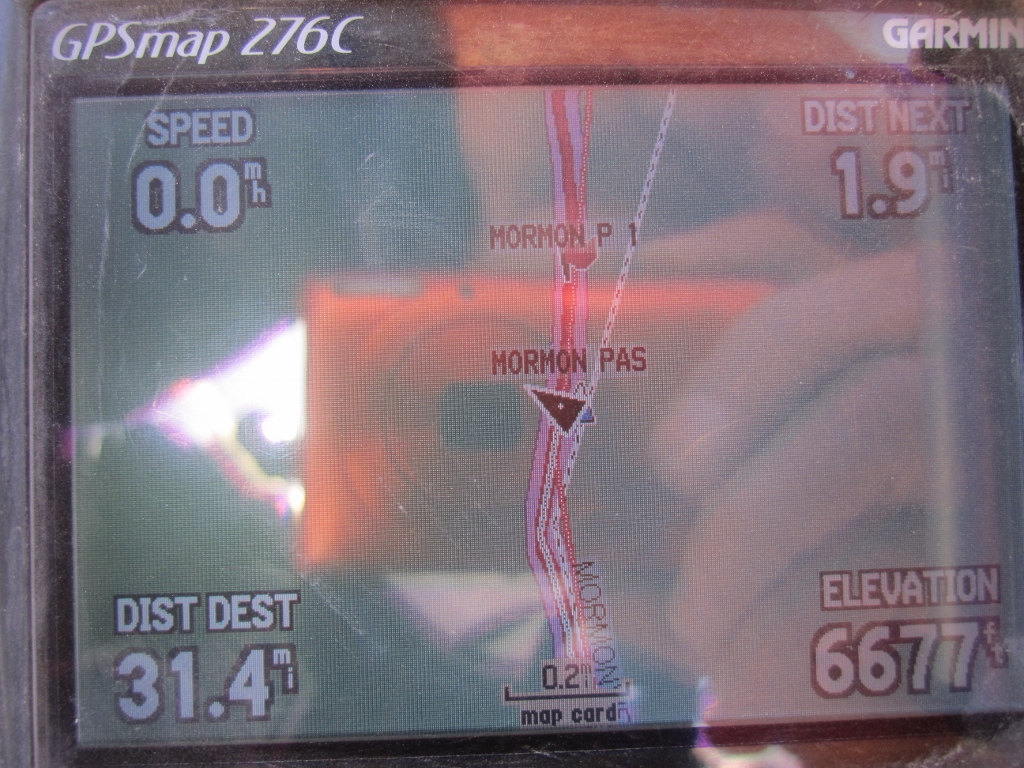 I had one of those waypoints in my gps that I plotted years ago in my Nevada gps file called Mormon Well. I saw it on
my gps and we went hunting for it and found it. Amazing how I'm always running across all those thousands of waypoints I've dropped
year ago----and run across neat stuff.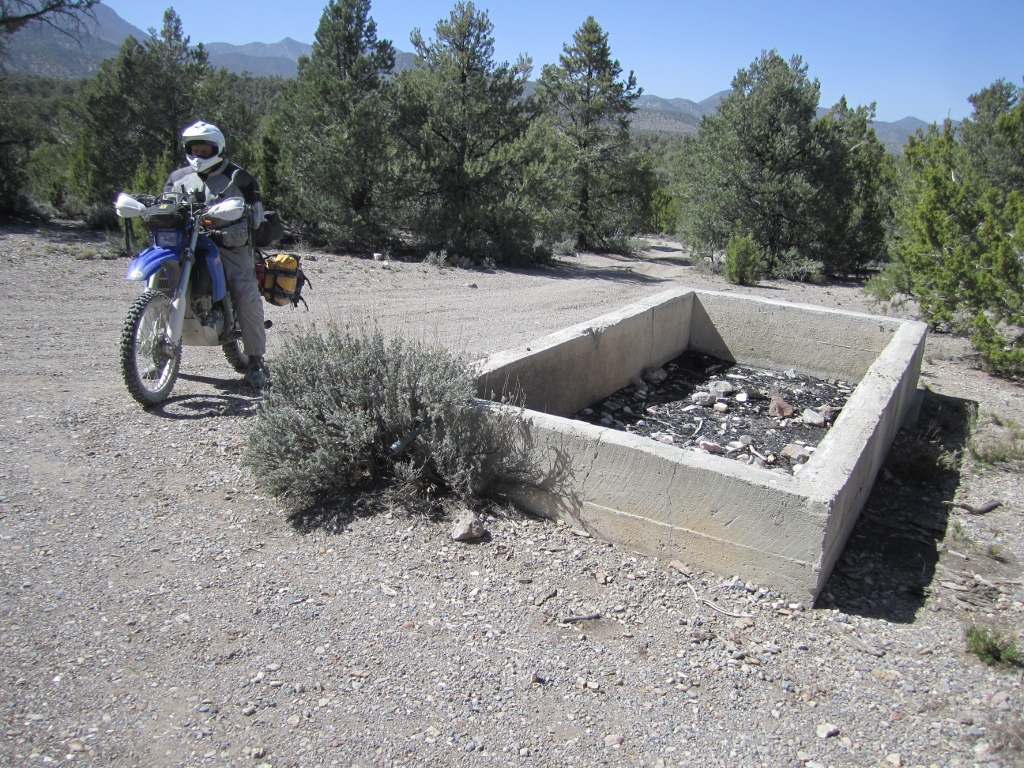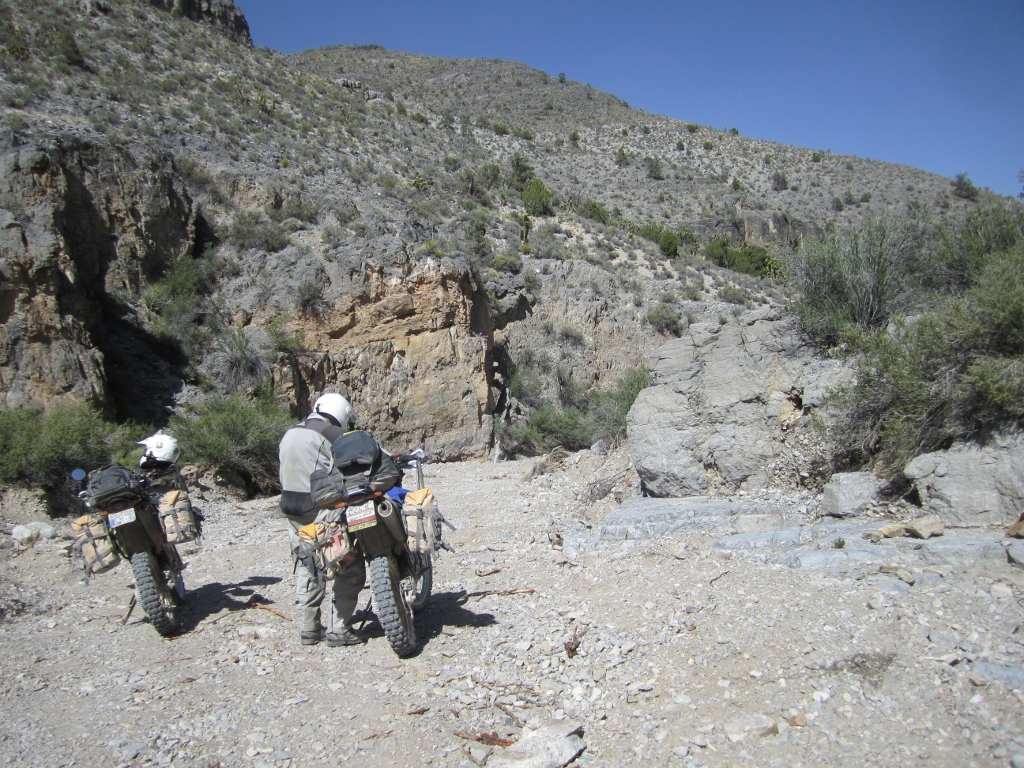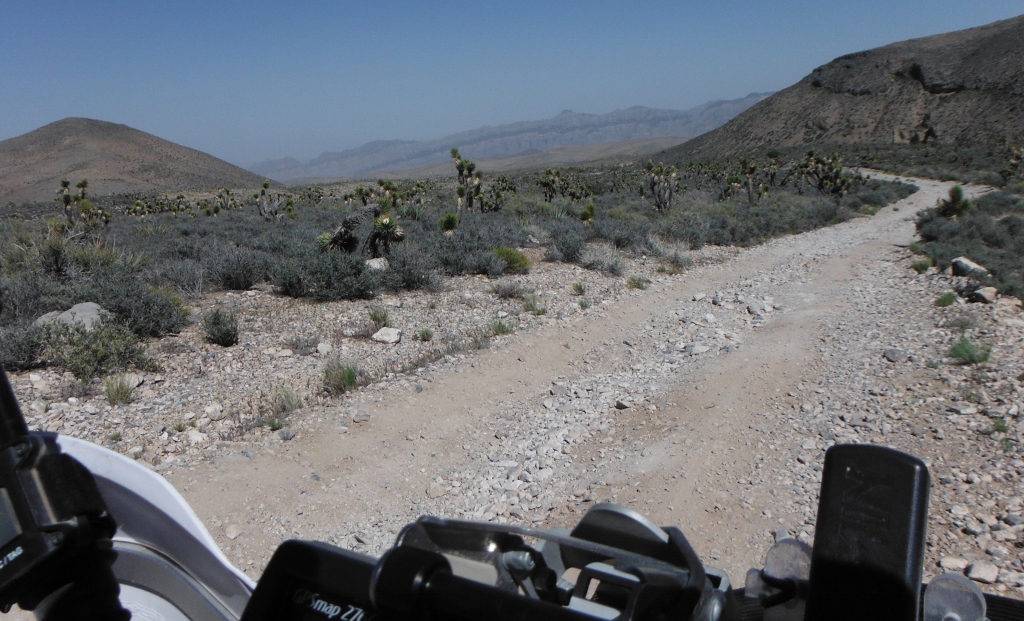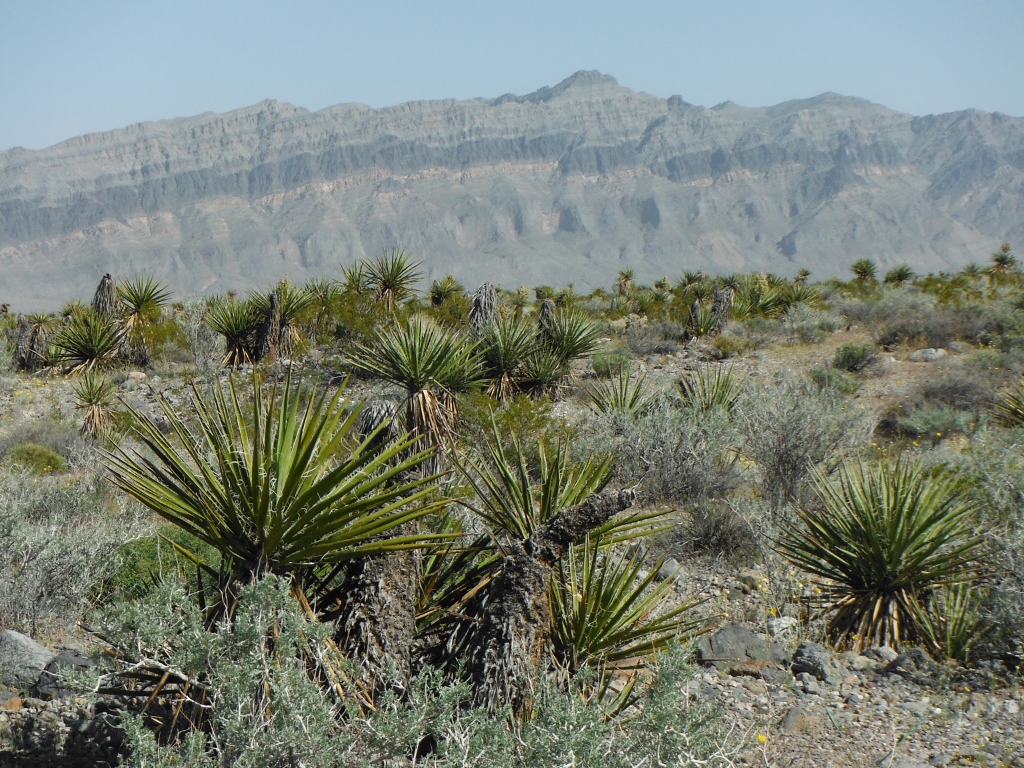 A map of our ride today---about 282 Miles

Day 11
April 16th, 2013
Mesquite, Nevada to Fredonia, Arizona
Todays ride is picture heavy------some of the best scenery I've seen in my life.
But-------------------we were there.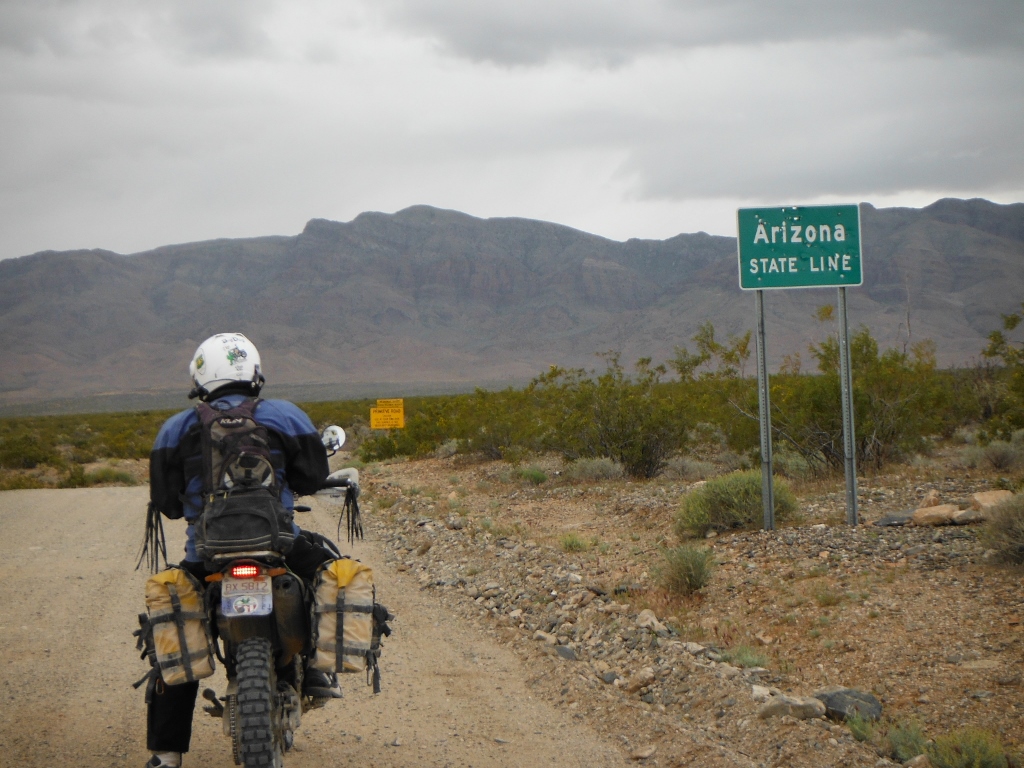 We left out of Mesquite, Nevada and it was cool and looked like rain.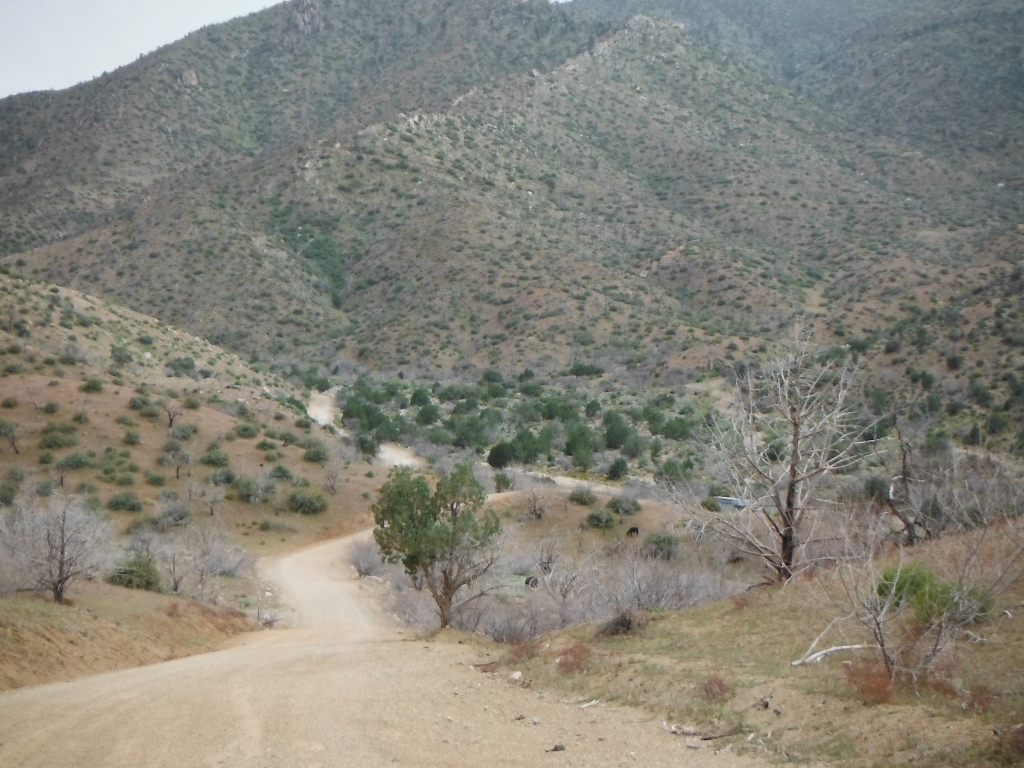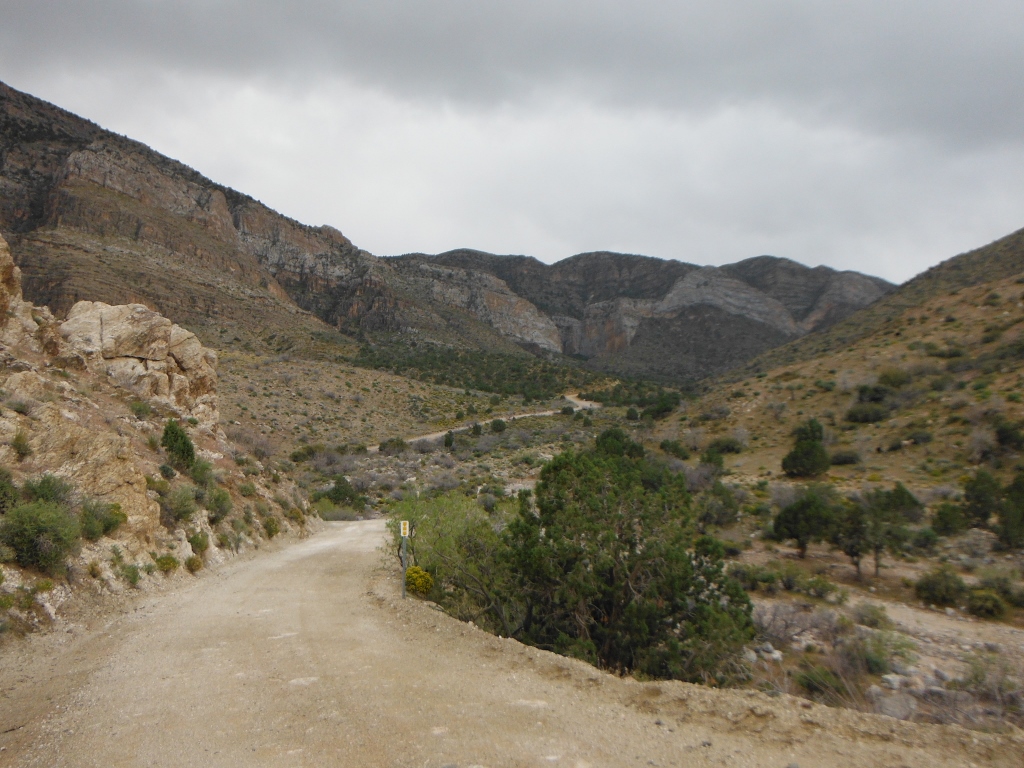 We rode for a good 20 miles up into the mountains towards the Grand Canyon and the Turaweep overlook and as we rode
it started raining ---but not too hard and I rode very nervous fearing we'd hit some impassable when wet roads.
It was sprinkling in this picture and thankfully it was really sandy.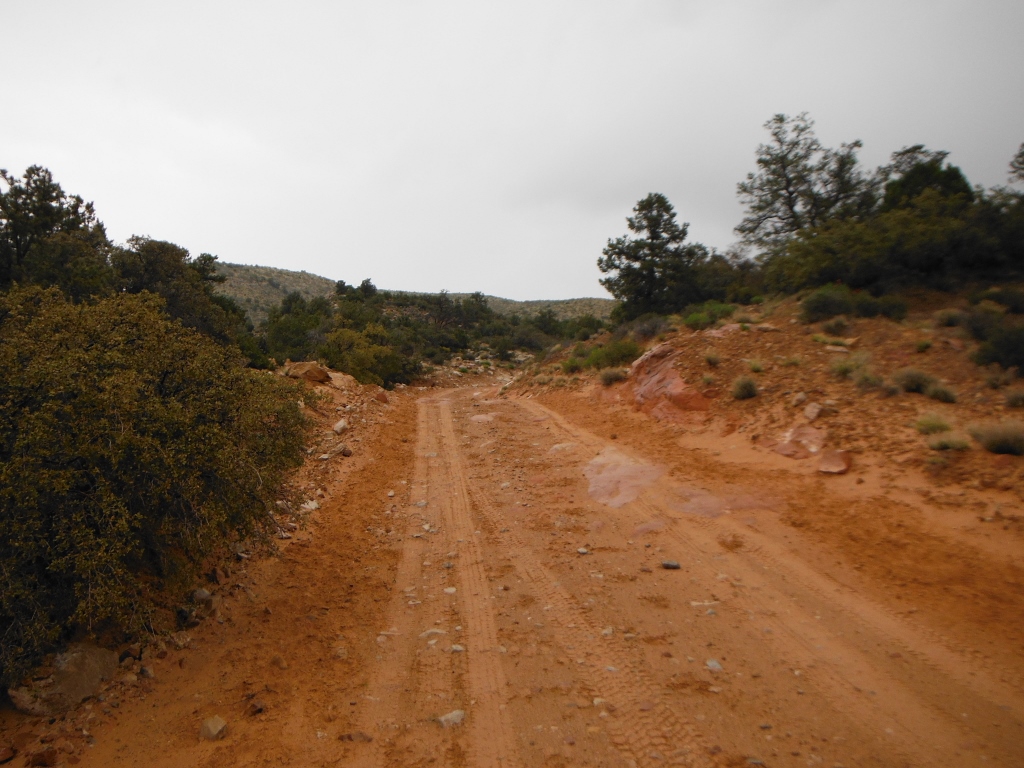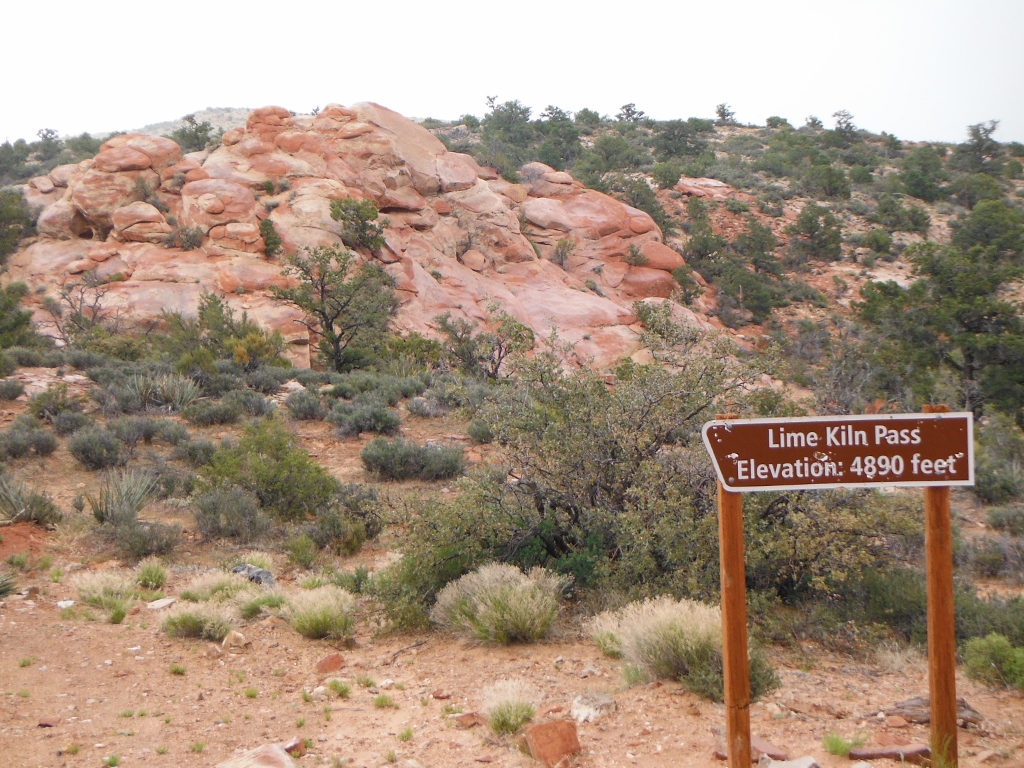 We kept going and the rain wasn't letting up and we left the sand into the dirt.
The scenery here just took us back---the picture is awesome----but we were there.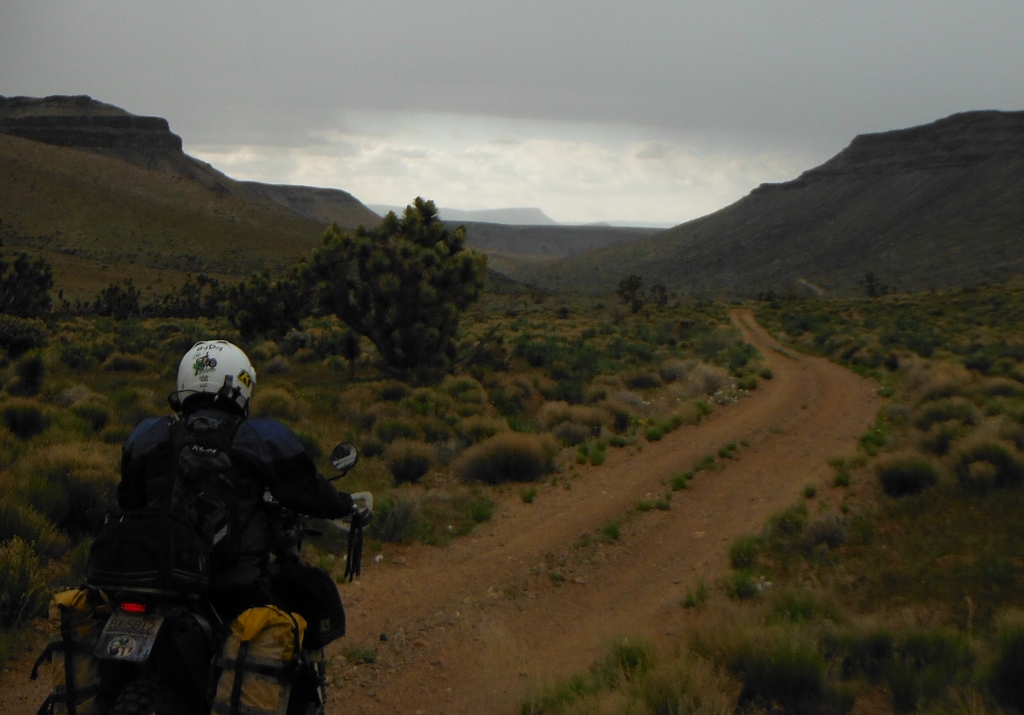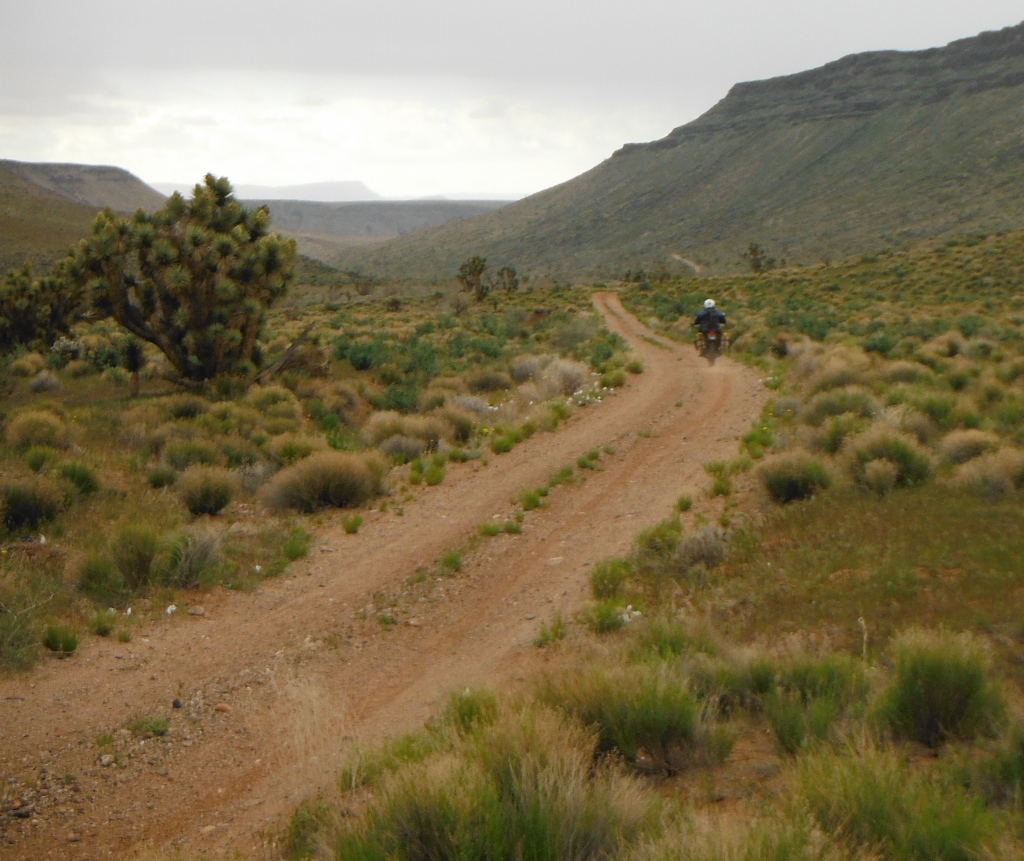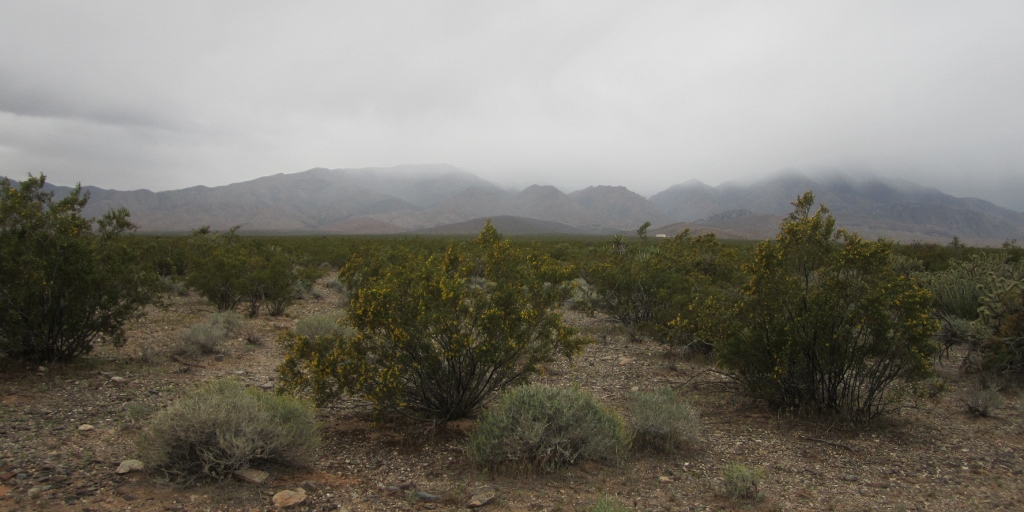 We hit a main gravel road for a bit.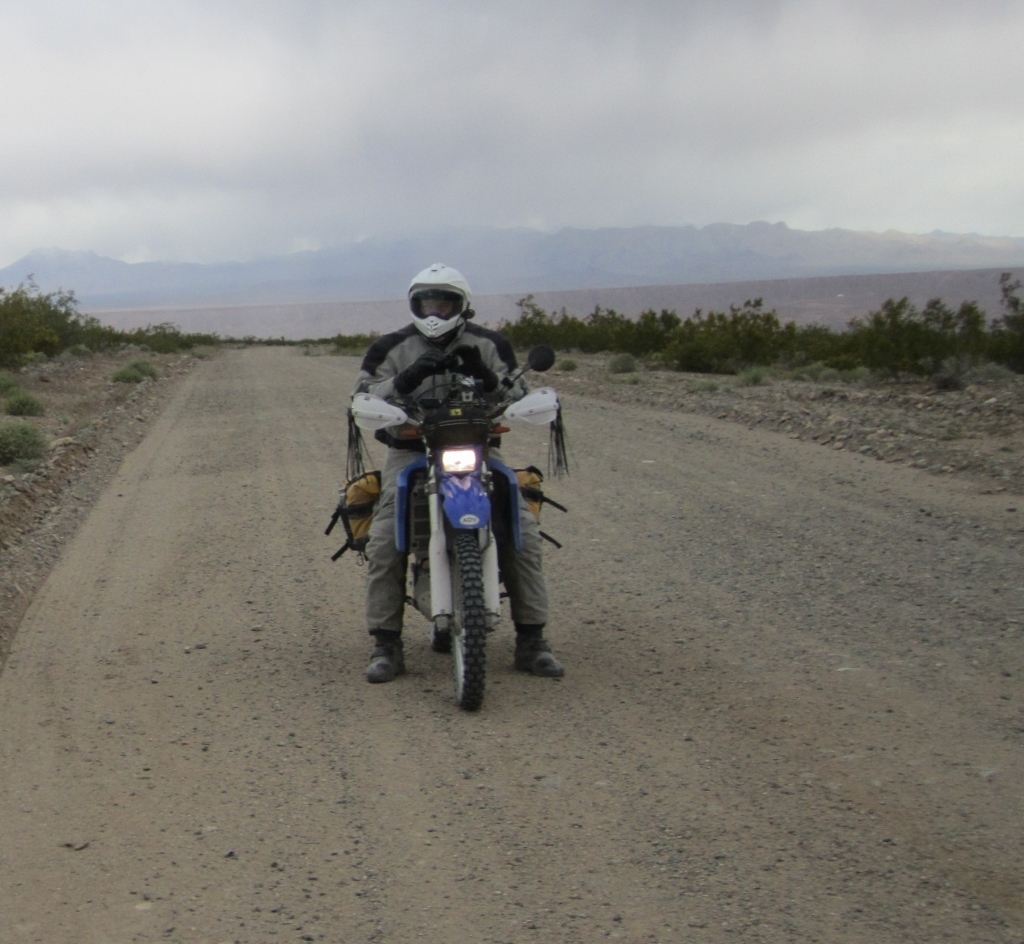 Look at the subtle colors in this picture----the dampness brought it all out.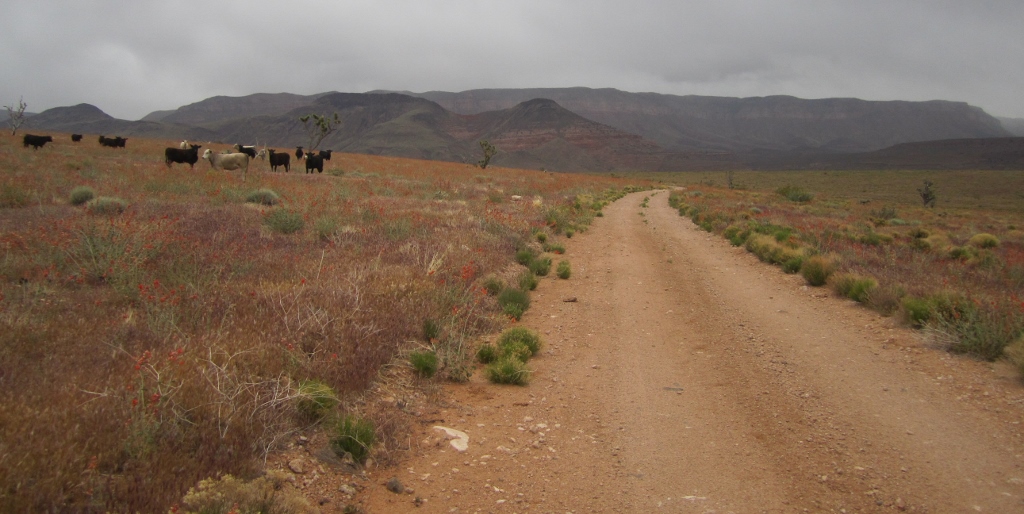 We finally hit some dirt roads and definitely one section that would have been impassable when wet---but the rain was gone now
and we had nothing but blue skies. It was cool out-----we kept our jackets on and I kept my heated grips on.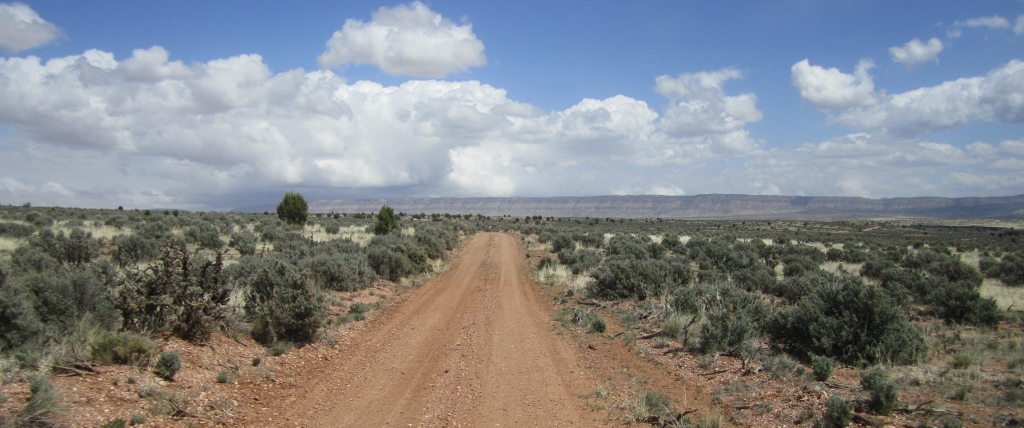 This road would have been impassable if wet. When you see rutted up dirt---that is what tells you that.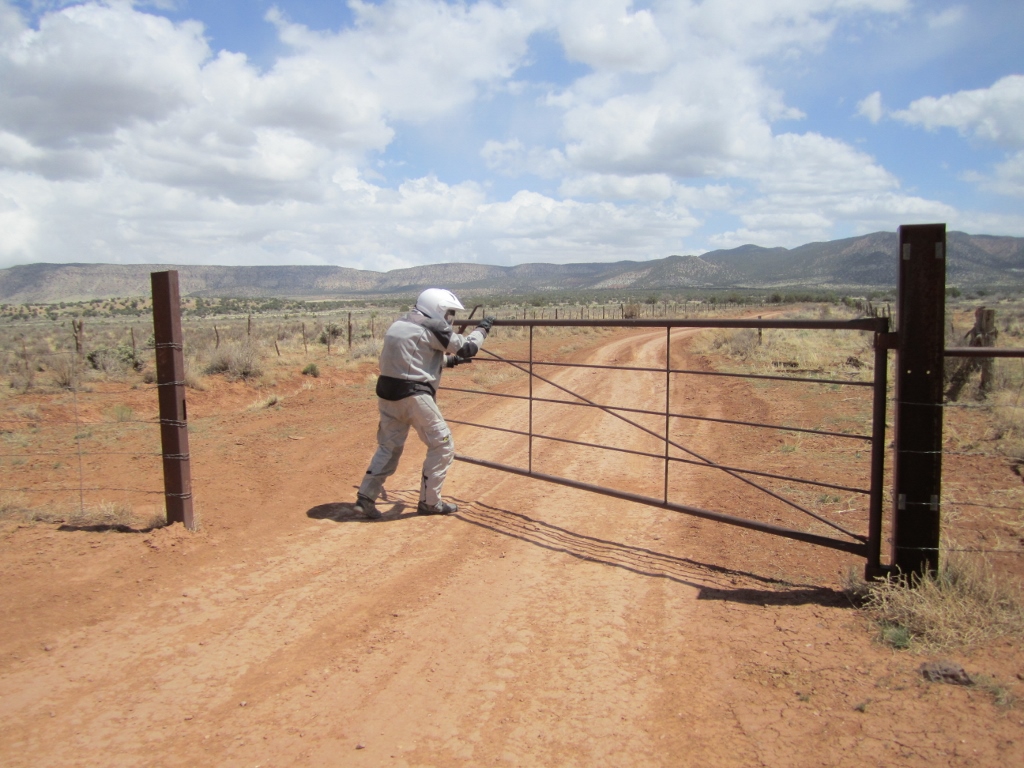 And nearer the canyons we went---for the longest time I kept thinking we'd see the edge of the Grand Canyon---but we
rode on and on.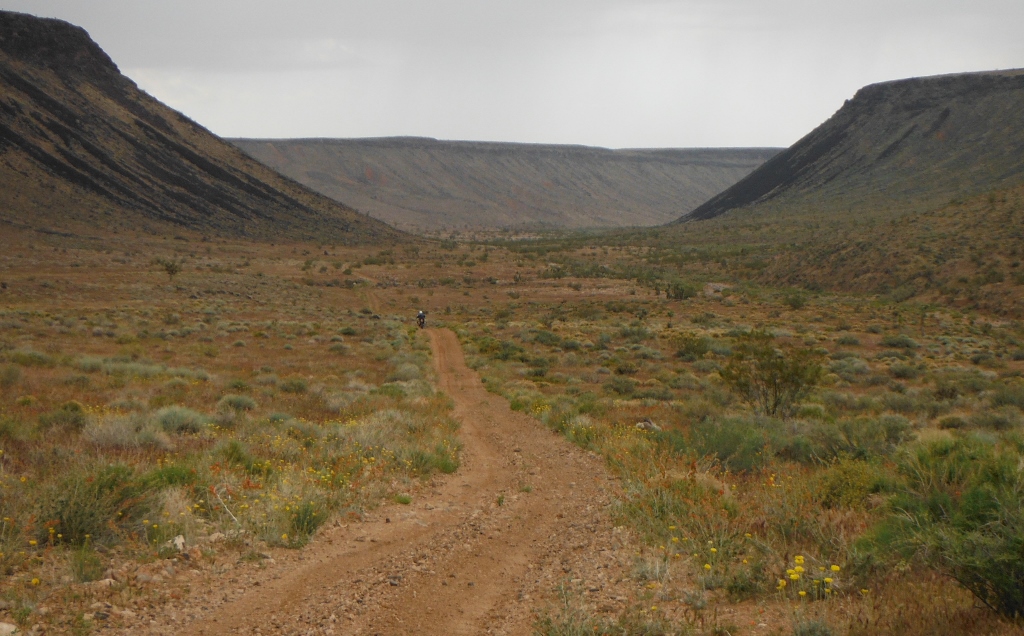 Was it up there ????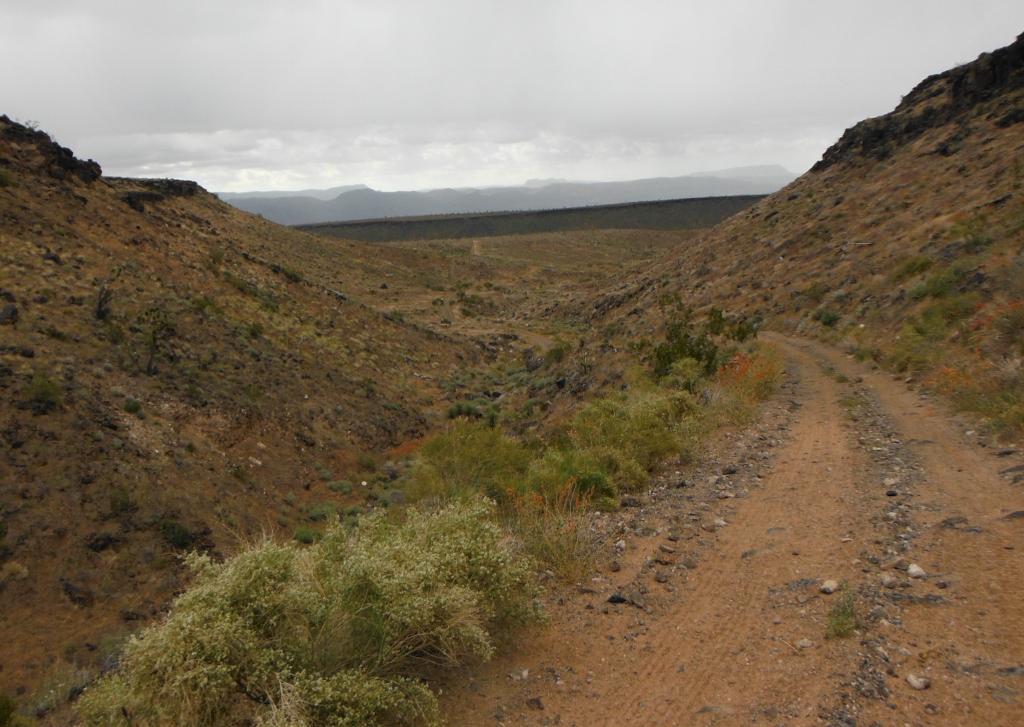 More rain clouds.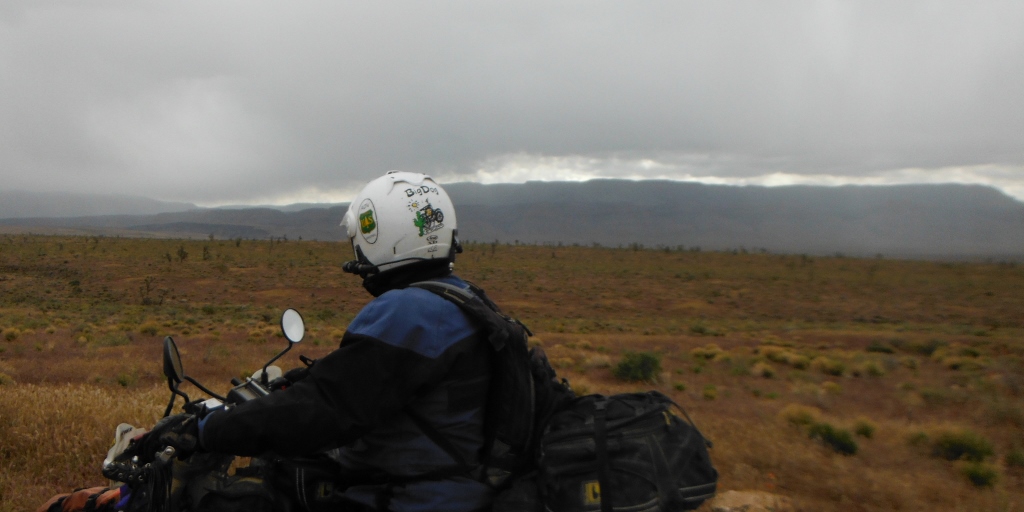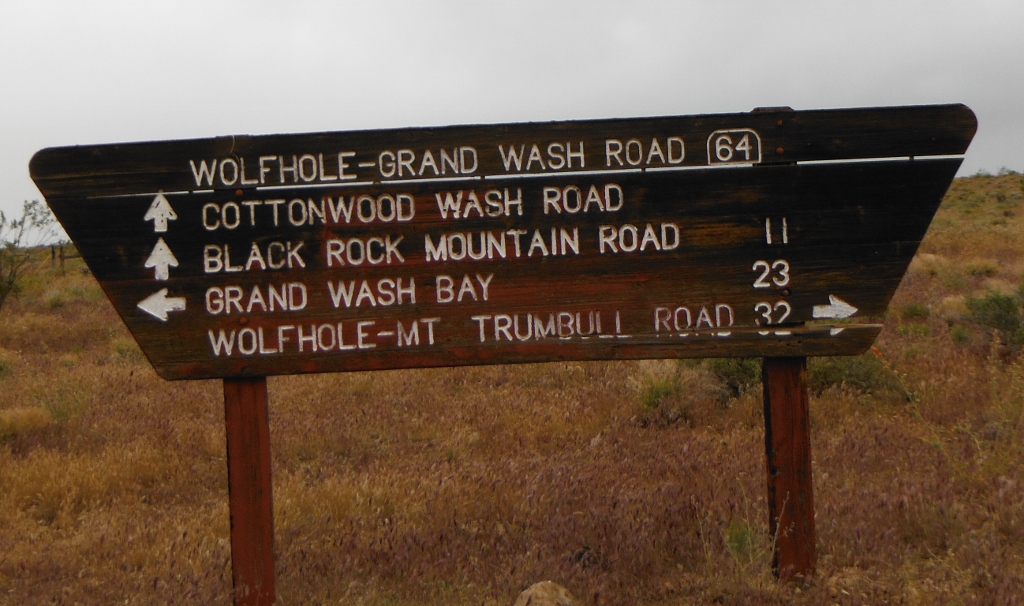 Notice how the scenery, vegetation and weather is changing practically by the minute----awesome !!!!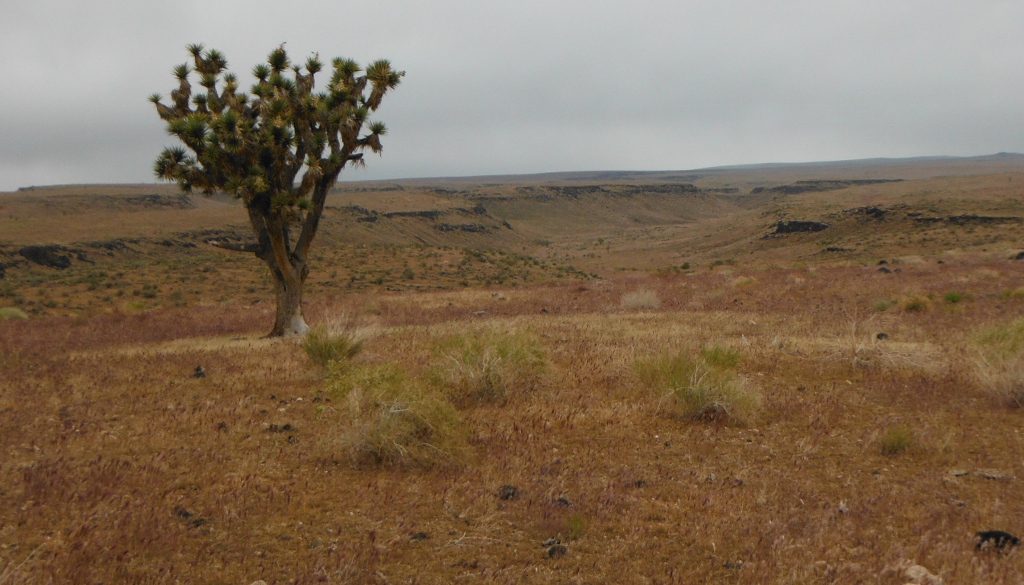 We did a pretty gnarly twisty narrow climb up the mountain.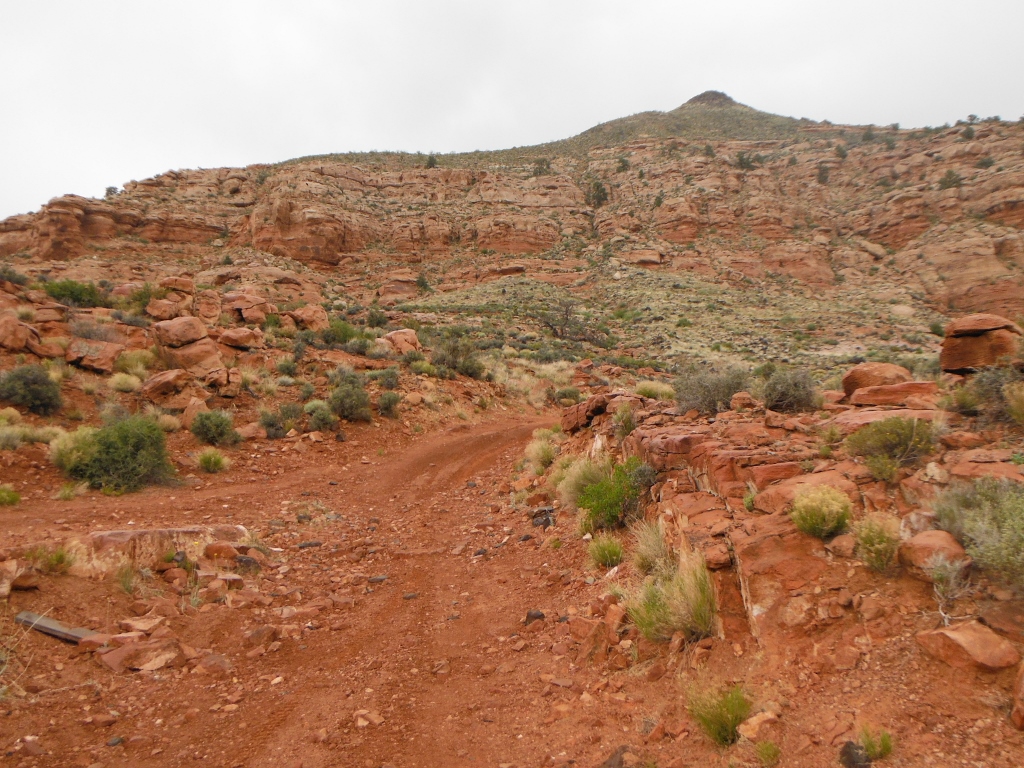 And peered over the edge---was that the Grand Canyon ??? Nope--not yet.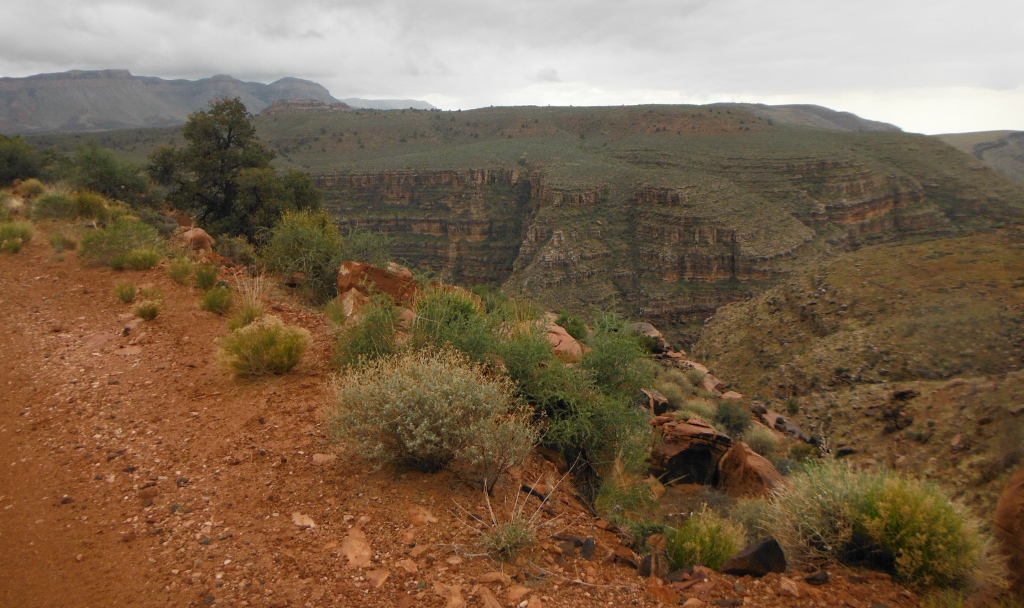 Nutter Twist road----now that was a hoot to ride----I think that is it pictured above.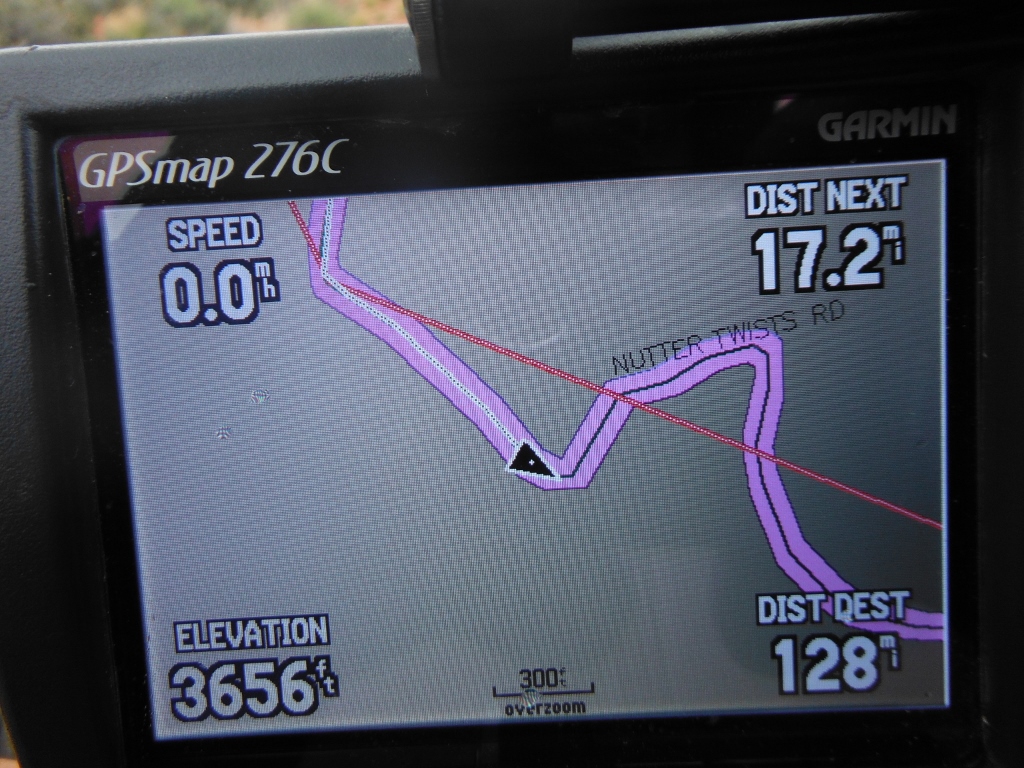 A bit later we came to the old Mt. Trumbull Schoolhouse.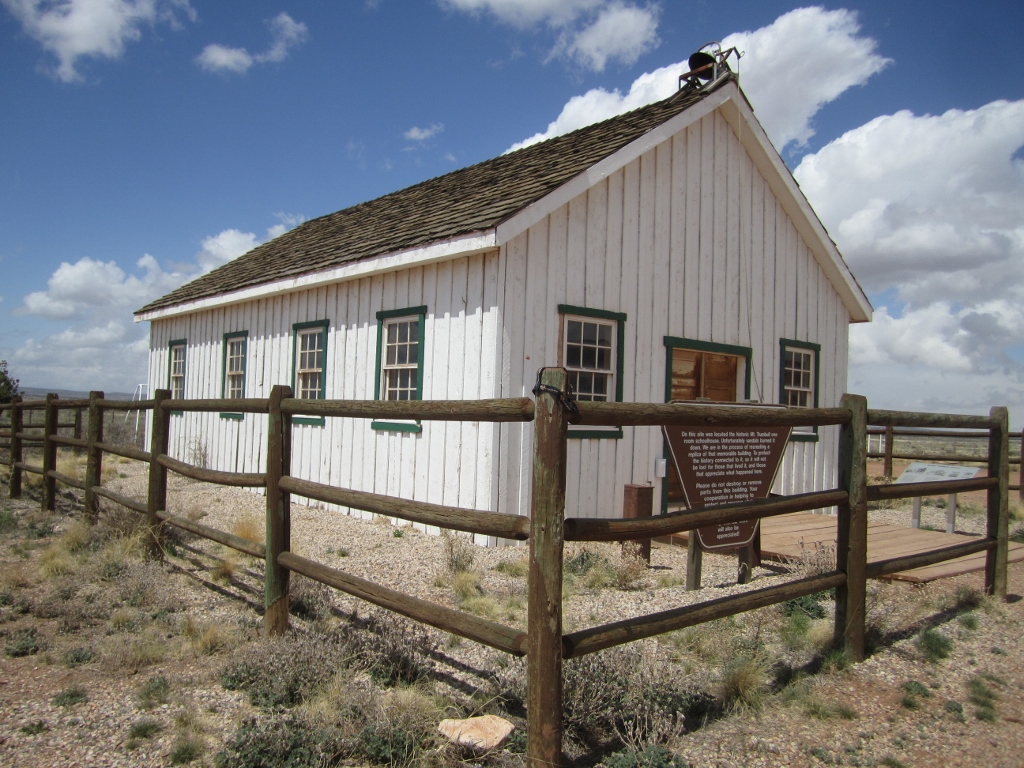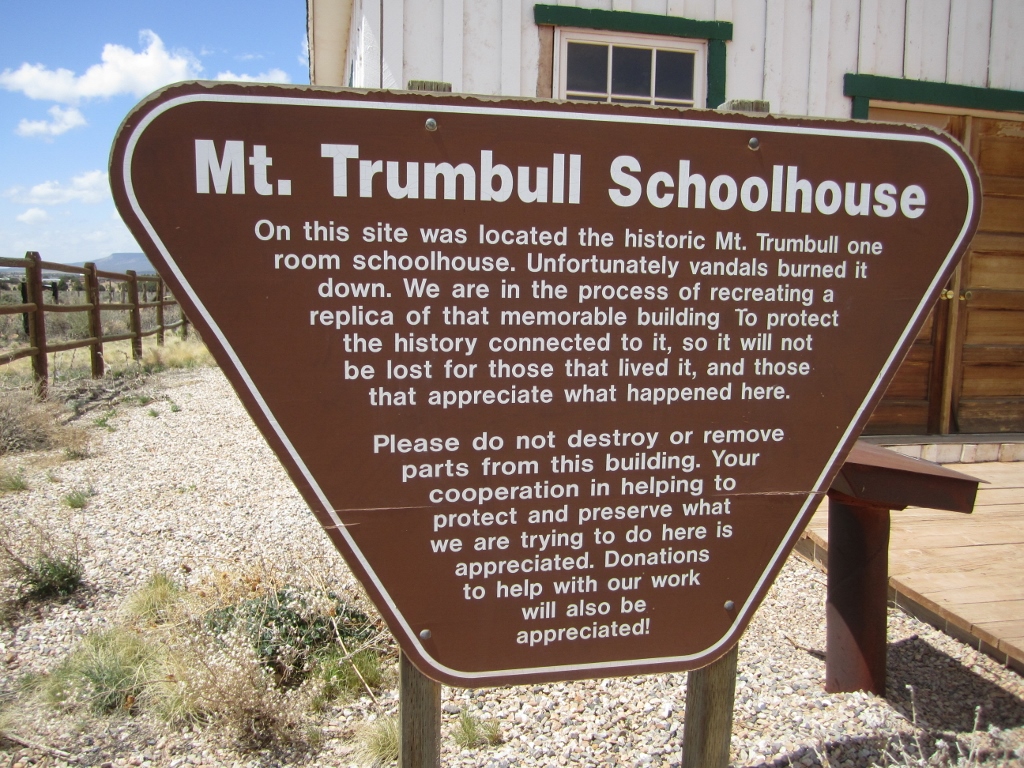 Thee was nothing out here but the School house----------in fact we only saw a few guys on horses herding cattle all day today.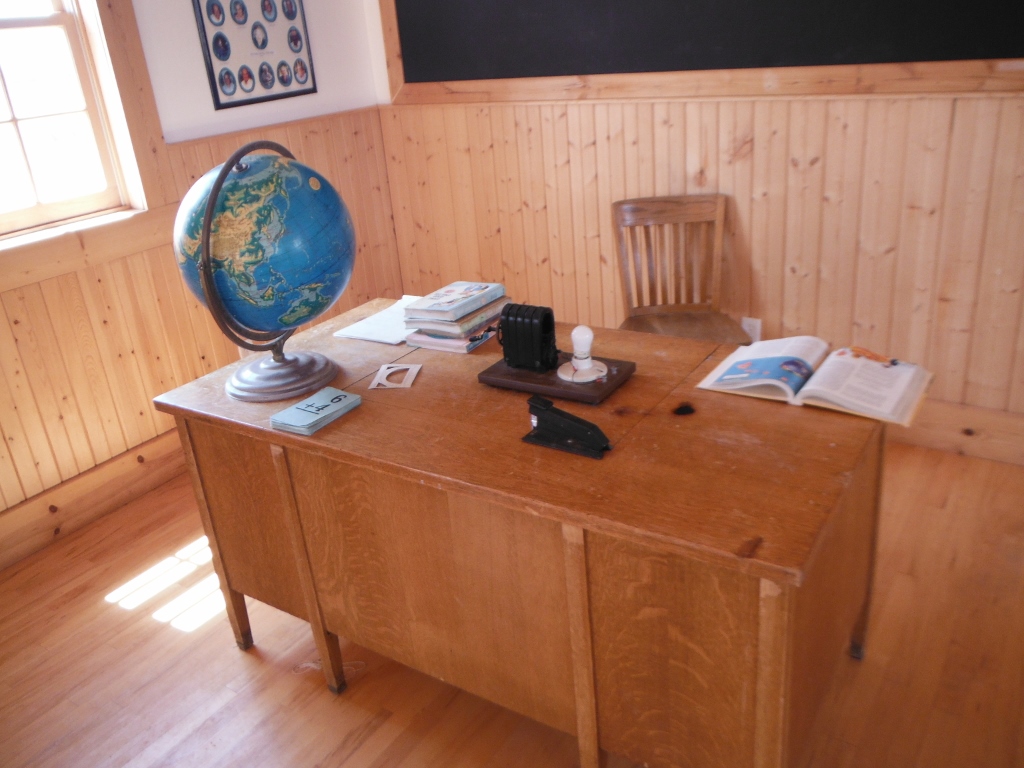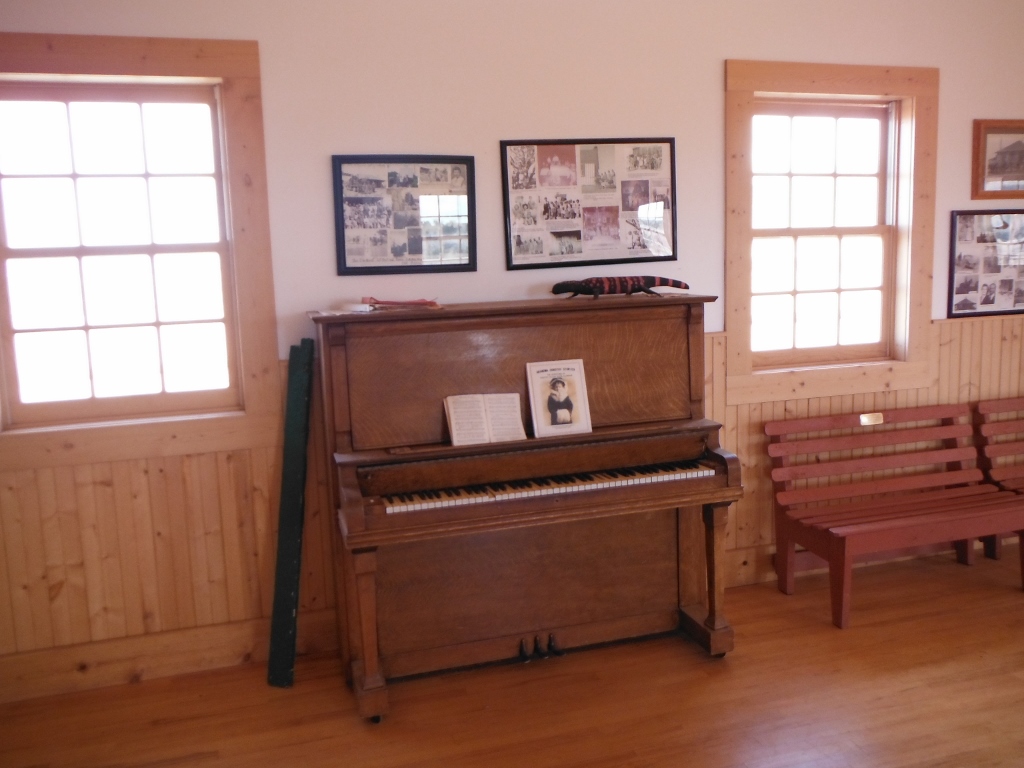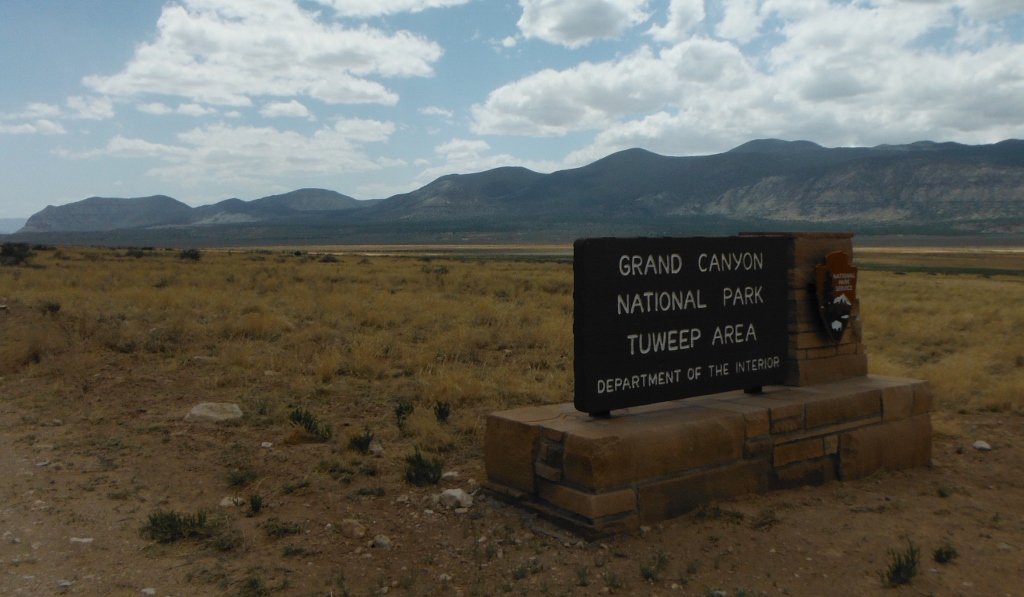 We finally turned down the dead end road to the Turaweep overlook and ran thru several really deep but short
sections of silt.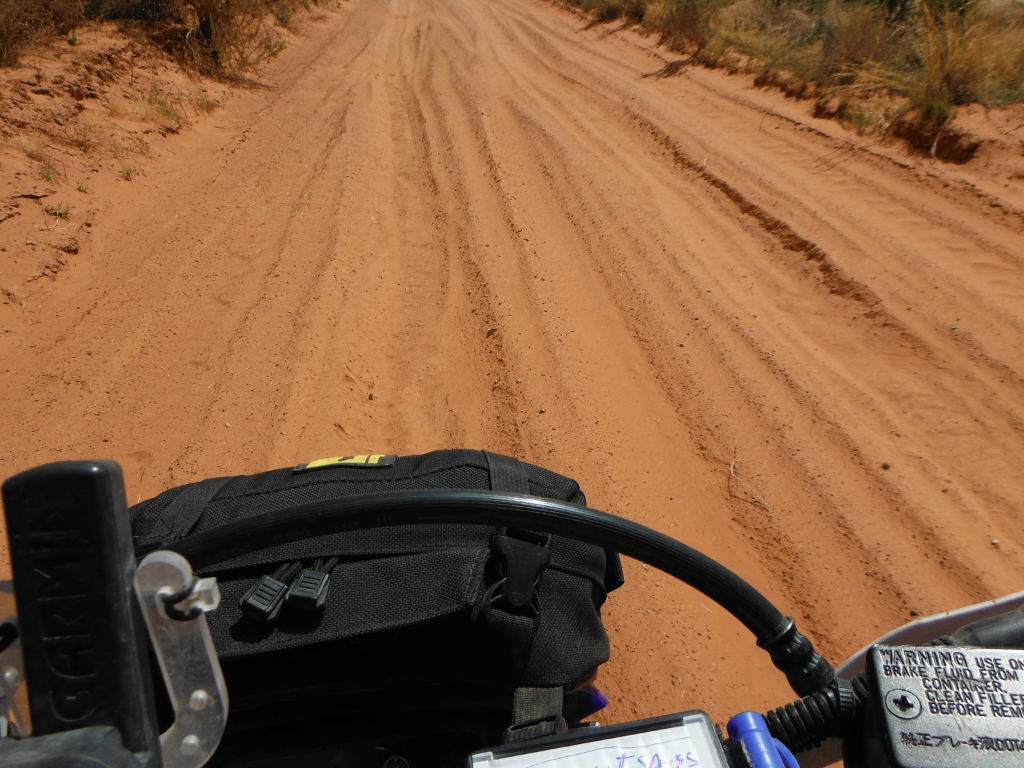 We are getting close to the Turaweep overlook and there were some steep rocky climbs to get back there
and that keeps out the RV's.
You need a jeep, dirt bike or "rental car" to get here !!!!!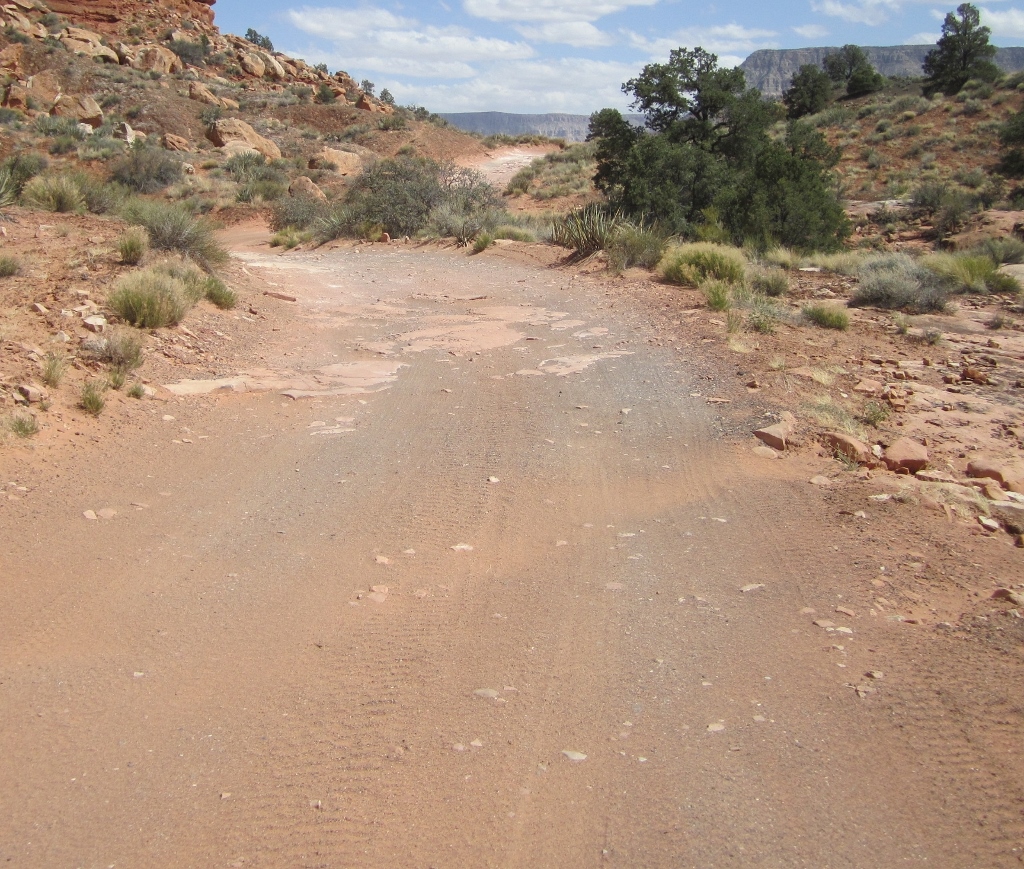 We parked here and put our gear on a picnic table and went for a walk.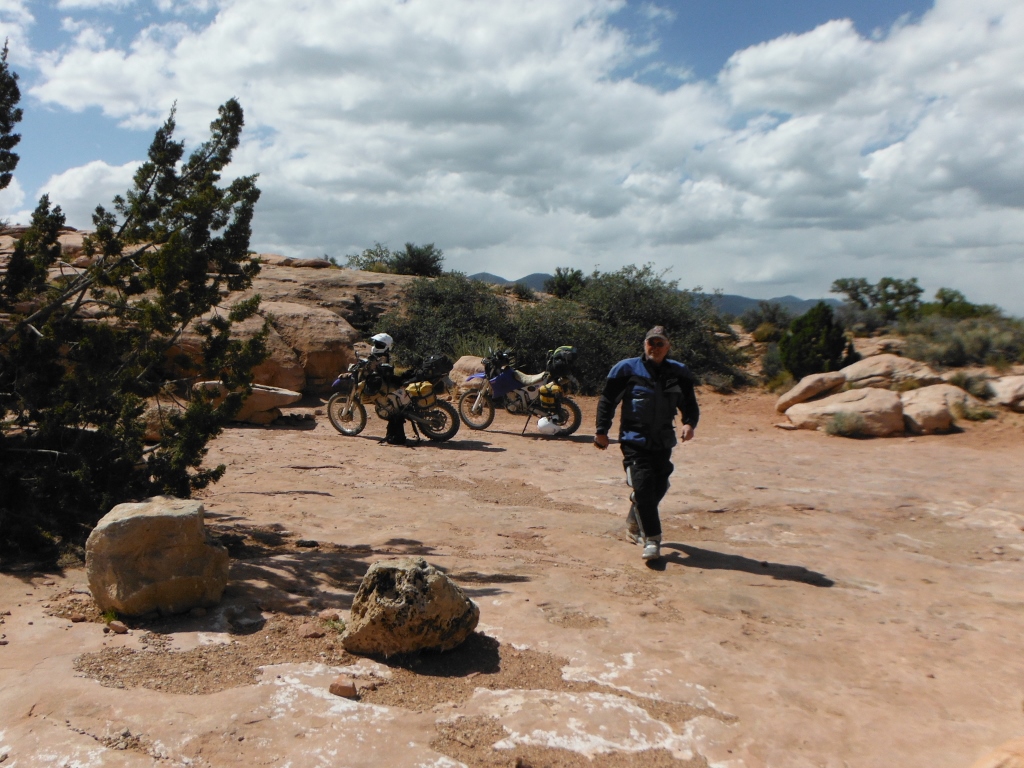 The last time I took a picture of my riding buddy on the North Rim of the Grand Canyon he died on me.
Hang in there Scott.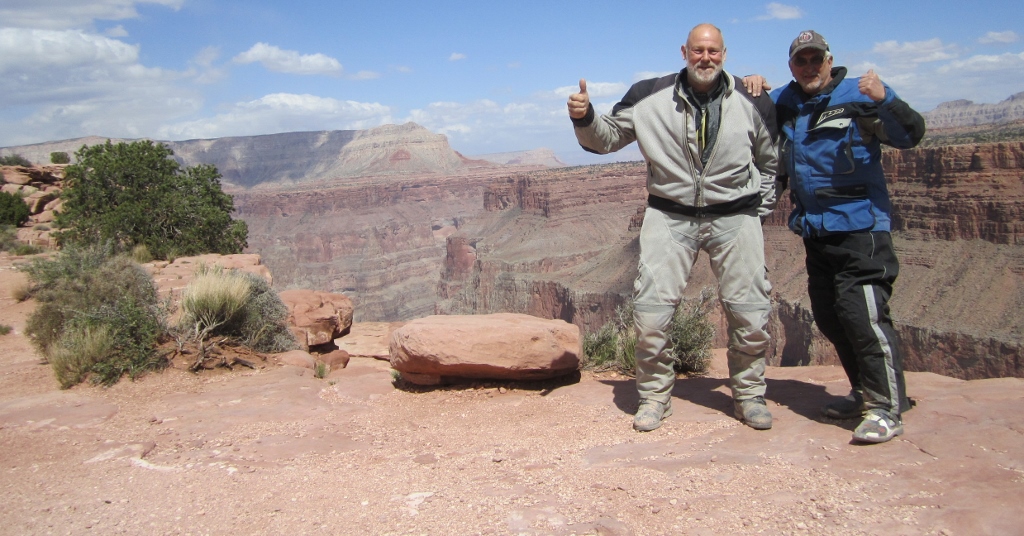 Here is the picture of Me and Kenny Gibbons at the North Rim years ago--at a different viewpoint.
R.I.P. Kenny
Thumbs up for everybody.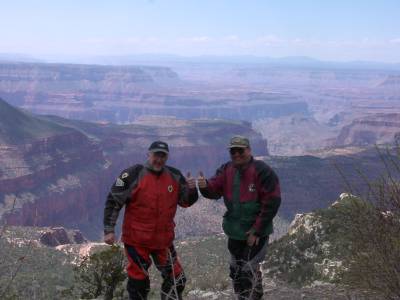 The Turaweep overlook.
There is no other place in the whole Grand Canyon that you get a view of the Colorado River like this.
It is 4,450 ft. elevation up on the rim and 1,750 ft. elevation at the river.
One mis-step and your a gonner.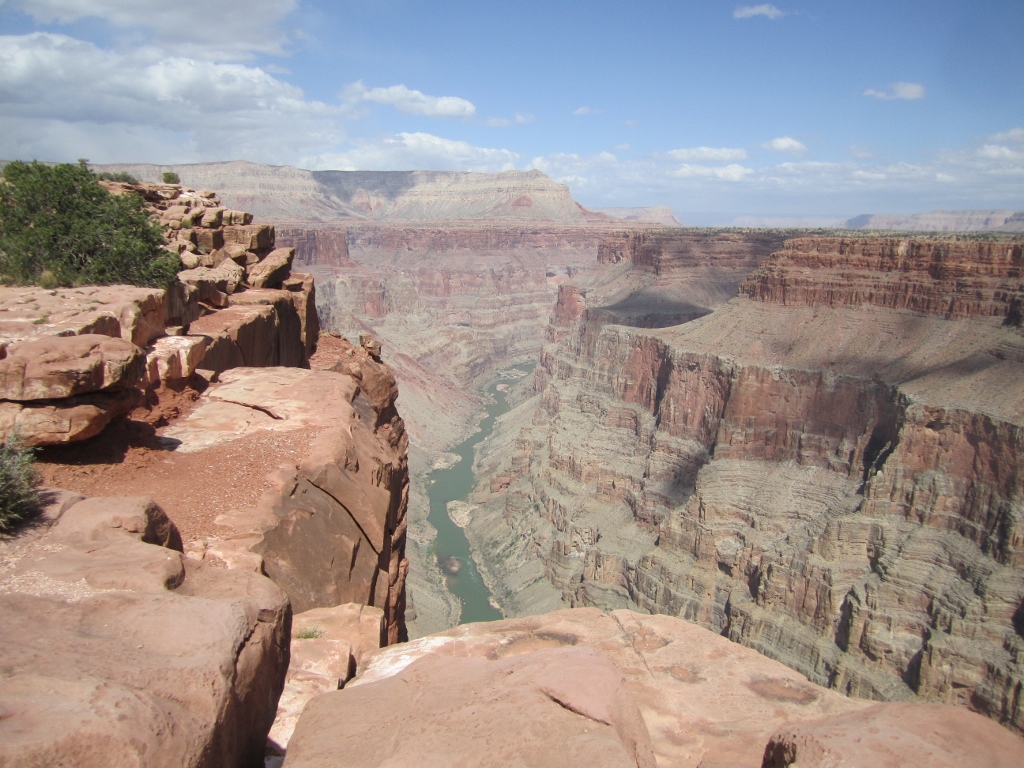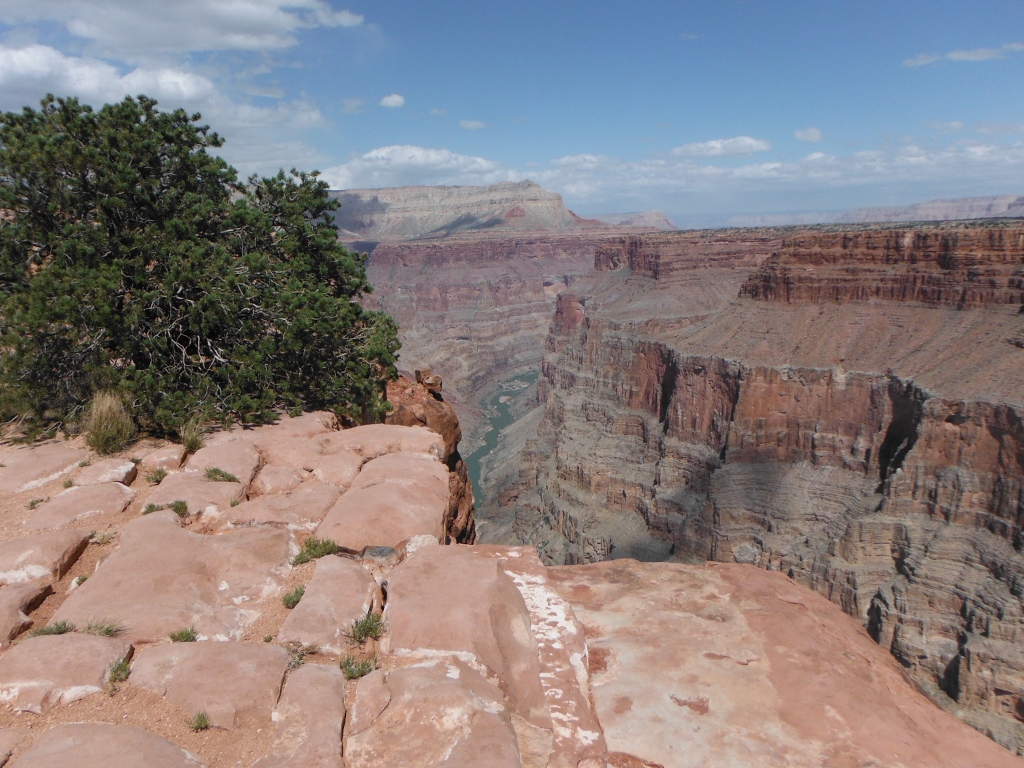 Yeh-----------we stayed here a long time.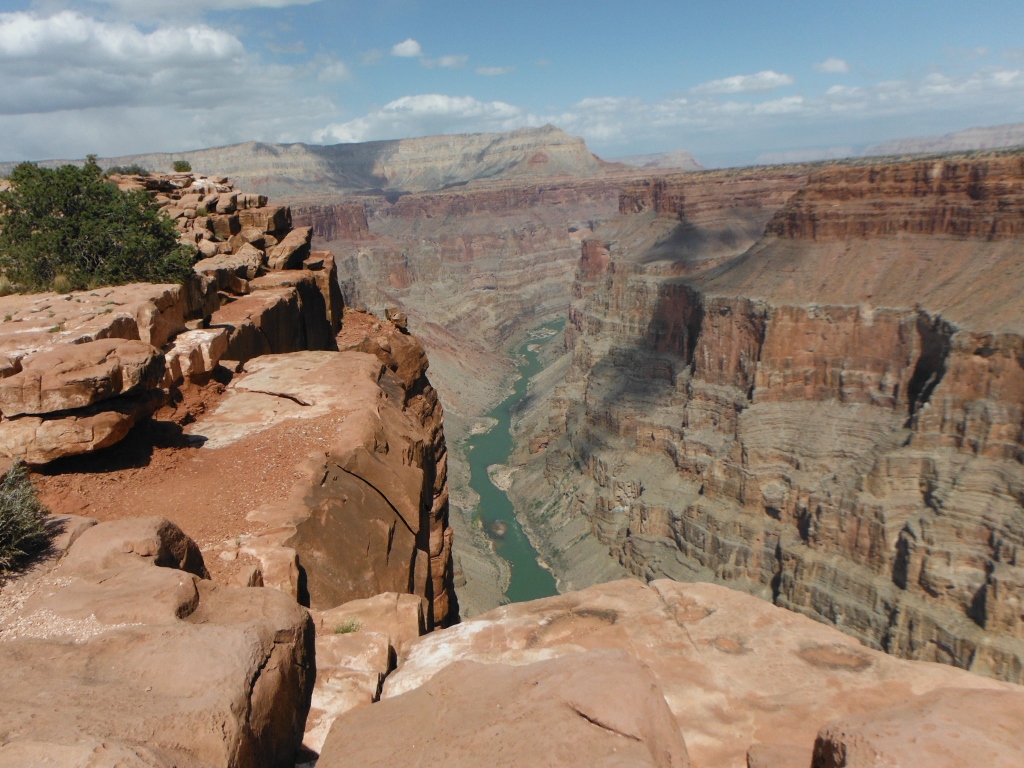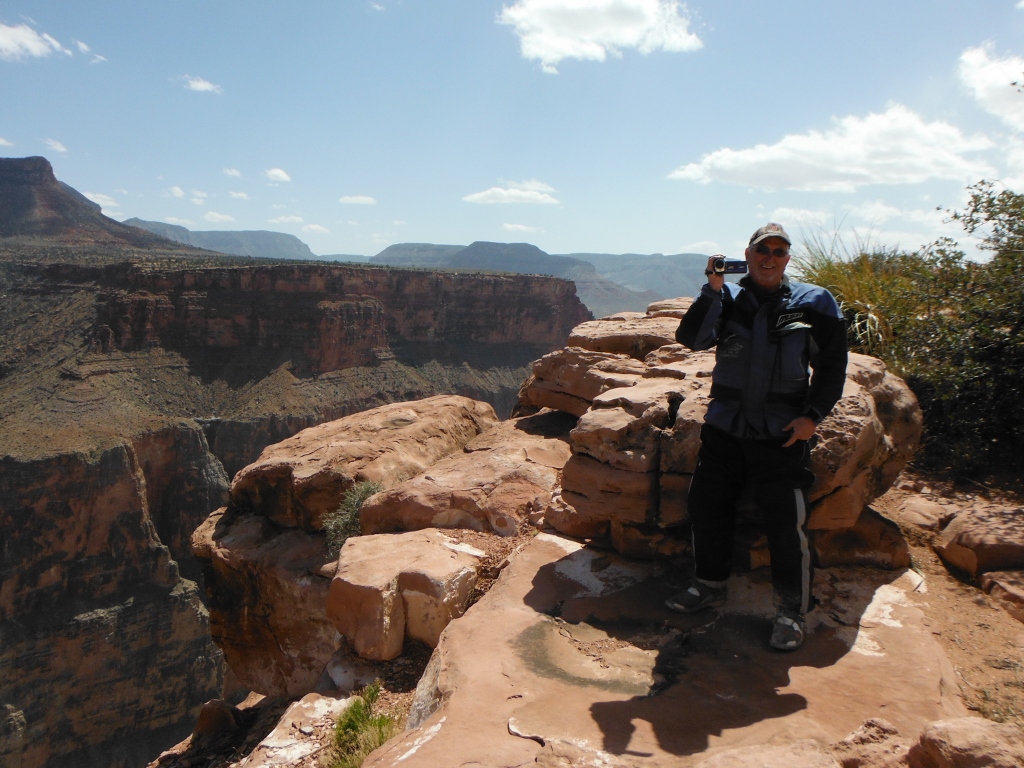 There is a rafter in this picture---right in the middle a little red dot---you can barely see it.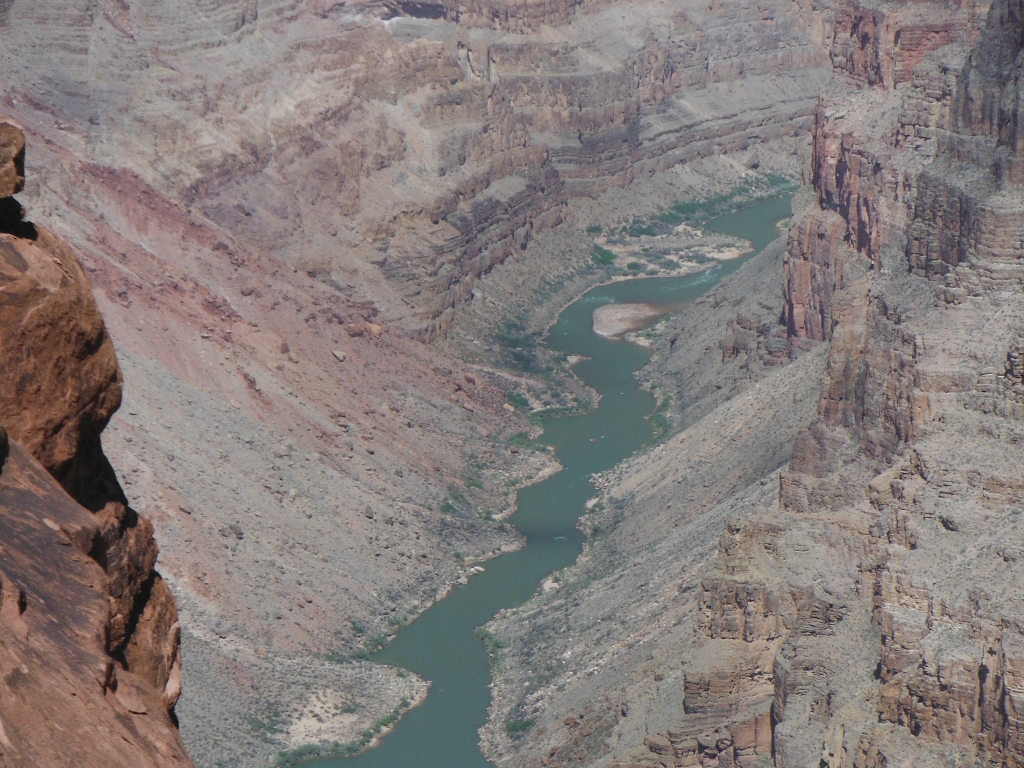 We stared at that lower ledge and thought it'd be a great picture of us--------but said nope !!!!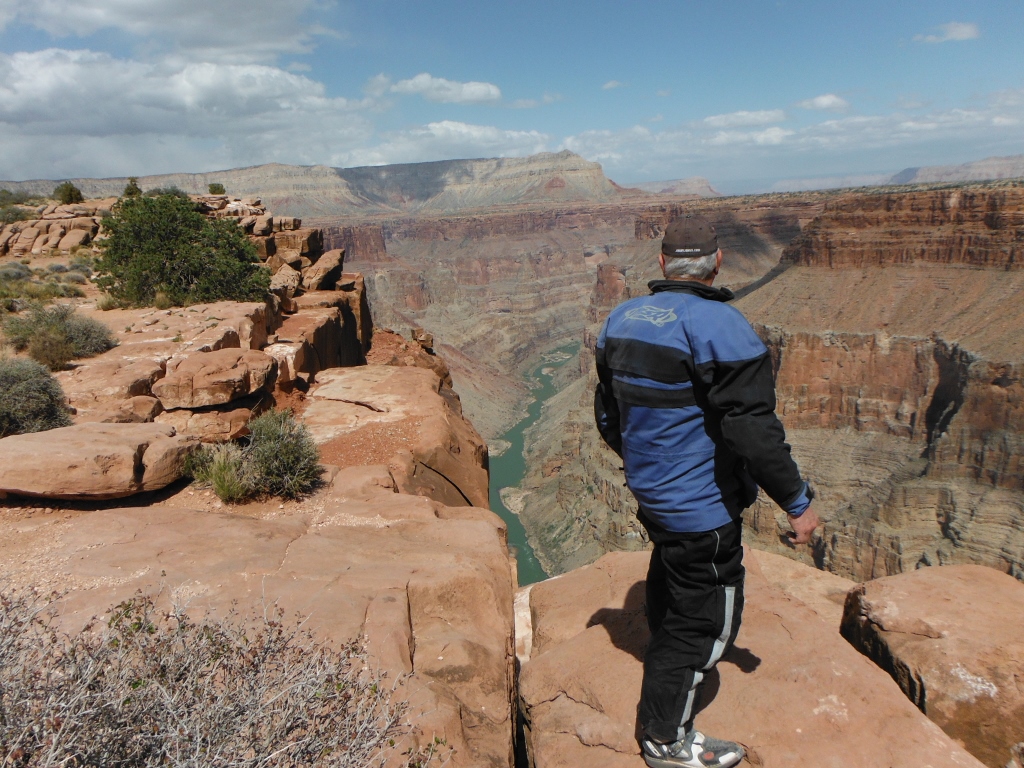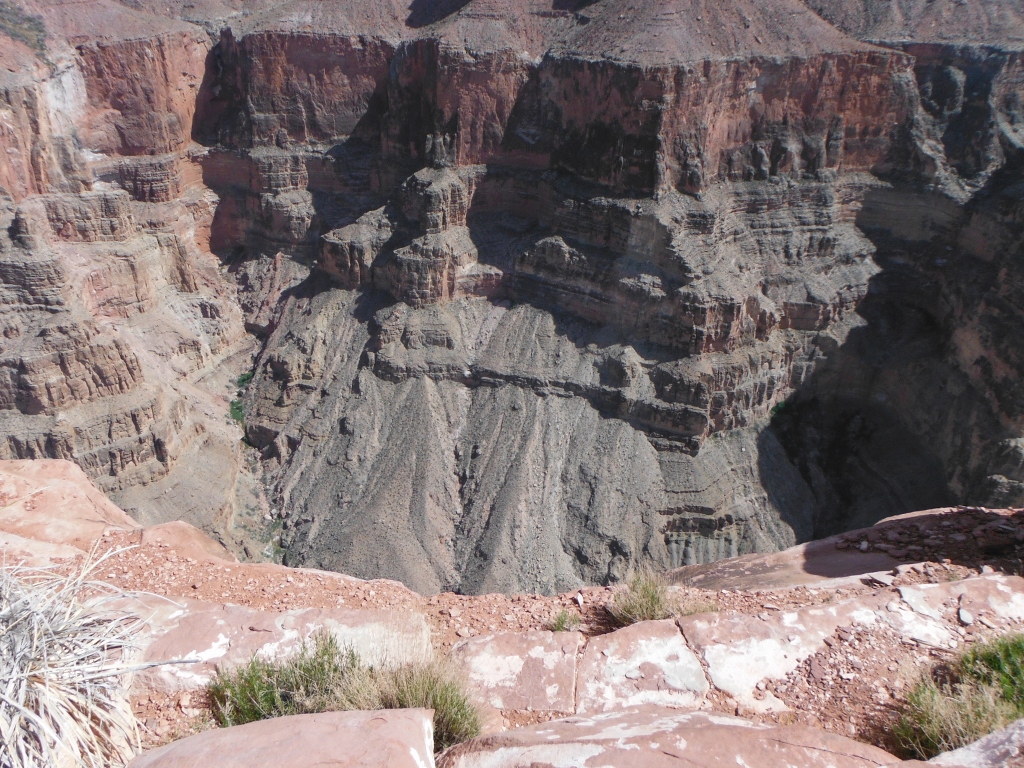 Dr. Rock had planned on all of us camping here--it was early in the day.
Looking back----we should have---if no other reason than Dr. Rock and Francine wanted to and they didn't get too.
We both thought of them as we looked at the campsite.
Maybe we can come back and do that with them---yeh---that'd be real nice.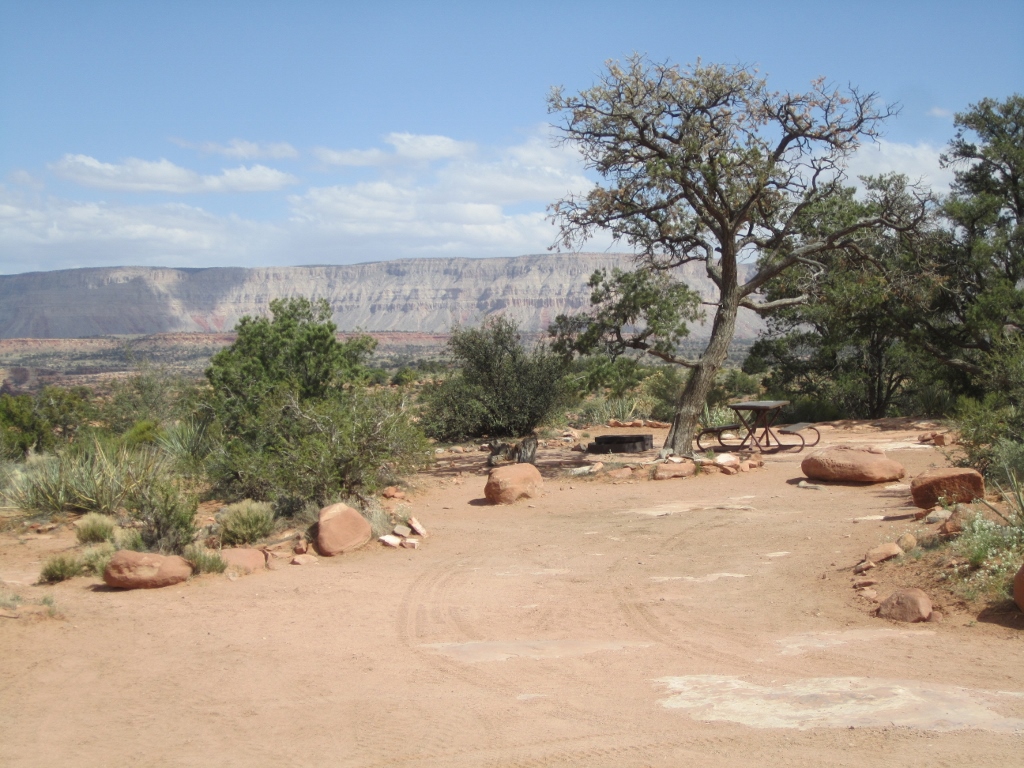 We headed Northeast toward Fredonia, Arizona and the weather really went to crap.
It turned bitter cold and was 30° when we rolled into Fredonia and the wind had been blowing us sideways the whole way.
I couldn't believe how the weather turned so quickly---we were froze to the bone and holed up in a very old mom and pop
motel for the night--------now that place deserves it's own story.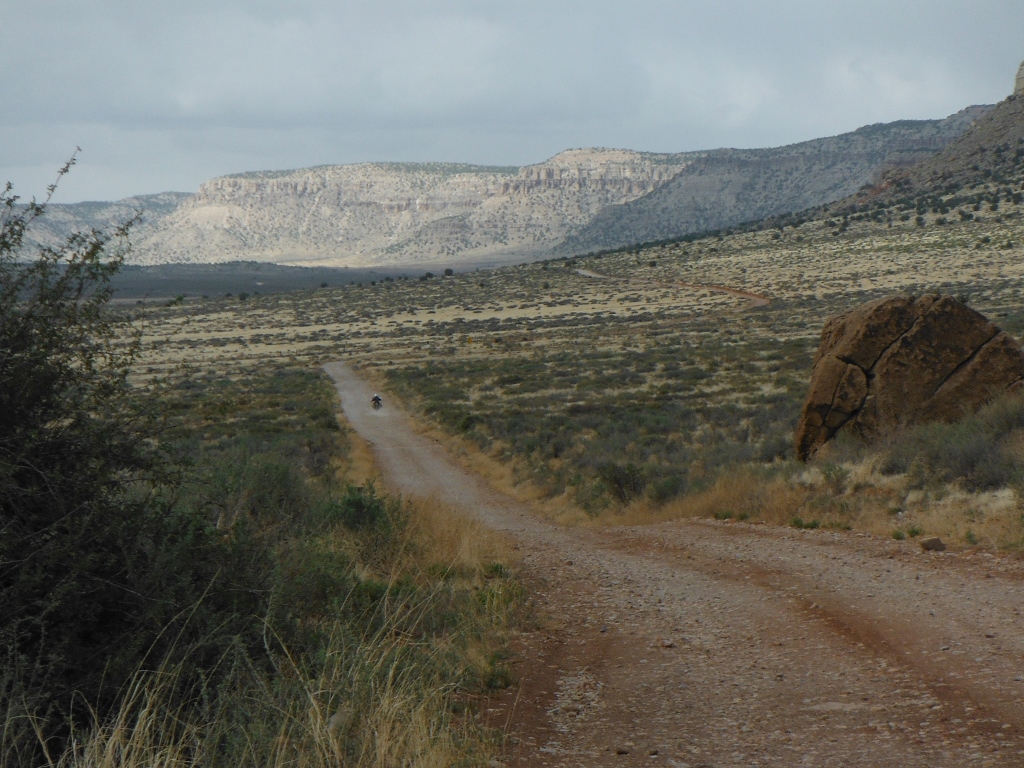 A map of our ride today---about 170 Miles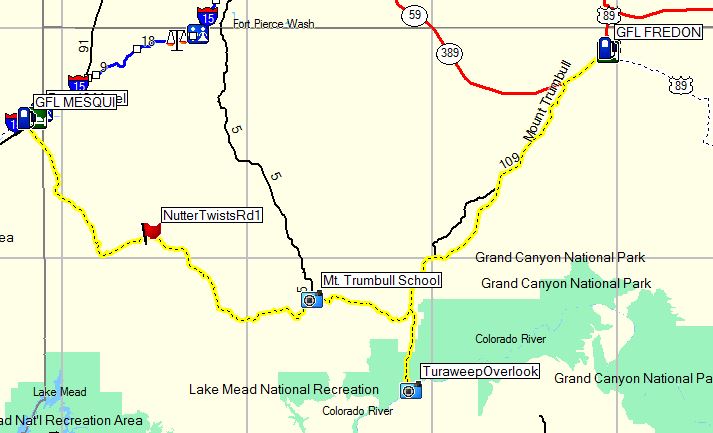 Day 12
April 17th, 2013
Fredonia, Arizona to Flagstaff----and snow and cold are our companions the whole way.
We re-unite with Dr. Rock and Francine at Dr. Rocks brothers house for 2 days.
The Grand Canyon Motel we stayed at in Fredonia was a hoot------------think route 66 and 1955.
The old people still running the place had to be in their 80's and they were so nice.
Cheap----cheap---cheap--------we had our own bedrooms---seperate heat and own TV's--but me and Scott don't watch TV.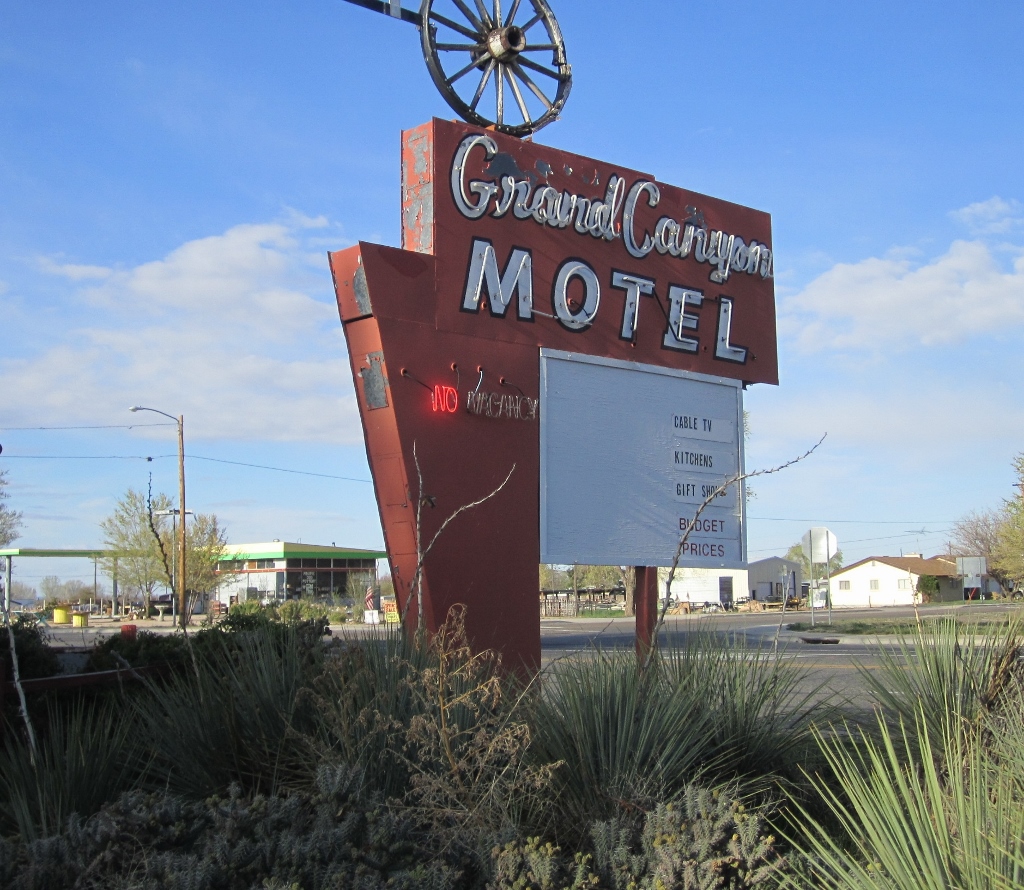 We got up pretty early and packed up and the restaurant didn't open till 11AM---so we headed out in the cold
with no heated gear--just heated grips.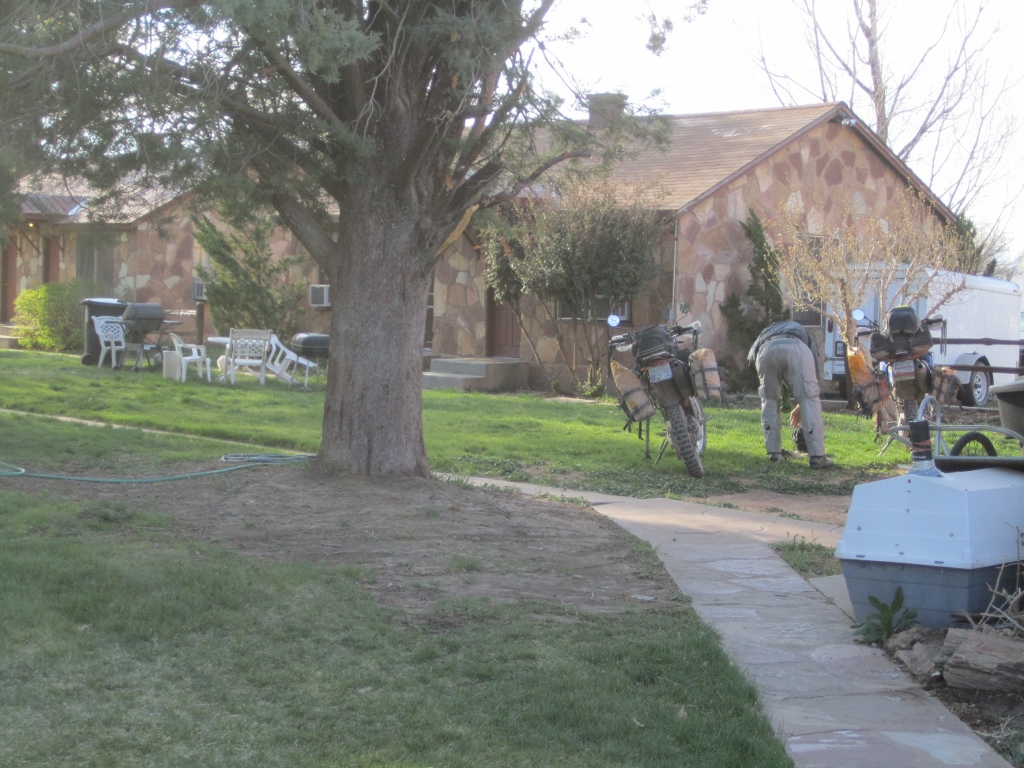 We hoped to get to the entrance to the "Touristy" entranced to the North Rim where I knew there was a restaurant owned by the Indians
as I had ate there many years ago.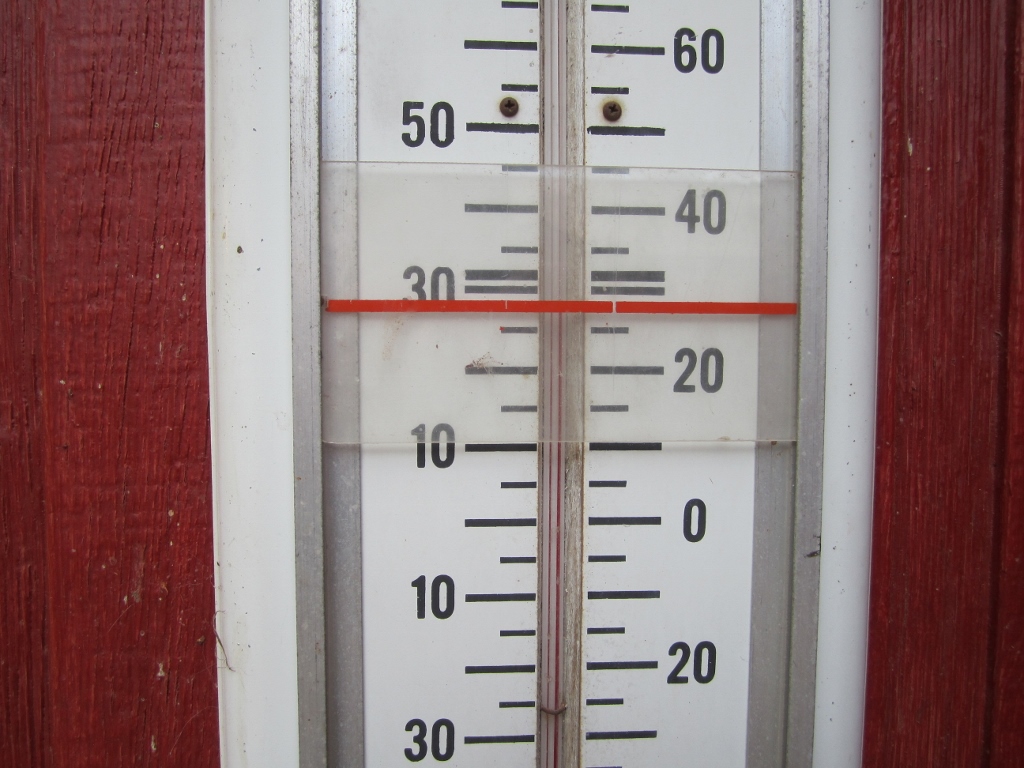 The route Dr. Rock had laid out for all of us from there to here was all snowed in and we didn't ride it
and took the highway--------------good decision---and we were freezing our butts off.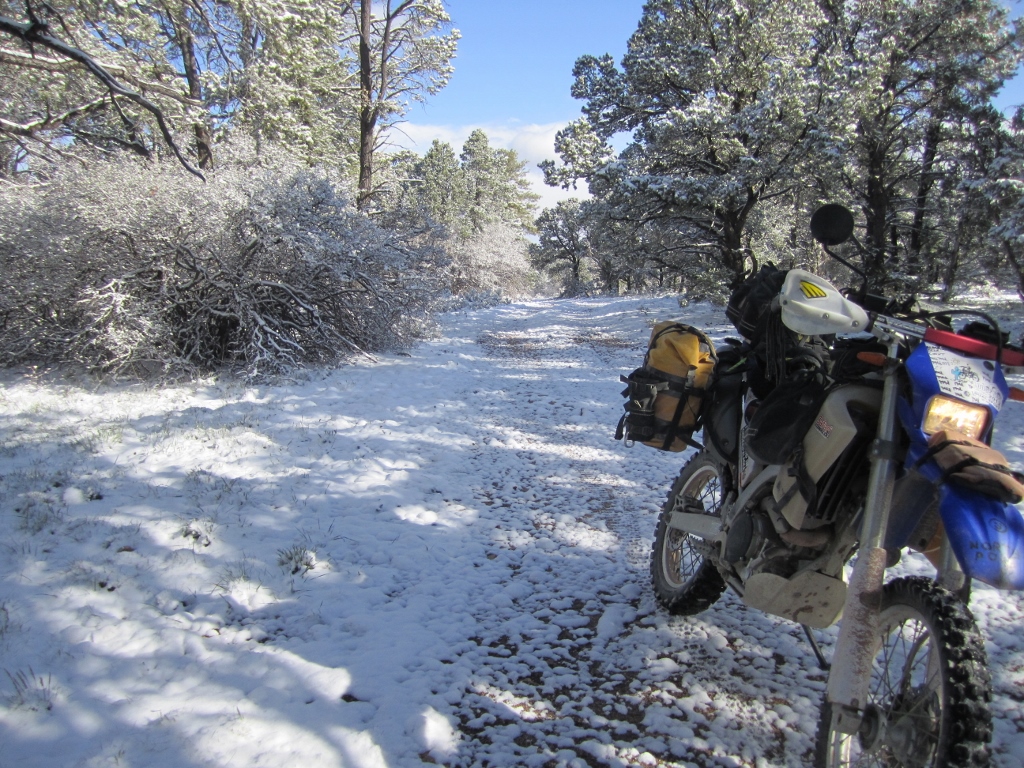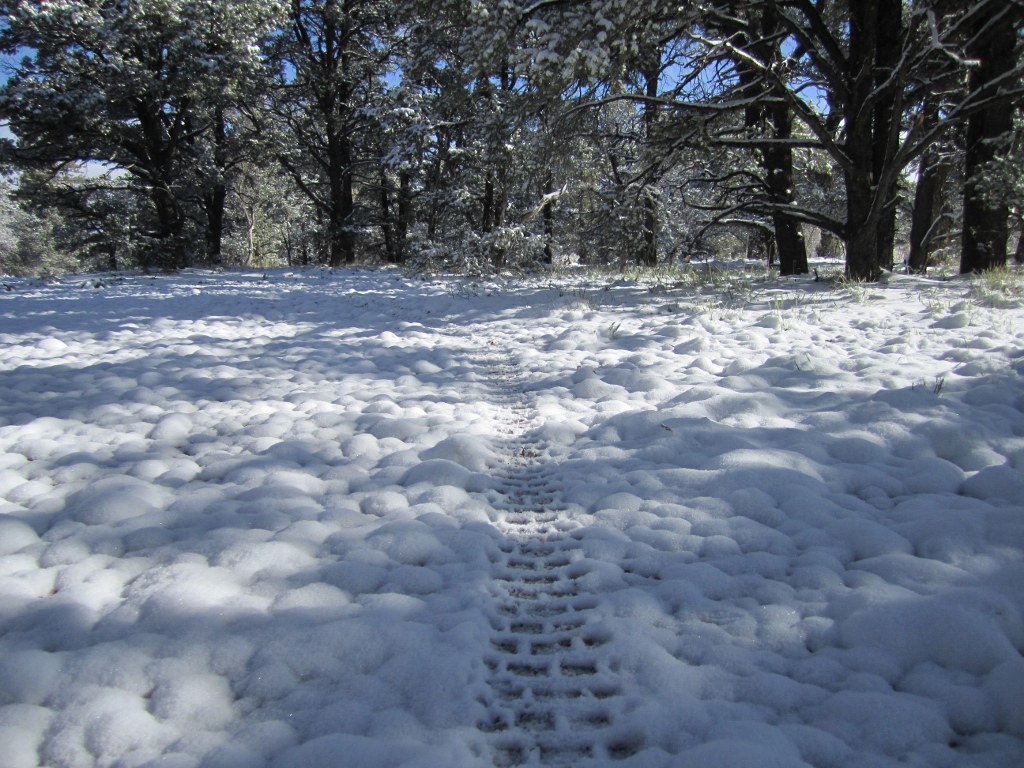 We had to be careful on the pavement as it was wet with patched of ice---it wore me out concentrating on riding on
that stuff without busting my butt.
I pulled over here and had a plan.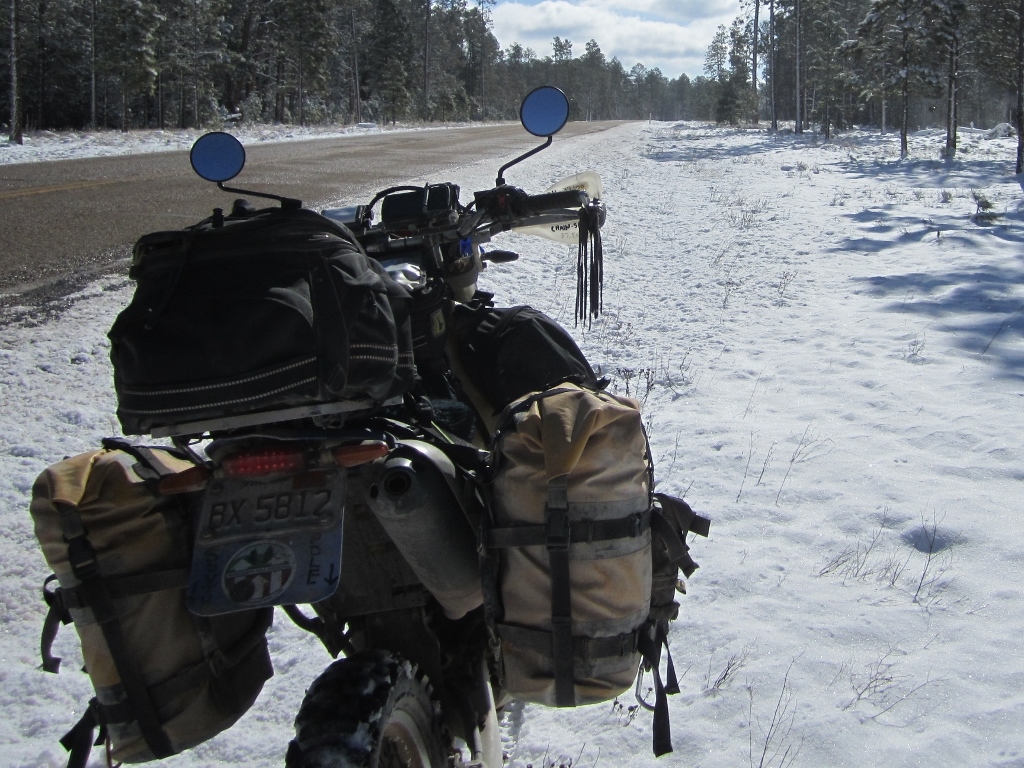 Scott figured I had to pee-----------again.
But as soon as he took this picture and put his camera away I pelted him with a big snow ball and he lauged his butt off.
It was so funny--------------2 kids at play and this took our mind off the cold
But the cold was not thru with us by a long shot.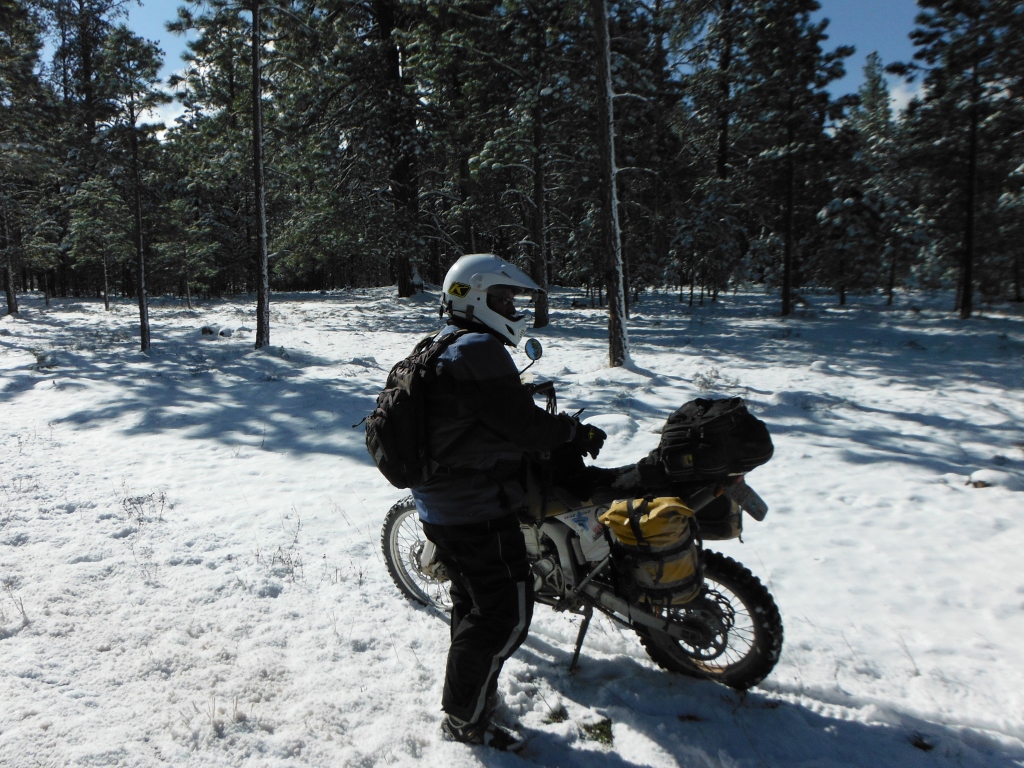 We made it to Jacob Lake the entrance to the North Rim and the restaurant---the North Rim doesn't open till the middle of May.
We walked in and everybody stared at us and couldn't believe we were riding motorcycles--------we were either tough---or stupid.
We've been called both.
I shouted to the waitress that we wanted a bowl of ice cream and a glass of ice water and she grinned and threw down 2 cups of coffee.
Then she went over and started the fireplace which wasn't going when we got there.
We had a huge breakfast and stayed a long time.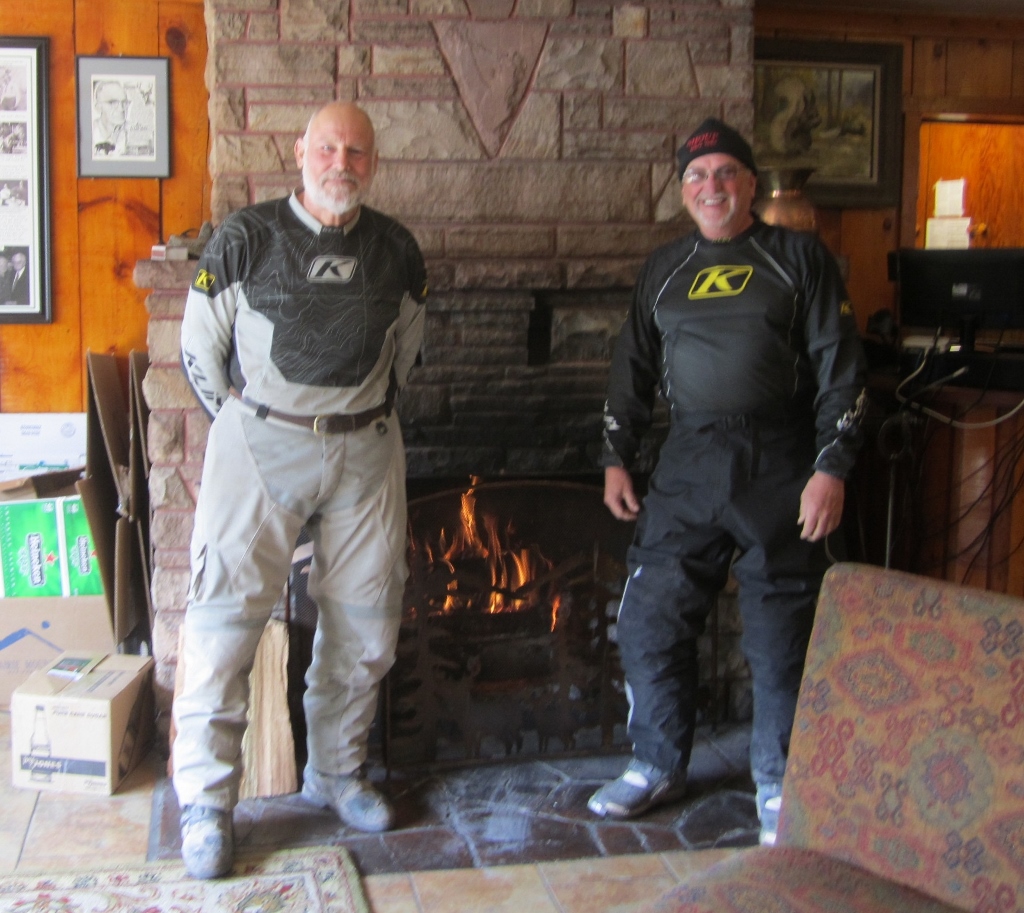 And here is a picture of me and my deceased buddy Kenny Gibbons at the same fireplace many moons ago.
Me and him came in hear freezing too------you'd think I'd learn---but Nooooooo !!!!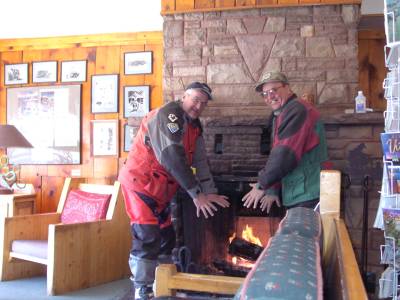 This picture says it all---------it was freezing temps------and the wind was howling.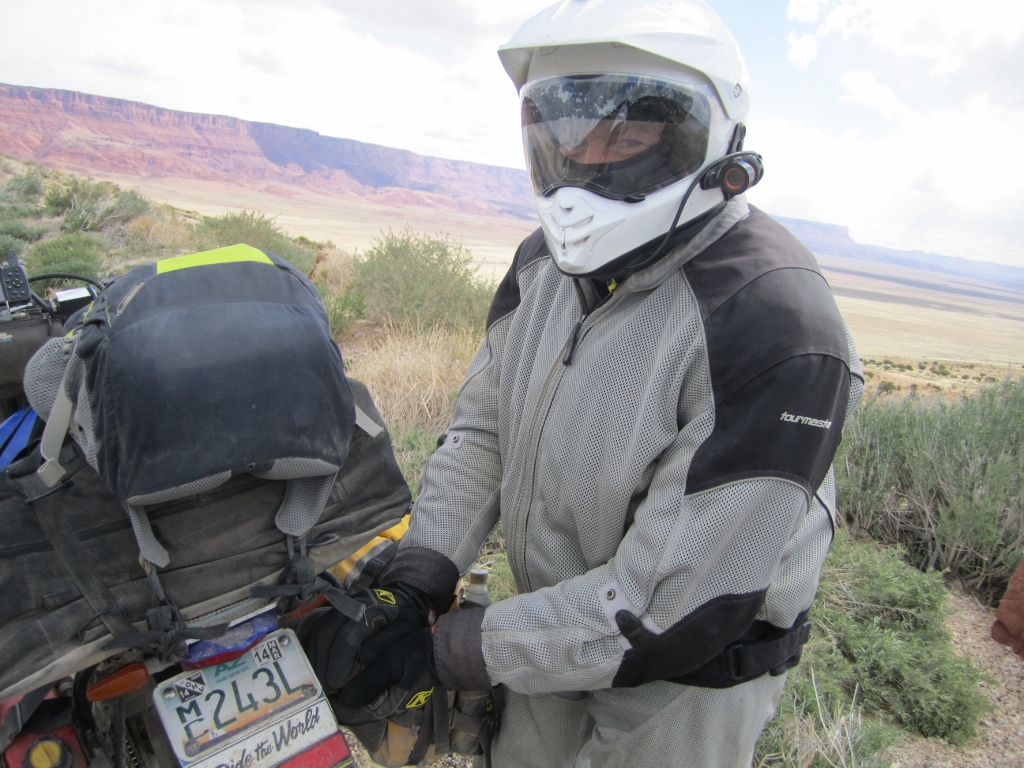 So we head East out of Jacob Lake and planned on hitting some great Grand Canyon views on the East side of the
Canyon on the Indian reservation that few get to see.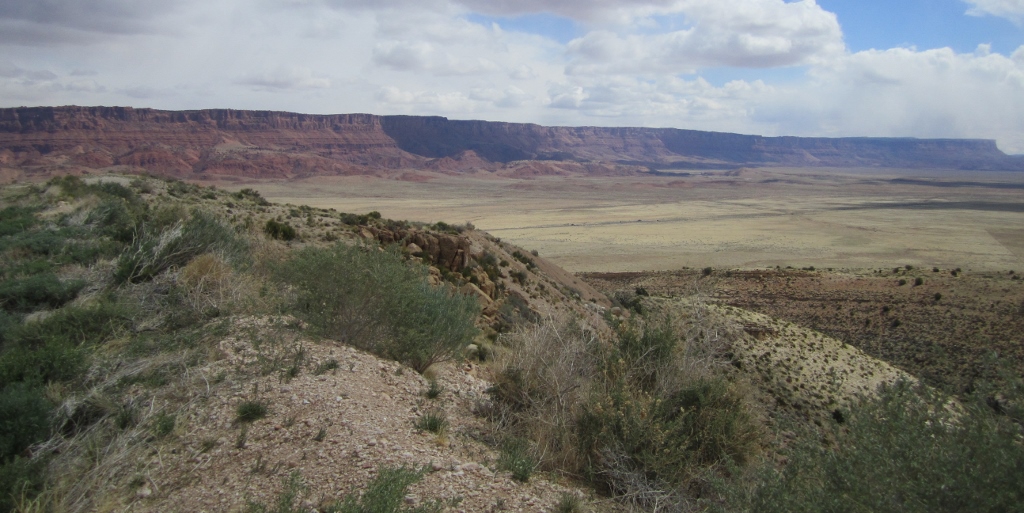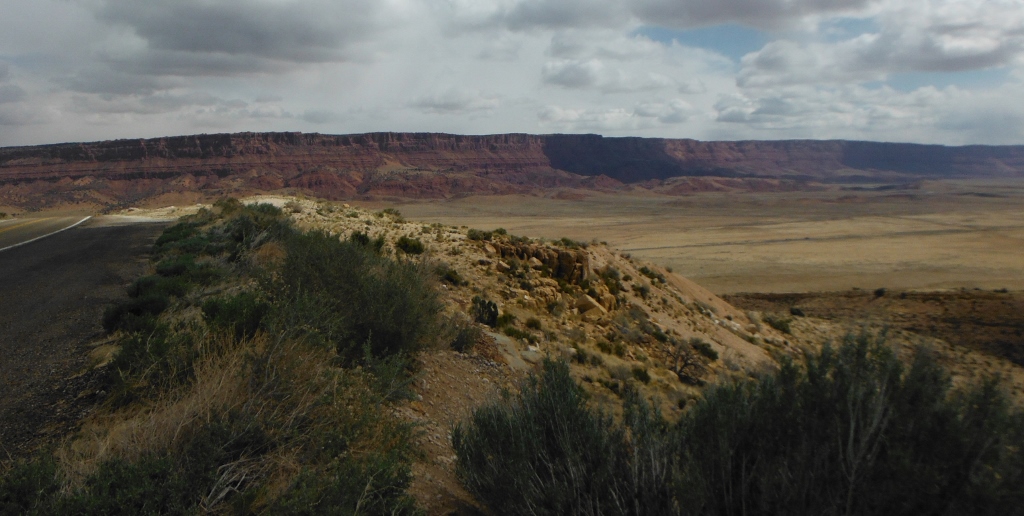 We crossed the bridge over the Colorado at Marble Canyon---I had first crossed this bridge in about 1979 on
a 1974 BMW R90S----I was alone as I got seperated from my 2 riding buddies days ago.
We never did get back together and I finished that ride alone.
That was my first truly long ride on a motorcycle---as before that I was just jacking around on an old Harley.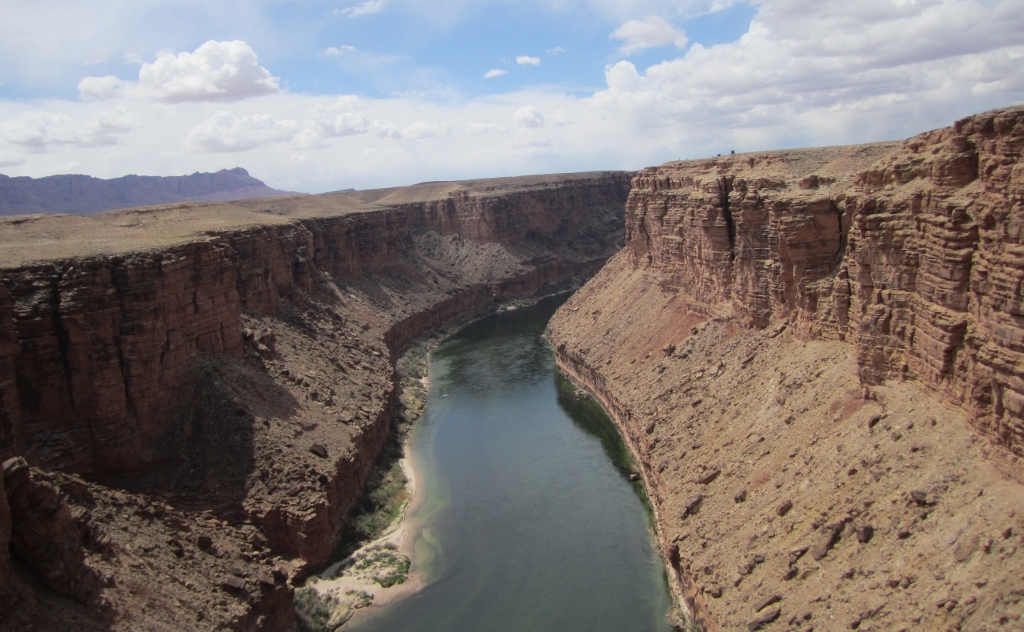 What is almost impossible to see in this picture is highway 89 coming from Page Arizona---he road is coming down off the mesa
and has completely washed down the side---we were told it would take years to repair this---I think it just happened this year.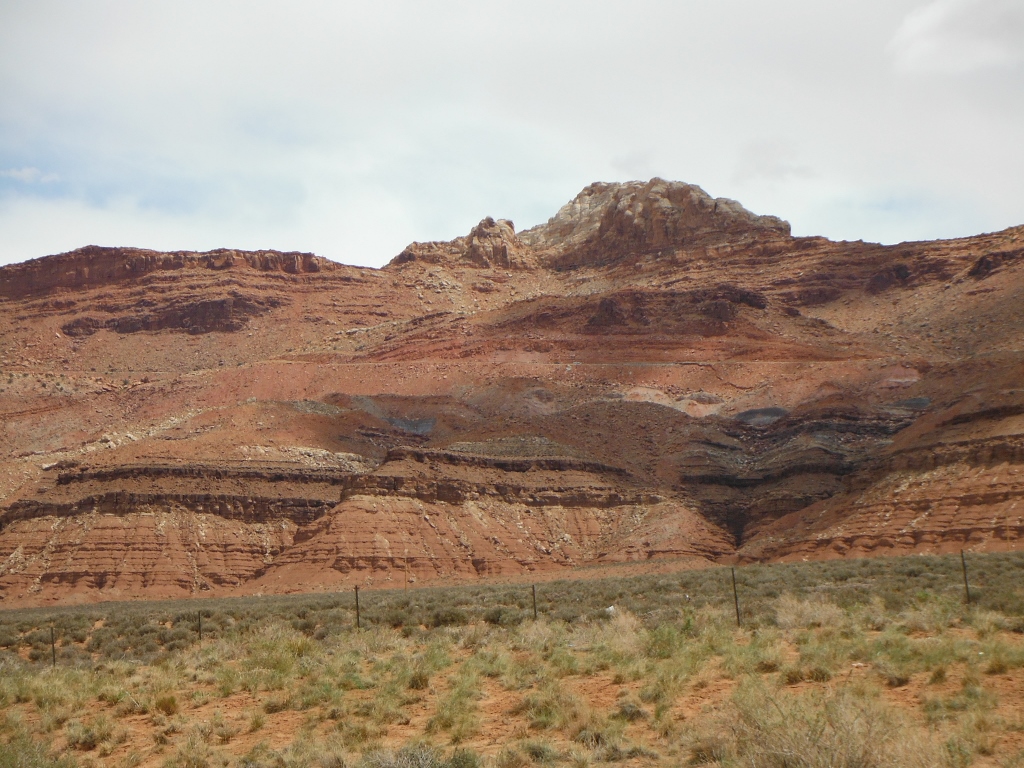 A better shot-------zoomed way in--but it was a mile away from us.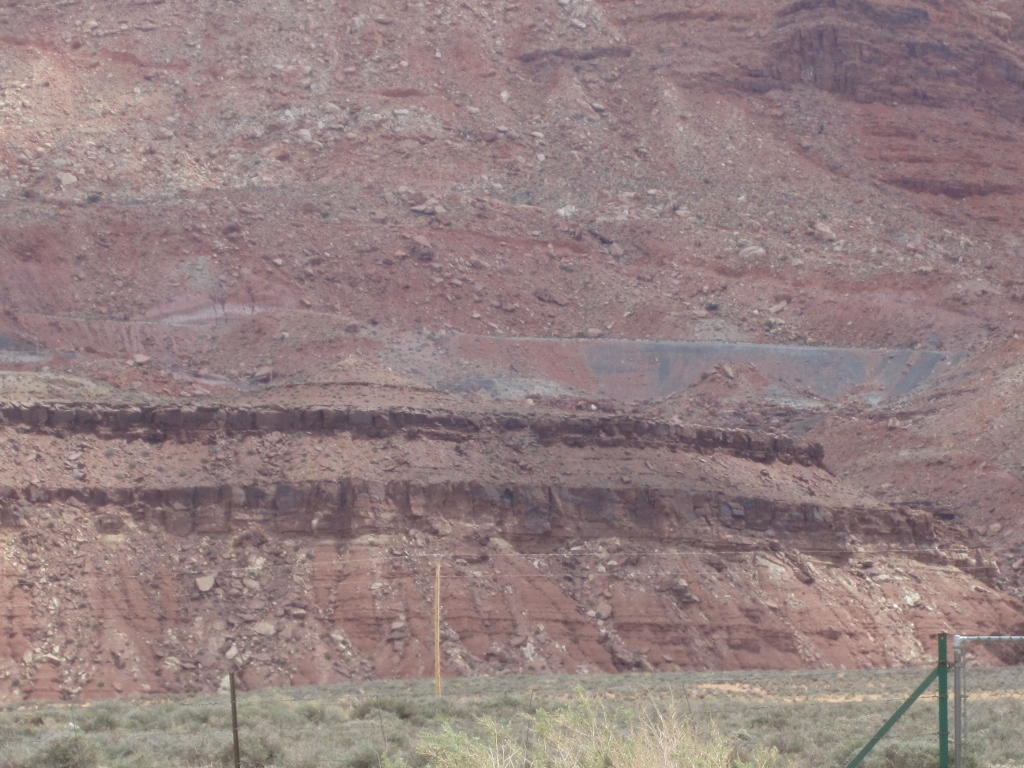 When our highway joined that one-------we wanted to go up and look at it up close--------wished we did.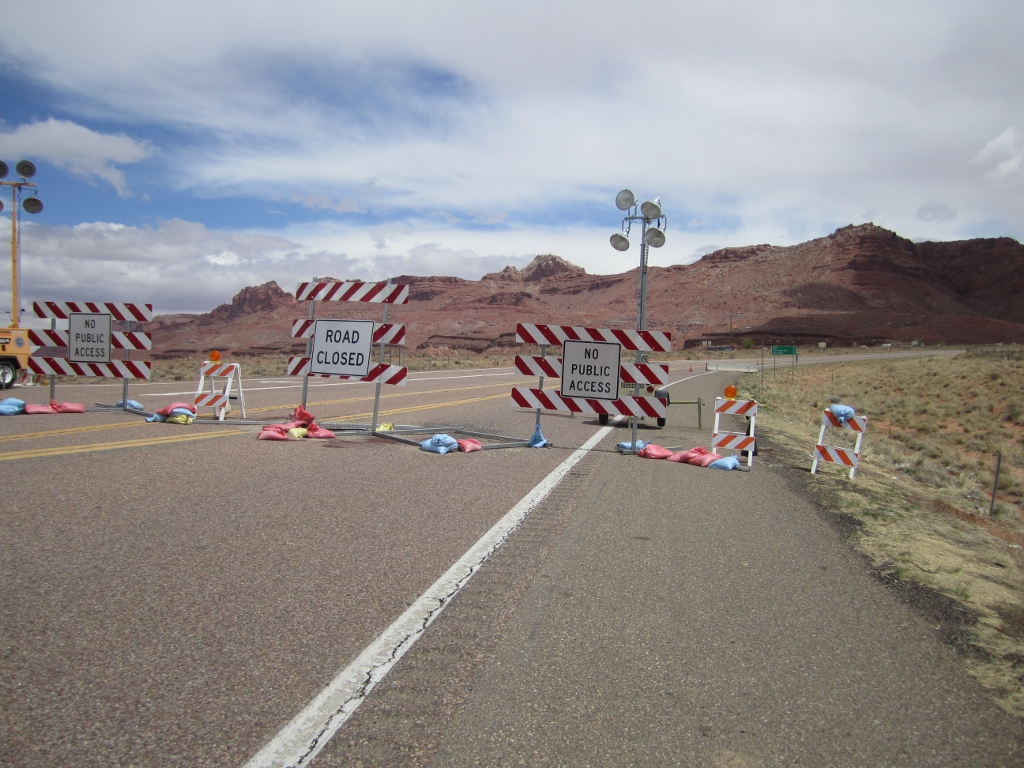 There are several awesome overlooks on the reservation that we wanted to go to.
Me and Dingweeds tried to get to them about 2 years ago when we pioneered a Mexico to Canada route.
We turned away when we saw these signs and didn't go back in there.
This time after trying to buy a permit several times we decided to go way back down these dirt roads to see the overlooks.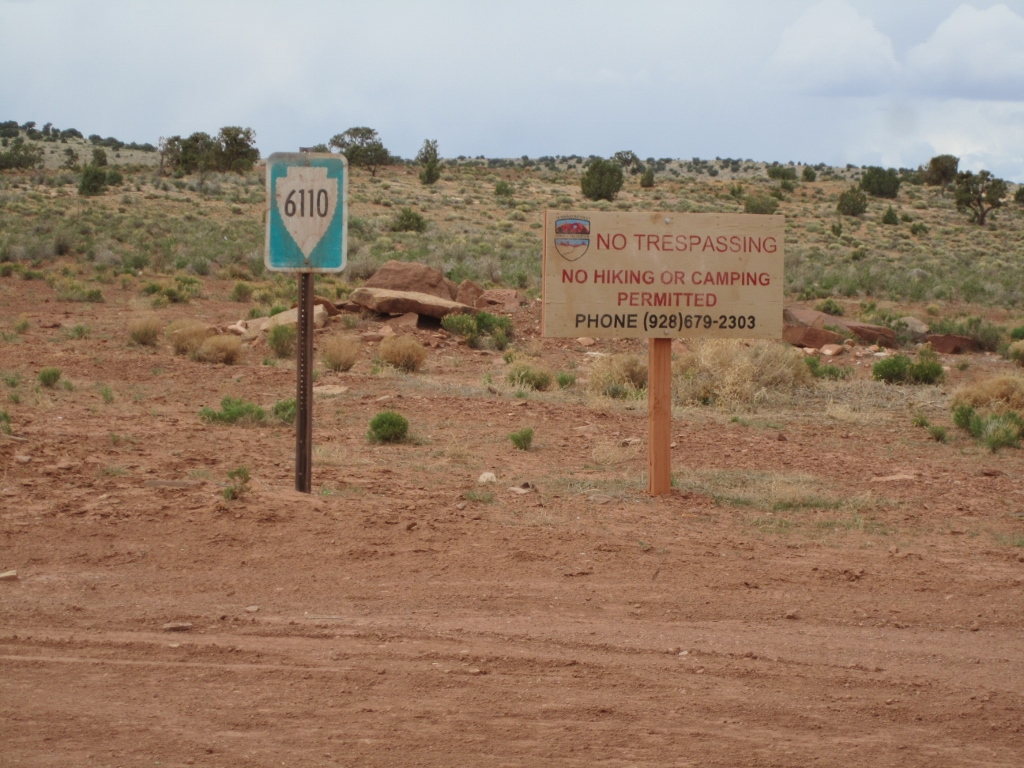 We bailed out-------we were freezing and getting snowed on some----the road we got on was definitely going to be impassable when wet
and we turned back to the highway--------dang it---------twice foiled.
A huge snowstorm was further West where we wanted to go.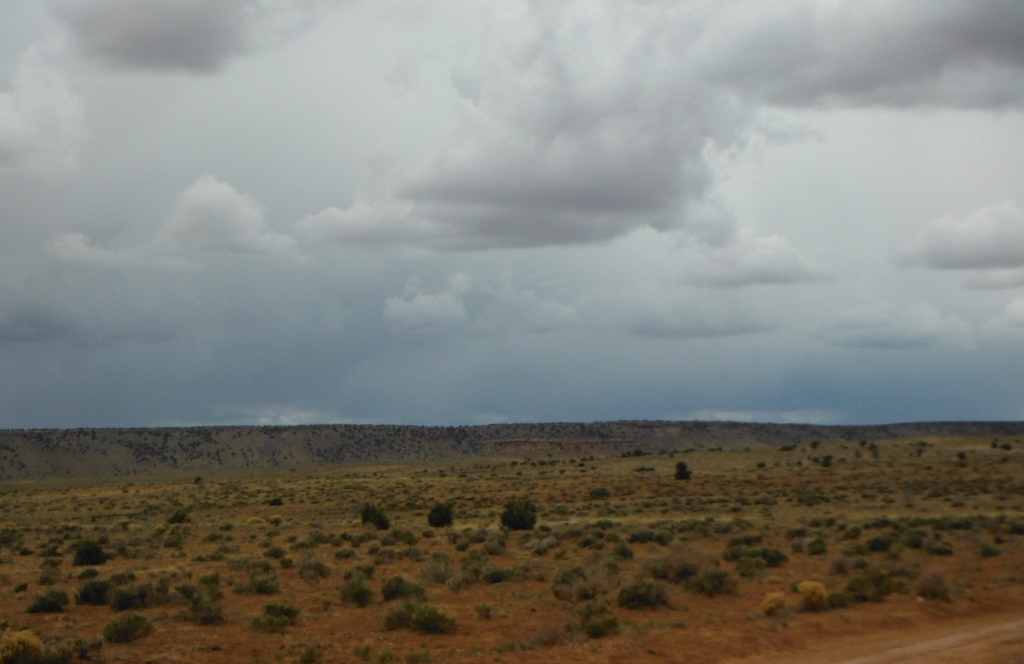 We stopped and ate here before bee-lining it to Flagstaff as the snowstorm skirted where we were at.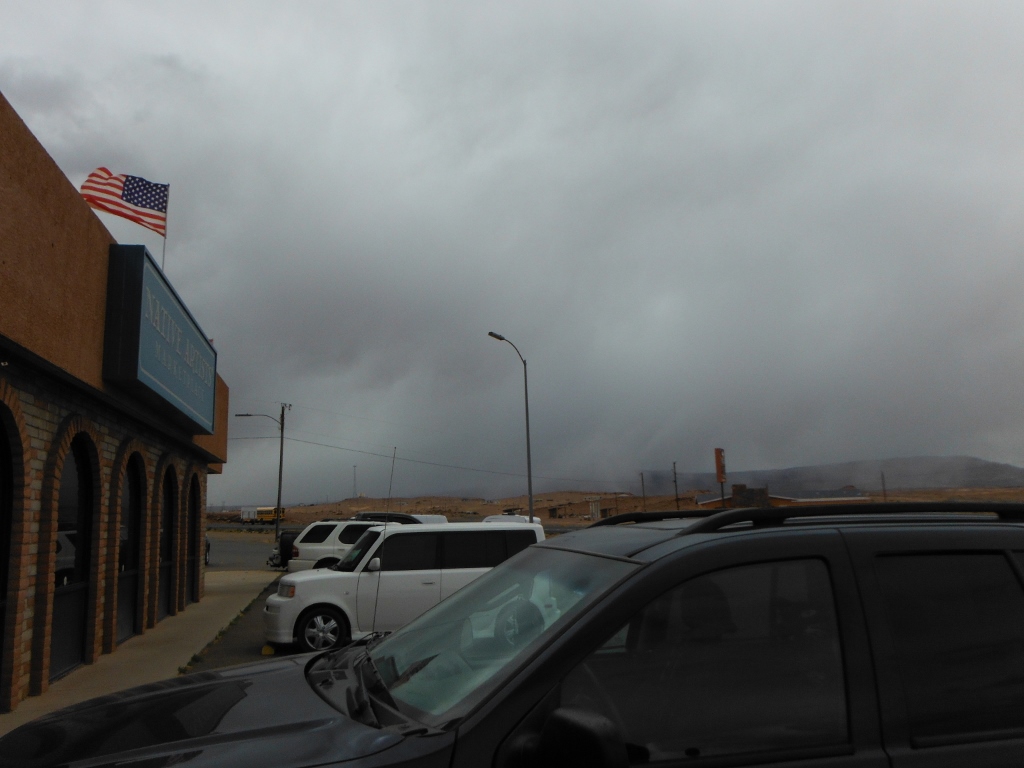 A map of our ride today---about 161 cold miles.
Not miles----------freezing your ass off miles.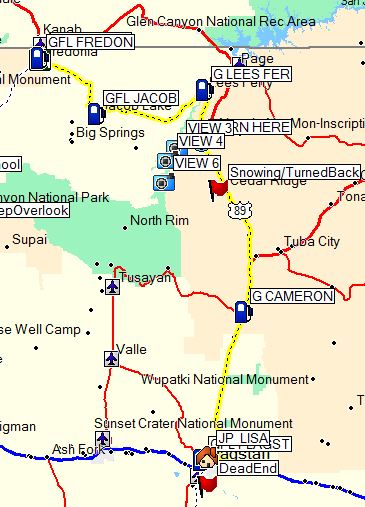 Day 13
April 18th, 2013
We stayed in Flagstaff all day at Dr. Rocks Brothers house and played geetars---went for a hike--ate--and ate--Dr.Rock cooked and
we ate some more---petted the dogs--played with their kids and talked about stuff as Francine was feeling somewhat better.
Then we ate again.
We were united with our friends Dave and Francine.
Pictured is Francine with with Daves brothers kids.
We were froze we got there and it was so nice to get our bikes in the garage and get in and get warm.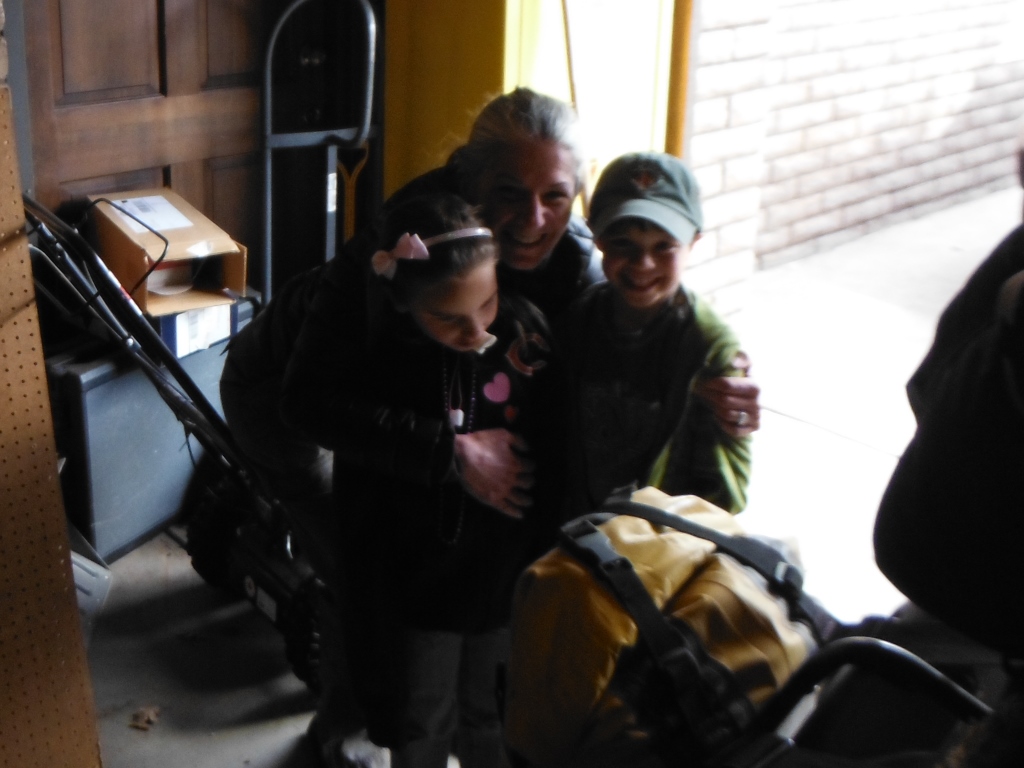 We went to town to eat and get groceries.
After we had left Dave and Francine they had a rental car---which can go anywhere by the way !!!!!
And they car camped for a few days and relaxed and I'm sure reflected on Francines crash and all the fun we had before here crash.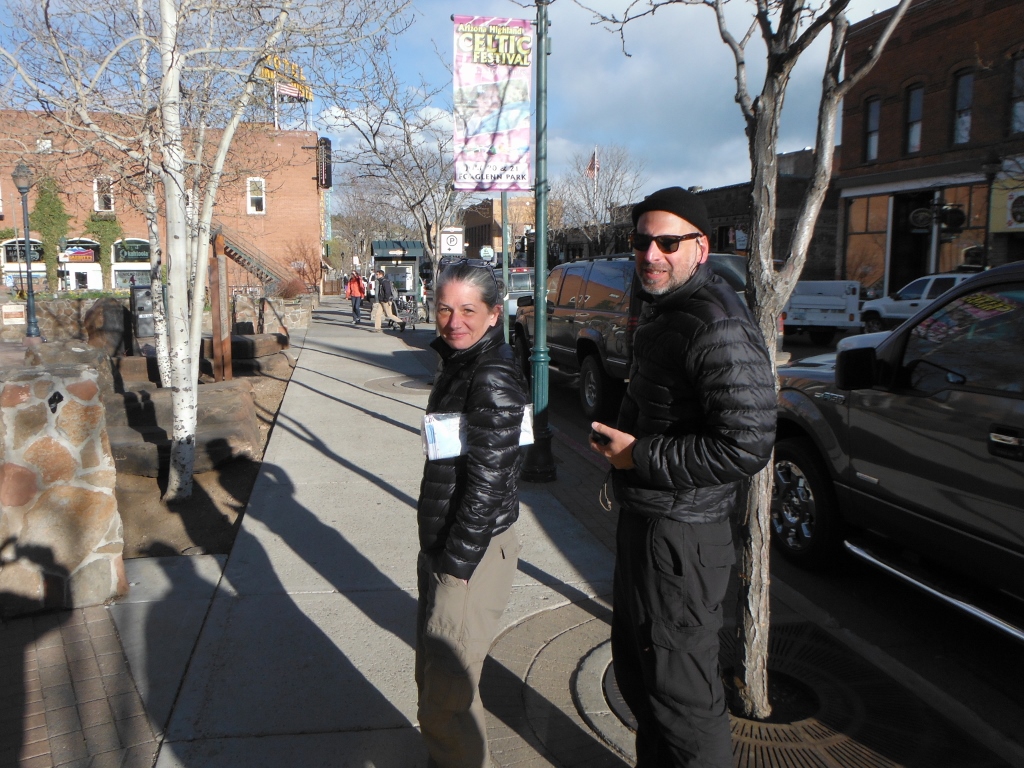 Now------we got 3 kids instead of 2.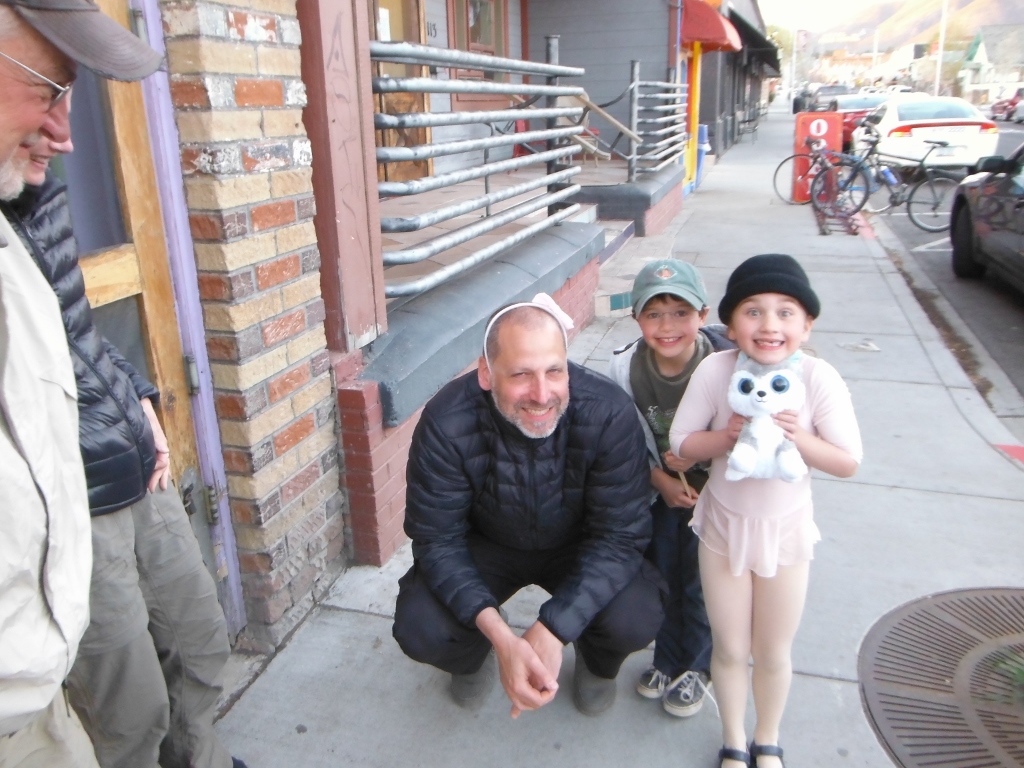 There were geetars and all kinds of instuments all over the house----so I helped myself.
I always miss playing my guitar when away from home-----and here I played it a lot--------a whole lot.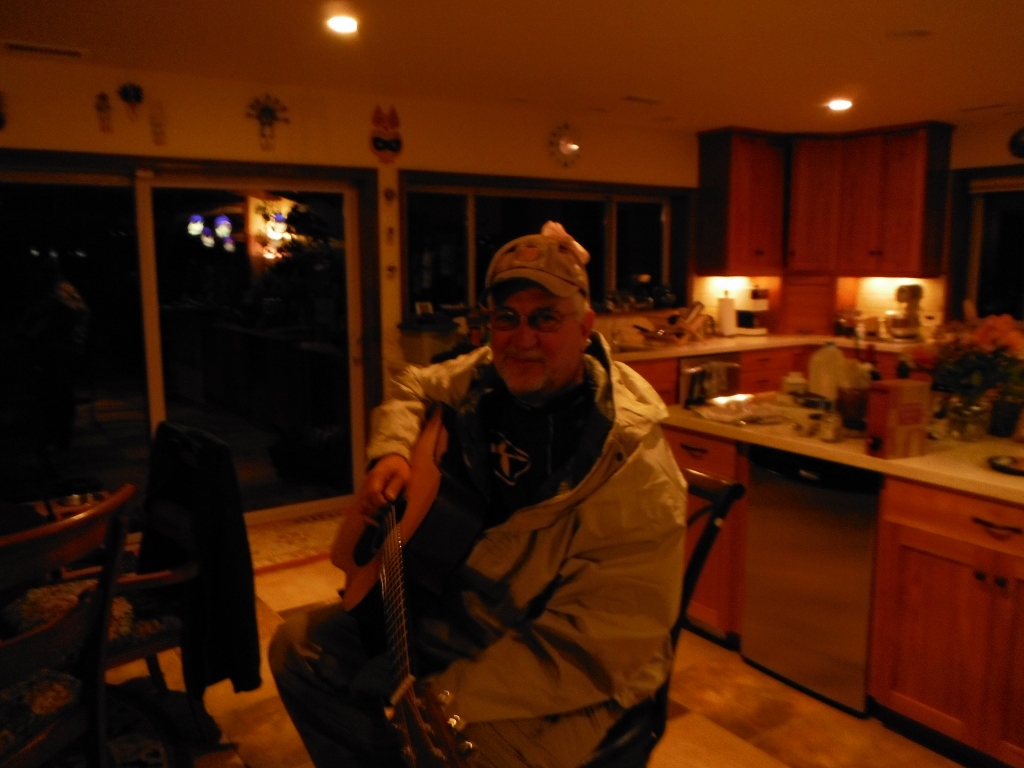 Dave commences to cooking---and me and Dingweeds commence to watch and wait.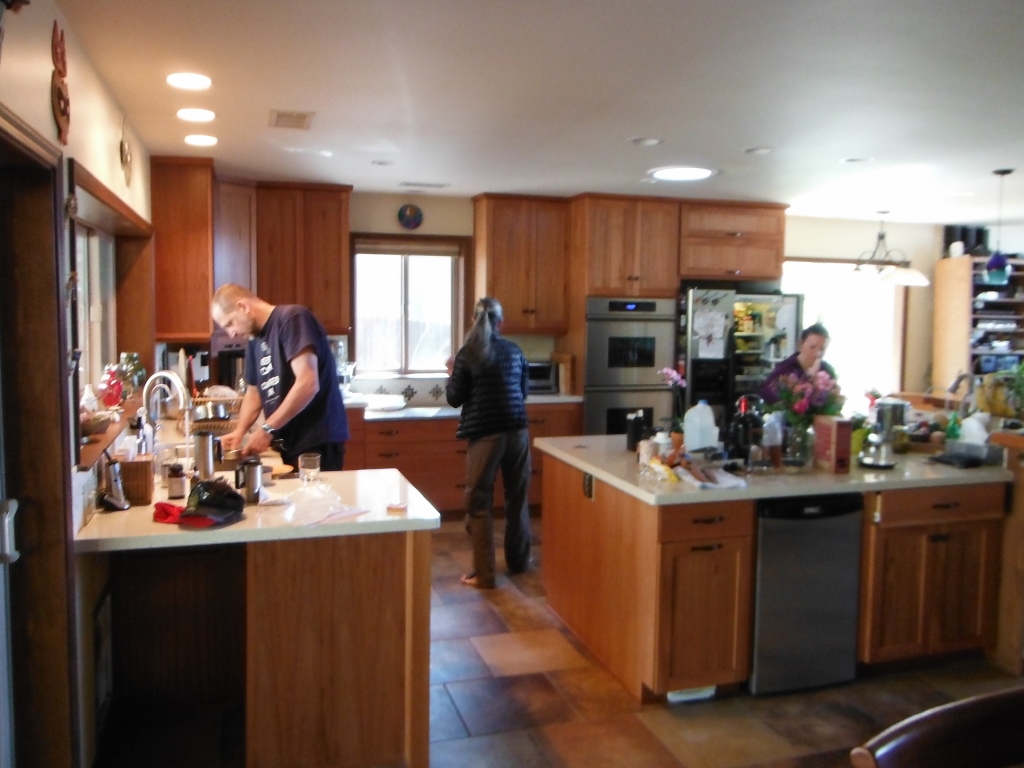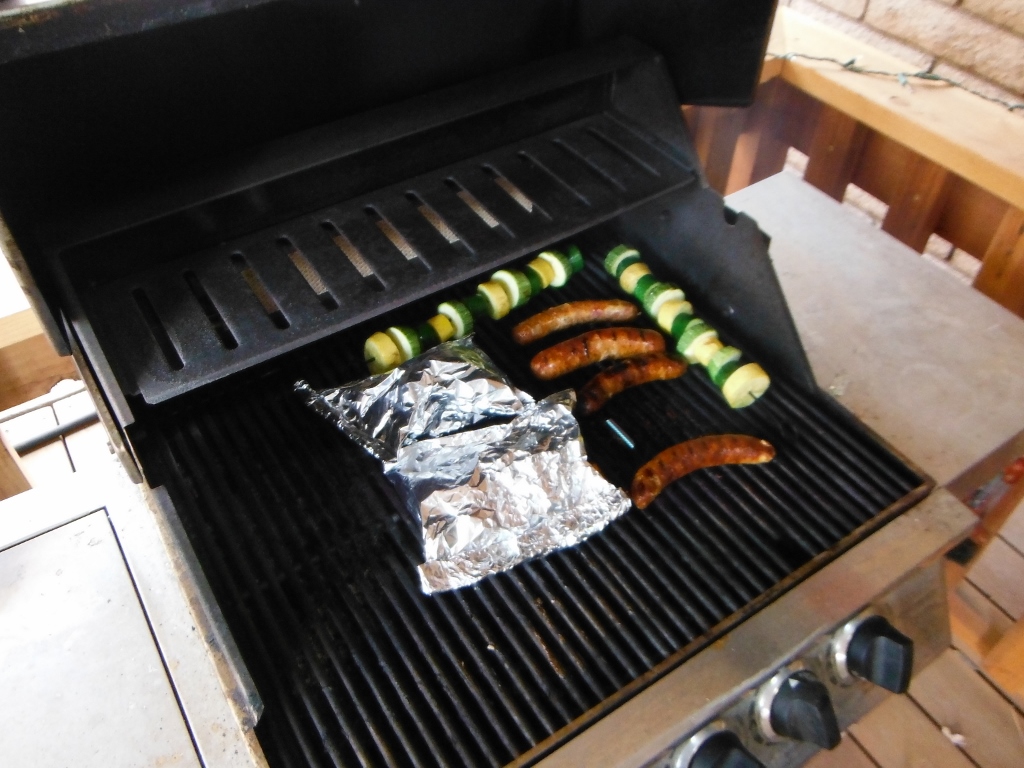 Usually he does this out in the middle of nowhere on a little camping stove---but he had some much fancier equipment here.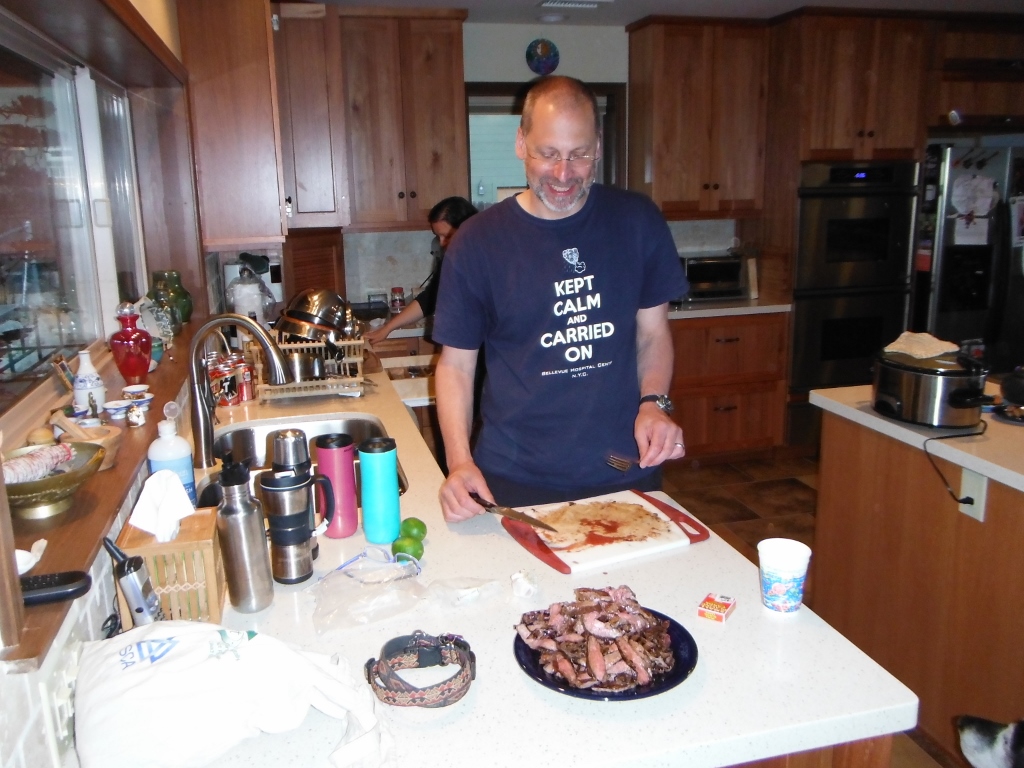 At some point in the day we went for a really long walk---Obviously Francine was feeling much better.
Her knee was a bit boogered up too---but was feeling better and she was glad to get out in the woods as the Coconino
forest was in the backyard------how handy.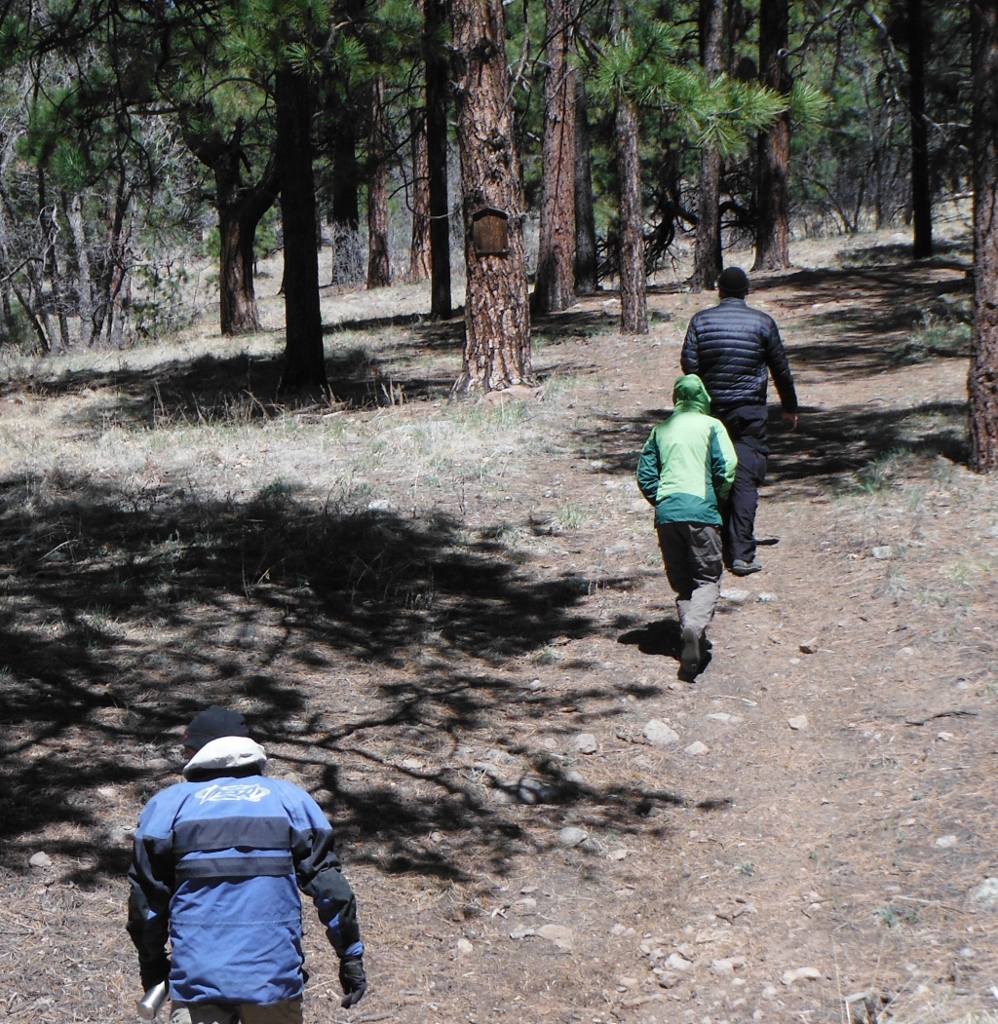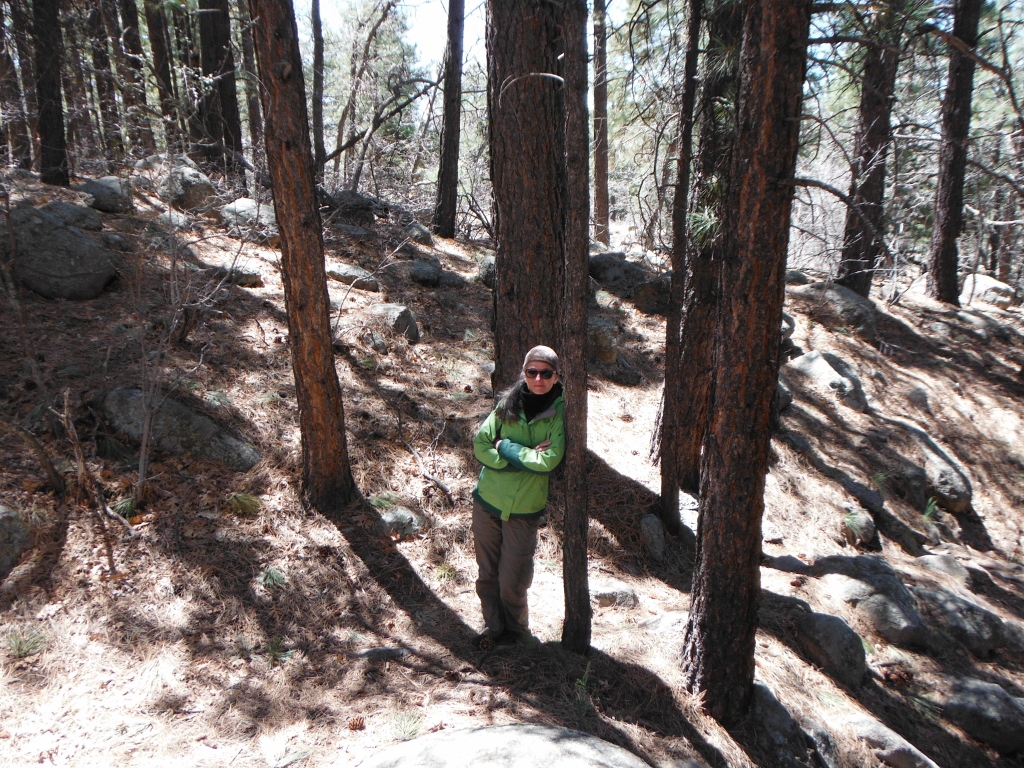 It was still very cold out and we bundled up and it felt great to do something different.
The walk done us all a lot of good---and Dave took his gps as we would have never found our way back without it.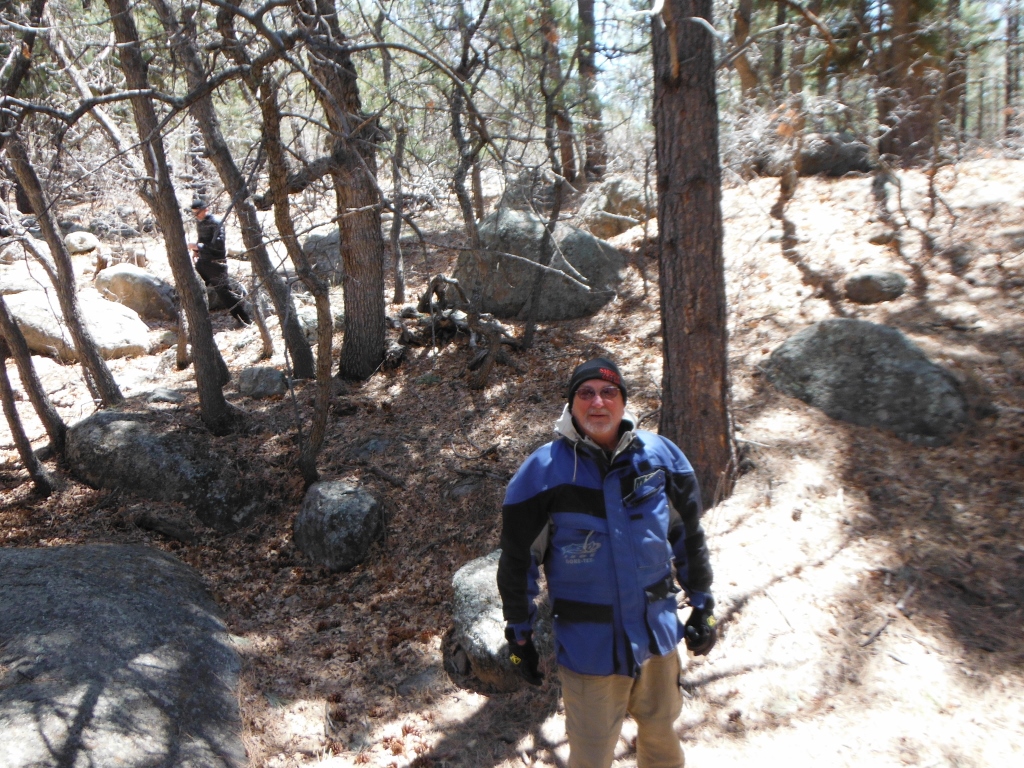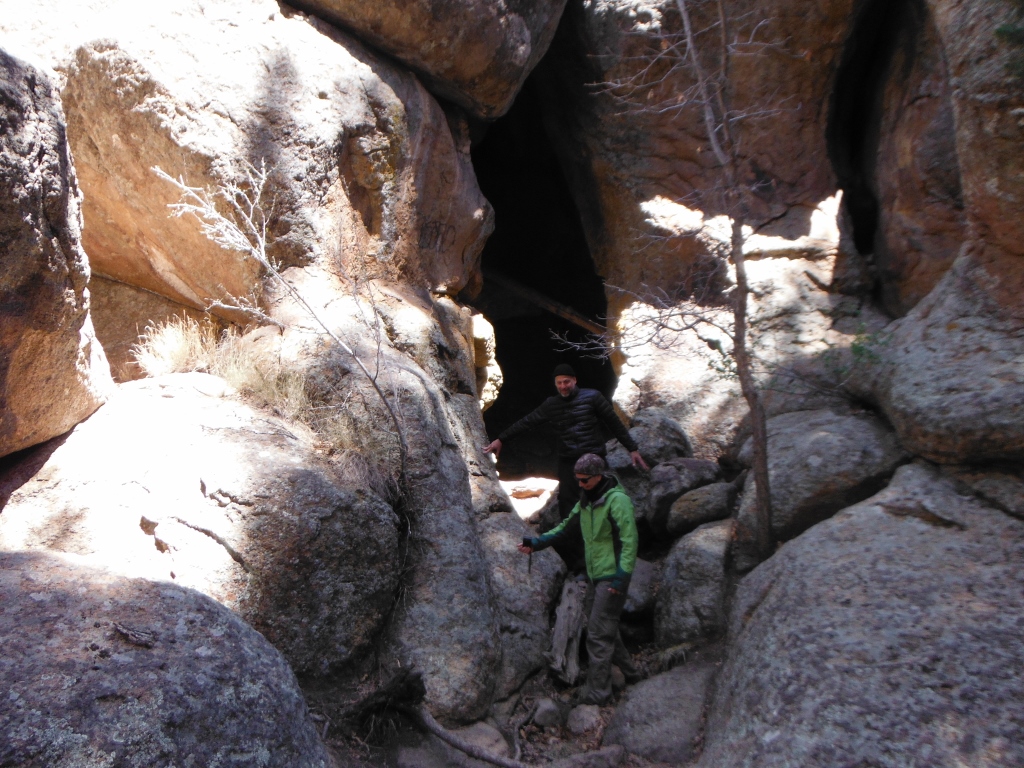 How would you like to have this in your backyard ????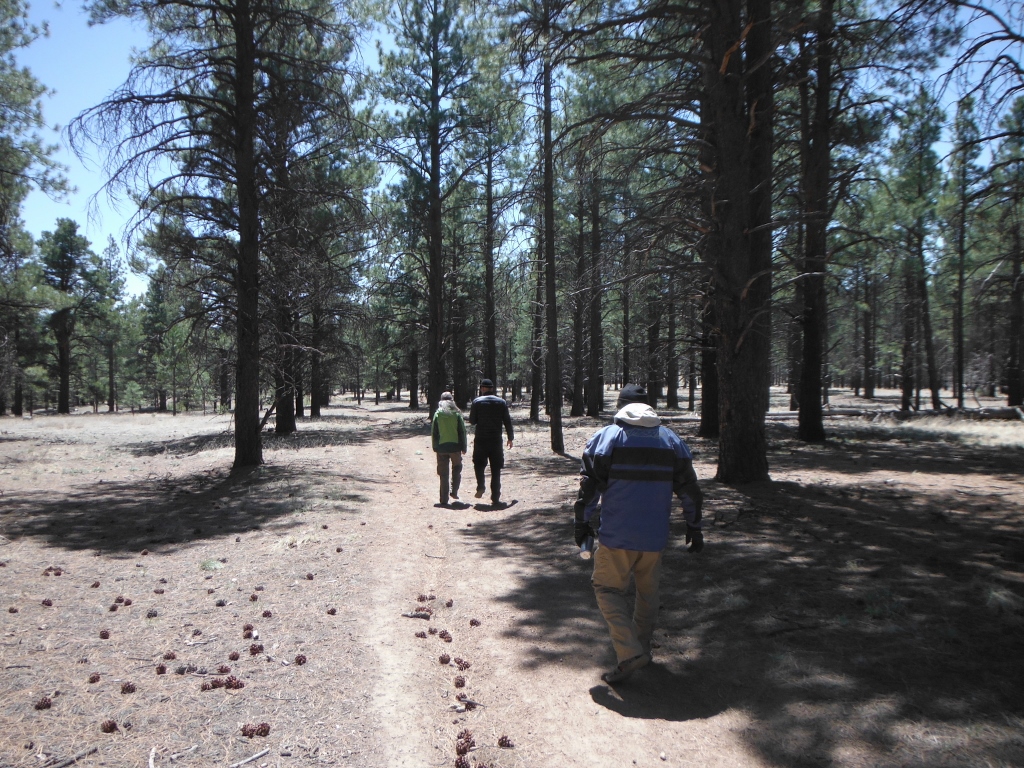 Dave had extra tassels left over for riders that never showed up to ride with us and Dave installed them on the kids bicycles.
They were so happy to have the tassels.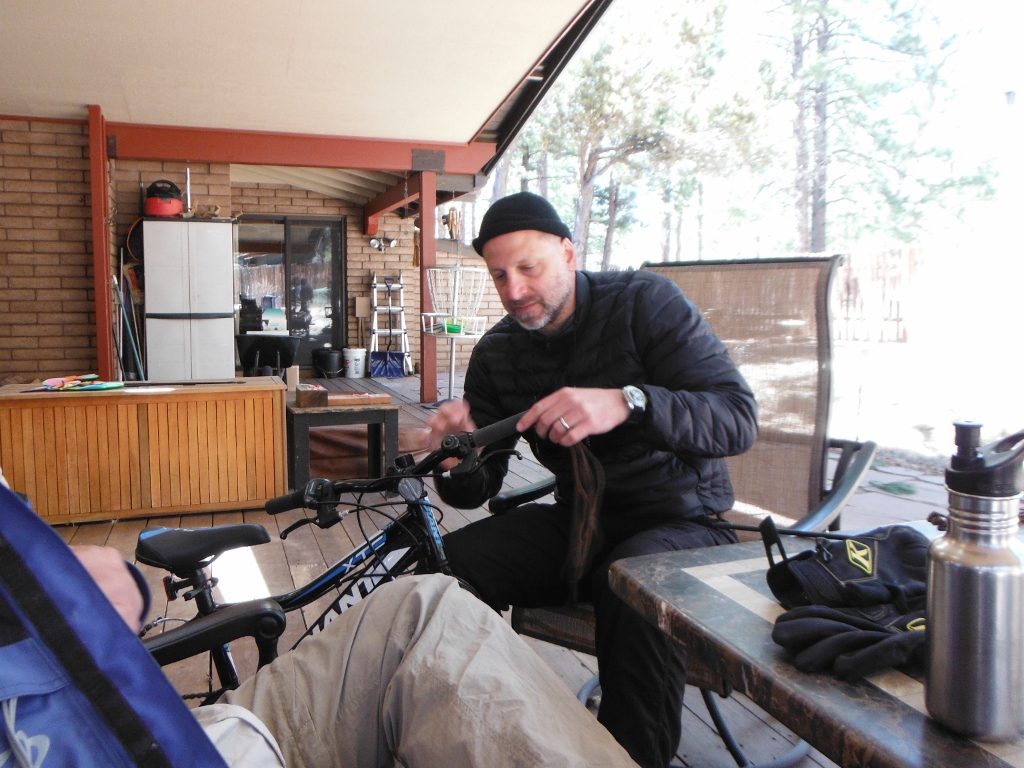 John (Dave's brother) has a full studio in the basement with all the insturments a rock and roll band cold want.
John played his hammond B3 most of the time---I played the guitar and we got Dave to get on the drums a bit---and he
played the harmonica------I got that all on video---------it's hilarious.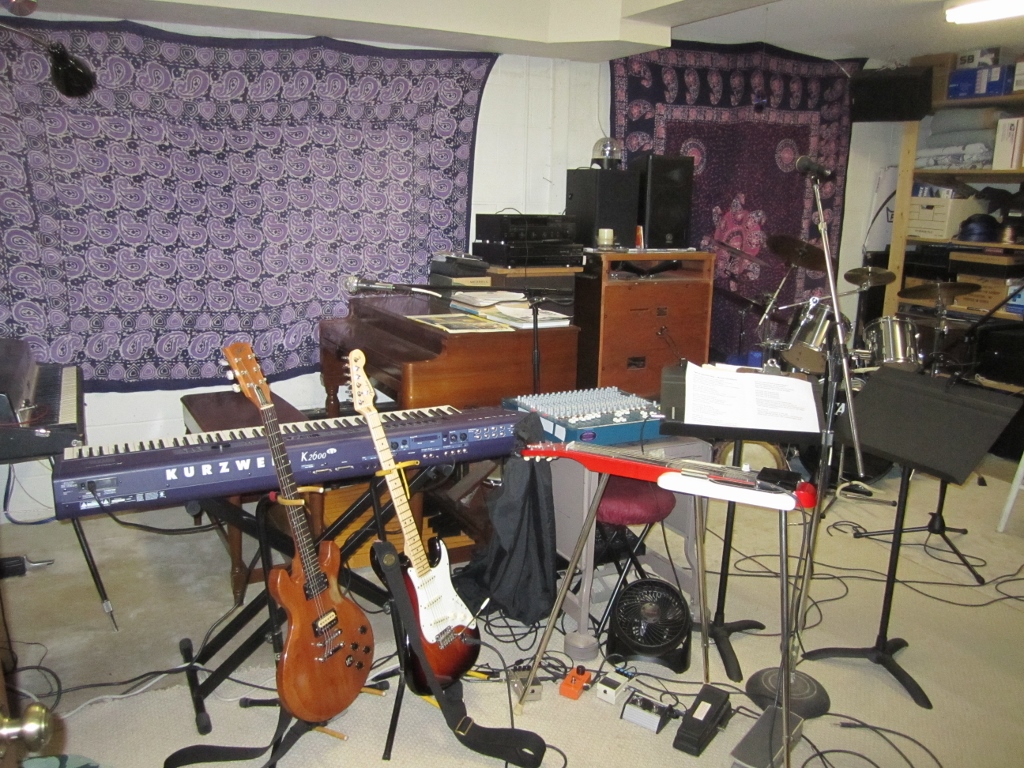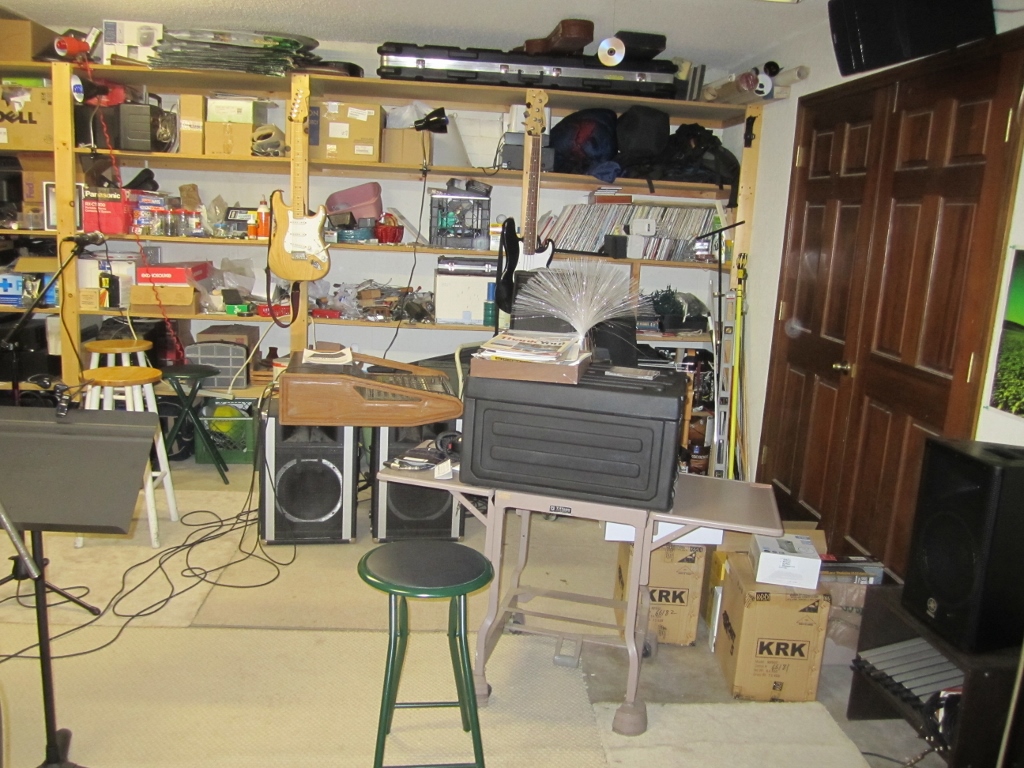 Day 14
April 19th
Flagstaff to Tuscon Arizona---Our last day
Francine and Dave came out to say goodbye to me and Scott as we would continure riding South to Tuscon where Scott lives
and this whole epic journey began----and will end. But it ended way to quickly for Dave and Francine---we have become such great
friends and me and Scott couldn't have better riding partners.
I hugged them both and with a tear in my eye told them a few things and finally said "You never know--we may never see each other again"
Dr. Rock---replied "You said that last time we rode together"----------and we all laughed.
But in reality--when you say goodbye to anybody--you never know if you'll see them again--so make it a good ------good bye.
I always try to do a good ------goodbye when I say that to my wife and son--the people closest to me.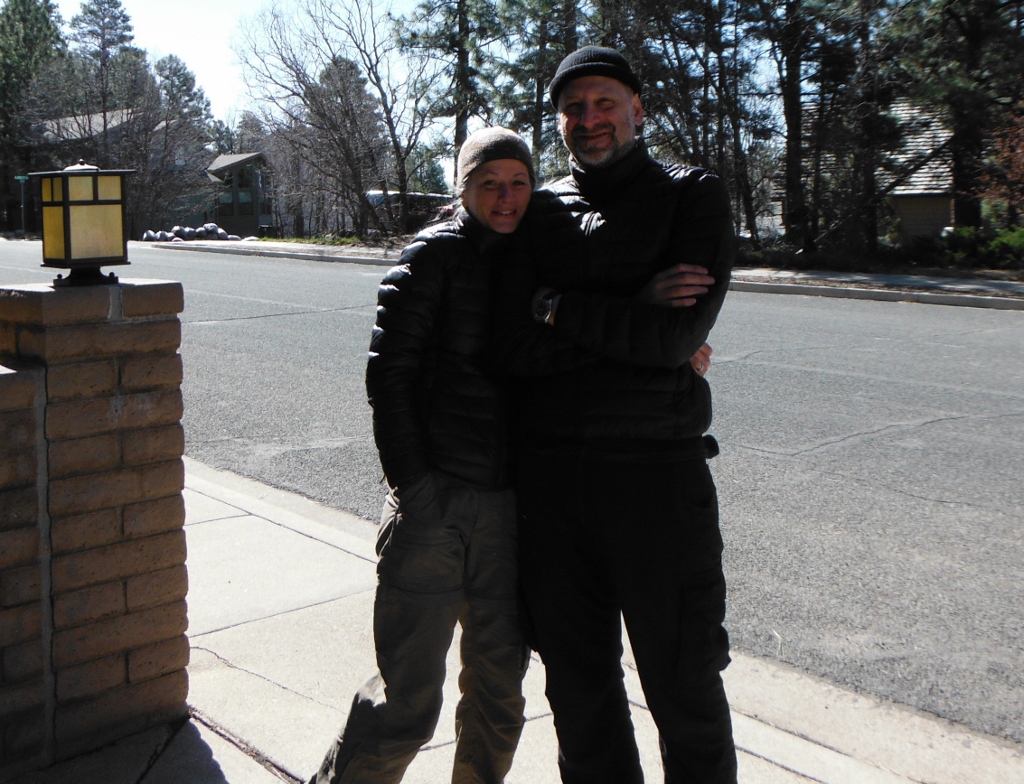 And it was with that emotional teary note we road off and hit a Dead End road before we hardly got started.
Couldn't Dr. Rock see this dead end sign on google earth ??? I mean ------come on man !!!! ?????
No problem--we made a quick re-route and off we went.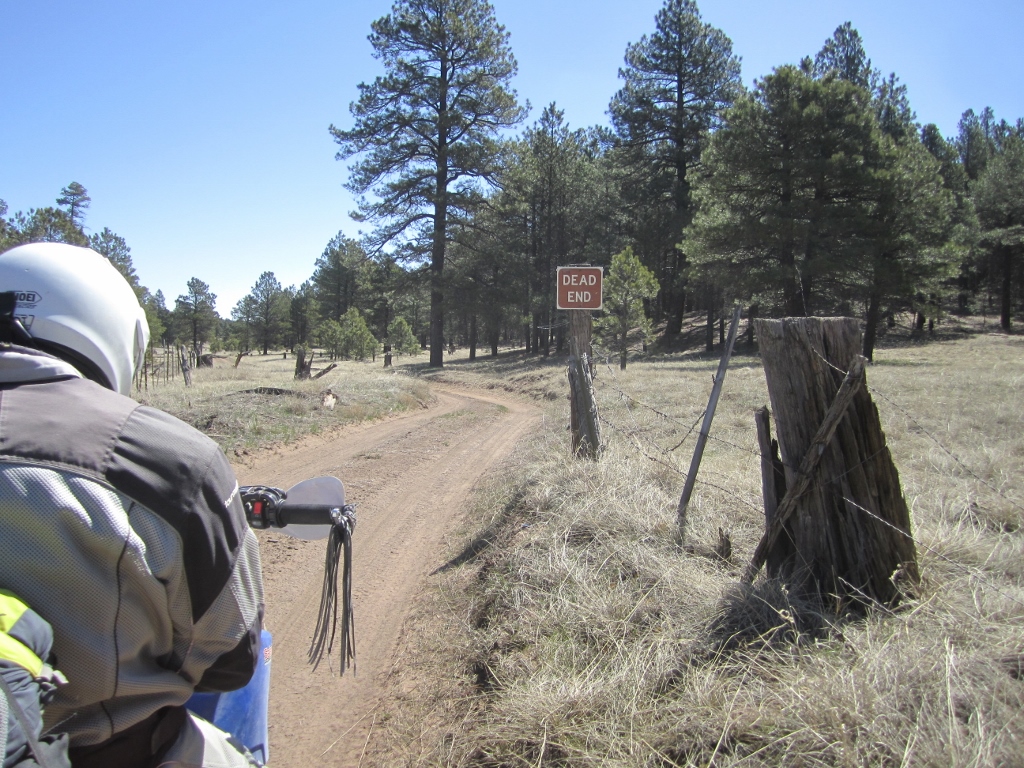 Our route would take us to Sedona, Arizona and we would ride on the Snebley Hill road which is an extremely beautiful ride
which I had ridden many years ago and had a hoot riding it.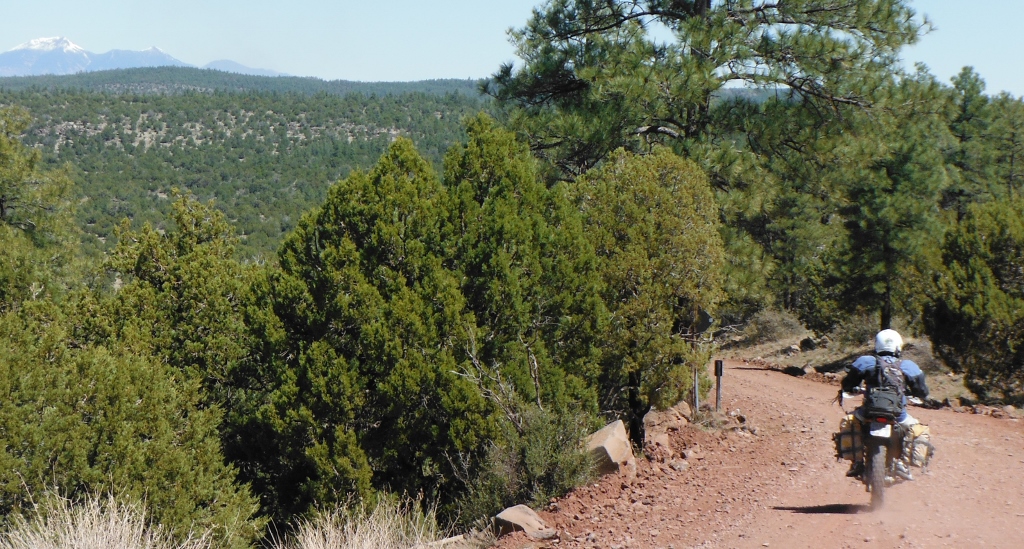 The first time I rode the Snebley hill rode we saw nobody----but this time was way different----there was a very long parade of pink
rental jeeps.---------------yes---I said pink. I don't know what's up with the pink but I felt embarassed for them. They were everywhere.
A rental Jeep I've learned is something to fear--they haven't a clue what they are doing and do "NOT" know
the rules of narrow road and trail riding. Better stay out of their way.
All the passengers in these things were buggy eyed. I think half of them were on the adventure of their life and thought we were crazy zooming with
ease past them on our dirt bikes-------the other half fully embarassed to be in a pink rental jeep.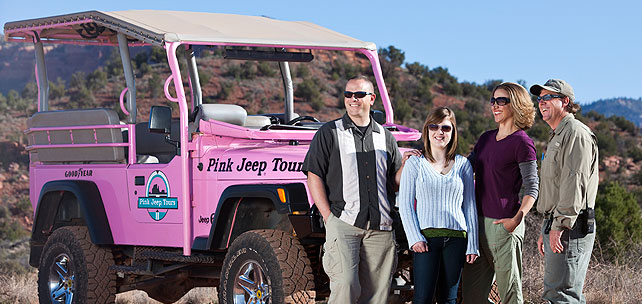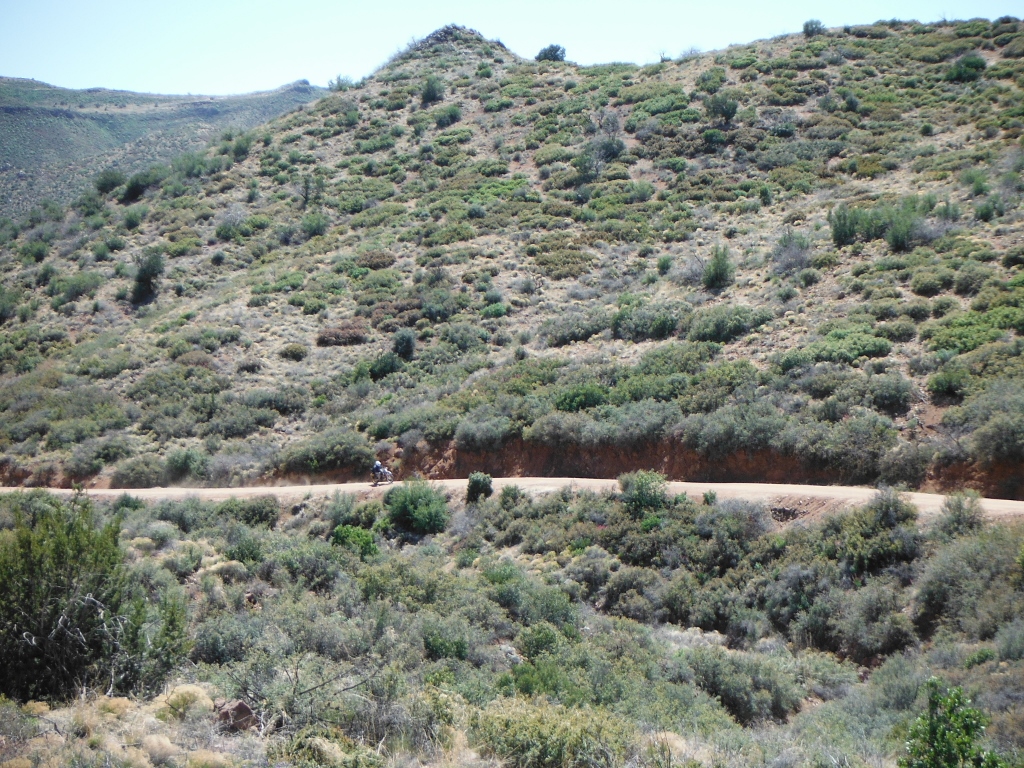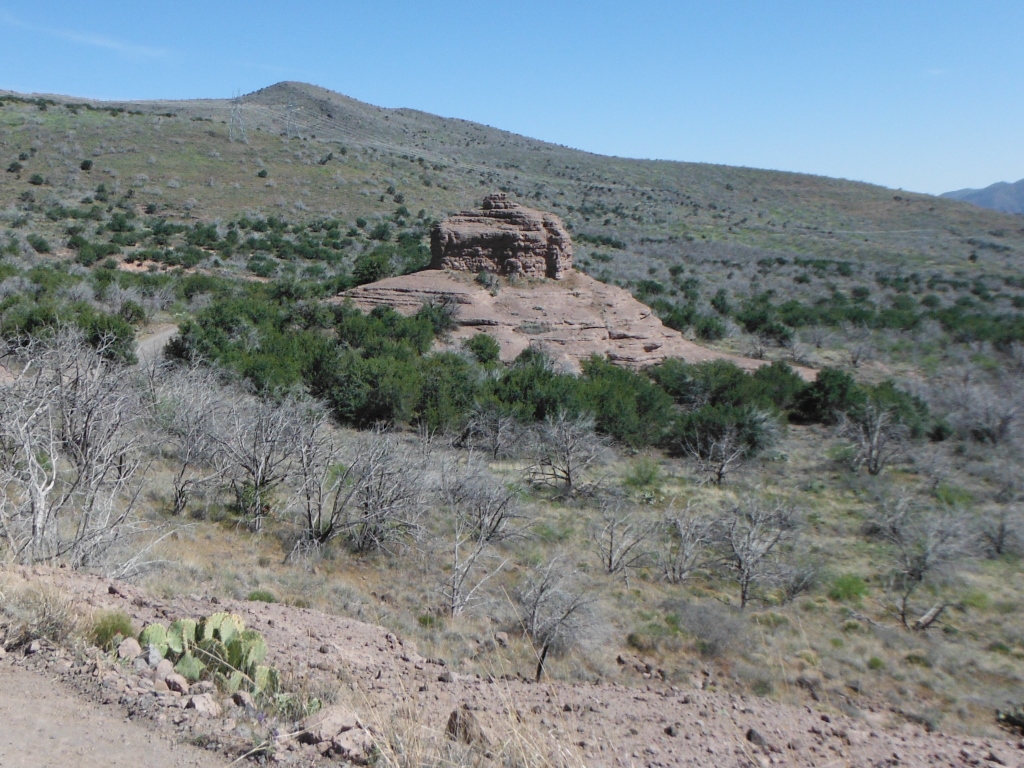 This road is not open year round. And the first time I came hear the gate to it had just been opened that day.
It's smooth and easy here----but becomes very twisty, steep and extremely rocky.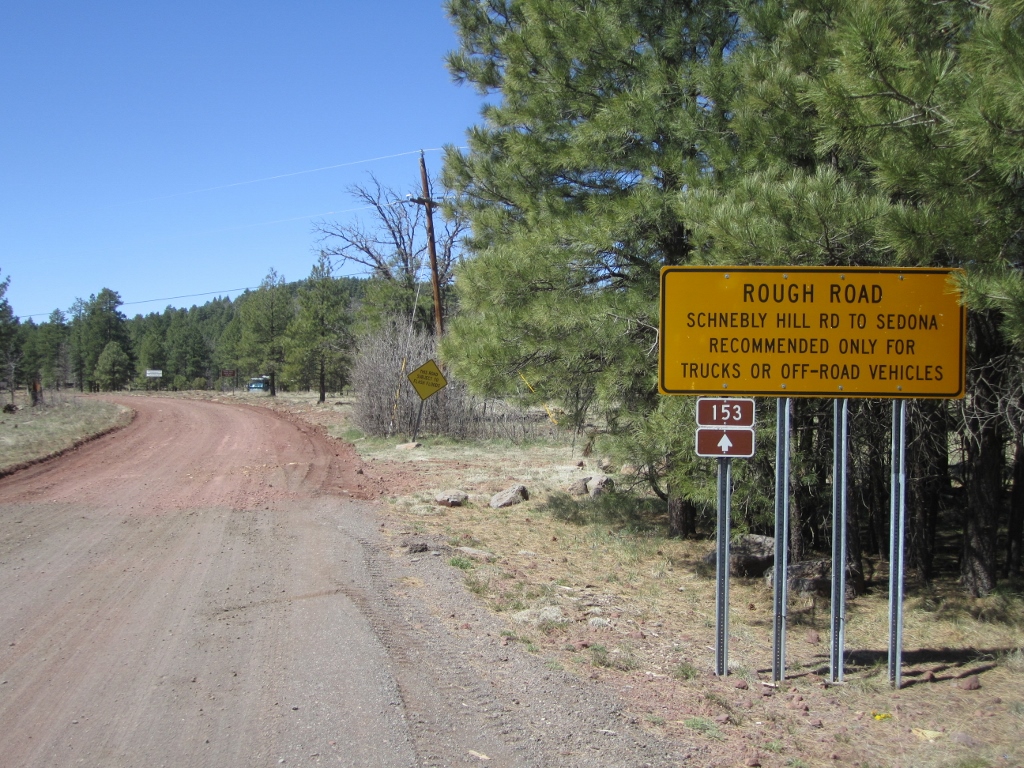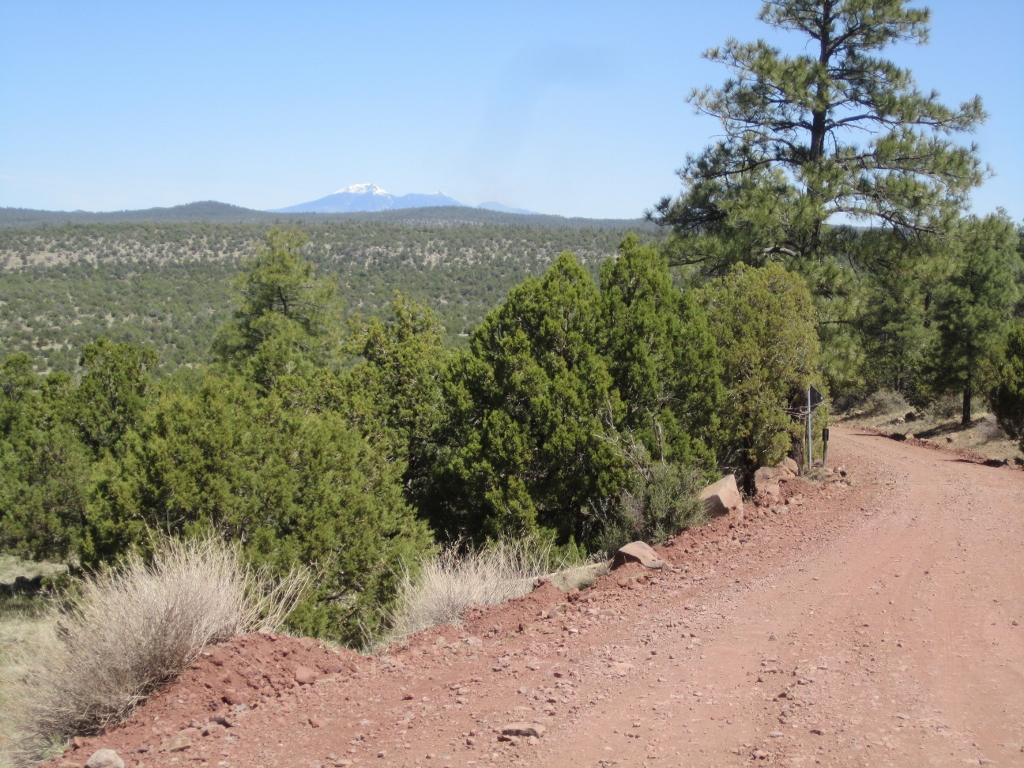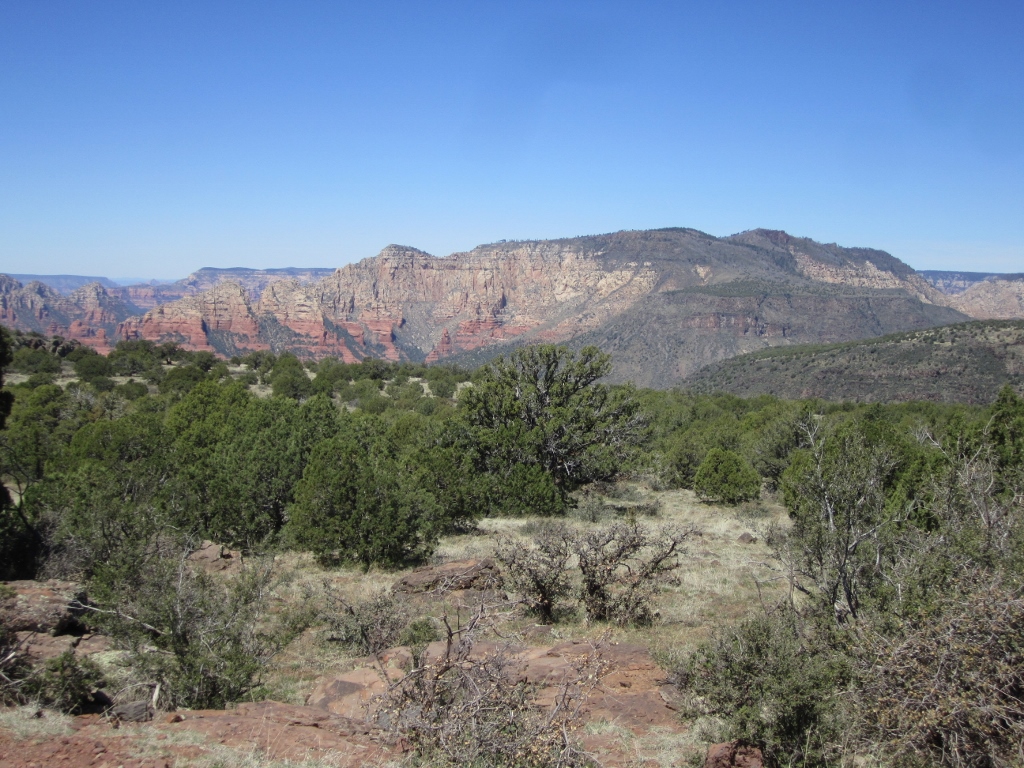 The views are spectacular on this red dirt road and I spotted a helicopter and at first just felt uneasy as I recalled
Francines trip to the ER on one.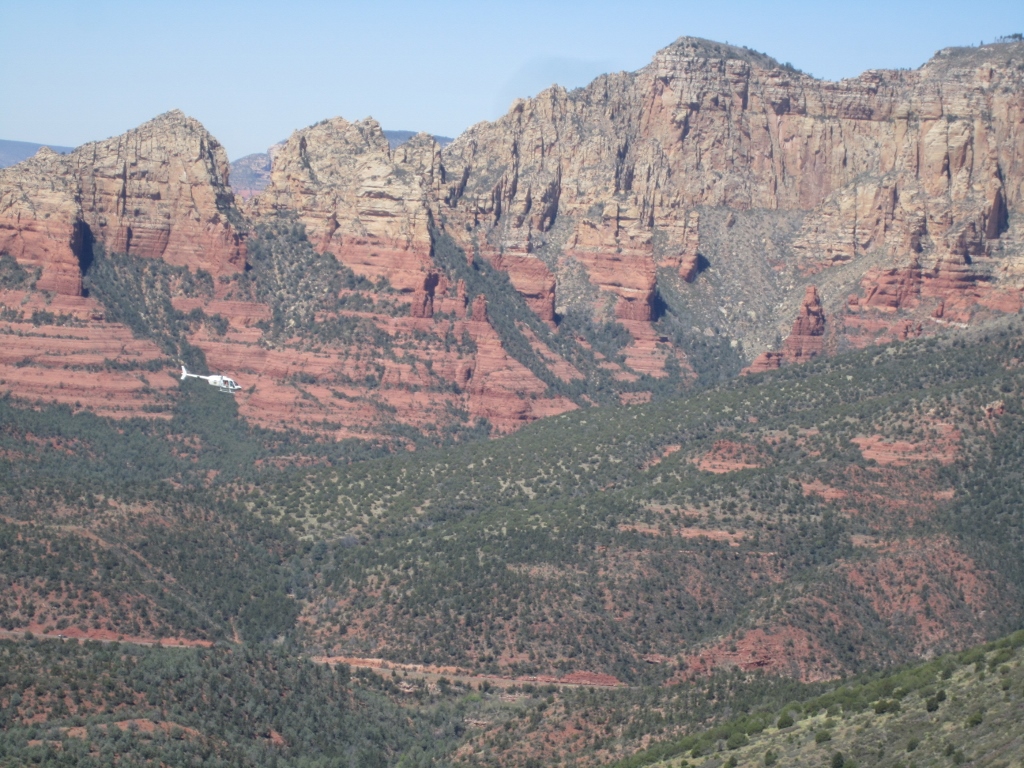 We dropped down into Sedona---which is I remember as a beautiful little town when I visited long ago.
It had grown in leaps and bounds and was so busy--so many people and I mentally put it on my never to re-visit list.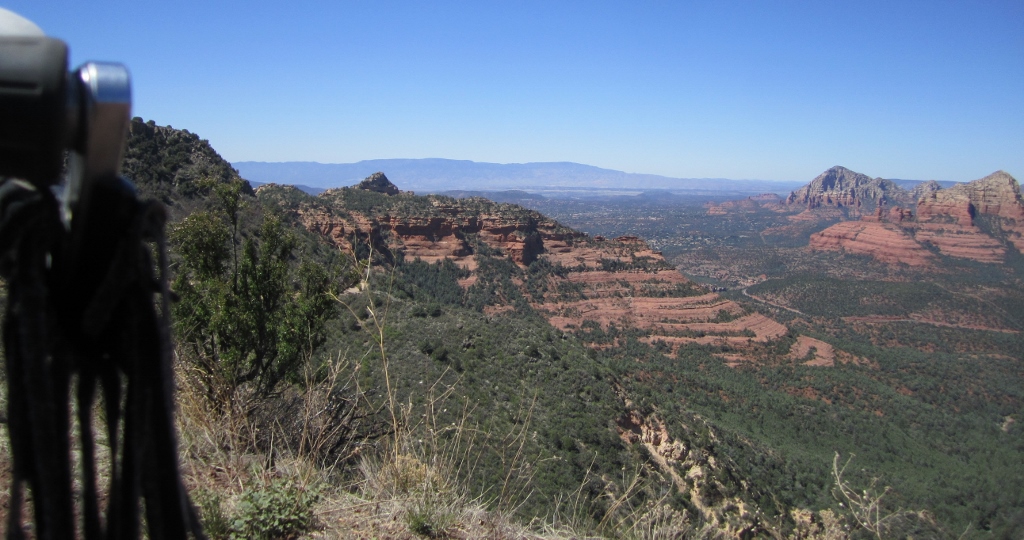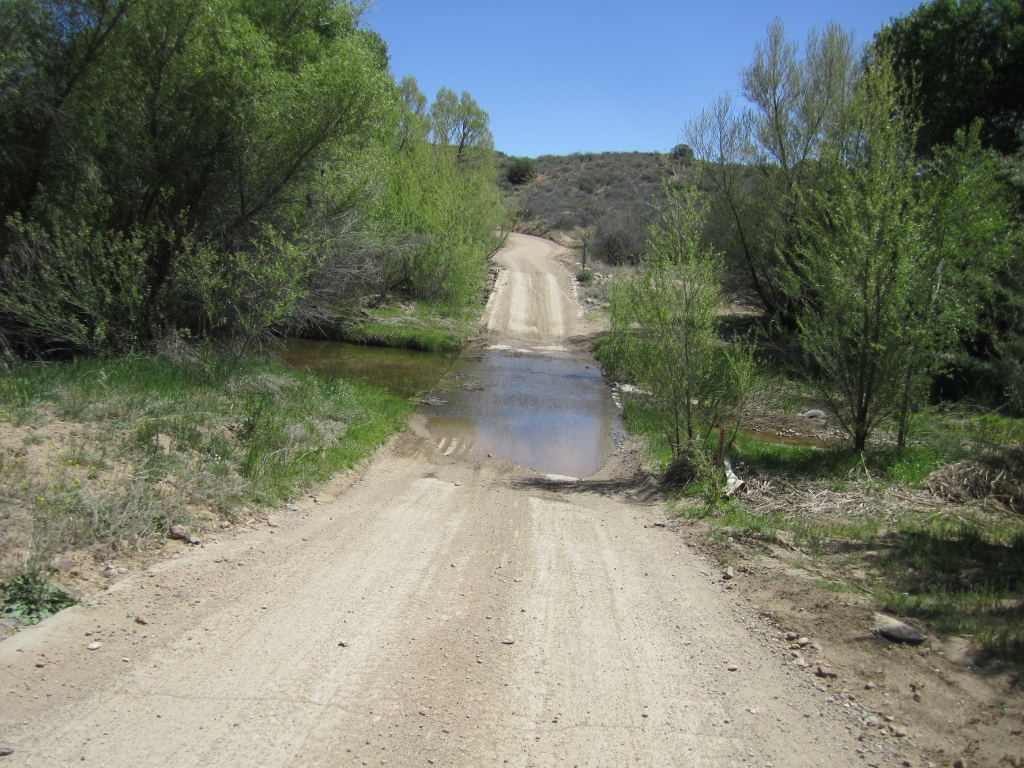 We gpt closer to Tuscon where Scott lives and today was going to be a day I had anticipated for a long time.
Years ago before I knew Scott---me and a buddy tried to ride the Control road on the South side of Mt. Lemmon but it was
closed, gated and snowed in. Today-----I'd get to ride it and it was awesome. 25 miles of climbing swithcbacks with awesome views around every bend.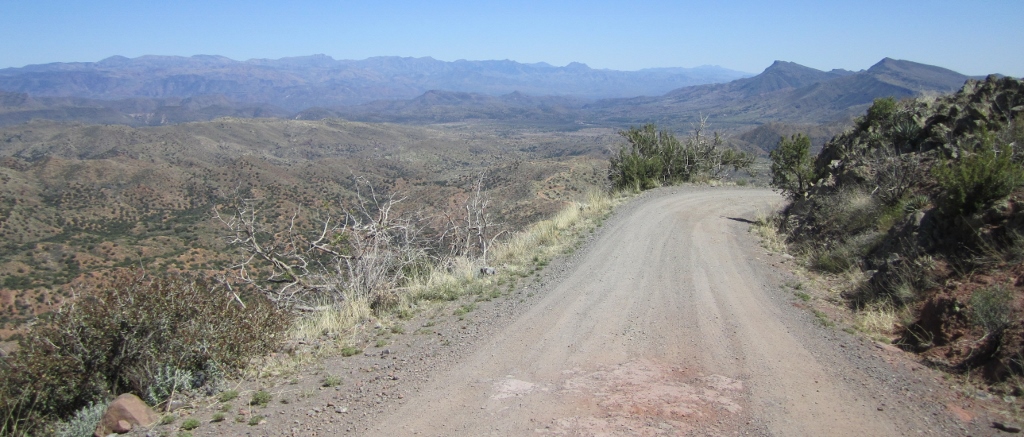 It was on that climb up to the top of Mt. Lemmon that me and Scott without saying a word just slowed down a bit.
I know we were both thinking about how great our trip was and it was about over.
And all along I on this ride I wanted to take more pictures of the desert flowers---and now we took the time to do just that.
The desert in bloom is one of the most beautiful things on this earth.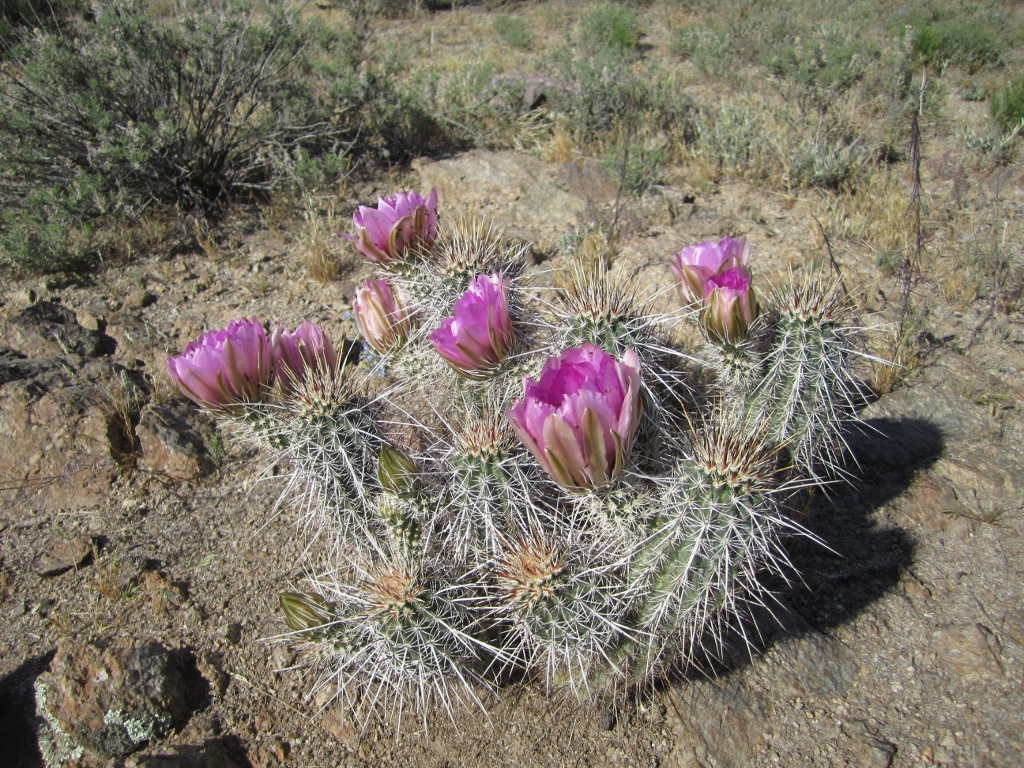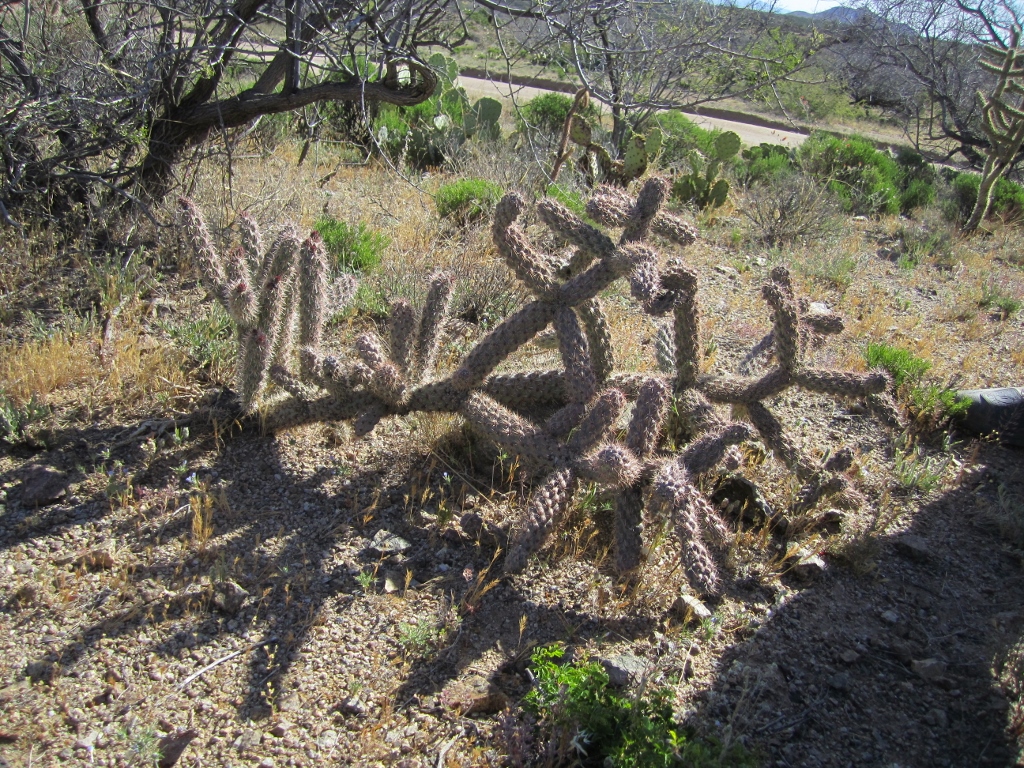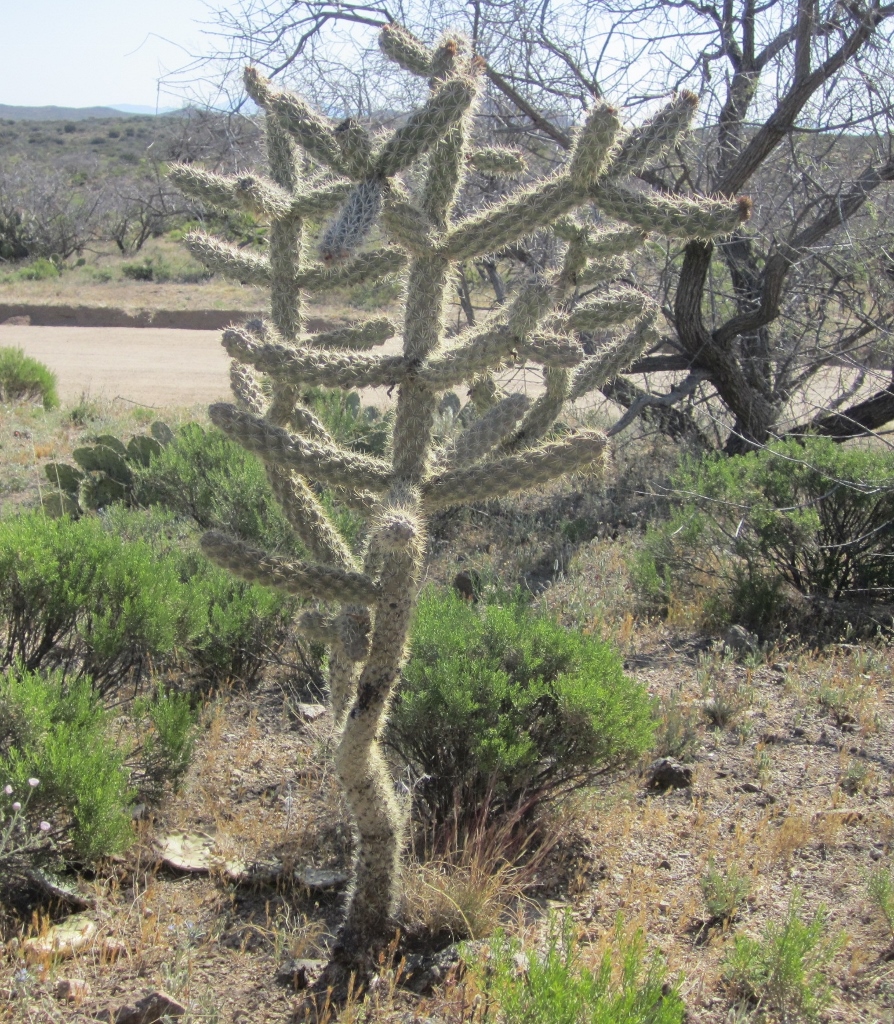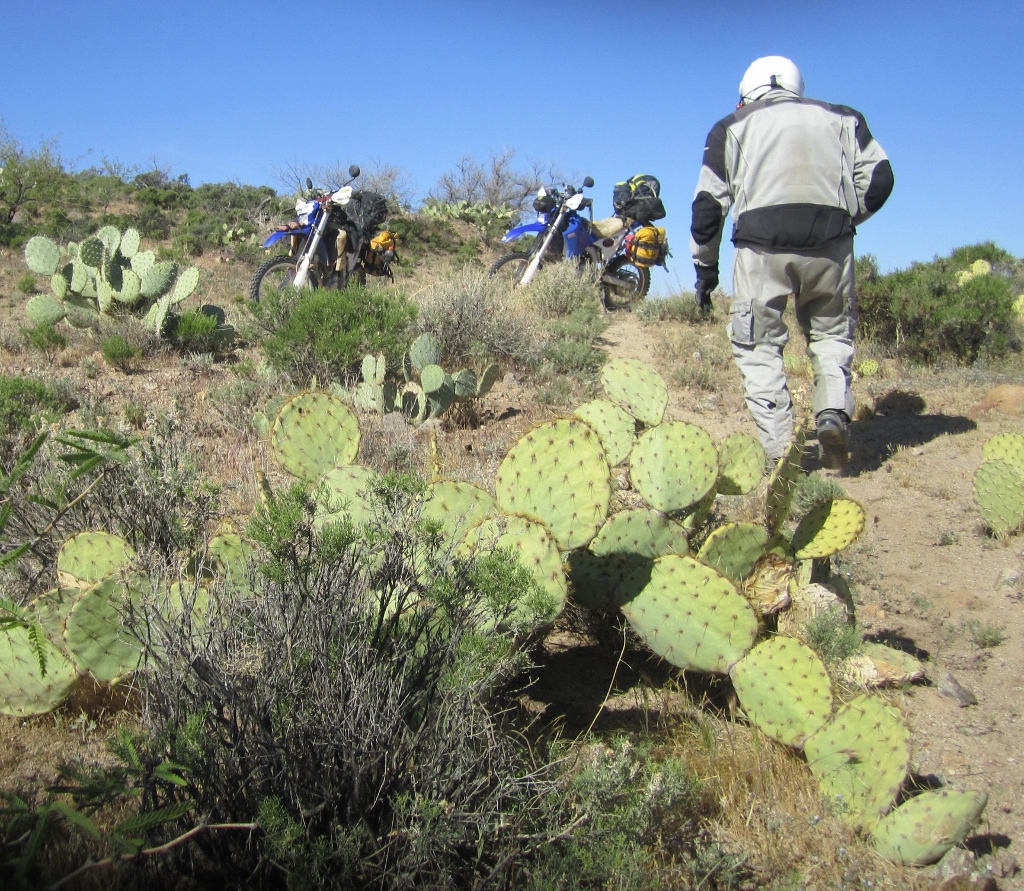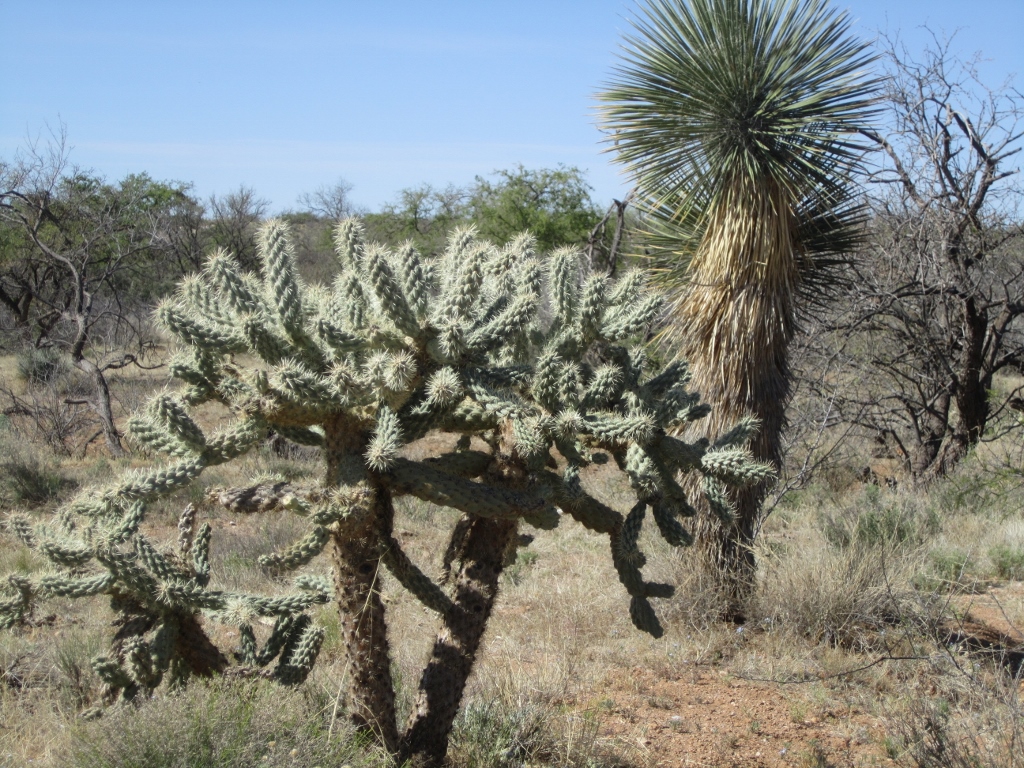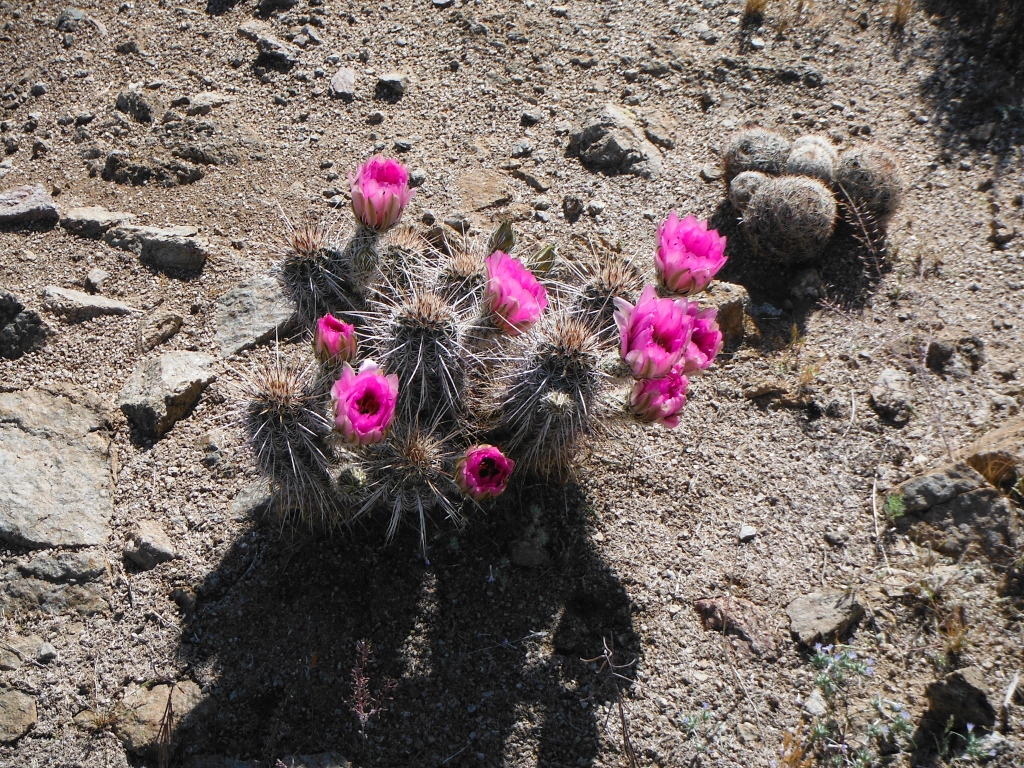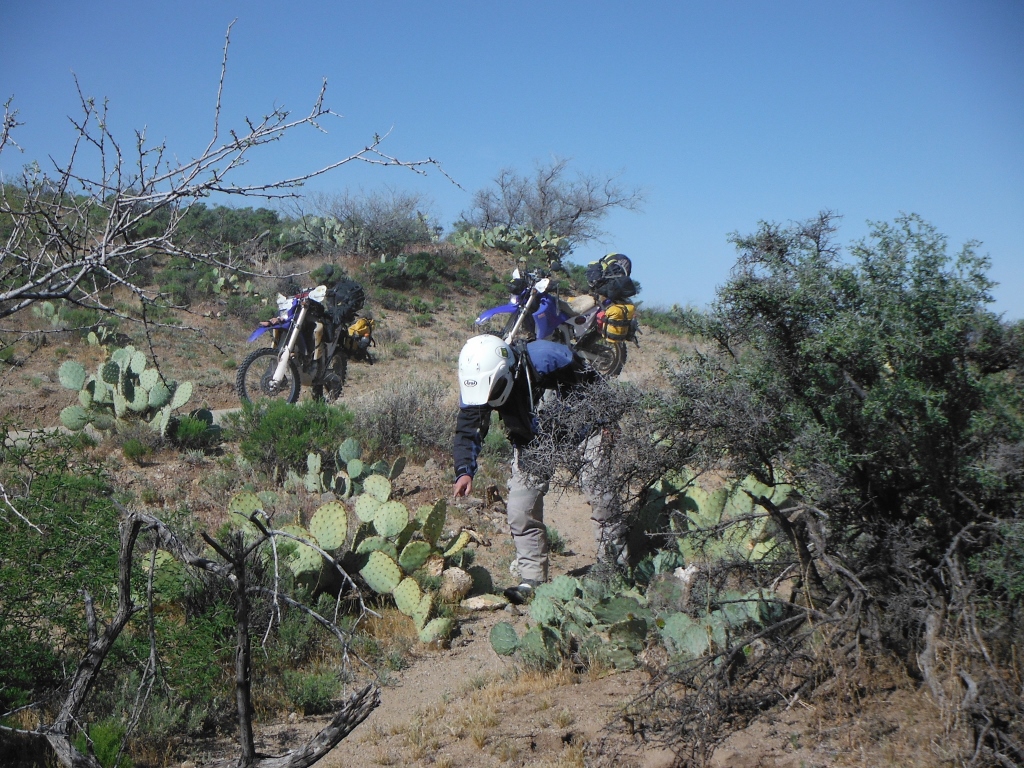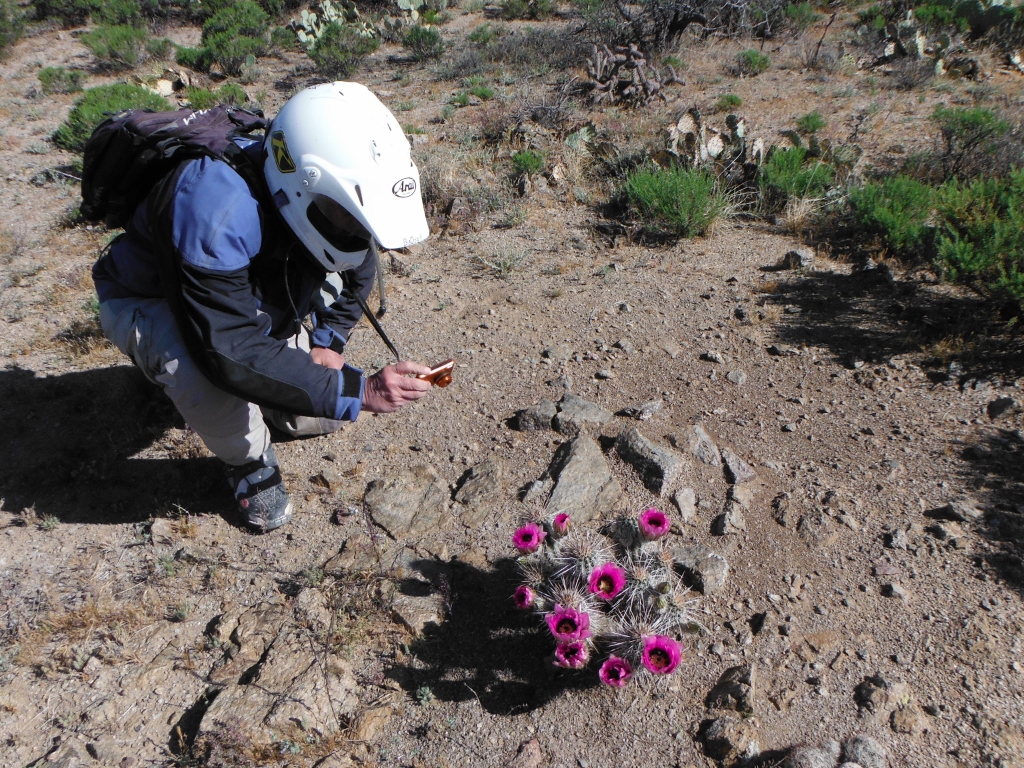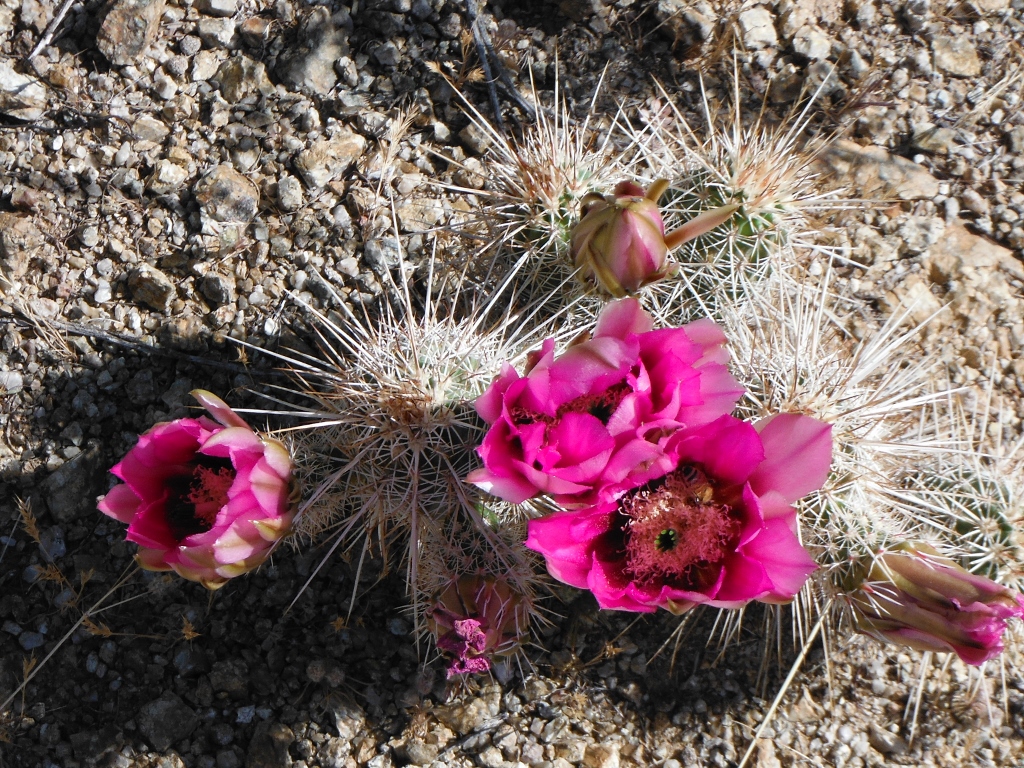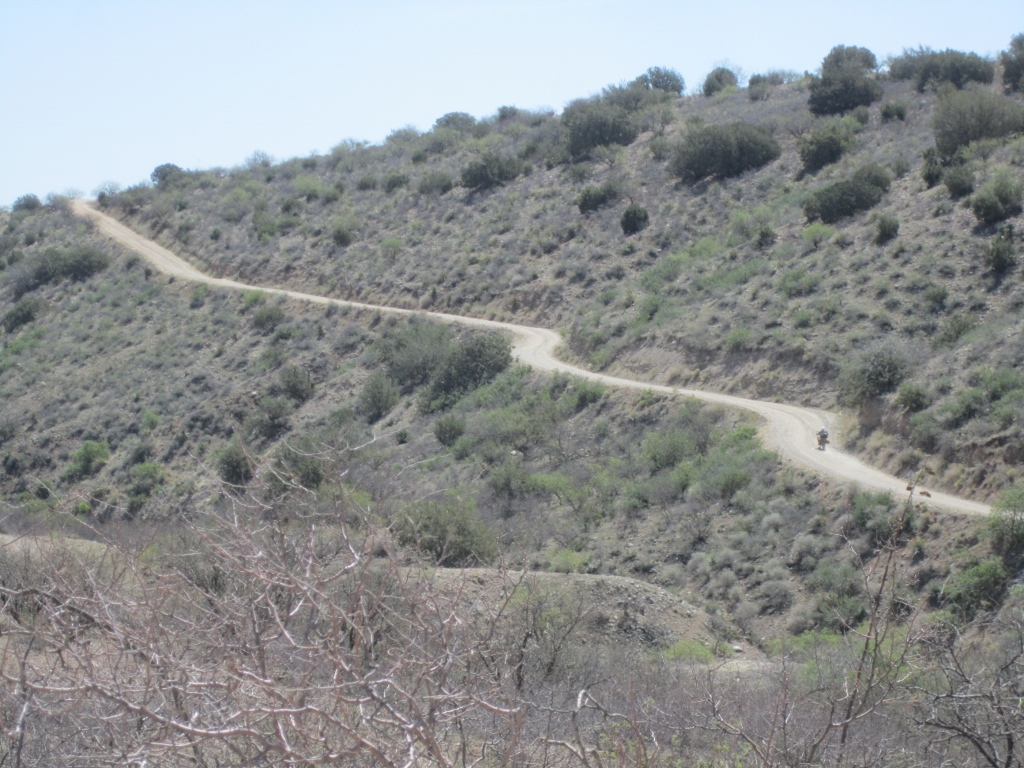 We are near the summit and we decided to stop---lean up against a tree and have a snack and just--------relax.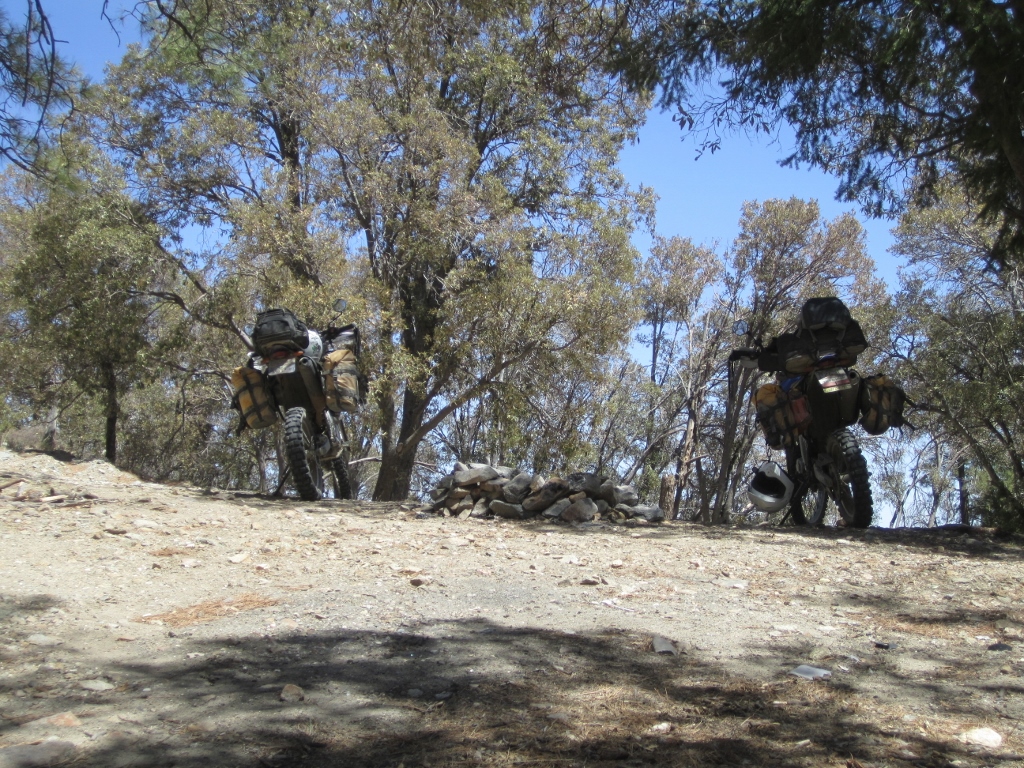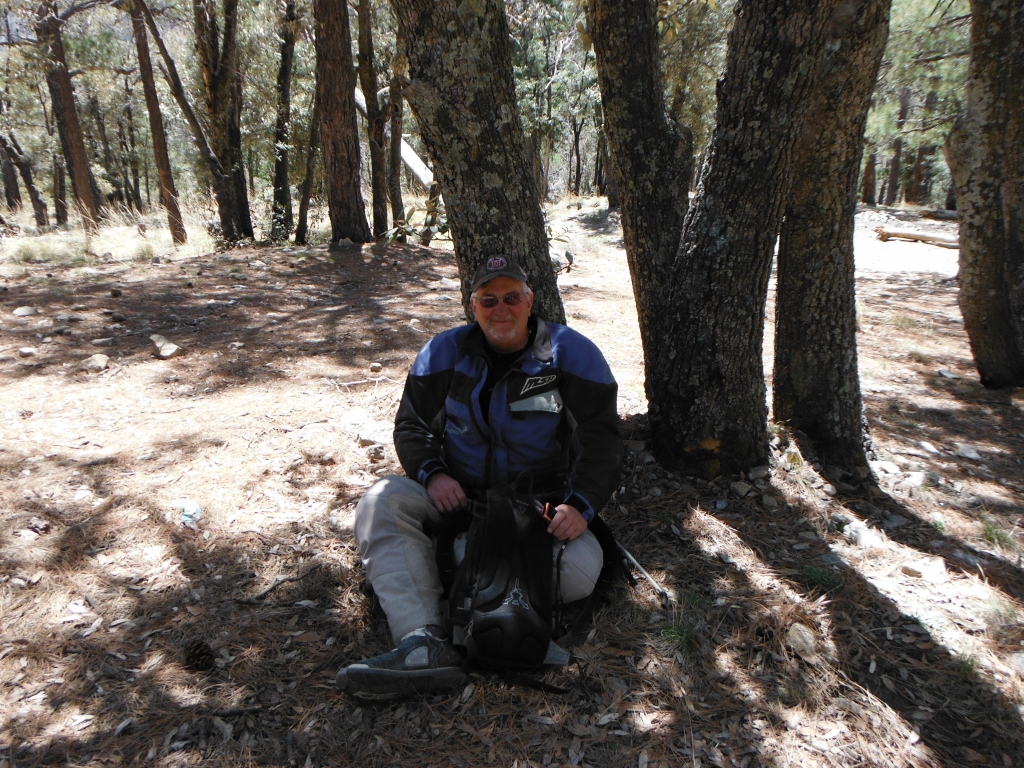 Just look at the climb we just did.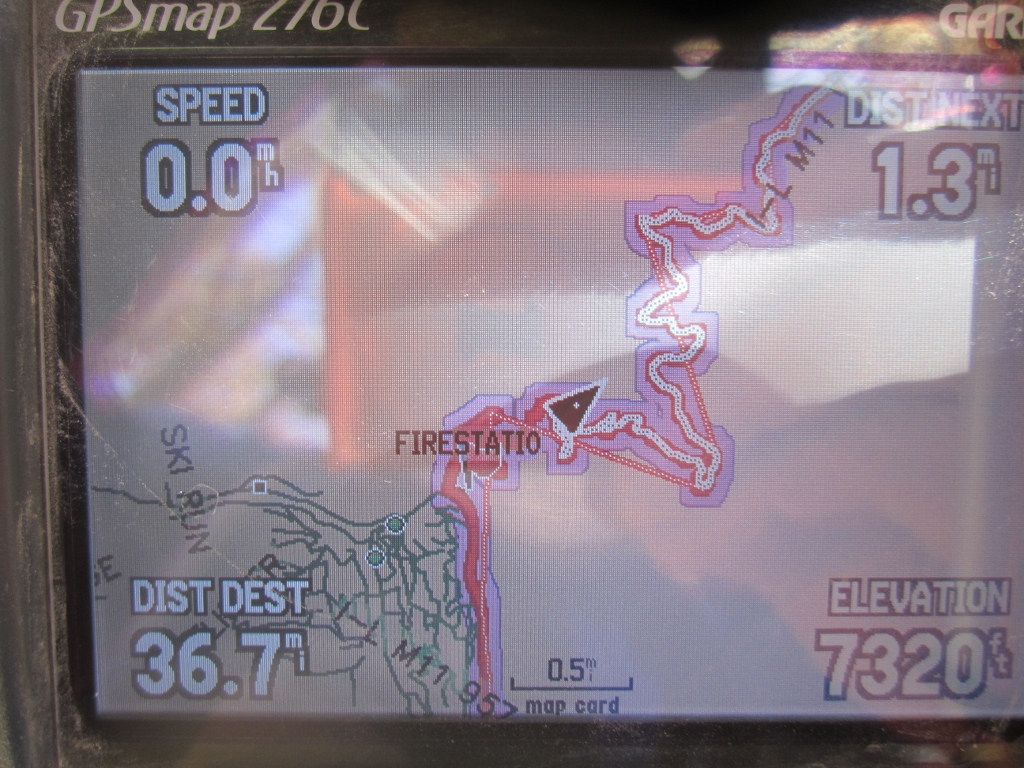 We arrived at Scotts house and I took this picture of my gps computer----which shows our ride mileages and such--we had ridden 2,445.9 miles.
My top speed was 67.8 mph. When me and Scotts WR250R's hit 50,000 miles and are finally broken in we are going to click them in
6th gear for the first time and see what these motors can really do :) :)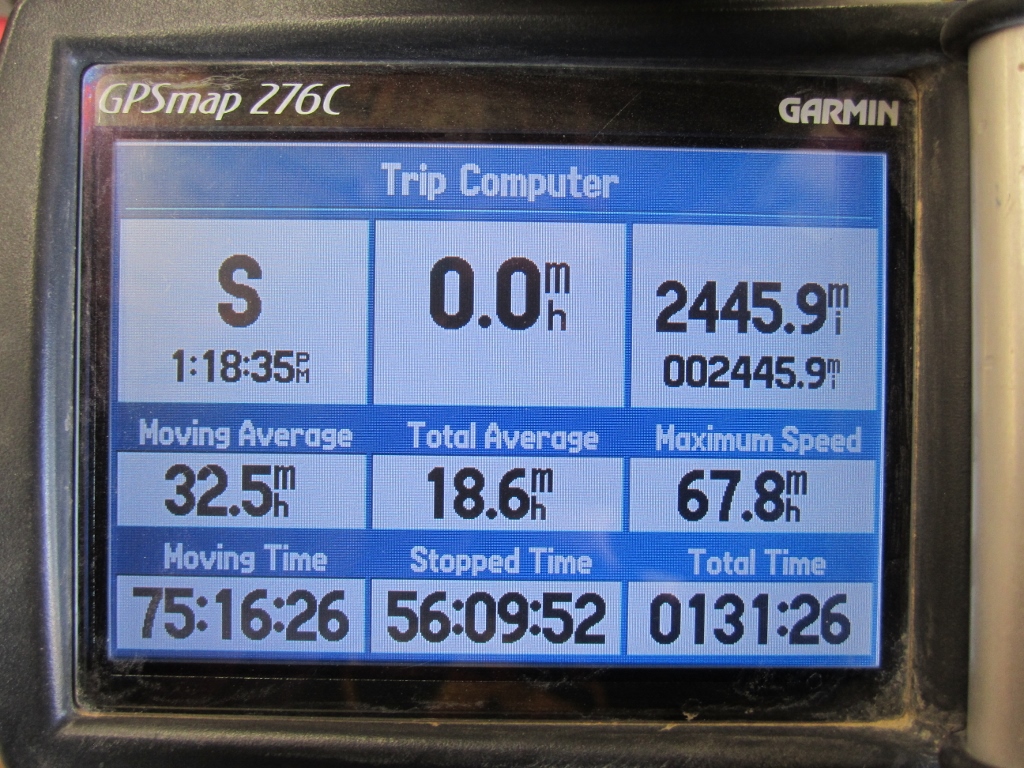 My WR has 41,269 miles on it after this trip---I think Scotts has more like 47,000.
He gets to ride year-round in Tuscon so he'll hit that 50,000 mark pretty soon I'm sure.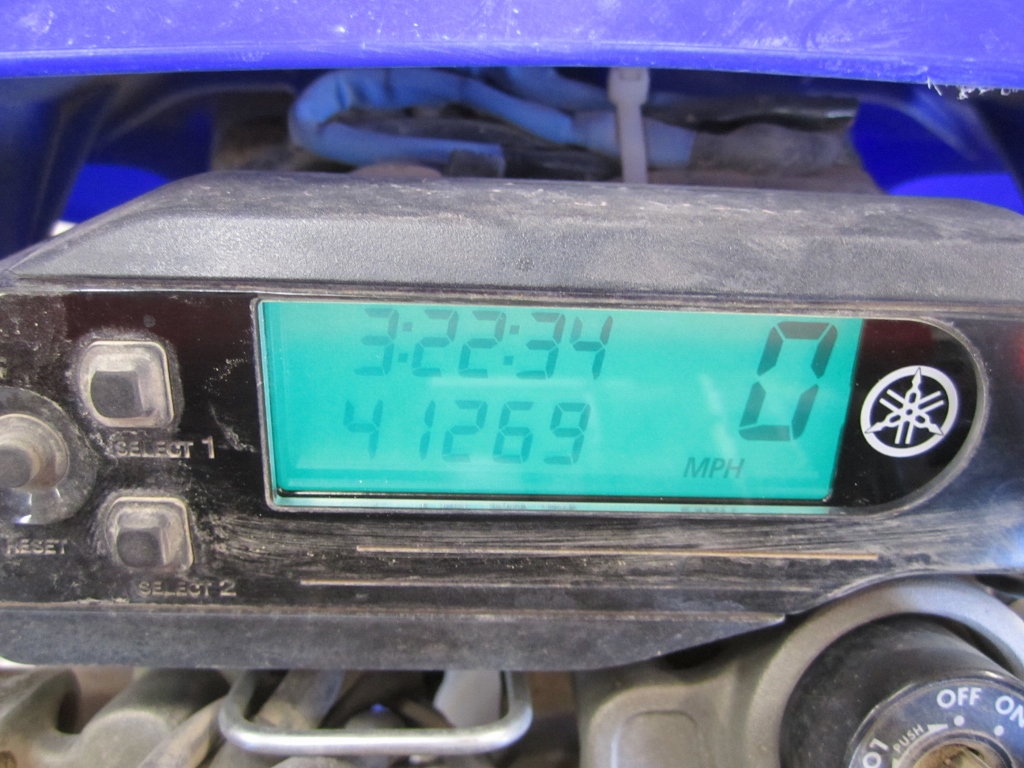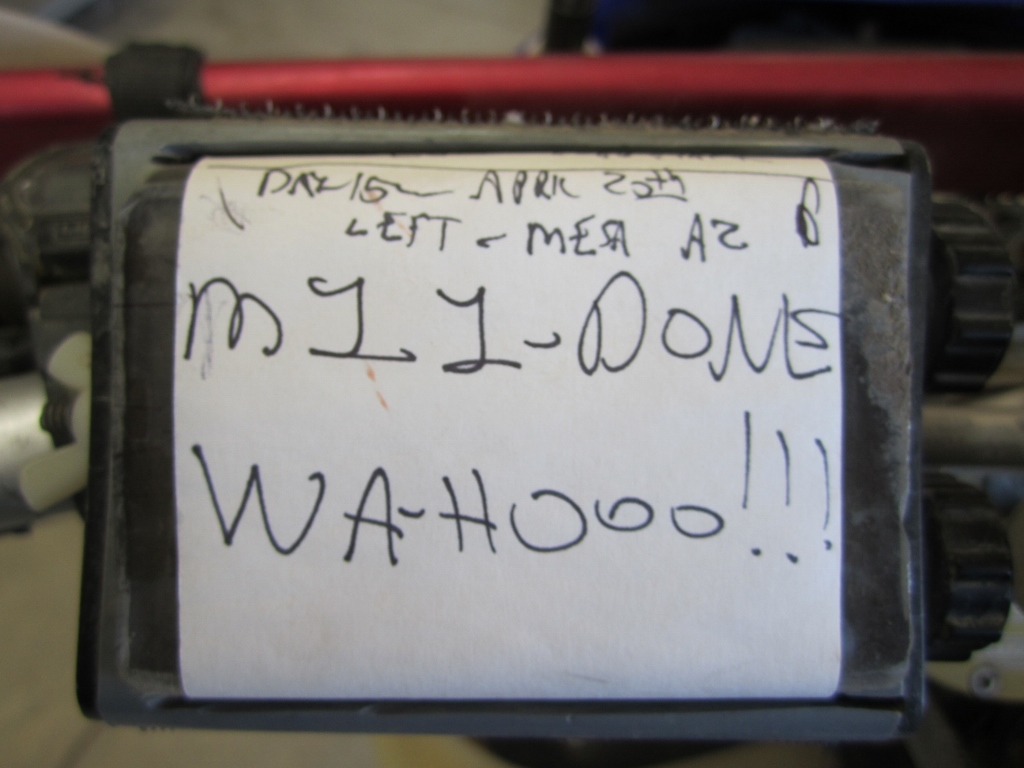 The End
Goodbye---you never know if we'll see each other again----------Mark Sampson
Back to my homepage